"Bias in favor of the orthodox is frequently mistaken for 'objectivity'. Departures from this ideological orthodoxy are themselves dismissed as ideological." – Michael Parenti
An exchange in January with Paul Farhi, Washington Post columnist, about coverage of US foreign policy:
Dear Mr. Farhi,

Now that you've done a study of al-Jazeera's political bias in supporting Mohamed Morsi in Egypt, is it perhaps now time for a study of the US mass media's bias on US foreign policy? And if you doubt the extent and depth of this bias, consider this:

There are more than 1,400 daily newspapers in the United States. Can you name a single paper, or a single TV network, that was unequivocally opposed to the American wars carried out against Libya, Iraq, Afghanistan, Yugoslavia, Panama, Grenada, and Vietnam? Or even opposed to any two of these wars? How about one? In 1968, six years into the Vietnam war, the Boston Globe  surveyed the editorial positions of 39 leading US papers concerning the war and found that "none advocated a pull-out".

Now, can you name an American daily newspaper or TV network that more or less gives any support to any US government ODE (Officially Designated Enemy)? Like Hugo Chávez of Venezuela or his successor, Nicolás Maduro; Fidel or Raúl Castro of Cuba; Bashar al-Assad of Syria; Mahmoud Ahmadinejad of Iran; Rafael Correa of Ecuador; or Evo Morales of Bolivia? I mean that presents the ODE's point of view in a reasonably fair manner most of the time? Or any ODE of the recent past like Slobodan Milosevic of Serbia, Moammar Gaddafi of Libya, Robert Mugabe of Zimbabwe, or Jean-Bertrand Aristide of Haiti?

Who in the mainstream media supports Hamas of Gaza? Or Hezbollah of Lebanon? Who in the mainstream media is outspokenly critical of Israel's treatment of the Palestinians? And keeps his or her job?

Who in the mainstream media treats Julian Assange or Chelsea Manning as the heroes they are?

And this same mainstream media tell us that Cuba, Venezuela, Ecuador, et al. do not have a real opposition media.

The ideology of the American mainstream media is the belief that they don't have any ideology; that they are instead what they call "objective". I submit that there is something more important in journalism than objectivity. It is capturing the essence, or the truth, if you will, with the proper context and history. This can, as well, serve as "enlightenment".

It's been said that the political spectrum concerning US foreign policy in the America mainstream media "runs the gamut from A to B".

Sincerely, William Blum, Washington, DC
(followed by some of my writing credentials)
–
Reply from Paul Farhi:
I think you're conflating news coverage with editorial policy. They are not the same. What a newspaper advocates on its editorial page (the Vietnam example you cite) isn't the same as what or how the story is covered in the news columns. News MAY have some advocacy in it, but it's not supposed to, and not nearly as overt or blatant as an editorial or opinion column. Go back over all of your ODE examples and ask yourself if the news coverage was the same as the opinions about those ODEs. In most cases. I doubt it was.
–
Dear Mr. Farhi,

Thank you for your remarkably prompt answer.

Your point about the difference between news coverage and editorial policy is important, but the fact is, as a daily, and careful, reader of the Post for the past 20 years I can attest to the extensive bias in its foreign policy coverage in the areas I listed. Juan Ferrero in Latin America and Kathy Lally in the Mideast are but two prime examples. The bias, most commonly, is one of omission more than commission; which is to say it's what they leave out that distorts the news more than any factual errors or out-and-out lies. My Anti-Empire Report contains many examples of these omissions, as well as some errors of commission.

Incidentally, since 1995 I have written dozens of letters to the Post pointing out errors in foreign-policy coverage. Not one has been printed.

Happy New Year
–
I present here an extreme example of bias by omission, in the entire American mainstream media: In my last report I wrote of the committee appointed by the president to study NSA abuses – Review Group on Intelligence and Communications Technologies – which actually came up with a few unexpected recommendations in its report presented December 13, the most interesting of which perhaps are these two:
"Governments should not use surveillance to steal industry secrets to advantage their domestic industry."
"Governments should not use their offensive cyber capabilities to change the amounts held in financial accounts or otherwise manipulate the financial systems."
So what do we have here? The NSA being used to steal industrial secrets; nothing to do with fighting terrorism. And the NSA stealing money and otherwise sabotaging unnamed financial systems, which may also represent gaining industrial advantage for the United States.
Long-time readers of this report may have come to the realization that I'm not an ecstatic admirer of US foreign policy. But this stuff shocks even me. It's the gross pettiness of "The World's Only Superpower".
A careful search of the extensive Lexis-Nexis database failed to turn up a single American mainstream media source, print or broadcast, that mentioned this revelation. I found it only on those websites which carried my report, plus three other sites: Techdirt, Lawfare, and Crikey (First Digital Media).
For another very interesting and extreme example of bias by omission, as well as commission, very typical of US foreign policy coverage in the mainstream media: First read the January 31, page one, Washington Post article making fun of socialism in Venezuela and Cuba.
Then read the response from two Americans who have spent a lot of time in Venezuela, are fluent in Spanish, and whose opinions about the article I solicited.
I lived in Chile during the 1972-73 period under Salvadore Allende and his Socialist Party. The conservative Chilean media's sarcastic claims at the time about shortages and socialist incompetence were identical to what we've been seeing for years in the United States concerning Venezuela and Cuba. The Washington Post article on Venezuela referred to above could have been lifted out of Chile's El Mercurio, 1973.
[Note to readers: Please do not send me the usual complaints about my using the name "America(n)" to refer to "The United States". I find it to be a meaningless issue, if not plain silly.]
JFK, RFK, and some myths about US foreign policy
On April 30, 1964, five months after the assassination of President John F. Kennedy, his brother, Attorney General Robert F. Kennedy, was interviewed by John B. Martin in one of a series of oral history sessions with RFK. Part of the interview appears in the book "JFK Conservative" by Ira Stoll, published three months ago. (pages 192-3)
RFK: The president … had a strong, overwhelming reason for being in Vietnam and that we should win the war in Vietnam.

MARTIN: What was the overwhelming reason?

RFK: Just the loss of all of Southeast Asia if you lost Vietnam. I think everybody was quite clear that the rest of Southeast Asia would fall.

MARTIN: What if it did?

RFK: Just have profound effects as far as our position throughout the world, and our position in a rather vital part of the world. Also it would affect what happened in India, of course, which in turn has an effect on the Middle East. Just as it would have, everybody felt, a very adverse effect. It would have an effect on Indonesia, hundred million population. All of those countries would be affected by the fall of Vietnam to the Communists.

MARTIN: There was never any consideration given to pulling out?

RFK: No.

MARTIN: … The president was convinced that we had to keep, had to stay in there …

RFK: Yes.

MARTIN: … And couldn't lose it.

RFK: Yes.
These remarks are rather instructive from several points of view:
Robert Kennedy contradicts the many people who are convinced that, had he lived, JFK would have brought the US involvement in Vietnam to a fairly prompt end, instead of it continuing for ten more terrible years. The author, Stoll, quotes a few of these people. And these other statements are just as convincing as RFK's statements presented here. And if that is not confusing enough, Stoll then quotes RFK himself in 1967 speaking unmistakably in support of the war.

It appears that we'll never know with any kind of certainty what would have happened if JFK had not been assassinated, but I still go by his Cold War record in concluding that US foreign policy would have continued along its imperial, anti-communist path. In Kennedy's short time in office the United States unleashed many different types of hostility, from attempts to overthrow governments and suppress political movements to assassination attempts against leaders and actual military combat; with one or more of these occurring in Vietnam, Cambodia, Laos, British Guiana, Iraq, Haiti, Dominican Republic, Cuba and Brazil.

"Just have profound effects as far as our position throughout the world, and our position in a rather vital part of the world."

Ah yes, a vital part of the world. Has there ever been any part of the world, or any country, that the US has intervened in that was not vital? Vital to American interests? Vital to our national security? Of great strategic importance? Here's President Carter in his 1980 State of the Union Address: "An attempt by any outside force to gain control of the Persian Gulf region will be regarded as an assault on the vital interests of the United States of America".

"What a country calls its vital economic interests are not the things which enable its citizens to live, but the things which enable it to make war." – Simone Weil (1909-1943), French philosopher

If the US lost Vietnam "everybody was quite clear that the rest of Southeast Asia would fall."

As I once wrote:

Thus it was that the worst of Washington's fears had come to pass: All of Indochina – Vietnam, Cambodia and Laos – had fallen to the Communists. During the initial period of US involvement in Indochina in the 1950s, John Foster Dulles, Dwight Eisenhower and other American officials regularly issued doomsday pronouncements of the type known as the "Domino Theory", warning that if Indochina should fall, other nations in Asia would topple over as well. In one instance, President Eisenhower listed no less than Taiwan, Australia, New Zealand, the Philippines and Indonesia amongst the anticipated "falling dominos".

Such warnings were repeated periodically over the next decade by succeeding administrations and other supporters of US policy in Indochina as a key argument in defense of such policy. The fact that these ominous predictions turned out to have no basis in reality did not deter Washington officialdom from promulgating the same dogma up until the 1990s about almost each new world "trouble-spot", testimony to their unshakable faith in the existence and inter-workings of the International Communist Conspiracy.
Killing suicide
Suicide bombers have become an international tragedy. One can not sit in a restaurant or wait for a bus or go for a walk downtown, in Afghanistan or Pakistan or Iraq or Russia or Syria and elsewhere without fearing for one's life from a person walking innocently by or a car that just quietly parked nearby. The Pentagon has been working for years to devise a means of countering this powerful weapon.
As far as we know, they haven't come up with anything. So I'd like to suggest a possible solution. Go to the very source. Flood selected Islamic societies with this message: "There is no heavenly reward for dying a martyr. There are no 72 beautiful virgins waiting to reward you for giving your life for jihad. No virgins at all. No sex at all."
Using every means of communication, from Facebook to skywriting, from billboards to television, plant the seed of doubt, perhaps the very first such seed the young men have ever experienced. As some wise anonymous soul once wrote:
A person is unambivalent only with regard to those few beliefs, attitudes and characteristics which are truly universal in his experience. Thus a man might believe that the world is flat without really being aware that he did so – if everyone in his society shared the assumption. The flatness of the world would be simply a "self-evident" fact. But if he once became conscious of thinking that the world is flat, he would be capable of conceiving that it might be otherwise. He might then be spurred to invent elaborate proofs of its flatness, but he would have lost the innocence of absolute and unambivalent belief.
We have to capture the minds of these suicide bombers. At the same time we can work on our own soldiers. Making them fully conscious of their belief, their precious belief, that their government means well, that they're fighting for freedom and democracy, and for that thing called "American exceptionalism". It could save them from committing their own form of suicide.
I just finished reading Malcolm Gladwell's book, "David and Goliath" — wherein Gladwell says that, in the course of any human interaction, there will always be a graphic curve of diminishing returns when it comes to maximizing the use of force in order to achieve one's goals.
In other words, always punching other people's lights out in order to get your own way can very quickly become counterproductive.  Good grief, I think that Gladwell might be onto something here.
Want examples?
If the maximum use of force in order to obtain one's goals had been successful in Iraq (and assuming that said goals were to depose a dictator and not just to create chaos and steal oil), then the Bush-led invasion would never have been such a dismal failure and there never would have been such a disastrous resistance war there — one that still keeps rolling right along to this day.  So much for Shock and Awe.
If maximum use of force really worked, then Europe would still be saluting Hitler.
Slavery would still be on the books in Georgia and Alabama because of all those happy slaves it created.  Or, alternatively, segregation would still be a huge success and MLK would have had no effect at all on it.
Descendants of Genghis Khan would still be running Russia and China.
There would be no Child Protective Services anywhere and parents would still be beating their kids to within an inch of their lives.  And I would still be lovingly obeying my mean older sister.
Women would look forward to being placed in harems and having a dozen babies each and would never demand the right to be pro-choice.  "Barefoot and pregnant."  They would know their place as slaves to their husbands and not strive for anything else.  Rape would not be a problem for women and girls.
Those viscous stormtroopers who illegally seized control of Palestine 65 years ago by ruthlessly wiping out hundreds of villages and slaughtering Christians and Muslims by the thousands?  They would not still be getting resistance from the Occupied Territories even now.  And the current Israeli neo-cons' constant brutal "eye for an eye" faux cleverness wouldn't have forced Al Qaeda out of the remote caves of Afghanistan where it was holed up in 2001 — and forced it into not-so-remote southern Syria where Al Qaeda is now, right at Israel's front door.
And there would not have been 30 years of The Troubles in Northern Ireland either.
And in South America, Pinochet's ghost would still be running Chile, Argentina's Dirty War would have made Henry Kissinger proud, the billions Reagan spent on killing peasants in Guatemala would not have been wasted, Batista's grandson (not Castro's brother) would still be ruling Cuba and all those tin-pot dictators that the CIA supported in Central and South America over the years would be in Heaven right now — not in Hell.  And phrases like "Banana Republic" and "Military Junta" and "Drug Cartel" would all stir our hearts with pride instead of just making us queasy.
The Soviet Union would still exist — and Afghans and Chechyans would just love being a part of it.  People there would stop praising Tolstoy, Tchaikovsky and Baryshnikov and start even more fan clubs for Stalin.
We would have "Fascism" and "Corporatism" engraved on our dimes now instead of just that stupid old word "Liberty".  And "Mein Kampf" — not "Romeo and Juliette" — would be required reading in all American high schools.
All seven billion of us human beings, when we were babies, would have been spanked every time we cried, been locked in closets for days for the slightest infraction and would have thrived on harsh whippings — and that would have been that.  And as a result we would all have grown up to become obedient citizens, not axe-murdering psychopaths.
Jesus would have been just another loser with wild ideas.  Even Mohammed and the Buddha would have been buked and scorned (and sent to bed without any Last Supper). http://www.youtube.com/watch?v=UdllgBtXPaE
Everyone in America would be happily welcoming the NSA and the militarization of our police forces with open arms right now.  More tanks driving down Main Street?  More surveillance on our phones?  More destruction of our Constitutional rights?  Bring it on!
And Baby Doc and his Bon Ton Macoute would still be running Haiti and Jean-Bertrand Aristide would have been laughed out of the country instead of becoming a hero almost as legendary as Toussaint L'Ouverture.
So why don't whips and chains and oppression and torture work out so well in the long run?  One would think that they would.  Isn't Fear the greatest motivator?  According to Gladwell, apparently not.
And why is "Do unto others as you would have others do unto you" still such a hot item?  You tell me.  Which way would you prefer to be treated?  As a friend or as a slave?  Which way of being treated would piss you off to the degree that you would take torches and pitchforks in hand rather than live under a tyrant?
Urban War Zones are now a reality inside many American cities.
It's no longer necessary to go to Iraq, Afghanistan or Africa to enter a real war zone and have to fight for your life.
Thanks to massive CIA drug trafficking and American Free-trade Treaties like NAFTA, CAFTA, GATT & WTO, many American inner cities have been transformed into actual war zones.
These inner city war zones are infested with drug gangs that outnumber police and out gun them too.
At present these gangs are typically competing and battling with each other for turf and making a living selling drugs and running prostitutes, some captive sex-slaves. At some point if the economy worsens and the SHTF, they could easily start looting and attacking anyone and everyone.
However, in every major city in America at present, violent urban predators prey on the unarmed, old, weak, sick or disabled. And while out of control Police Swat Teams battle these predators and drug gangs, they often tyrannize the innocent which include women and young children, using excessive force all too often. There are numerous incidents of such teams murdering innocents after attacking the wrong home.
The massive War on Drugs was designed as a dualistic program. One hand, the top secret part involves the USG bringing in massive amounts of illegal drugs to raise "off the books money" for covert ops. The other hand uses all serious gang crimes arising as a pretext to militarize the police as justify their deployment as Nazi Storm Troopers.
This second part of the War on Drugs is for public disclosure and consumption. In response to all this massive urban breakdown, the worsening economy and increasing government tyranny from the Department of Homeland Security, the TSA and out of control local police, Americans are arming at an astounding rate. Guns are literally flying off the shelves and ammo sales are at an all time high also.
Americans now arming up in mass in order  to protect themselves from and this increasing USG Tyranny of the USG, DHS and their local militarized and Mind-kontrolled local police (1)  and from increasing and spreading urban crime which includes robberies, car-jackings, home burglaries and home invasions.
Also given as an important reason for arming up for the first time when asked, is a fear of possible impending economic collapse with an associated SHTF occurrence. Many express a salient and absolute need to be able to protect themselves and/or their family members from possible looters and armed home invaders which would likely accompany a SHTF urban breakdown situation.
And who should be credited with creating such a foreboding urban environment? It is the Globalist Traitors and infil-Traitors who have hijacked the political process and Banking in America.
These Globalist "enemies within" have rammed through economically disastrous Free-Trade Agreements and forced Diversity, Perversions and Political correctness accompanied by massive immigration, most illegal. All this has been designed to destroy the borders, language and culture of America, to neutralize its Constitution, Bill of Rights and Rule of Law while transforming America into a economically distressed Third World Nation.
These Globalist enemies within the Gates have been working very hard to transform America into a Democracy (Mob rule by the masses) from the Republic which was set up by our Founding Fathers.  Obviously any real enforcement of the US Constitution would assure that American would remain a republic the way it was set up.
Since the imposition of so-called "Free Trade" policies upon the American Republic, urban decay and blight have become epidemic in major American cities. Many cities have turned into Urban Jungles, where only the strongest survive. In these Urban Jungles, violent gangs prevail and the weak are parasitized and consumed, afraid to go out of their homes, especially after dark.
Take Chicago, which has become a "kill or be kill" free fire Urban War Zone in some of its Urban areas. Chicago is the one of the most gun restricted areas ever, but the only ones that do not carry guns to defend themselves are law abiding citizens.
Gang members have all the guns they want, supplied by drug gangs and the CIA and BATF.http://www.cbsnews.com/news/gang-wars-at-the-root-of-chicagos-high-murder-rate/
Some of these areas such as Washington DC have been rated as having a 300% chance of being mugged if out after dark in certain areas, which means you could likely be robbed three times in a single block if you have a victim profile (old, young, weak, disabled, female). The real unemployment rate is 37%, despite phony USG that it is 7% or less.(2)
And now Detroit has been declared Bankrupt. It has been reported that retired police and City workers will now receive approximately 13% of their pensions due.
The Ruins of Detroit:
The ten Most Dangerous American Cities which are truly Urban Jungles at Night:
There are areas in Detroit, South Chicago and St. Louis that are so violent and infested with violent gangs that even the police refuse to enter unless ordered and then do so with major forces.
Until recently parts of Detroit was so violent that police and ambulances refused to provide service during the night hours and often found abandoned dead bodies (murder victims) days later. Detroit, known as "Iron City", the jewel of America, used to be prosperous beyond measure based on the manufacture of the world's finest cars.
Remember what a 1965 Olds Starfire coupe was like, or a mid 60′s Buick Wildcat or Pontiac Bonneville was like.  How about a mid 60′s Chevy with a HP409 engine or a Plymouth Belvedere with a 426 Hemi or 440 Wedge engine?
That all changed in 1971 with the introduction of very extreme anti-pollution "clean air" laws which reduced automotive engine compression ratios from approximately 10.5 to 8.5, required the installation of retarded, goofy extremely inefficient camshafts.  The result was garbage engines that had little power, consumed huge increases in gasoline and a major shift in chassis quality to near complete crap. At that point American automotive quality was gone and is only starting to come back now forty years later.
This is but one symptom of the covert Globalist engineering of American Society on behalf of the City of London zionist Central Banksters.
This of course created a great opportunity for the Japanese Auto manufacturers, secretly owned and controlled by the super-elite American Banking families. When W. Edwards Deming, an astute American engineer approached American Automotive Manufacturers in Detroit and proposed his plan to drastically reduce defects and lemons, he was rebuffed because it was felt his plan was too expensive and too slow.
Deming's plan required 100% quality checks and verification of all parts from every supplier instead of the approximately 1% or less sampling. When Deming approached the Japanese, who had already shown a new coming expertise in motorcycles and quality circles in their electronics manufacturing, his program was accepted and implemented.
The rest is history, and after about 15 years, the American Automotive manufacturers have been playing a catch up game ever since for quality with the Japanese Auto manufacturers.
And now the Korean Automotive Manufacturers have hired retired Japanese automotive engineers as consultants and have adopted many of their same practices and principals to their automotive manufacturing.  The result?
Some Autos manufactured in South Korea have attained the same quality as the Japanese which are considered to currently be the highest quality in the world. As many automotive enthusiasts suggest, if you want the best performance buy German, if you want the highest quality buy Japanese.
It is a fair assumption that Globalism and the Free-Trade Agreements it produced, have resulted in the exportation of most American heavy industry, manufacturing and millions of good paying jobs. This alone has seriously harmed the American economy and set America on a path of destruction, starting first with its Urban Centers which have become urban wastelands and jungles, and now progressively spreading to middle class and upper middle class outlying suburbs.
Fair Trade with suitably adjusted reasonable Tariffs to protect American Jobs are necessary to America's economic survival and prosperity. Free Trade is not Free at all and is an abomination to the American republic and its Sovereignty.
It is a tool of the Globalists to enhance the earnings of their international offshore Globalist corporations at the expense of the American worker.  It is nothing less than a secret war against America's Sovereignty and the Republic itself.
The only other globalist tactic to destroy America that approaches its effectiveness are the policies of unrestricted illegal immigration, forced diversity, cultural programming that perversion is good, required perversion programming in the public schools that it is normal, and political correctness.
Obviously these are all Globalist weapons of covert war waged against America to destroy its borders, language and culture and gut it economically.  These Globalist weapons have been deployed against Americans in order to transform America into a Third World "Democracy" instead of the Republic that it was set up to be by the Founding Fathers.
These Traitors and Infil-Traitors in Congress and the Administration keep financing and running foreign wars for Israel in order to establish Democracy like they keep claiming we have in America. We have never had a democracy but they have been doing their best to kill the Republic on the behalf of their zionist owners and masters This is of course one of the biggest lies ever told.
America has always been a Republic, a democracy is mob rule. Of course bringing in 30-60 million illegal immigrants and millions of legally sanctioned foreign workers has quickly undermined American culture and tradition and established a real base to elect politicians who appeal to the masses. The election of President Obama was the first of such travesties.
Up until recently when American aircraft manufacturers starting buying foreign parts, American aircraft were the best in the world, especially the military aircraft and fighter/interceptors. Now we have an F-22 with a contaminated O2 system from China that causes some pilots to start passing out and a Boeing Dreamliner with a faulty battery system that was imported.
For years St. Louis has been so poor that some of their police radio don't work properly and their squad cars are in disrepair. In East Los Angeles, despite how tough and well armed the LA Police Department is, top police officials know that they are completely outgunned by Mexican drug gangs allowed to enter and do business inside America and also provided arms shipped by the CIA and the BATF.
It's not as if Americans weren't duly warned what such Free-Trade Treaties would produce, because Presidential Candidate Ross Perot went public with what was coming.  He described the effects as a "giant sucking sound" for American jobs as they would leave America in droves.
But despite Perot's grave warnings, President George HW Bush signed NAFTA on Dec. 17, 1992 with full Congressional support. The NAFTA Treaty was ratified after Bill Clinton became President. Soon after the sucking sound started, with shocking support the the US Department of State which provided massive grants to major corporations to move manufacturing to Mexico.  These grants continued at American taxpayer expense under the subsequent Trade Treaties that were subsequently signed and ratified such as CAFTA, GATT, and WTO.
Unbeknownst to most Americans, President Obama is now deeply involved in secret negotiations to pass the Trans Pacific Partnership Treaty (TPP) which experts have described as "NAFTA on Steroids". TPP is far more than just another Free Trade Treaty which continues to lower the value of American wages to the "rock bottom" levels in third world  countries. If signed and ratified by Congress, the TPP would be the complete end to any remaining American Sovereignty.
What established this frenzy for Free-Trade Agreements? It is now known that The last duly elected President of the United States of America was Ronald Reagan.  It is also known by seasoned intel officers that Ronald Reagan distrusted American Intel in general and especially his Vice President George HW Bush.
In fact it has now been discovered that President Reagan distrusted the CIA and American Intel so much, he set up his "Kitchen Cabinet" and brought in Lee Wanta as his Secret Agent under the Totten Doctrine (3).
George HW Bush was illegally elected later as President, since his father Prescott Bush had signed an Immunity Agreement that no future Bushes (Scherfs) would ever run for office after he was arrested for "aiding the enemy" and his Union Bank assets were seized by FDR during WW2.
It is also known that George HW Bush ran his own private CIA inside the CIA which served the specific needs of the zionist City of London Central Banksters and their franchisees, the American private Federal Reserve and major Wall Street Banksters.
Some former top American Intel believe that it was this private GHW Bush Intel organization that tried to assassinate President Reagan, by using their man, a secret service man who fired a high speed plastic disc from a compressed air powered disc-gun, the type displayed by William Colby in Congressional Hearings on the abuses of American Intel.
PBS Judy Woodruff had reported this of seeing the SS man fire a gun from a second story window that night on PBS but the story was quickly squelched and she changed it after a very convincing "not to worry visit" from some very serious American Intel agents. President Reagan, despite a long slow disjointed route to the hospital, survived. This assassination attempt however signaled that the Treasonous Bush Cabal had attained a major power base inside the Military and Congress.
The sad thing is that all the political power and influence  necessary to accomplish this and to transform the American Congress into Traitors was due to the vast money provided to K Street Lobbyists and zionist espionage groups like AIPAC, ADL, B'nai B'brith, and the like by the Central Banksters and the various Judaic groups shaken down and manipulated by zionist for donations.
So the first beach-head of the Globalists (aka zionist City of London Central Banksters and the "Old Black Nobility" they represented) was established with a bought, owned and controlled US Congress.  Once GHW Bush was elected President, the circle of control was complete.
One of George W. Bush's major assignments was to take American further down the Globalist path by fighting more Mideast wars for Israel. Another was to destroy the Republic party by being the worst President ever and fully debasing the Republican, which he did. Now the Republican leaders in Congress are tricking the Republican Party into committing suicide by agreeing to back the Democratic legislation for making illegal immigrants legal and future citizens.
So it is now obvious that the Republic Party is finished and Americans need to rise up and form a new Third Party. Otherwise you can be assured that just like in the last Presidential election, both candidates will be owned by the Bush Cabal.Unless the Bush Cabal has been fully exposed and displaced by then which is now  real possibility.
It has been estimated that there are now approximately 30 million illegal immigrants inside Americaallowed in by a Globalist controlled USG who prevented border enforcement and liberal immigration laws which are not enforced. With the the passage of the currently proposed Democratic plan for legalizing illegal immigrants, this number could easily grow to 60 to 100 million.
In most major American Cities, Police are not allowed to arrest suspected illegal immigrants for minor traffic violations or check their identification for legal status. Not so for those whose license plates are run and show up as actual American Citizens. And this is all due to orders coming down from a few top policy-Makers who operate at the nexus of the Secret Shadow Government (SSG).
GHWB could now institute major efforts to undo all the excellent plans for the economic and industrial reconstruction of America that President Reagan had set in place and activated. As has been disclosed in a previous article (4), President Reagan had brought in Lee Wanta to serve as his Secret Agent because he didn't trust the CIA which had been corrupted and hijacked by GHWB.
It should now be exceedingly clear to those who are well informed about the degradation of the American economy and rule of law accompanied by increasing tyranny, deployment of DHS, TSA and the passage of all the unConstitutional draconian laws (like the so-called Patriot Act, the Military Commissions Act, and NDAA 2014).
All this is being engineered by foreign controlled Globalist traitors and infil-Traitors who have hijacked America and worked hard to export  heavy industry, manufacturing and jobs.
And that they are doing this to asset strip America, destroy it's economy and the Republic itself in order to Balkanize America and prevent it from ever rising in economic strength again and operating as a Republic "of the people, by the people and for the people".
Their motives for all this?  To covertly re-fight the Revolutionary war that was lost and retake America on behalf of the zionist City of London Central Banksters and their Kingpin overlords the Old Black Nobility (OBN).  These hidden masters of the world-wide occult network which runs the IZCS prefer to stay hidden in the background where they can pull all the strings of several top Policy-Makers in America with no personal risk to themselves.
What can be done to turn this around? Obviously the first step is to get rid of all Free-Trade Agreements. In order to do this all the zionist espionage fronts inside America such as AIPAC, ADL, B'nai B'rith and the like must be fully exposed and prosecuted to the fullest extent of the law. In order to do this zionist Israeli-American dual citizens inside Congress and the USG and its Agencies must be exposed as traitors and agents of foreign espionage and routed out of power.
America has to stop fighting Israel's illegal Mideast wars and withdraw all aid and support for Israel as long as it is a criminal, racist apartheid state persecuting and murdering Palestinians and stealing their land incrementally.
Lee Wanta, a great American Heroe that served as President Reagan's Secret Agent under the Totten Doctrine and was instrumental in bringing down the evil Soviet Union
We need to re-institute the Wanta Reconstructing America Plan based on the Maglev High Speed Rail System which has the necessary funding already available. (5)
And it is time to also re-establish the Want Economic Recovery Plan for America that was also set up under President Reagan, but later stopped cold by George HW Bush and his Cabal when they instituted a secret coup to take over the whole USG on behalf of the City of London zionist Central Banksters and their Wall Street and Federal Reserve Franchisees.(6)
In fact it is a reasonable assumption that the massive Free-Trade attack on America's economy was largely a reaction by the Bush Cabal to these amazing economic reconstruction plans President Reagan had put in place through his Secret Agent Lee Wanta, who was the master strategist that took down the Soviet Union for President Reagan.
Recent respected surveys show that a majority of American are disgusted with the current administration and rating of the lowest ever experienced in America in the last century. Congress is also rated at an all time low with only 9% approving of it. Many view the current President as an alien imposter with no traceable past.  Some alternative media writers have stated that he is a sheep-dipped CIA creation just like Bill Clinton. All this is a mute point.  Why?
Because Ronald Reagan was the last duly elected President of the United States of America, the Republic, all presidents since have been fraudulently elected and owned by the Bush Cabal. And this Bush Cabal is the Action Agent of the City of London zionist Central Banksters and their International Zionist Crime Syndicate (IZCS).
The IZCS is centered in Israel where most intel is done by privatized Israeli corporations serving as American Defense and Intel contractors.  It is these private Israeli contactors who control all NSA raw intel and almost all American communications including internal White House phone calls and messaging, as well as all Pentagon and DOD communications.
Obviously the Bush Cabal has been able to install its own Presidential puppets and run a lucrative illegal drug trafficking operations into America.  All done to destabilize and "dirty up" American Cities while absorbing a great deal of the Welfare dollars and capturing vast "off the books" funds for their own covert operations and bribery of Congress. It is a fair conclusion that the Bush Cabal has destroyed the American Rule of Law, debased any true enforcement of the US Constitution and Bill of Rights and has corrupted every institution and agency of the USG.
However there is good news.  A growing force for good has emerged in the Alternative Media now transmitted everywhere instantly on demand by the worldwide Internet, the new Gutenberg Press and the NWO Globalist's Achilles Heel. Yes, the Controlled Mass media (CMMM) has been a propaganda mouthpiece for the Bush Cabal and the IZCS, but is now losing its appeal and credibility. The CMMM keeps feeding lies and crap to the American public that are obviously false, like the Mideast American wars are wars to establish Democracy.  More and more Americans now realize this is complete BS, that we are there to fight Israel's wars and defend British Oil interests.
Compare the articles of Veterans Today and other respected truth media now which are being published and read by millions inside America and all over the world with the CMMM. You will see the gap between the alternative media truth and the CMMM lies is ever widening and we are starting to see Alternative Media's popularity driving stories into the CMMM, even thought the CMMM usually attempts to neutralize their significance.
Many thousands of brave American Soldiers who were lied to and deceived into fighting these illegal, unConstitutional, unprovoked, undeclared wars for Israel and Big Oil, thinking that they were defending America and its freedom. Few greater lies and deceptions has ever been predicated on Americans than this complete lie.  Many thousands of Americans have been killed and horribly wounded and disabled in this war.
If the American Military ever fully realizes that all these wars were phony and based on a lie and that Israel did the 9/11 attacks with the help of a cabal within the USAF and JCS, there will be hell to pay for all those perps involved. And now there is good reason to believe that day is coming in the not too distant future.
As most Americans are beginning to realize, America has been infil-Traited by Traitors and Infil-Traitors in the highest positions of the USG.  The major economic deterioration and loss of assets to the Wall Street Banksters and the private Federal reserve through financial Fraud have been staggering and Americans are catching on the the BLATANTLY OBVIOUS.
When American society reaches a critical mass awakening to this obvious situation that Globalists have been doing everything they can to destroy America, there will be major Blow-back of astounding proportions. When 12% of Americans are awakened, a critical mass and major turning point will be reached and you will begin to see major social change like never conceived, and this will all be due to major Blow-back from awakening.
The elites hate to acknowledge it, but when large numbers of ordinary people are moved to action, it changes the narrow political world where the elites call the shots. Inside accounts reveal the extent to which Johnson and Nixon's conduct of the Vietnam War was constrained by the huge anti-war movement. It was the civil rights movement, not compelling arguments, that convinced members of Congress to end legal racial discrimination. More recently, the townhall meetings, dominated by people opposed to health care reform, have been a serious roadblock for those pushing reform…. A big turnout … can make a real difference….When someone tells you to stop imagining that you are having an impact, ask them to please direct their energy into getting 10 friends to join you in doing what needs to be done. If it has no impact, you'll have gone down trying. If it has an impact, nobody will tell you for many years. (7)
This coming complete awakening will be due to information dispensed and diffused by the Alternative Media and the worldwide Internet as well as word of mouth. it is best viewed as a byproduct of a new and powerful emerging worldwide populism which has now reached the point it is unstoppable. One recent study has established 10% as a critical mass, turning point for Society.(8)
I believe we are already at 11% and when we reach 12%, the days of the Bush cabal will be dated. They know it too and are scared sh*tless. That is why they have been going for broke trying to ram the NWO down our throats and militarize local police and build up DHS to oppress and then mass murder us.
It's time to speak up to all your family, friends and associates that we need to abandon the Republican and Democratic political Parties.  Both parties are owned and controlled by the same Overlord, the IZCS who bought them and can blackmail them with NSA provided intel.
Former Minnesota Governor Jesse Ventura, who is also a Vet and a Navy Seal/UDT man had it right in his book of the Replican and Democrat Political Gangs in America, DemoCRIPS and ReBLOODlicans (9).
Gov. Ventura recommends Americans dump both political Parties which serve the same corrupt masters and start electing alternative candidates only who are not associated with either of the two parties.
Conclusion:
It should now be exceedingly clear to those who are well informed about the degradation of the American economy and rule of law accompanied by increasing tyranny, deployment of DHS, TSA and the passage of all the unConstitutional draconian laws (like the so-called Patriot Act, the Military Commissions Act, and NDAA 2014), that all this is being engineered by foreign controlled Globalist traitors and infil-Traitors who have hijacked America and worked hard to export  heavy industry, manufacturing and jobs.
And that they are doing this to asset strip America, destroy it's economy and the Republic itself in order to Balkanize America and prevent it from ever rising in economic strength again and operating as a Republic "of the people, by the people and for the people".
Their motives for all this?  To covertly re-fight the Revolutionary war that was lost and retake America on behalf of the zionist City of London Central Banksters and their Kingpin overlords the Old Black Nobility (OBN).  These hidden masters of the world-wide occult network which runs the IZCS prefer to stay hidden in the background where they can pull all the strings of several top Policy-Makers in America with no personal risk to themselves.
(1) http://www.veteranstoday.com/2013/02/17/robocops/
(2) http://www.tpnn.com/2014/01/22/actual-unemployment-rate-37-2-not-6-7-says-wall-street-adviser/
(3) TOTTEN DOCTRINE [ 92 U.S. 105, 107 (1875) ]
(4) http://www.veteranstoday.com/2014/01/05/the-wanta-reconstructing-america-plan/
(5) http://www.veteranstoday.com/2013/12/28/high-speed-rail/
(6) http://wantarevelations.com/2014/01/wanta-plan-macro-financial-economic-check-list/
(7) http://www.zerohedge.com/contributed/2014-01-31/powers-be-are-secretly-terrified-people%E2%80%99s-power-%E2%80%A6-and-only-pretend-they%E2%80%99re-fi
(8) http://scienceblog.com/46622/minority-rules-scientists-discover-tipping-point-for-the-spread-of-ideas/
(9) http://www.amazon.com/DemoCRIPS-ReBLOODlicans-More-Gangs-Government/dp/162087587X/ref=sr_1_2?s=books&ie=UTF8&qid=1391327762&sr=1-2&keywords=jesse+ventura+democrips+and+rebloodlicans
Source: Preston James | Veterans Today
Is there any doubt that America's foreign policy, based upon maintaining a global empire, actually makes us less safe? The misgiving is that such intercession has any actual benefits to the citizens of the country. What once was a respected leadership role of non-interventionism in international affairs, has become a dominating imperium for worldwide control and subjugation. Exporting the "land of the free" is a myth, especially when domestic freedom is a dying memory. Internationalists tell us that military and surveillance drone technology promises enhanced security, with little concern for collateral damage or loss of innocent life. However, the facts do not bear out such claims.
Factor in the expansion of robot deployment and replacement of human assets, produces the net effort of an even more depersonalize and dehumanizing use of coercive force. Nonetheless, such a trend gets little public concern and even less outrage. Military branches, filled with voluntary recruits, are losing faith in the spin. CIA and unnamed black bag missions rely upon eager operatives that believes in the importance of the assignment or demented mercenaries that enjoy their macabre trade.
The practice of desensitizing defense forces is an essential component of basic training. With robot brigades, moral considerations need not interfere with killing tasks. The essay, Kant's moral philosophy and the question of pre-emptive war illustrates the quid essential example of an amoral tech that avoids the very nature of profound ethical issues. The stick question of morality is foremost in areas of human endeavors, but total absent in the wiring of tech carnage machines.
"That the international arena is indeed a state of nature in something approaching Hobbes's sense of the term is a theme upon which Kant insists in both Perpetual Peace and the Metaphysics of Morals; it becomes a much more insistent theme in the latter. Such a conceptualization does not, however, diminish Kant's commitment to upholding and, if possible, promoting fundamental principles of right within this arena, nor his condemnation of those individuals and governments, however numerous, which violate them. It is in this context that his pronouncements concerning the justifiability of war, and whether a pre-emptive war is ever acceptable, must be understood. In Perpetual Peace, these pronouncements are unequivocal. Famously, Article 5 of the preliminary principles conducive to perpetual peace is "No state shall interfere by force in the constitution and government of another state." In the long Appendix to this essay Kant warns against demanding that another state divest itself of a despotic constitution – at least as long as this state is in danger of being swallowed up by other states – even while expressing the hope that despotic constitutions will gradually give way throughout the world to republican forms of government. (Republican and despotic are the only two types of Regierung, as distinguished from forms of authority, or Beherrschung - that is, whether the ruling power consists of one person, several, or all of civil society taken together – that Kant recognizes; he is far removed from the distasteful combination of frivolity with brutality that has led to the identification of certain regimes as "rogue states," hence undeserving of any respect, by apologists for the great powers of our day.) Further on in the same Appendix, in the context of considering possible antinomies between morality and politics, Kant asks whether, if a neighboring power has grown to such size as to warrant apprehension that it might attack, it would be permissible for an allied coalition of weaker states to stage a pre-emptive attack on that state, "even without preceding insult," and answers in the negative."
Surely, the memory chips in drones and robots are not programmed to reflect a Kantian standard for the use of deadly force and destructive weaponry. It is exactly because of this lack of understanding between right and wrong that drones and robots are so attractive to the enforcers of the imperial empire.
Even an establishment mouthpiece like CBS must acknowledge the risks and non-decisive functions of this technology. Drone wars: Pentagon's future with robots, troops, clearly raises the dangers of android warfare.
"Washington's post-9/11 military interventions have been a boon for drones. The numbers tell the story. At the turn of this century, the Department of Defense had 90 drones with plans to increase the inventory by 200 over the next decade, according to Dyke Weatherington, a Defense Department deputy director overseeing acquisitions of hardware for unmanned warfare. As 2012 began, there were more than 9,500 remotely piloted aircraft in the U.S. arsenal.

Air Force contracting documents suggest that the estimated five Reaper sorties flown each day in 2012 will jump to 66 per day by 2016. What that undoubtedly means is more countries with drones flying over them, more drone bases, more crashes, more mistakes. What we're unlikely to see is armed drones scoring decisive military victories, offering solutions to complex foreign-policy problems, or even providing an answer to the issue of terrorism, despite the hopes of policymakers and the military brass."
Yet, the military is rapidly expanding the footprint and capacities for their drone force. Obama's Two Words for Us: 'Predator Drones', is not only a sick joke, but more importantly a very obscene policy. America's Secret Empire of Drone Bases, documents that this immoral combatant system is spreading indiscriminate causalities from "The Agency" who has a long record of war crimes.
"Over the last decade, the American use of unmanned aerial vehicles (UAVs) and unmanned aerial systems (UAS) has expanded exponentially, as has media coverage of their use. On September 21st, the Wall Street Journal reported that the military has deployed missile-armed MQ-9 Reaper drones on the "island nation of Seychelles to intensify attacks on al Qaeda affiliates, particularly in Somalia." A day earlier, a Washington Post piece also mentioned the same base on the tiny Indian Ocean archipelago, as well as one in the African nation of Djibouti, another under construction in Ethiopia, and a secret CIA airstrip being built for drones in an unnamed Middle Eastern country. (Some suspect it's Saudi Arabia.)
Post journalists Greg Miller and Craig Whitlock reported that the "Obama administration is assembling a constellation of secret drone bases for counterterrorism operations in the Horn of Africa and the Arabian Peninsula as part of a newly aggressive campaign to attack al-Qaeda affiliates in Somalia and Yemen." Within days, the Post also reported that a drone from the new CIA base in that unidentified Middle Eastern country had carried out the assassination of radical al-Qaeda preacher and American citizen Anwar al-Awlaki in Yemen."
Is this the kind of stealth death that shares the adage "if you build it they will die" or can the capabilities of these systems be limited strictly to reconnaissance intelligence? Now such a goal is not covered by international law, because the AMERIKA super power does not recognize any legal or moral restrains on their use of armed elimination of anyone designated as an enemy of the state.
Reigning terror from the skies is rationalized because suspected terrorists are such existential threats that allow for the use of any means necessary. The NDAA mentality covers the entire globe using the standard that removing anyone without due process is warranted. The Drone Wrath for a Compliant Society essay, implores that active resistance is long overdue.
"The National Defense Authorization Act is the latest unconstitutional measure that targets domestic citizens for punitive punishment. Due process, now reduced to "Due or Die" is the harbinger of the use of domestic drone capitulation. What will it take to awaken submissive citizens that the capability of foreign deployed drones easily can be weaponized for local operations?"
The NSA calls for the elimination of Edward Snowden, who just happens to be the most current and celebrated target. Nevertheless, with the readying of robot assassin squads, anyone could be the next victim. As long as the internationalists are in control of our government and the globalists are the masters of the world economy, the focus and missions of the U.S. military will be uses to further the interests of these treacherous elites.
The technocratic authoritarians diminish the sacred nature of life with each new death system. Absent from their design specifications is the moral imperative. For these deranged enablers of a global gulag, humans are expendable and unnecessary. The concept of Kantian duty is never a factor in their robotic monsters.
When empires are in the last thralls of decay, they go to war. The failures of the Iraq and Afghanistan invasions have exposed the futility and betrayal of globalist government service. Defense of country has never been the mission for these expeditions.
Future operations will use drone and robotic weapons whenever possible, since human doubt in a rightful purpose in the mission is rapidly diminishing. Troop reduction and replacement with machines is the technology solution, when moral authority is absent.
Perpetual war will seek full spectrum dominance, which is now dependent upon unman aircraft and land based devices. The next false flag excuse will claim a fictitious necessity to unleash the bombing drones. GPS coordinates; unencumbered by moral doubt, guide Hellfire missiles.
The 13th Amendment to the Constitution abolished slavery.  This means that if you are a slave today, it's either illegal, or you have voluntarily accepted your servitude.
Neither slavery nor involuntary servitude, except as a punishment for crime whereof the party shall have been duly convicted, shall exist within the United States, or any place subject to their jurisdiction.
You have a Constitutionally protected right to be free. If you aren't free, then revolution is your duty.
Many people believe that revolution requires that they lead a march, stand in front of a crowd with a bullhorn, or form a militia. They feel like it's a job for the Alex Joneses, the Adam Kokeshes,  the James Wesley Rawleses, and the Bradley Mannings of the world.
They're wrong.  You don't have to be a person with thousands of followers on Twitter and Facebook .  You don't have to be a person with a military leadership position on  your resume. You need not get yourself arrested on the steps of the White House, got to prison forever for telling the truth about your unit in the army, or stare down a bunch of scary-looking thugs in jack boots.
But you do have to do something.
You can't just sit there and complain unless you are really just another armchair Rambo.
The way you lead your life every single day can be an act of revolution.  By refusing to concede your natural rights, quietly and resolutely, you are performing an act of revolution. Walking the walk doesn't always require civil disobedience or militia membership (although those actions definitely have their places).  It requires your consistent determination not to be infringed upon.
It doesn't matter if you are a soccer mom from the suburbs, a college student in a dormitory, a church-going dad and husband, or a person who has found themselves homeless through the ongoing economic crisis – by living resolutely, you are performing an act of revolution.
Don't get me wrong – we need the Alexes, the Adams, the militias, the Bradleys, and the JWRs.  We need the people who stand in protest.  We need those who expose wrongdoing.  We need the organizers, the shouters, the big personalities, the quiet strong types, and the leaders. But these are not the only ways to revolt.  If every single person was off organizing their own rally, there'd be no one left to march in it.
What it is imperative upon us to do is to find our compass and follow it.  We must make ourselves immune to control by not needing what "they" hand out.  We have to be armored against the way everyone else lives and choose our own paths.  We must stubbornly refuse to participate in the hoop-jumping that is everyday life in North America.  By all of us who believe in liberty doing this, we form an army of stubborn non-participants in the status quo.
Here's an example. It's a small thing, a battle that today only affected my daughter and me.  My daughter is not vaccinated.  She attends a public school where the kids must be vaccinated, or hoops must be jumped through. I filled out the initial forms stating that I had an objection of conscience to vaccines.  I was contacted by a representative of the school system who suggested that I sign instead the form that stated a religious objection, because that was "easier".  I refused, because my objection is NOT one of religion, and I felt like that was a cop-out. I knew that I was within my rights to have an objection of conscience, and I felt that it was important to make a point that might make it easier for the next parent.  I was then told that I'd have to pay $25 and get a statement notarized to allow her exemption on my basis.  I said I'd be happy to get a statement notarized, but not at my expense. I pointed out that nowhere does our local law state that I should have to pay any money for my child to NOT do something.  Lo and behold, after 5 months of politely going back and forth,  being escalated through numerous different superiors of superiors in the school board and public health system, my daughter is still unvaccinated, I have not spent $25, and she was not suspended from school.  The point I'm making is not about vaccines, but about not stepping back from your rights, for your convenience or for the convenience of others. This requires that you read the relevant laws and understand them.  It requires a certain degree of persistence and a willingness to be a pain in the butt.
There are valid reasons for revolution.
One of the benchmarks of tyranny is the dizzying arrays of laws on the books, with more and more added every single day.  It is humanly impossible not to break multiple laws every single day.  Regulations are revenue builders and/or control mechanisms. If the "authorities" can ALWAYS find a law that you've broken, then they can ALWAYS give a "reason" for punishing you.  Punishment might include incarceration, hefty fines, or the removal of some privilege (like taking away your driver's license or not allowing your child to go to school).
If the laws be so voluminous that they cannot be read, or so incoherent that they cannot be understood; if they be repealed or revised before they are promulgated, or undergo such incessant changes that no man, who knows what the law is to-day, can guess what it will be to-morrow. Law is defined to be a rule of action; but how can that be a rule, which is little known, and less fixed? - James Madison, Federalist Papers 62
The police state is growing at a dizzying rate, and often the news makes it look like we live in Nazi Germany. It is now or never.  Like cockroaches, "they" – the thugs in jackboots and their masters – multiply in the dark, and will soon overtake us if we don't put a stop to it right now.  They want to take our guns because that would make our resistance more difficult.  They keep buying up ammo and now have more than enough to kill every man, woman, and child in America multiple times. The NDAA means that any person can be indefinitely detained. There has been a sustained attack on the Bill of Rights and one by one our rights are being submerged beneath the desires of those who would demand our submission.
How can you be an everyday revolutionary?
The most revolutionary act is to be self-sufficient and in need of nothing that the government can provide for you in exchange for some small liberty.  When there is nothing that you require enough to submit, then bullying you becomes much more difficult.
This list of suggestions is by no means comprehensive.  Please, add your own random acts of resistance in the comments below.
Question absolutely everything you hear on the news.  Always be a skeptic. All major media goes back to just a few conglomerates.  The "news" is now all a propaganda ploy to help the rich get richer and the powerful remain in power.  The media can make or break a candidate with unholy zeal in less than a week.  These people and others like them are the ones that decide what "we the people" get to see.  If they feel like a candidate or a news item might upset the status quo, they black it out by refusing to cover it.
Call out the media. Let everyone know that the mainstream media is the enemy of the people.  When you see coverage that is clearly biased, take a moment to call out the media about it.  Take the time to comment on mainstream media websites and point out the unbalanced coverage.  If you use social media, share this information and post on the media outlet's social media pages as well.
Get out of the banking system. By opting to "unbank" or "underbank" there is a limit to what can be easily stolen from you.  When you have physical control of your financial assets, you are not at as high a risk of losing those assets, and therefore, less likely to be dependent on "the system."
Turn your savings into precious metals or tangible assets. On the same note as unbanking, you definitely don't want to rely on a 401K or savings account to provide for you in your old age. Ask the people of Cyprus how well that worked out for them.  Diversify with assets you can touch. Purchase tangible goods like land, food, ammo, and seeds. Once you are well supplied, move on to precious metals to preserve your wealth.
Educate others. At the (very high) risk of people thinking you're crazy, it's important to let people know WHY you do what you do. If you are an anti-Monsanto activist, teach others about the dangers of GMOs.  If you object to a municipal policy, speak at a town meeting or send a letter to the editor of your local paper.  By ranting incoherently or by keeping your mouth shut, you influence no one. By providing provable facts, you can open minds and awaken others to tyranny.
Get others involved in the fight.  For example, if you are fighting with the city council that wants to rip out the vegetables growing in your front yard, let  your friends and neighbors know, post a notice at the grocery store, and write a letter to the editor.  When injustice occurs, use the power of social media to spread awareness. Often a public outcry is what is necessary to get the "authorities" to back down.  Look at the case of Brandon Raub, the veteran who was kidnapped and taken to a mental hospital for things he posted on Facebook. Raub was not charged, but he was detained in the psych ward involuntarily. His friends and family immediately mobilized and spread the videos of his arrest all over the internet.  It snowballed and alternative media picked it up – soon Raub was released, and all because of a grass roots and social media campaign to bring the injustice to light.
Grow your own food. Every single seed that you plant is a revolutionary act. Every bit of food that you don't have to purchase from the grocery store is a battle cry for your personal independence.  When you educate yourself (and others) about  Big Food, Big Agri, and the food safety sell-outs at the FDA, you will clearly see that we are alone in our fight for healthy, nutritious foods.  Refuse to tolerate these attacks on our health and our lifestyles. Refuse to be held subject to Agenda 21′s version of "sustainability".
Take control of your health. It is imperative that you not blindly trust in the medical establishment.  Many members of this establishment are merely prostitutes for their pimp, Big Pharma.  Millions of children are given powerful psychotropic drugs to help them fit into the neat little classroom boxes, and the numbers are growing every day.  Americans spent 34.2 BILLION dollars on psychiatric drugs in 2010. (Source) Big Pharma is an enormously profitable industry that only pays off if they can convince you that you're sick.  Learn about the toxic injections and medications, weight the risks and benefits, and always look for second and third opinions before making a medical decision.  Maintain your health by avoiding toxins, exercising, and ditching your bad habits to reduce the number of doctor's visits that are necessary.
Refuse to comply. If you know your natural rights, which are guaranteed under the Constitution and its Amendments, then it makes it much harder for "authorities" to bully you.  You don't have to let them search your home without a warrant, you don't have to answer questions, and you don't have to comply with laws that are in conflict with the Constitution.
Learn. Every day, spend time learning. This shouldn't stop once our formal education ends. Fill your mind with history, with current events, with constitutional law, and information about the natural world.  Learn about health, study economics, research things that interest you, and unravel the complicated conspiracies that are afoot.  To pursue unbiased knowledge is to free your mind from the prison of propaganda and indoctrination.
Don't consume chemicals that cause you to be dumbed down. Avoid chemical-laden food with brain-killing neurotoxins like MSG and aspartame.  Don't drink fluoridated water.
Embrace your right to bear arms. Be responsible for your own safety and security.
Don't be in debt.  No one can be free if they are in debt. If you are in debt, you are forced to work in whatever conditions are present, for whatever amount is offered, complying with whatever criteria is necessary to keep your job.  in order to either pay your debt or face penalties. As well, the high interest rates that you pay only serve to make the bankers more wealthy.  Instead of borrowing, save until you can afford something or realize that if you could actually afford it, you wouldn't need to borrow money to have it.
Be prepared for disaster. Have enough food, water, and supplies to take care of your family in the event of a natural disaster. Don't expect FEMA to take care of you.
Be involved in your children's education. For some, this means homeschooling or unschooling, and for others this means being on top of what they are learning in a formal school setting. Join the PTA and actively volunteer if your child goes to school.  Be an advocate for your child and insist that the teachers teach. If your child goes to school, supplement this at home with discourse about current events and outings that help them learn about the world around them.
Be the squeaky wheel. If you see something wrong, don't just ignore it. Say something about it, and keep saying something until it changes.  Whether this is some process that infringes on your privacy, a job requirement that impedes your health, or another injustice, pursue it relentlessly. Ask questions publically, write letters, and use social media to bring pressure to encourage a change.
Reduce your consumer spending. Spending less helps to starve the beast by reducing the sales taxes you pay and withdrawing your financial support to big conglomerates. If we vote with our dollars, eventually there will, of a necessity, be a paradigm shift that returns us to simpler days, when families that were willing to work hard could make a living without selling their souls to the corporate monoliths. A low-consumption lifestyle reduces your financial dependency, which allows for more freedom.
Ditch popular culture. If reality TV isn't a tool for dumbing people down, I don't know what it is.  My daughter recently begged to watch an episode of a popular reality TV show that "everyone" was watching.  She managed about 15 minutes of it and then said, "This is the stupidest thing I've ever seen."  She decided to read a book instead.  Popular entertainment is a media tool used to change our perspectives about our personal values, and to tell us how to think and feel about issues.
Buy locally.  Support local small businesses to help others who are fighting for independence from the system.  You might pay a little bit more than you would at your big box store, but the only people benefiting from your purchases made at the corporate stores are those with the 7 figure annual bonuses.
Develop multiple streams of income.  Don't put all of your eggs in one basket.  Figure out several ways to bring in income.  Not only does this free you from being a wage slave, but it allows you to hire friends or family members.  You are less entangled in the system and not subject to corporate whims.  If one business fails, or becomes subject to regulations that make it no longer worthwhile, you are not forced to comply just to keep a roof over your head.
Say thanks, but no thanks.  There is no such thing as a benevolent hand out.  Nearly anything offered for free (particularly by a government entity) has strings attached.  Maybe there is a handy-dandy registration form that you need to fill out. You might be influenced to vote a certain way just to keep the freebies coming. You might have to pee in a cup every two weeks. Perhaps one day you'll need to have a microchip embedded in your hand.  Either way, by accepting handouts from those in "authority", you become beholden to them or you need them, and someone who is free is neither beholden nor needy.
Don't take the easy road.  The PTB like to seduce people with simplicity.  "If you just sign this paper, it will be much easier," they say.  "This chip is for your convenience," they tell you.  "By giving up this, it lets us take care of you and you will be much safer."  The easy road only gets you to Slave Street a whole lot faster.  Take the difficult road and be responsible for yourself.  Don't take shortcuts that compromise your beliefs. Go to court to fight a ticket, read the laws and defend yourself, and know that anything you give up, you will never get back.
According to the Declaration of Independence,  "Governments are instituted among Men, deriving their just powers from the consent of the governed."
That means that you don't have to accept the unjust laws. That means you don't have to quietly take it, muttering under your breath that it isn't right, but not daring to raise your voice.  That means that "they" are only in control of you if you allow it.
There are nearly 316 million people in the United States. (source)
Only 3% of the population fought in the Revolutionary War, and 10% actively supported them.
If 9,480,000 people quietly and peacefully revolted by withdrawing their consent to be governed by tyrants we could not be silenced.
If 31,600,000 people supported those revolting, we could not be stopped.
The government might  be watching us, but we can watch them right back.  Make the way you live your life a revolutionary act.
Source: The Organic Prepper
It is obviously clear. President Obama is a threat not only to the American people. He is destabilizing the United States every way he can. He did this paying for Treyvon protest trying to start race wars as one example. He is a threat to world peace. He has to be neutralized before he takes the world into an age of war and destruction. Now how can that be done? Congress can pass all the impeachment bills. The US Senate will not by two thirds vote him guilty removing him from office. Politically there is very little that can be done to interpose between Obama and him destroying the world.
So who will step in and take action to avert a disaster from  happening?  The usurper in the White House is the most lawless President in history that makes Nixon and Clintonlook like choir boys in comparison. President Obama does not respect the Constitution and international law. He is waging war against the American people economically and shredding our Bill of Rights daily.
He is waging war against Christianity on the domestic front attacking religious freedom by forcing people of conscience to pay for Obamacare the pays for abortions. He is attacking Christians in the military daring to say the name of Jesus forcing chaplains to marry homosexuals against the moral conviction of the clergy. At the same time erecting Pagan places of worship on military installations. For this matter I call on the Patriots to relieve officers of duty and command who attack the religious freedom of the men and women in uniform. I do not care if the commander is a Buddhist and gay. He must respect and defend all faiths and conscience. If he is willing to follow an unlawful, immoral order without question that will weaken the fighting strength. Then the commanders and officers who carry these immoral orders need to be relieved of command.
President Obama is waging war on Christians in Syria, Egypt and now in Kenya. He is waging war against Christians world wide. He is a threat to the faith. He is arming the enemies of Christianity who are murdering unarmed woman and children. His actions are bringing instability to the world. He does not regard public opinion at all when it comes to gun control when the people are buying guns in record numbers and the citizens reluctance to go to war with Iran and Syria. Obama is a dangerous loose cannon that must be stopped.
First, Obama may be a natural born US Citizen because he was born in Hawaii. But he renounced his US citizenship becoming an Indonesian citizen taking on the name Barry Soetoro. His records are sealed where we do not know his immigration and naturalization records documenting repatriation or if he is a US citizen. Therefore he might be ineligible to hold office. Obama by his actions says he is an agent of a foreign power working against the United States. He is a domestic enemy of the United States.
He is arming Al Qaeda. The same terrorist that killed and maimed soldiers and Marines in Iraq and Afghanistan. Obama's half brother is being funded by the CIA to fund the Muslim brotherhood. Obama's cousin Odinga is destabilizing Kenya. Odinga was given advice from Obama when he was a US Senator on how to cause havoc and destabilize Kenya for political gain.
Now with this massacre in Nairobi Kenya killing Christians in a Shopping mall. Now there are calls for the TSA to be in Shopping Malls that are another gun free zone. It would not surprise me if there are shootings in the malls in the states to further a police state here. Al Qaeda leader Ayman al-Zawahri was calling for small scale attacks on US soil. Al Zawahri is a CIA backed operative who was behind the assassination of Egyptian President Anwar Sadat. Obama is the head of the Muslim Brotherhood and backs AL Qaeda therefore must be taken down and brought to justice.
Treason is the only crime defined in the Constitution written in Article 3 section 3 saying:
Treason against the United States, shall consist only in levying War against them, or in adhering to their Enemies, giving them Aid and Comfort.
President Obama is commiting treason daily against the Americans people waging war every way possible to weaken our republic. He is involved in insurrection and rebellion against the laws of the Union.
Under Article 6 section 3 of the US Constitution all branches in government are bound to the oath as outlined
The Senators and Representatives before mentioned, and the members of the several state legislatures, and all executive and judicial officers, both of the United States and of the several states, shall be bound by oath or affirmation, to support this Constitution.
If we took the oath. We are all duty bound to uphold that oath against all enemies foreign and domestic.
Those who are commissioned Officers in the Armed forces take the oath below:
Commissioned officers taken this oath:
I, _____, having been appointed an officer in the Army of the United States, as indicated above in the grade of _____ do solemnly swear (or affirm) that I will support and defend the Constitution of the United States against all enemies, foreign and domestic, that I will bear true faith and allegiance to the same; that I take this obligation freely, without any mental reservations or purpose of evasion; and that I will well and faithfully discharge the duties of the office upon which I am about to enter; So help me God."
(DA Form 71, 1 August 1959, for officers.)
Enlisted personal and Non Commissioned Officers take this oath:
I, _____, do solemnly swear (or affirm) that I will support and defend the Constitution ofthe United States against all enemies, foreign and domestic; that I will bear true faith and allegiance to the same; and that I will obey the orders of the President of the UnitedStates and the orders of the officers appointed over me, according to regulations and the Uniform Code of Military Justice. So help me God."
(Title 10, US Code; Act of 5 May 1960 replacing the wording first adopted in 1789, with amendment effective 5 October 1962).
That oath does not say to defend unconstitutional laws and illegal orders. It does not say defend a political agenda or corrupt politicians. It does not say defend the dictator. If the laws contradict the USMJ and the Constitution of these United States. The people in the Armed forces are duty bound not to carry out the order.
We are very unique because our oaths are not to a person. But to the US Constitution. The people who written the Constitution and requiring an oath of affirmation to support and defend the Constitution. Not a monarchy. They knew the British Redcoats were bound to the will of the King. Not to any morals. They had to follow the decrees of the King without question.   We do not serve a monarchy. We never swore to a dictator. We serve the cause of freedom defending and preserving our Constitution. Our oath to preserve, protect and defend out Constitution is a vital check and balance against tyranny and despotism. The UCMJ requires us to follow lawful orders and not illegal edicts that goes against the law of the land
President Obama through insurrection is working hard to overthrow the government ofthe United States. Obama is trying to find an excuse to declare a national emergency to place the USA under Martial law. He can announce the President is  suspending the Constitution so continuity of government declaring the President Dictator under PD-51 President Bush singed. This makes the President a Dictator under any national emergency the chief executive decides what is and what isn't . Congress has no say to review. This is a classified document congress is not allowed to read.
Right now in Benjamin Fulford newsletter he says with much skepticism from a source inside the Pentagon. General Staff officers are making a list of 30,000 people who are New World Order thugs including the President. All to be arrested for treason and insurrection attempting to overthrow the Constitutional government. 
It has been rumored the Provost Marshal was going to arrest Obama for attempting to detonate a nuclear device in Washington DC on the 12th Anniversary of Sept 11th. The shooting in the Navy yard could be a smoke screen of the attempted arrest of Obama for treason. I can tell the Military is getting ready to act to defend this nation. When Secretary of State John Kerry signed the UN Small Arms Trade Treaty. That was an act of treason trying to repeal the Second Amendment by underhanded means using treaty law.
I do not see much of the Military going out to confiscate guns. It is not 2005 in New Orleans after Hurricane Katrina. It is a different world.
The Military is very awake now to the President's treasonous ways. It is my hope the Military stands down instead  of carrying out illegal orders where Obama is crowned King Nothing.
Source: From The Trenches World Report
Two rather interesting things have happened to me lately.  First, I had one of my teeth pulled this week — totally not a fun experience.  And, second, while still oozing pain and eating Hydrocodone and climbing the walls, I started reading a book about plants by Michael Pollan, entitled "The Botany of Desire".  So now I have suddenly become an expert on both pain-killers and gardens.
Having one's tooth pulled is like, er, pulling teeth.  It really hurts.  So from now on I plan to brush and floss constantly and do whatever it takes to keep my remaining teeth healthy and clean.  Someone recommended gargling with Bombay Sapphire twice a day.  I'd try even that.
Even though the student doctor who pulled my tooth at the UCSF School of Dentistry was an angel of mercy combined with Dr. McDreamy, having one's tooth extracted is never pretty.  I kept reciting that mantra "Challenges make me stronger" in the dental chair and silently doing jin shin jyutzu – but even that didn't work.  I'm a wimp.  And not only that but once the tooth was out, they wouldn't even give it back to me to give to the Tooth Fairy.  Rats.
Then, once finally back home and safely collapsed into bed, I took some of those "opioid" pain-killers they gave me — and dreamed that I was an escaped convict running a funeral parlor in my childhood hometown (Millbrae) and hiding under my daughter Ashley's bed (probably from NSA).  Forget that.  No more weird Kubla-Khan dreams for me.  I'm sticking with aspirin.
Now I'm wishing there was something I could do to replace my poor sweet little lost tooth, but there doesn't seem to be anything.  Getting a dental implant is expensive — $3,000 per tooth, even done by a dental student.  Who can afford that?  Not me.  So now I've got a big gap in my teeth.  How ugly is that!  However, I won't be alone for long.  Two-thirds of America will soon be joining me in being gap-toothed as well unless affordable dental insurance becomes available reasonably soon.  But if not, then we'll all be totally ugly together, not just me.  America goes third-world.  Who would have thought.
I also have a postage-stamp sized garden attached to my apartment, which grows nothing.  According to Michael Pollan, this shouldn't be happening — unless there has been some really heavy-duty weed killer sprayed there at one time.  Yes, there was.  But not by me.  So, apparently, what I need now is all new dirt.  And at the rate that American agribusiness keeps using millions of tons of herbicides and pesticides each year, all of America will soon be needing all new dirt too.
"Actually, it's not the heavy use of herbicides and pesticides that is causing the most problems on huge agribusiness farms," to summarize one of Pollan's chapters on the potato, "but rather the monoculture nature of their crops.  Organic farmers can vary and rotate what they plant and thus stave off insect and fungal infestations — but if your main customer for potatoes is McDonalds, then you have to plant Burbank russets and only Burbank russets all of the time.  So it is Americans themselves that are causing the major use of [stuff] like Roundup and Roundup-Ready GMOs."
So if I promise to plant a huge variety of everything in my garden, from fingerling potatoes to roses to dandelions, then will at least SOMETHING finally grow?
And will I also be able to grow a new tooth?
Aside from Michael Pollan, why else have my thoughts been turning to gardening lately?  In the middle of freaking January?  Because this winter has been the sunniest one in Berkeley that I have ever seen.  It's like freaking summer here now, like July, every day — even going beyond April or May.  www.weather.com even declared Berkeley a drought area the other day.  Time to bust out the seeds.
Michael Pollan also wrote about cannabis in his book on plants.  "Marijuana doesn't make you forgetful of everything.  It just makes you forget [stuff] that's not important."  Interesting.  I always forget names.  So I guess names aren't all that important or necessary for me to remember.  Whew.  I'm off the hook then.  Am not getting senile dementia after all, just sorting out my priorities.
And maybe that's why Alzheimer sufferers forget so much mental stuff too — they might be shutting down everything that won't immediately help them to cope with this devastating disease (yes, I know that Alzheimers also rots its victims' brains — but isn't that just one more good reason for them to shut said brains down?)
With regard to raising the minimum wage here in soon-to-be-toothless America, wouldn't it make more sense to just cut the rate of inflation instead?  Starting by eliminating the Federal Reserve and its tendencies to print meaningless Monopoly money and to finance Endless War?  And, while we're at it, let's stop giving out billions in "food stamps" to corporate welfare queens like Bank of America, BP, WalMart, Halliburton and Monsanto.  Works for me.  And can we also please bring our millions of jobs back from overseas too?
Back in 1963, I made $1.75 an hour while working in the post office on weekends and during summers.  With this money plus some help from my parents (yes, they could also afford to help me back then), I was able to graduate from San Jose State College without requiring any student loans.  And in 1966, when I got a big salary-bump to $3.50 an hour for working the stamp window instead of sorting mail, I was able put myself through graduate school at UC Berkeley, just by working during summer vacations.  Can you even imagine staying alive and not homeless in Berkeley today on that kind of salary — let alone paying for your tuition at Cal as well.
What has happened to all of America's jobs and wealth since the 1960s, back when we were the richest country in the world?  That's a no-brainer.  It's all flown away into the pockets of Wall Street mega-bankers, the numbered Cayman accounts of war profiteers and the fat wallets of all those corporate welfare queens who currently own and run our government.
While it's always a good idea to raise America's minimum wage a few dollars, it's also important to stop runaway inflation — and to also start lowering a certain type of maximum wage as well:  The maximum amount that rich guys can steal from us before they get sent to jail.And we need to put some teeth into these new regulations too.
There is a certain level of dishonesty in the common study of history. We look back at the tyrannies of the past, the monstrous governments, the devastating wars and the unimaginable crimes, and we wonder how it could have been possible. How could the people of that particular generation let such atrocities come to pass? Why didn't they do something? Why didn't they protest? Why didn't they fight back?
We wonder all of this as we absorb the lists of dates, names and actions in books written by other men who memorized other lists of dates, names and actions. We are taught to study and wonder without ever actually applying the lessons of the past to the developments of today. We are conditioned to assert our own narrow spin on yesterday, instead of placing ourselves in the shoes of our ancestors or recognizing that their struggles remain our struggles. The modern method of viewing history detaches us from it, making it seem distant, alien or surreal.
Perhaps many societies fail to prepare or act in the face of tyranny because they had forgotten their own histories, making the demise of their culture appear so schizophrenic they would not believe what their eyes were telling them.
Often, the only way to grasp the more complete truth of the present is to examine it through the lens of the absurd. Sadly, our Nation, our culture and most of the world around us have become so backward, ugly, feeble and twisted that the only adequate comparison is to the nightmares of surrealists.
When I examine recent U.S. legislation, the exposure of classified documents, and the openly admitted criminality of political leadership, I am consistently reminded of Franz Kafka's The Trial.
Kafka was a self-styled socialist back in the days when socialism was thought to be the next revolutionary movement for the downtrodden masses. It was, of course, controlled opposition created by global elitists attempting to exploit the natural rebellious tendencies of the general public within a false paradigm — using the masses to achieve greater power for a select few, while making the people think that they had won. It is ironic that Kafka would write The Trial, one of the greatest condemnations of totalitarian surveillance society, while at the same time supporting the socialist political vehicle that would eventually be used to implement unrelenting bureaucratic despotism.
The Trial is commonly labeled a "surrealist" piece of fiction, but I wonder now if it was actually far more literal than the academics of the past actually gave it credit for. The problem is that most of America, and much of the Western world, has forgotten what it is like to experience true danger and true suffering. We read about it now and watch movies about it like it's entertainment, but few people have the slightest inkling how to deal with the real thing. We don't even know how to recognize it. Because of this, Americans tend to pay more attention to fictional representations of tyranny rather than legitimate tyranny taking place right under their noses.
With that sad fact in mind, watch this clip from Orson Welles' cinematic version of The Trial. See if you recognize your own world in this work of "fantasy":
The main character of The Trial, Josef K., finds his apartment invaded by police in the early hours of the morning. Josef responds with anger but also fear, attempting to defend his character without actually understanding the nature of the police visit. The police answer his questions with more accusatory questions, only later warning him that he is being watched and that he is under arrest. The police do not, however, take him immediately into custody; nor do they ever tell him what his crime was. It is implied, in fact, that Josef is not allowed to know what he is being charged with.
This episode in The Trial has been played out in the real world over and over again, from the Soviet Cheka, to Adolf Hitler's SS and Brownshirts, to Benito Mussolini's Organization for Vigilance and Repression of Anti-Fascism (OVRA), to the German Stasi, to Mao Zedong's Central Security Bureau, etc. In the United States, the culture of surveillance and intrusion has (for now) taken a more subtle approach through the use of technology. We do not yet have agents physically rummaging through all our homes and asking for our papers (though we are not far away from this). Rather, we have the National Security Agency, which rummages through our electronic communications while using our own computer cameras and cellphones to watch us, listen to us and track us. All of this, mind you, is done on a massive scale without warrant.
We have the Authorization for Use of Military Force and the National Defense Authorization Act, which give the President the centralized authority to detain and even kill those Americans designated as "enemy combatants" without trial, without due process and without public oversight.
Our government now uses secret evidence to charge citizens with crimes they are not allowed to discuss with the public on the argument that to do so would "threaten national security."That's right; the government can arrest you or assassinate you based on evidence they never have to disclose to you, your family, your lawyer or the citizenry.
In the U.S. today, the kind of establishment terror Kafka imagined is indeed a reality. We are not on the verge of a total surveillance state, we are there. It exists. And if we do not accept that this is our social condition, there may be no historians tomorrow to look back on our era and wonder: "Why didn't they do something? Why didn't they fight back?"
The revelations brought by Edward Snowden on the NSA and its PRISM mass surveillance program are still only partially understood by the public. Even many self-proclaimed "cypherpunks" and "techno-warriors" don't really grasp the pervasiveness of the all-seeing NSA eye. Recent documents leaked to German news source Der Spiegel by Snowden reveal an Internet almost completely dominated by the NSA, where even total encryption would be a mere temporary stopgap, according to tech researcher and journalist Jacob Appelbaum. The TAO group, sanctioned by the NSA, has been using technologies for years that startle even the most avid tech experts. To make matters worse, many of the intrusive mechanisms have been implemented — likely with the direct aid of American software and computer companies.
With NSA access to the backbone or core of the Internet, there is no digital privacy anywhere. The cypherpunks lost the war for the Web a long time ago, and they don't seem to know it yet.
Beyond the undeniable prevalence of government surveillance, what would our American Kafkaesque experience be like without kangaroo courts designed to defend the criminal establishment instead of the victimized population? The latest Federal court decision on the NSA's methods is that they are perfectly legal and "necessary" to protect Americans from national security threats. If you are a student of Constitutional law, this decision truly boggles the mind.
One of the most powerful incidents in The Trial is Josef's speech to his court of accusers. In this moment, Josef argues with concrete logic and impassioned reason. His position is supported with beautifully crafted merit and truth. But what he does not realize is that the court he is trying to convince does not exist to discover the truth. The court is a sideshow, a piece of elaborate theater. The participants are there to make Josef, and the society at large, feel as though justice has been given a fair chance. Josef's pleas are met with fake cheers, scripted jeers and even engineered distractions. Finally, he comes to understand that the system's purpose is to destroy him. Everything else is an illusion.
The Web cannot be made free or private from within; our courts cannot be made fair and just from within; neither political party can be forced to represent the common man from within; and our government cannot be made honest or transparent from within. To play games of activism within establishment dominated systems is to play make-believe within a surrealist nightmare; a piece of "Alice in Wonderland" political quackery. Like the audience at Josef's trial, the elites simply laugh at such activists, or feign applause, while continuing forever with the same corruption and the criminal status quo.
America has long presented itself as the ultimate alternative to the torturous mechanisms of oligarchs; and a long time ago, it was certainly a noble effort. However, our heritage of liberty — the faint memory of it — is all that's left today.  There is a contingent of men and women in our country, millions of us, that steward over this memory and seek to make whole once again, but the road ahead is long, with struggles beyond all reckoning.
Some people may ask how this could have occurred. How did we become the monster we were supposed to fight against? What happened to the good side and the bad side? Have they become exactly the same?
Those of us who have looked beyond the standardized veil of history know that this is not by accident. Those of us who decipher the surreal know that there is a method to the madness and an ultimate goal. To explain further, I leave you with another piece of fiction, a clip from the British TV series "The Prisoner." While not written by Kafka, it was definitely inspired by him. It carries a message I would have liked to have warned him about concerning the disturbing path of duality, the mask with multiple faces that tyranny uses to subvert and enslave…
Source: Brandon Smith | Alt-Market
A poll last year showed that trust in the mainstream media is increasing, which should worry all of us who value truth, integrity and press freedom. Why? Here are 10 disturbing things everyone needs to know about the global media giants who control our supply of information, wielding immense power over the people- and even over the government.
1. Mainstream media exists solely to make profit

What´s the purpose of the mainstream media? Saying that the press exists to inform, educate or entertain is like saying Apple corporation´s primary function is to make technology which will enrich our lives. Actually, the mass media industry is the same as any other in a capitalist society: it exists to make profit. Medialens, a British campaigning site which critiques mainstream (or corporate) journalism, quotedbusiness journalist Marjorie Kelly as saying that all corporations, including those dealing with media, exist only to maximize returns to their shareholders. This is, she said,  ´the law of the land…universally accepted as a kind of divine, unchallengeable truth´. Without pleasing shareholders and a board of directors, mass media enterprises simply would not exist. And once you understand this, you´ll never watch the news in the same way again.
2. Advertisers dictate content
So how does the pursuit of profit affect the news we consume? Media corporations make the vast majority (typically around 75%) of their profit from advertising, meaning it´s advertisers themselves that dictate content- not journalists, and certainly not consumers. Imagine you are editor of a successful newspaper or TV channel with high circulation or viewing figures. You attract revenue from big brands and multinational corporations such as BP, Monsanto and UAE airlines. How could you then tackle important topics such as climate change, GM food or disastrous oil spills in a way that is both honest to your audience and favorable to your clients? The simple answer is you can´t. This might explain why Andrew Ross Sorkin of the New York Times-  sponsored by Goldman Sachs-  is so keen todefend the crooked corporation. Andrew Marr, a political correspondent for the BBC, sums up the dilemma in his autobiography: ´The biggest question is whether advertising limits and reshapes the news agenda. It does, of course. It's hard to make the sums add up when you are kicking the people who write the cheques.´ Enough said…
3. Billionaire tycoons & media monopolies threaten real journalism


The monopolization of the press (fewer individuals or organizations controlling increasing shares of the mass media) is growingyear by year, and this is a grave danger to press ethics and diversity. Media mogul RupertMurdoch´s  neo-liberal personal politics are reflected in his 175 newspapers and endorsed by pundits (see Fox news) on the 123 TV channels he owns in the USA alone. Anyone who isn´t worried by this one man´s view of the world being consumed by millions of people across the globe- from the USA to the UK, New Zealand to Asia, Europe to Australia- isn´t thinking hard enough about the consequences. It´s a grotesquely all-encompassing monopoly, leaving no doubt that Murdoch is one of the most powerful men in the world. But as the News International phone hacking scandal  showed, he´s certainly not the most honorable or ethical. Neither is AlexanderLebedev, a former KGB spy and politician who bought British newspaper The Independent  in 2010.  With Lebedev´s fingers in so many pies (the billionaire oligarch is into everything from investment banking to airlines), can we really expect news coverage from this once well-respected publication to continue in the same vein? Obviously not: the paper had always carried a banner on its front page declaring itself  ´free from party political bias, free from proprietorial influence´, but interestingly this was dropped in September 2011.
4. Corporate press is in bed with the government

Aside from the obvious, one of the most disturbing facts to emerge from Murdoch´s News International phone hacking scandal (background information here ) was the exposure of shady connections  between top government officials and press tycoons. During the scandal, and throughout the subsequent Leveson inquiry into British press ethics (or lack of them), we learned of secret meetings, threatsby Murdoch to politicians who didn´t do as he wanted, and that Prime Minister David Cameron has a very close friendship with The Sun´s then editor-in-chief (and CEO of News International) Rebekah Brooks. How can journalists do their job of holding politicians to account when they are vacationing together or rubbing shoulders at private dinner parties? Clearly, they don´t intend to. But the support works both ways- Cameron´s government tried to help Murdoch´s son win a bid for BSkyB, while bizarrely,  warmongering ex Prime Minister Tony Blair is godfather to Murdoch´s daughter Grace. As well as ensuring an overwhelming bias in news coverage and election campaigns, flooding newspapers with cheap and easy articles from unquestioned government sources, and gagging writers from criticizing those in power, these secret connections also account for much of the corporate media´s incessant peddling of the patriotism lie-  especially in the lead-up to attacks on other countries. Here´s an interestinganalysis of The New York Times´s coverage of the current Syria situation for example, demonstrating how corporate journalists are failing to reflect public feeling on the issue of a full-scale attack on Assad by the US and its allies. 

5. Important stories are overshadowed by trivia

You could be forgiven for assuming that the most interesting part of Edward Snowden´s status as a whistleblower was his plane ride from Hong Kong to Russia, or his lengthy stint waiting in Moscow airport for someone- anyone- to offer him asylum. Because with the exception of The Guardian who published the leaks (read them in fullhere), the media has generally preferred not to focus on Snowden´s damning revelations about freedom and tyranny, but rather on banaltrivia – his personality and background, whether his girlfriend misses him, whether he is actually a Chinese spy, and ahhh, didn´t he remind us all of Where´s Waldo as he flitted across the globe as a wanted fugitive? The same could be said of Bradley Manning´s gender re-assignment, which conveniently overshadowed the enormous injustice of his sentence. And what of Julian Assange? His profile on the globally-respected BBC is dedicated almost entirely to a subtle smearing of character, rather than detailing Wikileaks´s profound impact on our view of the world. In every case, the principal stories are forgotten as our attention, lost in a sea of trivia, is expertly diverted from the real issues at hand: those which invariably, the government wants us to forget.
6. Mainstream media doesn´t ask questions

´Check your sources, check your facts´ are golden rules in journalism 101, but you wouldn´t guess that from reading the mainstream press or watching corporate TV channels. At the time of writing, Obama is beating the war drums over Syria. Following accusations by the US and Britain that Assad was responsible for a nerve gas attack on his own civilians last month, most mainstream newspapers- like the afore-mentioned New York Times- have failed to demand evidence or call for restraint on a full-scale attack. But there are several good reasons why journalists should question the official story. Firstly, British right-wing newspaper The Daily Mail actually ran a news piece back in January this year, publishing leaked emails from a British arms company showing the US was planning a false flag chemical attack on Syria´s civilians. They would then blame it on Assad to gain public support for a subsequent full-scale invasion. The article was hastily deleted but a cached version still exists. Other recent evidence lends support to the unthinkable. It has emerged that the chemicals used to make the nerve gas were indeed shipped from Britain, and German intelligenceinsists Assad was not responsible for the chemical attack. Meanwhile, a hacktivist has come forward with alleged evidence of US intelligence agencies´ involvement in the massacre (download it for yourself here ), with a growing body of evidence suggesting this vile plot was hatched by Western powers. Never overlook the corporate media´s ties to big business and big government before accepting what you are told- because if journalism is dead, you have a right and a duty to ask your own questions.
7. Corporate journalists hate real journalists

Sirota rightly points out the irony of this: ´Here we have a reporter expressing excitement at the prospect of the government executing the publisher of information that became the basis for some of the most important journalism in the last decade.´ Sirota goes on to note various examples of what he calls the ´Journalists against Journalism club´, and gives severalexamples of how The Guardian columnist Glenn Greenwald has been attacked by the corporate press for publishing Snowden´s leaks. The New York Times' Andrew Ross Sorkin called for Greenwald's arrest, while NBC's David Gregory´s declared that Greenwald has ´aided and abetted Snowden´. As for the question of whether journalists can indeed be outspoken, Sirota accurately notes that it all depends on whether their opinions serve or challenge the status quo, and goes on to list the hypocrisy of Greenwald´s critics in depth: ´Grunwald has saber-rattling opinions that proudly support the government's drone strikes and surveillance. Sorkin's opinions promote Wall Street's interests. (The Washington Post´s David) Broder had opinions that supported, among other things, the government's corporate-serving "free" trade agenda. (The Washington Post´s Bob) Woodward has opinions backing an ever-bigger Pentagon budget that enriches defense contractors. (The Atlantic´s Jeffrey) Goldberg promotes the Military-Industrial Complex's generally pro-war opinions. (The New York Times´s Thomas) Friedman is all of them combined, promoting both "free" trade and "suck on this" militarism. Because these voices loyally promote the unstated assumptions that serve the power structure and that dominate American politics, all of their particular opinions aren't even typically portrayed as opinions; they are usually portrayed as noncontroversial objectivity.´
8. Bad news sells, good news is censored, and celebrity gossip trumps important issues

It´s sad but true: bad news really does sell more newspapers. But why? Are we really so pessimistic? Do we relish the suffering of others? Are we secretly glad that something terrible happened to someone else, not us? Reading the corporate press as an alien visiting Earth you might assume so. Generally, news coverage is sensationalist and depressing as hell, with so many pages dedicated to murder, rape and pedophilia and yet none to the billions of good deeds and amazingly inspirational movements taking place every minute of every day all over the planet. But the reasons we consume bad news are perfectly logical. In times of harmony and peace, people simply don´t feel the need to educate themselves as much as they do in times of crises. That´s good news for anyone beginning to despair that humans are apathetic, hateful and dumb, and it could even be argued that this sobering and simple fact is a great incentive for the mass media industry to do something worthwhile. They could start offering the positive and hopeful angle for a change. They could use dark periods of increased public interest to convey a message of peace and justice. They could reflect humanity´s desire for solutions and our urgent concerns for the environment. They could act as the voice of a global population who has had enough of violence and lies to campaign for transparency, equality, freedom, truth, and real democracy. Would that sell newspapers? I think so. They could even hold a few politicians to account on behalf of the people, wouldn´t that be something? But for the foreseeable future, it´s likely the corporate press will just distract our attention with another picture of Rhianna´s butt, another rumor about Justin Bieber´s coke habit, or another article about Kim Kardashian (who is she again?) wearing perspex heels with swollen ankles while pregnant. Who cares about the missing$21 trillion, what was she thinking?
9. Whoever controls language controls the population

Have you read George Orwell´s classic novel1984 yet? It´s become a clichéd reference in today´s dystopia, that´s true, but with good reason. There are many- too many- parallels between Orwell´s dark imaginary future and our current reality, but one important part of his vision concerned language. Orwell coined the word ´Newspeak´  to describe a simplistic version of the English language with the aim of limiting free thought on issues that would challenge the status quo (creativity, peace, and individualism for example). The concept of Newspeak includes what Orwell called ´DoubleThink´-  how language is made ambiguous or even inverted to convey the opposite of what is true. In his book, the Ministry of War is known as the Ministry of Love, for example, while the Ministry of Truth deals with propaganda and entertainment. Sound familiar yet? Another book that delves into this topic deeper is Unspeak, a must-read for anyone interested in language and power and specifically how words are distorted for political ends. Terms such as ´peace keeping missiles´, ´extremists´ and ´no-fly zones´, weapons being referred to as ´assets´, or misleading business euphemisms such as ´downsizing´ for redundancy and ´sunset´ for termination- these, and hundreds of other examples, demonstrate how powerful language can be. In a world of growing corporate media monopolization, those who wield this power can manipulate words and therefore public reaction, to encourage compliance, uphold the status quo, or provoke fear.
10. Freedom of the press no longer exists

The only press that is currently free (at least for now) is the independent publication with no corporate advertisers, board of directors, shareholders or CEOs. Details of how the state has redefined journalism are noted here and are mentioned in #7, but the best recent example would be the government´s treatment of The Guardian over its publication of the Snowden leaks. As a side note, it´s possible this paper plays us as well as any other- The Guardian Media Group isn´t small fry, after all. But on the other hand- bearing in mind points 1 to 9- why should we find it hard to believe that after the NSA files were published, editor Alan Rusbridge wastold by the powers that be ´you´ve had your fun, now return the files´, that government officials stormed his newsroom and smashed up hard drives, or that Greenwald´s partner David Miranda wasdetained for 9 hours in a London airport under the Terrorism Act as he delivered documents related to the columnist´s story? Journalism, Alan Rusbridge lamented, ´may be facing a kind of existential threat.´ As CBS Evening News anchor Dan Rather wrote: 'We have few princes and earls today, but we surely have their modern-day equivalents in the very wealthy who seek to manage the news, make unsavory facts disappear and elect representatives who are in service to their own economic and social agenda… The "free press" is no longer a check on power. It has instead become part of the power apparatus itself.'
Sophie is a staff writer for True Activist and a freelance feature writer for various publications on society, activism and other topics. You can read more of her stuff here.
Source: True Activist
Pressures Mounting…
Ain el Helweh camp, Lebanon – It's not just the leadership of the Zionist regime still occupying Palestine, six decades after the 1948 Nakba, that appears to be salivating at the current stoking of current tensions between the Palestinian Resistance and in some respects, its historic off-spring Hezbollah.
From Tel Aviv, to Amman, Riyadh, the Gulf Kingdoms to Washington DC and beyond, the forces allied against the Tehran-Damascus-Hezbollah-Palestinian Resistance are working on yet another project to weaken and hopefully destroy all four.
It won't be easy, but it is reportedly a key element among the anti-Resistance forces still seeking regime change in Syria. Even while some of these governments have been playing down their central goal of regime change in public. The same governments appear to be fantasizing that by building up the Lebanese army with a pledged $three billion from Riyadh, its troops will somehow confront Hezbollah and its allies as part of a long-term "beat em or bleed em" project.
Patrick Cockburn writing recently in the UK Independent and Counterpunch accurately summarized situation of "Anti-Shia hate propaganda spread by Sunni religious figures sponsored by, or based in, Saudi Arabia and the Gulf monarchies, is creating the ingredients for a sectarian civil war engulfing the entire Muslim world."
The egging on the Palestinian and Hezbollah to confront each other has increased over the past three months in Lebanon's camps and particularly from some of the local Sunni and Christian power centers. This in addition to continuing support for various 'militia of the month' groups terrorizing the population of the Syrian Arab Republic, as well as essentially imprisoning without food and medical care the remaining 17,000 out of a March 2011 population of 250,000 Palestinian refugees in Yarmouk camp in Damascus.
This is not to say that there are no continuing, and sometimes long held tensions among a small percentage of the Palestinians in Lebanon and some among Hezbollah and its allies, the Amal Movement and Michele Aoun's, Free Patriotic Movement (FPM). It is the latter who is among the most anti-Palestinian of the Christian warlords and who some in Hezbollah and Palestinian factions cite for blocking Hezbollah from pushing for the right to work and to own a home for Palestinians in Lebanon. As for Amal, this Hezbollah's Shia ally, is widely believed to have killed more Palestinians in Lebanon during the 1985-88 camp massacres ( it's a misnomer to call them "wars" as the camps were basically defenseless) than Zionists have in the past 60 years. To this day, many Palestinians take deep umbrage with the long-time Amal leader posters placed outside Shatila and other camps since he is fairly universally despised by Palestinians in Lebanon for giving the orders for slaughtering so many of them. Attempts to remove his posters-portraits from Palestinian camps which are considered a provocation by many, risk facing his armed militia that occupies part of Shatila. The Sunni and Shia populations in the camps largely co-exist in a tense but generally peaceful juxtaposition with refugees from Syria. But it's not the quality of relations that obtained before the Syria crisis and Hezbollah's involvement there.
Hezbollah also has several reasons to question Palestinian support of the "National Lebanon Resistance" which the Party of God leads. There has been some evidence of individual Palestinians supporting anti-Hezbollah militia forces and political parties in Lebanon, and, according to camp officials they admit that some individual Palestinians go and return to Syria to fight against the Assad regime. Some who are close to Hezbollah claim that many Palestinians don't appreciate that the organization is the main supporter of their cause to return to Palestine and are ingrates for all that Hezbollah does for them. Rebuttals include that regrettably Hezbollah has done little for Palestinians living in Lebanon's camps and that Hezbollah has to date refused to use its political power to force Lebanon to comply with international law and grant elementary civil rights to them, including the rights to work and to own a home.
Against this backdrop, Al-Nusra Front leader Abou Mohammed al-Jawlani said that the Al-Qaeda-linked organization is active on Lebanese soil in order to help the Sunnis including Palestinians face the "injustice" of Shiite Hezbollah. "Lebanon's Sunni are requesting that the mujahideen intervene to lift up the injustice they are suffering from at the hands of Hezbollah and similar militias," Jawlani said in an interview on Al-Jazeera recently.
Shiite-populated areas across Lebanon have been the target of terror attacks since Hezbollah declared it was fighting on the side of the Syrian regime in May. Three car bomb attacks have targeted southern Beirut in recent months while a number of IED attacks have occurred in Lebanon's Beqaa Valley.
The head of the Islamic Jihadist Movement in Ain al-Helweh camps, Sheikh Jamal Khattab, voiced fears on 1/8/14 of a possible armed sectarian confrontation between Hezbollah and Palestinian refugees in Lebanon if the party did not revise its policies at home and in Syria. Sheikh Khattab told the Beirut Daily Star that "any fighting between Palestinians and Hezbollah could be worse than the three year violence between the Amal militia and Palestinians in the 1980's, known as the "war of the camps." (read: massacres) That conflict in which largely Shia forces attacked Sunni was not considered particularly sectarian and Hezbollah helped end it and protect the overwhelmingly Sunni Palestinians civilian population. Today it would be a Sunni vs. Shia war with regional and international consequences given the poisonous sea-change in sectarian relations since the invasion of Iraq in 2003.
In Ain al-Helweh and other camps, posters of local men killed while fighting alongside Syrian rebels or against U.S. troops in Iraq are tacked up throughout the camp. Lebanese security sources claim that Palestinian Islamist groups in Ain al-Hilweh, particularly Usbat al-Ansar, Jund al-Sham, Fatah al-Islam, other Salafist groups and supporters of controversial fugitive Sheikh Ahmad al-Assir have all finalized preparations to defend Sidon against any attack by Hezbollah's organized and trained "Resistance Brigades". Rumors abound that these groups are being financed for this purpose by certain of the six Gulf Cooperation Council countries and some Lebanese pro-Western March 14 parties. These groups and some of their sponsors consider conditions ripe in Lebanon for an expanded war against "Shia infidels" and have plans to bring it here. Several groups now fighting in Syria claim to seek a wider war "against Shia infidels "and pledge to bring the Sunni-Shia war here.
The Palestinian Follow-Up Committee, the Palestinian Liberation Organization, Fatah and the Palestinian National Security Forces have all strongly condemned as haphazard any irresponsible accusations against Ain el-Hilweh refugee camp after the assassination of ex-Finance Minister and former Prime Minister Saad Hariri's adviser, Mohammed Shatah, Also recent harassment of passersby near Ain el Helweh camp remind some of the tight grip the army continues on Nahr al Bared, near Tripoli in the north of Lebanon. Based on interviews by this observer with residents of Ain el-Helweh, there clearly are supporters of the Islamic State of Iraq and Greater Syria (ISIS), the Nusra Front, Al-Qaeda and the Abdullah Azzam Brigades among others. But one can find the same across Lebanon especially in Sunni areas. The officials claim that while they cannot prevent anyone from joining the fighting in Syria, all Palestinian groups in Lebanon and Syria and elsewhere have consistently maintained their policy of non-involvement in the Syrian crisis. Yet some Palestinian Islamist factions and camp residents criticize Hezbollah's armed support for Syrian President Bashar Assad.
For their part, some pro-Hezbollah groups and many Lebanese citizens are suspicious of possible Palestinian involvement in recent terror attacks in Dahiyeh and the recent bombing of the Iranian Embassy. In point of fact, one of the two suicide bombers who attacked the Iranian Embassy on 11/17/13 was a Palestinian named Mouin Abu Dahr. His mother is a Shiite and his father a Sunni. Ain al-Hilweh is also in the spotlight currently due to the arrest of Majid al-Majid, the leader of the Al-Qaeda-affiliated Abdullah Azzam Brigades. Majid is believed to have lived in Ain al-Hilweh since 2012.
Israel and its new and longtime allies seek Sunni-Shia war and the sooner the better. They also favor the continuation of the Syria crisis for the reason they consider Hezbollah is squandering some of their best fighters and commanders and well as their weapons stores. Western Diplomats have spoken about US-Israeli hopes that Syria will be Hezbollah's Achilles heel and Iran's Vietnam. Meanwhile Israeli media has commented on the views of some officials who are claiming that Hezbollah has shifted its attention to Syria and away from the southern front with occupied Palestine.
Time will tell.
But for its part Hezbollah maintains that by defending Lebanon and fighting " takferi terrorists" it is using only five percent of its capacity to confront Israel. One source close to the Resistance reported that "Hezbollah has self-sufficiency when it comes to the missiles, strategic and non-strategic weapons. All these weapons are quite abundant. Any additional equipment will constitute a negative factor because there is no need for them. All the weapons that are manufactured by Iran or owned by Syria are also available for Hezbollah. The land forces and the Special Forces fighting in Syria have acquired a lot of practical and intelligence related experience and a force of maneuvering on the land. This experience will be used when the war with Israel begins again."
The Sunni and the Shia just as with the Palestinians and Hezbollah need each other for many reasons including to confront growing Islamophobia, anti-Arab hate propaganda and the deepening and broadening Apartheid occupation of Palestine.
All must work to tamp down their differences publicly and privately while working to neutralize both Sunni and Shia sectarian provocateurs, domestic, regional and international that today are seeking internecine and sectarian violence in order to weaken both.
Iraq today is a grim reflection of America's ruthless imperial agenda. It includes mass slaughter, destruction, devastation, deprivation, human misery and unending violence.
On August 31, 2010, Obama displayed criminal contempt. He's done it many times. He declared an end to America's combat mission in Iraq, saying:
"Through this remarkable chapter in the history of the United States and Iraq, we have met our responsibility."
Ignored was America's genocidal legacy. Iraq was ravaged and destroyed. Pre-1990 Iraq no longer exists. Charnel house conditions replaced it.
So did plunder on the grandest of grand scales, millions of internal and external refugees, ongoing violence, dozens of daily deaths, a plague of preventable diseases, ecocide, and overall conditions too horrific to ignore.
Remember Fallujah. In September 2004, the UN Human Rights Council issued a report titled"Testimonies of Crimes Against Humanity in Fallujah: Towards a Fair International Criminal Trial."
It discussed horrific conditions, saying:
"From the (2003) outset and at the start of the indiscriminate and merciless campaign of collective punishment and willful destruction, undertaken by the occupational troops of the United States of America," innocent civilians endured an "inhumane siege and indiscriminate killing" during April and May 2004.
"(G)enocidal massacres" included "sustained and targeted bombing(s), aimed directly at the homes of defenseless civilians."
A November/December massacre followed. Thousands more Iraqis were slaughtered, wounded and maimed.
Depleted and enriched uranium, cluster bombs, white phosphorous and other terror weapons were used.
Chris Busby is a radiation expert. "We went to Fallujah, and we found the levels of cancer high," he said.
"We looked at the parents of children with congenital malformation, and we did analysis of their hair to see what was inside their hair that might be genotoxic, that might be the sort of thing that can cause congenital malformation."
"The only thing that we found was uranium. We found uranium in the mothers of the children with congenital malformations."
"We know that uranium is genotoxic, that it causes these levels of genetic damage, and because of that it also causes cancer."
"The only source of uranium was the use by the American-led forces of uranium weapons."
"Not only depleted uranium weapons, but as we later found out slightly enriched uranium weapons, which we believe they were using in order to cover their tracks."
Fallujah was besieged. Food, medicines and other vital supplies were kept out. US soldiers were ordered to kill anything that moved.
Young and old were targeted. Men, women, boys and girls were indiscriminately attacked.
Between both Fallujah battles, US warplanes kept bombing residential and industrial areas.
Negotiations to halt fighting failed. Washington blocked them. It did so to continue mass killing and destruction.
Hundreds were arrested. Imprisonments followed. So did horrific torture and ill-treatment.
Fallujah witnesses confirmed wholesale slaughter of unarmed civilians. They were killed inside their houses and mosques.
Some were shot after being arrested. Others were blown up inside their homes.
Children saw their parents shot. Adults witnessed their spouses and children killed. US and complicit Iraqi forces looted homes and stores.
Thousands of others were destroyed. A Commission for the Compensation of Fallujah Citizens said 7,000 houses were demolished.
So were 8,400 stores, workshops, clinics, warehouses and other structures. Sixty-five mosques were totally destroyed. So were five dozen primary, secondary and higher education schools.
Thirteen government buildings were leveled. Water and sewer systems were destroyed. So were two electrical power substations. Other infrastructure targets were demolished.
Around 100,000 domestic and wild animals died from toxic exposure. Four libraries containing valued Islamic manuscripts and books were burned.
Virtually everything in Fallujah was fair game. It remains symbolic of imperial US viciousness.
Subsequent Fallujah health statistics showed:
around 6,000 previously unknown or rarely seen diseases; and
sharp increases in leukemia, other cancers, infant mortality, birth defects, miscarriages, abnormal deliveries, and other health problems similar to what Hiroshima and Nagasaki survivors experienced.
Will the third battle of Fallujah repeat what happened earlier? US forces aren't directly involved. Iraqi government troops are battling Anbar Province Al Qaeda affiliated Sunni militants.
In December, Washington began supplying Nuri al-Maliki's government with dozens of Hellfire missiles, other weapons and drones.  
It's unclear whether US operators will wage drone warfare like what's ongoing in Afghanistan, Pakistan, Yemen and elsewhere. If al-Maliki's forces can't contain things on their own, bet on US involvement.
On Sunday, State Department spokeswoman Jen Psaki said Al Qaeda affiliated elements are "seeking to gain control of territory inside the borders of Iraq."
"(They represent a) common enemy of the United States and the Republic of Iraq, and a threat to the greater Middle East."
Al Qaeda is a US creation. It's used strategically as both ally and enemy. John Kerry issued a statement saying:
"We will stand with the government of Iraq and with others who will push back against their efforts to destabilize. We are not contemplating putting boots on the ground."
Vice President Biden spoke with al-Maliki. His office issued a statement saying "the United States stands with Iraq in its fight against the Islamic State of Iraq and the Levant."
Iraq is a failed state. It's a dysfunctional wasteland. Nightmarish conditions exist. Multiple car bombings occur almost daily.
So does other nationwide violence. Iraq is a virtual war zone. Dozens die daily. Fighting never ended. Al-Maliki is a convenient US stooge.
Al Qaeda affiliated elements largely gained control of Ramadi and Fallujah. Al-Maliki reinforced nearby Iraqi forces. Air strikes and artillery shelling followed.
Perhaps laying siege to both towns is planned. Will mass destruction and massacres follow?
On Tuesday, fierce clashes occurred between so-called Islamic State of Iraq and the Levant (ISIL) fighters and government forces.
ISIL elements are Sunni militants. They're linked to Al Qaeda. They're heavily involved in Syria.
Both countries share a common border. It's porous. Militants fighting Assad's forces cross it easily to fight in Iraq.
Sectarian tensions are high. Violence increased after Iraqi forces attacked Hawija Sunni protesters last April. Dozens were killed.
Deadly car bombings continue nationwide. In 2013, Iraq's death toll was the highest since 2007. In Anbar Province, Iraqi forces, local tribes and ISIL fighters are waging three-way war.
Before 2003, Iraq had no Al Qaeda elements. No threat existed. Washington's war changed things.
Iraq is a cauldron of violence. Fighting shows no signs of ending. Expect things to get much worse before it ebbs.
If US drone warfare complements Iraqi forces on the ground, mass killing and destruction may follow. It may happen with or without US involvement.
The third battle for Fallujah may replicate the first two. Expect Ramadi and other parts of Anbar Province to be affected.
Civilians will suffer most. Millions died since GHW Bush's Gulf War. Clinton's sanctions alone claimed around 1.5 million lives.
GW Bush's war, Obama continuing where he left off, and subsequent violence, disease, and deprivation took millions more.
On October 7, 2001, America's new millennium wars began. They continue out-of-control. Afghanistan, Iraq and Libya are war zones.
Fighting rages daily. Iraqi government forces are preparing to storm Fallujah. Expect another bloodbath to follow.
Washington bears full responsibility. Bush I and II, Clinton and Obama are unindicted war criminals.
Millions of regional deaths bear witness to their high crimes. They continue daily with no end.
They do so when polls show Afghanistan is Washington's most unpopular war in history. Over 80% of Americans oppose it. Less than 20% support it.
It rages out-of-control. It shows no signs of ending. With or without most US forces remaining, it could continue for another decade or longer.
It reflects America's addiction to war. It reveals state terror as official US policy. It shows contempt for rule of law principles. It suggests conflicts without end will continue.
Stephen Lendman lives in Chicago. He can be reached at lendmanstephen@sbcglobal.net.
His new book is titled "Banker Occupation: Waging Financial War on Humanity."
http://www.claritypress.com/LendmanII.html
Visit his blog site at sjlendman.blogspot.com.
"At last the world knows America as the savior of the world!" – President Woodrow Wilson, Paris Peace Conference, 1919
The horrors reported each day from Syria and Iraq are enough to make one cry; in particular, the atrocities carried out by the al-Qaeda types: floggings; beheadings; playing soccer with the heads; cutting open dead bodies to remove organs just for mockery; suicide bombers, car bombs, the ground littered with human body parts; countless young children traumatized for life; the imposition of sharia law, including bans on music … What century are we living in? What millennium? What world?
People occasionally write to me that my unwavering antagonism toward American foreign policy is misplaced; that as awful as Washington's Museum of Horrors is, al-Qaeda is worse and the world needs the United States to combat the awful jihadists.
"Let me tell you about the very rich," F. Scott Fitzgerald famously wrote. "They are different from you and me."
And let me tell you about American leaders. In power, they don't think the way you and I do. They don't feel the way you and I do. They have supported "awful jihadists" and their moral equivalents for decades. Let's begin in 1979 in Afghanistan, where the Moujahedeen ("holy warriors") were in battle against a secular, progressive government supported by the Soviet Union; a "favorite tactic" of the Moujahedeen was "to torture victims [often Russians] by first cutting off their nose, ears, and genitals, then removing one slice of skin after another", producing "a slow, very painful death".
With America's massive and indispensable military backing in the 1980s, Afghanistan's last secular government (bringing women into the 20th century) was overthrown, and out of the victoriousMoujahedeen arose al Qaeda.
During this same period the United States was supporting the infamous Khmer Rouge of Cambodia; yes, the same charming lads of Pol Pot and The Killing Fields.
President Carter's National Security Adviser, Zbigniew Brzezinski, was a leading force behind the US support of both the Moujahedeen and the Khmer Rouge. What does that tell you about that American leader? Or Jimmy Carter – an inspiration out of office, but a rather different person in the White House? Or Nobel Peace Laureate Barack Obama, who chose Brzezinski as one of his advisers?
Another proud example of the United States fighting the awful jihadists is Kosovo, an overwhelmingly Muslim province of Serbia. The Kosovo Liberation Army (KLA) began an armed conflict with Belgrade in the early 1990s to split Kosovo from Serbia. The KLA was considered a terrorist organization by the US, the UK and France for years, with numerous reports of the KLA having contact with al-Qaeda, getting arms from them, having its militants trained in al-Qaeda camps in Pakistan, and even having members of al-Qaeda in KLA ranks fighting against Serbia.  But Washington's imperialists, more concerned about dealing a blow to Serbia, "the last communist government in Europe", supported the KLA.
The KLA have been known for their torture and trafficking in women, heroin, and human body parts (sic).  The United States has naturally been pushing for Kosovo's membership in NATO and the European Union.
More recently the US has supported awful jihadists in Libya and Syria, with awful consequences.
It would, moreover, be difficult to name a single brutal dictatorship of the second half of the 20th Century that was not supported by the United States; not only supported, but often put into power and kept in power against the wishes of the population. And in recent years as well, Washington has supported very repressive governments, such as Saudi Arabia, Honduras, Indonesia, Egypt, Colombia, Qatar, and Israel.
Not exactly the grand savior our sad old world is yearning for. (Oh, did I mention that Washington's policies create a never-ending supply of terrorists?)
And what do American leaders think of their own record? Former Secretary of State Condoleezza Rice was probably speaking for the whole private club when she wrote that in the pursuit of its national security the United States no longer needed to be guided by "notions of international law and norms" or "institutions like the United Nations" because America was "on the right side of history."
If you've never done anything you wouldn't want the government to know about, you should re-examine your life choices.
"The idea is to build an antiterrorist global environment," a senior American defense official said in 2003, "so that in 20 to 30 years, terrorism will be like slave-trading, completely discredited."
One must wonder: When will the dropping of bombs on innocent civilians by the United States, and invading and occupying their country become completely discredited? When will the use of depleted uranium, cluster bombs, CIA torture renditions, and round-the-world, round-the-clock surveillance become things that even men like George W. Bush, Dick Cheney, Barack Obama, and John Brennan will be too embarrassed to defend?
Last month, a former National Security Agency official told the Washington Post that the Agency's workers are polishing up their résumés and asking that they be cleared – removing any material linked to classified programs – so they can be sent out to potential employers. He noted that one employee who processes the résumés said, "I've never seen so many résumés that people want to have cleared in my life."
Morale is "bad overall", said another former official. "The news – the Snowden disclosures – it questions the integrity of the NSA workforce," he said. "It's become very public and very personal. Literally, neighbors are asking people, 'Why are you spying on Grandma?' And we aren't. People are feeling bad, beaten down."
President Obama was recently moved to declare that he would be proposing "some self-restraint on the NSA" and "some reforms that can give people more confidence." He also said "In some ways, the technology and the budgets and the capacity [at NSA] have outstripped the constraints. And we've got to rebuild those in the same way that we're having to do on a whole series of capacities … [such as] drone operations."
Well, dear readers and comrades, we shall see. But if you're looking for a glimmer of hope to begin a new year, you may as well try grabbing onto these little offerings. When the American Empire crumbles, abroad and at home, as one day it must, Edward Snowden's courageous actions may well be seen as one of the key steps along that road. I've long maintained that only the American people have the power to stop The Imperial Machine – the monster that eats the world's environment, screws up its economies, and spews violence on every continent. And for that to happen the American people have to lose their deep-seated, quasi-religious belief in "American Exceptionalism". For many, what they've been forced to learn the past six months has undoubtedly worn deep holes into the protective armor that has surrounded their hearts and minds since childhood.
A surprising and exhilarating example of one of these holes in the armor is the New Year's day editorial in the New York Times that is now well known. Entitled "Edward Snowden, Whistle-blower" – itself a legitimation of his actions – its key part says: "Considering the enormous value of the information he has revealed, and the abuses he has exposed, Mr. Snowden deserves better than a life of permanent exile, fear and flight. He may have committed a crime to do so, but he has done his country a great service."
The president has been moved to appoint a committee to study NSA abuses. This of course is a standard bureaucratic maneuver to keep critics at bay. But the committee – Review Group on Intelligence and Communications Technologies – did come up with a few unexpected recommendations in its report presented December 13, the most interesting of which perhaps are these two:
"Governments should not use surveillance to steal industry secrets to advantage their domestic industry."

"Governments should not use their offensive cyber capabilities to change the amounts held in financial accounts or otherwise manipulate the financial systems."
The first recommendation refers to a practice, though certainly despicable, that is something the United States has been doing, and lying about, for decades.  Just this past September, James Clapper, Director of US National Intelligence, declared: "What we do not do, as we have said many times, is use our foreign intelligence capabilities to steal the trade secrets of foreign companies."
Clapper is the same gentleman who told Congress in March that the NSA does not intentionally collect any kind of data on millions of Americans; and, when subsequently challenged on this remark, declared: "I responded in what I thought was the most truthful, or least untruthful, manner by saying 'no'."
The second recommendation had not been revealed before, in a Snowden document or from any other source.
"That was a strangely specific recommendation for something nobody was talking about," observed the director of a government transparency group.
ABC News reported that "A spokesperson for the NSA declined to comment on the issue of bank account hacking, and a representative for U.S. Cyber Command did not immediately return an emailed request for comment."
Manipulating bank records is about as petty and dishonorable as a superpower can behave, and could conceivably, eventually, lead to the end of the NSA as we've all come to know and love it. On the other hand, the Agency no doubt holds some very embarrassing information about anyone in a position to do them harm.
The bombing of Flight 103 – Case closed?
When the 25th anniversary of the 1988 bombing of PanAm Flight 103 occurred on December 21 I was fully expecting the usual repetitions of the false accusation against Libya and Moammar Gaddafi as being responsible for the act which took the lives of 270 people over and in Lockerbie, Scotland. But much to my surprise, mingled with such, there were a rash of comments skeptical of the official British-US version, made by various people in Scotland and elsewhere, including by the governments of the United States, the United Kingdom and Libya.
In a joint statement the three governments said they were determined to unearth the truth behind the attack. "We want all those responsible for this brutal act of terrorism brought to justice, and to understand why it was committed", they declared.
Remarkable. In 1991, the United States indicted a Libyan named Adelbaset al-Megrahi. He was eventually found guilty of being the sole perpetrator of the crime, kept in prison for many years, and finally released in 2009 when he had terminal cancer, allegedly for humanitarian reasons, although an acute smell of oil could be detected. And now they speak of bringing to justice "those responsible for this brutal act of terrorism".
The 1988 crime was actually organized by Iran in retaliation for the American shooting down of an Iranian passenger plane in July of the same year, which took the lives of 290 people. It was carried out by the Popular Front for the Liberation of Palestine – General Command (PFLP-GC), a 1968 breakaway from a component of the Palestine Liberation Organization, with some help from Syria. And this version was very widely accepted in the Western world, in government and media circles. Until the US buildup to the Gulf War came along in 1990 and the support of Iran and Syria was needed. Then, suddenly, we were told that it was Libya behind the crime.
If the US and UK now wish to return to Iran, and perhaps Syria, as the culprits, they will have a lot of explaining to do about their previous lie. But these two governments always have a lot of explaining to do. They're good at it. And the great bulk of their indoctrinated citizens, with little resistance, will accept the new/old party line, and their mainstream media will effortlessly switch back to the old/new official version, since Iran and Syria are at the top of the current list of Bad Guys. (The PFLP-GC has been quiescent for some time and may scarcely exist.)
If you're confused by all this, I suggest that you start by reading my detailed article on the history of this case, written in 2001 but still very informative and relevant. You may be rather surprised.
The UK, US and Libyan governments have now announced that they will co-operate to reveal "the full facts" of the Lockerbie bombing. And Robert Mueller, the former head of the FBI, said he believes more people will be charged. This could be very interesting.
Free books of historical value
The complete set, less one volume, of the 15 Church Committee (1975-6) volumes. Lacking only Final Report, book 6: "Congressional Research Service. Supplementary Reports on Intelligence Activities."
The complete set, less one volume, of the 6 Pike Committee volumes. Lacking only volume 6: "Committee Proceedings, part II"
The Rockefeller Commission Report, one volume.
Hearings on FISA (Foreign Intelligence Surveillance Act) before Senate Select Committee on Intelligence (same as Church Committee), one volume.
Total of 21 volumes, all from 1975-1976, all in good condition. Either pick them up in Washington, DC or send me $10 for postage.
Notes
Washington Post May 11, 1979; New York Times, April 13 1979
William Blum, "Rogue State: A Guide to the World's Only Superpower" (2005), chapter 10
RT TV (Russia Today, Moscow), May 4, 2012
Associated Press, December 14, 2010
Foreign Affairs (Council on Foreign Relations), January/February 2000 issue
New York Times, January 17, 2003
Washington Post, December 7, 2013
Washington Post, December 18, 2013
Washington Post, December 7, 2013
See Anti-Empire Report, #118, June 26, 2013, second part
Statement by Director of National Intelligence James R. Clapper on Allegations of Economic Espionage, September 8, 2013
NBC News, June 9, 2013
Kel McLanahan, executive director of National Security Counselors, speaking to ABC News Radio, December 23, 2013
ABC News Radio, December 23, 2013
Reuters news agency, December 22, 2013
What really happened in the Ukrainian crisis?
It is freezing cold in Kiev, legendary city of golden domes on the banks of Dnieper River – cradle of ancient Russian civilisation and the most charming of East European capitals. It is a comfortable and rather prosperous place, with hundreds of small and cosy restaurants, neat streets, sundry parks and that magnificent river. The girls are pretty and the men are sturdy. Kiev is more relaxed than Moscow, and easier on the wallet. Though statistics say the Ukraine is broke and its people should be as poor as Africans, in reality they aren't doing too badly, thanks to their fiscal imprudence. The government borrowed and spent freely, heavily subsidised housing and heating, and they brazenly avoided devaluation of the national currency and the austerity program prescribed by the IMF. This living on credit can go only so far: the Ukraine was doomed to default on its debts next month or sooner, and this is one of the reasons for the present commotion.
A tug-of-war between the East and the West for the future of Ukraine lasted over a month, and has ended for all practical purposes in a resounding victory for Vladimir Putin, adding to his previous successes in Syria and Iran. The trouble began when the administration of President Yanukovich went looking for credits to reschedule its loans and avoid default. There were no offers. They turned to the EC for help; the EC, chiefly Poland and Germany, seeing that the Ukrainian administration was desperate, prepared an association agreement of unusual severity.
The EC is quite hard on its new East European members, Latvia, Romania, Bulgaria et al.: these countries had their industry and agriculture decimated, their young people working menial jobs in Western Europe, their population drop exceeded that of the WWII.
But the association agreement offered to the Ukraine was even worse. It would turn the Ukraine into an impoverished colony of the EC without giving it even the dubious advantages of membership (such as freedom of work and travel in the EC). In desperation, Yanukovich agreed to sign on the dotted line, in vain hopes of getting a large enough loan to avoid collapse. But the EC has no money to spare – it has to provide for Greece, Italy, Spain. Now Russia entered the picture. At the time, relations of the Ukraine and Russia were far from good. Russians had become snotty with their oil money, the Ukrainians blamed their troubles on Russians, but Russia was still the biggest market for Ukrainian products.
For Russia, the EC agreement meant trouble: currently the Ukraine sells its output in Russia with very little customs protection; the borders are porous; people move freely across the border, without even a passport. If the EC association agreement were signed, the EC products would flood Russia through the Ukrainian window of opportunity. So Putin spelled out the rules to Yanukovich: if you sign with the EC, Russian tariffs will rise. This would put some 400,000 Ukrainians out of work right away. Yanukovich balked and refused to sign the EC agreement at the last minute. (I predicted this in my report from Kiev full three weeks before it happened, when nobody believed it – a source of pride).
The EC, and the US standing behind it, were quite upset. Besides the loss of potential economic profit, they had another important reason: they wanted to keep Russia farther away from Europe, and they wanted to keep Russia weak. Russia is not the Soviet Union, but some of the Soviet disobedience to Western imperial designs still lingers in Moscow: be it in Syria, Egypt, Vietnam, Cuba, Angola, Venezuela or Zimbabwe, the Empire can't have its way while the Russian bear is relatively strong. Russia without the Ukraine can't be really powerful: it would be like the US with its Mid-western and Pacific states chopped away. The West does not want the Ukraine to prosper, or to become a stable and strong state either, so it cannot join Russia and make it stronger. A weak, poor and destabilised Ukraine in semi-colonial dependence to the West with some NATO bases is the best future for the country, as perceived by Washington or Brussels.
Angered by this last-moment-escape of Yanukovich, the West activated its supporters. For over a month, Kiev has been besieged by huge crowds bussed from all over the Ukraine, bearing a local strain of the Arab Spring in the far north. Less violent than Tahrir, their Maidan Square became a symbol of struggle for the European strategic future of the country. The Ukraine was turned into the latest battle ground between the US-led alliance and a rising Russia. Would it be a revanche for Obama's Syria debacle, or another heavy strike at fading American hegemony?
The simple division into "pro-East" and "pro-West" has been complicated by the heterogeneity of the Ukraine. The loosely knit country of differing regions is quite similar in its makeup to the Yugoslavia of old. It is another post-Versailles hotchpotch of a country made up after the First World War of bits and pieces, and made independent after the Soviet collapse in 1991. Some parts of this "Ukraine" were incorporated by Russia 500 years ago, the Ukraine proper (a much smaller parcel of land, bearing this name) joined Russia 350 years ago, whilst the Western Ukraine (called the "Eastern Regions") was acquired by Stalin in 1939, and the Crimea was incorporated in the Ukrainian Soviet Republic by Khrushchev in 1954.
The Ukraine is as Russian as the South-of-France is French and as Texas and California are American. Yes, some hundreds years ago, Provence was independent from Paris, – it had its own language and art; while Nice and Savoy became French rather recently. Yes, California and Texas joined the Union rather late too. Still, we understand that they are – by now – parts of those larger countries, ifs and buts notwithstanding. But if they were forced to secede, they would probably evolve a new historic narrative stressing the French ill treatment of the South in the Cathar Crusade, or dispossession of Spanish and Russian residents of California.
Accordingly, since the Ukraine's independence, the authorities have been busy nation-building, enforcing a single official language and creating a new national myth for its 45 million inhabitants. The crowds milling about the Maidan were predominantly (though not exclusively) arrivals from Galicia, a mountainous county bordering with Poland and Hungary, 500 km (300 miles) away from Kiev, and natives of the capital refer to the Maidan gathering as a "Galician occupation".
Like the fiery Bretons, the Galicians are fierce nationalists, bearers of a true Ukrainian spirit (whatever that means). Under Polish and Austrian rule for centuries, whilst the Jews were economically powerful, they are a strongly anti-Jewish and anti-Polish lot, and their modern identity centred around their support for Hitler during the WWII, accompanied by the ethnic cleansing of their Polish and Jewish neighbours. After the WWII, the remainder of pro-Hitler Galician SS fighters were adopted by US Intelligence, re-armed and turned into a guerrilla force against the Soviets. They added an anti-Russian line to their two ancient hatreds and kept fighting the "forest war" until 1956, and these ties between the Cold Warriors have survived the thaw.
After 1991, when the independent Ukraine was created, in the void of state-building traditions, the Galicians were lauded as 'true Ukrainians', as they were the only Ukrainians who ever wanted independence. Their language was used as the basis of a new national state language, their traditions became enshrined on the state level. Memorials of Galician Nazi collaborators and mass murderers Stepan Bandera and Roman Shukhevych peppered the land, often provoking the indignation of other Ukrainians. The Galicians played an important part in the 2004 Orange Revolution as well, when the results of presidential elections were declared void and the pro-Western candidate Mr Yuschenko got the upper hand in the re-run.
However, in 2004, many Kievans also supported Yuschenko, hoping for the Western alliance and a bright new future. Now, in 2013, the city's support for the Maidan was quite low, and the people of Kiev complained loudly about the mess created by the invading throngs: felled trees, burned benches, despoiled buildings and a lot of biological waste. Still, Kiev is home to many NGOs; city intellectuals receive generous help from the US and EC. The old comprador spirit is always strongest in the capitals.
For the East and Southeast of the Ukraine, the populous and heavily industrialised regions, the proposal of association with the EC is a no-go, with no ifs, ands or buts. They produce coal, steel, machinery, cars, missiles, tanks and aircraft. Western imports would erase Ukrainian industry right off the map, as the EC officials freely admit. Even the Poles, hardly a paragon of industrial development, had the audacity to say to the Ukraine: we'll do the technical stuff, you'd better invest in agriculture. This is easier to say than to do: the EC has a lot of regulations that make Ukrainian products unfit for sale and consumption in Europe. Ukrainian experts estimated their expected losses for entering into association with the EC at anything from 20 to 150 billion euros.
For Galicians, the association would work fine. Their speaker at the Maidan called on the youth to 'go where you can get money' and do not give a damn for industry. They make their income in two ways: providing bed-and breakfast rooms for Western tourists and working in Poland and Germany as maids and menials. They hoped they would get visa-free access to Europe and make a decent income for themselves. Meanwhile, nobody offered them a visa-waiver arrangement. The Brits mull over leaving the EC, because of the Poles who flooded their country; the Ukrainians would be too much for London. Only the Americans, always generous at somebody's else expense, demanded the EC drop its visa requirement for them.
While the Maidan was boiling, the West sent its emissaries, ministers and members of parliament to cheer the Maidan crowd, to call for President Yanukovich to resign and for a revolution to install pro-Western rule. Senator McCain went there and made a few firebrand speeches. The EC declared Yanukovich "illegitimate" because so many of his citizens demonstrated against him. But when millions of French citizens demonstrated against their president, when Occupy Wall Street was violently dispersed, nobody thought the government of France or the US president had lost legitimacy…
Victoria Nuland, the Assistant Secretary of State, shared her biscuits with the demonstrators, and demanded from the oligarchs support for the "European cause" or their businesses would suffer. The Ukrainian oligarchs are very wealthy, and they prefer the Ukraine as it is, sitting on the fence between the East and the West. They are afraid that the Russian companies will strip their assets should the Ukraine join the Customs Union, and they know that they are not competitive enough to compete with the EC. Pushed now by Nuland, they were close to falling on the EC side.
Yanukovich was in big trouble. The default was rapidly approaching. He annoyed the pro-Western populace, and he irritated his own supporters, the people of the East and Southeast. The Ukraine had a real chance of collapsing into anarchy. A far-right nationalist party, Svoboda (Liberty), probably the nearest thing to the Nazi party to arise in Europe since 1945, made a bid for power. The EC politicians accused Russia of pressurising the Ukraine; Russian missiles suddenly emerged in the western-most tip of Russia, a few minutes flight from Berlin. The Russian armed forces discussed the US strategy of a "disarming first strike". The tension was very high.
Edward Lucas, the Economist's international editor and author of The New Cold War, is a hawk of the Churchill and Reagan variety. For him, Russia is an enemy, whether ruled by Tsar, by Stalin or by Putin. He wrote: "It is no exaggeration to say that the [Ukraine] determines the long-term future of the entire former Soviet Union. If Ukraine adopts a Euro-Atlantic orientation, then the Putin regime and its satrapies are finished… But if Ukraine falls into Russia's grip, then the outlook is bleak and dangerous… Europe's own security will also be endangered. NATO is already struggling to protect the Baltic states and Poland from the integrated and increasingly impressive military forces of Russia and Belarus. Add Ukraine to that alliance, and a headache turns into a nightmare."
In this cliff-hanging situation, Putin made his pre-emptive strike. At a meeting in the Kremlin, he agreed to buy fifteen billion euros worth of Ukrainian Eurobonds and cut the natural gas price by a third. This meant there would be no default; no massive unemployment; no happy hunting ground for the neo-Nazi thugs of Svoboda; no cheap and plentiful Ukrainian prostitutes and menials for the Germans and Poles; and Ukrainian homes will be warm this Christmas. Better yet, the presidents agreed to reforge their industrial cooperation. When Russia and Ukraine formed a single country, they built spaceships; apart, they can hardly launch a naval ship. Though unification isn't on the map yet, it would make sense for both partners. This artificially divided country can be united, and it would do a lot of good for both of their populaces, and for all people seeking freedom from US hegemony.
There are a lot of difficulties ahead: Putin and Yanukovich are not friends, Ukrainian leaders are prone to renege, the US and the EC have a lot of resources. But meanwhile, it is a victory to celebrate this Christmas tide. Such victories keep Iran safe from US bombardment, inspire the Japanese to demand removal of Okinawa base, encourage those seeking closure of Guantanamo jail, cheer up Palestinian prisoners in Israeli prisons, frighten the NSA and CIA and allow French Catholics to march against Hollande's child-trade laws.
***
What is the secret of Putin's success? Edward Lucas said, in an interview to the pro-Western Ekho Moskvy radio: "Putin had a great year – Snowden, Syria, Ukraine. He checkmated Europe. He is a great player: he notices our weaknesses and turns them into his victories. He is good in diplomatic bluff, and in the game of Divide and Rule. He makes the Europeans think that the US is weak, and he convinced the US that Europeans are useless".
I would offer an alternative explanation. The winds and hidden currents of history respond to those who feel their way. Putin is no less likely a roguish leader of global resistance than Princess Leia or Captain Solo were in Star Wars. Just the time for such a man is ripe.
Unlike Solo, he is not an adventurer. He is a prudent man. He does not try his luck, he waits, even procrastinates. He did not try to change regime in Tbilisi in 2008, when his troops were already on the outskirts of the city. He did not try his luck in Kiev, either. He has spent many hours in many meetings with Yanukovich whom he supposedly personally dislikes.
Like Captain Solo, Putin is a man who is ready to pay his way, full price, and such politicians are rare. "Do you know what is the proudest word you will ever hear from an Englishman's mouth?", asked a James Joyce character, and answered: "His proudest boast is I paid my way." Those were Englishmen of another era, long before the likes of Blair, et al.
While McCain and Nuland, Merkel and Bildt speak of the European choice for the Ukraine, none of them is ready to pay for it. Only Russia is ready to pay her way, in the Joycean sense, whether in cash, as now, or in blood, as in WWII.
Putin is also a magnanimous man. He celebrated his Ukrainian victory and forthcoming Christmas by forgiving his personal and political enemies and setting them free: the Pussy Riot punks, Khodorkovsky the murderous oligarch, rioters… And his last press conference he carried out in Captain Solo self-deprecating mode, and this, for a man in his position, is a very good sign.
A few years back, at the end of 2009, I was approached on two separate occasions by people claiming to be "representatives" of a digital alternative currency format. I was, of course, intrigued by the initial proposal, being that I had been writing for some time on the concept of non-participation as a way to insulate average Americans from the dangers of our unstable fiat driven mainstream economy. Before that, I had already dealt with just about every currency alternative one could imagine; from paper scripts backed by goods, to scripts backed by time or labor, to gold and silver laden currency cards, etc, etc. All of them had the advantage of NOT relying on private Federal Reserve notes, and all of them had flaws as well. The proposed digital script, which the representatives called "Bitcoin", was no different.
The idea was to recruit my website as a promoter for bitcoin, but I had many questions before I would stick my neck out on a brand new high-tech anti-currency, and most of these question were not answered in any satisfactory manner.
There is no shortage of "solutions" in Liberty Movement circles, but many of these solutions require that we work within the system according to establishment rules (which they can change at any given moment). They assume that the system will abide by some kind of internal code, that our candidates will be treated fairly, that elections will not be rigged, that a better methodology or technology will be acknowledged and eventually adopted, that the "majority" of the public will someday see the light and back our cause, that the elite will not simply decide to put a bullet in our head.
The reality is, if a solution is dependent on a paradigm controlled by the corrupt system you are trying to change, it is no solution at all. Because of this, my focus has always been on methods that separate Americans from reliance on the system as much as possible.
When first confronted with bitcoin activism, I recognized almost immediately that this was NOT a method that operated outside the system, even though it tried very hard to appear that way. It was high-tech, it was sexy (admittedly far sexier in its presentation than gold and silver), and it catered to the egos of the digital generation, the loudest voices in media today. This thing was certainly marketable. However, just because something is highly marketable does not make it a good idea, or a meaningful alternative.
The Tantalizing Allure Of Non-Solutions
When a person invests a sizable amount of capital into an idea, not to mention a sizable amount of philosophical faith, they tend to lose a measure of objectivity. This is not just a struggle for proponents of bitcoin but for proponents of ALL methodologies. I do believe that many bitcoin promoters have the best of intentions, and that they are seeking some way to break from what they understand is a corrupt financial structure. That said, there is an escalating streak of elitism within the bitcoin culture, and I have witnessed on numerous occasions the kind of anger and immediate dismissal the average statist would spew when they are confronted with criticism. If you dare to question the greater details behind Bitcoin, be prepared to be accused of anything from "conspiracy theory", to "jealousy" for missing the boat on bitcoin profits, to "ignorance" of the genius of cryptography.
What I came to realize through my questions to bitcoin followers was that many of them were not actually involved in the deeper aspects of the Liberty Movement, constitutional activism, sound money, self defense, and so on. Almost none of them had a preparedness plan, few of them had experience with precious metals, none of them owned firearms, and none of them had any inclination towards the building of local networks for mutual aid. Worst of all, many of them had no understanding of the wider threat of economic collapse that America faces today. In fact, when the possibility of full spectrum collapse is brought up, many Bitcoiners actually respond with the same brand of shallow dismissals that one would expect from the Paul Krugman's and Ben Bernanke's of the world.
This reaction is not necessarily shocking. Most people imagine themselves accomplishing heroic feats, and why not? It is one of the more noble and beautiful traits of mankind. For the crypto-engineers of the new century and the digital generation overall, heroics have felt unattainable. Elections are finally being recognized as the sham they represent, while protest activism has fallen flat on its face. The concept of peaceful redress of grievances has been met with rather frightening displays of state violence and censorship to which a physical response for the common protestor is unthinkable. The signs and slogan chants may have inspired the education of some, but in the meantime, they have accomplished very little in terms of political or social change. The bottom line is that the establishment LOVES non-aggression protests – they have no plan, few concrete goals, and present no overt threat to the elite.
The system only grows more despotic, more invasive, and more dangerous. Anti-establishment champions have been searching for something that goes beyond mere "education", or clamoring like caged monkeys for media attention. They want to storm the castle, they want to fight back, but they haven't the slightest clue how. They desire an intellectual method of combat, something with far less fear, far less risk, and far less pain. Enter Bitcoin.
Bitcoin gives the digital generation the chance to feel heroic where they never could before. They don't have to face the machine head on. They don't have to fight. They don't have to suffer. They don't have to die. All they have to do is utilize some cryptographic wizardry within the supposedly anonymous safety of the web, buy bitcoins en masse, and the system would crumble at their feet, rebuilt in the name of free markets by the electronic commons and without a shot fired. Again, very sexy…
Unfortunately, the real world does not necessarily lend itself to the demands of the digital. The digital world is at the mercy of physical. The real world is rarely sexy; often it is ugly, brutal, hypocritical, illogical, and psychotic. The real world, at times, can break, and when it does the digital will break with it. The digital world is in large part a fantasy supported by the whims of the real. Which leads me to the core failings of the bitcoin adventure…
Bitcoin Theater
We've all heard praises lavished on bitcoin, not only from the web activists but from the mainstream media itself. Establishment controlled outlets like Reuters and Bloomberg have an astonishing number of bitcoin stories per week, and most of these stories paint the crypto-currency in a positive light. We've heard about bitcoin's "unbreakable" cryptography. Its finite supply. The inability to duplicate the currency from thin air. Its rising acceptance in the corporate world. The Cinderella stories of bitcoin investors buying Lamborghinis and New York brownstones. Even Ben Bernanke seems to have a soft spot for bitcoin:
http://www.businessinsider.com/ben-bernanke-on-bitcoin-2013-11
But is bitcoin's rise really all it's cracked up to be? Here are just a few of the problems which lead me to believe the digital currency is ultimately a clever distraction.
Who really started Bitcoin?
One of my first questions to bitcoin representatives back in 2009 was WHO, exactly, founded the operation? Well, Satoshi Nakamodo, everyone knows that, right? But who the hell is Satoshi Nakamodo? Who is the original designer of bitcoin? Who holds the foundational key to the structure of bitcoin's cryptography? Is Nakamodo a person, or a group? Why should we trust him, or them, to safeguard our wealth any more than the Federal Reserve? The fact is no one except maybe Gavin Andresen, the chief scientist at the Bitcoin Foundation, knows who is behind the digital currency. We actually know more about the banking elites behind the Fed than we do about the founders of bitcoin.
The common response to this concern is to suggest that it doesn't really matter, bitcoin is secure, it is open source, it is cryptography's holy grail, the creators are protecting their identities against retribution from the establishment, and the excuses go on…
I'm sorry, but this attitude constitutes an act of blind faith in a currency mechanism, which is exactly what proponents of the dollar are guilty of. If an activist individual or group is going to offer a solution to the movement, then they had better be willing to take the risk of being personally available to the movement. If you don't have the balls to show your face to help legitimize your idea, I can't take your idea seriously. Maybe I'm just old fashioned…
For all we know, bitcoin is a creation of the establishment, not a creation countering the establishment.  After all, the globalists WANT the destruction of the dollar – why not let the public destroy the dollar using a mechanism that ultimately does not represent a threat to the greater bankster cartel?
The Media Love Affair With Bitcoin
During the first and second Ron Paul campaigns, the mainstream media made a blatant and obvious effort to purposely ignore the candidate, his arguments, and his successes. Coverage was next to nil. His expansive crowds of supporters were edited out of news footage. His high polling numbers were censored. If not for the independent media, you wouldn't have known the guy existed. When someone or something presents a legitimate threat to the establishment, the establishment's first tactic is to make sure no one knows.
Bitcoin, on the other hand, has received a steady flow of positive media attention, with the random critical piece thrown in for good measure. Overall, the establishment has embraced, if not directly fueled, the bitcoin trend. This is rather surprising to me considering the "destroyer of the dollar" has only been around for four years.
When an anti-establishment vehicle suddenly becomes the center focus of establishment affections, and when globalist monsters like Ben Bernanke throw flower petals in its path, I have to wonder if Bitcoin is a real threat, or just a ruse.
Bitcoins Can Indeed Be Confiscated
Some of the early hype surrounding Bitcoin claimed that the currency could not be confiscated, making it "better than gold" (the better than gold motto has been widely espoused by Gavin Andresen). This claim turned out to be false when the FBI became the holder of the world's LARGEST Bitcoin wallet:
http://www.wired.com/wiredenterprise/2013/12/fbi_wallet/
I find arguments that this is only a temporary condition and that the feds will eventually auction off their holdings a bit laughable, but indicative of the denial inherent in Bitcoin culture.
Bitcoin Values Can Be Manipulated
Another claim heard was the assertion that bitcoins cannot be created out of thin air, they must be "mined" using powerful computers, which removes centralized manipulation of value. This may be true in certain respects (for now), but anything digital can be exploited in one way or another.
Bitcoin malware, for instance, hijacks the computers of unwitting people and uses them to artificially "mine" the currency.
http://about-threats.trendmicro.com/us/webattack/93/Cybercriminals%2BUnleash%2BBitcoinMining%2BMalware
The bitcoins mined are then transferred into the hands of anonymous hackers. This represents a serious threat to the stability of bitcoin because it creates an invasive form of attack speculation. Bitcoins can be removed from the market and deliberately hoarded. Hackers, or governments could conceivably kill bitcoin by mining a large portion of them out of circulation, artificially hyperinflating the value of the remaining coins (like a speculator would do with commodities), or dumping a large portion and abruptly cutting the value. Major bitcoin hoarders could use their massive bitcoin stakes to shift values at will. As long a Bitcoin operates on supply and demand, it can be threatened through speculation like ay other commodity (if you consider digitized numbers floating around the web a commodity).
Bitcoin Is Not Private
While bitcoins can apparently be stolen or criminally mined by anonymous persons or organizations, honest users are subject to considerable scrutiny. A disturbing aspect of bitcoin is the group surveillance that goes into tracing transactions, otherwise known as the "proof of work system". The bitcoin network is constantly dependent on decoders who track and verify bitcoin trades in order to ensure that the same bitcoins are not used during multiple trades or purchases. Anyone with the desire could decode the transaction history of the network, or "block chain", including governments. Though Bitcoiners are considered "partially anonymous", tracking the individual identity of a bitcoin trade is not difficult for entities such as the NSA because every transaction leaves a digital trail..
The use of anonymising browsers like Tor also have not produced the kind of privacy that was promised when bitcoin was introduced.
This is exactly the kind of currency system global bankers have sought for some time – total information awareness of all financial transactions and purchases within the system. While bitcoin proponents claim that their currency is a revolution against centralized oversight of monetary transactions, the truth is they have built the perfect centralized surveillance solution. Paper dollar purchases are difficult to trace. Gold, silver, and barter purchases are nearly impossible to track. Bitcoin, though, is the most traceable form of currency on the planet, and this is basically REQUIRED by the network itself. The entire trade history of every bitcoin is recorded. The digital landscape is the ultimate form of privacy invasion, especially for the likes of super computer wielding agencies like the NSA. Bitcoin aids the development of this intrusive system.
Bitcoin Relies On The Continued Survival Of The Open Web
Yes, bitcoins can be stored on physical wallet devices, but the majority portion of bitcoin trading and bitcoin mining requires the continued operation of the web. The internet is NOT a creative commons, as many believe. It is in fact a controlled networking system that we have simply been allowed to use. The exposure by Edward Snowden of NSA activities has proven once and for all that nothing you do on the web is private. Everything is tracked and recorded. Period.
Web access can also be easily denied by governments, and power centers around the globe have been utilizing this option more and more. During a national crisis, whether real or engineered, the continued function of the internet as we know it is not guaranteed. A currency relying on a government dominated internet is not truly independent. A grid down situation would also make bitcoin stores virtually useless.
The Suspicious Nature Of Bitcoin
Bitcoin is consistently touted as a superior option to precious metals as a way to decouple from central bank fiat. Under examination, though, it appears to me that bitcoin is instead a deliberate distraction away from gold and silver, and other tangible solutions; in other words, I believe it to be a form of controlled opposition.
A vital aspect of physical gold and silver investment is not only to break from the dollar, but to also remove physical metal from the system and starve international banks that issue millions of fraudulent unbacked paper certificates. The strategy, which I still stand by, is for the public to absorb as much of the precious metals market as possible until manipulators like JP Morgan finally have to admit that they don't have the coins and bars to back all the fake ETF's they have been issuing investors for years. In the process, we decouple from the dollar AND do damage to the banking cartel itself. The bitcoin fad, in my opinion, is designed to lure the public away from overtaking the metals market while banks and foreign governments vacuum up remaining physical in preparation for a dollar collapse.
Bitcoin's market value is not only extremely volatile, the currency is also subject to replacement at any time. Anyone with an interest can create a cryptocurrency. There is nothing particularly special about the bitcoin design, and if someone offered a digital currency tomorrow that was truly anonymous, it could quickly supplant bitcoin. Though its cryptography makes it difficult to artificially inflate (again, for now), other digital currencies can still be produced out of thin air. Bitcoiners desperately want to equate cryptography with tangibility, but the truth is that there is no comparison. Physical gold and silver cannot be artificially produced by anyone, anywhere. Digital currencies can be produced at will and hyped like Dutch tulip mania.
The most unsettling aspect of bitcoin, however, is not its distraction away from precious metals. Rather, it is the distraction away from localized solutions. Bitcoin proponents may be searching for decentralization, but they seem to have forgotten the most most important part of the process – localism. The trade of digital mechanisms over impersonal web networks and online marketplaces is not conducive to local economic stability or sustainability. Bitcoin does not encourage people to build local markets, to adopt useful trade skills, to prepare for a grid down scenario, or circulate wealth within one's community. Bitcoin only furthers the removal of independence and self sustainability from local economies by fooling activists into thinking that buying things without dollars is enough.
If Americans in particular want to pursue any solution to the threat of globalism or dollar collapse, they are going to have to start with themselves, and the community around them. Online trade is the last thing they should be worried about. Only when neighborhoods, towns, and counties become producers and self suppliers will they be safe from financial instability. Only when those same communities band together for mutual aid and self defense will they be safe from tyrannical political entities. Bitcoin accomplishes nothing in either of these categories, making it possibly the most popular non-solution for liberty to date.
Source: Brandon Smith | Alt-Market
Going offline or off the grid is not easy for everyone. Modern society has come to repudiate the very elements that make civilization possible. Living in cyber space is existence on life support at best. Until now, people had idiosyncratic relations, with intimate experiences and personal memories. Thoughts were internal and private conduct was confidential. Under a hi-tech environment, the system moves closer to an all knowing eye. But what happens, when the public becomes enlightened to the bondage of the tech prison, thanks to all the whistleblowers?
The irony befits the hypocrite techie class of privacy violators. Lamenting that their fiefdom of intrusive surveillance and data mining might be compromised, the high priests of SPY, Inc. are flustered. With the disclosure of a synergistic relationship of an intertwined nature, the high-tech prophets lay exposed. NSA Spying Risks $35 Billion in U.S. Technology Sales has the flagship government front companies in full damage control.
"News about U.S. surveillance disclosed by former NSA contractor Edward Snowden has "the great potential for doing serious damage to the competitiveness" of U.S. companies such as Cupertino, California-based Apple, Facebook Inc., and Microsoft Corp., Richard Salgado, Google's director for law enforcement and information security, told a U.S. Senate panel Nov. 13. "The trust that's threatened is essential to these businesses."
With the announcement that Facebook faces lawsuit for allegedly scanning private messages, the diminutive privacy on this social network just got smaller. "Facebook was one of the Web Services that was caught scanning URLs despite such activity remaining undisclosed to the user," according to the complaint.Can your personal persona remain your own business? What exactly can be attempted to protect your identity and privacy?
Woodrow Hartzog and Evan Selinger propose in Obscurity: A Better Way to Think About Your Data Than 'Privacy', adding layers of complexity guards against most of the ordinary risks of scrutinized personal data. However, this argument is trite since the cyber world of digital transmission uses the technological routing and coding systems, engineered as part of the total government retrieval society.
"Obscurity is the idea that when information is hard to obtain or understand, it is, to some degree, safe. Safety, here, doesn't mean inaccessible. Competent and determined data hunters armed with the right tools can always find a way to get it. Less committed folks, however, experience great effort as a deterrent.

Online, obscurity is created through a combination of factors. Being invisible to search engines increases obscurity. So does using privacy settings and pseudonyms. Disclosing information in coded ways that only a limited audience will grasp enhances obscurity, too. Since few online disclosures are truly confidential or highly publicized, the lion's share of communication on the social web falls along the expansive continuum of obscurity: a range that runs from completely hidden to totally obvious."
Privacy is a hindrance to corporate marketing, while secrecy is a threat to the national security establishment that observes the basic rule of all technology. Use the optimum scientific hi-tech enhancement to maintain and further the interests of the ruling elites. Any technological development is viewed as a useful advancement if it works to expand control over the economy or social structure.
Supporting this conclusion is an article from the master of facture awareness. Michael Snyder provides an impactful list of 32 Privacy Destroying Technologies That Are Systematically Transforming America Into A Giant Prison.
"Many people speak of this as being the "Information Age", but most Americans don't really stop and think about what that really means. Most of the information that is considered to be so "valuable" is actually about all of us. Businesses want to know as much about all of us as possible so that they can sell us stuff. Government officials want to know as much about all of us as possible so that they can make sure that we are not doing anything that they don't like."
If you need more convincing, examine the 10 Privacy-Destroying Technologies That Are Turning America Into A Police State, by Daniel Jennings. How many of these devices or practices are monitoring your every move and thought?
Electric meters
Telematic devices on cars
Smartphones
RFID chips in drivers' licenses, credit cards and other cards that allow the tracking of individuals
Data mining by local and federal government
Voice recognition. Russian scientists have invented software called Voice Grid Nation that can identify the voices of millions of different people
Fingerprint recognition
Chips that monitor your body functions
Behavior monitoring software
Next Generation surveillance systems such as Trapwire and Intellistreet
Popular consensus would have you believe that this infringement into your most personal behavior is inevitable and it is futile to resist. From an institutional perspective that viewpoint seems correct. Nonetheless, the preservation of your human dignity demands a vigorous reassessment of the numerous ways you have the ability to influence, if not, protect against this tech assault.
Before assuming that tech is great, reflect upon the culture of expected progress. Proponents of applied science automatically assume that advancement comes from such evolution. Conversely, the actual function of various innovations often brings the loss of personal solitude. Tech is not neutral. By definition new or different technology changes the landscape.
What does not change is human nature. Supercharging the velocity and speed of functions and the distribution of information, without guarding the integrity of personal consent is intrinsically immoral. While that statement may seem obsolete as the NSA constructs the largest digital computer memory center in the history of the world in Utah with the capability of storing 5 zettabytes of data, the principle of inherent autonomy still remains.Amitai Etzioni presents an academic postulation, attempting to answer the question, Are New Technologies the Enemy of Privacy?
"Privacy is one good among other goods and should be weighed as such. The relationship between technology and privacy is best viewed as an arms race between advancements that diminish privacy and those that better protect it, rather than the semi-Luddite view which sees technology as one-sided development enabling those who seek to invade privacy to overrun those who seek to protect it. The merits or defects of particular technologies are not inherent to the technologies, but rather, depend on how they are used and above all, on how closely their use is monitored and accounted for by the parties involved. In order to reassure the public and to ensure accountability and oversight, a civilian review board should be created to monitor the government's use of surveillance and related technologies. Proper accountability requires multiple layers of oversight, and should not be left solely in the hands of the government."
The problem with this arms race is that it is waged among equally corrupt globalist factions. When Mr. Etzioni asserts "How they are used" he interjects the moral imperative. The record of Microsoft, Google, Facebook, Apple and Amazon, etc. respect and protection of personal confidentially is not exactly reassuring. Their government parent partner agencies in data mining use the telecommunication corporations like Verizon, AT&T and ISP providers as giant sucking machines that feed the secretive intelligence community.Understanding the drill is simple, secrecy resides within the ruling class, while all personal privacy is relegated to the museum of family archives. Just how can such a relationship be monitored by some kind of nebulous civil board to ensure non consensual privacy?
With the overwhelming wherewithal, increasing technological capacities allow, even greater levels of abuse and evil applications. If no other lesson is internalized from the Edward Snowden disclosures, society better admit that trust in the secure use of communication technology is near zero.
When privacy is surrendered so willingly, especially with no consequences for the offending government agencies or complicit corporatist associates, the future of civilized life comes into question. Yet, people are so easily induced to acclimate into using the next wizard device.
Life is a beach no longer. Now Disney Can Track Your Every Move with NSA-Style Wristbands, is using the "Magic Bands" — which are currently optional — are part of a new MyMagic+ "vacation management system" that can track guests as they move throughout the park..Efficient? Perhaps. But post-Snowden, some worry that Magic Bands are nothing more than NSA-esque tracking devices."
Oh, that voluntary choice lasts only as long as it is offered. This culture of "personal space" invasion is meant to indoctrinate the friendly likes into a sleeping death from poison apples. Being buried alive, in a snow job of tech that promises you will be the fairest in the land, will not make you a queen.That prince charming kiss only comes with resisting any snooping gear that diminishes the innate right for privacy. Taking protective measure against technological enslavement is the real national security mandate. The enemy is not some fairy tale monster; just look no further than to your own government. You have the right to your secrets. Dump the smart devices and go as low-tech as possible.
Does anyone in authority anywhere tell the truth about Fukushima? If there is any government or non-government authority in the world that is addressing the disaster at Fukushima openly, directly, honestly, and effectively, it's not apparent to the outside observer what entity that might be.
There is instead an apparent global conspiracy of authorities of all sorts to deny to the public reliably accurate, comprehensible, independently verifiable (where possible), and comprehensive information about not only the condition of the Fukushima power plant itself and its surrounding communities, but about the unceasing, uncontrolled release of radioactive debris into the air and water, creating a constantly increasing risk of growing harm to the global community.
While the risk may still be miniscule in most places, the range of risk rises to lethal in Fukushima itself. With the radioactive waste of four nuclear reactors (three of them in meltdown) under uncertain control for almost three years now, the risk of lethal exposure is very real for plant workers, and may decrease with distance from the plant, but may be calculable for anyone on the planet. No one seems to know. No one seems to have done the calculation. No one with access to the necessary information (assuming it exists) seems to want to do the calculation.
There is no moral excuse for this international collusion. The excuses are political or economic or social, but none of them excuses any authority for withholding or lying about information that has potentially universal and destructive impact on everyone alive today and everyone to be born for some unknown generations.
Japanese authorities may be the worst current offenders against the truth, as well as the health and safety of their people. Now the Japanese government has passed a harsh state secrets law that threatens to reduce or eliminate reliable information about Fukushima. The U.S. government officially applauded this heightened secrecy, while continuing its own tight control on nuclear information. Japanese authorities are already attacking their own people in defense of nuclear power: not only under-measuring and ignoring varieties of radioactive threat, but even withholding the iodine pills in 2011 that might have mitigated the growing epidemic of thyroid issues today. Failing to confront Fukushima honestly, the Japanese are laying the basis for what could amount to a radiological sneak attack on the rest of the world.
Just because no one seems to know what to do about Fukushima is no excuse to go on lying about and/or denying the dimensions of reality, whatever they might be.
There are hundreds, probably thousands of people with little or no authority who have long struggled to create a realistic, rational perspective on nuclear threats. The fundamental barrier to knowing the scale of the Fukushima disaster is just that: the scale of the Fukushima disaster.
Chernobyl 1986 and Fukushima 2011 are Not Really Comparable
Chernobyl is the closest precedent to Fukushima, and it's not very close. Chernobyl at the time of the 1986 electric failure and explosion had four operating reactors and two more under construction. The Chernobyl accident involved one reactor meltdown. Other reactors kept operating for some time after the accident. The rector meltdown was eventually entombed, containing the meltdown and reducing the risk. Until Fukushima, Chernobyl was considered the worst nuclear power accident in history, and it is still far from over (albeit largely contained for the time being). The Chernobyl Exclusion Zone of roughly 1,000 square miles remains one of the most radioactive areas in the world and the clean-up is not even expected to be complete before 2065.
At the time of the March 11, 2011, earthquake and tsunami, the Fukushima plant had six operating reactors. Three of them went into meltdown and a fourth was left with a heavily laden fuel pool teetering a hundred feet above the ground. Two other reactors were undamaged and have been shut down. Radiation levels remain lethal in each of the melted-down reactors, where the meltdowns appear to be held in check by water that is pumped into the reactors to keep them cool. In the process, the water gets irradiated and that which is not collected on site in leaking tanks flows steadily into the Pacific Ocean. Within the first two weeks, Fukushima radiation was comparable to Chernobyl's and while the levels have gone down, they remain elevated.
The plant's corporate owner, Tokyo Electric Power Company (TEPCO), in turn effectively owned by the Japanese government after a 2012 nationalization, began removing more than 1,500 fuel rod assemblies from the teetering fuel pool in November, a delicate process expected to take a year or more. There are additional fuel pools attached to each of the melted down reactors and a much larger general fuel pool, all of which contain nuclear fuel rod assemblies that are secure only as long as TEPCO continues to cool them. The Fukushima Exclusion Zone, a 12-mile radius around the nuclear plant, is about 500 square miles (much of it ocean); little specific information about the exclusion zone is easily available, but media coverage in the form of disaster tourism is plentiful, including aGoogle Street View interactive display.
Despite their significant differences as disasters, Chernobyl and Fukushima are both rated at 7 — a "major accident" on the International Nuclear Event Scale designed in 1990 by the International Atomic Energy Agency (IAEA). That is the highest rating on the scale, a reflection of the inherent denial that colors most official nuclear thinking. Designed by nuclear "experts" after Chernobyl, the scale can't imagine a worse accident than Chernobyl which, for all its intensity, was effectively over as an accident in a relatively short period of time. At Fukushima, by contrast, the initial set of events was less acute than Chernobyl, but almost three years later they continue without any resolution likely soon. Additionally Fukushima has three reactor meltdowns and thousands of precarious fuel rod assemblies in uncertain pools, any of which could produce a new crisis that would put Fukushima clearly off the scale.
And then there's groundwater. Groundwater was not a problem at Chernobyl. Groundwater is a huge problem at the Fukushima plant that was built at the seashore, on a former riverbed, over an active aquifer. In a short video, nuclear engineer Arnie Gunderson makes clear why groundwater makes Fukushima so hard to clean up, and why radiation levels there will likely remain dangerous for another hundred years.
Fukushima Unit #3 Activity Led to Some Panic-Driven Reporting in 2013
The Japanese government and nuclear power industry have a history of not telling the truth about nuclear accidents dating back at least to 1995, as reported by New Scientistand Rachel Maddow, among others. Despite Japan's history of nuclear dishonesty, Japanese authorities remain in total control of the Fukushima site and most of the information about it, without significant objection from most of the world's governments, media, and other power brokers, whose reputation for honesty in nuclear matters is almost as bad as Japan's. In such a context of no context, the public is vulnerable to reports like this from the Turner Radio Network (TRN) on December 28:
** NEWS FLASH — URGENT ** STEAM SUDDENLY EMANATING FROM FUKUSHIMA REACTOR # 3 — WEST COAST OF NORTH AMERICA SHOULD BEGIN PREPARATIONS FOR POSSIBLE RADIATION CLOUD WITHIN 3 TO 5 DAYS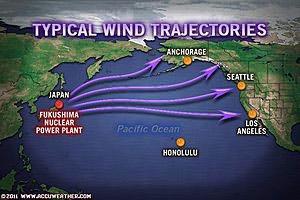 Five days after this story was posted, the "radiation cloud" had not developed despite the story's assertion that: "Experts say this could be the beginning of a spent fuel pool criticality (meltdown)'involving up to 89 TONS of nuclear fuel burning up into the atmosphere and heading to North America." The story named no "experts" and provided links only to TEPCO announcements in Japanese. The bulk of the story reads like an infomercial for "protective" gear of various sorts that TRN makes a point of saying it does NOT sell. Despite such obvious warning signs, others — such as The Ecologist and Gizmodo — reported the threat of "another meltdown" at Fukushima Unit #3 as imminent.
Clarification and reassurance quickly started chasing the "new meltdown" rumor around the Internet. ENENEWS (Energy News) promptly posted the TEPCO reports in English, demonstrating that there was nothing "sudden" about the steam releases, they've been happening more or less daily since 2011, but condensation caused by cold weather makes them visible. At FAIREWINDS (Energy Education), Arnie Gunderson posted on January 1:
"… the Internet has been flooded with conjecture claiming that Fukushima Daiichi Unit 3 is ready to explode… Our research, and discussions with other scientists, confirms that what we are seeing is a phenomenon that has been occurring at the Daiichi site since the March 2011 accident… While the plants are shutdown in nuke speak, there is no method of achieving cold shut down in any nuclear reactor. While the reactor can stop generating the actual nuclear chain reaction, the atoms left over from the original nuclear chain reaction continue to give off heat that is called the decay of the radioactive rubble (fission products)… constantly releasing moisture (steam) and radioactive products into the environment." [emphasis added]
In other words, Fukushima Unit #3 continues to leak radioactivity into both air and water, as Units #1 and #2 presumably do as well. But as Gunderson explains, the level of radioactivity has declined sharply without becoming benign:
"When Unit 3 was operating, it was producing more than 2,000 megawatts of heat from the nuclear fission process (chain reaction in the reactor). Immediately after the earthquake and tsunami, it shut down and the chain reaction stopped, but Unit 3 was still producing about 160 megawatts of decay heat. Now, 30 months later, it is still producing slightly less than 1 megawatt (one million watts) of decay heat… 1 megawatt of decay heat is a lot of heat even today, and it is creating radioactive steam, but it is not a new phenomenon."
Reassurances About Fukushima are As Misleading As Scare Stories
The reassuring aspects of the condition of Unit #3 — radioactive releases are not new, they're less intense than they once were, the nuclear waste is cooling — while true enough, provide only a false sense of comfort. Also true: radiation is released almost continuously, the releases are uncontrolled, no one seems to be measuring the releases, no one seems to be tracking the releases, no one is assessing accumulation of the releases. And while it's true that the waste is cooling and decaying, it's also true that a loss of coolant could lead to another uncontrolled chain reaction. ("Fukushima Daiichi Unit 3 is not going to explode," says Gunderson in a headline, but he can't know that with certainty.)
For the near future, what all that means, in effect, is that the world has to accept chronic radiation releases from Fukushima as the price for avoiding another catastrophic release. And even then, it's not a sure thing.
But there's another aspect of Fukushima Unit #3 that's even less reassuring. Unit #3 is the one Fukushima reactor that was running on Mixed oxide fuel, or MOX fuel, in its fuel rods.MOX fuel typically uses Plutonium mixed with one or more forms of Uranium. UsingPlutonium in fuel rods adds to their toxicity in the event of a meltdown. In part because Plutonium-239 has a half-life of 240,000 years and can be used to make nuclear weapons of "dirty bombs," its use in commercial reactors remains both limited and controversial. Because it contains Plutonium, MOX fuel is more toxic than other nuclear fuel and will burn at lower temperatures. As Natural Resources News reported in 2011:
"The mixed oxide fuel rods used in the compromised number three reactor at the Fukushima Daiichi complex contain enough plutonium to threaten public health with the possibility of inhalation of airborne plutonium particles…. Plutonium is at its most dangerous when it is inhaled and gets into the lungs. The effect on the human body is to vastly increase the chance of developing fatal cancers."
Reportedly, TEPCO plans don't call for the removal of the MOX fuel in Unit #3 for another decade or more. Fuel removal from Units #1, #2, and #3 is complicated by lethal radiation levels at all three reactors, as well as TEPCO's inability so far to locate the three melted cores with any precision.
There is ample reason to hope that Fukushima, despite the complex of uncontrollable and deteriorating factors, will not get worse, because even the Japanese don't want that. But there is little reason to expect anything but worsening conditions, slowly or suddenly, for years and years to come. And there is even less reason to expect anyone in authority anywhere to be more than minimally and belatedly truthful about an industry they continue to protect, no matter how many people it damages or kills.
The perfect paradigm of that ruthlessly cynical nuclear mentality is the current Japanese practice of recruiting homeless people to work at Fukushima in high level radiation areas where someone with something to lose might not be willing to go for minimum wage.
Source: William Boardman  |  Global Research