Thanatos hangs over America, a death-wish based on the inner rotting of conscience predicated on the constant need for supremacy in the world as a test, indeed validation, of the nation's moral virtue, to be achieved through military power—a greatness no longer assumed and, because of inner decay setting in, cause for fatalistic entropic reaction. Circa 1950: Better dead than red. Circa 2014: Better dead than descend from the pinnacle of global hegemony—and why not bring everyone else with us? Paul Craig Roberts's article in CounterPunch, Are You Ready For Nuclear War?, (June 3), may perhaps seem unduly alarmist to the uninitiated, but even without Obama-Team national security advisers thoroughly capable of and attuned to such planning, there are indications inhering in Obama's studied moves aimed toward direct confrontation with Russia and China that carry intentionally the eventuality of a nuclear showdown.
Both on the Pacific Rim and European trips, closely integrated in time and purpose, Obama sounds like—and is scripted to be—the Avenger against a doubting world, not sufficiently appreciative of America the Land of Freedom (subtext throughout, of course, capitalism the sole legitimate world system replicating America's own political-economic structure and ideological values). Comparing his statements wherever he appeared on those journeys of confidence-building, all to the end of confrontation with China and Russia, respectively, yet tacitly as though enemies-joined-at-the-hip, he sounded like nothing so much as a broken 78 rpm recording, stand shoulder to shoulder, stand shoulder to shoulder, stand shoulder… ad infinitum. Poland, South Korea, Latvia and Lithuania, Philippines—the more the merrier, coupled with checks (the monetary kind) for military hardware, promises of American protection, assurances, backed by military bases, training programs, joint exercises, membership in the extant alliance system (an attack on one is an attack on all), the foregoing packaged with the ascription of Russia and China as expansion-minded and out to do harm to its neighbors (i.e., our "friends and allies"). Chuck Hagel, interviewed on BBC, invoked Article 5 of the NATO treaty, the one for all, all for one provision, stating that "Russia was a threat" to Europe (June 5). Nothing could be clearer.
And then we have Obama in Brussels, same day, demanding of Putin, in a time frame "over the next two, three, four weeks," complete disengagement—in Peter Baker's words, from his New York Times article, "With Group of 7 Backing, Obama Gives Russia One-Month Ukraine Deadline, " (June 5)—from Ukraine, that is, "to reverse its intervention…and help quash a pro-Russian separatist uprising or else…it would face international sanctions far more severe than anything it had endured so far." Beyond a time frame, actually an ultimatum, Obama stated that "if Russia's provocations continue, it's clear from our discussions here that the G-7 nations are ready to impose additional costs on Russia." No compliance after the time period ("and if he remains on the current course"), watch out Putin, for "we've already indicated what kinds of actions that we're prepared to take."
G-7 on banners, rostrums, a deliberate flaunting of exclusion, along with D-Day Observance plans to prevent an Obama-Putin head-to-head, calculated further to enhance antagonism, this choreographed trip is a prelude to bolder demands directed to the EU itself to speak with one voice, that of America's, in viewing Russia as an enemy bent on invasion of the West. Rather than hysteria, the mood favors an incremental rise in tensions, at each step, the concretization of war readiness, naval forces in the Black Sea, a larger US troop presence in Poland, the steady movement eastward to the Russian border of NATO troops, anti-ballistic missile installations ringing Russia, a hostile environment, to say the least, for a peaceful accommodation, one the US and the EU, by their actions, appears not to want.
I am tempted to explain these developments as the psychopathology of capitalism as a system, thanatos the upshot of the desensitization of human feeling when the commodity structure defines the individual as alienated from social relations of equality and justice, in favor of a pervasive solipsism, driven by fear, introjecting the values of ruling groups as compensation for empty lives, turning on one another to rise in the social hierarchy, in the last analysis, killing without compunction, as in Obama's signature, drone assassination vaporizing a fellow human being so that no reminder of his/her existence remains. But such an explanation is too simple by half; policy trumps psychology, or rather invites a particular mental-set in order to reach fruition. Thanatos is consequence, not cause. Policy is about market penetration, market fundamentalism, market hegemony, to which must be appended the full-scale militarization of political economy, value system, how order is maintained and reinforced.
Mass surveillance in America is less if at all about counterterrorism than about the artificial props which are necessary to keep society from disintegrating in the face of animalistic greed (apologies to animals for the reference), ethnocentric and racial assumptions, the uneven structure of wealth, an underlying repression insinuated into the fabric of status, power, and wealth for purposes of the stabilization of privilege and recognition. America enjoyed world prestige for so long that a decline of any sort is catastrophic. My way or the highway works only so long; as this realization sinks in, America becomes more dangerous. These provocative moves to mount a massive counterrevolution are failing, whether Putin or Xi or both, the counterweight is fast forming its leadership coming from the people themselves with Russia and China the historical vanguard for creating a world system where no single power is able to dominate and unilaterally shape the destinies of humankind.
My New York Times Comment on the Baker article, same date, follows:
I am delighted by Obama's rhetoric emanating out of Warsaw and Brussels. It confirms my sense of him as global WARMONGER No. 1. His threats, boasts, needling are an accurate reflection of his and the US's character. We hear rumors now of a veritable cottage industry in Washington of policy wonks working out nuclear first-strike paradigms against Russia and China. Fitting, because the impulse for destruction is present. Obama is far more dangerous with or without preemptive war than any POTUS perhaps ever.
Does saying that make me a red-pinko-commie? No. Until America puts its own house in order, which may well be never again, criticism is justified without necessarily praising those declared to be adversaries and worse.
How square peace with massive domestic surveillance? with the largest military budget in the world? with the use of counterterrorism to violate civil liberties at home, mount unjustified aggression abroad?
Times readers may scream (one yesterday said of my post on Warsaw, Go back to Russia–I'll donate to your travel)! That's perfect, the ratcheting up of Reaction, frighteningly similar to McCarthyism–even more pervasive–that I remember in my youth.
As for a Putin-Poroshenko meeting, it will come about soon. As for Obama's threat of sectoral sanctions, this will backfire, as Germany and France will not go along. It is fitting Obama has Cameron as his new pal–two peas in a pod. Others however will resent the crass bullying. We deserve Obama.
Norman Pollack has written on Populism. His interests are social theory and the structural analysis of capitalism and fascism. He can be reached at pollackn@msu.edu.
Source: Counterpunch
Edward Snowden…
Is Edward Snowden a radical? The dictionary defines a radical as "an advocate of political and social revolution", the adjective form being "favoring or resulting in extreme or revolutionary changes". That doesn't sound like Snowden as far as what has been publicly revealed. In common usage, the term "radical" usually connotes someone or something that goes beyond the generally accepted boundaries of socio-political thought and policies; often used by the Left simply to denote more extreme than, or to the left of, a "liberal".
In his hour-long interview on NBC, May 28, in Moscow, Snowden never expressed, or even implied, any thought – radical or otherwise – about United States foreign policy or the capitalist economic system under which we live, the two standard areas around which many political discussions in the US revolve. In fact, after reading a great deal by and about Snowden this past year, I have no idea what his views actually are about these matters. To be sure, in the context of the NBC interview, capitalism was not at all relevant, but US foreign policy certainly was.
Snowden was not asked any direct questions about foreign policy, but if I had been in his position I could not have replied to several of the questions without bringing it up. More than once the interview touched upon the question of whether the former NSA contractor's actions had caused "harm to the United States". Snowden said that he's been asking the entire past year to be presented with evidence of such harm and has so far received nothing. I, on the other hand, as a radical, would have used the opportunity to educate the world-wide audience about how the American empire is the greatest threat to the world's peace, prosperity, and environment; that anything to slow down the monster is to be desired; and that throwing a wrench into NSA's surveillance gears is eminently worthwhile toward this end; thus, "harm" indeed should be the goal, not something to apologize for.
Edward added that the NSA has been unfairly "demonized" and that the agency is composed of "good people". I don't know what to make of this.
When the war on terrorism was discussed in the interview, and the question of whether Snowden's actions had hurt that effort, he failed to take the opportunity to point out the obvious and absolutely essential fact – that US foreign policy, by its very nature, regularly and routinely creates anti-American terrorists.
When asked what he'd say to President Obama if given a private meeting, Snowden had no response at all to make. I, on the other hand, would say to Mr. Obama: "Mr. President, in your time in office you've waged war against seven countries – Iraq, Afghanistan, Pakistan, Somalia, Yemen, Libya and Syria. This makes me wonder something. With all due respect, sir: What is wrong with you?"
A radical – one genuine and committed – would not let such a once-in-a-lifetime opportunity pass by unused. Contrary to what his fierce critics at home may believe, Edward Snowden is not seriously at war with America, its government or its society. Does he have a real understanding, analysis, or criticism of capitalism or US foreign policy? Does he think about what people could be like under a better social system? Is he, I wonder, even anti-imperialist?
And he certainly is not a conspiracy theorist, or at least keeps it well hidden. He was asked about 9-11 and replied:
The 9/11 commission … when they looked at all the classified intelligence from all the different intelligence agencies, they found that we had all of the information we needed … to detect this plot. We actually had records of the phone calls from the United States and out. The CIA knew who these guys were. The problem was not that we weren't collecting information, it wasn't that we didn't have enough dots, it wasn't that we didn't have a haystack, it was that we did not understand the haystack that we had.
Whereas I might have pointed out that the Bush administration may have ignored the information because they wanted something bad – perhaps of unknown badness – to happen in order to give them the justification for all manner of foreign and domestic oppression they wished to carry out. And did. (This scenario of course excludes the other common supposition, that it was an "inside job", in which case collecting information on the perpetrators would not have been relevant.)
The entire segment concerning 9/11 was left out of the television broadcast of the interview, although some part of it was shown later during a discussion. This kind of omission is of course the sort of thing that feeds conspiracy theorists.
All of the above notwithstanding, I must make it clear that I have great admiration for the young Mr. Snowden, for what he did and for how he expresses himself. He may not be a radical, but he is a hero. His moral courage, nerve, composure, and technical genius are magnificent. I'm sure the NBC interview won him great respect and a large number of new supporters. I, in Edward's place, would be even more hated by Americans than he is, even if I furthered the radicalization of more of them than he has. However, I of course would never have been invited onto mainstream American television for a long interview in prime time. (Not counting my solitary 15 minutes of fame in 2006 courtesy of Osama bin Laden; a gigantic fluke happening.)
Apropos Snowden's courage and integrity, it appears that something very important has not been emphasized in media reports: In the interview, he took the Russian government to task for a new law requiring bloggers to register – the same government which holds his very fate in their hands.
Who is more exceptional: The United States or Russia?
I was going to write a commentary about President Obama's speech to the graduating class at the US Military Academy (West Point) on May 28. When he speaks to a military audience the president is usually at his most nationalistic, jingoist, militaristic, and American-exceptionalist – wall-to-wall platitudes. But this talk was simply TOO nationalistic, jingoist, militaristic, and American-exceptionalist. ("I believe in American exceptionalism with every fiber of my being.") To go through it line by line in order to make my usual wise-ass remarks, would have been just too painful. However, if you're in a masochistic mood and wish to read it, it can be found here.
Instead I offer you part of a commentary from Mr. Jan Oberg, Danish director of the Transnational Foundation for Peace and Future Research in Lund, Sweden:
What is conspicuously lacking in the President's West Point speech?

Any reasonably accurate appraisal of the world and the role of other nations.
A sense of humility and respect for allies and other countries in this world.
Every element of a grand strategy for America for its foreign and security policy and some kind of vision of what a better world would look like. This speech with all its tired, self-aggrandising rhetoric is a thin cover-up for the fact that there is no such vision or overall strategy.
Some little hint of reforms of existing institutions or new thinking about globalisation and global democratic decision-making.
Ideas and initiatives – stretched-out hands – to help the world move towards conflict-resolution in crisis areas such as Ukraine, Syria, Libya, China-Japan and Iran. Not a trace of creativity.
Ironically, on May 30 the Wall Street Journal published a long essay by Leon Aron, a Russia scholar at the conservative American Enterprise Institute in Washington. The essay took Russian president Vladimir Putin to task for claiming that Russia is exceptional. The piece was headed:
"Why Putin Says Russia Is Exceptional"
"Such claims have often heralded aggression abroad and harsh crackdowns at home."
It states: "To Mr. Putin, in short, Russia was exceptional because it was emphatically not like the modern West – or not, in any event, like his caricature of a corrupt, morally benighted Europe and U.S. This was a bad omen, presaging the foreign policy gambits against Ukraine that now have the whole world guessing about Mr. Putin's intentions."
So the Wall Street Journal has no difficulty in ascertaining that a particular world leader sees his country as "exceptional". And that such a perception can lead that leader or his country to engage in aggression abroad and crackdowns at home. The particular world leader so harshly judged in this manner by the Wall Street Journal is named Vladimir Putin, not Barack Obama. There's a word for this kind of analysis – It's called hypocrisy.
"Hypocrisy is anything whatever may deceive the cleverest and most penetrating man, but the least wide-awake of children recognizes it, and is revolted by it, however ingeniously it may be disguised." – Leo Nikolaevich Tolstoi, (1828-1910) Russian writer
Is hypocrisy a moral failing or a failing of the intellect?
The New Cold War is getting to look more and more like the old one, wherein neither side allows the other to get away with any propaganda point. Just compare any American television network to the Russian station broadcast in the United States – RT (formerly Russia Today). The contrast in coverage of the same news events is remarkable, and the stations attack and make fun of each other by name.
Another, even more important, feature to note is that in Cold War I the United States usually had to consider what the Soviet reaction would be to a planned American intervention in the Third World. This often served as a brake to one extent or another on Washington's imperial adventures. Thus it was that only weeks after the Berlin Wall came down in 1989, the United States bombed and invaded Panama, inflicting thousands of casualties and widespread destruction, for the flimsiest – bordering on the non-existent – of reasons.  The hostile Russian reaction to Washington's clear involvement in the overthrow of the Ukrainian government in February of this year, followed by Washington's significant irritation and defensiveness toward the Russian reaction, indicates that this Cold War brake may have a chance of returning. And for this we should be grateful.
After the "communist threat" had disappeared and the foreign policy of the United States continued absolutely unchanged, it meant that the Cold War revisionists had been vindicated – the conflict had not been about containing an evil called "communism"; it had been about American expansion, imperialism and capitalism. If the collapse of the Soviet Union did not result in any reduction in the American military budget, but rather was followed by large increases, it meant that the Cold War – from Washington's perspective – had not been motivated by a fear of the Russians, but purely by ideology.
Lest we forget: Our present leaders can derive inspiration from other great American leaders.
White House tape recordings, April 25, 1972:
President Nixon: How many did we kill in Laos?
National Security Adviser Henry Kissinger: In the Laotian thing, we killed about ten, fifteen [thousand] …
Nixon: See, the attack in the North [Vietnam] that we have in mind … power plants, whatever's left – POL [petroleum], the docks … And, I still think we ought to take the dikes out now. Will that drown people?
Kissinger: About two hundred thousand people.
Nixon: No, no, no … I'd rather use the nuclear bomb. Have you got that, Henry?
Kissinger: That, I think, would just be too much.
Nixon: The nuclear bomb, does that bother you? … I just want you to think big, Henry, for Christsakes.
May 2, 1972:
Nixon: America is not defeated. We must not lose in Vietnam. … The surgical operation theory is all right, but I want that place bombed to smithereens. If we draw the sword, we're gonna bomb those bastards all over the place. Let it fly, let it fly.
–
"Every ten years or so, the United States needs to pick up some small crappy little country and throw it against the wall, just to show the world we mean business." – Michael Ledeen, former Defense Department consultant and holder of the Freedom Chair at the American Enterprise Institute
Notes
William Blum, Killing Hope, chapter 50
Jonah Goldberg, "Baghdad Delenda Est, Part Two", National Review, April 23, 2002
The experience of humanity is driven and defined by our own consciousness, which is a product of our sophisticated brain functions. We are consciousness in every way shape and form. Control of this miracle of consciousness is sought by a few individuals who are actually suffering from a mental (disconnect) disorder. What psychiatrists sometimes refer to as the psychopathic mind. Unfortunately, one of the characteristics of being a psychopath is that the individual exhibiting the psychopathic behavior has little to no insight into their own actions. In this example, we can say that the "consciousness" is missing from the equation.
This insight to one's own behavior is also a reference for distinguishing who might be considered "normal" and who might be considered schizophrenic "impaired" or "abnormal" This might lend perspective as to why groups of people (as opposed to individuals), such as governments and corporations, are capable of acting and speaking as a group in ways that are destructive to consciousness and mental and spiritual expansionof our species. Ironically, when an individual acts the same way, he may be considered impaired; but groups, however, will get a pass thus allowing (immune) group entities to implement such damage on the species.
One could measure this phenomenon scientifically by documenting physiological body changes that occur when humans are exposed to images or ideas that reflect "non-consciousness" related items (images of war, government oppression) versus measurable body changes seen when exposed to consciousness related items (love, compassion, human rights issues, etc). Basic vital signs such as heart rate, respiratory rate and blood pressure, also brain wave spikes readings, magnetic or tomography images are all factors and signs that might be measured to compare the human physiological responses to the concepts of non-consciousness-related reality versus consciousness and higher purpose.
Government would have us think that it is protecting humanity from itself. This non-conscious force we call government gets its life-force from an artificial set of rules called the legal system which non-conscious government would have you think is the script that your reality is not only based on but controlled entirely by. This is like someone walking into a room and notifying everyone in the room that their consciousness and state of awareness of existence doesn't exist any more. What? You can take someone's money and belongings, and even forcefully do harm to them and imprison them, but how can you steal someone's consciousness? Government's answer to this? By eliminating it or ignoring its existence.
This is one of the prime realities about the concept of government and any group efforts that robs the individual human being of his/her natural state of conscious equilibrium. This is a crime like any other crime, being committed on that individual human being. This can only be appreciated from the standpoint of third party looking down on the species as a whole. When you consider it in this context it is then easy to appreciate this reality. It then becomes easy to see how non-conscious government concepts act as a cancer to the species.
With humanity now swimming in knowledge about itself thanks to technology and the Internet – knowledge which can no longer be ignored – we are only now beginning to see the early results of what happens when truth, awareness and consciousness is triggered by a massive pulse of lies which jolts the consciousness of the species.
Edward Bernays (Propaganda) Effect Now Backfiring?
With the current global awakening now accelerating at speeds that must not be pleasing to the globalist gangsters, it is reasonable to reflect back on the concept of propaganda, groupthink and group manipulation for the purposes of a certain agenda. I would like to suggest that it is possible that the global awakening we are seeing may partially and indirectly have been contributed to by Edward Bernays himself. After all, it was Bernays who admitted openly how these mass mind control techniques were A: Real; B: They worked; C: They worked on the masses because they worked on the individual in a perceived group setting. Bernays showed us that humans responded to clever timing, images and messages that appealed to our subconscious urges, imagination and thoughts. Can it be that we are seeing the culmination of many of these factors backfiring against the original CIA/U.S./NWO plans?
They hoped to continue to fool everyone with their propaganda. They planned and executed false flag operations and reinforced them with their planned propaganda, precisely timed talking points, images and sensationalism. But did they ever consider that the propaganda effect would actually wear out after so many decades of continued obvious lies and hypocrisy? Perhaps they did, and perhaps that is why there is so much talk about depopulation as seen in their own Georgia Guidestones. Perhaps the talk by Zbigniew Brzezinski about how much "easier" it is to kill a million people than control them is an admission that they know humanity will factually wake up as a whole and thus a last resort for the psychopath globalists before they must face their doom.
I believe this is all the end result of hundreds of years of propaganda now fully exposed due to the information age. One thing I'll say about Bernays is that he never hid what he was doing. He told you straight forward what he was doing, even writing several books about it.
The global political events we are seeing exposed in real-time are a first of its kind. Because of all the released information and knowledge, and because of the Internet, we can track globalist mafia crimes in real-time in a rather exciting way which has led to the alternative or "New Media." What started off as a truth movement with many little cousin movements all around the world has morphed into one big freedom and consciousness movement. Thankfully, many of the lines that separated us have blurred as humans recognize that they need to come together more than anything else.
Humanity is responding to this non-consciousness force we call government, by coming together and slowly ignoring our political, religious and philosophical differences and instead focusing on the common enemy which is now emerging as the forces that represent non-consciousness that we call governmental control systems. This is at the root of all of our struggles. We hear TV pundits tell us that humans must be controlled by a federal and global unchallenged government. Many of the script-reading advocates for the big government top-down control system just happen to have significant voices in the mainstream media.
No one at mainstream media dare stands for freedom and individual sovereignty. Anyone who does ends up getting fired or being asked to quit. Hollywood TV shows as well as the educational system are all supporting the paradigm of big government. Obama's primary message to Americans seems to be about not listening to those (lunatics? radicals?) that stand for individual freedoms. Obama may actually be the only U.S. president warning America not of tyranny and the need to stand for the Constitution and Bill of Rights, but instead he's warning his sheep to beware of those warning of tyranny. One of the things the globalists have accomplished is they've made it easy to identify those who are with us and those who are not.
Given the current global awakening in light of all the information and spiraling propaganda mentioned above, we can now simplify the battlefield in such a way that it is easy to identify the enemies of freedom. We can now ask anyone the simple question: Power to the state or power to the people, which one do you choose? Will you side with those that demand freedom and sovereignty from government or will you side with those that feel the people are the property and responsibility of big government, and those who rebel are terrorists? The state or the individual? Choose one and take sides now.
We know where NBC stands, and CNN and all the left-wing Obama supporters. Despite their attempts to sound pro-America, we know where Fox News and the Republicans stand also. When measured with this simple question of State versus Individual it is easy to see that both Democrats and Republicans are exactly the same. They are both controlled by criminal elements in the .1 percent class who want their one world government. It is then easy to see how the human element of humanity that is living and breathing, is now fully awakening to this non-consciousness element we've been calling government.
Now we can observe how humanity will deal with this force that has cycled its way into an over-sized oppressive control mechanism. Humanity is now realizing that freedom is more a realization than anything else. Yes, realizing something is an expression of consciousness and learning or integration of knowledge and the awareness of this newly acquired knowledge.
With humanity now realizing that government is a useless obstacle in the way of human thriving and freedom, I expect we will witness phenomenal things in the coming months and years. I see humanity now actually slowly but surely pulling together in an all-out effort to save itself from government.
I never thought of this concept myself until recently and I don't see any other way to articulate it. This is where we are. We are now seeing the expression of this reality in many freedom lovers world wide. This was essentially the very same spirit behind the founding of America. This was the spirit behind the Constitution and Bill of Rights and the primary meme of those initial years when America was founded. It doesn't mean that the founding fathers were saints or any of that, it means that the spirit of freedom that drove them to do what they did is back, in fact this modern-day rekindling of freedom is and will be much more intense than what the founding fathers imagined. Humanity is now realizing it didn't finish the job. There is already a track record for getting this freedom thing done, and this track record is serving as a precious guideline for those of us who are new at this.
Let freedom ring, and I look forward to witnessing the end result of this focused effort now closing in on government. No, no one was injured in the writing of this article. Not a shot fired. Consciousness knows no violence, and the desire to thrive and be free is a realization. This battle is strictly mental warfare (as Bernays would have told you) and the transition from rooting for big government to control the people, to empathizing with your own species and connecting with other humans in a conscious way to exercise and celebrate your individual freedom from government is seamless.
Awakening from the matrix cannot be measured with blood, bullets, drones or violence. It (the individual's awakening) can only be delayed with fear – external, engineered, artificial, government-crafted fear. This awakening is being triggered by the realization that the fear of tyranny is much greater than any artificial fears the government can come up with.
The human awakening has thus triggered a long-awaited re-prioritizing of fear within the species, which is rendering the globalists primary weapon of mass deception obsolete. To think, we need only overcome their engineered fears to render the concept of over-controlling big government obsolete. Once we reach this point (and we are very close) we can then focus more on officially implementing all the solutions to the new world order at a mass scale. Till then, mass knowledge of solutions are now spreading globally as part of the awakening despite the fact that many of the solutions are still being contained by government using fear and intimidation.
The day is soon coming when these barriers of fear will dwindle as more and more people resort to being the change they want to see in the world. It's already happening and it's a wonderful thing to see.
Bernie Suarez is an activist, critical thinker, radio host, musician, M.D, Veteran, lover of freedom and the Constitution, and creator of the Truth and Art TV project. He also has a background in psychology and highly recommends that everyone watch a documentary titled The Century of the Self. Bernie has concluded that the way to defeat the New World Order is to truly be the change that you want to see. Manifesting the solution and putting truth into action is the very thing that will defeat the globalists.
Source: Bernie Suarez  |  Waking Times
The Robber Barons of the 19th and 20th century had nothing over the elites of today's globalist transnational financial conglomerates. The Richest Americans, listed in Forbes conceals the real power that controls the economy. Net worth is deficient in gauging dominance in financial commercialism and monetary preeminence. The Top 50 Highest-Paid CEOs as reported by ABC News ties into Michael Hiltzik's account that CEO-to-worker pay gap is obscene, "The average CEO-to-worker pay ratio in 2012 was about 350 to 1." Yet the divide in pay does not exemplify the exact lose in a livable standard of living for the ordinary staffer.If corporate multinationals were really about creating actual wealth, the pay of inspirational leadership and senior management talent, that executes the business plan, would be incidental if the employees were sharing in affluence. Those who demand higher minimum wage compensation do not understand how business works. The inordinate wealth divide, cannot and will not be reduced, until genuine economic prosperity is achieved.
Analyze the idiocy of a naive Undergraduate Research Fellow, Brian Chesley in 3 Ways to Reduce the Wealth Gap.
1. Open higher education to everyone.

2. Increase the minimum wage.

3. Increase taxes on the rich.
Such ignorant and illiterate attitudes demonstrate that institutions of higher learning encourage an atmosphere of social collectivism that plays directly into the hands of the new tyrannical tycoons.
The New York Times OP-ED piece by Daniel Altman (an adjunct associate professor of economics at the New York University Stern School of Business and a former member of the New York Times editorial board), proposes a foolish mindset and proposal in To Reduce Inequality, Tax Wealth, Not Income.
"In 1992, the top tenth of the population controlled 20 times the wealth controlled by the bottom half. By 2010, it was 65 times. Our graduated income-tax system redistributes a small amount of money every year but does little to slow the polarization of wealth."

American household wealth totaled more than $58 trillion in 2010. A flat wealth tax of just 1.5 percent on financial assets and other wealth like housing, cars and business ownership would have been more than enough to replace all the revenue of the income, estate and gift taxes, which amounted to about $833 billion after refunds. Brackets of, say, zero percent up to $500,000 in wealth, 1 percent for wealth between $500,000 and $1 million, and 2 percent for wealth above $1 million would probably have done the trick as well."
Absent in redistribution of wealth schemes is that the method of authentic free enterprise is never understood. Nor is there ever an effort to reestablish the principles of real business competition. The marketplace of voluntary and mutually beneficial commercial transactions, destroyed by the systemic Corporatocracy model, is the ultimate reason why wealth disparity is so great. The literal legacy of the Robber Barons is the internationalist financial system of central banking that predetermines the outcomes of selective patrons from calculating crony capitalism.
Public companies, once established to develop, produce and sell innovative goods or services are rare in an environment where financial manipulation is the primary vehicle to riches. Equity exchanges, based upon raising capital for industrious and constructive ventures, seldom function for this utilitarian purpose. The global economy, in reality, has perfected an anti-free enterprise filter that stamps out initiative and penalties upstarts that are not part of the cartels.
With the insolvency of the world-banking system an inescapable fact, the prospects for even more concentration of real assets into the hands of the financial elites, posed for the final wealth confiscation, of resources not already in their hands, is upon us.
When the internationalist financial system implodes and business screeches to a halt, a populist movement to clawback century long fraudulent gains of the hidden stashes from the interlocked illuminati families is the only coherent alternative to establish a fiscally sound financial future.
"The 2014 Bilderberg meeting is another example of those "blurred lines" between government, big oil and the financial sector, the three pillars of war. According to some reports, the topics of discussion at this year's meeting will include the situation in Ukraine and the Russia-NATO relationship, as well as the Transatlantic Trade and Investment Partnership (TTIP), an agreement which, according to Stop TTIP, "is in fact a corporate coup that will take us to a 'corporatocracy', a corporate-run world."
The mental confusion that blocks out the way the world fundamentally functions prevents focusing upon any essential debate as to substitute economic parameters for an equitable stake and remuneration for productive contributions to the success of any commercial venture.
The term Robber Barons, should not be substituted for every prosperous risk taker or self-made entrepreneur. The corruption within the cabal economy is rooted in the very nature of the favorable treatment given to participants in the criminal corporatist syndicate.
As Ms. Lévesque correctly describes the methods and operations of this New World Order neo-feudalism, the only structure that offers any prospects for an economic renaissance must target and strip the political influence of the globalists as much as the confiscation of their vast holdings.
Do not be deceived, by communist or socialist newspeak. Sharing the wealth is not the objective. The goal is imposing an unconditionally surrender upon the banksters, which is serious business. Start with the elimination of the Rehypothecation of Collateral. Lawful business has no room for coexistence with derivatives and swaps.Holding the body politic accountable and committed to breaking up the banksters' monopoly requires compliance regulatory resistance from within the business community. It is just as important as customer and buyer rejection of the corporate induced consumer society. Sadly, most people simply are uninformed about the principles of sound business.
Most CEO's are not businesspersons, but are globalist enablers and often are outright thieves. The needed business revolution will not be lead by their ilk.
Real competition can never be encouraged until inventive and audacious risk-takers have practical alternatives to fund their enterprises. Only then, will the wealth ratio narrow as affluence, that is more tangible, expands and the fortunes of the oligarchy diminish.
"Actually, as Winston well knew, it was only four years since Oceania had been at war with Eastasia and in alliance with Eurasia. But that was merely a piece of furtive knowledge, which he happened to possess because his memory was not satisfactorily under control. Officially the change of partners had never happened. Oceania was at war with Eurasia: therefore Oceania had always been at war with Eurasia. The enemy of the moment always represented absolute evil, and it followed that any past or future agreement with him was impossible…" – George Orwell, 1984
Nations, cultures and populations are best controlled through the use of false paradigms. This is a historically proven tactic exploited for centuries by oligarchs around the world. Under the Hegelian dialectic (the very foundation of the Marxist and collectivist ideology), one could summarize the trap of false paradigms as follows:
If (A) my idea of freedom conflicts with (B) your idea of freedom, then (C) neither of us can be free until everyone agrees to be a slave.
In other words: problem, reaction, solution. Two sides are pitted against each other in an engineered contest. Each side is led to believe that its position is the good and right position. Neither side questions the legitimacy of the conflict, because each side fears this will lead to ideological weakness and disunity.
The two sides go to war, sometimes economically, sometimes militarily. Both governments demand that individuals relinquish freedom, independence and self-reliance, a sacrifice that "must be made" so that victory can be achieved. In the end, neither nation nor society has truly won. The only winners are the oligarchs, who sing words of loyalty to their respective camps, while acting in league from the very beginning. The oligarchs, who never intended to target each other in the first place. Their target, their ONLY target, was the citizenry itself — the dumbfounded masses now mesmerized with shock, awe and terror.
The false paradigm method and the Hegelian dialectic are in full force today. Only a few years ago, Russia, China and the United States were considered close economic and political allies. Today, those alliances are being quickly scrapped in order to make room for conflict, a conflict useful only to a select international elite. As I have outlined in numerous articles, includingRussia Is Dominated By Global Banks, Too and False East/West Paradigm Hides The Rise Of Global Currency, when one looks beyond all the theatrical rhetoric being thrown around between Barack Obama and Vladimir Putin, the ultimate reality is that the relationship of both governments to the global banking elite is the same.
During both of Obama's Presidential terms, he has flooded his cabinet with current and formeremployees of Goldman Sachs, a longtime proving ground for elitist financiers with globalist aspirations.
And who is the primary economic adviser to Vladimir Putin and the Russian state? WhyGoldman Sachs, of course!
U.S. and European elites have been calling for a centralization of economic power under the control of the International Monetary Fund, as a well as a new global currency.
Not surprisingly, Putin also wants a new global currency under the control of the IMF.
Obama is closely advised by globalists like Zbigniew Brzezinski, a member of the Council on Foreign Relations and cofounder of the Trilateral Commission, who in his book Between Two Ages: America's Role In The Technetronic Era states:
"The nation-state is gradually yielding its sovereignty …[F]urther progress will require greater American sacrifices. More intensive efforts to shape a new world monetary structure will have to be undertaken, with some consequent risk to the present relatively favorable American position…"
As long as he has been in power, Putin has been closely advised by Henry Kissinger, yet another member of the CFR and proponent of the Trilateral Commission, who has said:
"In the end, the political and economic systems can be harmonized in only one of two ways: by creating an international political regulatory system with the same reach as that of the economic world; or by shrinking the economic units to a size manageable by existing political structures, which is likely to lead to a new mercantilism, perhaps of regional units. A new Bretton Woods kind of global agreement is by far the preferable outcome…"
Both Kissinger and Brzezinski refer to this harmonized global economic and political structure as the "New World Order." The fact that the political leaders of Russia and the United States are clearly being directed by such men should not be taken lightly.
China, too, has made demands for a restructuring of the global monetary system into acentralized currency basket under the dominance of the IMF.
China's ties to the banking elite of London are well documented.
The call on both sides for a new monetary system and the end of the dollar as world reserve seems to greatly contradict the fantasy that the East and West are fundamentally at odds.  The progression towards a world currency and/or economic governance also appears to be growing along with the consolidation of economic and military ties between Eastern nations. This would suggest that the rise of the East and the crippling of Western elements is actually advantageous to global bankers in the long term.
While disinformation agents and media shills have attempted to downplay any danger to the strength of America and the dollar, Eastern governments have been swiftly establishing alliances and decoupling from U.S. influence.
The historic 30-year Russia/China gas deal has, of course, been finalized. This deal is already eating up market space and influencing the way in which the energy trade traditionally behaves.
China and Russia have also expanded on their bilateral agreements made in 2010, which remove the dollar as the reserve currency in transactions between the two nations.
China's thirst for gold continues, while the country is now building its own gold exchange to rival the U.S. Comex.
Russia has recently established what Putin calls the "Eurasian Economic Union," a deal which includes Kazakhstan and Belarus, two countries that hold large, freshly discovered oil fields.
In response to the engineered conflict over Ukraine, as well as the "Asian-Pacific Pivot" by the U.S., China has openly called for a new security pact with Russia and Iran.
Let's also not forget that China is set to surpass the U.S. as the world's largest economy by 2016, according to the Organization for Economic Co-operation and Development (OECD).
While the rise of the East is being painted in Western circles as a threat to U.S. and NATO dominance, the bigger picture is being hidden from view. Yes, indeed, the consolidation of the East is a considerable threat to the dollar and the U.S. economy — most importantly in the event that China refuses to accept dollars as payment on exports and debts. With the world's largest exporter/importer refusing to take dollars as a reserve, most nations will inevitably follow their lead.  The argument against this development is, of course, that there is no rational trigger for such a violent fiscal attack. I would remind skeptics that there was no rational trigger for the current strengthened relations between Russia and China until the Ukraine crisis. Is anyone really foolish enough to bet against another direct or indirect conflict between NATO and the East? And is anyone really ignorant enough to assume that said event would not be used as an excuse to cut the legs out from under the dollar completely?
The New World Order players have positioned the East and West for just such a scenario. Why? In my article Who Is The New Secret Buyer Of U.S. Debt?, I give evidence indicating that the Bank of International Settlements and the IMF are preparing the financial world for a new global monetary system, brought into existence by a second Bretton Woods conference. The debasement of the dollar and the rise of the East are NOT obstacles to this plan.  Rather, they are required factors. There can be no truly global economic system without "harmonization", the demise of the dollar's world reserve status, and the end of sovereign economic governance.
For those who doubt this scenario, read Paul Volcker's latest statement, as reported by Zero Hedge.
Volcker, the same man who was directly involved in the destruction of the first Bretton Woods agreement and the final death rattle of the gold standard, is now promoting a NEW Bretton Woods-style agreement in which currencies are pegged to a controlled market system — in essence, a centralized international monetary system. Volcker also suggests that a single nation-based reserve currency like the dollar may be a danger to overall fiscal health.
Volcker is right. The dollar-dominated forex casino and fiat fraud is a danger to the world. Volcker helped make it that way! And what a surprise, the former Federal Reserve chairman has a solution on a silver platter for the American people — all we need is GLOBALcentralization and bureaucratic oversight.
The propaganda is being carefully planted within the mainstream. Christine Lagarde of the IMF now spends the whole of her media interviews inserting the phrase "global economic reset" without explaining exactly what that would entail, while central banking elites like Volcker suggest a Bretton Woods II conference leading to a global monetary authority. In the meantime, Russian government-funded media outlets like RT produce pieces accusing the U.S. of being a nuclear menace while we Americans get to watch manipulative Hollywood films like "Jack Ryan: Shadow Recruit," which depicts a Russian plot to collapse the U.S. economy.  China and U.S. representatives squabble with each other at geopolitical meetings fueling fears of diplomatic breakdown, while the Pentagon "suggests" they may have to revamp their military strategies in consideration of yet another World War.  Just as in Orwell's book, 1984, old enemies become allies and then enemies once again, and at the top of the pyramid, it's all a farce.
The best lies contain elements of truth. The truth here is that the East is forming alliances in opposition to the West, the West is involved in underhanded covert operations all over the planet, and both "sides" are in fact on the verge of a catastrophic battle for supremacy. The great lie is that important details have been left out of our little story. Both sides are merely puppet pieces in a grand game of global chess, and any conflict will ultimately benefit the small group of men standing over the board. They include the international financiers who have influenced the very policy fabric of each government toward a climactic crisis which they hope will finally give them the "New World Order" they have always dreamed of.
Source: Brandon Smith | Alt-Market
President Barack Obama delivered his most belligerent and menacing speech to date at the US Military Academy at West Point. Aside from the lofty rhetoric we've come to expect in every Obama presentation, the president's commencement address was a defiant restating of the Bush Doctrine of unilateral intervention, executive authority and endless warfare. The speech contained no new initiatives or surprises, but emphasized Obama's unwavering support for the policies which have plunged large parts of the Middle East, Africa, and Eurasia into civil conflict, economic collapse and war. Obama defended US aggression on the grounds of "American exceptionalism", the dubious idea that Americans are special and cannot be held to the same standards as others. The theory implies that Washington's relentless war-mongering and killing of civilians cannot be prosecuted under international law because the US is a law unto itself.
"I believe in American exceptionalism with every fiber of my being," said Obama. "But what makes us exceptional is not our ability to flout international norms and the rule of law; it is our willingness to affirm them through our actions."
Obama's statement is deliberately misleading. As the president knows, the Bush administration notified U.N. Secretary-General Kofi Annan that the US would withdraw from the International Criminal Court Treaty in May 2002 just prior to the invasion of Iraq claiming that the ICC treaty put U.S. service members and officials at risk of prosecution by a court that is "unaccountable to the American people." In retrospect, we can see that Bush and his lieutenants wanted to remove themselves from any accountability for the atrocities and crimes against humanity they planned to perpetrate in the invasion and occupation of Iraq. Thus, exceptionalism does not affirm Washington's willingness to comply with "international norms and the rule of law" as Obama says, but to absolve US leaders from any responsibility for their habitual war-making. As policy analyst Noam Chomsky has said many times, "If the Nuremberg laws were applied, then every post-war American president would have been hanged."
Here's Obama again: "Let me repeat a principle I put forward at the outset of my presidency: The United States will use military force, unilaterally if necessary, when our core interests demand it… International opinion matters, but America should never ask permission to protect our people, our homeland or our way of life."
In other words, the United States will do whatever the hell it wants to and if you don't like it: "Too bad". This is the Bush Doctrine verbatim. The West Point oration proves that the new administration has simply modified the Bush credo to suit Obama's pretentious speaking style. Strip out the visionary formulations, the grandiose bloviating, and the sweeping hand gestures and the ideas are virtually identical; unilateralism, preemption, and exceptionalism, the toxic combo that has spurred 13 years of war, occupation, regime change, black sites, extra-judicial assassinations, drone attacks, and hyperbolic state terror most of which has been directed at civilian populations whose only fault is that they occupy regions where vast petroleum reserves have been discovered or which have some fleeting strategic importance to Washington's war planners. Here's an excerpt from an article in the World Socialist Web Site titled "Obama's West Point speech: A prescription for unending war" by Bill Van Auken:
"Obama is not elaborating here a policy of defensive war to be waged only in response to an attack or the threat of an imminent attack. He is spelling out that the US reserves the right to intervene militarily wherever it believes its "core interests"—i.e., the access of its corporations and banks to markets, raw materials, cheap labor and profits—are involved.

When he speaks of "our livelihoods" and "our way of life," he is referring not to the ever-declining living standards of the American worker, but to the eight-figure compensation packages of American CEOs, whose fortunes are founded on the exploitation of the working populations and resources of the entire planet…

Everything put forward by Obama is a repudiation of international law and an endorsement of the policy of aggressive war practiced by the Nazis three-quarters of a century ago." (Obama's West Point speech: A prescription for unending war, Bill Van Auken, WSWS)
Here's Obama again defending his malignant foreign policy in terms of "leadership":
"America must always lead on the world stage. If we don't, no one else will. The military that you have joined is, and always will be, the backbone of that leadership."
Obama finds it easy to praise the people who fight his wars, even while he stealthily carries out a plan to privatize the Veterans Administration. Check out this blurb from an article titled "VA secretary resigns amid push to privatize US veterans' health care":
"Obama and members of Congress have responded to the VHA scandal with a breathtaking level of cynicism and hypocrisy, even by Washington standards … according to many lawmakers, the answer to this crisis is not the appropriation of funds to hire new doctors and other medical professionals, but the dismantling of the government program in order to provide a profit windfall to private insurers and health industry firms. The result of this policy will be less care at greater cost to veterans…

Under the "Veterans Choice Plan" being promoted by Rep. Andy Harris (Republican of Maryland), veterans could either choose to continue receiving care through the VHA or go to a private provider of their choosing. In what amounts to a voucher system, the federal government would cover the cost of insurance premiums and some out-of-pocket costs, depending on a veteran's priority ranking…

The moves to privatize veterans' health care underscore the hypocrisy of the bipartisan glorification of soldiers and veterans. It also sets a precedent for privatizing Medicare and Medicaid, the federal-state health care program for the poor." (VA secretary resigns amid push to privatize US veterans' health care, WSWS)
Is there any doubt that Obama forced General Eric Shinseki to step down so he could start to dismantle the VA? And if Obama cares so much about veterans, then why hasn't he spoken out before about other veteran-related issues like the epidemic of suicides, rapes, traumatic brain injury or PTSD? Obama's phony outrage is just a headline-grabbing gimmick to conceal what's really going on, which is the VA is being handed over to America's insatiable health care tycoons on a silver platter.
Obama again: "For the foreseeable future, the most direct threat to America, at home and abroad, remains terrorism, but a strategy that involves invading every country that harbors terrorist networks is naïve and unsustainable. I believe we must shift our counterterrorism strategy, drawing on the successes and shortcomings of our experience in Iraq and Afghanistan, to more effectively partner with countries where terrorist networks seek a foothold."
Obama's comment absurdly implies that the US has learned from its past mistakes and has fine-tuned the art of counterterrorism so it doesn't involve the squandering of valuable resources. What a joke. It's like listening to a Mafia hit-man boast that he 's learned how to save money on ammo by strangling his victims with his bare hands. This is also a good example of how the Dems think they're more effective (and discreet) in executing the elitist/corporate agenda than their rivals in the GOP. As if that was the purpose of the party!
Obama also made a few perfunctory remarks about closing Guantanamo, ending indefinite detention and taking steps to address climate change. But clearly these had nothing to do with the main thrust of the speech which was to announce his intention to expand the wars abroad. Citing hotspots in Syria, Ukraine and the South China Sea, Obama promised to "lead" with the military, asserting, by implication, dominion over these regions where the US claims to have "national interests". Obama is as committed as his predecessor, Bush, to rule by force of arms even though his current adversaries (Russia and China) are not ragtag militias in sandals, but nuclear-armed nation-states who could level the better part of the planet with a flip of the switch. Even so, Obama is determined to pursue the same provocative strategy whatever the risks increasing the probability of a miscalculation that ends in a mushroom cloud.
It's madness.
During my youth, I grew up as a "Service Brat." My dad served 27 years in the U.S. Marine Corps. I respected God, the Stars and Stripes, America and our presidents without question. I loved my mom's apple pie!
However, credible researches discovered that President Franklin D. Roosevelt "let" Pearl Harbor occur to draw public support to jump the United States into World War II.
Our kids fought the Korean War because somebody in Harry S. Truman's circle decided we needed to stop communism over 10,000 miles from our shores. The best bet on who started the Korean War: a banker, a corporation head or anyone hoping to make enormous gains off mass deaths.
By the time Vietnam conscripted and killed a lot of my friends, as well as my own time in the U.S. Army, I learned about lies, corruption, bankers and the real reason for Vietnam. I learned that presidents lie. They think nothing of sacrificing young men in ridiculous wars such as Lyndon Baines Johnson's onslaught of Southeast Asia. He killed over 2.3 million Vietnamese and 58,319 of our young men. He ruined millions of lives, families and the environment with Agent Orange.
Years later, George W. Bush "created" the Iraq War on his lies and deceptions of "Weapons of Mass Destruction." He destroyed an entire functioning civilization, brought endless death and misery to God knows how many people. We're still fighting and dying in Afghanistan over a year since bin Laden died at the hands of Navy Seals.
Highly decorated U.S. General Smedley Butler, upon retiring, wrote a book that every American should read: War is a Racket. The only people who benefit from war: bankers, munitions manufacturers, clothing and food producers and corporations. They make a lot of money off death of our citizen soldiers.
General Dwight D. Eisenhower warned us about the "Military Industrial Complex" that engineers wars, global tensions and anything to shove our kids into uniform and battles. Congress and presidents shoved our noses into everybody else's business for decades.
We didn't listen to Butler. We "supported" all those wars via massive "advertising" that a "threat" awaited us. Those wars made a lot of CEOs filthy rich.
In 1971, defense expert Daniel Ellsberg presented the Pentagon Papers exposing the incredible corruption and widening of the Vietnam War by Nixon and Johnson before him—all based on lies.
Last week, NBC's Brian Williams interviewed "whistleblower" intelligence officer Edward Snowden about the National Security Agency's incredible spying on American citizens. I watched the entire interview: Snowden showed himself to be incredibly honest, forthright, concerned, all-American, he honors the U.S. Constitution and he is a man of principles. He chronicled his work in the government that opened him to the corruption at the highest offices in our government.
Secretary of State Kerry called Snowden a "Traitor, coward and should come home to face the music."
Daniel Ellsberg responded, "Kerry's remarks are despicable!"
I agree. We need 10,000 Edward Snowden's. In America today, we face incredible corruption in our Congress and Mr. Obama himself. The list grows: Fast and Furious, won't enforce our immigration laws, phony Social Security number, Benghazi killings, suing states from enforcing their own laws, continue to fund 10 year wars when they know they are futile, and on and on. The corruption in Congress runs wide, deep and sickening from 20 and 30 year career Senators and Congressmen swimming in lies, cheating and playing the American people. Insider military trading on the stock market, paid off by corporations to NOT enforce our immigration laws and another 100 crimes against the American people.
"So many things we are told are untrue," said Snowden. "The Iraq War was launched on false premises. We were led by false statements to go into Iraq."
I can stand with Snowden because I know we marched into Vietnam on the same false statements such as the "Gulf of Tonkin Incident."
When he tried to notify superiors, they said, "You should stop asking questions."
I faced the same thing when I served as an officer in the U.S. Army. I learned to never question orders. If I did, command officers ridiculed me. I learned quickly to follow the military protocol.
Snowden said, "I watched the government's dishonesty. What was going on needed to be told to the public. I did nothing to harm the citizens or soldiers of America."
Williams asked, "Why won't you come home and face the music?"
"The Espionage Act states that you cannot have a defense," said Snowden. "The music is not an open court or fair trail."
"Are you blameless," asked Williams.
"The most important idea is that what is right may not be legal," said Snowden.
I can attest to that fact. Once the man or "group" who gained George Bush's ear turned the crank to initiate the Iraq War, no sane, rational or reasoning man could stop it.
"We are seeing an erosion and obstruction of our rights as citizens under the NSA," said Snowden. "I felt that I was/am serving my country and protecting my fellow citizens. Even one of the U.S. Senators said that bulk surveillance is unacceptable. We see senior officials taking powers they don't warrant. In the end, I did the right thing."
I applaud Snowden. If more Snowden's stood up in the face of withering criticism or "following the power elites" that create wars or spy on our own citizens or recklessly endanger our country—none of our kids would have died in Korea, Vietnam, Iraq, Desert Storm or Afghanistan.
Look to career U.S. Senators like Feinstein, Boxer, Reid, Udall, Bennet, McCain, Kyle, Schumer, Levin, Kerry, Durbin, Kennedy, Hatch, Graham and dozens of other senators for their complicity in driving this country into needless wars, not defending our borders, slamming us into $18 trillion debt and putting all of us at risk. For example: the current S744, passed by the Senate last year, guarantees our country spirals into the demographic, cultural and linguistic toilet. Yet, the damned fools passed it. I recall Mark Twain's sage words, "Suppose you are an idiot and suppose you are a member of Congress…ah but I repeat myself."
We should welcome Edward Snowden home as a national hero, and, at the same time shouting out to Secretary of State John Kerry, "You're despicable beyond measure."
Ever wonder why nobody (except Kareem Serageldin) went to jail for all the crimes committed during the financial bubble that popped in 2008?
If you think back to the 2000-era bubble, lots of people went to jail for the fraud perpetuated at Enron, Tyco, Adelphia, and other firms. Plus, the law back then destroyed a whole accounting firm — Arthur Andersen, you may remember — and 28,000 jobs along with it, in the wake of the bust.
Yet post-2000, firms with far more brazen crimes got off by paying a mere fine.
Take HSBC.
Its U.S. subsidiary committed, as Taibbi writes, "an astonishing list of crimes — a laundry list that included pretty much every kind of crime a bank can possibly be charged with."
Such as:
Laundering billions of dollars for drug cartels in Mexico and Colombia
Washing money for terrorist-connected organizations in the Middle East
Allowing "rogue states" under formal sanctions by the U.S. to move billions freely through the bank
Helping Russian mobsters wash money under an elaborate traveler's check scheme
Etc.
And what was the penalty for all this?
$1.9 billion.
At the time, it was the biggest fine in history. But in context, for a firm that made $22 billion per year, it was not much at all. In fact, looked at in a cold calculating light, the message clearly is: Crime pays.
Note there was no jail time for anybody. Everybody at HSBC got paid. Well, HSBC agreed to partially — partially, mind you – defer (!) bonus payments to its top executives.
Oh, and HSBC had to say it was sorry. "We are profoundly sorry," said CEO Stuart Gulliver.
But how did we get here?
Matt Taibbi explores the reasons in his book The Divide. Taibbi used to write for Rolling Stone. He was the guy who famously called Goldman Sachs a "great vampire squid wrapped around the face of humanity, relentlessly jamming its blood funnel into anything that smells like money." (I wish I had written that line.)
He's a very good investigative reporter and a fine writer. He's mellowed out a bit in this book and you won't find much of the usual Taibbi name-calling and profanity. Taibbi, for good or ill, plays this one straight.
He covers a lot of ground, but the central thesis is one most people will intuitively grasp: If you are rich and powerful, you can get away with almost anything. Rights exist on a sliding scale. And if you are on the bottom, you can do time for loitering.
Taibbi writes:
"The cleaving of the country into two completely different states — one a small archipelago of hyper acquisitive untouchables, the other a vast ghetto of expendables with only theoretical rights — has been in the works a long time."
But to answer the question posed up top about why nobody's going to jail, there's more to the story. You have to go back to a memo written by Eric Holder, the current attorney general, back in 1999, when he was an official in the Clinton White House.
He articulated a concept called "collateral consequences."
It meant, in essence, that the government could take into account all kinds of factors like job losses and such in deciding whether to press criminal charges against a big company. "If the math isn't there," Taibbi writes summing things up, "hold the charges. Seek other forms of justice instead. Fines. Civil sanctions. Cease and desist orders. Deferred prosecutions. There are other ways, Holder wrote, to get the job done."
In other words, there would never be another Arthur Andersen. Firms had new ways to wiggle out of criminal charges. Hence, we have the monster we have today. Companies too big to jail.
Meanwhile, in other aspects of life, a culture approximating a police state grows apace. Taibbi points to the record levels of incarcerations in the U.S. "Our prison population, in fact, is now the biggest in the history of human civilization," Taibbi writes. The U.S. has more people behind bars today "than there were at any time in Stalin's gulags."
The story here is nasty. He tells the story of private prisons, such as those of Corrections Corp. of America. They get, "depending on whom you believe," upward of $166 per day from the federal government per inmate. This is four times what it cost back when the government took care of its own detainees.
"The big influx of cash impressed investors on Wall Street," Taibbi writes. From 2000-2011, CCA's stock went up 34-fold. Sales went from $300 million to $1.7 billion by 2011. "Overall, the corrections industry is one of the soundest stock/equity bets in the world, with soaring revenues — the industry as a whole pulled in more than $5 billion in America in 2011."
Needless to say, that didn't just happen. CCA and others donate generously to politicians. They support anything that might lead to more people spending time in their cells. They particularly like anti-immigrant bills. And Taibbi has harrowing tales about the mistreatment of immigrants in this country. He calls Hispanic immigrants "one of America's last great cash crops."
"And someone else wins, too," Taibbi writes. "Wall Street. Some of the biggest investors in private prison companies are, you guessed it, the too-big-to-fail banks."
Taibbi writes about an analysis from Zacks that gleefully revels in the lack of economic sensitivity in the business. And then cites a chart with shows a hockey stick increase in the number of incarcerated Americans.
So the country is turning more and more into a dragnet… but only for the poorest. There is no HSBC banker sitting in a CCA cell. It is symbolic of the kind of economy we have today:
"Like too-big-to-fail banking itself, private prisons are an industry that depends not on the unpredictable economy but upon political connections. It's the perfect kind of business in the oligarchical capitalism age, with guaranteed profits to provide a low-cost public insurance against the vagaries of the market."
The economy is riddled with corruption like this, a marriage between big business and Big Government. And a recurring theme in this book is the offspring this marriage creates: a relentless, insatiable bureaucratic force that grinds up individuals fed into its maw.
"These bureaucracies accomplish just two things," Taibbi writes. "They make small piles of money smaller and big piles of money bigger… It just relentlessly creates and punishes losers, who get to sit beneath an ever-narrowing group of winners, who may or may not stay on top for long."
Legal rights are not absolute. Those with money who can tirelessly throw lawyers and lawsuits and counterlawsuits at any problem can survive almost anything. For the rest, it's a matter of attrition. And those at the bottom have no chance.
I can't do justice to all the journalistic fieldwork and stories Taibbi has put in his 416-page book. It is a gripping read and will infuriate you and frighten you, and maybe even make you sad for what's happened to the "Land of the Free."
The book does not have a happy ending. The good guys don't win in the end. But I encourage you give it a read. What it describes is life in these United States. Those of us who cherish liberty have quite a job ahead of us.
Sincerely,
Chris Mayer
Chris Mayer studied finance at the University of Maryland, graduating magna cum laude. He went on to earn his MBA while embarking on a decade-long career in corporate banking. Chris is the editor of Capital and Crisis and Mayer's Special Situations, a monthly report that unearths unique and unconventional opportunities in smaller-cap stocks. In 2008, Chris authored Invest Like a Dealmaker: Secrets From a Former Banking Insider.
Source: Laissez Faire
President Barack Obama's commencement address at West Point on May 28 managed to displease pretty much everyone in the nation's commentariat. Before making an overall assessment of its significance, it is necessary to examine the validity and implications of Obama's individual statements.
"[B]y most measures America has rarely been stronger relative to the rest of the world. Those who argue otherwise – who suggest that America is in decline or has seen its global leadership slip away – are either misreading history or engaged in partisan politics."
This key assertion, made at the beginning of the President's address, does not stand to empirical scrutiny. In economic terms, America was far stronger vis-à-vis the rest of the world in 1945 than she is today. In more recent times, U.S. share of world GDP peaked in 1985 with just under 33 percent of global GDP (nominal). Between 2004 and 2014, United States' share of global gross domestic product (GDP) adjusted for purchasing power parity (PPP) has fallen from 22.5 percent to 18.5 percent, and it is expected to continue falling. By the end of this year China will overtake the United States in gross domestic product, which had originally been projected to happen by the end of this decade. Analysts concede will gradually shift the ability to confer advantages or disadvantages on other countries – in other words, power – in China's favor.
In military terms, while America enjoyed the nuclear monopoly in 1945-49, her period of undisputed unipolar dominance was between 1991 (the collapse of the USSR) and 2008 (Russia's counterattack in South Ossetia). Although the Pentagon budget will drop from $600 billion this year to $500 billion in 2015, it will continue to account for over a third of the global total. The unsatisfactory outcomes in Iraq and Afghanistan and dented America's image of military invincibility. As the Economist commented on May 3, "The yawning gap between Uncle Sam and his potential foes seems bound to shrink." The prevailing view among most critical analysts is that over the past decade the U.S. has suffered military reverses, and now faces severe global competition.
As for the "global leadership," it is unclear what exactly Obama had in mind. Russia and China are creating a powerful Eurasian counterweight to what they rightly perceive as Washington's continuing bid for the global hegemony. India's new prime minister is a potential partner at best, and certainly loath to acknowledge America's "leadership."  In the Islamic world, Obama's attempts at appeasement – which started with the Cairo speech in 2009 – have not worked: The U.S. is now even more unpopular in the Muslim world than it was under George W. Bush. America is heartily disliked even in Turkey and Jordan, presumably our allies, not least because of the continuing drone strikes. American influence in Latin America is weaker now than at any time since Theodore Roosevelt, as manifested in the unanimous rejection of Washington's efforts to effect a regime change in Venezuela. Members of the American elite class are hard pressed to name a single country with which the U.S. has better relations today than five years ago. The NSA global spying network has infuriated even some otherwise reliable American friends in Western Europe. Most "Old Europeans" are remarkably resistant to U.S. pressure to agree to serious sanctions against Russia.
On balance it appears that Barack Obama is the one misreading history and engaging in partisan politics.
"Meanwhile, our economy remains the most dynamic on Earth, our businesses the most innovative."
In reality, by most value-neutral parameters the American economy is chronically weak and insolvent:
Some "dynamism," some "innovation"…
"America continues to attract striving immigrants."
Obama's statement is correct. It does not illustrate America's alleged strength as was his intent, however; it underscores this country's major weakness. Illegal immigration is spiraling out of control, the Border Patrol is overwhelmed. If the influx continues at current high levels, the U.S. population will increase to almost half a billion in 2060 – more than a 50 percent increase. New immigrants – mostly from the Third World, unskilled, uneducated, and a net drain on American resources – and their descendants will account for over one hundred million of that increase. On current form, English-speaking Americans of European origin will become a minority in their own country four decades from now. They will inhabit an increasingly overpopulated, polluted, lumpenproleterized, permanently impoverished country. America unfortunately does continue "to attract striving immigrants," mostly illegal ones and of poor quality. This is far greater threat to the survival of the United States in a historically or culturally recognizable form than terrorism or any conceivable alliance of foreign powers. Barack Obama does not understand this, or does not care, or – just as likely – cherishes the prospect.
"The values of our founding inspire leaders in parliaments and new movements in public squares around the globe."
By "public squares" Obama was probably alluding to Kiev's Maidan. Indeed, it has propelled some "new movements" to global prominence, such as the Svoboda party and the Right Sector. The Founding Fathers would be horrified to learn that, in the opinion of the President of the United States, their values have inspired Messrs. Tyahnybok, Yarosh, and other blood-soaked heirs to Stepan Bandera. This is on par with Senator Joseph Lieberman saying, "The United States of America and the Kosovo Liberation Army stand for the same values and principles. Fighting for the KLA is fighting for human rights and American values."
"And when a typhoon hits the Philippines, or schoolgirls are kidnapped in Nigeria, or masked men occupy a building in Ukraine, it is America that the world looks to for help."
Obama is mixing apples (natural disasters) and pears (man-made ones). The problem of Islamic terrorism in Nigeria was exacerbated by the refusal of the Department of State under Hillary Clinton to place Boko Haram ("Secular Education is Sinful") on the list of foreign terrorist organizations in 2011, despite the urging of the Justice Department, the FBI, the CIA, and over a dozen Senators and Congressmen. The de facto protection thus given to Boko Haram has enabled it to morph into a state-within-the-state with an estimated 300,000 followers.
It would be ironic if "the world" were to look to America for help in Ukraine (which in any event it does not), since the course of crisis there has been, overwhelmingly, of Washington's own making, as manifested in Victoria Nuland's famous phone call to Ambassador Pyatt. The new Drang nach Ostenmakes sense from the point of view of the liberal globalist-neoconservative duopoly: there is no better way to ensure U.S. dominance along the European rimland in perpetuity than drawing Europe back into NATO (i.e. U.S.) security orbit in general and subverting the Russo-German rapprochement in particular. The "masked men" in buildings are a direct consequence of American meddling.
"So the United States is and remains the one indispensable nation. That has been true for the century past, and it will be true for the century to come."
It has never been true, it is not true now, and it never will be true. Madeleine Albright's famous dictum was an arrogant statement by an immigrant ignorant of American history and a sign of her well-attested instability. It was reiterated in Bill Clinton's 1996 speech, where he explained why he intervened, disastrously, in Bosnia: "The fact is America remains the indispensable nation. There are times when America, and only America, can make a difference between war and peace, between freedom and repression, between hope and fear." That Obama has chosen to recycle such rubbish is a sign of intellectual and moral bankruptcy. "Indispensable" to whom, exactly? It is unimaginable for the leader of any other country in the world – Vladimir Putin, say, or Xi Jinping – to advance such a claim. It is tasteless at best and psychotically grandomaniac at worst, a latter day "Manifest Destiny" on steroids. The problem is that such hubristic delusions easily translate into non-negotiable foreign policy objectives. Resisting the will of the "indispensable nation" is ipso facto evil: Susan Rice's condemnation of Chinese and Russian vetoes of the U.S.-supported UN Security Council resolution on Syria as "disgusting," "shameful" and "unforgivable" comes to mind.
"Russia's aggression towards former Soviet states unnerves capitals in Europe while China's economic rise and military reach worries its neighbors."
Quite apart from the genesis of the crisis in Ukraine, to which "Russia's aggression" hardly applies, Obama's use of the term "former Soviet states," plural, implies that in his opinion Ukraine is not the only "victim of Russia's aggression." Presumably he means Georgia, the only "former Soviet state" with which Russia has had a conflict since the collapse of the Soviet Union. If so, and there is no other explanation for his turn of his phrase, Obama has a dangerously flawed understanding of the August 2008 Georgian crisis.
Georgian then-President Mikheil Saakashvili's order to attack South Ossetia's capital, Tskhinvali, was a breathtakingly audacious challenge to Russia, to which she was bound to react forcefully. That response was promptly exploited, for the first time since Gorbachev, by the American mainstream media machine and the foreign-policy community in Washington to paint Russia as a rogue power that is not only dangerous but intrinsically malignant. The vehemence of that rhetoric exceeded anything ever said or written about jihad, before or after September 11. To be fair, Saakashvili was led to believe that he was tacitly authorized to act as he did. President George W. Bush had treated Georgia as a "strategic partner" ever since the Western-engineered "Rose Revolution" five years earlier, and in early 2008 he strongly advocated NATO membership for Georgia. Washington had repeatedly supported Georgia's "sovereignty and territorial integrity," which implied the right to use force to bring South Ossetia and Abkhazia to heel, just as it is supporting "resolute action" in Donetsk and Lugansk today. Saakashvili may be forgiven for imagining that the United States would have bailed him out if things went badly. It is noteworthy that he was not disabused of such notions. The calculus in Washington appears to have been based on a win-win scenario, not dissimilar to the current Ukrainian strategy. Had Georgian troops occupied South Ossetia in a blitzkrieg operation modeled after Croatia's "Operation Storm," while the Russians remained hesitant or ineffective, Moscow would have suffered a major strategic and (more importantly) psychological defeat after almost four years of sustained strategic recovery. If Russia intervened, however, she would be duly demonized and the U.S. would push for NATO consolidation with new vigor. "Old" Europeans – the Germans especially – would be pressed to abandon their détente with Moscow. A resentful Georgia would become chronically anti-Russian, thus ensuring a long-term American presence in the region.
In the event, like the Ukrainian army today, the Georgian army performed so poorly that a military fait accompli was out of its reach. Excesses against Ossetian civilians – just like the shelling of schools in Slavyansk today – made the "victim of aggression" narrative hard to sell, Obama's "aggression" rhetoric notwithstanding.
"The question we face… is not whether America will lead but how we will lead, not just to secure our peace and prosperity but also extend peace and prosperity around the globe."
It is unclear how, if at all, America will secure her own "peace and prosperity" in the years and decades to come, let alone how she can extend it "around the globe." If this is a statement of Obama's grand strategy, it is flawed in principle and unfeasible in detail. In this statement there is not a hint of an overall blueprint for action that matches our country's resources to her vital interests. A sound grand strategy enables a state to deploy its political, military, economic, and moral resources in a balanced and proportionate manner, in order to protect and enhance its security and promote its well-being, never mind "the globe." In Obama's universe, however, there are no brains behind "indispensable," heavy-handed diplomacy and military power. Obama creates a false dilemma ("the question we face") unsupported by facts. China, India, Russia, the Muslim world and Latin America do not want to be "led," quite the contrary. Old Europe is reluctant at best. Subsaharan Africa is an irrelevant mess. The question we face is not global leadership, but national survival.
"Regional aggression that goes unchecked, whether in southern Ukraine or the South China Sea or anywhere else in the world, will ultimately impact our allies, and could draw in our military. We can't ignore what happens beyond our boundaries."
This simultaneous dig at Russia and China reflects a hubristic world view that is unmatched by conflict-management resources. A sane American relationship with Moscow demands acceptance that Russia has legitimate interests in her "near-abroad." Obama' four-nation tour of East Asia last Aprilescalated existing U.S. military commitments to the region, created some new ones, deeply irritated China, and emboldened American allies and clients to play hardball with Beijing. Obama does not understand that it is extremely dangerous for a great power to alienate two of its nearest rivals simultaneously. The crisis in Ukraine is going on, but the situation in Asia is potentially more volatile. Dealing with both theaters from the position of presumed strength and trying to dictate the outcomes is perilous, as many would-be hegemons (Philip II, Louis XIV, Napoleon, Kaiser Wilhelm, Hitler), blinded by arrogance, have learned to their peril. Obama has continued the hegemonist habit of instigating crises at different spots around the world, even though the resources are scarce and the strategy is fundamentally faulty. An overtly anti-U.S. alliance between Russia and China is now in the making. U.S. overreach led to the emergence of a de facto alliance in the Eurasian Heartland, embodied in the gas deal signed in Shanghai. Russia and China are not natural allies and they may have divergent long-term interests, especially in Central Asia, but they are on the same page when it comes to resisting U.S. hegemony, pardon, "leadership." In the early 1970's Dr. Henry Kissinger wisely understood the benefits of an opening to Beijing as a means of pressuring Moscow on the Cold War's central front. Back then the USSR was far more powerful than the People's Republic. Today, by contrast, China is much more economically and demographically powerful than Russia, and for the United States the optimal strategy would dictate being on good terms with the weaker party in the triangle. America does not have a policymaker of Kissinger's stature today, who would understand the potential of a long-term understanding with Moscow as a tool of curtailing Chinese ambitions along the Pacific Rim.
"America must always lead on the world stage. If we don't, no one else will. The military that you have joined is, and always will be, the backbone of that leadership."
The notion that "the world stage" demands a "leader" is flawed. It is at fundamental odds with the balance-of-power paradigm, which has historically secured the longest periods of peace and unprecedented prosperity to the civilized world. Today's world is being multipolarized, whether Obama the Exceptionalist likes that or not. The very idea of the self-awarded "world leadership" would appear absurd in the days of Bismarck or Metternich. Washington has neither the resources nor the minds for such a role, even if it were called for.
"The United States will use military force, unilaterally if necessary, when our core interests demand it — when our people are threatened; when our livelihoods are at stake; when the security of our allies is in danger."
None of the above applied in Bosnia, Kosovo, Afghanistan, Iraq, or Libya… but enough of Obama. There was more rhetoric at West Point, including an ode to American exceptionalism and further references to America's global leadership, but it just as tedious, vacuous and intellectually wanting as the first ten minutes of his address.
Overall, it is evident that the United States in Barack Obama's final term has not given up the hegemonist habit of instigating crises at different spots around the world, even though the management resources are scarce and the strategy is fundamentally faulty. An overtly anti-U.S. alliance between Russia and China is now in the making. It will be a belated equivalent of the Franco-Russian alliance of 1893 – the predictable result of an earlier great power, Wilhelm's Kaiserreich, basing its strategy on hubristic overestimation of its capabilities. U.S. overreach has led to the emergence of a de facto alliance in the Eurasian Heartland, embodied in last month's energy agreement signed in Shanghai. Russia and China are not natural allies and they may have divergent long-term interests, especially in Central Asia, but they are on the same page when it comes to resisting U.S. hegemony.
In the early 1970's Dr. Henry Kissinger wisely understood the benefits of an opening to Beijing as a means of pressuring Moscow on the Cold War's central front. Back then the USSR was far more powerful than the People's Republic. Today, by contrast, China is much more economically and demographically powerful than Russia, and for the United States the optimal strategy would dictate being on good terms with the weaker party in the triangle. It is unfortunate that America does not have a policymaker of Kissinger's stature today, who would understand the potential of a long-term understanding with Moscow as a tool of curtailing Chinese ambitions along the Pacific Rim.
Judging by the West Point address, for the remaining two and a half years of Obama's term U.S.-initiated global confrontations will continue as before. Instead of de-escalating the bloody mess to which she has made a hefty contribution, Victoria Nuland will continue encouraging her blood-soaked protégés in Kiev to seek a military end-game in the East. Instead of calming the South China Sea, Washington will continue encouraging its clients to be impertinent. And Putin and Xi will draw their conclusions: that they do have a powerful common enemy, a rogue regime not amenable to reason or rational calculus.
It cannot be otherwise, considering the Obama Administration's 2012 Defense Strategic Guidance, which is but a rehash of the strategic assumptions of the Bush era. In Obama's words from two years ago, our "enduring national interest" is to maintain the unparalleled U.S. military superiority, "ready for the full range of contingencies and threats" amid "a complex and growing array of security challenges across the globe." The Guidance itself asserts that the task of the United States is to "confront and defeat aggression anywhere in the world." This is not a grand strategy but a blueprint for disaster—especially when combined with the interventionists' urge to "confront and defeat" not only aggression as such but also "aggression" resulting from  internal conflicts irrelevant to the American interest (Syria, Ukraine) and putative threats to regional stability (Iran).
Obama is a more reluctant interventionist than McCain or Romney would have been, but he, too, does not recognize the limits of American power and does not correlate that power with this country's security and prosperity. He fails to balance military and nonmilitary, short and long-term capabilities. He rejects the fact that the world is becoming multipolar again, while the relative power of the United States is in steady decline. Obama's absence of a viable grand strategy produces policies that are disjointed, nonsensical, and self-defeating. He is prone, no less than his predecessor, to equate any stated political objective in some faraway land with America's vital interests, without ever offering a coherent definition of those "vital" interests.
On both sides of the duopoly, the ideology of American exceptionalism and the doctrine of global dominance reign supreme. At a time of domestic economic weakness and cultural decline, foreign policy based on the American interest requires prudence, restraint, and a rational link between ends and means. Abroad, it demands disengagement from distant countries of which we know little; at home, a sane immigration policy.
It will not happen.
Memorial Day is when we commemorate our war dead. Like the Fourth of July, Memorial Day is being turned into a celebration of war.
Those who lose family members and dear friends to war don't want the deaths to have been in vain. Consequently, wars become glorious deeds performed by noble soldiers fighting for truth, justice, and the American way. Patriotic speeches tell us how much we owe to those who gave their lives so that America could remain free.
The speeches are well-intentioned, but the speeches create a false reality that supports ever more wars. None of America's wars had anything to do with keeping America free. To the contrary, the wars swept away our civil liberties, making us unfree.
President Lincoln issued an executive order for the arrest and imprisonment of northern newspaper reporters and editors. He shut down 300 northern newspapers and held 14,000 political prisoners. Lincoln arrested war critic US Representative Clement Vallandigham from Ohio and exiled him to the Confederacy. President Woodrow Wilson used WWI to suppress free speech, and President Franklin D. Roosevelt used WWII to intern 120,000 US citizens of Japanese descent on the grounds that race made them suspect. Professor Samuel Walker concluded that President George W. Bush used the "war on terror" for an across the board assault on US civil liberty, making the Bush regime the greatest danger American liberty has ever faced.
Lincoln forever destroyed states' rights, but the suspension of habeas corpus and free speech that went hand in hand with America's three largest wars was lifted at war's end. However, President George W. Bush's repeal of the Constitution has been expanded by President Obama and codified by Congress and executive orders into law. Far from defending our liberties, our soldiers who died in "the war on terror" died so that the president can indefinitely detain US citizens without due process of law and murder US citizens on suspicion alone without any accountability to law or the Constitution.
The conclusion is unavoidable that America's wars have not protected our liberty but, instead, destroyed liberty. As Alexander Solzhenitsyn said, "A state of war only serves as an excuse for domestic tyranny."
Southern secession did pose a threat to Washington's empire, but not to the American people.Neither the Germans of WWI vintage nor the Germans and Japanese of WWII vintage posed any threat to the US. As historians have made completely clear, Germany did not start WWI and did not go to war for the purpose of territorial expansion. Japan's ambitions were in Asia. Hitler did not want war with England and France. Hitler's territorial ambitions were mainly to restore German provinces stripped from Germany as WWI booty in violation of President Wilson's guarantees. Any other German ambitions were to the East. Neither country had any plans to invade the US. Japan attacked the US fleet at Pearl Harbor hoping to remove an obstacle to its activities in Asia, not as a precursor to an invasion of America.
Certainly the countries ravaged by Bush and Obama in the 21st century–Iraq, Afghanistan, Libya, Somalia, Syria, Pakistan, and Yemen posed no military threat to the US. Indeed, these were wars used by a tyrannical executive branch to establish the basis of the Stasi State that now exists in the US.
The truth is hard to bear, but the facts are clear. America's wars have been fought in order to advance Washington's power, the profits of bankers and armaments industries, and the fortunes of US companies. Marine General Smedley Butler said, " I served in all commissioned ranks from a second Lieutenant to a Major General. And during that time, I spent most of my time being a high-class muscle man for Big Business, for Wall Street, and for the bankers. In short, I was a racketeer for capitalism."
It is more or less impossible to commemorate the war dead without glorifying them, and it is impossible to glorify them without glorifying their wars.
For the entirety of the 21st century the US has been at war, not war against massed armies or threats to American freedom, but wars against civilians, against women, children, and village elders, and wars against our own liberty. Elites with a vested interest in these wars tell us that the wars will have to go on for another 20 to 30 years before we defeat "the terrorist threat."
This, of course, is nonsense. There was no terrorist threat until Washington began trying to create terrorists by military attacks, justified by lies, on Muslim populations.
Washington succeeded with its war lies to the point that Washington's audacity and hubris have outgrown Washington's judgment.
By overthrowing the democratically elected government in Ukraine, Washington has brought the United States into confrontation with Russia. This is a confrontation that could end badly, perhaps for Washington and perhaps for the entire world.
If Gaddafi and Assad would not roll over for Washington, why does Washington think Russia will? Russia is not Libya or Syria. Washington is the bully who having beat up the kindergarden kid, now thinks he can take on the college linebacker.
The Bush and Obama regimes have destroyed America's reputation with their incessant lies and violence against other peoples. The world sees Washington as the prime threat.
Worldwide polls consistently show that people around the world regard the US and Israel as the two countries that pose the greatest threat to peace. http://www.ibtimes.com/gallup-poll-biggest-threat-world-peace-america-1525008 and
http://www.jewishfederations.org/european-poll-israel-biggest-threat-to-world-peace.aspx
The countries that Washington's propaganda declares to be "rogue states" and the "axis of evil," such as Iran and North Korea, are far down the list when the peoples in the world are consulted. It could not be more clear that the world does not believe Washington's self-serving propaganda. The world sees the US and Israel as the rogue states.
The US and Israel are the only two countries in the world that are in the grip of ideologies. The US is in the grip of the Neoconservative ideology which has declared the US to be the "exceptional, indispensable country" chosen by history to exercise hegemony over all others. This ideology is buttressed by the Brzezinski and Wolfowitz doctrines that are the basis of US foreign policy.
The Israeli government is in the grip of the Zionist ideology that declares a "greater Israel" from the Nile to the Euphrates. Many Israelis themselves do not accept this ideology, but it is the ideology of the "settlers" and those who control the Israeli government.
Ideologies are important causes of war. Just as the Hitlerian ideology of German superiority is mirrored in the Neoconservative ideology of US superiority, the Communist ideology that the working class is superior to the capitalist class is mirrored in the Zionist ideology that Israelis are superior to Palestinians. Zionists have never heard of squatters' rights and claim that recent Jewish immigrants into Palestine–invaders really–have the right to land occupied by others for millenniums.
Washington's and Israel's doctrines of superiority over others do not sit very well with the "others." When Obama declared in a speech that Americans are the exceptional people, Russia's President Putin responded, "God created us all equal."
To the detriment of its population, the Israeli government has made endless enemies. Israel has effectively isolated itself in the world. Israel's continued existence depends entirely on the willingness and ability of Washington to protect Israel. This means that Israel's power is derivative of Washington's power.
Washington's power is a different story. As the only economy standing after WWII, the US dollar became the world money. This role for the dollar has given Washington financial hegemony over the world, the main source of Washington's power. As other countries rise, Washington's hegemony is imperiled.
To prevent other countries from rising, Washington invokes the Brzezinski and Wolfowitz doctrines. To be brief, the Brzezinski doctrine says that in order to remain the only superpower, Washington must control the Eurasian land mass. Brzezinski is willing for this to occur peacefully by suborning the Russian government into Washington's empire. "A loosely confederated Russia . . . a decentralized Russia would be less susceptible to imperial mobilization." In other words, break up Russia into associations of semi-autonomous states whose politicians can be suborned by Washington's money.
Brzezinski propounded "a geo-strategy for Eurasia." In Brzezinski's strategy, China and "a confederated Russia" are part of a "transcontinental security framework," managed by Washington in order to perpetuate the role of the US as the world's only superpower.
I once asked my colleague, Brzezinski, that if everyone was allied with us, who were we organized against? My question surprised him, because I think that Brzezinski remains caught up in Cold War strategy even after the demise of the Soviet Union. In Cold War thinking it was important to have the upper hand or else be at risk of being eliminated as a player. The importance of prevailing became all consuming, and this consuming drive survived the Soviet collapse. Prevailing over others is the only foreign policy that Washington knows.
The mindset that America must prevail set the stage for the Neoconservatives and their 21st century wars, which, with Washington's overthrow of the democratically elected government of Ukraine, has resulted in a crisis that has brought Washington into direct conflict with Russia.
I know the strategic institutes that serve Washington. I was the occupant of the William E.Simon Chair in Political Economy, Center for Strategic and International Studies, for a dozen years. The idea is prevalent that Washington must prevail over Russia in Ukraine or Washington will lose prestige and its superpower status.
The idea of prevailing always leads to war once one power thinks it has prevailed.
The path to war is reinforced by the Wolfowitz Doctrine. Paul Wolfowitz, the neoconservative intellectual who formulated US military and foreign policy doctrine, wrote among many similar passages:
"Our first objective is to prevent the re-emergence of a new rival, either on the territory of the former Soviet Union or elsewhere [China], that poses a threat on the order of that posed formerly by the Soviet Union. This is a dominant consideration underlying the new regional defense strategy and requires that we endeavor to prevent any hostile power from dominating a region whose resources would, under consolidated control, be sufficient to generate global power."
In the Wolfowitz Doctrine, any other strong country is defined as a threat and a power hostile to the US regardless of how willing that country is to get along with the US for mutual benefit.
The difference between Brzezinski and the Neoconservatives is that Brzezinski wants to suborn Russia and China by including them in the empire as important elements whose voices would be heard, If only for diplomatic reasons, whereas the Neoconservatives are prepared to rely on military force combined with internal subversion orchestrated with US financed NGOs and even terrorist organizations.
Neither the US nor Israel is embarrassed by their worldwide reputations as the two countries that pose the greatest threat. In fact, both countries are proud to be recognized as the greatest threats. The foreign policy of both countries is devoid of any diplomacy. US and Israeli foreign policy rests on violence alone. Washington tells countries to do as Washington says or be "bombed into the stone age." Israel declares all Palestinians, even women and children, to be "terrorists," and proceeds to shoot them down in the streets, claiming that Israel is merely protecting itself against terrorists. Israel, which does not recognize the existence of Palestine as a country, covers up its crimes with the claim that Palestinians do not accept the existence of Israel.
"We don't need no stinking diplomacy. We got power."
This is the attitude that guarantees war, and that is where the US is taking the world. The prime minister of Britain, the chancellor of Germany, and the president of France are Washington's enablers. They provide the cover for Washington. Instead of war crimes, Washington has "coalitions of the willing" and military invasions that bring "democracy and women's rights" to non-compliant countries.
China gets much the same treatment. A country with four times the US population but a smaller prison population, China is constantly criticized by Washington as an "authoritarian state." China is accused of human rights abuses while US police brutalize the US population.
The problem for humanity is that Russia and China are not Libya and Iraq. These two countries possess strategic nuclear weapons. Their land mass greatly exceeds that of the US. The US, which was unable to successfully occupy Baghdad or Afghanistan, has no prospect of prevailing against Russia and China in conventional warfare. Washington will push the nuclear button. What else can we expect from a government devoid of morality?
The world has never experienced rogue states comparable to Washington and Israel. Both governments are prepared to murder anyone and everyone. Look at the crisis that Washington has created in Ukraine and the dangers thereof. On May 23, 2014, Russia's President Putin spoke to the St. Petersburg International Economic Forum, a three-day gathering of delegations from 62 countries and CEOs from 146 of the largest Western corporations.
Putin did not speak of the billions of dollars in trade deals that were being formalized. Instead Putin spoke of the crisis that Washington had brought to Russia, and he criticized Europe for being Washington's vassals for supporting Washington's propaganda against Russia and Washington's interference in vital Russian interests.
Putin was diplomatic in his language, but the message that powerful economic interests from the US and Europe received is that it will lead to trouble if Washington and European governments continue to ignore Russia's concerns and continue to act as if they can interfere in Russia's vital interests as if Russia did not exist.
The heads of these large corporations will carry this message back to Washington and European capitals. Putin made it clear that the lack of dialogue with Russia could lead to the West making the mistake of putting Ukraine in NATO and establishing missile bases on Russia's border with Ukraine. Putin has learned that Russia cannot rely on good will from the West, and Putin made it clear, short of issuing a threat, that Western military bases in Ukraine are unacceptable.
Washington will continue to ignore Russia. However, European capitals will have to decide whether Washington is pushing them into conflict with Russia that is against European interests. Thus, Putin is testing European politicians to determine if there is sufficient intelligence and independence in Europe for a rapprochement.
If Washington in its overbearing arrogance and hubris forces Putin to write off the West, the Russian/Chinese strategic alliance, which is forming to counteract Washington's hostile policy of surrounding both countries with military bases, will harden into preparation for the inevitable war.
The survivors, if any, can thank the Neoconservatives, the Wolfowitz doctrine, and the Brzezinski strategy for the destruction of life on earth.
The American public contains a large number of misinformed people who think they know everything. These people have been programmed by US and Israeli propaganda to equate Islam with political ideology. They believe that Islam, a religion, is instead a militarist doctrine that calls for the overthrow of Western civilization, as if anything remains of Western civilization.
Many believe this propaganda even in the face of complete proof that the Sunnis and Shi'ites hate one another far more than they hate their Western oppressors and occupiers. The US has departed Iraq, but the carnage today is as high or higher than during the US invasion and occupation. The daily death tolls from the Sunni/Shi'ite conflict are extraordinary. A religion this disunited poses no threat to anyone except Islamists themselves. Washington successfully used Islamist disunity to overthrow Gaddafi, and is currently using Islamist disunity in an effort to overthrow the government of Syria. Islamists cannot even unite to defend themselves against Western aggression. There is no prospect of Islamists uniting in order to overthrow the West.
Even if Islam could do so, it would be pointless for Islam to overthrow the West. The West has overthrown itself. In the US the Constitution has been murdered by the Bush and Obama regimes. Nothing remains. As the US is the Constitution, what was once the United States no longer exists. A different entity has taken its place.
Europe died with the European Union, which requires the termination of sovereignty of all member countries. A few unaccountable bureaucrats in Brussels have become superior to the wills of the French, German, British, Italian, Dutch, Spanish, Greek, and Portuguese peoples.
Western civilization is a skeleton. It still stands, barely, but there is no life in it. The blood of liberty has departed. Western peoples look at their governments and see nothing but enemies. Why else has Washington militarized local police forces, equipping them as if they were occupying armies? Why else has Homeland Security, the Department of Agriculture, and even the Postal Service and Social Security Administration ordered billions of rounds of ammunition and even submachine guns? What is this taxpayer-paid-for arsenal for if not to suppress US citizens?
As the prominent trends forecaster Gerald Celente spells out in the current Trends Journal, "uprisings span four corners of the globe." Throughout Europe angry, desperate and outraged peoples march against EU financial policies that are driving the peoples into the ground. Despite all of Washington's efforts with its well funded fifth columns known as NGOs to destabilize Russia and China, both the Russian and Chinese governments have far more support from their people than do the US and Europe.
In the 20th century Russia and China learned what tyranny is, and they have rejected it.
In the US tyranny has entered under the guise of the "war on terror," a hoax used to scare the sheeple into abandoning their civil liberties, thus freeing Washington from accountability to law and permitting Washington to erect a militarist police state. Ever since WWII Washington has used its financial hegemony and the "Soviet threat," now converted into the "Russian threat," to absorb Europe into Washington's empire.
Putin is hoping that the interests of European countries will prevail over subservience to Washington. This is Putin's current bet. This is the reason Putin remains unprovoked by Washington's provocations in Ukraine.
If Europe fails Russia, Putin and China will prepare for the war that Washington's drive for hegemony makes inevitable.
Paul Craig Roberts was Assistant Secretary of the Treasury for Economic Policy and associate editor of the Wall Street Journal. He was columnist for Business Week, Scripps Howard News Service, and Creators Syndicate. He has had many university appointments. His internet columns have attracted a worldwide following. His latest books are, The Failure of Laissez Faire Capitalism and How America Was Lost. http://www.paulcraigroberts.org/
What is now called the Tea Party began in 2007 as a loosely-organized yet highly-motivated grassroots support effort for Congressman Ron Paul's bid for the White House. Since those early days, a lot has happened to the Tea Party.
For one thing, the Tea Party is now much larger and broader than any one person's political candidacy. And though a Tea Party candidate has not yet obtained the White House (Ron Paul was the lone Tea Party Republican candidate in both the 2008 and 2012 presidential elections), a host of Tea Party candidates have won several elections in the US House and Senate–as well as many State and local races. And to win these elections, Tea Party candidates have had to repel the attacks against them from the Republican establishment. In fact, the GOP establishment is far and away the Tea Party's biggest enemy.
Republican leaders such as John Boehner, John McCain, Lindsey Graham, Peter King, etc., have made one of their missions in life to defeat Republican Tea Party candidates–even if those candidates are incumbents. This is for good reason: the establishment Republican Party is diametrically opposed to the goals and principles of the Tea Party.
Based on the positions of most Tea Party candidates (which is all we have to go on as the Tea Party is not a real political party but only a grassroots activist effort being conducted mainly within the Republican Party), the goals and objectives of the Tea Party can be summarized generally as follows:
They support a non-interventionist foreign policy.
They support the Constitution and recognize the current attacks against the Constitution, especially against the Second, Fourth, and Tenth Amendments.
They oppose the NSA spying on the American citizenry (including the use of drones for such purposes).
They oppose the Patriot Act and the militarization of the Department of Homeland Security as well as local and State law enforcement agencies.
They oppose the Import-Export Bank.
They oppose the Federal Reserve Bank.
They oppose CISPA.
They oppose the indefinite detention provision of the NDAA.
They support ending the 2001 Authorization for the Use of Military Force (AUMF).
They support limited government spending–especially at the federal level.
One can easily see that many, if not most, of these goals and objectives are diametrically opposite the goals and objectives of the establishment Republican machine. And more than anything else, the Republican leadership in Washington, D.C., wants GOP congressmen and senators to be "team players." Of course, by "team players" they mean good little Republican robots that will not buck party leadership.
Since Representative Ron Paul retired, the Tea Party leader in the U.S. House is Justin Amash of Michigan. And working side-by-side Rep. Amash is Congressman Thomas Massie of Kentucky. In the U.S. Senate, the Tea Party is being led by men such as Rand Paul of Kentucky, Mike Lee of Utah, and Ted Cruz of Texas. There are several other Tea Party supporters in both the U.S. House and Senate, of course. It is no accident or coincidence that each of these congressmen and senators has incurred (and continue to incur) the wrath of establishment Republican leaders.
Congressman Peter King (R-NY) reserves his harshest rhetoric, not for any Democrat, but for Senator Rand Paul. King said that Rand Paul "disgraced his office," he "doesn't deserve to be in the U.S. Senate," and he "tells absolute lies." Karl Rove has repeatedly lambasted Justin Amash. House Speaker Boehner has spearheaded well-financed opposition to Amash's reelection campaign this year. Senator John McCain (the GOP standard bearer in 2008) recently called Amash, Paul, and Cruz "wacko birds." So much for Ronald Reagan's 11th Commandment to not speak evil of fellow Republicans. It would appear that commandment only applies to not criticizing the GOP establishment, while Republicans espousing Tea Party convictions are open-season for Republican leaders to lampoon and lambast without mercy.
Earlier this month, the GOP establishment spent over $1 million in a single House district race in an attempt to defeat 20-year Republican incumbent Walter Jones. The reason? Jones has a history of voting against the wishes of the party establishment–especially concerning the freedom issues listed above. Thankfully, they failed.
But all over the country, in national, State, and local elections, the GOP establishment is working feverishly to keep Tea Party candidates out of office or to defeat incumbent Republicans who support the Tea Party agenda. In fact, one way I can tell whether a candidate deserves my support or not is by the support or opposition he or she receives from the GOP establishment. If the Republican establishment supports him or her, I can pretty much know that I should vote for someone else.
The reason that Boehner, Karl Rove, and other big-government Republican leaders are trying so hard to defeat Justin Amash in particular is due to the fact that Amash has quietly but effectively spearheaded the momentum of small-government conservatives on Capitol Hill. Since the retirement of Ron Paul, Amash has successfully formed a potent coalition of constitutionally-minded Republicans within the Tea Party movement. He calls his coalition the "House Liberty Caucus." Of course, most of the framework for this caucus was put together by former Congressman Ron Paul.
Since Justin Amash was elected to the House and Rand Paul was elected to the Senate in 2010, eight of the eleven Ron Paul-endorsed congressional candidates won elections in 2012, including Senator Ted Cruz. All of these folks had significant Tea Party support. Boehner and Rove have reason to be worried. No wonder Amash's establishment-endorsed opponent has over $1 million to spend trying to oust him. No wonder the U.S. Chamber of Commerce (a long-time establishment organization) has unveiled a $50 million war chest designed to defeat Tea Party congressmen nationwide.
And please know this, too: the establishment has done its best to infiltrate the Tea Party so as to dilute its message and weaken its effectiveness. In fact, some Tea Parties around the country are now mostly dominated by establishment neocons. Thank God, many, if not most, of the Tea Parties around the country are still mostly comprised of strong, constitutionally-minded, non-establishment folks who refuse to bow to the GOP hierarchy. But we must be aware of the neocon infiltration that has taken place among many Tea Parties.
In virtually every political race this year–including national, State, county, and city–the establishment will be working tirelessly to elect their hand-picked neocons. When you hear Tea Party-type candidates being lampooned as "wacko" or "far right," etc., when you hear their critics and detractors say, "He can't win," please understand that you are listening to an establishment elitist whose job is to undermine the candidacies of those folks who refuse to go along with the establishment. Many of these critics will call themselves "conservatives." They will say they are simply being "pragmatic" and "reasonable." Hogwash! What they are doing is trying to ensure that non-establishment candidates never get elected.
The future of the Republican Party–or even if there is a Republican Party in the future–depends on the next few elections and whether or not the establishment will be able to bully and buy-off the votes of the American people. When John Boehner, John McCain, Lindsey Graham, Jeb Bush, Karl Rove, etc., demand that Congress provide amnesty for illegal aliens, when they try to ram their elitist, big-government agenda down the throats of congressmen and senators, when they spend hundreds of millions of dollars trying to defeat Tea Party Republicans, you can rest assured that they are not seeking the welfare of the country or even of the Republican Party.
The big-government establishment doesn't give a flip about freedom, the Constitution, or even the constituent back home. What they care about is THEM. They have become part of a wealthy and powerful cabal of miscreants who are going to be well-taken-care-of NO MATTER WHAT. They are themselves the pawns of evil power-brokers; and in order to survive, they must make sure that there are other pawns coming to Washington, D.C., to keep the power base intact.
This is a war. It is not only a political war; it is a spiritual war. It is a war for both the soul of the Republican Party (which at present, there isn't much of one left) and the soul of the country. It would really help if our pastors and churches could awaken to this war and help us fight it. The establishment knows it's a war; and they are fighting it with every ounce of energy in their collective being. And they have declared the Tea Party as public enemy number one.
What started as one congressman's presidential bid back in 2007 has now become a full-blown assault on the big-government establishment in Washington, D.C.–and around the country. The result is there is now a small army of Ron Pauls on Capitol Hill.
I urge you to ignore the shills of the establishment and go to the polls in the primaries this year and elect as many non-establishment candidates as you possibly can. Let's give Karl Rove and John Boehner something to really worry about.
China is an economic powerhouse. It's the world's second largest economy. It's heading for number one status.
Perhaps sooner than most expect. It's growth way outdistances America. It's multiples greater.
Russia matches Washington's military might. It does so in nuclear weapons strength. With sophisticated delivery systems.
Able to strike global targets accurately. With hugely destructive force. Enough to decimate potential adversaries. Perhaps to discourage potential aggression.
Russia is rich in what China needs most. Oil and gas mainly. Technological expertise. Industrial equipment. Sophisticated weapons.
Each nation is significant separately. They're able to challenge America responsibly.
Together they're a powerful combination. A force for world peace. For multi-polarity. For humanity. For weakening Washington's imperium.
Sino-Russian ties stress unity. They're strategically important. They're stronger than ever in modern times.
They're deepening. They expanding. Washington is increasingly concerned. It's going all-out to subvert what weakens its strength.
It's waging political, economic and cyberwar. It's fighting a losing battle. Sino/Russian unity is odds on to prevail.
Especially with committed ties. With deepening ones. With stronger than ever ones.
On Tuesday, Putin arrived in Shanghai. It's China's financial capital. He came to finalize a "Holy Grail" trade deal. It's enormously important.
It bonds both countries more closely together. It does so politically economically, commercially and militarily.
Both countries will trade increasingly in their own currencies. They'll strengthen them. They'll bypass dollar transactions. They'll weaken it.
Russia will supply China with around 38 billion cubic million meters of natural gas annually. For the next 30 years.
It may double in size ahead. Depending on China's internal needs.
Other increased trade was agreed on. In technological, industrial, and commercial sectors. In military hardware.
Growing Sino-Russian trade lessens reliance on increasingly undependable Western sources. It gives them less access to their markets.
Putin and Chinese President Xi Jinping reject irresponsible US-led Western bashing. They called sanctions political tools.
They condemned "encouraging and financing" Washington's regime change agenda.
The President of Russia's web site headlined "Russian-Chinese talks." Both leaders met in Shanghai.
They "signed a Joint Declaration of the Russian Federation and the People's Republic of China on the new stage of comprehensive partnership and strategic cooperation between the two countries."
They "witnessed the signing of a package of intergovernmental, interdepartmental and commercial documents on cooperation in the economy, trade, energy and the humanitarian areas."
They issued a joint statement. "(A)mbitious goals" were agreed on, it said. "(L)ong-term milestones" were established.
"(I)mportant bilateral documents" were signed. "Relations between Russia and the People's Republic of China are developing successfully and have reached a new level of comprehensive partnership and strategic cooperation," it stressed.
"(S)pecial attention (was on) economic issues. China is Russia's leading foreign trade partner."
A Sino/Russian Investment Committee was established. Its mandate is expanding economic and financial ties.
It's "diversifying trade." It's "reducing…dependence on global economic" conditions.
It's promoting cooperation in "technology-intensive areas." They include industrial, commercial, banking and military areas.
They're increasing bilateral ruble/renminbi trade. It bears repeating. Doing so bypasses dollar transactions. It weakens dollar strength.
Putin said "the historical memory of the great heroism of our peoples in World War II brings Russia and China even closer."
Both leaders agreed to hold joint celebrations. They'll commemorate "the 70th anniversary of Victory."
Other international issues were discussed. They include common geopolitical ones. Similar priorities are shared. Closer coordination is planned.
Sino/Russian unity, partnership and friendship were strengthened. It's a "new stage" in "strategic relations."
Strong bilateral relations are a force to be reckoned with. It promises to be more so ahead.
Moscow remains justifiably angry. It's enraged about Washington elevating Kiev putschists to power. Rogue EU partners share blame.
Putin and Xi said crisis conditions can only be resolved diplomatically. They demand dialogue. They reject confrontation.
They "urged all Ukrainian regions and public and political groups to enter in broad nationwide talks…"
They want responsible governance. They want legitimate constitutional development.
They want "universally recognized rights and freedoms of people" observed.
Sergey Lavrov said Russian/EU/US-led NATO relations need fundamental reconsideration.
They require "essential rethinking," he said. Disagreements must be resolved diplomatically, he stressed.
US-led NATO created Ukrainian crisis conditions. Russia targeting followed.
Western forces irresponsibly expand eastward. Encroaching on Russia's borders threatens its heartland.
Bilateral relations are jeopardized. East/West confrontation is risked. So is world peace.
The road to Moscow runs through Kiev. Junta power has no legitimacy. Fundamental freedoms are targeted.
Eliminating them altogether is planned. Hardline rules runs things. Opposition isn't tolerated.
Free expression is verboten. Putschists want their message alone getting out. They want vital truths suppressed.
Independent journalists aren't safe. Russian LifeNews ones were targeted.
Oleg Sidyankin and Marat Saichenk were harassed. They were arrested. They're detained. They're held incommunicado.
Their lives potentially are endangered. They're charged with "aiding terrorist groups."
They released damning video images. They showed Kiev military forces using UN-marked attack helicopters against their own people."
Air and ground assaults murder them in cold blood. Kiev wants this type information buried.
It wants reliable news sources eliminated. RT International's stringer journalist Graham Phillips was arrested.
He explained by phone before silenced incommunicado, saying:
"I'm sitting at a blockade post in a portacabin. The dialogue is quite interrogation oriented."
His car was searched. His laptop, equipment and personal belongings were confiscated.
"At the moment I'm with the Ukrainian forces…near Mariupol," he said. "I've been here for over two hours and I've been described, my status, as being detained in terms of I can't leave."
"I would also say I'm being treated OK…I believe that someone is coming."
"They've done checks on my documentation. They found my reports and clips I've done and they're now looking through them asking me my position on things, asking if I'm a spy, and asking me quite thorough questions."
"They've checked all my documentation and photos, my laptop and the car. So that's who I'm with at the moment."
He was asked about separatism. About working with RT. He "describ(ed) (his) position on Crimea."
He called its referendum legitimate. He stands by his position, he said.
He called Kiev's government illegitimate. It "isn't democratic. I don't support this current situation in the east of Ukraine," he said.
In Donetsk and Lugansk regions. He called attacking Eastern Ukrainians "completely wrong."
At the same time, he "maintains complete objectivity and neutrality as a correspondent."
His bulletproof jacket and helmet were confiscated. He's unharmed so far, he said. Incommunicado since cut off there's no way to know for sure.
Right Sector thugs targeted him. They put a bounty on his head. They offered $10,000 for his capture.
They called him a "Russian spy." His life's endanger in their hands. Or in sight to be shot in cold blood.
Radicalized Kiev elements posted a Facebook comment. He "works for terrorists," it said.
"(H)e photographs and publishes the location of Ukrainian troops…"
He "spreads disinformation. (He publishes) Putin's propaganda in the media."
"He must be immediately detained by Ukrainian forces ad deported from Ukraine." Orders come from "EuroMaidan leaders," it claimed.
Russia's Foreign Ministry condemned his detention. Its human rights commissioner Konstantin Dolgov called it media obstruction.
"This is another step…made by Ukrainian authorities to curb the activities of unwanted journalists," he said.
They "work professionally and show an objective picture, the ugly side of the outrages made by ultranationalists, the results of (Kiev putschists') punitive operation in the southeast," he stressed.
Seizing Phillips constitutes an "unlawful seizure, detention of Russian journalists." Moscow demands all lawlessly detained media representatives be released.
Kiev "continues its vicious line," Dolgov added. Coup-appointed officials spurn their "international obligations concerning freedom of speech."
They target media freedom. They want it eliminated altogether. They want their message alone reported. They want truth buried.
They want fascist putschist power enhanced. They deplore democratic values.
They want ordinary Ukrainians having no say. Polls show their popularity eroding. They risk losing it overwhelmingly.
Perhaps nationwide rebellion will follow. When ruthlessness exceeds levels too great to tolerate, all bets are off.
The only solution is nonviolent revolution. Perhaps just a matter of time. It can't happen a moment too soon.
Stephen Lendman lives in Chicago. He can be reached at lendmanstephen@sbcglobal.net.
His new book as editor and contributor is titled "Flashpoint in Ukraine: US Drive for Hegemony Risks WW III."
http://www.claritypress.com/LendmanIII.html
Visit his blog site at sjlendman.blogspot.com.
On the surface, the economic atmosphere of the U.S. has appeared rather calm and uneventful. Stocks are up, employment isn't great but jobs aren't collapsing into the void (at least not openly), and the U.S. dollar seems to be going strong. Peel away the thin veneer, however, and a different financial horror show is revealed.
U.S. stocks have enjoyed unprecedented crash protection due to a steady infusion of fiat money from the Federal Reserve known as quantitative easing. With the advent of the "taper", QE is now swiftly coming to a close (as is evident in the overall reduction in treasury market purchases), and is slated to end by this fall, if not sooner.
Employment has been boosted only in statistical presentation, and not in reality. The Labor Department's creative accounting of job numbers omits numerous factors, the most important being the issue of long term unemployed. Millions of people who have been jobless for so long they no longer qualify for benefits are being removed from the rolls. This quiet catastrophe has the side bonus of making it appear as though unemployment is going down.
U.S. Treasury bonds, and by extension the dollar, have also stayed afloat due to the river of stimulus being introduced by the Federal Reserve. That same river, through QE, is now drying up.
In my article The Final Swindle Of Private American Wealth Has Begun, I outline the data which leads me to believe that the Fed taper is a deliberate action in preparation for an impending market collapse. The effectiveness of QE stimulus has a shelf-life, and that shelf life has come to an end. With debt monetization no longer a useful tool in propping up the ailing U.S. economy, central bankers are publicly stepping back. Why? If a collapse occurs while stimulus is in full swing, the Fed immediately takes full blame for the calamity, while being forced to admit that central banking as a concept serves absolutely no meaningful purpose.
My research over many years has led me to conclude that a collapse of the American system is not only expected by international financiers, but is in fact being engineered by them. The Fed is an entity created by globalists for globalists. These people have no loyalties to any one country or culture. Their only loyalties are to themselves and their private organizations.
While many people assume that the stimulus measures of the Fed are driven by a desire to save our economy and currency, I see instead a concerted program of destabilization which ismeant to bring about the eventual demise of our nation's fiscal infrastructure. What some might call "kicking the can down the road," I call deliberately stretching the country thin over time, so that any indirect crisis can be used as a trigger event to bring the ceiling crashing down.
In the past several months, the Fed taper of QE and subsequently U.S. bond buying has coincided with steep declines in purchases by China, a dump of one-fifth of holdings by Russia, and an overall decline in new purchases of U.S. dollars for FOREX reserves.
With the Ukraine crisis now escalating to fever pitch, BRIC nations are openly discussing the probability of "de-dollarization" in international summits, and the ultimate dumping of the dollaras the world reserve currency.
The U.S. is in desperate need of a benefactor to purchase its ever rising debt and keep the system running. Strangely, a buyer with apparently bottomless pockets has arrived to pick up the slack that the Fed and the BRICS are leaving behind. But, who is this buyer?
At first glance, it appears to be the tiny nation of Belgium.
While foreign investment in the U.S. has sharply declined since March, Belgium has quickly become the third largest buyer of Treasury bonds, just behind China and Japan, purchasing more than $200 billion in securities in the past five months, adding to a total stash of around $340 billion. This development is rather bewildering, primarily because Belgium's GDP as of 2012 was a miniscule $483 billion, meaning, Belgium has spent nearly the entirety of its yearly GDP on our debt.
Clearly, this is impossible, and someone, somewhere, is using Belgium as a proxy in order to prop up the U.S. But who?
Recently, a company based in Belgium called Euroclear has come forward claiming to be the culprit behind the massive purchases of American debt. Euroclear, though, is not a direct buyer. Instead, the bank is a facilitator, using what it calls a "collateral highway" to allow central banks and international banks to move vast amounts of securities around the world faster than ever before.
Euroclear claims to be an administrator for more than $24 trillion in worldwide assets and transactions, but these transactions are not initiated by the company itself. Euroclear is a middleman used by our secret buyer to quickly move U.S. Treasuries into various accounts without ever being identified. So the question remains, who is the true buyer?
My investigation into Euroclear found some interesting facts. Euroclear has financial relationships with more than 90 percent of the world's central banks and was once partly owned and run by 120 of the largest financial institutions back when it was called the "Euroclear System". The organization was consolidated and operated by none other than JP Morgan Bank in 1972. In 2000, Euroclear was officially incorporated and became its own entity. However, one must remember, once a JP Morgan bank, always a JP Morgan bank.
Another interesting fact – Euroclear also has a strong relationship with the Russian government and is a primary broker for Russian debt to foreign investors. This once again proves my ongoing point that Russia is tied to the global banking cabal as much as the United States. The East vs. West paradigm is a sham of the highest order.
Euroclear's ties to the banking elite are obvious; however, we are still no closer to discovering the specific groups or institution responsible for buying up U.S. debt. I think that the use of Euroclear and Belgium may be a key in understanding this mystery.
Belgium is the political center of the EU, with more politicians, diplomats and lobbyists than Washington D.C. It is also, despite its size and economic weakness, a member of an exclusive economic club called the "Group Of Ten" (G10).
The G10 nations have all agreed to participate in a "General Arrangement to Borrow" (GAB) launched in 1962 by the International Monetary Fund (IMF). The GAB is designed as an ever cycling fund which members pay into. In times of emergency, members can ask the IMF's permission for a release of funds. If the IMF agrees, it then injects capital through Treasury purchases and SDR allocations. Essentially, the IMF takes our money, then gives it back to us in times of desperation (with strings attached).  A similar program called 'New Arrangements To Borrow' (NAB) involves 38 member countries.  This fund was boosted to approximately 370 billion SDR (or $575 billion dollars U.S.) as the derivatives crisis struck markets in 2008-2009.  Without a full and independent audit of the IMF, however, it is impossible to know the exact funds it has at its disposal, or how many SDR's it has created.
It should be noted the Bank of International Settlements is also an overseer of the G10. If you want to learn more about the darker nature of globalist groups like the IMF and the BIS, read my articles, Russia Is Dominated By Global Banks, Too, and False East/West Paradigm Hides The Rise Of Global Currency.
The following article from Harpers titled "Ruling The World Of Money," was published in 1983 and boasts about the secrecy and "ingenuity" of the Bank Of International Settlements, an unaccountable body of financiers that dominates the very course of economic life around the world.
It is my belief that Belgium, as a member of the G10 and the GAB/NAB agreements, is being used as a proxy by the BIS and the IMF to purchase U.S. debt, but at a high price. I believe that the banking elite are hiding behind their middleman, Euroclear, because they do not want their purchases of Treasuries revealed too soon. I believe that the IMF in particular is accumulating U.S. debt to be used later as leverage to absorb the dollar and finalize the rise of their SDR currency basket as the world reserve standard.
Imagine what would happen if all foreign creditors abandoned U.S. debt purchases because the dollar was no longer seen as viable as a world reserve currency.  Imagine that the Fed's efforts to stimulate through fiat printing became useless in propping up Treasuries, serving only to devalue the domestic buying power of our currency.  Imagine that the IMF swoops in as the lender of last resort; the only entity willing to service our debt and keep the system running.  Imagine what kind of concessions America would have to make to a global loan shark like the IMF.
Keep in mind, the plan to replace the dollar is not mere "theory".  In fact, IMF head Christine Lagarde has openly called for a "global financial system" to take over in the place of the current dollar based system.
The Bretton Woods System, established in 1944, was used by the United Nations and participating governments to form international rules of economic conduct, including fixed rates for currencies and establishing the dollar as the monetary backbone. The IMF was created during this shift towards globalization as the BIS slithered into the background after its business dealings with the Nazis were exposed. It was the G10, backed by the IMF, that then signed the Smithsonian Agreement in 1971 which ended the Bretton Woods system of fixed currencies, as well as any remnants of the gold standard. This led to the floated currency system we have today, as well as the slow poison of monetary inflation which has now destroyed more than 98 percent of the dollar's purchasing power.
I believe the next and final step in the banker program is to reestablish a new Bretton Woods style system in the wake of an engineered catastrophe. That is to say, we are about to go full circle. Perhaps Ukraine will be the cover event, or tensions in the South China Sea. Just as Bretton Woods was unveiled during World War II, Bretton Woods redux may be unveiled during World War III. In either case, the false East/West paradigm is the most useful ploy the elites have to bring about a controlled decline of the dollar.
The new system will reintroduce the concept of fixed currencies, but this time, all currencies will be fixed or "pegged" to the value of the SDR global basket. The IMF holds a global SDR summit every five years, and the next meeting is set for the beginning of 2015.
If the Chinese yuan is brought into the SDR basket next year, if the BRICS enter into a conjured economic war with the West, and if the dollar is toppled as the world reserve, there will be nothing left in terms of fiscal structure in the way of a global currency system. If the public does not remove the globalist edifice by force, the IMF and the BIS will then achieve their dream – the complete dissolution of economic sovereignty, and the acceptance by the masses of global financial governance. The elites don't want to hide behind the curtain anymore. They want recognition. They want to be worshiped. And, it all begins with the secret buyout of America, the implosion of our debt markets, and the annihilation of our way of life.
Source:  Brandon Smith | Alt-Market
Origin of the Master Model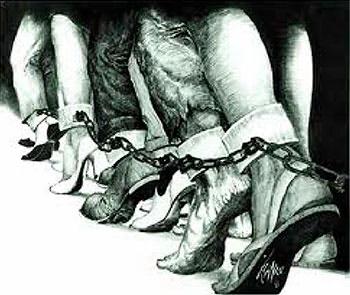 The master plan for world domination we see playing out today was first proposed to the US at the end of World War I. However, there were no takers. People were too war weary. However, when the plan was again proposed at the end of World War II, it was accepted. Consequently, World War II quietly transitioned into the secret "war" to set up what has become known as the "new world order" — an absolute dictatorship over the entire planet.
The United States set up the School of the Americas to train future dictators and terrorists who would be sent out into the world to destroy sovereign nations and place them under US domination by installing puppet governments obedient to the United States. Many conquests were made quietly using clever economic tricks [2]. However, leaders who refused to submit quietly would see their entire country reduced to rubble and the land rendered unlivable by uranium dust scattered by US bombs. The message was clear: Submit to the United States or face total destruction.
A social model based upon the assumption that cleverness and power automatically convey the right to take anything desired from those who are less adept and unable to resist is not a sustainable model for harmonious social interactions. However, this is the chosen model. The mantra for this model, "A man's true worth is measured by the amount of other peoples' happiness that he can possess and destroy" [1], is essentially a call for a class war between the greedy elite and the innocent masses of the world who simply desire a peaceful existence.
Acquisitions
The United States looks at the rest of the world as a "resource". If a country has something — oil, gold, minerals, etc. — that the US covets, it believes it has the right to take those things by whatever means necessary. In many cases the coveted resource is human slave labor. Let's look at some representative examples:
With the cooperation of the dictator, United Fruit Company (US) owned almost half of the country and used the locals as slaves to harvest its Chiquita brand bananas. However, during the period from 1945-1954 new leaders made changes. They helped the poor and set up social security and health care. Then they took land away from United Fruit and gave it to the local people. United fruit complained to the CIA that its business interests were being interfered with by the "communist" government. Any government which shows kindness to the poor and weak is called communist by the US. The US attacked Guatemala — killed the elected leaders and many thousands of citizens — and established a puppet dictatorship which would obey the will of United Fruit. The people were returned to a state of slavery. The CIA trained death squads to make sure the people were crushed into submission.
Strip Mining in Africa [4]
In Africa, the International Monetary Fund — a puppet of the US — destroys a country with strip mining. The original country was self sustaining. People were able to grow lots of food and hunt animals. However, once the land was ruined by US corporations, it was unusable to plant crops and the native animals died. The people had to buy food from other countries with money loaned to them by the IMF which they could never hope to repay. Therefore, a once free and self supporting people were made debt slaves of the IMF. Once all the natural resources have been stolen, the corporations will simply pack up and leave the indigenous people to starve and die.
Countries Used as Trash Dumps [5]
Used computers and associated items are dumped in poor countries where starving barefoot children sift through the mess of hazardous waste and broken obsolete glass computer monitors hoping to find something they can sell to get enough money to stay alive another day. Property stickers show the waste is mainly from the US government and various US state governments.
Corruption of Trusted Sources
Reporters and News Organizations
The masses are conditioned to believe news they receive from establishment sources. In the earlier times, this assumption was often correct. It was considered so important by the founding fathers that freedom of the press was enshrined in the US constitution. However, times have changed.
Walter Cronkite was known as the "trusted voice". No one knew he was also the official announcer at the secret Bohemian Grove meetings. The leaders of the world's news organizations also attend this event. That is why, even though the meetings began over one hundred years ago, until recently no one knew this group even existed. President George W. Bush may have set a new record for bribing journalists to allow their trusted name to be used as the author of material actually written by government propaganda experts. Apparently, everyone has a price and the government, of course, has no problem when it comes to money.
When Ronald Reagan reportedly ordered the death of investigative reporter Jessica Savitch [6], the message to independent journalists was clear: Go against the official party line an you're done!
Today, dedicated journalists face mysterious deaths and strange single car accidents but a few survive long enough to give us a glimpse of truths we would otherwise never know. They are true heroes.
Churches
Churches are everywhere. Unfortunately, legitimate Spiritual teachers are not. People look at churches either as harmless or with some sort of conditioned hypnotic respect. Churches send out "missionaries". However, the "mission" of these missionaries may not be so clear. If you wanted to infiltrate a foreign country, these people would be an ideal asset.
Churches are not Spiritual centers. At best, all they want is your money. At worst, they are Satanic and you are in severe Spiritual danger if you come under their influence and control.
The Catholic Church has been a trusted asset of the US intelligence community for quite some time. Significant information obtained by priests during confessions is routinely passed on to the government.
This agreement predates the internet by many years. Because the church has branches in almost every country, it has great potential for covert activities. For example, if you need to get an operative who is in danger out of a country, they can go to a Catholic church for "confession". Once the door is closed, they can exit through a secret passage, be disguised in robes and spirited safely out of the country. Church secrecy is at least on a par with US secrecy. Also, the Catholic church and the US shadow government share the same Satanic value system and engage in child rape and ritual killings.
Doctors and the Medical Industry
Medicine in the United States is an industry. It is no longer a profession. Its corporate model puts profit above all else. If some patients accidentally benefit they are the lucky ones.
The medical community has a rigid hierarchical structure and effective mechanisms for enforcing secrecy. Essentially, its model closely resembles the military chain of command structure. This makes it a perfect partner for the government in the area of secret human experiments.
For example, when the government was doing radiation experiments on humans, a doctor or someone dressed as a doctor would just walk up to unsuspecting patients and inject them with radioactive material. They were then secretly followed for years to see what would happen. Eventually, some of those who survived were told the truth. Most people used in the MK Ultra and subsequent secret projects were never notified.
Hospitals are set up to protect themselves. Staff may appear to be dedicated, smiling people who truly care about you. However, they are basically prostitutes who are being nice because you are worth money to them. When they make mistakes they have a "loss prevention" department staffed by clever lawyers who are trained to protect the financial interests of the hospital by denying everything and fabricating believable coverups. They are trained to do whatever is necessary. The staff will all agree to support whatever lies are needed. They know their job and their financial future depends upon maintaining strict secrecy.
The only people who receive legitimate medical care are the select elite cleared to accesstop secret medicine. These people always get excellent care because the doctors work for the shadow government and mistakes on their part are simply not tolerated.
Infiltrations
Countries which have the resources to sustain an intelligence community generally try to get operatives (spies) into other countries so they can directly observe activities. When real people gather intelligence, this is called human intelligence or HUMINT. The US, of course, does this too. However, you may not be aware of the extent to which the US also infiltrates itself. The central government really does not trust anyone.
Essentially all local police departments, state offices and state governors have a covert federal agent working close by pretending to be just another employee. Also, every US neighborhood has an informer who reports to the federal government. Large corporations, which tend to behave like "mini governments", need to be infiltrated and kept under observation. Colleges and universities are also monitored.
Here is how this spy network operates: The NSA likes to recruit young kids right out of college. When they are hired and sworn to secrecy they still do not know what their assignment will be. They must agree to do this assignment without first being told what it is.
Some agents, like John Perkins [2], are assigned to work in other countries. However, others are assigned to work inside the US. Their assignment could be to go to some state and apply to join the local police department. They would pretend to be just a regular person looking for a job. They would take the necessary training and spend their life as a local policeman so they could directly observe other local police from the inside and report to the NSA. Since they are actually an employee of the NSA, presumably they get to keep both salaries and, eventually, both retirements. All significant local police forces in the US are infiltrated this way.
Additionally, some agents will be assigned to get a job on the state governor's staff as well as in major local state agencies. A CIA or NSA agent is always on the staff at major colleges and universities. The same goes for major corporations.
Senior level agents are allowed to have special TV receivers in their homes linked to the secret government TV network. This way everyone stays on the same page. The channels on this network actually broadcast the truth. TV channels available to ordinary people contain only government approved propaganda mixed with "bread and circuses" presentations to make sure the sheeple stay asleep and content.
Fronts
The US government is involved in illegal activities internationally and domestically. If it performed these activities overtly in the name of the United States, there would be serious consequences under both international and local laws. To avoid this situation, the US government operates thousands of "front organizations" which appear to be private but are actually shadow operatives of the US.
For example, John Perkins [2] explained that he was recruited, hired and trained by the NSA. He was an NSA agent. However, for his cover as an economic hit man, he "officially" worked for a "private" company called Charles T. Main. This company was a government front to shield the US because the activities the NSA trained Perkins to do were illegal.
This is standard operating procedure for the US as well as other countries and many corporations. It shields them from legal recourse by providing deniability for the crimes they actually direct and commit.
Generally, when the US wants to influence other sovereign countries, it creates harmless looking NGO's which appear to be independent but are actually fronts for covert activities.
Domestically, colleges and universities — especially those with associated medical schools and hospitals — are great places to conceal a variety of covert projects such as the MK Ultra series of human experiments which, reportedly, continue today using new cover names. The US also likes to create non-profit corporations which exist only to provide classified services to the United States. A good example would be the Institutes for Defense Analysis (IDA). The US, reportedly, is its only client.
Programming
Mass media "programming" is actually programming you. It has developed into a subtle form of mind control. Before radio and television, special interests recognized that motion pictures could be used to alter public opinion in their favor. Perhaps, for example, you wanted to attack labor unions. When radio and later television came along providing access to national and international audiences, the temptation to exploit these technologies became irresistible. Originally, the US government recognized this and set up fairness rules to prevent monopolies from taking over the broadcast media and blocking opposing viewpoints. All this ended, unfortunately, when Ronald Regan canceled all the fairness regulations. Today, a handful of powerful corporations own and control essentially all content delivered by radio and television.
Television is the main vehicle for mass indoctrination. It is said that people watching TV actually fall into a light hypnotic trance. The "entertainment" you see on TV does not "just happen to be there". It is very carefully planned and timed to attract and influence targeted audiences. It is said that if some event were to somehow shut down all television broadcasts the government would experience a severe crisis because it would lose control over the minds of the masses.
TV creates sort of a "hive mind" among the masses and keeps everyone coordinated and tuned into the official party line. Without this, people would have no choice but to start thinking for themselves and forming independent opinions. Clearly, this would be a disaster.
The radio broadcast of "War of the Worlds" and the later movie "The Day the Earth Stood Still" are said to be CIA psychological experiments to judge how the general public would react to some type of ET contact.
Today, broadcasting is not just a one way event. Because people react to events and use social media to express these reactions, the effect of specific propaganda can be analyzed in real time. Since the government now intercepts all electronic communications, it is able to see general opinions and then tweak algorithms to maximize the desired effect of propaganda. This ability makes TV a two-way communications system although most people, of course, do not realize this and have no concept of the level of sophistication these technologies have reached.
Information Theory
Information Theory is the name of a relatively new branch of science which became popular in the 1960′s. It covers a broad range of technologies. Basically, it is the science of the flow of information and how that flow can be selectively controlled so that information flows only in desired pathways. As you may have already guessed, governments love this sort of stuff.
ECM
ECM stands for Electronic Counter Measures. In general, these are techniques to disable other electronic devices. Basically, it is electronic warfare. When the secret service is active in an area, for example, they will selectively jam all radio frequencies except for the specific frequencies they are using so that no one else can communicate.
World leaders, who are generally terrified of "threats" materializing from practically anywhere, like to travel with ECM generators running just in case "someone" from "somewhere" was trying to target them for "some reason". Basically, they are paranoid whack jobs.
People familiar with aviation tell the story of how Tony Blair, while traveling to or near a commercial airport, reportedly caused a commercial jet to crash because all the ECM garbage he was transmitting jammed the plane's navigation system. Of course, the British government would never admit this.
Secure Communication With Submarines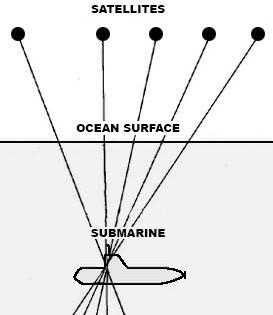 Since submarines were invented, communicating with them has been a problem because conventional radio waves will not travel underwater. Therefore, early submarines had to get close enough to the surface to put up some kind of antenna in the air to send or receive radio messages. Obviously, this could pose a problem if you did not wish to be discovered and located. After all, the motivation to create submarines in the first place was the feeling that they would be able to move about the planet secretly. However, newer technologies now make this impossible.
To solve the problem of reliable secure communication without the need to surface, scientists learned that sea water was essentially transparent to a special type of Argon laser. To set up the current communications network, it was decided to use several satellites with each satellite sending only part of an encrypted communication signal. The complete signal could only be received at a specific point underwater where all the laser beams intersected. Intercepting only one or two beams would prove useless. This communications system is considered to be impossible to intercept.
Quantum Entanglement
Returning to the submarine issue for a moment, before modern communications were perfected, there was a search for some reliable method to send a signal to a submerged submarine that could not be detected. This was considered necessary in a war situation to secretly transmit an attack command. What they originally did was to locate a couple of people who could communicate telepathically. One would be at the command base and the other on the submarine. Doing a bit more research, it was determined that this type of communication is instantaneous and somehow operated outside of time. Radio waves travel at the speed of light.
Quantum entanglement is a process which uses technology to send and receive signals outside of space-time. Now, why would you possibly want to do this? Well, if you had a base or a colony on a planet in some other solar system light years away, you would not want to wait years for messages to be received. Following this thread — and adding some basic common sense — why would you want to dedicate resources to search for habitable planets in distant solar systems when you had already "proven" it would be impossible to ever get there? Could it just be that someone is not coming clean with whole story?
The Separation Barrier
This is a model of the separation barrier which insulates the ruling class from the slave class. It is essentially "intellectual apartheid". The question is, why is it there. It takes considerable effort, money and manpower to maintain this artificial barrier. What is the reasoning behind not having a level playing field for everyone? Why does this idea absolutely terrify the elite? What are they afraid of?
The Pirate Story
This is a summary of a story told years ago on a radio broadcast most likely by Paul Harvey:
Ordinary people were afraid. The Earth was flat so they dare not venture far from home. Periodically, a pirate ship would come. They did not know how it got there or from where it came. It brought treasures they had never seen. The Chief Pirate would encourage the young men to study and specialize in specific skills. He wanted them to become educated but only in one narrow area. The Chief Pirate knew the world was not flat and how to navigate to other lands. However, this knowledge was never discussed. This "top secret" knowledge or the "big picture of the known world" would only be given to the Chief Pirate's son who would inherit his title and someday become the Chief Pirate.
This story is about the origin of the concept we call compartmentalization — the process of controlling the slave masses by only allowing them to know specific bits of the truth while the leaders are allowed to know total truth.
ELITE RULING CLASS
SECURITY CLEARANCES
SECRET POLICE
ASSASSINS
SURVEILLANCE — SIGINT HUMINT COMINT
SPY SATELLITES
SPY DRONES
SMART ELECTRIC METERS
INTERNET SURVEILLANCE
NEIGHBORHOOD SPIES
PLENTIFUL STREET DRUGS
PSYCHIATRIC FORCED DRUGGING
GENETICALLY MODIFIED FOOD
FLUORIDATED WATER
COORDINATED TELEVISION PROPAGANDA
DEGRADED PUBLIC EDUCATION
LOCAL MILITARIZED POLICE
---
SLAVE CLASS
Leaders can only maintain their status if there are slaves. Otherwise, everyone would be equal and operate on a level playing field. This means "leaders" would have to pull their own weight like everyone else. Clearly, this would be intolerable. Leaders love beautiful and exotic things but don't want to do the work needed to create these things. They probably could not even plant a garden much less build the various "ivory towers" where they like to live surrounded by servants. If left on their own they would very likely starve. This is why it is so important to create and maintain the complex separation barrier.
Why don't people who live above the separation barrier ever "come down" and talk to the people below the barrier? Well, other than the obvious fact that they would likely be killed or jailed for espionage or treason, there is another, simpler, reason.
Would you like to spend your days sitting in an open field with kindergarten kids looking for four leaf clovers? Probably not. You have progressed beyond that. The slaves below the separation barrier cannot even imagine the world of those who live above the barrier. In fact, the elite do not even consider the slaves human. They call them "disposable biological units". The United Nations prefers the slang term "the herd". Slaves can be easily bred in quantities needed and programmed to do desired tasks. Then, they can be easily disposed of when no longer useful. That's how they look at you. So, why would they want to make friends with you?
The Mars Example
There is an interesting event playing out today that you may have noticed. This concerns the recruitment and selection of people to be sent to Mars. There are simulation projects where volunteers are locked away to imitate the long voyage to Mars. They are being told that this is a one way trip and they can never hope to return to Earth.
What you are witnessing is the selection process for the "seed people" who will be used to breed the future slave class on Mars. In a situation similar to the period when most believed the Earth was flat and you would fall off if you tried to go to sea, these people are convinced that the only way to get to mars is to ride a rocket on a perilous journey taking years. Because they truly believe this, when they get to Mars, they will teach this crap to their kids along with other misconceptions like it is impossible to go faster than the speed of light and other associated obsolete scientific principles. They will have no
desire to ever return to Earth or go anywhere else because they truly believe it is not possible. They will be contented slaves.
Of course the truth is that there are already secret colonies on Mars. It is not that hard to get there using antigravity and other secret propulsion methods and it is quite likely possible to simply walk through some kind of wormhole device and come out on Mars.
However, the slaves will never know this. Just as it is done on Earth, there will be an artificial separation barrier. The insiders will know the truth and will be physically hidden from the slaves. There will be secret police and other methods — the same as are used on Earth — to make sure no slave ever escapes from the "information prison". Business as usual will continue.
Reinforcement of Ignorance
Governments and their oligarchs love to keep their subjects in a cloud of ignorance. Back in the days when people believed the Earth was flat, the inner circle ruling class knew it was round. Maintaining the deception was convenient because it kept the slaves from developing any desire to travel far from home.
Nothing has changed all that much today. Consider, for example, all the fuss over the missing MH370 plane. You are being played for a sucker. It is impossible for that plane to have "disappeared".
The US DoD spy satellite system reportedly consists of ten constellations of satellites. Each constellation has over seven thousand satellites. They see and record everything that happens on this planet. The floor of the oceans can be seen just as clearly as the land areas. The resolution of the system is better than one square millimeter. Also, everything is recorded so you can go back in time and play past images.

This is a picture of a common electric lamp. Take this lamp and throw it in the ocean — any ocean anywhere on this planet. The spy satellite system will locate it, give you the coordinates and give you a photo at least as good as the one above. That is the capability of the system. So, clearly, it is impossible not to know the location of something as large as a Boeing 777 plane. All the TV publicity is a choreographed play. You are being scammed and you need to wake up and realize this fact.
Murders and Assassinations
To ensure a strong empire, dissent must be crushed. The United States trains assassins and carries out both domestic and foreign murders and assassinations on a regular basis. You may be familiar with the classic movie scenes where a black limousine with tinted windows drives by a target with thugs shooting machine guns. Although this would accomplish the task, it is a bit too obvious in a country that advertises itself to be a free, civilized democracy. Someone might catch on and begin to doubt the party line. Consequently, these things must be done quietly.
Inside the US, murders are reportedly carried out by a group known as "FBI Division Five". Other agencies likely have the responsibility for foreign assassinations. However, the basic techniques used would be similar.
Typically, an agent would wake up every day and connect to the top secret internet to see who he was assigned to kill that day. There would be several options. If it was important to eliminate the target immediately, a fast acting chemical agent would be selected which, for example, would cause the target to die within a few hours of a "natural" heart attack.
However, if time was not critical and the government just wanted the target out of the way, you might want to select one of the cancer causing agents such as those likely used to eliminate Hugo Chavez and Senator Ted Kennedy.
There is also a third possibility. This involves character assassination instead of actual murder. Consider, for example, a person who has gained a lot of public recognition talking about, say, free energy. If you simply kill the person, there could be blowback and talk that he was silenced by the government. In such cases, it is easier to use a chemical agent designed not to kill but, rather, to cause states of mental confusion resulting in obviously strange behavior. This would be coordinated with the government controlled mainstream press to make sure everyone became convinced the person was a nut and would therefore ignore anything said without regard to the truth or validity of the message.
Once the appropriate chemical has been selected, you need to load it into the secret delivery system and locate your target. To find your target you will connect to the top secret internet and pinpoint the location of the target through their cell phone. You can also activate all the cameras and microphones in electronic gadgets connected to the internet associated with the target in case you wish to look around the target's home and hear in real time what is taking place.
Of course, this will not help you locate the target when it is time to actually do the hit. So, you need to get the top secret profile data which will show any predictable habits of the target. Everyone is constantly tracked through their cell phones and profiles are logged and stored. In this case, the profile shows that the target has a favorite restaurant and goes there for lunch every day around 11:30. Now, you know exactly what to do. You go to the restaurant, hang out until you see your target, and get in line behind the target. Now, all you need to do is slightly bump into the target to deliver the chemical. Generally, the targets never even notice.
This mission is now complete. If it is early enough, you can check back in to the top secret system to see who you are supposed to kill next. Just another day. Just a routine job.
Money
Money is an imaginary force. It is used to motivate and control slaves. Real forces effect all life forms. However, only people respond to money. The only reason they do is because they have been artificially programmed to do so.
Money can be created in unlimited quantities by those adept in the use of this force. The physical world is finite, however the world of imagination is not. There is no limit to the quantity of money that can be imagined into existence. Money can also be imagined out of existence.
Let's assume that one day the entire financial system simply disappeared. If you lived in a rural area and had a nice veggie garden, some friendly chickens, collection facilities for rain water and a few photocells for electricity, you would not notice this. The veggies would continue to grow. Rain would periodically fall. The chickens would lay eggs as usual. The sun would continue to shine. However, if you lived in a city environment, you would be devastated.
Before money, people lived in small hunter-gatherer groups. The concept of ownership did not exist. People worked and survived as a group. Men and women were equal. Everyone contributed to the community. Resources were shared equally. The concept of "mine" and "yours" did not exist. Women generally became pregnant only once about every three years although there was no birth control. Later, when the concept of money entered the consciousness, women were seen as having less value because men were paid for work but women were not paid to raise and care for kids. Society has changed, however, the downgraded status of women has not.
Money systems have always been manipulated by clever people. When gold was used as money, people learned they could dilute pure gold with silver or maybe even lead to come up with something that looked like pure gold and had the correct weight but was a fraud. A king suspected he was being scammed but had no way to prove it. He called on the great minds of the time for help. This led to what is known as the Archimedes' principle which is better known today as "specific gravity". This principle made it possible to compare a sample known to be pure gold to a questionable sample and prove the unknown sample was not pure gold. Likely, some clever crook lost his head once this test became known.
There is a general belief that gold is the ultimate reference for all money. However, secrets concerning the exact quantity of gold make this a perilous assumption. Reportedly, the United States stole a tremendous quantity of physical gold from Japan towards the end of World War II. This gold exists off the books. To make matters worse, Japan was not all that concerned. Japan had been using gold bars as ballast on its ships because they were compact and heavy. They thought nothing of throwing the bars overboard as necessary. Japan used platinum as a money reference and the US never got that. This should make one rethink all the hype about the value of gold. It may be a lot more plentiful than we have been led to believe. Also, the secret off the books stashes of gold would allow its relative value to be manipulated at will just like other commodity markets.
The Financial Axis of Evil [3]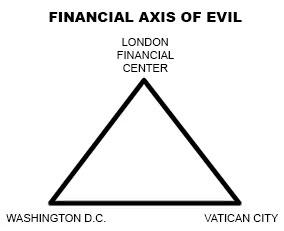 This is the model of the financial axis of evil which rules this planet. It consists of three main branches as shown above. Collectively, they are known as "The Empire of the City". Briefly, here is how this system operates:
The London financial district is in London, Washington D.C. is in the United States and the Vatican is in Italy. However, these three places are not part of the countries where they exist. They are independent "city states" and have their own laws and constitution. They are, effectively, "mini countries" inside of other countries and fly their own flags. The city state of London is a private corporation and pays no taxes to actual London or to Britain. The city state of London is the master power center and is controlled by the Rothschild family which considers itself to be the legal owner of this planet. The Vatican is the largest private land owner in the world and the first true multinational corporation with installations (churches) and secret agents (The Knights of Malta) everywhere. They control through the power of fear of the unknown and practice black magic. Washington D.C. relies upon brute military force. All three closely cooperate combining their specialties of financial trickery, witchcraft and military might. Of course, all three worship Satan as their Master.
Slavery
Slavery is alive and well throughout the world. The US constitution prohibits slavery, however, most americans live in slave-like conditions.
It is said that it will take the average college student until age fifty to pay back their student loan.
The constitutional amendment prohibiting slavery addressed the concept of physically owning another person. However, it did not address the issue of holding another person in bondage as a debt slave. It also did not consider the concept of private for profit prisons who force inmates to work as slaves. These systems exist today and are perfectly legal.
Actually, a recent report from prestigious Princeton University has reclassified the US government as an oligarchy — a country run by and for the rich elite. Former US President Carter has stated that the United States "no longer has a functioning democracy". So much for the Founding Father's dream. Speaking of dreams, check out the free you tube video titled "The American Dream".
Other forms of slavery are illegal but still flourish. Sex slaves are always in demand. Traffickers are sometimes caught but you need to realize that your leaders use sex slaves and also routinely abuse young girls and boys. Sometimes they are also killed during occult rituals. No one ever talks about this and these people are never punished. This has been the normal way of life for Satan worshipers for many years and nothing has changed or is likely to ever change in the future. Stanley Kubrick's last movie, Eyes Wide Shut, covers this subject. Some believe this intense dramatization of how the elite really live may have cost him his life.
People still have some rights left in the United States but other countries are a different story. Qatar is doing construction for the World Cup. The event is not scheduled until the year 2022, however they have already killed 1200 slaves [7] by working them to death. People are lured from poor countries with the promise of jobs and money. When they arrive, their passports are confiscated and they are forced to work until they literally drop dead. If the World Cup is actually held in Qatar in 2022, there will be glamorous TV coverage and no one will remember or care about all the dead slaves. The show must go on.
Qatar, incidentally, sponsors Al Jazeera TV network.
Adaptation Techniques
The status quo of today will never change because the people who created it will never die. Because of top secret medicine, when men like Henry Kissinger, who heads the Bilderberg Group's steering committee, get too feeble to function, they will simply go to one of the secret locations and use the temporal reversal device to regress back to about twenty years old. Their memories will be unaffected. Then they will get new identities and continue on. This process can be repeated indefinitely.
Because you can never change the status quo, your best hope for a lifetime of reasonable quality is to find clever ways to live in this world with as much independence as possible.
One method of adaptation is autonomous and semi-autonomous communities. If the community is registered as a religious institution it is automatically shielded from most government interference by the US constitution. It pays no taxes and can pretty much write its own rules by simply calling whatever it wants to do "religious doctrine". Many small semi-autonomous groups exist where people who share a common set of values find ways to quietly live out their lives pretty much on their own terms. The government does not seem interested in bothering these smaller groups as long as they live peacefully and are not doing anything that the government perceives to be a threat.
The Amish people are a good example of an autonomous group. You would probably not want to live as they do, however, before you completely dismiss them, you may want to look at some definite advantages in their chosen lifestyle.
Remember, these are the people who reject technology. They just might have made the correct choice. Technology, at first, seemed like a good idea. However, now that people are addicted to technology they are also enslaved by technology. Everything they do is monitored and recorded by the government. Privacy no longer exists. It did not have to be this way.
Technology, in itself, is not evil. However, it can be quite evil if you live under a government run by sociopathic control freaks which, unfortunately, you do. In the Amish world, electronic surveillance does not exist because electronic devices do not exist. The constant propaganda from TV has no effect on people who do not have TV. A horse does not report its position to a GPS satellite and is not controlled by a computer.
Also, the people are generally healthy and do not suffer from many diseases common to the mainstream population. They are not being poisoned by fluorinated water or additives found in processed food because they don't use these things. Also, they get lots of physical exercise.
Without totally withdrawing from the world, there are some positive steps you can take. By now you know never to drink fluorinated water or use any personal product containing fluoride such as many brands of toothpaste. To minimize harmful food additives, look for Kosher food which is marked with either the encircled "K" or "U" (Ultra Kosher). These foods have less or no harmful additives. The Jewish community is very protective of its people and the Mossad is widely considered to be the best intelligence service in the world. Therefore, they would have the inside scoop on everything including food and do not want to see their people harmed.
Whatever you decide to do, you definitely do not want to be part of so called mainstream society. These people are doomed. They are sheep (sheeple) slowly walking to the slaughter house. Don't go there!
---
references and credits
[1] DVD "The American Ruling Class". ASIN: B001HM2CE2.
[2] John Perkins. Book: Confessions of an Econemic Hit Man; DVD (free on you tube): "Apology of an Economic Hit Man"; RT interviews.
[3] See the free you tube videos titled "The Red Shield".
[4] DVD: "The Wages of Debt", RT Intl. Also available for purchase.
[5] DVD "Terra Blight", RT Intl. Also available for purchase.
[6] Interview with John Judge of Veterans Against Military Psychiatry.
[7] Also search using the phrase "qatar slaves world cup".
© 2014 W C Vetsch. All rights reserved.
Source: Walter C. Vetsch  |  3108.info | War Is Crime
The enormous energy spent on analyzing candidates and predicting elections is time wasted when the actual decisions are predetermined before the voting takes place. Even excluding voter fraud from the final count, the party selection process has made the decision. The pretense that primaries reflect the will of the electorate deceives the registered voter, amuses the party insiders and benefits the advertisement and media moguls. Ideas, policy positions and core principles take a back seat to the art of spinning and negatively defining the opponent.
Rivals start within your own party. Therefore, it comes as no surprise that the Republicans Tighten Grip on Debates in 2016 Race.
"Party leaders want to tighten their grip on a presidential primary season they believe has grown unruly and too long. This year, the party moved to set the nominating calendar by scheduling the first four contests — Iowa, New Hampshire, South Carolina and Nevada — for February, allowing other states to begin voting in March and holding winner-take-all primaries starting March 15.

Taken together, these procedural steps could thwart an underfunded insurgent who needs the free exposure of televised debates and would be hurt by a series of rapid-fire contests in March that could be tilted toward an establishment-backed contender.

A few conservative stalwarts on the committee are nervous about the establishment's consolidation of power over the primaries. "Do we want a committee of the national committee, which will surely be controlled by the national chairman, picking which candidates participate in all Republican presidential debates?"
This point is illustrated in the AP report RNC Changes debate Rules for 2016. "The RNC rules panel endorsed the creation of a 13-person committee that would limit how many presidential debates can take place and who can ask the questions. The full committee on Friday went along with that plan to ban candidates who participate in scofflaw debates from future RNC-backed sessions, by a 152-to-7 vote."
Before the usual ceremonial indignation takes hold, ask yourself what is exactly sacrosanct about a stacked primary system that has little to do with an open contest. Patricians that make up the GOP establishment long ago graduated from the country club set.
Nonetheless, the bleeding hearts over at Salon would have you believe that the Democrats operate by different rules. Why Democrats need a primary, too offers advice why the anointed "Queen of Mean" that Rodman woman, would attain a benediction from going through an orchestrated charade before her canonization.
"Clinton would benefit from that input just as all incumbents and other party luminaries do, despite the fact that they would rather not have to have that fight. It is not good for a president to take the office without having taken the temperature of his or her supporters and understanding what they care about and what they expect. During a tempestuous period like this one, it's even more important than usual. It would only be to her advantage to have a challenger who could bring forth those issues and allow the public to see them argued before she goes up against a Republican."
Lost in the fervor of progressive rhetoric is that the Democratic Party is just as elitist as the Republicans are. Both operate as useful idiots and corporatist tools of a system that has long ago abandoned the practice of free enterprise.
Contrast this American version of a Punch and Judy show that has an elephant bully bemoaning the folk hero Robin Hood, who actually resembles an ass, with the exceptional Broadway Play, "The Best Man" by Gore Vidal. Watch the 1964 movie version and consider just how far the political system has collapsed in half a century.
The basic assumption in the play and movie is that the nominee of the Democratic Party will handedly beat their Republican opponent. Characterizing convention ballot voting by delegates as a genuine selection process may be strange to those who were raised on the myth that registered voters in a state primary really has a voice in the inauguration of the next President.
A system of party bosses and smoke room dealmakers, surely must be far worse from the televised mortifying pilgrimage and penitent self-flagellation that goes into winning the party's nomination? Or, is it . . .
Remember the way the primaries served the faithful Democrats in 2008.
"According to news reports, Barack Obama and Hillary Clinton went out of their way to hold their long-awaited private meeting in a very specific location – not at Hillary's mansion in Washington – but in Northern Virginia, which also just happens to be the scene of the 2008 Bilderberg meeting.The neo-liberal website Wonkette, which had previously ridiculed "conspiracy theorists" for ascribing power to Bilderberg, seemed to take a somewhat different tone when it made the connection between Obama and Hillary's meeting and the Bilderberg Group."

Orders from on high or more to the point, international deciders had their "heart to heart" with Hillary, passing her over, and giving her a maybe for 2016. George W. Bush liked to call himself the decider, but we all should know that decisions out of Skull and Bones are not based upon primary results.

Vidal's screenplay portrayed a party convention as a real nomination fight. To whatever slime degree existed in the horse-trading to win delegates back then, the appearance in today's selection makes no pretext of concealing the hidden hands behind picking the next President.

The partisan politics protection racket has but one goal; namely, serve and safeguard establishment interests of the elites, who really command the ultimate power. In addition to the Presidency, Congress shares broad similarities in their version of The Incumbent Protection Racket.

"In the U.S. House of Representatives, over the past five elections, incumbents have been re-elected at an average rate of 96 percent. According to my unscientific calculations, a congressman is more likely to be eaten by a polar bear while panning for gold in Key West than to be voted out of office."

Serious challenges in Congressional district primacies are rare. The exception was in 2010 with the success of Tea Party candidates. However, such expression of the will of the people cannot stand in the polluted Potomac sewer that passes for representative democracy. Just look at the concerted efforts to sabotage populist support to retool the excesses in the federal government. Party Goers – What Do You Take With Your Tea?, indicates that all the sugar in the Caribbean will not prevent the political diabetes disease from going into shock. The bipartisan protection con knows how to close ranks among the political class.

"When main street middle class beleaguered taxpayers resonated that, the system was out of whack, the damage control team went into overdrive. This background helps to explain why the face of unprompted Tea Party individualism must be distorted, maligned and redirected."

Great disappointment among Tea Party activists in the hostile welcome from establishment NeoCons has set in. The alternative to playing the no win beltway game provided in Dissecting U.S. Elections – the People vs. the Pols, best states the rational solution.

"What if a real grassroots national movement emerged that supersedes all ideology with a singular purpose – remove all careerist "pols" from office. Forget about the phony No Labels effort to diffuse popular disgust. The solution is to attract the very citizens who NEVER vote in elections.

A national campaign – No Confidence – would be the clear message that the arrogant confidence game crooks could understand."

Drawing upon a universal appeal to break from the travesties of the two party frauds is necessary to register countrywide outrage. Only through vigorous dissention will The Meaning of Third Parties in America, bring the necessary pressure to collapse both the Democrat and Republican Parties.

"The solution to implement meaningful reform is to defuse the political power that is presently concentrated within the 'Tweedle-dumb and Tweedle Dee' parties. The notion that differences between them are based upon core principles, denies the unending descent into 'collectivism'. The edges have varied shapes, but the centers are formed from the same sponge."
You can always resolve that either party will never nominate "The Best Man". If you are so delusional to believe that a woman is the answer in the oval office, look in a different direction. Elizabeth Warren the self-proclaimed Pinocchio-hontas, is a sorry excuse for an accomplished liar. Flush with law school disingenuous skills, this want-a-be feminine messiah would have you believe that Hillary is the New World Order's favorite grandmother.
Nonetheless, fake opposition simply projects the image that there is a choice in candidates. Noam Scheiber, in the New Republic writes, "A Clinton-Warren matchup would have all sorts of consequences, none of them especially heartwarming. The most immediate is that Warren would probably lose." Well so much for a contest between squaws, better suited for commitment to the Hiawatha Insane Asylum.Partisan politics is mostly a ruse designed to divert attention from service to the substantial interests of establishment globalists. The noise generated around campaigns and media coverage, ignores or conceals the existent deals that serve the real goals and intentions of the master puppeteers. The terminal lesson is that establishment politics treats the public as reservation squatters.
Sometimes I just want to pimp slap people.
Last summer, I was at dinner during a sales convention. The conversation didn't get political until someone mentioned the NSA.
There is one in every crowd. Someone piped up and said, "They can spy on me all they want. I am not doing anything wrong."
They sang this song in Germany in 1933. And they sang it with unprecedented gusto in the months following 9/11, all in the name of  "security" and "keeping us safe".
We were at the MGM Grand in Las Vegas, the world's second largest hotel. Nothing in the post-9/11 "national security" apparatus would prevent a terrorist from walking in, setting off a bomb, and killing hundreds or even thousands of people.
The more important questions are: How do you know you are doing nothing that could be construed as wrong by some state functionary? How do you know you are not breaking some law somewhere? And why are you so implicitly trusting that your government would never do anything evil with the information it has collected on you?
This is not purely an academic matter. The practical implications are profound.
I give you several examples.
1. Niakea Williams went to her son's St. Louis-area elementary school one day to pick up her son, who has Asperger's. The school was put on lockdown and Mrs. Williams was escorted out in handcuffs.
2. Adrionna Harris was almost expelled from her middle school in Virginia Beach after taking a razor blade away from a fellow student who was trying to harm himself.
3. Read what Houston police did to this man who gave 75 cents to a homeless person.
4. A little known Denver parking ordinance can get you a $25 fine even if you haven't exceeded the two-hour limit.
5. Police in Iowa City, Iowa, seized $50,000 from this couple without charging them with a crime.
6. Alberto Willmore lost his teaching job in Manhattan over a totally bogus marijuana arrest. Even though he was never convicted of anything, he was unable to get his job back.
7. Norman Gurley was arrested in Lorain County, Ohio, because a compartment in his car could have been used to transport drugs.
8. Los Angeles County sheriff's deputies shot and killed 80-year-old Eugene Mallory in his own bed during a meth raid. No meth, or any other illegal drugs, was discovered.
9. Paul Valin contacted police to report that he found a backpack full of what he believed to be meth-making equipment 15 miles from his home near Des Moines. As a result, the DEA placed his house on its list of meth labs.
10. Ryan Holle of Pensacola, Florida, lent his roommate his car on night in 2004. As a result, Holle is currently serving a life sentence without possibility of parole for pre-meditated murder.
11. New York police seized Gerald Bryan's cash in a nighttime raid in 2012. Even though Bryan was cleared of any wrongdoing, the stolen cash was deposited in the NYPD pension fund.
12. Robert Duncan is currently serving two years in a California prison, even though the business in which he worked was legal in California.
13. Jordan Wiser spent 13 days in jail after Jefferson, Ohio, police found a pocketknife during a warrantless search of his car.
14. During a school lockdown in Clarksville, Tennessee, David Duren-Sanner gave police permission to search his car as he had "nothing to hide". Police found a fishing knife. Duren-Sanner, who previously had never been to the principal's office, was suspended for 10 days and then sent to an alternative school for 90 days.
15. Look what happened to these parents in Napa, California, even though the medical marijuana prescriptions they had were completely legal.
16. Eileen Ann Bower of suburban Pittsburgh had her newborn child taken from her for 75 days because of a false positive drug test.
17. Jerry Hartfield of Bay City, Texas, has spent the majority of his life in prison, even though hisconviction was overturned in 1980.
18. Jason Dewing of update New York was found guilty of violating a law that did not exist.
19. Don Miller of Waldron, Indiana, had his home raided by FBI agents who seized hundreds of cultural artifacts from around the world. Miller was neither arrested nor charged with anything.
20. This San Diego couple was pepper-sprayed and tasered by police who had erroneously identified their vehicle after being stolen.
21. The good news is that Brian Aitken of Mount Laurel, New Jersey, had his prison sentence commuted.The bad news is that he was originally sentenced to seven years behind bars for possessing two legally purchased guns.
22. This special needs student in McDonald, Pennsylvania, was charged with felony wiretapping for recording other students who were bullying him mercilessly.
23. Abner Schoenwetter of Miami served over six years in prison for – you can't make this stuff up – violating Honduran fisheries law.
24. Read what happened to John Filippidis of Hudson, Florida, when he was pulled over by state policewhile driving unarmed through Maryland.
25. In a case of mistaken identity, Lewis James of Durham, North Carolina, "was handcuffed and later jailed under a $1.425 million bond" after he had contacted the police to notify them of a dead body in the middle of the road. As someone put it on Facebook, "Don't call the cops. Ever. Even if you find a dead body. Just don't ever call the cops."
26. Read what happened to Diane Avera of Meridian, Mississippi, when she went to Alabama to buy Sudafed, even though she did not know that this was illegal.
27. Andy Johnson of Uinta County, Wyoming, faces EPA fines of $75,000 per day for building a pond on land that he owns.
28. Douglas Zerby of Long Beach was shot and killed by police while watering his lawn because some idiot neighbor thought the hose nozzle was a gun.
29. Darien Roseen was arrested and had his vehicle searched by sheriff's deputies in Payette County, Idaho, simply because his Colorado license plates led them to believe that he could have been carrying marijuana.
30. Brian Banks of Long Beach spent five years in prison and five more years as a registered sex offenderas a result of a rape conviction. And then his accuser changed her story.
These are not "isolated incidents." There are no doubt countless other examples of people who were doing nothing wrong, yet were harshly punished.
Also, consider the following:
• The Internal Revenue Code is 73,955 pages and millions of words long. No one has read it cover-to-cover and no one knows every aspect of it. Yet if anyone violates any of its provisions it can mean fines, prison or even death.
• We are often told that "ignorance of the law is no defense." To the right is a picture of the Yale Law Library. Do you know every law contained within these tomes?
Read what various emissaries of the Amerikan police state have done to these veterans who went all over the world to "fight for our freedom."
• Seventy-two types of Americans are classified as terrorists in various government documents. Senator Harry Reid has now added a seventy-third category.
• Read how police have used asset forfeiture laws to seize millions of dollars from people without charging them with any crimes.
• Read this article and pay special attention to these words from former NSA official William Binney: "The problem is, if they think they're not doing anything that's wrong, they don't get to define that. The central government does."
• Read how the Innocence Project has helped exonerate over 300 wrongfully imprisoned people, many of whom were on death row.
• Attorney Harvey Silverglate argues that the average American commits three felonies a day without even knowing it.
• This Ford executive claims that, thanks to GPS, "we know everyone who breaks the law."
• Although it has been estimated that there are over 3000 types of federal criminal offenses, no one knows the exact number for sure.
So, do you still feel you have nothing to fear?