Transcript
Let Your Life Be a Friction to Stop the Machine…
Nightmare and insanity are akin: mysterious and involuntary states that skew and distort objective reality. One wakens from nightmare; from insanity there is no awakening.
Whether Americans live in the one state or the other is the paramount question of this era.
For two hundred years Americans have been indoctrinated with a mythology created, imposed and sustained by a manipulating cabal: the financial elite that built its absolute control on the muscle and blood, good will, ignorance and credulity, of its citizenry.
America began with the invasion of a populated continent and the genocide of its native people. Once solidly established, it grafted enslavement of another race onto that base.
With those two pillars of state firmly in place it declared itself an independent nation in a document that nobly proclaimed the equality of all mankind.
In that act of monumental hypocrisy America's myth had its beginning.
* * *
A Constitution was written that came to be regarded as American Holy Writ. Its central purposes were to defend private property and suppress mass democracy. It has fulfilled both those mandates beyond the wildest dreams of its creators.
Once the existing oligarchy was secure in law and native people largely exterminated, the ruling class increased its wealth and power fantastically in the 19th century, using the government as its enabler, exploiting to the limit the device of chartered corporations.
With its phenomenal money power, the financial elite began to use the military to expand its sway beyond the continent. Regions, territories, islands, and whole countries were annexed, invaded, and possessed outright, their peoples crushed, suppressed, and ruled.
Because ordinary Americans, like any people, need to believe that whatever the ruling elite undertakes in their nation's name must be essentially benevolent, noble in purpose and justified in fact, the myth had to be radically modified for imperial expansion.
The foundational story was that Americans had come to a howling wilderness teeming with godless savages and, through invincible strength of character and purity of purpose, had tamed the land and honorably earned the right to possess their bountiful home.
In the era of extra-territorial expansion that version was polished to justify and ennoble imperialism. The new corollary was that America could not ignore colonialist brutality but was obliged, by the Manifest Destiny that led us to civilize our own continent, to carry our mission into barbaric darkness wherever tyranny created abuse and suffering.
A national myth that absolutely binds the loyalty of a people to its government must be a subtle and powerful elixir that elevates and aggrandizes that people's self-regard. National policy will then appear to be an extension of its superior citizenry's inchoate will, and the basis for a justified arrogance toward the lesser world.
The simple, powerful myth of America's altruistic and heroic benevolence, shaped and maintained by the financial/political power elite, infused Americans with a deep and outrageously hubristic sense of racial superiority that, mobilized behind various imperial enterprises, has given all such adventures the character of a quasi-religious crusade. In this way insatiable imperialism acquires the apparent moral perfection of a syllogism.
* * *
With WWII, the world was reconfigured. American Capitalism emerged supreme from the horror that had virtually wrecked its capitalist partners. The Soviet Union, though, having absorbed by far the greatest devastation from Nazi Germany, had astonishingly risen above its ruin to become the leading challenger to America as a world power.
This challenge was not competitive, it was systemic: Soviet Communism was a direct threat to American hegemony in that it categorically refuted the philosophical basis of Predatory Capitalism. Grounded in Marx and Lenin, it attacked Capitalism's inherent evils, monstrous inequities and flagrant injustices that, exacerbated by speculation, exploitation and fraud, would destroy it. And it promoted world revolution to that end.
This face-off of giants in the Cold War necessitated further refinement of the American myth. Now, instead of simply intervening in situations where despotism or tyranny required America to forcefully implant our just and ethical democracy, America had to become the shield and bulwark of the sacred capitalist system in which "free enterprise" was magically and increasingly identified with democracy and equally to be defended.
This version prevailed through many surrogate confrontations around the globe in the era of Mutually Assured Destruction and survived even the debacle of Vietnam, lasting until the collapse of the Soviet Union, as the propaganda stream became ever more intense and pervasive. On radio and television Americans were subjected to an unrelenting barrage of hyper-patriotism in which American moral superiority was a given, and America's self-touted courage, generosity and decency were its unchallengeable proofs.
The implosion of the Soviet Union left America, in its own terminology, the "Sole Superpower in a Unipolar World". This, however, did not result in diminution of the myth. The practical effect of having no doomsday enemy–China couldn't plausibly be cast in that role then–was to supercharge it by increasing its element of pure, hubristic ego. America was no longer just called upon to defend the "Free World" from monstrous heresy; it was now, by virtue of its universally acknowledged, beatific "exceptionalism", required to oversee and police it in the interests, and for the benefit, of lesser nations.
* * *
"Power corrupts", said Lord Mahan, "and absolute power corrupts absolutely."
When the only rival and counterweight to American power disintegrated there was a sense within the American power elite that the opportunity existed, for the first time in history, for one country to absolutely dominate and effectively control the entire world.
This consensus was expressed in a policy statement composed by a cadre of major right-wing political players representing massive corporate capitalist interests called the Project for a New American Century. This triumphalist manifesto laid out a plan for absolute American access and control of essential resources and raw materials worldwide, to be guaranteed by the military which would enforce Full Spectrum Dominance.
The American Myth, which had seemed to have lost momentum and its animating principle in the totally unexpected so-called Cold War "victory", was now re-energized with a less defensive and reactive essence, and given the glowing radiance and patina of a true and, for the first time, self-professed and articulated, imperial mission.
The attack on the Towers, an unimaginable provocation, was the trigger mechanism for the explosive launch of the effort to impose that imperial model in practice on the world.
* * *
It has been without question the most spectacular failure in the history of American misadventure. After a decade marked by the waste of trillions of dollars and tens of thousands of American lives, the stunning bankruptcy of our internally burglarized nation, and a consequent recession more fundamentally damaging than the Great One, Imperial America has nothing to show for the botched folly of its arrogant overreach but unequivocal disasters in Iraq, Afghanistan, and Pakistan, with no end of madness in sight.
An impartial observer would have to say that the hypnotic hold of the American Myth on the loyalty of the people has led only to disgrace and disaster, and set a direct course to inevitable imperial decline and ruin. That would be inarguable on any rational basis, but it entirely mistakes the motive for, and the purpose of, the myth. The American Myth was never intended to serve the interests either of our country or of our people: it was created solely to buttress, shield, and exalt the ruling financial class. It has done that with astonishing and unbroken success that staggers the imagination from our earliest days.
The massive looting of Iraq/Afghanistan/Pakistan war funding to enrich the Corporate Tyranny—for that is what it has become—is on an unique scale of its own, without anything remotely comparable to its flagrant obscenity in the whole long history of war.
Neither the Pentagon nor any branch of the U.S. government can give any accounting whatever of the many billions of tax-generated dollars that have vanished, evaporated. There is no doubt but that beyond the outrageously inflated, no-bid contracts handed to giant corporate favorites with their preposterous guaranteed profits, much of the money was simply stolen in bulk by, through, or in spite of the military, and distributed among thieves and accomplices, some of it on huge pallets… for convenience, presumably.
* * *
While this wholesale robbery was going on under the oversight of the military abroad, the Corporate Tyranny had evolved a whole set of impenetrably complex devices for the generation of money without any economically productive source or result at home.
The sole driving force and purpose of Capitalism is the realization of profit. According to that calculus, reducing production costs increases profit margin. This leads to the obvious conclusion that as production costs near zero, profit is maximized.
There is no provision for social good in Capitalist theory. Corporations, created to optimize business opportunity through efficient specialization, were originally required to operate for public benefit but that provision was quickly finessed and forgotten.
American law courts have always favored corporate concentrations of wealth since they, like the Congress, exist to serve the moneyed interests. The American Myth was created to provide cover for the financial oligarchy to exploit the country and the citizenry, and the judiciary has consistently cooperated in ruling for corporations against the people.
Indeed, without ever considering the question in law, the Supreme Court long ago endowed corporations with "personhood", that is with all rights of human beings under our Constitution. The way this travesty occurred–the slipshod by-product of an obliquely related case–shows that the court preferred to incorporate this perversion of the plain intent of the 14th amendment as an unexamined assumption rather than risk an eventual test which would unquestionably have created violent public outrage.
Given the collusion of Congress and the courts in securing legal invulnerability for the Corporate Tyranny and the principle that the only duty of corporations is maximization of profit, it was not surprising that megabanks, huge brokerage houses, giant insurance conglomerates, gilded hedge funds and the credit agencies pretending to certify their work, all engaged in massive and systemic fraud and deception for just that purpose. The result was the crash of '08, the recession, and the stunning and unprecedented rescue and bailout of the biggest banks, investment houses, and insurance and credit conglomerates with taxpayer dollars. So much for the hallowed Invisible Hand of the Free Market…
* * *
The last decades have seen two related megatrends in American geopolitical mechanics, both with dire effects on the power of the American Myth. First, what belief the world at large had in it has been shattered by a catastrophic series of imbecile and irretrievable military failures and disasters, which has caused erosion of its efficacy at home. Second, in response to this, the State has made increasingly crude efforts to boost the Myth's waning power by the imposition of totalitarian methods of surveillance, intimidation and coercion on the American people to a degree unprecedented in scope and scale.
The whole clanking, medieval apparatus of Homeland Security that has sprouted like an enormous poison fungus since 9/11 with its brutal police state mindset; the odious Patriot Act with its flagrant subversions of the Bill of Rights; the endless, fantasy-based terror-peddling of the prostitute corporate media with its clowns and harpies churning irrational fear and anger in the uninformed: all this grim, repressive endeavor is a concerted attempt to distract Americans from the real causes of their injury, abuse, and oppression.
And yet, even with the American Myth now totally and irreparably blown full of holes and exposed demonstrably for the tissue of lies, deceptions and frauds that it has always been, it somehow keeps its phenomenal hold on the great mass of the American people. The tragic reality is that, for the majority, their own identities have been so deeply and thoroughly infused with the myth that to disbelieve it is to disbelieve in themselves.
* * *
So the American Myth is dead, and yet it lives on in its deadness, horribly masking our crapshot economy, our bankrupt debtors prison of a society, our Ghost Dance charade of kabuki democracy, while typhoons of impending social, economic and ecological disaster build their enormous, lightning-charged thunderheads above the dark future before us.
And what is it that the dead Myth still imperfectly obscures for Americans? What is outside and beyond the opaque wall of faltering, failing dishonesty and deception? What is the horror that the shoddy, tattered Myth has so long and so effectively concealed?
It is the world that has suffered unrelieved exploitation by the violence of our imperialist mania. It is the many wrecked and pillaged economies financially looted by our imposed predatory capitalist austerity regimes. It is the teeming hundreds of millions of starved, deprived and dying children sacrificed to Wall Street commodities gaming. It is the multitudes of humble, innocent, ignorant people, barely surviving in absolutist and dictatorial regimes propped up in their barbaric cruelty by our military while our banks siphon off the profits left after arming their brutal police and armies and bribing their ruling Kings, Sheikhs or Generals. It is the millions of dead and maimed in the raped populations of simple tribal people whom our indiscriminately murderous juggernaut has left in its bloody wake in Iraq, Afghanistan, and Pakistan. It is the appalling legacy of hate and repulsion, disdain and fear, that America has earned with its appalling hegemonist villainy in every corner of the world.
And at home, what is it we Americans have been so complicit in hiding from ourselves in our devotion to the perverse legend that has come to inhabit our souls like a succubus?
It is the millions of us with no work and no hope in middle age whose jobs and homes have been devoured by the heartless fraud machine of Wall Street. It is the trashed and demolished weedlots of our major cities eroding in crumbling, fire-gutted ruin. It is the many towns and cities with industries shut down and factories deserted or dismantled and shipped overseas. It is our decaying, disintegrating public schools, our bankrupt states and counties, our overtaxed, antiquated public transportation systems, our obsolete, dissolving infrastructure, our bloated, irrational prisons complex, our punishing and inadequate health care disaster, and over it all, the repressive mechanism of our police state, armed and empowered, ready for use against the American people themselves.
* * *
This is where we are. The great question now is whether we as a nation can awaken from this long historic nightmare and face the terrifying and exhilarating prospect of living in the full light of reality without the false props and dishonest constructs of a hoodwinked, herded and dishonored people or, whether we have internalized the falsity and disease to such an extent that it has become an organic, overmastering form of insanity?
In 1846, Henry David Thoreau, offended to his soul by the injustice of the American government's invasion of Mexico, protested it and went to jail for his convictions. Later, in his essay On Civil Disobedience, he said this:
"If injustice is of such a nature that it requires you to be the agent of injustice to another, then, I say, break the law. Let your life be a counter friction to stop the machine."
To attempt to break the hold of the American Myth will be a titanic, daunting challenge. To even begin to openly rebel against the might of the National Security State will require the courage to face much more than official disapproval and denunciation. Imperial America will not respond to even the most peaceful and orderly protest with anything less than hard police repression and the level of punishment will rise in relation to the scope and seriousness of the action undertaken.
Small protests will have no effect and will be meaningless. Organized mass events, when they occur, will draw the whole fiercely and brutally motivated National Security State apparatus down upon themselves. Americans, excepting those of our underclass who have felt it, have no experience with violent police or military repression. Those who commit peaceful civil disobedience, a first and innocent tactic of serious protest, will swiftly find out to their cost how it works. In a National Security State that has excised and eradicated all defensive laws and regulations intended to prevent abuse of the public, whatever the State does is legal. To such a pass have we in America come as a result of our long historic indoctrination in serving our financial elite, our Ruling Class.
To achieve any redemption for Americans, to make possible any more just, humane and life-honoring society, will require complete abandonment of the system of Predatory Capitalism. If offers no prospect of reform or improvement and we have all been witness to the idiocy of the so-called "democratic process" in action for generations now.
America is nearing the greatest crisis point in its history and the terrific cataclysm, when it happens, will determine the future our country is to have. If we cannot, in dominating numbers, rise to reject the heartless, mindless, soulless machine of Imperial Predatory Capitalism, we will be condemned to a fascistic command and control horror in which human beings are mere possessions of the State, units of production or service, and then perhaps not even that, as excess population in that brave, new world nay be eliminated.
That end is not inevitable. We are not lost. We are not even defeated because to this moment we have not engaged. We have not honored our responsibility as human beings. We have not risen to defend our humanity. We have let ourselves be ruled.
All around the world the thunder of vast and immeasurable discontent can be heard and felt. In Egypt and Spain, Jordan and Greece, Iraq and Sudan, Afghanistan and Ireland, Latin America, the Far East and Africa, the legitimate anger of humanity is expressing itself against the dead and killing hand of Predatory Capitalism and its agencies of violence. And here, in America, so long trapped and encapsulated, frozen like a fly in amber in a false religion of state idolatry, the anger is deep, widespread, and growing.
It is up to those who know and care to lead. As Thomas Paine said, "These are the times that try men's souls." Nothing is guaranteed us. That can't matter. We cannot be concerned with odds or outcomes. We cannot let the Machine of Injustice grind on. We must oppose it with all the moral force we own. We must act with quiet courage to confront a vicious tyrannical system that is destroying the earth, its life, and its people. We must put our lives on the line to oppose it.
The Nightmare Machine of rapacious exploitation has overthrown humanity's decency and reason and its bloody inhuman treason flourishes over us. This must be ended.
Let your life be a friction now to stop the Machine.
The current debate that has erupted within Occupy circles was built into this movement's foundation. It has been sparked by much needed soul searching in the wake of a series of confrontations with the police, most notably in Oakland, that ended disastrously. It should be news to no one that the police easily put down these efforts with gut wrenching brutality. What is surprising is that many of the Occupy participants lead these events into an inevitable military confrontation with the police, as though they could rule the day without the necessary numbers, preparation, or moral authority in the eyes of the 99 percent. Whereas Occupy had previously gained wide support from Main Street, in part, because of their non-violent tactics that relied on collectively standing strong to resist police repression, these actions appeared to be led by a different program with different tactics and a different agenda.
These developments are taking place within the context of a shrinking number of Occupy participants and sympathizers. Occupy is still strong and holds great promise. Such ebbs are natural in the evolution of any movement. However, they also pose great dangers. In the resulting isolation, impatience can take hold and it becomes easier for a relatively few adventurists to dominate proceedings without the corrective of more Main Street participants. The more the movement becomes isolated, the more the participants' feelings of moral superiority can surge unchecked, which in turn can justify engaging in more radical tactics while condemning the remaining 99 percent for their seeming apathy.
Occupy started out as a tiny effort. The original occupation at Zuccotti Park in New York City was mainly built by members of small left groupings, without any backing from larger organizations of the 99 percent, such as the unions. However, their targeting of Wall Street and their call for mass unity provided a broad-based messaging foundation to reach out to Main Street. Without this approach Occupy would never have blossomed into the Main Street movement it became. Hundreds of thousands of people went further than they ever expected they could go in taking direct political action, including, most significantly, the unions. The mass misery created by the great recession, including the rise in the inequality in wealth, the 1percent's hijacking of any democratic process that even appeared to provide a voice to the 99 percent, the lack of any serious political response to the loss of jobs, the cuts in education and social services while the banks got bailed out, became the talk of the day. However, even with this transformation, many in the activist core of Occupy had not yet shed the narrow political approaches and organizational prejudices that marked its birth. The contradictions of Occupy being both a marginal and Main Street movement are now re-emerging on a larger more urgent scale.
It is without doubt that the capitalist crisis is creating the conditions for a great social movement to emerge. What is at stake for Occupy is whether it will spearhead this development or be left as a predecessor of it that veered off into a dead end before realizing its promise.
The outcome will be determined by a political struggle for leadership within Occupy. Just because many within Occupy describe it as leaderless, does not make it so, even if leadership only amounts to calling a meeting, proposing an agenda for it, and suggesting a facilitator. Any social movement, any mass collective action, requires leaders, whether acknowledged or not. To counterpose leaders to the rank and file or mass of participants in movement building, as though both are not connected, is a bit like counterposing the front and back wheels of a bicycle, as though both are not necessary for the ride.
It is not difficult to see where this prejudice against leaders comes from. Both in the political arena, and within many of our own organizations, the 99 percent is for the most part dominated by unaccountable leaders who live apart from us and pursue policies against our interests. It is an easy jump to conclude that leadership, in itself, is to be avoided, that all movement building should be done on a strictly horizontal basis. This superficial thinking, however, could not be more harmful for doing what needs to be done to build a movement that can challenge the might of the economic oligarchy and both of their political parties.
What is needed is to build leadership structures where the leaders are under the firm democratic control of the rank and file and replaceable if need be. Maintaining that Occupy is leaderless only leaves its leaders invisible, unaccountable and no matter how well intended, free to push a course that will isolate the movement. Likewise, to argue for rank and file leadership within the unions, as opposed to rank and file control of the leadership, leaves the most conservative bureaucratic elements untouched, unthreatened, and free to do what they want.
Consequently, if the current debates within Occupy are not to result in a further fracturing of the movement, an accountable and transparent leadership should emerge. This leadership should be judged on its ability to create the widest possible unity among all working class and grass roots organizations, not simply build Occupy apart from them. In addition, this unity in action should be built independently of the Democrats and Republicans. While it would be folly for Occupy to insist on organizations such as the unions to break from supporting the Democrats as a precondition for uniting on the issues that are most important to the 99 percent, Occupy must insist on its own independence. In doing so, it will be demonstrating to the unions that more can be accomplished by building a social movement than building an electoral campaign for allegedly worker-friendly Wall Street politicians.
Too many within Occupy fret over being co-opted by the unions. And there are grounds for being cautious. For example, Robert Master, the Northeast political director for the Communications Workers of America, described Labor's attraction to Occupy in these terms: "I think there are going to be tremendous opportunities for labor and the Occupy movement to work together," Mr. Master said. "We have different roles— as labor we are much more embedded in mainstream politics. But we understand that without the pressure of more radical direct-action tactics, the debate in this country won't change substantially." In other words, labor wants to have a foot in both camps: in the Democratic Party which is controlled above all by the 1 percent and in Occupy, which is trying to defend the 99 percent. Contradictions are unavoidable.
Nevertheless, in the immediate present the greater danger is that Occupy will fail to maintain and increase the support it has gathered from Labor by prioritizing its own organizational interests at the expense of unity.
Occupy's tactics must be guided by the strategic understanding that, in order to effectively pursue fundamental change, the vast majority of the 99 percent must be united. Therefore, any actions taken must be able to garner the sympathy, if not active support, of most working class people. Small-scale confrontations with, for instance, the police, are counterproductive if they do not have this support. No matter how "militant" appearing, they are as far from revolutionary as shifting into reverse gear is from shifting into overdrive in a car.
Likewise, the demands that Occupy chooses to mobilize around must be capable of building the widest possible unity. If these demands do not correspond with the consciousness of the 99 percent, they will fall on deaf ears no matter how important they might be in the minds of those proposing them. In selecting demands, we must be willing to prioritize what is most immediately important to the vast majority of working people over our own individual opinions. The demands must articulate what people feel is most important but have not yet been able to articulate for themselves. At this point in time, arguing for explicitly anti-capitalist demands when most U.S. workers' minds are on the need for good jobs, healthcare, taxing the rich, and keeping their homes, is a waste of time.
Currently, one of the obstacles impeding the participation of Main Street today is the process of decision-making. In most Occupy formations, a 90 percent yes vote is needed to pass anything. In addition, it only takes one person to block a vote. The hope behind these measures and others is to encourage the greatest sense of collective cohesion. The reality is, however, that they enable a minority to control proceedings — like what we are trying to fight against in our own "democracy" in the U.S. — and that they unnecessarily bog down the meetings. This does not build collective cohesion as much as it turns away participants. While it is often desirable to reach consensus, this should not be treated as a principle. One person, one vote, with a simple majority to pass proposals after a full and democratic discussion, should be the standard operating procedure.
In addition to this, there are many items discussed at the General Assemblies (GA) that would be better handled by leaving details to be worked out by an elected leadership body, which in turn can work out a proposal for a vote at the next GA.
Spring is approaching and there are high expectations that Occupy will be able to emerge all the stronger from its winter slumbers. It is hoped that this article will contribute towards this end.
The Left, including the communists have generally served as the useful idiots of international capital … The Left, whether in its Fabian, communist or New Left  varieties has been appropriated by the system it is supposedly exposing.
A self-appointed elite that Huxley called the 'World Controllers' and Caroll Quiqley described as 'an international network' has for generations been intent on establishing a 'World State' (Huxley) or what David Rockefeller calls a 'World Order' and and what President George W. Bush and others …call the 'New World Order.'
In more common parlance it is called 'globalization' but it is seldom understood in its wider ramifications, as set forth here, especially by the Left, whose activists support  aspects of the same globalization process: multiculturalism, feminism, marijuana liberalization, abortion rights, open borders, and feel-good causes in the name of democracy and 'human rights,'  the results of which are further control by the global plutocracy.
The Left, including the communists have generally served as the useful idiots of international capital … The Left, whether in its Fabian, communist or New Left  varieties has been appropriated by the system it is supposedly exposing. A post- New Left has emerged since the dissolution of the Soviet Bloc, and takes the form of the so-called 'color revolutions' under the patronage of the Soros network, and others.
The strategy  used by the international oligarchy is the same as that more generally recognized as being a major element in Marxist doctrine; namely dialectics, the conflict of opposing forces that generates a synthesis. This dialecto method is something that Sutton realized when he was trying to understand why the oligarchy so often seems to be backing opposing ideologies, governments, and policies.
The Marxist dialecticians stated that history is engaged in a process towards world communism that would arise out of the conflict of capitalism and socialism. The oligarchs, on the other hand, apparently operate on the dialectical premise that what will result from their "controlled conflict" will be a socialist-capitalist synthesis which we might call the "World Collectivist State;"  a world order that will be Communistic in organization but run by oligarchs rather than commissars. Aaron Russo, after talking with Nick Rockefeller, alluded to this as "selling socialism as capitalism."
Over the past few generations, the "crises scenarios" used by the oligarchs to sell or impose their plan of a World Collectivist State have included the problems of war, famine, overpopulation, disparity between the wealth of the so-called "North" and "South" , and in our present time "the war on terrorism" (perpetual conflict) and the threat of "global warming."
In general, it can be stated that many of these problems are the direct result of the debt-finance, trade and economic system that is operated by the oligarchs. Now the oligarchs present themselves as the solvers of the problems of their own making. A global "pincer movement" of agitation from "below" (the "Left")  and manipulation from "above" (the "oligarchs") dialectically operates to shift the center of mass political gravity towards an acceptance of, if not support for, a World State to end the crises that have been created by our self-appointed "world saviors."
–
This is the conclusion of "Revolution From Above" by Kerry Bolton published by Arktos.
Source:  Kerry Bolton | (henrymakow.com)
When I first began the process of launching the Alternative Market Project, the idea and scope were rooted in analytical papers I had written years before on aspects of centralization versus decentralization, and globalization versus localization.  Back then, I saw these conflicting economic systems as mutually generative.  That is to say, the further we as a society are pushed towards collectivist or feudalist economic structures, the more we naturally or unconsciously gravitate towards independent and open markets.  The problem today is that independent markets have been artificially and quite deliberately removed from the public view.  As I have said in the past, centralization is a powerful tool for elitists, because it allows them to remove all choice from a system until the only options left to the people are those that the establishment desires.  Though we deeply long for free and vibrant trade unhindered by corporate oligarchy, we are told that such a thing does not exist, and that we must make due with the corrupt ramshackle economy we have been given.  I say, this is simply not so…
The great lie that drives the fiat global financial locomotive forward is the assumption that there is no other way of doing things.  Many in America believe that the U.S. dollar (a paper time-bomb ready to explode) is the only currency we have at our disposal.  Many believe that the corporate trickle down dynamic is the only practical method for creating jobs.  Numerous others have adopted the notion that global interdependency is a natural extension of "progress", and that anyone who dares to contradict this fallacy is an "isolationist" or "extremist".  Much of our culture has been conditioned to support and defend centralization as necessary and inevitable primarily because they have never lived under any other system.  Globalism has not made the world smaller; it has made our minds smaller.
By limiting choice, we limit ingenuity and imagination.  By narrowing focus, we lose sight of the much bigger picture.  This is the very purpose of the feudal framework; to erase individual and sovereign strength, stifle all new or honorable philosophies, and ensure the masses remain completely reliant on the establishment for their survival, forever tied to the rotting umbilical cord of a parasitic parent government.
Perhaps the only ray of sunshine to be seen through the storm clouds of the current economic crisis is the exposure of globalism as an inherently flawed methodology.  The ongoing implosion in the EU has reached a tipping point, as far as I am concerned, and the parade of absurdity involved in the unionization and "harmonization" of Europe is now center stage; its full frontal economic nudity under the hot white lights of the unforgiving financial microscope.
With the latest S&P downgrade of multiple EU nations, including France, Italy, Austria, and Spain, there can be no doubt that interdependency has led to ruin.  Despite French president Nicholas Sarkozy's insistence that the S&P downgrade "changes nothing", the fact is, the EU has just been dealt a death blow.  Higher borrowing costs tend to spark a violent cycle of credit decay in countries with extreme debt to GDP ratios.  Even if France slides through the barrage relatively unscathed, smaller peripheral countries orbiting the EU will not.  Greece, for instance, has just announced that talks surrounding the repayment of treasury bonds held by starry eyed investors have fallen apart:

http://www.usatoday.com/money/world/story/2012-01-13/greek-debt-talks/52530542/1
This means that instead of the 50% "haircut" which buyers of Greek debt were already facing, markets may instead be saddled with a full-on 100% default.
Other smaller EU nations that have been propped up by the flow of funds from the European Financial Stability Facility (EFSF) may soon be in for a surprise as well.  S&P has also announced a downgrade of the EFSF itself:

http://www.rferl.org/content/standard_poors_downgrades_eu_bailout_fund/24453842.html 
Only AAA rated countries have the ability to support the fund and its guarantees.  After the downgrades of France and Austria, the number of AAA rated countries in the EU has dwindled to four, led by Germany.  To be clear, Germany does not have the capacity to carry the EFSF and the bailouts of multiple nations upon its shoulders, leaving the fund to flounder, and eventually, self destruct.
The EU experiment is over.  It may take some time for the world to recognize it, but it has indeed failed.
Across the ocean, the situation has not improved.  The news of the European downgrade came right on the heals of an announcement by Barack Obama that the government must raise the U.S. national debt limit yet again, by no less than $1.2 Trillion!   Sadly, the negative effects of America's own recent credit troubles have only been subdued by the more immediate turmoil in Europe.  It is simply a matter of time before attentions turn back to the frail American debt issue:
http://www.reuters.com/article/2012/01/13/us-usa-debt-obama-idUSTRE80B20P20120113
This debt limit increase should be viewed with quite a bit of vitriol by the American public, especially when one understands that a considerable amount of taxpayer dollars (the precise amount is still not fully known) went into bailout funds for the EU which are now in jeopardy of being derailed.  If American taxpayers are going to foot the bill for the corruption of banks and governments, then we might as well foot the bill here at home, however, because of the sick rationale of globalism and interdependency, we are instead paying for the corruption of banks and governments across the Atlantic while our traitorous president demands even more money to be swiftly misallocated.
Madness?  No.  This is not madness.  This is hardcore fraud, and economic subjugation.  This, my friends, is financial warfare, and right now, we are losing…
While some may applaud the fall of the EU as a victory, I would recommend looking a few moves ahead of the game to see where we are really going.  Yes, the EU is a perfect example of the feebleness of centralization, but it is also an expendable piece on the grand globalist chess board, just like the U.S. dollar.  Already, IMF mascots like Christine Lagarde and MSM pundits have begun suggesting that the EU is failing not because of centralization, but because the union is not centralized ENOUGH!  Only a few months ago, Angela Merkel of Germany obstructed the institution of EU Bonds because the move would collectivize the debts of EU members and remove elements of sovereign control.  I guarantee that policies of national sovereignty like those in Germany will soon become the scapegoat for collapse of Europe in the near future.
The purpose behind a European disaster is not to break up the EU, but to consolidate power even further.  Indeed, plans have already been suggested by centralists which involve a "reformation" of more powerful European nations into a tighter and more totalitarian framework.  The Council On Foreign Relations, a globalist think tank and political puppeteer group, of course agrees with this plan, and has promoted the concept on numerous occasions:

The Financial Times' Wolfgang Münchau argues that the split of the eurozone from the larger EU was inevitable and essential. The summit demonstrated that a "monetary union cannot coexist with a group of permanent non-members in a unified legal framework," he writes. For the eurozone to survive, the greater EU must be reconstituted or destroyed, Münchau explains. Indeed, Britain's decision not to take part in the fiscal union is paving the way for a new Europe unhindered by half-hearted British engagement, says Der Spiegel's Roland Nelles. He contends that Europe is "on the path towards becoming a federal country." 

http://www.cfr.org/eu/new-fiscal-union-europe/p26731

As we have discussed many times over the years, the subversive and sometimes subtle debasement of the dollar is in fact a deliberate program designed by international financiers to force the American public to accept loss of sovereignty and centralize economic authority into the hands of an elite few.  The situation in Europe is no different in this regard.  Both cultures are being strong-armed through the removal of options and funneled into a waiting net like so much oblivious trout.  So, the question must be asked; how do we fight back?
Could a political groundswell be used to supplant corrupt leadership and stall the coming avalanche?  No.  Even with a clean sweep of all branches of government and the election of a presidential candidate with considerable economic insight (like Ron Paul), the damage has already been done.  Would a complete shutdown of the Federal Reserve and a repudiation of all debts accrued through its underhanded financial practices make a dent?  A good start, but still not enough.  What about a complete reversal of current spend and borrow practices by our government and a fast track plan for the reconstruction of America's industrial base?  That would be great, but American industry took decades to dismantle, and it will take decades to rebuild, so again, no dice in the short to medium term.
The fact is, the U.S. is going to see some very hard economic years ahead, regardless of any top down political solution.  Those who are waiting and hoping for a knight in shining armor to ride into Washington D.C. and save them are going to be sorely disappointed.  Those who shrug off the threat of fiscal breakdown as a "long term" affair will likely find time quickly slipping away while they clamor for bureaucracy to finally work in their favor.  As a movement keenly aware of the threat at hand and the culprits behind it, the Liberty Movement should be doing far more than it is now to stem the tide, and that work begins with decentralization.
Decentralization is an activist strategy which does not rely on top down intervention, but instead, focuses on concrete bottom up community building and organization without the hindrances of traditional power structures.  In terms of economics, it means a complete break with the corrupt system and the institution of our own free markets.  This process is only as difficult as we make it for ourselves.
The essentials of an independent life are food, water, shelter, property, trade, and safety.  The means to attain these essentials have been relegated to instruments which central banks and other elitist entities administer and control.  However, that control is and always has been an illusion, an illusion we could walk away from anytime we wish.  This is done through localizing the production of essentials.  Changing the way we look at trade is the key.  A few simple rules, if followed in a determined fashion, make this change a reality:

1)  Provide Essentials For Yourself Whenever Possible: Some essentials can be covered even when you are alone.  If you have access to property, can grow your own food, and have water collection capability, then you are far ahead of the average American in many respects.  With modern technology, including space and energy saving methods, self sustainability is possible even in urban surroundings.  The goal here is to do for yourself whatever you can, whenever you can, making you less vulnerable to mainstream economic chaos.  The more insulated you are, the better equipped you will be to help build or participate in an alternative market.
2)  Network Or Die: Some essentials cannot be provided by one's self.  Organization and networking in order to construct mutually beneficial trade groups is not only necessary, but inevitable in the face of economic collapse.  One way or another, every American who wishes to survive will one day have to get up off their couches, leave their houses, and begin working with other people.  Either they will see the wisdom in preempting collapse and start networking now, or, they will start networking after collapse out of desperation.  Better to start now, and save ourselves the heartache…
3)  Trade Skills, Not Dollars: Use paper currency while it still has some value, but simultaneously, wean yourself off of it through barter of goods and services.  See how many essentials you can fully provide without the use of dollars and without purchases through corporate chains.  Think of this as going financially "off-grid".  What systems do you depend on that ultimately harm you?  How many of those systems can you decouple from now?  Private trade makes independent living attainable by localizing your means of procurement to your own two hands, instead of to a paycheck doled out by a corporation.
4)  Use Commodities, Dump Dollars: Precious metals are the only practical currency exchange available for broad use in a decentralized market.  Fiat coupons, digital currencies, sticks and shells, etc., will not work.  The inherent rarity of PM's, combined with their tangibility, and inability to be artificially reproduced, makes them the ideal currency alternative to fiat.  Digital currencies, reliant on an internet which may not exist in the manner we know it today, are a tremendous waste of time.  Any trade dependent on a system outside of local control is not free trade.  Metals place true free trade, at a local level, within reach.  Even in a highly developed barter market, currency will play an important role, and PM's should not be discounted.
5)  Become Your Own Industry: As decentralization takes root in a local economy, the need for jobs and for goods will not disappear.  In fact, it will become a priority.  Entrepreneurship will be the engine that drives any legitimate resurgence of the U.S. economy, but this business mindset will have to take on a localized focus.  I have heard it argued that America will never be able to rebuild if trade and industry are reduced to local efforts.  On the contrary, thousands of cities and counties acting at a local level to reintroduce micro-industrial economies would far surpass the limited and centralized bumblings of the corporate industrial framework.  The more insulated and self contained each community becomes, the stronger the whole of the country will be in the long term.  The next industrial revolution, if there ever is another, will come about through city, county, and state centric industries designed to feed the prosperity of the residents within those communities, instead of siphoning away wealth and diminishing available essentials as the modern corporate system is engineered to do.
6)  Internalize State Commerce: When enough citizens within each state finally wake up to the dangers of municipal default, federal encroachment on state lands and resources, and the weakness of interdependency on federal subsidies, they will begin to look for ways to plug the fiscal leaks they have ignored for so long.  Decentralization truly finds its home within the structure of the states, and the powers afforded them through the 10th Amendment.  At bottom, states have the ability legally as well as economically to become the ultimate decentralized systems, being that they are Constitutionally mandated to take such measures anyway.  Resource rich states will likely be the first to undertake decentralization in the midst of economic collapse.  Oil, minerals, farm capacity, timber, coal, etc, should be the solid ground upon which states and their citizens set foundation, and states should utilize these resources with the intent to enrich their citizens FIRST, through increased employment and local independent business incentives.  This would be a far cry from the corporate pirate ship plundering that goes on in states today, and far more financially sound.
While there are numerous concerns and great tribulations to be confronted and solved in our age of bedlam, from the rise of police states, to political treason, to expanding wars abroad, first and foremost, we must surmount the problem of economic collapse, or all else will be lost.  Economic collapse is the trigger by which all other tyranny is made viable.  It is the rationalization that will be used to convince the public that the loss of freedom is a "crucial tradeoff" for increased safety.  The more centralized we as a nation become, the more centralized the world becomes, the less likely we will be to weather the tidal wave of collapse.  The more decentralized we become, the more localized and independent our communities, the less we will be affected by destabilization, the more successful we will be as a people, the less rationalization the government will have to diminish our freedoms, and the greater leverage we will have if they try to diminish them anyway.
The path is clear; we decentralize, we localize, and we do it now, or, we lose our country, our cultural identity, and our legacy.  If all other options have been stolen away from us, then we must have the courage to create our own…
Source: Brandon Smith | Alt-Market
There is nothing more disgusting or detestable than a citizen informant.  Without citizen informants, tyrants could never retain the kind of power they wield.  In fact, without citizen informants, totalitarian movements would never gain traction.  This is why EVERY functional oligarchy throughout history has implemented programs designed to encourage the development of common spies, using the promise of monetary reward, or collective recognition.
Sadly, there are many in our society that would gladly sell out their closest friends and family to the tortures of authoritarian bureaucracy for nothing more than a firm pat on the head and a few fiat dollars.  If there was ever a more degraded lot of bottom feeding opportunist scum, the citizen informant is the very epitome.
With the implementation of the "See Something, Say Something" program, and the increasing drive by the White House to institute community watch efforts to route out "extremists", showcased quite clearly in strategic outlines like the  'Empowering Local Partners To Prevent Violent Extremism In The United States':
http://www.whitehouse.gov/sites/default/files/empowering_local_partners.pdf
The issue of informant networking has come to the forefront in America.  My personal view is that these nauseating and diseased people should be treated as treasonous as any globalist, regardless of stated intention.  That said, in an environment rife with extraneous poverty, informancy cannot be avoided.  Plenty of men and women, stricken with empty wallets and bellies, are extraordinarily prone to betrayal, regardless of their inherent morality.  This is the kind of world we will soon be living in, and this is the kind of environment that corrupt officials like those in New Jersey are prone to exploit.  Pathetic, weak, cowardly, but ultimately dangerous sheep unknowingly serving the very men who would seek to enslave them.
In terms of 2nd Amendment rights, I find the very idea of debate rather pointless.  The logic is undeniable.  If you cannot defend yourself, you are a victim.  Period.  You become food for predators and parasites.  Any state government or national government which actively seeks to disarm its citizens is suspect.  I couldn't care less about their stated rationalizations or rhetoric.  In New Jersey, in Chicago, in Washington D.C., or anywhere else for that matter, an innocent man who is disarmed by law will always be victimized by an outlaw who armed through criminality.  The concept of reduced crime through gun confiscation is so naïve it warrants considerable analysis.  Through such efforts, good men are left defenseless, while evil men are free to wreak havoc.
The 2nd Amendment is not a negotiable or debatable pillar of the Constitution.  It is absolute in its protection.  Every American, regardless of the temporary circumstances of the times, is free to arm and defend himself from ANY enemy, from average criminals, to government thugs.  The gun confiscation program featured in the video below, and instituted by officials in New Jersey, should not be taken lightly.  The pure idiocy inherent in its premise cannot be ignored.  New Jersey's willingness to pay off potential informants could very well be a petri dish test for much more expansive programs across the country in the future.  If we cannot stop the corruption and anti-constitutionalism of a pathetic state like New Jersey, then how can we expect to disrupt the same brand of corruption throughout the U.S.?
Guns are simply not the issue.  An armed and educated populace is a populace safe from crime.  This is a fact.  New Jersey's informant program is a travesty of justice, not only because it encourages American on American treason, but also because it ignores the very purpose behind the Second Amendment; to create a populace free from the fear of tyranny.  If we do not put an end to the anti-gun tides in New Jersey, we should fully expect to see such atrocities against freedom planted at our own front doors in the near future.  There are no exceptions to the Constitution.  New Jersey is not outside of its jurisdiction.  Every person in that state deserves the same protections as anyone else.  We must disrupt the sick and perverted no questions asked buy-off policies now prominent in that region, or be subject to the same in the near future.
Source: Brandon Smith | Alt-Market
With the passage of the National Defense Authorization Act and all the malicious intent contained within its virulent pages, many in the Liberty Movement, once relegated as "extremists" in documents such as the MIAC Report and the Virginia Fusion Center white papers, now find themselves faced with the very real possibility of being targeted as "enemy combatants" in their own country and in their own front yards.  No longer is the fight between globalist and Constitutionalist obscured in the mire of cold war style information drilling and propaganda.  Today, it's all out in the open, and it's nothing to be taken lightly.  Unfortunately, however, an incessant belief remains amongst a large subsection of Americans, who assume that there is no need to act, or to choose sides.  Apathy and fear cling to our culture like manure to a new leather shoe.
In my years as an analyst and activist, I cannot possibly estimate how often I have heard cries of nihilism, futility, and submission.  The redirections and rationalizations used by naysayers and quivering weaklings at the onset of any social crisis always carry the taste of logic, but in those of us who have resolved to stand firm in our principles, such excuses elicit reactions of utter disgust.  There is nothing more distasteful to the courageous than being presented with a man who would sell his own soul (or the souls of others) for a few extra minutes of oxygen.
Life is inherently dangerous.  Always has been.  Always will be.  Regardless of the time or place in which we live, the threat of calamity is ever present.  American culture has strained every sinew and burst every blood vessel trying to wrap itself in a bubble of artificial safety…to no avail.  While we live, there is no permanent escape from struggle, beyond increasingly brief moments of calm.  At bottom, those who embrace the reality of danger and conflict, and who have the will to see it through, are the men and women who are most likely to make a difference in this world.  Those who run, hide, or easily surrender, matter little in the grand streams of history.  They become cannon fodder buried in the dreary dust bowl pages of abandoned encyclopedias, and nothing more.
As the preeminence of this cold hard truth dawns on us, we are faced with what amounts to a very simple choice, at least, in my mind.  Terror or valor.  Slavery or freedom.  Obedience or defiance.
The stature and vicious nature of our opponent appears overpowering, just like any other monster worth the effort to slay.  The greatest enemy of the citizenry, though, has never been the leviathans of establishment and oligarchy, but the apprehensions of the people themselves.  Let's examine this concept more thoroughly by confronting the attitudes of some activists towards the very solutions that could save them and their country if they only had the guts to hold fast…
Organization
In the Liberty Movement, more than any other political and philosophical social shift I can think of, the process of practical organization has been ridiculously subdued.  The alarm that arises over the possibility of being added to multiple arbitrary lists of alphabet agencies from the FBI to the DHS has until recently inspired a sort of proactive paralysis.  In most situations, whether we like it or not, activism involves exposure, and risk.  Sorry folks, that's just how it goes.  Frankly, if you are not on a government list somewhere, then you probably aren't much of a threat, and therefore, need to try harder.
Solid organization does not necessarily require centralization or a top down command structure.  In fact, the more decentralized a group or network is, the more flexible and durable it becomes.  What is required, though, are common objectives and consistent leadership through example.  In a movement at odds with itself at the most basic level, the juggernaut of elitism rolls forward unimpeded across lands of ghosts and jello.
Without mutual aid, mutual defense, and synchronous strategies, individual proponents of Constitutional law and transparency will find themselves completely isolated from one another.  Faces in a crowd of destitute and hungry.  Ultimately, what the government does or does not do when it comes to categorizing our movement is not our concern.  Safe haven relocation, barter networking, open protest, neighborhood defense, will attract negative responses from elitists because these strategies WORK.  When faced with the potential of full spectrum national collapse and economic implosion, federal intervention or demonization becomes a rather puny concession in comparison.  Our very first concern should be that of local insulation and survival in the wake of financial Armageddon, not the chest beating of overconfident bureaucrats.
Protest
Protest, for the most part, has become a completely ineffective tactic for legitimate change, not because it is passé, but because the methods used today have not evolved for several decades.  Public demonstrations in modern times in the face of technically advanced media manipulations must assert a specific objective in order to be successful.  The objective could be as simple as refusing to move from a particular place despite the perceived consequences, or preventing an opponent from finishing a task.  Signs and slogans are meaningless compared to the act of drawing a line in the proverbial sand and denying the enemy access.  The problem is, many protest groups in these times are afraid to commit so completely too any redress of grievances.
A peaceful protest requires incredible courage, including the courage to get arrested, or to take a beating.  It demands an unwavering sense of urgency.  That which can be accomplished today MUST be accomplished today, or not at all.  There may not be an opportunity tomorrow.
A protest which melts and cowers in the wake of authoritarian violence will not affect an awakening or a repositioning of the system.  The first protest organization which is willing to take their stand against the elites all the way no matter what hell is unleashed upon them will garner the unerring respect of a majority of the nation and drive the methodology of liberty forward to the point of critical mass.  Only those who are willing to set their consciences and their principles above their own personal safety have the ability to accomplish this.
Political Steadfastness
While top down solutions to the problem of globalist corruption are slim at best, and economic destabilization is a certainty despite the success of any Constitutional candidate, there is still vital utility in political action on the part of the Liberty Movement.  Our brand of politics, however, can have nothing to do with the grandstanding baby kissing propaganda plays of traditional campaigns.  It must abandon the concepts of "moderation" and "bi-partisanship"; both disingenuous phrases that are often misapplied in order to steer public perception.  Our candidates, instead of consistently trying to placate special interest groups and the uninformed, must have the audacity to become totally uncompromising.
Limp-wristed and easily bought politicians are a dime a dozen.  Some of the public may still vote for them because they are ignorant of the false left/right paradigm, but most Americans, I believe, are irrevocably disenchanted with the never ending throng of establishment thespians posing as human beings with beating hearts.  There can be no room given to indecisive or dishonest candidates anymore.  This is why men like Ron Paul have attained so much support despite the ongoing and gleeful sabotage by the mainstream media; he refuses to be deterred, or to sacrifice his original position.  All Liberty Movement candidates should take a page from Paul's campaign and learn well.  The message, the truth, is more important than winning the game.  Sacrifice the truth, and all subsequent victories become hollow.
Self Defense And Revolution
All predators seek first to hunt prey they think will offer the least amount of resistance.  From wolves to rapists, the meek make irresistible targets.  The point?  Make the predator pay hardily for his pursuit of you and he will think twice before trying again.
The size and strength of an attacker is irrelevant.  His technological superiority and logistical support are irrelevant.  His ferociousness and his veracity are irrelevant.  His numbers are irrelevant.  His lack of moral concern?  Still irrelevant.  In self defense, and in revolution, there is no choice but to stop the aggressor, no matter how long his shadow is cast.  One fights back, or one loses everything.  Period.
In rebellion, there is, of course, a right time and a right place.  Barreling forward like a brainless bull charging the deceptive red cape of the matador is not the way to win back one's freedoms, but a great way to end up impaled by the weight of one's own thoughtless force.  Respectively, resorting to random violence, or extraneous acts of revenge against current representatives, no matter how traitorous, would do nothing to alleviate the stresses of our country.  They are mere middle men.  Errand boys for corporate interests.  Sock puppets. They are not the root of the ailment, only a symptom.
If the conflict we are now caught up in reaches the point of no return, and all peaceful methods are exhausted, no citizen spy program, no black boot, no SWAT team, no remote controlled drone should be allowed to overwhelm the resolve of the people.  No one ever said that keeping a free Republic would be easy, but it is, indeed, crucial.

The Wages Of Fear
Being afraid, and living in fear, are two entirely different states of being.  If they are honest, all people will admit they suffer from some measure of uncertainty.  The most impressive of all heroes endure this uncertainty and take action in spite of it.  That is to say, they do not allow themselves to be ruled by it.  Nor do they shirk this responsibility as a lost cause.  Cynicism in the wake of adversity is a familiar disguise for cowardice.
When faced with a menacing giant of mythological proportions, the light footed warrior is not without recourse.  There is no such thing as an invincible enemy.  There is no such thing as an insurmountable obstacle.  In all battle, whether combatants wield ideas or arms, human will is the most important determinant.  The side with the deepest and most sincere internal relationship with its own principles will have an advantage that goes far beyond any military industrial edifice.  Missiles cannot kill honor, or the growing sense of awareness that it inspires.
In the end, true activists for liberty understand that no one lives forever, but legacy is eternal.  What we leave behind here now should be more than footsteps and gravestones.  What we build for the future should be more than structures of wood and stone cutting tall in the fog of distant and terrible fires.  What we have been given, is an infinitely rare opportunity; to defend not only ourselves and our families, but the prosperity of many generations to come.  This challenge is at once startling, horrifying, and in some ways, beautiful.  And, as much as I sometimes dread the dark days ahead of us, I cannot in all honesty think of another moment in history that I would rather be alive.  We have been given a chance to sever the chains of global elitism; perhaps the most overwhelming tyranny of our age, or any other age, and start anew.  When one comes to this realization, walking away or giving in seems like a laughable proposal.
At the edge of this fantastic tempest, we make camp, we warm our hands patiently by the fire, we remain vigilant, and when the time comes, we will not be moved…
Source: Brandon Smith | Alt-Market
The trick to maintaining the US delusional democracy is feeding the illusion for citizens that voting and elections really matter.  But when both major parties are owned by rich and corporate elites it matters less than most people think whether Republicans or Democrats win and control Congress or the White House.  Their seeming differences are a clever distraction that keeps fooling and manipulating Americans.  With the help of the mainstream media, making entertainment out of political races, Americans are deceived into thinking that elections deserve their respect and participation.
As power shifts periodically from one party to the other partner of the two-party plutocracy, the illusion of meaningful change sustains the corrupt, dysfunctional political and government system and the economy rewarding the top one percent.  Winning politicians are adept at lying convincingly, especially about change and reforms and, like well advertised products, Americans consume the lies.
The perennial problem is that despite what so many Americans view as failed presidencies and, even more clearly, failed Congresses, no Second American Revolution is produced that would return the government to we the people.  The biggest lie of all: Elections can fix the broken system.
The candidacy of Newt Gingrich presents a historic opportunity for a new, bigger form of failure that could clarify to most Americans just how broken the electoral system is.  On the one hand, the widespread anti-Obama sentiment coupled with a crippled economy could be sufficient to elect any Republican opponent.  On the other hand, despite a long list of Gingrich deficiencies proclaimed by many mute-Newt conservatives and Republicans, he just might grab the Republican nomination and beat Obama.  Counter intuitively, President Gingrich could help revive American democracy.  He is the failure we have been waiting for, just the right old, fat, loud mouth, hypocritical white guy.
He would be such an utter and complete disaster as President that, finally, a vast majority of Americans, especially those that still vote, would reach a heightened level of despair, anger and disgust that some form of rebellion akin to what created the nation in the first place could occur.  Think of Gingrich as the Segway President: all hype and fakery with no possibility of success, being much, much worse that George W. Bush and Barrack Obama.
In other words, the US would finally reach a bottomed-out political state more analogous to the tyrannical regimes that have fallen to grassroots revolutions.  The illusion of a functioning democracy would melt away and the nonsense of being the greatest democracy would become crystal clear.  History suggests that things must get so bad and painful that no amount of rationalizations, propaganda, lies and distractions can keep sustaining a corrupt and delusional democracy.
In this nightmare-salvation scenario, here are possible concrete actions that would put the US on the path to revolutionary reforms: overwhelming public demands for reform constitutional amendments through the use of an Article V convention bypassing Congress, successful emergence of a competitive third party, massive voting out of incumbent Democrats and Republicans, a stronger Occupy movement leading a populist, nonpartisan rebellion aimed at overturning the status quo political and economic system.
Even if you cannot get yourself to vote for Gingrich you can still help by not voting for any of his Republican opponents in primaries and, later, not voting for Obama.  Think of this behavior as courageous patriotic dissent.  Desperate action for desperate times.  Sure, you might worry about some awful consequences for the nation from a scary Gingrich presidency.  Against this, however, how much more can the nation suffer from presidencies that serve rich and corporate interests rather than the 99 percent?  With Gingrich we could get a populist backlash to drive rebellion and reform.  Any system that produced a President Gingrich would clearly justify tearing it down.
The recent NBC/Wall Street Journal poll found that 50 percent of Americans polled would never vote for Gingrich, clearly a sign of how little trust and confidence he engenders.  This sentiment must be overcome by seeing Gingrich as the devilish stimulus for national rebellion against the two-party oligarchy.  Of note, 37 percent said they were certain to vote against Obama, and 34 percent said the two-party system is seriously broken, and the country needs a third party.  But the current system has been rigged to make a third party presidential candidacy extremely difficult, though the Americans Elect effort may be significant in 2012.
Note that a President Romney would probably not help; he just does not have what it takes to talk and behave recklessly, stupidly and crazily enough to embarrass and chagrin most Americans at historic levels.  Unlike the genuinely reptilian Gingrich, Romney is no more genuine than our current democracy, which would stay fake. Like Obama, Romney has far too much self-control to be bad enough to wake up Americans to our warped democracy.  Replacing Obama with Romney would be like choosing white eggs instead of brown eggs; a difference without distinction.
The mantra that democratic rule exists in the realm of governmental affairs has proven false. The fact that deficit spending is commonplace and acceptable to their populace links the social democracies in a feudal structure that most are unwilling to acknowledge. The practice of debt created bank money underlies every social policy and expenditure. The notion that paying for public projects, based upon popular support and taxes, is extinct. Destroying domestic currencies and obligating future generations to the debt slavery of past failed projects, has replaced the work ethic. Democracies pledge subsidies without labor and security absent of personal freedom.
Is this the promise for a society based upon individual dignity, or is this the formula for subsistence survival of servile serfs?
One of the consistent symptoms of self-delusion in the postmodern global society is the denial that evil is not real. The very term evil offends sophisticates that revel in God is Dead mindset. Friedrich Nietzsche's proposition that the idea of God is dead now rules much of the planet. The end result is that eternal standards of ethics and morality are rejected and situational whims that foster unsavory appetites are adopted. Under the inevitable void in ethical principles, the discipline of epistemology and the search for truth becomes impossible. Knowledge is never relative; it is everlasting and founded upon permanent reality. Contrary to the Transhumanist vision for mankind, human nature is undeviating in its common and shared traits and foibles. The most pronounced shortcoming in all of us is the tendency to accept or even commit evil, in the normal course of our behavior.The philosophy of history has long struggled with ethics in politics. Yet, the champions of the modern state cling to the suspect claim that legitimacy of a political regime stems from the public authority of citizens reflected by their democratic will of consent. The essential question posed, that few will address, rests upon the ultimate nature of any political structure. Can a democracy be moral, when selfish sycophants shout and pose as the voice of the people?
Tyler S. Moselle in a paper, Natural Evil in Politics, concludes.A Theory of Natural Evil in Politics
"We have seen various moderns approach the question of natural evil in politics with direct reference to eternal essence. The general modern trend refers to attempts to turn back to eternal essence as naturally evil due to inadequacies in human reason, conceptions of justice, or physical necessity (self-interest and survival). Yet, none of the moderns destroy a natural link to justice or evil in politics – they merely shift the grounds of the debate. Conceptions of radical freedom with no essence preceding existence still affirm notions of responsibility and ethics.

The liberal conception of injustice often attempts to defend itself with teleological justifications (via Kant and Hegel) that can be linked to the classical conception of the eternal ideas. Machiavelli and Nietzsche turn against eternal essence and being in unique ways in an effort to affirm the physical over the intangible. Most importantly, we have seen that Hume's attack on essence preceding existence is not so devastating. We addressed an alternative through Noam Chomsky's work synthesizing a conception of natural evil in politics through anarchism and activism. We offered a sustained argument for progress which turns against the conservative arguments of eternal being and unchanging essence from the classical conception. Now it is time to sketch a brief theory of natural evil in politics.

Natural evil in politics is the following: the extreme periphery against the middle ground. Plato establishes the difficulty and problems in nature when seeking to reconcile eternal being with becoming. Aristotle puts forth a practical vision of the political regime based on moderation.

Confucius establishes a natural right teaching that focuses on the middle way. The moderns push for the physical over the metaphysical and make an argument for harmonizing the extremes or at least reveal that both the extreme periphery and the stable middle are the solid core. Hume makes the eternal essence of classical metaphysics applicable but does not destroy it.

Chomsky provides an applicable model of testing the theory of natural evil against reality while retaining conceptions of natural justice and eternal ideas as a basic standard. The arguments for historical progress reveal compromises that underscore the harmony of the radical few who push for progress in the name of the eternal essence of ideas while being stabilized by the unradical many and the becoming of reality. This is not determinism but the basic realization that the extreme periphery and the solid core fuse into a symbiotic whole as prefaced in the introduction".
Mr. Moselle uses the term progress as a theme if not a goal. Can such an objective be applied to a nanotechnology state that seeks to remake human nature into a transhumanist cyborg robot? There is no escape from asking and seeking an answer to the philosophical inquiry of the evil nature in each of us. When maniacal scientists dream of their benign Frankenstein creatures free of original sin, they verify that human progress is attainable only in their own demented minds.
Verbalizing the concept of original sin with its implied cosmological implications must seem like heresy to those who reject that evil exists. Yet, you do not have to advocate the tyrannical disposition of Plato's Philosopher King to recognize that the record of historic achievements are few, when stacked up against the pattern of barbaric pillage, that extends from the use of the sword to the speculation in derivatives, swaps and naked shorts.
Western Civilization has produced the greatest degree of individual human freedom because it is founded upon universal principles and the sanctity of all life. The exploration of intellectual thought during the Enlightenment pressed the boundaries of traditional political systems. With the emergence of a tradesman and guild economy, the principles of democratic participation became a trend. The focal levers of power never transferred to the ordinary layman, but with the rise of literacy, the input of former serfs became the sentiment of the mass public.
As with any rise in understanding and knowledge, a little insight does not make a mastermind. However, the average appreciation of historic lessons and immutable values, of the 18th and 19th century, far outpaced the social relativism of the last few generations of whiz kids. Those who argue that the educational achievement of government schools is a proud record for human development are proof positive of their lack of perspective and wisdom.
The government dependency clones that matriculate through the socialized indoctrination of society are a very dangerous wounded animal that believe they have an equal entitlement on democratic thought. This assessment does not exclude their natural rights or civil protections under an equal application of the law. Nonetheless, the idea that the popular will of addictive subsidy government recipients, trumps the voice and influence of independent and self-employed wealth creators is absurd. Yet, logic and common sense has never been an important element within the political process.
When will people address the metaphysical macrocosm of political power? Machiavelli and Nietzsche seem to be the operative sages for the insane world that is imploding more each day. The internationalist interdependency of foreign policy and corporatist commerce benefits from the demise of God, because the beneficiaries are the same elites that have ruled the planet for the ages. The democratic movements that seek to purge the cabals, diminish the economic cartels and break up the banksters institutions understand the evil character of this concentration of power. However, many misguided activists use sophistry when directing their outrage into attempts to be part of a corrupt body politic.
The 99% vs. the 1% misses the mark because the philosophy that underpins the redistribution of the riches cry violates the principles of actual wealth creation. Mob rule is transient; oligarchy governance is the norm, while representative government is rare. The reason that government fails to represent the democratic will of the people is that it is inherently an evil institution. Democratic thought fails because it so many people believe that government is tamable and is able to achieve good outcomes.
As long as the human race populates the planet, clashes with competing factions and conflicts will be the net result. Utopian dreams always grind down to practical circumstance, because our mutual nature is usually the only factor that we all share. Universal voting to achieve political consciousness might be achievable in local jurisdictions, but is ridiculous when implemented on national levels.
Ending ineffective and inept spending financed by debt is the proper conclusion of rational thought. Woefully, we live in a democratic ethos of idiots. The existential advocacy that existence precedes essence may apply to the human context of possibilities and achievements, but the Hume viewpoint that essence precedes existence pertains to governments. While being human institutions, the state and more to the point, the iniquitous banking syndicates are systemic evil. The righteous outrage of the people needs to be directed at the abolishment of the debt created money. People will never be equal in means or talent, but a new financial system can rid the world of the curse of central banking interest extortion.
Government deficits are a way of life in the post republic America. The spending addiction is a plague that swept away the land of the free and the home of the brave. The cultural curse of entitlement 'rights' has created a system of mob rule on the bottom of the ladder and champagne wishes and caviar dreams by plutocrat aristocrats. The controllers of the corporatist economy are just as adamant about their 'right' to dominate as the unwashed demonstrator defends their latest chanting theme for wealth re-distribution.
So how is a government supposed to cater and quell such a divergence of fundamental mindsets? The systemic political response is to give something to everyone and take nothing away from anyone. Budget deficits are more than an unbalanced tally between expenditures and receipts, it is a cowardly surrender to the lowest political motivation – protect your own ass – at the cost of resolving the undeniable root causes, that fuel the unending fiscal shortfalls.
On the federal level, the practice of deficit spending is engrained as a 'right' stemming from having the world's reserve currency. As long as international commerce is debited in, Federal Reserve notes, the central regime continues to spend. Pronouncements for cutting agency budgets are the mere promises of a habitual liar. Only when the need for an actual cure becomes unavoidable can the hard work begin to slim down the obese slob.
Since the will to abolish entire agencies and departments is lacking, a simple method for withdrawal can and should apply a mandatory formula. The normal increase in base line budgets is sacrosanct in Washington. Reversing this practice, not by freezing in place by actually reducing the monies for every agency in proportion to the actual deficit, is a sensible alternative. The GAO Government Accountability Office, CBO Congressional Budget Office or some combination of an independent oversight body, applying generally sound accounting standards, could score the process.
Yes, the criminal class will work day and night to circumvent this restraint, but the principle of losing department funds in relationship to the total budget shortfall would establish that every agency has skin in the game.
Weaning an addict off drugs causes erratic reactions, so there would be immense resistance. However, the credit markets will eventually demand serious reform. The entire issue is whether any kind of reform is entirely valid. Therefore, the significance of tying any future expansion of government to the reality of actual funding can stop the percentage growth of the state's dominance over the economy.
The true solution resides in drastically downsizing all levels of government. How well are we doing in achieving that goal in the last decade?
Another approach from the state level is to litigate constitutional abuses that foster spiraling budget shortfalls. In the recent essay, Slaying the New York State Pork Dragon, the background of the court challenge in New York State is discussed. Watch the video, Pork Lawsuit NYS Court of Appeals No. 190 Bordeleau v NYS, of the proceeding in the Court of Appeals and observe the arguments from the apologist for the crony corporatists and the inept lines of reasoning from the Solicitor General attorney from NYS. No doubt, this test case will certainly reflect to what degree the judiciary is committed to observe the rule of law.
Yet, who among seasoned participants in confronting the political establishment can reasonably contend that the fate of the nation can be entrusted into the hands of imperial courts? As long as admiralty law supersedes common law, the courts are mere tools of the ruling elites.
The next approach is to lobby the power structure. An example of this option took place in Albany with the Assistant Secretary of Energy, Tom Congdon. On the instruction of Governor Andrew Cuomo, a meeting was held in the Capital Building on October 27, 2011. The presentation included a Proposal for compliance on Section 12 of the Power NY Act 2011 – Article X. Scheduling this conference was not automatic, since there was never a response to a Citizen Power Alliance letter for a promised meeting, directly with the Governor. It took a public square challenge prior to the hearing on Porky Lawsuit to push Cuomo to honor his former agreement.
The lesson is not that success is an expected outcome, but persistency coupled with media attention drives political responses. Linking sound public policy with prudent fiscal accountability should be a natural goal for any civil servant. Nevertheless, finding such responsible officials is rare and should be commended when one-steps forward. First term Assemblyman Sean T. Hanna, District 130, demonstrated his fortitude with his presence at this CPA meeting.
Since this effort is driven by a wise recognition that budget deficits are economic killers, any effort or interchange that seeks constructive reduction in squandering public funds should be championed. Now this seems like a noble ambition, but in the real world, there is little interest in being reliable stewards of the public trust.
Government excess has a partner
Public demands feed the State
The reason is quite simple. The current relationship between bureaucrats and the public often coincide. The administrators enjoy expanding budgets and the public clamors for greater levels of public monies to feed their insatiable appetites, for more unearned income or services. Government is often portrayed as the gloated Jabba the Hut, because of its voracious power to devourer funds and resources in the quest of ever advancing central control.
In reality, it takes an unholy alliance with down trodden dependent serfs, who revel in their emancipation from individual responsibility. The drumbeat for more government benefits, without a correlation to actual wealth creation and sufficient funding, seems to be the anthem that has swept the country for generations.
As fate had it, the Occupy Albany rally in the Capital Building took place just outside the conference room where the CPA meeting was held. Now it would be easy to criticize the rhetoric of the protestors, but the vintage assortment of demonstrators indicated that the motivation for their discontent crossed different age brackets.
Occupy Albany protesters rally in Capitol
View the You Tune video, Occupy Albany protesters rally in Capitol and go beyond the script and shouts. Consider that New York is rational enough to respect the right of citizens to petition their government. The lack of understanding that government revenues have a proportional relationship to the taxable receipts derived from economic activity, is a sad commentary on the fiscal illiteracy of social utopians.
Should there be major tax reform, should the banking system be totally retooled and should the imbalance of money accumulation between the 1% and the 99% be reversed? Of course, but you will never get to that point as long as an oligarchy controls political policy.
Citizens of all stripes and ideology need to learn the art of push back. One of the bigger mistakes is to assume that legislators are the driving force behind government administration. Frankly, as desirable as it would be to empower an elected legislative branch of government, the stark fact of politics is that bureaucratic agencies ignore the spirit and intent of most laws and go merrily on their way to build their own fiefdoms of influence and regulation. These bureaus are in the business of dispensing favoritism towards expedient allies.
In order to lick the budget deficit it will take more than capping the growth of expenditures. It requires an actual reduction in the scope and intervention of government activism. The grass root proponents of the Tea Party movement understand this principle. When will the Occupy movement come to accept that the failed government system is no solution to novena?
The rudimentary steps necessary to shrink government, on all levels, is pure Jeffersonian wisdom. The fat and blotted tyranny that is synonymous with the nanny state is the cause of the fiscal nightmare, which is tearing apart every aspect of society.
Most of the attention on budget disparity centers on the Federal deficit. The ludicrous attempt to deflect the political heat unto a "Super Committee" is a sign of the acute desperation of a political system rotten from within.
Populace activism needs to be encouraged, even when proposals or demands are seen as outrageous or unreasonable. Critical mass of citizen dissent needs to be translated into serious and constructive negotiations with officials, no matter what rank or title they hold. Soon, sleeping subjects will never wake from their slumber.
The time to act is now. Organize and learn how to become effective. Engage the political process, not just on selection day when you vote, but whenever you interact with an agency or a representative of the suspect authority, that deems to control your existence.
The entire legitimacy of the political system is in play. Those who still cling to the myth - government of the people, by the people, for the people - need to rethink their false placed loyalty. Our task is to support true representative leadership and to confront bureaucratic arbitrariness and despotism. Reversing the budget deficit is just one component in the long path to a genuine Republic form of responsible government.
7 Things About The Monolithic Predator Corporations That Dominate Our Economy That Every American Should Know…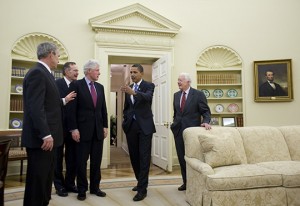 Right now, there is a lot of talk about the evils of "capitalism".  But it is not really accurate to say that we live in a capitalist system.  Rather, what we have in the United States today, and what most of the world is living under, is much more accurately described as "corporatism".  Under corporatism, most wealth and power is concentrated in the hands of giant corporations and big government is used as a tool by these corporations to consolidate wealth and power even further.  In a corporatist system, the wealth and power of individuals and small businesses is dwarfed by the overwhelming dominance of the corporations.  Eventually, the corporations end up owning almost everything and they end up dominating nearly every aspect of society.  As you will see below, this very accurately describes the United States of America today.  Corporatism is killing this country, and it is not what our founding fathers intended.
The following is the definition of "corporatism" from the Merriam-Webster dictionary….
the organization of a society into industrial and professional corporations serving as organs of political representation and exercising control over persons and activities within their jurisdiction
Corporatism is actually not too different from socialism or communism.  They are all "collectivist" economic systems.  Under corporatism, wealth and power are even more highly concentrated than they are under socialism or communism, and the truth is that none of them are "egalitarian" economic systems.  Under all collectivist systems, a small elite almost always enjoys most of the benefits while most of the rest of the population suffers.
The Occupy Wall Street protesters realize that our economic system is fundamentally unjust in many ways, but the problem is that most of them want to trade one form of collectivism for another.
But our founding fathers never intended for us to have a collectivist system.
Instead, they intended for us to enjoy a capitalist system where true competition and the free enterprise system would allow individuals and small businesses to thrive.
In an article that was posted earlier this year on Addicting Info, Stephen D. Foster Jr. detailed how our founding fathers actually felt about corporations….
The East India Company was the largest corporation of its day and its dominance of trade angered the colonists so much, that they dumped the tea products it had on a ship into Boston Harbor which today is universally known as the Boston Tea Party. At the time, in Britain, large corporations funded elections generously and its stock was owned by nearly everyone in parliament. The founding fathers did not think much of these corporations that had great wealth and great influence in government. And that is precisely why they put restrictions upon them after the government was organized under the Constitution.

After the nation's founding, corporations were granted charters by the state as they are today. Unlike today, however, corporations were only permitted to exist 20 or 30 years and could only deal in one commodity, could not hold stock in other companies, and their property holdings were limited to what they needed to accomplish their business goals. And perhaps the most important facet of all this is that most states in the early days of the nation had laws on the books that made any political contribution by corporations a criminal offense.
Our founding fathers would have never approved of any form of collectivism.  They understood that all great concentrations of wealth and power represent a significant threat to the freedoms and liberties of average citizens.
Are you not convinced that we live in a corporatist system?
Well, keep reading.
The following are 7 things about the monolithic predator corporations that dominate our economy that every American should know….
#1 Corporations not only completely dominate the U.S. economy, they also completely dominate the global economy as well.  A newly released University of Zurich study examined more than 43,000 major multinational corporations.  The study discovered a vast web of interlocking ownerships that is controlled by a "core" of 1,318 giant corporations.
But that "core" itself is controlled by a "super-entity" of 147 monolithic corporations that are very, very tightly knit.  As a recent article in NewScientist noted, these 147 corporations control approximately 40 percent of all the wealth in the entire network….
When the team further untangled the web of ownership, it found much of it tracked back to a "super-entity" of 147 even more tightly knit companies – all of their ownership was held by other members of the super-entity – that controlled 40 percent of the total wealth in the network. "In effect, less than 1 percent of the companies were able to control 40 percent of the entire network," says Glattfelder. Most were financial institutions. The top 20 included Barclays Bank, JPMorgan Chase & Co, and The Goldman Sachs Group.
Unsurprisingly, the "super-entity" of 147 corporations is dominated by international banks and large financial institutions.  For example, JP Morgan Chase, Goldman Sachs, Morgan Stanley and Bank of America are all in the top 25.
#2 This dominance of the global economy by corporations has allowed global wealth to become concentrated to a very frightening degree.
According to Credit Suisse, those with a household net worth of a million dollars or more control 38.5% of all the wealth in the world.  Last year, that figure was at35.6%.  As you can see, it is rapidly moving in the wrong direction.
For a group of people that represents less than 0.5% of the global population to control almost 40 percent of all the wealth is insane.
The dominance of corporations is also one of the primary reasons why we are witnessing income inequality grow so rapidly in the United States.  The following comes from a recent article in the Los Angeles Times….
An economic snapshot from the Economic Policy Institute shows that inflation-adjusted incomes of the top 1% of households increased 224% from 1979 to 2007, while incomes for the bottom 90% grew just 5% in the same time period. Those in the top 0.1% of income fared even better, with incomes growing 390% over that time period.
You can see a chart that displays these shocking numbers right here.
#3 Since wealth has become concentrated in very few hands, that means that there are a whole lot of poor people out there.
At a time when technology should be making it possible to lift standards of living all over the globe, poverty just continues to spread.  According to the same Credit Suisse study referenced above, the bottom two-thirds of the global population controls just 3.3% of all the wealth.
Not only that, more than 3 billion people currently live on less than 2 dollar a day.
While the ultra-wealthy live the high life, unimaginable tragedies play out all over the globe every single day.  Every 3.6 seconds someone starves to death andthree-quarters of them are children under the age of 5.
#4 Giant corporations have become so dominant that it has become very hard for small businesses to compete and survive in the United States.
Today, even though our population is increasing, the number of small businesses continues to decrease.
According to the Bureau of Labor Statistics, 16.6 million Americans were self-employed back in December 2006.  Today, that number has shrunk to 14.5 million.
This is the exact opposite of what should be happening under a capitalist system.
#5 Big corporations completely dominate the media.  Almost all of the news that you get and almost all of the entertainment that you enjoy is fed to you by giant corporations.
Back in 1983, somewhere around 50 corporations controlled the vast majority of all news media in the United States.
Today, control of the news media is concentrated in the hands of just six incredibly powerful media corporations.
#6 Big corporations completely dominate our financial system.  Yes, there are hundreds of choices in the financial world, but just a handful control the vast majority of the assets.
Back in 2002, the top 10 banks controlled 55 percent of all U.S. banking assets.  Today, the top 10 banks control 77 percent of all U.S. banking assets.
The "too big to fail" banks just keep getting more and more powerful.  For example, the "big six" U.S. banks (Goldman Sachs, Morgan Stanley, JPMorgan Chase, Citigroup, Bank of America, and Wells Fargo) now possess assetsequivalent to approximately 60 percent of America's gross national product.
#7 Big corporations completely dominate our political system.  Because they have so much wealth and power, corporations can exert an overwhelming amount of influence over our elections.  Studies have shown that in federal elections the candidate that raises the most money wins about 90 percent of the time.
Politics in America is not about winning over hearts and minds.
It is about who can raise the most cash.
Sometimes this truth leaks out a bit in the mainstream media.  For example, during a recent show on MSNBC, Dylan Ratigan made the following statement….
"The biggest contributor to Barack Obama's presidential campaign is Goldman Sachs. The primary activities of this president relative to banking have been to protect the most lucrative aspect of that business, which is the dark market for credit default swaps and the like. That has been the explicit agenda of his Treasury Secretary. This president is advocating trade agreements that allow enhanced bank secrecy in Panama, enhanced murdering of union members in Colombia, and the refunding of North Korean slaves."
Later on, Ratigan followed up by accusing both political parties of working for the bad guys….
"But I guess where I take issue is, this president is working for the bad guys. The Democrats are working for the bad guys. So are the Republicans. The Democrats get away with it by saying, 'Look at how crazy the Republicans are; at the Democrats pretend to care about people.' BUT THE FACT IS THE 2-PARTY POLITICAL SYSTEM IS UTTERLY BOGUS."
Wow – nobody is actually supposed to say that on television.
Today, most of our politicians are bought, and most of them actively help the monolithic predator corporations accumulate even more wealth and even more power.
In fact, as I wrote about recently, the big Wall Street banks are already trying tobuy the election in 2012.
Fortunately, it looks like the American people are starting to wake up.  According to one recent survey, only 23 percent of all Americans now trust the financial system, and 60 percent of all Americans are either "angry" or "very angry" about the economy.
Unfortunately, many of them are joining protest movements such as Occupy Wall Street which are calling for one form of collectivism to replace another.
The American people are being given a false choice.
We don't have to choose between corporatism and socialism.
We don't have to choose between big corporations and big government.
Our founding fathers actually intended for corporations and government to both be greatly limited.
The following is a famous quote from Thomas Jefferson….
"I hope that we shall crush in its birth the aristocracy of our monied corporations, which dare already to challenge our government to a trial of strength, and bid defiance to the laws of our country."
Unfortunately, things did not turn out how Jefferson wanted.  Instead of us controlling the corporations, they now control us.
This next quote is from John Adams….
"Banks have done more injury to the religion, morality, tranquility, prosperity, and even wealth of the nation than they can have done or ever will do good."
But who dominates our economy today?
The big banks.
Perhaps we should have listened to founding fathers such as John Adams.
Lastly, here is another quote from Thomas Jefferson….
"If the American people ever allow private banks to control the issue of their money, first by inflation and then by deflation, the banks and corporations that will grow up around them (around the banks), will deprive the people of their property until their children will wake up homeless on the continent their fathers conquered."
How prescient was that quote?
Last year, over a million American families were booted out of their homes by the big banks.  The financial institutions actually now have more total equity in our homes than we do.
Unemployment is rampant, but corporate profits are soaring.  The number of Americans on food stamps has increased by more than 70 percent since 2007, and yet the incomes of those at the top of the food chain continue to increase.
We need a system that allows all Americans to start small businesses, compete fairly and have a chance at success.
Instead, what we have is a corporatist system where the big corporations have most of the wealth, most of the power and most of the advantages.
We need to get the American people to understand that corporatism is not capitalism.
Corporatism is a collectivist system that allows the elite to accumulate gigantic amounts of wealth and power.
The answer to such a system is not to go to a different collectivist system.
Rather, we need to return as much power as possible to individuals and small businesses.
Our founding fathers intended for us to live in a country where power was highly decentralized.
Why didn't we listen to them?
Source: The American Dream
Britain these days is more and more starting to resemble that famous old PBS series, "Upstairs Downstairs".  Shades of Queen Victoria!  For example, Britain currently has all these posh folks in the drawing rooms of Knightsbridge and Mayfair drinking tea with their pinkies held out — while their used-and-abused servants downstairs in the slums of London and Manchester slave away for shite wages and no respect.  And, in the background of all these modern strict divisions along class lines, Britain's colonial empire still stretches from Afghanistan to Libya.
The only difference between 19th-century Britannia and today's 21st-century Albion seems to be that the downstairs servants no longer know their places.  The recent London riots proved that.
But the "Upstairs" contingency is still carrying on with a stiff upper lip, still imagining that scullery maids hang on their every word and that the London rioters were merely criminal thugs.
As for the new British Empire?  Afghanistan in the 19th century and Afghanistan now?  200 years later and not much has changed.  Colonialism.  Shock-and-Awe.
And then there's Libya.  Sure we all hate Gaddafi — just like we all hated Saddam.  Iraq folded and was plundered.  And now Libya has become part of the White Man's Burden too.
Have things changed at all from Queen Victoria's day?  Not so much.
PS:  Who cares about Britain?  Not me.  I'm much more worried about the USA.  With 5% of our population now owning 95% of our wealth, we're obviously becoming all "Upstairs Downstairs" here too — only with a twist.  Instead of lords and ladies only taking advantage of "the help" economically, American overlords are now taking total advantage of our working class — hearts and minds, body and soul.  Over half of all freaking Americans these days seem to be almost begging to be exploited and abused.
Unlike what happened during Queen Victoria's time over in Britain, what is starting to happen here in the United States today is entirely new.  Our American working class isn't just being economically used and abused, even though the easy availability of cheap labor does seem to be one of the goals of America's new corporatist aristocracy.  But from what I can tell, America's corporatist leaders also have a dictatorship in mind as well as just a convenient new source of butlers and maids.  Think banana republic.  That's never happened here before — or even happened in Britain before either.  Or at least not since the days of Prince John.
And the truly sad part of this new trend toward allowing corporatist Top Bananas to take over our federal and state governments is that no one seems to be willing to stop this from happening.  And I see Libya as a pivotal turning point here.  Now that a majority of countries in the Middle East are under the sway of U.S. corporatists, these new "Upstairs" lords have nailed down a strong position to suck more and more power and more and more wealth out of both America and the Middle East — and thus become stronger and stronger.  And who is left to stop them now?  Not the American "Downstairs".  They just sit back, go to tea parties and think that they also are holding their pinkies out — but are actually just bending over.  We're screwed.
American corporatists have traveled the world (on our taxpayers' dime, BTW) and taken over all-too-many of its countries, adding one dictatorship at a time to their list of scullery maids.  And Israel was the first to fall under their malevolent influence in the Middle East.  No, it was Saudi Arabia.  Or was it Iran, first given to the evil Shah with no strings attached?
Then the corporatists replaced do-able Iraqi leaders with Saddam, who started to exhibit a mind of his own and so then was replaced by various "provisional governments" who knew their place — downstairs.  Afghanistan also became another American corporatist colony.  And now Libya has just fallen to Exxon and BP via a dreary repeat of Iraq's Shock-and-Awe.
And will America be the next country to go "Downstairs" — in every sense of the word?  We have already entered our "Colonialism" phase.  Will Shock and Awe be coming next — after having been touted as necessary in order to "protect civilians"?
The future of America is now at a crossroads.  In another few years, the corporatists and oligarchs will have become too entrenched and too dangerous to ever overthrow at the ballot box.  Think Hitler at the 1938 Olympics, gloating happily over how he had usurped power from all those gullible Germans.  If we ever want to see a return to democracy, we must act now before the corporatist python's hold on us gets too strong — and we wake up to find our kids out rotting away in "Downstairs" gulags in Ohio and Arizona and Chicago and New York.  Shock-and-Awe.  Colonialism. "Protect civilians".
So.  What to do to stop being swallowed alive by the oligarchy of "Upstairs"?  Participating in the upcoming October march on Washington might be a start.  If 20 million people show up, who knows?  An American spring?
Eliminating electronic voting machines would be good.  They have clearly been hacked.  And let's also either vote out or impeach every congressional representative or Supreme Court justice or president who supports war and/or Wall Street.  Demand better healthcare, better schools, more jobs or else.  Return manufacturing to the USA.  Demand high tariffs.  Bring our troops home and make them defend US, not corporatists profits.  We'll never see a dime of all the oligarchs' spoils of war.
Next, let's stop the so-called "privatization" of our resources, buildings, labor pool, national parks, education, prison work force, hospitals, banks, Social Security, etc.  That's all just one big corporatist scam to steal what is rightfully ours.  Would you let a thief steal stuff from your home?  No.  But everyone seems to be all willing and even eager to bend over backwards so that corporatists can steal stuff from our government.
Also, there are currently many perfectly good laws on the books in our country that can and will defend our rights.  Isn't it time that these laws apply to the rich as well as the poor — to say nothing of the pure pleasure to be found in persecuting blatant war criminals.  Did we or did we not have Big Fun at the Nuremberg trials?
Our very futures, our very lives and our children's very lives are dependent upon what we are going to do in the next few years — while we still have a chance.
PPS:  What do Palestine, Iraq, Afghanistan and Libya all now have in common?  Of course they have all suffered Shock-and-Awe.  And colonialism.  That goes without saying.  But they have also become sources of incredible wealth for corporatists — and money pits where American taxpayers go to die.
According to economist Samer Araabi, "To continue to ignore the democratic aspirations of millions [in the Middle East], in the interests of misguided short-term strategies, is to doom U.S. efforts in the Middle East for decades to come."  http://rightweb.irc-online.org/articles/display/the_saudi_counter_revolution
Guess what, Araabi.  You are wrong.  What will really happen here at home is that America and Britain will continue to become more and more like the dictatorships and anti-democratic figureheads that they support in the Middle East — until both America and Britain, as well as all the various world-wide satrapies that they have already painstakingly created, will completely come to resemble "Upstairs Downstairs" at its worst.
Colonialism.  Shock-and-Awe.  "Protect civilians."
PPPS:  Americans know from first hand experience what it it like to be colonized — and yet they (not me!) are still ready, willing and able to do it to others.  What ever happened to the Golden Rule in this country?  Long gone.
Our persistent global economic malaise is rooted in ecology. As a consequence of our ever-increasing exploitation since the inception of our industrial revolution, the vast majority of earth's finite and non-replenishing nonrenewable natural resources (NNRs)—fossil fuels, metals, and non-metallic minerals—are becoming increasingly scarce globally.
The result is diminishing real economic output (GDP) levels, currently for NNR deficient Western nations with high societal support costs, high material living standards, and declining global economic competitiveness, such as the US, and soon for the world at large.
NNRs: NNRs—fossil fuels, metals, and non-metallic minerals—enable our industrialized way of life. They serve as the building blocks that comprise our industrialized infrastructure and societal support systems, as the raw material inputs to our industrialized economies, and as the primary energy sources that power our industrialized societies.
Unfortunately, through our incessant pursuit of global industrialism, we have been systematically eliminating the finite and non-replenishing NNRs upon which our industrialized way of life and our very existence depend.
Humanity's Predicament: the Great Recession marked a transition point in humanity's industrial lifestyle paradigm—going forward, there will not be "enough" globally available, economically viable NNRs to restore our global economic growth trajectory to its pre-recession level on a continuous basis. Under the best case scenario, global economic output (GDP) will increase at a declining rate, peak, and go into terminal decline within the next few decades.
The Cause: increasingly, the cost reductions associated with our ongoing improvements in NNR exploration, extraction, production, and processing technologies are no longer sufficient to offset the cost increases associated with continuously declining NNR quality—newly discovered NNR deposits are fewer, smaller, less accessible, and of lower grade and purity.
Ironically, while human ingenuity and technical innovations that increase economically viable NNR supply levels are experiencing diminishing returns, human ingenuity and technical innovations that increase our NNR demand levels appear to be unlimited. Global requirements for newly mined NNRs of nearly every type continue to increase unabated.
The Result: as industrialized and industrializing nations attempt to recover economically from the Great Recession—i.e., to reestablish their pre-recession economic output (GDP) levels and growth trajectories:
Global NNR demand levels will increase,
Which will cause increasingly costly NNR supplies to be exploited,
Which will cause NNR price levels to increase,
Which will cause NNR demand levels to decrease (demand destruction),
Which will cause economic output (GDP) levels to diminish and the economic recovery to abort.
This "start-stop" economic recovery scenario manifested itself between 2009 and 2011. And, as global NNR scarcity becomes increasingly pervasive during successive economic recovery attempts, NNR demand destruction will occur at ever-lower "ceilings" or thresholds, and global economic output (GDP) levels and societal wellbeing levels—population and material living standard levels—will ratchet downward.
The Implications: both our natural resource utilization behavior, which is heavily oriented toward enormous and ever-increasing quantities of finite, non-replenishing, and increasingly scarce NNRs, and our industrial lifestyle paradigm, which is enabled by our natural resource utilization behavior, are unsustainable—actually physically impossible—going forward.
Furthermore, because the fundamental cause underlying our predicament is ecological—not economic or political—our attempted economic and political "fixes" cannot possibly work. No combination of private and public "investments", "policies", and "initiatives" can enable us to extract enough economically viable NNRs to perpetuate our industrial lifestyle paradigm.
The Consequence: our transition to a sustainable lifestyle paradigm, within which a drastically reduced subset of our current global population will experience pre-industrial, subsistence level material living standards, is both inevitable and imminent.
And, because we are culturally incapable of implementing a voluntary transition to sustainability, our transition will occur catastrophically, through self-inflicted global societal collapse. As a species that has been conditioned since the inception or our industrial revolution to expect "continuously more and more", we will not accept gracefully our new reality of "continuously less and less".
For details and supporting evidence see "Scarcity—Humanity's Final Chapter?"
The most significant aspect of President Obama's speech on the Middle East (May 19) is the absence of a plan to revive the "Peace Process." The passing storm over his statements regarding the 1967 borders notwithstanding, it is already evident that there will be no new initiatives in the months to come. This is just as well, because any new initiative would be doomed to fail for as long as the political future of several key countries in the region remains uncertain. The PLO-Hamas coalition hopes, with good reason, that as several key Arab regimes become more democratic, they will become more willing to pursue policies supportive of the Palestinian views and aspirations.
The "Arab Spring" may yet produce regimes with enhanced domestic legitimacy. This will be reflected in the reduced willingness of the countries thus democratized to accept the legitimacy of the Jewish state, let alone to sign peace treaties and establish normal relations with that state. A secondary result will be an enhanced ability of those states, in the long run at any rate, to fight wars successfully. This is one of the reasons why "spreading democracy" in the Middle East has always been a dubious idea. The quagmire in Iraq is largely due to George W. Bush and his team extending the original mission from containment—depriving Saddam of his (non-existent) weapons of mass destruction—to regime change and the establishment of "democracy." Iraq was supposed to be only the first step in transforming the region as a whole, and "democracy" was claimed to be the universal remedy for the ills of Islamic fundamentalism, terrorism, poverty and violence.
As we now know, and as some of us had warned back then, the objective of democratizing the Middle East is unattainable in practice and undesirable in principle. The regime changes contingent upon "democratic transformation" would benefit only one variety of political Islam or another—from the Muslim Brotherhood's various offshoots to al-Qaeda affiliates—which are happy to use the rhetoric, legal form and mechanisms of "democracy" for the imposition of a very different model of society. That scenario is being played out even in the formerly Kemalist Turkey, which is now yet again an integral part of the Middle East.
It cannot be otherwise: the system of governance based on the concept of popular sovereignty is not viable outside of the framework of ideas, beliefs and habits of the culture and civilization which sustain it. In the Muslim world Allah is "the true sovereign of the community, the ultimate source of authority, the sole source of legislation" (Bernard Lewis). All over the Middle East governments consist in practice of only one branch—the executive—controlled by a political party (Turkey) or a family (the Emirates, Saudi Arabia), or an oligarchy (Egypt, Syria).
This is not to say that the United States is powerless, or should remain passive, faced with the many unpleasant aspects of the Middle Eastern politics and society. Insisting on greater respect for the rule of law can and should be demanded from the governments in the region Washington considers friendly. Limiting capricious exercise of state power and especially limiting its abuse for political ends is the least the United States should demand of those regimes which expect to be regarded as "friendly." Such demand should be accompanied by a clear statement of intent: those regimes will become more stable by making their legal systems less arbitrary. This is the not the first step on the road to "regime change," this is its exact opposite.
In addition it is important to note that—unlike "democracy"—an impartial, efficient and predictable system of justice is not inherently contradictory to the spirit of Islam. The discriminatory strictures of Sharia vis-à-vis women and "infidels" are intolerable and should be discouraged, of course, but at its base is the demand for the scrupulous observance of legal strictures. This principle per se is a more promising base to build upon in the Middle East than the legacy of Pericles, Jefferson, or Lech Walesa.
A long overdue start should be made with Turkey, which at least nominally remains committed to the Western values, principles and practices bequeathed by its founder 85 years ago. A spectacular miscarriage of justice is in the making there, orchestrated and manipulated by the government and obediently followed by a pliant judiciary. The story is huge but it has been under-reported in the United States, which reflects a long-established reluctance of the Obama Administrations, and its predecessors, to confront the realities of Turkey under the Islamist regime of the Justice and Progress Party (AKP).
On April 6 the Turkish Army General Staff deplored the arrest of over a hundred active-duty officers as part of an investigation into an alleged plot to topple the government. The latest arrests bring to 196 the number of active and retired officers who stand accused of involvement in the so-called Sledgehammer Plot dating back to 2003. In February, prosecutors requested that 163 of the accused remain under arrest—most of them active duty senior ranks—on a dubious legal pretext. The suspects include the former commanders of the Turkish navy and air force.
What we are witnessing is a massive purge in preparation for the largest show trial ever in the non-Communist world. The charges, too, are worthy of Moscow 1937. The Sledgehammer plot, the government alleges, was to have included bombings of historic mosques in Istanbul, an attack on a museum, and the provocation of military tensions with neighboring Greece including aerial attacks on Greek islands. Such acts of terrorism and outright military aggression were supposedly designed to plunge Turkey into utter chaos and provide an opportunity for the military to step in and remove the AKP-controlled government from power.
The Sledgehammer is connected to the reported Ergenekon conspiracy. This is supposedly the Mother of All Plots, the mega-conspiracy in which the "Deep State"—a shadowy coalition of senior military officers, the intelligence services, the judiciary, and organized crime—planned terrorist attacks to foment unrest leading to a military takeover. As Claire Berlinski explains, the claims about these supposed conspirators defy logic:
Arch-secular nationalists, the prosecutors say, have been in bed with the Maoist PKK, the extreme-left Revolutionary People's Liberation Party, the Islamist Hizbullah and Milli Görüş, the ultranationalist Turkish Revenge Brigades, the Turkish Workers' and Peasants' Liberation Army, the Marxist-Leninist Communist Party, and the Islamic Great East Raiders Front. This is a bit like imagining that the Weathermen hooked up with the John Birch Society, the Ku Klux Klan, the Black Panthers, Act Up, the Zeta drug cartel, and a dissident faction of the Republican National Committee, and that all concerned managed to refrain from killing each other long enough to design a serious plan to overthrow the American government—with a bit of willing propaganda assistance from Bob Woodward and the Huffington Post.
Details of the "Sledgehammer" emerged after an anonymous source delivered a suitcase full of supposedly secret military documents to a newspaper reporter in January 2010. Prime Minister Erdoğan and other AKP leaders have openly lent support and credibility to the charges. There are countless inconsistencies in the accusations, however. To take but one example, dozens of entities—hospitals, NGOs, companies, and even military units—were referred to by names or acronyms which they acquired many years after 2003, in some cases as late as August 2009.
The military has strenuously denied the allegations, claiming that the documents were forged, and insisting thatthe scenarios were part of a hypothetical war game that took place at a military training seminar. "The Turkish Armed Forces, which have especially avoided any actions that could be seen as interfering with the ongoing judicial process, have explained through repeated statements, in no uncertain terms, what the seminars were, how they were carried out, what they involved and who participated under what orders," the April 6 General Staff statement said.
The Sledgehammer case is not a "case" at all; it is an attempt by the AKP regime to neutralize Turkey's once-powerful military once and for all. The government's specific objective is to discredit the officer corps and thus facilitate the abolition of the Army's traditional role as the guardian of the country's secular political system. According to Dani Rodrik of Harvard University—whose father-in-law, retired four-star general Cetin Dogan, is one of the defendants—we are witnessing machinations in the guise of the judicial process aimed at achieving political advantage instead of justice. The result is that "Turkey's relevance as a democratic beacon for the Middle East" will be undermined.
Turkey has grand ambitions as a "beacon." It is pursuing an openly neo-Ottoman strategy all over the region. Its president, Abdullah Gül, claims that Turkey can have a "great and unbelievably positive effect" on the Middle East. Its Foreign Minister Ahmet Davutoğlu delares modestly, "If the world is on fire, Turkey is the firefighter… assuming the leading role for stability in the Middle East."
The United States should take note of such aspirations and act accordingly. It is probably too late to encourage the generals not yet in jail to bring the AKP to heel, but it is still possible to demand that the Prozess in the making be abandoned as a precondition of tolerating Turkey's attempts at regional grandstanding. Messrs. Erdoğan, Gül and Davutoğlu should be told that this would be the test of Turkey's putative "positive effect" and "leading role" in the region. That much Ankara should and probably would do to maintain its bid for regional leadership which remains unhindered from Washington.
Standing up for the Turkish army at its time of need—the only true ally the United States has had in the country for some decades now—is both just and prudent. Among the accused officers several have maintained close professional and personal ties with their American colleagues.
The U.S. should demand no more (but also no less) than a scrupulous observance of Turkey's own laws and legal procedures. As Ms. Berlinski points out, Turkey's legal system has always been viewed "as something opaque, arbitrary, and capricious—another weapon to be used by the powerful against their enemies, not a source of justice for ordinary people." Its continued misuse is an issue which is a matter of legitimate American concern, if we are to take seriously President Obama's rhetoric about Turkey as the essential bridge between the East and the West.
Different in magnitude and political implications but not in legal and moral substance is the case of an American citizen, Zack Shahin, who was arrested in Dubai in 2008, held in isolation for months on end. Shahin still remains in jail on what appear to be spurious charges with no trial date in sight. All this is happening in the United Arab Emirates (UAE), which still purport to be the forward-looking showcase of Arab capacity for liberalism and entrepreneurial flair.
Before the financial crisis the UAE attracted thousands of Western investors and experts. Dubai in particular started growing into a glittering metropolis of high-rise towers, expensive hotels and top-tier shops. It became Arabia's Las Vegas (minus the gambling and showgirls), a financial Disneyland without the fun.
But then, as reported in Human Events last February, in early 2008 Dubai's investment flagship, Dubai_World, showed signs of financial instability and the authorities looked about for scapegoats: "As the world economic downturn expanded, Dubai's $80 billion debt threatened the emirate with financial collapse. It withdrew from free-trade negotiations with the U.S. over disagreements about its foreign worker labor laws and human rights… While Dubai sought a bailout from the rest of the UAE, it engaged in highly autocratic behavior."
Those same expatriates who built Dubai's economy and helped enrich its rulers were suddenly presented as predatory speculators to be blamed for the downturn in what had been obviously an overheated property market. Shahin, a former top executive of Deyaar Development, was held in isolation for 13 months, denied U.S. consular assistance—in blatant violation of international treaties to which the Emirates are a party—and in April 2009 charged with embezzlement. There is no indication when he will be tried. While incommunicado he was allegedly tortured and forced to sign papers in Arabic he did not understand. After investigating one misdemeanor charge against Shahin for the past 3 years, it suddenly dawned on the presiding judge  that he may not have jurisdiction over the case.  Therefore, he decided to send the case back to the public prosecutor.  This maneuver will now enable the prosecutor to apply a new law that never existed at the time of Shahin's arrest, where Shahin can be labeled a public official  and potentially, if ever tried and convicted, face a sentence of up to 20 years.  Shahin has twice been "released" on bail, and then immediately rearrested. Dozens of other non-American foreignershave been treated in a similar vein. Tourists in Dubai have sometimes fared far worse, such as British tourist Lee Bradley Brown, who was apparently beaten to death by his jailors following his arrest for allegedly using abusive language.
The U.S. government has sent at least three formal Diplomatic Notes expressing concerns about Shahin's treatment but they remain unanswered.  His case has been raised with UAE officials by Secretary of State Hilary Clinton during her visit last January and by other American diplomats, but all have been rebuffed.  Letters to the UAE ambassador in Washington DC from both Ohio Senators and from former Rep. Deborah Pryce have never been answered.
The State Department has yet to make a public statement about Shahin's predicament, however. This is in marked contrast to the case of three American hikers who strayed into Iran. Paradoxically, the U.S. government has taken far keener interest in the legal problems of two foreigners—Mikhail Khodorkovsky in Russia and Liu Xiaobo in China—than in the ongoing predicament of one of its citizens.
In these uncertain times for the region, the UAE are precariously stable but vulnerable. Looking at the neighboring Bahrain, its mega-rich rulers are feeling uneasy. They, too, are a minority in their own country—a mere fifth of the population—and they, too, suspect the impermanence of their wealth and power. Dubai's ruling Al Maktoums in particular provide vivid evidence of Carnegie's dictum that "there is no class so pitiably wretched as that which possesses money and nothing else." They control an ostensibly U.S.-friendly, economically weakened and politically fragile Middle Eastern autocracy which needs robust encouragement from Washington to clean up its act in the legal sphere. This needs to include rectifying victimization of foreigners through a corrupt judicial processes. A public expression of concern by the Secretary of State about the specific case of Zack Shahin would be a commendable first step.
The Kingdom of Saudi Arabia—the biggest regional offender in this and many other fields—is a tougher nut to crack. It is actively engaged in spreading Islamic extremism all over the world and it is the biggest terrorist offender in the world. The desert kingdom does not only disregard the rights of its own people, it tramples on those of Americans, too. American citizens can be detained indefinitely at the pleasure of an Islamic judge—or of a Saudi Muslim father who had kidnapped them from their American mother. This happened a decade ago to Patricia Roush, whose daughters Alia and Aisha—now grown up and married to their father's cousins twice their age—remain clad from head to toe in the black abbaya. Yet the State Department directed the U.S. embassy in Riyadh to remain "impartial." Ray Mabus, ex-U.S. ambassador to Saudi Arabia, explained that diplomats feel they should be working on the "big stuff." Ms. Roush's book At Any Price details her horrendous experiences with the Saudi government and with a society steeped in barbarity.
That barbarity is manifested in the extensive use of judicial corporal punishment, including amputations of limbs for robbery and flogging for "sexual deviance" and intoxication. The Saudis insist that their "legal traditions" are divinely ordained. That is no reason for the U.S. not to express an unambiguous and publically stated opinion on the matter, especially
when the condemned is accused of the nebulous "crime" of sorcery and sentenced to eight years in jail and 800 (!) lashes, compliments of the "Commission for the Promotion of Virtue and Prevention of Vice" (CPVPV), aka the religious police; or
when high-school students are sentenced to six months in prison and 120 lashes each for stealing examination papers.
Large sections of the American and European elites are being fed Saudi money, directly and indirectly, to bribe them to exert pressures at home favorable to the Kingdom. Its kleptocracy owns huge parts of major American corporations, and that is the "big stuff." The focus on the "big stuff" also allowed thousands of young Saudis easy access to American visas under various pretexts, many of them hell-bent on waging jihad against the unbelievers. The Saudi authorities issued them exit visas in the full knowledge what they were up to. The Islamic "charities" that financed terrorists included prominent members of the royal family on their boards. Many are now more discrete about their involvement than a decade ago, but no less committed.
America is still reluctant to read the riot act to the Saudis. It is high time she did. Their money earned during the oil boom has been largely squandered on palaces, cars, armaments, white hookers and brown foreign laborers. The fabulous flow of wealth was not used to create a serious industrial base. The only expanding industry is that of Islamic extremism. The ability of the fanatical and mendacious (as well as profligate and corrupt) rulers of the desert kingdom to remain in power is uncertain. The Saudis seem to believe that the North African storm has passed them by and that the US officials prefer to deal with the devil they know anyway. America needs to set herself free from the urge to pander to Saudi whims, however, because leaving the Saudis to their own devices will end in an Iranian scenario, more sudden and more violent than the drama in Teheran in 1979.
* * *
America cannot and should not try to effect regime changes in Turkey, the Emirates, Saudi Arabia, or for that matter anywhere else in the Middle East. Washington has all kinds of political and economic tools at its disposal, however, to make their governments more observant of the rule of law, domestic as well as international. Using those tools judiciously but firmly has the potential to create far more good—for those countries' people, for America, and for the rest of the world—than using cruise missiles has ever done.
Is there anything more irritating than listening to US officials blabber about "human rights"?
I mean, really, doesn't it drive you crazy? Here's Hillary Clinton bashing China for their "deplorable" human rights record, and meanwhile Bradley Manning sits naked and freezing in a 6′ by 8′ cinderblock cell in some far-flung American gulag waiting to get fingernails yanked out. Can you see the hypocrisy?
And that's just for starters. What about Gitmo, Abu Ghraib, Bagram and the myriad other dungeons, concentration camps and black sites the US has scattered across the planet. Seriously, the United States is the biggest human rights abuser in the world today. No one else even comes close. Clinton's in no position to be giving other people lectures.
Remember, all the phony indignation over Saddam gassing his people in Halabja? What a joke. Obama probably kills more people in his sleep every night than Hussein killed in a year. And Halabja's small potatoes anyway. Just look at Falluja; a city of 300,000 that had about 40,000 of its people wiped out by US bombs, 80% of its buildings and infrastructure reduced to rubble, and a legacy of cancers and birth defects until the end of time. Now that's how you kill people!
And then there's the drone attacks. In fact, another 5 people were killed on Tuesday when US missiles blew up their vehicle in northwest Pakistan. What about their human rights? And what about the rights of the other 957 people who've been killed in 2010 alone? Don't they count?
And, can we please stop talking about democracy? Everyone knows it's just shorthand for capitalism. And–not even capitalism really, but slash-and-burn, take-no-prisoners, scorched-earth predatory capitalism, the hybrid strain of the virus that's particular to America's 'oligarchy of racketeers'. So, can we just put a sock in it for a while?
Here's a clip of Hillary moaning about the "repressive Chinese system of government."
"We have made very clear, publicly and privately, our concern about human rights. We see reports of people, including public interest lawyers, writers, artists, and others, who are detained or disappeared. And we know over the long arch of history that societies that work toward respecting human rights are going to be more prosperous, stable, and successful."
Can you believe this gibberish? The United States has a higher percentage of its population in prison than any other country in the world. And, Clinton dares to scold China about "detained or disappeared" people? Now that's the pot calling the kettle black.
But, yes, it's true; the Chinese haven't mastered democracy like we have in the good old USA, where 5 right-wing jurists pick the president, and where the government taps your phoneline, sifts through your e mail, and gropes your scrotum before hopping on a flight to Boise. That's capital "D" democracy; land of the free and home of the Ponzi-scamster. We might boot you out of your home, kick you out of your job, and fleece you out of your retirement, but we've got our principles, dammit!
Can you see how crazy this is?
But, let's cut to the chase. Do you know what this is really all about, all this duplicitous foot-stomping and pontificating by Ms. Clinton?
The Obama team is trying to pressure China into opening their markets to Wall Street so Big Finance can peddle their garbage paper to 1.5 billion new suckers. That's what it's all about. I'll bet you even-money that Lloyd Blankfein and Jamie Dimon spent the better part of Sunday evening quaffing single malt scotch and high-fiving while they put the finishing touches on Clinton's speech. That's how incestuous the Obama-Wall Street relationship is now.
Just take a look at this report from Bloomberg and decide for yourself.
Bloomberg: "Geithner will say China should relax controls on the financial system and give foreign banks and insurers more access, said David Loevinger, the Treasury Department's senior coordinator for China. Officials from both nations are meeting in Washington today and tomorrow as part of the annual Strategic and Economic Dialogue.
….Senators Charles Schumer of New York and Jeff Merkley of Oregon called May 6 for a "rebalancing" in the U.S.-China economic relationship. The two lawmakers, who just returned from a trip to China, said the Chinese need to open their financial sector, address "abnormally low deposit and lending rates" and allow broader market access to foreign firms….
The American Chamber of Commerce in China said last month that foreign banks play an "insignificant role" in China.
Foreign lenders' market share in China has dropped since the government first opened the industry in December 2006. Banks such as New York-based Citigroup Inc. (C) and London-based HSBC Holdings Plc (HSBA) want to tap household and corporate savings that reached $10 trillion in January as China overtook Japan to become the world's second-biggest economy" ("U.S. Will Urge China to Boost Interest Rates as Talks Start", Bloomberg)
Repeat: "Banks…. want to tap household and corporate savings that reached $10 trillion in January."
That says it all, doesn't it? Wall Street is already licking its chops over its next victim. They can't wait to sink their teeth into all that luscious money that Chinese workers have been scrimping and saving for the last decade or so. That's why they've ordered Clinton to castigate China's leaders in public, because they think it will help them pry the door open wide enough to set up shop in the world's fastest growing market.
So this isn't about "human rights" at all. It's about coercion; forcing China to do what we want so Wall Street can rake in even bigger profits.
Are you surprised?
The catastrophic disaster that swept Japan into a new stone age is truly an earth-shattering milestone. Worldwide grief and empathy is real and deserved. If this occurrence were only, a script out of a Godzilla B movie, or just lyrics from a ringtone song, the hurt or the aftermath would not be so horrible.
you cannot run in any direction
no place to hide ain't got no protection
it can be sorrow, blood, and destruction
but it can give you incredible emotion
How does one explain this calamity? Is it a mysterious act of God, or is it modern technology run amuck?
As long as the earthquake was not triggered by HAARP like intentions, the wall of tsunami destruction is part of the risk of residing in the active zone of the ring of fire. The meltdown of the Fukushima nuclear power plant complex is far less than a matter of fate. Is nuclear electric generation just too risky to chance or can humanity trust upon technology to institute new safeguards for future developments?
The answer usually depends upon one's viewpoint on the Global Warming theory. Those who worship at the altar of Transhumanism love their environmentalist adoration. While nuclear power is CO2 friendly, the radiation peril is too threatening to accept. The half-life of these zealots often reflects the mental capacity of Homer Simpson and the appearance of Polycephaly mutant beasts of burden.
Those who see Global Warming as a manageable problem often place great reliance on scientific progress in solving and overcoming environmental challenges. These people normally populate the engineering professions and research laboratories that spawn the next evolution of made-made technological marvels.
Ted Nordhaus and Michael Shellenberger write in the WSJ.
"There is a better way. Nations should focus on lowering the cost of clean energy, not raising the cost of fossil energy. The goal? Make clean energy cheap enough to become a viable option for poor as well as rich nations. Until that happens, emissions will continue to rise, and no effort to regulate carbon can succeed.

How do we accomplish that? Stop subsidizing old technology that will never compete with fossil fuels and create incentives for innovation. Along with ramping up support for research, governments should buy cutting-edge clean-energy technologies, prove them—and then give away the intellectual property, so others can improve on it".
Then there are those who view Global Warming as a hoax and a political grab for further consolidation of a centralized society under the control of a corporate/state oligarchy. The evidence is on their side. Exhibit 1, Cap and Trade proposals demonstrate the total disconnects for meeting the energy needs of a modern society.
The high and mighty culture would like you to believe that nuclear energy from civilian reactors is a centerpiece of scientific superiority over nature. Well, there are a few problems with this conclusion. Since the nuclear genie escaped from the bottle, the myth that science is equal to God has run wild for decades. At the risk of condemnation by the scientific inquisition court, is the world a better place to live under the canopy of a mushroom cloud?
Admittedly, the symbol of this age is the face of existential oblivion, dressed up in space suits on life support. The fallout from the Fukushima reactor disaster will last longer than the radioactive dust that contaminates the ecosphere. At question is not solely the safety of the nuclear electrical generation process, but the notion of pushing the limits of human endeavors that endanger the survival of the species itself.
A favorite and world-class curmudgeon, Fred Reed, proposes a valid and alternative conclusion to the insanity in, Why We Need an Asteroid Strike.
"I figure that what we need is to tear the whole sorry system down and see what comes next. The best hope is that a patriot will learn how to impel some unused interplanetary object, Phobos or Deimos or Ganymede maybe, into Washington at ninety percent of the speed of light. This would eliminate the teachers unions, the Pentagon, AIPAC, Fox News, Langley, the Washington Post, lobbies, and my mother-in-law. Cockroaches would doubtless survive, that being what they do best, and evolve into a civilization less degraded than ours, briefly".
The disinformation coming out of Japan from official circles all qualifies as radiation poisoning. The Green revolution is nothing more than a denial cult of blind faith in the power of mankind to destroy society with all the best intentions that the Tempter can muster. Wind and solar are not candidates for prime time. Renewable deficiencies are well documented by IWA and CPA and suggest that only a "true believer" would accept the prevarications of the anti fossil fuel lobby. Sentencing clean coal to the pits of a dark hole verges on calling for the release of Jeffrey Skilling from prison.
After the Japanese disaster, the nuclear industry needs an alternative to the current reactors, now perceived as unsafe. John Wheeler in This Week in Nuclear, evaluates the safety of small nuclear reactors
"These smaller reactors contain less nuclear fuel. This smaller amount of fuel (with passive cooling I'll mention in a minute) slows down the progression of reactor accidents. This slower progression gives operators more time to take action to keep the reactor cool. Where operators in large reactors have minutes or hours to react to events, operators of SMRs may have hours or even days. This means the chance of a reactor damaging accident is very, very remote.

Even better, most SMRs are small enough that they cannot over heat and melt down. They get all the cooling they need from air circulating around the reactor. This is a big deal because if SMRs can't melt down, then they can't release radioactive gas that would pose a risk to the public. Again, this means the need for external emergency actions is virtually eliminated.

Also, some SMRs are not water cooled; they use gas, liquid salt, or liquid metal coolants that operate at low pressures. This lower operating pressure means that if radioactive gases build up inside the containment building there is less pressure to push the gas out and into the air. If there is no pressure to push radioactive gas into the environment and all of it stays inside the plant, then it poses no risk to the public.

SMRs are small enough to be built underground".
"So called" miracles of science often become the thimerosal babies of tomorrow. Likewise, the politics of nuclear energy are riddled in contradictions. Lessons from the Yucca Mountain Nuclear Waste Storage Debate, points out the ineptness of domestic energy policy.
"Over the past decade, more than 7,000 shipments of radioactive nuclear waste have been sent, without any problem, to a government repository in the southwestern United States.

This crucial repository is not the ill-fated Yucca Mountain, the Nevada site that has been steeped in controversy since Congress selected it 22 years ago to store the country's civilian nuclear waste. Yucca Mountain, in fact, has gotten so bogged down in legal and political fights that President Barack Obama, in his new budget, is proposing to eliminate almost all of its funding and explore "alternatives," raising serious questions about how the United States will resolve its nuclear waste problems—and, for that matter, whether the nuclear industry will be able to grow in coming decades.The functioning repository is located in Carlsbad, N.M., and it may hold some useful answers. Since opening in 1999, it has received more than 60,000 cubic meters of radioactive waste from the country's nuclear defense facilities. Experts say its success offers valuable clues about how Washington can learn from the mistakes made at Yucca Mountain to find a lasting waste solution".
The risks of hydrofracking techniques to extract natural gas are very real and profound. The New York Times reports on contamination of the water table.
¶More than 1.3 billion gallons of wastewater was produced by Pennsylvania wells over the past three years, far more than has been previously disclosed. Most of this water — enough to cover Manhattan in three inches — was sent to treatment plants not equipped to remove many of the toxic materials in drilling waste.

¶At least 12 sewage treatment plants in three states accepted gas industry wastewater and discharged waste that was only partly treated into rivers, lakes and streams.

¶Of more than 179 wells producing wastewater with high levels of radiation, at least 116 reported levels of radium or other radioactive materials 100 times as high as the levels set by federal drinking-water standards. At least 15 wells produced wastewater carrying more than 1,000 times the amount of radioactive elements considered acceptable.
Weird science is a serious problem, but factitious global warming is a well-designed dose of irradiation that attacks the mush of feeble-minded morons who want to be "PC" in a culture gone mad. If you surrender to the totalitarian collectivists, you are accepting the global gulag. Clean coal offers the best economic and safe energy future for an independent America. Synthetic fuel conversion from coal into synfuel is the best way to reduce the addiction of imported oil.
The struggle for control over oil resources is one of the most dominate factors in economic history. A timeline of the oil robber barons is compelling, especially when viewed from the perspective of muckraking Ida Tarbell. In the History of The Standard Oil Company, Tarbell influenced public opinion and provided pressure for government regulation of the oil monopoly. Martha R. Gore writes in The "Joan of Arc" of the Oil Regions Who Exposed Standard Oil, "In November 1906, the federal government took Standard Oil to court, charging it with obstructing interstate trade, a violation of the Sherman Antitrust Act of 1890. The result was the breakup of Standard Oil and the end of its power to destroy its competition and control of the American oil market".
As any consumer knows, the sleight of hand show that broke up the Rockefeller companies did nothing to eliminate the oil empire of the baron's. Yet, John D. emerges as the richest man in all history, according to the Business Insider, with a personal fortune of $336 billion. This amount is very deceptive when one peels back the onion and examines the myriad of layers that the internationalist's banking system uses to conceal the trillions of wealth that they actually controlled. The days of Taylor Caldwell's masterpiece, Captains and the Kings are long gone for the down trodden, but are still ripe for exploration by the barons of unfeigned dominance. Captains and the Kings tells a story of the real power behind the government. The Committee of Foreign Relations; shadowy men who make decisions that affect the world around them. Muammar Muhammad al-Gaddafi is no Joseph Armagh. The History of Libya under Gaddafi is not a pretty picture. Colonel Gaddafi's stewardship of Libya's oil resources is not exactly a profile in courage. His record of rule shows no element of self-determination for the tribal subjects that suffer as the oil revenues flow and fund dubious adventures. Bad men come in different shapes, sizes and survival skills. Ruling for 41 years is no small feat, even in an authoritarian regime. However, does this mean that so many world leaders and influential politicians, who grovel at the feet of this strange mercurial and eccentric leader, accept him into their club of economic pillage?
The Telegraph concludes in, The fall of Gaddafi could finish off Tony Blair, "One thing's for sure: should the Gaddafi regime fall and its private papers start fluttering around Tripoli, the first thing British journalists will be looking for will be any documents carrying the name of Tony Blair". Blair was called "Bush's poodle", but may well turn out to be Gaddafi's "Bull Terrier" when it comes to his eagerness to distance himself from his close ties that propped up the tyrant's Bedouin tent.Not far behind is "neoconservative" Richard Perle. Jeffrey Goldberg in Atlantic writes, "The former Reagan-era Defense Department official and George W. Bush-era chairman of the Defense Policy Board, traveled to Libya twice in 2006 to meet with Qadhafi, and afterward briefed Vice President Dick Cheney on his visits, according to documents released by a Libyan opposition group in 2009″. Cheney has a long record in pulling strings.
TPM reports:
"As CEO of Halliburton, and even as Vice President (prior to 9/11) Cheney supported relaxing sanctions on Libya and Iran so that companies such as Halliburton would be free to profit from their energy riches (regardless of the nature of the regime). Cheney admits to this and is even quite proud of it.

Now BP is being lambasted for seeking the release of convicted Lockerbie terrorist al-Megrahi. BP denies these accusations. Although distasteful to the victims of Pan Am 103, at least the U.S. and U.K. have diplomatic and somewhat friendly relations with Libya. Libya has renounced its WMD programs and is supportive of American law enforcement and counterterrorism policies.

Dick Cheney thought it was alright for his business (but not everyone else) to do business with pre-detente Libya and Iran, now and then, the world's greatest state-sponsor of terrorism".
Poodle Blair takes a back seat to Dick "Darth Vader" Cheney. None other than the current Secretary of State, HilLAIRy Clinton stated when she was a Senator.
"Vice President Cheney came up to see the Republicans yesterday," Clinton said at the fundraiser. "You can always tell when the Republicans are getting restless, because the Vice President's motorcade pulls into the Capitol, and Darth Vader emerges."
The complicity of cooperation with Gaddafi goes way back. Debbie Schlussel reminds of the Carter connection.
"Ole' Billy would be proud. A new group, the Washington based US-Libya Business Association (a fancy name for a group of lobbyists who whored themselves out to oil companies paying big bucks because they want to do business with the terrorist state), is pushing for the Bush White House and State Department to remove Libya from the State Department's list of countries sponsoring terrorist groups. (Billy Carter took a "loan" of a few hundred thousand dollars from Libya's loony dictator, Muammar "Daffy" Qaddafi, to do similar lobbying of his Peanut Farmer President brother.)"
Is it any wonder that Colonel Gaddafi claims: 'West only wants our oil'? "There is a conspiracy to control the Libyan oil and to control the Libyan land, to colonize Libya once again." If Gaddafi were an oil baron, would he be facing rebels deployed around strategic Libyan oil port, a "no-fly zone" or possible invasion by NATO forces?
| | |
| --- | --- |
| 'US imperialism will push them into Libya's war' | Gaddafi under world court investigation |
| | |
The videos 'US imperialism will push them into Libya's war' and Gaddafi under world court investigation explain why he has overstayed his welcome and requires a kangaroo court to put him in a cell that was once occupied by Abdelbeset al-Megrahi. In an effort to ward off an imminent reprisal or prolonged sanctions on Libya, another fringe autocrat Hugo Chavez, the Venezuelan president, offers to mediate a resolution. Without giving further details of the proposed mediation mission, Chavez said it was better to seek "a political solution instead of sending marines to Libya, and better to send a good will mission than for the killing to continue".Robber Barons do not go begging for a reprieve. Since the early days of the oil cartel in union with the central bank finance cabal, the name of the game is to control the vital fluids of energy production and the funding or exclusion of the capital flow that turns fossil fuels into the engine of wealth manipulation.
From his extensive experience on this subject, Robert Fisk offers his assessment.
"It is only a matter of time, needless to say, before Gaddafi reminds Libyans that al-Qa'ida was a satellite of the very Arab mujahedin used by the United States to fight the Soviet Union in Afghanistan. Yet Libya's own ferocious resistance to Italian colonization proves that its people know how to fight and die. In "Tripolitania", Libyans were expected to walk in the gutter if Italians were walking towards them on the same pavement and Fascist Italy used aircraft as well as occupation troops to bring Libya to heel.

Unlike Tunisia and Egypt, however, the "People's Masses" of Libya are a tribal rather than a societal nation. Hence two members of Gaddafi's own family – the head of security in Tripoli and the most influential intelligence officer in Benghazi – were respectively his nephew, Abdel Salem Alhadi, and his cousin, Mabrouk Warfali. Gaddafi's own tribe, the Guedaffi, come from the desert between Sirte and Sebha; hence the western region of Libya remains under his control.

Talk of civil war in Libya – the kind of waffle currently emerging from Hillary Clinton's State Department – is nonsense. All revolutions, bloody or otherwise, are usually civil wars unless outside powers intervene, which Western nations clearly do not intend to do and the people of eastern Libya have already said they do not wish for foreign intervention (David Cameron, please note)".
Is Mr. Fisk correct about Western nation's intentions? Let's hope so, but what about interference or intervention by the oil and banking robber barons? Gaddafi is no more a threat to the West than Hosni Mubarak was, and we saw just how long it took to remove him. Keeping the Suez Canal open and maintaining the oil exports to Europe is the common objective of the oligarchy.  The plutocrats need to keep their boots on the head of any dictator who dares to think they are independent of the global money interests. This message also applies to the leaders of "so called" civilized democracies.
The price of oil is being maneuvered to hit new all time highs. Middle East crises are fashioned to drive chaos into the need to surrender to a greater global dominance. No matter how you spell Gaddafi's name, he is insignificant and disposable. His head on the end of a nodding donkey is just window dressing. The true criminals that escape real world court justice are the globalists and the definitive robber barons. The Rockefeller legacy produces a gulag world for the Captains and the Kings. Politics reveals that Oil Runs More Than The Economy. In the Oil Roustabout Economy the Gaddafi's of the world are disposable grains of sand.