The following is the text of a talk I gave at the Seek, Speak and Spread Truth Conference in London last Saturday, 23 November, 2013.
History, we are told, is an attempt to narrate the past. But in reality, more than often history has little to do with revealing the past. It is instead an orchestrated and institutional attempt to shove the shame deep under the carpet.
Much Jewish history texts, for instance, are there to divert the attention from the peculiar and tragic fact that along their history, Jews have managed to bring on themselves an endless chain of disasters. But Palestinian history at large,  is no different. After more than a century of liberation struggle, the situation in Palestine is worse than ever, yet Palestinian scholarship, as we will soon see, is drifting away from any possible understanding of the circumstances that led to their ongoing disaster.
Although the Brits have many war crimes attached to their names, the British Imperial War Museum decided to allocate a whole floor to the Jewish Holocaust instead of featuring one of the British-made genocides. The Brits, like everyone else, prefer to conceal their shame.
Historical accounts are commonly there to suppress the truth and conceal our shame. Yet, it is far from clear who is in charge, who decides what must be covered up and which path must be taken in order to suppress the truth.
Apparently, restricting the terminology and limiting freedom of expression by means of (political) correctness are probably amongst the most popular methods. Sadly enough, Palestine solidarity discourse is a spectacular test case in that regard. 
A brief examination of each of the terminological pillars and the principles that shape our vision of the conflict, of its history and of its possible solution are there to conceal the obvious causes, ideologies and belief system that drive the crimes in the Middle East in general and in Palestine in particular.
Zoom In
We'll now scrutinize the terminology and notions that are involved in the debate over Palestine and expose once again the deceitful nature that is unfortunately intrinsic to the contemporary progressive discourse.
Zionism – Palestinian solidarity members are required to avoid the 'J' word and to use the word 'Zionism' instead. I recently revealed that Ali Abunimah, one of my current arch detractors, advised me a few years ago to refer to Zion when I really think Jewish so he and I "might find grounds for a lot of agreement…." In fact  Abunimah was not alone. Jewish Voice For Peace approached me with a pretty much similar offer about the same time.
The truth of the matter is that Israeli politics has little to do with Zionism. Israelis  are hardly familiar with Zionist ideology, nor they are concerned or motivated by Zionist praxis.  Zionism is largely a Jewish Diaspora discourse that vows to establish a Jewish National home in Palestine  and to civilize the Jew by means of nationalism. Israel is obviously the product of the Zionist project; however, the Israelis see themselves as post-revolutionary subjects – they transformed the Zionist dream into a practical reality.
Thus, criticism of Zionism per se hardly touches Israelis or Israeli politics. If anything, it actually diverts the attention from the crimes that are committed by the Jewish State in the name of the Jewish people.
But then, why do we use the term Zionism instead of referring to Jewish power, Jewish politics or the Jewish State?  Simple: we do not want to offend the 'anti-Zionist' Jews and Jews in general. We consciously choose to let Israel off the hook. Apparently we much prefer to target a phantasmic imaginary object that means very little rather than simply calling spade a spade.
Colonialism - Palestinian solidarity activists are expected to pepper their sentences with different permutations of the word 'colonial' with the hope that the more they use it the more it is likely to stick eventually. Consequently, activists and scholars commonly refer to Israel and Zionism as a 'colonial project'. But they are obviously wrong.
Colonialism is traditionally defined as a clear material exchange between a 'mother State' and a 'settler State'. Israel is no doubt a settler state, yet, no one can suggest who exactly was or is her mother.*
So why do we refer to Israel and Zionism as a colonial project? Simple: it saves us from admitting that the Jewish national project is indeed a unique project with no precedent in history. It would save us from admitting that we do not understand this project nor do we know where it aims. The Left and the so-called 'anti-Zionist' Jews cling to the colonial paradigm because it locates Israel and Zionism within a model they and their audience are slightly familiar with. The colonial paradigm suggests that the Jewish national project is as vicious as the British or French colonialism. But the grave truth is that we are dealing here with a unique form of abusive nationalist, racist project.
Settler Colonialism – in recent years a new terminological spin popped up within the Palestine solidarity ranks, namely 'settler colonialism.' I guess that my criticism of the colonial paradigm has shaken a few of the so-called progressive and 'anti' Zionists intellectuals, and they were pushed to revise their theoretical narrative. Their effort brought to the world a new deformed dysfunctional theoretical baby. But sadly enough, 'settler colonialism' also hardly explains a thing. It is rather a desperate attempt to further conceal the truth of the Jewish National project.
Settler Colonialism refers to the situation in which Super Power 'A' facilitates the settlement of Ethnic Group 'B' on Land 'C'. Such an event may lead eventually to some grave consequences as far as indigenous population 'D' is concerned.
But here is the problem. This historical scenario A-B-C-D has nothing in common with Zionism, Israel or the Israeli Palestinian conflict. In reality, it was Zionists (B) who actually persuaded Britain, at the time a super power (A), that a Jewish Homeland in Palestine (C) is the right way forward. It was also Zionists (B) who promised to help pushing America into World War One that led Lord Balfour to commit the British empire (A) to the Zionist cause. In short, instead of the A-B-C-D chain of events, when it comes to Zionism, what we easily detect is a B-A-C-D chronology. It is the ethnic group 'B' that pushes Super Power 'A' to act in its favour.
But then we may want to ask ourselves why is it that Palestinian solidarity activists such as Ben White are consciously lying when they speaks about "settler-colonial past and present."  Unfortunately White is not alone, the list of academics and scholars who participate in the dissemination of this false narrative is pretty impressive.
Why do they deceive, is it because they are an ignorant bunch? Not at all, they are actually dedicated scholars, it is just intellectual integrity that they lack, and severely.
Spreading the 'settler colonialism'  narrative is, once again, intended to divert the attention from the embarrassing fact that already in 1917 the Jewish Lobby was amongst the strongest lobbies in the land. Such an admission could easily offend many Jews within the Palestine solidarity movement. Seemingly, we really do not want to offend anyone but intelligence.
Apartheid – Solidarity activists are inclined to refer to Israel as an apartheid state. They obviously let the Jewish State off the hook. Apartheid is commonly defined as a racially driven system of exploitation. But Israel is not Apartheid, it is not interested in exploitation. Israel is far worse, it wants the Palestinians gone. Israel is a racially driven, nationalist ethnic cleanser. In that regard, Israel is very similar to Nazi Germany. But this is exactly the equation we are supposed to avoid because it may hurt the Jews and even confuse the Left.
Two State / One State Debate – The philosophy behind the 'one state solution' is obviously ethical and universal.  But there is one slight problem. It finds no political partners or supporters within the Israeli society. Why? Because Israel is the Jewish State and the notion of Peace is totally foreign to Israeli and Jewish culture. The word 'Shalom' that is commonly translated as peace, reconciliation and harmony, is understood in Hebrew as 'security for the Jews'.
Accordingly, it was very embarrassing to read Palestinian prominent intellectual Joseph Massad make some gross mistakes misinterpreting the word 'peace' in the context of the Zionist ideology and Israeli politics.
In a recent article named Peace Is War: Israeli settler-colonialism and the Palestinians Massad wrote:  "Waging war as peace is so central to Zionist and Israeli propaganda that Israel's 1982 invasion of Lebanon, which killed 20,000 civilians, was termed 'Operation Peace for Galilee'".
If Massad had committed to proper scholarship he would probably find out that, as far as Israelis are concerned, operation 'Shlom Ha-Galil' really meant 'security' for the Galilee rather than 'Peace for Galilee'. Massad could have saved himself this intellectual blunder if he had read The Wandering Who rather than attempting to burn the book, whose author actually delves into the topic occasionally.
http://www.youtube.com/watch?v=MlvaN2c-Oto
Israelis would support the One State Solution as long as it is One Jewish State. As Paul Larudee suggested recently, the Israelis would also support the Two State Solution as long as it is Two Jewish States.   Yet the only question that bugs me is, why would a Palestinian blogger such as Ali Abunimah  go out of his way to stop us from looking into the tribal and racist culture that drives the Jewish State?
http://www.youtube.com/watch?v=6hrJcMO88EI
Is it possible that some of the prominent Palestine voices also do not want to offend the Jews? I will let you judge.

Palestinian Cause
Is it really the Right of Return?  or 1948? For many years I was convinced that the Nakba was at the core of the Palestinian plight. But then monitoring BDS Movement (Boycott, Divestment and Sanction of Israeli goods, culture and academia) politics taught me that I could have been deluded.
When BDS was formed in 2005 this was its first goal:
1. Ending its (Israeli) occupation and colonization of all Arab lands and dismantling the Wall; (2005)
But then, without any attempt to discuss the matter publicly, BDS headquarters in Ramallah changed its first goal. It now reads:
1. Ending its occupation and colonization of all Arab lands occupied in June 1967 and dismantling the Wall;
Some efforts have been made to make sure that Palestinian organisations are aware of this crucial change. Adding the 1967 made it clear that BDS de facto accepted the existence of a Jewish State over Palestine.
Interestingly enough, not many Palestinians were really outraged by BDS dropping the 1948 and accepting Israel as a fact. I guess that the meaning of it is simple. As far as Palestinians in exile in the West  are concerned, 1948 and  the Right of Return are not the real topic. I guess that such an agenda is not driven by the concern for the Palestinian refugees in Lebanon or Syria. I assume that refugees in Gaza and Jenin may also be outraged but, as things stand,  we can hardly hear their voices anyway. I guess that BDS is there to appease the 'Jews in the movement' and even liberal Zionists. This is hardly surprising considering the embarrassing fact that liberal Zionist George Soros who funds the Light Zionist J-Street also funds BDS as well as many other Palestinian NGOs.
Zoom Out
As we can see; Zionism, Colonialism, Settler-Colonialism, Apartheid, BDS and even The One State Solution are all misleading concepts and they are shaped to not offend the anti Zionist Jews and even Jews in general. This surreal and macabre political act explains why the solidarity movement has failed to deliver on every and each front, except one of course. With the support of liberal Zionists such as Soros, Palestine solidarity is now a little industrial affair that is pretty successful in maintaining itself. The absurd outcome is that the newly emerging Palestine solidarity industry actually benefits from the constant escalation of the crisis in Palestine – the worse is the situation on the ground, the more funding is pumped through the industry.
I guess that if we want to grasp what is behind this constant regression, concealment and repression are obviously the key words.
Concealment and repression lead towards stagnation. This is exactly what we see in Palestine and for more than a while – 100 years of struggle that led to a complete failure. Palestinian Solidarity is now farther than ever from understanding Zionism, Israel and the conflict. The so-called 'movement' is entrenched within a muddy terminological swamp that results in intellectual and spiritual paralysis.
This is exactly the point where truth and truth seeking come into play. The role of the intellectual and the artist is to unveil the concealed. To look into the pain and to dig into the essence. This search for essentiality is similar to the role of the psychoanalyst who delves into the realm of the unconscious.
When it comes to Palestine we have to grasp, once and for all, what the Jewish State stands for. We have to understand what Judaism and Jewishness are. We have to grasp who are the Jews, what unifies them and vice versa. We must learn the relationships between these distinct categories and Zionism and only then may we be ready to form some pragmatic and practical thoughts on Zionism, the Jewish State and its lobbies. By the time we are ready to do so, we may as well grasp the role of Jews-Only groups within the solidarity 'movement'. We may comprehend how they have been shaping the discourse and suppressing the truth by dominating our language and restricting our intellectual liberties. By the time we are familiar with Jewish tribal culture ideology and politics, we may as well grasp the role of the 'Sabbath Goy', the caretaker who performs the services Jews prefer to leave to theGoyim.
But our role doesn't end there. We also must grasp what Palestine means. How is it possible that Palestine scholarship is withdrawing rather than progressing. How is it possible that in the 70's Palestinians were the world's leading guerrilla fighters but not anymore. What happened and why?   What is it that the Palestinians want?  Can we even talk about Palestinians or are they a fragmented society that is split geographically, culturally, spiritually, politically and ideologically? And if they are divided, who is it that keeps them divided? Is there anything that can unite them?
I believe that the Jewish progressive politics together with the non-dialectic Left are to be blamed for this political disaster and terminological impotence. We are dealing with a concealment apparatus that forsakes the future just to sustain a remote echo of a decaying 19th ideology. It is there to nourish the forgetting of Being. It is there to make us aloof to the grave reality we are living in by means of intellectual and spiritual suppression.
When 1984's Orwell wrote about Newspeak, he had Britain in mind. He foresaw the devastating impact of the so-called progressive minds around him. He could predict where The Guardians of correctness might be leading us all. And, for a reason, he made Immanuel Goldstein, the imaginary false dissent icon.
My message to you today is simple – true liberation is the ability to learn how to think, to learn how to be intrigued and irritated. Liberation is to unveil the concealed, to think and re-think, to view, re-view and revise.  To think is to aim at the essence, at the bottom of things, at the categorical. To think is to be able to distinguish between the symptoms and the disease.  Liberation is to burn bridges compulsively and enthusiastically and to bear the consequences. Liberation is to pursue truth relentlessly. This is exactly the moment when pain becomes pleasure.
When Kevin Galalae uncovered a secret spying program aimed at University students in the UK, he did not expect his life to blow up.
He did not expect to be bankrupted, locked out of his home or for his children to be ripped from his side. Nor did Galalae, a Romanian born professional writer who had been living in Canada since 1985, expect to become the target of multiple arrests by the Canadian authorities.
Six arrests in two years, to be exact. And now, two months after the most recent charges against him were stayed by a Canadian court, Galalae is facing yet another potential arrest.
Galalae's saga began in 2009, when he enrolled in an online political philosophy course at Oxford University, in preparation for a Master's course into which he had been accepted by the University of Leicester. When he found himself censored and subsequently removed from the course, he began to investigate why.
That is when Kevin Galalae uncovered that he had been targeted by a covert program of censorship and surveillance, SAC, which had been operating in Britain since 2007. SAC, he soon learned, is part of a wider counter terrorism program called CONTEST.
Dismayed that he had been caught in a net intended to ferret out terrorists, Galalae subsequently sued the UK at the European Court of Human Rights. His lawsuit was lodged in March of 2011 and in April he flew to Strasbourg, France, to commence a month-long hunger strike at the Council of Europe in order to compel European politicians to condemn SAC and to compensate all students who had been so targeted.
Called back to Canada by pleas from his wife, Cindy, Galalae found that his wife, alarmed by his activism, had taken the children and fled to her parents' home. She had also locked him out of their mutual bank account.
When Galalae showed up at Cindy Marshall's parents' home, looking for his family, he was met by a plainclothes police officer who informed him that he was "trespassing." Galalae was subsequently taken to a hospital for a psychiatric evaluation. After three days, the doctor refused to hold him any longer and the police then showed up and arrested him on charges of "harassment" for his efforts to see his two children.
It is now two years and multiple arrests later. The Oslo Times ran a comprehensive article in May of 2012, detailing many of the intervening arrests and charges against Galalae. On advice of his lawyer, David Sinnett, Galalae pled guilty to the initial harassment charge and also to a charge of taking his wife's emails, which he had taken to use as evidence of his innocence. Galalae fought all subsequent charges, none of which have resulted in sentencing or a guilty charge. Galalae's longest period of detention was nine months, when he was held in Quinte Detention Center from December 2012 to September of this year. All charges against him were stayed due to the Crown failing to provide disclosure.
On September 4, 2013, the very day that the criminal court judge stayed Counts 1-8 against Galalae (the remainder of the counts were stayed on September 11), Crown Attorney Elisabeth Foxton filed further papers with the court alleging a recognizance violation which had taken place in November of 2011. The alleged recognizance violation refers to failure to reside at a reported residence during prosecution for charges, all of which were subsequently stayed. Of grave concern is that while the Criminal Court insists that there are no further matters concerning Kevin Galalae on the record, the Superior Court, where his recognizance violation will be heard, insists that only the first batch of Counts were stayed and that the other counts are still pending.
But this dissonance in court records is only a portion of the bizarre paper trail in this case. Evidence reviewed by this reporter includes apparently falsified police reports, finessed psychiatric records which attempt to create a file for non-existent treatment of illusory depression and records indicating repeated police fumbling as Detective Diane McCarthy and Constable Rob Lalonde attempt to tweak records in such a clumsy manner that the only reality that emerges is the over eagerness of the Kingston police to find an excuse, any excuse, to jail Kevin Galalae.
In addition, this reporter has reviewed correspondence between Galalae and the attorneys who were pledged to represent him revealing that said attorneys were at some juncture bound by the Crown from giving disclosure to their own client. One must ask how an attorney can represent a client when constrained from discussing the evidence with him.
On November 27, Galalae will appear in Kingston Superior court concerning this two year old recognizance violation on charges which have already been adjudicated. He has appealed to the OIPRD, which is the equivalent of Internal Affairs, to review the Kingston police's actions in his matter.
States Galalae: "The rule of law no longer exists in Canada." He reports thinking of his children, whom he has not seen in over two years, every single day. Writes Galalae:
"To force me into submission the Canadian authorities have taken my children away and are holding them hostage until such time as I acquiesce to global autocracy. They have accomplished this with the full assistance of my wife and her family, who have sacrificed me and my children to keep their social positions. But I will never submit. I will fight until my last breath to free my children and the world from the double yoke of political oppression and economic exploitation, which is all that remains of the so-called free world, a far more pitiful state of affairs than the communist world I was born in and left behind. "
Galalae's book on chemical and biological depopulation initiatives, entitled "Killing Us Softly: Causes and Consequences of the Global Depopulation Policy" is scheduled for publication by Progressive Press next year.
A fellow pastor wrote a Facebook response to my column last week, which was entitled, "Our Friends Are Killing Us." In the column I wrote, "By the same token, how long are Christians today who say they believe in the Second Amendment (and the rest of the Bill of Rights) going to keep sending their tithes and offerings to these churches where the pastors refuse to publicly resist these draconian gun control bills such as were recently introduced by Obama and Feinstein? How long are they going to keep filling the pews of these do-nothing churches? As long as these say-nothing pastors see their pews and offering plates full, don't expect anything to change.
"I will say it plainly: if you attend a church and didn't hear your pastor oppose the Obama/Feinstein gun control bills from the pulpit earlier this year, YOU NEED TO GET OUT OF THAT CHURCH. The only thing holding this republic together is the people's right to keep and bear arms–especially semi-automatic rifles with large-capacity magazines. By refusing to resist evil, your pastor has become an enemy of liberty. Wittingly or not, he is helping to put the chains of slavery around the necks of your children and grandchildren. Why would you stay and support such a pastor and church?"
See the column here:
In response to my column, the pastor posted these remarks on a friend's Facebook page: "A pastor's call from God has nothing to do with fighting for any liberty guaranteed by any human government or document. I will fight and die for our Constitution, but that has nothing to do with my call as a pastor, that is my responsibility as an American, not a pastor. Nor is it the responsibility of any pastor in that calling. We are called to only one form of liberty, and it is not so frail as that offered by any human government. The liberty we are called to proclaim is the liberty that was purchased by the shed blood of our Lord and Savior, Christ Jesus, at Calvary, the only liberty which can never be taken nor infringed. While I support the author's passion and personally speak out defending the second amendment, he is absolutely wrong to accuse men of God of being enemies of liberty simply because they do not engage publicly in the fight for the second amendment. He clearly does not understand the spiritual calling responsibility of a pastor."
Readers should readily recognize that this pastor demonstrates he is totally ignorant of Natural Law or he could not have said what he did. Unfortunately, it has been the better part of a century since seminaries, Christian colleges or universities (not to mention State schools and colleges) have taught the principles of Natural Law. Therefore, it is not surprising that most of today's pastors share the sentiments of the pastor above.
The pastor suggests that, except for the soul's spiritual freedom at salvation, all liberty is something given by government. He is wrong. Liberty (including the Natural right of self-defense) is given by God.
While most of America's founders were Christians, not all were; but to a man, they understood the basic God-ordained principles of Natural Law. According to University of Houston political science professor, researcher, and historian, Don Lutz, the four most quoted sources of the Founding Fathers were (in order):
1. The Bible
2. Montesquieu
3. Sir William Blackstone
4. John Locke
Sir William Blackstone's Commentaries on the Laws of England were, without a doubt, among the most influential writings upon America's founders. In his commentaries (second section), Blackstone said, "Man, considered as a creature, must necessarily be subject to the laws of his creator, for he is entirely a dependent being. A being, independent of any other, has no rule to pursue, but such as he prescribes to himself; but a state of dependence will inevitably oblige the inferior to take the will of him, on whom he depends, as the rule of his conduct: not indeed in every particular, but in all those points wherein his dependence consists. This principle therefore has more or less extent and effect, in proportion as the superiority of the one and the dependence of the other is greater or less, absolute or limited. And consequently, as man depends absolutely upon his maker for every thing, it is necessary that he should in all points conform to his maker's will.
"This will of his maker is called the law of nature. For as God, when he created matter, and endued it with a principle of mobility, established certain rules for the perpetual direction of that motion; so, when he created man, and endued him with freewill to conduct himself in all parts of life, he laid down certain immutable laws of human nature, whereby that freewill is in some degree regulated and restrained, and gave him also the faculty of reason to discover the purport of those laws."
In that same second section of his commentaries, Blackstone further said, "This law of nature, being coeval with mankind and dictated by God himself, is of course superior in obligation to any other–It is binding over all the globe in all countries, and at all times; no human laws are of any validity, if contrary to this: and such of them as are valid derive all their force, and all their authority, mediately or immediately, from this original."
One can easily discern the influence of men such as Blackstone upon the men who penned our Declaration of Independence: Thomas Jefferson (the principal author), Benjamin Franklin, John Adams, Roger Sherman, and Robert Livingston. Listen to the Declaration:
"When, in the course of human events, it becomes necessary for one people to dissolve the political bands which have connected them with another, and to assume among the powers of the earth, the separate and equal station to which the laws of nature and of nature's God entitle them, a decent respect to the opinions of mankind requires that they should declare the causes which impel them to the separation.
"We hold these truths to be self-evident, that all men are created equal, that they are endowed by their Creator with certain unalienable rights, that among these are life, liberty and the pursuit of happiness."
See how Jefferson founded the Declaration of Independence upon "the laws of nature and of nature's God." Furthermore, America's Bill of Rights is simply a foundational treatise respecting the Natural liberties that God breathed into man at Creation. Virtually every amendment in the Bill of Rights has its root in Holy Scripture–and that includes the Second Amendment.
Please understand that every "right" granted by God also entails a sacred duty. If God has granted men the right to life and liberty, He has also demanded of them a duty to protect life and liberty. From the earliest examples of Holy Scripture we see these fundamental tenets of Natural Law.
Before human government existed, God cursed the world's first murderer. God then commanded the progenitor of the human race following the Flood (Noah) to protect human life by the pronouncement, "Whoso sheddeth man's blood, by man shall his blood be shed: for in the image of God made he man." (Genesis 9:6) Then again, hundreds of years before Moses, the man Abram rallied to the defense of his family in Genesis 14 by taking up arms against the "kings of the nations," after which he brought the tithes of the spoils of war to the High Priest Melchizedek, who in turn blessed Abram for what he had done. And the Book of Hebrews tells us that Melchizedek was a type of Jesus Christ. If one were to remove from the Scriptures the examples of men and women of faith who fought for the Natural right of life and liberty–and who resisted those that tried to deny it–I dare say he or she would delete at least half of the entire Bible.
I must assume that this pastor has never read Blackstone or Locke or Hugo Grotius, et al. Listen to Grotius, "[Natural Law] may be called Divine also. And here may take Place that which Anaxarchus said, as Plutarch relates in the Life of Alexander, (but too generally) that GOD does not will a Thing because it is just; but it is just, that is, it lays on under an indispensable Obligation, because GOD wills it. And this Law was given wither to all Mankind, or to one People only: We find that GOD gave it to all Mankind at three different Times. First, Immediately after the Creation of Man, Secondly, Upon the Restoration of Mankind after the Flood, And thirdly, Under the Gospel, in that more perfect re-establishment by Christ. These three Laws do certainly oblige all Mankind, as soon as they are sufficiently made known to them." (Grotius, Hugo, The Rights of War and Peace, Book One, Print, Liberty Fund, Pages 164-166)
The pastor said he was willing to "fight and die for our Constitution," but he is unwilling to preach the divine Natural Law principles upon which our Constitution (including the Second Amendment) are based? Such is the height of ignorance and inconsistency.
Furthermore, whether he realizes it or not, the pastor's stated philosophy is identical to that of the doctrine of "two spheres," which was commonly taught in Germany's churches under the Nazi regime. Hitler's government instructed Germany's pastors and churches to teach Romans 13 as requiring Christians to always submit to civil authority. It was taught that Christ has sovereignty over men's hearts in the spiritual realm, but civil government has authority over everything else. This is exactly what the pastor is saying when he says, "We are called to only one form of liberty, and it is not so frail as that offered by any human government. The liberty we are called to proclaim is the liberty that was purchased by the shed blood of our Lord and Savior, Christ Jesus, at Calvary, the only liberty which can never be taken nor infringed."
To say that we are only called to "one form of liberty," meaning the spiritual liberty of the heart produced by a soul's spiritual redemption, the pastor is relegating all other forms of liberty to the dominion of civil government. Whether he realizes it or not, the pastor is preaching the Hitlerian doctrine of "two spheres."
Ladies and gentlemen, the doctrine of "two spheres" is blasphemous and heretical. "All authority is given unto me," Jesus said. That means all human authority is subservient to His authority. When men (even pastors) cede to human government the sovereign authority of Jesus Christ, they have become idolaters–whether they realize it or not.
God's men throughout history (Biblical and Ecclesiastical) have been the most outspoken opponents of the evils of civil government at every level. One cannot read virtually any book of the Old Testament without reading the stories of courageous champions of God who defied and resisted civil authority when that authority became oppressive and illegitimate. And, remember, the New Testament says that the Old Testament was written for our "learning." (Romans 15:4) Are we New Testament believers to learn nothing from over 4,000 years of Biblical Natural Law teaching in the Old Testament? Do you mean to say that today's passive and compliant pastors are more spiritual than the prophets Micaiah, Jeremiah, and Daniel? Are they more spiritual than Shadrach, Meshach, and Abednego? More spiritual than Gideon, Barak, and Jephthah? Are today's pastors who refuse to say anything controversial in the pulpit, who delight in offending no one, who have, for the most part, become the pathetic pawns of government more spiritual than Martin Luther, Huldrych Zwingli, John Calvin, John Robinson, John Peter Muhlenberg, James Caldwell, or Jonas Clark?
And I also must assume that the pastor doesn't take Jesus literally when he COMMANDED His disciples to buy a sword even if it meant selling one's clothes in order to afford it. (Luke 22:36) If that doesn't make the right and duty to keep and bear arms a divine mandate, I don't know what does.
And remember, too, that the sword Jesus told His disciples to buy was the same sword that the Apostle Paul said that civil government bore in Romans 13. Jesus was not talking about a pocketknife, folks. He was talking about the most sophisticated, efficient self-defense tool known to man at the time: the Roman sword. For us in modern times that would be the equivalent of an AR-15-style semi-automatic rifle. Yes, ladies and gentlemen, the gift of liberty (in all of its forms) is as spiritual and godly as the gift of physical life or the gift of spiritual salvation.
Besides, does not the New Testament teach that everything a Christian does is spiritual in nature? Is a Christian not performing a spiritual work when he or she gets a job to provide for his or her family? Is he or she not performing a spiritual work when they sit around a table and partake of the provision and fellowship of the home? Is a Christian not performing a spiritual work when he or she protects their little ones by locking the doors at night or installing an alarm system or arming themselves against an intruder? Are we only spiritual when we are at church or when we are reading the Bible? Is not everything a Christian does thought to be spiritual? How then can pastors omit the Natural Law duties and responsibilities that God intends to govern our entire lives from their preaching and teaching? Does not the Scripture say, "But if any provide not for his own, and specially for those of his own house, he hath denied the faith, and is worse than an infidel"? (I Timothy 5:8 KJV) The Apostle was speaking specifically about children providing for a widowed mother, but does not providing in the general sense include protection as much as it does provision? Therefore, can we not say that being capable and willing to protect our families against harm and danger is just as spiritual as putting food on the table or clothes on their backs? Regarding this verse, the famed Bible scholar, Albert Barnes, said, "According to our measure, we are to anticipate what will be the probable needs of our families, and to make arrangements to meet them." Certainly, the "probable needs of our families" includes physical protection. You mean to tell me that this pastor is not going to preach this truth of the Gospel from his pulpit? How dare he not? Pastors MUST preach the Natural Law principles of liberty in order to fulfill their divine calling.
In my column last week I said, "If you attend a church and didn't hear your pastor oppose the Obama/Feinstein gun control bills from the pulpit earlier this year, YOU NEED TO GET OUT OF THAT CHURCH. The only thing holding this republic together is the people's right to keep and bear arms–especially semi-automatic rifles with large-capacity magazines. By refusing to resist evil, your pastor has become an enemy of liberty. Wittingly or not, he is helping to put the chains of slavery around the necks of your children and grandchildren." I think this pastor proves my point.
It is often said there only two kinds of people in this world: those who know, and those who don't. I would expand on this and say that there are actually three kinds of people: those who know, those who don't know, and those who don't care to know. Members of the last group are the kind of people I would characterize as "sheeple."
Sheeple are members of a culture or society who are not necessarily oblivious to the reality of their surroundings; they may have been exposed to valuable truths on numerous occasions. However, when confronted with facts contrary to their conditioned viewpoint, they become aggressive and antagonistic in their behavior, seeking to dismiss and attack the truth by attacking the messenger and denying reason.  Sheeple exist on both sides of America's false political paradigm, and they exist in all social "classes".  In fact, the "professional class" and the hierarchy of academia are rampant breeding grounds for sheeple; who I sometimes refer to as "intellectual idiots".  Doctors and lawyers, scientists and politicians are all just as prone to the sheeple plague as anyone else; the only difference is that they have a bureaucratic apparatus behind them which gives them a false sense of importance.  All they have to do is tow the establishment line, and promote the establishment view.
Of course the common argument made by sheeple is that EVERYONE thinks everyone else is blind to the truth, which in their minds, somehow vindicates their behavior.  However, the characteristic that absolutely defines a sheeple is not necessarily a lack of knowledge, but an unwillingness to consider or embrace obvious logic or truth in order to protect their egos and biases from harm.  A sheeple's mindset is driven by self centered motives.
So-called mainstream media outlets go out of their way to reinforce this aggressive mindset by establishing the illusion that sheeple are the "majority" and that the majority perception (which has been constructed by the MSM) is the only correct perception.
Many liberty movement activists have noted recently that there has been a surge in media propaganda aimed at painting the survival, preparedness and liberty cultures as "fringe," "reactionary," "extremist," "conspiracy-minded," etc. National Geographic's television show "Doomsday Preppers" appears to have been designed specifically to seek out the worst possible representatives of the movement and parade their failings like a carnival sideshow. Rarely do they give focus to the logical arguments regarding why their subjects become preppers, nor do they normally choose subjects who can explain as much in a coherent manner. This is a very similar tactic used by the establishment media at large-scale protests; they generally attempt to interview the least-eloquent and easiest-to-ridicule person present and make that person a momentary mascot for the entire group and the philosophy they hold dear.
The goal is to give sheeple comfort that they are "normal" and that anyone who steps outside the bounds of the mainstream is "abnormal" and a welcome target for the collective.
It would appear that the life of a sheeple is a life of relative bliss. The whole of the establishment machine seems engineered to make them happy and the rest of us miserable. But is a sheeple's existence the ideal? Are they actually happy in their ignorance? Are they truly safe within the confines of the system? Here a just a few reasons why you should feel sorry for them.
Sheeple Are Nothing Without The Collective
A sheeple gathers his entire identity from the group. He acts the way he believes the group wants him to act. He thinks the way he believes the group wants him to think. All of his "ideas" are notions pre-approved by the mainstream. All of his arguments and talking points are positions he heard from the media, or academia, and he has never formed an original opinion in his life. Without the group telling him what to do, the average sheeple is lost and disoriented. When cast into a crisis situation requiring individual initiative, he panics or becomes apathetic, waiting for the system to come and save him rather than taking care of himself. Sheeple are so dependent on others for every aspect of their personality and their survival that when faced with disaster, they are the most likely people to curl up and die.
Sheeple Crave Constant Approval From Others
Sheeple are not only reliant on the collective for their identity and their survival; they also need a steady supplement of approval from others in order to function day to day. When a sheeple leaves his home, he is worried about how his appearance is perceived, how his attitude is perceived, how his lifestyle is perceived and how his opinions are perceived. Everything he does from the moment his day begins revolves around ensuring that the collective approves of him. Even his acts of "rebellion" are often merely approved forms of superficial "individualism" reliant on style rather than substance. This approval becomes a kind of emotional drug to which the sheeple is addicted. He will never make waves among the herd or stand out against any aspect of the herd worldview, because their approval sustains and cements his very existence. To take collective approval away from him would be like cutting off a heroin junky's supplier. To be shunned by the group would destroy him psychologically.
Sheeple Are Incapable Of Original Creativity
Because sheeple spend most of their waking moments trying to appease the collective, they rarely, if ever, have the energy or inclination to create something of their own. Sheeple do not make astonishing works of art. They do not achieve scientific discovery. They do not make history through philosophical or ideological innovation.  Instead, they regurgitate the words of others and hijack ideas from greater minds.  They remain constant spectators in life, watching change from the bleachers, caught in the tides of time and tossed about like congealed satellites of Pacific Ocean garbage from the after-wash of Fukushima. The destiny of the common sheeple is entirely determined by the outcome of wars and restorations waged by small groups of aware individuals — some of them good, some of them evil.
Sheeple Have No Passion
If you draw all of your beliefs from what the collective deems acceptable, then it is difficult, if not impossible, to become legitimately passionate about them. Sheeple have little to no personal connection to their ideals or principles; so they become mutable, empty and uninspired. They tend to turn toward cynicism as a way to compensate, making fun of everything, especially those who ARE passionate about something. The only ideal that they will fight for is the collective itself, because who they are is so intertwined with the survival of the system. To threaten the concept of the collective is to threaten the sheeple's existence by extension.
Sheeple Are Useless
The average sheeple does not learn how to be self-reliant because it is considered "abnormal" by the mainstream to be self-reliant. The collective and the state are the provider. They are mother and father. Sheeple have full faith that the system will protect them from any and all harm. When violence erupts, they cower and hide instead of defending themselves and others. When large-scale catastrophe strikes, they either sit idle waiting for the state to save them or they join yet another irrational mob. They do not take proactive measures, because they never felt the need to learn how.
Consider this: Why do the mainstream and the people subject to it care if others prepare for disaster or end their dependency on the establishment? Why are they so desperate to attack those of us who find our own path? If the system is so effective and the collective so correct in its methodology, then individualists are hurting only themselves by walking away, right? But for the sheeple, successfully self-reliant individuals become a constant reminder of their own inadequacies. They feel that if they cannot survive without the system, NO ONE can survive without the system; and they will make sure that individualists never prove otherwise. "You didn't build that" becomes the sheeple motto, as they scratch and scrape like spoiled children, trying to dismantle the momentum of independent movements and ventures in non-participation.
Sheeple Are Easily Forgotten
To live a life of endless acceptance is to live a life of meaningless obscurity. When one arrives at his deathbed, does he want to reflect on all of his regrets or all of his accomplishments? Most of us would rather find joy than sadness when looking back over our past. For sheeple, though, this will not be possible — for what have they ever done besides conform? What will they have left behind except a world worse off than when they were born? What will they have accomplished, but more pain and struggle for future generations? In the end, what have their lives really been worth?
I cannot imagine a torture more vicious and terrifying than to realize in the face of one's final days that one wasted his entire life trying to please the plethora of idiots around him, instead of educating them and himself and molding tomorrow for the better. I cannot imagine a punishment more severe than to spend the majority of one's years as a slave without even knowing it. I cannot imagine an existence more deserving of pity and remorse than that of the sheeple.
Source: Brandon Smith | Alt-Market
Proposed solutions have included greater funding, a longer academic year, national standards, measures to reduce school violence, and educational vouchers. The only proper solution is to completely separate state and school thereby permitting education to be purchased and sold through the free market system. Consumer-financed education must replace tax-based funding of education. We need to dissolve public schools and replace them with educational businesses. By de-monopolizing public schools, we would raise standards, better motivate teachers and students, allow greater innovation, bring costs down, and meet the particularized needs of our children.
Public education is inconsistent with freedom and responsibility. Public education erodes personal freedom and thus should be replaced with parental choice, competition, and market solutions. Parents are responsible for the education of their children. Under a free market, families would decide which are the best educational vehicles for each of their children.
State schools are based on the assumptions that the government is sovereign in education that people are morally and legally obligated to fund the public school system, and that state schools can, and should, teach neutral values. Government policy imposes strict rules and regulations and a directive to use education to engineer political and social outcomes. Public education is a collectivist welfare program in which people are coerced to participate. Not only is political consensus substituted for private individual decisions, the benefits of public education are not commensurate with its costs and its subsidized prices distort individual decision-making.
In the past, families, religious groups, and private schools dominated education, but today the state is in charge. We need to eliminate state involvement in education.
A person should be free to pay for a child's education if he wanted to. Today, people are forced to pay for schools imparting ideas that they would not voluntarily support. Freed of their educational tax burden, individuals would have the funds to pay for private education. In addition, competition would raise school quality and would make private education more affordable and available.
Totally separating education from the state means abolishing school taxes and compulsory school attendance. By divorcing education from political power, parents and their children will be free to pursue education the best serves their needs.
History and Philosophy of Public Education 
Rousseau, like Plato before him and Mann and Dewey after him, believed in the perfectibility of man provided that he was educated so that he could not want to do evil. According to Rousseau, there exists a "general will" over and above wills of individuals. He taught that there is an intellectual elite who is able to discern the commands of the general will and, because of that knowledge, have the authority to implement those commands. The existence and authority of the general will is the cornerstone of Rousseau's philosophy of education.
In Emile, Rousseau portrays the ideal education in the story of a child, who, free from the restrictions of an adult's will, is able to study nature and thus learn what he needs to know. However, Emile has an enlightened tutor, whose purpose is to secretly manufacture the conditions under which nature will teach the student what the tutor wants the student to learn. Through the tutor's disguised intentions, the student, by equating his own will with the will of his tutor, is conditioned to identity his own will with the general will.
German thinkers from Luther to Fichte to the Prussian monarchs developed theories of compulsory state education. Hegel viewed the state, through which the general will found expression, as the supreme earthly manifestation of the Absolute and as the embodiment of ethics. People found freedom when they recognized the state's exalted status and accepted the state's objectives as their own objectives. This view ultimately gave rise to American nationalism and the movement toward universal education.
For the first two hundred years in America, from the early 1600s to the early 1800s, public schools were virtually non-existent. Before the 1830s, education was primarily an informal local activity. Private education in early America included the home, church, Catholic and Protestant schools, charity schools for the poor, apprenticeships, private study, and circulating libraries. With the variety of educational systems available to our forefathers, tax-financed schools did not receive much support. For many years, the only strong advocates of state schools in the U.S. were Boston Unitarians who denied Christian teachings and accepted Rousseau's ideas that negative behavior was the result of mis-education rather than due to man's fallen nature.
Although tax-financed common schools existed by the 18305, most parents continued to send their children to private schools. However, the public school agenda of the Unitarians and other elites began to advance with urgency as Catholic immigration, especially from Ireland and Germany, soared in the 18405 and 18505. Protestants began to fear that Catholic immigrants and the poor would become an unassimilated mass.
Horace Mann, a Unitarian lawyer and legislator, had been appointed secretary of the newly created Massachusetts Board of Education in 1837, the first state board of education in the U.S. During his12 years as its head, Mann created a unified system of common schools including teacher-training initiatives and dedication to a Utopian vision of perfecting the moral character of the nation's youths. Mann was a die-hard Unitarian moralist who perceived the public school as the cure for social ills and exhibited faith in human goodness given the right education and environment. Mann, an admirer of the Prussian approach to public education, said that closing down prisons would be possible, given a generation of schools according to his prescriptions.
Mann's goal was to establish mechanisms of social control. He advocated a standard curriculum, centralization of public funds, a strongly moral character of instruction, and state leadership in training teachers dedicated to the common school agenda. Mann and his fellow reformers sought to use the state's authority and resources to impose a single ethos on every school in the name of enlightenment and social unity.
Originally, many Protestants criticized the peculiar religious character of the common public school. Mann's religion without salvation was attractive to an elite who was confident of its own success and of the country's inevitable progress. Protestant critics feared that the schools' espoused non-denominational neutrality was the same as the institution of secularism through the public schools.
However, the large influx of Catholic immigrants who tended to establish their own schools, was thought by many to be a threat to Protestantism. Encouraged by the Unitarians, many Protestants began to embrace the state school concept. Since the establishment of Protestantism as the American national church was impossible due to the nation's emphasis on religious tolerance, it was thought the public school could perhaps become an acceptable substitute mechanism to control religion. The public school was thus seen by Protestants as a potential mechanism for instilling the true faith.
Mann's non-denominational approach did incorporate Bible reading (the King James version), daily prayer, and hymns into its activities. Of course, as America became more secularized so did the public schools. Public education in America really began to boom after the Civil War, as government- controlled and funded schools replaced the earlier private education system. The biggest boost for state schools came when states began to enact laws of compulsory attendance.
Catholics felt left out of the public school system. As a consequence, the Catholic parochial school system was established in 1874. Catholics, like the Protestants, Unitarians, and others realized that whoever controls the schools controls the upcoming generation.
By altering and connecting Rousseau's ideas of an independently existing general will with the principle of majority rule, 19th century American intellectuals thought that the "will of the majority" as interpreted by themselves, provided a unique source of beneficence and wisdom. Education controlled by that "will" would foster the public good.
John Dewey's progressive model of active learning or pragmatism promoted a revolt against abstract learning and attempted to make education an effective tool for integrating culture and vocation. Dewey was responsible for developing a philosophical approach to education called "experimentalism" which saw education as the basis for democracy. His goal was to turn public schools into indoctrination centers to develop a socialized population that could adapt to an egalitarian state operated by an intellectual elite.
Thinking for Dewey was a collective phenomenon. Disavowing the role of the individual mind in achieving technological and social progress, Dewey promoted the group, rather than the teacher, as the main source of social control in the schools. Denying the ideas of universal principles, natural law, and natural rights, Dewey emphasized social values and taught that life adjustment is more important than academic skills.
Dewey explained that the subject matter and moral lessons in the traditional curricula were meant to teach and inspire but were irrelevant to the students' immediate action experiences. The contradiction between the students' real interests and those of the traditional school alienated students from their schoolwork. School-age children were caught between the opposing forces of immature, undeveloped beings and the values, meanings, and aims of subject matter constructed by a mature adult. Dewey believed that students' energy, talent, and potential could not be realized within the structure of an archaic school system.
Dewey and other members of the Progressive movement wanted a predictable method for providing a common culture and of instilling Americans with democratic values. As a result, by the end of the 19th century, a centrally-controlled, monopolistic, comprehensive, and bureaucratic public education system was deemed to be essential for America's future.
During the 20th century, the job of public education was expanded to inculcating moral values, providing nutrition and health, protecting children from psychological and physical abuse, and combating crime and delinquency. Later, additional social and political goals such as racial integration, democratic participation, environmental awareness and activism, and social tolerance were added.
The Nature of Public Education 
Public schools are coercive political monopolies that are funded through compulsory taxation and that have a captive audience of pupils through mandatory attendance laws. People must pay for the school system even if they do not use public schools or are not satisfied with them. The state uses its coercive taxing power to take money from some, even individuals who do not have children, to fund the education of others. Since most people cannot afford to pay private tuition after bearing their school tax burden the market for private schools is artificially restrained. There would be many more, and a larger variety, of private schools in the absence of a tax-supported system. In fact, the bankruptcy of some private schools can be attributed to unfair competition from the public system.
Decisions are made from the top-down. Small groups of elected or appointed state officials ignore market forces and make decisions regarding teaching methods, curricula, textbooks, class size, teacher qualifications, etc. Public education is designed to serve the state and its ruling elite who endeavor to create a one size fits all education for a population of diverse children.
Public education views children as property of the state, undermines parents' moral authority and responsibility, and stifles the entrepreneurial spirit. A system of force and compulsion replaces education with indoctrination. Students learn officially approved state doctrine from state-approved teachers using state-approved texts. Public schools promote agendas that conflict with parents' rights to shape the values and beliefs of their children.
Opponents of free market education believe that only public education can impart the skills, values, knowledge, and attitudes needed for good citizenship. Political correctness and outcome-based education result from public educators' attempts to socialize the young to make society in their own egalitarian image through the use of compulsory state education. Public education thus tends to be more formative and indoctrinating than it is informative.
Parents have been denied the right to choose the type of education they want for their children. Children do not learn in the same way, at the same rate, by the same methods, or under the same conditions. Parents are in the best position to take into account the relevant differences in their individual children and should be permitted to select the appropriate education for each of them. Not all parents want their children educated in the same way. The superior performance of home-schooled children testifies to the ability of parents compared to that of state-certified teachers.
Public educators want uniformity in the schools since in their minds there would be social inequality if everyone did not have the same education. However, specialized schools which vary in their methods, goals, materials, and assessment methods would better cater to the diversity of human beings.
Public schools do impart values, but they are the values of conformity and docility. Public schooling suppresses the individuality, initiative, and creativity of students. In its efforts to stay ideologically independent, public education is likely to sacrifice intellectual and character development. The idea has caught on that every individual has a right and a duty to be educated and that society through the government has the obligation to fund the education of its citizens. Supporters of public schooling have maintained that many children will go uneducated if education were not compulsory and if the state did not deliver it. The state assumes that parents are irresponsible and must be forced to do what they should do. Parents are not free to ignore school attendance by their children and are not free to ignore tuition payments through taxation. By avowing the legitimacy of public education, voters try to transfer their responsibility for educating their children to the state. However, parental moral responsibility for their child's education cannot be shifted to anyone else.
Public schools get their customers through compulsory attendance laws. Public education is based on the prison concept. Tax-funded schools have coercion as part of their culture. As wards of the state, children are jailed with a mandatory sentence until they are 16. The state removes children from parents assumed to be incompetent in order to keep them from being anti-social and to make them into complacent workers and citizens.
When schooling is mandated by law, the sense of opportunity that accompanies free choice is missing. If education is not compulsory, then students are perceiving education as an opportunity rather than as a requirement. In the absence of compulsory education, students would no longer be captive to ideological and political brainwashing on the part of teachers and administrators.
Most Americans accept the propriety of forcibly taking some people's money in order to educate other people's children. Students are thus taught by example that they are entitled to government "gifts" and that it is proper to obtain an end through organized force. State education teaches that there are a multitude of good ends that can be attained by the state taking wealth to pay for them in the same manner as it pays for students' educations. If children are led to believe that they are owed benefits from the government without any work or its product being exchanged, they tend to think that it is not necessary for them to perform work to obtain any of their desired possessions.
Compulsion negatively affects attitudes and poor attitudes obstruct education. Compulsory education has drawn some children into classes who do not want to be there thereby lowering the quality of education as standards are reduced to meet the lowest common denominator. Some students just don't belong in school, but the government not only forces their attendance, it also compels those who do belong and want to be there to associate with delinquents and the uneducable. Of course, due to self interest, only a few would go uneducated if education were noncompulsory. Attendees would have a financial incentive to get the most out of their education.
When the state provides a "free education" the value of the education is decreased in the minds of parents as well as in the minds of students. Parents will not be as interested in ensuring their children's attendance when schools are free. In addition, parents will not demand much from their children or the schools when education does not cost them anything. Quality declines when the connection between service and payments is severed. Public education breaks the link between consumers' demands for education and their ability to control their own resources in voicing that demand.
Public education continues because it is funded through compulsory tax payments. Because public schools are guaranteed revenue, there is no incentive to strive for excellence. When a school has monopoly control over students, the motivation to produce successful students is lacking. Public education deprives parents of their right to select the kind of schooling that is best for their children. The state taxes away parents' income and permits public bureaucrats to run the school system as they see fit.
Public schools are insulated from failure and protected from competition. Consequently, it is safe for them to ignore their customers. Public educators have little incentive to provide quality, to respect and please their customers, to pursue innovations, to produce results, to be efficient, or to control their costs.
Politicians push for higher taxes to foster their political images by exhibiting their concern for improving public schools. In addition, school administrators do not try to be efficient or cut cost because such behavior would lead to a reduced budget. This helps to explain why the U.S. spends more per student per year than any other major nation. At the same time, student performance has not kept par with the increase in resources devoted to public schooling.
Public school systems lack the entrepreneurial ingredient. The educational bureaucracy is unable to calculate net income or net loss, has no way of using cost-benefit analysis to see if expenditures were appropriately applied, and do not know if they are using taxpayers' money to accurately respond to consumer demand.
Public education uses taxation to evade market prices. There is an immense difference between government paying for education and the parent paying for it in a free market situation. When public education is financed by the state, the real price to taxpayers is much greater than the price perceived by the consumers. The family of a student only pays part of the cost of a state-financed education with the rest of the cost being transferred to taxpayers with no or fewer children than the particular family has.
Vouchers and Other Pseudo-Reforms 
Proponents of educational choice have proposed educational vouchers, charter schools, and tax deductions for private educational expenditures. The fundamental problem, public funding of education, remains under each of these alternatives. There are always strings attached when state funds are provided. Government intrusion always follows government funding.
With respect to educational vouchers, publicly-funded vouchers would be issued to parents of school-age children to spend at the government-approved school of their choice. Parents would be given a voucher worth a precise amount of public tax money. The parent would have the state-granted right to choose from among the local schools that meet the state's standards. Vouchers are based on the assumption that the state, rather than the parents, is sovereign over education. Parents' choices will be restricted by controlling school eligibility for reimbursement through vouchers. The state, the source of educational funding, retains its sanctioning authority under the voucher system.
Every private school that accepts a voucher payment is subject to local, state, and/or federal rules and regulations. Private enterprises cease to be private with the introduction of public funds. Since state funds support private schools in a voucher system, if follows that private schools will be accountable to the government if they are to succeed. For example, public educational officials could require open admissions, insist that a private school's student population reflect the community it serves including proper quotas of minority students, require that vouchers must be accepted as full payment even if they are of less value than the school's tuition, demand that voucher money not be used to finance religious education, etc. A voucher system could also be used to exclude schools that teach "politically incorrect" ideas or that employ teaching methods contrary to the prevailing orthodox methods championed by public education bureaucrats.
As long as an education is publicly funded, decisions regarding educational policy will be politically made. Under the voucher system, voucher-supported private schools become part of the state's monopoly on education. The voucher system creates an illusion of parental authority without the substance of such authority. A voucher program violates the principle that parents are morally and financially responsible for their children's education. In a voucher system, coercive taxation remains the source of education funding. A cosmetic change at best, a voucher program gives the appearance that parents are exercising choice, while, at the same time, transferring the evils of the public system to private schools.
Vouchers will lure students back into publicly-financed education. Currently, many parents remove their children from public education as a matter of principle. The voucher system will entice parents since its benefits will only be received if parents enroll their children in state-approved schools. Vouchers will lessen the demand for private education that is outside the taxpayer financed; education system. Parents who want to keep their children out of government-run schools will have to say no to free education in a state school, turn down vouchers for government licensed schools, and then pay additional funds to send their children to an authentically independent school! In essence, these parents will be paying for education three times while their children only receive one education each.
A charter school is a partially autonomous publicly-financed school that is operated by a group of community members, teachers, and/or parents. It operates under a charter with a local school district board of education or sometimes with an outside agency such as an institution of higher learning. Charter schools are free to a certain degree, but, like the voucher system, charters will corrupt such schools. Restrictions confronting charter schools include the source of its funding, regulations stemming from government control, and such schools' lack of market feedback and accountability.
Some advocate private educational expense deductions for federal income tax purposes. Pre-tax dollars would be used to finance children's education under this approval. Less beneficial than a tax credit, such a deduction would only ameliorate one's tax penalty. In addition the main problem will still be that the educational "benefit" originates in the political order and must be utilized within the political framework.
The Educational Freedom 
The best school choice plan is the free market. Education should be bought and sold through free market processes. The separation of state and education would restore intellectual freedom, academic integrity, and individual achievement. The private market can best provide high quality and efficient education services. Private educational institutions can supply a superior educational product but currently, because of subsidized tuition at public schools, most students select the lower-priced option. When a child attends a private school, the family must pay taxes to subsidize the cost of students in public education and pay the whole cost of education at a private school.
Education is an economic commodity to be purchased in the marketplace according to the preferences and valuations of education consumers. In a free education market parents and students would decide based on the perceived costs and benefits of each option. In essence, the procurement of an educational service does not differ from the acquisition of any other private good.
Outcomes in a consumer-funded education market would be the result of voluntary purchases by educational consumers. The best schools would earn the most income. Profit calculations would permit schools to gauge their performance according to customer evaluations. Parents would choose schools based on performance and reputation. Paying customers value and select competent schools and teachers. Thus, it follows that the consumers of education should be the payers.
Market-based schools have incentives to furnish quality education at a competitive price. Competition would drive poor schools from the market. Market mechanisms would provide the most efficient allocation of resources. Schools would compete for the best students and students would compete for the best teachers and schools. Teachers' salaries would be determined by market competition. Schools would provide instruction at a variety of locations with varying philosophies, specialization areas, and costs. Schools would arise to meet the demands of various students' abilities and needs. Where the demand for a specific type of education arises, an entrepreneur would form the desired institution of learning. With the diversity that exists among individuals, a variety of schools would appear to meet individual educational needs.
It is critical that parents purchase education directly, when, and only for as long as, they believe their children require it. Only the total separation of state and school can re-institute parental responsibility, protect parents' rights, and allow students, schools, and teachers to flourish in a free educational environment. Parents have moral authority over, and responsibility for, their own children.
If school taxes are abolished, parents will benefit by keeping their own money. The money belongs to the parents, not the government. They would then be free to choose their own children's schools. For example, if parents want their children to have prayer, then they would send them to a school that has prayers. If they don't want their children to have prayer, then they would send them to a school that has no prayer. Parents should be free to send their children to religious schools, progressive schools, trade schools, home school, or even no school at all. Of course, it is likely that the pursuit of happiness will supply enough incentive for people to want their children to improve educationally. Schools privately funded and freely selected would be mediating associations like churches, corporations, and unions, and would foster a true sense of belonging and identity.
In private schools in a free market, failure to provide the promised results would lead to declining enrollments, and financial losses. Competition breeds quality. For example, the free market would encourage teachers to improve their skills and would attract others into the teaching profession. Good teachers would be rewarded and poor teachers would be forced to select other careers. The market would also indicate which teaching approaches worked best in given situations and would stimulate creative individuals to produce and market learning materials. True educational businesses would evaluate teachers and their instructional operations to determine whether or not the customers are satisfied and getting their money's worth of education.
Educational competition would result in the lowering of costs. Competition would make private education more affordable and widely available. This means that poor families would be more able to afford the cost of financing their children's educations. In addition, if the poor are excused from the numerous education taxes that currently exist, then they would have the funds to pay for private education. It is also likely that private scholarships and charitable assistance will be available for lower income families, especially when the person or organization funding the scholarship knows that he is paying for a superior educational product.
In a free market, consumer demand and choice would determine which schools survive and prosper. A private, non-compulsory educational system would be better able to provide for diverse student needs, backgrounds, interests, goals, and preferences. A system of voluntary, unsubsidized education means rescinding government compelled financing, attendance, credentialing, accreditation, and curriculum. It means the full separation of school and state.
Source: Dr. Edward Younkins | quebecoislibre.org
It is natural for a society to search for explanations and motivations in the wake of a man-made tragedy. It is also somewhat natural for people to be driven by their personal biases when looking for someone or something to blame. In recent years, however, our country has been carefully conditioned to view almost every criminal event from an ideological perspective.
The mainstream media now places far more emphasis on the political affiliations and philosophies of "madmen" than it does on their personal disorders and psychosis. The media's goal, or mission, if you will, is to associate every dark deed whether real or engineered to the political enemies of the establishment, and to make the actions of each individual the collective shame of an entire group of people.
I could sift through a long list of terror attacks and mass shootings in which the establishment media jumped to the conclusion that the perpetrators were inspired by the beliefs of Constitutional conservatives, "conspiracy theorists", patriots, etc. It is clear to anyone paying attention that the system is going out of its way to demonize those who question the officially sanctioned story, or the officially sanctioned world view. The circus surrounding the latest shooting of multiple TSA agents at Los Angeles International Airport is a perfect example.
Paul Ciancia, the primary suspect in the shooting, was immediately tied to the Liberty Movement by media outlets and the Southern Poverty Law Center, by notes (which we still have yet to see proof of) that law enforcement claims to have found on his person. The notes allegedly use terms such as "New World Order" and "fiat money", commonly covered by those of us in the alternative media. The assertion is, of course, that Paul Ciancia is just the beginning, and that most if not all of us involved in the exposure of the globalist agenda are powder kegs just waiting to "go off." The label often used by the MSM to profile people like Ciancia and marginalize the organizational efforts of liberty based culture is "anti-government."
The establishment desires to acclimate Americans to the idea that being anti-government is wrong; that it is a despicable philosophy embracing social deviance, aimless violence, isolation and zealotry. Looking beyond the mainstream position, my question is, is it really such a bad thing to be anti-government today?
Conspiracy Realists
The terms "anti-government" and "conspiracy theorist" are almost always used in the same paragraph when mainstream media pundits espouse their propaganda. They are nothing more than ad hominem labels designed to play on the presumptions of the general population, manipulating them into dismissing any and all alternative viewpoints before they are ever heard or explained. The establishment and the media are ill-equipped to debate us on fair terms, and understand that they will lose control if Americans are allowed to hear what we have to say in a balanced forum. Therefore, their only fallback is to bury the public in lies so thick they won't want to listen to us at all.
The Liberty Movement now has the upper hand in the war for information. The exposure of multiple conspiracies in the past several years alone has given immense weight to our stance, and reaffirmed warnings we gave long ago.
When we spoke out against the invasion of Iraq, commissioned by George W. Bush on the dubious claim that Iraqi weapons of mass destruction were an immediate threat to the security of our nation, we were called "liberals" and "traitors."  Today, Bush and Cheney have both openly admitted that no WMD's were ever present in the region. When we attempted to educate the masses on the widespread surveillance of innocent people by the NSA, some of them laughed. Today, it is common knowledge that all electronic communications are monitored by the Federal government. When we refused to accept the official story behind the Bureau of Alcohol, Tobacco, Firearms and Explosives' Fast and Furious program, we were called "kooks". Today, it is common knowledge that the Obama Administration purposely allowed U.S. arms to fall into the hands of Mexican cartels. When we roared over the obvious hand the White House played in the Benghazi attack, we were labeled "racists" and "right wing extremists." Today, it is common knowledge that the White House ordered military response units to stand down and allow the attack to take place. I could go on and on…
Events that were called "conspiracy theory" by the mainstream yesterday are now historical fact today. Have we ever received an apology for this slander? No, of course not, and we don't expect one will ever surface. We have already gained something far more important – legitimacy.
And what about Paul Ciancia's apparent belief in the dangers of the "New World Order" and "fiat money"? Are these "conspiracy theories", or conspiracy realism? The Liberty Movement didn't coin the phrase "New World Order", these political and corporate "luminaries" did:
Is economic collapse really just a fairytale perpetrated by "anti-government extremists" bent on fear mongering and dividing society?  Perhaps we should ask Alan Greenspan, who now openly admits that he and the private Federal Reserve knew full well they had helped engineer the housing bubble which eventually imploded during the derivatives collapse of 2008.
Or, why not ask the the White House, which just last month proclaimed that "economic chaos" would result if Republicans did not agree to raise the debt ceiling.
Does this make Barack Obama and the Democratic elite "conspiracy theorists" as well?
It is undeniable that government conspiracies and corporate conspiracies exist, and have caused unquantifiable pain to the American people and the people of the world. Knowing this, is it not natural that many citizens would adopt anti-government views in response? Is it wrong to distrust a criminal individual or a criminal enterprise? Why would it be wrong to distrust a criminal government?
The Purpose Behind The Anti-Government Label
When the establishment mainstream applies the anti-government label, they are hoping to achieve several levels propaganda. Here are just a few:
False Association: By placing the alleged "anti-government" views of violent people in the spotlight, the establishment is asserting that it is the political philosophy, not the individual, that is the problem. They are also asserting that other people who hold similar beliefs are guilty by association. That is to say, the actions of one man now become the trespasses of all those who share his ideology. This tactic is only applied by the media to those on the conservative or constitutional end of the spectrum, as it was with Paul Ciancia. For example, when it was discovered that Arizona mass shooter Jared Loughner was actually a leftist, the MSM did not attempt to tie his actions to liberals in general. Why? Because the left is not a threat to the elitist oligarchy within our government. Constitutional conservatives, on the other hand, are.
False Generalization: The term "anti-government" is so broad that, like the term "terrorist", it can be applied to almost anyone for any reason. The establishment does not want you to distinguish between those who are anti-government for the wrong reasons, and those who are anti-government for the right reasons. Anyone who questions the status quo becomes the enemy regardless of their motives or logic. By demonizing the idea of being anti-government, the establishment manipulates the public into assuming that all government by extension is good, or at least necessary, when the facts actually suggest that most government is neither good or necessary.
False Assertion: The negative connotations surrounding the anti-government stance also suggest that anyone who defends themselves or their principles against government tyranny, whether rationally justified or not, is an evil person. Just look at how Washington D.C. has treated Edward Snowden. Numerous political elites have suggested trying the whistle-blower for treason, or assassinating him outright without due process, even though Snowden's only crime was to expose the criminal mass surveillance of the American people by the government itself. Rather than apologizing for their corruption, the government would rather destroy anyone who exposes the truth.
False Shame: Does government criminality call for behavior like that allegedly taken by Paul Ciancia? His particular action was not morally honorable or even effective.  It helped the establishment's position instead of hurting it, and was apparently driven more by personal psychological turmoil rather than political affiliation. But, would it be wrong for morally sound and rational Americans facing imminent despotism within government to physically fight back? Would it be wrong to enter into combat with a totalitarian system? The Founding Fathers did, but only after they had exhausted all other avenues, and only after they had broken away from dependence on the system they had sought to fight. Being anti-government does not mean one is a violent and dangerous person. It does mean, though, that there will come a point at which we will not allow government to further erode our freedoms. We will not and should not feel shame in making that stand.
I do not agree with every element of the "anti-government" ethos that exists in our era, but I do see the vast majority of reasons behind it as legitimate. If the establishment really desired to quell the quickly growing anti-government methodology, then they would stop committing Constitutional atrocities and stop giving the public so many causes to hate them. If they continue with their vicious bid to erase civil liberties, dominate the citizenry through fear and intimidation and steal and murder in our name, then our response will inevitably be "anti-government", and we will inevitably move to end the system as we know it.
Source: Brandon Smith | Alt-Market
A Book Review…
Max Blumenthal's Goliath: Life and Loathing in Greater Israel is a good read: A personal journey of a young American righteous Jew who finds plenty of faults in other Jews in general and in The Jewish State in particular.
Blumenthal is a very good writer, his flow is fantastic. His delivery is overwhelmingly juicy on the verge of gossipy. He doesn't pretend to be objective, precise or accurate. In the Kindle version I couldn't find a single reference for any of the many quotes in the book. But who cares – precision and accuracy are not well appreciated within the contemporary progressive milieu. But this lack is far from posing a problem. It actually contributes to chronicle the journalistic account of contemporary Israel.
Blumenthal's book is a powerful expose of Israeli exceptionalism, deep and sinister Goy hatred, Judeo-centric bigotry, supremacy and a vast collective lack of ethical awareness. But Blumenthal fails to ask the most important question: why is the Jewish State so bad? Goliath: Life and Loathing in Greater Israel suffers from an acute deficiency of theoretical and ideological depth or understanding. Through the entire book Blumenthal fails to present a single valid argument that explains why the Jewish State is such a horrid place. And if Zionism and the Jewish State are as bad as Blumenthal suggests, how is it possible that Zionism has become the political voice for the vast majority of world Jewry?
Blumenthal is entrenched within a restricted cliched progressive terminological trap. His universe is split by a set of binary oppositions: Zionist is bad / the 'anti' is good, 'Right' is vile / 'Left' is kosher. Colonialism is there to tag everything in a horrid light. When he runs out of superlatives, he pulls 'Fascism' out of the box.
But the truth of the matter is that this binary tagging procedure fails to explain a single thing. Zionism is not a colonial movement. Colonialism is defined as a clear material exchange between a 'mother state' and a 'settler state.' In the case of Israel and Zionism, we can clearly point at the 'settlers' but it is far from obvious who the 'mother' is. Right-wing ideology may be horrid, but in the history of Israel and Zionism it is actually the Leftist Zionists and Israelis who committed the most vile atrocities against the indigenous Palestinians. Fascism also doesn't explain Israeli behaviour. If anything it is the resemblance with Nazism that may explain the biological determinist philosophy that drives israeli Judeo-centric politics and culture.
So what is it that motivates Blumenthal to write such an extended work that actually teaches us very little about the core problems? I believe that Blumenthal's agenda is very simple: he is desperate to defame Israel and Zionism, which is totally reasonable, yet he also tries to vindicate the Jews as a collective, pointing at a few sporadic good Jews. This manipulative and dated strategy had been successful for a while, but it hardly helped the Palestinians. If anything, it diverted attention from the vast tribal operation that drives Israel, Zionism, as well as the Jewish dissidence.
In recent years it has become rather clear that the Jewish organisations that rally for Palestinians and their rights are, sadly enough, as exclusive and racially driven as the Jewish State which they allegedly oppose. I assume that no one expects a Palestinian to become the chairman of the pro-Palestinian Jewish Voice For Peace for the same reason that we are not going to see an Israeli Palestinian becoming Israel's Prime Minister any time soon. The 'progressive' Jews-only organisations are, like Blumenthal, primarily dedicated to the fight against 'anti-semitism' and in practice are very quick to label legitimate criticism of Jewish politics and power as 'anti-Jewish racism.' In short, as Jeff Blankfort suggested recently, "Jewish anti Zionism has shown itself, for the most part, not to be a solution, but a continuation of the problem."
Goliath: Life and Loathing in Greater Israel came under a lot of criticism. Zionist book burners of all sorts discredited the book and its author. Nevertheless, Blumenthal may have learned the necessary lesson. Being himself a devoted book burner, he must know by now that It is actually the detractors who often transform a controversial text into a commercial success.
I really want Blumenthal's book to succeed and be read widely. Being a theoretician, I do not have the time for any kind of field work. I establish a conceptual and intellectual framework with the hope that some would find the energy, the time and the the funds to gather the necessary evidence to support my theses. Whether Blumenthal understands it or not, this is exactly what he did in his latest book. He brilliantly though unwittingly managed to produce a pretty impressive journalistic account in support of my criticism of Jewish identity politics and tribal supremacy.
With over 500 pages and 1,200 footnotes, Ted Flynn's book, "Hope of the Wicked: the Master Plan to Rule the World," details many of the agendas of the global 'elite' community.  With several thousand quotes it uses the words of prime ministers, secretaries of treasury, secretaries of state, philanthropists and global business leaders to describe their NWO vision and their plans to bring it about as well as the convergence, on a global basis, of multinational corporations, foundations and the political and sociological instruments that would form a one-world government designed to bring about a New World Order.
Flynn writes that there is a confluence of events pointing to major changes that for many years have been coming to the world and they appear to be coming toward us more quickly now. Flynn argues that an 1846 heavenly apparition, a prophecy delivered by the Blessed Virgin Mary to two peasant children and approved by the Catholic Church is a stark and terrible summary of the major changes that have been coming to the world in general but the West and America in particular:
"All the civil governments will have one and the same plan, which will be to abolish and do away with every religious principle, to make way for materialism, atheism, spiritualism and vice of all kinds….The mountains and all Nature will tremble in terror, for the disorders and crimes of men have pierced the vault of the heavens…The righteous will suffer greatly.  Their prayers, their penances and their tears will rise up to Heaven and all of God's people will beg for forgiveness and mercy…And then Jesus Christ, in an act of His justice and His great mercy will command His Angels to have all His enemies put to death….and the persecutors of the Church of Jesus Christ and all those given over to sin will perish…"  (p. 445)
In another apparition approved by the Church, the Blessed Virgin Mary warned of the "annihilation of nations." (ibid, p. 445) 
Materialism, Atheism, Communism, & Annihilation of Nations and People
Friedrich Engels (1820-1895), a 19th century German political philosopher figures prominently in Karl Marx's life.  Beginning in 1844, Engels and Marx, a God-hating materialist, collaborated closely in the foundation of modern Communism.  By 1848 they had produced The Communist Manifesto and similar works.
The tragedy of Engels is that before joining forces with Marx he had been a faithful Christian.  After meeting Marx for the first time he described him as a monster subjected to devils.  Marx does not,
"…walk or run, he jumps on his heels full of anger…He stretches his arms far away in the air; the wicked fist is clenched, he rages without ceasing, as if ten thousand devils had caught him by the hair."  (Marx & Satan, Richard Wurmbrand, p. 36)
Engels was very well aware of the dangers of entangling himself with devilish sons of perdition like Marx.  In his book, "Schelling, Philosopher in Christ," he warns that a devilish spirit has entered into a great part of mankind in the heart of Christendom and now there are only two kinds of men, Christians and anti-Christians:
"Since the terrible French Revolution, an entirely new, devilish spirit has entered into a great part of mankind, and godlessness lifts its daring head in such an unashamed and subtle manner that you would think the prophecies of Scripture are fulfilled (Matthew 24:11)..And St. Paul says in II Thes. 2:3: That man of sin shall be revealed, the son of perdition, who opposes and exalts himself above all that is God, or that is worshipped…The coming of the Wicked is after the working of Satan….(therefore we must have)  nothing to do any more with indifference or coldness toward the Lord (for as of now) we have only…Christians and anti-Christians….We see the false prophets among us…They travel throughout Germany and wish to intrude everywhere; they teach their Satanic teachings in the market-places and bear the flag of the Devil from one town to another, seducing the poor youth, in order to throw them in the deepest abyss of hell and death." (ibid, p. 40)
The devilish fleshy spirit responsible for converting Engels to godless Communism was Moses Hess, the same man who had previously converted Marx. After meeting Engels in Cologne Hess wrote:
"He parted from me as an overzealous Communist.  This is how I produce ravages…" (ibid, p. 43)
The spiritual counter-conversion of Engels was striking and hideous.  Like Marx, he no longer cared about the destruction of millions of people on behalf of the Revolution. 
A bloodless Marx writes of the coming genocide of millions of men, women, and children:
"A silent, unavoidable revolution is taking place in society, a revolution that cares as little about the human lives it destroys as an earthquake cares about the houses it ravages.  Classes and races…too weak to dominate the new conditions of existence will be defeated." (ibid, p. 42)
In a similar vein, a cold-hearted Engels speaks of the coming annihilation of millions of Christians, Jews, and other peoples and nations:
"The next world war will make whole reactionary peoples disappear from the face of the earth.  This, too, is progress.  Obviously this cannot be fulfilled without crushing some delicate national flower.   But without violence and without pitilessness nothing can be obtained in history."  (p. 43) 
The Revolution
The Revolution is a movement of spirit having its taproot and energy in the devil, the spirit of hate, murder, atheism, apostasy, and 'this world only' naturalism, materialism, pantheism, and spiritualism.   The Revolution is war against the supernatural Trinity, the Father, Son and Holy Spirit, which in the words of Marx's anarchist comrade Bakunin, are the "cursed and fatal principle of authority."
The sentiment of the Revolution is satanic pride:
"….which spurns subjection to any master whatever, whether of divine or human origin." (Bakunin, Nihilism: The Root of the Revolution of the Modern Age, Fr. Seraphim Rose, p. 63)
The nature of the Revolution is the antithesis of authentic Christian faith. Whereas Christian faith is joy, patience, love, truth, humbleness, perseverance, submission in all things to the Will of God and blessed eternal life in Paradise (earth perfected), the Satanic counterfeit is full of hatred, rebelliousness, burning envy and covetousness against man and God, ingratitude, mockery, doubts, lies, revulsion, blasphemy, thoughts of murder and eternal life in Hell.
Fueled by monstrously inflated pride and dissatisfaction with self, the world, society, and God the Father Almighty, it devotes its' infernal energy toward "change," or as Marx put it, toward the wholesale destruction of the Christian-based Old Order and the establishment of a religiously pantheist, totalitarian world order because:
"The idea of God is the keynote of a perverted civilization. It must be destroyed." (Karl Marx, Marx and Satan, p. 59)  
The New World Religion  
 "(The UN is) a weird and diabolical convergence of New Age mysticism, pantheism, aboriginal animism, Communism, socialism, Luciferian occultism, apostate Christianity, Islam, Taoism, Buddhism, and Hinduism."   (The New World Religion: Teaching God's Children to Worship 'Divine Nature.' William Jasper, 2002)
The Revolution, of which the U.N., Lucis Trust (formerly Lucifer Publishing), the Cathedral of St. John the Divine, the Temple of Understanding and Baca Grande (Colorado based New Age Vatican City) are integral components, intends the complete overturning of Biblical moral and spiritual values enjoyed by Western and American civilization for over a thousand years.  As part of this goal, the Bible must be reinterpreted in terms of evolutionary pantheism, man must be fundamentally remade by eradication of every vestige of Imago Dei from his inner being, and Christian leadership reduced to a non-factor.  Flynn writes that this has largely been accomplished,
"…by placing their own leaders in place where they exert tremendous influence.  Much of this program of revolution was confirmed by Franklin D. Roosevelt in his book, 'Our Way' (which) summed up, the spiritual and immoral goals of world revolution (and how they) are being achieved, and nowhere more so than in the United States." (Flynn, p. 361)
Primary goals are:
a. Destruction of the Christian-based foundation of Western and American civilization;

b. Dissolution of legal government;

c. Destruction of sovereignty and patriotism;

d. Demoralizing, atheitizing and bringing the people of the United States into slavery via liberated sin nature and penury via graduated income taxes, property taxes, inheritance taxes, sales taxes, a massive welfare state and now socialized healthcare;

e. The abolition of God-given right to life via reproductive rights (abortion) and euthanasia and of private property via onerous building codes, zoning regulations and restrictions and by taxing property out of existence and targeting inheritance with bigger and bigger taxes;

f. Destruction of the traditional monogamous family unit via divorce, co-habitation, alternative lifestyles, abortion, pornography, hedonism and homosexuality
Before the top-down spiritually pantheist world order dominated by an occult 'elite' can come into existence, there must be a politically correct philosophy of 'new' thought and a philosophy of pantheist-based natural religion and natural science to usher in the coming political, social, legal and educational aspects of the new order since New Age evolutionary pantheism is a politically communist, ecologically 'sustainable,' sexually androgynous way of living.
In her two books on New Age evolutionary pantheism, 'The Hidden Rainbow,' and 'A Planned Deception,' Constance Cumbey writes that these goals have largely been accomplished:
"The New Age Movement is a religion complete with its own Bibles, prayers and mantras, Vatican City/Jerusalem equivalents, priests and gurus, born again experiences (they call it 'rebirthing'), spiritual laws and commandments, psychics and prophets and nearly every other indicia of a religion." (Flynn, p. 361)
According to Cumbey, the Plan for the new order includes the installation of a New Age messiah, implementation of a New Age totalitarian government and new world religion under Maitreya.  As well, there are plans to implement a universal identification system, universal credit system, universal tax, universal draft, and a world food and water authority that will control all of the world's food and water supplies.  To ensure that all people worship the New Age messiah, authentic Christianity will be completely stamped out along with all faithful Christians.
Toward this end, the evil spirit energizing and directing the Revolution intends to fully possess the Christian faith and refashion it completely.  In furtherance of his goal, the devil has audaciously declared that the supernatural Holy God the Father Almighty has been isolated in His transcendence and is therefore dead, so though the notion of God is retained, the devil proposes a functionless God that perhaps serves to ignite the Big Bang and set evolution in motion.  
 According to the devil, the Revolution is now moving with great force and speed across America nearly unopposed and will not stop until every vestige of faith in the supernatural God has been obliterated in every heart. Every man, woman, and child will experience a counter-conversion—a Satanic Initiation in the words of New Age insider David Spangler—to a 'new' pantheist spiritualism dressed in Christian symbols and terminology, an anti-gospel preached by anti-saints from the void who will assure men of their salvation though they will find only the leering face of the devil.
No doubt you have heard about the War on Drugs, the War on Terror and the War on Happiness. However, you may not be familiar with the War on God, possibly because it would be an unpopular war to discuss publicly. By the "War on God" (definition) we mean the collection of strategies, methods and techniques which have the combined effect of preventing or seriously hampering the efforts of individuals to seek or achieve legitimate Spiritual enlightenment and the Soul's eventual return to God.
The War on God is an ancient war. While the United States and other countries play an active role in this war today, they definitely did not initiate the war. If you want to use the Christian bible as a reference, you could argue that the War on God began shortly after man was created and rejected God in favor of Satan. Clearly, in some form, the War on God has existed throughout human history.
Today, the United States has effectively broken off diplomatic relations with God. The oligarchs who run the country never physically die and so their souls stay on Earth. Apparently, the United States actually believes that its technology, occult knowledge and black magic skills place it in a position which is superior to God.
We know from whistleblowers like David Morehouse that the United States sponsors and trains a cult of psychics to carry out psychic espionage (remote viewing) and also assassinations using psychic black magic techniques. According to clips of his various interviews on YouTube, it was the training in psychic assassinations which caused Morehouse to become disillusioned, quit the secret program and blow the whistle on the operation. Other countries may well operate similar programs but the details will remain unknown until someone defects and exposes them.
The leaders of the United States have always worshiped Satan. The United States was founded by a cult of Satanists known as the Masons and remains under control of that cult today. By rebranding their cult as a nation state, the cult created the appearance of legitimacy. Cult secrets simply transitioned to state secrets. Cult threats to kill anyone telling their secrets transitioned to the crimes of treason and espionage.
Nothing really changed except for the rebranding from a cult to a government. Today, essentially all members of the CIA, NSA and NASA are Masons. All US presidents have been Masons with the two exceptions of Abraham Lincoln and John Kennedy who were both assassinated.
The term "national security" refers to the security of the cult and not to the security of the general population. The Masonic motto is "If you are not one of us, you are nothing". The cult exists only to enrich itself.
The Masons study and practice the occult. Serious study begins after they take a formal oath of allegiance to Satan at the 30th degree initiation. Basic occult knowledge is neutral and everyone who advances Spiritually learns it. However, Masons seek this knowledge to gain power and control over others as opposed to knowledge for personal advancement. This choice, commonly called the Left Hand Path, places them in opposition to the will of God.
If the Satanists simply wanted to sell their Souls to Satan and mind their own business, one could argue that they had that right because they had free choice. However, the situation is not that simple. The Satanic oligarchs did freely choose to worship Satan. However, they also desire a comfortable life. They don't want to do any "grunt" work. Therefore, they have enslaved the remainder of humanity and are holding their Souls prisoner on this planet to service their needs. Therefore, if you, as an innocent Soul, ever plan to escape from this place and return to God, it is in your interest to investigate and gain an understanding of this war so that you will have an opportunity to Spiritually evolve. Otherwise, your Soul will remain a prisoner here — lifetime after lifetime — serving the Satanic overlords essentially forever.
Earth Based Religions
The phrase Earth Based Religions (definition) refers to religious schools which seek and use knowledge, including occult knowledge, to enhance their experiences during their human lifetimes as opposed to using the same knowledge to foster Spiritual development with the ultimate goal of achieving a stable non-physical Spiritual existence.
Although Pagan religions are usually grouped into this category, a more careful examination would reveal that essentially all mainstream religions are Earth based religions. Mainstream religions make constant references to God and Heaven but never explain exactly what they are talking about. Their books concentrate on historical narratives concerning how people in the past lived and coped with the basic problems of human physical existence. They never give details of any level of Spiritual existence or even any specific hints about what life beyond death will be.
Let's try an example. Suppose you have never seen a motor vehicle. You have heard vague stories that they exist, but that is all. Then, suddenly, you find yourself behind the wheel of a car on a high speed road like the US interstate system or the A roads in Britain. What would you guess would be your chance of survival? Try less than zero.
Now suppose you physically die. Suddenly, you find yourself in your Astral body. However, no one ever told you that you have an Astral body. It does not operate under the same rules as a physical body does. It is a very pliant and nimble body. It can travel in time to the past or future, access any plane and subplane in the Astral universe and research the absolute accurate and incorruptible records system known as the Akashic Records to name just a few. But, as in the previous example, you never learned how to "drive" it.
You would have done fine on the highway if you had gradually learned to drive a motor vehicle. You would do fine after death if you had some experience and training with your Astral body. However, no one ever taught you. What practical use is any religion that constantly rants about Heaven but offers no practical advice about your life after this life?
This information may have been a guarded secret in the past, but those days are gone. You can research this information to your heart's content on the internet, locate legitimate Spiritual groups and learn from those who can leave their physical body and explore the non-physical dimensions. But, don't expect any help from a mainstream church.
You might do well to recall the famous quote attributed to Jesus, "The truth will set you free". Mainstream churches are large, rich institutions. They did not get that way by "setting people free". They got that way by terrifying their followers with ridiculous horror stories of what will happen to them if they do not obey their crazy doctrines, stay with them and give them all their money.
Gnostic and other "non-traditional" religions may be Spiritual based as opposed to Earth based. Jesus always reminded everyone that he represented a kingdom "not of this world". If we had accurate records of his true lectures we would no doubt find practical instructions and information about this "other world". We don't have this information because any practical Spiritual teachings he might have given were censored out to create the simplified — but Spiritually sterile — mainstream religions we have today. They are simple to comprehend and follow but will not lead you anywhere except another physical lifetime somewhere on Earth.
Life Before Technology
Before technology life was simple. Although existence was hard, the opportunity for Spiritual experiences was greater than today. Consider, for example, all the empty time you would have as, say, a sheep herder. Nothing to do except make sure the sheep kept moving. In this situation, there was ample opportunity for the mind to wander and perhaps contemplate and glimpse other realities.
Also, and perhaps most important, no electric grid existed on the planet. Electric fields appear as solid "matter" in the Astral dimension and so can affect Astral experiences — generally in a negative way. Artificially created electromagnetic waves which blanket the planet today also have subtle and generally negative effects on living creatures.
Pagan groups generally conduct occult rituals outdoors and away from high population areas. When buildings are used, it is desirable that they be made only of wood and assembled without any metal (nails) and, of course, have no electrical wires.
Both good and evil existed before technology as they always have. It was possible to use psychological propaganda to influence and control susceptible masses of people. However, the positive and negative forces were more in balance. It was not possible for a single group to successfully dominate the planet.
Drugs existed in the form of various plants. Adepts learned how to use them to help or harm others. People with developed psychic abilities existed as they always have and white and black occult schools existed. Legitimate Spiritual masters existed.
Some techniques that thrived have essentially become extinct because the population of the planet has devolved. It is next to impossible to successfully teach Tantra (sex yoga), because today's generation is incapable of the required level of self control. Classic Tibetan yoga techniques are still taught in isolated areas, but the masters — for good reason — will no longer consider trusting outsiders.
Information Control Techniques
Information control is essential for protecting the integrity of a compartment. People are held as slaves by constructing an information box which holds the slaves in an information prison. As long as the "walls" of the compartment remain impenetrable, the compartment — or belief system — will be stable and no slave will escape.
Considerable energy is required to achieve this. Those assigned to protect the walls obviously know that the compartment is an intellectual illusion. Therefore, they must be sworn to secrecy and intimidated in such a way that they will not compromise the integrity of the compartment. It only takes one "leak" to initiate a chain of events which could collapse the compartment and so allow the slaves to escape.
Consider, for example, the Snowden leaks. One person sharing knowledge has totally destroyed the illusion of privacy that most people had accepted as fact. It will not be possible to reconstruct this illusion. The compartment has collapsed.
Similar principles apply in the Spiritual spectrum. Because of the characteristics of the human bodies in use on this planet, most people do not retain any conscious memory of events before they were born. This is not universally true. Life forms on many other planets retain the memories of previous existences. Because humans generally do not have this recall, they are easily enslaved and can be conditioned to believe most anything.
To maintain a state of Spiritual ignorance it is important to institute methods which will prevent people from realizing that they are actually Souls experiencing a constructed illusion. People somehow reaching this state, sometimes referred to as "self realization", will no longer respond to establishment propaganda and are generally considered a threat to the current social order.
The easiest and most direct method to achieve a stable slave population is simply not to talk about anything even vaguely esoteric. For example, how often have you heard the words astral, chakra or aura mentioned on a mainstream TV channel?
Most people will then likely "remain asleep" throughout their entire lifetime and will be no problem. Unfortunately, people have a natural desire — even though it may be an unconscious desire — to Spiritually evolve. It is, after all, the true purpose of human existence.
When someone tries to break away from the contrived illusions more direct methods are needed to return the slave to a state of ignorance. Today, various methods which cause brain damage — generally performed by psychiatrists — are used to negate any success in Spiritual evolution and return the slave to a state of vacant contentment.
Diversions and Techniques Promoting Inaction
The simplest and most effective diversionary technique is to promote scientific atheismand darwinian evolutionary philosophy as established fact. If you can get someone to buy into this philosophy, their fate is sealed. Even if they experience some contact with another dimension, such as an out-of-body experience, they will follow their programming, dismiss the experience as a delusion and refuse to investigate further. When they die, they will be totally lost and confused, flounder around on some lower Astral plane and eventually reincarnate just as Spiritually ignorant as before.
A side effect of accepting scientific atheism, which totally cripples Spiritual progress, is the acceptance of suicide as a way out of life's problems. Suicide becomes a learned reaction. Consequently, when the Soul is sent back into another physical lifetime, it is likely to commit suicide again when faced with some unpleasant event. It never learns, and this cycle can repeat essentially indefinitely. Dealing with this is one of the most difficult problems faced by the administrators who work on the Astral planes.
For those who want more than scientific atheism, there is mainstream garden variety religion. Mainstream Christianity has developed a clever stonewalling technique that has worked to promote inaction for thousands of years. This technique is centered upon the argument that no one can make any progress until Jesus returns to show the way. In the meantime, people should just do nothing and wait. The effect of this is essentially the same as scientific atheism. No Spiritual progress is made.
Schemes designed to waste time are common. One really off the wall example is the decision in Syria to prohibit vacuum cleaners and standard flat brooms in homes. "Witch type" brooms consisting of a circular straw bundle are allowed. Surely there must be a good reason to keep these terrorist weapons out of the reach of the typical Syrian housewife. The official reason is to make basic housework as difficult and time consuming as possible so as to prevent the woman from having any free idle time which, if allowed, could lead to the emergence of "immoral thoughts". Perfectly logical!
In the western world, complex bureaucracies seem to be deliberately designed to make the path to whatever you want as difficult as possible. Here the apparent motive is to prevent the acquisition of enough free time for any independent thought process. There are just not enough hours in a day to allow for any quiet contemplation of anything.
"Blank time" is always reported as a factor in the development of Spiritual figures. Time alone in the wilderness, time spent meditating alone in some isolated cave or at least periods of dedicated quiet time somewhere figure prominently in historical accounts of these people.
You may know or have heard of kids who spend all their waking hours playing interactive role model video games with other kids on the internet. They eat meals by the computer and never leave except to briefly sleep before returning to the all important game. Their entire life is spent in an imaginary reality. You may want to consider that your "real" life may not be all that different. You play a role. Your attributes are fixed by what society expects based upon that role. You can't change, because others would notice. Your concept of the world beyond your little world is determined by what you see on TV. Daily, you receive your "fix" of carefully choreographed "programming" which appears unusually coherent because, as you may not know or fully comprehend, everything on TV is controlled by a few corporations and all of them are loyal to the official government party line. If you somehow had the opportunity to break from this structured "game" you play from day to day — say, the opportunity to visit other countries and see other cultures — you would likely realize that your existence has not been that much different from the kid addicted to a computer game. You would find that the actual "real" world had very little relationship to the world you had been conditioned to believe existed.
Chemical Control Techniques
"With the use of chemical brain-control agents it may be possible to control the individual and the masses and to do this unobtrusively and without the active cooperation of the victims — not a question for the future — it is here".
This is a quote from the book by Edgar Cayce titled Edgar Cayce on Atlantis. There are references to Dr. Robert Galbraith Heath, and this book bears a copyright date of 1968. The book cites an interview that Heath gave to a newspaper called The Virginia Lighthouse and cites the above statement made by him on November 20, 1966. Heath founded the Department of Psychiatry and Neurology at Tulane University, New Orleans, in 1949 and remained its Chairman until 1980.
During this period, Tulane University actively participated in the CIA mind control project known as MK Ultra [1]. Also, during this period, Tulane became an active member of the secret Institute for Defense Analyses, or IDA, a corporation whose only client is the US government. Heath reportedly performed many experiments there involving electrical stimulation of the brain via surgically implanted electrodes. This work was reportedly partially financed by the CIA and the US military. Heath is now "officially" [11] deceased.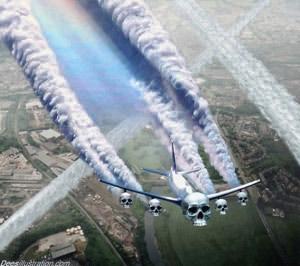 You have been drugged since you were conceived — before you were even born. Your mother was drugged. Soon after birth, you were injected with mercury containing vaccines. And the systematic process of poisoning you never stopped.
By some estimates at least eighty percent of the food in the average supermarket is poison either because it is genetically modified or laced with pesticides and other additives. Even the air is poison now because of geoengineering chemicals sprayed into the upper atmosphere.
It should be noted that things are different in the separate but parallel world of the elite. The Max Keiser show [12] discussed the secret gardens in Japan. These gardens are surrounded by high walls and guarded by the military. They produce the food for the ruling elite. Every plant in the garden has its own health certificate certifying that is pure, healthy and not genetically modified. Obviously, every developed country must have a similar secret supply chain of legitimate food for its ruling class. Certainly the elite know better than anyone that the food supply for the ordinary people is poison. They're not fools. They wouldn't touch the stuff.
Vaccines used for the elite are prepared without the mercury and other toxic additives found in vaccines given to the ordinary people.
Various agents — mainly from plants — have always existed which could be used by those aware of them to harm others or control people by altering their state of consciousness. However, only recently has it become practical to wreck the health of essentially everyone on the planet at the same time. Genetic modification of plants and other life forms used for food has made this possible. Now, quietly, people throughout the world can be sterilized, crippled with serious health problems or even killed by altering the genetic makeup of the food supply. Ordinary people remain generally ignorant of the fact that this awesome power exists and is presently being used against them.
Mind control has become a science. You can't major in it in college because this science is essentially entirely secret. The United States and other countries have spent the equivalent of billions of US dollars investigating and perfecting mind control.
Many secret research projects using unsuspecting or perhaps kidnapped people — some of whom were killed — have been conducted in the past and continue today. We only know about a very few of these projects such as MK Ultra, MK Naomi and Project Other. Even in these projects, specific details are sketchy. From these experiments, practical techniques for creating manchurian candidates and implanting created false personalities and identities have been developed and are in common use today within the secret communities.
Everyone has likely been the victim of some degree of mind control to some extent. Chemical weapons designed to mentally cripple people and render them drooling idiots are freely sold as prescription drugs in drugstores and are available to doctors to use as they please.
The lives of many kids are destroyed by these "drugs" because they have no ability to resist and their parents are ignorant and believe doctors can "do no harm". Actually, today's doctors are agents of the state. Many have top secret clearances and embrace classic Nazi philosophies such as eugenics. Their function is to watch you and make sure you "die appropriately" so as not to burden society. Anything they learn about you and anything you tell them is freely available to anyone in the intelligence community who is curious about you.
Only members of the super elite who are entitled to access top secret medicine will receive legitimate supportive medical care. Ordinary people will be deliberately allowed to die even though doctors with top secret clearances know of effective treatments which would cure them but which are classified and reserved for the chosen elite.
There is no such thing as an incurable disease any more. All the cures have been discovered. If you die, it is because you are not considered important enough to live and not because the cure does not exist.
Common sense should suggest to you that the lives of the elite have statistically different characteristics. For example, members of congress do not live sheltered lives. They work in close quarters and travel extensively both locally and internationally. They are always hanging out with prostitutes as well as playing with the young congressional pages.
Washington D.C. is reported to have more brothels than fast food joints. Strangely, however, these people do not get sick. Have you ever heard that congress had to shut down because everyone was coming down with some infection. It happens in other close populations, so what would make them exempt?
Understanding Astral Damage
Living things have an Astral component. For example, when you cut a leaf and then see the complete leaf on a Kirlian photo you are viewing the Astral component which was unaffected by cutting the physical component because it does not exist in the physical dimension.
Over one hundred years ago, practical techniques for viewing the human Aura were developed by Walter J. Kilner [4]. The original technique used dicyanin dye and a later technique used special glasses. You can't find either one today. In his research, Kilner was able to demonstrate that defects in the human Aura appeared before some corresponding disease manifested in the physical body.
Therefore, he was able to detect and prevent an adverse physical condition before it ever physically materialized. So, you ask, why don't we have this marvelous medical technique available today? Well, we do. It is in use in top secret medicine. However, only the approved elite now have access to it. The information has been removed from public knowledge and classified.
In conventional allopathic medicine, which is based upon scientific atheism and sold to the general public, there is officially no such thing as an Astral body. Conventional medicine denies the existence of anything beyond the physical dimension. Since the Astral body officially does not exist, it is not recognized as a crime to deliberately harm it.
Damage to the Astral body can be compared to damage to the physical body. If you punch holes in the physical body by cutting it, shooting bullets at it or whatever, blood runs out and germs get in. If you cause enough damage, the body dies. Astral bodies do not die, but can suffer critical energy losses. Similar to physical bodies, punching holes in the Astral body allows essential energy to escape and harmful energies to enter.
There are many events which can harm your Astral body. It is in your interest to understand these events because your Astral body will be your primary body when your physical body dies. If it has been damaged, you will be at a severe disadvantage. The chosen elite have perfect Auras because they can use the Aura balancing machines available to them at any top secret medicine provider. However, you cannot.
Also, the ruling elite seem to take some delight in causing harm to the "ordinary" people. Consequently, many drugs, food additives, GMO foods and industrial chemicals found in the environment cause Astral damage. Chemicals recognized as poisons and banned in other countries can be freely added to foods given to ordinary people in the US.
Obviously, there must exist a secret supply chain of safe food and water which is available to the chosen since they know of the contamination and certainly would not want to harm themselves or their friends.
There are ways to closely duplicate the secret techniques available only to the elite. If you can see auras or can find a reputable psychic who can, you can approximate the techniques developed by Kilner and available to everyone over a hundred years ago. Although the secret aura balancing machines are more accurate, a competent psychic healer can do the same thing. Actually, since psychics have always existed, similar techniques have been available throughout the ages to those who were aware.
Fluoride
The concept of adding fluoride to drinking water for the purpose of mind control is said to have originated in the 1930′s as a result of collaboration between German and Russian scientists [2]. Sodium fluoride was originally used and was found to cause a "mild lobotomy" in people who consumed small quantities. The effects were considered to be non reversible after one year of continuous use of the tainted water. Hitler added sodium fluoride to the water in his concentration camps to make the prisoners docile and cooperative as they waited for death.
Sodium fluoride (NaF) is used today in personal products like toothpaste. To poison the water supply of an entire country with sodium fluoride would be expensive. However, it just so happens that there is a waste product created during the manufacture of phosphate fertilizers, Fluorosilicic acid (H2SiF6), which is classified as hazardous waste and would be expensive to dispose of under EPA guidelines.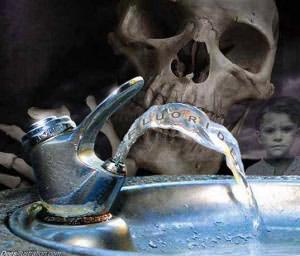 There is lots of this stuff available. This is the poison added to the public water supply in the US and some other countries. It is actually economical for industry because they don't have to pay for hazardous waste disposal. They just pump it into the public water supply.
In the human body, fluoride has an affinity for the pineal gland in the brain. The pineal gland is associated with the "third eye". Everyone has this third eye, but few are aware of it or know how to activate and use it.
Although the pineal gland is part of the physical body, the associated third eye is part of the Astral body and so is invisible in the physical dimension. The third eye allows you to see and communicate with the non-physical dimensions while fully awake and functioning in the physical dimension. So, you could see and carry on a conversation with someone in the physical dimension while invisibly also viewing and communicating with some entity on another plane of existence.
The standard Christian bible refers to the third eye with the phrase, "If thy eye be single thy whole body will be filled with light". However, only students of mysticism would recognize the true meaning of this quote.
Obviously, having this ability would be a threat to the security of any totalitarian society. Poisoning with fluoride destroys this ability and so solves that problem. Literature is available if you wish more detailed information. Simply search using the phrase "fluoride third eye".
On the chance that fluoride in the water is not sufficient to destroy any psychic abilities you may have, there are more aggressive ways to get fluoride into your brain. Here are some structural models of popular psychiatric drugs:
Notice that the element Fluorine (symbolized by its standard chemical symbol "F") figures prominently in all these compounds.
These drugs are used to cause "chemical lobotomy". By blocking communication channels with the higher levels of the human brain, they effectively convert the victim into a lower form of animal. Lower animals do not have the frontal lobes possessed by humans. That is what makes humans special. Disabling the frontal lobes effectively transforms a natural human being into, basically, a docile and obedient house pet which can be trained like a dog.
Incidentally, Fluorine also figures prominently in Sarin nerve gas.
For a more in depth study search YouTube for the free documentary Flouridegate — An American Tragedy by David Kennedy.
They All Drink From the Same Trough
If you casually look out upon the institutions of the world, it may appear to you that they are independent, discrete entities. However, they are not. They are all components of a collective which has successfully hidden its existence and true nature from the general population for generations.
Let's begin with the media in the US. Although it may appear to you that there are thousands of independent sources reporting "news", 90% of all media is controlled by six corporations. They are General Electric, News-Corp, Disney, Viacom, Time-Warner and CBS.
In the US, people believe they are protected from tyranny by the concept of "separation of powers" — that the executive, legislative and judicial branches of government are staffed by independent thinkers who "check and balance" each other. This is also a deception.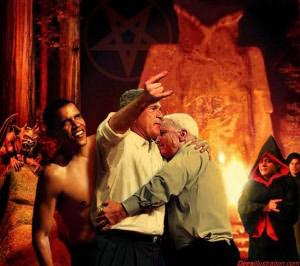 Once a year, at the end of July, there is a secret gathering on private property in the redwood forest of California called the Bohemian Grove. Although this annual meeting has been going on for over one hundred years, it is only during the last several years that outsiders have begun to learn of its existence. The only reason they have is because of the internet and independent journalism. Leaders from the mainstream media are all members of this secret club and so never even report its existence.
Who else goes to this annual secret "party"? Well, for want of a better name, we will call them the "Trusted Satanists". They are the leaders of all the major corporations, banks and representatives from all the major branches of the US government as well as foreign governments.
Although these men outwardly support the concept of capitalism for the masses, this elite group, among themselves, are perhaps best described as "rich socialists". Only men are allowed. For recreation, a stable of prostitutes — both male and female — are kept nearby off-site. The male prostitutes could theoretically enter the Grove.
The "party" begins with a Satanic ritual called "Cremation of Care" (i.e., "we don't care") which features the burning of a coffin at the base of a huge statue of an owl. Walter Cronkite reportedly was the official announcer at the grove until his death.
A secretly filmed video of this event is available on YouTube. It is supposed to be a "simulated" child sacrifice. However, since the CIA, FBI and NSA attend the ritual, who is going to complain on the chance it is a real sacrifice of a human child? After all, they are all trusted Satanists.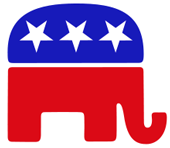 Most attendees from the United States are members of the Republican party. This is completely predictable in view of the fact that the US Republican party flaunts its affiliation with the "dark side" by prominently using the inverted star symbol on its official logo.
During the two week period, corporate leaders, the "independent" government regulators who supposedly keep corporations honest, the leaders from the executive, legislative and judicial branches of US government who are supposed to be "checking and balancing" each other, as well as the media moguls who we "trust" to report the truth, are all running around naked in the woods — pissing on the trees, playing with each other, and the male prostitutes as well as the off-site female prostitutes, and "having discussions".
Well, what are they "having discussions" about? They are discussing what they plan to do with "their world". The Manhattan Project to develop the first atomic bomb was reportedly planned at one of these discussions years ago. What about you? What about your future? What about any expectation of happiness you may have? Well, you see, you "don't need to know". Remember, "If you are not one of us, you are nothing".
Blueprints For the New World
Overview
If this link [7] is still active, it would be in your interest to read through it. This document is a transcript of a speech given by one of the insiders in the year 1969. He boldly states,"Everything is in place and no one can stop us now".
The article details how people ("people" means the slave class who are "nothing"; recall: "If you are not one of us, you are nothing") will just have to get used to changes such needing permission to have children, accepting mandated euthanasia as the law and total surveillance. Essentially all goals are now achieved, although some still remain guarded secrets.
The 1960′s was the period when physical death was eliminated. Of course, this "privilege" is only available to the select Satanic oligarchs. Effective cures for all diseases were also developed. The speaker [7] states that the cures are on file in the Rockefeller Institute. Of course, most are classified and only available to the chosen elite.
Infrastructure
The PBS documentary, Top Secret America [8], presents a good overview of the secret world of the elite. You may think no one is paying attention to the infrastructure in America because streets are in disrepair and bridges are falling down. However, you would be wrong. A tremendous amount of money is being spent on infrastructure in America — for the chosen elite. You will never see it and you will have no need for the decaying bridges and streets because you won't be around to use them. You, as well as 90+ percent of the current population, will be killed in the "Great Culling".
The new infrastructure is quite elaborate as the documentary explains. It consists of thousands of buildings which have a few stories visible above ground but which then extend for 90+ stories underground. All amenities are available within these secret structures which are basically self-sufficient.
It is important for the buildings to reach deep underground so that the lower levels can connect to the secret underground transport network. This network is global and provides safe high speed transport for the elite. Whenever the network crosses a tectonic plate, massive amounts of silicone are used to allow the transport tunnel to flex as needed. The network has access points in all countries. However, these points remain secret in countries which have yet to be subdued and co-opted into the new world order.
NWO Enabling Documents
The treaty known as the Trans-Pacific Partnership appears to be the formal enabling document for the new world. The actual document is secret and only high level corporate executives and politicians are allowed to see it.
Even after the treaty goes into force, its contents will remain secret. Because, in the United States, treaties must be openly debated in congress, the treaty is being called an "agreement" to circumvent the law and keep its contents secret. However, some details have become known.
Although the planet is officially divided into "sovereign" countries, it is overlaid with a network of transnational corporations. This network basically forms a parallel government which encircles the globe. The Trans-Pacific Partnership is designed to cause any country which signs on to surrender its national sovereignty to a secret committee composed of corporate executives. This committee can then alter the constitution and laws of any country which has accepted the treaty as suits their whim. There will be no appeal against this.
Under the treaty, there will be only one purpose to human life. That purpose will be to maximize the profits of the cabal of transnational corporations which will now be essentially a single global corporation in absolute control of the world. This effectively institutionalizes the new world order.
What does this mean for you? Well, to begin with, there can be no retirement. Paying for retirement would negatively impact corporate profits. So, if you can't work, you will be killed. Taking care of sick people would also drain corporate profits. It would be more profitable just to kill the sick and replace them with young, healthy slaves. Disabilities — forget it — disabled kids will never make it out of the womb alive.
Reeducation
To come into compliance with the philosophy of the new world, people will need to be reeducated. Military instruction documents [6] are already teaching that the Founding Fathers of the United States were extremists and anyone who thinks like them would not be suited for today's military.
Well, what did these radical extremists think?
"We hold these truths to be self-evident, that all men are created equal, that they are endowed by their Creator with certain unalienable Rights, that among these are Life, Liberty and the pursuit of Happiness."
Obviously, these principles are not compatible with the new world. The idea of a "Creator" conflicts with the official doctrine of Evolution. We can't have that. People must accept that they and the universe they live in is simply an "accident".
People are already realizing that Liberty and Happiness are gone. They know now that they live under constant surveillance and their lives get worse year after year. How about the right to Life? Can't have that. People need to be reeducated to believe that it is their "duty to die" when they are no longer useful to the state (which is now the global corporation).
Of course, the global elite will live physically forever but ordinary people will not know this.
If a world where people are conditioned to want to die and do not want kids but just sleep around for fun sounds vaguely familiar to you, you might recall that this is the future society described in Huxley's classic novel, Brave New World.
Population Modification
Please refer to [9] as a reference source. Today's "great thinkers" seem to be coming into agreement that most people are unnecessary and need to be exterminated for the convenience of the elite. Bill Gates, who has now been accepted into the super exclusive Bilderberg group, has reportedly taken the task of exterminating the third world population by giving them "free" vaccinations which will render them sterile.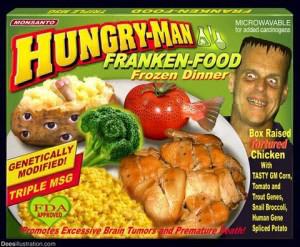 Lots of groups are working on secret sterilization methods. European tests of Monsanto's GM soybeans on hamsters showed the animals became sterile by the third generation [12]. A new gene known as Epicyte [9] is planned to be added to GM corn which will cause immediate sterilization.
Additionally, people are being "eased into" accepting the concept of "after birth abortion". Intellectuals are trying to get people to accept the argument that living human children under three or perhaps even five years old are really "not people but advanced feotuses". Since abortion is already legal, a simple change in the definition of "feotus" would allow young kids to be killed at will for any reason.
Another "new thought" gradually being programmed into the young is the pleasure of the "childless lifestyle". This propaganda seeks to convince people that having kids is too much trouble and they will be happier if they just get sterilized and then run around having lots of sex purely for fun.
These "evolutionary" population control techniques are already in effect. However, the elite likely are not willing to wait several generations to get rid of those they do not need. This brings us to the more direct method commonly called "The Great Culling" which will allow the elite to kill off most of the world's population quickly.
The most likely method will be the release of new designer viruses for which no one will have any natural immunity. Of course, the elite will all get the classified antidote. Preparations for the disposal of the bodies is already complete and stockpiles of plastic coffins — each designed to hold three bodies and manufactured under government contract by Halliburton — have been photographed and documented. Everything is now in place awaiting the "go" command.
Designer Children
Some types of designer children have already been approved for "production". Britain has approved three parent babies [10] and China has proposed a process to artificially fertilize most of a woman's eggs and then examine them to determine which is likely to produce a child with the highest IQ. This will be the only selected egg because Chinese women are only allowed to have one child and must then be sterilized.
In the new world where the only purpose of people will be to do slave labor to serve the elite corporate masters, the concept of allowing the existence of children conceived naturally clearly cannot be allowed. There would be an unexceptable chance for some kind of error that could result, for example, in the creation of a being capable of independent thought who might challenge the establishment.
A man's true worth is measured by the amount of other people's happiness that he can possess and destroy
This is a quote from the docudrama The American Ruling Class [5]. It is worthy of discussion because it is so prophetic.
The Satanic oligarchs who run this world basically exist and thrive on the misery of others. It is not enough just to use and abuse you — they want to consume your Soul. Your misery and suffering is, essentially, their "food". It is the source of their energy.
Ordinary innocent Souls are sustained by the life energy which flows from the Creator. However, since the oligarchs hate God, this energy flow is not available to them. So, they essentially survive by consuming the life energy of the innocent Souls they have captured and enslaved.
Ordinary people do not naturally choose to spend their lives in a state of constant war. They have to be somehow coerced into this behavior. Otherwise, they would likely seek a quiet, peaceful life. The atrocities the US and other warmonger nations force their citizens to commit are so contrary to basic human nature that the US loses more soldiers to suicide than it does to the enemy. The once innocent soldiers find that they simply cannot continue to live with what they have become and the memories of the horrors they have caused to others. The Satanic rulers who create wars, of course, have no problem with this.
Promotions within the inner circles of power are based upon how much evil one has done. The more harm you cause to others the greater your respect. You may have noticed that the stock market, which is a measure of the success of the elite, shows gains during periods when the average person is suffering and losses during periods when, somehow, life for the ordinary person seems to improve. The stock market set a new all time high, for example, during the Vietnam War when innocent young kids were being drafted and slaughtered in Vietnam while peaceful protesters at Penn State were executed by government forces for daring to dissent.
Why You Should Care
On the low Astral planes you will find people — Souls — who are totally lost and confused and seem to move in slow motion. They do not realize they have died. These "people" are not there because they tore up the Bible or burned the Koran or some other offensive act. They are there simply because it is the best they can do. They are using all of the Spiritual energy they have just to maintain this miserable existence. Whatever activities they engaged in while alive had no Spiritual merit and had no effect on developing or increasing their Spiritual energy level. Since the opportunity to do this ended when they died, they will remain strung out in this condition until they reincarnate again at which point they will have another chance to choose activities which enhance Spiritual energies.
You should care because the things you do and the things you fail to do during your brief life here will affect your existence for millions of years in the future.
The other dimensions operate under exact scientific rules just like this dimension. However, the rules are not the same. Because alternate sources of information are available today — mainly because of the internet — it is in your interest to at least investigate the available literature on Spirituality, energy raising techniques and various first-hand reports from people who have successfully visited the neighboring dimensions.
Source:  Walter C. Vetsch   |   3108.info  |  War Is Crime
Are Americans ready to accept a police state? Are pastors and Christians ready to accept a police state? Are Republicans and conservatives ready to accept a police state? Are Democrats and liberals ready to accept a police state? Are there truly enough people left in this country who even understand what a police state is, and if they do, would they really support it?
I can hear many readers shouting, "No!" But I truly wonder just how many Americans have already accepted the police state in their hearts and minds. It is absolutely true that before despots and tyrants can put shackles around men's necks, they must first put them around men's hearts. So, just how many of the American people are walking around every day with shackles already around their hearts? How many pastors mount the pulpits with shackles around their hearts? How many teachers enter the classroom with shackles around their hearts? How many State lawmakers walk into their various capitols with shackles around their hearts? How many police officers get into their squad cars with shackles around their hearts? How many military personnel put on their uniforms with shackles around their hearts?
Those of us who are passionate about the freedom fight spend a lot of time discussing and debating the nuances of how best to protect liberty. Except for a precious few, our State governors, attorney generals, legislators, senators, mayors, county commissioners, city councilmen, etc., are doing a fantastically lousy job of honoring their oaths to the Constitution and to the principles contained in our Declaration of Independence and Bill of Rights. Except for a precious few, our pastors, deacons, elders, and church leaders are doing a fantastically lousy job of defending freedom principles. Except for a precious few, our civic and business leaders are doing a fantastically lousy job of defending liberty. And needless to say, you could put the people on Capitol Hill in Washington, D.C., who are even doing diddly-squat about preserving liberty into an old-fashioned phone booth.
Republicans? Most of them have never seen a bill that expands the police state at home and foreign wars abroad that they did not absolutely love. Democrats? Most of them have never seen a bill that expanded government (any government) that they did not absolutely love. Yes, yes, I know that there are a few–a precious few–exceptions to the above, but not many.
But are the American people truly ready to accept a police state? A recent report at InfoWars.com is quite shocking to those of us who tend to believe that most of our fellow Americans would recoil at the thought of an open police state.
Reporting for InfoWars.com, Paul Joseph Watson writes, "After illustrating their enthusiasm for repealing the Bill of Rights, a video shows Americans happily signing a petition to support a 'Nazi-style Orwellian police state,' in what easily represents the most shocking footage of its kind to date.
"Citing issues with how the government shutdown has impacted the ability of the police to 'keep the community safe,' [Mark] Dice tells San Diegans that there is a need to 'increase the Orwellian system.'
"'Not a problem,' responds one man as he signs the petition.
"'We just want to model it after the Nazi Germany system to keep people safe and secure,' Dice tells another individual.
"After signing the petition to 'implement the Orwellian police state,' another man responds, 'You find the pot of money though,' apparently more concerned about how much a Nazi-style police state would cost than its actual consequences.
"'They're trying to cut the budget by 20 per cent so we just want to make sure that we can model the police state after the Nazi Germany system,' Dice tells another couple who sign the petition, before adding, 'Thanks for supporting the police state.'
"'We're going to model it after the Nazi Germany-style police state,' Dice clearly tells another man who signs the petition.
"'We need this Orwellian-style system to keep everybody safe,' Dice tells a woman as she is signing the petition, to which she responds, 'Yeah.'"
See Watson's report at:
Americans Sign Petition to Support "Nazi-Style Orwellian Police State"
So, how many of your friends, relatives, co-workers, neighbors, fellow club members, fellow pastors, and fellow church members would be willing to sign such a petition as mentioned above? Probably more than you would think. Why don't you use Mark Dice's technique and go stand with a petition on a street corner in your town or on a sidewalk outside the entrance of your church and find out? But be prepared for a shock. It is not just San Diegans that are already wearing the shackles around their hearts.
Those of us in the liberty movement are knocking our brains out trying to devise the best strategy to preserve the vestiges of freedom that are left in this country. The assaults against our liberties are ubiquitous–and so are the battlefronts upon which our fellow freedom-fighters are tirelessly and relentlessly defending the hill. Thank God for every one of them! I may or may not agree with each strategy or the people who come up with them, but if they are in the liberty fight, they are my brothers and compatriots.
But it is time for us to ask ourselves, are we living in a country in which a sizeable percentage of people do not care about, and may actually not WANT, liberty? Are we living in a country in which a sizeable percentage of people have already accepted the shackles of tyranny around their hearts?
I'm talking about Democrats and Republicans; Christians and unbelievers; pastors and pagans; liberals and conservatives; whites and blacks; educated and illiterate; rich and poor; men and women; northerners and southerners; easterners and westerners; military and civilians. How many are already wearing the shackles of tyranny around their hearts? I'm afraid far more than most of us want to admit.
At this point, I must make the following observation: if you are living in a State that does not recognize your right to keep and BEAR arms, if you live in a State that significantly impedes your right to possess and CARRY arms, if you live in a State that is unfriendly to the Second Amendment, you are living in a State in which a majority of lawmakers and citizens are already wearing the tyrant's yoke around their hearts–and they want you to wear it, too.  And if you live in a large metropolitan city anywhere, you are living in one of liberty's most inhospitable and hostile places. In all candor, one of the chief reasons why my family and I moved to a small town in a rural State (the Flathead Valley of Montana) is because of what I'm talking about right now.
For more information on our move to Montana, please go to this web page:
I realize that we have our share of big-government weenies here in Montana, too. I know we have a bunch of politicians and people who carry the shackles of tyranny around their hearts. I won't argue that. But I also know that if police agencies in this area attempted a military lockdown such as took place in Boston after the marathon bombings, they would start a modern-day revolution. I KNOW that the majority of people in the Flathead Valley would never submit to such a police state. I also believe that the vast majority of law enforcement officers in this area would never attempt to enact such a police state.
As an example, according to published reports, the average home in the State of Montana has 27 firearms in it. Yes, you read it right: 27. I dare say that the average pickup truck in Montana has more guns in it than the average house in just about any other State.
Ladies and gentlemen, Thomas Jefferson was right: big cities are the "bane" of freedom. And those states that are controlled by big cities are also a major culprit in the demise of liberty.
Several years ago, Boston's Gun Bible (BGB) ranked the states in order of their recognition of the right to keep and bear arms. According to BGB, the freest states are:
1. Vermont
2. Idaho and Kentucky (tie)
3. Louisiana and Alaska (tie)
4. Wyoming
5. Montana
And, again, according to BGB, the least free states are:
1. New Jersey
2. Illinois
3. Hawaii
4. Massachusetts
5. New York
Now, I would personally argue BGB's ranking of Montana as number 5 in the list of freest states–especially when it comes to the Second Amendment. Regardless, notice the absence of the dominance of big-cities within the list of freest states, contrasted with the obvious dominance of big-cities within the list of least free states. In the list of freest states, only Kentucky and Louisiana have a metro area with over one million population. And in the case of Vermont, Idaho, Alaska, Wyoming, and Montana, the State with the largest population is Idaho with just over 1.5 million–in the ENTIRE STATE. The conclusion should be obvious: big cities equal less freedom; rural states equal more freedom.
Ladies and gentlemen, this divergence of philosophy and the willingness or unwillingness of people in big city states and rural states to either accept or reject tyranny is a boiling pot that at some point is going to spill over onto the eye of the stove. Notice that Mr. Dice's petition was asked of people in one of America's largest population centers: San Diego, California. Take that same petition to the streets of Kalispell, Montana; Coeur d'Alene, Idaho; Cheyenne, Wyoming; or Wasilla, Alaska; and the response would be MUCH different.
I don't believe tyranny will come to America all at once; it will come piecemeal, city by city, State by State, and region by region. And liberty will be preserved the same way.
So, are Americans ready to accept a police state? It all depends on where you live.
P.S. This weekend, selected cities across the country will be privileged to see the premiere screening of James Jaeger's fantastic new movie, "MOLON LABE: How The Second Amendment Guarantees America's Freedom." The film features such notable freedomists as Pat Buchanan, Ron Paul, Larry Pratt, G. Edward Griffin, Alex Jones, and, yes, yours truly–along with several others. It is terrific film. The people of the Flathead Valley in Montana are fortunate to be able to attend this premiere showing at the Mountain Cinema 4 theaters in Whitefish, Montana, at 11am Mountain Time, this Saturday, October 26. If you live within driving distance, you are invited to attend this premiere screening. DVDs of the film will be available at the showing.
If you are not able to go see MOLON LABE this weekend and would like to order the DVD of this new film, you may do so NOW. Order the MOLON LABE DVD here:
Title is riff on the famous line by Simon and Garfunkel, "Hello, darkness, my old friend."
Like the original, this article is a sad song about darkness.
It's common to hear critics and reformers complain about the poor results achieved in public schools. Still, most people assume that school officials are well-intentioned. Surely, they try their best.
But statistics are relentlessly negative. Some critics venture to suggest the experts have dirty hands. That is, the schools intentionally use techniques that keep children confused and unsuccessful.
"A Nation at Risk," the blue-ribbon report issued in 1983, concluded that our public schools were so bad they constituted an attack upon the country. Three decades later, the attack seems to continue.
Charlotte Iserbyt is well-known as the author of "The Deliberate Dumbing Down of America." Her book is a long chronicle of the failed theories our elite educators profess to believe. Note the phrase "deliberate dumbing down." This charge, heard for the first time, may sound outlandish. How could people be so evil as to dumb-down children? Iserbyt's book is a 700-page brief that some people are that evil.
Even without this book, the country's education statistics make the case overwhelmingly.
The essence of a good education is momentum. Children are enthusiastic and engaged. There is a feeling that everybody is running effortlessly down a hill.
But the common denominator in most public school classrooms is boredom and sloth. Basic skills aren't mastered. Schools make the work seem pointless, so why would any ordinary person want to study it? Or the work is made to seem impossible, so the intelligent response is to give up.
For example, Reform Math seems deliberately scattered and shallow. Children reach middle school not knowing fractions or how to multiply.
Or consider Project-Based Learning, a major new fad. A PBL site lists a hundred boring topics the children might study–"How are funding decisions made?" "Home Ownership -–the positives and the negatives." None of this will engage a young student. Quite the opposite.
We could look back to the Antebellum South where it was illegal for slaves to learn to read. Nowadays, we have nothing so obvious as a law. What we have are notorious techniques that achieve the same results. Virtually no one can learn to read English by memorizing thousands of sight-words. But the Education Establishment insisted for 75 years on making children go down that dead-end road.
Another parallel: 200 years ago in China, the daughters of rich families had their feet bound. This created a mincing, ultra-feminine walk. The binding of feet served a broader cultural purpose of making these females helpless and dependent.
The schools seem to employ methods known to create students with low literacy and low knowledge. The minds of many children in our public schools are "bound," we might say.
At the end of high school, these minds are largely unfit for anything but basic jobs. The schools rarely try to push people up to their limit; rather they are allowed to settle toward mediocrity.
In American public schools, excluding some gifted and high-end classrooms, there appears to be a deliberate attempt to level children.  John Dewey wanted to use the public schools as a path to a socialist America. His philosophy was in effect: "Hello, dumbness, you are my friend."
Samuel Blumenfeld, who has spent a life trying to understand what the Progressives did to reading, said: "For Dewey, the greatest obstacle to socialism was the private mind that seeks knowledge in order to exercise its own private judgment and intellectual authority." Dewey urged that reading be given less emphasis.
The Education Establishment, invariably far-left, seems to have a single thought: If we make them dumb, our time will come.
This is a bleak conclusion, a tragic reality. It's important that everyone confront it, and take sides.
If our public schools are undermining the country, then we must change the leadership. We need people who believe in education that lifts and empowers all students.
 If we can't toss out the leaders, we must work to eliminate the many failed theories and methods that make schools dysfunctional.
Trying to rebound off the ropes, where it has been pummeled for the past several decades, The United Auto Workers (UAW) has launched an aggressive organizing campaign in the South, in line with an AFL-CIO resolution emphasizing organizing there, where unionization rates are weak across the board.
As reported in The New York Times, the UAW has taken an international approach where union members in Brazil are picketing Nissan dealerships, a U.S. UAW contingent is traveling to South Africa to embarrass Nissan over its antiunion policies, and a similar campaign is underway in Tokyo and Paris.
Actor Danny Glover, has been persuaded to visit college campuses to recruit students to help in the union drive, and community groups are being organized, which include the NAACP, to help as well.
All of these measures are positive steps. Because of globalization and the ease in which industries can escape to anti-worker environments, private sector unions have suffered serious setbacks since the early 1980s. But globalization can be countered.
For example and most importantly, because it is leaning on international support, the UAW has rightly felt obligated to return the favor. In 2010 the UAW demonstrated outside a Hyundai center near Detroit to support the striking workers in Korea. By helping the Korean workers win higher wages, the UAW reduces the incentive for auto industries to flee to Korea.
By repeating this strategy in all other countries with auto manufacturing, globalization in the auto sector could be forced to a standstill. Instead of workers from different countries competing against one another in a race to the bottom – where the goal is to accept lower wages in order to attract business – by adopting the principle of solidarity, workers around the world can begin to raise their standard of living and all rise together.
In this way we could begin to reverse the steady transfer of income from working people to corporations. As The New York Times reported (U.S. Companies Thrive As Workers Fall Behind, 2013): "…wages and salary income in 2012 amounted to 44 percent of G.D.P., the lowest at any time since 1929, which is as far back as the data goes…The flip side of that is that corporate profits after taxes amounted to a record 9.7 percent of G.D.P. Each of the last three years has been higher than the earlier record high, of 9.1 percent, which was set in 1929."
The UAW's effort to connect to students and community organizations has the potential to change the balance of forces. Corporations want good public relations. They invest in huge amounts of money to run one-page ads to tout how much money they contribute to local schools or how much they care for the environment. They know more than most of us that public opinion can be a powerful weapon because it serves as the foundation for culture, and a culture conducive to business interests is a huge money-saver for them.
By turning to the community in order to conduct a campaign of shame, the UAW can begin to change culture in a pro-worker direction, which, of course, would benefit most people. But this turn will have to embrace more than a cultural dimension in order to take hold; the union will have to actually champion causes that will benefit the community, for example, by demanding that corporations pay their fair share of taxes so that schools and social services can be properly funded. Those kinds of gains would amount to what are called, "game changers."
But the UAW will have to overcome some of its missteps if it wants to succeed. In 2007 they accepted a contract that included a $14 per hour salary for new hires, thereby creating a yawning chasm between their pay and that of the current workforce. What this means is that the workers at that time voted in favor of reduced wages for other workers, not for themselves, which inevitably produces animosity between the two groups. But only solidarity can save the union at this point, so in the next contract the union must champion the wages of the newcomers over their more senior coworkers in order to reduce the wage-gap between them.
Secondly, UAW President Bob King has adopted a somewhat contradictory theoretical and strategic framework that needs adjusting. Labor Notes quotes him as saying: "We have completely discarded the 'us versus them' mentality." But Labor Notes went on to note that Gary Walkowicz, who ran against King in the last election for president, doesn't think that will work and quoted him as saying: "If we want to convince the people in the non-union plants, we have to fight," he said. "Turn back the concessions and give people a reason to want to join the UAW." Of course he is right.
In his interview with Labor Notes, King offered this justification: "If workers have a larger voice they produce a better product," In this way he hopes to promote employers' success while rejecting "an adversarial work environment."
There is usually a grain of truth in what people say, and King can boast of his grain, but he fails to capture the larger picture. His partnership philosophy is taking place within the context of capitalism, which radiates in all directions a culture of competition, self-interest and greed. In such a climate corporations are unable to distinguish between the highest good and the highest profit. Their number one concern is always their rate of profit. King's philosophy will work only under limited conditions that have on the whole disappeared: if the company cannot move to a non-union location elsewhere and make a higher profit, then it will accept the partnership. But just as foxes are programmed to eat chickens, corporations are programmed to maximize profits, and genteel gestures will have little impact on this instinctive reaction. Unless globalization is brought to an abrupt halt, at least as it is currently practiced, King's auto companies will move to greener pastures.
The "partnership" philosophy, which was trumpeted by John Sweeney, former head of the AFL-CIO, had disastrous consequences. Labor suffered some of its greatest defeats and watched its membership plummet.
Instead of turning to the corporations for partners, the UAW will need to redouble their efforts to build partnerships both domestically and internationally in order to organize a powerful movement of all those who are the victims of corporate policies. When the world's population, that is overwhelmingly against corporate policies that impoverish workers and trash the environment, is organized, the balance of forces will shift and real change will be possible.
Only a week ago, the consensus among most mainstream economic analysts and even some alternative analysts was that a government shutdown was not going to happen. The Republicans would fold in the shadow of President Barack Obama's overwhelming drive for socialization, spending would continue to grow unabated, and the debt ceiling would be vaulted yet again to feed the bureaucratic machine with more fiat. Today, there is no consensus, very few people continue to be so blithely self-assured and even the mainstream is beginning to wonder if a much bigger game is afoot here.
As I discussed before the shutdown in a recent article, it is important to take all facets of this situation seriously, or risk being bitten by hidden dangers while entranced in one's own arrogant cynicism.
One rule I try to follow whenever possible is to always be open to possibilities beyond the expected and never assume that today's dynamic will be the same as tomorrow's dynamic. Even the Liberty Movement can at times be susceptible to group think.  In a world of staggering political and economic manipulation, one has to grasp hold of certain fundamental truths in order to survive. In my time working within the liberty movement and outside of the mainstream, these are a few of the cold, hard truths that have served me well.
It's Always About Globalization
Every action the elites within our government take pushes the U.S. closer to globalism and away from sovereignty. We may not always see the bigger picture in the heat of the moment, but a look back tells us much. Seemingly simple changes in financial legislation render devastating fiscal shifts a decade later (as with the progressive erasure of Glass-Steagall). Shocking disaster events that appear random suddenly open doors for totalitarian legislation that had been prepared years in advance. Wars end with further calls for world "unification." Nothing, and I mean nothing, happens within government that does not revolve around the desire of establishment oligarchy to achieve total global economic, political and social control.
The Bankers Did It
Central banks and international banks are the bedrock of globalization, and all greater political decisions eventually stand on this bedrock. One need only examine the cabinets of the past four U.S. Presidents; there you will find a regular carnival freak show of banking elites who would go on to revolve in and out of government and back into the international financial sector. Private central banks like the Federal Reserve dominate the very currency (and thus the economy) of most nations on the planet. Most wars and man-made disasters of the past several centuries have served only to further enrich and empower the merchant class, and the same holds true today. If you want to understand why a certain calamity has occurred, first look to who benefited most. Invariably, you will find the banker class smiling when all is said and done.
America's Two-Party System Is Actually A One-Party System
If you do not yet understand that the elite of the Republican Party and the Democratic Party share the same foundational philosophy of globalism, then you will NEVER understand why our government does what it does. Public battles of words and legislation are nothing but rhetorical cinema. Ultimately, the goals of neocons and neolibs revolve around the centralization of power. All legislation is used either to further centralization or as a smokescreen to confuse the public while centralization is taking place. When has the leadership of either party, for instance, ever demanded a full audit of the Federal Reserve? When has the leadership of either party ever attempted to dismantle the Patriot Act or the despotic provisions of the National Defense Authorization Act or the President's openly admitted assassination list? They may seem to disagree violently at times, but do not be fooled. The disagreement is likely just another means to gain more dominance.
The Goal Is To Destroy The American Economy
What you believe to be political blunders are often actually calculated and engineered events. What you believe to be chaotic disasters of coincidence are often actually deliberate acts of attrition warfare against the common people disguised as random catastrophe. Those you believe to be heroes are actually villains in friendly masks. Those you are told to be villains are actually good men and women who refused to be enslaved by the system. That which you see and hear is never exactly as it appears.
Nearly every concrete action our government and central bank have taken in the past several decades has led to the further erosion of the American economy. If this is all just the consequence of "stupidity" or "childish greed," you would think our so-called leadership would have at least made a few good decisions by mistake; but they are incredibly adept at choosing all the wrong paths.
The reality is that collapses on the scale we are now witnessing in America rarely happen by accident.
The destruction of Glass-Steagall was a carefully crafted coup. The Federal Reserve deliberately and artificially lowered interest rates in order to allow banks to generate massive toxic debt through the derivatives markets. The Securities and Exchange Commission did little to nothing to stop the spread of cancerous mortgage instruments and ignored numerous calls for investigation. Ratings agencies like Moody's and Fitch examined all of these toxic assets, knowing exactly what they were, and rated them AAA anyway. And banks like Goldman Sachs, knowing that the market was a sham, sold these bad assets around the world and then secretly bet AGAINST them later. Either this is economic warfare implemented with precision, or it's all a string of coincidental blunders. I don't believe in such coincidences.
America is being destroyed by design to make way for a new global system administered by the International Monetary Fund and the World Bank, as well as a new global currency tied to the IMF's Special Drawing Rights.
If you are able to accept this, the confusion surrounding events like the government shutdown and debt ceiling debate withers, and everything becomes clear. With that clarity in mind, we can now examine the possible outcomes of the shutdown theater.
Republicans Surrender At The Last Minute
Of course, since both parties are essentially one party, the idea of "brinksmanship" on the part of either is absurd. The GOP will surrender, or "stand fast," because its serves the interests of the globalist establishment. There is no political battle here, only the empty chest-beating of a staged wrestling match.
Bets on a last-minute Republican reversal were in the majority for the past week of the shutdown, but that is slowly changing — and for good reason. Obama has stated that the Affordable Care Act is off the table in negotiations, while Republicans like Ted Cruz and John Boehner are now stating with surprising candor that debt default is on the table if Obama refuses to compromise.
Gee, it would seem we are at an impasse.
In the meantime, the GOP is also moving to wrap the debt ceiling debate into the shutdown fight, making a "diplomatic compromise" even less likely to make sense to the public. (Those who argued that the shutdown and the debt ceiling were two entirely separate issued should accept this reality and move on.)
If I were writing this bit of fiction, I would say I was writing myself into a corner and that a last-minute Republican white flag would be illogical to my audience. That said, not all stories are well-written stories, so a Republican rollover remains an option for the time being. The primary reason I can see for the establishment to instruct the GOP to retreat would be to set the stage for a new stimulus event, like a war, which still leaves the U.S. dollar on track to lose its world reserve status — just not as fast a track.
Default Occurs By Winter
This plot twist makes far more sense to me given the way our story has progressed so far. Why? Because it provides perfect cover for an economic collapse that was going to occur anyway, except in this version the banking elite avoid all blame.
Just look at all the angry rhetoric being thrown around in the mainstream media; red team versus blue team has returned as the pervasive American sitcom.
Conservatives blame liberals and Obama. Liberals blame conservatives and the Tea Party. We're all too happy to blame each other. Certainly, both elements of our government share responsibility for any debt default or subsequent collapse. But who started this avalanche to begin with? What about the Federal Reserve? What about Goldman Sachs, JPMorgan, Citigroup, etc.? What about the globalists?
Debt default is no small matter. Such a disaster would indeed fuel a flight from U.S. Treasuries by foreign investors and eventually lead to the complete abandonment of the greenback as the world reserve standard. Austerity measures would be implemented at break-neck speed. Cuts to entitlement programs, pensions, State funding, etc. will hit the American people like a freight train.
The way in which the MSM is already painting "Tea Party" conservative as saboteurs should a default occur is actually a very practical strategy. Not only do the elites get their economic collapse, but they manipulate the general public to believe that Constitutional conservatives, their mortal enemies, were the CAUSE of the pain, rather than the banks.
Order From Chaos
Should the establishment decide this is the moment to pull the plug on our financial structure, expect some rather insane-sounding solutions to be presented as rational alternatives. When Obama was asked by reporters if he considered the 14th Amendment as an option to end the debt ceiling debate, Obama did not rule out the idea.
This should raise some eyebrows. By the 14th Amendment I can only surmise that they mean Section 4, which states:
The validity of the public debt of the United States, authorized by law, including debts incurred for payment of pensions and bounties for services in suppressing insurrection or rebellion, shall not be questioned. But neither the United States nor any State shall assume or pay any debt or obligation incurred in aid of insurrection or rebellion against the United States, or any claim for the loss or emancipation of any slave; but all such debts, obligations and claims shall be held illegal and void.
Some people, including CNBC's Jim Cramer, think that this gives the President the power to raise the debt ceiling regardless of what Congress decides.
And Obama doesn't appear to be dismissing the notion either. However, Section 5 of the 14thAmendment says:
The Congress shall have power to enforce, by appropriate legislation, the provisions of this article.
Nowhere in Section 5 does it say that the President has the power to enforce the provisions of the 14th Amendment, but this may not stop the White House from twisting the law to insinuate more expansive controls.
Beyond the 14th Amendment, there are numerous executive orders and continuity of government programs that the White House could cite as authority to implement national emergency standards. This would probably start as a kind of "soft" martial law, and then grow from there. Each action will be rationalized as necessary for the greater good of the country, but will serve only the interests of the establishment oligarchy.
On the Republican side, there is another disturbing development that may be presented as a solution in the face of crisis — namely, the idea of instituting a Constitutional convention.
A Constitutional convention is essentially a complete rewriting of the document (which they call "amending") in the name of rebooting a government that has strayed too far from the wishes of the people. The concept is being promoted avidly by certain neocon talking heads and scholars, even on the FOX News circuit.
It sounds very noble on the surface, and neocons use very pretty language to candy coat the idea for legitimate Constitutionalists; but it is truly the most foolish action our country could take, opening the door to a complete erasure of Bill of Rights protections while offering no assurances that any meaningful provisions will be respected or afforded by the Federal government.  The people are given the illusion of potential redress when in reality a Con-Con produces only more centralized theater for the masses. If the liberty movement is suckered into a Constitutional convention, we will have been lured into writing our own destruction.
Another scenario could involve the Federal Reserve moving to take what they often call "extraordinary measures".  The Fed, being a private bank, may use the shutdown as an opportunity to paint itself as an economic "hero" (as unbelievable as that may sound), by instituting stimulus measures to the Federal Government regardless of Congressional or presidential impasse.  Given enough public desperation in the midst of default, the Fed may attempt to assert unprecedented financial authority in the name of "saving the country from it's own government".  The bankers then establish their role as the wise saviors and high priests of the fiscal universe, and cement private dominance over American political decisions as "acceptable" in the minds of the citizenry.
The most dangerous solution that will inevitably be paraded for the public will be a petition for aid from the IMF. The IMF has a long history of loansharking to indebted nations and then subsuming them and their natural resources in the process. The ignorant illusion that the United States is the sole power behind the IMF will be exposed all too late when a defaulting American Treasury is told to collateralize infrastructure to pay off creditors, while the dollar is bled completely dry and absorbed by the IMF's Special Drawing Rights basket currency.
Whether default occurs or is avoided, watch vigilantly over the next few weeks. Do not blink. Do not be conned, and do not let fear or bias blind you to the bigger picture. The shutdown could amount to nothing immediate, or it could amount to everything we have warned about for the past five years. I personally believe the month of October may be a major turning point in America's history. Whether it be for good or ill depends on how mentally and physically prepared we are.
Source: Brandon Smith | Alt-Market
America's 'New' Reality of Non-Self and Madness…
In the wake of the insurrection against the living, personal God of Revelation that began during the Renaissance eventuating in the proclamation of the death of God and cataclysmic eruptions of fire, brimstone and rivers of blood during the 20th century, ex-atheist Alexander Solzhenitsyn said the world had never before known,
"…godlessness as organized, militarized, and tenaciously malevolent as that practiced by Marxism. Within the philosophical system of Marx and Lenin, and at the heart of their psychology, hatred of God is the principal driving force, more fundamental than all their political and economic pretensions. Militant atheism is not merely incidental or marginal to Communist policy; it is not a side effect, but the central pivot." (goodreads.com)
In his analysis of Marxist Communism and its' alter ego, scientific materialism, Frank Meyers, an early conservative intellectual concluded that Communism is the state form,
"….taken by a materialist faith determined to rule the world."  Godless Communism is the "final synthesis of all heretical tendencies that have pervaded Western civilization for many centuries."  It is materialist scientism of which, "Communism is the culminating hubris of the Promethean man who reaches out for the world and means to remake creation.  It is scientism gone political." (The Conservative Intellectual Movement in America, George H. Nash, pp. 251-252)
Both scientific evolutionary materialism and its new age evolutionary pantheist counterpart belong to the family of 'new' pagan or modern naturalism.  Modern naturalism refers to a one-dimensional view of reality grounded in a monist pagan philosophy holding that only void, matter and evolutionary (developmental and change-making) energies exist.  Therefore void, matter and energy are the Ultimate One Substance of which the universe consists and with which all life is in continuity, thus "all is one" and "everything is perpetually evolving and ascending."
The main difference between these two views resides in whether matter is thought to be physical (i.e., Greek Atomism) or spiritual (Hinduism). However, both views share in common the following:
Hatred of the supernatural God of Revelation and of man as His spiritual image-bearer
One dimensional views of reality
An inverted account of  origins and history lending itself to the notion that since there was no fall then Lucifer is not the devil and men are not sinful but rather evolving into gods
Scientific materialism or its' New Age spiritual science counterpart
Evolutionary conceptions.  These serve two main functions. First, as a mechanical process of development and second, as a mechanism for purification of matter
The nihilism of Buddha
Jesus Christ to Buddha,
"…you took God away (and) your espousal of an absence of self is the most unique and fearsome claim you made." (The Lotus and the Cross: Jesus Talks with Buddha, Ravi Zacharias, pp. 59, 67)
Life is only with the living God of Revelation, the creator and upholder of the life and being (soul/spirit) of men.  But if He does not exist, it logically follows that there is no ultimate source for life, conscious being, meaning and purpose; or for the sanctity of human life, worth, dignity, individual liberty and personal property.  Without God the Father Almighty unalienable (God given) human rights are as meaningless as America's founding documents have become in our Godless pagan society.
If man is not God's spiritual image-bearer then he is less than nothing, a conclusion Buddha reached long before Jesus Christ God Incarnate walked this earth:
"Six centuries before Jesus Christ, the Buddha already knew that if God does not exist, then the human self cannot exist either…Therefore, he deconstructed the Hindu idea of the soul.  When one starts peeling the onion skin of one's psyche, he discovers that there is no solid core at the center of one's being."  Thus your sense of self becomes illusion, "Reality is nonself…You don't exist. Liberation, the Buddha taught, is realizing the unreality of your existence." (The Book that Made Your World: How the Bible Created the Soul of Western Civilization, Vishal Mangalwadi, p. 6)
Naturalism: the Antithesis
Modern naturalism is in every way the antithesis of God's Revelations and Christianity, the spiritual and moral foundation of Western civilization.   For fifteen hundred years, Christendom and then later Protestant America had affirmed the biblical view of total reality. In this historically unique view total reality consists of two interfacing, interactive halves: the seen (natural) and the unseen (supernatural).
According to this view, man faces both unseen and seen and interprets truth against these two interfacing halves of reality.  Thus Paul declares that as men live out their lives they are spectacles, "unto the world, and to angels and men." (1 Cor. 4:9)
In opposition to modern naturalism's one dimensional view, Paul affirms that total reality consists of two halves, hence this earth (the seen) is really a theater and men are actors on its stage observed not only by other men (the seen) but by the Spirit of God and angels (the unseen).
Though men cannot see the Spirit of God and very rarely see angels they can see, hear and interact with men.  The Spirit of God opens our eyes to understanding (Ps. 118: 34, 125, 144), tests our hearts, knows out secrets, motives, and thoughts (Psa. 17:3; 44:21; 139:1-4).
Both holy and unholy angels are all around us, watching, listening, helping and protecting if holy, if unholy then binding the disobedient to their power.   Just as the Lord of Hosts gives His Holy Spirit to those who love and obey Him, He can send evil spirits upon those who are rebellious, live in persistent sin, practice occult arts or men who in their pride, covetousness and envy reject and hate Him as was the case with Karl Marx and Nietzsche, the apostate Christian philosopher who proclaimed the death of God.  Unto these men the Lord of Hosts sent evil spirits just as He sent one to King Saul (1 Sam. 16:14).   The evil spirit influenced and disordered Saul's thinking, afflicted him with obsessions and paranoia, befouled his conscience, and inflated his disordered passions thereby, "filling him with unrest, anger, fear and murderous intent."  (Occult Bondage and Deliverance, Kurt E. Koch, p. 137)
Dr. Kurt Koch (1913-1987) was a highly respected German minister who pastored, counseled and delivered in excess of twenty thousand people suffering from demonic subjection. According to Koch, demonic subjection is an increasingly common occurrence in post-Christian Western and American society.  Most people have little or no clue that they are in fact demonically subjected while some people, such as Marx, Nietzsche, Hitler and Stalin seem to possess a limitless supply of demonic energy, especially when engaged in imposing their will over the wills of others.
There are many underlying causes of demonic subjection.  Koch delineates some of the leading ones common to apostatizing America:
"If a person blatantly lives a life of sin and persistently resists the Spirit of God and remains completely unrepentant, or…carries the sin of murder or abortion on his conscience, or has committed perjury or practical incest, if he has cursed his fellow men or blasphemed against the cross or against Christ, the Holy Spirit, or God, then he will have laid himself open to the devil's attacks.  Every curse is in fact a cry to the devil, and can…lead a person into bondage." (Koch, p. 138)
"….God created man in his own image…..male and female created he them." Gen. 1:27
According to the uniquely Christian view of total reality, the essence of the human is not the body and brain (the seen) but the unseen…the soul/spirit:
"It is the soul alone that God made in his own image and the soul that he loves…For the sake of the soul…the Son of God came into the world…" (Incomplete Work on Matthew, Homily 25, Ancient Christian Devotional, Oden and Crosby, p. 153)
Building off of the view of man as embodied spirit, St. Augustine (AD 354-430) affirmed that as all men are the spiritual image bearers of the supernatural Triune God in three Persons, then it logically follows that each man is a person; a trinity of being comprised of soul/spirit (unseen), and body, brain (seen).
The citadel of the soul is spirit (heart).  Spirit is immortal and self-aware.  It can will and think and is responsible for what it wills, thinks, speaks, and acts on while in this world.
Spirit is the unique property that distinguishes soul from the material body in which it is fully embedded.  In Biblical thought, spirit allows man to spiritually transcend the natural dimension in order to access the third Heaven.  By way of prayer and petitions the spirit of man's mind allows him to enter into a personal relationship with the Spirit of God.  Through this relationship, spirit is renewed over time, thus enabling man to more perfectly orient the manner of his thoughts, passions, words and actions in this world in preparation for eternity in Paradise.
In Christian thought, a person is a spirit (self) and personality is the total individuality of the spirit.  Without spirit there is no 'self,' hence no person.
The key to personal liberty in the natural or sensory half of reality is man's spiritual liberty contrasted against a genetically pre-programmed animal-like orientation.  Animals have souls but not spirits, the basis of intelligence, sensitivity, imagination, self-consciousness, reflection back and forward into time, and the capacity for truth and moral goodness.
A person is uniquely free because he can spiritually transcend his material brain to access the Spirit of the Lord as Paul affirms:
"Now the Lord is Spirit, and where the Spirit of the Lord is, there is freedom." (2 Cor. 3:17)
Vishal Mangalwadi, India's foremost Christian intellectual observes that this historically unique concept of man as God's spiritual image-bearer gave birth to the "belief in the unique dignity of human beings," and this is the force,
"…that created Western civilization, where citizens do not exist for the state but the state exists for the individual.  Even kings, presidents, prime ministers, and army generals cannot be allowed to trample upon an individual and his or her rights." (Truth and Transformation: A Manifesto for Ailing Nations, Mangalwadi, pp. 12-13)

One-Dimensional Godless Naturalism: the Reality of Non-Self
Modern naturalism, whether of materialist or pantheist permutation positing a non-existent immanent conception of deity (i.e. Omega, Gaia) is at bottom Godless, and said Ravi Zacharias,  absolutely nothing,
"… has a more direct bearing on the moral choices made by individuals or the purposes pursued by society than belief or disbelief in God." Key issues of the day "whether it be…sexual orientation and practice, or life in the fetal stage, sooner or later filter down to whether there is a God, and if so, has he spoken?" (The Real Face of Atheism, Zacharias, p. 21)
In "The Gnostic Religion," Hans Jonas provides a full-scale study of the heretical world of pre-Christian and Christian era pagan Gnostic nihilism together with its modern variants:  materialist and pantheist naturalism.
Jonas writes that while ancient Gnostic pagan man was thrown,
"…into an antagonistic, anti-divine, and therefore anti-human nature, modern man (is thrown) into an indifferent one." (p. 338)
The ancient gnostic conception was still anthropomorphic despite the nihilism, hostility and demonic.  But its' modern counterpart with its' indifferent nature, its' completely godless, soulless, anti-human, demonic nature, represents the "absolute vacuum, the really bottomless pit."
At least the ancient Gnostic dualism, as fantastic as it was, was at least self-consistent, as there was the illusion of a source for 'self' (being).   Not so for its' modern counterpart:
"So radically has anthropomorphism been banned from….nature that even man must cease to be conceived anthropomorphically if he is just an accident of nature.  As the product of the indifferent, his being, too, must be indifferent.  Then the facing of his mortality would simply warrant the reaction, 'Let us eat and drink for tomorrow we die." (ibid, p. 339)
In conclusion:
"…modern nihilism (is) infinitely more radical and more desperate than gnostic nihilism ever could be for all its panic terror of the world and its defiant contempt of its laws.  That nature does not care, one way or the other, is the true abyss.  That only man cares, in his finitude facing nothing but death, alone with….the objective meaninglessness of his projected meanings, is a truly unprecedented situation." (Jonas, p. 339)
In other words, the death of the living God of Revelation means there is neither source for life and 'self' (soul/spirit) nor for higher truth and morality, purpose, meaning, salvation and eternity.   For depersonalized man, the evolved ape or bag of chemicals, there is nothing—no heaven above, no hell below and no,
"…. vast mind behind the framing of the world; no transcending voice giving counsel to this world…no light at the end of the tunnel (hence only) the loneliness of existence in its most desolate form."  (Zacharias, p. 27)
The determined assault against the living Holy God that began during the Renaissance gained speed and force with the materialist implications of Darwin's neo-pagan theory.  The idea that humans evolved by chance and natural selection from non-life bearing chemicals lay the axe at the very foundation of the Genesis account of creation ex nihilo.  On the heels of Darwin's theory Christianity came under forceful attack allowing a one-dimensional worldview draining into nihilism to be declared a scientifically supported reality.
Darwin's "Origin of Species" was published in 1859 and instantly and uncritically accepted by people such as Karl Marx, T.H. Huxley, Herbert Spencer, Ernst Haeckel in Germany and large numbers of clergy more eager to be thought scientific and modern than to defend the faith once given.
For materialist and pantheist alike, Darwin's theory was a wish come true and so became the center of their respective one-dimensional worldviews.
The demonized Karl Marx hated the God of Revelation and his exuberance for Darwin's idea prompted him to consider dedicating his Das Kapital to Darwin, an honor which he declined.  Since Marx favored scientific materialism the rationale behind his invitation to Darwin was that he saw how Darwin's materialist theory provided a scientific framework to support the economic infrastructure on which Marx could build his godless communist utopia.
Darwin's materialist theory and Marxist materialist presuppositions (economic theory based on envy and hatred of God) together with Freud's materialist-based analysis of religion and human sexuality threw faith in God and Christianity "over the wall of civilization,' said Zacharias:
"With such abusive attacks directed at religious belief coming from so many directions, it was left for someone to cast this creature called theism completely out, and exorcise the world of all such influence.  The one who did that was the German philosopher Friedrich Nietzsche." (p. 25)
By the time of Nietzsche, perceptive thinkers had already been expressing apprehension at the prospect of multitudes of unsuspecting Westerners who would eventually be cruelly exploited by anti-human haters of God.
With Nietzsche, dreadful apprehension deepened into certainty, for Nietzsche despised religion in general, but upon Christianity he poured his unbridled fury:
"I call Christianity the one great curse, the one enormous and innermost perversion, the one great instinct of 
revenge, for which no means are too venomous, too underhanded, too underground, and too petty." (Nietzsche in "The Life of Nietzsche," Faru Forster Nietzsche, 1921, p. 656)
However, rather than mindless infatuation for Darwin's idea, Nietzsche (1844–1900) harshly criticized it:
"What surprises me most when I survey the broad destinies of man is that I always see before me the opposite of that which Darwin and his school see or want to see today: selection in favor of the stronger, better-constituted, and the progress of the species. Precisely the opposite is palpable … I incline to the prejudice that the school of Darwin has been deluded everywhere…" (Nietzsche: The evolutionist who was anti-God and anti-Darwin, Russell Grigg, creation.com)
Nietzsche was not anti-evolution but rather had his own evolutionary conception which he called "the will to power."
While Darwin received his idea from his pantheist grandfather Erasmus Darwin, Nietzsche's conception was preceded by mystical ecstasy.  Nietzsche experienced two mystical encounters with the first one taking place in August, 1881.
Charles Andler writes that previous to his scientific reasoning, Nietzsche received revelations during mystical encounters just as Spinoza did.  Mystical ecstasy,
"…. preceded (Spinoza's) system and his geometric form, thus, with Nietzsche mystical ecstasy preceded his scientific reasoning." (Charles Andler cited by Henri De Lubac, "The Drama of Atheist Humanism," p. 481)
According to Henri De Lubac, secret knowledge was revealed to Nietzsche that he was "….the first of men to know.'   The shock of it was sudden and profound.  Though no direct document relates his experience sure evidence is found in an agitated page of Ecce Homo where Nietzsche wrote:
"Suddenly, with sureness, with indescribable delicacy, a thing makes itself seen, makes itself heard.  It shakes you, it overwhelms you right to your innermost depths.  You hear it…You let it fill you….A thought blazes forth like a flash of lightening…It imposes itself as a necessity…I never had to choose it.  It is an ecstasy….You are enraptured, taken outside of yourself…All of this…is accompanied by a tumultuous feeling of liberty, of independence, of divinity…There you have my experience of the inspiration." (Lubac, p. 472)
In the months that followed he remained silent about the knowledge he received.  But in August of 1882 he discussed his experience with Lou Salome.  Salome writes that Nietzsche spoke of his encounter only in obscure words and with hushed voice.  Giving "every indication of the most profound horror" Nietzsche described the terrible and marvelous revelation he had received with two words: Eternal Return. (ibid, p. 473)
In the autumn of 1882 he experienced his second encounter which he described in the poem Sils Maria:
"I was sitting and waiting, without waiting for anything/Beyond good and evil, tasting Light sometimes and sometimes shade/Absorbed by this brew…When suddenly…what was one became two, And Zarathustra passed before me…" (ibid, p. 475)
It was a vision without a doubt, precise and sudden:
"I could tell you the day and the hour….Zarathustra has fallen on me, he assaults me.."  (ibid)
Zarathustra was an evil spirit who confirmed to Nietzsche the 'truth' of the revelations already received, which included man's evolution from worms:
"You [mankind] have made your way from worm to human, and much in you is still worm. Once you were apes, and even now the human being is still more of an ape than any ape is." (Nietzsche, Thus Spake Zarathustra, Zarathustra's Prologue section 3, trans. by G. Parkes, Oxford University Press, New York, 2005, p. 11)
Henceforth, Nietzsche is an inspired prophet who knows for certain that the God of Revelation is dead, that man's evolution from worms is absolutely true, and that he is Jesus Christ's successor, the 'new' Christ.  Within ten days he drafted by way of automatic writing the whole first book of his prophecy.  He called his finished work Zarathustra, the new Bible of scientific evolutionary naturalism, and told the world to throw away all other books, for now you have my Zarathustra, "a new Holy Book." 
It was Nietzsche, the 'new' Christ, who saw that the death of the personal God had already begun to cast its first dark shadows over Europe, and though,
"the event itself is far too great, too remote, too much beyond most people's power of apprehension, for one to suppose that so much as the report of it could have reached them," still its advent was certain, and it was men like Nietzsche, the 'new' Christ who were "the firstlings and premature children of the coming century," the century of the "triumph of Nihilism." (Nihilism: The Root of the Revolution of the Modern Age, Eugene Rose, p. 44)
Nietzsche was the first apostate Christian to gaze fully upon man's loss of faith and its terrifying consequences.  With no living God 'up there' to obstruct his vision, the nihilism he saw was agonizing.  As there was no longer any Light from God above, there was only darkness in the hermetically sealed world below.  The paralyzing darkness that overtook the mind of the 'new' Christ was spiritual.  It was not so much,
"….an exterior phenomenon crowding inward but rather an inner blinding that spread outward." (Ravi Zacharias, p. 27)
This was precisely Nietzsche's point.  With the death of the personal God of Revelation the darkness of objective meaninglessness would penetrate every avenue of thought and life, making life itself unbearable with the consequence of hedonism, abortion, euthanasia, sodomy, suicide, drugs, crime and murder becoming virtues.
Speaking through the writings of the 'new' Christ, Zarathustra went on to say that because God had died in the 19th century there would follow two terrible consequences beginning in the 20th century. (Romans 1:18)
First, the 20th century would become one of the most evil century's in history, and second, a universal madness (Romans 1:21, 22) would break out and turn the once glorious W. Europe and America upside-down.
Though apostates and the apostatizing professed themselves wise, their cognitive thought processes would become darkened (vain) and with their conscience dead to sin they would become fools, meaning they would accept and publicly profess incredibly stupid conceptions of themselves (i.e., man is an evolved worm, ape or robot; man is evolving into god).
"And I will give children to be their princes, and the effeminate shall rule over them." Isaiah 3:4
In turning away from the Spirit of God and the truth He has given, 'wise' males will become effeminate cowards and females mannish.  They will be adolescent emotional-tyrants in adult-size bodies: sinister, greedy, spiteful, vindictive, treacherous, back-stabbing sophists.  They will celebrate Lucifer (the devil) and in their madness actively seek the way of Luciferian initiation because they will be spiritually blind in regard to total reality.  Like demons they will flee from the cross of Jesus but exalt the devil as the first free thinker, the genetic creator of man, the seething energy and angel of evolution.  Truth will be lies, evil will be good, unfaithfulness will be faith and the 'wise' will preach and blaspheme from pulpits, exercise political power, enact legislation, and wield broken law to plunder, punish, and ruin.
Zarathustra has been right on both counts.  First, apostatizing W. Europe and America, though dotted here and there by small islands of Light, decency and sanity, are becoming darkened, satanically inverted places ruled by the 'wise,' hence boiling over with madness, particularly Hollywood, academia, mainstream media and the highest, most powerful political offices in the land.   Second, Nietzsche was made to show the 'wise' what is in store for them by spending the last eleven years of his life insane.
You know, in spite of the visit from The Bone Lady when I was just three years old, and all the grim foreshadowing that she downloaded to me via direct intuition, I always held out hope that humanity could or would somehow turn things around on this planet, and snatch victory from the jaws of defeat.
As long as there is breath there is always hope, that was my thinking for a long time, but I am no longer so sanguine.
As one of my friends recently remarked to me, there is, indeed, real evil abroad in this world. I don't know how else to explain the wickedness of what is happening at Fukushima, in Japan, where the situation with the exploded and/or melted down nuclear reactors just goes from frightfully dire to unimaginably worse.
I frequently check the developments there at www.enenews.com and the latest news is very disturbing. I said from the outset, in the spring of 2011, that Tokyo would be evacuated. I still believe that to be inevitable. It is possible that much of Japan will be evacuated to elsewhere. The apocalyptic dimensions of the crisis are being covered up by TEPCO, the Japanese government, General Electric, and the USSA government. The reality is that there was at least one, and maybe more, really dirty nuclear blasts there in March of 2011, that wrecked the reactors and created a radioactive hell that no one knows how to remedy or bring under control. At the least we are probably looking at the failure and collapse of Japanese society with likely evacuation of tens of millions of people or more, and the fairly rapid death of vast portions of the Pacific Ocean, as deadly radioactive waste water continues to flow into the sea by the hundreds of tons, every day.
And when the cooling pool at reactor four collapses, the many tons of highly radioactive, spent, fuel rods that it contains will overheat and burn and or catastrophically fission, i.e., cause a runaway, nuclear reaction, or, in lay man's terms, there will be another atomic explosion, along with a mushroom cloud, and tons of highly poisonous nuclear isotopes will be spread aloft into the atmosphere and/or will drain or be blown into the sea, to poison the Pacific Ocean even further.
This is worse than bad news. This is planetary chaos news. This is civilization ending news. This is species extinction level news, as in extinction of the human species on this planet. If you do not think so, all I can say is: wait. It won't be long. Probably not ten years, not five, maybe even by Christmas this year, and you will begin to see what i mean, if you haven't already.
And even if the cooling pool at reactor four doesn't fail or collapse of its own accord in the near future, though that is very highly probable, TEPCO's plan to manually remove the many tons of bent, mangled, fused, welded together, very highly radioactive fuel rods that remain in the pool, beginning in November of this year, is so fraught with peril that it is likely to spectacularly fail, with unimaginably negative consequences. Any slight mistake, miscue or dropped fuel rod could result in a fission criticality, a runaway nuclear chain reaction, to wit, an atomic explosion that will shower the northern hemisphere and the Pacific Basin with a fatal radioactive sleet that will persist for hundreds of thousands of years.
As I said, the situation is somewhere far south of dire, with a headlong, hellward trajectory.
The Nuclear Chain Reaction
Because what is inevitable, the longer the situation at Fukushima festers, is that the whole site will have to be abandoned. Due to the high radiation levels, no one will be able to work there without dying. So the workers will pull back, and the cooling pools and storage pools that contain thousands of tons of extremely radioactive, spent fuel rods will fail or collapse and there will be more explosions and radioactive fires. As the radioactively contaminated NO GO ZONE expands, as the population flees, the day will come when nuclear reactors at other, nearby power generating plants will also fail, melt down and/or explode, because the nuclear engineers and maintenance workers no longer come to work and operate them — BECAUSE THEY ARE DEAD.
And then there will be three or four more, and the radioactive No Go Zone will expand, widen, grow. And other nuclear power plants will then fail, melt down and/or explode, because their operators are also DEAD, and so do not come to work, do not maintain them.
There are over 50 nuclear power reactors in Japan, and they all have their spent fuel rod cooling pools. It doesn't matter if the reactors themselves are shut down, because there are thousands and thousands of tons of highly radioactive, spent, nuclear fuel rods stored in the cooling pools all over Japan. So, given time, the crisis will continue to fester and worsen, and then it will begin to cascade, like a row of toppling dominoes, only it will be a series of failing nuclear power reactors, one after the other, heralding the end of the nuclear age, and quite possible the end of humanity.
It's just that serious.
All of that will send a killing wave of radioactivity across the Pacific to North America. So what happens when the population on the west coast of the USSA flees in panic from the approaching killer wave of radioactivity? Well, there will be no one left to operate the nuclear power reactors in California, for example. or at Palo Verde, the massive nuclear power plant just to the west of Phoenix. So when those nuclear reactors and their spent fuel cooling pools fail, melt down, and/or blow up, the civilization-ending, planet-killing, Fukushima Syndrome will come home to America with a wicked vengeance.
All courtesy of General Electric. General Electric designed five out of the six reactors at Fukushima and built three of them, so what we see here is genocidal, planet-killing failure of American (alleged) "high technology" on a spectacular scale.
General Electric — busy exterminating a planet near you of its resident, biological life forms.
At the end of the day, all the differential calculus, the nuclear physics, the nuclear chemistry, the nuclear engineering, the corporate profits, the Madison Avenue advertising slogans, the multinational wheeling and dealing, all has conspired to assassinate the planet on which we, and they, all live. Make no mistake, the planet is now dying. The global poisoning process is so very far advanced that it probably cannot be stopped. Certainly, there is not now any serious, international effort to do so, not anything remotely commensurate with the level of danger that we are facing.
No doubt we are dealing with profound iniquity, a betrayal so complete of all that is human that no words exist to describe its foul dimension. The ones who have done this thing walk among us, though for how long? – understanding that they, too, will certainly drop dead along with countless millions of others, as a direct result of their abjectly arrogant ignorance.
Arrogant Ignorance
All of their super-computers, the advanced mathematics, their (so-called) "hi-tech" industrial base, all of their billions of dollars of (so-called) "high finance" — and they kill the planet? And themselves and their posterity in the process? That's the best they can do? They get a PhD in nuclear chemistry and use their (so-called) "knowledge" and (so-called) technical "expertise" to kill the planet? The planet that they also live on?
Geniuses. All of them.
Central Banking Middle East Madness
Then there is the very real prospect of a shooting, nuclear war, beginning in the Middle East. The USSA has a powerful fleet in the region. So do the Russians, as a counterpoint. Sadly for all humanity, the Washington, DC — City of London — Lower Manhattan — Tel Aviv — NATO cabal seems hell bent on war, and so we are on the slippery slope to war. Unfortunately, this psychopathic cabal is very heavily nuclear armed.
I saw all of this coming from waaaaaaay back, from way back in my infancy, since the age of three years, when The Bone Lady visited me and clued me in to realities that I still don't want to think about, given their ghastly, hideous savagery. But I'll tell you what, it's enough to give a man insomnia, it's enough to drive him out onto the nuclear missile silos, again and again, in a personal effort to inject a note of sanity and warning into a positively insane political and military climate, in an attempt to wake up anyone who may be susceptible to awakening.
ANYONE.
My latest sally was 15 April 2010 in North Dakota, USA. I went over the security fence onto the H-8 Minuteman III nuclear missile silo in the Minot Air Force Base nuclear missile field, near Parshall, North Dakota, at the intersection of 33rd Street and 76th Avenue. I conducted a nonviolent, peace demonstration on the silo and was arrested by the USSA military and imprisoned for 100 days, almost all of the time served in the Heart of America Correctional and Treatment Center in Rugby, North Dakota.
My Minot Manifesto explains my motivations, reasons and spiritual and political philosophy. It is one of the most important documents I have written in my entire life.
A Serious Message From The Heart of America was my personal statement that I mailed to the news media from jail in Rugby, North Dakota, on 14 July 2010, prior to being criminally tried and convicted in USSA federal court in Minot, North Dakota.
I explain the symbolism in my dress and accoutrements in the photo below, in the text of my lengthy Minot Manifesto. It's thirteen pages, but worth the time and effort to read. It is a major life statement on my part, that reflects literal decades of deep thought, a very large quantum of concentrated life energy and hours, weeks, months and years of preparation, a statement that distills an important fraction of my life essence into human language. I invite you to partake of my gift by taking the time to read and reflect on what I have written, and then to take meaningful, principled, creative, nonviolent action yourself.
I don't quite know what more to say, what more to do. In fact, were I to do more than I already have, and I have been out on the nuclear missile silos three times (and been jailed for my trouble all three times, in Arkansas, Missouri and North Dakota), I would run the very real risk of infringing on your right and your very real, personal RESPONSIBILITY to also courageously act. So what are you waiting for? Why are you here on this planet, at this time, reading this blog post, and articles like it?
Because make no mistake about it, the time to act, if you are going to act, is here. The time has arrived. The planet is on the brink. We face the very real prospect of a shooting nuclear war. Additionally, the Fukushima crisis, and the threat from nuclear power plants in general, ALL OF THEM, could not be more serious.
In recent days, I find myself musing about the closing scene from "Dr. Stramgelove," with the haunting song by Vera Lynn, "We'll Meet Again, Don't Know Where, Don't Know When," that was such a huge hit in World War II, for obvious reasons.
And it fills me with such melancholy and sorrow. Because if it starts, this ugly thing called nuclear war, and we are headed that way, can all unravel very rapidly. The machines will take over, and automated, pre-programmed orders of battle will be carried out, without human control, as machines battle machines with nuclear fire. Waves of missiles will come in, again and again, to batter the underground bases. I have read the declassified documents. Warhead after warhead will come in at 10 minute intervals. You cannot imagine the depths of the hell that is already programmed and waiting to be unleashed.
Back in the 1960s, the USSA military was counting on 140 million casualties in the mainland USSA alone. I know this because I have read the documents. I have done the research. The USSA population is much larger now, and much more urban, so the casualty rate would be even higher. Maybe 200 million? 250 million casualties in the USSA alone?
Do you think you will just watch that on CNN?
Refuge in the Southern Hemisphere
If you have read my previous writings you will know that I have said that IF humanity has a future, it is likely to be in the southern hemisphere, if only because the lion's share of the nuclear weapons and nuclear power reactors are in the northern hemisphere. As the nuclear power plants fail, melt down, and/or explode most of them will be in the northern hemisphere. This is not an intellectual exercise — already we have had catastrophic failure of nuclear power plants at Chernobyl, Ukraine and Fukushima, Japan. They are just the first. There will be more.
Likewise, any shooting nuclear war is logically likely to be concentrated in the northern hemisphere, since all of the known, nuclear armed, military powers are in the northern hemisphere
But even then, there are enormous problems in the southern hemisphere. The vegetation in the Amazon region of South America produces something like 20 to 30% of the oxygen in the Earth's atmosphere. As the Amazon dies, and it is being destroyed right now, so too, is the Earth's breathable oxygen supply being destroyed. I don't know about you, but I breathe oxygen all day and all night, every day and every night of my life.
So even if we resolve the nuclear issue, and there is ZERO progress on that front right now, only to lose the Amazon, we all will still die, because none of us can survive with 20 to 30% less oxygen. Just cannot.
Right now, we, humanity, every last one of us, are in a life and death struggle for the life of our species, and the life of our planet.
If we win, we live. If we lose, we die. ALL OF US.
End of the story. End of our species' genetic line. For ever and ever.
Done. Finished.
So maybe moving to Bolivia or Uruguay or Namibia or Madagascar or New Zealand will buy you a little time, a year or ten. However, if we fail to rein in and ABOLISH nuclear reactors and nuclear weapons, if we fail to reforest the Earth and cleanse it of radioactive contamination, then we are through. It's the end for us.
This is our group decision. Right now we are on a self-destructive path to global extinction.
So Here Is My View
If you will act decisively, now is the time. Pick your issue and your spot and act creatively, courageously and nonviolently.
It's your world and your life. Act like they both count for something.
And here's the other thing. If you cannot, or will not act, then how about supporting those of us who have acted, and who continue to act?
In my case, I have paid a very heavy price, in earnings forever foregone, by putting my life on the line, repeatedly, for you, whom I do not even know. But because you are my human kin, I went out on the missile silos, again and again, and I went to jail. I lost more than a year and a half of productive labor. I lost, as well, the opportunity to have a whole wide range of well paying jobs, due to my arrest and prison record, even though I have multiple advanced university degrees, up to the doctorate level.
Subsequent to my arrival in South America, I immersed myself in Amazonian shamanic culture, the better to understand the Amazonian region, the jungle itself, and the shamanic human ecology of the region that interfaces with the hyper-conscious plants in the jungle, only to be very gravely assaulted by one of the said Amazonian shamans and hospitalized for more than four months with massive trauma to both my body and emotions. I am now pursing a criminal case against the shaman and that also costs heavily, several thousands of dollars in attorneys' fees, at the very time when so much of my time and energy is taken up with therapy and the sheer physical effort of getting around with impaired mobility. Nine months after the assault I still have physical nerve trauma in my lower extremities, a good deal of numbness and what is called drop foot. I walk with crutches. My electro-therapy also costs. At the moment I cannot go to electro-therapy, although I badly need it, because I only have $35 to my name.
I have run completely through my meager life savings and there is no more.
Additionally, I have this week begun the formal petition process to the government of Ecuador to request political asylum. My years-long record of anti-nuclear activism and repeated jailing by the USSA government is one factor in my decision, coupled with other factors such as recent revelations of universal NSA surveillance and espionage, the secret arrest and indefinite military detention provisions of the NDAA of 2012 and 2013, the recently revealed, previously secret 2011 FBI documents that blatantly discuss plans to murder Occupy Movement activists by sniper fire, including in San Antonio, Texas, where I lived and worked as a window washer from 2000 to 2009, and all of this in the context of an all encompassing pattern of unbridled lawlessness and pervasive lying with regard to EVERYTHING by the American government. All of this and more, has brought home to me the seriousness of this moment that we are living now.
I have the obligation to safeguard my own liberty and safety. It is clear to me that politically I am freer and safer in Ecuador than in the USSA. The American government has taken a hard, dictatorial turn towards neo-fascism. That is the plain truth. The harsh, repressive treatment of Edward Snowden and Chelsea (formerly Bradley) Manning makes that clear enough. We are in altogether different territory now. And so I have petitioned for political refuge in Ecuador.
This also entails paying an attorney, to assist me in my interactions with the administrative, legal and political system in Ecuador. It is my life on the line and I am proceeding very carefully, every step of the way.
But it is also your life on the line, in that my anti-nuclear activism, my immersion in the Amazonian culture, and my pursuit of political refuge in Ecuador all have profound implications far beyond just me. What happens to me also has broad implications for you. The consequences of nuclear war are too horrific to contemplate, and if it is to be avoided, it is because of actions such as mine. Similarly, we simply cannot afford to lose the Amazon, and yet we are losing it right now. If we are to save it, a big part of that will be due to the personal efforts of those who come to the region and get personally involved in the nitty-gritty, even life-threatening struggle for the soul of the Amazon, because more than anything, we are involved in a pitched battle for the very spirit and soul of the Amazon and of the rest of this planet.
Similarly, if I, with my history of activism, book writing, researching, blogging, public speaking, interviews, and repeated nonviolent civil disobedience and consequent jail record, cannot obtain political refuge abroad, then what hope do you have? You're boxed in, that's what. You're in a cage with no exit.
And so, if you cannot or have not done the things that I and others like myself have done and are doing, then can you please, will you at least please support us?
I desperately need your support now. My legal fees run to thousands of dollars, and my therapy is ongoing. I appreciate and really need your generosity. Please communicate with me at: dr.samizdat1618@gmail.com or via Skype at richard.sauder333 as to how to donate.
Come Ye That Love The Lord
I am a native Virginian, and have lived, worked, traveled, studied and gone to jail all over the American South, from the Virginias and Maryland, all the way across to South Texas, and numerous points in between. A very large block of my life has been spent down South. Although I am not now a church attending man, I have in the past been in all kinds of Christian churches, both Black and White, in big cities and small country towns.
Some of the most memorable sermons I have ever heard have been by Black pastors in rural areas of the deep South. One of the things I like about the traditional Black style of hymn singing down South is the way that the head deacon or pastor will frequently line out a hymn, especially the first line or two of a verse, and then the other deacons or members of the choir will join in, accompanied by riffs on the organ, if there is an organist, and there are some really gifted organists playing in southern Black churches.
I well remember a sermon that I once chanced to hear, decades ago, by a Black lay preacher, one sultry, Sunday night, in a tiny little town way down South, about as far south as you can go, and still be in the South and not somewhere else. The ceiling fans lazily stirred the muggy summer air, as the moths flitted vainly around the naked incandescent light bulbs hanging from the ceiling overhead. The windows were flung wide open and the pale light from the sanctuary washed feebly out through the rusted screens and flooded onto the close cropped lawn that surrounded the church. It was one of the most extraordinary public speaking performances I ever witnessed. The preacher used as his text Ezekiel 37, the theme being dry bones and systematically connecting them one to the other, the purpose being to reassemble and restore "them dry bones" to life. As he spoke, I saw that he fell into a trance, that he entered another state of consciousness, that he was self-hypnotized and that the sermon itself had a sort of existence independent of him, that the message took on a life of its own and was using his mind, his mouth, his body, to project itself into the ears, hearts and minds of the sparse assemblage present that evening. As he finished, he collapsed exhausted backwards into his armchair and lined out the first words of the hymn that he wanted the choir to sing. I don't anymore remember exactly what song he called for, but it could well have been this: Come Ye That Love The Lord
If there is to truly be a new world order, as distinct from the obscene power that currently holds sway on this planet today, then we will need to see a completely new order of human being on this world, a species of human being motivated by love for the Creator and by devotion to inward and outward service to the sacred life impulse. We don't see that now, and the human species may go extinct on this planet for its want.
I do believe in God and have been profoundly privileged to see some of His servants face to face. I find their company congenial.
Come, ye that love the Lord,
And let your joys be known;
Join in a song with sweet accord,
And thus surround the throne.

Let those refuse to sing
That never knew our God,
But children of the heavenly King
May speak their joys abroad.

The God of heaven is ours,
Our Father and our love ;
His care shall guard life's fleeting hours,
Then waft our souls above.

There shall we see his face,
And never, never sin;
There, from the rivers of his grace,
Drink endless pleasures in.

Yes, and before we rise
To that immortal state.
The thoughts of such amazing bliss
Should constant joys create.

Children of grace have found
Glory begun below:
Celestial fruits on earthly ground,
From faith and hope may grow.

The hill of Sion yields
A thousand sacred sweets,
Before we reach the heavenly fields,
Or walk the golden streets.

Then let our songs abound,
And ev'ry tear be dry;
We're trav'lling through Immanuel's ground,
To fairer worlds on high.

(John Wesley, ca. 1703- 1791)
Source: Richard Sauder  |  Event Horizon Chronicle
I am constantly asked, "Chuck, why don't pastors take a stand and speak out?" I've been a pastor most of my adult life. I believe I am qualified to answer that question. Here is the stark reality: the vast majority of pastors today are "success" oriented. Beginning in Bible College or seminary, and continuing throughout a pastor's ministerial life, the emphasis is success. And that means church growth, larger congregations, bigger buildings, bigger offerings, burgeoning statistics, greater notoriety, denominational praise, invitations to speak at conferences, applause from fellow ministers, not to mention the financial perks and benefits that come with pastoring a "successful" church.
And the way to learn how to build a successful church is to learn from those who have done it. Pastors regularly attend church growth conferences to learn from the "big" church pastors on how it's done. They purchase books, magazines, newsletters, etc., that are all geared towards telling pastors how to build a successful church. They are constantly being schooled in the latest and greatest "how to" strategies of church growth and success. This usually entails more and more sophisticated programs, music, sound, lighting, atmosphere, classes, seminars, organization, etc. Everything, and I mean everything, is geared toward success as described in the aforementioned paragraph.
Most pastors today are in reality not spiritual shepherds as much as they are corporate CEOs. The same mentality, philosophy, and strategy that drive corporate boardrooms also drive the boardrooms of modern churches–to a tee. Pastors act like CEOs, dress like CEOs, talk like CEOs, manage like CEOs, and think like CEOs.
Dare I say that even the way pastors and churches cater, and "reach out," and "minister," etc., has mostly to do with "good business." Church members are babied and pacified and stroked and petted and fawned-over because it is "good business." Today's Christians are so spoiled and petted that any dereliction or lack of attention by a pastor, church, or staff usually results in them "moving their letter" down the street to a place that will more readily cater to their temperamental demands.
Have you not noticed how most pastors spiritualize away the great examples of Bible heroism and defiance against tyranny and despotism? Ask them point blank about Daniel and the lion's den or the three Hebrew children in the burning fiery furnace or Queen Esther or scores and scores of other acts of defiance lauded in Holy Writ and they will say, "That was another time." Or, they might say, "This shows God's great deliverance and protection." But the overriding principle that drove the great heroes of the faith to challenge and defy evil government is never even acknowledged, much less addressed.
The great lesson of the above-mentioned heroes and heroines is not that God delivered them, because many of them were NOT delivered. As Paul notes in Hebrews 11: "Others were tortured, not accepting deliverance…And others had trial of cruel mockings and scourgings, yea, moreover of bonds and imprisonment: they were stoned, they were sawn asunder, were tempted, were slain with the sword: they wandered about in sheepskins and goatskins; being destitute, afflicted, tormented…they wandered in deserts, and in mountains, and in caves of the earth." (Hebrews 11:35-38 KJV). The great lesson of the above-mentioned heroes and heroines is their willingness to defy evil authority–regardless of outcome. Listen to the three Hebrew children:
"Shadrach, Meshach, and Abednego, answered and said to the king, O Nebuchadnezzar, we are not careful to answer thee in this matter. If it be so, our God whom we serve is able to deliver us from the burning fiery furnace, and he will deliver us out of thine hand, O king. But if not, be it known unto thee, O king, that we will not serve thy gods, nor worship the golden calf which thou hast set up." (Daniel 3:16-18 KJV)
These men knew that God COULD deliver them, but they did not know if He WOULD deliver them. And to them, it didn't matter: they were willing to defy the tyranny of King Nebuchadnezzar regardless. They were not going to bow to the unlawful, illegitimate authority of the state (in whatever form it appeared). That is the glaring lesson of every single one of these great stories of defiance.
Furthermore, most pastors and teachers absolutely refuse to tell the truth of Hebrews 11:34: "[They] waxed valiant in fight, turned to flight the armies of the aliens." This Biblical passage lauds the courage of past believers who took up the sword against tyrants and despots. In the same breath that Paul extolled the sacrifice of believers who were willing to die for their faith, he also extolled the bravery of believers who were willing to fight for their faith. But you NEVER hear that from the vast majority of pastors today.
If you hear any mention of, say, America's Founding Fathers from today's pastors, it is that the founders were wrong, that they violated Romans 13, that God did not lead them to declare independence and revolt against the British Crown. Such is the ignorance and cowardice of today's ministers.
And while we are on the subject, the misinterpretation of Romans 13 is one of the chief reasons why most pastors and churches are so utterly indifferent or nonplussed about resisting evil government. This is why my son and I coauthored the book, "Romans 13: The True Meaning of Submission." I encourage readers to get this book and share it with as many of your Christian friends as possible. In the book, Tim and prove from the entire Bible–including Romans 13–that nowhere does God expect (much less demand) believers to submit to evil, wicked authority.
Order the Romans 13 book here:
Tim (a constitutional attorney) and I coauthored a second book that is also relevant to this discussion. It is called, "To Keep or Not To Keep: Why Christians Should Not Give Up Their Guns." This book searches the entire Bible and conclusively proves that self-defense is not only a God-ordained right; it is a God-ordained DUTY–and that Christians are totally justified in NOT surrendering their means of self-defense to any civil authority.
Order "To Keep or Not To Keep: Why Christians Should Not Give Up Their Guns" here:
The fact is that all of these great Bible stories of lawful, God-ordained defiance of unjust authority are totally ignored by the vast majority of today's pastors and churches. None of these great Bible truths are made relevant to attempted acts of tyranny in today's America. None of them.
Again, it is all about success. To the average pastor, nothing is as anathema as controversy. And nothing is more controversial than politics. Therefore, pastors are taught to avoid politics like the plague. Of course, they won't tell you that the controversial nature of politics is the reason they avoid it; they will tell you that "God has not called me to get involved in politics," or, "I'm trying to build a church," or, "That's not our mission," or any number of other pious-sounding clichés. But the reality is they are trying to be successful, and they believe controversy hinders success.
That's also why you seldom, if ever, hear "hard" sermons from the modern pulpit–even though that is exactly the kind of sermons that Jesus Himself preached. (See John 6:60) To the success-driven, religious CEO, people must always feel good; they must be permanently ensconced in their comfort zone; and they must never be rebuked or informed of misconduct or irresponsibility. And as far as freedom goes, the shallowness of the average pulpit refuses to acknowledge the responsibility of the church to do anything to preserve it. All they talk about is praying for your political leaders and being good little subjects of the state.
Plus, don't forget that most churches are up to their eyeballs in debt. Therefore, pastors are afraid if they offend people offerings will go down and they might not be able to pay for all of those fancy buildings and exorbitant staff–not to mention their own personal financial perks might be endangered.
And, yes, I must also add that the 501c3 non-profit tax-exempt status most churches operate under poses a serious intimidation against the pastor and church, which keeps them from taking a stand or speaking out on issues that might be construed as political.
But here is the bottom line: as long as Christians in the pews continue to attend and financially support these stand-for-nothing churches, the churches will continue to languish in their indifference. After all, by the attendance and offerings of all of these people in the pews, pastors are being continually convinced that everything they have been taught is working: their churches are successful.
The ONLY WAY Christians can start making a difference in their country is to GET OUT of these clueless, cowardly churches and find a pastor who is not afraid to be politically-incorrect, who is not afraid to preach and teach the Biblical principles of liberty, and who is not afraid to preach and teach the principles of righteous defiance against any act of tyranny. Find a pastor who is not trying to be successful. You don't need a successful pastor; you need a truthful pastor.
But this means that people in the pews must truly WANT to be in a church that takes a stand, doesn't it? We have the kind of pastors and churches that we are willing to support. If that's the case, Christians should stop complaining about the indifference of their pastors and simply accept the imminent slavery to which they are being led.