Gaza has become a slaughter zone for the eradication of Palestinians with the most advanced military technology that Israel posses. In comparison the blaming of Hamas for this latest barrage of rockets, fails to recognize any proposition in the mutual savagery. Depending on one's view just who is the unlawful belligerent, sympathy and condemnation follows. This eternal struggle will never end peacefully. Debating international law, dissecting historic claims, strategizing military options, analyzing diplomatic intentions, and especially honoring superior doctrine among conflicting religious beliefs is a formula that offers no solutions. Yet, Israel is wedded to an expansionist political objective. Extending settlements prevent any permanent settlement agreement.
Gaza is an Engineered Flashpoint for WW3

Zionist Terror in Gaza

Free Gaza and Free the World

With the follow blown invasion of Gaza, the IDF proves once again that annihilation and ethnic cleansing is the cornerstone of Israeli imperium. For a perspective on the Gaza campaign that you will not hear in the controlled Zionist media, view Gaza is an Engineered Flashpoint for WW3 video. Then if you have the courage to face the truth, Zionist Terror in Gaza – Free Gaza and Free the World, YouTube is a must watch.The notion that the government of Israel has some special right to be an apartheid state, only for Zionists, is the source of perpetual war. Strip away the heretical religious entitlements that only serves to rationalize the bogus legitimacy of a rogue regime, and what you have left is an aggressor tribe of Khazarian outlaws, who allege to be Jewish when it is politically expedient. This charade keeps the naive and uninformed Christian-Zionists pouring out their support for the high cost of claiming: CHOSEN.
No wonder that AIPAC Zionists are in control of American Middle East foreign policy, which is destroying the region for the betterment of Israeli zealotry. Even if you view Palestinians as a conquered people, confined to a leper colony by walls and checkpoints, how can any student of world politics conclude that this experiment of incremental death camps will ever bring peaceful co-existence?Are Zionists the only people who have a right for self-defense? The iron dome that knocks down, the projectiles based on the Chinese "Weishi-2″ or WS-2 rockets is effective in stopping these primitive missiles. "The al-Qassam brigades, the armed wing of Hamas, boasts on its website that it can make its own version of the M-302 – named the R-160 after one of its leaders, Abdel Rantisi, who was killed last decade." Contrast these weapons with Operation Samson: Israel's Deployment of Nuclear Missiles on Subs from Germany.
The essay, USrael and Armageddon, references the Samson Option and cites Colonel Warner D. "Rocky" Farr, from THE THIRD TEMPLE'S HOLY OF HOLIES: ISRAEL'S NUCLEAR WEAPONS.
"Israel is a nation with a state religion, but its top leaders are not religious Jews. The intricacies of Jewish religious politics and rabbinical law do affect their politics and decision processes. In Jewish law, there are two types of war, one obligatory and mandatory (milkhemet mitzvah) and the one authorized but optional (milkhemet reshut). The labeling of Prime Minister Begin's "Peace for Galilee" operation as a milchemet brera ("war of choice") was one of the factors causing it to lose support. Interpretation of Jewish law concerning nuclear weapons does not permit their use for mutual assured destruction. However, it does allow possession and threatening their use, even if actual use is not justifiable under the law. Interpretations of the law allow tactical use on the battlefield, but only after warning the enemy and attempting to make peace. How much these intricacies affect Israeli nuclear strategy decisions is unknown."
The video, Why Israel Is A Threat To World Peace by Brother Nathanael indentifies the actual threat that Israel posses to the rest of the planet. However, in Gaza the potential becomes the immediate. Based upon the long record of Israeli atrocities, would any prudent person ignore the expected predictability that Zionist warmongers would use any weapon at their disposal to retain their regional power? Like the treasonous American politicians, the Israeli Knesset and Cabinet oversee tyrannical and despotic policies, which push the world to the brink of Armageddon.
Tanya Reinhart makes the argument that The Hamas Government Should be Recognized.
"The U.S. and Europe decided, despite Israel's opposition, to permit the Palestinian people to hold democratic elections.

In a just and well-ordered world, it would be unthinkable for a government that was elected in this way to be disqualified because Israel does not like the choice of the electorate in question. But in a world in which the U.S. rules, might is right, and might can define democracy as it chooses. Thus, it was announced that the outcome of the Palestinian elections would not be recognized until the three "mantras" were fulfilled: Hamas must renounce terror, honor previous accords, and recognize the State of Israel. Meanwhile the Palestinian people would be punished and starved through an economic boycott, in the hope that this will lead to the collapse of the elected government."
Nonetheless, in a Haaretz editorial, Israel's refusal to deal with the Fatah-Hamas coalition is both puzzling and damaging, places blame where it is warranted.
"The Palestinian government to be formed is the result of the reconciliation between Hamas and Fatah and reflects Hamas' recognition of the Palestinian Authority, which was born of the Oslo Agreements that Hamas had opposed with all its might. This reconciliation is the result of heavy Arab pressure, is supported by all the Arab states and by most of the Palestinian public, and has the backing of several European leaders. Israel, which invested great effort in foiling the diplomatic negotiations, is now citing the Palestinian reconciliation as a decisive reason for freezing the talks, as if before the reconciliation it was rushing to continue the process. Israel's refusal to recognize this government is liable to portray it once again as the party refusing to give the diplomatic channel a chance."
Israel is a social outcast for much the same reason that the United States government has become a threat to its own people. Alan Hart back in 2011 writes in the article, Could pariah status spell the end for Zionism?
"A short and fairly accurate description of the ideology Netanyahu was raised on is something like this. "The world will always hate Jews. Zionism must therefore do whatever is necessary to build and secure Israel as a refuge of last resort for Jews everywhere. And if that means telling the world to go to hell, so be it." (That's actually why David Ben-Gurion, Moshe Dayan and others insisted that Israel should possess nuclear weapons – to have the reinforced ability to tell the world, not just the Arabs, to go to hell if necessary)."
Mr. Hart end the essay with a profound question for all Israelis.
"Is it possible that a global perception of them as citizens of a pariah state and the possibility of real sanctions will alarm enough Israeli Jews to the point where they will take to the streets in significant numbers to demand that their leaders be serious about peace on terms virtually all Palestinians and most other Arabs and Muslims everywhere could accept?"
Watch the compelling interview video, Rabbi Jew says Zionist Israeli government and their regime must be totally eliminated, for an honest answer. When orthodox Jews admit the sacrilege of the pretenders that rule the state of Israel, you find hope that the conscience of honest Jewry will stand up and oppose a Zionist government that defies YHWH. Fast forward to the recent pronouncement from the Eidah Chareidis Rabbinical Court of Jerusalem Condemns Murder of Palestinian Boy, as Abbas urges UN to investigate alleged revenge killing of Arab boy by Jewish extremists.
"With pain and shock, the chief rabbi and the members of the rabbinical court heard about the heinous and foolish crime, the murder of a Palestinian boy here in Jerusalem, by people of Jewish descent. To make matters worse, according to current reports, the murder was committed by Jews in religious dress, may G-d spare us. It is understood and obvious to every Jew and every keeper of the Torah and its commandments that such an act is forbidden by the Torah, and Heaven forbid that a Jew should spill blood. And during our bitter exile, we have been commanded by the holy Torah and our Sages, and by our most recent rabbinic leaders, to bear the yoke of exile, not to provoke the other nations, Heaven forbid, and to wait for the complete redemption by the messiah, not by human intervention. All the more so when this act could lead to unknown consequences, Heaven forbid."
When will the Israeli government declare its own condemnation, or will the deadly air raids on defenseless Gaza homes become its routine response for perfecting the murder of countless Palestinians noncombatants? As bombs fall on Gaza, take action: Endorse the academic and cultural boycott of Israel.
Sameer Bhat, in the Kashmir Reader, artfully expresses the proper synopsis, Condemn Zionists, not Jews. "Please resist linking Zionism (the terrible ideology practiced by the state of Israel) with Judaism. What Israel is doing in Palestine is a direct outcome of its occupational policies because of Zionism, a despicable colonialist and racist idea that denies rights to Palestinians and advocates their dispossession and expulsion. It is from the pot of Zionist hubble-bubble, filled with the blood of innocents, that Israel draws its strength from. We must criticize and denounce this fascist thought. And yes, anti-Zionism is not anti-Semitism."
For the last several years, the press on the disastrous North American Union has been off front-page news. Nonetheless, the plans to remove barriers and open up borders keeps chucking along. Those who belief this course is desirable or those who conclude that it is unpreventable because the climate of globalization is overpowering, are subversive collaborators of the NWO or gutless wimps that deserve to be run over by the hordes of barbarians that flood our country.Jerome R. Corsi writes in the essay, Kerry signals advance of 'North American Union' plan, "with the expected ratification by Congress of the Trans-Pacific Partnership, or TPP, the Obama administration already considers the U.S., Mexico and Canada as part of a "post-NAFTA" world." What a horrendous admission to make. As stated in the article,
Obama Presses "North American Union" With Mexico, Canada, and this plan for hemispheric integration has a very long record of treason. Some background leading to the current crisis.
"Following the establishment of NAFTA in 1994, under the Clinton administration, President George W. Bush attempted to deepen the U.S.-Canada-Mexico tri-national region with the Security and Prosperity Partnership (SPP), but public opposition spearheaded by this publication, The John Birch Society, WorldNetDaily, Phyllis Schlafly's Eagle Forum, and other pro-independence, pro-Constitution groups, forced the Bush administration to shelve the plan — temporarily — and drop the tainted SPP moniker.

At the same time, the Bush administration was pushing the broadening agenda, under the banner of the Free Trade Area of the America's (FTAA), an endeavor launched during the Clinton administration to expand NAFTA to include all the nations of North and South America. As with the SPP, an awakened electorate put sufficient heat on the U.S. Congress to torpedo the FTAA. The subversive integration/merger plans that The New American had been exposing for years were confirmed in 2011 with the release by WikiLeaks of U.S. State Department cables showing that U.S. officials had been colluding with their Canadian and Mexican counterparts to undermine our constitutional government through various "integration" schemes. (See here and here.)"
Therefore, it comes as no surprise when General Petraeus announces, "After America Comes North America." He also boasted about how the three economies have been put "together" over the last 20 years as part of the "implementation" of the North American Free Trade Act. As The New American publication proves, resistance to a NAU is not only justified but also necessary if America is to survive as an independent nation.Back in 2006, Dr. Corsi refutes NeoCon proponent John Hawkins, who uses Saul D. Alinsky tactics, in Human Events account that NORTH AMERICAN UNION IS NO CONSPIRACY. The point is that the Obama administration is carrying forward the same strategy, ever protected by the lame stream media, to advance the disintegration of American sovereignty.
The video, NORTH AMERICAN UNION FORMING NOW!! THIS IS THE END OF THE U.S.A, provides a vivid analysis just what is at stake. In addition, one example of the methods used by Obama is reveled in the 2012 column, New Obama Executive Order Pushes Us Closer To A North American Union And A One World Economic System.
"Most Americans have absolutely no idea how far plans to integrate the United States, Canada and Mexico have advanced.

Last year, Barack Obama signed an agreement to create a "North American security perimeter" and most Americans never even heard about it because the mainstream news networks almost entirely ignored it.

But this is exactly what the globalists want. They don't want people to become alarmed by these moves toward North American integration. In fact, a document uncovered by Wikileaks shows that those involved in the effort to integrate North America believe that an "incremental" approach is best. Apparently they believe that small moves toward integration are less likely to alarm the general population."
Well, the pretence looks to be over. The fear of alarming American nationalists no longer exists. However, the Homeland Security policy to open the southern border is backfiring as seen in the article, Border Patrol Agents Quitting as Obama's Mass Invasion Mess at The Border Permeates the Rest of the Country.
"And now our Border Patrol agents are saying, screw it, and looking for new careers/jobs as known Mexican gang members are enjoying the Obama/Holder 'catch and release' policy.More than one person is concluding the Obama administration is responsible and has intentionally set this massive border mess into motion with his policies on immigration, hoping to force amnesty as his solution to the man-made disaster and humanitarian crisis (which is designed to never allow to go to waste) of his making."
Clearly the establishment's efforts to create a fabricated immigration crisis in order to force a bogus "comprehensive" consolidation in this dreadful North American Union, is at the core of the mass migration. For the bleeding heart do-gooders, the death trains cry out for a more humane mode of transportation to import the Central America into the former Republic of the United States.
One such redemptive fix is to interject a dose of altruism. Replace the clingers on boxcars, reminiscent of Indian Dalit untouchables, with the sleek travel experience of the U.S. and Mexico could be connected by multi-billion-dollar high speed train within FOUR YEARS.
"A multi-billion-dollar high-speed train network linking America with Mexico moved a step closer as officials from both sides of the border thrashed out details.

The proposed 300 mile route would link San Antonio, Texas, to Monterrey, Mexico – slashing the current journey time from five hours by car to under two hours."
Just look at the advantages of streamlining a direct route from Mexico, that bypasses any border checkpoints and deposits these "PC" undocumented immigrants directly to resettlement facilities. The return trip south can be used to transport Fast and Furious guns, useful in the drug trade, which is central to the economics of laundering monies in the North American Union hierarchy.A decade ago, the article, Do Foreigners Have a Right to Enter the United States?, covered the efforts of Asa Hutchinson, the then Under Secretary of Homeland Security for Border and Transportation Security.
"Starting this week foreign visitors will be digitally fingerprinted and photographed as part of a nationwide program to check their backgrounds and keep track of when they enter and leave the United States. On the surface this looks like a necessary and desirable procedure. This procedure is the first phase of the Department of Homeland Security's automated entry-exit system called the U.S. Visitor and Immigrant Status Indicator Technology, or US-VISIT."
Guess that tracking system proved too much of a burden for the latest rush to process these "so called" undocumented migrants. Oh yes, let's correct the terminology; this mass exodus wants to stay permanently in the only country that allows open borders for the premeditated and systemic destruction of their own nation.With the open admission that Former Border Patrol Agents: Illegal Immigration Crisis "Contrived", does any federal officials listen, much less act to close the border? The National Association of Former Border Patrol Officers (NAFBPO) released a statement:
"This is not a humanitarian crisis. It is a predictable, orchestrated and contrived assault on the compassionate side of Americans by her political leaders that knowingly puts minor Illegal Alien children at risk for purely political purposes. Certainly, we are not gullible enough to believe that thousands of unaccompanied minor Central American children came to America without the encouragement, aid and assistance of the United States Government. Anyone that has taken two six to seven year old children to an amusement park can only imagine the problems associated with bringing thousands of unaccompanied children that age up through Mexico and into the United States. I doubt even the Cartels would undertake that chore at any price. No, it has to be heartless corrupt politicians and their minions lusting for more money and power."
There a few issues more absolute than the words of Ronald Reagan, "A nation that cannot control its borders is not a nation." When Congressional Rep. Steve King says that "Ronald Reagan's signature on the 1986 amnesty act" gave Barack Obama about 15 million additional Hispanic votes in 2012, he is prophesying even a worse future and inevitable prospects under a North American Union.
Reading a headline in the New York Times, Pentagon Plans to Shrink Army to Pre-World War II Level, one needs to ponder what it would take for a defensive deployment on the southern border. If General John "Black Jack" Pershing was sent to track down Pancho Villa, what prevents permanent military patrols to simply guard the border? Obviously, there is not any junior grade George S. Patton's in the army that would have the courage to buck the commander of treason. This border war is the true existential threat that Americans do not have the stomach to fight.Those who propagate a North American Union are globalists and hate everything that the authentic America stands for. Look in a mirror, that ugly face could be you, if you fall for the propaganda of the NAU.
July 4th has been the national birth date since the inception of the country. Americans want to celebrate past glories because there are few reasons to believe that the current government or society is worthy of rejoicing. Deifying the Founding Fathers and their wisdom usually is rooted upon the construction of a constitution based on separations of powers and shared authorities with individual states. Lost in this commemoration is the concept of true and lasting independence.
After a heated ratification process, Rhode Island on May 29, 1790, became the last of the 13th original colonies to approve constitutional central authority dominance. The years between 1787 and 1790 witnessed a betrayal of the American Revolution with that confirmation. In government schools, students taught that the Articles of Confederation was a failure, began their indoctrination into the cult of jingoist Federal Government Nationalism.  Like most history, the version that becomes fact is the one written by the victor.
The undeniable reality of writing a constitution that provided exclusive powers over state governments creates a supreme national government, while destroying any effective restrictions upon the inevitable accumulation of absolute power. Bill of Right protections and the concept of "Federalism" are mere hollow promises when special esquire privileged "bar association" lawyers purport to possess the predominant right to determine and judge what the common law means.
The inevitability of a decent into despotism, built into the structure of Article VI, Paragraph 2 of the U.S. Constitution, commonly referred to as the Supremacy Clause, has proven true.  It establishes that the federal constitution and federal law generally, take precedence over state laws, and even state constitutions.
Insatiable appetites and lust for power marks the ascendency of legislative, bureaucratic and judicial careers throughout the three branches of central government. Incrementalism and deception has evolved into open defiance and unfettered arrogance. The political class pretends that partisan parties actually offer loyal opposition, when both are camouflaged versions of the same vermin.  As likely that cockroaches will inherit the earth, it is more certain that parasitic politicians steal the hopes and dreams of citizens, while destroying any chance for the common-man to have a future worth living.
That is the actual political system, which exists and so many ignorant citizens revere. Facing the truth is so horrible, that most citizens refuse to deal with reality, and go to extraordinary lengths to maintain their cognitive dissident illusions. Even with the imminent collapse of society staring frightfully before the targets for social and economic elimination, the sheeple cling to their blindness and stupidity.
How may unnecessary and futile wars need waging before the eternal wisdom of George Washington's non-interventionism becomes our enduring policy and entangling alliances avoided, as capsulated in his Farewell Address? For this country to endure a genuine Republic, needs to be established and the imperial empire must cease to exist.
Independence means exactly the intent of the concept – the exercise of self-government, and sovereignty, over a territory. The Disunited States of America is no longer a functioning society, much less a legitimate authority. Substituting governance for self-determination is not the same as championing a Democracy. The mob is no lawful or righteous replacement for individual inherent autonomy. Yet the establishment tyrants continue to sell their neo-feudalism as a cradle to grave paradise to a gullible public.
Assuredly, to partake in the rape of our crumbling institutions, the invading barbarian hordes cross an open border, while our self-anointed national leaders ignore the vast public sentiment that cries out for territorial integrity. National survival has no place in the globalist ordained North American Union. So much for American Independence . . . as the country is systematically destroyed.
Be that as it may, the alternative of secession from a decaying union is deemed as the ultimate sin against the ruling elites. Even a causal mention, of the War of Northern Aggression, gets the Statists in the District of Criminals in a panic, since the sovereign citizen is the most feared "terrorist" on the planet.
Without the effective ability to leave a dysfunctional, prohibitive and illegal authority, the quest of creating a social structure based upon liberty is impossible. Waging war for independence is the essence of the struggle that produced victory over European dynasty domination. Today, the ability to combat armed revolution is unrealistic. The forces of globalism rule over America and the beggary of politicians to sustain their careers is only surpassed by their evil deeds enacted by legislation, regulation or executive orders.
The Reign of Terror that permeates all levels of governance is the greatest achievement of international finance that commands governments and holds subjects in bondage. The eradication of national sovereignty is a central objective for all regimes, but especially for America.The retention of that imperfect Bill of Right codification is an existential peril for the forces imposing their global gulag on the throngs of all humanity. How then can an independent civilization survive when the immense elements of the prevailing establishment work their entire lives to destroy the principles and canons of individual natural law?
A tranquilized fog has sapped life's vital aptitude and innate abilities from most people. Yes, those "Precious Bodily Fluids" sucked from your body, as the media indoctrinates their ecumenical propaganda and the Satanic "PC" culture, seeks to destroy your soul.
Looking to the average guy on the block for responsible citizenship is one windmill that has no breeze to turn much less a gale force that could tip the balance of power. The death of independence is a tragic certainty as long as men and women of good will escape from facing up to their responsibility to confront the established order of ruling psychopaths. The consequence for inaction is that the sociopath society will expand the zombification of the public into a digenetic playhouse of horrors.
Facts confuse most people, so the simple bliss of oblivion is the most preferable state of mind. For the defenders of the coercive governing and absurd system, look no further than the mirror in your personal hell to see the face of evil.
Human nature is acting out its most vial offenses that have an end game of planetary extinction. As the Luciferian elites want to party with Aleister Crowley, the "community of nations" leaders, conduct administrative séances among their advisors on how to ratchet up the next stage of totalitarian authoritarianism.
What was the American Revolution all about if not to live in a social order where free persons could exercise their faith and live decent lives? The Meaning of Independence Day essay, and the article, Independence Day for Whom?, along with the column, End of Independence Day offers a sound and sober assessment on this essential topic.
Where can there be any rational optimism as the public picnics with family, relatives and friends on the 4th of July? Relaxation and distractions from the difficult burdens of daily life is a luxury that this country can no long afford. In order for Independence Day to attain any semblance of meaning, gatherings need to abandon the social niceties and start acting like "Sons of Liberty".
If you are unwilling to take your own life seriously, at what point and what will it take to grow a set of gonads? All politics is local may better be stated that all politics starts with your local jurisdiction. The governmental system responds to pressure. Without the weight of civic force opposition, the "so called" officials will simply continue their extortion crime racket.
Patriots of 1776 confronted the Loyalists of the Crown. Today's Tories defend the establishment and target Tea Party supporters as traitors. By only the utmost twist of absurdity and deceit could any honest civil libertarian condone the oppressive practices of the corrupt governance that has replaced "government of the people, by the people, for the people".  When Abraham Lincoln uttered those fateful words, the "politically correct" world praised his vision. How few actually understand that the foremost betrayer of original intend behind the Republic, shattered the very motivation for the American Revolution.
Well, just look at the tyrannical oligarchy that developed out of Lincoln's precious union. Any governmental body that strays from the Jeffersonian principles in the Declaration of Independence is a traitor to our traditions and heritage.
Boycott commercial relations and companies that pledge their allegiance to the imperial empire.  Vow to engage in civil disobedience at every opportunity to challenge and overload the dictatorial agencies that constantly act as if they were above the law. Express your free speech First Amendment rights in every venue that provides the opportunity. Rebel against arbitrary and illicit governmental fiats and challenge any violation of basic and universal protections. Encourage a culture of dissent and individualism. Practice sedition when despotism becomes the operative governmental conduct.
When the State relinquishes any moral claim and acts as a tyrant, the only virtuous course of conduct is to refuse consent of compliance. Righteousness and honor is more important than living in fear from governmental reprisals. Achieving and adhering to American independence is the prime purpose of any government jurisdiction and is the only way to earn the fidelity of citizens. As circumstances now exist, the death of independence is at our doorstep.
It's no longer easy to be a faithful Christian in America, says Dr. Robert P. George, chairman of the U.S. Commission on International Religious Freedom.  Our culture increasingly condemns Christian beliefs as bigoted and hateful: 
 
"They despise us if we refuse to call good evil and evil good." (American Christians Should Prepare to Be Despised, Official Tells National Prayer Breakfast, Rob Kerby, ChristianHeadlines.com, May 15, 2014) 
 
The Princeton University professor and author told Washington, D.C.'s 10th annual National Catholic Prayer Breakfast that American culture no longer favors faithful Christians. For example, he asked attendees to consider, 
 
"….the derision that comes from being pro-life and pro-traditional marriage (they) threaten us with consequences if we refuse to call what is good, evil, and what is evil, good. They demand us to conform our thinking to their orthodoxy, or else say nothing at all…"  
 
Dr. George told the prayer breakfast: 
 
"The intimidation to remain silent is insidious and growing…what American Christians are facing is the 21st century version of the question, 'Am I ashamed of the Gospel?"   
 
If anything, some evolutionary theologians and their gullible Christian flocks, both evolutionary theist and progressive creationist, are at least as hostile if not more so toward faithful defenders of the miracle of Special Creation than are their evolutionary atheist and occult pantheist counterparts: Luciferians, god-men, goddesses, shaman, Satanists, witches, necromancers, and astrologers. 
 
The usual diatribe thrown against altogether despised creationists goes something like this:  
 
Since Darwin introduced the theory of evolution some Christians have been uncomfortable with the idea that all species (i.e., reptiles, birds, bugs, dogs, apes, humans) share a common ancestry moving from primordial matter to creeping things, crawling things, swimming things, knuckle-dragging things to man under the direction of the God of evolution.   Thus the Earth was not created instantaneously as St. Augustine held or created in six days as most early Church Fathers affirmed. Nor was Adam created by the One God in three Persons as a living soul embodied in flesh, fully person, fully man right from the beginning.   Adam and Eve, if they even existed were emergent products of evolution, their closest relative soulless hominids.  Thus the events described in Genesis are not meant to convey the miraculous creation ex nihilo but the scientific 'reality' that the universe has an impotent creator that made and ignited a Cosmic Egg (Big Bang) which generated matter and energy. Then after billions of years of God-directed evolution eventuating in the suffering and death of millions of life-forms (God's fault, btw) man inexplicably fell from grace even though God is the guilty party, the real cause of death and suffering.  
 
According to this counter-intuitive Gnostic-laced tale of nonsense, evolutionary science, not God's Revelation, is a reality in nature explainable by reason and empirical observation and faithful Christians who deny this are in denial of reality.  Faithful Christians who actually affirm the Revelation of God and Special Creation are guilty of defending the backwards, anti-scientific, anti-evolution 'fundamentalist' interpretation of the book of Genesis thus are not only a cause of embarrassment to fashionably-correct, scientifically enlightened Christians, but are also guilty of harming Christianity. (Creationism Harms Christianity, sacerdotus.wordpress.com) 
 
However, it isn't faithful Christians who are 'embarrassments' but rather intellectually arrogant evolution-obsessed theologians.  These wolves in sheep clothing mesmerize and persuade susceptible Christian sheep to uncritically accept dangerous esoteric ideas like evolution.
 
 With respect to Darwin's theory, Darwin is not its' inventor. He received the idea from his nature-worshipping pagan grandfather Erasmus Darwin, an important name in European Masonic anti-Christian Church organizations engaged in destructive revolutionary activism. Erasmus mentored his grandson Charles: 
 
"Dr. Erasmus Darwin (1731-1802) was the first man in England to suggest those ideas which were later to be embodied in the Darwinian theory by his grandson, Charles Darwin (1809-1882) who wrote in 1859 Origin of Species." (Scarlet and the Beast, Vol. II, John Daniel, p. 34) 
 
According to anthropologist Henry Fairfield Osborn, longtime director of the American Museum of Natural History, ancient pagans are the inventers of modern evolutionism. In the introduction to his history of evolutionism Osborn wrote:
 
 "When I began the search for anticipations of the evolutionary theory….I was led back to the Greek natural philosophers and I was astonished to find how many of the pronounced and basic features of the Darwinian theory were anticipated even as far back as the seventh century B.C." (Osborn, From the Greeks to Darwin, p. xi) 
 
By its' nature evolutionism belongs to the category of naturalism (all that exists is nature or cosmos), making it antithetical, or in fierce opposition to the infinite Triune God, the supernatural dimension and special creation.  The personal Triune God is outside of His creation—the natural dimension of space, time, matter and energy—thus He is not subject to the laws of science: 
 
"….science has no satisfactory answer to the question of the origin of life on the earth. Perhaps the appearance of life on the earth is a miracle. Scientists are reluctant to accept that view, but their choices are limited: either life was created on the earth by the will of a being outside the grasp of scientific understanding, or it evolved on our planet spontaneously, through chemical reactions occurring in nonliving matter lying on the surface of the planet. The first theory places the question of the origin of life beyond the reach of scientific inquiry. It is a statement of faith in the power of a Supreme Being not subject to the laws of science. The second theory is also an act of faith. The act of faith consists in assuming that the scientific view of the origin of life is correct, without having concrete evidence to support that belief." (Until the Sun Dies, Robert Jastrow, Ph.D. Theoretical Physics, pp. 62-63, 1977) 
 
Only by conceptually murdering the supernatural Triune God and replacing Him with a 'god' within the natural dimension (naturalism), thus subject to scientific inquiry, can intellectually arrogant theologians presume to speak for god, claiming that he made and exploded a Cosmic Egg and directs evolutionary transformism together with the rest of their twisted theology dressed in Christian clothing.
 
 As an idea evolution is like an onion consisting of multitudinous layers of esoteric meaning.  Darwin's theory occupies two or three layers. The many other layers already existed prior to Erasmus going back to the Renaissance and before that to ancient Chaldea and India thence to ancient Greece and Rome where evolution is always and everywhere connected to reincarnation and spiritual evolution (transformism).    
 
On ancient pagan conceptions of reincarnation and spiritual evolution early Church Father Gregory of Nyssa said: 
 
"[I]f one should search carefully, he will find that their doctrine is of necessity brought down to this. They tell us that one of their sages said that he, being one and the same person, was born a man, and afterward assumed the form of a woman, and flew about with the birds, and grew as a bush, and obtained the life of an aquatic creature—and he who said these things of himself did not, so far as I can judge, go far from the truth, for such doctrines as this—of saying that one should pass through many changes—are really fitting for the chatter of frogs or jackdaws or the stupidity of fishes or the insensibility of trees" (The Making of Man 28:3; A.D. 379).  
 
Evolution appeared in Christendom during the Renaissance when certain Christian theologians, mystics and scholars such as Emanuel Swedenborg had discovered Chaldean astrology, Hermetic magic, occult Jewish Kabbalah, Eastern mystical traditions and the ancient ways of 'going within' (contacting spirits).  All of this was accompanied by conceptions of reincarnation and spiritual evolution.  They studied these ancient occult traditions which they translated resulting in Hermetic Kabbalah. Then like Pico della Mirandola, they argued that occult hermetic science – the divine technology or Magic Way of reaching divine status and powers through ritual procedures and spiritual evolution is the best proof of the divinity of Christ.  (God and the Knowledge of Reality, Thomas Molnar, pp. 78-79) 
 
Father Richard John Neuhaus pulls all of these occult traditions together in his analysis of modern evolutionary scientism as a revitalization of ancient spiritual traditions closely connected to elemental spirits. In his book, "American Babylon," Neuhaus argues that astrological elemental spirits (powers and principalities) have been recast as, 
 
"…evolutionary dynamics, life forces, or laws of nature." Though described as laws rather than spirits, these elemental "forces"…. work their inexorable ways in cold indifference to reason, to will, to love, and to hope. In short, it is suggested that the elemental spirits are in charge and that human freedom is a delusion." (p. 226)
 
 Despite that modern evolutionary theologians validate their esoteric projects as empirical or observational science in reality observational science is their enemy.   For instance, evolutionary theology alleges that hominids are supposed to be our ancestors, the so-called transitional life-forms linking modern humans to the common ancestor of all life.    
 
However, the hominid claim has fallen flat on its' face, said Carl Wieland. In "Making Sense of Apeman Claims," Wieland reports that a consistent pattern has emerged in direct opposition to the evolutionary story.  Over the decades, each new fossil find has been falling quite naturally into one of only three major groups.    And two of these, Neanderthal and Homo erectus turn out to be strikingly similar, in fact, Neanderthals are "clearly human descendants of Adam." (Creation, Vol. 36, No. 3, 2014, p. 38)
 
 Although the third category generates the most excitement among evolution-worshippers it turns out to be an extinct non-human primate group, anatomically not between apes and humans.    
 
Sequencing of Neanderthal DNA clearly shows interbreeding with modern populations, particularly those from Eastern Europe, meaning that Neanderthals are not a separate species, despite evolutionary claims that they split off from the human lineage 500,000 years ago.  This evidence is a major blow to evolutionary theist and "progressive" or "old-earth creationist notions." (p. 38). 
 
It is because evolutionary 'old-earth' theologians reject what God said in favor of what man said, their starting point is fallible secular dating, hence they, 
 
"….must regard Neanderthals as pre-Adamic soulless nonhumans despite all the archaeological evidences of their humanity.   But DNA now makes this completely dead in the water, having children together means they must be the same created kind."  (pp. 38-39) 
 
Among the scientifically affirmed finds showing that Neanderthals were human are: 
 
1. Stone tools and specialized bone tools for leatherworking. 
 
2. The controlled use of fire, including heating birch bark peelings to make special pitch to haft wooden shafts onto stone tools. 
 
3.  Perfectly balanced, finely crafted wooden hunting javelins. 
 
4. Jewelry 
 
5. Evidence of body decorations and cosmetics. 
 
6. Burying their dead with ornaments. 
 
7. Cooking utensils and the use of herbs in food. 
 
8. Symbolic thinking 
 
9. High-tech 'superglue' 
 
10. A complex structure built 1 mile underground where no daylight penetrates suggests the technology and know-how to transport sustained fire as a source of light that far down. 
 
11. Evidence of dwellings made of timber draped with animal skins 
 
12.  Recent detailed analysis of hyoid bone (associated with the voice box) indicates they could speak, as does recent genetic evidence.  (ibid, Wieland) 
 
"For he spoke and they were made: he commanded and they were created." Psalm 33:9  
 
Either the infinite personal One God in three Persons spoke or He did not. If He did, then Jesus is God in the flesh, the Creator and Living Word (John 1: 1-5) the Light that came into the world (John 3: 1-9) who perfectly fulfills all prophecy from the antediluvian world to the post-flood world: 
 
"And he said: I am the God of thy father, the God of Abraham, the God of Isaac, and the God of Jacob. Moses hid his face: for he durst not look at God."     Exodus 3:6 
 
If the One God in three Persons spoke then what He revealed to Moses with respect to the miracle of creation is thesis (True Truth), making evolution antithesis (the lie).  The faith of the Christian Church and of the average Christian has had, and still has, its foundation as much in the literal and historic elements of Genesis, the book of beginnings revealed 'mouth to mouth' by the Angel to Moses, as in that of the person and deity of Jesus Christ.  
 
The Return of an Ancient Heresy  
 
The primary tactic employed by defiant, intellectually proud theologians eager to accommodate Scripture and the Church to modern science and pagan evolutionary thinking is predictable. It is the argument that evolution is entirely compatible with the Bible when Genesis, especially the first three chapters, is viewed in its entirety in a non-literal, non-historical context. This is not a heresy unique to modern times. The early Church Fathers dealt with this heresy as well, counting it among the heretical tendencies of apostate Jewish Cabbalists, Origenists and Gnostic pagans such as Simon Magus. 
 
Fourth-century Fathers such as John Chrysostom, Basil the Great and Ephraim the Syrian, all of whom wrote commentaries on Genesis, specifically warned against treating Genesis as an unhistorical myth or allegory. John Chrysostom strongly warned against paying heed to these heretics, 
 
"…let us stop up our hearing against them, and let us believe the Divine Scripture, and following what is written in it, let us strive to preserve in our souls sound dogmas." (Genesis, Creation, and Early Man, Fr. Seraphim Rose, p. 31)
 
 As St. Cyril of Alexandria wrote, higher theological, spiritual meaning is founded upon humble, simple faith in the literal and historic elements of Genesis as Revealed by God and one cannot apprehend rightly the Scriptures without believing in the historical reality of the events and people they describe. (ibid, Seraphim Rose, p. 40) 
 
In agreement, Vishal Mangalwadi (1949- ), founder-president of BOMI/Revelation Movement observes that the Revelation of God is the only available foundation for truth, freedom and faith in God's gift of reason.  But Western theologians and intellectuals have closed their minds to Revelation, hence Truth, reason and Special Creation.  Because "intelligent" Americans no longer believe in "True Truth" (Francis Schaeffer) they invent stories and use empty god words as substitutes for the infinite, personal Triune God.  Thus Gospel Truth is now 'Gospel Story' and history a series of unfolding stories such as the physical science story (Big Bang) which may or may not include the use of a god-word; the biological science story (evolutionary transformism), the climate science story (global warming or change), and the social science story (gay marriage): 
 
"Doing science" increasingly means peddling politically correct dogma – that is, stories that have evolved into myths. No one really knows if there was only one Big Bang or other bigger bangs as well; whether we live in a universe or multi-verse; whether life evolved on this planet or came from outer space . . . but if you want a tenured position in a university, and if you want your research projects funded, you have to toe politically correct storyline – champion dogma."  (How Did the West's 'Rational Animal' Become Incapable of Using Reason? Mangalwadi) 
 
The abandonment of God's Revelation in favor of story-telling   
 
Christendom and Protestant America did not emerge from the darkness of story-telling and god-words but arose to illustrious heights on the awe-inspiring wings of the Revelation of God, hence the Genesis account of creation ex nihilo, the uniquely Christian definition of man as a person because created in the spiritual image of the infinite One God in three Persons, God's unchanging Moral Law and the Biblical view of man's sinful condition. Their subsequent fall was traced by Richard Weaver in his book, "Ideas Have Consequences" (1945). 
 
Weaver writes that 14th century Western man had made an "evil decision" to abandon his belief in the transcendent Triune God, His Revelation and unchanging universals, thus the position that "there is a source of truth higher than and independent of man…" The consequence of this 'evil decision' is a still unfolding catastrophe reaching fullness in our own time: 
 
"The denial of everything transcending experience means inevitably…the denial of truth. With the denial of objective truth there is no escape from the relativism of 'man is the measure of all things." (The Conservative Intellectual Movement in America, George H. Nash, pp. 32-33) 
 
The substance of 'man is the measure of all things' is idolatry.  The beginning of idolatry is pride (narcissism), which together with selfishness demonstrates preference for one's self instead of the Triune God, His Revelation (hence 'True Truth') and neighbor (and unwanted, inconvenient human life, i.e., babies).  Just as no violation of the Law can occur without one first being an idolater, envy/covetousness and murder are its' final results, for where 'self' is primary then 'self' deserves everything it can get, no matter the cost to other people.   
 
The fall of the West and America is due to the idolatry of darkened souls turned by choice toward evil.  From the antediluvians to our own age, the truth as to this evil said Athanasius, 
 
"….is that it originates, and resides, in the perverted choice of the darkened soul" which, "materialized by forgetting God" and engrossed in lower things, "makes them into gods," and thereby "descends into a hopeless depth of delusion and superstition," whereby "they ceased to think that anything existed beyond what is seen, or that anything was good save things temporal and bodily; so turning away and forgetting that she was in the image of the good God, she no longer… sees God the Word after whose likeness she is made; but having departed from herself, imagines and feigns what is not (and then) advancing further in evil, they came to celebrate as gods the elements and the principles of which bodies are composed…."(Against the Heathen, New Advent) 
 
Having descended into delusion and superstition darkened souls imagined that "all that exists" is the natural dimension, meaning the universe of matter, animated powers, forces, and deterministic laws, all of which they celebrated and attributed miraculous powers to just as modern evolution worshippers do, whether secular or theological: 
 
"There is an energy in the world, a spark, an electricity that everything is plugged into. The Greeks called it zoe, the mystics call it 'Spirit,' and Obi-Wan called it 'the Force'…..This energy, spark, and electricity that pulses through all of creation sustains it, fuels it, and keeps it growing. Growing, evolving, reproducing…" (Love Wins, Rob Bell, pgs. 144-145) 
 
Evolutionary scientism is not observational science in search of how things really work in this world but rather a disastrous occult science tradition whose taproot stretches back to Babylon and before that the pre-flood world.   The 'Christian' teachers and defenders of this demonic heresy are guilty of leading unwitting sheep astray, possibly to their doom, and of besmirching and defaming faithful defenders of special creation as backwards, anti-science, anti-evolution destroyers of the faith.   However, in reality creationists are the defenders of thesis (True Truth) against the damnable incursion of antithesis (occultism) into the good news, the Gospel of Christ. 
 
 In this light, what are vicious attacks against Special Creation as well as those against the sanctity of human life, and traditional one man one woman marriage but evil wills offended by and resentful of Higher Authority, True Truth, 'other' (unwanted, inconvenient human life) and moral restrictions and limitations? 
 
"For whoever shall be ashamed of me and of my words, of him shall the Son of man be ashamed, when he shall come in his own glory, and in his Father's, and of the holy angels."    Luke 9:26 
 
Who are the intolerant ones, the highly offended because ashamed of our Lord and his words?  Who are the selfish, intellectually arrogant story-tellers whose embarrassing doctrine of change (evolution) is "really fitting for the chatter of frogs or jackdaws or the stupidity of fishes or the insensibility of trees"'?   
 
Hint:  Not Creationists or any of the faithful. 
When you look at the chaos and destruction going on in the Mid-East today you are looking at the future of America. This is not by mistake or incompetence but by design.
After WWI the British and French created new countries out of the area in the Mid-East and in doing so created future states that would be unstable and ultimately fail to have national cohesion. The unnatural boundaries of these states thrust together people of different beliefs and set the stage for generations of turmoil.
When you look at the things going on in America today it is easy to see the similarities with this plan. To the south, our borders are open and a mass of humanity is flooding in and changing the demographics of the southwest. Further to the north our northern states are being flooded with Muslim refugees and changing the demographics there. At the same time, patriotic Americans are being demonized by the government and along with Christians and veterans are being pushed toward civil war by Government actions.
When you consider the Mid-East and look at the U.S it becomes easy to see the plan unfolding to create chaos here and prevent Americans from uniting against the forces that want to prepare us for subjugation.
Why would anyone want to create a failed state? It became the conclusion of the British elite many years ago that a a failed state was the easiest to control. With the internal population always warring against one another, outside forces could do as they please in the country with little hindrance from a disunited population.
With the U.S. overrun with people from other countries that do not share the same values as Americans and instead practice their own beliefs and continue to speak their own language, it is only a matter of time before America becomes chaotic and infighting begins. This will give cover to others to subjugate and control America that would not be possible by any other means.
Unchecked immigration is the only way to dilute the American demographics enough to cause fighting among diverse groups and make subjugation easier. There has always been animosity among some groups in America but not enough to start a war as most Americans could see that would destroy the good life they were leading. Many Americans know the government is trying to instigate civil war in this country but cannot understand why. Now you see the reasons in a different light and may understand a little better what is happening now.
A united America is the only thing holding back the subjugation of this nation and it is being undermined with many types of subversion that will tear the fabric of this nation and send it on its way to chaos. Everywhere you look, various groups are being pitted against one another, whites against blacks, blacks against Hispanics, liberals against conservatives, Christians against Muslims, homosexuals against heterosexuals, gun owners against gun controllers and cops against citizens just to name a few. It is all orchestrated to bring about one thing, a dysfunctional country that is easy to handle. Its hard to unite and fight the government and bankers when you are busy fighting your neighbors every day.
Many understand the global ponzi scheme of fiat currencies will collapse soon thrusting most people back onto their own resources. During this collapse, global interests cannot risk the potential of citizens to come together under nationalism and work for their own best interests. Citizens must be divided and fighting one another to insure the globalists can sweep in and take total control of populations and resources. A united America with lots of weapons will make this plan impossible. Hence the need for gun control and division.
This is the plan now unfolding in America and the more people that realize it the more control we will retain as things become chaotic. If these groups would understand how they are being used it would be easier to prevent open hostilities that would benefit a select group in the future and ultimately destroy the nation we now know. With the masses under the influence of mainstream media, it is a good bet that many will fall into this globalist trap. The only thing we can do now is prepare for the worst.
Source: Project Chesapeake
Are you a person, who repeats the Pledge of Allegiance at a local town board meeting or sings the National Anthem at a sporting event? Well, such people are likely candidates to turn over their firearms, when the collection van stops at your door to remove hazardous guns that endanger you, your family and neighbors. Surely, you file income taxes and pay your financial obligations to the government, what would prevent you from surrendering your personal lethal weapons, for the betterment of the state and the best interests of your community? Let's get real! Any country that demands the capitulation of the right for self-protection does not deserve a citizen's loyalty or obedience.
Guns, Guts and Goons looks at the proposed UN Treaty to ban guns. "The clock is running down and the American public needs to suck up the guts and nerve to oppose such a blatant assault on the natural rights of individuals, and resist repression from an international cabal of globalists", but the implementation of the grand strategy comes from within the numerous layers of your own government.
Following the broad footsteps of Firearms-Control Legislation and Policy: Australia, the Obama administration is hell bent on disarming Americans. In a Summary of Select Firearm Violence Prevention Strategies, The 1997 Australia gun buyback and its associated regulations is cited, concluding, "The Australia buyback appears to have had no effect on crime otherwise", and eliminates evidence that stripping gun ownership has any impact on reducing violent crime.
1. It was large, buying back 20% of the firearm stock.

2. It targeted semi-automatic weapons.

3. It coupled the buyback with a ban on certain weapons and a nationwide registration and licensing program.
This pattern of further restrictions on ammunition, clips and capacity is a back door approach to the data collection policy for national registration. The ultimate and final implication is total gun confiscation.
When Charles C. W. Cooke writes in the National Review, and references a video where Obama Praises Australia's Gun Confiscation, his words are to the point.
"Let me be clear, as Obama likes to say: You simply cannot praise Australia's gun-laws without praising the country's mass confiscation program. That is Australia's law. When the Left says that we should respond to shootings as Australia did, they don't mean that we should institute background checks on private sales; they mean that they we should ban and confiscate guns. No amount of wooly words can change this. Again, one doesn't bring up countries that have confiscated firearms as a shining example unless one wishes to push the conversation toward confiscation."
Back in the jurisdiction of the Metropolis state of totalitarian collectivist empire builders, New York; the likes of Governor Cuomo and former NYC mayor Michael Bloomberg and the current el presidente, Bill de Blasio wage their commissar war against natural rights. Their goal is to enforce coercive governance upon a defenseless populace society, which is at the mercy of the real criminals; namely, the politicians, banksters, and corporatist criminals. Driving out of business gun manufactures is the eventual result of the Economics of Gun Control, while the autocratic elites enjoy the protection of State Police Troopers and private bodyguard mercenaries.
"The operational economics of gun control legislation has the purpose of maintaining a state controlled monopoly for firearms. One such example seen in the bill, known as the NY SAFE Act, included is a ban on any semi-automatic rifles or shotguns with "military-style" features, such as a pistol grip or a folding stock, has the goal of disarming the public. Such draconian methods drive the trade in guns underground. The black market in arms becomes the defiant mart for the new criminalization of self-protection seeking citizens."
The leaked New York State Counter Terrorism Bulletin would have you believe that "the "far right," repeating the meme that those within the liberty movement are more dangerous than Al Qaeda." How long will it be before any gun owner becomes part of this extremist list?
When the chief crook within the Department of Injustice, Obama's enforcer Eric Holder speaks, We Want to Explore Gun Tracking Bracelets, he is preparing the population to accept that the Second Amendment is so arbitrary and conditional to the whims of the governing tyrants, who will oversee that only designated loyal subjects have the legal ability to personal self-protection.
"By making them either through finger print identification, the gun talks to a bracelet or something that you might wear, how guns can be used only by the person who is lawfully in possession of the weapon.

It's those kinds of things that I think we want to try to explore so that we can make sure that people have the ability to enjoy their Second Amendment rights, but at the same time decreasing the misuse of weapons that lead to the kinds of things that we see on a daily basis."
If you are required to have a chip in a gun to fire, the next step is to place an authorization microchip implant into you body to pull the trigger.
The Second Amendment: Last Line of Defense Against Tyranny, states, "The right to keep and bear arms is a doomsday provision to be used as a last resort when all other rights fail. The founders saw firearm ownership as so necessary that they enumerated this right second in the Bill of Rights, immediately after defining the right to free speech." What is so hard to understand about this unambiguous declaration of bothcommon sense and natural law?
There is no doubt, where Thomas Paine stood on the Rights of Man. Paine, best remembered as a professional radical and a revolutionary propagandist without peer, is as relevant today as he was when he wrote his clarion call. Imagine what Professor Barack Obama says about guns and how 18th century would react to this foreign-born Tory.
In 1996, Obama supported a ban on handguns
In 1998, he supported a ban on the sale of all semi-automatic guns
In 2004, he advocated banning gun sales within five miles of a school or park, which would have shut down nearly all gun stores
Radical Reactionaries are by nature revolutionaries. Nonetheless, revolt against a government that has lost illegitimacy does not require arm insurrection. The notion that an armed American citizenry will take on a full-fledged firefight against officials and authorities is a red herring. The purpose of a militant public is to cause doubt in the minds of the armed forces intended to deploy against their own people. A total stand down of militarized martial law enforcers is how to win the Second American Revolution.The revolt against the Crown is no different from the rebellion against the substitute replacement that now reigns under admiralty law from the District of Criminals. The Barry Soetoro presidency is just the latest escalation of imperial rule out of an establishment system that has totally dismissed constitutional restraints.
With The Psychotic Militarization of Law Enforcement, federal funding of local Gestapo and SWAT teams trains to carry out a gun confiscation agenda. Numerous examples are cited in the article, Legal Gun Owners Fight Local Authorities Over Gun Confiscations. Soon the cultural criminalization of gun owners will become a tenant of the newfound and official Pledge of Allegiance to the Empire.Even if avoiding that iron fist knock at the door, the incremental erosions in a society, that defends personal defense, is the most effective munitions used by the authoritarian despots. Slowly and surely, the false flag operations used to frighten gullible and insecure dupes has the intent of moving the collective psyche into a permanently induced state of voluntary subjugation.
The Daily Caller features the question posed in American COP, Would You Take Away Guns From Law-Abiding Citizens? Within this response, the sick mentality of the Eric Holder, Fast and Furious, Justice Department administration, meets the twisted minds of the law enforcement goons who are unable or unwilling to distinguish between Peace Keeping from "just following orders".
"I've known anti-gun cops, who seriously said things like, "They have no right to own a gun, it's my job to protect them. If they have guns, it's just a danger to me!" You might know someone like that too. And certainly, there are politicians out there who think the same way; and those very politicians often appoint police chiefs. Since sheriffs are elected, they can serve as a bit of a buffer on this topic."
Here lies the best barrier for lawful protection, the locally elected county sheriff. In spite of this, hope, the magnitude of the designed and deliberate assault on American Patriots, Tea Party and Truth Movements, readies the preparation for intentional and fabricated civil unrest. Depending on the response of active military and especially the leadership from the relics of a vigilant officer corps, the fate of the fallen Republic rests.
The answer to question, Will You Surrender Your Firearms, should be an emphatic, NO. The Chicago Gangster – Obama the Tyrant article, demonstrates why the Obama regime is an existential danger for all rational and truehearted Americans. Restoring a meaningful future requires resistance against a despotic government. If citizens acquiesce to unconstitutional rule, having a gun will not defeat the traitors. The will to resist all government treason is the first step to prevent national oblivion.
In the last few months, 47,000 refugee children stormed America's southern border.    They arrived from Central and South America.  The usual onslaught from Mexico's overburdened population continued by the thousands.
In excess of 15 million undocumented Mexican border crossers now call America home.  They feed off America's welfare systems from housing, food, educational and medical care.  They cost taxpayers in excess of $346 billion annually across 15 federal agencies.
Bush, Clinton, Bush II and Obama stopped enforcing our borders 30 years ago.  The word spread like a California wildfire.
Journalist Tom Ashbrook reported:  "The numbers of children surging over the southern US border now – unaccompanied, as young as six – is just staggering.  Forty thousand-plus.  Up 90 percent.  Still growing, flooding in.  Coming up from Central America, Mexico. Coming a thousand miles and more from Honduras.  Scared north by vicious gangs.   And now, piling up in US facilities not designed for an influx of kids."
The third world uses America, Canada, Europe and Australia for a human "escape valve."  Since the third world adds 80 million desperate children annually to already staggering populations in China, India, Bangladesh, Mexico, Indochina and most of Africa—Western countries face shocking migration numbers that will collapse civilizations.
Because of relentless, enormous and endless legal and illegal immigration, America faces an added 300,000,000 (million) more people within this century.
Ironically, Diane Sawyer, Brian Williams, Shepard Smith, Scott Pelley and Wolf Blitzer benignly report the invasion of our country—but they refuse to interview anyone who speaks about the end result of adding 300,000,000 people to America.
This is what it will look like:
"Immigration by the numbers—off the chart" by Roy Beck  www.NumbersUSA.org
http://www.youtube.com/watch?v=muw22wTePqQ
If every American saw this video, they would scream at Congress and Obama to effectively close down mass migration into America.
Instead, powerful forces like the U.S. Chamber of Commerce, Speaker of the House John Boehner and corporations clamor for more immigration in the face of 48 million Americans subsisting on food stamps and tens of millions living off taxpayers with Section 8 housing.
"Late last week, the Obama administration asked Congress for $1.4 billion in extra funding to help house, feed and transport the tens of thousands of children being caught trying to cross the border illegally, and turned to the Defense Department to help temporarily house more than 1,000 of the children," said Chris Sherman, DC journalist.
Every dollar paid out to care for endless legal and illegal immigration must be borrowed from foreign nations.  Our country stands a mind-numbing $18 trillion in debt.
As a country, as a civilization, as a people, we cannot continue on this path of accepting the world's endless refugee line.  If we continue, we face ultimate collapse ourselves.  It's that simple.
Our citizens chose 2.0 children per female since 1970, but the world eschewed birth control to continue adding 80 million annually, net gain.  Now, because of mass starvation of 10,000,000 (million children) annually, they cannot and we cannot solve the overload.
As a world traveler, I can tell you that the line never ends; it only grows exponentially.  Humanity faces hard choices in the 21st century that it continues to avoid, ignore and evade. But not much longer.
"It is abundantly clear that the reason for the uptick …has to do with what's going on in Central American countries," said an administration official on the conference call. "The federal government prepared for this trend," an official said, "but it was larger than we had anticipated."
As we continue accepting millions as the "human population escape valve" of the 21st century, the third world, driven by the Catholic Church, Islamic Church and other ancient religions refuse to advocate for birth control—continues exponentially.
This humanitarian crisis cannot and will not end well for Americans or the migrants.
What needs to be done:
Distribute birth control to third world countries.
Focus on the Catholic and Islamic churches to come to terms with human overpopulation in the 21st century worldwide; demand they come to terms with the 21st century and advocate for birth control.
Guard America's borders to allow no one to breach our country by using our military. Force those countries to deal with their own human overload. Stop encouraging endless immigration.
Reduce all legal immigration into the United States to less than 100,000 annually instead of the current 100,000 every 30 days.
Promote a world conference on human overpopulation and all nations' stake in providing birth control throughout the human family.
Interview top experts who scientifically show the end result if we fail to take destiny into our own hands.
What is that destiny?
If we don't halt population growth with justice and compassion, it will be done for us by nature, brutally and without pity – and will leave a ravaged world.  ~Nobel Laureate Dr. Henry W. Kendall
"The raging monster upon the land is population growth. In its presence, sustainability is but a fragile theoretical construct.  To say, as many do, that the difficulties of nations are not due to people, but to poor ideology and land-use management is sophistic."  Harvard scholar and biologist E.O. Wilson
"Unlimited population growth cannot be sustained; you cannot sustain growth in the rates of consumption of resources. No species can overrun the carrying capacity of a finite land mass. This Law cannot be repealed and is not negotiable." Dr. Albert Bartlett, www.albartlett.org , University of Colorado, USA.
"Most Western elites continue urging the wealthy West not to stem the migrant tide [that adds 80 million net gain annually to the planet], but to absorb our global brothers and sisters until their horrid ordeal has been endured and shared by all—ten billion humans packed onto an ecologically devastated planet." Dr. Otis Graham, Unguarded Gates
To stop the invasion, join for free:  www.CapsWeb.org ; www.NumbersUSA.org ; www.Fairus.org ; www.TheSocialContract.com
On Thursday, European Central Bank chief Mario Draghi dropped rates on overnight deposits to minus 0.1% thereby charging commercial banks to keep their money at the ECB. The move, which was applauded by the media as a "historic measure to fight deflation", is nothing of the kind. Negative rates have been used in both Sweden and Denmark in recent years, but to little effect. The policy will not "get the banks lending again" as the ECB suggests, nor will it ease the high unemployment and slow growth that have plagued the Eurozone for the last six years. In truth, the rate change will have no impact at all. It's merely public relations stunt designed to create the impression that the ECB is aggressively addressing the crisis for which it is largely responsible. Here's how the World Socialist Web Site summed it up:
"The move is an expression of the fact that, nearly six years since the collapse of Lehman Brothers, the world economy remains mired in deep crisis, for which the world's central banks have no solution outside of pumping trillions into banks and financial firms. While trillions are handed out to the banks, workers throughout the continent are told that there is "no money" to pay for pensions, social programs, and healthcare benefits." (European Central Bank cuts interest rate below zero, WSWS)
Stock traders loved the news that the ECB was going "sub zero". As we've seen before, any indication that the easy money regime is here-to-stay is enough to send equities skyrocketing, which it did. All the main indices notched substantial gains on the day while the SandP 500 surged to a new record of 1,940.
The idea that charging the banks a small fee on overnight deposits will induce them to lend more freely, demonstrates a laughable misunderstanding of how the system really works. Banks don't need piles of reserves to issue loans. What they need is creditworthy customers and strong demand. But, of course, demand is weak because the ECB has taken steps to keep the EU in a permanent state of Depression through its austerity policies. What this shows, is that the objectives of the class war precede the requirements for a healthy economy. Draghi and his cohorts would rather decimate the welfare state and reduce EU working people to abject poverty, then implement the policies that would generate a strong economic recovery.
But won't the lower rates lead to more lending, you ask? After all, when the price of money falls, borrowing becomes more attractive, right?
It's a persuasive theory, but it doesn't work that way. For example, check out this blurb from Reuters and you'll see what I mean:
"Lending to companies in the euro zone contracted at the fastest pace on record in November, piling pressure on the European Central Bank to do more to revive the currency bloc's economy…

"Worryingly, there is still no sign of any trend change in bank lending to euro zone businesses…" said Howard Archer, chief European economist at IHS Economics…

Corporate borrowing in the euro zone overall declined at the fastest pace on record, November's 3.9 percent drop comparing with a 3.8 percent decline on the year in the previous month.

Bank lending to Italian firms fell at an annual pace of 5.9 percent in November, the sharpest decline in the measure's 10-year history. That was also true for the euro zone's smallest economy, Malta, which recorded a 10.4 percent drop….The biggest decline was in Spain, where lending to companies fell 13.5 percent." (Euro zone corporate lending shrinks at record pace in November, Reuters)
The reason bank lending saw "the sharpest decline in the measure's 10-year history", is because the economy is in a depression, and people don't borrow tons of dough in a depression. They cut back, hunker down and squirrel-away whatever they can. Draghi knows this. He's just going through the motions to make it look like he cares. It's all PR. What he really cares about is his constituents, and what they want, is an end of the welfare state.
What's so irritating about all of this, is that we know how fix the economy. We know how to increase activity. We know how to boost demand, create jobs, and raise GDP. None of this is new.
When the private sector (consumers and businesses) can't spend for some reason, then the government has to step up and spend like crazy to keep the economy going. The only alternative is to allow consumption to fall sharply, which will push up unemployment, push down GDP and do vast damage to both the economy and financial system. Why would anyone want to do that, especially when all they have to do is increase the budget deficits temporarily while consumers patch their balance sheets and get back on their feet again?
Monetary policy has not and will not fix the economy. How many years are we going to repeat the same mistake before we acknowledge that? The whole presumption that this pointless, circle-jerk policy is designed to do anything other than provide another bailout for underwater, insolvent financial institutions and the crooked bank bondholders who own the whole friggin' planet is laughable in the extreme. Check this out from Bloomberg:
"In a bid to get credit flowing to parts of the economy that need it, the ECB also opened a 400-billion-euro ($542 billion) liquidity channel tied to bank lending and officials will start work on an asset-purchase plan. While conceding that rates are at the lower bound "for all practical purposes," he signaled the the ECB is willing to act again." (Bloomberg)
So that's what this is really all about, eh? Draghi is just laying the groundwork for a European version of QE?
Yep. Sure is. And that means another $542 billion will go to the chiseler class. Another $542 billion propping up crooked banks by purchasing their unwanted, toxic Asset-Backed Securities. (ABS) Do you think I'm kidding? I'm not. That's what the money is earmarked for.
The point is, monetary policy alone will not produce a strong, self sustaining recovery, which is a point that Keynes makes in Chapter 12 of "The General Theory of Employment, Interest and Money". Here's what he says:
"For my own part I am now somewhat skeptical of the success of a merely monetary policy directed towards influencing the rate of interest. I expect to see the State, which is in a position to calculate the marginal efficiency of capital-goods on long views and on the basis of the general social advantage, taking an ever greater responsibility for directly organizing investment; since it seems likely that the fluctuations in the market estimation of the marginal efficiency of different types of capital, calculated on the principles I have described above, will be too great to be offset by any practicable changes in the rate of interest." (John Maynard Keynes, "The General Theory of Employment, Interest and Money", marxists.org, 2002)
Keynes is just stating the obvious, that during periods of weak demand, the sensible option is for the government to take up the slack by "directly organizing investment", in other words, spending money to keep the economy running. Doesn't that seem infinitely more reasonable than the Draghi approach which involves a decade of experimental monetary policy that ends in social upheaval, high unemployment, and political unrest?
And here's the thing: Keynes "The General Theory" was published in 1936. That's nearly 80 years ago! This isn't some new-fangled theory concocted by pointy-head crackpots like Bernanke. This is settled science. Fiscal stimulus works. If the government spends, unemployment will drop. If the government spends, the economy will grow. What else do you need to know?
We've been hoeing this same row for 6 years now and the economy is still in the dumps. And, in the EU, it's even worse. Youth unemployment is above 50 percent in Spain and Greece, GDP stuck at a miserable 0.2 percent, business and consumer lending still shrinking, bond yields on sovereign debt are in the toilet, civil disorder and fascism are on the rise, and with the entire 17-member union is rushing headlong into deflation.
And Draghi thinks that negative rates are going to fix all this and put the economy back on the road to recovery?
In your dreams! The only way out of a mess like this is to spend like a madman, which is what Keynes recommended in his famous statement about bottles stuffed with banknotes. Here's what he said:
"If the Treasury were to fill old bottles with banknotes, bury them at suitable depths in disused coalmines which are then filled up to the surface with town rubbish, and leave it to private enterprise on well-tried principles of laissez-faire to dig the notes up again… there need be no more unemployment and, with the help of the repercussions, the real income of the community, and its capital wealth also, would probably become a good deal greater than it actually is. It would, indeed, be more sensible to build houses and the like; but if there are political and practical difficulties in the way of this, the above would be better than nothing." (p. 129)
Okay, so it sounds crazy, but it's really no different than Bernanke's "helicopter drop" theory, that is, that –during a severe downturn–the government needs to find a way to stimulate demand. The best way to do that, is to avoid the normal transmission mechanisms (which don't function properly during a slump) and get money directly into the hands of the people who will spend it quickly and get the economy growing again. It's all about spending, spending, spending. It doesn't matter if people buy Ipads or Ant Farms. Just spend, dammit. Spending is activity, activity is growth, growth reduces unemployment, which leads to more investment, more jobs and a virtuous circle.
If it seems to you, dear reader, that Keynes antidote for the ailing economy is more likely to succeed than Draghi's, then you are certainly right. Massive doses of fiscal stimulus WILL revive the EU economy, lower unemployment, and boost growth. The question is whether that's a goal the public should really support or not? In other words, is there any point in trying to restore a system which, at its very core, is unstable, self destructive and exploitative? Here's how Counterpunch economics writer Rob Urie sums it up:
"John Maynard Keynes created a host of economic patch-jobs to save capitalism from more effective solutions. In the pit of the Great Depression FDR implemented programs based on Mr. Keynes' ideas (which) produced minor relief now deemed by the economic insightful-lite to be a 'robust' economic recovery….. But the cause, leveraged (finance) capitalism gone wild, was only temporarily tamped down by regulation while its intrinsic instability was left intact…

Calls for re-regulation, managed capitalism, beg the question: re-regulate what? As demonstrated by history, the system of finance capitalism is intrinsically unstable and economically destabilizing. Under the guise of reviving a functioning financial system a dysfunctional system has been revivified, not revived, and nearly all benefits continue to accrue to a tiny economic elite." (Financial Crises and Economic Depressions, Rob Urie, CounterPunch)
So, yeah, Keynes' remedies will work. They'll definitely get the economy up-and-running again and keep it sputtering-along until the next crisis. But why bother?
Why not just scrap the whole thing and move on to Plan B.
After two mystical encounters with the evil spirit Zarathustra, the dark prophet Nietzsche announced the "death of the Christian God." Dubbing himself the Antichrist, Nietzsche proclaimed:
"The greatest recent event — that 'God is dead,' that the belief in the Christian God has ceased to be believable — is even now beginning to cast its first shadows over Europe; however, few really understood " what has really happened here, "and what must collapse now that this belief has been undermined — all that was built upon it, leaned on it, grew into it; for example, our whole European morality." (False Dawn, Lee Penn, p. 433)
From the beginning of Christ's earthly ministry, there were those who received Him but many more, like Nietzsche, who would not, and so it will be until the end.   The former are those who admit and humbly confess their sinful condition while the latter, being full of stubborn pride, covetousness, and envy will not.
Not even the mighty miracle of creation ex nihilo as described in John's Gospel and Christ's own bodily resurrection (Luke 16:31) can persuade those who choose not to believe.
This willful unbelief in Christ had been prophesied long before.  In support of this John cites Isaiah 53:1-3,
"He was despised and rejected by mankind, a man of suffering, and familiar with pain. Like one from whom people hide their faces he was despised, and we held him in low esteem."
In order to be received, one must be acceptable.  Christ is rejected by proud, rebellious, sinless men along with His offer of salvation because He is not acceptable to them.  Thus their final word to Him is the cross.
At the root of the rejection of Jesus Christ God incarnate is the rebellious assertion that man has not been created by Him.  He is a free spirit neither dependent upon Him for his life nor created in His spiritual image but rather a conscious product of evolution.  He is a man-god who can choose either to murder God or to invent sock-puppet deities to do his bidding, for he is the master of science, evolution, matter, energy, time, and being who through his own knowledge and powers will save himself, or so he foolishly believes.  In reality, an inner blinding prevents him from 'seeing' that his liberty does not lead to greater freedom but to slavery because willful rejection of his Creator means he becomes Satan's infernal tool.
"I am become a monstrous machine of annihilation…"  Ritual of Destruction, the Satanic Bible, Anton LeVey
The ritual 'murder' of the Christian God led to the collapse of far more than just European morality.  Consider the following:
In Christian thought, a person is a spirit and personality is the total individuality of the spirit. Without spirit there is no person.  The term 'person' originated in Christian theologies developmental struggle to comprehend the nature and experience of the Christian God, the transcendent, personal Triune God:
"The derivative concept of human personhood is a gift of the Christian faith to culture…" (Stephen P. Stratton, Chapter 14, p. 247, The Self, Paul Vitz & Susan M. Felch, Editors)
Whether the Founders were individually Christian or not, there was among them a strong Christian consensus that finds some of its greatest spiritual and moral expression in the scholarly works of Samuel Rutherford in "Lex Rex" (1644) and in the writings of the 18th century jurist William Blackstone.
Rutherford reasoned that since all people are sinners, then no sinner—whether President, Att. General, Senator, 'gay,' pastor, cop, jurist, perverse sex-educator, abortionist, evolutionary biologist, or Supreme Court Justice for example—is superior to any other sinner. No sinner is above the law but rather subject to the law without exception.  All must recognize that they are sinners under the unchanging transcendent Law of God.
Blackstone greatly influenced early American understanding of the Christian God, the Bible, Law and nature. He taught that since the eternally unchanging Triune God is the omnipotent Creator who works and governs the affairs of men then all law should be consistent with His Revelation in the Bible. No law should be passed that is contrary to the higher law of God.
Furthermore, as all men are created spiritual equals in the eyes of God, then life, property, worth, dignity and other unalienable rights are conferred upon each human person at conception.   For example, the unalienable right to life is because all people are God's spiritual image bearers while freedom of religion and speech are the temporal property of a person's God-given spiritual property of conscience and reason.
In "Property," published in The National Gazette on March 29, 1792, James Madison outlines the meaning of a person's God-given spiritual property, some of its' temporal rights and the meaning and intent of just government as opposed to unjust government:
"He has a property….in his religious opinions, and in the profession and practice dictated by them."  "He has a property…in his opinions and the free communication of them."  "He has an equal property in the free use of his faculties and free choice of the objects on which to employ them." "He has property very dear to him in the safety and liberty of his person."  (The Heritage Foundation)
Property is,
"….a man's land, or merchandize, or money (and) as a man is said to have a right to his property, he may be equally said to have a property in his rights. Where an excess of power prevails, property of no sort is duly respected. No man is safe in his opinions, his person, his faculties or his possessions." 
Just government is instituted to protect property of every sort:
"This being the end of government, that alone is a just government, which impartially secures to every man, whatever is his own." (Samuel Rutherford, lexrex.com)
The Constitution therefore, recognizes the divine nature of man's creation, that man is a person endowed by his personal Creator with spiritual property, a divine right to life and liberty, and the means of acquiring and possessing property. Hence our Republic recognizes Law is unchangeable because the Creator (John 1:1) is the unchanging Lawgiver Who is the same today as yesterday and for all eternity:
"It is sufficiently obvious, that persons and property are the two great subjects on which Governments are to act; and that the rights of persons, and the rights of property, are the objects, for the protection of which Government was instituted. These rights cannot well be separated." (James Madison, Speech at the Virginia Convention, December 2, 1829)
Vishal Mangalwadi, India's foremost Christian scholar affirms that the Christian gift of personhood gave birth to the "belief in the unique dignity of human beings," and this is,
"…the force that created Western civilization, where citizens do not exist for the state but the state exists for the individuals. Even kings, presidents, prime ministers, and army generals cannot be allowed to trample upon an individual and his or her rights." (Truth and Transformation: A Manifesto for Ailing Nations, pp. 12-13)
 Death of the Christian God: Catastrophic Consequences
"And this is the condemnation, that light is come into the world, and men loved darkness rather than light, because their deeds were evil." John 3:19
Once the citadel of the Light that came into the world, modern Western Europe and America are roiling seas of darkness punctuated here and there by shrinking islands of light because evil-minded men love darkness rather than Light. Thus the perversely twisted, upside-down, lawless atmosphere of our age is the "death of the Christian God" made tangible.
When people fall away from the knowledge of God and transgress against His commandments, these actions effectively turn them back to their natural state. This means that in forsaking God, the fount of living waters, they have become cracked cisterns that hold no water. (Jer. 2:13) In other words, the death of the Christian God logically means the death of spirit (person), hence also spiritual and temporal property, and by extension the collapse of Western civilization and America's Constitutional Republic— "if the foundations be destroyed, what can the righteous do?"  Psalm 11:3
The methodology of the 'murder' of Christ the Creator (John 1:1) requires that the miracle of six day creation (Genesis account) together with Adam and Eve and their fall be de-historicized and reduced to myth and fable (annihilated), a project already underway by the time of Descartes and fulfilled with infernal 'higher criticism.'
In her book "Total Truth," Nancy Pearcy, a senior fellow at the Discovery Institute, writes that one of the great ironies of history is that the enduring impact of Descartes philosophy has been precisely the opposite of what he had intended. Descartes had intended the defense of the human soul/spirit over and against the dehumanizing mechanistic and materialistic conception of the universe. Instead, soul/spirit was reduced to a shadowy substance totally irrelevant to the material realm known by natural science. The immortal soul/spirit became a kind of ghost only tenuously connected to the physical body.
After the success of Newtonian physics natural science began to take on the trappings of religion. Epistemologically, science began to be viewed as the way to true understanding, and by extension, true progress. Nature itself took on the guise of an impersonal, mystical entity described as a cosmic machine governed by deterministic energies working through natural laws as strictly as the gears of a clock. Though soul/ spirit are crucial for reason, conscience, morality, belief, faith, prayer, theorizing, science, math and religion, there was no room for them in the cosmic machine.
The mechanistic conception gave rise to evil 'isms'–rationalism, positivism, skepticism, relativism, and scientific materialism (atheism), which granted the sovereign reason of sinful man and naturalistic science an epistemological monopoly on so-called "real" knowledge, facts and truth while trivializing everything else to faith, personal belief and social constructs.  The devilish consequences of this have been horrendous, for whereas the creation of universal moral law was traditionally the function of the Triune God, now this function is arrogated to the individual human will, making the "reason" of sinners into God and science into a dictatorship of the knowable.
"…men loved darkness rather than light, because their deeds were evil." John 3:19
With "reason" sitting on the throne of the Christian God, heaven was shut-down and the physical world of the senses elevated to the supreme reality. The six day Genesis account was de-historicized and replaced with imaginative evolutionary cosmologies claiming vast ages of time.  As supernatural Christian theism declined, immutable truth, moral law and sin disappeared under the onslaught of evil "isms" and apostate Protestant Liberalism (pantheism) in tandem with reductionist evolutionary biology, which became the most prestigious way to study the depersonalized human organism. With knowledge limited to the sensory realm, Jesus Christ the Word Incarnate was "murdered," meaning reduced by evil men to an immanent mystical evolutionary force (Christ consciousness) while man's soul/spirit was lost in an endless cycle of reductionism and determinism. Man, the person created in the spiritual likeness of the One God in three Persons would be lost.  In his place would stand the subhuman hominid, a conscious product of evolution, the god of forces.
Today, the 'god' evolution has so thoroughly replaced the living Word (John 1:1) and Special Creation in the consciousness of vast numbers of scientifically endarkened men and women within and without the whole body of the Christian Church that one of the leading evolution-worshippers of our day, Professor S.J. Gould, describes scientism and evolution as the story of mankind that tells us,
"….where we came from, how we got here, and perhaps where we are going. Quite simply, it is science's version of Roots, except it is the story of us all."   (The Religious Nature of Evolution Theory and its Attack on Christianity, John G. Leslie and Charles K. Pallaghy, Ph.D, creation.com)
In glowing affirmation, Theodosius Dobzhansky (1900-1975) , a prominent evolutionary biologist and progressive creationist sees the 'god' evolution as a light that illuminates all facts, a trajectory which all lines of thought must follow, for if man,
"…has arrived at his present state as a result of natural processes rather than a supernatural will, he can learn to control these processes…The concept of evolution, which is now basic to the life sciences, has provided new and in some ways revolutionary answers to questions men have been asking for centuries. The two most important of these are, 'Why am I here, what is the purpose of human existence, and what is the nature of the world of life that surrounds us?"   (Dobzhansky, T., Ayala, F.J., Stebbins, G.L. and Valentine, J.W., Evolution, W.H. Freeman and Co., San Francisco, 1977)
Triumph of Scientism and the 'god' Evolution
At its founding and for about 150 years after America was the world's beacon of freedom and hope because it was founded on the true Light of unchanging truths such as,
"all men are created equal, that they are endowed by their Creator with certain unalienable Rights, that among these are Life, Liberty and the pursuit of Happiness.–That to secure these rights, Governments are instituted among Men, deriving their just powers from the consent of the governed. . ."
Now however, an endarkened generation of law makers, politicians, entertainers, professors, seminarians and high school graduates no longer believe that anyone knows 'the' truth or even if whether males are meant to be males or females too. For them, anyone who claims to know the truth is a bigoted fundamentalist because they know there was never a fall from God's good creation but rather an evolutionary ascent moving from primordial matter to creeping things, crawling things, knuckle-dragging things to man. They know with certainty that human beings were never created but evolved. And as the 'god' evolution endows nothing—not soul/spirit, personhood, unalienable rights and the freedom to exercise them—then our Constitution is as meaningless as Xmas and Special Creation.
The real source of this evil and madness is a godless left-right confederacy of nihilists described by Professor Angelo Codevilla as America's Ruling Class.  In "The Ruling Class: How They Corrupted America and What We Can Do About It,"  Codevilla, emeritus professor of international relations at Boston University, argues that America's real war is between Americans who still worship the supernatural Triune God and a class of evolutionary humanists who dominate both political parties, academe, Hollywood, science and media.  They preach from pulpits, run big business, our economy and the country's major institutions and imagine themselves entitled to reshape an America that they regard as composed of un-evolved subhuman hominids.
The Ruling Class affirm that scientism and evolution trump the Revelation of God, and as they are the evolved products of the 'god' evolution they are science's authoritative enlightened priests and god-men who pray to themselves,
"… as saviors of the planet and as shapers of mankind in their own image.." (The Ruling Class: How They Corrupted America and What We Can Do About It, p. xix)
After more than eighty years of nearly unopposed evolutionary evangelization in the schools, media, seminaries, academia and elsewhere the Ruling Class is finally at liberty to declare that evolution is "mind,"
"….enlarging its domain up the chain of species."  The god evolution is the "universe…a mind that oversees, orchestrates, and gives order and structure to all things."   (Algeny, Jeremy Rifkin, 1983, p. 188)
Now that scientism and evolution reign supreme, Satan's infernal machines, such as the demonized Rifkin,  no longer feel like guests,
"….. in someone else's home and therefore obliged to make our behavior conform with a set of pre-existing cosmic rules. It is our creation now. We make the rules. We establish the parameters of reality. We create the world, and because we do, we no longer feel beholden to outside forces. We no longer have to justify our behavior, for we are now the architects of the universe. We are responsible to nothing outside ourselves for we are the kingdom, the power, and the glory forever and ever." (ibid)
According to Robert Muller, the father of World Core Curriculum, now that evolution is "mind" highly evolved men are free to spiritually evolve into higher and higher forms, to become one with the 'divine:'
"Once again, but this time on a universal scale, humankind is seeking no less than its reunion with the 'divine,' its transcendence into ever higher forms of life.  Hindus call our earth Brahma, or God, for they rightly see no difference between our earth and the divine.  This ancient simple truth is slowly dawning again upon humanity.  Its full flowering will be the real, great new story of humanity as we are about to enter our cosmic age…" (New Genesis: Shaping a Global Spirituality, Robert Muller, father of Core Curriculum, 1984, p. 84)
"…..the whole world lies under the sway of the wicked one."  1 John 5:19    "Therefore take heed that the light which is in you is not darkness."  Luke 11:35
From the post-flood world of ancient Babylon to our own, the majority of the world's people have lived under the tyranny of powers, principalities and various determinisms—karma, reincarnation, evolution, fates, furies, chance, cause, doom, natural selection, and genes. They believed that all events in the real world were predestined and controlled by unseen forces of the cosmos that the apostle Paul described as the elemental spirits of the universe.
When Jesus Christ God incarnate demonstrated His absolute control over the elements (Luke 8:24) the tyranny of determinism was cast down and utterly broken.  In the fourth century Gregory of Nazianzen suggested that at the very moment when the Magi came to worship the child of Mary and Joseph, it was then that the tyranny of determinism was broken:
"From that moment onward, the cosmos has orbited around the newborn king…Christ is the logos—the word and the reason by whom all exists and to whom all is ordered." (American Babylon, Neuhaus, p. 226)
Determinism crept into the West when evil spirits entered into the heart of Christendom during the Renaissance.   They came quietly, first to certain theologians who rejected Jesus Christ in favor of Hermetic magic, Babylonian Kabala, Eastern mysticism, reincarnation, evolution, karma and other occult traditions and determinisms, and then openly with the brazen claim that laws of matter and evolution ultimately govern the world and man.
With penetrating insight, Father Richard John Neuhaus connects modern evolutionary scientism to its' ancient spiritual foundations in astrology. In his book, "American Babylon," Neuhaus argues that astrological elemental spirits have been recast as,
"…evolutionary dynamics, life forces, or laws of nature."  Though described as laws rather than spirits, these elemental "forces"…. work their inexorable ways in cold indifference to reason, to will, to love, and to hope. In short, it is suggested that the elemental spirits are in charge and that human freedom is a delusion."(p. 226)
"Beware lest any man spoil you through philosophy and vain deceit, after the tradition of men, after the rudiments of the world, and not after Christ."  Colossians 2:8
According to Pastor Larry DeBruyn, the word "rudiments" (Greek, stoicheion) relates to the universe of matter and energy and is variously,
"…. translated "elemental powers" (NAB), "elementary principles" (NASB), "basic principles" (NIV, NKJV), "evil powers" (NLT), and "elemental spirits" (ESV, NRSV). Translations indicate that stoicheion's meaning diverges between "principles" and "powers," between the "physical elements" constitutive of the cosmos or universe, or the "spiritual powers" that inhabit it. In 2 Peter 3:10, the first sense—that is, the "elements" which "shall melt with fervent heat"—is evident, while in Galatians 4:3 and 9, the other sense—that is, "world forces" which once "held in bondage" the Galatian believers—is evident." (The Supreme Supremacy of the Lord Jesus Christ,guardinghisflock.com)
The Worldview of Evil Spirits
"….we wrestle not against flesh and blood, but against principalities, against powers, against the rulers of the darkness of this world, against spiritual wickedness in high places."  Eph. 6:12
During the 1970s Satanism and possession became front page news in America.  It was during this time that the eminent theologian Malachi Martin, a former Jesuit professor at the Pontifical Biblical Institute in Rome published his shattering book on demon oppression and possession.
Martin's "Hostage to the Devil: the Possession and Exorcism of Five Contemporary Americans," presents five cases of actual possession that express important aspects of the worldview of evil spirits which allow us to not only identify these elements but discern their devastating effects within the whole body of the Christian church, the minds of millions of Americans and by extension, our nation.
The worldview of evil powers always takes the form of nature worship, or celebration of created things such as matter and energy as opposed to worship of the living, personal Creator Who created everything. Thus in support of the idea that living beings created themselves it is virulently anti-supernatural and Genesis account creation ex nihilo in favor of one dimensional naturalism and evolutionary cosmologies.
In one case, an evil spirit's evolutionary cosmology teaching the self-created "universe of matter" and human life was disclosed wherein,
"…men, women, animals, plants, cities, oceans (are) interconnected.  There is really no difference between one thing and anything else….land, ocean, animals, humans, plants are one living organism clad in the shell of breathable atmosphere.  Psychic forces bind it all together….It is a self-creating, self-protecting, self-developing thing…..Earth as mother, as womb, as god, as tomb, as a whole unity protected by its own shell and its own strength (is) all there is." (p. 395)
From the Big Bang (exploding cosmic egg) which supposedly created matter and energy in the demon's description of the universe as "self-creating" to inflationary in the description of the universe as a "self-developing thing" to Gaia as "Earth as self-protecting mother" the possessing demon's evolutionary cosmology is very similar to occult New Age spirituality.
Another important case involved David, a Catholic priest who became obsessed with the evolutionary scientism of Pierre Teilhard de Chardin.  Teilhard's destructive influence is widespread today within transnational Trans-humanist circles, the U.N., the Catholic Church, and increasingly within the Protestant Church.
In "Teilhard de Chardin: Trojan Horse of Vatican II/Heretic Extraordinaire," Dr. J. P. Hubert wonders whether based on Teilhard's admission of a mystical encounter if his evolutionary science was satanically inspired.  Teilhard describes his strange encounter:
"The man was walking in the desert…when the Thing swooped down on him.  Then, suddenly, a breath of scorching air passed across his forehead, broke through the barrier of his closed eyelids; an irresistible rapture took possession of him….mightily refashioning the enfeebled fibres of his being.  And at the same time the anguish of some superhuman peril oppressed him, a confused feeling that the force which had swept down upon him was equivocal, turbid, the combined essence of all evil and goodness.  You called me: here I am grown weary of abstractions, of attenuations, of the wordiness of social life, you wanted to pit yourself against Reality entire and untamed.  I was waiting for you in order to be made holy.  And now I am established on you for life, or for death….He who has once seen me can never forget me: he must either damn himself with me or save me with himself.  O you who are divine and mighty, what is your name? Speak."
Hubert concludes that Teilhardism is,
"…no doubt of Satanic origin—a true "religion of man," if ever there was one."
America's Unfolding Spiritual Catastrophe
For over eighty-five years, America has been incrementally conquered by the same madness-inducing demon of hatred and violence that earlier took over Russia, China, Germany, and Italy.
This demon is mainly embodied within America's "scientifically endarkened" Ruling Class which is deeply oppressed and possessed by elemental spirits and the delusion that the true enemy of America is always on the Right.  Having rejected the biblical God and the religious heritage of our civilization, they embrace instead an ancient order of beliefs of which Communism and Socialism are logical expressions.  A new world order is what they seek, but in order that it can emerge, the still remaining remnants of America's Christian-based culture must be completely destroyed.
What this means is that the spiritual catastrophe that unfolded in the Soviet Union and Nazi Germany is unfolding on America's stage.
Can this catastrophe be averted?
Repentance: The Only Way Back
Returning to David, prior to his obsession with Teilhardism he was destined to become a professor of anthropology at a Catholic university.  But under the influence of Teilhardism, he came to see that the Genesis account of creation ex nihilo, Adam and Eve as the first man and woman and parents of all mankind who fell and passed on Original Sin to all human beings were utterly contrary to modern scientific thinking and evolution.
Therefore David taught anthropology from a modern "evolutionary science" perspective, even going so far as to exclude traditional presentations of doctrines about creation ex nihilo and Original Sin.  But after introducing Teilhardism to his students, doubts arose when he observed the breathtaking transformative effects of this teaching upon Jonathan, one of his students, a priest who now insisted that all the sacraments are "…no more than expressions of man's natural unity with the world around him." 
David's eyes were suddenly opened and he saw clearly for the first time that Teilhardism exalted man as an animal and pictured,
"God as no more than the very bowels of earth and sky and the spatial distances of the universe with all its expanding galaxies." (Martin, p. 107)
Meanwhile, Jonathan left the church and quickly founded his own cult among wealthy Manhattan families.  He preached that the universe and all people were evolving as 'one' in a naturally occurring mystical union which he called "Abba Father." (p. 127)
Martin writes that Jonathan had come under the dominion of an evil spirit and David was called in to exorcise him.  However, the demon possessing Jonathan ridiculed David, saying they both believed the same things, therefore if Jonathan needed exorcism David needed it more.
Reeling in shock, David was led to an agony of soul-searching over the course of many weeks during which he re-examined and finally repented of the intellectual arrogance that led him to embrace Teilhardism and the "higher criticism" of Scriptures that reduced the Revealed Word to myth, allegory and delusion and the death of Jesus to an insignificant event of the evolutionary past rather than,
"…an ever present source of personal forgiveness and unshakable hope for any future." (p. 149)
According to Martin, the evil spirit who had nearly succeeded in killing David's faith now taunted him that to return to faith would entail slavery of mind and will.   But when a repentant David deliberately rejected the demon's taunts,
"…a great and breathtaking dimension full of relief….flooded his mind and will and imagination….And when he now looked at the world of nature around him…and heard the song of a mockingbird nearby, he received it no longer as he had while a Teilhardian evolutionist, as 'intimations of molecules endlessly regrouping,' but rather 'of endless life for each person, and of love without a shadow." (pp. 163, 165)
Speaking through Nietzsche, Zarathustra had declared the death of the Christian God on behalf of all willful unbelievers, but now for David, "He's alive and I'm forgiven!"   His faith in God, Christ, the Holy Spirit and Scripture restored, David was ready to exorcise the evil spirit who possessed Jonathan.  He did so,
"…in the name of God who created him (Jonathan) and you (evil spirit), and of Jesus of Nazareth who saved him!  You will depart and get back to the uncleanness and agony you chose." (p. 169)
In a post-modernism age the most assertive and self-proclaimed worshipers in the supremacy of science, have no room for a belief in God. These arrogant elites treat anyone, who profess that a true understanding of science does not contradict the presence of the almighty, with condescending distain for refusing to accept that God is dead. The transhumanist insistence that they will emerge as supreme beings is the pivotal sacrilege that underpins the social culture and political chaos that leads to the ultimate destruction of the species. Extinction of the human race and the invention of an artificial deity, denies that the act of creation inherently is the prowess of the All Powerful.
Sophomoric intelligence based upon pretentious and conceited self-regard is actually immature and ill-informed sense of worth and understanding. The reason for the absurdity, which is the hallmark of societal dysfunction, stems from the malevolent masterminds NWO globalist plan and carried out by their technocrat minions.
The Most Secret Science by Archibald E Roberts examines the MATTOID SYNDROME in chapter twelve. "Irrational political decisions at policy-making levels force upon perceptive Americans the conclusion that an invisible government of men "unbridled by logic or understanding" has acquired ultimate power and influence in the United States. Furthermore, the image-building manipulations of these Mattoids favor the development of similar attitudes in others and give thousands—perhaps millions—of normally well-balanced persons the courage to overtly engage in absurd or infamous acts."
Colonel Archibald E. Roberts championed his views several decades ago. Yet, his analysis has not lost any of the impact or importance as the 21th century unfolds. Essentially, the situation is a geometric progression as the delusion worsens.
Scientists once relied upon empirical evidence and followed the four steps of the scientific method.
Observation and description of a phenomenon or group of phenomena.
Formulation of a hypothesis to explain the phenomena. In physics, the hypothesis often takes the form of a causal mechanism or a mathematical relation.
Use of the hypothesis to predict the existence of other phenomena, or to predict quantitatively the results of new observations.
Performance of experimental tests of the predictions by several independent experimenters and properly performed experiments.
The current credibility of the academic community is suspect as government funding and peer pressure for career advancement demands conformity to promote specific political agendas. No area of science is more tainted than the study of global climate. In the New Report, IPCC Falsifying Climate Science, New Fraud Reports Exposed, CO2 illustrates the politicization of science and the betrayal of their own methodology standards.
Inexhaustible debate on the global warming hypothesis has developed bitter contention because conclusions much be tailored to advance the globalist hysteria that is seen as necessary to maintain the New World Disorder Psychology. Wacko environmentalists share an extreme similarity with their scientist gurus who mock divine intervention and profess that man has all the knowledge necessary to become masters of the universe.
"Secular Humanism, has become, the leading export of the 'West' to the rest of the world. The movers and shakers of public policy accept its values, cosmology, as Sigmund Freud views that reason rules, and that a rejection of God is acceptable. Religion is seen as a threat, and that life can be lived without delusions, especially the illusion of a religious belief. His theory of human nature and the culture of morality is founded upon the substitute of the super-ego, for the role of religion. As the source of morality and conscience, man is able to apply his reason to follow ethical behavior."
In the end, all the HAARP manipulations and chemtrail spraying cannot and will not achieve domination over the planet. Relying on NASA to discover nirvana or trusting Japanese scientists to resolve a Fukushima nuclear winter is no better than following celebrity global warming advocates into the vast void of their own mental space.
However, the stakes become critical, when purported distinguished scientific institutes, fall into the trap of anti-intellectual conduct. The Prestigious Helmholtz Research Center Gutter-Dives…Promotes Sophomoric Attacks On Skeptics, Labelling Them "Deniers"
"It's worrisome enough that the German government itself recently issued a brochure singling out, naming, and defaming German and American climate science skeptics. Today we have one of Germany's most prestigious science associations actively backing adolescent-level attacks on skeptics who have decided not to take part in the collective climate hysteria."
Seeking remission for fabricated crisis, like the newly renamed climate disruption, plays to the mental illness of fools who demand that saving the planet requires that they bury any semblance of religious belief and repentance. According to such enlighten cretins; absolution is not necessary, since acknowledging a creator would make their Frankenstein genetic engineering and eugenics experiments unholy.
Proponents of deceptive discourse would have you believe that sophomoric reasoning is rationalizing about what one understands poorly. It is often apologetics (starting with a conclusion) and masquerades as "critical thinking". Sound good on the surface, but when you probe closely the real bias of the position becomes obvious.
"Science begins with hypotheses; apologetics begins with conclusions. Science performs experiments which can disconfirm hypotheses; apologetics employs rhetoric (conclusions can never be disconfirmed). Science discovers how the world works; Christian apologetics assures that the world conforms to the Bible (or to church doctrine). Apologetics is not a productive approach to discovering how the world works; science is not a productive method for making the world conform to the Bible."
The last point divulges the basic disconnect. Belief in the Bible is an existential decision. Inquiry in the way the world operates is not reducible to merely running technological experimentation. Dismissing the significance and value of accepting faith in a revealed Creator is the usual determination to the scientific trained mind. Yet the objection to investigate the validity for acceptance of a divine plan for the salvation of souls permeates the man-centered culture of Modern Prometheus inquiry.
The function of science is to question, but the methods of science are not synonymous with scholarship. The burden of proof that an agnostic or atheistic conviction is a requirement for conducting good science is a research project that most universities will avoid. Nevertheless, membership of good standing into the scientific community undoubtedly rests upon this canon of doctrine.
It seems to be puerile to demand blindness to the universal evident, that the cosmos provides. Benjamin Cain critique of Stephen Hawking's Scientific Atheism philosophy concludes it is absurdly anti-philosophical, so he is forced to pretend that his atheism is purely scientific.
"Here is Hawking's stripped-down argument for God's nonexistence: the universe was created in the Big Bang, which means that in its earliest stage the universe was infinitesimal and so the laws of quantum mechanics apply to its origin, and we know from those laws that quantum events can happen spontaneously without any cause; moreover, the Big Bang's gravitational singularity was in effect a black hole and we know that in modern-day black holes time stops inside of them, which means there was no time before the Big Bang and thus no time for anyone to create the universe."
Mr. Cain continues, "atheists presuppose a religion in their effort to unite naturalism with their typical liberal values: this religion is secular humanism, Scientism, positivism, or pragmatism. But when a religion is only presupposed rather than openly acknowledged, the religion is bound to be clumsy and lackluster, and that's the case with Hawking's atheistic argument."
Taking the "Political Incorrect" cult of religion to the extreme, the example of Lawrence Torcello – assistant professor of philosophy at Rochester Institute of Technology, NY, writes in an essay at The Conversation that climate scientists who fail to communicate the correct message about "global warming" should face trial for "criminal negligence". How advance civilization has become under the scientific inquisition.Absolution by compurgation testimony of your peers may become necessary for acquittal. Under the new standard of scientific rule, even the "PC" philosopher must adopt the dogma of the Galileo court. How radical the tables have turned now that we know that the earth is round and rotates around the sophomoric society.
One of the latest targets for political persecution happens to be Dinesh D'Souza. During a recent debate on the subject he argued that the two — science and religion — are fundamentally separate.
"The questions to which God is the answer are not scientific questions," D'Souza said. Humans around the world want to know why the universe exists, the purpose of our existence and what will come afterward. Science doesn't "have a clue" as to the answers to these questions, D'Souza said.
Looking to science for a discovery of salvation is irrational. Achieving Raymond Kurzweil's singularity promise of immorality within the artificial intelligence of a new life form species sounds allot like Satan's sin of pride.While religion has never rendered a redemptive society, faith in God provides the only hope in living in a world of the boundless inhumanity of man to his brother. When scientists dismiss the need for forgiveness, their culture of forging enhanced tiers of technology, usually translates into greater levels of human bondage. The real climate disruption comes out of the laboratories of weird science. Adversely altering the natural order of the universe is as simpleminded as you can get.
"Actually, as Winston well knew, it was only four years since Oceania had been at war with Eastasia and in alliance with Eurasia. But that was merely a piece of furtive knowledge, which he happened to possess because his memory was not satisfactorily under control. Officially the change of partners had never happened. Oceania was at war with Eurasia: therefore Oceania had always been at war with Eurasia. The enemy of the moment always represented absolute evil, and it followed that any past or future agreement with him was impossible…" – George Orwell, 1984
Nations, cultures and populations are best controlled through the use of false paradigms. This is a historically proven tactic exploited for centuries by oligarchs around the world. Under the Hegelian dialectic (the very foundation of the Marxist and collectivist ideology), one could summarize the trap of false paradigms as follows:
If (A) my idea of freedom conflicts with (B) your idea of freedom, then (C) neither of us can be free until everyone agrees to be a slave.
In other words: problem, reaction, solution. Two sides are pitted against each other in an engineered contest. Each side is led to believe that its position is the good and right position. Neither side questions the legitimacy of the conflict, because each side fears this will lead to ideological weakness and disunity.
The two sides go to war, sometimes economically, sometimes militarily. Both governments demand that individuals relinquish freedom, independence and self-reliance, a sacrifice that "must be made" so that victory can be achieved. In the end, neither nation nor society has truly won. The only winners are the oligarchs, who sing words of loyalty to their respective camps, while acting in league from the very beginning. The oligarchs, who never intended to target each other in the first place. Their target, their ONLY target, was the citizenry itself — the dumbfounded masses now mesmerized with shock, awe and terror.
The false paradigm method and the Hegelian dialectic are in full force today. Only a few years ago, Russia, China and the United States were considered close economic and political allies. Today, those alliances are being quickly scrapped in order to make room for conflict, a conflict useful only to a select international elite. As I have outlined in numerous articles, includingRussia Is Dominated By Global Banks, Too and False East/West Paradigm Hides The Rise Of Global Currency, when one looks beyond all the theatrical rhetoric being thrown around between Barack Obama and Vladimir Putin, the ultimate reality is that the relationship of both governments to the global banking elite is the same.
During both of Obama's Presidential terms, he has flooded his cabinet with current and formeremployees of Goldman Sachs, a longtime proving ground for elitist financiers with globalist aspirations.
And who is the primary economic adviser to Vladimir Putin and the Russian state? WhyGoldman Sachs, of course!
U.S. and European elites have been calling for a centralization of economic power under the control of the International Monetary Fund, as a well as a new global currency.
Not surprisingly, Putin also wants a new global currency under the control of the IMF.
Obama is closely advised by globalists like Zbigniew Brzezinski, a member of the Council on Foreign Relations and cofounder of the Trilateral Commission, who in his book Between Two Ages: America's Role In The Technetronic Era states:
"The nation-state is gradually yielding its sovereignty …[F]urther progress will require greater American sacrifices. More intensive efforts to shape a new world monetary structure will have to be undertaken, with some consequent risk to the present relatively favorable American position…"
As long as he has been in power, Putin has been closely advised by Henry Kissinger, yet another member of the CFR and proponent of the Trilateral Commission, who has said:
"In the end, the political and economic systems can be harmonized in only one of two ways: by creating an international political regulatory system with the same reach as that of the economic world; or by shrinking the economic units to a size manageable by existing political structures, which is likely to lead to a new mercantilism, perhaps of regional units. A new Bretton Woods kind of global agreement is by far the preferable outcome…"
Both Kissinger and Brzezinski refer to this harmonized global economic and political structure as the "New World Order." The fact that the political leaders of Russia and the United States are clearly being directed by such men should not be taken lightly.
China, too, has made demands for a restructuring of the global monetary system into acentralized currency basket under the dominance of the IMF.
China's ties to the banking elite of London are well documented.
The call on both sides for a new monetary system and the end of the dollar as world reserve seems to greatly contradict the fantasy that the East and West are fundamentally at odds.  The progression towards a world currency and/or economic governance also appears to be growing along with the consolidation of economic and military ties between Eastern nations. This would suggest that the rise of the East and the crippling of Western elements is actually advantageous to global bankers in the long term.
While disinformation agents and media shills have attempted to downplay any danger to the strength of America and the dollar, Eastern governments have been swiftly establishing alliances and decoupling from U.S. influence.
The historic 30-year Russia/China gas deal has, of course, been finalized. This deal is already eating up market space and influencing the way in which the energy trade traditionally behaves.
China and Russia have also expanded on their bilateral agreements made in 2010, which remove the dollar as the reserve currency in transactions between the two nations.
China's thirst for gold continues, while the country is now building its own gold exchange to rival the U.S. Comex.
Russia has recently established what Putin calls the "Eurasian Economic Union," a deal which includes Kazakhstan and Belarus, two countries that hold large, freshly discovered oil fields.
In response to the engineered conflict over Ukraine, as well as the "Asian-Pacific Pivot" by the U.S., China has openly called for a new security pact with Russia and Iran.
Let's also not forget that China is set to surpass the U.S. as the world's largest economy by 2016, according to the Organization for Economic Co-operation and Development (OECD).
While the rise of the East is being painted in Western circles as a threat to U.S. and NATO dominance, the bigger picture is being hidden from view. Yes, indeed, the consolidation of the East is a considerable threat to the dollar and the U.S. economy — most importantly in the event that China refuses to accept dollars as payment on exports and debts. With the world's largest exporter/importer refusing to take dollars as a reserve, most nations will inevitably follow their lead.  The argument against this development is, of course, that there is no rational trigger for such a violent fiscal attack. I would remind skeptics that there was no rational trigger for the current strengthened relations between Russia and China until the Ukraine crisis. Is anyone really foolish enough to bet against another direct or indirect conflict between NATO and the East? And is anyone really ignorant enough to assume that said event would not be used as an excuse to cut the legs out from under the dollar completely?
The New World Order players have positioned the East and West for just such a scenario. Why? In my article Who Is The New Secret Buyer Of U.S. Debt?, I give evidence indicating that the Bank of International Settlements and the IMF are preparing the financial world for a new global monetary system, brought into existence by a second Bretton Woods conference. The debasement of the dollar and the rise of the East are NOT obstacles to this plan.  Rather, they are required factors. There can be no truly global economic system without "harmonization", the demise of the dollar's world reserve status, and the end of sovereign economic governance.
For those who doubt this scenario, read Paul Volcker's latest statement, as reported by Zero Hedge.
Volcker, the same man who was directly involved in the destruction of the first Bretton Woods agreement and the final death rattle of the gold standard, is now promoting a NEW Bretton Woods-style agreement in which currencies are pegged to a controlled market system — in essence, a centralized international monetary system. Volcker also suggests that a single nation-based reserve currency like the dollar may be a danger to overall fiscal health.
Volcker is right. The dollar-dominated forex casino and fiat fraud is a danger to the world. Volcker helped make it that way! And what a surprise, the former Federal Reserve chairman has a solution on a silver platter for the American people — all we need is GLOBALcentralization and bureaucratic oversight.
The propaganda is being carefully planted within the mainstream. Christine Lagarde of the IMF now spends the whole of her media interviews inserting the phrase "global economic reset" without explaining exactly what that would entail, while central banking elites like Volcker suggest a Bretton Woods II conference leading to a global monetary authority. In the meantime, Russian government-funded media outlets like RT produce pieces accusing the U.S. of being a nuclear menace while we Americans get to watch manipulative Hollywood films like "Jack Ryan: Shadow Recruit," which depicts a Russian plot to collapse the U.S. economy.  China and U.S. representatives squabble with each other at geopolitical meetings fueling fears of diplomatic breakdown, while the Pentagon "suggests" they may have to revamp their military strategies in consideration of yet another World War.  Just as in Orwell's book, 1984, old enemies become allies and then enemies once again, and at the top of the pyramid, it's all a farce.
The best lies contain elements of truth. The truth here is that the East is forming alliances in opposition to the West, the West is involved in underhanded covert operations all over the planet, and both "sides" are in fact on the verge of a catastrophic battle for supremacy. The great lie is that important details have been left out of our little story. Both sides are merely puppet pieces in a grand game of global chess, and any conflict will ultimately benefit the small group of men standing over the board. They include the international financiers who have influenced the very policy fabric of each government toward a climactic crisis which they hope will finally give them the "New World Order" they have always dreamed of.
Source: Brandon Smith | Alt-Market
President Barack Obama delivered his most belligerent and menacing speech to date at the US Military Academy at West Point. Aside from the lofty rhetoric we've come to expect in every Obama presentation, the president's commencement address was a defiant restating of the Bush Doctrine of unilateral intervention, executive authority and endless warfare. The speech contained no new initiatives or surprises, but emphasized Obama's unwavering support for the policies which have plunged large parts of the Middle East, Africa, and Eurasia into civil conflict, economic collapse and war. Obama defended US aggression on the grounds of "American exceptionalism", the dubious idea that Americans are special and cannot be held to the same standards as others. The theory implies that Washington's relentless war-mongering and killing of civilians cannot be prosecuted under international law because the US is a law unto itself.
"I believe in American exceptionalism with every fiber of my being," said Obama. "But what makes us exceptional is not our ability to flout international norms and the rule of law; it is our willingness to affirm them through our actions."
Obama's statement is deliberately misleading. As the president knows, the Bush administration notified U.N. Secretary-General Kofi Annan that the US would withdraw from the International Criminal Court Treaty in May 2002 just prior to the invasion of Iraq claiming that the ICC treaty put U.S. service members and officials at risk of prosecution by a court that is "unaccountable to the American people." In retrospect, we can see that Bush and his lieutenants wanted to remove themselves from any accountability for the atrocities and crimes against humanity they planned to perpetrate in the invasion and occupation of Iraq. Thus, exceptionalism does not affirm Washington's willingness to comply with "international norms and the rule of law" as Obama says, but to absolve US leaders from any responsibility for their habitual war-making. As policy analyst Noam Chomsky has said many times, "If the Nuremberg laws were applied, then every post-war American president would have been hanged."
Here's Obama again: "Let me repeat a principle I put forward at the outset of my presidency: The United States will use military force, unilaterally if necessary, when our core interests demand it… International opinion matters, but America should never ask permission to protect our people, our homeland or our way of life."
In other words, the United States will do whatever the hell it wants to and if you don't like it: "Too bad". This is the Bush Doctrine verbatim. The West Point oration proves that the new administration has simply modified the Bush credo to suit Obama's pretentious speaking style. Strip out the visionary formulations, the grandiose bloviating, and the sweeping hand gestures and the ideas are virtually identical; unilateralism, preemption, and exceptionalism, the toxic combo that has spurred 13 years of war, occupation, regime change, black sites, extra-judicial assassinations, drone attacks, and hyperbolic state terror most of which has been directed at civilian populations whose only fault is that they occupy regions where vast petroleum reserves have been discovered or which have some fleeting strategic importance to Washington's war planners. Here's an excerpt from an article in the World Socialist Web Site titled "Obama's West Point speech: A prescription for unending war" by Bill Van Auken:
"Obama is not elaborating here a policy of defensive war to be waged only in response to an attack or the threat of an imminent attack. He is spelling out that the US reserves the right to intervene militarily wherever it believes its "core interests"—i.e., the access of its corporations and banks to markets, raw materials, cheap labor and profits—are involved.

When he speaks of "our livelihoods" and "our way of life," he is referring not to the ever-declining living standards of the American worker, but to the eight-figure compensation packages of American CEOs, whose fortunes are founded on the exploitation of the working populations and resources of the entire planet…

Everything put forward by Obama is a repudiation of international law and an endorsement of the policy of aggressive war practiced by the Nazis three-quarters of a century ago." (Obama's West Point speech: A prescription for unending war, Bill Van Auken, WSWS)
Here's Obama again defending his malignant foreign policy in terms of "leadership":
"America must always lead on the world stage. If we don't, no one else will. The military that you have joined is, and always will be, the backbone of that leadership."
Obama finds it easy to praise the people who fight his wars, even while he stealthily carries out a plan to privatize the Veterans Administration. Check out this blurb from an article titled "VA secretary resigns amid push to privatize US veterans' health care":
"Obama and members of Congress have responded to the VHA scandal with a breathtaking level of cynicism and hypocrisy, even by Washington standards … according to many lawmakers, the answer to this crisis is not the appropriation of funds to hire new doctors and other medical professionals, but the dismantling of the government program in order to provide a profit windfall to private insurers and health industry firms. The result of this policy will be less care at greater cost to veterans…

Under the "Veterans Choice Plan" being promoted by Rep. Andy Harris (Republican of Maryland), veterans could either choose to continue receiving care through the VHA or go to a private provider of their choosing. In what amounts to a voucher system, the federal government would cover the cost of insurance premiums and some out-of-pocket costs, depending on a veteran's priority ranking…

The moves to privatize veterans' health care underscore the hypocrisy of the bipartisan glorification of soldiers and veterans. It also sets a precedent for privatizing Medicare and Medicaid, the federal-state health care program for the poor." (VA secretary resigns amid push to privatize US veterans' health care, WSWS)
Is there any doubt that Obama forced General Eric Shinseki to step down so he could start to dismantle the VA? And if Obama cares so much about veterans, then why hasn't he spoken out before about other veteran-related issues like the epidemic of suicides, rapes, traumatic brain injury or PTSD? Obama's phony outrage is just a headline-grabbing gimmick to conceal what's really going on, which is the VA is being handed over to America's insatiable health care tycoons on a silver platter.
Obama again: "For the foreseeable future, the most direct threat to America, at home and abroad, remains terrorism, but a strategy that involves invading every country that harbors terrorist networks is naïve and unsustainable. I believe we must shift our counterterrorism strategy, drawing on the successes and shortcomings of our experience in Iraq and Afghanistan, to more effectively partner with countries where terrorist networks seek a foothold."
Obama's comment absurdly implies that the US has learned from its past mistakes and has fine-tuned the art of counterterrorism so it doesn't involve the squandering of valuable resources. What a joke. It's like listening to a Mafia hit-man boast that he 's learned how to save money on ammo by strangling his victims with his bare hands. This is also a good example of how the Dems think they're more effective (and discreet) in executing the elitist/corporate agenda than their rivals in the GOP. As if that was the purpose of the party!
Obama also made a few perfunctory remarks about closing Guantanamo, ending indefinite detention and taking steps to address climate change. But clearly these had nothing to do with the main thrust of the speech which was to announce his intention to expand the wars abroad. Citing hotspots in Syria, Ukraine and the South China Sea, Obama promised to "lead" with the military, asserting, by implication, dominion over these regions where the US claims to have "national interests". Obama is as committed as his predecessor, Bush, to rule by force of arms even though his current adversaries (Russia and China) are not ragtag militias in sandals, but nuclear-armed nation-states who could level the better part of the planet with a flip of the switch. Even so, Obama is determined to pursue the same provocative strategy whatever the risks increasing the probability of a miscalculation that ends in a mushroom cloud.
It's madness.
"The Doctrine and Covenants leaves no doubt about the Mormon teaching of exclusivity when it says the LDS Church is, 'the only true and living church upon the face of the whole earth, with which I, the Lord, am well pleased….'"
Glenn Beck recently threw a hissy fit on his daily radio program over "religious people [who] claim to be followers of Christ" getting upset that he was the featured convocation speaker at Liberty University (LU).  Beck accused those who were concerned over a cultist preaching a sermon of "absolutely smearing" LU.
Let's cut to the chase.  Glenn Beck is a Mormon in good standing.  Mormonism is a theological cult.  Thus Beck's not an authentic Christian — period.  That some Christians have the temerity to object to a cultist giving a sermon at a Christian university offended Mr. Beck, thus his rant.
In an earlier column I wrote Questioning with boldness: Which is it Glenn, are you a Mormon or a Christian? I provided an in depth examination of the Church of Jesus Christ of Latter-day Saints.  So I'm not going to spend a lot of time re-examine it here.  However, to help you get a handle on what Mormons believe, the following is a snippet of Mormon Christianity from my column.  As you will see, what they believe isn't even close to biblical Christianity:
LDS Christianity outright denies the Trinity which is an essential of biblical Christianity.  So LDS Christianity and orthodox Christianity do not believe in the same God.  Mormon Christianity teaches that there are many gods who are overseers of other planets.  The god of planet Earth, the one they call Elohim, was just a man with a body of flesh and bones who progressed to godhood and was rewarded with his own planet.  [Founder]Joseph Smith taught, "God himself was once as we are now, and is an exalted man, and sits enthroned in yonder heavens. That is the great secret… [Y]ou have got to learn how to be Gods yourselves, and to be kings and priests to God, the same as all Gods have done before you…"
Brigham Young believed in a plurality of gods: "How many Gods there are, I do not know. But there never was a time when there were not Gods…" (Journal of Discourses 7:333).
Mormons believe that after death they will become gods and will be rewarded with their own planet.  Thereafter they will spend eternity with their many wives (polygamy) producing offspring to populate their planet.  Traditional Christianity says that God is not a man. (Numbers 23:19) Mormon Christianity teaches that man first existed as spirits in heaven.  Biblical Christianity says that the physical body comes before the spiritual. (1 Cor 15:46) 
And LDS Christianity teaches this humdinger: Jesus and Lucifer are spirit children of God, which makes them spirit brothers. 
Bible believing Christians will understand that historic orthodox Christianity does not hold to any of what Joseph Smith conjured up.  There is no way that Glenn Beck is unaware of Smith's beliefs and background.  Later in my column I brought to light that,
…it was Joseph Smith and subsequent Mormon hierarchy that attacked Christianity.  The truth is Joseph Smith's religion, which he made up out of whole cloth, is an abomination to God! 
It seems weird to me that Glenn Beck spends oodles of time gathering dirt on leftist radicals and that he digs deep to get the skinny on President Obama but has neglected to do some deep digging on …  Joseph Smith.  His church's so-called prophet was a charlatan, a polygamist, an adulterer, and he was up to his eyeballs in the occult as was his father.  There's plenty of evidence on the web for inquiring minds that want to know the truth about Mormonism's founder.  (Source)
For reasons known only to him, Glenn Beck holds the LDS Church in high regard.  Consequently, he's deluded.  Why do I say that?  To put it bluntly, Mormonism is a satanic cult.  (Those who wish to research the LDS are invited to visit my website.)  LU knows this full well, yet Beck was invited to speak to its students.  As I mentioned above, Beck preached a sermon saturated with Mormon theology.  Moreover, he shared a valuable artifact — Joseph Smith's pocket watch.
Liberty University Enlightens Us
Following is LU's explanation, in part, for their decision:
We have explained over the decades repeatedly that convocation is an opportunity for students to hear from people of all faiths and from all walks of life.  Liberty has also made it clear repeatedly that it does not endorse any statements made by any convocation speaker.
So far so good.
By contrast, our faculty are all required to profess Liberty's statement of faith and to affirm our doctrinal statement.  Our students are all required to take many credit hours of theology and Bible courses, regardless of their major.  Our students have no question about what Liberty's doctrinal statement is.  It is posted publicly for all to see. Our doctrinal statement is our public statement on Mormonism.  It is the same statement that Liberty was founded upon and it will never change.
College is about learning.  How can you defend what you believe if you don't understand what others believe? 
Good point.
I believe our students are stronger in their faith because of our convocation speaker series and the wide diversity of views that they have been privileged to hear in person over the last few decades.
By the way, many conservative evangelical leaders who are closer to Beck than me have told me that they believe Beck has had a born again experience recently.
Hold it right there!  The "Glenn Beck is saved" rumor has been circulating for several years thanks largely to Wall Builders Founder David Barton, "American evangelicals' favorite historian."  If it's true, then why is Beck keeping the good news from his friends and fans?  Moreover, if he truly is regenerate then why hasn't he cut all ties to the LDS Church and joined a church where the true gospel of Christ is preached?
LU's explanation continues:
I do not know his heart but our audience knows that he was speaking only for himself and expressing his personal opinions and beliefs, not those of Liberty University or even of Mormonism generally. As Jerry Falwell, Sr., our founder, often used to say about speakers at Liberty who had different views than him, Liberty students are smart enough to eat the fish and spit out the bones! I believe that's as true today as it was in his day.
Are we to assume every student is mature in their faith and has spiritual discernment?  Are we to assume that every student who attends a Christian university has been born again and thus saved? Did it not occur to Jerry Falwell, Jr. that some of the students who ate the fish Glenn Beck dished up could have choked on the bones?!
Now, don't get me wrong. Liberty University has the right to invite whoever they wish to speak to its students.  But lately they seem to have an affinity for Mormons, as Glenn Beck has spoken at the university twice.  In 2010 he delivered the commencement address and received an honorary doctorate degree.  Likewise, Mormon Mitt Romney gave the commencement speech in 2012.
A Martyr?
Is it true that Joseph Smith died a martyr, as Glenn Beck declared to LU's students?  Not so fast, Glenn!  The factual account of what led to Smith's death reveal that he and his brother Hyrum were charged with treason and conspiracy by Illinois authorities whereby they were arrested and imprisoned in a minimum security cell in the Carthage city jail. According to The Martyrdom of Joseph Smith by Eric Johnson:
He and his brother Hyrum Smith were murdered on June 27, 1844, by an armed mob, an event that has prompted Mormons to classify them as martyrs. It has caused others, however, to raise the question whether someone who dies in a gun battle fighting against his enemies can be considered to be a martyr. A close examination of the term reveals that one must meet specific requirements to be considered a martyr, which involve, for example, the reasons why one is put to death and the way one faces such a death. An investigation of the reasons why Smith was murdered and the actions he took to avoid this fate inevitably makes it difficult to maintain that Smith was "like a lamb led to the slaughter." (Source)
Johnson offers several reasons why he believes it is not accurate to classify Smith a martyr which you'll find in his essay under the heading: THE FALLACY OF DEEMING SMITH A MARTYR.
Glenn's Rant
To spare you from having to read Beck's ridiculous rant, I'll post a few quotes from a piece by Erica Ritz:
This is why your churches are dwindling. … You think you're standing for something, when indeed, you're standing for hate and bigotry. I think Jesus was hanging out with prostitutes and sinners, wasn't he? You won't even listen to a man who says … 'I challenge you to know your faith, not my faith, your faith so well that you're willing to die for it. Stand with one another.' That frightens you so much? If it does, you might want to consider that you're on the wrong side.
Let's see.  "Prophet" Joseph Smith said that "Christianity had become apostate, and all of their creeds were corrupt, and all of their followers were deceived." Therefore, it fell to Smith not to "reform" the Christian church, but to "restore" it."
And anyone who rejects Mormon heresy is "standing for hate and bigotry."
More…
I look at every single lover of light and truth as my ally, my friend, my brother. … I look at everyone who is my enemy as my brother. I don't care what you say; I don't care what you think your belief is; I don't care what your lifestyle is — you're not going to change me. And I invite you to join me, join others of multiple faiths — never asking anyone to change their faith — asking you to strengthen your faith, whatever it is. (Source)
Beck is oblivious to the fact that his truth is NOT biblical Truth.  On the contrary, what he's "preaching" to anyone who's willing to listen, and to a captive audience at LU by the way, is ecumenism.  This New Age Mormon who professes Christ vociferously urges his followers to join together with other religious faiths and sing We Are the World.  If Michael Jackson were alive today, he'd be proud of Glenn.
Partnerships
Glenn claims he's read the Bible several times.  Perhaps he has.  However, he must have skipped over Paul's teaching in 2 Cor. 6:14-16:
Do not be unequally yoked with unbelievers. For what partnership has righteousness with lawlessness? Or what fellowship has light with darkness? What accord has Christ with Belial?  Or what portion does a believer share with an unbeliever?  What agreement has the temple of God with idols?  For we are the temple of the living God.
Unbelievers are in darkness.  For this reason believers are not to unite with them in any sort of spiritual enterprise.  And those who are in darkness, the unsaved, are not our brothers and sisters.  Thus, we are commanded to share the gospel of Christ with them.  (1 Cor. 15:1-11)
One last quote from Glenn Beck's hero, Joseph Smith where we learn a bit more of his bizarre and unbiblical understanding of God, which, by his own admission is the view of God Glenn holds as he is, after all, a professing Mormon:
I say, if you were to see him [God] to-day, you would see him like a man in form–like yourselves, in all the person, image, and very form as a man . . . it is necessary that we should understand the character and being of God, and how he came to be so; for I am going to tell you how God came to be God. We have imagined and supposed that God was God from all eternity,  I will refute that idea, and will take away and do away the veil, so that you may see . . . and that he was once a man like us; yea, that God himself the Father of us all, dwelt on an earth the same as Jesus Christ himself did.  (Source)
Now a bit of wise counsel from Erin Benziger in What If 'My God' Is Bigger than 'Your God'? :
It is sinful pride that leads men into idolatry as they create imaginary gods that suit their own personal needs. It is the same sinful pride that prevents men from bowing low before the True God. It is this pride that refuses to acknowledge one's own inability to offer anything truly "good" and refuses to acknowledge his own sinfulness. Yet it is God Who can, by wonderful, amazing grace, break a man of this pride and bring him to his knees in humility. It is God Who can bring the most stubborn, prideful man to a place of repentance and faith in the Savior, Jesus Christ. May we pray this day and every day that God would use us to proclaim the truth of His Gospel to such men, and may we pray that His Spirit would stir and work within those men to bring them to repentant, saving faith and knowledge of His Son. (Source)
Recommended:
Church of Jesus Christ of Latter-day Saints/Mormonism—On Solid Resources
New Age Movement—On Solid Rock Resources
Glenn Beck's "pure personal truth," Part 1, Part 2—Marsha West
"Aliens visiting Earth would report back to their superiors: 'It's quite amazing, those people worship images. They know it and they pretend not to know it.'" — Hypnotherapist Jack True.
This is a backgrounder for my mega-collection, Exit From The Matrix, which contains many exercises designed to liberate an individual from the standardized perception of reality—and usher in his own creative reality.
Mass mind control focuses on two elements: image and feeling.
By linking the two primary elements, it is possible to short-circuit thought and "cut to the chase," when it comes to enlisting the allegiance of huge populations.
Two seemingly unrelated events spurred my interest in mass mind control.
On the evening of April 12, 1945, I listened to a radio report on the death of Franklin D Roosevelt. I was seven years old.
I became upset. I didn't know why. I was angry at my own reaction.
Forty years later, I pulled into a gas station near my apartment in West Los Angeles. I got out of my car and took the cap off my gas tank. I looked to my right and saw Tony Curtis sitting in his car. I was shocked.
A few days later, I began making notes under the heading of "image-emotion cues." At the time, I was working as a reporter, writing articles for LA Weekly. I knew next to nothing about mind control, MKULTRA, Soviet psychiatric gulags, Chinese re-education programs, or US psychological warfare operations.
But because I had been painting for 25 years, I knew something about the power of images.
I remembered my first exhibition of paintings in LA, at my friend Hadidjah Lamas' house. We had hung my work in her large living room and dining room. Hadidjah had enlisted the services of a friend who had videotaped me painting in my studio, and at the exhibition she set up a television set out on her patio and continuously played the videocassette.
People came through her front door, almost automatically walked through the house to the patio, as if guided by an unseen hand, and watched the video; then they came back inside and looked at the paintings.
They would stop at a painting and say: "That picture was in the video!" It excited them.
My first note on "image-emotion cues" was, "Investing an image with importance. Projecting emotion into an image."
Projecting emotion into a newspaper image of the president, FDR. Projecting emotion into the screen image of Tony Curtis. Projecting emotion into a video of a painter working in his studio.
When people encounter an image, when they invest it with importance, they project feeling into the image—and this all happens in a private sphere, a private space.
If this didn't happen, there would be no way to control populations through images. It wouldn't work. It all starts with a person setting up his own personal feedback loop that travels from him to an image and back again.
Coming out of World War 2, US psychological warfare operatives knew they could turn their skills to political purposes. They had just succeeded in making Americans believe that all Japanese and German people were horribly evil. They had been able to manipulate imagery successfully in that area. Why couldn't they shape America's view of a whole planet that lay beyond personal experience?
They could and they did. But the power to do that emanated from the fact that every person invests images with feeling. That's where it really starts.
I had seen the 1957 film, Sweet Smell of Success, a number of times. I admired it. Burt Lancaster and Tony Curtis gave tremendous performances. When, decades later, I saw Curtis sitting in his car at that gas station, I was "working from" the emotion I had invested in his onscreen image. It produced a sense of shock and paralysis for a few seconds.
Other people might have rushed up to Curtis and asked for his autograph. With me, it was shock, cognitive dissonance. Ditto for the death of FDR. I was working off newspaper pictures I'd seen of him, and the feeling I'd invested in those presidential images. Other people, when FDR died, went out into the street and hugged their neighbors and wept openly. For me, it was upset and shock and anger.
There's nothing intrinsically wrong with investing emotion in images. It can be exhilarating. It can be uplifting. As a painter, I know this in spades. Putting emotion into images can, in fact, vault you into a different perception of reality.
But on the downside, it can also take you into lockstep with what media/propaganda operatives want you to experience, second-hand.
We focus to such a degree on how we are being manipulated that we don't stop to consider how we are participating in the operation. And our own role is clear and stark: we invest images with feeling.
So how does one individual's projection of feeling into an image become a uniform projection of the same feeling into one image, by millions of people? How does what one person invests privately become mass mind control?
Through external instruction or cues. And also, by engendering the idea that there is only a limited palette of emotions to work with in the first place.
Why do millions of people fall into line?
Because they don't realize they started the whole ball rolling themselves. All they know is: images are connected to feelings.
If they knew they were the real power in the whole operation, if they knew they were investing feelings into images all day long, if they could actually slow down enough to see how they do this….then they would be far less prone to taking instruction about what feelings they "ought to" invest in second-hand images.
Hypnotherapist Jack True unceremoniously put it to me this way: "If a dog could analyze how he got from eating meat to drooling at the sound of a bell that came at feeding time, he could stop drooling."
(If Chris Matthews could analyze how his own voluntary investment of feeling in the image of Barack Obama sends a tingle up his leg, he could stop tingling.)
We see images of people rioting all over the Middle East. We see burning flags and crowds outside embassies. We're supposed to invest our own anger and resentment into those images. Unless we're suddenly told those rioters are actually "the good rebels," in which case we're supposed to invest our joy in the images.
We see a picture of miles of flat farmland and (GMO) corn waving in the breeze. We're supposed to invest that image with feelings of happiness and pride.
Nowhere are we told we can back up a step and realize that we are the ones who begin the whole process, by projecting feelings into images. Any images.
When I was 19, I was sent to a trained expert in New York to take a Rorschach (ink-blot) Test. I was displaying signs of what would now be called Oppositional Defiance Disorder.
The expert said he wanted me to tell him everything I saw in each ink-blot. I took him at his word.
An hour later, I was still working on the first blot. I was describing everything from bats and owls and chickens to space ships and buckets of hidden treasure in caves.
Well, I was cheating a little. I wasn't really describing what I saw. I was imagining. I was taking off from what was on the page and improvising. This was outside the bounds of the Test.
The expert was seething. He was sweating, because he had many other blots to show me, and it was late in the afternoon, and he was looking at spending the entire evening with me. Finally, he held up his hand and put an end to the Test.
I wasn't playing his game. Among other sins, I wasn't investing a limited palette of feelings in the images. Therefore, my choices of "what to see" in the blots expanded greatly.
When I go to a museum, I like to watch people stand in front of abstract paintings. Many of them are stumped. They're trying to figure out what feelings they "are supposed to" project into the painting. They're looking for "instruction," and there isn't any. They're asking for mind control, and they're not getting it.
Fanaticism of any kind begins with individuals projecting feelings into images. This is harnessed by leaders, who then choose the images and direct which feelings are permitted. The tempting prospect for the follower is: participation in a drama that goes beyond what he would ordinarily experience in life. This is bolstered by the idea that what he is doing is moral.
In an election season, people on the left are urged to project messianic feelings into images of X. People on the right are cued to invest feelings of pride, hope, and "tradition" into images of Y. The real candidates aren't actually experienced.
Since Vietnam, shooting wars have been more difficult to sustain among soldiers. "In the old days," feelings of hatred could be projected into images of enemies that included civilians, so overtly killing everybody on foreign soil was easier to accept. Now, soldiers are taught "enemy combatant" and "civilian" are two different images that require the injection of two different feelings.
Here at home, police and military are taught, more and more, to invest feelings of suspicion into images of American civilians. This is an acceleration of mass mind control for law enforcement.
The astonishing number of civilians who participate in government and corporate surveillance of the public, through technological means, learn to invest "dead empty feelings" into images of citizens, as if these targets are nothing more than ciphers, units.
Bizarre instances of police detaining and questioning parents who allow their children to play unsupervised reveal another accelerating trend. These confrontations start with neighbors snitching on the parents. The neighbors have learned to invest feelings of panic, suspicion, and anger in images of "free children."
In all these cases, there is no real experience. It's all second-hand. It's all feeling-projected-into-image.
In the medical arena, countless advertisements and news stories are geared to convince people to invest feelings of trust in images of doctors. The suggestion, "Ask your doctor if X is right for you," is framed as the solution to a little problem. The problem is set this way: Drug X is wonderful; drug X has serious adverse effects; what to do? Solution: ask your doctor; trust him; he knows.
As the class of victims in society has grown by leaps and bounds, including any group that can organize and promote itself as needing help or justice—going miles beyond the people who really do need assistance—citizens have been trained to invest feelings of sympathy and concern for all images of victims everywhere, real or imagined. This, too, is mass mind control.
Pick an image; invest feelings in it. Facts don't matter. Evidence doesn't matter.
You've heard people say, So-and-so (a celebrity) has become a caricature of himself. Well, that's what it means. The celebrity has projected massive feelings of approval into a concocted, cartoonish image of himself.
As a society, we can go on this way until we become a horrific cartoon of a cartoon (well, we're already there), or we can step back and discover how we invest emotion into images, and then use that process to pour feelings into visions of our own choosing and invent better futures.
Since the dawn of time, leaders have portrayed themselves as gods. They've assembled teams to promote that image, so their followers could project powerful emotion into the image and thereby cement the leaders' control and power.
The game isn't new. Understanding the roots of it within each individual could, however, break the trance of mass mind control.
During the first West Nile fake outbreak of 1999, I spoke with a student who had just dropped out of medical school. He told me he'd been looking at electron-microscope photos of the West Nile Virus, and he suddenly realized he was "supposed to" invest feelings of "great concern" in those images.
Somehow, he broke free from the image-feeling link. He was rather stunned at the experience. His entire conditioning as a medical student evaporated.
Parents all over the world are having the same experience vis-a-vis vaccines. They realize they're supposed to invest fear in images of germs and disease, and they're also supposed to invest feelings of hope and confidence in images of needles and vaccines. They see the game. They're supposed to remain victims of mass mind control.
But they've awakened.
We've all been taught that what we feel is always and everywhere out of our control. These feelings are simply part of us, and we have to act on them. The alternative would be to sit on them and repress them and turn into androids, robots.
This is simply not true. There are an infinite number of feelings, and as strange as it may sound, we can literally invent them.
This, it is said, is inhuman. It's a bad idea. It's wrong. It would lead us to "deserting the human community."
Nonsense. That's part of the propaganda of mind control. If the controllers can convince us that we're working from a limited map of emotions and we have to stay within that territory, they can manipulate that limited set of feelings and trap us.
The power of art is that it shows us there are so many more emotions than we had previously imagined. We can be much freer than we supposed.
The synthetic world of mind control and the handful of feelings that are linked to images is what keeps us in thrall.
The world—the world of what we can be—is so much wider and more thrilling and revealing.
The author of three explosive collections, THE MATRIX REVEALED, EXIT FROM THE MATRIX, and POWER OUTSIDE THE MATRIX, Jon Rappoport was a candidate for a US Congressional seat in the 29th District of California. He maintains a consulting practice for private clients, the purpose of which is the expansion of personal creative power. Nominated for a Pulitzer Prize, he has worked as an investigative reporter for 30 years, writing articles on politics, medicine, and health for CBS Healthwatch, LA Weekly, Spin Magazine, Stern, and other newspapers and magazines in the US and Europe. Jon has delivered lectures and seminars on global politics, health, logic, and creative power to audiences around the world. You can sign up for his free emails atwww.nomorefakenews.com
Source: Jon Rappoport  |  No More Fake News
Origin of the Master Model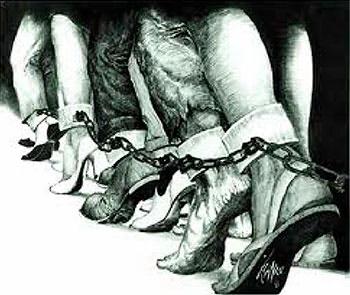 The master plan for world domination we see playing out today was first proposed to the US at the end of World War I. However, there were no takers. People were too war weary. However, when the plan was again proposed at the end of World War II, it was accepted. Consequently, World War II quietly transitioned into the secret "war" to set up what has become known as the "new world order" — an absolute dictatorship over the entire planet.
The United States set up the School of the Americas to train future dictators and terrorists who would be sent out into the world to destroy sovereign nations and place them under US domination by installing puppet governments obedient to the United States. Many conquests were made quietly using clever economic tricks [2]. However, leaders who refused to submit quietly would see their entire country reduced to rubble and the land rendered unlivable by uranium dust scattered by US bombs. The message was clear: Submit to the United States or face total destruction.
A social model based upon the assumption that cleverness and power automatically convey the right to take anything desired from those who are less adept and unable to resist is not a sustainable model for harmonious social interactions. However, this is the chosen model. The mantra for this model, "A man's true worth is measured by the amount of other peoples' happiness that he can possess and destroy" [1], is essentially a call for a class war between the greedy elite and the innocent masses of the world who simply desire a peaceful existence.
Acquisitions
The United States looks at the rest of the world as a "resource". If a country has something — oil, gold, minerals, etc. — that the US covets, it believes it has the right to take those things by whatever means necessary. In many cases the coveted resource is human slave labor. Let's look at some representative examples:
With the cooperation of the dictator, United Fruit Company (US) owned almost half of the country and used the locals as slaves to harvest its Chiquita brand bananas. However, during the period from 1945-1954 new leaders made changes. They helped the poor and set up social security and health care. Then they took land away from United Fruit and gave it to the local people. United fruit complained to the CIA that its business interests were being interfered with by the "communist" government. Any government which shows kindness to the poor and weak is called communist by the US. The US attacked Guatemala — killed the elected leaders and many thousands of citizens — and established a puppet dictatorship which would obey the will of United Fruit. The people were returned to a state of slavery. The CIA trained death squads to make sure the people were crushed into submission.
Strip Mining in Africa [4]
In Africa, the International Monetary Fund — a puppet of the US — destroys a country with strip mining. The original country was self sustaining. People were able to grow lots of food and hunt animals. However, once the land was ruined by US corporations, it was unusable to plant crops and the native animals died. The people had to buy food from other countries with money loaned to them by the IMF which they could never hope to repay. Therefore, a once free and self supporting people were made debt slaves of the IMF. Once all the natural resources have been stolen, the corporations will simply pack up and leave the indigenous people to starve and die.
Countries Used as Trash Dumps [5]
Used computers and associated items are dumped in poor countries where starving barefoot children sift through the mess of hazardous waste and broken obsolete glass computer monitors hoping to find something they can sell to get enough money to stay alive another day. Property stickers show the waste is mainly from the US government and various US state governments.
Corruption of Trusted Sources
Reporters and News Organizations
The masses are conditioned to believe news they receive from establishment sources. In the earlier times, this assumption was often correct. It was considered so important by the founding fathers that freedom of the press was enshrined in the US constitution. However, times have changed.
Walter Cronkite was known as the "trusted voice". No one knew he was also the official announcer at the secret Bohemian Grove meetings. The leaders of the world's news organizations also attend this event. That is why, even though the meetings began over one hundred years ago, until recently no one knew this group even existed. President George W. Bush may have set a new record for bribing journalists to allow their trusted name to be used as the author of material actually written by government propaganda experts. Apparently, everyone has a price and the government, of course, has no problem when it comes to money.
When Ronald Reagan reportedly ordered the death of investigative reporter Jessica Savitch [6], the message to independent journalists was clear: Go against the official party line an you're done!
Today, dedicated journalists face mysterious deaths and strange single car accidents but a few survive long enough to give us a glimpse of truths we would otherwise never know. They are true heroes.
Churches
Churches are everywhere. Unfortunately, legitimate Spiritual teachers are not. People look at churches either as harmless or with some sort of conditioned hypnotic respect. Churches send out "missionaries". However, the "mission" of these missionaries may not be so clear. If you wanted to infiltrate a foreign country, these people would be an ideal asset.
Churches are not Spiritual centers. At best, all they want is your money. At worst, they are Satanic and you are in severe Spiritual danger if you come under their influence and control.
The Catholic Church has been a trusted asset of the US intelligence community for quite some time. Significant information obtained by priests during confessions is routinely passed on to the government.
This agreement predates the internet by many years. Because the church has branches in almost every country, it has great potential for covert activities. For example, if you need to get an operative who is in danger out of a country, they can go to a Catholic church for "confession". Once the door is closed, they can exit through a secret passage, be disguised in robes and spirited safely out of the country. Church secrecy is at least on a par with US secrecy. Also, the Catholic church and the US shadow government share the same Satanic value system and engage in child rape and ritual killings.
Doctors and the Medical Industry
Medicine in the United States is an industry. It is no longer a profession. Its corporate model puts profit above all else. If some patients accidentally benefit they are the lucky ones.
The medical community has a rigid hierarchical structure and effective mechanisms for enforcing secrecy. Essentially, its model closely resembles the military chain of command structure. This makes it a perfect partner for the government in the area of secret human experiments.
For example, when the government was doing radiation experiments on humans, a doctor or someone dressed as a doctor would just walk up to unsuspecting patients and inject them with radioactive material. They were then secretly followed for years to see what would happen. Eventually, some of those who survived were told the truth. Most people used in the MK Ultra and subsequent secret projects were never notified.
Hospitals are set up to protect themselves. Staff may appear to be dedicated, smiling people who truly care about you. However, they are basically prostitutes who are being nice because you are worth money to them. When they make mistakes they have a "loss prevention" department staffed by clever lawyers who are trained to protect the financial interests of the hospital by denying everything and fabricating believable coverups. They are trained to do whatever is necessary. The staff will all agree to support whatever lies are needed. They know their job and their financial future depends upon maintaining strict secrecy.
The only people who receive legitimate medical care are the select elite cleared to accesstop secret medicine. These people always get excellent care because the doctors work for the shadow government and mistakes on their part are simply not tolerated.
Infiltrations
Countries which have the resources to sustain an intelligence community generally try to get operatives (spies) into other countries so they can directly observe activities. When real people gather intelligence, this is called human intelligence or HUMINT. The US, of course, does this too. However, you may not be aware of the extent to which the US also infiltrates itself. The central government really does not trust anyone.
Essentially all local police departments, state offices and state governors have a covert federal agent working close by pretending to be just another employee. Also, every US neighborhood has an informer who reports to the federal government. Large corporations, which tend to behave like "mini governments", need to be infiltrated and kept under observation. Colleges and universities are also monitored.
Here is how this spy network operates: The NSA likes to recruit young kids right out of college. When they are hired and sworn to secrecy they still do not know what their assignment will be. They must agree to do this assignment without first being told what it is.
Some agents, like John Perkins [2], are assigned to work in other countries. However, others are assigned to work inside the US. Their assignment could be to go to some state and apply to join the local police department. They would pretend to be just a regular person looking for a job. They would take the necessary training and spend their life as a local policeman so they could directly observe other local police from the inside and report to the NSA. Since they are actually an employee of the NSA, presumably they get to keep both salaries and, eventually, both retirements. All significant local police forces in the US are infiltrated this way.
Additionally, some agents will be assigned to get a job on the state governor's staff as well as in major local state agencies. A CIA or NSA agent is always on the staff at major colleges and universities. The same goes for major corporations.
Senior level agents are allowed to have special TV receivers in their homes linked to the secret government TV network. This way everyone stays on the same page. The channels on this network actually broadcast the truth. TV channels available to ordinary people contain only government approved propaganda mixed with "bread and circuses" presentations to make sure the sheeple stay asleep and content.
Fronts
The US government is involved in illegal activities internationally and domestically. If it performed these activities overtly in the name of the United States, there would be serious consequences under both international and local laws. To avoid this situation, the US government operates thousands of "front organizations" which appear to be private but are actually shadow operatives of the US.
For example, John Perkins [2] explained that he was recruited, hired and trained by the NSA. He was an NSA agent. However, for his cover as an economic hit man, he "officially" worked for a "private" company called Charles T. Main. This company was a government front to shield the US because the activities the NSA trained Perkins to do were illegal.
This is standard operating procedure for the US as well as other countries and many corporations. It shields them from legal recourse by providing deniability for the crimes they actually direct and commit.
Generally, when the US wants to influence other sovereign countries, it creates harmless looking NGO's which appear to be independent but are actually fronts for covert activities.
Domestically, colleges and universities — especially those with associated medical schools and hospitals — are great places to conceal a variety of covert projects such as the MK Ultra series of human experiments which, reportedly, continue today using new cover names. The US also likes to create non-profit corporations which exist only to provide classified services to the United States. A good example would be the Institutes for Defense Analysis (IDA). The US, reportedly, is its only client.
Programming
Mass media "programming" is actually programming you. It has developed into a subtle form of mind control. Before radio and television, special interests recognized that motion pictures could be used to alter public opinion in their favor. Perhaps, for example, you wanted to attack labor unions. When radio and later television came along providing access to national and international audiences, the temptation to exploit these technologies became irresistible. Originally, the US government recognized this and set up fairness rules to prevent monopolies from taking over the broadcast media and blocking opposing viewpoints. All this ended, unfortunately, when Ronald Regan canceled all the fairness regulations. Today, a handful of powerful corporations own and control essentially all content delivered by radio and television.
Television is the main vehicle for mass indoctrination. It is said that people watching TV actually fall into a light hypnotic trance. The "entertainment" you see on TV does not "just happen to be there". It is very carefully planned and timed to attract and influence targeted audiences. It is said that if some event were to somehow shut down all television broadcasts the government would experience a severe crisis because it would lose control over the minds of the masses.
TV creates sort of a "hive mind" among the masses and keeps everyone coordinated and tuned into the official party line. Without this, people would have no choice but to start thinking for themselves and forming independent opinions. Clearly, this would be a disaster.
The radio broadcast of "War of the Worlds" and the later movie "The Day the Earth Stood Still" are said to be CIA psychological experiments to judge how the general public would react to some type of ET contact.
Today, broadcasting is not just a one way event. Because people react to events and use social media to express these reactions, the effect of specific propaganda can be analyzed in real time. Since the government now intercepts all electronic communications, it is able to see general opinions and then tweak algorithms to maximize the desired effect of propaganda. This ability makes TV a two-way communications system although most people, of course, do not realize this and have no concept of the level of sophistication these technologies have reached.
Information Theory
Information Theory is the name of a relatively new branch of science which became popular in the 1960′s. It covers a broad range of technologies. Basically, it is the science of the flow of information and how that flow can be selectively controlled so that information flows only in desired pathways. As you may have already guessed, governments love this sort of stuff.
ECM
ECM stands for Electronic Counter Measures. In general, these are techniques to disable other electronic devices. Basically, it is electronic warfare. When the secret service is active in an area, for example, they will selectively jam all radio frequencies except for the specific frequencies they are using so that no one else can communicate.
World leaders, who are generally terrified of "threats" materializing from practically anywhere, like to travel with ECM generators running just in case "someone" from "somewhere" was trying to target them for "some reason". Basically, they are paranoid whack jobs.
People familiar with aviation tell the story of how Tony Blair, while traveling to or near a commercial airport, reportedly caused a commercial jet to crash because all the ECM garbage he was transmitting jammed the plane's navigation system. Of course, the British government would never admit this.
Secure Communication With Submarines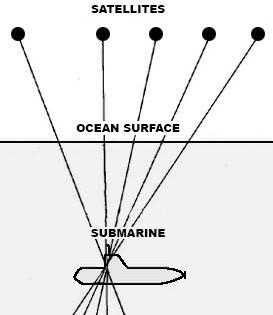 Since submarines were invented, communicating with them has been a problem because conventional radio waves will not travel underwater. Therefore, early submarines had to get close enough to the surface to put up some kind of antenna in the air to send or receive radio messages. Obviously, this could pose a problem if you did not wish to be discovered and located. After all, the motivation to create submarines in the first place was the feeling that they would be able to move about the planet secretly. However, newer technologies now make this impossible.
To solve the problem of reliable secure communication without the need to surface, scientists learned that sea water was essentially transparent to a special type of Argon laser. To set up the current communications network, it was decided to use several satellites with each satellite sending only part of an encrypted communication signal. The complete signal could only be received at a specific point underwater where all the laser beams intersected. Intercepting only one or two beams would prove useless. This communications system is considered to be impossible to intercept.
Quantum Entanglement
Returning to the submarine issue for a moment, before modern communications were perfected, there was a search for some reliable method to send a signal to a submerged submarine that could not be detected. This was considered necessary in a war situation to secretly transmit an attack command. What they originally did was to locate a couple of people who could communicate telepathically. One would be at the command base and the other on the submarine. Doing a bit more research, it was determined that this type of communication is instantaneous and somehow operated outside of time. Radio waves travel at the speed of light.
Quantum entanglement is a process which uses technology to send and receive signals outside of space-time. Now, why would you possibly want to do this? Well, if you had a base or a colony on a planet in some other solar system light years away, you would not want to wait years for messages to be received. Following this thread — and adding some basic common sense — why would you want to dedicate resources to search for habitable planets in distant solar systems when you had already "proven" it would be impossible to ever get there? Could it just be that someone is not coming clean with whole story?
The Separation Barrier
This is a model of the separation barrier which insulates the ruling class from the slave class. It is essentially "intellectual apartheid". The question is, why is it there. It takes considerable effort, money and manpower to maintain this artificial barrier. What is the reasoning behind not having a level playing field for everyone? Why does this idea absolutely terrify the elite? What are they afraid of?
The Pirate Story
This is a summary of a story told years ago on a radio broadcast most likely by Paul Harvey:
Ordinary people were afraid. The Earth was flat so they dare not venture far from home. Periodically, a pirate ship would come. They did not know how it got there or from where it came. It brought treasures they had never seen. The Chief Pirate would encourage the young men to study and specialize in specific skills. He wanted them to become educated but only in one narrow area. The Chief Pirate knew the world was not flat and how to navigate to other lands. However, this knowledge was never discussed. This "top secret" knowledge or the "big picture of the known world" would only be given to the Chief Pirate's son who would inherit his title and someday become the Chief Pirate.
This story is about the origin of the concept we call compartmentalization — the process of controlling the slave masses by only allowing them to know specific bits of the truth while the leaders are allowed to know total truth.
ELITE RULING CLASS
SECURITY CLEARANCES
SECRET POLICE
ASSASSINS
SURVEILLANCE — SIGINT HUMINT COMINT
SPY SATELLITES
SPY DRONES
SMART ELECTRIC METERS
INTERNET SURVEILLANCE
NEIGHBORHOOD SPIES
PLENTIFUL STREET DRUGS
PSYCHIATRIC FORCED DRUGGING
GENETICALLY MODIFIED FOOD
FLUORIDATED WATER
COORDINATED TELEVISION PROPAGANDA
DEGRADED PUBLIC EDUCATION
LOCAL MILITARIZED POLICE
---
SLAVE CLASS
Leaders can only maintain their status if there are slaves. Otherwise, everyone would be equal and operate on a level playing field. This means "leaders" would have to pull their own weight like everyone else. Clearly, this would be intolerable. Leaders love beautiful and exotic things but don't want to do the work needed to create these things. They probably could not even plant a garden much less build the various "ivory towers" where they like to live surrounded by servants. If left on their own they would very likely starve. This is why it is so important to create and maintain the complex separation barrier.
Why don't people who live above the separation barrier ever "come down" and talk to the people below the barrier? Well, other than the obvious fact that they would likely be killed or jailed for espionage or treason, there is another, simpler, reason.
Would you like to spend your days sitting in an open field with kindergarten kids looking for four leaf clovers? Probably not. You have progressed beyond that. The slaves below the separation barrier cannot even imagine the world of those who live above the barrier. In fact, the elite do not even consider the slaves human. They call them "disposable biological units". The United Nations prefers the slang term "the herd". Slaves can be easily bred in quantities needed and programmed to do desired tasks. Then, they can be easily disposed of when no longer useful. That's how they look at you. So, why would they want to make friends with you?
The Mars Example
There is an interesting event playing out today that you may have noticed. This concerns the recruitment and selection of people to be sent to Mars. There are simulation projects where volunteers are locked away to imitate the long voyage to Mars. They are being told that this is a one way trip and they can never hope to return to Earth.
What you are witnessing is the selection process for the "seed people" who will be used to breed the future slave class on Mars. In a situation similar to the period when most believed the Earth was flat and you would fall off if you tried to go to sea, these people are convinced that the only way to get to mars is to ride a rocket on a perilous journey taking years. Because they truly believe this, when they get to Mars, they will teach this crap to their kids along with other misconceptions like it is impossible to go faster than the speed of light and other associated obsolete scientific principles. They will have no
desire to ever return to Earth or go anywhere else because they truly believe it is not possible. They will be contented slaves.
Of course the truth is that there are already secret colonies on Mars. It is not that hard to get there using antigravity and other secret propulsion methods and it is quite likely possible to simply walk through some kind of wormhole device and come out on Mars.
However, the slaves will never know this. Just as it is done on Earth, there will be an artificial separation barrier. The insiders will know the truth and will be physically hidden from the slaves. There will be secret police and other methods — the same as are used on Earth — to make sure no slave ever escapes from the "information prison". Business as usual will continue.
Reinforcement of Ignorance
Governments and their oligarchs love to keep their subjects in a cloud of ignorance. Back in the days when people believed the Earth was flat, the inner circle ruling class knew it was round. Maintaining the deception was convenient because it kept the slaves from developing any desire to travel far from home.
Nothing has changed all that much today. Consider, for example, all the fuss over the missing MH370 plane. You are being played for a sucker. It is impossible for that plane to have "disappeared".
The US DoD spy satellite system reportedly consists of ten constellations of satellites. Each constellation has over seven thousand satellites. They see and record everything that happens on this planet. The floor of the oceans can be seen just as clearly as the land areas. The resolution of the system is better than one square millimeter. Also, everything is recorded so you can go back in time and play past images.

This is a picture of a common electric lamp. Take this lamp and throw it in the ocean — any ocean anywhere on this planet. The spy satellite system will locate it, give you the coordinates and give you a photo at least as good as the one above. That is the capability of the system. So, clearly, it is impossible not to know the location of something as large as a Boeing 777 plane. All the TV publicity is a choreographed play. You are being scammed and you need to wake up and realize this fact.
Murders and Assassinations
To ensure a strong empire, dissent must be crushed. The United States trains assassins and carries out both domestic and foreign murders and assassinations on a regular basis. You may be familiar with the classic movie scenes where a black limousine with tinted windows drives by a target with thugs shooting machine guns. Although this would accomplish the task, it is a bit too obvious in a country that advertises itself to be a free, civilized democracy. Someone might catch on and begin to doubt the party line. Consequently, these things must be done quietly.
Inside the US, murders are reportedly carried out by a group known as "FBI Division Five". Other agencies likely have the responsibility for foreign assassinations. However, the basic techniques used would be similar.
Typically, an agent would wake up every day and connect to the top secret internet to see who he was assigned to kill that day. There would be several options. If it was important to eliminate the target immediately, a fast acting chemical agent would be selected which, for example, would cause the target to die within a few hours of a "natural" heart attack.
However, if time was not critical and the government just wanted the target out of the way, you might want to select one of the cancer causing agents such as those likely used to eliminate Hugo Chavez and Senator Ted Kennedy.
There is also a third possibility. This involves character assassination instead of actual murder. Consider, for example, a person who has gained a lot of public recognition talking about, say, free energy. If you simply kill the person, there could be blowback and talk that he was silenced by the government. In such cases, it is easier to use a chemical agent designed not to kill but, rather, to cause states of mental confusion resulting in obviously strange behavior. This would be coordinated with the government controlled mainstream press to make sure everyone became convinced the person was a nut and would therefore ignore anything said without regard to the truth or validity of the message.
Once the appropriate chemical has been selected, you need to load it into the secret delivery system and locate your target. To find your target you will connect to the top secret internet and pinpoint the location of the target through their cell phone. You can also activate all the cameras and microphones in electronic gadgets connected to the internet associated with the target in case you wish to look around the target's home and hear in real time what is taking place.
Of course, this will not help you locate the target when it is time to actually do the hit. So, you need to get the top secret profile data which will show any predictable habits of the target. Everyone is constantly tracked through their cell phones and profiles are logged and stored. In this case, the profile shows that the target has a favorite restaurant and goes there for lunch every day around 11:30. Now, you know exactly what to do. You go to the restaurant, hang out until you see your target, and get in line behind the target. Now, all you need to do is slightly bump into the target to deliver the chemical. Generally, the targets never even notice.
This mission is now complete. If it is early enough, you can check back in to the top secret system to see who you are supposed to kill next. Just another day. Just a routine job.
Money
Money is an imaginary force. It is used to motivate and control slaves. Real forces effect all life forms. However, only people respond to money. The only reason they do is because they have been artificially programmed to do so.
Money can be created in unlimited quantities by those adept in the use of this force. The physical world is finite, however the world of imagination is not. There is no limit to the quantity of money that can be imagined into existence. Money can also be imagined out of existence.
Let's assume that one day the entire financial system simply disappeared. If you lived in a rural area and had a nice veggie garden, some friendly chickens, collection facilities for rain water and a few photocells for electricity, you would not notice this. The veggies would continue to grow. Rain would periodically fall. The chickens would lay eggs as usual. The sun would continue to shine. However, if you lived in a city environment, you would be devastated.
Before money, people lived in small hunter-gatherer groups. The concept of ownership did not exist. People worked and survived as a group. Men and women were equal. Everyone contributed to the community. Resources were shared equally. The concept of "mine" and "yours" did not exist. Women generally became pregnant only once about every three years although there was no birth control. Later, when the concept of money entered the consciousness, women were seen as having less value because men were paid for work but women were not paid to raise and care for kids. Society has changed, however, the downgraded status of women has not.
Money systems have always been manipulated by clever people. When gold was used as money, people learned they could dilute pure gold with silver or maybe even lead to come up with something that looked like pure gold and had the correct weight but was a fraud. A king suspected he was being scammed but had no way to prove it. He called on the great minds of the time for help. This led to what is known as the Archimedes' principle which is better known today as "specific gravity". This principle made it possible to compare a sample known to be pure gold to a questionable sample and prove the unknown sample was not pure gold. Likely, some clever crook lost his head once this test became known.
There is a general belief that gold is the ultimate reference for all money. However, secrets concerning the exact quantity of gold make this a perilous assumption. Reportedly, the United States stole a tremendous quantity of physical gold from Japan towards the end of World War II. This gold exists off the books. To make matters worse, Japan was not all that concerned. Japan had been using gold bars as ballast on its ships because they were compact and heavy. They thought nothing of throwing the bars overboard as necessary. Japan used platinum as a money reference and the US never got that. This should make one rethink all the hype about the value of gold. It may be a lot more plentiful than we have been led to believe. Also, the secret off the books stashes of gold would allow its relative value to be manipulated at will just like other commodity markets.
The Financial Axis of Evil [3]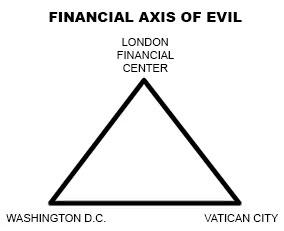 This is the model of the financial axis of evil which rules this planet. It consists of three main branches as shown above. Collectively, they are known as "The Empire of the City". Briefly, here is how this system operates:
The London financial district is in London, Washington D.C. is in the United States and the Vatican is in Italy. However, these three places are not part of the countries where they exist. They are independent "city states" and have their own laws and constitution. They are, effectively, "mini countries" inside of other countries and fly their own flags. The city state of London is a private corporation and pays no taxes to actual London or to Britain. The city state of London is the master power center and is controlled by the Rothschild family which considers itself to be the legal owner of this planet. The Vatican is the largest private land owner in the world and the first true multinational corporation with installations (churches) and secret agents (The Knights of Malta) everywhere. They control through the power of fear of the unknown and practice black magic. Washington D.C. relies upon brute military force. All three closely cooperate combining their specialties of financial trickery, witchcraft and military might. Of course, all three worship Satan as their Master.
Slavery
Slavery is alive and well throughout the world. The US constitution prohibits slavery, however, most americans live in slave-like conditions.
It is said that it will take the average college student until age fifty to pay back their student loan.
The constitutional amendment prohibiting slavery addressed the concept of physically owning another person. However, it did not address the issue of holding another person in bondage as a debt slave. It also did not consider the concept of private for profit prisons who force inmates to work as slaves. These systems exist today and are perfectly legal.
Actually, a recent report from prestigious Princeton University has reclassified the US government as an oligarchy — a country run by and for the rich elite. Former US President Carter has stated that the United States "no longer has a functioning democracy". So much for the Founding Father's dream. Speaking of dreams, check out the free you tube video titled "The American Dream".
Other forms of slavery are illegal but still flourish. Sex slaves are always in demand. Traffickers are sometimes caught but you need to realize that your leaders use sex slaves and also routinely abuse young girls and boys. Sometimes they are also killed during occult rituals. No one ever talks about this and these people are never punished. This has been the normal way of life for Satan worshipers for many years and nothing has changed or is likely to ever change in the future. Stanley Kubrick's last movie, Eyes Wide Shut, covers this subject. Some believe this intense dramatization of how the elite really live may have cost him his life.
People still have some rights left in the United States but other countries are a different story. Qatar is doing construction for the World Cup. The event is not scheduled until the year 2022, however they have already killed 1200 slaves [7] by working them to death. People are lured from poor countries with the promise of jobs and money. When they arrive, their passports are confiscated and they are forced to work until they literally drop dead. If the World Cup is actually held in Qatar in 2022, there will be glamorous TV coverage and no one will remember or care about all the dead slaves. The show must go on.
Qatar, incidentally, sponsors Al Jazeera TV network.
Adaptation Techniques
The status quo of today will never change because the people who created it will never die. Because of top secret medicine, when men like Henry Kissinger, who heads the Bilderberg Group's steering committee, get too feeble to function, they will simply go to one of the secret locations and use the temporal reversal device to regress back to about twenty years old. Their memories will be unaffected. Then they will get new identities and continue on. This process can be repeated indefinitely.
Because you can never change the status quo, your best hope for a lifetime of reasonable quality is to find clever ways to live in this world with as much independence as possible.
One method of adaptation is autonomous and semi-autonomous communities. If the community is registered as a religious institution it is automatically shielded from most government interference by the US constitution. It pays no taxes and can pretty much write its own rules by simply calling whatever it wants to do "religious doctrine". Many small semi-autonomous groups exist where people who share a common set of values find ways to quietly live out their lives pretty much on their own terms. The government does not seem interested in bothering these smaller groups as long as they live peacefully and are not doing anything that the government perceives to be a threat.
The Amish people are a good example of an autonomous group. You would probably not want to live as they do, however, before you completely dismiss them, you may want to look at some definite advantages in their chosen lifestyle.
Remember, these are the people who reject technology. They just might have made the correct choice. Technology, at first, seemed like a good idea. However, now that people are addicted to technology they are also enslaved by technology. Everything they do is monitored and recorded by the government. Privacy no longer exists. It did not have to be this way.
Technology, in itself, is not evil. However, it can be quite evil if you live under a government run by sociopathic control freaks which, unfortunately, you do. In the Amish world, electronic surveillance does not exist because electronic devices do not exist. The constant propaganda from TV has no effect on people who do not have TV. A horse does not report its position to a GPS satellite and is not controlled by a computer.
Also, the people are generally healthy and do not suffer from many diseases common to the mainstream population. They are not being poisoned by fluorinated water or additives found in processed food because they don't use these things. Also, they get lots of physical exercise.
Without totally withdrawing from the world, there are some positive steps you can take. By now you know never to drink fluorinated water or use any personal product containing fluoride such as many brands of toothpaste. To minimize harmful food additives, look for Kosher food which is marked with either the encircled "K" or "U" (Ultra Kosher). These foods have less or no harmful additives. The Jewish community is very protective of its people and the Mossad is widely considered to be the best intelligence service in the world. Therefore, they would have the inside scoop on everything including food and do not want to see their people harmed.
Whatever you decide to do, you definitely do not want to be part of so called mainstream society. These people are doomed. They are sheep (sheeple) slowly walking to the slaughter house. Don't go there!
---
references and credits
[1] DVD "The American Ruling Class". ASIN: B001HM2CE2.
[2] John Perkins. Book: Confessions of an Econemic Hit Man; DVD (free on you tube): "Apology of an Economic Hit Man"; RT interviews.
[3] See the free you tube videos titled "The Red Shield".
[4] DVD: "The Wages of Debt", RT Intl. Also available for purchase.
[5] DVD "Terra Blight", RT Intl. Also available for purchase.
[6] Interview with John Judge of Veterans Against Military Psychiatry.
[7] Also search using the phrase "qatar slaves world cup".
© 2014 W C Vetsch. All rights reserved.
Source: Walter C. Vetsch  |  3108.info | War Is Crime
The Jewish ADL (Anti-Defamation League) revealed this week that more than 'one in four adults' are 'anti-Semitic.'
Of some 53,100 adults in 102 countries and territories around the world surveyed for the ADL Global 100: An Index of Anti-Semitism, 26% were found to be 'deeply infected' with 'anti-Semitic attitudes'.
Personally, I find both the ADL and its polls quite amusing. Can you think of another people on this planet who would spend so much time and energy measuring how much they are loved or hated? Do the Brits measure how despised they are in Moldova? Do the Palestinians question people all over the world to see how much they love those indigenous people of Palestine? Well, the Jews do and it's for a reason. Abe Foxman, ADL's National Director, must by now have grasped the immense destructive global power of Jewish politics, so naturally he wants to measure the reaction. But rather than reflecting on the results and then turning to his own people in the hope of re-educating them, Foxman always blames the rest of humanity. And why? Because in the Judeo-centric cosmos, the Jew is always innocent and the Goy is always to blame.
ADL discovered that the least anti-Semitic country at 0.2% of the adult population 'hating Jews' is ……..Laos! But what does that mean? Should the ADL start to schlep Jews to Laos? Maybe, rather than Palestine, it is Laos that is the promised land. Trouble is, once the Jews start to immigrate to Laos, anti Semitic attitudes will sharply rise. ADL is yet to resolve this Jewish dilemma.
Apparently, according to the ADL, the territories of the West Bank and Gaza Strip had the highest 'anti-Semitic' attitudes at 93%. But is it really 'anti Semitic' to oppose those who plundered your home and murdered your family? No Abe, this is not anti-Semitism, this is resistance.
The questions of the survey were also very interesting. Respondents were asked a series of 11 questions about Jews, Jewish power, Jewish tribalism, Jews and money and Jewish behavior. Those who responded affirmatively to six or more negative statements about Jews were considered to hold 'anti-Semitic' attitudes. But I beg to differ. I'd think that those who answered affirmatively were simply authentic, honest folk who were better informed about the state of the world. Now, if I am correct here, it means that about a quarter of world's population is authentic, honest and informed – a most positive and encouraging bit of information.
But back to the results of the survey. It seems that 74% of respondents indicated that they had never met a Jew and yet, of those, 25% still harbored anti-Semitic attitudes. Also, of the 26% people who did harbor anti-Semitic attitudes, some 70% of them had never met a Jew. But you know, most people have never met a Nazi either and yet Nazis are also pretty unpopular these days. It's all a matter of reputation.
All in all, it seems that AIPAC, the Jewish State, CFI, CRIF, ADL and Bernard Henri Levy have been investing an awful lot of energy giving Jews bad name.