Volatility in the currency markets, bond markets, and stock markets likely has a lot of people on Wall Street feeling a bit worn out. Taking a summer vacation in the Hamptons might just be their best idea.
The coming months promise to be anything but quiet and predictable. Here are a couple of items that may yield profound implications for stock, bond and currency investors before summer ends…
The Threat of an Official Recession Is Looming
The next few months are critical for the U.S. economy. The official definition of recession calls for two successive quarters of negative GDP. First quarter GDP came in barely positive, initially estimated at 0.2%, but it will be revised twice before July. Some experts expect it will wind up in negative territory.
The U.S. trade deficit recently came in much larger than expected. The higher deficit will, setting other factors aside, translate to lower GDP. Investors will get a look at 2nd quarter GDP in late July and pessimism among forecasters is growing.
So far U.S. equity investors are hoping for the best, or at least hoping the Fed will reverse course on tightening. Stocks are shrugging off bad news and powering higher with price-to-earnings valuations climbing into the nosebleed section.
It is hard to imagine valuations at these levels holding if investors and high frequency trading algorithms must grapple with an official recession. Of course, should the Fed announce some new form of stimulus in response to bad news then all bets are off.
The End Is Nigh for Greece
The Greek government is running out of tricks to avoid a default. Last week, officials there paid €750 million Greece owed to the IMF by borrowing €650 from the IMF; a last resort gimmick they won't be able to repeat.
Absent finding an agreement with lenders to modify loans and dramatically reduce what is owed, the Greeks will be in outright default as early as next month. This summer should tell the tale on Greece's future within the European Union.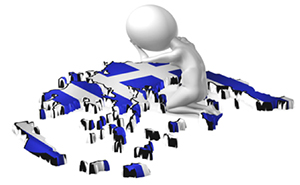 Should Greece default and exit the EU, it will be the first event of its kind, and it has the potential to open a Pandora's Box. There will be bank failures within Greece and pain for anyone holding Greek debt. It could pave the way for bankruptcy and an exit in a number of other nations where finances are also in shambles. And no one can confidently predict the outcome in derivatives markets where banks and hedge funds have been making highly leveraged bets.
Should the Greeks manage to reach an accord with lenders, markets will have to contend with a different set of challenges. You can bet other overly indebted nations including Ireland, Spain, Portugal, and Italy will aggressively pursue similar deals. The pain for bond holders isn't likely to end with Greece.
The EU has a flood of bad debt swirling around its knees, but officials there continue to pretend they stand on solid ground. Regardless of whether Greece defaults outright or manages to cut a deal, it looks like the pretending will have to stop – and soon.
The resounding victory of Alexis Tsipras in the Greek election was certainly a referendum that rejected the austerity demands placed on Greece by the European Union. The Wall Street Journal says the following, in Syriza Win in Greek Election Sets Up New Europe Clash.
"A Syriza victory marks an astonishing upset of Europe's political order, which decades ago settled into an orthodox centrism while many in Syriza describe themselves as Marxists. It emboldens the challenges of other radical parties, from the right-wing National Front in France to the newly formed left-wing Podemos party in Spain, and it sets Greece on a collision course with Germany and its other eurozone rescuers."
What informed political onlooker did not see this coming? The EU acts as if it was a Holy Roman Empire using some very unholy demands and requirements. Since Greece has a laid back culture, the notion that imposing a rigorous German work ethic on the Mediterranean city-states is about as shortsighted as allowing a popular vote in the cradle of Democracy. If the EU wants to be the seat of the Banksters New World Order, rectifying this oversight needs to be part of any additional rollovers of the debt.
The NYT reports on the German reaction to this election, in Greece Chooses Anti-Austerity Party in Major Shift.
"While Greece sees itself as being punished by creditors' demands, Germany and a host of European officials have argued that Greece and other troubled nations in the eurozone must clean up the high debts and deficits at the root of Europe's crisis . They say Athens has failed to make enough progress on structural reforms seen as necessary to stabilize the economy, and they are pressing Greece to raise billions of euros through more budgetary cutbacks and taxes."
Sounds like NATO Panzer tanks may need to surround the Acropolis. At issue is the next round of payments and exactly how far Tsipras' new coalition government will push back.
From the socialist French press, Greek radical-left leader vows to end 'humiliation and pain', the precedent dispute provides a look at the agenda that will be fought over.
"Greece's bailout deal with the eurozone is due to end on February 28 and Tsipras's immediate challenge will be to settle doubts over the next installment of more than 7 billion euros in international aid. EU finance ministers are due to discuss the issue in Brussels on Monday.
Tsipras has promised to renegotiate agreements with the European Commission, European Central Bank and International Monetary Fund "troika" and write off much of Greece's 320-billion-euro debt, which at more than 175 percent of gross domestic product, is the world's second highest after Japan."
The imposed neocolonialism from Brussels technocrats on Greece after the 2008 financial bubble is A True Greek Tragedy – Odyssey of the EU, concluded that "This tragedy is an existential test. Appreciate the absurdity of compliance with the New World Order, and apply comic relief, to those who follow commends of the EU Poseidon ship of state."
At stake is the ability of the EU to continue their centralization dictates in the face of public resistance. The victory of SYRIZA provides encouragement for similar movements from Spain, Portugal to Italy. However, such self-government enthusiasm flies in the face of the institutional power of the blue-blood aristocracy of financial elites, who in the past have never hesitated waging, war to suppress independence sentiments.
The term Grexit is introduced to forewarn the op-out of the EU option. Further explanation is elaborated in Greece lightning: six things you need to know about Syriza's victory.
Background – the Greek economy
Yesterday's election – and why Syriza wants to stay in the EU
But Germany is more relaxed about a 'Grex
It's now a question of how far Germany will budge
   The Eurozone is (probably) strong enough to withstand Grexit
But still, Grexit would be a risk that no one actively wants to take
Hugo Dixon: Grexit still unlikely after Syriza win takes another viewpoint. His outlook is based on the assumption that "no head of government in the other euro countries wants Greece to leave", so some kind of accommodation will be offered to appease the factions that resist their inordinate debt burden.
"So there might be a way of cutting a deal. The snag is that doing so would involve a massive somersault – or what Greeks call a "kolotoumba". Many of Tsipras' backers would then accuse him of betraying their cause. It is still far from clear whether he is prepared to do that.
But if the Syriza leader is not prepared to compromise, Greece will default and will have to impose capital controls to stop the banks collapsing. If the people then forced the government to backtrack, there would be one final chance to stay in the euro. Otherwise, the drachma would beckon."
Oh the horror of a country leaving the European Union and chucking the EURO. The factual consequences of Greece exiting the EU should not be gauged solely in economic terms. The limits upon which the Bilderberg oligarchy will tolerate liberation dissent become the decisive price and test of brute power in this battle for autonomy.
The Greek version of socialism is surely no model for economic prosperity. Nonetheless, the systematic fleecing of Greek assets by the vultures preying on the misery from the 2008 crash has yet to be put back in balance.
The viability of EU Bonds Rollover Debt with a Chinese Bailout makes the case why the EU is vulnerable to the mountains of their own obligations. The most likely outcome from the election of Alexis Tsipras is that a rescheduling rather than a reduction in the amount of indebtedness will take place. The EU Rothschild band of thieves knows no forgiveness, when it comes to collecting on their phony debt created currency loans.
The brave Spartans saved civilization at Thermopylae. It is doubtful that type of campaign can be fought again by today's Greeks.
Does the Name "Strauss-Kahn" Ring a Bell?
The International Monetary Fund has finally admitted that it was wrong to recommend austerity as early as it did in 2010-2011. The IMF now agrees that it should have waited until the US and EU economies were on a sustainable growth-path before advising them to trim their budget deficits and reduce public spending.  According to a report issued by the IMF's research division, the Independent Evaluation Office (IEO):  "IMF advocacy of fiscal consolidation proved to be premature for major advanced economies, as growth projections turned out to be optimistic…This policy mix was less than fully effective in promoting recovery and exacerbated adverse spillovers."
Now there's an understatement.
What's so disingenuous about the IMF's apology,  is that the bank knew exactly what the effects of its policy would be, but stuck with its recommendations to reward its constituents.  That's what really happened. The only reason it's trying to distance itself from those decisions now, is to make the public think it was all  just a big mistake.
But it wasn't a mistake. It was deliberate and here's the chart that proves it:
There it is, six years of policy in one lousy picture. And don't kid yourself, the IMF played a critical role in this wealth-shifting fiasco. It's job was to push for less public spending and deeper fiscal cuts while the Central Banks flooded the financial markets with liquidity (QE). The results are obvious, in fact, one of the Fed's own officials, Andrew Huszar,  admitted that QE was a massive bailout for the rich.  "I've come to recognize the program for what it really is," said Huszar who actually worked on the program, "the greatest backdoor Wall Street bailout of all time."  There it is, straight from the horse's mouth.
So now the IMF wants to throw a little dust in everyone's eyes by making it look like it was a big goof-up by well-meaning but misguided bankers. And the media is helping them by its omissions.
Let me explain: Of the more than 455 articles on Google News covering the IMF's mea culpa, not one piece refers to the man who was the IMF's Managing Director at the time in question. Doesn't that strike you as a bit odd?
Why would the media scrub any mention of Dominique Strauss-Kahn from its coverage? Could it be that (according to NPR):
"The IMF's managing director wanted to give Greece, Portugal and Ireland the time needed to put their accounts in order, and he also argued for softening the austerity measures associated with the bailouts for those countries.
Greek economists say that under Strauss-Kahn's leadership, the IMF was a counterbalance to the strict austerity policies favored by northern European leaders. In fact, according to the daily Le Monde, Strauss-Kahn is fond of calling those who argue for tighter austerity "fous furieux," which roughly translates as "mad men."
Strauss-Kahn's view is that shock-therapy measures imposed on Greece and other European countries with sovereign debt crises will lead only to economic recession and severe social unrest.
Several commentators pointed out Monday that at a time of turmoil in the eurozone and division among European leaders, it was the IMF, under Strauss-Kahn's leadership, that kept the eurozone's rescue strategy on track.
The Financial Times said that the IMF's single most important influence in the resolution of the eurozone crisis was political — amid a lack of political leadership, the paper said, the IMF filled a vacuum.
(IMF Chief's Arrest Renews Euro Debt Crisis Fears, NPR)
Ah-ha! So Strauss-Kahn wasn't on board with the IMF's shock doctrine prescription. In fact, he was opposed to it.  So there were voices for sanity within the IMF, they just didn't prevail in the policy debate.
But why would that be, after all, Strauss-Kahn was the IMF's Managing Director, his views should have carried greater weight than anyone else's, right?
Right. Except DSK got the ax for a sexual encounter at New York's ritzy Sofitel Hotel. So the changes he had in mind never took place, which means that the distribution of wealth continued to flow upwards just like the moneybags constituents of the IMF had hoped for.
Funny how that works, isn't it? Funny how it's always the Elliot Spitzers, and the Scott Ritters, and the Dominique Strauss-Kahn's who get nailed for their dalliances, but the big Wall Street guys never get caught.
Why is that?
The fact is, Strauss-Kahn was off the reservation and no longer supported the policies that the establishment elites who run the IMF wanted to see implemented.  They felt threatened by DSK's Keynesian approach and wanted to get rid of him. That's it in a nutshell.
Do you know why the bigwig plutocrats hated DSK?
It had nothing to do with his sexual acrobatics at the Sofitel Hotel. Nobody cares about that shite.   What they were worried about were his plans for the IMF which he laid out in a speech he gave at the Brookings Institution in April 2011, one month before he got the boot. The speech got very little attention at the time, but– for all practical purposes– it was DSK's swan song.  And, I think you'll see why.
The experience must have been a real shocker for the gaggle of tycoons and hangers-on who attend these typically-tedious gatherings. Instead of praise for "market discipline", "labor flexibility" and "fiscal consolidation", Strauss-Kahn delivered a rousing 30 minute tribute to leftist ideals and wealth-sharing sounding more like a young Leon Trotsky addressing the Forth International than a cold-hearted bureaucrat heading the world's most notorious loan sharking operation. By the time the speech ended, I'm sure the knives were already being sharped for the wayward Managing Director. To put it bluntly, DSK's goose was cooked. Here's a clip from the speech that will help to explain why:
"…The outstanding faults of the economic society in which we live are its failure to provide for full employment and its arbitrary and inequitable distribution of wealth and incomes"…
Not everyone will agree with the entirety of this statement. But what we have learnt over time is that unemployment and inequality can undermine the very achievements of the market economy, by sowing the seeds of instability…
.. the IMF cannot be indifferent to distribution issues…
Today, we need a similar full force forward response in ensuring that we get the recovery we need. And that means not only a recovery that is sustainable and balanced among countries, but also one that brings employment and fair distribution…
But growth alone is not enough. We need direct labor market policies…
Let me talk briefly about the second lung of the social crisis—inequality…IMF research also shows that sustainable growth over time is associated with a more equal income distribution…
We need policies to reduce inequality, and to ensure a fairer distribution of opportunities and resources. Strong social safety nets combined with progressive taxation can dampen market-driven inequality. Investment in health and education is critical. Collective bargaining rights are important, especially in an environment of stagnating real wages. Social partnership is a useful framework, as it allows both the growth gains and adjustment pains to be shared fairly…
We have also supported a tax on financial activities (and) organized jointly with the ILO … to better understand the policies behind job-creating growth…
Ultimately, employment and equity are building blocks of economic stability and prosperity, of political stability and peace. This goes to the heart of the IMF's mandate. It must be placed at the heart of the policy agenda. Thank you very much."   (The Global Jobs Crisis— Sustaining the Recovery through Employment and Equitable Growth, Dominique Strauss-Kahn, Managing Director IMF, April 13, 2011)
Can you imagine the chorus of groans that must have emerged from the crowd when Strauss-Kahn made his pitch for "progressive taxation", "collective bargaining rights", "protecting social safety nets", "direct labor market policies" and  "taxes on financial activities"? And how do you think the crowd reacted when he told them he'd settled on a more enlightened way to distribute the wealth they'd accumulated over a lifetime of insider trading, crooked backroom deals and shady business transactions?
Do you think they liked that idea or do you suppose they lunged for their blood pressure medication before scuttling pell-mell towards the exits?
Let's face it; Strauss-Kahn was headed in a direction that wasn't compatible with the interests of the cutthroats who run the IMF. That much is clear. Now whether these same guys concocted the goofy "honey trap" at the Sofitel Hotel, we may never know.  But what we do know is this: If you're Managing Director of the IMF, you'd better not use your power to champion "distribution" or collective bargaining rights or you're wind up like Strauss-Kahn, dragged off to the hoosegow in manacles wondering where the hell you went wrong.
DSK was probably done-in by the people who hated his guts. Now they want to polish-up their image by rewriting history.
And, you know, they're rich enough to pull it off, too.
When it gets complicated and confusing, when you're overwhelmed with too much information, changing daily; too many explanations, some contradictory … try putting it into some kind of context by stepping back and looking at the larger, long-term picture.
The United States strives for world domination, hegemony wherever possible, their main occupation for over a century, it's what they do for a living. The United States, NATO and the European Union form The Holy Triumvirate. The Holy Triumvirate has subsidiaries, chiefly The International Monetary Fund, World Bank, World Trade Organization, International Criminal Court … all help to keep in line those governments lacking the Holy Triumvirate Seal Of Approval: the IMF, WB, and WTO impose market fundamentalism, while foreign leaders who act too independent are threatened with being handed over to the ICC for heavy punishment, as the United States imposes sanctions on governments and their leaders as only the King of Sanctions can, lacking any sense of hypocrisy or irony.
And who threatens United States domination? Who can challenge The Holy Triumvirate's hegemony? Only Russia and China, if they were as imperialistic as the Western powers. (No, the Soviet Union wasn't imperialistic; that was self-defense; Eastern Europe was a highway twice used by the West to invade; tens of millions of Russians killed or wounded.)
Since the end of the Cold War the United States has been surrounding Russia, building one base after another, ceaselessly looking for new ones, including in Ukraine; one missile site after another, with Moscow in range; NATO has grabbed one former Soviet Republic after another. The White House, and the unquestioning American mainstream media, have assured us that such operations have nothing to do with Russia. And Russia has been told the same, much to Moscow's continuous skepticism. "Look," said Russian president Vladimir Putin about NATO some years ago, "is this is a military organization? Yes, it's military. … Is it moving towards our border? It's moving towards our border. Why?"
The Holy Triumvirate would love to rip Ukraine from the Moscow bosom, evict the Russian Black Sea Fleet, and establish a US military and/or NATO presence on Russia's border. (In case you were wondering what prompted the Russian military action.) Kiev's membership in the EU would then not be far off; after which the country could embrace the joys of neo-conservatism, receiving the benefits of the standard privatization-deregulation-austerity package and join Portugal, Ireland, Greece, and Spain as an impoverished orphan of the family; but no price is too great to pay to for being part of glorious Europe and the West!
The Ukrainian insurgents and their Western-power supporters didn't care who their Ukrainian allies were in carrying out their coup against President Viktor Yanukovych last month … thugs who set policemen on fire head to toe … all manner of extreme right-wingers, including Chechnyan Islamic militants  … a deputy of the ultra-right Svoboda Party, part of the new government, who threatens to rebuild Ukraine's nukes in three to six months.  … the snipers firing on the protestors who apparently were not what they appeared to be – A bugged phone conversation between Urmas Paet, the Estonian foreign minister, and EU foreign policy chief Catherine Ashton, reveals Paet saying: "There is now stronger and stronger understanding that behind the snipers it was not Yanukovych, but it was somebody from the new coalition."  … neo-Nazi protestors in Kiev who have openly denounced Jews, hoisting a banner honoring Stepan Bandera, the infamous Ukrainian nationalist who collaborated with the German Nazis during World War II and whose militias participated in atrocities against Jews and Poles.
The Israeli newspaper Haaretz reported on February 24 that Ukrainian Rabbi Moshe Reuven Azman advised "Kiev's Jews to leave the city and even the country." Edward Dolinsky, head of an umbrella organization of Ukrainian Jews, described the situation for Ukrainian Jews as "dire" and requested Israel's help.
All in all a questionable gang of allies for a dubious cause; reminiscent of the Kosovo Liberation Army thugs Washington put into power for an earlier regime change, and has kept in power since 1999.
The now-famous recorded phone conversation between top US State Department official Victoria Nuland and the US ambassador to the Ukraine, wherein they discuss which Ukrainians would be to Washington's liking in a new government, and which not, is an example of this regime-change mentality. Nuland's choice, Arseniy Yatseniuk, emerged as interim prime minister.
The National Endowment for Democracy, an agency created by the Reagan administration in 1983 to promote political action and psychological warfare against states not in love with US foreign policy, is Washington's foremost non-military tool for effecting regime change. The NED website lists 65 projects that it has supported financially in recent years in Ukraine.  The descriptions NED gives to the projects don't reveal the fact that generally their programs impart the basic philosophy that working people and other citizens are best served under a system of free enterprise, class cooperation, collective bargaining, minimal government intervention in the economy, and opposition to socialism in any shape or form. A free-market economy is equated with democracy, reform, and growth; and the merits of foreign investment in their economy are emphasized.
The idea was that the NED would do somewhat overtly what the CIA had been doing covertly for decades, and thus, hopefully, eliminate the stigma associated with CIA covert activities. Allen Weinstein, who helped draft the legislation establishing NED, declared in 1991: "A lot of what we do today was done covertly 25 years ago by the CIA."
NED, receives virtually all its financing from the US government ($5 billion in total since 1991  ), but it likes to refer to itself as an NGO (Non-governmental organization) because this helps to maintain a certain credibility abroad that an official US government agency might not have. But NGO is the wrong category. NED is a GO. Its long-time intervention in Ukraine is as supra-legal as the Russian military deployment there. Journalist Robert Parry has observed:
For NED and American neocons, Yanukovych's electoral legitimacy lasted only as long as he accepted European demands for new "trade agreements" and stern economic "reforms" required by the International Monetary Fund. When Yanukovych was negotiating those pacts, he won praise, but when he judged the price too high for Ukraine and opted for a more generous deal from Russia, he immediately became a target for "regime change."
Thus, we have to ask, as Mr. Putin asked – "Why?" Why has NED been funding 65 projects in one foreign country? Why were Washington officials grooming a replacement for President Yanukovych, legally and democratically elected in 2010, who, in the face of protests, moved elections up so he could have been voted out of office – not thrown out by a mob? Yanukovych made repeated important concessions, including amnesty for those arrested and offering, on January 25, to make two of his adversaries prime minister and deputy prime minister; all to no avail; key elements of the protestors, and those behind them, wanted their putsch.
Carl Gershman, president of NED, wrote last September that "Ukraine is the biggest prize".  The man knows whereof he speaks. He has presided over NED since its beginning, overseeing the Rose Revolution in Georgia (2003), the Orange Revolution in Ukraine (2004), the Cedar Revolution in Lebanon (2005), the Tulip Revolution in Kyrgyzstan (2005), the Green Revolution in Iran (2009), and now Ukraine once again. It's as if the Cold War never ended.
The current unbridled animosity of the American media toward Putin also reflects an old practice. The United States is so accustomed to world leaders holding their tongue and not voicing criticism of Washington's policies appropriate to the criminality of those policies, that when a Vladimir Putin comes along and expresses even a relatively mild condemnation he is labeled Public Enemy Number One and his words are accordingly ridiculed or ignored.
On March 2 US Secretary of State John Kerry condemned Russia's "incredible act of aggression" in Ukraine (Crimea) and threatened economic sanctions. "You just don't in the 21st century behave in 19th century fashion by invading another country on completely trumped up pre-text."
Iraq was in the 21st century. Senator John Kerry voted for it. Hypocrisy of this magnitude has to be respected.
POSTSCRIPT: Ukraine's interim prime minister announced March 7 that he has invited the NATO Council to hold a meeting in Kiev over the recent developments in the country. "I invited the North Atlantic Council to visit Kiev and hold a meeting there," Arseny Yatsenyuk said during a visit to Brussels, where he met with NATO Secretary General Anders Fogh Rasmussen and EU officials. "We believe that it will strengthen our cooperation."
Notes
Guardian Weekly (London), June 27, 2001
RT television (RT.com, Moscow/Washington, DC), March 1, 2014
Deputy Mikhail Golovko, RT, March 1, 2014
RT, March 5, 2014, "The EU's Ukraine policy and moral bankruptcy"; the phone conversation is believed to have taken place February 26.
Washington Post, September 22, 1991
Victoria Nuland, speaking at the National Press Club, Washington, DC, December 13, 2013
Washington Post, September 26, 2013
"Face the Nation", CBS, March 2, 2014
While shopping in a local grocery store my wife asked a nearby gentleman a question; he did not speak English.  Our local Mall has lost several upscale stores; they are quickly replaced but often with unfamiliar businesses.  We now have a Chinese Massage business in our Simon Mall.  The Chinese masseuses can say hello in English but little else.  Together they chatter away in Chinese.  At WalMart in the late afternoon a gaggle of different languages come from an equal number of unassimilated individuals and families.
It is pleasant to be in the company of familiar, like-minded people.   Disagreement destroys peace and causes strife while an inability to communicate isolates. Unfamiliar cultures are interesting to visit but vexing to live in.  Unity produces civic power; diversity is anarchic and feeble. 
Minority cultures tend to lose many of their distinctive qualities in a couple of generations, multi-culturalism is self destructive.
As settlers flooded into the New World, America's United States displaced the indigenous population and expanded across the continent of North America.  Its occupants were diverse within a limited range.  Most were Europeans seeking the freedom, wealth, and adventure of a new land.  They were a rugged and independent people willing to endure unlimited toil for the reward of self sufficiency.  Denominational divisions set them apart but most were European Christians.
In the early years of the new Republic care was taken in the numbers and roots of new immigrants. Originally the qualifications were European heritage, White skin, and a willingness to assimilate.  The need for industrial workers gradually relaxed Immigration laws expanding the ethnicity of new citizens; but the gates remained well guarded until 1965.
The Immigration Act of 1965 permanently changed the character of the United States.  It removed the nationality based quota system and expanded the eligibility scope to include all nationalities plus their extended families.  Contrary to most recorded history freshman Senator Ted Kennedy had very little to do with the new law; his contribution was mostly verbal. The law itself was written by Norbert Schlei, an assistant Attorney General during the Kennedy and Johnson Administrations.  Schlei was Jewish as were New York Represenative Emanuel Cellar and New York Senator Jacob Javits, the primary powers behind this disastrous legislation.  By the year 2050 it is expected that White Christian citizens of European extraction will be a minority in the nation they founded.   Read more here.
Multiculturalism has Jewish roots. Stephen Steinlight, an eloquent spokesman for Jewish policy, confirms this historic immigration policy and in 2004 urged a startling change:  "For Jews, the immigration debate pits the heart against the head. In their gut, many feel that substantially reducing immigration betrays the legacy of their parents and grandparents. But a growing number believes that maintaining this policy betrays their children and grandchildren. The danger arises because mass immigration means importing mass anti-Semitism. The upsurge of violent anti-Semitism in Western Europe tracks perfectly with mass immigration, especially of Muslims. Mass immigration is also the generator of Balkanizing notions of extreme multiculturalism. Having worked for nearly a century through communal organizations, the courts, and interfaith dialogue to achieve a tolerant and cohesive society largely free of anti-Semitism, it's anguishing for American Jews to watch current immigration erase this outcome. However uncomfortable, American Jews must grapple with the issue: they have a greater stake than other Americans in how this policy plays out." The entire article is here
Jewish leadership doggedly conspires to enact policies that benefit Jews.  That these policies are inimical to the inhabitants of the nations they live in is of little concern.  This exclusive agenda has resulted in a litany of historic expulsions.  They were gradually expelled from Europe and England in 1290, France in 1306, Spain and Portugal in 1492, Hungry in 1376, Sicily in the 1400s, Bavaria in 1470, Bohemia in 1542, and Russia in 1881, 1891, 1897 and 1903.
Definitive success is part of their undoing.  As a race they are smart, persistently industrious, dominant, clannish, and supportive of each other.  They are social but they do not assimilate.  The Talmud has more influence on their behavior than the Ten Commandments.  Their work ethic and their clever, amoral wisdom make them invaluable in intellectual circles.  They are unusually successful in climbing the ladders of influence and power.  In the United States they make up less than 3 percent of the population but they exert frightening control over money, government, media, education, and much of industry.
Professor Kevin MacDonald contends that a high IQ allowed Jews to gain wealth and social status which they used to manipulate immigration policy. He writes, "Jewish organizations have been able to have a vastly disproportionate effect on U.S. immigration policy because Jews as a group are highly organized, highly intelligent and politically astute, and they were able to command a high level of financial, political, and intellectual resources in pursuing their political aims."  ("The Culture of Critique")
Their successful rise to power in the United States has been skillfully orchestrated by exploiting the Holocaust and controlling information.  Major assistance has come from starry eyed Evangelical Christians who with euphoric ignorance blindly support anything Jewish.  Control of the press has allowed manipulative Jewish interests to control the government and control of the government has allowed those same individuals to kidnap and use our nation for their own nefarious ends.     
American Jews are primarily Ashkenazi. They came to the United States in the late Nineteenth and early Twentieth century from Eastern Europe.  Since Communism was considered beneficial to Jews many of these immigrants were Marxists.  For a number of years in the early and mid-Twentieth Century the United States Communist Party was Kosher.
In a recent article entitled "Illegals Swarm in – Dallas Transformed"  Libertarian Nelson Hultberg writes,: "No country in the history of the world has ever survived multiculturalism. America will be no exception. All great nations protect their borders. They abide by the requisites for stability and 'ordered freedom.' Their intellectuals peruse history rigorously and learn from it. They respect the ethnic majority of their country. They do not malign its traditions and smear its heroes in the schools."
Hultberg tells of efforts by Texas communities to stem the flow of immigrants and how those efforts were countered by the ACLU and other pro-immigration organizations.   He breaks with the Libertarian tenet of open borders but makes a serious strategic error by failing to mention the tremendous influence of powerful pro-immigration Jewish interests.  Substantial Jewish financial support sustains the ACLU which in addition to supporting open borders has been a major force in wiping Christianity from the public arena.
Jewish society is not homogeneous.  Jewishness is itself a form of religion but there are several different factions within Judaism. There is stronger diverse opinion in neo-Israel than in the United States.  Some Jews are Christians and some industriously expose the Satanic nature of Zionist leadership.  The Jewish population in general is to some extent a victim of the policies of their leaders.
The Jewish push for massive alien influxes is still in full swing.  If it becomes law Immigration bill S744 will add millions of new voters to the Democratic roster. The Center for Immigration Studies estimates that current immigration volume plus S744 would create 32 million potential voters by 2036  The bill is being sponsored by radically Jewish New York Democratic Senator Charles Schumer and supported by "The Gang of Eight" (Bennet, Durbin, Flake, Graham, McCain, Menendez, and Rubio) a gang that knows who butters their bread. 
For many years United States citizens have displayed a dangerous ignorance of political reality.  Political parties create a wedge between party interests and the good of the nation and a Jewish  controlled press censors important news. Many of our citizens are intentionally stupid, they ignore impending danger seeking solace while it is available.  H. L. Mencken, the acerbic Baltimore pundit, called U. S. voters "Boobus Americanus" and the New York Post has confirmed the assumption with an article informing us that not only are our school children dumb by international standards but so is our adult population.   Read the article here.  The United States of America has become an imperialistic power being controlled like a puppet by people much smarter than its' voting adults.  We deserve the tyranny we are getting; we voted for the people who brought it to us.
Troika scoundrels are looting Greece. They're destroying it. They're waging financial war. They partnered with corrupt Greek officials.
They're strip-mining Greece for profit. It's the epicenter of global pillage. Ordinary people have no say. They're victims of force-fed harshness.
The more Athens borrows, the greater its debt burden, the harder it is to get out from under. Greece is dying. It's practically a corpse already. Only its obituary remains to be written.
Official unemployment tops 27%. It's likely higher. Youth unemployment approaches 65%. An entire generation's lost. It's being systematically destroyed. It's dying on the alter of pay bankers first. Whatever they want they get.
Greece's New Democracy/PASOK coalition plans thousands more layoffs by yearend. On July 17, it enacted its seventh austerity package since 2010.
It calls for firing 15,000 state workers. About 25,000 will be gone by yearend. Up to 150,000 will be sacked by yearend 2014.
Troika scoundrels demand their pound of flesh. They insist in return for emergency loans. They reflect loan shark economics writ large.
Greek economist Yanis Varoufakis calls "Bankruptocracy in the Greek Sector of Bailoutistan" destructive. It's "progressing in leaps and bounds."
It's doing so with "European taxpayers loan guarantees providing the capital and a bonfire of the Greek people's hopes for the future supplying the energy."
Greece is a black hole of inequity. It's burning. It's a model of self-destruction. It's birthrate's in decline. Stillbirths rose 20% since 2008.
Greece spends much less on education than other OECD countries on average (8.3% compared to 13.1%). It doesn't matter. In mid-July, parliament approved thousands more teacher layoffs. They promise recovery ahead. Things do from bad to worse.
Around 40% of households lack healthcare. A late March Lancet study said Europe's financial crisis poses major threats to health.
Greece is hardest hit of all. So are Spain, Portugal and Italy. Suicides and infectious disease outbreaks "are becoming more common in these countries, and budget cuts have restricted access to health care."
Public health's in crisis. Policy makers are largely silent. They're dismissive. They're indifferent to human need. John Pilger calls willfully destroying social justice the "Age of Regression." Police state harshness enforces it.
It's vicious. It's the new normal. It reflects nations gone mad. Potemkin societies replace real ones. Black hole harshness reflects them. Greece is prologue for what's deepening.
It's spreading across Europe. It's hammering Americans. It affects Canadians. It's coming to a community near you. Imagine unaffordable basic services. Imagine unavailable healthcare when ill.
On April 20, the TransAtlantic Consumer Dialogue (TACD) IP Policy Committee addressed Greece's healthcare crisis. It did so by open letter to coalition officials, saying:
"This letter is an attempt by Greek scholars and physicians from diverse academic areas of specialization to raise our concerns regarding the current, dire, state of Health Care services in Greece."
"Our country has fallen into a dismal state, and it is constantly challenged by extrinsic and intrinsic pressures, while the economic and social climate deteriorates further each day."
"The Greek government, in total obedience to the irrational demands of the Troika, focuses on the obligations of the citizens towards the state, and seems to forget or ignore its own obligations towards its citizens."
"The Government has imposed a brutal and self-defeating fiscal austerity; in a confiscatory manner, it tries to collect extra revenue from an already impoverished and afflicted populace, while it neglects its main role, as specified by the Constitution: The Protection of the Rights and the Welfare of the Citizen Body."
Greece's black hole deepens. Coalition partners shrank GDP by 25%. Doing so's a shocking indictment of corrupt mismanagement.
Public health's in disarray. It's "collapsing on all fronts." The health of an entire population is "seriously undermine(d)."
Mortality and morbidity are increasing. Troika subservience demands vital service cuts. Medical staff numbers are reduced.
Essential equipment deteriorates. Everything's in short supply. "Patients now have to pay for consumables, for medical tests, and for surgeries."
"This is all on top of what they already paid through their insurance funds."
"Those who suffer from chronic diseases, such as chronic obstructive pulmonary disease, are forced to pay a 25% deductible for the cost of their medication, while prior to the crisis this deductible stood at 5%."
"Cancer and kidney failure patients suffer not only due to the increased costs of specialized treatments, but also the general rundown of these facilities, loss of key personnel and dramatic shortages in medications."
"Unable to receive treatment at home anymore, they have to travel far away for dear life, and wait in endless queues in the corridors of bureaucratic health-insurance offices and/or hospital clinics."
Mental health services are greatly diminished. "Psychiatric hospitals in Greece can no longer perform at the level required to provide even basic treatment to patients diagnosed with serious mental illnesses."
"Standard (surgery) rates" force patients to pay about 20% in advance for materials and services.
Doing so "makes both emergency and elective surgeries virtually unapproachable for a broad segment of the population."
Millions of unemployed and underemployed Greeks have inadequate resources for expensive treatment. Many can't afford rent, utilities, enough nourishing food, other basics, and other living expenses easily affordable years earlier.
Greece's poor, unemployed and retired "have no choice but to forego basic, life-saving drugs and healthcare monitoring."
They do it to afford minimal sustenance. Thousand of medical and other professionals emigrated. Prior to crisis conditions, Greece's National Health System (ESY) provided exceptional services.
It now lacks basic resources. It has too few trained professionals. It's "besieged at every level." It's "plundered with your consent."
It's dying a slow death. So is Greece. It's beholden to foreign bankers. It's "not a government of Greeks for Greeks."
"The disastrous policies that undermine even the basic health of the Greek population must come to an end."
Greece represents the worst of neoliberal harshness. Social services across the board are disintegrating. They're in disarray. They're disappearing in plain sight.
In 2013, martial law was imposed three times. Coalition gangsters wage war on their own people.
Central Athens demonstrations are banned. Police state harshness targets nonbelievers. Courageous people initiate change, said Pilger.
There's no other way. They're responsible for "taking back their own lives against (long) odds." Civil disobedience is a noble tradition. Pilger says read Percy Shelley. "Ye are many; they are few."
Victor Hugo said nothing's stronger than "an idea whose time has come." Seize it. "(D)o it," said Pilger. The alternative is deepening dystopian harshness.
Stephen Lendman lives in Chicago. He can be reached at lendmanstephen@sbcglobal.net.
His new book is titled "Banker Occupation: Waging Financial War on Humanity."
http://www.claritypress.com/LendmanII.html
Visit his blog site at sjlendman.blogspot.com.
Headlines cheered America's June report. Bloomberg said "US Employers Added More Workers in June Than Forecast."
"Employment roared ahead in June." America's "economy is poised for faster growth as it shakes off the impact of tax increases and budget cuts."
The Wall Street Journal headlined "Job Gains Show Staying Power," saying:
June showed "solid promise." Doing so suggests "the economy might be strong enough to grow with less help from the Federal Reserve." More on that below.
Bond investors "rush(ed) to sell." Ten-year Treasuries spiked above 2.7%. In May, yields were about 1.6%. Friday's level was the highest since August 2011.
According to ED&F Man Capital Markets fixed income analyst Tom di Galoma:
"A huge bond bubble was created, and that will take some time to resolve itself."
Thirty-year Treasury yields jumped from 3.45% in April to 4% in June. Junk bonds spiked from 5.79% in April to 7.72% in June.
Vanguard Group bond manager Gregory Nassour expects trouble. "The market is saying (it) think(s) tapering is going to happen much faster than anticipated and that cash flows are going to get very negative."
Fixed income analyst Mike Larson compared what's happening to the dot.com bust.
He calls the bond bubble bigger than late 1990s tech mania. Follow the money, he says. The more speculative investment in asset classes, the greater the risk.
Values skyrocket to irrational levels. "(W)hen everyone (piles in), you can be sure valuations will get ridiculous, and that the groundwork will be laid for a painful bust."
From 2009 through April 2013, investors poured $1.15 trillion into bonds. Doing so excludes ETF investments. They include around another $300 billion.
Last month, another $80 billion overall was added. Bond bubble mania awaits unwinding. It'll likely come incrementally. Expect many months south ahead. Forewarned is forearmed.
Irrational exuberance affects equity investors. Momentum profits don't last forever. Analyst Graham Summers understands. He knows bubbles when he sees them.
He warns about ugly times ahead. He expects worse trouble than 2008. Perhaps it already began, he suggests. No one rings a bell and says so. Markets fluctuate.
Ordinary investors stick with what works. They're mindless of huge risks. Most don't know they've been had until too late. Current problems are too important to ignore.
China faces a potential liquidity crisis. It's slowing its economy to avoid greater trouble later on. Despite unprecedented QE, Japan's economy shows weakness.
Multiple indicators flash America's economy heading south. Corporate profits are down. Europe's back in crisis mode.
Disruptive protests rage in Egypt and Turkey. Others do intermittently in Spain, Portugal, Greece, Italy, and elsewhere across Europe.
Washington's war on Syria rages. It spilled cross border to Lebanon. It threatens regional stability.
QE may slow sooner than expected. Economist David Rosenberg expects it.
It's no longer justifiable, he said. He's not alone saying so. More on that below.
Paul Craig Roberts commented on Friday's job report. "No Hope on The Jobs Front: Rising Unemployment in America," he headlined.
"For the umpteenth consecutive month and year," he said, June's report was less than meets the eye. High-paying/good benefit jobs weren't created. They haven't been for years. America's being thirdworldized.
June added 195,000 jobs. Hold the cheers. A Bureau of Labor Statistics (BLS) reportexplained, saying:
Leisure and hospitality: +75,000
Professional and business services: +37,000
Retail: +37,000
Healthcare (mostly ambulatory services): +20,000
Financial activities: +17,000
Federal government: -5,000 (down 65,000 year-over-year)
"Employment in most other major industries, including mining and
logging, construction, manufacturing, and transportation and
warehousing, showed little change in June."
In other words, except for modest financial services gains and some highly sought skill areas, virtually zero high-quality jobs were created.
The average workweek and overtime hours were unchanged. Year-over-year hourly earnings rose 2.2%. At around 9% based on 1980s calculations, inflation is multiple times higher than official numbers.
According to economist John Williams, full-time June employment plunged by 240,000. "Economic issues accounted for 75% of" part-time jobs. "Payroll gains were warped heavily by inconsistent seasonal factors."
Discouraged workers rose by 197,000. Involuntary part-time ones spiked by 322,000. Real unemployment's 23.4%. The headline 7.6% figure is fake.
According to Roberts:
"This deplorable report provided the cover for the market riggers to take the stock market up and the gold market down."
"Remember that economic theory about 'rational markets?' Another deception."
For weeks, Fed officials suggested slowing QE ahead. Only its timing remains uncertain. According to Graham Summers, investors hoping for continuity "are in for a rough surprise."
QE did wonders for equity investors. It didn't land on Main Street. When consumers have money, they spend it. Doing so stimulates growth. Jobs are created. Maybe better ones than now.
Central banks are losing control, said Summers. Big trouble ahead looms, he suggests.
Martin Feldstein's an establishment economist. He's National Bureau of Economic Research (NBER) president emeritus. On July 1, he headlined "The Fed Should Start to 'Taper' Now," saying:
It shouldn't wait. It "should emphasize that the pace of quantitative easing must adjust to the likely effectiveness of the program itself, and to the costs and risks of continuing to buy large quantities of bonds."
"Although the economy is weak, experience shows that further bond-buying will have little effect on economic growth and employment."
"Meanwhile, low interest rates are generating excessive risk-taking by banks and other financial investors."
Doing so "could have serious adverse effects on bank capital and the value of pension funds."
"In Fed Chairman Ben Bernanke's terms, the efficacy of quantitative easing is low and the costs and risks are substantial."
Where was Feldstein earlier? QE's been ongoing since late 2008. Mortgaged-backed securities (MBS) were bought. QE continued wrongly directed. It's done nothing for economic growth.
Bernanke suggested slowing it weeks earlier. He reiterated doing it in June. He made it conditional on labor market improvement. He said judgment depends on more than the (U-3) unemployment rate.
Year-over-year, there's been "no increase in the ratio of employment to population, no decline in the teenage unemployment rate, and virtually no increase in the real average weekly earnings of those who are employed," said Feldstein.
"The decline in the number of people in the labor force in the past 12 months (way) exceed(s) the decline in the number of unemployed (based on U-3 calculations)."
Real unemployment's the highest in decades. It reflects Depression levels. It's shows a troubled economy. It's getting worse, not better. Half of more of US households are impoverished or bordering on it.
Social safety net protections are eroding when increasing them is vital. Force-fed austerity assures harder than ever hard times.  Growing millions are affected.
Creating money for speculation excludes it for economic growth. America's economy is weak, not strong. Conditions are bleak. Nothing ahead looks promising.
Manufacturing is slowing. Exports are down. So is personal income. Corporate profits are declining. Aggregate demand's weak. Rising interest rates spell trouble. Investors accepting significant risks do so at great peril.
"The danger of mispricing risk is that there is no way out without investors taking losses," said Feldstein. "And the longer the process continues, the bigger those losses could be."
"That's why the Fed should start tapering this summer before financial market distortions become even more damaging." He suggests ending it entirely by mid-2014.
Equitable QE works. Bernanke spurned it. He's Wall Street's man in Washington. He threw money at banks. He's doing it now. What can't go on forever, won't.
Wrongheaded policy continues. It's been that way far too long. Greenspan and Bernanke prioritized money printing/bond buying recklessness. Push eventually meets shove. A day of reckoning looms.
The longer money printing madness continues, the greater the eventual trouble. Feldstein's partly right. Money printing madness should be slowed en route to ending it altogether. It should be done as quickly as possible.
At the same time, he omitted explaining what matters most. Money printing works when done responsibly. David Stockman was Reagan's Office of Management and Budget Director.
In late 2010, he said:
QE "is injecting high grade monetary heroin into the financial system of the world, and one of these days it is going to kill the patient."
In early 2009, Michael Hudson said America "reached its debt limit and is entering its insolvency phase. We are not in a cycle but (at) the end of an era. The old world of debt pyramiding to a fraudulent degree cannot be restored."
Delaying the inevitable postpones a painful day of reckoning. QE helped wreck America's economy. It didn't have to be this way. Responsible officials would have prevented it. America's not run that way.
Monied interests alone are served. Popular needs go begging. Safety net protections are quaint and out-of-date. Speculative gains matter most.
Money printing madness reflects one of the greatest disconnects of all time. It robs poor Peter to benefit rich Paul. It prioritizes rising markets. It's done so at the expense of economic and human wreckage.
QE works when used constructively. Money injected responsibly into the economy creates growth. America once was sustainably prosperous. It can be again. It won't be with rogues making policy. Feldstein didn't explain.
Stephen Lendman lives in Chicago. He can be reached at lendmanstephen@sbcglobal.net.
His new book is titled "Banker Occupation: Waging Financial War on Humanity."
http://www.claritypress.com/LendmanII.html
Visit his blog site at sjlendman.blogspot.com.
Almost two months have passed since the death of Giulio Andreotti, arguably the most powerful politician in Italy's post-World War II history. In recent weeks I have struggled with a draft obituary of this complex man who deserves to be better known abroad, but the task proved daunting. There are too many loose ends, strange events, and unexplained mysteries in Andreotti's long life that require detailed expert knowledge of the setting and dramatis personae, harking all the way back to the Fascist era; so I've asked Slobodan Janković, a research fellow at Belgrade's Institute of International Politics and Economy, an alumnus of Rome's La Sapienza and a leading expert on Italian politics, to help me tell the story.
That story needs to start with Italy's current predicament. Since April 28 the country has had a new government, headed by "a new Mario Monti," Enrico Letta (46). This man, oddly charmless for an Italian, is a fanatical Eurocrat, a participant in the deliberations of the Trilateral Commission, an associate of the Bilderberg Group, and vise-president of the Aspen Institute in Italy; in other words, a member of the globalist elite par excellence. As a prominent leader of Italy's "center-left," in 2006-2007 he was Secretary to the Council of Ministers in the second Prodi Cabinet. (Interestingly, he was preceded and succeeded in that post by his uncle Gianni Letta, a stalwart Berlusconi loyalist.)
Having started his political career in 1990 in the youth organization of the Italian Christian Democrats, Enrico Letta quickly rose to the presidency of the youth division of the European People's Party (EPP), a conservative bloc in the European Parliament. By the mid-1990's, however, he moved to the Partito Popolare Italiano, which marked his decisive turn to the left following the collapse of Christian Democracy (DC). At 31 he became the PPI's deputy leader. Within years he joined a motley crew of ex-communists and leftists to form the Ulivo  (olive tree) party, on whose list he was elected first to the European Parliament and then to the Italian parliament, before rising to the senior government post under Prodi. In 2007, Ulivo joined the former communists to form the Democratic Party (PD). Once again, Letta was in the middle of the action, as Der Spiegel's commentator has noted; but when he set out to become party leader, he was badly beaten: "When it came time to tally the ballots—which were filled out not only by party members but by all interested citizens—he ended up with just 11 percent, putting him in third and last place. His victorious rival Walter Veltroni received about 75 percent of the vote. By the time he was nominated … for Rome's top political office, he had more or less put his career in party politics behind him."
Letta's career indicates the extent to which Italy is ruled by men who are devoid of popular support, whose sole ideology is power, and who are servile to supranational interest groups in order to enjoy the privileges that come with such servility. As Slobodan Janković says, how else can we explain the fact that Emma Bonino was first considered for the post of the President of Italy, and then on April 28 was appointed the country's foreign minister, in spite of her crushing defeat in the general election of February 24-25, when her list received one-fifth of one percent (0.20%) of the popular vote? How can someone so odious to Italy's voters be in the race for presidency, and then receive a key cabinet post? "Maybe for that very reason," according to Janković. "Perhaps this was the way to give yet another European nation a slap in the face, to tell that nation that such choices are not made by her people but by someone else." Bonino's appointment was suggested by another protégé of the transnational elite, former prime minister Mario Monti.
This was a strange choice, coming from the man who last February headed an electoral list that included the remnant of the Christian Democratic remnant. "Bonino is a prominent hater of life," Janković points out. "She was Italy's leading advocate of free abortion on demand in the 1970's, ostentatiously taking part in illegal abortions well before the procedure was made lawful in 1978, and gloating that she'd have a good laugh while throwing fetuses into trash." Bonino was arrested once, having been caught red handed while performing 'vacuumization' with a bicycle pump, but was let off scot free. She went into politics instead of going to jail, making a name for herself as an advocate of "LGBT rights," euthanasia, and legalization of hard drugs. Far from being "a radical rebel," Bonino soon became a participant in the Bilderberg Group meetings, a friend of George Soros, and the recipient of his Open Society Foundation's annual award for 2004. Bonino's career is but one of countless examples of Italy's multifaceted decline, Janković says:
"If the process of Italy's transformation from a traditional Roman Catholic country into the current spiritually and materially devastated land is to be linked to a single name, that name is Giulio Andreotti . . . The life-long Senator died last May 6, and took many secrets to the grave. For decades he was the éminence grise of Italian politics, helping make it what it is today. On top of that, there is ample evidence that for much of his political career Andreotti was the true capo di tutti capi."
The extent of Andreotti's power is incomprehensible without some grasp of the remarkable influence of Freemasonry, first on the Risorgimento, and later on the political, economic and social life of modern Italy. Giuseppe Mazzini, the founder of Young Italy and the prophet of Risorgimento, became a mason as a student and died a 33rd degree master. An early advocate of the United States of Europe, in 1831 Mazzini joined the Carbonari, a secret society dedicated to Italy's unification, which was strongly anti-Catholic and organized in the fashion of Masonic lodges. His vision of a future united Italy was reflected in the crude mockery of Christian rites he staged at the Vatican on Easter Sunday 1849.
Giuseppe Garibaldi was the best known grand master of the Grand Orient of Italy, receiving the highest, 33rd degree of initiation in 1864. His landing in Messina, and his subsequent conquest of Sicily and the South, would not have been possible without the help of local British masons among the merchant expatriate community, and the support from The Royal Navy. The capture of Rome in 1870 was the moment of triumph of Freemasonry over the Catholic Church. The pope was confined to the walls of the Vatican, and the new Kingdom became part-Masonic El Dorado, part-Tammany Hall.
The Vatican's reconciliation with the Italian state became possible only after 1925, when Mussolini simultaneously and successfully clamped down on rural banditry in the South and outlawed Freemasonry. The latter paved the way for the Concordat of 1929. As Janković points out, at the time of the Concordat for the first time since the fall of the Western Roman Empire Italy had a strong central power—but Italian Freemason émigrés did not give up: "In the 1930's they regrouped in exile. One of their leaders, Randolfo Pacciardi (a 30th degree initiate) went to Spain in 1937 to lead the Italian battalion Garibaldi, an important unit within the notorious International Brigades which fought Franco's forces."
After the Spanish Civil War Pacciardi repeatedly visited the United States. After 1945 he was a prominent member of four successive Italian governments, most of that time as defense minister (1948-1953). In that capacity he arranged Italy's entry into NATO, campaigned against monarchy, and enthusiastically supported the country's accession to the European Coal and Steel Community. In these endeavors he worked closely with two fellow Masons who spent the war years in the United States, foreign minister Carlo Sforza and Italy's first postwar ambassador in Washington Alberto Tarchiani.
"It is widely assumed that the Allied landing in Sicily was carried out in coordination with the Mafia." Janković says, "It defies logic that an organization thoroughly suppressed by Mussolini could play a significant role, yet it did because the Americans wanted it that way." Had Biaggio Max Corvo had his way, Janković adds, this would not have happened. Born in Sicily but raised in the United States since the age of 8, Corvo volunteered for the U.S Army in 1941 and on his own initiative drew up plans for operations against Mussolini. His work impressed senior officers, and he was soon transferred to the Italian Secret Intelligence branch of the Office of Strategic Services, the forerunner of the CIA. A devout Catholic and a life-long antifascist, in addition to rejecting contacts with the Mafia, Corvo was also opposed to cooperation with the Masonic Mazziniani—the approach favored by the British—or with the Communist-dominated resistance forces. He established links with the Catholic secret group Pro Deo (founded in Portugal in 1941) instead, and maintained friendly relations with Don Luigi Sturzo, the 1919 founder of the Italian People's Party (Partito Popolare Italiano, PPI), who spent the war in exile in the U.S. Through his Vatican connections Corvo even managed to contact Japanese diplomats who had realized that their country was doomed and wanted to establish channels of communication with the U.S.; but in early 1945 Washington severed the link. According to Janković,
"Young Corvo was rewarded for his work with the papal Lateran Cross, but he had powerful enemies on both sides of the Atlantic. The British preempted his efforts to save Mussolini's life in April 1945 and to obtain the trove of documents the fallen dictator was carrying on his person during that doomed trip north. Yes, the story of the British-American rivalry in Italy in the final days of the Second World War is yet to be told. In the United States Corvo's enemies included Allen Dulles, James Jesus Angleton, and the Office of Naval Intelligence, which unabashedly cultivated the Mafia connection. In 1943 the ONI released 850 Mafia members imprisoned by Mussolini in Palermo, and subsequently relied on the advice of Lucky Luciano and Calogero Vizzini in political and personnel matters."
Other trusties, who became uomini d'onore after the war, included personal translator to Col. Charles Poletti, the 46th governor of New York and the U.S. Army civil affairs officer in Italy. This was none other than "don" Vito Genovese, who had fled New York in the 1930s to escape prosecution for murder and subsequently became il capo di tuti capi. Another was Max Mugniano, who was placed in charge of all U.S. Army medical warehouses in Italy at a time when penicillin was worth many times its weight in gold (as per The Third Man), and who subsequently became Luciano's superintendant of the narcotics trade.
The Mafia was backin action, after two lean decades under Mussolini. In Italy's 1947 Peace Treaty with the Allies, a short but highly significant provision—Article 16—was inserted almost as an afterthought: "Italy shall not prosecute or molest Italian nationals, including members of the armed forces, solely on the ground that during the period from June 10, 1940, to the coming into force of the present Treaty, they expressed sympathy with or took action in support of the cause of the Allied and Associated Powers." Of course "including members of the armed forces" was just a smokescreen. The real benefactors were the "sympathizers" and "activists" in the Allied cause, like Genovese, Mugniano, their 850 cohorts from the Palermo jail, and many other persons south of Naples, known and unknown. The Italian authorities were prevented from seeing, let alone vetting, the names of those "Italian nationals" protected by the Treaty.
After Mussolini's murder, which was carried out by communists but arranged by the British, power was taken by an uneasy alliance of Christian Democrats and Freemasons—the latter group including Pacciardi, the International Brigades commander who duly became a born-again anticommunist. The party's leader was Alcide De Gasperi, one of the founders of what is today the European Union. A veteran leader of the Popular Party after the Great War, persecuted by the fascist regime, De Gasperi recruited a student by the name of Giulio Andreotti into the ranks of the semi-clandestine Italian Catholic Federation of University Students (Federazione Universitaria Cattolica Italiana, FUCI) in 1941. According to Andreotti's account, they met by chance in the Vatican Library, where De Gasperi worked at the time, and Andreotti was looking for some books. The Federation's president was Aldo Moro, a young lecturer in law and devout Catholic from Apulia. When Moro was drafted into the Italian army in 1942, Cardinal Cesare Montini—who was to become pope Paul VI—supported De Gasperi's suggestion that Andreotti be appointed to the newly vacant post.
In the turbulent months of 1945 De Gasperi appointed Andreotti to the provisional National Advisory Council, the precursor of Italy's republican parliament. In 1947, at the age of 28, Andreotti became a junior minister in the prime minister's office. In that position he had more real power and patronage than some cabinet members. "It caused envy in other politicians," he later remembered, which caused them to wonder about the source of his power. Even as a young man, he struck others as cynical and devoid of passion. His un-Italian disdain of grimaces and gestures helped cultivate the image of focused power. His sardonic quips could be viciously funny, mostly at other people's expense. Aloof and secretive, he was disliked by his peers but respected by the senior party leaders as a hard worker. He was elected to the Constitutional Assembly in 1947 and remained a member of parliament for 66 years; he died as a senator-for-life. Andreotti stayed as De Gasperi's undersecretary in several successive governments (1947-1954), when at the age of 34 he became minister of the interior. In the ensuing decades he occupied one ministerial post or another 27 times, eight times as minister of defense. He was Italy's prime minister an unprecedented seven times, known as divo Giulio to friends and enemies alike—not because he was touched by divine grace, but because he was inordinately powerful. As Andreotti acquired reputation for sinister dealings, his foes dubbed him Beelzebub. "Giulio is so capable in everything," De Gasperi said in the late 1940's, "that he could become capable of anything." Many decades later Margaret Thatcher wrote in her memoirs that Andreotti "seemed to have a positive aversion to principle."
Aldo Moro was a different type of person: deeply but unostentatiously pious, witty, scholarly. He survived the war and returned to politics, while initially maintaining a teaching position at the University of Bari. (Andreotti, by contrast, had no fall-back professional option: all his life he was a full-time politician.) Moro also was destined to occupy influential posts in the years to come. He, too, was a deputy of the constituent assembly and a lawmaker until his early death. He became head of the Christian Democrat parliamentary group in 1953, DC party secretary (1959-1964), and president from July 1976 until his murder in 1978. He was Italy's prime minister five times. "The two men came to embody two faces of Italy's Christian Democracy," Janković says, "as well as Italy's two divergent post-war paths":
"Moro was a statesman and a patriot. In the 1950's he put together a team of men focused on Italy's development, on her industrialization and technological advance, and who were committed to enhancing her weight and reputation in international affairs. Moro was also a Catholic traditionalist—a political moderate and economic reformer, but culturally a conservative. Andreotti was opposed to Moro's strategy of state-guided economic recovery, favoring foreign private investors instead. He was an economic 'neoliberal' in the 1950's-60's meaning of the term. He also opposed the 1962 Christian Democratic-Socialist (DC-PSI) coalition, which gave Italy over a decade of relative stability and unprecedented prosperity."
Moro's policy of creating large public enterprises, especially in the energy sector, was the foundation of Italy's economic miracle. The banks were encouraged to provide easy credit to domestic investors, with the central bank (Banca d'Italia) playing an active role. Between 1951 and 1972 Italy's average growth rate was 5.3 percent, slightly below that in Germany (5.7 percent) but well above that in Britain and the United States. The DC-PSI coalition reformed the dysfunctional taxation system, secured years of industrial peace through long-term agreements with the unions, and put Italy on the map as a global economic player.
By the early 1960's Andreotti emerged as the informal leader of opposition to Moro's strategy on the Christian Democratic "right." Heavily Masonic in composition, Andreotti's wing of the party included individuals connected with large multinational corporations, especially in the energy sector. There is strong evidence that some of these people were involved in the murder of Enrico Mattei in 1962. A Catholic resistance veteran, in 1945 Mattei was put in charge of dismantling the state petroleum company Agip (Azienda Generale Italiana Petroli), founded by the Fascist regime in 1926. He changed his mind about the project, however, when he realized that several U.S. oil companies were eagerly waiting to grab Agip's assets for a song. Mattei reorganized the company into the National Fuel Trust (Ente Nazionale Idrocarburi, ENI) instead. Under his direction ENI negotiated key oil concessions in the Middle East and a drilling agreement with the Soviet Union, all of which helped break the previous stranglehold of the "Seven Sisters" (a term he coined to refer to the dominant oil companies) on the oil industry. To the multinationals' horror, Mattei also inaugurated the ENI rule that any country in which it operated would receive 75 percent of the profits. This secured important concessions in Iran and North Africa. By the late 1950's ENI was competing with giants like Esso andShell. In 1960, after concluding the agreement with the Soviet Union and while negotiating with China, Mattei publicly declared that the American oil monopoly was over.
On October 27, 1962 on a flight from Catania to Milan, Mattei's executive jet crashed and all three men on board were killed: Mattei, his pilot, and an American journalist. The official inquiry—personally overseen by Giulio Andreotti, Italy's defense minister at the time—declared it "an accident." It is now known that crucial evidence was immediately destroyed at the crash site, and all flight instruments were dissolved in acid. In October 1995, the exhumation of Mattei's remains resulted in the discovery of metal debris fragments—indicative of an explosion—embedded deep in his bones. In 2005 the incident was reclassified as homicide, with perpetrator(s) unknown.
(An additional mystery connected with this case remains unresolved. While working on the documentary The Mattei Affair in 1970, Francesco Rosi asked Mauro De Mauro, a prominent investigative journalist, to join the project. De Mauro soon obtained what he termed important evidence about Mattei's final days, but disappeared eight days later without a trace. His body has never been found. Several investigators involved in the search for De Mauro were later killed, including the Carabinieri general Carlo Alberto Dalla Chiesa.)
Mattei's murder did not interrupt Italy's longest period of calm and prosperity in modern history. Starting in 1969, however, a wave of terrorist attacks hit the country, allegedly perpetrated by the far left or the far right. Most of them remain unresolved to this day. Two fascists were convicted in 1995 of planting a bomb at the railway station in Bologna which killed 85 people and wounded 200 others in August 1980. We still do not know who ordered the attack and with what motive in mind. We do know that the probe was side-tracked for 15 years by Andreotti's associate Licio Gelli, who later gained notoriety as the grand master of the secretive Propaganda Due (P2) masonic lodge. In November 23, 1995, Italy's Court of Cassation convicted  Gelli and three other Masons, Francesco Pazienza and SISMI officers Pietro Musumeci and Giuseppe Belmonte, of obstructing investigation into the Bologna Massacre. ("He was a politician highly trained and honest, ready to tackle the tasks that were entrusted to us," Gelli (93) said upon learning of Andreotti's death. "He knew how to keep the secrets that were entrusted to him. Andreotti did his duty, using the secrets to promote the well-being of the people. He kept the secrets, and he took them with him. What a man…")
One of those secrets concerns Andreotti's role in setting up and developing a clandestine NATO "stay-behind" network in Italy during the Cold War known as Operation Gladio. The role of the CIA in sponsoring Gladio and its involvement in terrorist attacks during Italy's Years of Lead remains contentious. The origin of the operation itself is not: it was based on confidential "NATO protocols," committing the secret services of all member states to prevent communist parties from coming to power. A briefing minute of June 1, 1959, reveals that Gladio, "in case of a Soviet military invasion," would organize resistance by internal subversion. More significantly, it was to play "a determining role… also in the politics of emergency." Secret arms arsenals were set up and personnel recruited and sworn to secrecy.
Giulio Andreotti, Italy's defense minister at the time of the 1959 memorandum, denied "unequivocally" Gladio's existence under oath on two occasions—in 1974 and 1978—to judges investigating the 1969 Piazza Fontana bombing. On October 24, 1990, as Prime Minister, Andreotti finally acknowledged Gladio's existence to the Chamber of Deputies; by that time it had ceased to be a secret. In his admission Andreotti described Gladio as a "structure of information, response and safeguard," with arms caches and reserve officers. He gave the parliamentary commission in charge of investigations on bombings, a list of 622 civilians who were allegedly part of Gladio; but the list subsequently proved to be incomplete. Andreotti said that 127 arms depots had been dismantled.
Following the revelation, the P2 Lodge treasurer, General Siro Rosetti, launched a spirited defense of Gladio's concept and importance. Later that year, a decade after the Bologna massacre, Judge Libero Mancuso—who had led the investigation and secured the initial convictions of the bombers—broke his silence to the (London) Guardian: "We [investigators] are isolated, and the objects of a campaign of aggression. This is what has happened to the commission into the P2, and to the magistrates. The personal risks to us are small in comparison to this offensive of denigration, which attempts to discredit the quest for truth. In Italy there has functioned for some years now a sort of conditioning, a control of our national sovereignty by the P2—which was literally the master of the secret services, the army and our most delicate organs of state."
In the course of his 1990 admission, Andreotti assured the deputies that Gladio had not been involved in any of the terrorist attacks. A decade later, however, in 2000, the Italian Senate published a report which stated that "[t]hose massacres, bombs, and military actions had been organized or promoted or supported by men inside Italian state institutions and, as has been discovered more recently, by men linked to the structures of United States intelligence." The report claimed that US intelligence agents were informed in advance about several attacks, including the December 1969 Piazza Fontana bombing in Milan and the Piazza della Loggia bombing in Brescia five years later, but did nothing to alert the Italian authorities or to prevent the attacks from taking place.
General Gianadelio Maletti, commander of the counter-intelligence section of the Italian military intelligence service from 1971 to 1975, told the March 2001 Piazza Fontana bombings trial that the CIA had foreknowledge of the event and approved terrorismas a means of preventing Italy's leftward slide. "Don't forget that Nixon was in charge. "Maletii added, "and Nixon was a peculiar man, a very intelligent politician but a man of rather unorthodox initiatives." Slobodan Janković does not consider such claims too far fetched:
"The U.S. elite did not look with approval on the Italian economic model. Its financial interests were threatened outside Italy as well, especially by ENI's expansion. The Americans tried to smear Moro by implicating him in the Lockheed bribes scandal, but he successfully defended himself in the court of law. More dangerous than public slanders were threats, especially when coming from people capable of carrying them out. According to the 1980 testimony by Moro's widow to the parliamentary commission of investigation, during a visit to Washington in 1974 Moro was openly warned not to pursue his policy of "historic compromise" with the Left, or else he'd 'pay a price.' Moro paid that price on March 16, 1978, when he was kidnapped and all five of his bodyguards killed in an attack allegedly carried out by the Red Brigades. His body was found on May 9 in the trunk of a car. The kidnappers, according to the official version, saw Moro as a symbol of 'imperialism' who deserved punishment, but nothing could have been further from the truth. Moro was a patriot, a Catholic, a statesman and a family man. On the day of his kidnapping a new government, headed by Giulio Andreotti, was supposed to be formed. This was eventually done, but because of Moro's kidnapping the historic compromise was abandoned."
During his seven-week captivity, Aldo Moro wrote several letters to various political figures, including Andreotti. In October 1990, a cache of previously unknown letters was discovered in a Milan apartment which had once been used as a Red Brigade hideout. One of those letters made reference to the involvement of both NATO and the CIA in an Italian-based secret "parallel army." That safe house had been searched at the time of Moro's death by Carlo Alberto Dalla Chiesa, the head of counter-terrorism division who was put in charge of investigating the kidnapping. Dalla Chiesa was murdered in 1982.
Moro's kidnapping and murder were also investigated by a government committee under the guidance of then-prime minister Giulio Andreotti. It included the heads of two security agencies (General Santovito of SISMI and General Grassini of SISDE) and the commander of the Financial Police (Guardia della Finanza), General Raffaele Giudice. All three of them were members of P2. The only service chief who was not a Mason, Prefect Gaetano Napoletano ofCESIS, was removed by Andreotti in the early stages of investigation and replaced by yet another P2 member, General Walter Pelosi. The committee proceeded to make several spectacular lapses. One of them was the fact that telephone lines suddenly went down in the area where Moro and his escort were passing—five minutes before the attack—and came back to normal half an hour later. This caused a delay in alerting the authorities to the attack. Director-General of SIP (the telephone company) was Michele Principe, yet another P2 member. The police commissar in charge of liaison with SIP was Antonio Esposito—yes, you've guessed it, also a P2 member. Furthermore, years later it became known that someone at the SIP switchboard prevented the monitoring of phone calls which the kidnapers were making to Moro's family.
Immediately following Moro's death, investigative journalist Mino Pecorelli wrote that Dalla Chiesa was in danger and would be assassinated. He drew a connection between Gladio and Moro's death. Pecorelli, who was on Licio Gelli's list of P2 members discovered in 1980 but had fallen out with Gelli before Moro's death, was assassinated on March 20, 1979. It was immediately suspected that Pecorelli's murder was related to the Prime Minister, but there was no proof. Almost two decades later, when a former Mafia member testified that Andreotti had ordered the hit, the aging senator-for-life was charged and brought to trial. In 2002 Andreotti was sentenced to 24 years in prison for his role in the murder. That sentence was overturned by the Supreme Court of Appeals, however; he never went to jail.
Two days after Moro's kidnapping and the formation of a new government, Licio Gelli (b. 1919) gathered in Rome the representatives of all 496 Grant Orient Loges of Italy. Gelli was confirmed as Italy's grand master and as leader of the more secretive and influential P2. Gelli, known under the nickname Belfagor, was a fascist in his youth, a double (German-communist) agent during the war, a U.S. Counter Intelligence Corps (CIC) asset after the war, and a key man in setting up Operation Gladio. In his diaries (Diari 1976-1979) Andreotti mentions meeting Gelli in the aftermath of Moro's murder—but only to discuss Latin America! The security services appear to have had no active files on Gelli, which seems unbelievable in view of his prominence and activities. Some of his files were likely burned in 1974, when Andreotti ordered the destruction of 157,000 personal dossiers. Only the Financial Police kept three reports on active file, concerning Gelli's illegal arms deals in the Middle East and South America and his contacts with Junio Valerio Borghese's banned far-right group, prior to the latter's mysterious death in Spain in 1974. Of the four investigators who composed those reports, one was murdered, one committed suicide, one went into early retirement… and one joined Gelli's P2 Lodge.
When asked in 2009, about his links with the P2, Andreotti replied. "Ah, yes… That strange lodge—Gelli's one." The Guardian's reporter was stunned: "He said it distractedly, with the air of a man recalling the bridge circle he had once heard was run by the wife of the friend of a very distant cousin. You would never have thought the revelation of the P2's activities infused Italian politics with scandal for years—years in which Andreotti was a leading player, if not the leading player, on the political scene." He denied being a mason, although the wife of Roberto Calvi, the banker found mysteriously hanged under Blackfriars Bridge in 1982, testified that he was. More than just a member, in fact: "he was accused of being the hidden string puller behind the lodge [P2] to which Calvi belonged."
The most damaging, and most extensively proven accusations against Andreotti concerned his links to organized crime. An early connection concerned Salvatore "Salvo" Lima, described in the final report of the first Antimafia Commission (1963–1976) as one of the pillars of mafia power in Palermo. Developing his political career in the DC that began in the 1950s, Lima became close to Andreotti in 1964. He was often referred to as Andreotti's "proconsul" in Sicily and once held a junior cabinet post, which resulted in the ministry's most senior civil servant resigning in protest. In 1992 Lima was shot dead by a Mafia assassin, presumably for failing to deliver on some pledges. Years later the Guardian's John Hooper put it to Andreotti that he must have known he was dealing indirectly with the mafia. "But Lima never spoke to me about these things" Andreotti replied. "A lot of people in Sicily have links with the mafia. That isn't just true of the Christian Democrats, but of others." "Lima never spoke to me about these things" did not sound like an overly spirited denial, especially for a man of Andreotti's experience and acumen.
In the mid-1990s a string of mafia informers emerged to testify that Andreotti had been Cosa Nostra's protector in Rome, known as "uncle Giulio." Andreotti was charged and the judges ruled that, prior to 1980, there had been "concrete collaboration" between Andreotti and the mafia, which "induced its members to feel protected at the highest level." He was not convicted or sentenced because his crimes were covered by a statute of limitations. "The only thing they haven't said about me," Andreotti quipped years later, "is that I'm a freemason." It would be funny, but for the trail of bodies and corruption which il Divo had left in his wake.
Following the Tangentopoli scandal and the Mani Pulite ("Clean Hands") investigation, Italy's affairs passed into the "capable" hands of Giuliano Amato—now retired on a $40,000 monthly pension—and Mario Draghi, now head of the European Central Bank. Eurofanatics and blind followers of the Washington Consensus, in the 1990's they carried out a privatization plan as catastrophic for Italy's economy as anything seen east of the Iron Curtain following the collapse of communism. A century and a half after Italy shook off first Austrian rule and French tutelage, it still proved vulnerable to the vincolo esterno, the external constraint—this time to the international bankers, Brussels bureaucrats, and the IMF.
Berlusconi's three terms as prime minister did not change much. He had failed to create, enact and apply a bold vision of Italy for the 21st century. As I wrote in 2011, his private peccadilloes and dubious business practices could have been overlooked had he not left Italy, after almost ten years in office, in no better state than he found her in 1994:
"The economy is grotesquely over-regulated, yet the old system of corrupt government contracts and phony jobs for the well-connected is alive and well. The central bureaucratic machine is as bloated and inefficient as ever. An estimated third of potential tax revenues remain uncollected. Italy is, in terms of growth, the sick man of Europe: only Zimbabwe and Haiti had lower GDP growth than Italy in 2000-2010. The public debt, at $2.6 trillion, is 120% of GDP. A quarter of Italy's under-30s are unemployed and another quarter is subsisting on dead-end, 1,000 euros-per-month jobs in mamma's care, thus contributing to a demographic collapse far worse than that in Central and Northern Europe. There was no improvement in productivity under Berlusconi: Italy's international competitiveness has actually declined over the past decade. Public spending has been outstripping growth for years; since 2009, it has accounted for more than one-half of the GDP."
Slobodan Janković's assessment is also grim: "Between 1945 and 1992 there were many ranking Italians of professional and personal integrity at all levels of the state and society who were prepared to risk much, even their lives, in the struggle against organized crime, secret societies, and power centers connected to foreign political and financial interests. In the present era of Monti, Letta and Bonino, however, the patriots and traditional Catholics have no power and no voice."
Berlusconi's seven-year prison sentence for abusing power and having sex with an underage prostitute changes nothing. He will appeal, the sentence will be overturned, and the current unnatural coalition will continue on its long road to nowhere in particular. The economy will continue to stagnate, and the process of moral and spiritual decay will continue to turn one of the most civilized countries in the world into a shadow of its former self.
Alas, poor Italy…
Protests in Brazil indicate what goes way, way beyond a cheap bus fare.
When, in late 2010, Dilma Rousseff was elected President after eight years of the impossibly popular Lula, a national narrative was already ingrained, stressing that Brazil was not the "country of the future" anymore; the future had arrived, and this was a global power in the making.
This was a country on overdrive – from securing the 2014 World Cup and the 2016 Olympics to a more imposing role as part of the BRICS group of emerging powers.
Not unlike China, Brazil was breathlessly exploiting natural resources – from its hinterland to parts of Africa – while betting heavily on large agribusiness mostly supplying, you guess it, China.
But above all Brazil fascinated the world by incarnating this political UFO; a benign, inclusive giant, on top of it benefitting from a lavish accumulation of soft power (music, football, beautiful beaches, beautiful women, endless partying).
The country was finally enjoying the benefits of a quarter of a century of participative democracy – and self-satisfied that for the past ten years Lula's extensive social inclusion policies had lifted arguably 40 million Brazilians to middle class status. Racial discrimination at least had been tackled, with instances of the Brazilian version of affirmative action.
Yet this breakneck capitalist dream masked serious cracks. Locally there may be euphoria for becoming the sixth or seventh world economy, but still social exclusion was far from gone. Brazil remained one the most (deadly) unequal nations in the world, peppered with retrograde landowning oligarchies and some of the most rapacious, arrogant and ignorant elites on the planet – inevitable by-products of ghastly Portuguese colonialism.
And then, once again, corruption raised its Hydra-like head. Here's a first parallel with Turkey. In Brazil as in Turkey, participative democracy was co-opted, ignored or forcefully diluted among an orgy of "mega-projects" generating dubious profits for a select few. In Turkey it revolves around the ruling party AKP's collusion with business interests in the "redevelopment" of Istanbul; in Brazil around public funds for the hosting of the World Cup and the Olympics. 

The new capitalist dream could not mask that the quality of life in Brazil's big cities seemed to be on a downward spiral; and that racism – especially in the police – never went away while the demonization of peasant and Native Brazilian leaders was rampant; after all they were obstructing the way of powerful agribusiness interests and the "mega-projects" craze.

What can a poor boy do
There's no Turkey Spring – as there's no Brazilian Spring. This isn't Tunisia and Egypt. Both Turkey and Brazil are democracies – although Prime Minister Erdogan has clearly embarked on a polarizing strategy and an authoritarian drive. What links Turkey and Brazil is that irreversible pent-up resentment against institutional politics (and corruption) may be catalyzed by a relatively minor event.
In Turkey it was the destruction of Gezi park; in Brazil the ten-cent hike in public bus fares was the proverbial straw that broke the (white) elephant's back. In both cases the institutional response was tear gas and rubber bullets. In Turkey the popular backlash spread to a few cities. In Brazil it went nationwide.
This goes way, way beyond a cheap bus ride – although the public transport scene in Brazil's big cities would star in Dante's ninth circle of hell. A manual worker, a student, a maid usually spend up to four hours a day back-and-forth in appalling conditions. And these are private transport rackets controlled by a small group of businessmen embedded with local politicians, who they obviously own.
Arguably the nationwide, mostly peaceful protests have scored a victory – as nine cities have decided to cancel the bus fare hike. But that's just the beginning.
The mantra is true; Brazilians pay developed world taxes and in return get sub-Saharan Africa quality of service (no offense to Africa). The notion of "value for money" is non-existent. It gets even worse as the economic miracle is over. That magical "growth" was less than 1% in 2012, and only 0.6% in the first quarter of 2013. The immensely bloated state bureaucracy, the immensely appalling public infrastructure, virtually no investment in education as teachers barely get paid $300 a month, non-stop political corruption scandals, not to mention as many homicides a year as narco-purgatory Mexico – none of this is going away by magic.
Football passion apart – and this is a nation where everyone is either an expert footballer or an experienced coach – the vast majority of the population is very much aware the current Confederations Cup and the 2014 World Cup are monster FIFA rackets. As a columnist for the Brazilian arm of ESPN has coined it, "the Cup is theirs, but we pay the bills."
Public opinion is very much aware the Feds played hardball to get the "mega-events" to Brazil and then promised rivers of "social" benefits in terms of services and urban development. None of that happened. Thus the collective feeling that "we've been robbed" – all over again, as anyone with a digital made in China calculator can compare this multi-billion dollar orgy of public funds for FIFA with pathetically little investment in health, education, transportation and social welfare. A banner in the Sao Paulo protests said it all;"Your son is ill? Take him to the arena."
Remember "Standing Man"
The neo-liberal gospel preached by the Washington consensus only values economic "growth" measured in GDP numbers. This is immensely misleading; it does not take into account everything from rising expectations for more participative democracy to abysmal inequality levels, as well as the despair of those trying to just survive (as in the orgy of expanded credit in Brazil leaving people to pay annual interest rates of over 200% on their credit cards).
So it takes a few uprooted trees in Istanbul and a more expensive shitty bus ride in Sao Paulo to hurl citizens of the "emerging markets" into the streets. No wonder the Brazilian protests left politicians – and "analysts" – perplexed and speechless. After all, once again this was people power – fueled by social media – against the 1%, not that dissimilar from protests in Spain, Portugal and Greece.
Unlike Erdogan in Turkey – who branded Twitter "a menace" and wants to criminalize social networking – to her credit Rousseff seems to have listened to the digital (and street) noise, saying on Tuesday that Brazil "woke up stronger" because of the protests.
The Brazilian protests are horizontal. Non-partisan; beyond party politics. No clear leaders. It's a sort of Occupy Brazil – with a cross-section of high-school and college students, poor workers who struggle to pay their bus fare, vast swathes of the tax-swamped middle class who cannot afford private health insurance, even homeless people, who after all already live in the streets. Essentially, they want more democracy, less corruption, and to be respected as citizens, getting at least some value for their money in terms of public services.
The die is cast. Once again, it's people power vs. institutional politics. Remember "Standing Man" in Taksim Square. The time to take a stand is now.
Pepe Escobar is the roving correspondent for Asia Times/Hong Kong, an analyst for RT and TomDispatch, and a frequent contributor to websites and radio shows ranging from the US to East Asia.
The year is 632 A.D., and Muslim hordes have set their sights on the Mideast and North Africa — the old Christian world. And the Caliphate, as the Islamic realm is called, will not be denied. Syria and Iraq fall in 636. Palestine is next in 638. And Byzantine Egypt and North Africa, not even Arab lands, are conquered by 642 and 709, respectively. Then, just two years later, the Muslims cross the Strait of Gibraltar and enter Iberia (now Spain and Portugal). The invasion of Europe has begun.
And the new continent seems no impediment to Islam. After vanquishing much of Visigothic Iberia by 718, the Muslims cross the Pyrenees Mountains into Gaul (now France) and move northward. Now it is 732, and they are approaching Tours, a mere 126 miles from Paris. The Western world — what's left of Christendom — could very well be on its way to extinction.
Europe is currently easy prey, comprising disunited, often belligerent kingdoms and duchies recently decimated by plague. In contrast, the Islamic world is a burgeoning civilization; so much so, in fact, that it views the Europeans as barbarians. The Muslims also command enormous battle-hardened military forces and have enjoyed almost unparalleled breadth and rapidity of conquest, while Europe no longer has standing armies. It largely relies on peasants to do its fighting, men available only when crops aren't beckoning. Yet the Christian Europeans do have one great asset: Charles of Herstal, grandfather of Charlemagne.
Sensing the coming storm as early as 721, Charles realized he was going to need a professional, well-oiled fighting force if he was to tackle the Moorish wave washing across Christendom. So, using Catholic Church resources, he set out to train just such an army. And now, 11 years later, it will be put to the ultimate test.
With a horde of 80,000 men, the Muslims once again start moving north in 732 under the leadership of Emir Abdul Rahman Al Ghafiqi. And after defeating Odo the Great and sacking his Duchy of Aquitaine, there is nothing standing between Al Ghafiqi and Paris — except Charles of Herstal and his Frankish and Burgundian army. The two leaders would lock horns in October, on a battlefield between the towns of Tours and Poitier.
When the fateful day arrives, Al Ghafiqi is shocked by what lies before him. The "barbarians" have mustered a force the size of which he isn't used to seeing in these European backwaters. He nonetheless enjoys a great advantage, outnumbering the Christians by perhaps as much as two to one and possessing heavy cavalry, while his adversaries are limited to infantry. The outcome should still be favorable. And it is.
Charles routs the Muslim forces, stopping their advance into Europe cold. He will eventually chase them back across the Pyrenees Mountains, saving Gaul — and perhaps all of Western civilization— from the sword of Islam. His miraculous 732 victory becomes known as the Battle of Tours (or Poitiers), and it wins him the moniker "Martellus." Thus do we now know him as Charles Martel, which translates into Charles the Hammer.
Yet the Abode of Islam would not stop hammering Christendom. It is now 1095, and the Muslims are threatening Europe from the east. After seizing most of the Byzantine Empire's territory 400 years prior, they have now, just recently, subdued Anatolia (most of modern Turkey), thus robbing the Byzantines of the majority of their remaining land. The Muslims are now poised to move west into Greece itself or perhaps north into the Balkans — Europe's "back door." And Byzantine emperor Alexius I in Constantinople knows that his realm is too weak to resist. What is he to do?
Alexius decides to approach the Church. Although he and current pope Urban II have been rivals, the pontiff recognizes Islamic expansion to be a clear and present danger. So he decides to address the matter at the Council of Clermont in 1095. In a rousing sermon in front of more than 650 clerics and Christian nobles, he appeals to Europeans to stop bickering amongst themselves and rally to the aid of their eastern brothers. What follows is an excerpt of his words as recorded by the Fulcher of Chartres:
Your brethren who live in the east are in urgent need of your help, and you must hasten to give them the aid which has often been promised them. For, as the most of you have heard, the Turks and Arabs have attacked them and have conquered the territory of Romania [the Greek empire] as far west as the shore of the Mediterranean and the Hellespont, which is called the Arm of St. George. They have occupied more and more of the lands of those Christians, and have overcome them in seven battles. They have killed and captured many, and have destroyed the churches and devastated the empire. If you permit them to continue thus for awhile with impunity, the faithful of God will be much more widely attacked by them. On this account I, or rather the Lord, beseech you as Christ's heralds to publish this everywhere and to persuade all people of whatever rank, foot-soldiers and knights, poor and rich, to carry aid promptly to those Christians….
And thus was born the 11th-century Hammer writ large: the Crusades.
Like Martel's campaigns before them, the Crusades were defensive actions designed to stave off Muslim aggression. Oh, this isn't what you learned in college, I know. It's not what we hear from the media. It isn't what's portrayed by Hollywood. But it is the truth. And it was explained well by Thomas Madden, Chair of the History Department at Saint LouisUniversity. In "The Real History of the Crusades" he wrote:
The Crusades are generally portrayed as a series of holy wars against Islam led by power-mad popes and fought by religious fanatics. They are supposed to have been the epitome of self-righteousness and intolerance, a black stain on the history of the Catholic Church in particular and Western civilization in general. A breed of proto-imperialists, the Crusaders introduced Western aggression to the peaceful Middle East and then deformed the enlightened Muslim culture, leaving it in ruins.

… [But] Christians in the eleventh century were not paranoid fanatics. Muslims really were gunning for them. While Muslims can be peaceful, Islam was born in war and grew the same way. From the time of Mohammed, the means of Muslim expansion was always the sword. Muslim thought divides the world into two spheres, the Abode of Islam and the Abode of War…. In the eleventh century, the Seljuk Turks conquered Asia Minor (modern Turkey), which had been Christian since the time of St. Paul. The old Roman Empire, known to modern historians as the Byzantine Empire, was reduced to little more than Greece.

… [The Crusades] were not the brainchild of an ambitious pope or rapacious knights but a response to more than four centuries of conquests in which Muslims had already captured two-thirds of the old Christian world. At some point, Christianity as a faith and a culture had to defend itself or be subsumed by Islam. The Crusades were that defense.
And that is why I defend them today. No, they weren't perfectly executed, nor could they achieve all their objectives any more than the Cold War truly vanquished the left. Evil is always afoot. But note that the Mideast and North Africa had more Christians than did Europe at the time of the early Muslim invasions — but no one to Crusade for them. Thus, it's easy to imagine that, were it not for our hammering medieval heroes, we could well be what the Mideast is today. And unless we shelve multiculturalism and become what those crusaders were yesterday, we may not have a tomorrow.
Across Syria these days, one is able to examine massive evidence that this ancient civilization, the historic bastion of nationalist Arabism and since the 1948 Nabka, an essential pillar of the growing culture of Resistance to the Zionist occupation of Palestine, is becoming awash with foreign arms being funneled to "rebels" by countries advocating regime change.
This observer has been researching foreign arms transfers into certain Middle East countries since last summer in Libya, where to a lesser degree the identical foreign actors were involved in facilitating the transfer of arms and fighters to topple the then, "Libyan Arab Jamahiriya."
During a recent stay in Syria, I was able to observe first hand, substantial demonstrative evidence supporting the thesis that American, Zionist and Gulf intelligence agencies as well as private arms dealers from these countries top the list of more than two dozen countries benefiting from the crisis in Syria by injecting arms. These countries gain politically and financially, via governmental and black market arms transfers.
Which countries are sending the most weapons into Syria to arm militia?
A list of the top 24  countries, among the more than three dozen that are currently involved in sending weapons to Syria to achieve regime change include: USA, Iraq, Lebanon, Israel, Turkey, Qatar, Saudi Arabia, Yemen, Bahrain, UK, France, Canada, Belgium, Germany, Austria, Brazil, Portugal, Poland, Yugoslavia, Czech Republic, Bulgaria, Italy, Spain, and Argentina.
Above:  one of the periodic lists complied of foreign weapons confiscated from foreign fighters in Syria. Aug.-late September, 2012
Nearly two-thirds of the above listed arms suppliers are members of NATO and constitute almost half of NATO's 28 country membership.
Russia is not included in the above list because it is the main supplier of arms to the Syrian government.  Yet, one finds older USSR era weapons and even some more recent vintage Russian arms in rebel hands, the latter from the decade (12/79-2/89) of Soviet, occupation of Afghanistan. Also offering Russian weapons are a growing number of black market arms dealers of whom there is no shortage along the Turkey-Syrian border and elsewhere.  This recent visitor to Syria was offered near the Old City, AK 47's (Russian Kalashnikovs) or Rocket Propelled Grenades (RPG) for $ 1,800 (in Lebanon today and before the Syrian crisis the price was around $800.  After some bargaining and starting to walk away a couple of times, the "special one-time only price for an American friend" dropped to $ 750 each. Russian made Dragunov sniper rifles are being offered at $ 6,500 but can be bought for around $ 5000.Buying arms these days in Syria is a caveat emptor proposition. Fake weapons and military rejects/defects are also being offered by hustlers from nearby countries including Lebanon, Iraq and Turkey.
The involvement of numerous countries in the Syrian crisis as arms suppliers and political operatives was tangentially referenced by the recent UN Security Council Statement of 12/25/12 which admits the existence of foreign actors and implies their arms supplying activities by urging "all regional and international actors to use their influence on the parties concerned to facilitate the implementation of the (Eid al Adha) ceasefire and cessation of violence."
Syria's Permanent Representative to the United Nations, Bashar al-Jaafari observed last week: "This part of the [Security Council] press statement, mentioned for the first time, proves Syria's view repeated since the beginning of the crisis on the existence of Arab, regional and international parties influencing the armed groups negatively or positively. Therefore, those parties need to be addressed."
One of the key challenges for  the UN and Arab League envoy, Lakhdar Brahimi whose aides told this observer at the Dama Rose hotel on 10/22/12 where we were staying, is:  "We  need to persuade key countries in the Middle East, but also internationally,  not to support the rebels with arms.
The failed initiative of envoy El  Brahimi, was the third ceasefire attempt to date following the December 2011Arab League proposal and the April 2012 Kofi Annan initiative, both of which were endorsed by the Syrian government and most of the world community.  Some rebel militia, but not nearly enough, did endorse the Brahimi four day Eid al Adha ceasefire only to have it collapse this past weekend.  To his credit, Brahimi continues his work.
The same Brahimi sources suggested that the United States may also be supplying man-portable air-defense systems (Manpods) to rebels in Syria.   According to Russian Foregin Ministry spokesman Alexander Lukashevich, speaking on 12/15/12: "At the same time, it is also well-known that Washington is aware of supplies of various types of arms to illegal armed groups operating in Syria. Moreover, the United States, judging by admissions by American officials that have also been published in American media, is conducting coordination and providing logistical support for such supplies." NBC News, based in New York reported in July that Syrian insurgents had obtained two dozen US MANPADS, delivered from Turkey.
A month after the October 2011 death of Libyan leader Muammar Qaddafi, Secretary of State Hillary Clinton announced in Tripoli that the U.S. was committing $40 million to help Libya "secure and recover its weapons stockpiles."  Congressional sources report that the Obama administration is fully aware that quantities of these arms are current in Syria and more in transit.
With respect to arms moving from Libya to Syria, on the night of Sept. 11 Libya time, in what was his last public meeting, US Ambassador Christopher Stevens met with the Turkish Consul General Ali Sait Akin, and accompanied him to the consulate front gate just before the assault began. Although what was discussed has not yet been made public, Washington sources including the pro-Zionist Fox News speculate that Stevens may have been in Benghazi negotiating a weapons transfer, from Libya to Syria.
Earlier this year, Assistant Secretary of State for Political and Military Affairs Andrew Shapiro expressed concerns that the increasing flow of Libya arms was far from under control. Speaking to the Stimson Center in Washington D.C. on 2/10/12 Shapiro said: "This raises the question — how many weapons and missiles are still missing? The frank answer is we don't know and probably never will."
According to a 10/14/12 report by the Times of London, a vessel flying the Libyan flag named Al Entisar (Victory), loaded with more than 400 tons of cargo, docked in southern Turkey 35 miles from the Syrian northern border. While some of the undeclared cargo was likely humanitarian, staff accompanying UN envoy Brahimi during his recent Syrian trip report the Al Entisar also carried the largest consignment of foreign weapons to date, including surface-to-air anti-aircraft missiles, RPG's and MANPADS destined for Syria.
Partly because of the jihadists and arms entering Syria from its northern border, southern Turkey is increasingly referred to here in Damascus as "New Afghanistan", given its matrix of jihadists, salafists, wahabists, and battle-hardened panoply of arriving foreign would-be mujahedeen  and al Qaeda affiliates.
One teenage al Qaeda wannebe explained to the author that his specialty was making and using homemade specialized knives as shown in this photo.  He also delivered a mini-lecture he said was based on a Koranic Hadith explaining why severing heads of animals and adversaries is actually the most humane method. He gave earnest assurances that if allowed to perform a one-time demonstration, this observer would feel no pain and he would post the photo on Facebook!
Remarkably, as was witnessed in 2007, during the conflict at the Nahr al Bared Palestinian refugee camp in north Lebanon, some of the arriving eager jihadists in "New Afghanistan"  actually believe that they are fighting against Zionist forces near occupied Palestine and not killing fellow Arabs in Syria.
Some, but not all of the  many types of small arms flowing into Syria in large numbers, and viewed by this observer include:
7.62mm Tabuk (Yugoslavia) rifles, Mass rifles (UK), 7.62 mm rifles (Poland), 12 mm rifles (Italy), 7.62 mm Kalashnikovs (several countries versions), 9 mm 'fast gun', (Austria), 7.62 mm Val (Belgium), G3 7.62 mm G3 rifles (Germany), 7.5mm model 36 rifles (France), M16 and a variety of sniper and other rifles (USA), 7.62 rifles (Bulgaria, 10.5 Uzi and other automatic machine guns, three types of hand grenades  (Israel), 9 mm guns (Canada), 7 mm guns (Czech Republic), 7 mm guns (Brazil).
Israeli weapons are among the most frequently found in Syria as was the case in Libya. Israeli arms dealers are claimed to have recently intensified links with Blackwater International and also are currently smuggling through the Golan Heights, the tri-border area of south Lebanon, occupied Palestine and Syria.
The observer also examined and was briefed on M72 LAW and AT-3 anti-tank missiles developed by the United States. But the extent of their use is difficult to verify. Most of the arms shown in accompanying photos are from the main urban centers and near the Turkish, Iraqi, Lebanese and Jordanian borders.
In tightly built up urban areas such as Homs, Idlib and Aleppo, door to door fighting includes a battle among snipers. According to one Syrian military intelligence source in whose Damascus office this observer discussed the subject, the most frequently confiscated sniper rifles currently being found in the hands of "rebels" include:
·  the  U.S. Army & USMC M1903-A4 (also: USMC M1903-A1/Unertl), the U.S. Army & USMC M1C & M1D and U.S. Army M21;
·  the Israeli M89SR Technical Equipment International 7.62x51mm NATO Semi-automatic, Galil Sniper Rifle and the T.C.I. M89-SR,
·  the British  .243 Winchester, 7.62x51mm NATO/.308 Winchester,.300 Winchester Magnum, and the 338 Lapua Magnum Bolt action sniper rifles.
A few Afghanistan era Russian Dragonov SVD and SV-98 sniper rifles have also been confiscated among an assortment of others.
Foreign jihadists have some access to Soviet-era DShK heavy machine guns or ZU-23-2 anti-aircraft cannons which are used for anti-aircraft and fire support. Both use fairly scarce high-explosive rounds and armor-piercing rounds, which are capable of penetrating the armor of the Syrian military's BMP infantry fighting vehicles. The ZU-23-2 "Sergey", also known as ZU-23, is a Soviet towed 23 mm anti-aircraft cannon. Vehicle mounted Zu-23-2's are relatively easy to spot by government aircraft and artillery units are used to attack a target and quickly flee to avoid counter strikes.
On 10/25/12 Russia reiterated its claims that the US assists and coordinates arms deliveries to foreign-sponsored insurgents battling the Syrian government forces. Russia's chief military officer said that Syrian armed groups have acquired US-made weapons, including Stinger anti-aircraft missiles. This observer saw many weapons from more than a dozen types of IED's (improvised explosive device) to medium sized artillery pieces but no missiles.
Improvised Explosive Devices are a key rebel weapon with many arriving from Iraq and camps near Hataya, Turkey. Many DIY (do it yourself) improvisations have been uncovered across Syria in both urban and rural areas. This observer examined and was briefed on several types, including those shown above.
According to the Russian Foreign Ministry issued statement of 10/25/12, "Washington is aware of the deliveries of various weapons to illegal armed groups active in Syria. Moreover, judging by the declarations of US officials published in US media, the US coordinates and provides logistical assistance in such deliveries."
Some analysts in Damascus claim that Syria's potential military strength has not been as effective as it could be in the current urban fights against rebels. The government appears very strong militarily if one studies the statistics regarding Syria's large and disciplined army which continues its support and also given its sophisticated long range missiles, air defense systems that have deterred an airborne attack from Israel. One reason progress has at times appeared slow against the "rebels" according to some local analysts was a certain initial unpreparedness to confront highly motivated guerrilla militia in downtown densely populated areas. These kinds of battles, it is claimed, require a mobile infantry, armored flexibility and very effective use of light arms.  The Assad government's "adapt, catch up and go on the offensive" paradigm is developing rapidly according to US Senate Armed Service Committee sources who assert that the Syria army has actually become battle hardened,  tougher, stronger and more disciplined over the past several months. But it has taken time and has incurred a significant cost.
Weapons examined by this observer in Syria during 10/12 include some of the more than 1,750 new American sniper rifles channeled from Iraq and NATO supply stores to rebel militia.
How foreign weapons are entering Syria
As widely speculated particularly in the regional media, foreign supplied weapons to "rebels" arrive by air, sea and mainly by land from Iraq, Turkey, Lebanon, Saudi Arabia, Qatar, Jordan and occupied Palestine.
Israel is reported, by some researchers in Damascus who have been covering the crisis for nearly 20 months, to be sending arms to Syria from Kurdistan, having had much experience in Africa, South America and Eastern Europe via Mossad and Israeli black market arms dealing. What Israel did in Libya in terms of a wide spread arms business it is also trying to do in Syria.  Israeli arms, according to Syrian and Lebanese sources are being transported into Syria from along the tri-border area of South Lebanon, near Shebaa Farms, close to Jabla al-Saddaneh, and Gadja. In addition, Israeli smugglers have increasingly, over the past five months, been seen by locals moving arms inside Syria via the Golan Heights. These violations of  Syrian and Lebanese sovereignty raise serious questions about the vigilance of the United Nations Disengagement Observer Force Zone (UNDO) based in the Golan Heights as well as the UN Interim Force in Lebanon (UNIFIL) and the Lebanese Army as well as National Lebanese Resistance units near the 'blue line' to stop the illicit Israeli arms transfers.
The recent arrival in southern Turkey and along the northern Syrian border of Blackwater mercenaries is expected to increase the foreign arms flow.  Currently using the name Academi (previously known as Xena- Xe Services LLC, Blackwater USA and Blackwater Worldwide) Academi is currently, according to Jane's Defense Weekly, the largest of the US governments "private security" contractors.  Details of its relationship with the US Defense Department and the CIA are classified.
Is there a coherent US policy toward the Syrian crisis?
Secretary of State Clinton has been announcing recently that the U.S. is increasing its "non-lethal support" (i.e. direct shipments as opposed to boots on the ground or ballistic weapons) according to her Congressional liaison office. She also confirmed that Washington is working with its friends and allies to promote more cohesion among the disparate Syrian opposition groups with the aim of producing a new leadership council following meetings scheduled for Doha in the coming weeks.
Examples of US, UK and NATO "non-lethal aid" equipment taken from militia in south and north Syria between 5/2011 and 10/2012.
However, to the consternation of the State Department, General David Petraeus the former US commander of NATO forces in Iraq, now director of the CIA acknowledged, during his senate confirmation hearings. "Non-lethal aid to combatants, including communication equipment, is sometimes more lethal and important than explosive devices due to the logistical advantages they provides on the battlefield."
In tandem with the US, the UK and several European governments are supplying "non-lethal" aid to the Syrian opposition, including satellite communications equipment according to Syria security sources.
There is also plenty of anecdotal and demonstrative and probative evidence in Syria of human weapons patterned on the "Zarqawi model" which refers to the bloody al Qaeda in Mesopotamia campaign named for its leader Abu Musab al Zarqawi after U.S. troops occupied Iraq.
In a speech this week in Zagreb, Croatia, this week, Secretary of State Clinton insisted that any group seeking to oust President Bashar al-Assad must reject attempts by extremists to "hijack" a legitimate revolution.  She added, "There are disturbing reports of heavily armed foreign extremists going into Syria and attempting to take over." Clinton used her strongest words to date concerning risks that the uprising in Syria could be overtaken by militants who do not seek a democratic replacement or the reforms that the current government claims it is trying to implement. She told her conferees:  "We made it clear that the SNC can no longer be viewed as the visible leader of the opposition. They can be part of a larger opposition, but that opposition must include people from inside Syria and others who have a legitimate voice. We also need an opposition that will be on record strongly resisting the efforts by extremists to hijack the Syrian revolution. There are disturbing reports of heavily armed extremists going into Syria and attempting to take over." Clinton advised her colleagues that the US has become convinced that the SNC does not represent the interests of all ethnic and religious groups in Syria and that it has little legitimacy among on-the-ground activists and fighters, and has done little to stem the infiltration of Islamist extremists into the opposition forces.
Clinton's language is being interpreted by some as evidence that a post-election Obama Whitehouse, she he win on November,  may move toward the Russian, Chinese, and Iranian position and away from, what one Congressional source  derisively  labeled,  " the view from the Gulf gas stations"  i.e. Saudi Arabia, Qatar and some other despotic monarchies.
The intervention in Syria by more than three dozen countries supplying weapons must be stopped. Both sides of the Syrian crisis need to manifest by actions, not just words, a serious commitment to meaningful dialogue. The above noted arms supplying countries, and others off stage, have a solemn obligation to their citizens and to the world community to immediately halt the shipment of arms.
They should, and their people should demand that they do without further delay, honor the words of Isaiah 2:3-5…."and they shall beat their swords into plowshares, and their spears into pruning hooks: nation shall not lift up sword against nation, neither shall they learn war anymore."
Granted, perhaps a cliché and certainly far easier said than done.
Yet, as Oregon's late great US Senator Wayne Morse used tell audiences around America during the Vietnam War, quoting General George Marshall, "The only way we human beings can win a war is to prevent it."
It's time for the international community to end the Syrian crisis diplomatically, stop funneling arms and cash fueling hoped for regime change elements. Instead, they must demand that all the involved parties immediately engage in serious dialogue and settle their differences.
The coast is clear, the media tells us; economic disaster has been averted. The Euro Zone is finally stable and the U.S. economy is recovering. Whew!
Why, then, are government policies internationally still pursuing extremist measures? In the U.S., a third round of excess money printing —called Quantitative Easing — began recently in which banks are directly profiting by unloading their toxic mortgages on the Federal Reserve's balance sheet (another backdoor bailout paid by taxpayers).
After the U.S. presidential election, both Democrats and Republicans are committed to different versions of historic cuts to social services, education, Medicare, unemployment benefits, and very likely Social Security. This bi-partisan plan is often referred to as a "grand bargain," the details of which both parties are still haggling over.
In Europe things are no better. After the Euro Zone central bank promised investors its full backing to bailout all Euro Zone members — by printing money — the world economy sighed a heavy relief. But still the Euro Zone — along with the U.S. — is pursuing a two-pronged solution for an extreme economic crisis: austerity measures and the less-discussed "structural reforms."
What are these policies? Austerity is simple enough: government cuts to social spending, health care, education, pensions, etc. — to balance heavily indebted public budgets (at the expense of working people, rather than taxing the rich and corporations). Austerity can also be achieved through privatization, where once publicly run programs/facilities are sold cheaply to private firms to make a profit, thus taking the cost off the government's budget.
Structural reforms on the other hand are meant to boost economic (corporate) growth, by government intervention in commodity markets — most commonly the labor market. It's called structural reform because markets are usually relatively stable. For example, the labor market is deep-rooted in powerful social forces — wages, benefits, and working conditions are heavily influenced by unions, who use their organization and strike threat to pressure corporations and governments to pay living wages. Non-union workers benefit directly by the unions' ability to alter the national labor market, since non-union companies have to compete with union companies for workers, who naturally go where wages are higher. Professional, higher-paid workers benefit too, since society expects them to get higher wages than, say a carpenter.
In Europe, structural reforms targeting the labor market — alongside austerity measures — are rousing the unions and broader community into the streets with massive demonstrations: Spain, Portugal, Greece, and other countries are fighting reforms that politicians are euphemistically calling "labor market flexibility." This simply means that unions will be undermined by their inability to protect workers' jobs, making firing easier ("flexibility"), which results in compelling workers into accepting lower wages and benefits.
The pro-corporate Economist magazine reports about Portugal:
"With his decision to finance a reduction in company [corporate] costs through a sharp cut in workers' take-home pay, Pedro Passos Coelho, Portugal's prime minister, appears to have taken reform past the limit of what is deemed acceptable by large sections of the electorate."
And France:
"… [President] Hollande has given union leaders and bosses until December to negotiate [anti-union] labor-market changes. On the table are various options, including making it possible for firms [corporations] to reduce hours and salaries in a downturn against a guarantee of job security, along the lines introduced by [Germany's prime minister]… in 2003."
And Spain:
"… the new [labor] law makes it easier and cheaper to lay off workers. For most firms, maximum lay-off payments [unemployment benefits] will be reduced from 42 months' pay to 12 months… it will hugely boost business confidence."
Reducing unemployment benefits is a very popular labor market structural reform for the 1%, since it makes workers more desperate for work, and thus more accepting of low-wage jobs — consequently lowering workers' power in the labor market overall, as wages are lowered nationally.
And while Europe's austerity and structural reforms are on the front page of international media — due to the giant protests and general strikes against them — the exact same policies have been pursued by the U.S. with barely a murmur. Were it not for the labor upsurges in Wisconsin and more recently Chicago, these policies would be completely off the public's radar.
The Wisconsin uprising was in response to a labor-market structural reform pursued by Republicans, denying unions bargaining rights — effectively destroying the union. Democrats, however, are pursuing anti-labor structural reforms — weakening unions — as national policy also, though less directly, by demanding that unions across the country take massive concessions in wages and benefits — a slower, yet more effective form of labor market restructuring.
The teachers in Chicago went on strike against another form of anti-labor structural reform pursued by both Democrats and Republicans. The media-hype around "firing bad teachers" is really a labor-market reform in disguise; the real intention is to bust unions, who are only able to stay strong by their ability to protect the jobs of their members (of course there already exists ways to fire bad teachers).
Teacher merit pay is yet another labor reform measure aimed to weaken unions, since it effectively lowers wages by preventing raises (there is zero evidence that merit pay raises education standards, or that charter schools outperform public schools). It means that every teacher's salary is negotiated individually, and it allows management to punish its critics by denying them merit pay raises.
The teachers are especially targeted in the U.S. because they are the strongest union in the country, due to their numbers, organization, and connections to the community. If they are forced to give "structural" concessions, other unions will be heavily pressured to do so, and thus the labor market will be altered to the benefit of the corporations.
The labor reform attacks — combined with austerity budget cuts — are happening in different forms on a city, state, and federal level with the full backing of the Democrats and Republicans (there is no "debate" in the presidential election about education policy). Thus, if not for the Wisconsin and Chicago struggles, there would be little social consciousness around these issues.
The reasons that austerity and structural adjustment have not produced a Europe-like movement yet is because most labor unions have increasingly accepted these concessions without putting up a real fight. Many labor leaders would simply rather accept these policies, since fighting them would put them in conflict with their "friends," the Democratic politicians pursuing these anti-labor policies.
Hopefully, the post-Occupy movement can show the labor movement the way forward. On November 3rd there will be protest demonstrations against austerity in a number of cities across the country. These protests are targeting the ongoing state by state cuts — and federal post-election cuts — to education, transportation, health care, social programs, and public-sector workers. The protests are challenging the very concept of austerity, as working people refuse to pay for the crisis created by the rich and corporations. There is a potential for these protest demonstrations to teach the American public the word "austerity," assuming they are large enough and connect with the broader community that directly experiences these policies.
Regardless of the results of November 3, demonstrations about the austerity issue in the U.S. will inevitably continue, since even mainstream economists mostly agree that there will be no return to the pre-recession economy. The policies of austerity and structural reform — along with war — are long-term survival strategies of capitalism, which is evolving to survive a global-wide crisis of corporate growth rates by creating a "new normal" of social expectations: lower wages and fewer social programs.
The first step in fighting these measures is mobilizing working people and the broader community in massive Europe-like demonstrations. This tactic educates the whole nation about the issues, which would otherwise remain in the dark. Once the 99% is in the streets together screaming collective demands with a united voice, the movement will decide how best to act, whether it be the general strikes or new political parties that have emerged in Europe.
The U.S. post-election austerity surprises will give new opportunities for millions of people to get into the streets. They will no longer be able or willing to remain ignorant about the nation's new normal.
http://www.economist.com/node/21563352
http://www.economist.com/node/21563303
http://www.economist.com/node/21547831
"The Greek economy is truly broken. The circuits of credit are so badly damaged that even efficient, profitable firms have been cut out of the capital markets …. Moreover, the new spending cuts… will give the forces of recession another boost. To cut a long story short, there is no doubt that such loosening up will simply prolong the agonising death of the Greek social economy." – Yanis Varoufakis, economist, University of Athens
The Greek electorate has changed captains on the Titanic, but the ship is still sinking. So what difference did the elections make?


 None.
Unemployment is still rising, the deficits continue to widen, and the economy is in tatters. Everything is fundamentally the same as before, with one exception, the victor (New Democracy's Antonis Samaras) remains firmly committed to staying-the-course and meeting the terms of the bailouts, whereas, the loser (Syriza's Alexis Tsipras) rejects the austerity measures laid out in the Memorandum Of Understanding (MOU) and promises to renegotiate the agreement with the troika. (The European Commission, the IMF, and the European Central Bank)
Samaras's slim victory means that Greece will get more financial aid (loan installments), but will be required to implement another round of savage cuts to social spending, this time in the amount of $11.5 billion. These cuts will further inhibit growth, which will reduce tax revenues leading to even bigger budget deficits. When the government is unable to hit its deficit targets, (as everyone expects) then EZ policymakers will suspend the bailouts and the crisis will flare up again.
It's a vicious circle that can only end one way, with Greece leaving the eurozone and returning to the drachma.
So, what happens next?
New Democracy leaders will try to cobble together a coalition government with other "pro bailout" parties (like PASOK) while trying to win meager concessions to extend the length of existing loans and reduce the rates on others. Some analysts think that the troika will try to be more flexible on the terms of the bailouts to reduce growing social unrest, but that doesn't seem likely.
German chancellor Angela Merkel nixed the idea of greater forbearance or debt reduction just hours after the election results were announced. Here's the account from Reuters:
"German Chancellor Angela Merkel said on Monday a new Greek government had to meet commitments made to international lenders.


Speaking to reporters at a Group of 20 leaders' meeting, Merkel said any loosening of agreed reform pledges after Sunday's narrow election victory for Greece's pro-bailout parties would be unacceptable." (Reuters)
Merkel is not going to cut Greece any slack. Either the deficit targets are reached and Greece complies with its obligations, or the loans will be cut off. "Either pay up or get out":  that's the massage from Berlin. Judging by the reaction in German newspapers, Merkel's hardline approach is wildly popular across the political spectrum. Just look at these clips from Monday's editorials. This is from the center-right Frankfurter Allgemeine Zeitung:
"The Greek electorate is obviously divided. But the country needs a government that has the power and courage to pass and implement the unavoidable reforms: a government that can convince the people that their country needs a fundamental renewal. It won't be easy to form such a government — 'not easy' being a gross understatement. The coming days will show just how difficult it will be."
This is from the Financial Times Deutschland:
"The Greeks must provide clear affirmation of reforms. They don't just owe this to their fellow Europeans, from whom they are accepting aid, but also to themselves. The population must understand that there can be no going back to the pre-crisis state of affairs."
Finally, from the conservative Die Welt:
"Chancellor Merkel insists on shared responsibility. She emphasizes that austerity and reforms are the way to solve Europe's debt crisis. This clarity is even making many Germans uneasy. And yet these conclusions, which are actually banal, are being made within a political context that is increasingly volatile.

Germany is showing strength, without trying to dominate, and yet it is punished by being despised. If Angela Merkel were to change course, if she were to buckle to criticism, then it would really not be good for Europe or for Germany."
Reforms, reforms, reforms. German pundits love reforms, which is why they admire their reform-minded chancellor, Frau Merkel. But where have these reforms–which are more commonly called "austerity measures"–worked? In which country has debt consolidation, structural adjustment, privatization, and union busting led the way out of recession to a strong recovery?
 
Ireland? Spain? Portugal? Italy?
The evidence suggests that Merkel's policy doesn't work which is why many of the world's leading economists have blasted austerity as counterproductive.
So how is it that these "experts" still think they are right when 2 years of experience demonstrates that they're wrong?  Just look at bond yields. Just look at the banks. Just look at unemployment. Just look at GDP. By every objective standard, the policy has failed. This is no longer a debatable point. The facts speak for themselves.
On Tuesday, while leaders of the world's major economies met in Los Cabos, Mexico for a G20 summit, a failed auction of Spanish debt set off alarms reminding the gathering that the crisis was still unresolved. Here's the story from Reuters:
"Spain paid a euro era record price to sell short-term debt on Tuesday, pushing it closer to becoming the biggest euro zone country to be shut out of credit markets.


The soaring borrowing costs highlight the shortcomings of a June 9 euro zone deal to lend Spain up to 100 billion euros ($126 billion) for its banks. They also illustrate how Europe's problems run much deeper than Greece, brought back from the brink of default in Sunday's parliamentary election…." (Reuters)
Spanish 10-year bond yields remain above 7 percent at present after hitting a high of 7.28 percent yesterday. Economists think that anything above 7 percent is unsustainable.
So, while one fire has been doused in Greece another has broken out in Spain. It's only a matter of time before the European Central Bank chief Mario Draghi will be summoned to reopen the Securities Market Program (SMP) and resume buying Spanish debt to push down bond yields and avoid a meltdown.
Why is the crisis spreading? And why has it shifted to Spain, after all, up until 2007, the Spanish government's balance sheet looked better than Germany's.  They had lower public debt, had never broken the EZ's deficit rules, and had consistently ran budget surpluses.
So why Spain?
 
The problem isn't Spain. Nor is it Ireland, Greece, Portugal or Italy. It's the monetary union itself.
The EZ's creators were warned that a monetary union outside a fiscal and political union would not work, but they proceeded anyway. Now they're trying to correct their error by inflicting pain on the members, (internal devaluation) because the only other choice they have is to create a United States of Europe, which would require public referenda in all 17 countries.  They know that their chances of success in that effort would be quite small, so they're not even going to even try, which why the band-aid remedies will continue until one member leaves and the race for the exits begins.
Slow-motion Bank Run…
"The burden of recapitalizing insolvent banks or loss-making acquisitions of solvent banks will fall on Spanish citizens." – Karl Whelan, economist at University College, Dublin.
Before EU finance ministers approve the 100 billion euro bailout for Spain, they might want to ask themselves one question: Will it really help?
Sure, it'll keep the markets bubbly until mid-week when fears of the Greek elections set in, (June 17) but that's about it. It won't fix the eurozone's underlying problems, in fact, it doesn't even address them. The narrow purpose of the bailout is to keep insolvent banks propped up to avoid another Lehman Brothers-type catastrophe. That's it. In other words, the 100 billion will not boost competitiveness, spur growth, reduce unemployment, or increase fiscal and political integration. It doesn't do any of these things, in fact, Spain's debt-to-GDP ratio will widen even more due to the new burden its leaders have taken on. That means, Spain's working people will have to endure even harsher conditions for a longer period of time to repay the obligations assumed by Madrid. How does that help?
The Eurogroup has agreed to lend Spain 100 billion, but they have no way of knowing how much more the country will need in the future. Just take a look at this and you'll see what I mean:
"Spain's banks have over €300 billion in exposure to the real-estate sector, mostly through loans to developers. Around €180 billion of this exposure is considered "problematic" by Spain's central bank.

Estimates suggest that there are about 700,000 vacant newly built homes, but including repossessed properties the total could be as high as one million or even higher. At current sales levels, it will take many years to clear the backlog, which will be compounded by more properties being completed and coming onto the market. Housing prices have fallen by 15-20% but are forecast to fall eventually by as much as 50-60%. A severe recession and unemployment of 25% means that losses on Spain's over €600 billion of home mortgages loans are likely to also rise." ("The Spanish "Bailout", Whoops – "Assistance"!, Satyajit Das, Naked Capitalism)
Housing prices have a long way to fall which means the slump is going to drag on indefinitely putting more pressure on bank balance sheets. Expect more bailouts to come. The 100 billion is just the tip of the iceberg.
And, keep in mind,  the bailout will not ease credit conditions either. The money will be used to roll over debt, and to restructure and recapitalize underwater banks. The truth is, that none of the bailouts have eased credit conditions. Even after the ECB launched its trillion euro Long-Term Refinancing Operation (LTRO)–which provided 3-year, low interest loans to financial institutions– lending is still in the doldrums with no sign of improvement. So, don't expect the bailout lead to another expansion.
The same rule applies to borrowing costs. The bailout  doesn't ensure that yields on Spain's debt will fall or that the ratings agencies won't continue to downgrade its banks and sovereign bonds. (which will make borrowing more expensive) In fact, adding 100 billion to the country's debt load will probably trigger more downgrades, lowering Spanish debt to junk status.
Finally, the bailout will not stop the slow-motion bank run that's seen 100 billion euros exit Spain in the last year. (How's that for symmetry?) The country is borrowing the exact same amount that it's lost due to the flawed architecture of the eurozone which does not provide blanket guarantees on deposits.
Here's an excerpt from the Eurogroup's statement on Spain:
"The Eurogroup supports the efforts of the Spanish authorities to resolutely address the restructuring of its financial sector and it welcomes their intention to seek financial assistance from euro area Member States to this effect….

The financial assistance would be provided by the EFSF/ESM for recapitalisation of financial institutions. The loan will be scaled to provide an effective backstop covering for all possible capital requirements estimated by the diagnostic exercise which the Spanish authorities have commissioned to the external evaluators and the international auditors. The loan amount must cover estimated capital requirements with an additional safety margin, estimated as summing up to EUR 100 billion in total….

The Eurogroup considers that the Fund for Orderly Bank Restructuring (F.R.O.B.), acting as agent of the Spanish government, could receive the funds and channel them to the financial institutions concerned. The Spanish government will retain the full responsibility of the financial assistance and will sign the MoU."
So, Prime Minister Mariano "We don't need help" Rajoy will have accept an IMF monitoring team that will sift through the books of distressed Spanish banks and expose the boundless red ink and corruption that lies therein. The involvement of the IMF means that a lot of shareholders are going to be wiped out while bondholders take severe haircuts.
Spain will now join the other bailout-dependent countries, Greece, Portugal and Ireland, although it will not be asked to increase austerity measures which Rajoy has already implemented with gusto. With the economy already in deep recession and unemployment tipping 25 percent, EZ finance ministers believe that more belt tightening would be counterproductive. Accordingly, the European Commission has agreed that Spain should be given an extra year to bring its budget deficit down below the EU limit of 3 percent of GDP. Here's how Greek economist Yanis Varoufakis summed up recent developments in Spain:
"Spain's current predicament is instructive: To get money to give to its decrepit banks, the nation must be humiliated and undergo further fiscal waterboarding so that Italy and others are deterred from turning to the EFSF (European Financial Stability Facility) for help. In this sense, when Europe's functionaries say that there is no need for further action on Spain since the EFSF is available to help, they are inviting the Spanish to enter the Workhouse for a life of undeserved misery on behalf of their bankers. And they have the audacity to call this 'solidarity' with the Spanish people." ("Solidarity Euro-Style: Finnish loans, ECB bond purchases, EFSF tough love and assorted horror stories from the postmodern Euro-Workhouse", Yanis Varoufakis)
The Spanish bank bailout is only going to make matters worse for working people who'll see the losses of corrupt financial institutions heaped onto their shoulders via higher taxes, cuts to social programs, and a firesale of publicly owned assets. They'll pay the price while the crooks walk away scot-free.
Why isn't the U.S. economy in a depression right now?  The number one reason is because the federal government has stolen more than five trillion dollars from future generations since Barack Obama was elected and has used that money to pump up our grossly inflated standard of living.  Whether the federal government spends money wisely or foolishly, the truth is that the vast majority of it still ends up in the pockets of the American people who then use it to buy the things they need for their daily lives.  If the U.S. government had not borrowed and spent an extra five trillion dollars that we did not have over the past several years, we would be in the middle of a rip-roaring economic depression right now.  So any talk that Barack Obama is "improving the economy" is a total farce.  It is a five trillion dollar lie.  The reality is that Barack Obama and the U.S. Congress have been stealing trillions of dollars from future generations in order to make things tolerable in the present.  If the federal government adopted a balanced budget next year, the debt-fueled prosperity that we are currently enjoying would start disappearing very rapidly and all hell would break loose in America.
At this point, the U.S. national debt is over 15.7 trillion dollars.
When Ronald Reagan took office it was less than a trillion dollars.
If you were to divide the national debt up equally, it would come to more than $50,000 for every man, woman and child in the United States.
So the share of the national debt for an average family of four would be about $200,000.
When the government borrows and spends money that it does not have, that increases the amount of dollars in circulation and it causes GDP to go up.
That is one of the reasons why our politicians like to borrow and spend money that we do not have.  It makes the economic statistics look good.  They can point to those economic statistics as a reason to send them back for another term.
This is a major flaw in our system.  Most of our politicians do not care about how they are raping future generations financially.  Most of them just care about getting elected again.
If you will notice carefully, neither Mitt Romney nor Barack Obama are promising to balance the budget any time soon.  Like so many politicians in the past, they promise to do it "eventually", but "eventually" never arrives.
According to a recent article in the Washington Times, Mitt Romney declared during a recent campaign appearance that he has no plans to balance the federal budget in his first year….
"My job is to get America back on track to have a balanced budget. Now I'm not going to cut $1 trillion in the first year"
Why would he say that?
Why wouldn't he want to balance the budget?
He went on to explain that….
"The reason," he explained, "is taking a trillion dollars out of a $15 trillion economy would cause our economy to shrink [and] would put a lot of people out of work."
Romney is right about this.  Taking a trillion dollars out of a 15 trillion dollar economy would plunge us into an economic nightmare.
And that would make him look bad.
Of course if Obama wins the election we can just expect more of the same from him as well.
For example, just check out what White House Chief of Staff Jack Lew had to say about balancing the budget recently….
"The time for austerity is not today," Lew told NBC News "Meet the Press." "If we were to put in austerity measures right now, it would take the economy in the wrong way."
Why is the time for austerity not today?
It is because the 2012 election is coming up and Obama wants the economic statistics to look good.
But can you blame our politicians for being cowardly?
Just look at what is happening in Greece.  After several years of austerity they are in the midst of a full-blown economic depression and they still have not balanced their budget.
Do we want to end up like Greece?
Most Americans do not realize this, but the U.S. already has more government debt per capita than Greece, Portugal, Italy, Ireland or Spain.
So why haven't we collapsed yet?
Well, because we continue to borrow larger and larger amounts of money.
It took from the founding of America until 1995 for the federal government to accumulate 5 trillion dollars of debt.
Under Obama, we have accumulated more than 5 trillion dollars of new debt in just over 3 years.
Amazingly, Obama has added more to the national debt than George W. Bush did during his entire 8 year term.
And let there be no mistake – George W. Bush was a wild spender.  A fiscal conservative he most certainly was not.
But Barack Obama does not seem troubled by any of this.
Barack Obama is prancing about the countryside touting his great "economic plan", but the truth is that the only reason the economy has not totally collapsed is because he is stealing 150 million dollars an hour from our children and our grandchildren.
Sadly, most Americans don't understand that the current level of prosperity that we are enjoying is a grand illusion.  Most Americans still expect things to return to the way that they used to be, and they are increasingly becoming angry that it is taking so long to get back there.
In fact, a whole host of recent surveys have shown that Americans are very dissatisfied with the direction the economy is heading in….
Four recent surveys have found that on average only 28% of Americans are satisfied with the condition of the country, while 70% are dissatisfied. Three recent surveys have found that between 69% and 83% of Americans believe that the country is still in recession (it isn't), and only half believe that a recovery is under way.
What they don't realize is that if we were not massively ripping off our kids and our grandkids things would be much, much worse.
Thomas Jefferson understood that government borrowing is essentially the same as theft from future generations.
He once made the following statement….
And I sincerely believe, with you, that banking establishments are more dangerous than standing armies; and that the principle of spending money to be paid by posterity, under the name of funding, is but swindling futurity on a large scale.
What we are doing to our children and our grandchildren is so immoral that it is hard to put into words.
We are running up trillions upon trillions of dollars of debt in their name just so that our lives can be more comfortable right now.
How could we be so selfish?
The sad thing is that even with all of this reckless spending our economy is still not in great shape.
In fact, the middle class continues to shrink at an alarming rate.  The following are just a few statistics from a recent article I did about this phenomenon….
-Today, approximately 48 percent of all Americans are currently either considered to be "low income" or are living in poverty.
-Back in 1960, social welfare benefits made up approximately 10 percent of all salaries and wages.  In the year 2000, social welfare benefits made up approximately 21 percent of all salaries and wages.  Today, social welfare benefits make up approximately 35 percent of all salaries and wages.
-The United States actually has a higher percentage of workers doing low wage work than any other major industrialized nation does.
-Every year now, we see millions of Americans fall out of the middle class.  In 2010, 2.6 million more Americansdescended into poverty.  That was the largest increase that we have seen since the U.S. government began keeping statistics on this back in 1959.
-At this point, approximately 22 percent of all American children are living in poverty.
-When Barack Obama took office, there were 32 million Americans on food stamps.  Now, there are more than 46 million Americans on food stamps.
So how much worse would things be if a trillion dollars of federal spending was suddenly removed from the economy?
Are you starting to get the picture?
As bad as things are right now, they are about to get a whole lot worse.
So why can't we just keep on borrowing and spending forever?
Well, just like Greece found out, debt always catches up with you eventually.
During fiscal 2011, the U.S. government spent over 454 billion dollars just on interest on the national debt.
But just like we are seeing in Europe, if confidence in U.S. government debt starts to disappear the U.S. government could end up facing much higher interest rates to borrow money.
If the average rate on U.S. government debt only rose to 7 percent (in the past it has actually been much higher than that), then the U.S. government would be spending about 1.1 trillion dollars a year just on interest on the national debt.
During fiscal year 2011, the U.S. government spent 3.7 trillion dollars but it only brought in about 2.4 trillion dollars.
So if we were spending 1.1 trillion dollars just on interest, that would be close to half of all the revenue the federal government brings in.
Right now, the Federal Reserve is manipulating the system in a desperate attempt to keep interest rates down.  During 2011, the Federal Reserve bought up approximately 61 percent of all government debt issued by the U.S. Treasury Department.
But most Americans have no idea how fragile our financial system is.
Most Americans just assume that we will always be the greatest economy on the planet and that there is nothing to be worried about.
Sadly, one way or another this debt bubble is going to burst and then our debt-fueled false prosperity is going to disappear.
Most Americans are not going to understand what is happening and they are going to go absolutely nuts.
Source: The Economic Collapse
As you might have noticed, the stock market is falling like a stone. As of 9 AM PST, the Dow Jones has dropped 172 points while all the other indices are down sharply. German 2-year debt (bund) has dipped below 0% this morning at auction, signalling an acceleration in the bank run taking place in southern Europe. Depositors in Spain, Greece, Italy, Portugal, etc would rather take a loss on their investment, then risk not their money back at all. The European Central Bank (ECB) does not guarantee deposits, so people are withdrawing their money en masse and getting out of Dodge pronto. What we're seeing is a real-time panic.
The ostensible trigger for the panic is known, but you won't read about it in the financial media where the news is dumbed down to the point of incoherence. What's really going on is that the German central bank (The Bundesbank) has indicated that it's ready to pull the plug on Greece which means that future bailouts will probably not be forthcoming. That's bad. It means that Greece will run out of money some time in June; their banking system will implode, and the "birthplace of democracy" will be reduced to 3rd world status overnight. Here's a blurb from the Bundesbank's communique:
"Current developments in Greece are extremely worrying. Greece is threatening not to implement the reform and consolidation measures that were agreed in return for the large-scale aid programmes.
This jeopardises the continued provision of assistance. Greece would have to bear the consequences of such a scenario. The challenges this would create for the euro area and Germany would be considerable, but manageable given prudent crisis management. By contrast, a significant dilution of existing agreements would damage confidence in all euro-area agreements and treaties and strongly weaken incentives for national reform and consolidation measures. In such circumstances the institutional status quo comprising liability, control and individual responsibility of member states would be fundamentally called into question.
When the Eurosystem provided Greece with large amounts of liquidity, it trusted that the programs would be implemented and thereby ultimately assumed considerable risks. In the light of the current situation, it should not significantly increase these risks. Instead, the parliaments and governments of the member states should decide on the manner in which any further financial assistance is provided and therefore whether the associated risks should be assumed."
Okay. So German central bankers don't want to wait until the June elections in Greece to decide whether to provide more money or not. They're throwing in the towel now. No more money. No more bailouts. No more Mr. Niceguy. End of story. But what does that mean? Does it mean that the whole global financial system is headed back into the shitter again like after Lehman Brothers?
No one knows for sure, but there's bound to be a few bumps in the road, don't you think? Take a look at this from Bloomberg today (Wed):
"Europe's banks, are sitting on $1.19 trillion of debt to Spain, Portugal, Italy and Ireland, are facing a wave of losses if Greece abandons the euro. While lenders have increased capital buffers, written down Greek bonds and used central-bank loans to help refinance units in southern Europe, they remain vulnerable to the contagion that might follow a withdrawal, investors say. Even with more than two years of preparation, banks still are at risk of deposit flight and rising defaults in other indebted euro nations." (Bloomberg)
Can you really slash a trillion bucks out of the rotting corpse of the EU banking system and still keep things running smoothly?
Don't bet on it. Here's more from Bloomberg:
"The ECB's unprecedented provision of 1.02 trillion euros in three-year cash in December and February helped calm financial markets in the first quarter by removing concern that banks unwilling to lend to one another would run out of cash. Lenders in Spain and Italy also used the funds to buy sovereign debt, reducing government borrowing costs….
Lenders probably would need another 800 billion-euro liquidity lifeline from the ECB to help stem contagion from a Greek exit, Citigroup analysts estimated in a May 17 note…." (Bloomberg)
That's right, the EU banks were gifted over 1 trillion euros 3 months ago, and they're still too undercapitalized to weather the storm of a Greek default. Nice, eh? So, the whole system is just an empty gourd, right? They're broke, so the ECB will have to print up another 800 bil just to keep the house of cards from collapsing in a heap.
Getting worried yet?
US Treasuries are also rallying big today. In fact, the yield on the 10-year –which hit a record low last week–is on its way back down indicating that investors are freaking scared-out-of-their-minds. In real terms, investors are now socking money into 10-year Treasuries knowing that (inflation adjusted) they'll get LESS money back then they put in.
How do you like them apples? That's what I call a full-blown panic! And yet, you ain't hearing a blasted thing about it on the news, right? Why would that be?
Here's a little icing on the cake from Bloomberg:
"Greece may have only a 46-hour window of opportunity should it need to plot a route out of the euro.
That's how much time the country's leaders would probably have to enact any departure from the single currency while global markets are largely closed, from the end of trading in New York on a Friday to Monday's market opening ….
"I am completely convinced they could not orchestrate an orderly exit," said Erik Nielsen, chief economist at UniCredit SpA in London. "This is a country that can't implement laws, so how in the world are they going to secretly agree to print money, control the banks, control capital flows and think this is going to be orderly? It's completely impossible." …
"There is no reason to think there won't be riots and violence," said Lefteris Farmakis, a strategist at Nomura International Plc in London. "It would be a pretty disastrous situation. People have no understanding of the consequences of a euro exit." ("War-Gaming Greek Euro Exit Shows Hazards in 46-Hour Weekend", Bloomberg)
Riots, street violence, skyrocketing unemployment, grinding poverty…the whole schmeer. And what's the most likely scenario for Greece after all that?
Well, probably another military coup backed by President Hopium and his band of CIA merry pranksters, right?
Okay, my bad. I don't want to polarize all the Obama fans, but, Geez Louise, things are looking mighty grim for the poor Greeks, don't you think?
Of course, it all could go smoothly "without a hitch"; no credit crunch, no bank runs, no flight to safety, no crashing stock markets, no decades of struggle and social unrest, no splitting up of the eurozone, no ethnic animosities, no uber-nationalism, no right wing fanaticism, no border skirmishes or armed hostilities, no revolutions, no depression, no rise of fascism…just a smooth transition to a new, slimmed-down version of the EZ. After all, that's what Germany is expecting. And they could be right.
But, probably not.