"The tribal mentality effectively indoctrinates an individual into the tribe's beliefs, ensuring that all believe the same; the structure of reality, what is and what is not possible for the members of the group is thus agreed upon and maintained by the group."— Carolyn Myss.
To fully understand how societies operate, one must go back to where everything started, to the very beginning, from the days when people left the caves and started to come together to form small tribes.
In order to survive, people started gathering for food, then sharing it, and trading it between themselves (natural human interaction), people were minding their own business living their own lives, taking care of their young, as it is normal in any species. But there was always someone who wanted to control them all, whom we call a sociopath in these days, but that's a subject for another day. In this article we will talk about their historical antagonists.
There was once a young man, fresh out puberty, and just before starting his first hunting with his fellow adult males he was repeatedly told what is expected from him in life: start hunting, get a wife, give your offerings to the gods, etc. "That is the real world!" he was told time and time again, but one day he started to wonder, "What else is there in the world? This can't be all there is!" He wasn't satisfied with the answers he was given. He wanted to explore, he wanted to break free from the inflexible tribe mentality, and make his own destiny. So after uncountable afternoons wondering if there was something else behind that hill he was told marked the end of the world, one day he decided to take action. He was set on discovering for himself. His journey was about to start then.
Due to his nature, the ruler of the tribe (almost certainly a sociopath), couldn't possibly have one of his tribe members, whom he saw merely as human cattle, just pick up and leave. What if more people decided to leave as well? Or even worse, what if the young man came back with news about some wonderful new place where the trees were filled with fruits, or rivers filled with fishes, or plains filled with animals? After all, sociopaths always rule by means of scarcity and fear (they are incapable of love after all.) So faced with the situation, the ruler convinced the rest of the tribe that this was all there was to the world, and that thinking that there might be something more was a ludicrous fantasy, and whoever thinks differently was a threat to the tribe!
And people believed the ruler. He talked a big game about unity and hope, and how he cared about their well-being, and folks ate it all up! It was an easy sell in fact, because for most people, whoever think differently must be the enemy.
The ruler then escalated, as it is most common among sociopaths. He went further and told his tribe members (human stock) that they should punish and execute the curious young man, wait for it… For his own safety! And people bought it. It's astonishing to observe how to this date people still believe that sociopaths are making up all kinds of rules for their own safety. But let's return to our story.
The rest of the tribe had no trouble at all executing the young man for daring to explore for himself. Worse than that they had no problem justifying their crime by claiming that they did it for his own safety. Unbelievable, I know, but trying to explain to them the absurdity and of their actions is like teaching a dog how to drive a car, although if I had to bet, I'd probably put my money on the dog.
They bought into those imaginary, made-up rules, and the problem was they wanted to subject everyone else to them as well, which showcases the dangers of collectivism. As I always say: Collectivism to a sociopath is like the bible to a priest, a tool without which everyone would realize that their power is in fact imaginary.
[Side issue: It becomes clear that rulers are exactly what's holding us back as a species, and that without them people would have left the caves literally centuries ago.]
So when the ruler (almost inevitably a sociopath) realized that he could just make some rules up, and torture, imprison, and kill with total impunity, it was then just a matter of a time before the real question became, how many more rules should he invent to have absolute control over his fellow tribe members' entire lives?
Rulers then began to make up all kinds of crazy stories, about the history of the world, gods and deities only they could speak to. They invented all kinds of bogeymen as well, and how did people respond? They believed it all! For some strange reasons those stories, right out of the imagination of a sociopath, didn't seem as ludicrous fantasies to them, no matter how insane they sounded, even worse than that they began to pass them onto their own children as true facts, and if that wasn't enough, some of them let their whole lives revolve around those fables.
Unfortunately, trying to explain to them how insane those stories sound, is like trying to teach a baboon how to post pictures on Instagram, although if I had to bet, I'd put my money on the baboon.
The sociopaths, observing the reactions of people to those fables, couldn't believe their eyes! They realized that controlling people was basically child's play, so they started treating people as children, and how does most people effectively control a child? You give them a treat if they do what you ask for them, and you punish or scare them with some bogeyman story if they don't do as you say (the statist way of parenting). The thing is, rulers are all about taking, and not so much about giving, so why would they reward people with real things, if they can offer them imaginary tales of eternity in paradise?
Talking about taking, it was then just a matter of time until the sociopathic rulers started to figure out ways to take more from people. Soon enough they convinced people that those deities they previously  made up were now demanding a piece of every fruit that is gathered, a portion of every wild boar that is hunted, and a slice of every fish that is caught. And the portion then became bigger and bigger. The sad part is that those tribe members believed that that was their duty. The problem however was that they wanted to subject everyone else to the same.
You don't relate do you?
Let's try this again:
There was a young man, fresh out of his local indoctrination center just about to enroll in some university. He was repeatedly told what is expected from him in life:  finish university, get a job, pay your taxes, etc. "That is the real world!" He was told time and time again, but one day he started to wonder, "what else is there in the world? This can't be all there is!" He wasn't satisfied with the answers he were given and he wanted to explore life on his own, he wanted to break free from the inflexible societal group mentality, and make his own destiny, so after uncountable afternoons wondering what if there are other ways to live life, one day he decided to take action. He was set on discovering for himself how the world really works, his journey was about to start.
So once he took his first step, stopped accepting and complying with all those imaginary rules he was supposed to just accept, he started to question them. At first he couldn't figure out why the government is constantly coming up with all these new rules and regulations, so he started analyzing the parameters on which the state bases its restrictions.
So he started with "drugs". Since our young protagonist didn't know much about the nature of the government he just couldn't understand how pharmaceutical drugs companies were given free range, facing little to no regulations despite the high numbers of people who lose their lives due to secondary effect of prescription drugs, and despite the fact that all the latest shootouts had as presumed authors people who were hooked on similar substances:  James Holmes (the Aurora massacre), Adam Lanza (Sandy Hoax), Aaron Alexis (Navy Yard shooting), etc.
On the other side peaceful consumption of marijuana seemed to be one of the reasons behind landing good and decent people in jail, making the US the largest prison population on the planet, despite the fact that marijuana is scientifically proven to calm people down. So the government (generally with a selection of sociopaths, Pareto's law) rules by scarcity (oil, shortage) and fear (they are incapable of love after all), and that's why they always create all these artificial divisions, race, religion, income, social and educational background, sexual orientations. All they can do to keep people operating on law vibrations.
Due to their nature, the government (generally with a selection of sociopaths), wouldn't possibly have one of their fellow citizens whom they see merely as human cattle, just smoke some joiny in peace and live and let live. What if more people decided to live in peace as well? Or even worse, what if they all realized that all these divisions are artificial, and that those enemies they were supposed to fear are fabled? What if people realized that the nature of the con job?
So faced with the situation, the government convinced the rest of society that they should punish and imprison the curious young man, wait for it… For his own safety! And people bought it. They had no trouble believing that the reason government is sending all those "substance users" to rape camps where they are sexually tortured and beaten up on a daily basis, until the day they may or may not end their lives to stop the agony and the suffering, is simply because the government is a benevolent organization that cares about them.
Unbelievable, I know, but trying to explain to them the absurdity of their actions, is like teaching a propagandist to say the truth, but If I had to bet…You know who I'm putting my money on.
Society (modern day tribe members) bought into those imaginary, made-up rules, and accepted and enforced those barbaric punishments the bully inflicts on their victims if they don't comply with his made-up rules. The problem is they wanted to subject everyone else to them as well, which showcases the dangers of collectivism.
"Society's leaders, through illegal dictum, deception and force define a space in which life is supposed to occur". — Jon Rappaport.
So when the government (generally with a selection of sociopaths) realized that they could just make some rules up, and torture, imprison, and kill with total impunity, it was then just a matter of a time before the real question became, how many more rules should he invent to have absolute control over their fellow citizens' entire lives?
Sociopaths then began to make up all kinds of crazy stories, about two planes that took down three buildings, passports that don't burn… They invented all kinds of bogeymen as well, some bearded man who lives in caves, and how did people respond? They believed it all! For some strange reasons those stories, right out of the imagination of a sociopath, didn't seem as ludicrous fantasies to them, no matter how insane they sounded, so they consented to all kinds of violations on their privacy.
The sociopaths then, observing the reactions of people to those fables, couldn't believe their eyes! They realized that controlling people was basically child's play. I mean which grown up would consent to be scratched and felt up by some creep every time they wanted to board a plane?
It was then just a matter of time until the sociopathic rulers started to figure out ways of how to attack innocent people and take their resources. Soon enough they convinced people that those fables enemies they previously made up, should be stopped, so they started taking a portion of everybody's income to pay for all those horrific wars, to pay for the murder, torture, an dismemberment of literally millions of innocent people. And the portion then became bigger and bigger… The sad part is that those tribe members (civilized people? Really?) believed that that was their duty to finance the genocide and the genetic wrecking of young children, the problem however is that they wanted to subject everyone else to the same.
"There's a lot of ways of dividing people in two classes, but let me give you the one that's relevant now: There's two ways you can deal with your fellow human beings, one, there are people who believe you should deal with people voluntarily, without using violence without using force, that's one type. The other type is a person that believes that you should deal with people, or you have to deal with people coercively, by force. Now, guess which type is inevitable attracted to government? It's the worst criminal type of personalities."— Doug Casey
You might want to get a second passport to escape from these sociopaths.
Adil Elias is The Dollar Vigilante's Rio de Janeiro group moderatorand TDV Latin America (TDVLA) Editor (aelias@dollarvigilante.com). After living in several different countries, he finally based himself in Rio de Janeiro, Brazil seeking a relaxed environment away from all the large numbers of increasingly stressed people in Europe, without missing on the happy vibe and the laidback beach culture the city of Rio de Janeiro has to offer.
Source: Adil Elias  |  The Dollar Vigilante
Nation of refugees, cultural conflict, social schizophrenia…
Despite the origin of the term from the Greek roots "skhizein" which means "to split", schizophrenia does not imply a "multiple personality disorder."  The term means a "splitting of mental functions."  You might say that someone suffering from a multiple personality disorder walks around with an endless number of "distinct" persons in his or her head.  All of them compete for dominance.  All of them create chaos in that person's mind.
Enter the term "multiculturalism" where multiple cultures reside in the same country.   Ultimately cultures conflict with one another via people, passions and language.
Jonathan H. Turner defines it as a conflict caused by "differences in cultural values and beliefs that place people at odds with one another". He defines this conflict as, "One that occurs when peoples' expectations of a certain behavior coming from their cultural backgrounds are not met.  They face others that possess different cultural backgrounds and different expectations."
We proved that cultures don't mix when we usurped the Native American Indians of North America.  They have not integrated into the white man's culture whatsoever.
"Cultural conflicts are difficult to resolve as parties to the conflict have different beliefs," said Turner.  "Cultural conflicts intensify when those differences become reflected in politics, particularly on a macro level.  An example of cultural conflict is the debate over abortion.  Ethnic cleansing is another extreme example of cultural conflict. Wars can also be a result of a cultural conflict."
The African-Americans versus European-American conflict rages in the United States without pause from 1776 to 2013.  No amount of laws, education, forced integration, police or legal consequences stop racial discrimination, racial bias, racism or violence.
Whether in the NFL two weeks ago with one black and one white player fighting over race or the Zimmerman-Martin killing or voting a black president into the White House—Americans fail to resolve the racial-cultural divide that permeates every city in America where blacks, Mexicans and whites mix.
Today, blacks in big cities practice a new game where they "Knockout" a white person from behind with a hammer or 2×4 board.  "Black flash mobs" run around major US cities looting stores and killing white people. They take a video of their kills and boast on You Tube.  Much the same occurred in the 80s, 90s and last decade with blacks car- jacking whites in Detroit, Michigan at stoplights.  Whites fled to the tune of over 1.0 million over 20 years. Their flight dropped Detroit from 1.85 million to its current 680,000 today—over 90 percent Arabic-Black minority.
Illegal alien Mexican migrants attempt to fight their way into America demanding we suspend our laws in favor of legalizing their lawlessness. As their numbers continue to grow, we can expect violent demonstrations. They demand Americans speak Spanish and wherever Mexicans command dominant numbers, Americans must teach Mexican kids in Spanish. Mexican racism runs deep and virulent.
If you look at Norway, United Kingdom, France, Sweden, Belgium and Holland today, you see the results of multiculturalism turning their countries into "Schizophrenic societies."  All of them see major crime waves of rapes, murders, shoplifting, bursting prisons, schools in chaos, enclaving of entire cities into cultural ghettos, language changes, cultural changes and loss of societal cohesiveness.  Belgium, once all-European, will become an Islamic caliphate within four decades.  Its culture and language face ultimate displacement by its Islamic immigrants.
Of special note, Swedish women can no longer walk down the streets of Stockholm by themselves for fear of being accosted, raped or murdered by Muslim immigrant males.  Same in Norway and in France where Muslims dominate a specific enclave!
The United Kingdom, Holland and France face similar fates.
Within 37 years, the United States faces becoming a "Schizophrenic Society" with 100 million immigrants streaming into its borders from 150 countries around the world.  Some cultures will create and harbor their own in ghettos like the ones they fled.  Others will compete for dominance like the Islamic immigrants as they follow the prime directive of their Koran—"You must convert or kill all non-believers, especially the Jews."
As this series winds down as to what America will look like in 2050, you cannot help but cringe at the loss of your own language, culture and way of life.  You may be sickened at what you see already occurring across America in Mexican ghettoes like Los Angeles, Houston and along the border with "colonias" that reek of third world misery.
If you don't want to see our country turned into a schizophrenic cultural quagmire, call Speaker of the House John Boehner at 1 202 225 0600:
"Mr. Boehner, I understand that S744 doubles legal immigration from its current 1.0 million annually to 2.0 million while giving amnesty to 12 to 20 million illegal migrants. Do you understand that such an amnesty would flood America with over 100 million immigrants by 2050—a scant 37 years from now. How will we be able to water, house, work, feed, educate, medicate and care for that many people when we already suffer 48 million Americans who cannot secure jobs and live on food stamps? How will we maintain our environment and standard of living in light of those numbers. As an American citizen, I demand that you reduce all immigration to less than 100,000 annually and enforce the laws on the books to arrest, prosecute and jail employers of illegal migrants. That will help illegal migrants to go home on their own dime when they don't have a job. Our own unemployed citizens can take those jobs at a living wage."
Also: call your own U.S. Senators and leave the same message.
Imagine a documentary film about the Holocaust which makes no mention of Nazi Germany.
Imagine a documentary film about the 1965-66 slaughter of as many as a million "communists" in Indonesia which makes no mention of the key role in the killing played by the United States.
But there's no need to imagine it. It's been made, and was released this past summer. It's called "The Act of Killing" and makes no mention of the American role. Two articles in the Washington Post about the film made no such mention either. The Indonesian massacre, along with the jailing without trial of about a million others and the widespread use of torture and rape, ranks as one of the great crimes of the twentieth century and is certainly well known amongst those with at least a modest interest in modern history.
Here's an email I sent to the Washington Post writer who reviewed the film:
"The fact that you can write about this historical event and not mention a word about the US government role is a sad commentary on your intellect and social conscience. If the film itself omits any serious mention of the US role, that is a condemnation of the filmmaker, and of you for not pointing this out. So the ignorance and brainwashing of the American people about their country's foreign policy (i.e., holocaust) continues decade after decade, thanks to media people like Mr. Oppenheimer [one of the filmmakers] and yourself."
The Post reviewer, rather than being offended by my intemperate language, was actually taken with what I said and she asked me to send her an article outlining the US role in Indonesia, which she would try to get published in the Post as an op-ed. I did so and she wrote me that she very much appreciated what I had sent her. But – as I was pretty sure would happen – the Post did not print what I wrote. So this incident may have had the sole saving grace of enlightening a Washington Post writer about the journalistic standards and politics of her own newspaper.
And now, just out, we have the film "Long Walk to Freedom" based on Nelson Mandela's 1994 autobiography of the same name. The heroic Mandela spent close to 28 years in prison at the hands of the apartheid South African government. His arrest and imprisonment were the direct result of a CIA operation. But the film makes no mention of the role played by the CIA or any other agency of the United States.
In fairness to the makers of the film, Mandela himself, in his book, declined to accuse the CIA for his imprisonment, writing: "The story has never been confirmed and I have never seen any reliable evidence as to the truth of it."
Well, Mr. Mandela and the filmmaker should read what I wrote and documented on the subject some years after Mandela's book came out, in my own book: Rogue State: a guide to the World's Only Super Power (2000). It's not quite a "smoking gun", but I think it convinces almost all readers that what happened in South Africa in 1962 was another of the CIA operations we've all come to know and love. And almost all my sources were available to Mandela at the time he wrote his autobiography. There has been speculation about what finally led to Mandela's release from prison; perhaps a deal was made concerning his post-prison behavior.
From a purely educational point of view, seeing films such as the two discussed here may well be worse than not exposing your mind at all to any pop culture treatment of American history or foreign policy.
Getting your history from the American daily press
During the US federal government shutdown in October over a budgetary dispute, Washington Post columnist Max Fisher wondered if there had ever been anything like this in another country. He decided that "there actually is one foreign precedent: Australia did this once. In 1975, the Australian government shut down because the legislature had failed to fund it, deadlocked by a budgetary squabble. It looked a lot like the U.S. shutdown of today, or the 17 previous U.S. shutdowns."
Except for what Fisher fails to tell us: that it strongly appears that the CIA used the occasion to force a regime change in Australia, whereby the Governor General, John Kerr – a man who had been intimately involved with CIA fronts for a number of years – discharged Edward Gough Whitlam, the democratically-elected prime minister whose various policies had been a thorn in the side of the United States, and the CIA in particular.
I must again cite my own writing, for the story of the CIA coup in Australia – as far as I know – is not described in any kind of detail anywhere other than in my book Killing Hope: U.S. Military and CIA Interventions Since World War II (2004).
The latest proof of the Globalist plan for total economic imprisonment is available for scrutiny. Thanks to whistleblowers, the clandestine trade missions of international corporatists must contend with public blowback. Recently, WikiLeaks released the secret negotiated draft text, Secret Trans-Pacific Partnership Agreement (TPP), for the entire TPP (Trans-Pacific Partnership) Intellectual Property Rights Chapter. The TPP is the largest-ever economic treaty, encompassing nations representing more than 40 per cent of the world's GDP. The TPP Agreement along with the Table of Contents and supportive documentation provides the evidence.
When vastly diverse segments of political perspective unify against this assault on economic self-determination, challenging the very exercise of such agreements is in order. In the article, Obama's Dangerous International Deal, a libertarian viewpoint argues and warns, "The USTR acknowledges the existence of 29 chapters under negotiation. Only five of these chapters deal directly with trade. The other 24 aim to influence many issues, such as food and environmental standards, intellectual property, and pharmaceutical formularies."
Perennial progressive Jim Hightower writes in an Alternet article, A Corporate Coup in Disguise.
"What if our national leaders told us that communities across America had to eliminate such local programs as Buy Local, Buy American, Buy Green, etc. to allow foreign corporations to have the right to make the sale on any products purchased with our tax dollars? This nullification of our people's right to direct expenditures is just one of the horror stories in the Trans-Pacific Partnership (TPP).".
From the Voice of Russia, not usually known for defending transnational cartels, is an observation that you are not hearing in the financial press, Obama attempting to ram through unconstitutional secret treaty.
"With the US debt at over $200 trillion dollars and their grasp on control slipping, Obama and the corporations that have taken over the US Government are attempting to do anything they can to cling to power and enslave the populace.

The fact that the heads of the governments who are a party to the TPP, would attempt to sign such an all encompassing treaty without the knowledge of their respective governments and their people is a something unheard of an unprecedented in history."
If only free enterprise was the standard of economic commerce, instead of the state-fascism that has developed over the years of the "Free Trade" ruse that has destroyed real competition from the financial environment.
Central planning failed miserably in the old Soviet Union, now we are supposed to believe that a corporatist negotiated arrangement with the full backing and force of government bureaucracies is a superior method for prosperity.
Backers of the TPP pact would have you believe that it is a trade agreement. Nile Bowie in an OpEd, TPP: From corporation personhood to corporate nationhood, has it correct.
"Although proponents of the TPP may claim that its focus is to help the economies of signatory countries create comprehensive market access, eliminate barriers to trade, improve labor rights and encourage environmental protection, every indication suggests that the wide-ranging agreement intends to maximize dramatically corporate revenues at the expense of public health and safety, civil liberties and national sovereignty."
From the left leaning Huffington Post, Bruce E. Levine interjects a political aspect in
The Myth of U.S. Democracy and the Reality of U.S. Corporatocracy.
"The truth today, however, is that the United States is neither a democracy nor a republic. Americans are ruled by a corporatocracy: a partnership of "too-big-to-fail" corporations, the extremely wealthy elite, and corporate-collaborator government officials."
World economic agreements vary little based upon partisan political ideology. The corporate business outsourcing strategy and the offshoring of jobs are the inevitable results of every phony trade deal enacted for decades.
The real objective of TPP is to codify in law and treaty the special treatment that favored industries or well-connected interests exert upon the global economy.
When monopolies eliminate competition, the marketplace suffers a crowding out of main street businesses. With the demise of familiar business enterprises, the multinationals expand without hindrance. Entrepreneurial small business is seldom in a position to fill the void left when the muscle of international finance decides to control a business sector.
Setting environmental standards, intellectual property, and pharmaceutical formularies, behind closed doors endangers the public. Imposing rabid global warming penalties, perpetual expanding of copyright privileges and banning natural holistic supplements and vitamins, all intend to strip choice from consumers or to burden the population with irrational tax obligations.
In an outstanding account, by Don Quijones his article, The Global Corporatocracy is Almost Fully Operational, provided the essential context and ultimate consequence.
"The new generation of trade treaties goes far beyond what was envisaged for NAFTA and GATT. What they ultimately seek is to transfer what little remains of our national sovereignty to the headquarters of the world's largest multinational conglomerates. In short, it is the ultimate coup de grâce of the ultimate coup d'état. Not a single shot will be fired, yet almost all power will be seized and transferred into private hands — and all of it facilitated by our elected representatives who, by signing these treaties, will be permanently abdicating their responsibilities to represent and protect the interests of their voting constituencies."
If you have the courage to face the dire implications of this globalist scheme, view the video TPP & One World Government. The bare honesty may be too much for the "PC" crowd.
Advocates of a merchant based economy are inherently in opposition to globalism. Yet, this round of integration under cartel syndicate governance is part of an end game for world economic consolidation. The Corporatocracy that rules over purported democratic countries is the real power overseer that maintains the indentured servant plantation. The comptrollers of the credit dictatorship maintain the financial system for the ultimate controllers.
In the next episode, the Trans-Atlantic Trade and Investment Partnership (TTIP) is analyzed. Complementing the TPP, both accords will place the yoke of even greater mastery over the economies of once sovereign nations.
Proposed solutions have included greater funding, a longer academic year, national standards, measures to reduce school violence, and educational vouchers. The only proper solution is to completely separate state and school thereby permitting education to be purchased and sold through the free market system. Consumer-financed education must replace tax-based funding of education. We need to dissolve public schools and replace them with educational businesses. By de-monopolizing public schools, we would raise standards, better motivate teachers and students, allow greater innovation, bring costs down, and meet the particularized needs of our children.
Public education is inconsistent with freedom and responsibility. Public education erodes personal freedom and thus should be replaced with parental choice, competition, and market solutions. Parents are responsible for the education of their children. Under a free market, families would decide which are the best educational vehicles for each of their children.
State schools are based on the assumptions that the government is sovereign in education that people are morally and legally obligated to fund the public school system, and that state schools can, and should, teach neutral values. Government policy imposes strict rules and regulations and a directive to use education to engineer political and social outcomes. Public education is a collectivist welfare program in which people are coerced to participate. Not only is political consensus substituted for private individual decisions, the benefits of public education are not commensurate with its costs and its subsidized prices distort individual decision-making.
In the past, families, religious groups, and private schools dominated education, but today the state is in charge. We need to eliminate state involvement in education.
A person should be free to pay for a child's education if he wanted to. Today, people are forced to pay for schools imparting ideas that they would not voluntarily support. Freed of their educational tax burden, individuals would have the funds to pay for private education. In addition, competition would raise school quality and would make private education more affordable and available.
Totally separating education from the state means abolishing school taxes and compulsory school attendance. By divorcing education from political power, parents and their children will be free to pursue education the best serves their needs.
History and Philosophy of Public Education 
Rousseau, like Plato before him and Mann and Dewey after him, believed in the perfectibility of man provided that he was educated so that he could not want to do evil. According to Rousseau, there exists a "general will" over and above wills of individuals. He taught that there is an intellectual elite who is able to discern the commands of the general will and, because of that knowledge, have the authority to implement those commands. The existence and authority of the general will is the cornerstone of Rousseau's philosophy of education.
In Emile, Rousseau portrays the ideal education in the story of a child, who, free from the restrictions of an adult's will, is able to study nature and thus learn what he needs to know. However, Emile has an enlightened tutor, whose purpose is to secretly manufacture the conditions under which nature will teach the student what the tutor wants the student to learn. Through the tutor's disguised intentions, the student, by equating his own will with the will of his tutor, is conditioned to identity his own will with the general will.
German thinkers from Luther to Fichte to the Prussian monarchs developed theories of compulsory state education. Hegel viewed the state, through which the general will found expression, as the supreme earthly manifestation of the Absolute and as the embodiment of ethics. People found freedom when they recognized the state's exalted status and accepted the state's objectives as their own objectives. This view ultimately gave rise to American nationalism and the movement toward universal education.
For the first two hundred years in America, from the early 1600s to the early 1800s, public schools were virtually non-existent. Before the 1830s, education was primarily an informal local activity. Private education in early America included the home, church, Catholic and Protestant schools, charity schools for the poor, apprenticeships, private study, and circulating libraries. With the variety of educational systems available to our forefathers, tax-financed schools did not receive much support. For many years, the only strong advocates of state schools in the U.S. were Boston Unitarians who denied Christian teachings and accepted Rousseau's ideas that negative behavior was the result of mis-education rather than due to man's fallen nature.
Although tax-financed common schools existed by the 18305, most parents continued to send their children to private schools. However, the public school agenda of the Unitarians and other elites began to advance with urgency as Catholic immigration, especially from Ireland and Germany, soared in the 18405 and 18505. Protestants began to fear that Catholic immigrants and the poor would become an unassimilated mass.
Horace Mann, a Unitarian lawyer and legislator, had been appointed secretary of the newly created Massachusetts Board of Education in 1837, the first state board of education in the U.S. During his12 years as its head, Mann created a unified system of common schools including teacher-training initiatives and dedication to a Utopian vision of perfecting the moral character of the nation's youths. Mann was a die-hard Unitarian moralist who perceived the public school as the cure for social ills and exhibited faith in human goodness given the right education and environment. Mann, an admirer of the Prussian approach to public education, said that closing down prisons would be possible, given a generation of schools according to his prescriptions.
Mann's goal was to establish mechanisms of social control. He advocated a standard curriculum, centralization of public funds, a strongly moral character of instruction, and state leadership in training teachers dedicated to the common school agenda. Mann and his fellow reformers sought to use the state's authority and resources to impose a single ethos on every school in the name of enlightenment and social unity.
Originally, many Protestants criticized the peculiar religious character of the common public school. Mann's religion without salvation was attractive to an elite who was confident of its own success and of the country's inevitable progress. Protestant critics feared that the schools' espoused non-denominational neutrality was the same as the institution of secularism through the public schools.
However, the large influx of Catholic immigrants who tended to establish their own schools, was thought by many to be a threat to Protestantism. Encouraged by the Unitarians, many Protestants began to embrace the state school concept. Since the establishment of Protestantism as the American national church was impossible due to the nation's emphasis on religious tolerance, it was thought the public school could perhaps become an acceptable substitute mechanism to control religion. The public school was thus seen by Protestants as a potential mechanism for instilling the true faith.
Mann's non-denominational approach did incorporate Bible reading (the King James version), daily prayer, and hymns into its activities. Of course, as America became more secularized so did the public schools. Public education in America really began to boom after the Civil War, as government- controlled and funded schools replaced the earlier private education system. The biggest boost for state schools came when states began to enact laws of compulsory attendance.
Catholics felt left out of the public school system. As a consequence, the Catholic parochial school system was established in 1874. Catholics, like the Protestants, Unitarians, and others realized that whoever controls the schools controls the upcoming generation.
By altering and connecting Rousseau's ideas of an independently existing general will with the principle of majority rule, 19th century American intellectuals thought that the "will of the majority" as interpreted by themselves, provided a unique source of beneficence and wisdom. Education controlled by that "will" would foster the public good.
John Dewey's progressive model of active learning or pragmatism promoted a revolt against abstract learning and attempted to make education an effective tool for integrating culture and vocation. Dewey was responsible for developing a philosophical approach to education called "experimentalism" which saw education as the basis for democracy. His goal was to turn public schools into indoctrination centers to develop a socialized population that could adapt to an egalitarian state operated by an intellectual elite.
Thinking for Dewey was a collective phenomenon. Disavowing the role of the individual mind in achieving technological and social progress, Dewey promoted the group, rather than the teacher, as the main source of social control in the schools. Denying the ideas of universal principles, natural law, and natural rights, Dewey emphasized social values and taught that life adjustment is more important than academic skills.
Dewey explained that the subject matter and moral lessons in the traditional curricula were meant to teach and inspire but were irrelevant to the students' immediate action experiences. The contradiction between the students' real interests and those of the traditional school alienated students from their schoolwork. School-age children were caught between the opposing forces of immature, undeveloped beings and the values, meanings, and aims of subject matter constructed by a mature adult. Dewey believed that students' energy, talent, and potential could not be realized within the structure of an archaic school system.
Dewey and other members of the Progressive movement wanted a predictable method for providing a common culture and of instilling Americans with democratic values. As a result, by the end of the 19th century, a centrally-controlled, monopolistic, comprehensive, and bureaucratic public education system was deemed to be essential for America's future.
During the 20th century, the job of public education was expanded to inculcating moral values, providing nutrition and health, protecting children from psychological and physical abuse, and combating crime and delinquency. Later, additional social and political goals such as racial integration, democratic participation, environmental awareness and activism, and social tolerance were added.
The Nature of Public Education 
Public schools are coercive political monopolies that are funded through compulsory taxation and that have a captive audience of pupils through mandatory attendance laws. People must pay for the school system even if they do not use public schools or are not satisfied with them. The state uses its coercive taxing power to take money from some, even individuals who do not have children, to fund the education of others. Since most people cannot afford to pay private tuition after bearing their school tax burden the market for private schools is artificially restrained. There would be many more, and a larger variety, of private schools in the absence of a tax-supported system. In fact, the bankruptcy of some private schools can be attributed to unfair competition from the public system.
Decisions are made from the top-down. Small groups of elected or appointed state officials ignore market forces and make decisions regarding teaching methods, curricula, textbooks, class size, teacher qualifications, etc. Public education is designed to serve the state and its ruling elite who endeavor to create a one size fits all education for a population of diverse children.
Public education views children as property of the state, undermines parents' moral authority and responsibility, and stifles the entrepreneurial spirit. A system of force and compulsion replaces education with indoctrination. Students learn officially approved state doctrine from state-approved teachers using state-approved texts. Public schools promote agendas that conflict with parents' rights to shape the values and beliefs of their children.
Opponents of free market education believe that only public education can impart the skills, values, knowledge, and attitudes needed for good citizenship. Political correctness and outcome-based education result from public educators' attempts to socialize the young to make society in their own egalitarian image through the use of compulsory state education. Public education thus tends to be more formative and indoctrinating than it is informative.
Parents have been denied the right to choose the type of education they want for their children. Children do not learn in the same way, at the same rate, by the same methods, or under the same conditions. Parents are in the best position to take into account the relevant differences in their individual children and should be permitted to select the appropriate education for each of them. Not all parents want their children educated in the same way. The superior performance of home-schooled children testifies to the ability of parents compared to that of state-certified teachers.
Public educators want uniformity in the schools since in their minds there would be social inequality if everyone did not have the same education. However, specialized schools which vary in their methods, goals, materials, and assessment methods would better cater to the diversity of human beings.
Public schools do impart values, but they are the values of conformity and docility. Public schooling suppresses the individuality, initiative, and creativity of students. In its efforts to stay ideologically independent, public education is likely to sacrifice intellectual and character development. The idea has caught on that every individual has a right and a duty to be educated and that society through the government has the obligation to fund the education of its citizens. Supporters of public schooling have maintained that many children will go uneducated if education were not compulsory and if the state did not deliver it. The state assumes that parents are irresponsible and must be forced to do what they should do. Parents are not free to ignore school attendance by their children and are not free to ignore tuition payments through taxation. By avowing the legitimacy of public education, voters try to transfer their responsibility for educating their children to the state. However, parental moral responsibility for their child's education cannot be shifted to anyone else.
Public schools get their customers through compulsory attendance laws. Public education is based on the prison concept. Tax-funded schools have coercion as part of their culture. As wards of the state, children are jailed with a mandatory sentence until they are 16. The state removes children from parents assumed to be incompetent in order to keep them from being anti-social and to make them into complacent workers and citizens.
When schooling is mandated by law, the sense of opportunity that accompanies free choice is missing. If education is not compulsory, then students are perceiving education as an opportunity rather than as a requirement. In the absence of compulsory education, students would no longer be captive to ideological and political brainwashing on the part of teachers and administrators.
Most Americans accept the propriety of forcibly taking some people's money in order to educate other people's children. Students are thus taught by example that they are entitled to government "gifts" and that it is proper to obtain an end through organized force. State education teaches that there are a multitude of good ends that can be attained by the state taking wealth to pay for them in the same manner as it pays for students' educations. If children are led to believe that they are owed benefits from the government without any work or its product being exchanged, they tend to think that it is not necessary for them to perform work to obtain any of their desired possessions.
Compulsion negatively affects attitudes and poor attitudes obstruct education. Compulsory education has drawn some children into classes who do not want to be there thereby lowering the quality of education as standards are reduced to meet the lowest common denominator. Some students just don't belong in school, but the government not only forces their attendance, it also compels those who do belong and want to be there to associate with delinquents and the uneducable. Of course, due to self interest, only a few would go uneducated if education were noncompulsory. Attendees would have a financial incentive to get the most out of their education.
When the state provides a "free education" the value of the education is decreased in the minds of parents as well as in the minds of students. Parents will not be as interested in ensuring their children's attendance when schools are free. In addition, parents will not demand much from their children or the schools when education does not cost them anything. Quality declines when the connection between service and payments is severed. Public education breaks the link between consumers' demands for education and their ability to control their own resources in voicing that demand.
Public education continues because it is funded through compulsory tax payments. Because public schools are guaranteed revenue, there is no incentive to strive for excellence. When a school has monopoly control over students, the motivation to produce successful students is lacking. Public education deprives parents of their right to select the kind of schooling that is best for their children. The state taxes away parents' income and permits public bureaucrats to run the school system as they see fit.
Public schools are insulated from failure and protected from competition. Consequently, it is safe for them to ignore their customers. Public educators have little incentive to provide quality, to respect and please their customers, to pursue innovations, to produce results, to be efficient, or to control their costs.
Politicians push for higher taxes to foster their political images by exhibiting their concern for improving public schools. In addition, school administrators do not try to be efficient or cut cost because such behavior would lead to a reduced budget. This helps to explain why the U.S. spends more per student per year than any other major nation. At the same time, student performance has not kept par with the increase in resources devoted to public schooling.
Public school systems lack the entrepreneurial ingredient. The educational bureaucracy is unable to calculate net income or net loss, has no way of using cost-benefit analysis to see if expenditures were appropriately applied, and do not know if they are using taxpayers' money to accurately respond to consumer demand.
Public education uses taxation to evade market prices. There is an immense difference between government paying for education and the parent paying for it in a free market situation. When public education is financed by the state, the real price to taxpayers is much greater than the price perceived by the consumers. The family of a student only pays part of the cost of a state-financed education with the rest of the cost being transferred to taxpayers with no or fewer children than the particular family has.
Vouchers and Other Pseudo-Reforms 
Proponents of educational choice have proposed educational vouchers, charter schools, and tax deductions for private educational expenditures. The fundamental problem, public funding of education, remains under each of these alternatives. There are always strings attached when state funds are provided. Government intrusion always follows government funding.
With respect to educational vouchers, publicly-funded vouchers would be issued to parents of school-age children to spend at the government-approved school of their choice. Parents would be given a voucher worth a precise amount of public tax money. The parent would have the state-granted right to choose from among the local schools that meet the state's standards. Vouchers are based on the assumption that the state, rather than the parents, is sovereign over education. Parents' choices will be restricted by controlling school eligibility for reimbursement through vouchers. The state, the source of educational funding, retains its sanctioning authority under the voucher system.
Every private school that accepts a voucher payment is subject to local, state, and/or federal rules and regulations. Private enterprises cease to be private with the introduction of public funds. Since state funds support private schools in a voucher system, if follows that private schools will be accountable to the government if they are to succeed. For example, public educational officials could require open admissions, insist that a private school's student population reflect the community it serves including proper quotas of minority students, require that vouchers must be accepted as full payment even if they are of less value than the school's tuition, demand that voucher money not be used to finance religious education, etc. A voucher system could also be used to exclude schools that teach "politically incorrect" ideas or that employ teaching methods contrary to the prevailing orthodox methods championed by public education bureaucrats.
As long as an education is publicly funded, decisions regarding educational policy will be politically made. Under the voucher system, voucher-supported private schools become part of the state's monopoly on education. The voucher system creates an illusion of parental authority without the substance of such authority. A voucher program violates the principle that parents are morally and financially responsible for their children's education. In a voucher system, coercive taxation remains the source of education funding. A cosmetic change at best, a voucher program gives the appearance that parents are exercising choice, while, at the same time, transferring the evils of the public system to private schools.
Vouchers will lure students back into publicly-financed education. Currently, many parents remove their children from public education as a matter of principle. The voucher system will entice parents since its benefits will only be received if parents enroll their children in state-approved schools. Vouchers will lessen the demand for private education that is outside the taxpayer financed; education system. Parents who want to keep their children out of government-run schools will have to say no to free education in a state school, turn down vouchers for government licensed schools, and then pay additional funds to send their children to an authentically independent school! In essence, these parents will be paying for education three times while their children only receive one education each.
A charter school is a partially autonomous publicly-financed school that is operated by a group of community members, teachers, and/or parents. It operates under a charter with a local school district board of education or sometimes with an outside agency such as an institution of higher learning. Charter schools are free to a certain degree, but, like the voucher system, charters will corrupt such schools. Restrictions confronting charter schools include the source of its funding, regulations stemming from government control, and such schools' lack of market feedback and accountability.
Some advocate private educational expense deductions for federal income tax purposes. Pre-tax dollars would be used to finance children's education under this approval. Less beneficial than a tax credit, such a deduction would only ameliorate one's tax penalty. In addition the main problem will still be that the educational "benefit" originates in the political order and must be utilized within the political framework.
The Educational Freedom 
The best school choice plan is the free market. Education should be bought and sold through free market processes. The separation of state and education would restore intellectual freedom, academic integrity, and individual achievement. The private market can best provide high quality and efficient education services. Private educational institutions can supply a superior educational product but currently, because of subsidized tuition at public schools, most students select the lower-priced option. When a child attends a private school, the family must pay taxes to subsidize the cost of students in public education and pay the whole cost of education at a private school.
Education is an economic commodity to be purchased in the marketplace according to the preferences and valuations of education consumers. In a free education market parents and students would decide based on the perceived costs and benefits of each option. In essence, the procurement of an educational service does not differ from the acquisition of any other private good.
Outcomes in a consumer-funded education market would be the result of voluntary purchases by educational consumers. The best schools would earn the most income. Profit calculations would permit schools to gauge their performance according to customer evaluations. Parents would choose schools based on performance and reputation. Paying customers value and select competent schools and teachers. Thus, it follows that the consumers of education should be the payers.
Market-based schools have incentives to furnish quality education at a competitive price. Competition would drive poor schools from the market. Market mechanisms would provide the most efficient allocation of resources. Schools would compete for the best students and students would compete for the best teachers and schools. Teachers' salaries would be determined by market competition. Schools would provide instruction at a variety of locations with varying philosophies, specialization areas, and costs. Schools would arise to meet the demands of various students' abilities and needs. Where the demand for a specific type of education arises, an entrepreneur would form the desired institution of learning. With the diversity that exists among individuals, a variety of schools would appear to meet individual educational needs.
It is critical that parents purchase education directly, when, and only for as long as, they believe their children require it. Only the total separation of state and school can re-institute parental responsibility, protect parents' rights, and allow students, schools, and teachers to flourish in a free educational environment. Parents have moral authority over, and responsibility for, their own children.
If school taxes are abolished, parents will benefit by keeping their own money. The money belongs to the parents, not the government. They would then be free to choose their own children's schools. For example, if parents want their children to have prayer, then they would send them to a school that has prayers. If they don't want their children to have prayer, then they would send them to a school that has no prayer. Parents should be free to send their children to religious schools, progressive schools, trade schools, home school, or even no school at all. Of course, it is likely that the pursuit of happiness will supply enough incentive for people to want their children to improve educationally. Schools privately funded and freely selected would be mediating associations like churches, corporations, and unions, and would foster a true sense of belonging and identity.
In private schools in a free market, failure to provide the promised results would lead to declining enrollments, and financial losses. Competition breeds quality. For example, the free market would encourage teachers to improve their skills and would attract others into the teaching profession. Good teachers would be rewarded and poor teachers would be forced to select other careers. The market would also indicate which teaching approaches worked best in given situations and would stimulate creative individuals to produce and market learning materials. True educational businesses would evaluate teachers and their instructional operations to determine whether or not the customers are satisfied and getting their money's worth of education.
Educational competition would result in the lowering of costs. Competition would make private education more affordable and widely available. This means that poor families would be more able to afford the cost of financing their children's educations. In addition, if the poor are excused from the numerous education taxes that currently exist, then they would have the funds to pay for private education. It is also likely that private scholarships and charitable assistance will be available for lower income families, especially when the person or organization funding the scholarship knows that he is paying for a superior educational product.
In a free market, consumer demand and choice would determine which schools survive and prosper. A private, non-compulsory educational system would be better able to provide for diverse student needs, backgrounds, interests, goals, and preferences. A system of voluntary, unsubsidized education means rescinding government compelled financing, attendance, credentialing, accreditation, and curriculum. It means the full separation of school and state.
Source: Dr. Edward Younkins | quebecoislibre.org
The day that John Kennedy was murdered, was the day that Americans lost their country. Since that fateful day in November of 1963, our slide into tyranny has accelerated.
Nearly every form of tyranny which has overrun our country has its roots in the post-JFK assassination event. JFK was seemingly the last watchman on the wall against the encroaching tyranny of the newly created national surveillance security police state grid.
There have only been two prominent politicians who have stood up to the tyranny of the New World Order since the death of JFK. These two men would be Reagan (until he was shot by Hinckley) and Ron Paul.
The Missed Opportunity Connected to the 50th Anniversary
Last summer, I predicted that the upcoming 50th anniversary of JFK's murder would awaken a whole new generation as to the tyranny that the country has fallen under and who is responsible for that tyranny. I wrongly believed that the co-conspirators, the interlocking pieces of the JFK assassination cabal, namely, David Rockefeller, the Federal Reserve, the oil companies, the military industrial complex and the CIA and their mafia assets, would be exposed with all the attention that the 50th anniversary would provide.
I wrongly believed that these groups  with their current and undue influence on America would also be readily identified for what they did to JFK and to the country on November 22, 1963. I further believed that today's younger generation would easily build the bridge linking the corruption and undue influence of these 1963 groups to today's political landscape and this would be an easy association. Unfortunately, my predictions were in error because we in the alternative media dropped the ball.
The 2013 Establishment Propaganda Machine Is Rolled Out

The day that JFK was murdered was the day that Rockefeller won the world's biggest lottery.
With the marking of the 50th anniversary of the assassination of John F. Kennedy, there have been over 2,000 books written on the subject and countless radio and television shows devoted to the topic. This fall, the globalist news corporations have produced a rash of new JFK "investigations" which all purport to show different ways to prove that Oswald, and Oswald alone, killed John Kennedy. The new productions (e.g. National Geographic) are so bad and so faulty, that they are laughable.
Media Propagandists Ignore the Government's Final Conclusion of a Conspiracy
The modern day propagandists are winning the day with regard to the control of the narrative surrounding the assassination. During the height of America's skepticism regarding the 1964 Warren Report which stated that Lee Oswald killed John Kennedy and that he acted alone, most Americans rejected the "official explanation. What the modern day public, as well as the establishment propagandists, seem to have forgotten is that in 1977, the House Select Committee on Assassinations concluded that Oswald had help and JFK was killed as a result of a conspiracy. This was the final word on the subject from our government on the assassination. However, the history revisionists do not want a hint of a conspiracy because this could give birth to a modern day JFK assassination renaissance in a search for the co-conspirators who killed JFK. Once that search would begin, the descendants of the perpetrators organizations would not be able to escape public scrutiny. We in the alternative and truthful media missed a golden opportunity to wake up the country on this 50th Anniversary of JFK's death. This fall, if we had devoted a significant amount of time and effort to covering the assassination, and we had been relentless in our efforts, the under 40 crowd would understand who their present enemies are and they would have been awakened to the present day tyranny. We allowed our voices to be drowned out by the mainstream fictional media with their new JFK cover up pieces. Sadly, we lost a golden opportunity to wake up millions of young Americans.
At the height of JFK conspiracy fervor in the 1970′s-1990′s, according to the Gallup Poll, as many as 80% of Americans believed that there was a conspiracy to kill JFK. Today, that number has slipped to 61% thanks in large part to the new propaganda productions which are influencing our younger Americans.
In the 1990′s, Oliver Stone produced JFK and Bill Kurtis and Nigel Turner produced separate investigations into the assassination (i.e. The Men Who Killed Kennedy). In the 1990′s, the country was spellbound by the new revelations which were also bolstered by JFK admirer, Bill Clinton, as he forced the release of millions of classified JFK documents. However, the evil empire struck back around the year, 2000, and today, you see almost nothing on TV which does not show that Oswald was acting alone.
Follow the Money
What is conspicuously missing in most, if not all of the accounts related to the assassination of John F. Kennedy, is the fact that normal homicidal investigative strategies have not been employed by people in the government who would have the power to do so. One of the hallmark phrases in murder investigations is to "follow the money".
Every year at this time, I become reflective as I wonder what America, and the rest of the world might have looked like if JFK had survived, been re-elected and served a second term as President. This year I decided to follow the money and put my thoughts on paper. So, let's briefly follow the money.
Vietnam
Everybody knows that the Pentagon was frothing at the mouth to get into an armed conflict in Vietnam and/or Laos. In 1961, JFK resisted the military pressure to place troops in Laos, as he clearly instructed diplomat, Averell Harriman, to get the Laos issue settled because JFK was determined to not put combat units on the ground in Southeast Asia.
It is true that JFK was manipulated by his military advisers to place troops on the ground in Vietnam but solely in the role as "combat advisers". JFK's anti-Vietnam war stance frequently gets overlooked because of this. However, in October 1963, a mere month before his death, JFK signed National Security Action Memorandum 263 which called for the withdrawal of 1,000 troops from Vietnam by the end of 1963 and a total withdrawal of all of the combat advisers by the end of 1965. This was one nail in the coffin of JFK.
JFK gave many speeches in which he clearly stated he was opposed to widening U.S. military involvement in the war. South Vietnamese leader, Diem and his brother Nhu were opposed to U.S. attempts to control his regime and Diem and his brother were adamantly opposed U.S. full-scale U.S. military involvement beyond the 16,000 combat advisers stationed in the country. On November 1, 1963, Diem and Nhu were murdered by the CIA against JFK's wishes. Three weeks later, to the day, John F. Kennedy was murdered. Within nine months following the assassination, the LBJ administration launched the now discredited false flag event, the Gulf of Tonkin attack, and 100,000 combat troops were subsequently sent to Vietnam. Many researchers have proven the involvement of the same CIA and its Mafia connections which dates back to 1942 when the CIA was known as the OSS.
Knowing that the CIA and Mafia were involved in JFK's murder, does not tell you who ordered the assassination. Any guesses on who profited the most from the Vietnam War? In radio parlance, you will have to stay tuned, the answer will be revealed at the end.
There were huge financial incentives for the American defense industry to participate in the murder of JFK. Yes, that would be the military industrial complex which Ike warned us about in his 1960 farewell address. In 1963, Chrysler corporation and its subsidiaries received the lion's share of defense contracts for the war, most of which were resold to smaller corporations. Corporations such as Bell Helicopter enjoyed unparalleled growth during the height of the war. There are some interesting and notable parties which controlled the Chrysler defense industry interests in 1963.
Very powerful parties would have stood to have lost a lot of money had the war not materialized into a full-scale air and ground war. Who am I speaking about? All will be revealed when I connect the dots at the end. Oh by the way, the forerunner to the bid rigging and recipient of no bid contracts in Iraq, KBR, was also found guilty of the same thing in Vietnam when they were given the responsibility for building South Vietnam's military infrastructure. The more things change, the more they do stay the same.
Making Enemies with the CIA: The Bay of Pigs
It was very well known that JFK refused to support and sanction the CIA backed Cuban refugee invasion of Cuba by refusing to allow air cover. The invasion failed and the careers of CIA Director, Dulles, and CIA Assistant Director, Cabal, were over. The proverbial line in the sand had been drawn and the CIA and JFK became mortal enemies with JFK threatening to break up the agency into a "thousand pieces". Add to this fact, is the fact that it is well-known that the darker parts of the CIA act as mercenaries for certain groups who are not on the government payroll. Today, we would call these shadowy forces, the New World Order.
It is clear that with the advent of the Bay of Pigs, the brain trust for the assassination had been born and they would double down as this agency would perpetrate the cover-up, such as losing the President's brain during the autopsy to hide the fact that JFK's fatal head shot came from an exploding bullet, which means that Oswald's defective Italian rifle could not have been used in the commission of the crime. Maybe this is also why LBJ had the Presidential limousine "cleaned up" immediately following the crime and the vehicle was never subsequently examined as any other crime scene would have been. LBJ should have gone to prison for obstruction of justice, but I digress. Jim Marrs and other researchers have clearly implicated the CIA as the masterminds of the assassination. I agree with Marrs, however, the CIA were not the original planners, they merely were tasked with carrying out the assassination. Regardless, the rich and famous wanted Cuba back and JFK had destroyed their plans for continued domination of the Island state.
Ten days following the Bay of Pigs, JFK gave his famous "secret society" speech. He is the first, and the only President to ever identify the globalists as the enemy of America and humanity as a whole.
If you have never listened to the speech, you should take the time to listen now, for if you do, the events of today will make a great deal more sense.
The Cuban Missile Crisis
Havana had become a play place for the rich and famous prior to the Castro led revolution. Upon seizing power, Castro promptly nationalized all gaming resorts and the Mafia lost their insanely high profits and the rich and famous lost their financial cut, as well as their 1960 version of Bohemian Grove. In the eyes of the rich and powerful, JFK had one more opportunity to get control over Cuba with the opportunity presented by the Cuban Missile Crisis.
In 1962, in response to America's placing offensive nuclear weapons in Turkey, close to the Soviet border, the Russians did the same in Cuba. This event brought the U.S. and the Soviet Union to the brink of nuclear war. All of JFK's military advisers wanted to invade Cuba with ground troops. JFK opted for the ever-contracting naval blockade. Although history has proven that our invading troops would have been nuked, and that JFK pursued the correct course of action, the powerful military was now lining up against JFK. And, again, the rich and famous were thwarted in their desire to reassert control over Cuba and the defense contractors smelled the end of the gravy train.
Then in June of 1963, JFK gave an incredible speech at American University in which he called for the total destruction of nuclear weapons. This would have resulted in the end of the financially lucrative Cold War and the "Pax Americana enforced on the world by American weapons of war", and a movement toward "general and complete disarmament" would have begun. A few months later JFK signed a Limited Test Ban Treaty with Nikita Khrushchev. What would happen to the profits of Raytheon and Martin Marietta (now Lockheed Martin) if there was no cold war? The executives at the defense plants could relax because when JFK was killed, LBJ ordered the single largest increase in U.S. history and before the ink was even dry on JFK's death certificate.
America Cannot Have Peace, It Is Bad For Business
Please take the time and listen to JFK's, American University Speech, June 10, 1963, and if you understand what it means to be an American, it will bring tears to your eyes and I believe that this speech also brought a bullet to JFK's brain, because he was poking a stick into the eyes of the military industrial complex.
The Federal Reserve

On June 4, 1963, President Kennedy issued Executive Order 11110 and this accompanied the Kennedy act which was the beginning of an attempt to strip the Federal Reserve Bank of its power to loan money, at interest, to the government. JFK was on his way of stripping the then 50 year history of fleecing the American people. In effect, JFK, by issuing 4.3 billion dollars of U.S. notes based upon silver held in reserve, JFK was going to be able to wipe away the beginnings of national debt which, today, has mortally wounded the American economy. Please take note of the fact that this event was only a little over 5 months before the assassination. When JFK was murdered, LBJ failed to continue with the program.
Who stood to lose the most money if the Federal Reserve had lost its stranglehold on the American economy? You would be right if you answered Chase-Manhattan Bank with its 6,389,445 shares of Federal Reserve Board Stock valued at 32.3% of the total value of stock at the Fed. Also, Citibank had a lot to lose by this move as well as they were invested in the Federal Reserve shares to the tune of  4,051,851, or 20.5% of the total value. I think you might be getting an idea who owned and/or controlled the majority interests in these two banks in 1963, but there is more before we answer the question on who profited the most from the murder of a sitting President in 1963.
The Oil Depletion Allowance
By the end of 1962, the robber barons which ran the oil industry estimated, that their earnings on foreign investment capital would fall to 15 percent, compared with 30 percent in 1955 if the oil depletion allowance was diminished in accordance with JFK's proposal.
JFK's attack upon the oil depletion allowance, which permitted oil producers to deduct up to 27.5% of their income as tax exempt provided the robber barons of oil a lower tax rate and a competitive business advantage, not shared by any other business interests. JFK targeted the oil depletion allowance and it was estimated the government might retain more than $300 million in tax revenue each year if the depletion allowance was reduced. Although the oil depletion allowance remained intact, due to the congressmen who were recipients of oil company campaign contributions, JFK made some very powerful enemies in the oil industry.
It was the oil depletion allowance which made drilling for oil a no risk venture. An oil speculator could drill five wells and if four were dry wells and only the fifth struck oil, the speculator would still make money because of tax breaks resulting from the depletion allowance deducted from owed taxes. President Kennedy pointed out the obvious when he stated "… no one industry should be permitted to obtain an undue tax advantage over all others."
JFK had made an enemy out of the oil industry and its biggest tycoon, David Rockefeller with the proposal to reduce the oil depletion allowance. Do you know the two banks which controlled 53% of the Federal Reserve in 1963? Rockefeller owned the controlling interest in both banks. How about Chrysler, KBR, Bell Helicopter and the Vietnam War? You are way ahead if you said, David Rockefeller. And what about the nuclear arms race, to which the cessation of the cold war, would have meant the loss of profits to the defense industry? And who controls the defense industry? David Rockefeller. We had to have a cold war, then, for the same reasons we need a war on terror today. It is good for business and with the subsequent growth of government power which comes with war, the erosion of Constitutional liberties increases. All roads for the motivations of the JFK assassination leads to David Rockefeller as being the first mover in the plot.
Do I have the smoking gun that I can place in Rockefeller's hand? The short answer is no. However, it is safe to say that the day that John Kennedy died, there were no tears shed at the Rockefeller estate.
If JFK's murder had been anything but the killing of the President, any police detective worth his salt, would have followed the money trail and arrests would have been made based on the known facts. It is unacceptable that as we race toward the 50th Anniversary of the event, this next week, that not one person has been brought to justice in a court of law for the assassination of John Kennedy. Instead, a patsy, Lee Oswald,who never fired a gun on November 22, 1963, was framed and used as the patsy. And before Oswald could talk, he was murdered two days later under very mysterious circumstances. Over the next several days, I am going to publish mini-excerpts on facts about the JFK assassination which are not being covered by the MSM. My first entry will focus on how we know that Oswald did not kill JFK.
Reflections on What Could Have Been
If JFK would have lived, we would have not lost 58,000 lives in Vietnam. Millions of Vietnamese would have been spared. We would have an economy that is backed by silver and we would virtually have no debt because the corrupt Federal Reserve would have faded into oblivion as it did during the Andrew Jackson Administration. America would have schools that would the envy of the world, not the butt of jokes, because we would not spending money to kill people, but rather to educate, improve health care and we could have even afforded to pay off all privately held mortgages if we had only remembered the words of JFK when he reminded the faculty and staff at American University on June 10, 1963, that "We all breathe the same air…"
We would live in a far better place had we lived out JFK's expressed ideals. I write this piece, not just to remind America of what we lost and how America suffered with Jack Kennedy's death, I write this piece for those who know little of nothing of what happened on November 22, 1963, mostly young people, in order that they can know that the tyranny being imposed upon us, need not exist. There is a better way and for a moment when I listen to his speeches, I can imagine a better world.
Source: Dave Hodges | The Common Sense Show
New York – Jeremy Hammond sat in New York's Metropolitan Correctional Center last week in a small room reserved for visits from attorneys. He was wearing an oversized prison jumpsuit. The brown hair of the lanky 6-footer fell over his ears, and he had a wispy beard. He spoke with the intensity and clarity one would expect from one of the nation's most important political prisoners.
On Friday the 28-year-old activist will appear for sentencing in the Southern District Court of New York in Manhattan. After having made a plea agreement, he faces the possibility of a 10-year sentence for hacking into the Texas-based private security firm Strategic Forecasting Inc., or Stratfor, which does work for the Homeland Security Department, the Marine Corps, the Defense Intelligence Agency and numerous corporations including Dow Chemical and Raytheon.
Four others involved in the hacking have been convicted in Britain, and they were sentenced to less time combined—the longest sentence was 32 months—than the potential 120-month sentence that lies before Hammond.
Hammond turned the pilfered information over to the website WikiLeaks and Rolling Stone and other publications. The 3 million email exchanges, once
made public, exposed the private security firm's infiltration, monitoring and surveillance of protesters and dissidents, especially in the Occupy movement, on behalf of corporations and the national security state. And, perhaps most important, the information provided chilling evidence that anti-terrorism laws are being routinely used by the federal government to criminalize nonviolent, democratic dissent and falsely link dissidents to international terrorist organizations. Hammond sought no financial gain. He got none.The email exchanges Hammond made public were entered as evidence in my lawsuitagainst President Barack Obama over Section 1021 of the National Defense Authorization Act (NDAA). Section 1021 permits the military to seize citizens who are deemed by the state to be terrorists, strip them of due process and hold them indefinitely in military facilities. Alexa O'Brien, a content strategist and journalist who co-founded US Day of Rage, an organization created to reform the election process, was one of my co-plaintiffs. Stratfor officials attempted, we know because of the Hammond leaks, to falsely link her and her organization to Islamic radicals and websites as well as to jihadist ideology, putting her at risk of detention under the new law. Judge Katherine B. Forrest ruled, in part because of the leak, that we plaintiffs had a credible fear, and she nullified the law, a decision that an appellate court overturned when the Obama administration appealed it.
Freedom of the press and legal protection for those who expose government abuses and lies have been obliterated by the corporate state. The resulting self-exile of investigative journalists such as Glenn Greenwald, Jacob Appelbaum and Laura Poitras, along with the indictment of Barret Brown, illustrate this. All acts of resistance—including nonviolent protest—have been conflated by the corporate state with terrorism. The mainstream, commercial press has been emasculated through the Obama administration's repeated use of the Espionage Act to charge and sentence traditional whistle-blowers. Governmental officials with a conscience are too frightened to reach out to mainstream reporters, knowing that the authorities' wholesale capturing and storing of electronic forms of communication make them easily identifiable.
Elected officials and the courts no longer impose restraint or practice oversight. The last line of defense lies with those such as Hammond, Julian Assange, Edward Snowden and Chelsea Manning who are capable of burrowing into the records of the security and surveillance state and have the courage to pass them on to the public. But the price of resistance is high.
"In these times of secrecy and abuse of power there is only one solution—transparency," wrote Sarah Harrison, the British journalist who accompanied Snowden to Russia and who also has gone into exile, in Berlin. "If our governments are so compromised that they will not tell us the truth, then we must step forward to grasp it. Provided with the unequivocal proof of primary source documents people can fight back. If our governments will not give this information to us, then we must take it for ourselves."
"When whistleblowers come forward we need to fight for them, so others will be encouraged," she went on. "When they are gagged, we must be their voice. When they are hunted, we must be their shield. When they are locked away, we must free them. Giving us the truth is not a crime. This is our data, our information, our history. We must fight to own it. Courage is contagious."
Hammond knows this contagion. He was living at home in Chicago in 2010 under a 7-a.m.-to-7-p.m. curfew for a variety of acts of civil disobedience when Chelsea (formerly Bradley) Manning was arrested for giving WikiLeaks secret information about military war crimes and government lies. Hammond at the time was running social aid programs to feed the hungry and send books to prisoners. He had, like Manning, displayed a remarkable aptitude for science, math and computer languages at a young age. He hacked into the computers at a local Apple store at 16. He hacked into the computer science department's website at the University of Illinois-Chicago as a freshman, a prank that saw the university refuse to allow him to return for his sophomore year. He was an early backer of "cyber-liberation" and in 2004 started an "electronic-disobedience journal" he named Hack This Zine. He called on hackers in a speech at the 2004 DefCon convention in Las Vegas to use their skills to disrupt that year's Republican National Convention. He was, by the time of his 2012 arrest, one of the shadowy stars of the hacktivist underground, dominated by groups such as Anonymous and WikiLeaks in which anonymity, stringent security and frequent changes of aliases alone ensured success and survival. Manning's courage prompted Hammond to his own act of cyber civil disobedience, although he knew his chances of being caught were high.
"I saw what Chelsea Manning did," Hammond said when we spoke last Wednesday, seated at a metal table. "Through her hacking she became a contender, a world changer. She took tremendous risks to show the ugly truth about war. I asked myself, if she could make that risk shouldn't I make that risk? Wasn't it wrong to sit comfortably by, working on the websites of Food Not Bombs, while I had the skills to do something similar? I too could make a difference. It was her courage that prompted me to act."
Hammond—who has black-inked tattoos on each forearm, one the open-source movement's symbol known as the "glider" and the other the shi hexagram from the I Ching—is steeped in radical thought. As a teenager, he swiftly migrated politically from the liberal wing of the Democratic Party to the militancy of the Black Bloc anarchists. He was an avid reader in high school of material put out by CrimethInc, an anarchist collective that publishes anarchist literature and manifestos. He has molded himself after old radicals such as Alexander Berkman and Emma Goldman and black revolutionaries such as George Jackson, Elaine Brown and Assata Shakur, as well as members of the Weather Underground. He said that while he was in Chicago he made numerous trips to Waldheim Cemetery to visit the Haymarket Martyrs Monument, which honors four anarchists who were hanged in 1887 and others who took part in the labor wars. On the 16-foot-high granite monument are the final words of one of the condemned men, August Spies. It reads: "The day will come when our silence will be more powerful than the voice you are throttling today." Emma Goldman is buried nearby.
Hammond became well known to the government for a variety of acts of civil disobedience over the last decade. These ranged from painting anti-war graffiti on Chicago walls to protesting at the 2004 Republican National Convention in New York to hacking into the right-wing website Protest Warrior, for which he was sentenced to two years in the Federal Correctional Institute at Greenville, Ill.
He said he is fighting as "an anarchist communist" against "centralized state authority" and "exploitative corporations." His goal is to build "leaderless collectives based on free association, consensus, mutual aid, self-sufficiency and harmony with the environment." It is essential, he said, that all of us work to cut our personal ties with capitalism and engage in "mass organizing of protests, strikes and boycotts." Hacking and leaking, he said, are part of this resistance—"effective tools to reveal ugly truths of the system."
Hammond spent months within the Occupy movement in Chicago. He embraced its "leaderless, non-hierarchical structures such as general assemblies and consensus, and occupying public spaces." But he was highly critical of what he said were the "vague politics" in Occupy that allowed it to include followers of the libertarian Ron Paul, some in the tea party, as well as "reformist liberals and Democrats." Hammond said he was not interested in any movement that "only wanted a 'nicer' form of capitalism and favored legal reforms, not revolution." He remains rooted in the ethos of the Black Bloc.
"Being incarcerated has really opened my eyes to the reality of the criminal justice system," he said, "that it is not a criminal justice system about public safety or rehabilitation, but reaping profits through mass incarceration. There are two kinds of justice—one for the rich and the powerful who get away with the big crimes, then for everyone else, especially people of color and the impoverished. There is no such thing as a fair trial. In over 80 percent of the cases people are pressured to plea out instead of exercising their right to trial, under the threat of lengthier sentences. I believe no satisfactory reforms are possible. We need to close all prisons and release everybody unconditionally."
He said he hoped his act of resistance would encourage others, just as Manning's courage had inspired him. He said activists should "know and accept the worst possible repercussion" before carrying out an action and should be "aware of mass counterintelligence/surveillance operations targeting our movements." An informant posing as a comrade, Hector Xavier Monsegur, known online as "Sabu," turned Hammond and his co-defendants in to the FBI. Monsegur stored data retrieved by Hammond on an external server in New York. This tenuous New York connection allowed the government to try Hammond in New York for hacking from his home in Chicago into a private security firm based in Texas. New York is the center of the government's probes into cyber-warfare; it is where federal authorities apparently wanted Hammond to be investigated and charged.
Hammond said he will continue to resist from within prison. A series of minor infractions, as well as testing positive with other prisoners on his tier for marijuana that had been smuggled into the facility, has resulted in his losing social visits for the next two years and spending "time in the box [solitary confinement]." He is allowed to see journalists, but my request to interview him took two months to be approved. He said prison involves "a lot of boredom." He plays chess, teaches guitar and helps other prisoners study for their GED. When I saw him, he was working on the statement, a personal manifesto, that he will read in court this week.
He insisted he did not see himself as different from prisoners, especially poor prisoners of color, who are in for common crimes, especially drug-related crimes. He said most inmates are political prisoners, caged unjustly by a system of totalitarian capitalism that has snuffed out basic opportunities for democratic dissent and economic survival.
"The majority of people in prison did what they had to do to survive," he said. "Most were poor. They got caught up in the war on drugs, which is how you make money if you are poor. The real reason they get locked in prison for so long is so corporations can continue to make big profits. It is not about justice. I do not draw distinctions between us."
"Jail is essentially enduring harassment and dehumanizing conditions with frequent lockdowns and shakedowns," he said. "You have to constantly fight for respect from the guards, sometimes getting yourself thrown in the box. However, I will not change the way I live because I am locked up. I will continue to be defiant, agitating and organizing whenever possible."
He said resistance must be a way of life. He intends to return to community organizing when he is released, although he said he will work to stay out of prison. "The truth," he said, "will always come out." He cautioned activists to be hyper-vigilant and aware that "one mistake can be permanent." But he added, "Don't let paranoia or fear deter you from activism. Do the down thing!"
Chris Hedges, whose column is published Mondays on Truthdig, has previously spent nearly two decades as a foreign correspondent in Central America, the Middle East, Africa and the Balkans. He has reported from more than 50 countries and has worked for The Christian Science Monitor, National Public Radio, The Dallas Morning News and The New York Times, for which he was a foreign correspondent for 15 years.
Source: Truthdig
When Edward Snowden met with Guardian reporter Glenn Greenwald to turn over documents revealing the extent of the NSA spying program, he did more than provide an education to the entire world concerning the reach of the American Empire. He also very likely protected himself from far flung and highly illegal machinations to silence him. Safely ensconced in Russia, Snowden is now reportedly working for a Russian website. His revelations continue to impact the public persona of the US, worldwide.
Other whistleblowers and journalists have not been so fortunate.
Enter Jeffrey Silverman…
Silverman, who was born in Washington DC and served in the US Army prior to receiving an MS in Agricultural Development/International Development, had been living in the Republic of Georgia since 1991. He has done in-depth investigative reporting on chemical and biological weapons, the alleged murder of the former Georgian Prime Minister Zurab Zhvania and on black torture sites in the former Soviet Union.
Silverman, who also writes under the name Joni Simonishvili, had been working on articles concerning covert US support for the Chechen rebels when he made a trip back to the US in 2004 to visit family. To his amazement, he was charged with failure to pay child support in Kentucky. Silverman states that he had been paying support for years without a court order. After a Kentucky judge ordered his passport seized and turned over to authorities due to the alleged non-payment of support, a Virginia judge subsequently reversed the order and gave Silverman back his travel documents.
Silverman had flown back to Georgia and was on a working trip to Azerbaijan to submit an article in Baku when he was picked up on orders of the US Embassy, beaten badly and his passport again seized. The US Embassy then issued a document to Silverman stating that he is an alien. He was offered a trip back to the US under alien status but instead of accepting a tainted offer, Silverman jumped the border from Azerbaijan into Georgia.
There are strict laws governing the revocation of an individual's citizenship. A US native born citizen cannot have his citizenship revoked unless he commits an expatriating act, such as serving in an army at war against the US. No such terms, however, apply to Jeffrey Silverman.
The FBI subsequently paid a visit to Silverman's son's mother, Donna Evans. She wrote:
I had two FBI agents visit me at my job in Kentucky. One was Detective Greg Wolf and the other was Mr. Steve Auvenshine. They came to my work site and told me they were investigating you but wouldn't tell me why. They asked numerous questions about you and what you did for a living. "They showed me a picture of you and asked if it was you. They asked me questions about how we met, where you have lived, where you were born, who your parents were and what did they do for a living, whether they were still alive or not, what countries you had visited, what languages you spoke, how long you had visited each country, what religion you practiced and if you had ever been in the military. I asked them why they were asking so many questions about you but they would not say. I think they already knew all the answers to all the questions they asked me; I think they just wanted to see if I would verify what they knew. They also wanted me to send all the e-mails that you had sent me to them. Bourbon County [the local authority] said that they were already sending all the e-mails they receive from you to the US State Department.
The State Department declined to comment on Silverman's citizenship, as did DHS and the DOJ.
Following the beating in 2004, Silverman was again detained in 2005. According to Silverman, "The police kidnapped me off the street in the middle of the day and took me to the Georgian Office of Counterintelligence and beat me….Embassy staff were waiting in the other room and when done, they came and asked if I needed any help in returning to the US. It so happens that the agent involved, Bryan Paarmann, is the same agent involved in the alleged murder cover up of the Georgian PM, Zurab Zhvania.
Someone else who was impacted by the mounting concerns about the nature of Jeffrey Silverman's journalism was Silverman's friend, Vahktang Maisaia, who served as counselor at the Georgian mission in NATO in 2004-2008. Maisaia writes of events that took place in May of 2009:
I was tortured and subjected to mock execution at the building two days later. I was accused in having relations initially with NATO special services, Slovak Republic military intelligence service and later on they extended the link with "Russian Federation Intelligence Service" (I quoted word-by-word the name of the Russian service – why because the service with such name does not exist at all even in accordance to the Russian Federation laws). It is long too history how well my case has been rigged but regarding Jeffrey I had to confess that in one of the night illegal interrogation session usually started at 6.00 PM till 6.00 AM by the Counter-Intelligence Department two teams almost every days since May 8th till June 23 of 2009 at Gldany prison #8), Otar Ordzhonikidze and his staff-member Data Datashvili and Valerian Zumbadze personally interested in Jeffrey Silverman's personality and background, they tortured me in order to gain his contact points and whereabouts at that time in order to seize him in abduction manner, like "death squadron" way and execute him in somewhere unknown place because of his foreign citizenship and his popularity abroad (how they claim to me).
Another assault on Jeffrey Silverman in 2011 made the evening news in Tbilisi. Silverman has plates in his head from one of his beatings.
Jeffrey Silverman is now essentially a stateless person. Silverman states he has sought assistance from Reporters without Borders as well as the Committee to Protect Journalists. CPJ did not respond to inquiries from this reporter as to that organization's refusal to address Silverman's plight. It is known in journalistic circles that the agencies pledged to protect press rights generally turn a blind eye to assaults on US journalists doing adversarial reporting.
Silverman is currently the Georgia Bureau Chief for Veterans Today and teaches in Tbilisi.
The only part of the government that really listens to what you have to say…
The New York Times (November 2) ran a long article based on NSA documents released by Edward Snowden. One of the lines that most caught my attention concerned "Sigint" – Signals intelligence, the term used for electronic intercepts. The document stated:
"Sigint professionals must hold the moral high ground, even as terrorists or dictators seek to exploit our freedoms. Some of our adversaries will say or do anything to advance their cause; we will not."
What, I wondered, might that mean? What would the National Security Agency – on moral principle – refuse to say or do?
I have on occasion asked people who reject or rationalize any and all criticism of US foreign policy: "What would the United States have to do in its foreign policy to lose your support? What, for you, would be too much?" I've yet to get a suitable answer to that question. I suspect it's because the person is afraid that whatever they say I'll point out that the United States has already done it.
The United Nations vote on the Cuba embargo – 22 years in a row
For years American political leaders and media were fond of labeling Cuba an "international pariah". We haven't heard that for a very long time. Perhaps one reason is the annual vote in the United Nations General Assembly on the resolution which reads: "Necessity of ending the economic, commercial and financial embargo imposed by the United States of America against Cuba". This is how the vote has gone (not including abstentions):
| | | |
| --- | --- | --- |
| Year | Votes (Yes-No) | No Votes |
| 1992 | 59-2 | US, Israel |
| 1993 | 88-4 | US, Israel, Albania, Paraguay |
| 1994 | 101-2 | US, Israel |
| 1995 | 117-3 | US, Israel, Uzbekistan |
| 1996 | 138-3 | US, Israel, Uzbekistan |
| 1997 | 143-3 | US, Israel, Uzbekistan |
| 1998 | 157-2 | US, Israel |
| 1999 | 155-2 | US, Israel |
| 2000 | 167-3 | US, Israel, Marshall Islands |
| 2001 | 167-3 | US, Israel, Marshall Islands |
| 2002 | 173-3 | US, Israel, Marshall Islands |
| 2003 | 179-3 | US, Israel, Marshall Islands |
| 2004 | 179-4 | US, Israel, Marshall Islands, Palau |
| 2005 | 182-4 | US, Israel, Marshall Islands, Palau |
| 2006 | 183-4 | US, Israel, Marshall Islands, Palau |
| 2007 | 184-4 | US, Israel, Marshall Islands, Palau |
| 2008 | 185-3 | US, Israel, Palau |
| 2009 | 187-3 | US, Israel, Palau |
| 2010 | 187-2 | US, Israel |
| 2011 | 186-2 | US, Israel |
| 2012 | 188-3 | US, Israel, Palau |
| 2013 | 188-2 | US, Israel |
Each fall the UN vote is a welcome reminder that the world has not completely lost its senses and that the American empire does not completely control the opinion of other governments.
Speaking before the General Assembly, October 29, Cuban Foreign Minister Bruno Rodriguez declared: "The economic damages accumulated after half a century as a result of the implementation of the blockade amount to $1.126 trillion." He added that the blockade "has been further tightened under President Obama's administration", some 30 US and foreign entities being hit with $2.446 billion in fines due to their interaction with Cuba.
However, the American envoy, Ronald Godard, in an appeal to other countries to oppose the resolution, said:
"The international community … cannot in good conscience ignore the ease and frequency with which the Cuban regime silences critics, disrupts peaceful assembly, impedes independent journalism and, despite positive reforms, continues to prevent some Cubans from leaving or returning to the island. The Cuban government continues its tactics of politically motivated detentions, harassment and police violence against Cuban citizens."1
So there you have it. That is why Cuba must be punished. One can only guess what Mr. Godard would respond if told that more than 7,000 people were arrested in the United States during the Occupy Movement's first 8 months of protest 2 ; that their encampments were violently smashed up; that many of them were physically abused by the police.
Does Mr. Godard ever read a newspaper or the Internet, or watch television? Hardly a day passes in America without a police officer shooting to death an unarmed person?
As to "independent journalism" – what would happen if Cuba announced that from now on anyone in the country could own any kind of media? How long would it be before CIA money – secret and unlimited CIA money financing all kinds of fronts in Cuba – would own or control most of the media worth owning or controlling?
The real reason for Washington's eternal hostility toward Cuba? The fear of a good example of an alternative to the capitalist model; a fear that has been validated repeatedly over the years as Third World countries have expressed their adulation of Cuba.
How the embargo began: On April 6, 1960, Lester D. Mallory, US Deputy Assistant Secretary of State for Inter-American Affairs, wrote in an internal memorandum: "The majority of Cubans support Castro … The only foreseeable means of alienating internal support is through disenchantment and disaffection based on economic dissatisfaction and hardship. … every possible means should be undertaken promptly to weaken the economic life of Cuba." Mallory proposed "a line of action which … makes the greatest inroads in denying money and supplies to Cuba, to decrease monetary and real wages, to bring about hunger, desperation and overthrow of government." 3 Later that year, the Eisenhower administration instituted the suffocating embargo against its everlasting enemy.
The Cold War Revisited
I've written the Introduction to a new book recently published in Russia that is sort of an updating of my book Killing Hope. 4 Here is a short excerpt:
The Cold War had not been a struggle between the United States and the Soviet Union. It had been a struggle between the United States and the Third World, which, in the decade following the dissolution of the Soviet Union, continued in Haiti, Somalia, Iraq, Yugoslavia and elsewhere.

The Cold War had not been a worldwide crusade by America to halt Soviet expansion, real or imaginary. It had been a worldwide crusade by America to block political and social changes in the Third World, changes opposed by the American power elite.

The Cold War had not been a glorious and noble movement of freedom and democracy against Communist totalitarianism. It had typically been a movement by the United States in support of dictatorships, authoritarian regimes and corrupt oligarchies which were willing to follow Washington's party line on the Left, US corporations, Israel, oil, military bases, et al. and who protected American political and economic interests in their countries in exchange for the American military and CIA keeping them in power against the wishes of their own people.

In other words, whatever the diplomats at the time thought they were doing, the Cold War revisionists have been vindicated. American policy had been about imperialism and military expansion.
Apropos the countless other myths we were all taught about the Soviet Union is this letter I recently received from one of my readers, a Russian woman, age 49, who moved to the United States eight years ago and now lives in Northern Virginia:
I can't imagine why anybody is surprised to hear when I say I miss life in the Soviet Union: what is bad about free healthcare and education, guaranteed employment, guaranteed free housing? No rent or mortgage of any kind, only utilities, but they were subsidized too, so it was really pennies. Now, to be honest, there was a waiting list to get those apartments, so some people got them quicker, some people had to wait for years, it all depended on where you worked. And there were no homeless people, and crime was way lower. As a first grader I was taking the public transportation to go to school, which was about 1 hour away by bus (it was a big city, about the size of Washington DC, we lived on the outskirts, and my school was downtown), and it was fine, all other kids were doing it. Can you even imagine this being done now? I am not saying everything was perfect, but overall, it is a more stable and socially just system, fair to everybody, nobody was left behind. This is what I miss: peace and stability, and not being afraid of the future.

Problem is, nobody believes it, they will say that I am a brainwashed "tovarish" [comrade]. I've tried to argue with Americans about this before, but just gave up now. They just refuse to believe anything that contradicts what CNN has been telling them for all their lives. One lady once told me: "You just don't know what was going on there, because you did not have freedom of speech, but we, Americans, knew everything, because we could read about all of this in our media." I told her "I was right there! I did not need to read about this in the media, I lived that life!", but she still was unconvinced! You will not believe what she said: "Yes, maybe, but we have more stuff!". Seriously, having 50 kinds of cereal available in the store, and walmarts full of plastic junk is more valuable to Americans than a stable and secure life, and social justice for everybody?

Of course there are people who lived in the Soviet Union who disagree with me, and I talked to them too, but I find their reasons just as silly. I heard one Russian lady whose argument was that Stalin killed "30, no 40 million people". First of all it's not true (I don't in any way defend Stalin, but I do think that lying and exaggerating about him is as wrong)*, and second of all what does this have to do with the 70s, when I was a kid? By then life was completely different. I heard other arguments, like food shortages (again, not true, it's not like there was no food at all, there were shortages of this or that specific product, like you wouldn't find mayo or bologna in the store some days, but everything else was there!). So, you would come back next day, or in 2-3 days, and you would find them there. Really, this is such a big deal? Or you would have to stay in line to buy some other product, (ravioli for example). But how badly do you want that ravioli really that day, can't you have anything else instead? Just buy something else, like potatoes, where there was no line.

Was this annoying, yes, and at the time I was annoyed too, but only now I realized that I would much prefer this nuisance to my present life now, when I am constantly under stress for the fear that I can possibly lose my job (as my husband already did), and as a result, lose everything else – my house? You couldn't possibly lose your house in Soviet Union, it was yours for life, mortgage free. Only now, living here in the US, I realized that all those soviet nuisances combined were not as important as the benefits we had – housing, education, healthcare, employment, safe streets, all sort of free after school activities (music, sports, arts, anything you want) for kids, so parents never had to worry about what we do all day till they come home in the evening.
* We've all heard the figures many times … 10 million … 20 million … 40 million … 60 million … died under Stalin. But what does the number mean, whichever number you choose? Of course many people died under Stalin, many people died under Roosevelt, and many people are still dying under Bush. Dying appears to be a natural phenomenon in every country. The question is how did those people die under Stalin? Did they die from the famines that plagued the USSR in the 1920s and 30s? Did the Bolsheviks deliberately create those famines? How? Why? More people certainly died in India in the 20th century from famines than in the Soviet Union, but no one accuses India of the mass murder of its own citizens. Did the millions die from disease in an age before antibiotics? In prison? From what causes? People die in prison in the United States on a regular basis. Were millions actually murdered in cold blood? If so, how? How many were criminals executed for non-political crimes? The logistics of murdering tens of millions of people is daunting. 5
Let's not repeat the Barack fuckup with Hillary
Not that it really matters who the Democrats nominate for the presidency in 2016. Whoever that politically regressive and morally bankrupt party chooses will be at best an uninspired and uninspiring centrist; in European terms a center-rightist; who believes that the American Empire – despite the admittedly occasional excessive behavior – is mankind's last great hope. The only reason I bother to comment on this question so far in advance of the election is that the forces behind Clinton have clearly already begun their campaign and I'd like to use the opportunity to try to educate the many progressives who fell in love with Obama and may be poised now to embrace Clinton. Here's what I wrote in July 2007 during the very early days of the 2008 campaign:
Who do you think said this on June 20? a) Rudy Giuliani; b) Hillary Clinton; c) George Bush; d) Mitt Romney; or e) Barack Obama?
"The American military has done its job. Look what they accomplished. They got rid of Saddam Hussein. They gave the Iraqis a chance for free and fair elections. They gave the Iraqi government the chance to begin to demonstrate that it understood its responsibilities to make the hard political decisions necessary to give the people of Iraq a better future. So the American military has succeeded. It is the Iraqi government which has failed to make the tough decisions which are important for their own people." 6
Right, it was the woman who wants to be president because … because she wants to be president … because she thinks it would be nice to be president … no other reason, no burning cause, no heartfelt desire for basic change in American society or to make a better world … she just thinks it would be nice, even great, to be president. And keep the American Empire in business, its routine generating of horror and misery being no problem; she wouldn't want to be known as the president that hastened the decline of the empire.
And she spoke the above words at the "Take Back America" conference; she was speaking to liberals, committed liberal Democrats and others further left. She didn't have to cater to them with any flag-waving pro-war rhetoric; they wanted to hear anti-war rhetoric (and she of course gave them a bit of that as well out of the other side of her mouth), so we can assume that this is how she really feels, if indeed the woman feels anything. The audience, it should be noted, booed her, for the second year in a row.
Think of why you are opposed to the war. Is it not largely because of all the unspeakable suffering brought down upon the heads and souls of the poor people of Iraq by the American military? Hillary Clinton couldn't care less about that, literally. She thinks the American military has "succeeded". Has she ever unequivocally labeled the war "illegal" or "immoral"? I used to think that Tony Blair was a member of the right wing or conservative wing of the British Labour Party. I finally realized one day that that was an incorrect description of his ideology. Blair is a conservative, a bloody Tory. How he wound up in the Labour Party is a matter I haven't studied. Hillary Clinton, however, I've long known is a conservative; going back to at least the 1980s, while the wife of the Arkansas governor, she strongly supported the death-squad torturers known as the Contras, who were the empire's proxy army in Nicaragua. 7
Now we hear from America's venerable conservative magazine, William Buckley's National Review, an editorial by Bruce Bartlett, policy adviser to President Ronald Reagan; treasury official under President George H.W. Bush; a fellow at two of the leading conservative think-tanks, the Heritage Foundation and the Cato Institute – You get the picture? Bartlett tells his readers that it's almost certain that the Democrats will win the White House in 2008. So what to do? Support the most conservative Democrat. He writes: "To right-wingers willing to look beneath what probably sounds to them like the same identical views of the Democratic candidates, it is pretty clear that Hillary Clinton is the most conservative." 8
We also hear from America's premier magazine for the corporate wealthy, Fortune, whose recent cover features a picture of Clinton and the headline: "Business Loves Hillary". 9
Back to 2013: In October, the office of billionaire George Soros, who has long worked with US foreign policy to destabilize governments not in love with the empire, announced that "George Soros is delighted to join more than one million Americans in supporting Ready for Hillary." 10
There's much more evidence of Hillary Clinton's conservative leanings, but if you need more, you're probably still in love with Obama, who in a new book is quoted telling his aides during a comment on drone strikes that he's "really good at killing people". 11 Can we look forward to Hillary winning the much-discredited Nobel Peace Prize?
I'm sorry if I take away all your fun.
Notes
Democracy Now!, "U.N. General Assembly Votes Overwhelmingly Against U.S. Embargo of Cuba", October 30, 2013 ↩
Huffingfton Post, May 3, 2012 ↩
Department of State, Foreign Relations of the United States, 1958-1960, Volume VI, Cuba (1991), p.885 ↩
Copies can be purchased by emailing kuchkovopole@mail.ru ↩
From William Blum, Freeing the World to Death: Essays on the American Empire (2005), p.194 ↩
Speaking at the "Take Back America" conference, organized by the Campaign for America's Future, June 20, 2007, Washington, DC; this excerpt can be heard on Democracy Now!'s website ↩
Roger Morris, former member of the National Security Council, Partners in Power (1996), p.415 ↩
National Review Online, May 1, 2007 ↩
Fortune magazine, July 9, 2007 ↩
Washington Post, October 25, 2013 ↩
Washington Post, November 1, 2013, review of "Double Down: Game Change 2012" ↩
Humanity's Umbilical Cord…
Have we forgotten the source of our sustenance?    Have we allowed the apodictic evolutionary theoreticians to define our beginnings with convoluted nonsense?  Have we assumed that the world should pursue the proliferation of remarkable labor saving and entertaining devices as if they are essential to the human race?  We seek to travel faster and farther, communicate quicker and more completely, have more leisure and less work, and accumulate more knowledge and more power.
In past essays I wrote about the disconnection between the population and the land.  Land provides the elements of life and when we fail to properly associate the population with the land we jeopardize a balance that is essential to our peaceful existence.
The Industrial Revolution  created a drastic change in Western culture a change that has always been considered beneficial.  Life in the Western World slowly became remote from the land and we forgot that the work that consumes our day is supported by the same dirt that our ancestors prayed would supply their food.
Indian writer Satish Kumar has written a book entitled "Soil, Soul, Society".  He describes the problem as anthropocentric: a worldview that human beings are at the center of the universe.  He writes, "So if you want to take care of the universe, start with your soul. Care of the soul is for self-realisation. When you are at home within, you are at home in the universe. Taking care of yourself, being at ease with yourself, being happy within yourself, being fulfilled in yourself is a prerequisite, an imperative for self-realisation. Everything you truly need and want is within you. You are capable of solving every problem in the world with your inner wisdom."
Kumar is on track with his concern about the danger of thinking the universe centers on human beings but he is wrong about our ability to "solve every problem" with "inner wisdom"
The Bible informs us that we were created from dust and to dust we shall return.  There has never been a better description of our origin and condition!   Part of the tendency to support an evolutionary creation stems from our disconnection from the land  Though it is impossible to contend with the fact that our human bodies will ultimately return to dust anthropocentric theorists refuse to acknowledge reality.
When God created human beings from dust He created them in His own image. The Christian Bible confirms this fact but we do not need the Bible to determine our universal nature.  With the birth blood still on their body's babies claim their centrality.  They cry loudly and harshly for love and sustenance.  This elevation of self does not recede with time; children demand their toys and yours too; adolescents are tediously self-centered; the world revolves around the affairs of young men and women and in the middle years hidden methods of personal gain thrive.  We have a God-like nature without His stature, wisdom, power, and righteousness.
It was our failure to see ourselves as we really are that allowed us to bless the Industrial Revolution without properly considering its dangers.  Today, demi-gods experiment with human life as if they are vested with a right to tamper with Someone Else's creation.  They venture into an arena they are incapable of understanding as if there were no consequences to their actions.  They leap without looking.
Humans are designed for physical work.  As we invent additional devices to give us more leisure time with parallel efficiency we invent more jogging shoes and exercise machines to replace the physical work we are not doing.
There is nothing wrong with increasing knowledge and inventing labor saving devices as long as short term positive results do not result in long term disaster.  We exist by the will of another on a planet that we did not create, in a universe too big for our apprehension, in a time span that is a speck in unfathomable infinity.  We are wonderfully made and some of us are extremely brilliant but when we allow our god-like nature too overshadow our humble circumstance we are prone to major error.
Did human beings evolve through an evolutionary process that defies the obvious time/deterioration process or were they created by the same God that crafted the universe?  There are numerous prolixity filled esoteric discussions of the Second Law of Thermodynamics and the meaning of the word "entropy".  Many of these dissertations are carefully crafted to protect Darwin's theory of Evolution. "Highly energetic chemistry is thought to have produced a self-replicating molecule around 4 billion years ago, and half a billion years later the last common ancestor of all life existed. The current scientific consensus is that the complex biochemistry that makes up life came from simpler chemical reactions. The beginning of life may have included self-replicating molecules such as RNA and the assembly of simple cells." (From Wikipedia)
The truth is that human beings are prisoners on a tiny planet located in a vast (maybe infinite) universe, limited by time, size, mental ability, physical ability, and capacity to completely comprehend the milieu in which they live.  
When we ignore the restraints our Creator has set forth in His Word Darwin's theory of Natural Selection gains validity.  The strongest and smartest dominate, survive, and reproduce.  Unending war for survival can be witnessed in the animal kingdom and continues with occasional modifications in the human realm.
The world's leaders are overwhelmingly anthropocentric.  They value their false conception of human capacity more than freedom, peace, and prosperity.  So, since peace and freedom depend on our obedience to God's Law, tyrants have risen to the fore.
When God gave His Law to Moses He gave us the formula for replacing the jungle code of natural selection with a life of purpose, peace, and prosperity.  Today we have wandered so far from His intent that fantasy has overcome the lives of our leaders.  We are being governed by people who no longer see the world as it is; people who would rather live a lie than confront the truth.  They have gained their office through an electorate that has failed to properly assess the human condition; people who believe that the feeble intellect of our most brilliant can devise a formula for freedom.  They are both wrong and instead of creating a better world they have become witnesses to its continued deterioration.
Tyrants rule America and our freedoms are quickly vanishing.   
"To learn who rules over you, simply find out who you are not allowed to criticize." – – Voltaire (1694-1778)
"Pro-Israel Policy groups such as AIPAC work with unlimited funding to divert US policy in the region ( Middle East )"  Jack Straw, Member of Parliament and former Foreign Secretary of the British Labor Party
"The United States should drop a nuclear bomb on Iran to spur the country to end its nuclear program"    Sheldon Adelson, biggest donor to the Republican Party and major fundraiser for pro-Israel political action committees,  speech at Yeshiva University, New York City, October 22, 2013.
Introduction
The question of war or peace with Iran rests with the policies adopted by the White House and the US Congress.  The peace overtures by newly elected Iranian President Rohani have resonated favorably around the world, except with Israel and its Zionist acolytes in North America and Europe .  The first negotiating session proceeded without recrimination and resulted in an optimistic assessment by both sides.  Precisely because of the initial favorable response among the participants, the Israeli government escalated its propaganda war against Iran .  Its agents in the US Congress, the mass media and in the Executive branch moved to undermine the peace process.  What is at stake is Israel's capacity to wage proxy wars using the US military and its NATO allies against any government challenging Israeli military supremacy in the Middle East, its violent annexation of Palestinian territory and its ability to attack any adversary with impunity.
To understand what is at stake in the current peace negotiations one must envision the consequences of failure:  Under Israeli pressure, the US announced that its 'military option' could be activated – resulting in missile strikes and a bombing campaign against 76 million Iranians in order to destroy their government and economy.  Teheran could retaliate against such aggression by targeting US military bases in the region and Gulf oil installations resulting in a global crisis.  This is what Israel wants.
We will begin by examining the context of Israel 's military supremacy in the Middle East .  We will then proceed to analyze Israel 's incredible power over the US political process and how it shapes the negotiation process today, with special emphasis on Zionist power in the US Congress.
The Context of Israeli Military Supremacy in the Middle East
Since the end of World War II , Israel has bombed, invaded and occupied more countries in the Middle East and Africa than previous colonial power, except the US .  The list of Israel 's victims includes:  Palestine , Syria , Lebanon , Egypt , Iraq , Jordan , Sudan and Yemen .  If we include countries where Israel has launched quasi-clandestine terrorist attacks and assassinations, the list would be greatly expanded to include a dozen countries in Europe and Asia – including the US through its Zionist terror network.
Israel 's projection of military power, its capacity for waging offensive wars at will, is matched by its near-total impunity.  Despite their repeated violations of international law, including war crimes, Israel has never been censored at an international tribunal or subjected to economic sanctions because the US government uses its position to veto UN Security Council resolutions and pressure its NATO-EU allies.
Israel's military supremacy has less to do with the native techno-industrial 'brilliance' of its war-mongers and more to do with the transfers and outright theft of nuclear, chemical and biological technology and weapons from the US (Grant Smith "Ten Explosive US Government Secrets of Israel" IRMEP).  Overseas Zionists in the US and France have played a strategic (and treasonous) role in stealing and illegally shipping nuclear technology and weapon components to Israel, according to an investigation by former CIA Director Richard Helms.
Israel maintains huge nuclear, chemical, and biological weapon stockpiles refusing any access to international arms inspectors and is not obliged to abide by the non-proliferation treaty, because of US diplomatic intervention.  Under pressure from the local 'Zionist power configuration' (ZPC), the US government has blocked any action which might constrain Israel 's production of weapons of mass destruction.  In fact the US continues to provide Israel with strategic weapons of mass destruction for use against its neighbors – in violation of international law.
US military aid and technology transfers to Israel exceed $100 billion dollars over the past half century.  US diplomatic and military intervention was crucial in rescuing Israel from defeat during the 1973 war.  US President Lyndon Johnson's refusal to defend the unarmed intelligence ship, the USS Liberty in 1967, after it had been bombed and napalmed by Israeli fighter planes and warships in international waters, constituted a tremendous victory for Israel thanks to Johnson's Zionist advisers.  Because of its impunity, even in killing American servicemen, Israel has been given a free hand to wage aggressive wars to dominate its neighbors, commit acts of terrorism and assassinate its adversaries throughout the world without fear of retaliation.
Israel 's uncontested military superiority  has converted several of its neighbors to quasi-client collaborators:  Egypt and Jordan have served as de facto allies, along with the Gulf monarchies, helping Israel repress the region's nationalist and pro-Palestinian movements.
The most decisive factor in the rise and consolidation of Israel 's power in the Middle East has not been its military prowess but its political reach and influence via its Zionist agents in the US .  Washington 's wars against   Iraq and Libya , and its current support of the mercenary assault against Syria , have destroyed three major secular nationalist opponents of Israel 's hegemonic ambitions.
As Israel accumulates more power in the region, expanding its colonization of Palestinian territory, it looks eastward toward destroying the last remaining obstacle to its colonial policies:  Iran .
For at least two decades, Israel has directed its overseas agents – (the ZPC) – to destroy the government of Iran by destabilizing its society, assassinating its scientists, bombing its military establishments and laboratories and strangling its economy.
After the ZPC successfully pushed the US into war against Iraq in 2003 – literally shredding its complex secular society and killing over a million Iraqis – it turned its sights on destroying Lebanon (Hezbollah) and the secular government of Syria as a way to isolate Iran and prepare for an attack.  While thousands of Lebanese civilians were slaughtered in 2006, Israel 's attack of Lebanon failed, despite the support of the US government and the ZPC's wild propaganda campaign.  Hysterical at its failure and to 'compensate' for its defeat at the hands of Hezbollah and to 'boost morale', Israel invaded and destroyed much of Gaza (2008/9) – the world's largest open air prison camp.
Lacking military capacity to attack Iran on its own, Israel directed its agents to manipulate the US government to start a war with Teheran.  The militarist leaders in Tel Aviv have unleashed their political assets (ZPC) throughout the US  to work to destroy Iran – the last formidable adversary to Israel supremacy in the Middle East .
The Israeli-ZPC strategy is designed to set the stage for a US confrontation with Iran , using its agents in the Executive branch as well as its ongoing corruption, bribery and control of the US Congress.  ZPC control over the mass media enhances its propaganda campaign:  Everyday the New York Times and the Washington Post publish articles and editorials promoting Israel 's war agenda.  The  ZPC uses the US State Department to force other NATO states to likewise confront Iran .
Israel's Proxy War with Iran:  US Political Pressure, Economic Sanctions and Military Threats
Alone, Israel's 'war' with Iran would not amount to much more than its cyber sabotage, the periodical assassinations of Iranian scientists using its paid agents among Iranian terrorist groups and non-stop brow-beating from Israeli politicians and their 'amen crowd'.  Outside of Israel , this campaign has had little impact on public opinion.  Israel's 'was' on Iran depends exclusively on its capacity to manipulate US policy using its local agents and groups who dominate the US Congress and through the appointments of officials in key positions in the Departments of Treasury, Commerce, and Justice , and as Middle East 'advisors'.  Israel cannot organize an effective sanction campaign against Iran ; nor could it influence any major power to abide by such a campaign.  Only the US has that power.  Israel 's dominance in the Middle East comes entirely from its capacity to mobilize its proxies in the United States who are assigned the task of securing total submission to   Israel 's interests from elected and appointed government officials – especially in regard to Israel 's regional adversaries.
Strategically placed, 'dual US-Israeli citizens' have used their US citizenship to secure high security positions in the Government directly involved in policies affecting Israel .  As Israelis, their activities are in line with the dictates of Tel Aviv.  In the Bush administration (2001-2008) high placed 'Israel Firsters' dominated the Pentagon (Paul Wolfowitz, Douglas Feith), Middle East Security (Martin Indyk, Dennis Ross), the Vice President's office ('Scooter' Libby), Treasury (Levey) and Homeland Security (Michael Chertoff).  In the Obama administration the 'Israel Firsters' include Dennis Ross, Rahm Emanuel, David Cohen, Secretary of Treasury Jack "Jake the Snake" Lew, Secretary of Commerce Penny Pritzker and Michael Froman as Trade Representative among others.
Israel 's Proxy Power within the Executive branch is matched by its dominance of the US Congress.    Contrary to some critics, Israel is neither an 'ally' or 'client' of the US .  Evidence of the gross asymmetry of the relation abounds over the past half century.  Because of these powerful proxies in Congress and the Executive branch, Israel has received over $100 billion dollar tribute from the US over the past 30 years, or $3 billion plus a year.  The US Pentagon has transferred the most up-to-date military technology and engaged in several wars on Israel 's behalf.  The US Treasury has imposed sanctions against potentially lucrative trading and investment partners in the Middle East ( Iran , Iraq and Syria ) depriving US agricultural and manufacturing exporters and oil companies of over $500 billion in revenues.  The White House sacrificed the lives of over 4,400 US soldiers in the Iraq War – a war promoted by Israel 's proxies at the behest of Israel 's leaders.  The State Department has rejected friendly and profitable relations with over 1.5 billion Muslims by backing the illegal settlement of over half million Jewish colonists on military-occupied Palestinian land in the West Bank and Jerusalem .
The strategic question is how and why this one-sided relation between the US and Israel persists for so long, even as it goes counter to so many strategic and elite US interests?  The more immediate and pressing question is how this historically lopsided relation effects contemporary US-Iran sanctions and nuclear negotiations?
Iran and the Peace Negotiations
Undoubtedly the newly elected Iranian President and his Foreign Minister are prepared to negotiate an end to hostilities with the US by making major concessions ensuring the peaceful use of nuclear energy.  They have stated they are open to reducing or even ending the production of highly enriched uranium; reducing the number of centrifuges and even allowing intrusive, unannounced inspections, among other promising proposals.  The Iranian government proposes a roadmap with end goals as part of the initial agreements.  The European Union's Foreign Secretary Lady Ashton has commented favorably on the initial meeting.
 The US Administration has given conflicting signals following the Iranian overtures and the opening meeting.  Some individual comments are guardedly positive; others are less encouraging and rigid.  Administration Zionists like Jack 'Jake' Lew, the Treasury Secretary, insists sanctions will remain until Iran meets all US (read 'Israeli') demands.  The US Congress, bought and controlled by the ZPC, rejects the promising Iranian overtures and flexibility, insisting on military 'options' or the total dismantling of Iran's legal and peaceful nuclear program – ZPC positions designed to sabotage the negotiations.  To that end, Congress has passed new, more extreme, economic sanctions to strangle the Iran 's oil economy.
  How Israel's Political Action Committees Control the US Congress and Prepare War with Iran
The Zionist Power Configuration uses its financial firepower to dictate Congressional policy on the Middle East and to ensure that the US Congress and Senate do not stray one iota from serving Israel 's interests.  The Zionist instrument used in the purchase of elected officials in the US is the political action committee (PAC).
Thanks to a 2010 US Supreme Court decision, Super PACs-linked to Israel spend enormous sums  to elect or destroy candidates – depending on the candidate's political work on behalf of Israel .  As long as these funds do not go directly to the candidate, these Super PACs do not have to reveal how much they spend or how it is spent.  Conservative estimates of ZPC- linked direct and indirect funds to US legislators run close to $100 million dollars over the past 30-year.  The ZPC channels these funds to legislative leaders and members of Congressional committees dealing with foreign policy, especially sub-committee  chairpersons dealing with the Middle East .  Unsurprisingly, the largest Congressional recipients of ZPC money are those who have aggressively promoted Israel 's hard-line policies.  Elsewhere around the world, such large scale payoffs for legislative votes would be considered blatant bribery and subject to felony prosecution­ and imprisonment for both parties.  In the US , the purchase and sale of a politician's vote is called 'lobbying' and is legal and open.  The legislative branch of the US government has come to resemble a high-price brothel or white slavers' auction – but with the lives of thousands at stake.
The ZPC has purchased the alliance of US Congress people and Senators on a massive scale:  Of 435 members of the US House of Representatives (sic), 219 have received payments from the ZPC in exchange for their votes on behalf of the state of Israel .  Corruption is even more rampant among the 100 US Senators, 94 of whom have accepted pro-Israel PAC and Super PAC money for their loyalty to Israel .  The ZPC showers money on both Republicans and Democrats, thus securing incredible (in this era of Congressional deadlock), near unanimous ('bipartisan') votes in favor of the 'Jewish State', including its war crimes, like the bombing of Gaza and Lebanon as well as the annual $3 billion dollar plus US tax-payer tribute to Tel Aviv.  At least 50 US Senators have each collected between $100 thousand and $1 million in ZPC money over the past decades .  In exchange, they have voted for over $100 billion in tribute payments to Israel … in addition to other 'services and payments'.  The members of the US Congress are cheaper:  25 legislators have received between $238,000 and $50,000, while the rest got peanuts.  Regardless of the amount, the net result is the same: Congressional member pick up their script from their Zionist mentors in the PACs, Super PACs and AIPAC and back all of Israel 's wars in the Middle East and promote US aggression on behalf of Israel .
The most outspoken and influential legislators get the biggest chunk of Zionist payola: Senator Mark Kirk (Bombs over Teheran!) tops the 'pigs at the trough' list with $925,000 in ZPC payoffs, followed by John McCain (Bombs over Damascus!) with $771,000, while Senators Mitch McConnell, Carl Levin, Robert Menendez, Richard Durban and other Zionophilic politicos are  not shy about holding out their little begging bowls when the pro-Israel PAC bagmen arrive!   Florida Congresswoman Ileana Ros-Lehtinen tops the 'House' list with $238,000 for her 100% pro-Israel record as well as for being more war-mongering than even Netanyahu!  Eric Cantor got $209,000 for championing 'wars for Israel ' with American lives while cutting Social Security payments to US seniors in order to increase military aid to Tel Aviv.  House Minority Whip Steny Hoyer, got $144,000 for 'whipping the few wobbly' Democrats back into Israel 's 'camp'.  House Majority Leader John Boehner was paid $130,000 to do the same among the Republicans.
 The ZPC has spent huge amounts to punish and destroy a dozen or so dissident legislators who had stood up to Israel 's wars and grotesque human rights record.  The ZPC has poured millions into individual campaigns, not only financing opposition candidates who pledged allegiance to the Israel but mounting scurrilous character assassinations of Israel's critics in office.  These campaigns have been mounted in the most obscure parts of the US , including in majority African-American districts, where local Zionist interests and influence are otherwise absolutely nil.
There are no comparable PACs, Super PACs, party leaders, or civic organization that can contest the power of Israel 's Fifth Column.  According to documents archived by the courageous researcher, Grant Smith of IRMEP, when it comes to Israel , the US Justice Department has adamantly refused to enforce its own federal laws requiring the prosecution of US citizens who fail to register as foreign agents while working for a foreign country – at least since 1963.  On the other hand, the ZPC, through the so-call 'Anti-Defamation League', has successfully pressured the Justice Department, the FBI and NSA to investigate and prosecute law-abiding, patriotic US citizens critical of Israel 's land grabs in Palestine and the Zionist corruptors of the US political system on behalf of their foreign master.
The corruption and degradation of US democracy is made possible by the equally compromised and corrupted 'respectable press'.  Media critic, Steve Lendman, has pointed out the direct link between Israel and the mass media in his investigation of the New York Times.  The leading ('fair and balanced') journalists reporting on Israel have strong family and political ties to that country and their articles have been little more than propaganda.  Times reporter Ethan Bronner, whose son served in the Israel Defense Forces, is a long-time apologist for the Zionist state.  Times reporter Isabel Kershner, whose 'writing' seem to come straight out of the Israeli Foreign Office, is married to Hirsh Goodman an adviser to the Netanyahu regime on 'security affairs'.  The Times bureau chief in Jerusalem, Jodi Rudoren, lives comfortably in the ancestral home of a Palestinian family dispossessed from that ancient city.
 The Times unflinching pro-Israel posture provides a political cover and justification for the corrupted US politicians as they beat the war drums for Israel .  It is no surprise that the New York Times, like the Washington Post, is deeply engaged in disparaging and denouncing the current US-Iran negotiations – and providing ample space for the one-sided rhetoric of Israeli politicians and their US mouthpieces, while studiously excluding the more rational, pro-rapprochement voices of experienced former US diplomats, war-weary military leaders and representatives of the US business and academic communities.
 To understand Congress' hostility to the nuclear negotiations with Iran and their efforts to scuttle them through the imposition of ridiculous new sanctions, it is important to get to the source of the problem, namely the statements of key Israeli politicians, who set the line of march for their US proxies.
In late October, 2013, Former Israeli Defense Intelligence Chief Amos Yadlin spoke of 'having to choose between 'the bomb' or the bombing' – a message which immediately resonated with the 52 Presidents of the Major American Jewish Organizations (Daily Alert, October 24, 2013).  On October 22, 2013, Israel 's Intelligence Minister Yuval Steinitz, called for harsh new sanctions on Iran and insisted that the US use them as leverage to demand that Iran agree to entirely abandon its peaceful nuclear energy and enrichment program.  Defense Minister Moshe Ya'alon affirmed that ' Israel will not accept any deal that allows Iran to enrich uranium'.  It is Israel 's position to threaten war (via the US ) if Iran does not submit to unconditional surrender of its nuclear program.  This defines the position of all the major pro-Israel PACs, Super PACs and AIPAC.  They in turn proceed to dictate policy to their 'lick-spittles' in the US Congress.  As a result, Congress passes even more extreme economic sanctions on Iran in order to sabotage the ongoing negotiations.
 Those who have received the biggest Zionist pay-offs from the pro-Israel PACs are the most vociferous:  Senator Mark Kirk ($925,379), author of a previous sanctions bill, demands that Iran end its entire nuclear and ballistic missile program (!) and declared that the US Senate "should immediately move forward with a new round of economic sanctions targeting all remaining Iranian government revenue and reserves" (Financial Times, 10/18/13, p. 6).  The US House of Representatives (sic) has already passed a bill sharply limiting Iran 's ability to sell its main export, oil.   Once again, the Israel- ZPC – Congressional axis seeks to impose Israel 's war agenda on the American people!  In late October 2013, Secretary of State Kerry was 'grilled' for 7 hours by Israeli Prime Minister Netanyahu with the craven Kerry promising to promote Israel 's agenda on dismantling Iran 's nuclear enrichment program.
To counter the campaign to strangle Iran 's oil economy, promoted by Israel 's flunkeys in the Congress, the Iranian government has offered generous contracts to the US and EU oil companies (Financial Times 10/29/2013, p 1).  Existing nationalist provisions are being removed.  Under the new terms, foreign companies book reserves or take equity stakes in Iranian projects.  Iran hopes to attract at least $100 billion dollars in investments over the next three years.  This stable country boasts the world's largest gas and the fourth largest oil reserves.  Because of the current US ( Israel )-imposed sanctions, production has fallen from 3.5 million barrels per day in 2011 to 2.58 million barrels per day in 2013.  The question is whether 'Big Oil', the giant US and EU companies have to power to challenge the ZPC-stranglehold over US-EU sanction policy.  So far, the ZPC has dominated this critical policy and marginalized 'Big Oil' using threats, blackmail and coercion against US policymakers.  This has effectively shut out US companies from the lucrative Iranian market.
Conclusion
As the US and the 5 other countries attempt to negotiate with Iran , they face enormous obstacles overcoming Israel 's power over the US Congress.  Over  past decades Israel 's agents have bought the loyalties of the vast majority of Congress people, training them to recognize and obey the whistles, signals and script from the war mongers in Tel Aviv.
This 'Axis of War', has inflicted enormous damage on the world resulting in the deaths of millions of victims of US wars in the Middle East, Southwest Asia and North Africa .  The gross corruption and widely recognized bankruptcy of the US legislative system is due to its slavish submission to a foreign power.  What remains in Washington is a debased vassal state despised by its own citizens.  If the ZPC controlled Congress succeeds once again in destroying the negotiations between the US and Iran via new war-like resolutions, we, the American people, will have to pay an enormous price in lives and treasure.
 The time to act is now.  It is time to stand up and expose the role played by the Israeli PACs, Super PACs and the 52 Major American Jewish Organization in corrupting Congress and turning "our" elected representatives into flunkeys for Israel's wars.  There has been a deafening silence from our noted critics –few alternative media critics have attacked Israel 's power over the US Congress.  The evidence is openly available, the crimes are undeniable.  The American people need real political leaders with the courage to root out the corrupted and corruptors and force their elected members in the House and Senate to represent the interest of the American people.
Source: Prof. James Petras  |  Global Research
No doubt you have heard about the War on Drugs, the War on Terror and the War on Happiness. However, you may not be familiar with the War on God, possibly because it would be an unpopular war to discuss publicly. By the "War on God" (definition) we mean the collection of strategies, methods and techniques which have the combined effect of preventing or seriously hampering the efforts of individuals to seek or achieve legitimate Spiritual enlightenment and the Soul's eventual return to God.
The War on God is an ancient war. While the United States and other countries play an active role in this war today, they definitely did not initiate the war. If you want to use the Christian bible as a reference, you could argue that the War on God began shortly after man was created and rejected God in favor of Satan. Clearly, in some form, the War on God has existed throughout human history.
Today, the United States has effectively broken off diplomatic relations with God. The oligarchs who run the country never physically die and so their souls stay on Earth. Apparently, the United States actually believes that its technology, occult knowledge and black magic skills place it in a position which is superior to God.
We know from whistleblowers like David Morehouse that the United States sponsors and trains a cult of psychics to carry out psychic espionage (remote viewing) and also assassinations using psychic black magic techniques. According to clips of his various interviews on YouTube, it was the training in psychic assassinations which caused Morehouse to become disillusioned, quit the secret program and blow the whistle on the operation. Other countries may well operate similar programs but the details will remain unknown until someone defects and exposes them.
The leaders of the United States have always worshiped Satan. The United States was founded by a cult of Satanists known as the Masons and remains under control of that cult today. By rebranding their cult as a nation state, the cult created the appearance of legitimacy. Cult secrets simply transitioned to state secrets. Cult threats to kill anyone telling their secrets transitioned to the crimes of treason and espionage.
Nothing really changed except for the rebranding from a cult to a government. Today, essentially all members of the CIA, NSA and NASA are Masons. All US presidents have been Masons with the two exceptions of Abraham Lincoln and John Kennedy who were both assassinated.
The term "national security" refers to the security of the cult and not to the security of the general population. The Masonic motto is "If you are not one of us, you are nothing". The cult exists only to enrich itself.
The Masons study and practice the occult. Serious study begins after they take a formal oath of allegiance to Satan at the 30th degree initiation. Basic occult knowledge is neutral and everyone who advances Spiritually learns it. However, Masons seek this knowledge to gain power and control over others as opposed to knowledge for personal advancement. This choice, commonly called the Left Hand Path, places them in opposition to the will of God.
If the Satanists simply wanted to sell their Souls to Satan and mind their own business, one could argue that they had that right because they had free choice. However, the situation is not that simple. The Satanic oligarchs did freely choose to worship Satan. However, they also desire a comfortable life. They don't want to do any "grunt" work. Therefore, they have enslaved the remainder of humanity and are holding their Souls prisoner on this planet to service their needs. Therefore, if you, as an innocent Soul, ever plan to escape from this place and return to God, it is in your interest to investigate and gain an understanding of this war so that you will have an opportunity to Spiritually evolve. Otherwise, your Soul will remain a prisoner here — lifetime after lifetime — serving the Satanic overlords essentially forever.
Earth Based Religions
The phrase Earth Based Religions (definition) refers to religious schools which seek and use knowledge, including occult knowledge, to enhance their experiences during their human lifetimes as opposed to using the same knowledge to foster Spiritual development with the ultimate goal of achieving a stable non-physical Spiritual existence.
Although Pagan religions are usually grouped into this category, a more careful examination would reveal that essentially all mainstream religions are Earth based religions. Mainstream religions make constant references to God and Heaven but never explain exactly what they are talking about. Their books concentrate on historical narratives concerning how people in the past lived and coped with the basic problems of human physical existence. They never give details of any level of Spiritual existence or even any specific hints about what life beyond death will be.
Let's try an example. Suppose you have never seen a motor vehicle. You have heard vague stories that they exist, but that is all. Then, suddenly, you find yourself behind the wheel of a car on a high speed road like the US interstate system or the A roads in Britain. What would you guess would be your chance of survival? Try less than zero.
Now suppose you physically die. Suddenly, you find yourself in your Astral body. However, no one ever told you that you have an Astral body. It does not operate under the same rules as a physical body does. It is a very pliant and nimble body. It can travel in time to the past or future, access any plane and subplane in the Astral universe and research the absolute accurate and incorruptible records system known as the Akashic Records to name just a few. But, as in the previous example, you never learned how to "drive" it.
You would have done fine on the highway if you had gradually learned to drive a motor vehicle. You would do fine after death if you had some experience and training with your Astral body. However, no one ever taught you. What practical use is any religion that constantly rants about Heaven but offers no practical advice about your life after this life?
This information may have been a guarded secret in the past, but those days are gone. You can research this information to your heart's content on the internet, locate legitimate Spiritual groups and learn from those who can leave their physical body and explore the non-physical dimensions. But, don't expect any help from a mainstream church.
You might do well to recall the famous quote attributed to Jesus, "The truth will set you free". Mainstream churches are large, rich institutions. They did not get that way by "setting people free". They got that way by terrifying their followers with ridiculous horror stories of what will happen to them if they do not obey their crazy doctrines, stay with them and give them all their money.
Gnostic and other "non-traditional" religions may be Spiritual based as opposed to Earth based. Jesus always reminded everyone that he represented a kingdom "not of this world". If we had accurate records of his true lectures we would no doubt find practical instructions and information about this "other world". We don't have this information because any practical Spiritual teachings he might have given were censored out to create the simplified — but Spiritually sterile — mainstream religions we have today. They are simple to comprehend and follow but will not lead you anywhere except another physical lifetime somewhere on Earth.
Life Before Technology
Before technology life was simple. Although existence was hard, the opportunity for Spiritual experiences was greater than today. Consider, for example, all the empty time you would have as, say, a sheep herder. Nothing to do except make sure the sheep kept moving. In this situation, there was ample opportunity for the mind to wander and perhaps contemplate and glimpse other realities.
Also, and perhaps most important, no electric grid existed on the planet. Electric fields appear as solid "matter" in the Astral dimension and so can affect Astral experiences — generally in a negative way. Artificially created electromagnetic waves which blanket the planet today also have subtle and generally negative effects on living creatures.
Pagan groups generally conduct occult rituals outdoors and away from high population areas. When buildings are used, it is desirable that they be made only of wood and assembled without any metal (nails) and, of course, have no electrical wires.
Both good and evil existed before technology as they always have. It was possible to use psychological propaganda to influence and control susceptible masses of people. However, the positive and negative forces were more in balance. It was not possible for a single group to successfully dominate the planet.
Drugs existed in the form of various plants. Adepts learned how to use them to help or harm others. People with developed psychic abilities existed as they always have and white and black occult schools existed. Legitimate Spiritual masters existed.
Some techniques that thrived have essentially become extinct because the population of the planet has devolved. It is next to impossible to successfully teach Tantra (sex yoga), because today's generation is incapable of the required level of self control. Classic Tibetan yoga techniques are still taught in isolated areas, but the masters — for good reason — will no longer consider trusting outsiders.
Information Control Techniques
Information control is essential for protecting the integrity of a compartment. People are held as slaves by constructing an information box which holds the slaves in an information prison. As long as the "walls" of the compartment remain impenetrable, the compartment — or belief system — will be stable and no slave will escape.
Considerable energy is required to achieve this. Those assigned to protect the walls obviously know that the compartment is an intellectual illusion. Therefore, they must be sworn to secrecy and intimidated in such a way that they will not compromise the integrity of the compartment. It only takes one "leak" to initiate a chain of events which could collapse the compartment and so allow the slaves to escape.
Consider, for example, the Snowden leaks. One person sharing knowledge has totally destroyed the illusion of privacy that most people had accepted as fact. It will not be possible to reconstruct this illusion. The compartment has collapsed.
Similar principles apply in the Spiritual spectrum. Because of the characteristics of the human bodies in use on this planet, most people do not retain any conscious memory of events before they were born. This is not universally true. Life forms on many other planets retain the memories of previous existences. Because humans generally do not have this recall, they are easily enslaved and can be conditioned to believe most anything.
To maintain a state of Spiritual ignorance it is important to institute methods which will prevent people from realizing that they are actually Souls experiencing a constructed illusion. People somehow reaching this state, sometimes referred to as "self realization", will no longer respond to establishment propaganda and are generally considered a threat to the current social order.
The easiest and most direct method to achieve a stable slave population is simply not to talk about anything even vaguely esoteric. For example, how often have you heard the words astral, chakra or aura mentioned on a mainstream TV channel?
Most people will then likely "remain asleep" throughout their entire lifetime and will be no problem. Unfortunately, people have a natural desire — even though it may be an unconscious desire — to Spiritually evolve. It is, after all, the true purpose of human existence.
When someone tries to break away from the contrived illusions more direct methods are needed to return the slave to a state of ignorance. Today, various methods which cause brain damage — generally performed by psychiatrists — are used to negate any success in Spiritual evolution and return the slave to a state of vacant contentment.
Diversions and Techniques Promoting Inaction
The simplest and most effective diversionary technique is to promote scientific atheismand darwinian evolutionary philosophy as established fact. If you can get someone to buy into this philosophy, their fate is sealed. Even if they experience some contact with another dimension, such as an out-of-body experience, they will follow their programming, dismiss the experience as a delusion and refuse to investigate further. When they die, they will be totally lost and confused, flounder around on some lower Astral plane and eventually reincarnate just as Spiritually ignorant as before.
A side effect of accepting scientific atheism, which totally cripples Spiritual progress, is the acceptance of suicide as a way out of life's problems. Suicide becomes a learned reaction. Consequently, when the Soul is sent back into another physical lifetime, it is likely to commit suicide again when faced with some unpleasant event. It never learns, and this cycle can repeat essentially indefinitely. Dealing with this is one of the most difficult problems faced by the administrators who work on the Astral planes.
For those who want more than scientific atheism, there is mainstream garden variety religion. Mainstream Christianity has developed a clever stonewalling technique that has worked to promote inaction for thousands of years. This technique is centered upon the argument that no one can make any progress until Jesus returns to show the way. In the meantime, people should just do nothing and wait. The effect of this is essentially the same as scientific atheism. No Spiritual progress is made.
Schemes designed to waste time are common. One really off the wall example is the decision in Syria to prohibit vacuum cleaners and standard flat brooms in homes. "Witch type" brooms consisting of a circular straw bundle are allowed. Surely there must be a good reason to keep these terrorist weapons out of the reach of the typical Syrian housewife. The official reason is to make basic housework as difficult and time consuming as possible so as to prevent the woman from having any free idle time which, if allowed, could lead to the emergence of "immoral thoughts". Perfectly logical!
In the western world, complex bureaucracies seem to be deliberately designed to make the path to whatever you want as difficult as possible. Here the apparent motive is to prevent the acquisition of enough free time for any independent thought process. There are just not enough hours in a day to allow for any quiet contemplation of anything.
"Blank time" is always reported as a factor in the development of Spiritual figures. Time alone in the wilderness, time spent meditating alone in some isolated cave or at least periods of dedicated quiet time somewhere figure prominently in historical accounts of these people.
You may know or have heard of kids who spend all their waking hours playing interactive role model video games with other kids on the internet. They eat meals by the computer and never leave except to briefly sleep before returning to the all important game. Their entire life is spent in an imaginary reality. You may want to consider that your "real" life may not be all that different. You play a role. Your attributes are fixed by what society expects based upon that role. You can't change, because others would notice. Your concept of the world beyond your little world is determined by what you see on TV. Daily, you receive your "fix" of carefully choreographed "programming" which appears unusually coherent because, as you may not know or fully comprehend, everything on TV is controlled by a few corporations and all of them are loyal to the official government party line. If you somehow had the opportunity to break from this structured "game" you play from day to day — say, the opportunity to visit other countries and see other cultures — you would likely realize that your existence has not been that much different from the kid addicted to a computer game. You would find that the actual "real" world had very little relationship to the world you had been conditioned to believe existed.
Chemical Control Techniques
"With the use of chemical brain-control agents it may be possible to control the individual and the masses and to do this unobtrusively and without the active cooperation of the victims — not a question for the future — it is here".
This is a quote from the book by Edgar Cayce titled Edgar Cayce on Atlantis. There are references to Dr. Robert Galbraith Heath, and this book bears a copyright date of 1968. The book cites an interview that Heath gave to a newspaper called The Virginia Lighthouse and cites the above statement made by him on November 20, 1966. Heath founded the Department of Psychiatry and Neurology at Tulane University, New Orleans, in 1949 and remained its Chairman until 1980.
During this period, Tulane University actively participated in the CIA mind control project known as MK Ultra [1]. Also, during this period, Tulane became an active member of the secret Institute for Defense Analyses, or IDA, a corporation whose only client is the US government. Heath reportedly performed many experiments there involving electrical stimulation of the brain via surgically implanted electrodes. This work was reportedly partially financed by the CIA and the US military. Heath is now "officially" [11] deceased.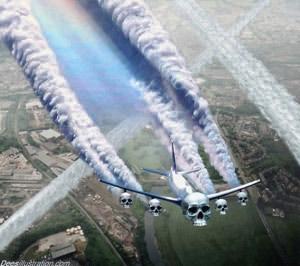 You have been drugged since you were conceived — before you were even born. Your mother was drugged. Soon after birth, you were injected with mercury containing vaccines. And the systematic process of poisoning you never stopped.
By some estimates at least eighty percent of the food in the average supermarket is poison either because it is genetically modified or laced with pesticides and other additives. Even the air is poison now because of geoengineering chemicals sprayed into the upper atmosphere.
It should be noted that things are different in the separate but parallel world of the elite. The Max Keiser show [12] discussed the secret gardens in Japan. These gardens are surrounded by high walls and guarded by the military. They produce the food for the ruling elite. Every plant in the garden has its own health certificate certifying that is pure, healthy and not genetically modified. Obviously, every developed country must have a similar secret supply chain of legitimate food for its ruling class. Certainly the elite know better than anyone that the food supply for the ordinary people is poison. They're not fools. They wouldn't touch the stuff.
Vaccines used for the elite are prepared without the mercury and other toxic additives found in vaccines given to the ordinary people.
Various agents — mainly from plants — have always existed which could be used by those aware of them to harm others or control people by altering their state of consciousness. However, only recently has it become practical to wreck the health of essentially everyone on the planet at the same time. Genetic modification of plants and other life forms used for food has made this possible. Now, quietly, people throughout the world can be sterilized, crippled with serious health problems or even killed by altering the genetic makeup of the food supply. Ordinary people remain generally ignorant of the fact that this awesome power exists and is presently being used against them.
Mind control has become a science. You can't major in it in college because this science is essentially entirely secret. The United States and other countries have spent the equivalent of billions of US dollars investigating and perfecting mind control.
Many secret research projects using unsuspecting or perhaps kidnapped people — some of whom were killed — have been conducted in the past and continue today. We only know about a very few of these projects such as MK Ultra, MK Naomi and Project Other. Even in these projects, specific details are sketchy. From these experiments, practical techniques for creating manchurian candidates and implanting created false personalities and identities have been developed and are in common use today within the secret communities.
Everyone has likely been the victim of some degree of mind control to some extent. Chemical weapons designed to mentally cripple people and render them drooling idiots are freely sold as prescription drugs in drugstores and are available to doctors to use as they please.
The lives of many kids are destroyed by these "drugs" because they have no ability to resist and their parents are ignorant and believe doctors can "do no harm". Actually, today's doctors are agents of the state. Many have top secret clearances and embrace classic Nazi philosophies such as eugenics. Their function is to watch you and make sure you "die appropriately" so as not to burden society. Anything they learn about you and anything you tell them is freely available to anyone in the intelligence community who is curious about you.
Only members of the super elite who are entitled to access top secret medicine will receive legitimate supportive medical care. Ordinary people will be deliberately allowed to die even though doctors with top secret clearances know of effective treatments which would cure them but which are classified and reserved for the chosen elite.
There is no such thing as an incurable disease any more. All the cures have been discovered. If you die, it is because you are not considered important enough to live and not because the cure does not exist.
Common sense should suggest to you that the lives of the elite have statistically different characteristics. For example, members of congress do not live sheltered lives. They work in close quarters and travel extensively both locally and internationally. They are always hanging out with prostitutes as well as playing with the young congressional pages.
Washington D.C. is reported to have more brothels than fast food joints. Strangely, however, these people do not get sick. Have you ever heard that congress had to shut down because everyone was coming down with some infection. It happens in other close populations, so what would make them exempt?
Understanding Astral Damage
Living things have an Astral component. For example, when you cut a leaf and then see the complete leaf on a Kirlian photo you are viewing the Astral component which was unaffected by cutting the physical component because it does not exist in the physical dimension.
Over one hundred years ago, practical techniques for viewing the human Aura were developed by Walter J. Kilner [4]. The original technique used dicyanin dye and a later technique used special glasses. You can't find either one today. In his research, Kilner was able to demonstrate that defects in the human Aura appeared before some corresponding disease manifested in the physical body.
Therefore, he was able to detect and prevent an adverse physical condition before it ever physically materialized. So, you ask, why don't we have this marvelous medical technique available today? Well, we do. It is in use in top secret medicine. However, only the approved elite now have access to it. The information has been removed from public knowledge and classified.
In conventional allopathic medicine, which is based upon scientific atheism and sold to the general public, there is officially no such thing as an Astral body. Conventional medicine denies the existence of anything beyond the physical dimension. Since the Astral body officially does not exist, it is not recognized as a crime to deliberately harm it.
Damage to the Astral body can be compared to damage to the physical body. If you punch holes in the physical body by cutting it, shooting bullets at it or whatever, blood runs out and germs get in. If you cause enough damage, the body dies. Astral bodies do not die, but can suffer critical energy losses. Similar to physical bodies, punching holes in the Astral body allows essential energy to escape and harmful energies to enter.
There are many events which can harm your Astral body. It is in your interest to understand these events because your Astral body will be your primary body when your physical body dies. If it has been damaged, you will be at a severe disadvantage. The chosen elite have perfect Auras because they can use the Aura balancing machines available to them at any top secret medicine provider. However, you cannot.
Also, the ruling elite seem to take some delight in causing harm to the "ordinary" people. Consequently, many drugs, food additives, GMO foods and industrial chemicals found in the environment cause Astral damage. Chemicals recognized as poisons and banned in other countries can be freely added to foods given to ordinary people in the US.
Obviously, there must exist a secret supply chain of safe food and water which is available to the chosen since they know of the contamination and certainly would not want to harm themselves or their friends.
There are ways to closely duplicate the secret techniques available only to the elite. If you can see auras or can find a reputable psychic who can, you can approximate the techniques developed by Kilner and available to everyone over a hundred years ago. Although the secret aura balancing machines are more accurate, a competent psychic healer can do the same thing. Actually, since psychics have always existed, similar techniques have been available throughout the ages to those who were aware.
Fluoride
The concept of adding fluoride to drinking water for the purpose of mind control is said to have originated in the 1930′s as a result of collaboration between German and Russian scientists [2]. Sodium fluoride was originally used and was found to cause a "mild lobotomy" in people who consumed small quantities. The effects were considered to be non reversible after one year of continuous use of the tainted water. Hitler added sodium fluoride to the water in his concentration camps to make the prisoners docile and cooperative as they waited for death.
Sodium fluoride (NaF) is used today in personal products like toothpaste. To poison the water supply of an entire country with sodium fluoride would be expensive. However, it just so happens that there is a waste product created during the manufacture of phosphate fertilizers, Fluorosilicic acid (H2SiF6), which is classified as hazardous waste and would be expensive to dispose of under EPA guidelines.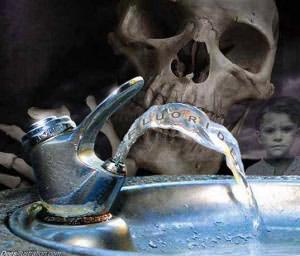 There is lots of this stuff available. This is the poison added to the public water supply in the US and some other countries. It is actually economical for industry because they don't have to pay for hazardous waste disposal. They just pump it into the public water supply.
In the human body, fluoride has an affinity for the pineal gland in the brain. The pineal gland is associated with the "third eye". Everyone has this third eye, but few are aware of it or know how to activate and use it.
Although the pineal gland is part of the physical body, the associated third eye is part of the Astral body and so is invisible in the physical dimension. The third eye allows you to see and communicate with the non-physical dimensions while fully awake and functioning in the physical dimension. So, you could see and carry on a conversation with someone in the physical dimension while invisibly also viewing and communicating with some entity on another plane of existence.
The standard Christian bible refers to the third eye with the phrase, "If thy eye be single thy whole body will be filled with light". However, only students of mysticism would recognize the true meaning of this quote.
Obviously, having this ability would be a threat to the security of any totalitarian society. Poisoning with fluoride destroys this ability and so solves that problem. Literature is available if you wish more detailed information. Simply search using the phrase "fluoride third eye".
On the chance that fluoride in the water is not sufficient to destroy any psychic abilities you may have, there are more aggressive ways to get fluoride into your brain. Here are some structural models of popular psychiatric drugs:
Notice that the element Fluorine (symbolized by its standard chemical symbol "F") figures prominently in all these compounds.
These drugs are used to cause "chemical lobotomy". By blocking communication channels with the higher levels of the human brain, they effectively convert the victim into a lower form of animal. Lower animals do not have the frontal lobes possessed by humans. That is what makes humans special. Disabling the frontal lobes effectively transforms a natural human being into, basically, a docile and obedient house pet which can be trained like a dog.
Incidentally, Fluorine also figures prominently in Sarin nerve gas.
For a more in depth study search YouTube for the free documentary Flouridegate — An American Tragedy by David Kennedy.
They All Drink From the Same Trough
If you casually look out upon the institutions of the world, it may appear to you that they are independent, discrete entities. However, they are not. They are all components of a collective which has successfully hidden its existence and true nature from the general population for generations.
Let's begin with the media in the US. Although it may appear to you that there are thousands of independent sources reporting "news", 90% of all media is controlled by six corporations. They are General Electric, News-Corp, Disney, Viacom, Time-Warner and CBS.
In the US, people believe they are protected from tyranny by the concept of "separation of powers" — that the executive, legislative and judicial branches of government are staffed by independent thinkers who "check and balance" each other. This is also a deception.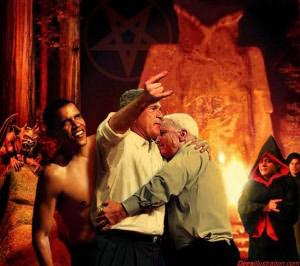 Once a year, at the end of July, there is a secret gathering on private property in the redwood forest of California called the Bohemian Grove. Although this annual meeting has been going on for over one hundred years, it is only during the last several years that outsiders have begun to learn of its existence. The only reason they have is because of the internet and independent journalism. Leaders from the mainstream media are all members of this secret club and so never even report its existence.
Who else goes to this annual secret "party"? Well, for want of a better name, we will call them the "Trusted Satanists". They are the leaders of all the major corporations, banks and representatives from all the major branches of the US government as well as foreign governments.
Although these men outwardly support the concept of capitalism for the masses, this elite group, among themselves, are perhaps best described as "rich socialists". Only men are allowed. For recreation, a stable of prostitutes — both male and female — are kept nearby off-site. The male prostitutes could theoretically enter the Grove.
The "party" begins with a Satanic ritual called "Cremation of Care" (i.e., "we don't care") which features the burning of a coffin at the base of a huge statue of an owl. Walter Cronkite reportedly was the official announcer at the grove until his death.
A secretly filmed video of this event is available on YouTube. It is supposed to be a "simulated" child sacrifice. However, since the CIA, FBI and NSA attend the ritual, who is going to complain on the chance it is a real sacrifice of a human child? After all, they are all trusted Satanists.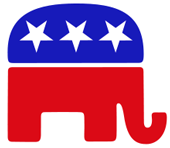 Most attendees from the United States are members of the Republican party. This is completely predictable in view of the fact that the US Republican party flaunts its affiliation with the "dark side" by prominently using the inverted star symbol on its official logo.
During the two week period, corporate leaders, the "independent" government regulators who supposedly keep corporations honest, the leaders from the executive, legislative and judicial branches of US government who are supposed to be "checking and balancing" each other, as well as the media moguls who we "trust" to report the truth, are all running around naked in the woods — pissing on the trees, playing with each other, and the male prostitutes as well as the off-site female prostitutes, and "having discussions".
Well, what are they "having discussions" about? They are discussing what they plan to do with "their world". The Manhattan Project to develop the first atomic bomb was reportedly planned at one of these discussions years ago. What about you? What about your future? What about any expectation of happiness you may have? Well, you see, you "don't need to know". Remember, "If you are not one of us, you are nothing".
Blueprints For the New World
Overview
If this link [7] is still active, it would be in your interest to read through it. This document is a transcript of a speech given by one of the insiders in the year 1969. He boldly states,"Everything is in place and no one can stop us now".
The article details how people ("people" means the slave class who are "nothing"; recall: "If you are not one of us, you are nothing") will just have to get used to changes such needing permission to have children, accepting mandated euthanasia as the law and total surveillance. Essentially all goals are now achieved, although some still remain guarded secrets.
The 1960′s was the period when physical death was eliminated. Of course, this "privilege" is only available to the select Satanic oligarchs. Effective cures for all diseases were also developed. The speaker [7] states that the cures are on file in the Rockefeller Institute. Of course, most are classified and only available to the chosen elite.
Infrastructure
The PBS documentary, Top Secret America [8], presents a good overview of the secret world of the elite. You may think no one is paying attention to the infrastructure in America because streets are in disrepair and bridges are falling down. However, you would be wrong. A tremendous amount of money is being spent on infrastructure in America — for the chosen elite. You will never see it and you will have no need for the decaying bridges and streets because you won't be around to use them. You, as well as 90+ percent of the current population, will be killed in the "Great Culling".
The new infrastructure is quite elaborate as the documentary explains. It consists of thousands of buildings which have a few stories visible above ground but which then extend for 90+ stories underground. All amenities are available within these secret structures which are basically self-sufficient.
It is important for the buildings to reach deep underground so that the lower levels can connect to the secret underground transport network. This network is global and provides safe high speed transport for the elite. Whenever the network crosses a tectonic plate, massive amounts of silicone are used to allow the transport tunnel to flex as needed. The network has access points in all countries. However, these points remain secret in countries which have yet to be subdued and co-opted into the new world order.
NWO Enabling Documents
The treaty known as the Trans-Pacific Partnership appears to be the formal enabling document for the new world. The actual document is secret and only high level corporate executives and politicians are allowed to see it.
Even after the treaty goes into force, its contents will remain secret. Because, in the United States, treaties must be openly debated in congress, the treaty is being called an "agreement" to circumvent the law and keep its contents secret. However, some details have become known.
Although the planet is officially divided into "sovereign" countries, it is overlaid with a network of transnational corporations. This network basically forms a parallel government which encircles the globe. The Trans-Pacific Partnership is designed to cause any country which signs on to surrender its national sovereignty to a secret committee composed of corporate executives. This committee can then alter the constitution and laws of any country which has accepted the treaty as suits their whim. There will be no appeal against this.
Under the treaty, there will be only one purpose to human life. That purpose will be to maximize the profits of the cabal of transnational corporations which will now be essentially a single global corporation in absolute control of the world. This effectively institutionalizes the new world order.
What does this mean for you? Well, to begin with, there can be no retirement. Paying for retirement would negatively impact corporate profits. So, if you can't work, you will be killed. Taking care of sick people would also drain corporate profits. It would be more profitable just to kill the sick and replace them with young, healthy slaves. Disabilities — forget it — disabled kids will never make it out of the womb alive.
Reeducation
To come into compliance with the philosophy of the new world, people will need to be reeducated. Military instruction documents [6] are already teaching that the Founding Fathers of the United States were extremists and anyone who thinks like them would not be suited for today's military.
Well, what did these radical extremists think?
"We hold these truths to be self-evident, that all men are created equal, that they are endowed by their Creator with certain unalienable Rights, that among these are Life, Liberty and the pursuit of Happiness."
Obviously, these principles are not compatible with the new world. The idea of a "Creator" conflicts with the official doctrine of Evolution. We can't have that. People must accept that they and the universe they live in is simply an "accident".
People are already realizing that Liberty and Happiness are gone. They know now that they live under constant surveillance and their lives get worse year after year. How about the right to Life? Can't have that. People need to be reeducated to believe that it is their "duty to die" when they are no longer useful to the state (which is now the global corporation).
Of course, the global elite will live physically forever but ordinary people will not know this.
If a world where people are conditioned to want to die and do not want kids but just sleep around for fun sounds vaguely familiar to you, you might recall that this is the future society described in Huxley's classic novel, Brave New World.
Population Modification
Please refer to [9] as a reference source. Today's "great thinkers" seem to be coming into agreement that most people are unnecessary and need to be exterminated for the convenience of the elite. Bill Gates, who has now been accepted into the super exclusive Bilderberg group, has reportedly taken the task of exterminating the third world population by giving them "free" vaccinations which will render them sterile.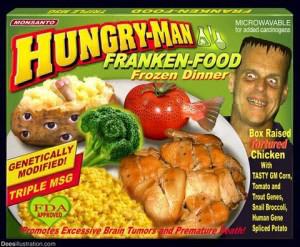 Lots of groups are working on secret sterilization methods. European tests of Monsanto's GM soybeans on hamsters showed the animals became sterile by the third generation [12]. A new gene known as Epicyte [9] is planned to be added to GM corn which will cause immediate sterilization.
Additionally, people are being "eased into" accepting the concept of "after birth abortion". Intellectuals are trying to get people to accept the argument that living human children under three or perhaps even five years old are really "not people but advanced feotuses". Since abortion is already legal, a simple change in the definition of "feotus" would allow young kids to be killed at will for any reason.
Another "new thought" gradually being programmed into the young is the pleasure of the "childless lifestyle". This propaganda seeks to convince people that having kids is too much trouble and they will be happier if they just get sterilized and then run around having lots of sex purely for fun.
These "evolutionary" population control techniques are already in effect. However, the elite likely are not willing to wait several generations to get rid of those they do not need. This brings us to the more direct method commonly called "The Great Culling" which will allow the elite to kill off most of the world's population quickly.
The most likely method will be the release of new designer viruses for which no one will have any natural immunity. Of course, the elite will all get the classified antidote. Preparations for the disposal of the bodies is already complete and stockpiles of plastic coffins — each designed to hold three bodies and manufactured under government contract by Halliburton — have been photographed and documented. Everything is now in place awaiting the "go" command.
Designer Children
Some types of designer children have already been approved for "production". Britain has approved three parent babies [10] and China has proposed a process to artificially fertilize most of a woman's eggs and then examine them to determine which is likely to produce a child with the highest IQ. This will be the only selected egg because Chinese women are only allowed to have one child and must then be sterilized.
In the new world where the only purpose of people will be to do slave labor to serve the elite corporate masters, the concept of allowing the existence of children conceived naturally clearly cannot be allowed. There would be an unexceptable chance for some kind of error that could result, for example, in the creation of a being capable of independent thought who might challenge the establishment.
A man's true worth is measured by the amount of other people's happiness that he can possess and destroy
This is a quote from the docudrama The American Ruling Class [5]. It is worthy of discussion because it is so prophetic.
The Satanic oligarchs who run this world basically exist and thrive on the misery of others. It is not enough just to use and abuse you — they want to consume your Soul. Your misery and suffering is, essentially, their "food". It is the source of their energy.
Ordinary innocent Souls are sustained by the life energy which flows from the Creator. However, since the oligarchs hate God, this energy flow is not available to them. So, they essentially survive by consuming the life energy of the innocent Souls they have captured and enslaved.
Ordinary people do not naturally choose to spend their lives in a state of constant war. They have to be somehow coerced into this behavior. Otherwise, they would likely seek a quiet, peaceful life. The atrocities the US and other warmonger nations force their citizens to commit are so contrary to basic human nature that the US loses more soldiers to suicide than it does to the enemy. The once innocent soldiers find that they simply cannot continue to live with what they have become and the memories of the horrors they have caused to others. The Satanic rulers who create wars, of course, have no problem with this.
Promotions within the inner circles of power are based upon how much evil one has done. The more harm you cause to others the greater your respect. You may have noticed that the stock market, which is a measure of the success of the elite, shows gains during periods when the average person is suffering and losses during periods when, somehow, life for the ordinary person seems to improve. The stock market set a new all time high, for example, during the Vietnam War when innocent young kids were being drafted and slaughtered in Vietnam while peaceful protesters at Penn State were executed by government forces for daring to dissent.
Why You Should Care
On the low Astral planes you will find people — Souls — who are totally lost and confused and seem to move in slow motion. They do not realize they have died. These "people" are not there because they tore up the Bible or burned the Koran or some other offensive act. They are there simply because it is the best they can do. They are using all of the Spiritual energy they have just to maintain this miserable existence. Whatever activities they engaged in while alive had no Spiritual merit and had no effect on developing or increasing their Spiritual energy level. Since the opportunity to do this ended when they died, they will remain strung out in this condition until they reincarnate again at which point they will have another chance to choose activities which enhance Spiritual energies.
You should care because the things you do and the things you fail to do during your brief life here will affect your existence for millions of years in the future.
The other dimensions operate under exact scientific rules just like this dimension. However, the rules are not the same. Because alternate sources of information are available today — mainly because of the internet — it is in your interest to at least investigate the available literature on Spirituality, energy raising techniques and various first-hand reports from people who have successfully visited the neighboring dimensions.
Source:  Walter C. Vetsch   |   3108.info  |  War Is Crime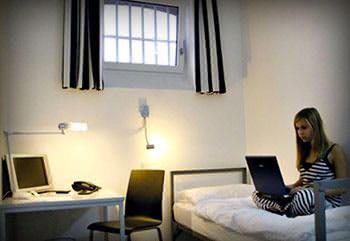 The most precious gift given to humanity besides its very existence and innate connectivity to universal Source is the gift of free will. We can choose. We ultimately have the power to make decisions for ourselves. Unfortunately this concept is buried under the rubble of ignorance and social engineering and of course becomes a very complex matter as life's input and experiences complicate our entire decision-making process.
And freedom and free will? They're generally relegated to philosophical treatises and ideological tugs of war in the political arena. Nicely sectored off to where they can't touch our consciousness and every day living.
Many argue that in today's circumstance we are not free to make our own decisions, that in effect we often don't even have free will as evidenced by history. This strikes at the root of the problem. Disempowerment via thinking we need permission versus knowledge of our inborn nature of pure freedom. It may appear that it's been deprived at times. Free will seems to be often negated or seriously limited under certain circumstances, either by choice, coercion or collusion.
But is it really, no matter how draconian? After all, much of humanity seems to not even know that it is inherently free, never mind does it appear to even want to fully exercise such a sense of inborn freedom.
The Majesty of Choice
We are crowned with the ultimate gift: a completely autonomous conscious will. We can choose what we say, what we do, what we respond to, what we give our attention and energy to. Again, it may not appear so with the way society is structured and judging by the very bound condition and behavior of mankind. While the idea of freedom still distantly rings in the hearts of men, it has taken on many severely compromised meanings. On purpose.
In addition, for some reason it appears we've given up our freedom to varying degrees in exchange for something. But in exchange for what? Security? Acceptance? Ease?
It sure appears that way. But how did this come about? And who said we had to trade anything? Was it a deliberately designed trade off to keep humanity in servitude with an illusion of choice? Looking at the contrived and extremely controlling political and economic structure of our planet's various societies and the miserable state of most of its inhabitants, it's clear something is seriously wrong. Especially with a clearly ruthless ruling class of uber-privileged riding the backs of the oppressed who are the ones producing the goods.
Throw Off the Shackles
Is our lost sense of true unshakable spiritual freedom exactly that which would empower humanity to throw off the shackles of a system built on carefully manipulated voluntary slavery? Is this what the war on the human body, mind and spirit is all about? To block our remembrance?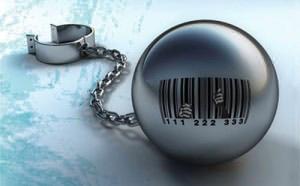 When someone has come to an awakening of true consciousness, or should I say to consciousness since it in itself was never asleep, something profound happens. And continues to unfold. We tap into Source — unadulterated, unfiltered, unlimited, infinite creative Source, or whatever you want to call It. This is where the spiritual and the metaphysical meet the mental and psychological, where true science and knowledge meet the great synchronous Universal life force.
It's all essentially One. The compartments are gone. There are no divisions in the essential Oneness and everything makes sense. And it's because you inherently let go into an experiential perspective where you realize it's not important to know everything or be anything. You just are and everything is wonderful at that level. A great clarity comes over you.
Of course there are differences in manifestations and there are apparent conflicts on many levels brought on by a variety of influences, but in the context of freedom this is where you find its true reality and definition. The sovereignty of spirit that is the inherent right of everything. And man does it blow away any and all man-made structures of any sort in a hurry!
The False Game of False Choice
Herein lies one of mankind's dominators' most effective tools for manipulation. This understanding was documented over the past and previous century, realizing people work harder and better and are more complacent if they feel they have a say so about their captivity. It's quite remarkable. We're still a feudal society, they just figured out how to make us build our own prisons while thinking we're free.
Besides the most obvious example of phony democracy and the easily manipulated voting scheme, glaring assumptions are deliberately embedded into society via religion, false science, hobbling education, social pressure, the media, etc. We're handed platitudes about hope, change and security while the media pumps amusement, materialism, fashion and other forms of acceptance conditioning to keep the populace totally preoccupied with a comatose state of self indulgence.
And as for capitalism (which all forms of government espouse) that's the end goal. Your personal satisfaction, at whatever cost to others who weren't as savvy as you in learning to get what they want.
Fear — The Enemy of Freedom
Why do people cling to corrupt, limiting systems even to their own hurt? Fear of the unknown is very powerful, especially amongst the ignorant. Just fear of not having your next meal can trap you. Fear of being without, fear of being alone, fear of being attacked, fear of dying.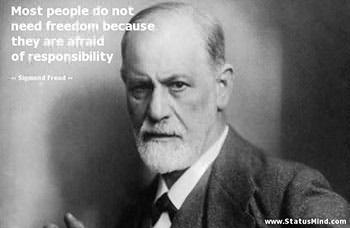 All extremely powerful.
And afraid people will not make conscious decisions, but survival instinct based decisions. Of course there's a time for that as in the fight or flight response to a very real attack from something, but this response can be very easily triggered just by words and bury any chance of conscious living.
Maslow's hierarchy of needs is a concept that's always fascinated me. There's so much truth in the idea that if your basic needs aren't met first, how can you think about the more erudite and spiritual notions of our existence? Well, easily. It was a way of life for indigenous cultures for millennia. It was incorporated, and without which the culture based on spiritual connectivity would have collapsed. This is why indigenous peoples have been marked for genocide by these parasitic controllers.
They represent living wisdom. The knowledge of how things naturally work using conscious awareness and the underlying principles of love, sharing, giving and cooperation. Diametrically opposed to the abusive farming techniques of today's controllers.
Control is the issue, nothing else. Personal empowerment beyond their set boundaries is not an option.
The Enemy Within — Those Who Choose Slavery
This begs a huge question. Would you fight for someone's freedom who doesn't even want it? Is it worth so-called liberating someone who chooses to remain bound — and may even prove to be a liability for what you're trying to do?
There are several famous analogies about this phenomenon. Elephants for example are tied to a stake in the ground with little to circumscribe their maneuverability. They learn their "limitations" well. Later on the rope is removed, but the elephant will stay in the same circumscribed limits. The same has been told of many animals.
It works.
It works on humans as well. Scientists have been capitalizing on this behavioral tendency for a long time, the most famous of which is Pavlov and his salivating dogs. Closely watching those experiments from the start were military personnel. I wonder why. Remember your school period bells ringing like fire alarms between classes? You can thank Pavlov's work and the implementation of the social engineers.
Entrained response. Same dynamic at work in advertising, politics, religion and any aspect of social engineering.
But can those in such a deep coma awake to realize their innate freedom and thus activate? Who's to say. It's a phenomenon to be well aware of. Just remember, groomed dependence is tough to shake for anyone. But anyone can wake up at any time, never ever forget that.
Conclusion — Does Knowledge of Its Innate Freedom Freak Humanity Out?
As Yogi Berra allegedly said, "When you come to a fork in the road, take it." While funny, there's some good advice there — get the hell going and stop worrying about it all so much.
We're all up against the wall when it comes to responding to this assault on humanity we're experiencing. It's more serious by the day politically, materially, socially, physically, spiritually. It's a planet gone wild due to the cumulative efforts of manipulating influences that seem to have full sway without anyone knowing how it got that way. We're seemingly relegated to the observer's seat, awaiting the decision of some hidden tribunal what shall be our fate.
It's time to wake the hell up.
It's bullshit to think humanity has to sit and take this. What's being perpetrated, no matter how cunning, is a rounding up of the drugged and dazed herd. So many of us can see it clearly for what it is yet seem to be screaming into the ether.
My impetus? The more clearly our challenge and situation is articulated the more conscious activists keep on with their efforts, and on it rolls. We do need to reach a greater audience than those awakening but with the recent setback regarding Syria as well as many other instances that seem to point to our efficacy, we're on the right track.
And if there's a better one, well doing what we can now will lead us there in a heartbeat!
Much love, keep on with all your heart,
Zen
Source:  Zen Gardner  |  Just Wondering  | War Is Crime
Torture, or what our government calls "enhanced interrogation", is not a tactic so much as a darkly artistic process.  The subject of this process has something that the torturer wants; it might be information, or a forced confession to a crime the subject did not commit, but most often, torture is designed to gain nothing more than psychological compliance.
The goal is to manipulate the subject into believing that submission is the only possible future, and that such submission is inevitable regardless of the will of the victim.  The torturer often builds himself up as a kind of parent figure for the subject – becoming the only entity that can supply shelter, water, food, and comfort.  The torturer is taskmaster and abuser, but also caregiver in the twisted relationship dynamic.  A schizophrenic balance is struck in which the subject longs for the outside world and a return to the pleasures of the past (making him desperate and malleable), but he also partially accepts his prison walls as home (giving him a false faith that compliance will lead to a safer and more predictable tomorrow).
Until this compliance is achieved, the subject is exposed to endless and erratic crisis events in which his body is damaged, his mind is deprived of sense, perception, and sleep, and his life is overtly threatened.  He may receive brief moments of rest, but these are designed only to make the next torture session even more raw and painful.  If the subject does not understand how the process works, or if he doesn't have a strong sense of his own identity, then he will quickly lose track of reality.  Every moment becomes a waking nightmare, a warped and gruesome carnival, and life becomes nothing more than an absurd and obscure experiment barely worth living.
It is my belief based on substantial evidence that America, as a nation and a culture, is now being held hostage and tortured into submission on a grand scale using economic terror by the elitist establishment which dominates BOTH major political parties.  The goal?  To push our society to conform completely with the concepts of globalization, bureaucratic micro-management, and greatly reduced living standards.  We are being conditioned to accept defeat and failure, and like children, to cry out for a parental authority to save us in our state of helplessness and fear, even if that authority was the cause of our fear from the very beginning.
The Thin Thread Of The American Economic Fantasy
In the past three months the U.S. has flirted with total fiscal collapse three times.  The first event came in August with market rumors that the Federal Reserve was nearing a "consensus" on plans to cut QE stimulus measures, causing panic amongst investors who now realize that the ONLY pillar still holding our fiscal edifice together is endless fiat currency creation by the Fed.  Markets began a paradigm which is now the "new normal"; plummeting whenever good economic news hits the mainstream on the fear that the central bank will tighten policy, and skyrocketing when bad economic news hits the mainstream on the assumption that the Fed will continue printing.  It is official – lackluster employment reports are something to cheer, and overall systemic crisis is good for stocks:
http://www.reuters.com/article/2013/10/22/us-usa-economy-idUSBRE99L04G20131022
The possibility of a Fed taper has shown us clearly that any action by the private bank to reduce or remove quantitative easing will result in a market panic and implosion.  If the globalists within the Fed apparatus decide one day soon that they want to bring the U.S. to its knees, destroy the dollar, and introduce a new world reserve currency, they can do it with little more than a word proclaiming QE over, or unsuccessful.  So far, they keep the life support machine running…
The second event came with the drive by the Obama Administration to turn their covert war in Syria into a full blown invasion.  Despite presumptions by many naysayers that Russia and China wouldn't lift a finger to aid the Assad regime, both nations staunchly opposed action by the U.S. in the region and tensions neared critical mass.  Make no mistake, a WWIII level event could have easily erupted, and some Americans seem to remain oblivious to the danger.
China and Russia maintain vast influence in global markets.  The EU, for instance, is utterly dependent on Russian natural gas exports for their energy needs.  The U.S. economy could be annihilated within weeks by an announcement by China to dump their treasury holdings or the dollar as the world reserve currency.  This is just a taste of the financial risks associated with a new war in the Middle East, and military risks add even more potential calamity.  Anyone who believes that Chinese or Russian views on American political or military behavior "do not matter" is living in a deluded cartoon-land.
The third event came with the recent debt ceiling debate and government shutdown.  One-third of the U.S. population is disturbingly dependent on scraps from the government's table, and any mention of cuts to entitlement programs (or social security, which government treats exactly like an entitlement program) causes immediate and militant finger pointing.  Democrats have been especially vicious in their accusations and rhetoric, consistently referring to Constitutional conservatives and "Tea Party" legislators as "extremists", "traitors", and even "domestic enemies":
I happen to take a slightly different view to a majority of independent analysts in that I believe the establishment is just as likely to push America into deliberate default as it is to push America into infinite debt and inflationary collapse.  The end result will be exactly the same regardless of the path taken, and we have yet another opportunity to dance on the edge of oblivion coming in three to four months when the debt debate starts all over again.
The point is, our financial system has become so unbalanced and internally diseased that if ANY event follows through to culmination, whether political, economic, or international, the economy WILL shatter.  The past three month are a resounding testament to this fact.

The "De-Americanization' Of The Global Economy
In my article 'How The Dollar Will Be Replaced', published in 2012, I summarized the Catch-22 nature of America's debt problem which I have been warning about since 2006, and how this will eventually end in the abandonment of the dollar as the world reserve currency.  To this day, and in the face of overwhelming evidence that the dollar is doomed, some people still refuse to grasp reality.
In the midst of the latest debt debate China has made clear it's intentions through state run media to end its relationship with the greenback, not just to form a Chinese-centric reserve currency system, but a global currency system centered on a "new world order":
http://news.xinhuanet.com/english/indepth/2013-10/13/c_132794246.htm
Last year China surpassed the U.S. as the world's largest importer and exporter, making its currency, the Yuan, more desirable than the greenback as a reserve in the long term.  Since 2010, China has been quietly but quickly establishing multiple bilateral trade agreements with numerous countries dropping the dollar as the primary purchasing mechanism.  China has accumulated massive gold stores and is set to become the world's largest holder of gold in the next two years.  In the past year, China has also surpassed the U.S. as the number one importer of oil, making it a more valued market for the Middle East and causing many to question the dollar's relevance as the petro-currency:

http://oilprice.com/Energy/Crude-Oil/China-is-Now-the-Worlds-Largest-Importer-of-OilWhat-Next.html
Saudi Arabia, America's primary ally and foothold in the global oil market, is now openly calling for an end to traditional agreements and a separation from the U.S. because of the lack of military action in Syria.  This too does not bode well for the dollar's petro-status.  Like a chess maneuver, it would seem we have been cornered by the globalists on oil.  If we invade Syria or Iran we risk losing petro-status.  If we do not invade Syria or Iran, we still risk losing petro-status:

http://www.reuters.com/article/2013/10/22/us-saudi-usa-idUSBRE99L0K120131022 
In response to the dismal debt ceiling extension and the uncertainty underlying the new debate coming in the next few months, China's ratings agency, Dagong, has downgraded U.S. treasury bonds yet again:
http://money.cnn.com/2013/10/17/news/economy/debt-ceiling-deal-china/
U.S. Treasuries are now witnessing the lowest foreign demand since 2001:

http://www.bloomberg.com/news/2013-10-20/treasuries-losing-cachet-with-weakest-foreign-demand-since-2001.html?cmpid=yhoo
Three near-crisis events in only three months have signaled a severe acceleration in what the Chinese call the "de-Americanization" of the global economy.  All of the financial shifts taking place since the derivatives implosion of 2008, as well as those rushing like white-water rapids through the global system in the wake of the debt ceiling debate, are gravitating towards ONE outcome – the destruction of the dollar, and the introduction of a new global currency (the SDR) controlled the the IMF.
Russia's Vladimir Putin has called for a global currency run by the IMF to replace the dollar:
China has called for a global currency run by the IMF to replace the dollar:
http://abcnews.go.com/Business/story?id=7168919
Elitists within the U.S. have called for a global currency run by the IMF to replace the Dollar:
http://www.youtube.com/watch?v=tBO34qcnoqM
Hell, even the Vatican has called for a global currency run by a "global public authority" to replace the dollar:
http://www.zenit.org/en/articles/pontifical-council-for-justice-and-peace-on-the-global-economy
There is a world-wide strategy in motion to end the dollar, and with it, America as we know it today. The only question is, how many more near-disasters will we have to experience before the trigger event takes place?
The Torture Continues
With so many near misses culminating so close together, it may be wise to consider what could happen in the the next three months while we wait for debt debate theater part duex.  Like a prisoner in Abu Ghraib, America is trapped, waiting for the next humiliation, the next degradation, or the next session of pain.  Are we merely being acclimated to the idea of incessant crisis?  Are we learning to become apathetic at the edge of the chasm?  Or, are we being driven to madness, mass-madness, by a concert of  elitist interrogators seeking our acquiescence?
Again, the central purpose of torture is to acquire consent.  Not just extorted consent, but voluntary consent.  It is not enough for the torturer to force the subject to obey, he wants the subject to EMBRACE his servitude.  To gladly abandon all hope.  To see his captor as his only salvation.
The globalist establishment wants us to beg them to save us from the tortures they create.  If we never give them this, they will never win.
Source: Brandon Smith | Alt-Market
First and foremost we should be governed by common sense. ~ Vladimir Putin (Time Magazine, 2007)
President Vladimir Putin is audaciously attempting to remove the brush covering from atop the common sense rabbit hole, which is not only a truly rare and subversive act in the eyes of the Con, but a potentially great gift to humanity – if only humanity had the sensitivity to appreciate it.
Nonetheless, this will no doubt prove to be a thrilling ride for those willing to take up the challenge. Russians are fortunate to have such a sane leader, and the West would be wise to follow his lead, but what exactly does Mr. Putin mean by Common Sense?
Here's a quick peek at a couple of dictionary definitions:
1)     Sound judgment not based on specialized knowledge; native good judgment.
2)     The basic ability to perceive, understand, and judge things.
The ability to soundly judge is important to understanding what common sense is all about, as is the fact that judgment is not an isolated act made according to individuated, specialized knowledge, but of something that is of a more general nature that is shared, common or native to the species as a whole.
To better understand how common sense operates as a cognitive process, Aristotle provides a clear and useful description:
The reason for having several senses is in fact that it increases the chances that we can distinguish and recognize things correctly.] Each sense is used to identify distinctions, such as sight identifying the difference between black and white, but, says Aristotle, all animals with perception must have "some one thing" which can distinguish black from sweet.] 

see section on "Aristotelian Common Sense" http://en.wikipedia.org/wiki/Common_sense
This shared or common sense, as opposed to a two-step Stimulus-Response model, appears to operate, according to Aristotle's description, as a three-step process:
A) Perception
B) Understanding (through comparative analysis)
C) Judgment
Why is something as fundamental and basic to humanity's existence operating according to a three-step rather than two-step process?
If you look around the world today, everything is presented in opposing, pairs: A-B. Not A-B-C.
As such, critical A-B-C thinking, aka Common Sense is fundamental to the evolution of awareness, consciousness, cooperation and love which seems to occur with great frequency in nature, but not nearly as much in most human societies.
The Con understands this reality quite well, and they exploit it to their benefit. The Con does everything it can to lock humanity into a system characterized by dualism, stimulus-response programming, isolation, separation, competition, narcissism and egotism.
According to Aristotle's logic, while each individual is inseparable from the whole, without common sense,i.e. a shared vision of the whole, perception of reality is too narrow, distorted and false.
Aristotle also said:
Common sense is where comparison happens, and this must occur by comparing impressions or symbols or markers of what the specialist senses have perceived. This is therefore also where consciousness originates, "for it makes us aware of having sensations at all"

see section on "Aristotelian Common Sense" http://en.wikipedia.org/wiki/Common_sense
Aristotle emphasizes the act of comparison as critical to Understanding (Step B) the three-step A-B-C Common Sense-making process.
After perceiving an object, the perceiver compares and contrasts that object in relation to similar objects found within the perceiver's experience. Finally, based on that understanding, the perceiver, in a creative act of synthesis, finds the true center or third way derived from the act of comparison and projects that decision out into the world.
In 2006, after carefully analyzing and deconstructing Vladimir Putin's year 2000 Millennium Manifesto, author Gavin Slade from the Central European University in Budapest, an affiliate of The School of Russian and Asian Studies (SRAS), affirms the Russian leader's propensity for utilizing in the political arena the type of Hegelian common sense widely discussed in this article:
In the 1990s Russia's political discourse was framed in terms of good and evil. There was little compromise or synthesis.

The rejection of revolution and change shows that Putin is effectively trying to establish a discourse focused on unity and stability knowing that the binary oppositions of politics during the Yeltsin era had created a situation where the state was unable "to muster a critical mass of leaders who articulate[d] one or another political discourse that resonate[d] in political society.
Rare among today's world leaders, Vladimir Putin appears to well understand the evolutionary necessity of this third way approach to governance based on common sense-derived synthesis, and leverages that knowledge to promote unity, social cohesion and commonality of purpose on a national and international scale.
Aristotle even goes as far as to say that common sense is where consciousness originates. So if a society is lacking in common sense, and there's little to no conscience, morality, empathy, consciousness, creativity, taste, discernment or love, how does one propose to govern such a population? This no doubt created a quandary for the rulers of large populations in the past, and clearly still presents governance challenges today.
The system's time-honored, traditional answer to the problem of populations lacking in common sense was to oppress them into submission, with increased submission leading to an ever more constrictive cycle of dominance, oppression and abuse. It's not outrageous to consider both parties to be at fault for this social dynamic that still exists and thrives today.
The cognitive process of common sense is part of humanity's spiritual endowment and is similar to the Greek idea of knowledge or nous, which is the divine spark or knowledge within that is shared or common to all.
While nous may be common to all, it seems at present to be buried deep within the human psyche, and as such, unfortunately, is largely inactive.
Humanity's drive to separate, exceptionalize and specialize (such groveling at the feet of society's beloved specialists), is but a tiny sliver of the whole spoon-fed matrix. These absurd, self-destructive values are automatically downloaded at face value and parroted aloud as that which everybody knows.
These automatic, pre-programmed responses demonstrate the process of individual and social decay which epitomizes dualistic A-B programming, and as such represents an evolutionary dead-end. And yet despite its flaws, this system, while abhorrent to many not only does have value in populations largely lacking in common sense, but also provides stark contrast to utopian social visions, as well as important motivation for those who wish to overcome its glaring inadequacies.
So cheer up, the news is not entirely bleak. To find oneself, one must first lose oneself, and so humanity has intentionally (if not consciously), led itself astray. The capacity for auto-correction is built into the natural system of the Earth and undoubtedly woven into the very fabric of cosmic existence itself. And yet in order to auto-correct, one must first dare to walk down dark paths leading to destinations unknown.
Compliance with Globalist diktat is ensured by the Con's ability to provide endless streams of mindless distractions and short-term pleasures quick as you can afford them. And if you can't afford them but still crave them, you get a gold star for being a motivated world citizen.
But try inducing people to step off that wheel, swallow the red pill and slide down the rabbit hole. Just see how that works out.
Of course this makes no sense. Why choose isolated, short-term pleasures over long-term ones? Freedom is sold cheap in exchange for a handful of trinkets and beads. But as the late great George Carlin once said: "nobody seems to notice; nobody seems to care."
The average person, lacking common sense, is unable to step outside his bubble and recognize the divinely entangled oneness of reality.
How many times do you have to read in the alternative media about the daunting lack of empathy on the part of the Globalist controllers, and this is true, but how about the lack of empathy among the masses? Without common sense, there is no empathy, and the masses are sorely lacking in common sense.
The inability to put themselves in the shoes of others keeps the un-awoken strapped to the bed of their own egotistical, narcissism. Good luck getting through to them. They are simply incapable of being awakened in anything less than a repeatedly rough manner.
Russian history is chock-full of examples of these rough awakenings, and it therefore should not be so surprising that today's Russian population is relatively more awake than those still snoozing in the pampered, declining West.
Perhaps this is why those cast in the role of Controllers – along with their robotic minions – are as nasty and brutish as they are, since it falls on them to rouse Joe Sixpack in the only way he seems to understand: by shoving his face deep down into the toilet bowl of an unexamined life. Spend enough time down there, and you may finally see that all your dreams of wealth, success and material gain have just been so much meaningless crap.
And so the seemingly endless stream of futile chatter in the alternative media referring to the slumbering masses and how if they just had the right information is, sorry to say, nothing but pure fantasy, wishful thinking and projection on the part of the awakened, common sense minority.
The Great Awakening that many feel today, and it is palpable, is not widespread; it's actually emanating from a very small, scattered fraction of the global population. It's just that this small but slowly growing group of A-B-C common sense types, specialists in their own right, have a tendency, despite their incessant utilization of the common sense process, largely due to a lifetime of incessant "all men are created equal" propaganda, to erroneously project their common sense values on to the masses, and as a result are time and time again disappointed when their best intentions to rouse the herd are not taken seriously. Boo-hoo.
If the world was in fact brimming over with common sense, which currently it is not, reality would appear quite different than it does. No, the prison planet has been specially designed to serve the masochistic masses precisely what they need in order to evolve. It wouldn't actually be so bad if it weren't so damn destructive. If anything, it's not dull.
As it is presented today, the Con's "reality" is designed to stroke the mass ego consciousness with just enough happy endings to keep the machine humming and its occasionally unruly parts alternately motivated, sedated and restrained. This seems to be an unfortunate yet necessary design for an emotionally immature, Id-raging majority.
On the other hand, within an awakened community, no matter how small, which is not characterized by delusion but common sense, the rules of the game could not be more different. Within such a community, you can always choose another path and consciously create what you want. Life there is no longer an either/or A-B equation. You can finally transcend childish dualism as you take a quantum leap into the common sense adult world of contemplation, awareness, empathy, consciousness, comparative analysis, and synthesis. In this vitally thrilling world, A + B = C.
The goal of discourse is to create the transcendental, a higher centre of meaning outside the plurality of visions and interpretations, 'to arrest the flow of differences, to construct a centre. 'Thus, 'at the base of Putin's policies and what we shall describe as his "third way" lies the idea of a grand transcendence of so many of the conflicts that had both shaped and torn Russia in the modern era.' -http://www.sras.org/deconstructing_the_millennium_manifesto
Mr. Putin has tirelessly and with increasing success preached his neo-Gnostic common sense gospel to a Russian population that has in the not-so-distant past become familiar on an unprecedented scale with such intense suffering and pain that an increasingly large portion of them now appear eager to listen to and act upon Putin's challenge to reclaim their common heritage as intelligent, discerning and consciously evolving individuals in a country of rich heritage and national achievement. This development on a national scale is uncommon.
The economic prosperity that Putin's leadership has helped generate, impressive as it is, pales in comparison to the raising of individual consciousness en masse in Russia, which is what can happen to a nation when real common sense is applied to governance. That requires rare leadership qualities on a level that few in other countries have experienced in a long while.
What many in the West often fail to comprehend (because they lack empathy) is that when you're the leader of a 9 time zone wide, 17 million square kilometer (6.6 million sq mi) Eurasian land mass comprised of a wide range of European, Caucasian, Asian and Indigenous cultures, in order to successfully lead and inspire such a diverse group, you must possess a Yin Yang-balanced, personal and diplomatic Swiss Army-like skill-set.
This mixing of Western and Russian ideas is only a part of a blend of inter-discursive features adopted by Putin. It is in his co-optation of different discourses and ideas that Putin attempts to suture rifts in identity and win the war of position within discourse. It is, as some have said, a 'third way.'
As an individual, Vladimir Putin displays many attributes of the modern Renaissance Man. He's a vigorous yet contemplative gentleman of refinement and culture with an admiration for various art forms and a genuine appreciation for the diverse beauty and splendor of nature.
Although Mr. Putin enjoys hunting and fishing, it's not part of some macho power trip to defeat and kill defenseless animals, but rather as a way for him to feel vitally connected to the natural world that we share with each other and are invited to explore if only we dare.
Here's a striking passage from a May, 2011 Outdoor Life Magazine interview where Mr. Putin candidly describes his experience obtaining a whale biopsy:
OL: In August 2010, you helped scientists obtain skin samples from a whale off Russia's Pacific Coast by darting one with a crossbow. I imagine that has to be one of the more incredible of your wildlife encounters.

VP: That was indeed an unforgettable experience, and I remember very well how impressed I was.

First, all that surrounded me—the low sky, the stormy sea and, of course, the whales—was magnificent. Besides, these elegant giants showed us a real performance, leaping out of the water in front of our boat.

Second, I was really thrilled. I do not want to offend your feelings as a hunter, but, by its intensity, its dynamics, that was a real hunt. But without killing the animal. And this was a special pleasure. This is not a melodramatic statement. That's the way it really was.

We left not just to see the whales, but to take a biopsy—in other words, to dart one of the animals with a crossbow arrow, which can rip off a small part of whale skin necessary to make a special analysis. It was not that easy; three times I failed, and only the fourth attempt was successful. Of course, I could justify myself that the boat was tossing badly and that it was the first time for me to handle a crossbow, but the main reason I see was my anxiety, because participation in the scientific experiment is a very important undertaking.

OL: After you successfully darted a whale, a reporter asked you if it was dangerous. You replied that, "Living, in general, is dangerous." Do you have any comment on that?

VP: I think what I meant by that is obvious. Despite all the achievements of civilization, the human being is still one of the most vulnerable creatures on earth. None of us is protected from crimes, epidemic outbreaks, natural and technogenic disasters. What I am saying is not a fatalistic view of the world, it is a realistic one.

http://www.outdoorlife.com/articles/hunting/2011/05/one-one-vladimir-putin?page=0%2C4
Mr. Putin, with obvious empathy for the whale and a humble appreciation for the magnitude of the moment, describes in a nutshell the fragility of the human experience within a natural world that is both nurturing and fraught with risk. Unlike his ego-driven political counterparts who can never admit to any weakness, it's a feather in his cap that he does not appear to be afraid to convey his fear and anxiety at being in the middle of what most would agree was an unsafe situation.
Mr. Putin seems to be implying that you might as well take risks because risk is inherent to life. To therefore feel some degree of anxiety when taking bold steps is natural, and nothing to be afraid of. Taking those bold steps is part of a personal and national awakening process.
Having repeatedly put his personal safety in jeopardy for the sake of the greater good, as demonstrated by his biopsy of whales, soaring with endangered cranes and tranquilizing tigers…
Cranes
http://www.youtube.com/watch?v=kq1DEu5-aWo
Whale
http://www.youtube.com/watch?v=U9nt_IB-vTE
Tiger
http://www.youtube.com/watch?v=Hkt5G0uHO0g
…it should come as no surprise when Mr. Putin applies a calculated risk approach to diplomacy, as demonstrated by his swift response to an extraordinary early August 2013 meeting with the head of Saudi intelligence, Prince Bandar, an event first reported in the UK Telegraph and widely acknowledged in the Russian press as well as a number of other sources.
http://www.telegraph.co.uk/finance/newsbysector/energy/oilandgas/10266957/Saudis-offer-Russia-secret-oil-deal-if-it-drops-Syria.html
http://www.kavkazcenter.com/eng/content/2013/06/25/17953.shtml
http://www.thedailysheeple.com/escalation-vladimir-putin-reportedly-threatens-saudi-arabia-with-massive-counter-strike_082013
http://www.eutimes.net/2013/08/putin-orders-massive-strike-against-saudi-arabia-if-west-attacks-syria/
This colorful September 30th, 2013 recapitulation of that same fateful meeting comes courtesy of an approving Pravda opinion column, "Come the Day, Come The Hour":
Essentially, Bandar Bush went to Putin – purportedly with the full backing of the US, and offered to cut a secret deal to carve up the oil profits if Russia would back off on Syria and allow a regime change. Putin quietly and politely offered a nyet. He was not for sale and neither were his principles. Bandar went on to then threaten Russia by turning loose Chechen terrorists to cause havoc in the Winter Sochi Olympics. Saying that all terrorists groups are under their control and that they can turn them on or off as they like. Well, it appears that at this stage, the negotiations moved from being polite – Putin warned Bandar that if Syria is attacked, Russia would bomb Saudi Arabia. At last, someone with balls. This threat was communicated to senior members of the Armed Forces with instructions to prepare to strike Saudi Arabia. Obviously, this was leaked.

http://english.pravda.ru/opinion/columnists/17-09-2013/125685-president_putin-0/
The now famous and universally acclaimed accord on chemical weapons aside, wouldn't it be more than likely that President Putin's declaration of intent to bomb Saudi Arabia if Syria was attacked is the real, under-reported reason why a near-certain U.S. strike on Syria was called off? Just a theory…
President Putin, a man of principle and a strong advocate of International Law, rejected out of hand Bandar's pathetic bribe, since unlike many other politicians, he has principles, and can't just be bought off.
Nonetheless, upon digesting Prince Bandar's incredible admission of he and his country's direct support for state-sponsored terrorism, despite his usual placid demeanor, President Putin's jaw must have dropped when he received a not-so-thinly veiled threat of Olympic terrorist attack if cooperation on the Syria question was not forthcoming. President Putin rightly determined that this was not only a direct threat to Russia, but to the entire civilized world, and so he did what he had to do: stand up to the bully.
Only a leader so level-headed and eminently comfortable in his own skin could stare the impudent Saudi down and call his bluff in terms that were crystal clear and absolutely appropriate to the threat. Exercising his capacity for A-B-C common sense, Mr. Putin perceived, understood and decided what to do without hesitation.
When threatened with force, sometimes the only way to get the other party to take you seriously is to threaten them right back. That took guts and is deserving of recognition.
World War III was averted (for now), and Putin's stock has deservedly risen to such a high level around the world that he was in serious contention for the Nobel Prize. The fact that he didn't win is probably better PR than if he had won, since Obama won it for bailing out the bankers. Putin is probably ok then with an honorable mention.
When an individual like Vladimir Putin, who both at home and abroad is recognized as having an authentic character, repeatedly demonstrates sane, balanced actions, as he declares the rule of law and common sense governance as the goals of the nation and backs it up with corresponding actions, he naturally enjoys widespread support and trust.
Sadly, these common sense leadership qualities, which should be essential prerequisites for every political leader, are sorely lacking in the West, where there seems to be a permanent disconnect between common sense and politics.
Often unfairly lampooned in the press for his bare-chested macho man image, Mr. Putin also appears to genuinely be in touch with his feminine side.
As a Judo master, Putin is adept at using his opponents' momentum against them, which can only be done by respecting the power of each "adversary," as well as being sensitive to the flow of energy emanating from that person. A perfect example of a real world application of that principle is how President Putin "flipped" and redirected the Saudi Prince's malevolent, threatening, violent energy right back at the Prince and synthesized the product of that energy for the purpose of creating peace.
Check out Putin's judo moves here:
http://www.youtube.com/watch?v=dYtDQ_t-_HQ
Sometimes Presidents really do need to act like car salesmen, but the car that Putin is selling is built to last and runs efficiently on common sense, common law (i.e. as long as you're not hurting anyone, you're acting within the law), and community. And that's a vehicle more and more Russian citizens are being convinced by Putin to buy, since he drives one himself.
Putin's manifesto is rich in inter-discursivity, appropriating elements from competing ideologies and rejecting binary oppositions in order to win the war of position within the discursive field thus creating 'an all-national spiritual reference point that will help to consolidate society, thereby strengthening the state. This reference point, a new Russian idea, helps construct an image of the state as a nation of people represented by a spokesperson, the president.
Those of the awakened minority who are frustrated and at odds with Globalist domination strategies should find solace in the fact that the dream of a New World Order, of which much of the world is presently dreaming into reality, must according to its unnatural and unsustainable underlying principles, much like its Soviet system predecessor, inevitably collapse under the weight of its excessive absurdity.
And if you're one of the small but proud members of the common sense minority community, if you haven't already done so, please do yourselves a big favor and cease all efforts aimed at trying to wake up humanity, because it can't be done. Instead, continue waking yourselves up.
Humanity can only wake itself up one individual at a time. The newly awakened, in their own time, will make connections with others without your incessant nudges. So try to let go. You'll feel better if you do.
In stark contrast to the West's current political downward slope, it's fascinating to observe the progress of Vladimir Putin in his quest to help instill and nurture a return of common sense to the realm of politics. It makes one hopeful that new leadership possessing similar strength of character will follow President Putin's lead.
Unlike Mr. Putin, we can't all play the part of hero in this movie, although there's no character too minor and no act too small.
Continue speaking your truth, get along with others, and have a good time. The rest will take care of itself.
That's just plain old common sense.
And to close the show, Ladies and Gentlemen and Children of all ages, live from the internet, the one, the only…:
http://www.youtube.com/watch?v=Na-31bdtjhI
Source: Waking Times
Beirut — Being subjected to the Zionist lobby can get tedious — particularly its chronic parading of an often disoriented and fast-deteriorating fellow, who should surely be tending a vegetable or flower garden somewhere in Occupied Palestine, where he lives on stolen land. International lawyers, even some at Hebrew University, have come to recognize the half century of crimes against humanity meted out by Shimon Peres upon hundreds of thousands of Palestinian refugees, and thus one could be forgiven for rolling eyes at the Israeli president's concerns over demons said to be haunting his sleeping and waking moments, as he complains that perhaps, just maybe, he was wrong in his calculations 70 years ago.
Those demons are Palestinians, and it is perhaps the supreme irony of ironies that Peres now finds himself lamenting over what became of the ideals of Judaism—the very same ideals he spent half a century of his life destroying in the name of fascist Zionism. "I could not face my parents were I ever to see them again," the Israeli president, an avowed agnostic, told a member of Congress a few months back.
'Peres' Complaint' has been increasingly heard over the past couple of years, confided to some of his US and EU Zionist lobby hosts during fundraising and legacy-reinforcing appearances. It often manifests itself as a continuous monologue, much as if narrated at his psychoanalytic group therapy session, and often about the same subjects he claims have haunted him for decades. One of these reportedly is the whole concept of an eretz Israel land grab as a divinely-ordained destiny for a "chosen" Jewish people.
At a cocktail party last year, Peres was overheard telling Vice President Biden, "Who knows if there is a god or not? But if so, I doubt he deals in real estate!" Biden appeared shocked, quickly summoning a waiter for replacement glasses of scotch, hoping to cheer the president of Israel up a bit. "He needs to be more philosophical," Biden said, reporting on his "psychoanalytic session" with Peres,  later explaining, "Sure the hand writing is on the wall regarding  a future for Israel is clear for all to see, but it could be worse!"
Peres' Complaint, like Portnoy's in Philip Roth's 1969 novel, revolves around the dilemma of, as Roth penned, "his sense of himself, his past, and that his ridiculous destiny is so fixed".
Portnoy's Complaint is a disorder in which claimed ethical impulses are perpetually warring, almost Hamlet-like, with extreme longings, often of a perverse nature, reminding some of a sort of sexual dysfunction.
Peres's Complaint is similar in many ways, but takes a varied form. In an interview published by the Brazilian newspaper the Folha de Sao Paulo, Peres was asked what he would say to Iran's President Rouhani if the two were to pick up the telephone and speak directly.
"I would tell him nobody in the world is threatening Iran. So why does Iran threaten other countries? Tell me. I don't understand why Iran threatens Israel. Why?" he replied.
Peres knows that Iran has not threatened other countries, but rather that it is Israel which has threatened the whole region, and which did so within minutes of his Zionist-Labor terrorist-backed associates declaring themselves a "country."
Peres ended his short interview with Folha de Sao Paulo with this bit of sage erudition:
"In politics, and in life, you can only judge things based on facts. There has been no change on Iran—the facts contradict the speeches."
The words were spoken as if the speaker were satisfactorily contemplating the last remaining 19th century European colonial enterprise…along with his own role in setting up and governing it.
Peres' Complaint to colleagues is that he has to say things to the public that are beginning to sound hollow after six decades of trying to parry and neutralize the Palestinian resistance to Zionist theft and colonization. Peres no longer believes what he used to "about the Zionist BS," as one congressional source put it.
During his last visit to Washington, while rushing from a meeting at the Rayburn House Office Building with AIPAC and some Congressional staffers, Peres in his haste handed half an armload of documents and reports to an aid to carry for him. Unnoticed at the time, one of the documents slipped under the table where the meeting was held, and was found later. On it were some handwritten comments, in Hebrew, in Peres' hand.
Common respect for individual privacy bars this observer from revealing what the handwritten notes said, but the document itself is most certainly in the public domain and includes some of the latest reports on the status of the Zionist occupation.
The first few pages are a summary of the UN Human Rights Council's report criticizing the deep water drillings by the Israeli national water company Mekorot and the Israeli agri-industrial firm Mehadrin in the occupied Jordan Valley. These drillings have caused the drying up of Palestinian wells and springs. As Dr. Elias Akleh reminds us, nearly 80% of all drilled water from the Jordan Valley is consumed by Israeli illegal colonies in the West Bank. The Palestinians are not allowed to drill their own water wells, and the Israeli government routinely destroys Palestinian pools for collecting rain water, claiming "construction without permits"—permits which, of course, are impossible for Palestinians to obtain. Many other wells and water springs have also been destroyed, poisoned and contaminated as Israeli colonies have intentionally channeled their raw sewage into Palestinian towns and agricultural areas.
But getting back to the document, circled in pen is a statement in a 1941 speech by David Ben-Gurion: "We have to remember that for the Jewish state's ability to survive it must have within its borders, the waters of the [rivers] Jordan and Litani."
And there is another excerpt of note—documenting the decades-old practice of declaring a coveted piece of land a "military area" and then evicting its residents, surrounding it with barbed wire, uprooting all trees, stripping the land of vegetation, and facilitating the arrival of extremist squatters with mobile homes who later start building their colonies.
Still other findings relate to the intensification of home demolitions, citing recent figures showing that armed, religious-extremist squatters are allowed to illegally build their small colonies on top of confiscated Palestinian hills while enjoying the protection of the Israeli army. Palestinians are forbidden to build new homes or even remodel existing ones to make additional space for family expansion. The Israeli terrorist forces increasingly exercise their early hour routine of driving their bulldozers into some Palestinian suburbs to demolish a Palestinian home that was built without a permit.
"The army breaks into the Palestinian home, gives the Palestinian family ten minutes to evacuate and starts demolishing the home," says Dr. Akleh. "Palestinians are denied building permits. Many Palestinians are given the order to demolish their own homes, otherwise the Israeli army would demolish it and the home owner will be charged exorbitant fees. In contrast, Israel continues its plans of illegal colonies (settlements) building. This Israeli systematic policy of Palestinian home demolishing and colony building on confiscated Palestinian land contravenes the 4th Geneva Convention."
On and on the president's document reads…
Included in bold type are excerpts from the recent Tadamun Foundation for Human Rights report documenting what Palestinian schools and students have suffered in recent weeks—a remarkable escalation in attacks by Israeli soldiers and extremist settlers. The report claims the attacks, including school raids, destruction of school property, as well as detaining and assaulting students, have become more frequent, especially by settlers. Recent examples include the Jalud School and Beit Dajan School in Nablus, and the Khader School in Bethlehem. The international community is increasingly reacting to these terrorist practices. Recently a letter by a group of British intellectuals, entitled "Action for Palestine" and calling upon Israeli authorities to end the pattern of abuse of Palestinian children, was published in the UK Guardian newspaper.
But the army has also intensified its arrests and kidnapping of Palestinian children accused of stone throwing. Many children are routinely intercepted on their way to school at Israeli military checkpoints, searched, humiliated, and at times arrested. Israeli forces conduct routine middle of the night raids of Palestinian homes, where they break into the homes, smash furniture, and terrorize the families, dragging young boys from their beds and blindfolding them before dumping them on the floor of a military jeep and driving them to a prison in Israel. In the prison, where their parents are not allowed to see them, the children are harshly interrogated, threatened, tortured; some raped and imprisoned.
The 213 page document was presumably heavy reading for the polish-born Szymon Perski, ardent protégé of Ben-Gurion and Dayan and an early supporter of the West Bank settlers during the 1970s.
Shimon Peres' guilt-edged insecurity these days is far more important when it comes to the masking—and unmasking—of an abettor of racist Zionism. His complaint, like Portnoy's Complaint, is also emblematic of the times during which he has lived and his uncertainty as to whether he has squandered his life in an evil cause.
"I am marked like a road map from head to toe with my repressions. You can travel the length and breadth of my body over superhighways of shame and fear."
Portnoy's Complaint…or Peres'?