This eminently Bushist Obama "red line" business, applied to Syria, Iran or both, is becoming a tad ridiculous.
Take Pentagon head Chuck Hagel's tour of Israel and the "friendly" GCC (the de facto Gulf Counter-revolution Club) last week. US defense contractors had the Moet flowing as Hagel merrily congregated with that prodigy of democracy – United Arab Emirates (UAE) Crown Prince Mohammed bin Zayed – to celebrate the sale of 25 F-16 fighter jets.
There's more on the way; 48 Terminal High Altitude Area Defense, or THAAD missile interceptors, at a cool US$1 billion. The Pentagon is sending one of its only two of such systems to Guam this month to counter that other threat – missiles from North Korea.
The weaponizing free fest to Israel and the Gulf petro-monarchies – missile defense, fighter jets, mega-bombs – could not but be duly hailed as the proverbial "message" to "counter Iran's nuclear ambitions", or "the air and missile threat posed by Iran", or the general "worry about Iran's pursuit of a nuclear weapon" or "Washington's determination to stop Iran from acquiring nuclear weapons."
There's no "red line" here; just hardcore weaponizing of Israel and the GCC. Any doubts, blame it on Iran. And this while Saudi-controlled media in the Middle East – roughly everything except al-Jazeera – was breathlessly spinning that Tel Aviv is pursuing a deal to use Turkish soil for an attack on Iran.
Wait; there's more weaponizing on the way – bound to neighboring latitudes. Kraus-Maffei Wegmann (KMW) from Germany closed another $2.48 billion deal with Qatar – five years in the making – to deliver 62 Leopard 2 tanks and 24 self-propelled howitzers. Qatar is not exactly using them for the 2022 FIFA World Cup; they are bound to "friendly groups in other countries" – as in Syria's "rebels", via Turkey.
Ask the Nenets 
Now take the Syria chemical weapons charade. The White House now seems to be convinced that the CIA believes, with "varying degrees of confidence", that the Syrian government has used chemical weapons. Secretary of State John Kerry – an "intervention" cheerleader posing as a dove – was already convinced.
But then Hagel said, "Suspicions are one thing; evidence is another." Just to flip-flop a little while later, during his visit to Israel, he became convinced Bashar al-Assad was using sarin gas. Of course; after all, Hagel finally had unimpeded access to Israeli – not US – intel.
And now for the beauty of Hagel's marketing; what about embarking as a traveling salesman to "our bastards" with a sales pitch of " Look, Iran and Syria are both crazy, you might consider stacking up on this, this and this."
The Nenets of Siberia – crossing the Ob river to enter the Arctic Circle – could teach a thing or two about real strategy to those limping armchair warriors in US Think Tankland. Even the Nenets would know that the current chemical weapons hysteria is a total fabrication by the CIA, MI6 and Israeli intelligence – corroborated by zero evidence. Still, the prevailing Washington "wisdom" is that a "red line" must be enforced over Syria so a "red line" must be enforced on Iran.
The fact is that the al-Assad government initially accused the "rebels" of using chemical weapons – and asked the United Nations for an official investigation.
Even the New York Times was forced, grudgingly, to admit the "rebels" acknowledged an attack happened in territory controlled by the government, with 16 Syrian Army dead, plus 10 civilians and over a hundred injured. But then the "rebels" changed the narrative, blaming Damascus of bombing their own soldiers. It was Moscow that introduced a measure of reality, detailing how Washington was stalling the UN investigation.
Our Nenets of Siberia would also know there's hardly anything secular leading the "rebels" in Syria; it's a motley crew of varying degrees of fanaticism. Once again, the Nenets would not need to freeze to death reading the New York Times to find out that the CIA is "secretly" funneling a free for all weaponizing to the "rebels" via Saudi Arabia and Qatar. Still the Obama administration peddles the fiction that Washington only supplies "non lethal" aid as Capitol Hill nutters keep insisting that Obama install a "no fly zone" over Syria – as in Libya-style NATO war remix.
Follow-on strike package, anyone? 
US Think Tankland nonetheless is ecstatic that the GCC petro-monarchies now have access to precision-guided munitions to "strike Iranian targets".
But nothing compares to the cheerleading of Israel's new access to KC-135 aerial refueling tankers – or Stratotankers. Then there's the imminent transfer of anti-radiation missiles as well – advanced versions of the AGM-88 HARM missiles. These toys will "reduce the threat to Israel's follow-on strike package."
No, this is not exactly about "US circumspection", or "US resolve in the campaign against Iranian nuclear weapons"; it's unqualified Dog of War barking.
Meanwhile, that police state run by King Playstation, also known as Jordan, has opened its airspace to Israeli drones now engaged in "monitoring" Syria.
As Asia Times Online has repeatedly warned, Obama in Syria is fast becoming a remix of Reagan in 1980s Afghanistan. We all know what came out of those "freedom fighters" afterwards. In this context, Robert Ford, Obama's alleged Syria expert, telling the Senate Foreign Relations Committee that it's important for Washington to "weigh in" to affect "the internal balance of power in Syria" qualifies as a joke line, not a red line.
There's wild speculation that after the Boston bombing Obama and Russia's Vladimir Putin made a deal; Washington lets Moscow do whatever it wants in Chechnya like, forever, but gets a nod to install a "no-fly zone" and further mayhem in Syria. There's no evidence to that. What a geopolitically savvy Putin wants to know is what does he get out of Syria in practical terms (and Obama does not have a clue). Crumbs from a NATO banquet don't apply.
As for allowing Syria to become a "Western-friendly" Wahhabi emirate or yet another failed Muslim Brotherhood fiefdom, one needs to go no further than Hezbollah's Sheikh Nasrallah … "the goal of anyone standing behind the war in Syria, is destroying Syria so that a strong, centralized state would not be established in it, and so that it would become too weak to take decisions related to its oil, sea, or borders."
Now that's what a red line is all about.
Pepe Escobar is the author of Globalistan: How the Globalized World is Dissolving into Liquid War (Nimble Books, 2007) and Red Zone Blues: a snapshot of Baghdad during the surge. His new book, just out, is Obama does Globalistan (Nimble Books, 2009).
He may be reached at pepeasia@yahoo.com.
Source: Asia Times
Mounting evidence suggests state-sponsored terrorism. Expect more later to confirm it. Cui bono matters most. Powerful interests benefit hugely. Ordinary people lose out.
War on terror 2.0 looms. Innocent people will suffer. Expect more repressive laws. Military spending will increase. Homeland security will be boosted. Fundamental freedoms will die. Full-blown tyranny may follow. It's already a hair's breath away.
Imperial wars on humanity will continue. New targets will be chosen. Independent governments will be attacked. New world order rules demand unchallenged global dominance. The worst of all possible outcomes may follow. State-sponsored terror facilitates it.
What's ongoing resembles post-9/11 events. Media scoundrels misreport. They do so round-the-clock. Readers and viewers are willfully misinformed.
Fear-mongering, lies and damn lies replace truth and full disclosure. Muslims became public enemy number one. Who'll suffer most with them this time?
Vital information is suppressed. Fingers point the wrong way. Innocent victims are blamed for state-sponsored terror. More on that below.
National emotions are aroused. At issue is enlisting public support. Post-9/11, Bush addressed an Episcopal National Cathedral prayer and remembrance ceremony.
"(O)ur country was attacked with deliberate and massive cruelty," he said. "We have seen the images of fire and ashes and bent steel."
He omitted what's most important. Washington bore full responsibility. The worst of all possible worlds followed.
On April 18, Obama addressed a Holy Cross Cathedral interfaith prayer service. "(I)n an instant, the day's beauty was shattered," he said. "A celebration became a tragedy. And so we come together to pray and mourn and measure our loss."
"We will find you," he added. "And yes, you will face justice. We will hold you accountable." Truth and full disclosure always loses out.
Early Friday, newly released FBI photos showed alleged bombing suspects. They're brothers. They were called "armed and extremely dangerous." Allegedly they had "explosives and guns." Official reports lack credibility.
One suspect was arrested. The other fled. He's now in hospitalized in serious condition. Police discovered his whereabouts and shot him. Officials later said the one taken into custody died. Allegedly he was killed in a "violent standoff." Cold-blooded murder is more likely.
A "massive manhunt" continues. Officials said suspects came from Chechnya or nearby. Doing so implies Islamofascists. MSNBC's Chris Matthews alleged they're Arabs. Perhaps from Yemen, he said. Media scoundrels feature this type misreporting ad nauseam.
Mossad-connected DEBKAfile called them "Chechen Wahhabi cell" members. Saudi Arabia funds it, it said. Older brother Tamerlan was 26. Police likely killed him in cold blood. He was a boxer and Bunker Hill Community College engineering student.
Younger brother Dzhokhar fled. He's 19 years old. He's a Cambridge Rindge and Latin School graduate. His father calls him a "true angel." He's a Greater Boston League all-star wrestler.
He won a city of Cambridge $2,500 scholarship. He's a second year medical student. His father said both brothers were "set up." They "killed my older son Tamerlan," he added.
Over 10 years ago, both brothers came to America with their family. They're not terrorists.
Officials said greater Boston public transportation shut down. The FAA ordered a no-fly zone over a 3.5 radius of the bombing site. Watertown, Cambridge, Newton, Brookline, Waltham, Belmont, and other suburban area residents were advised to stay home.
Colleges and universities closed for the day. Local businesses were told not to open. Thousands of officers made house-to-house searches. Swat teams are involved. Some areas were evacuated. Helicopters patrol overhead. Police cars are everywhere.
Greater Boston's never seen anything like this before. It's surreal. It resembles a bad film plot. It gets round-the-clock coverage. Managed news misinformation substitutes for cold hard facts.
Infowars headlined "Did Boston Bombing Suspect Try to Surrender?" An image showed him lying prone with his arms outstretched. He held no weapon. None appeared near him.
One suspect killed. Perhaps another to follow. What better way to bury truth. Dead men tell no tales. Exculpating evidence perhaps won't surface. Media scoundrels won't report what does.
Lots more went on. On marathon day, eyewitnesses reported bomb drills, training exercises and rooftop snipers. Authorities denied them.
University of Mobile cross country coach Alastair Stevenson contradicted them, saying:
"At the starting line this morning, they had bomb sniffing dogs and the bomb squad out there. They kept announcing to runners not to be alarmed, that they were running a training exercise."
On April 17, Anthony Gucciardi headlined "Craft International Private Military Forces at Boston Marathon?"
Images showed two men "with earpieces and military-esque gear….(T)hey may likely be employees of the Blackwater-style private military/security firm Craft International."
Their attire was later "revealed to be standard issue Craft International clothing." The skull logo on one man's cap identifies Craft.
Why were both men and others with them in Boston? Images show around 10 wearing similar attire. Nearly all had on black backpacks. They resembled those alleged to contain pressure cooker bombs.
Investigators said they contained explosives, nails and ball bearings. They detonated moments apart.
Four or more Craft operatives wore tan combat boots, tan BDUs (battle dress uniforms), black jackets, and had tactical communications gear. At least one had an "inspector radiation alert." It's used to detect dirty bomb or nuclear attack emissions.
Why were they near the marathon's finish line? Perhaps their mission was a black ops. They're experts in these type operations.
Why did FBI operatives join them? Images show them talking. An FBI truck was visible. Why were FBI agents searching for one bombing suspect before the incident took place?
Why have media scoundrels ignored this? These and related questions demand answers. Coverup and denial reflect official policy. Vital facts are suppressed. What's most important isn't reported. Misinformation substitutes.
Stephen Lendman lives in Chicago. He can be reached at lendmanstephen@sbcglobal.net.
His new book is titled "Banker Occupation: Waging Financial War on Humanity."
http://www.claritypress.com/LendmanII.html
Visit his blog site at sjlendman.blogspot.com.
The U.S. Army Corps of Engineers plans to supervise construction of a five-story underground facility for an Israel Defense Forces complex, oddly named "Site 911," at an Israeli Air Force base near Tel Aviv.
Expected to take more than two years to build, at a cost of up to $100 million, the facility is to have classrooms on Level 1, an auditorium on Level 3, a laboratory, shock-resistant doors, protection from nonionizing radiation and very tight security. Clearances will be required for all construction workers, guards will be at the fence and barriers will separate it from the rest of the base.
Only U.S. construction firms are being allowed to bid on the contract and proposals are due Dec. 3, according to the latest Corps of Engineers notice.
Site 911 is the latest in a long history of military construction projects the United States has undertaken for the IDF under the U.S. Foreign Military Sales program. The 1998 Wye River Memorandum between Israel and the Palestinian Authority has led to about $500 million in U.S. construction of military facilities for the Israelis, most of them initially in an undeveloped part of the Negev Desert. It was done to ensure there were bases to which IDF forces stationed in the West Bank could be redeployed.
As recorded in the Corps' European District magazine, called Engineering in Europe, three bases were built to support 20,000 troops, and eventually the Israeli air force moved into the same area, creating Nevatim air base. A new runway, 2.5 miles long, was built there by the Corps along with about 100 new buildings and 10 miles of roads.
Over the years, the Corps has built underground hangers for Israeli fighter-bombers, facilities for handling nuclear weapons (though Israel does not admit having such weapons), command centers, training bases, intelligence facilities and simulators, according to Corps publications.
Within the past two years the Corps, which has three offices in Israel, completed a $30 million set of hangars at Nevatim, which the magazine describes as a "former small desert outpost that has grown to be one of the largest and most modern air bases in the country." It has also supervised a $20 million project to build maintenance shops, hangars and headquarters to support Israel's large Eitan unmanned aerial vehicle.
Site 911, which will be built at another base, appears to be one of the largest projects. Each of the first three underground floors is to be roughly 41,000 square feet, according to the Corps notice. The lower two floors are much smaller and hold equipment.
Security concerns are so great that non-Israeli employees hired by the builder can come only from "the U.S., Canada, Western Europe countries, Poland, Moldavia, Thailand, Philippines, Venezuela, Romania and China," according to the Corps notice. "The employment of Palestinians is also forbidden," it says.
Among other security rules: The site "shall have one gate only for both entering and exiting the site" and "no exit or entrance to the site shall be allowed during work hours except for supply trucks." Guards will be Israeli citizens with experience in the Israeli air force. Also, "the collection of information of any type whatsoever related to base activities is prohibited."
The well-known Israeli architectural firm listed on the plans, Ada Karmi-Melamede Architects, has paid attention to the aesthetics of the site design as well as the sensibilities of future employees. The site, for example, will be decorated with rocks chosen by the architect but purchased by the contractor. Three picnic tables are planned, according to the solicitation.
The Corps offered a lengthy description of the mezuzas the contractor is to provide "for each door or opening exclusive of toilets or shower rooms" in the Site 911 building. A mezuza (also spelled mezuzah) is a parchment which has been inscribed with Hebrew verses from the Torah, placed in a case and attached to a door frame of a Jewish family's house as a sign of faith. Some interpret Jewish law as requiring — as in this case — that a mezuza be attached to every door in a house.
These mezuzas, notes the Corps, "shall be written in inerasable ink, on . . . uncoated leather parchment" and be handwritten by a scribe "holding a written authorization according to Jewish law." The writing may be "Ashkenazik or Sepharadik" but "not a mixture" and "must be uniform."
Also, "The Mezuzahs shall be proof-read by a computer at an authorized institution for Mezuzah inspection, as well as manually proof-read for the form of the letters by a proof-reader authorized by the Chief Rabbinate." The mezuza shall be supplied with an aluminum housing with holes so it can be connected to the door frame or opening. Finally, "All Mezuzahs for the facility shall be affixed by the Base's Rabbi or his appointed representative and not by the contractor staff."
What's the purpose of Site 911? I asked the Pentagon on Tuesday, and the Corps on Wednesday said that only an Israeli Defense Ministry spokesman could provide an answer.
This may be a trend-starter. The Corps is also seeking a contractor for another secret construction project in Israel in the $100 million range to awarded next summer. This one will involve "a complex facility with site development challenges" requiring services that include "electrical, communication, mechanical/
HVAC [heating, ventilation, air conditioning] and plumbing." The U.S. contractor must have a U.S. secret or equivalent Israeli security clearance for the project, which is expected to take almost 21/2 years to complete.
That sounds like a secure command center.
The purpose of Site 911 is far less clear.
Source:  Walter Pincus | TheWashingtonPost
The scale and rate of modern climate change have been underestimated.
The release to date of a total of over 500 billion ton (GtC) of carbon through emissions, land clearing and fires,  has raised CO2 levels to 397-400 ppm and near 470 ppm CO2-e [a value including methane] at a rate of ~2 ppm CO2 per year [1] (Figures 1 and 2). These developments are shifting the Earth's climate toward Pliocene-like (5.2 – 2.6 million years-ago [Ma]; +2-3oC) conditions and possibly mid-Miocene-like (~16 Ma; +4oC) conditions [2], within a couple of centuries―a geological blink of an eye.
The current CO2 level generates amplifying feedbacks from the ice/water transformation and albedo loss, methane release from permafrost, methane clathrates and bogs, from droughts and loss of vegetation cover, from fires and from reduced CO2 sequestration by warming water.
With CO2 atmospheric residence times in the order of thousands to tens of thousands years [3], protracted reduction in emissions, either flowing from human decision or due to reduced economic activity in an environmentally stressed world, may no longer be sufficient to arrest the feedbacks.
Four of the large mass extinction events in the history of Earth (end-Devonian, Permian-Triassic, end-Triassic, K-T boundary) have been associated with rapid perturbations of the carbon, oxygen and sulphur cycles, on which the biosphere depends, at rates to which species could not adapt [4].
Since the 18th century, and in particular since about 1975, the Earth system has been shifting away from Holocene (10,000 years to the present) conditions, which allowed agriculture, previously not possible due to instabilities in the climate and extreme weather events. The shift is most clearly manifested by the loss of polar ice [5] (Figure 3). Sea level rises have been accelerating, with a total of more than 20 cm since 1880 and about 6 cm since 1990 [6]..
For temperature rise of 2.3oC, to which the climate is committed if sulphur aerosol emission discontinues (see Figure 1), sea levels would reach Pliocene like levels of 25+/-12 meters, with lag effects due to ice sheet hysteresis.
With global CO2-e levels at ~470 ppm, just under the upper stability limit of the Antarctic ice sheet, current rate of CO2 emissions from fossil fuel combustion, cement production, land clearing and fires of ~9.7 GtC in 2010 [7] , global civilization is at a tipping point, facing the following alternatives:
With carbon reserves sufficient to raise atmospheric CO2 levels to above 1000 ppm (Figure 4), continuing business-as-usual emissions can only result in advanced melting of the polar ice sheets, a corresponding rise of sea levels on the scale of meters to tens of meters and continental temperatures rendering agriculture unlikely.
With atmospheric CO2 at ~400 ppm, abrupt decrease in carbon emissions may no longer be sufficient to prevent current feedbacks (melting of ice, methane release from permafrost, fires). Attempts to stabilize the climate would require global efforts at CO2 draw-down, using a range of methods including global reforestation, extensive biochar application, chemical CO2 sequestration (using sodium hydroxide, serpentine and new innovations) and burial of CO2 [8]
As indicated in Table 1, the use of short-term solar radiation shields such as sulphur aerosols cannot be regarded as more than a band aid, with severe deleterious consequences in terms of ocean acidification and retardation of the monsoon and of precipitation over large parts of the Earth. Retardation of solar radiation through space sunshades is of limited residence time and would not prevent further acidification from ongoing carbon emission.
Dissemination of ocean iron filings aimed at increasing fertilization by plankton and algal blooms, or temperature exchange through vertical ocean pipe systems, are unlikely to be effective in transporting CO2 to relatively safe water depths.
By contrast to these methods, CO2 sequestration through fast track reforestation, soil carbon, biochar and possible chemical methods such as "sodium trees" and serpentine (combining Ca and Mg with CO2) (Figure 5) may be effective, provided these are applied on a global scale, requiring budgets on a scale of military spending (>$20 trillion since WWII).
Urgent efforts at innovation of new CO2 draw-down methods are essential. It is likely that a species which decoded the basic laws of nature, split the atom, placed a man on the moon and ventured into outer space should also be able to develop the methodology for fast sequestration of atmospheric CO2. The alternative, in terms of global heating, sea level rise, extreme weather events, and the destruction of the world's food sources is unthinkable.
Good planets are hard to come by.
[1] IPCC AR4 http://www.ipcc.ch/ ; Global Carbon Project  http://www.globalcarbonproject.org/ ; State of the planet declaration http://www.planetunderpressure2012.net/
[2] Zachos, 2001 cmbc.ucsd.edu/content/1/docs/zachos-2001.pdf; Beerling and Royer, 2011 http://www.nature.com/ngeo/journal/v4/n7/fig_tab/ngeo1186_ft.html; PRISM USGS Pliocene Project http://geology.er.usgs.gov/eespteam/prism/
[3] Eby et al., 2008. geosci.uchicago.edu/~archer/reprints/eby.2009.long_tail.pdf
[4] Keller, 2005; Glikson, 2005; Ward, 2007. http://www.amazon.com/Under-Green-Sky-Warming-Extinctions/dp/B002ECEGFC#reader_B002ECEGFC
[5] Loss of polar ice http://www.agu.org/pubs/crossref/2011/2011GL046583.shtml
[6] CLIM 012 Assessment Nov 2012; http://www.eea.europa.eu/data-and-maps/indicators/sea-level-rise-1/assessment, Rahmstorf et al., 2012, http://iopscience.iop.org/1748-9326/7/4/044035/article.
[7] Raupach, 2011, www.science.org.au/natcoms/nc-ess/documents/ GEsymposium.pdf)
[8] Geo-engineering the Climate? A Southern Hemisphere perspective. AAS conference www.science.org.au/natcoms/nc-ess/documents/GEsymposium.pdf
People wail, cry, and question why him/her, how could this happen to a child? Immeasurable grief.
Yet the answers are quite clear: humans are unknowingly exposed to far too many chemicals on their food, in their water, their clothes – even when buying a new car. That new car smell? Major cancer causing chemicals that have been used to treat the new leather and the rugs in that new car. And people get in and snort it like they smelled a bouquet of flowers.
Food sprayed with chemicals to make them last? Preservatives. At one time, you could not patent food. Yet we now have a patented soybean. Just so Monsanto can profit. This fooling around and injecting chemicals in food has got to stop!
This is why you must demand that food be labeled GMO! Go California!
Even new clothing has been treated with chemicals that can seep into the body and wreak havoc especially in young children. Not to mention the pesticides that are used on your food. What is very interesting is how many people from Monsanto wind up working for the FDA. The FDA is supposed to protect US citizens from poisons, right? Do enough of your own research and the more you learn the more outraged you will become. This is what is meant by the wolf guarding the henhouse. They eat healthy, sure. And you can bet the ranch they don't eat the food they sell.
Dr Max Gerson, who in 1938 made a startling discovery that his safe natural treatment for cancer patients held enormous promise. He was getting people well by using something that could not be patented – vegetables. At this time in history, a bill was appropriated for 100 million dollars to anyone who could show promise and results in treating cancer. Dr Gerson in 1946 presented 5 terminal cases and 5 additional patients' records showing his effective treatment and cure of all of these cases. Well, guess what? The Pepper-Neely bill was defeated by four senators who were medical doctors.
Also of note, radio announcer Raymond Gram Swing who was in the room, was as astonished as any of the others and made a broadcast that night detailing these events and Gerson's effective treatment. Two 2 weeks later, Swing was fired from his job.
The following video is life changing. The angel Charlotte Gerson is still alive and living in San Diego.
Gerson died in 1959, eulogized by long-time friend, Albert Schweitzer M.D.:
I see in him one of the most eminent geniuses in the history of medicine. Many of his basic ideas have been adopted without having his name connected with them. Yet, he has achieved more than seemed possible under adverse conditions. He leaves a legacy which commands attention and which will assure him his due place. Those whom he has cured will now attest to the truth of his ideas.
Dozens of treatments have come and gone and have just as quickly been termed "not effective". When an individual encounters a pathogen (virus, bacteria, fungus) their immunomodulators in their brain kick in to use and many different self-preservation events occur. One of the first is a fever. Almost all pathogens function best at 98.6, or normal body temperature.
The aspirin companies have convinced the public that a fever is bad. "We've got to break the fever" "if it gets too high we could cause brain damage". And so this is drilled into caring parents' minds and they immediately freak and start giving aspirin.
The body knows what it is doing and we interfere. Because we have a degree from a prestigious school and a stethoscope around our neck-we know better. But the fever is designed to make a poor quality environment for the germ, and eventually kill it off.
Instead, the aspirin, or Tylenol, does lower the temperature in some cases and the pathogen can now flourish.
The following was written by a medical doctor and comes from The Cancer Prevention Coalition: The verdict is unassailable. The American Cancer Society bears a major responsibility for losing the winnable war against cancer. Reforming the ACS is, in principle, relatively easy and directly achievable. Boycott the ACS. Instead, give your charitable contributions to public interest and environmental groups involved in cancer prevention. Such a boycott is well overdue and will send the only message this "charity" can no longer ignore. The Cancer Prevention Coalition (chaired by the author) in April 1999 formally announced a nationwide campaign for an economic boycott of the ACS .
Mammography
The American Cancer Society has close connections to the mammography industry. Five radiologists have served as ACS presidents, and in its every move, the ACS reflects the interests of the major manufacturers of mammogram machines and films, including Siemens, DuPont, General Electric, Eastman Kodak, and Piker. In fact, if every woman were to follow ACS and NCI mammography guidelines, the annual revenue to health care facilities would be a staggering $5 billion, including at least $2.5 billion for premenopausal women. Promotions of the ACS continue to lure women of all ages into mammography centers, leading them to believe that mammography is their best hope against breast cancer. A leading Massachusetts newspaper featured a photograph of two women in their twenties in an ACS advertisement that promised early detection results in a cure "nearly 100 percent of the time." An ACS communications director, questioned by journalist Kate Dempsey, responded in an article published by the Massachusetts Women's Community's journal Cancer:
The ad isn't based on a study. When you make an advertisement, you just say what you can to get women in the door. You exaggerate a point. . . . Mammography today is a lucrative [and] highly competitive business.
The way women are treated when they have a mammography is deplorable. The tender, sensitive breast is jostled around, roughly handled and placed in the device to obtain the x-ray. The already angry area (angry with cancer cells) is now irritated further, enhancing the probability and possibility of cells spreading to other parts of the body.
Not only that, the tumor has a capsule around it. All the rough movement of the breast only helps to disrupt this capsule and enhance spreading or metastasis. Want a little more irritation? Let's biopsy the area. A needle is stuck into the balloon and cells removed. Don't you know there will be some leakage of the cells contained in that capsule?
Lung cancer and esophageal cancers too, are extraordinarily lucrative. It is one of the more difficult cancers to treat. There are miraculous stories about using Hydrogen Peroxide in the proper form to treat the body with oxygen.
Madison Cavanaugh has written a book called The One Minute Cure detailing the effectiveness of Hydrogen Peroxide on various health problems. Get the book.
To be clear, Hydrogen Peroxide must be Food Grade, meaning NOT WHAT YOU BUY IN THE SUPERMARKET. You must find food grade at 35% and then dilute it to 3%. What they sell in the brown bottle has preservatives in it and is not meant for internal use.
Cancer despises oxygen. It also loves 98.6. And it loves fatty tissue. It's nirvana for the cancer cells. Cancer also has a unique capability to do what is called angiogenesis - it makes its own blood vessels to bring more blood and more food to feed its crazy appetite. It has this appetite because it is making cells at such a rapid pace.
Sugar is perfect fuel for cancer. High fructose corn syrup is a form of sugar that is ideal, as the high mitotic rate (cell division and tumor growth) calls for energy.
So here we have the "perfect storm"- you take a body, make it overweight – eat low quality food with all kinds of chemicals in the food and expose that person to fluoride in water, or vaccinations (additional cancer causing chemicals), air pollution, barbecued food (additional carcinogens) nitrates and nitrites, second hand smoke, etc and voila! You have a good potential to develop cancer.
Not everyone takes the cheese of standard treatment however, because there are alternatives to treating even difficult esophageal cancer as evidenced by this next video:
Tumors – Let's pretend you were away and when you came home your home was extremely hot. You go to the thermostat an turn on the air conditioner. Nothing happens.
Would you then rip the thermostat out of the wall, thinking, "Well that should fix it"?
Of course not. This is what we do when we cut out a tumor. The tumors purpose just may be a "thermostat" a way to measure the presence of sickness. What if the tumor was only an indicator and not a sign of imminent death?
In so many cases, when treated successfully, there are reports of tumors shrinking and disappearing.
So what we do in America, we cut the tumor out. And the wonderful surgeon tells the family "I think we got it all". Since cells are so vastly small, how could anyone, even with a microscope know for sure that they "got it all?" There is not a physician on the planet that could know for 100% sure they were able to "get it all".
As a matter of fact, what if the tumors actually served a purpose and acted as indicators to tell us whether improvement is taking place? After all, unless the tumor is pressing on an airway or blood vessel, why take a chance and cut a person open who is already in a challenged state? And leave them susceptible to infection. Many people die from secondary infections due to the immunosuppresion of their bodies brought on by the side effects of chemotherapy. The radiation kills healthy cells. Cancer does not make hair fall out; radiation does that. And poor appetite causing poor nourishment? Caused by the drugs. So how can a body stay healthy if they are not getting proper nourishment?
This does not have to be. This is exactly where Dr Gerson was going. Take away the irritants (bad food, poor quality fluoridated water, fats, and sugars) and introduce ingredients the body can use to fight with-clean water-a healthy liver-vegetables-nutrients, and proper health can be restored.
This is a small sampling of incredible alternatives to fight cancer. The reason hemp is outlawed? Henry Ford many years ago said we should be using hemp for almost anything you can imagine –  more and better use than cutting down all the trees and insulting the earth with mining. Greed is why hemp is outlawed. It is a very powerful solution to a number of health problems.
Rick Simpson in his video Run From the Cure discusses his very effective treatment for cancer-hemp oil.
The suppression of this information is criminal.
Please read Death By Medicine. Gary Null PhD, Carolyn Dean MD ND Martin Feldman MD, Debora Rasio MD, Dorothy Smith PhD
This is not about bad mouthing anyone. There are better things to do with time. It is about exposing the truth. There are many fine, caring physicians. When a person experiences a trauma from an accident, a severe laceration, by all means, of course you require medical treatment. Let's not mix compassion with profit. Medicine started out based on compassion. First, do no harm, right? We should prevent what we treat? Where are we now? Big Pharma sends their beautiful reps to doctors' offices to convince them of how they should be getting more people on this drug or that one, despite side effects. It's for profit and it is deplorable and sad.
Be aware of your rights; don't be badgered or scared into doing what "everyone else is doing" only to wind up a statistic. Do your research now while you're healthy. Don't wait until you are in a crisis mode. Stay healthy. Grow your own vegetables. Drink purified water. Take nutrients. Question authority. And by all means Wake Up World!
Dr. Dennis Antoine
About the Author
Dr. Dennis Antoine graduated New York Chiropractic College in 1983. He opened his office in Ft Lauderdale to treat patients with chiropractic care and nutritional guidance, and  started Prevention@Work which focused on helping industry reduce injuries in the workplace. Using ergonomics, or the study of a person in the workplace, he assisted large companies in south Florida reduce their injuries, thereby helping companies save millions of dollars in health care costs. He has been a contributing editor for the Florida Sun Sentinel, The South Florida Business Journal, and ACA Journal of Chiropractic. He has also been a presenter for the American Chiropractic Association, the Florida Dairy Products Association, and Prevention Magazine. He now helps other doctors market their practices, and get the word out about options and alternatives that are safe and effective in the treatment of musculoskeletal conditions.
Source: Dr. Dennis Antoine, Wake Up World
Waking Times
Oh crap. I seem to be doomed to become an expert on almost every new major epidemic in America — and to do it the hard way. First I had friends die of HIV-related causes back in the 1980s. Then more of my friends became parents of children with autism back in the 1990s. And now I have lots of friends with kids that suffer from asthma. What's with that?
America is spozed to be the healthiest country in the world. So why aren't we? Why are Americans by the millions now falling victim to these new plagues? And, further, might these three currently-upsurging epidemics have anything in common that could possibly give us a clue? Yeah. The people who get them mostly seem to have weakened immune systems — even before they actually start presenting symptoms.
But then, heck, lots of other modern upsurging diseases such as cancer, diabetes, the flu and even the lowly common cold appear to affect people with weakened immune systems the most.
According to www.cancerfightingstrategies.com, "For most of your life, your immune system successfully fought cancerous cells, killing them as they developed. That's its job. In fact, the only job Natural Killer cells have is to kill cancer cells and viruses. For cancer to develop, your immune system must either be worn out, ineffective, unable to kill cancer cells as fast as they normally develop, or you must be exposed to a mass of cancer causing toxins, radiation or some such thing, that increase the rate of development of cancer cells to an abnormally high level that your immune system can't handle." I rest my case.
But this association with modern diseases and immune system vulnerability should (but rarely does) bring up the next really important question: How come American immune systems are now suddenly starting to suck eggs?
You and I now live in one of the most richest, most well-off countries in the world. We've got clean houses, air-conditioning, abundant food, luxury cars, malls, all kinds of wonderful things. But our immune systems are now clearly sagging. Why is that?
Even Ann Romney has multiple sclerosis, an autoimmune disease — and she's freaking rich beyond belief.
And even I have immune-system issues — despite the fact that I mostly eat organic stuff and lead a boringly-clean life (except of course for the occasional slice of chocolate cream pie from Sweet Adeline Bakeshop or cupcakes from Love at First Bite ).
According to Donna Jackson Nakazawa, "Autoimmune diseases are the eighth leading cause of death among women, shortening the average patient's lifespan by fifteen years. Not surprisingly, the economic burden is staggering: autoimmune diseases represent a yearly health-care burden of more than $120 billion, compared to the yearly health-care burden of $70 billion for direct medical costs for cancer." And that's not even counting asthma, HIV or autism — which are not autoimmune diseases per se but are also related to having a weakened immune system.
So even though we've got more money here than we know what do do with, America's health is getting worse instead of better. Plus all of these chronic diseases and infirmities are now costing us barrels — to say nothing of funeral expenses.
So what's my point — that it's not safe to live in America any more? That living on American soil is a death sentence? That I should win the lottery and move to some isolated south-sea island? Or just simply "shelter in place".
Perhaps there is no clear answer to this conundrum — but I would really like to know why no one seems to be asking this quintessential question: "Why are so many of my friends and their children suffering from asthma, autism, multiple sclerosis and, to quote Nakazawa again, 'type 1 diabetes, Graves' disease, vasculitis, myasthenia gravis, connective tissue diseases, autoimmune Addison's disease, vitiligo, rheumatoid arthritis, hemolytic anemia, celiac disease, and scleroderma'?"
Why here? Why now?
Perhaps the answer to these questions might be found in the concept of "body burden" — that it's not just one thing or another that is weakening our immune systems. Rather, it is all the small things in our lives that are being added together. You add up a little bit of pesticide exposure and combine it with a small bit of air pollution, a few dozen vaccines, a whole bunch of food additives and trans-fats, some radiation left over from Chernobyl, Fukushima, San Onofre and depleted uranium, drinking from plastic bottles, black mold, allergies, pharmaceutical overload, constant cell phone and computer usage, lipstick, fluoride, hairspray, antibiotics in beef, diet colas…. The list goes on and on and on.
So what can we do to stabilize or even reduce our own individual "body burden"? And why isn't your doctor and Big Pharma working on this instead of just pushing more pills at us — pills that may or may not reduce the symptoms but not the cause. Pills that add to our body burden instead of reducing it? Pills that do NOT strengthen our immune systems.
Since there are over 60 vaccines being given to children right now, a wise parent might consider using a little common sense when jabbing the tots. If it's a vaccine for a life-threatening disease such as polio or if the kid is living in an environment where diphtheria or something is an immediate threat, then by all means go for it. Otherwise? Not.
Also, it's a good idea to only give our children one shot at a time. Giving five different vaccines in one day — and many doctors do this — is a hecka "body burden" for little kids to absorb all at once, especially babies and toddlers. Ouch!
My theory about the main reason why people get sick involves the fact that, in the long run, our bodies are always stronger than our minds. You think that your mind is the boss of your body? Think again!
"But Jane," you might say, "everyone knows that illness is caused by germs!" Not really. There are always germs all around us. Germs are always with us. But we generally only become susceptible to all but the most evil of these little critters only when our bodies become run down and our immune system weakens — or our "body burden" hits a red zone on the charts.
"But how exactly do our bodies actually overpower our minds?" you might ask. "That sounds really weird."
Here's how it happens: In today's modern life, our minds are always trying to get us into stressful situations or do just one more thing before bedtime or live in the fast lane of our choice or dine only on junk food. But our bodies are actually the ones who are really running the show — and when they need a rest, no matter what our brains are thinking, our bodies just open their doors and invite in the germs. And we get sick. And our bodies get their well-needed rest. End of discussion.
"What?" screams our bodies, "You want to stay up all night and party and then live on Twinkies and then work day and night for three days straight? Forget that! I'm going on strike!" And they do.
And what our bodies say goes.
And this is why no one will ever get rid of the common cold.
And, also, when our "body burden" gets too heavy — from all the junk food that we eat and/or the chemicals, pesticides and radioactivity we are exposed to — then our bodies also falter, no matter what our brains tell us, and then we also get sick.
But do you really wanna know exactly what our brains are thinking about all this time, way back in our subconscious mind, back in our "reptile" brains, back beyond our control? That's easy. "Junk food! Sugar! Hot caramel sundaes!" (Not to mention happy thoughts of starting "preemptive" wars, robbing the national treasury in order to hoard billions or cheating on your wife.) And there's no mention at all back there of stuff like wheat-grass juice or carrot sticks — let alone Christ-like behavior or world peace. Sigh.
Sometimes our brains need to be put on a short leash — and sometimes only our bodies are up to that task.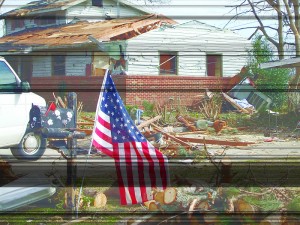 Have you ever wondered why things have been going so badly for the United States in recent years?  Our economy is falling apart, we have been plagued with heat, drought and endless natural disasters, our cities are absolutely crumbling, we just keep getting involved in even more wars and Americans are more anxious and more overweight than ever before.  So why are so many bad things happening to America?  Why do we lead the world in so many bad categories?  Why does nothing seem to be going right?  Are we under some kind of a curse?  It is almost as if we have entered a "perfect storm" that just keeps getting worse.  In the old days it would seem like something bad would happen to the United States every once in a while, but now massive problems seem to be hitting us in rapid fire fashion.  At this point, many Americans have "crisis fatigue" because our problems never seem to end.  Each new crisis just seems to overlap with all of the other problems that are still going on.  So why is this happening, and what is our country going to look like if our problems continue to multiply at this rate?
The following are some of the bad things that are happening to America right now….
Heat And Drought
This summer, thousands of new high temperature records have been set all over the country, and weather conditions are much drier than normal in most of the nation.
In fact, the drought that we are experiencing right now is being called the worst drought in more than 50 years.  More than 1,000 counties in the United States have already been declared to be official disaster areas, and there is no end to the drought in sight.
All over America this drought is killing the corn and this is causing the price of corn to soar.  The following is from a recentFinancial Post article….
Chicago Board of Trade corn for December delivery has soared 54% since mid-June, reaching a contract high of US$7.78 on Monday and approaching its record price near US$8.

Soybeans for November delivery soared to a new contract high of US$15.97 before slipping back a few cents.

Crop watchers were alarmed that corn rated poor-to-very poor jumped to 38%, versus 30% last week and 11% a year ago.
The record high for the price of corn is just $7.99 a bushel.  Many believe that the price of corn will soon blow well past that price and could eventually reach $10 a bushel.
Unfortunately, there is not much hope on the horizon.  It is being projected that these very hot and very dry conditions will persist well into August.
Wildfires
The extreme heat has also been responsible for an unusual number of wildfires in the western United States this year.  The recent horrific wildfires in Colorado made headlines all over the nation.
Sadly, these wildfires are part of a rising trend.  The truth is that the 6 worst years for wildfires in the United States ever recorded have all happened since the year 2000.
So what is causing this to happen?
What is causing so much of the country to go up in flames?
Tornadoes
Earlier this year, many areas of the heartland of America were absolutely ripped to shreds by very powerful tornadoes.
More tornadoes happen in the United States than anywhere else in the world, and unfortunately we have seen a tremendous amount of tornado activity in this country in recent years.
In 2009, there were 1146 tornadoes in the United States.
In 2010, there were 1282 tornadoes in the United States.
In 2011, there were 1691 tornadoes in the United States.
Overall, 2011 was the worst year for natural disasters in U.S. history.
So where will 2012 rank when everything is all said and done?
Fukushima
Radiation from the Fukushima nuclear disaster will be affecting Americans for many years to come.
Most Americans do not think much about Fukushima anymore, but the truth is that Fukushima is still putting out a tremendous amount of radiation, and that radiation travels eastward towards us.
A couple of months ago, one reporter discovered that radiation levels in rain falling on Los Angeles were five times above normal.
But we don't hear about this in the mainstream media, do we?
One recent study concluded that the highest concentration of Fukushima radiation in the Pacific Ocean will eventually be just off the west coast of the United States.
But our "authorities" tell us that there is no reason to be concerned, so most Americans will continue to ignore the incredible tragedy that continues to unfold at Fukushima.
If you are not sure what to think about what is going on at Fukushima, perhaps the following statistic will get your attention….
Recent tests have shown that 36 percent of all children living in the Fukushima Prefecture in Japan have abnormal growths on their thyroid glands.  After the Chernobyl disaster, less than 2 percent of all children living in the area surrounding Chernobyl were found to have abnormal growths on their thyroid glands.
Economic Collapse
The last recession was the worst economic crisis that America has faced since the Great Depression, and our economy has never even come close to recovering from it.
Now we are on the verge of another global financial meltdown that appears likely to be even worse than the last one.
Peter Schiff, the president of Euro Pacific Capital, says that the U.S. economy is headed for a crisis that will make the recession of 2008 and 2009 look like a walk in the park.
So what is going to happen if the economy goes into the toilet and unemployment skyrockets much higher than it is now?
That is frightening to think about.
Poverty Explosion
Even during this "economic recovery", poverty in America continues to soar.
For example, since Barack Obama has been president the number of Americans on food stamps has risen from 32 million to 46 million.
Overall, 49 percent of all Americans live in a home where at least one person receives benefits from the federal government according to the U.S. Census Bureau.  That is an all-time record high.
The Death Of American Cities
The United States once had dozens of great manufacturing cities that were the envy of the entire globe.
Today, many of those cities have degenerated into crime-ridden, drug infested hellholes.
Things have gotten so bad in Detroit that thousands of homes are literally being torn down in an effort to "make the city safer"….
As the next step in an April deal between financially strapped Detroit and the state of Michigan, Governor Rick Snyder is finalizing a plan to tear down thousands of abandoned houses in a bid to make the city safer.

Detroit has been hard-hit over the past four decades by a steep drop in population, a steadily eroding tax base and crippling budget deficits, resulting in countless barren streets punctuated by vacant lots and burned-out buildings.
Increase In Crime
Have you noticed that crime is on the rise in many of our communities?
The murder rate in Chicago is up 38 percent so far this year, and justifiable homicide rose by 79 percent in Detroit during 2011.
Criminals are getting bolder and are doing things that we have not seen before.
For example, on Saturday night a mob of 300 teens invaded a Wal-Mart in Jacksonville, Florida and went absolutely wild.  They started stealing stuff, breaking stuff and throwing food at each other without any concern for what the security guards would do.
When have we ever seen stuff like this happen in America before?
America already has the highest incarceration rate in the world and the largest total prison population on the entire planet by a very wide margin.
How many more people do we plan to lock up?
Meanwhile, even many Americans that are not considered to be "criminals" are becoming very cold-hearted.  Just check out what happened in Arlington, Virginia recently.  A video surveillance camera captured footage of numerous people walking right past a man that had just been hit by a car and was dying on the sidewalk.  He was lying face down and bleeding and nobody even went up to him to see if he was okay.
If you were in a similar situation, would you stop to help that man?
Gang Violence
All over America gangs are taking over local communities.
According to the FBI, there are now a total of 1.4 million gang members living in America.  Just since 2009, that number has risen by 40 percent.
To get an idea of how deeply Mexican drug cartels have infiltrated our cities, just check out the maps on this article.
As I wrote about the other day, there are only 200 police officers in Chicago's Gang Enforcement Unit to go up against an estimated 100,000 gang members living in the city of Chicago right now.
With numbers such as those, it is easy to see how violence in many of our cities could spiral out of control very, very quickly.
War
The United States continues to get pulled into more wars, and the conflicts that we are already involved in never seem to end.
Just today, 22 NATO supply trucks were destroyed in Afghanistan.  The war in Afghanistan has already lasted much longer than World War II did, and there is no end in sight.
Meanwhile, Barack Obama has gotten the U.S. military involved in conflicts in Yemen, Somalia, Pakistan and a whole bunch of other places.  The following is from a recent Wired article….
The center of the US drone war has shifted to Yemen, where 23 American strikes have killed an estimated 155 people so far this year. But you wouldn't know about it — or about the cruise missile attacks, or about the US commando teams in Yemen — by reading the report the White House sent to Congress about US military activities around the globe. Instead, there's only the blandest acknowledgement of "direct action" in Yemen, "against a limited number of [al-Qaida] operatives and senior leaders."

The report, issued late Friday, is the first time the United States has publicly, officially acknowledged the operations in Yemen and in nearby Somalia that anyone with internet access could've told you about years ago. But the report doesn't just fail to admit the extent of the shadow war that America is waging in the region. It's borderline legal — at best. The War Powers Resolution of 1973 requires the president to inform Congress about any armed conflicts America is engaged in. Friday's report isn't just uninformative about Yemen. It doesn't even mention the US campaign in Pakistan, even though the Defense Secretary says America is "at war" there.
So what is next?
Well, there are endless headlines warning that war with Syria is coming.
Other headlines warn that war with Iran is coming.
Where will this all end?
Anxiety Epidemic
Americans today are more unhappy and more anxious than ever before.
The following is from a recent Business Insider article….
According to a recent World Health Organization study, 31 percent of Americans are likely to suffer from an anxiety problem at some point during their lifetimes — compared to 25.3 percent of those in Colombia, and 24.6 percent in New Zealand, the countries that rank second and third. You'd think people in developing or unstable states — those preoccupied with concerns farther down on the Maslow Scale — would be more anxious than we are. Not so. "According to the 2002 World Mental Health Survey, people in developing-world countries such as Nigeria are up to five times less likely to show clinically significant anxiety levels than Americans, despite having more basic life-necessities to worry about," writes Taylor Clark, author of Nerve: Poise Under Pressure, Serenity Under Stress, and the Brave New Science of Fear and Cool. "What's more, when these less-anxious developing-world citizens emigrate to the United States, they tend to get just as anxious as Americans.

"The United States has transformed into the planet's undisputed worry champion," Clark adds.
Obesity Epidemic
Of all the major industrialized nations, the United States is the most obese, and a recent Gallup survey found that Americans are more concerned about our obesity epidemic than ever before.
And nobody can deny that we are getting fatter.
Back in 1962, only 13 percent of all Americans were obese.
Today, approximately 36 percent of all Americans are obese.
Drug Addiction Epidemic
The United States has a higher percentage of drug addicts than any other major industrialized nation does.
We love to escape the pain of our every day lives.
At this point, the United States has the highest rate of illegal drug use in the entire world.
The United States also has a higher percentage of people addicted to prescription drugs than anyone else does.
So what does that say about us exactly?
Child Abuse Epidemic
In the United States, we treat our children very badly.
Sadly, there are more than 3 million reports of child abuse in the United States every single year, and the United States has the highest child abuse death rate on the entire globe.
Teen Pregnancy Epidemic
When our kids grow up they tend to be very sexually active as teens.
Amazingly, the United States has the highest teen pregnancy rate on the entire planet.
And all of this sexual activity is rapidly spreading disease among our teens.  According to one study, one out of every fourteen girls in the United States has at least one sexually transmitted disease.
Divorce Epidemic
We like to make movies and television shows about families, but the truth is that the family structure in the United States has been breaking down for a very long time.
Today, the United States has the highest divorce rate in the world by a very wide margin.
Some example for the rest of the world we are, eh?
16 Trillion Dollar National Debt
Right now the U.S. national debt is $15,884,155,929,632.05.
We will shortly cross the 16 trillion dollar mark.
This is the greatest debt in the history of the world and it is beyond criminal that we plan to pass this debt on to future generations.
Our greed has destroyed the future for our children and our grandchildren and yet we continue to borrow trillions more because we just can't help ourselves.
Political Nightmare
On top of everything else, we have a horrifying lack of leadership here in America.
Our last four presidents have been four of the worst presidents in U.S. history, and in 2012 we are faced with an incredibly depressing choice at the polls.
Is Barack Obama really the best that the Democrats can do?
The American people elected an incompetent con man to the highest office in the land.  Virtually every decision that he makes is wrong and virtually everything that he has tried to do while in office has been a failure.
The Republicans dislike Barack Obama so much that they picked the candidate most like Obama out of the entire Republican field to go up against Obama.
What kind of sense does that make?
Is Mitt Romney really the best that the Republicans can do?
Right now the best selling point that Republicans have for Romney is this….
"You better vote for him or you will get another four years of Obama".
But Mitt Romney would certainly also be a bad president and would lead us down the exact same road that Obama has.
This fall, Americans will either get to vote for the worst president in U.S. history or another guy who will almost certainly be one of the worst presidents in U.S. history.
How depressing is that?
So as this nation continues to fall apart, we are guaranteed to have an absolutely horrible leader in the White House.
Perhaps we are really cursed.
So do you have an opinion about why so many bad things are happening to America?
Source: The American Dream
Since we now have conclusive evidence that Arafat was poisoned by radioactive polonium 210 and since Israel is the prime suspect in Arafat's 2004 assassination, surely it is time to point the finger at Israel and its leadership and to demand explanations.
Already in 2004, Silvan Shalom, at the time Israeli Foreign Minister, rejected as "scandalous and false" the idea that his country had a role in Arafat's death. However, this is despite the facts that Israel had earlier threatened Arafat, blaming him for Palestinian violence and, after losing 15 citizens to suicide bombings in September 2003 and had decided to "remove" Arafat – though without elaborating publicly precisely how this might be achieved. As if this were not enough, an Israeli newspaper quoted Avi Dichter, at the time Shin Bet director as saying that 'it would be better to kill Arafat than exile him.
This week we learned that a Swiss institute, which recently examined Arafat's clothing, had found "surprisingly" high levels traces of polonium-210, the same substance which killed former Russian spy, Alexander Litvinenko in London in 2006. Surely such findings should also encourage MI5 to re-examine Litvinenko's death and his close ties with Israel and the Russian Oligarchs. Is it possible that polonium -210 was, at the time, the lethal method of choice amongst Israeli assassins?
But a positive answer to this question leaves me only confused. What could have led Israel to the peculiar decision to nuke its prime enemies by planting polonium in their food? What could they have in mind when they decided to use a substance that can be provided by only a very few states and would leave radioactive traces forever?  Do they really think that the Goyim and the Arabs are that stupid? I am afraid that the answer may as well be in the affirmative. Israel knows, and exults in the fact, that it gets away with murder – and quite easily too.
Still, we must here note that Israel has all along denied any involvement in Arafat's death. On Wednesday, Avi Dichter, said that it was for Palestinians to investigate:
The body is in their hands. It is in Ramallah, and really, all the keys are in their hands.
Meanwhile Israel Army Radio confirmed that introducing polonium into food was the only way to kill someone with that particular poison and asked Dichter, whose agency had overall responsibility for monitoring the Palestinians, whether it would have been possible with Arafat.
 You're asking me as his cook?
was Dichter's jocular answer.
Actually, it's no joke. Israel certainly wasn't the cook but is clearly in the frame for being the chef in this gastronomic debacle. Dichter continued: "We were focused on more serious things. Arafat's food did not interest us. I think it interested those around him, in order, really, to keep his health up, as he was indeed known to be unwell. But the Shin Bet, or the State of Israel, was not involved in Yasser Arafat's food."
I agree with Dichter. It is more than likely that Israel wasn't directly involved in the preparation Arafat's final hummus, but we, nonetheless, should be concerned here with the strong possibility that Israel may have, probably thorough a third party, found a way to pepper Arafat's food with the radioactive substance.
Pressed on the poisoning scenario, Ditcher said:
Yasser Arafat had many enemies, domestically and abroad. But let them investigate … The Palestinians know well how to investigate what goes on in their house. Let them investigate and find out.
Dichter is obviously correct, Arafat indeed had many enemies, but the obvious question here is how any of his enemies could put their hands on a radioactive substance available to just a few states. And I guess that we all know of one possible suspect – and so does Dichter.
"By calling for a halt to screenings, the panel is recommending an end to a serious search for the second most lethal cancer in adult males in the US, second only to lung malignancies." — Kate Randall, "US government panel calls for halt to prostate cancer screening", World Socialist Web Site
A government task force has decided that you don't need to know whether you have prostate cancer or not even though though more than 28,170 men will die from the disease this year. (according to the American Cancer Society's estimates)
The United States Preventative Services Task Force, which serves under the Department of Health and Human Services in an advisory capacity, is recommending that physicians stop giving their adult male patients the PSA test even though the harmless blood-test has reduced the death rate from prostate cancer by 44% since its inception 3 decades ago. The USPSTF believes that the screening may be doing more harm than good. Here's how they sum it up on their web page:
"Prostate cancer is a serious health problem that affects thousands of men and their families. But before getting a PSA test, all men deserve to know what the science tells us about PSA screening: there is a very small potential benefit and significant potential harms. We encourage clinicians to consider this evidence and not screen their patients with a PSA test unless the individual being screened understands what is known about PSA screening and makes the personal decision that even a small possibility of benefit outweighs the known risk of harms."
—USPSTF Co-Chair Michael LeFevre, M.D., M.S.P.H., May 22, 2012
And, there's more, too:
"The Task Force concludes that many men are harmed as a result of prostate cancer screening and few, if any, benefit……The members of the USPSTF face the same concerns and fears about health challenges as other people. This decision was reached only after extensive consideration and thoughtful debate. It is based on science and rooted in the knowledge that while everyone wants to help prevent deaths from prostate cancer, current methods of PSA screening and treatment of screen-detected cancer are not the answer." "Screening for Prostate Cancer", United States Preventative Services Task Force)
"Extensive consideration", "thoughtful debate", "based on science"? Wow. It all sounds mighty impressive doesn't it? Did I mention that– according to Northwestern University's Dr. William Catalona—there "were no prostate cancer specialists on the task force. Nor was there a urologist, medical oncologist or radiation oncologist."
Nice panel, eh? What kind of experts are they? Lobbyists?
And that get's to the heart of the matter, doesn't it; because what people really want to know is whether the
USPSTF can be trusted or if they have some ulterior motive in mind, like cutting costs for insurance companies so they can pad the bottom line.
I'm not going to even pretend that I think the USPSTF is "legit". In fact, I think Kate Randall over at the World Socialist Web Site nailed it when she made this observation in a recent article:
"In line with Obama administration's "reform" of the health care system, the mantra is repeated that people are being needlessly "overtested" and that eliminating testing will result in better health outcomes. The real motivation is the drive to slash costs for employers and the government, resulting in a drastic reduction in care for the vast majority of Americans." ("US government panel calls for halt to prostate cancer screening", Kate Randall, WSWS)
Bingo. Denial of service means bigger profits. There's nothing more to it than that. The USPSTF can dress it up in all kinds of official-sounding gibberish, but it's really all about money. Less testing means more money and happier shareholders. The HMOs get rich while you die. Yipee.
Last week, KCRW radio had an informative program on prostate cancer on Warren Olney's "To The Point" titled "Is Less Medicine Good Medicine". You can hear the entire show here
http://www.kcrw.com/media-player/mediaPlayer2.html?type=audio&id=tp120525is_less_medicine_goo
One of the panelists on the program was Dr. William Catalona, the man who invented the PSA test. Catalona cogently refuted nearly everything that the other "pro industry" guests had to say. Here's a bit of what he said:
"Since the beginning of the PSA prostate cancer screening, the death rate has been reduced by 44%, and the percentage of men who present with very advanced stages of cancer at the time of diagnosis, has been reduced by 75%…There's really no downside to getting a blood test. It's just a simple blood test. So men should get the blood test, and if the blood test should turn out abnormal, then the man can always decide whether he wants to proceed with the biopsy and treatment."
… I think the USPSTF has misinterpreted the data. They have overestimated the risks and underestimated the benefits. And if their recommendations are implemented, than statistical teams from the National Institutes of Health show that we would move the field back 20 years and that the number of men with metastatic disease would go back to what it was by 2025. So it would double or triple the prostate cancer death rate……"
"The NIH has determined that 70% of the reduction in the death rate is directly attributable to PSA testing. But even setting that aside, if you just consider the percentage of men who present with metastases, Virtually, all men who present with prostate metastases, end up dying of prostate cancer. And there's nothing else that could effect the metastases rate, and the rate has dropped by 75% during the PSA era, and is projected to go back to what it was without PSA testing. So the groups that have been funded by the NIH, by the university of Michigan, the Fred Hutchinson Cancer Center, say that the reduction is due to PSA testing. There's really no way to deny that PSA testing has reduced the prostate cancer death rate…"
Catalona was challenged by one of the panelists who said that patients' could still get a PSA test if they asked their doctor for it. Here's how Catalona responded:
"The recommendation is that ALL PSA testing should stop on ALL men….and that includes high-risk men like African Americans Prostate cancer is the second biggest killer among men …..Again,there is no risk in taking the PSA test…They're trying to create the impression that if a man has a blood test he's going to be harmed." (doctors can identify aggressive tumors..The combination of treatment and active surveillance can cut the death rate nearly by half.")
The way to beat beat cancer is through early detection, which is why the PSA test is helpful. That doesn't mean the test is perfect or that the various treatments don't involve considerable risk. They do. But, so what? Would you rather be in the dark or know that you have cancer?
And, just listen to the pathetic reasoning behind the task force's recommendation. (This is a quote from one of the pro-industry panelists)
"If the tests show that your PSA levels are elevated, then the doctor will push for more tests which could involve a biopsy. (which will indicate whether sample cells are malignant.) "The problem is that you are then on a treadmill of medical care where the risks are not only from the biopsy which is painful and it can have side effects." (including incontinence or impotence)
Yes, the treatment options can be life-changing, but, once again, so what? Adults want to make these decisions by themselves with the help of their families and their physicians. They don't want some bogus death panel making those choices for them.
Don't be bamboozled by these phony-baloney front-groups who claim to have your best interests at heart. Get the test and make up your own mind.
For the past few weeks, word of the extent of the Fukushima disaster is spreading like the radiation slick moving across the Pacific Ocean thanks to social media and a lot of newly concerned citizens.
Independent researchers who have been trying to warn people for over a year are finally being heard. Much of that can be attributed to citizen journalists, who have realized mainstream media dropped the ball on this a long time ago.
To understand the dynamics of information and how it has been controlled, you would have to look at companies like General Electric and Westinghouse, who not only build nuclear reactors, but own major news outlets and, of course, are buddy-buddy with the Obama Administration.
Or, I can just tell you about it, since I have spent countless hours researching these connections and interviewing people about it. More on that at a later date. It deserves a nice big page in itself, with room for lots of details.
Not only do we have citizen journalists and the alternative media on top of this, but citizen scientists as well.
Have you met your new Fukushima expert, who just might live right next door? These are people who have taught themselves everything they possibly could about nuclear physics, radiation, Geiger counters, atomic power, nuclear plants, the effects of radiation on health, and radiation mitigation.
These citizen scientists have studied bombs, fallout, and weather and wind patterns. They have been monitoring radiation levels across the country, with their own equipment they purchased out of pocket and learned how to use.
They have read anything and everything they can get their hands on. They know the difference between alpha, beta, and gamma radiation, and how to avoid it.
They know that besides cancer, radiation can do all kinds of things to you, like severely compromise your immune system, intelligence, and thyroid, or make you aggressive, confused, and fatigued.
You might bruise or bleed in weird places and feel sick more than usual. They have learned all this out of their own instincts of survival.
Sometimes they even go 2 days without sleep, when bad stuff is happening, just to make sure they are keeping on top of the issues as much as possible.
It's amazing what you can do in a short period of time when your life depends on it. And the more that they learn, the greater their sense of urgency has become in bringing this info to the masses.
And what conclusion have these citizen journalists and citizen scientists reached throughout 14 months of study?
They have come to the inevitable conclusion that all of our lives changed on March 11, 2011, when Fukushima went out of control.
The glaring problem is that we that we weren't told about what actually happened.
Take, for instance, the fact that there were 3 meltdowns almost right away, and that the radioactive isotopes that blew all over Japan, Hawaii, Alaska, Canada and North America came in extraordinarily high quantities.
Or how various agencies that taxpayers have funded, such as the Environmental Protection Agency (EPA), did not do their job which is to protect the environment, and us.
In fact the EPA turned off their monitors for about a month, for the first time in their history. These are expensive and delicate pieces of equipment the taxpayers had already bought and paid for, for just such an emergency.
The Nuclear Regulatory Commission (NRC) knew, but they hid the information. The Obama Administration knew, but sent Hillary Clinton over to Japan to shake hands with the Prime Minister and show support.
Obama came out with a statement to the American people, saying, "We do not believe harmful levels of radiation will reach our shores," which we now know was a lie.
We had to figure all this out for ourselves, which was difficult because the information was purposely withheld from us.
Despite their best efforts, they can't stop the truth from leaking out of Fukushima. Freedom of Information Act (FOIA) requests have now proven this beyond a doubt.
Conspiracy theory is becoming conspiracy fact. And now we are going public with this information, and in a very big way.
It has been around 3 weeks since I wrote my first article for End the Lie, and still no real progress to report at the plant itself.
Tons of water continues to get poured into the reactors and flow subsequently into the Pacific Ocean, every second of every day.
Radiation continues to steam itself out of the ground, and thus up into the air, which then blows over us (i.e. resident of the northern hemisphere).
Earthquakes still happen daily around Japan. In fact there were 7 or 8 of them just in the past few days near Fukushima.
The spent fuel still sits in its shaky nest at the top of reactor number 4. Nothing has been done to further reinforce the structure.
The good news (if you can really call it that) is that it hasn't fallen yet. The United Nations and the United States are now in their most preliminary stages of addressing the complexity of problems there, in an attempt to see if they can help out.
But as you know, the wheels of bureaucracy turn very slowly. It took almost 14 months for them to start turning at all.
Besides the ongoing releases into the ocean and air and the precariousness of the pool, we have a debris field the size of Texas starting to hit the west coast and Alaska, which may or may not be radioactive.
Japan has been burning radioactive trash, and will continue to do so until at least 2014, and that blows over us as well.
We have a radioactive slick moving across the ocean, which by all estimates should have sunk to the bottom, but hasn't. And we have sick and dying mammals, fish, and birds all over the world, which may or may not be related, but should still be an enormous concern, since many of them are being found in the Pacific.
That is part of the problem when you are faced with the world's largest disaster. All of the models for how to deal with it can be thrown out the window.
All the assumptions about fallout and it working itself into the food chain have been wrong. It was much worse, and has happened much faster, than anyone expected, even for concerned citizens and independent researchers following this closely.
The government knew this would be the case from the early SPEEDI numbers, which were hand translated and delivered to the US government as they happened. But for the most part, Fukushima has exceeded everyone's expectations.
New ideas, new techniques, and new engineering has to be invented and implemented. New observations have to be made, and they are, as can be seen by searching "mutations" on YouTube and watching some videos.
We have citizen journalists and citizen scientists who are desperately trying to come up with solutions, and are doing it for free, while our government and agencies created to "protect us" continue to collect their paycheck, roll their eyes, shove their hands in their pockets and hum a tune like they're waiting for a taxi.
But out of crisis, comes opportunity. I'll use 9/11 again as an example.
Why do people get a warm fuzzy feeling when we see people rushing to aid those in the midst of disaster? Because we humans are hard-wired to care for others, and long to be part of a community.
Out of disaster, there is camaraderie, sympathy, and empathy. There are important lessons to be learned.
There are whole new industries that could be created out of this crisis, putting people to work. Aquaponics. Decontamination. Mitigation. Food testing.
And since we didn't seem to learn these lessons with Chernobyl, we need to learn them right now.
All nuclear power does is boil water and create steam, which turbines turn into electricity. But when something goes wrong, it has the ability to kill everything on the planet. That is where we are at now.
We need to adapt if we are to survive. And part of that adaptation means we need to eliminate the possibility of this ever happening again, starting with the 23 reactors the same style as Fukushima, in the United States, which is the Mark 1 Boiling Water Reactor, or BWR.
People in the industry jokingly refer to these as "double-decker beach-bombs," for the reason that the spent fuel is located in pools at the top of the reactor buildings, and they are usually located at a water source for emergency cooling purposes for when the fecal matter hits the fan at one of these plants.
In fact, several nuclear engineers who designed these reactors quit in protest before they went into production. They realized they had made a mistake. They realized this design would be extremely dangerous. GE went ahead and built them anyway.
When is the world going to realize the mistake of embracing nuclear energy as a power source, in spite of its danger?
And how long do we continue to ignore the brilliant scientists that warned about this, like Oppenheimer and Einstein? Or is it already too late?
There are no energy problems, in comparison. If you want to cut down on your electricity usage, turn off your TV.
We have natural gas deposits that could power everything we need. We have the power of the sun, water, wind and earth in the form of geothermal energy.
Nuclear power is a sham, just like the oil industry, and we have been duped into believing we need it to survive.
It generates billions and billions of dollars for these corporations. GE (who has the most ironic motto, "We Bring Good Things to Life") made 14 billion dollars last year, and paid no taxes.
In addition to producing electricity, nuclear reactors also generate 500 pounds of plutonium a year per reactor, as a byproduct of the fission process.
What happens to all that highly toxic plutonium? The government gets to collect this material to make bombs, so we can go utterly decimate other countries, now known as "spreading democracy" and poison their populations for future generations.
Let's not forget depleted uranium, or DU, which is now used in many military applications with horrific results.
Check out videos of children in Fallujah for some recent examples of this.
This is the one big secret that the nuke industry and our government will do anything to protect: besides being a billion dollar industry, nuke plants are basically bomb-making factories right under our noses.
Drawing attention to Fukushima would have drawn attention to this function of nuclear facilities.
An added side effect is that they also make people sick and help boost the health care industry, which in some states is now the number one private sector employer.
The plutonium and fission byproducts these plants produce help support our government's number-one priority: the almighty military-industrial complex.
And it's all in the name of money, power, and control. Energy companies hire top level advertisers and public relations people to promote and manipulate public opinion. Even during the Superbowl, ads were run showing how steam from nuclear power runs the turbines that make beer.
They want you to believe that we are dependent on this source of energy for our quality of life. The truth of the matter, on the other hand, is that nuclear power has ruined our lives.
Ask anyone who used to live in the ever-expanding evacuation zone in Japan, which may soon include the 35 million people in Tokyo.
Ask anyone who lives near a nuke plant and has a child with autism, gastroenteritis, or cancer. Just take a look at the statistics of cancer in the general population since we started embracing this technology.
The truth is: we have been nuked and are still getting nuked, every day, in a very big way.
I used to be a huge supporter of nuclear power, but 14 months of intensive study has changed my opinion significantly.
In addition to my studies, I have been influenced by some major health issues I developed after being outside the first 3 weeks after the reactors exploded. During that time I had a metallic-taste in my mouth, which I found out later was from tasting fission products. More on that later as well.
Nuclear cheerleaders like to complicate things in an attempt to make radiation something much harder to understand. That way it turns people off from the subject and they won't pay attention as much.
The truth is, you don't need to be a physicist, a scientist, or an expert in this field. You don't need to know the differences between decay rates and half-lives, or cesium and strontium.
You only need to understand one thing: All radiation is bad, and all of it will make you sick, no matter how much Ann Coulter claims that the Japanese should be thankful for Fukushima.
The more you are exposed to it, the sicker you will be. The more places you can cut down on your exposure, the better off your health will be.
Radiation is cumulative. It builds up in the body. It destroys cells. It causes mutations in cell growth which can thus create cancer or other illnesses.
There is plenty of this radiation leaking out of Fukushima for over a year now, blowing around in our air, building up in our soil, and contaminating our water supply.
What's worse, we have 104 of these plants in the United States, with special emphasis on the 23 previously mentioned, where this exact scenario is waiting to happen.
Radioactive steam comes out of these plants all the time, since as part of their normal operations. They vent to the atmosphere to keep things cool. Do some research into "rainshadow" in autism and brain cancer in children, and look where the numbers are the highest: around nuclear plants.
We can't afford to wait or delay. If you aren't already mitigating, you need to start now. You need to treat your health, and the health of your family, like you all have cancer already. That might sound like fear mongering to some, but this is one case where "better safe than sorry" truly applies.
This process involves eating healthy whole foods, filtering water, avoiding precipitation, taking supplements, and getting lots of sleep.
Stop eating fast food, and eat lower on the food chain, where bio-accumulation is less. Stop eating seafood, unless you know it is safe.
Include your children in these changes, because we will be dealing with this problem for at least the rest of our lives, and so will they.
We have to change our perspective. Quality of life becomes a much more important issue when your life expectancy has been shortened.
We have Fukushima to thank for this, and the nuclear industry, of course. As well as the various other individuals or agencies that tried to keep this information from us.
And then of course we have spent fuel pool doom lurking in the shadows. And for some unknown reason, Tepco seems to think their most immediate concern is building a huge underground wall, to contain something going on under the plant, the extent of which hasn't yet been shared with us.
So what do they know that we don't? Why is there a sense of urgency to contain something underground, when the spent fuel pool #4 is supposedly the weakest link in the Fukushima chain?
Where is all this technology we have to look for gas and oil, like ground-penetrating radar, optical coherence tomography, or even HAARP, to see what's going on under the plants? What else is being hidden from us?
Instead of calling it game over, let's play a new game called "No More Fukushimas."
Let's figure out ways to clean up this mess and not make more of them in the future. We can leave this for our children to deal with, that is if they are still here.
Or it is up to you, it is up to me, it is up to allof us to fix this situation, right now, as best as we possibly can.
Take care of your family first, have a plan for the worst-case scenario, then do what you can to help others.
Our lives all changed over a year ago, only you weren't told about it. As bad as things are, there is a huge opportunity here for something wonderful to come out of this mess. A cleaner, brighter, healthier future for our children and generations to come. A future, period.
As a close associate of Obama once said, "Never let a crisis go to waste". This might be the last crisis that we ever see, if we don't so something about it.
Courtesy of MayanManifestor
Please send mutation images to christinax4@yahoo.com. Shoot at the highest resolution possible, and include your name, location, and date the mutation was found, for proper credit if the images are published. If it is from store-bought produce, include the location where it was grown and purchased. The more information you provide, the better you will be helping the rest of us.
Please help Christina purchase a spectrometer in order to get the most accurate radiation readings and thus get you the most precise information possible by shopping through her Amazon link or donate directly via PayPal to fukushimafacts@gmail.com. Keep in mind, this is expensive equipment and it is the only way that specific isotope readings can be obtained from food items.
Edited by Madison Ruppert
Christina Consolo is a former clinical researcher supervisor with NIH credentialing; a former Member-at-Large for the Board of Directors, Ophthalmic Photographers' Society; A peer reviewer for the Journal of Ophthalmic Photography; She has written, published, and contributed to numerous scientific research in retinal imaging and ophthalmogy for the past 24 years; She is also an award-winning biomedical photographer and maintains several websites to teach people about radiation, mitigation, and other nuclear issues. She is also the host of "Nuked Radio" Tuesdays & Thursdays from 12-1:00 pm EST on theOrion Talk Radio Network.
For more info including mitigation for radiation exposure, please visit FukushimaFacts.com, where you can sign up to receive Fallout Forecasts on Facebook, YouTube, and Twitter.
Source: End the Lie
Consumers are dying today in part because they continue to eat dead foods that are killed in the microwave. They take a perfectly healthy piece of raw food, loaded with vitamins and natural medicines, then nuke it in the microwave and destroy most of its nutrition. Humans are the only animals on the planet who destroy the nutritional value of their food before eating it. All other animals consume food in its natural, unprocessed state, but humans actually go out of their way to render food nutritionally worthless before eating it. No wonder humans are the least healthy mammals on the planet.
In Russia, microwave ovens were banned in 1976 because of their negative health consequences as many studies were conducted on their use. The ban was lifted after Perestroika in the early 90's. Numerous documents can be found online relating to this topic.
The invention of the microwave and its mass adoption by the population coincides with the onset of obesity in developed nations around the world. Not only did the microwave make it convenient to eat more obesity-promoting foods, it also destroyed much of the nutritional content of those foods, leaving consumers in an ongoing state of malnourished overfeeding. In other words, people eat too many calories but not enough real nutrition. The result is, of course, what we see today: Epidemic rates of diabetes, cancer, heart disease, depression, kidney failure, liver disorders and much more.
These diseases are all caused by a combination of malnutrition and exposure to toxic chemicals (plus other factors such as emotional trauma, lack of exercise, etc.). Microwaves make malnutrition virtually automatic, and being exposed to toxic chemicals is easy to accomplish by simply eating processed foods (which are universally manufactured with the addition of toxic chemicals that act as preservatives, colorings, flavor enhancers and so on).
---
Are Microwaves Safe?.PDF
---
Microwaving is, technically, a form of food irradiation. I find it interesting that people who say that would never eat "irradiated" food have no hesitation about microwaving their food. It's the same thing (just a different wavelength of radiation). In fact, microwaves were originally called "radar ranges." Sounds strange today, doesn't it? But when microwaves were first introduced in the 1970′s, they were proudly advertised as radar ranges. You blast your food with high-intensity radar and it gets hot. This was seen as some sort of space-age miracle in the 1970′s. Perhaps someday an inventor will create a food heating device that does not radically alter the nutritional value of the foods in the process, but I'm not holding my breath on this one. Probably the best way to heat foods right now is to simply use a countertop toaster oven, and keep the heat as low as possible.
The microwave does work as advertised, by the way. It makes your food hot. But the mechanism by which heat is produced causes internal damage to the delicate molecular structures of vitamins and phytonutrients. Minerals are largely unaffected, however, so you'll still get the same magnesium, calcium and zinc in microwaved foods as you would in non-microwaved foods, but the all-important B vitamins, anthocyanins, flavonoids and other nutritional elements are easily destroyed by microwave ovens.
The microwave is the appliance of the living dead. People who use the microwave on a regular basis are walking down a path towards degenerative disease and a lifelong battle with obesity. The more you use the microwave, the worse your nutritional state gets, and the more likely you are to be diagnosed with various diseases and put on pharmaceuticals which, of course, will create other health problems that lead to a grand spiraling nosedive of health.
Do yourself a favor: Toss your microwave, or donate it to some charity. It's much easier to avoid using the microwave if you don't have one around. It will clear up counter space, save you electricity and greatly enhance your dietary habits. When you need to heat something, heat it in a toaster oven or a stovetop pan (avoid Teflon and non-stick surfaces, of course). Better yet, strive to eat more of a raw, unprocessed diet. That where you'll get the best nutrition anyway. Buy yourself a Vita-Mix and blend up some smoothies. It's faster than microwaving foods are far healthier. (See my book Superfood Smoothies for recipes).
I drink a superfood smoothie every morning, and I haven't used a microwave in years. Protecting health is our own responsibility, and it's up to us all to make informed decisions about how we buy, prepare and consume our foods. You have to save yourself.
Here are some of recent scientific findings on microwaving food:
1. Microwaved foods lose 60 ~ 90% of the vital-energy field and microwaving accelerates the structural disintegration of foods.
2. Microwaving creates cancer-causing agents within milk and cereals.
3. Microwaving alters elemental food-substances, causing digestive disorders.
4. Microwaving alters food chemistry which can lead to malfunctions in the lymphatic system and degeneration of the body's ability to protect itself against cancerous growths.
5. Microwaved foods lead to a higher percentage of cancerous cells in the bloodstream.
6. Microwaving altered the breakdown of elemental substances when raw, cooked, or frozen vegetables were exposed for even a very short time and free radicals were formed.
7. Microwaved foods caused stomach and intestinal cancerous growths, a general degeneration of peripheral cellular tissues, and a gradual breakdown of the digestive and excretive systems in a statistically high percentage of people.
8. Microwaved foods lowered the body's ability of the body to utilize B-complex vitamins, Vitamin C, Vitamin E, essential minerals and lipotropics.
9. The microwave field next to a microwave oven caused a slew of health problems as well.
10. Heating prepared meats in a microwave sufficiently for human consumption created:
* d-Nitrosodiethanolamine (a well-known cancer-causing agent)
* Destabilization of active protein biomolecular compounds
* Creation of a binding effect to radioactivity in the atmosphere.
* Creation of cancer-causing agents within protein-hydrosylate compounds in milk and cereal grains.
11. Microwave emissions also caused alteration in the catabolic (breakdown) behaviour of glucoside – and galactoside – elements within frozen fruits when thawed in this way.
12. Microwaves altered catabolic behavior of plant-alkaloids when raw, cooked or frozen vegetables were exposed for even very short periods.
13. Cancer-causing free radicals were formed within certain trace-mineral molecular formations in plant substances, especially in raw root vegetables.
14. Due to chemical alterations within food substances, malfunctions occurred in the lymphatic system, causing degeneration of the immune systems' capacity to protect itself against cancerous growth.
15. The unstable catabolism of micro-waved foods altered their elemental food substances, leading to disorders in the digestive system.
16. Those ingesting micro-waved foods showed a statistically higher incidence of stomach and intestinal cancers, plus a general degeneration of peripheral cellular tissues with a gradual breakdown of digestive and excretory system function.
17. Microwave exposure caused significant decreases in the nutritional value of all foods studied, particularly:
* A decrease in the bioavailability of B-complex vitamins, vitamin C, vitamin E, essential minerals and lipotrophics
* Destruction of the nutritional value of nucleoproteins in meats
* Lowering of the metabolic activity of alkaloids, glucosides, galactosides and nitrilosides (all basic plant substances in fruits and vegetables)
* Marked acceleration of structural disintegration in all foods.
Mike from Natural News.com says,
On Microwaves:
"The rise of widespread nutritional deficiencies in the western world correlates almost perfectly with the introduction of the microwave oven. This is no coincidence. Microwave ovens heat food through a process of creating molecular friction, but this same molecular friction quickly destroys the delicate molecules of vitamins and phytonutrients (plant medicines) naturally found in foods. One study showed that microwaving vegetables destroys up to 97% of the nutritional content (vitamins and other plant-based nutrients that prevent disease, boost immune function and enhance health).""In other words, eating raw broccoli provides you with natural anti-cancer medicine that's extremely effective at halting the growth of cancer tumours. But microwaving that broccoli destroys the anti-cancer nutrients, rendering the food "dead" and nutritionally depleted. There's even some evidence to suggest that microwaving destroys the natural harmony in water molecules, creating an energetic pattern of chaos in the water found in all foods. In fact, the common term of "nuking" your food is coincidentally appropriate: Using a microwave is a bit like dropping a nuclear bomb on your food, then eating the fallout. (You don't actually get radiation from eating microwaved foods, however. But you don't get much nutrition, either.)"
So. if you are going to use a microwave oven, it is suggested that you set and walk out of the kitchen where practical. The American FDA advised "don't stand in front of a microwave for long periods of time". There is a lot of researching being conducted into microwave oven and the effects that it may have on human bodies. Final studies have not been released as yet, but if the above is any indication to the negative affects on food, I can only imagine the effects on the human body. So if you don't have to use a microwave oven, then don't. Even if it is to preserve the quality and nutritional value of your food."
Do you and your family a huge life saving favor, throw away the microwave!
Spend a little longer preparing a meal, live a longer healthier life!
Source: Apparently Apparel
A new report circulating in the Kremlin today prepared by the Foreign Ministry on the planned re-opening of talks with Japan over the disputed Kuril Islands during the next fortnight states that Russian diplomats were "stunned" after being told by their Japanese counterparts that upwards of 40 million of their peoples were in "extreme danger" of life threatening radiation poisoning and could very well likely be faced with forced evacuations away from their countries eastern most located cities… including the world's largest one, Tokyo.
The Kuril Islands are located in Russia's Sakhalin Oblast region and stretch approximately 1,300 km (810 miles) northeast from Hokkaido-, Japan, to Kamchatka, Russia, separating the Sea of Okhotsk from the North Pacific Ocean. There are 56 islands and many more minor rocks. It consists of Greater Kuril Ridge and Lesser Kuril Ridge, all of which were captured by Soviet Forces in the closing days of World War II from the Japanese.
The "extreme danger" facing tens of millions of the Japanese peoples is the result of the Fukushima Daiichi Nuclear Disaster that was a series of equipment failures, nuclear meltdowns, and releases of radioactive materials at the Fukushima I Nuclear Power Plant, following the To-hoku earthquake and tsunamion 11 March 2011.
According to this report, Japanese diplomats have signaled to their Russian counterparts that the returning of the Kuril Islands to Japan is "critical" as they have no other place to resettle so many people that would, in essence, become the largest migration of human beings since the 1930's when Soviet leader Stalin forced tens of millions to resettle Russia's far eastern regions.
Important to note, this report continues, are that Japanese diplomats told their Russian counterparts that they were, also, "seriously considering" an offer by China to relocate tens of millions of their citizens to the Chinese mainland to inhabit what are called the "ghost cities," built for reasons still unknown and described, in part, by London's Daily Mail News Service in their 18 December 2010 article titled: "The Ghost Towns Of China: Amazing Satellite Images Show Cities Meant To Be Home To Millions Lying Deserted" that says:
"These amazing satellite images show sprawling cities built in remote parts of China that have been left completely abandoned, sometimes years after their construction. Elaborate public buildings and open spaces are completely unused, with the exception of a few government vehicles near communist authority offices. Some estimates put the number of empty homes at as many as 64 million, with up to 20 new cities being built every year in the country's vast swathes of free land."
Foreign Ministry experts in this report note that should Japan accept China's offer, the combined power of these two Asian peoples would make them the largest super-power in human history with an economy larger than that of the United States and European Union combined and able to field a combined military force of over 200 million.
To how dire the situation is in Japan was recently articulated by Japanese diplomat Akio Matsumurawho warned that the disaster at the Fukushima nuclear plant may ultimately turn into an event capable of extinguishing all life on Earth.
According to the Prison Planet News Service:
"Matsumura posted [this] startling entry on his blog following a statement made by Japan's former ambassador to Switzerland, Mitsuhei Murata, on the situation at Fukushima.

Speaking at a public hearing of the Budgetary Committee of the House of Councilors on 22 March 2012, Murata warned that "if the crippled building of reactor unit 4 – with 1,535 fuel rods in the spent fuel pool 100 feet (30 meters) above the ground – collapses, not only will it cause a shutdown of all six reactors but will also affect the common spent fuel pool containing 6,375 fuel rods, located some 50 meters from reactor 4," writes Matsumura.

In both cases the radioactive rods are not protected by a containment vessel; dangerously, they are open to the air. This would certainly cause a global catastrophe like we have never before experienced. He stressed that the responsibility of Japan to the rest of the world is immeasurable. Such a catastrophe would affect us all for centuries. Ambassador Murata informed us that the total numbers of the spent fuel rods at the Fukushima Daiichi site excluding the rods in the pressure vessel is 11,421."
Disturbingly, the desperate situation facing Japan is, also, facing the United States as Russian military observers overflying the US this week as part of the Open Skies Treaty are reporting "unprecedented" amounts of radiation in the Western regions of that country, a finding that was further confirmed by scientists with the Woods Hole Oceanographic Institute who have confirmed that a wave of highly radioactive waste is headed directly for the US west coast.
Important to note is that this new wave of Fukushima radiation headed towards the US is in addition to earlier radiation events that American scientists are now blaming for radioactive particles from Japan being detected in California kelp.
Though the news of this ongoing global catastrophe is still being heavily censored in the US, the same cannot be said about Japan, and as recently reported by the leading Japanese newspaper The Mainichi Daily News that reports:
"One of the biggest issues that we face is the possibility that the spent nuclear fuel pool of the No. 4 reactor at the stricken Fukushima No. 1 Nuclear Power Plant will collapse. This is something that experts from both within and outside Japan have pointed out since the massive quake struck. TEPCO, meanwhile, says that the situation is under control. However, not only independent experts, but also sources within the government say that it's a grave concern.

The storage pool in the No. 4 reactor building has a total of 1,535 fuel rods, or 460 tons of nuclear fuel, in it. The 7-story building itself has suffered great damage, with the storage pool barely intact on the building's third and fourth floors. The roof has been blown away. If the storage pool breaks and runs dry, the nuclear fuel inside will overheat and explode, causing a massive amount of radioactive substances to spread over a wide area. Both the U.S. Nuclear Regulatory Commission (NRC) and French nuclear energy company Areva have warned about this risk.

A report released in February by the Independent Investigation Commission on the Fukushima Daiichi Nuclear Accident stated that the storage pool of the plant's No. 4 reactor has clearly been shown to be "the weakest link" in the parallel, chain-reaction crises of the nuclear disaster. The worse-case scenario drawn up by the government includes not only the collapse of the No. 4 reactor pool, but the disintegration of spent fuel rods from all the plant's other reactors. If this were to happen, residents in the Tokyo metropolitan area would be forced to evacuate."
Even though this crisis in Japan has been described as "a nuclear war without a war" and the US Military is being reported is now stocking up on massive amounts of anti-radiation pills in preparation for nuclear fallout, there remains no evidence at all the ordinary peoples are being warned about this danger in any way whatsoever.
Source: RSN
Mounting troubles at Japan's hobbled Fukushima Dai-Ichi nuclear power plant now pose a real threat to human survival. If the area in which Unit 4 is struck by another 7.0 magnitude earthquake, there's a 70 percent chance that "the entire fuel pool structure will collapse" and massive doses of lethal nuclear radiation will be released into the atmosphere. The disaster would release approximately "134 million curies is Cesium-137 — roughly 85 times the amount of Cs-137 released at Chernobyl as estimated by the U.S. National Council on Radiation Protection (NCRP)." Experts believe that the amounts are sufficient to "destroy the world environment and our civilization", which makes containment "an issue of human survival." ("The Greatest Single Threat to Humanity: Fuel Pool Number 4″, Washington's blog)
The structural integrity of Unit 4′s cooling pool was greatly compromised by the earthquake and following tsunami which struck the facility over a year ago. At present, the pools are not adequately protected or reinforced, which means that a sizable tremor could "cause a disaster worse than the three reactor meltdowns." If such a disaster were to occur, "people should get out of Japan, and residents of the West Coast of America and Canada should shut all of their windows and stay inside," says nuclear expert Arnie Gundersen.
While the danger to life and the environment pose the greatest single national security threat the United States has faced since WW2, the Obama administration has provided little aid to the emergency effort. Japan is largely "going it alone" trying to cobble together a plan to safely store the spent fuel and minimize the risks to public safety.
On March 8, 2012, Dr. Hiroaki Koide, Research Associate at the Research Reactor Institute of Kyoto University, gave his bleak assessment of the situation on the Japanese a news program called, "Morning Bird". Koide explained how 1,500 rods are presently located in a "fuel pool" that has been severely damaged. The rods have to be cooled constantly or a "huge amount of radiation contained in the spent fuel will be released outside". If an earthquake hits and undermines the pool, the coolant will exit the pool, the rods will melt and radioactive plumes will rise into the atmosphere. Koide explained that the rods could not be safely removed from the existing pool because "if you hoist them up in the air, huge amount of radiation will come out from the spent fuel and people nearby will die."
One of the journalists on "Morning Bird" asked Koide what would happen if the Unit was struck by another earthquake?
Koide answered, "That will be the end."
"The end," the journalist asked, visibly shaken?
"The end," Koide repeated emphatically. ("Fukushima Dai-Ichi No. 4: An earthquake before spent fuel rods are moved to safe storage would be "the end", Lambert Strether, Naked Capitalism)
Now, check this out:
"Japan's former Ambassador to Switzerland, Mr. Mitsuhei Murata… strongly stated that if the crippled building of reactor unit 4—with 1,535 fuel rods in the spent fuel pool 100 feet (30 meters) above the ground—collapses, not only will it cause a shutdown of all six reactors but it will also affect the common spent fuel pool containing 6,375 fuel rods, located some 50 meters from reactor 4. In both cases the radioactive rods are not protected by a containment vessel; dangerously, they are open to the air. This would certainly cause a global catastrophe like we have never before experienced. … Such a catastrophe would affect us all for centuries."
("Fukushima Daiichi Site: Cesium-137 is 85 times greater than at Chernobyl Accident", akiomatsumura.com)
Murata's concerns have been brought to the attention of the UN Secretary General Ban Ki-moon, to high-ranking officials in the Obama administration and EU, and to leaders around the world. The reaction has basically been the same everywhere, which is, "It's Japan's problem. Let them deal with it."
There is no way to overstate the media's complicity in concealing critical information about the tragedy that is presently unfolding at Fukushima. If there is another earthquake, the media will certainly be every bit as responsible as the government officials who saw the danger, but chose to do nothing.
5.)  MEAT:  If a animal eats any leafy vegetable all along the West Coast, that animal has consumed radiation, and is poisoned.  This is any animal from cows, pigs, goats, sheep to wild deer and other game.
If you eat the above foods from areas with high radiation levels, you are eating radiation and feeding it to your children. Slowly the radiation levels within your body will build up.  This is PERMANENT.
Infant mortality rates across the United States have increased by more than 35% since the nuclear disaster, according to a court statement by Dr. with independent scientist Leuren Moret, MA, PhD.  A study published in The International Journal of Medicine indicates that more than 20,000 deaths right here in North America can be directly attributed to the release of radioactive material from Fukushima.
Radioactive isotopes of the type released from Fukushima have a half life of 30,000 years.  This means that we must permanently change the way we prepare our food.
Wash your food with soap and rinse it in filtered water. 
Be aware of the origins of your vegetables, fish, game and seafood.
Keep abreast of radiation levels to help monitor where your food is acquired.
Use only filtered water for drinking, cooking and ice.
Check in tomorrow at Inalienably Yours to read more about our increasingly toxic land and the intentional poisoning of the United States.
Sources:
Fukushima Radiation Spreads Worldwide – Washington Blog
Nuclear Genocide of Babies and Children in Japan, the US and Canada
Source: Inalienably Yours
Health care is on the mind of many Americans. The Supreme Court is taking up Obamacare. Costs are going up at an alarming pace. The access to quality medical care is eroding. Hospitals are under pressure and closings are rising. Doctors brace for reduced payments for services. No wonder any proposal for altering the trajectory of all these trends gathers interest. Medicare is the gorilla in the federal budget china shop. This primate is hungry for more takings. Survival of the fittest may well come down to the realignment of the entire health care system. Just what can the public expect out of this struggle for wellness?
Within this context, the Paul Ryan budget proposal bears consideration. Forbes provides the analysis Paul Ryan's New-and-Improved Plan for Medicare and Medicaid Reform.
"Ryan's proposal for Medicaid reform involves "converting the federal share of Medicaid spending into a block grant indexed for inflation and population growth."

Another key detail: Ryan's plausible assumption is that competitive bidding could drive Medicare spending down without hard spending caps. However, as a backstop, the proposal caps the growth of Medicare spending at GDP plus 0.5 percent, which—not coincidentally—matches the targeted Medicare growth rate in President Obama's budget.

The PTP 2 growth rate cap of GDP + 0.5% is meaningfully higher than that of PTP 1, which grew Medicare at the rate of inflation, something that was a principal source of criticism from the left (Alice Rivlin called it "much, much too low" ).

A key question is: what will the CBO do? Will the CBO score this new plan with the GDP plus 0.5 percent Medicare growth cap? Or will CBO give Ryan any credit for the benefits of competitive bidding?"

Congressman Ryan argues his case in the You Tube, The Path to Prosperity.Frightening prospects and dire results are unavoidable. All should acknowledge the danger, but the denial blame game seems to be the only factor that spikes higher than the national debt.
The National Review warns in Ryan and the Middle Class.
"Ryan's Medicare and Medicaid reforms are both slow, workable, conservative solutions to the fiscal imbalances of those programs. The American middle class may not accept Medicare reform willingly, but it is something close to a mathematical certainty that it ultimately will accept it in some form. One possible form is that the checks stop coming as the nation becomes insolvent, another is that the government pays benefits nominally to the penny but radically devalues the dollar to do so. I suspect that the Ryan plan, or something like it, will be enacted long before that happens. We're stupid, but we're not that stupid."
The underlying assumption that Medicare and Medicaid are intrinsic entitlements and an inherent right is an assumption that is seldom challenged. The stupidity is not in the creative social engineering of payment alternatives, but in the very concept that personal liberty and corresponding responsibility is a chronic disease. Few distortions in the nature of a free people are more confused than the mental disorder that demands government mandated health care.
It is because of this sharp departure from sanity that the nanny state demands compliance. The pharmacology complex, which is the driving force that underpins hospital therapy and officially sanctioned medicine, is managed treatment. The managed aspect, frequently based upon the funds available for further coverage, is cold-blooded. Medicine has evolved into a monitory arbitrage function for HMO to hedge their returns.
The Whole Truth is the other cliff dropping Medicare video that counters the infamous Obamacare attack on the previous Ryan initiative.The explosion of costs to be part of this system enriches a dependent drug society. The financial return on assets for the major drug producers is stellar. However, upon an in-depth examination of quality of care standards, how many people will agree that the medical community is ready for a major retraction, much less affordability, of services?
Treatment by pill is not all that it advertises. Health through radiation is deadly. And healing through bureaucratic panels is fatal.
The transactional fraud that exists in the government medicine administration is reason enough to scrap socialized medicine. The automatic Medicare Part A availability subjugates citizens into the medical system even if they reject the principle of state distributed healthcare. Currently accepting the copayment contribution for Part B is optional, but how long do you believe that will remain in effect?
Nonetheless, the media and pundits overwhelmingly demand government public health coverage. Criticism of the Ryan reform, especially from the Progressive Left is deafening. A more balanced approach is expressed by Bloomberg in Paul Ryan's Medicare Voucher Plan Improves With Each Pass,
"The danger is that Ryan may be cutting costs too steeply, forcing Americans to choose from a stingier menu of options while shouldering ever-higher out-of-pocket costs. He may also be relying too heavily on seniors' ability to make smart decisions about their insurance — often when they are frail or seriously ill.

To avoid these pitfalls, Ryan should clarify that insurers wouldn't be able to charge any Medicare patient excessively high premiums. One way to do that would be to require insurers to charge the same premiums for all enrollees of the same age. To keep private insurers from cherry-picking the healthiest seniors, plans must be "risk-adjusted," insurer-speak for customizing government subsidies for the average beneficiary's health status. Finally, participating plans must be required to offer benefits at least as comprehensive as traditional Medicare."
The out of control health care spending and the skyrocketing rise in government debt to finance the cost leads to an inevitable sentiment that people are living too long. The systemic design for a eugenic policy is the most disturbing aspect in the health care debacle. Congressman Paul Ryan is attempting to set the fracture of broken bones for managed care. The politics of government medicine is lethal. Solutions seek a miracle cure but the treatments are just as toxic as the expenditures.
I just received one of those chain-letter e-mails that are making the rounds currently and this one cites all the good things that Israelis have done lately.  According to this e-mail, Israelis have invented the cell phone, perfected Windows XP, achieved a per-capita income that exceeds the UK's, developed the Pentium chip, have the highest percentage of college graduates anywhere, discovered how to treat breast cancer without radiation and even invented a cure for pimples.  Go them!
After reading this huge laundry-list of Israel's sparkling achievements, I was immediately reminded of the good old pre-Sputnik glory days of America, back when our education system was the best, our scientists were the best, our economy was the best, our healthcare was the best, our government was the best and everything about America was completely top-drawer.
We were always Number One in everything.
And then along came the corporatists who now own America — taking over our country and shoving their selfish schemes for wealth consolidation, government de-regulation and endless war down our throats.  And today, after spending approximately 40 years under corporatist control. America is now 37th in healthcare, 25th in math education, 10th in economic competitiveness, etc.  Just look how far we have sunk.
And now even Israel, especially even Israel, clearly outranks us in so many areas and ways.  Well, good for them — and bad for us.
However, the corporatists who now own Israel are clearly following the very same policies that originally derailed America:  Corporatism, wealth consolidation, government de-regulation and endless war.  Now all I can say to Israel is, "Good luck with all that.  I hope you do better under corporatism than we did."  But being able to successfully ride the corporatist dragon is probably never gonna happen in Israel either.  Why?  Because past is prologue and Israel is now blithely heading down the very same road to ruin that America has already traveled.  And there's really nothing to stop Israel from becoming just like us — corporate-owned has-beens.
To quote my friend's recent chain-letter, "Israel now has the fourth largest air force in the world (after the U.S, Russia and China) and, in addition to a large variety of other aircraft, Israel's air force has an aerial arsenal of over 250 F-16s.  This is the largest fleet of F-16 aircraft outside of the USA."
Looks like Israel has already traveled a goodly distance down that same road that has already incapacitated the U.S.
America has become like Pinocchio, lured off to Pleasure Island by the corporatists.  And Israel's nose has clearly already started to grow also, marking the beginning of the end for their accessible education, fabulous healthcare, scientific excellence and economic achievement — to say nothing of Israel also losing its only chance to develop a conscience and become a Real Boy.