Will God Allow It?
"Instead of a new order they institute disorder, and their controls lead to uncontrollable results.  In the spheres of economics, politics, and education, we see the plans and works of humanistic statists rapidly spinning out of control.  The dream of humanistic reason becomes a nightmare."  Rushdoony Systematic Theology Pg. 656
Wars are always conducted in a sea of chaos.  Even the most well planned offensives seem to veer off into unforeseen directions and quickly get out of control.  It appears that the contemporary new world order has hit a snag.  Obama has ordered air strikes in Iraq. In Afghanistan an American General has been killed.  The New York Times reports that "scores of these so-called insider attacks have plagued the American military in recent years". In Iraq ISIL (Islamic State of Iraq and the Levant) has found a popular niche and is expanding control over large parts of Iraq and Syria.   Iran remains independent and presents a dilemma for the United States battle for elite hegemony.
The U. S. wants to replace their original Iraqi stooge with another stooge and the original stooge is balking.  Iraqi Prime Minister Nouri al-Maliki has deployed troops to defend his regime against a U. S. effort to oust him.  Read here.
It appears that the fangs of United States imperialism have been cracked if not broken and the wheels of the juggernaut have been slowed.
The object behind all this murder and mayhem is to set up a puppet government in these Arab lands that can be controlled by the new world order forces that are behind U. S. imperialism.  These governments have been set up in both Iraq and Afghanistan but they have never been stable.
With the usual obsequious self-righteousness Defense Secretary Chuck Hagel says "It is up to the people of Afghanistan to make these decisions, their military, their new leadership that will be coming in as a result of their new government."  He admits that "there is no guarantee" that Afghanistan's puppet regime might collapse like floundering Iraq. The people of Iraq and Afghanistan must know that when the only candidates are stooges in what is called a "Democratic Election", they are being subjected to fraud.
Money is the rail that supports the train of the new world order.  Western societies are money oriented and ambitious humanists are vulnerable to offers of wealth and power.  Societies that values religion more than money present a more difficult problem.  They cling to their religious beliefs and seek to organize themselves around them.  Afghans discern the duplicity and chaos that accompanies efforts to destroy their religion and bring them under the tyrannical tent of Western power.  Read here.
Meanwhile in Iraq Floyd Brown of "Wall Street Daily" reports that title ISIS (Independent State of Iraq and Syria)  has been changed to Islamic State and that under Sharia law Sunni Caliph Ibrahim will become head of both state and religion.  This powerful organization has shaken the control of U. S. ally Shia Prime Minister Nouri al-Maliki and made it impossible to continue the sham of democracy that U. S. forces had fought so hard to implement.
Problems in the U. S. military are beginning to grow as officers who fought in Iraq are disillusion with the chaos that has resulted from their efforts to bring order. It becomes difficult to maintain a proper esprit de corps when hard won victories turn into depressing defeats.
It appears that the American war party made a poor decision when they set about creating controlled democracies in nations with intractable internal conflicts.  Any semblance of freedom seems to erupt into murder and mayhem.
To make matters worse knowledgeable insider David Stockman is predicting the total collapse of what he calls the "American Imperium".  He cites the impossible task of reversing massive military spending and believes American superpower status is in jeopardy. Listen here.
Most Americans now know that our nation is slated for disaster:  Flying on a recent trip I was informed by my fellow travelers that they were stocking foods and had purchased weapons for their homes.  A college professor, a Registered Nurse, and a New England office worker the wife a policeman all related their serious concern for the future of the homeland.
We are a nation being controlled by a mentally unbalanced cabal.  The promotion of Feminism Homosexuality and Lesbianism has seriously eroded the family which is the key unit of government in the Creation.
The attempt to promote women into male equality is similar to trying to transform a cat into a dog.  It provides an accurate definition of cognitive dissonance; they are weaker physically, their bodies are constructed differently, they are softer, more helpful, and have an ability to do several things at once.  Men are physically stronger and aggressively sexually attracted to women.  Women are designed to be helpmates to men who are vested with the duty of protecting them; first fathers then husbands.  When physically inferior women are put together with predatory males they will be assaulted and laws will not prevent it.
Homosexuals and Lesbians pervert the sex act and promote their lifestyles in rebellion against the normal procedures of marriage and procreation.  Sexual practices are often formed by the primary sexual experience; homosexuality usually becomes imbedded early in a person's life.  Some may be born with these tendencies but more are acquired.  Questioning the sexuality of young and adolescent children can cause serious problems as they fight to grow into adulthood.
Recently on Public Radio an interviewer asked a guest if he believed Creationism should be taught in schools; his answer was "no" because Creationism is not based on scientific evidence.  How any realistic human could miss the diversity and complexity of the creation and spend worthless time trying to deny it was created is beyond rationality.  Living things do evolve but they do not evolve into more complex organisms.  That billions of years would defy what is plainly evident is a wanton distortion of reality.  Matter deteriorates over time it does not evolve into more complex living organisms.  If you doubt, read here.
R. J. Rushdoony contends that the quest for freedom by humanists always ends in slavery.  The weaker masses become the slaves of the powerful elite – history is replete with proof.  We were created to be governed by God and to obey His Law.  Maximum autonomy results from living under God's Commandments.
We are created in the image of God to be His regents in His creation.  Attempts to replace His dominion result in a flight from reality that spawns first anarchy and chaos and then grinding humanistic tyranny.  "Because all reality, including man himself, is God-created and made according to God's will and eternal purpose, man cannot have a right relationship to himself, to other men, and to the world around him except through God and His word."  Rushdoony, "Systematic Theology", Pg.642
This is where we are in the United States of America, everything is breading down:  We are hopelessly in debt, our courts no longer produce justice, civil order is tenuous, we have lost our moral standards, families are in disarray and are failing to produce enough children to maintain the race, our government is hoarding weapons while they seek to disarm citizens, our soldiers are losing the fight for world empire, and our churches are weak and full of serious theological error.
Now, let me shock you, gentle reader.  From this chaos God will build His Kingdom!  When the world is thoroughly tired of living in murder, mayhem, and captivity, God may change enough hearts to return the world to His justice and His peace.
During Cold War One those of us in the American radical left were often placed in the position where we had to defend the Soviet Union because the US government was using that country as a battering ram against us. Now we sometimes have to defend Russia because it may be the last best hope of stopping TETATW (The Empire That Ate The World). Yes, during Cold War One we knew enough about Stalin, the show trials, and the gulags. But we also knew about US foreign policy.
E-mail sent to the Washington Post July 23, 2014 about the destruction of Malaysian Airlines Flight 17:
Dear Editor,
Your July 22 editorial was headed: "Russia's barbarism. The West needs a strategy to contain the world's newest rogue state."
Pretty strong language. Vicious, even. Not one word of hard evidence in the editorial to back it up. Then, the next day, the Associated Press reported:
Senior U.S. intelligence officials said Tuesday that Russia was responsible for 'creating the conditions' that led to the shooting down of Malaysia Airlines Flight 17, but they offered no evidence of direct Russian government involvement. … the U.S. had no direct evidence that the missile used to shoot down the passenger jet came from Russia.
Where were these words in the Post? You people are behaving like a rogue newspaper.
– William Blum
I don't have to tell you whether the Post printed my letter. I've been reading the paper for 25 years – six years during Vietnam (1964-1970) and the last 19 years (1995-2014) – usually spending about three hours each day reading it very carefully. And I can say that when it comes to US foreign policy the newspaper is worse now than I can remember it ever was during those 25 years. It's reached the point where, as one example, I don't take at face value a word the Post has to say about Ukraine. Same with the State Department, which makes one accusation after another about Russian military actions in Eastern Ukraine without presenting any kind of satellite imagery or other visual or documentary evidence; or they present something that's wholly inconclusive and/or unsourced or citing "social media"; what we're left with is often no more than just an accusation.  Do they have something to hide?
The State Department's Public Affairs spokespersons making these presentations exhibit little regard or respect for the reporters asking challenging questions. It takes my thoughts back to the Vietnam era and Arthur Sylvester, Assistant Secretary of Defense for Public Affairs, the man most responsible for "giving, controlling and managing the war news from Vietnam". One day in July 1965, Sylvester told American journalists that they had a patriotic duty to disseminate only information that made the United States look good. When one of the reporters exclaimed: "Surely, Arthur, you don't expect the American press to be handmaidens of government," Sylvester replied: "That's exactly what I expect," adding: "Look, if you think any American official is going to tell you the truth, then you're stupid. Did you hear that? – stupid."
Such frankness might be welcomed today as a breath of fresh air compared to the painful-to-observe double-talk of a State Department spokesperson.
My personal breath of fresh air in recent years has been the television station RT (formerly Russia Today). On a daily basis many progressives from around the world (myself included occasionally) are interviewed and out of their mouths come facts and analyses that are rarely heard on CNN, NBC, ABC, CBS, NPR, PBS, Fox News, BBC, etc. The words of these progressives heard on RT are typically labeled by the mainstream media as "Russian propaganda", whereas I, after a long lifetime of American propaganda, can only think: "Of course. What else are they going to call it?"
As for Russia being responsible for "creating the conditions" that led to the shooting down of Flight 17, we should keep in mind that the current series of events in Ukraine was sparked in February when a US-supported coup overthrew the democratically-elected government and replaced it with one that was more receptive to the market-fundamentalism dictates of the World Bank, International Monetary Fund, and the European Union. Were it not for the coup there would have been no eastern rebellion to put down and no dangerous war zone for Flight 17 to be flying over in the first place.
The new regime has had another charming feature: a number of outspoken neo-Nazis in high and low positions, a circumstance embarrassing enough for the US government and mainstream media to turn it into a virtual non-event. US Senator John McCain met and posed for photos with the leader of the neo-Nazi Svoboda Party, Oleh Tyahnybok (photos easily found on the Internet). Ukraine – whose ties to Naziism go back to World War Two when their homegrown fascists supported Germany and opposed the Soviet Union – is on track to becoming the newest part of the US-NATO military encirclement of Russia and possibly the home of the region's newest missile base, target Moscow.
It is indeed possible that Flight 17 was shot down by the pro-Russian rebels in Eastern Ukraine in the mistaken belief that it was the Ukrainian air force returning to carry out another attack. But other explanations are suggested in a series of questions posed by Russia to the the Secretary-General of the UN General Assembly, accompanied by radar information, satellite images, and other technical displays:
"Why was a military aircraft flying in a civil aviation airway at almost the same time and the same altitude as a civilian passenger aircraft? We would like to have this question answered."
"Earlier, Ukrainian officials stated that on the day of the accident no Ukrainian military aircraft were flying in that area. As you can see, that is not true."
"We also have a question for our American colleagues. According to a statement by American officials, the United States has satellite images which show that the missile aimed at the Malaysian aircraft was launched by the militants. But no one has seen these images."
There is also this intriguing speculation, which ties in to the first Russian question above. A published analysis by a retired Lufthansa pilot points out that Flight 17 looked similar in its tricolor design to that of Russian President Putin's plane, whose plane with him on board was at the same time "near" Flight 17. In aviation circles "near" would be considered to be anywhere between 150 to 200 miles.  Could Putin's plane have been the real target?
There is as well other serious and plausible questioning of the official story of Russia and/or Ukrainian anti-Kiev militias being responsible for the shootdown. Is Flight 17 going to become the next JFK Assassination, PanAm 103, or 9-11 conspiracy theory that lingers forever? Will the Iraqi weapons of mass destruction and the Syrian chemical weapons be joined by the Russian anti-aircraft missile? Stay tuned.
Will they EVER leave Cuba alone? No.
The latest exposed plot to overthrow the Cuban government … Oh, pardon me, I mean the latest exposed plot to bring democracy to Cuba …
Our dear friends at the Agency For International Development (USAID), having done so well with their covert sub-contractor Alan Gross, now in his fifth year in Cuban custody … and their "Cuban Twitter" project, known as ZunZuneo, exposed in 2012, aimed at increasing the flow of information amongst the supposedly information-starved Cubans, which drew in subscribers unaware that the service was paid for by the US government … and now, the latest exposure, a project which sent about a dozen Venezuelan, Costa Rican and Peruvian young people to Cuba in hopes of stirring up a rebellion; the travelers worked clandestinely, using the cover of health and civic programs, or posing as tourists, going around the island, on a mission to "identify potential social-change actors" to turn into political activists. Can you believe that? Can you believe the magnitude of naiveté? Was it a conviction that American exceptionalism would somehow work its magic? Do they think the Cuban people are a bunch of children just waiting for a wise adult to come along and show them what to think and how to behave?
One of these latest USAID contracts was signed only days after Gross was detained, thus indicating little concern for the safety of their employees/agents. As part of the preparation of these individuals, USAID informed them: "Although there is never total certainty, trust that the authorities will not try to harm you physically, only frighten you. Remember that the Cuban government prefers to avoid negative media reports abroad, so a beaten foreigner is not convenient for them."
It's most ironic. The US government could not say as much about most of their allies, who frequently make use of physical abuse. Indeed, the statement could not be made in regard to almost any American police force. But it's this Cuba that doesn't beat or torture detainees that is the enemy to be reformed and punished without mercy … 55 years and counting.
The United States and torture
Two of the things that governments tend to cover-up or lie about the most are assassinations and torture, both of which are widely looked upon as exceedingly immoral and unlawful, even uncivilized. Since the end of the Second World War the United States has attempted to assassinate more than 50 foreign leaders and has led the world in torture; not only the torture performed directly by Americans upon foreigners, but providing torture equipment, torture manuals, lists of people to be tortured, and in-person guidance and encouragement by American instructors, particularly in Latin America.
Thus it is somewhat to the credit of President Obama that at his August 1 press conference he declared "We did a whole lot of things that were right, but we tortured some folks. We did some things that were contrary to our values."
And he actually used the word "torture" at that moment, not "enhanced interrogation", which has been the euphemism of preference the past decade, although two minutes later the president used "extraordinary interrogation techniques". And "tortured some folks" makes me wince. The man is clearly uncomfortable with the subject.
But all this is minor. Much more important is the fact that for several years Mr. Obama's supporters have credited him with having put an end to the practice of torture. And they simply have no right to make that claim.
Shortly after Obama's first inauguration, both he and Leon Panetta, the new Director of the CIA, explicitly stated that "rendition" was not being ended. As the Los Angeles Times reported at the time: "Under executive orders issued by Obama recently, the CIA still has authority to carry out what are known as renditions, secret abductions and transfers of prisoners to countries that cooperate with the United States."
The English translation of "cooperate" is "torture". Rendition is simply outsourcing torture. There was no other reason to take prisoners to Lithuania, Poland, Romania, Egypt, Jordan, Kenya, Somalia, Kosovo, or the Indian Ocean island of Diego Garcia, to name some of the known torture centers frequented by the United States. Kosovo and Diego Garcia – both of which house large and very secretive American military bases – if not some of the other locations, may well still be open for torture business. The same for the Guantánamo Base in Cuba.
Moreover, the Executive Order referred to, number 13491, issued January 22, 2009, "Ensuring Lawful Interrogations", leaves a major loophole. It states repeatedly that humane treatment, including the absence of torture, is applicable only to prisoners detained in an "armed conflict". Thus, torture by Americans outside an environment of "armed conflict" is not explicitly prohibited. But what about torture within an environment of "counter-terrorism"?
The Executive Order required the CIA to use only the interrogation methods outlined in a revised Army Field Manual. However, using the Army Field Manual as a guide to prisoner treatment and interrogation still allows solitary confinement, perceptual or sensory deprivation, sensory overload, sleep deprivation, the induction of fear and hopelessness, mind-altering drugs, environmental manipulation such as temperature and noise, and stress positions.
After Panetta was questioned by a Senate panel, the New York Times wrote that he had "left open the possibility that the agency could seek permission to use interrogation methods more aggressive than the limited menu that President Obama authorized under new rules … Mr. Panetta also said the agency would continue the Bush administration practice of 'rendition' – picking terrorism suspects off the street and sending them to a third country. But he said the agency would refuse to deliver a suspect into the hands of a country known for torture or other actions 'that violate our human values'."
The last sentence is of course childishly absurd. The countries chosen to receive rendition prisoners were chosen precisely because they were willing and able to torture them.
No official in the Bush and Obama administrations has been punished in any way for torture or other war crimes in Iraq, Afghanistan and the other countries they waged illegal war against. And, it could be added, no American bankster has been punished for their indispensable role in the world-wide financial torture they inflicted upon us all beginning in 2008. What a marvelously forgiving land is America. This, however, does not apply to Julian Assange, Edward Snowden, or Chelsea Manning.
In the last days of the Bush White House, Michael Ratner, professor at Columbia Law School and former president of the Center for Constitutional Rights, pointed out:
The only way to prevent this from happening again is to make sure that those who were responsible for the torture program pay the price for it. I don't see how we regain our moral stature by allowing those who were intimately involved in the torture programs to simply walk off the stage and lead lives where they are not held accountable.
I'd like at this point to once again remind my dear readers of the words of the "Convention Against Torture and Other Cruel, Inhuman or Degrading Treatment or Punishment", which was drafted by the United Nations in 1984, came into force in 1987, and ratified by the United States in 1994. Article 2, section 2 of the Convention states: "No exceptional circumstances whatsoever, whether a state of war or a threat of war, internal political instability or any other public emergency, may be invoked as a justification of torture."
Such marvelously clear, unequivocal, and principled language, to set a single standard for a world that makes it increasingly difficult for one to feel proud of humanity.
The Convention Against Torture has been and remains the supreme law of the land. It is a cornerstone of international law and a principle on a par with the prohibition against slavery and genocide.
"Mr. Snowden will not be tortured. Torture is unlawful in the United States." – United States Attorney General Eric Holder, July 26, 2013
John Brennan, appointed by President Obama in January 2013 to be Director of the CIA, has defended "rendition" as an "absolutely vital tool"; and stated that torture had produced "life saving" intelligence.
Obama had nominated Brennan for the CIA position in 2008, but there was such an outcry in the human-rights community over Brennan's apparent acceptance of torture, that Brennan withdrew his nomination. Barack Obama evidently learned nothing from this and appointed the man again in 2013.
During Cold War One, a common theme in the rhetoric was that the Soviets tortured people and detained them without cause, extracted phony confessions, and did the unspeakable to detainees who were helpless against the full, heartless weight of the Communist state. As much as any other evil, torture differentiated the bad guys, the Commies, from the good guys, the American people and their government. However imperfect the US system might be – we were all taught – it had civilized standards that the enemy rejected.
Just because you have a right to do something does not make it right.
The city of Detroit in recent months has been shutting off the supply of water to city residents who have not paid their water bills. This action affects more than 40% of the customers of the Detroit Water and Sewage Department, bringing great inconvenience and threats to the health and sanitation of between 200 and 300 thousand residents. Protests have of course sprung up in the city, with "Water is a human right!" as a leading theme.
Who can argue with that? Well, neo-conservatives and other true believers in the capitalist system who maintain that if you receive the benefit of a product or service, you pay for it. What could be simpler? What are you, some kind of socialist?
For those of you who have difficulty believing that an American city could be so insensitive, allow me to remind you of some history.
On December 14, 1981 a resolution was proposed in the United Nations General Assembly which declared that "education, work, health care, proper nourishment, national development are human rights". Notice the "proper nourishment". The resolution was approved by a vote of 135-1. The United States cast the only "No" vote.
A year later, December 18, 1982, an identical resolution was proposed in the General Assembly. It was approved by a vote of 131-1. The United States cast the only "No" vote.
The following year, December 16, 1983, the resolution was again put forth, a common practice at the United Nations. This time it was approved by a vote of 132-1. There's no need to tell you who cast the sole "No" vote.
These votes took place under the Reagan administration.
Under the Clinton administration, in 1996, a United Nations-sponsored World Food Summit affirmed the "right of everyone to have access to safe and nutritious food". The United States took issue with this, insisting that it does not recognize a "right to food". Washington instead championed free trade as the key to ending the poverty at the root of hunger, and expressed fears that recognition of a "right to food" could lead to lawsuits from poor nations seeking aid and special trade provisions.
The situation of course did not improve under the administration of George W. Bush. In 2002, in Rome, world leaders at another UN-sponsored World Food Summit again approved a declaration that everyone had the right to "safe and nutritious food". The United States continued to oppose the clause, again fearing it would leave them open to future legal claims by famine-stricken countries.
I'm waiting for a UN resolution affirming the right to oxygen.
Notes
See various examples at RT.com, such as "Jen Psaki's most embarrassing fails, most entertaining grillings", or simply search the site for "Ukraine Jen Psaki"
Congressional Record (House of Representatives), May 12, 1966, pp. 9977-78, reprint of an article by Morley Safer of CBS News
"Letter dated 22 July 2014 from the Permanent Representative of the Russian Federation to the United Nations addressed to the Secretary-General", released by the UN 24 July, Document No. A/68/954-S/2014/524
"Pre-WWIII German Pilot Shocker, MH17 'Not Hit By Missile'", Before It's News, July 31 2014
Associated Press, August 4, 2014
Los Angeles Times, February 1, 2009
New York Times, February 6, 2009
Associated Press, November 17, 2008
Associated Press, November 26, 2008
Washington Post, November 18, 1996
Reuters news agency, June 10, 2002
"The Christian religion is the religion of our country. From it are derived our prevalent notions of the character of God, the great moral governor of the universe. On its doctrines are founded the peculiarities of our free institutions." (William McGuffey, d. May 4, 1873, professor at the University of Virginia, president of Ohio University, and author of McGuffey's Readers; earstohear.net)
Andre Comte-Sponville, one of France's preeminent atheist philosophers agrees.  In his New York Times bestseller, "The Little Book of Atheist Spirituality," Sponville observes that even though Western and American civilization has become nonreligious it is nevertheless profoundly rooted in transcendent Biblical morality and traditions.   That overt and implied atheism has all but supplanted Biblical beliefs pleases yet simultaneously frightens Sponville as he clearly sees that if Western civilization entirely ceases to be Christian it will fall into something like a refined nihilism.  And if we believe that nothing remains,
"….we might as well throw in the towel at once.   We would have nothing left to oppose to either fanaticism from without or to nihilism from within—and, contrary to what many people seem to think, nihilism is the primary danger.  We would belong to a dead civilization, or at least a dying one….Wealth has never sufficed to make a civilization, poverty, even less so.  Civilizations require culture, imagination, enthusiasm and creativity, and none of these things come without courage, work and effort."    Without these necessities, "Good night…the Western world has decided to replace faith with somnolence." (pp. 28-29)
Sponville admits that in his younger years he had believed in the supernatural God of Revelation and been raised a Christian.  Up till around the age of eighteen his faith was powerful. But then he embraced evolutionary scientism and fell away, and this falling away said Sponville, was liberating because for the liberated autonomous 'self' whose life no longer has any ultimate meaning or purpose there is no valid reason why he personally should not do as he wants to do, or why his friends should not live in the way that they find most advantageous to themselves.
But the lies, amoralism and perverse license, the nihilism Sponville rejoices in becomes an unbearable source of horror and dread when reproduced in millions of souls.  Sponville is right to fear the spread of nihilism, for when multiplied by millions it means there is no longer an ultimate, transcendent source of unchanging truth and moral law independent of sinful men, and as Sponville knows, therefore dreads, the lie is the father of violence:
"(The lie) is the word, act, sign of cunning or silence which makes use of wiles to deceive (all who seek) truth….the attitude of the liar, who full of subtlety, audacity and at times cruel cynicism, misleads his neighbor into the quick sands of falsity.  The use of the lie reveals the liar as a person of evil intentions.  He who tells lies as a way of getting ahead lacks a love of truth (he or she is) a self-centered dissimulator, cunningly manipulating his fellowmen for his own evil purposes."   (The Roots of Violence, Rev. Vincent P. Miceli, S.J., p.29)
Nihilism is the satanically inverted philosophy of violence, lies and license of America's president, his cabinet, and the amoral progressive ruling class of which they are members.  It is also the philosophy of the Marquis de Sade, Friedrich Nietzsche, Karl Marx and the Sophist Callicles in Plato's 'Georgias' who declares:
"The fact is this: luxury and licentiousness and liberty, if they have the support of force, are virtue and happiness and the rest of these embellishments-—the unnatural covenants of mankind-—are all mere stuff and nonsense." (Making Gay Okay, Reilly, pp. 31-32)
In other words, with a consensus of lies backed by force and the threat of violence, the Revelation of God, the Christian Church, virtue, true truth, marriage, gender, your children, your humanity, your wealth, your home, your business, and your Constitutional rights become whatever agents of violence and the mobs in back of them want them to be or not to be from one moment to the next.
What nihilism has already led to in England, said Nate Steuer of Jeremiah Cry Ministries, are buildings that once served as churches that are now museums, stores and even nightclubs, a strong belief in evolution and a strong homosexual-rights movement:
"They don't want to hear the gospel. The gospel is pressed down,' and the homosexual-rights movement is so rooted in England that Christians are afraid to go 'into the streets and preach,' fearing what the LBGT community will do."  ("Fate of Christianity in UK not too far from U.S., warns evangelist," Chris Woodward, OneNewsNow.com, July 8, 2014)
Evolutionary scientism is a form of nihilism leading in practice to dehumanization, demoralization, reckless irresponsibility and genocide.   It is a sham science said G.K. Chesterton.  It is a license by which the stupidest,
"…or wickedest action is supposed to become reasonable or respectable, not by having found a reason in scientific fact, but merely by having found any sort of excuse in scientific language."  The program and attitude of scientism is a "serpent….as slippery as an eel," a "demon…as elusive as an elf," an "evil and elusive creature."   (The Restitution of Man: C.S. Lewis and the Case against Scientism, Michael D. Aeschliman, p. 43)
Evolutionary scientism has amply demonstrated itself as a virulently anti-human, catastrophically destructive, demonically murderous worldview. In just the first eighty-seven years of the twentieth century, violent spirits who love evil and devouring words and breathe out slaughter and death brutally exterminated between 100-170 million un-evolved 'subhuman' men, women, and children in the Soviet Union and Nazi Germany.
In the Soviet Union, the Triune God-and-human hating nihilist of violence, Vladimir Lenin, exulted that,
"Darwin put an end to the belief that the animal and vegetable species bear no relation to oneanother (and) that they were created by God, and hence immutable." (Fatal Fruit, Tom DeRosa, p. 9)
In other words, the 'death' of the God of Revelation allows unfettered violence against millions of people because they are no longer the immutable image-bearers of the Triune God but rather expendable products of evolution on a par with slime, weeds, slugs and rocks.  Empowered by evolutionary scientism, Lenin exercised godlike power over life and death. He saw himself as, "the master of the knowledge of the evolution of social species." 
Fueled by hate, contempt and murderous rage it was Lenin who "decided who should disappear by virtue of having been condemned to the dustbin of history." From the moment Lenin made the "scientific" decision that the bourgeoisie represented a stage of humanity that evolution had surpassed, "its liquidation as a class and the liquidation of the individuals who actually or supposedly belonged to it could be justified." (The Black Book of Communism, p. 752)
In Nazi Germany evolutionary scientism resulted in gas chambers, ovens, and the liquidation of eleven million "useless eaters" and other undesirables.
Alain Brossat draws the following conclusions about the two regimes of nihilism, the Soviet Union and Nazi Germany, and the ties that bind them:
"The 'liquidation' of the Muscovite executioners, a close relative of the 'treatment' carried out by Nazi assassins, is a linguistic microcosm of an irreparable mental and cultural catastrophe that was in full view on the Soviet Stage. The value of human life collapsed, and thinking in categories replaced ethical thought…In the discourse and practice of the Nazi exterminators, the animalization of Other…was closely linked to the ideology of race. It was conceived in the implacably hierarchical racial terms of "subhumans" and "supermen"…but in Moscow in 1937, what mattered…was the total animalization of the Other, so that a policy under which absolutely anything was possible could come into practice." (Black Book of Communism, p. 751)
As in England, evolutionary scientism has replaced the God of Revelation, thus with the animalization of Americans millions of unborn humans have already been aborted, growing numbers of unwanted adults euthanized and late-term unborn babies cruelly dismembered.
Writing in, "New York Abortion Bill Allows Shooting Babies Through the Heart With Poison to Kill Them" Steven Ertelt reports that New York is already the abortion/murder capital of the United States, with practically no oversight of the industry.   Throughout the second trimester, developing babies can be completely dismembered,
"… even when they can feel pain (by) pulling the baby out piece by piece until the mother's uterus is empty. After the abortion, the abortionist must reassemble the child's body to ensure nothing has been left inside the child's mother." (LifeNews.com | 5/20/14 6:28 PM)
What nihilists now demand for late-term abortions that will be legalized in New York by the abortion-expanding Women's Equality Act, is the murder of babies,
"… by sliding a needle filled with a chemical agent, such as digoxin, into the beating heart, before being delivered."
Then there is Wisconsin-based abortionist Dennis Christensen and his partner Bernard Smith who have performed 85,000 to 95,000 abortions in a 40 year period:
"So I see it as a calling, I guess," Christensen said. "But I've been called, I've served and now I'd like to call someone else."  (Abortionist Who's Killed 95,000 Babies in Abortions: "I See It as a Calling" Steven Ertelt, LifeNews.com, 7/7/14)
Something "called him" to murder 95,000 babies, but it wasn't the Holy God of Revelation.
When for millions of nihilists the God of Revelation does not exist and life has no higher, fixed meaning or purpose with neither hope of an afterlife nor any accountability to their Maker for their actions here in this world, then men no longer have reason and purpose for being good, thus are free to be evil.  They are at liberty to invoke meaningless law and perverted justice to destroy freedom, dismember babies, and force disordered appetites upon men, women, and children.  They are free to accuse the good man of evil, to enslave other people and deprive them of life-sustaining electricity, gas, and water.  With this freedom they vandalize and plunder the property and wealth of others and throw our borders open to floods of illegals, rapists, drug-lords, terrorists, pedophiles, murderers and other sinister individuals.
Nihilists can freely lie so as to "normalize" whatever wicked fantasies and schemes they desire, such as global warming/cooling/change, redistributive justice, common core, 'gay' equality and Decadence Festivals:
"The Southern Decadence Festival is one of our nation's most notorious celebrations of sodomy, public sex acts, prostitution, drunkenness, and worse, but is by no means the only such festival….decadence festivals are held over and across post-Christian America and Western Europe as well as in Canada, Hong Kong, Australia, Thailand, Brazil, Belarus, Ireland, Japan, Scotland, China, S. Africa, India and Taipei." (Sex slaves, sexual anarchy and decadence festivals: ominous signs of something really rotten," L. Kimball, Renew America, Oct. 25, 2012)
A society of nihilists is a welcome mat to human predators of every stripe from drug lords, ISIS, and the Muslim Brotherhood to flesh-peddlers and the world's criminal elite: the occult Luciferian New World Order super-wealthy criminal consortium and their merciless leftwing and rightwing allies.   This cohort of sinister nihilists believe in nothing, know only hate, contempt, violence, greed and egotism and share a foundational hatred of the Tri-Personal God of Revelation, faithful Christians and Jews and  traditional Christian grounded Western and American civilization.
In the impeccably documented book, "Sinisterism: Secular Religion of the Lie," Bruce Walker describes the super-wealthy consortium and their like-minded allies as Sinisterists, making political labels like Far Right (Nazis/Fascists), liberals and Far Left (Progressives, Bolsheviks, Marxists, Communists) and even like-minded Radical Muslims the same thing.
What unite all Sinisterists are their hatreds:
"They hate Christians…Jews…America (and) Israel.  They hate truth.  They hate the very idea of truth.  They hate the idea of humans as unique and special in the universe.  They hate the idea of a great moral purpose unfolding in our lives.  Sinisterism is a bundle of connected hatreds.  For the sake of their hatreds, Sinisterists lust for power."(preface)
Because Sinisterists hate the idea of man as God's spiritual image-bearer they have 'killed' the Triune God and forced nihilistic Darwinism upon us because it reduces mankind to less than nothing.  They also invent words and sound-bite phrases such as heterosexist, homophobe, global change and nonexistent categories of mankind such as "racial species" and "emerging genders" that imprison thought.   Following are some other examples:
1. Multiculturalism: the stealthy destruction of America's traditional Christian based culture by insidious elevation of pagan and pantheist cultures and belief systems in the name of politically correct tolerance, pluralism and inclusion.
2.'Gay rights/'gay' marriage: rebellion against and negation of the two created sexes, procreation, and the idea of normal.
3. Political correctness, speech codes, sensitivity training, and hate crime laws:  psychic-cages for the minds of traditional-values Americans.
4. Perverse sex education: As was the case in the Soviet Union, its ultimate purpose is the subversion and perversion of our youth—the awakening of the Devil, as Karl Marx's comrade Bakunin admitted.
5. Critical theory: the mindless vomiting out of destructive criticism upon everything good, true, excellent, normal, and traditional.
6. Global change, Agenda 21, Green Movement, redistributive justice: the evisceration of our standard of living and individual liberties in order to 'save the planet' — in other words, penury, misery, death and slavery on behalf of Gaia.
7. Sustainability: Extreme population control calling for the annihilation of billions of people to achieve spiritual communism.
8. Religious pluralism: the erasure of faithful Judaism, Christian theism and America's founding Christian-based worldview by way of elevating Wicca, animism, Islam, New Age occult spirituality, Gnostic paganism, Buddhism,  shamanism, goddess worship, Luciferian Masonry and atheism in the name of politically correct tolerance and inclusion.
In order to destroy rational thinking, nihilists use words and phrases (i.e., change, "make love not war," "we are Trayvon" "evolution is an established fact of science") to create images rather than ideas and then concentrate on endless repetition of the same word-pictures,
"…to create a hypnotic effect to defend an otherwise hopeless case.  Sinisterists use the same words over and over again."   (p.12)
Nihilism's black heart is the worship of lies, particularly the Big Lie of evolution.   'Elite' transnational Robert Muller, father of Common Core Curriculum and former Assistant Secretary-General of the UN and former Chancellor of the UN University for Peace in Costa Rica speaks of the fate that will befall all politically incorrect thinkers, especially anti-evolutionists:
"…all those who hold contrary beliefs" to politically correct thought favored for the "next  phase of evolution" will "disappear."  A hellish fate awaits all who resist political and spiritual globalization, "…those who criticize the UN are anti-evolutionary, blind, self-serving people.  Their souls will be parked in a special corral of the universe for having been retarding forces, true aberrations in the evolution and ascent of humanity."  (False Dawn, Lee Penn, p. 133)
With malice aforethought, sinister nihilists have dumbed-down Westerners and Americans by infiltrating our education institutions and even our seminaries with nihilist philosophies, propaganda and schemes such as evolutionary scientism, perverse sex education, so-called 'higher Biblical criticism,' critical theory, multiculturalism and revised history.
As evolutionary scientism and the relativity of truth are fatal doctrines– types of nihilism that deny objective truth and reality— they result in the rapid disintegration of critical thinking, faith in God, respect and manners resulting in a twisted, inverted society dominated by moral imbeciles—narcissistic despots, thugs, human parasites and bizarre polymorphously perverse beings— at every level of government and society who know how they feel and what they covet and are thus entitled to but can't think straight, can't spell, and don't know right from wrong.
It should be obvious by now, said Walker, that the relations of people in American and Western society are growing coarser,
"…..more dishonest….shallower….lonelier…more desperate for the narcotics of power, applause and fear as we perceive ourselves moving closer to the status of gods and goddesses.  If we choose, as individuals, that idolatry, then we are doomed.  All the dystopian nightmares of Orwell, Bradbury, Huxley and others will become real all too soon….we will (either) surrender to thugs governing enslaved nations or embittered terrorists." (p. 252)
Our so-called "scientifically enlightened" age is an age of nihilism.  Ecstatic with the voluptuous delight of destruction which rolls humans into satanic depths; nihilists keep pushing society to the brink of social chaos and suicide:
"The Modern Liberal will invariably (and) inevitably side with evil over good, wrong over right and the behaviors that lead to failure over those that lead to success. When I say the Modern Liberal is morally and intellectually retarded at the level of the five-year old child, it is not hyperbole: its diagnosis." (Evan Sayet, The Kindergarten of Evil,evansayet.com)
Nihilism is lawlessness, idolatry, violence, perversion, fear, terrors of mind, and horrors of conscience and loss of true freedom since the despair of nihilism ends in man's slavery to his dark side, death and damnation.
In his poem "The Second Coming," Yeats reveals the murderous delight of de Sade's, Nietzsche's, Marx's, and Callicles modern offspring:
"Things fall apart; the center cannot hold
The blood-dimmed tide is loosed and everywhere
The ceremony of innocence is drowned
The best lack all conviction, while the worst are
Full of passionate intensity.
Surely some revelation is at hand; 
Surely the Second Coming is at hand."
If Western and American nihilists continue to set the God of Revelation aside in favor of "self" and what they really do know are lies and empty, shallow, meaningless evil, then a tyranny of evil will come upon us swiftly and terribly.  But there is another path before us: the way of repentance, truth, decency and God's Divine Truth.  His eternally unchanging Truth will set us free. We should choose the path of Truth and goodness:
"On that choice hangs the fate of humanity. People will either embrace goodness or deny that goodness can exist and commit moral suicide (and) worship The Lie."   (ibid, Walker, p. 252)
People who choose the way of true truth will find the goodness and Light of God.  As they follow the Way of Truth they will stumble sometimes, occasionally journey down blind alleys, and perhaps be on the wrong side of causes at times, but they,
"…will never lose hope or the help of other normal people and the Blessed Creator of the Universe." (ibid, p. 233)
The narrow way leads ever up toward truth, light, beauty, goodness, courage, hope, peace and eternal physical life in an unimaginably beautiful Paradise.   The other way is a broad highway spilling into a downward spiraling vortex marked by the despair of nihilism, the darkness of lies, the sulphuric stench of soul-destroying hate, and the horror of nothingness finally issuing into an eternity in outer darkness.
As the memory of fireworks fade the day after the 4th of July, remember the date for declaring Independence from England was actually July 2nd.. A final version of the Declaration took two more days. It was the 2nd which John Adams believed would become, "the most memorable epocha in the history of America." He was wrong.
July 4th was the date Congress approved the finalized text of the Declaration produced by the five man committee assigned to give final form and substance to the ideas and causes which had compelled the Continental Congress to action. But not all agreed. One of the committee members, Robert Livingston, believed was a far too drastic step at that time and refused to sign.
Thomas Jefferson, who we remember as the Father of the Declaration, watched his final draft undergo 86 changes, shortening the overall length by more than a fourth. Many of these changes, including his inclusion of anti-slavery language, were made over his strong objections.
Jefferson had drawn on two primary sources for his own draft. The first a preamble to the Virginia Constitution and George Mason's draft of Virginia's Declaration of Rights. Jefferson's document is a restatement of John Locke's contract theory of government, stating that governments derived "their just Powers from the consent of the people."
On July 5th around 200 copies of the Declaration were typeset and printed in John Dunlap's Philadelphia print shop. Copies were dispatched to various committees, assemblies, military commanders and foreign nations.
On July 6th the Pennsylvania Evening Post became the first newspaper to reprint the whole Declaration.
The first public reading of the Declaration occurred on July 8, 1776 in Philadelphia.
Getting the news out to the world, especially to King George and the rest of the colonies, proceeded as rapidly as possible. News of the Declaration reached London the second week of August via the Mercury packet ship.
The London Gazette, the official Crown organ, broke the news in its Saturday, August 10 edition.
The official ceremony of signing took place a month later, on August 2. But the text of the Declaration had already been published and republished in newspapers in a minimum of twenty-nine American newspapers and one magazine.
Jefferson later said he did not intend to say things that "had never been said before." But this is exactly what had transpired and because of these events the world changed.
What The DHS Is Building Is Indeed A Beast…
One of the great concerns of our Founding Fathers was a large standing army on American soil. James Madison spoke for all of America's founders when he said, "A standing military force, with an overgrown Executive will not long be safe companions to liberty." I wonder what Madison and the rest of our founders would have to say about the Department of Homeland Security (DHS).
John Whitehead, the president of The Rutherford Institute, recently wrote a trenchant summary of the DHS. He began by saying, "If the United States is a police state, then the Department of Homeland Security (DHS) is its national police force, with all the brutality, ineptitude and corruption such a role implies. In fact, although the DHS' governmental bureaucracy may at times appear to be inept and bungling, it is ruthlessly efficient when it comes to building what the Founders feared most–a standing army on American soil."
Whitehead observes that the DHS employs over 240,000 full time workers and has an annual budget of $61 billion. Sub-agencies of the DHS include the Coast Guard, Customs and Border Protection, Secret Service, Transportation Security Administration (TSA), and the Federal Emergency Management Agency (FEMA).
Whitehead states, "In the 12 years since it was established to 'prevent terrorist attacks within the United States,' the DHS has grown from a post-9/11 knee-jerk reaction to a leviathan with tentacles in every aspect of American life. With good reason, a bipartisan bill to provide greater oversight and accountability into the DHS' purchasing process has been making its way through Congress.
"A better plan would be to abolish the DHS altogether. In making the case for shutting down the de facto national police agency, analyst Charles Kenny offers the following six reasons: one, the agency lacks leadership; two, terrorism is far less of a threat than it is made out to be; three, the FBI has actually stopped more alleged terrorist attacks than DHS; four, the agency wastes exorbitant amounts of money with little to show for it; five, 'An overweight DHS gets a free pass to infringe civil liberties without a shred of economic justification'; and six, the agency is just plain bloated."
In addition to Kenny's reasons for shutting down the DHS, Whitehead adds the following indictments:
"Militarizing police and SWAT teams. The DHS routinely hands out six-figure grants to enable local municipalities to purchase military-style vehicles, as well as a veritable war chest of weaponry, ranging from tactical vests, bomb-disarming robots, assault weapons and combat uniforms. This rise in military equipment purchases funded by the DHS has, according to analysts Andrew Becker and G.W. Schulz, 'paralleled an apparent increase in local SWAT teams.' The end result? An explosive growth in the use of SWAT teams for otherwise routine police matters, an increased tendency on the part of police to shoot first and ask questions later, and an overall mindset within police forces that they are at war–and the citizenry are the enemy combatants.
"Stockpiling ammunition. DHS, along with other government agencies, has been stockpiling an alarming amount of ammunition in recent years, which only adds to the discomfort of those already leery of the government. As of 2013, DHS had 260 million rounds of ammo in stock, which averages out to between 1,300 to 1,600 rounds per officer. The US Army, in contrast, has roughly 350 rounds per soldier. DHS has since requisitioned more than 1.6 billion rounds of ammo, 'enough,' concludes Forbes magazine, 'to sustain a hot war for 20+ years.'
"Distributing license plate readers. DHS has already distributed more than $50 million in grants to enable local police agencies to acquire license plate readers, which rely on mobile cameras to photograph and identify cars, match them against a national database, and track their movements. Relying on private contractors to maintain a license plate database allows the DHS and its affiliates to access millions of records without much in the way of oversight.
"Contracting to build detention camps. In 2006, DHS awarded a $385 million contract to a Halliburton subsidiary to build detention centers on American soil. Although the government and Halliburton were not forthcoming about where or when these domestic detention centers would be built, they rationalized the need for them in case of 'an emergency influx of immigrants, or to support the rapid development of new programs' in the event of other emergencies such as 'natural disasters.' Viewed in conjunction with the NDAA provision allowing the military to arrest and indefinitely detain anyone, including American citizens, it would seem the building blocks are already in place for such an eventuality.
"Tracking cell-phones with Stingray devices. Distributed to local police agencies as a result of grants from the DHS, these Stingray devices enable police to track individuals' cell phones–and their owners–without a court warrant or court order. The amount of information conveyed by these devices about one's activities, whereabouts and interactions is considerable. As one attorney explained: 'Because we carry our cellphones with us virtually everywhere we go, stingrays can paint a precise picture of where we are and who we spend time with, including our location in a lover's house, in a psychologist's office or at a political protest.'
"Carrying out military drills and lockdowns in American cities. Each year, DHS funds military-style training drills in cities across the country. These Urban Shield exercises, elaborately staged with their own set of professionally trained Crisis Actors playing the parts of shooters, bystanders and victims, fool law enforcement officials, students, teachers, bystanders and the media into thinking it's a real crisis.
"Using the TSA as an advance guard. The TSA now searches a variety of government and private databases, including things like car registrations and employment information, in order to track travelers' before they ever get near an airport. Other information collected includes 'tax identification number, past travel itineraries, property records, physical characteristics, and law enforcement or intelligence information.'
"Conducting virtual strip searches with full-body scanners. Under the direction of the TSA, American travelers have been subjected to all manner of searches ranging from whole-body scanners and enhanced patdowns at airports to bag searches in train stations. In response to public outrage over what amounted to a virtual strip search, the TSA has begun replacing the scanners with equally costly yet less detailed models. The old scanners will be used by prisons for now.
"Carrying out soft target checkpoints. VIPR task forces, comprised of federal air marshals, surface transportation security inspectors, transportation security officers, behavior detection officers and explosive detection canine teams have laid the groundwork for the government's effort to secure so-called 'soft' targets such as malls, stadiums, bridges, etc. Some security experts predict that checkpoints and screening stations will eventually be established at all soft targets, such as department stores, restaurants, and schools. DHS' Operation Shield, a program which seeks to check up on security protocols around the country with unannounced visits, conducted a surprise security exercise at the Social Security Administration building in Leesburg, Fla., when they subjected people who went to pick up their checks to random ID checks by federal agents armed with semi-automatic weapons.
"Directing government workers to spy on Americans. Terrorism Liaison Officers are firefighters, police officers, and even corporate employees who have received training to spy on and report back to government entities on the day-to-day activities of their fellow citizens. These individuals are authorized to report 'suspicious activity' which can include such innocuous activities as taking pictures with no apparent aesthetic value, making measurements and drawings, taking notes, conversing in code, espousing radical beliefs, and buying items in bulk.
"Conducting widespread spying networks using fusion centers. Data collecting agencies spread throughout the country, aided by the National Security Agency, fusions centers–of which there are at least 78 scattered around the U.S.–constantly monitor our communications, collecting and cataloguing everything from our internet activity and web searches to text messages, phone calls and emails. This data is then fed to government agencies, which are now interconnected: the CIA to the FBI, the FBI to local police. Despite a budget estimated to be somewhere between $289 million and $1.4 billion, these fusion centers have proven to be exercises in incompetence, often producing irrelevant, useless or inappropriate intelligence, while spending millions of dollars on 'flat-screen televisions, sport utility vehicles, hidden cameras and other gadgets.'"
On a personal note, I can testify to Whitehead's warning regarding fusion centers. When I ran as the Constitution Party's candidate for President back in 2008, DHS fusion centers funneled warnings to the State of Missouri law enforcement agencies to be on the look-out for people sporting bumper stickers with my name, Ron Paul's name, and Bob Barr's (the Libertarian Party candidate for President that same year) name. People with these bumper stickers were said to be "potential dangerous militia members," "extremists," etc.
When word of this blatant violation of fundamental liberties publicly surfaced, tens of thousands of outraged Americans inundated the political offices within the State of Missouri. Ron, Bob, and I sent a letter to the governor and MIAC officer in charge demanding an apology and that the statements be removed from Missouri law enforcement memos. Public pressure was so massive that it didn't take long for Missouri officials to apologize to us and remove the libelous statements. However, if you think this kind of conduct is not continuing, you are very mistaken.
I have had several liberty-minded law enforcement officers (in several states) personally show me interoffice memos and computer reports depicting me (and several other liberty-minded public figures) as "extremists," "radicals," "hate-group leaders," etc. Virtually, every such memo or report is being distributed to local police departments and sheriff's offices via DHS fusion centers–in concert with the ultra-liberal Southern Poverty Law Center (SPLC).
Whitehead continues:
"Carrying out Constitution-free border control searches. On orders from the DHS, the government's efforts along the border have become little more than an exercise in police state power, ranging from aggressive checkpoints to the widespread use of drone technology, often used against American citizens traveling within the country. Border patrol operations occur within 100 miles of an international crossing, putting some 200 million Americans within the bounds of aggressive border patrol searches and seizures, as well as increasingly expansive drone surveillance. With 71 checkpoints found along the southwest border of the United States alone, suspicionless search and seizures on the border are rampant. Border patrol agents also search the personal electronic devices of people crossing the border without a warrant.
"Funding city-wide surveillance cameras. As Charlie Savage reports for the Boston Globe, the DHS has funneled 'millions of dollars to local governments nationwide for purchasing high-tech video camera networks, accelerating the rise of a "surveillance society" in which the sense of freedom that stems from being anonymous in public will be lost.' These camera systems, installed on city streets, in parks and transit systems, operating in conjunction with sophisticated computer systems that boast intelligent video analytics, digital biometric identification, military-pedigree software for analyzing and predicting crime and facial recognition software, create a vast surveillance network that can target millions of innocent individuals.
"Utilizing drones and other spybots. The DHS has been at the forefront of funding and deploying surveillance robots and drones for land, sea and air, including robots that resemble fish and tunnel-bots that can travel underground. Despite repeated concerns over the danger surveillance drones used domestically pose to Americans' privacy rights, the DHS has continued to expand its fleet of Predator drones, which come equipped with video cameras, infrared cameras, heat sensors, and radar. DHS also loans its drones out to local, state, and federal law enforcement agencies for a variety of tasks, although the agency refuses to divulge any details as to how, why and in what capacity these drones are being used by police. Incredibly, the DHS has also been handing out millions of dollars in grants to local police agencies to 'accelerate the adoption' of drones in their localities."
Whitehead concludes by saying, "It's not difficult to see why the DHS has been described as a 'wasteful, growing, fear-mongering beast.' If it is a beast, however, it is a beast that is accelerating our nation's transformation into a police state through its establishment of a standing army, a.k.a. national police force."
See John Whitehead's report here:
Has The Dept. of Homeland Security Become America's Standing Army?
When the British government employed such tactics (in their own way, given the lack of technology in the mid-1700s), the pulpits of Colonial America thundered forth the call of liberty. Presbyterians, Baptists, Congregationalists, Separatists, Anglicans: it didn't matter. Pastors from across the denominational spectrum boldly and courageously implored their congregants to resist these tyrannical tactics. And resist they did!
So, what are our pastors and churches doing today in the face of this burgeoning police state? For the most part, they are sitting back mute and dumb. If they are not absolutely apathetic to the rise of this beast, they are actually assisting it. Through the egregiously unbiblical interpretation of Romans 13, whereby pastors are telling their adherents to submit to evil government, or through the fear of losing their precious 501c3 tax-exempt status, pastors are deliberately leading their churches as sheep to the slaughter.
And make no mistake about it: what the DHS is building is indeed a BEAST. And prophecy buffs should be well-acquainted with that word. Does not the Scripture warn us that there are "many" anti-Christs in the world? Is not the word "beast" and "anti-Christ" synonymous? They absolutely are. Prophecy students are also well aware of the fact that the prophetic "beast" is as much a system as it is a person. Without a doubt, this beastly system is being constructed before our very eyes.
Interestingly enough, this beast was created by the professing Christian president, G.W. Bush. Is that why Christian pastors are so complacent? Are they truly that gullible? A "conservative" Republican creates the beast, and a "liberal" Democrat feeds it. Both are equally culpable.
These pastors can talk about following Jesus all they want; they can cry crocodile tears when they sing Amazing Grace all they want; they can preach about Heaven all they want; and they can talk about being "born again" all they want. But if they are not warning their people about this growing beast, and if they are not emphatically imploring their people to resist this beast, they are helping to feed their sheep to the wolves.
Dear Christian friends, get out of these churches! As nice as the pastor seems to be, as sincere as he seems to be, as doctrinally-sound as he appears to be, by his refusal to resist this growing police state he is helping to put the chains of slavery around the necks of your children and grandchildren. He is facilitating the rise of a very dangerous and hungry beast in our land.
Real men of God throughout history have been noted by their courage to resist the evil beasts that have attempted to devour God's people. From Gideon and Samson to Martin Luther and Huldrych Zwingli, and from Dietrich Bonhoeffer and Martin Niemoller to Jonas Clark and James Caldwell, these men of God were indefatigable and heroic champions of liberty.
The "standing military force" and "overgrown Executive" are here! Now, where are the patriot pulpits to resist them?
Can you see the "Truth"?
"The truth will set you free. But first, it will piss you off." – Gloria Steinem
Are you tired of floating around in that pink goop of the Matrix? Are you ready to slough off the illusion like it was an old hat? Has the White Rabbit been too fast for you so far? If you are reading this article, you are here to wake up. Here are five ways to slow that white rabbit down so you can catch up.
1) Money is a Hoax
"The Western worldview says, in essence, that technological progress is the highest value and that we were born to consume, to endlessly use and discard natural recourses, other species, gadgets, toys, and often, each other. The most highly prized freedom is the right to shop. It's a world of commodities, not entities, and economic expansion is the primary measure of progress. Competition, taking, and hoarding are higher values than cooperation, sharing, and gifting. Profits are valued over people, money over meaning, entitlement over justice, "us" over "them." This is the most dangerous addiction in the world, not only because of its impact on humanity but because it is rapidly undermining the natural systems that sustain the biosphere." – Bill Plotkin
It is not the more evolved aspect of ourselves that tricks us into thinking that we need money to survive; it's the less evolved aspect of ourselves that does the tricking. With our advanced technologies we imagine that we know the way the world works, when, for the most part, we have forgotten how everything is connected.
Until we can relearn "a language older than words," and once again engage in a healthy dialogue with nature and the cosmos, we will continue to be tricked by the less evolved aspects of ourselves. The more awareness we bring to this extremely complicated cognitive dissonance, the more possible it will be to achieve an ecologically, economically, and socially sustainable world.
As it stands, however, the Federal Reserve is a house of cards guarded by a red herring. Money is the opiate of the masses, and the masses are too busy spending it on worthless crap to get to know each other as healthy individuals, let alone as a healthy community. We have become Pavlov Dogs, and money is our dinner bell. But money was never meant to be horded, or even amassed, it was meant to circulate as a way of uplifting the community. And yet here we are, hoarding and amassing, while our communities are in unhealthy disarray. It's high time we abandoned the force-fed shibboleth that having more money makes us better people. It doesn't. Being healthy, compassionate and moral is what makes us better people.
2) Debt is Fiction
"There are two ways to conquer and enslave a nation. One is by the sword. The other is by debt." –  John Adams
Unfortunately our nation has been enslaved by debt. Our current system is not an economic system at all, but an ecocidal system; an intrinsic obsolescence of conspicuous consumption. It's a grave misfortune that efficiency, sustainability, and preservation are the enemies of our socioeconomic system. This has got to be the most bizarre delusion in the history of human thought, a retarded Ponzi scheme en masse.
But it's difficult to get people to understand something when money, and especially debt, prevents them from understanding it. Instead of ownership, give us strategic access. Instead of equity, give us equality. Instead of one-track-minded profit, give us open-minded people. Instead of unsustainable monetary-based economics, give us a sustainable resource-based economy, which is basically the scientific method applied to ecological and social concerns.
As tough as it is to hear, nature is a dictatorship. We can either listen to it and fall into harmony or deny it and suffer. Ask yourself this question by Fleet & Lasn: "When the economic system fails, will we know how to behave, how to act, how to appreciate, how to value, how to survive, how to be and how to love in a world that no longer defines relations by money?"
Defenestrate your TV set!
3) Media is Manipulation
"Any dictator would admire the uniformity and obedience of the U.S. media." – Noam Chomsky
Media has always been an effective method for manipulating people. We are social creatures who are also psychological creatures. This combination makes us unwittingly vulnerable to the power of suggestion. As it stands, media has been our Achilles Heel. These days the "news" we receive from corporate media is more likely to be disinformation. Skepticism is a must when reading or viewing the information provided by these outlets.
The key: Don't believe anything you hear and only half of what you see. Analyze the Kool Aide before you swallow it. Even then, be prepared to vomit it back up at the first sign of deception. Remain circumspect and question all authority. They don't have our best interest at heart. They only want our money, and to remain powerful. Like Wendell Berry wrote in the Unsettling of America, "People whose governing habit is the relinquishment of power, competence, and responsibility, make excellent spenders. They are the ideal consumers. By inducing in them little panics of boredom, powerlessness, sexual failure, mortality, paranoia, they can be made to buy virtually anything that is "attractively packaged.""
We are slowly becoming more aware of corporate media lying to us. But they know we know they're lying to us. And we know they know we know they're lying to us. With enough inertia, this debacle of a process just continues until we are eventually lying to ourselves. And here we are. Like the great Baruch Spinoza once surmised, "The supreme mystery of despotism, its prop and stay, is to keep men in a state of deception, and cloak the fear by which they must be held in check, so that they will fight for their servitude as if for salvation." And here we are, unless we decide to wake up.
For it is seeking you.
4) Government is a Corporation
"The end of democracy and the defeat of the American Revolution will occur when government falls into the hands of lending institutions and moneyed incorporations." – Thomas Jefferson
Here's the thing: we do not live in a democracy, and we probably never really have. A prestigious Princeton study recently concluded that we live in an oligarchy: rule by a few individuals. And these individuals just so happen to be plutocrats, making this particular flavor of oligarchy a plutocracy: rule by the rich.
The problem is that money itself has become an immoral agent within an otherwise amoral system that praises itself as moral. Ask yourself: do you wish to live out harried lives of nine-to-five slavery, giving up your days to heartless corporations that don't give a damn about anything except making money, or do you wish to live a happy life of loving compassion, doing what you enjoy, in spite of plutocracy, oligarchy, and tyranny?
The Occupy Movement succeeded in shifting the tenor and shape of debate in the world, but we must not rest on our laurels. Trickle-down economics DOES NOT WORK! Austerity economics DOES NOT WORK! Corporations are NOT people. Money does NOT equal speech. It's a trap. If we don't get big money out of politics then everything we want to do will be hopeless. We need to be smarter with our mobilization tactics for the change and allocation of power within our society. So far the security and surveillance state has boxed us in, like the great MLK Jr. said, "Those who love peace must learn to organize as effectively as those who love war."
About the Author
Gary 'Z' McGee, a former Navy Intelligence Specialist turned philosopher, is the author of Birthday Suit of God and The Looking Glass Man. His works are inspired by the great philosophers of the ages and his wide awake view of the modern world.
**This article was originally posted at Fractal Enlightenment.**
Source: Waking Times
After two mystical encounters with the evil spirit Zarathustra, the dark prophet Nietzsche announced the "death of the Christian God." Dubbing himself the Antichrist, Nietzsche proclaimed:
"The greatest recent event — that 'God is dead,' that the belief in the Christian God has ceased to be believable — is even now beginning to cast its first shadows over Europe; however, few really understood " what has really happened here, "and what must collapse now that this belief has been undermined — all that was built upon it, leaned on it, grew into it; for example, our whole European morality." (False Dawn, Lee Penn, p. 433)
From the beginning of Christ's earthly ministry, there were those who received Him but many more, like Nietzsche, who would not, and so it will be until the end.   The former are those who admit and humbly confess their sinful condition while the latter, being full of stubborn pride, covetousness, and envy will not.
Not even the mighty miracle of creation ex nihilo as described in John's Gospel and Christ's own bodily resurrection (Luke 16:31) can persuade those who choose not to believe.
This willful unbelief in Christ had been prophesied long before.  In support of this John cites Isaiah 53:1-3,
"He was despised and rejected by mankind, a man of suffering, and familiar with pain. Like one from whom people hide their faces he was despised, and we held him in low esteem."
In order to be received, one must be acceptable.  Christ is rejected by proud, rebellious, sinless men along with His offer of salvation because He is not acceptable to them.  Thus their final word to Him is the cross.
At the root of the rejection of Jesus Christ God incarnate is the rebellious assertion that man has not been created by Him.  He is a free spirit neither dependent upon Him for his life nor created in His spiritual image but rather a conscious product of evolution.  He is a man-god who can choose either to murder God or to invent sock-puppet deities to do his bidding, for he is the master of science, evolution, matter, energy, time, and being who through his own knowledge and powers will save himself, or so he foolishly believes.  In reality, an inner blinding prevents him from 'seeing' that his liberty does not lead to greater freedom but to slavery because willful rejection of his Creator means he becomes Satan's infernal tool.
"I am become a monstrous machine of annihilation…"  Ritual of Destruction, the Satanic Bible, Anton LeVey
The ritual 'murder' of the Christian God led to the collapse of far more than just European morality.  Consider the following:
In Christian thought, a person is a spirit and personality is the total individuality of the spirit. Without spirit there is no person.  The term 'person' originated in Christian theologies developmental struggle to comprehend the nature and experience of the Christian God, the transcendent, personal Triune God:
"The derivative concept of human personhood is a gift of the Christian faith to culture…" (Stephen P. Stratton, Chapter 14, p. 247, The Self, Paul Vitz & Susan M. Felch, Editors)
Whether the Founders were individually Christian or not, there was among them a strong Christian consensus that finds some of its greatest spiritual and moral expression in the scholarly works of Samuel Rutherford in "Lex Rex" (1644) and in the writings of the 18th century jurist William Blackstone.
Rutherford reasoned that since all people are sinners, then no sinner—whether President, Att. General, Senator, 'gay,' pastor, cop, jurist, perverse sex-educator, abortionist, evolutionary biologist, or Supreme Court Justice for example—is superior to any other sinner. No sinner is above the law but rather subject to the law without exception.  All must recognize that they are sinners under the unchanging transcendent Law of God.
Blackstone greatly influenced early American understanding of the Christian God, the Bible, Law and nature. He taught that since the eternally unchanging Triune God is the omnipotent Creator who works and governs the affairs of men then all law should be consistent with His Revelation in the Bible. No law should be passed that is contrary to the higher law of God.
Furthermore, as all men are created spiritual equals in the eyes of God, then life, property, worth, dignity and other unalienable rights are conferred upon each human person at conception.   For example, the unalienable right to life is because all people are God's spiritual image bearers while freedom of religion and speech are the temporal property of a person's God-given spiritual property of conscience and reason.
In "Property," published in The National Gazette on March 29, 1792, James Madison outlines the meaning of a person's God-given spiritual property, some of its' temporal rights and the meaning and intent of just government as opposed to unjust government:
"He has a property….in his religious opinions, and in the profession and practice dictated by them."  "He has a property…in his opinions and the free communication of them."  "He has an equal property in the free use of his faculties and free choice of the objects on which to employ them." "He has property very dear to him in the safety and liberty of his person."  (The Heritage Foundation)
Property is,
"….a man's land, or merchandize, or money (and) as a man is said to have a right to his property, he may be equally said to have a property in his rights. Where an excess of power prevails, property of no sort is duly respected. No man is safe in his opinions, his person, his faculties or his possessions." 
Just government is instituted to protect property of every sort:
"This being the end of government, that alone is a just government, which impartially secures to every man, whatever is his own." (Samuel Rutherford, lexrex.com)
The Constitution therefore, recognizes the divine nature of man's creation, that man is a person endowed by his personal Creator with spiritual property, a divine right to life and liberty, and the means of acquiring and possessing property. Hence our Republic recognizes Law is unchangeable because the Creator (John 1:1) is the unchanging Lawgiver Who is the same today as yesterday and for all eternity:
"It is sufficiently obvious, that persons and property are the two great subjects on which Governments are to act; and that the rights of persons, and the rights of property, are the objects, for the protection of which Government was instituted. These rights cannot well be separated." (James Madison, Speech at the Virginia Convention, December 2, 1829)
Vishal Mangalwadi, India's foremost Christian scholar affirms that the Christian gift of personhood gave birth to the "belief in the unique dignity of human beings," and this is,
"…the force that created Western civilization, where citizens do not exist for the state but the state exists for the individuals. Even kings, presidents, prime ministers, and army generals cannot be allowed to trample upon an individual and his or her rights." (Truth and Transformation: A Manifesto for Ailing Nations, pp. 12-13)
 Death of the Christian God: Catastrophic Consequences
"And this is the condemnation, that light is come into the world, and men loved darkness rather than light, because their deeds were evil." John 3:19
Once the citadel of the Light that came into the world, modern Western Europe and America are roiling seas of darkness punctuated here and there by shrinking islands of light because evil-minded men love darkness rather than Light. Thus the perversely twisted, upside-down, lawless atmosphere of our age is the "death of the Christian God" made tangible.
When people fall away from the knowledge of God and transgress against His commandments, these actions effectively turn them back to their natural state. This means that in forsaking God, the fount of living waters, they have become cracked cisterns that hold no water. (Jer. 2:13) In other words, the death of the Christian God logically means the death of spirit (person), hence also spiritual and temporal property, and by extension the collapse of Western civilization and America's Constitutional Republic— "if the foundations be destroyed, what can the righteous do?"  Psalm 11:3
The methodology of the 'murder' of Christ the Creator (John 1:1) requires that the miracle of six day creation (Genesis account) together with Adam and Eve and their fall be de-historicized and reduced to myth and fable (annihilated), a project already underway by the time of Descartes and fulfilled with infernal 'higher criticism.'
In her book "Total Truth," Nancy Pearcy, a senior fellow at the Discovery Institute, writes that one of the great ironies of history is that the enduring impact of Descartes philosophy has been precisely the opposite of what he had intended. Descartes had intended the defense of the human soul/spirit over and against the dehumanizing mechanistic and materialistic conception of the universe. Instead, soul/spirit was reduced to a shadowy substance totally irrelevant to the material realm known by natural science. The immortal soul/spirit became a kind of ghost only tenuously connected to the physical body.
After the success of Newtonian physics natural science began to take on the trappings of religion. Epistemologically, science began to be viewed as the way to true understanding, and by extension, true progress. Nature itself took on the guise of an impersonal, mystical entity described as a cosmic machine governed by deterministic energies working through natural laws as strictly as the gears of a clock. Though soul/ spirit are crucial for reason, conscience, morality, belief, faith, prayer, theorizing, science, math and religion, there was no room for them in the cosmic machine.
The mechanistic conception gave rise to evil 'isms'–rationalism, positivism, skepticism, relativism, and scientific materialism (atheism), which granted the sovereign reason of sinful man and naturalistic science an epistemological monopoly on so-called "real" knowledge, facts and truth while trivializing everything else to faith, personal belief and social constructs.  The devilish consequences of this have been horrendous, for whereas the creation of universal moral law was traditionally the function of the Triune God, now this function is arrogated to the individual human will, making the "reason" of sinners into God and science into a dictatorship of the knowable.
"…men loved darkness rather than light, because their deeds were evil." John 3:19
With "reason" sitting on the throne of the Christian God, heaven was shut-down and the physical world of the senses elevated to the supreme reality. The six day Genesis account was de-historicized and replaced with imaginative evolutionary cosmologies claiming vast ages of time.  As supernatural Christian theism declined, immutable truth, moral law and sin disappeared under the onslaught of evil "isms" and apostate Protestant Liberalism (pantheism) in tandem with reductionist evolutionary biology, which became the most prestigious way to study the depersonalized human organism. With knowledge limited to the sensory realm, Jesus Christ the Word Incarnate was "murdered," meaning reduced by evil men to an immanent mystical evolutionary force (Christ consciousness) while man's soul/spirit was lost in an endless cycle of reductionism and determinism. Man, the person created in the spiritual likeness of the One God in three Persons would be lost.  In his place would stand the subhuman hominid, a conscious product of evolution, the god of forces.
Today, the 'god' evolution has so thoroughly replaced the living Word (John 1:1) and Special Creation in the consciousness of vast numbers of scientifically endarkened men and women within and without the whole body of the Christian Church that one of the leading evolution-worshippers of our day, Professor S.J. Gould, describes scientism and evolution as the story of mankind that tells us,
"….where we came from, how we got here, and perhaps where we are going. Quite simply, it is science's version of Roots, except it is the story of us all."   (The Religious Nature of Evolution Theory and its Attack on Christianity, John G. Leslie and Charles K. Pallaghy, Ph.D, creation.com)
In glowing affirmation, Theodosius Dobzhansky (1900-1975) , a prominent evolutionary biologist and progressive creationist sees the 'god' evolution as a light that illuminates all facts, a trajectory which all lines of thought must follow, for if man,
"…has arrived at his present state as a result of natural processes rather than a supernatural will, he can learn to control these processes…The concept of evolution, which is now basic to the life sciences, has provided new and in some ways revolutionary answers to questions men have been asking for centuries. The two most important of these are, 'Why am I here, what is the purpose of human existence, and what is the nature of the world of life that surrounds us?"   (Dobzhansky, T., Ayala, F.J., Stebbins, G.L. and Valentine, J.W., Evolution, W.H. Freeman and Co., San Francisco, 1977)
Triumph of Scientism and the 'god' Evolution
At its founding and for about 150 years after America was the world's beacon of freedom and hope because it was founded on the true Light of unchanging truths such as,
"all men are created equal, that they are endowed by their Creator with certain unalienable Rights, that among these are Life, Liberty and the pursuit of Happiness.–That to secure these rights, Governments are instituted among Men, deriving their just powers from the consent of the governed. . ."
Now however, an endarkened generation of law makers, politicians, entertainers, professors, seminarians and high school graduates no longer believe that anyone knows 'the' truth or even if whether males are meant to be males or females too. For them, anyone who claims to know the truth is a bigoted fundamentalist because they know there was never a fall from God's good creation but rather an evolutionary ascent moving from primordial matter to creeping things, crawling things, knuckle-dragging things to man. They know with certainty that human beings were never created but evolved. And as the 'god' evolution endows nothing—not soul/spirit, personhood, unalienable rights and the freedom to exercise them—then our Constitution is as meaningless as Xmas and Special Creation.
The real source of this evil and madness is a godless left-right confederacy of nihilists described by Professor Angelo Codevilla as America's Ruling Class.  In "The Ruling Class: How They Corrupted America and What We Can Do About It,"  Codevilla, emeritus professor of international relations at Boston University, argues that America's real war is between Americans who still worship the supernatural Triune God and a class of evolutionary humanists who dominate both political parties, academe, Hollywood, science and media.  They preach from pulpits, run big business, our economy and the country's major institutions and imagine themselves entitled to reshape an America that they regard as composed of un-evolved subhuman hominids.
The Ruling Class affirm that scientism and evolution trump the Revelation of God, and as they are the evolved products of the 'god' evolution they are science's authoritative enlightened priests and god-men who pray to themselves,
"… as saviors of the planet and as shapers of mankind in their own image.." (The Ruling Class: How They Corrupted America and What We Can Do About It, p. xix)
After more than eighty years of nearly unopposed evolutionary evangelization in the schools, media, seminaries, academia and elsewhere the Ruling Class is finally at liberty to declare that evolution is "mind,"
"….enlarging its domain up the chain of species."  The god evolution is the "universe…a mind that oversees, orchestrates, and gives order and structure to all things."   (Algeny, Jeremy Rifkin, 1983, p. 188)
Now that scientism and evolution reign supreme, Satan's infernal machines, such as the demonized Rifkin,  no longer feel like guests,
"….. in someone else's home and therefore obliged to make our behavior conform with a set of pre-existing cosmic rules. It is our creation now. We make the rules. We establish the parameters of reality. We create the world, and because we do, we no longer feel beholden to outside forces. We no longer have to justify our behavior, for we are now the architects of the universe. We are responsible to nothing outside ourselves for we are the kingdom, the power, and the glory forever and ever." (ibid)
According to Robert Muller, the father of World Core Curriculum, now that evolution is "mind" highly evolved men are free to spiritually evolve into higher and higher forms, to become one with the 'divine:'
"Once again, but this time on a universal scale, humankind is seeking no less than its reunion with the 'divine,' its transcendence into ever higher forms of life.  Hindus call our earth Brahma, or God, for they rightly see no difference between our earth and the divine.  This ancient simple truth is slowly dawning again upon humanity.  Its full flowering will be the real, great new story of humanity as we are about to enter our cosmic age…" (New Genesis: Shaping a Global Spirituality, Robert Muller, father of Core Curriculum, 1984, p. 84)
"…..the whole world lies under the sway of the wicked one."  1 John 5:19    "Therefore take heed that the light which is in you is not darkness."  Luke 11:35
From the post-flood world of ancient Babylon to our own, the majority of the world's people have lived under the tyranny of powers, principalities and various determinisms—karma, reincarnation, evolution, fates, furies, chance, cause, doom, natural selection, and genes. They believed that all events in the real world were predestined and controlled by unseen forces of the cosmos that the apostle Paul described as the elemental spirits of the universe.
When Jesus Christ God incarnate demonstrated His absolute control over the elements (Luke 8:24) the tyranny of determinism was cast down and utterly broken.  In the fourth century Gregory of Nazianzen suggested that at the very moment when the Magi came to worship the child of Mary and Joseph, it was then that the tyranny of determinism was broken:
"From that moment onward, the cosmos has orbited around the newborn king…Christ is the logos—the word and the reason by whom all exists and to whom all is ordered." (American Babylon, Neuhaus, p. 226)
Determinism crept into the West when evil spirits entered into the heart of Christendom during the Renaissance.   They came quietly, first to certain theologians who rejected Jesus Christ in favor of Hermetic magic, Babylonian Kabala, Eastern mysticism, reincarnation, evolution, karma and other occult traditions and determinisms, and then openly with the brazen claim that laws of matter and evolution ultimately govern the world and man.
With penetrating insight, Father Richard John Neuhaus connects modern evolutionary scientism to its' ancient spiritual foundations in astrology. In his book, "American Babylon," Neuhaus argues that astrological elemental spirits have been recast as,
"…evolutionary dynamics, life forces, or laws of nature."  Though described as laws rather than spirits, these elemental "forces"…. work their inexorable ways in cold indifference to reason, to will, to love, and to hope. In short, it is suggested that the elemental spirits are in charge and that human freedom is a delusion."(p. 226)
"Beware lest any man spoil you through philosophy and vain deceit, after the tradition of men, after the rudiments of the world, and not after Christ."  Colossians 2:8
According to Pastor Larry DeBruyn, the word "rudiments" (Greek, stoicheion) relates to the universe of matter and energy and is variously,
"…. translated "elemental powers" (NAB), "elementary principles" (NASB), "basic principles" (NIV, NKJV), "evil powers" (NLT), and "elemental spirits" (ESV, NRSV). Translations indicate that stoicheion's meaning diverges between "principles" and "powers," between the "physical elements" constitutive of the cosmos or universe, or the "spiritual powers" that inhabit it. In 2 Peter 3:10, the first sense—that is, the "elements" which "shall melt with fervent heat"—is evident, while in Galatians 4:3 and 9, the other sense—that is, "world forces" which once "held in bondage" the Galatian believers—is evident." (The Supreme Supremacy of the Lord Jesus Christ,guardinghisflock.com)
The Worldview of Evil Spirits
"….we wrestle not against flesh and blood, but against principalities, against powers, against the rulers of the darkness of this world, against spiritual wickedness in high places."  Eph. 6:12
During the 1970s Satanism and possession became front page news in America.  It was during this time that the eminent theologian Malachi Martin, a former Jesuit professor at the Pontifical Biblical Institute in Rome published his shattering book on demon oppression and possession.
Martin's "Hostage to the Devil: the Possession and Exorcism of Five Contemporary Americans," presents five cases of actual possession that express important aspects of the worldview of evil spirits which allow us to not only identify these elements but discern their devastating effects within the whole body of the Christian church, the minds of millions of Americans and by extension, our nation.
The worldview of evil powers always takes the form of nature worship, or celebration of created things such as matter and energy as opposed to worship of the living, personal Creator Who created everything. Thus in support of the idea that living beings created themselves it is virulently anti-supernatural and Genesis account creation ex nihilo in favor of one dimensional naturalism and evolutionary cosmologies.
In one case, an evil spirit's evolutionary cosmology teaching the self-created "universe of matter" and human life was disclosed wherein,
"…men, women, animals, plants, cities, oceans (are) interconnected.  There is really no difference between one thing and anything else….land, ocean, animals, humans, plants are one living organism clad in the shell of breathable atmosphere.  Psychic forces bind it all together….It is a self-creating, self-protecting, self-developing thing…..Earth as mother, as womb, as god, as tomb, as a whole unity protected by its own shell and its own strength (is) all there is." (p. 395)
From the Big Bang (exploding cosmic egg) which supposedly created matter and energy in the demon's description of the universe as "self-creating" to inflationary in the description of the universe as a "self-developing thing" to Gaia as "Earth as self-protecting mother" the possessing demon's evolutionary cosmology is very similar to occult New Age spirituality.
Another important case involved David, a Catholic priest who became obsessed with the evolutionary scientism of Pierre Teilhard de Chardin.  Teilhard's destructive influence is widespread today within transnational Trans-humanist circles, the U.N., the Catholic Church, and increasingly within the Protestant Church.
In "Teilhard de Chardin: Trojan Horse of Vatican II/Heretic Extraordinaire," Dr. J. P. Hubert wonders whether based on Teilhard's admission of a mystical encounter if his evolutionary science was satanically inspired.  Teilhard describes his strange encounter:
"The man was walking in the desert…when the Thing swooped down on him.  Then, suddenly, a breath of scorching air passed across his forehead, broke through the barrier of his closed eyelids; an irresistible rapture took possession of him….mightily refashioning the enfeebled fibres of his being.  And at the same time the anguish of some superhuman peril oppressed him, a confused feeling that the force which had swept down upon him was equivocal, turbid, the combined essence of all evil and goodness.  You called me: here I am grown weary of abstractions, of attenuations, of the wordiness of social life, you wanted to pit yourself against Reality entire and untamed.  I was waiting for you in order to be made holy.  And now I am established on you for life, or for death….He who has once seen me can never forget me: he must either damn himself with me or save me with himself.  O you who are divine and mighty, what is your name? Speak."
Hubert concludes that Teilhardism is,
"…no doubt of Satanic origin—a true "religion of man," if ever there was one."
America's Unfolding Spiritual Catastrophe
For over eighty-five years, America has been incrementally conquered by the same madness-inducing demon of hatred and violence that earlier took over Russia, China, Germany, and Italy.
This demon is mainly embodied within America's "scientifically endarkened" Ruling Class which is deeply oppressed and possessed by elemental spirits and the delusion that the true enemy of America is always on the Right.  Having rejected the biblical God and the religious heritage of our civilization, they embrace instead an ancient order of beliefs of which Communism and Socialism are logical expressions.  A new world order is what they seek, but in order that it can emerge, the still remaining remnants of America's Christian-based culture must be completely destroyed.
What this means is that the spiritual catastrophe that unfolded in the Soviet Union and Nazi Germany is unfolding on America's stage.
Can this catastrophe be averted?
Repentance: The Only Way Back
Returning to David, prior to his obsession with Teilhardism he was destined to become a professor of anthropology at a Catholic university.  But under the influence of Teilhardism, he came to see that the Genesis account of creation ex nihilo, Adam and Eve as the first man and woman and parents of all mankind who fell and passed on Original Sin to all human beings were utterly contrary to modern scientific thinking and evolution.
Therefore David taught anthropology from a modern "evolutionary science" perspective, even going so far as to exclude traditional presentations of doctrines about creation ex nihilo and Original Sin.  But after introducing Teilhardism to his students, doubts arose when he observed the breathtaking transformative effects of this teaching upon Jonathan, one of his students, a priest who now insisted that all the sacraments are "…no more than expressions of man's natural unity with the world around him." 
David's eyes were suddenly opened and he saw clearly for the first time that Teilhardism exalted man as an animal and pictured,
"God as no more than the very bowels of earth and sky and the spatial distances of the universe with all its expanding galaxies." (Martin, p. 107)
Meanwhile, Jonathan left the church and quickly founded his own cult among wealthy Manhattan families.  He preached that the universe and all people were evolving as 'one' in a naturally occurring mystical union which he called "Abba Father." (p. 127)
Martin writes that Jonathan had come under the dominion of an evil spirit and David was called in to exorcise him.  However, the demon possessing Jonathan ridiculed David, saying they both believed the same things, therefore if Jonathan needed exorcism David needed it more.
Reeling in shock, David was led to an agony of soul-searching over the course of many weeks during which he re-examined and finally repented of the intellectual arrogance that led him to embrace Teilhardism and the "higher criticism" of Scriptures that reduced the Revealed Word to myth, allegory and delusion and the death of Jesus to an insignificant event of the evolutionary past rather than,
"…an ever present source of personal forgiveness and unshakable hope for any future." (p. 149)
According to Martin, the evil spirit who had nearly succeeded in killing David's faith now taunted him that to return to faith would entail slavery of mind and will.   But when a repentant David deliberately rejected the demon's taunts,
"…a great and breathtaking dimension full of relief….flooded his mind and will and imagination….And when he now looked at the world of nature around him…and heard the song of a mockingbird nearby, he received it no longer as he had while a Teilhardian evolutionist, as 'intimations of molecules endlessly regrouping,' but rather 'of endless life for each person, and of love without a shadow." (pp. 163, 165)
Speaking through Nietzsche, Zarathustra had declared the death of the Christian God on behalf of all willful unbelievers, but now for David, "He's alive and I'm forgiven!"   His faith in God, Christ, the Holy Spirit and Scripture restored, David was ready to exorcise the evil spirit who possessed Jonathan.  He did so,
"…in the name of God who created him (Jonathan) and you (evil spirit), and of Jesus of Nazareth who saved him!  You will depart and get back to the uncleanness and agony you chose." (p. 169)
A 1928 book entitled "Propaganda" by Edward Bernays begins with these words. "The conscious and intelligent manipulation of the organized habits and opinions of the masses is an important element in democratic society.  Those who manipulate this unseen mechanism of society constitute an invisible government which is the true ruling power of our country."
"We are governed, our minds are molded, our tastes formed, our ideas suggested, largely by men we have never heard of. This is a logical result of the way in which our democratic society is organized.  Vast numbers of human beings must cooperate in this manner if they are to live together as a smoothly functioning society."
"Our invisible governors are, in many cases, unaware of the identity of their fellow members in the inner cabinet."  Pg. 9
He continues: "Some of the phenomena of this process are criticized—the manipulation of news, the inflation of personality, and the general ballyhoo by which politicians and commercial products and social ideas are brought to the consciousness of the masses. The instruments by which public opinion is organized and focused may be misused. But such organization and focusing are necessary to orderly life."
"As civilization has become more complex, and as the need for invisible government has been increasingly demonstrated, the technical means have been invented and developed by which opinion may be regimented." Pg. 12
Bernays lived to see a practical application of his ideas in the government of the United States of America.  Born in 1891 he died in 1995 at the age of 103.  His brand of Talmudist humanistic government is the guiding light of our current society.
The Frankfort School enhanced Bernays' totalitarian model with an equally onerous Communism.  With the same geographic German roots Horkheimer, Adorno, Marcuse, Pollock, Fromm, Lowenthal, and others fled Hitler's oppressive regime and sang their song of tyranny in American intellectual circles.
Similar authoritarianism were envisioned by University of Chicago professor Leo Strauss whose students included an array of  movers and shakers (Justice Clarence Thomas; Supreme Court nominee Robert Bork; Deputy Defense Secretary Paul Wolfowitz; former Assistant Secretary of State Alan Keyes; former Secretary of Education William Bennett; Weekly Standard editor and former Quayle Chief of Staff William Kristol; Allan Bloom, former New York Post editorials editor John Podhoretz; and former National Endowment for the Humanities Deputy Chairman John T. Agresto) who often damned Constitutional freedoms in favor of war and conquest.
R. J. Rushdoony's writings emphasize the inevitable development of the tyrannical state as the ultimate authority in humanistic societies.  Instead of deriving order from the immutable dictates of the Creator, humanism leaves the creature with an anarchic, goalless absurdity.  Tyranny is the only solution to mutable human opinion. Governments that evade responsibility to the Creator soon become despotic.
Humanism is not confined to totalitarian governments it is just as prominent and even more deadly in religious organizations.  The Protestant Christian Church began its steep slide with the idea that "free will" allowed the creature to decide whether or not it would accept the Will of the Creator.  Arminianism copies the original sin recorded In Genesis 3. The Bible describes a God Who is sovereign and Who both selects and enables His subjects.  Humanism had grown like a cancer in the Christian Church allowing so called Christians to function as humanists while claiming the Name of Christ.
Several doctrines common in the Catholic Church are equally humanistic.  The Church of Jesus Christ has no authority to forgive sin or to confer salvation; both are reserved to God alone.  The Bible contains no injunction to pray to Mary or to any other human figure the church might designate. This contradicts the Biblical mandate and is blasphemous.
Judaism is rife with human error that began with the Pharisees in the time of Christ and has continued to grow and fester.  God's Word contained in the Torah has been replaced with the words of men in the Talmud where Rabbis override the voice of the Creator with sly rebuttals and ameliorate sin with absurd excuses.  The apartheid Talmud, a humanistic guide to the Torah, rules the behavior of the powerful U. S. Jewish community.
Sincere subjugation to the Living God and attentive obedience to His Word is anathema to the prideful heathens that control the world.  The arrogance that results from human hegemony is forcing dissonant evil on a world of confused and sinful people.  Homosexuality, gay marriage, abortion, porn, imperialistic war, murder, torture, legal theft, judicial injustice, and rampant mendacity have all become entrenched in our society.
R. J. Rushdoony writes: "The alternative to the sovereignty, government, and providence of the triune God is in practice the sovereignty, government, and providence of church state or some agency of man.  It means freedom from God for the slavery of sin and rebellion.  The man who is in revolt against God's reign will soon be the slave, not only of sin, but of apostate institutions, churches, states, families , men, women, and children.  For such a slave, freedom is intolerable.  As a young Nazi boasted before WWII, 'We are free of freedom.' "   "Systematic Theology" Pg. 211-212
The passage reminded me of my estranged daughter who along with her husband and five grandchildren left the family, sold their home and all their possessions and moved into a cult.  They had a fine marriage and were excellent parents but they struggled to make a living and to find an outlet for their Christianity.
They were always happy to receive help but they regularly ignored advice.  Their failure to cope with the responsibilities of freedom was a product of their own rebellion and now they live and work under the control of others.
Slavery has been demonized in our society but it is not always bad.  There are those who prefer to delegate their freedom and will work for those who assume responsibility.
When Bernays refers to "the masses" he uses an impersonal derogation to describe the population that failed to ascend into the elite structure.  Today, that would be the 99 percent who are under the rule of a shadowy elite one percent.
It is an interesting fact that our Constitution was crafted in secret by a group of leading citizens.  It was designed to provide freedom to the population through rule of the people by the people.  It was a sterling concept but it had a fatal flaw:  Authority was vested in citizens who do not have the ability to properly govern themselves
Governments that are not bound to God's Law will always become tyrannical.  Libertarians seek a minimum of government intrusion – some seek none.  They come close to the Christian concept which is miniscule.  But since humans were not created to govern themselves they require an overarching authority.  God's model has the entire creation under His mandates.  His model provides maximum freedom for both the leaders and the people. It offers an absolute legal code that cannot be amended.  Without this immutable anchor for all of God's creatures tyranny will continue.
"The providence of God is little spoken of today, because His powers of government have been transferred to the state and to man, together with His sovereignty.  It is the stare that today preaches providence to willing congregations, calling it cradle to grave for (or womb to tomb) care, social security, and a variety of other names.  Men everywhere believe in providence, and they look to their gods to it. Unhappily, their gods are false gods, and not the living Lord."  R. J. Rushdoony  "Systematic Theology", Vol 1, Pg. 211
Tony Bennett left his heart in San Francisco — and Michelle Obama left her brain in 1954.
Addressing graduating high-school students the other day in the Topeka, Kansas, school district, the federal lunch lady said, referring to the Brown v. Board of Education decision, "[Y]our experience here in Topeka would have been unimaginable back in 1954…." And perhaps this is true.
It also would have been unimaginable back in 1554 or 954. After all, the institutions making that experience possible hadn't been birthed yet.
You know, those institutions created by European/ European-descent civilization.
That civilization that Darth Vegan is tacitly impugning with her racial agitation.
The point is that if you're going to talk about the past, don't tendentiously cherry-pick it for destructive ideological purposes. It's much as discussion about slavery. Not only is the focus always on the less than one percent of the history of slavery that was written in the US (it's one of the world's oldest institutions), but the most significant point is missed: Whites were not the first to practice slavery.
But they were the first to abolish it.
If some take offense at this, they can pound sand. I take offense at the constant derision aimed at my civilization by critics who should get down on their knees, kiss the ground trod by our ancestors and thank God for our civilization's existence. Where else could effete ne'er do wells complain about injustice while living a life of silk, satin and Sidwell Friends and dining on Kobe beef?
Really, this all reminds me of how no good deed goes unpunished. This focus on a group's sins to the exclusion of its triumphs is much like trying to epitomize a cracker-jack golfer by some of his three-putts while ignoring his many championships; it's like condemning a great rocket engineer over a few failed trial launches and ignoring that he got you to the moon.
M. Obama also said to the students, "We know that today in America, too many folks are still stopped on the street because of the color of their skin…." This is absolutely true. Just this past Mother's Day weekend a white family was stopped and beaten by a black mob because of the color of their skin.
Of course, these black-on-white racial attacks — already a frequent but largely unreported phenomenon — will only worsen with racial hustlers such as the Obamas peddling their "series of agreed-upon myths," to use Napoleon's characterization of history.
And this agitation has its effect. Just consider the testimonial Reverend Jesse Lee Peterson, president of the Brotherhood Organization for a New Destiny (BOND), gave about how race-hustling affected his attitude prior to his religious conversion. He said in a 2013 Los Angeles Times interview, "I believed the lie that because I was black, I wasn't going to be able to make it because of the white man…. I was listening to people like Jackson and Louis Farrakhan…. He talked about the blue-eyed devil, and I believed him. I started hating white people." And since most people don't experience religious conversions, what's the result of this brainwashing?
It's that now, "not all but most black people are so racist toward white people," Peterson explained.
And this explains the Obamas. They are obsessed with race.
Obsessed.
And what, America, did you expect when electing a far-left, radical, black-liberation-theology-church-attending, Marxist-leaning, terrorist-consorting ex-socialist-party member who cut his political teeth in the Chicago machine? Mr. Smith goes to Washington?
Well, it was actually Uncle Sam goes to Hell.
Origin of the Master Model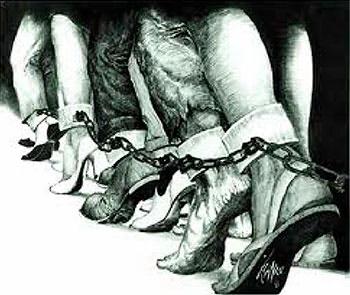 The master plan for world domination we see playing out today was first proposed to the US at the end of World War I. However, there were no takers. People were too war weary. However, when the plan was again proposed at the end of World War II, it was accepted. Consequently, World War II quietly transitioned into the secret "war" to set up what has become known as the "new world order" — an absolute dictatorship over the entire planet.
The United States set up the School of the Americas to train future dictators and terrorists who would be sent out into the world to destroy sovereign nations and place them under US domination by installing puppet governments obedient to the United States. Many conquests were made quietly using clever economic tricks [2]. However, leaders who refused to submit quietly would see their entire country reduced to rubble and the land rendered unlivable by uranium dust scattered by US bombs. The message was clear: Submit to the United States or face total destruction.
A social model based upon the assumption that cleverness and power automatically convey the right to take anything desired from those who are less adept and unable to resist is not a sustainable model for harmonious social interactions. However, this is the chosen model. The mantra for this model, "A man's true worth is measured by the amount of other peoples' happiness that he can possess and destroy" [1], is essentially a call for a class war between the greedy elite and the innocent masses of the world who simply desire a peaceful existence.
Acquisitions
The United States looks at the rest of the world as a "resource". If a country has something — oil, gold, minerals, etc. — that the US covets, it believes it has the right to take those things by whatever means necessary. In many cases the coveted resource is human slave labor. Let's look at some representative examples:
With the cooperation of the dictator, United Fruit Company (US) owned almost half of the country and used the locals as slaves to harvest its Chiquita brand bananas. However, during the period from 1945-1954 new leaders made changes. They helped the poor and set up social security and health care. Then they took land away from United Fruit and gave it to the local people. United fruit complained to the CIA that its business interests were being interfered with by the "communist" government. Any government which shows kindness to the poor and weak is called communist by the US. The US attacked Guatemala — killed the elected leaders and many thousands of citizens — and established a puppet dictatorship which would obey the will of United Fruit. The people were returned to a state of slavery. The CIA trained death squads to make sure the people were crushed into submission.
Strip Mining in Africa [4]
In Africa, the International Monetary Fund — a puppet of the US — destroys a country with strip mining. The original country was self sustaining. People were able to grow lots of food and hunt animals. However, once the land was ruined by US corporations, it was unusable to plant crops and the native animals died. The people had to buy food from other countries with money loaned to them by the IMF which they could never hope to repay. Therefore, a once free and self supporting people were made debt slaves of the IMF. Once all the natural resources have been stolen, the corporations will simply pack up and leave the indigenous people to starve and die.
Countries Used as Trash Dumps [5]
Used computers and associated items are dumped in poor countries where starving barefoot children sift through the mess of hazardous waste and broken obsolete glass computer monitors hoping to find something they can sell to get enough money to stay alive another day. Property stickers show the waste is mainly from the US government and various US state governments.
Corruption of Trusted Sources
Reporters and News Organizations
The masses are conditioned to believe news they receive from establishment sources. In the earlier times, this assumption was often correct. It was considered so important by the founding fathers that freedom of the press was enshrined in the US constitution. However, times have changed.
Walter Cronkite was known as the "trusted voice". No one knew he was also the official announcer at the secret Bohemian Grove meetings. The leaders of the world's news organizations also attend this event. That is why, even though the meetings began over one hundred years ago, until recently no one knew this group even existed. President George W. Bush may have set a new record for bribing journalists to allow their trusted name to be used as the author of material actually written by government propaganda experts. Apparently, everyone has a price and the government, of course, has no problem when it comes to money.
When Ronald Reagan reportedly ordered the death of investigative reporter Jessica Savitch [6], the message to independent journalists was clear: Go against the official party line an you're done!
Today, dedicated journalists face mysterious deaths and strange single car accidents but a few survive long enough to give us a glimpse of truths we would otherwise never know. They are true heroes.
Churches
Churches are everywhere. Unfortunately, legitimate Spiritual teachers are not. People look at churches either as harmless or with some sort of conditioned hypnotic respect. Churches send out "missionaries". However, the "mission" of these missionaries may not be so clear. If you wanted to infiltrate a foreign country, these people would be an ideal asset.
Churches are not Spiritual centers. At best, all they want is your money. At worst, they are Satanic and you are in severe Spiritual danger if you come under their influence and control.
The Catholic Church has been a trusted asset of the US intelligence community for quite some time. Significant information obtained by priests during confessions is routinely passed on to the government.
This agreement predates the internet by many years. Because the church has branches in almost every country, it has great potential for covert activities. For example, if you need to get an operative who is in danger out of a country, they can go to a Catholic church for "confession". Once the door is closed, they can exit through a secret passage, be disguised in robes and spirited safely out of the country. Church secrecy is at least on a par with US secrecy. Also, the Catholic church and the US shadow government share the same Satanic value system and engage in child rape and ritual killings.
Doctors and the Medical Industry
Medicine in the United States is an industry. It is no longer a profession. Its corporate model puts profit above all else. If some patients accidentally benefit they are the lucky ones.
The medical community has a rigid hierarchical structure and effective mechanisms for enforcing secrecy. Essentially, its model closely resembles the military chain of command structure. This makes it a perfect partner for the government in the area of secret human experiments.
For example, when the government was doing radiation experiments on humans, a doctor or someone dressed as a doctor would just walk up to unsuspecting patients and inject them with radioactive material. They were then secretly followed for years to see what would happen. Eventually, some of those who survived were told the truth. Most people used in the MK Ultra and subsequent secret projects were never notified.
Hospitals are set up to protect themselves. Staff may appear to be dedicated, smiling people who truly care about you. However, they are basically prostitutes who are being nice because you are worth money to them. When they make mistakes they have a "loss prevention" department staffed by clever lawyers who are trained to protect the financial interests of the hospital by denying everything and fabricating believable coverups. They are trained to do whatever is necessary. The staff will all agree to support whatever lies are needed. They know their job and their financial future depends upon maintaining strict secrecy.
The only people who receive legitimate medical care are the select elite cleared to accesstop secret medicine. These people always get excellent care because the doctors work for the shadow government and mistakes on their part are simply not tolerated.
Infiltrations
Countries which have the resources to sustain an intelligence community generally try to get operatives (spies) into other countries so they can directly observe activities. When real people gather intelligence, this is called human intelligence or HUMINT. The US, of course, does this too. However, you may not be aware of the extent to which the US also infiltrates itself. The central government really does not trust anyone.
Essentially all local police departments, state offices and state governors have a covert federal agent working close by pretending to be just another employee. Also, every US neighborhood has an informer who reports to the federal government. Large corporations, which tend to behave like "mini governments", need to be infiltrated and kept under observation. Colleges and universities are also monitored.
Here is how this spy network operates: The NSA likes to recruit young kids right out of college. When they are hired and sworn to secrecy they still do not know what their assignment will be. They must agree to do this assignment without first being told what it is.
Some agents, like John Perkins [2], are assigned to work in other countries. However, others are assigned to work inside the US. Their assignment could be to go to some state and apply to join the local police department. They would pretend to be just a regular person looking for a job. They would take the necessary training and spend their life as a local policeman so they could directly observe other local police from the inside and report to the NSA. Since they are actually an employee of the NSA, presumably they get to keep both salaries and, eventually, both retirements. All significant local police forces in the US are infiltrated this way.
Additionally, some agents will be assigned to get a job on the state governor's staff as well as in major local state agencies. A CIA or NSA agent is always on the staff at major colleges and universities. The same goes for major corporations.
Senior level agents are allowed to have special TV receivers in their homes linked to the secret government TV network. This way everyone stays on the same page. The channels on this network actually broadcast the truth. TV channels available to ordinary people contain only government approved propaganda mixed with "bread and circuses" presentations to make sure the sheeple stay asleep and content.
Fronts
The US government is involved in illegal activities internationally and domestically. If it performed these activities overtly in the name of the United States, there would be serious consequences under both international and local laws. To avoid this situation, the US government operates thousands of "front organizations" which appear to be private but are actually shadow operatives of the US.
For example, John Perkins [2] explained that he was recruited, hired and trained by the NSA. He was an NSA agent. However, for his cover as an economic hit man, he "officially" worked for a "private" company called Charles T. Main. This company was a government front to shield the US because the activities the NSA trained Perkins to do were illegal.
This is standard operating procedure for the US as well as other countries and many corporations. It shields them from legal recourse by providing deniability for the crimes they actually direct and commit.
Generally, when the US wants to influence other sovereign countries, it creates harmless looking NGO's which appear to be independent but are actually fronts for covert activities.
Domestically, colleges and universities — especially those with associated medical schools and hospitals — are great places to conceal a variety of covert projects such as the MK Ultra series of human experiments which, reportedly, continue today using new cover names. The US also likes to create non-profit corporations which exist only to provide classified services to the United States. A good example would be the Institutes for Defense Analysis (IDA). The US, reportedly, is its only client.
Programming
Mass media "programming" is actually programming you. It has developed into a subtle form of mind control. Before radio and television, special interests recognized that motion pictures could be used to alter public opinion in their favor. Perhaps, for example, you wanted to attack labor unions. When radio and later television came along providing access to national and international audiences, the temptation to exploit these technologies became irresistible. Originally, the US government recognized this and set up fairness rules to prevent monopolies from taking over the broadcast media and blocking opposing viewpoints. All this ended, unfortunately, when Ronald Regan canceled all the fairness regulations. Today, a handful of powerful corporations own and control essentially all content delivered by radio and television.
Television is the main vehicle for mass indoctrination. It is said that people watching TV actually fall into a light hypnotic trance. The "entertainment" you see on TV does not "just happen to be there". It is very carefully planned and timed to attract and influence targeted audiences. It is said that if some event were to somehow shut down all television broadcasts the government would experience a severe crisis because it would lose control over the minds of the masses.
TV creates sort of a "hive mind" among the masses and keeps everyone coordinated and tuned into the official party line. Without this, people would have no choice but to start thinking for themselves and forming independent opinions. Clearly, this would be a disaster.
The radio broadcast of "War of the Worlds" and the later movie "The Day the Earth Stood Still" are said to be CIA psychological experiments to judge how the general public would react to some type of ET contact.
Today, broadcasting is not just a one way event. Because people react to events and use social media to express these reactions, the effect of specific propaganda can be analyzed in real time. Since the government now intercepts all electronic communications, it is able to see general opinions and then tweak algorithms to maximize the desired effect of propaganda. This ability makes TV a two-way communications system although most people, of course, do not realize this and have no concept of the level of sophistication these technologies have reached.
Information Theory
Information Theory is the name of a relatively new branch of science which became popular in the 1960′s. It covers a broad range of technologies. Basically, it is the science of the flow of information and how that flow can be selectively controlled so that information flows only in desired pathways. As you may have already guessed, governments love this sort of stuff.
ECM
ECM stands for Electronic Counter Measures. In general, these are techniques to disable other electronic devices. Basically, it is electronic warfare. When the secret service is active in an area, for example, they will selectively jam all radio frequencies except for the specific frequencies they are using so that no one else can communicate.
World leaders, who are generally terrified of "threats" materializing from practically anywhere, like to travel with ECM generators running just in case "someone" from "somewhere" was trying to target them for "some reason". Basically, they are paranoid whack jobs.
People familiar with aviation tell the story of how Tony Blair, while traveling to or near a commercial airport, reportedly caused a commercial jet to crash because all the ECM garbage he was transmitting jammed the plane's navigation system. Of course, the British government would never admit this.
Secure Communication With Submarines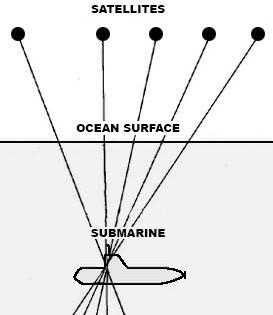 Since submarines were invented, communicating with them has been a problem because conventional radio waves will not travel underwater. Therefore, early submarines had to get close enough to the surface to put up some kind of antenna in the air to send or receive radio messages. Obviously, this could pose a problem if you did not wish to be discovered and located. After all, the motivation to create submarines in the first place was the feeling that they would be able to move about the planet secretly. However, newer technologies now make this impossible.
To solve the problem of reliable secure communication without the need to surface, scientists learned that sea water was essentially transparent to a special type of Argon laser. To set up the current communications network, it was decided to use several satellites with each satellite sending only part of an encrypted communication signal. The complete signal could only be received at a specific point underwater where all the laser beams intersected. Intercepting only one or two beams would prove useless. This communications system is considered to be impossible to intercept.
Quantum Entanglement
Returning to the submarine issue for a moment, before modern communications were perfected, there was a search for some reliable method to send a signal to a submerged submarine that could not be detected. This was considered necessary in a war situation to secretly transmit an attack command. What they originally did was to locate a couple of people who could communicate telepathically. One would be at the command base and the other on the submarine. Doing a bit more research, it was determined that this type of communication is instantaneous and somehow operated outside of time. Radio waves travel at the speed of light.
Quantum entanglement is a process which uses technology to send and receive signals outside of space-time. Now, why would you possibly want to do this? Well, if you had a base or a colony on a planet in some other solar system light years away, you would not want to wait years for messages to be received. Following this thread — and adding some basic common sense — why would you want to dedicate resources to search for habitable planets in distant solar systems when you had already "proven" it would be impossible to ever get there? Could it just be that someone is not coming clean with whole story?
The Separation Barrier
This is a model of the separation barrier which insulates the ruling class from the slave class. It is essentially "intellectual apartheid". The question is, why is it there. It takes considerable effort, money and manpower to maintain this artificial barrier. What is the reasoning behind not having a level playing field for everyone? Why does this idea absolutely terrify the elite? What are they afraid of?
The Pirate Story
This is a summary of a story told years ago on a radio broadcast most likely by Paul Harvey:
Ordinary people were afraid. The Earth was flat so they dare not venture far from home. Periodically, a pirate ship would come. They did not know how it got there or from where it came. It brought treasures they had never seen. The Chief Pirate would encourage the young men to study and specialize in specific skills. He wanted them to become educated but only in one narrow area. The Chief Pirate knew the world was not flat and how to navigate to other lands. However, this knowledge was never discussed. This "top secret" knowledge or the "big picture of the known world" would only be given to the Chief Pirate's son who would inherit his title and someday become the Chief Pirate.
This story is about the origin of the concept we call compartmentalization — the process of controlling the slave masses by only allowing them to know specific bits of the truth while the leaders are allowed to know total truth.
ELITE RULING CLASS
SECURITY CLEARANCES
SECRET POLICE
ASSASSINS
SURVEILLANCE — SIGINT HUMINT COMINT
SPY SATELLITES
SPY DRONES
SMART ELECTRIC METERS
INTERNET SURVEILLANCE
NEIGHBORHOOD SPIES
PLENTIFUL STREET DRUGS
PSYCHIATRIC FORCED DRUGGING
GENETICALLY MODIFIED FOOD
FLUORIDATED WATER
COORDINATED TELEVISION PROPAGANDA
DEGRADED PUBLIC EDUCATION
LOCAL MILITARIZED POLICE
---
SLAVE CLASS
Leaders can only maintain their status if there are slaves. Otherwise, everyone would be equal and operate on a level playing field. This means "leaders" would have to pull their own weight like everyone else. Clearly, this would be intolerable. Leaders love beautiful and exotic things but don't want to do the work needed to create these things. They probably could not even plant a garden much less build the various "ivory towers" where they like to live surrounded by servants. If left on their own they would very likely starve. This is why it is so important to create and maintain the complex separation barrier.
Why don't people who live above the separation barrier ever "come down" and talk to the people below the barrier? Well, other than the obvious fact that they would likely be killed or jailed for espionage or treason, there is another, simpler, reason.
Would you like to spend your days sitting in an open field with kindergarten kids looking for four leaf clovers? Probably not. You have progressed beyond that. The slaves below the separation barrier cannot even imagine the world of those who live above the barrier. In fact, the elite do not even consider the slaves human. They call them "disposable biological units". The United Nations prefers the slang term "the herd". Slaves can be easily bred in quantities needed and programmed to do desired tasks. Then, they can be easily disposed of when no longer useful. That's how they look at you. So, why would they want to make friends with you?
The Mars Example
There is an interesting event playing out today that you may have noticed. This concerns the recruitment and selection of people to be sent to Mars. There are simulation projects where volunteers are locked away to imitate the long voyage to Mars. They are being told that this is a one way trip and they can never hope to return to Earth.
What you are witnessing is the selection process for the "seed people" who will be used to breed the future slave class on Mars. In a situation similar to the period when most believed the Earth was flat and you would fall off if you tried to go to sea, these people are convinced that the only way to get to mars is to ride a rocket on a perilous journey taking years. Because they truly believe this, when they get to Mars, they will teach this crap to their kids along with other misconceptions like it is impossible to go faster than the speed of light and other associated obsolete scientific principles. They will have no
desire to ever return to Earth or go anywhere else because they truly believe it is not possible. They will be contented slaves.
Of course the truth is that there are already secret colonies on Mars. It is not that hard to get there using antigravity and other secret propulsion methods and it is quite likely possible to simply walk through some kind of wormhole device and come out on Mars.
However, the slaves will never know this. Just as it is done on Earth, there will be an artificial separation barrier. The insiders will know the truth and will be physically hidden from the slaves. There will be secret police and other methods — the same as are used on Earth — to make sure no slave ever escapes from the "information prison". Business as usual will continue.
Reinforcement of Ignorance
Governments and their oligarchs love to keep their subjects in a cloud of ignorance. Back in the days when people believed the Earth was flat, the inner circle ruling class knew it was round. Maintaining the deception was convenient because it kept the slaves from developing any desire to travel far from home.
Nothing has changed all that much today. Consider, for example, all the fuss over the missing MH370 plane. You are being played for a sucker. It is impossible for that plane to have "disappeared".
The US DoD spy satellite system reportedly consists of ten constellations of satellites. Each constellation has over seven thousand satellites. They see and record everything that happens on this planet. The floor of the oceans can be seen just as clearly as the land areas. The resolution of the system is better than one square millimeter. Also, everything is recorded so you can go back in time and play past images.

This is a picture of a common electric lamp. Take this lamp and throw it in the ocean — any ocean anywhere on this planet. The spy satellite system will locate it, give you the coordinates and give you a photo at least as good as the one above. That is the capability of the system. So, clearly, it is impossible not to know the location of something as large as a Boeing 777 plane. All the TV publicity is a choreographed play. You are being scammed and you need to wake up and realize this fact.
Murders and Assassinations
To ensure a strong empire, dissent must be crushed. The United States trains assassins and carries out both domestic and foreign murders and assassinations on a regular basis. You may be familiar with the classic movie scenes where a black limousine with tinted windows drives by a target with thugs shooting machine guns. Although this would accomplish the task, it is a bit too obvious in a country that advertises itself to be a free, civilized democracy. Someone might catch on and begin to doubt the party line. Consequently, these things must be done quietly.
Inside the US, murders are reportedly carried out by a group known as "FBI Division Five". Other agencies likely have the responsibility for foreign assassinations. However, the basic techniques used would be similar.
Typically, an agent would wake up every day and connect to the top secret internet to see who he was assigned to kill that day. There would be several options. If it was important to eliminate the target immediately, a fast acting chemical agent would be selected which, for example, would cause the target to die within a few hours of a "natural" heart attack.
However, if time was not critical and the government just wanted the target out of the way, you might want to select one of the cancer causing agents such as those likely used to eliminate Hugo Chavez and Senator Ted Kennedy.
There is also a third possibility. This involves character assassination instead of actual murder. Consider, for example, a person who has gained a lot of public recognition talking about, say, free energy. If you simply kill the person, there could be blowback and talk that he was silenced by the government. In such cases, it is easier to use a chemical agent designed not to kill but, rather, to cause states of mental confusion resulting in obviously strange behavior. This would be coordinated with the government controlled mainstream press to make sure everyone became convinced the person was a nut and would therefore ignore anything said without regard to the truth or validity of the message.
Once the appropriate chemical has been selected, you need to load it into the secret delivery system and locate your target. To find your target you will connect to the top secret internet and pinpoint the location of the target through their cell phone. You can also activate all the cameras and microphones in electronic gadgets connected to the internet associated with the target in case you wish to look around the target's home and hear in real time what is taking place.
Of course, this will not help you locate the target when it is time to actually do the hit. So, you need to get the top secret profile data which will show any predictable habits of the target. Everyone is constantly tracked through their cell phones and profiles are logged and stored. In this case, the profile shows that the target has a favorite restaurant and goes there for lunch every day around 11:30. Now, you know exactly what to do. You go to the restaurant, hang out until you see your target, and get in line behind the target. Now, all you need to do is slightly bump into the target to deliver the chemical. Generally, the targets never even notice.
This mission is now complete. If it is early enough, you can check back in to the top secret system to see who you are supposed to kill next. Just another day. Just a routine job.
Money
Money is an imaginary force. It is used to motivate and control slaves. Real forces effect all life forms. However, only people respond to money. The only reason they do is because they have been artificially programmed to do so.
Money can be created in unlimited quantities by those adept in the use of this force. The physical world is finite, however the world of imagination is not. There is no limit to the quantity of money that can be imagined into existence. Money can also be imagined out of existence.
Let's assume that one day the entire financial system simply disappeared. If you lived in a rural area and had a nice veggie garden, some friendly chickens, collection facilities for rain water and a few photocells for electricity, you would not notice this. The veggies would continue to grow. Rain would periodically fall. The chickens would lay eggs as usual. The sun would continue to shine. However, if you lived in a city environment, you would be devastated.
Before money, people lived in small hunter-gatherer groups. The concept of ownership did not exist. People worked and survived as a group. Men and women were equal. Everyone contributed to the community. Resources were shared equally. The concept of "mine" and "yours" did not exist. Women generally became pregnant only once about every three years although there was no birth control. Later, when the concept of money entered the consciousness, women were seen as having less value because men were paid for work but women were not paid to raise and care for kids. Society has changed, however, the downgraded status of women has not.
Money systems have always been manipulated by clever people. When gold was used as money, people learned they could dilute pure gold with silver or maybe even lead to come up with something that looked like pure gold and had the correct weight but was a fraud. A king suspected he was being scammed but had no way to prove it. He called on the great minds of the time for help. This led to what is known as the Archimedes' principle which is better known today as "specific gravity". This principle made it possible to compare a sample known to be pure gold to a questionable sample and prove the unknown sample was not pure gold. Likely, some clever crook lost his head once this test became known.
There is a general belief that gold is the ultimate reference for all money. However, secrets concerning the exact quantity of gold make this a perilous assumption. Reportedly, the United States stole a tremendous quantity of physical gold from Japan towards the end of World War II. This gold exists off the books. To make matters worse, Japan was not all that concerned. Japan had been using gold bars as ballast on its ships because they were compact and heavy. They thought nothing of throwing the bars overboard as necessary. Japan used platinum as a money reference and the US never got that. This should make one rethink all the hype about the value of gold. It may be a lot more plentiful than we have been led to believe. Also, the secret off the books stashes of gold would allow its relative value to be manipulated at will just like other commodity markets.
The Financial Axis of Evil [3]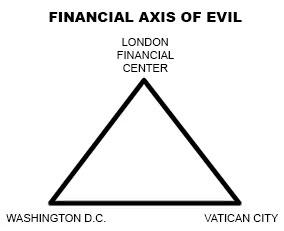 This is the model of the financial axis of evil which rules this planet. It consists of three main branches as shown above. Collectively, they are known as "The Empire of the City". Briefly, here is how this system operates:
The London financial district is in London, Washington D.C. is in the United States and the Vatican is in Italy. However, these three places are not part of the countries where they exist. They are independent "city states" and have their own laws and constitution. They are, effectively, "mini countries" inside of other countries and fly their own flags. The city state of London is a private corporation and pays no taxes to actual London or to Britain. The city state of London is the master power center and is controlled by the Rothschild family which considers itself to be the legal owner of this planet. The Vatican is the largest private land owner in the world and the first true multinational corporation with installations (churches) and secret agents (The Knights of Malta) everywhere. They control through the power of fear of the unknown and practice black magic. Washington D.C. relies upon brute military force. All three closely cooperate combining their specialties of financial trickery, witchcraft and military might. Of course, all three worship Satan as their Master.
Slavery
Slavery is alive and well throughout the world. The US constitution prohibits slavery, however, most americans live in slave-like conditions.
It is said that it will take the average college student until age fifty to pay back their student loan.
The constitutional amendment prohibiting slavery addressed the concept of physically owning another person. However, it did not address the issue of holding another person in bondage as a debt slave. It also did not consider the concept of private for profit prisons who force inmates to work as slaves. These systems exist today and are perfectly legal.
Actually, a recent report from prestigious Princeton University has reclassified the US government as an oligarchy — a country run by and for the rich elite. Former US President Carter has stated that the United States "no longer has a functioning democracy". So much for the Founding Father's dream. Speaking of dreams, check out the free you tube video titled "The American Dream".
Other forms of slavery are illegal but still flourish. Sex slaves are always in demand. Traffickers are sometimes caught but you need to realize that your leaders use sex slaves and also routinely abuse young girls and boys. Sometimes they are also killed during occult rituals. No one ever talks about this and these people are never punished. This has been the normal way of life for Satan worshipers for many years and nothing has changed or is likely to ever change in the future. Stanley Kubrick's last movie, Eyes Wide Shut, covers this subject. Some believe this intense dramatization of how the elite really live may have cost him his life.
People still have some rights left in the United States but other countries are a different story. Qatar is doing construction for the World Cup. The event is not scheduled until the year 2022, however they have already killed 1200 slaves [7] by working them to death. People are lured from poor countries with the promise of jobs and money. When they arrive, their passports are confiscated and they are forced to work until they literally drop dead. If the World Cup is actually held in Qatar in 2022, there will be glamorous TV coverage and no one will remember or care about all the dead slaves. The show must go on.
Qatar, incidentally, sponsors Al Jazeera TV network.
Adaptation Techniques
The status quo of today will never change because the people who created it will never die. Because of top secret medicine, when men like Henry Kissinger, who heads the Bilderberg Group's steering committee, get too feeble to function, they will simply go to one of the secret locations and use the temporal reversal device to regress back to about twenty years old. Their memories will be unaffected. Then they will get new identities and continue on. This process can be repeated indefinitely.
Because you can never change the status quo, your best hope for a lifetime of reasonable quality is to find clever ways to live in this world with as much independence as possible.
One method of adaptation is autonomous and semi-autonomous communities. If the community is registered as a religious institution it is automatically shielded from most government interference by the US constitution. It pays no taxes and can pretty much write its own rules by simply calling whatever it wants to do "religious doctrine". Many small semi-autonomous groups exist where people who share a common set of values find ways to quietly live out their lives pretty much on their own terms. The government does not seem interested in bothering these smaller groups as long as they live peacefully and are not doing anything that the government perceives to be a threat.
The Amish people are a good example of an autonomous group. You would probably not want to live as they do, however, before you completely dismiss them, you may want to look at some definite advantages in their chosen lifestyle.
Remember, these are the people who reject technology. They just might have made the correct choice. Technology, at first, seemed like a good idea. However, now that people are addicted to technology they are also enslaved by technology. Everything they do is monitored and recorded by the government. Privacy no longer exists. It did not have to be this way.
Technology, in itself, is not evil. However, it can be quite evil if you live under a government run by sociopathic control freaks which, unfortunately, you do. In the Amish world, electronic surveillance does not exist because electronic devices do not exist. The constant propaganda from TV has no effect on people who do not have TV. A horse does not report its position to a GPS satellite and is not controlled by a computer.
Also, the people are generally healthy and do not suffer from many diseases common to the mainstream population. They are not being poisoned by fluorinated water or additives found in processed food because they don't use these things. Also, they get lots of physical exercise.
Without totally withdrawing from the world, there are some positive steps you can take. By now you know never to drink fluorinated water or use any personal product containing fluoride such as many brands of toothpaste. To minimize harmful food additives, look for Kosher food which is marked with either the encircled "K" or "U" (Ultra Kosher). These foods have less or no harmful additives. The Jewish community is very protective of its people and the Mossad is widely considered to be the best intelligence service in the world. Therefore, they would have the inside scoop on everything including food and do not want to see their people harmed.
Whatever you decide to do, you definitely do not want to be part of so called mainstream society. These people are doomed. They are sheep (sheeple) slowly walking to the slaughter house. Don't go there!
---
references and credits
[1] DVD "The American Ruling Class". ASIN: B001HM2CE2.
[2] John Perkins. Book: Confessions of an Econemic Hit Man; DVD (free on you tube): "Apology of an Economic Hit Man"; RT interviews.
[3] See the free you tube videos titled "The Red Shield".
[4] DVD: "The Wages of Debt", RT Intl. Also available for purchase.
[5] DVD "Terra Blight", RT Intl. Also available for purchase.
[6] Interview with John Judge of Veterans Against Military Psychiatry.
[7] Also search using the phrase "qatar slaves world cup".
© 2014 W C Vetsch. All rights reserved.
Source: Walter C. Vetsch  |  3108.info | War Is Crime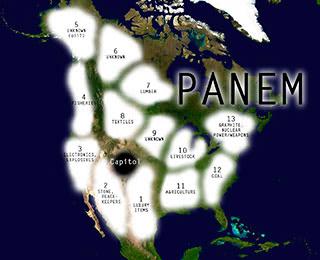 One of the most popular films of 2012 was The Hunger Games which portrayed a post-apocalyptic nation called Panem in which a super-rich, super-pampered, super-callous 'elite' lived in high-tech luxury while the rest of the population daily battled to survive in abject poverty locked away behind prison fences in intensively-populated 'people zones'. Panem comes from the Latin phrase 'panem et circenses' or 'bread and circuses' — a term derived from Rome and meaning to give the people diversions and distractions to hide what is being done to them. Exactly what is happening today.
The Totalitarian Tiptoes to just such a world are happening all around us, although most people can't see this because they don't connect the dots. People tend to live in their own 'little world' and focus on only a few subjects and interests. This gives them a distorted view of what is happening because they are so busy concentrating on the strands that they cannot see the tapestry. The world of The Hunger Games is already well on the way to fruition unless humanity has a fundamental reassessment of reality.
The foundations, structure and 'must haves' of a Hunger Games society are detailed in a plan being imposed through the United Nations called Agenda 21 which encompasses two related themes of 'sustainable development' and 'biodiversity'. Sustainable development — as in don't use more than can be replaced — sounds sensible enough at first until you realize what this and biodiversity really mean in the context of the conspiracy.
Agenda 21 was established at the United Nations Conference on Environment and Development in Rio de Janerio, Brazil, in 1992, hosted by Maurice Strong, a Canadian oil and business billionaire and long-time front man for the Rothschilds and Rockefellers. Strong has been a leader of their exploit-the-environment-to-scam-the-people programme which is now in full flow. Strong is a member of the Club of Rome, the environmental Hidden Hand in the Round Table network that includes the Bilderberg Group, Trilateral Commission and Council on Foreign Relations.
Strong said in support of Agenda 21:
'Isn't the only hope for this planet that the industrialised civilization collapse? Isn't it our responsibility to bring that about?'
This is a man who became mega-rich through the oil industry. He now lives in billionaire luxury in China where carbon-emitting industry is booming and he is a director of the Chicago Climate Exchange (largest shareholder, Goldman Sachs), which is 'the world's first and North America's only legally-binding greenhouse-gas emission registry reduction-system for emission sources and offset projects in North America and Brazil'.
The Exchange was established with funding from the Joyce Foundation where Barack Obama was once a director. Strong and Al Gore make money through the Carbon Exchange and other means from the lies they promote about climate change and the solutions they propose. Kate Johnston wrote on the Globalresearch.cawebsite:
'The same men that sold us the myth of man-made global warming are the same men that sold us the "solution" of a Carbon Tax and Emissions Trading Scheme and now they're profiting off their lucrative investments which are based on lies.' (See "The Climate Change Hoax").
Strong fled to China in 2006 after being accused of corruption with respect to the UN oil for food program.
Climate change propaganda is a No-Problem-Reaction-Solution technique to justify Agenda 21 and its stable-mate the Biodiversity Treaty. This is an internationally-binding document involving nearly 200 countries. The United States signed the treaty, but it was not ratified by the Senate after people like ecologist and ecosystem scientist Dr. Michael Coffman exposed its true consequences and implications. He said that he realized during the 1980s and 1990s that the plan was to use the excuse of protecting the environment to confiscate half the land of the United States.
Similar plans exist for every other country. America may not have ratified the treaty, but it is being implemented by the day. Agenda 21 demands the central global control of all land; all private property; all water sources and distribution; all other resources which includes people in its definition; all energy supplies and distribution and all food production and distribution.
Agenda 21 is called 'the agenda for the 21st century' and that refers to global fascism / communism. This is a summary of what Agenda 21 / Sustainable Development / Biodiversity is seeking to impose:
An end to national sovereignty
State planning and management of all land resources, ecosystems, deserts, forests, mountains, oceans and fresh water; agriculture; rural development; biotechnology; and ensuring 'equity' (equal slavery)
The State to 'define the role' of business and financial resources
Abolition of private property (it's not 'sustainable')
'Restructuring' the family unit
Children raised by the State
People told what their job will be
Major restrictions on movement
Creation of 'human settlement zones'
Mass resettlement as people are forced to vacate land where they currently live
Dumbing down education (achieved)
Mass global depopulation in pursuit of all the above
This horrific plan is being coordinated through the United Nations, the stalking horse for world dictatorship, via a non-governmental network once called the International Council of Local Environmental Initiatives ICLEI), and now known as Local Governments for Sustainability although still using the shortened name ICLEI. The United Nations is now opening 'embassies' around the world called 'UN Houses' under the guise of raising awareness of UN activities, but not the activities that people really need to know about. They have opened one in Hunter Square, Edinburgh, Scotland, for example.
Local Governments for Sustainability (ICLEI) and other organisations are integrating the plan into every village, town, city and region and it is already becoming widespread across the world. The organisational infrastructure of Agenda 21 is already fantastic and involves government agencies, non-governmental organisations (NGOs), think-tanks, trusts, foundations, 'training' (mind control) operations and 'initiatives' which have been building the infrastructure for what they call 'the post-industrial, post-democratic' society while the public go about their daily business oblivious of the prison being built all around them by the hour.
Harvey Ruvin, a vice-chairman of ICLEI, was asked how Agenda 21 would affect liberties with regard to the US Constitution and Bill of Rights, private property and freedom of speech. He replied:
'Individual rights must take a back-seat to the collective.'
The arrogance of these people is breathtaking. The extraordinary network supporting ICLEI and Agenda 21 includes the Rockefeller-sponsored America 2050; United Cities and Local Governments (UCLG); Metropolis; World Economic Forum; United Nations Framework Convention on Climate Change; United Nations International Strategy for Disaster Reduction; World Bank; Clinton Climate Initiative; Climate Group (Tony Blair); World Conservation Union (IUCN); Renewable Energy and Energy Efficiency Partnership; Global Footprint Network; Renewable Energy and Energy Efficiency Partnership; Global Footprint Network; International Centre for Sustainable Cities; Earthquakes and Megacities Initiative and the Stakeholder Forum. These and so many others are working to the same end — Agenda 21 and total human enslavement worldwide, although most of those involved will have no idea that they are building a global prison for themselves and their families.
Another of these front organisations is the World Business Council for Sustainable Development which includes the hideously anti-people Monsanto. Destroying food-growing land, contaminating the countryside with toxins and replacing proper food with deadly and soil-destroying genetically-modified organisms is Monsanto's contribution to 'sustainability'. Agenda 21 is operating in more than 600 towns, cities and counties in the United States and expanding by the day.
A member of the Agenda 21 committees in Santa Cruz, California, in the mid-1990s said that the proposals he heard were so crazy that he laughed at them because they could never happen. These included that 'Mother Earth's surface was not to be scratched'; humans should be concentrated in settlement zones; education should focus on the environment as a central organising principle and all aspects of life covered by Agenda 21, but all of these crazy plans are now being introduced. It's all happy, feely, smiling faces and how we care, when the truth is that Agenda 21 is a vicious, brutal, heartless strategy to impose a global Orwellian state.
Agenda 21 manipulators either create or hijack some local organisation or other, many of them in locations with large populations, and they have their (controlled) leadership to agree the Agenda 21 blueprint for their community together with any uninformed, unwitting idiots who can be sold a human nightmare as saving the planet. This allows them to claim that decisions were made after 'public participation' when that would have been the last thing they wanted, and 99 percent of the 'community' has never heard of Agenda 21 let alone had their say on it. They want no democracy which is why these people talk privately, sometimes even publicly, about the post-democratic, post-industrial society.
They want to control every man, woman and child on the planet — everyone and everywhere and every resource, water source and piece of land. To do this they need a global structure of fascist control that goes right down into every local community with the jackboots at local level enforcing the will of the global centre. This is why there is so much emphasis on local authorities and town and city authorities in Agenda 21.
There is a 'training organisation' called Common Purpose (common purpose, common consensus, everyone the same) which has been paid very large amounts of money by governments and local authorities, police forces and other institutions of state to 'train the leaders' of the post-democratic, post-industrial society. Common Purpose was heavily represented in the Leveson 'inquiry' leading to new media laws in Britain. It is not a training programme; it is a programming programme and turns out unquestioning zombie administrators who serve the god of Agenda 21 and the associated European Union. The theme of 'common' also applies to the ever greater standardisation of laws and regulations and constant reference to 'international law'. This is the unfolding global dictatorship of Agenda 21. What do you need to be a global dictator? Laws that everyone on the planet must obey — international law and the standardisation of global regulation.
You can see The Hunger Games connection when you look at the official Biodiversity wish-for map of the United States in Figure 1. The red areas are designated for no human use and most of the rest of America is confiscated for little and highly-regulated use. The mass of the population would be concentrated in high-rise, densely-packed 'human settlement zones' and denied access to something like 80 percent of present day America. It is without question the world of The Hunger Games with a globally-enforced top-down hierarchy that has a world government using its world army and police force to impose its will at regional and local levels (sectors). The Rockefeller-funded America 2050 has produced a map of the new United States divided into eleven 'megaregions' and includes parts of Canada (Figure 2). Seattle, Portland and Vancouver, British Columbia, become the megaregion known as 'Cascadia' and this regional system comes under the collective name of 'megalopolis' which is Greek for large city or great city. America, Canada and Mexico are due to merge to form the North American Union in line with the European Union blueprint.
The European Union is planned to be broken up into regions and the same structure is in development all over the world. The map of the new Europe has regions from different countries linked up with regions in other countries to end any vestige of national sovereignty or even national existence (Figure 3). This is a global plan with its fierce central control hidden behind its lower elements such as the European Union and local government. What is planned would clearly require a fantastic reduction of the global population and this is indeed what Agenda 21 / Sustainable Development / Biodiversity demand.
The e-book Agenda 21: Your Life In Their Hands can be downloaded here.
reference:
Icke, David. The Perception Deception. Ryde: David Icke Books, 2013.
Julian Websdale is an independent researcher in the fields of esoteric science and metaphysics, and a self-initiate of the Western Esoteric Tradition. His interest in these subjects began in 1988. Julian was born in England, received his education as an electronic and computer engineer from the University of Bolton, served in a Vaishnava monastery during 2010, and has travelled to over 21 countries. Julian is also a member of the Palestinian Solidarity Campaign.
Source: Julian Websdale  |  Waking Times | War Is Crime
For decades liberals have lobbied against punishment and for rehabilitation. The argument was that a mugger or murderer was just a victim of his environment, someone caught in the crosshairs of bad nurturing and neighborhood. Accountability is unwarranted because the person bears no responsibility: he knew not what he did. And so successful was this movement that our penal system was largely reorganized based on the rehabilitation model. Why, I've even argued with people who insisted that "punishment doesn't work" (apparently, they'd never heard of Singapore, caning and virtually zero crime).
So, question: where are the calls for rehabilitation, as opposed to punishment, for "racists" such as Clippers owner Donald Sterling?
And the rehabilitation mentality's absence isn't just apparent in the social ostracism and career destruction visited on those accused of the One Liberal Deadly Sin of "racism"*.
(*Some exceptions may apply.)
It isn't even just apparent in the social persecution of supposed "haters" in general, from Brendan Eich to the Boy Scouts to devout Christians.
Just consider leftism-disgorged "hate-crime" law. It proves ever so explicitly that, somehow, liberals have discovered the utility of punishment; after all, they will justify this legislation by saying that since some crimes target whole communities, they're so destructive that a message must be sent. It appears that when their own ideological ox is being gored, the people who authored the atheist version of "the Devil made him do it" want Devil's Island.
A good example is Donald Sterling. It's not enough that he has had his reputation destroyed, been fined $2.5 million and been "banned for life" by the National Bolsheviks Association. There are people who want newspapers to stop accepting his ads. And the bigoted Al Sharpton — proving hypocrisy knows no bounds — had actually said that the Clippers should be disbanded. Yes, and maybe we should adopt the North Korean model of purging Sterling's family and friends, too. But how much punishment is enough? How many pounds of flesh will sate the rapacious and blood-stained leftist palate? Would only a gulag and a long, slow, painful death suffice for the world's Sterlings?
None of this is a surprise if you understand that liberals don't operate based on principles, but feelings; in keeping with this, liberalism isn't an ideology. It is a process. Even Marxism has a vision for how society should be (unrealistic though it is), but liberals do not. The only consistent definition of liberalism is "a desire to change the status quo," which means there will always be, without a guiding vision, directionless, unprincipled change and action. Liberals are the children who ever fight the parents simply because that is the nature of the brat, and they do this even when yesterday's liberals have become the parents.
How does this relate to punishment? A person operating on principle, on a vision, will try to tame his emotion and say: here's the crime, here's what justice dictates, so here is the proportionate punishment. But with liberals there is no justice — it's "just us" as they're governed by the shifting sands of convenience. Their feelings tell them that they hate the transgressor and that they want revenge, and it's never enough to satisfy them viscerally. It's as with the feeling of hunger: no matter how much you eat, there's always another appetite mere hours away.
This governance by emotion helps explain why "*Some exceptions may apply." It sheds light on why liberals haven't made a federal case out of Bellville, NJ, Democrat mayoral candidate Marie Strumolo Burke, who lamented proposed tax-rate changes and was caught on audio exclaiming, "This is gonna be a f*****g n****r town!" It illuminates why they did nothing when then NBA owner Jay-Z threw a 2010 party in which no whites were allowed. It even explains why Sterling, whose views were long known, received not only a special dispensation but also acclaim and awards from the left. As part of their political phalanx, liberals don't hate Burke; they don't hate bigoted blacks such as Jay-Z; they don't even hate rich, old white men who pay their dues and pay off the cause. And disconnected from Truth and thus having "situational values," it's easy for libs to live in a world of rationalization. Just give them plausible deniability in their own minds, so, as Mark Cuban once said about Sterling, they can shrug off the sin as the eccentricities of a fellow who "plays by his own rules." But don't you dare out yourself if you're a white guy. Don't become a liability to the cause. It's as if the mistake isn't the act (at least if you're one of the initiated) — the mistake is getting caught.
But with those who aren't part of their phalanx, liberals will hate, hate, hate; they will hunger for vengeance and, since vengeance never eliminates hate (only forgiveness does), there is never an end to their retribution.
To be clear, I'm not saying that outrage over "racism" is always mere artifice. Sometimes it is. Sometimes it's reminiscent of medieval heresy accusations, which could be leveled against an individual by vindictive people with an axe to grind. But much of the time if not most, the anger is real.
It's just selectively triggered.
In rare cases, the transgression itself may be enough to induce the emotional response. Most of the time, however, it's some combination of transgression+transgressor+situation. Transgressor can negate transgression, as when a black person makes a bigoted remark; or transgressor can magnify transgression, as when a white Republican makes a corresponding remark. If a white Democrat or Democrat enabler does, transgressor status plus a situation in which you somehow maintain that plausible deniability gets you by. If it's a wealthy, powerful black man whose success is necessary for the cause, as with Barack Obama, well, then you're bulletproof. Then again, if you're a wealthy, powerful white man whose failure is necessary for the cause, as with George Allen and "macaca," you're history.
This isn't to say that most liberals are fully conscious of what animates them. Self-awareness is often lacking among man, and this is especially true among philosophically dysfunctional men (who we today often call liberals). All most leftists know when spewing venom at a supposedly "racist" conservative is that they hate the person, and they assume it's only because of his transgression. Living situational lives where everything is compartmentalized, they generally don't know what truly drives them or consider, at the moment they're wallowing in hatred, that in the past they've reacted very differently to liberals in the same boat.
Of course, another factor is that liberals don't view these transgressions the way a normal person would. They often "feel" — "think" would be the wrong word because, again, leftists generally operate emotionally — that a black's or liberal's uttering of a racial remark is of a very different moral species than when a white conservative does so. A black has a right to such sentiments because of the "legacy of slavery." As for a white liberal, it was perhaps just a weak moment, a slip of the tongue; after all, the person has proven his credentials with his public face as a good leftist foot soldier. If a white conservative says the same thing, however (which never seems nearly as common), it just reflects the deep-seated bigotry that you have to know resides in his dark soul.
Going even deeper, understand that this accords with liberals' favored reality-denying modern isms. Nominalism states there is nothing that objectively makes both a tiger and a buff tabby "cats," categorically speaking — we just happen to view them that way. Likewise, a normal person may see two bigoted statements or two acts of punishment as occupying the same category, but there is, objectively speaking, no such thing as a category called "bigoted statements" or "acts of punishment." Such classifications only exist in our minds, so we can assign these labels as we see fit. And in deference to relativism, which boils down to the notion that there's no right or wrong, neither punishment nor rehabilitation can be inherently good or bad, and consistency can be no better than inconsistency.
At bottom, this is how devout leftists view the world. Subscribing to the Protagorean proposition "Man is the measure of all things" and the apocryphal one "Might makes right," when they win culture wars and take control, they make themselves the measure of all things. Perhaps the best characterization of their philosophy is occultist Aleister Crowley's formulation, "Do what thou wilt shall be the whole of the law."
And what they wilt do is persecute you. Remember that, nice-guy conservatives, the next time you want to fight them using Queensbury Rules.
"The grimmest dictatorship is the dictatorship of the prevailing orthodoxy" – George Galloway
In a relativism culture of social permissiveness, the non-judgmental attitude, held out as the suitable standard for conduct, has become the politically correct behavior. One might think that anything goes under this mindset. However, the exact opposite practice and enforcement, under the most rigid conditions, is championed as necessary for enlighten and tolerant liberalists. The proliferation of demands that hate speech is the new capital crime, actually is counter iterative in building a civil society. This orthodoxy of the fanatical, proudly presents this illuminated and required deportment, as obligatory for all citizens.
So what exactly is hate for the neo-Jacobins? Obviously, whatever the "Society of the Friends of the LIVING Constitution" deems it to be, because under the color of law, the self-proclaimed pure of heart, are justified to off the heads of anyone who dares speak out in inappropriate terms. Remember "thinking progress" for the greater good, must be imposed on anyone who dare defies the wisdom of the gatekeepers for the collective.
Racism has to go, unless practiced by Negros against whites, or is the mere mention of such a term a slight to African-Americans? Once upon a time cries of anti-Semitism would be heard if Donald Sterling was made a pariah after the NAACP did an about face after awarding him for promoting civil rights. Not in today's world, such a distasteful zealot no longer has the protection of his tribe from the scrutiny of the thought police. The almost total condemnation of his recently private remarks has the entire sports world clambering for his forced sale of the LA Clippers.
Such broad-minded fans in a league that made homies multimillionaires and took them out of the hood, must not be dis. No wonder the attraction of not just the NBA, but sports in general, have serious minded buffs of the Wide World of Sports looking for, "The Thrill of Victory…" in other arenas. Why not demonstrate that sporting enthusiasm and jock celebrity worship, by starting a grassroots campaign to install America's favorite redneck, Phil Robertson and his Duck Dynasty clan, as the new ownership of the team.Surely, good standing Democrats should have no problem supporting a bunch of good old boys from the South. Frances Rice writes in the National Black Republicans Association site that, KKK Terrorist Arm of the Democratic Party. "This ugly fact about the Democrat Party is detailed in the book, A Short History of Reconstruction, (Harper & Row Publishers, Inc., 1990) by Dr. Eric Foner, the renowned liberal historian who is the DeWitt Clinton Professor of History at Columbia University. Dr. Foner in his book explores the history of the origins of Ku Klux Klan and provides a chilling account of the atrocities committed by Democrats against Republicans, black and white."
Carole Emberton, an associate professor of history at the University at Buffalo adds:
"The party lines of the 1860s/1870s are not the party lines of today. Although the names stayed the same, the platforms of the two parties reversed each other in the mid-20th century, due in large part to white 'Dixiecrats' flight out of the Democratic Party and into the Republican Party after the passage of the Civil Rights Act of 1964. By then, the Democratic Party had become the party of 'reform,' supporting a variety of 'liberal' causes, including civil rights, women's rights, etc. whereas this had been the banner of the Republican Party in the nineteenth century."

Fast forward to today's conductor Eric Holder, of selective bigoted racism, when describing "his people", who "seem to get a pass on hate crime charges when they select whites for their blood sport", one needs to question who the real haters are. David Risselada provides a valid assessment in the essay, Hate Crimes Legislation . . . Racial Identity Politics and the Institutional Racism of the Left.
"The institutional racism that is built in our society is the responsibility of the left. Throughout history it has been the democrats who have supported segregation and slavery while continuously voting against civil rights legislation. Today, they attempt to hide their history through racial identity politics, and the creation of a system where inequality is the new equality. By creating laws based on racial preferences, the left is telling minorities that they believe they are not as capable as white men and therefore need their programs in order to stand a chance in the racist United States of America. This does little but reinforce hatred while attempting to justify black on white violence."
Once upon a time and in a place long ago, the Democratic Party defended the rights of the individual to associate with individuals of their choosing and speak their minds openly and without concern of censor. Since the conversion to ecumenical orthodoxy, the authoritarians that gave you the New Deal and the Great Society have a long record of creating their own hatred of Free Speech. The example of the New York Times vicious attack on Cliven Bundy illustrates another trumped-up incident ripe to exploit.The New American, author William F. Jasper makes the point:
"Much of what Mr. Bundy is saying closely parallels what even many black leaders, authors and intellectuals — such as Prof. Walter Williams, Rev. C.L. Bryant, Rev. Jesse Lee Peterson, Bill Cosby, Alveda King, Star Parker, and Alan Keyes — have been saying. But Cliven Bundy's "sin" is that he is an elderly white man who is unschooled in traversing the minefield of political correctness — and he was careless in failing to make important distinctions and clarifications. He "sinned" by being born when he was born, and failing to keep up with the constantly changing terminology for ethnic designations. He still uses the terms "Negro," "colored people," and "Mexican," instead of "black/ African American" or "Hispanic/Latino" — but then, race activists still argue amongst themselves concerning the "proper" ethnic label to apply to their lineage and group identity."
When Senator Ed Markey, D-Mass., introduces legislation called the "Hate Crime Reporting Act of 2014," it is another partisan concerted attempt to silence voices and views entirely protected under the First Amendment, by monitoring radio, television and Internet speech. Can one say arbitrary and capricious, or will Big Brother now prey on any convenient and moving target to label anyone as a hate monger, that does not conform to the "PC" orthodoxy?
The excellent video from Ben Swann identifies in New "Hate Crime" Bill Will Attempt To Control Speech On Internet, Radio and TV, that the real objective is to censor the internet.
Well, this development should concern any student of inquiry, but the real world often fosters political threats that seem to be so implausible, if they were not true. The case of the arrest of Paul Weston should alarm everyone. In the Michael Coren interview or Mr. Weston, the vanguard of British lunacy once again blazes new trails in the annals of hate speech. If quoting Winston Churchill is now a crime, what does that make Winnie?The British Bulldog is his own words:
"How dreadful are the curses which Mohammedanism lays on its votaries! Besides the fanatical frenzy, which is as dangerous in a man as hydrophobia in a dog, there is this fearful fatalistic apathy. The effects are apparent in many countries. Improvident habits, slovenly systems of agriculture, sluggish methods of commerce, and insecurity of property exist wherever the followers of the Prophet rule or live. A degraded sensualism deprives this life of its grace and refinement; the next of its dignity and sanctity. The fact that in Mohammedan law every woman must belong to some man as his absolute property — either as a child, a wife, or a concubine — must delay the final extinction of slavery until the faith of Islam has ceased to be a great power among men. Thousands become the brave and loyal soldiers of the faith: all know how to die but the influence of the religion paralyses the social development of those who follow it. No stronger retrograde force exists in the world. Far from being moribund, Mohammedanism is a militant and proselytizing faith. It has already spread throughout Central Africa, raising fearless warriors at every step; and were it not that Christianity is sheltered in the strong arms of science, the science against which it had vainly struggled, the civilisation of modern Europe might fall, as fell the civilisation of ancient Rome."
Move over denial ridden Americans; the English have a talent in leading the civilized world in false guilt. For the rest of humankind, they are perceptive enough to admit that the normal human condition acknowledges Discrimination as a Virtue.
"Discrimination has been characterized as racism. Quite to the contrary, discrimination is an ally in the struggle to end bigotry and injustice. When Liberty is suppressed in a quest for equality; hatred and revulsion breeds, for different groups, cultures and ideologies. All attempts to force equal treatment are futile, even when severe penalties are imposed."
Condemning a person, solely by his beliefs, bias and predisposition – that fanatical frenzy will surely bring about the fall of our cherished tradition of Free Speech. For those who fear Sharia Law, you had better be more concerned about the progressive despots, who are the model for imposed intolerance through a government, which hates everyone that refuses their Groupthink.
For the record, I don't believe Cliven Bundy is a "racist."
For the record, I don't even care.
Such indifference to that damnable failing, that thing we all know is the worst thing one can be, must make me a damnable man. But I am flexible. I just want equality. I'm perfectly willing to demonize "racists," provided we give other sinners equal time.
I just want to hear, for example, "Forget the facts of the matter! The man is lustful!" or "Don't listen to that miscreant. He's guilty of sloth!" Or let's say a fellow posits an opinion on, oh, taxation. Our very intellectual response could be, "Hey, didn't I hear you talkin' to your girlfriend about how you scarfed down four cheeseburgers at the barbecue and binged on ice cream in your easy chair? Look, everyone, he's a glutton!"
This isn't to say that being a bigot — the word "racist" is in quotation marks because it's an invention of leftist language manipulators — is a good thing. Not at all. But neither is being lustful, slothful or gluttonous. Yet people who couldn't name three of the Seven Deadly Sins and are thoroughly guilty of at least six, will claim they can disqualify a person, and his point of view, from debate based on their assessment of his moral state. What blindness — and hubris.
Bigotry is simply a sub-category of wrath, one part of one-seventh, not the moral end-all and be-all. And even if Bundy did have racial hang-ups, would it follow that he was wrong about his case or on federal power in general? Can a man be flawed, and even sinful, but yet right on a matter? Can he still have virtues? Albert Einstein could be lewd and lascivious, Galileo an irascible jerk, Ernest Hemingway was a drunkard.
This isn't to say, as certain people with poor character once averred, that character doesn't matter. It's not to say a person's vices can't speak to motivations; it's valid to point it out if a judge who rules that pornography has First Amendment protections habitually views porn himself. But it's not valid to fixate on the allegedly "racist" tendencies of a judge who rules that racial commentary enjoys such protections (at least not within the context of analyzing the ruling). The difference is that since the former is wrong, there's good reason to believe that his personal inclinations corrupted his judgment on the matter; with the latter judge, however, dwelling on the supposed flaw in question would only serve to discredit a legitimate ruling.
The point is that we all have flaws, yet all can be correct about a whole host of things. I wouldn't have wanted Einstein to care for a teenage daughter or be president, but I wouldn't deny that E=mc2.
Of course, it really is true that some flaws are more unequal than others — there is a hierarchy of sin — but moderns' sense of proportion is highly askew. G.K. Chesterton said that a "Puritan is a person who pours righteous indignation into the wrong things." Today we have Impuritans, complete reprobates worshipping at hedonism's altar, who pour their indignation onto others in a vain attempt to wash their own souls clean of sin. But there is much more to being a "good" person than simply not being bigoted.
To further illustrate this askew sense of proportion, consider again the gluttony example. Gluttony is a sin, no doubt. But now let's say that our society considered it the ultimate disqualifier. Let's say we might scrutinize a person, asking "What are his food bills?" "Do cookbooks figure too prominently in his library?" "Does he wile away excessive time watching Emeril Live?" "Is he the one who cleared the buffet table like a hurdler?" And imagine we visited pariah status on the person after deeming him guilty.
Would you think this society's greater fault was gluttony — or being hung-up about it? I'd think it exhibited a gluttonous zeal for eradicating gluttony.
The problem is that man always swings from one extreme to another. The early to mid 20th century saw the embrace of eugenics and racial-superiority dogma, which was then discredited by the loathsome Nazis. But now we just as zealously impose a dogma denying the reality of group differences and mandating equality of outcome among races.
This tendency toward true extremism — meaning, extreme deviation from Truth — brings to mind C.S. Lewis' observation that evil always tries to persuade us to exaggerate our flaws, telling the militant he's too pacifistic and the pacifist that he's too militant. As an example, today we have Impuritans who, awash in the Great Sexual Heresy, will still lament how "Puritan" America is so sexually "repressed." Evil tells the pervert he's too prudish, just as it tells self-hating whites that they're too anti-black.
But what we should be is anti-"racism." I don't mean what you think. We need to oppose both the word and the concept — at least how the latter is often conceptualized.
Bigotry is bad by definition, and that definition is commonly agreed upon. But "racism" often has a different meaning, one whose influence is readily apparent in the reaction to Los Angeles Clippers owner Donald Sterling's much reported comments. Al Sharpton, who once used the term "white interlopers" and once said, "White folks was in caves while we were building empires…," called for a boycott of the NBA. Former hoop star Larry Johnson reacted to a man who didn't want blacks around by saying he didn't want whites around, as he suggested creating an all-black basketball league. Spike Lee told CNN he wished that white NBA players would speak out against Sterling, which is a bit like John Gotti having wished that someone would speak out against racketeering. And Barack Obama took time away from destroying our world standing, healthcare system, social policy and economy to say that "comments reportedly made by Sterling are 'incredibly offensive racist statements,' before casting them as part of a continuing legacy of slavery and segregation that Americans must confront," wrote CBS DC. He then opined, "When ignorant folks want to advertise their ignorance, you don't really have to do anything; you just let them talk" (you don't have to do anything except, I suppose, "confront" a "legacy of slavery and segregation"). But, okay, I'll just let Obama talk.
Now, opportunism is often a factor in such hypocrisy, but there is something else: a striking sense of entitlement. This is why many black people will condemn a white person for making a bigoted comment with an equally bigoted comment without batting an eye; when whites are bigoted, it's "racist"; when blacks are, it's something else. And, in fact, this idea is encapsulated in the definition of "racism" I alluded to earlier. It's one you've probably heard:
Only whites can be "racist" because a prerequisite for "racism" is not only bigoted intent, but the power to act upon it.
And, actually, they'll get no argument from me. As I've said before, the left originated the word "racism," so they may define it. They may have it.
And if they ask, I'll tell them where they can stick it.
The problem is that conservatives, being conservative — meaning, conserving yesterday's liberals' social victories — parrot the word. It's another example of how, forgetting that the side defining the vocabulary of a debate, wins the debate, conservatives slavishly use the Lexicon of the Left.
Of course, eventually this will all be left in the dustbin of history. Movements, peoples and civilizations come and go, and we'll get over our fixation with one part of one-seventh of the Deadly Sins. And then man will swing to another extreme, as he goes on to the next great mistake.
A Time For Discernment…
I am re-reading several of R. J. Rushdoony's books: "Deuteronomy", "Numbers", "Van Til and the Limits of Reason", "The Cure of Souls", "The American Indian", "Systematic Theology", Sovereignty", and, of course, the "Institutes".   For Christians who reverence the entire Word of God and are willing to submit to His rule, Rushdoony's writings elicit several "Amens" per page.
In his book on Van Til, Rushdoony writes, "What did make itself clear to me was that reason is limited by its own experience, whereas the universe is far vaster than the mind of man.  Moreover, God's realm which transcends man's narrow vision is far greater than man's mind can comprehend."  Pg. 57
When humanistic philosophers attempt to define themselves and the universe in terms of their own reason they begin with a false premise.  God created us and enclosed us in time.  Our world is limited by time but He is infinite.  Though we are made in His image His concepts exceed our ability.
Regardless of what they may say few Christian leaders actually position themselves under the Kingship of Christ.  Most of our leaders and their followers see religion as a belief system that they accept and follow.  When man makes himself the arbiter of the Faith he, like Adam, has been seduced by the Devil and is attempting to be like God.
This serious sin is so deeply engrained in us and in our culture that Christians regularly approach the Bible with the evil intention of deciding what parts they believe.  Invariably God's Law which is the core of His character is discarded in favor of a pietistic spiritualism. Famous evangelist, Billy Graham, has succeeded in calling hundreds of thousands of Christians to "accept Christ" and most of these converts still believe that the decision was theirs and theirs alone.  Contemporary Christianity has man firmly entrenched in the driver's seat.
"It is not God who speaks but, again, man's own reason.  God is either eliminated from the scene or allowed to co-exist with autonomous man on man's own terms."  Rushdoony in the book on Van Til.  Pg. 15
The rancor that follows the introduction of Dominion Theology results from the challenge it poses to man's reason.  Since individual Christians reserve the right to reconcile their faith the Christian population of the United States of America is composed of millions of individual human sovereigns whose failure to become faithful servants to the King allows murder and confusion to flourish.  Humanism is deadly!
When confronted with the reality that God is the absolute ruler of His creation and of those He has created we often equivocate.  Rushdoony cites the secular law involving severe punishment for "Habitual criminals" which is widely accepted as just, to the Biblical Law of turning an habitually debauched and recalcitrant son (or daughter) over to the magistrate to receive the ultimate penalty; the former is generally accepted while the latter  makes most Christians cringe.  We can accept the murder of millions of innocent citizens in foreign lands by our armed forces but we cannot stomach the stoning of one guilty, incorrigible son (or daughter).
We cannot know reality apart from the One True God. In "The Cure for Souls" Rushdoony writes concerning the self-righteous humanist, "By denying his sin, he denies the reality about himself.  He replaces self-knowledge with illusion.  This means a departure from the truth into a world of fiction.  Whoever else he may delude, he has deluded himself most of all.  His is a delusional existence." Pg. 102
Delusion has permeated American society.  Our ears are accosted with a constant stream of propaganda from the media, academia, the marketplace, the government, and, sadly, from the Church.  This morning's paper had an article on the confiscation (theft) of property from citizens, both innocent and guilty, by policemen who are enforcing laws passed by a delusional legislature.  Our legal system has become so badly corrupted that justice is seldom a result of contact with our policemen and courts.
"A culture which is not truly Christian may plan grandly for "a new world order".  It may imagine that all problems are to be solved by its wisdom, and it has a great deal of self-admiration.  Is there a major country in the world today which does not see itself as the earth's true center?  Each seeks to direct itself and the world in terms of its ostensibly superior eminence and wisdom."  Pg. 211 "The Cure for Souls"
American television overflows with sneering, self-important experts who love to discuss what should be done with other nations as if they and the government they represent created and governs everything.
According to a reliable internet source Princeton University has reclassified the United States of America from a Democracy to a nation under the control of an Oligarchy.  An Oligarchy is a small, wealthy and powerful, elite group.  The opinions of the governed are no longer valid in the conduct of the affairs of the nation.  We are at the mercy of money and power which controls our elected representatives and the legislation they approve.
Please understand, gentle reader, that what you believe about the Christian religion must be destroyed by what God says about Himself and His Will in His Word.  The One True God is our creator and our ruler.  Rebellion against His rule results in spiritual death and a separation from reality – a delusional existence.
America has forsaken the God of the Bible and replaced His dominion with personal interpretations.  They have substituted worship of the One True God with a humanistic religion of our own making and His Majesty is offended.
Have you attended a Bible study where the Word of God was subjected to human reason and where Truth was accepted or rejected by the evil minds of the participants?  Did you think some of the human responses were brilliant and did you agree with some of them?  Was the leader conciliatory with the questioners?  As Jesus sits at the right hand of His Father and judges the world what do you think His reaction is to hearing His created beings judging His validity under the cover of His Church?
The capture of the United States of America by an elite oligarchy is well along and there is no apparent course that will restrain it.  We are being enslaved because we have been a stiff necked people who have refused to see and accept reality.  The men and women we have elected to office (in spite of adequate information to the contrary) have sold the nation into slavery.
The ruling oligarchs are both arrogant and brutal.  Our failure to require obedience to God's Law has allowed humanistic terrorists to capture the world.  When God's absolute legal structure is forgotten, man's sinful nature will fill the void by putting himself on the throne.
In "Deuteronomy" Rushdoony quotes Dr. Joseph Morecraft III "The entire community has a responsibility when crimes are committed or injustice done.  A community cannot be indifferent to any sin, crime, or injustice in its midst, or else it bears the guilt as well as the offender and is under judgment. When a community shuts its eyes to any evil in its midst and refuses to deal with it justly and in accordance with God's law, then the whole community is under God's condemnation." Pg. 305
In its early years the United States of America lived under a legal structure that was heavily flavored with Biblical principles.  As time has gone on we have allowed secular and often evil laws to be encoded so we have not only failed to be obedient but have failed to set a proper standard.  As a result our policemen have become brutal and our courts have become arenas of bias and injustice.   We are living in a nation full of lies.
We have reached our current state because we have shut our eyes to evil and refused to deal with it in accordance with God's Law.
I just finished reading Malcolm Gladwell's book, "David and Goliath" — wherein Gladwell says that, in the course of any human interaction, there will always be a graphic curve of diminishing returns when it comes to maximizing the use of force in order to achieve one's goals.
In other words, always punching other people's lights out in order to get your own way can very quickly become counterproductive.  Good grief, I think that Gladwell might be onto something here.
Want examples?
If the maximum use of force in order to obtain one's goals had been successful in Iraq (and assuming that said goals were to depose a dictator and not just to create chaos and steal oil), then the Bush-led invasion would never have been such a dismal failure and there never would have been such a disastrous resistance war there — one that still keeps rolling right along to this day.  So much for Shock and Awe.
If maximum use of force really worked, then Europe would still be saluting Hitler.
Slavery would still be on the books in Georgia and Alabama because of all those happy slaves it created.  Or, alternatively, segregation would still be a huge success and MLK would have had no effect at all on it.
Descendants of Genghis Khan would still be running Russia and China.
There would be no Child Protective Services anywhere and parents would still be beating their kids to within an inch of their lives.  And I would still be lovingly obeying my mean older sister.
Women would look forward to being placed in harems and having a dozen babies each and would never demand the right to be pro-choice.  "Barefoot and pregnant."  They would know their place as slaves to their husbands and not strive for anything else.  Rape would not be a problem for women and girls.
Those viscous stormtroopers who illegally seized control of Palestine 65 years ago by ruthlessly wiping out hundreds of villages and slaughtering Christians and Muslims by the thousands?  They would not still be getting resistance from the Occupied Territories even now.  And the current Israeli neo-cons' constant brutal "eye for an eye" faux cleverness wouldn't have forced Al Qaeda out of the remote caves of Afghanistan where it was holed up in 2001 — and forced it into not-so-remote southern Syria where Al Qaeda is now, right at Israel's front door.
And there would not have been 30 years of The Troubles in Northern Ireland either.
And in South America, Pinochet's ghost would still be running Chile, Argentina's Dirty War would have made Henry Kissinger proud, the billions Reagan spent on killing peasants in Guatemala would not have been wasted, Batista's grandson (not Castro's brother) would still be ruling Cuba and all those tin-pot dictators that the CIA supported in Central and South America over the years would be in Heaven right now — not in Hell.  And phrases like "Banana Republic" and "Military Junta" and "Drug Cartel" would all stir our hearts with pride instead of just making us queasy.
The Soviet Union would still exist — and Afghans and Chechyans would just love being a part of it.  People there would stop praising Tolstoy, Tchaikovsky and Baryshnikov and start even more fan clubs for Stalin.
We would have "Fascism" and "Corporatism" engraved on our dimes now instead of just that stupid old word "Liberty".  And "Mein Kampf" — not "Romeo and Juliette" — would be required reading in all American high schools.
All seven billion of us human beings, when we were babies, would have been spanked every time we cried, been locked in closets for days for the slightest infraction and would have thrived on harsh whippings — and that would have been that.  And as a result we would all have grown up to become obedient citizens, not axe-murdering psychopaths.
Jesus would have been just another loser with wild ideas.  Even Mohammed and the Buddha would have been buked and scorned (and sent to bed without any Last Supper). http://www.youtube.com/watch?v=UdllgBtXPaE
Everyone in America would be happily welcoming the NSA and the militarization of our police forces with open arms right now.  More tanks driving down Main Street?  More surveillance on our phones?  More destruction of our Constitutional rights?  Bring it on!
And Baby Doc and his Bon Ton Macoute would still be running Haiti and Jean-Bertrand Aristide would have been laughed out of the country instead of becoming a hero almost as legendary as Toussaint L'Ouverture.
So why don't whips and chains and oppression and torture work out so well in the long run?  One would think that they would.  Isn't Fear the greatest motivator?  According to Gladwell, apparently not.
And why is "Do unto others as you would have others do unto you" still such a hot item?  You tell me.  Which way would you prefer to be treated?  As a friend or as a slave?  Which way of being treated would piss you off to the degree that you would take torches and pitchforks in hand rather than live under a tyrant?