Damascus – The Gulf Cooperation Council (GCC) member states—Bahrain, Kuwait, Oman, Qatar, Saudi Arabia, and the United Arab Emirates—along with certain Arab League countries, plus Turkey and Israel, have this past week reportedly committed themselves to raising nearly $6 billion to "beef up" the just-hatched Islamic Front (IF) in Syria. These "best friends of America" want the Obama administration to sign onto a scheme to oust the Syrian government by funding, arming, training, facilitating and generally choreographing the movement of fighters of this new front, a front formed out of an alliance of seven putatively "moderate" rebel factions.
Representatives of Saudi intelligence chief Bandar bin Sultan reportedly told staff members on Capitol Hill that committing several billions to defeat the Assad regime by supporting the IF makes fiscal sense and will cost much less than the six trillion dollar figure tallied by the recent study by Brown University as part of its Costs of War project. According to the 2013 update of the definitive Brown study, which examined costs of the US wars in Iraq, Afghanistan, and Pakistan, the total amount for all three topped six trillion dollars. This never before released figure includes costs of direct and indirect Congressional appropriations, lost equipment, US military and foreign contractors fraud, and the cost of caring for wounded American servicemen and their families.
Among the Islamist militia joining the new GCC-backed coalition are Aleppo's biggest fighting force, Liwa al-Tawhid (Tawhid Brigade), the Salafist group Ahrar al-Sham, Suqour al-Sham, al-Haq Brigades, Ansar al-Sham and the Islamic Army, which is centered around Damascus. The Kurdish Islamic Front also reportedly joined the alliance.
IF's declared aim is to topple Syrian President Bashar al-Assad's government, whatever the human and material cost it may require, and replace it with an "Islamic state." Abu Firas, the new coalition's spokesman, declared that "we now have the complete merger of the major military factions fighting in Syria."
Formally announced on 11/22/13, the IF includes groups from three prior umbrella organizations: the Syrian Islamic Front (SIF), the Syrian Islamic Liberation Front (SILF), and the Kurdish Islamic Front (KIF). From the SIF, Harakat Ahrar al-Sham al-Islamiyya (HASI), Kataib Ansar al-Sham, and Liwa al-Haqq all joined, as did the KIF as a whole, and former SILF brigades Suqur al-Sham, Liwa al-Tawhid, and Jaish al-Islam. None of these groups have been designated foreign terrorist organizations by the US, and therefore, as an Israeli official argued in a meeting with AIPAC and Congress this week, nothing stands in the way of US funding and support for them. The Israeli official in question is the country's new national security advisor, Yossie Cohen, who assures key congressional leaders that the tens of thousands of rebels making up the IF will all support "one policy and one military command." Cohen also pledges that the new group is not as "insane" as other Muslim militia—Daash or al-Nusra or the Islamic State of Iraq and the Levant, for instance—that comprise the IF's chief rivals. Cohen and AIPAC are further telling Congress members and congressional staffers that the emergence of the IF is one of the war's most important developments, and he vows that the new organization in effect brings seven organizations into a combined force that will fight under one command, a force estimated by the CIA to number at around 75,000 fighters. Reportedly the objective will link the fight in the north with that in the south in a manner that will stretch loyalist forces, and the Saudi-Israel team is also asking the Obama Administration to more than double the monthly "graduation class" of CIA-trained rebels in Turkey, Syria and Jordan—from its current level of 200 per month, up to 500 a month.
What the GCC/Arab League/Israeli team is asking of its western allies (meaning of course mainly the US) is to immediately fund the IF to the tune of $ 5.5 billion. This, Israeli security officials argue, is pocket change compared to the $6 trillion spent in US terrorist wars of the past decade. Plus it will have the presumed "benefit" of toppling the Assad regime and truncating Iran's growing influence. The plan has reportedly been dismissed by some in the Obama administration as "risible and pathetic." Nonetheless, Tel Aviv, the US Congressional Zionist lobby, and to a lesser extent Ankara, are pressing ahead under the assumption that linking with the IF now makes sense and that they can take their chances will al-Qaeda later. Ironically these are some of the same voices from AIPAC's Congressional Team who four years ago were claiming that al-Qaeda was "on the ropes and will soon collapse." Yet they are optimistic that if Assad goes, "we can deal with the terrorists and it won't cost six trillion dollars."
One House member who strongly agrees with AIPAC is Representative Duncan Hunter (R-CA), who recently declared that "in my heart I am a Tea Party guy." A member of the House Armed Services Committee, Hunter believes the US should use nuclear weapons against Tehran. In a Fox TV interview this week he declared his opposition to any talks with Iran, insisting that US policy should include a "massive aerial bombardment campaign" utilizing "tactical nuclear devices" to set Iran "back a decade or two or three."
According to sources in Aleppo and Damascus, the IF's top leadership positions have been parceled out among five of the seven groups. This at least is as of 12/5/13. Four days after the IF was announced, the organization released an official charter. In terms of its basic architecture, the document is similar to that put out by the SIF in January, but the new version is filled with more generalities than other militia proclamations, and seems designed to accommodate differing ideas among member groups. The charter calls for an Islamic state and the implementation of sharia law, though it does not define exactly what this means. The IF is firmly against secularism, human legislation (i.e., it believes that laws come from God, not people), civil government, and a Kurdish breakaway state. The charter states that the group will secure minority rights in post-Assad Syria based on sharia, which could mean the dhimma ("protected peoples") system, or de facto second-class citizenship for Christians and other minorities. According to Saudi officials in Lebanon, the IF seeks to unify other rebel groups so long as they agree to acknowledge the sovereignty of God. Given this 'moderate' wording, the expectation of some is that that the southern-based Ittihad al-Islami li-Ajnad al-Sham will join the IF.
According to the Netanyahu government, the IF's leading foreign cheerleader, this new coalition gives substance to that which states who have been wanting regime change in Syria have been calling for. One analyst on the Syrian conflict, Aron Lund, believes a grouping of mainstream and hardline Islamists, excluding any al-Qaeda factions, is significant. "It's something that could be very important if it holds up," he explained. "The Islamic Front's formation was a response to both regime advances and the 'aggressive posture' of jihadists against other rebels, plus a good deal of foreign involvement, not least of which is Saudi and GCC pushing to unify the rebels."
Contrary to reports out of Occupied Palestine that the Netanyahu regime is not worried about or much interested in the crisis in Syria, a measure of delight seems to be felt in Tel Aviv that Muslims and Arabs are once more killing each other, along with smugness over Hezbollah's loss of key mujahedeen as it faces, along with Iran, its own "Vietnam experience." Yet all this notwithstanding, near panic is reported to have been felt in Israeli government circles over Hezbollah's achievements in Syria. Truth told, Tel Aviv knows that despite manpower losses by Hezbollah, the dominant Lebanese political party is bringing about major enhancements of its forces. It also knows that there is no substitute for urban battlefield experience with regard to effecting such force regeneration, and Israeli officials have also stated their belief that the Resistance is organizing non-Hezbollah brigades that share one goal in common despite disparate beliefs. That sacred goal is liberating Al Quds by any and all means.
A US Congressional source summarized the Obama administration's take on this week's assassination of a key Hezbollah commander as part of a major new Netanyahu government project to weaken Hezbollah. Hassan Houlo Lakkis' assassination on the night of December 3-4 is deemed in Washington to be particularly significant since Lakkis was in charge of strategic files related to Israel and the Palestinians and also oversaw a number of key operations. The Resistance commander was deeply involved in the development of drones for Hezbollah, as well as smuggling weapons to Gaza via Egypt. He also had good relationships with the Palestinian factions in Gaza, Syria, and Lebanon. Lakkis was known by Washington to be a highly important cadre and a second rank Hezbollah official. According to one analyst "Israel appeared as if it was telling Hezbollah, come and fight me. Israel is upset over the Western-Iranian agreement. It is also upset over the new position that the West has concerning Hezbollah whereby the West is now viewing the party as a force that opposes the Takfiris. Thus, Israel's objective behind the assassination is to lure the party into a confrontation thus allowing Tel Aviv to tell the West: Hezbollah is still a terrorist organization."
According to sources on the US Foreign Relations Committee, the White House is being heavily pressured by the US Zionist lobby and the Netanyahu government to take "remedial measures" for the "catastrophic historic mistake" it made in defusing the Iranian nuclear issue and refusing to bomb Damascus. The measures being pushed for, of course, are funding and support for the IF, though doubts persist in Washington as to how "remedial" they will in fact be. The $5.5 billion "investment" is to be paid in large part by GCC/Arab League countries, with US and Zionist contributions. Cash from the latter two sources will come directly and indirectly out of the pockets of American taxpayers—with Israel paying nothing.
Some Washington officials and analysts are wondering if US participation would help unify notoriously hostile rebel ranks and curtail the growing power of al-Qaeda in Syria, or whether it is simply another zany Bander bin Sultan-concocted project, the latest of many—in this case to create a hierarchical revolutionary army with the aim of fighting the Syrian regime essentially alongside al-Qaeda? Secretary of Defense Chuck Hagel expressed his personal suspicions this week that "the Israel-Saudi team is trying to drag the US back into a potentially deepening morass," alluding to what apparently is an effort to head off any plans the Obama administration may have of living with the Assad government until such time as Geneva II happens, that is if it happens, according to one congressional staffer.
Many among the American public also have doubts because they have been told that their government was 'winding down' its Middle East wars in favor of rebuilding America's infrastructure, roads, health care and education systems, all of which, especially the latter, appear to be suffering dramatically. According to the most recent international survey, released this week, the average Chinese student, aged fifteen in Shanghai, is two full years ahead of America's best students surveyed in Massachusetts. Recent top scores among secondary school youngsters, particularly in math, reading and science, were considerably lower than those achieved by students in Shanghai, Singapore, Hong Kong, Taiwan or Japan. The US is far down the list and declining, and the survey suggests that the gap is widening.
It's too early to say whether this latest Saudi-Israel-Arab League collaboration will fail as others have recently, but given the continuing Obama administration efforts at taking back US Middle East policy from Tel Aviv, plus the perceptible movement away from support for the Netanyahu government along with growing angst among American taxpayers over funding the occupation of Palestine, it just might collapse.
By any reasonable measure, I think it is safe to say that the last quarter of 2013 has been an insane game of economic Russian Roulette.  Even more unsettling is the fact that most of the American population still has little to no clue that the U.S. was on the verge of a catastrophic catalyst event at least three times in the past three months alone, and that we face an even greater acceleration next year.
The first near miss was the Federal Reserve's announcement of a possible "taper" of QE stimulus in early fall, which sent shivers through stock markets and proved what we have been saying all along – that the entire recovery is a facade built on an ever thinning balloon of fiat money.  Today, markets function entirely on the expectation that the Fed will continue stimulus forever.  If the Fed does cut QE in any way, the frail psychology of the markets will shatter, and the country will come crashing down with it.
The second near miss was the possible unilateral invasion of Syria demanded by the Obama Administration.  As we have discussed here at Alt-Market for years, any invasion of Syria or Iran will bring detrimental consequences to the U.S. economy and energy markets, not to mention draw heavy opposition from Russia and China.  Though the naïve shrug it off as a minor foreign policy bungle, Syria could have easily become WWIII, and I believe the only reason the establishment has not yet followed through with a strike in the region is because the alternative media has been so effective in warning the masses.  The elites need a certain percentage of support from the general public and the military for any war action to be effective, which they did not receive.  After all, no one wants to fight and die in support of CIA funded Al Qaeda terrorist cells on the other side of the world.  The establishment tried to hide who the rebels were, and failed.
The third near miss was, of course, the debt ceiling debate, which has been extended to next spring.  America came within a razor's edge of debt default, which many people rightly fear.  What some do not yet grasp, though, is that debt default of the U.S. was NOT avoided last month, it is INEVITABLE.  Debt default will ultimately result in the death of the dollar as the world reserve currency, and the petro-currency.  This final gasp will lead to hyperstagflation within our financial system, and third world status for most of the citizenry.  It is only a matter of time, and timing.
"Timing" is truly what we are all concerned about.  Those of us in the field of alternative media and economics understand well that the U.S. is on a collision course with disaster; it is a mathematical certainty.  We no longer think in terms of "if" it happens – we only question "when" it will happen.  Our fiscal structure now hangs by the thinnest of threads, a thread which for all we know could be cut at a moments notice.  However, economic and political storms appear to be brewing with the year 2014 as a target.
Globalists have been openly seeking the destabilization of U.S. sovereignty, and they have openly admitted that the destruction of the dollar and our economic foundations will aid them in their goal.  It is important to never forget that international financiers WANT to absorb America into a new global economic structure, and that the U.S. must be debased before this can be accomplished.   Here are a few reasons why I believe 2014 may be the year they make their final move…
Debt Debate On Steroids
Nothing concrete was decided during the highly publicized "battle" between Democrats and the GOP on what would be done to solve the U.S. debt addiction.  Some people might assume that the fight will go on indefinitely, and that the "can" will be kicked down the road for years to come.  This assumption is a dangerous one.  If you thought the last debt debate was hair raising, the next is likely to give you a coronary.  Think of 2013 as a practice run, a warm up to the main event in 2014.  Why will next year be different?  Because the motivations behind a debt ceiling freeze (and thus debt default) are now supported by the obvious failure of Obamacare.
Funding for Obamacare was the underlying issue that gave strength to the push for new debt ceiling extensions.  The U.S. government has overreached financially in ever way imaginable.  We have long running entitlement programs that have been technically bankrupt for years.  But, Obamacare was so pervasive during the debt debate that we heard nothing of these existing liabilities.  Ultimately, Obamacare is the primary reason why so many Americans on the "left" want unlimited spending and inflation, and why so many Americans on the "right" are actually seeking debt default.
We all know that at the top of the pyramid the debt debate itself is false left/right theater, but it is still theater with a purpose.
In my articles 'The Socialization Of America Is Economically Impossible' and 'Obamacare: Is It A Divide And Conquer Distraction', I discussed why universal healthcare could not be implemented in America, and I predicted in advance that Obamacare was actually a farce that was designed to fail.  The program's only purpose is to provide a vehicle by which divisions between the fake left and the fake right could be solidified in the minds of the common populace.  A lot of cynicism was directed at the notion that the government might create a socialized healthcare initiative and then allow it to fail.  Of course, we now know that is exactly what they had in mind.
During the last debt debate, Obamacare was just a policy waiting to be implemented; next debate, that policy will be rightly labeled a train wreck.  Obamacare is falling apart at it's very inception, and evidence makes clear that the White House KNEW in advance that this would occur.  In the days before it's launch, performance tests on the Obamacare website showed conclusively that the system could not handle more than 500 users.
Obama promised that preexisting healthcare plans would be retained by Americans and that the Affordable Care Act would not do damage to established insurance models.  He made this promise knowing full well that he could not or would not keep it.  This dishonesty has resulted in rebellion by Democrats who have sided with Republicans to pass a bill which obstructs the erasure of existing health coverage.
States once disturbingly loyal to the White House are now moving to limit the application of the Obamacare structure.
The White House had foreknowledge that the program was nowhere near ready, yet, they moved forward anyway.  Why wouldn't they stall?  Why would Obama knowingly unleash his "opus" before it was finished?  He had it in the bag, right?  He won, right?  All he had to do was build a functioning website and keep his promises at least long enough to sucker the majority of Americans into the system.  Instead, he throws the fight and hits the canvas before he's even punched?  Why?
It all sounds rather insane if you aren't aware of the bigger picture, and I'm sure the average Democrat out there is wide-eyed and bewildered.  Some might blame it on "ego", or "hubris", but this makes little sense.  Obamacare is an American socialist's dream.  With a simple working public interaction model, Obama would be worshiped by leftists for decades to come as the next Franklin Delano Roosevelt.  Hubris should have ENSURED that the White House launch of Obamacare would be flawless.
Once you realize that this is not about Obama, and that Obama is nothing but a middle-man for the globalists, and that the actual implementation of Obamacare never mattered to the establishment, the fog begins to clear.
With Obamacare in shambles, the dynamic of the debt debate theater changes completely.  Some Democrats may well show support for a hold on the debt ceiling, for, what reason do they have to champion more spending?  Obama has already made fools of them all, and the Obamacare motivator is essentially out of the picture.  The GOP will be energized and more unified than the last debate, giving more momentum to a debt ceiling lock.  The argument will be made that a resulting debt default will not be harmful, and that the U.S. can carry the weight of existing liabilities until the budget is balanced.
This is certainly a lie, but it is a fashionable lie that Americans will want to hear.
Americans do not want to hear that our economy is too far gone and that any motion, to spend, or to cut, will have the same result – currency collapse and fiscal implosion.  They do not want to hear that pain must be suffered before a realistic solution can be applied.  They do not want to hear the the system will have to be brought down before it can be rebuilt.  And, they definitely do not want to hear that the system will be deliberately brought down and replaced with something even worse.
Will the next debt debate in Spring 2014 end in debt default and the collapse that globalists desire so much?  It's hard to say, but many insiders appear to be preparing for just such a scenario…
The Fed's Buzz Kill 
No one, and I mean no one, believes the private Federal Reserve will ever commit to a taper of fiat stimulus.  Hell, I barely believe it's possible, and I'm open to just about any scenario.  That said, I have to ask a question which few analysts seem to be asking – why does the Fed keep pre-injecting the concept of taper into the mainstream if they never intend to implement it?  When has the Fed ever pre-injected a plan into the MSM which it did not eventually implement?
The banksters have the markets in the palm of their hand, or at least they seem to.  Stocks now rise and fall according to whatever meaningless press release the central bank happens to put out on any given morning.  What do they have to gain by consistently shaking the confidence of investors around the world by suggesting that the fiat party they created will abruptly end?
The impending approval by the Senate of Janet Yellen, a champion of the printing press, would suggest to many that QE-infinity is assured.  We know that the black hole generated by the derivatives implosion cannot be filled (debts still exist in the quadrillions of dollars), and that the Fed will have to print endlessly in order to slow the deterioration of the the banking sector.  We know that none of the currency flows created by the Fed are trickling down to main street, which is why credit remains mostly frozen,  real unemployment counting U-6 measurements remains at around 25%, food stamp recipients have risen to around 50 million, and the only sales boosts to property markets are those caused by big banks buying bankrupt houses and then reissuing them as rentals.
We know that it makes sense for the central bank to continue QE, if only to continue pumping up banks and the stock market and hide the truly dismal state of the overall system.  But let's forget about what we think "makes sense" for just a moment…
What if the Fed no longer WANTS to hide the true state of the system anymore?  What if QE is now giving back diminishing returns, and will soon be no longer effective at hiding economic weakness?Central bankers surely don't want to take the blame for a collapse, but what if the perfect patsy is already lined up?  A patsy so hated and despised that no one would think twice about their guilt?  I am, of course, talking about the Federal Government itself.
Think about it; the failure of Obamacare promises a debt debate in the Spring of 2014 that will rock the very foundations of the global economy.  Both sides, Democrat and Republican, are ready to blame the other fully for any disastrous outcome, though "Tea Party" conservatives have been painted by the mainstream media as the lead culprits behind a financial catastrophe that began before the Tea Party was born.  The idea of "gridlock" leading to impasse and calamity is already built into the country's consciousness.  The general public's opinion of all areas of government has recently hit all time lows.  In fact, our opinion of government could scarcely go any lower than it already has.  Everyone HATES what government is, or what they think it is.  Most Americans would be happy to place the brunt of the blame for an economic disaster on the shoulders of Washington DC.
The genius of it is, they deserve a large part of the blame.  They helped to make possible all of the horrors the citizenry will face in the coming years.  The problem is, the public may become so blinded with rage over the failure of the political system, that they may completely forget about the role of international and central banks and turn on each other instead.
Why is the Fed now discussing, just before the possible confirmation of Janet Yellen, a stimulus dove, the need for taper measures by 2014? 
Is it just coincidence that the taper discussion is taking place parallel to the debt ceiling battle, or are these two things related?  What if the Fed plans to apply QE cuts during or after the renewed debt debate in order to make the market effects even more negative?  What if the Fed is timing the taper to give energy to a debt default?  What if the Fed wants to reduce support, so that later, when all hell breaks loose, we'll come begging them for support?
Whether you believe a debt default will be deliberately induced or not, certain foreign investors have been preparing for such a U.S. breakdown for years, and once again, the apex investor, China, has made plans for dramatic economic policy changes to take place in 2014…
China Is Ready To File For Divorce 
The economic marriage between China and the U.S. has been touted Ad nauseum as an invincible relationship chained in eternity by unassailable interdependency.  I've just never bought this fanciful tale.  For years I've written about the likelihood that China will decouple from the American dollar apparatus, and so far, most of my warnings have come to pass.
China has pushed forward with massive physical gold purchases despite all arguments by skeptics that gold is no longer necessary or prudent as a safe haven investment.  Apparently, the Chinese know something they do not.  China is on pace to become the largest holder of gold in the world as early as 2014.
China has now issued Yuan denominated bonds and other assets around the globe, and its central bank has expanded its total balance sheet to at least $24 Trillion, outmatching the reported increased balance sheets of all other central banks:
Now, some feel that this Chinese liquidity should be considered a massive bubble on the verge of exploding, and that it will be Chinese instability, not U.S. instability, that triggers renewed crisis.  I would like to offer an alternative view…
I am not shocked at all by this incredible spike in Yuan circulation.  In fact, I expected it.  The fall back argument against China dumping the dollar as the world reserve has always been that there is no alternative currency that boasts as much liquidity as the dollar.  Well, as we now know, China has been raining Yuan down on every continent.  International banks like JP Morgan have been HELPING them do it.
China is not desperately attempting to prop up its own markets like we are in the U.S.  China is DELIBERATELY generating massive liquidity because they seek to aid the IMF in its longtime plan to replace the greenback as the world reserve currency.  These are not the activities of an investor that wants to stick with the U.S. or the dollar.  These are not the activities of a nation that wishes to continue its limited role as a source of cheap industrial labor.
China, being the largest importer of petroleum surpassing the U.S., is now planning to price its crude oil futures in Yuan, instead of the dollar.
And, the Chinese central bank has announced that it now plans to stop all purchases of U.S. dollars for its reserves.
These decisions are part of a precision strategy, a formula which was finalized during a little discussed and very secretive economic policy meeting which took place in China this past month.
While much of the media was focused on China's call for softer restrictions on its one-child policy, they ignored the thrust of the meeting, which was to establish Chinese consumption over exports, and internationalize the Yuan.  All that is left is for China to "float" the Yuan's value on the open market, which is an action the head of the PBOC, Zhou Xiaochuan, says he plans to expedite.
All of the reforms discussed at China's Third Plenum meeting are supposed to begin taking shape in…that's right…2014.

A Storm Of Septic Proportions
As I have always pointed out, economic collapse is not necessarily an event, it is a process.  The most frightening elements of this process usually do not become visible until it is too late for common people to react in a productive way.  All of the dangers covered in this article could very well set fires tomorrow, that is how close our nation is to the edge.  However, the culmination of events so far seems to be setting the stage for something, an important something, in 2014.  If the worst is possible, assume the worst is probable.  The next leg down, or the next economic carpet bombing.  Maybe slightly painful, maybe mortal.  Sadly, as long as Americans continue to remain dependent on the existing corrupt system, global bankers can pull the plug at their leisure, and determine the depth of the wound with scientific precision.
Source: Brandon Smith | Alt-Market
The other leg to the Trans-Pacific Partnership is the Transatlantic Trade and Investment Partnership. In Part I scrutiny of the TPP proposal indicates that standards of monopoly amalgamation far exceeded efforts to advance actual competitive trade. From the White House Fact Sheet, the aims of the TTIP are:
• Further open EU markets, increasing the $458 billion in goods and private services the United States exported in 2012 to the EU, our largest export market.

• Strengthen rules-based investment to grow the world's largest investment relationship. The United States and the EU already maintain a total of nearly $3.7 trillion in investment in each other's economies (as of 2011).

• Eliminate all tariffs on trade.

• Tackle costly "behind the border" non-tariff barriers that impede the flow of goods, including agricultural goods.

• Obtain improved market access on trade in services.

• Significantly reduce the cost of differences in regulations and standards by promoting greater compatibility, transparency, and cooperation, while maintaining our high levels of health, safety, and environmental protection.

• Develop rules, principles, and new modes of cooperation on issues of global concern, including intellectual property and market-based disciplines addressing state-owned enterprises and discriminatory localization barriers to trade.

• Promote the global competitiveness of small- and medium-sized enterprises.
Opponents of TTIP echo the same loss of national sovereignty, similar to the reservations with TPP. The IPS-Inter Press Service reports on the concerns and consequences.
"The claims that this deal will somehow be an economic cure-all and generate significant growth are simply not supported by any reliable evidence," Lori Wallach, director of Public Citizen's Global Trade Watch.

"But we do know that the talks are based on the demands of U.S. and EU corporations that have been pushing for decades to eliminate the best consumer, environmental and financial standards on either side of the Atlantic."

Also stated in the IPS account is that "Tariffs between the U.S. and E.U. are already low, and critic's note that what the deal really seeks to accomplish is the removal of "non tariff barriers" (also referred to as "trade irritants")."

"Non-tariff barriers is a commonly-used euphemism which refers to the array of financial, environmental, health and other policies which the public has put in place to safeguard its own interests," Ben Beachy, a research director for Public Citizen, told IPS.

Under T-TIP, standards such as those mentioned by Beachy would be "converged", so that regulations from state to state would be more closely aligned. Supporters of the deal say this uniformity would facilitate trade, but Beachy contended that the greater effect would be to lower regulation levels to a point that "democratic electorates would never stand for."

Not surprising, the European Commission seeks to rely upon esoteric and speculative economic models to project that increased growth will ensue, while avoiding the hard political concerns in The Economic Analysis Explained study - The overall impact of TTIP.

"The CEPR study predicts that an ambitious TTIP deal would increase the size of the EU economy around €120 billion (or 0.5% of GDP) and the US by €95 billion (or 0.4% of GDP). This would be a permanent increase in the amount of wealth that the European and American economies can produce every year."
As the Department of Homeland Security (DHS) doles out billions of dollars to convince local police departments to surrender control to the federal agency, a recent report indicates that intelligence gathered at precincts-cum-surveillance-centers will be shared among all levels of law enforcement.
An article published by Fierce Homeland Security on November 4 reports:
The phenomenon of fusion centers sharing intelligence and skills with each other — not just with the federal government — is a new and underappreciated aspect of the centers, panelists at a Homeland Security Policy Institute event said.
Fusion centers mainly apply national intelligence to local contexts and gather information locally that they can share with federal agencies. But in recent years, a great deal of "horizontal sharing" has occurred, where fusion centers work closely with each other, said Ross Ashley, the executive director of National Fusion Center Association.
"We'll find an expert in Washington state on international human trafficking over international ferry systems. Well, I don't need that expert everywhere. What I need is the ability to reach out to that expert if I'm in West Virginia," he said at the event, held Oct. 23 in Washington, D.C.
That meeting, entitled "State and Local Fusion Centers: Key Challenges for the Next Decade," featured three panelists: John Cohen, principal deputy under secretary for intelligence and analysis, U.S. Department of Homeland Security; Thomas Kirk, director, West Virginia Intelligence Fusion Center; and Ross Ashley, executive director, National Fusion Center Association. The keynote address was delivered by Representative Michael McCaul (R-Texas), Chairman of the House Committee on Homeland Security.
In July, McCaul co-authored with Representative Peter King (R-N.Y.) a report on the progress of the establishment of the nationwide spread of the fusion centers. The press release announcing the report reveals the pair's support for a program that dismantles federalism and accelerates the militarization of local police and the consolidation of control of those departments to the federal government. The McCaul-King report states:
Fusion centers serve as hubs of strategic analysis and information sharing where Federal, State, and local agencies are all represented in one location. State and local crime data is coordinated, gathered and reviewed to determine if there is any potential connection to terrorist activity. In addition, Federal terrorism-related information is shared with State and local law enforcement.
Seems the congressmen should be reminded of the fact that there is not a single syllable of the Constitution authorizing any such federal participation in law enforcement. If the power isn't granted to the federal government in the Constitution, then authority over that area remains with the states and the people as described in the Tenth Amendment.
Remarkably, McCaul and King lament the fact that the chain of fusion centers isn't growing quickly enough and the DHS isn't getting adequate access to all that information. The report adds:
The Committee's review concludes that the Network is not functioning as cohesively as it should be and fusion centers are facing numerous challenges that prevent the Network from realizing its full potential to help secure the homeland.
Of course, there couldn't be a piece of federal police and surveillance program propaganda without reminding citizens that all this deprivation of their rights is for their safety. As if to say, if the federal government doesn't take control of your local police department and keep all citizens under surveillance, the terrorists will strike again.
The representatives' zeal for constructing local outposts of the central surveillance headquarters is not surprising. Self-serving bureaucrats inside the U.S. government are tirelessly trying to obliterate local police forces answerable to local citizens and promote the consolidation movement as a step toward federalization of law enforcement. These proponents of regional and national police forces desire nothing less than the eradication of all local police departments and sheriffs' offices, the surrender of state and municipal sovereignty, and the conversion of police into federal security agents sworn not to protect and to serve their neighbors, but to protect the prerogatives of politicians.
Take for example the information contained in a White Paper presented in 2012 to the House Permanent Select Committee on Intelligence. In that report, the DHS is encouraged to embark on an "evolving mission" away from its ostensible purpose of fighting terrorism, toward becoming the administrator of an enormous domestic intelligence agency resulting from an integration of the country's local and state law-enforcement agencies.
This report was written by the Aspen Institute Homeland Security Group, co-chaired by former DHS chief Michael Chertoff. The blueprint promoted in the White Paper pushes Congress toward green-lighting the growth of DHS and the dissolution of local police and sheriffs.
The organization described in the paper, entitled "Homeland Security and Intelligence: Next Steps in Evolving the Mission," is reminiscent of more draconian governments. For example, one section of the report calls for a transition in the mission of DHS away from protecting the country from the "terrorism" of foreign militants and toward "more specific homeward focused areas." Additional sections of the report lay out the plans for building a DHS/police hybrid agency that can monitor Americans in any town and prevent threats from fellow citizens.
In order to achieve their ultimate aim, the globalists demand that DHS or some other federal agency take control of the personnel decisions currently made by local police chiefs and county sheriffs. "As the threat grows more localized," the report claims, "the federal government's need to train, and even staff, local agencies, such as major city police departments, will grow." Put another way: The federal government will run your local police department and sheriff's office.
The establishment of fusion centers is a key component of this plan. The following information is taken from a fact sheet on fusion centers posted on the DHS website:
A fusion center is a collaborative effort of two or more agencies that provide resources, expertise and information to the center with the goal of maximizing their ability to detect, prevent, investigate, and respond to criminal and terrorist activity.
A description of the functioning of these incubators for the forthcoming federal police force is also provided on the DHS site:
State and major urban area fusion centers (fusion centers) serve as primary focal points within the state and local environment for the receipt, analysis, gathering, and sharing of threat-related information among federal, state, local, tribal, and territorial (SLTT) partners…. Fusion centers conduct analysis and facilitate information sharing, assisting law enforcement and homeland security partners in preventing, protecting against, and responding to crime and terrorism.
The literature promoting the acceptance of fusion centers lists several ways the new federal agency will impose its will on the formerly autonomous and accountable police chief or county sheriff.
Last year, The New American described the likely procedure:
First, the feds will decide where and when to deploy local police department personnel. The chief, if he still exists, will be no more than a functionary required to make sure that the orders of the federal government are carried out. More likely than not, these new missions, in addition to preventing crime in the city or county, will engage in the collection of information about and apprehension of those local citizens identified by a committee in Washington as posing a threat to national security. Consider the revelation in 2009 that Homeland Security's Office of Intelligence and Analysis released a document entitled "Rightwing Extremism: Current Economic and Political Climate Fueling Resurgence in Radicalism and Recruitment," which listed war veterans, anti-abortion activists, small-government advocates, and those concerned about immigration as terrorist risks.
Second, DHS (or whichever one of the federal agencies eventually takes over law-enforcement duties) will train new recruits. Policies, procedures, and purposes will not reflect traditional (and constitutional) goals of law enforcement, but will be tailored to training officers to perform those duties associated with the new, national emphasis of the force, with a slant toward federalism.
Finally, funds for this conversion from local police department to outpost of the federal law-enforcement agency will be provided by the bureaucrats on Capitol Hill. This carrot will be tied to the stick of federal control.
The speed and success of the Department of Homeland Security's plan to string together a powerful net of surveillance-focused fusion centers in all the country's police departments is evident in the following statement at the Homeland Security Policy Institute's meeting made by Thomas Kirk, director of the West Virginia Intelligence Fusion Center:
"In all law enforcement, I've never seen anything like that," he said. "Most of the time when I call another fusion center director, they know my voice."
Joe A. Wolverton, II, J.D. is a correspondent for The New American and travels frequently nationwide speaking on topics of nullification, the NDAA, and the surveillance state.  He is the host of The New American Review radio show that is simulcast on YouTube every Monday. Follow him on Twitter @TNAJoeWolverton and he can be reached at jwolverton@thenewamerican.com
Source: Joe Wolverton, II, J.D. | The New American
We came, we saw, we stayed. Forever. That's the essence of the so-called Bilateral Security Agreement (BSA) to be struck between the Obama administration and Afghanistan – over 12 years after the start of the never-ending War on Terror.
President Obama and US Secretary of State John Kerry define it as a 'strategic partnership'. If that's the case, it's one of the most lopsided in history; Afghan President Hamid Karzai is no more than a sartorially impeccable American puppet.
Kerry announced the so-called BSA in Washington on Wednesday even before a Loya Jirga ('Grand Council', in Pashto) of 2,500 Afghan tribal leaders, clerics, members of parliament and merchants started their four-day deliberations in a tent on the grounds of the Polytechnical University in Kabul on Thursday.
But then Karzai, probably in his last major speech as president, pulled off a fabulous stunt. He knows he is, and will be, accused of selling Afghanistan down the (Panjshir) river. He knows he is sacrificing Afghan sovereignty for years to come – and there will be nasty blowback for it.
So once again he channeled Hamid the Actor, and played his best honest broker impersonation, stressing the BSA should be put off until the Afghan presidential elections in April 2014, and be signed by his successor.
It was high drama
"There's a mistrust between me and the Americans. They don't trust me and I don't trust them. I have always criticized them and they have always propagated negative things behind my back," he claimed.
I have been to Jirgas in Afghanistan; even looking at those inscrutable, rugged tribal faces is a spectacle in itself. So what were they thinking in Kabul? Of course they did not trust the Americans. But did they trust Karzai? Could they see this was all an act?
A consultative Loya Jirga cannot veto the BSA. Even the Jirga chairman, Sibghatullah Mojadeddi, stressed Karzai may sign without any consultation. Yet Karzai insists he will not sign without the Loya Jirga's approval.
Many members of the Afghan parliament and the entire Afghan opposition already voted with their feet, boycotting the Jirga. Not to mention the Taliban – essential to any agreement on the future of Afghanistan – and the still fully weaponized Hezb-e-Islami. Everyone is eagerly waiting to hear Taliban supremo Mullah Omar's take on the whole kabuki.
Counter-terror free-for-all
The BSA 'negotiation' has been like an extended Monty Python sketch. Washington has always insisted US soldiers can break into Afghan homes at will and remain immune to any sort of Afghan prosecution. Otherwise the Americans will leave for good at the end of 2014, leaving just the poorly trained and largely corrupt Afghan National Army (ANA) to fight the Taliban.
Up until Karzai's latest stunt, the Obama administration considered the deal was in the bag. Just look at the letter Obama sent to Karzai.
And by the way, no apologies. National Security Advisor Susan Rice said Washington does not need to apologize for killing and injuring tens of thousands of civilians in Afghanistan since 2001, not to mention occupying vast swathes of the country. Earlier, a Karzai spokesman said that would be the case.
If in doubt, just listen to super-hawk US Senator Lindsay Graham, who told Reuters, "I'm stunned. Apologize for what? Maybe we should get the Afghan president to apologize to the American soldiers for all the hardship he's created for them."
There's nothing 'residual' about a US occupation to be disguised as 'forces' necessary to train and 'advise' the roughly 350,000 soldiers and police which are part of ANA, built from scratch over the last few years.
And what we're talking about here is a deal starting in 2015 and in effect up to 2024 'and beyond'.
The final agreement is not much different from this previously leaked working draft.  An update has been circulating this week in the Pentagon and the US Congress. The Pentagon, via Joint Chiefs of Staff Chairman Gen. Martin Dempsey, justifies the whole thing by the proverbial need to 'maintain Afghanistan's security' and make sure foreign aid is not being squandered (as it has always been).
There will be plenty of US military outposts and bases; Afghan bases and other bases of which the US has 'exclusive use'. Bagram, Kandahar, Jalalabad and Mazar-e-Sharif are inevitably on the list. Once again, this is the US Empire of Bases – so well characterized by the late Chalmers Johnson – in pristine form.
Marine General Joseph Dunford, the current US/NATO military commander in Afghanistan, wants up to 13,000 troops to stay, not including security guards and the cream of the crop, the counterterrorism gang. In theory, these forces won't engage in combat "unless otherwise mutually agreed." The draft text emphasizes, "US military operations to defeat Al-Qaeda and its affiliates may be appropriate in the common fight against terrorism."
Translation: a future festival of raids by Special Forces, and a counter-terror free-for-all.
The draft text only mentions, vaguely," full respect for Afghan sovereignty and full regard for the safety and security of the Afghan people, including in their homes," as Obama also mentioned in his letter to Karzai.
And there's absolutely nothing on the critical issue of drones based in Afghan bases that have been used for incinerating the odd commander but also scores of innocent civilians in the Pakistani tribal areas.
All about pivoting to Asia
The Maliki government in Baghdad had the balls to confront the Pentagon and veto the immunity for US forces – effectively kicking out the occupying force in Iraq. Hamid Karzai, for his part, caved in on virtual every US demand. The key question in the next few months is for what; Mob-style protection if he stays in Afghanistan, or the equivalent of the FBI's witness protection program if he moves to the US?
Even assuming the Loya Jirga endorses the BSA (not yet a done deal) and Karzai's successor signs it (with Karzai removing himself from the tight spot), to say this opens a new Pandora's box is an understatement.
The occupation, for all practical purposes, will continue. This has nothing to do with fighting the War on Terror or jihad. There's no Al-Qaeda in Afghanistan. The few remnants are in Waziristan, in Pakistani territory. The US is – and will remain – essentially at war with Afghan Pashtuns who are members of the Taliban. And the Taliban will keep staging their spring and summer offensives as long as there are any foreign occupiers on Afghan soil.
The drone war will continue, with the Pentagon and the CIA using these Afghan bases to attack Pashtuns in Pakistan's tribal areas. Not to mention that these US bases, to be fully operational, need unrestricted access to the Pakistani transit routes from the Khyber Pass and the Quetta-to-Kandahar corridor. This means Islamabad keeps profiting from the scam by collecting hefty fees in US dollars.
No one knows yet how the Shanghai Cooperation Organization (SCO) will respond to this. Not only Russia and China – who are adamantly opposed to US bases in Afghanistan – but also Iran and India, SCO observers and two countries that can sway Afghanistan away from the Taliban in a non-military way.
We just need to picture, for instance, a practically inevitable future development; Washington deciding to deploy the US missile defense system in Afghanistan (it already happened in Turkey). Russia and China already see that the US may have lost the economic race for Central Asia – as China clinches deal after deal in the context of expanding its New Silk Road(s) grand strategy. What's left for Washington is – guess what – bits and pieces of the same old Pentagon Full Spectrum Dominance doctrine, as in military bases to 'monitor' both China and Russia very close to their borders.
What's certain is that both Russia and China – not to mention Iran – all see this Operation Occupy Afghanistan Forever for what it is; yet another (military) chapter of the American 'pivoting to Asia'.
Pepe Escobar is the roving correspondent for Asia Times/Hong Kong, an analyst for RT and TomDispatch, and a frequent contributor to websites and radio shows ranging from the US to East Asia.
Source:  RT
A fellow pastor wrote a Facebook response to my column last week, which was entitled, "Our Friends Are Killing Us." In the column I wrote, "By the same token, how long are Christians today who say they believe in the Second Amendment (and the rest of the Bill of Rights) going to keep sending their tithes and offerings to these churches where the pastors refuse to publicly resist these draconian gun control bills such as were recently introduced by Obama and Feinstein? How long are they going to keep filling the pews of these do-nothing churches? As long as these say-nothing pastors see their pews and offering plates full, don't expect anything to change.
"I will say it plainly: if you attend a church and didn't hear your pastor oppose the Obama/Feinstein gun control bills from the pulpit earlier this year, YOU NEED TO GET OUT OF THAT CHURCH. The only thing holding this republic together is the people's right to keep and bear arms–especially semi-automatic rifles with large-capacity magazines. By refusing to resist evil, your pastor has become an enemy of liberty. Wittingly or not, he is helping to put the chains of slavery around the necks of your children and grandchildren. Why would you stay and support such a pastor and church?"
See the column here:
In response to my column, the pastor posted these remarks on a friend's Facebook page: "A pastor's call from God has nothing to do with fighting for any liberty guaranteed by any human government or document. I will fight and die for our Constitution, but that has nothing to do with my call as a pastor, that is my responsibility as an American, not a pastor. Nor is it the responsibility of any pastor in that calling. We are called to only one form of liberty, and it is not so frail as that offered by any human government. The liberty we are called to proclaim is the liberty that was purchased by the shed blood of our Lord and Savior, Christ Jesus, at Calvary, the only liberty which can never be taken nor infringed. While I support the author's passion and personally speak out defending the second amendment, he is absolutely wrong to accuse men of God of being enemies of liberty simply because they do not engage publicly in the fight for the second amendment. He clearly does not understand the spiritual calling responsibility of a pastor."
Readers should readily recognize that this pastor demonstrates he is totally ignorant of Natural Law or he could not have said what he did. Unfortunately, it has been the better part of a century since seminaries, Christian colleges or universities (not to mention State schools and colleges) have taught the principles of Natural Law. Therefore, it is not surprising that most of today's pastors share the sentiments of the pastor above.
The pastor suggests that, except for the soul's spiritual freedom at salvation, all liberty is something given by government. He is wrong. Liberty (including the Natural right of self-defense) is given by God.
While most of America's founders were Christians, not all were; but to a man, they understood the basic God-ordained principles of Natural Law. According to University of Houston political science professor, researcher, and historian, Don Lutz, the four most quoted sources of the Founding Fathers were (in order):
1. The Bible
2. Montesquieu
3. Sir William Blackstone
4. John Locke
Sir William Blackstone's Commentaries on the Laws of England were, without a doubt, among the most influential writings upon America's founders. In his commentaries (second section), Blackstone said, "Man, considered as a creature, must necessarily be subject to the laws of his creator, for he is entirely a dependent being. A being, independent of any other, has no rule to pursue, but such as he prescribes to himself; but a state of dependence will inevitably oblige the inferior to take the will of him, on whom he depends, as the rule of his conduct: not indeed in every particular, but in all those points wherein his dependence consists. This principle therefore has more or less extent and effect, in proportion as the superiority of the one and the dependence of the other is greater or less, absolute or limited. And consequently, as man depends absolutely upon his maker for every thing, it is necessary that he should in all points conform to his maker's will.
"This will of his maker is called the law of nature. For as God, when he created matter, and endued it with a principle of mobility, established certain rules for the perpetual direction of that motion; so, when he created man, and endued him with freewill to conduct himself in all parts of life, he laid down certain immutable laws of human nature, whereby that freewill is in some degree regulated and restrained, and gave him also the faculty of reason to discover the purport of those laws."
In that same second section of his commentaries, Blackstone further said, "This law of nature, being coeval with mankind and dictated by God himself, is of course superior in obligation to any other–It is binding over all the globe in all countries, and at all times; no human laws are of any validity, if contrary to this: and such of them as are valid derive all their force, and all their authority, mediately or immediately, from this original."
One can easily discern the influence of men such as Blackstone upon the men who penned our Declaration of Independence: Thomas Jefferson (the principal author), Benjamin Franklin, John Adams, Roger Sherman, and Robert Livingston. Listen to the Declaration:
"When, in the course of human events, it becomes necessary for one people to dissolve the political bands which have connected them with another, and to assume among the powers of the earth, the separate and equal station to which the laws of nature and of nature's God entitle them, a decent respect to the opinions of mankind requires that they should declare the causes which impel them to the separation.
"We hold these truths to be self-evident, that all men are created equal, that they are endowed by their Creator with certain unalienable rights, that among these are life, liberty and the pursuit of happiness."
See how Jefferson founded the Declaration of Independence upon "the laws of nature and of nature's God." Furthermore, America's Bill of Rights is simply a foundational treatise respecting the Natural liberties that God breathed into man at Creation. Virtually every amendment in the Bill of Rights has its root in Holy Scripture–and that includes the Second Amendment.
Please understand that every "right" granted by God also entails a sacred duty. If God has granted men the right to life and liberty, He has also demanded of them a duty to protect life and liberty. From the earliest examples of Holy Scripture we see these fundamental tenets of Natural Law.
Before human government existed, God cursed the world's first murderer. God then commanded the progenitor of the human race following the Flood (Noah) to protect human life by the pronouncement, "Whoso sheddeth man's blood, by man shall his blood be shed: for in the image of God made he man." (Genesis 9:6) Then again, hundreds of years before Moses, the man Abram rallied to the defense of his family in Genesis 14 by taking up arms against the "kings of the nations," after which he brought the tithes of the spoils of war to the High Priest Melchizedek, who in turn blessed Abram for what he had done. And the Book of Hebrews tells us that Melchizedek was a type of Jesus Christ. If one were to remove from the Scriptures the examples of men and women of faith who fought for the Natural right of life and liberty–and who resisted those that tried to deny it–I dare say he or she would delete at least half of the entire Bible.
I must assume that this pastor has never read Blackstone or Locke or Hugo Grotius, et al. Listen to Grotius, "[Natural Law] may be called Divine also. And here may take Place that which Anaxarchus said, as Plutarch relates in the Life of Alexander, (but too generally) that GOD does not will a Thing because it is just; but it is just, that is, it lays on under an indispensable Obligation, because GOD wills it. And this Law was given wither to all Mankind, or to one People only: We find that GOD gave it to all Mankind at three different Times. First, Immediately after the Creation of Man, Secondly, Upon the Restoration of Mankind after the Flood, And thirdly, Under the Gospel, in that more perfect re-establishment by Christ. These three Laws do certainly oblige all Mankind, as soon as they are sufficiently made known to them." (Grotius, Hugo, The Rights of War and Peace, Book One, Print, Liberty Fund, Pages 164-166)
The pastor said he was willing to "fight and die for our Constitution," but he is unwilling to preach the divine Natural Law principles upon which our Constitution (including the Second Amendment) are based? Such is the height of ignorance and inconsistency.
Furthermore, whether he realizes it or not, the pastor's stated philosophy is identical to that of the doctrine of "two spheres," which was commonly taught in Germany's churches under the Nazi regime. Hitler's government instructed Germany's pastors and churches to teach Romans 13 as requiring Christians to always submit to civil authority. It was taught that Christ has sovereignty over men's hearts in the spiritual realm, but civil government has authority over everything else. This is exactly what the pastor is saying when he says, "We are called to only one form of liberty, and it is not so frail as that offered by any human government. The liberty we are called to proclaim is the liberty that was purchased by the shed blood of our Lord and Savior, Christ Jesus, at Calvary, the only liberty which can never be taken nor infringed."
To say that we are only called to "one form of liberty," meaning the spiritual liberty of the heart produced by a soul's spiritual redemption, the pastor is relegating all other forms of liberty to the dominion of civil government. Whether he realizes it or not, the pastor is preaching the Hitlerian doctrine of "two spheres."
Ladies and gentlemen, the doctrine of "two spheres" is blasphemous and heretical. "All authority is given unto me," Jesus said. That means all human authority is subservient to His authority. When men (even pastors) cede to human government the sovereign authority of Jesus Christ, they have become idolaters–whether they realize it or not.
God's men throughout history (Biblical and Ecclesiastical) have been the most outspoken opponents of the evils of civil government at every level. One cannot read virtually any book of the Old Testament without reading the stories of courageous champions of God who defied and resisted civil authority when that authority became oppressive and illegitimate. And, remember, the New Testament says that the Old Testament was written for our "learning." (Romans 15:4) Are we New Testament believers to learn nothing from over 4,000 years of Biblical Natural Law teaching in the Old Testament? Do you mean to say that today's passive and compliant pastors are more spiritual than the prophets Micaiah, Jeremiah, and Daniel? Are they more spiritual than Shadrach, Meshach, and Abednego? More spiritual than Gideon, Barak, and Jephthah? Are today's pastors who refuse to say anything controversial in the pulpit, who delight in offending no one, who have, for the most part, become the pathetic pawns of government more spiritual than Martin Luther, Huldrych Zwingli, John Calvin, John Robinson, John Peter Muhlenberg, James Caldwell, or Jonas Clark?
And I also must assume that the pastor doesn't take Jesus literally when he COMMANDED His disciples to buy a sword even if it meant selling one's clothes in order to afford it. (Luke 22:36) If that doesn't make the right and duty to keep and bear arms a divine mandate, I don't know what does.
And remember, too, that the sword Jesus told His disciples to buy was the same sword that the Apostle Paul said that civil government bore in Romans 13. Jesus was not talking about a pocketknife, folks. He was talking about the most sophisticated, efficient self-defense tool known to man at the time: the Roman sword. For us in modern times that would be the equivalent of an AR-15-style semi-automatic rifle. Yes, ladies and gentlemen, the gift of liberty (in all of its forms) is as spiritual and godly as the gift of physical life or the gift of spiritual salvation.
Besides, does not the New Testament teach that everything a Christian does is spiritual in nature? Is a Christian not performing a spiritual work when he or she gets a job to provide for his or her family? Is he or she not performing a spiritual work when they sit around a table and partake of the provision and fellowship of the home? Is a Christian not performing a spiritual work when he or she protects their little ones by locking the doors at night or installing an alarm system or arming themselves against an intruder? Are we only spiritual when we are at church or when we are reading the Bible? Is not everything a Christian does thought to be spiritual? How then can pastors omit the Natural Law duties and responsibilities that God intends to govern our entire lives from their preaching and teaching? Does not the Scripture say, "But if any provide not for his own, and specially for those of his own house, he hath denied the faith, and is worse than an infidel"? (I Timothy 5:8 KJV) The Apostle was speaking specifically about children providing for a widowed mother, but does not providing in the general sense include protection as much as it does provision? Therefore, can we not say that being capable and willing to protect our families against harm and danger is just as spiritual as putting food on the table or clothes on their backs? Regarding this verse, the famed Bible scholar, Albert Barnes, said, "According to our measure, we are to anticipate what will be the probable needs of our families, and to make arrangements to meet them." Certainly, the "probable needs of our families" includes physical protection. You mean to tell me that this pastor is not going to preach this truth of the Gospel from his pulpit? How dare he not? Pastors MUST preach the Natural Law principles of liberty in order to fulfill their divine calling.
In my column last week I said, "If you attend a church and didn't hear your pastor oppose the Obama/Feinstein gun control bills from the pulpit earlier this year, YOU NEED TO GET OUT OF THAT CHURCH. The only thing holding this republic together is the people's right to keep and bear arms–especially semi-automatic rifles with large-capacity magazines. By refusing to resist evil, your pastor has become an enemy of liberty. Wittingly or not, he is helping to put the chains of slavery around the necks of your children and grandchildren." I think this pastor proves my point.
The latest proof of the Globalist plan for total economic imprisonment is available for scrutiny. Thanks to whistleblowers, the clandestine trade missions of international corporatists must contend with public blowback. Recently, WikiLeaks released the secret negotiated draft text, Secret Trans-Pacific Partnership Agreement (TPP), for the entire TPP (Trans-Pacific Partnership) Intellectual Property Rights Chapter. The TPP is the largest-ever economic treaty, encompassing nations representing more than 40 per cent of the world's GDP. The TPP Agreement along with the Table of Contents and supportive documentation provides the evidence.
When vastly diverse segments of political perspective unify against this assault on economic self-determination, challenging the very exercise of such agreements is in order. In the article, Obama's Dangerous International Deal, a libertarian viewpoint argues and warns, "The USTR acknowledges the existence of 29 chapters under negotiation. Only five of these chapters deal directly with trade. The other 24 aim to influence many issues, such as food and environmental standards, intellectual property, and pharmaceutical formularies."
Perennial progressive Jim Hightower writes in an Alternet article, A Corporate Coup in Disguise.
"What if our national leaders told us that communities across America had to eliminate such local programs as Buy Local, Buy American, Buy Green, etc. to allow foreign corporations to have the right to make the sale on any products purchased with our tax dollars? This nullification of our people's right to direct expenditures is just one of the horror stories in the Trans-Pacific Partnership (TPP).".
From the Voice of Russia, not usually known for defending transnational cartels, is an observation that you are not hearing in the financial press, Obama attempting to ram through unconstitutional secret treaty.
"With the US debt at over $200 trillion dollars and their grasp on control slipping, Obama and the corporations that have taken over the US Government are attempting to do anything they can to cling to power and enslave the populace.

The fact that the heads of the governments who are a party to the TPP, would attempt to sign such an all encompassing treaty without the knowledge of their respective governments and their people is a something unheard of an unprecedented in history."
If only free enterprise was the standard of economic commerce, instead of the state-fascism that has developed over the years of the "Free Trade" ruse that has destroyed real competition from the financial environment.
Central planning failed miserably in the old Soviet Union, now we are supposed to believe that a corporatist negotiated arrangement with the full backing and force of government bureaucracies is a superior method for prosperity.
Backers of the TPP pact would have you believe that it is a trade agreement. Nile Bowie in an OpEd, TPP: From corporation personhood to corporate nationhood, has it correct.
"Although proponents of the TPP may claim that its focus is to help the economies of signatory countries create comprehensive market access, eliminate barriers to trade, improve labor rights and encourage environmental protection, every indication suggests that the wide-ranging agreement intends to maximize dramatically corporate revenues at the expense of public health and safety, civil liberties and national sovereignty."
From the left leaning Huffington Post, Bruce E. Levine interjects a political aspect in
The Myth of U.S. Democracy and the Reality of U.S. Corporatocracy.
"The truth today, however, is that the United States is neither a democracy nor a republic. Americans are ruled by a corporatocracy: a partnership of "too-big-to-fail" corporations, the extremely wealthy elite, and corporate-collaborator government officials."
World economic agreements vary little based upon partisan political ideology. The corporate business outsourcing strategy and the offshoring of jobs are the inevitable results of every phony trade deal enacted for decades.
The real objective of TPP is to codify in law and treaty the special treatment that favored industries or well-connected interests exert upon the global economy.
When monopolies eliminate competition, the marketplace suffers a crowding out of main street businesses. With the demise of familiar business enterprises, the multinationals expand without hindrance. Entrepreneurial small business is seldom in a position to fill the void left when the muscle of international finance decides to control a business sector.
Setting environmental standards, intellectual property, and pharmaceutical formularies, behind closed doors endangers the public. Imposing rabid global warming penalties, perpetual expanding of copyright privileges and banning natural holistic supplements and vitamins, all intend to strip choice from consumers or to burden the population with irrational tax obligations.
In an outstanding account, by Don Quijones his article, The Global Corporatocracy is Almost Fully Operational, provided the essential context and ultimate consequence.
"The new generation of trade treaties goes far beyond what was envisaged for NAFTA and GATT. What they ultimately seek is to transfer what little remains of our national sovereignty to the headquarters of the world's largest multinational conglomerates. In short, it is the ultimate coup de grâce of the ultimate coup d'état. Not a single shot will be fired, yet almost all power will be seized and transferred into private hands — and all of it facilitated by our elected representatives who, by signing these treaties, will be permanently abdicating their responsibilities to represent and protect the interests of their voting constituencies."
If you have the courage to face the dire implications of this globalist scheme, view the video TPP & One World Government. The bare honesty may be too much for the "PC" crowd.
Advocates of a merchant based economy are inherently in opposition to globalism. Yet, this round of integration under cartel syndicate governance is part of an end game for world economic consolidation. The Corporatocracy that rules over purported democratic countries is the real power overseer that maintains the indentured servant plantation. The comptrollers of the credit dictatorship maintain the financial system for the ultimate controllers.
In the next episode, the Trans-Atlantic Trade and Investment Partnership (TTIP) is analyzed. Complementing the TPP, both accords will place the yoke of even greater mastery over the economies of once sovereign nations.
What is the first thing that comes to mind when the term NGO appears? Well, many will respond, the United Nations. Directly from a UN site is their definition for Non-governmental organizations. How uplifting and benign the altruistic effort, the deep-seated purpose and intention of such associations, frequently projects that noble endeavors need to enhance the governance process. The term governance essentially is a loaded political concept that benefits a model of economic activity that requires a managed society as opposed to a free, independent and individualistic economy.
"A non-governmental organization (NGO, also often referred to as "civil society organization" or CSO) is a not-for-profit group, principally independent from government, which is organized on a local, national or international level to address issues in support of the public good. Task-oriented and made up of people with a common interest, NGOs perform a variety of services and humanitarian functions, bring public concerns to governments, monitor policy and programme implementation, and encourage participation of civil society stakeholders at the community level.

Some conduct research and analysis in the legal and other fields (e.g. sociology, economics) relevant to the rule of law. In many cases, they produce reports with policy recommendations, for use in their advocacy."
Of course, not all NGO's fall into an identical pattern. Some can and do provide valuable services. However, exponents of coordinated liaison with civil authority that develops legal eminence for a social vision that defies the basic human nature of inherent autonomy, is dangerous. NGO's seldom practice real charity, although they excel in social engineering.
Looking at the money trail provides evidence of actual intents. Investopedia explains How do NGOs get funding?
"The annual budget of an NGO can be in the hundreds of millions (or even billions) of dollars, fundraising efforts are important for the NGO's existence and success. Funding sources include membership dues, the sale of goods and services, private sector for-profit companies, philanthropic foundations, grants from local, state and federal agencies, and private donations."
That sounds all well and good. Nevertheless, when you get into the weeds on how funding actually works, the touchy feely aspects of raising money have a very different look. One example is the United States Agency for International Development (USAID), funding programs.
"Non-governmental organizations (NGOs) are critical change agents in promoting economic growth, human rights and social progress. USAID partners with NGOs to deliver assistance across all regions and sectors in which we work and to promote inclusive economic growth, strengthen health and education at the community level, support civil society in democratic reforms and assist countries recovering from disasters."
Among the types of NGOs that the Agency partners with are:
1. Cooperative Organizations

2. Foundations

3. Local and Regional Organizations

4. Private Voluntary Organizations

5. U.S. and International Organizations
Government grants presumably for promoting or enacting democratic reforms, discloses an ulterior motive behind the funding. That is natural and understandable in an era of competing political and economic systems. However, with the emergence of a unified New World Order agenda, the practice of doling out government money that undercuts the very existence of national sovereignty has taken a nefarious turn.
The always perceptive, Pat Buchanan weighs in and provides the evidence. US Funding NGOs to Advance New World Order?
"Cairo contends that $65 million in "pro-democracy" funding that IRI, NDI, and Freedom House received for use in Egypt constitutes "illegal foreign funding" to influence their elections. Yet this is not the first time U.S. "pro-democracy" groups have been charged with subverting regimes that fail to toe the Washington line."
The motive to change political, social and economic relationships goes beyond countries influencing foreign policy objectives. When the likes of Ted Turner, George Soros, Warren Buffet and Bill & Melinda Gates use their foundation funds to back NGO's that carry out the globalist agenda, private sector multi billionaires become an existential threat to humanity.
Add to this band of bandit brothers, who all have transformational goals, fostered with the wealth they accumulated by practicing crony corporatism, that diminishes our domestic standard of living, with their internationalization sentiments – Jeffrey Walker, Vice Chairman, United Nation's Secretary General's Envoy for Health Finance and Malaria, who proposes Building Generosity Networks.
"It's time for us to turn our attention to building and growing Generosity Networks that link the philanthropic passions of major donors with others who share those passions and are willing to work, collaboratively, to address the major causes of our day."
Oh, that United Nations record of peaceful philanthropy for universal serfdom has worked so well. The pandemic resolutions for eugenic terminations are often the real intent behind many NGO front organizations.
The economics of world population dictate that market based businesses have no place in a world dominated by transnational monopolies and corporatist cartels. Non-governmental organizations are liberated to advance the "philanthropic passions" of the donors that would normally be suspect if implemented by mega corporations.
Those "so called" generosity networks are used as subsiding endowments for the integration of third world communities into the NWO feudal system of minimal expectations.
That old Peace Corp attitude that was based upon helping others to help themselves is now a mission for global vassal induction. So much for the myth of self-determination, in the land of the rationed and expendable economy, where only the conglomerate matters.
As affluence disparity widens from the mega rich, the former middle class recedes into subsistence level, on a path resembling those that international NGO's are supposed to help. A true merchant based economy, with broad based business ownership, is the only solution to the controlled slave state.
Actual non-governmental organizations, that provide useful functions, must shed their tax-exempt preferences and government subsidies. Helping individuals with volunteer charity under a viable free enterprise economic model is preferable and necessary.
Breaking up monopoly trusts, eliminates the need for generosity networks, because individuals would be able to earn a livable way of life, independent of government and globalist welfare. Most NGO's schemes are fronts for NWO causes.
Iran to Follow?
Damascus – Additional easing of Syrian sanctions is expected by mid-November according to staff at the US Treasury Department's Office of Financial Asset Control (OFAC).
Pressure on Obama from Putin is part of the 'price tag' for Russia's role in bailing out the American president, whose chemical weapons 'redline' became something of an albatross. But another reason for the relaxation is that the White House believes it needs to communicate to Damascus that prospects for better relations, and possibly even some cooperation, are not completely dead, despite the 32-month crisis still raging in the Syrian Arab Republic.
This second easing of sanctions will show more balance and neutrality than those of last June, which were perceived as supporting Saudi and Gulf aid to the rebels while weakening the Assad government just as the Syrian Army had begun gaining back ground from the rebels. At that time, licenses for exports of certain goods related to reconstruction of infrastructure were allowed in areas held by the rebels. Specifically, OFAC indicated that license applications would be accepted for commodities, technology and software related to water supply and sanitation, agricultural production and food processing, power generation, oil and gas production, construction and engineering, transportation, and educational infrastructure. Most benefited would be rebel-controlled areas.
No doubt it is with a deep patriotic spirit of wanting to help out their fellow Americans, that the US Treasury Departments heavily pro-Zionist OFAC asks US citizens to "consult our Frequently Asked Questions (FAQ) to find answers to your most commonly-asked questions about how Syrian and Iranian sanctions may affect your own families and your business."
That is unlikely to be easy given the obfuscatory legalize of the sanctions texts.
There are currently three types of sanctions that the U.S. government has imposed against Syria.  The most comprehensive sanction, called the Syria Accountability Act (SAA) of 2004, prohibits the export of most goods containing more than 10% U.S.-manufactured component parts to Syria.  Another sanction, resulting from the USA Patriot Act, was levied specifically against the Commercial Bank of Syria in 2006.  The third type of sanction contains many Executive Orders from the President that specifically deny certain Syrian citizens and entities access to the U.S. financial system due to their participation in proliferation of weapons of mass destruction, association with Al Qaida, the Taliban or Osama bin Laden; or destabilizing activities in Iraq and Lebanon.
Syria Accountability and Lebanese Sovereignty Restoration Act
In May 2004, the President signed E.O. 13338 implementing the Syria Accountability and Lebanese Sovereignty Restoration Act (SAA) which imposes a series of sanctions against Syria for its support for terrorism, involvement in Lebanon, weapons of mass destruction programs, and the destabilizing role it is playing in Iraq.
In addition, the Treasury Department's Statement of Policy indicated that OFAC would consider on a case-by-case basis applications to permit certain services in the agricultural sector, as well as in the Syrian telecommunication industry, enabling private citizens better access to the Internet, while certain petroleum transactions benefiting rebel forces were also authorized. OFAC also revised Syria General License 11 and replaced it with General License 11A authorizing NGOs to engage in activities to preserve the cultural heritage of the country, including museums, historic buildings and archaeological sites.
The new lifting of sanctions, tentatively scheduled to be announced next month, will help the Assad government because international banking and trade prohibitions are expected to be reduced. At the same time, US officials are discussing with their Russian "partners" a number of proposals that would acknowledge the right of the Syrian people to choose who to support in next year's Presidential elections without Washington insisting that Syrian President Bashar Assad step down as part of a "transition to democracy."
In addition, the White House is telling Congressional leaders, loudly enough for all to hear, that the president's recent waiving of restrictions on supplying arms to Syrian rebels was much more limited than depicted in mainstream media reports. In fact, the waiver—on certain portions of the Arms Export Control Act—authorizes only specific transfers to "vetted" members of the opposition and to NGOs in Syria. The defense items to be provided are described as those "necessary for the conduct of …operations inside or related to Syria, or to prevent the preparation, use, or proliferation of Syria's chemical weapons." Who was to be responsible for "vetting" the opposition members was not specified, nor were the particular articles detailed. But significantly the White House claims this is not a general waiver, but rather one with regard to a single specific contemplated transaction. Defense companies do not now have a blanket license to ship their wares to the Syrian opposition. This is because Section 40(g) of the Arms Export Control Act, 22 U.S.C. § 2780 (g), specifically gives the President authority to waive the provisions of the Act with respect to a specific transaction should he find that the waiver is "essential to the national security interests of the United States" and should he make the requisite report on the waiver to Congress. His determination on that finding directs the Secretary of State to make the required report to Congress.
The main opposition to White House plans to lessen the civilian targeting sanctions comes, as usual, from the US Congressional Zionist lobby. Israel's supporters in Congress seek to prevent any lessening of US sanctions—against Iran first, and Syria second. Two days of talks are about to begin in Vienna between experts from the P5+1 (the United States, Russia, China, Britain, France, and Germany) and their Iranian counterparts, who will discuss technical issues relating to Tehran's nuclear program and international sanctions. The meeting will help lay the groundwork for the next round of diplomatic negotiations, scheduled to take place in Geneva on November 7-8, and it is anticipated that the White House will accede to EU and Russian proposals to send a reciprocal good faith response to Tehran by lifting some of the sanctions targeting Iranian civilians. Although the P5+1 and Tehran have agreed to keep the contents of their negotiations secret, the general aim of the talks has been for Iran to reduce its capacity to enrich uranium and certain other nuclear activities in return for relief from the sanctions regime, which is strangling the nation's economy. The main hurdles include verification of any concessions Iran makes and the sequencing of any reduction in sanctions.
Signs of progress were visible earlier this week in comments made after separate talks between Iran and the International Atomic Energy Agency. In a rare joint statement, both sides called the talks "very productive"—a significant departure from eleven previous meetings in recent years, all of which failed to achieve progress in resolving what the IAEA has called the "possible military dimensions" of Iran's nuclear program. The new joint statement also indicates that a document discussed in past meetings has been set aside and a new approach taken.
Eager as it is for negotiations to succeed, the Obama administration has also echoed the Zionist lobby's contention that "no deal is better than a bad deal." Yet if the talks fail, international support for sanctions will likely begin to fall apart, reducing U.S. leverage even further.
The world is watching, particularly U.S. allies in Europe and Asia, as well as regional "friends" like Jordan, the United Arab Emirates, and Saudi Arabia. Though reportedly interested in lifting some of the sanctions on Syria and Iran, the White House is facing stiff opposition from Tel Aviv and Riyadh, with both governments criticizing the US for its lack of resolve in Syria and its presumed conciliatory attitude toward Iran.
Secretary of State John Kerry is reportedly slated to continue meetings with Saudi-Israeli officials in an attempt to tamp down their growing angst.
With over 500 pages and 1,200 footnotes, Ted Flynn's book, "Hope of the Wicked: the Master Plan to Rule the World," details many of the agendas of the global 'elite' community.  With several thousand quotes it uses the words of prime ministers, secretaries of treasury, secretaries of state, philanthropists and global business leaders to describe their NWO vision and their plans to bring it about as well as the convergence, on a global basis, of multinational corporations, foundations and the political and sociological instruments that would form a one-world government designed to bring about a New World Order.
Flynn writes that there is a confluence of events pointing to major changes that for many years have been coming to the world and they appear to be coming toward us more quickly now. Flynn argues that an 1846 heavenly apparition, a prophecy delivered by the Blessed Virgin Mary to two peasant children and approved by the Catholic Church is a stark and terrible summary of the major changes that have been coming to the world in general but the West and America in particular:
"All the civil governments will have one and the same plan, which will be to abolish and do away with every religious principle, to make way for materialism, atheism, spiritualism and vice of all kinds….The mountains and all Nature will tremble in terror, for the disorders and crimes of men have pierced the vault of the heavens…The righteous will suffer greatly.  Their prayers, their penances and their tears will rise up to Heaven and all of God's people will beg for forgiveness and mercy…And then Jesus Christ, in an act of His justice and His great mercy will command His Angels to have all His enemies put to death….and the persecutors of the Church of Jesus Christ and all those given over to sin will perish…"  (p. 445)
In another apparition approved by the Church, the Blessed Virgin Mary warned of the "annihilation of nations." (ibid, p. 445) 
Materialism, Atheism, Communism, & Annihilation of Nations and People
Friedrich Engels (1820-1895), a 19th century German political philosopher figures prominently in Karl Marx's life.  Beginning in 1844, Engels and Marx, a God-hating materialist, collaborated closely in the foundation of modern Communism.  By 1848 they had produced The Communist Manifesto and similar works.
The tragedy of Engels is that before joining forces with Marx he had been a faithful Christian.  After meeting Marx for the first time he described him as a monster subjected to devils.  Marx does not,
"…walk or run, he jumps on his heels full of anger…He stretches his arms far away in the air; the wicked fist is clenched, he rages without ceasing, as if ten thousand devils had caught him by the hair."  (Marx & Satan, Richard Wurmbrand, p. 36)
Engels was very well aware of the dangers of entangling himself with devilish sons of perdition like Marx.  In his book, "Schelling, Philosopher in Christ," he warns that a devilish spirit has entered into a great part of mankind in the heart of Christendom and now there are only two kinds of men, Christians and anti-Christians:
"Since the terrible French Revolution, an entirely new, devilish spirit has entered into a great part of mankind, and godlessness lifts its daring head in such an unashamed and subtle manner that you would think the prophecies of Scripture are fulfilled (Matthew 24:11)..And St. Paul says in II Thes. 2:3: That man of sin shall be revealed, the son of perdition, who opposes and exalts himself above all that is God, or that is worshipped…The coming of the Wicked is after the working of Satan….(therefore we must have)  nothing to do any more with indifference or coldness toward the Lord (for as of now) we have only…Christians and anti-Christians….We see the false prophets among us…They travel throughout Germany and wish to intrude everywhere; they teach their Satanic teachings in the market-places and bear the flag of the Devil from one town to another, seducing the poor youth, in order to throw them in the deepest abyss of hell and death." (ibid, p. 40)
The devilish fleshy spirit responsible for converting Engels to godless Communism was Moses Hess, the same man who had previously converted Marx. After meeting Engels in Cologne Hess wrote:
"He parted from me as an overzealous Communist.  This is how I produce ravages…" (ibid, p. 43)
The spiritual counter-conversion of Engels was striking and hideous.  Like Marx, he no longer cared about the destruction of millions of people on behalf of the Revolution. 
A bloodless Marx writes of the coming genocide of millions of men, women, and children:
"A silent, unavoidable revolution is taking place in society, a revolution that cares as little about the human lives it destroys as an earthquake cares about the houses it ravages.  Classes and races…too weak to dominate the new conditions of existence will be defeated." (ibid, p. 42)
In a similar vein, a cold-hearted Engels speaks of the coming annihilation of millions of Christians, Jews, and other peoples and nations:
"The next world war will make whole reactionary peoples disappear from the face of the earth.  This, too, is progress.  Obviously this cannot be fulfilled without crushing some delicate national flower.   But without violence and without pitilessness nothing can be obtained in history."  (p. 43) 
The Revolution
The Revolution is a movement of spirit having its taproot and energy in the devil, the spirit of hate, murder, atheism, apostasy, and 'this world only' naturalism, materialism, pantheism, and spiritualism.   The Revolution is war against the supernatural Trinity, the Father, Son and Holy Spirit, which in the words of Marx's anarchist comrade Bakunin, are the "cursed and fatal principle of authority."
The sentiment of the Revolution is satanic pride:
"….which spurns subjection to any master whatever, whether of divine or human origin." (Bakunin, Nihilism: The Root of the Revolution of the Modern Age, Fr. Seraphim Rose, p. 63)
The nature of the Revolution is the antithesis of authentic Christian faith. Whereas Christian faith is joy, patience, love, truth, humbleness, perseverance, submission in all things to the Will of God and blessed eternal life in Paradise (earth perfected), the Satanic counterfeit is full of hatred, rebelliousness, burning envy and covetousness against man and God, ingratitude, mockery, doubts, lies, revulsion, blasphemy, thoughts of murder and eternal life in Hell.
Fueled by monstrously inflated pride and dissatisfaction with self, the world, society, and God the Father Almighty, it devotes its' infernal energy toward "change," or as Marx put it, toward the wholesale destruction of the Christian-based Old Order and the establishment of a religiously pantheist, totalitarian world order because:
"The idea of God is the keynote of a perverted civilization. It must be destroyed." (Karl Marx, Marx and Satan, p. 59)  
The New World Religion  
 "(The UN is) a weird and diabolical convergence of New Age mysticism, pantheism, aboriginal animism, Communism, socialism, Luciferian occultism, apostate Christianity, Islam, Taoism, Buddhism, and Hinduism."   (The New World Religion: Teaching God's Children to Worship 'Divine Nature.' William Jasper, 2002)
The Revolution, of which the U.N., Lucis Trust (formerly Lucifer Publishing), the Cathedral of St. John the Divine, the Temple of Understanding and Baca Grande (Colorado based New Age Vatican City) are integral components, intends the complete overturning of Biblical moral and spiritual values enjoyed by Western and American civilization for over a thousand years.  As part of this goal, the Bible must be reinterpreted in terms of evolutionary pantheism, man must be fundamentally remade by eradication of every vestige of Imago Dei from his inner being, and Christian leadership reduced to a non-factor.  Flynn writes that this has largely been accomplished,
"…by placing their own leaders in place where they exert tremendous influence.  Much of this program of revolution was confirmed by Franklin D. Roosevelt in his book, 'Our Way' (which) summed up, the spiritual and immoral goals of world revolution (and how they) are being achieved, and nowhere more so than in the United States." (Flynn, p. 361)
Primary goals are:
a. Destruction of the Christian-based foundation of Western and American civilization;

b. Dissolution of legal government;

c. Destruction of sovereignty and patriotism;

d. Demoralizing, atheitizing and bringing the people of the United States into slavery via liberated sin nature and penury via graduated income taxes, property taxes, inheritance taxes, sales taxes, a massive welfare state and now socialized healthcare;

e. The abolition of God-given right to life via reproductive rights (abortion) and euthanasia and of private property via onerous building codes, zoning regulations and restrictions and by taxing property out of existence and targeting inheritance with bigger and bigger taxes;

f. Destruction of the traditional monogamous family unit via divorce, co-habitation, alternative lifestyles, abortion, pornography, hedonism and homosexuality
Before the top-down spiritually pantheist world order dominated by an occult 'elite' can come into existence, there must be a politically correct philosophy of 'new' thought and a philosophy of pantheist-based natural religion and natural science to usher in the coming political, social, legal and educational aspects of the new order since New Age evolutionary pantheism is a politically communist, ecologically 'sustainable,' sexually androgynous way of living.
In her two books on New Age evolutionary pantheism, 'The Hidden Rainbow,' and 'A Planned Deception,' Constance Cumbey writes that these goals have largely been accomplished:
"The New Age Movement is a religion complete with its own Bibles, prayers and mantras, Vatican City/Jerusalem equivalents, priests and gurus, born again experiences (they call it 'rebirthing'), spiritual laws and commandments, psychics and prophets and nearly every other indicia of a religion." (Flynn, p. 361)
According to Cumbey, the Plan for the new order includes the installation of a New Age messiah, implementation of a New Age totalitarian government and new world religion under Maitreya.  As well, there are plans to implement a universal identification system, universal credit system, universal tax, universal draft, and a world food and water authority that will control all of the world's food and water supplies.  To ensure that all people worship the New Age messiah, authentic Christianity will be completely stamped out along with all faithful Christians.
Toward this end, the evil spirit energizing and directing the Revolution intends to fully possess the Christian faith and refashion it completely.  In furtherance of his goal, the devil has audaciously declared that the supernatural Holy God the Father Almighty has been isolated in His transcendence and is therefore dead, so though the notion of God is retained, the devil proposes a functionless God that perhaps serves to ignite the Big Bang and set evolution in motion.  
 According to the devil, the Revolution is now moving with great force and speed across America nearly unopposed and will not stop until every vestige of faith in the supernatural God has been obliterated in every heart. Every man, woman, and child will experience a counter-conversion—a Satanic Initiation in the words of New Age insider David Spangler—to a 'new' pantheist spiritualism dressed in Christian symbols and terminology, an anti-gospel preached by anti-saints from the void who will assure men of their salvation though they will find only the leering face of the devil.
No doubt you have heard about the War on Drugs, the War on Terror and the War on Happiness. However, you may not be familiar with the War on God, possibly because it would be an unpopular war to discuss publicly. By the "War on God" (definition) we mean the collection of strategies, methods and techniques which have the combined effect of preventing or seriously hampering the efforts of individuals to seek or achieve legitimate Spiritual enlightenment and the Soul's eventual return to God.
The War on God is an ancient war. While the United States and other countries play an active role in this war today, they definitely did not initiate the war. If you want to use the Christian bible as a reference, you could argue that the War on God began shortly after man was created and rejected God in favor of Satan. Clearly, in some form, the War on God has existed throughout human history.
Today, the United States has effectively broken off diplomatic relations with God. The oligarchs who run the country never physically die and so their souls stay on Earth. Apparently, the United States actually believes that its technology, occult knowledge and black magic skills place it in a position which is superior to God.
We know from whistleblowers like David Morehouse that the United States sponsors and trains a cult of psychics to carry out psychic espionage (remote viewing) and also assassinations using psychic black magic techniques. According to clips of his various interviews on YouTube, it was the training in psychic assassinations which caused Morehouse to become disillusioned, quit the secret program and blow the whistle on the operation. Other countries may well operate similar programs but the details will remain unknown until someone defects and exposes them.
The leaders of the United States have always worshiped Satan. The United States was founded by a cult of Satanists known as the Masons and remains under control of that cult today. By rebranding their cult as a nation state, the cult created the appearance of legitimacy. Cult secrets simply transitioned to state secrets. Cult threats to kill anyone telling their secrets transitioned to the crimes of treason and espionage.
Nothing really changed except for the rebranding from a cult to a government. Today, essentially all members of the CIA, NSA and NASA are Masons. All US presidents have been Masons with the two exceptions of Abraham Lincoln and John Kennedy who were both assassinated.
The term "national security" refers to the security of the cult and not to the security of the general population. The Masonic motto is "If you are not one of us, you are nothing". The cult exists only to enrich itself.
The Masons study and practice the occult. Serious study begins after they take a formal oath of allegiance to Satan at the 30th degree initiation. Basic occult knowledge is neutral and everyone who advances Spiritually learns it. However, Masons seek this knowledge to gain power and control over others as opposed to knowledge for personal advancement. This choice, commonly called the Left Hand Path, places them in opposition to the will of God.
If the Satanists simply wanted to sell their Souls to Satan and mind their own business, one could argue that they had that right because they had free choice. However, the situation is not that simple. The Satanic oligarchs did freely choose to worship Satan. However, they also desire a comfortable life. They don't want to do any "grunt" work. Therefore, they have enslaved the remainder of humanity and are holding their Souls prisoner on this planet to service their needs. Therefore, if you, as an innocent Soul, ever plan to escape from this place and return to God, it is in your interest to investigate and gain an understanding of this war so that you will have an opportunity to Spiritually evolve. Otherwise, your Soul will remain a prisoner here — lifetime after lifetime — serving the Satanic overlords essentially forever.
Earth Based Religions
The phrase Earth Based Religions (definition) refers to religious schools which seek and use knowledge, including occult knowledge, to enhance their experiences during their human lifetimes as opposed to using the same knowledge to foster Spiritual development with the ultimate goal of achieving a stable non-physical Spiritual existence.
Although Pagan religions are usually grouped into this category, a more careful examination would reveal that essentially all mainstream religions are Earth based religions. Mainstream religions make constant references to God and Heaven but never explain exactly what they are talking about. Their books concentrate on historical narratives concerning how people in the past lived and coped with the basic problems of human physical existence. They never give details of any level of Spiritual existence or even any specific hints about what life beyond death will be.
Let's try an example. Suppose you have never seen a motor vehicle. You have heard vague stories that they exist, but that is all. Then, suddenly, you find yourself behind the wheel of a car on a high speed road like the US interstate system or the A roads in Britain. What would you guess would be your chance of survival? Try less than zero.
Now suppose you physically die. Suddenly, you find yourself in your Astral body. However, no one ever told you that you have an Astral body. It does not operate under the same rules as a physical body does. It is a very pliant and nimble body. It can travel in time to the past or future, access any plane and subplane in the Astral universe and research the absolute accurate and incorruptible records system known as the Akashic Records to name just a few. But, as in the previous example, you never learned how to "drive" it.
You would have done fine on the highway if you had gradually learned to drive a motor vehicle. You would do fine after death if you had some experience and training with your Astral body. However, no one ever taught you. What practical use is any religion that constantly rants about Heaven but offers no practical advice about your life after this life?
This information may have been a guarded secret in the past, but those days are gone. You can research this information to your heart's content on the internet, locate legitimate Spiritual groups and learn from those who can leave their physical body and explore the non-physical dimensions. But, don't expect any help from a mainstream church.
You might do well to recall the famous quote attributed to Jesus, "The truth will set you free". Mainstream churches are large, rich institutions. They did not get that way by "setting people free". They got that way by terrifying their followers with ridiculous horror stories of what will happen to them if they do not obey their crazy doctrines, stay with them and give them all their money.
Gnostic and other "non-traditional" religions may be Spiritual based as opposed to Earth based. Jesus always reminded everyone that he represented a kingdom "not of this world". If we had accurate records of his true lectures we would no doubt find practical instructions and information about this "other world". We don't have this information because any practical Spiritual teachings he might have given were censored out to create the simplified — but Spiritually sterile — mainstream religions we have today. They are simple to comprehend and follow but will not lead you anywhere except another physical lifetime somewhere on Earth.
Life Before Technology
Before technology life was simple. Although existence was hard, the opportunity for Spiritual experiences was greater than today. Consider, for example, all the empty time you would have as, say, a sheep herder. Nothing to do except make sure the sheep kept moving. In this situation, there was ample opportunity for the mind to wander and perhaps contemplate and glimpse other realities.
Also, and perhaps most important, no electric grid existed on the planet. Electric fields appear as solid "matter" in the Astral dimension and so can affect Astral experiences — generally in a negative way. Artificially created electromagnetic waves which blanket the planet today also have subtle and generally negative effects on living creatures.
Pagan groups generally conduct occult rituals outdoors and away from high population areas. When buildings are used, it is desirable that they be made only of wood and assembled without any metal (nails) and, of course, have no electrical wires.
Both good and evil existed before technology as they always have. It was possible to use psychological propaganda to influence and control susceptible masses of people. However, the positive and negative forces were more in balance. It was not possible for a single group to successfully dominate the planet.
Drugs existed in the form of various plants. Adepts learned how to use them to help or harm others. People with developed psychic abilities existed as they always have and white and black occult schools existed. Legitimate Spiritual masters existed.
Some techniques that thrived have essentially become extinct because the population of the planet has devolved. It is next to impossible to successfully teach Tantra (sex yoga), because today's generation is incapable of the required level of self control. Classic Tibetan yoga techniques are still taught in isolated areas, but the masters — for good reason — will no longer consider trusting outsiders.
Information Control Techniques
Information control is essential for protecting the integrity of a compartment. People are held as slaves by constructing an information box which holds the slaves in an information prison. As long as the "walls" of the compartment remain impenetrable, the compartment — or belief system — will be stable and no slave will escape.
Considerable energy is required to achieve this. Those assigned to protect the walls obviously know that the compartment is an intellectual illusion. Therefore, they must be sworn to secrecy and intimidated in such a way that they will not compromise the integrity of the compartment. It only takes one "leak" to initiate a chain of events which could collapse the compartment and so allow the slaves to escape.
Consider, for example, the Snowden leaks. One person sharing knowledge has totally destroyed the illusion of privacy that most people had accepted as fact. It will not be possible to reconstruct this illusion. The compartment has collapsed.
Similar principles apply in the Spiritual spectrum. Because of the characteristics of the human bodies in use on this planet, most people do not retain any conscious memory of events before they were born. This is not universally true. Life forms on many other planets retain the memories of previous existences. Because humans generally do not have this recall, they are easily enslaved and can be conditioned to believe most anything.
To maintain a state of Spiritual ignorance it is important to institute methods which will prevent people from realizing that they are actually Souls experiencing a constructed illusion. People somehow reaching this state, sometimes referred to as "self realization", will no longer respond to establishment propaganda and are generally considered a threat to the current social order.
The easiest and most direct method to achieve a stable slave population is simply not to talk about anything even vaguely esoteric. For example, how often have you heard the words astral, chakra or aura mentioned on a mainstream TV channel?
Most people will then likely "remain asleep" throughout their entire lifetime and will be no problem. Unfortunately, people have a natural desire — even though it may be an unconscious desire — to Spiritually evolve. It is, after all, the true purpose of human existence.
When someone tries to break away from the contrived illusions more direct methods are needed to return the slave to a state of ignorance. Today, various methods which cause brain damage — generally performed by psychiatrists — are used to negate any success in Spiritual evolution and return the slave to a state of vacant contentment.
Diversions and Techniques Promoting Inaction
The simplest and most effective diversionary technique is to promote scientific atheismand darwinian evolutionary philosophy as established fact. If you can get someone to buy into this philosophy, their fate is sealed. Even if they experience some contact with another dimension, such as an out-of-body experience, they will follow their programming, dismiss the experience as a delusion and refuse to investigate further. When they die, they will be totally lost and confused, flounder around on some lower Astral plane and eventually reincarnate just as Spiritually ignorant as before.
A side effect of accepting scientific atheism, which totally cripples Spiritual progress, is the acceptance of suicide as a way out of life's problems. Suicide becomes a learned reaction. Consequently, when the Soul is sent back into another physical lifetime, it is likely to commit suicide again when faced with some unpleasant event. It never learns, and this cycle can repeat essentially indefinitely. Dealing with this is one of the most difficult problems faced by the administrators who work on the Astral planes.
For those who want more than scientific atheism, there is mainstream garden variety religion. Mainstream Christianity has developed a clever stonewalling technique that has worked to promote inaction for thousands of years. This technique is centered upon the argument that no one can make any progress until Jesus returns to show the way. In the meantime, people should just do nothing and wait. The effect of this is essentially the same as scientific atheism. No Spiritual progress is made.
Schemes designed to waste time are common. One really off the wall example is the decision in Syria to prohibit vacuum cleaners and standard flat brooms in homes. "Witch type" brooms consisting of a circular straw bundle are allowed. Surely there must be a good reason to keep these terrorist weapons out of the reach of the typical Syrian housewife. The official reason is to make basic housework as difficult and time consuming as possible so as to prevent the woman from having any free idle time which, if allowed, could lead to the emergence of "immoral thoughts". Perfectly logical!
In the western world, complex bureaucracies seem to be deliberately designed to make the path to whatever you want as difficult as possible. Here the apparent motive is to prevent the acquisition of enough free time for any independent thought process. There are just not enough hours in a day to allow for any quiet contemplation of anything.
"Blank time" is always reported as a factor in the development of Spiritual figures. Time alone in the wilderness, time spent meditating alone in some isolated cave or at least periods of dedicated quiet time somewhere figure prominently in historical accounts of these people.
You may know or have heard of kids who spend all their waking hours playing interactive role model video games with other kids on the internet. They eat meals by the computer and never leave except to briefly sleep before returning to the all important game. Their entire life is spent in an imaginary reality. You may want to consider that your "real" life may not be all that different. You play a role. Your attributes are fixed by what society expects based upon that role. You can't change, because others would notice. Your concept of the world beyond your little world is determined by what you see on TV. Daily, you receive your "fix" of carefully choreographed "programming" which appears unusually coherent because, as you may not know or fully comprehend, everything on TV is controlled by a few corporations and all of them are loyal to the official government party line. If you somehow had the opportunity to break from this structured "game" you play from day to day — say, the opportunity to visit other countries and see other cultures — you would likely realize that your existence has not been that much different from the kid addicted to a computer game. You would find that the actual "real" world had very little relationship to the world you had been conditioned to believe existed.
Chemical Control Techniques
"With the use of chemical brain-control agents it may be possible to control the individual and the masses and to do this unobtrusively and without the active cooperation of the victims — not a question for the future — it is here".
This is a quote from the book by Edgar Cayce titled Edgar Cayce on Atlantis. There are references to Dr. Robert Galbraith Heath, and this book bears a copyright date of 1968. The book cites an interview that Heath gave to a newspaper called The Virginia Lighthouse and cites the above statement made by him on November 20, 1966. Heath founded the Department of Psychiatry and Neurology at Tulane University, New Orleans, in 1949 and remained its Chairman until 1980.
During this period, Tulane University actively participated in the CIA mind control project known as MK Ultra [1]. Also, during this period, Tulane became an active member of the secret Institute for Defense Analyses, or IDA, a corporation whose only client is the US government. Heath reportedly performed many experiments there involving electrical stimulation of the brain via surgically implanted electrodes. This work was reportedly partially financed by the CIA and the US military. Heath is now "officially" [11] deceased.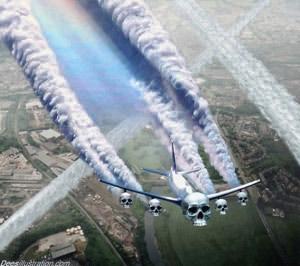 You have been drugged since you were conceived — before you were even born. Your mother was drugged. Soon after birth, you were injected with mercury containing vaccines. And the systematic process of poisoning you never stopped.
By some estimates at least eighty percent of the food in the average supermarket is poison either because it is genetically modified or laced with pesticides and other additives. Even the air is poison now because of geoengineering chemicals sprayed into the upper atmosphere.
It should be noted that things are different in the separate but parallel world of the elite. The Max Keiser show [12] discussed the secret gardens in Japan. These gardens are surrounded by high walls and guarded by the military. They produce the food for the ruling elite. Every plant in the garden has its own health certificate certifying that is pure, healthy and not genetically modified. Obviously, every developed country must have a similar secret supply chain of legitimate food for its ruling class. Certainly the elite know better than anyone that the food supply for the ordinary people is poison. They're not fools. They wouldn't touch the stuff.
Vaccines used for the elite are prepared without the mercury and other toxic additives found in vaccines given to the ordinary people.
Various agents — mainly from plants — have always existed which could be used by those aware of them to harm others or control people by altering their state of consciousness. However, only recently has it become practical to wreck the health of essentially everyone on the planet at the same time. Genetic modification of plants and other life forms used for food has made this possible. Now, quietly, people throughout the world can be sterilized, crippled with serious health problems or even killed by altering the genetic makeup of the food supply. Ordinary people remain generally ignorant of the fact that this awesome power exists and is presently being used against them.
Mind control has become a science. You can't major in it in college because this science is essentially entirely secret. The United States and other countries have spent the equivalent of billions of US dollars investigating and perfecting mind control.
Many secret research projects using unsuspecting or perhaps kidnapped people — some of whom were killed — have been conducted in the past and continue today. We only know about a very few of these projects such as MK Ultra, MK Naomi and Project Other. Even in these projects, specific details are sketchy. From these experiments, practical techniques for creating manchurian candidates and implanting created false personalities and identities have been developed and are in common use today within the secret communities.
Everyone has likely been the victim of some degree of mind control to some extent. Chemical weapons designed to mentally cripple people and render them drooling idiots are freely sold as prescription drugs in drugstores and are available to doctors to use as they please.
The lives of many kids are destroyed by these "drugs" because they have no ability to resist and their parents are ignorant and believe doctors can "do no harm". Actually, today's doctors are agents of the state. Many have top secret clearances and embrace classic Nazi philosophies such as eugenics. Their function is to watch you and make sure you "die appropriately" so as not to burden society. Anything they learn about you and anything you tell them is freely available to anyone in the intelligence community who is curious about you.
Only members of the super elite who are entitled to access top secret medicine will receive legitimate supportive medical care. Ordinary people will be deliberately allowed to die even though doctors with top secret clearances know of effective treatments which would cure them but which are classified and reserved for the chosen elite.
There is no such thing as an incurable disease any more. All the cures have been discovered. If you die, it is because you are not considered important enough to live and not because the cure does not exist.
Common sense should suggest to you that the lives of the elite have statistically different characteristics. For example, members of congress do not live sheltered lives. They work in close quarters and travel extensively both locally and internationally. They are always hanging out with prostitutes as well as playing with the young congressional pages.
Washington D.C. is reported to have more brothels than fast food joints. Strangely, however, these people do not get sick. Have you ever heard that congress had to shut down because everyone was coming down with some infection. It happens in other close populations, so what would make them exempt?
Understanding Astral Damage
Living things have an Astral component. For example, when you cut a leaf and then see the complete leaf on a Kirlian photo you are viewing the Astral component which was unaffected by cutting the physical component because it does not exist in the physical dimension.
Over one hundred years ago, practical techniques for viewing the human Aura were developed by Walter J. Kilner [4]. The original technique used dicyanin dye and a later technique used special glasses. You can't find either one today. In his research, Kilner was able to demonstrate that defects in the human Aura appeared before some corresponding disease manifested in the physical body.
Therefore, he was able to detect and prevent an adverse physical condition before it ever physically materialized. So, you ask, why don't we have this marvelous medical technique available today? Well, we do. It is in use in top secret medicine. However, only the approved elite now have access to it. The information has been removed from public knowledge and classified.
In conventional allopathic medicine, which is based upon scientific atheism and sold to the general public, there is officially no such thing as an Astral body. Conventional medicine denies the existence of anything beyond the physical dimension. Since the Astral body officially does not exist, it is not recognized as a crime to deliberately harm it.
Damage to the Astral body can be compared to damage to the physical body. If you punch holes in the physical body by cutting it, shooting bullets at it or whatever, blood runs out and germs get in. If you cause enough damage, the body dies. Astral bodies do not die, but can suffer critical energy losses. Similar to physical bodies, punching holes in the Astral body allows essential energy to escape and harmful energies to enter.
There are many events which can harm your Astral body. It is in your interest to understand these events because your Astral body will be your primary body when your physical body dies. If it has been damaged, you will be at a severe disadvantage. The chosen elite have perfect Auras because they can use the Aura balancing machines available to them at any top secret medicine provider. However, you cannot.
Also, the ruling elite seem to take some delight in causing harm to the "ordinary" people. Consequently, many drugs, food additives, GMO foods and industrial chemicals found in the environment cause Astral damage. Chemicals recognized as poisons and banned in other countries can be freely added to foods given to ordinary people in the US.
Obviously, there must exist a secret supply chain of safe food and water which is available to the chosen since they know of the contamination and certainly would not want to harm themselves or their friends.
There are ways to closely duplicate the secret techniques available only to the elite. If you can see auras or can find a reputable psychic who can, you can approximate the techniques developed by Kilner and available to everyone over a hundred years ago. Although the secret aura balancing machines are more accurate, a competent psychic healer can do the same thing. Actually, since psychics have always existed, similar techniques have been available throughout the ages to those who were aware.
Fluoride
The concept of adding fluoride to drinking water for the purpose of mind control is said to have originated in the 1930′s as a result of collaboration between German and Russian scientists [2]. Sodium fluoride was originally used and was found to cause a "mild lobotomy" in people who consumed small quantities. The effects were considered to be non reversible after one year of continuous use of the tainted water. Hitler added sodium fluoride to the water in his concentration camps to make the prisoners docile and cooperative as they waited for death.
Sodium fluoride (NaF) is used today in personal products like toothpaste. To poison the water supply of an entire country with sodium fluoride would be expensive. However, it just so happens that there is a waste product created during the manufacture of phosphate fertilizers, Fluorosilicic acid (H2SiF6), which is classified as hazardous waste and would be expensive to dispose of under EPA guidelines.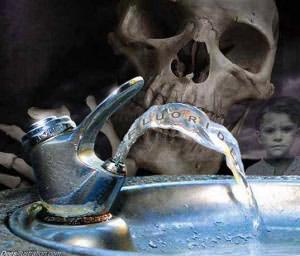 There is lots of this stuff available. This is the poison added to the public water supply in the US and some other countries. It is actually economical for industry because they don't have to pay for hazardous waste disposal. They just pump it into the public water supply.
In the human body, fluoride has an affinity for the pineal gland in the brain. The pineal gland is associated with the "third eye". Everyone has this third eye, but few are aware of it or know how to activate and use it.
Although the pineal gland is part of the physical body, the associated third eye is part of the Astral body and so is invisible in the physical dimension. The third eye allows you to see and communicate with the non-physical dimensions while fully awake and functioning in the physical dimension. So, you could see and carry on a conversation with someone in the physical dimension while invisibly also viewing and communicating with some entity on another plane of existence.
The standard Christian bible refers to the third eye with the phrase, "If thy eye be single thy whole body will be filled with light". However, only students of mysticism would recognize the true meaning of this quote.
Obviously, having this ability would be a threat to the security of any totalitarian society. Poisoning with fluoride destroys this ability and so solves that problem. Literature is available if you wish more detailed information. Simply search using the phrase "fluoride third eye".
On the chance that fluoride in the water is not sufficient to destroy any psychic abilities you may have, there are more aggressive ways to get fluoride into your brain. Here are some structural models of popular psychiatric drugs:
Notice that the element Fluorine (symbolized by its standard chemical symbol "F") figures prominently in all these compounds.
These drugs are used to cause "chemical lobotomy". By blocking communication channels with the higher levels of the human brain, they effectively convert the victim into a lower form of animal. Lower animals do not have the frontal lobes possessed by humans. That is what makes humans special. Disabling the frontal lobes effectively transforms a natural human being into, basically, a docile and obedient house pet which can be trained like a dog.
Incidentally, Fluorine also figures prominently in Sarin nerve gas.
For a more in depth study search YouTube for the free documentary Flouridegate — An American Tragedy by David Kennedy.
They All Drink From the Same Trough
If you casually look out upon the institutions of the world, it may appear to you that they are independent, discrete entities. However, they are not. They are all components of a collective which has successfully hidden its existence and true nature from the general population for generations.
Let's begin with the media in the US. Although it may appear to you that there are thousands of independent sources reporting "news", 90% of all media is controlled by six corporations. They are General Electric, News-Corp, Disney, Viacom, Time-Warner and CBS.
In the US, people believe they are protected from tyranny by the concept of "separation of powers" — that the executive, legislative and judicial branches of government are staffed by independent thinkers who "check and balance" each other. This is also a deception.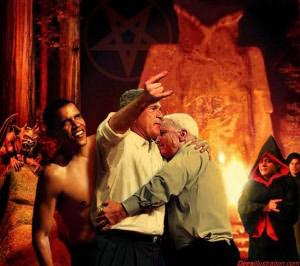 Once a year, at the end of July, there is a secret gathering on private property in the redwood forest of California called the Bohemian Grove. Although this annual meeting has been going on for over one hundred years, it is only during the last several years that outsiders have begun to learn of its existence. The only reason they have is because of the internet and independent journalism. Leaders from the mainstream media are all members of this secret club and so never even report its existence.
Who else goes to this annual secret "party"? Well, for want of a better name, we will call them the "Trusted Satanists". They are the leaders of all the major corporations, banks and representatives from all the major branches of the US government as well as foreign governments.
Although these men outwardly support the concept of capitalism for the masses, this elite group, among themselves, are perhaps best described as "rich socialists". Only men are allowed. For recreation, a stable of prostitutes — both male and female — are kept nearby off-site. The male prostitutes could theoretically enter the Grove.
The "party" begins with a Satanic ritual called "Cremation of Care" (i.e., "we don't care") which features the burning of a coffin at the base of a huge statue of an owl. Walter Cronkite reportedly was the official announcer at the grove until his death.
A secretly filmed video of this event is available on YouTube. It is supposed to be a "simulated" child sacrifice. However, since the CIA, FBI and NSA attend the ritual, who is going to complain on the chance it is a real sacrifice of a human child? After all, they are all trusted Satanists.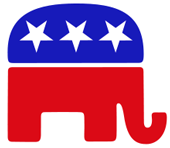 Most attendees from the United States are members of the Republican party. This is completely predictable in view of the fact that the US Republican party flaunts its affiliation with the "dark side" by prominently using the inverted star symbol on its official logo.
During the two week period, corporate leaders, the "independent" government regulators who supposedly keep corporations honest, the leaders from the executive, legislative and judicial branches of US government who are supposed to be "checking and balancing" each other, as well as the media moguls who we "trust" to report the truth, are all running around naked in the woods — pissing on the trees, playing with each other, and the male prostitutes as well as the off-site female prostitutes, and "having discussions".
Well, what are they "having discussions" about? They are discussing what they plan to do with "their world". The Manhattan Project to develop the first atomic bomb was reportedly planned at one of these discussions years ago. What about you? What about your future? What about any expectation of happiness you may have? Well, you see, you "don't need to know". Remember, "If you are not one of us, you are nothing".
Blueprints For the New World
Overview
If this link [7] is still active, it would be in your interest to read through it. This document is a transcript of a speech given by one of the insiders in the year 1969. He boldly states,"Everything is in place and no one can stop us now".
The article details how people ("people" means the slave class who are "nothing"; recall: "If you are not one of us, you are nothing") will just have to get used to changes such needing permission to have children, accepting mandated euthanasia as the law and total surveillance. Essentially all goals are now achieved, although some still remain guarded secrets.
The 1960′s was the period when physical death was eliminated. Of course, this "privilege" is only available to the select Satanic oligarchs. Effective cures for all diseases were also developed. The speaker [7] states that the cures are on file in the Rockefeller Institute. Of course, most are classified and only available to the chosen elite.
Infrastructure
The PBS documentary, Top Secret America [8], presents a good overview of the secret world of the elite. You may think no one is paying attention to the infrastructure in America because streets are in disrepair and bridges are falling down. However, you would be wrong. A tremendous amount of money is being spent on infrastructure in America — for the chosen elite. You will never see it and you will have no need for the decaying bridges and streets because you won't be around to use them. You, as well as 90+ percent of the current population, will be killed in the "Great Culling".
The new infrastructure is quite elaborate as the documentary explains. It consists of thousands of buildings which have a few stories visible above ground but which then extend for 90+ stories underground. All amenities are available within these secret structures which are basically self-sufficient.
It is important for the buildings to reach deep underground so that the lower levels can connect to the secret underground transport network. This network is global and provides safe high speed transport for the elite. Whenever the network crosses a tectonic plate, massive amounts of silicone are used to allow the transport tunnel to flex as needed. The network has access points in all countries. However, these points remain secret in countries which have yet to be subdued and co-opted into the new world order.
NWO Enabling Documents
The treaty known as the Trans-Pacific Partnership appears to be the formal enabling document for the new world. The actual document is secret and only high level corporate executives and politicians are allowed to see it.
Even after the treaty goes into force, its contents will remain secret. Because, in the United States, treaties must be openly debated in congress, the treaty is being called an "agreement" to circumvent the law and keep its contents secret. However, some details have become known.
Although the planet is officially divided into "sovereign" countries, it is overlaid with a network of transnational corporations. This network basically forms a parallel government which encircles the globe. The Trans-Pacific Partnership is designed to cause any country which signs on to surrender its national sovereignty to a secret committee composed of corporate executives. This committee can then alter the constitution and laws of any country which has accepted the treaty as suits their whim. There will be no appeal against this.
Under the treaty, there will be only one purpose to human life. That purpose will be to maximize the profits of the cabal of transnational corporations which will now be essentially a single global corporation in absolute control of the world. This effectively institutionalizes the new world order.
What does this mean for you? Well, to begin with, there can be no retirement. Paying for retirement would negatively impact corporate profits. So, if you can't work, you will be killed. Taking care of sick people would also drain corporate profits. It would be more profitable just to kill the sick and replace them with young, healthy slaves. Disabilities — forget it — disabled kids will never make it out of the womb alive.
Reeducation
To come into compliance with the philosophy of the new world, people will need to be reeducated. Military instruction documents [6] are already teaching that the Founding Fathers of the United States were extremists and anyone who thinks like them would not be suited for today's military.
Well, what did these radical extremists think?
"We hold these truths to be self-evident, that all men are created equal, that they are endowed by their Creator with certain unalienable Rights, that among these are Life, Liberty and the pursuit of Happiness."
Obviously, these principles are not compatible with the new world. The idea of a "Creator" conflicts with the official doctrine of Evolution. We can't have that. People must accept that they and the universe they live in is simply an "accident".
People are already realizing that Liberty and Happiness are gone. They know now that they live under constant surveillance and their lives get worse year after year. How about the right to Life? Can't have that. People need to be reeducated to believe that it is their "duty to die" when they are no longer useful to the state (which is now the global corporation).
Of course, the global elite will live physically forever but ordinary people will not know this.
If a world where people are conditioned to want to die and do not want kids but just sleep around for fun sounds vaguely familiar to you, you might recall that this is the future society described in Huxley's classic novel, Brave New World.
Population Modification
Please refer to [9] as a reference source. Today's "great thinkers" seem to be coming into agreement that most people are unnecessary and need to be exterminated for the convenience of the elite. Bill Gates, who has now been accepted into the super exclusive Bilderberg group, has reportedly taken the task of exterminating the third world population by giving them "free" vaccinations which will render them sterile.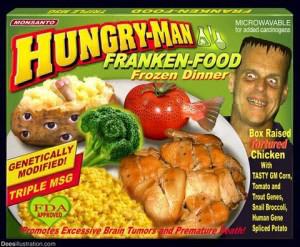 Lots of groups are working on secret sterilization methods. European tests of Monsanto's GM soybeans on hamsters showed the animals became sterile by the third generation [12]. A new gene known as Epicyte [9] is planned to be added to GM corn which will cause immediate sterilization.
Additionally, people are being "eased into" accepting the concept of "after birth abortion". Intellectuals are trying to get people to accept the argument that living human children under three or perhaps even five years old are really "not people but advanced feotuses". Since abortion is already legal, a simple change in the definition of "feotus" would allow young kids to be killed at will for any reason.
Another "new thought" gradually being programmed into the young is the pleasure of the "childless lifestyle". This propaganda seeks to convince people that having kids is too much trouble and they will be happier if they just get sterilized and then run around having lots of sex purely for fun.
These "evolutionary" population control techniques are already in effect. However, the elite likely are not willing to wait several generations to get rid of those they do not need. This brings us to the more direct method commonly called "The Great Culling" which will allow the elite to kill off most of the world's population quickly.
The most likely method will be the release of new designer viruses for which no one will have any natural immunity. Of course, the elite will all get the classified antidote. Preparations for the disposal of the bodies is already complete and stockpiles of plastic coffins — each designed to hold three bodies and manufactured under government contract by Halliburton — have been photographed and documented. Everything is now in place awaiting the "go" command.
Designer Children
Some types of designer children have already been approved for "production". Britain has approved three parent babies [10] and China has proposed a process to artificially fertilize most of a woman's eggs and then examine them to determine which is likely to produce a child with the highest IQ. This will be the only selected egg because Chinese women are only allowed to have one child and must then be sterilized.
In the new world where the only purpose of people will be to do slave labor to serve the elite corporate masters, the concept of allowing the existence of children conceived naturally clearly cannot be allowed. There would be an unexceptable chance for some kind of error that could result, for example, in the creation of a being capable of independent thought who might challenge the establishment.
A man's true worth is measured by the amount of other people's happiness that he can possess and destroy
This is a quote from the docudrama The American Ruling Class [5]. It is worthy of discussion because it is so prophetic.
The Satanic oligarchs who run this world basically exist and thrive on the misery of others. It is not enough just to use and abuse you — they want to consume your Soul. Your misery and suffering is, essentially, their "food". It is the source of their energy.
Ordinary innocent Souls are sustained by the life energy which flows from the Creator. However, since the oligarchs hate God, this energy flow is not available to them. So, they essentially survive by consuming the life energy of the innocent Souls they have captured and enslaved.
Ordinary people do not naturally choose to spend their lives in a state of constant war. They have to be somehow coerced into this behavior. Otherwise, they would likely seek a quiet, peaceful life. The atrocities the US and other warmonger nations force their citizens to commit are so contrary to basic human nature that the US loses more soldiers to suicide than it does to the enemy. The once innocent soldiers find that they simply cannot continue to live with what they have become and the memories of the horrors they have caused to others. The Satanic rulers who create wars, of course, have no problem with this.
Promotions within the inner circles of power are based upon how much evil one has done. The more harm you cause to others the greater your respect. You may have noticed that the stock market, which is a measure of the success of the elite, shows gains during periods when the average person is suffering and losses during periods when, somehow, life for the ordinary person seems to improve. The stock market set a new all time high, for example, during the Vietnam War when innocent young kids were being drafted and slaughtered in Vietnam while peaceful protesters at Penn State were executed by government forces for daring to dissent.
Why You Should Care
On the low Astral planes you will find people — Souls — who are totally lost and confused and seem to move in slow motion. They do not realize they have died. These "people" are not there because they tore up the Bible or burned the Koran or some other offensive act. They are there simply because it is the best they can do. They are using all of the Spiritual energy they have just to maintain this miserable existence. Whatever activities they engaged in while alive had no Spiritual merit and had no effect on developing or increasing their Spiritual energy level. Since the opportunity to do this ended when they died, they will remain strung out in this condition until they reincarnate again at which point they will have another chance to choose activities which enhance Spiritual energies.
You should care because the things you do and the things you fail to do during your brief life here will affect your existence for millions of years in the future.
The other dimensions operate under exact scientific rules just like this dimension. However, the rules are not the same. Because alternate sources of information are available today — mainly because of the internet — it is in your interest to at least investigate the available literature on Spirituality, energy raising techniques and various first-hand reports from people who have successfully visited the neighboring dimensions.
Source:  Walter C. Vetsch   |   3108.info  |  War Is Crime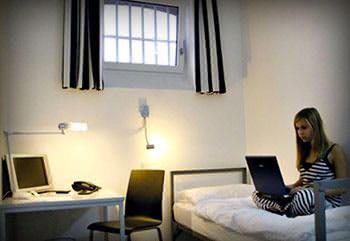 The most precious gift given to humanity besides its very existence and innate connectivity to universal Source is the gift of free will. We can choose. We ultimately have the power to make decisions for ourselves. Unfortunately this concept is buried under the rubble of ignorance and social engineering and of course becomes a very complex matter as life's input and experiences complicate our entire decision-making process.
And freedom and free will? They're generally relegated to philosophical treatises and ideological tugs of war in the political arena. Nicely sectored off to where they can't touch our consciousness and every day living.
Many argue that in today's circumstance we are not free to make our own decisions, that in effect we often don't even have free will as evidenced by history. This strikes at the root of the problem. Disempowerment via thinking we need permission versus knowledge of our inborn nature of pure freedom. It may appear that it's been deprived at times. Free will seems to be often negated or seriously limited under certain circumstances, either by choice, coercion or collusion.
But is it really, no matter how draconian? After all, much of humanity seems to not even know that it is inherently free, never mind does it appear to even want to fully exercise such a sense of inborn freedom.
The Majesty of Choice
We are crowned with the ultimate gift: a completely autonomous conscious will. We can choose what we say, what we do, what we respond to, what we give our attention and energy to. Again, it may not appear so with the way society is structured and judging by the very bound condition and behavior of mankind. While the idea of freedom still distantly rings in the hearts of men, it has taken on many severely compromised meanings. On purpose.
In addition, for some reason it appears we've given up our freedom to varying degrees in exchange for something. But in exchange for what? Security? Acceptance? Ease?
It sure appears that way. But how did this come about? And who said we had to trade anything? Was it a deliberately designed trade off to keep humanity in servitude with an illusion of choice? Looking at the contrived and extremely controlling political and economic structure of our planet's various societies and the miserable state of most of its inhabitants, it's clear something is seriously wrong. Especially with a clearly ruthless ruling class of uber-privileged riding the backs of the oppressed who are the ones producing the goods.
Throw Off the Shackles
Is our lost sense of true unshakable spiritual freedom exactly that which would empower humanity to throw off the shackles of a system built on carefully manipulated voluntary slavery? Is this what the war on the human body, mind and spirit is all about? To block our remembrance?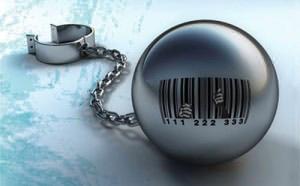 When someone has come to an awakening of true consciousness, or should I say to consciousness since it in itself was never asleep, something profound happens. And continues to unfold. We tap into Source — unadulterated, unfiltered, unlimited, infinite creative Source, or whatever you want to call It. This is where the spiritual and the metaphysical meet the mental and psychological, where true science and knowledge meet the great synchronous Universal life force.
It's all essentially One. The compartments are gone. There are no divisions in the essential Oneness and everything makes sense. And it's because you inherently let go into an experiential perspective where you realize it's not important to know everything or be anything. You just are and everything is wonderful at that level. A great clarity comes over you.
Of course there are differences in manifestations and there are apparent conflicts on many levels brought on by a variety of influences, but in the context of freedom this is where you find its true reality and definition. The sovereignty of spirit that is the inherent right of everything. And man does it blow away any and all man-made structures of any sort in a hurry!
The False Game of False Choice
Herein lies one of mankind's dominators' most effective tools for manipulation. This understanding was documented over the past and previous century, realizing people work harder and better and are more complacent if they feel they have a say so about their captivity. It's quite remarkable. We're still a feudal society, they just figured out how to make us build our own prisons while thinking we're free.
Besides the most obvious example of phony democracy and the easily manipulated voting scheme, glaring assumptions are deliberately embedded into society via religion, false science, hobbling education, social pressure, the media, etc. We're handed platitudes about hope, change and security while the media pumps amusement, materialism, fashion and other forms of acceptance conditioning to keep the populace totally preoccupied with a comatose state of self indulgence.
And as for capitalism (which all forms of government espouse) that's the end goal. Your personal satisfaction, at whatever cost to others who weren't as savvy as you in learning to get what they want.
Fear — The Enemy of Freedom
Why do people cling to corrupt, limiting systems even to their own hurt? Fear of the unknown is very powerful, especially amongst the ignorant. Just fear of not having your next meal can trap you. Fear of being without, fear of being alone, fear of being attacked, fear of dying.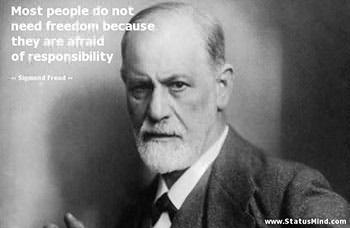 All extremely powerful.
And afraid people will not make conscious decisions, but survival instinct based decisions. Of course there's a time for that as in the fight or flight response to a very real attack from something, but this response can be very easily triggered just by words and bury any chance of conscious living.
Maslow's hierarchy of needs is a concept that's always fascinated me. There's so much truth in the idea that if your basic needs aren't met first, how can you think about the more erudite and spiritual notions of our existence? Well, easily. It was a way of life for indigenous cultures for millennia. It was incorporated, and without which the culture based on spiritual connectivity would have collapsed. This is why indigenous peoples have been marked for genocide by these parasitic controllers.
They represent living wisdom. The knowledge of how things naturally work using conscious awareness and the underlying principles of love, sharing, giving and cooperation. Diametrically opposed to the abusive farming techniques of today's controllers.
Control is the issue, nothing else. Personal empowerment beyond their set boundaries is not an option.
The Enemy Within — Those Who Choose Slavery
This begs a huge question. Would you fight for someone's freedom who doesn't even want it? Is it worth so-called liberating someone who chooses to remain bound — and may even prove to be a liability for what you're trying to do?
There are several famous analogies about this phenomenon. Elephants for example are tied to a stake in the ground with little to circumscribe their maneuverability. They learn their "limitations" well. Later on the rope is removed, but the elephant will stay in the same circumscribed limits. The same has been told of many animals.
It works.
It works on humans as well. Scientists have been capitalizing on this behavioral tendency for a long time, the most famous of which is Pavlov and his salivating dogs. Closely watching those experiments from the start were military personnel. I wonder why. Remember your school period bells ringing like fire alarms between classes? You can thank Pavlov's work and the implementation of the social engineers.
Entrained response. Same dynamic at work in advertising, politics, religion and any aspect of social engineering.
But can those in such a deep coma awake to realize their innate freedom and thus activate? Who's to say. It's a phenomenon to be well aware of. Just remember, groomed dependence is tough to shake for anyone. But anyone can wake up at any time, never ever forget that.
Conclusion — Does Knowledge of Its Innate Freedom Freak Humanity Out?
As Yogi Berra allegedly said, "When you come to a fork in the road, take it." While funny, there's some good advice there — get the hell going and stop worrying about it all so much.
We're all up against the wall when it comes to responding to this assault on humanity we're experiencing. It's more serious by the day politically, materially, socially, physically, spiritually. It's a planet gone wild due to the cumulative efforts of manipulating influences that seem to have full sway without anyone knowing how it got that way. We're seemingly relegated to the observer's seat, awaiting the decision of some hidden tribunal what shall be our fate.
It's time to wake the hell up.
It's bullshit to think humanity has to sit and take this. What's being perpetrated, no matter how cunning, is a rounding up of the drugged and dazed herd. So many of us can see it clearly for what it is yet seem to be screaming into the ether.
My impetus? The more clearly our challenge and situation is articulated the more conscious activists keep on with their efforts, and on it rolls. We do need to reach a greater audience than those awakening but with the recent setback regarding Syria as well as many other instances that seem to point to our efficacy, we're on the right track.
And if there's a better one, well doing what we can now will lead us there in a heartbeat!
Much love, keep on with all your heart,
Zen
Source:  Zen Gardner  |  Just Wondering  | War Is Crime
A controversial report released this month by the International Monetary Fund outlines schemes to have big-spending governments with out-of-control debts plunder humanity's wealth using a mix of much higher taxes and outright confiscation. The goal: Prop up Big Government. Because people and their assets are generally mobile, the radical IMF document, dubbed "Taxing Times," also proposes measures to prevent them from escaping before they can be fleeced. Of course, the real problems — debt-based fiat currency, lawless bank bailouts, and a cartel-run monetary system — are virtually ignored.
Pointing to absurd and rising levels of government debt, as well as increasing income inequality, the IMF document suggests there are few remaining options for desperate policymakers to explore. Two that are mentioned include "repudiating public debt" — in other words, defaulting on government bonds — or "inflating it away" by having privately owned central banks conjure even more gargantuan amounts of fiat currency into existence at interest. Both of those plots, of course, would still represent a massive transfer of wealth.
However, even though it hides behind the passive voice, the IMF preference for dealing with the debt problems appears to be simply confiscating the wealth more directly. "The sharp deterioration of the public finances in many countries has revived interest in a capital levy, a one-off tax on private wealth, as an exceptional measure to restore debt sustainability," the report claims. "The appeal is that such a tax, if it is implemented before avoidance is possible, and there is a belief that it will never be repeated, does not distort behavior (and may be seen by some as fair)."
Reducing government debt ratios to "pre-crisis levels" seen at the end of 2007 — before the multi-trillion-dollar banker bailouts and ramping up of the lawless currency printing at central banks — will require "sizeable" tax rates, the IMF continues. Citing a sample of 15 euro-area nations, the report claims that all households with positive net wealth — anyone with more assets than debt, in essence — would have to surrender about 10 percent of it. Because many people who lived responsibly and saved would try to avoid the looting of their wealth, drastic measures must be considered to stop them.
"There is a surprisingly large amount of experience to draw on, as such levies were widely adopted in Europe after World War I and in Germany and Japan after World War II," the IMF report notes. "This experience suggests that more notable than any loss of credibility was a simple failure to achieve debt reduction, largely because the delay in introduction gave space for extensive avoidance and capital flight, in turn spurring inflation [sic]."
By proposing the outright confiscation of middle-class wealth, analysts say the IMF is essentially acknowledging that simply looting "the rich" will not be enough to even restore government debt to "sustainable" levels. Still, the non-establishment "rich" would face by far the most ferocious assaults on their assets under the schemes outlined in the radical IMF report, which was promptly celebrated by Big Government-supporting politicians.
Noting that financial wealth and people are mobile, the document suggests that there "may be a case" for confiscating varying amounts of wealth using various means — all depending on how easy it would be for people to protect the assets in question from legalized looting. "Substantial progress likely requires enhanced international cooperation to make it harder for the very well-off to evade taxation by placing funds elsewhere," the report says matter-of-factly.
Taxes on the "rich" of around 60 percent to 70 percent, according to the IMF, would likely be the rate at which the most plunder could be extracted for desperate governments. "A revenue-maximizing approach to taxing the rich effectively puts a weight of zero on their well-being," the report explains, calling that notion "contentious." "If one attaches less weight to those with the highest incomes, the vote would be to increase the top marginal rate."
Private companies that try to reduce their already-crushing tax burdens using "tax planning schemes," as the report calls them, are also in the IMF crosshairs for increased wealth confiscation. In a section headlined "Tricks of the Trade," for example, the document blasts business efforts to provide services directly from "low-tax jurisdictions" as "abusive."
In essence, the IMF and other taxpayer-funded international institutions hope to see a stronger global regulatory regime to ensure maximum wealth extraction via corporate taxation, too. "The chance to review international tax architecture seems to come about once a century; the fundamental issues should not be ducked," the report argues.
The devastating consequences of squandering ever-greater amounts of productive capital on government programs, of course, are largely overlooked. Meanwhile, the unspoken assumption underpinning the radical ideas is essentially that companies exist to produce wealth for governments to spend — rather than value for shareholders and consumers as has traditionally been the case.
Looking past the bureaucratic language, the IMF caveats, its effort to hide behind the passive voice, and the thinly disguised attempt to make the heist sound palatable to the public because not everyone would be fleeced just yet, the message becomes clear. What the IMF is really saying is that the proposed massive confiscation of wealth must be adopted quickly and quietly — before people have a chance escape it.
Among other schemes discussed in the report is "harmonizing" taxes across jurisdictions, a longtime globalist goal pushed by more than a few establishment-run international institutions. To ensure that governments can extract as much wealth as possible from the productive sector of the economy, more cooperation between them is supposedly needed to eliminate tax competitionamong jurisdictions. After all, if one government sets lower tax rates to attract businesses and capital, other regimes are being deprived of what the IMF appears to believe is rightfully theirs to seize.
While the report has largely escaped the attention of the establishment media, analysts who dug into it were shocked. "It may all sound far-fetched to you now, and most people will still cling on to the idea that 'they wouldn't do such a thing'," noted Raul Meijer in an analysis posted on Market Oracle, suggesting that the Cyprus heist would likely serve as a "blueprint" for future looting — as EU officials promised. "But that the IMF proposes it at all, and so openly, suggests that they might, if only they can figure out how."
Writing in Forbes, meanwhile, Competitive Enterprise Institute Fellow Bill Frezza highlighted three major takeaways from the report. The first point is that IMF economists understand that even if 100 percent of assets belonging to the "1 percent" were expropriated, there would not be enough to fund today's governments. "That means that all households with positive net wealth — everyone with retirement savings or home equity — would have their assets plundered under the IMF's formulation," Frezza explained.
The second major takeaway, he continued, is that such a "repudiation of private property" would still not be enough to pay off the debts of Western governments or to fund their budgets going forward. Instead, it would merely "restore debt sustainability," as the IMF put it, allowing governments to keep borrowing until the next crisis strikes — "for which stronger measures will be required, of course."
Lastly, Frezza explained, if the political class fails to "muster the courage to engage in this kind of wholesale robbery," the only alternatives offered by the IMF were debt repudiation or hyperinflation. "Structural reform proposals for the Ponzi-scheme entitlement programs that are bankrupting us are nowhere to be seen," he added.
Concluding, Frezza painted a dire picture of what the future may hold if the would-be looters are not restrained. "Yes, this is where the bankruptcy of the modern entitlement state is taking us — capital controls and exit restrictions so the proverbial four wolves and a lamb can vote on what's for dinner," he wrote. "That's the only way to keep citizens worried about ending up on the menu from voting with their feet."
In another devastating analysis of the latest IMF report, which was released in mid-October, Ryan Bourne, head of economic research at the Centre for Policy Studies, blasted it for being filled with "left wing" ideas. "The IMF is playing with fire by giving intellectual backing to punitive taxation," he said. "Underlying these policies is an ideological assumption that wealth is a collective resource, with governments the benevolent seekers of the common good, whose ability to provide services is undermined by an eroding tax base…. These policies should be anathema to anyone valuing individual freedom, growth and long-term fiscal responsibility."
For IMF boss Christine Lagarde, however, what the would-be global wealth confiscators are demanding is simply part of formulating a "just" fiscal policy. "It's clearly something finance ministers are interested in, it's something that is necessary for the right balance of public finances," the former French finance boss was quoted as saying during a panel discussion this month. "There are lot[s] of wasted opportunities."
Of course, the IMF report glosses over the fact that the overwhelming majority of policy changes among advanced economies in recent years went in the direction of tax increases. It also ignored the screaming gorilla in the room: the flawed monetary system and the ludicrous government spending spree at the root of the financial crisis and the ongoing economic problems plaguing the world.
There may be good explanations for that. Despite receiving generous taxpayer-funded salaries and perks, for example, IMF bureaucrats do not pay the exorbitant income taxes they are demanding for everyone else. Meanwhile, the controversial global institution has already been playing a key role in recent heists — with the confiscation of people's savings in Cyprus among the most stunning examples.
Even more important, perhaps, is the fact that the IMF is being openly groomed to serve as a global central bank in charge of aplanetary currency. It already issues the proto-global currency known as Special Drawing Rights, but the establishment has much bigger plans in mind, as The New American magazine has documented extensively. If liberty, prosperity, and national sovereignty are to be preserved, the radical looting schemes advanced by the IMF and other planetary institutions must be resisted in favor of real reforms.
Alex Newman is a correspondent for The New American, covering economics, politics, and more. He can be reached atanewman@thenewamerican.com.
Source: The New American
These Dates Forever Changed America For The Worse…
Well, Obamacare is now in effect. The decision by Congress to pass Obamacare into law back in 2010 ranks among the most draconian, most egregious, most horrific actions ever taken by the central government in Washington, D.C. This bill rocks the principles of liberty and constitutional government to the core. It changes fundamental foundations; it repudiates historic values. The same flag may fly on our flagpoles, the same monuments may grace our landscape, and the same National Anthem may be sung during our public ceremonies, but it is not the same America. For all intents and purposes, our nation now more resembles the socialist countries of the old communist East Bloc than it does the constitutional republic of the old land of the free.
I was honored to have been invited to be the keynote speaker at the annual meeting of the Association of American Physicians and Surgeons recently in Denver. It was a very large gathering of physicians from all over the country. And I can tell you that the doctors I spoke with are all very, very concerned about the future of healthcare in the United States. Take a peek at the condition of healthcare in socialist countries throughout the world or take a peek at the condition of healthcare in our VA clinics and hospitals, and you will get a little feel for what healthcare is going to quickly look like in America.
On March 21, 2010, Congress passed, and on March 23, 2010, President Barack Obama signed the dreaded national health care bill into law, and as such, these dates join a list of dates that have contributed to the destruction of a free America. Of course, there are several such dates, but, in my opinion, the following are the most draconian.
April 9, 1865
This is the date when General Robert E. Lee surrendered the Army of Northern Virginia to U.S. Grant at Appomattox Court House, Virginia. Regardless of where one comes down on the subject of the War Between the States, one fact is undeniable: Abraham Lincoln seriously dismantled the Jeffersonian model of federalism in America. Ever since, virtually every battle that free men have fought for the principles of limited government, State sovereignty, personal liberty, etc., has stemmed directly from Lincoln's usurpation of power, which resulted in the subjugation and forced union of what used to be "Free and Independent States" (the Declaration of Independence). In fact, the philosophical battles being waged today regarding the current health care debacle (and every other encroachment upon liberty and State autonomy by the central government) have their roots in Lincoln's autocracy.
July 9, 1868
This is the date when the 14th Amendment was ratified. This amendment codified into law what Lincoln had forced at bayonet point. Until then, people were only deemed citizens of their respective states. The Constitution nowhere referred to people as "US citizens." It only recognized "the Citizens of each State." Notice also that citizenship was only recognized among the "several States," not among people living in non-State territories. Until the 14th Amendment, people were "Citizens of each State." (Article. IV. Section. 2. Paragraph. 1.) The 14th Amendment created a whole new class of persons: "citizens of the United States." This false notion of "one nation" overturned the Jeffersonian principle that our nation was a confederated republic, a voluntary union of states.
February 3, 1913
This is the date when the 16th Amendment was ratified, and the direct income tax and IRS were instituted. This was a flagrant repudiation of freedom principles. What began as a temporary measure to support the War of Northern Aggression became a permanent income revenue stream for an unconstitutional–and ever-growing–central government.
April 8, 1913
This is the date when the 17th Amendment was ratified. This amendment overturned the power of the State legislatures to elect their own senators and replaced it with a direct, popular vote. This was another serious blow against State sovereignty. The framers of the Constitution desired that the influence and power in Washington, D.C., be kept as close to the people and states as possible. For example, the number of representatives in the House of Representatives was to be decided by a limited number of voters. In the original Constitution, the ratio of "people of the several States" deciding their House member could not exceed "one for every thirty thousand." (Article. I. Section. 2. Paragraph. 3.) And when it came to the US Senate, the framers also recognized the authority of each State legislature to select its own senators, thereby keeping power and influence from aggregating in Washington, D.C. The 17th Amendment seriously damaged the influence and power of the states by forcing them to elect their US senators by popular vote. The bigger the State, the less influence the State legislature has in determining its US senator. Senators who answered to State legislators, each answering to a limited number of voters, were much more accountable to the "citizens of the several States" than those who were elected by a large number (many times numbering into the millions) of people. For all intents and purposes (at least in the larger states), US Senators are more like "mini-Presidents" than representatives of sovereign states.
December 23, 1913
This is the date when the Federal Reserve Act was passed. This Act placed oversight of America's financial matters into the hands of a cabal of private international bankers, who have completely destroyed the constitutional principles of sound money and (for the most part) free enterprise. No longer would the marketplace (private consumption, thrift, growth, etc.) be the determinant of the US economy (which is what freedom is all about), but now a private, unaccountable international banking cartel would have total power and authority to micromanage (for their own private, parochial purposes) America's financial sector. Virtually every recession, depression, and downturn (including the one we are now experiencing) has been the direct result of the Fed's manipulation of the market. 1913 was not a good year for the United States.
June 26, 1945
This is the date when the United Nations Charter was signed and America joined the push for global government. Ever since, US forces have spilled untold amounts of blood and sacrificed thousands of lives promoting the UN's agenda. Since the end of World War II, in virtually every war in which US military forces have been engaged, it has been at the behest of the UN. And it is also no accident that America has not fought a constitutionally declared war since we entered the UN–and neither have we won one.
Furthermore, it is America's involvement in the United Nations that has spearheaded this devilish push for a New World Order that George H. W. Bush, Henry Kissinger, Tony Blair, Walter Cronkite, et al., have talked so much about. The United Nations is an evil institution that has completely co-opted our US State Department and much of our Defense Department. It is an anti-American institution that works aggressively and constantly against the interests and principles of the United States. But it is an institution that is ensconced in the American political infrastructure. Like a cancer, the UN eats away at our liberties and values, and both major political parties in Washington, D.C., are culpable in allowing it to exert so much influence over our country.
June 25, 1962, and June 17, 1963
These are the dates when the US Supreme Court removed prayer ('62) and Bible reading ('63) from public schools. At this point, these two Supreme Court decisions were the most serious affront to the First Amendment in US history. Think of it: from before a union of states was established in 1787, children had been free to pray and read the Scriptures in school. We're talking about a period of more than 300 years! Of course, the various State legislatures–and myriad city and county governmental meetings–still open their sessions in prayer, as do the US House and Senate, and even the US Supreme Court. But this same liberty is denied the children of America. There is no question that America has not recovered from these two horrific Supreme Court decisions. In effect, the federal government has expelled God not only from our public schools, but also from our public life. And America has not been the same since.
October 22, 1968
This is the date when President Lyndon Baines Johnson signed the Gun Control Act of 1968. Before this Act, the 2ndAmendment was alive and well in the United States. The Gun Control Act of 1968 turned a right into a privilege and forever forced the American people to bow at the altar of government when seeking to arm themselves. Interestingly enough, this Gun Control Act mirrored Nazi Germany's Gun Control Act of 1938. In fact, the Gun Control Act of 1968 is almost a verbatim copy of Hitler's Gun Control Act of 1938.
Our Founding Fathers could never have imagined that the American people would ever allow their right to keep and bear arms be infringed. In fact, it was the attempted confiscation of the firearms stored at Concord, Massachusetts, that triggered the War of Independence in 1775. That the people of Massachusetts would be denied their right to keep and bear arms, as they are today, could not have been foreseen–and would never have been tolerated–by America's founders.
The hundreds and hundreds of draconian gun control laws that have been inflicted upon the American people have all come about as a result of the Gun Control Act of 1968.
January 22, 1973
This is the date when the US Supreme Court issued the Roe v. Wade and Doe v. Bolton decisions, which, in effect, legalized abortion-on-demand. These two decisions expunged the Jeffersonian principle that all men are endowed by their Creator with the unalienable right to life (Declaration). Since then, more than 50 million unborn babies have been legally murdered in their mothers' wombs. Abortion is, without a doubt, America's national holocaust. It has opened the door to a host of Big Government programs and policies that have resulted in the wanton destruction of human life both in the United States and overseas. It has created an entire industry whose express purpose for existing is the destruction of human life. It has desensitized the conscience and soul of America. Furthermore, it has forced men of decency and good will to finance–with their tax dollars–the unconscionable act of killing unborn children.
And once again, another Jeffersonian principle was eviscerated. He said, "To compel a man to furnish contributions of money for the propagation of ideas which he disbelieves and abhors is sinful and tyrannical." The Roe and Doe decisions violate this principle in the most egregious manner possible.
October 26, 2001
This is the date when President George W. Bush signed the USA Patriot Act, and the federal government's war against individual liberty began in earnest. Most of the unconstitutional eavesdropping, snooping, wiretapping, phone call intercepting, email reading, prying, financial records tracking, travel watching, ad infinitum, ad nauseam, by federal police agencies began with the implementation of the Patriot Act. The Department of Homeland Security and the "war on terrorism," which have resulted in the deaths of tens of thousands of innocent people worldwide, and the usurpation of federal power at home, have all come about as an outgrowth of the Patriot Act. The Patriot Act has forever shifted the focus of American law and jurisprudence against constitutional government and individual liberty, toward a police-state mentality.
October 17, 2006, and October 9, 2009
These are the dates when President G.W. Bush signed and President Barack Obama re-signed the Military Commissions Act. This Act is the outgrowth of the Patriot Act and has, in effect, terminated the fundamental protections of individual liberty, which are found in the US Constitution and Bill of Rights. For all intents and purposes, the Patriot Act and Military Commissions Act (along with the NDAA) eviscerated the 4th and 5th Amendments, and do serious injury to several others. The Military Commissions Act also expunges the constitutional right of Habeas Corpus.
March 21 and 23, 2010
These are the dates when Congress passed and President Obama signed into law the "Patient Protection and Affordable Care Act," the so-called "health care reform" bill that we spoke about at the beginning of this column. While Social Security and various Welfare programs have toyed with socialism in the United States, this bill is the largest and most expansive endorsement of socialism in American history. This bill socializes some 18% of the US economy by socializing the health care industry in America. The fallout and ramifications of this bill are going to be horrific.
When future historians review the demise of our once-great republic, they will observe that the above dates were the dates that destroyed America. The American people have been far too tolerant for far too long.
Only a week ago, the consensus among most mainstream economic analysts and even some alternative analysts was that a government shutdown was not going to happen. The Republicans would fold in the shadow of President Barack Obama's overwhelming drive for socialization, spending would continue to grow unabated, and the debt ceiling would be vaulted yet again to feed the bureaucratic machine with more fiat. Today, there is no consensus, very few people continue to be so blithely self-assured and even the mainstream is beginning to wonder if a much bigger game is afoot here.
As I discussed before the shutdown in a recent article, it is important to take all facets of this situation seriously, or risk being bitten by hidden dangers while entranced in one's own arrogant cynicism.
One rule I try to follow whenever possible is to always be open to possibilities beyond the expected and never assume that today's dynamic will be the same as tomorrow's dynamic. Even the Liberty Movement can at times be susceptible to group think.  In a world of staggering political and economic manipulation, one has to grasp hold of certain fundamental truths in order to survive. In my time working within the liberty movement and outside of the mainstream, these are a few of the cold, hard truths that have served me well.
It's Always About Globalization
Every action the elites within our government take pushes the U.S. closer to globalism and away from sovereignty. We may not always see the bigger picture in the heat of the moment, but a look back tells us much. Seemingly simple changes in financial legislation render devastating fiscal shifts a decade later (as with the progressive erasure of Glass-Steagall). Shocking disaster events that appear random suddenly open doors for totalitarian legislation that had been prepared years in advance. Wars end with further calls for world "unification." Nothing, and I mean nothing, happens within government that does not revolve around the desire of establishment oligarchy to achieve total global economic, political and social control.
The Bankers Did It
Central banks and international banks are the bedrock of globalization, and all greater political decisions eventually stand on this bedrock. One need only examine the cabinets of the past four U.S. Presidents; there you will find a regular carnival freak show of banking elites who would go on to revolve in and out of government and back into the international financial sector. Private central banks like the Federal Reserve dominate the very currency (and thus the economy) of most nations on the planet. Most wars and man-made disasters of the past several centuries have served only to further enrich and empower the merchant class, and the same holds true today. If you want to understand why a certain calamity has occurred, first look to who benefited most. Invariably, you will find the banker class smiling when all is said and done.
America's Two-Party System Is Actually A One-Party System
If you do not yet understand that the elite of the Republican Party and the Democratic Party share the same foundational philosophy of globalism, then you will NEVER understand why our government does what it does. Public battles of words and legislation are nothing but rhetorical cinema. Ultimately, the goals of neocons and neolibs revolve around the centralization of power. All legislation is used either to further centralization or as a smokescreen to confuse the public while centralization is taking place. When has the leadership of either party, for instance, ever demanded a full audit of the Federal Reserve? When has the leadership of either party ever attempted to dismantle the Patriot Act or the despotic provisions of the National Defense Authorization Act or the President's openly admitted assassination list? They may seem to disagree violently at times, but do not be fooled. The disagreement is likely just another means to gain more dominance.
The Goal Is To Destroy The American Economy
What you believe to be political blunders are often actually calculated and engineered events. What you believe to be chaotic disasters of coincidence are often actually deliberate acts of attrition warfare against the common people disguised as random catastrophe. Those you believe to be heroes are actually villains in friendly masks. Those you are told to be villains are actually good men and women who refused to be enslaved by the system. That which you see and hear is never exactly as it appears.
Nearly every concrete action our government and central bank have taken in the past several decades has led to the further erosion of the American economy. If this is all just the consequence of "stupidity" or "childish greed," you would think our so-called leadership would have at least made a few good decisions by mistake; but they are incredibly adept at choosing all the wrong paths.
The reality is that collapses on the scale we are now witnessing in America rarely happen by accident.
The destruction of Glass-Steagall was a carefully crafted coup. The Federal Reserve deliberately and artificially lowered interest rates in order to allow banks to generate massive toxic debt through the derivatives markets. The Securities and Exchange Commission did little to nothing to stop the spread of cancerous mortgage instruments and ignored numerous calls for investigation. Ratings agencies like Moody's and Fitch examined all of these toxic assets, knowing exactly what they were, and rated them AAA anyway. And banks like Goldman Sachs, knowing that the market was a sham, sold these bad assets around the world and then secretly bet AGAINST them later. Either this is economic warfare implemented with precision, or it's all a string of coincidental blunders. I don't believe in such coincidences.
America is being destroyed by design to make way for a new global system administered by the International Monetary Fund and the World Bank, as well as a new global currency tied to the IMF's Special Drawing Rights.
If you are able to accept this, the confusion surrounding events like the government shutdown and debt ceiling debate withers, and everything becomes clear. With that clarity in mind, we can now examine the possible outcomes of the shutdown theater.
Republicans Surrender At The Last Minute
Of course, since both parties are essentially one party, the idea of "brinksmanship" on the part of either is absurd. The GOP will surrender, or "stand fast," because its serves the interests of the globalist establishment. There is no political battle here, only the empty chest-beating of a staged wrestling match.
Bets on a last-minute Republican reversal were in the majority for the past week of the shutdown, but that is slowly changing — and for good reason. Obama has stated that the Affordable Care Act is off the table in negotiations, while Republicans like Ted Cruz and John Boehner are now stating with surprising candor that debt default is on the table if Obama refuses to compromise.
Gee, it would seem we are at an impasse.
In the meantime, the GOP is also moving to wrap the debt ceiling debate into the shutdown fight, making a "diplomatic compromise" even less likely to make sense to the public. (Those who argued that the shutdown and the debt ceiling were two entirely separate issued should accept this reality and move on.)
If I were writing this bit of fiction, I would say I was writing myself into a corner and that a last-minute Republican white flag would be illogical to my audience. That said, not all stories are well-written stories, so a Republican rollover remains an option for the time being. The primary reason I can see for the establishment to instruct the GOP to retreat would be to set the stage for a new stimulus event, like a war, which still leaves the U.S. dollar on track to lose its world reserve status — just not as fast a track.
Default Occurs By Winter
This plot twist makes far more sense to me given the way our story has progressed so far. Why? Because it provides perfect cover for an economic collapse that was going to occur anyway, except in this version the banking elite avoid all blame.
Just look at all the angry rhetoric being thrown around in the mainstream media; red team versus blue team has returned as the pervasive American sitcom.
Conservatives blame liberals and Obama. Liberals blame conservatives and the Tea Party. We're all too happy to blame each other. Certainly, both elements of our government share responsibility for any debt default or subsequent collapse. But who started this avalanche to begin with? What about the Federal Reserve? What about Goldman Sachs, JPMorgan, Citigroup, etc.? What about the globalists?
Debt default is no small matter. Such a disaster would indeed fuel a flight from U.S. Treasuries by foreign investors and eventually lead to the complete abandonment of the greenback as the world reserve standard. Austerity measures would be implemented at break-neck speed. Cuts to entitlement programs, pensions, State funding, etc. will hit the American people like a freight train.
The way in which the MSM is already painting "Tea Party" conservative as saboteurs should a default occur is actually a very practical strategy. Not only do the elites get their economic collapse, but they manipulate the general public to believe that Constitutional conservatives, their mortal enemies, were the CAUSE of the pain, rather than the banks.
Order From Chaos
Should the establishment decide this is the moment to pull the plug on our financial structure, expect some rather insane-sounding solutions to be presented as rational alternatives. When Obama was asked by reporters if he considered the 14th Amendment as an option to end the debt ceiling debate, Obama did not rule out the idea.
This should raise some eyebrows. By the 14th Amendment I can only surmise that they mean Section 4, which states:
The validity of the public debt of the United States, authorized by law, including debts incurred for payment of pensions and bounties for services in suppressing insurrection or rebellion, shall not be questioned. But neither the United States nor any State shall assume or pay any debt or obligation incurred in aid of insurrection or rebellion against the United States, or any claim for the loss or emancipation of any slave; but all such debts, obligations and claims shall be held illegal and void.
Some people, including CNBC's Jim Cramer, think that this gives the President the power to raise the debt ceiling regardless of what Congress decides.
And Obama doesn't appear to be dismissing the notion either. However, Section 5 of the 14thAmendment says:
The Congress shall have power to enforce, by appropriate legislation, the provisions of this article.
Nowhere in Section 5 does it say that the President has the power to enforce the provisions of the 14th Amendment, but this may not stop the White House from twisting the law to insinuate more expansive controls.
Beyond the 14th Amendment, there are numerous executive orders and continuity of government programs that the White House could cite as authority to implement national emergency standards. This would probably start as a kind of "soft" martial law, and then grow from there. Each action will be rationalized as necessary for the greater good of the country, but will serve only the interests of the establishment oligarchy.
On the Republican side, there is another disturbing development that may be presented as a solution in the face of crisis — namely, the idea of instituting a Constitutional convention.
A Constitutional convention is essentially a complete rewriting of the document (which they call "amending") in the name of rebooting a government that has strayed too far from the wishes of the people. The concept is being promoted avidly by certain neocon talking heads and scholars, even on the FOX News circuit.
It sounds very noble on the surface, and neocons use very pretty language to candy coat the idea for legitimate Constitutionalists; but it is truly the most foolish action our country could take, opening the door to a complete erasure of Bill of Rights protections while offering no assurances that any meaningful provisions will be respected or afforded by the Federal government.  The people are given the illusion of potential redress when in reality a Con-Con produces only more centralized theater for the masses. If the liberty movement is suckered into a Constitutional convention, we will have been lured into writing our own destruction.
Another scenario could involve the Federal Reserve moving to take what they often call "extraordinary measures".  The Fed, being a private bank, may use the shutdown as an opportunity to paint itself as an economic "hero" (as unbelievable as that may sound), by instituting stimulus measures to the Federal Government regardless of Congressional or presidential impasse.  Given enough public desperation in the midst of default, the Fed may attempt to assert unprecedented financial authority in the name of "saving the country from it's own government".  The bankers then establish their role as the wise saviors and high priests of the fiscal universe, and cement private dominance over American political decisions as "acceptable" in the minds of the citizenry.
The most dangerous solution that will inevitably be paraded for the public will be a petition for aid from the IMF. The IMF has a long history of loansharking to indebted nations and then subsuming them and their natural resources in the process. The ignorant illusion that the United States is the sole power behind the IMF will be exposed all too late when a defaulting American Treasury is told to collateralize infrastructure to pay off creditors, while the dollar is bled completely dry and absorbed by the IMF's Special Drawing Rights basket currency.
Whether default occurs or is avoided, watch vigilantly over the next few weeks. Do not blink. Do not be conned, and do not let fear or bias blind you to the bigger picture. The shutdown could amount to nothing immediate, or it could amount to everything we have warned about for the past five years. I personally believe the month of October may be a major turning point in America's history. Whether it be for good or ill depends on how mentally and physically prepared we are.
Source: Brandon Smith | Alt-Market
A talk at Rhodes Forum, October 5, 2013…
First, the good news. American hegemony is over. The bully has been subdued. We cleared the Cape of Good Hope, symbolically speaking, in September 2013. With the Syrian crisis, the world has passed a key forking of modern history. It was touch and go, just as risky as the Cuban missile crisis of 1962. The chances for total war were high, as the steely wills of America and Eurasia had crossed in the Eastern Mediterranean. It will take some time until the realisation of what we've gone through seeps in: it is normal for events of such magnitude. The turmoil in the US, from the mad car chase in the DC to the shutdown of federal government and possible debt default, are the direct consequences of this event.
Remember the Berlin Wall? When it went down, I was in Moscow, writing for Haaretz. I went to a press-conference with Politburo members in the President Hotel, and asked them whether they concurred that the end of the USSR and world socialist system was nigh. I was laughed at; it was an embarrassing occasion. Oh no, they said. Socialism will blossom, as the result of the Wall's fall. The USSR went down two years later. Now our memory has compacted those years into a brief sequence, but in reality, it took some time.
The most dramatic event of September 2013 was the high-noon stand-off near the Levantine shore, with five US destroyers pointing their Tomahawks towards Damascus and facing them – the Russian flotilla of eleven ships led by the carrier-killer Missile Cruiser Moskva and supported by Chinese warships. Apparently, two missiles were launched towards the Syrian coast, and both failed to reach their destination.
It was claimed by a Lebanese newspaper quoting diplomatic sources that the missiles were launched from a NATO air base in Spain and they were shot down by the Russian ship-based sea-to-air defence system. Another explanation proposed by the Asia Times says the Russians employed their cheap and powerful GPS jammers to render the expensive Tomahawks helpless, by disorienting them and causing them to fail. Yet another version attributed the launch to the Israelis, whether they were trying to jump-start the shoot-out or just observed the clouds, as they claim.
Whatever the reason, after this strange incident, the pending shoot-out did not commence, as President Obama stood down and holstered his guns. This was preceded by an unexpected vote in the British Parliament. This venerable body declined the honour of joining the attack proposed by the US. This was the first time in two hundred years that the British parliament voted down a sensible proposition to start a war; usually the Brits can't resist the temptation.
After that, President Obama decided to pass the hot potato to the Congress. He was unwilling to unleash Armageddon on his own. Thus the name of action was lost. Congress did not want to go to war with unpredictable consequences. Obama tried to browbeat Putin at the 20G meeting in St Petersburg, and failed. The Russian proposal to remove Syrian chemical weaponry allowed President Obama to save face. This misadventure put paid to American hegemony , supremacy and exceptionalism. Manifest Destiny was over. We all learned that from Hollywood flics: the hero never stands down; he draws and shoots! If he holsters his guns, he is not a hero: he's chickened out.
Afterwards, things began to unravel fast. The US President had a chat with the new president of Iran, to the chagrin of Tel Aviv. The Free Syrian Army rebels decided to talk to Assad after two years of fighting him, and their delegation arrived in Damascus, leaving the Islamic extremists high and dry. Their supporter Qatar is collapsing overextended. The shutdown of their government and possible debt default gave the Americans something real to worry about. With the end of US hegemony, the days of the dollar as the world reserve currency are numbered.
World War III almost occurred as the banksters wished it. They have too many debts, including the unsustainable foreign debt of the US. If those Tomahawks had flown, the banksters could have claimed Force Majeure and disavow the debt. Millions of people would die, but billions of dollars would be safe in the vaults of JP Morgan and Goldman Sachs. In September, the world crossed this bifurcation point safely, as President Obama refused to take the fall for the banksters. Perhaps he deserved his Nobel peace prize, after all.
The near future is full of troubles but none are fatal. The US will lose its emission rights as a source of income. The US dollar will cease to serve as the world reserve currency though it will remain the North American currency. Other parts of the world will resort to their euro, yuan, rouble, bolivar, or dinar. The US military expenditure will have to be slashed to normal, and this elimination of overseas bases and weaponry will allow the US population to make the transition rather painlessly. Nobody wants to go after America; the world just got tired of them riding shotgun all over the place. The US will have to find new employment for so many bankers, jailers, soldiers, even politicians.
As I stayed in Moscow during the crisis, I observed these developments as they were seen by Russians. Putin and Russia have been relentlessly hard-pressed for quite a while.
The US supported and subsidised Russia's liberal and nationalist opposition; the national elections in Russia were presented as one big fraud. The Russian government was delegitimised to some extent.
The Magnitsky Act of the US Congress authorised the US authorities to arrest and seize the assets of any Russian they deem is up to no good, without a recourse to a court.
Some Russian state assets were seized in Cyprus where the banks were in trouble.
The US encouraged Pussy Riot, gay parades etc. in Moscow, in order to promote an image of Putin the dictator, enemy of freedom and gay-hater in the Western and Russian oligarch-owned media.
Russian support for Syria was criticised, ridiculed and presented as a brutal act devoid of humanity. At the same time, Western media pundits expressed certainty that Russia would give up on Syria.
As I wrote previously, Russia had no intention to surrender Syria, for a number of good reasons: it was an ally; the Syrian Orthodox Christians trusted Russia; geopolitically the war was getting too close to Russian borders. But the main reason was Russia's annoyance with American high-handedness. The Russians felt that such important decisions should be taken by the international community, meaning the UN Security Council. They did not appreciate the US assuming the role of world arbiter.
In the 1990s, Russia was very weak, and could not effectively object, but they felt bitter when Yugoslavia was bombed and NATO troops moved eastwards breaking the US promise to Gorbachev. The Libyan tragedy was another crucial point. That unhappy country was bombed by NATO, and eventually disintegrated. From the most prosperous African state it was converted into most miserable. Russian presence in Libya was rather limited, but still, Russia lost some investment there. Russia abstained in the vote on Libya as this was the position of the then Russian president Dmitry Medvedev who believed in playing ball with the West. In no way was Putin ready to abandon Syria to the same fate.
The Russian rebellion against the US hegemony began in June, when the Aeroflot flight from Beijing carrying Ed Snowden landed in Moscow. Americans pushed every button they could think of to get him back. They activated the full spectre of their agents in Russia. Only a few voices, including that of your truly, called on Russia to provide Snowden with safe refuge, but our voices prevailed. Despite the US pressure, Snowden was granted asylum.
The next step was the Syrian escalation. I do not want to go into the details of the alleged chemical attack. In the Russian view, there was not and could not be any reason for the US to act unilaterally in Syria or anywhere else. In a way, the Russians have restored the Law of Nations to its old revered place. The world has become a better and safer place.
None of this could've been achieved without the support of China. The Asian giant considers Russia its "elder sister" and relies upon her ability to deal with the round-eyes. The Chinese, in their quiet and unassuming way, played along with Putin. They passed Snowden to Moscow. They vetoed anti-Syrian drafts in the UNSC, and sent their warships to the Med. That is why Putin stood the ground not only for Russia, but for the whole mass of Eurasia.
There were many exciting and thrilling moments in the Syrian saga, enough to fill volumes. An early attempt to subdue Putin at G8 meeting in Ireland was one of them. Putin was about to meet with the united front of the West, but he managed to turn some of them to his side, and he sowed the seeds of doubt in others' hearts by reminding them of the Syrian rebel manflesh-eating chieftains.
The proposal to eliminate Syrian chemical weapons was deftly introduced; the UNSC resolution blocked the possibility of attacking Syria under cover of Chapter Seven. Miraculously, the Russians won in this mighty tug-of-war. The alternative was dire: Syria would be destroyed as Libya was; a subsequent Israeli-American attack on Iran was unavoidable; Oriental Christianity would lose its cradle; Europe would be flooded by millions of refugees; Russia would be proven irrelevant, all talk and no action, as important as Bolivia, whose President's plane can be grounded and searched at will. Unable to defend its allies, unable to stand its ground, Russia would've been left with a 'moral victory', a euphemism for defeat. Everything Putin has worked for in 13 years at the helm would've been lost; Russia would be back to where it was in 1999, when Belgrade was bombed by Clinton.
The acme of this confrontation was reached in the Obama-Putin exchange on exceptionalism. The two men were not buddies to start with. Putin was annoyed by what he perceived as Obama's insincerity and hypocrisy. A man who climbed from the gutter to the very top, Putin cherishes his ability to talk frankly with people of all walks of life. His frank talk can be shockingly brutal. When he was heckled by a French journalist regarding treatment of Chechen separatists, he replied:
"the Muslim extremists (takfiris) are enemies of Christians, of atheists, and even of Muslims because they believe that traditional Islam is hostile to the goals that they set themselves. And if you want to become an Islamic radical and are ready to be circumcised, I invite you to Moscow. We are a multi-faith country and we have experts who can do it. And I would advise them to carry out that operation in such a way that nothing would grow in that place again".
Another example of his shockingly candid talk was given at Valdai as he replied to BBC's Bridget Kendall. She asked: did the threat of US military strikes actually play a rather useful role in Syria's agreeing to have its weapons placed under control?
Putin replied: Syria got itself chemical weapons as an alternative to Israel's nuclear arsenal. He called for the disarmament of Israel and invoked the name of Mordecai Vanunu as an example of an Israeli scientist who opposes nuclear weapons. (My interview with Vanunu had been recently published in the largest Russian daily paper, and it gained some notice).
Putin tried to talk frankly to Obama. We know of their exchange from a leaked record of the Putin-Netanyahu confidential conversation. Putin called the American and asked him: what's your point in Syria? Obama replied: I am worried that Assad's regime does not observe human rights. Putin almost puked from the sheer hypocrisy of this answer. He understood it as Obama's refusal to talk with him "on eye level".
In the aftermath of the Syrian stand-off, Obama appealed to the people of the world in the name of American exceptionalism. The United States' policy is "what makes America different. It's what makes us exceptional", he said. Putin responded: "It is extremely dangerous to encourage people to see themselves as exceptional. We are all different, but when we ask for the Lord's blessings, we must not forget that God created us equal." This was not only an ideological, but theological contradistinction.
As I expounded at length elsewhere, the US is built on the Judaic theology of exceptionalism, of being Chosen. It is the country of Old Testament. This is the deeper reason for the US and Israel's special relationship. Europe is going through a stage of apostasy and rejection of Christ, while Russia is deeply Christian. Its churches are full, they bless one other with Christmas and Easter blessings, instead of neutral "seasons". Russia is a New Testament country. And rejection of exceptionalism, of chosenness is the underlying tenet of Christianity.
For this reason, while organised US Jewry supported the war, condemned Assad and called for US intervention, the Jewish community of Russia, quite numerous, wealthy and influential one, did not support the Syrian rebels but rather stood by Putin's effort to preserve peace in Syria. Ditto Iran, where the wealthy Jewish community supported the legitimate government in Syria. It appears that countries guided by a strong established church are immune from disruptive influence of lobbies; while countries without such a church ­ the US and/or France ­ give in to such influences and adopt illegal interventionism as a norm.
As US hegemony declines, we look to an uncertain future. The behemoth might of the US military can still wreck havoc; a wounded beast is the most dangerous one. Americans may listen to Senator Ron Paul who called to give up overseas bases and cut military expenditure. Norms of international law and sovereignty of all states should be observed. People of the world will like America again when it will cease snooping and bullying. It isn't easy, but we've already negotiated the Cape and gained Good Hope.
(Language edited by Ken Freeland)