When Kevin Galalae uncovered a secret spying program aimed at University students in the UK, he did not expect his life to blow up.
He did not expect to be bankrupted, locked out of his home or for his children to be ripped from his side. Nor did Galalae, a Romanian born professional writer who had been living in Canada since 1985, expect to become the target of multiple arrests by the Canadian authorities.
Six arrests in two years, to be exact. And now, two months after the most recent charges against him were stayed by a Canadian court, Galalae is facing yet another potential arrest.
Galalae's saga began in 2009, when he enrolled in an online political philosophy course at Oxford University, in preparation for a Master's course into which he had been accepted by the University of Leicester. When he found himself censored and subsequently removed from the course, he began to investigate why.
That is when Kevin Galalae uncovered that he had been targeted by a covert program of censorship and surveillance, SAC, which had been operating in Britain since 2007. SAC, he soon learned, is part of a wider counter terrorism program called CONTEST.
Dismayed that he had been caught in a net intended to ferret out terrorists, Galalae subsequently sued the UK at the European Court of Human Rights. His lawsuit was lodged in March of 2011 and in April he flew to Strasbourg, France, to commence a month-long hunger strike at the Council of Europe in order to compel European politicians to condemn SAC and to compensate all students who had been so targeted.
Called back to Canada by pleas from his wife, Cindy, Galalae found that his wife, alarmed by his activism, had taken the children and fled to her parents' home. She had also locked him out of their mutual bank account.
When Galalae showed up at Cindy Marshall's parents' home, looking for his family, he was met by a plainclothes police officer who informed him that he was "trespassing." Galalae was subsequently taken to a hospital for a psychiatric evaluation. After three days, the doctor refused to hold him any longer and the police then showed up and arrested him on charges of "harassment" for his efforts to see his two children.
It is now two years and multiple arrests later. The Oslo Times ran a comprehensive article in May of 2012, detailing many of the intervening arrests and charges against Galalae. On advice of his lawyer, David Sinnett, Galalae pled guilty to the initial harassment charge and also to a charge of taking his wife's emails, which he had taken to use as evidence of his innocence. Galalae fought all subsequent charges, none of which have resulted in sentencing or a guilty charge. Galalae's longest period of detention was nine months, when he was held in Quinte Detention Center from December 2012 to September of this year. All charges against him were stayed due to the Crown failing to provide disclosure.
On September 4, 2013, the very day that the criminal court judge stayed Counts 1-8 against Galalae (the remainder of the counts were stayed on September 11), Crown Attorney Elisabeth Foxton filed further papers with the court alleging a recognizance violation which had taken place in November of 2011. The alleged recognizance violation refers to failure to reside at a reported residence during prosecution for charges, all of which were subsequently stayed. Of grave concern is that while the Criminal Court insists that there are no further matters concerning Kevin Galalae on the record, the Superior Court, where his recognizance violation will be heard, insists that only the first batch of Counts were stayed and that the other counts are still pending.
But this dissonance in court records is only a portion of the bizarre paper trail in this case. Evidence reviewed by this reporter includes apparently falsified police reports, finessed psychiatric records which attempt to create a file for non-existent treatment of illusory depression and records indicating repeated police fumbling as Detective Diane McCarthy and Constable Rob Lalonde attempt to tweak records in such a clumsy manner that the only reality that emerges is the over eagerness of the Kingston police to find an excuse, any excuse, to jail Kevin Galalae.
In addition, this reporter has reviewed correspondence between Galalae and the attorneys who were pledged to represent him revealing that said attorneys were at some juncture bound by the Crown from giving disclosure to their own client. One must ask how an attorney can represent a client when constrained from discussing the evidence with him.
On November 27, Galalae will appear in Kingston Superior court concerning this two year old recognizance violation on charges which have already been adjudicated. He has appealed to the OIPRD, which is the equivalent of Internal Affairs, to review the Kingston police's actions in his matter.
States Galalae: "The rule of law no longer exists in Canada." He reports thinking of his children, whom he has not seen in over two years, every single day. Writes Galalae:
"To force me into submission the Canadian authorities have taken my children away and are holding them hostage until such time as I acquiesce to global autocracy. They have accomplished this with the full assistance of my wife and her family, who have sacrificed me and my children to keep their social positions. But I will never submit. I will fight until my last breath to free my children and the world from the double yoke of political oppression and economic exploitation, which is all that remains of the so-called free world, a far more pitiful state of affairs than the communist world I was born in and left behind. "
Galalae's book on chemical and biological depopulation initiatives, entitled "Killing Us Softly: Causes and Consequences of the Global Depopulation Policy" is scheduled for publication by Progressive Press next year.
As the Department of Homeland Security (DHS) doles out billions of dollars to convince local police departments to surrender control to the federal agency, a recent report indicates that intelligence gathered at precincts-cum-surveillance-centers will be shared among all levels of law enforcement.
An article published by Fierce Homeland Security on November 4 reports:
The phenomenon of fusion centers sharing intelligence and skills with each other — not just with the federal government — is a new and underappreciated aspect of the centers, panelists at a Homeland Security Policy Institute event said.
Fusion centers mainly apply national intelligence to local contexts and gather information locally that they can share with federal agencies. But in recent years, a great deal of "horizontal sharing" has occurred, where fusion centers work closely with each other, said Ross Ashley, the executive director of National Fusion Center Association.
"We'll find an expert in Washington state on international human trafficking over international ferry systems. Well, I don't need that expert everywhere. What I need is the ability to reach out to that expert if I'm in West Virginia," he said at the event, held Oct. 23 in Washington, D.C.
That meeting, entitled "State and Local Fusion Centers: Key Challenges for the Next Decade," featured three panelists: John Cohen, principal deputy under secretary for intelligence and analysis, U.S. Department of Homeland Security; Thomas Kirk, director, West Virginia Intelligence Fusion Center; and Ross Ashley, executive director, National Fusion Center Association. The keynote address was delivered by Representative Michael McCaul (R-Texas), Chairman of the House Committee on Homeland Security.
In July, McCaul co-authored with Representative Peter King (R-N.Y.) a report on the progress of the establishment of the nationwide spread of the fusion centers. The press release announcing the report reveals the pair's support for a program that dismantles federalism and accelerates the militarization of local police and the consolidation of control of those departments to the federal government. The McCaul-King report states:
Fusion centers serve as hubs of strategic analysis and information sharing where Federal, State, and local agencies are all represented in one location. State and local crime data is coordinated, gathered and reviewed to determine if there is any potential connection to terrorist activity. In addition, Federal terrorism-related information is shared with State and local law enforcement.
Seems the congressmen should be reminded of the fact that there is not a single syllable of the Constitution authorizing any such federal participation in law enforcement. If the power isn't granted to the federal government in the Constitution, then authority over that area remains with the states and the people as described in the Tenth Amendment.
Remarkably, McCaul and King lament the fact that the chain of fusion centers isn't growing quickly enough and the DHS isn't getting adequate access to all that information. The report adds:
The Committee's review concludes that the Network is not functioning as cohesively as it should be and fusion centers are facing numerous challenges that prevent the Network from realizing its full potential to help secure the homeland.
Of course, there couldn't be a piece of federal police and surveillance program propaganda without reminding citizens that all this deprivation of their rights is for their safety. As if to say, if the federal government doesn't take control of your local police department and keep all citizens under surveillance, the terrorists will strike again.
The representatives' zeal for constructing local outposts of the central surveillance headquarters is not surprising. Self-serving bureaucrats inside the U.S. government are tirelessly trying to obliterate local police forces answerable to local citizens and promote the consolidation movement as a step toward federalization of law enforcement. These proponents of regional and national police forces desire nothing less than the eradication of all local police departments and sheriffs' offices, the surrender of state and municipal sovereignty, and the conversion of police into federal security agents sworn not to protect and to serve their neighbors, but to protect the prerogatives of politicians.
Take for example the information contained in a White Paper presented in 2012 to the House Permanent Select Committee on Intelligence. In that report, the DHS is encouraged to embark on an "evolving mission" away from its ostensible purpose of fighting terrorism, toward becoming the administrator of an enormous domestic intelligence agency resulting from an integration of the country's local and state law-enforcement agencies.
This report was written by the Aspen Institute Homeland Security Group, co-chaired by former DHS chief Michael Chertoff. The blueprint promoted in the White Paper pushes Congress toward green-lighting the growth of DHS and the dissolution of local police and sheriffs.
The organization described in the paper, entitled "Homeland Security and Intelligence: Next Steps in Evolving the Mission," is reminiscent of more draconian governments. For example, one section of the report calls for a transition in the mission of DHS away from protecting the country from the "terrorism" of foreign militants and toward "more specific homeward focused areas." Additional sections of the report lay out the plans for building a DHS/police hybrid agency that can monitor Americans in any town and prevent threats from fellow citizens.
In order to achieve their ultimate aim, the globalists demand that DHS or some other federal agency take control of the personnel decisions currently made by local police chiefs and county sheriffs. "As the threat grows more localized," the report claims, "the federal government's need to train, and even staff, local agencies, such as major city police departments, will grow." Put another way: The federal government will run your local police department and sheriff's office.
The establishment of fusion centers is a key component of this plan. The following information is taken from a fact sheet on fusion centers posted on the DHS website:
A fusion center is a collaborative effort of two or more agencies that provide resources, expertise and information to the center with the goal of maximizing their ability to detect, prevent, investigate, and respond to criminal and terrorist activity.
A description of the functioning of these incubators for the forthcoming federal police force is also provided on the DHS site:
State and major urban area fusion centers (fusion centers) serve as primary focal points within the state and local environment for the receipt, analysis, gathering, and sharing of threat-related information among federal, state, local, tribal, and territorial (SLTT) partners…. Fusion centers conduct analysis and facilitate information sharing, assisting law enforcement and homeland security partners in preventing, protecting against, and responding to crime and terrorism.
The literature promoting the acceptance of fusion centers lists several ways the new federal agency will impose its will on the formerly autonomous and accountable police chief or county sheriff.
Last year, The New American described the likely procedure:
First, the feds will decide where and when to deploy local police department personnel. The chief, if he still exists, will be no more than a functionary required to make sure that the orders of the federal government are carried out. More likely than not, these new missions, in addition to preventing crime in the city or county, will engage in the collection of information about and apprehension of those local citizens identified by a committee in Washington as posing a threat to national security. Consider the revelation in 2009 that Homeland Security's Office of Intelligence and Analysis released a document entitled "Rightwing Extremism: Current Economic and Political Climate Fueling Resurgence in Radicalism and Recruitment," which listed war veterans, anti-abortion activists, small-government advocates, and those concerned about immigration as terrorist risks.
Second, DHS (or whichever one of the federal agencies eventually takes over law-enforcement duties) will train new recruits. Policies, procedures, and purposes will not reflect traditional (and constitutional) goals of law enforcement, but will be tailored to training officers to perform those duties associated with the new, national emphasis of the force, with a slant toward federalism.
Finally, funds for this conversion from local police department to outpost of the federal law-enforcement agency will be provided by the bureaucrats on Capitol Hill. This carrot will be tied to the stick of federal control.
The speed and success of the Department of Homeland Security's plan to string together a powerful net of surveillance-focused fusion centers in all the country's police departments is evident in the following statement at the Homeland Security Policy Institute's meeting made by Thomas Kirk, director of the West Virginia Intelligence Fusion Center:
"In all law enforcement, I've never seen anything like that," he said. "Most of the time when I call another fusion center director, they know my voice."
Joe A. Wolverton, II, J.D. is a correspondent for The New American and travels frequently nationwide speaking on topics of nullification, the NDAA, and the surveillance state.  He is the host of The New American Review radio show that is simulcast on YouTube every Monday. Follow him on Twitter @TNAJoeWolverton and he can be reached at jwolverton@thenewamerican.com
Source: Joe Wolverton, II, J.D. | The New American
The day that John Kennedy was murdered, was the day that Americans lost their country. Since that fateful day in November of 1963, our slide into tyranny has accelerated.
Nearly every form of tyranny which has overrun our country has its roots in the post-JFK assassination event. JFK was seemingly the last watchman on the wall against the encroaching tyranny of the newly created national surveillance security police state grid.
There have only been two prominent politicians who have stood up to the tyranny of the New World Order since the death of JFK. These two men would be Reagan (until he was shot by Hinckley) and Ron Paul.
The Missed Opportunity Connected to the 50th Anniversary
Last summer, I predicted that the upcoming 50th anniversary of JFK's murder would awaken a whole new generation as to the tyranny that the country has fallen under and who is responsible for that tyranny. I wrongly believed that the co-conspirators, the interlocking pieces of the JFK assassination cabal, namely, David Rockefeller, the Federal Reserve, the oil companies, the military industrial complex and the CIA and their mafia assets, would be exposed with all the attention that the 50th anniversary would provide.
I wrongly believed that these groups  with their current and undue influence on America would also be readily identified for what they did to JFK and to the country on November 22, 1963. I further believed that today's younger generation would easily build the bridge linking the corruption and undue influence of these 1963 groups to today's political landscape and this would be an easy association. Unfortunately, my predictions were in error because we in the alternative media dropped the ball.
The 2013 Establishment Propaganda Machine Is Rolled Out

The day that JFK was murdered was the day that Rockefeller won the world's biggest lottery.
With the marking of the 50th anniversary of the assassination of John F. Kennedy, there have been over 2,000 books written on the subject and countless radio and television shows devoted to the topic. This fall, the globalist news corporations have produced a rash of new JFK "investigations" which all purport to show different ways to prove that Oswald, and Oswald alone, killed John Kennedy. The new productions (e.g. National Geographic) are so bad and so faulty, that they are laughable.
Media Propagandists Ignore the Government's Final Conclusion of a Conspiracy
The modern day propagandists are winning the day with regard to the control of the narrative surrounding the assassination. During the height of America's skepticism regarding the 1964 Warren Report which stated that Lee Oswald killed John Kennedy and that he acted alone, most Americans rejected the "official explanation. What the modern day public, as well as the establishment propagandists, seem to have forgotten is that in 1977, the House Select Committee on Assassinations concluded that Oswald had help and JFK was killed as a result of a conspiracy. This was the final word on the subject from our government on the assassination. However, the history revisionists do not want a hint of a conspiracy because this could give birth to a modern day JFK assassination renaissance in a search for the co-conspirators who killed JFK. Once that search would begin, the descendants of the perpetrators organizations would not be able to escape public scrutiny. We in the alternative and truthful media missed a golden opportunity to wake up the country on this 50th Anniversary of JFK's death. This fall, if we had devoted a significant amount of time and effort to covering the assassination, and we had been relentless in our efforts, the under 40 crowd would understand who their present enemies are and they would have been awakened to the present day tyranny. We allowed our voices to be drowned out by the mainstream fictional media with their new JFK cover up pieces. Sadly, we lost a golden opportunity to wake up millions of young Americans.
At the height of JFK conspiracy fervor in the 1970′s-1990′s, according to the Gallup Poll, as many as 80% of Americans believed that there was a conspiracy to kill JFK. Today, that number has slipped to 61% thanks in large part to the new propaganda productions which are influencing our younger Americans.
In the 1990′s, Oliver Stone produced JFK and Bill Kurtis and Nigel Turner produced separate investigations into the assassination (i.e. The Men Who Killed Kennedy). In the 1990′s, the country was spellbound by the new revelations which were also bolstered by JFK admirer, Bill Clinton, as he forced the release of millions of classified JFK documents. However, the evil empire struck back around the year, 2000, and today, you see almost nothing on TV which does not show that Oswald was acting alone.
Follow the Money
What is conspicuously missing in most, if not all of the accounts related to the assassination of John F. Kennedy, is the fact that normal homicidal investigative strategies have not been employed by people in the government who would have the power to do so. One of the hallmark phrases in murder investigations is to "follow the money".
Every year at this time, I become reflective as I wonder what America, and the rest of the world might have looked like if JFK had survived, been re-elected and served a second term as President. This year I decided to follow the money and put my thoughts on paper. So, let's briefly follow the money.
Vietnam
Everybody knows that the Pentagon was frothing at the mouth to get into an armed conflict in Vietnam and/or Laos. In 1961, JFK resisted the military pressure to place troops in Laos, as he clearly instructed diplomat, Averell Harriman, to get the Laos issue settled because JFK was determined to not put combat units on the ground in Southeast Asia.
It is true that JFK was manipulated by his military advisers to place troops on the ground in Vietnam but solely in the role as "combat advisers". JFK's anti-Vietnam war stance frequently gets overlooked because of this. However, in October 1963, a mere month before his death, JFK signed National Security Action Memorandum 263 which called for the withdrawal of 1,000 troops from Vietnam by the end of 1963 and a total withdrawal of all of the combat advisers by the end of 1965. This was one nail in the coffin of JFK.
JFK gave many speeches in which he clearly stated he was opposed to widening U.S. military involvement in the war. South Vietnamese leader, Diem and his brother Nhu were opposed to U.S. attempts to control his regime and Diem and his brother were adamantly opposed U.S. full-scale U.S. military involvement beyond the 16,000 combat advisers stationed in the country. On November 1, 1963, Diem and Nhu were murdered by the CIA against JFK's wishes. Three weeks later, to the day, John F. Kennedy was murdered. Within nine months following the assassination, the LBJ administration launched the now discredited false flag event, the Gulf of Tonkin attack, and 100,000 combat troops were subsequently sent to Vietnam. Many researchers have proven the involvement of the same CIA and its Mafia connections which dates back to 1942 when the CIA was known as the OSS.
Knowing that the CIA and Mafia were involved in JFK's murder, does not tell you who ordered the assassination. Any guesses on who profited the most from the Vietnam War? In radio parlance, you will have to stay tuned, the answer will be revealed at the end.
There were huge financial incentives for the American defense industry to participate in the murder of JFK. Yes, that would be the military industrial complex which Ike warned us about in his 1960 farewell address. In 1963, Chrysler corporation and its subsidiaries received the lion's share of defense contracts for the war, most of which were resold to smaller corporations. Corporations such as Bell Helicopter enjoyed unparalleled growth during the height of the war. There are some interesting and notable parties which controlled the Chrysler defense industry interests in 1963.
Very powerful parties would have stood to have lost a lot of money had the war not materialized into a full-scale air and ground war. Who am I speaking about? All will be revealed when I connect the dots at the end. Oh by the way, the forerunner to the bid rigging and recipient of no bid contracts in Iraq, KBR, was also found guilty of the same thing in Vietnam when they were given the responsibility for building South Vietnam's military infrastructure. The more things change, the more they do stay the same.
Making Enemies with the CIA: The Bay of Pigs
It was very well known that JFK refused to support and sanction the CIA backed Cuban refugee invasion of Cuba by refusing to allow air cover. The invasion failed and the careers of CIA Director, Dulles, and CIA Assistant Director, Cabal, were over. The proverbial line in the sand had been drawn and the CIA and JFK became mortal enemies with JFK threatening to break up the agency into a "thousand pieces". Add to this fact, is the fact that it is well-known that the darker parts of the CIA act as mercenaries for certain groups who are not on the government payroll. Today, we would call these shadowy forces, the New World Order.
It is clear that with the advent of the Bay of Pigs, the brain trust for the assassination had been born and they would double down as this agency would perpetrate the cover-up, such as losing the President's brain during the autopsy to hide the fact that JFK's fatal head shot came from an exploding bullet, which means that Oswald's defective Italian rifle could not have been used in the commission of the crime. Maybe this is also why LBJ had the Presidential limousine "cleaned up" immediately following the crime and the vehicle was never subsequently examined as any other crime scene would have been. LBJ should have gone to prison for obstruction of justice, but I digress. Jim Marrs and other researchers have clearly implicated the CIA as the masterminds of the assassination. I agree with Marrs, however, the CIA were not the original planners, they merely were tasked with carrying out the assassination. Regardless, the rich and famous wanted Cuba back and JFK had destroyed their plans for continued domination of the Island state.
Ten days following the Bay of Pigs, JFK gave his famous "secret society" speech. He is the first, and the only President to ever identify the globalists as the enemy of America and humanity as a whole.
If you have never listened to the speech, you should take the time to listen now, for if you do, the events of today will make a great deal more sense.
The Cuban Missile Crisis
Havana had become a play place for the rich and famous prior to the Castro led revolution. Upon seizing power, Castro promptly nationalized all gaming resorts and the Mafia lost their insanely high profits and the rich and famous lost their financial cut, as well as their 1960 version of Bohemian Grove. In the eyes of the rich and powerful, JFK had one more opportunity to get control over Cuba with the opportunity presented by the Cuban Missile Crisis.
In 1962, in response to America's placing offensive nuclear weapons in Turkey, close to the Soviet border, the Russians did the same in Cuba. This event brought the U.S. and the Soviet Union to the brink of nuclear war. All of JFK's military advisers wanted to invade Cuba with ground troops. JFK opted for the ever-contracting naval blockade. Although history has proven that our invading troops would have been nuked, and that JFK pursued the correct course of action, the powerful military was now lining up against JFK. And, again, the rich and famous were thwarted in their desire to reassert control over Cuba and the defense contractors smelled the end of the gravy train.
Then in June of 1963, JFK gave an incredible speech at American University in which he called for the total destruction of nuclear weapons. This would have resulted in the end of the financially lucrative Cold War and the "Pax Americana enforced on the world by American weapons of war", and a movement toward "general and complete disarmament" would have begun. A few months later JFK signed a Limited Test Ban Treaty with Nikita Khrushchev. What would happen to the profits of Raytheon and Martin Marietta (now Lockheed Martin) if there was no cold war? The executives at the defense plants could relax because when JFK was killed, LBJ ordered the single largest increase in U.S. history and before the ink was even dry on JFK's death certificate.
America Cannot Have Peace, It Is Bad For Business
Please take the time and listen to JFK's, American University Speech, June 10, 1963, and if you understand what it means to be an American, it will bring tears to your eyes and I believe that this speech also brought a bullet to JFK's brain, because he was poking a stick into the eyes of the military industrial complex.
The Federal Reserve

On June 4, 1963, President Kennedy issued Executive Order 11110 and this accompanied the Kennedy act which was the beginning of an attempt to strip the Federal Reserve Bank of its power to loan money, at interest, to the government. JFK was on his way of stripping the then 50 year history of fleecing the American people. In effect, JFK, by issuing 4.3 billion dollars of U.S. notes based upon silver held in reserve, JFK was going to be able to wipe away the beginnings of national debt which, today, has mortally wounded the American economy. Please take note of the fact that this event was only a little over 5 months before the assassination. When JFK was murdered, LBJ failed to continue with the program.
Who stood to lose the most money if the Federal Reserve had lost its stranglehold on the American economy? You would be right if you answered Chase-Manhattan Bank with its 6,389,445 shares of Federal Reserve Board Stock valued at 32.3% of the total value of stock at the Fed. Also, Citibank had a lot to lose by this move as well as they were invested in the Federal Reserve shares to the tune of  4,051,851, or 20.5% of the total value. I think you might be getting an idea who owned and/or controlled the majority interests in these two banks in 1963, but there is more before we answer the question on who profited the most from the murder of a sitting President in 1963.
The Oil Depletion Allowance
By the end of 1962, the robber barons which ran the oil industry estimated, that their earnings on foreign investment capital would fall to 15 percent, compared with 30 percent in 1955 if the oil depletion allowance was diminished in accordance with JFK's proposal.
JFK's attack upon the oil depletion allowance, which permitted oil producers to deduct up to 27.5% of their income as tax exempt provided the robber barons of oil a lower tax rate and a competitive business advantage, not shared by any other business interests. JFK targeted the oil depletion allowance and it was estimated the government might retain more than $300 million in tax revenue each year if the depletion allowance was reduced. Although the oil depletion allowance remained intact, due to the congressmen who were recipients of oil company campaign contributions, JFK made some very powerful enemies in the oil industry.
It was the oil depletion allowance which made drilling for oil a no risk venture. An oil speculator could drill five wells and if four were dry wells and only the fifth struck oil, the speculator would still make money because of tax breaks resulting from the depletion allowance deducted from owed taxes. President Kennedy pointed out the obvious when he stated "… no one industry should be permitted to obtain an undue tax advantage over all others."
JFK had made an enemy out of the oil industry and its biggest tycoon, David Rockefeller with the proposal to reduce the oil depletion allowance. Do you know the two banks which controlled 53% of the Federal Reserve in 1963? Rockefeller owned the controlling interest in both banks. How about Chrysler, KBR, Bell Helicopter and the Vietnam War? You are way ahead if you said, David Rockefeller. And what about the nuclear arms race, to which the cessation of the cold war, would have meant the loss of profits to the defense industry? And who controls the defense industry? David Rockefeller. We had to have a cold war, then, for the same reasons we need a war on terror today. It is good for business and with the subsequent growth of government power which comes with war, the erosion of Constitutional liberties increases. All roads for the motivations of the JFK assassination leads to David Rockefeller as being the first mover in the plot.
Do I have the smoking gun that I can place in Rockefeller's hand? The short answer is no. However, it is safe to say that the day that John Kennedy died, there were no tears shed at the Rockefeller estate.
If JFK's murder had been anything but the killing of the President, any police detective worth his salt, would have followed the money trail and arrests would have been made based on the known facts. It is unacceptable that as we race toward the 50th Anniversary of the event, this next week, that not one person has been brought to justice in a court of law for the assassination of John Kennedy. Instead, a patsy, Lee Oswald,who never fired a gun on November 22, 1963, was framed and used as the patsy. And before Oswald could talk, he was murdered two days later under very mysterious circumstances. Over the next several days, I am going to publish mini-excerpts on facts about the JFK assassination which are not being covered by the MSM. My first entry will focus on how we know that Oswald did not kill JFK.
Reflections on What Could Have Been
If JFK would have lived, we would have not lost 58,000 lives in Vietnam. Millions of Vietnamese would have been spared. We would have an economy that is backed by silver and we would virtually have no debt because the corrupt Federal Reserve would have faded into oblivion as it did during the Andrew Jackson Administration. America would have schools that would the envy of the world, not the butt of jokes, because we would not spending money to kill people, but rather to educate, improve health care and we could have even afforded to pay off all privately held mortgages if we had only remembered the words of JFK when he reminded the faculty and staff at American University on June 10, 1963, that "We all breathe the same air…"
We would live in a far better place had we lived out JFK's expressed ideals. I write this piece, not just to remind America of what we lost and how America suffered with Jack Kennedy's death, I write this piece for those who know little of nothing of what happened on November 22, 1963, mostly young people, in order that they can know that the tyranny being imposed upon us, need not exist. There is a better way and for a moment when I listen to his speeches, I can imagine a better world.
Source: Dave Hodges | The Common Sense Show
It is natural for a society to search for explanations and motivations in the wake of a man-made tragedy. It is also somewhat natural for people to be driven by their personal biases when looking for someone or something to blame. In recent years, however, our country has been carefully conditioned to view almost every criminal event from an ideological perspective.
The mainstream media now places far more emphasis on the political affiliations and philosophies of "madmen" than it does on their personal disorders and psychosis. The media's goal, or mission, if you will, is to associate every dark deed whether real or engineered to the political enemies of the establishment, and to make the actions of each individual the collective shame of an entire group of people.
I could sift through a long list of terror attacks and mass shootings in which the establishment media jumped to the conclusion that the perpetrators were inspired by the beliefs of Constitutional conservatives, "conspiracy theorists", patriots, etc. It is clear to anyone paying attention that the system is going out of its way to demonize those who question the officially sanctioned story, or the officially sanctioned world view. The circus surrounding the latest shooting of multiple TSA agents at Los Angeles International Airport is a perfect example.
Paul Ciancia, the primary suspect in the shooting, was immediately tied to the Liberty Movement by media outlets and the Southern Poverty Law Center, by notes (which we still have yet to see proof of) that law enforcement claims to have found on his person. The notes allegedly use terms such as "New World Order" and "fiat money", commonly covered by those of us in the alternative media. The assertion is, of course, that Paul Ciancia is just the beginning, and that most if not all of us involved in the exposure of the globalist agenda are powder kegs just waiting to "go off." The label often used by the MSM to profile people like Ciancia and marginalize the organizational efforts of liberty based culture is "anti-government."
The establishment desires to acclimate Americans to the idea that being anti-government is wrong; that it is a despicable philosophy embracing social deviance, aimless violence, isolation and zealotry. Looking beyond the mainstream position, my question is, is it really such a bad thing to be anti-government today?
Conspiracy Realists
The terms "anti-government" and "conspiracy theorist" are almost always used in the same paragraph when mainstream media pundits espouse their propaganda. They are nothing more than ad hominem labels designed to play on the presumptions of the general population, manipulating them into dismissing any and all alternative viewpoints before they are ever heard or explained. The establishment and the media are ill-equipped to debate us on fair terms, and understand that they will lose control if Americans are allowed to hear what we have to say in a balanced forum. Therefore, their only fallback is to bury the public in lies so thick they won't want to listen to us at all.
The Liberty Movement now has the upper hand in the war for information. The exposure of multiple conspiracies in the past several years alone has given immense weight to our stance, and reaffirmed warnings we gave long ago.
When we spoke out against the invasion of Iraq, commissioned by George W. Bush on the dubious claim that Iraqi weapons of mass destruction were an immediate threat to the security of our nation, we were called "liberals" and "traitors."  Today, Bush and Cheney have both openly admitted that no WMD's were ever present in the region. When we attempted to educate the masses on the widespread surveillance of innocent people by the NSA, some of them laughed. Today, it is common knowledge that all electronic communications are monitored by the Federal government. When we refused to accept the official story behind the Bureau of Alcohol, Tobacco, Firearms and Explosives' Fast and Furious program, we were called "kooks". Today, it is common knowledge that the Obama Administration purposely allowed U.S. arms to fall into the hands of Mexican cartels. When we roared over the obvious hand the White House played in the Benghazi attack, we were labeled "racists" and "right wing extremists." Today, it is common knowledge that the White House ordered military response units to stand down and allow the attack to take place. I could go on and on…
Events that were called "conspiracy theory" by the mainstream yesterday are now historical fact today. Have we ever received an apology for this slander? No, of course not, and we don't expect one will ever surface. We have already gained something far more important – legitimacy.
And what about Paul Ciancia's apparent belief in the dangers of the "New World Order" and "fiat money"? Are these "conspiracy theories", or conspiracy realism? The Liberty Movement didn't coin the phrase "New World Order", these political and corporate "luminaries" did:
Is economic collapse really just a fairytale perpetrated by "anti-government extremists" bent on fear mongering and dividing society?  Perhaps we should ask Alan Greenspan, who now openly admits that he and the private Federal Reserve knew full well they had helped engineer the housing bubble which eventually imploded during the derivatives collapse of 2008.
Or, why not ask the the White House, which just last month proclaimed that "economic chaos" would result if Republicans did not agree to raise the debt ceiling.
Does this make Barack Obama and the Democratic elite "conspiracy theorists" as well?
It is undeniable that government conspiracies and corporate conspiracies exist, and have caused unquantifiable pain to the American people and the people of the world. Knowing this, is it not natural that many citizens would adopt anti-government views in response? Is it wrong to distrust a criminal individual or a criminal enterprise? Why would it be wrong to distrust a criminal government?
The Purpose Behind The Anti-Government Label
When the establishment mainstream applies the anti-government label, they are hoping to achieve several levels propaganda. Here are just a few:
False Association: By placing the alleged "anti-government" views of violent people in the spotlight, the establishment is asserting that it is the political philosophy, not the individual, that is the problem. They are also asserting that other people who hold similar beliefs are guilty by association. That is to say, the actions of one man now become the trespasses of all those who share his ideology. This tactic is only applied by the media to those on the conservative or constitutional end of the spectrum, as it was with Paul Ciancia. For example, when it was discovered that Arizona mass shooter Jared Loughner was actually a leftist, the MSM did not attempt to tie his actions to liberals in general. Why? Because the left is not a threat to the elitist oligarchy within our government. Constitutional conservatives, on the other hand, are.
False Generalization: The term "anti-government" is so broad that, like the term "terrorist", it can be applied to almost anyone for any reason. The establishment does not want you to distinguish between those who are anti-government for the wrong reasons, and those who are anti-government for the right reasons. Anyone who questions the status quo becomes the enemy regardless of their motives or logic. By demonizing the idea of being anti-government, the establishment manipulates the public into assuming that all government by extension is good, or at least necessary, when the facts actually suggest that most government is neither good or necessary.
False Assertion: The negative connotations surrounding the anti-government stance also suggest that anyone who defends themselves or their principles against government tyranny, whether rationally justified or not, is an evil person. Just look at how Washington D.C. has treated Edward Snowden. Numerous political elites have suggested trying the whistle-blower for treason, or assassinating him outright without due process, even though Snowden's only crime was to expose the criminal mass surveillance of the American people by the government itself. Rather than apologizing for their corruption, the government would rather destroy anyone who exposes the truth.
False Shame: Does government criminality call for behavior like that allegedly taken by Paul Ciancia? His particular action was not morally honorable or even effective.  It helped the establishment's position instead of hurting it, and was apparently driven more by personal psychological turmoil rather than political affiliation. But, would it be wrong for morally sound and rational Americans facing imminent despotism within government to physically fight back? Would it be wrong to enter into combat with a totalitarian system? The Founding Fathers did, but only after they had exhausted all other avenues, and only after they had broken away from dependence on the system they had sought to fight. Being anti-government does not mean one is a violent and dangerous person. It does mean, though, that there will come a point at which we will not allow government to further erode our freedoms. We will not and should not feel shame in making that stand.
I do not agree with every element of the "anti-government" ethos that exists in our era, but I do see the vast majority of reasons behind it as legitimate. If the establishment really desired to quell the quickly growing anti-government methodology, then they would stop committing Constitutional atrocities and stop giving the public so many causes to hate them. If they continue with their vicious bid to erase civil liberties, dominate the citizenry through fear and intimidation and steal and murder in our name, then our response will inevitably be "anti-government", and we will inevitably move to end the system as we know it.
Source: Brandon Smith | Alt-Market
New York – Jeremy Hammond sat in New York's Metropolitan Correctional Center last week in a small room reserved for visits from attorneys. He was wearing an oversized prison jumpsuit. The brown hair of the lanky 6-footer fell over his ears, and he had a wispy beard. He spoke with the intensity and clarity one would expect from one of the nation's most important political prisoners.
On Friday the 28-year-old activist will appear for sentencing in the Southern District Court of New York in Manhattan. After having made a plea agreement, he faces the possibility of a 10-year sentence for hacking into the Texas-based private security firm Strategic Forecasting Inc., or Stratfor, which does work for the Homeland Security Department, the Marine Corps, the Defense Intelligence Agency and numerous corporations including Dow Chemical and Raytheon.
Four others involved in the hacking have been convicted in Britain, and they were sentenced to less time combined—the longest sentence was 32 months—than the potential 120-month sentence that lies before Hammond.
Hammond turned the pilfered information over to the website WikiLeaks and Rolling Stone and other publications. The 3 million email exchanges, once
made public, exposed the private security firm's infiltration, monitoring and surveillance of protesters and dissidents, especially in the Occupy movement, on behalf of corporations and the national security state. And, perhaps most important, the information provided chilling evidence that anti-terrorism laws are being routinely used by the federal government to criminalize nonviolent, democratic dissent and falsely link dissidents to international terrorist organizations. Hammond sought no financial gain. He got none.The email exchanges Hammond made public were entered as evidence in my lawsuitagainst President Barack Obama over Section 1021 of the National Defense Authorization Act (NDAA). Section 1021 permits the military to seize citizens who are deemed by the state to be terrorists, strip them of due process and hold them indefinitely in military facilities. Alexa O'Brien, a content strategist and journalist who co-founded US Day of Rage, an organization created to reform the election process, was one of my co-plaintiffs. Stratfor officials attempted, we know because of the Hammond leaks, to falsely link her and her organization to Islamic radicals and websites as well as to jihadist ideology, putting her at risk of detention under the new law. Judge Katherine B. Forrest ruled, in part because of the leak, that we plaintiffs had a credible fear, and she nullified the law, a decision that an appellate court overturned when the Obama administration appealed it.
Freedom of the press and legal protection for those who expose government abuses and lies have been obliterated by the corporate state. The resulting self-exile of investigative journalists such as Glenn Greenwald, Jacob Appelbaum and Laura Poitras, along with the indictment of Barret Brown, illustrate this. All acts of resistance—including nonviolent protest—have been conflated by the corporate state with terrorism. The mainstream, commercial press has been emasculated through the Obama administration's repeated use of the Espionage Act to charge and sentence traditional whistle-blowers. Governmental officials with a conscience are too frightened to reach out to mainstream reporters, knowing that the authorities' wholesale capturing and storing of electronic forms of communication make them easily identifiable.
Elected officials and the courts no longer impose restraint or practice oversight. The last line of defense lies with those such as Hammond, Julian Assange, Edward Snowden and Chelsea Manning who are capable of burrowing into the records of the security and surveillance state and have the courage to pass them on to the public. But the price of resistance is high.
"In these times of secrecy and abuse of power there is only one solution—transparency," wrote Sarah Harrison, the British journalist who accompanied Snowden to Russia and who also has gone into exile, in Berlin. "If our governments are so compromised that they will not tell us the truth, then we must step forward to grasp it. Provided with the unequivocal proof of primary source documents people can fight back. If our governments will not give this information to us, then we must take it for ourselves."
"When whistleblowers come forward we need to fight for them, so others will be encouraged," she went on. "When they are gagged, we must be their voice. When they are hunted, we must be their shield. When they are locked away, we must free them. Giving us the truth is not a crime. This is our data, our information, our history. We must fight to own it. Courage is contagious."
Hammond knows this contagion. He was living at home in Chicago in 2010 under a 7-a.m.-to-7-p.m. curfew for a variety of acts of civil disobedience when Chelsea (formerly Bradley) Manning was arrested for giving WikiLeaks secret information about military war crimes and government lies. Hammond at the time was running social aid programs to feed the hungry and send books to prisoners. He had, like Manning, displayed a remarkable aptitude for science, math and computer languages at a young age. He hacked into the computers at a local Apple store at 16. He hacked into the computer science department's website at the University of Illinois-Chicago as a freshman, a prank that saw the university refuse to allow him to return for his sophomore year. He was an early backer of "cyber-liberation" and in 2004 started an "electronic-disobedience journal" he named Hack This Zine. He called on hackers in a speech at the 2004 DefCon convention in Las Vegas to use their skills to disrupt that year's Republican National Convention. He was, by the time of his 2012 arrest, one of the shadowy stars of the hacktivist underground, dominated by groups such as Anonymous and WikiLeaks in which anonymity, stringent security and frequent changes of aliases alone ensured success and survival. Manning's courage prompted Hammond to his own act of cyber civil disobedience, although he knew his chances of being caught were high.
"I saw what Chelsea Manning did," Hammond said when we spoke last Wednesday, seated at a metal table. "Through her hacking she became a contender, a world changer. She took tremendous risks to show the ugly truth about war. I asked myself, if she could make that risk shouldn't I make that risk? Wasn't it wrong to sit comfortably by, working on the websites of Food Not Bombs, while I had the skills to do something similar? I too could make a difference. It was her courage that prompted me to act."
Hammond—who has black-inked tattoos on each forearm, one the open-source movement's symbol known as the "glider" and the other the shi hexagram from the I Ching—is steeped in radical thought. As a teenager, he swiftly migrated politically from the liberal wing of the Democratic Party to the militancy of the Black Bloc anarchists. He was an avid reader in high school of material put out by CrimethInc, an anarchist collective that publishes anarchist literature and manifestos. He has molded himself after old radicals such as Alexander Berkman and Emma Goldman and black revolutionaries such as George Jackson, Elaine Brown and Assata Shakur, as well as members of the Weather Underground. He said that while he was in Chicago he made numerous trips to Waldheim Cemetery to visit the Haymarket Martyrs Monument, which honors four anarchists who were hanged in 1887 and others who took part in the labor wars. On the 16-foot-high granite monument are the final words of one of the condemned men, August Spies. It reads: "The day will come when our silence will be more powerful than the voice you are throttling today." Emma Goldman is buried nearby.
Hammond became well known to the government for a variety of acts of civil disobedience over the last decade. These ranged from painting anti-war graffiti on Chicago walls to protesting at the 2004 Republican National Convention in New York to hacking into the right-wing website Protest Warrior, for which he was sentenced to two years in the Federal Correctional Institute at Greenville, Ill.
He said he is fighting as "an anarchist communist" against "centralized state authority" and "exploitative corporations." His goal is to build "leaderless collectives based on free association, consensus, mutual aid, self-sufficiency and harmony with the environment." It is essential, he said, that all of us work to cut our personal ties with capitalism and engage in "mass organizing of protests, strikes and boycotts." Hacking and leaking, he said, are part of this resistance—"effective tools to reveal ugly truths of the system."
Hammond spent months within the Occupy movement in Chicago. He embraced its "leaderless, non-hierarchical structures such as general assemblies and consensus, and occupying public spaces." But he was highly critical of what he said were the "vague politics" in Occupy that allowed it to include followers of the libertarian Ron Paul, some in the tea party, as well as "reformist liberals and Democrats." Hammond said he was not interested in any movement that "only wanted a 'nicer' form of capitalism and favored legal reforms, not revolution." He remains rooted in the ethos of the Black Bloc.
"Being incarcerated has really opened my eyes to the reality of the criminal justice system," he said, "that it is not a criminal justice system about public safety or rehabilitation, but reaping profits through mass incarceration. There are two kinds of justice—one for the rich and the powerful who get away with the big crimes, then for everyone else, especially people of color and the impoverished. There is no such thing as a fair trial. In over 80 percent of the cases people are pressured to plea out instead of exercising their right to trial, under the threat of lengthier sentences. I believe no satisfactory reforms are possible. We need to close all prisons and release everybody unconditionally."
He said he hoped his act of resistance would encourage others, just as Manning's courage had inspired him. He said activists should "know and accept the worst possible repercussion" before carrying out an action and should be "aware of mass counterintelligence/surveillance operations targeting our movements." An informant posing as a comrade, Hector Xavier Monsegur, known online as "Sabu," turned Hammond and his co-defendants in to the FBI. Monsegur stored data retrieved by Hammond on an external server in New York. This tenuous New York connection allowed the government to try Hammond in New York for hacking from his home in Chicago into a private security firm based in Texas. New York is the center of the government's probes into cyber-warfare; it is where federal authorities apparently wanted Hammond to be investigated and charged.
Hammond said he will continue to resist from within prison. A series of minor infractions, as well as testing positive with other prisoners on his tier for marijuana that had been smuggled into the facility, has resulted in his losing social visits for the next two years and spending "time in the box [solitary confinement]." He is allowed to see journalists, but my request to interview him took two months to be approved. He said prison involves "a lot of boredom." He plays chess, teaches guitar and helps other prisoners study for their GED. When I saw him, he was working on the statement, a personal manifesto, that he will read in court this week.
He insisted he did not see himself as different from prisoners, especially poor prisoners of color, who are in for common crimes, especially drug-related crimes. He said most inmates are political prisoners, caged unjustly by a system of totalitarian capitalism that has snuffed out basic opportunities for democratic dissent and economic survival.
"The majority of people in prison did what they had to do to survive," he said. "Most were poor. They got caught up in the war on drugs, which is how you make money if you are poor. The real reason they get locked in prison for so long is so corporations can continue to make big profits. It is not about justice. I do not draw distinctions between us."
"Jail is essentially enduring harassment and dehumanizing conditions with frequent lockdowns and shakedowns," he said. "You have to constantly fight for respect from the guards, sometimes getting yourself thrown in the box. However, I will not change the way I live because I am locked up. I will continue to be defiant, agitating and organizing whenever possible."
He said resistance must be a way of life. He intends to return to community organizing when he is released, although he said he will work to stay out of prison. "The truth," he said, "will always come out." He cautioned activists to be hyper-vigilant and aware that "one mistake can be permanent." But he added, "Don't let paranoia or fear deter you from activism. Do the down thing!"
Chris Hedges, whose column is published Mondays on Truthdig, has previously spent nearly two decades as a foreign correspondent in Central America, the Middle East, Africa and the Balkans. He has reported from more than 50 countries and has worked for The Christian Science Monitor, National Public Radio, The Dallas Morning News and The New York Times, for which he was a foreign correspondent for 15 years.
Source: Truthdig
In 2009, Jim Rickards, a lawyer, investment banker and adviser on capital markets to the Director of National Intelligence and the Office of the Secretary of Defense, participated in a secret war game sponsored by the Pentagon at the Applied Physics Laboratory (APL). The game's objective was to simulate and explore the potential outcomes and effects of a global financial war. At the end of the war game, the Pentagon concluded that the U.S. dollar was at extreme risk of devaluation and collapse in the near term, triggered either by a default of the U.S. Treasury and the dumping of bonds by foreign investors or by hyperinflation by the private Federal Reserve.
These revelations, later exposed by Rickards, were interesting not because they were "new" or "shocking." Rather, they were interesting because many of us in the field of alternative economics had ALREADY predicted the same outcome for the American financial system years before the APL decided to entertain the notion. At least, that is what the public record indicates.
The idea that our government has indeed run economic collapse scenarios, found the United States in mortal danger, and done absolutely nothing to fix the problem is bad enough. I have my doubts, however, that the Pentagon or partnered private think tanks like the RAND Corporation did not run scenarios on dollar collapse long before 2009. In fact, I believe there is much evidence to suggest that the military industrial complex has not only been aware of the fiscal weaknesses of the U.S. system for decades, but they have also been actively engaged in exploiting those weaknesses in order to manipulate the American public with fears of cultural catastrophe.
History teaches us that most economic crisis events are followed or preceded immediately by international or domestic conflict. War is the looming shadow behind nearly all fiscal disasters. I suspect that numerous corporate think tanks and the Department Of Defense are perfectly aware of this relationship and have war gamed such events as well. Internal strife and civil war are often natural side effects of economic despair within any population.
Has a second civil war been "gamed" by our government? And are Americans being swindled into fighting and killing each other while the banksters who created the mess observe at their leisure, waiting until the dust settles to return to the scene and collect their prize? Here are some examples of how both sides of the false left/right paradigm are being goaded into turning on each other.
Conservatives: Taunting The Resting Lion
Conservatives, especially Constitutional conservatives, are the warrior class of American society. The average conservative is far more likely to own a firearm, have extensive tactical training with that firearm, have military experience and have less psychological fear of conflict; and he is more apt to take independent physical action in the face of an immediate threat. Constitutional conservatives are also more likely to fight based on principal and heritage, rather than personal gain, and less likely to get wrapped up in the madness of mob activity.
What's the greatest weakness of conservatives? It's their tendency to entertain leadership by men who claim exceptional warrior status, even if those men are not necessarily honorable.
Constitutional conservatives are the most substantial existing threat to the establishment hierarchy because, unlike dissenting groups of the past, we know exactly who the guiding hand is behind economic and social calamity. In response, the overall conservative culture has come under relentless attack by the establishment using the Administration of Barack Obama as a middleman. The goal, I believe, is to misdirect conservative rage toward the Democratic left and away from the elites. The actions of the White House have become so absurd and so openly hostile as of late that I can only surmise that this is a deliberate strategy to lure conservatives into ill-conceived retaliation against a puppet government, rather than the men behind the curtain.
Department of Defense propaganda briefings with military personnel have been exposed. These briefings train current serving soldiers to view Tea Party conservatives and even Christian organizations as "dangerous extremists." Reports from sources within Fort Hood andFort Shelby confirm this trend.
The DOD has denied some of the allegations or claimed that it has "corrected" the problem; however, Judicial Watch has obtained official training documents through a Freedom of Information Act request that affirm that extremist profiling is an integral part of these military briefings. The documents also cite none other than the Southern Poverty Law Center (SPLC) as a primary resource for the training classes. The SPLC is nothing more than an outsourced propaganda wing for the DHS that attacks Constitutional organizations and associates them with terrorist and racist groups on a regular basis. (Check pages 32-33.)
This indoctrination program has accelerated since January 2013, after Professor Arie Perliger, a member of a West Point think tank called Combating Terrorism Center (and according to the sparse biographical information available, a man with NO previous U.S. military experience), published and circulated a report called "Challengers From The Sidelines: Understanding America's Violent Far Right" at West Point. The report classified "far right extremists" as "domestic enemies" who commonly "espouse strong convictions regarding the federal government , believing it to be corrupt and tyrannical, with a natural tendency to intrude on individuals' civil and constitutional right."  The profile goes on to list supporting belief in "civil activism, individual freedoms, and self government" as the dastardly traits of evil extremists.
Soldiers have been told that associating with "far right extremist groups" could be used as grounds for court-martial. A general purge of associated symbolism has ensued, including new orders handed down to Navy SEALs that demand that operators remove the "Don't Tread On Me" Navy Jack patch from their uniforms.
The indoctrination of the military also follows on the heels of a massive media campaign to demonize Constitutional conservatives who fought against Obamacare in the latest debt ceiling debate as "domestic enemies" and "terrorists." I documented this in my recent article "Are Constitutional Conservatives Really the Boogeyman?"
Obama and his ilk have been caught red-handed in numerous conspiracies, including Fast and Furious, which shipped American arms through the Bureau of Alcohol, Tobacco, Firearms and Explosives into the hands of Mexican drug cartels. And how about the exposure of the IRS using its bureaucracy as a weapon to harass Tea Party organizations and activists? And what about Benghazi, Libya, the terrorist attack that Barack Obama and Hillary Clinton allowed to happen, if they didn't directly order it to happen? And let's not forget about the Edward Snowden revelations, which finally made Americans understand that mass surveillance of our population is a constant reality.
To add icing to the cake, a new book called Double Down, which chronicles the Obama campaign of 2012, quotes personal aides to the President who relate that Obama, a Nobel Peace Prize winner, when discussing his use of drone strikes, bragged that he was "really good at killing people."
Now, my question is, why would the Obama Administration make so many "mistakes," attack conservatives with such a lack of subtlety, and attempt to openly propagandize rank-and-file soldiers, many of whom identify with conservative values? Is it all just insane hubris, or is he serving his handlers by trying to purposely create a volatile response?
Liberals: Taking Away The Cookie Jar
Many on the so-called "left" are socially oriented and find solace in the functions of the group, rather than individualism. They seek safety in administration, centralization and government welfare. Wealth is frowned upon, while "redistribution" of wealth is cheered. They see government as necessary to the daily survival of the nation, and they work to expand Federal influence into all facets of life. Some liberals do this out of a desire to elevate the poverty-stricken and ensure certain educational standards. However, they tend to ignore the homogenizing effect this strategy has on society, making everyone equally destitute and equally stupid. Their faith in government subsidies also makes them vulnerable to funding cuts and reductions in entitlements. The left normally fights only when their standard of living and comfort to which they have grown accustomed plummets below a certain threshold, and mob methods are usually their fallback form of retaliation.
Austerity cuts, which the mainstream media calls the "sequester," are beginning to take effect. But, they are being applied in areas that are clearly meant to create the most public anger. Reductions in welfare programs are also being implemented in a way that will certainly agitate average left-leaning citizens. The debt debate itself revolved around those who want the government to spend within its means versus those who want the government to spend even more on welfare programs no matter the consequence. The loss of subsidies is at bottom the greatest fear of the left.
A sudden and inexplicable shutdown of electronic benefit transfer cards (EBT cards or food stamps) occurred in more than 17 States while the debt debate just happened to be climaxing. This month, cuts to existing food stamp funds have taken effect, and food pantries across the country are scrambling against a sharp spike in demand.
Remember, about 50 million Americans are currently dependent on EBT welfare in order to feed themselves and their families. The response to the relatively short EBT shutdown last month was outright fury. Imagine the response in the event of a long-term shutdown, or if extraneous cuts were to occur? And where would that anger be directed? Since the entire debt debacle has been blamed on the Tea Party, I suspect conservatives will be the main target of welfare mobs.
The left, once just as opposed to government stimulus and banker bailouts as the right, is now unwittingly throwing its support behind infinite stimulus in order to cement the continued existence of precious Federal handouts. The issue of Obamacare has utterly blinded liberals to fiscal responsibility. Universal healthcare, perhaps the ultimate Federal handout, is a prize too titillating for them to ignore. Democrats will now go to incredible lengths to defend the Obama White House regardless of past crimes.
They are willing to ignore his offenses against the 4th Amendment and personal privacy. They are willing to look past his offenses against the 1st Amendment, including the Constitutional right to trial by jury for all Americans, and Obama's secret war against the free speech of whistle-blowers. They are willing to shrug off his endless warmongering in the Mideast, his attempts to foment new war in Syria and Iran, and his support for predator drone strikes in sovereign nations causing severe civilian collateral damage. They are willing to forget Snowden, mass surveillance and executive assassination lists — all for Obamacare.
And the saddest thing of all? It is likely that Obamacare was never meant to be successful in the first place.
Does anyone really believe that the White House, with billions of dollars at its disposal, could not get a website off the ground if it really wanted to? Does anyone really believe that Obama would launch the crowning jewel of his Presidency without making certain that it was fully operational, unless this was part of a greater scheme?  And how about his promise that pre-existing health care plans would not be destroyed by Obamacare mandates?  Over 900,000 people in the state of California alone are about to lose their health care insurance due to the Affordable Healthcare Act.  Why would Obama go back on such a vital pledge unless he WANTED to piss off constituents?
Already, liberal websites and forums across the blogosphere are abuzz with talk of sabotage of the Obamacare website by "the radical right" and the diabolical Koch Brothers (liberals had no idea who they were a year ago, but now, they the go to scapegoat for everything). Once again, conservatives are presented as the culprits behind all the left's troubles.
As I have stated in the past, Obamacare is designed to fail. The government has no capacity to fund it, and never will. Its only conceivable purpose is to further divide the country and excite both sides of the false paradigm into attacking each other as the reason the system is failing, when both sides should be questioning whether the current system should exist at all.
As the situation stands today, at least 50 million welfare recipients and who knows how many others exist as a resource pool for the establishment to be used to wreak havoc on the rest of us. All they have to do is take away the cookie jar.
Who Would Win?
Who would prevail in a second American civil war? Tactically speaking, conservatives have the upper hand and are far better prepared. Food rioters wouldn't last beyond three to six weeks as starvation takes its toll, and mindless mobs would not last long against seasoned riflemen. The military, though suffering purges by the White House, still contains numerous conservatives within its ranks. Outside influences, including NATO or the United Nations, are a possibility. There are numerous factors to consider. But I would point out that the most dangerous adversary Constitutional conservatives face is not the left, Obama, or a Federal government gone rogue. Rather, our greatest adversary is ourselves.
If lured into a left/right civil war, would most conservatives be able to see beyond the veil and recognize that the fight is not about Obama, or the Left, or tyrannical government alone? Could we be co-opted by devious influences disguised as friends and compatriots? Will we end up following neocon salesmen and military elites who materialize out of the woodwork at the last minute to "lead us to victory" while actually leading us towards globalization with a slightly different face?
If a civil conflict has been war gamed by the establishment, you can bet they have contingency plans regardless of which side attains the upper hand. In the end, if we do not make the fight about the bankers and globalists, the Federal Reserve, the International Monetary Fund, the Council On Foreign Relations, etc., then everyone loses. Who wins in a new American civil war? If we become blinded by the trespasses of a certain White House jester, only the globalists will win.
Source: Brandon Smith | Alt-Market
The demonization of free thinking individuals is about to begin. By branding Paul Ciancia a conspiracy theorist, all of us will come under scrutiny.
Anyone who does not believe wholeheartedly in the crap the government tries to feed them on a daily basis will become a danger to society.
It stands to reason that after a major public incidence of violence such as mass shootings or bombings, people want answers. It's right and proper that these cases are investigated and as many answers as possible are provided to the citizens of this country.
Having said that, an alarming pattern is emerging.
Some events are highlighted and get massive coverage on television, on the Internet and in the newspapers, but most incidents do not.
Those that can't be 'spun' by the government are given a couple of lines in the papers or a minute of airtime, and that's it. Done. Gone. Forgotten.
The events that can be used by the government, get acres of print space and constant news coverage. In addition they always have a reason behind them that benefits the government in some way.
Let me show you what I mean. In 2012 88 people were killed in mass shootings in the United States. Sixteen mass shootings with 88 deaths.(source) Here's the list:
February 22, 2012: Five people were killed in at a Korean health spa in Norcross, Georgia, when a man opened fire inside the facility in an act suspected to be related to domestic violence.
February 26, 2012: Multiple gunmen began firing into a nightclub in Jackson, Tennessee, killing one person and injuring 20 others.
February 27, 2012: Three students at Chardon High School in rural Ohio were killed when a classmate opened fire.
March 8, 2012: Two people were killed and seven wounded at a psychiatric hospital in Pittsburgh, Pennsylvania when a gunman entered the hospital with two semiautomatic handguns and began firing.
March 31, 2012: A gunman opened fire on a crowd of mourners at a North Miami, Florida funeral home, killing two people and injuring 12 others.
April 2, 2012: A 43-year-old former student at Oikos University in Oakland, California walked into his former school and killed seven people, "execution-style." Three people were wounded.
April 6, 2012: Two men went on a deadly shooting spree in Tulsa, Oklahoma shooting black men at random in an apparently racially motivated attack. Three men died, and two were wounded.
May 29, 2012: A man in Seattle, Washington opened fire in a coffee shop killing five people and then himself.
July 9, 2012: At a soccer tournament in Wilmington, Delaware, three people were killed, including a 16-year-old player and the event organizer when multiple gunmen began firing shots, apparently targeting the organizer.
July 20, 2012: James Holmes enters a midnight screening of The Dark Knight Rises and opens fire with a semi-automatic weapon; twelve people are killed, and fifty-eight are wounded.
August 5, 2012: A white supremacist and Army veteran shot six people to death inside a Sikh temple in suburban Milwaukee, Wisconsin before killing himself.
August 14, 2012: Three people were killed at Texas A&M University when a 35-year-old man went on a shooting rampage; one of the dead was a police officer.
September 27, 2012: A 36-year-old man who had just been laid off from Accent Signage Systems in Minneapolis, Minnesota entered his former workplace and shot five people to deathand wounded three others before killing himself.
October 21, 2012: 45-year-old Radcliffe Frankin Haughton shot three women to death, including his wife, Zina Haughton, and injured four others at a spa in Brookfield, Wisconsin before killing himself.
December 11, 2012: A 22-year-old began shooting at random at a mall near Portland, Oregonkilling two people and then himself.
December 14, 2012: One man, and possibly more, murders a reported twenty-six people at an elementary school in Newtown, Connecticut, including twenty children, before killing himself.
2013 is looking very similar, those cases that got/get airtime are the Christopher Dorner case back in February, the Boston Bombings in April, the Navy Yard shooting in September, and of course the incident at LAX. There are other cases that in total killed over 30 people (source) but they didn't have the required 'spin' factor so they have not stayed in the news.
All the cases that have made it big, news wise, have had a message from the government to us. These cases were chosen by the government to highlight the need for more gun control, more surveillance and tighter security. I believe that the 'evidence' for these events was tailored. Tailored to suit the government's needs at the time. To give the public a reason for the measures that will be imposed to 'solve' the problem. It was spun and nipped and tucked and most likely bears no resemblance to the original reasons behind the act.
With the LAX shooting they have gone a step further. In addition to once again raising the issue of privately owned assault rifles, they have put terms like 'New World Order' and 'fiat currency' into the wider public domain.
They are pre-conditioning the wider public in subjects usually confined to alternative media.The average Joe on the street is not familiar with these terms. But now the government itself has introduced them. They have publicly acknowledged them and linked them to the term 'conspiracy theorist'.
From Sky News US:
A note allegedly found in the suspect's bag said that he wanted to kill at least one transport officer with his AR-15 semi-automatic rifle and didn't care which one.
"Black, white, yellow, brown, I don't discriminate," the note read, according to a paraphrase by a law enforcement official briefed on the investigation.
The suspect's screed also mentioned "fiat currency" and "NWO," possible references to the New World Order, a conspiracy theory that foresees a one-world government. (emphasis added)
I will bet my last dollar that in the very near future alternative media will be mentioned. Alternative media sites will be accused of spreading these messages.
We, the alternative media, both writers and readers are next on the list to be demonized. We are the next 'issue' that the government needs to find a solution to. Like gun control et al, we have become a target.
The government knows that the alternative media is growing. That more and more people are looking for answers that the mainstream does not provide. This cannot be allowed. It is dangerous to a government that sees itself as omnipotent.
The 'revelations' that will come out over the next few days will most likely say that Paul Ciancia frequented alternative media websites and that these sites had a bearing on his actions.
Gone are the days when a man with a gun is just insane, vindictive or just plain bad and decides to shoot people. Now there always has to be a reason, and that reason always has to be one that will allow the government to ride in and rescue us.
It will always be a reason that gives them justification for exercising more control over our lives and this time the reason could well be us, the alternative media.
Source: The Daily Sheeple
Mainstream media sources are now reporting:
The shooter at LAX, who killed one TSA (?) employee and wounded several others today, is in custody. His name is Paul Anthony Ciancia. He is 23 years old. His weapon was a semi-automatic rifle.
Pete Williams (NBC, who, as chief Pentagon spokesman, covered up the extent of US military killings in the 1989 Panama invasion), states that Ciancia had "anti-government materials" in his bag.
Other sources state Ciancia had a note in his bag which stated that he wanted to "kill TSA."
Ciancia is a Los Angeles resident. His family lives in Pennsville, New Jersey. This morning, prior to the shooting, Ciancia's father called the local Pennsville police and reported his son was missing.
The father also stated that his son had written to a sibling "in reference to taking his own life."
That's the storyline so far.
Agenda? Another gun murder in a public place, so take away guns from everybody. Semi-auto rifle was used? Ban them. Gun plus anti-government opinion? Terrorist. Step up surveillance, ID, watch, harass, and even arrest people who own guns and don't like the government.
And now for the questions. This is a checklist that should accompany every such mass shooting:
Was the accused shooter seeing a psychiatrist?
Had he ever seen a psychiatrist or MD who prescribed psychiatric drugs?
If so, what were the drugs?
Ritalin (or other speed-type compounds) for ADHD?
Antidepressants, in particular the SSRI types (e.g., Prozac, Paxil, Zoloft)?
Both classes of drugs are known to push people over into suicidal ideation, suicide, violence, murder. (See Peter Breggin, Toxic Psychiatry, Medication Madness, and other titles. Also see the website, SSRI stories.)
Had the accused shooter ever withdrawn from, stopped using any psychiatric drugs? Withdrawal, done incorrectly, can cause severe problems, including aggression and violence.
Had the accused shooter ever stated he was under surveillance, was being harassed by authorities, was being targeted with microwaves, was hearing voices?
Yes, there are people who incorrectly believe these things are happening to them; but there are also people who are, in fact, being subjected to such harassment and control.
Has the accused shooter ever been subjected to military indoctrination? Has he ever had connections to military or civilian intelligence employees or assets? If so, what were the specifics?
And finally, was the accused shooter actually the shooter, or was he a patsy, a scapegoat?
I'm not downplaying the difficulty of answering these questions. But I am saying they're all relevant.
Whereas the job of major media, in these incidents, is relaying to the public the statements of law-enforcement personnel and politicians. That's their only job. They don't investigate. They don't go off on their own. They don't know what they pretend to know. Pretending is what earns them their paychecks.
Source: Jon Rappoport
No doubt you have heard about the War on Drugs, the War on Terror and the War on Happiness. However, you may not be familiar with the War on God, possibly because it would be an unpopular war to discuss publicly. By the "War on God" (definition) we mean the collection of strategies, methods and techniques which have the combined effect of preventing or seriously hampering the efforts of individuals to seek or achieve legitimate Spiritual enlightenment and the Soul's eventual return to God.
The War on God is an ancient war. While the United States and other countries play an active role in this war today, they definitely did not initiate the war. If you want to use the Christian bible as a reference, you could argue that the War on God began shortly after man was created and rejected God in favor of Satan. Clearly, in some form, the War on God has existed throughout human history.
Today, the United States has effectively broken off diplomatic relations with God. The oligarchs who run the country never physically die and so their souls stay on Earth. Apparently, the United States actually believes that its technology, occult knowledge and black magic skills place it in a position which is superior to God.
We know from whistleblowers like David Morehouse that the United States sponsors and trains a cult of psychics to carry out psychic espionage (remote viewing) and also assassinations using psychic black magic techniques. According to clips of his various interviews on YouTube, it was the training in psychic assassinations which caused Morehouse to become disillusioned, quit the secret program and blow the whistle on the operation. Other countries may well operate similar programs but the details will remain unknown until someone defects and exposes them.
The leaders of the United States have always worshiped Satan. The United States was founded by a cult of Satanists known as the Masons and remains under control of that cult today. By rebranding their cult as a nation state, the cult created the appearance of legitimacy. Cult secrets simply transitioned to state secrets. Cult threats to kill anyone telling their secrets transitioned to the crimes of treason and espionage.
Nothing really changed except for the rebranding from a cult to a government. Today, essentially all members of the CIA, NSA and NASA are Masons. All US presidents have been Masons with the two exceptions of Abraham Lincoln and John Kennedy who were both assassinated.
The term "national security" refers to the security of the cult and not to the security of the general population. The Masonic motto is "If you are not one of us, you are nothing". The cult exists only to enrich itself.
The Masons study and practice the occult. Serious study begins after they take a formal oath of allegiance to Satan at the 30th degree initiation. Basic occult knowledge is neutral and everyone who advances Spiritually learns it. However, Masons seek this knowledge to gain power and control over others as opposed to knowledge for personal advancement. This choice, commonly called the Left Hand Path, places them in opposition to the will of God.
If the Satanists simply wanted to sell their Souls to Satan and mind their own business, one could argue that they had that right because they had free choice. However, the situation is not that simple. The Satanic oligarchs did freely choose to worship Satan. However, they also desire a comfortable life. They don't want to do any "grunt" work. Therefore, they have enslaved the remainder of humanity and are holding their Souls prisoner on this planet to service their needs. Therefore, if you, as an innocent Soul, ever plan to escape from this place and return to God, it is in your interest to investigate and gain an understanding of this war so that you will have an opportunity to Spiritually evolve. Otherwise, your Soul will remain a prisoner here — lifetime after lifetime — serving the Satanic overlords essentially forever.
Earth Based Religions
The phrase Earth Based Religions (definition) refers to religious schools which seek and use knowledge, including occult knowledge, to enhance their experiences during their human lifetimes as opposed to using the same knowledge to foster Spiritual development with the ultimate goal of achieving a stable non-physical Spiritual existence.
Although Pagan religions are usually grouped into this category, a more careful examination would reveal that essentially all mainstream religions are Earth based religions. Mainstream religions make constant references to God and Heaven but never explain exactly what they are talking about. Their books concentrate on historical narratives concerning how people in the past lived and coped with the basic problems of human physical existence. They never give details of any level of Spiritual existence or even any specific hints about what life beyond death will be.
Let's try an example. Suppose you have never seen a motor vehicle. You have heard vague stories that they exist, but that is all. Then, suddenly, you find yourself behind the wheel of a car on a high speed road like the US interstate system or the A roads in Britain. What would you guess would be your chance of survival? Try less than zero.
Now suppose you physically die. Suddenly, you find yourself in your Astral body. However, no one ever told you that you have an Astral body. It does not operate under the same rules as a physical body does. It is a very pliant and nimble body. It can travel in time to the past or future, access any plane and subplane in the Astral universe and research the absolute accurate and incorruptible records system known as the Akashic Records to name just a few. But, as in the previous example, you never learned how to "drive" it.
You would have done fine on the highway if you had gradually learned to drive a motor vehicle. You would do fine after death if you had some experience and training with your Astral body. However, no one ever taught you. What practical use is any religion that constantly rants about Heaven but offers no practical advice about your life after this life?
This information may have been a guarded secret in the past, but those days are gone. You can research this information to your heart's content on the internet, locate legitimate Spiritual groups and learn from those who can leave their physical body and explore the non-physical dimensions. But, don't expect any help from a mainstream church.
You might do well to recall the famous quote attributed to Jesus, "The truth will set you free". Mainstream churches are large, rich institutions. They did not get that way by "setting people free". They got that way by terrifying their followers with ridiculous horror stories of what will happen to them if they do not obey their crazy doctrines, stay with them and give them all their money.
Gnostic and other "non-traditional" religions may be Spiritual based as opposed to Earth based. Jesus always reminded everyone that he represented a kingdom "not of this world". If we had accurate records of his true lectures we would no doubt find practical instructions and information about this "other world". We don't have this information because any practical Spiritual teachings he might have given were censored out to create the simplified — but Spiritually sterile — mainstream religions we have today. They are simple to comprehend and follow but will not lead you anywhere except another physical lifetime somewhere on Earth.
Life Before Technology
Before technology life was simple. Although existence was hard, the opportunity for Spiritual experiences was greater than today. Consider, for example, all the empty time you would have as, say, a sheep herder. Nothing to do except make sure the sheep kept moving. In this situation, there was ample opportunity for the mind to wander and perhaps contemplate and glimpse other realities.
Also, and perhaps most important, no electric grid existed on the planet. Electric fields appear as solid "matter" in the Astral dimension and so can affect Astral experiences — generally in a negative way. Artificially created electromagnetic waves which blanket the planet today also have subtle and generally negative effects on living creatures.
Pagan groups generally conduct occult rituals outdoors and away from high population areas. When buildings are used, it is desirable that they be made only of wood and assembled without any metal (nails) and, of course, have no electrical wires.
Both good and evil existed before technology as they always have. It was possible to use psychological propaganda to influence and control susceptible masses of people. However, the positive and negative forces were more in balance. It was not possible for a single group to successfully dominate the planet.
Drugs existed in the form of various plants. Adepts learned how to use them to help or harm others. People with developed psychic abilities existed as they always have and white and black occult schools existed. Legitimate Spiritual masters existed.
Some techniques that thrived have essentially become extinct because the population of the planet has devolved. It is next to impossible to successfully teach Tantra (sex yoga), because today's generation is incapable of the required level of self control. Classic Tibetan yoga techniques are still taught in isolated areas, but the masters — for good reason — will no longer consider trusting outsiders.
Information Control Techniques
Information control is essential for protecting the integrity of a compartment. People are held as slaves by constructing an information box which holds the slaves in an information prison. As long as the "walls" of the compartment remain impenetrable, the compartment — or belief system — will be stable and no slave will escape.
Considerable energy is required to achieve this. Those assigned to protect the walls obviously know that the compartment is an intellectual illusion. Therefore, they must be sworn to secrecy and intimidated in such a way that they will not compromise the integrity of the compartment. It only takes one "leak" to initiate a chain of events which could collapse the compartment and so allow the slaves to escape.
Consider, for example, the Snowden leaks. One person sharing knowledge has totally destroyed the illusion of privacy that most people had accepted as fact. It will not be possible to reconstruct this illusion. The compartment has collapsed.
Similar principles apply in the Spiritual spectrum. Because of the characteristics of the human bodies in use on this planet, most people do not retain any conscious memory of events before they were born. This is not universally true. Life forms on many other planets retain the memories of previous existences. Because humans generally do not have this recall, they are easily enslaved and can be conditioned to believe most anything.
To maintain a state of Spiritual ignorance it is important to institute methods which will prevent people from realizing that they are actually Souls experiencing a constructed illusion. People somehow reaching this state, sometimes referred to as "self realization", will no longer respond to establishment propaganda and are generally considered a threat to the current social order.
The easiest and most direct method to achieve a stable slave population is simply not to talk about anything even vaguely esoteric. For example, how often have you heard the words astral, chakra or aura mentioned on a mainstream TV channel?
Most people will then likely "remain asleep" throughout their entire lifetime and will be no problem. Unfortunately, people have a natural desire — even though it may be an unconscious desire — to Spiritually evolve. It is, after all, the true purpose of human existence.
When someone tries to break away from the contrived illusions more direct methods are needed to return the slave to a state of ignorance. Today, various methods which cause brain damage — generally performed by psychiatrists — are used to negate any success in Spiritual evolution and return the slave to a state of vacant contentment.
Diversions and Techniques Promoting Inaction
The simplest and most effective diversionary technique is to promote scientific atheismand darwinian evolutionary philosophy as established fact. If you can get someone to buy into this philosophy, their fate is sealed. Even if they experience some contact with another dimension, such as an out-of-body experience, they will follow their programming, dismiss the experience as a delusion and refuse to investigate further. When they die, they will be totally lost and confused, flounder around on some lower Astral plane and eventually reincarnate just as Spiritually ignorant as before.
A side effect of accepting scientific atheism, which totally cripples Spiritual progress, is the acceptance of suicide as a way out of life's problems. Suicide becomes a learned reaction. Consequently, when the Soul is sent back into another physical lifetime, it is likely to commit suicide again when faced with some unpleasant event. It never learns, and this cycle can repeat essentially indefinitely. Dealing with this is one of the most difficult problems faced by the administrators who work on the Astral planes.
For those who want more than scientific atheism, there is mainstream garden variety religion. Mainstream Christianity has developed a clever stonewalling technique that has worked to promote inaction for thousands of years. This technique is centered upon the argument that no one can make any progress until Jesus returns to show the way. In the meantime, people should just do nothing and wait. The effect of this is essentially the same as scientific atheism. No Spiritual progress is made.
Schemes designed to waste time are common. One really off the wall example is the decision in Syria to prohibit vacuum cleaners and standard flat brooms in homes. "Witch type" brooms consisting of a circular straw bundle are allowed. Surely there must be a good reason to keep these terrorist weapons out of the reach of the typical Syrian housewife. The official reason is to make basic housework as difficult and time consuming as possible so as to prevent the woman from having any free idle time which, if allowed, could lead to the emergence of "immoral thoughts". Perfectly logical!
In the western world, complex bureaucracies seem to be deliberately designed to make the path to whatever you want as difficult as possible. Here the apparent motive is to prevent the acquisition of enough free time for any independent thought process. There are just not enough hours in a day to allow for any quiet contemplation of anything.
"Blank time" is always reported as a factor in the development of Spiritual figures. Time alone in the wilderness, time spent meditating alone in some isolated cave or at least periods of dedicated quiet time somewhere figure prominently in historical accounts of these people.
You may know or have heard of kids who spend all their waking hours playing interactive role model video games with other kids on the internet. They eat meals by the computer and never leave except to briefly sleep before returning to the all important game. Their entire life is spent in an imaginary reality. You may want to consider that your "real" life may not be all that different. You play a role. Your attributes are fixed by what society expects based upon that role. You can't change, because others would notice. Your concept of the world beyond your little world is determined by what you see on TV. Daily, you receive your "fix" of carefully choreographed "programming" which appears unusually coherent because, as you may not know or fully comprehend, everything on TV is controlled by a few corporations and all of them are loyal to the official government party line. If you somehow had the opportunity to break from this structured "game" you play from day to day — say, the opportunity to visit other countries and see other cultures — you would likely realize that your existence has not been that much different from the kid addicted to a computer game. You would find that the actual "real" world had very little relationship to the world you had been conditioned to believe existed.
Chemical Control Techniques
"With the use of chemical brain-control agents it may be possible to control the individual and the masses and to do this unobtrusively and without the active cooperation of the victims — not a question for the future — it is here".
This is a quote from the book by Edgar Cayce titled Edgar Cayce on Atlantis. There are references to Dr. Robert Galbraith Heath, and this book bears a copyright date of 1968. The book cites an interview that Heath gave to a newspaper called The Virginia Lighthouse and cites the above statement made by him on November 20, 1966. Heath founded the Department of Psychiatry and Neurology at Tulane University, New Orleans, in 1949 and remained its Chairman until 1980.
During this period, Tulane University actively participated in the CIA mind control project known as MK Ultra [1]. Also, during this period, Tulane became an active member of the secret Institute for Defense Analyses, or IDA, a corporation whose only client is the US government. Heath reportedly performed many experiments there involving electrical stimulation of the brain via surgically implanted electrodes. This work was reportedly partially financed by the CIA and the US military. Heath is now "officially" [11] deceased.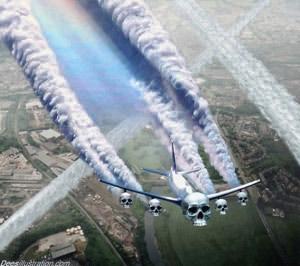 You have been drugged since you were conceived — before you were even born. Your mother was drugged. Soon after birth, you were injected with mercury containing vaccines. And the systematic process of poisoning you never stopped.
By some estimates at least eighty percent of the food in the average supermarket is poison either because it is genetically modified or laced with pesticides and other additives. Even the air is poison now because of geoengineering chemicals sprayed into the upper atmosphere.
It should be noted that things are different in the separate but parallel world of the elite. The Max Keiser show [12] discussed the secret gardens in Japan. These gardens are surrounded by high walls and guarded by the military. They produce the food for the ruling elite. Every plant in the garden has its own health certificate certifying that is pure, healthy and not genetically modified. Obviously, every developed country must have a similar secret supply chain of legitimate food for its ruling class. Certainly the elite know better than anyone that the food supply for the ordinary people is poison. They're not fools. They wouldn't touch the stuff.
Vaccines used for the elite are prepared without the mercury and other toxic additives found in vaccines given to the ordinary people.
Various agents — mainly from plants — have always existed which could be used by those aware of them to harm others or control people by altering their state of consciousness. However, only recently has it become practical to wreck the health of essentially everyone on the planet at the same time. Genetic modification of plants and other life forms used for food has made this possible. Now, quietly, people throughout the world can be sterilized, crippled with serious health problems or even killed by altering the genetic makeup of the food supply. Ordinary people remain generally ignorant of the fact that this awesome power exists and is presently being used against them.
Mind control has become a science. You can't major in it in college because this science is essentially entirely secret. The United States and other countries have spent the equivalent of billions of US dollars investigating and perfecting mind control.
Many secret research projects using unsuspecting or perhaps kidnapped people — some of whom were killed — have been conducted in the past and continue today. We only know about a very few of these projects such as MK Ultra, MK Naomi and Project Other. Even in these projects, specific details are sketchy. From these experiments, practical techniques for creating manchurian candidates and implanting created false personalities and identities have been developed and are in common use today within the secret communities.
Everyone has likely been the victim of some degree of mind control to some extent. Chemical weapons designed to mentally cripple people and render them drooling idiots are freely sold as prescription drugs in drugstores and are available to doctors to use as they please.
The lives of many kids are destroyed by these "drugs" because they have no ability to resist and their parents are ignorant and believe doctors can "do no harm". Actually, today's doctors are agents of the state. Many have top secret clearances and embrace classic Nazi philosophies such as eugenics. Their function is to watch you and make sure you "die appropriately" so as not to burden society. Anything they learn about you and anything you tell them is freely available to anyone in the intelligence community who is curious about you.
Only members of the super elite who are entitled to access top secret medicine will receive legitimate supportive medical care. Ordinary people will be deliberately allowed to die even though doctors with top secret clearances know of effective treatments which would cure them but which are classified and reserved for the chosen elite.
There is no such thing as an incurable disease any more. All the cures have been discovered. If you die, it is because you are not considered important enough to live and not because the cure does not exist.
Common sense should suggest to you that the lives of the elite have statistically different characteristics. For example, members of congress do not live sheltered lives. They work in close quarters and travel extensively both locally and internationally. They are always hanging out with prostitutes as well as playing with the young congressional pages.
Washington D.C. is reported to have more brothels than fast food joints. Strangely, however, these people do not get sick. Have you ever heard that congress had to shut down because everyone was coming down with some infection. It happens in other close populations, so what would make them exempt?
Understanding Astral Damage
Living things have an Astral component. For example, when you cut a leaf and then see the complete leaf on a Kirlian photo you are viewing the Astral component which was unaffected by cutting the physical component because it does not exist in the physical dimension.
Over one hundred years ago, practical techniques for viewing the human Aura were developed by Walter J. Kilner [4]. The original technique used dicyanin dye and a later technique used special glasses. You can't find either one today. In his research, Kilner was able to demonstrate that defects in the human Aura appeared before some corresponding disease manifested in the physical body.
Therefore, he was able to detect and prevent an adverse physical condition before it ever physically materialized. So, you ask, why don't we have this marvelous medical technique available today? Well, we do. It is in use in top secret medicine. However, only the approved elite now have access to it. The information has been removed from public knowledge and classified.
In conventional allopathic medicine, which is based upon scientific atheism and sold to the general public, there is officially no such thing as an Astral body. Conventional medicine denies the existence of anything beyond the physical dimension. Since the Astral body officially does not exist, it is not recognized as a crime to deliberately harm it.
Damage to the Astral body can be compared to damage to the physical body. If you punch holes in the physical body by cutting it, shooting bullets at it or whatever, blood runs out and germs get in. If you cause enough damage, the body dies. Astral bodies do not die, but can suffer critical energy losses. Similar to physical bodies, punching holes in the Astral body allows essential energy to escape and harmful energies to enter.
There are many events which can harm your Astral body. It is in your interest to understand these events because your Astral body will be your primary body when your physical body dies. If it has been damaged, you will be at a severe disadvantage. The chosen elite have perfect Auras because they can use the Aura balancing machines available to them at any top secret medicine provider. However, you cannot.
Also, the ruling elite seem to take some delight in causing harm to the "ordinary" people. Consequently, many drugs, food additives, GMO foods and industrial chemicals found in the environment cause Astral damage. Chemicals recognized as poisons and banned in other countries can be freely added to foods given to ordinary people in the US.
Obviously, there must exist a secret supply chain of safe food and water which is available to the chosen since they know of the contamination and certainly would not want to harm themselves or their friends.
There are ways to closely duplicate the secret techniques available only to the elite. If you can see auras or can find a reputable psychic who can, you can approximate the techniques developed by Kilner and available to everyone over a hundred years ago. Although the secret aura balancing machines are more accurate, a competent psychic healer can do the same thing. Actually, since psychics have always existed, similar techniques have been available throughout the ages to those who were aware.
Fluoride
The concept of adding fluoride to drinking water for the purpose of mind control is said to have originated in the 1930′s as a result of collaboration between German and Russian scientists [2]. Sodium fluoride was originally used and was found to cause a "mild lobotomy" in people who consumed small quantities. The effects were considered to be non reversible after one year of continuous use of the tainted water. Hitler added sodium fluoride to the water in his concentration camps to make the prisoners docile and cooperative as they waited for death.
Sodium fluoride (NaF) is used today in personal products like toothpaste. To poison the water supply of an entire country with sodium fluoride would be expensive. However, it just so happens that there is a waste product created during the manufacture of phosphate fertilizers, Fluorosilicic acid (H2SiF6), which is classified as hazardous waste and would be expensive to dispose of under EPA guidelines.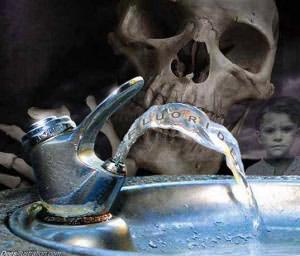 There is lots of this stuff available. This is the poison added to the public water supply in the US and some other countries. It is actually economical for industry because they don't have to pay for hazardous waste disposal. They just pump it into the public water supply.
In the human body, fluoride has an affinity for the pineal gland in the brain. The pineal gland is associated with the "third eye". Everyone has this third eye, but few are aware of it or know how to activate and use it.
Although the pineal gland is part of the physical body, the associated third eye is part of the Astral body and so is invisible in the physical dimension. The third eye allows you to see and communicate with the non-physical dimensions while fully awake and functioning in the physical dimension. So, you could see and carry on a conversation with someone in the physical dimension while invisibly also viewing and communicating with some entity on another plane of existence.
The standard Christian bible refers to the third eye with the phrase, "If thy eye be single thy whole body will be filled with light". However, only students of mysticism would recognize the true meaning of this quote.
Obviously, having this ability would be a threat to the security of any totalitarian society. Poisoning with fluoride destroys this ability and so solves that problem. Literature is available if you wish more detailed information. Simply search using the phrase "fluoride third eye".
On the chance that fluoride in the water is not sufficient to destroy any psychic abilities you may have, there are more aggressive ways to get fluoride into your brain. Here are some structural models of popular psychiatric drugs:
Notice that the element Fluorine (symbolized by its standard chemical symbol "F") figures prominently in all these compounds.
These drugs are used to cause "chemical lobotomy". By blocking communication channels with the higher levels of the human brain, they effectively convert the victim into a lower form of animal. Lower animals do not have the frontal lobes possessed by humans. That is what makes humans special. Disabling the frontal lobes effectively transforms a natural human being into, basically, a docile and obedient house pet which can be trained like a dog.
Incidentally, Fluorine also figures prominently in Sarin nerve gas.
For a more in depth study search YouTube for the free documentary Flouridegate — An American Tragedy by David Kennedy.
They All Drink From the Same Trough
If you casually look out upon the institutions of the world, it may appear to you that they are independent, discrete entities. However, they are not. They are all components of a collective which has successfully hidden its existence and true nature from the general population for generations.
Let's begin with the media in the US. Although it may appear to you that there are thousands of independent sources reporting "news", 90% of all media is controlled by six corporations. They are General Electric, News-Corp, Disney, Viacom, Time-Warner and CBS.
In the US, people believe they are protected from tyranny by the concept of "separation of powers" — that the executive, legislative and judicial branches of government are staffed by independent thinkers who "check and balance" each other. This is also a deception.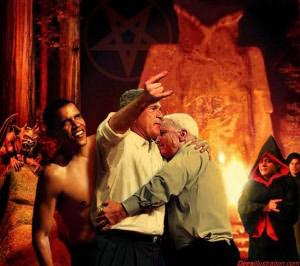 Once a year, at the end of July, there is a secret gathering on private property in the redwood forest of California called the Bohemian Grove. Although this annual meeting has been going on for over one hundred years, it is only during the last several years that outsiders have begun to learn of its existence. The only reason they have is because of the internet and independent journalism. Leaders from the mainstream media are all members of this secret club and so never even report its existence.
Who else goes to this annual secret "party"? Well, for want of a better name, we will call them the "Trusted Satanists". They are the leaders of all the major corporations, banks and representatives from all the major branches of the US government as well as foreign governments.
Although these men outwardly support the concept of capitalism for the masses, this elite group, among themselves, are perhaps best described as "rich socialists". Only men are allowed. For recreation, a stable of prostitutes — both male and female — are kept nearby off-site. The male prostitutes could theoretically enter the Grove.
The "party" begins with a Satanic ritual called "Cremation of Care" (i.e., "we don't care") which features the burning of a coffin at the base of a huge statue of an owl. Walter Cronkite reportedly was the official announcer at the grove until his death.
A secretly filmed video of this event is available on YouTube. It is supposed to be a "simulated" child sacrifice. However, since the CIA, FBI and NSA attend the ritual, who is going to complain on the chance it is a real sacrifice of a human child? After all, they are all trusted Satanists.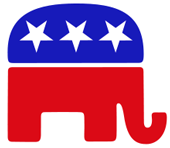 Most attendees from the United States are members of the Republican party. This is completely predictable in view of the fact that the US Republican party flaunts its affiliation with the "dark side" by prominently using the inverted star symbol on its official logo.
During the two week period, corporate leaders, the "independent" government regulators who supposedly keep corporations honest, the leaders from the executive, legislative and judicial branches of US government who are supposed to be "checking and balancing" each other, as well as the media moguls who we "trust" to report the truth, are all running around naked in the woods — pissing on the trees, playing with each other, and the male prostitutes as well as the off-site female prostitutes, and "having discussions".
Well, what are they "having discussions" about? They are discussing what they plan to do with "their world". The Manhattan Project to develop the first atomic bomb was reportedly planned at one of these discussions years ago. What about you? What about your future? What about any expectation of happiness you may have? Well, you see, you "don't need to know". Remember, "If you are not one of us, you are nothing".
Blueprints For the New World
Overview
If this link [7] is still active, it would be in your interest to read through it. This document is a transcript of a speech given by one of the insiders in the year 1969. He boldly states,"Everything is in place and no one can stop us now".
The article details how people ("people" means the slave class who are "nothing"; recall: "If you are not one of us, you are nothing") will just have to get used to changes such needing permission to have children, accepting mandated euthanasia as the law and total surveillance. Essentially all goals are now achieved, although some still remain guarded secrets.
The 1960′s was the period when physical death was eliminated. Of course, this "privilege" is only available to the select Satanic oligarchs. Effective cures for all diseases were also developed. The speaker [7] states that the cures are on file in the Rockefeller Institute. Of course, most are classified and only available to the chosen elite.
Infrastructure
The PBS documentary, Top Secret America [8], presents a good overview of the secret world of the elite. You may think no one is paying attention to the infrastructure in America because streets are in disrepair and bridges are falling down. However, you would be wrong. A tremendous amount of money is being spent on infrastructure in America — for the chosen elite. You will never see it and you will have no need for the decaying bridges and streets because you won't be around to use them. You, as well as 90+ percent of the current population, will be killed in the "Great Culling".
The new infrastructure is quite elaborate as the documentary explains. It consists of thousands of buildings which have a few stories visible above ground but which then extend for 90+ stories underground. All amenities are available within these secret structures which are basically self-sufficient.
It is important for the buildings to reach deep underground so that the lower levels can connect to the secret underground transport network. This network is global and provides safe high speed transport for the elite. Whenever the network crosses a tectonic plate, massive amounts of silicone are used to allow the transport tunnel to flex as needed. The network has access points in all countries. However, these points remain secret in countries which have yet to be subdued and co-opted into the new world order.
NWO Enabling Documents
The treaty known as the Trans-Pacific Partnership appears to be the formal enabling document for the new world. The actual document is secret and only high level corporate executives and politicians are allowed to see it.
Even after the treaty goes into force, its contents will remain secret. Because, in the United States, treaties must be openly debated in congress, the treaty is being called an "agreement" to circumvent the law and keep its contents secret. However, some details have become known.
Although the planet is officially divided into "sovereign" countries, it is overlaid with a network of transnational corporations. This network basically forms a parallel government which encircles the globe. The Trans-Pacific Partnership is designed to cause any country which signs on to surrender its national sovereignty to a secret committee composed of corporate executives. This committee can then alter the constitution and laws of any country which has accepted the treaty as suits their whim. There will be no appeal against this.
Under the treaty, there will be only one purpose to human life. That purpose will be to maximize the profits of the cabal of transnational corporations which will now be essentially a single global corporation in absolute control of the world. This effectively institutionalizes the new world order.
What does this mean for you? Well, to begin with, there can be no retirement. Paying for retirement would negatively impact corporate profits. So, if you can't work, you will be killed. Taking care of sick people would also drain corporate profits. It would be more profitable just to kill the sick and replace them with young, healthy slaves. Disabilities — forget it — disabled kids will never make it out of the womb alive.
Reeducation
To come into compliance with the philosophy of the new world, people will need to be reeducated. Military instruction documents [6] are already teaching that the Founding Fathers of the United States were extremists and anyone who thinks like them would not be suited for today's military.
Well, what did these radical extremists think?
"We hold these truths to be self-evident, that all men are created equal, that they are endowed by their Creator with certain unalienable Rights, that among these are Life, Liberty and the pursuit of Happiness."
Obviously, these principles are not compatible with the new world. The idea of a "Creator" conflicts with the official doctrine of Evolution. We can't have that. People must accept that they and the universe they live in is simply an "accident".
People are already realizing that Liberty and Happiness are gone. They know now that they live under constant surveillance and their lives get worse year after year. How about the right to Life? Can't have that. People need to be reeducated to believe that it is their "duty to die" when they are no longer useful to the state (which is now the global corporation).
Of course, the global elite will live physically forever but ordinary people will not know this.
If a world where people are conditioned to want to die and do not want kids but just sleep around for fun sounds vaguely familiar to you, you might recall that this is the future society described in Huxley's classic novel, Brave New World.
Population Modification
Please refer to [9] as a reference source. Today's "great thinkers" seem to be coming into agreement that most people are unnecessary and need to be exterminated for the convenience of the elite. Bill Gates, who has now been accepted into the super exclusive Bilderberg group, has reportedly taken the task of exterminating the third world population by giving them "free" vaccinations which will render them sterile.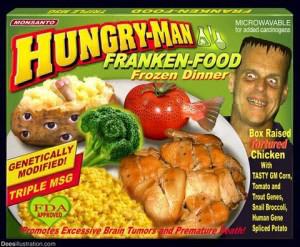 Lots of groups are working on secret sterilization methods. European tests of Monsanto's GM soybeans on hamsters showed the animals became sterile by the third generation [12]. A new gene known as Epicyte [9] is planned to be added to GM corn which will cause immediate sterilization.
Additionally, people are being "eased into" accepting the concept of "after birth abortion". Intellectuals are trying to get people to accept the argument that living human children under three or perhaps even five years old are really "not people but advanced feotuses". Since abortion is already legal, a simple change in the definition of "feotus" would allow young kids to be killed at will for any reason.
Another "new thought" gradually being programmed into the young is the pleasure of the "childless lifestyle". This propaganda seeks to convince people that having kids is too much trouble and they will be happier if they just get sterilized and then run around having lots of sex purely for fun.
These "evolutionary" population control techniques are already in effect. However, the elite likely are not willing to wait several generations to get rid of those they do not need. This brings us to the more direct method commonly called "The Great Culling" which will allow the elite to kill off most of the world's population quickly.
The most likely method will be the release of new designer viruses for which no one will have any natural immunity. Of course, the elite will all get the classified antidote. Preparations for the disposal of the bodies is already complete and stockpiles of plastic coffins — each designed to hold three bodies and manufactured under government contract by Halliburton — have been photographed and documented. Everything is now in place awaiting the "go" command.
Designer Children
Some types of designer children have already been approved for "production". Britain has approved three parent babies [10] and China has proposed a process to artificially fertilize most of a woman's eggs and then examine them to determine which is likely to produce a child with the highest IQ. This will be the only selected egg because Chinese women are only allowed to have one child and must then be sterilized.
In the new world where the only purpose of people will be to do slave labor to serve the elite corporate masters, the concept of allowing the existence of children conceived naturally clearly cannot be allowed. There would be an unexceptable chance for some kind of error that could result, for example, in the creation of a being capable of independent thought who might challenge the establishment.
A man's true worth is measured by the amount of other people's happiness that he can possess and destroy
This is a quote from the docudrama The American Ruling Class [5]. It is worthy of discussion because it is so prophetic.
The Satanic oligarchs who run this world basically exist and thrive on the misery of others. It is not enough just to use and abuse you — they want to consume your Soul. Your misery and suffering is, essentially, their "food". It is the source of their energy.
Ordinary innocent Souls are sustained by the life energy which flows from the Creator. However, since the oligarchs hate God, this energy flow is not available to them. So, they essentially survive by consuming the life energy of the innocent Souls they have captured and enslaved.
Ordinary people do not naturally choose to spend their lives in a state of constant war. They have to be somehow coerced into this behavior. Otherwise, they would likely seek a quiet, peaceful life. The atrocities the US and other warmonger nations force their citizens to commit are so contrary to basic human nature that the US loses more soldiers to suicide than it does to the enemy. The once innocent soldiers find that they simply cannot continue to live with what they have become and the memories of the horrors they have caused to others. The Satanic rulers who create wars, of course, have no problem with this.
Promotions within the inner circles of power are based upon how much evil one has done. The more harm you cause to others the greater your respect. You may have noticed that the stock market, which is a measure of the success of the elite, shows gains during periods when the average person is suffering and losses during periods when, somehow, life for the ordinary person seems to improve. The stock market set a new all time high, for example, during the Vietnam War when innocent young kids were being drafted and slaughtered in Vietnam while peaceful protesters at Penn State were executed by government forces for daring to dissent.
Why You Should Care
On the low Astral planes you will find people — Souls — who are totally lost and confused and seem to move in slow motion. They do not realize they have died. These "people" are not there because they tore up the Bible or burned the Koran or some other offensive act. They are there simply because it is the best they can do. They are using all of the Spiritual energy they have just to maintain this miserable existence. Whatever activities they engaged in while alive had no Spiritual merit and had no effect on developing or increasing their Spiritual energy level. Since the opportunity to do this ended when they died, they will remain strung out in this condition until they reincarnate again at which point they will have another chance to choose activities which enhance Spiritual energies.
You should care because the things you do and the things you fail to do during your brief life here will affect your existence for millions of years in the future.
The other dimensions operate under exact scientific rules just like this dimension. However, the rules are not the same. Because alternate sources of information are available today — mainly because of the internet — it is in your interest to at least investigate the available literature on Spirituality, energy raising techniques and various first-hand reports from people who have successfully visited the neighboring dimensions.
Source:  Walter C. Vetsch   |   3108.info  |  War Is Crime
He was an experiment, really. One of the first recruits for a new kind of warfare in which men and machines merge. He flew multiple missions, but he never left his computer. He hunted top terrorists, saved lives, but always from afar. He stalked and killed countless people, but could not always tell you precisely what he was hitting. Meet the 21st-century American killing machine. Who's still utterly, terrifyingly human.
From the darkness of a box in the Nevada desert, he watched as three men trudged down a dirt road in Afghanistan. The box was kept cold—precisely sixty-eight degrees—and the only light inside came from the glow of monitors. The air smelled spectrally of stale sweat and cigarette smoke. On his console, the image showed the midwinter landscape of eastern Afghanistan's Kunar Province—a palette of browns and grays, fields cut to stubble, dark forests climbing the rocky foothills of the Hindu Kush. He zoomed the camera in on the suspected insurgents, each dressed in traditional shalwar kameez, long shirts and baggy pants. He knew nothing else about them: not their names, not their thoughts, not the thousand mundane and profound details of their lives.
He was told that they were carrying rifles on their shoulders, but for all he knew, they were shepherd's staffs. Still, the directive from somewhere above, a mysterious chain of command that led straight to his headset, was clear: confirmed weapons. He switched from the visible spectrum—the muted grays and browns of "day-TV"—to the sharp contrast of infrared, and the insurgents' heat signatures stood out ghostly white against the cool black earth. A safety observer loomed behind him to make sure the "weapon release" was by the book. A long verbal checklist, his targeting laser locked on the two men walking in front. A countdown—three…two…one…—then the flat delivery of the phrase "missile off the rail." Seventy-five hundred miles away, a Hellfire flared to life, detached from its mount, and reached supersonic speed in seconds.
It was quiet in the dark, cold box in the desert, except for the low hum of machines.
He kept the targeting laser trained on the two lead men and stared so intently that each individual pixel stood out, a glowing pointillist dot abstracted from the image it was meant to form. Time became almost ductile, the seconds stretched and slowed in a strange electronic limbo. As he watched the men walk, the one who had fallen behind seemed to hear something and broke into a run to catch up with the other two. Then, bright and silent as a camera flash, the screen lit up with white flame.
Airman First Class Brandon Bryant stared at the scene, unblinking in the white-hot clarity of infrared. He recalls it even now, years later, burned into his memory like a photo negative: "The smoke clears, and there's pieces of the two guys around the crater. And there's this guy over here, and he's missing his right leg above his knee. He's holding it, and he's rolling around, and the blood is squirting out of his leg, and it's hitting the ground, and it's hot. His blood is hot. But when it hits the ground, it starts to cool off; the pool cools fast. It took him a long time to die. I just watched him. I watched him become the same color as the ground he was lying on."
That was Brandon Bryant's first shot. It was early 2007, a few weeks after his twenty-first birthday, and Bryant was a remotely-piloted-aircraft sensor operator—a "sensor" for short—part of a U.S. Air Force squadron that flew Predator drones in the skies above Iraq and Afghanistan. Beginning in 2006, he worked in the windowless metal box of a Ground Control Station (GCS) at Nellis Air Force Base, a vast sprawl of tarmac and maintenance hangars at the edge of Las Vegas.
The airmen kept the control station dark so they could focus on controlling their MQ-1B Predators circling two miles above the Afghan countryside. Bryant sat in a padded cockpit chair. He had a wrestler's compact build, a smooth-shaved head, and a piercing ice blue gaze frequently offset by a dimpled grin. As a sensor, his job was to work in tandem with the drone's pilot, who sat in the chair next to him. While the pilot controlled the drone's flight maneuvers, Bryant acted as the Predator's eyes, focusing its array of cameras and aiming its targeting laser. When a Hellfire was launched, it was a joint operation: the pilot pulled a trigger, and Bryant was responsible for the missile's "terminal guidance," directing the high-explosive warhead by laser to its desired objective. Both men wore regulation green flight suits, an unironic Air Force nod to the continuity of military decorum in the age of drone warfare.
Since its inception, the drone program has been largely hidden, its operational details gathered piecemeal from heavily redacted classified reports or stage-managed media tours by military public-affairs flacks. Bryant is one of very few people with firsthand experience as an operator who has been willing to talk openly, to describe his experience from the inside. While Bryant considers leakers like Chelsea Manning and Edward Snowden heroes willing to sacrifice themselves for their principles, he's cautious about discussing some of the details to which his top-secret clearance gave him access. Still, he is a curtain drawn back on the program that has killed thousands on our behalf.
Despite President Obama's avowal earlier this year that he will curtail their use, drone strikes have continued apace in Pakistan, Yemen, and Afghanistan. With enormous potential growth and expenditures, drones will be a center of our policy for the foreseeable future. (By 2025, drones will be an $82 billion business, employing an additional 100,000 workers.) Most Americans—61 percent in the latest Pew survey—support the idea of military drones, a projection of American power that won't risk American lives.
And yet the very idea of drones unsettles. They're too easy a placeholder or avatar for all of our technological anxieties—the creeping sense that screens and cameras have taken some piece of our souls, that we've slipped into a dystopia of disconnection. Maybe it's too soon to know what drones mean, what unconsidered moral and ethical burdens they carry. Even their shape is sinister: the blunt and featureless nose cone, like some eyeless creature that has evolved in darkness.
For Bryant, talking about them has become a sort of confessional catharsis, a means of processing the things he saw and did during his six years in the Air Force as an experimental test subject in an utterly new form of warfare.
Looking back, it was really little more than happenstance that had led him to that box in the desert. He'd been raised poor by his single mom, a public-school teacher in Missoula, Montana, and he struggled to afford tuition at the University of Montana. In the summer of 2005, after tagging along with a buddy to the Army recruiting office, he wandered into the Air Force office next door. His friend got a bad feeling and bailed at the last minute, but Bryant had already signed his papers. In short order he was running around at Lackland Air Force Base during Warrior Week in the swelter of a Texas summer. He wasn't much for military hierarchy, but he scored high on his aptitude tests and was shunted into intelligence, training to be an imagery analyst. He was told he would be like "the guys that give James Bond all the information that he needs to get the mission done."
Most of the airmen in his intel class were funneled into the drone program, training at Creech Air Force Base in the sagebrush desert an hour north of Las Vegas. Bryant was told it was the largest group ever inducted. His sensor-operator course took ten weeks and led into "green flag" exercises, during which airmen piloted Predators and launched dummy Hellfires at a cardboard town mocked up in the middle of the desert. The missiles, packed with concrete, would punch through the derelict tanks and wrecked cars placed around the set. "It's like playing Dungeons & Dragons," says Bryant. "Roll a d20 to see if you hit your target." His training inspector, watching over his shoulder, would count down to impact and say, "Splash! You killed everyone."
Within a few months he "went off" to war, flying missions over Iraq at the height of the conflict's deadliest period, even though he never left Nevada.
His opening day on the job was also his worst. The drone took off from Balad Air Base, fifty miles outside Baghdad in the Sunni Triangle. Bryant's orders, delivered during a pre-shift mission briefing, were straightforward: a force-protection mission, acting as a "guardian angel" over a convoy of Humvees. He would search out IEDs, insurgent activity, and other threats. It was night in the U.S. and already daylight in Iraq when the convoy rolled out.
From 10,000 feet, Bryant scanned the road with infrared. Traffic was quiet. Everything normal. Then he spotted a strange circle, glowing faintly on the surface of the road. A common insurgent's technique for laying IEDs is to douse a tire with gasoline, set it afire on a roadway, and dig up the softened tar beneath. The technique leaves a telltale heat signature, visible in infrared. Bryant, a fan ofThe Lord of the Rings, joked that it looked like the glowing Eye of Sauron.
Bryant pointed the spot out to the pilot, who agreed it looked like trouble. But when they tried to warn the convoy, they realized they couldn't. The Humvees had activated their radio jammers to disrupt the cell-phone signals used to remotely detonate IEDs. The drone crew's attempts at radio contact were as useless as shouting at the monitor. Brandon and his pilot patched in their flight supervisor to brainstorm a new way to reach them. They typed frantically back and forth in a group chat, a string of messages that soon included a cast of superiors in the U.S. and Iraq. Minutes passed, and the convoy rolled slowly toward the glowing circle. Bryant stared at the screen, heart pounding, scarcely breathing. The lead Humvee rolled across the eye. "Nothing happens," says Bryant. "And we're kind of like, maybe it was a mistake. Everyone's like Whew, good on you for spotting it, but we're glad that it wasn't what you thought it was." He remembers exhaling, feeling the nervous tension flow out of him.
"And the second vehicle comes along and boom.…"
A white flash of flame blossomed on the screen. Bryant was zoomed in as close as he could get, toggling his view between infrared and day-TV, watching in unblinking horror as the shredded Humvee burned. His headset exploded with panicked chatter from the ground in Iraq: What the fuck happened? We've got guys down over here! Frantic soldiers milled around, trying to pull people out of the smoldering wreckage. The IED had been tripped by either a pressure plate or manual detonation; the radio jammers would have done nothing to prevent it. Three soldiers were severely wounded, and two were killed.
"I kind of finished the night numb," Bryant says. "Then you just go home. No one talked about it. No one talked about how they felt after anything. It was like an unspoken agreement that you wouldn't talk about your experiences."
The pace of work in the box unraveled Bryant's sense of time. He worked twelve-hour shifts, often overnight, six days a week. Both wars were going badly at the time, and the Air Force leaned heavily on its new drone fleet. A loaded Predator drone can stay aloft for eighteen hours, and the pilots and sensors were pushed to be as tireless as the technology they controlled. (Bryant claims he didn't get to take leave for the first four years he served.)
Even the smell of that little shed in the desert got to Bryant. The hermetically sealed control center was almost constantly occupied—you couldn't take a bathroom break without getting swapped out—and the atmosphere was suffused with traces of cigarette smoke and rank sweat that no amount of Febreze could mask. One bored pilot even calculated the number of farts each cockpit seat was likely to have absorbed.
Mostly the drone crews' work was an endless loop of watching: scanning roads, circling compounds, tracking suspicious activity. If there was a "troops-in-contact" situation—a firefight, ground troops who call in a strike—Bryant's Predator could be called to the scene in minutes with its deadly payload. But usually time passed in a haze of banal images of rooftops, walled courtyards, or traffic-snarled intersections.
Sitting in the darkness of the control station, Bryant watched people on the other side of the world go about their daily lives, completely unaware of his all-seeing presence wheeling in the sky above. If his mission was to monitor a high-value target, he might linger above a single house for weeks. It was a voyeuristic intimacy. He watched the targets drink tea with friends, play with their children, have sex with their wives on rooftops, writhing under blankets. There were soccer matches, and weddings too. He once watched a man walk out into a field and take a crap, which glowed white in infrared.
Bryant came up with little subterfuges to pass the long hours at the console: sneaking in junk food, mending his uniforms, swapping off twenty-minute naps with the pilot. He mastered reading novels while still monitoring the seven screens of his station, glancing up every minute or two before returning to the page. He constructed a darkly appropriate syllabus for his occupation. He read the dystopian sci-fi classic Ender's Game, about children whose violent simulated games turn out to be actual warfare. Then came Asimov, Bryant pondering his Three Laws of Robotics in an age of Predators and Hellfires. A robot may not injure a human being….
Bryant took five shots in his first nine months on the job. After a strike he was tasked with lingering over a site for several haunting hours, conducting surveillance for an "after-action report." He might watch people gather up the remains of those killed and carry them to the local cemetery or scrub the scene by dumping weapons into a river. Over Iraq he followed an insurgent commander as he drove through a crowded marketplace. The man parked in the middle of the street, opened his trunk, and pulled two girls out. "They were bound and gagged," says Bryant. "He put them down on their knees, executed them in the middle of the street, and left them there. People just watched it and didn't do anything." Another time, Bryant watched as a local official groveled in his own grave before being executed by two Taliban insurgents.
In the early months Bryant had found himself swept up by the Big Game excitement when someone in his squadron made "mind-blowingly awesome shots, situations where these guys were bad guys and needed to be taken out." But a deep ambivalence about his work crept in. Often he'd think about what life must be like in those towns and villages his Predators glided over, like buzzards riding updrafts. How would he feel, living beneath the shadow of robotic surveillance? "Horrible," he says now. But at first, he believed that the mission was vital, that drones were capable of limiting the suffering of war, of saving lives. When this notion conflicted with the things he witnessed in high resolution from two miles above, he tried to put it out of his mind. Over time he found that the job made him numb: a "zombie mode" he slipped into as easily as his flight suit.
Bryant's second shot came a few weeks after targeting the three men on that dirt road in Kunar. He was paired with a pilot he didn't much like, instructed to monitor a compound that intel told them contained a high-value individual—maybe a Taliban commander or Al Qaeda affiliate, nobody briefed him on the specifics. It was a typical Afghan mud-brick home, goats and cows milling around a central courtyard. They watched a corner of the compound's main building, bored senseless for hours. They assumed the target was asleep.
Then the quiet ended. "We get this word that we're gonna fire," he says. "We're gonna shoot and collapse the building. They've gotten intel that the guy is inside." The drone crew received no further information, no details of who the target was or why he needed a Hellfire dropped on his roof.
Bryant's laser hovered on the corner of the building. "Missile off the rail." Nothing moved inside the compound but the eerily glowing cows and goats. Bryant zoned out at the pixels. Then, about six seconds before impact, he saw a hurried movement in the compound. "This figure runs around the corner, the outside, toward the front of the building. And it looked like a little kid to me. Like a little human person."
Bryant stared at the screen, frozen. "There's this giant flash, and all of a sudden there's no person there." He looked over at the pilot and asked, "Did that look like a child to you?" They typed a chat message to their screener, an intelligence observer who was watching the shot from "somewhere in the world"—maybe Bagram, maybe the Pentagon, Bryant had no idea—asking if a child had just run directly into the path of their shot.
"And he says, 'Per the review, it's a dog.' "
Bryant and the pilot replayed the shot, recorded on eight-millimeter tape. They watched it over and over, the figure darting around the corner. Bryant was certain it wasn't a dog.
If they'd had a few more seconds' warning, they could have aborted the shot, guided it by laser away from the compound. Bryant wouldn't have cared about wasting a $95,000 Hellfire to avoid what he believed had happened. But as far as the official military version of events was concerned, nothing out of the ordinary had happened. The pilot "was the type of guy to not argue with command," says Bryant. So the pilot's after-action report stated that the building had been destroyed, the high-value target eliminated. The report made no mention of a dog or any other living thing. The child, if there had been a child, was an infrared ghost.
The closest Bryant ever got to "real" combat—the roadside bombs and mortar fire experienced by combat troops—was after volunteering to deploy to Iraq. He spent the scorching summer and fall of 2007 stationed at the airfield in Balad, flying Predators on base-defense missions—scanning the area for insurgents. Some troops thanked the drone crews for being "angels in the sky," but more often they were the butt of jokes, mocked as "chair-borne rangers" who would "only earn a Purple Heart for burning themselves on a Hot Pocket."
Bryant struggled to square the jokes with the scenes that unfolded on his monitors. On one shift, he was told by command that they needed coordinates on an insurgent training compound and asked him to spot it. There was a firing range, and he watched as a group of fighters all entered the same building. One of the issues with targeting insurgents was that they often traveled with their families, and there was no way to tell who exactly was in any given building. Bryant lasered the building as he was ordered. Moments later, smoke mushroomed high into the air, a blast wave leveling the entire compound. An F-16, using Bryant's laser coordinates as guidance, had dropped a 1,000-pound bomb on the building—ten times the size of a Hellfire. "They didn't actually tell us that they were gonna blow it up," says Bryant. "We're like, 'Wow, that was nice of you to inform us of that.' "
In 2008, Bryant was transferred to a new post in "the shittiest place in the world," a drone squadron out of Cannon Air Force Base in Clovis, New Mexico, where, Bryant says, "the air is not oxygen, it's basically cow shit." He continued as an operator for several more years, but his directive had changed. He was now mainly tracking high-value targets for the Joint Special Operations Command—the same secret-shrouded branch of the service that spearheaded the hunt for Osama bin Laden. "We were going after top dudes. They started showing us PowerPoint presentations on who these people are," he says. "Why we're after him, and what he did. I liked that. I liked being able to know shit like that."
Bryant has never been philosophically opposed to the use of drones—he sees them as a tool, like any other, that can be used for good ends, citing their potential use to fight poachers, or to monitor forest fires. For him it's about who controls them, and toward what ends. "It can't be a small group of people deciding how they're used," he says. "There's got to be transparency. People have to know how they're being used so they're used responsibly."
Transparency has not been the defining feature of U.S. drone policy over the last decade. Even as Bryant was being trained to operate drones in our very public wars in Iraq and Afghanistan, a parallel and clandestine drone war was being waged in places like Pakistan, Yemen and Somalia. Since 2004, the CIA has carried out hundreds of strikes in Pakistani territory, cutting secret deals with Pakistani intelligence to operate a covert assassination program. Another covert CIA drone base was operated from Saudi Arabia, launching strikes against militants in the lawless and mountainous interior of Yemen. While Bryant never flew for the CIA itself, their drone operators were drawn directly from the Air Force ranks.
While stationed in Clovis, among the highest-value targets Bryant's squadron hunted was Anwar al-Awlaki, the U.S.-born Yemeni imam and Al Qaeda recruiter. Al-Awlaki was ultimately killed by a CIA drone strike in Yemen in September 2011 (as was his 16-year-old son, Abdulrahman, a few weeks later). But Bryant claims his Air Force squadron "did most of the legwork" to pinpoint his location.
By 2011, Bryant had logged nearly 6,000 hours of flight time, flown hundreds of missions, targeted hundreds of enemies. He was in what he describes as "a fugue state of mind." At the entrance to his flight headquarters in Clovis, in front of a large bulletin board, plastered with photographs of targets like al-Awlaki, he looked up at the faces and asked: "What motherfucker's gonna die today?"
It seemed like someone else's voice was speaking, some dark alter ego. "I knew I had to get out."
By the spring of 2011, almost six years after he'd signed on, Senior Airman Brandon Bryant left the Air Force, turning down a $109,000 bonus to keep flying. He was presented with a sort of scorecard covering his squadron's missions. "They gave me a list of achievements," he says. "Enemies killed, enemies captured, high-value targets killed or captured, stuff like that." He called it his diploma. He hadn't lased the target or pulled the trigger on all of the deaths tallied, but by flying in the missions he felt he had enabled them. "The number," he says, "made me sick to my stomach."
Total enemies killed in action: 1,626.
"After that first missile hit, I didn't really talk to anyone for a couple weeks." Bryant spoke to me while driving his beat-up black Dodge Neon in looping cursive circles around his hometown of Missoula. A yellow support-the-troops sticker on his bumper was obscured by a haze of road salt. The car's interior was festooned with patches from the different units he'd served with; in the back seat was a military pack stuffed with equal parts dirty laundry and bug-out gear. The gray midwinter sky weighed on a procession of strip malls and big-box stores; the snowy crenellations of the Bitterroot Range stretched far away to the south. He stared ahead as though watching the scene of his shot on an endless loop. "I didn't know what it meant to kill someone. And watching the aftermath, watching someone bleed out, because of something that I did?"
That night, on the drive home, he'd started sobbing. He pulled over and called his mother. "She just was like, 'Everything will be okay,' and I told her I killed someone, I killed people, and I don't feel good about it. And she's like, 'Good, that's how it should feel, you should never not feel that way.' "
Other members of his squadron had different reactions to their work. One sensor operator, whenever he made a kill, went home and chugged an entire bottle of whiskey. A female operator, after her first shot, refused to fire again even under the threat of court martial. Another pilot had nightmares after watching two headless bodies float down the Tigris. Bryant himself would have bizarre dreams where the characters from his favorite game, World of Warcraft, appeared in infrared.
By mid-2011, Bryant was back in Missoula, only now he felt angry, isolated, depressed. While getting a video game at a Best Buy, he showed his military ID with his credit card, and a teenage kid behind him in line spoke up. "He's like, 'Oh, you're in the military; my brother, he's a Marine, he's killed like thirty-six dudes, and he tells me about it all the time.' And I turn around and say, 'If you fucking ever talk like this to me again, I will stab you. Don't ever disrespect people's deaths like that ever again.' " The kid went pale, and Bryant took his game and left.
At the urging of a Vietnam veteran he met at the local VA office, Bryant finally went to see a therapist. After a few sessions, he just broke down: "I told her I wanted to be a hero, but I don't feel like a hero. I wanted to do something good, but I feel like I just wasted the last six years of my life." She diagnosed him with post-traumatic stress disorder.
It was an unexpected diagnosis. For decades the model for understanding PTSD has been "fear conditioning": quite literally the lasting psychological ramifications of mortal terror. But a term now gaining wider acceptance is "moral injury." It represents a tectonic realignment, a shift from a focusing on the violence that has been done to a person in wartime toward his feelings about what he has done to others—or what he's failed to do for them. The concept is attributed to the clinical psychiatrist Jonathan Shay, who in his book Achilles in Vietnam traces the idea back as far as the Trojan War. The mechanisms of death may change—as intimate as a bayonet or as removed as a Hellfire—but the bloody facts, and their weight on the human conscience, remain the same. Bryant's diagnosis of PTSD fits neatly into this new understanding. It certainly made sense to Bryant. "I really have no fear," he says now. "It's more like I've had a soul-crushing experience. An experience that I thought I'd never have. I was never prepared to take a life."
In 2011, Air Force psychologists completed a mental-health survey of 600 combat drone operators. Forty-two percent of drone crews reported moderate to high stress, and 20 percent reported emotional exhaustion or burnout. The study's authors attributed their dire results, in part, to "existential conflict." A later study found that drone operators suffered from the same levels of depression, anxiety, PTSD, alcohol abuse, and suicidal ideation as traditional combat aircrews. These effects appeared to spike at the exact time of Bryant's deployment, during the surge in Iraq. (Chillingly, to mitigate these effects, researchers have proposed creating a Siri-like user interface, a virtual copilot that anthropomorphizes the drone and lets crews shunt off the blame for whatever happens. Siri, have those people killed.)
In the summer of 2012, Bryant rejoined the Air Force as a reservist, hoping to get into the famed SERE program (Survival, Evasion, Resistance, Escape), where he would help train downed pilots to survive behind enemy lines. After so much killing, he wanted to save people. But after a severe concussion in a training accident, he dropped out and returned once more to Missoula. He walked with a cane, had headaches and memory lapses, and fell into a black depression.
During the worst of it, Bryant would make the rounds of Missoula's dozens of roughneck bars and drink himself to blackout on whiskey and cokes, vanishing for days or weeks on end. Many of those nights he would take his government-issued minus-forty-degree sleeping bag and pull into a parking lot in the middle of town next to the Clark Fork river. There's a small park with a wooden play structure there, built to look like a dragon with slides and ladders descending from it. He would climb to the little lookout deck at the top, blind drunk, and sleep there, night after night.
He doesn't remember much of that hazy period last summer, but his mother, LanAnn, does. Several times he had left a strange locked case sitting out on the kitchen table at her house, and she had put it back in the closet. The third day she woke to find the case open, with a loaded Sig Sauer P226 semi-automatic pistol lying out. Terrified that he might kill himself, she gave it to a friend with a locked gun safe. She'd only told her son about it a week earlier. He had no memory of any of it.
"I really thought we were going to lose him," LanAnn Bryant says now.
Something needed to change. Bryant hoped that by going to the press, people would understand drone crews' experience of war, that it was "more than just a video game" to them. In the fall, he spoke to a reporter for the German newsweekly Der Spiegel. The story was translated into English, and the British tabloid Daily Mail picked it up, posting it with the wildly inaccurate headline drone operator followed orders to shoot a child…and decided he had to quit. The story went viral.
The backlash from the drone community was immediate and fierce. Within days, 157 people on Bryant's Facebook page had de-friended him. "You are a piece of shit liar. Rot in hell," wrote a former Air Force comrade. In a sort of exercise in digital self-flagellation, Bryant read thousands of Reddit comments about himself, many filled with blistering vitriol and recrimination. "I read every single one of them," he says. "I was trying to just get used to the negative feelings." The spectrum of critics ranged from those who considered drone warfare a crime against humanity to combat veterans who thought Bryant was a whiner. He'd had death threats as well—none he took seriously—and other people said he should be charged with treason and executed for speaking to the media. On the day of one of our interviews, The New York Times ran an article about the military's research into PTSD among drone operators. I watched as he scanned a barrage of Facebook comments mocking the very idea that drone operators could suffer trauma:
>I broke a fucking nail on that last mission!
>Maybe they should wear seatbelts
>they can claim PTSD when they have to do "Body Collection & Identification"
And then Bryant waded in:
>I'm ashamed to have called any of you assholes brothers in arms.
>Combat is combat. Killing is killing. This isn't a video game. How many of you have killed a group of people, watched as their bodies are picked up, watched the funeral, then killed them too?
>Yeah, it's not the same as being on the ground. So fucking what? Until you know what it is like and can make an intelligent meaningful assessment, shut your goddamn fucking mouths before somebody shuts them for you.
Bryant's defense—a virtual battle over an actual war—left him seething at his keyboard. He says that when flying missions, he sometimes felt himself merging with the technology, imagining himself as a robot, a zombie, a drone itself. Such abstractions don't possess conscience or consciousness; drones don't care what they mean, but Bryant most certainly does. Now he plans to study to be an EMT, maybe get work on an ambulance, finally be able to save people like he always wanted. He no longer has infrared dreams, no longer closes his eyes and sees those strange polarized shadows flit across them.
Bryant closed his laptop and went out into the yard, tossing a tennis ball to his enormous bounding Japanese mastiff. Fingers of snow extended down through the dark forests of the Bitterroot, and high white contrails in the big sky caught the late-afternoon sunlight. The landscape of western Montana, Bryant observed, bears a striking resemblance to the Hindu Kush of eastern Afghanistan—a place he's seen only pixelated on a monitor. It was a cognitive dissonance he had often felt flying missions, as he tried to remind himself that the world was just as real when seen in a grainy image as with the naked eye, that despite being filtered through distance and technology, cause and effect still applied. This is the uncanny valley over which our drones circle. We look through them at the world, and ultimately stare back at ourselves.
Source: GQ  |  MATTHEW POWER  | PHOTOGRAPHS BY ETHAN LEVITAS
"There was, of course, no way of knowing whether you were being watched at any given moment. How often, or on what system, The Thought Police plugged in on any individual wire was guesswork. It was even conceivable that they watched everybody all the time. But at any rate, they could plug in your wire whenever they wanted to. You had to live — did live, from habit that became instinct — in the assumption that every sound you made was overheard, and, except in darkness, every move was scrutinized."
The above quote is from 1984, by George Orwell. The now-famous date that Orwell chose was actually of no real significance. He simply reversed the last two digits of the year in which he wrote the book, 1948. Orwell concerned himself less with timeline than with concept. And that concept has been chillingly accurate in its foresight.
The quote above should ring alarm bells in today's world, particularly for those who live in the US, as the US government leads the world in the development of surveillance of its people.
Today, the US government is in the process of completing a massive electronic surveillance network that encompasses all telephone calls, all computer-driven communication, and all banking transactions. Quite a tribute to Orwell's Big Brother.
We have in the past predicted that the surveillance net will eventually expand to include all monetary transactions by US residents (possibly through the replacement of the paper dollar by an electronic money system), allowing the US government to ultimately have knowledge of every aspect of the economic activities of US residents and, therefore, control over those activities.
(Editor's note: this is known as the "war on cash;" see more here and from Dr. Joe Salerno here.)
The excuse given for such surveillance has been "to protect America from terrorism." This notion is a wonderful invention, as terrorism can be imagined to be small or large and can occur at anytime, anywhere in the country. Further, if there are no actual occurrences, the government can create false flag incidents as easily and as often as they are needed.
The bogeyman of "terrorism" is particularly useful, as terrorism is faceless. No invasion is necessary. A terrorist can be anyone — even your next door neighbour and, indeed, the government computers are programmed to pay especially close heed to specific words and phrases, such as "freedom" or "patriotism." Should your next door neighbour use such words in his emails, he is more likely to be flagged.
The degree of surveillance that Orwell described in 1984 has not yet been reached, but it is not far off. Most importantly, though, the most essential aspect of its implementation has already been overcome — the aspect of popular acceptance. The American people, in the main, have successfully been sold the concept that it is necessary in order to keep Americans "safe from terrorism."
With this green light, the US government is moving rapidly toward the completion of the implementation of full surveillance.
If any American doubts that this is coming, he need only ask himself whether the present wiretaps, warrantless house raids, and TSA shakedowns would have been possible only a generation ago.
Americans are already being conditioned to understand that, if they object to these intrusions, that only makes them more suspect. Citizens are already being encouraged to report any "suspicious" activity they observe in their fellow citizens, or indeed, even in their own families. It is almost as if 1984 had been used as a guide in creating the new USA.
Of course, it is admittedly easy for non-Americans such as myself to criticise. We lose nothing by suggesting that those who are in a country that is in a state of dramatic decline, plan their exits whist it is still possible. After all, we are not the ones who would be leaving our home, job, and possibly family members behind. We are, in fact, already comfortably settled in our own countries — countries that may actually be thriving and promising us a positive future.
And there is another factor that makes it easy for us. Those Americans that we do meet are generally those who have already left — who have plucked up their courage and made an exit to friendlier, more promising shores. Not surprisingly, they tend to be very positive people.
On the other hand, those who remain in the US are surrounded by others who, at least at present, have chosen to remain. Therefore, to actually entertain the idea of escaping the oppression of an over-reaching government (not to mention a collapsing economic system and perpetual warfare) is a lonely pursuit indeed.
For anyone to actually raise himself up to see the forest for the trees is, in itself, a majorfeat. To actually conceive of and then plan an actual exit to greener pastures is an even greater one.
It is easy for all of us, no matter where we are, to observe that the end product (that of1984) is abhorrent and unfit for humanity. However, the end product does not occur all in one fell swoop. Like the boiling of a frog, it is made possible, first, by the comforting warmth of the water, which increases slowly in temperature, lulling the frog into complacency until he is too sleepy to jump out of the pot.
The US began as, very possibly, the most ideal republic ever conceived. Yet, at intervals, over the last 237 years, the original ideals have been stripped away and, in recent years, as it slides toward a very literal 1984, the deterioration has sped up dramatically. Saddest of all, it is occurring with the approval of the now-complacent frogs.
This is not to say that the US is alone in its deterioration towards a totalitarian state. The countries of the EU and many others of the former "Free World" are also in decline. However, the US does lead the way in its Orwellian surveillance. At this point, the US government does not even deny its surveillance. In Orwellian tradition, they merely state, "If you have nothing to hide, you need not fear your government." And just as in 1984, thatfear is exactly the object. People who live in fear are easily controlled. They stay put and take whatever is dished up.
As Thomas Jefferson observed,
"When the government fears the people, that is liberty; when the people fear the government, that is tyranny."
Source: Jeff Thomas  |  International Man
"U.S. hopes of winning more influence over Syria's divided rebel movement faded Wednesday after 11 of the biggest armed factions repudiated the Western-backed political opposition coalition and announced the formation of an alliance dedicated to creating an Islamist state. The al-Qaeda-affiliated Jabhat al-Nusra, designated a terrorist organization by the United States, is the lead signatory of the new group." 1
Pity the poor American who wants to be a good citizen, wants to understand the world and his country's role in it, wants to believe in the War on Terrorism, wants to believe that his government seeks to do good … What is he to make of all this?
For about two years, his dear American government has been supporting the same anti-government side as the jihadists in the Syrian civil war; not total, all-out support, but enough military hardware, logistics support, intelligence information, international political, diplomatic and propaganda assistance (including the crucial alleged-chemical-weapons story), to keep the jihadists in the ball game. Washington and its main Mideast allies in the conflict – Turkey, Jordan, Qatar and Saudi Arabia – have not impeded the movement to Syria of jihadists coming to join the rebels, recruited from the ranks of Sunni extremist veterans of the wars in Chechnya, Iraq, Afghanistan, and Libya, while Qatar and the Saudis have supplied the rebels with weapons, most likely bought in large measure from the United States, as well as lots of of what they have lots of – money.
This widespread international support has been provided despite the many atrocities carried out by the jihadists – truck and car suicide bombings (with numerous civilian casualties), planting roadside bombs à la Iraq, gruesome massacres of Christians and Kurds, grotesque beheadings and other dissections of victims' bodies (most charming of all: a Youtube video of a rebel leader cutting out an organ from the chest of a victim and biting into it as it drips with blood). All this barbarity piled on top of a greater absurdity – these Western-backed, anti-government forces are often engaged in battle with other Western-backed, anti-government forces, non-jihadist. It has become increasingly difficult to sell this war to the American public as one of pro-democracy "moderates" locked in a good-guy-versus-bad-guy struggle with an evil dictator, although in actuality the United States has fought on the same side as al Qaeda on repeated occasions before Syria. Here's a brief survey:
Afghanistan, 1980-early 1990s: In support of the Islamic Moujahedeen ("holy warriors"), the CIA orchestrated a war against the Afghan government and their Soviet allies, pouring in several billions of dollars of arms and extensive military training; hitting up Middle-Eastern countries for donations, notably Saudi Arabia which gave hundreds of millions of dollars in aid each year; pressuring and bribing Pakistan to rent out its country as a military staging area and sanctuary.
It worked. And out of the victorious Moujahedeen came al Qaeda.
Bosnia, 1992-5: In 2001 the Wall Street Journal declared:
It is safe to say that the birth of al-Qaeda as a force on the world stage can be traced directly back to 1992, when the Bosnian Muslim government of Alija Izetbegovic issued a passport in their Vienna embassy to Osama bin Laden. … for the past 10 years, the most senior leaders of al Qaeda have visited the Balkans, including bin Laden himself on three occasions between 1994 and 1996. The Egyptian surgeon turned terrorist leader Ayman Al-Zawahiri has operated terrorist training camps, weapons of mass destruction factories and money-laundering and drug-trading networks throughout Albania, Kosovo, Macedonia, Bulgaria, Turkey and Bosnia. This has gone on for a decade. 2
A few months later, The Guardian reported on "the full story of the secret alliance between the Pentagon and radical Islamist groups from the Middle East designed to assist the Bosnian Muslims – some of the same groups that the Pentagon is now fighting in "the war against terrorism". 3
In 1994 and 1995 US/NATO forces carried out bombing campaigns over Bosnia aimed at damaging the military capability of the Serbs and enhancing that of the Bosnian Muslims. In the decade-long civil wars in the Balkans, the Serbs, regarded by Washington as the "the last communist government in Europe", were always the main enemy.
Kosovo, 1998-99: Kosovo, overwhelmingly Muslim, was a province of Serbia, the main republic of the former Yugoslavia. In 1998, Kosovo separatists – The Kosovo Liberation Army (KLA) – began an armed conflict with Belgrade to split Kosovo from Serbia. The KLA was considered a terrorist organization by the US, the UK and France for years, with numerous reports of the KLA having contact with al-Qaeda, getting arms from them, having its militants trained in al-Qaeda camps in Pakistan, and even having members of al-Qaeda in KLA ranks fighting against the Serbs. 4
However, when US-NATO forces began military action against the Serbs the KLA was taken off the US terrorist list, it "received official US-NATO arms and training support" 5 , and the 1999 US-NATO bombing campaign eventually focused on driving Serbian forces from Kosovo.
In 2008 Kosovo unilaterally declared independence from Serbia, an independence so illegitimate and artificial that the majority of the world's nations still have not recognized it. But the United States was the first to do so, the very next day, thus affirming the unilateral declaration of independence of a part of another country's territory.
The KLA have been known for their trafficking in women, heroin, and human body parts (sic). The United States has naturally been pushing for Kosovo's membership in NATO and the European Union.
Nota bene: In 1992 the Bosnian Muslims, Croats, and Serbs reached agreement in Lisbon for a unified state. The continuation of a peaceful multi-ethnic Bosnia seemed assured. But the United States sabotaged the agreement. 6
Libya, 2011: The US and NATO to the rescue again. For more than six months, almost daily missile attacks against the government and forces of Muammar Gaddafi as assorted Middle East jihadists assembled in Libya and battled the government on the ground. The predictable outcome came to be – the jihadists now in control of parts of the country and fighting for the remaining parts. The wartime allies showed their gratitude to Washington by assassinating the US ambassador and three other Americans, presumably CIA, in the city of Benghazi.
Caucasus (Russia), mid-2000s to present: The National Endowment for Democracy and Freedom House have for many years been the leading American "non-government" institutions tasked with destabilizing, if not overthrowing, foreign governments which refuse to be subservient to the desires of US foreign policy. Both NGOs have backed militants in the Russian Caucasus area, one that has seen more than its share of terror stretching back to the Chechnyan actions of the 1990s. 7
"Omission is the most powerful form of lie." – George Orwell
I am asked occasionally why I am so critical of the mainstream media when I quote from them repeatedly in my writings. The answer is simple. The American media's gravest shortcoming is much more their errors of omission than their errors of commission. It's what they leave out that distorts the news more than any factual errors or out-and-out lies. So I can make good use of the facts they report, which a large, rich organization can easier provide than the alternative media.
A case in point is a New York Times article of October 5 on the Greek financial crisis and the Greeks' claim for World War Two reparations from Germany.
"Germany may be Greece's stern banker now, say those who are seeking reparations," writes theTimes, but Germany "should pay off its own debts to Greece. … It is not just aging victims of the Nazi occupation who are demanding a full accounting. Prime Minister Antonis Samarass government has compiled an 80-page report on reparations and a huge, never-repaid loan the nation was forced to make under Nazi occupation from 1941 to 1945. … The call for reparations has elicited an emotional outpouring in Greece, where six years of brutal recession and harsh austerity measures have left many Greeks hostile toward Germany. Rarely does a week go by without another report in the news about, as one newspaper put it in a headline, 'What Germany Owes Us'."
"The figure most often discussed is $220 billion, an estimate for infrastructure damage alone put forward by Manolis Glezos, a member of Parliament and a former resistance fighter who is pressing for reparations. That amount equals about half the country's debt. … Some members of the National Council on Reparations, an advocacy group, are calling for more than $677 billion to cover stolen artifacts, damage to the economy and to the infrastructure, as well as the bank loan and individual claims."
So there we have the morality play: The evil Germans who occupied Greece and in addition to carrying out a lot of violence and repression shamelessly exploited the Greek people economically.
Would it be appropriate for such a story, or an accompanying or follow-up story, to mention the civil war that broke out in Greece shortly after the close of the world war? On one side were the neo-fascists, many of whom had cooperated with the occupying Germans during the war, some even fighting for the Nazis. Indeed, the British Foreign Secretary, Ernest Bevin, acknowledged in August 1946 that there were 228 ex-members of the Nazi Security Battalions – whose main task had been to track down Greek resistance fighters and Jews – on active service in the new Greek army. 8
On the other side was the Greek left who had fought the Nazis courageously, even forcing the German army to flee the country in 1944.
So guess which side of the civil war our favorite military took? … That's right, the United States supported the neo-fascists. After all, an important component of the Greek left was the Communist Party, although it wouldn't have mattered at all if the Greek left had not included any Communists. Support of the left (not to be confused with liberals of course) anywhere in the world, during and since the Cold War, has been verboten in US foreign policy.
The neo-fascists won the civil war and instituted a highly brutal regime, for which the CIA created a suitably repressive internal security agency, named and modeled after itself, the KYP. For the next 15 years, Greece was looked upon much as a piece of real estate to be developed according to Washington's political and economic needs. One document should suffice to capture the beauty of Washington's relationship to Athens – a 1947 letter from US Secretary of State George Marshall to Dwight Griswold, the head of the American Mission to Aid Greece, said:
During the course of your work you and the members of your Mission will from time to time find that certain Greek officials are not, because of incompetence, disagreement with your policies, or for some other reason, extending the type of cooperation which is necessary if the objectives of your Mission are to be achieved. You will find it necessary to effect the removal of these officials. 9
Where is the present-day Greek headline: "What The United States Owes Us"? Where is the New York Times obligation to enlighten its readers?
The latest step in the evolution of America's Police State
"If you've got nothing to hide, you've got nothing to fear."
So say many Americans. And many Germans as well.
But one German, Ilija Trojanow, would disagree. He has lent his name to published documents denouncing the National Security Agency (NSA), and was one of several prominent German authors who signed a letter to Chancellor Angela Merkel urging her to take a firm stance against the mass online surveillance conducted by the NSA. Trojanow and the other authors had nothing to hide, which is why the letter was published for the public to read. What happened after that, however, was that Trojanow was refused permission to board a flight from Salvador da Bahia, Brazil, to Miami on Monday, September 30. Without any explanation.
Trojanow, who was on his way to speak at a literary conference in Denver, told the Spiegel magazine online website that the denial of entry might be linked to his criticism of the NSA. Germany's Foreign Ministry says it has contacted US authorities "to resolve this issue". 10
In an article published in a German newspaper, Trojanow voiced his frustration with the incident: "It is more than ironic if an author who raises his voice against the dangers of surveillance and the secret state within a state for years, will be denied entry into the 'land of the brave and the free'."11
Further irony can be found in the title of a book by Trojanow: "Attack on freedom. Obsession with security, the surveillance state and the dismantling of civil rights."
Director of National Intelligence James R. Clapper Jr., who oversees the NSA and other intelligence agencies, said recently that the intelligence community "is only interested in communication related to valid foreign intelligence and counterintelligence purposes." 12
It's difficult in the extreme to see how this criterion would apply in any way to Ilija Trojanow.
The story is a poignant caveat on how fragile is Americans' freedom to criticize their Security State. If a foreigner can be barred from boarding a flight merely for peaceful, intellectual criticism of America's Big Brother (nay, Giant Brother), who amongst us does not need to pay careful attention to anything they say or write.
Very few Americans, however, will even be aware of this story. A thorough search of the Lexis-Nexis media database revealed a single mention in an American daily newspaper (The St. Louis Post-Dispatch), out of 1400 daily papers in the US. No mention on any broadcast media. A single one-time mention in a news agency (Associated Press), and one mention in a foreign English-language newspaper (New Zealand Herald).
Notes
Washington Post, September 26, 2013 ↩
Wall Street Journal, November 1, 2001 ↩
The Guardian (London), April 22, 2002 ↩
RT TV (Moscow), May 4, 2012 ↩
Wall Street Journal, November 1, 2001 ↩
New York Times, June 17, 1993, buried at the very end of the article on an inside page ↩
Sibel Edmonds' Boiling Frogs Post, "Barbarians at the Gate: Terrorism, the US, and the Subversion of Russia", August 30, 2012 ↩
Parliamentary Debates, House of Commons, October 16, 1946, column 887 (reference is made here to Bevin's statement of August 10, 1946) ↩
Foreign Relations of the United States, 1947, Vol. V (U.S. Government Printing Office, 1971), pp. 222-3. See William Blum, Killing Hope: US Military and CIA Interventions Since World War II, chapter 3 for further details of the US role in postwar Greece. ↩
Associated Press, October 2, 2013 ↩
Huffington Post, "Ilija Trojanow, German Writer, Banned From US For Criticizing NSA", October 1, 2013 ↩
Washington Post, October 5, 2013 ↩
You know, in spite of the visit from The Bone Lady when I was just three years old, and all the grim foreshadowing that she downloaded to me via direct intuition, I always held out hope that humanity could or would somehow turn things around on this planet, and snatch victory from the jaws of defeat.
As long as there is breath there is always hope, that was my thinking for a long time, but I am no longer so sanguine.
As one of my friends recently remarked to me, there is, indeed, real evil abroad in this world. I don't know how else to explain the wickedness of what is happening at Fukushima, in Japan, where the situation with the exploded and/or melted down nuclear reactors just goes from frightfully dire to unimaginably worse.
I frequently check the developments there at www.enenews.com and the latest news is very disturbing. I said from the outset, in the spring of 2011, that Tokyo would be evacuated. I still believe that to be inevitable. It is possible that much of Japan will be evacuated to elsewhere. The apocalyptic dimensions of the crisis are being covered up by TEPCO, the Japanese government, General Electric, and the USSA government. The reality is that there was at least one, and maybe more, really dirty nuclear blasts there in March of 2011, that wrecked the reactors and created a radioactive hell that no one knows how to remedy or bring under control. At the least we are probably looking at the failure and collapse of Japanese society with likely evacuation of tens of millions of people or more, and the fairly rapid death of vast portions of the Pacific Ocean, as deadly radioactive waste water continues to flow into the sea by the hundreds of tons, every day.
And when the cooling pool at reactor four collapses, the many tons of highly radioactive, spent, fuel rods that it contains will overheat and burn and or catastrophically fission, i.e., cause a runaway, nuclear reaction, or, in lay man's terms, there will be another atomic explosion, along with a mushroom cloud, and tons of highly poisonous nuclear isotopes will be spread aloft into the atmosphere and/or will drain or be blown into the sea, to poison the Pacific Ocean even further.
This is worse than bad news. This is planetary chaos news. This is civilization ending news. This is species extinction level news, as in extinction of the human species on this planet. If you do not think so, all I can say is: wait. It won't be long. Probably not ten years, not five, maybe even by Christmas this year, and you will begin to see what i mean, if you haven't already.
And even if the cooling pool at reactor four doesn't fail or collapse of its own accord in the near future, though that is very highly probable, TEPCO's plan to manually remove the many tons of bent, mangled, fused, welded together, very highly radioactive fuel rods that remain in the pool, beginning in November of this year, is so fraught with peril that it is likely to spectacularly fail, with unimaginably negative consequences. Any slight mistake, miscue or dropped fuel rod could result in a fission criticality, a runaway nuclear chain reaction, to wit, an atomic explosion that will shower the northern hemisphere and the Pacific Basin with a fatal radioactive sleet that will persist for hundreds of thousands of years.
As I said, the situation is somewhere far south of dire, with a headlong, hellward trajectory.
The Nuclear Chain Reaction
Because what is inevitable, the longer the situation at Fukushima festers, is that the whole site will have to be abandoned. Due to the high radiation levels, no one will be able to work there without dying. So the workers will pull back, and the cooling pools and storage pools that contain thousands of tons of extremely radioactive, spent fuel rods will fail or collapse and there will be more explosions and radioactive fires. As the radioactively contaminated NO GO ZONE expands, as the population flees, the day will come when nuclear reactors at other, nearby power generating plants will also fail, melt down and/or explode, because the nuclear engineers and maintenance workers no longer come to work and operate them — BECAUSE THEY ARE DEAD.
And then there will be three or four more, and the radioactive No Go Zone will expand, widen, grow. And other nuclear power plants will then fail, melt down and/or explode, because their operators are also DEAD, and so do not come to work, do not maintain them.
There are over 50 nuclear power reactors in Japan, and they all have their spent fuel rod cooling pools. It doesn't matter if the reactors themselves are shut down, because there are thousands and thousands of tons of highly radioactive, spent, nuclear fuel rods stored in the cooling pools all over Japan. So, given time, the crisis will continue to fester and worsen, and then it will begin to cascade, like a row of toppling dominoes, only it will be a series of failing nuclear power reactors, one after the other, heralding the end of the nuclear age, and quite possible the end of humanity.
It's just that serious.
All of that will send a killing wave of radioactivity across the Pacific to North America. So what happens when the population on the west coast of the USSA flees in panic from the approaching killer wave of radioactivity? Well, there will be no one left to operate the nuclear power reactors in California, for example. or at Palo Verde, the massive nuclear power plant just to the west of Phoenix. So when those nuclear reactors and their spent fuel cooling pools fail, melt down, and/or blow up, the civilization-ending, planet-killing, Fukushima Syndrome will come home to America with a wicked vengeance.
All courtesy of General Electric. General Electric designed five out of the six reactors at Fukushima and built three of them, so what we see here is genocidal, planet-killing failure of American (alleged) "high technology" on a spectacular scale.
General Electric — busy exterminating a planet near you of its resident, biological life forms.
At the end of the day, all the differential calculus, the nuclear physics, the nuclear chemistry, the nuclear engineering, the corporate profits, the Madison Avenue advertising slogans, the multinational wheeling and dealing, all has conspired to assassinate the planet on which we, and they, all live. Make no mistake, the planet is now dying. The global poisoning process is so very far advanced that it probably cannot be stopped. Certainly, there is not now any serious, international effort to do so, not anything remotely commensurate with the level of danger that we are facing.
No doubt we are dealing with profound iniquity, a betrayal so complete of all that is human that no words exist to describe its foul dimension. The ones who have done this thing walk among us, though for how long? – understanding that they, too, will certainly drop dead along with countless millions of others, as a direct result of their abjectly arrogant ignorance.
Arrogant Ignorance
All of their super-computers, the advanced mathematics, their (so-called) "hi-tech" industrial base, all of their billions of dollars of (so-called) "high finance" — and they kill the planet? And themselves and their posterity in the process? That's the best they can do? They get a PhD in nuclear chemistry and use their (so-called) "knowledge" and (so-called) technical "expertise" to kill the planet? The planet that they also live on?
Geniuses. All of them.
Central Banking Middle East Madness
Then there is the very real prospect of a shooting, nuclear war, beginning in the Middle East. The USSA has a powerful fleet in the region. So do the Russians, as a counterpoint. Sadly for all humanity, the Washington, DC — City of London — Lower Manhattan — Tel Aviv — NATO cabal seems hell bent on war, and so we are on the slippery slope to war. Unfortunately, this psychopathic cabal is very heavily nuclear armed.
I saw all of this coming from waaaaaaay back, from way back in my infancy, since the age of three years, when The Bone Lady visited me and clued me in to realities that I still don't want to think about, given their ghastly, hideous savagery. But I'll tell you what, it's enough to give a man insomnia, it's enough to drive him out onto the nuclear missile silos, again and again, in a personal effort to inject a note of sanity and warning into a positively insane political and military climate, in an attempt to wake up anyone who may be susceptible to awakening.
ANYONE.
My latest sally was 15 April 2010 in North Dakota, USA. I went over the security fence onto the H-8 Minuteman III nuclear missile silo in the Minot Air Force Base nuclear missile field, near Parshall, North Dakota, at the intersection of 33rd Street and 76th Avenue. I conducted a nonviolent, peace demonstration on the silo and was arrested by the USSA military and imprisoned for 100 days, almost all of the time served in the Heart of America Correctional and Treatment Center in Rugby, North Dakota.
My Minot Manifesto explains my motivations, reasons and spiritual and political philosophy. It is one of the most important documents I have written in my entire life.
A Serious Message From The Heart of America was my personal statement that I mailed to the news media from jail in Rugby, North Dakota, on 14 July 2010, prior to being criminally tried and convicted in USSA federal court in Minot, North Dakota.
I explain the symbolism in my dress and accoutrements in the photo below, in the text of my lengthy Minot Manifesto. It's thirteen pages, but worth the time and effort to read. It is a major life statement on my part, that reflects literal decades of deep thought, a very large quantum of concentrated life energy and hours, weeks, months and years of preparation, a statement that distills an important fraction of my life essence into human language. I invite you to partake of my gift by taking the time to read and reflect on what I have written, and then to take meaningful, principled, creative, nonviolent action yourself.
I don't quite know what more to say, what more to do. In fact, were I to do more than I already have, and I have been out on the nuclear missile silos three times (and been jailed for my trouble all three times, in Arkansas, Missouri and North Dakota), I would run the very real risk of infringing on your right and your very real, personal RESPONSIBILITY to also courageously act. So what are you waiting for? Why are you here on this planet, at this time, reading this blog post, and articles like it?
Because make no mistake about it, the time to act, if you are going to act, is here. The time has arrived. The planet is on the brink. We face the very real prospect of a shooting nuclear war. Additionally, the Fukushima crisis, and the threat from nuclear power plants in general, ALL OF THEM, could not be more serious.
In recent days, I find myself musing about the closing scene from "Dr. Stramgelove," with the haunting song by Vera Lynn, "We'll Meet Again, Don't Know Where, Don't Know When," that was such a huge hit in World War II, for obvious reasons.
And it fills me with such melancholy and sorrow. Because if it starts, this ugly thing called nuclear war, and we are headed that way, can all unravel very rapidly. The machines will take over, and automated, pre-programmed orders of battle will be carried out, without human control, as machines battle machines with nuclear fire. Waves of missiles will come in, again and again, to batter the underground bases. I have read the declassified documents. Warhead after warhead will come in at 10 minute intervals. You cannot imagine the depths of the hell that is already programmed and waiting to be unleashed.
Back in the 1960s, the USSA military was counting on 140 million casualties in the mainland USSA alone. I know this because I have read the documents. I have done the research. The USSA population is much larger now, and much more urban, so the casualty rate would be even higher. Maybe 200 million? 250 million casualties in the USSA alone?
Do you think you will just watch that on CNN?
Refuge in the Southern Hemisphere
If you have read my previous writings you will know that I have said that IF humanity has a future, it is likely to be in the southern hemisphere, if only because the lion's share of the nuclear weapons and nuclear power reactors are in the northern hemisphere. As the nuclear power plants fail, melt down, and/or explode most of them will be in the northern hemisphere. This is not an intellectual exercise — already we have had catastrophic failure of nuclear power plants at Chernobyl, Ukraine and Fukushima, Japan. They are just the first. There will be more.
Likewise, any shooting nuclear war is logically likely to be concentrated in the northern hemisphere, since all of the known, nuclear armed, military powers are in the northern hemisphere
But even then, there are enormous problems in the southern hemisphere. The vegetation in the Amazon region of South America produces something like 20 to 30% of the oxygen in the Earth's atmosphere. As the Amazon dies, and it is being destroyed right now, so too, is the Earth's breathable oxygen supply being destroyed. I don't know about you, but I breathe oxygen all day and all night, every day and every night of my life.
So even if we resolve the nuclear issue, and there is ZERO progress on that front right now, only to lose the Amazon, we all will still die, because none of us can survive with 20 to 30% less oxygen. Just cannot.
Right now, we, humanity, every last one of us, are in a life and death struggle for the life of our species, and the life of our planet.
If we win, we live. If we lose, we die. ALL OF US.
End of the story. End of our species' genetic line. For ever and ever.
Done. Finished.
So maybe moving to Bolivia or Uruguay or Namibia or Madagascar or New Zealand will buy you a little time, a year or ten. However, if we fail to rein in and ABOLISH nuclear reactors and nuclear weapons, if we fail to reforest the Earth and cleanse it of radioactive contamination, then we are through. It's the end for us.
This is our group decision. Right now we are on a self-destructive path to global extinction.
So Here Is My View
If you will act decisively, now is the time. Pick your issue and your spot and act creatively, courageously and nonviolently.
It's your world and your life. Act like they both count for something.
And here's the other thing. If you cannot, or will not act, then how about supporting those of us who have acted, and who continue to act?
In my case, I have paid a very heavy price, in earnings forever foregone, by putting my life on the line, repeatedly, for you, whom I do not even know. But because you are my human kin, I went out on the missile silos, again and again, and I went to jail. I lost more than a year and a half of productive labor. I lost, as well, the opportunity to have a whole wide range of well paying jobs, due to my arrest and prison record, even though I have multiple advanced university degrees, up to the doctorate level.
Subsequent to my arrival in South America, I immersed myself in Amazonian shamanic culture, the better to understand the Amazonian region, the jungle itself, and the shamanic human ecology of the region that interfaces with the hyper-conscious plants in the jungle, only to be very gravely assaulted by one of the said Amazonian shamans and hospitalized for more than four months with massive trauma to both my body and emotions. I am now pursing a criminal case against the shaman and that also costs heavily, several thousands of dollars in attorneys' fees, at the very time when so much of my time and energy is taken up with therapy and the sheer physical effort of getting around with impaired mobility. Nine months after the assault I still have physical nerve trauma in my lower extremities, a good deal of numbness and what is called drop foot. I walk with crutches. My electro-therapy also costs. At the moment I cannot go to electro-therapy, although I badly need it, because I only have $35 to my name.
I have run completely through my meager life savings and there is no more.
Additionally, I have this week begun the formal petition process to the government of Ecuador to request political asylum. My years-long record of anti-nuclear activism and repeated jailing by the USSA government is one factor in my decision, coupled with other factors such as recent revelations of universal NSA surveillance and espionage, the secret arrest and indefinite military detention provisions of the NDAA of 2012 and 2013, the recently revealed, previously secret 2011 FBI documents that blatantly discuss plans to murder Occupy Movement activists by sniper fire, including in San Antonio, Texas, where I lived and worked as a window washer from 2000 to 2009, and all of this in the context of an all encompassing pattern of unbridled lawlessness and pervasive lying with regard to EVERYTHING by the American government. All of this and more, has brought home to me the seriousness of this moment that we are living now.
I have the obligation to safeguard my own liberty and safety. It is clear to me that politically I am freer and safer in Ecuador than in the USSA. The American government has taken a hard, dictatorial turn towards neo-fascism. That is the plain truth. The harsh, repressive treatment of Edward Snowden and Chelsea (formerly Bradley) Manning makes that clear enough. We are in altogether different territory now. And so I have petitioned for political refuge in Ecuador.
This also entails paying an attorney, to assist me in my interactions with the administrative, legal and political system in Ecuador. It is my life on the line and I am proceeding very carefully, every step of the way.
But it is also your life on the line, in that my anti-nuclear activism, my immersion in the Amazonian culture, and my pursuit of political refuge in Ecuador all have profound implications far beyond just me. What happens to me also has broad implications for you. The consequences of nuclear war are too horrific to contemplate, and if it is to be avoided, it is because of actions such as mine. Similarly, we simply cannot afford to lose the Amazon, and yet we are losing it right now. If we are to save it, a big part of that will be due to the personal efforts of those who come to the region and get personally involved in the nitty-gritty, even life-threatening struggle for the soul of the Amazon, because more than anything, we are involved in a pitched battle for the very spirit and soul of the Amazon and of the rest of this planet.
Similarly, if I, with my history of activism, book writing, researching, blogging, public speaking, interviews, and repeated nonviolent civil disobedience and consequent jail record, cannot obtain political refuge abroad, then what hope do you have? You're boxed in, that's what. You're in a cage with no exit.
And so, if you cannot or have not done the things that I and others like myself have done and are doing, then can you please, will you at least please support us?
I desperately need your support now. My legal fees run to thousands of dollars, and my therapy is ongoing. I appreciate and really need your generosity. Please communicate with me at: dr.samizdat1618@gmail.com or via Skype at richard.sauder333 as to how to donate.
Come Ye That Love The Lord
I am a native Virginian, and have lived, worked, traveled, studied and gone to jail all over the American South, from the Virginias and Maryland, all the way across to South Texas, and numerous points in between. A very large block of my life has been spent down South. Although I am not now a church attending man, I have in the past been in all kinds of Christian churches, both Black and White, in big cities and small country towns.
Some of the most memorable sermons I have ever heard have been by Black pastors in rural areas of the deep South. One of the things I like about the traditional Black style of hymn singing down South is the way that the head deacon or pastor will frequently line out a hymn, especially the first line or two of a verse, and then the other deacons or members of the choir will join in, accompanied by riffs on the organ, if there is an organist, and there are some really gifted organists playing in southern Black churches.
I well remember a sermon that I once chanced to hear, decades ago, by a Black lay preacher, one sultry, Sunday night, in a tiny little town way down South, about as far south as you can go, and still be in the South and not somewhere else. The ceiling fans lazily stirred the muggy summer air, as the moths flitted vainly around the naked incandescent light bulbs hanging from the ceiling overhead. The windows were flung wide open and the pale light from the sanctuary washed feebly out through the rusted screens and flooded onto the close cropped lawn that surrounded the church. It was one of the most extraordinary public speaking performances I ever witnessed. The preacher used as his text Ezekiel 37, the theme being dry bones and systematically connecting them one to the other, the purpose being to reassemble and restore "them dry bones" to life. As he spoke, I saw that he fell into a trance, that he entered another state of consciousness, that he was self-hypnotized and that the sermon itself had a sort of existence independent of him, that the message took on a life of its own and was using his mind, his mouth, his body, to project itself into the ears, hearts and minds of the sparse assemblage present that evening. As he finished, he collapsed exhausted backwards into his armchair and lined out the first words of the hymn that he wanted the choir to sing. I don't anymore remember exactly what song he called for, but it could well have been this: Come Ye That Love The Lord
If there is to truly be a new world order, as distinct from the obscene power that currently holds sway on this planet today, then we will need to see a completely new order of human being on this world, a species of human being motivated by love for the Creator and by devotion to inward and outward service to the sacred life impulse. We don't see that now, and the human species may go extinct on this planet for its want.
I do believe in God and have been profoundly privileged to see some of His servants face to face. I find their company congenial.
Come, ye that love the Lord,
And let your joys be known;
Join in a song with sweet accord,
And thus surround the throne.

Let those refuse to sing
That never knew our God,
But children of the heavenly King
May speak their joys abroad.

The God of heaven is ours,
Our Father and our love ;
His care shall guard life's fleeting hours,
Then waft our souls above.

There shall we see his face,
And never, never sin;
There, from the rivers of his grace,
Drink endless pleasures in.

Yes, and before we rise
To that immortal state.
The thoughts of such amazing bliss
Should constant joys create.

Children of grace have found
Glory begun below:
Celestial fruits on earthly ground,
From faith and hope may grow.

The hill of Sion yields
A thousand sacred sweets,
Before we reach the heavenly fields,
Or walk the golden streets.

Then let our songs abound,
And ev'ry tear be dry;
We're trav'lling through Immanuel's ground,
To fairer worlds on high.

(John Wesley, ca. 1703- 1791)
Source: Richard Sauder  |  Event Horizon Chronicle
On 28 November 1953, at 2 am, a man crashed through a closed window and fell to his death from the 10th floor of the Statler Hotel in New York City. He was identified as Frank Olson, a bacteriologist with the US Army Research Center at Fort Detrick, Maryland. He had fallen from a room he shared with another scientist, Robert Lashbrook. It was ruled a suicide.
Twenty-two years later, in 1975, William Colby, then CIA director, declassified documents that changed the complexion of the case. It was revealed that Olson had actually been an undercover CIA operative at Fort Detrick, and that one week prior to his death, he had been drinking Cointreau at a high-level meeting with scientists at Deep Creek Lodge in rural Maryland. The Cointreau was laced with a large dose of LSD administered by his CIA boss, Sidney Gottlieb. He was then sent to New York with Lashbrook, also with the CIA, to see a psychiatrist because the LSD had induced a psychosis.
It was also revealed that Olson had been part of the top secret CIA program that was known as Project MK-ULTRA, exploring the use of chemicals and drugs for purposes of mind control, and bacteriological agents for covert assassination. Olson had been working on ways to deliver anthrax in aerosol form, for use as a weapon. New evidence that came to light, through the persistent efforts of Olson's son Eric, made the suicide ruling highly suspect.
It turned out that Olson had been labelled a security risk by British intelligence after getting upset witnessing human experimentation on a trip to Frankfurt, Germany the previous summer. Eric Olson now believes that his father was drugged and then murdered to make sure that he didn't reveal the secrets of the MK-ULTRA project. Following the 1975 revelations, the government must have felt more than a little guilt about the affair because Olson's family was given a 17 minute audience with US President Ford, who apologised to them, and they were awarded damages in the amount of $750,000.
Controlling Human Behaviour
The MK-ULTRA program was instituted on 13 April 1953 by CIA Director Allen Dulles, ostensibly to counter the brainwashing techniques of American prisoners being held by the North Koreans during the Korean War, and to duplicate those techniques on enemy prisoners, i.e. the creation of "Manchurian Candidates." This was the claim used to obtain funding for the project. However, the Prisoner of War brainwashing program was just the tip of the iceberg, and the CIA-sponsored experiments ventured far and wide into areas of Mind Control under the aegis of MK-ULTRA that had little or nothing to do with methods of interrogation.
The Colby revelations were part of a sweeping investigation of the CIA in January 1975 by the "Commission on CIA Activities Within the United States," chaired by Vice-President Nelson Rockefeller. The subsequent June 1975 Report to the President said: "The drug program was part of a much larger CIA program to study possible means for controlling human behaviour. Other studies explored the effects of radiation, electric-shock, psychology, psychiatry, sociology and harassment substances."
Even though the program got off to a rocky start with the Olson affair, it recovered quickly and became an umbrella project with 149 sub-projects. The overall guiding principal was succinctly stated in an internal CIA memo dated January 1952: "Can we get control of an individual to the point where he will do our bidding against his will and even against fundamental laws of nature such as self-preservation?" 
The drug program came under the aegis of the Chemical Division of the Technical Services Staff headed up by Sidney Gottlieb from 1951 to 1956. Gottlieb was a highly intelligent eccentric who drank goat's milk, enjoyed folk-dancing, and raised Christmas trees on his farm outside Washington.
The Agency funded LSD research programs at major medical centres and universities including Boston Psychopathic, Mt. Sinai Hospital at Columbia University, University of Illinois Medical School, University of Oklahoma and others. The funding was carried out secretly through the Josiah Macy Foundation, and the Geschickter Fund for Medical Research in Washington, D.C. The CIA claimed the secrecy was necessary to keep it from the Russians, but we have already seen that it was part of much larger project to learn how to control human behaviour in general, so this is not credible.
Gottlieb told Dr. Harold Abramson at Mt. Sinai (who just happened to be the psychiatrist that Olson was supposed to see!) that he wanted "operationally pertinent materials [about]: a. Disturbance of Memory; b. Discrediting by Aberrant Behaviour; c. Alteration of Sex Patterns; d. Eliciting of Information; e. Suggestibility; f. Creation of Dependence." That sounds like pretty deep stuff for the spy game. They were really afraid of public reaction and congressional condemnation, especially since the CIA charter did not allow domestic operations, and certainly prohibited experimentation on US citizens.
The callousness of the research is best exemplified by the CIA-funded work of Dr. Harris Isbell, the Director of the Addiction Research Center in Lexington, Kentucky. The drug addict hospital inmates, who were mostly black, were encouraged to volunteer for LSD research in return for hard drugs of their choice or time off their sentences. In most cases, they were given pure morphine or heroin. At one point Isbell kept seven men on LSD for 77 straight days. Many others were on it for up to 42 days.
Concerning extended LSD usage, John Marks in his landmark book The Search for the Manchurian Candidate: The CIA and Mind Control says about writer Hunter S. Thompson (recently deceased) that he "frightened his readers with accounts of drug (LSD) binges lasting a few days, during which Thompson felt his brain boiling away in the sun, his nerves wrapping around enormous barbed wire forts, and his remaining faculties reduced to their reptilian antecedents." The recent movie The Rum Diary, starring Johnny Depp, based on the autobiographical book by Hunter S. Thompson, presents an imaginative re-enactment of his LSD adventures.
The CIA Turns On the Counter-Culture
Not satisfied with university research, Gottlieb recruited New York narcotics agent George White to distribute LSD surreptitiously to the "borderline underworld." Operating through safe houses in Greenwich Village, Haight-Ashbury and Marin County, White gave doses to prostitutes, pimps, drug addicts and other "marginal people" and then observed the results and reported to Gottlieb.
John Marks says they were people "who would be powerless to seek any sort of revenge if they ever found out what the CIA had done to them. In addition to their being unlikely whistle-blowers, such people lived in a world where an unwitting dose of some drug… was an occupational hazard anyway."
Eventually, White started using it randomly all over New York and San Francisco. Regarding the results, Marks says, "The MKULTRA scientists reaped little but disaster, mischief, and disappointment from their efforts to use LSD as a miracle weapon against the minds of their opponents." Yet, they continued this program for 10 years until 1963.
Ironically, since the CIA had pretty much cornered the market on LSD internationally, buying up all the product of Sandoz and Eli Lilly, the spread of the drug to the counter-culture was through the Agency.Timothy Leary, Ken Kesey, Allen Ginsburg and Tom Wolfe were first "turned on" thanks to the CIA, and that's how the "flower children" became psychedelic.
But, the LSD experiments may have been more successful than Marks realised. They were carefully noting the precise effects on brain chemistry, and in the six areas that Gottlieb was concerned with: memory disturbance, aberrant behaviour, altered sexual patterns, eliciting information, suggestibility and creation of dependence. This became evident when they started using LSD as an adjunct in hypnotic and electronic experiments.
Re-Patterning the Brain
Perhaps the most notorious and nefarious MK-ULTRA sub-project was carried out at the Allan Memorial Institute in Montreal, Canada under the directorship of Dr. Donald Ewen Cameron, an American from Albany, New York. Cameron had trained at the Royal Mental Hospital in Glasgow, Scotland, under eugenicist Sir David Henderson, and founded the Canadian branch of the World Federation for Mental Health. At various times, he was elected president of the Canadian, American, and World psychiatric associations. In other words, Cameron was no renegade but had the full faith and endorsement of the world psychiatric establishment.
The CIA wanted Cameron to "depattern" the contents of the brain to make it receptive to new patterning. David Remnick in a Washington Post article on 28 July 1985 said:
"The…. heart of the laboratory was the Grid Room…. The subject was strapped into a chair involuntarily, by force, his head bristling with electrodes and transducers. Any resistance was met with a paralysing dose of curare. The subject's brainwaves were beamed to a nearby reception room crammed with voice analysers, a wire recorder and radio receivers cobbled together… The systematic annihilation or 'depatterning' of a subject's mind and memory was accomplished with overdoses of LSD, barbiturate sleep for 65 days at a stretch and ECT shocks at 75 times the recommended dosage. Psychic driving, the repetition of a recorded message for 16 hours a day, programmed the empty mind. Fragile patients referred to Allan Memorial for help were thus turned into carbuncular jellyfish."
Anton Chaitkin in his essay, 'British Psychiatry: From Eugenics to Assassination', says:
"Patients lost all or part of their memories, and some lost the ability to control their bodily functions and to speak. At least one patient was reduced almost to a vegetable; then Cameron had the cognitive centres of her brain surgically cut apart, while keeping her alive. Some subjects were deposited permanently in institutions for the hopelessly insane."
The CIA funded these horrors through a front called "The Society for the Investigation of Human Ecology." Other supporters of the Allan Institute were the Rockefeller Foundation, the Geschickter Foundation, and the Canadian government.
About Cameron's work, Wikipedia says: "Naomi Klein states, in her book The Shock Doctrine, that Cameron's research and his contribution to the MKUltra project was actually not about mind control and brainwashing, but 'to design a scientifically based system for extracting information from "resistant sources." In other words, torture'. And citing a book from Alfred W. McCoy it further says that 'Stripped of its bizarre excesses, Cameron's experiments, building upon Donald O. Hebb's earlier breakthrough, laid the scientific foundation for the CIA's two-stage psychological torture method'." This method was codified in the infamous "KUBARK Counterintelligence Interrogation Manual" published by the CIA in July 1963, and in the Human Resources Exploitation Training Manual – 1983 that was used in CIA training courses in Latin American countries up until 1987. These manuals describe methods of psychological torture, far more potent than physical torture, to elicit information from "resistant sources."
An Orwellian Nightmare
As one would expect, the technologies now available to the mind-controllers have zoomed off the chart to the point where George Orwell's world of omni-surveillance now seems almost quaint. Of course, it is true that 1984 was 28 years ago. But even as far back as 1970, US congressman James Scheur was able to say:
"As a result of spinoffs from medical, military aerospace and industrial research, we are now in the process of developing devices and products capable of controlling violent mobs without injury. We can tranquillise, impede, immobilise, harass, shock, upset, stupefy, nauseate, chill, temporarily blind, deafen or just plain scare the wits out of anyone the police have a proper need to control and restrain."
A brief survey of some of the scariest products known to be in the arsenal of the secretive alphabet agencies arrayed against John Q. Public are such devices as the Neurophone, patented by Dr. Patrick Flanagan in 1968. It converts sound to electrical impulses which can be delivered from satellites. When aimed at individuals, the impulses travel directly to the brain where the sounds are re-assembled and appear to be voices inside the head, which can be perceived as coming from God, or telepathic aliens, or whatever. Or the sounds can come out of a turned-off TV or radio. Through software, the device can mimic anyone's voice and translate into any language.
It is believed that the CIA, DIA, NSA et al use the Neurophone to deliver threats and propaganda to selected targets, or just to torment someone they don't like. One can imagine the possibilities. Could this explain some of the killings by "psychopaths" who say they were instructed by God, such as Mark David Chapman, David Berkowitz, or Sirhan Sirhan? If they had been previously evaluated through sophisticated personality assessments and groomed by LSD or hypnosis, such voices could easily tip the balance and convince them to kill.
We've all heard about the "Thought Police" and laughed because it seemed so implausible. Well, the joke is on us. Brain scanning technology is now well-advanced. In 1974, Lawrence Pinneo, a neurophysiologist and electronic engineer with the Stanford Research Institute succeeded in correlating brain wave patterns from EEGs with specific words. In 1994, the brain wave patterns of 40 subjects were officially correlated with both spoken words and silent thought at the University of Missouri. It is believed that US intelligence agencies now have a brain wave vocabulary of over 60,000 words in most common languages.
Brain waves constitute a magnetic field around the head (the aura), each person having a unique, identifiable electromagnetic signature which becomes visible through Kirlian photography, and these fields can be monitored by satellites. The translated results are then fed back to ground-side super computers at speeds of up to 20 gigabytes/second. Neurophone messages can then be beamed to selected individuals based on their thoughts. It is believed that about one million people around the globe are now monitored on a regular basis. As these numbers increase, as they certainly will, to include most educated and important people in the world, the New World Order will definitely have arrived.
As Australian writer Paul Baird has observed, "no-one will ever be able to even think about expressing an opinion contrary to those forced on us by the New World Order. There will literally be no intellectual property that cannot be stolen, no writing that cannot be censored, no thought that cannot be suppressed (by the most oppressive/invasive means)." Baird also claims that ex-military/intelligence whistle-blowers have reported that experiments in controlling voters with these techniques have been tried in several foreign countries. So much for democracy.
Other technologies, such as microwave bombardment to confuse and disorient field personnel, microchip implantation, silently delivered acoustical subliminal messages, widespread population control through psychiatric drugs, and extreme close-up satellite-based viewing able to read documents indoors, are all well-developed and in use by military and intelligence agencies. This doesn't even address the monitoring of overt spoken and written material. Under Project ECHELON, the NSA monitors every call, fax, e-mail and computer data message in and out of the US, Canada and several other countries. Their computers then search for key words and phrases. Anything or anyone of interest draws the attention of agency operatives, who can then commence surveillance operations by the NSA or other intelligence agencies.
Novel Capabilities
We conclude with a chilling vision of the future from the US Air Force Scientific Advisory Board. It is from New World Vistas of Air and Space Power for the 21st Century.
"Prior to the mid-21st century, there will be a virtual explosion of knowledge in the field of neuroscience. We will have achieved a clear understanding of how the human brain works, how it really controls the various functions of the body, and how it can be manipulated (both positively and negatively). One can envision the development of electromagnetic energy sources, the output of which can be pulsed, shaped, and focused, that can couple with the human body in a fashion that will allow one to prevent voluntary muscular movements, control emotions (and thus actions), produce sleep, transmit suggestions, interfere with both short-term and long-term memory, produce an experience set, and delete an experience set. This will open the door for the development of some novel capabilities that can be used in armed conflict, in terrorist/hostage situations, and in training…"
And based on the past clandestine abuses of MK-ULTRA reviewed above, one can predict with relative certainty that these capabilities will be used on civilians, with or without their knowledge or acquiescence, in the service of the New World Order.
If you appreciated this article, please consider a digital subscription to New Dawn.
About the Author
LEN KASTEN has been involved in metaphysical and UFO/ET studies, research and writing for over thirty years. A graduate of Cornell University, he is a former member of NICAP and MUFON. He has written over fifty published articles for Atlantis Rising magazine. His book,The Secret History of Extraterrestrials, published by Inner Traditions, went to number sixteen on the publisher's Top Fifty list, in four months.
The above article appeared in New Dawn Special Issue Vol 6 No 3.
© New Dawn Magazine and the respective author.
© Copyright New Dawn Magazine, http://www.newdawnmagazine.com. Permission granted to freely distribute this article for non-commercial purposes if unedited and copied in full, including this notice.
© Copyright New Dawn Magazine, http://www.newdawnmagazine.com. Permission to re-send, post and place on web sites for non-commercial purposes, and if shown only in its entirety with no changes or additions. This notice must accompany all re-posting.
When this Jesuit genocidal pogrom supporter took the throne, we knew this guy was going to be a doozy. And he has peeled away from the previous pack of popes fast. After Benny Dicked Us got his marching orders and was quarantined in some hermetically sealed apartment free from prosecution, Pope Frankie went bonkers setting new precedents and getting his billions of followers used to marching to "larger tent" orders in their robotic religious paradigm.
Just look at this latest, which would have easily driven the "faithful" crazy in an earlier era. But hey, he's the voice of god, so what's to question?
Pope Says Church Should Stop Obsessing Over Gays, Abortion

Pope Francis said the Catholic Church shouldn't be "obsessed" with preaching about abortion, gay marriage and contraception and should instead try to reach out to a broader congregation.

"It is not necessary to talk about these issues all the time," Francis told the Catholic publication, La Civilta Cattolica. "We have to find a new balance; otherwise even the moral edifice of the Church is likely to fall like a house of cards, losing the freshness and fragrance of the Gospel."

Francis, the first non-European pope in more than 1,200 years, distinguished himself from the start of his papacy by speaking out in favor of the world's poor. In the first six months of his papacy he's also made overtures to other faiths and attempted to root out corruption in the Vatican Bank.

"He is getting back to the real values," Veronica Chambers, 68, a practising Catholic who lives in Los Angeles said in a telephone interview. "Those of us who have any brains, us modern Catholics who need it, want it, will welcome this message."

His comments marks a contrast with that of his predecessor, Benedict XVI, who struck a more conservative tone on sexuality and was criticized for not doing enough to root out sexual abuse in the clergy.

The Church should be "the home of all," Francis said in the 12,000-word interview conducted in August at his quarters in the Vatican guest house, which he chose over the rich papal apartments of his predecessors. [Source]
The Church As "The Home of All"?
Of course they've been evangelizing forever but this has a new bent. We knew he'd be an activist with his Jesuit background and our globalist state of being funneled into a new world order, but he's moving very quickly and setting a completely different tone, and a radical new direction.
How? Simply check the fairly sizable goal. "Home of all."
With an estimated 2.2 billion Christians on the planet and over half of these maneuverable followers remote-controlled Catholics, they are bound to be a major focus of control for the ruling psychopaths. Is it any wonder then that a "progressive" program pushing Jesuit should lead the charge into promoting the acceptance of a new world religion, using "tolerance" and "acceptance" as its platform?
Isn't that the ongoing meme we're witnessing? All while they actually exacerbate the opposite, pitting everyone against each other while preaching otherwise to push their program? Unity under their centralized control. Pretty clever these demonic entities.
The NWO Religion Gets Birthed By Default
What is their objective? One world everything. Militarily, their coming imposed digital currency, surveillance subjugation, control and exploitation of the masses, and a "unified" belief system? All under the guise of "no more differences – we are here to save you from all of that" – after having caused it, of course.
Problem, reaction, solution… on its grandest scale.
The religious part will be a tough one, as they know how deeply entrenched "believers" are. They have to be won over in a whole other way, or manipulated to kill each other off. Such is the Christian vs. Muslim meme being perpetrated now.
Very effective, and they're at it big time and getting away with literal murder with this one.
It's Time to Wake Up
Just another sign of the slumber party being perpetrated on beautiful, living humanity. We, the real people, are awake and aware of this crap and are cocked and ready to release anything and everything we can to dissipate their darkness. We have the tools of empowerment,the love, the right motives and the heart to do exactly what needs to be done at the right time.
So fuck you, controllers. You are virtually sleeping pawns in the very real game of life; so why don't you wake the hell up and champion your own kind instead of the designs of the destroying matrix? What is your problem? Fear and insecurity? Just wait untill the real forces get through with you.
You'll know we were right then. But too late.
Why not wake up now? Especially anyone under their control. I invite you.
That's my message.
Source:  Zen Gardner  |  Just Wondering
"Engage people with what they expect; it is what they are able to discern and confirms their projections. It settles them into predictable patterns of response, occupying their minds while you wait for the extraordinary moment — that which they cannot anticipate."–Sun Tzu, The Art of War
The definition of what makes an "enemy" may vary from person to person. But I would say that, generally, an enemy is one who has an active ability to do irreparable harm to you or your essential values. He is motivated by destruction, the destruction of all that you hold dear. He is capable and unrelenting. He is a legitimate threat. He will not compromise. He will not waver. He will do anything to wound you. He will not stop. He is possessed.
Americans have spent the better part of a century being told who their enemies are with very little explanation or substantiation. We have blindly rallied around our patriotic prerogative without knowing the root cause of the conflict or the nature of the target we are told to annihilate. We have been suckered into war after war, conjured by international interests in order to lure us into accepting greater centralization and concentrated globalism. As a culture, I'm sorry to say, we have been used. We are a tool of unmitigated doom. We are the loaded gun in the hand of the devil.
This paradigm has done irreparable harm to our standing in the eyes of the peoples of the world. But until recently, it has done very little harm to us as a society. We have allowed ourselves to be used like a bloody club, but we have not yet felt the true pain or the true cost. We have been insulated from consequence. However, this comfortable situation is quickly coming to an end.
When one applies the above definition of "the enemy" to Syria, one comes away with very little satisfaction. The Syrian government poses absolutely no immediate threat to the United States. In fact, the civil war that now rages within its borders has been completely fabricated by our own government. The insurgency has been funded, armed, trained and ultimately directed by the U.S. intelligence community. Without U.S. subversion, the civil war in Syria would not exist.
So, the question arises: If Syria is not the real enemy, who is?
I point back to the core issue. That is to say, I would examine who pose a legitimate threat to our country and our principles. The Syrian government under Bashar Assad clearly has no capability to threaten our freedom, our economic stability, our social stability, or our defensive capabilities. There is, though, a group of people out there who do, in fact, pose a significant threat to the American way of life on every conceivable level. These people do not live on the other side of the world. They do not wear foreign garb or speak another language. Most of them do not have pigmented skin or Asian features. They look just like you and I, and they live in Washington D.C.
If the so-called "debate" over a possible military strike in Syria has done anything, it has certainly brought the American public's true enemies frothing to the surface like so much sewage. Men who posed as liberal proponents of peace not long ago now salivate over the prospect of bloodshed. Men who once posed as fiscal conservatives now clamor for more Federal funding to drive the U.S. war machine. Men who claimed to represent the citizenry now ignore all calls for reason by the public in the pursuit of global dominance.
I have warned of the considerable dangers of a war in Syria for years — long before most people knew or cared about the Assad regime. Being in this position has allowed me to view the escalating crisis with a considerable amount of objectivity. In the midst of so much chaos and confusion, if you know who stands to gain and who stands to lose, the progression of events becomes transparent, and the strategy of the actual enemy emerges.
So what have I observed so far?
If you want to know who has malicious intent toward our Constitutional values, simply move your eyes away from the Mideast and focus on our own capital. The ill will toward liberty held by the leadership of both the Democratic and Republican parties is obvious in the Congressional support of the banker bailouts, the Patriot Acts, the National Defense Authorization Act, the President's domestic assassination directives, the hands-off approach to National Security Agency mass surveillance, etc. But even beyond these litmus tests, the Syrian debate has unveiled numerous enemies of the American people within our own government.
The catastrophe inherent in a Syrian strike is at least partially known to most of the public. We are fully aware that there will be blowback from any new strike in the Mideast (limited or unlimited), economically as well as internationally. So if the average American with little political experience understands the consequences of such an action, the average politician should be more than educated on the dangers. Any representative who blatantly ignores the calamity ahead is either very stupid or has an agenda.
I find it fascinating that politicians and bureaucrats from both sides of the aisle are now coming out of the woodwork to cheerlead alongside each other for war and the state.
For those who are predominantly preoccupied with Barack Obama as the source of all our ills, I would gladly point out that Republican leader and House Speaker John Boehner has also thrown his support behind a Syrian strike, even before the U.N. investigative report on Syrian chemical weapons use has been released.
In the meantime, self-proclaimed Republican stalwarts like John McCain (R-Ariz.) have argued that Obama's "limited strike" response is "not enough." This is the same man, by the way, who has been instrumental in the monetary and military support of Al Qaeda in Syria.  McCain has recently called for avid pursuit of the new Russian proposal for chemical disarmament in Syria, not because he wants to find a peaceful solution to the situation, but because he believes the deal can be used as a bargaining chip to convince Congress to VOTE FOR military force, in order to "keep pressure on Assad".
Secretary of State John Kerry, who not long ago ran for President on the platform of being an anti-war Democrat, now regularly begs the American people to back further war based on the same dubious evidence for which he once criticized the George W. Bush Administration. In fact, Kerry has made it clear that even if Congress votes "no" against a strike, he believes Obama has the right to set one in motion anyway.
Senator Lindsay Graham (R-S.C.), the man who openly admits in mainstream interviews that he believes the President has the right to indefinitely detain or assassinate American citizens without trial or oversight, has loudly indicated his support for a war on Syria. His criticisms parallel McCain's in that he believes the Obama Administration should have attacked without Congressional approval or should commit to an all-out military shift into the region.  That is to say, he believes the goal of the White House should be invasion and regime change, not just disarmament.  Graham consistently fear mongers in the mainstream media, often warning that without a hard, immediate strike against Syria, catastrophe will befall Israel, and chemical andnuclear weapons will rain on America.
All I have to say to Graham is, if chemical or nuclear weapons are used against the American people, it will be because the establishment ALLOWED it to happen — just as it has allowed numerous attacks in the past to occur in order to facilitate pretext for a larger war. (The Gulf of Tonkin is a fitting example considering the many similarities between the Syrian debacle and Vietnam, the only difference being that this time the establishment is throwing its support on the side of the insurgency, rather than the prevailing government).
For those out there in the movement who are hoping for reason and logic to prevail during a Congressional debate on the Syrian issue, I would suggest that they do not hold their breath. This vote was decided before Obama ever allowed it to go to the Hill. The vote has been cast. The debate is a sideshow designed to make the American people feel as if their system of government still functions as it should. Remember, no Congress in the history of the United States has ever refused the request of a President to make war.
The more than 150 Congressmen who demanded a vote on the Syrian crisis did so because they wanted to be included in the process, not because they necessarily opposed a war. That leaves nearly 300 representatives who had NO PROBLEM whatsoever with Obama attacking Syria unilaterally without any checks or balances. The Senate panel that initiated the voting process on the strike plan passed the initiative 10-7. I have no doubt that Obama has the votes to confirm the use of force, even with all the talk of uncertainty in evidence or planning.
The Russian offer of organizing chemical disarmament has barely made a dent in the White House's war rhetoric, as was evident in Barack Obama's address to the nation yesterday.  When asked in an interview with NBC if he has made up his mind whether or not he will forge ahead with military action if Congress votes his proposal down, Obama stated:
"It's fair to say that I haven't decided…"
Putting on the airs of a Roman Emperor, Obama's thumb remains in the neutral position over the gladiator pit of Syria, but as he clearly points out, he can give the thumbs down anytime he chooses.  If anything, the White House and the elitist machine are simply using the next few weeks (the approximate time being discussed for chemical disarmament) to establish further precedent, or conjure new atrocities, in order to garner a minimal public backing for violent action in the region.
And, let's not forget our friendly enemies in the mainstream media.  The MSM is in rare form the past week, fabricating numerous arguments as to why the average American "just doesn't get the Syrian situation".  The latest disinformation campaigns seem to be revolving around generating alternative motivations for a strike -
Obama's "red line" was crossed and we must strike in order to save face amongst our allies.
A refusal to strike Syria will "embolden Iran" and lead them to use their own WMD's in terrorist acts (WMD's which are still not proven to exist).
And my favorite argument:  That refusing to strike would mean "abandoning" the Syrian rebelsin their war on Assad.  You know, the same rebels permeated with psychopathic Al Qaeda operatives that our government trained and funded.
The mainstream media steamroller is barreling forward, searching for ANY talking point that will hook the American populace into rationalizing an attack.  I have to say, I don't think I've ever seen so many pencil-necked weaklings call for so much blood.  The strategy seems to be an attempt to shift America's attention away from the alleged chemical attack alone, and discombobulate us with multiple sales pitches of death in case Congressional support turns sour (which I doubt).
But let's say Obama does not get his Congressional approval; as stated earlier his office has asserted on numerous occasions that he has the authority to trigger war regardless. A "no" vote in Washington means nothing today due to war powers granted after 9/11. The probable scenario, though, is the most common scenario. Congress will likely authorize the "use of limited military force" without directly declaring war on the Assad regime. This is exactly what Congress did in the wake of the wars in Afghanistan and Iraq. There was no evidence of an Al Qaeda support structure and no evidence of weapons of mass destruction, but war exploded nonetheless. Congress gave Bush a blank check to do whatever he saw fit, and I believe Congress will do the same for Obama.
America is being set up to look like the bad guy or the fool, but why?
Our political leadership is devoted to the ideology of globalization, not sovereignty or U.S prosperity. A Syrian strike places the United States in tremendous peril, the likes of which have not been seen since the Cuban missile crisis. Syria itself is a vacuum of suffocating calamity; a black hole swirling in a void of economic and sociological interdependency. Where the United States enters, so follows Iran, so follows Israel, so follows Saudi Arabia, so follows Lebanon, so follows Jordan, so follows Egypt, so follows Russia, so follows China and on and on.
In my analysis of Syria over the years, I have exposed this domino effect of war as well as the possible calamities of an economic chain reaction. Escalating conflict in Syria will eventually lead to the end of the dollar's world reserve status and the collapse of the U.S. financial system. Knowing that this is the ultimate result of a strike in the region, many people would ask WHYthe White House and so many prominent figures in Congress would be so hell-bent on setting such wheels in motion. I would stand back from the chaos and ask what I always ask: Who gains the most from the disaster?
The demise of American currency dominance and the degradation of the American spirit do indeed benefit a select few. For the most part, central banks and globalists have taken a hands-off approach to the Syrian debacle. Perhaps that's because doing so makes it easier for them to survey the inevitable collapse from a distance and swoop in later as our "saviors," ready to rebuild the world according to their own ideals. Having a debased and desperate U.S. populace certainly makes the transition to total globalization and centralization much easier.
My original query was: Who is the real enemy? No matter what happens in the coming months and years, never forget that question. Who poses the greatest threat to our freedom: Syria or the political ghouls trying to convince us to decimate Syria?
Who claims the power to take everything we have? Who claims the power to take our liberty and our lives at a whim? Who claims the power to kill innocents in our name? Who disregards the checks and balances of Constitutionalism at every turn? Who truly threatens our future and the future of our children?
Do not be distracted by stories of foreign monsters far away when the real monsters lurk so quietly under your bed.  Even if we can find a successful strategy to pressure Congress into avoiding a Syrian conflict, I say remain vigilant. America is one global hiccup away from oblivion. And if this is what the establishment wants, they will find a way to make it happen. The threat of continuous U.S. catastrophe will only end when the poison is removed from our very veins, and that process of purification begins with the removal of the criminal political structures and banking structures in Washington.
Source: Brandon Smith | Alt-Market