The Unanswered Questions of MH17…
"Recent history has repeatedly proven that nothing said by Washington and its officials should be accepted at face value. No other government in the world has been implicated in so many egregious lies as the United States." Bill Van Auken, "US lies and hypocrisy on Gaza and Ukraine", WSWS

"Mendaci neque quum vera dicit, creditor." Cicero ("A liar is not to be believed even when he speaks the truth.")
Without a shred of public evidence to support their claim that Moscow was involved in the downing of Malaysia Airlines Flight 17, the United States and Europe have levied a new round of sanctions on Russia. The sanctions, which are designed to restrict Russia's access to both capital and technology, will be imposed as soon as August 1, despite the fact that Moscow has repeatedly denied either involvement in the incident or of providing material support for the militants fighting in east Ukraine. Not surprisingly, Russia will not be given a chance to defend itself in court or present its case before an independent tribunal. Due process and the presumption of innocence are breezily jettisoned whenever US interests are involved. Instead, Washington will act as judge, jury and lord high executioner arbitrarily imposing penalties on the country that has provided hard evidence of what actually transpired prior to the crash using data it compiled from radar and satellite imagery. In contrast, the US hasn't lifted a finger to help the investigation even though it has the most advanced, state-of-the-art surveillance systems in the world and even though it had a satellite — capable of reading a license plate from outer space — hovering directly overhead at the time the aircraft blew up. And here's something else to consider from blogger Moon of Alabama:
"Pentagon officials told CNN (on Tuesday) that the Ukrainian government fired three ballistic missiles towards the federalists during the last 48 hours." (Moon of Alabama)
If the Pentagon picked up the ballistic missile launches on their radar, they certainly saw the surface-to-air missiles that brought down MH17. Case closed.
So why hasn't Washington been more forthcoming with the information they have? Why are they basing their judgment on the nonsense they've gleaned from social media and Twitter feeds instead of spy-in-the-sky photos and satellite imagery? Why are they dragging their feet and obstructing the investigation? And why, for God sakes, why has Europe agreed to go along with this charade when they know there's not a scintilla of evidence linking Russia to the downed plane?
These are just some of the questions that remain unanswered a full two weeks after MH17 was downed by what appears to have been a surface-to-air missile launched from a BUK platform somewhere in east Ukraine. (Although even that fact is now in dispute given that MH17 was being allegedly being shadowed by two Ukrainian warplanes. Some analysts believe the aircraft was actually destroyed by air-to-air missiles fired from one of the two Su25 interceptors.)
One thing that's clear, is that the lack of public evidence hasn't stopped the Obama administration from smearing Russian president Vladimir Putin in the media or blaming Moscow for the tragedy that killed 298 passengers. The campaign to hold Moscow responsible started just hours after MH17 crashed and has only intensified over the last two weeks. This is amazing considering that, most of what we know about the incident has been provided by Russia. For example, it was Russia that provided the information about the two Su25 interceptors and the US satellite. It was also Russia that came up with the photographic evidence that showed Kiev had deployed anti-air missile systems (BUK) around the area where flight MH17 was downed. The Kiev government has repeatedly denied claims that it had BUK systems in the area, but on Friday, Russian military analysts released satellite images that made mincemeat of those denials. Here's the story from RT:
"Satellite images Kiev published as 'proof' it didn't deploy anti-aircraft batteries around the MH17 crash site carry altered time-stamps and are from days after the MH17 tragedy, the Russian Defense Ministry has revealed.

The images, which Kiev claims were taken by its satellites at the same time as those taken by Russian satellites, are neither Ukrainian nor authentic, according to a Moscow statement.

The Defense Ministry said the images were apparently made by an American KeyHole reconnaissance satellite, because the two Ukrainian satellites currently in orbit, Sich-1 and Sich-2, were not positioned over the part of Ukraine's Donetsk Region shown in the pictures….

At least one of the images published by Ukraine shows signs of being altered by an image editor, the statement added." ("'Wrong time, altered images' Moscow slams Kiev's MH17 satellite data", RT)
Ask yourself this, dear reader: Why would you provide "altered" photos that were taken on a different day to prove your innocence if you weren't guilty as hell? And why would the US go along with this farce unless they were involved too?
Like we said earlier, there's photographic evidence that Kiev had BUK systems operating in the area at the time of the crash. These "new" fake photos only increase the probability that it was a Ukrainian missile that brought down MH17. That's why the administration hasn't released any of its radar data or satellite imagery. It's because they know the truth.
Consider this: The Obama administration has never inquired about the communications recordings between Air Traffic Control (ATC) and the aircrew of MH17.
Why? Don't they want to know what happened?
Nor have they asked for:
"The information on the specific instructions from the Ukraine Aviation Administration to the air traffic control units of Ukraine with relation to the imposed restrictions on the airspace utilization in the area of Donetsk and Lugansk." (RT)
Nor are they interested in why MH17 was rerouted over a warzone, 200 kilometers north of all previous flights for the last two weeks. Or whether MH17 was in fact being followed by Ukrainian warplanes. Or whether Ukrainian SAM units were active in the area before the incident took place.
How does one explain the Obama administration's total lack of interest in any area of the current investigation? Doesn't that suggest that they already know what happened? And doesn't that also suggest that they're trying to prevent the facts from leaking out?
Readers should take a quick look at the 28 questions that Russia's Air Transport Agency would like the Ukrainian government to answer in order to clarify what happened to MH17. (See questions here.) This is the approach the Obama administration would take if they were genuinely interested in finding out what happened. The reason the administration hasn't taken this approach, is because they're not really interested in what happened. Why is that?
Most of the lies about MH17 have been coming from the State Department, where just last Sunday, Secretary of State John Kerry appeared on all five Sunday morning talk shows claiming that Moscow had sent "a convoy of about 150 vehicles with armored personnel carriers, multiple rocket launchers, tanks, artillery, all of which crossed over from Russia into the eastern part of Ukraine and was turned over to the separatists."
Imagine making a bold statement like that on five different news programs without even one of the hosts demanding evidence to support the claim. Such is the state of the media in the US today.
So far, neither Kerry nor any of the US Intel agencies have produced proof that Russia is providing material support for rebels in east Ukraine. Zilch. It's all uncorroborated speculation and unsubstantiated rumor.
Do you remember Kerry said he had proof that the Syrian government was responsible for the Aug. 21 Sarin gas attack outside Damascus, an incident that he hoped would lead the US to launch a war against Syria?
It was a lie. Here's a clip from Robert Parry:
"A new report by two American weapons specialists, entitled "Possible Implications of Faulty US Technical Intelligence in the Damascus Nerve Agent Attack," makes clear that the case presented by Kerry and the Obama administration was scientifically impossible because the range of the key rocket carrying Sarin was less than a third of what the U.S. government was claiming." ("The Mistaken Guns of Last August", Robert Parry, Consortium News)
And what about Kerry's grandstanding repudiation of the fake leaflets in Donetsk that said "Jews had to identify themselves as Jews … or suffer the consequences."
Right. That was another whopper Kerry used to promote his attack on Russia.
And what about this from CNN: "Kerry: 'Drunken separatists' interfering at MH17 crash site". Or this from Vice News "MH17 Crash Site Reportedly Looted by Rebels".
It's all just more outlandish speculation intended to smear Russia. There's a great article in the Wall Street Journal by journalist Paul Sonne titled "After Flight 17 Crash, Agony, Debris and Heartbreak in Ukraine Villages" that dispels a lot of the lies that have popped up in the media in the last couple weeks. First of all, the rebels have not prevented inspectors from accessing the site (as Kerry claims) Here's Sonne in an interview on NPR's "All Things Considered" on Wednesday:
"The Organization for Security and Cooperation in Europe has actually gotten very good access to the site with the exception of the first day they showed up, which was the day after the crash where their time there was limited to 75 minutes, and they said that they weren't given access to every piece of the crash site that they had wanted to see. So after the sort of first day standoff that they experienced with some of the rebel militants, it did seem like they were getting pretty full access to the crash site. The problem was that the investigation team, which is now being led by the Netherlands, wasn't ready and didn't, in fact, really arrive in Donetsk until a few days ago. And after they finally assembled in Donetsk, it took, you know, about a week or more. Then, fighting had already started to encompass the crash site. And the reason that they're not getting access to the crash site now is not because the rebels are not allowing them to go to the crash site. It's because the crash site has turned into an active, violent fighting zone."
So the inspectors have had access to the site the whole time except just recently when US-backed goons from the Ukrainian army resumed hostilities in violation of their promise to honor a temporary ceasefire. It sounds like Kiev might have something they want to hide at the crash site, doesn't it?
Meanwhile, according to the Independent, "John Kerry accused the separatists of displaying "an appalling disrespect for human decency" in carrying on fighting close to the area."
Is Kerry lying again or is he just confused about the facts?
As far as the looting and drunken disrespect for the corpses of the victims; that's all BS too. Sonne paints an entirely different picture of what took place on the ground. Just check out some of his description and see if it squares with Kerry's breakdown:
"The plane's cockpit and dozens of bodies plummeted into Rozsypne, about 2 miles from Petropavlivka. One body fell through a woman's roof. A pilot strapped to a seat wound up next to a flight attendant in a nearby field. …Charred remains of an engine, landing gear and wings fell in a fireball next to Hrabove, with a tumbling storm cloud of at least 70 bodies, some of them largely intact…

No villagers on the ground died, but they are scared of what they might find next…

"We thought it was the end of the world," the Orthodox priest says. He stayed on the ground in prayer, preparing to meet God, and then ran up the hill as burning pieces of the plane's undercarriage and landing gear pelted a field like bombs. Then came a hail of bodies: arms, heads and fingers.

Farmers dashed to the village, afraid it would be engulfed by an inferno. Hrabove Mayor Vladimir Berezhnoi screamed at drivers and motorcyclists to get off the road as fire rolled across a field. When he saw bodies, Mr. Berezhnoi yelled at adults to take their children home.

A few miles away, Oleg Miroshnichenko, a retired miner who became the mayor of Rozsypne about 13 years ago, felt panic as he heard two loud blasts and watched the remains of about 40 passengers rain down on yards and homes. His phone started ringing off the hook.

"There's a body here, a body there, another body," he says…

"In mines, you don't remove a body until they investigate it," he says.

Villagers and emergency workers decided to start bagging bodies that were rotting in the sun. Local miners joined the effort. Heartbroken residents had been pleading in tears for the bodies' removal." ("After Flight 17 Crash, Agony, Debris and Heartbreak in Ukraine Villages", Wall Street Journal)
See? These people were deeply traumatized by the experience, they weren't throwing bodies around and disrespecting the dead. That's pure bunkum, just like the claims that Russia has been firing rounds into Ukraine is bunkum. Just like the leaflets ordering "Jews to register or face deportation" were bunkum. It's all bunkum. For whatever reason, the State Department doesn't give a rip about its credibility anymore. They'll say just about anything as long as they can skewer Moscow.
On Friday, State Department spokesperson Marie Harf was challenged by Associated Press reporter Matthew Lee, who demanded that Harf back up her claims that Russia has been firing rounds into Ukraine with something more substantial than the rubbish she'd read on Twitter. Here's what the AP journalist said:
"I think that it would be best for all concerned here if when you make an allegation like that you're able to make it up with something more than just 'because I said so. You guys get up at the UN security council making these allegations , the secretary [of the State Dept., John Kerry] gets on the Sunday shows and makes these allegations, and then when you present your evidence to back up those allegations, it has appeared to, at least for some, fall short of definitive proof."
The clearly-flummoxed Harf started backpeddling like crazy, unable to provide any hard evidence that her claims of Russian complicity were anything more than a complete fabrication. As it happens, the so called "satellite imagery data" and "electronic intelligence" that was used to incriminate Moscow was originally posted on coup-backer Geoffrey Pyatt's Twitter account, which further underlines the fact that the real objective was to shape public opinion with propaganda not to reveal the truth. Here's a bit more from Antiwar.com:
"During the past several days, there has not been a single report out of Ukraine of an artillery strike against any of their military bases, anywhere in the country. …And this is Ukraine we're talking about, which comes up with its own dubious stories of Russian attacks on a near daily basis. If Russia was carried out concerted shelling against Ukrainian military targets, Ukraine would be harping on about it constantly. They aren't even alleging anything close to that is happening. ("US Invents Reports of Russia Attacking Ukraine Bases", antiwar.com)
A Twitter account, for god sakes! The US State Department is basing its theory on the crap they picked up on Twitter. It's ridiculous.
Then there's the State Department's claim that Russia is massing troops along the border, another fairy tale that's turned out to be complete baloney. In fact, an International team of inspectors were sent to Russia to check things out and here's what the found:
"No instances of violations by Russia along the Ukrainian border had been registered by the inspectors," the ministry said. "The last four months have witnessed 18 separate inspections along the Ukrainian border with the Russian Federation, all in line with the Vienna Open Skies Treaty and the Vienna agreement of 2011." (RT)
If you're starting to think that everything you've read about the MH17 crash is bullshit, you're probably right. There's not much truth to most of it.
But why would the administration lie about things that are so easy to disprove? What's the point? Are they just getting sloppy and apathetic or is something else going on here?
To get a handle on what's really going on, we have to understand that Ukraine is not just another bloody afterthought like Iraq, Afghanistan or Syria, none of which would dramatically impact the US's role as the world's only superpower. Ukraine is different. Ukraine is an essential part of Washington's plan to pivot to Asia. If Washington is unable to achieve its objectives in Ukraine — create a chokepoint for vital resources flowing from Russia to the EU, establish NATO bases in the heart of Eurasia, and drive a wedge between Moscow and Brussels — then the plan to maintain US global hegemony for the next century will fail. And if the plan fails, then China will gradually become the world's biggest and most powerful economy, economic ties between Moscow and Europe grow stronger, and the US will slide into irreversible decline. Get the picture?
This is the scenario that Washington wants to avoid at all cost. That's why the anti-Russia hysteria in the media has been so ferocious and unrelenting. That's why the State Department assisted in the coup d'état that toppled the Ukrainian government and triggered the crisis. And that's why ruling elites of all stripes have thrown their support behind a policy that recklessly pits one nuclear-armed adversary against another. It's because the bigshot money-guys who run this country are bound and determined to be the Kingfish for the next hundred years even if it means plunging the world into the abyss of a third world war. That's just a chance they're willing to take.
The CFR Has Controlled Both Major Parties In Washington, D.C., For Decades…
Just as they did with his father, Ron Paul, globalist elitists within the GOP are pouncing on Kentucky Senator Dr. Rand Paul. Obviously, the only reason for Republican leaders to be ganging up on Rand like this is because they are scared silly that he might just win the Republican nomination for President in 2016. And if there is anything that frightens the GOP establishment, it is an independent-minded, non-interventionist, reader of the Constitution–you know, someone like George Washington or Thomas Jefferson–or Rand Paul.
Here is how Politico covered the story:
"If you had any doubts about how seriously some Republicans are taking the notion of a Rand Paul presidency, look at how far they're going to shut down his views on foreign policy.
"In the past three days alone, Texas Gov. Rick Perry used a Washington Post op-ed to warn about the dangers of 'isolationism' and describe Paul as 'curiously blind' to growing threats in Iraq. Sen. John McCain (R-Ariz.) accused the Kentucky senator on CNN of wanting a 'withdrawal to fortress America.' And former Vice President Dick Cheney declared at a POLITICO Playbook luncheon on Monday that 'isolationism is crazy,' while his daughter, Liz Cheney, said Paul 'leaves something to be desired, in terms of national security policy.'
"The preemptive strikes suggest that many in GOP fear Paul is winning the foreign policy argument with the American people–and that that could make him a formidable candidate in 2016. After all, second-tier presidential hopefuls don't usually get shouted down this way.
"'I think the general fear on the part of a lot of leaders in the Republican Party is that there's an isolationist temptation after two big wars, an isolationist temptation in the American electorate,' said Elliott Abrams, a senior fellow at the Council on Foreign Relations who was a deputy national security adviser in the George W. Bush administration. 'And I think people are genuinely concerned about it and desirous of trying to stop it before it spreads further.'"
See the report here:
Abrams said the GOP establishment is "genuinely concerned" about a Rand Paul presidency. Baloney! They are pee-in-their-pants, scared-out-of-their-minds about it. The GOP establishment is far more concerned over someone like Rand Paul obtaining the White House than they are a Democrat obtaining the White House. In truth, when it comes to globalism, there really isn't a dime's worth of difference between the Democrat and Republican parties in Washington, D.C. The movers and shakers of both parties are globalist to the core.
It is more than interesting that the Politico report quoted above sought the opinion of CFR member Elliot Abrams. The Council on Foreign Relations (CFR) is an elitist cabal of globalists that has dominated the presidential administrations of both Democrats and Republicans for much of the Twentieth (and now Twenty-First) Century.
At this point it is important to remind readers of what Rear Admiral Chester Ward–himself a CFR member until he realized what it was all about and withdrew–said about the CFR. Remember, Admiral Ward was the Judge Advocate General of the Navy from 1956-1960.
Admiral Ward said, "The most powerful clique in these elitist groups [such as the CFR, Trilateral Commission, et al] have one objective in common–they want to bring about the surrender of the sovereignty and the national independence of the United States. A second clique of international members in the CFR . . . comprises the Wall Street international bankers and their key agents. Primarily, they want the world banking monopoly from whatever power ends up in the control of global government."
He also said, "The main purpose of the Council on Foreign Relations is promoting the disarmament of U.S. sovereignty and national independence and submergence into an all-powerful, one world government."
Admiral Ward was exactly right. Even a cursory look at the names of the most prominent politicians, media personalities, and leaders of the Federal Reserve shows a preponderance of influence by the CFR. For example, here is a small listing of some of the most influential members of the CFR or Trilateral Commission (or sometimes both):
George Herbert Walker Bush. Bill Clinton. Sandra Day O'Connor. Dick Cheney. Les Aspin. Colin Powell. Robert Gates. Brent Scowcroft. Jesse Jackson, Sr. Mario Cuomo. Dan Rather. Tom Brokaw. David Brinkley. John Chancellor. Marvin Kalb. Diane Sawyer. Barbara Walters. Cyrus Vance. Paul Volcker. Henry Kissinger. George Schultz. Alan Greenspan. Madeleine Albright. Roger Altman. Bruce Babbitt. Howard Baker. Samuel Berger. Elaine Chao. Dianne Feinstein. Ruth Bader Ginsburg. Chuck Hagel. Gary Hart. John McCain. George Mitchell. Bill Moyers. Jay Rockefeller. Donna Shalala. Strobe Talbott. Fred Thompson. Robert Zoellick. Richard Nixon. Hubert H. Humphrey. George McGovern. Gerald Ford. Jimmy Carter. John Anderson. Walter Mondale. Michael Dukakis. Al Gore. John Kerry.
What readers should immediately notice about this list is the fact that it is filled with both Democrats and Republicans. Can one imagine the outrage if the above names were all members of the Christian Coalition or even the American Civil Liberties Union (ACLU)? But the fact that so many of America's leaders from both major parties all share membership in the CFR seems to go completely unnoticed.
What we have in Washington, D.C., is CFR-dominated party D and CFR-dominated party R. No wonder there hasn't been any significant change in America's foreign policy since World War II, no matter which major party controlled the White House and Congress.
The globalists within the two major parties will do anything to make sure that a non-globalist is not elected President of the United States or given a too-powerful position of congressional leadership. Hence, the GOP establishment is pouncing on Rand Paul early to try and kill any momentum he might garner going into the 2016 presidential race. Virtually everything the global elite plan to do hinge on America engaging in perpetual war. Perpetual war is the linchpin that holds the entire globalist agenda intact. Anyone who threatens that linchpin is declared an enemy by the establishment and is slated for political destruction.
Perpetual war allows the internationalists to continue to fund dirty black-ops drug smuggling, corrupt banking practices, political briberies, political assassinations, etc. Perpetual war is also the number one excuse for creating a universal surveillance society within the United States. Perpetual war justifies spying on the American citizenry, militarizing local and State police agencies, passing legislation that allows the federal government to declare any American citizen an "enemy combatant" or seize and incarcerate indefinitely any U.S. citizen without warrant or Habeas Corpus, and send drones into America's heartland.
And when it comes to perpetual war and building a Police State at home, the neocons within the Republican Party are far more dangerous than Democrats. Far more! With support for abortion-on-demand, homosexual marriages, the secularization of America's schools and public institutions, globalists use liberal Democrats to dismantle America's Christian traditions and value systems. But when it comes to building both the Warfare State and the Police State, globalists primarily use "conservative" Republicans. And, of course, when it comes to obliterating America's traditional culture by swamping the country with illegal immigrants, both Republicans and Democrats are employed. That's why you will find as many Republicans (including those at the U.S. Chamber of Commerce) as Democrats pushing amnesty for illegals. There is absolutely no doubt that had not Tea-Party Republicans recently defeated House Majority Leader Eric Cantor (a major proponent of amnesty) in the Virginia primaries, the GOP-led House would have joined with Barack Obama and Senate Democrats to pass amnesty for illegals this summer. That is absolutely undeniable. We owe Virginia Republicans a huge "Thank You!" (I will write more about the illegal immigration problem in an upcoming column.)
There is no question that right now the battle for the heart and soul (not to mention the future) of America is the burgeoning police state complete with its twin-sister perpetual war. And, yes, illegal immigration is also a major battlefield right now. If the globalist attempt to turn the United States into a Police State–and again ramp up more wars of intervention–is not stopped in the next few short years, it will mean the death of freedom and independence in America forever. And neocon Republicans are the primary culprits in this regard.
Ladies and gentlemen, I don't know how to say it any plainer: if you are forced to choose between a pro-war, pro-police state, neocon Republican candidate for federal office and a Democrat, and if you believe in voting for the "lesser-of-two-evils," the Democrat is the one for whom you must vote.
Unfortunately, that is exactly the choice that the citizens of Montana have this year in its lone U.S. House race. We have a Democrat, John Lewis, running against a pro-war, pro-police state, neocon Republican Ryan Zinke. Without a doubt, the Democrat John Lewis is by far the lesser evil than Ryan Zinke.
Ryan Zinke never met a war he doesn't like. He is already on public record saying "civilians" should not be allowed to possess .50 caliber rifles. (Of course, now that he is a candidate for Congress, he has had a sudden election year conversion on the subject.) He has owning-interest in a drone manufacturing company. He is trying to use his credentials as a former Navy SEAL to propel him to the U.S. Congress; but Ryan Zinke is a warmongering, police state facilitator of the lowest order. Being the U.S. House seat in Montana is typically a Republican seat, it is very likely that if the Democrat Lewis wins, he would be a one-termer. A GOP candidate (someone besides Ryan Zinke, who was the absolute worst of all the candidates that the GOP had to offer this year) would have a very good chance of defeating the Democrat Lewis in 2016. On the other hand, if Zinke wins this November, we are probably going to be stuck with this neocon indefinitely. This would be a monstrous mistake for Montana and the U.S. House of Representatives.
Without a doubt, what the globalist elite at the CFR fear most is a presidential candidate who refuses to comply with the pro-war, pro-police state agenda. And while I am still not certain that Rand Paul has the same courage and convictions of his father, Ron Paul, he is, without a doubt, the closest ideologically to the Washington and Jeffersonian vision of non-entanglement in foreign affairs and the philosophical sacredness of individual liberty that we seem to have at the national level these days. As such, the GOP establishment is literally trying to skewer Senator Paul.
The GOP establishment is not worried about Texas Governor Rick Perry, New Jersey Governor Chris Christie, Mitt Romney, former Florida Governor Jeb Bush, or Wisconsin Congressman Paul Ryan. None of these men would stand in the way of the globalist agenda. But the GOP establishment is terrified of Rand Paul–and to a lesser extent Texas Senator Ted Cruz. But given the way that Republican leaders are pouncing on Mr. Paul, it is obvious that he is the one they believe poses the greatest threat to the globalist agenda.
What would a psychiatrist call this? Delusions of grandeur?
US Secretary of State John Kerry, July 8, 2014:
"In my travels as secretary of state, I have seen as never before the thirst for American leadership in the world."
President Barack Obama, May 28, 2014:
"Here's my bottom line, America must always lead on the world stage. If we don't, no one else will."
Nicholas Burns, former US Under Secretary of State for Political Affairs, May 8, 2014:
"Where is American power and leadership when the world needs it most?"
Mitt Romney, Republican Party candidate for President, September 13, 2012:
"The world needs American leadership. The Middle East needs American leadership and I intend to be a president that provides the leadership that America respects and keep us admired throughout the world."
Paul Ryan, Congressman, Republican Party candidate for Vice President, September 12, 2012:
"We need to be reminded that the world needs American leadership."
John McCain, Senator, September 9, 2012:
"The situation in Syria and elsewhere 'cries out for American leadership'."
Hillary Clinton, September 8, 2010:
"Let me say it clearly: The United States can, must, and will lead in this new century. Indeed, the complexities and connections of today's world have yielded a new American Moment — a moment when our global leadership is essential, even if we must often lead in new ways."
Senator Barack Obama, April 23, 2007:
"In the words of President Franklin Roosevelt, we lead the world in battling immediate evils and promoting the ultimate good. I still believe that America is the last, best hope of Earth."
Gallup poll, 2013:
Question asked: "Which country do you think is the greatest threat to peace in the world today?"
Replies:
United States 24%
Pakistan 8%
China 6%
Afghanistan, Iran, Israel, North Korea, each 5%
India, Iraq, Japan, each 4%
Syria 3%
Russia 2%
Australia, Germany, Palestinian territories, Saudi Arabia, Somalia, South Korea, UK, each 1%
The question is not what pacifism has achieved throughout history, but what has war achieved?
Remark made to a pacifist: "If only everyone else would live in the way you recommend, I would gladly live that way as well – but not until everyone else does."
The Pacifist's reply: "Why then, sir, you would be the last man on earth to do good. I would rather be one of the first."
Article 9 of the Japanese Constitution, 1947, words long cherished by a large majority of the Japanese people:
"Aspiring sincerely to an international peace based on justice and order, the Japanese people forever renounce war as a sovereign right of the nation and the threat or use of force as means of settling international disputes.

"In order to accomplish the aim of the preceding paragraph, land, sea, and air forces, as well as other war potential, will never be maintained. The right of belligerency of the state will not be recognized."
This statement is probably unique amongst the world's constitutions.
But on July 1, 2014 the government of Japanese Prime Minister Shinzo Abe, without changing a word of Article 9, announced a "reinterpretation" of it to allow for military action in conjunction with allies. This decision can be seen as the culmination of a decades-long effort by the United States to wean Japan away from its post-WW2 pacifist constitution and foreign policy and set it back on the righteous path of being a military power once again, only this time acting in coordination with US foreign policy needs.
In the triumphalism of the end of the Second World War, the American occupation of Japan, in the person of General Douglas MacArthur, played a major role in the creation of this constitution. But after the communists came to power in China in 1949, the United States opted for a strong Japan safely ensconced in the anti-communist camp. For pacifism, it's been downhill ever since … step by step … MacArthur himself ordered the creation of a "national police reserve", which became the embryo of the future Japanese military … visiting Tokyo in 1956, US Secretary of State John Foster Dulles told Japanese officials: "In the past, Japan had demonstrated her superiority over the Russians and over China. It was time for Japan to think again of being and acting like a Great Power."  … various US-Japanese security and defense cooperation treaties, which called on Japan to integrate its military technology with that of the US and NATO … the US supplying new sophisticated military aircraft and destroyers … all manner of Japanese logistical assistance to the US in Washington's frequent military operations in Asia … repeated US pressure on Japan to increase its military budget and the size of its armed forces … more than a hundred US military bases in Japan, protected by the Japanese military … US-Japanese joint military exercises and joint research on a missile defense system … the US Ambassador to Japan, 2001: "I think the reality of circumstances in the world is going to suggest to the Japanese that they reinterpret or redefine Article 9."  … Under pressure from Washington, Japan sent several naval vessels to the Indian Ocean to refuel US and British warships as part of the Afghanistan campaign in 2002, then sent non-combat forces to Iraq to assist the American war as well as to East Timor, another made-in-America war scenario … US Secretary of State Colin Powell, 2004: "If Japan is going to play a full role on the world stage and become a full active participating member of the Security Council, and have the kind of obligations that it would pick up as a member of the Security Council, Article Nine would have to be examined in that light."  …
In 2012 Japan was induced to take part in a military exercise with 21 other countries, converging on Hawaii for the largest-ever Rim of the Pacific naval exercises and war games, with a Japanese admiral serving as vice commander of the combined task force.  And so it went … until, finally, on July 1 of this year, the Abe administration announced their historic decision. Abe, it should be noted, is a member of the Liberal Democratic Party, with which the CIA has had a long and intimate connection, even when party leaders were convicted World War 2 war criminals.
If and when the American empire engages in combat with China or Russia, it appears that Washington will be able to count on their Japanese brothers-in-arms. In the meantime, the many US bases in Japan serve as part of the encirclement of China, and during the Vietnam War the United States used their Japanese bases as launching pads to bomb Vietnam.
The US policies and propaganda not only got rid of the annoying Article 9, but along the way it gave rise to a Japanese version of McCarthyism. A prime example of this is the case of Kimiko Nezu, a 54-year-old Japanese teacher, who was punished by being transferred from school to school, by suspensions, salary cuts, and threats of dismissal because of her refusal to stand during the playing of the national anthem, a World War II song chosen as the anthem in 1999. She opposed the song because it was the same one sung as the Imperial Army set forth from Japan calling for an "eternal reign" of the emperor. At graduation ceremonies in 2004, 198 teachers refused to stand for the song. After a series of fines and disciplinary actions, Nezu and nine other teachers were the only protesters the following year. Nezu was then allowed to teach only when another teacher was present.
Yankee Blowback
The number of children attempting to cross the Mexican border into the United States has risen dramatically in the last five years: In fiscal year 2009 (October 1, 2009 – September 30, 2010) about 6,000 unaccompanied minors were detained near the border. The US Department of Homeland Security estimates for the fiscal year 2014 the detention of as many as 74,000 unaccompanied minors. Approximately 28% of the children detained this year are from Honduras, 24% from Guatemala, and 21% from El Salvador. The particularly severe increases in Honduran migration are a direct result of the June 28, 2009 military coup that overthrew the democratically-elected president, Manuel Zelaya, after he did things like raising the minimum wage, giving subsidies to small farmers, and instituting free education. The coup – like so many others in Latin America – was led by a graduate of Washington's infamous School of the Americas.
As per the standard Western Hemisphere script, the Honduran coup was followed by the abusive policies of the new regime, loyally supported by the United States. The State Department was virtually alone in the Western Hemisphere in not unequivocally condemning the Honduran coup. Indeed, the Obama administration has refused to call it a coup, which, under American law, would tie Washington's hands as to the amount of support it could give the coup government. This denial of reality still persists even though a US embassy cable released by Wikileaks in 2010 declared: "There is no doubt that the military, Supreme Court and National Congress conspired on June 28 [2009] in what constituted an illegal and unconstitutional coup against the Executive Branch". Washington's support of the far-right Honduran government has been unwavering ever since.
The questions concerning immigration into the United States from south of the border go on year after year, with the same issues argued back and forth: What's the best way to block the flow into the country? How shall we punish those caught here illegally? Should we separate families, which happens when parents are deported but their American-born children remain? Should the police and various other institutions have the right to ask for proof of legal residence from anyone they suspect of being here illegally? Should we punish employers who hire illegal immigrants? Should we grant amnesty to at least some of the immigrants already here for years? … on and on, round and round it goes, decade after decade. Those in the US generally opposed to immigration make it a point to declare that the United States does not have any moral obligation to take in these Latino immigrants.
But the counter-argument to this last point is almost never mentioned: Yes, the United States does indeed have a moral obligation because so many of the immigrants are escaping a situation in their homeland made hopeless by American intervention and policy. In addition to Honduras, Washington overthrew progressive governments which were sincerely committed to fighting poverty in Guatemala and Nicaragua; while in El Salvador the US played a major role in suppressing a movement striving to install such a government. And in Mexico, though Washington has not intervened militarily since 1919, over the years the US has been providing training, arms, and surveillance technology to Mexico's police and armed forces to better their ability to suppress their own people's aspirations, as in Chiapas, and this has added to the influx of the oppressed to the United States, irony notwithstanding.
Moreover, Washington's North American Free Trade Agreement (NAFTA), has brought a flood of cheap, subsidized US agricultural products into Mexico, ravaging campesino communities and driving many Mexican farmers off the land when they couldn't compete with the giant from the north. The subsequent Central American Free Trade Agreement (CAFTA) has brought the same joys to the people of that area.
These "free trade" agreements – as they do all over the world – also result in government enterprises being privatized, the regulation of corporations being reduced, and cuts to the social budget. Add to this the displacement of communities by foreign mining projects and the drastic US-led militarization of the War on Drugs with accompanying violence and you have the perfect storm of suffering followed by the attempt to escape from suffering.
It's not that all these people prefer to live in the United States. They'd much rather remain with their families and friends, be able to speak their native language at all times, and avoid the hardships imposed on them by American police and other right-wingers.
M'lady Hillary
Madame Clinton, in her new memoir, referring to her 2002 Senate vote supporting military action in Iraq, says: "I thought I had acted in good faith and made the best decision I could with the information I had. And I wasn't alone in getting it wrong. But I still got it wrong. Plain and simple."
In a 2006 TV interview, Clinton said: "Obviously, if we knew then what we know now, there wouldn't have been a vote. And I certainly wouldn't have voted that way."
On October 16, 2002 the US Congress adopted a joint resolution titled "Authorization for Use of Military Force Against Iraq". This was done in the face of numerous protests and other political events against an American invasion.
On February 15, 2003, a month before the actual invasion, there was a coordinated protest around the world in which people in some 60 countries marched in a last desperate attempt to stop the war from happening. It has been described as "the largest protest event in human history." Estimations of the total number of participants involved reach 30 million. The protest in Rome involved around three million people, and is listed in the 2004 Guinness Book of World Records as the largest anti-war rally in history. Madrid hosted the second largest rally with more than 1½ million protesters. About half a million marched in the United States. How many demonstrations in support of the war can be cited? It can be said that the day was one of humanity's finest moments.
So what did all these people know that Hillary Clinton didn't know? What information did they have access to that she as a member of Congress did not have?
The answer to both questions is of course "Nothing". She voted the way she did because she was, as she remains today, a wholly committed supporter of the Empire and its unending wars.
And what did the actual war teach her? Here she is in 2007, after four years of horrible death, destruction and torture:
"The American military has done its job. Look what they accomplished. They got rid of Saddam Hussein. They gave the Iraqis a chance for free and fair elections. They gave the Iraqi government the chance to begin to demonstrate that it understood its responsibilities to make the hard political decisions necessary to give the people of Iraq a better future. So the American military has succeeded."
And she spoke the above words at a conference of liberals, committed liberal Democrats and others further left. She didn't have to cater to them with any flag-waving pro-war rhetoric; they wanted to hear anti-war rhetoric (and she of course gave them a tiny bit of that as well out of the other side of her mouth), so we can assume that this is how she really feels, if indeed the woman feels anything. The audience, it should be noted, booed her, for the second year in a row.
"We came, we saw, he died." – Hillary Clinton as US Secretary of State, giggling, as she referred to the uncivilized and utterly depraved murder of Moammar Gaddafi in 2011.
Imagine Osama bin Laden or some other Islamic leader speaking of September 11, 2001: "We came, we saw, 3,000 died, ha-ha."
Notes
Los Angeles Times, September 23, 1994
Washington Post, July 18, 2001
BBC, August 14, 2004
Honolulu Star-Advertiser, June 23 and July 2, 2012
Tim Weiner, "Legacy of Ashes: The History of the CIA" (2007), p.116-21
Washington Post, August 30, 2005
Washington Post, June 6, 2014
Speaking at the "Take Back America" conference, organized by the Campaign for America's Future, June 20, 2007, Washington, DC; this excerpt can be heard on the June 21, 2007 edition of Democracy Now!
Who Are Those Guys?
Ein el Helwe camp — As Washington and London were affirming the past few days their intentions to continue to arm "moderate rebel factions" in Syria, Tel Aviv just announced it would like to be helpful by joining with "moderate Arab nations" to battle their mutual Muslim enemies.
Israel offered on 6/26/14 to help "moderate" Arab nations who may feel threatened by the lightning land grabbing offensive by Islamic militants in Iraq. As its foreign minister Avigdor Lieberman, an arch Zionist Islamophobe and Arabphobe, met with Secretary of State John Kerry in Paris, he reportedly talked sweet about some Arabs and told Kerry that "the extremists currently operating in Iraq and Syria will try to challenge the stability in the entire Gulf region, first of all in Kuwait." A statement from his office added that "Israel could provide effective and reliable assistance to moderate Arab states who are dealing with extremists."
Just a few days after visiting Iraq, and being briefed on the pathetic situation, Kerry seems intrigued by the Zionist idea and noted according to a senior U.S. official, that it is "important that countries in the region (including Israel) stand together against the (ISIS) threat."
Basically "Israel wants to do what Shite Iran has started doing" he continued, which according to the New York Times is flying surveillance drones over Iraq and sending military equipment to help Baghdad fight the Sunni insurgents. Except Israel wants to arm the Sunni tribes in league with the West and the Gulf monarchies and not arm the Shia.
Israeli officials and AIPAC are arguing to Washington that Israeli interests were converging with moderate Arab nations and "both sides should be dealing with the threat of Iran, world jihad and al-Qaida, as well as the spill-over of conflicts in Syria and in Iraq to neighboring countries." The Israeli embassy issued a statement, "Today, (6/26/14) there is a basis for the creation of a new diplomatic-political structure in the Middle East." Yet another 'New Middle East', one wonders?
This week, (6/22/14) on NBC's Meet the Press, Israel's Prime Minister Netanyahu restated the half-century old Zionist project and continuing to permanently divide and control the Middle East. On the subject of the Islamic State of Iraq and Syria (DAASH) Netanyahu expressed the intention of his regime to continue to promote internal strife in Israel's neighboring states. "We must weaken both [Sunni and Shia Muslims]," Netanyahu said, restating his governments preferred policy to have Muslims continue fighting among themselves. "When your enemies are fighting each other, don't strengthen either one of them, weaken both," he told the American public.
While it would not be the first time the Zionist regime has worked with preferred members of the Arab League to advance its own interests, another strong incentive to ratchet up its "split the Arabs" policy is the popular spill-over political effects of the advancements of DAASH in Iraq and Syria. Briefly stated, Lebanon is awash with rumors about a "Sunni uprising" to regain what is viewed by some in Lebanon and the region as seeking justice for their substantial political and economic loses since the 2003 Bush-Blair invasion of Iraq.
If the Gulf Kingdoms and the West agree to share information and leverage with respect to Iraq and Syria with Netanyahu & Co., it will be with the knowledge that Israel has another motive in wanting to join the coalescing forces against ISIS (DAASH). Presumably it is also is what its Lebanon based agents are surely reporting from the Palestinian camps.
Briefly put Palestinian camps generally, and using Ein el Helwe, in Saida, Lebanon as an example, are beginning to experience what Nahr el Bared camp near Tripoli, Lebanon did in 2007. At Nahr al Bared, over a period of more than six months began to notice the arrival of 'strangers.' Some camp residents asked "Who are those guys"? At first the new arrivals appeared to be rather self-effacing, very polite, and seemingly deeply religious. They tended to keep to themselves and soon their families arrived. More than one Sheik in Nahr al Bared assured the camp residents that the strangers were "good Muslims" and some were even teaching lessons from the Koran at the Mosque.
Fast forward, and as one of the Nahr el Bared camp leader explained in great detail to this observer at the time, soon residents soon began to notice changes in what were in fact affiliates or members of a new group calling itself "Fatah el Islam (FEI)." For example, the Islamists began to accost women on the street demanding that they wear a full length Hijabs and to stop smoking and more generally change their ways to be "better Muslims".
Today, FEI is relatively strong and growing, but secretively in Ein el Helwe. But they are not alone. New arrivals, plus young, unemployed, discouraged and increasingly disenchanted and angry youth are reportedly secretly holding meetings with DAASH, Al Nusra and other recruiters and they are promised immediate material benefits and soon to be granted the full right to work plus a deepening Resistance to the occupation of their country, Palestine. There are takers naturally, but numbers so far are difficult to learn. Militias are growing in the camps but it's difficult to calculate just how fast because camp residents know of many outside intelligence agents living among them, ranging from Lebanese Internal Security to Zionist agents and many others, so keeping their work secret is most essential.
According to analysts in Lebanon, and a recent report in Now Lebanon, the small cells based in rural northern Lebanon, the eastern Bekaa, and the Palestinian camps, where law enforcement remains very difficult are expanding due to the ISIS' surge in Iraq and its apparent success in securing popular support from Sunni tribes and former Baathist groups. Fears continue to spread that the Sunni-Shiite sectarian struggle will explode in Lebanon as well.
But the threat does not come only from outside Lebanon's borders, according to a security source in Ain al-Helweh Palestinian refugee camp. The source reported that he has been receiving information recently about Jihadist factions mobilizing in several areas of Lebanon, including Palestinian refugee camps with both DAASH (ISIS) and al Nusra Front setting up training camps. According to one source, Jihadists reportedly are not only mobilizing inside the Palestinian camps: it is happening across Lebanon, especially after the Qalamoun second battle. Fanatic Muslims and takfiris are spreading very fast. "What is happening in Iraq and Qalamoun shows that the situation will soon be very dangerous in the region, including Lebanon. It will all become a jihad battlefield," the source said.
Two active and knowledgeable Palestinians from Ein el Helwe camp explained to this observer this week as they introduced me to the leader of Fatah el Islam, "Of course all the camps are affected just like everyone else around here by what has been happening in Iraq and Syria. Palestinians always want to avoid local fights but we always seem to be pulled in. Look what happened in the Lebanese civil war. Our leadership tried everything it could do stay out of the sectarian fight but we were pulled in and paid a huge price.
As for the attitude of the general camp population in Lebanon, a recent unscientific poll found that more than 96% of camp residents in Lebanon do not want to stop the Resistance but rather to reclaim all their stolen land. This survey results compares remarkably closely to a June 15-17 poll commissioned by the Zionist Washington Institute. That poll comprised face-to-face interviews with a standard random geographic probability sample of 1,200 adult Palestinians, yielding results with a 3% statistical margin of error. Only 22% of Gazans would opt to give up the 'by whatever means necessary' Resistance "to end the occupation of the West Bank and Gaza to achieve a two-state solution." Even fewer, pick a "one-state solution," in which "Arabs and Jews having equal rights in one country, but want their country returned from the river to the sea." The "two-state solution" is the preferred option of a mere 9% in the West Bank and 10% in Gaza. Nearly two-thirds of the Palestinians in the same Zionist poll said "resistance should continue until all of historic Palestine is liberated."
Both the Zionist poll and the informal one done in Palestinian camps in Lebanon find board support for popular resistance against the Zionist occupation seen as having a positive impact by most respondents in Gaza, the West Bank and Lebanon. These activities include stepped up demonstrations, building more support for the BDS campaign, strikes, marches, and mass refusals to cooperate, though various acts of Resistance to confront the Zionist occupiers.
Increased Resistance is seen as having a positive impact by most respondents in both territories: 62% in the West Bank, 73% in Gaza and close to 90% in Ein el Helwe.
Meanwhile, a twitter account with 21,000 followers, one of many, and this one dubbed the "League of Supporters", called this week for DAASH sympathizers to post messages warning America not to carry out airstrikes against DAASH. Rather they urged their supporters to prepare to follow them and to confront the Zionists across Palestine.
In summation, the Zionist regime is very aware that the camps are likely to explode for a number of reasons not least of which the lack of civil rights including Palestinians is being banned from most jobs and the rising anger in and among the camps. It is also the case that the Zionists realize that the future looks bleak for its continuing occupation of Palestine internationally and helping stamp our extremist Jihadists, even by working with Arab regimes, and to weaken Iran in the process, it what it must do.
As Canadian freelance writer and journalist Brandon Martinez reminds us: "Fragmenting, weakening and Balkanizing the Middle East has been part and parcel of the Zionist impulse from the very beginnings of the Jewish state. Israeli strategist Oded Yinon candidly outlined this imperialist line of thought in his 1982 paper "A Strategy for Israel in the 1980s." A strong, unified Iraq is Israel's primary military concern, Yinon stressed" Yinon went on to push for the territorial dissection of Iraq into three state-lets along ethnic and confessional lines. And we may well witness these developments in Iraq. He promoted much the same scenario for Syria, Egypt, Lebanon, Iran and other Arab/Muslim states bordering the Zionist colony.
Martinez further observes, "The Zionists have used deception, subterfuge and cunning to con the world into entering conflicts and conflagrations that have expedited their ominous aims. But Israel's insatiable avarice for more land and resources will eventually be its downfall, just as every empire in history has sooner or later collapsed under its own weight."
Reminding this observer of a quote a valued friend from New Mexico recently sent to me:
"Look back over the past, with its changing empires that rose and fell, and you can foresee the future, too" (Marcus Aurelius).
What The DHS Is Building Is Indeed A Beast…
One of the great concerns of our Founding Fathers was a large standing army on American soil. James Madison spoke for all of America's founders when he said, "A standing military force, with an overgrown Executive will not long be safe companions to liberty." I wonder what Madison and the rest of our founders would have to say about the Department of Homeland Security (DHS).
John Whitehead, the president of The Rutherford Institute, recently wrote a trenchant summary of the DHS. He began by saying, "If the United States is a police state, then the Department of Homeland Security (DHS) is its national police force, with all the brutality, ineptitude and corruption such a role implies. In fact, although the DHS' governmental bureaucracy may at times appear to be inept and bungling, it is ruthlessly efficient when it comes to building what the Founders feared most–a standing army on American soil."
Whitehead observes that the DHS employs over 240,000 full time workers and has an annual budget of $61 billion. Sub-agencies of the DHS include the Coast Guard, Customs and Border Protection, Secret Service, Transportation Security Administration (TSA), and the Federal Emergency Management Agency (FEMA).
Whitehead states, "In the 12 years since it was established to 'prevent terrorist attacks within the United States,' the DHS has grown from a post-9/11 knee-jerk reaction to a leviathan with tentacles in every aspect of American life. With good reason, a bipartisan bill to provide greater oversight and accountability into the DHS' purchasing process has been making its way through Congress.
"A better plan would be to abolish the DHS altogether. In making the case for shutting down the de facto national police agency, analyst Charles Kenny offers the following six reasons: one, the agency lacks leadership; two, terrorism is far less of a threat than it is made out to be; three, the FBI has actually stopped more alleged terrorist attacks than DHS; four, the agency wastes exorbitant amounts of money with little to show for it; five, 'An overweight DHS gets a free pass to infringe civil liberties without a shred of economic justification'; and six, the agency is just plain bloated."
In addition to Kenny's reasons for shutting down the DHS, Whitehead adds the following indictments:
"Militarizing police and SWAT teams. The DHS routinely hands out six-figure grants to enable local municipalities to purchase military-style vehicles, as well as a veritable war chest of weaponry, ranging from tactical vests, bomb-disarming robots, assault weapons and combat uniforms. This rise in military equipment purchases funded by the DHS has, according to analysts Andrew Becker and G.W. Schulz, 'paralleled an apparent increase in local SWAT teams.' The end result? An explosive growth in the use of SWAT teams for otherwise routine police matters, an increased tendency on the part of police to shoot first and ask questions later, and an overall mindset within police forces that they are at war–and the citizenry are the enemy combatants.
"Stockpiling ammunition. DHS, along with other government agencies, has been stockpiling an alarming amount of ammunition in recent years, which only adds to the discomfort of those already leery of the government. As of 2013, DHS had 260 million rounds of ammo in stock, which averages out to between 1,300 to 1,600 rounds per officer. The US Army, in contrast, has roughly 350 rounds per soldier. DHS has since requisitioned more than 1.6 billion rounds of ammo, 'enough,' concludes Forbes magazine, 'to sustain a hot war for 20+ years.'
"Distributing license plate readers. DHS has already distributed more than $50 million in grants to enable local police agencies to acquire license plate readers, which rely on mobile cameras to photograph and identify cars, match them against a national database, and track their movements. Relying on private contractors to maintain a license plate database allows the DHS and its affiliates to access millions of records without much in the way of oversight.
"Contracting to build detention camps. In 2006, DHS awarded a $385 million contract to a Halliburton subsidiary to build detention centers on American soil. Although the government and Halliburton were not forthcoming about where or when these domestic detention centers would be built, they rationalized the need for them in case of 'an emergency influx of immigrants, or to support the rapid development of new programs' in the event of other emergencies such as 'natural disasters.' Viewed in conjunction with the NDAA provision allowing the military to arrest and indefinitely detain anyone, including American citizens, it would seem the building blocks are already in place for such an eventuality.
"Tracking cell-phones with Stingray devices. Distributed to local police agencies as a result of grants from the DHS, these Stingray devices enable police to track individuals' cell phones–and their owners–without a court warrant or court order. The amount of information conveyed by these devices about one's activities, whereabouts and interactions is considerable. As one attorney explained: 'Because we carry our cellphones with us virtually everywhere we go, stingrays can paint a precise picture of where we are and who we spend time with, including our location in a lover's house, in a psychologist's office or at a political protest.'
"Carrying out military drills and lockdowns in American cities. Each year, DHS funds military-style training drills in cities across the country. These Urban Shield exercises, elaborately staged with their own set of professionally trained Crisis Actors playing the parts of shooters, bystanders and victims, fool law enforcement officials, students, teachers, bystanders and the media into thinking it's a real crisis.
"Using the TSA as an advance guard. The TSA now searches a variety of government and private databases, including things like car registrations and employment information, in order to track travelers' before they ever get near an airport. Other information collected includes 'tax identification number, past travel itineraries, property records, physical characteristics, and law enforcement or intelligence information.'
"Conducting virtual strip searches with full-body scanners. Under the direction of the TSA, American travelers have been subjected to all manner of searches ranging from whole-body scanners and enhanced patdowns at airports to bag searches in train stations. In response to public outrage over what amounted to a virtual strip search, the TSA has begun replacing the scanners with equally costly yet less detailed models. The old scanners will be used by prisons for now.
"Carrying out soft target checkpoints. VIPR task forces, comprised of federal air marshals, surface transportation security inspectors, transportation security officers, behavior detection officers and explosive detection canine teams have laid the groundwork for the government's effort to secure so-called 'soft' targets such as malls, stadiums, bridges, etc. Some security experts predict that checkpoints and screening stations will eventually be established at all soft targets, such as department stores, restaurants, and schools. DHS' Operation Shield, a program which seeks to check up on security protocols around the country with unannounced visits, conducted a surprise security exercise at the Social Security Administration building in Leesburg, Fla., when they subjected people who went to pick up their checks to random ID checks by federal agents armed with semi-automatic weapons.
"Directing government workers to spy on Americans. Terrorism Liaison Officers are firefighters, police officers, and even corporate employees who have received training to spy on and report back to government entities on the day-to-day activities of their fellow citizens. These individuals are authorized to report 'suspicious activity' which can include such innocuous activities as taking pictures with no apparent aesthetic value, making measurements and drawings, taking notes, conversing in code, espousing radical beliefs, and buying items in bulk.
"Conducting widespread spying networks using fusion centers. Data collecting agencies spread throughout the country, aided by the National Security Agency, fusions centers–of which there are at least 78 scattered around the U.S.–constantly monitor our communications, collecting and cataloguing everything from our internet activity and web searches to text messages, phone calls and emails. This data is then fed to government agencies, which are now interconnected: the CIA to the FBI, the FBI to local police. Despite a budget estimated to be somewhere between $289 million and $1.4 billion, these fusion centers have proven to be exercises in incompetence, often producing irrelevant, useless or inappropriate intelligence, while spending millions of dollars on 'flat-screen televisions, sport utility vehicles, hidden cameras and other gadgets.'"
On a personal note, I can testify to Whitehead's warning regarding fusion centers. When I ran as the Constitution Party's candidate for President back in 2008, DHS fusion centers funneled warnings to the State of Missouri law enforcement agencies to be on the look-out for people sporting bumper stickers with my name, Ron Paul's name, and Bob Barr's (the Libertarian Party candidate for President that same year) name. People with these bumper stickers were said to be "potential dangerous militia members," "extremists," etc.
When word of this blatant violation of fundamental liberties publicly surfaced, tens of thousands of outraged Americans inundated the political offices within the State of Missouri. Ron, Bob, and I sent a letter to the governor and MIAC officer in charge demanding an apology and that the statements be removed from Missouri law enforcement memos. Public pressure was so massive that it didn't take long for Missouri officials to apologize to us and remove the libelous statements. However, if you think this kind of conduct is not continuing, you are very mistaken.
I have had several liberty-minded law enforcement officers (in several states) personally show me interoffice memos and computer reports depicting me (and several other liberty-minded public figures) as "extremists," "radicals," "hate-group leaders," etc. Virtually, every such memo or report is being distributed to local police departments and sheriff's offices via DHS fusion centers–in concert with the ultra-liberal Southern Poverty Law Center (SPLC).
Whitehead continues:
"Carrying out Constitution-free border control searches. On orders from the DHS, the government's efforts along the border have become little more than an exercise in police state power, ranging from aggressive checkpoints to the widespread use of drone technology, often used against American citizens traveling within the country. Border patrol operations occur within 100 miles of an international crossing, putting some 200 million Americans within the bounds of aggressive border patrol searches and seizures, as well as increasingly expansive drone surveillance. With 71 checkpoints found along the southwest border of the United States alone, suspicionless search and seizures on the border are rampant. Border patrol agents also search the personal electronic devices of people crossing the border without a warrant.
"Funding city-wide surveillance cameras. As Charlie Savage reports for the Boston Globe, the DHS has funneled 'millions of dollars to local governments nationwide for purchasing high-tech video camera networks, accelerating the rise of a "surveillance society" in which the sense of freedom that stems from being anonymous in public will be lost.' These camera systems, installed on city streets, in parks and transit systems, operating in conjunction with sophisticated computer systems that boast intelligent video analytics, digital biometric identification, military-pedigree software for analyzing and predicting crime and facial recognition software, create a vast surveillance network that can target millions of innocent individuals.
"Utilizing drones and other spybots. The DHS has been at the forefront of funding and deploying surveillance robots and drones for land, sea and air, including robots that resemble fish and tunnel-bots that can travel underground. Despite repeated concerns over the danger surveillance drones used domestically pose to Americans' privacy rights, the DHS has continued to expand its fleet of Predator drones, which come equipped with video cameras, infrared cameras, heat sensors, and radar. DHS also loans its drones out to local, state, and federal law enforcement agencies for a variety of tasks, although the agency refuses to divulge any details as to how, why and in what capacity these drones are being used by police. Incredibly, the DHS has also been handing out millions of dollars in grants to local police agencies to 'accelerate the adoption' of drones in their localities."
Whitehead concludes by saying, "It's not difficult to see why the DHS has been described as a 'wasteful, growing, fear-mongering beast.' If it is a beast, however, it is a beast that is accelerating our nation's transformation into a police state through its establishment of a standing army, a.k.a. national police force."
See John Whitehead's report here:
Has The Dept. of Homeland Security Become America's Standing Army?
When the British government employed such tactics (in their own way, given the lack of technology in the mid-1700s), the pulpits of Colonial America thundered forth the call of liberty. Presbyterians, Baptists, Congregationalists, Separatists, Anglicans: it didn't matter. Pastors from across the denominational spectrum boldly and courageously implored their congregants to resist these tyrannical tactics. And resist they did!
So, what are our pastors and churches doing today in the face of this burgeoning police state? For the most part, they are sitting back mute and dumb. If they are not absolutely apathetic to the rise of this beast, they are actually assisting it. Through the egregiously unbiblical interpretation of Romans 13, whereby pastors are telling their adherents to submit to evil government, or through the fear of losing their precious 501c3 tax-exempt status, pastors are deliberately leading their churches as sheep to the slaughter.
And make no mistake about it: what the DHS is building is indeed a BEAST. And prophecy buffs should be well-acquainted with that word. Does not the Scripture warn us that there are "many" anti-Christs in the world? Is not the word "beast" and "anti-Christ" synonymous? They absolutely are. Prophecy students are also well aware of the fact that the prophetic "beast" is as much a system as it is a person. Without a doubt, this beastly system is being constructed before our very eyes.
Interestingly enough, this beast was created by the professing Christian president, G.W. Bush. Is that why Christian pastors are so complacent? Are they truly that gullible? A "conservative" Republican creates the beast, and a "liberal" Democrat feeds it. Both are equally culpable.
These pastors can talk about following Jesus all they want; they can cry crocodile tears when they sing Amazing Grace all they want; they can preach about Heaven all they want; and they can talk about being "born again" all they want. But if they are not warning their people about this growing beast, and if they are not emphatically imploring their people to resist this beast, they are helping to feed their sheep to the wolves.
Dear Christian friends, get out of these churches! As nice as the pastor seems to be, as sincere as he seems to be, as doctrinally-sound as he appears to be, by his refusal to resist this growing police state he is helping to put the chains of slavery around the necks of your children and grandchildren. He is facilitating the rise of a very dangerous and hungry beast in our land.
Real men of God throughout history have been noted by their courage to resist the evil beasts that have attempted to devour God's people. From Gideon and Samson to Martin Luther and Huldrych Zwingli, and from Dietrich Bonhoeffer and Martin Niemoller to Jonas Clark and James Caldwell, these men of God were indefatigable and heroic champions of liberty.
The "standing military force" and "overgrown Executive" are here! Now, where are the patriot pulpits to resist them?
The Bill of Rights is not an accumulation of mere words that have become expendable, when the government finds them inconvenient. The Fourth Amendment is especially an example of a promise of protecting natural rights, long ignored and often violated. While much of court precedents involve policing powers, these decisions have profound application to NSA metadata mining. With the first anniversary of the Edward Snowden disclosures, no government official or agency can continue to deny the existence of the total surveillance state.
The NSA's "General Warrants": How the Founding Fathers Fought an 18th Century Version of the President's Illegal Domestic Spying, provides an indispensible example of the fundamental conflict that always exists, when magistrates envision their duty as the maintenance of government supremacy over the inherent autonomy of individuals.
"It is "familiar history," the U.S. Supreme Court noted in Payton v. New York, that "indiscriminate searches and seizures conducted under the authority of 'general warrants' were the immediate evils that motivated the framing and adoption of the Fourth Amendment." When James Madison drafted the Fourth Amendment, he relied heavily on the Massachusetts Constitution, which forbade warrants that did not specify the "persons or objects of search, arrest, or seizure."
Since the post World War II era, the radical shift from the remnants of the former Republic, into a global authority, where the meaning of the law has no correlation to the intent of original constitutional conviction, is undeniable. What was enemy signals interception became complete domestic scrutiny and monitoring. Lost for all practical legal purposes was The Central Meaning of the Fourth Amendment. Tracey Maclin provides a historic account and judicial context on how the constitution was perverted.
"The Court's rational basis model essentially asks whether the police have acted irrationally while intruding upon the Fourth Amendment rights of individuals. The Court's model rarely requires warrants authorizing searches, disfavors vigorous judicial oversight of police searches, and prefers deference to police procedures as the mode of constitutional decision-making.

Most importantly, a rational basis model severely diminishes our rights under the Fourth Amendment. As the private container cases demonstrate, a rational basis model does not subject police searches to vigorous judicial check. In many instances, the police are free to undertake unsupervised and suspicionless searches, even when less intrusive means are available to serve the state's interests. In other contexts, warrantless searches are permitted when the only justification for such a search is police convenience.

In the end, the Court finds that all of these searches are reasonable because they rationally serve legitimate state interests. This degree of deference to police searches is at odds with the central purpose of the Fourth Amendment, which is distrust of discretionary police power. The Fourth Amendment was not inserted in the Bill of Rights so that judges could meekly defer to government intrusions of privacy; rather, the amendment was designed to control such intrusions."
The NSA purports that national security not only encompasses data mining on all citizens, but also allows for effective total immunity from oversight and accountability. This mindset expands the ordinary boundaries of maintaining the peace into a tyrannical police state. The commitment to Open Government and Transparency is as believable as the fairy tale that anyone can become President.
Abdication of judicial responsibility is so blatant that the century old decision by Justice William R. Day, Weeks v. United States (1914), U.S. Supreme Court, has no substantive application when the NSA deems that its ECHELON monitoring systems require that a PRISM be kept on everyone person. Also, watch the video, One Year Of Leaks That Turned Surveillance Conspiracy Theory to FACT!
"The point of the Fourth Amendment which often is not grasped by zealous officers is not that it denies law enforcement the support of the usual inferences which reasonable men draw from evidence. Its protection consists in requiring that those inferences be drawn by a neutral and detached magistrate, instead of being judged by the officer engaged in the often competitive enterprise of ferreting out crime. Any assumption that evidence sufficient to support a magistrate's disinterested determination to issue a search warrant will justify the officers in making a search without a warrant would reduce the Amendment to a nullity, and leave the people's homes secure only in the discretion of police officers. Crime, even in the privacy of one's own quarters, is, of course, of grave concern to society, and the law allows such crime to be reached on proper showing. The right of officers to thrust themselves into a home is also a grave concern, not only to the individual, but to a society which chooses to dwell in reasonable security and freedom from surveillance. When the right of privacy must reasonably yield to the right of search is, as a rule, to be decided by a judicial officer, not by a policeman or government enforcement agent.

There are exceptional circumstances in which, on balancing the need for effective law enforcement against the right of privacy, it may be contended that a magistrate's warrant for search may be dispensed with. But this is not such a case. No reason is offered for not obtaining a search warrant except the inconvenience to the officers and some slight delay necessary to prepare papers and present the evidence to a magistrate. These are never very convincing reasons and, in these circumstances, certainly are not enough to bypass the constitutional requirement. No suspect was fleeing or likely to take flight. The search was of permanent premises, not of a movable vehicle. No evidence or contraband was threatened with removal or destruction, except perhaps the fumes which we suppose in time will disappear. But they were not capable at any time of being reduced to possession for presentation to court. The evidence of their existence before the search was adequate and the testimony of the officers to that effect would not perish from the delay of getting a warrant.

If the officers in this case were excused from the constitutional duty of presenting their evidence to a magistrate, it is difficult to think of a case in which it should be required."
The cyber environment of digital existence does not void the need for probable cause. However, the NSA does not observe such constitutional needs when the personal computer is the depository of your private papers. Other than advancements in technological communications and archiving, the precedent of the "exclusionary rule", established in this case, is the ubiquitous causality from NSA collection that vacuums up every byte of data, using the presumption that everyone is a criminal. Even if not charged for an offense at this time, the information awaits future prosecutorial discretion.

So, when in the case Klayman v. Obama, "On December 16, Richard J. Leon of the Federal District Court for the District of Columbia ruled that the metadata collection program violates the Fourth Amendment", hopes were high that at least one federal judge had the courage to uphold the constitution. Metadata and the Fourth Amendment then cites that soon thereafter, the weight and magnate of the intelligence snooping force felt the usual letdown, when American Civil Liberties Union v. Clapper was decided.
"On December 27, Judge William H. Pauley III came to the opposite conclusion. Contrary to Judge Leon's belief that the metadata program has not been effective, Judge Pauley argued that the program could potentially have stopped the 9/11 attacks. However, the crux of his determination was that the Smith precedent applies and that no Fourth Amendment claim can be made out for Americans have no reasonable expectation of privacy regarding the metadata related to their phone calls."
Note the bizarre endorsement of this absurdly twisted legal logic that conveniently destroys the intentional importance of preserving essential privacy that corrupt courts want to make conditional.
"Among the requirements for a successful Fourth Amendment claim is establishing that a reasonable expectation of privacy was violated. On this point, the most relevant precedent to the metadata cases is 1979's Smith v. Maryland, in which the U.S. Supreme Court held that individuals have no reasonable expectation of privacy regarding the telephone numbers they call, for that information is freely provided to telephone companies and it is generally known that telephone companies keep this information in their records."
Abolishing the expectation of privacy is not subject to the redefining of what are reasonable restrictions that the government places upon its agencies. The reason why the NSA is so dangerous stems from the total lack of observing that the spying on ordinary citizens is a profound repudiation of basic and inalienable rights of each individual.
Such systematic and surreptitious gathering also has No Fourth Amendment right in metadata embedded in posted photo, so say the U.S. Court of Appeals for the Fifth Circuit. Before long, this parade of government inspection and retention will subject even the hermit and the deliberate recluse to a profile third degree. It is a never-ending process until snatching your individual identity is the ultimate outcome.
The snoops view you as an enemy of the state, unless you can prove differently, whereas the reality is that The Strange World of NSA Mind Control is the true foe of the liberty of people and a free nation.
Can you see the "Truth"?
"The truth will set you free. But first, it will piss you off." – Gloria Steinem
Are you tired of floating around in that pink goop of the Matrix? Are you ready to slough off the illusion like it was an old hat? Has the White Rabbit been too fast for you so far? If you are reading this article, you are here to wake up. Here are five ways to slow that white rabbit down so you can catch up.
1) Money is a Hoax
"The Western worldview says, in essence, that technological progress is the highest value and that we were born to consume, to endlessly use and discard natural recourses, other species, gadgets, toys, and often, each other. The most highly prized freedom is the right to shop. It's a world of commodities, not entities, and economic expansion is the primary measure of progress. Competition, taking, and hoarding are higher values than cooperation, sharing, and gifting. Profits are valued over people, money over meaning, entitlement over justice, "us" over "them." This is the most dangerous addiction in the world, not only because of its impact on humanity but because it is rapidly undermining the natural systems that sustain the biosphere." – Bill Plotkin
It is not the more evolved aspect of ourselves that tricks us into thinking that we need money to survive; it's the less evolved aspect of ourselves that does the tricking. With our advanced technologies we imagine that we know the way the world works, when, for the most part, we have forgotten how everything is connected.
Until we can relearn "a language older than words," and once again engage in a healthy dialogue with nature and the cosmos, we will continue to be tricked by the less evolved aspects of ourselves. The more awareness we bring to this extremely complicated cognitive dissonance, the more possible it will be to achieve an ecologically, economically, and socially sustainable world.
As it stands, however, the Federal Reserve is a house of cards guarded by a red herring. Money is the opiate of the masses, and the masses are too busy spending it on worthless crap to get to know each other as healthy individuals, let alone as a healthy community. We have become Pavlov Dogs, and money is our dinner bell. But money was never meant to be horded, or even amassed, it was meant to circulate as a way of uplifting the community. And yet here we are, hoarding and amassing, while our communities are in unhealthy disarray. It's high time we abandoned the force-fed shibboleth that having more money makes us better people. It doesn't. Being healthy, compassionate and moral is what makes us better people.
2) Debt is Fiction
"There are two ways to conquer and enslave a nation. One is by the sword. The other is by debt." –  John Adams
Unfortunately our nation has been enslaved by debt. Our current system is not an economic system at all, but an ecocidal system; an intrinsic obsolescence of conspicuous consumption. It's a grave misfortune that efficiency, sustainability, and preservation are the enemies of our socioeconomic system. This has got to be the most bizarre delusion in the history of human thought, a retarded Ponzi scheme en masse.
But it's difficult to get people to understand something when money, and especially debt, prevents them from understanding it. Instead of ownership, give us strategic access. Instead of equity, give us equality. Instead of one-track-minded profit, give us open-minded people. Instead of unsustainable monetary-based economics, give us a sustainable resource-based economy, which is basically the scientific method applied to ecological and social concerns.
As tough as it is to hear, nature is a dictatorship. We can either listen to it and fall into harmony or deny it and suffer. Ask yourself this question by Fleet & Lasn: "When the economic system fails, will we know how to behave, how to act, how to appreciate, how to value, how to survive, how to be and how to love in a world that no longer defines relations by money?"
Defenestrate your TV set!
3) Media is Manipulation
"Any dictator would admire the uniformity and obedience of the U.S. media." – Noam Chomsky
Media has always been an effective method for manipulating people. We are social creatures who are also psychological creatures. This combination makes us unwittingly vulnerable to the power of suggestion. As it stands, media has been our Achilles Heel. These days the "news" we receive from corporate media is more likely to be disinformation. Skepticism is a must when reading or viewing the information provided by these outlets.
The key: Don't believe anything you hear and only half of what you see. Analyze the Kool Aide before you swallow it. Even then, be prepared to vomit it back up at the first sign of deception. Remain circumspect and question all authority. They don't have our best interest at heart. They only want our money, and to remain powerful. Like Wendell Berry wrote in the Unsettling of America, "People whose governing habit is the relinquishment of power, competence, and responsibility, make excellent spenders. They are the ideal consumers. By inducing in them little panics of boredom, powerlessness, sexual failure, mortality, paranoia, they can be made to buy virtually anything that is "attractively packaged.""
We are slowly becoming more aware of corporate media lying to us. But they know we know they're lying to us. And we know they know we know they're lying to us. With enough inertia, this debacle of a process just continues until we are eventually lying to ourselves. And here we are. Like the great Baruch Spinoza once surmised, "The supreme mystery of despotism, its prop and stay, is to keep men in a state of deception, and cloak the fear by which they must be held in check, so that they will fight for their servitude as if for salvation." And here we are, unless we decide to wake up.
For it is seeking you.
4) Government is a Corporation
"The end of democracy and the defeat of the American Revolution will occur when government falls into the hands of lending institutions and moneyed incorporations." – Thomas Jefferson
Here's the thing: we do not live in a democracy, and we probably never really have. A prestigious Princeton study recently concluded that we live in an oligarchy: rule by a few individuals. And these individuals just so happen to be plutocrats, making this particular flavor of oligarchy a plutocracy: rule by the rich.
The problem is that money itself has become an immoral agent within an otherwise amoral system that praises itself as moral. Ask yourself: do you wish to live out harried lives of nine-to-five slavery, giving up your days to heartless corporations that don't give a damn about anything except making money, or do you wish to live a happy life of loving compassion, doing what you enjoy, in spite of plutocracy, oligarchy, and tyranny?
The Occupy Movement succeeded in shifting the tenor and shape of debate in the world, but we must not rest on our laurels. Trickle-down economics DOES NOT WORK! Austerity economics DOES NOT WORK! Corporations are NOT people. Money does NOT equal speech. It's a trap. If we don't get big money out of politics then everything we want to do will be hopeless. We need to be smarter with our mobilization tactics for the change and allocation of power within our society. So far the security and surveillance state has boxed us in, like the great MLK Jr. said, "Those who love peace must learn to organize as effectively as those who love war."
About the Author
Gary 'Z' McGee, a former Navy Intelligence Specialist turned philosopher, is the author of Birthday Suit of God and The Looking Glass Man. His works are inspired by the great philosophers of the ages and his wide awake view of the modern world.
**This article was originally posted at Fractal Enlightenment.**
Source: Waking Times
Thanatos hangs over America, a death-wish based on the inner rotting of conscience predicated on the constant need for supremacy in the world as a test, indeed validation, of the nation's moral virtue, to be achieved through military power—a greatness no longer assumed and, because of inner decay setting in, cause for fatalistic entropic reaction. Circa 1950: Better dead than red. Circa 2014: Better dead than descend from the pinnacle of global hegemony—and why not bring everyone else with us? Paul Craig Roberts's article in CounterPunch, Are You Ready For Nuclear War?, (June 3), may perhaps seem unduly alarmist to the uninitiated, but even without Obama-Team national security advisers thoroughly capable of and attuned to such planning, there are indications inhering in Obama's studied moves aimed toward direct confrontation with Russia and China that carry intentionally the eventuality of a nuclear showdown.
Both on the Pacific Rim and European trips, closely integrated in time and purpose, Obama sounds like—and is scripted to be—the Avenger against a doubting world, not sufficiently appreciative of America the Land of Freedom (subtext throughout, of course, capitalism the sole legitimate world system replicating America's own political-economic structure and ideological values). Comparing his statements wherever he appeared on those journeys of confidence-building, all to the end of confrontation with China and Russia, respectively, yet tacitly as though enemies-joined-at-the-hip, he sounded like nothing so much as a broken 78 rpm recording, stand shoulder to shoulder, stand shoulder to shoulder, stand shoulder… ad infinitum. Poland, South Korea, Latvia and Lithuania, Philippines—the more the merrier, coupled with checks (the monetary kind) for military hardware, promises of American protection, assurances, backed by military bases, training programs, joint exercises, membership in the extant alliance system (an attack on one is an attack on all), the foregoing packaged with the ascription of Russia and China as expansion-minded and out to do harm to its neighbors (i.e., our "friends and allies"). Chuck Hagel, interviewed on BBC, invoked Article 5 of the NATO treaty, the one for all, all for one provision, stating that "Russia was a threat" to Europe (June 5). Nothing could be clearer.
And then we have Obama in Brussels, same day, demanding of Putin, in a time frame "over the next two, three, four weeks," complete disengagement—in Peter Baker's words, from his New York Times article, "With Group of 7 Backing, Obama Gives Russia One-Month Ukraine Deadline, " (June 5)—from Ukraine, that is, "to reverse its intervention…and help quash a pro-Russian separatist uprising or else…it would face international sanctions far more severe than anything it had endured so far." Beyond a time frame, actually an ultimatum, Obama stated that "if Russia's provocations continue, it's clear from our discussions here that the G-7 nations are ready to impose additional costs on Russia." No compliance after the time period ("and if he remains on the current course"), watch out Putin, for "we've already indicated what kinds of actions that we're prepared to take."
G-7 on banners, rostrums, a deliberate flaunting of exclusion, along with D-Day Observance plans to prevent an Obama-Putin head-to-head, calculated further to enhance antagonism, this choreographed trip is a prelude to bolder demands directed to the EU itself to speak with one voice, that of America's, in viewing Russia as an enemy bent on invasion of the West. Rather than hysteria, the mood favors an incremental rise in tensions, at each step, the concretization of war readiness, naval forces in the Black Sea, a larger US troop presence in Poland, the steady movement eastward to the Russian border of NATO troops, anti-ballistic missile installations ringing Russia, a hostile environment, to say the least, for a peaceful accommodation, one the US and the EU, by their actions, appears not to want.
I am tempted to explain these developments as the psychopathology of capitalism as a system, thanatos the upshot of the desensitization of human feeling when the commodity structure defines the individual as alienated from social relations of equality and justice, in favor of a pervasive solipsism, driven by fear, introjecting the values of ruling groups as compensation for empty lives, turning on one another to rise in the social hierarchy, in the last analysis, killing without compunction, as in Obama's signature, drone assassination vaporizing a fellow human being so that no reminder of his/her existence remains. But such an explanation is too simple by half; policy trumps psychology, or rather invites a particular mental-set in order to reach fruition. Thanatos is consequence, not cause. Policy is about market penetration, market fundamentalism, market hegemony, to which must be appended the full-scale militarization of political economy, value system, how order is maintained and reinforced.
Mass surveillance in America is less if at all about counterterrorism than about the artificial props which are necessary to keep society from disintegrating in the face of animalistic greed (apologies to animals for the reference), ethnocentric and racial assumptions, the uneven structure of wealth, an underlying repression insinuated into the fabric of status, power, and wealth for purposes of the stabilization of privilege and recognition. America enjoyed world prestige for so long that a decline of any sort is catastrophic. My way or the highway works only so long; as this realization sinks in, America becomes more dangerous. These provocative moves to mount a massive counterrevolution are failing, whether Putin or Xi or both, the counterweight is fast forming its leadership coming from the people themselves with Russia and China the historical vanguard for creating a world system where no single power is able to dominate and unilaterally shape the destinies of humankind.
My New York Times Comment on the Baker article, same date, follows:
I am delighted by Obama's rhetoric emanating out of Warsaw and Brussels. It confirms my sense of him as global WARMONGER No. 1. His threats, boasts, needling are an accurate reflection of his and the US's character. We hear rumors now of a veritable cottage industry in Washington of policy wonks working out nuclear first-strike paradigms against Russia and China. Fitting, because the impulse for destruction is present. Obama is far more dangerous with or without preemptive war than any POTUS perhaps ever.
Does saying that make me a red-pinko-commie? No. Until America puts its own house in order, which may well be never again, criticism is justified without necessarily praising those declared to be adversaries and worse.
How square peace with massive domestic surveillance? with the largest military budget in the world? with the use of counterterrorism to violate civil liberties at home, mount unjustified aggression abroad?
Times readers may scream (one yesterday said of my post on Warsaw, Go back to Russia–I'll donate to your travel)! That's perfect, the ratcheting up of Reaction, frighteningly similar to McCarthyism–even more pervasive–that I remember in my youth.
As for a Putin-Poroshenko meeting, it will come about soon. As for Obama's threat of sectoral sanctions, this will backfire, as Germany and France will not go along. It is fitting Obama has Cameron as his new pal–two peas in a pod. Others however will resent the crass bullying. We deserve Obama.
Norman Pollack has written on Populism. His interests are social theory and the structural analysis of capitalism and fascism. He can be reached at pollackn@msu.edu.
Source: Counterpunch
Edward Snowden…
Is Edward Snowden a radical? The dictionary defines a radical as "an advocate of political and social revolution", the adjective form being "favoring or resulting in extreme or revolutionary changes". That doesn't sound like Snowden as far as what has been publicly revealed. In common usage, the term "radical" usually connotes someone or something that goes beyond the generally accepted boundaries of socio-political thought and policies; often used by the Left simply to denote more extreme than, or to the left of, a "liberal".
In his hour-long interview on NBC, May 28, in Moscow, Snowden never expressed, or even implied, any thought – radical or otherwise – about United States foreign policy or the capitalist economic system under which we live, the two standard areas around which many political discussions in the US revolve. In fact, after reading a great deal by and about Snowden this past year, I have no idea what his views actually are about these matters. To be sure, in the context of the NBC interview, capitalism was not at all relevant, but US foreign policy certainly was.
Snowden was not asked any direct questions about foreign policy, but if I had been in his position I could not have replied to several of the questions without bringing it up. More than once the interview touched upon the question of whether the former NSA contractor's actions had caused "harm to the United States". Snowden said that he's been asking the entire past year to be presented with evidence of such harm and has so far received nothing. I, on the other hand, as a radical, would have used the opportunity to educate the world-wide audience about how the American empire is the greatest threat to the world's peace, prosperity, and environment; that anything to slow down the monster is to be desired; and that throwing a wrench into NSA's surveillance gears is eminently worthwhile toward this end; thus, "harm" indeed should be the goal, not something to apologize for.
Edward added that the NSA has been unfairly "demonized" and that the agency is composed of "good people". I don't know what to make of this.
When the war on terrorism was discussed in the interview, and the question of whether Snowden's actions had hurt that effort, he failed to take the opportunity to point out the obvious and absolutely essential fact – that US foreign policy, by its very nature, regularly and routinely creates anti-American terrorists.
When asked what he'd say to President Obama if given a private meeting, Snowden had no response at all to make. I, on the other hand, would say to Mr. Obama: "Mr. President, in your time in office you've waged war against seven countries – Iraq, Afghanistan, Pakistan, Somalia, Yemen, Libya and Syria. This makes me wonder something. With all due respect, sir: What is wrong with you?"
A radical – one genuine and committed – would not let such a once-in-a-lifetime opportunity pass by unused. Contrary to what his fierce critics at home may believe, Edward Snowden is not seriously at war with America, its government or its society. Does he have a real understanding, analysis, or criticism of capitalism or US foreign policy? Does he think about what people could be like under a better social system? Is he, I wonder, even anti-imperialist?
And he certainly is not a conspiracy theorist, or at least keeps it well hidden. He was asked about 9-11 and replied:
The 9/11 commission … when they looked at all the classified intelligence from all the different intelligence agencies, they found that we had all of the information we needed … to detect this plot. We actually had records of the phone calls from the United States and out. The CIA knew who these guys were. The problem was not that we weren't collecting information, it wasn't that we didn't have enough dots, it wasn't that we didn't have a haystack, it was that we did not understand the haystack that we had.
Whereas I might have pointed out that the Bush administration may have ignored the information because they wanted something bad – perhaps of unknown badness – to happen in order to give them the justification for all manner of foreign and domestic oppression they wished to carry out. And did. (This scenario of course excludes the other common supposition, that it was an "inside job", in which case collecting information on the perpetrators would not have been relevant.)
The entire segment concerning 9/11 was left out of the television broadcast of the interview, although some part of it was shown later during a discussion. This kind of omission is of course the sort of thing that feeds conspiracy theorists.
All of the above notwithstanding, I must make it clear that I have great admiration for the young Mr. Snowden, for what he did and for how he expresses himself. He may not be a radical, but he is a hero. His moral courage, nerve, composure, and technical genius are magnificent. I'm sure the NBC interview won him great respect and a large number of new supporters. I, in Edward's place, would be even more hated by Americans than he is, even if I furthered the radicalization of more of them than he has. However, I of course would never have been invited onto mainstream American television for a long interview in prime time. (Not counting my solitary 15 minutes of fame in 2006 courtesy of Osama bin Laden; a gigantic fluke happening.)
Apropos Snowden's courage and integrity, it appears that something very important has not been emphasized in media reports: In the interview, he took the Russian government to task for a new law requiring bloggers to register – the same government which holds his very fate in their hands.
Who is more exceptional: The United States or Russia?
I was going to write a commentary about President Obama's speech to the graduating class at the US Military Academy (West Point) on May 28. When he speaks to a military audience the president is usually at his most nationalistic, jingoist, militaristic, and American-exceptionalist – wall-to-wall platitudes. But this talk was simply TOO nationalistic, jingoist, militaristic, and American-exceptionalist. ("I believe in American exceptionalism with every fiber of my being.") To go through it line by line in order to make my usual wise-ass remarks, would have been just too painful. However, if you're in a masochistic mood and wish to read it, it can be found here.
Instead I offer you part of a commentary from Mr. Jan Oberg, Danish director of the Transnational Foundation for Peace and Future Research in Lund, Sweden:
What is conspicuously lacking in the President's West Point speech?

Any reasonably accurate appraisal of the world and the role of other nations.
A sense of humility and respect for allies and other countries in this world.
Every element of a grand strategy for America for its foreign and security policy and some kind of vision of what a better world would look like. This speech with all its tired, self-aggrandising rhetoric is a thin cover-up for the fact that there is no such vision or overall strategy.
Some little hint of reforms of existing institutions or new thinking about globalisation and global democratic decision-making.
Ideas and initiatives – stretched-out hands – to help the world move towards conflict-resolution in crisis areas such as Ukraine, Syria, Libya, China-Japan and Iran. Not a trace of creativity.
Ironically, on May 30 the Wall Street Journal published a long essay by Leon Aron, a Russia scholar at the conservative American Enterprise Institute in Washington. The essay took Russian president Vladimir Putin to task for claiming that Russia is exceptional. The piece was headed:
"Why Putin Says Russia Is Exceptional"
"Such claims have often heralded aggression abroad and harsh crackdowns at home."
It states: "To Mr. Putin, in short, Russia was exceptional because it was emphatically not like the modern West – or not, in any event, like his caricature of a corrupt, morally benighted Europe and U.S. This was a bad omen, presaging the foreign policy gambits against Ukraine that now have the whole world guessing about Mr. Putin's intentions."
So the Wall Street Journal has no difficulty in ascertaining that a particular world leader sees his country as "exceptional". And that such a perception can lead that leader or his country to engage in aggression abroad and crackdowns at home. The particular world leader so harshly judged in this manner by the Wall Street Journal is named Vladimir Putin, not Barack Obama. There's a word for this kind of analysis – It's called hypocrisy.
"Hypocrisy is anything whatever may deceive the cleverest and most penetrating man, but the least wide-awake of children recognizes it, and is revolted by it, however ingeniously it may be disguised." – Leo Nikolaevich Tolstoi, (1828-1910) Russian writer
Is hypocrisy a moral failing or a failing of the intellect?
The New Cold War is getting to look more and more like the old one, wherein neither side allows the other to get away with any propaganda point. Just compare any American television network to the Russian station broadcast in the United States – RT (formerly Russia Today). The contrast in coverage of the same news events is remarkable, and the stations attack and make fun of each other by name.
Another, even more important, feature to note is that in Cold War I the United States usually had to consider what the Soviet reaction would be to a planned American intervention in the Third World. This often served as a brake to one extent or another on Washington's imperial adventures. Thus it was that only weeks after the Berlin Wall came down in 1989, the United States bombed and invaded Panama, inflicting thousands of casualties and widespread destruction, for the flimsiest – bordering on the non-existent – of reasons.  The hostile Russian reaction to Washington's clear involvement in the overthrow of the Ukrainian government in February of this year, followed by Washington's significant irritation and defensiveness toward the Russian reaction, indicates that this Cold War brake may have a chance of returning. And for this we should be grateful.
After the "communist threat" had disappeared and the foreign policy of the United States continued absolutely unchanged, it meant that the Cold War revisionists had been vindicated – the conflict had not been about containing an evil called "communism"; it had been about American expansion, imperialism and capitalism. If the collapse of the Soviet Union did not result in any reduction in the American military budget, but rather was followed by large increases, it meant that the Cold War – from Washington's perspective – had not been motivated by a fear of the Russians, but purely by ideology.
Lest we forget: Our present leaders can derive inspiration from other great American leaders.
White House tape recordings, April 25, 1972:
President Nixon: How many did we kill in Laos?
National Security Adviser Henry Kissinger: In the Laotian thing, we killed about ten, fifteen [thousand] …
Nixon: See, the attack in the North [Vietnam] that we have in mind … power plants, whatever's left – POL [petroleum], the docks … And, I still think we ought to take the dikes out now. Will that drown people?
Kissinger: About two hundred thousand people.
Nixon: No, no, no … I'd rather use the nuclear bomb. Have you got that, Henry?
Kissinger: That, I think, would just be too much.
Nixon: The nuclear bomb, does that bother you? … I just want you to think big, Henry, for Christsakes.
May 2, 1972:
Nixon: America is not defeated. We must not lose in Vietnam. … The surgical operation theory is all right, but I want that place bombed to smithereens. If we draw the sword, we're gonna bomb those bastards all over the place. Let it fly, let it fly.
–
"Every ten years or so, the United States needs to pick up some small crappy little country and throw it against the wall, just to show the world we mean business." – Michael Ledeen, former Defense Department consultant and holder of the Freedom Chair at the American Enterprise Institute
Notes
William Blum, Killing Hope, chapter 50
Jonah Goldberg, "Baghdad Delenda Est, Part Two", National Review, April 23, 2002
During my youth, I grew up as a "Service Brat." My dad served 27 years in the U.S. Marine Corps. I respected God, the Stars and Stripes, America and our presidents without question. I loved my mom's apple pie!
However, credible researches discovered that President Franklin D. Roosevelt "let" Pearl Harbor occur to draw public support to jump the United States into World War II.
Our kids fought the Korean War because somebody in Harry S. Truman's circle decided we needed to stop communism over 10,000 miles from our shores. The best bet on who started the Korean War: a banker, a corporation head or anyone hoping to make enormous gains off mass deaths.
By the time Vietnam conscripted and killed a lot of my friends, as well as my own time in the U.S. Army, I learned about lies, corruption, bankers and the real reason for Vietnam. I learned that presidents lie. They think nothing of sacrificing young men in ridiculous wars such as Lyndon Baines Johnson's onslaught of Southeast Asia. He killed over 2.3 million Vietnamese and 58,319 of our young men. He ruined millions of lives, families and the environment with Agent Orange.
Years later, George W. Bush "created" the Iraq War on his lies and deceptions of "Weapons of Mass Destruction." He destroyed an entire functioning civilization, brought endless death and misery to God knows how many people. We're still fighting and dying in Afghanistan over a year since bin Laden died at the hands of Navy Seals.
Highly decorated U.S. General Smedley Butler, upon retiring, wrote a book that every American should read: War is a Racket. The only people who benefit from war: bankers, munitions manufacturers, clothing and food producers and corporations. They make a lot of money off death of our citizen soldiers.
General Dwight D. Eisenhower warned us about the "Military Industrial Complex" that engineers wars, global tensions and anything to shove our kids into uniform and battles. Congress and presidents shoved our noses into everybody else's business for decades.
We didn't listen to Butler. We "supported" all those wars via massive "advertising" that a "threat" awaited us. Those wars made a lot of CEOs filthy rich.
In 1971, defense expert Daniel Ellsberg presented the Pentagon Papers exposing the incredible corruption and widening of the Vietnam War by Nixon and Johnson before him—all based on lies.
Last week, NBC's Brian Williams interviewed "whistleblower" intelligence officer Edward Snowden about the National Security Agency's incredible spying on American citizens. I watched the entire interview: Snowden showed himself to be incredibly honest, forthright, concerned, all-American, he honors the U.S. Constitution and he is a man of principles. He chronicled his work in the government that opened him to the corruption at the highest offices in our government.
Secretary of State Kerry called Snowden a "Traitor, coward and should come home to face the music."
Daniel Ellsberg responded, "Kerry's remarks are despicable!"
I agree. We need 10,000 Edward Snowden's. In America today, we face incredible corruption in our Congress and Mr. Obama himself. The list grows: Fast and Furious, won't enforce our immigration laws, phony Social Security number, Benghazi killings, suing states from enforcing their own laws, continue to fund 10 year wars when they know they are futile, and on and on. The corruption in Congress runs wide, deep and sickening from 20 and 30 year career Senators and Congressmen swimming in lies, cheating and playing the American people. Insider military trading on the stock market, paid off by corporations to NOT enforce our immigration laws and another 100 crimes against the American people.
"So many things we are told are untrue," said Snowden. "The Iraq War was launched on false premises. We were led by false statements to go into Iraq."
I can stand with Snowden because I know we marched into Vietnam on the same false statements such as the "Gulf of Tonkin Incident."
When he tried to notify superiors, they said, "You should stop asking questions."
I faced the same thing when I served as an officer in the U.S. Army. I learned to never question orders. If I did, command officers ridiculed me. I learned quickly to follow the military protocol.
Snowden said, "I watched the government's dishonesty. What was going on needed to be told to the public. I did nothing to harm the citizens or soldiers of America."
Williams asked, "Why won't you come home and face the music?"
"The Espionage Act states that you cannot have a defense," said Snowden. "The music is not an open court or fair trail."
"Are you blameless," asked Williams.
"The most important idea is that what is right may not be legal," said Snowden.
I can attest to that fact. Once the man or "group" who gained George Bush's ear turned the crank to initiate the Iraq War, no sane, rational or reasoning man could stop it.
"We are seeing an erosion and obstruction of our rights as citizens under the NSA," said Snowden. "I felt that I was/am serving my country and protecting my fellow citizens. Even one of the U.S. Senators said that bulk surveillance is unacceptable. We see senior officials taking powers they don't warrant. In the end, I did the right thing."
I applaud Snowden. If more Snowden's stood up in the face of withering criticism or "following the power elites" that create wars or spy on our own citizens or recklessly endanger our country—none of our kids would have died in Korea, Vietnam, Iraq, Desert Storm or Afghanistan.
Look to career U.S. Senators like Feinstein, Boxer, Reid, Udall, Bennet, McCain, Kyle, Schumer, Levin, Kerry, Durbin, Kennedy, Hatch, Graham and dozens of other senators for their complicity in driving this country into needless wars, not defending our borders, slamming us into $18 trillion debt and putting all of us at risk. For example: the current S744, passed by the Senate last year, guarantees our country spirals into the demographic, cultural and linguistic toilet. Yet, the damned fools passed it. I recall Mark Twain's sage words, "Suppose you are an idiot and suppose you are a member of Congress…ah but I repeat myself."
We should welcome Edward Snowden home as a national hero, and, at the same time shouting out to Secretary of State John Kerry, "You're despicable beyond measure."
The top five military contractors by sales are Lockheed Martin, Boeing, Northrop Grumann, General Dynamics and Raytheon. In addition to the Department of Defense allocations, the top five intelligence agencies that often provide military use applications are the Central Intelligence Agency, the National Security Agency, the National Reconnaissance Office, the National Geospatial-Intelligence Program and the General Defense Intelligence Program. The actual amount of monies that go into funding off the books secret projects, estimated by Bill Sweetman as cited in the Economic Crisis and the Pentagon`s Black Budget, exceeds rational comprehension. "The Pentagon's 'black' operations, including the intelligence budgets nested inside it, are roughly equal in magnitude to the entire defense budgets of the UK, France or Japan, and ten percent of the total."
Even the Washington Post in the account, "Black Budget" details U.S. operations, goals reports the "Spending in the most recent cycle surpassed that amount based on the $52.6 billion detailed in documents obtained by The Post, plus a separate $23 billion devoted to intelligence programs that more directly support the U.S. military."So where did this figure come from? None other than the audacious whistleblower or infamous traitor, depending on your viewpoint, revealed the figures. In the article, Snowden Reveals First Ever Public Disclosure Of Secret Black Budget Programs, the costs may be in the trillions.
"The Washington Post revealed that the "black-budget" documents report a staggering 52.6 billion dollars that was set aside for operations in the fiscal year 2013. Although it's great to have this type of documentation in the public domain proving the existence of these black budget programs, the numbers seem to be off according to some statements made by some very prominent people who have been involved in the defense sector for years. There is a lot of evidence to suggest that these programs are not using billions of dollars, but trillions of dollars that are unaccounted for."
Almost makes you believe that when Rumsfeld Says $2.3 Trillion Never Lost, Just Untracked, he might have actually been telling the truth for once.
See for Yourself: The Pentagon's $51 Billion 'Black' Budget provides some astounding details of the way the "Black Operations" system works.
"The Pentagon likes to play a little hide and seek with its black budget. Projects with code names like the Navy's "RETRACT JUNIPER" and "LINK PLUMERIA" are simple enough to find in the research development, testing and evaluation budget (.pdf). As are many of the Army's "TRACTOR" projects: "TRACTOR NAIL," "TRACTOR CAGE," and so on. But then comes along a project like "TRACTOR DESK" hiding in one of the Army's eight research budget documents, while others find their way to the operations and maintenance and procurement budgets.These projects are also where to go when searching for what's getting cut. Something called the "Classified Program USD(P)," formerly valued around a respectable $100 million, had its budget reduced to zero. "TRACTOR JUTE" is on life support and "COBRA JUDY" had the sting taken out of it.

Most other projects saw lesser cuts, however, and others like "RETRACT MAPLE" even saw minor gains. This is also while the researcher at Darpa only received a slight trim."
Looks like the KISS (keep to simple, stupid) principle did not make it into the budget.Now take a high profile program that surely excites the imagination, even if it strains the pocketbook.
The Lockheed Martin SR-72 Specification & Technical Data, might just be another cover-up project designed to conceal the actual replacement for the SR-71 (Aurora) rumored to be flying for decades.
"The Lockheed Martin SR-72 is a conceptualized unmanned, hypersonic aircraft intended for intelligence, surveillance and reconnaissance proposed by Lockheed Martin to succeed the retired SR-71 Blackbird. The Lockheed SR-71 Blackbird has been overtaken by it's successor, The SR-72, the fastest Aircraft ever built. According to Lockheed Martin's Skunk Works, the SR-72, has a twin-engine aircraft which is designed in such a way that it can fly at Mach 6. By 2018, the SR-72 could be up for demonstration showing off at the high-speed strike weapon (HSSW), a U.S. hypersonic missile program taking shape under the Air Force and Darpa."
When Will Evangelical Christians Start To See Through This Charade?
Ever since the George W. Bush administration, evangelical pastors and churches have been America's loudest cheerleaders for virtually every act of war the U.S. has waged against foreign countries. For pastors such as John Hagee, wars of aggression in the Middle East are predicated upon the notion of protecting Israel–even though military meddling by the United States has only served to make life more dangerous for Israel. But leaving Israel out of the equation, evangelicals are the first to trumpet U.S. wars of aggression. I would even suggest that the favorite hymn of most evangelical churches these days is no longer John Newton's "Amazing Grace," but John McCain's "Bomb, Bomb, Bomb, Bomb, Bomb Iran."
I would go even further to say that evangelical churches have become the very best friend that the military/industrial complex has ever had. It is congressmen and senators from districts and states heavily-laden with evangelical churches that continue to pump unlimited tax-dollars into the Warfare State. One could even make the argument that in most evangelical churches, Jesus' adage "Blessed are the peacemakers" has been changed to "Blessed are the warmongers."
Let's set the record straight: perpetual war is a tool of elitists and globalists to enslave the U.S. citizenry. While we are killing thousands of people abroad (most of whom are innocents)–all in the name of "liberating" them–we are tightening the tyrannical noose around the necks of the American people. In the name of the "War on Terror," the most sophisticated surveillance society in the history of mankind has been created right here in the continental United States. With the advent of the Patriot Act and the Department of Homeland Security (DHS) under G.W. Bush, Washington, D.C., has constructed (and is continuing to construct) a burgeoning police state the likes of which Joseph Stalin, Mao Tse-tung, and Adolf Hitler could have only dreamed about. And for the most part, evangelicals are fine with it.
But what is really happening in those countries that these endless wars are supposedly "liberating?" And specifically, what is happening to the thousands and millions of Christians within those countries after having been "liberated" by Uncle Sam? After all, America's evangelical churches of every denomination spend millions of dollars every year sending missionaries around the globe to evangelize folks. How many missionary slides have we seen? How many passionate, tearful sermons have we heard imploring us to get a burden for missions? One of the most sacred elements of any Christian church is its missions program.
So, on the one hand, evangelicals are weeping, praying, and giving millions of dollars to make Christians out of the peoples of the world and on the other hand, they are leading the charge for America's efforts to rain death and destruction down upon those same people.
Aside from the utter inconsistency of the above, what are all of these endless wars accomplishing for the Christians who live inside the countries that we are "liberating?" What is all of these Christian-endorsed wars doing to the people of God around the world? The answer will shock most believers.
According to an Infowars.com report, "In areas where we spent hundreds of billions of dollars and where thousands of precious American lives were sacrificed, churches are regularly being bombed, Christians are being brutally beheaded, and laws have been passed to make it illegal for a Muslim to convert to Christianity.  If we were not even able to provide the most basic of liberties and freedoms to the people living in those nations, what in the world did we actually accomplish by 'liberating' them?
"Just look at what has happened in Afghanistan.  We have been at war in Afghanistan for more than a dozen years, and yet things are so bad for Christians in that country at this point that there is not a single church left . . ."
The report goes on to say, "We find a similar story in Iraq. It is estimated that before the invasion, there were up to 2 million Christians living in Iraq. Now that number is down to less than 450,000, and it is falling fast.
"In fact, things are so dire for Iraq's Christian community that some Iraqi Christian leaders are warning that Christians may soon become 'extinct' in that nation…"
The report continues, "In Syria, the Obama administration is shamelessly allying with radical al-Qaeda jihadists in a desperate attempt to overthrow the Assad regime.
"As these jihadists torture, behead and even crucify Christian believers, the mainstream media in the United States is virtually silent about it.
"Why is the media being so quiet?
"Well, because exposing what is going on would make the Obama administration look bad.
Those carrying out this persecution of Christians in Syria are being directly funded and aided by the governments of the United States and Saudi Arabia."
See the report at:
Why Does Christian Persecution Get Worse In Every Country The U.S. "Liberates"?
The same could be said for Christians in the country of Libya.
But remember that these wars of aggression began in earnest under the "Christian" George W. Bush administration and have been ongoing throughout the Barack Obama administration. In fact, Obama's continuation of the Bush preemptive war policy is the one thing about the Obama administration that most evangelical Christians actually support.
And please understand that what has happened to Christians in Middle Eastern countries such as Afghanistan, Iraq, and Syria has happened in every other country that U.S. government has chosen to pressure–either by military intervention or economic sanction–including Nigeria and The Sudan.
A report in National Review Online states, "Prominent indicators confirm that the U.S. is the chief facilitator of the persecution of Christians around the world today.
"According to the recently released 2014 World Watch List, which ranks the 50 nations where Christians are most persecuted, Syria is the third worst nation in the world in which to be Christian, Iraq is fourth, Afghanistan fifth, and Libya 13th. All four countries receive the strongest designation, 'extreme persecution' (other designations are 'severe,' 'moderate,' and 'sparse' persecution).
"Aside from being so closely and harshly ranked, these four nations have something else in common: heavy U.S. involvement. Three–Iraq, Afghanistan, and Libya–were 'liberated' thanks to U.S. forces, while in the fourth, Syria, the U.S. is actively sponsoring 'freedom fighters' against the regime, many of whom would be better labeled 'terrorists.'"
The author of this report, Raymond Ibrahim, concludes by saying, "I am often asked, 'How can we help persecuted Christians?' At this point, one must respond: 'How about starting with getting the U.S. government to stop being the chief facilitator of Christian persecution?' Altruism aside, it would be in the interests of all freedom-loving people–and especially their descendants."
See the report at:
The U.S. and Christian Persecution
I wonder what the vast majority of evangelical Christians would think if they realized that their support for all of these preemptive wars around the world–especially in the Middle East–are actually the major cause of much of the persecutions against their fellow brothers and sisters in Christ. I shudder to think what America's Christians will say to their fellow-believers in Heaven who were savagely martyred due to the wars of aggression that they, America's Christians, so enthusiastically supported.
America's Warfare State, complete with the military/industrial complex, is facilitating the most egregious persecution of Christians since the days of Stalin, Hitler, and Chairman Mao and is turning the land of the free into a giant police state. When will the American people start to see through this charade? When will America's pastors and Christians start to see through this charade?
If America's evangelical pastors and churches would end their constant support for all of these foreign wars, if they would recognize the danger–globally and domestically–that the military/industrial complex poses, and if they would start putting the interests of this country above their parochial preoccupations with favored foreign states and personal eschatological opinions and interpretations, the Warfare State would collapse.
The Church has always been the compass of the country; and right now, the compass is broken, and the ship of state is way off course.
"Aliens visiting Earth would report back to their superiors: 'It's quite amazing, those people worship images. They know it and they pretend not to know it.'" — Hypnotherapist Jack True.
This is a backgrounder for my mega-collection, Exit From The Matrix, which contains many exercises designed to liberate an individual from the standardized perception of reality—and usher in his own creative reality.
Mass mind control focuses on two elements: image and feeling.
By linking the two primary elements, it is possible to short-circuit thought and "cut to the chase," when it comes to enlisting the allegiance of huge populations.
Two seemingly unrelated events spurred my interest in mass mind control.
On the evening of April 12, 1945, I listened to a radio report on the death of Franklin D Roosevelt. I was seven years old.
I became upset. I didn't know why. I was angry at my own reaction.
Forty years later, I pulled into a gas station near my apartment in West Los Angeles. I got out of my car and took the cap off my gas tank. I looked to my right and saw Tony Curtis sitting in his car. I was shocked.
A few days later, I began making notes under the heading of "image-emotion cues." At the time, I was working as a reporter, writing articles for LA Weekly. I knew next to nothing about mind control, MKULTRA, Soviet psychiatric gulags, Chinese re-education programs, or US psychological warfare operations.
But because I had been painting for 25 years, I knew something about the power of images.
I remembered my first exhibition of paintings in LA, at my friend Hadidjah Lamas' house. We had hung my work in her large living room and dining room. Hadidjah had enlisted the services of a friend who had videotaped me painting in my studio, and at the exhibition she set up a television set out on her patio and continuously played the videocassette.
People came through her front door, almost automatically walked through the house to the patio, as if guided by an unseen hand, and watched the video; then they came back inside and looked at the paintings.
They would stop at a painting and say: "That picture was in the video!" It excited them.
My first note on "image-emotion cues" was, "Investing an image with importance. Projecting emotion into an image."
Projecting emotion into a newspaper image of the president, FDR. Projecting emotion into the screen image of Tony Curtis. Projecting emotion into a video of a painter working in his studio.
When people encounter an image, when they invest it with importance, they project feeling into the image—and this all happens in a private sphere, a private space.
If this didn't happen, there would be no way to control populations through images. It wouldn't work. It all starts with a person setting up his own personal feedback loop that travels from him to an image and back again.
Coming out of World War 2, US psychological warfare operatives knew they could turn their skills to political purposes. They had just succeeded in making Americans believe that all Japanese and German people were horribly evil. They had been able to manipulate imagery successfully in that area. Why couldn't they shape America's view of a whole planet that lay beyond personal experience?
They could and they did. But the power to do that emanated from the fact that every person invests images with feeling. That's where it really starts.
I had seen the 1957 film, Sweet Smell of Success, a number of times. I admired it. Burt Lancaster and Tony Curtis gave tremendous performances. When, decades later, I saw Curtis sitting in his car at that gas station, I was "working from" the emotion I had invested in his onscreen image. It produced a sense of shock and paralysis for a few seconds.
Other people might have rushed up to Curtis and asked for his autograph. With me, it was shock, cognitive dissonance. Ditto for the death of FDR. I was working off newspaper pictures I'd seen of him, and the feeling I'd invested in those presidential images. Other people, when FDR died, went out into the street and hugged their neighbors and wept openly. For me, it was upset and shock and anger.
There's nothing intrinsically wrong with investing emotion in images. It can be exhilarating. It can be uplifting. As a painter, I know this in spades. Putting emotion into images can, in fact, vault you into a different perception of reality.
But on the downside, it can also take you into lockstep with what media/propaganda operatives want you to experience, second-hand.
We focus to such a degree on how we are being manipulated that we don't stop to consider how we are participating in the operation. And our own role is clear and stark: we invest images with feeling.
So how does one individual's projection of feeling into an image become a uniform projection of the same feeling into one image, by millions of people? How does what one person invests privately become mass mind control?
Through external instruction or cues. And also, by engendering the idea that there is only a limited palette of emotions to work with in the first place.
Why do millions of people fall into line?
Because they don't realize they started the whole ball rolling themselves. All they know is: images are connected to feelings.
If they knew they were the real power in the whole operation, if they knew they were investing feelings into images all day long, if they could actually slow down enough to see how they do this….then they would be far less prone to taking instruction about what feelings they "ought to" invest in second-hand images.
Hypnotherapist Jack True unceremoniously put it to me this way: "If a dog could analyze how he got from eating meat to drooling at the sound of a bell that came at feeding time, he could stop drooling."
(If Chris Matthews could analyze how his own voluntary investment of feeling in the image of Barack Obama sends a tingle up his leg, he could stop tingling.)
We see images of people rioting all over the Middle East. We see burning flags and crowds outside embassies. We're supposed to invest our own anger and resentment into those images. Unless we're suddenly told those rioters are actually "the good rebels," in which case we're supposed to invest our joy in the images.
We see a picture of miles of flat farmland and (GMO) corn waving in the breeze. We're supposed to invest that image with feelings of happiness and pride.
Nowhere are we told we can back up a step and realize that we are the ones who begin the whole process, by projecting feelings into images. Any images.
When I was 19, I was sent to a trained expert in New York to take a Rorschach (ink-blot) Test. I was displaying signs of what would now be called Oppositional Defiance Disorder.
The expert said he wanted me to tell him everything I saw in each ink-blot. I took him at his word.
An hour later, I was still working on the first blot. I was describing everything from bats and owls and chickens to space ships and buckets of hidden treasure in caves.
Well, I was cheating a little. I wasn't really describing what I saw. I was imagining. I was taking off from what was on the page and improvising. This was outside the bounds of the Test.
The expert was seething. He was sweating, because he had many other blots to show me, and it was late in the afternoon, and he was looking at spending the entire evening with me. Finally, he held up his hand and put an end to the Test.
I wasn't playing his game. Among other sins, I wasn't investing a limited palette of feelings in the images. Therefore, my choices of "what to see" in the blots expanded greatly.
When I go to a museum, I like to watch people stand in front of abstract paintings. Many of them are stumped. They're trying to figure out what feelings they "are supposed to" project into the painting. They're looking for "instruction," and there isn't any. They're asking for mind control, and they're not getting it.
Fanaticism of any kind begins with individuals projecting feelings into images. This is harnessed by leaders, who then choose the images and direct which feelings are permitted. The tempting prospect for the follower is: participation in a drama that goes beyond what he would ordinarily experience in life. This is bolstered by the idea that what he is doing is moral.
In an election season, people on the left are urged to project messianic feelings into images of X. People on the right are cued to invest feelings of pride, hope, and "tradition" into images of Y. The real candidates aren't actually experienced.
Since Vietnam, shooting wars have been more difficult to sustain among soldiers. "In the old days," feelings of hatred could be projected into images of enemies that included civilians, so overtly killing everybody on foreign soil was easier to accept. Now, soldiers are taught "enemy combatant" and "civilian" are two different images that require the injection of two different feelings.
Here at home, police and military are taught, more and more, to invest feelings of suspicion into images of American civilians. This is an acceleration of mass mind control for law enforcement.
The astonishing number of civilians who participate in government and corporate surveillance of the public, through technological means, learn to invest "dead empty feelings" into images of citizens, as if these targets are nothing more than ciphers, units.
Bizarre instances of police detaining and questioning parents who allow their children to play unsupervised reveal another accelerating trend. These confrontations start with neighbors snitching on the parents. The neighbors have learned to invest feelings of panic, suspicion, and anger in images of "free children."
In all these cases, there is no real experience. It's all second-hand. It's all feeling-projected-into-image.
In the medical arena, countless advertisements and news stories are geared to convince people to invest feelings of trust in images of doctors. The suggestion, "Ask your doctor if X is right for you," is framed as the solution to a little problem. The problem is set this way: Drug X is wonderful; drug X has serious adverse effects; what to do? Solution: ask your doctor; trust him; he knows.
As the class of victims in society has grown by leaps and bounds, including any group that can organize and promote itself as needing help or justice—going miles beyond the people who really do need assistance—citizens have been trained to invest feelings of sympathy and concern for all images of victims everywhere, real or imagined. This, too, is mass mind control.
Pick an image; invest feelings in it. Facts don't matter. Evidence doesn't matter.
You've heard people say, So-and-so (a celebrity) has become a caricature of himself. Well, that's what it means. The celebrity has projected massive feelings of approval into a concocted, cartoonish image of himself.
As a society, we can go on this way until we become a horrific cartoon of a cartoon (well, we're already there), or we can step back and discover how we invest emotion into images, and then use that process to pour feelings into visions of our own choosing and invent better futures.
Since the dawn of time, leaders have portrayed themselves as gods. They've assembled teams to promote that image, so their followers could project powerful emotion into the image and thereby cement the leaders' control and power.
The game isn't new. Understanding the roots of it within each individual could, however, break the trance of mass mind control.
During the first West Nile fake outbreak of 1999, I spoke with a student who had just dropped out of medical school. He told me he'd been looking at electron-microscope photos of the West Nile Virus, and he suddenly realized he was "supposed to" invest feelings of "great concern" in those images.
Somehow, he broke free from the image-feeling link. He was rather stunned at the experience. His entire conditioning as a medical student evaporated.
Parents all over the world are having the same experience vis-a-vis vaccines. They realize they're supposed to invest fear in images of germs and disease, and they're also supposed to invest feelings of hope and confidence in images of needles and vaccines. They see the game. They're supposed to remain victims of mass mind control.
But they've awakened.
We've all been taught that what we feel is always and everywhere out of our control. These feelings are simply part of us, and we have to act on them. The alternative would be to sit on them and repress them and turn into androids, robots.
This is simply not true. There are an infinite number of feelings, and as strange as it may sound, we can literally invent them.
This, it is said, is inhuman. It's a bad idea. It's wrong. It would lead us to "deserting the human community."
Nonsense. That's part of the propaganda of mind control. If the controllers can convince us that we're working from a limited map of emotions and we have to stay within that territory, they can manipulate that limited set of feelings and trap us.
The power of art is that it shows us there are so many more emotions than we had previously imagined. We can be much freer than we supposed.
The synthetic world of mind control and the handful of feelings that are linked to images is what keeps us in thrall.
The world—the world of what we can be—is so much wider and more thrilling and revealing.
The author of three explosive collections, THE MATRIX REVEALED, EXIT FROM THE MATRIX, and POWER OUTSIDE THE MATRIX, Jon Rappoport was a candidate for a US Congressional seat in the 29th District of California. He maintains a consulting practice for private clients, the purpose of which is the expansion of personal creative power. Nominated for a Pulitzer Prize, he has worked as an investigative reporter for 30 years, writing articles on politics, medicine, and health for CBS Healthwatch, LA Weekly, Spin Magazine, Stern, and other newspapers and magazines in the US and Europe. Jon has delivered lectures and seminars on global politics, health, logic, and creative power to audiences around the world. You can sign up for his free emails atwww.nomorefakenews.com
Source: Jon Rappoport  |  No More Fake News
It is easy to stand up and cheer for your favorite government activity. It is quite another to acknowledge what it means in the real world.
I almost never try to speak for other people. However, I think it is fairly safe to say that the average military recruit firmly believes that he joins the military so that you and I can live and breathe in freedom. To be sure, he had other reasons for joining, but I think the defense of liberty is a fairly common characteristic.
That is certainly what I thought when I was in Navy boot camp in Orlando, Florida, in 1983. After all, this is what I had been told all my life: sailors, soldiers, airmen and marines defend freedom.
But is this actually what they do?
Consider the following:
This Marine lost both legs in an IED blast in Iraq. He claims he was forced by TSA to remove both prosthetic legs before he could board an airplane in Phoenix.
This Vietnam veteran in Spicewood, Texas, had flashbacks to his combat experience during a marijuana raid at a friend's house. What police claimed was marijuana turned out to be ragweed.
Jared Goering, who served 19 years in the Army, including tours in Iraq and Afghanistan, was kicked off the boardwalk in Wildwood, N.J. for walking with his service dog, Gator.
Emily Yates, who served two tours with the Army in Iraq, was violently arrested by park police in Philadelphia for asking why she couldn't play her banjo under some shade trees.
Dimitrios Karras is a Marine Corps veteran of Iraq and Afghanistan. Read about the ATF raid on his business in National City, California.
Martin Goldberg of Brooklyn is a World War II veteran whose apartment was subject to a drug raid. Later, the cops realized they had raided the wrong apartment. His 83-year-old wife was hospitalized with an irregular heartbeat as a result of the raid.

In 1997, four sailors from the USS Saipan (LHA-2) were falsely accused of the rape and murder of a Norfolk, Virginia, woman. One spent eight-and-one-half years in prison while the other three were sentenced to life in prison. These three were pardoned in 2009. Even though the actual killer is serving a life sentence, four innocent men are still required to register as sex offenders and are still fighting to clear their names.
Charles Loeks was 18 and fresh out of Marine boot camp. On a trip home to Covina, California, he was hanging out with a few friends when he was arrested for resisting arrest and nothing else. He spent 21 days in Los Angeles County jail, even though he had harmed no one.
Carlos Jaramillo is a former Marine combat instructor who lives in Onslow County, North Carolina. Watch what happened when he recorded a sheriff's deputy who arrested him for no apparent reason.
Noel Polanco was an unarmed 22-year-old National Guardsman who was shot and killed by New York City police at a traffic stop near LaGuardia Airport.
John Laigaie, a retired Army master sergeant, was threatened at gunpoint by police while legally carrying a gun in a park in Bellingham, Washington.
Homer Wright is an 80-year-old Army veteran who was charged with felony gun use after he shot a burglar who entered his home in Englewood, Illinois.

Mark Schmidter, a Vietnam veteran who lives in Orlando, is currently serving 145 days in a cage for passing out jurors' rights information on the steps of a local courthouse.
Justin Ross of Ankeny, Iowa, was recently discharged from the Army. Police used a battering ram to enter his home executing a warrant for some items purchased with stolen credit cards. They did not find any of these items.
Saadiq Long is an Air Force veteran who was placed on a TSA no-fly list. He had to battle for months to be removed from this list just so he could fly home from Qatar to visit his ailing mother.
Chuck Benton of Long Grove, Iowa, served 22 years in the Army. He was arrested and charged simply for living in the same house with his son who was growing medical marijuana.
Cody Donovan is a former Marine MP who lives in New Milford, N.J. He was charged with unlawful possession of a weapon after carrying a loaded gun into the Garden State Plaza mall when he attempted to help police apprehend the shooter.

In 1932, 17,000 veterans marched on Washington to demand payment of bonuses they had been promised as a result of their service in World War I. Two were shot and killed by police. 55 were arrested and 135 were injured when the United States Army became an instrument of domestic law enforcement. Two of the chief enforcers were named MacArthur and Patton. Yes, those two.
Mark England, an Army combat medic who saw action in Iraq and Kosovo was beaten and tasered by police at McCarran Airport in Las Vegas.
Air Force Staff Sergeant Matt Pinkerton of Glen Burnie, Maryland, faces second degree murder charges after fatally shooting a home intruder in September.
Leo Hendrick, an army veteran who lives in Northwood, Iowa, faces up to 30 days in jail and a $600 fine for raising chickens in his yard.
Yes, the cops had a search warrant. However that in no way excuses their vandalizing the home of Army veteran Dan Neary of Lakewood, Washington.
These World War II veterans were threatened with arrest for visiting a closed war memorial in Washington, D.C. during the October "shutdown."

These Vietnam veterans actually were arrested for visiting a New York City war memorial after curfew.
Denis Reynoso was a disabled veteran who saw action with the Marines in Iraq. He was shot dead by police in his Lynn, Massachusetts, apartment.
Nick Morgan, an Iraq veteran, was pulled out of a crowd by police in Hempstead, New York, and trampled by their horses.
Gary Shepherd of Broadhead, Kentucky was a Vietnam veteran. He used medical cannabis to relieve the pain in his left arm, which was crippled during the war. Shepherd was shot dead by a SWAT team, after they had threatened to cut down his cannabis plants.
Valente and Manuel Valenzuela of San Antonio produced sufficient documentation to enlist, respectively, in the Army and Marine Corps. Both fought in Vietnam, where Valente won a Bronze Star. Now they are facing deportation to Mexico because of erroneous entries on their birth certificates.
Jerome Murdough, a homeless Marine Corps veteran, died in a jail cell on New York's Rikers Island after being arrested for trespassing. A heating malfunction caused the temperature in the cell to soar to 100 degrees.
Kenneth Chamberlain was a retired Marine and Vietnam veteran living in White Plains, New York. Early one morning he set off his medical alert device. The first responders in this case were not medics, but rather police, who proceeded to kill Mr. Chamberlain.

This group of combat veterans in Colorado organized to help legalize marijuana during the 2012 elections. They claim – and I believe them – that marijuana helps mitigate PTSD. If you support any punishment whatsoever for a combat veteran who heals himself with a plant that grows wild in some form within a few miles of you, I don't care what you tell me. YOU DON'T BELIEVE IN FREEDOM!
Stanley Gibson, a 43-year-old Gulf War veteran was shot dead over a total non-crime by Las Vegas police in December, 2011.
Army Specialist Michael Sharkey returned home from deployment in Afghanistan to find his home in New Port Richey, Florida, unlawfully occupied by two squatters. The local sheriff says that Sharkey has no grounds upon which to evict them.
These veterans say they are being required to prove they are worthy of gun rights. Our rights are gifts from God that are inherent in our very humanity. We never have to prove to anybody that we have them.
Dwight Edwards, a disabled Marine veteran of Afghanistan, says that cops in Queens brutally beat him for no reason.
Army Staff Sgt. C.J. Grisham, who won the Bronze Star with Valor, was forcibly disarmed for no good reason by a policeman while on a hike with his son not far from Fort Hood, Texas.

Brandon Raub, a Marine who was decorated for bravery in Iraq and Afghanistan, was forced to spend a week in a Virginia mental hospital over some "anti-government" Facebook posts. (His interviewer here, John Whitehead, is a constitutional attorney, Vietnam infantry veteran and superlative anti-police state blogger.)
Operation Vigilant Eagle is a project of the Department of Homeland Security that has led to numerous Iraq and Afghanistan veterans "finding themselves under surveillance, threatened with incarceration or involuntary commitment, or arrested, all for daring to voice their concerns about the alarming state of our union and the erosion of our freedoms." Indeed, merely being a "returning veteran" can have you designated as a potential terrorist.

We will never know the whole truth about Navy veteran and former Los Angeles cop Christopher Dorner, who was the subject of a police manhunt and media witch hunt in 2013. He never got the chance to tell his story in court.
Hector Barrios came to America in 1961. He was drafted and served as an infantry soldier in Vietnam. In 1996, he was busted for possessing marijuana, which he used to treat his PTSD. As a result, he was deported to his native Mexico where he died.
Matthew Corrigan of Washington, D.C. was a first sergeant in the Army Reserve and a veteran of Iraq. His home was destroyed in a SWAT rampage because it was reported to the police that Corrigan had a gun.
Jamie Dean was an Army veteran of Afghanistan was diagnosed with PTSD. Upset about his impending deployment to Iraq, Dean had an intense emotional outburst at his Maryland home in December 2006. Even though he neither harmed nor threatened anyone, he was shot and killed by a local SWAT team.


Bennie Coleman, 76, is a retired Marine who lost his Washington, D.C., home because of a $134 tax lien that District authorities had sold to an investor.
Jeremy Usher is a former Navy hospital corpsman who lives in Greeley, Colorado. He faces jail time for using medical marijuana to treat his PTSD.
Brittany Ball, a 23-year-old soldier at Fort Jackson, S.C., was manhandled by a cop at a local bar, even though she had done nothing wrong.
Air Force Airman First Class Michael Davidson was shot in the stomach by police in Opelika, Alabama, at the scene of a traffic accident.
Benjamin Wassell sustained traumatic brain injuries while with the Marines in Iraq. The Buffalo-area resident was the first person charged with illegal gun sales under New York's new SAFE Act.

Erik Scott graduated from West Point in 1994 and served as a tank platoon leader. In 2010, he was gunned down and killed by police as he peacefully walked out of a Las Vegas Costco.
Scott Olsen saw action with the Marines in Iraq. Later, he would join the Occupy Oakland movement. In October, 2011, suffered a fractured skull after being hit in the head with a projectile fired by police.
Derek Hale served honorably with the Marines in Iraq. Although, he had committed no crime, he died after being tasered three times and then shot three times by police in Wilmington, Delaware.
Roderick King, an Iraq war veteran, was arrested in Philadelphia after he and his friends had criticized a cop's driving.
Howard Dean Bailey, a Navy veteran, was deported to his native Jamaica when immigration authorities discovered he had taken a plea bargain in a marijuana case in Norfolk, Virginia.

To be sure, the recently deceased folk singer Pete Seeger could not have been more of a leftist. However, he did serve three years in the Army after being drafted during World War II. He was sentenced to one year in jail after refusing to reveal his political connections to the House Un-American Activities Committee in 1956. He appealed this sentence, citing the First Amendment, and ultimately spent only four hours behind bars.
Larry Kirschenman of Nogales, Arizona, served 22 years in the Army and was decorated for bravery in Vietnam. Learn how he was brutalized by Border Patrol agents when asking why he was subjected to a warrantless search.
We will never know for sure what happened in Army veteran Matthew Stewart's Ogden, Utah, apartment one night in January 2012, as he will never have his day in court. He was in prison awaiting trial on charges of shooting and killing one of the police officers who raided his apartment searching for marijuana. Stewart, whose guilt was never proven, committed suicide in his cell.
Sergio Arreola is a cop in Los Angeles who served with the Marines in Iraq. He was beaten by the police in suburban Pomona for no good reason whatsoever.
This former Army paratrooper is appealing to the New York state legislature to legalize medical marijuana. He has severe multiple sclerosis and is "forced to break the law to have some semblance of a bearable existence."


On May 5, 2011, a Tucson SWAT team approached the home of Jose Guerena, who had served two tours with the Marines in Iraq. Guerena grabbed his AR-15 as is his right, but did not fire. The SWAT team let loose with 71 rounds, 60 of which perforated Guerena's body.
Marty Maiden lived a few blocks from Guerena in Tucson. and saw action with the Army in Afghanistan. He posted a suicidal note on Facebook which prompted a call to the police, who shot him dead.
Steve Lefemine is a West Point graduate who was arrested for protesting against abortion in a "no-demonstration zone" outside the Republican National Convention in New York in 2004. The 2nd Circuit U.S. Circuit Court justified the arrest based on a "compelling state interest in security".

Eileen Erickson's husband Sid served in Vietnam and died of Agent Orange exposure. Erickson is now in the crosshairs of authorities in Venice, California, who want to tear down the tree house Sid built before he died.
Listen to this disabled Navy veteran plead with then-Senate candidate Kelly Ayotte (R-NH) about the benefits of medical marijuana. Listen to the totalitarian response.
John Wrana, a 95-year-old Army Air Corps veteran of World War II, was tasered and then shot to death by police in Forest Park, Illinois. His "crime"? Refusing medical attention.
John Colaprete saw action in Vietnam as a Marine Corps officer. In 1994, his Virginia Beach home and restaurants were the object of paramilitary-style raids by the IRS. The raid was prompted by a false accusation by a former employee. While you need to watch this documentary in its entirety some time, for now just pick it up for a few minutes starting at the 55:40 mark.

Boxing legend Joe Louis was also tyrannized by the IRS. The Brown Bomber enlisted in the Army in 1942 saying "Let us at them Japs." Louis never saw combat, as he was assigned to the Special Services Division. While still a civilian, Louis fought some charity bouts and donated the proceeds to the Navy Relief Society. The IRS, however, viewed these proceeds as taxable income. IRS problems would plague him all his life. Please watch this video starting at the 53:17 mark.
Adam Arroyo is a Hispanic veteran of the Iraq war who lives in Buffalo. Police shot and killed his dog while executing a drug warrant for a black man.
Henry Taylor was a retired Air Force veteran in Louisville, Tennessee, who was shot dead by a local sheriff's deputy while investigating a burglary at a rental property he owned.
This is a fascinating article: When Johnny Comes Marching Home … He Goes to Jail. It is absolutely tragic how we chew up and spit out so many of those we send to "fight for our freedom."

Radio talk host Adam Kokesh won the Navy Commendation Medal as a Marine in Iraq. In recent years, he has been arrested several times for various non-violent protests. His most recent arrest happened after he loaded a shotgun in public in Washington, D.C. on July 4, 2013. On July 10, police violently raided his home and arrested him. He was incarcerated for four months without bond, bail or trial. He is currently on probation for two years. You may not like Kokesh's demeanor or approve of all of his antics, but he has been very courageous when so many of his critics can't be bothered to put down the remote.

James Moore, my brothah from anothah mothah, walked away from a very lucrative engineering position in San Jose to re-enlist in the Army following 9/11. He sustained significant physical injuries as well as PTSD while serving in the Special Forces in Afghanistan. On the afternoon of March 25, 2008, Moore, who had done absolutely nothing wrong, was beaten to the point of flat lining by Denver police.
One of the coolest people I have never met is Antonio Buehler. Buehler graduated from West Point in 1999, earned his Ranger tab, and saw action in Kosovo and Iraq. (He also sports a Stanford MBA.) Early in the morning on January 1, 2012, Buehler was arrested for taking a few pictures of Austin police manhandling a young woman outside a 7-11. Buehler has been arrested four times since. He heads the Peaceful Streets Project, whose members work to expose abuse, brutality and overreach both in Austin and across the nation.

There are no doubt numerous other injustices against veterans that I do not know about. Enough to fill a book. None of these things would have happened if America were a free society. As Kokesh puts it, "The greatest enemies to the Constitution are not to be found in the sands of some far off land but rather right here at home."
I cannot speak to the specific political beliefs of most of the veterans I have mentioned here. Some may be pacifists, while others may make John McCain look like a hippie in Haight-Ashbury. No matter what their individual views may be, the freedom they risked their lives for was flagrantly violated on the streets of the land they fought to protect.
Society endlessly applauds sailors, soldiers, airmen and Marines for "fighting for our freedom". It is in no way disrespectful to say that this is not what they do. No foreign government or terrorist group poses any threat to our liberty. America accounts for about half of the world's military spending. We have 300 ships in our Navy, plus thousands of planes, tanks and nuclear warheads as well as 300 million firearms in private hands. Nobody is going to invade us.
In a constitutional country, which America ceased to be 100 years ago, the job of the military – a vital and most noble one – is to defend the borders, shores and airspace. It cannot protect you from being tyrannized domestically. Indeed, throughout history, armies have been instruments of domestic tyranny. Our Constitution forbids a standing army for just this reason.
Nazi Germany and Soviet Russia had enormous military establishments. How did things work out in these countries?
I am a Christian who believes liberty is a gift from God – Leviticus 25:10; II Corinthians 3:17; Galatians 5:1. To quote Jefferson, liberty is preserved not by military might, but by "eternal vigilance" against one's own government at all levels. It is the grossest form of disrespect to send young men around the world to "fight for freedom" while relinquishing that freedom on the home front.
For several years, America has had the world's highest incarceration rate. Since 2001, Americans have gladly accepted previously unthinkable intrusions on their freedom in the name of "safety" and "security". These include, but are not limited to: warrantless searches and spying, the suspension of habeas corpus, sexual assault as a condition of travel, rampant police brutality, indefinite detention without any semblance of due process, severe restrictions on peaceful protest, massive ammunition purchases by DHS and surveillance drones in our skies watching our every move. Can predator drones be far behind?
And in every election 98 percent of voters put their stamp of approval on perpetuating this monstrosity.
On April 20, 2013, Boston and several surrounding towns got a serious taste of martial law. How many military veterans were on the receiving end of this? Is this what they signed up to fight for?
Stop thinking in clichés. Have a good hard look at everything your media and government tell you. This includes media outlets and parts of the government that you like. Study. Read. Ask questions. And learn that the defense of liberty is not the duty of the military. Rather, it is your duty and mine.
~~~~~~~~~~~~~~~~~~~~~~~~~~~~~~~~~~~~~~~~~~~~~~~~~~~~~~~~~~~~~
Before Federal trolls or indoctrinated government "true believers", starts spreading their slurs, you had better gauge the sentiment in the real America. Seventy-two percent of Americans, in a Gallop poll say big government is a greater threat to the U.S. in the future than is big business or big labor, a record high in the nearly 50-year history of this question. Yet the "so called" authorities would have you accept that only a conspiracy theorist thinks that the great protectors of law and order are capable of routing out Christians, 2nd Amendments advocates, 911 Truth proponents, Tea Party members, Patriot-Liberty groups or Global Warming deniers, and confining them to prison gulags. So when the House introduced HR 645, in 2009 that directs the Secretary of Homeland Security to establish national emergency centers on military installations, every citizen should feel threatened by its own government.
Here are some of those nasty facts that endanger all of us. The Albuquerque Journal account in the article, MISSION CREEP: Homeland Security a 'runaway train' should alarm everyone.
"Today, the Department of Homeland Security is the third-largest agency in the federal government, behind only the Departments of Veterans Affairs and Defense.

When created in 2002, DHS merged 22 pre-existing federal agencies into one, marking the largest reorganization of the federal government in more than 50 years. Among the agencies included under the Homeland Security umbrella are the Coast Guard, Customs and Border Protection, Secret Service, Transportation Security Administration and the Federal Emergency Management Agency.

In the first year of its existence, the Department of Homeland Security employed 180,000 full-time workers. Today, 240,000 people collect paychecks from the agency, according to its website.

The department's budget has more than doubled since the agency's inception in 2003, when it spent $29 billion. This year, DHS is slated to spend $61 billion."

Beginning at its inception, Homeland Security had all the telltale indications that a militarized national interment force was designed to segregate, if not bury, domestic 'enemies of the state".
From the executive summary, US FEMA Camps published by the Geopolitical Monitor states:
"In August 2002, then Attorney General John Ashcroft called for American citizens who are deemed 'enemy combatants' to be detained indefinitely without charge and independently of the judiciary. This legal position was upheld in the case of a US citizen detained abroad by the 4th U.S. Circuit Court of Appeals in a January 2003 ruling.

For some time FEMA has been renovating and constructing new detention camps throughout the country. In January 2006 Haliburton subsidiary KBR announced that it had been awarded an "indefinite delivery / indefinite quantity contract to construct detention facilities for the Department of Homeland Security worth a maximum of $385 million over 5 years."

Stated Purpose

"Little has been said about the purpose of the detainment camps but when official comment has been made it has stated that the camps are for the temporary detainment of illegal immigrants."
PLEASE, if that objective was true, how does one explain away the Breitbart reporting that 'We Have a Commitment' From Boehner on Amnesty This Year? At the same time, the Obama administration demonstrates that their own Government released hundreds of immigrant felons. Only a fool would believe that this FEMA fairy tale yarn about their detention facilities. Dave Hodges of The Common Sense Show always reveals the true unpleasant details that most Americans are afraid to confront. In his article, CBS News Admits FEMA Camps Are Real, a leaked memo from KBR manager, Bob Siefert, referenced a disturbing call for the installation of fencing and wire used for large-scale detention of prisoners.
"Subcontractors will mobilize, transport, erect, install and demobilize temporary fencing, barricades, and associated equipment according to federal, state and local laws, codes and manufacturer installation instructions. The Subcontractor shall be able to mobilize and deploy key personnel(s) within four (4) hours of NTP to meet with KBR Site Manager at the Responder Support Camp (RSC) site in order to finalize the site design plan and acquire site-specific design requirements and layout. Number of linear footage:

"Approximately 2,300LF for a 301 person camp after 36 hours of NTP"

"Approximately 3,600LF for 1,000 person camp after 72 hours of NTP"
This sounds like FEMA camp activation to me and it closely parallels the FEMA camp events on the East Coast in the aftermath of Sandy."
Since so many apolitical mentally challenged flag wavers, accept the myth that I'm From The Government and Here To Help, even in the face of stark reality, the only rational conclusion is to expect the worst. The Nolan Chart features an essay by Walt Gelles, Time To Abolish The FEMA Camps, that succinctly makes the case for questioning the true purpose of Homeland Security constructed FEMA internment camps.
"The FEMA camps are ready… Eight hundred empty secret prisons, detention centers, concentration camps scattered around the U.S.A.-fully operational, surrounded by full-time armed guards, and ready to receive prisoners.

Obama's Homeland Security Department bought 1.6 billion bullets using your taxpayer dollars. That's five bullets for every man, woman, and child…five bullets waiting to pierce your skull…hollow-point bullets, sniper bullets, forbidden under international law for use in war. Plus 2,700 military tanks for domestic use, and Obama has created a para-military police force operating under Homeland Security.

Do you think those 1.6 billion bullets were intended for a bunch of Arab terrorists trying to take over a Walmart or an airport? Think again. Do you really believe the FEMA camps were built to house Muslim fanatics or flood victims? Get real. Go ask Hillary Clinton what the FEMA camps are for. Go ask Nancy Pelosi or John Boehner or President Obama/Soetoro. You're paying billions of dollars for the government to put you away.

Most of the 800 FEMA camps can house up to 20,000 prisoners. That works out to 15 million Americans the government is ready to lock up. All the camps have railroad facilities, and the boxcars have been built to transport the prisoners. Sounds like Auschwitz? The cars have shackles welded in; plastic coffins are stockpiled and ready for use.

What if enough people found out that the 9/11 "terrorist" attack was no terrorist attack at all, but a false-flag event carried out by the U.S. Government to serve as a pretext to invade Iraq and Afghanistan and to install the Surveillance State at home? And what if millions of people demanded that the real perpetrators, the real 9/11 mass murderers-in the White House, the CIA, the Pentagon, the judiciary-be brought to justice in a Nuremberg-style criminal court?

The FEMA camps are ready. To put the movement's leaders away. To crush the dissent."
What portion of this explanation is incorrect? Refusal to face up to the actions of DHS will not necessarily save you from selection for a place at a FEMA camp. The transition of Americans from thinking defenders of constitutional liberties into dumb down nationalists and servile obedient slaves, explained in the essay, From Viet Nam Defiance to Boston Surrender, needs a response to a fundamental question. Will you allow forcible transport to a FEMA camp? Or will you gladly pack up your toothbrush and submit to "Diesel Therapy" and ride the bus to your new cell?
"Corrosive incrementalism of totalitarian policies developed in an environment of gradual apathy, over the last half century. Dissenting opposition movements, persistently confrontational against the establishment became less organized and vocal. As a result, institutions of influence descended into deeper depths of moral corruption, as the agencies of bureaucratic dominance expanded their reach and scope of tyranny."
The prospects of declaring martial law, as well as, federal direction of coercive compliance and assimilation of local law enforcement assets, is the only logical purpose of creating militarized FEMA encampments. In a country, that maintains Private Prisons and the Enslavement Society, it is one small step to eliminate any opposition by way of herding defiant resistors into secure concentration camps.
Those who still say it could never happen in the United States, lack a historic perspective and current events understanding. Ever since the exploited ultimate excuse of the 911 false flag, the nation has suffered from acute delusional disorder syndrome. With the announcement that the 9/11 Museum Opens to Families, First Responders With Emotional Dedication Ceremony, you witness another psychological warfare opportunity to pave the way for the latest tactic of indoctrinating the public into accepting that domestic terrorists are the new focus of the Homeland Security mission.
Under both Bush and Obama, the authoritarians have built the greatest threat to America; namely, a permanent police state. Depending upon the FEMA district in which you reside, the presence of Federal concertina wire may vary. However, the rail cars are able to move human cargo in all directions and the trains will run on time. Check out the FEMA camp closest to you.
With the adoption of the National Defense Authorization Act (NDAA), codifying indefinite military detention without charge or trial into law, places at risk every American in the torture chamber of the Gitmo captivity culture. Before long, the next fabricated crisis offers the opportunity for Martial Law that translates into the order for the knock at your door. Will you accept DHS chains? Or will you die, a bona fide American hero and resist?
Origin of the Master Model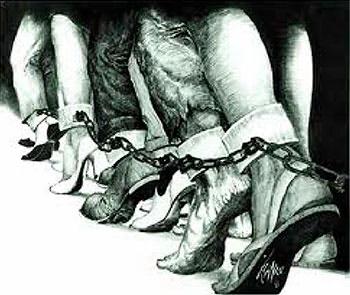 The master plan for world domination we see playing out today was first proposed to the US at the end of World War I. However, there were no takers. People were too war weary. However, when the plan was again proposed at the end of World War II, it was accepted. Consequently, World War II quietly transitioned into the secret "war" to set up what has become known as the "new world order" — an absolute dictatorship over the entire planet.
The United States set up the School of the Americas to train future dictators and terrorists who would be sent out into the world to destroy sovereign nations and place them under US domination by installing puppet governments obedient to the United States. Many conquests were made quietly using clever economic tricks [2]. However, leaders who refused to submit quietly would see their entire country reduced to rubble and the land rendered unlivable by uranium dust scattered by US bombs. The message was clear: Submit to the United States or face total destruction.
A social model based upon the assumption that cleverness and power automatically convey the right to take anything desired from those who are less adept and unable to resist is not a sustainable model for harmonious social interactions. However, this is the chosen model. The mantra for this model, "A man's true worth is measured by the amount of other peoples' happiness that he can possess and destroy" [1], is essentially a call for a class war between the greedy elite and the innocent masses of the world who simply desire a peaceful existence.
Acquisitions
The United States looks at the rest of the world as a "resource". If a country has something — oil, gold, minerals, etc. — that the US covets, it believes it has the right to take those things by whatever means necessary. In many cases the coveted resource is human slave labor. Let's look at some representative examples:
With the cooperation of the dictator, United Fruit Company (US) owned almost half of the country and used the locals as slaves to harvest its Chiquita brand bananas. However, during the period from 1945-1954 new leaders made changes. They helped the poor and set up social security and health care. Then they took land away from United Fruit and gave it to the local people. United fruit complained to the CIA that its business interests were being interfered with by the "communist" government. Any government which shows kindness to the poor and weak is called communist by the US. The US attacked Guatemala — killed the elected leaders and many thousands of citizens — and established a puppet dictatorship which would obey the will of United Fruit. The people were returned to a state of slavery. The CIA trained death squads to make sure the people were crushed into submission.
Strip Mining in Africa [4]
In Africa, the International Monetary Fund — a puppet of the US — destroys a country with strip mining. The original country was self sustaining. People were able to grow lots of food and hunt animals. However, once the land was ruined by US corporations, it was unusable to plant crops and the native animals died. The people had to buy food from other countries with money loaned to them by the IMF which they could never hope to repay. Therefore, a once free and self supporting people were made debt slaves of the IMF. Once all the natural resources have been stolen, the corporations will simply pack up and leave the indigenous people to starve and die.
Countries Used as Trash Dumps [5]
Used computers and associated items are dumped in poor countries where starving barefoot children sift through the mess of hazardous waste and broken obsolete glass computer monitors hoping to find something they can sell to get enough money to stay alive another day. Property stickers show the waste is mainly from the US government and various US state governments.
Corruption of Trusted Sources
Reporters and News Organizations
The masses are conditioned to believe news they receive from establishment sources. In the earlier times, this assumption was often correct. It was considered so important by the founding fathers that freedom of the press was enshrined in the US constitution. However, times have changed.
Walter Cronkite was known as the "trusted voice". No one knew he was also the official announcer at the secret Bohemian Grove meetings. The leaders of the world's news organizations also attend this event. That is why, even though the meetings began over one hundred years ago, until recently no one knew this group even existed. President George W. Bush may have set a new record for bribing journalists to allow their trusted name to be used as the author of material actually written by government propaganda experts. Apparently, everyone has a price and the government, of course, has no problem when it comes to money.
When Ronald Reagan reportedly ordered the death of investigative reporter Jessica Savitch [6], the message to independent journalists was clear: Go against the official party line an you're done!
Today, dedicated journalists face mysterious deaths and strange single car accidents but a few survive long enough to give us a glimpse of truths we would otherwise never know. They are true heroes.
Churches
Churches are everywhere. Unfortunately, legitimate Spiritual teachers are not. People look at churches either as harmless or with some sort of conditioned hypnotic respect. Churches send out "missionaries". However, the "mission" of these missionaries may not be so clear. If you wanted to infiltrate a foreign country, these people would be an ideal asset.
Churches are not Spiritual centers. At best, all they want is your money. At worst, they are Satanic and you are in severe Spiritual danger if you come under their influence and control.
The Catholic Church has been a trusted asset of the US intelligence community for quite some time. Significant information obtained by priests during confessions is routinely passed on to the government.
This agreement predates the internet by many years. Because the church has branches in almost every country, it has great potential for covert activities. For example, if you need to get an operative who is in danger out of a country, they can go to a Catholic church for "confession". Once the door is closed, they can exit through a secret passage, be disguised in robes and spirited safely out of the country. Church secrecy is at least on a par with US secrecy. Also, the Catholic church and the US shadow government share the same Satanic value system and engage in child rape and ritual killings.
Doctors and the Medical Industry
Medicine in the United States is an industry. It is no longer a profession. Its corporate model puts profit above all else. If some patients accidentally benefit they are the lucky ones.
The medical community has a rigid hierarchical structure and effective mechanisms for enforcing secrecy. Essentially, its model closely resembles the military chain of command structure. This makes it a perfect partner for the government in the area of secret human experiments.
For example, when the government was doing radiation experiments on humans, a doctor or someone dressed as a doctor would just walk up to unsuspecting patients and inject them with radioactive material. They were then secretly followed for years to see what would happen. Eventually, some of those who survived were told the truth. Most people used in the MK Ultra and subsequent secret projects were never notified.
Hospitals are set up to protect themselves. Staff may appear to be dedicated, smiling people who truly care about you. However, they are basically prostitutes who are being nice because you are worth money to them. When they make mistakes they have a "loss prevention" department staffed by clever lawyers who are trained to protect the financial interests of the hospital by denying everything and fabricating believable coverups. They are trained to do whatever is necessary. The staff will all agree to support whatever lies are needed. They know their job and their financial future depends upon maintaining strict secrecy.
The only people who receive legitimate medical care are the select elite cleared to accesstop secret medicine. These people always get excellent care because the doctors work for the shadow government and mistakes on their part are simply not tolerated.
Infiltrations
Countries which have the resources to sustain an intelligence community generally try to get operatives (spies) into other countries so they can directly observe activities. When real people gather intelligence, this is called human intelligence or HUMINT. The US, of course, does this too. However, you may not be aware of the extent to which the US also infiltrates itself. The central government really does not trust anyone.
Essentially all local police departments, state offices and state governors have a covert federal agent working close by pretending to be just another employee. Also, every US neighborhood has an informer who reports to the federal government. Large corporations, which tend to behave like "mini governments", need to be infiltrated and kept under observation. Colleges and universities are also monitored.
Here is how this spy network operates: The NSA likes to recruit young kids right out of college. When they are hired and sworn to secrecy they still do not know what their assignment will be. They must agree to do this assignment without first being told what it is.
Some agents, like John Perkins [2], are assigned to work in other countries. However, others are assigned to work inside the US. Their assignment could be to go to some state and apply to join the local police department. They would pretend to be just a regular person looking for a job. They would take the necessary training and spend their life as a local policeman so they could directly observe other local police from the inside and report to the NSA. Since they are actually an employee of the NSA, presumably they get to keep both salaries and, eventually, both retirements. All significant local police forces in the US are infiltrated this way.
Additionally, some agents will be assigned to get a job on the state governor's staff as well as in major local state agencies. A CIA or NSA agent is always on the staff at major colleges and universities. The same goes for major corporations.
Senior level agents are allowed to have special TV receivers in their homes linked to the secret government TV network. This way everyone stays on the same page. The channels on this network actually broadcast the truth. TV channels available to ordinary people contain only government approved propaganda mixed with "bread and circuses" presentations to make sure the sheeple stay asleep and content.
Fronts
The US government is involved in illegal activities internationally and domestically. If it performed these activities overtly in the name of the United States, there would be serious consequences under both international and local laws. To avoid this situation, the US government operates thousands of "front organizations" which appear to be private but are actually shadow operatives of the US.
For example, John Perkins [2] explained that he was recruited, hired and trained by the NSA. He was an NSA agent. However, for his cover as an economic hit man, he "officially" worked for a "private" company called Charles T. Main. This company was a government front to shield the US because the activities the NSA trained Perkins to do were illegal.
This is standard operating procedure for the US as well as other countries and many corporations. It shields them from legal recourse by providing deniability for the crimes they actually direct and commit.
Generally, when the US wants to influence other sovereign countries, it creates harmless looking NGO's which appear to be independent but are actually fronts for covert activities.
Domestically, colleges and universities — especially those with associated medical schools and hospitals — are great places to conceal a variety of covert projects such as the MK Ultra series of human experiments which, reportedly, continue today using new cover names. The US also likes to create non-profit corporations which exist only to provide classified services to the United States. A good example would be the Institutes for Defense Analysis (IDA). The US, reportedly, is its only client.
Programming
Mass media "programming" is actually programming you. It has developed into a subtle form of mind control. Before radio and television, special interests recognized that motion pictures could be used to alter public opinion in their favor. Perhaps, for example, you wanted to attack labor unions. When radio and later television came along providing access to national and international audiences, the temptation to exploit these technologies became irresistible. Originally, the US government recognized this and set up fairness rules to prevent monopolies from taking over the broadcast media and blocking opposing viewpoints. All this ended, unfortunately, when Ronald Regan canceled all the fairness regulations. Today, a handful of powerful corporations own and control essentially all content delivered by radio and television.
Television is the main vehicle for mass indoctrination. It is said that people watching TV actually fall into a light hypnotic trance. The "entertainment" you see on TV does not "just happen to be there". It is very carefully planned and timed to attract and influence targeted audiences. It is said that if some event were to somehow shut down all television broadcasts the government would experience a severe crisis because it would lose control over the minds of the masses.
TV creates sort of a "hive mind" among the masses and keeps everyone coordinated and tuned into the official party line. Without this, people would have no choice but to start thinking for themselves and forming independent opinions. Clearly, this would be a disaster.
The radio broadcast of "War of the Worlds" and the later movie "The Day the Earth Stood Still" are said to be CIA psychological experiments to judge how the general public would react to some type of ET contact.
Today, broadcasting is not just a one way event. Because people react to events and use social media to express these reactions, the effect of specific propaganda can be analyzed in real time. Since the government now intercepts all electronic communications, it is able to see general opinions and then tweak algorithms to maximize the desired effect of propaganda. This ability makes TV a two-way communications system although most people, of course, do not realize this and have no concept of the level of sophistication these technologies have reached.
Information Theory
Information Theory is the name of a relatively new branch of science which became popular in the 1960′s. It covers a broad range of technologies. Basically, it is the science of the flow of information and how that flow can be selectively controlled so that information flows only in desired pathways. As you may have already guessed, governments love this sort of stuff.
ECM
ECM stands for Electronic Counter Measures. In general, these are techniques to disable other electronic devices. Basically, it is electronic warfare. When the secret service is active in an area, for example, they will selectively jam all radio frequencies except for the specific frequencies they are using so that no one else can communicate.
World leaders, who are generally terrified of "threats" materializing from practically anywhere, like to travel with ECM generators running just in case "someone" from "somewhere" was trying to target them for "some reason". Basically, they are paranoid whack jobs.
People familiar with aviation tell the story of how Tony Blair, while traveling to or near a commercial airport, reportedly caused a commercial jet to crash because all the ECM garbage he was transmitting jammed the plane's navigation system. Of course, the British government would never admit this.
Secure Communication With Submarines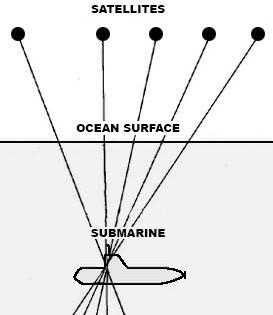 Since submarines were invented, communicating with them has been a problem because conventional radio waves will not travel underwater. Therefore, early submarines had to get close enough to the surface to put up some kind of antenna in the air to send or receive radio messages. Obviously, this could pose a problem if you did not wish to be discovered and located. After all, the motivation to create submarines in the first place was the feeling that they would be able to move about the planet secretly. However, newer technologies now make this impossible.
To solve the problem of reliable secure communication without the need to surface, scientists learned that sea water was essentially transparent to a special type of Argon laser. To set up the current communications network, it was decided to use several satellites with each satellite sending only part of an encrypted communication signal. The complete signal could only be received at a specific point underwater where all the laser beams intersected. Intercepting only one or two beams would prove useless. This communications system is considered to be impossible to intercept.
Quantum Entanglement
Returning to the submarine issue for a moment, before modern communications were perfected, there was a search for some reliable method to send a signal to a submerged submarine that could not be detected. This was considered necessary in a war situation to secretly transmit an attack command. What they originally did was to locate a couple of people who could communicate telepathically. One would be at the command base and the other on the submarine. Doing a bit more research, it was determined that this type of communication is instantaneous and somehow operated outside of time. Radio waves travel at the speed of light.
Quantum entanglement is a process which uses technology to send and receive signals outside of space-time. Now, why would you possibly want to do this? Well, if you had a base or a colony on a planet in some other solar system light years away, you would not want to wait years for messages to be received. Following this thread — and adding some basic common sense — why would you want to dedicate resources to search for habitable planets in distant solar systems when you had already "proven" it would be impossible to ever get there? Could it just be that someone is not coming clean with whole story?
The Separation Barrier
This is a model of the separation barrier which insulates the ruling class from the slave class. It is essentially "intellectual apartheid". The question is, why is it there. It takes considerable effort, money and manpower to maintain this artificial barrier. What is the reasoning behind not having a level playing field for everyone? Why does this idea absolutely terrify the elite? What are they afraid of?
The Pirate Story
This is a summary of a story told years ago on a radio broadcast most likely by Paul Harvey:
Ordinary people were afraid. The Earth was flat so they dare not venture far from home. Periodically, a pirate ship would come. They did not know how it got there or from where it came. It brought treasures they had never seen. The Chief Pirate would encourage the young men to study and specialize in specific skills. He wanted them to become educated but only in one narrow area. The Chief Pirate knew the world was not flat and how to navigate to other lands. However, this knowledge was never discussed. This "top secret" knowledge or the "big picture of the known world" would only be given to the Chief Pirate's son who would inherit his title and someday become the Chief Pirate.
This story is about the origin of the concept we call compartmentalization — the process of controlling the slave masses by only allowing them to know specific bits of the truth while the leaders are allowed to know total truth.
ELITE RULING CLASS
SECURITY CLEARANCES
SECRET POLICE
ASSASSINS
SURVEILLANCE — SIGINT HUMINT COMINT
SPY SATELLITES
SPY DRONES
SMART ELECTRIC METERS
INTERNET SURVEILLANCE
NEIGHBORHOOD SPIES
PLENTIFUL STREET DRUGS
PSYCHIATRIC FORCED DRUGGING
GENETICALLY MODIFIED FOOD
FLUORIDATED WATER
COORDINATED TELEVISION PROPAGANDA
DEGRADED PUBLIC EDUCATION
LOCAL MILITARIZED POLICE
---
SLAVE CLASS
Leaders can only maintain their status if there are slaves. Otherwise, everyone would be equal and operate on a level playing field. This means "leaders" would have to pull their own weight like everyone else. Clearly, this would be intolerable. Leaders love beautiful and exotic things but don't want to do the work needed to create these things. They probably could not even plant a garden much less build the various "ivory towers" where they like to live surrounded by servants. If left on their own they would very likely starve. This is why it is so important to create and maintain the complex separation barrier.
Why don't people who live above the separation barrier ever "come down" and talk to the people below the barrier? Well, other than the obvious fact that they would likely be killed or jailed for espionage or treason, there is another, simpler, reason.
Would you like to spend your days sitting in an open field with kindergarten kids looking for four leaf clovers? Probably not. You have progressed beyond that. The slaves below the separation barrier cannot even imagine the world of those who live above the barrier. In fact, the elite do not even consider the slaves human. They call them "disposable biological units". The United Nations prefers the slang term "the herd". Slaves can be easily bred in quantities needed and programmed to do desired tasks. Then, they can be easily disposed of when no longer useful. That's how they look at you. So, why would they want to make friends with you?
The Mars Example
There is an interesting event playing out today that you may have noticed. This concerns the recruitment and selection of people to be sent to Mars. There are simulation projects where volunteers are locked away to imitate the long voyage to Mars. They are being told that this is a one way trip and they can never hope to return to Earth.
What you are witnessing is the selection process for the "seed people" who will be used to breed the future slave class on Mars. In a situation similar to the period when most believed the Earth was flat and you would fall off if you tried to go to sea, these people are convinced that the only way to get to mars is to ride a rocket on a perilous journey taking years. Because they truly believe this, when they get to Mars, they will teach this crap to their kids along with other misconceptions like it is impossible to go faster than the speed of light and other associated obsolete scientific principles. They will have no
desire to ever return to Earth or go anywhere else because they truly believe it is not possible. They will be contented slaves.
Of course the truth is that there are already secret colonies on Mars. It is not that hard to get there using antigravity and other secret propulsion methods and it is quite likely possible to simply walk through some kind of wormhole device and come out on Mars.
However, the slaves will never know this. Just as it is done on Earth, there will be an artificial separation barrier. The insiders will know the truth and will be physically hidden from the slaves. There will be secret police and other methods — the same as are used on Earth — to make sure no slave ever escapes from the "information prison". Business as usual will continue.
Reinforcement of Ignorance
Governments and their oligarchs love to keep their subjects in a cloud of ignorance. Back in the days when people believed the Earth was flat, the inner circle ruling class knew it was round. Maintaining the deception was convenient because it kept the slaves from developing any desire to travel far from home.
Nothing has changed all that much today. Consider, for example, all the fuss over the missing MH370 plane. You are being played for a sucker. It is impossible for that plane to have "disappeared".
The US DoD spy satellite system reportedly consists of ten constellations of satellites. Each constellation has over seven thousand satellites. They see and record everything that happens on this planet. The floor of the oceans can be seen just as clearly as the land areas. The resolution of the system is better than one square millimeter. Also, everything is recorded so you can go back in time and play past images.

This is a picture of a common electric lamp. Take this lamp and throw it in the ocean — any ocean anywhere on this planet. The spy satellite system will locate it, give you the coordinates and give you a photo at least as good as the one above. That is the capability of the system. So, clearly, it is impossible not to know the location of something as large as a Boeing 777 plane. All the TV publicity is a choreographed play. You are being scammed and you need to wake up and realize this fact.
Murders and Assassinations
To ensure a strong empire, dissent must be crushed. The United States trains assassins and carries out both domestic and foreign murders and assassinations on a regular basis. You may be familiar with the classic movie scenes where a black limousine with tinted windows drives by a target with thugs shooting machine guns. Although this would accomplish the task, it is a bit too obvious in a country that advertises itself to be a free, civilized democracy. Someone might catch on and begin to doubt the party line. Consequently, these things must be done quietly.
Inside the US, murders are reportedly carried out by a group known as "FBI Division Five". Other agencies likely have the responsibility for foreign assassinations. However, the basic techniques used would be similar.
Typically, an agent would wake up every day and connect to the top secret internet to see who he was assigned to kill that day. There would be several options. If it was important to eliminate the target immediately, a fast acting chemical agent would be selected which, for example, would cause the target to die within a few hours of a "natural" heart attack.
However, if time was not critical and the government just wanted the target out of the way, you might want to select one of the cancer causing agents such as those likely used to eliminate Hugo Chavez and Senator Ted Kennedy.
There is also a third possibility. This involves character assassination instead of actual murder. Consider, for example, a person who has gained a lot of public recognition talking about, say, free energy. If you simply kill the person, there could be blowback and talk that he was silenced by the government. In such cases, it is easier to use a chemical agent designed not to kill but, rather, to cause states of mental confusion resulting in obviously strange behavior. This would be coordinated with the government controlled mainstream press to make sure everyone became convinced the person was a nut and would therefore ignore anything said without regard to the truth or validity of the message.
Once the appropriate chemical has been selected, you need to load it into the secret delivery system and locate your target. To find your target you will connect to the top secret internet and pinpoint the location of the target through their cell phone. You can also activate all the cameras and microphones in electronic gadgets connected to the internet associated with the target in case you wish to look around the target's home and hear in real time what is taking place.
Of course, this will not help you locate the target when it is time to actually do the hit. So, you need to get the top secret profile data which will show any predictable habits of the target. Everyone is constantly tracked through their cell phones and profiles are logged and stored. In this case, the profile shows that the target has a favorite restaurant and goes there for lunch every day around 11:30. Now, you know exactly what to do. You go to the restaurant, hang out until you see your target, and get in line behind the target. Now, all you need to do is slightly bump into the target to deliver the chemical. Generally, the targets never even notice.
This mission is now complete. If it is early enough, you can check back in to the top secret system to see who you are supposed to kill next. Just another day. Just a routine job.
Money
Money is an imaginary force. It is used to motivate and control slaves. Real forces effect all life forms. However, only people respond to money. The only reason they do is because they have been artificially programmed to do so.
Money can be created in unlimited quantities by those adept in the use of this force. The physical world is finite, however the world of imagination is not. There is no limit to the quantity of money that can be imagined into existence. Money can also be imagined out of existence.
Let's assume that one day the entire financial system simply disappeared. If you lived in a rural area and had a nice veggie garden, some friendly chickens, collection facilities for rain water and a few photocells for electricity, you would not notice this. The veggies would continue to grow. Rain would periodically fall. The chickens would lay eggs as usual. The sun would continue to shine. However, if you lived in a city environment, you would be devastated.
Before money, people lived in small hunter-gatherer groups. The concept of ownership did not exist. People worked and survived as a group. Men and women were equal. Everyone contributed to the community. Resources were shared equally. The concept of "mine" and "yours" did not exist. Women generally became pregnant only once about every three years although there was no birth control. Later, when the concept of money entered the consciousness, women were seen as having less value because men were paid for work but women were not paid to raise and care for kids. Society has changed, however, the downgraded status of women has not.
Money systems have always been manipulated by clever people. When gold was used as money, people learned they could dilute pure gold with silver or maybe even lead to come up with something that looked like pure gold and had the correct weight but was a fraud. A king suspected he was being scammed but had no way to prove it. He called on the great minds of the time for help. This led to what is known as the Archimedes' principle which is better known today as "specific gravity". This principle made it possible to compare a sample known to be pure gold to a questionable sample and prove the unknown sample was not pure gold. Likely, some clever crook lost his head once this test became known.
There is a general belief that gold is the ultimate reference for all money. However, secrets concerning the exact quantity of gold make this a perilous assumption. Reportedly, the United States stole a tremendous quantity of physical gold from Japan towards the end of World War II. This gold exists off the books. To make matters worse, Japan was not all that concerned. Japan had been using gold bars as ballast on its ships because they were compact and heavy. They thought nothing of throwing the bars overboard as necessary. Japan used platinum as a money reference and the US never got that. This should make one rethink all the hype about the value of gold. It may be a lot more plentiful than we have been led to believe. Also, the secret off the books stashes of gold would allow its relative value to be manipulated at will just like other commodity markets.
The Financial Axis of Evil [3]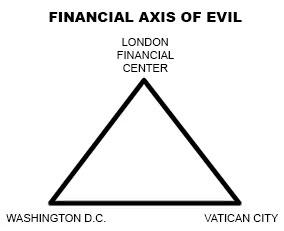 This is the model of the financial axis of evil which rules this planet. It consists of three main branches as shown above. Collectively, they are known as "The Empire of the City". Briefly, here is how this system operates:
The London financial district is in London, Washington D.C. is in the United States and the Vatican is in Italy. However, these three places are not part of the countries where they exist. They are independent "city states" and have their own laws and constitution. They are, effectively, "mini countries" inside of other countries and fly their own flags. The city state of London is a private corporation and pays no taxes to actual London or to Britain. The city state of London is the master power center and is controlled by the Rothschild family which considers itself to be the legal owner of this planet. The Vatican is the largest private land owner in the world and the first true multinational corporation with installations (churches) and secret agents (The Knights of Malta) everywhere. They control through the power of fear of the unknown and practice black magic. Washington D.C. relies upon brute military force. All three closely cooperate combining their specialties of financial trickery, witchcraft and military might. Of course, all three worship Satan as their Master.
Slavery
Slavery is alive and well throughout the world. The US constitution prohibits slavery, however, most americans live in slave-like conditions.
It is said that it will take the average college student until age fifty to pay back their student loan.
The constitutional amendment prohibiting slavery addressed the concept of physically owning another person. However, it did not address the issue of holding another person in bondage as a debt slave. It also did not consider the concept of private for profit prisons who force inmates to work as slaves. These systems exist today and are perfectly legal.
Actually, a recent report from prestigious Princeton University has reclassified the US government as an oligarchy — a country run by and for the rich elite. Former US President Carter has stated that the United States "no longer has a functioning democracy". So much for the Founding Father's dream. Speaking of dreams, check out the free you tube video titled "The American Dream".
Other forms of slavery are illegal but still flourish. Sex slaves are always in demand. Traffickers are sometimes caught but you need to realize that your leaders use sex slaves and also routinely abuse young girls and boys. Sometimes they are also killed during occult rituals. No one ever talks about this and these people are never punished. This has been the normal way of life for Satan worshipers for many years and nothing has changed or is likely to ever change in the future. Stanley Kubrick's last movie, Eyes Wide Shut, covers this subject. Some believe this intense dramatization of how the elite really live may have cost him his life.
People still have some rights left in the United States but other countries are a different story. Qatar is doing construction for the World Cup. The event is not scheduled until the year 2022, however they have already killed 1200 slaves [7] by working them to death. People are lured from poor countries with the promise of jobs and money. When they arrive, their passports are confiscated and they are forced to work until they literally drop dead. If the World Cup is actually held in Qatar in 2022, there will be glamorous TV coverage and no one will remember or care about all the dead slaves. The show must go on.
Qatar, incidentally, sponsors Al Jazeera TV network.
Adaptation Techniques
The status quo of today will never change because the people who created it will never die. Because of top secret medicine, when men like Henry Kissinger, who heads the Bilderberg Group's steering committee, get too feeble to function, they will simply go to one of the secret locations and use the temporal reversal device to regress back to about twenty years old. Their memories will be unaffected. Then they will get new identities and continue on. This process can be repeated indefinitely.
Because you can never change the status quo, your best hope for a lifetime of reasonable quality is to find clever ways to live in this world with as much independence as possible.
One method of adaptation is autonomous and semi-autonomous communities. If the community is registered as a religious institution it is automatically shielded from most government interference by the US constitution. It pays no taxes and can pretty much write its own rules by simply calling whatever it wants to do "religious doctrine". Many small semi-autonomous groups exist where people who share a common set of values find ways to quietly live out their lives pretty much on their own terms. The government does not seem interested in bothering these smaller groups as long as they live peacefully and are not doing anything that the government perceives to be a threat.
The Amish people are a good example of an autonomous group. You would probably not want to live as they do, however, before you completely dismiss them, you may want to look at some definite advantages in their chosen lifestyle.
Remember, these are the people who reject technology. They just might have made the correct choice. Technology, at first, seemed like a good idea. However, now that people are addicted to technology they are also enslaved by technology. Everything they do is monitored and recorded by the government. Privacy no longer exists. It did not have to be this way.
Technology, in itself, is not evil. However, it can be quite evil if you live under a government run by sociopathic control freaks which, unfortunately, you do. In the Amish world, electronic surveillance does not exist because electronic devices do not exist. The constant propaganda from TV has no effect on people who do not have TV. A horse does not report its position to a GPS satellite and is not controlled by a computer.
Also, the people are generally healthy and do not suffer from many diseases common to the mainstream population. They are not being poisoned by fluorinated water or additives found in processed food because they don't use these things. Also, they get lots of physical exercise.
Without totally withdrawing from the world, there are some positive steps you can take. By now you know never to drink fluorinated water or use any personal product containing fluoride such as many brands of toothpaste. To minimize harmful food additives, look for Kosher food which is marked with either the encircled "K" or "U" (Ultra Kosher). These foods have less or no harmful additives. The Jewish community is very protective of its people and the Mossad is widely considered to be the best intelligence service in the world. Therefore, they would have the inside scoop on everything including food and do not want to see their people harmed.
Whatever you decide to do, you definitely do not want to be part of so called mainstream society. These people are doomed. They are sheep (sheeple) slowly walking to the slaughter house. Don't go there!
---
references and credits
[1] DVD "The American Ruling Class". ASIN: B001HM2CE2.
[2] John Perkins. Book: Confessions of an Econemic Hit Man; DVD (free on you tube): "Apology of an Economic Hit Man"; RT interviews.
[3] See the free you tube videos titled "The Red Shield".
[4] DVD: "The Wages of Debt", RT Intl. Also available for purchase.
[5] DVD "Terra Blight", RT Intl. Also available for purchase.
[6] Interview with John Judge of Veterans Against Military Psychiatry.
[7] Also search using the phrase "qatar slaves world cup".
© 2014 W C Vetsch. All rights reserved.
Source: Walter C. Vetsch  |  3108.info | War Is Crime