Greece is the pearl of Mediterranean, the place generations of foreigners from Lord Byron to Graves to Fowles have fallen in love with. From philosophy to feta, from history to yoghurt, from poetry to honey they provided the example to follow. Their priests preserve the pristine faith; their fighters defeated Mussolini; their Helen is the epitome of female beauty. They also make lousy wine called retsina and listen to loud dreadful music called bouzouki so we would temper our Hellenophilia.
Now they have given us another example to follow: how to beat banksters at their own game. The spectacular victory of the Syriza government in Greece at the national referendum was quite unexpected: the polls wavered between an indecisive result and straightforward support of the EU plans around 51:49. However, the Greeks strongly confirmed the mandate of the government. The main problem was and remains the Syriza's resolve and determination.
The ruling party took an unnecessary risk while calling for referendum, for they had already won the elections under their own slogans just a few months ago. This implied their wobbliness, as if they would prefer to lose and pass the hot potato to somebody else. Moreover, they did not try to win the referendum: no campaign for NO, no media coverage of demos for NO. Did they wish to lose or to win with a slightest possible margin? Possibly. The Greek people rejected the stratagem and called upon them to proceed.
Now it is the business of the government to organise a smooth and fast Grexit from the Eurozone and switch to the new Drachma. A really decisive government would leave the EU and NATO, turning the tables completely. Refusing the bailout is good but not enough.
The Greeks were right to reject paying the debts, for these debts were forced upon them by the giant vampire squid, Goldman Sachs, in words of Matt Taibbi. "The first thing you need to know about Goldman Sachs is that it's everywhere. The world's most powerful investment bank is a great vampire squid wrapped around the face of humanity, relentlessly jamming its blood funnel into anything that smells like money". As we now know, Goldman Sachs (you do not have to be an anti-Semite to hate them) cooked the book,s falsely pretending Greece had a high credit rating though they knew of its huge debts. When the debts snowballed, they pulled the rug and collapsed Greece's rating, bailing out banks at the expense of the European taxpayer.
Out of €320 billion, Greece received and used about €20 billion, while the principal sum went to the banksters. Greece could not pay it off: after five years of trying, the country is in worse shape and in deeper debt than it ever was. Austerity has destroyed lives and infrastructure. The bankers planned to sell all Greek assets: harbours, railways, lands; and you can envisage yourself who would buy it. The negotiations between the EU, IMF and Greece were dishonest, explains Ashoka Modyin widely read and technical essay. That's why the Greeks elected the far-left party Syriza and its far-right counterpart INIL to break the rules of the rigged game.
Greece is a small country and it could not take on the whole EU banking and political establishment on its own. Fortunately, there is a country able and willing to help. That is its sister in faith, Russia. Greece for Russia is like Italy for Catholics, like England for the US: the source of culture and religion. The Greek priests had brought their faith to what was to become Russia. Greece and Russia share the same Byzantine legacy. Arnold Toynbee, the British scholar of history, spoke of few European civilisations, some abortive (Far Western and Scandinavian), and two fully developed: Western European, based on the Church of Rome, and Orthodox Christian, based on the Church of Constantinople. Russia and Greece belong to the last one.
The EU is a reincarnation of the Roman Empire and that of Charlemagne. It is at home in France and Germany, but completely foreign for Swedes and Greeks, for Letts and Bulgars, for Ukrainians and Russians. It has over-extended itself and brought huge calamities upon its people and on their neighbours.
Mind you, this is not the first time the people of the West have colonised the Orthodox Christian East: in 1204, they smashed the Byzantine Empire and established their kingdoms and duchies, eventually erased by the Turks. After Greece was restored in 1821, it went back under the Western tutelage, and remained there. In 1945, the Greeks made a heroic effort to liaise with Russia, but Churchill employed the defeated German troops to smash the Greek independence movement and installed his agents in Athens. Soviet Russia did not object much, as under the Yalta agreement Greece was going to the West, while Poland was going to the East. Now the West has both Poland and Greece. The Greeks were frog-marched to NATO and to EU, and they would have remained forever captive but for the bankers' greed.
Russia is the only part of the Byzantine world that remained independent and adhered to its faith. Russia is a natural partner for Greece and its Balkan neighbours. Now Russia can help Greece: by buying its wine, cheese and olives that do not sell well in the West, by sending pilgrims to venerate shrines under its cruel blue sky, by encouraging its industries, by giving its youth a meaning of life beyond caring for German tourists. And the Greeks are fond of Russians, so their sympathies are mutual.
The Syriza party, and its partner ANEL were famous (some would correct it to 'notorious') for their pro-Russian sympathies. However, since they were elected, they began a game of playing Brussels against Moscow, like a young tease who encourages two suitors to keep both in her thrall. The Greek expert and London Lawyer Alexander Merkoulis listed the Russian attempts to help Greece. They offered five billion euros to build a gas pipeline to Greece, and Greece would be able to sell gas to Europe. Miller of Gazprom went to Athens with prepared documents, and came back empty-handed.
Tsipras promised to come to Moscow for the May 9 celebrations, and failed to show up at the last moment. He agreed to extend anti-Russia sanctions while sitting at the St Petersburg forum. This undermined Russian trust. "The Russians must be getting increasingly fed up with someone who repeatedly takes them to the Church door – and then at the last moment runs away", said Merkoulis.
It appears that the Ukraine story has repeated itself. Russia offered huge credits to the Ukraine in 2013, it could buy its industrial output, invigorate its industry and agriculture, but the then President Yanukovych did not dare. He ended in exile, his country ruined; it will take them 20 years to regain the positions they had in 2013, say the EU experts.
Greece is not likely to go for a civil war: they had it in 1945, but the old wounds may reopen. The most pro-Russian area of 1945 insurgency – the Isle of Crete – heavily (75%) voted against the EU in the recent referendum. The Syriza government will try to renegotiate with the IMF and the EU by bluffing them with the Russian alternative. Even if they will get relief, their economy is not likely to come back to normal.
The problem is not Greece, the problem is the EU. This body has a triple purpose. It is (1) a union of bankers against people, (2) a harness with which the US can drive colonised Europe, and (3) a tool for de-industrialisation and de-education of this most developed continent. Under the EU, masses of beggars from Romania and African refugees descend on the North. Under the EU, once-industrial Latvia and Hungary became basket-cases, their high tech moved elsewhere. Under the EU, the social welfare system has been dismantled, while sexual education of children and gender games have gone into a high drive. That is why nations – from Sweden to Italy, from England to Spain – call to break up the union.
Greece would be better off out of the EU. Everybody would. Distressingly, its Minister of Finance Yanis Varoufakis, a stubborn negotiator, a son of 1945 fighter, who could lead his country to freedom, has been dismissed following the referendum. Alexis Tsipras will try to negotiate himself, and he is a smooth operator, say the Greeks.
There is just one problem, that of guts and their lack thereof. Too many leaders hesitate and contemplate instead of acting. We mentioned Yanukovych, but this is a long list of names, beginning with Allende, a man of peace killed in a coup. The leaders that stood up to the vampire squids – from Nasser to Putin – were branded "a new Hitler", but actually managed better. The US always dares: to conquer Panama and Granada, to attack Afghanistan and Iraq, and this daring is a secret of its success.
Still it is too early for despair. The referendum was a victory, and a victory can do wonders even to wet and wobbling leaders. It would be a shame to cast the pearl of Greece to the banker swine.
One of America's most notorious bank robbers, Willie Sutton(1901-80), is said to have remarked that he robbed banks "because that's where the money is." In a strange twist, the banks themselves are now beginning literally to rob their own customers.
The theft occurs via the innovative practice of "paying" (i.e. "charging") negative interest rates on savings and checking account balances combined with account maintenance fees. Cash strapped Greece is looking to go even further – charging customers for daring to withdraw cash! So what gives here?
Banking Policies Are Becoming Injurious to Your Financial Well-being
Since the global financial near-collapse of 2008, Central Banks, led by the U.S. Federal Reserve, have tried to solve the problem of faltering economies, excessive debt creation, government deficit spending and a deflationary landscape by flooding the system with fiat money, literally created out of thin air.
Their reasoning is that the problem of excessive, unpayable debt can be solved by creating still more debt!
If you had trouble paying off a $300,000 dollar home mortgage, would borrowing another $200,000 to continue making payments help you solve your dilemma? Of course not. You would simply owe a total of $500,000! Yet this is exactly what many of the world's leading financial wizards have been doing to keep government budgets afloat for the last 7 years.
In an effort to stimulate the economy and encourage consumption, the Federal Reserve has lowered interest rates well below where they would be if allowed to fluctuate based on free-market forces like business and consumer demand.
This has taken us to a Zero Interest Rate Policy (ZIRP), which by definition is theoretically the lowest rate that a central bank can impose as part of its strategic agenda. The closer rates get to zero, the fewer options monetary planners have at their disposal to attempt to stimulate economic demand.
Altering Your Behavior
The effect of excessive money creation has been compared to the liquid sloshing around in a giant punch bowl.
And since interest rates are so low, investors must take on more risk in the search get greater returns. Across the globe, this new money – in an uncontrolled manner – seeks out profitable venues for growth.
A great deal of the central bank-created paper/digital money thus ends up chasing finite amounts of art, real estate, collectibles, or financial assets like stocks or bonds. This has sparked the latest stock market bull runs in one country or another, leading to new and unsustainable bubbles.
Afterwards, the supposedly most-connected person on the planet – the U.S. Federal Reserve Chairman – always seems to be surprised.
The War against Cash
While investors are chased into higher risk assets in search of yield, we are witness to a simultaneous "war on cash."
Governments around the globe have lowered the amount of cash a person can withdraw without attracting the attention of authorities, who snoop on you to make extra sure you aren't dealing drugs or selling weapons to terrorists. France, Sweden, Denmark, Israel are just the most recent to have announced this change.
With the formation of groups like the Orwellian "Better Than Cash Alliance," plans are underway to eliminate cash altogether and leave the public with little choice but to keep all their money in a digital account. While using only electronic money may seem to be more "efficient," it makes it possible for authorities to track all of your financial dealings AND even allow banks to impose a Negative Interest Rate Policy (NIRP) upon you.
Without measures to prevent block them, account holders with cash balances might choose to withdraw and hoard paper currency. That would be the simplest way to escape negative interest rates.
But with funds trapped inside of bank accounts, bankers could simply deduct the negative rate charge from each customer's balance. (Question: Would not such "digital cash balance robbery" be just a modernized version of what Willie Sutton was doing back in the day?)
Targeting You for Outright Theft through NIRP or Asset Forfeiture
And then there are the rising abuses of Civil Asset Forfeiture. If you're stopped on the road and have a few thousand dollars on you – no matter that you might be going to buy a used car or plan to make some purchases during an extended vacation… the police can easily deprive you of the cash, without even charging you with a crime.
In recent years, Civil Asset Forfeitures have reached the scale of billions of dollars. And police departments come to depend on this tempting "revenue stream," creating the perverse incentive to seize even more.
Following a lengthy investigation last year, The Washington Post reported,
"There have been 61,998 cash seizures made on highways and elsewhere since 9/11 without search warrants or indictments through the Equitable Sharing Program, totaling more than $2.5 billion. State and local authorities kept more than $1.7 billion of that while Justice, Homeland Security and other federal agencies received $800 million. Half of the seizures were below $8,800."
"Monetary thinkers" feel things would be so much more efficient — for the government — if we all went totally to digital accounts. No need to carry cash around or pay bills by mail. The authorities will know exactly how much money you have and what you spend it on, placing your balance under their control at the press of a button.
The legend of the Greek craftsman Daedalus is relevant today. He learned how to fly and taught his son Icarus – cautioning him not to get too close to the sun at the risk of melting the wax on his wings.
Immensely powerful central bankers believe that they can safely "fly high" with their monetary policies. But like Icarus, who flew too close to the sun and plunged from the sky when his contraption fell apart, so too do our monetary authorities run the risk of similar demise – and taking the rest of us down with them.
Financial Repression Has One Logical Outcome…
In a recent article at mining.com, David Levenstein really nails it, saying:
"Financial repression has long been a driver of demand for physical precious metals. This demand will accelerate as measures become more draconian. Some bank customers… will decide that bullion is a better option than sitting on piles of depreciating paper currency or paying banks to hold deposits… Historically, only gold and silver have been trusted private stores of value as well as a hedge against political, financial, and economic turmoil. In such an insane environment, gold and silver will become the only real trusted alternative to fiat currencies. And, as more new capital flows into physical bullion, its price will soar."
Got gold? Got silver? Got common sense?
April 25 will mark 100 years since the Allies – the UK, Australia, New Zealand, and France – made their ill-fated landing on Turkey's Gallipoli peninsula during WW1. Having barely gotten off the beaches after months of fighting, the Allies withdrew in defeat leaving over 44,000 dead and 97,000 wounded.
As in recent years, thousands will flock from the Allied countries and elsewhere to Gallipoli for the Turkish-led April 24-25 commemorations. Numerous world dignitaries, including Australia's and New Zealand's prime ministers and Prince Charles, will also attend.
In April, the UK, Australia, and NZ hold Gallipoli remembrances on their own soil and elsewhere. And throughout the year, their citizens visit Gallipoli to pay tribute to the UK's 21 thousand, Australia and NZ's 11 thousand, and France's 10 thousand dead.   This is proper and honorable.
However, thronging to April's sham commemoration staged in and by Turkey, a notorious human rights violator? Which had mistreated Allied POWs? Which today abuses its remaining Christians, as well as Alevis, Kurds, and Jews? Which also committed genocide and pillage against millions of indigenous Christian Armenian, Assyrian, and Greek civilians during the Gallipoli battle and for years afterward? And which arrogantly denies having done so?
The UK, Australia, and NZ themselves have made the Gallipoli ceremonies in Turkey something less than solemn.  Smiling lottery winners receive tickets to the event. Youngsters vie to become Gallipoli "youth ambassadors" and win all-expense paid trips. Is Gallipoli the resting place of valorous Allied troops – or Disneyworld Turkey?
Turkey's Gallipoli Charade
Westerners often do not understand Turkey. The Turkish government does not mourn the Allied dead any more than it cares about the victims of its genocides and the deliberately unmarked, mass graves in which they lie.
Turkey enjoys the spectacle of defeated foreigners trudging to Gallipoli. Indeed, Turkey holds a huge Gallipoli celebration the month before. This year, it displayed avictory banner 1915 meters long. Meanwhile, Turkey's Defense Ministry has reportedly removed the names of non-Muslims from the list of its soldiers who died at Gallipoli.
2015's Gallipoli attendees can anticipate a lecture by Turkey's egomaniacal President Recep Tayyip Erdoğan. He just built himself a gaudy 1100-room palace for a reported $615 million.  In 2013, Erdoğan killed demonstrators in Gezi Square who were protesting his authoritarian rule, and regularly sues and jails journalists.
Genocide and Denial
The Armenian, Assyrian, and Greek genocides in Turkey were reported extensively at the time in Allied countries' newspapers. France, Great Britain, and Russia issued Turkey this famous warning in May 1915: "The Allied governments … will hold personally responsible … all members of the Ottoman [Turkish] government and those of their agents who are implicated in such massacres." Australian and New Zealand (Anzac) POWs, such as Captain Thomas Walter White, witnessed and later wrote about the genocides.
Winston Churchill termed them a "holocaust." "Race extermination," declared U.S. Ambassador to Turkey Henry Morgenthau in 1915. It was that extermination whichfirst motivated Raphael Lemkin, the Polish Jewish lawyer who later coined the word "genocide."
The parliaments of the European Union, Canada, France, Lebanon, Russia, Sweden, Switzerland, Uruguay, and many others, as well as a U.N. sub-commission, the Vatican, and the International Association of Genocide Scholars (IAGS), have recognized the Armenian genocide. IAGS has also recognized the Assyrian and Greek genocides. In 1951, the U.S. referred to the Armenian "genocide" in a filing with the International Court of Justice (World Court).
But the governments of the UK (except for Scotland and Wales), Australia (except for New South Wales and South Australia), and NZ refuse to acknowledge these genocides. They fear Turkey's reaction. Contrast their gutlessness with the courage of Allied soldiers at Gallipoli.
By ignoring the Armenian genocide, New Zealand and Australia are "tacitly complicit in" genocide denial, says NZ writer and businessman Stephen Keys. "Is [Turkey] the sort of government we as New Zealanders are proud to stand alongside on April 25, 2015?" Officially, 2015 is "The Year of Turkey in Australia."  A more apt name: "The Year of Turkish and Australian Genocide Denials."
France, on the other hand, has acknowledged the Armenian genocide despite Turkish threats. A large French delegation headed by President Hollande will be in Armenia on April 24 for the Genocide Centenary. On that day in 1915, Turkey arrested and murdered hundreds of Armenian intellectuals, doctors, priests, writers, and other community leaders as part of the genocide.
Turkish Bullies
Turkey enjoys bullying others over Gallipoli. Five years ago, it initially refused to issue visas to Australian and New Zealand archeologists who were to map Gallipoli's battlefields. Turkey was angry that Bonnyrigg, a Sydney suburb, had allowed construction of a monument commemorating the Christian Assyrian genocide.
Two years back, Turkey threatened to ban New South Wales MPs from Gallipoli because NSW had recognized the Armenian genocide.
Afraid of further incurring Turkey's wrath, earlier this year NSW installed – surreptitiously – a plaque in Sydney's Hyde Park honoring the Turkish hero of Gallipoli, and later president, Kemal Atatürk. The plaque's fine words, allegedly penned by him, are undoubtedly insincere and perhaps inauthentic. Moreover, this "hero" continued the evil deeds of his predecessors.
Ataturk, Genocide, and Hitler
Atatürk welcomed veteran genocidists, such as Abdülhalik Renda and Şükrü Kaya, into his new government. From 1919 to 1923, Atatürk's forces murdered and expelled Christians who had survived the genocides.
In 1937, Atatürk directed the slaughter, sometimes using poison gas, of thousands of Alevi Kurdish civilians, including women and children, in the Dersim region. Among the victims were Armenians who had found shelter there.
Hitler admired Atatürk's brutality. Atatürk was "the greatest man of the century," the Führer told Turkey's Milliyet newspaper in 1933, and "Turkey was our role model." Indeed, in WW1, some German officers took part in the Armenian genocide.
Visitors to Gallipoli will bow before Atatürk's statue unaware of his appalling record.
The Dead Speak
The Allies fought WW1 gallantly.  Armenians from many countries were among them.  Armenians even formed a special French Foreign Legion unit that fought with particular distinction. Hundreds of thousands of Armenians also served in Allied armies in WW2, while Turkey remained neutral and cozied up to Nazi Germany.
Beneath Gallipoli's shores and hills, the courageous Allied dead surely whisper, 'Please, honor our memories by going elsewhere in April, and shun Turkey's victory dance on our graves and those of millions of Christian innocents.'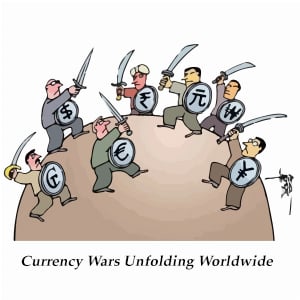 The first two months of 2015 have seen turmoil in the currency markets extend from Russia and Ukraine to the heart of Europe.
"Central Banks Now Open 24/7 Fighting Currency Wars and Deflation," blared a February 12th Bloomberg headline. Against this backdrop, precious metals have been on the rise in terms of all currencies except the Swiss franc and the U.S dollar.
In January, the Swiss National Bank shocked markets by announcing that it would de-link its currency from the euro. The move came one week ahead of the European Central Bank's $1.1 trillion Quantitative Easing announcement. Swiss officials decided it would be too costly to keep accumulating depreciating euros in order to maintain the currency peg. The Swiss franc surged by the most ever in a single day.
With the exception of Switzerland, all other countries in Europe (and many others around the world) are trying to depreciate their currencies.
Since January 1, the following central banks have announced interest rate cuts or other monetary easing measures: European Central Bank, Reserve Bank of Australia, Reserve Bank of New Zealand, Monetary Authority of Singapore, and the central banks of India, Canada, Denmark, and Sweden.
On February 12th, the Swedish Riksbank announced a surprise rate cut from 0% to below 0%. "To ensure that inflation rises towards the target, the Riksbank is prepared to quickly make monetary policy more expansionary, even between the ordinary monetary policy meetings," the world's oldest central bank said in a statement.
Sweden joins the European Central Bank and the central banks of a handful of other countries in pushing benchmark interest rates into negative territory. These central bankers are all aiming to revive inflation. "Investors" who are buying bonds yielding less than nothing (a negative rate) are apparently convinced that central bankers won't succeed in depreciating their currencies.
Insanity! Investors Now Paying for the "Privilege" of Lending to Broke Governments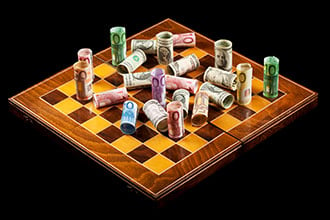 This could go down as one of the oddest, most irrational asset bubbles in history. Trillions of dollars are now tied up in debt instruments that promise to return less than the invested principal. According to a report issued by J.P. Morgan, $3.6 trillion in government bonds around the world now carry negative yields.
It raises the obvious question; why would so many people be willing to accept a negative rate of return?
You'd think that institutional investors would start getting wise to holding gold as a hard-currency alternative to cash instruments that yield less than zero. The fact that gold has no interest rate is actually an advantage in an environment where competing rates are negative! Plus, unlike most of the bonds issued in this upside-down interest rate market, gold has significant appreciation potential.
If inflation rises even modestly to the 2% target of European and U.S. central bankers, then bonds issued at rates of below 2% will all be losers. The two-year Treasury note yields only 0.63%. Even the recent 10-year yield of 1.98% fails to match the Federal Reserve's inflation ambitions.
The fact that gold has no interest rate is actually an advantage in an environment where competing rates are negative!
In this environment of ultra-low nominal yields or even negative real yields, precious metals as a reserve asset look very attractive. Many central bankers around the world agree and are busily accumulating gold. According to a report issued by the World Gold Council in February, governments around the world added 477.2 metric tons of gold to their reserves in 2014. That haul was the second biggest in 50 years.
When inflation fears return to the market, as they eventually will, precious metals will become one of the premier asset classes to hold. Even now, they are performing better than virtually all other world currencies.
The end game of these ongoing currency wars is that all fiat currencies will be debased. And a true flight to quality will accelerate – with assets fleeing depreciating currencies (and debt instruments denominated in them) and piling into gold and silver.
Will the Fed Chicken Out on Rate Hikes?
Of course, right now it's deflation fears that are dominating headlines. But the inflationary policy responses from the European Central Bank and others that have followed the ECB's lead have lifted gold and silver prices markedly in terms of euros and other currencies.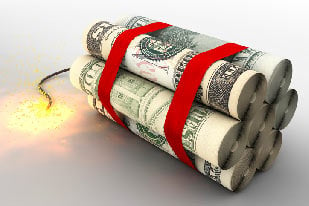 As confidence in European currencies plunges, there's only so much corresponding dollar strength the Federal Reserve is willing to tolerate. There's been much talk of rate hikes coming later this year, and that widespread expectation has been priced into the market. Any rhetorical or policy disappointments from the Fed in the months ahead could cause traders to sell the dollar.
Whether later this year or further down the road, it's only a matter of time before currency turmoil spreads to the United States.
The U.S. has a higher debt-to-GDP ratio than some troubled European countries. It has higher levels of unfunded liabilities (estimated to be in excess of $100 trillion) than any other country. The dollar's status as world reserve currency has allowed the U.S. to become financially overextended. But that vaunted status is slowly deteriorating as Russia, China, and other countries form economic alliances that bypass the dollar.
When these chickens come home to roost, you don't want to be wholly dependent on the U.S. government's promises or its currency. Sizeable holdings in physical precious metals will help make you financially resilient in the face of the spreading global currency crisis.
Dr. Mehmet Oz, who is a renowned cardiothoracic surgeon, author and host of a successful TV show, has involved himself in some, um, questionable cures for what ails you.  According to a Fox News report, a recent study showed that "Half of Dr. Oz's health advice is bad."  Die-hard Oz fans will more than likely ignore the study results and continue tuning into his TV show for advice from him and the panel of doctors that appear regularly, even knowing that Oz and the other doctors often recommend products straight out of Quacksville.
Our idols would never steer us wrong, would they?  I mean, Oz wouldn't allow his fans to purchase remedies that have little basis in fact or that many in the scientific community agree are bogus. Test the "cures" and you will find that, in some cases, what they recommended is on par with the sort of thing you'll find in a witches brew – bat wings, spider legs and crow bones.
From the Fox News report:
The researchers found that about half of the suggestions offered by these shows either contradicted what other scientific studies had found or had no verifiable evidence at all to stand behind them, and that potential conflicts of interest were seldom mentioned.
 
The study looked at 40 random episodes from each show—instead of simply, as Belluz points out, "cherrypicking the worst offenders"—to get the fairest assessment. In general, each episode offered up about a dozen health recommendations, so the researchers were able to cull 479 health tidbits from Dr.
Oz's show and 445 from The Doctors. Most of the shows' suggestions involved dispensing general medical advice, followed by non-weight-loss dietary tips; the Doctors professionals tended to repeat the mantra of seeking out a health care provider.
 
But while the benefits of many of the claims were talked about in a general way, specific benefits and magnitude of those benefits, possible drawbacks, and costs were virtually ignored, the study found.
 
The researchers' conclusion? "Consumers should be skeptical," and we should ask ourselves "whether we should expect medical talk shows to provide more than entertainment." (Dr. Oz's "magic bean" recently lost the study that supported it.) (Fox News' link.  Emphasis added.)
Meet Mehmet
This is not the first time I've reported on Dr. Oz.  In early 2011, I wrote a piece to alert the Church that  SBC pastor and best-selling author Rick Warren had elicited the help of three doctors to write a plan (Warren is all about plans) to promote health and fitness for his church located in Lake Forest CA.  What struck me was that all three doctors hold New Age/New Thought beliefs. Moreover, the trio is involved in what some deem questionable medical practices.  One of the docs Warren asked to help with his endeavor to lose much needed weight and start his journey to better health was Dr. Mehmet Oz.  The end result was The Daniel Plan.
I noted back in 2011 in my piece titled "Rick Warren Introduces the 'Devil Plan'" that:
 
Oprah Winfrey's "favorite doctor" is a Muslim and has been influenced by the mysticism of Sufi Muslims.  Moreover, he is keen on the ideas of cultist mystic Emanuel Swedenborg: 
 
"As I came into contact with Swedenborg's many writing I began to understand Swedenborg's profound insights and how they applied directly to my life." 
 
Swedenborg believed he could pass between the life to come and the present.  What is more he claimed he had conversations with spirits of the dearly departed as well as angelic beings:
 
"[T]he spirit world was comprised of a number of concentric spheres, each with its own density and inhabitants. There is no such thing as hell or eternal punishment. Those spirits who find themselves in a hellish place after death can evolve toward a higher spiritual plane.
 
"In spite of it being granted to him 'to be constantly and uninterruptedly in company with spirits and angels,' Swedenborg did issue a caution in regard to receiving counsel from just any spirit that might manifest with an alleged personal message. "When spirits begin to speak," he wrote in Miscellaneous Theological Works (1996), "care should be taken not to believe them, for nearly everything they say is made up by them.…They love to feign. Whatever be the topic spoken of, they think they know it, and if man listens and believes, they insist, and in various ways deceive and seduce." (Source)
 
Dr. Oz is a practitioner of Transcendental Meditation:
 
"When I meditate, I go to that place where truth lives. I can see what reality really is, and it is so much easier to form good relationships then." 
 
Do a Google search on Dr. Oz and you'll find posts from people complaining that he's irresponsible because he promotes things which have no scientific evidence to support them. Until something is proven, doctors should not promote it as it could endanger lives.  One example of an unscientific practice he promotes is Reiki, which New Agers believe to be a "guided Universal Life Force Energy."  Dr. Oz's wife is a Reiki Master.  "Reiki," he said, "is my favorite treatment that could change the future of medicine forever."  He also pontificated:
 
"I think [Reiki] may be ultimately the most important alternative medicine treatment of all. And we are embarking on this whole new vista of opportunities, it broadens dramatically the spectrum of where we might be able to go in our bodies, and this is the area of energy medicine."(Source)
 
It is rather curious that Rick Warren would team up with a man whose fame he owes in part to New Age High Priestess Oprah Winfrey.  Dr. Oz's worldview more closely aligns to New Age Spirituality than to historic orthodox Christianity.  (Source)
It is unlikely that those who are not Christians will recognize the danger in some of the beliefs held by Dr. Oz.  However, the serious Christian should find his fondness for the world of the occult deeply troubling.  Even though Paul makes it perfectly clear in 2 Corinthians 6:1 that believers must not be unevenly yoked with unbelievers, Pastor Warren wasn't the least bit concerned about partnering with a Sufi Muslim.   Without question Muslims reject the God of the Bible, thus they're unbelievers.  Yet he chose Dr. Oz and two other doctors, both of whom are steeped in Eastern mysticism, to collaborate on a "biblical" health and fitness plan.  Sadly, because of Warren's foolhardiness many undiscerning Christians think there's no problem purchasing the products and participating in the pagan practices pushed on the public by the three mystics.
In November 2014, adoring fans learned that their beloved Mehmet admitted to a congressional committee that the "Magic" diet bean that he promoted had no scientific backing. The reason he gave for defrauding the public?  "[H]e's in the business of hope "to get folks to … rethink their future…" (Source)
People, especially evangelicals, need to rethink taking any sort of advice from this man.  Likewise, folks should rethink taking advice from popular pastors who stray from preaching the true gospel of Christ from their pulpits and instead put all their energy into clever plans to make their congregations feel better, look better, and "be all that you can be."
Is it God's will for His people to live "Your Best Life Now"?  A growing number of professing Christians like to think so.  But nothing could be further from the truth.  Anyone who takes time to read/study the Bible will quickly learn that God's will for His people, as long as He allows us to remain here on Earth, is to…… suffer.  (Philippians 1:29;  2 Timothy 3:12;  1 Peter 4:15-19; Acts 14:22)  This could mean mental, physical, emotional, and spiritual.  (Corinthians 4:8)  But, "we know that for those who love God all things work together for good, for those who are called according to his purpose." (Romans 8:28)  And by the way, Christians are not meant to be alone in our suffering.  The Lord's intention is for the church to provide a safe harbor for those who are suffering, a place where we can go and have our needs met, where we can find comfort, peace and rest for our souls.
I'll close with one of many warnings the Apostle Paul passed on to the early Church, a warning that the man who has taken on the task of shepherding Saddleback Church's sheep has failed to take seriously.
Take no part in the unfruitful works of darkness, but instead expose them. (Ephesians 5:11)
Recommended:
Rick Warren and Dr. Oz on Fame and Fitness—video
Rick Warren Publically Called To Repentance For Statements About Uniting With Catholics—Amy Spreeman
The Low Information Evangelical Part 1  Part 2—By Marsha West
Links:
New Age/New Thought "Spirituality"—On Solid Rock Resources
The Occult—On Solid Rock Resources
There was a recent scandal that, as much as anything else, illustrates the intellectual emptiness and moral ennui of the modern liberal man. It occurred in Britain but reflects a wider phenomenon; what can be said about it can be said about happenings in Sweden, France, Holland, Canada or Belgium — or the United States.
It was discovered recently that Muslims in seven London schools were indoctrinating children with Islamic propaganda, ignoring Western culture and refusing to inculcate the "British values" of the moment. The situation was such that all of one school's library books were in Arabic and many students couldn't tell investigators whether they should follow British or Sharia law or which was more important. And one of these schools, mind you, was a state-run Church of England institution — that happens to now be upwards of 80 percent Muslim.
When hearing about the subordination of British law to Sharia and other such Islamic cultural inroads, one of my instincts is to say "So what?" Cry me a river of multiculturalist tears.
Multiculturalism, we've been told, dictates that all cultures are morally equal and deserve the same respect and footing within "Western" civilization. Never mind that the ideology is self-defeating. After all, since different cultures espouse different values, not all cultures can be "morally" equal unless all values are so. This makes multiculturalism not only a corollary of, but also a Trojan horse for, moral relativism. And consider the implications. If all values are equal, how can showing cultures equal respect be superior to cultural chauvinism? And what if another culture does prescribe the latter? It then follows that the people within it cannot both have their own culture, unaltered, and accept multiculturalism.
Nonetheless, since multiculturalism is considered enlightened by Western pseudo-intellectuals, it's time for some personal petard hoisting. A Daily Mail piece on the Londonistan school situation tells us that some students told inspectors "it would be wrong to learn about other religions" and that "it was a woman's job to cook and clean." The paper furthermore reported that schools were criticized for "failure to give girls equal opportunities," narrow curricula, not preparing students "for life in a diverse British society," not encouraging students "to respect other people's opinions" and for creating a situation in which students' "understanding of the fundamental British values of democracy, the rule of law, individual liberty and mutual respect and tolerance, is underdeveloped."
And the problem is…?
What if these Muslims' faith and culture dictate that women should be steered toward domesticity and shouldn't have equal opportunity; that there should be not diversity but Islamic homogeneity; that not all opinions should be respected and that it is wrong to learn about other religions; and that Islamic theocracy is preferable to democracy? And the matter of "tolerance" is an interesting one. Since the term implies a perceived negative — you wouldn't tolerate a delectable meal or fine car, but would have to tolerate a stubborn cold or bad weather — the reality is that tolerance is only admirable under two circumstances:
When something you dislike isn't objectively bad, such as when you tolerate a vegetable you're not partial to for health reasons.
When you're powerless to change something that is objectively bad, such as an irremediable crippling condition.
But if something is objectively wrong and can be eliminated, it is an abdication of moral responsibility to refuse to do so. And has it occurred to anyone that pious Muslims may instinctively realize this and, considering Western culture a misbegotten force (their perspective), view changing it a divine mission?
Be that as it may, given that multiculturalism espouses cultural equivalence and its correlative moral relativism, by its lights none of the bemoaned Islamic curricula standards and outcomes can be any worse than what secularists prefer. So what gives? Are you liberals denying these Muslim immigrants their culture and creed?
You certainly are. But this hypocrisy is nothing new. Multiculturalism has been used for decades, at every turn, as a pretext for denuding Western traditions and Christian symbols and messages from our cultural landscape, using "tolerance" and "diversity" as rallying cries. Even as I write this, a Washington state high-school senior faces expulsion from school for sharing his Christian faith, the idea being that such expression is "offensive." Multiculturalism was always nonsense. "Anything goes" — as long as it's branded "culture" — could never be a recipe for organizing anything because it doesn't allow for distinguishing between anything and any other thing. A standard of some kind must be applied when devising laws, regulations and social codes; and standards, by definition, involve the upholding and imposition of values.
This is why G.K. Chesterton once noted, "In truth, there are only two kinds of people; those who accept dogma and know it, and those who accept dogma and don't know it." Except for leftists possessed of evil genius, most are in the latter camp. Multiculturalism certainly felt right when useful for purging an element of tradition contrary to the liberal agenda; it doesn't quite have the same glitter, however, when it would allow the institution of such an element. Multiculturalism is for use on other people's dogmas; it's not for use on the Left's own.
Now, one pitfall of being a slave to one's age who unknowingly embraces its dogmas is that you generally make the mistake of mirroring. This is when you project your priorities, feelings and basic suppositions onto others; in a nutshell, you assume that they take for granted the things you do.
Consider, for instance, Muslims' subordination of host-country law to Sharia law. Outrageous? Impudent? Perhaps.
Shocking?
In reality, you should expect nothing less — or more.
When pondering this, realize that devout Christians (of which I'm one) are very similar to Muslims in this regard. This statement may raise eyebrows and even some dander, but just consider the recent cases in which Christians have accepted career destruction and punishment rather than be party to same-sex "weddings" or homosexual activism. Why are these Christians opposing the "law of the land"? And what standard informs them man's law is wrong? What standard are they subordinating the law of the land to?
What they see as the only law that could be, and must be, above it: God's law.
This isn't to say Christians and Muslims are the same. They certainly have different conceptions of God's law. And in keeping with this, Christian law generally didn't clash with Western "secular" law — until secularists started holding sway — because our secular law reflected Christian morality; it was authored by Christian men, such as the Founding Fathers, who naturally imbued their system of law with their world view. As an example, the Declaration of Independence enunciates the basis for our constitutional rights, stating that men are "endowed by their Creator with certain unalienable Rights."
The situation with Sharia is far different. Since the tree of Western secular law wasn't germinated from the seed of Islam, it was traditionally and remains today largely incongruent with Muslim principles; thus is a clash, in which Islam will ever try to burn that tree root and branch, inevitable.
Some moderns will now say that this is why no "religious" law should influence society. But not only is this a philosophically unsound position that fails to recognize the basis of just law (Absolute Truth), it also places a person in bad company: The Marxists and Nazis also aimed to neuter the Church and squelch belief in religious law. After all, a devout statist wants the state's law to be pre-eminent; "Thou shalt have no gods before thy government." And this won't happen if people recognize a higher law.
And this recognition is what believing Christians, Muslims and Jews all have in common. It is also why it is silly, in the extreme, to expect Muslims to subordinate Sharia to Western secular law. You are literally asking them to place government ahead of what they see as God. This simply isn't going to happen, and no amount of blather about "tolerance," "diversity" and multiculturalism — which is just another way of saying "Accept our liberal dogmas" — is going to change that. And when the population of believing Muslims becomes great enough in a Western land, they will succeed in Islamizing governmental law.
German chancellor Angela Merkel announced in 2010, finally, that multiculturalism in her country had "utterly failed." Talk about being a biblical day late and a budget deficit short. And she and other Western leaders still don't get it. One can't understand ideologies such as multiculturalism if he views them as disconnected social mistakes; they are all part of a deep philosophical/spiritual malaise. It isn't just that the multiculturalist branch needs to be pruned or even cut off. It's that the devout Muslims are right: the liberal-secularist tree, that Gramscian mutation, must be pulled up and incinerated in the Hell fires whence it came. And it will be. The only question is whether we will return to our roots or allow the complete erasure of Western civilization.
Throughout the de-Christianized West and America neo-pagan and mystical pantheist evolutionary reasoning is taken for granted throughout the college curriculum, just as it is in all aspects of modern thought and experience.  It not only undergirds biological and earth sciences, but also Freudian and Jungian psychology, anthropology, law, sociology, politics, economics, the media, arts, medicine, and all other academic—and increasingly seminarian—disciplines as well. The West's amoral transnational elite Gnostics, the "chosen" ones, are particularly enamored of evolutionary reasoning:
"Western cultural elites have disregarded God for more than two centuries, but for a while the effects were mostly confined to their own circles. At first, they disregarded God. Then they deliberately desecrated Western tradition and lived in ways that would have spelled disaster if they had been followed more closely. But now in the early twenty-first century, their movement from disregard to desecration to decadence is going mainstream, and the United States is only the lead society among those close to the tipping point…. Soon, as the legalization and then normalization of polyamory, polygamy, pedophilia and incest follow the same logic as that of abortion and homosexuality, the socially destructive consequences of these trends will reverberate throughout society until social chaos is beyond recovery. We can only pray there will be a return to God and sanity before the terrible sentence is pronounced: "God has given them over" to the consequences of their own settled choices."  (Renaissance: The Power of the Gospel However Dark the Times, Os Guinness, p. 20)
Evolution: what is it?
"Evolution has always been a fundamentally spiritual concept.  In fact, some of the first thinkers to seriously explore the topic—the German Idealists of the early 19th century—were mystic philosophers who predated Darwin's Origin of Species by at least a century."  (A Brief History of Evolutionary Spirituality, Tom Huston)
Rene Guenon (1886-1951) concurs.  Guenon was a French metaphysician, writer, and editor who was largely responsible for laying the metaphysical groundwork for the Traditionalist or Perennialist school of thought in the early twentieth century.   In his brilliant critical analysis of Theosophy and Spiritism entitled, "The Spiritist Fallacy"  Guenon investigates and exposes the satanic esotericism working through various modern Western secret societies to pervert true religion—orthodox Christianity in particular— in order to ultimately turn the world over to Luciferian forces.
Guenon reveals that in early Theosophist and spiritist circles use of the word 'progress' or 'progressivist' preceded the use of the word 'evolution.' The roots of Theosophy, hence of evolution–the universal life force–stretch back to the ancient Upanishads of India in the East and in the West to ancient Babylon, Egypt and Greece.  In its modern version, progress, transformism, and/or evolution describes the progress (transmigration) of soul made possible by the life force as it inhabits in succession the bodies of different kinds of beings over the course of thousands or even millions and billions of years.
Eventually the word evolution became preferred, especially by empirical realists and materialists like Karl Marx because it had a more 'scientific' allure:
"This kind of 'verbalism'…provides the illusion of thought for those incapable of really thinking…"  (ibid, p. 231)
Evolution is an ancient occult doctrine originating in ancient Babylonian Cabbala, Egyptian Hermetic magic and Mystery Religion traditions both East and West from the time of Babylon—the mother of all Mystery Religions—that entered Christendom during the Renaissance.  In "God and the Knowledge of Reality," the Catholic philosopher and historian, Thomas Molnar (1921–2010), reveals that certain Christian theologians, mystics and scholars such as Emanuel Swedenborg had discovered Hermetic magic and occult Jewish Cabbala texts which they studied and translated resulting in Hermetic Cabbala. Then like Pico della Mirandola, they argued that Hermetic Cabbala— the divine occult science or Magic Way of reaching divine status and powers through initiation, evolution (progress), and ritual procedures is the best proof of the divinity of Christ. In other words said Molnar,
"…..by the time of the Renaissance the esoteric texts of the first centuries A.D. had acquired in scholarly and humanist circles an unparalleled prestige, confronting as equals the texts held sacred by the church. In Pico's estimation, 'nulla est scientia que nos magis certificet de divinitate Christ quam magia et Cabala' (there is no science that would prove for us Christ's divinity better than magic and the Cabala.)" (pp. 78-79)
That Hermetic magic and Babylonian Cabbala are ancient Mystery Religion traditions undergirded by evolution is affirmed by G. H. Pember in his classic work, "Earth's Earliest Ages."    In his impeccably researched book Pember thoroughly examines the role of fallen angels in connection with the occult science they taught to pre-flood generations and compares them to the explosion of spiritism (open intercourse with evil spirits), astrology, the Mysteries and other occult traditions sweeping over Christendom.
Pember writes that the Mysteries are no longer veiled in mystery but boldly presented by the powerful occult progressive brotherhood that emerged out of the Renaissance as the fruit of modern science, especially evolutionary philosophy, which the brotherhood assert was included in the instructions given,
"…to the initiates of the Hermetic, Orphic, Eleusinian, and Cabbalistic mysteries, and were familiar to Chaldean Magi, Egyptian Priests, Hindu Occultists, Essenes, Therapeutae Gnostics, and Theurgic Neo-Platonists." (Pember, pp.243-244)
Today, evolutionary dynamics and science as the instrument of the will of sovereign man has so thoroughly replaced the personal Creator in the consciousness of vast numbers of secularized Westerners, both within and without the whole body of the Christian Church, that one of the leading evolution-worshippers of our day, Professor S.J. Gould, goes so far as to describe evolutionary biology as the story of mankind.  Evolution:
"….tells us where we came from, how we got here, and perhaps where we are going. Quite simply, it is science's version of Roots, except it is the story of us all."   (The Religious Nature of Evolution Theory and its Attack on Christianity, John G. Leslie and Charles K. Pallaghy, Ph.D., creation.com)
In fascinated affirmation, Theodosius Dobzhansky (1900-1975) , a prominent evolutionary biologist and progressive creationist, sees evolution as a light that illuminates all facts, a trajectory which all lines of thought must follow, for if man,
"…has arrived at his present state as a result of natural processes rather than a supernatural will, he can learn to control these processes…The concept of evolution, which is now basic to the life sciences, has provided new and in some ways revolutionary answers to questions men have been asking for centuries. The two most important of these are, 'Why am I here, what is the purpose of human existence, and what is the nature of the world of life that surrounds us?"   (Dobzhansky, T., Ayala, F.J., Stebbins, G.L. and Valentine, J.W., Evolution, W.H. Freeman and Co., San Francisco, 1977)
The most widely held evolutionary cosmology, or model of the universe's beginning and development is the Big Bang theory.   According to this version of the "story of us all" the universe is thought to have 'exploded' from a 'cosmic egg,' sometimes called the ylem in a universe bounded by an edge.  The Encyclopedia Britannica notes that the big bang is a theory,
"…of the evolution of the universe.  Its' essential feature is the emergence of the universe from a state of extremely high temperature and density—the so-called big bang that occurred at least 10,000,000,000 years ago….."(Big Bang Model, The New Encyclopedia Britannica, 15th edition, 2:205, 1992)
The big bang is based on two assumptions:
"The first is that Einstein's general theory of relativity describes the gravitational attraction of all matter.  The second assumption, called the cosmological principle, states that the observer's point of view of the universe depends neither on the direction in which he looks nor on his location.  This principle applies only to the large scale properties of the universe, but it does imply that the universe has no edge, so that the big bang occurred not at a particular point in space but rather throughout space at the same time.  These two assumptions make it possible to calculate the history of the cosmos after a certain epoch called the Planck time.  Scientists have yet to determine what prevailed before Planck time."    (ibid)
Distinctions are in order here. While the first assumption qualifies as true science, the second assumption, sometimes misnamed the Copernican Principle, does not since it is completely metaphysical, or philosophical.  This is illustrated by Edwin Hubble (1889-1953) who discovered that distant objects appeared to have 'red shifts' approximately proportional to distance from earth. Hubble's speculative interpretation of this discovery presented it as evidence of an expanding universe without a center and without an edge (unbounded) as opposed to Hugh Ross, the popularizer of progressive creationism whose own imaginative assumption pictures everything exploding from a central point in a universe bounded by an edge. (Refuting Compromise: A Biblical and Scientific Refutation of 'Progressive Creationism' as Popularized by Astronomer Hugh Ross, Jonathan Sarfati, Ph.D., F.M., p. 146-147)
Ross's brand of evolutionary Christianity is wildly popular among certain Christians.  It was as a teenager that Ross decided the non-biblical big bang was a fact, thus it is the foundation stone of his twisted Scriptures—twisted because his big bang assumptions lead him to trip, stumble and fall down evolution's downward-spiraling vortex blurring distinctions between humans and animals as he goes. (ibid)
The Big Bang is devoid of experimental proof, yet because the universe is definitely running down this fact surely points to some kind of beginning. This is apparently why some Christian leaders–theistic evolutionists and progressive creationists such as Pope Francis, Hugh Ross, Tim Keller and many others who feel we simply have to accept the evolutionists' billions of years— have decided to accept the Big Bang theory. After all, the Big Bang requires a beginning, and they feel this fits with the Bible.  (Big Bang — The Bucks Stop There, Henry Morris, Ph.D., icr.org)
However, not only does the Big Bang—or any other evolutionary cosmology—- not fit into the Bible but it also turns the Creator, Jesus Christ, into a liar, for He said that Adam and Eve were there "from the beginning of the creation" (Mark 10: 6; Gen. 1: 26-27) rather than several billion years after the beginning of the creation as evolutionary speculators hold.
As the Nicene Creed affirms, Gods Word starts with the creation of absolutely everything visible and invisible ex nihilo in the space of six days.  In his "Literal interpretation of Genesis" Augustine of Hippo notes that when God brought material reality into existence, "then time began its flight." That is, when God created material things (the visible), at the same time He created space and time (the invisible) as their context.  (Creator and Creature, Douglas F. Kelly, Table Talk: Biblical Dichotomies, p. 6)
"It is the Spirit who gives life; the flesh (matter) is no help at all" John 6:63
The Triune God brought the angels into being sometime during that first creative week and as Thomas Aquinas, one of the most respected theologians of the medieval church affirms,
"Nothing entirely new was afterwards made by God, but all things subsequently made had in a sense been made before in the work of the six days.  Some things…had a previous experience materially, as the rib from the side of Adam out of which God formed Eve; whilst others existed not only in matter but also in their causes, as those individual creatures that are now generated existed in the first of their kind."   (Summa Theologica, ibid, Sarfati, p. 120)
Evolutionary Cosmologies: Imaginative Assumptions
George Francis Rayner Ellis, a high-profile evolutionary cosmologist lets the cat out of the bag with his candid confession regarding the important role of imaginative assumptions with respect to the broad range of evolutionary models of the universe such as the Big Bang. Ellis admits:
"…I can construct…a spherically symmetrical universe with earth at its center, and you cannot disprove it based on observations."   "You can only exclude it on philosophical grounds.  In my view there is absolutely nothing wrong in that.   What I want to bring into the open is the fact that we are using philosophical criteria in choosing our models.  A lot of cosmology tries to hide that."  (ibid, Jonathan Sarfati)
In other words, the Authority and Revelation of God, particularly in His six day creation account is rejected a priori not on the grounds of observational science but on the philosophical assumptions of arrogant, defiant speculators whose imaginative evolutionary models are metaphysical projects pretending to be observational science.
Another unspoken Big Bang assumption is neo-pagan and mystical pantheist naturalism, which ought to ring alarm bells for faithful, orthodox Christians.   Naturalism posits that the universe and everything in it, including conscious life, is the result of entirely natural processes.  The Big Bang therefore, is a neo-pagan and occult pantheist evolutionary cosmology, an esoteric program from hell that rejects both the personal Creator and the supernatural dimension.  This position holds true despite the uninformed claims of speculators like Hugh Ross who claim that God created and ignited the Big Bang.
While Pope Francis, Tim Keller and many other liberal revisionists embrace and endorse Big Bang cosmology thirty-three leading evolutionary scientists expose its frauds and fallacies in 'Open Letter to the Scientific Community' published on the internet (www.cosmologystatement.org) and in New Scientist (Lerner, E., Bucking the big bang, New Scientist 182 (2448) 20, 22 May 2004).  According to these evolutionary scientists:
"Our ideas about the history of the universe are dominated by big bang theory. But its dominance rests more on funding decisions than on the scientific method, according to Eric Lerner, mathematician Michael Ibison of Earthtech.org, and dozens of other scientists from around the world." (Secular scientists blast the big bang: What now for naïve apologetics? Carl Wieland, creation.com)
The open letter includes statements such as:
"The big bang…relies on a growing number of hypothetical entities, things that we have never observed—inflation, dark matter and dark energy are the most prominent examples. Without them, there would be a fatal contradiction between the observations made by astronomers and the predictions of the big bang theory.'
"But the big bang theory can't survive without these fudge factors. Without the hypothetical inflation field, the big bang does not predict the smooth, isotropic cosmic background radiation that is observed, because there would be no way for parts of the universe that are now more than a few degrees away in the sky to come to the same temperature and thus emit the same amount of microwave radiation. … Inflation requires a density 20 times larger than that implied by big bang nucleosynthesis, the theory's explanation of the origin of the light elements."
"In no other field of physics would this continual recourse to new hypothetical objects be accepted as a way of bridging the gap between theory and observation. It would, at the least, raise serious questions about the validity of the underlying theory."
4."What is more, the big bang theory can boast of no quantitative predictions that have subsequently been validated by observation. The successes claimed by the theory's supporters consist of its ability to retrospectively fit observations with a steadily increasing array of adjustable parameters, just as the old Earth-centred cosmology of Ptolemy needed layer upon layer of epicycles." (ibid, Carl Wieland)
It's amazing to see how many Christian leaders have not merely succumbed to the 'big bang' idea, but embrace it wholeheartedly.  Carl Wieland comments:
"To hear their pronouncements, believers should welcome it as a major plank in our defense of the faith. 'At last, we can use science to prove there's a creator of the universe.' However, the price of succumbing to the lure of secular acceptability, at least in physics and astronomy, has been heavy. We have long warned that adopting the big bang into Christian thought is like bringing the wooden horse within the walls of Troy." 
The Big Bang model is not the only game in town.  Among other imaginative models there is the quasi-steady-state model of the big bang antagonist, the late Sir Fred Hoyle.  Then there is the ekpyrotic model positing that our universe is a four-dimensional membrane embedded in a five-dimensional 'bulk' space.  Its proponents admit:
"Our proposal is based on unproven ideas in string theory and is brand new." (ibid, Sarfati, p. 182)
Then there are the openly occult multiverse models proposing that our universe is not the only one but that space is filled with an infinite number of parallel universes.  Royal Astronomer Lord Martin Rees, who holds the honorary title of Astronomer Royal champions multiverse conceptions in the hope that in at least one or more of them living beings created themselves who are far more advanced than our own life-forms. Rees believes that if this is the case, then super-intelligent aliens might be capable of simulating in their brains or in a super-computer the complex history of our universe, meaning the universe we inhabit is a simulation lacking real substance and existing only as a mental construction in the minds of highly evolved aliens who seeded our world with life and travel through time in order to control man's evolutionary progress. (Scientific Mythologies, James A. Herrick, p. 216)
The idea that the universe we inhabit exists only as a mental construction is very similar to Hinduism's Brahman. Brahman is the Great Cosmic Spirit – the Ultimate One Substance (energy field, Void, Essence, prakriti matter) of material phenomena, meaning that the universe exists only as a mental construction in the mind of Brahman: brahma satyam jagan mithya, or "Brahman is real, the world is unreal." (swamij.com/mahavakyas)
Rees proposal is also similar to the fanciful hypothesis presented by Olaf Stapledon, a scientist who has always kept one foot firmly planted in neo-pagan and occult pantheist science fiction accounts and imagines our universe to be an artifact of the Star Maker. Building off of Stapledons fantasy Carl Sagan suggests that we are"star folk" made of "star stuff." (Herrick, pp. 216-217)
Replace Star Maker with Brahman and "star stuff" with sarvam khalvidam brahma, or "All is truly Brahman" (swamij.com) and we have ayam atma brahmam: "The Self is Brahman." (Brihadaranyaka Upanishad 4.4.5
In the caption of his book, "Just Six Numbers," Rees reveals that the ancient occult basis of his proposition is the serpent biting its tail:
"The ouraboros. There are links between the microworld of particles, nuclei and atoms and the cosmos." (Rees M., Just Six Numbers, P. 9)
The serpent-powered Ouroboros with its astral planes or multiverses is well-known around the world in its' many ancient and modern occult traditions.
Evolutionary Cosmologies:  Abominations that Desolate
Like witless moths mesmerized by strange fire, from the Renaissance to our own time liberalized Christian theologians situated within the whole body of the Christian Church have been drawn irresistibly to evolution.   Followed by countless unwitting souls, they've been flying into an abomination that desolates and ejects them into a downward-spiraling vortex issuing into eternal hell unless they repent and turn back to the Truth, the Way, and the Life (John 14:6).
Evolutionary Cosmologies: The Significance
Today's broad range of evolutionary cosmologies symbolize the deep religious desires of certain men, who in their rejection of our Lord Jesus Christ and physical resurrection, seek autonomous self-creation, transcendence and self-redemption, thus are incarnations,
"….of the ancient, deeply religious endeavor 'to become like God'— infinitely wise, omnipotent, autonomous, and immortal." (Mircea Eliade, "The Forge and the Crucible: The Origins and Structures of Alchemy," Dr. Erdmann)
They endeavor to become like God but shall instead,
"…drink of the wine of the wrath of God and be tormented with fire and brimstone." (Rev. 14:10)  And the devil who deceived them shall likewise be "thrown into the lake of burning sulfur…" (Rev. 20:10)
Norman Rockwell's America carried incredible nostalgia for the way this country once operated.  "Father Knows Best" captured our understanding of "family" in America.  Jackie Gleason on the "Honeymooners" along with Andy Taylor and Barney Fife instilled our mutual belonging.  Bill Cosby brought us together with the "Cosby Show."  Everyone spoke English and everyone enjoyed employment and hope.
From the 50s to the 70s, most people worked a job, our Congress made laws to ensure our well-being along with a viable nationhood.  Even with our racial strife, women's rights, gay rights and battles over Roe vs. Wade—America allowed every citizen the right to pursue "Life, liberty and the pursuit of happiness."
After my latest bicycle journey across America this summer, we unknowingly bear witness to the greatest racial and demographic shift ever self-inflicted on one country in the history of the world.  By 2042, the Pew Research Center reports that the current European-American majority (down from 90 percent in 1960 to 54 percent in 2014) faces the new Latino majority within 28 years.  All of it created by endless legal and illegal immigration.
During the next 36 years, Americans face an added 100 million legal immigrants from 150 countries around the globe.  They stream into America at blinding speed via our invitations, chain migration and birth rates.  How can we equate adding 100 million immigrants?  Answer: that number equates to doubling the size of our 25 most populated cities.  It means New York City jumps from 8.3 million to 16.6 million, Chicago from 5.1 million to 10.2 million and on down the line.
What does such an immigration invasion mean to our communities?  Our way of life?  Our quality of life?  Our standard of living?  Our environment?  Our educational systems?
Answer:  as the numbers rise to that 100 million level, everything in our society degrades, devolves, degenerates and worsens.
You cannot stop a fire by spraying gasoline on it.  You can't solve California's drought or wildfires by adding another 20 million foreigners to that state via immigration.  We cannot EVER catch up to exponential growth because it outruns our ability to solve its endemic and systemic consequences.
And, oxymoronically, we can't solve our predicament by passing S744 Amnesty Bill that doubles legal immigration to 2.0 million annually.
What's the final equation?  Since I traveled through dozens of third world countries in the last 40 years, I noticed they couldn't solve their problems, either.  They face(d) horrific food and water contamination, disease and shortages.  Just look at Ebola in Africa along with AIDS that killed 15 million thus far.  Their citizens face endless illiteracy because they can't install a viable educational system. They face conflict over resources.
As you notice in such areas as Iraq, Afghanistan, Haiti, Mexico, Brazil, China, India, Bangladesh, Indochina, Congo, Ethiopia, Somalia and dozens of other countries—you see continual religious, resource, food and water conflicts.
That's where the United States of America steams.  You can see it in our ethnic conflicts today whether Ferguson, MO riots, Chicago featuring 50 gun fights over the 4th of July weekend, black on black killings into the tens of thousands over the past several decades, 76 percent dropout/flunkout rates for Detroit public schools, which creates over 60 percent illiteracy rates.  Illiteracy remains the key indicator of a third world country.  Once it takes hold, it becomes intractable.
One look at our welfare system shows 68 percent of African-American children reared by a single mother on welfare.  We feed 48 million Americans and non-Americans with EBT or food stamps.  We see a complete breakdown of our middle class with no way to fight joblessness, futility or obesity caused by illiteracy.  Right now, obesity explodes as a national epidemic of health care nightmares for our citizens.
Question: how do you think any of our current sociological, environmental, water, energy, racial and growing religious strife can or will get better.  With those 100 million legal immigrants, you may expect to see an increase of Muslims in our country from 7.5 million to well over 20-30 million by 2050.  Sociologists reported that once Islam reaches 8 percent of the host nation's population, they become violent, arrogant and use the system to back the host country down to agree to Sharia Law. Notice the riots in Sweden and two separate London's. Look at France's nightmare.  Sharia law stands against every Western sensibility for women's rights, gays' rights, free speech, education, marriage choices and religious choice.  Note that hundreds of Muslim-Americans signed up to join terrorists groups in the Middle East.   What happens when they turn their terror toward us?
Australia discovered a major plot fomented by citizen Muslims to commit beheadings in the streets of Sydney this summer. If you think I am kidding, watch this short video:
Published on Sep 18, 2014: More than 800 Police in Australia have carried out anti-terror raids in Sydney (12 suburbs) sparked by intelligence reports that Islamic extremists were planning random killings (beheadings) in Australia:https://www.youtube.com/watch?v=V0ctrDnM__4
Additionally, look for three major languages to create major chaos and loss of our national ethos in the coming decades. Look for linguistic confusion and separation from being a citizen of the United States because you speak Arabic, Spanish or English.  In the end, we face becoming a nation of strangers.
What solutions might we enact to save ourselves?
Immediate reduction of all legal immigration to less than 100,000 annually instead of the current 100,000 every 30 days from 150 countries around the globe.
Immediate enforcement of our current work, rent and transport laws against employers of anyone illegally in the USA.
Immediate discussion on "60 Minutes"; "Face the Nation" ; "Meet the Press" ; Charlie Rose; NBC, CBS, FOX, ABC, CNN, Bill O'Reilly, Wolf Blitzer, Shepard Smith, Megyn Kelley and all talk radio shows on how many people can our country hold and what's the point of adding another 100 million foreigners when we already face enormous problems with what we currently hold.
Millions of Americans need to join www.NumbersUSA.org; www.CapsWeb.org and www.Fairus.org and www.TheSocialContract.com in order to grow you strength via collective empowerment.
Otherwise, we keep heading where we're headed. And, we'll end up just like any third world country.  Crowded, scant opportunities, lack of education, water shortages, energy crisis, religious conflict, environmental degradation and worse.  It's inevitable if we fail to stop mass immigration.  I am amazed that I am the only US journalist who sees this monster so clearly, yet I see no national movement to stop it.  Result: we doom our kids to a very sobering future of a fractured and fragmented civilization that cannot right itself.
Who Benefits?
Everyone agrees that the sniper attack in Ukraine which started the regime change was a false flag attack.
Eric Zuesse claims false flags are continuing to this day in Ukraine:
Writing at professorsblog.com, this great historian, Dr. de Noli, noticed that whereas in "Berlin 27 Feb 1933, Nazis set fire the Reichstag, and Adolf Hitler blames 'pro-Russian gangsters'," a chief instigator of the 22 February 2014 Ukrainian coup was a leading Swedish nazi, Sweden's Foreign Minister Carl Bildt, and that a remarkably similar tactic was used by Bildt and the Obama Administration to start the Ukrainian civil war. De Noli notes that this war was sparked and made inevitable when in "Odessa 2 May 2014, nazis set fire [to the Trade] Union building and Carl Bildt blames 'pro-Russian gangsters'." In both of the two instances (first, with Hitler, and then with Obama), a "false-flag operation" was employed in order to confuse onlookers regarding which side the perpetrators of these fires and explosions actually were on. For example, in the Odessa event, the thugs wore armbands with anti-nazi insignia but were actually from the two Ukrainian nazi parties, Svoboda and Pravy Sektor. They used those armbands in order to confuse onlookers to think that the people who were setting fire to the anti-nazis were themselves anti-nazis. This was a very carefully planned operation, and you can see here and here, video documentation of the thugs who did it and who are still doing violent false-flag operations inside Ukraine: these people are Ukrainian nazis, not German ones, but they model themselves upon the German original, as you can see from their own insignia, which are shown in those videos, and which insignia vary little from the swastika and the SS symbol. Ukraine's nazis are rather bold about modeling themselves upon Hitler's Nazis — the original nazis.
False flag attacks have been carried out by countries all over the world … including Russia.
Was the murder of 300 innocent passengers when their plane was shot down today a false flag? If so, who did it?
CBS reports in an article entitled "'Big Question' Is Why Plane Was Flying Over War Zone":
During a phone interview with CBS News Thursday morning, Captain Capt. Chesley "Sully" Sullenberger was questioned why Malaysia Airlines flight 17 would be flying over Ukraine's border with Russia despite ongoing political unrest in the area.

Sullenberger, the veteran of the 2009 Miracle on the Hudson landing, is an aviation expert for CBS News….

"That is one of the big questions right now," said Sully. "The U.S. Federal Aviation Administration has barred U.S. Airlines from flying over this area for some time."

***

The Danville resident said that, if air traffic control personnel were using both primary and secondary radar, it's possible that an image of a missile could have been captured on screen, if in fact that is what took down the plane.
The Atlantic -in a report titled, "The FAA's Notice Prohibiting Airline Flights Over Ukraine" – notes:
Did aviation authorities know that this was a dangerous area?

Yes, they most certainly did. Nearly three months ago, on the "Special Rules" section of its site, the U.S. Federal Aviation Administration put out an order prohibiting American pilots, airlines, charter carriers, and everyone else over whom the FAA has direct jurisdiction, from flying over parts of Ukraine.
Zero Hedge asks:
Who diverted Flight MH-17 over restricted airspace
Who benefits?
Tony Cartalucci argues:
Russia's strongest card thus far has been its restraint and NATO's inability to implicate it in the chaos NATO itself started by backing armed Neo-Nazis during the "Euromaidan" of late 2013-early 2014. Russia surely would not throw that card away to pass along weapon systems to fighters that were already successfully downing Ukrainian military aircraft with man-portable missiles.

Russia and the fighters operating in eastern Ukraine have nothing to gain by downing a civilian airliner, but absolutely everything to lose – thus pointing the finger in another direction – that of NATO and their proxy regime in Kiev. That the downed aircraft is yet another Malaysian Boeing 777 – the second one this year to be lost under extraordinary circumstances – has serendipitously gained maximum attention for propagandists across the West. They have the world's full and undivided attention with which to pin the blame on Russia and anti-Kiev fighters in eastern Ukraine.

The impetus necessary to unite Europe and other Western allies behind NATO and the US for a more direct intervention in Ukraine where the West is currently floundering is now consuming headlines around the world. If the downing of MH17 was not a case of tragic misidentification, then answering the first question of any investigation, cui bono – or to whose benefit – is answered resoundingly with, "NATO."
[…]
Source: Infowars
It's no longer easy to be a faithful Christian in America, says Dr. Robert P. George, chairman of the U.S. Commission on International Religious Freedom.  Our culture increasingly condemns Christian beliefs as bigoted and hateful: 
 
"They despise us if we refuse to call good evil and evil good." (American Christians Should Prepare to Be Despised, Official Tells National Prayer Breakfast, Rob Kerby, ChristianHeadlines.com, May 15, 2014) 
 
The Princeton University professor and author told Washington, D.C.'s 10th annual National Catholic Prayer Breakfast that American culture no longer favors faithful Christians. For example, he asked attendees to consider, 
 
"….the derision that comes from being pro-life and pro-traditional marriage (they) threaten us with consequences if we refuse to call what is good, evil, and what is evil, good. They demand us to conform our thinking to their orthodoxy, or else say nothing at all…"  
 
Dr. George told the prayer breakfast: 
 
"The intimidation to remain silent is insidious and growing…what American Christians are facing is the 21st century version of the question, 'Am I ashamed of the Gospel?"   
 
If anything, some evolutionary theologians and their gullible Christian flocks, both evolutionary theist and progressive creationist, are at least as hostile if not more so toward faithful defenders of the miracle of Special Creation than are their evolutionary atheist and occult pantheist counterparts: Luciferians, god-men, goddesses, shaman, Satanists, witches, necromancers, and astrologers. 
 
The usual diatribe thrown against altogether despised creationists goes something like this:  
 
Since Darwin introduced the theory of evolution some Christians have been uncomfortable with the idea that all species (i.e., reptiles, birds, bugs, dogs, apes, humans) share a common ancestry moving from primordial matter to creeping things, crawling things, swimming things, knuckle-dragging things to man under the direction of the God of evolution.   Thus the Earth was not created instantaneously as St. Augustine held or created in six days as most early Church Fathers affirmed. Nor was Adam created by the One God in three Persons as a living soul embodied in flesh, fully person, fully man right from the beginning.   Adam and Eve, if they even existed were emergent products of evolution, their closest relative soulless hominids.  Thus the events described in Genesis are not meant to convey the miraculous creation ex nihilo but the scientific 'reality' that the universe has an impotent creator that made and ignited a Cosmic Egg (Big Bang) which generated matter and energy. Then after billions of years of God-directed evolution eventuating in the suffering and death of millions of life-forms (God's fault, btw) man inexplicably fell from grace even though God is the guilty party, the real cause of death and suffering.  
 
According to this counter-intuitive Gnostic-laced tale of nonsense, evolutionary science, not God's Revelation, is a reality in nature explainable by reason and empirical observation and faithful Christians who deny this are in denial of reality.  Faithful Christians who actually affirm the Revelation of God and Special Creation are guilty of defending the backwards, anti-scientific, anti-evolution 'fundamentalist' interpretation of the book of Genesis thus are not only a cause of embarrassment to fashionably-correct, scientifically enlightened Christians, but are also guilty of harming Christianity. (Creationism Harms Christianity, sacerdotus.wordpress.com) 
 
However, it isn't faithful Christians who are 'embarrassments' but rather intellectually arrogant evolution-obsessed theologians.  These wolves in sheep clothing mesmerize and persuade susceptible Christian sheep to uncritically accept dangerous esoteric ideas like evolution.
 
 With respect to Darwin's theory, Darwin is not its' inventor. He received the idea from his nature-worshipping pagan grandfather Erasmus Darwin, an important name in European Masonic anti-Christian Church organizations engaged in destructive revolutionary activism. Erasmus mentored his grandson Charles: 
 
"Dr. Erasmus Darwin (1731-1802) was the first man in England to suggest those ideas which were later to be embodied in the Darwinian theory by his grandson, Charles Darwin (1809-1882) who wrote in 1859 Origin of Species." (Scarlet and the Beast, Vol. II, John Daniel, p. 34) 
 
According to anthropologist Henry Fairfield Osborn, longtime director of the American Museum of Natural History, ancient pagans are the inventers of modern evolutionism. In the introduction to his history of evolutionism Osborn wrote:
 
 "When I began the search for anticipations of the evolutionary theory….I was led back to the Greek natural philosophers and I was astonished to find how many of the pronounced and basic features of the Darwinian theory were anticipated even as far back as the seventh century B.C." (Osborn, From the Greeks to Darwin, p. xi) 
 
By its' nature evolutionism belongs to the category of naturalism (all that exists is nature or cosmos), making it antithetical, or in fierce opposition to the infinite Triune God, the supernatural dimension and special creation.  The personal Triune God is outside of His creation—the natural dimension of space, time, matter and energy—thus He is not subject to the laws of science: 
 
"….science has no satisfactory answer to the question of the origin of life on the earth. Perhaps the appearance of life on the earth is a miracle. Scientists are reluctant to accept that view, but their choices are limited: either life was created on the earth by the will of a being outside the grasp of scientific understanding, or it evolved on our planet spontaneously, through chemical reactions occurring in nonliving matter lying on the surface of the planet. The first theory places the question of the origin of life beyond the reach of scientific inquiry. It is a statement of faith in the power of a Supreme Being not subject to the laws of science. The second theory is also an act of faith. The act of faith consists in assuming that the scientific view of the origin of life is correct, without having concrete evidence to support that belief." (Until the Sun Dies, Robert Jastrow, Ph.D. Theoretical Physics, pp. 62-63, 1977) 
 
Only by conceptually murdering the supernatural Triune God and replacing Him with a 'god' within the natural dimension (naturalism), thus subject to scientific inquiry, can intellectually arrogant theologians presume to speak for god, claiming that he made and exploded a Cosmic Egg and directs evolutionary transformism together with the rest of their twisted theology dressed in Christian clothing.
 
 As an idea evolution is like an onion consisting of multitudinous layers of esoteric meaning.  Darwin's theory occupies two or three layers. The many other layers already existed prior to Erasmus going back to the Renaissance and before that to ancient Chaldea and India thence to ancient Greece and Rome where evolution is always and everywhere connected to reincarnation and spiritual evolution (transformism).    
 
On ancient pagan conceptions of reincarnation and spiritual evolution early Church Father Gregory of Nyssa said: 
 
"[I]f one should search carefully, he will find that their doctrine is of necessity brought down to this. They tell us that one of their sages said that he, being one and the same person, was born a man, and afterward assumed the form of a woman, and flew about with the birds, and grew as a bush, and obtained the life of an aquatic creature—and he who said these things of himself did not, so far as I can judge, go far from the truth, for such doctrines as this—of saying that one should pass through many changes—are really fitting for the chatter of frogs or jackdaws or the stupidity of fishes or the insensibility of trees" (The Making of Man 28:3; A.D. 379).  
 
Evolution appeared in Christendom during the Renaissance when certain Christian theologians, mystics and scholars such as Emanuel Swedenborg had discovered Chaldean astrology, Hermetic magic, occult Jewish Kabbalah, Eastern mystical traditions and the ancient ways of 'going within' (contacting spirits).  All of this was accompanied by conceptions of reincarnation and spiritual evolution.  They studied these ancient occult traditions which they translated resulting in Hermetic Kabbalah. Then like Pico della Mirandola, they argued that occult hermetic science – the divine technology or Magic Way of reaching divine status and powers through ritual procedures and spiritual evolution is the best proof of the divinity of Christ.  (God and the Knowledge of Reality, Thomas Molnar, pp. 78-79) 
 
Father Richard John Neuhaus pulls all of these occult traditions together in his analysis of modern evolutionary scientism as a revitalization of ancient spiritual traditions closely connected to elemental spirits. In his book, "American Babylon," Neuhaus argues that astrological elemental spirits (powers and principalities) have been recast as, 
 
"…evolutionary dynamics, life forces, or laws of nature." Though described as laws rather than spirits, these elemental "forces"…. work their inexorable ways in cold indifference to reason, to will, to love, and to hope. In short, it is suggested that the elemental spirits are in charge and that human freedom is a delusion." (p. 226)
 
 Despite that modern evolutionary theologians validate their esoteric projects as empirical or observational science in reality observational science is their enemy.   For instance, evolutionary theology alleges that hominids are supposed to be our ancestors, the so-called transitional life-forms linking modern humans to the common ancestor of all life.    
 
However, the hominid claim has fallen flat on its' face, said Carl Wieland. In "Making Sense of Apeman Claims," Wieland reports that a consistent pattern has emerged in direct opposition to the evolutionary story.  Over the decades, each new fossil find has been falling quite naturally into one of only three major groups.    And two of these, Neanderthal and Homo erectus turn out to be strikingly similar, in fact, Neanderthals are "clearly human descendants of Adam." (Creation, Vol. 36, No. 3, 2014, p. 38)
 
 Although the third category generates the most excitement among evolution-worshippers it turns out to be an extinct non-human primate group, anatomically not between apes and humans.    
 
Sequencing of Neanderthal DNA clearly shows interbreeding with modern populations, particularly those from Eastern Europe, meaning that Neanderthals are not a separate species, despite evolutionary claims that they split off from the human lineage 500,000 years ago.  This evidence is a major blow to evolutionary theist and "progressive" or "old-earth creationist notions." (p. 38). 
 
It is because evolutionary 'old-earth' theologians reject what God said in favor of what man said, their starting point is fallible secular dating, hence they, 
 
"….must regard Neanderthals as pre-Adamic soulless nonhumans despite all the archaeological evidences of their humanity.   But DNA now makes this completely dead in the water, having children together means they must be the same created kind."  (pp. 38-39) 
 
Among the scientifically affirmed finds showing that Neanderthals were human are: 
 
1. Stone tools and specialized bone tools for leatherworking. 
 
2. The controlled use of fire, including heating birch bark peelings to make special pitch to haft wooden shafts onto stone tools. 
 
3.  Perfectly balanced, finely crafted wooden hunting javelins. 
 
4. Jewelry 
 
5. Evidence of body decorations and cosmetics. 
 
6. Burying their dead with ornaments. 
 
7. Cooking utensils and the use of herbs in food. 
 
8. Symbolic thinking 
 
9. High-tech 'superglue' 
 
10. A complex structure built 1 mile underground where no daylight penetrates suggests the technology and know-how to transport sustained fire as a source of light that far down. 
 
11. Evidence of dwellings made of timber draped with animal skins 
 
12.  Recent detailed analysis of hyoid bone (associated with the voice box) indicates they could speak, as does recent genetic evidence.  (ibid, Wieland) 
 
"For he spoke and they were made: he commanded and they were created." Psalm 33:9  
 
Either the infinite personal One God in three Persons spoke or He did not. If He did, then Jesus is God in the flesh, the Creator and Living Word (John 1: 1-5) the Light that came into the world (John 3: 1-9) who perfectly fulfills all prophecy from the antediluvian world to the post-flood world: 
 
"And he said: I am the God of thy father, the God of Abraham, the God of Isaac, and the God of Jacob. Moses hid his face: for he durst not look at God."     Exodus 3:6 
 
If the One God in three Persons spoke then what He revealed to Moses with respect to the miracle of creation is thesis (True Truth), making evolution antithesis (the lie).  The faith of the Christian Church and of the average Christian has had, and still has, its foundation as much in the literal and historic elements of Genesis, the book of beginnings revealed 'mouth to mouth' by the Angel to Moses, as in that of the person and deity of Jesus Christ.  
 
The Return of an Ancient Heresy  
 
The primary tactic employed by defiant, intellectually proud theologians eager to accommodate Scripture and the Church to modern science and pagan evolutionary thinking is predictable. It is the argument that evolution is entirely compatible with the Bible when Genesis, especially the first three chapters, is viewed in its entirety in a non-literal, non-historical context. This is not a heresy unique to modern times. The early Church Fathers dealt with this heresy as well, counting it among the heretical tendencies of apostate Jewish Cabbalists, Origenists and Gnostic pagans such as Simon Magus. 
 
Fourth-century Fathers such as John Chrysostom, Basil the Great and Ephraim the Syrian, all of whom wrote commentaries on Genesis, specifically warned against treating Genesis as an unhistorical myth or allegory. John Chrysostom strongly warned against paying heed to these heretics, 
 
"…let us stop up our hearing against them, and let us believe the Divine Scripture, and following what is written in it, let us strive to preserve in our souls sound dogmas." (Genesis, Creation, and Early Man, Fr. Seraphim Rose, p. 31)
 
 As St. Cyril of Alexandria wrote, higher theological, spiritual meaning is founded upon humble, simple faith in the literal and historic elements of Genesis as Revealed by God and one cannot apprehend rightly the Scriptures without believing in the historical reality of the events and people they describe. (ibid, Seraphim Rose, p. 40) 
 
In agreement, Vishal Mangalwadi (1949- ), founder-president of BOMI/Revelation Movement observes that the Revelation of God is the only available foundation for truth, freedom and faith in God's gift of reason.  But Western theologians and intellectuals have closed their minds to Revelation, hence Truth, reason and Special Creation.  Because "intelligent" Americans no longer believe in "True Truth" (Francis Schaeffer) they invent stories and use empty god words as substitutes for the infinite, personal Triune God.  Thus Gospel Truth is now 'Gospel Story' and history a series of unfolding stories such as the physical science story (Big Bang) which may or may not include the use of a god-word; the biological science story (evolutionary transformism), the climate science story (global warming or change), and the social science story (gay marriage): 
 
"Doing science" increasingly means peddling politically correct dogma – that is, stories that have evolved into myths. No one really knows if there was only one Big Bang or other bigger bangs as well; whether we live in a universe or multi-verse; whether life evolved on this planet or came from outer space . . . but if you want a tenured position in a university, and if you want your research projects funded, you have to toe politically correct storyline – champion dogma."  (How Did the West's 'Rational Animal' Become Incapable of Using Reason? Mangalwadi) 
 
The abandonment of God's Revelation in favor of story-telling   
 
Christendom and Protestant America did not emerge from the darkness of story-telling and god-words but arose to illustrious heights on the awe-inspiring wings of the Revelation of God, hence the Genesis account of creation ex nihilo, the uniquely Christian definition of man as a person because created in the spiritual image of the infinite One God in three Persons, God's unchanging Moral Law and the Biblical view of man's sinful condition. Their subsequent fall was traced by Richard Weaver in his book, "Ideas Have Consequences" (1945). 
 
Weaver writes that 14th century Western man had made an "evil decision" to abandon his belief in the transcendent Triune God, His Revelation and unchanging universals, thus the position that "there is a source of truth higher than and independent of man…" The consequence of this 'evil decision' is a still unfolding catastrophe reaching fullness in our own time: 
 
"The denial of everything transcending experience means inevitably…the denial of truth. With the denial of objective truth there is no escape from the relativism of 'man is the measure of all things." (The Conservative Intellectual Movement in America, George H. Nash, pp. 32-33) 
 
The substance of 'man is the measure of all things' is idolatry.  The beginning of idolatry is pride (narcissism), which together with selfishness demonstrates preference for one's self instead of the Triune God, His Revelation (hence 'True Truth') and neighbor (and unwanted, inconvenient human life, i.e., babies).  Just as no violation of the Law can occur without one first being an idolater, envy/covetousness and murder are its' final results, for where 'self' is primary then 'self' deserves everything it can get, no matter the cost to other people.   
 
The fall of the West and America is due to the idolatry of darkened souls turned by choice toward evil.  From the antediluvians to our own age, the truth as to this evil said Athanasius, 
 
"….is that it originates, and resides, in the perverted choice of the darkened soul" which, "materialized by forgetting God" and engrossed in lower things, "makes them into gods," and thereby "descends into a hopeless depth of delusion and superstition," whereby "they ceased to think that anything existed beyond what is seen, or that anything was good save things temporal and bodily; so turning away and forgetting that she was in the image of the good God, she no longer… sees God the Word after whose likeness she is made; but having departed from herself, imagines and feigns what is not (and then) advancing further in evil, they came to celebrate as gods the elements and the principles of which bodies are composed…."(Against the Heathen, New Advent) 
 
Having descended into delusion and superstition darkened souls imagined that "all that exists" is the natural dimension, meaning the universe of matter, animated powers, forces, and deterministic laws, all of which they celebrated and attributed miraculous powers to just as modern evolution worshippers do, whether secular or theological: 
 
"There is an energy in the world, a spark, an electricity that everything is plugged into. The Greeks called it zoe, the mystics call it 'Spirit,' and Obi-Wan called it 'the Force'…..This energy, spark, and electricity that pulses through all of creation sustains it, fuels it, and keeps it growing. Growing, evolving, reproducing…" (Love Wins, Rob Bell, pgs. 144-145) 
 
Evolutionary scientism is not observational science in search of how things really work in this world but rather a disastrous occult science tradition whose taproot stretches back to Babylon and before that the pre-flood world.   The 'Christian' teachers and defenders of this demonic heresy are guilty of leading unwitting sheep astray, possibly to their doom, and of besmirching and defaming faithful defenders of special creation as backwards, anti-science, anti-evolution destroyers of the faith.   However, in reality creationists are the defenders of thesis (True Truth) against the damnable incursion of antithesis (occultism) into the good news, the Gospel of Christ. 
 
 In this light, what are vicious attacks against Special Creation as well as those against the sanctity of human life, and traditional one man one woman marriage but evil wills offended by and resentful of Higher Authority, True Truth, 'other' (unwanted, inconvenient human life) and moral restrictions and limitations? 
 
"For whoever shall be ashamed of me and of my words, of him shall the Son of man be ashamed, when he shall come in his own glory, and in his Father's, and of the holy angels."    Luke 9:26 
 
Who are the intolerant ones, the highly offended because ashamed of our Lord and his words?  Who are the selfish, intellectually arrogant story-tellers whose embarrassing doctrine of change (evolution) is "really fitting for the chatter of frogs or jackdaws or the stupidity of fishes or the insensibility of trees"'?   
 
Hint:  Not Creationists or any of the faithful. 
Edward Snowden…
Is Edward Snowden a radical? The dictionary defines a radical as "an advocate of political and social revolution", the adjective form being "favoring or resulting in extreme or revolutionary changes". That doesn't sound like Snowden as far as what has been publicly revealed. In common usage, the term "radical" usually connotes someone or something that goes beyond the generally accepted boundaries of socio-political thought and policies; often used by the Left simply to denote more extreme than, or to the left of, a "liberal".
In his hour-long interview on NBC, May 28, in Moscow, Snowden never expressed, or even implied, any thought – radical or otherwise – about United States foreign policy or the capitalist economic system under which we live, the two standard areas around which many political discussions in the US revolve. In fact, after reading a great deal by and about Snowden this past year, I have no idea what his views actually are about these matters. To be sure, in the context of the NBC interview, capitalism was not at all relevant, but US foreign policy certainly was.
Snowden was not asked any direct questions about foreign policy, but if I had been in his position I could not have replied to several of the questions without bringing it up. More than once the interview touched upon the question of whether the former NSA contractor's actions had caused "harm to the United States". Snowden said that he's been asking the entire past year to be presented with evidence of such harm and has so far received nothing. I, on the other hand, as a radical, would have used the opportunity to educate the world-wide audience about how the American empire is the greatest threat to the world's peace, prosperity, and environment; that anything to slow down the monster is to be desired; and that throwing a wrench into NSA's surveillance gears is eminently worthwhile toward this end; thus, "harm" indeed should be the goal, not something to apologize for.
Edward added that the NSA has been unfairly "demonized" and that the agency is composed of "good people". I don't know what to make of this.
When the war on terrorism was discussed in the interview, and the question of whether Snowden's actions had hurt that effort, he failed to take the opportunity to point out the obvious and absolutely essential fact – that US foreign policy, by its very nature, regularly and routinely creates anti-American terrorists.
When asked what he'd say to President Obama if given a private meeting, Snowden had no response at all to make. I, on the other hand, would say to Mr. Obama: "Mr. President, in your time in office you've waged war against seven countries – Iraq, Afghanistan, Pakistan, Somalia, Yemen, Libya and Syria. This makes me wonder something. With all due respect, sir: What is wrong with you?"
A radical – one genuine and committed – would not let such a once-in-a-lifetime opportunity pass by unused. Contrary to what his fierce critics at home may believe, Edward Snowden is not seriously at war with America, its government or its society. Does he have a real understanding, analysis, or criticism of capitalism or US foreign policy? Does he think about what people could be like under a better social system? Is he, I wonder, even anti-imperialist?
And he certainly is not a conspiracy theorist, or at least keeps it well hidden. He was asked about 9-11 and replied:
The 9/11 commission … when they looked at all the classified intelligence from all the different intelligence agencies, they found that we had all of the information we needed … to detect this plot. We actually had records of the phone calls from the United States and out. The CIA knew who these guys were. The problem was not that we weren't collecting information, it wasn't that we didn't have enough dots, it wasn't that we didn't have a haystack, it was that we did not understand the haystack that we had.
Whereas I might have pointed out that the Bush administration may have ignored the information because they wanted something bad – perhaps of unknown badness – to happen in order to give them the justification for all manner of foreign and domestic oppression they wished to carry out. And did. (This scenario of course excludes the other common supposition, that it was an "inside job", in which case collecting information on the perpetrators would not have been relevant.)
The entire segment concerning 9/11 was left out of the television broadcast of the interview, although some part of it was shown later during a discussion. This kind of omission is of course the sort of thing that feeds conspiracy theorists.
All of the above notwithstanding, I must make it clear that I have great admiration for the young Mr. Snowden, for what he did and for how he expresses himself. He may not be a radical, but he is a hero. His moral courage, nerve, composure, and technical genius are magnificent. I'm sure the NBC interview won him great respect and a large number of new supporters. I, in Edward's place, would be even more hated by Americans than he is, even if I furthered the radicalization of more of them than he has. However, I of course would never have been invited onto mainstream American television for a long interview in prime time. (Not counting my solitary 15 minutes of fame in 2006 courtesy of Osama bin Laden; a gigantic fluke happening.)
Apropos Snowden's courage and integrity, it appears that something very important has not been emphasized in media reports: In the interview, he took the Russian government to task for a new law requiring bloggers to register – the same government which holds his very fate in their hands.
Who is more exceptional: The United States or Russia?
I was going to write a commentary about President Obama's speech to the graduating class at the US Military Academy (West Point) on May 28. When he speaks to a military audience the president is usually at his most nationalistic, jingoist, militaristic, and American-exceptionalist – wall-to-wall platitudes. But this talk was simply TOO nationalistic, jingoist, militaristic, and American-exceptionalist. ("I believe in American exceptionalism with every fiber of my being.") To go through it line by line in order to make my usual wise-ass remarks, would have been just too painful. However, if you're in a masochistic mood and wish to read it, it can be found here.
Instead I offer you part of a commentary from Mr. Jan Oberg, Danish director of the Transnational Foundation for Peace and Future Research in Lund, Sweden:
What is conspicuously lacking in the President's West Point speech?

Any reasonably accurate appraisal of the world and the role of other nations.
A sense of humility and respect for allies and other countries in this world.
Every element of a grand strategy for America for its foreign and security policy and some kind of vision of what a better world would look like. This speech with all its tired, self-aggrandising rhetoric is a thin cover-up for the fact that there is no such vision or overall strategy.
Some little hint of reforms of existing institutions or new thinking about globalisation and global democratic decision-making.
Ideas and initiatives – stretched-out hands – to help the world move towards conflict-resolution in crisis areas such as Ukraine, Syria, Libya, China-Japan and Iran. Not a trace of creativity.
Ironically, on May 30 the Wall Street Journal published a long essay by Leon Aron, a Russia scholar at the conservative American Enterprise Institute in Washington. The essay took Russian president Vladimir Putin to task for claiming that Russia is exceptional. The piece was headed:
"Why Putin Says Russia Is Exceptional"
"Such claims have often heralded aggression abroad and harsh crackdowns at home."
It states: "To Mr. Putin, in short, Russia was exceptional because it was emphatically not like the modern West – or not, in any event, like his caricature of a corrupt, morally benighted Europe and U.S. This was a bad omen, presaging the foreign policy gambits against Ukraine that now have the whole world guessing about Mr. Putin's intentions."
So the Wall Street Journal has no difficulty in ascertaining that a particular world leader sees his country as "exceptional". And that such a perception can lead that leader or his country to engage in aggression abroad and crackdowns at home. The particular world leader so harshly judged in this manner by the Wall Street Journal is named Vladimir Putin, not Barack Obama. There's a word for this kind of analysis – It's called hypocrisy.
"Hypocrisy is anything whatever may deceive the cleverest and most penetrating man, but the least wide-awake of children recognizes it, and is revolted by it, however ingeniously it may be disguised." – Leo Nikolaevich Tolstoi, (1828-1910) Russian writer
Is hypocrisy a moral failing or a failing of the intellect?
The New Cold War is getting to look more and more like the old one, wherein neither side allows the other to get away with any propaganda point. Just compare any American television network to the Russian station broadcast in the United States – RT (formerly Russia Today). The contrast in coverage of the same news events is remarkable, and the stations attack and make fun of each other by name.
Another, even more important, feature to note is that in Cold War I the United States usually had to consider what the Soviet reaction would be to a planned American intervention in the Third World. This often served as a brake to one extent or another on Washington's imperial adventures. Thus it was that only weeks after the Berlin Wall came down in 1989, the United States bombed and invaded Panama, inflicting thousands of casualties and widespread destruction, for the flimsiest – bordering on the non-existent – of reasons.  The hostile Russian reaction to Washington's clear involvement in the overthrow of the Ukrainian government in February of this year, followed by Washington's significant irritation and defensiveness toward the Russian reaction, indicates that this Cold War brake may have a chance of returning. And for this we should be grateful.
After the "communist threat" had disappeared and the foreign policy of the United States continued absolutely unchanged, it meant that the Cold War revisionists had been vindicated – the conflict had not been about containing an evil called "communism"; it had been about American expansion, imperialism and capitalism. If the collapse of the Soviet Union did not result in any reduction in the American military budget, but rather was followed by large increases, it meant that the Cold War – from Washington's perspective – had not been motivated by a fear of the Russians, but purely by ideology.
Lest we forget: Our present leaders can derive inspiration from other great American leaders.
White House tape recordings, April 25, 1972:
President Nixon: How many did we kill in Laos?
National Security Adviser Henry Kissinger: In the Laotian thing, we killed about ten, fifteen [thousand] …
Nixon: See, the attack in the North [Vietnam] that we have in mind … power plants, whatever's left – POL [petroleum], the docks … And, I still think we ought to take the dikes out now. Will that drown people?
Kissinger: About two hundred thousand people.
Nixon: No, no, no … I'd rather use the nuclear bomb. Have you got that, Henry?
Kissinger: That, I think, would just be too much.
Nixon: The nuclear bomb, does that bother you? … I just want you to think big, Henry, for Christsakes.
May 2, 1972:
Nixon: America is not defeated. We must not lose in Vietnam. … The surgical operation theory is all right, but I want that place bombed to smithereens. If we draw the sword, we're gonna bomb those bastards all over the place. Let it fly, let it fly.
–
"Every ten years or so, the United States needs to pick up some small crappy little country and throw it against the wall, just to show the world we mean business." – Michael Ledeen, former Defense Department consultant and holder of the Freedom Chair at the American Enterprise Institute
Notes
William Blum, Killing Hope, chapter 50
Jonah Goldberg, "Baghdad Delenda Est, Part Two", National Review, April 23, 2002
On Thursday, European Central Bank chief Mario Draghi dropped rates on overnight deposits to minus 0.1% thereby charging commercial banks to keep their money at the ECB. The move, which was applauded by the media as a "historic measure to fight deflation", is nothing of the kind. Negative rates have been used in both Sweden and Denmark in recent years, but to little effect. The policy will not "get the banks lending again" as the ECB suggests, nor will it ease the high unemployment and slow growth that have plagued the Eurozone for the last six years. In truth, the rate change will have no impact at all. It's merely public relations stunt designed to create the impression that the ECB is aggressively addressing the crisis for which it is largely responsible. Here's how the World Socialist Web Site summed it up:
"The move is an expression of the fact that, nearly six years since the collapse of Lehman Brothers, the world economy remains mired in deep crisis, for which the world's central banks have no solution outside of pumping trillions into banks and financial firms. While trillions are handed out to the banks, workers throughout the continent are told that there is "no money" to pay for pensions, social programs, and healthcare benefits." (European Central Bank cuts interest rate below zero, WSWS)
Stock traders loved the news that the ECB was going "sub zero". As we've seen before, any indication that the easy money regime is here-to-stay is enough to send equities skyrocketing, which it did. All the main indices notched substantial gains on the day while the SandP 500 surged to a new record of 1,940.
The idea that charging the banks a small fee on overnight deposits will induce them to lend more freely, demonstrates a laughable misunderstanding of how the system really works. Banks don't need piles of reserves to issue loans. What they need is creditworthy customers and strong demand. But, of course, demand is weak because the ECB has taken steps to keep the EU in a permanent state of Depression through its austerity policies. What this shows, is that the objectives of the class war precede the requirements for a healthy economy. Draghi and his cohorts would rather decimate the welfare state and reduce EU working people to abject poverty, then implement the policies that would generate a strong economic recovery.
But won't the lower rates lead to more lending, you ask? After all, when the price of money falls, borrowing becomes more attractive, right?
It's a persuasive theory, but it doesn't work that way. For example, check out this blurb from Reuters and you'll see what I mean:
"Lending to companies in the euro zone contracted at the fastest pace on record in November, piling pressure on the European Central Bank to do more to revive the currency bloc's economy…

"Worryingly, there is still no sign of any trend change in bank lending to euro zone businesses…" said Howard Archer, chief European economist at IHS Economics…

Corporate borrowing in the euro zone overall declined at the fastest pace on record, November's 3.9 percent drop comparing with a 3.8 percent decline on the year in the previous month.

Bank lending to Italian firms fell at an annual pace of 5.9 percent in November, the sharpest decline in the measure's 10-year history. That was also true for the euro zone's smallest economy, Malta, which recorded a 10.4 percent drop….The biggest decline was in Spain, where lending to companies fell 13.5 percent." (Euro zone corporate lending shrinks at record pace in November, Reuters)
The reason bank lending saw "the sharpest decline in the measure's 10-year history", is because the economy is in a depression, and people don't borrow tons of dough in a depression. They cut back, hunker down and squirrel-away whatever they can. Draghi knows this. He's just going through the motions to make it look like he cares. It's all PR. What he really cares about is his constituents, and what they want, is an end of the welfare state.
What's so irritating about all of this, is that we know how fix the economy. We know how to increase activity. We know how to boost demand, create jobs, and raise GDP. None of this is new.
When the private sector (consumers and businesses) can't spend for some reason, then the government has to step up and spend like crazy to keep the economy going. The only alternative is to allow consumption to fall sharply, which will push up unemployment, push down GDP and do vast damage to both the economy and financial system. Why would anyone want to do that, especially when all they have to do is increase the budget deficits temporarily while consumers patch their balance sheets and get back on their feet again?
Monetary policy has not and will not fix the economy. How many years are we going to repeat the same mistake before we acknowledge that? The whole presumption that this pointless, circle-jerk policy is designed to do anything other than provide another bailout for underwater, insolvent financial institutions and the crooked bank bondholders who own the whole friggin' planet is laughable in the extreme. Check this out from Bloomberg:
"In a bid to get credit flowing to parts of the economy that need it, the ECB also opened a 400-billion-euro ($542 billion) liquidity channel tied to bank lending and officials will start work on an asset-purchase plan. While conceding that rates are at the lower bound "for all practical purposes," he signaled the the ECB is willing to act again." (Bloomberg)
So that's what this is really all about, eh? Draghi is just laying the groundwork for a European version of QE?
Yep. Sure is. And that means another $542 billion will go to the chiseler class. Another $542 billion propping up crooked banks by purchasing their unwanted, toxic Asset-Backed Securities. (ABS) Do you think I'm kidding? I'm not. That's what the money is earmarked for.
The point is, monetary policy alone will not produce a strong, self sustaining recovery, which is a point that Keynes makes in Chapter 12 of "The General Theory of Employment, Interest and Money". Here's what he says:
"For my own part I am now somewhat skeptical of the success of a merely monetary policy directed towards influencing the rate of interest. I expect to see the State, which is in a position to calculate the marginal efficiency of capital-goods on long views and on the basis of the general social advantage, taking an ever greater responsibility for directly organizing investment; since it seems likely that the fluctuations in the market estimation of the marginal efficiency of different types of capital, calculated on the principles I have described above, will be too great to be offset by any practicable changes in the rate of interest." (John Maynard Keynes, "The General Theory of Employment, Interest and Money", marxists.org, 2002)
Keynes is just stating the obvious, that during periods of weak demand, the sensible option is for the government to take up the slack by "directly organizing investment", in other words, spending money to keep the economy running. Doesn't that seem infinitely more reasonable than the Draghi approach which involves a decade of experimental monetary policy that ends in social upheaval, high unemployment, and political unrest?
And here's the thing: Keynes "The General Theory" was published in 1936. That's nearly 80 years ago! This isn't some new-fangled theory concocted by pointy-head crackpots like Bernanke. This is settled science. Fiscal stimulus works. If the government spends, unemployment will drop. If the government spends, the economy will grow. What else do you need to know?
We've been hoeing this same row for 6 years now and the economy is still in the dumps. And, in the EU, it's even worse. Youth unemployment is above 50 percent in Spain and Greece, GDP stuck at a miserable 0.2 percent, business and consumer lending still shrinking, bond yields on sovereign debt are in the toilet, civil disorder and fascism are on the rise, and with the entire 17-member union is rushing headlong into deflation.
And Draghi thinks that negative rates are going to fix all this and put the economy back on the road to recovery?
In your dreams! The only way out of a mess like this is to spend like a madman, which is what Keynes recommended in his famous statement about bottles stuffed with banknotes. Here's what he said:
"If the Treasury were to fill old bottles with banknotes, bury them at suitable depths in disused coalmines which are then filled up to the surface with town rubbish, and leave it to private enterprise on well-tried principles of laissez-faire to dig the notes up again… there need be no more unemployment and, with the help of the repercussions, the real income of the community, and its capital wealth also, would probably become a good deal greater than it actually is. It would, indeed, be more sensible to build houses and the like; but if there are political and practical difficulties in the way of this, the above would be better than nothing." (p. 129)
Okay, so it sounds crazy, but it's really no different than Bernanke's "helicopter drop" theory, that is, that –during a severe downturn–the government needs to find a way to stimulate demand. The best way to do that, is to avoid the normal transmission mechanisms (which don't function properly during a slump) and get money directly into the hands of the people who will spend it quickly and get the economy growing again. It's all about spending, spending, spending. It doesn't matter if people buy Ipads or Ant Farms. Just spend, dammit. Spending is activity, activity is growth, growth reduces unemployment, which leads to more investment, more jobs and a virtuous circle.
If it seems to you, dear reader, that Keynes antidote for the ailing economy is more likely to succeed than Draghi's, then you are certainly right. Massive doses of fiscal stimulus WILL revive the EU economy, lower unemployment, and boost growth. The question is whether that's a goal the public should really support or not? In other words, is there any point in trying to restore a system which, at its very core, is unstable, self destructive and exploitative? Here's how Counterpunch economics writer Rob Urie sums it up:
"John Maynard Keynes created a host of economic patch-jobs to save capitalism from more effective solutions. In the pit of the Great Depression FDR implemented programs based on Mr. Keynes' ideas (which) produced minor relief now deemed by the economic insightful-lite to be a 'robust' economic recovery….. But the cause, leveraged (finance) capitalism gone wild, was only temporarily tamped down by regulation while its intrinsic instability was left intact…

Calls for re-regulation, managed capitalism, beg the question: re-regulate what? As demonstrated by history, the system of finance capitalism is intrinsically unstable and economically destabilizing. Under the guise of reviving a functioning financial system a dysfunctional system has been revivified, not revived, and nearly all benefits continue to accrue to a tiny economic elite." (Financial Crises and Economic Depressions, Rob Urie, CounterPunch)
So, yeah, Keynes' remedies will work. They'll definitely get the economy up-and-running again and keep it sputtering-along until the next crisis. But why bother?
Why not just scrap the whole thing and move on to Plan B.
In "The attack on biblical creation in UK schools continues," Phil Robinson reports that in the dechristianized U.K. unrelenting attacks against special creation (Genesis account) display a level of aggressive intolerance that is hard to stomach, coming as they do from self-proclaimed scientifically-enlightened 'voices of reason.'  Some schools have already banned the teaching of special creation in favor of evolutionary science.   (creation.com, Mar. 9, 2014)
Other shrill 'voices of reason' go so far as to connect special creation to mental illness and child abuse. During a radio interview in Australia famous physicist and atheist propagandist Lawrence Krauss said that while in the United States recently, he stated that "teaching creationism is child abuse and I think it is." (Prayer News, a publication of Creation Ministries, Apr. 2014)
Throughout the West and here in America a slash-and-burn operation conducted against the Genesis account, particularly its' literal and historical elements, is justified by the false idea that evolution is science, thus intolerance of special creation is often presented as a 'science versus religion' or 'faith versus reason' issue.   So successful has this war of attrition been that younger generations of Westerners and Americans have been disconnected from both Western history and its' founding Christian-based worldview, thus like seedlings recently popped up from the soil are unconcerned that special creation, where the ultimate source of life, being and unalienable rights are found, has nearly been displaced by anti-human pagan conceptions positing billions of years of evolutionary transformism from lower kinds of things to higher and higher kinds of things— even non-human kinds of things:
"For us, the best way to create new ('artificial') life forms and intelligence is to allow them to emerge through evolution, as nature does, only in much shorter timeframes and with much greater efficiency and variety."

"For conscious evolution to be successful, we need to observe and understand the actual workings of nature, in all its dynamism, to the point of profound reverence, or 'worship.' This is what I call extreme nature-worshipping… From the perspective of extreme nature-worshipping, the real significance of Darwin's evolutionary theory is not that humans descended from lower species, but that we can continue to evolve."(Cosmic Beings: Transhumanist Deism in Ted Chu's Cosmic View, Institute for Ethics & Emerging Technology, Giulio Prisco)
The vicious name-calling, seething resentment toward and censorship of the six day creation account and of all who profess and teach it should raise the eyebrows of any rational thinking person.  If evolution really is a fact of science then why the irrational name-calling, ridicule, scorn, shunning, resentment, intolerance and demonization?
The answer is that the zealous worshipper of evolution is the Spirit of our age that emerged out of the Renaissance whose answer to the Lord Jesus Christ is the Cross (crucify Him) and whose fulfillment will be the Wicked One. (2 Thess. 2:1-8)
From the Renaissance to our own time the Spirit has been transgressing, blaspheming, and departing that it need not obey His voice.   Like a dog returning to its own vomit, the Spirit has returned to its first love: the cult of demons in the Godless universe of matter, psychic energy, and animated forces where time is changed, past history rendered meaningless, and the liberated Spirit imbibes the cup of wrath, an intoxicating mixture of Babylonian Mysteries, incantations, spiritism, Gnosticism, sorcery, witchcraft, Hermetic magic, Kabbalah, reincarnation, astrology, and other devilish occult traditions.
The Book of Revelation pinpoints Babylon as the post-flood center of an occult pagan Mystery religion based on advaitic monism, science of magic transformism, exalted priesthood, gnosis, secret initiations, psychic-powers, familiar spirits, androgyny, sexual perversions, and other evils.
Babylon embraced the Great Lie. Its inhabitants claimed the title, "I AM." The root source of this evil religion and its occult power was the Great Dragon himself….Lucifer:
"…. the Great Lie (is) the foundation stone of Hinduism, Buddhism, Sufism, Jainism, Sikhism, Taoism, the Kabala, the Greek Hermetic, Eleusinian and Gnostic beliefs, Neo-Platonism, all the occult creeds from Theosophy and the Masonic orders to the Rosicrucian's (and) the New Age movement. The Great Lie is…the belief that man is God, that his true identity is the immortal self…that as God, he will never die (and) Sin and depravity are…illusions since this inner divinity is at man's core." (The Great Lie, Tal Brooke, SCP Journal, Vol. 29:2-29:3, 2005)
Though the Spirit of our age claims the title "I AM" it nevertheless follows after and falls down before other fascinating men: theoreticians of evolutionary science, nature philosophy and evolutionary pagan theology. These charismatic Pied Pipers are possessed of surpassing powers of persuasion and inflexible determination of will to which the Spirit assigns more honor than to anything else.
The Spirit has usurped the throne of the Word Incarnate (John 1:1) because He is not good, not just or benevolent but a devil, an evil Tyrant Who, with His infliction of suffering in this life and eternal punishment in the next must be deposed. (Psalm 2:2-3)
Blaming our Lord for their own sins the proud, self-righteous Spirit of rebellion, hypocrisy and negation says to Him, "…you are not my father."  My father is the god of forces, therefore:

"I am I, I come out of myself, and in choice and action I make myself." (Daniel Bell, quoted by Herbert Schlossberg in "Idols for Destruction," p. 43)
In the final analysis, the Spirit of our age is the "striving human will" seeking desperately to launch itself,
"…into minor godhood in an evolving cosmos through the mechanisms of directed spiritual evolution, spiritualized science and spirit contact." The 'new' spirituality now presents itself as the "rightful replacement for the Revealed Word (and) proclaims its spiritual liberation from the worldview that informs Christianity and its freedom from (the) personal and wholly other God.  But this new way of self-salvation (is) little more than the refurbishing of an ancient spiritual mistake."  (The Making of the New Spirituality: the Eclipse of the Western Religious Tradition, James A. Herrick, p. 279)
"As it was in the days of Noah…" 
The ominous signs of this age are obvious, said the English theologian G.H. Pember (1837-1910) in his book, "The Antichrist Babylon and the Coming Kingdom."  Just as it was during the pre-flood generations, open intercourse with demons (spiritism) is now common throughout Christendom and even in Russia.   In France it is the national pastime.   The apostles of the powers of darkness are everywhere proclaiming their scientific and evolutionary theories demonstrating that the world created itself and had no need of a Creator (p. 60) while the miseries which have resulted from sin,
"….are blasphemously charged upon the Almighty, Who so loved the world as to give His son for it (but is now) impiously forbidden to curb and discipline the rebels who owe their existence to the breath of His mouth.  And when we see such men as John Stuart Mill (and) John Morley, the late Chief Secretary for Ireland…guiding their fellows to defiant insubordination, we can scarcely wonder that Bradlaugh…said, 'This world might have been happy, had not the shadow of God fallen upon it." (pp. 35-36, 1888)
Rise of Occult Evolutionary Science 
In the impeccably researched, "The Making of the New Spirituality," James Herrick observes that the scientific tradition in Renaissance Europe developed around three basic approaches: the organic, the mechanical and the magical.   It was magical and/or occult science that provided the greatest impetus for scientific exploration. (p. 45)
C.S. Lewis underscores this point in "The Abolition of Man:"
"You will even find people who write about the sixteenth century as if Magic were a medieval survival and Science the new thing that came in to sweep it away. Those who have studied the period know better. There was very little magic in the Middle Ages: the sixteenth and seventeenth centuries are the high noon of magic. The serious magical endeavour and the serious scientific endeavour are twins: one was sickly and died, the other strong and throve. But they were twins. They were born of the same impulse. I allow that some (certainly not all) of the early scientists were actuated by a pure love of knowledge. But if we consider the temper of that age as a whole we can discern the impulse of which I speak."
In "God and the Knowledge of Reality," the Catholic philosopher and historian, Thomas Molnar (1921–2010), reveals the 'temper of that age' as a spirit of rebellion against the Christian God, and this is why occult science and evolutionary thinking provided the greatest impetus. During the Renaissance, certain Christian theologians, mystics and scholars such as Emanuel Swedenborg had discovered Hermetic magic and occult Jewish Kabbalah texts which they studied and translated resulting in Hermetic Kabbalah. Then like Pico della Mirandola, they argued that occult hermetic science – the divine technology or Magic Way of reaching divine status and powers through ritual procedures (spiritual evolution) is the best proof of the divinity of Christ. In other words said Molnar,
"…..by the time of the Renaissance the esoteric texts of the first centuries A.D. had acquired in scholarly and humanist circles an unparalleled prestige, confronting as equals the texts held sacred by the church. In Pico's estimation, 'nulla est scientia que nos magis certificet de divinitate Christ quam magia et Cabala' (there is no science that would prove for us Christ's divinity better than magic and the Cabala.)" (pp. 78-79)
Hermetic magic and Jewish Kabbalah are ancient Mystery Religion traditions, as affirmed by G. H. Pember in his classic work, "Earth's Earliest Ages."   Pember thoroughly examines the role of fallen angels in connection with the magic (occult transformism) they taught to pre-flood generations and compares them to the explosion of spiritism (open intercourse with evil spirits), astrology, the Mysteries and other occult traditions sweeping over Christendom.
Pember writes that the Mysteries are no longer veiled in mystery but boldly presented by the powerful occult brotherhood that emerged out of the Renaissance as the fruit of modern science, especially evolutionary philosophy, which the brotherhood assert was included in the instructions given,
"…to the initiates of the Hermetic, Orphic, Eleusinian, and Cabbalistic mysteries, and were familiar to Chaldean Magi, Egyptian Priests, Hindu Occultists, Essenes, Therapeutae Gnostics, and Theurgic Neo-Platonists." (Pember, pp.243-244)
Hermetic Magic

Hermeticism is an ancient Egyptian secret magic tradition based on a set of fourteen books known
collectively as the Corpus Hermeticum attributed to a mysterious figure known as Hermes Trismegistus. Implied in Hermeticism is an evolutionary process of magical transformism (spiritual evolution) moving from one kind of lower thing to another kind of higher thing:
"Human beings are themselves the product of a long spiritual evolutionary process that moves from 'creeping things' to fish, mammals, birds and then people.  Humans can—through occult knowledge and extraordinary ability—continue this evolutionary process and become daemons, then gods, and finally planets or stars." (The Making of the New Spirituality: The Eclipse of the Western Religious Tradition, James A. Herrick, p. 40)
With respect to Hermes identity, researchers of antiquity are divided.  Some believe Hermes was a mythical figure.  Others argue he was Ham or his son Cush.  The historian Samuel Shuckford argues that Hermes was Pathrusim, king of Thebais, the son of Mizraim, the son of Ham.   His Egyptian name was Tyoth or Thoth.  (The Sacred and Profane History of the World Connected, 1808)
In any case, it was Thoth-Hermes who instructed his brothers in the arts and science magic of alchemy or transmutation of a lower kind of thing into a higher kind of thing. For example, after a lengthy transformative process out of the eternally existing divine abyss (primordial matter), the self-created Sun-God Ra boasted that he "came into being from primordial matter."  He made all the forms under which he "appeared by means of the god-soul" which he raised up out of Nu, primordial matter. (The Long War Against God, Dr. Henry Morris, p. 243)
Occult Kabalah
"The Kabalah is the key to the occult sciences; and the Gnostics were born of the Kabalists." (Occult Mason Albert Pike, Morals and Dogma, p. 626)
Like its' Hermetic counterpart, Kabala implies a process of evolutionary transformism:
"…the older Enoch book (gives) a fuller insight into the "Merkabah" and "Bereshit" lore of the ancients than the "Hekalot," which present but fragments, while the central figure of the Cabala, Meṭaṭron-Enoch, is seen in ch. lxx.-lxxi. in a process of transformation." (Cabala, Jewish Encyclopedia)
According to Helena Blavatsky, one of the key architects of Luciferian New Age pantheism, Kabalah derived,
"…. from the older secret doctrines concerning divine things and cosmogony, which were combined into a theology after the time of the captivity of the Jews in Babylon. All the works that fall under the esoteric category are termed Kabalistic." (Blavatsky, Theosophical Glossary, p. 168)
The godless cosmogony of Kabala teaches the gradual condensation or evolutionary progression of a primal substance into visible matter.  This is a fundamental,
"… doctrine of the Cabala (and) is the ancient Semitic conception of the 'primal ocean,' known to the Babylonians as 'Apsu' and called by the Gnostics βύθος =  (Anz, 'Die Frage nach dem Ursprung des Gnostizismus,' p. 98).
The Chaldean occult science and pagan Mystery Religion was embraced by apostate Jews during their captivity in Babylon and delivered to subsequent generations of initiates by word of mouth. According to Blavatsky, these initiates of the Chaldean tradition in the centuries before Christ were known as Tanaim:
"The kabalist is a student of 'secret science', one who interprets the hidden meaning of the
Scriptures with the help of the symbolical Kabala… The Tanaim were the first kabalists among the Jews; they appeared at Jerusalem about the beginning of the third century before the Christian era… This secret doctrine is identical with the Persian wisdom, or 'magic'." (Ibid. p.167)
The Essenes were also associated with the Kabala. The Jewish Encyclopedia describes the cabalistic practices of the Essenes, which were Judaized elements of Eastern mystical traditions:
"So, too, were the Essenes familiar with the idea of the journey to heaven…and they were also masters of angelology. The practice of magic and incantation, the angelology and demonology, were borrowed from Babylonia, Persia, and Egypt; but these foreign elements were Judaized in the process, and took the form of the mystical adoration of the name of God and of speculations regarding the mysterious power of the Hebrew alphabet …, 'the name of God creates and destroys worlds', to become, finally, foundations of the philosophy of the 'Sefer Yetzirah."  (Cabala, Jewish Encyclopedia)
According to Blavatsky the Essenes were pagan priests of the Greek goddess, Diana of Ephesus, where the Tanaim had established a college for instruction in the Chaldean mystery religion:
"Essenes… had many Buddhistic ideas and practices; and it is noteworthy that the priests of the Great Mother at Ephesus, Diana-Bhavani with many breasts, were also denominated… It was at Ephesus where was the great College of the Essenes and all the lore the Tanaim had brought from the Chaldees… Essenes, believed in reincarnation." (Theosophical Glossary, pp. 113-14; The Secret Doctrine, Vol. II, p. 111n)
Eventually Alexandria, Egypt became the epicenter of cosmological and pagan religious ideas as well as the intellectual meeting point between Greek Mystery Religion/Hermetic magic initiates and nature sages and guardians of Kabala.  After the fall of Jerusalem, Alexandria was the center from which occult pagan Jews would disguise their mystery tradition in Christian terminology and attempt to penetrate the fledgling Church with heresy.
One of the primary tactics employed by Cabbalist pagan Jews for this purpose is the same one employed by their modern evolutionary Gnostic pagan counterparts.   It involves the reduction of the Genesis account, particularly the first three books, to allegory and myth, a ploy that eliminates the physical Adam from which all people descended and the sin that he transferred to the rest of the human race. This strikes directly at the heart of the Gospel: the need for the 'last Adam' to provide for us an escape from the wrath of God against sin incurred by the first Adam.  In this way, not only is the work of Christ on the cross rendered superfluous, meaning the heart of the faith is ripped out, but God is made responsible for sin and evil. (1 Peter 3:18-22; 1 John 2:22)
Long ago, the teachings of some of the early Church Fathers regarding the apostasy toward the end of the church age predicted the reappearance of this evil tactic. The fathers categorized it a Gnostic pagan heresy.
In "Heresies 6.10″ Hippolytus writes that the Gnostic pagan Simon Magus feigned faith and allegorized much of Scripture, especially Genesis, to support his evolutionary Hermetic and Gnostic occult pantheist teachings.   Church Fathers Ireneaus, Tertullian and Clement of Alexandria reveal that Gnostic cult leader Marcion rejected the Old Testament, taught that the God of the Old Testament and his prophets are evil, made God the author of sin and removed all references that Christ was Creator (John 1:1)   (Ireneaus, "Against Heresies 1.26, 5.1," Tertullian "Against Marcion 2.17," Clement of Alexandria, "Against Heresies 4.29)
In conclusion, the Babylonian Mystery Religion is the mother of evolutionary Cabala, Gnosticism and all other occult pagan traditions:
"….especially does Gnosticism testify to the antiquity of the Cabala. Of Chaldean origin… Gnosticism was Jewish in character long before it became Christian… Gnosticism—that is, the cabalistic 'Hokmah' (wisdom)—seems to have been the first attempt on the part of the Jewish sages to give the empirical mystic lore, with the help of Platonic and Pythagorean or Stoic ideas, a speculative turn; hence the danger of heresy…of which the systems of Philo, an adept in Cabala…show many pitfalls…Jewish gnosticism unquestionably antedates Christianity, for Biblical exegesis had already reached an age of five hundred years by the first century C.E.  Judaism had been in close contact with Babylonian-Persian ideas for at least that length of time, and for nearly as long a period with Hellenistic ideas. Magic, also, which,…was a not unimportant part of the doctrines and manifestations of gnosticism, largely occupied Jewish thinkers. There is, in general, no circle of ideas to which elements of gnosticism have been traced, and with which the Jews were not acquainted."  (Cabala, Jewish Encyclopedia)
Building  the New Tower of Babylon
In the essay, "The Paganization of Biblical Studies," Dr. Peter Jones, director of truthxchange and adjunct professor of Westminster Seminary CA., writes that the books of the evolutionary Gnostic pagan Presbyterian heretic Lloyd Geering, Emeritus Professor of Religious Studies at Victoria University, are promoted by the most powerful element of the Spirit of our age—the international occult New Age Luciferian elite-pagans—as programmatic templates for the future utopian pagan community from the point of view of Christian apostasy and socialism undergirded by evolutionary pantheist orthodoxy.
According to Geering, the world's future culture will be post-Christian, global, religiously pagan and evolutionary.  This agenda is remarkably similar to that of Teilhard de Chardins' disciple, the ex-Roman Catholic Thomas Berry in his book, "The Great Work" which is also being implemented through texts of the UN's global programs.
The rising New World Order will be post-Christian because evolution proves that human beings, as they evolved out of primordial matter, created language, then symbols, then religious explanations and God Himself.  Therefore tomorrow's culture will be pluralistic, syncretistic, relativistic and poly-gendered because evolution integrates all scientific, cultural, religious, economic and human gender into one worldwide anthill thus when the global society emerges from the evolutionary process,
"…it will require humanity to develop a new consciousness and a new form of spirituality" because "the new story which has become basic to the global world begins with a new word or idea…evolution." (ibid, Jones)
Like its' mother, Mystery Babylon, the scientifically-enlightened 'new' global religion of evolutionary transformism is occult pantheist advaita monism, which means that as an ancient impersonal god-force is within the cosmos, earth, human beings, rats, weeds, tumble bugs, cancer and everything else then all things are essentially 'one.'  Since the god-force is within all things it is within the demonically 'illumined' consciousness of every spiritually evolved initiate and adept.
This being the case, by means of trance states, brain-altering drugs, transcendental meditation, visualization, channeling, Zen Buddhism, Kundalini yoga, tantra, and other occult ways, the initiate can channel the god-force within thereby becoming a little god who controls matter because he controls mind. The physical world then, is an illusion because reality is inside the divine mind of the god-man.
This way of thinking is captured by Orwell in his book, "Nineteen Eighty-Four" in which negation of the physical world is an integral part of the social and political philosophy of Big Brother and his despotic Party. At one stage in the book, Winston stumbles upon the shocking realization that in the end the Party would announce that two plus two made five because the logic of Big Brothers' position required it since the existence of external reality was denied by his philosophy.  Thus when the Thought Police agent O'Brien tortures Winston for politically incorrect "wrong thought" he states,
"We control matter because we control the mind.  Reality is inside the skull.  You will learn by degrees, Winston.  There is nothing that we could not do.  Invisibility, levitation—anything.  I could float off this floor like a soap bubble if I wish to….You must get rid of these nineteenth-century ideas about the laws of Nature.  We make the laws of Nature." (Orwell, "The New Spirituality and its Hallmarks, Alan Morrison, SCP Journal, Vol. 30:4-31:1, 2007, p. 19)
Evolving Toward Catastrophe
In "The Aquarian Conspiracy," a book that has been called 'the New Age Bible,' Marilyn Ferguson (1938-2008) admits that the 'new age' evolutionary pantheism and occult technologies being employed throughout America were at one time the private domain of ancient initiates.   In fact, as Constance Cumbey reveals in her thoroughly researched book, "The Hidden Dangers of the Rainbow," many New Age historians claim their occult religion and techniques originated in Atlantis and afterward were preserved in the ancient land of Babylon,
"…and surrounding Plains of Shinar and from there disseminated throughout the earth, including Taoist doctrines of China, Mayan-Aztec teachings of Mexico and Central/South America; Great Spirit teachings of the American Indians, Hindu/Buddhist teachings of Asia, etc." (pp. 250-251)
After the Flood, said Shuckford, while the faithful Noah remained in the East and established the worship of the true God, eighty years after the Flood his rebellious son Ham and his sons together with other family members departed and eventually settled in the plains of Shinar where they resolved to build a tower, a monument to their own pride, vanity, ambition and rebellion against God. (ibid, p.94)
It was Noah's son Ham, according to ancient Church Father Clement, who  'preserved' and revived the Mystery Religion of 'Atlantis' and its attendant evils:
"Fallen angels taught men the use of magical incantations that would force demons to obey man. After the flood Ham the son of Noah…discovered this and taught it to his sons.  This became ingrained into the Egyptians, Persians, and Babylonians.  Ham died shortly after the fall of the Tower of Babel.  Nimrod, called Ninus by the Greeks, was handed this knowledge and by it caused men to go away from the worship of God and go into diverse and erratic superstitions and they began to be governed by the signs in the stars and motions of the planets." (Recognitions of Clement 4.26-29)
In his well-researched book, "Ancient Post-Flood History," Ken Johnson, Th.D., reports that the sons of Ham persuaded the people to accept that the true God was merely an impersonal creative force within all of nature, making man the highest form of life/god.  Through the power of persuasion, Ham and his sons revived magical evolutionary transformism, pantheism and idolatry. (pp. 47-48)
Eventually Ham was deified and worshipped by later pagans as the gods Cronus and Jupiter:
"Ham is represented by many writers as a very wicked, immodest, and profligate creature: Berosus (i) makes him a magician, and to be the same with Zoroast or Zoroastres, and speaks of him as the public corrupter of mankind; and says that he taught men to live as before the flood, to lie with mothers, sisters, daughters, males and brutes, and creatures of all sorts; and that he actually did so himself, and therefore was cast out by his father Janus, or Noah, and got the name of "Chem", the infamous and immodest…" Upon seeing his father's nakedness Ham,  "told his two brethren without; he went out of the tent after he had pleased himself with the sight… and in a wanton, ludicrous, and scoffing manner, related what he had seen: some of the Jewish Rabbins (k), as Jarchi relates, say that Canaan first saw it, and told his father of it; and some say (l), that he or Ham committed an unnatural crime with him; and others (m), that he castrated him; and hence, it is supposed, came the stories of Jupiter castrating his father Saturn, and Chronus his father Uranus."    Genesis 9:22 Gill's Exposition
History did not begin after billions of years of evolution when primitive hominids swung down from the trees and discovered how to scratch crude symbols onto rocks.    Nor did it begin after the Flood.  At least 2,000 years of human existence preceded the Flood, meaning that when Noah and his family entered the ark they carried at least one hundred years of pre-flood memories, traditions, technology, and superior knowledge. Their world view was shaped by the historical Adam and Eve and the generations of their offspring.   Thus Noah and his family brought with them not only the knowledge of the personal God, Special Creation, fall of man, the Deluge, sacrifice to God for the propitiation of sin, the arts of weapon-making and warfare, knowledge of letters, symbols, math, architecture, science, cosmetics, and agriculture  but knowledge of  first-hand encounters with Watchers, their occult teachings, the Nephilim, and primeval pantheism tied to magic, spiritism, herbal abortifacients, human and animal sacrifice, drinking of blood, males marrying males and even beasts, and many other evils.
In affirmation, the eminent researcher of antiquity James Bailey said:
"…human history can now be hesitantly traced back as an unbroken narrative to 4000 B.C….the picture emerging…is one of the Fall of Man in historic terms as well as his rise; it is a picture…more of degradation than of success; it is a picture of monotheism breaking down into polytheism and of the struggle to return to monotheism.  The establishment view of the history of religion gradually progressing from animism to polytheism (then) to monotheism is the reverse of facts." ("The God-Kings and the Titans: The New World Ascendancy in Ancient Times 1973, p. 296)
Four thousand years before Christ were the antediluvian generations and the Watchers in the post-flood world, making the billions of years of evolutionary transformism a fabulous fable.  It is neither 'new' (Ecclesiastes 1: 9-11) nor scientific except in the sense of pre-flood and post-flood occult science and attendant traditions revised and revamped for our own time, as Geering unhappily discovered.
Dr. Jones writes that Geering was surprised when he found out that the 'New Spirituality' has "links with pre-monotheistic…nature religions," leading Jones to wryly comment that in an odd turn of events,
"….contemporary spiritual' evolution goes backwards!  Biblical theism disturbed evolutionary progress.  The clocks have to be put back (for we are in the presence of) a powerful pagan/Gnostic theological agenda, claiming to be spanking new, objective and scientific, but as old as the hills."
Clocks have to be turned back, all the way back to the days of Noah in the pre-flood world where evolution is closely connected to the devil's lie that man is a being who though presently limited in time and space is nevertheless capable of achieving a great leap of being and magically evolving into a much more powerful god-like being in the future.
As the scientifically endarkened Gnostic pagan Spirit of our age simultaneously worships on the altar of 'self' as it self-righteously peers down its' long, pointy nose and contemptuously sniffs and sneers at the remnant of backwards, unscientific, anti-evolution  faithful, in reality it is the entirely deluded pagan Spirit that is on a collision course with a modern version of the pre-flood world catastrophe—-and we know how badly that ended.
If a famine befell us and you couldn't save everyone, would you withhold the food you had and let every citizen starve rather than endure the inequality of just saving some? If recent history is any guide, certain leftists just might say yes.
A good example of this phenomenon involved a multiple sclerosis patient in Gothenburg, Sweden, who was denied a more effective and expensive medication — even though he was willing to pay for it — because, wrote columnist Walter Williams in 2009, "bureaucrats said it would set a bad precedent and lead to unequal access to medicine." No wonder Winston Churchill said that socialism's "inherent virtue is the equal sharing of misery."
And another example just reared its ugly head in Plymouth, Michigan, where the locality's high school is tearing down newly constructed bleachers in deference to the equality police. MyFoxDetroit.com reports on the issue, writing:
A new set of seating is being torn down outside the Plymouth Wildcats varsity boys' baseball field, not long before the season begins, because the fields for boys' and girls' athletics must be equal.
A group of parents raised money for a raised seating deck by the field, as it was hard to see the games through a chain-link fence. The parents even did the installation themselves, and also paid for a new scoreboard.
So what happened? Some unnamed malcontent lodged a complaint with the feral government, at which point U.S Education Department Office for Civil Rights overlords decreed that the seating must go. Ain't equality grand?
Except that equality is simply a ruse. And think about it with respect to this issue: the principle is that facilities "for boys' and girls' athletics must be equal," but are boys' and girls' athletics equal? The striking contradiction in these male/female sports equality controversies is that calls for "equality" are deferred to within the context of the acceptance and promotion of an inherently unequal system. That is to say, if equality is the guiding principle here, why have separate leagues, teams and tours — protected from the best competition — for girls and women?
The solution, whether it's the Plymouth situation or calls for equal prize money in tennis, is simple. If a lightweight boxer wants the purses the heavyweights get, he needs to fight and succeed in the heavyweight class; likewise, if feminists want what the boys/men have, they should try to compete in their arena. And I do advocate this: eliminate separate categories for women, and let the sexes compete together on a level playing field. After all, to echo what Lincoln said about laws, the best way to eliminate bad social policy is to enforce it strictly. If you believe in equality, practice it.
Live it.
And live with it.
And since the boys' American high-school mile record is considerably faster than the women's world record — and since this gap appears, with some variation, across sports — my proposal would provide some necessary "policy clarification."
The education department's decree is also an attack on charity. The message is that pursuing good works just might be a waste of time because, inevitably, they'll conflict with some government regulation or mandate. It's in addition a quasi-Marxist assault on the market. After all, the Plymouth community's interest in building new baseball bleachers was no doubt driven by there being greater fan turnout for the boys' games. And the market renders such verdicts all the time. It's said that female fashion models earn three times what their male counterparts do, bars may offer women free drinks or entry without a cover charge, and no one troubles over women-only health clubs. It's only when market determinations seem to benefit boys or men that the equality ruse is trotted out.
The truth is that equality dogma is a fiction of modern times. As for the timeless, the word "equality" appears in only 21 biblical verses, mostly referring to matters such as weights and measures. There's good reason for this, and don't blame it on the supposed "backwardness" of religion because a devout evolutionist would have to be the staunchest believer in hierarchies born of natural inequality. As G.K. Chesterton pointed out, "[I]f they [people] were not created equal, they were certainly evolved unequal." Look around you at the world of nature and man, which, if the evolutionists are correct, are certainly one and the same. How much equality do you see? Rams butt heads, and one ram wins and the other loses; wolves have alphas and one male lion dominates and leads a pride. Then, there are 3.1 billion possible combinations when a couple has a child. And, oh, what combinations they can be. How many of us can play golf like Tiger Woods, defy gravity and shoot baskets like Michael Jordan or compose music at four years of age as did Mozart? People have greatly varying IQs, physical capabilities, personalities, inclinations toward virtue and gifts. Equality is a pipe dream.
This variation exists among groups, too. Ashkenazi Jews have the world's highest average IQ, while Asians enjoy that status insofar as major groups go. And disease and conditions have no regard for equality, either: the Pima Indians have the highest rate of diabetes on Earth, breast cancer afflicts mainly women, the incidence of Tay-Sachs disease is highest among Jews, black men suffer from prostate cancer at twice the rate whites do, while sickle-cell anemia is found almost exclusively among blacks. I guess reality is "racist."
Reality is actually this: it's completely illogical and contradictory for a person to claim on one hand that he believes in classical, cosmic-accident evolution, but on the other that all groups somehow, quite accidentally, wound up the same in capacity, inclination and worldly abilities. After all, since evolution holds that groups lived and developed separately for millions of years — subject to different environments, stresses, adaptive requirements and to the luck of the draw — their winding up "equal" was, for all intents and purposes, a mathematical impossibility.
Earlier evolutionists recognized and accepted this reality, mind you, and in fact became eugenicists. Note here that the term "eugenics" was coined by Charles Darwin's cousin Sir Francis Galton. Also note that the concept greatly predates the term: Greek philosopher Plato advocated murdering weak children, and the Spartans had actually done it.
This doesn't mean I embrace eugenics or classical evolution (my views on the latter are found here). The point is that whether you believe we're accidentally different or that, as St. Therese learned, there are even divinely ordained hierarchies in Heaven, equality is certainly not a thing of this world.
This helps explain why entities prescribing "equality" — such as the early French republic and all the Marxist killing-field regimes — become the worst tyrannies. Since equality is wholly unnatural, its mullahs must violate man's nature, must trump it and twist it, in an effort to pound their sinister square peg into the round hole of reality. And woe betide he who defies their self-deified will.
Cries for equality are today the second-to-last refuge of a scoundrel (shouts of "racism" are the absolute last). Contrary to what Churchill said, however, they don't actually visit upon us an equal sharing of misery. Rather, the pigs more equal than others will dispense the ever-diminishing pork to the peons, as they feed at the trough of modern man's sloth, envy and error.
What happens when an institution becomes more important than the cause for which the institution was formed? How long should people who believe in the cause remain loyal to such an institution? And at what point does loyalty to such an institution comprise an abandonment of the cause itself?
I'm afraid the majority of Americans have been institutionalized in a manner not unlike the way prisoners are institutionalized after a long period of confinement. After a point, a prisoner is so conditioned to accepting the circumstances of his confinement that, should he be released from confinement, he truly would be unable to cope. Such seems to be the mentality of a majority of us today.
Christians have been institutionalized. The reason and purpose of the church or Christian organization is no longer relevant. Generations have grown up reciting the same liturgies, regurgitating the same prayers, and rehearsing the same programs until the reason for it all doesn't even matter. But take the institution away from them, and they would not be able to cope.
The Pharisees despised the Lord Jesus because He challenged the religious institutions that had come to govern people's lives. I am convinced if Jesus came to America today, He would be just as despised by the vast majority of our religious leaders as He was by the Pharisees.
The Church that Jesus built in the Book of Acts owned no buildings, was indebted to no lenders, took no tax benefits from the civil government, had no denominational hierarchy, and identified itself with no ecclesiastical brand. And the Church was just as persecuted by the religious establishment as Christ was.
One of the reasons one may know that the modern church is so unlike Christ and the apostles is by the persecution that it never experiences. Just as the Pharisees were bosom buddies with the Roman Empire's governing elite, so are our religious leaders today. Caesar was very generous in sharing the fruit of his tyrannically-extracted bounty with his allies in the Jewish Sanhedrin. And they were happy to return the favor by insisting that the Hebrew people submit to Caesar's harsh rule over their lives.
The Pharisees also enjoyed a cozy relationship with the moneychangers. The moneychangers were descended from a long line of corrupt banking interests that dated all the way back to the Edomites. We are not talking about your friendly local banker here. These were highly organized, well-positioned money-manipulators. Jesus was so incensed with their manipulation and theft within in the Temple that he used physical violence to remove them from the property. He is recorded as doing this twice in the Gospel narratives. Note that after the second time in which it is recorded that He drove out the moneychangers (with a whip, no less), the Pharisees soon had Jesus crucified. There is no question that one of the reasons Pilate ordered Jesus to be scourged with a whip was in direct retaliation for the manner in which Jesus whipped the moneychangers. Remember, the moneychangers were from a very well-ensconced, elitist national (and even international) organization.
And lest you think all of this is irrelevant to today, the moneychangers are still very much with us. The Rothschilds, Rockefellers, and other members of the international banking elite, are the direct descendants of the moneychangers of Jesus' day. And if you ever have an opportunity to ask one of them about it, they will proudly admit it.
Yes, the Pharisees institutionalized religion. This accomplished two things: 1) it helped enslave the people, 2) it helped make them rich. The institutionalized church is accomplishing much the same things today.
The establishment church is doing as much to enslave people as any other institution in the world. Our political institutions and educational institutions have nothing on the church for making good little subjects and serfs to the all-powerful state. And if you don't think that a host of church leaders are not reaping the spoils from assisting our taskmasters, you're not paying attention.
Many, if not most, of these big-name TV evangelists have as many houses and yachts and Swiss bank accounts as any big-name Hollywood actor or politician. In some cases, more. Most of these big-church pastors are bathing in luxury. Many of them take the kinds of vacations that only CEOs of the biggest corporations or presidents could afford. Do you really think that the IRS rules and regulations governing these non-profit corporations, called churches, really bother these church leaders? Get real!
No wonder all of these "successful" preachers are constantly teaching their congregations to always submit to the government. No wonder they have no interest in abandoning their 501c3 tax-exempt status. They are in the exact same position as were the Pharisees of old. And they are just as effective in helping to enslave people today as were the Pharisees.
The institution of the church–along with its programs, formalities, buildings, rituals, etc.,–has become more important than the purpose for which the church was created. Instead of preaching the liberating message of the Cross, which frees men from the fetters of sin–and that includes sinful political and financial fetters–the church is preaching a message of subjugation and enslavement. It is teaching people to submit to all kinds of oppression, including religious oppression.
Some of the most oppressed and subjugated people in the world are religious people. There are churches and Christian colleges that are every bit as tyrannical as anything coming out of East-bloc or Muslim countries. About the only thing missing is physical torture and execution. Spiritually, however, the oppression is the same.
How could real men who love the liberty they have in Christ allow themselves–and especially their wives–to be told how to dress, how to wear their hair, what kind of music to listen to, what kind of vacations to take, what restaurants they may or may not eat at, what forms of entertainment they may or may not participate in, etc., etc., ad infinitum?
I tell you the truth: many Christians in America are already slaves. To talk to them about freedom is a complete waste of time. The chains of tyranny are already clamped around their hearts. Why should it matter to them if chains are clamped around their necks? When they talk about "defending the faith," they are talking about defending the institution. They are slaves to the institution. And the same is true for many unchurched Americans.
What is more important: liberty, or the government that is supposed to secure liberty? To a sizeable number of Americans today, it is more important to preserve the institution than the freedoms that the institution was created to protect.
Our Declaration of Independence states, "That whenever any Form of Government becomes destructive of these ends [the God-given rights of life, liberty, etc.], it is the Right of the People to alter or to abolish it, and to institute new Government, laying its foundation on such principles and organizing its powers in such form, as to them shall seem most likely to effect their Safety and Happiness."
Did you see that: "any form of government"? ANY FORM. The form of government is only as good as its ability to secure liberty.
I hear a lot of politicians and media personalities talking about "American exceptionalism." This is a potentially dangerous mindset. If one means that America is exceptional in our history and the manner in which our Constitution and Bill of Rights were established to protect liberty, well and good. But if it means that America has carte-blanche to do anything it wants–no matter how unconstitutional or tyrannical–because it is "exceptional," it is a bunch of hooey.
What difference does it make if we have a 50-State Union or not? There is a bill in the California legislature that would divide that State into six states. Five counties in Western Maryland are trying to secede from Baltimore. Ten northern counties in Colorado are trying to secede from Denver. If a State refuses to secure the liberties of the people of that State, they have every right under God to separate. The State is not nearly as important as the liberties of the people within the State.
The spirit of secession is actually growing like wildfire all over the world. In recent history, Serbia, Slovenia, Croatia, Bosnia, Montenegro, Macedonia, and Kosovo all separated from Yugoslavia. Transnistria broke free from Moldova. Abkhazia and South Ossetia fought free from Georgia. The Slovaks seceded from Czechoslovakia. And now Crimea is separating from Ukraine.
To be sure, not every country that secedes from another country is motivated purely by the love of liberty. But for those of us in America, the issue that has propelled the desire to separate from one country or one State has always been liberty. It was the love of liberty that created the United States and that created the free and independent states of Maine, Vermont, Kentucky, and West Virginia–all of which seceded from existing U.S. states.
Furthermore, what difference does it make if Washington, D.C., is our federal capital, or, if say, Helena, Montana, would become the federal capital of a mountain state confederation of Montana, Idaho, Wyoming, Northern Colorado, eastern Washington and Oregon, the Dakotas, Alberta and British Columbia, Canada, and Alaska? Or if Austin was the federal capital of an independent Republic of Texas? Preserving some sort of political union (especially if it is a forced and coerced union) is not nearly as important as preserving liberty.
Again, it is not the political institution that is important. What is important is the liberty that the political institution is supposed to secure.
Many great minds in this country are already philosophizing over the possibility that secession is an idea whose time has come–again. A few years ago, Walter Williams wrote, "Like a marriage that has gone bad, I believe there are enough irreconcilable differences between those who want to control and those want to be left alone that divorce is the only peaceable alternative. Just as in a marriage, where vows are broken, our human rights protections guaranteed by the U.S. Constitution have been grossly violated by a government instituted to protect them. Americans who are responsible for and support constitutional abrogation have no intention of mending their ways.
"Americans who wish to live free have two options: We can resist, fight and risk bloodshed to force America's tyrants to respect our liberties and human rights, or we can seek a peaceful resolution of our irreconcilable differences by separating. That can be done by peopling several states, say Texas and Louisiana, control their legislatures and then issue a unilateral declaration of independence just as the Founders did in 1776. You say, 'Williams, nobody has to go that far, just get involved in the political process and vote for the right person.' That's nonsense. Liberty shouldn't require a vote. It's a God-given or natural right.
"Some independence or secessionists movements, such as our 1776 war with England and our 1861 War Between the States, have been violent, but they need not be. In 1905, Norway seceded from Sweden, Panama seceded from Columbia (1903), and West Virginia from Virginia (1863). Nonetheless, violent secession can lead to great friendships. England is probably our greatest ally and we have fought three major wars together. There is no reason why Texiana (Texas and Louisiana) couldn't peaceably secede, be an ally, and have strong economic ties with United States.
"The bottom line question for all of us is should we part company or continue trying to forcibly impose our wills on one another?"
See William's column here:
Hear! Hear!
In the eyes of God, marriage is the most sacred of all unions. It is far more sacred than any political union. If our Creator has authorized the separation of a husband and wife under certain circumstances in which one party violated the sacred terms of the holy contract (and He has), who among us has the audacity to say that political unions may not be abandoned when government commits political adultery by forsaking its oath to the people?
Again, are we more interested in preserving an institution or the liberty that the institution is supposed to secure?
As an institution, the Church at large is apostate. Yet, millions of Christians continue to prop up an institution that has abandoned the purpose for which it was created. They are more interested in preserving the forms and liturgies and tapestries and buildings of the institution. And, all the while, they are being spiritually enslaved by the very institution they are helping to prop up.
And as an institution, the U.S. federal government is apostate. Yet, millions of citizens continue to make excuses for it, justify it, and condone it. They are more interested in preserving the agencies and entities and power of the institution. Yet, all the while, they are being enslaved by the very institution they are helping to prop up.
What happens when an institution becomes more important than the cause for which the institution was formed? When the institution is civil government and the cause is liberty, tyranny is what happens.
We are almost 3 months away from the 100th anniversary of the assassination of Archduke Ferdinand. If we are lucky, Wall Street's puppet government in Washington will not blow up the world by June 28, 2014.
I have always despised President Woodrow Wilson for getting America into World War I. I want to cure the world of reoccurring Depressions through Worldwide Debt Cancellation and Monetary Reform. As I have explained before, Depressions in the West are caused by the accumulation of Unpayable Debts. These occur because Bankers have the right to charge us interest on money they created out of nothing. We need a non-interest bearing currency like President Lincoln's Greenbacks. And we also must end fractional reserve banking which allows a bank to lend out ten dollars for every one on deposit. Woodrow Wilson gave us the Federal Reserve bank and WW I. We have had cycles of wars and Depressions ever since.
I would like to compare 1914 to what is happening today. Let me begin by quoting something I wrote about World War I a few years ago.
Edith Cavell made a fatal mistake. She mistakenly believed she lived in a democracy. She was a British nurse working in Belgium in 1915. She saw first hand the horrors of trench warfare. She also saw a quick and easy means for England to end the war with a victory. She wrote a letter to the Nursing Mirror which was published on April 15th, 1915. She said that 'Belgian Relief' efforts were actually being sent to Germany which would have to sue for peace without this aid from the allies. England was quite literally feeding the German army that was killing millions of French and British soldiers. What she did not know was that similar allied war materiel was being sent to Germany via Sweden and other neutral nations so the war could continue for several more years.
Sir William Wiseman heard about her letter. He was the head of British Intelligence in North America for MI6. He was a partner at the Rothschild owned Kuhn and Loeb Investment Bank. He ordered the Germans to arrest Edith Cavell. She was subsequently shot as a spy. Her mistake was to think that she lived in a democracy where the people could vote, write letters to the editor and have a say in the life and death decisions of the nation. She did not live to see what we have seen.
Americans ought not to believe they live in a democracy. Our politicians cannot prove to us that our votes are honestly counted. Every President since 1989 has been a CIA asset. The CIA is allowed to fly heroin and cocaine into America by the plane load. And the CIA is allowed to go into Senate Intelligence Committee computers and erase documents proving the Agency guilty of torture.
The media seems all too willing to cover up every plot against the American people from the assassination of President Kennedy to the controlled demolitions of the Murrah Federal building on April 19, 1995 and World Trade Center Towers 1, 2 and 7 on September 11, 2001. They also were willing to let the previous administration tell us lies to justify the invasions of Iraq and Afghanistan. And now the current administration tells us lies about Crimea. Believing their propaganda could get us all killed.
The US paid the opposition $5 billion to start riots before the May elections could be held. Then they hired snipers from as far away as Israel to shoot both the protesters and the police. They installed a Jewish banker as President without elections because they were not sure the people would vote to join the European Union in May. The coup leaders passed laws making the minority Hungarian and Russian languages sort of illegal. And just as they did in Libya the Americans stole the Ukraine's gold and looted their banks. This plan to seize the Ukraine was mentioned in print by Zbigniew Brzezinski in 2007. He assumed Russia would respond by taking back the Crimea which Khrushchev had given away in 1954.
Barack Obama and his advisers are probably even more incompetent than Woodrow Wilson and his crew. The Obama crowd has announced war game exercises for Poland, the Czech Republic, Hungary, Bulgaria, Romania and the Baltics. Hopefully, Putin understands America cannot do anything militarily against a real Army. Obama's advisers would like to crush Russia with sanctions. That will never happen. Russia has gold, oil, natural gas and other products that people all over the world want to buy. Nobody wants to buy America's Genetically Modified Organisms. Even with retail stores dying America is still importing far more than it exports. And the Government Accounting Office said that the alleged 680 billion 2013 US budget deficit was really a trillion dollars. America by design has a permanently sick economy. America cannot survive sanctions.
Russia intends to announce the Holy Grail of energy deals in May when Putin visits China. China will buy Russian oil and natural gas with yuan. The United States has been occupying Afghanistan, funding Al Qaeda against Syria and killing people in Pakistan and Yemen with drones to prevent pipelines from distributing natural gas to Europe and to China. This restraint of trade has forced the price of natural gas and oil higher. Americans pay what they think are high rates for electricity but their natural gas prices are low. I am not familiar with the details of English utility bills but their utility bills are a lot higher than ours. And their government allows really outrageous gouging. European Union energy rules do not seem to be helping either. Barack's forcing Russia to sell oil and natural gas to China will severely harm our allies in Great Britain and Europe. The economy of the EU cannot survive a 40% rise in their utility bills. They are near collapse anyway you say. Yes. But sanctions if not stopped now will push them over the edge sooner rather than later.
NATO wants to bring the Ukraine into their military alliance. This means if the Ukrainian coup leaders want to start World War III, we are all obligated to die. I once heard a Scotsman say that NATO stands for Not Altogether Thought Out. The Russians as part of that May Summit with China will be selling them Sukhoi SU-35 jet fighters. They can out maneuver the American F-22 and F-35 both of which are not really operational.
Prior to Putin's visit to China in May the Chinese are expected to announce their gold holdings late in April. The last time they announced those holdings was in April of 2009. Sun Tzu in The Art of War said 'when you are many pretend to be few.' As I have said before, China has at least 7,000 tons of gold. They might announce a much lower number or delay the press release if they are not yet ready to reveal a gold backed yuan. They might prefer to do that in May or at least to announce something like the End of the Petrodollar which would be Phase I of the destruction of the US economy. That could take the form of an announcement that oil and natural gas would henceforth be bought and sold only in yuan, rubles and gold. That would send the dollar into a tailspin from which it will never recover.
All of this will come to a head at least a month before the 100th anniversary of the assassination of Archduke Ferdinand on June 28, 2014. This time around I am hopeful that the US military which several times has had to say No to launching World War III by attacking Iran will refuse to get us and themselves killed. Why should we die because Wall Street cannot manage the economy without stealing our money by the tens of trillions, starving people to death by the hundreds of millions and killing people in their wars by the billions?
Source: Vidrebel