If You Don't Have Such A Rifle, Go Buy One Now!
The recent killing of an unarmed teenager by a Ferguson, Missouri police officer incited riots in and around the northern St. Louis area. As usual, the police version and the version of several eye witnesses lie in stark contrast. The police version is, the young man was struggling with the officer and trying to take his weapon from him–and the officer fired his weapon in self-defense. Several eyewitnesses say the young man had his hands in the air and was surrendering when the officer shot him. The latter version is the more popular view of local residents, which prompted hundreds of people to riot. Yes, the victim was a young black man.
It is very unfortunate and counter-productive when race becomes the focus of any story such as this. But it almost always does. Our propaganda media, which loves to use the race card, almost always makes any such tragedy some kind of racial discrimination story. Sometimes it is; but more often than not, race had nothing to do with it.
It is also very unfortunate that among the vast majority of God-fearing, law-and-order Americans, policemen are automatically assumed to be guiltless in the face of accusations of police abuse. It's almost like when a man puts on a badge and a gun, he becomes incapable of human misconduct.
Am I suggesting that a majority of police-killings are unjustified? I am not. I still believe that the vast majority of our men and women in blue (and brown for sheriff's deputies) are good-hearted, sincere, law-abiding people who do a tough job outstandingly well. The vast majority–but not all.
Sadly, incidences of police abuse seem to be skyrocketing. Examples of police arrogance and overreach are ubiquitous. More and more law enforcement personnel have an "us versus them" mentality. And the "them" are the citizens they (the "us") took an oath to protect and serve. More and more policemen have a shoot-first-and-ask-questions-later mindset. And more and more of them look upon their fellow citizens as "the enemy."
True story: A Christian policeman was recently asked to speak at a church gathering. The officer works in the traffic division of a small town. Mostly, he gives out parking and speeding tickets. As he opened his address to his fellow churchmen, he said, "I am a cop; I work among the dregs of society." Really? People who get parking tickets and drive 10 or 15 miles an hour over the speed limit are the "dregs" of society? That statement should have disqualified everything the officer had to say after that. But, sadly, the vast majority of Christians in the audience thundered their approval with choruses of "Amen!" This illustrates the depth of the problem we are now facing.
Putting on a badge and a gun no more makes a man righteous than putting on a tool belt or a fire suit or a waitress apron or a clergyman's frock or a welder's helmet or a lab coat, etc. If anything, putting on a badge and a gun makes a man more accountable for his actions than an ordinary profession.
While the incident in Missouri is still being investigated, there are plenty of examples of police conduct that is either questionable at least or downright Gestapo-like at worst. Last month, an unarmed man was choked to death by a police officer in Staten Island, New York. Five years ago, an Oakland, California police officer shot and killed a young man while he was lying face down on a subway platform. Two years ago, an unarmed National Guardsman was shot and killed by a New York policeman during a traffic stop. Unfortunately, these incidents seem to be escalating. Yes, the Oakland officer was prosecuted and convicted, but this is the exception not the rule. Seldom is an offending police officer ever charged with a crime–or even removed from his post.
Add to the list of police killings the tens of thousands of people who are severely beaten or abused, often without provocation, by out-of-control rogue officers, and the picture becomes even more ominous. Again, I readily recognize that these rogue officers are the exception and not the rule, but the sad reality is that these bad cops are mostly allowed to continue their brutality with impunity. For a policeman to be removed from his job, much less face prosecution, is a rarity indeed.
And here is the kicker: after the New York and Missouri incidents mentioned above, the U.S. Justice Department has announced that it is widening its involvement in local policing in an attempt to curb the growing abuse of power.
Are you kidding me?
The reason that so many of our local and State police agencies are succumbing to increased examples of police abuse is directly due to the militarization of local and State police agencies by the U.S. Department of Homeland Security. The DHS is providing the funding, the armaments, the military-style vehicles, military-style tactics and training, etc. for all of these local and State police agencies. The arrogance and heavy-handed tactics of these rogue police officers is largely attributed to the influence of the U.S. government's Department of Homeland Security. Now, this same U.S. government is going to "widen" its involvement with local police agencies in order to curb police violence? Get real! You know what's happening: the U.S. Justice Department is widening its involvement in local police agencies in order to further its parochial political agendas and to further promote political correctness.
What we need are constitutional sheriffs who will courageously serve as the people's vanguard against both the overreach of the federal government (which spawns so much police abuse, both local and federal) and against rogue officers among the police agencies of his jurisdiction. We also need partisan-free prosecutors in the local court systems. So many prosecutors are primarily motivated by partisan politics than they are "liberty and justice for all." And we also need jurors who are truly blind to their prejudices and propensities and are willing to acquit or convict on the basis of proven fact alone. When a policeman steps over the line, he or she must be held as accountable as any ordinary citizen.
I personally believe, and would aggressively support, making all sheriff and county prosecutor's races non-partisan (like judges). Justice should always be politically (and, yes, racially) blind. We have far, far too many political prisoners in our jails and prisons in this country. And if you don't think that's true, it's because most of the local media refuses to report this kind of injustice due to the political connections and partisanship of the paper's publishers and editors. The same is true with local television news. Accordingly, I strongly believe that sheriff and county prosecutor's races should be non-partisan. We should probably throw in the State attorney general's race, also. Lady Justice is supposed to be blindfolded, but political partisanship has taken away her blindfold and given her tainted glasses.
Obviously, even if the killing of the young man in Missouri was unjustified, the ensuing riots were also unjustified.
My friends, if you live in a big metropolitan area, you are one Rodney King or Hurricane Katrina event away from a potential all-out war against your family and property. As in the riots in South Central Los Angeles in 1992, and in the aftermath of Hurricane Katrina in New Orleans in 2005, people in northern St. Louis were subjected to the destruction of their property and the potential loss of life in the aftermath of the shooting of the young man in Ferguson.
And, just as was the case in South Central Los Angeles, business owners in northern St. Louis protected their lives and properties with–you guessed it: AR-15 semiautomatic rifles. Had President Obama and Senator Feinstein had their way a few months back, those people in North St. Louis would have been defenseless against the violent rioters that were attacking them. The presence of the AR-15 semiautomatic rifle saved many a life and much property in Los Angeles, California in 1992, in New Orleans, Louisiana in 2005, and in North St. Louis, Missouri in 2014.
In any kind of civil unrest, the best protection any of us have is God, the loyalty and dedication of good friends and family members who are willing to protect our backs, and a .223 or .308 semiautomatic battle rifle with loaded, large-capacity magazines. If you don't have such a rifle, GO BUY ONE NOW! If you don't have enough ammo, go buy it now. And if you live in a State or city that won't let you buy one, MOVE!
Add to the chaos of civil unrest caused by either man-made or natural disasters the fact that the U.S. government is unloosing hundreds of thousands–maybe millions–of violent illegals into our country, and anyone who is not well-armed for his or her own protection is downright foolish. According to Texas State officials, there have been nearly a half-million felonies committed by illegals during the last four years IN THE STATE OF TEXAS ALONE–including over 5,000 rapes and over 2,000 murders. Remember, these are crimes committed by illegals alone in the State of Texas alone.
Border Patrol agents are warning us that violent Mexican gang members, many of whom have already committed murder, are being allowed free access into the heartland of America. Texas State Senator Dan Patrick recently reported that his State now has over 100,000 illegal immigrant gang members. Again, that's just in Texas.
The crime rate across the United States has been declining for years, and is currently at its lowest level in recent history. But watch out! Violent illegal gang members, including members of one of the most violent and notorious gangs ever, MS-13, are pouring into this country. The crime rates in communities across America are about to explode. There is no way that local police agencies are going to be able to protect you. And, in truth, that is not their job. It is your job to protect yourself, dear friend. And you are not going to protect yourself from marauding rioters or violent gang members with a six-shot revolver. Oh, the handgun is fine defense for one or two attackers; but for more than that, you need a large-capacity semiautomatic battle rifle. How many examples of civil unrest do you need to convince you? I guess the one that breaks out next to your neighborhood, huh?
Of course, the federal government is allowing these violent illegals into our country KNOWING the crime and havoc they will unleash on this country. They WANT violence and havoc to be unleashed on this country. They must raise the crime rates in America in order to justify the expansion of the national Police State they are determined to construct. But in the meantime, tens of thousands (maybe hundreds of thousands) of Americans are going to be beaten, paralyzed, robbed, raped, and murdered.
We don't have to make it easy for these two-legged beasts: we can and should be an armed and ready populace capable and determined to protect our families, friends, neighborhoods, and communities: anything less is un-American, unmanly, and, un-Christian. Yes, you heard it right: It is un-Christian.
The Bible tells believers that any man who does not provide for his own, especially those of his own house, he has denied the Christian faith and is worse than an infidel. (I Timothy 5:8) And most certainly, "providing" for one's own entails protection as much as it does food, clothing, and shelter. I, therefore, maintain that any Christian who is not prepared to protect and defend his family by being duly armed and trained in the use of arms has denied his faith and is truly worse than an infidel. Even heathens understand the Natural Law of self-defense. In fact, the entire natural kingdom understands the law of self-defense.
The recent killing of that young man in Missouri should serve to remind us that police, too, must abide by the law (I sincerely hope that the police officer involved did just that), that civil unrest can erupt anywhere in seconds, and that the need of the people to keep and bear, not just any arms, but semiautomatic battle rifles, is the best insurance for the survival of our lives and our liberties.
Standing In Washington's Way…
The Obama administration is pushing for regime change in Iraq on the basis that current prime minister Nouri al Maliki is too sectarian. The fact is, however, that Maliki's abusive treatment of Sunnis never factored into Washington's decision to have him removed. Whether he has been  "too sectarian" or not is completely irrelevant. The real reason he's under attack is because he wouldn't sign the Status of Forces Agreement in 2011.  He refused to grant immunity to the tens of thousands of troops the administration wanted to leave in Iraq following the formal withdrawal.  That's what angered Washington. That's why the administration wants Maliki replaced.
Check out this White House statement of support  for new prime minister-designate Haider al-Ibadi (Maliki's rival) by Vice President Joe Biden just hours after the change (coup?) was announced. The document is titled  "Readout of the Vice President's Call with Iraqi Prime Minister-designate Haider al-Abadi".
"Vice President Joe Biden called Iraqi Prime Minister-designate Haider al-Abadi to congratulate him on his nomination to form a new government and develop a national program pursuant to Iraq's constitutional process. The Prime Minister-designate expressed his intent to move expeditiously to form a broad-based, inclusive government capable of countering the threat of the Islamic State of Iraq and the Levant, and building a better future for Iraqis from all communities. The Vice President relayed President Obama's congratulations and restated his commitment to fully support a new and inclusive Iraqi government, particularly in its fight against ISIL. The two leaders also discussed practical steps towards fully activating the bilateral Strategic Framework Agreement in all of its fields, including economic, diplomatic, and security cooperation. Prime Minister-designate Abadi thanked Vice President Biden for the call, and they agreed to stay in regular communication as the government formation process proceeds."  (White House)
Did you catch that part about the "bilateral Strategic Framework Agreement in all of its fields". That's the kicker right there. That's what this is all about. Here's one small section of that document under the heading of "Defense and Security":
"…. Iraq Joint Military Committee (JMC),…. addressed issues such as border security, Iraqi military strategy, and engagement of Iraqi Security Forces in regional training exercises. The next JCC likely will be held in Washington this year.

Acting Defense Minister al-Dlimi signed a Memorandum of Understanding on Security Cooperation with the U.S. Department of Defense. This agreement represents the strong military to military relationship between the United States and Iraq, and provides mechanisms for increased defense cooperation in areas including defense planning, counterterrorism cooperation, and combined exercises.

… The Iraq FMS program is one of the largest in the world and is an important symbol of the long-term security partnership envisioned by both countries. We remain committed to meeting Iraqi equipment needs as quickly as possible." (US Strategic Framework Agreement, US Department of State)

This is just the camel's nose under the tent. There's no doubt that the administration's ultimate objective is to put US "boots back on the ground" which, by the way, is the reason why Obama is allowing the terrorist militia (ISIS) to seize 30 percent of the Iraqi landmass, capture the nation's second biggest city, and move to within 50 miles of Baghdad without lifting a finger to help. It's because Obama wants to create a pretext for boosting troop levels in the country. What better way to redeploy thousands of US combat troops to Iraq, then to scare Iraqi policymakers into submission with visions of bloodthirsty terrorists (ISIS) lopping off heads and slitting throats at every opportunity. It's all about persuasion. (Note: It's easy to see that–while ISIS may not be directly under US control–its presence in Iraq certainly serves Washington's overall strategic aims. )
Independent researcher and journalist, Soraya Sepahpour-Ulrich, appears to be one of the few analysts who's figured out what's going on. Check out this clip from Iran's Press TV from interview with Ulrich:
"America has long-standing plans to be permanently present in Iraq, and in the Persian Gulf region as a whole", said Ulrich.   "Domination of the Persian Gulf is the lynchpin of US strategy…the presence of ISIL helps them in this goal."

After Iraqi Prime Minister Nouri al-Maliki forced American forces out of Iraq by refusing to sign a Status of Forces Agreement allowing the forces to stay on permanently, US found its way back again, she added.

The government of Maliki refused to grant immunity to thousands of US troops, who were to remain in Iraq beyond 2011 under the pretext of training local forces.

The government had agreed to allow some of the US forces to stay longer for "training" purposes, but refused to shield them from prosecution. As a result, that residual force was never deployed.

According to a 2008 bilateral security accord, known as the Status of Forces Agreement (SOFA), all the US troops left the country by December 2011.

Ulrich said, "It's very interesting that ISIL has captured towns and regions that have been vital for the US policy in the region — one is the oil-rich [region], America's training and funding of Kurds, and Israel in fact started training of the Kurds in 2005 and the thinking that oil from Iraq would go to Israel, and it's happening."….

"I don't believe for a moment that America has given up the idea of having Iraq and Syria and Iran under its full control," the independent researcher and writer empathized." ("'US raises ISIL specter to stay in Iraq'", Press TV) 

Bingo. The "too sectarian" trope is a fraud. This is all about Washington stationing combat troops where the oil is. It always gets back to oil, doesn't it?  U.S. Secretary of Defense Chuck Hagel summed it up perfectly in July, 2007, when he said:
"People say we're not fighting for oil. Of course we are. They talk about America's national interest. What the hell do you think they're talking about? We're not there for figs." (Washington's blog)
So how does Obama's bombing of ISIS jihadis outside of Ebril (N Iraq) fit with his earlier comments that he wouldn't help defend Iraq unless their was movement on the political front? (In other words, until Maliki was removed from office.)
He sure changed his tune fast, didn't he? But, why?
Oil, that's why.   Let's put it this way: There are 10 reasons why Obama bombed ISIS positions outside of Ebril. They are:
1–Exxon Mobil
2–Chevron
3–Aspect Energy
4–Marathon Oil Corporation
5–Hillwood International Energy
6–Hunt Oil
7–Prime Oil
8–Murphy Oil
9–Hess Corporation
10–HKN Energy
So what's the message here? What is Obama telegraphing to ISIS about US policy?
It's simple. "You can kill as many Arabs and Christians as you want, but if you lay a finger on even one oil well, we'll nuke you into oblivion." Isn't that the message?
Of course, it is. By the way, the reason the US exited Iraq to begin with wasn't because Obama wanted to keep his campaign promise. Oh no. That was just public relations hype. The real reason was because Obama handed the Iraq Brief over to lunkhead Biden when he first took office, and Biden flubbed the deal.  Hard to believe, isn't it?  Take a look at this blurb from the New Yorker:
"When I was profiling Biden last month, his advisers argued …that they had never favored Maliki, and had backed him because he won the support of a majority in Iraq. But that reading of history underplays Biden's activism. …. Biden predicted that Maliki would sign on to a Status of Forces Agreement to keep U.S. troops on the ground. "Maliki wants us to stick around because he does not see a future in Iraq otherwise," Biden said, according to the account. "I'll bet you my vice presidency Maliki will extend the SOFA."

Neither of those predictions came true. Maliki did not deliver, and U.S. forces left Iraq in December, 2011. As the crisis deepened this spring, the White House did not openly disparage Maliki, but made it clear that it was ready for a change. By all estimates, that sentiment was long overdue, and this week, America's protracted divorce from Maliki is nearing completion. Obama has returned American military aircraft to the skies over Iraq, authorizing strikes to protect U.S. diplomatic missions and religious and ethnic minorities, and to prevent Sunni militants from advancing on the Kurdish city of Erbil. On Monday, another political sinkhole opened in Baghdad: the President nominated a new Prime Minister, Haider al-Abadi, to replace Maliki. But Maliki has refused to give up power; on television, he vowed to use legal action to challenge the decision, while security forces loyal to him were seen taking up positions around the city." ("Breaking Up: Maliki and Biden", The New Yorker)
Read that passage over again; that's the whole ball of wax, right there. Biden botched the SOFA agreement, so Obama decided to get rid of Maliki. Soon after,  the plan to replace Maliki with Haider al-Abadi was put into motion.
It's worth noting, that Obama has been blasted in the media for more than a year for withdrawing the troops from Iraq. A simple Google search of "Maliki Status of Forces agreement" will produce hundreds of articles lambasting Obama as the man "who lost Iraq", or who "abandoned Iraq", or the man who organized "the tragic withdrawal". To America's right wing pundits, the problem was never the war itself, but the way it ended.  They blame Obama for everything that's gone wrong. That's why Obama wants to remove Maliki and deploy troops back to Iraq. It's an attempt to placate the right.
Naturally, the fact that Obama, Biden, Kerry and everyone else in the administration has expressed their support for the nearly-unknown Abadi, has led to suspicions that US Intel agencies (and perhaps the State Department) have been acting behind the scenes to depose Maliki. But Obama vehemently denies any involvement. Check out this article in the Guardian:
"American officials have denied participating in a plot to oust Iraq prime minister Nouri al-Maliki, despite a series of phone calls made by Barack Obama and Joe Biden to support the appointment of his successor…..

The Obama administration had become increasingly strident in its criticism of Maliki in recent weeks, accusing him of the current Islamic uprising by failing to govern in the interest of all Iraqis…..Obama had "instructed his diplomats in Washington and Baghdad to find an alternative" to Maliki. ….(Obama) also dangled the prospect of direct US military support against the Islamic State, the separatists also known as Isis or Isil, if the putative new prime minister Haider al-Abadi succeeds in forming a lasting government.

But officials rejected allegations on Monday that it was encouraging "regime change", insisting instead that the US was merely supporting a constitutional process rather than favoring individual politicians in Baghdad." ….("US denies role in plot to oust Iraqi prime minister Nouri al-Maliki", Guardian)

Let's summarize:
Obama stepped up his criticism of Maliki in the last few weeks.
Obama blamed Maliki for the "current Islamic uprising" which was nurtured by US Intel agencies that armed, trained and funded the respective wahhabi crackpots who then moved into Iraq.
Obama says the US will not help to defeat the jihadi invasion unless Maliki is replaced.
Obama told" his diplomats in Washington and Baghdad to find an alternative" to Maliki.
At the same time, US "officials rejected allegations on Monday that it was encouraging "regime change", insisting instead that the US was merely supporting a constitutional process."
What a joke. If it walks like a coup and quacks like a coup; it's a coup. It doesn't matter what Obama says. It doesn't matter what the media say. It's painfully obvious that the US is involved.
On top of that, we have this from the New York Times:
"Other senior Obama administration officials said American representatives in Iraq had been increasingly and deeply involved in Baghdad discussions during the last 10 days to settle on an alternative to Mr. Maliki." ("Iraqis Nominate Maliki Successor, Causing Standoff", New York Times) 
Isn't that an admission of guilt?  If "senior Obama administration officials" had been huddling for the last ten days to decide on a successor to the current Prime Minister, then how is that different than Victoria Nuland plotting the removal of Ukrainian prime minister Viktor Yanukovych  for US-puppet "Yats"? It's the same thing, isn't it?
Here's something else from the NYT that's worth mulling over:
"It was only during the past week that Mr. Abadi became a candidate. He is a onetime ally of Mr. Maliki's, and because Mr. Abadi is from the same party his candidacy became attractive, as it recognized the legitimacy of the election victory for Mr. Maliki's bloc in April's national elections.

This is what "encouraged them to make a coup against Maliki," said one of the Shiite negotiators, who asked to remain anonymous to discuss internal deliberations."
Can you believe what they're saying? So, it wasn't Abadi's position on the issues or his views on sectarianism that made him the "preferred" candidate at all.   He was chosen strictly on the basis that his candidacy had the greatest chance of success. That's it. This isn't democracy; it's a "dump Maliki at all cost" campaign orchestrated by the Obama troupe.  That's how desperate these people are.
But maybe Obama is right this time; is that what you are thinking, dear reader? After all, Maliki IS a vicious, iron-fisted tyrant who has fueled sectarian hatred and divisiveness. Maybe it would be better if he WAS gone. Maybe Obama is sincere in wanting  (as the New York Times says) "to  preserve Iraq's cohesion while helping to stop ISIS' avowed goal of creating a monolithic Islamic caliphate that ignores national boundaries."
If that's what you are thinking, you're wrong. Changing the man at the top, will not change the system. Nor does Washington want to change the system. The US wants a savage, remorseless tyrant, (Have you taken a look at Egypt lately?) they just want one that will follow orders, that's all. Maliki went off the reservation, so now he's getting his pink slip.  That's all there is to it.
The idea that Abadi will reunify Iraq is ridiculous. The de facto partitioning of Iraq has already taken place. It won't be reversed. In fact, this is what many in the political establishment (including Joe Biden) wanted from Day 1. A separate Kurdish state that will sell cheap oil to Israel and refuse to pass its oil revenues on to Baghdad, is already a reality, just as the borderless Sunni heartland (that will eventually take shape over the next few years) is a reality. Abadi will not alter these facts on the ground. Iraq is being torn apart by forces too powerful for him to contain or control. His function is merely to sign on the dotted line and allow the US to reopen its bases, redeploy its troops and get on with the business of empire.
The United States does not want a strong, independent Iraq. The US wants oil. The US wants power. The US wants Arabs killing Arabs. The US wants to extinguish Arab identity, culture, pride, literature, science, poetry, etc; anything that could lead to a reemergence of Arab nationalism, anything that could lead to an independent, sovereign state, anything that could impede the looting of Arab countries.
This is just the way that empire's work. Maliki got in Washington's way, so now Maliki is going to vanish.  End of story.
Whether he was "too sectarian" or not, doesn't make a damn bit of difference. His fate was sealed the moment he refused to sign the SOFA agreement.
My Money's On Putin…
"History shows that the United States has benefited politically and economically from wars in Europe. The huge outflow of capital from Europe following the First and Second World Wars, transformed the U.S. into a superpower … Today, faced with economic decline, the US is trying to precipitate another European war to achieve the same objective."… Sergey Glazyev, Russian politician and economist

"The discovery of the world's largest, known gas reserves in the Persian Gulf, shared by Qatar and Iran, and new assessments which found 70 percent more gas in the Levantine in 2007, are key to understanding the dynamics of the conflicts we see today. After a completion of the PARS pipeline, from Iran, through Iraq and Syria to the Eastern Mediterranean coast, the European Union would receive more than an estimated 45 percent of the gas it consumes over the next 100 – 120 years from Russian and Iranian sources. Under non-conflict circumstances, this would warrant an increased integration of the European, Russian and Iranian energy sectors and national economies." Christof Lehmann,Interview with Route Magazine
The United States failed operation in Syria, has led to an intensification of Washington's proxy war in Ukraine. What the Obama administration hoped to achieve in Syria through its support of so called "moderate" Islamic militants was to topple the regime of Bashar al Assad, replace him with a US-backed puppet, and prevent the construction of the critical Iran-Iraq-Syria pipeline. That plan hasn't succeeded nor will it in the near future, which means that the plan for the prospective pipeline will eventually go forward.
Why is that a problem?
It's a problem because–according to Dr. Lehmann–"Together with the Russian gas… the EU would be able to cover some 50 percent of its requirements for natural gas via Iranian and Russian sources." As the primary suppliers of critical resources to Europe, Moscow and Tehran would grow stronger both economically and politically which would significantly undermine the influence of the US and its allies in the region, particularly Qatar and Israel. This is why opponents of the pipeline developed a plan to sabotage the project by fomenting a civil war in Syria. Here's Lehmann again:
"In 2007, Qatar sent USD 10 billion to Turkey´s Foreign Minister Davotoglu to prepare Turkey´s and Syria´s Muslim Brotherhood for the subversion of Syria. As we recently learned from former French Foreign Minister Dumas, it was also about that time, that actors in the United Kingdom began planning the subversion of Syria with the help of "rebels"' (Christof Lehmann, Interview with Route Magazine)
In other words, the idea to arm, train and fund an army of jihadi militants, to oust al Assad and open up Syria to western interests, had its origins in an evolving energy picture that clearly tilted in the favor of US rivals in the region. (Note: We're not sure why Lehmann leaves out Saudi Arabia, Kuwait or the other Gulf States that have also been implicated.)
Lehmann's thesis is supported by other analysts including the Guardian's Nafeez Ahmed who explains what was going on behind the scenes of the fake civil uprising in Syria. Here's a clip from an article by Ahmed titled "Syria intervention plan fueled by oil interests, not chemical weapon concern":
"In May 2007, a presidential finding revealed that Bush had authorised CIA operations against Iran. Anti-Syria operations were also in full swing around this time as part of this covert programme, according to Seymour Hersh in the New Yorker. A range of US government and intelligence sources told him that the Bush administration had "cooperated with Saudi Arabia's government, which is Sunni, in clandestine operations" intended to weaken the Shi'ite Hezbollah in Lebanon. "The US has also taken part in clandestine operations aimed at Iran and its ally Syria," wrote Hersh, "a byproduct" of which is "the bolstering of Sunni extremist groups" hostile to the United States and "sympathetic to al-Qaeda." He noted that "the Saudi government, with Washington's approval, would provide funds and logistical aid to weaken the government of President Bashir Assad, of Syria"…

According to former French foreign minister Roland Dumas, Britain had planned covert action in Syria as early as 2009: "I was in England two years before the violence in Syria on other business", he told French television:

"I met with top British officials, who confessed to me that they were preparing something in Syria. This was in Britain not in America. Britain was preparing gunmen to invade Syria."
… Leaked emails from the private intelligence firm Stratfor including notes from a meeting with Pentagon officials confirmed US-UK training of Syrian opposition forces since 2011 aimed at eliciting "collapse" of Assad's regime "from within."

So what was this unfolding strategy to undermine Syria and Iran all about? According to retired NATO Secretary General Wesley Clark, a memo from the Office of the US Secretary of Defense just a few weeks after 9/11 revealed plans to "attack and destroy the governments in 7 countries in five years", starting with Iraq and moving on to "Syria, Lebanon, Libya, Somalia, Sudan and Iran." In a subsequent interview, Clark argues that this strategy is fundamentally about control of the region's vast oil and gas resources."
("Syria intervention plan fueled by oil interests, not chemical weapon concern", The Guardian)
Apparently, Assad was approached by Qatar on the pipeline issue in 2009, but he refused to cooperate in order "to protect the interests of [his] Russian ally." Had Assad fallen in line and agreed to Qatar's offer, then the effort to remove him from office probably would have been called off. In any event, it was the developments in Syria that triggered the frenzied reaction in Ukraine. According to Lehmann:
"The war in Ukraine became predictable (unavoidable?) when the great Muslim Brotherhood Project in Syria failed during the summer of 2012. …In June and July 2012 some 20,000 NATO mercenaries who had been recruited and trained in Libya and then staged in the Jordanian border town Al-Mafraq, launched two massive campaigns aimed at seizing the Syrian city of Aleppo. Both campaigns failed and the "Libyan Brigade" was literally wiped out by the Syrian Arab Army.

It was after this decisive defeat that Saudi Arabia began a massive campaign for the recruitment of jihadi fighters via the network of the Muslim Brotherhoods evil twin sister Al-Qaeda.

The International Crisis Group responded by publishing its report "Tentative Jihad". Washington had to make an attempt to distance itself "politically" from the "extremists". Plan B, the chemical weapons plan was hedged but it became obvious that the war on Syria was not winnable anymore." ("The Atlantic Axis and the Making of a War in Ukraine", New eastern Outlook)
There were other factors that pushed the US towards a conflagration with Moscow in Ukraine, but the driving force was the fact that US rivals (Russia and Iran) stood to be the dominant players in an energy war that would increasingly erode Washington's power. Further economic integration between Europe and Russia poses a direct threat to US plans to pivot to Asia, deploy NATO to Russia's borders, and to continue to denominate global energy supplies in US dollars.
Lehmann notes that he had a conversation with "a top-NATO admiral from a northern European country" who clarified the situation in a terse, two-sentence summary of US foreign policy. He said:
"American colleagues at the Pentagon told me, unequivocally, that the US and UK never would allow European – Soviet relations to develop to such a degree that they would challenge the US/UK's political, economic or military primacy and hegemony on the European continent. Such a development will be prevented by all necessary means, if necessary by provoking a war in central Europe".
This is the crux of the issue. The United States is not going to allow any state or combination of states to challenge its dominance. Washington doesn't want rivals. It wants to be the undisputed, global superpower, which is the point that Paul Wolfowitz articulated in an early draft of the US National Defense Strategy:
"Our first objective is to prevent the re-emergence of a new rival, either on the territory of the former Soviet Union or elsewhere, that poses a threat on the order of that posed formerly by the Soviet Union. This is a dominant consideration underlying the new regional defense strategy and requires that we endeavor to prevent any hostile power from dominating a region whose resources would, under consolidated control, be sufficient to generate global power."
So the Obama administration is going to do whatever it thinks is necessary to stop further EU-Russia economic integration and to preserve the petrodollar system. That system originated in 1974 when President Richard Nixon persuaded OPEC members to denominate their oil exclusively in dollars, and to recycle their surplus oil proceeds into U.S. Treasuries. The arrangement turned out to be a huge windfall for the US, which rakes in more than $1 billion per day via the process. This, in turn, allows the US to over-consume and run hefty deficits. Other nations must stockpile dollars to purchase the energy that runs their machinery, heats their homes and fuels their vehicles. Meanwhile, the US can breezily exchange paper currency, which it can print at no-expense to itself, for valuable imported goods that cost dearly in terms of labor and materials. These dollars then go into purchasing oil or natural gas, the profits of which are then recycled back into USTs or other dollar-denominated assets such as U.S. stocks, bonds, real estate, or ETFs. This is the virtuous circle that keeps the US in the top spot.
As one critic put it: "World trade is now a game in which the US produces dollars and the rest of the world produces things that dollars can buy."
The petrodollar system helps to maintain the dollar's monopoly pricing which, in turn, sustains the dollar as the world's reserve currency. It creates excessive demand for dollars which allows the Fed to expand the nation's credit by dramatically reducing the cost of financing. If oil and natural gas were no longer denominated in USDs, the value of the dollar would fall sharply, the bond market would collapse, and the US economy would slip into a long-term slump.
This is one of the reasons why the US invaded Iraq shortly after Saddam had switched over to the euro; because it considers any challenge to the petrodollar looting scam as a direct threat to US national security.
Moscow is aware of Washington's Achilles's heel and is making every effort to exploit that weakness by reducing its use of the dollar in its trade agreements. So far, Moscow has persuaded China and Iran to drop the dollar in their bilateral dealings, and they have found that other trading partners are eager to do the same. Recently, Russian economic ministers conducted a "de-dollarization" meeting in which a "currency switch executive order" was issued stating that "the government has the legal power to force Russian companies to trade a percentage of certain goods in rubles."
Last week, according to RT:
"The Russian and Chinese central banks have agreed a draft currency swap agreement, which will allow them to increase trade in domestic currencies and cut the dependence on the US dollar in bilateral payments. "The draft document between the Central Bank of Russia and the People's Bank of China on national currency swaps has been agreed by the parties…..The agreement will stimulate further development of direct trade in yuan and rubles on the domestic foreign exchange markets of Russia and China," the Russian regulator said.

Currently, over 75 percent of payments in Russia-China trade settlements are made in US dollars, according to Rossiyskaya Gazeta newspaper." ("De-Dollarization Accelerates – China/Russia Complete Currency Swap Agreement", Zero Hedge)
The attack on the petrodollar recycling system is one of many asymmetrical strategies Moscow is presently employing to discourage US aggression, to defend its sovereignty, and to promote a multi-polar world order where the rule of law prevails. The Kremlin is also pushing for institutional changes that will help to level the playing field instead of creating an unfair advantage for the richer countries like the US. Naturally, replacing the IMF, whose exploitative loans and punitive policies, topped the list for most of the emerging market nations, particularly the BRICS (Brazil, Russia, India, China and South Africa) who, in July, agreed to create a $100 billion Development Bank that will "will counter the influence of Western-based lending institutions and the dollar. The new bank will provide money for infrastructure and development projects in BRICS countries, and unlike the IMF or World Bank, each nation has equal say, regardless of GDP size.
According to RT:
"The big launch of the BRICS bank is seen as a first step to break the dominance of the US dollar in global trade, as well as dollar-backed institutions such as the International Monetary Fund (IMF) and the World Bank, both US-based institutions BRICS countries have little influence within…

"This mechanism creates the foundation for an effective protection of our national economies from a crisis in financial markets," Russian President Vladimir Putin said."
("BRICS establish $100bn bank and currency pool to cut out Western dominance", RT)
It's clear that Washington's aggression in Ukraine has focused Moscow's attention on retaliation. But rather than confront the US militarily, as Obama and Co. would prefer, Putin is taking aim at the vulnerabilities within the system. A BRICS Development Bank challenges the IMF's dominant role as lender of last resort, a role that has enhanced the power of the wealthy countries and their industries. The new bank creates the basis for real institutional change, albeit, still within the pervasive capitalist framework.
Russian politician and economist, Sergei Glazyev, summarized Moscow's approach to the US-Russia conflagration in an essay titled "US is militarizing Ukraine to invade Russia." Here's an excerpt:
"To stop the war, you need to terminate its driving forces. At this stage, the war unfolds mainly in the planes of economic, public relations and politics. All the power of US economic superiority is based on the financial pyramid of debt, and this has gone long beyond sustainability. Its major lenders are collapsing enough to deprive the US market of accumulated US dollars and Treasury bonds. Of course, the collapse of the US financial system will cause serious losses to all holders of US currency and securities. But first, these losses for Russia, Europe and China will be less than the losses caused by American geopolitics unleashing another world war. Secondly, the sooner the exit from the financial obligations of this American pyramid, the less will be the losses. Third, the collapse of the dollar Ponzi scheme gives an opportunity, finally, to reform the global financial system on the basis of equity and mutual benefit."
Washington thinks "modern warfare" involves covert support for proxy armies comprised of Neo Nazis and Islamic extremists. Moscow thinks modern warfare means undermining the enemy's ability to wage war through sustained attacks on it's currency, its institutions, its bond market, and its ability to convince its allies that it is a responsible steward of the global economic system.
I'll put my money on Russia.
During Cold War One those of us in the American radical left were often placed in the position where we had to defend the Soviet Union because the US government was using that country as a battering ram against us. Now we sometimes have to defend Russia because it may be the last best hope of stopping TETATW (The Empire That Ate The World). Yes, during Cold War One we knew enough about Stalin, the show trials, and the gulags. But we also knew about US foreign policy.
E-mail sent to the Washington Post July 23, 2014 about the destruction of Malaysian Airlines Flight 17:
Dear Editor,
Your July 22 editorial was headed: "Russia's barbarism. The West needs a strategy to contain the world's newest rogue state."
Pretty strong language. Vicious, even. Not one word of hard evidence in the editorial to back it up. Then, the next day, the Associated Press reported:
Senior U.S. intelligence officials said Tuesday that Russia was responsible for 'creating the conditions' that led to the shooting down of Malaysia Airlines Flight 17, but they offered no evidence of direct Russian government involvement. … the U.S. had no direct evidence that the missile used to shoot down the passenger jet came from Russia.
Where were these words in the Post? You people are behaving like a rogue newspaper.
– William Blum
I don't have to tell you whether the Post printed my letter. I've been reading the paper for 25 years – six years during Vietnam (1964-1970) and the last 19 years (1995-2014) – usually spending about three hours each day reading it very carefully. And I can say that when it comes to US foreign policy the newspaper is worse now than I can remember it ever was during those 25 years. It's reached the point where, as one example, I don't take at face value a word the Post has to say about Ukraine. Same with the State Department, which makes one accusation after another about Russian military actions in Eastern Ukraine without presenting any kind of satellite imagery or other visual or documentary evidence; or they present something that's wholly inconclusive and/or unsourced or citing "social media"; what we're left with is often no more than just an accusation.  Do they have something to hide?
The State Department's Public Affairs spokespersons making these presentations exhibit little regard or respect for the reporters asking challenging questions. It takes my thoughts back to the Vietnam era and Arthur Sylvester, Assistant Secretary of Defense for Public Affairs, the man most responsible for "giving, controlling and managing the war news from Vietnam". One day in July 1965, Sylvester told American journalists that they had a patriotic duty to disseminate only information that made the United States look good. When one of the reporters exclaimed: "Surely, Arthur, you don't expect the American press to be handmaidens of government," Sylvester replied: "That's exactly what I expect," adding: "Look, if you think any American official is going to tell you the truth, then you're stupid. Did you hear that? – stupid."
Such frankness might be welcomed today as a breath of fresh air compared to the painful-to-observe double-talk of a State Department spokesperson.
My personal breath of fresh air in recent years has been the television station RT (formerly Russia Today). On a daily basis many progressives from around the world (myself included occasionally) are interviewed and out of their mouths come facts and analyses that are rarely heard on CNN, NBC, ABC, CBS, NPR, PBS, Fox News, BBC, etc. The words of these progressives heard on RT are typically labeled by the mainstream media as "Russian propaganda", whereas I, after a long lifetime of American propaganda, can only think: "Of course. What else are they going to call it?"
As for Russia being responsible for "creating the conditions" that led to the shooting down of Flight 17, we should keep in mind that the current series of events in Ukraine was sparked in February when a US-supported coup overthrew the democratically-elected government and replaced it with one that was more receptive to the market-fundamentalism dictates of the World Bank, International Monetary Fund, and the European Union. Were it not for the coup there would have been no eastern rebellion to put down and no dangerous war zone for Flight 17 to be flying over in the first place.
The new regime has had another charming feature: a number of outspoken neo-Nazis in high and low positions, a circumstance embarrassing enough for the US government and mainstream media to turn it into a virtual non-event. US Senator John McCain met and posed for photos with the leader of the neo-Nazi Svoboda Party, Oleh Tyahnybok (photos easily found on the Internet). Ukraine – whose ties to Naziism go back to World War Two when their homegrown fascists supported Germany and opposed the Soviet Union – is on track to becoming the newest part of the US-NATO military encirclement of Russia and possibly the home of the region's newest missile base, target Moscow.
It is indeed possible that Flight 17 was shot down by the pro-Russian rebels in Eastern Ukraine in the mistaken belief that it was the Ukrainian air force returning to carry out another attack. But other explanations are suggested in a series of questions posed by Russia to the the Secretary-General of the UN General Assembly, accompanied by radar information, satellite images, and other technical displays:
"Why was a military aircraft flying in a civil aviation airway at almost the same time and the same altitude as a civilian passenger aircraft? We would like to have this question answered."
"Earlier, Ukrainian officials stated that on the day of the accident no Ukrainian military aircraft were flying in that area. As you can see, that is not true."
"We also have a question for our American colleagues. According to a statement by American officials, the United States has satellite images which show that the missile aimed at the Malaysian aircraft was launched by the militants. But no one has seen these images."
There is also this intriguing speculation, which ties in to the first Russian question above. A published analysis by a retired Lufthansa pilot points out that Flight 17 looked similar in its tricolor design to that of Russian President Putin's plane, whose plane with him on board was at the same time "near" Flight 17. In aviation circles "near" would be considered to be anywhere between 150 to 200 miles.  Could Putin's plane have been the real target?
There is as well other serious and plausible questioning of the official story of Russia and/or Ukrainian anti-Kiev militias being responsible for the shootdown. Is Flight 17 going to become the next JFK Assassination, PanAm 103, or 9-11 conspiracy theory that lingers forever? Will the Iraqi weapons of mass destruction and the Syrian chemical weapons be joined by the Russian anti-aircraft missile? Stay tuned.
Will they EVER leave Cuba alone? No.
The latest exposed plot to overthrow the Cuban government … Oh, pardon me, I mean the latest exposed plot to bring democracy to Cuba …
Our dear friends at the Agency For International Development (USAID), having done so well with their covert sub-contractor Alan Gross, now in his fifth year in Cuban custody … and their "Cuban Twitter" project, known as ZunZuneo, exposed in 2012, aimed at increasing the flow of information amongst the supposedly information-starved Cubans, which drew in subscribers unaware that the service was paid for by the US government … and now, the latest exposure, a project which sent about a dozen Venezuelan, Costa Rican and Peruvian young people to Cuba in hopes of stirring up a rebellion; the travelers worked clandestinely, using the cover of health and civic programs, or posing as tourists, going around the island, on a mission to "identify potential social-change actors" to turn into political activists. Can you believe that? Can you believe the magnitude of naiveté? Was it a conviction that American exceptionalism would somehow work its magic? Do they think the Cuban people are a bunch of children just waiting for a wise adult to come along and show them what to think and how to behave?
One of these latest USAID contracts was signed only days after Gross was detained, thus indicating little concern for the safety of their employees/agents. As part of the preparation of these individuals, USAID informed them: "Although there is never total certainty, trust that the authorities will not try to harm you physically, only frighten you. Remember that the Cuban government prefers to avoid negative media reports abroad, so a beaten foreigner is not convenient for them."
It's most ironic. The US government could not say as much about most of their allies, who frequently make use of physical abuse. Indeed, the statement could not be made in regard to almost any American police force. But it's this Cuba that doesn't beat or torture detainees that is the enemy to be reformed and punished without mercy … 55 years and counting.
The United States and torture
Two of the things that governments tend to cover-up or lie about the most are assassinations and torture, both of which are widely looked upon as exceedingly immoral and unlawful, even uncivilized. Since the end of the Second World War the United States has attempted to assassinate more than 50 foreign leaders and has led the world in torture; not only the torture performed directly by Americans upon foreigners, but providing torture equipment, torture manuals, lists of people to be tortured, and in-person guidance and encouragement by American instructors, particularly in Latin America.
Thus it is somewhat to the credit of President Obama that at his August 1 press conference he declared "We did a whole lot of things that were right, but we tortured some folks. We did some things that were contrary to our values."
And he actually used the word "torture" at that moment, not "enhanced interrogation", which has been the euphemism of preference the past decade, although two minutes later the president used "extraordinary interrogation techniques". And "tortured some folks" makes me wince. The man is clearly uncomfortable with the subject.
But all this is minor. Much more important is the fact that for several years Mr. Obama's supporters have credited him with having put an end to the practice of torture. And they simply have no right to make that claim.
Shortly after Obama's first inauguration, both he and Leon Panetta, the new Director of the CIA, explicitly stated that "rendition" was not being ended. As the Los Angeles Times reported at the time: "Under executive orders issued by Obama recently, the CIA still has authority to carry out what are known as renditions, secret abductions and transfers of prisoners to countries that cooperate with the United States."
The English translation of "cooperate" is "torture". Rendition is simply outsourcing torture. There was no other reason to take prisoners to Lithuania, Poland, Romania, Egypt, Jordan, Kenya, Somalia, Kosovo, or the Indian Ocean island of Diego Garcia, to name some of the known torture centers frequented by the United States. Kosovo and Diego Garcia – both of which house large and very secretive American military bases – if not some of the other locations, may well still be open for torture business. The same for the Guantánamo Base in Cuba.
Moreover, the Executive Order referred to, number 13491, issued January 22, 2009, "Ensuring Lawful Interrogations", leaves a major loophole. It states repeatedly that humane treatment, including the absence of torture, is applicable only to prisoners detained in an "armed conflict". Thus, torture by Americans outside an environment of "armed conflict" is not explicitly prohibited. But what about torture within an environment of "counter-terrorism"?
The Executive Order required the CIA to use only the interrogation methods outlined in a revised Army Field Manual. However, using the Army Field Manual as a guide to prisoner treatment and interrogation still allows solitary confinement, perceptual or sensory deprivation, sensory overload, sleep deprivation, the induction of fear and hopelessness, mind-altering drugs, environmental manipulation such as temperature and noise, and stress positions.
After Panetta was questioned by a Senate panel, the New York Times wrote that he had "left open the possibility that the agency could seek permission to use interrogation methods more aggressive than the limited menu that President Obama authorized under new rules … Mr. Panetta also said the agency would continue the Bush administration practice of 'rendition' – picking terrorism suspects off the street and sending them to a third country. But he said the agency would refuse to deliver a suspect into the hands of a country known for torture or other actions 'that violate our human values'."
The last sentence is of course childishly absurd. The countries chosen to receive rendition prisoners were chosen precisely because they were willing and able to torture them.
No official in the Bush and Obama administrations has been punished in any way for torture or other war crimes in Iraq, Afghanistan and the other countries they waged illegal war against. And, it could be added, no American bankster has been punished for their indispensable role in the world-wide financial torture they inflicted upon us all beginning in 2008. What a marvelously forgiving land is America. This, however, does not apply to Julian Assange, Edward Snowden, or Chelsea Manning.
In the last days of the Bush White House, Michael Ratner, professor at Columbia Law School and former president of the Center for Constitutional Rights, pointed out:
The only way to prevent this from happening again is to make sure that those who were responsible for the torture program pay the price for it. I don't see how we regain our moral stature by allowing those who were intimately involved in the torture programs to simply walk off the stage and lead lives where they are not held accountable.
I'd like at this point to once again remind my dear readers of the words of the "Convention Against Torture and Other Cruel, Inhuman or Degrading Treatment or Punishment", which was drafted by the United Nations in 1984, came into force in 1987, and ratified by the United States in 1994. Article 2, section 2 of the Convention states: "No exceptional circumstances whatsoever, whether a state of war or a threat of war, internal political instability or any other public emergency, may be invoked as a justification of torture."
Such marvelously clear, unequivocal, and principled language, to set a single standard for a world that makes it increasingly difficult for one to feel proud of humanity.
The Convention Against Torture has been and remains the supreme law of the land. It is a cornerstone of international law and a principle on a par with the prohibition against slavery and genocide.
"Mr. Snowden will not be tortured. Torture is unlawful in the United States." – United States Attorney General Eric Holder, July 26, 2013
John Brennan, appointed by President Obama in January 2013 to be Director of the CIA, has defended "rendition" as an "absolutely vital tool"; and stated that torture had produced "life saving" intelligence.
Obama had nominated Brennan for the CIA position in 2008, but there was such an outcry in the human-rights community over Brennan's apparent acceptance of torture, that Brennan withdrew his nomination. Barack Obama evidently learned nothing from this and appointed the man again in 2013.
During Cold War One, a common theme in the rhetoric was that the Soviets tortured people and detained them without cause, extracted phony confessions, and did the unspeakable to detainees who were helpless against the full, heartless weight of the Communist state. As much as any other evil, torture differentiated the bad guys, the Commies, from the good guys, the American people and their government. However imperfect the US system might be – we were all taught – it had civilized standards that the enemy rejected.
Just because you have a right to do something does not make it right.
The city of Detroit in recent months has been shutting off the supply of water to city residents who have not paid their water bills. This action affects more than 40% of the customers of the Detroit Water and Sewage Department, bringing great inconvenience and threats to the health and sanitation of between 200 and 300 thousand residents. Protests have of course sprung up in the city, with "Water is a human right!" as a leading theme.
Who can argue with that? Well, neo-conservatives and other true believers in the capitalist system who maintain that if you receive the benefit of a product or service, you pay for it. What could be simpler? What are you, some kind of socialist?
For those of you who have difficulty believing that an American city could be so insensitive, allow me to remind you of some history.
On December 14, 1981 a resolution was proposed in the United Nations General Assembly which declared that "education, work, health care, proper nourishment, national development are human rights". Notice the "proper nourishment". The resolution was approved by a vote of 135-1. The United States cast the only "No" vote.
A year later, December 18, 1982, an identical resolution was proposed in the General Assembly. It was approved by a vote of 131-1. The United States cast the only "No" vote.
The following year, December 16, 1983, the resolution was again put forth, a common practice at the United Nations. This time it was approved by a vote of 132-1. There's no need to tell you who cast the sole "No" vote.
These votes took place under the Reagan administration.
Under the Clinton administration, in 1996, a United Nations-sponsored World Food Summit affirmed the "right of everyone to have access to safe and nutritious food". The United States took issue with this, insisting that it does not recognize a "right to food". Washington instead championed free trade as the key to ending the poverty at the root of hunger, and expressed fears that recognition of a "right to food" could lead to lawsuits from poor nations seeking aid and special trade provisions.
The situation of course did not improve under the administration of George W. Bush. In 2002, in Rome, world leaders at another UN-sponsored World Food Summit again approved a declaration that everyone had the right to "safe and nutritious food". The United States continued to oppose the clause, again fearing it would leave them open to future legal claims by famine-stricken countries.
I'm waiting for a UN resolution affirming the right to oxygen.
Notes
See various examples at RT.com, such as "Jen Psaki's most embarrassing fails, most entertaining grillings", or simply search the site for "Ukraine Jen Psaki"
Congressional Record (House of Representatives), May 12, 1966, pp. 9977-78, reprint of an article by Morley Safer of CBS News
"Letter dated 22 July 2014 from the Permanent Representative of the Russian Federation to the United Nations addressed to the Secretary-General", released by the UN 24 July, Document No. A/68/954-S/2014/524
"Pre-WWIII German Pilot Shocker, MH17 'Not Hit By Missile'", Before It's News, July 31 2014
Associated Press, August 4, 2014
Los Angeles Times, February 1, 2009
New York Times, February 6, 2009
Associated Press, November 17, 2008
Associated Press, November 26, 2008
Washington Post, November 18, 1996
Reuters news agency, June 10, 2002
"In acting, sincerity is everything. If you can fake that, you've got it made." (George Burns)
Reality is a psychological operation.
Socio-political reality basically means some group has force, money, and access to fawning media. They can define what exists.
A psyop depends on being able to engineer one story line.
A psyop depends on selling one centralized story.
If, magically, overnight, you found yourself in possession of overwhelming force and a direct pipeline to elite media anchors, you could tell your story about what exists, and you would find millions of people believing you.
What would happen if the three major networks, each with considerable power, had come up with three vastly different versions of the Boston massacre?
CBS: "FBI and local police killed one terrorist and captured the other in what observers are calling one of the bravest days in the history of law enforcement in America."
NBC: "After a violent gun battle on the streets of a great American city, during which a suspect in the Boston massacre was killed, an FBI source stunningly revealed the Bureau had shifted the blame on to their own cooperating informants. The source put it this way: 'The Tsarnaev brothers were recruited by a secret Bureau unit to plant the bombs. The plan was to blame the bombing on so-called patriots, but that fell through, so the Bureau exercised their only option. They put their own informants front and center and called them terrorists…'"
ABC: "Today, the tragic loss of life and wounding of more than 180 persons at the Boston Marathon were partially redeemed, when, amazingly, Boston police traced three pipe bombs to a CIA storage locker in Maryland…"
Suppose, in the midst of an uproar heard and echoed around the world, the networks stood by their contradictory versions of events and wouldn't back down?
A massive blow would hit psyop-land. Centralized story? Poleaxed.
People wouldn't know what to do. They expect one story line and they get three, from the highest hypnotic and influential media giants.
In a literal, though unconscious, sense, familiar time and space begin to fall apart.
But actually, it's far more surreal for the three major television networks to agree on the substance of every significant event than to come to radically different conclusions.
Unfortunately, people don't see it that way. They don't see that three behemoths dispensing the same information are key elements in thought-police fascism. They don't see that the consensus is arranged.
"Bargain price! We'll shave down your perceptual field so you can fit in with eight billion androids. You'll never miss what you can't see. On a scale from 0 to 10, your creative impulse will be coming in at about .06. That'll cement you right into the limited spectrum, where all the action is. Yes, folks, there really is a sense of family in this reality. People liking people. We're all in this together. Remember, life is better when you see what we want you to see! It takes the pressure off. Do you really care about what you think? Don't you want to be fixed, so you can think what everybody else thinks? Now that's a real program. Once we lock you in and reshuffle your electromagnetic fields, you'll emerge with our new Sameness system. You'll see what your friends see with just a bit of difference, to make it interesting…"
In a country in which art has little or no perceived value, there's a sucker born every millisecond. Why? Because when consciousness of art is nil, people accept official art, which is always present, as the guiding and only reality. And of course, they don't see it as art.
"Things can't be any other way. This is it."
Nowhere is this truer than in television news.
It's not only the content of news that is embraced, it's the style, the manner of presentation—and in the long run, the presentation is far more corrosive, far more deadly than the content.
The imitations of life called anchors are the arbiters of style. How they speak, how they look, how they themselves experience emotion—all this is planted deep in the brains of the viewers.
Most of America can't imagine the evening news could look and sound any other way.
That's how solid the long-term brainwashing is.
The elite anchors, from John Daly, in the early days of television, all the way to Brian Williams and Scott Pelley, have set the tone. They define the genre.
The elite anchor is not a person filled with passion or curiosity. Therefore, the audience doesn't have to be passionate or filled with curiosity, either.
The anchor is not a demanding voice on the air; therefore, the audience doesn't have to be demanding.
The anchor isn't hell-bent on uncovering the truth. For this he substitutes a false dignity. Therefore, the audience can surrender its need to wrestle with the truth and replace that with a false dignity of its own.
The anchor takes propriety to an extreme: it's unmannerly to look below the surface of things. Therefore, the audience adopts those manners.
The anchor inserts an actor's style into what should instead be a relentless reporter's forward motion. Therefore, the audience can remain content in its own related role: watching the actor.
The anchor taps into, and mimics, that part of the audience's psyche that wants smooth delivery of superficial cause and effect.
Night after night, the anchor, working from a long tradition, confirms that he is delivering the news as it should be delivered, in both style and substance. The audience bows before the tradition and before him.
From their perch, the elite television anchors can deign to allow a trickle of sympathy here, a slice of compassion there.
But they let the audience know that objectivity is their central mission. "We have to get the story right. You can rely on us for that."
This is the great PR arch of national network news. "These facts are what's really happening and we're giving them to you." The networks spend untold millions to convey that false assurance.
The elite anchor must pretend to believe the narrow parameters and boundaries of a story are all there is. There is no deeper meaning. There is no abyss waiting to swallow whole a major story and reveal it as a hoax. No. Never.
With this conviction in tow, the anchor can fiddle and diddle with details.
The network anchor is the wizard of Is. He keeps explaining what is. "Here's something that is, and then over here we have something else that is, and now, just in, a new thing that is." He lays down miles of "is-concrete" to pave over deeper, uncomfortable, unimaginable truth.
The anchor is quite satisfied to obtain all his information from "reputable sources." This mainly means government and corporate spokespeople. Not a problem.
Every other source, for the anchor, is murky and unreliable. He doesn't have to worry his pretty little head about whether his sources are, indeed, trustworthy. He calculates it this way: if government and corporations are releasing information, that means there is news to report.
What the FBI director has to say is news whether it's true or false, because the director said it. So why not blur over the mile-wide distinction between "he spoke the truth" and "he spoke"?
On air, the anchor is neutral, a castratus, a eunuch.
This is a time-honored ancient tradition. The eunuch, by his diminished condition, has the trust of the ruler. He guards the emperor's inner sanctum. He acts as a buffer between his master and the people. He applies the royal seal to official documents.
Essentially, the anchor is saying, "See, I'm ascetic in the service of truth. Why would I hamstring myself this way unless my mission is sincere objectivity?" And the public buys it.
All expressed shades of emotion occur and are managed within that persona of the dependable court eunuch. The anchor who can move the closest to the line of being human without actually arriving there is the champion. These days, it's Brian Williams.
The vibrating string between eunuch and human is the frequency that makes an anchor great. Think Cronkite, Chet Huntley, Edward R Murrow. Huntley was a just a touch too masculine, so they teamed him up with David Brinkley, a medium-boiled egg. Brinkley supplied twinkles of comic relief.
The public expects to hear that vibrating string. It's been conditioned by many hard nights at the tube, watching the news. When Diane Sawyer goes too far and begins dribbling (alcohol? tranqs?) on her collar, that's soap opera, and the audience loves soap opera, too.
The cable news networks don't really have anyone who qualifies as an elite anchor. Wolf Blitzer of CNN made his bones during the first Iraq war only because his name fit the bombing action so well. Brit Hume of FOX has more anchor authority than anyone now working in network television, but he's semi-retired, content to play the role of contributor, because he knows the news is a scam on wheels.
There are other reasons for "voice-neutrality" of the anchor. Neutrality conveys a sense of science. "We did the experiment in the lab and this is how it turned out."
Neutrality gives assurance that everything is under control. And neutrality implies: the nation is so powerful we don't need to trumpet our facts; we don't need to become excited; our strength is that secure.
Neutrality implies: this is a democracy; an anchor is no more important than the next person (and yet he is—another contradiction, swallowed).
Neutrality implies: we, the news division, don't have to make money (a lie); we're not like the cop shows; we're on a higher plane; we're performing a public service; we're like a responsible charity.
The anchor is the answer to the age-old question about the people. Do the people really want to suck in superficial cause and effect and surface detail, or do they want deeper truth? Do the people want comfortable gigantic lies, or do they want to look behind the curtain?
The anchor, of course, goes for surface only.
The anchor is so accustomed to lying and so accustomed to pretending the lies are true that he wouldn't know how to shift gears.
"Well, folks, our top story tonight…it turns out that IG Farben, a famous chemical and pharmaceutical octopus that put Hitler over the top in Germany, was instrumental in planning what became the EU, the European Union. In other words, today's United Europe is World War Two by other means."
I don't think Williams, Pelley, or Sawyer could deliver that line without going into a terminal paroxysm.
At the end of the Roman Empire, when the whole structure was coming apart, a brilliant and devious decision was made at the top. The Empire would proceed according to a completely different plan. Instead of continuing to stretch its resources to the breaking point with military conquests, it would attack the mind.
It would establish the Roman Church and write new spiritual law. These laws and an overriding cosmology would be dispensed, in land after land, by official "eunuchs." Men who, distanced from the usual human appetites, would automatically gain the trust of the people.
These priests would "deliver the news." They would be the elite anchors, who would translate God's orders and revelations to the public.
By edict, no one would be able to communicate with God, except through these "trusted ones." Therefore, in a sense, the priest was actually higher on the ladder of power than God Himself.
In fact, it would fall to the new Church to reinterpret all of history, writing it as a series of symbolic clues that revealed and confirmed Church doctrine (story line).
Today, people are believers because the popular stories are delivered by contemporary castrati, every night on the evening news.
If these castrati say a virus is threatening the world, and if they are backed up by neutral castrati bishops, the medical scientists, and if those medical scientists are supported by public health bureaucrats, the cardinals, and if the cardinals are given a wink and a nod by the President, the Pope, and if the Pope has just issued a missive warning that anyone with a lung infection can be isolated and quarantined, the Program is working.
Reality is a psyop.
The author of three explosive collections, THE MATRIX REVEALED, EXIT FROM THE MATRIX, and POWER OUTSIDE THE MATRIX, Jon was a candidate for a US Congressional seat in the 29th District of California. He maintains a consulting practice for private clients, the purpose of which is the expansion of personal creative power. Nominated for a Pulitzer Prize, he has worked as an investigative reporter for 30 years, writing articles on politics, medicine, and health for CBS Healthwatch, LA Weekly, Spin Magazine, Stern, and other newspapers and magazines in the US and Europe. Jon has delivered lectures and seminars on global politics, health, logic, and creative power to audiences around the world. You can sign up for his free emails atwww.nomorefakenews.com
Source: Jon Rappoport
"From start to finish, the Ukraine crisis has been instigated by US imperialism. Every action Washington has taken has been directed at exacerbating and intensifying this crisis. The longer this crisis goes on, the clearer it becomes that US policy is directed not so much at Ukraine as at Russia itself. Ukraine, it would seem, is meant merely to provide the pretext for a war with Russia."

— Bill Van Auken, "Does Washington want war with Russia?", WSWS
German pilot and airlines expert, Peter Haisenko,  thinks that Malaysia Flight 17 was not blown up by a ground-based antiaircraft missile, but shot down by the type of double-barreled 30-mm guns used on Ukrainian SU-25 fighter planes.  Haisenko presented his theory in a widely-circulated and controversial article which appeared on the Global Research website titled "Revelations of German Pilot: Shocking Analysis of the "Shooting Down" of Malaysian MH17. "Aircraft Was Not Hit by a Missile". Here's an excerpt from the article:
"The facts speak clear and loud and are beyond the realm of speculation: The cockpit shows traces of shelling! You can see the entry and exit holes. The edge of a portion of the holes is bent inwards. These are the smaller holes, round and clean, showing the entry points most likely that of a 30 millimeter caliber projectile…."  ("Revelations of German Pilot: Shocking Analysis of the "Shooting Down" of Malaysian MH17. "Aircraft Was Not Hit by a Missile"", Global Research)
Haisenko notes that the munitions used on Ukrainian fighters–anti-tank incendiary and splinter-explosive shells–are capable of taking down a jetliner and that the dense pattern of metal penetrated by multiple projectiles is consistent with the firing pattern of a 30-mm gun.
The fact that Russian radar spotted a SU 25 in the area where MH17 was attacked, has persuaded many that Haisenko's analysis is credible.  Adding to the controversy, international monitor Michael Bociurkiw, who was one of the first inspectors from the Organization for Security and Cooperation in Europe (OSCE) to reach the crash site and who spent more than a week examining the ruins–also appears to be convinced that the ill-fated jetliner was not hit by a missile but downed by machinegun fire consistent with the myriad bullet-holes visible on the fuselage.  Here's what he told on CBC World News:
"There have been two or three pieces of fuselage that have been really pock-marked. It almost looks like machine gun fire; very, very strong machine gun fire that has left these unique marks that we haven't seen anywhere else.

We've also been asked if we've seen any signs of a missile?

Well, no we haven't. That's the answer." ("Malaysia Airlines MH17: Michael Bociurkiw talks about being first at the crash site", CBC News. Note: The above quote is from the video)
The idea that MH17 was downed by a surface-to-air missile (from a BUK system) is a theory that originated with the US government and spread by the western media.  The theory has been repeated thousands of times in thousands of newspapers and TV programs without a shred of corroborating evidence.  Needless to say, the repetition of a fable, does not make it true. The public needs more facts to determine what really happened. Unfortunately, the Obama administration has been stonewalling the investigation, preferring instead to use the tragedy to advance their own narrow political agenda by attacking Putin and smearing Russia. This strategy has clearly backfired as we can see by the fact that Haisenko's analysis has caught on like wildfire convincing many that the missile theory is a fake.
The burden of proof now falls on Washington to produce whatever hard evidence they may have via radar or satellite imagery that will persuade the public that their story is credible.  The best way to do that, would be to provide whatever relevant information and data they've compiled but refused to release for the last two weeks.
What we know about the crash so far, is that MH17 was rerouted from the flight-path that other Malaysia "Amsterdam to Kuala Lumpur" flights had been taking for the two weeks prior.
Why was the flight path suddenly changed? Why was MH17 rerouted through a war zone? Why was the pilot told to fly at a lower altitude instead of the 35,000 ft he had requested?  Why was the flight path suddenly adjusted 14 kilometers north just as the plane entered the war zone? Was MH17 outfitted with Boeing's Uninterruptible Auto Pilot (BUAP), and if so, was the system engaged when it suddenly flew off course and began to lose altitude? (And why hasn't Boeing sent an investigative team to the crash site which is what they do whenever one of their planes goes down?)
The Obama administration hasn't answered any of these questions. They've chosen instead to use the tragedy to bash Russia and blame Putin  without providing any solid evidence or data to support their claim that MH17 was downed by a missile launched from a BUK system. As a result,  public confidence in their allegations has steadily eroded. This situation can only be remedied by taking concrete steps to show the administration is serious about the investigation and genuinely wants to get to the bottom of what happened on July 17.
Here's what Obama should do.
First, he should demand that the Kiev government hand over the Air Traffic Control cockpit tapes that were recorded on the day the flight went down. That's number one. That will clarify why the pilot veered  "off course" 14 kilometers and why the plane suddenly lost altitude. (Once again, we ask: Was the Auto Pilot override system engaged or not?) The Ukrainian Security Service (SBU) seized the recordings shortly after MH17 crashed and they haven't been seen since. Why? Why hasn't this critical piece of  evidence been handed over to the proper authorities, the EU's team of investigators? Does anyone really believe that Kiev's US-backed lackey regime made this decision by themselves or that Washington ordered them to grab the tapes to prevent the public from knowing what really happened in the final minutes of the flight?
Second, Obama should come clean and provide whatever radar and satellite data he has that will shed light on how the plane was downed. Most of what we know so far, has been provided by Moscow from a news conference that was moderated by Russian air force chief Lt. Gen. Igor Makushev. Naturally, the western media blacked out most of what Makushev had to say. Surprisingly, however, the right wing Wall Street Journal published an excellent article on the press conference which covered most of the important details. Here's a brief excerpt from the article:
"On Monday, Gen. Makushev said that the two Russian radar stations near Russia's border with Ukraine observed the presence of the second aircraft over a period of four minutes on the day of Flight 17′s crash….

Gen. Makushev said that Russian radars could only spot the aircraft at the point of its ascension because the on-duty radars only detected objects at above 5,000 meters. Russian radars spotted the unidentified plane patrolling in the vicinity of Flight 17, "controlling the development of the situation," he said….

The defense ministry also said it registered the Su-25 fighter jet ascending within close range of several civil aircrafts, including the Malaysia Airlines jet….

Another top military official, Lt. Gen. Andrei Kartapolov, said at the same news conference that the jet came as close as 1.8 miles to Flight 17, which is well within the range of the air-to-air missiles it is usually equipped with…

The suggested version of events echoed much of what has been reported on Russian state television in recent days, which has suggested that Ukraine could have shot down the plane, possibly via one of its fighter planes.

U.S. officials dismissed the Russian government's claim that a second plane was present when Malaysia Airlines Flight 17 was shot down last week as "desperate" propaganda."   ("Russia Presents Its Account of Malaysia Airlines Flight 17 Crash", Wall Street Journal)
Russia's findings appear to support the Bociurkiw-Haisenko theory that MH17 was gunned down by Ukrainian fighters.  It's up to the Obama administration to prove otherwise.
Here's more from the WSJ:
"Similarly, Gen. Makushev said the Malaysia Airlines plane deviated from its course by close to 9 miles near Donetsk but then attempted to return to its course, crashing shortly after. Russian radars spotted the Flight 17 rapidly descending 32 miles away from the Russian border, Russian officials said…..He said Russia is prepared to hand all of the information it has to the European authorities, which included satellite imagery and data from its own radar." (WSJ)
Why? Why was the pilot driving the gigantic 777 through a warzone like an intoxicated high-schooler out on a joyride? Does any of this sound suspicious to you, dear reader?
So far, the Obama administration hasn't even admitted that they had a satellite overhead, preferring instead to stick with their pathetic propaganda strategy. Fortunately, CounterPunch has published an invaluable article by journalist Andre Vltchek that provides a translation of the Russian press conference to which the WSJ refers. Here's an excerpt:
"According to our records from 17:06 till 17:21 Moscow time on the July 17 over the Southeastern territory of Ukraine, a US space satellite flew overhead. This is a special device of the experimental space system designed to detect and track various missile launches. If the US party has photos made by the satellite, please let us ask them to show them to world community for further investigation….(NOTE: The US satellite system MUST work, because just days later it detected the launching of  three ballistic missiles by the Ukrainian government.)
Is it a coincidence or not? However, the time of the Malaysian Boeing-777 accident and the time of the observation done by the satellite over the Ukrainian territory are the same. In conclusion, I would like to mention that all the concrete information is based on the objective and reliable data of the different Russian equipment, in contrast to the accusations of the US against us, made without any evidence…" ("The New Cold War–MH17 – Sacrificed Airliner", Andre Vltchek, Counterpunch
In other words, Moscow caught the US "red handed". They spotted the US satellite, they know the US saw what happened, and they're calling them out on it.
Where are the photos, Obama? Where is the satellite imagery? We KNOW you have them, so pony up!
Now ask yourself this: Where does this line of inquiry lead? And does it really matter if the Malaysia 777 was shot down by a warplane or blown up by surface-to-air missile?
Of course it matters. It makes all the difference in the world. If MH17 was shot down by an Ukrainian SU 25, then we need to know who gave the order and whether the people who stand to benefit from the incident were directly involved or not. And who does benefit from the downing of MH17, that's what we need to establish. Just like we need to know why the Obama team has been so cock-sure that Moscow was involved in the incident. Why all the fingerpointing? Why the need to make Putin look like a homicidal maniac? How does that help to reveal the truth?
Finally: Was the downing of Malaysia Flight 17 an accident, a premeditated act of murder or a false flag operation?
We need to know.
Addendum: On Sunday, BBC reports:  "Fresh fighting in eastern Ukraine has forced an international forensics team to halt operations in part of the vast crash site of Malaysian flight MH17. Observers had to withdraw from one village when they heard artillery fire although work is still continuing across much of the area." ("Ukraine crisis: New fighting hampers MH17 crash probe", BBC.)
Kiev has restarted hostilities realizing that if the Dutch inspectors find any shell casings or fragments that can be traced back to the SU 25s, the administration's missile theory will collapse.
The Slaughter Must End…
The 72-hour ceasefire was supposed to get under way on 8/1/14 starting at 8 a.m. local time—but no sooner had it begun than it appeared to collapse. According to the Gaza Health Ministry, more than 30 Palestinians were killed, and dozens more injured, in an Israeli attack near the southern town of Rafah.
If, against all odds, a genuine ceasefire were to actually take place, the pause would allow time for both sides' fighters to regroup and re-arm. But what of the civilian population of a now substantially destroyed Gaza? Presumably many will try to visit their bombed homes to retrieve some belongings, as we have seen in Syria and Iraq, and many will try finding a place to hide, say, perhaps, a UN school—well, maybe that's a bad choice. Others may simply stay in their homes and wait to die.
For the invading Zionist forces, they are insured of plenty of munitions both during and after any ceasefire—because the Obama Administration is supporting Israel's aggression in the Gaza Strip, and it is doing so, in part, by allowing it to tap into local US arms stockpiles. The Israelis will be able to resupply themselves with 40mm grenades and 120mm mortar rounds, stocks that the Pentagon claims "need to be refreshed," this according to Rear Admiral John Kirby, the Pentagon's press secretary, who rejected out of hand this week's Amnesty International demand that "the US government immediately end its ongoing arms deliveries to Israel, which are providing the tools to commit further serious violations of international law in Gaza." And not only that. Earlier, the US Senate, by a vote of 100 to 0, passed a resolution drafted by AIPAC expressing support for Israel's attack on Gaza, a resolution reading in part, "The United States Senate reaffirms American support for Israel's right to defend its citizens and ensure the survival of the State of Israel"—and which says not a single word about Palestinian deaths.
Additionally, US politicians are working to provide millions of dollars in supplementary funding for Israel's "Iron Dome" missile shield. The US Senate Appropriations Committee added $225 million for Iron Dome to a spending bill mainly intended to provide money to handle an influx of thousands of Central American children across the US-Mexico border.
"It is not that Iron Dome is all that effective, it fails 75% of the time," said one Congressional staffer in an email to this observer earlier this week. "But Congress is under pressure to be seen as supporting Israel, and we've got to be seen doing something before we adjourn for five weeks."
And likewise, as a sop to AIPAC, the White House announced on 7/31/14 that it "strongly opposes" a Republican-crafted emergency spending bill, in part because it contains no funds for Israeli missile defense and other presumed necessities. Earlier in the day the Senate had begun debating a $3.5 billion auxiliary spending measure that included the $225 million in additional funding for Iron Dome when suddenly the White House voiced its opposition to the House version, claiming it "does not include funding for the Department of Defense to support the government of Israel's request for critical defense needs."
It was also on 7/31/14, that Brian Wood, Head of Arms Control and Human Rights at Amnesty International, reminded Mr. Kirby, the illustrious rear admiral, of an unpleasant truth, one that doesn't normally penetrate Washington's deaf-dumb-and-blind bubble: "It is deeply cynical for the White House to condemn the deaths and injuries of Palestinians, including children, and humanitarian workers, when it knows full well that the Israeli military responsible for such attacks are armed to the teeth with weapons and equipment bankrolled by US taxpayers."
But despite all the American government's massive support for Israel, survival of the apartheid regime is not at all assured. Recently expressed antipathy toward the Zionist state from notables in Europe, South America and parts of Asia seems to be considerably more than just bluster. Israelis are correct in thinking they can no longer count on public opinion, not in Europe or even, to a lesser extent, perhaps, from the American public either. Increasingly the latter are pressuring their Zionist-bought politicians, admittedly on a modest scale still at this point, but in a manner causing them to ponder their electability as Israel continues its descent into a pariah state. A recent Gallup poll found a majority of Americans less than 30 years of age believe Israel's actions in Gaza to be unjustified and criminal. This is because younger Americans have grown up witnessing a US-armed-and- propped-up Israel brutally occupying the West Bank, killing Palestinians, while also invading Lebanon in numerous, periodic attacks that claimed more than 30,000 lives between 1948 and 2006.
In aggregate, Americans still see Israel favorably…but in smaller numbers, while more are viewing it as illegitimate, as a 19th century colonial enterprise with no legitimate place in a civilized international society. "Delegitimisation," says Einat Wilf, a former Israeli parliamentarian and one of the authors of an as-yet-unpublished study of the topic at the Jewish People Policy Institute (JPPI) in Jerusalem, is becoming "a strategic threat".
As Robert Fisk pointed out this week, "Gaza, which is being so graphically covered by journalists that our masters and our media are suffering a new experience: not fear of being called anti-Semitic, but fear of their own television viewers and readers – ordinary folk so outraged by the war crimes committed against the women and children of Gaza that they are demanding to know why, even now, television moguls and politicians are refusing to treat their own people like moral, decent, intelligent human beings."
From Antwerp to Warsaw, demonstrators' placards have ranged from criticism of Israeli policy ("1,2,3,4, Occupation No More") to condemning Israel itself ("5,6,7,8, Israel is a Terror State"). A growing percentage of the world's population is coming to the conclusion that the regime occupying Palestine is a mistake and that history must be corrected. As The Economist recently reported, France is experiencing major unrest, which may be no surprise given that it claims the largest Jewish and Arab populations in Europe, but the extent of the tensions in France, including attacks on synagogues and raids on Jewish shops, has been shocking nonetheless. Even in normally sedate Oslo, the Jewish museum closed its doors.
Frankly, it comes as no great surprise then that many Jews feel that the world is against them, and view criticism of Zionist apartheid Israel as a mask for animosity towards Jews. In this they are very wrong. Let them visit the Middle East, in peace, and they will learn quickly that the rejection here is not at all about Jews, but only about Zionism as a fascist, racist creed. What people of good will reject, in the Middle East as elsewhere, is an antiquated movement that promotes a chosen people's right to steal land belonging to others while ethnically cleansing an indigenous population; a movement that encourages chants of "Death to Arabs" among school children, whose settlers organize 'fun-days,' gathering as spectators to observe Zionist forces slaughtering Arab children in Gaza, as teachers hand out balloons and ice cream while leading the children in hate filled songs.
International public opinion matters. And much of it relating to the carnage being inflicted by those illegally occupying Palestine is right. The international public is increasingly aware that what is happening in Palestine today is not really about Hamas; it is not about rockets; it is not about "human shields" or terrorism or tunnels. It is about Israel's permanent control over Palestinian land and Palestinian lives. It is about an unswerving, decades-long Israeli policy of denying Palestine self-determination, freedom, and sovereignty.
Having created a huge open-air prison in Gaza, PM Netanyahu now claims that Israel cannot relinquish security control of the West Bank for fear of Islamist attack—meaning that the Zionist occupiers intend to consolidate their illegal occupation, thus withdrawing all hope from Palestinians.
This region, and increasingly the global community as a whole, is planning for a post-Zionist Middle East and how best to achieve it without further suffering. The Zionist regime can stop the slaughter in Gaza; it can withdraw from Palestinian lands through agreement with international norms and UN resolutions, or, sooner or later, it will very likely cease to exist.
The World is watching…
Beirut — As the latest Zionist aggression continues unabated in its slaughter of the defenseless population of Gaza (for the fourth time in ten years, no less!) one of course might simply sit back and hope for the improbable—that the global community will act to end it. But this is no more likely, and maybe even less so, than have been the prospects for bringing justice to Palestine through the never-ending "peace process" of the past 40 years. Persistent Resistance, in its countless forms, is the only thing that will achieve dignity, an end to the occupation, and the right of Full Return for nearly nine million Palestinians.
As history instructs, the Zionist colonial enterprise had its apologists in Lebanon well before 1948. In fact, there are still plenty around today, yet at the same time, it must be said that the latest 'lawn mowing' in Gaza has generated an unusual amount of verbal support for Palestine across the political spectrum here.
A couple of examples. On 7/21/14 the program "Palestine…You Are Not Alone" was broadcast simultaneously on all of Lebanon's main television channels in an expression of support for Palestinians facing the Zionist aggression that to date has killed nearly 900 and maimed or wounded more than 4500. The Lebanon TV initiative brought together for the first time networks with radically different views, including the official TeleLiban, Hezbollah's Al-Manar, LBC, MTV, NBN and others. Lara Zaaloum, executive director of LBC's news show, said the 30-minute report was "the fruit of a shared effort" that aims to "salute the Palestinians and their children."
Even Foreign Minister Jebran Bassil, son-in-law of Michel Aoun of the Free Patriotic Movement (both men are known for their anti-Palestinian and anti-Syrian-refugee rants) claimed a desire to have Lebanese diplomats work for a formal condemnation of the Israeli aggression. According to Beirut's As Safir newspaper, Bassil is preparing a "legal study" that will be sent to the concerned international bodies documenting Israeli crimes in Gaza.
Then on 7/23/14, the March 14 Al-Mustaqbal (Future Movement) parliamentary bloc organized a well-attended solidarity press conference of MPs in the garden outside the office of the Economic and Social Commission for Western Asia (ESCWA) in Downtown Beirut.
"We are here to tell the world that we are standing by Gaza, by every Palestinian, and by occupied Palestine whose land has been ravished," said former Lebanese Prime Minister Fuad Siniora. "Your wounds are ours, and you are fighting on the behalf of all of us. We do not forget the Palestinian people's right for freedom, dignity and peaceful living."
Others have also spoken up, including Hezbollah Secretary General Hassah Nasrallah.
"Hezbollah will stand with the Palestinian people's uprising and whose resistance is in our heart, willpower, hope and destiny," said Nasrallah on 7/19/14—and on Al Quds day, 7/25/14, Hezbollah was to hold a rally at which Nasrallah is scheduled speak yet again on the need for solidarity with Palestinian refugees. Many from Lebanon's camps will be attending that event because in the camps Hezbollah's words are listened to—they have been for the last quarter century, ever since the party announced its existence, pledging in an "Open Letter" to seek dignity for all Palestinians everywhere and to improve their daily lives.
Not to be outdone, Iranian Majlis Speaker Ali Larijani vowed that the Islamic Republic will also do all in its power to help the Palestinians.
"Iran strongly supports the Palestinian refugees as well as unity among Muslims" Larijani announced at a meeting with ambassadors of Islamic countries. "We take it upon ourselves to stand by and help the oppressed Palestinian people wherever they are, wholeheartedly, one way or another."
The Iranian Foreign Minister and Iran's embassy in Beirut have been advised that the most direct, realistic and significant way to help the Palestinian people is to voice support for Palestinians in Lebanon being allowed the elementary civil right to work—a right they enjoy in Gaza and virtually every other country but are denied here. Support for "the sacred cause of Palestine" was often expressed by the late Ayatollah Khomeini and continues to be voiced today by Supreme Leader Ali Khameini, and were Iran and its allies to negotiate something on behalf of the Palestinians, who are 90% Sunni, it would go a long way toward healing the tragic and deepening Shia-Sunni divide. And the help Palestinians most need in Lebanon, where Larijani and his political allies have major clout, is with being allowed to seek employment—same as any other refugee or foreign visitor who arrives.
Solidarity with their countrymen in Gaza is being shown by many Palestinian students in Lebanon as well, and this week 404 such students took the noble, humanitarian step of donating tuition grants that had been awarded to them by the Sabra-Shatila Scholarship Program for the present semester. Each of the students paired off individually with a countrymen of theirs, one identified as a fatality in Gaza, donating their tuition money in that person's name to Gaza City's Shifa Hospital, in care of Dr. Mads Gilbert. And more than a few of these students have expressed the hope that those offering mere verbal support to the Palestinian cause might use their political power, and perhaps 90 minutes of their Parliament's time, to grant Palestinians in Lebanon the means of survival until they can return to their homes in Palestine.
As for Lebanese politicians, a pledge to end the discrimination against Palestinian refugees would give meaning and credibility to their encouraging words. Allowing camp residents the chance to work would additionally help Palestinian family members back in Gaza, and would also serve to build Lebanon's weak economy. But the fact is that many, though not all, Lebanese politicians deal the Palestinian card for personal gain; financial and political human rights slogans are selectively regurgitated according to narrow political interests, and then just as selectively disregarded when their other interests might benefit. A student from Ain al-Hilweh camp, one of those who donated her scholarship to her Gaza countrymen this week, put it this way:
"These words politicians offer us are nice and we thank them. But we have heard them for so many years while the speakers have kept us without dignity and by denying us the right to work. Even the Zionist occupiers let us work. What kind of Resistance are the Lebanese politicians talking about? Does it mean Resistance to our most basic civil right to work and to care for our families? All we ask of Lebanon is to let us work just like every other country allows refugees to work and try to feed their families.
The fact of the matter is that hollow words from Lebanese and regional politicians may sound nice coming across on TV or in the newspapers, but they do little for Gaza and nothing for the families stuck in Lebanon's 12 refugee camps without the basic human right to work. The malnourished, sardine-canned populations have been added to by thousands of refugees from Syria, and the camps in the process have become squalid and festering with disease, and amongst the people there the political posturing of leaders is increasingly being scoffed at. Some of these very same politicians still pat themselves on the back for the fake August 2010 Parliamentary initiative that eliminated a work permit application fee for Palestinians. But the application fee was never the problem to begin with, and the initiative left all the other Kafkaesque barriers to employment in place. As a result, not ten Palestinians have benefited in the four years since its passage, and the Ministry of Labor has not even tried to implement the phone labor law amendment.
The Palestinian community in Lebanon consists of descendants of the 750,000 people ethnically cleansed by Zionist colonials during the 1948 Nakba as well as the more than 300,000 forced from their homes in the 1967 Naksa. And they are in need of help. By simply doing the right thing, Lebanon has an opportunity to shed much of its self-garnered disgrace and international opprobrium over this issue; it has the opportunity to help heal the Shia-Sunni wound, improve the national economy, diminish the prospects of an intifada building in the desperate camps, and avoid the increasing likelihood of an international BDS movement against it as a consequence of its violations of human rights laws. Ninety minutes of Parliament's time is all it would take. And it would do more for the people of Gaza and their families in Lebanon than all the tropes, platitudes, and hollow words that invariably fade without the faintest trace of a wind.
Gaza isn't the only open air prison; Lebanon has 12 of its own. And the people there are denied the most elementary right to apply for a job in more than 50 professions. Worth noting also is that the US Foreign Assistance Act of 1961 could mandate a cut-off of all American aid to Lebanon due to ongoing violations of their human rights. Solidarity—credible, genuine solidarity—is within our grasp; let us reach for it.
"It is no longer plausible to argue that ISIS was a result of unintentional screw ups by the US. It is a clear part of a US strategy to break up the Iran-Iraq-Syria-Hezbollah alliance. Now that strategy may prove to be a total failure and end up backfiring, but make no mistake, ISIS IS the strategy." – Lysander, Comments line, Moon of Alabama

"US imperialism has been the principal instigator of sectarianism in the region, from its divide-and-conquer strategy in the war and occupation in Iraq, to the fomenting of sectarian civil war to topple Assad in Syria. Its cynical support for Sunni Islamist insurgents in Syria, while backing a Shiite sectarian regime across the border in Iraq to suppress these very same forces, has brought the entire Middle East to what a United Nations panel on Syria warned Tuesday was the "cusp of a regional war." – Bill Van Auken, Obama orders nearly 300 US troops to Iraq, WSWS
Let cut to the chase: Barack Obama is blackmailing Nouri al-Maliki by withholding military support until the Iraqi Prime Minister agrees to step down. In other words, we are mid-stream in another regime change operation authored by Washington. What's different about this operation, is the fact that Obama is using a small army of jihadi terrorists –who have swept to within 50 miles of Baghdad–to hold the gun to Mr. al Maliki's head. Not surprisingly, al Maliki has refused to cooperate which means the increasingly-tense situation could explode into a civil war. Here's the scoop from the Guardian in an article aptly titled "Iraq's Maliki: I won't quit as condition of US strikes against Isis militants":
"A spokesman for the Iraqi prime minister, Nouri al-Maliki, has said he will not stand down as a condition of US air strikes against Sunni militants who have made a lightning advance across the country.

Iraq's foreign minister, Hoshyar Zebari, on Wednesday made a public call on al-Arabiya television for the US to launch strikes, but Barack Obama has come under pressure from senior US politicians to persuade Maliki… to step down over what they see as failed leadership in the face of an insurgency…

The White House has not called for Maliki to go but its spokesman Jay Carney said that whether Iraq was led by Maliki or a successor, "we will aggressively attempt to impress upon that leader the absolute necessity of rejecting sectarian governance". (Iraq's Maliki: I won't quit as condition of US strikes against Isis militants, Guardian)
Obviously, the White House can't tell al Maliki to leave point-blank or it would affect their credibility as proponents of democracy. But the fix is definitely in and the administration's plan to oust al Maliki is well underway. Check out this clip from the Wall Street Journal:
"A growing number of U.S. lawmakers and Arab allies, particularly Saudi Arabia and the United Arab Emirates, are pressing the White House to pull its support for Mr. Maliki. Some of them are pushing for change in exchange for providing their help in stabilizing Iraq, say U.S. and Arab diplomats." (U.S. Signals Iraq's Maliki Should Go, Wall Street Journal)
Pay special attention to the last sentence: "Some of them are pushing for change in exchange for providing their help in stabilizing Iraq". That sounds a lot like blackmail to me.
This is the crux of what is going on behind the scenes. Barack Obama and his lieutenants are twisting al Maliki 's arm to force him out of office. That's what the Thursday press conference was all about. Obama identified the group called the Isis as terrorists, acknowledged that they posed a grave danger to the government, and then breezily opined that he would not lift a finger to help. Why? Why is Obama so eager to blow up suspected terrorists in Yemen, Pakistan and Afghanistan and yet unwilling to do so in Iraq? Could it be that Obama is not really committed to fighting terrorists at all, that the terror-ruse is just a fig leaf for much grander plans, like global domination?
Of course, it is. In any event, it's plain to see that Obama is not going to help al Maliki if it interferes with Washington's broader strategic objectives. And, at present, those objectives are to get rid of al Maliki, who is "too tight" with Tehran, and who refused to sign Status Of Forces Agreement in 2011 which would have allowed the US to leave 30,000 troops in Iraq. The rejection of SOFA effectively sealed al Maliki's fate and made him an enemy of the United States. It was only a matter of time before Washington took steps to remove him from office. Here's a clip from Obama's press conference on Thursday that illustrates how these things work:
Obama: "The key to both Syria and Iraq is going to be a combination of what happens inside the country, working with moderate Syrian opposition, working with an Iraqi government that is inclusive, and us laying down a more effective counterterrorism platform that gets all the countries in the region pulling in the same direction. Rather than try to play whack-a-mole wherever these terrorist organizations may pop up, what we have to do is to be able to build effective partnerships."
What does this mean in language that we can all understand?
It means that "you're either on the team or you're off the team". If you are on the US team, then you will enjoy the benefits of "partnership" which means the US will help to defend you against the terrorist groups which they arm, fund and provide logistical support for. (through their Gulf State allies) If you are "off the team" –as Mr. al Maliki appears to be, then Washington will look the other way while the hordes of vicious miscreants tear the heads off your soldiers, burn your cities to the ground, and reduce your country to ungovernable anarchy. So, there's a choice to be made. Either you can play along and follow orders and "nobody gets hurt, or go-it-alone and face the consequences.
Capisce? Obama is running a protection racket just like some two-bit Mafia shakedown-artist from the 'hood. And I am not speaking metaphorically here. This is the way it really works. The president of the United States is threatening a democratically-elected leader, who–by the way–was hand-picked and rubber-stamped by the Bush administration–because he has not turned out to be sufficiently servile in kowtowing to their demands. So, now they're going to replace him with another corrupt stooge like Chalabi. That's right, the shifty Ahmed Chalabi has reemerged from his spiderhole and is making a bid to take al Maliki's place. This is from the New York Times:
"Iraq officials said Thursday that political leaders had started intensive jockeying to replace Prime Minister Nuri Kamal al-Maliki and create a government that would span the country's deepening sectarian and ethnic divisions, spurred by what they called encouraging meetings with American officials signaling support for a leadership change…

The names floated so far — Adel Abdul Mahdi, Ahmed Chalabi and Bayan Jaber — are from the Shiite blocs, which have the largest share of the total seats in the Parliament." (With Nod From U.S., Iraqis Seek New Leader, New York Times)
Remember Chalabi? Neocon favorite, Chalabi. The guy who –as Business Insider notes "was a central figure in the U.S.'s decision to remove the Iraqi dictator over a decade ago" and "who helped get the Iraq Liberation Act passed through Congress in 1998, a law that made regime change in Baghdad an official U.S. policy." "Chalabi claimed that Saddam was an imminent threat to the U.S., and was both holding and developing a stockpile of weapons of mass destruction, (which) became the view of the intelligence community and eventually the majority of the U.S. congress. In the first four years of the Bush administration, Chalabi's INC recieved $39 million from the U.S. government." (Business Insider)
You can't make this stuff up.
So, good old Chalabi is on the short-list of candidates to take al Maliki's place. Great. That just illustrates the level of thinking about these matters in the Obama White House. I don't know how anyone can objectively follow these developments and not conclude that the neocons are calling the shots. Of course they're calling the shots. Chalabi's "their guy". In fact, the goals the administration is pursuing, aren't really even in US interests at all.
Bear with me for a minute: Let's assume that we're correct in our belief that the administration has set its sites on four main strategic objectives in Iraq:
1–Removing al Maliki
2–Gaining basing rights via a new Status of Forces Agreement (SOFA)
3–Rolling back Iran's influence in the region
4–Partitioning the country
How does the US benefit from achieving these goals?
The US has plenty of military bases and installations spread around the Middle East. It gains nothing by having another in Iraq. The same goes for removing al Maliki. There's no telling how that could turn out. Maybe good, maybe bad. It's a roll of the dice. Could come up snake-eyes, who knows? But, one thing is certain; it will further erode confidence in the US as a serious supporter of democracy. No one is going to believe that fable anymore. (Al Maliki just won the recent election.)
As for "rolling back Iran's influence in the region": That doesn't even make sense. It was the United States that removed the Sunni Baathists from power and deliberately replaced them with members from the Shia community. As we've shown in earlier articles, shifting power from Sunnis to Shia was a crucial part of the original occupation strategy, which was transparently loony from the get go. It was as if the British invaded the US and decided to replace career politicians and Washington bureaucrats with inexperienced service sector employees from the barrios of LA. Does that make sense? The results turned out to be a disaster, as anyone with half a brain could have predicted. Because the plan was idiotic. No empire has ever operated like that. Of course, there was going to be a tacit alliance between Baghdad and Tehran. The US strategy made that alliance inevitable! Iraq did not move in Iran's direction. That's baloney. Washington pushed Iraq into Iran's arms. Everyone knows this.
So, now what? So now the Obama team wants a "do over"? Is that it?
There are no do overs in history. The sectarian war the US initiated and promoted with its blistering counterinsurgency strategy–which involved massive ethnic cleansing of Sunnis in Baghdad behind the phony "surge" BS– changed the complexion of the country for good. There's no going back. What's done is done. Baghdad is Shia and will remain Shia. And that means there's going to be some connection with Tehran. So, if the Obama people intend to roll back Iran's influence, then they probably have something else in mind. And they DO have something else in mind. They want to partition the country consistent with an Israeli plan that was concocted more than three decades ago. The plan was the brainstorm of Oded Yinon who saw Iraq as a serious threat to Israel's hegemonic aspirations, so he cooked up a plan to remedy the problem. Here's a blurb from Yinon's primary work titled, "A Strategy for Israel in the Nineteen Eighties", which is the roadmap that will be used to divide Iraq:
"Iraq, rich in oil on the one hand and internally torn on the other, is guaranteed as a candidate for Israel's targets. Its dissolution is even more important for us than that of Syria. Iraq is stronger than Syria. In the short run it is Iraqi power which constitutes the greatest threat to Israel. An Iraqi-Iranian war will tear Iraq apart and cause its downfall at home even before it is able to organize a struggle on a wide front against us. Every kind of inter-Arab confrontation will assist us in the short run and will shorten the way to the more important aim of breaking up Iraq into denominations as in Syria and in Lebanon. In Iraq, a division into provinces along ethnic/religious lines as in Syria during Ottoman times is possible. So, three (or more) states will exist around the three major cities: Basra, Baghdad and Mosul, and Shi'ite areas in the south will separate from the Sunni and Kurdish north. It is possible that the present Iranian-Iraqi confrontation will deepen this polarization." (A Strategy for Israel in the Nineteen Eighties, Oded Yinon, monabaker.com)
Repeat: "Every kind of inter-Arab confrontation will assist us in the short run and will shorten the way to the more important aim of breaking up Iraq into denominations as in Syria and in Lebanon."
This is the plan. The United States does not benefit from this plan. The United States does not benefit from a fragmented, Balkanized, broken Iraq. The oil giants are already extracting as much oil as they want. Iraqi oil is, once again, denominated in dollars not euros. Iraq poses no national security threat to the US. US war planners already got what they want. There's no reason to go back and cause more trouble, to restart the war, to tear the country apart, and to split it into pieces. The only reason to dissolve Iraq, is Israel. Israel does not want a unified Iraq. Israel does not want an Iraq that can stand on its own two feet. Israel wants to make sure that Iraq never remerges as a regional power. And there's only one way to achieve that goal, that is, to follow Yinon's prescription of "breaking up Iraq …along ethnic/religious lines …so, three (or more) states will exist around the three major cities: Basra, Baghdad and Mosul."
This is the blueprint the Obama administration is following. The US gains nothing from this plan. It's all for Israel.
What The DHS Is Building Is Indeed A Beast…
One of the great concerns of our Founding Fathers was a large standing army on American soil. James Madison spoke for all of America's founders when he said, "A standing military force, with an overgrown Executive will not long be safe companions to liberty." I wonder what Madison and the rest of our founders would have to say about the Department of Homeland Security (DHS).
John Whitehead, the president of The Rutherford Institute, recently wrote a trenchant summary of the DHS. He began by saying, "If the United States is a police state, then the Department of Homeland Security (DHS) is its national police force, with all the brutality, ineptitude and corruption such a role implies. In fact, although the DHS' governmental bureaucracy may at times appear to be inept and bungling, it is ruthlessly efficient when it comes to building what the Founders feared most–a standing army on American soil."
Whitehead observes that the DHS employs over 240,000 full time workers and has an annual budget of $61 billion. Sub-agencies of the DHS include the Coast Guard, Customs and Border Protection, Secret Service, Transportation Security Administration (TSA), and the Federal Emergency Management Agency (FEMA).
Whitehead states, "In the 12 years since it was established to 'prevent terrorist attacks within the United States,' the DHS has grown from a post-9/11 knee-jerk reaction to a leviathan with tentacles in every aspect of American life. With good reason, a bipartisan bill to provide greater oversight and accountability into the DHS' purchasing process has been making its way through Congress.
"A better plan would be to abolish the DHS altogether. In making the case for shutting down the de facto national police agency, analyst Charles Kenny offers the following six reasons: one, the agency lacks leadership; two, terrorism is far less of a threat than it is made out to be; three, the FBI has actually stopped more alleged terrorist attacks than DHS; four, the agency wastes exorbitant amounts of money with little to show for it; five, 'An overweight DHS gets a free pass to infringe civil liberties without a shred of economic justification'; and six, the agency is just plain bloated."
In addition to Kenny's reasons for shutting down the DHS, Whitehead adds the following indictments:
"Militarizing police and SWAT teams. The DHS routinely hands out six-figure grants to enable local municipalities to purchase military-style vehicles, as well as a veritable war chest of weaponry, ranging from tactical vests, bomb-disarming robots, assault weapons and combat uniforms. This rise in military equipment purchases funded by the DHS has, according to analysts Andrew Becker and G.W. Schulz, 'paralleled an apparent increase in local SWAT teams.' The end result? An explosive growth in the use of SWAT teams for otherwise routine police matters, an increased tendency on the part of police to shoot first and ask questions later, and an overall mindset within police forces that they are at war–and the citizenry are the enemy combatants.
"Stockpiling ammunition. DHS, along with other government agencies, has been stockpiling an alarming amount of ammunition in recent years, which only adds to the discomfort of those already leery of the government. As of 2013, DHS had 260 million rounds of ammo in stock, which averages out to between 1,300 to 1,600 rounds per officer. The US Army, in contrast, has roughly 350 rounds per soldier. DHS has since requisitioned more than 1.6 billion rounds of ammo, 'enough,' concludes Forbes magazine, 'to sustain a hot war for 20+ years.'
"Distributing license plate readers. DHS has already distributed more than $50 million in grants to enable local police agencies to acquire license plate readers, which rely on mobile cameras to photograph and identify cars, match them against a national database, and track their movements. Relying on private contractors to maintain a license plate database allows the DHS and its affiliates to access millions of records without much in the way of oversight.
"Contracting to build detention camps. In 2006, DHS awarded a $385 million contract to a Halliburton subsidiary to build detention centers on American soil. Although the government and Halliburton were not forthcoming about where or when these domestic detention centers would be built, they rationalized the need for them in case of 'an emergency influx of immigrants, or to support the rapid development of new programs' in the event of other emergencies such as 'natural disasters.' Viewed in conjunction with the NDAA provision allowing the military to arrest and indefinitely detain anyone, including American citizens, it would seem the building blocks are already in place for such an eventuality.
"Tracking cell-phones with Stingray devices. Distributed to local police agencies as a result of grants from the DHS, these Stingray devices enable police to track individuals' cell phones–and their owners–without a court warrant or court order. The amount of information conveyed by these devices about one's activities, whereabouts and interactions is considerable. As one attorney explained: 'Because we carry our cellphones with us virtually everywhere we go, stingrays can paint a precise picture of where we are and who we spend time with, including our location in a lover's house, in a psychologist's office or at a political protest.'
"Carrying out military drills and lockdowns in American cities. Each year, DHS funds military-style training drills in cities across the country. These Urban Shield exercises, elaborately staged with their own set of professionally trained Crisis Actors playing the parts of shooters, bystanders and victims, fool law enforcement officials, students, teachers, bystanders and the media into thinking it's a real crisis.
"Using the TSA as an advance guard. The TSA now searches a variety of government and private databases, including things like car registrations and employment information, in order to track travelers' before they ever get near an airport. Other information collected includes 'tax identification number, past travel itineraries, property records, physical characteristics, and law enforcement or intelligence information.'
"Conducting virtual strip searches with full-body scanners. Under the direction of the TSA, American travelers have been subjected to all manner of searches ranging from whole-body scanners and enhanced patdowns at airports to bag searches in train stations. In response to public outrage over what amounted to a virtual strip search, the TSA has begun replacing the scanners with equally costly yet less detailed models. The old scanners will be used by prisons for now.
"Carrying out soft target checkpoints. VIPR task forces, comprised of federal air marshals, surface transportation security inspectors, transportation security officers, behavior detection officers and explosive detection canine teams have laid the groundwork for the government's effort to secure so-called 'soft' targets such as malls, stadiums, bridges, etc. Some security experts predict that checkpoints and screening stations will eventually be established at all soft targets, such as department stores, restaurants, and schools. DHS' Operation Shield, a program which seeks to check up on security protocols around the country with unannounced visits, conducted a surprise security exercise at the Social Security Administration building in Leesburg, Fla., when they subjected people who went to pick up their checks to random ID checks by federal agents armed with semi-automatic weapons.
"Directing government workers to spy on Americans. Terrorism Liaison Officers are firefighters, police officers, and even corporate employees who have received training to spy on and report back to government entities on the day-to-day activities of their fellow citizens. These individuals are authorized to report 'suspicious activity' which can include such innocuous activities as taking pictures with no apparent aesthetic value, making measurements and drawings, taking notes, conversing in code, espousing radical beliefs, and buying items in bulk.
"Conducting widespread spying networks using fusion centers. Data collecting agencies spread throughout the country, aided by the National Security Agency, fusions centers–of which there are at least 78 scattered around the U.S.–constantly monitor our communications, collecting and cataloguing everything from our internet activity and web searches to text messages, phone calls and emails. This data is then fed to government agencies, which are now interconnected: the CIA to the FBI, the FBI to local police. Despite a budget estimated to be somewhere between $289 million and $1.4 billion, these fusion centers have proven to be exercises in incompetence, often producing irrelevant, useless or inappropriate intelligence, while spending millions of dollars on 'flat-screen televisions, sport utility vehicles, hidden cameras and other gadgets.'"
On a personal note, I can testify to Whitehead's warning regarding fusion centers. When I ran as the Constitution Party's candidate for President back in 2008, DHS fusion centers funneled warnings to the State of Missouri law enforcement agencies to be on the look-out for people sporting bumper stickers with my name, Ron Paul's name, and Bob Barr's (the Libertarian Party candidate for President that same year) name. People with these bumper stickers were said to be "potential dangerous militia members," "extremists," etc.
When word of this blatant violation of fundamental liberties publicly surfaced, tens of thousands of outraged Americans inundated the political offices within the State of Missouri. Ron, Bob, and I sent a letter to the governor and MIAC officer in charge demanding an apology and that the statements be removed from Missouri law enforcement memos. Public pressure was so massive that it didn't take long for Missouri officials to apologize to us and remove the libelous statements. However, if you think this kind of conduct is not continuing, you are very mistaken.
I have had several liberty-minded law enforcement officers (in several states) personally show me interoffice memos and computer reports depicting me (and several other liberty-minded public figures) as "extremists," "radicals," "hate-group leaders," etc. Virtually, every such memo or report is being distributed to local police departments and sheriff's offices via DHS fusion centers–in concert with the ultra-liberal Southern Poverty Law Center (SPLC).
Whitehead continues:
"Carrying out Constitution-free border control searches. On orders from the DHS, the government's efforts along the border have become little more than an exercise in police state power, ranging from aggressive checkpoints to the widespread use of drone technology, often used against American citizens traveling within the country. Border patrol operations occur within 100 miles of an international crossing, putting some 200 million Americans within the bounds of aggressive border patrol searches and seizures, as well as increasingly expansive drone surveillance. With 71 checkpoints found along the southwest border of the United States alone, suspicionless search and seizures on the border are rampant. Border patrol agents also search the personal electronic devices of people crossing the border without a warrant.
"Funding city-wide surveillance cameras. As Charlie Savage reports for the Boston Globe, the DHS has funneled 'millions of dollars to local governments nationwide for purchasing high-tech video camera networks, accelerating the rise of a "surveillance society" in which the sense of freedom that stems from being anonymous in public will be lost.' These camera systems, installed on city streets, in parks and transit systems, operating in conjunction with sophisticated computer systems that boast intelligent video analytics, digital biometric identification, military-pedigree software for analyzing and predicting crime and facial recognition software, create a vast surveillance network that can target millions of innocent individuals.
"Utilizing drones and other spybots. The DHS has been at the forefront of funding and deploying surveillance robots and drones for land, sea and air, including robots that resemble fish and tunnel-bots that can travel underground. Despite repeated concerns over the danger surveillance drones used domestically pose to Americans' privacy rights, the DHS has continued to expand its fleet of Predator drones, which come equipped with video cameras, infrared cameras, heat sensors, and radar. DHS also loans its drones out to local, state, and federal law enforcement agencies for a variety of tasks, although the agency refuses to divulge any details as to how, why and in what capacity these drones are being used by police. Incredibly, the DHS has also been handing out millions of dollars in grants to local police agencies to 'accelerate the adoption' of drones in their localities."
Whitehead concludes by saying, "It's not difficult to see why the DHS has been described as a 'wasteful, growing, fear-mongering beast.' If it is a beast, however, it is a beast that is accelerating our nation's transformation into a police state through its establishment of a standing army, a.k.a. national police force."
See John Whitehead's report here:
Has The Dept. of Homeland Security Become America's Standing Army?
When the British government employed such tactics (in their own way, given the lack of technology in the mid-1700s), the pulpits of Colonial America thundered forth the call of liberty. Presbyterians, Baptists, Congregationalists, Separatists, Anglicans: it didn't matter. Pastors from across the denominational spectrum boldly and courageously implored their congregants to resist these tyrannical tactics. And resist they did!
So, what are our pastors and churches doing today in the face of this burgeoning police state? For the most part, they are sitting back mute and dumb. If they are not absolutely apathetic to the rise of this beast, they are actually assisting it. Through the egregiously unbiblical interpretation of Romans 13, whereby pastors are telling their adherents to submit to evil government, or through the fear of losing their precious 501c3 tax-exempt status, pastors are deliberately leading their churches as sheep to the slaughter.
And make no mistake about it: what the DHS is building is indeed a BEAST. And prophecy buffs should be well-acquainted with that word. Does not the Scripture warn us that there are "many" anti-Christs in the world? Is not the word "beast" and "anti-Christ" synonymous? They absolutely are. Prophecy students are also well aware of the fact that the prophetic "beast" is as much a system as it is a person. Without a doubt, this beastly system is being constructed before our very eyes.
Interestingly enough, this beast was created by the professing Christian president, G.W. Bush. Is that why Christian pastors are so complacent? Are they truly that gullible? A "conservative" Republican creates the beast, and a "liberal" Democrat feeds it. Both are equally culpable.
These pastors can talk about following Jesus all they want; they can cry crocodile tears when they sing Amazing Grace all they want; they can preach about Heaven all they want; and they can talk about being "born again" all they want. But if they are not warning their people about this growing beast, and if they are not emphatically imploring their people to resist this beast, they are helping to feed their sheep to the wolves.
Dear Christian friends, get out of these churches! As nice as the pastor seems to be, as sincere as he seems to be, as doctrinally-sound as he appears to be, by his refusal to resist this growing police state he is helping to put the chains of slavery around the necks of your children and grandchildren. He is facilitating the rise of a very dangerous and hungry beast in our land.
Real men of God throughout history have been noted by their courage to resist the evil beasts that have attempted to devour God's people. From Gideon and Samson to Martin Luther and Huldrych Zwingli, and from Dietrich Bonhoeffer and Martin Niemoller to Jonas Clark and James Caldwell, these men of God were indefatigable and heroic champions of liberty.
The "standing military force" and "overgrown Executive" are here! Now, where are the patriot pulpits to resist them?
"Stand your ground.  Don't fire unless fired upon, but if they mean to have a war, let it begin here." – Militia Captain John Parker at the Battle Of Lexington
Just a couple days ago, two armed assailants, a married couple purported by the mainstream media to be "white supremacists" and "conspiracy theorists," ambushed two police officers at a CiCi's Pizza in Las Vegas, killing the officers after screaming, "This is a revolution!" The suspects then reportedly covered one officer's body with a Gadsden Don't Tread On Me flag and then fled to a Walmart, where they killed another man with a CCW who attempted to reason with them, then committed suicide. Yes, it reads like a Southern Poverty Law Center fantasy story; and in many ways, it is.
As we all predicted the MSM has followed the pattern they have always followed, which is to equate the actions of one or two psychotics with the beliefs and principles of the liberty movement in general.
I remember when Jared Loughner fired into a crowd of people near Tucson, Ariz., killing numerous Federal and State employees; the immediate response by the media was to attempt to tie him to the liberty movement. In the end, he turned out to be a raving leftist. I remember the Boston Marathon bombing and the automatic reflex by the media to accuse "right-wing extremists" of the crime. So far, we have seen NO hard evidence to implicate anyone specific in that atrocity, including the Tsarnaev brothers. Of all the violent crimes dumped in the lap of the liberty movement over the years, how many have actually been committed or endorsed by the liberty movement? I can't think of any.
This has not prevented the establishment media from doing everything in their power to associate criminal action with political ideals.  Efforts to sully the success of the Bundy Ranch stand-off were swift, with Jared and Amanda Miller's visit to Bunkerville splashed across the headlines.  Luckily, the sound judgement of organizations like Oath Keepers led founder Stewart Rhodes to personally ask the two future shooters to leave the property.  I can only imagine the weight of the slander if they had been allowed to stay.
When an activist movement holds the moral high ground against a repressive establishment power structure, the establishment's primary recourse is to target the character of its principles. The secondary recourse is direct confrontation. If a dissenting organization is not mindlessly vicious in its methods, then simply make it APPEAR vicious. If it is not hateful in its rhetoric, then artificially tie it to people who are. And if a government really needs to kick-start a crackdown, it can engineer its own man-made calamities and blame the groups that most threaten its authority.
This was achieved to great effect in Europe from the 1950s until the 1990s by the CIA working in tandem with multiple European governments under a covert project called Operation Gladio.
Gladio was essentially a secret army of operatives and stooges, handlers and puppets, used to create false-flag terrorist shootings and bombings across Europe that were blamed on "left-wing extremists." In reality, NATO alphabet agencies were behind the entire facade. The goal was to terrorize the citizenry through a nonstop campaign of indiscriminate death, blamed on a convenient scapegoat, so that individuals would hand over more freedom and more power to the central governments. The point is, whether real or staged, I believe such events are going to escalate within the U.S. today on an incredible scale and that, regardless of evidence, they will be blamed on "right-wing extremists." In case you were wondering, that label will be foisted on most if not all of us.
That said, I think an important truth needs to be stated here: Whether the beliefs of the attackers in Las Vegas were actually liberty movement-oriented or not is ultimately irrelevant. To shoot random police and civilians and then commit suicide is an act of pure insanity, a product of mental instability that has nothing to do with political philosophy, and mental instability trumps belief and association anytime.  Mentally unstable people exist within ALL belief systems and political groups.
At bottom, I do not care what their beliefs were. Their actions do not represent the values I hold dear, nor do I think they represent the values most of us hold dear. The shooting is a tragedy, but in the grand scheme of things, it means nothing, and I have little doubt it will be forgotten within weeks.
I relate the story because I do, in fact, agree with one thing: that a "revolution," a second American Revolution, is inevitable. But I think I speak for the vast majority of the movement when I say that this revolution will not begin with the deaths of innocents or random government employees on our hands, and it certainly won't begin at the doorstep of a CiCi's Pizza.
The Bundy ranch incident, which occurred only a short drive from Las Vegas, has been a revelation for many people. Mistakes were made, provocateurs reared their ugly heads, and lessons were learned. But overall, America has been fundamentally changed, even if the average person does not realize it yet. The information war came within a razor's edge of evolving into a shooting war, with the establishment in retreat, licking its wounds while planning how it can gain back its composure and carefully crafted image of "invincibility".
What frightens the establishment most, I think, is that the American people have become active participants in their own national environment once again. At Bundy ranch, they stopped asking for mercy, they stopped begging the system to police itself, they stopped waiting for the rigged elections, and they stopped relying on useless legal avenues to effect change. Rather, they took matters into their own hands and changed the situation on the ground on their own. For oligarchy, this development is unacceptable, because one success could lead to many.
Already, we are beginning to hear whispers of possible Federal retribution against those who participated in the confrontation.
This has been cemented within the efforts of a new task force against "domestic terrorism" organized by none other than Eric "Fast and Furious" Holder.
After the recent exposure of Barack Obama's Department of Defense Directive 3025.18, we now know that since at least 2010, the White House has been setting the stage for the use of military force against "domestic threats." That is to say, for at least the past four years our government has been quietly maneuvering toward martial law. It's been happening for much longer if you count George W. Bush's Presidential Decision Directive 51, which has yet to befully declassified.
The exposure of Directive 3025.18 also came with information that the Obama Administration considered using it as a way to activate military forces and drones against the Bundy ranch. The burning question is, of course, why didn't it? The Federal government is not known for its diplomacy in the face of a defiant citizenry. Waco and Ruby Ridge made that clear. I believe that it was not necessarily the people on the ground at Bunkerville, Nev., that they were most worried about. The terrain is admittedly a terrible place to mount a defense against a mechanized horde of jackboots.
No, what the White House feared was a larger response to such an attack. It feared the millions of patriots who would swarm down from all sides if it committed to a Ruby Ridge-style siege. It feared the reality that this time, Americans were not going to sit back and watch another family be slaughtered on national television.  It feared the fact that it didn't have the moral high ground in the public eye and that a kinetic failure on its part would be met with cheers, rather than tears, from much of the populace.
So where does this leave us? With the Bundy success besmirching the Feds, the next strategic program will likely include an unprecedented effort to demonize the liberty movement perhaps to the point of a Gladio-type false-flag campaign, leading to the eventual detention of activists as domestic security threats. It's not going to end with shootings in pizzerias and slobbering hit pieces from the SPLC.  Expect a landslide of violent acts.  Expect another engineered large-scale calamity like the Oklahoma City Bombing.  Expect dozens of Timothy McVeighs to be trotted out in the media. Expect the Liberty Movement's name to be buried in an avalanche of bullshit. Mark my words; it's going to get much worse from here on.
And this is where I will add my warning.
Before the Bundy ranch became a possible battleground, I stated in my article "Real Americans Are Ready To Snap" that the liberty movement was going to draw a line in the sand over Bureau of Land Management abuses in Bunkerville, and I was right.
It seems to me that time is growing short. As tyrants become more bold, so too must the citizenry; otherwise, we shrivel up and die.  We cannot allow the movement's momentum to be shattered and driven underground as the militia movement was after Oklahoma City.  We know what is coming, and we must drive forward.  We know we will be labeled as terrorists and villains, and ultimately, we must realize that such eventualities do not matter.  The Liberty Movement is not going away.  In fact, future clashes with our criminal government are only going to become more frequent.
The next family threatened, the next activist individual or group arrested or black-bagged without legitimate cause, the next major false flag, the next use of military forces as civil law enforcement, the next unConstitutional misstep, and I have no doubt whatsoever in my mind that a revolt will erupt. It's not about making grand predictions; it's about examining the logical odds, and the odds are high. The knowledge that the establishment is considering using the full force of its military apparatus against the people has not dissuaded anyone. Bundy ranch was a very near miss. I do not expect a peaceful resolution the next time around. I also do not expect the government as it exists now to stop clamoring for more control or less corruption. If recent events have proven anything, they have proven that a second American Revolution is inevitable; and all we can do is ready ourselves.
Source: Brandon Smith | Alt-Market
Edward Snowden…
Is Edward Snowden a radical? The dictionary defines a radical as "an advocate of political and social revolution", the adjective form being "favoring or resulting in extreme or revolutionary changes". That doesn't sound like Snowden as far as what has been publicly revealed. In common usage, the term "radical" usually connotes someone or something that goes beyond the generally accepted boundaries of socio-political thought and policies; often used by the Left simply to denote more extreme than, or to the left of, a "liberal".
In his hour-long interview on NBC, May 28, in Moscow, Snowden never expressed, or even implied, any thought – radical or otherwise – about United States foreign policy or the capitalist economic system under which we live, the two standard areas around which many political discussions in the US revolve. In fact, after reading a great deal by and about Snowden this past year, I have no idea what his views actually are about these matters. To be sure, in the context of the NBC interview, capitalism was not at all relevant, but US foreign policy certainly was.
Snowden was not asked any direct questions about foreign policy, but if I had been in his position I could not have replied to several of the questions without bringing it up. More than once the interview touched upon the question of whether the former NSA contractor's actions had caused "harm to the United States". Snowden said that he's been asking the entire past year to be presented with evidence of such harm and has so far received nothing. I, on the other hand, as a radical, would have used the opportunity to educate the world-wide audience about how the American empire is the greatest threat to the world's peace, prosperity, and environment; that anything to slow down the monster is to be desired; and that throwing a wrench into NSA's surveillance gears is eminently worthwhile toward this end; thus, "harm" indeed should be the goal, not something to apologize for.
Edward added that the NSA has been unfairly "demonized" and that the agency is composed of "good people". I don't know what to make of this.
When the war on terrorism was discussed in the interview, and the question of whether Snowden's actions had hurt that effort, he failed to take the opportunity to point out the obvious and absolutely essential fact – that US foreign policy, by its very nature, regularly and routinely creates anti-American terrorists.
When asked what he'd say to President Obama if given a private meeting, Snowden had no response at all to make. I, on the other hand, would say to Mr. Obama: "Mr. President, in your time in office you've waged war against seven countries – Iraq, Afghanistan, Pakistan, Somalia, Yemen, Libya and Syria. This makes me wonder something. With all due respect, sir: What is wrong with you?"
A radical – one genuine and committed – would not let such a once-in-a-lifetime opportunity pass by unused. Contrary to what his fierce critics at home may believe, Edward Snowden is not seriously at war with America, its government or its society. Does he have a real understanding, analysis, or criticism of capitalism or US foreign policy? Does he think about what people could be like under a better social system? Is he, I wonder, even anti-imperialist?
And he certainly is not a conspiracy theorist, or at least keeps it well hidden. He was asked about 9-11 and replied:
The 9/11 commission … when they looked at all the classified intelligence from all the different intelligence agencies, they found that we had all of the information we needed … to detect this plot. We actually had records of the phone calls from the United States and out. The CIA knew who these guys were. The problem was not that we weren't collecting information, it wasn't that we didn't have enough dots, it wasn't that we didn't have a haystack, it was that we did not understand the haystack that we had.
Whereas I might have pointed out that the Bush administration may have ignored the information because they wanted something bad – perhaps of unknown badness – to happen in order to give them the justification for all manner of foreign and domestic oppression they wished to carry out. And did. (This scenario of course excludes the other common supposition, that it was an "inside job", in which case collecting information on the perpetrators would not have been relevant.)
The entire segment concerning 9/11 was left out of the television broadcast of the interview, although some part of it was shown later during a discussion. This kind of omission is of course the sort of thing that feeds conspiracy theorists.
All of the above notwithstanding, I must make it clear that I have great admiration for the young Mr. Snowden, for what he did and for how he expresses himself. He may not be a radical, but he is a hero. His moral courage, nerve, composure, and technical genius are magnificent. I'm sure the NBC interview won him great respect and a large number of new supporters. I, in Edward's place, would be even more hated by Americans than he is, even if I furthered the radicalization of more of them than he has. However, I of course would never have been invited onto mainstream American television for a long interview in prime time. (Not counting my solitary 15 minutes of fame in 2006 courtesy of Osama bin Laden; a gigantic fluke happening.)
Apropos Snowden's courage and integrity, it appears that something very important has not been emphasized in media reports: In the interview, he took the Russian government to task for a new law requiring bloggers to register – the same government which holds his very fate in their hands.
Who is more exceptional: The United States or Russia?
I was going to write a commentary about President Obama's speech to the graduating class at the US Military Academy (West Point) on May 28. When he speaks to a military audience the president is usually at his most nationalistic, jingoist, militaristic, and American-exceptionalist – wall-to-wall platitudes. But this talk was simply TOO nationalistic, jingoist, militaristic, and American-exceptionalist. ("I believe in American exceptionalism with every fiber of my being.") To go through it line by line in order to make my usual wise-ass remarks, would have been just too painful. However, if you're in a masochistic mood and wish to read it, it can be found here.
Instead I offer you part of a commentary from Mr. Jan Oberg, Danish director of the Transnational Foundation for Peace and Future Research in Lund, Sweden:
What is conspicuously lacking in the President's West Point speech?

Any reasonably accurate appraisal of the world and the role of other nations.
A sense of humility and respect for allies and other countries in this world.
Every element of a grand strategy for America for its foreign and security policy and some kind of vision of what a better world would look like. This speech with all its tired, self-aggrandising rhetoric is a thin cover-up for the fact that there is no such vision or overall strategy.
Some little hint of reforms of existing institutions or new thinking about globalisation and global democratic decision-making.
Ideas and initiatives – stretched-out hands – to help the world move towards conflict-resolution in crisis areas such as Ukraine, Syria, Libya, China-Japan and Iran. Not a trace of creativity.
Ironically, on May 30 the Wall Street Journal published a long essay by Leon Aron, a Russia scholar at the conservative American Enterprise Institute in Washington. The essay took Russian president Vladimir Putin to task for claiming that Russia is exceptional. The piece was headed:
"Why Putin Says Russia Is Exceptional"
"Such claims have often heralded aggression abroad and harsh crackdowns at home."
It states: "To Mr. Putin, in short, Russia was exceptional because it was emphatically not like the modern West – or not, in any event, like his caricature of a corrupt, morally benighted Europe and U.S. This was a bad omen, presaging the foreign policy gambits against Ukraine that now have the whole world guessing about Mr. Putin's intentions."
So the Wall Street Journal has no difficulty in ascertaining that a particular world leader sees his country as "exceptional". And that such a perception can lead that leader or his country to engage in aggression abroad and crackdowns at home. The particular world leader so harshly judged in this manner by the Wall Street Journal is named Vladimir Putin, not Barack Obama. There's a word for this kind of analysis – It's called hypocrisy.
"Hypocrisy is anything whatever may deceive the cleverest and most penetrating man, but the least wide-awake of children recognizes it, and is revolted by it, however ingeniously it may be disguised." – Leo Nikolaevich Tolstoi, (1828-1910) Russian writer
Is hypocrisy a moral failing or a failing of the intellect?
The New Cold War is getting to look more and more like the old one, wherein neither side allows the other to get away with any propaganda point. Just compare any American television network to the Russian station broadcast in the United States – RT (formerly Russia Today). The contrast in coverage of the same news events is remarkable, and the stations attack and make fun of each other by name.
Another, even more important, feature to note is that in Cold War I the United States usually had to consider what the Soviet reaction would be to a planned American intervention in the Third World. This often served as a brake to one extent or another on Washington's imperial adventures. Thus it was that only weeks after the Berlin Wall came down in 1989, the United States bombed and invaded Panama, inflicting thousands of casualties and widespread destruction, for the flimsiest – bordering on the non-existent – of reasons.  The hostile Russian reaction to Washington's clear involvement in the overthrow of the Ukrainian government in February of this year, followed by Washington's significant irritation and defensiveness toward the Russian reaction, indicates that this Cold War brake may have a chance of returning. And for this we should be grateful.
After the "communist threat" had disappeared and the foreign policy of the United States continued absolutely unchanged, it meant that the Cold War revisionists had been vindicated – the conflict had not been about containing an evil called "communism"; it had been about American expansion, imperialism and capitalism. If the collapse of the Soviet Union did not result in any reduction in the American military budget, but rather was followed by large increases, it meant that the Cold War – from Washington's perspective – had not been motivated by a fear of the Russians, but purely by ideology.
Lest we forget: Our present leaders can derive inspiration from other great American leaders.
White House tape recordings, April 25, 1972:
President Nixon: How many did we kill in Laos?
National Security Adviser Henry Kissinger: In the Laotian thing, we killed about ten, fifteen [thousand] …
Nixon: See, the attack in the North [Vietnam] that we have in mind … power plants, whatever's left – POL [petroleum], the docks … And, I still think we ought to take the dikes out now. Will that drown people?
Kissinger: About two hundred thousand people.
Nixon: No, no, no … I'd rather use the nuclear bomb. Have you got that, Henry?
Kissinger: That, I think, would just be too much.
Nixon: The nuclear bomb, does that bother you? … I just want you to think big, Henry, for Christsakes.
May 2, 1972:
Nixon: America is not defeated. We must not lose in Vietnam. … The surgical operation theory is all right, but I want that place bombed to smithereens. If we draw the sword, we're gonna bomb those bastards all over the place. Let it fly, let it fly.
–
"Every ten years or so, the United States needs to pick up some small crappy little country and throw it against the wall, just to show the world we mean business." – Michael Ledeen, former Defense Department consultant and holder of the Freedom Chair at the American Enterprise Institute
Notes
William Blum, Killing Hope, chapter 50
Jonah Goldberg, "Baghdad Delenda Est, Part Two", National Review, April 23, 2002
"Aliens visiting Earth would report back to their superiors: 'It's quite amazing, those people worship images. They know it and they pretend not to know it.'" — Hypnotherapist Jack True.
This is a backgrounder for my mega-collection, Exit From The Matrix, which contains many exercises designed to liberate an individual from the standardized perception of reality—and usher in his own creative reality.
Mass mind control focuses on two elements: image and feeling.
By linking the two primary elements, it is possible to short-circuit thought and "cut to the chase," when it comes to enlisting the allegiance of huge populations.
Two seemingly unrelated events spurred my interest in mass mind control.
On the evening of April 12, 1945, I listened to a radio report on the death of Franklin D Roosevelt. I was seven years old.
I became upset. I didn't know why. I was angry at my own reaction.
Forty years later, I pulled into a gas station near my apartment in West Los Angeles. I got out of my car and took the cap off my gas tank. I looked to my right and saw Tony Curtis sitting in his car. I was shocked.
A few days later, I began making notes under the heading of "image-emotion cues." At the time, I was working as a reporter, writing articles for LA Weekly. I knew next to nothing about mind control, MKULTRA, Soviet psychiatric gulags, Chinese re-education programs, or US psychological warfare operations.
But because I had been painting for 25 years, I knew something about the power of images.
I remembered my first exhibition of paintings in LA, at my friend Hadidjah Lamas' house. We had hung my work in her large living room and dining room. Hadidjah had enlisted the services of a friend who had videotaped me painting in my studio, and at the exhibition she set up a television set out on her patio and continuously played the videocassette.
People came through her front door, almost automatically walked through the house to the patio, as if guided by an unseen hand, and watched the video; then they came back inside and looked at the paintings.
They would stop at a painting and say: "That picture was in the video!" It excited them.
My first note on "image-emotion cues" was, "Investing an image with importance. Projecting emotion into an image."
Projecting emotion into a newspaper image of the president, FDR. Projecting emotion into the screen image of Tony Curtis. Projecting emotion into a video of a painter working in his studio.
When people encounter an image, when they invest it with importance, they project feeling into the image—and this all happens in a private sphere, a private space.
If this didn't happen, there would be no way to control populations through images. It wouldn't work. It all starts with a person setting up his own personal feedback loop that travels from him to an image and back again.
Coming out of World War 2, US psychological warfare operatives knew they could turn their skills to political purposes. They had just succeeded in making Americans believe that all Japanese and German people were horribly evil. They had been able to manipulate imagery successfully in that area. Why couldn't they shape America's view of a whole planet that lay beyond personal experience?
They could and they did. But the power to do that emanated from the fact that every person invests images with feeling. That's where it really starts.
I had seen the 1957 film, Sweet Smell of Success, a number of times. I admired it. Burt Lancaster and Tony Curtis gave tremendous performances. When, decades later, I saw Curtis sitting in his car at that gas station, I was "working from" the emotion I had invested in his onscreen image. It produced a sense of shock and paralysis for a few seconds.
Other people might have rushed up to Curtis and asked for his autograph. With me, it was shock, cognitive dissonance. Ditto for the death of FDR. I was working off newspaper pictures I'd seen of him, and the feeling I'd invested in those presidential images. Other people, when FDR died, went out into the street and hugged their neighbors and wept openly. For me, it was upset and shock and anger.
There's nothing intrinsically wrong with investing emotion in images. It can be exhilarating. It can be uplifting. As a painter, I know this in spades. Putting emotion into images can, in fact, vault you into a different perception of reality.
But on the downside, it can also take you into lockstep with what media/propaganda operatives want you to experience, second-hand.
We focus to such a degree on how we are being manipulated that we don't stop to consider how we are participating in the operation. And our own role is clear and stark: we invest images with feeling.
So how does one individual's projection of feeling into an image become a uniform projection of the same feeling into one image, by millions of people? How does what one person invests privately become mass mind control?
Through external instruction or cues. And also, by engendering the idea that there is only a limited palette of emotions to work with in the first place.
Why do millions of people fall into line?
Because they don't realize they started the whole ball rolling themselves. All they know is: images are connected to feelings.
If they knew they were the real power in the whole operation, if they knew they were investing feelings into images all day long, if they could actually slow down enough to see how they do this….then they would be far less prone to taking instruction about what feelings they "ought to" invest in second-hand images.
Hypnotherapist Jack True unceremoniously put it to me this way: "If a dog could analyze how he got from eating meat to drooling at the sound of a bell that came at feeding time, he could stop drooling."
(If Chris Matthews could analyze how his own voluntary investment of feeling in the image of Barack Obama sends a tingle up his leg, he could stop tingling.)
We see images of people rioting all over the Middle East. We see burning flags and crowds outside embassies. We're supposed to invest our own anger and resentment into those images. Unless we're suddenly told those rioters are actually "the good rebels," in which case we're supposed to invest our joy in the images.
We see a picture of miles of flat farmland and (GMO) corn waving in the breeze. We're supposed to invest that image with feelings of happiness and pride.
Nowhere are we told we can back up a step and realize that we are the ones who begin the whole process, by projecting feelings into images. Any images.
When I was 19, I was sent to a trained expert in New York to take a Rorschach (ink-blot) Test. I was displaying signs of what would now be called Oppositional Defiance Disorder.
The expert said he wanted me to tell him everything I saw in each ink-blot. I took him at his word.
An hour later, I was still working on the first blot. I was describing everything from bats and owls and chickens to space ships and buckets of hidden treasure in caves.
Well, I was cheating a little. I wasn't really describing what I saw. I was imagining. I was taking off from what was on the page and improvising. This was outside the bounds of the Test.
The expert was seething. He was sweating, because he had many other blots to show me, and it was late in the afternoon, and he was looking at spending the entire evening with me. Finally, he held up his hand and put an end to the Test.
I wasn't playing his game. Among other sins, I wasn't investing a limited palette of feelings in the images. Therefore, my choices of "what to see" in the blots expanded greatly.
When I go to a museum, I like to watch people stand in front of abstract paintings. Many of them are stumped. They're trying to figure out what feelings they "are supposed to" project into the painting. They're looking for "instruction," and there isn't any. They're asking for mind control, and they're not getting it.
Fanaticism of any kind begins with individuals projecting feelings into images. This is harnessed by leaders, who then choose the images and direct which feelings are permitted. The tempting prospect for the follower is: participation in a drama that goes beyond what he would ordinarily experience in life. This is bolstered by the idea that what he is doing is moral.
In an election season, people on the left are urged to project messianic feelings into images of X. People on the right are cued to invest feelings of pride, hope, and "tradition" into images of Y. The real candidates aren't actually experienced.
Since Vietnam, shooting wars have been more difficult to sustain among soldiers. "In the old days," feelings of hatred could be projected into images of enemies that included civilians, so overtly killing everybody on foreign soil was easier to accept. Now, soldiers are taught "enemy combatant" and "civilian" are two different images that require the injection of two different feelings.
Here at home, police and military are taught, more and more, to invest feelings of suspicion into images of American civilians. This is an acceleration of mass mind control for law enforcement.
The astonishing number of civilians who participate in government and corporate surveillance of the public, through technological means, learn to invest "dead empty feelings" into images of citizens, as if these targets are nothing more than ciphers, units.
Bizarre instances of police detaining and questioning parents who allow their children to play unsupervised reveal another accelerating trend. These confrontations start with neighbors snitching on the parents. The neighbors have learned to invest feelings of panic, suspicion, and anger in images of "free children."
In all these cases, there is no real experience. It's all second-hand. It's all feeling-projected-into-image.
In the medical arena, countless advertisements and news stories are geared to convince people to invest feelings of trust in images of doctors. The suggestion, "Ask your doctor if X is right for you," is framed as the solution to a little problem. The problem is set this way: Drug X is wonderful; drug X has serious adverse effects; what to do? Solution: ask your doctor; trust him; he knows.
As the class of victims in society has grown by leaps and bounds, including any group that can organize and promote itself as needing help or justice—going miles beyond the people who really do need assistance—citizens have been trained to invest feelings of sympathy and concern for all images of victims everywhere, real or imagined. This, too, is mass mind control.
Pick an image; invest feelings in it. Facts don't matter. Evidence doesn't matter.
You've heard people say, So-and-so (a celebrity) has become a caricature of himself. Well, that's what it means. The celebrity has projected massive feelings of approval into a concocted, cartoonish image of himself.
As a society, we can go on this way until we become a horrific cartoon of a cartoon (well, we're already there), or we can step back and discover how we invest emotion into images, and then use that process to pour feelings into visions of our own choosing and invent better futures.
Since the dawn of time, leaders have portrayed themselves as gods. They've assembled teams to promote that image, so their followers could project powerful emotion into the image and thereby cement the leaders' control and power.
The game isn't new. Understanding the roots of it within each individual could, however, break the trance of mass mind control.
During the first West Nile fake outbreak of 1999, I spoke with a student who had just dropped out of medical school. He told me he'd been looking at electron-microscope photos of the West Nile Virus, and he suddenly realized he was "supposed to" invest feelings of "great concern" in those images.
Somehow, he broke free from the image-feeling link. He was rather stunned at the experience. His entire conditioning as a medical student evaporated.
Parents all over the world are having the same experience vis-a-vis vaccines. They realize they're supposed to invest fear in images of germs and disease, and they're also supposed to invest feelings of hope and confidence in images of needles and vaccines. They see the game. They're supposed to remain victims of mass mind control.
But they've awakened.
We've all been taught that what we feel is always and everywhere out of our control. These feelings are simply part of us, and we have to act on them. The alternative would be to sit on them and repress them and turn into androids, robots.
This is simply not true. There are an infinite number of feelings, and as strange as it may sound, we can literally invent them.
This, it is said, is inhuman. It's a bad idea. It's wrong. It would lead us to "deserting the human community."
Nonsense. That's part of the propaganda of mind control. If the controllers can convince us that we're working from a limited map of emotions and we have to stay within that territory, they can manipulate that limited set of feelings and trap us.
The power of art is that it shows us there are so many more emotions than we had previously imagined. We can be much freer than we supposed.
The synthetic world of mind control and the handful of feelings that are linked to images is what keeps us in thrall.
The world—the world of what we can be—is so much wider and more thrilling and revealing.
The author of three explosive collections, THE MATRIX REVEALED, EXIT FROM THE MATRIX, and POWER OUTSIDE THE MATRIX, Jon Rappoport was a candidate for a US Congressional seat in the 29th District of California. He maintains a consulting practice for private clients, the purpose of which is the expansion of personal creative power. Nominated for a Pulitzer Prize, he has worked as an investigative reporter for 30 years, writing articles on politics, medicine, and health for CBS Healthwatch, LA Weekly, Spin Magazine, Stern, and other newspapers and magazines in the US and Europe. Jon has delivered lectures and seminars on global politics, health, logic, and creative power to audiences around the world. You can sign up for his free emails atwww.nomorefakenews.com
Source: Jon Rappoport  |  No More Fake News
Origin of the Master Model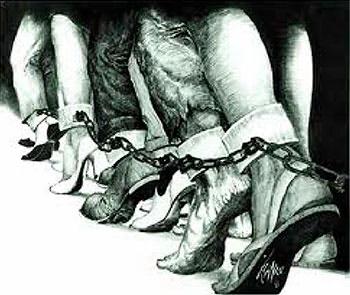 The master plan for world domination we see playing out today was first proposed to the US at the end of World War I. However, there were no takers. People were too war weary. However, when the plan was again proposed at the end of World War II, it was accepted. Consequently, World War II quietly transitioned into the secret "war" to set up what has become known as the "new world order" — an absolute dictatorship over the entire planet.
The United States set up the School of the Americas to train future dictators and terrorists who would be sent out into the world to destroy sovereign nations and place them under US domination by installing puppet governments obedient to the United States. Many conquests were made quietly using clever economic tricks [2]. However, leaders who refused to submit quietly would see their entire country reduced to rubble and the land rendered unlivable by uranium dust scattered by US bombs. The message was clear: Submit to the United States or face total destruction.
A social model based upon the assumption that cleverness and power automatically convey the right to take anything desired from those who are less adept and unable to resist is not a sustainable model for harmonious social interactions. However, this is the chosen model. The mantra for this model, "A man's true worth is measured by the amount of other peoples' happiness that he can possess and destroy" [1], is essentially a call for a class war between the greedy elite and the innocent masses of the world who simply desire a peaceful existence.
Acquisitions
The United States looks at the rest of the world as a "resource". If a country has something — oil, gold, minerals, etc. — that the US covets, it believes it has the right to take those things by whatever means necessary. In many cases the coveted resource is human slave labor. Let's look at some representative examples:
With the cooperation of the dictator, United Fruit Company (US) owned almost half of the country and used the locals as slaves to harvest its Chiquita brand bananas. However, during the period from 1945-1954 new leaders made changes. They helped the poor and set up social security and health care. Then they took land away from United Fruit and gave it to the local people. United fruit complained to the CIA that its business interests were being interfered with by the "communist" government. Any government which shows kindness to the poor and weak is called communist by the US. The US attacked Guatemala — killed the elected leaders and many thousands of citizens — and established a puppet dictatorship which would obey the will of United Fruit. The people were returned to a state of slavery. The CIA trained death squads to make sure the people were crushed into submission.
Strip Mining in Africa [4]
In Africa, the International Monetary Fund — a puppet of the US — destroys a country with strip mining. The original country was self sustaining. People were able to grow lots of food and hunt animals. However, once the land was ruined by US corporations, it was unusable to plant crops and the native animals died. The people had to buy food from other countries with money loaned to them by the IMF which they could never hope to repay. Therefore, a once free and self supporting people were made debt slaves of the IMF. Once all the natural resources have been stolen, the corporations will simply pack up and leave the indigenous people to starve and die.
Countries Used as Trash Dumps [5]
Used computers and associated items are dumped in poor countries where starving barefoot children sift through the mess of hazardous waste and broken obsolete glass computer monitors hoping to find something they can sell to get enough money to stay alive another day. Property stickers show the waste is mainly from the US government and various US state governments.
Corruption of Trusted Sources
Reporters and News Organizations
The masses are conditioned to believe news they receive from establishment sources. In the earlier times, this assumption was often correct. It was considered so important by the founding fathers that freedom of the press was enshrined in the US constitution. However, times have changed.
Walter Cronkite was known as the "trusted voice". No one knew he was also the official announcer at the secret Bohemian Grove meetings. The leaders of the world's news organizations also attend this event. That is why, even though the meetings began over one hundred years ago, until recently no one knew this group even existed. President George W. Bush may have set a new record for bribing journalists to allow their trusted name to be used as the author of material actually written by government propaganda experts. Apparently, everyone has a price and the government, of course, has no problem when it comes to money.
When Ronald Reagan reportedly ordered the death of investigative reporter Jessica Savitch [6], the message to independent journalists was clear: Go against the official party line an you're done!
Today, dedicated journalists face mysterious deaths and strange single car accidents but a few survive long enough to give us a glimpse of truths we would otherwise never know. They are true heroes.
Churches
Churches are everywhere. Unfortunately, legitimate Spiritual teachers are not. People look at churches either as harmless or with some sort of conditioned hypnotic respect. Churches send out "missionaries". However, the "mission" of these missionaries may not be so clear. If you wanted to infiltrate a foreign country, these people would be an ideal asset.
Churches are not Spiritual centers. At best, all they want is your money. At worst, they are Satanic and you are in severe Spiritual danger if you come under their influence and control.
The Catholic Church has been a trusted asset of the US intelligence community for quite some time. Significant information obtained by priests during confessions is routinely passed on to the government.
This agreement predates the internet by many years. Because the church has branches in almost every country, it has great potential for covert activities. For example, if you need to get an operative who is in danger out of a country, they can go to a Catholic church for "confession". Once the door is closed, they can exit through a secret passage, be disguised in robes and spirited safely out of the country. Church secrecy is at least on a par with US secrecy. Also, the Catholic church and the US shadow government share the same Satanic value system and engage in child rape and ritual killings.
Doctors and the Medical Industry
Medicine in the United States is an industry. It is no longer a profession. Its corporate model puts profit above all else. If some patients accidentally benefit they are the lucky ones.
The medical community has a rigid hierarchical structure and effective mechanisms for enforcing secrecy. Essentially, its model closely resembles the military chain of command structure. This makes it a perfect partner for the government in the area of secret human experiments.
For example, when the government was doing radiation experiments on humans, a doctor or someone dressed as a doctor would just walk up to unsuspecting patients and inject them with radioactive material. They were then secretly followed for years to see what would happen. Eventually, some of those who survived were told the truth. Most people used in the MK Ultra and subsequent secret projects were never notified.
Hospitals are set up to protect themselves. Staff may appear to be dedicated, smiling people who truly care about you. However, they are basically prostitutes who are being nice because you are worth money to them. When they make mistakes they have a "loss prevention" department staffed by clever lawyers who are trained to protect the financial interests of the hospital by denying everything and fabricating believable coverups. They are trained to do whatever is necessary. The staff will all agree to support whatever lies are needed. They know their job and their financial future depends upon maintaining strict secrecy.
The only people who receive legitimate medical care are the select elite cleared to accesstop secret medicine. These people always get excellent care because the doctors work for the shadow government and mistakes on their part are simply not tolerated.
Infiltrations
Countries which have the resources to sustain an intelligence community generally try to get operatives (spies) into other countries so they can directly observe activities. When real people gather intelligence, this is called human intelligence or HUMINT. The US, of course, does this too. However, you may not be aware of the extent to which the US also infiltrates itself. The central government really does not trust anyone.
Essentially all local police departments, state offices and state governors have a covert federal agent working close by pretending to be just another employee. Also, every US neighborhood has an informer who reports to the federal government. Large corporations, which tend to behave like "mini governments", need to be infiltrated and kept under observation. Colleges and universities are also monitored.
Here is how this spy network operates: The NSA likes to recruit young kids right out of college. When they are hired and sworn to secrecy they still do not know what their assignment will be. They must agree to do this assignment without first being told what it is.
Some agents, like John Perkins [2], are assigned to work in other countries. However, others are assigned to work inside the US. Their assignment could be to go to some state and apply to join the local police department. They would pretend to be just a regular person looking for a job. They would take the necessary training and spend their life as a local policeman so they could directly observe other local police from the inside and report to the NSA. Since they are actually an employee of the NSA, presumably they get to keep both salaries and, eventually, both retirements. All significant local police forces in the US are infiltrated this way.
Additionally, some agents will be assigned to get a job on the state governor's staff as well as in major local state agencies. A CIA or NSA agent is always on the staff at major colleges and universities. The same goes for major corporations.
Senior level agents are allowed to have special TV receivers in their homes linked to the secret government TV network. This way everyone stays on the same page. The channels on this network actually broadcast the truth. TV channels available to ordinary people contain only government approved propaganda mixed with "bread and circuses" presentations to make sure the sheeple stay asleep and content.
Fronts
The US government is involved in illegal activities internationally and domestically. If it performed these activities overtly in the name of the United States, there would be serious consequences under both international and local laws. To avoid this situation, the US government operates thousands of "front organizations" which appear to be private but are actually shadow operatives of the US.
For example, John Perkins [2] explained that he was recruited, hired and trained by the NSA. He was an NSA agent. However, for his cover as an economic hit man, he "officially" worked for a "private" company called Charles T. Main. This company was a government front to shield the US because the activities the NSA trained Perkins to do were illegal.
This is standard operating procedure for the US as well as other countries and many corporations. It shields them from legal recourse by providing deniability for the crimes they actually direct and commit.
Generally, when the US wants to influence other sovereign countries, it creates harmless looking NGO's which appear to be independent but are actually fronts for covert activities.
Domestically, colleges and universities — especially those with associated medical schools and hospitals — are great places to conceal a variety of covert projects such as the MK Ultra series of human experiments which, reportedly, continue today using new cover names. The US also likes to create non-profit corporations which exist only to provide classified services to the United States. A good example would be the Institutes for Defense Analysis (IDA). The US, reportedly, is its only client.
Programming
Mass media "programming" is actually programming you. It has developed into a subtle form of mind control. Before radio and television, special interests recognized that motion pictures could be used to alter public opinion in their favor. Perhaps, for example, you wanted to attack labor unions. When radio and later television came along providing access to national and international audiences, the temptation to exploit these technologies became irresistible. Originally, the US government recognized this and set up fairness rules to prevent monopolies from taking over the broadcast media and blocking opposing viewpoints. All this ended, unfortunately, when Ronald Regan canceled all the fairness regulations. Today, a handful of powerful corporations own and control essentially all content delivered by radio and television.
Television is the main vehicle for mass indoctrination. It is said that people watching TV actually fall into a light hypnotic trance. The "entertainment" you see on TV does not "just happen to be there". It is very carefully planned and timed to attract and influence targeted audiences. It is said that if some event were to somehow shut down all television broadcasts the government would experience a severe crisis because it would lose control over the minds of the masses.
TV creates sort of a "hive mind" among the masses and keeps everyone coordinated and tuned into the official party line. Without this, people would have no choice but to start thinking for themselves and forming independent opinions. Clearly, this would be a disaster.
The radio broadcast of "War of the Worlds" and the later movie "The Day the Earth Stood Still" are said to be CIA psychological experiments to judge how the general public would react to some type of ET contact.
Today, broadcasting is not just a one way event. Because people react to events and use social media to express these reactions, the effect of specific propaganda can be analyzed in real time. Since the government now intercepts all electronic communications, it is able to see general opinions and then tweak algorithms to maximize the desired effect of propaganda. This ability makes TV a two-way communications system although most people, of course, do not realize this and have no concept of the level of sophistication these technologies have reached.
Information Theory
Information Theory is the name of a relatively new branch of science which became popular in the 1960′s. It covers a broad range of technologies. Basically, it is the science of the flow of information and how that flow can be selectively controlled so that information flows only in desired pathways. As you may have already guessed, governments love this sort of stuff.
ECM
ECM stands for Electronic Counter Measures. In general, these are techniques to disable other electronic devices. Basically, it is electronic warfare. When the secret service is active in an area, for example, they will selectively jam all radio frequencies except for the specific frequencies they are using so that no one else can communicate.
World leaders, who are generally terrified of "threats" materializing from practically anywhere, like to travel with ECM generators running just in case "someone" from "somewhere" was trying to target them for "some reason". Basically, they are paranoid whack jobs.
People familiar with aviation tell the story of how Tony Blair, while traveling to or near a commercial airport, reportedly caused a commercial jet to crash because all the ECM garbage he was transmitting jammed the plane's navigation system. Of course, the British government would never admit this.
Secure Communication With Submarines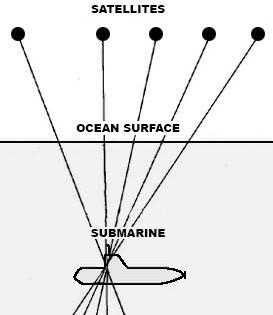 Since submarines were invented, communicating with them has been a problem because conventional radio waves will not travel underwater. Therefore, early submarines had to get close enough to the surface to put up some kind of antenna in the air to send or receive radio messages. Obviously, this could pose a problem if you did not wish to be discovered and located. After all, the motivation to create submarines in the first place was the feeling that they would be able to move about the planet secretly. However, newer technologies now make this impossible.
To solve the problem of reliable secure communication without the need to surface, scientists learned that sea water was essentially transparent to a special type of Argon laser. To set up the current communications network, it was decided to use several satellites with each satellite sending only part of an encrypted communication signal. The complete signal could only be received at a specific point underwater where all the laser beams intersected. Intercepting only one or two beams would prove useless. This communications system is considered to be impossible to intercept.
Quantum Entanglement
Returning to the submarine issue for a moment, before modern communications were perfected, there was a search for some reliable method to send a signal to a submerged submarine that could not be detected. This was considered necessary in a war situation to secretly transmit an attack command. What they originally did was to locate a couple of people who could communicate telepathically. One would be at the command base and the other on the submarine. Doing a bit more research, it was determined that this type of communication is instantaneous and somehow operated outside of time. Radio waves travel at the speed of light.
Quantum entanglement is a process which uses technology to send and receive signals outside of space-time. Now, why would you possibly want to do this? Well, if you had a base or a colony on a planet in some other solar system light years away, you would not want to wait years for messages to be received. Following this thread — and adding some basic common sense — why would you want to dedicate resources to search for habitable planets in distant solar systems when you had already "proven" it would be impossible to ever get there? Could it just be that someone is not coming clean with whole story?
The Separation Barrier
This is a model of the separation barrier which insulates the ruling class from the slave class. It is essentially "intellectual apartheid". The question is, why is it there. It takes considerable effort, money and manpower to maintain this artificial barrier. What is the reasoning behind not having a level playing field for everyone? Why does this idea absolutely terrify the elite? What are they afraid of?
The Pirate Story
This is a summary of a story told years ago on a radio broadcast most likely by Paul Harvey:
Ordinary people were afraid. The Earth was flat so they dare not venture far from home. Periodically, a pirate ship would come. They did not know how it got there or from where it came. It brought treasures they had never seen. The Chief Pirate would encourage the young men to study and specialize in specific skills. He wanted them to become educated but only in one narrow area. The Chief Pirate knew the world was not flat and how to navigate to other lands. However, this knowledge was never discussed. This "top secret" knowledge or the "big picture of the known world" would only be given to the Chief Pirate's son who would inherit his title and someday become the Chief Pirate.
This story is about the origin of the concept we call compartmentalization — the process of controlling the slave masses by only allowing them to know specific bits of the truth while the leaders are allowed to know total truth.
ELITE RULING CLASS
SECURITY CLEARANCES
SECRET POLICE
ASSASSINS
SURVEILLANCE — SIGINT HUMINT COMINT
SPY SATELLITES
SPY DRONES
SMART ELECTRIC METERS
INTERNET SURVEILLANCE
NEIGHBORHOOD SPIES
PLENTIFUL STREET DRUGS
PSYCHIATRIC FORCED DRUGGING
GENETICALLY MODIFIED FOOD
FLUORIDATED WATER
COORDINATED TELEVISION PROPAGANDA
DEGRADED PUBLIC EDUCATION
LOCAL MILITARIZED POLICE
---
SLAVE CLASS
Leaders can only maintain their status if there are slaves. Otherwise, everyone would be equal and operate on a level playing field. This means "leaders" would have to pull their own weight like everyone else. Clearly, this would be intolerable. Leaders love beautiful and exotic things but don't want to do the work needed to create these things. They probably could not even plant a garden much less build the various "ivory towers" where they like to live surrounded by servants. If left on their own they would very likely starve. This is why it is so important to create and maintain the complex separation barrier.
Why don't people who live above the separation barrier ever "come down" and talk to the people below the barrier? Well, other than the obvious fact that they would likely be killed or jailed for espionage or treason, there is another, simpler, reason.
Would you like to spend your days sitting in an open field with kindergarten kids looking for four leaf clovers? Probably not. You have progressed beyond that. The slaves below the separation barrier cannot even imagine the world of those who live above the barrier. In fact, the elite do not even consider the slaves human. They call them "disposable biological units". The United Nations prefers the slang term "the herd". Slaves can be easily bred in quantities needed and programmed to do desired tasks. Then, they can be easily disposed of when no longer useful. That's how they look at you. So, why would they want to make friends with you?
The Mars Example
There is an interesting event playing out today that you may have noticed. This concerns the recruitment and selection of people to be sent to Mars. There are simulation projects where volunteers are locked away to imitate the long voyage to Mars. They are being told that this is a one way trip and they can never hope to return to Earth.
What you are witnessing is the selection process for the "seed people" who will be used to breed the future slave class on Mars. In a situation similar to the period when most believed the Earth was flat and you would fall off if you tried to go to sea, these people are convinced that the only way to get to mars is to ride a rocket on a perilous journey taking years. Because they truly believe this, when they get to Mars, they will teach this crap to their kids along with other misconceptions like it is impossible to go faster than the speed of light and other associated obsolete scientific principles. They will have no
desire to ever return to Earth or go anywhere else because they truly believe it is not possible. They will be contented slaves.
Of course the truth is that there are already secret colonies on Mars. It is not that hard to get there using antigravity and other secret propulsion methods and it is quite likely possible to simply walk through some kind of wormhole device and come out on Mars.
However, the slaves will never know this. Just as it is done on Earth, there will be an artificial separation barrier. The insiders will know the truth and will be physically hidden from the slaves. There will be secret police and other methods — the same as are used on Earth — to make sure no slave ever escapes from the "information prison". Business as usual will continue.
Reinforcement of Ignorance
Governments and their oligarchs love to keep their subjects in a cloud of ignorance. Back in the days when people believed the Earth was flat, the inner circle ruling class knew it was round. Maintaining the deception was convenient because it kept the slaves from developing any desire to travel far from home.
Nothing has changed all that much today. Consider, for example, all the fuss over the missing MH370 plane. You are being played for a sucker. It is impossible for that plane to have "disappeared".
The US DoD spy satellite system reportedly consists of ten constellations of satellites. Each constellation has over seven thousand satellites. They see and record everything that happens on this planet. The floor of the oceans can be seen just as clearly as the land areas. The resolution of the system is better than one square millimeter. Also, everything is recorded so you can go back in time and play past images.

This is a picture of a common electric lamp. Take this lamp and throw it in the ocean — any ocean anywhere on this planet. The spy satellite system will locate it, give you the coordinates and give you a photo at least as good as the one above. That is the capability of the system. So, clearly, it is impossible not to know the location of something as large as a Boeing 777 plane. All the TV publicity is a choreographed play. You are being scammed and you need to wake up and realize this fact.
Murders and Assassinations
To ensure a strong empire, dissent must be crushed. The United States trains assassins and carries out both domestic and foreign murders and assassinations on a regular basis. You may be familiar with the classic movie scenes where a black limousine with tinted windows drives by a target with thugs shooting machine guns. Although this would accomplish the task, it is a bit too obvious in a country that advertises itself to be a free, civilized democracy. Someone might catch on and begin to doubt the party line. Consequently, these things must be done quietly.
Inside the US, murders are reportedly carried out by a group known as "FBI Division Five". Other agencies likely have the responsibility for foreign assassinations. However, the basic techniques used would be similar.
Typically, an agent would wake up every day and connect to the top secret internet to see who he was assigned to kill that day. There would be several options. If it was important to eliminate the target immediately, a fast acting chemical agent would be selected which, for example, would cause the target to die within a few hours of a "natural" heart attack.
However, if time was not critical and the government just wanted the target out of the way, you might want to select one of the cancer causing agents such as those likely used to eliminate Hugo Chavez and Senator Ted Kennedy.
There is also a third possibility. This involves character assassination instead of actual murder. Consider, for example, a person who has gained a lot of public recognition talking about, say, free energy. If you simply kill the person, there could be blowback and talk that he was silenced by the government. In such cases, it is easier to use a chemical agent designed not to kill but, rather, to cause states of mental confusion resulting in obviously strange behavior. This would be coordinated with the government controlled mainstream press to make sure everyone became convinced the person was a nut and would therefore ignore anything said without regard to the truth or validity of the message.
Once the appropriate chemical has been selected, you need to load it into the secret delivery system and locate your target. To find your target you will connect to the top secret internet and pinpoint the location of the target through their cell phone. You can also activate all the cameras and microphones in electronic gadgets connected to the internet associated with the target in case you wish to look around the target's home and hear in real time what is taking place.
Of course, this will not help you locate the target when it is time to actually do the hit. So, you need to get the top secret profile data which will show any predictable habits of the target. Everyone is constantly tracked through their cell phones and profiles are logged and stored. In this case, the profile shows that the target has a favorite restaurant and goes there for lunch every day around 11:30. Now, you know exactly what to do. You go to the restaurant, hang out until you see your target, and get in line behind the target. Now, all you need to do is slightly bump into the target to deliver the chemical. Generally, the targets never even notice.
This mission is now complete. If it is early enough, you can check back in to the top secret system to see who you are supposed to kill next. Just another day. Just a routine job.
Money
Money is an imaginary force. It is used to motivate and control slaves. Real forces effect all life forms. However, only people respond to money. The only reason they do is because they have been artificially programmed to do so.
Money can be created in unlimited quantities by those adept in the use of this force. The physical world is finite, however the world of imagination is not. There is no limit to the quantity of money that can be imagined into existence. Money can also be imagined out of existence.
Let's assume that one day the entire financial system simply disappeared. If you lived in a rural area and had a nice veggie garden, some friendly chickens, collection facilities for rain water and a few photocells for electricity, you would not notice this. The veggies would continue to grow. Rain would periodically fall. The chickens would lay eggs as usual. The sun would continue to shine. However, if you lived in a city environment, you would be devastated.
Before money, people lived in small hunter-gatherer groups. The concept of ownership did not exist. People worked and survived as a group. Men and women were equal. Everyone contributed to the community. Resources were shared equally. The concept of "mine" and "yours" did not exist. Women generally became pregnant only once about every three years although there was no birth control. Later, when the concept of money entered the consciousness, women were seen as having less value because men were paid for work but women were not paid to raise and care for kids. Society has changed, however, the downgraded status of women has not.
Money systems have always been manipulated by clever people. When gold was used as money, people learned they could dilute pure gold with silver or maybe even lead to come up with something that looked like pure gold and had the correct weight but was a fraud. A king suspected he was being scammed but had no way to prove it. He called on the great minds of the time for help. This led to what is known as the Archimedes' principle which is better known today as "specific gravity". This principle made it possible to compare a sample known to be pure gold to a questionable sample and prove the unknown sample was not pure gold. Likely, some clever crook lost his head once this test became known.
There is a general belief that gold is the ultimate reference for all money. However, secrets concerning the exact quantity of gold make this a perilous assumption. Reportedly, the United States stole a tremendous quantity of physical gold from Japan towards the end of World War II. This gold exists off the books. To make matters worse, Japan was not all that concerned. Japan had been using gold bars as ballast on its ships because they were compact and heavy. They thought nothing of throwing the bars overboard as necessary. Japan used platinum as a money reference and the US never got that. This should make one rethink all the hype about the value of gold. It may be a lot more plentiful than we have been led to believe. Also, the secret off the books stashes of gold would allow its relative value to be manipulated at will just like other commodity markets.
The Financial Axis of Evil [3]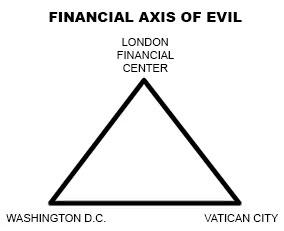 This is the model of the financial axis of evil which rules this planet. It consists of three main branches as shown above. Collectively, they are known as "The Empire of the City". Briefly, here is how this system operates:
The London financial district is in London, Washington D.C. is in the United States and the Vatican is in Italy. However, these three places are not part of the countries where they exist. They are independent "city states" and have their own laws and constitution. They are, effectively, "mini countries" inside of other countries and fly their own flags. The city state of London is a private corporation and pays no taxes to actual London or to Britain. The city state of London is the master power center and is controlled by the Rothschild family which considers itself to be the legal owner of this planet. The Vatican is the largest private land owner in the world and the first true multinational corporation with installations (churches) and secret agents (The Knights of Malta) everywhere. They control through the power of fear of the unknown and practice black magic. Washington D.C. relies upon brute military force. All three closely cooperate combining their specialties of financial trickery, witchcraft and military might. Of course, all three worship Satan as their Master.
Slavery
Slavery is alive and well throughout the world. The US constitution prohibits slavery, however, most americans live in slave-like conditions.
It is said that it will take the average college student until age fifty to pay back their student loan.
The constitutional amendment prohibiting slavery addressed the concept of physically owning another person. However, it did not address the issue of holding another person in bondage as a debt slave. It also did not consider the concept of private for profit prisons who force inmates to work as slaves. These systems exist today and are perfectly legal.
Actually, a recent report from prestigious Princeton University has reclassified the US government as an oligarchy — a country run by and for the rich elite. Former US President Carter has stated that the United States "no longer has a functioning democracy". So much for the Founding Father's dream. Speaking of dreams, check out the free you tube video titled "The American Dream".
Other forms of slavery are illegal but still flourish. Sex slaves are always in demand. Traffickers are sometimes caught but you need to realize that your leaders use sex slaves and also routinely abuse young girls and boys. Sometimes they are also killed during occult rituals. No one ever talks about this and these people are never punished. This has been the normal way of life for Satan worshipers for many years and nothing has changed or is likely to ever change in the future. Stanley Kubrick's last movie, Eyes Wide Shut, covers this subject. Some believe this intense dramatization of how the elite really live may have cost him his life.
People still have some rights left in the United States but other countries are a different story. Qatar is doing construction for the World Cup. The event is not scheduled until the year 2022, however they have already killed 1200 slaves [7] by working them to death. People are lured from poor countries with the promise of jobs and money. When they arrive, their passports are confiscated and they are forced to work until they literally drop dead. If the World Cup is actually held in Qatar in 2022, there will be glamorous TV coverage and no one will remember or care about all the dead slaves. The show must go on.
Qatar, incidentally, sponsors Al Jazeera TV network.
Adaptation Techniques
The status quo of today will never change because the people who created it will never die. Because of top secret medicine, when men like Henry Kissinger, who heads the Bilderberg Group's steering committee, get too feeble to function, they will simply go to one of the secret locations and use the temporal reversal device to regress back to about twenty years old. Their memories will be unaffected. Then they will get new identities and continue on. This process can be repeated indefinitely.
Because you can never change the status quo, your best hope for a lifetime of reasonable quality is to find clever ways to live in this world with as much independence as possible.
One method of adaptation is autonomous and semi-autonomous communities. If the community is registered as a religious institution it is automatically shielded from most government interference by the US constitution. It pays no taxes and can pretty much write its own rules by simply calling whatever it wants to do "religious doctrine". Many small semi-autonomous groups exist where people who share a common set of values find ways to quietly live out their lives pretty much on their own terms. The government does not seem interested in bothering these smaller groups as long as they live peacefully and are not doing anything that the government perceives to be a threat.
The Amish people are a good example of an autonomous group. You would probably not want to live as they do, however, before you completely dismiss them, you may want to look at some definite advantages in their chosen lifestyle.
Remember, these are the people who reject technology. They just might have made the correct choice. Technology, at first, seemed like a good idea. However, now that people are addicted to technology they are also enslaved by technology. Everything they do is monitored and recorded by the government. Privacy no longer exists. It did not have to be this way.
Technology, in itself, is not evil. However, it can be quite evil if you live under a government run by sociopathic control freaks which, unfortunately, you do. In the Amish world, electronic surveillance does not exist because electronic devices do not exist. The constant propaganda from TV has no effect on people who do not have TV. A horse does not report its position to a GPS satellite and is not controlled by a computer.
Also, the people are generally healthy and do not suffer from many diseases common to the mainstream population. They are not being poisoned by fluorinated water or additives found in processed food because they don't use these things. Also, they get lots of physical exercise.
Without totally withdrawing from the world, there are some positive steps you can take. By now you know never to drink fluorinated water or use any personal product containing fluoride such as many brands of toothpaste. To minimize harmful food additives, look for Kosher food which is marked with either the encircled "K" or "U" (Ultra Kosher). These foods have less or no harmful additives. The Jewish community is very protective of its people and the Mossad is widely considered to be the best intelligence service in the world. Therefore, they would have the inside scoop on everything including food and do not want to see their people harmed.
Whatever you decide to do, you definitely do not want to be part of so called mainstream society. These people are doomed. They are sheep (sheeple) slowly walking to the slaughter house. Don't go there!
---
references and credits
[1] DVD "The American Ruling Class". ASIN: B001HM2CE2.
[2] John Perkins. Book: Confessions of an Econemic Hit Man; DVD (free on you tube): "Apology of an Economic Hit Man"; RT interviews.
[3] See the free you tube videos titled "The Red Shield".
[4] DVD: "The Wages of Debt", RT Intl. Also available for purchase.
[5] DVD "Terra Blight", RT Intl. Also available for purchase.
[6] Interview with John Judge of Veterans Against Military Psychiatry.
[7] Also search using the phrase "qatar slaves world cup".
© 2014 W C Vetsch. All rights reserved.
Source: Walter C. Vetsch  |  3108.info | War Is Crime
The ultimate and final goal of evil is to obscure and destroy our very conception of evil itself, to change the inherent moral fiber of all humanity until people can no longer recognize what is right and what is wrong. Evil is not a wisp of theological myth or a simplistic explanation for the aberrant behaviors of the criminal underbelly; rather, it is a tangible and ever present force in our world. It exists in each and every one of us. All men do battle with this force for the entirety of our lives in the hope that when we leave this Earth, we will leave it better and not worse.
When evil manifests among organized groups of people in the halls of power, power by itself is not always considered the greatest prize. The true prize is to mold society until it reflects the psychopathy that rots at the core of their being. That is to say, the elites, the oligarchy, the mad philosopher kings want to make us just like they are: proudly soulless. Only then can they rule, because only then will they be totally unopposed.
The problem is humanity is not only hardwired with a dark side; we are also hardwired with a conscience — at least, most of us are.
The vast studies of psychiatrist Carl Gustav Jung prove an in-depth and intricate inborn set of principles common to every person, regardless of time or place of birth and regardless of environmental circumstances. In some circles we refer to this as "natural law." All people are born with a shared moral compass that is often expressed in various religious works throughout the ages. It is a universal voice, or guide, that we can choose to listen to or to ignore. Organized psychopaths have struggled with the existence of this inborn compass for centuries.
They have tried using force and fear. They have tried abusing our natural inclinations toward family and tribalism. They have tried corrupting the very religious institutions that are supposed to reinforce our consciences and teach us nobility. They have tried psychotropic substances and medications to paralyze our emotional center and make us malleable. They have tried everything, and they have failed so far. How do I know they have failed? Because you are able to read this article today.
Two methods remain prominent in the arsenal of elites.
Convince Good People To Do Evil In The Name Of 'Good'
This strategy is still effective, depending on the scenario encountered. Elitists are very fond of presenting mind games to the public (in TV, cinema, books, etc.), which I call "no-win scenarios." These games are hypothetical dilemmas that require the participant or viewer to make a forced choice with only two options: The participant can strictly follow his conscience, which usually means assured destruction for himself and others; or he can bend or break the rules of conscience in order to save lives and achieve a "greater good."
Watch the propaganda tsunami in the show "24," for example, and tally how many times the hero is faced with a no-win scenario. Then tally how many times he ignores his moral imperative in order to succeed. The message being sent is clear: Solid morality is not logical. Morality is a luxury for those who do not have to concern themselves with immediate survival. In other words, the world needs bad men to fight other bad men.
Of course, real life is not television; and there has never been nor will there ever be a legitimate example of a no-win scenario. There are no dilemmas that require good people to knowingly sacrifice conscience or destroy innocent lives in order to succeed. There are no dilemmas with only two available solutions. All social dilemmas are fluid, which means that solutions are shifting, but infinite. Just because you cannot see the way out does not mean the way out does not exist. To fight monsters, we do not need to become monsters. Survival is meaningless unless we can prove ourselves worthy of life. This does not mean one should not fight back against evil. On the contrary, one should always fight back. But if we fight without a code of principles and honor, then we will have lost before the battle begins.
Convince Good People That There Is No Such Thing As 'Evil' People
Any action, no matter how horrifying, can be rationalized by the intellectual mind or the mathematical mind. This is why we are born with an emotional and empathic side to our natures. Those who embrace evil often seek to soften their image through the use of cold rationalization. They appeal to our desire to feel logically responsible and to boost our intelligent self-image.
Some people might argue that the machinations of evil are self-evident, and that philosophical examinations such as this are unnecessary.  They would say that there is no need to reassert that the works of psychopathy and elitism are fundamentally destructive, but they would be wrong.  I was recently sifting through some mainstream articles when I came across this jewel entitled "Why Psychopaths Are More Successful."
The article summarizes the theories behind a new "science self-help book" entitled The Good Psychopath's Guide To Success. Co-author and Oxford psychology professor, Kevin Dutton, states that he "wanted to debunk the myth that all psychopaths are bad." He wrote:
"I'd done research with the special forces, with surgeons, with top hedge fund managers and barristers. Almost all of them had psychopathic traits, but they'd harnessed them in ways to make them better at what they do."
Now, three important questions need to be asked of Dutton. First, what exactly is his definition of success? Second, if such people are "better" at what they do because of their psychopathic traits, who exactly are they "better" than? Is he suggesting that a non-psychopath could not be just as good a surgeon? Wouldn't it be preferable to be good surgeon without psychopathy, one who still cares about the well-being of his patients rather than just his own success? And third, if a person can be accomplished in a field without abandoning his conscience as a psychopath does, what good is psychopathy to anyone?
You see, elitist academics like Dutton are not interested in answering such questions in an honest way because their goal is not necessarily to outline a legitimate argument for the usefulness of psychopaths. What they really want is to make psychopathy a morally acceptable ideal in the mainstream.
Dutton does this by asserting the false notion that there are such things as good psychopaths and bad psychopaths, thereby creating a superficial dichotomy he essentially pulled from thin air. Dutton cites several character traits he defines as being common to good psychopaths.
Psychopath Volume Control: Dutton argues that a good psychopath has the ability to turn up or turn down his level of perceived empathy in order to avoid burning bridges with those around him. What Dutton fails to mention (or just doesn't understand) is that this "volume control" is very common to the average psychopath. In fact, psychopaths tend to be quite adept at reading the emotional states of others and adapting to their moods to appear more human. This is how psychopaths end up in marriages, with families and in positions of respect in a community. This is how psychopaths become leaders. Catastrophes arise, however, when the psychopath decides he is comfortable enough that he no longer needs to hide his inability to feel conscience or remorse. There is nothing special or good about a morally bankrupt person who happens to be good at disguise.
Fearlessness: Dutton's claim that psychopaths are fearless is simply absurd and is not based in any practical psychology that I know of. Psychopaths are afraid all of the time. What they fear most is losing what they believe belongs to them. This could be money, power or even unlucky people caught in their web. This fear might drive them to take risks in order to accomplish certain goals. But let's be clear: Only those who take risks because they love what they do have truly overcome fear. Psychopaths are incapable of true love.
Lack Of Empathy: This is the root of the movement toward rationalized moral relativism — the argument that empathy gets in the way of success and sometimes gets in the way of the "greater good." Dutton claims that lack of empathy gives the psychopath focus, making him skilled in high-pressure situations. In a hostage situation, he says, he would much rather have a psychopath as his negotiator. Of course, he does not consider that his captors would likely be the same kinds of psychopaths he so praises in his book.
One would conclude by reading Dutton's position that high-pressure jobs require a lack of empathy. And of course, the jobs with the highest pressure are those in political and military leadership. The philosophy of applying positive assumptions to psychopathic qualities is the highest dream of the elite. If you and I could be convinced to see their gruesome behavior as fully necessary to the greater good, then they will have ascended to a place beyond accountability. They become like the old gods of Olympus, dealing death and destruction above the judgment of mere mortals; and we will have handed them that godhood.
Self-Confidence: I think Dutton is confused over the difference between confidence and narcissism. The average psychopath is often self-obsessed, which means he is willing to do anything to get what he wants. This drive might be impressive, but it is not a product of the kind of self-awareness required to gain real self-confidence. A parasitic tick is not necessarily self-confident when he digs into the flesh of a dog; all he knows is that he desperately wants the blood underneath.
A Kingdom Of Psychopaths
In his collected writings entitled "The Undiscovered Self," Jung theorized according to his work with hundreds of patients that some 10 percent of the human population at any given time has latent psychopathic characteristics, with a much smaller percentage living as full-fledged psychopaths. He surmised that this latent psychopathy will often stay hidden or unconscious for most people, unless their social environment becomes unstable enough to bring out their darker side.
The purges in the early days of communist Russia and Stalinism, for example, brought out the very worst in many normally harmless citizens. Neighbor turned against neighbor, and betrayal for personal gain became the norm. The collectivist hive became an incubator for psychopaths. What Dutton's psychopathic success theory does not take into account is the fact that America, and much of the world today, is becoming a breeding ground for morally bankrupt people. That is to say, our society is now designed by psychopaths for psychopaths, and only psychopaths could succeed in such an environment. We are all being encouraged to become more psychopathic, more evil, in order to survive and thrive.
The destruction unleashed by the psychopathy of elitism far outweighs any potential benefits that might arise from their uncompromising brand of ingenuity. Anything these freaks of the psyche might accomplish can be accomplished with far less physical and moral cost by those with self-discipline and a love of their fellow man. I would be willing to wager any power monger that if he and his miscreant organizations were to disappear, humanity would leap forward in strides never before seen. Ultimately, those who embrace evil and those who elevate psychopathy are not the key to the betterment of the world; they are obstacles to the betterment of the world.
Source: Brandon Smith | Alt-Market
"The grimmest dictatorship is the dictatorship of the prevailing orthodoxy" – George Galloway
In a relativism culture of social permissiveness, the non-judgmental attitude, held out as the suitable standard for conduct, has become the politically correct behavior. One might think that anything goes under this mindset. However, the exact opposite practice and enforcement, under the most rigid conditions, is championed as necessary for enlighten and tolerant liberalists. The proliferation of demands that hate speech is the new capital crime, actually is counter iterative in building a civil society. This orthodoxy of the fanatical, proudly presents this illuminated and required deportment, as obligatory for all citizens.
So what exactly is hate for the neo-Jacobins? Obviously, whatever the "Society of the Friends of the LIVING Constitution" deems it to be, because under the color of law, the self-proclaimed pure of heart, are justified to off the heads of anyone who dares speak out in inappropriate terms. Remember "thinking progress" for the greater good, must be imposed on anyone who dare defies the wisdom of the gatekeepers for the collective.
Racism has to go, unless practiced by Negros against whites, or is the mere mention of such a term a slight to African-Americans? Once upon a time cries of anti-Semitism would be heard if Donald Sterling was made a pariah after the NAACP did an about face after awarding him for promoting civil rights. Not in today's world, such a distasteful zealot no longer has the protection of his tribe from the scrutiny of the thought police. The almost total condemnation of his recently private remarks has the entire sports world clambering for his forced sale of the LA Clippers.
Such broad-minded fans in a league that made homies multimillionaires and took them out of the hood, must not be dis. No wonder the attraction of not just the NBA, but sports in general, have serious minded buffs of the Wide World of Sports looking for, "The Thrill of Victory…" in other arenas. Why not demonstrate that sporting enthusiasm and jock celebrity worship, by starting a grassroots campaign to install America's favorite redneck, Phil Robertson and his Duck Dynasty clan, as the new ownership of the team.Surely, good standing Democrats should have no problem supporting a bunch of good old boys from the South. Frances Rice writes in the National Black Republicans Association site that, KKK Terrorist Arm of the Democratic Party. "This ugly fact about the Democrat Party is detailed in the book, A Short History of Reconstruction, (Harper & Row Publishers, Inc., 1990) by Dr. Eric Foner, the renowned liberal historian who is the DeWitt Clinton Professor of History at Columbia University. Dr. Foner in his book explores the history of the origins of Ku Klux Klan and provides a chilling account of the atrocities committed by Democrats against Republicans, black and white."
Carole Emberton, an associate professor of history at the University at Buffalo adds:
"The party lines of the 1860s/1870s are not the party lines of today. Although the names stayed the same, the platforms of the two parties reversed each other in the mid-20th century, due in large part to white 'Dixiecrats' flight out of the Democratic Party and into the Republican Party after the passage of the Civil Rights Act of 1964. By then, the Democratic Party had become the party of 'reform,' supporting a variety of 'liberal' causes, including civil rights, women's rights, etc. whereas this had been the banner of the Republican Party in the nineteenth century."

Fast forward to today's conductor Eric Holder, of selective bigoted racism, when describing "his people", who "seem to get a pass on hate crime charges when they select whites for their blood sport", one needs to question who the real haters are. David Risselada provides a valid assessment in the essay, Hate Crimes Legislation . . . Racial Identity Politics and the Institutional Racism of the Left.
"The institutional racism that is built in our society is the responsibility of the left. Throughout history it has been the democrats who have supported segregation and slavery while continuously voting against civil rights legislation. Today, they attempt to hide their history through racial identity politics, and the creation of a system where inequality is the new equality. By creating laws based on racial preferences, the left is telling minorities that they believe they are not as capable as white men and therefore need their programs in order to stand a chance in the racist United States of America. This does little but reinforce hatred while attempting to justify black on white violence."
Once upon a time and in a place long ago, the Democratic Party defended the rights of the individual to associate with individuals of their choosing and speak their minds openly and without concern of censor. Since the conversion to ecumenical orthodoxy, the authoritarians that gave you the New Deal and the Great Society have a long record of creating their own hatred of Free Speech. The example of the New York Times vicious attack on Cliven Bundy illustrates another trumped-up incident ripe to exploit.The New American, author William F. Jasper makes the point:
"Much of what Mr. Bundy is saying closely parallels what even many black leaders, authors and intellectuals — such as Prof. Walter Williams, Rev. C.L. Bryant, Rev. Jesse Lee Peterson, Bill Cosby, Alveda King, Star Parker, and Alan Keyes — have been saying. But Cliven Bundy's "sin" is that he is an elderly white man who is unschooled in traversing the minefield of political correctness — and he was careless in failing to make important distinctions and clarifications. He "sinned" by being born when he was born, and failing to keep up with the constantly changing terminology for ethnic designations. He still uses the terms "Negro," "colored people," and "Mexican," instead of "black/ African American" or "Hispanic/Latino" — but then, race activists still argue amongst themselves concerning the "proper" ethnic label to apply to their lineage and group identity."
When Senator Ed Markey, D-Mass., introduces legislation called the "Hate Crime Reporting Act of 2014," it is another partisan concerted attempt to silence voices and views entirely protected under the First Amendment, by monitoring radio, television and Internet speech. Can one say arbitrary and capricious, or will Big Brother now prey on any convenient and moving target to label anyone as a hate monger, that does not conform to the "PC" orthodoxy?
The excellent video from Ben Swann identifies in New "Hate Crime" Bill Will Attempt To Control Speech On Internet, Radio and TV, that the real objective is to censor the internet.
Well, this development should concern any student of inquiry, but the real world often fosters political threats that seem to be so implausible, if they were not true. The case of the arrest of Paul Weston should alarm everyone. In the Michael Coren interview or Mr. Weston, the vanguard of British lunacy once again blazes new trails in the annals of hate speech. If quoting Winston Churchill is now a crime, what does that make Winnie?The British Bulldog is his own words:
"How dreadful are the curses which Mohammedanism lays on its votaries! Besides the fanatical frenzy, which is as dangerous in a man as hydrophobia in a dog, there is this fearful fatalistic apathy. The effects are apparent in many countries. Improvident habits, slovenly systems of agriculture, sluggish methods of commerce, and insecurity of property exist wherever the followers of the Prophet rule or live. A degraded sensualism deprives this life of its grace and refinement; the next of its dignity and sanctity. The fact that in Mohammedan law every woman must belong to some man as his absolute property — either as a child, a wife, or a concubine — must delay the final extinction of slavery until the faith of Islam has ceased to be a great power among men. Thousands become the brave and loyal soldiers of the faith: all know how to die but the influence of the religion paralyses the social development of those who follow it. No stronger retrograde force exists in the world. Far from being moribund, Mohammedanism is a militant and proselytizing faith. It has already spread throughout Central Africa, raising fearless warriors at every step; and were it not that Christianity is sheltered in the strong arms of science, the science against which it had vainly struggled, the civilisation of modern Europe might fall, as fell the civilisation of ancient Rome."
Move over denial ridden Americans; the English have a talent in leading the civilized world in false guilt. For the rest of humankind, they are perceptive enough to admit that the normal human condition acknowledges Discrimination as a Virtue.
"Discrimination has been characterized as racism. Quite to the contrary, discrimination is an ally in the struggle to end bigotry and injustice. When Liberty is suppressed in a quest for equality; hatred and revulsion breeds, for different groups, cultures and ideologies. All attempts to force equal treatment are futile, even when severe penalties are imposed."
Condemning a person, solely by his beliefs, bias and predisposition – that fanatical frenzy will surely bring about the fall of our cherished tradition of Free Speech. For those who fear Sharia Law, you had better be more concerned about the progressive despots, who are the model for imposed intolerance through a government, which hates everyone that refuses their Groupthink.