I know some of you folks don't shoot, but to the many of you who do, I would like to pose a question.
Have you tried to purchase any ammunition lately?
All calibers are disappearing from store shelves, but .22 long rifles, in bulk, can't be found at all anywhere, even the most dependable internet super dealers are out of stock and are making no promises about when they'll be available again, and it's my opinion that soon the same thing will be true about the other calibers.
I readily admit that one of the reasons is that Barack Obama's outright war on guns, the "feel good" juvenile antics of Governor Cuomo of New York and the childish Democrats in the Missouri and Wisconsin state legislatures have scared legal gun owners into stockpiling ammunition, justly fearing that it will get hard, if not impossible to get.
But, can somebody please tell me why Homeland Security and many other, supposedly benign government agencies have bought over two billion rounds and are ordering millions more of all calibers, even the smaller ones?
Why does a shoot-to-kill outfit like Homeland Security need tiny caliber bullets like .22′s that are made for hunting small game? Is Homeland Security going to start exterminating squirrels or rabbits, and why does an agency like Social Security need any kind of ammunition?
Is this a back door attempt at gun control, a way around a Congress that is scared to death of gun legislation? Another presidential backstreet move to have his way by hook or crook and blame it on free market demand? Just dry up the ammo and the guns will be useless?
My information is that the manufacturers are straining every nerve trying to keep up with the demand, but with Homeland Security commandeering so much of their production, the task is impossible.
Is this the beginning of the weaning of America?
It's a scary scenario, but let me relate an even scarier one.
If the government can make bullets disappear from store shelves, why couldn't it make food disappear, or fuel or medicine, or anything else for that matter?
The point being that big government can do just about anything they want to and there's little the minority of us who fear it can do about it as long as the majority who don't fear it keeps tripping down the primrose path with their heads in the clouds and their hands out.
There is a little known piece of legislation that passed Congress a while back called The Food Safety Modernization Act and the provisions are shadowy at best, having to do with agriculture and the production of food in America.
I checked into it when I found out about it only to find the bill had just cleared the Senate and was on President Obama's desk. What struck me as strange was the fact that our two Tennessee Senators were split on the vote; Bob Corker voted against it and Lamar Alexander voted for it.
I was assured by Senator Alexander's office that "Senator Alexander would never do anything to hurt the farmers." Well, does that mean that Senator Corker would do something to hurt the farmers by voting against it? Which means that one of the Senators voted against the farmers of Tennessee. Which one?
The provisions of the bill are said to protect the food supply, but what does that mean when it's taken out of government speak and translated into plain English?
Personally, I believe the government has taken upon itself the power to interrupt agriculture at any time it chooses under the guise of keeping tainted or otherwise unsafe food out of the market – up to, and including, the planting and harvesting of private home gardens.
The flow of medicine could easily be interrupted by claiming it contained impurities and harmful substances.
We've already seen how fuel can be rationed – just slow down the availability and delivery.
Big government can bring this nation to its knees in a matter of days. And, with a passive Senate and an ever more acquiescent Supreme Court, the power to do so is falling into the hands of one man.
Shaky ground for a free nation.
What do you think?
Pray for our troops and the peace of Jerusalem.
God Bless America
Charlie Daniels
Source: cnsnews.com
If you wonder, why the world is so confused and incoherent, look no further then the concept that All Truth Is Local. "Cultural Relativism is the view that moral or ethical systems, which vary from culture to culture, are all equally valid and no one system is really "better" than any other. This is based on the idea that there is no ultimate standard of good or evil, so every judgment about right and wrong is a product of society. Therefore, any opinion on morality or ethics is subject to the cultural perspective of each person. Ultimately, this means that no moral or ethical system can be considered the "best," or "worst," and no particular moral or ethical position can actually be considered "right" or "wrong."
This viewpoint is patently absurd on face value. Yet much of humanity uses "words like "pluralism," "tolerance," and "acceptance" in a loose way in which modern society defines these ideas has made it possible for almost anything to be justified on the grounds of "relativism."
The article by Gene Howington, Ethical Relativism: A Good Idea or a Path to Anarchy? – cites a compelling example of an indisputable immorality performed that resulted in the deaths of innocents.
"One of the strongest arguments against ethical relativism comes from the assertion that universal ethical and/or moral standards can exist even if some practices and beliefs vary among cultures. In other words, it is possible to acknowledge cultural differences and still find that some of these practices and beliefs are wrong. Consider that although the Aztec had a society that was in some ways more advanced that their contemporary European counterparts, that their practice of human sacrifice is simply wrong."
Most people seldom analyze their personal behavior in light of such extreme historic atrocities. However, many live a life of individual relativism. The OBJECTIVITY, SUBJECTIVITY, AND MORAL VIEWS site poses the danger of accepting a situation ethics and the risk of adopting the dead end captivity of iconoclasm.
"Individual relativism is close to, but should not be confused with, moral nihilism. An individual relativist takes standards seriously perhaps even by going so far as establishing a strict, or burdensome moral code for himself or herself. Under this position, we view the code as binding only for that one person. A nihilist, on the other hand, believes that morality is an illusion. Nothing is really binding, even a code one establishes for oneself. Nihilism about any subject is difficult to overcome, if overcoming it means giving a nihilist reasons adequate to change his or her belief, because the nihilist can continually reject the basis for our reasoning. We may claim that an objective moral code is needed for proper social function, to avoid harm, to do good, to preserve integrity. The nihilist keeps telling us that all of this is an illusion or that each involves an imposed standard."
Is there really a difference between a personally devised ethical system, which inescapably descends into an abstruseness of conflict and indiscriminate conduct, and the nihilistic delusion that no moral behavior is attainable? Admittedly, each act of moral conscience is individual, but when society promotes a cultural relativism mystique, in order to establish an egalitarian moral neutral acceptance, the glue that binds civilization together breaks apart.
The conventional basis that philosophers acknowledge as foundational for any culture that accepts a deity, is natural law. The University of Tennessee provides an impressive summary of moral thought, in MORAL PHILOSOPHY THROUGH THE AGES.
The traditional underpinnings that apply Aristotle's precepts, to Christian teachings are found in Aquinas Natural Law Theory. Aquinas's account of natural law appears in his "Treatise on Law," a section of his several thousand page Summa Theologica (1a2ae q. 90-144).
"In short, for Aquinas, all moral laws are ultimately grounded in God's unchanging eternal law, and we discover general rules of natural law through intuition. Legal experts then deduce more specific rules of human law from these, and in scriptural divine laws we find examples of both general and specific rules. Since we don't have access to the complete list of eternal law, from our limited human perspectives morality begins with a search for the general rules of natural law. But where do we begin looking for the general rules of natural law? Aquinas says that we must look to human nature as a guide:

… [each human being] has a share of the Eternal Reason, whereby it has a natural inclination to its proper act and end: and this participation of the eternal law in the rational creature is called the natural law. [Summa Theologica, 1a2ae 90:2]

According to Aquinas, when God created us he gave us natural instincts that reflect the general moral principles of natural law. There are two distinct levels of morally-relevant instincts. First, God implanted in us an instinctive intuition that we should pursue our proper human end. Second, God implanted in us a series of instincts that define our proper end as living, reproducing, and rational creatures."
Now the relevance of submitting yourself unto the authority of divine design is rare in an age of godless cultural relativism. Without a willful acceptance of inspired purpose and rules for prescribed conduct, the barbarism of immoral nihilism is inevitable. Politically, the rages of wicked government repression become institutionalized, and a much greater cruelty, than most cleric domination abuses. One need not be a defender of any particular faith to accept the fundamental inherent autonomy of your being within the world. Your plight is often proportional to your circumstance, but your morality or lack thereof; is directly tied to the nature of your created soul.
The ontogeny of every individual is a product of social environment, mortal will and providential inspiration. Most of temporal society is geared to combating political disputes or fostering phony promises. Personages cope according to their singular talents and determination to compete. Many reject, from this equation, the role and influence of the muses consorting with your own mythology. Notwithstanding, the very mention of obedience to Almighty God and the submission to His natural law, bears the risk of being burned at the stake of the cultural relativist.
Thinking About Obscurity suggests: "Obscurity is the idea that when information is hard to obtain or understand, it is, to some degree, safe." Alas, this seems to be the current condition of embracing natural law in an age of cultural relativism. Asking for divine inspiration that seeks eternal reason or using your natural instincts to discover everlasting principles, is hidden from the nihilist and their relativist cousins. Their condescending attacks against religion stems from their own inadequacies, while they spend their energy on convincing themselves of the illusion that a world without God is safe for their own form of Nahuatl liturgy sacrifices.
Dr. Edward Younkins provides a strong defense of Western Civilization in his essay, "Why the World is the Way It Is: Cultural Relativism and It's Descendents". By including, "Multiculturalism, racism, postmodernism, deconstructionism, political correctness, and social engineering are among cultural relativism's "intellectual" descendents", into this mistaken value system, the stage is set for his valid conclusion.
"In reality, the superiority of Western culture can be objectively demonstrated when cultures are appraised based on the only befitting standard for judging a society or culture—the extent to which its core values are life affirming or antilife. Prolife culture recognizes and honors man's nature as a rational being who needs to discern and produce the circumstances that his survival and flourishing require. Such a culture would promote reason, man's natural rights, productivity, science, and technology. Western culture, the prime example of this type of culture, exhibits levels of freedom, opportunity, health, wealth, productivity, innovation, satisfaction, comfort, and life expectancy unprecedented in history.

Western civilization represents man at his best. It embodies the values that make life as a man possible—freedom, reason, individualism, and man's natural rights; capitalism, self-reliance, and self-responsibility based on free will and achievement; the need for limited, republican representative government and the rule of law; language, art, and literature depicting man as efficacious in the world; and science and technology, the rules of logic, and the idea of causality in a universe governed by natural laws intelligible to man. These values, the values of Western civilization, are values for all men cutting across ethnicity, geography, and gender."
That so many pseudo intellectuals not only reject this timeless assessment and actually rebel against the natural order of society, demonstrates why the world is such a mess. Diversity of ethnical relativism cries out for a methodical demise. The cultural suicide of civilization is really a crisis in valid moral values.
There is little safety left on a planet that surrenders it individual responsibility to the collective and forgoes any duty to fulfill ones natural purpose. The progressive slough that society proceeds upon only demeans the whole. Abandoning the quest for universal ethics denies our instinctive intuition. In order to fulfill our nature as a rational creature, humanity must believe that rightful moral principles are ubiquitously applicable.
When I've written about our listing mis-education system, my focus has mainly been on rampant political correctness, on how students learn few of the right things partially because of emphasis on teaching the wrong things. Yet there's another problem: in some cases the teachers couldn't teach the right things even if they wanted to — they don't know them.
Professor Walter Williams treated this in his latest syndicated column, "Dishonest Educators." He introduces the topic by talking about the fairly recent cheating scandals in places such as Atlanta, Philadelphia, Houston, New York, Detroit, and other large cities (in areas that, not coincidentally, also have high rates of vote fraud and other criminality). These are shocking instances in which teachers would commit transgressions such as reading answers aloud in class during the National Assessment of Educational Progress test. How did they justify this? Well, Williams quotes one teacher who told a fellow "educator," "I had to give your kids, or your students, the answers because they're dumb as hell."
But it seems the kids aren't the only ones. Now we learn that some teachers in Tennessee, Arkansas, and Mississippi paid surrogates between $1,500 and $3,000 to take the Praxis exam for them, the passing of which is necessary for teacher certification in 40 states. And how challenging is this test that some would fork over a few grand to a ringer sit-in? Williams describes a couple of representative questions, writing:
Here's a practice Praxis I math question: Which of the following is equal to a quarter-million — 40,000, 250,000, 2,500,000, 1/4,000,000 or 4/1,000,000? The test taker is asked to click on the correct answer. A practice writing skills question is to identify the error in the following sentence: "The club members agreed that each would contribute ten days of voluntary work annually each year at the local hospital." The test taker is supposed to point out that "annually each year" is redundant.
Forget about the fact that adults would find such questions challenging; it's a sad statement about our society that we'd set the bar for teacher certification so low in the first place. I had to think: how young was I when I didn't know the answers to the above two questions? Ten? Nine? Maybe even eight? Idiocracy has arrived.
Professor Williams also touches on a third rail of American social commentary, mentioning that most of the teachers hiring the surrogates are likely black — and that most of the surrogates may very well be white. Now, before anyone thinks of "Summerizing" Williams (not as I have. Rather, this refers to application of the kind of politically correct social pressure that drove Larry Summers from Harvard), know that he is black himself. And his point in addressing race is that our leftist mis-educators' tolerance of low-information black teachers puts the lie to their claim that they care about blacks. After all, as he writes in his closing line, "If they [the teachers] manage to get through the mockery of teacher certification, at what schools do you think they will teach?"
But never fear, Dr. Williams. I'm sure these molders of young minds are well versed in afro-centrism, critical-race theory, and the principles of white privilege.
When the Corporate Elite tells us we need to be afraid of something, they almost always expect to make some money off our fear.
From the same people who brought us the "Ground Zero Victory Mosque," FEMA concentration camps, and every single George Soros conspiracy theory, comes a brand new hyper-paranoid threat-to-America's-sovereignty that, they say, should scare the hell out of all of us.
It goes by the name of Agenda 21, which just so happens to be the title of Glenn Beck's new dystopic novel.
Billed as, "more frightening than anything Orwell could have envisioned," Beck's Agenda 21 paints a disturbing picture of America following the implementation of the United Nation's Agenda 21, which is actually a real life UN initiative, though not nearly as nefarious as Beck would have us all believe.
The book's tagline reads: "This used to be called America. Now it is just 'the Republic.' There is no president. No congress. No freedom."
Over at GlennBeck.com you can watch a movie trailer made specifically for the book featuring grizzled Americans lined up on the streets in a post-Soviet winter landscape reeking of desperation, waiting for tiny morsels of food to be parceled out by "the authorities." Reminiscent of both Nazi concentration camps and the Book of Revelation, everyone's foreheads are tattooed with identification numbers – and in homage to Sarah Palin's "death panels," one scene in the trailer depicts an emaciated, scraggly-haired old man loaded on to a conveyor belt and sent into a burning furnace.
Of course, this is all fiction. Whether you like him or not, Beck has made a fortune off sensationalism – and more recently televangelism – and this book will tap into a wellspring of paranoia on the fringe Right that will undoubtedly make a lot more money for multimillionaire Mr. Beck himself.
But whether Beck really believes in his depicted Agenda 21 future for America isn't all that important. What's important is that a lot of other powerful people do believe in it. To them, there's nothing fictional at all when it comes to Agenda 21.
On October 11th this year, the Georgia state Capitol building hosted a four-hour briefing for Republican state senators on the issue of…Agenda 21. It was emceed by a man named Field Searcy who, according to MotherJones, is a local Conservative activist, whose Tea Party leadership was revoked after endorsing birther and truther conspiracy theories. But on that day, Searcy had the attention of his state's most powerful lawmakers – including the Republican Party's Senate Majority Leader, Chip Rogers – to warn them of President Obama's wicked plot to use Agenda 21 to hand the United States off to the United Nations.
Searcy told the Georgia Republicans, and later spoke of it on the Thom Hartmann Radio Program, that President Obama is using a mind control procedure known as the "Delphi Technique" to slowly condition Americans to submit to the control of the United Nations' Agenda 21, which will, according to Searcy, force mass migrations of Americans out of the countryside and into the cities, while handing over control of our rural lands to an international, one-world government.
The goal of the presentation was to influence Georgia lawmakers to follow in the footsteps of Tennessee and Kentucky Republican lawmakers who've already passed legislation to block Agenda 21 from being implemented in their states. In fact, earlier this year Republican Senate Majority Leader Chip Rogers introduced legislation in Georgia to do just that.
Also on the "Fear Agenda 21″ bandwagon is newly-elected Tea Party Senator from Texas, Ted Cruz. He devoted an entire section of his website, TedCruz.org, to Agenda 21 fearmongering. Under the title, "Stop Agenda 21: The Constitution should be our only 'Agenda," Cruz writes:
"The originator of this grand scheme is George Soros, who candidly supports socialism and believes that global development must progress through eliminating national sovereignty and private property… Agenda 21 attempts to abolish 'unsustainable' environments, including golf courses, grazing pastures, and paved roads. It hopes to leave mother earth's surface unscratched by mankind. Everyone wants clean water and clean air, but Agenda 21 dehumanizes individuals by removing the very thing that has defined Americans since the beginning—our freedom."
Oh no! Not the golf courses! Luckily for the golfing community, Ted Cruz is headed to the United States Senate to stop George Soros and the UN from confiscating Augusta National.
Though, hopefully, someone will notify Cruz, perhaps by removing his tinfoil hat, that the United Nations has no interest whatsoever in turning Augusta National into a sustainable bio-dome. Likewise, hopefully someone will tell Mr. Field Searcy that the UN has no interest in forcibly removing Americans from the country-side, either.
Concerns coming from the Right about American sovereignty in the face of the United Nations aren't anything new.
It's true that FDR pushed the idea after World War Two, and Democratic President Harry Truman signed us up for the UN in 1945, and it's also true that in signing up for the United Nations, the United States surrendered a small amount of our sovereignty, inasmuch as we can no longer unilaterally declare war on another nation – unless they attack us first – without getting the approval of the UN. Of course, this is true of every other nation in the UN as well. The UN was created to promote world peace, an idea that doesn't sit well with the neocons and chickenhawks.
But, here's what Agenda 21 really is. Standing for "Agenda 21st Century," it's a completely non-binding UN agreement that aims to address climate change and inequality by calling on local and federal governments, NGOs, and businesses, to develop plans to create more sustainable environments in their respective nations. The UN believes that by working together, and giving financial assistance to developing nations to promote sustainable living, wealth disparities can be reduced, indigenous populations can be protected, and the deterioration of ecosystems around the globe can be reversed.
If you ask the environmentalists who are growing more and more concerned with a warming, crowded planet what they think of Agenda 21, they'll say it doesn't go nearly far enough. Especially after new reports by the UN about record levels of greenhouse gases and the atmosphere, and a report by the World Bank on the global economic impacts of a planet that's 7-degrees warming by 2100 as a result of climate change.
But, as you'd expect from a plan to reduce poverty worldwide and use resources and land in more eco-friendly ways, wealthy oil barons and banksters are opposed to it. When people, governments, or organizations talk about things like sustainable energy, corporate responsibility, and educating the world's children, billionaires like the Koch brothers get a little uneasy.
So, right-wingers have employed their best charlatans in America, people like Glenn Beck, to reinvent Agenda 21 as something completely different: a nefarious plot by communist globalists to force redistribution of wealth and confiscation of private property, and ultimate devour American sovereignty. Or, according to Glenn Beck, an Orwellian takeover to purge the nation of its sick and elderly.
And it just so happens that legislation passed in Tennessee and Kentucky to block Agenda 21 comes straight from model legislation produced by the notoriously loony, yet well-funded, John Birch Society. The Koch Brothers dad, Fred Koch, who had no problem with state-controlled economies when he made his fortune working with Joe Stalin in the Soviet Union, was one of the founding members of the Jon Birch Society back in 1958.
The UN has provided right-wing fear mongers a lot of grandstanding opportunities over the years, but the UN has never lived up to their warnings that it's coming to destroy America. Most people think of it as a toothless international body that's been hijacked by the United States to protect its own interests and the interests of its allies.
And while the Bircher billionaire class continues to fret over the UN, they stay silent over the actual threat to our nation's sovereignty in the form of the World Trade Organization, which has enforced free trade agreements through international courts that have overturned laws passed by our elected Congress and signed by our elected President. For example, laws banning the importation into the United States of poisonous additives to gasoline, products made by child labor, and tuna caught at the expense of dolphins have all been overturned by the "one-world government" that is the WTO.
Yet, not a peep from the same wealthy elite who are warning us about Agenda 21. That's because there's a lot of money to be made in so-called Free Trade, and not so much to be made in promoting sustainable living.
The same is true of why Glenn Beck isn't writing a book about the $67 trillion global shadow banking system, which is extremely dangerous to our sovereign economy – yet making billions of dollars for banksters.
The point is, this latest scheme by the Corporate Elite to scare the hell out of all of us with Agenda 21 is just like every other scare tactic by the Corporate Elite – it's meant to distract us. It's a sleight-of-hand technique to keep us focused on bogeymen, while their ranks of Texas oilmen, outsourcing CEOs, and Wall Street banksters carry out the true destruction of the United States of America: the pillaging of the Middle Class at home and the construction of a WTO-style one-world corporate government to promote unfettered capitalism and free trade everywhere on the planet.
And in the process, useful quacks like Glenn Beck and Field Searcy can make a lot of money feeding the paranoid, Fox News-watching masses their latest conspiracy theories.
Source: TruthOut
Less than a week after a New Orleans suburbanite petitioned the White House to allow Louisiana to secede from the United States, petitions from seven states have collected enough signatures to trigger a promised review from the Obama administration.
By 6:00 a.m. EST Wednesday, more than 675,000 digital signatures appeared on 69 separate secession petitions covering all 50 states, according to a Daily Caller analysis of requests lodged with the White House's "We the People" online petition system.
A petition from Vermont, where talk of secession is a regular feature of political life, was the final entry.
Petitions from Alabama, Florida, Georgia, Louisiana, North Carolina, Tennessee and Texas residents have accrued at least 25,000 signatures, the number the Obama administration says it will reward with a staff review of online proposals. (RELATED: Will Texas secede? Petition triggers White House review)
The Texas petition leads all others by a wide margin. Shortly before 9:00 a.m. EST Wednesday, it had attracted 94,700 signatures. But a spokesperson for Gov. Rick Perry said Tuesday afternoon that he does not support the idea of his state striking out on its own.
Read more: http://dailycaller.com/2012/11/14/white-house-secede-petitions-reach-660000-signatures-50-state-participation/#ixzz2CCvWggvc
MAP of U.S.States petitioning for secession:
https://www.facebook.com/photo.php?fbid=4358712057342&set=a.4187690941921.159646.1573992709&type=1&ref=nf
Source: investmentwatchblog.com
When the governor of Utah signed a bill that made gold bullion and silver bullion legal tender in the state last March, he had no idea of the groundswell he was going to start.
The Utah Sound Money Act outright flies in the face of the fiat money system, which is the printed money used today; backed by nothing but the promises of politicians. While U.S. states cannot create their own currency under the Constitution, they are allowed to use gold bullion and silver bullion as legal tender. More and more states are now exercising that right.
Lawmakers in Utah, when they studied history, found that every single instance of money printing and massive increases in a country's debt always led to the destruction of the currency and a depression among the citizens that lived through it.
They were concerned about the Fed's money printing and massive government debt accumulation and thus signed into law the Utah Sound Money Act, which recognized gold bullion and silver bullion as currency. They felt that the U.S. dollar would continue to lose its value, while gold bullion and silver bullion would continue to maintain their value, because they are sound currencies with no debts attached to them.
The Utah law states that the gold bullion and silver bullion coins issued by the U.S. Mint can be used as payment with any merchant in the State of Utah for the purchase of all goods and services.
It is not practical for people to carry around heavy gold bullion or silver bullion coins, so the Utah Gold & Silver Depository was created. People can deposit their gold bullion and silver bullion coins there and receive a debit card to make transactions with—just like depositing money at a bank. The prices of gold bullion and silver bullion are based on the closing prices of both precious metals in U.S. dollars in London on each business day, creating the exchange rate used on the debit card.
Missouri and South Carolina in 2012 are the closest to enacting very similar legislation and creating a gold bullion and silver bullion depository, just like Utah. (Source: CNN Money, February 3, 2012.) Both states echo the same sentiments as Utah and this is evident by the names chosen for the bills. For example, in Missouri, the legislation put forth is called the Missouri Sound Money Act of 2012.
Other states considering legislation to make gold bullion and silver bullion legal tender are Montana, Colorado, Idaho, Indiana, New Hampshire, Georgia, Washington, Minnesota, Tennessee, and Virginia.
This may seem strange, dear reader, but cultures in Asia would not be surprised, considering that gold bullion and silver bullion have been considered money for 5,000 years there. Also, people forget that, until 1971, the U.S. dollar was backed by gold bullion.
The distrust of the money printing being enacted by the Federal Reserve and the unprecedented debts being accumulated by the U.S. government, which are increasing by at least $1.0 trillion per year, are being questioned.
States are fighting back with what they believe are sound money policies: gold bullion and silver bullion. We should heed their example as a warning of what's to come. (Also see: Switzerland Debating Gold-backed Currency.)
Source: Profit Confindential
I believe Albert Einstein is credited with saying, "Insanity is doing the same thing over and over again and expecting different results." Using that definition, it would appear that many of our so-called "conservative" friends are insane. Every four years, they accept a phony conservative Presidential candidate and expect somehow that they are going to achieve a different result. They never do. Either the phony conservative loses because he is virtually indistinguishable from his Democrat opponent (i.e., John McCain), or after being elected while campaigning as a true conservative, he governs as a big-government neocon, and the course of the country changes not one iota (i.e., George W. Bush). This election year is no exception.
The GOP has nominated a man who has governed as a big-government liberal in one of the most liberal (if not the most liberal) states in the union: Governor Mitt Romney of Massachusetts. Furthermore, on virtually every issue one can think of, Governor Romney has flip-flopped more often than a fish that just landed in the bottom of a boat. To get a feel for just how often Romney changes his positions, watch this video:
http://www.youtube.com/watch?v=EQwrB1vu74c&feature=related
If Mitt Romney has proven anything, it is that his word means absolutely nothing. Nothing! Romney is an opportunistic chameleon who will say anything or do anything to get elected. Yet, this is the man whom conservatives trumpet as the savior of America! Why? He is a Republican, and, therefore, he must be better than the Democrat. In short, Mitt Romney is the lesser of two evils. But is he really?
First, the short-sighted, narrow-minded thinking of party loyalists (Republican and Democrat) demonstrates what can only be regarded as a slave mentality. People who vote nothing but party label are in truth already slaves. They are slaves to an elitist establishment that uses the machinery of the two major parties (at the national level) to advance a diabolical globalist agenda. That's why it doesn't matter to a tinker's dam whether it's Bill Clinton or G.W. Bush–or Barack Obama or Mitt Romney–who is elected President: nothing changes the march towards globalism and oppression. At the top, both major parties are controlled by globalists.
For the sake of those who truly respect America's founders and the principles upon which this nation was founded, I would encourage readers to familiarize themselves with George Washington's Farewell Address. In my opinion, Washington's Farewell Address is the greatest political speech ever delivered in US history. It literally shaped the course and direction of the country for decades, perhaps even a century. It really was not until the Twentieth Century, when presidents such as Woodrow Wilson and Franklin Roosevelt came along, that America started steering a course in direct opposition to the principles laid forth in Washington's Farewell Address. Since then, the vast majority of presidents, Republican and Democrat, have almost universally ignored the sagacity of Washington's Farewell Address, which is why nothing has changed regardless of which party gains the White House.
In his Farewell Address, George Washington said, "I have already intimated to you the danger of parties in the State, with particular reference to the founding of them on geographical discriminations. Let me now take a more comprehensive view, and warn you in the most solemn manner against the baneful effects of the spirit of party generally.
"This spirit, unfortunately, is inseparable from our nature, having its root in the strongest passions of the human mind. It exists under different shapes in all governments, more or less stifled, controlled, or repressed; but, in those of the popular form, it is seen in its greatest rankness, and is truly their worst enemy.
"The alternate domination of one faction over another, sharpened by the spirit of revenge, natural to party dissension, which in different ages and countries has perpetrated the most horrid enormities, is itself a frightful despotism. But this leads at length to a more formal and permanent despotism. The disorders and miseries which result gradually incline the minds of men to seek security and repose in the absolute power of an individual; and sooner or later the chief of some prevailing faction, more able or more fortunate than his competitors, turns this disposition to the purposes of his own elevation, on the ruins of public liberty.
"Without looking forward to an extremity of this kind (which nevertheless ought not to be entirely out of sight), the common and continual mischiefs of the spirit of party are sufficient to make it the interest and duty of a wise people to discourage and restrain it.
"It serves always to distract the public councils and enfeeble the public administration. It agitates the community with ill-founded jealousies and false alarms, kindles the animosity of one part against another, foments occasionally riot and insurrection. It opens the door to foreign influence and corruption, which finds a facilitated access to the government itself through the channels of party passions. Thus the policy and the will of one country are subjected to the policy and will of another.
"There is an opinion that parties in free countries are useful checks upon the administration of the government and serve to keep alive the spirit of liberty. This within certain limits is probably true; and in governments of a monarchical cast, patriotism may look with indulgence, if not with favor, upon the spirit of party. But in those of the popular character, in governments purely elective, it is a spirit not to be encouraged. From their natural tendency, it is certain there will always be enough of that spirit for every salutary purpose. And there being constant danger of excess, the effort ought to be by force of public opinion, to mitigate and assuage it. A fire not to be quenched, it demands a uniform vigilance to prevent its bursting into a flame, lest, instead of warming, it should consume."
Notice that George Washington said the "spirit of party" has "baneful effects" upon the country; it is our "worst enemy"; it is a "frightful despotism"; it prevails on the "ruins of public liberty"; it "foments riot and insurrection"; it "opens the door to foreign influence and corruption"; people should "discourage and restrain it"; it "agitates… false alarms"; and, like a fire, if it is not quenched, it will "consume."
Are we not seeing, and have we not seen, the veracity of Washington's warnings? People who only see and vote for a party label are more responsible for the demise and deterioration of our liberties than any foreign enemy. For them to accept and support any candidate, as long as they wear the party label regardless how unethical, dishonest, duplicitous, and insensitive to constitutional government they might be, is what has brought America to the precipice of destruction over which she now teeters.
Second, how can a person who has succumbed to evil have the discernment to say which evil is greater? When people consciously surrender the spirit of virtue and integrity by deliberately supporting a candidate they know has a track record that is antithetical to the principles of liberty, how are they qualified to judge what is good and what is evil? By knowingly rejecting truth and a good conscience, they have already accepted the spirit of evil in their hearts. Such people are in no condition to make moral judgments regarding good and evil!
In fact, one could make a darn good argument (and many have) that a phony conservative Republican is a worse evil than a true liberal Democrat. I, for one, share that position. I think only the most biased historian would dare to say that the eight years of Bill Clinton were worse than the eight years of George W. Bush.
One reason why phony conservative Republicans are so dangerous to our liberties is because most conservatives, Christians, and constitutionalists refuse to resist and challenge a Republican President when he abandons the principles of constitutional government. Since he is a Republican, he gets a free pass.
At this juncture, I invite readers to watch the following summary of Barack Obama and Mitt Romney by Dr. Alan Keyes. Having received a Ph.D. from Harvard University and having served as Ambassador to the United Nations under President Ronald Reagan, Keyes is no slouch. Without a doubt, Alan Keyes has one of the sharpest minds and most articulate tongues in the entire country. Listen to his response to the question, "Will you support Mitt Romney?" See the video at:
http://www.youtube.com/watch?v=4R4KtYVF-74&feature=youtu.be
On virtually every salient issue, the differences between Mitt Romney and Barack Obama are miniscule. They both supported TARP; they both supported Obama's economic stimulus package; they both supported so-called assault weapons bans and other gun control measures; they both supported the bailout of the auto industry; neither of them supports immediately balancing the federal budget; they both have a track record of being big spenders; they both fully support the Federal Reserve; they both oppose a full audit of the Fed; they are both supporters of universal health care; both men are showered with campaign contributions from Wall Street; neither of them wants to eliminate the IRS or the direct income tax; both men are on record as saying the TSA is doing a "great job"; they both supported the NDAA, including the indefinite detention of American citizens without due process of law; they both supported the renewal of the Patriot Act; they both support the "free trade" agenda of the global elite; they are both soft on illegal immigration; they both have a history of appointing liberal judges; they both believe the President has the authority to take the nation to war without the approval of Congress; and neither of them has any qualms about running up more public debt to the already gargantuan debt of 16 trillion dollars.
Read this report on InfoWars.com
Tell me again why Romney is better than Obama!
There are even some party slaves who are so brazen as to suggest that if we do not vote for the phony conservative Mitt Romney it means that we are harming true conservatives at the local and State levels. This has to be one of the most ridiculous assertions I have ever heard! What these people don't understand (because they are themselves slaves to a political party) is that most honest constitutionalists vote for the PERSON, not the party. We recognize that parties are not going to make a difference; PEOPLE are going to make a difference!
Therefore, if I lived in the Houston, Texas, area, I would vote for Republican US House candidate Steve Stockman; and if I lived in the Nashville, Tennessee, area, I would vote for Democrat US Senate candidate Mark Clayton. And since I live in the Flathead Valley of Montana, I am supporting Republican State Representative candidate Timothy Baldwin (yes, he is my youngest son); and if he were running again, I would support former Constitution Party State House member Rick Jore.
If anything, Mitt Romney will have the most deleterious impact upon conservative Republican candidates around the country, as they will be thrust into the big-government shadow of their party's standard bearer. Republican landslides came in 1980 when a perceived strong conservative (Ronald Reagan) carried the GOP torch for President and in 1994 when the GOP promoted (but later failed to deliver) a strong conservative congressional agenda. It is when Republicans nominate known pseudo-conservatives, such as John McCain (and now Mitt Romney), that they fail to achieve sizeable victories nationwide. So, even if Romney wins, he will provide no coattails for his fellow Republicans around the country.
And by the way, neither will Obama provide any coattails for his fellow Democrats should he win. By continuing and expanding Bush's wars in the Middle East (among other things), Obama has turned off millions of independents and constitutionally-minded Democrats. It is literally an every-man-for-himself election year.
It's too bad that Ron Paul is not running as an Independent. It would be a tremendously interesting election if he were.
So, here we are again: conservatives keep doing the same thing over and over (supporting a pseudo-conservative for President) and keep expecting a different result. Einstein was right: this is insanity!
The Plan To Gut Social Security…
Last week's dismal "data dump" has ended all talk of a strong recovery in the US. Retail sales, factory output, jobless claims, consumer confidence, business investment and existing home sales are all down sharply indicating that the US economy is decelerating and may be headed for recession.
The Obama administration was warned repeatedly that activity would slow when the $800 billion fiscal stimulus (ARRA) ran out and net government spending became a drag on growth. But Obama's chief economics advisor, Lawrence Summers, shrugged off these warnings in order to keep the economy sputtering along at half-speed. Summers figured that bigger deficits and slower growth would create the rationale for slashing entitlement spending and crushing organised labor (particularly, public unions) In other words, the economy is weak, because the policy was designed to make it weak. Mission accomplished.
Not everyone in the Obama administration played along with this scam. Economist Christina Romer, for example, wanted the stimulus to be $1 trillion more than was eventually approved by Summers. That's what she figured it would take to kick-start the growth engine and put millions of unemployed Americans back to work. Here's the story from Huffington Post's Sam Stein:
"…members of the president's economic team felt that if they were to properly fill the hole caused by the recession, they would need a bill that priced at $1.8 trillion — $600 billion more than was previously believed to be the high-water mark for the White House.
The $1.8 trillion figure was included in a December 2008 memo authored by Christina Romer (the incoming head of the Council of Economic Advisers) and obtained by Scheiber in the course of researching his book.
"When Romer showed [Larry] Summers her $1.8 trillion figure late in the week before the memo was due, he dismissed it as impractical. So Romer spent the next few days coming up with a reasonable compromise: roughly $1.2 trillion," Scheiber writes."
The idea that Summers rejected Romer's plan as "impractical" is pure public relations. Summers had a different agenda altogether. What he wanted was exactly what he got, a slow, underperforming economy with high unemployment and huge deficits. Does anyone really think that an economist with Summers' impressive education and experience could be $1 trillion off in his calculations? (The American Recovery and Reinvestment Act of 2009 was eventually whittled down to $787 billion) It's ridiculous. Summers wanted a flagging economy so he could torpedo Social Security, Medicare and Medicaid. These were the targets from the very beginning.
As for Obama, well, he probably figured that the $800 billion fiscal package would be enough to carry him over the finish-line in the 2012 elections, but not so big that it would subvert the goals of his chief economics advisor who was beholden to Wall Street and big business. In truth, Obama wanted the same thing as Summers, a justification for attacking the meager programs that keep the elderly and vulnerable from destitution.
Neither Summers nor Obama anticipated the downturn in China or the severity of the crisis in Europe both of which have weighed heavily on growth in the US and around the world. Here's how Nouriel Roubini summed it up in a recent article on Project Syndicate:
"…the first-half growth rate looks set to come in closer to 1.5% at best, even below 2011's dismal 1.7%. And now, after getting the first half of 2012 wrong, many are repeating the fairy tale that a combination of lower oil prices, rising auto sales, recovering house prices, and a resurgence of US manufacturing will boost growth in the second half of the year and fuel above-potential growth by 2013.
The reality is the opposite: for several reasons, growth will slow further in the second half of 2012 and be even lower in 2013 – close to stall speed."
Global growth is pretty much deteriorating everywhere; China, India, Japan, Brazil, emerging markets. The eurozone is particularly concerning as ongoing bank runs in the south accelerate increasing the likelihood of a full-blown banking system collapse. The uncertainty is reflected in 10-year US Treasuries which have seen yields drop to record-lows in the last week. The flight to safety has intensified as frightened investors try to get their money out of Europe to avoid the deepening crisis and possible breakup of the 17-member monetary union.
On Tuesday, the Wall Street Journal announced that the "Fed Moves Closer to Action". The news ignited a short rally, but soon faded. Confidence in the Fed is at its nadir. Another round of bond buying (QE3) might give equities a temporary jolt, but no one believes it will change the overall direction of the market or lead to an economic rebound. Interest rates are already at historic lows, so stuffing the banks with more reserves will neither increase lending or reduce unemployment. It is an exercise in futility. The Fed is at the limits of its effectiveness.
The current slowdown could have been avoided or at least mitigated had the Obama team followed Romer's recommendation and provided the fiscal stimulus that was needed. Now–due to political gridlock in congress–a second round of stimulus is out of the question which means the economy will continue its downward trend.
So, what should Obama do?
For starters, he should take a page out of FDR's Depression handbook and hire more public workers. Here's a clip from an article by economist Marshall Auerback who details some of the programs that Roosevelt implemented:
"[Roosevelt's] government hired about 60 per cent of the unemployed in public works and conservation projects that planted a billion trees, saved the whooping crane, modernized rural America, and built such diverse projects as the Cathedral of Learning in Pittsburgh, the Montana state capitol, much of the Chicago lakefront, New York's Lincoln Tunnel and Triborough Bridge complex, the Tennessee Valley Authority and the aircraft carriers Enterprise and Yorktown. It also built or renovated 2,500 hospitals, 45,000 schools, 13,000 parks and playgrounds, 7,800 bridges, 700,000 miles of roads, and a thousand airfields. And it employed 50,000 teachers, rebuilt the country's entire rural school system, and hired 3,000 writers, musicians, sculptors and painters, including Willem de Kooning and Jackson Pollock."
Or Obama could allocate $300 billion per year to rehire the 650,000 teachers and other state and local workers who've been laid off since the crash. That would be the easiest thing to do. Skip all the red-tape connected to infrastructure and gov job's programs and just rehire the people who got their pink slip after the crash. The money spent on jobs would more than pay for itself by raising state revenues and boosting economic activity by many orders of magnitude.
Have you seen a graph of how many (state and local) jobs have been lost under Obama? It's shocking! Take a look: http://streetlightblog.blogspot.com/2012/05/government-job-destruction.html
We need to get these people back to work so they can feed their families and pay the bills. If we can afford $11 trillion to bail out crooked bankers, we can certainly afford a measly $300 mil for hard-working middle class families. It's just a matter of priorities.
Economist Dean Baker has posted an article on his blog that supports my general thesis that Obama is planning to cut Social Security etc following the election. Here's an excerpt from the post:
"The plan is that we will get the rich folks' deal regardless of who wins the election….The deal that this gang … is hatching will inevitably include some amount of tax increases and also large budget cuts. At the top of the list… are cuts to Social Security and Medicare. ….
Social Security amounts to 90 percent or more of the income for one-third of seniors. For this group, the proposed cut in benefits would be a considerably larger share of their income that the higher taxes faced by someone earning $300,000 a year as a result of the repeal of the Bush tax cuts on high income earners…
("The One Percent Want Your Social Security and Medicare and Steven Pearlstein Is Trying to Help", Dean Baker, CEPR)
There it is in black and white. Obama is just as committed to gutting Social Security as Romney. The only difference is that he's a better pitchman. Much better.
Totalitarian governments, like persistent forms of cancer, have latched onto the long history of man, falling and then reemerging from the deep recesses of our cultural biology to wreak havoc upon one unlucky generation to the next.  The assumption by most is that these unfortunate empires are the product of bureaucracies gone awry; overtaken by the chaotic maddening hunger for wealth and power, and usually manipulated by the singular ambitions of a mesmerizing dictator.  For those of us in the Liberty Movement who are actually educated on the less acknowledged details of history, oligarchy and globalized centralism is much less random than this, and a far more deliberate and devious process than the general unaware public is willing to consider.
Unfortunately, the final truth is very complex, even for us…
One cannot place the blame of despotism entirely on the shoulders of globalists.  Sadly, the crimes of elites are only possible with a certain amount of complicity from subsections of the populace.  Without our penchant for apathy and fear, there can be no control.  That is to say, there is no power over us but that which we give away.  We pave the road to our own catastrophes.
In the end, a tyrant's primary job is not to crush the masses and rule out of malevolence, but to obtain the voluntary consent of the citizenry, usually through trickery and deceit.  Without the permission of the people, subconscious or otherwise, no tyranny can survive.
As with the oppressive regimes of the past, America has undergone a dramatic transformation, heavy with fear and ignorance.  Our tradition of elections has been corrupted and negated by the false left/right paradigm, and the leaderships of both defunct parties now seek only to elevate a select minority of men bent on globalization.  Our Constitutional liberties have been dismantled by legal chicanery.  Our principles have been diluted by intellectual games of rationalism and moral relativism.  Our country is ripe for conquest.
Americans battle over whose side is most to blame; Democrat or Republican, while ironically being disenchanted with both entities.  For some people, the thought of holding each party equally accountable, or accepting that they are essentially the same animal, never crosses their minds.
While this irrelevant farce of a debate rages on, the true culprits plotting the demise of our Republic gain momentum, and implement policy initiatives that the public should and must take note of.  In the past year alone, many blatant steps towards the Orwellian gulag have been openly administered.  A carnival of peddlers and freaks and greasy popcorn overwhelms our senses, but the stench of this cheap circus still tickles our noses, and if we use our eyes for even a moment, certain dangerous trends reveal themselves.  Here are just a few recent events that bear a dire warning; the ultimate assault on freedom in this nation grows near…

Acclimation To Subservience 
Every totalitarian state worth its salt has its own goon squad.  The Nazi's had the "Brownshirts", the Soviets had the "Militsiya" and the "Voluntary People's Brigade", the Communist Chinese have the "Chengguan", etc.  In America, however, all tyrannical measures are given innocuous bureaucratic labels to mislead and distract the masses.  In this country, we have the Transportation Security Administration…
The TSA has become the most hated alphabet agency in the U.S. in perhaps the fastest time on record.  It has violated the personal rights of more people on a daily basis in my view than the IRS, DEA, and the ATF combined.  Clearly, this slobbering demon child of the Department of Homeland Security is being molded for something quite terrible and grand.
When confronted by the public on the use of irradiating and intrusive naked body scanner technology, the agency responded by allowing their blue handed ghoul army to molest our nether-regions.  When confronted by state and local governments on their absurd tactics, the TSA threatened economic blockades and airport shutdowns.  The organization then began expanding its jurisdiction to bus and train stations and even our highways when it introduced the VIPR program and implemented random roadside checkpoints in Tennessee last year.  But, this behavior is nothing compared to what is next on the horizon: a compromise…
Beware of government agencies bearing gifts.  The TSA along with the International Air Transport Association has announced a new methodology of "less intrusive" passenger screening measures, in order to address the concerns of the public over pat downs and irradiating naked body scanners.  This SOUNDS like a step in the right direction, and a proper response to the grievances of the citizenry.  Instead, it turns out to be a refined example of totalitarianism in motion, and a perfect lesson in how the masses can be duped into handing over their inherent freedoms.
Revamped security protocols call for biometric data collection, including fingerprint and retina scans, and a tunnel which combines multiple detection systems into one area (who knows how radioactive this will end up being):
http://travel.usatoday.com/flights/story/2012-06-19/Faster-better-airport-security-checkpoints-not-that-far-off/55693916/1 
The mainstream article above makes this development sound like a win/win scenario for everyone, painting biometric data collection as a matter of convenience, but it also reveals the true design of the system; to illicit voluntary subservience:
"The key to speeding up checkpoints and making security less intrusive will be to identify and assess travelers according to the risks they pose to safety in the skies. The so-called riskiest or unknown passengers would face the toughest scrutiny, including questioning and more sensitive electronic screening. Those who voluntarily provide more information about themselves to the government would be rewarded with faster passage…"
They enforce destructive anti-personal rights policies then pretend to acquiesce by replacing them with a technocratic nightmare grid which requires the cataloging of our very genetic essence in order to function.  The only remaining injustice left would be to apply this grid to the rest of the country outside of the airports and train stations, which I assure you, they plan to do.

Militarization
Last week, I covered the disturbing use of armored vehicles (APC's or urban tanks) in open training regiments on the streets of St. Louis by the U.S Army, despite the fact that all of their exercises could have easily been accomplished on any number of military bases across the country.  The action is an obvious attempt to condition the American populace to the sight of military units operating in a policing capacity:
http://www.alt-market.com/articles/866-military-tanks-on-st-louis-streetsbut-why
I received multiple letters from current serving military who stated that in all their years in the armed forces they had never seen such a brash mishandling of public relations or an overstepping of bounds when it came to the restrictions of Posse Comitatus.  It was encouraging to hear from military men and women who did not agree with or condone this kind of psyop activity on the part of our government.
Though the St. Louis event is not isolated, I believe it does represent an escalation.
Remember the controversy over the Mayor of Toledo and his refusal to allow 200 Marines to conduct urban combat drills on the public streets of his city in 2008?  The media clamored to crucify this public official; one of the few who had any sense whatsoever in his head:
http://voices.yahoo.com/toledo-mayor-faces-backlash-ousting-marines-896105.html
Or the tactical exercises using helicopters and combat troops over LA and Chicago early this year?
http://www.lapdonline.org/newsroom/news_view/50045
http://chicago.cbslocal.com/2012/04/17/city-black-hawk-helicopter-flights-were-just-a-training-exercise/
During each one of these events, city officials and local media attempted to inoculate the public with claims that they were "simply exercises".  This argument misses the point entirely.  Whether or not these are "exercises" is not the issue.  The issue is that this training could be done ON BASE.  Using public streets and running drills within cities is absolutely unnecessary given the vast resources already available to the military, unless, of course, the goal is to BE SEEN by the public and to influence them to view the sight of armed troops around them as "normal".
Add to this the fact that many of these military training exercises are being conducted in tandem with local police departments, and you have a recipe for the utter militarization of our society, turning peace officers into combat soldiers, and combat soldiers into law enforcement mechanisms; a juxtaposition that will soon lead to unmitigated disaster.
Arms Race Against the People?
When a country is quietly preparing for war, the first signs are usually revealed by a disclosure of armaments.  If stockpiling is taking place without a warranted threat present from a legitimate enemy, there is a considerable likelihood of aggression on the part of that nation.  America has gone well beyond the psychological process of militarization and has begun the extensive arming of particular agencies whose primary purpose revolves around the domestic.
The DHS, for instance, placed an order for over 450 million rounds of hollowpoint .40 cal ammunition in April of this year:
http://rt.com/usa/news/dhs-million-point-government-179/
And it placed an order for over 7000 new semi-automatic combat rifles chambered in .223 (5.56 by 45mm NATO) immediately after:
https://www.fbo.gov/index?s=opportunity&mode=form&id=d791b6aa0fd9d3d8833b2efa08300033&tab=core&tabmode=list&=
While local police through federal programs (like the 1033 Program) are being given millions of dollars in free military equipment, including body armor, night vision equipment, APC's, aircraft, first aid supplies, weapons, surveillance equipment, Kevlar helmets, gas masks and filters, vehicles, etc.:
http://www.ogs.state.sc.us/surplus/SP-1033-index.phtm
http://www.wired.com/dangerroom/2012/06/cops-military-gear/all/
All of this equipment, though issued to state agencies, is still heavily tracked and regulated by the federal government, making it clear that these "gifts" come with strings attached:
http://www.newsherald.com/articles/program-103291-state-law.html 
And finally, new FAA regulations will soon allow the dispersion of tens of thousands of predator drones with armament capability in the skies of the U.S. over the course of the next few years:

http://www.washingtontimes.com/news/2012/feb/7/coming-to-a-sky-near-you/
http://articles.latimes.com/2011/dec/10/nation/la-na-drone-arrest-20111211
Now, anyone with any logic would ask who it is that the government is arming itself and local police to fight against?  Al Qaeda?  Let's not be naïve…
The passage of the NDAA and its provisions for the indefinite detainment of ANY person, even an American citizen, under the laws of war has ended the debate over government intent in terms of domestic action.  FBI Director Robert Mueller's admission that he "did not know" if assassination programs would be used against American citizens also heaped evidence on the matter.  The bottom line?  Our government wishes to label and treat citizens as enemy combatants.  Of course they would then organize armaments to follow through on their policy.

Pulling The Trigger 
All despotic systems have another distinct similarity; they each began with a series of trigger events which opened the door to tighter controls over the population.  The most immediate trigger event for the U.S. is the looming peril of a collapsing economy followed by inevitable civil unrest.  With the EU currently in debt shambles, global markets are on the verge of a considerable breakdown.  The Federal Reserve response will be predictable; QE3 and massive stimulus all around to mitigate the crisis.  This time, though, the go-to Keynesian quick fix will not work in the slightest.  In fact, it will make matters more untenable by placing the world reserve status of the dollar at risk.
Everything that has happened so far in the markets this year has been easy to foresee.  Alt-Market predicted the economic slowdown around the world and the collapse of overall demand using the Baltic Dry Index as a gauge back in January:
http://www.alt-market.com/articles/540-baltic-dry-index-signals-renewed-market-collapse
We also predicted the accelerated turmoil in the EU in light of the recent election results in France and Greece:
http://www.alt-market.com/articles/765-economic-alert-if-youre-not-worried-yetyou-should-be
If alternative economic analysts can predict these developments despite the manipulated statistics spewed out by the government every month, then I think the government and our central bank has a tremendously transparent view of what is coming down the road in terms of financial distress.  I believe the establishment is very well aware of a potential crisis event, economic or otherwise, that is barreling down upon the U.S.  I believe the evidence shows that they are preparing for this eventuality in a command and control fashion, without alerting the public to the coming implosion.  I believe they will use the despair that flows forth from the fiscal wreckage as an excuse to institute martial law.
Call it "crazy".  Call it "conspiracy theory".  Call it "coincidence".  Call it "fear mongering".  Whatever you like.  I find it far more insane to shrug off the strange and twisted behavior of our power structure, and simply hope that it's all irrelevant to the future.  Whenever I run into starry eyed historical romanticists who look back in astonishment at the tyrannies of the past and wonder out loud, "How could those people have not known where their country was headed?!!", I think of where we are today.
Source: Brandon Smith | Alt-Market
In a stunning upset for the Obama administration and big-government zealots in general, a federal judge in New York has issued an injunction against the citizen detention portion of the National Defense Authorization Act (NDAA). Bob Unruh at World Net Daily has the story.
"A district-court judge has suspended enforcement of a law that could strip U.S. citizens of their civil rights and allow indefinite detention of individuals President Obama believes to be in support of terror.
"The Obama administration has refused to ensure that the First Amendment rights of authors and writers who express contrary positions or report on terror group activities are protected under his new National Defense Authorization Act.
"Targeted in the stunning ruling from U.S. District Judge Katherine B. Forrest of New York was Paragraph 1021 of the NDAA, which Obama signed into law last Dec. 31. The vague provision appears to allow for the suspension of civil rights for, and indefinite detention of, those individuals targeted by the president as being in support of terror.
"Virginia already has passed a law that states it will not cooperate with such detentions, and several local jurisdictions have done the same. Arizona, Rhode Island, Maryland, Oklahoma, Tennessee and Washington also have reviewed such plans.
"The case was before Forrest on a request for a temporary restraining order. The case was brought on behalf of Christopher Hedges, Daniel Ellsberg, Jennifer Bolen, Noam Chomsky, Alex O'Brien, Kai Warg All, Brigitta Jonsottir and the group U.S. Day of Rage. Many of the plaintiffs are authors or reporters who stated that the threat of indefinite detention by the U.S. military already had altered their activities.
"Constitutional expert Herb Titus filed a friend-of-the-court brief on behalf of the sponsor of the Virginia law, Delegate Bob Marshall, and others.
"Titus, an attorney with William J. Olson, P.C., told WND that the judge's decision to grant a preliminary injunction halting enforcement of paragraph 1021 'affirms the constitutional position taken by Delegate Marshall is correct.'
"The impact is that 'the statute does not have sufficient constitutional guidelines to govern the discretion of the president in making a decision whether to hold someone in indefinite military detention,' Titus said.
"The judge noted that the law doesn't have a requirement that there be any knowledge that an act is prohibited before a detention, he said. The judge also said the law is vague, and she appeared to be disturbed that the administration lawyers refused to answer her questions.
"The opinion underscores 'the arrogance of the current regime, in that they will not answer questions that they ought to answer to a judge because they don't think they have to,' Titus said."
Unruh went on to say, "The brief was on behalf of Marshall and other individuals and organizations including the United States Justice Foundation, Downsize DC Foundation, Institute on the Constitution, Gun Owners of America, Western Center for Journalism, the Tenth Amendment Center and Pastor Chuck Baldwin [yours truly]."
As an aside, was I the only pastor in America to be included as an amici in this brief? Let me challenge readers, the next time you go to church, ask your pastor what he is doing or what he would do to prevent military personnel from taking you off to a military prison without an arrest warrant, without issuing Miranda, without telling you why you are being seized, without allowing you access to an attorney, without recognizing that you have any constitutional rights, without any requirement to release you, or even without any requirement to keep you in the United States of America for a trial or judicial proceeding. I challenge you: ask him! And if his answer is something like, "The Lord will take care of you," or "That could never happen in the United States," what in the name of liberty are you doing attending that church?
See Unruh's report at:
http://www.wnd.com/2012/05/obama-citizen-detention-plan-in-trouble/
Now, I wonder how many of these pseudo-conservative talking heads at FOX News, as well as the myriads of local reporters and journalists throughout the country, will at least be honest enough to admit that there was substantial reason to be concerned about the citizen detention provision of the NDAA? Ever since NDAA was signed into law, these phony guardians of liberty have been pooh-poohing the warnings that many of us columnists and independent journalists have been issuing. Now, a federal judge has also recognized the threat posed to our constitutional liberties by this provision of the NDAA, and has issued an injunction against it.
That's the good news. The bad news is the US House of Representatives defeated an amendment that would have repealed the indefinite detention provision of the NDAA. The Tenth Amendment Center covers the story.
"In a shameful display of disregard for the Constitution and for liberty, on Friday, the House of Representatives voted to perpetuate the president's power to indefinitely detain American citizens.
"By a vote of 238-182, members of Congress rejected the amendment offered by Representatives Adam Smith (D-Washington) and Justin Amash (R-Michigan) that would have repealed the indefinite detention provision passed overwhelmingly last year as part of the National Defense Authorization Act (NDAA) of 2012.
"The Fiscal Year 2013 NDAA retains the indefinite detention provisions, as well as the section permitting prisoners to be transferred from civilian jurisdiction to the custody of the military.
"'The frightening thing here is that the government is claiming the power under the Afghanistan authorization for use of military force as a justification for entering American homes to grab people, indefinitely detain them and not give them a charge or trial,' Representative Amash said during House debate."
The report goes on to say, "Each of these freedom-phobes [the congressmen who voted to keep the indefinite detention provision of the NDAA] invoked the specter of terror (in one way or another: 'terrorist,' 'al-Qaeda,' 'enemies') to justify the abolition of constitutionally guaranteed civil liberties.
"Seemingly, those promoting these provisions would offer Americans as sacrifices on the altar of safety, the fires of which are fed by the kindling of the Constitution."
Hear! Hear!
The report astutely includes this warning from "The Father of The US Constitution," James Madison: "It is a universal truth that the loss of liberty at home is to be charged to the provisions against danger, real or pretended, from abroad."
Oh! Take a guess as to who was the only candidate for President who supported the Smith-Amash amendment to repeal the indefinite detention provision of the NDAA? You got it: Congressman Ron Paul.
See the Tenth Amendment Center report at:
This goes to prove that sometimes our enemies are not the courts; sometimes our enemies are the legislatures of this country. This was the case in the aforementioned actions. So, now we have a federal court and the US Congress (allied by the White House) in conflict. It's going to get very interesting!
And speaking of how the legislatures are often the ones inflicting more and more tyranny upon the US citizenry, try this report on for size:
"The federal government is moving quickly to open the skies over America to drones–both for commercial and government purposes–and respected Washington Post and Fox News commentator Charles Krauthammer is forecasting 'rifles aimed at the sky all across America.'
"The comments from Krauthammer, who won the Pulitzer Prize for commentary in 1987 after serving as a speechwriter for Vice President Walter Mondale and then beginning his journalism career at The New Republic, were on 'Special Report' with Bret Baier.
"'I would predict, I am not encouraging, but I predict the first guy who uses a Second Amendment weapon to bring a drone down that's been hovering over his house is going to be a folk hero in this country,' Krauthammer said.
"The conversation arose as the federal government announced it is beginning to allow public safety agencies to fly unmanned aircraft–drones–with fewer and fewer restrictions.
"According to yesterday's report from Bloomberg, police, fire and other government agencies now are being allowed to fly drones weighing as much as 25 pounds without special approvals previously needed.
"The Federal Aviation Administration said on its website that the move was an interim step until the agency finishes rules that will open the door for commercial operation of drones, as well as those uses for government purposes.
"Congress has adopted the position of encouraging more drone flights, with the 'goal of adapting technology used by the military in Iraq and Afghanistan.'"
See the report at:
http://www.wnd.com/2012/05/feds-clearing-way-for-drones-over-your-house/
There you have it, folks. Your federal government–along with numerous local and State police agencies–is preparing to use instruments of war against the citizens of the United States. And numerous local and State police agencies are standing in line to participate. I ask you, do the US Congress, the FAA, and our local and State authorities plan to arm these drones with more than surveillance cameras (as if that's not bad enough)? Should we expect that the drones that will be flying over our neighborhoods would be armed with machine guns and missiles? That's the "technology used by the military in Iraq and Afghanistan," after all.
What is wrong with the American people? What is wrong with our representatives? What is wrong with our State legislators? What is wrong with our local and State police agencies? What is wrong with our pastors and churches? What is wrong with our reporters and journalists? Are they THAT blind? Do they want a paycheck THAT badly? Are they THAT willing to allow this free republic to be thrown into the trash bin of history, only to be replaced with a giant Police State? Are we THAT ignorant of history? Is THAT really where we are?
Ladies and gentlemen, the emerging police state is the foremost issue confronting the people of the United States today! And on this issue, the labels Democrat and Republican mean absolutely nothing! Nothing! If the voters of this country do not awaken quickly to what is going on in front of their very eyes, it won't matter to a tinker's dam which party or which candidate is put into office. If we do not have the right to live in privacy and peace, all of the other rights we talk about mean absolutely nothing!
"We pushed forward about 30 yards at a clip.  Then caught our breath!  Hammered another 30 yards! Stopped to breathe!  Always, we looked up to the prize at 13,000 feet.   Don't let me kid you; it takes guts, gumption and hard core determination to slog up a mountain peak—especially in winter.  Could we die?  Sure, we could meet our maker.   But heck, living full-out until we die is more fun.  Is it cold?  Sure, but we layer up."  Journal entry, 3/22/12 FW
Under a rising sun and blue sky, we turned into the Crane parking lot at the head of the 10th Mountain Hut trailhead just down from 10,400 foot Tennessee Pass in the Colorado Rockies.  Around us, lodge pole pines grew thick to the west of us.  Eastward, aspirin white snows covered the valley, which featured a frozen river meandering southward.  Beyond it, enormous mountains pierced the sky.  A brisk wind greeted us upon opening the car doors.
"Yow! It's a tad chilly," said Al.
"No kidding," I said. "It may be worth it to add some layers."
"Looks like Steve and Eric started out on another trailhead," Al said, talking about our friends that would meet us for this hut trip. "We'll bump into them at the cabin."
"Sounds good to me," I said as I hauled my 45 pound pack out of the car.  "Let me get these skins slapped onto my skis and I'm ready to go."
"I've got my snow shoes laced up," Al said. "This pack seems to get heavier every year we take this hut trip."
"You gotta stop bringing two pounds of cookies and five pounds of chips and salsa," I said.
"Yeah, right!" Al said, smiling.  "Let's get moving."
We hiked up the road about a half mile to where an arrow pointed toward a mountain meadow filled with seven feet of snow.  Pines surrounded us and grew thicker as the mountain sloped upward.
"Let's do it," Al said. "Hey, look up above you."
"I'll be darned," I said.  "A stellar jay looking for a handout."
We stepped into our gear and headed up the mountain.  Not far into the woods, a squirrel jumped from branch to branch while he chattered at us like a repeating record.  He didn't like us invading his territory.
My friend John Muir said, "How many hearts with warm red blood in them are beating under cover of the woods, and how many teeth and eyes are shining?  A multitude of animal people, intimately related to us, but of whose lives we know almost nothing, are as busy about their own affairs as we are about ours."
We pushed past the chattering squirrel with our eyes searching for the blue markers that denoted the trail.  While we carry compasses and topographical maps, it's nice to see the blue diamonds showing us that we are on the right path.  Within a half mile, we reached a frozen lake.  We crossed it as the sun blazed overhead.
As Al pushed ahead, I noted the deep forest around us.  I reveled in the silence, the quiet of the snow and the slight breeze rustling through the evergreens. Something about that "sound" that calms my soul and uplifts my spirit.  I love leaving the car behind, the pavement and the cacophony of civilization.  It's been said that the Great Spirit, as the Indians referred to Him, created snow to fall softly on the ground to give a blanket for all creatures to find solace from winter winds.  Above it, nature's motions illustrate the circulation of life, of spirit and of energy pulsing throughout the wilderness.
As the slope pitched steeper, I noticed my breath quicken and my heart beat faster.  I felt the clean mountain air coursing through my lungs.  A mountaineering trip lets a man's body know it's alive. I think Thoreau said, "I know of no more encouraging fact than the unquestionable ability of humanity to elevate itself by conscious endeavor."
As we drew deeper into the wilderness, we undoubtedly elevated ourselves as we climbed from 8,500 to 9,000 feet and upward still.
The trail led us through hard packed snow.  Soon, we reached a bridge over a frozen stream.  On the bridge, the snow rose over four feet deep. Other backcountry skiers had packed it down.
"Let's take a picture," Al said.
After the shot from the "Shutter bug of the Rockies", we began climbing hard up a steep grade.  My breath drew deep drafts of life-giving oxygen into my heaving lungs.  It's moments like this that I am grateful for my existence, for my body and for my ability to ambulate through this world.  I am thankful for the slowness and exertion.
We slogged upward until we hit a ridge that snaked through the trees.  Unexpectedly, it dropped down into a depression, but quickly regained itself.  We worked our way through an aspen grove with more squirrels chattering at us. Above, a hawk soared across the treetops on his morning breakfast patrol.
We stopped for a rest in a quiet glen.  Unshouldering the packs gave a sudden relief from the weight on our bodies. A long swig of water quenched our thirst and slicing up an apple gave us renewed energy.
Thoreau said, "Live in each season as it passes; breathe the air; drink the drink, taste the fruit, and resign yourself to the influence of each. Let them be your only diet, drink and botanical medicines. Be blown on by all the winds. Open all your pores and bathe in all the tides of nature, in all her streams and oceans, at all seasons."
"Let's get this show on the road," said Al.
"Let me hoist this torture chamber back onto my shoulders," I said, "and let's get going.  I figure we can reach the cabin before nightfall."
Once again, the trail climbed steadily upward. We followed it through a tunnel of pine trees.  My skis swished over the ice crystals and Al's snowshoes crunched down on the white carpet with every step.
As we climbed, high mountain peaks jumped up in front of us.  The pines thinned with the altitude as we crossed over 10,000 feet and on to 11, 000 feet.  Big open glades featured burned-out trunks from long ago.  Ahead, 13,209 foot Homestake Peak made its presence known.  It cut like a giant shark's tooth into a cobalt sky.
Two more hours later brought us into wide open fields of glistening snow.
"Another mile should get us to the cabin," Al said.
"We're standing inside a huge mountain basin," I said. "That big old 13er can't wait to see us standing at the top tomorrow."
"I'm ready for some hot chocolate and a nice fire," said Al.
"Let's do it, dude," I said.
Late in the afternoon, the heavy packs took their toll on our bodies.  We felt the fatigue of pushing into the high country.
After rounding a stand of lodge pole pines, we saw the cabin set up against the mountains at 11,200 feet.   We punched over the snowy land until we reached the cabin.  Amazingly, it stood empty.  We pulled our gear off and unloaded the packs from our shoulders. We unlocked the door and entered.
The cabin featured a full kitchen with dishes, glassware and silverware on plentiful shelves.  A 100 year old cook stove stood in the middle of the kitchen. Two picnic tables made up the dining area.  At the far end, a black stove with plenty of wood awaited. Upstairs, sleeping area for 18 people in wooden bunks.  One could watch the stars while falling asleep as windows surrounded the entire upstairs.  On the walls downstairs, pictures of 10thMountain soldiers in full ski gear.  Around the entire cabin downstairs, huge 4'X 4' windows.  A huge deck out front featured log benches for watching sunsets and stars.  Out back, two outhouses.
"Home for the next two days," Al said.
"I'm cooking up some water for hot chocolate," I said.  "It looks like Steve and Eric are still on their way."
We lounged around the cabin.  Several gray jays perched on the railings around the deck expecting possible handouts.  West of us, out the big bay window, we saw Homestake Peak rising into the blue sky.
"It's going to be a great climb tomorrow," Al said.  "I hope the weather and temps are as good as today's."
Within an hour, we watched Steve and Eric emerge from the woods on the high side of the mountain.
"Dudes," I said. "Glad to see you."
"Great trip up," Eric said. "Nice to finally get to this cabin. I'm tired of pulling this sled all day."
"I like your idea of pulling a plastic sled rather than humping a heavy backpack," Al said.
They unpacked and made themselves comfortable.  We fired up the main stove and warmed the place.  Eric, ever the baker, brought his own cheesecake protected in a plastic container.  Steve, a college instructor, fire fighter and engineer who had traveled to Antarctica, also enjoyed culinary talents of a top flight chef.
"I have never turned down a good dinner," he said.  "Food is the foundation of happiness."
"Wasn't it Ben Franklin who said that God made beer so men could be happy?" I said.  "Maybe you are the 21st century answer to Ben's wisdom."
"Why not?" said Steve.
That night, the fire burned brightly as we sat in a horseshoe circle around the fire place.  Outside, without any moon, the stars twinkled against an ink black sky.  A quick stepping out onto the deck allowed us to see major constellations such as Orion, the Big Dipper, Andromeda and Aries.  Saturn twinkled and we think we saw Jupiter taking its spot in the night sky.  Without any light pollution from cities, the night sky became very personal.
At the same time, it becomes so vast, it defies a person's imagination.  As I stood on the deck looking, I felt a profound energy at being able to see the universe before my eyes.  Further, for this brief spark of time, I am a living entity in this vastness.  I am a part of the march of humanity.   I will continue to squeeze every drop of living from my time on this planet.
My friend Jack London said, "I would rather be ashes than dust. I would rather my spark burn out in a brilliant blaze than be stifled by dry rot. I would rather be a superb meteor; every atom in magnificent glow—than a sleepy and permanent planet.  The proper function of man is to live, not merely exist. I shall use my time."
Looking up at the dark outline of the great mountain before us, I knew that tomorrow would bring challenge and triumph of summiting a peak in the dead of winter.  We turned in early knowing that we needed our energies to climb the 13er before our eyes.
Morning breaks quietly in the high country. First, the night sky surrenders to a glowing horizon punctuated by mountain peaks. The first light of the sun brightens the snow peaks from the tips until it moves down the flanks.  Soon, the sun touches the tips of the trees and finally, the grand finale of light spreads its rays across the entire landscape.
"Good morning," said Eric.
"Mornin'" Al and I said.
We ate breakfast.  Because of cutting a large blister in his heel on the way up, Steve decided the pain would be unbearable trying to climb Homestake Peak.
"I've got to opt out today," he said. "I don't need to make this blister worse."
A half hour later, Eric, Al and I slapped on our skis and snow shoes along with our light day packs.  We cut northward toward the mountain range and veered west toward Slide Lake in a large basin that carried us toward the south end of the mountain.  The journey carried us for nearly two miles along the flanks of the mountain chain. At tree line, we pushed across 10 foot deep snow pack.
"There's the starting point beyond that canyon," I said. "Let's keep high on the ridge so we don't lose altitude."
"Here, let me get a couple of shots of you guys," Al said.
From that point, we made our way to the south side of the mountain where it began a slow and steep climb to the summit.  We cut switchbacks up the steep grade.  From there, the wind freshened to 20 miles per hour. Ahead, we saw nothing but white windblown snow and ice.
If I could describe what I saw before us, we stood at the bottom of a giant slide leading upward with a blue outline of the sky on the top and both sides.  But in this case, we couldn't walk around and step up the ladder of the slide. We must climb up the slide to the very top which was probably two miles to the summit.  Along the way, all manner of winter obstacles faced us.  The wind strengthened.  As we climbed, we also faced less and less oxygen in the air at high altitude.
We pushed forward about 30 yards at a clip.  Then caught our breath!  Hammer another 30 yards! Stop to breathe!  Always, we looked up to the prize at 13,000 feet.   Don't let me kid you, it takes guts, gumption and hard core determination to slog up a mountain peak—especially in winter.  Could we die?  Sure, we could meet our maker.   But heck, living full out until I die is more fun.  Is it cold?  Sure, but we layer up.
To my right, Eric pushed upward.  To my left, Al continued his quest.  I followed them.  Suddenly, I found Eric and Al to my left as we slogged ever higher onto the mountain.  But as they pushed forward, the canyon below dropped four to five thousand feet.  As that happened, another jagged monster snow-covered mountain rose up behind them on the other side of the canyon.
"Hey you guys," I yelled. "Let me get a shot of you. That mountain back drop is incredible!"
They stood still for the shot.  Mind-bogglingly beautiful!  What I am seeing at this moment can only be seen on the nature channel.  I am seeing mountain majesty just like the folks who climb Mount Everest.  It doesn't even seem like a smaller scale when a person climbs to these heights.  I am a mountaineer with no comparisons.
Onward we pushed up that colossal mountain.  The sun burned over head.  The sky dazzled with its brilliant blue.  The higher we skied, the more intense the mountains grew—like a line of sharks teeth ripping at the sky all around us.  I don't know what Al and Eric were feeling, but I felt a sense of inner awe at what the universe provided me that moment.
At the same time, I sucked huge lung-fulls of air into my body.  I needed to keep every muscle oxygenated in order to keep pushing.  I skied up close to Eric.
"Man," he said. "This is an enormous pile of amazing sights."
"You got that right, dude," I said.
As we drew nearer to the summit, more and more large rocks cut dark spots into the vast snowfields before us.  We continued our 30 yards of slogging, then resting for several minutes, then forward again with dogged determination.  After another hour, we reached a false summit.  Beyond it, the true summit awaited another 300 meters ahead.  Icy winds pulled at our bodies.
At 200 meters from the top, I encountered so much rock that I pulled my skis and stuck them into the snow.  Al pushed on with his snowshoes.  Eric cut further north along a ridge and found a path where he continued skiing.  I carried my poles and pushed further up the mountain as I hopped from rock to rock.  Within 100 meters of the summit, Eric pulled his skis and locked them to his backpack.
He intended to ski off the peak.
At mid day, Al reached the summit.  I followed.  Eric arrived several minutes later. We high fived and whooped it up for a few minutes.  Eric jumped into a handstand. Not bad at 13,209 feet on a freezing winter day at the top of an icy peak in the middle of the Colorado Rockies.  We took pictures of ourselves.  We spun around to see outrageous mountain ranges all around us.  The Gore Range, Mount Holy Cross, Never Summer Range, the Collegiate Range and Mount Elbert at 14,455 feet.
As we stood at the top, the wind blew, the sun smiled at us, but the cold started to creep into our bodies because we were no longer climbing.
"Time to get off this peak," Al said.
"I hate coming down off a peak when it took so much to get up here," I said.  "But, I don't want to turn into an icicle, either."
To reach the top of a mountain, my mind soars with bliss.  I can't help my ear to ear grin.  The moment elevates me into such a joyous mental state. Sharing it with my friends makes it a celebration of life, of spirit and fellowship.
Moments later, Eric locked on his skis and jumped over the edge.  He made four quick cuts on the crusty, icy, hard packed snow.  To his left, a cliff dropped at least a thousand feet. One missed turn and he would become a tumbling tumble weed down an icy couloir.
Al stepped over the edge and made his way down. I plugged in my ski poles to brace myself for the descent from rock to rock, rock to snow, snow to rock and downward until I reached my skis.
Finally, I picked up my skis and slapped my boots into the bindings. I carefully worked my way over the hard pack.   Once again, I looked west to see the scenery change as I descended.  With each minute, I made my way from 13,000 to 12,500 to 12,000 and kept descending.  As I worked my way through the snow and rock, I saw where some of the tundra melted through to the surface of the snow. As the snow melted from the extreme sunshine, it formed an ice glaze that clung to the rocks and blanketed over the tundra like an icy spider web.
Exceedingly interesting and a visual delight as the sun played off the sheet ice.
Nearly to the bottom, we stopped to eat lunch.  Al caught up with me and we sat down on some big rocks to enjoy oranges, peanuts, energy bars and swig on some water.  After 20 minutes, we finished our lunch on that high altitude table with a view unlike any most folks could ever dream of from their own kitchen.
I jumped back onto my skis and made my way down a couloir.  At the bottom, I saw Eric making a run toward me. He made some great cuts and got caught up in his own powder blasts from the skis.  Finally, at the bottom, he crashed in front of me.  He fried his thighs!
Al left his perch and made his way slowly down the side of the mountain.  Later, we connected for the trek back to the cabin.
While I chose to circle back the way we came, Eric and Al dropped into the valley.  Later, they climbed back up.
About an hour later, we reached base camp at 11,200 where Steve greeted us.  We pulled off our gear and stepped in front of the fire place.  Al curled up in the corner and Eric dozed near a window.  I wrote about our high altitude adventure.  As you read these paragraphs, I hope I got it right. I hope you felt the climb and the triumph at the top.  I hope you enjoyed the journey with us.
In the evening, Steve cooked up some fabulous chicken steaks with rice and vegetables.  We sat at the table with wide grins and all sorts of stories. After stuffing ourselves, Eric brought out the "piece de resistance" with his homemade cheese cake.  Steve offered a bowl of hot blue berries for a topping.  Each of us enjoyed two pieces of cheese cake.
Let me tell you, I savored every single delicious, scrumptious, mouth-watering bite.  I let each fork full melt on my tongue and allowed the blue berries to soothe my taste buds and run down the back of my throat like a summer stream full of enchanting sensations.
"Bless you for this incredible cheese cake Baker Eric," I said.
"Same for me," said Al.
That night, we washed a lot of dishes. Ironically, no other back country skiers arrived, which left the entire cabin to just four men.  We read books about 10th Mountain soldiers, shared stories and stoked the fire.  Outside, the sun set and the night sky once again featured majestic constellations.
We hit the bunks early with tired bodies ready for some recuperation at high altitude.  Before I fell asleep near the window, a shooting star ripped across the night sky. It seemed to place a dramatic exclamation point to a most amazing day.
Next morning, we awoke with the sunrise. It lit up the high peaks and spread its glowing charms across the high country.  After breakfast, we washed more dishes, cleaned up the bunk room and brought in more wood.  We filled the water pot with more snow and loaded our backpacks.  Steve and Eric decided to stay for a few more hours.
"Dudes!" I said.  "Thanks for a great time.  Heal that heel, Steve.
Thanks for the cheese cake Eric.  Let's do this again."
"You can count on it," said Steve.  "We loved every minute of it."
We stepped outside into a brisk morning.  With the sun shining, it felt like a day at the beach.  "Snow beach!"
We shouldered our packs, just like the 10th Mountain soldiers. We buckled into our skis and snow shoes, just like the 10th Mountain soldiers.  We headed into a world of white at high altitude, just like the 10 Mountain soldiers.  We thanked them for their service to America.
As we headed down from the high altitude on our way back to civilization, we smiled at each other.  My friend Al and I enjoyed an exceptional adventure.
I am reminded of sage words by Henry David Thoreau, "We need the tonic of the wilderness, to wade sometimes in marshes where the bittern and meadow-hen lurk, and hear the booming of the snipe; to smell the whispering sedge where only some wilder and more solitary fowl builds her nest, and the mink crawls with its belly close to the ground."
Two former employees of the world's largest Christian television channel Trinity Broadcasting Network are accusing the non-profit of spending $50 million of its funding on extravagant personal expenses.
Among purchases, the network founded by Televangelists Paul and Jan Crouch, is accused of misappropriating its 'charitable assets' toward a $50 million jet, 13 mansions and a $100,000-mobile home for Mrs Crouch's dogs.
Their granddaughter, Brittany Koper, 26, recently filed her allegations in court after a brief appointment as the network's chief finance director in July.
She claims she was fired in September after discovering the 'illegal financial schemes' according to the lawsuit obtained by the Los Angeles Times, and consequently reporting them to Mr Crouch.
Her lawsuit follows a second by another former employee and Koper in-law, Joseph McVeigh, the uncle of Mrs Koper's husband, Michael Koper, who detailed the opulent spending by the Christian network.
According to Mr McVeigh's accounts filed in his lawsuit, the network used their collections for side-by-side mansions in Florida, as well as in Texas, Tennessee and California.
The network's $50 million luxury jet was purchased through a sham loan while Mrs Crouch's personal jet, a Hawker, totalled $8 million, according to his suit.
The 13 properties listed in the suit were also referred to as 'guest homes' or 'church parsonages' while their directors also received $300,000 to $500,000 in meal expenses, as well as the use of chauffeurs.
The suit also accuses the network of using funds to cover up sex scandals according to the Times' review of the suit.
CLAIMED EXPENDITURES
$100,000-mobile home for Mrs Crouch's dogs
$50 million luxury jet purchased through a sham loan
$8 million personal Hawker jet for Mrs Crouch
13 properties listed in the suit as 'guest homes' or 'church parsonages' in Florida, Texas, Tennessee and California
$300,000 to $500,000 meal expenses for network directors, as well as the use of chauffeurs
In a reverse lawsuit filed by debt-collection company Redemption Strategies last year, the Kopers have been accused of forging documents to obtain items such as several vehicles, jewelry, a boat, motorcycle, and life insurance. The debt collection company was registered with the state by a TBN attorney one day before it filed suit against Mr Koper.
They accuse Mr McVeigh of also receiving thousands of dollars from the non-profit without their authorization.
That lawsuit against Mr McVeigh and Mr Koper was later dropped by the court, but not before Mrs Koper and two in-laws were added as defendants.
Mrs Koper countersued, alleging that TBN's attorneys formed Redemption Strategies to retaliate against her for whistleblowing.
Her suit doesn't list TBN as a defendant, but it alleges that Mrs Koper was fired and made to turn over her house, condominium, life insurance policy, car, furniture and jewelry as 'an act of Christian contrition' when she complained about the financial misdeeds at TBN.
In the similar suit filed by Mr McVeigh, he alleges that TBN attorneys also targeted him as part of a campaign of retaliation for his reporting of their lavish spending.
TBN attorney Colby May called the McVeigh's lawsuit a 'tabloid filing' and said the allegations in both cases were 'utterly and completely contrived.' TBN suspects McVeigh, who claims he received a $65,000 loan from the family empire, was working with the Kopers to steal money from the ministry, Mr May said.
The network's spending is in line with its mission to spread the gospel throughout the world, Mr May said, and the Crouches travel by private jet because they have had 'scores of death threats, more than the president of the United States.'
The ministry keeps large amounts of cash in reserve because incurring debt goes against the Biblical exhortation to 'owe no man any thing,' he said.
'The answer is, there is no fire there,' Mr May said. 'They pay as they go and every now and then one of the things that they pay as they go on is the acquisition of a broadcast facility and that's a multi-million dollar transaction.'
The outbreak of legal skirmish offers a rare window into the secretive world of the sprawling religious non-profit and exposes a family feud that could draw more outside scrutiny of TBN. Attorneys from both sides say they have contacted police and the Internal Revenue Service.
The Crouches founded TBN in 1973 and grew it into an international Christian empire that beams prosperity gospel programming — which promises that if the faithful sacrifice for their belief, God will reward them with material wealth — to every continent but Antarctica 24 hours a day, seven days a week.
It has 78 satellites and more than 18,000 television and cable affiliates and owns seven other networks, as well as its headquarters in Costa Mesa in Orange County, an estate outside Nashville called Trinity Music City, USA and the Holy Land Experience, a Christian amusement park in Orlando.
On any given day — or night — viewers from the United States to India can watch Christian-inspired news updates, documentaries, movies, talk shows and sermons by preachers such as Benny Hinn, T.D. Jakes and Dr. Creflo Dollar without leaving their armchairs.
The lawsuit attention comes at a bad time for TBN, which has seen viewer donations drop steeply.
TBN raked in $92 million in donations in 2010 and cleared $175 million in tax-free revenue, but its net income plummeted from nearly $60 million in 2006 to a loss of $18 million in 2010, the most recent year available. Donations fell by nearly $30 million in the same period — a hit the network blames on the bad economy.
At the same time, Mrs Koper's father — the eldest Crouch son — resigned abruptly as vice president and chief-of-staff late last year. The unexplained departure of Paul Crouch Jr. roughly coincided with his daughter's legal battle and came just months after he launched iTBN, a project to expand the network's online and mobile reach.
TBN places a premium on privacy and it's almost impossible to divine what is going on behind the scenes. Yet televangelist empires built largely on charisma often encounter choppy waters as their founding personalities age.
'It's true that in these large ministries, they do become family enterprises … and in many ways that can be a most precarious problem for them,' said David E. Harrell, a professor emeritus of American religion at Auburn University, who has written about well-known televangelists. 'Business squabbles, if they're complicated with family squabbles, can get nasty indeed.'
Mr May dismissed the idea of family turmoil and said the reason behind the legal fight was simple: Mrs Koper and her husband stole from the network.
'They're attempting to create a diversion and to create as much public spectacle as they can in the vain hope that this will all get resolved and that's simply not going to happen,' he said.
TBN's reach and programming are expansive, but what is more impressive is the amount of money it receives from viewers — even in a downturn.
During TBN's Praise-A-Thon earlier this month, a preacher exhorted viewers to bellow 'Fear not!' three times, count down from 10 and then rush to the phone with donations. In exchange, he said, they would receive a miracle from God 'about this time tomorrow.' Within seconds, all 200 phone lines were busy.
Ministry watchdogs have long questioned how TBN — which declared more than $800 million in net assets in 2010 — spends that wealth.
TBN files reports with the IRS, but the Crouches run nearly two dozen other organizations that are harder to track and they operate extensively overseas, said Rusty Leonard, who founded Wall Watchers, an organization that monitors the financial transparency of church ministries to which its members donate.
Wall Watchers gives TBN an 'F' for financial transparency and keeps them on its list of the 30 worst ministries.
'They could run a loss like the one they ran last year for an awfully long time before they would run out of money,' Mr Leonard said. 'They're basically taking money from old people and putting it in their pocket and living the high life.'
TBN is no stranger to outside scrutiny.
In 1998, the elder Crouch secretly paid an accuser $425,000 to keep quiet about allegations of a homosexual encounter. Crouch Sr. has consistently denied the allegations, which were first reported by the Los Angeles Times, and has said he settled only to avoid a costly and embarrassing trial.
In 2000, after a five-year battle, a federal appeals court overturned a ruling by the FCC that found Mr Crouch had created a 'sham' minority company to get around limits on the number of TV stations he could own.
With their termination from the network, both Mr MacLeod and Mrs Koper plan to file a wrongful-termination suit according to the Times.
Source: Mail Online
Thyroid cancer cases have more than doubled since 1997 in the U.S., while deadly industrial practices that contaminate groundwater with radiation and other carcinogens are also rising.
New information released by the U.S. National Cancer Institute (NCI) estimates that 56,460 people will develop thyroid cancer in 2012 and 1,780 will die from it.
That's up from 16,000 thyroid cancer cases in 1997 – a whopping 253% increase in fifteen years, while the US population went up only 18%.
From 1980 to 1996, thyroid cancer increased nearly 300%, while the population increased by (again) 18%.
Most thyroid cancers don't develop for 10-30 years after radiation exposure, but the monstrous spike in thyroid cancer from 1980-2012 is only partly the result of Pennsylvania's Three Mile Island nuclear accident in 1979 (TMI).
Pennsylvania, with its nine nuclear reactors, does have the highest incidence of thyroid cancer across nearly all demographics among 45* states, reports epidemiologist Joseph Mangano, MPH MBA, of the Radiation and Public Health Project. In 2009, he analyzed data from the Centers for Disease Control's national survey of thyroid cancer incidence for the years 2001-2005 and compared it with proximity to nuclear power stations, finding:
"[M]ost U.S. counties with the highest thyroid cancer incidence are in a contiguous area of eastern Pennsylvania, New Jersey, and southern New York. Exposure to radioactive iodine emissions from 16 nuclear power reactors within a 90 mile radius in this area … are likely a cause of rising incidence rates."
TMI also can't explain why the thyroid cancer rate for the four counties flanking Indian Point Nuclear Power Plant in New York was 66% above the national rate in 2001-2005.
Other, more subtle sources may also be contributing to hiked thyroid cancer rates, like leaking nuclear power plants and hydraulic fracturing, both of which contaminate air, soil and groundwater with radiation and other nasty chemicals.
Indeed, remarking on this, Mangano (who recently co-authored a controversial study with toxicologist Janette Sherman suggesting a link between Fukushima fallout and US cancer deaths numbering from 14,000 to 20,000) said:
"From 1970-1993, Indian Point released 17.50 curies of airborne I-131 and particulates…. [That] amount exceeded the official total of 14.20 curies released from the 1979 Three Mile Island accident. In 2007, officials that operate the Indian Point plant reported levels of I-131 in the local air, water, and milk, each of which is a potential vector for ingestion."
Iodine-131, or I-131, is a radioactive isotope produced by nuclear fission.
Fracking a 'Dirty Bomb'
Radiation isn't released into the environment only via nuclear plants and bombs. Geologist Tracy Bank found that fracking mobilizes rock-bound uranium, posing a further radiation risk to our groundwater. She presented her findings at the American Geological Society meeting in Denver last November.
Because of some 65 hazardous chemicals used in fracking operations, former industry insider, James Northrup, calls it a "dirty bomb." With 30 years of experience as an independent oil and gas producer, he explains:
"The volume of fluid in a hydrofrack can exceed three million gallons, or almost 24 million pounds of fluid, about the same weight as 7,500 automobiles. The fracking fluid contains chemicals that would be illegal to use in warfare under the rules of the Geneva Convention. This all adds up to a massive explosion of a 'dirty bomb' underground."
What's underground seeps into our groundwater.
Thomas House and his wife have become ill since New Dominion, LLC began drilling for oil and gas behind their home in Wellston, Oklahoma. He's tested the water for barium and strontium, and indoor air quality for BTEX (benzene, toluene, ethylbenzene, xylenes and styrenes).
Though none of the levels exceed EPA standards, he insists the drilling operations are causing their illness.
"We have been getting sick from headaches, nose bleeds, rashes, vomiting, burning eyes, and breathing problems for the last year," he told me.
House is reliant on the Veterans Administration for health care, but it refuses to test him for BTEX poisoning.
Radioactive Drinking Water
Though scientists have associated thyroid cancer with water supplies contaminated by nitrates (another knock against industrial agriculture), it is usually indicative of radiation poisoning, as the thyroid sucks up iodine – radioactive or not. Those with not enough iodine in their diets are more susceptible to absorbing I-131.
NCI says that the main sources of radiation exposure are X-rays, nuclear fallout and radiated food and drinking water. The Centers for Disease Control reports that women are three times more susceptible to thyroid cancer than men, with white women being most susceptible. Rather than noticing any symptoms, most often, they discover a lump on their neck.
The good news is that 95 percent of thyroid cancer is successfully treated.
The bad news is that radiation exposure is also coming from our food and water supply.
For over a year, a Houston news station has been reporting on a governmental cover-up of radiation in drinking water. KHOU says that the Texas Commission on Environmental Quality under-reported radioactive contaminants in drinking water for over 20 years.
But not just Texas authorities, the U.S. Environmental Protection Agency has also low-balled radiation stats by simply not looking for specific radioactive elements, which can be more common and more dangerous than, say, Strontium-90.
Eventually, Texas shut-down two of Houston's water wells shown to be radioactive.
From an investigative series by the Associated Press last year, we learned that 75 percent of US nuclear power plants leak radioactive materials. Documents from 48 of 65 commercial nuclear power sites showed that radioactive tritium leaked – often into groundwater – in concentrations exceeding the federal drinking water standard, and sometimes at hundreds of times the limit.
Nukes, Fracking and Earthquakes
The global fallout from Fukushima's nuclear meltdown means our food and water absorbed radioactive fallout. But, we also see an increasing number of earthquakes from fracking operations that further threaten nuclear plants, which are old, leaking and "brittle" (AP's word).
Information compiled by Treehugger last year showed that of the 104 commercial nuclear power plants and 34 nuclear research stations, many sit in seismically active locations.
Though earthquake risk in Texas is considered very low, last October, Atascosa County saw a rare 4.8 magnitude quake centered 130 miles from the South Texas Project nuclear power plant. The temblor originated in Fashing Field, a highly productive oil and gas field. One company, Momentum Oil and Gas, is producing 3.8 million cubic feet of gas per day from the field.
Many states that normally had very low seismicity have seen an incredible upswing in earthquake frequency with the advent of hydraulic fracturing, which the feds have long known about. As far back as 1966, federal authorities suspected the fracking-earthquake link so strongly that they shut down Rocky Mountain Arsenal's 12,000-foot injection well after several quakes rattled Denver.
In 1981, researchers suggested that mobile pressure dynamics could explain epicenters some ways distant from such wells.
Ohio recently shut down two fracking waste injection wells after a New Year's Eve earthquake, and in 2010 New York imposed a statewide moratorium. Ohio has two nuclear power plants (both on Lake Erie) and New York has five, operating six reactors.
Ohio's 5.0 earthquake on January 31, 1986 that rocked eleven states and Ontario, Canada was centered 11 miles south of the Perry Nuclear Plant. Researchers suggested the quake was induced by fracking, writing in 1988:
"Three deep waste disposal wells are currently operating within 15 km of the epicentral region and have been responsible for the injection of nearly 1.2 billion liters of fluid at pressures reaching 112 bars above ambient at a nominal depth of 1.8 km. Estimates of stress inferred from commercial hydrofracturing measurements suggest that the state of stress in northeastern Ohio is close to the theoretical threshold for failure along favorably oriented, preexisting fractures."
Not only preexisting fractures, but new ones created by the massive surge in earthquake swarms also present a risk. As modern horizontal fracturing techniques are employed, earthquake frequency goes up.
From 1900-1970, Arkansas experienced 60 earthquakes. After fracking operations picked up in the mid-1970s, that number jumped exponentially. Per the Advanced National Seismic System, in 2010 alone, Arkansas felt over 700 earthquakes; in 2011, it endured over 800.
The number of quakes in 2010 and '11 represents a 2,400% increase over the number of quakes in the first 70 years of the 20th century, before horizontal fracking began. With that spike in frequency, is it any wonder that a new faulthas opened up in Arkansas? Geologists say the new fault shows a history of 7+ magnitude earthquakes.
Though the 2001-2005 thyroid incidence data reveals that Arkansas has the lowest incidence of thyroid cancer of all 45 states surveyed, that may change should the new fault become seismically active and damage the state's two 40-year-old nuclear reactors.
Of note, Arkansas' nuclear reactors are run by Entergy, which operates eleven others including 40-year-old Vermont Yankee (strontium-90 found in nearby fish last August) and New York's nearly 40-year-old Indian Point (failed inspection and sought over 100 safety exemptions last year).
Pennsylvania is another strong fracking state, vulnerable to earthquakes originating within or outside its borders. It also houses nine nuclear reactors at five locations. A swarm of small earthquakes occurred near Dillsburg from 2008 until early 2011, reports the state's Dept. of Conservation and Natural Resources.
Dillsburg is 16 miles from Three Mile Island, which still operates one nuclear reactor.
Last August, most of the east coast felt a 5.8 magnitude quake whose epicenter is just 11 miles from two reactors at the North Anna nuclear power plant in Virginia. Both 30-year-old reactors had to be shut down. RT reports:
"The odds of a quake exceeding a magnitude of 5.5 occurring in central Virginia are so slim that Dominion Power determined only around six quakes of that size would occur in the area over the next 10,000 years."
Protect Your Water Supply
Radioactive particles damage bones, DNA and tissue, including the thyroid. Water softeners, ion exchange, carbon filters or reverse osmosis water-treatment systems can be installed in the home to reduce concentration levels. The National Sanitation Foundation certifies various products for efficacy in reducing or eliminating particular contaminants.
To reduce or eliminate radiation from food and water, see this compilation of articles recommending various techniques, including washing your vegetables in bentonite clay.
A more proactive way to protect the water supply is to decommission nuclear power plants and ban hydraulic fracturing, lest your hometown ranks among the 10 Most Radioactive Places on Earth.
*When the CDC surveyed states for thyroid cancer in its landmark 2001-2005 study, it neglected to publish data for Maryland, Mississippi, Tennessee, Virginia, and Wisconsin.
In 1836, former frontiersman and congressman Davy Crockett led a band of volunteers all the way from their home State of Tennessee to San Antonio, Texas, in order to join up with William Travis and his small company of soldiers, and help defend the Alamo–and Texas independence–from Mexican General Santa Anna and his army of over 5,000 seasoned troops. To men such as Crockett, Travis, Jim Bowie, and the rest, State independence and freedom was worth fighting and dying for. To a man, they each proved that. Therefore, it is fitting to wonder what Davy Crockett would think about his home State of Tennessee joining with federal agencies in establishing random checkpoints throughout the Volunteer State.
According to a local Tennessee news source, "You're probably used to seeing TSA's signature blue uniforms at the airport, but now agents are hitting the interstates to fight terrorism with Visible Intermodal Prevention and Response (VIPR).
"'Where is a terrorist more apt to be found? Not these days on an airplane more likely on the interstate,' said Tennessee Department of Safety" Homeland Security Commissioner Bill Gibbons.
"Tuesday Tennessee was first to deploy VIPR simultaneously at five weigh stations and two bus stations across the state."
The report went on to say, "The Tennessee Highway Patrol checked trucks at the weigh station with drug and bomb sniffing dogs during random inspections."
See the report at:
As I have noted in this column before, the one thing that the bogus "war on terror" and "war on drugs" does is it justifies and ratchets up the emerging surveillance state in America. In this regard, virtually every constitutional and historical protection of our God-given and civil rights are being systematically and thoroughly expunged–in the name of "national security."
For all intents and purposes, the Patriot Act eviscerated the 4th and 5th amendments to the US Constitution (and seriously injured many of the others). The Posse Comitatus Act, which dates back to 1878, was flushed down the toilet during the presidencies of George Herbert Walker Bush, Bill Clinton, George W. Bush, and now Barack Obama. Since 1968, 2nd Amendment liberties are only a shell of what America's founders intended and established. And the above-mentioned story out of the State of Tennessee is just the latest example of how the US and State governments are continuing to shred the Bill of Rights–and virtually every other protection of individual liberties once thought sacred.
The State of Tennessee should be ashamed of itself–and the people of Tennessee should be outraged!
The problem is, this kind of unlawful activity has been taking place for years. And more often than not, it is the federal government that is both promoting this practice and paying for it, of course. So, why should anyone be alarmed that TSA is now joining scores of other federal alphabet agencies and getting into the act? At least, that's the thinking of these KGB wannabes.
Most of us over the age of 50 can well remember the stories and images that came out of the old Soviet Union and its satellite states in the East Bloc. In fact, the phrase, "Show us your papers," was symbolic of totalitarianism and despotism. Today, that same phrase is part and parcel with America's "war on terror" and considered "patriotic." Back in the days of "Free America," checkpoints were synonymous with Red Russia and Red China. We could never have imagined–or tolerated–those kinds of practices going on in these United States. Now, they are part of everyday life in "Occupied America," and standard operating procedure in the State of Tennessee and elsewhere.
For federal police agencies to be conducting checkpoints (i.e., Tennessee), organizing searches and seizures against citizens complying with State law (i.e., Montana), patrolling city streets (i.e., Alabama, Florida), and even ambushing and killing American citizens (i.e., Idaho, Texas) is the sign that the American experiment of federalism, separation of powers, State sovereignty, etc., is certainly over, and that this new "Occupied America" is in the throes of an ever-burgeoning police state!
If Davy Crockett lived today, he wouldn't have to ride far to find oppression to fight, would he?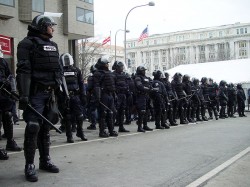 Do you love liberty and freedom?  If so, you better watch your back.  The control freaks that run our society are stripping away our liberties and freedoms a little bit more each day, and lately they seem to be particularly focused on coming after those that are not "integrating" into the system.  Just like the rest of the western world, America is being transformed into a "Big Brother" police state control grid.  Nearly everything that you do is being watched and monitored.  A whole host of organizations know that you are on this website right now.  If you want to go to an NFL game next weekend, there is a good chance that you will be on the receiving end of an "enhanced pat-down" and if you are producing raw milk on your farm there is a good chance that the feds will show up for a pre-dawn raid on your property.  In many areas of the country, the government forces us to shoot our kids full of vaccines and implant dangerous microchips in our pets.  Virtually wherever we go there is a camera that is watching us or there are other Americans that are evaluating whether or not we are engaged in "suspicious activity" that needs to be reported to the government.  Once upon a time, America was all about liberty and freedom, but today our nation is undergoing a radical cultural shift.  America is being "locked down", and those who love liberty and freedom should watch their backs.
Once upon a time, our founders thought that they were guaranteeing our freedoms by adding a Bill of Rights to the Constitution.
But today there are a lot of freedoms that we simply do not have any longer.
In America today, you do not have the right to say whatever you want.  If you say the wrong thing on a blog or a website it can have dramatic consequences.
In America today, you do not have the right to do raise your own children as you see fit.
In America today, you do not have the right to grow whatever food you want and you do not have the right to eat whatever food you do grow.
In America today, you do not have the right to be free from unreasonable search and seizure.
In America today, you do not have a right to privacy.  In fact, you should expect that everything that you do is watched, tracked, monitored and recorded.
If you doubt any of the statements above, just check out the examples posted below.
The following are 12 signs that Americans who love liberty and freedom should watch their backs….
#1 A 55-year-old man in Arizona was recently ordered to turn in all his guns because of things that he wrote on his blog.  Fortunately, after WorldNetDaily covered the story there was an outpouring of outrage and the order was overturned, but what would have happened if WorldNetDaily had not covered the story?
#2 According to Mike Adams of Natural News, the CDC is starting to call parents all over the nation to question them about the vaccination status of their children….
The U.S. Centers for Disease Control, which has been comprehensively exposed as a vaccine propaganda organization promoting the interests of drug companies, is now engaged in a household surveillance program that involves calling U.S. households and intimidating parents into producing child immunization records. As part of what it deems a National Immunization Survey(NIS), the CDC is sending letters to U.S. households, alerting them that they will be called by "NORC at the University of Chicago" and that households should "have your child's immunization records handy when answering our questions."
You can see a copy of the letter that the CDC is sending out to selected parentsright here.
#3 According to blogger Alexander Higgins, students in kindergarten and the 1st grade in the state of New Jersey are now required by law to participate "in monthly anti-terrorism drills".  The following is an excerpt from a letter that he recently received from the school where his child attends….
Each month a school must conduct one fire drill and one security drill which may be a lockdown, bomb threat, evacuation, active shooter, or shelter-in place drill. All schools are now required by law to implement this procedure.
So who in the world ever decided that it would be a good idea for 1st grade students to endure "lockdown" and "active shooter" drills?
To get an idea of what these kinds of drills are like, just check out this video.
#4 According to licensed private investigator Angela V. Woodhull, hospitals are increasingly using "guardianship" to strip elderly Americans of their liberty and to rapidly drain their bank accounts.  The following is one story that Woodhull included in a recent article….
Ginger Franklin, Hendersonville, Tennessee, fell down the stairs in her condo and suffered a bump on her head.  She was declared "temporarily mentally incapacitated" and a guardian was appointed through the courts.  Within six weeks, the guardian had sold Franklin's home, car, furniture, and drained her bank account.  Today, Franklin has her freedom back, but she is having to start all over.
#5 In a sign of just how far individual liberty in the United States has declined, a judge in Wisconsin has actually ruled that citizens do not have a right to grow and eat whatever foods they want to.  The following is a short excerpt from his recent decision….
1) no, Plaintiffs do not have a fundamental right to own and use a dairy cow or a dairy herd;

2) no, Plaintiffs do not have a fundamental right to consume the milk from their own cow;

3) no, Plaintiffs do not have a fundamental right to board their cow at the farm of a farmer;

4) no, the Zinniker Plaintiffs' private contract does not fall outside the scope of the State's police power;

5) no, Plaintiffs do not have a fundamental right to produce and consume foods of their choice;
#6 The freedom to raise our pets as we want to is also being greatly curtailed in many areas of the country.  For example, a new law in St. Louis would require nearly all dogs and cats to be sterilized and microchipped….
Board Bill 107 would require all pet owners to spay or neuter their dogs and cats and microchip them for identification. Those who don't want to sterilize their pets would be assessed a fee of $200 per year.
Will the control freaks that run things want to start sterilizing and microchipping humans someday?
#7 Whenever any politician suggests that we should "suspend elections", that should be a major red flag.  North Carolina Governor Bev Perdue recently made national headlines when she made the following statement….
"I think we ought to suspend, perhaps, elections for Congress for two years and just tell them we won't hold it against them, whatever decisions they make, to just let them help this country recover"
#8 As I wrote about recently, many NFL teams are now performing "enhanced pat-downs" of fans before they enter the stadiums.  In Green Bay, the Packers are using hand-held metal detectors on fans before they are allowed to enter Lambeau field.
What is next?  Will they soon insist that we all undergo full body cavity searches before we are permitted to attend the games?
#9 Many Americans have complained about the horrible treatment that they are receiving at U.S. airports, but now the TSA is bringing their brand of "security" to many other locations throughout America as well.
TSA "VIPR teams" now conduct approximately 8,000 "unannounced security screenings" a year at subway stations, bus terminals, ports and highway rest stops.
#10 Many of our public schools are now being run like prisons.  In fact, in many areas of the country, little kids are being publicly arrested by police in their own classrooms and are being marched out of their schools in handcuffs.
#11 If you think that anything that you do on the Internet is private, you should guess again.  It has recently come out that Facebook continues to track most of the websites that you visit even after you have logged out of Facebook.
In addition, law enforcement agencies all over the globe are increasingly viewing social media as a law enforcement tool.  For example, the NYPD recently createda special "social media" unit dedicated to looking for criminals on Facebook and Twitter.
Also, many large organizations are now setting us very sophisticated systems that keep track of what is being said about them online and who is saying it.  For example, the new "Social Media Monitoring Solution" being developed by the Federal Reserve will identify "key bloggers" and monitor "billions of conversations" about the Fed on Facebook, Twitter, forums and blogs.
#12 The U.S. government is ramping up efforts to have all of us watch one another and to report any sign of "suspicious activity" to them immediately.  But exactly what does "suspicious activity" entail?  According to a shocking document obtained by Oath Keepers, the FBI has really broadened their definition of "suspicious activity".  According to the document, "suspicious activity" now includes….
-paying with cash
-missing a hand or fingers
-"strange odors"
-making "extreme religious statements"
-"radical theology"
-purchasing weatherproofed ammunition or match containers
-purchasing meals ready to eat
-purchasing night vision devices, night flashlights or gas masks
According to WorldNetDaily, this document is part of a "series of brochures" that will be distributed "to farm supply stores, gun shops, military surplus stores and even hotels and motels."
Our entire society is becoming extremely paranoid.
The Department of Homeland Security is spending massive amounts of money and running tons of ads to promote the "See Something, Say Something" campaign.
Apparently the Obama administration wants to turn the entire country into a vast network of government snitches.
They spend billions upon billions of dollars watching all of us, and yet now they also want all of us to watch each other.
It is not right.
I don't know about you, but I don't want to end up living in a society that resembles the novel "1984″ by George Orwell.
Sadly, the death of our civil liberties is very rarely mentioned by any of our politicians these days.
Both major political parties seem to have fully embraced the growing national security apparatus that is starting to suffocate the life out of this country.
Yes, we will always need security, but security measures should be implemented in such a way that they will never violate the liberty, freedom, honor or dignity of ordinary Americans.
In a previous article, I wrote the following….
If those in charge of our security right now cannot protect us without compromising our liberty, freedom, honor and dignity then they need to immediately resign and allow someone else to do the job.
The Department of Homeland Security should be given a dual mandate.  They must be charged with protecting us and they must be charged with protecting our liberty, freedom, honor and dignity at the same time.
If those running the security apparatus in this country right now feel like they cannot do that, then they need to step aside and let someone else take over.
The status quo is not acceptable.
Right now, all law enforcement personnel in this country are trained to bark at us like dogs and to treat us like cattle.
They are actually instructed to be mean and aggressive with us.  From the first day of training, they are taught to treat us like dirt.
Things were not always this way in America.  Once upon a time there was a clear distinction between the United States and "evil" totalitarian regimes.
Well, today we are becoming a little more "evil" and a little more "totalitarian" with each passing day.
If you love liberty and freedom, you better watch your back.
America is changing, and not for the better.
Source: The American Dream
American hospitals have devised a scheme to guarantee they never get stuck with an unpaid bill.  It's called guardianship.
Thinking of checking into a hospital?  Think again.  You may never see home again.
Michael Kidd, 72, of Richardson,Texas, fell in his yard and broke a hip.  Now, he is living in Countryside Nursing Home with his wife.  Both were removed from their home when the state of Texas petitioned the courts claiming that the Kidds were mentally incompetent.  Their house sits vacant and neglected, with rotting food still remaining in the refrigerator.  The Kidds have been confined to a single room in the nursing home, while the state appointed guardian burns through their money an gives them a mere $60 a month spending allowance which they have been using to buy "real" food.
Robert Milton (not his real name) was taken to the hospital because he fell "one time too many" at his home, and although his stepson had been given power of attorney to make all of his health care decisions, a court-appointed corporate guardian placed Milton against his will in a nursing home where he is now isolated from his family and friends.  Meanwhile, his money is being spent as quickly as possible by the Orlando-based guardian and her attorneys.
How It Commences
Joseph Niedesky (not his real name) was air lifted to a hospital in Orlando from Ocalaby helicopter after he was the victim of a motorcycle crash.  But something went terribly wrong during Niedesky's surgery and he aspirated on his own vomit, causing some brain injury.  That's when a corporate guardian was contacted by the hospital and appointed by the court as Niedesky's full plenary, permanent guardian.
What Happens Next
The corporate guardian who petitioned the court stated in the court papers that Niedesky had no family.  In reality, Niedesky had been married for more than 20 years and had four teenage children.  It took more than two months for Niedesky's wife to discover what had happened to her husband and where he was located.
The Family is Always Portrayed as the "Devil Incarnate"
What happened to Niedesky is becoming a commonplace occurrence in America.  A family member is rushed to the hospital.  Surgery occurs and something sometimes goes terribly wrong.  However, by quickly petitioning the courts for guardianship, the hospital avoids any kind of lawsuit for negligence or wrongful death.  Niedesky's wife wanted to bring him home and get him out of the guardianship.  The guardian, however, kept moving Niedesky from location to location, city to city, until the statute of limitations for suing the hospital had expired.  Shortly after the statute of limitations ended, Niedsky just happened to die.
"The hospital saved itself millions in a lawsuit.  It is typical that shortly after the statute of limitations runs out, the ward just happens to suddenly die," stated David Newman, Gainesville, Florida, a civil rights guardianship reform advocate.
Niedesky's wife was portrayed in the court record as uncaring, incompetent, over-meddling, and negligent, and although these descriptors seem to be a contraction of terms, you will typically find the most cynical descriptions of family members in most court files where an involuntary guardianship has been granted by the courts to a total stranger.
For example, inMilton's case,Milton's stepson had been named long ago as his power of attorney and health care surrogate.  That designation, however, was destroyed by the court and the corporate guardian even accused the stepson of stealing several thousands over the years from his stepfather.  Today, Milton's stepson, a 65 year old retired veteran, finds himself in a legal nightmare gathering bank records and hiring attorneys and forensic accountants to prove his innocence.  Meanwhile, the corporate guardian is spending Milton's money like water.
The Other Scenario
Tom Griffith (not his real name) wonders why an Orlando-based corporate guardian would be interested in his father at all.
"He has no money.  All he gets is a small monthly cheque from Social Security of about $800.00."
I explained to Griffith that his father has been marked for destruction and will mostly likely not be among the living in a very short period of time.  "We live in a country that is ruled by corporations, not the U.S. Constitution.  If there is not enough money for the nursing home to cover its expenses, there is 'no reason' to keep your father alive."  I explained to Milton how Thomas Chada's father was sent to him as a box of ashes and how other wards seem to always turn up "expired" shortly after a corporate guardian and her attorneys have burned through all of an elderly person's money.
But in this case,Griffith said there was no reason to destroy his father.  "There is no money to gain."
"Yes, but that is the point.  The corporate guardians have a symbiotic relationship with the nursing homes.  Sometimes, the nursing home gives them a wealthy resident that they can bilk.  At other times, the corporate guardian does them a favor by making premature end-of-life decisions when there is not enough finances to cover the elderly person's day-to-day expenses."
In the case of Griffith's father, who just received quadruple open heart bypass surgery, it was determined that the ward, age 74, now needed dialysis, a very costly ongoing treatment.
"The doctors said my father does not want dialysis,"Milton stated.  "But I know my father wishes to live; he is only 74."
"They probably got your father to sign such a statement without him even knowing what he was signing," I explained.
Miltonwanted to know what he could do to rescue his father out of this dangerous and life-threatening situation.
"You can hire an attorney, but you might end up spending more than $500,000.00 of your own money to become your father's guardian."
"I don't have that kind of money,"Griffithdeclared, shocked.
It was obvious that the scenario I was describing was greatly upsetting Griffith.   Those of us who have already lived this scenario remember going through the predictable stage of "mental shock" followed by the overwhelming urge to seek justice—at any cost.  I explained to Griffith that he may find himself bankrupt as a result of trying to help his father out of this doomed guardianship situation.
My phone continues to ring as victims, desperate to find a solution, want to know what they can do.
In a country that is ruled by corporations and corporate greed, there will be no solution to The Guardianship Nightmare until a public uprising is so severe that these kinds of abominable– yet commonplace situations– will no longer be able to occur.
Source: The PPJ Gazette