In 2008, Houston police pulled over CIA agent Roland Carnaby on what appeared to be a routine traffic stop. A few seconds later, Carnaby was dead.
It is illegal to detain a CIA agent under any circumstances. They may carry any weapon, anywhere, anytime, and request assistance from any law enforcement official with more than certainty.
Why then would this incident be part of a highly classified Russian intelligence report? Could it, perhaps, be that Carnaby, answering directly to former President and CIA Director, George H.W. Bush, was murdered to silence his participation in the theft and sale of American nuclear warheads?
Carnaby was holding a trove of documents outlining the theft and transfer of hundreds of nuclear warheads from the Pantex Plant near Amarillo, Texas. Weapons sent there for disassembly were transshipped to Israel and, from there, refurbished, their cores remachined and then sold around the world or stored in Israeli embassies and consulates around the world.
The Russian report outlines a very different view of the past 30 years, a "view" that "fits like a glove."
DIMONA OUT OF ACTION
The report not only confirms Israel's nuclear weapon inventory but outlines the program of subterfuge and piracy required to keep Israel as a nuclear power after their facility at Dimona suffered a critical "event" in 1988.
"Dimona is a standard 75-megawatt thermal open top reactor as used in France for their plutonium weapons production program, their version of Stanford (Editor's note: Probably "Hanford").

Due to overuse as a fast breeder reactor by the Israelis, Dimona suffered a "steam explosion" IE a flash over indecent due to neutron criticality back in the late 1980's under Bush 1. This shut down its operation for many years until repairs could be made.

It know only operates at very low power levels due to neutron absorption damage to the containment vessel. Now mainly use for isotope production. This forced the Israelis to turn to stolen nuclear stockpiles from the US for the continuation of their nuclear program."
The highly classified Russian report, released, experts believe, to demonstrate American hypocrisy over recent events in the Ukraine, is a litany of horror stories. If this is a "first shot over the bow" by Russian intelligence, American officials can only dread what may be to come.
BACKGROUND

48 hours ago, the retired chief of Russia's counter-intelligence effort for the Middle East released a highly classified report designed to embarrass the United States and demonstrate their servitude to Israel and complicity in broad acts of nuclear proliferation.
The report, loaded with "shock value" intelligence and backed by reams of supporting documents including classified nuclear weapons plans demonstrated that Russia has been able to maintain a high level of penetration of not just American nuclear weapons labs but security agencies as well.
ROUND ONE, 9/11
The report, carefully structured for maximum shock value, begins with 9/11, the watershed event of our era:
"The type of nuclear devices used on 911 were a modified version of the W-54 nuclear artillery shells that were covertly provided to the Israelis between 1988 and 1998 from US surplus stockpiles illegally exported during the Bush/Clinton era.
Chemical analysis done by DOE Sandi was able to identify the chemical/radiation footprint or fingerprint of the warheads based on samples taken after 911 of the fallout at ground zero."
According to the report, 911 was an Israeli operation facilitated by blackmail of Bush 41 and 43, threatening them with "outing" for their personal financial involvement in the sale of 350 primarily w54 nuclear artillery rounds, sold through Israel but distributed to a number of nations.
The Russian report further outlines that NATO partners, particularly Britain and France, were involved every step of the way. 911 was cover for stolen gold, stock fraud and the looting of the American economy. The "wars for profit" were the Bush boys cashing in on their own.
THE "HOW" OF 911
A number of theories have been introduced to explain the mysterious effects seen at ground zero on 9/11. In an article on the Press TV website, evidence of a widespread cover-up of an epidemic of radiation exposure-related cancers tied to 9/11, was presented.
Not only has Russia confirmed the Press TV findings, they present evidence of nuclear weapons use, evidence from a suppressed report based on findings by the Department of Energy's Sandia Laboratories.
"Only a 2 kiloton device was needed to drop the buildings. A 2 kiloton device will produce a fireball of apx 150 to 200 feet in diameter at over 4000 degrees Centigrade. Just large enough to melt the I beams of the central core of the building and drop them in place. The light flash would last less than 1 second and primarily be in the UV light range. Overpressure would only be at 60PSI max and directed upwards with the blast.
Fallout would be minimal and located to within ground zero range only. Radiation would drop to acceptable levels within 72 hrs. after the blast. Most fall out was trapped in the cement dust thus causing all of the recent cancer deaths that we are now seeing in NYC amongst first responders."
The report continues with details that close the door on speculation about 9/11, putting an end to conspiracy theories and, in particular, the wildest one of all, the pseudo-science fairy tale broadly rejected by the 9/11 Commission but allowed to stand as America descended into an Islamophobic frenzy.
"Fallout would be minimal and located to within ground zero range only. Radiation would drop to acceptable levels within 72 hrs. after the blast. Most fall out was trapped in the cement dust thus causing all of the recent cancer deaths that we are now seeing in NYC amongst first responders.

Melted steel and iron oxide or "nano thermite" is a byproduct of the very high gamma ray / Neutron flux induced into the central steel core. The radiation dissolves the steel into iron oxide consuming the carbon and silicone in the steel."
This explains the missing steel columns and the very important clue of the "vaporized" 20 ton antenna tower atop the south tower. The upward blast of radiation literally vaporized it. Video evidence proves this to be true.
The total (redacted) data file from DOE Sandia on the 911 event is well over 72 MB. "P.S. Snowden didn't have a Q clearance so he missed this one."
The scope of the Bush/Cheney/Israeli nuclear proliferation operation, according to the report, is well beyond anything imagined. Here, Russia places the blame, naming not only Vice President Dick Cheney and former White House Chief of Staff Ram Emanuel but Tom Countryman, tasked, according to Russian sources, with actually managing the program that spread nuclear weapons to Brazil, North and South Korea, Saudi Arabia and a number of other nations.
"Illegal distribution of US nuclear material to foreign allies was not limited to Israel. Virtually all NATO allies were in on this scam too. Dick Cheney was the bad guy on this one. Bush2/Cheney traded nuclear pits to foreign country as IOU's in order to get what they wanted. Tom Countryman a well-known Israeli operative is curiously now in charge of N.N.P. at the State Department under Obama. He was put there by Ram Emanuel."
REACTIVATING "DEAD NUKES"
Only nuclear weapons that had deteriorated but could be recommissioned were of use to Israel. The Russian report outlines the basis for selecting the W-54 warhead and exacting details on how weapons were created out of America's "nuclear scrap heap."
"A total of over 350 pits were transferred to the Israelis over a 10 to 20 year period of time. The W-54 type of pit design were the most desirable due to the 2 point implosion pit design. This is the easiest to re manufacture and modify as compared to other circular pit designs.
The pill shaped design of the W-54 type weapon contains over 1.5 times more plutonium than a standard pit. This would allow enough Plutonium to be recovered that was still of weapons grade use even after 32 plus years of age. Americium build up in the pit over time eventually makes the Pit unusable as a weapon so they have a limited shelf life based on how fast or slow the Plutonium was produce in the reactor at Stanford.
Usually it was about 150 days max. Irradiation time in the reactor during production determines the shelf life of the pit as weapons grade material. All of the micro nukes used by the Israelis are re-manufactured W-54 type series devices."
CONCLUSION
According to the Russian report, Israel used remanufactured W-54 warheads, reconfigured as micro-nukes, for terror bombings in Bali, London and to destroy the Fukashima nuclear reaction site in Japan.
With weapons around the world, stored in embassies and consulates, and their powerful friends in the American "right," Israel has managed to maintain nuclear superpower status without a real production facility, using only pirates and traitors, something America, according to our Russian sources, seems to have no shortage of.
Gordon Duff is a Marine Vietnam veteran, a combat infantryman, and Senior Editor at Veterans Today. His career has included extensive experience in international banking along with such diverse areas as consulting on counter insurgency, defense technologies or acting as diplomatic representative for UN humanitarian and economic development efforts. Gordon Duff has traveled to over 80 nations. His articles are published around the world and translated into a number of languages. He is regularly on TV and radio, a popular and sometimes controversial guest. 
Source: Veterans Today | Press TV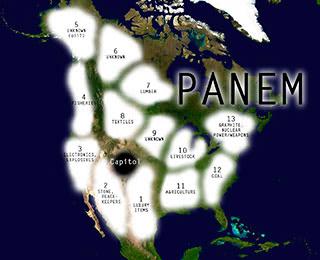 One of the most popular films of 2012 was The Hunger Games which portrayed a post-apocalyptic nation called Panem in which a super-rich, super-pampered, super-callous 'elite' lived in high-tech luxury while the rest of the population daily battled to survive in abject poverty locked away behind prison fences in intensively-populated 'people zones'. Panem comes from the Latin phrase 'panem et circenses' or 'bread and circuses' — a term derived from Rome and meaning to give the people diversions and distractions to hide what is being done to them. Exactly what is happening today.
The Totalitarian Tiptoes to just such a world are happening all around us, although most people can't see this because they don't connect the dots. People tend to live in their own 'little world' and focus on only a few subjects and interests. This gives them a distorted view of what is happening because they are so busy concentrating on the strands that they cannot see the tapestry. The world of The Hunger Games is already well on the way to fruition unless humanity has a fundamental reassessment of reality.
The foundations, structure and 'must haves' of a Hunger Games society are detailed in a plan being imposed through the United Nations called Agenda 21 which encompasses two related themes of 'sustainable development' and 'biodiversity'. Sustainable development — as in don't use more than can be replaced — sounds sensible enough at first until you realize what this and biodiversity really mean in the context of the conspiracy.
Agenda 21 was established at the United Nations Conference on Environment and Development in Rio de Janerio, Brazil, in 1992, hosted by Maurice Strong, a Canadian oil and business billionaire and long-time front man for the Rothschilds and Rockefellers. Strong has been a leader of their exploit-the-environment-to-scam-the-people programme which is now in full flow. Strong is a member of the Club of Rome, the environmental Hidden Hand in the Round Table network that includes the Bilderberg Group, Trilateral Commission and Council on Foreign Relations.
Strong said in support of Agenda 21:
'Isn't the only hope for this planet that the industrialised civilization collapse? Isn't it our responsibility to bring that about?'
This is a man who became mega-rich through the oil industry. He now lives in billionaire luxury in China where carbon-emitting industry is booming and he is a director of the Chicago Climate Exchange (largest shareholder, Goldman Sachs), which is 'the world's first and North America's only legally-binding greenhouse-gas emission registry reduction-system for emission sources and offset projects in North America and Brazil'.
The Exchange was established with funding from the Joyce Foundation where Barack Obama was once a director. Strong and Al Gore make money through the Carbon Exchange and other means from the lies they promote about climate change and the solutions they propose. Kate Johnston wrote on the Globalresearch.cawebsite:
'The same men that sold us the myth of man-made global warming are the same men that sold us the "solution" of a Carbon Tax and Emissions Trading Scheme and now they're profiting off their lucrative investments which are based on lies.' (See "The Climate Change Hoax").
Strong fled to China in 2006 after being accused of corruption with respect to the UN oil for food program.
Climate change propaganda is a No-Problem-Reaction-Solution technique to justify Agenda 21 and its stable-mate the Biodiversity Treaty. This is an internationally-binding document involving nearly 200 countries. The United States signed the treaty, but it was not ratified by the Senate after people like ecologist and ecosystem scientist Dr. Michael Coffman exposed its true consequences and implications. He said that he realized during the 1980s and 1990s that the plan was to use the excuse of protecting the environment to confiscate half the land of the United States.
Similar plans exist for every other country. America may not have ratified the treaty, but it is being implemented by the day. Agenda 21 demands the central global control of all land; all private property; all water sources and distribution; all other resources which includes people in its definition; all energy supplies and distribution and all food production and distribution.
Agenda 21 is called 'the agenda for the 21st century' and that refers to global fascism / communism. This is a summary of what Agenda 21 / Sustainable Development / Biodiversity is seeking to impose:
An end to national sovereignty
State planning and management of all land resources, ecosystems, deserts, forests, mountains, oceans and fresh water; agriculture; rural development; biotechnology; and ensuring 'equity' (equal slavery)
The State to 'define the role' of business and financial resources
Abolition of private property (it's not 'sustainable')
'Restructuring' the family unit
Children raised by the State
People told what their job will be
Major restrictions on movement
Creation of 'human settlement zones'
Mass resettlement as people are forced to vacate land where they currently live
Dumbing down education (achieved)
Mass global depopulation in pursuit of all the above
This horrific plan is being coordinated through the United Nations, the stalking horse for world dictatorship, via a non-governmental network once called the International Council of Local Environmental Initiatives ICLEI), and now known as Local Governments for Sustainability although still using the shortened name ICLEI. The United Nations is now opening 'embassies' around the world called 'UN Houses' under the guise of raising awareness of UN activities, but not the activities that people really need to know about. They have opened one in Hunter Square, Edinburgh, Scotland, for example.
Local Governments for Sustainability (ICLEI) and other organisations are integrating the plan into every village, town, city and region and it is already becoming widespread across the world. The organisational infrastructure of Agenda 21 is already fantastic and involves government agencies, non-governmental organisations (NGOs), think-tanks, trusts, foundations, 'training' (mind control) operations and 'initiatives' which have been building the infrastructure for what they call 'the post-industrial, post-democratic' society while the public go about their daily business oblivious of the prison being built all around them by the hour.
Harvey Ruvin, a vice-chairman of ICLEI, was asked how Agenda 21 would affect liberties with regard to the US Constitution and Bill of Rights, private property and freedom of speech. He replied:
'Individual rights must take a back-seat to the collective.'
The arrogance of these people is breathtaking. The extraordinary network supporting ICLEI and Agenda 21 includes the Rockefeller-sponsored America 2050; United Cities and Local Governments (UCLG); Metropolis; World Economic Forum; United Nations Framework Convention on Climate Change; United Nations International Strategy for Disaster Reduction; World Bank; Clinton Climate Initiative; Climate Group (Tony Blair); World Conservation Union (IUCN); Renewable Energy and Energy Efficiency Partnership; Global Footprint Network; Renewable Energy and Energy Efficiency Partnership; Global Footprint Network; International Centre for Sustainable Cities; Earthquakes and Megacities Initiative and the Stakeholder Forum. These and so many others are working to the same end — Agenda 21 and total human enslavement worldwide, although most of those involved will have no idea that they are building a global prison for themselves and their families.
Another of these front organisations is the World Business Council for Sustainable Development which includes the hideously anti-people Monsanto. Destroying food-growing land, contaminating the countryside with toxins and replacing proper food with deadly and soil-destroying genetically-modified organisms is Monsanto's contribution to 'sustainability'. Agenda 21 is operating in more than 600 towns, cities and counties in the United States and expanding by the day.
A member of the Agenda 21 committees in Santa Cruz, California, in the mid-1990s said that the proposals he heard were so crazy that he laughed at them because they could never happen. These included that 'Mother Earth's surface was not to be scratched'; humans should be concentrated in settlement zones; education should focus on the environment as a central organising principle and all aspects of life covered by Agenda 21, but all of these crazy plans are now being introduced. It's all happy, feely, smiling faces and how we care, when the truth is that Agenda 21 is a vicious, brutal, heartless strategy to impose a global Orwellian state.
Agenda 21 manipulators either create or hijack some local organisation or other, many of them in locations with large populations, and they have their (controlled) leadership to agree the Agenda 21 blueprint for their community together with any uninformed, unwitting idiots who can be sold a human nightmare as saving the planet. This allows them to claim that decisions were made after 'public participation' when that would have been the last thing they wanted, and 99 percent of the 'community' has never heard of Agenda 21 let alone had their say on it. They want no democracy which is why these people talk privately, sometimes even publicly, about the post-democratic, post-industrial society.
They want to control every man, woman and child on the planet — everyone and everywhere and every resource, water source and piece of land. To do this they need a global structure of fascist control that goes right down into every local community with the jackboots at local level enforcing the will of the global centre. This is why there is so much emphasis on local authorities and town and city authorities in Agenda 21.
There is a 'training organisation' called Common Purpose (common purpose, common consensus, everyone the same) which has been paid very large amounts of money by governments and local authorities, police forces and other institutions of state to 'train the leaders' of the post-democratic, post-industrial society. Common Purpose was heavily represented in the Leveson 'inquiry' leading to new media laws in Britain. It is not a training programme; it is a programming programme and turns out unquestioning zombie administrators who serve the god of Agenda 21 and the associated European Union. The theme of 'common' also applies to the ever greater standardisation of laws and regulations and constant reference to 'international law'. This is the unfolding global dictatorship of Agenda 21. What do you need to be a global dictator? Laws that everyone on the planet must obey — international law and the standardisation of global regulation.
You can see The Hunger Games connection when you look at the official Biodiversity wish-for map of the United States in Figure 1. The red areas are designated for no human use and most of the rest of America is confiscated for little and highly-regulated use. The mass of the population would be concentrated in high-rise, densely-packed 'human settlement zones' and denied access to something like 80 percent of present day America. It is without question the world of The Hunger Games with a globally-enforced top-down hierarchy that has a world government using its world army and police force to impose its will at regional and local levels (sectors). The Rockefeller-funded America 2050 has produced a map of the new United States divided into eleven 'megaregions' and includes parts of Canada (Figure 2). Seattle, Portland and Vancouver, British Columbia, become the megaregion known as 'Cascadia' and this regional system comes under the collective name of 'megalopolis' which is Greek for large city or great city. America, Canada and Mexico are due to merge to form the North American Union in line with the European Union blueprint.
The European Union is planned to be broken up into regions and the same structure is in development all over the world. The map of the new Europe has regions from different countries linked up with regions in other countries to end any vestige of national sovereignty or even national existence (Figure 3). This is a global plan with its fierce central control hidden behind its lower elements such as the European Union and local government. What is planned would clearly require a fantastic reduction of the global population and this is indeed what Agenda 21 / Sustainable Development / Biodiversity demand.
The e-book Agenda 21: Your Life In Their Hands can be downloaded here.
reference:
Icke, David. The Perception Deception. Ryde: David Icke Books, 2013.
Julian Websdale is an independent researcher in the fields of esoteric science and metaphysics, and a self-initiate of the Western Esoteric Tradition. His interest in these subjects began in 1988. Julian was born in England, received his education as an electronic and computer engineer from the University of Bolton, served in a Vaishnava monastery during 2010, and has travelled to over 21 countries. Julian is also a member of the Palestinian Solidarity Campaign.
Source: Julian Websdale  |  Waking Times | War Is Crime
Sometimes I just want to pimp slap people.
Last summer, I was at dinner during a sales convention. The conversation didn't get political until someone mentioned the NSA.
There is one in every crowd. Someone piped up and said, "They can spy on me all they want. I am not doing anything wrong."
They sang this song in Germany in 1933. And they sang it with unprecedented gusto in the months following 9/11, all in the name of  "security" and "keeping us safe".
We were at the MGM Grand in Las Vegas, the world's second largest hotel. Nothing in the post-9/11 "national security" apparatus would prevent a terrorist from walking in, setting off a bomb, and killing hundreds or even thousands of people.
The more important questions are: How do you know you are doing nothing that could be construed as wrong by some state functionary? How do you know you are not breaking some law somewhere? And why are you so implicitly trusting that your government would never do anything evil with the information it has collected on you?
This is not purely an academic matter. The practical implications are profound.
I give you several examples.
1. Niakea Williams went to her son's St. Louis-area elementary school one day to pick up her son, who has Asperger's. The school was put on lockdown and Mrs. Williams was escorted out in handcuffs.
2. Adrionna Harris was almost expelled from her middle school in Virginia Beach after taking a razor blade away from a fellow student who was trying to harm himself.
3. Read what Houston police did to this man who gave 75 cents to a homeless person.
4. A little known Denver parking ordinance can get you a $25 fine even if you haven't exceeded the two-hour limit.
5. Police in Iowa City, Iowa, seized $50,000 from this couple without charging them with a crime.
6. Alberto Willmore lost his teaching job in Manhattan over a totally bogus marijuana arrest. Even though he was never convicted of anything, he was unable to get his job back.
7. Norman Gurley was arrested in Lorain County, Ohio, because a compartment in his car could have been used to transport drugs.
8. Los Angeles County sheriff's deputies shot and killed 80-year-old Eugene Mallory in his own bed during a meth raid. No meth, or any other illegal drugs, was discovered.
9. Paul Valin contacted police to report that he found a backpack full of what he believed to be meth-making equipment 15 miles from his home near Des Moines. As a result, the DEA placed his house on its list of meth labs.
10. Ryan Holle of Pensacola, Florida, lent his roommate his car on night in 2004. As a result, Holle is currently serving a life sentence without possibility of parole for pre-meditated murder.
11. New York police seized Gerald Bryan's cash in a nighttime raid in 2012. Even though Bryan was cleared of any wrongdoing, the stolen cash was deposited in the NYPD pension fund.
12. Robert Duncan is currently serving two years in a California prison, even though the business in which he worked was legal in California.
13. Jordan Wiser spent 13 days in jail after Jefferson, Ohio, police found a pocketknife during a warrantless search of his car.
14. During a school lockdown in Clarksville, Tennessee, David Duren-Sanner gave police permission to search his car as he had "nothing to hide". Police found a fishing knife. Duren-Sanner, who previously had never been to the principal's office, was suspended for 10 days and then sent to an alternative school for 90 days.
15. Look what happened to these parents in Napa, California, even though the medical marijuana prescriptions they had were completely legal.
16. Eileen Ann Bower of suburban Pittsburgh had her newborn child taken from her for 75 days because of a false positive drug test.
17. Jerry Hartfield of Bay City, Texas, has spent the majority of his life in prison, even though hisconviction was overturned in 1980.
18. Jason Dewing of update New York was found guilty of violating a law that did not exist.
19. Don Miller of Waldron, Indiana, had his home raided by FBI agents who seized hundreds of cultural artifacts from around the world. Miller was neither arrested nor charged with anything.
20. This San Diego couple was pepper-sprayed and tasered by police who had erroneously identified their vehicle after being stolen.
21. The good news is that Brian Aitken of Mount Laurel, New Jersey, had his prison sentence commuted.The bad news is that he was originally sentenced to seven years behind bars for possessing two legally purchased guns.
22. This special needs student in McDonald, Pennsylvania, was charged with felony wiretapping for recording other students who were bullying him mercilessly.
23. Abner Schoenwetter of Miami served over six years in prison for – you can't make this stuff up – violating Honduran fisheries law.
24. Read what happened to John Filippidis of Hudson, Florida, when he was pulled over by state policewhile driving unarmed through Maryland.
25. In a case of mistaken identity, Lewis James of Durham, North Carolina, "was handcuffed and later jailed under a $1.425 million bond" after he had contacted the police to notify them of a dead body in the middle of the road. As someone put it on Facebook, "Don't call the cops. Ever. Even if you find a dead body. Just don't ever call the cops."
26. Read what happened to Diane Avera of Meridian, Mississippi, when she went to Alabama to buy Sudafed, even though she did not know that this was illegal.
27. Andy Johnson of Uinta County, Wyoming, faces EPA fines of $75,000 per day for building a pond on land that he owns.
28. Douglas Zerby of Long Beach was shot and killed by police while watering his lawn because some idiot neighbor thought the hose nozzle was a gun.
29. Darien Roseen was arrested and had his vehicle searched by sheriff's deputies in Payette County, Idaho, simply because his Colorado license plates led them to believe that he could have been carrying marijuana.
30. Brian Banks of Long Beach spent five years in prison and five more years as a registered sex offenderas a result of a rape conviction. And then his accuser changed her story.
These are not "isolated incidents." There are no doubt countless other examples of people who were doing nothing wrong, yet were harshly punished.
Also, consider the following:
• The Internal Revenue Code is 73,955 pages and millions of words long. No one has read it cover-to-cover and no one knows every aspect of it. Yet if anyone violates any of its provisions it can mean fines, prison or even death.
• We are often told that "ignorance of the law is no defense." To the right is a picture of the Yale Law Library. Do you know every law contained within these tomes?
Read what various emissaries of the Amerikan police state have done to these veterans who went all over the world to "fight for our freedom."
• Seventy-two types of Americans are classified as terrorists in various government documents. Senator Harry Reid has now added a seventy-third category.
• Read how police have used asset forfeiture laws to seize millions of dollars from people without charging them with any crimes.
• Read this article and pay special attention to these words from former NSA official William Binney: "The problem is, if they think they're not doing anything that's wrong, they don't get to define that. The central government does."
• Read how the Innocence Project has helped exonerate over 300 wrongfully imprisoned people, many of whom were on death row.
• Attorney Harvey Silverglate argues that the average American commits three felonies a day without even knowing it.
• This Ford executive claims that, thanks to GPS, "we know everyone who breaks the law."
• Although it has been estimated that there are over 3000 types of federal criminal offenses, no one knows the exact number for sure.
So, do you still feel you have nothing to fear?
America's founders, largely distrustful of centralized power, created several checks and balances into the U.S. Constitution to help insure that one person, or one group of people, would not be able to unilaterally exert his or their will over the American citizenry. First, the federal government itself was divided into three separate and distinct branches–each holding the capability (and responsibility) to check the power of the other. Second, the Bill of Rights was made part of the Constitution for the protection of individual liberties. Third, the "free and independent states" of the nation retained their sovereignty and independence after the central government was created (by the states), with the Tenth Amendment specifically recognizing their authority and jurisdiction over matters not directly delegated to the federal government.
It was also assumed that the freedom of the press and the freedom of religion would help the citizenry be sufficiently informed and inspired to keep the would-be despots at bay. And, of course, "We the People" are recognized as being the ultimate guardians of liberty by the recognition that "to secure these rights, Governments are instituted among Men, deriving their just powers from the consent of the governed." (Declaration) The "consent of the governed" was given teeth by the constitutional recognition of the people's right to wield the power of the voting booth, the jury box, and, as a last resort, the cartridge box.
What has become increasingly obvious to a large segment of the American populace is the complete unwillingness of the national media to hold the federal government accountable. Neither do America's pulpits provide the moral leadership necessary to maintain good government. The freedom of the press and religion accomplish precious little today in the safeguarding of liberty. And it is also absolutely clear that the three branches of government in Washington, D.C., adamantly refuse to use the constitutional obligations placed upon them to hold the federal government in check.
The latter was made crystal clear by a recent decision by the Supreme Court of the United States. Here is the report:
"A decision by the U.S. Supreme Court means the federal government now has an open door to 'detain as a threat to national security anyone viewed as a troublemaker,' according to critics.
"The high court this week refused to review an appeals court decision that said the president and U.S. military can arrest and indefinitely detain individuals.
"The firm of William J. Olson, P.C., which filed a friend-of-the court brief asking the court to step in, noted that not a single justice dissented from the denial of the request for review.
'The court ducked, having no appetite to confront both political parties in order to protect the citizens from military detention,' the legal team said in a statement to WND. 'The government has won, creating a tragic moment for the people–and what will someday be viewed as an embarrassment for the court.'"
The report continues: "The controversial provision authorizes the military, under presidential authority, to arrest, kidnap, detain without trial and hold indefinitely American citizens thought to 'represent an enduring security threat to the United States.'
"Journalist Chris Hedges was among the plaintiffs charging the law could be used to target journalists who report on terror-related issues.
"A friend-of-the-court brief submitted in the case stated: 'The central question now before this court is whether the federal judiciary will stand idly by while Congress and the president establish the legal framework for the establishment of a police state and the subjugation of the American citizenry through the threat of indefinite military arrest and detention, without the right to counsel, the right to confront one's accusers, or the right to trial.'
"The brief was submitted to the Supreme Court by attorneys with the U.S.
Justice Foundation of Ramona, California; Friedman Harfenist Kraut & Perlstein of Lake Success, New York; and William J. Olson, P.C. of Vienna, Virginia."
Amici Curiae of the brief included U.S. Congressman Steve Stockman, Virginia Delegate Bob Marshall, Virginia Senator Dick Black, Gun Owners of America, Downsize DC Foundation, Western Journalism Center, The Lincoln Institute for Research and Education, Tenth Amendment Center, Policy Analysis Center, Constitution Party National Committee, Professor Jerome Aumente, and yours truly, among others.
See the brief here:
The WND report goes on to say: "The 2012 NDAA was fast-tracked through the U.S. Senate, with no time for discussion or amendments, while most Americans were distracted by the scandal surrounding A&E's troubles with 'Duck Dynasty' star Phil Robertson.
"Eighty-five of 100 senators voted in favor of the new version of the NDAA, which had already been quietly passed by the House of Representatives. [Disgustingly, Montana's only U.S. House member, Republican Steve Daines, who purports himself to be a staunch conservative, voted for the indefinite detention provision of the NDAA, as did Montana's two Democrat Senators Max Baucus and Jon Tester. How did your congressman and senators vote? In my opinion, this is a monumentally-important vote, and a vote granting this unconstitutional power to the military and federal police agencies is inexcusable and demonstrates how both Democrats and Republicans will unite together to dismantle the constitutional protections of the American people in the name of "national security."]
"Hedges, a Pulitzer Prize-winning journalist, and others filed a lawsuit in 2012 against the Obama administration to challenge the legality of an earlier version of the NDAA.
"It is Section 1021 of the 2012 NDAA, and its successors, that drew a lawsuit by Hedges, Daniel Ellsberg, Jennifer Bolen, Noam Chomsky, Alex O'Brien, Kai Warg All, Brigitta Jonsottir and the group U.S. Day of Rage. Many of the plaintiffs are authors or reporters who stated that the threat of indefinite detention by the U.S. military already had altered their activities.
"'It's clearly unconstitutional,' Hedges said of the bill. 'It is a huge and egregious assault against our democracy. It overturns over 200 years of law, which has kept the military out of domestic policing.'
"Hedges is a former foreign correspondent for the New York Times and was part of a team of reporters awarded a Pulitzer Prize in 2002 for the paper's coverage of global terrorism."
See the complete WND report here:
Supreme Court Green Lights Detention Of Americans
Remember that it was Republican President George W. Bush and a Republican U.S. House and Senate that shackled the American people with the USA Patriot Act, the Department of Homeland Security–along with the rest of the gargantuan police state apparatus under which the people of the United States are now being forced to live. And it is Democrat President Barack Obama and a Democrat U.S. Senate–along with a Republican U.S. House–that continues to expand the reach of this police state. One thing that both Republicans and Democrats and conservatives and liberals agree on is the construction and implementation of a police state. Under the rubric of "national security" or "law and order," the Bill of Rights is being systematically and deliberately expunged by both sides of the political aisle.
And now we know the judicial branch of government in Washington, D.C., also refuses to hold the executive and legislative branches of government in check–as if we needed more evidence. Both Republican-appointed and Democrat-appointed justices refused to say a word condemning this draconian abuse of power within the NDAA. By so doing, the Supreme Court showed itself unwilling to stand in between the liberties of the American people and an ever-burgeoning police state.
In fact, when it comes to holding the government in DC in check, when does the Supreme Court ever intervene? Hardly ever! If it is a dispute between the states and the federal government or between individuals and the federal government, SCOTUS almost always rules in favor of DC.
Once-in-awhile, one or the other branch of government (including the judicial branch) in DC will be willing to protect constitutional liberties from another branch of government in DC, but such instances are the exception, not the rule.
And since the liberties of the American people have few friends in the national media or in the country's pulpits, the protection of our freedoms has quickly come down to the states, the local media (yes, some local media is still friendly to freedom), county sheriffs, and the people ourselves.
Currently, there is a huge momentum building among State legislatures to begin pushing back against the overreach of Washington, D.C. For example, the State of Texas is squaring off against the BLM over tens of thousands of acres along the Red River border of Texas and Oklahoma, and the State of Utah has already passed legislation claiming more than 30 million acres currently controlled by the federal government. Here is an excerpt from a Breitbart.com report:
"Utah Governor Gary Herbert (R), earlier this year, signed the Transfer of Public Lands Act. This new state law calls upon the federal government to turn over control of more than 30 million acres to the State."
See the complete report at:
Utah Grabbing Land From BLM While Texas Plays Defense
Plus, more and more county sheriffs are beginning to stand against federal encroachments. Read this report:
And, of course, just recently it was "We the People" standing against a brutish, totalitarian-style federal assault against the Bundy family in Bunkerville, Nevada. And among the brave souls at Bunkerville were State and local officials and even county sheriffs. And I was there, too. Here is the video of my message to, and prayer service for, the Oath Keepers and militia on the ground there in Bunkerville:
Sermon & Prayer At Bundy Ranch
As the three branches of government in Washington, D.C., become less and less accountable to the checks and balances assigned them by the Constitution, it is going to require that the states, county sheriffs, and people ourselves become more and more engaged in pushing back against federal overreach and abuse of power.
What happens when an institution becomes more important than the cause for which the institution was formed? How long should people who believe in the cause remain loyal to such an institution? And at what point does loyalty to such an institution comprise an abandonment of the cause itself?
I'm afraid the majority of Americans have been institutionalized in a manner not unlike the way prisoners are institutionalized after a long period of confinement. After a point, a prisoner is so conditioned to accepting the circumstances of his confinement that, should he be released from confinement, he truly would be unable to cope. Such seems to be the mentality of a majority of us today.
Christians have been institutionalized. The reason and purpose of the church or Christian organization is no longer relevant. Generations have grown up reciting the same liturgies, regurgitating the same prayers, and rehearsing the same programs until the reason for it all doesn't even matter. But take the institution away from them, and they would not be able to cope.
The Pharisees despised the Lord Jesus because He challenged the religious institutions that had come to govern people's lives. I am convinced if Jesus came to America today, He would be just as despised by the vast majority of our religious leaders as He was by the Pharisees.
The Church that Jesus built in the Book of Acts owned no buildings, was indebted to no lenders, took no tax benefits from the civil government, had no denominational hierarchy, and identified itself with no ecclesiastical brand. And the Church was just as persecuted by the religious establishment as Christ was.
One of the reasons one may know that the modern church is so unlike Christ and the apostles is by the persecution that it never experiences. Just as the Pharisees were bosom buddies with the Roman Empire's governing elite, so are our religious leaders today. Caesar was very generous in sharing the fruit of his tyrannically-extracted bounty with his allies in the Jewish Sanhedrin. And they were happy to return the favor by insisting that the Hebrew people submit to Caesar's harsh rule over their lives.
The Pharisees also enjoyed a cozy relationship with the moneychangers. The moneychangers were descended from a long line of corrupt banking interests that dated all the way back to the Edomites. We are not talking about your friendly local banker here. These were highly organized, well-positioned money-manipulators. Jesus was so incensed with their manipulation and theft within in the Temple that he used physical violence to remove them from the property. He is recorded as doing this twice in the Gospel narratives. Note that after the second time in which it is recorded that He drove out the moneychangers (with a whip, no less), the Pharisees soon had Jesus crucified. There is no question that one of the reasons Pilate ordered Jesus to be scourged with a whip was in direct retaliation for the manner in which Jesus whipped the moneychangers. Remember, the moneychangers were from a very well-ensconced, elitist national (and even international) organization.
And lest you think all of this is irrelevant to today, the moneychangers are still very much with us. The Rothschilds, Rockefellers, and other members of the international banking elite, are the direct descendants of the moneychangers of Jesus' day. And if you ever have an opportunity to ask one of them about it, they will proudly admit it.
Yes, the Pharisees institutionalized religion. This accomplished two things: 1) it helped enslave the people, 2) it helped make them rich. The institutionalized church is accomplishing much the same things today.
The establishment church is doing as much to enslave people as any other institution in the world. Our political institutions and educational institutions have nothing on the church for making good little subjects and serfs to the all-powerful state. And if you don't think that a host of church leaders are not reaping the spoils from assisting our taskmasters, you're not paying attention.
Many, if not most, of these big-name TV evangelists have as many houses and yachts and Swiss bank accounts as any big-name Hollywood actor or politician. In some cases, more. Most of these big-church pastors are bathing in luxury. Many of them take the kinds of vacations that only CEOs of the biggest corporations or presidents could afford. Do you really think that the IRS rules and regulations governing these non-profit corporations, called churches, really bother these church leaders? Get real!
No wonder all of these "successful" preachers are constantly teaching their congregations to always submit to the government. No wonder they have no interest in abandoning their 501c3 tax-exempt status. They are in the exact same position as were the Pharisees of old. And they are just as effective in helping to enslave people today as were the Pharisees.
The institution of the church–along with its programs, formalities, buildings, rituals, etc.,–has become more important than the purpose for which the church was created. Instead of preaching the liberating message of the Cross, which frees men from the fetters of sin–and that includes sinful political and financial fetters–the church is preaching a message of subjugation and enslavement. It is teaching people to submit to all kinds of oppression, including religious oppression.
Some of the most oppressed and subjugated people in the world are religious people. There are churches and Christian colleges that are every bit as tyrannical as anything coming out of East-bloc or Muslim countries. About the only thing missing is physical torture and execution. Spiritually, however, the oppression is the same.
How could real men who love the liberty they have in Christ allow themselves–and especially their wives–to be told how to dress, how to wear their hair, what kind of music to listen to, what kind of vacations to take, what restaurants they may or may not eat at, what forms of entertainment they may or may not participate in, etc., etc., ad infinitum?
I tell you the truth: many Christians in America are already slaves. To talk to them about freedom is a complete waste of time. The chains of tyranny are already clamped around their hearts. Why should it matter to them if chains are clamped around their necks? When they talk about "defending the faith," they are talking about defending the institution. They are slaves to the institution. And the same is true for many unchurched Americans.
What is more important: liberty, or the government that is supposed to secure liberty? To a sizeable number of Americans today, it is more important to preserve the institution than the freedoms that the institution was created to protect.
Our Declaration of Independence states, "That whenever any Form of Government becomes destructive of these ends [the God-given rights of life, liberty, etc.], it is the Right of the People to alter or to abolish it, and to institute new Government, laying its foundation on such principles and organizing its powers in such form, as to them shall seem most likely to effect their Safety and Happiness."
Did you see that: "any form of government"? ANY FORM. The form of government is only as good as its ability to secure liberty.
I hear a lot of politicians and media personalities talking about "American exceptionalism." This is a potentially dangerous mindset. If one means that America is exceptional in our history and the manner in which our Constitution and Bill of Rights were established to protect liberty, well and good. But if it means that America has carte-blanche to do anything it wants–no matter how unconstitutional or tyrannical–because it is "exceptional," it is a bunch of hooey.
What difference does it make if we have a 50-State Union or not? There is a bill in the California legislature that would divide that State into six states. Five counties in Western Maryland are trying to secede from Baltimore. Ten northern counties in Colorado are trying to secede from Denver. If a State refuses to secure the liberties of the people of that State, they have every right under God to separate. The State is not nearly as important as the liberties of the people within the State.
The spirit of secession is actually growing like wildfire all over the world. In recent history, Serbia, Slovenia, Croatia, Bosnia, Montenegro, Macedonia, and Kosovo all separated from Yugoslavia. Transnistria broke free from Moldova. Abkhazia and South Ossetia fought free from Georgia. The Slovaks seceded from Czechoslovakia. And now Crimea is separating from Ukraine.
To be sure, not every country that secedes from another country is motivated purely by the love of liberty. But for those of us in America, the issue that has propelled the desire to separate from one country or one State has always been liberty. It was the love of liberty that created the United States and that created the free and independent states of Maine, Vermont, Kentucky, and West Virginia–all of which seceded from existing U.S. states.
Furthermore, what difference does it make if Washington, D.C., is our federal capital, or, if say, Helena, Montana, would become the federal capital of a mountain state confederation of Montana, Idaho, Wyoming, Northern Colorado, eastern Washington and Oregon, the Dakotas, Alberta and British Columbia, Canada, and Alaska? Or if Austin was the federal capital of an independent Republic of Texas? Preserving some sort of political union (especially if it is a forced and coerced union) is not nearly as important as preserving liberty.
Again, it is not the political institution that is important. What is important is the liberty that the political institution is supposed to secure.
Many great minds in this country are already philosophizing over the possibility that secession is an idea whose time has come–again. A few years ago, Walter Williams wrote, "Like a marriage that has gone bad, I believe there are enough irreconcilable differences between those who want to control and those want to be left alone that divorce is the only peaceable alternative. Just as in a marriage, where vows are broken, our human rights protections guaranteed by the U.S. Constitution have been grossly violated by a government instituted to protect them. Americans who are responsible for and support constitutional abrogation have no intention of mending their ways.
"Americans who wish to live free have two options: We can resist, fight and risk bloodshed to force America's tyrants to respect our liberties and human rights, or we can seek a peaceful resolution of our irreconcilable differences by separating. That can be done by peopling several states, say Texas and Louisiana, control their legislatures and then issue a unilateral declaration of independence just as the Founders did in 1776. You say, 'Williams, nobody has to go that far, just get involved in the political process and vote for the right person.' That's nonsense. Liberty shouldn't require a vote. It's a God-given or natural right.
"Some independence or secessionists movements, such as our 1776 war with England and our 1861 War Between the States, have been violent, but they need not be. In 1905, Norway seceded from Sweden, Panama seceded from Columbia (1903), and West Virginia from Virginia (1863). Nonetheless, violent secession can lead to great friendships. England is probably our greatest ally and we have fought three major wars together. There is no reason why Texiana (Texas and Louisiana) couldn't peaceably secede, be an ally, and have strong economic ties with United States.
"The bottom line question for all of us is should we part company or continue trying to forcibly impose our wills on one another?"
See William's column here:
Hear! Hear!
In the eyes of God, marriage is the most sacred of all unions. It is far more sacred than any political union. If our Creator has authorized the separation of a husband and wife under certain circumstances in which one party violated the sacred terms of the holy contract (and He has), who among us has the audacity to say that political unions may not be abandoned when government commits political adultery by forsaking its oath to the people?
Again, are we more interested in preserving an institution or the liberty that the institution is supposed to secure?
As an institution, the Church at large is apostate. Yet, millions of Christians continue to prop up an institution that has abandoned the purpose for which it was created. They are more interested in preserving the forms and liturgies and tapestries and buildings of the institution. And, all the while, they are being spiritually enslaved by the very institution they are helping to prop up.
And as an institution, the U.S. federal government is apostate. Yet, millions of citizens continue to make excuses for it, justify it, and condone it. They are more interested in preserving the agencies and entities and power of the institution. Yet, all the while, they are being enslaved by the very institution they are helping to prop up.
What happens when an institution becomes more important than the cause for which the institution was formed? When the institution is civil government and the cause is liberty, tyranny is what happens.
At this time, our U.S. Congress rates a nine percent approval rating. It means nine percent of the American public registers "brain-dead."
Those 535 members over the past 40 years deformed our nation from the largest creditor country in the world to the largest debtor nation in the world. We enjoyed less than $1 trillion in national debt to our current $18 trillion debt. That same Congress forced our young men and women into four hopeless, futile and asinine wars that killed tens of thousands of them and sent millions home with Post Traumatic Stress Disorder, drugs and alcoholism. Not to mention dismembered limbs.
That Congress danced to the Military Industrial Complex's tune of contrived wars benefiting the bankers and corporations that outfitted and fed those young soldiers. Those executives made millions while our kids came home in coffins or missing arms and legs and their minds.
That same Congress turned our nation from a rich manufacturing country into a multi-trillion dollar deficit nation where we import everything we once manufactured, to today where we buy everything from China to make their citizens rich. So rich, in fact, that we owe them $1.4 trillion in trade deficits. Ironically, China now owns many U.S. corporations and buys land for its own beachhead here in America, not to mention Vancouver, BC, Canada where it displaced most of the Canadians in the past 30 years. Chinese now dominates the language in once-English speaking Vancouver, BC.
That bunch of hot shot Congressional Critters took our vibrant economy and turned it into 15 million unemployed and 48 million food stamp users. Those same reps allowed 20 million illegal alien migrants to come into our country and work for crooked employers like Chipotle's, Marriot Hotels, Holiday Inns, McDonald's, Hormel, Tyson Chicken, Swift, painting, landscape and construction firms at minimum wages. They and the presidents that headed this country refused to enforce our laws. That's why you MUST press "1" for Spanish and "2" for English.
Today, we face enormous consequences from their actions. Yet, U.S. voters return 96 percent of incumbents—such as Boxer, Feinstein, Hatch, McCain, Kyle, Schumer, Lindsey Graham, Levin, Udall, Bennet, Rangel, Jackson, DeGette and hundreds of other failed Congressional Critters.
So are they stupid or are they corrupt?
One reader named Brad said, "They are not necessarily stupid. It's just that most of these psychopaths are bought. The wealthy buy their services and they get remuneration by jobs when they leave "service", by getting to indulge in insider trading (again – was cut out, but quietly reinstated) etc.
"Just allowing insider trading makes EVERY decision with any economic consequence suspect, as they will have a vested personal income interest in helping corporations increase profits by any means. Thus the repeal of clean air and water regulations. They allow oil fracking to use 2 million gallons of water per well, pour over 530 toxic chemicals into the aquifer to poison and ruin it, and remain exempt from EPA oversight.
"Some may not be bought. Some not all the time. The sad fact is that enough ARE compromised that essentially the damages get done consistently.
"Most in office are so stupid (such as California's Congresswoman Maxine Waters, who is also corrupt in the league with former Congressman Tom Delay of Texas) that they accept stupid, flawed societal paradigms like "what's good for business is good for America" and we can see how well that's working out.
"The parasitic wealthy class is stealing record profits in some of the worst working economy in history – why? Because they have the true entitlement society in which they get tax breaks, tax exemptions, no bid contracts, inflated government costs, subsidizations and most likely a ton of things we never hear about. Simply by allowing industry execs into the alphabet organizations like FDA, USDA, etc., allows them to regulate competition to a ridiculously low level, and to leverage their income, influence, and profits at everyone else's expense."
The greatest flaw facing all U.S. citizens remains "career politicians" that create a "good-old boy" network of cronyism and corruption.
If we citizens fail to press for a maximum of 12-year term limits, we face a downward spiral into poverty and failed government not seen since the 1930s. The majority of Congress remains corrupt. That's why things in the USA don't get better, but continue on the downward path.
Remember: power corrupts; long-term power corrupts absolutely.
A few days ago, a prominent attorney asked me a question: can religious liberty and the growing demands of government and others occupy the same space?  And if not, who wins?
This is, perhaps, not quite the right question.
Dr. Hannibal Lecter, aka "Hannibal the Cannibal" in  The Silence of the Lambs asked a more fitting one:
First principles, Clarice. Simplicity. Read Marcus Aurelius. Of each particular thing ask: What is it in itself? What is its nature?
Most pundits observing what has gone on recently in Arizona and other states regarding same-sex marriage have concluded, "We are witnessing a clash between religious and civil liberties."  While many nod their heads in agreement, this analysis is wrong.
The fact is that what the left is demanding now through our courts, through legislatures, and at ballot boxes around the country does not constitute "rights" at all, or at least not in the historical sense.
This is not a "clash of religious and civil rights."  This is a clash of freedom and untenable, outrageous demands.
There is something much, much deeper going on here.
Same-sex marriage is a trial balloon of sorts, being used to test how far Americans will allow their consciences to be suppressed by the State.
"If Christians can be compelled to lend a craft to something their conscience objects to, what can't they be compelled to participate in? We're talking about precedent; and the cases before us are bellwether test cases about whether private actors can be forcibly mandated to go against their conscience" ("Of Consciences and Cakes," First Things, Feb. 20, Andrew Walker).
A couple years ago, the Health and Human Services Contraceptive and Abortifacient Mandate served the same purpose, leading the way to where we now are.  When the State can get away with abusive behavior and strong-arm tactics toward even The Little Sisters of the Poor, let alone privately owned businesses such as Hobby Lobby, then statists know that the time is ripe to take another big step.
This battle is much bigger than anybody thinks it is.  We cannot see the forest for the trees.  We are not witnessing a clash of rights; we are in the middle of a massive social experiment.  This is a test for the viability of incremental totalitarianism.  Nothing less.
In a kind of Cloward-Piven Strategy, the assault – or "test," or however you want to identify it – is occurring on many different fronts and on many different levels simultaneously.  In addition to same-sex marriage and the health care mandate(s), we have the IRS targeting of conservative groups, constant Second Amendment attacks, voter photo ID initiatives labeled as racist by the DOJ, and state initiatives to curb abortions labeled a "War on Women."
Perhaps most chilling is the way that federalism is being undermined from within the states themselves.  State judges are now routinely overturning the expressed will of the people, acting unilaterally to impose novel viewpoints on entire state populations.
The fifty states, which are supposed to be laboratories for experimentation – conducting trial runs, so to speak – are being stripped of that function.
The beauty of America is our diversity, much of which is still reflected in the personalities of each of our states.  If the reach of the national government extends too far and we become thoroughly homogenized, we inevitably start moving toward a type of tyranny.  If the rules and the standards are exactly the same in every state, where can one go either for respite or advantage?  As the force of the national government grows, this key element of our American liberty recedes, perhaps to be lost forever.
The Economist magazine once described the wonderful functioning of our local governance very nicely:
America has 50 states with 50 sets of laws. Virginia will never ban hunting, but even if it did, there are 49 other states that won't. In America, people with unusual hobbies are generally left alone. And power is so devolved that you can more or less choose which rules you want to live under.

If you like low taxes and the death penalty, try Texas. For good public schools and subsidized cycle paths, try Portland, Oregon. Even within states, the rules vary widely. Bath County, Kentucky is dry. Next-door Bourbon County, as the name implies, is not. Nearby Montgomery County is in between: a "moist" county where the sale of alcohol is banned except in one city. Liberal foreign students let it all hang out at Berkeley; those from traditional backgrounds may prefer a campus where there is no peer pressure to drink or fornicate, such as Brigham Young in Utah. (Dec. 19, 2009)
If all our laws and regulations are essentially nationalized, there will be no choices left to us other than the single choice to comply.  The very thing that makes the United States such a wonderful success – E pluribus unum, "out of many, one" – is being destroyed.  Ironically, in the name of diversity, we are squashing diversity, trampling out opinions anathema to progressive ideology.
Statists are tickled pink that they are able to make headway on this.  And for the most part, the media are willing collaborators, as pointed out by Mollie Hemingway in The Federalist:
Religious liberty is a deeply radical concept. It was at this country's founding and it hasn't become less so. Preserving it has always been a full-time battle. But it's important, because religion is at the core of people's identity. A government that tramples religious liberty is not a government that protects economic freedom. It's certainly not a government that protects conscience rights. A government that tramples religious liberty does not have expansive press freedoms. Can you think of one country with a narrow view of religious liberty but an expansive view of economic freedom, freedom of association, press freedoms or free speech rights? One?
A media less hostile to religious liberty would think less about scoring cheap political points, creating uncivil political climates, and disparaging institutions that help humans flourish.  A media with a higher regard for truth would, it turns out, have a higher regard for religious liberty.
Sadly, we seem to have left the world of reason and tolerance. Could our media climate demonstrate that any better?  And what lies ahead, if left uncorrected, is illogical and tyrannical.  Freedom of religion was the central principle in the moral case of our country.  Once that's gone, how long can the Republic stand?
Returning to Dr. Lecter's question, "what is it in itself? What is its nature?"
Its nature is this: totalitarianism.
The current visible clash of religious and asserted civil "rights" is secondary – a symptom, not an actual cause.
In fact, the logical conclusion for the trajectory we are now on is the eventual squashing of both civil and religious rights, and this will occur because we have allowed a powerful government to play us one group against another.
What can each of us do?
The only way to stop the advancement of totalitarian measures is for the grassroots of each state to bravely stand up to the bullying, silencing tactics of out-of-touch, frightened judges, legislators, corporate cronies, and media collaborators, as they lead us down a path of decreased liberty and increased totalitarianism.
Stand up for social issues that you know in your gut to be true.  Don't allow yourself to be silenced by political correctness.  Stand up for marriage.  Stand up for life.  Stand up for the right of children to be born and to have both a mom and a dad.
Stand up also for constitutionally limited government and fiscal responsibility.
You have Truth with a capital T on your side.  You are right, and they are wrong, so do not be afraid.
Don't make the mistake of remaining quiet until you are certain you have a winning argument.  That is not your responsibility, and that is what the totalitarian left is hoping you will do.  All you are responsible for is to speak truthfully and to let others know your beliefs.  We outnumber them.  We can overwhelm them with Truth, if only each of us would open our mouths and proclaim the Truth at every opportunity.
Remember: be not afraid.
Source: Doug Mainwaring | American Thinker
What really happened in the Ukrainian crisis?
It is freezing cold in Kiev, legendary city of golden domes on the banks of Dnieper River – cradle of ancient Russian civilisation and the most charming of East European capitals. It is a comfortable and rather prosperous place, with hundreds of small and cosy restaurants, neat streets, sundry parks and that magnificent river. The girls are pretty and the men are sturdy. Kiev is more relaxed than Moscow, and easier on the wallet. Though statistics say the Ukraine is broke and its people should be as poor as Africans, in reality they aren't doing too badly, thanks to their fiscal imprudence. The government borrowed and spent freely, heavily subsidised housing and heating, and they brazenly avoided devaluation of the national currency and the austerity program prescribed by the IMF. This living on credit can go only so far: the Ukraine was doomed to default on its debts next month or sooner, and this is one of the reasons for the present commotion.
A tug-of-war between the East and the West for the future of Ukraine lasted over a month, and has ended for all practical purposes in a resounding victory for Vladimir Putin, adding to his previous successes in Syria and Iran. The trouble began when the administration of President Yanukovich went looking for credits to reschedule its loans and avoid default. There were no offers. They turned to the EC for help; the EC, chiefly Poland and Germany, seeing that the Ukrainian administration was desperate, prepared an association agreement of unusual severity.
The EC is quite hard on its new East European members, Latvia, Romania, Bulgaria et al.: these countries had their industry and agriculture decimated, their young people working menial jobs in Western Europe, their population drop exceeded that of the WWII.
But the association agreement offered to the Ukraine was even worse. It would turn the Ukraine into an impoverished colony of the EC without giving it even the dubious advantages of membership (such as freedom of work and travel in the EC). In desperation, Yanukovich agreed to sign on the dotted line, in vain hopes of getting a large enough loan to avoid collapse. But the EC has no money to spare – it has to provide for Greece, Italy, Spain. Now Russia entered the picture. At the time, relations of the Ukraine and Russia were far from good. Russians had become snotty with their oil money, the Ukrainians blamed their troubles on Russians, but Russia was still the biggest market for Ukrainian products.
For Russia, the EC agreement meant trouble: currently the Ukraine sells its output in Russia with very little customs protection; the borders are porous; people move freely across the border, without even a passport. If the EC association agreement were signed, the EC products would flood Russia through the Ukrainian window of opportunity. So Putin spelled out the rules to Yanukovich: if you sign with the EC, Russian tariffs will rise. This would put some 400,000 Ukrainians out of work right away. Yanukovich balked and refused to sign the EC agreement at the last minute. (I predicted this in my report from Kiev full three weeks before it happened, when nobody believed it – a source of pride).
The EC, and the US standing behind it, were quite upset. Besides the loss of potential economic profit, they had another important reason: they wanted to keep Russia farther away from Europe, and they wanted to keep Russia weak. Russia is not the Soviet Union, but some of the Soviet disobedience to Western imperial designs still lingers in Moscow: be it in Syria, Egypt, Vietnam, Cuba, Angola, Venezuela or Zimbabwe, the Empire can't have its way while the Russian bear is relatively strong. Russia without the Ukraine can't be really powerful: it would be like the US with its Mid-western and Pacific states chopped away. The West does not want the Ukraine to prosper, or to become a stable and strong state either, so it cannot join Russia and make it stronger. A weak, poor and destabilised Ukraine in semi-colonial dependence to the West with some NATO bases is the best future for the country, as perceived by Washington or Brussels.
Angered by this last-moment-escape of Yanukovich, the West activated its supporters. For over a month, Kiev has been besieged by huge crowds bussed from all over the Ukraine, bearing a local strain of the Arab Spring in the far north. Less violent than Tahrir, their Maidan Square became a symbol of struggle for the European strategic future of the country. The Ukraine was turned into the latest battle ground between the US-led alliance and a rising Russia. Would it be a revanche for Obama's Syria debacle, or another heavy strike at fading American hegemony?
The simple division into "pro-East" and "pro-West" has been complicated by the heterogeneity of the Ukraine. The loosely knit country of differing regions is quite similar in its makeup to the Yugoslavia of old. It is another post-Versailles hotchpotch of a country made up after the First World War of bits and pieces, and made independent after the Soviet collapse in 1991. Some parts of this "Ukraine" were incorporated by Russia 500 years ago, the Ukraine proper (a much smaller parcel of land, bearing this name) joined Russia 350 years ago, whilst the Western Ukraine (called the "Eastern Regions") was acquired by Stalin in 1939, and the Crimea was incorporated in the Ukrainian Soviet Republic by Khrushchev in 1954.
The Ukraine is as Russian as the South-of-France is French and as Texas and California are American. Yes, some hundreds years ago, Provence was independent from Paris, – it had its own language and art; while Nice and Savoy became French rather recently. Yes, California and Texas joined the Union rather late too. Still, we understand that they are – by now – parts of those larger countries, ifs and buts notwithstanding. But if they were forced to secede, they would probably evolve a new historic narrative stressing the French ill treatment of the South in the Cathar Crusade, or dispossession of Spanish and Russian residents of California.
Accordingly, since the Ukraine's independence, the authorities have been busy nation-building, enforcing a single official language and creating a new national myth for its 45 million inhabitants. The crowds milling about the Maidan were predominantly (though not exclusively) arrivals from Galicia, a mountainous county bordering with Poland and Hungary, 500 km (300 miles) away from Kiev, and natives of the capital refer to the Maidan gathering as a "Galician occupation".
Like the fiery Bretons, the Galicians are fierce nationalists, bearers of a true Ukrainian spirit (whatever that means). Under Polish and Austrian rule for centuries, whilst the Jews were economically powerful, they are a strongly anti-Jewish and anti-Polish lot, and their modern identity centred around their support for Hitler during the WWII, accompanied by the ethnic cleansing of their Polish and Jewish neighbours. After the WWII, the remainder of pro-Hitler Galician SS fighters were adopted by US Intelligence, re-armed and turned into a guerrilla force against the Soviets. They added an anti-Russian line to their two ancient hatreds and kept fighting the "forest war" until 1956, and these ties between the Cold Warriors have survived the thaw.
After 1991, when the independent Ukraine was created, in the void of state-building traditions, the Galicians were lauded as 'true Ukrainians', as they were the only Ukrainians who ever wanted independence. Their language was used as the basis of a new national state language, their traditions became enshrined on the state level. Memorials of Galician Nazi collaborators and mass murderers Stepan Bandera and Roman Shukhevych peppered the land, often provoking the indignation of other Ukrainians. The Galicians played an important part in the 2004 Orange Revolution as well, when the results of presidential elections were declared void and the pro-Western candidate Mr Yuschenko got the upper hand in the re-run.
However, in 2004, many Kievans also supported Yuschenko, hoping for the Western alliance and a bright new future. Now, in 2013, the city's support for the Maidan was quite low, and the people of Kiev complained loudly about the mess created by the invading throngs: felled trees, burned benches, despoiled buildings and a lot of biological waste. Still, Kiev is home to many NGOs; city intellectuals receive generous help from the US and EC. The old comprador spirit is always strongest in the capitals.
For the East and Southeast of the Ukraine, the populous and heavily industrialised regions, the proposal of association with the EC is a no-go, with no ifs, ands or buts. They produce coal, steel, machinery, cars, missiles, tanks and aircraft. Western imports would erase Ukrainian industry right off the map, as the EC officials freely admit. Even the Poles, hardly a paragon of industrial development, had the audacity to say to the Ukraine: we'll do the technical stuff, you'd better invest in agriculture. This is easier to say than to do: the EC has a lot of regulations that make Ukrainian products unfit for sale and consumption in Europe. Ukrainian experts estimated their expected losses for entering into association with the EC at anything from 20 to 150 billion euros.
For Galicians, the association would work fine. Their speaker at the Maidan called on the youth to 'go where you can get money' and do not give a damn for industry. They make their income in two ways: providing bed-and breakfast rooms for Western tourists and working in Poland and Germany as maids and menials. They hoped they would get visa-free access to Europe and make a decent income for themselves. Meanwhile, nobody offered them a visa-waiver arrangement. The Brits mull over leaving the EC, because of the Poles who flooded their country; the Ukrainians would be too much for London. Only the Americans, always generous at somebody's else expense, demanded the EC drop its visa requirement for them.
While the Maidan was boiling, the West sent its emissaries, ministers and members of parliament to cheer the Maidan crowd, to call for President Yanukovich to resign and for a revolution to install pro-Western rule. Senator McCain went there and made a few firebrand speeches. The EC declared Yanukovich "illegitimate" because so many of his citizens demonstrated against him. But when millions of French citizens demonstrated against their president, when Occupy Wall Street was violently dispersed, nobody thought the government of France or the US president had lost legitimacy…
Victoria Nuland, the Assistant Secretary of State, shared her biscuits with the demonstrators, and demanded from the oligarchs support for the "European cause" or their businesses would suffer. The Ukrainian oligarchs are very wealthy, and they prefer the Ukraine as it is, sitting on the fence between the East and the West. They are afraid that the Russian companies will strip their assets should the Ukraine join the Customs Union, and they know that they are not competitive enough to compete with the EC. Pushed now by Nuland, they were close to falling on the EC side.
Yanukovich was in big trouble. The default was rapidly approaching. He annoyed the pro-Western populace, and he irritated his own supporters, the people of the East and Southeast. The Ukraine had a real chance of collapsing into anarchy. A far-right nationalist party, Svoboda (Liberty), probably the nearest thing to the Nazi party to arise in Europe since 1945, made a bid for power. The EC politicians accused Russia of pressurising the Ukraine; Russian missiles suddenly emerged in the western-most tip of Russia, a few minutes flight from Berlin. The Russian armed forces discussed the US strategy of a "disarming first strike". The tension was very high.
Edward Lucas, the Economist's international editor and author of The New Cold War, is a hawk of the Churchill and Reagan variety. For him, Russia is an enemy, whether ruled by Tsar, by Stalin or by Putin. He wrote: "It is no exaggeration to say that the [Ukraine] determines the long-term future of the entire former Soviet Union. If Ukraine adopts a Euro-Atlantic orientation, then the Putin regime and its satrapies are finished… But if Ukraine falls into Russia's grip, then the outlook is bleak and dangerous… Europe's own security will also be endangered. NATO is already struggling to protect the Baltic states and Poland from the integrated and increasingly impressive military forces of Russia and Belarus. Add Ukraine to that alliance, and a headache turns into a nightmare."
In this cliff-hanging situation, Putin made his pre-emptive strike. At a meeting in the Kremlin, he agreed to buy fifteen billion euros worth of Ukrainian Eurobonds and cut the natural gas price by a third. This meant there would be no default; no massive unemployment; no happy hunting ground for the neo-Nazi thugs of Svoboda; no cheap and plentiful Ukrainian prostitutes and menials for the Germans and Poles; and Ukrainian homes will be warm this Christmas. Better yet, the presidents agreed to reforge their industrial cooperation. When Russia and Ukraine formed a single country, they built spaceships; apart, they can hardly launch a naval ship. Though unification isn't on the map yet, it would make sense for both partners. This artificially divided country can be united, and it would do a lot of good for both of their populaces, and for all people seeking freedom from US hegemony.
There are a lot of difficulties ahead: Putin and Yanukovich are not friends, Ukrainian leaders are prone to renege, the US and the EC have a lot of resources. But meanwhile, it is a victory to celebrate this Christmas tide. Such victories keep Iran safe from US bombardment, inspire the Japanese to demand removal of Okinawa base, encourage those seeking closure of Guantanamo jail, cheer up Palestinian prisoners in Israeli prisons, frighten the NSA and CIA and allow French Catholics to march against Hollande's child-trade laws.
***
What is the secret of Putin's success? Edward Lucas said, in an interview to the pro-Western Ekho Moskvy radio: "Putin had a great year – Snowden, Syria, Ukraine. He checkmated Europe. He is a great player: he notices our weaknesses and turns them into his victories. He is good in diplomatic bluff, and in the game of Divide and Rule. He makes the Europeans think that the US is weak, and he convinced the US that Europeans are useless".
I would offer an alternative explanation. The winds and hidden currents of history respond to those who feel their way. Putin is no less likely a roguish leader of global resistance than Princess Leia or Captain Solo were in Star Wars. Just the time for such a man is ripe.
Unlike Solo, he is not an adventurer. He is a prudent man. He does not try his luck, he waits, even procrastinates. He did not try to change regime in Tbilisi in 2008, when his troops were already on the outskirts of the city. He did not try his luck in Kiev, either. He has spent many hours in many meetings with Yanukovich whom he supposedly personally dislikes.
Like Captain Solo, Putin is a man who is ready to pay his way, full price, and such politicians are rare. "Do you know what is the proudest word you will ever hear from an Englishman's mouth?", asked a James Joyce character, and answered: "His proudest boast is I paid my way." Those were Englishmen of another era, long before the likes of Blair, et al.
While McCain and Nuland, Merkel and Bildt speak of the European choice for the Ukraine, none of them is ready to pay for it. Only Russia is ready to pay her way, in the Joycean sense, whether in cash, as now, or in blood, as in WWII.
Putin is also a magnanimous man. He celebrated his Ukrainian victory and forthcoming Christmas by forgiving his personal and political enemies and setting them free: the Pussy Riot punks, Khodorkovsky the murderous oligarch, rioters… And his last press conference he carried out in Captain Solo self-deprecating mode, and this, for a man in his position, is a very good sign.
Adam Smith said governments are "instituted for the defense of the rich against the poor." Wars are waged to make them richer.
Howard Zinn called war "terrorism magnified a hundred times." Make it many thousands of times.
Michael Parenti said "the best way to win a Nobel Peace Prize (is) to wage war or support those who wage (it) instead of peace."
In his book titled "The Face of Imperialism," he discusses a richly financed military/industrial complex. Peter Phillips and Mickey Huff call it the "military-industrial media complex."
Waging wars requires selling them. Public support is needed. Edward Herman and Noam Chomsky call it "Manufacturing Consent."
Propaganda works as intended. Minds are manipulated to support war. Truth is suppressed. Fear is stoked. Patriotism, national security, and democratic values are highlighted.
Longstanding US policy facilitates earning obscene amounts from militarism, wars, homeland security, and related operations.
Doing so has nothing to do with external or internal threats. It's unrelated to spreading democracy. It isn't about humanitarian intervention.
It about advancing America's imperium. Parenti calls the process "the most powerful force in world history over the last four or five centuries. (It) "carves up whole continents."
"(T)he dominant politico-economic interests of one nation expropriate for their own enrichment the land, labor, raw materials, and markets of another people."
Capitalist imperialism differs from earlier forms. It dominates other economies and political systems. It accumulates enormous amounts of wealth.
It uses money to make more of it. It gains market control. It exploits resources and labor.
According to Marx and Engels:
Bourgeois capital "chases over the whole surface of the globe. It must nestle everywhere, settle everywhere, establish connections everywhere…It creates a world after its own image."
Societies are destroyed and remade to do it. Nations are pillaged for profit. Populations become disenfranchised. Workers become serfs. Local cultures become mass-market consumer ones.
Agribusiness replaces local farming. Competitive industries are eliminated.  Foreign investment crowds out local capital.
Dominance legitimizes capital's divine right. Plunder assures obscene profits. Capital accumulation demands more. Profiteering becomes a be-all-and-end-all.
Businesses price according to what the market will bear. Profiteers take advantage of emergency or other out-of-ordinary conditions to cash in excessively.
WikiLeaks calls profiteering "a pejorative term for the act of making profit by methods considered unethical."
Price fixing is illegal. Price gouging reflects grabbing all you can. It's charging more than what's considered reasonable and fair.
War profiteers are in a class by themselves. They thrive on war. They depend on it. Their businesses require conflicts and instability to prosper. The more ongoing, the greater the potential profits.
Lot of players profit from wars. Companies develop technologies with military applications. Black marketeers cash in.
Politicians taking campaign contributions, special favors or bribes benefit handsomely. Nations do by acquiring control over territory, resources and exploitable people.
Private military contractors include companies offering a wide range of services. They provide everything from tactical combat to security to consulting to logistics to technical support.
In his book titled "Halliburton's Army: How a Well-Connected Texas Oil Company Revolutionized the Way America Makes War," Pratap Chatterjee describes a company tainted by sweetheart deal no-bid contacts, bribes, kickbacks, inefficiency, shoddy work, corruption, fraud, gross overcharging, worker exploitation, and other serious offenses.
Other companies operate the same way. Military spending is hugely wasteful. Fraud and abuse are rampant. War is extremely profitable. Why else would so many be waged.
Mercenaries are guns for hire. They're for sale to the highest bidder. They're in it for the money. They're unchecked, unaccountable and unprincipled.
Arms and munitions companies benefit most. Amounts spent are mind-bogging.
Bloomberg says defense budgets "contain hundreds of billions of dollars for new generations of aircraft carriers and stealth fighters, tanks that even the Army says it doesn't need and combat vehicles too heavy to maneuver in desert sands or cross most bridges in Asia, Africa, or the Middle East."
According to BusinessWeek, redundancy wastes lots of money. "One need only spend 10 minutes walking around the Pentagon or any major military headquarters to see" it.
Why doesn't Congress trim fat? Because politicians want lots of pork for constituents. It's a great vote-getter.
BusinessWeek explained more, saying:
"Why is sensible military budgeting so difficult? Because lawmakers, including small-government Republicans, protect defense business in their home states with the ferocity of Spartans."
"Even if the Pentagon offered up (sensible) cuts…Congress would almost certainly reject them."
"The senators and representatives don't have the political courage to face voters and tell them that the republic simply does not need the weapon under construction in their hometown."
Trillions of dollars are spent.  Former Defense Secretary Leon Panetta once said DOD "is the only major federal agency that cannot pass an audit today."
Even during October's 16 day shutdown, huge amounts of wasteful spending continued.
Ralph Nader calls now the time to address bloated military spending. Let's "start shutting down the waste and fraud in our military budget," he stresses.
Billions get tossed around mindlessly. Profiteers never had it better. Government watchdogs identify hundreds of billions of potential savings from unneeded weapons, defective ones, no-bid excess, overpayments, and outright fraud.
The Stockholm International Peace Research Institute (SIPRI) conducts research on security, war and peace.
"A world in which sources of insecurity are identified and understood, conflicts are prevented or resolved, and peace is sustained," it says.
It reports on "recent trends in military expenditure(s)."
Amounts spent are huge. In 2012, nominal global military spending exceeded $1.7 trillion. It's around historic highs.
In real terms, it exceeds peak amounts spent during the Cold War. Post-9/11, spending increased sharply. America led the way.
In 2012, 15 nations accounted for over 80% military spending. SIPRI lists them as follows:
America: $682 billion – 39%

China: $166 billion – 9.5%

Russia: $90.7 billion – 5.2%

Britain: $60.8 billion – 3.5%

Japan: 59.3 billion – 3.4%

France: $58.9 billion – 3.4%

Saudi Arabia: $56.7 billion – 3.2%

India: $46.1 billion – 2.6%

Germany: $45.8 billion – 2.6%

Italy: $34 billion – 1.9%

Brazil: $33.1 billion – 1.9%

South Korea: $31.7 billion – 1.8%

Australia: $26.2 billion – 1.5%

Canada: $22.5 billion – 1.3%

Turkey: $18.2 billion – 1%

Others 18%
SIPRI calculates nominal military spending. Amounts America spends far exceeds annual defense authorizations.
Other allocations are for the Energy Department, State Department, Department of Veterans Affairs, Homeland Security, Treasury, NASA, military construction, various categories related to security, and interest attributable to past defense outlays.
Black intelligence, Pentagon and other budgets add many tens of billions more. So do supplemental military allocations. Foreign aid is mostly military related.
The Library of Congress listed the top 10 2012 recipients and amounts as follows:
Israel: $3.075 billion
Note: Israel gets special benefits provided no other nations.
They include annual $3 billion + direct appropriations, undisclosed additional amounts, state-of-the-art weapons and technology, billions in loan guarantees, military loans as grants, privileged contracts for Israeli companies, trade exemptions, and more.
Special allocations are buried in various agency budgets. Low or no-interest loans are provided. Some are never repaid. Most often, whatever Israel wants it gets.
Afghanistan: $2.327 billion

Pakistan: $2.102 billion

Iraq: $1.683 billion

Egypt: $1.557 billion

Jordan: $676 million

Kenya: $652 million

Nigeria: $625 million

Ethiopia: $580 million

Tanzania: $531 million
US defense related spending exceeds $1.5 trillion annually. It's half or more what other nations spend in total.
Militarism defines America. So do permanent wars. They're a national addiction. They're part of the national culture.
Violence is the American way. Wars are glorified. Pacifism is considered sissy. Peace is deplored. Conflicts persist with no end.
War profiteers gorge themselves at the public trough. Their operations thrive on war. They depend on it.
They're waged for profit and dominance. They continue without end. Peace is verboten. It's a convenient illusion.
Howard Zinn once asked "(h)ow can you have a war on terrorism when war itself is terrorism?"
"There is no flag large enough to cover the shame of killing innocent people."
Why most Americans put up with it they'll have to explain. Doing so lets Washington get away with mass murder and then some. It lets war profiteers benefit at our expense.
Stephen Lendman lives in Chicago. He can be reached at lendmanstephen@sbcglobal.net.
His new book is titled "Banker Occupation: Waging Financial War on Humanity."
http://www.claritypress.com/LendmanII.html
Visit his blog site at sjlendman.blogspot.com.
There's nothing like a glass of cool, clear water to quench one's thirst. But the next time you or your child reaches for one, you might want to question whether that water is in fact, too toxic to drink. If your water is fluoridated, the answer may well be yes.
For decades, we have been told a lie, a lie that has led to the deaths of hundreds of thousands of Americans and the weakening of the immune systems of tens of millions more. This lie is called fluoridation. A process we were led to believe was a safe and effective method of protecting teeth from decay is in fact a fraud. For decades it's been shown that fluoridation is neither essential for good health nor protective of teeth. What it does is poison the body. We should all at this point be asking how and why public health policy and the American media continue to live with and perpetuate this scientific sham.
The Latest in Fluoride News
Today more than ever, evidence of fluoride's toxicity is entering the public sphere.The summer of 2012 saw the publication of a systematic review and meta-analysis by researchers at Harvard University that explored the link between exposure to fluoride and neurological and cognitive function among children. The report pooled data from over 27 studies- many of them from China- carried out over the course of 22 years. The results, which were published in the journal Environmental Health Sciencesshowed a strong connection between exposure to fluoride in drinking water and decreased IQ scores in children. The team concluded that "the results suggest that fluoride may be a developmental neurotoxicant that affects brain development at exposures much below those that can cause toxicity in adults." 1
The newest scientific data suggest that the damaging effects of fluoride extend to reproductive health as well. A 2013 study published in the journal Archives of Toxicology showed a link between fluoride exposure and male infertility in mice. The study's findings suggest that sodium fluoride impairs the ability of sperm cells in mice to normally fertilize the egg through a process known as chemotaxis. 2 This is the latest in more than 60 scientific studies on animals that have identified an association between male infertility and fluoride exposure.3
Adding more fuel to the fluoride controversy is a recent investigative report by NaturalNews exposing how the chemicals used to fluoridate United States' water systems today are commonly purchased from Chinese chemical plants looking to discard surplus stores of this form of industrial waste. Disturbingly, the report details that some Chinese vendors of fluoride advertise on their website that their product can be used as an "adhesive preservative", an "insecticide" as well as a" flux for soldering and welding".4 One Chinese manufacturer, Shanghai Polymet Commodities Ltd,. which produces fluoride destined for municipal water reserves in the United States, notes on their website that their fluoride is "highly corrosive to human skin and harmful to people's respiratory organs". 5
The Fluoride Phase Out at Home and Abroad
There are many signs in recent years that indicate growing skepticism over fluoridation. The New York Times reported in October 2011 that in the previous four years, about 200 jurisdictions across the USA moved to cease water fluoridation. A panel composed of scientists and health professionals in Fairbanks, Alaska recently recommended ceasing fluoridation of the county water supply after concluding that the addition of fluoride to already naturally-fluoridated reserves could pose health risks to 700,000 residents. The move to end fluoridation would save the county an estimated $205,000 annually. 6
The city of Portland made headlines in 2013 when it voted down a measure to fluoridate its water supply. The citizens of Portland have rejected introducing the chemical to drinking water on three separate occasions since the 1950's. Portland remains the largest city in the United States to shun fluoridation.7
The movement against fluoridation has gained traction overseas as well. In 2013, Israel's Ministry of Health committed to a countrywide phase-out of fluoridation. The decision came after Israel's Supreme Court deemed the existing health regulations requiring fluoridation to be based on science that is "outdated" and "no longer widely accepted."8
Also this year, the government of the Australian state of Queensland eliminated $14 million in funding for its state-wide fluoridation campaign. The decision, which was executed by the Liberal National Party (LNP) government, forced local councils to vote on whether or not to introduce fluoride to their water supplies. Less than two months after the decision came down, several communities including the town of Cairns halted fluoridation. As a result, nearly 200,000 Australians will no longer be exposed to fluoride in their drinking water.9
An ever-growing number of institutions and individuals are questioning the wisdom of fluoridation. At the fore of the movement are thousands of scientific authorities and health care professionals who are speaking out about the hazards of this damaging additive. As of November 2013, a group of over 4549 professionals including 361 dentists and 562 medical doctors have added their names to a petition aimed at ending fluoridation started by the Fluoride Action Network.  Among the prominent signatories are Nobel Laureate Arvid Carlsson and William Marcus, PhD who served as the chief toxicologist of the EPA Water Division.10
The above sampling of recent news items on fluoride brings into sharp focus just how urgent it is to carry out a critical reassessment of the mass fluoridation campaign that currently affects hundreds of millions of Americans. In order to better understand the massive deception surrounding this toxic chemical, we must look back to the sordid history of how fluoride was first introduced.
How to Market a Toxic Waste
"We would not purposely add arsenic to the water supply. And we would not purposely add lead. But we do add fluoride. The fact is that fluoride is more toxic than lead and just slightly less toxic than arsenic." 11
These words of Dr. John Yiamouyiannis may come as a shock to you because, if you're like most Americans, you have positive associations with fluoride. You may envision tooth protection, strong bones, and a government that cares about your dental needs. What you've probably never been told is that the fluoride added to drinking water and toothpaste is a crude industrial waste product of the aluminum and fertilizer industries, and a substance toxic enough to be used as rat poison. How is it that Americans have learned to love an environmental hazard? This phenomenon can be attributed to a carefully planned marketing program begun even before Grand Rapids, Michigan, became the first community to officially fluoridate its drinking water in 1945. 12   As a result of this ongoing campaign, nearly two-thirds of the nation has enthusiastically followed Grand Rapids' example. But this push for fluoridation has less to do with a concern for America's health than with industry's penchant to expand at the expense of our nation's well-being.
The first thing you have to understand about fluoride is that it's the problem child of industry. Its toxicity was recognized at the beginning of the Industrial Revolution, when, in the 1850s iron and copper factories discharged it into the air and poisoned plants, animals, and people.13   The problem was exacerbated in the 1920s when rapid industrial growth meant massive pollution. Medical writer Joel Griffiths explains that "it was abundantly clear to both industry and government that spectacular U.S. industrial expansion ­ and the economic and military power and vast profits it promised ­ would necessitate releasing millions of tons of waste fluoride into the environment."14  Their biggest fear was that "if serious injury to people were established, lawsuits alone could prove devastating to companies, while public outcry could force industry-wide government regulations, billions in pollution-control costs, and even mandatory changes in high-fluoride raw materials and profitable technologies." 15
At first, industry could dispose of fluoride legally only in small amounts by selling it to insecticide and rat poison manufacturers. 16   Then a commercial outlet was devised in the 1930s when a connection was made between water supplies bearing traces of fluoride and lower rates of tooth decay. Griffiths writes that this was not a scientific breakthrough, but rather part of a "public disinformation campaign" by the aluminum industry "to convince the public that fluoride was safe and good." Industry's need prompted Alcoa-funded scientist Gerald J. Cox to announce that "The present trend toward complete removal of fluoride from water may need some reversal." 17   Griffiths writes:
"The big news in Cox's announcement was that this 'apparently worthless by-product' had not only been proved safe (in low doses), but actually beneficial; it might reduce cavities in children. A proposal was in the air to add fluoride to the entire nation's drinking water. While the dose to each individual would be low, 'fluoridation' on a national scale would require the annual addition of hundreds of thousands of tons of fluoride to the country's drinking water.
"Government and industry ­ especially Alcoa ­ strongly supported intentional water fluoridation… [it] made possible a master public relations stroke ­ one that could keep scientists and the public off fluoride's case for years to come. If the leaders of dentistry, medicine, and public health could be persuaded to endorse fluoride in the public's drinking water, proclaiming to the nation that there was a 'wide margin of safety,' how were they going to turn around later and say industry's fluoride pollution was dangerous?
"As for the public, if fluoride could be introduced as a health enhancing substance that should be added to the environment for the children's sake, those opposing it would look like quacks and lunatics….
"Back at the Mellon Institute, Alcoa's Pittsburgh Industrial research lab, this news was galvanic. Alcoa-sponsored biochemist Gerald J. Cox immediately fluoridated some lab rats in a study and concluded that fluoride reduced cavities and that 'The case should be regarded as proved.' In a historic moment in 1939, the first public proposal that the U.S. should fluoridate its water supplies was made ­ not by a doctor, or dentist, but by Cox, an industry scientist working for a company threatened by fluoride damage claims." 18
Once the plan was put into action, industry was buoyant. They had finally found the channel for fluoride that they were looking for, and they were even cheered on by dentists, government agencies, and the public. Chemical Week, a publication for the chemical industry, described the tenor of the times: "All over the country, slide rules are getting warm as waterworks engineers figure the cost of adding fluoride to their water supplies." They are riding a trend urged upon them, by the U.S. Public Health Service, the American Dental Association, the State Dental Health Directors, various state and local health bodies, and vocal women's clubs from coast to coast. It adds up to a nice piece of business on all sides and many firms are cheering the PHS and similar groups as they plump for increasing adoption of fluoridation." 19
Such overwhelming acceptance allowed government and industry to proceed hastily, albeit irresponsibly. The Grand Rapids experiment was supposed to take 15 years, during which time health benefits and hazards were to be studied. In 1946, however, just one year into the experiment, six more U.S. cities adopted the process. By 1947, 87 more communities were treated; popular demand was the official reason for this unscientific haste.
The general public and its leaders did support the cause, but only after a massive government public relations campaign spearheaded by Edward L. Bernays, a nephew of Sigmund Freud. Bernays, a public relations pioneer who has been called "the original spin doctor," 20  was a masterful PR strategist. As a result of his influence, Griffiths writes, "Almost overnight…the popular image of fluoride ­ which at the time was being widely sold as rat and bug poison ­ became that of a beneficial provider of gleaming smiles, absolutely safe, and good for children, bestowed by a benevolent paternal government. Its opponents were permanently engraved on the public mind as crackpots and right-wing loonies." 21
Griffiths explains that while opposition to fluoridation is usually associated with right-wingers, this picture is not totally accurate. He provides an interesting historical perspective on the anti-fluoridation stance:
"Fluoridation attracted opponents from every point on the continuum of politics and sanity. The prospect of the government mass-medicating the water supplies with a well-known rat poison to prevent a nonlethal disease flipped the switches of delusionals across the country ­ as well as generating concern among responsible scientists, doctors, and citizens.
"Moreover, by a fortuitous twist of circumstances, fluoride's natural opponents on the left were alienated from the rest of the opposition. Oscar Ewing, a Federal Security Agency administrator, was a Truman "fair dealer" who pushed many progressive programs such as nationalized medicine. Fluoridation was lumped with his proposals. Inevitably, it was attacked by conservatives as a manifestation of "creeping socialism," while the left rallied to its support. Later during the McCarthy era, the left was further alienated from the opposition when extreme right-wing groups, including the John Birch Society and the Ku Klux Klan, raved that fluoridation was a plot by the Soviet Union and/or communists in the government to poison America's brain cells.
"It was a simple task for promoters, under the guidance of the 'original spin doctor,' to paint all opponents as deranged ­ and they played this angle to the hilt….
"Actually, many of the strongest opponents originally started out as proponents, but changed their minds after a close look at the evidence. And many opponents came to view fluoridation not as a communist plot, but simply as a capitalist-style con job of epic proportions. Some could be termed early environmentalists, such as the physicians George L. Waldbott and Frederick B. Exner, who first documented government-industry complicity in hiding the hazards of fluoride pollution from the public. Waldbott and Exner risked their careers in a clash with fluoride defenders, only to see their cause buried in toothpaste ads." 22
By 1950, fluoridation's image was a sterling one, and there was not much science could do at this point. The Public Health Service was fluoridation's main source of funding as well as its promoter, and therefore caught in a fundamental conflict of interest. 12   If fluoridation were found to be unsafe and ineffective, and laws were repealed, the organization feared a loss of face, since scientists, politicians, dental groups, and physicians unanimously supported it. 23  For this reason, studies concerning its effects were not undertaken. The Oakland Tribune noted this when it stated that "public health officials have often suppressed scientific doubts" about fluoridation.24 Waldbott sums up the situation when he says that from the beginning, the controversy over fluoridating water supplies was "a political, not a scientific health issue."25
The marketing of fluoride continues. In a 1983 letter from the Environmental Protection Agency, then Deputy Assistant Administrator for Water, Rebecca Hammer, writes that the EPA "regards [fluoridation] as an ideal environmental solution to a long-standing problem. By recovering by-product fluosilicic acid from fertilizer manufacturing, water and air pollution are minimized and water utilities have a low-cost source of fluoride available to them." 26    A 1992 policy statement from the Department of Health and Human Services says, "A recent comprehensive PHS review of the benefits and potential health risks of fluoride has concluded that the practice of fluoridating community water supplies is safe and effective." 27
According to the CDC website, about 200 million Americans in 16,500 communities are exposed to fluoridated water. Out of the 50 largest cities in the US, 43 have fluoridated water. 28
To help celebrate fluoride's widespread use, the media recently reported on the 50th anniversary of fluoridation in Grand Rapids. Newspaper articles titled "Fluoridation: a shining public health success" 29  and "After 50 years, fluoride still works with a smile"  30  painted glowing pictures of the practice. Had investigators looked more closely, though, they might have learned that children in Muskegon, Michigan, an unfluoridated "control" city, had equal drops in dental decay. They might also have learned of the other studies that dispute the supposed wonders of fluoride.
The Fluoride Myth Doesn't Hold Water
The big hope for fluoride was its ability to immunize children's developing teeth against cavities. Rates of dental caries were supposed to plummet in areas where water was treated. Yet decades of experience and worldwide research have contradicted this expectation numerous times. Here are just a few examples:
In British Columbia, only 11% of the population drinks fluoridated water, as opposed to 40-70% in other Canadian regions. Yet British Columbia has the lowest rate of tooth decay in Canada. In addition, the lowest rates of dental caries within the province are found in areas that do not have their water supplies fluoridated. 31
According to a Sierra Club study, people in unfluoridated developing nations have fewer dental caries than those living in industrialized nations. As a result, they conclude that "fluoride is not essential to dental health." 32
In 1986-87, the largest study on fluoridation and tooth decay ever was performed. The subjects were 39,000 school children between 5 and 17 living in 84 areas around the country. A third of the places were fluoridated, a third were partially fluoridated, and a third were not. Results indicate no statistically significant differences in dental decay between fluoridated and unfluoridated cities. 33
A World Health Organization survey reports a decline of dental decay in western Europe, which is 98% unfluoridated. They state that western Europe's declining dental decay rates are equal to and sometimes better than those in the U.S. 34
A 1992 University of Arizona study yielded surprising results when they found that "the more fluoride a child drinks, the more cavities appear in the teeth." 35
Although all Native American reservations are fluoridated, children living there have much higher incidences of dental decay and other oral health problems than do children living in other U.S. communities. 36
In light of all the evidence, fluoride proponents now make more modest claims. For example, in 1988, the ADA professed that a 40- to 60% cavity reduction could be achieved with the help of fluoride. Now they claim an 18- to 25% reduction. Other promoters mention a 12% decline in tooth decay.
And some former supporters are even beginning to question the need for fluoridation altogether. In 1990, a National Institute for Dental Research report stated that "it is likely that if caries in children remain at low levels or decline further, the necessity of continuing the current variety and extent of fluoride-based prevention programs will be questioned." 37
Most government agencies, however, continue to ignore the scientific evidence and to market fluoridation by making fictional claims about its benefits and pushing for its expansion. For instance, according to the U.S. Department of Health and Human Services, "National surveys of oral health dating back several decades document continuing decreases in tooth decay in children, adults and senior citizens. Nevertheless, there are parts of the country and particular populations that remain without protection. For these reasons, the U.S. PHS…has set a national goal for the year 2000 that 75% of persons served by community water systems will have access to optimally fluoridated drinking water; currently this figure is just about 60%. The year 2000 target goal is both desirable and yet challenging, based on past progress and continuing evidence of effectiveness and safety of this public health measure." 38
This statement is flawed on several accounts. First, as we've seen, research does not support the effectiveness of fluoridation for preventing tooth disease. Second, purported benefits are supposedly for children, not adults and senior citizens. At about age 13, any advantage fluoridation might offer comes to an end, and less than 1% of the fluoridated water supply reaches this population.  And third, fluoridation has never been proven safe. On the contrary, several studies directly link fluoridation to skeletal fluorosis, dental fluorosis, and several rare forms of cancer. This alone should frighten us away from its use.
Biological Safety Concerns
Only a small margin separates supposedly beneficial fluoride levels from amounts that are known to cause adverse effects. Dr. James Patrick, a former antibiotics research scientist at the National Institutes of Health, describes the predicament:
"[There is] a very low margin of safety involved in fluoridating water. A concentration of about 1 ppm is recommended…in several countries, severe fluorosis has been documented from water supplies containing only 2 or 3 ppm. In the development of drugs…we generally insist on a therapeutic index (margin of safety) of the order of 100; a therapeutic index of 2 or 3 is totally unacceptable, yet that is what has been proposed for public water supplies."39 
Other countries argue that even 1 ppm is not a safe concentration. Canadian studies, for example, imply that children under three should have no fluoride whatsoever. The Journal of the Canadian Dental Association states that "Fluoride supplements should not be recommended for children less than 3 years old." 40   Since these supplements contain the same amount of fluoride as water does, they are basically saying that children under the age of three shouldn't be drinking fluoridated water at all, under any circumstances. Japan has reduced the amount of fluoride in their drinking water to one-eighth of what is recommended in the U.S. Instead of 1 milligram per liter, they use less than 15 hundredths of a milligram per liter as the upper limit allowed. 41
Even supposing that low concentrations are safe, there is no way to control how much fluoride different people consume, as some take in a lot more than others. For example, laborers, athletes, diabetics, and those living in hot or dry regions can all be expected to drink more water, and therefore more fluoride (in fluoridated areas) than others. 42   Due to such wide variations in water consumption, it is impossible to scientifically control what dosage of fluoride a person receives via the water supply.43
Another concern is that fluoride is not found only in drinking water; it is everywhere. Fluoride is found in foods that are processed with it, which, in the United States, include nearly all bottled drinks and canned foods. 44  Researchers writing in The Journal of Clinical Pediatric Dentistry have found that fruit juices, in particular, contain significant amounts of fluoride. In one study, a variety of popular juices and juice blends were analyzed and it was discovered that 42% of the samples examined had more than l ppm of fluoride, with some brands of grape juice containing much higher levels ­ up to 6.8 ppm! The authors cite the common practice of using fluoride-containing insecticide in growing grapes as a factor in these high levels, and they suggest that the fluoride content of beverages be printed on their labels, as is other nutritional information. 45  Considering how much juice some children ingest, and the fact that youngsters often insist on particular brands that they consume day after day, labeling seems like a prudent idea. But beyond this is the larger issue that this study brings up: Is it wise to subject children and others who are heavy juice drinkers to additional fluoride in their water?
Here's a little-publicized reality: Cooking can greatly increase a food's fluoride content. Peas, for example, contain 12 micrograms of fluoride when raw and 1500 micrograms after they are cooked in fluoridated water, which is a tremendous difference. Also, we should keep in mind that fluoride is an ingredient in pharmaceuticals, aerosols, insecticides, and pesticides.
And of course, toothpastes. It's interesting to note that in the 1950s, fluoridated toothpastes were required to carry warnings on their labels saying that they were not to be used in areas where water was already fluoridated. Crest toothpaste went so far as to write: "Caution: Children under 6 should not use Crest." These regulations were dropped in 1958, although no new research was available to prove that the overdose hazard no longer existed. 46
Today, common fluoride levels in toothpaste are 1000 ppm. Research chemist Woodfun Ligon notes that swallowing a small amount adds substantially to fluoride intake. 47 Dentists say that children commonly ingest up to 0.5 mg of fluoride a day from toothpaste. 48
This inevitably raises another issue: How safe is all this fluoride? According to scientists and informed doctors, such as Dr. John Lee, it is not safe at all. Dr. Lee first took an anti-fluoridation stance back in 1972, when as chairman of an environmental health committee for a local medical society, he was asked to state their position on the subject. He stated that after investigating the references given by both pro- and anti-fluoridationists, the group discovered three important things:
"One, the claims of benefit of fluoride, the 60% reduction of cavities, was not established by any of these studies. Two, we found that the investigations into the toxic side effects of fluoride have not been done in any way that was acceptable. And three, we discovered that the estimate of the amount of fluoride in the food chain, in the total daily fluoride intake, had been measured in 1943, and not since then. By adding the amount of fluoride that we now have in the food chain, which comes from food processing with fluoridated water, plus all the fluoridated toothpaste that was not present in 1943, we found that the daily intake of fluoride was far in excess of what was considered optimal." 49
What happens when fluoride intake exceeds the optimal? The inescapable fact is that this substance has been associated with severe health problems, ranging from skeletal and dental fluorosis to bone fractures, to fluoride poisoning, and even to cancer.
Skeletal Fluorosis
When fluoride is ingested, approximately 93% of it is absorbed into the bloodstream. A good part of the material is excreted, but the rest is deposited in the bones and teeth, and is capable of causing a crippling skeletal fluorosis. This is a condition that can damage the musculoskeletal and nervous systems and result in muscle wasting, limited joint motion, spine deformities, and calcification of the ligaments, as well as neurological deficits.
Large numbers of people in Japan, China, India, the Middle East, and Africa have been diagnosed with skeletal fluorosis from drinking naturally fluoridated water. In India alone, nearly a million people suffer from the affliction. 39   While only a dozen cases of skeletal fluorosis have been reported in the United States, Chemical and Engineering News states that "critics of the EPA standard speculate that there probably have been many more cases of fluorosis ­ even crippling fluorosis ­ than the few reported in the literature because most doctors in the U.S. have not studied the disease and do not know how to diagnose it." 50
Radiologic changes in bone occur when fluoride exposure is 5 mg/day, according to the late Dr. George Waldbott, author of Fluoridation: The Great Dilemma. While this 5 mg/day level is the amount of fluoride ingested by most people living in fluoridated areas, 51   the number increases for diabetics and laborers, who can ingest up to 20 mg of fluoride daily. In addition, a survey conducted by the Department of Agriculture shows that 3% of the U.S. population drinks 4 liters or more of water every day. If these individuals live in areas where the water contains a fluoride level of 4 ppm, allowed by the EPA, they are ingesting 16 mg/day from the consumption of water alone, and are thus at greater risk for getting skeletal fluorosis. 52
Dental Fluorosis
According to a 1989 National Institute for Dental Research study, 1-2% of children living in areas fluoridated at 1 ppm develop dental fluorosis, that is, permanently stained, brown mottled teeth. Up to 23% of children living in areas naturally fluoridated at 4 ppm develop severe dental fluorosis. 53  Other research gives higher figures. The publication Health Effects of Ingested Fluoride, put out by the National Academy of Sciences, reports that in areas with optimally fluoridated water (1 ppm, either natural or added), dental fluorosis levels in recent years ranged from 8 to 51%. Recently, a prevalence of slightly over 80% was reported in children 12-14 years old in Augusta, Georgia.
Fluoride is a noteworthy chemical additive in that its officially acknowledged benefit and damage levels are about the same. Writing in The Progressive, science journalist Daniel Grossman elucidates this point: "Though many beneficial chemicals are dangerous when consumed at excessive levels, fluoride is unique because the amount that dentists recommend to prevent cavities is about the same as the amount that causes dental fluorosis." 54   Although the American Dental Association and the government consider dental fluorosis only a cosmetic problem, the American Journal of Public Health says that "…brittleness of moderately and severely mottled teeth may be associated with elevated caries levels." 45   In other words, in these cases the fluoride is causing the exact problem that it's supposed to prevent. Yiamouyiannis adds, "In highly naturally-fluoridated areas, the teeth actually crumble as a result. These are the first visible symptoms of fluoride poisoning." 55
Also, when considering dental fluorosis, there are factors beyond the physical that you can't ignore ­ the negative psychological effects of having moderately to severely mottled teeth. These were recognized in a 1984 National Institute of Mental Health panel that looked into this problem. 
A telling trend is that TV commercials for toothpaste, and toothpaste tubes themselves, are now downplaying fluoride content as a virtue. This was noted in an article in the Sarasota/Florida ECO Report, 56 whose author, George Glasser, feels that manufacturers are distancing themselves from the additive because of fears of lawsuits. The climate is ripe for these, and Glasser points out that such a class action suit has already been filed in England against the manufacturers of fluoride-containing products on behalf of children suffering from dental fluorosis.
Bone Fractures
At one time, fluoride therapy was recommended for building denser bones and preventing fractures associated with osteoporosis. Now several articles in peer-reviewed journals suggest that fluoride actually causes more harm than good, as it is associated with bone breakage. Three studies reported in The Journal of the American Medical Association showed links between hip fractures and fluoride. 575859 Findings here were, for instance, that there is "a small but significant increase in the risk of hip fractures in both men and women exposed to artificial fluoridation at 1 ppm."   In addition, the New England Journal of Medicine reports that people given fluoride to cure their osteoporosis actually wound up with an increased nonvertebral fracture rate. 60  Austrian researchers have also found that fluoride tablets make bones more susceptible to fractures.61 The U.S. National Research Council states that the U.S. hip fracture rate is now the highest in the world. 62
Louis V. Avioli, professor at the Washington University School of Medicine, says in a 1987 review of the subject: "Sodium fluoride therapy is accompanied by so many medical complications and side effects that it is hardly worth exploring in depth as a therapeutic mode for postmenopausal osteoporosis, since it fails to decrease the propensity for hip fractures and increases the incidence of stress fractures in the extremities." 63
Fluoride Poisoning
In May 1992, 260 people were poisoned, and one man died, in Hooper Bay, Alaska, after drinking water contaminated with 150 ppm of fluoride. The accident was attributed to poor equipment and an unqualified operator. 55   Was this a fluke? Not at all. Over the years, the CDC has recorded several incidents of excessive fluoride permeating the water supply and sickening or killing people. We don't usually hear about these occurrences in news reports, but interested citizens have learned the truth from data obtained under the Freedom of Information Act. Here is a partial list of toxic spills we have not been told about:
July 1993 ­ Chicago, Illinois: Three dialysis patients died and five experienced toxic reactions to the fluoridated water used in the treatment process. The CDC was asked to investigate, but to date there have been no press releases.
May 1993 ­ Kodiak, Alaska (Old Harbor): The population was warned not to consume water due to high fluoride levels. They were also cautioned against boiling the water, since this concentrates the substance and worsens the danger. Although equipment appeared to be functioning normally, 22-24 ppm of fluoride was found in a sample.
July 1992 ­ Marin County, California: A pump malfunction allowed too much fluoride into the Bon Tempe treatment plant. Two million gallons of fluoridated water were diverted to Phoenix Lake, elevating the lake surface by more than two inches and forcing some water over the spillway.
December 1991 ­ Benton Harbor, Michigan: A faulty pump allowed approximately 900 gallons of hydrofluosilicic acid to leak into a chemical storage building at the water plant. City engineer Roland Klockow stated, "The concentrated hydrofluosilicic acid was so corrosive that it ate through more than two inches of concrete in the storage building." This water did not reach water consumers, but fluoridation was stopped until June 1993. The original equipment was only two years old.
July 1991 ­ Porgate, Michigan: After a fluoride injector pump failed, fluoride levels reached 92 ppm and resulted in approximately 40 children developing abdominal pains, sickness, vomiting, and diarrhea at a school arts and crafts show.
November 1979 ­ Annapolis, Maryland: One patient died and eight became ill after renal dialysis treatment. Symptoms included cardiac arrest (resuscitated), hypotension, chest pain, difficulty breathing, and a whole gamut of intestinal problems. Patients not on dialysis also reported nausea, headaches, cramps, diarrhea, and dizziness. The fluoride level was later found to be 35 ppm; the problem was traced to a valve at a water plant that had been left open all night. 64
Instead of addressing fluoridation's problematic safety record, officials have chosen to cover it up. For example, the ADA says in one booklet distributed to health agencies that "Fluoride feeders are designed to stop operating when a malfunction occurs… so prolonged over-fluoridation becomes a mechanical impossibility."    In addition, the information that does reach the population after an accident is woefully inaccurate. A spill in Annapolis, Maryland, placed thousands at risk, but official reports reduced the number to eight. 65  Perhaps officials are afraid they will invite more lawsuits like the one for $480 million by the wife of a dialysis patient who became brain-injured as the result of fluoride poisoning.
Not all fluoride poisoning is accidental. For decades, industry has knowingly released massive quantities of fluoride into the air and water. Disenfranchised communities, with people least able to fight back, are often the victims. Medical writer Joel Griffiths relays this description of what industrial pollution can do, in this case to a devastatingly poisoned Indian reservation:
"Cows crawled around the pasture on their bellies, inching along like giant snails. So crippled by bone disease they could not stand up, this was the only way they could graze. Some died kneeling, after giving birth to stunted calves. Others kept on crawling until, no longer able to chew because their teeth had crumbled down to the nerves, they began to starve…." They were the cattle of the Mohawk Indians on the New York-Canadian St. Regis Reservation during the period 1960-1975, when industrial pollution devastated the herd ­ and along with it, the Mohawks' way of life….Mohawk children, too, have shown signs of damage to bones and teeth." 66
Mohawks filed suit against the Reynolds Metals Company and the Aluminum Company of America (Alcoa) in 1960, but ended up settling out of court, where they received $650,000 for their cows. 67
Fluoride is one of industry's major pollutants, and no one remains immune to its effects. In 1989, 155,000 tons were being released annually into the air,    and 500,000 tons a year were disposed of in our lakes, rivers, and oceans. 68

Cancer
Numerous studies demonstrate links between fluoridation and cancer; however, agencies promoting fluoride consistently refute or cover up these findings.
In 1977, Dr. John Yiamouyiannis and Dr. Dean Burk, former chief chemist at the National Cancer Institute, released a study that linked fluoridation to 10,000 cancer deaths per year in the U.S. Their inquiry, which compared cancer deaths in the ten largest fluoridated American cities to those in the ten largest unfluoridated cities between 1940 and 1950, discovered a 5% greater rate in the fluoridated areas. 69  The NCI disputed these findings, since an earlier analysis of theirs apparently failed to pick up these extra deaths. Federal authorities claimed that Yiamouyiannis and Burk were in error, and that any increase was caused by statistical changes over the years in age, gender, and racial composition. 70
In order to settle the question of whether or not fluoride is a carcinogen, a Congressional subcommittee instructed the National Toxicology Program (NTP) to perform another investigation. 71  That study, due in 1980, was not released until 1990. However, in 1986, while the study was delayed, the EPA raised the standard fluoride level in drinking water from 2.4 to 4 ppm. 72   After this step, some of the government's own employees in NFFE Local 2050 took what the Oakland Tribune termed the "remarkable step of denouncing that action as political." 73
When the NTP study results became known in early 1990, union president Dr. Robert Carton, who works in the EPA's Toxic Substances Division, published a statement. It read, in part: "Four years ago, NFFE Local 2050, which represents all 1100 professionals at EPA headquarters, alerted then Administrator Lee Thomas to the fact that the scientific support documents for the fluoride in drinking water standard were fatally flawed. The fluoride juggernaut proceeded as it apparently had for the last 40 years ­ without any regard for the facts or concern for public health.
"EPA raised the allowed level of fluoride before the results of the rat/mouse study ordered by Congress in 1977 was complete. Today, we find out how irresponsible that decision was. The results reported by NTP, and explained today by Dr. Yiamouyiannis, are, as he notes, not surprising considering the vast amount of data that caused the animal study to be conducted in the first place. The results are not surprising to NFFE Local 2050 either. Four years ago we realized that the claim that there was no evidence that fluoride could cause genetic effects or cancer could not be supported by the shoddy document thrown together by the EPA contractor.
"It was apparent to us that EPA bowed to political pressure without having done an in-depth, independent analysis, using in-house experts, of the currently existing data that show fluoride causes genetic effects, promotes the growth of cancerous tissue, and is likely to cause cancer in humans. If EPA had done so, it would have been readily apparent ­ as it was to Congress in 1977 ­ that there were serious reasons to believe in a cancer threat.
"The behavior by EPA in this affair raises questions about the integrity of science at EPA and the role of professional scientists, lawyers and engineers who provide the interpretation of the available data and the judgements necessary to protect the public health and the environment. Are scientists at EPA there to arrange facts to fit preconceived conclusions? Does the Agency have a responsibility to develop world-class experts in the risks posed by chemicals we are exposed to every day, or is it permissible for EPA to cynically shop around for contractors who will provide them the 'correct' answers?" 74
What were the NTP study results? Out of 130 male rats that ingested 45 to 79 ppm of fluoride, 5 developed osteosarcoma, a rare bone cancer. There were cases, in both males and females at those doses, of squamous cell carcinoma in the mouth. 75  Both rats and mice had dose-related fluorosis of the teeth, and female rats suffered osteosclerosis of the long bones.76
When Yiamouyiannis analyzed the same data, he found mice with a particularly rare form of liver cancer, known as hepatocholangiocarcinoma. This cancer is so rare, according to Yiamouyiannis, that the odds of its appearance in this study by chance are 1 in 2 million in male mice and l in 100,000 in female mice.    He also found precancerous changes in oral squamous cells, an increase in squamous cell tumors and cancers, and thyroid follicular cell tumors as a result of increasing levels of fluoride in drinking water. 77
A March 13, 1990, New York Times article commented on the NTP findings: "Previous animal tests suggesting that water fluoridation might pose risks to humans have been widely discounted as technically flawed, but the latest investigation carefully weeded out sources of experimental or statistical error, many scientists say, and cannot be discounted." 78  In the same article, biologist Dr. Edward Groth notes: "The importance of this study…is that it is the first fluoride bioassay giving positive results in which the latest state-of-the-art procedures have been rigorously applied. It has to be taken seriously." 71
On February 22, 1990, the Medical Tribune, an international medical news weekly received by 125,000 doctors, offered the opinion of a federal scientist who preferred to remain anonymous:
"It is difficult to see how EPA can fail to regulate fluoride as a carcinogen in light of what NTP has found. Osteosarcomas are an extremely unusual result in rat carcinogenicity tests. Toxicologists tell me that the only other substance that has produced this is radium….The fact that this is a highly atypical form of cancer implicates fluoride as the cause. Also, the osteosarcomas appeared to be dose-related, and did not occur in controls, making it a clean study." 79
Public health officials were quick to assure a concerned public that there was nothing to worry about! The ADA said the occurrence of cancers in the lab may not be relevant to humans since the level of fluoridation in the experimental animals' water was so high. 80   But the Federal Register, which is the handbook of government practices, disagrees: "The high exposure of experimental animals to toxic agents is a necessary and valid method of discovering possible carcinogenic hazards in man. To disavow the findings of this test would be to disavow those of all such tests, since they are all conducted according to this standard." 73   As a February 5, 1990, Newsweek article pointed out, "such megadosing is standard toxicological practice. It's the only way to detect an effect without using an impossibly large number of test animals to stand in for the humans exposed to the substance." 81 And as the Safer Water Foundation explains, higher doses are generally administered to test animals to compensate for the animals' shorter life span and because humans are generally more vulnerable than test animals on a body-weight basis. 82
Several other studies link fluoride to genetic damage and cancer. An article in Mutation Research says that a study by Proctor and Gamble, the very company that makes Crest toothpaste, did research showing that 1 ppm fluoride causes genetic damage.83 Results were never published but Proctor and Gamble called them "clean," meaning animals were supposedly free of malignant tumors. Not so, according to scientists who believe some of the changes observed in test animals could be interpreted as precancerous. 84   Yiamouyiannis says the Public Health Service sat on the data, which were finally released via a Freedom of Information Act request in 1989. "Since they are biased, they have tried to cover up harmful effects," he says. "But the data speaks for itself. Half the amount of fluoride that is found in the New York City drinking water causes genetic damage." 46
A National Institutes of Environmental Health Sciences publication, Environmental and Molecular Mutagenesis, also linked fluoride to genetic toxicity when it stated that "in cultured human and rodent cells, the weight of evidence leads to the conclusion that fluoride exposure results in increased chromosome aberrations." 85 The result of this is not only birth defects but the mutation of normal cells into cancer cells. The Journal of Carcinogenesis further states that "fluoride not only has the ability to transform normal cells into cancer cells but also to enhance the cancer-causing properties of other chemicals." 86
Surprisingly, the PHS put out a report called Review of fluoride: benefits and risks, in which they showed a substantially higher incidence of bone cancer in young men exposed to fluoridated water compared to those who were not. The New Jersey Department of Health also found that the risk of bone cancer was about three times as high in fluoridated areas as in nonfluoridated areas. 87
Despite cover-up attempts, the light of knowledge is filtering through to some enlightened scientists. Regarding animal test results, the director of the U.S. National Institute of Environmental Health Sciences, James Huff, does say that "the reason these animals got a few osteosarcomas was because they were given fluoride…Bone is the target organ for fluoride."  Toxicologist William Marcus adds that "fluoride is a carcinogen by any standard we use. I believe EPA should act immediately to protect the public, not just on the cancer data, but on the evidence of bone fractures, arthritis, mutagenicity, and other effects." 88
The Challenge of Eliminating Fluoride
Given all the scientific challenges to the idea of the safety of fluoride, why does it remain a protected contaminant? As Susan Pare of the Center for Health Action asks, "…even if fluoride in the water did reduce tooth decay, which it does not, how can the EPA allow a substance more toxic than Alar, red dye #3, and vinyl chloride to be injected purposely into drinking water?" 89
This is certainly a logical question and, with all the good science that seems to exist on the subject, you would think that there would be a great deal of interest in getting fluoride out of our water supply. Unfortunately, that hasn't been the case. As Dr. William Marcus, a senior science advisor in the EPA's Office of Drinking Water, has found, the top governmental priority has been to sweep the facts under the rug and, if need be, to suppress truth-tellers. Marcus explains 90  that fluoride is one of the chemicals the EPA specifically regulates, and that he was following the data coming in on fluoride very carefully when a determination was going to be made on whether the levels should be changed. He discovered that the data were not being heeded. But that was only the beginning of the story for him. Marcus recounts what happened:
"The studies that were done by Botel Northwest showed that there was an increased level of bone cancer and other types of cancer in animals….in that same study, there were very rare liver cancers, according to the board-certified veterinary pathologists at the contractor, Botel. Those really were very upsetting because they were hepatocholangeal carcinomas, very rare liver cancers….Then there were several other kinds of cancers that were found in the jaw and other places.
"I felt at that time that the reports were alarming. They showed that the levels of fluoride that can cause cancers in animals are actually lower than those levels ingested in people (who take lower amounts but for longer periods of time).
"I went to a meeting that was held in Research Triangle Park, in April 1990, in which the National Toxicology Program was presenting their review of the study. I went with several colleagues of mine, one of whom was a board-certified veterinary pathologist who originally reported hepatocholangeal carcinoma as a separate entity in rats and mice. I asked him if he would look at the slides to see if that really was a tumor or if the pathologists at Botel had made an error. He told me after looking at the slides that, in fact, it was correct.
"At the meeting, every one of the cancers reported by the contractor had been downgraded by the National Toxicology Program. I have been in the toxicology business looking at studies of this nature for nearly 25 years and I have never before seen every single cancer endpoint downgraded…. I found that very suspicious and went to see an investigator in the Congress at the suggestion of my friend, Bob Carton. This gentleman and his staff investigated very thoroughly and found out that the scientists at the National Toxicology Program down at Research Triangle Park had been coerced by their superiors to change their findings."91
Once Dr. Marcus acted on his findings, something ominous started to happen in his life: "…I wrote an internal memorandum and gave it to my supervisors. I waited for a month without hearing anything. Usually, you get a feedback in a week or so. I wrote another memorandum to a person who was my second-line supervisor explaining that if there was even a slight chance of increased cancer in the general population, since 140 million people were potentially ingesting this material, that the deaths could be in the many thousands. Then I gave a copy of the memorandum to the Fluoride Work Group, who waited some time and then released it to the press.
"Once it got into the press all sorts of things started happening at EPA. I was getting disciplinary threats, being isolated, and all kinds of things which ultimately resulted in them firing me on March 15, 1992." 
In order to be reinstated at work, Dr. Marcus took his case to court. In the process, he learned that the government had engaged in various illegal activities, including 70 felony counts, in order to get him fired. At the same time, those who committed perjury were not held accountable for it. In fact, they were rewarded for their efforts:
"When we finally got the EPA to the courtroom…they admitted to doing several things to get me fired. We had notes of a meeting…that showed that fluoride was one of the main topics discussed and that it was agreed that they would fire me with the help of the Inspector General. When we got them on the stand and showed them the memoranda, they finally remembered and said, oh yes, we lied about that in our previous statements.
"Then…they admitted to shredding more than 70 documents that they had in hand ­ Freedom of Information requests. That's a felony…. In addition, they charged me with stealing time from the government. They…tried to show…that I had been doing private work on government time and getting paid for it. When we came to court, I was able to show that the time cards they produced were forged, and forged by the Inspector General's staff…." 
For all his efforts, Dr. Marcus was rehired, but nothing else has changed: "The EPA was ordered to rehire me, which they did. They were given a whole series of requirements to be met, such as paying me my back pay, restoring my leave, privileges, and sick leave and annual leave. The only thing they've done is put me back to work. They haven't given me any of those things that they were required to do."92
What is at the core of such ruthless tactics? John Yiamouyiannis feels that the central concern of government is to protect industry, and that the motivating force behind fluoride use is the need of certain businesses to dump their toxic waste products somewhere. They try to be inconspicuous in the disposal process and not make waves. "As is normal, the solution to pollution is dilution. You poison everyone a little bit rather than poison a few people a lot. This way, people don't know what's going on."
Since the Public Health Service has promoted the fluoride myth for over 50 years, they're concerned about protecting their reputation. So scientists like Dr. Marcus, who know about the dangers, are intimidated into keeping silent. Otherwise, they jeopardize their careers. Dr. John Lee elaborates: "Back in 1943, the PHS staked their professional careers on the benefits and safety of fluoride. It has since become bureaucratized. Any public health official who criticizes fluoride, or even hints that perhaps it was an unwise decision, is at risk of losing his career entirely. This has happened time and time again. Public health officials such as Dr. Gray in British Columbia and Dr. Colquhoun in New Zealand found no benefit from fluoridation. When they reported these results, they immediately lost their careers…. This is what happens ­ the public health officials who speak out against fluoride are at great risk of losing their careers on the spot." 
Yiamouyiannis adds that for the authorities to admit that they're wrong would be devastating. "It would show that their reputations really don't mean that much…. They don't have the scientific background. As Ralph Nader once said, if they admit they're wrong on fluoridation, people would ask, and legitimately so, what else have they not told us right?" 
Accompanying a loss in status would be a tremendous loss in revenue. Yiamouyiannis points out that "the indiscriminate careless handling of fluoride has a lot of companies, such as Exxon, U.S. Steel, and Alcoa, making tens of billions of dollars in extra profits at our expense…. For them to go ahead now and admit that this is bad, this presents a problem, a threat, would mean tens of billions of dollars in lost profit because they would have to handle fluoride properly. Fluoride is present in everything from phosphate fertilizers to cracking agents for the petroleum industry." 
Fluoride could only be legally disposed of at a great cost to industry. As Dr. Bill Marcus explains, "There are prescribed methods for disposal and they're very expensive. Fluoride is a very potent poison. It's a registered pesticide, used for killing rats or mice…. If it were to be disposed of, it would require a class-one landfill. That would cost the people who are producing aluminum or fertilizer about $7000+ per 5000- to 6000-gallon truckload to dispose of it. It's highly corrosive." 
Another problem is that the U.S. judicial system, even when convinced of the dangers, is powerless to change policy. Yiamouyiannis tells of his involvement in court cases in Pennsylvania and Texas in which, while the judges were convinced that fluoride was a health hazard, they did not have the jurisdiction to grant relief from fluoridation. That would have to be done, it was ultimately found, through the legislative process.    Interestingly, the judiciary seems to have more power to effect change in other countries. Yiamouyiannis states that when he presented the same technical evidence in Scotland, the Scottish court outlawed fluoridation based on the evidence.
Indeed, most of Western Europe has rejected fluoridation on the grounds that it is unsafe. In 1971, after 11 years of testing, Sweden's Nobel Medical Institute recommended against fluoridation, and the process was banned.93 The Netherlands outlawed the practice in 1976, after 23 years of tests. France decided against it after consulting with its Pasteur Institute64   and West Germany, now Germany, rejected the practice because the recommended dosage of 1 ppm was "too close to the dose at which long-term damage to the human body is to be expected." 84   Dr. Lee sums it up: "All of western Europe, except one or two test towns in Spain, has abandoned fluoride as a public health plan. It is not put in the water anywhere. They all established test cities and found that the benefits did not occur and the toxicity was evident."94
Isn't it time the United States followed Western Europe's example? While the answer is obvious, it is also apparent that government policy is unlikely to change without public support. We therefore must communicate with legislators, and insist on one of our most precious resources ­ pure, unadulterated drinking water. Yiamouyiannis urges all American people to do so, pointing out that public pressure has gotten fluoride out of the water in places like Los Angeles; Newark and Jersey City in New Jersey; and 95Bedford, Massachusetts. 46   He emphasizes the immediacy of the problem: "There is no question with regard to fluoridation of public water supplies. It is absolutely unsafe…and should be stopped immediately. This is causing more destruction to human health than any other single substance added purposely or inadvertently to the water supply. We're talking about 35,000 excess deaths a year…10,000 cancer deaths a year…130 million people who are being chronically poisoned. We're not talking about dropping dead after drinking a glass of fluoridated water…. It takes its toll on human health and life, glass after glass." 96
There is also a moral issue in the debate that has largely escaped notice. According to columnist James Kilpatrick, it is "the right of each person to control the drugs he or she takes." Kilpatrick calls fluoridation compulsory mass medication, a procedure that violates the principles of medical ethics. 97   A New York Times editorial agrees:
"In light of the uncertainty, critics [of fluoridation] argue that administrative bodies are unjustified in imposing fluoridation on communities without obtaining public consent…. The real issue here is not just the scientific debate. The question is whether any establishment has the right to decide that benefits outweigh risks and impose involuntary medication on an entire population. In the case of fluoridation, the dental establishment has made opposition to fluoridation seem intellectually disreputable. Some people regard that as tyranny." 98
Source: Dr. Gary Null, PhD
Most of us know that the environment has a tremendous effect on our physical and mental well-being but did you know that our thoughts directly affect the way we physically feel? Remember always that we live and exist as part of a vast, elaborate, and intricate matrix of consciousness where everything affects everything else. There are numerous causes to any one effect. Reality is far more complex than we sometimes realize. It's far easier on our brains to overly simplify Reality's operating system yet by doing so we can end up blocking out an understanding of how we are living a shadow of the amazing life we could be experiencing. Let's take a look at a program in the operating system of Reality that affects us on a daily basis in very intimate ways: our thoughts affecting our well-being.
Anger Makes You Physically Sick
According to a 2006 Harvard study, 10 million adult men in the United States are so angry that they're sick. In fact, their disease has a name: intermittent explosive disorder, or IED. It's been something recognized since 1980 but has existed for millenia before humans discovered the facts of the matter. Besides a person filled with anger and rage being an immediate threat to any property or people that may happen to be within swinging distance, there is some serious damage that is happening internally as well. People who experience frequent outbursts of anger have been found to be more likely to die of heart disease or stroke.
In fact, more than 30,000 heart attacks each year are triggered by momentary anger, according to a 2004 Harvard study. "People who have a lot of anger invest a lot of energy in trying to control it, and that kind of friction is likely to increase the probability of a heart attack," says Charles Spielberger, Ph.D., a University of South Florida psychologist who developed the most widely used test to measure anger. "The more intense the anger, the more likely the heart attack." Other studies have shown that angry men are three times more likely to develop premature cardiovascular disease, six times more likely to have an early heart attack, and three times more likely to have a stroke.
Your Attitude Affects How Long You Live
Research into the body-mind connection has discovered that if you expect illness you increase the odds of getting an illness and if you expect good health your chances of enjoying good health are increased. The University of Texas found people with an upbeat view of life were less likely than pessimists to show signs of frailty and disease. Another study that was published in the same journal suggests that physical performance can be influenced by mental attitude, indicating the intimate interplay between physical and mental systems.
Researchers from North Carolina State University did a study with results that showed that memory performance in older adults was lower when they were primed with negative stereotypes. In contrast, there was much less difference in performance between young and older adults primed with positive stereotypes. The researchers say their findings suggest that if older people are treated like they are competent, productive members of society, then they perform that way too. This shows that the thoughts of others about us affect the thoughts we have about ourselves if we are aware of what those thoughts are. Once again the intricate network of inter-connectivity shows itself to be very, very real.
Negative Emotions Affect Our Life Force on Subtle Levels

In the book Pranic Healing there is a more subtle look into how our thoughts and emotions affect our well-being. The following is a quote from the book on this:
Energetically speaking, anger and frustration result in pranic (chi/qi/energy) depletion around the solar plexus and abdominal areas or may manifest as pranic congestion around the solar plexus and heart area. In the first case, it manifests itself as indigestion or loose bowel movements. In the long run, it may manifest itself as ulcers or as a gall bladder problem. In the second case, it may manifest itself as a heart enlargement or other heart related problems. It seems that a certain type of negative emotion may manifest as a certain type of disease in one patient but may manifest as another type of disease in another.

Anger and intense worry devitalize the whole bioplasmic body so that the body becomes susceptible to all kinds of diseases. Negative emotions cause disturbances in the bioplasmic body so that the whole physical body becomes sick. You may have experienced that after an intense anger or an intense altercation, you felt physically exhausted or became sick. This is because both the bioplasmic and visible physical bodies are drained of prana and became susceptible to infection.
Too Much Relationship Commitment May Increase Anxiety, Depression & Hostility
This one is definitely worth elaborating on. As in my article on what happens in a relationship when passion overrides love, we can find yet again what happens when we allow our egos invest an unbalanced amount of energy and focus towards one person. Because of the dynamics of human interaction and relationships when there is a state of disequilibrium the relationships can fail and when they do the emotional pain is magnified several times over.
A study by the University of Houston has found that there is too much emotional weight placed on a relationship one or both people involved will evaluate their self-worth by the out comes of their romantic interactions. This happens so commonly psychologists even gave it a name (relationship-contingent self-esteem).
People with high levels of RCSE are very committed in their relationships but can experience manic, needy, and obsessive behaviors with regards to love. Researcher Chip Knee said that "when something happens in a relationship, these individuals don't separate themselves from it. They immediately feel personally connected to any negative circumstance in a relationship and become anxious, more depressed and hostile."  What goes wrong doesn't even have to be a big event. It can be as simple as the other person not returning their texts, calls, snapchats, etc. The study doesn't suggest that commitment is bad in itself but rather the wrong kind of commitment like the kind that arises from an egoistic desire to fill a void in a person's life with another person that becomes a desolate wasteland when that person isn't there in some capacity.
Being Happier Leads to Better Health
Monty Python famously sang "Always look on the bright side of life." Yes there is death and destruction mercilessly given out but there is also compassion and creation introduced into our world. Just like the ancient adage says that the world is our mirror, so too does this apply to health through happiness.
Several studies have found that optimism does indeed lead to greater happiness and longevity. Researchers at the University of Pittsburgh School of Medicine did a study on post-menopausal women and found that they were healthier and lived longer than their counterparts that chose to dwell in pessimism. With 100,000 women being a part of this study who were tracked for 8 years, the results are quite firm. Women in the "cynically hostile" group suffered poorer health, had a 16% higher risk of dying from any cause, and a 23% higher risk of dying from cancer.
If you have an optimistic state of mind you have a better ability to become accomplished in life, are better able to cope with stress, and can take on life challenges more resiliently…all of these have been confirmed by modern scientific studies but have been talked about by the wise ancients for millenia. In the book Being Happy! author Andrew Matthews looks to the scientific research that have been done that showing just how damaging a negative state of mind really is and the results are shocking. For instance, when blood samples taken from people who were feeling anger and fear were injected into guinea pigs they literally dropped dead in less then two minutes. Negative emotions are self-destructive and if there was ever a reason to consciously stop fear and anger in their tracks, that's a big one for sure.
Happy a Positive Attitude Reduces Pain and Fatigue
Even when we are on death's doorstep, happy a positive attitude about it will reduce the pain and suffering we feel. A study done by Dr Margot E Kurtz and her team from the Michigan State University with cancer patients undergoing chemotherapy found that cancer patients with more optimistic outlooks were able to feel less pain associated with the cancers. Patients who had a strong sense of control over their environment experienced less severe fatigue.
It's difficult to stay positive when you're face with your own mortality in such a life-changing way but if you understand that there is a degree of pain and suffering that doesn't have to exist on top of that which you can't control, it all becomes much easier to cope with. At the very least, we can reduce the pain and fatigue we have in these kinds of life circumstances if we find ways to elevate our spirits out of the dark depths of confronting death.
Stress Can Literally Cause Cancer
Stress is called the mother of all dis-ease and with evidence of cancer being sprung into existence with the help of stress we can truly say stress is a menace to society. Prof Xu and a team of researchers at Yale University did a study on fruit flies and found that everyday emotional stress triggers the growth of cancerous tumors. What happens is that stress opens up pathways between cells that allow mutations to spread, leading to cancer taking over.  Stress, be it physical or emotional, is never good. This seems like a given yet how often do we find ourselves unnecessarily stressing over things we either can't control or that we blow out of proportion? Stress is something that can be controlled with things such as deep breathing, being tuned into the present moment, and of course having a regular meditation practice.
…and Bias Towards Negativity Causes Stress
Riding on the "stress causes cancer" train, researchers have found that people who notice negative information over positive information are more stressed out. This is especially true for 'news junkies' and ties into research that found reading the news can make you want to grab a bottle of antidepressants and swallow all the pills. Researchers from the University of Essex found that they could predict the body's reaction to stress up to eight months after they measured a person's bias towards positive or negative images. The results indicate that people who are biased towards negativity have a much greater risk of having an anxiety disorder as a result.
Optimists Are Less Likely To Get Heart Disease
Just by living in a positive state of mind greatly reduces your risk of heart disease according to new research. This was the first study, in fact, that made a direct connection between positive emotions and lower risk of heart disease. The study which went on for 10 years found that people that don't dwell in positivity had a 22% greater risk of developing heart disease. That's too large of a risk to not take to heart. Since happier people tend to sleep better and not have such erratic sleeping patterns, their bodies are less stressed and strained. Happier people are also better able to move on after something unfortunate happens to them than unhappy people who tend to dwell longer on negative experiences.
…and Fight Off Illnesses More Easily
It turns out that when we are pessimistic we actually have a weaker immune system response to illnesses such as viral infections. This can result in a prolonged cold or flu that we definitely would not enjoy. In a study where scientists tracked the well-being of students for a year and tested their immune systems, they found very strong responses to challenges to their immune systems if those students were generally optimistic. There was a clear demonstration that when they were optimistic their immune systems got stronger and when they were pessimistic their immune systems got weaker.
You Really *Are* As Old As You Feel
Obviously we won't stay 21 forever but if we shift our perception of reality in such a way that we don't fall into negative thinking about how we're getting older and therefore we're going to ache more, sleep less, weigh more, and so on, we'll have more vitality. A study led by Markus Schafer found that if we mentally keep on imprinting our minds with the idea that we're old (or rather, that we're going to experience the negative effects of aging before we actually get old) it will have a direct negative effect on our physical bodies. "We found that these people who felt young for their age were more likely to have greater confidence about their cognitive abilities a decade later," Schafer said. "Yes, chronological age was important, but the subjective age had a stronger effect.
Your Vision Can Improve If You Think It's Improved
In a remarkable case of our thoughts shaping our reality, our eyesight can improve if we believe that we can see especially well. This finding, by psychologist Ellen Langer from Harvard University shows that perception can truly become reality, or at the very least help usher that reality into existence. Out of all the findings Langer had in her research, the most incredible one was when 20 men and women (all with normal eyesight) were shown a reverse eye chart that was arranged so the letters became larger the further down they went, not smaller. Surprisingly, they accurately reported more letters from the smallest two lines than they did when shown a traditional eye chart with the largest letters at the top. The conclusion from all of the findings was that while vision may not improve itself, out mind-set is more accurately perceiving what it is seeing.
Insecurity in Relationships Leads to Greater Risk of Heart Problems
People who feel insecure in their relationships have been found to have increased heart problems later on in life. In a study published by the American Psychological Association which examined data on 5,645 adults found that people who felt insecure in relationships or avoided getting close to others are at a higher risk of developing several chronic diseases. The cardiovascular system seems to be especially hard hit from relationship insecurity and this makes sense since a relationship is heart-based in nature.
Other Physical Effects of Negative Emotions
"We are what we think. All that we are arises with our thoughts. With our thoughts, we make our world". This is how I start off a detailed section on how our thoughts and states of consciousness shape our reality in my book The Creation of a Consciousness Shift. These words, said by the Buddha over 2,500 years ago, have always been true (and on many levels), yet now we have verifiable proof of it using our scientific method of understanding our world.
Now that we are more aware and better understand the power of our thoughts, it's time to take that awareness and understanding and apply it to our lives. Why choose to live anything less then the most optimal life you can? 'Knowledge is power', it is said. You have the knowledge now. Use your newly-found power to your advantage and elevate you well-being.
The physical arises from the subtle. Formlessness gives birth to form. Your thoughts, leading a seemingly vaporous existence, have more power over you then you may think. Initiate the Gamechanger…let your thoughts become your ally, increasing your physical, mental, and spiritual well-being. You can either empower yourself or continue living life at the behest of untamed and uncontrolled thoughts. The choice is yours. What choice will you make?
About the Author
Paul Lenda is a conscious evolution guide, author of The Creation of a Consciousness Shift, and co-founder of SHIFT>, a social community focused on anchoring in the new paradigm and assisting the positive transformation of humanity. With the drive to be aware of and experience the wider horizon of Reality, Paul has developed an extensive background in the spiritual and transformative elements of life; one that is both knowledge and experienced-based. Visit his website www.shift.is, follow him on Twitter or visit the Shift Facebook community.
Source: Waking Times
As the Department of Homeland Security (DHS) doles out billions of dollars to convince local police departments to surrender control to the federal agency, a recent report indicates that intelligence gathered at precincts-cum-surveillance-centers will be shared among all levels of law enforcement.
An article published by Fierce Homeland Security on November 4 reports:
The phenomenon of fusion centers sharing intelligence and skills with each other — not just with the federal government — is a new and underappreciated aspect of the centers, panelists at a Homeland Security Policy Institute event said.
Fusion centers mainly apply national intelligence to local contexts and gather information locally that they can share with federal agencies. But in recent years, a great deal of "horizontal sharing" has occurred, where fusion centers work closely with each other, said Ross Ashley, the executive director of National Fusion Center Association.
"We'll find an expert in Washington state on international human trafficking over international ferry systems. Well, I don't need that expert everywhere. What I need is the ability to reach out to that expert if I'm in West Virginia," he said at the event, held Oct. 23 in Washington, D.C.
That meeting, entitled "State and Local Fusion Centers: Key Challenges for the Next Decade," featured three panelists: John Cohen, principal deputy under secretary for intelligence and analysis, U.S. Department of Homeland Security; Thomas Kirk, director, West Virginia Intelligence Fusion Center; and Ross Ashley, executive director, National Fusion Center Association. The keynote address was delivered by Representative Michael McCaul (R-Texas), Chairman of the House Committee on Homeland Security.
In July, McCaul co-authored with Representative Peter King (R-N.Y.) a report on the progress of the establishment of the nationwide spread of the fusion centers. The press release announcing the report reveals the pair's support for a program that dismantles federalism and accelerates the militarization of local police and the consolidation of control of those departments to the federal government. The McCaul-King report states:
Fusion centers serve as hubs of strategic analysis and information sharing where Federal, State, and local agencies are all represented in one location. State and local crime data is coordinated, gathered and reviewed to determine if there is any potential connection to terrorist activity. In addition, Federal terrorism-related information is shared with State and local law enforcement.
Seems the congressmen should be reminded of the fact that there is not a single syllable of the Constitution authorizing any such federal participation in law enforcement. If the power isn't granted to the federal government in the Constitution, then authority over that area remains with the states and the people as described in the Tenth Amendment.
Remarkably, McCaul and King lament the fact that the chain of fusion centers isn't growing quickly enough and the DHS isn't getting adequate access to all that information. The report adds:
The Committee's review concludes that the Network is not functioning as cohesively as it should be and fusion centers are facing numerous challenges that prevent the Network from realizing its full potential to help secure the homeland.
Of course, there couldn't be a piece of federal police and surveillance program propaganda without reminding citizens that all this deprivation of their rights is for their safety. As if to say, if the federal government doesn't take control of your local police department and keep all citizens under surveillance, the terrorists will strike again.
The representatives' zeal for constructing local outposts of the central surveillance headquarters is not surprising. Self-serving bureaucrats inside the U.S. government are tirelessly trying to obliterate local police forces answerable to local citizens and promote the consolidation movement as a step toward federalization of law enforcement. These proponents of regional and national police forces desire nothing less than the eradication of all local police departments and sheriffs' offices, the surrender of state and municipal sovereignty, and the conversion of police into federal security agents sworn not to protect and to serve their neighbors, but to protect the prerogatives of politicians.
Take for example the information contained in a White Paper presented in 2012 to the House Permanent Select Committee on Intelligence. In that report, the DHS is encouraged to embark on an "evolving mission" away from its ostensible purpose of fighting terrorism, toward becoming the administrator of an enormous domestic intelligence agency resulting from an integration of the country's local and state law-enforcement agencies.
This report was written by the Aspen Institute Homeland Security Group, co-chaired by former DHS chief Michael Chertoff. The blueprint promoted in the White Paper pushes Congress toward green-lighting the growth of DHS and the dissolution of local police and sheriffs.
The organization described in the paper, entitled "Homeland Security and Intelligence: Next Steps in Evolving the Mission," is reminiscent of more draconian governments. For example, one section of the report calls for a transition in the mission of DHS away from protecting the country from the "terrorism" of foreign militants and toward "more specific homeward focused areas." Additional sections of the report lay out the plans for building a DHS/police hybrid agency that can monitor Americans in any town and prevent threats from fellow citizens.
In order to achieve their ultimate aim, the globalists demand that DHS or some other federal agency take control of the personnel decisions currently made by local police chiefs and county sheriffs. "As the threat grows more localized," the report claims, "the federal government's need to train, and even staff, local agencies, such as major city police departments, will grow." Put another way: The federal government will run your local police department and sheriff's office.
The establishment of fusion centers is a key component of this plan. The following information is taken from a fact sheet on fusion centers posted on the DHS website:
A fusion center is a collaborative effort of two or more agencies that provide resources, expertise and information to the center with the goal of maximizing their ability to detect, prevent, investigate, and respond to criminal and terrorist activity.
A description of the functioning of these incubators for the forthcoming federal police force is also provided on the DHS site:
State and major urban area fusion centers (fusion centers) serve as primary focal points within the state and local environment for the receipt, analysis, gathering, and sharing of threat-related information among federal, state, local, tribal, and territorial (SLTT) partners…. Fusion centers conduct analysis and facilitate information sharing, assisting law enforcement and homeland security partners in preventing, protecting against, and responding to crime and terrorism.
The literature promoting the acceptance of fusion centers lists several ways the new federal agency will impose its will on the formerly autonomous and accountable police chief or county sheriff.
Last year, The New American described the likely procedure:
First, the feds will decide where and when to deploy local police department personnel. The chief, if he still exists, will be no more than a functionary required to make sure that the orders of the federal government are carried out. More likely than not, these new missions, in addition to preventing crime in the city or county, will engage in the collection of information about and apprehension of those local citizens identified by a committee in Washington as posing a threat to national security. Consider the revelation in 2009 that Homeland Security's Office of Intelligence and Analysis released a document entitled "Rightwing Extremism: Current Economic and Political Climate Fueling Resurgence in Radicalism and Recruitment," which listed war veterans, anti-abortion activists, small-government advocates, and those concerned about immigration as terrorist risks.
Second, DHS (or whichever one of the federal agencies eventually takes over law-enforcement duties) will train new recruits. Policies, procedures, and purposes will not reflect traditional (and constitutional) goals of law enforcement, but will be tailored to training officers to perform those duties associated with the new, national emphasis of the force, with a slant toward federalism.
Finally, funds for this conversion from local police department to outpost of the federal law-enforcement agency will be provided by the bureaucrats on Capitol Hill. This carrot will be tied to the stick of federal control.
The speed and success of the Department of Homeland Security's plan to string together a powerful net of surveillance-focused fusion centers in all the country's police departments is evident in the following statement at the Homeland Security Policy Institute's meeting made by Thomas Kirk, director of the West Virginia Intelligence Fusion Center:
"In all law enforcement, I've never seen anything like that," he said. "Most of the time when I call another fusion center director, they know my voice."
Joe A. Wolverton, II, J.D. is a correspondent for The New American and travels frequently nationwide speaking on topics of nullification, the NDAA, and the surveillance state.  He is the host of The New American Review radio show that is simulcast on YouTube every Monday. Follow him on Twitter @TNAJoeWolverton and he can be reached at jwolverton@thenewamerican.com
Source: Joe Wolverton, II, J.D. | The New American
"There exists in this country a plot to enslave every man, woman, and child. Before I leave this high and noble office I intend to expose this plot." John F Kennedy, just before his Assassination…
For those who were of age and alive at the time of the Dallas killing, a fresh memory of the times and era are integral to their assessment. Those who were born later, have no firsthand experience of the actual change that took place to the body politics. Comparing before and after is mostly forgotten by the history accounts. For those who remember, the country started on a downward spiral that continues to the present. The assassination of John F. Kennedy was a political coup d'état and has been described as an enigma with many layers of disinformation. However, peeling back this onion exposes a rot that very much explains the current condition of our country.
When raising the subject of a conspiracy, it is both amusing and tragic that establishment defenders are quick to discredit the investigator, while avoiding facts, evidence and common sense. Solving the mystery to the satisfaction of competing and often conflicting factions is not necessary. However, understanding the course of events that took hold after the Camelot myth was buried is intensely valuable. The end of innocence became an existential awakening to the perceptive, while believing the conclusions of the Warren commission provided reassurance for not facing reality.
Why did powerful elites fear Kennedy? The Entire John F. Kennedy Secret Society Speech provides the motive behind the mask of the media filter.
From this "President and the Press" Speech (April 27, 1961)
"The very word "secrecy" is repugnant in a free and open society; and we are as a people inherently and historically opposed to secret societies, to secret oaths and to secret proceedings. We decided long ago that the dangers of excessive and unwarranted concealment of pertinent facts far outweighed the dangers which are cited to justify it. Even today, there is little value in opposing the threat of a closed society by imitating its arbitrary restrictions. Even today, there is little value in insuring the survival of our nation if our traditions do not survive with it. And there is very grave danger that an announced need for increased security will be seized upon by those anxious to expand its meaning to the very limits of official censorship and concealment. That I do not intend to permit to the extent that it is in my control. And no official of my Administration, whether his rank is high or low, civilian or military, should interpret my words here tonight as an excuse to censor the news, to stifle dissent, to cover up our mistakes or to withhold from the press and the public the facts they deserve to know."
Remember that most famous of all winks at the LBJ swearing in? Look to None Dare Call It Conspiracy!, and put the pieces of the puzzle in place.
"The significance of the Stone film, JFK, is demonstrated by the assault that the established order heaped upon his portrayal. Believe it or reject it, but investigate the questions that have never been answered. If logic has meaning, have Arlene Spector explain that magic bullet again. That 'Man X' was real – his name, colonel Fletcher Prouty, a true 'black bag' magician."
Lyndon B. Johnson initiated the Reign on Terror that continues to this day. His involvement into the plot is supported in the new book, The Man Who Killed Kennedy: The Case Against LBJ by Roger Stone with Mike Colapietro.
"The notable individuals that knew and said Johnson was involved in murderous acts is also well-documented… they include Oswald murderer Jack Ruby, Dexter Scott King, son of Dr. Martin Luther King, as well as LBJ associate Billy Sol Estes, LBJ mistress Madeleine Brown, Texas Governor Allan Shivers, renowned Texas Ranger Clint Peoples, CIA asset E. Howard Hunt and US Senator and 1964 Republican nominee for President Barry Goldwater. The KGB, fearing that they or their puppet state Cuba would be falsely blamed conducted their own investigation and concluded LBJ killed JFK at the same to time French Intelligence would tell Jackie Kennedy LBJ murdered her husband."
If this is just too much to accept, look at the "Skull and Bones" operative, who just happened to be a Texas Oilman. Similarly, he was Vice President at the time of an assassination attempt that almost was successful. Sure, such a coincidence should be fodder for an Oliver Stone sequel – Reagan.
Now consider the CIA component in the "Big Event". Did George H.W. Bush Coordinate a JFK Hit Team?
"Next, George Bush can be seen in photos of Dealey Plaza, next to the TSBD doorway and Ed Lansdale, shortly following the assassination (see below). These photos, unmistakably George Bush, tell us where he went after he left the Dallas Sheriff's Office: back to the crime scene to get an update on all that he had missed. He must have made his call to the FBI reporting James Parrot from the Dallas Sheriff's Office, at 1:45 PM, because Bush is seen in Dealey Plaza with Lansdale, who would leave the plaza at about 2 PM and walk past "the three tramps" toward the parking lot. Bush obviously had to go straight back to Dealey Plaza for him to be photographed with Lansdale, who remained around Dealey Plaza until Oswald was arrested at the Texas Theater at 1:50 PM."
J. Edgar Hoover's FBI was up to his ears in the investigation. He certainly was no friend of the Kennedy's. Therefore, when eyewitness testimony from scores of witnesses was ignored or discarded by the Bureau, no one should be surprised that the final report will be suspect. The Mary Ferrell Foundation site furnishes the following:
"The Church Committee in the 1970s analyzed the CIA's role in supporting the Warren Commission, and found it lacking. The Committee "developed evidence which impeaches the process by which the intelligence agencies [CIA and FBI] arrived at their own conclusions about the assassination, and by which they provided information to the Warren Commission."
Now watch the video from Jim Marrs & St. John Hunt – E. Howard Hunt Deathbed Confession JFK Assassination. A dying admission once held legal merit. But in this disinformation world of government scripted deflection, the public needs to be kept in tranquil ignorance. The Daily Paul site provided additional information.
"One of most explosive under-reported stories of the last 50 years is the deathbed confession of E. Howard Hunt, who was personal assistant to Allen Dulles, head of the CIA at the time, to knowledge that Lee Harvey Oswald did not act alone and that he, Hunt, had been personally involved in the assassination. Hunt said in his written confession that the assassination was code-named "the Big Event."
Whatever determination you maintain on the actual circumstances, the results from JFK's elimination are dramatic. Five Fiendish Ways the Kennedy Assassination Warped Our World list is an effective analysis.
1. LBJ Unleashed – Johnson's profligate Great Society spending strategies, which took the New Deal and accelerated it into hyper-drive.

2. Vietnam – in October of 1963, Kennedy issued National Security Action Memorandum (NSAM) 263, which detailed his plan to withdraw U.S. advisers from Vietnam while gradually scaling back our involvement in Southeast Asia. But within four days of the assassination, Lyndon Johnson had already signed and submitted NSAM 273, which reversed course and basically pledged to stand by the government in South Vietnam come hell or high water.

3. The Federal Reserve Survives – In June of 1963, Kennedy signed Executive Order 11110, which authorized the U.S. Treasury to issue certificates backed by silver as an alternative form of money to Federal Reserve notes. But when President Kennedy was killed, LBJ suspended this program immediately, and the Federal Reserve's control over the U.S. economy has never once been challenged since.

4. The CIA and Our Culture of Secrecy – Kennedy's statement to "splinter the CIA into a thousand pieces and scatter it to the wind", his death allowed the CIA to continue and preserve its culture of secrecy.

5. Mainstream Nonsense and the Mainstream Media – The vast majority of the Fourth Estate took the path of least resistance, and the idea of an independent media that would fearlessly search for the truth no matter where it led died a painful and difficult death.
So what is the significance of the JFK Assassination? In an interview, Roger Stone answers the question: How did JFK's death affect society, people's minds? Is the impact still present in your opinion?
"I think it certainly changed our policy very dramatically – I think we moved it back into the Cold War. After the death of John F. Kennedy the important conversations between the Russian State and the United States were damaged. We know, because it was historically recorded that Nikita Khrushchev wept, when he heard of the death of Kennedy. There was an American journalist who was with Fidel Castro, when he was distraught what he learned: he said over and over again "this is very bad, this is very bad"… I think we were engaged – we were beginning to engage in some fruitful conversations in terms of easing the tensions between our countries and I think there were those in the Pentagon, those in the US military, those in our US-based intelligent services who were very unhappy about that direction. I think it is a major factor – not the factor, – but a major factor in getting John F. Kennedy killed."
It is the contention of this "Reign of Terror" series to provide accounts and evidence that the nation has endured under a shadow government of ruling elites; especially, since the elimination of a President, who dared challenge the interests of the true masters of the establishment.
The deplorable circumstance of a society, so ignorant to make distinctions, of real history from invented official fairy tales, explains largely why Americans are in serial denial. The article JFK retrospectives adnauseam, makes this point.
"People never learn. After the sanctioned assassination, healing the country provided the necessary cover to implement the goals of the coup. Most of the evidence that explains the background that led up to the removal of Kennedy fails to address the breakdown of the entire historic underpinning of the nation, since WWII. The seeds of the Great Society were sown in the idiocy of being dragged into that global contrived conflict. Those who should know best, since they lived during that era, often deny their own blind faith in a misguided allegiance to a central government."
As for the population that never knew or heard actual accounts of this age, "so called" news reporting usually sugar coats or distorts the facts, ignorance really is not bliss. Today's electronic media is a hodgepodge of government talking points or press releases.
The constant drumbeat to blame Lee Harvey Oswald solely for the Kennedy assassination intends to make patsies of the American people. The greater fool theory works in elections. In a New poll finds that belief in JFK assassination conspiracy still strong, but slipping slightly may be a trend worth noting. Reflecting the goals of the "Great Society" means, that acceptance of government authoritarianism became easier.
Deconstructing the JFK Myth offers this distinction. "Ask not what your country can do for you — ask what you can do for your country." The invocation needed to read: "Ask not what you can do for your country — Ask what we can do together to insure individual Liberty"
Propagandists of the ilk of Sargeant Shriver and Arthur Schlesinger Jr., designed a legend that defied factual references", but the martyrdom of a slain President misses the point. John Kennedy was not a saint, but was an obstacle. What better message to future aspirant reformers that a magic bullet awaits their demise.
Few institutional government critics were known for rocking the boat, especially when Kennedy's "a rising tide lifts all boats" might upset his elitist executioners. The system is much bigger than any individual. Bucking the sub-rosa interests that seek greater concentrated control can be deadly. America was condemned to a Reign of Terror on November 22, 1963.
"The trade in derivatives, using home notes, was designed as a Ponzi scheme. Excel knew it. Cadwalader, Wickersham & Taft (CWT), knew it. My fellow junior associates laughed at me, senior associates got mad at me, and the senior partners ultimately asked me to resign or be fired when I wrote repeated lengthy memoranda explaining this out to them." – Charles Lincoln, III, PH.D., Harvard, J.D., University of Chicago, School of Law
Who is Charles Lincoln, III?
In October, 1993, Charles Lincoln, III began work as an associate at Cadwalader, Wickersham & Taft (CWT). He had just completed a judicial clerkship for Kenneth L. Ryskamp, U. S. District Judge, Southern District of Florida. During his clerkship with Judge Ryskamp, Lincoln had planned, coordinated, and framed the jury questions for a very large securities fraud trial in Palm Beach against Alan B. Levan's Florida-based BankAtlantic Bancorp and Subsidiary Bank Atlantic Financial Company (BAFCO), which were heavily involved in Florida Real Estate from 1952-2011.
What he was about to learn, and challenge, would change the course of his life, from one of privilege to destitution.
In many ways, Lincoln might have appeared exactly the kind of associate who could be expected to make partner rapidly. Ambitious, bright, and energetic, CWT hired him because he received top law school grades in Securities, Antitrust, and Banking Law, as well as for his clerkship experience in Securities & Banking cases in the post-S & L Collapse period in Florida. He had also been President of the Environmental Law Society at University of Chicago, School of Law.
In law school, he had become intrigued by the role of securities in establishing, maintaining, and shaping the global-elites of the 20th century. The complexities of hierarchical and socio-political structures had been his greatest interest in Anthropology & History at Harvard.
In his first month at CWT he turned in 393 billable hours wildly exceeding any expectations. First year associates are expected to bill at least 2000 hours per year, Lincoln managed to do this in less than six months. At Cadwalader, Lincoln aspired to a professional specialization in securities litigation, fraud, shareholder's and directors' relations, rights and obligations, general agency and relationships of fiduciary duty.
Lincoln had taken up law as a second career after a decade as a working archeologist in Mexico & Central America, during which time he wrote a doctoral dissertation "Ethnicity & Social Organization at Chichen Itza, Yucatan" at Harvard's Peabody Museum. His dissertation resulted from a project he directed in his 20s, funded by the National Geographic Society, Harvard's Peabody Museum of Archaeology & Ethnology, and private donors such as Doris Zemurray Stone and novelist James A. Michener.
As an archaeologist, Lincoln had become frustrated, acutely aware of problems mounting in the world, which originated in finance. Determined to use law creatively as a force for positive change, he enrolled at the University of Chicago, School of Law. At the school, he served as President of the Environmental Law Society (ELS), presiding on a year-long symposium at the Law School in 1990-1991, concerning oil spills in the immediate wake of the Exxon Valdez disaster of March 24, 1989.
Raised as the grandson, and effectively adopted son, of a wealthy petro-chemical engineer & military supplier in Highland Park, Dallas, Texas, Lincoln was not a stranger to the better addresses in New York. The welcome dinner held at the Waldorf Astoria for the twenty associates hired at the same time, of which he was one, did not impress him. Cadwalader, Wickersham, & Taft, though claiming to be the oldest, founded in 1792, the same year as the New York Stock Exchange, was by no means the largest.
Lincoln knew Cadwalader's history and greatest claim to fame and power. This is its status as primary law firm to the Bank of New York (BNY), now BNY-Mellon, founded in 1784 by Alexander Hamilton, 8 years before Cadwalader opened its doors under a different name.
The long relationship between the oldest bank and the oldest Wall Street Law Firm include Cadwalader's role in setting up BNY to be the very first law firm to be traded on the NYSE. Cadwalader's historical policies have consistently, matched and supported those of the BNY and the thinking of Alexander Hamilton.
Cadwalader's flagship office was then at 100 Maiden Lane, in New York 10038, close to the heart of the financial district in New York.
Having been hired on for Cadwalader's litigation department, Lincoln encountered a department which was essentially inactive in 1993. The only the only active cases involved municipal defense to voting rights act cases in California.
Even the litigators, in 1993, were all working on one project, one particular project which was shrouded in great mystery and secrecy.
The Excel Mortgage Project
Instead of litigation, Lincoln along with all other first year associates, were temporarily to work with the "Structured Finance Department" on preparing the registration statement of Excel Mortgage. Lincoln's role was to review and assess a series of some 1500 Arizona residential properties in relationship to state and federal environmental law and geographic issues, such as cultural resource management, and other points relating to the entire history and possible condition and liabilities of these properties.
The 1500 or so properties, subject of his study, were earmarked as assets being "deposited" into the Excel Mortgage Bond Fund, along with promissory notes originated by a number of creditors on homes conforming to a certain size and value profile, but having no other relationship. These were not part of the same communities, not part of a single development project, not built by a common builder, or anything else. This struck Lincoln as strange. Why "pool" all these unrelated properties together? And would be in the completed "pool?" Why was the Bank of New York underwriting this project?
Enter the Securitized Derivative
Excel Mortgage, a highly valued client of CWT was about to become part of history, doing something that had never been done before: registering a bond for sale to the public, which bond was based on pooled notes, a hybrid of debt and equity interests in and contingent claims to realty. This type of financial instrument had never before been sold to the public, though it had existed for about 25 years in the "private placement" market.
Lincoln was unwittingly participating in the first initial public offering (IPO) of a bond, a debt instrument, derived in part from promissory notes, 'debts,' and in part from contingent pledges of title, 'secured equity,' in residential real estate.
Securitized derivatives were being born at 100 Maiden Lane.
Bernard Madoff, who founded the NASDAQ when he was 33, was a prominent client of CWT, walking the floors of Cadwalader late at night.
The entire staff of CWT, underwritten by the Bank of New York, supporting Excel, were charged getting these new-fangled "derivative" instruments past examination by the Securities & Exchange Commission (SEC).
This was an arduous, and expensive task, necessitating a "lint-picking" review, before these 'derivative instruments' could be packaged under the name of Excel Mortgage and offered both on the NYSE and NASDAQ. An SEC Registration Statement is an application for Federal Blessings affirming investing in a certain stock, bond, or "other instrument or obligation" is a reasonable investment for an average investor to make.
Supposedly "sophisticated investors" can do whatever they want to do, so long as it's not expressly fraudulent or otherwise illegal. But the average grandmother investing for her grandkids' college needs Federal Protection. Like "Social Security", the concept of "Security" in the "Securities and Exchange Commission" is essentially a matter of "Trust us, We're the Government."
SEC Registration Statements require, prior to sale of any debt or equity instrument to the public, disclosure of all a companies' assets and liabilities along with the qualifications of its officers and directors, and more.
Nobody outside of the law firms who prepare such things and SEC staff, would ever read this, but preparing the registration would bring CWT millions of dollars.
Excel Mortgage, however, was not selling stock in itself as an enterprise or an entity: it was selling a pooled collection of utterly unrelated and unconnected and barely similar promissory notes with contingent interests in, and access to, equity ownership of real property owned by 1500 different people and subject to 1500 separate notes and mortgages.
1993 – Anomalies, and Questions, Emerge
Who was to supervise its operation after "Registration"? What coherence did this "enterprise" have ASIDE FROM the Registration Statement? Would anyone ever recognize it as a "business?" If so, how and why? Lincoln was puzzled and perplexed, and not satisfied with any of the answers he was getting.
The SEC did not appear to inquire into post-issuance management or maintenance of the pool of assets. Once "securitized" the notes would still be handled by individual originators or assigned to servicers. Lincoln asked "what was there left to be assigned or handled once the notes and mortgages were pooled?"
The SEC is charged with protecting small individuals and the corporate investor.
The SEC is expected to be involved in examining and making inquiries about a company's claims for potential and predictions of earnings or profitability.
On what opinion or data would these be based for the Excel Mortgage Pool, since there weren't any?
The opinions used were based on the "normal statistical performance of similarly credit rated and similarly valued mortgages in similar markets from studies of a group at MIT Sloan School of Management headed by a then no-name professor Frank J. Fabozzi. Fabozzi, with close ties to the Bank of New York, was also among the occasional Night walkers at Cadwalader.
The process of preparing an SEC registration statement is a gold-mine for lawyers inclined to highly detailed work. Such a process for registration can normally require Lincoln said, over a thousand individual revisions. The Excel Mortgage registration would be subject to over 2,000 revisions, but in all this there was still no attention given to claims of ownership, transfer of title, the laws of agency and fiduciary duty of managers, any of the concerns which normally plague the corporate world and frame the concern of SEC examiners and securities lawyers.
What's In It for CWT?
The careers of young associates, and even older partners, at firms such as Cadwalader, Wickersham, & Taft, Chadbourne & Park, Sullivan & Cromwell, or Skadden, Arps, depend upon work measured in billable hours. Cadwalader had a "billing goal" of multiple millions of dollars for the Excel Mortgage registration project.
Lincoln recalls three relevant details:
First, the firm was never able to reach it's own goal of billable hours by the time the project was complete.
Second, the firm sent constant "internal memoranda" by e-mail to all employees, down to the lowliest legal secretaries and paralegals, to work harder and BILL MORE HOURS. It was simply inconceivable that Cadwalader might have to refund any part of enormous retainer paid for the Excel Mortgage, SEC Registration Statement project. The money for this had all been advanced by BNY, who counted on Cadwalader to do the job which needed to be done.
Third, the practical purpose of any billable hours stood quite above and beyond any possibility of doubt or question. In fact, any and all billings, however described, so long as they were assigned to the Excel Mortgage Registration Statement Account, were welcomed.
Lincoln was therefore able to unleash his curiosity, delving late at night after hours into issues which ranged far, far afield from the environmental history, condition, and culturally or historically significant use or contents of the subject properties.
Despite some losses during the 2007-2008, CWT was in 1993-1994, and remains today, the top firm representing the creators and implementing the designs of "structure finance and derivative securitization" world wide. Lincoln wanted to understand what he was doing, and what he was involved in creating. The more he found out, the more troubled he became.
As an entry-level associate at Cadwalader Lincoln received his own office and secretary and paralegal. Little time was spent interacting with others in the office. A quick question might be asked but friends did not come quickly. Each associate knew what mattered was the hours billed, and friendly socialization was hard to itemize even on the Cadwalader charts. Hanging over the heads of all new associates was the goal of "making partner."
As an anthropologist, Lincoln saw immediately the subculture of the law firm had its own standards, values, and mandates. The firm had high standards for dress which included ties which remained in place all day, regulations for tie clips or tie pins and cufflinks and belts and, of course, shoes, whether white or "normal."
Standards for women included skirts below the knee and mandated the length for sleeves and the height of necklines and collars. Even the length of hair, for women, was described and outlined in the firm guide, although one paralegal from the litigation department was granted a special exemption, for cause. Known to and noted by everyone in the firm, for his ponytail and paisley shirts, the associate was hired from SDS in California as "our eyes and ears to the lower classes," as the senior partners consistently and uniformly described him.
Lincoln, as an undergraduate, had twice been voted, "best dressed man on campus", but the whole Cadwalader atmospheric ethos of bloodless conformity, as noted above, was for him one of stifling suffocation.
The anomalies which began to intrude on Lincoln's consciousness during his late hours trying to understand the "entity" being sold almost as if it were a company or entity, without actually being one, became an obsession. At first, this lead only to more billable hours, but the trip down the rabbit hole became increasingly disconcerting.
All questions of real value or reasonable expectations, lead the inquirer to the Bank of New York's Heart, ending any questions.
The Disconnect between Law and Derivatives
Lincoln's law school classes, under the University of Chicago's Andrew M. Rosenfield, William Landes, Geoffrey Parsons Miller, and Richard A. Posner, and from his further and ongoing research as a Law Clerk with Ryskamp and now at Cadwalader, had considered the question of real value and reasonable expectations.
Issuing and selling securities, debt or equity, takes place when a company, or group of people who have control over assets they planned to use to make money, or with which they were already doing something generally profitable, or wanted to raise new capital and/or liquidate their ownership and interests in an ongoing and successful venture.
This did not come close to describing what Bank of New York had underwritten for Cadwalader to prepare for Excel Mortgage.
This SEC Registration Statement gave birth to new type of "debt-equity-derivative debt instrument" which had none of the elements or characteristics of a traditional enterprise at all. It was PAPER MADE FROM PAPER, SECURED BY PAPER.
Indeed, the Excel Mortgage Bond, which was soon to be popped onto the market with an SEC certification of Federal conformity was a creation of the lawyers, by the lawyers, for the lawyers.
As one of the most senior associates, now firm Chairman, Christopher White explained to Lincoln when he asked him, "Who will own the interests in these notes once they are securitized?" He grinned boyishly from ear-to-ear and said, "we will, because everyone will have to pay us to tell them."
Without any unifying manager or common owner for these properties, the pool of notes struck Lincoln as like nothing so much as "res nullius" in Ancient Roman Law—the legal category of "property belonging to no one", e.g. virgin forests, wild beasts and undomesticated fur and game animals of every kind, the un-owned and un-ownable creatures of the deep.
Excel Mortgage was going to pool all these "derivative" real estate mortgage interests, whose only commonalities marking them as similar were the price, promissory note, range, size and "single-family home-residential" nature of the properties, and the credit or FICO scores of the owners.
Having "pooled" these "cherry picked" assets, Excel was going to create a strange creature without an owner until either default or foreclosure moved someone to homestead these unownable notes back to control and "ownership" again.
In essence, the concept was, "everything belongs to everyone in common" and "debt is not individual but collective."No one owes his or her debt to any person, but everyone owes it to everyone to pay. This concept seemed, even to Lincoln in 1994, strangely reminiscent of Aldous Huxley's "Brave New World."
The Excel Mortgage Bond to be securitized reflected an artificial "derivative" interests in a non-coherent, uncontrolled mass of wealth, which could and would have to be tamed individually, just like hunting the wild game of the woods.
There would be only a pretense of relationship between the notes originated and the notes collected upon.
There was no one to oversee the transfers, no one to audit the exchanges of values; there were quite simply no responsible parties anymore than anyone can take charge of wheat chaff thrown into the wind or the by-products of a paper mill dumped into a river, yet these "derivative by-products" were being STRUCTURED into something said to have value.
Around 1500 or 2000 properties had been collected together and placed in a basket or pool. But no single plan of real estate development or construction or sales was involved, nor was any contemplated. Nothing joined these properties as a class. Most were not new, but merely resales.
Raising the Issues
Lincoln dug in further, producing and circulating to all his fellow associates and the senior partners at Cadwalader his own memoranda: lengthy studies and analysis on issues such as the fiduciary obligations in the Law of Agency.
Fiduciary responsibility of issuers of securities to purchasers, holder in due course doctrine, implied covenants of good faith and fair dealing between parties to a contract, privity of contract itself, and commercial paper doctrines such as endorsement and ownership as holder, and the comparative rights and priorities of "naked" holders vs. "perfected" holders.
As Lincoln's months stretched out among the whirring circular brushes which polished the green and white marble floors of CWT, he spent more-and-more time with the partners of real estate department, which seemed to understand his worries and concerns better than others, certainly better than the Fourth or Fifth year associate in charge of coordinating the Excel Mortgage Project who kept explaining "this is my road to partner; if I can finish this and make it happen, I won't have to worry about how to live on these lousy six figure salaries anymore, I'll finally be making millions, and that's why we all came here, isn't it?"
Questions Find Answers
Since it was not why Lincoln had arrived at 100 Maiden Lane this presented a dead end for him.
The real estate connection, and an aborted plan to open a CWT office in California, permitted him to compare the Excel Mortgage project with another, more traditional real estate development Sacramento, California.
An extremely prominent CWT client based in Los Angeles was complaining and encountering major problems because of a parallel but separate and distinct set of misapplications of the law of agency, fiduciary duty, and obligation, also originating from the same historical "Cadwalader Memorandum" on transfer of interests which had triggered the explosion of derivative innovations in the securities realm.
With CWT acting as counsel for an old and distinguished California family and collection of enterprises, the Ahmansons, tracts totaling several dozen suburban "townships" in El Dorado, Placer, Sacramento, Sutter, Yolo, and Yuba Counties had sold by the Ahmanson family to a Japanese firm and retained an "Ahmanson Construction Group."
The intention was to build a resort in the area for the benefit of the Japanese owners acting as "construction agents."
Normally construction is performed pursuant to agreements with "independent contractors" who make estimates but are not obligated to continue working if their estimated budgets prove insufficient to complete a project. The Japanese investors were seeking to securitize all the sales in this immense, almost unimaginable project.
Involved, were the Bank of New York, with Cadwalader's long-time California based H.F. Ahmanson holding Company, parent company both to Ahmanson Construction and the since failed Home Savings of America Bank.
The "construction agency relationship" which Cadwalader had created imposed devastating duties and obligations on Ahmanson. As agents, Ahmanson Construction was obligated to use its own money to achieve the ends of the principal, in this case the Japanese company which had purchased the real estate but woefully underfunded the construction of the vast tracts of homes. Ahmanson could not make a profit or even break even. In effect, they had become slaves to the Japanese and might never be compensated.
Lincoln, having reviewed the facts, pointed out to Stephen Meyer, Richard C. Field, and John McDermott, the partners most closely associated with Ahmanson, that by not only failing to protect Ahmanson, but in fact, selling them into quasi-slavery as agents under a contract without guarantees of adequate funding to execute agency obligations, the firm had made a ghastly mistake amounting to nothing less than legal malpractice. This was a breach of fiduciary duty in and of itself.
Lincoln was told, "This firm has a policy of doing no wrong. Therefore, you are wrong. The firm is never wrong. You should reevaluate your conclusions."
This happened in 1994, only two and a half years after the sensational October 1991 confirmation hearings for Justice Clarence Thomas. The Paula Jones allegations against the new President Clinton, were beginning. "Sexual harassment" became a great boogie-man haunting law firms all over America.
Consequences are Clarified
After reading his memorandum on the Ahmanson project, these senior partners asked Lincoln to leave the room.
When they called Lincoln back in, they told him, very solemnly,
"you know you need to keep your nose clean around here. We have all received reports that you have taken your secretary Alex to lunch more than once and what's more you gave Holly, the Senior Secretary in recruitment & personnel, flowers for her birthday and Valentines Day. So just remember: never ever do anything, anything at all, that you would not want to see published on the front page of the New York Times. Anything here can be, you know, and anything will be, at the drop of a pin, because everyone is very sensitive to questions of decorum these days, and, after all, you are a married man."
Lincoln reports he did not even bother to ask how they happened to think of this only after a three hour meeting concerning the Ahmanson contract of construction agency, when he had never heard about any concerns of this nature before.
At work, Lincoln continued to pile up daunting billable hours doing research on a growing list of issues, each going back to the dissection of the elements of value, which were being "deposited" into the derivative pool. He was determined to understand what was really happening. Why were they doing this?
Confirming what Christopher White had told him before, a Properties Department attorney named Stephen Meyer, advised Lincoln to keep his mouth shut, this happening shortly before Lincoln was asked to resign. Both men had made it clear, in nearly the same words, that Lincoln should be careful about questioning or criticizing firm's plan for transforming the economy of the Western World, "this is how things are being done these days. We do because we get to charge everybody. This is how the whole world will be managed by 2020, we have a plan."
As Lincoln was to discover, there was a plan. A book called "Cadwalader 2020" contained a comprehensive manifesto of how the world would be changed by the year 2020. Unsecuritized individual debt would no longer exist.
During Lincoln's entire time at CWT, the firm maintained a high level of security over the Excel Mortgage work, work which finally involved everyone at the firm. All who worked at the firm had to submit to a frisk on leaving work. No papers or laptop computers or diskettes, this still the era of 3.5 inch diskettes, were to be taken home or removed from the premises, and no external e-mail was allowed connecting to firm e-mail. All firm e-mail was in fact carefully monitored.
To entirely use up the retainer on the Excel work, Lincoln and all the other first and second year associates found themselves in a large conference room supervised by some of the partners pasting labels on files.
The partners had to review the signature pages before officers of Excel would sign the documents, and the associates were there to prepare and affix signature tabs, saying "sign here, Mr. So-and-So, on to the final pages of Statement before final submission.
Lincoln said it seemed odd to use attorney billable time to prepare, double-check, and verify signature tabs, even on a super important document until you considered the driving desire of CWT to maximize their billable hours.
Billing rates were $150.00 an hour for new associates, $60 – 80 an hour for paralegals, and $40 – 50 an hour for secretaries. On being told that he had failed to bill his secretary's and paralegals' time for bringing him after hours meals and snacks, Lincoln asked the senior associate in charge of organizing the Excel Mortgage Project how much the firm billed out for the hourly operators of the automated circular marble floor polishers which whirred seemingly ceaselessly day and night throughout the offices. Epstein just glared at Lincoln silently. Those hours were not billable.
CWT was determined to drain every possible penny from the work done for Excel Mortgage, and did. This appeared to be consistent with the Bank of New York's plan in financing the project in the first place.
As Lincoln's research continued, the business plan being followed by Excel Mortgage also emerged, in all of its complexity and disturbing detail. The company had seen the potential to redefine a debt, recreating it as equity, and equity can be used as collateral for originating and extending more debt, which can be hybridized with contingent interests in an ever expanding pyramid of debt, doubled into equity, doubled into debt…. And again, this was the CWT-BNY plan for perpetual inflation.
There was quite simply no plan other than to pool and securitize the notes to issue X millions of dollars in bonds. These would be sold on the major stock exchanges, generating equity. The equity would be used to extend or originate more money to the borrowing public who then "sell" or give their new notes. This then generates more equity through debt, a constantly pooling and production of derivatives then sell to continue the cycle.
Ponzi Scheme Emerges
After his first month of painful research, it took Charles an additional 6 weeks to figure out and map the nature of the pyramid, another 6 weeks to check his work and accept the results, and then he started writing memoranda, one after the other, each one critiqued by other associates or the senior partners and getting longer and longer.
His first memorandum was entitled "The Law of Fiduciary Duty in Agency."
His second was "Transfer and acceptance of instruments by endorsement and receipt: who is responsible?"
There were at least four others, the longest of which was over 500 pages.
Lincoln's conclusion was breathtakingly simple: "merger of identities destroys the identities merged, there is no individual liability for debt in the absence of privity of contract, and no privity of contract without individual identity of contracting parties."
It was clear from the elated attitude of the Senior Partners that designing and implementing the Excel Registration Statement, as the first IPO of its kind, stood in their minds as their most important contribution to western civilization, as envisioned through the world of "Cadwalader 2020".
Finally, Lincoln was asked to resign, about six weeks shy of his first anniversary. His questions and concerns had not ended and the Partners were becoming hostile.
Leaving with a not quite "Golden Parachute" consisting of a $50,000 severance payment, he had vocally identified a series of challenges which the management of Cadwalader had no intention of addressing. It was now clear to Lincoln these were not any kind of mistake or oversight.
Lincoln's final memorandum at Cadwalader opined, perhaps overestimating general knowledge of the law, "no mortgage note included in the Excel mortgage pool will ever be lawfully collected in the event of borrower/credit-debtor default, because the pooling of identities obliterates individual obligations and rights, and discrete transactions lie at the foundation of our system of contract and debt."
At the meeting where he finally resigned, the Senior partners, perhaps understanding the American public better than Lincoln, said to him, "Who is ever going to notice lack of privity of contract besides you? They teach you all those archaic "Elements of Law" at the University of Chicago, we know all about it, but nobody does business that way anymore. The economy of the future is now, nobody cares about endorsements and signatures anymore, it's all going to be electronic, anyhow."
Lincoln responded, "well, then, you're going to have to change the law." And the masters of the CWT universe said, "Don't let the door hit you on your way out, we write the law, we interpret the law, we tell everyone in America what the law means, that's what we do.
The Price Paid
The next nineteen years of Lincoln's life have been filled with constant attacks from the legal establishment from directions and in ways which exacted a hideous toll on him and those he loves. He has repeatedly learned what it is to be hated, rejected, despised, a man of sorrows and acquainted with grief. In those two decades he lost his wife, his birth family, and his son, all his inherited property, including several homes and a gigantic private library and personal collections of fossils, numismatic, painted, and sculptural art, his law licenses in three states and even his own not-at-all-insubstantial investments.
Lincoln notes that, after what can only be called a blessed beginning in life with his loving grandparents supporting him, an exceptional education, and basically a privileged and charmed first three decades of life, his consistent pattern of loss only began when he was 33-34 years with his entry into private law practice at Cadwalader, in what, quite simply should have been "the best of all possible worlds."
Left with nothing, he refused to quit.
All of these events began after those critical months, less than a year, that he had spent at Cadwalader, Wickersham, & Taft.
As historical events unfolded, parallel to his own life, his worst projections regarding the impact of the new market in mortgage derivatives proved to be frighteningly accurate. Lincoln began to research how the runaway Ponzi Scheme could be halted, and reversed.
A Solution
According to Lincoln, for the past ten years, his life has been entirely shaped by the mortgage crisis and its origin in securitization. The question which, he says, drove him is how private property and integrity of contract could restored in the face of the "New World Order" Plan. This is the plan Lincoln first became aware from the internal firm booklet "Cadwalader 2020," while he was working at CWT in 1993-1994.
Lincoln believes such restoration is possible. The systemic fraud has not gone unnoticed, as CWT and BNY clearly thought would be the case. Their concern is registering through the rising wave of settlements which are now extinguishing the cases they deem most threatening. These cases are now settling on the courthouse steps for significant amounts and return of the real estate, free and clear of mortgage related liens.
Banks understand the ominous possibilities they face if juries realize what really happened. And today, it is not just Cadwalader. Nearly every major financial law firm in the United States who is involved, directly or indirectly, in the implementation, defense, or coverup of securitization is potentially liable.
This potential for liability makes the settlements paid out by cigarette companies seem like chump change.
As long as such settlements are few and remain outside the view of the courts, the banks are safe. But the moment juries hear the facts, and see the reality, the banks are toast, and they know it.
And here, Lincoln said, is the leverage point from which change can be enacted. More cases must be litigated using the facts so cases won in the light of day can become case law and precedent. The war can be won, but will be costly. This challange requires, along with several lines of attack, the means for funding litigation.
One possible solution is to solicit private direct investment in litigation for individual cases in exchange for a share of the awards by the jury. Another is to design an "anti-derivative derivative" plan which bundles and pools both investments and potential awards, allowing Americans at all income levels to invest in the effort.
For this derivative, investors would understand both the risk and the benefits of investing.
Lincoln's team, they know, cannot fund its efforts as the banks do, by an out of control pyramid scheme piling debt on equity to create more debt, but Lincoln sees a certain symmatry achieved by using the weapons created by the originators of the problem against them.
Either solution, Lincoln says, lies directly in the hands of Americans. If the money is available, litigation can go forward. He and the team see a build out across the country, with litigation taking place in every state as attorneys sign on and funds are available.
They have already begun. Lincoln's team is now working with homeowners and the currently small number of attorneys willing to litigate. They have no illusions. They are aware they are going up against the most powerful institutions in the world. But they also know that, if they are successful, the crack now forming in the protections constructed by CWT, BNY, and so many others, makes it possible to reverse the ominous trends in the American housing market while proving it is possible to enact accountability for a corrupt establishment and good for the people.
If houses now held by banks go on the market, or are returned to their owners, the heavily inflated prices of homes will drop to its natural market level based on supply and demand. Communities will stabilize, as will the lives of Americans.
The America which emerges from this crisis can be very different. No stability will ever result from the current expectations of perpetual economic growth relying on perpetual inflation and perpetual motion in the market place, and the resultant social instability.
The 99% need to bring the 1% home to live with the rest of us in peace, Lincoln says.
Given the propensity of the legal establishment to go after activist attorneys, Lincoln admits this will not be without risk, but public involvement can help here, too. He remains confident, many will step forward. They did so in 1775 and in other times of crisis in America.
Failing to act, he said, means abandoning Americans to the cartels and monopolies who are responsible for what has happened to our country.
Lincoln and other members of the team believe strongly most attorneys and judges, when asked to make a choice in the light of day, will do the right thing.
The effort has already begin in New Jersey. Right now he has a case in motion in the Garden State, just across the river from Manhattan, where Cadwalader still holds sway at the ominously named "One World Financial Center."
Now, they are looking for more attorneys who love and respect the law, and investors who know what matters most and want to make a difference. His website is, homeownersjustice.com.
Acute water shortages, aquifers exhausted, contaminated rivers…
Few Americans understand what their children face within 37 years with the addition of 100 million immigrants to the United States of America.  The ramifications of passage of mass Amnesty Bill S.744 guarantee devastating consequences to our country.  I hope, as you read this series, you understand that your children will become victims of your apathy and inaction.
Instead of this crisis standing front and center at the national leadership and media levels—America's population predicament remains the most ignored, evaded and suppressed issue of our time.
I'm not exactly certain why we stand in denial of the effects of adding 100 million immigrants.  You could ask the average American on the street about the implications of S744 and he or she wouldn't possess the slightest idea of what you're talking about.
As a reminder validating the reason for this series: demographic experts project the United States adding 100 million immigrants to this country by 2050—a scant 37 years from now.  All totaled, since we reached 300 million in October of 2007, we will add 138 million people by 2050 to total 438 million people—enough to duplicate 20 of our top cities' populations to our country.  That 100 million people will have to be watered, fed, housed, transported and provided medical services. The enormity of it transcends understanding.  The Pew Research Center, U.S. Population Projections by Fogel/Martin and the U.S. Census Bureau document those demographic facts.
Today in America, seven states suffer water shortages in 2013: Florida, Georgia, Texas, New Mexico, Arizona, Nevada and California.  They may be able to water their populations at this time, but they stand on the edge of acute water shortages.
Florida sustains 18 million people in 2013, but demographic projections show them doubling to 36 million within 37 years—all of it because of legal immigration.  Texas, at 26 million, expects to hit 36 million by 2050.   The whopper granddaddy of them all: California holds 38 million on their way to 58 million.
What amazes me: no one whispers a word.  Somebody with a brain in the media or government must be pulling their hair out while wondering why the media always reports "downstream" or after the catastrophic event already occurred.
But when the "Water footprint" disaster hits, we will have already added 100 million immigrants.  At that point, everyone becomes victims.
(We pollute our drinking water with trash and chemicals all over the planet. Notice the mountain of plastic debris; but you can't see the chemical contamination within the water.  Not until, of course, you contract cancer.)  Photography www.lightstalkers.org
"Without sustainability, 'severe' water scarcity by 2050" By Andrew Nusca
"Today, 36% of the global population — approximately 2.4 billion people — already live in water-scarce regions and 22% of the world's GDP ($9.4 trillion at 2000 prices) is produced in water-short areas," said Nusca. "Moreover, 39% of current global grain production is not sustainable in terms of water use.
"According to IFPRI's analysis, current "business as usual" water management practices and levels of water productivity will put at risk approximately $63 trillion, or 45 percent of the projected 2050 global GDP (at 2000 prices), equivalent to 1.5 times the size of today's entire global economy. Moreover, 4.8 billion people (52 percent of the world population) will be exposed to severe water scarcity by 2050."
(This is the kind of water contamination I have seen in my world travels. Many beaches around the world feature knee deep plastic trash. Worse, most of it sinks to the bottom and disrupts ocean, river and lake eco-systems.  Yet, not one world leader or corporations calls for a 25 cent deposit-return law.)  Photography by www.lightstalkers.org
As their water shortages slam home, where do you think they flee?  Answer: first world countries.
Interestingly enough: these figures stand for our current 7.1 billion humans.  Projections show another 3.1 billion added to that to reach 10 billion by 2050.
Something will happen and it won't be pretty.
1 out of 6 people in the world lack access to clean water – that equals 1.1 billion people
9 million people will die this year from lack of access to clean water
Every 15 seconds a child dies from water related illness
Exactly how do we Americans think we will escape those realities by adding 100 million immigrants?
(Imagine millions gallons of chemicals being dumped into America's lakes and streams 24/7 because that's what's happening. Leaking gas tanks from gas stations and individual oil dumps poison our ground water. Dairy, beef, pig and chicken farms cause enormous ground water pollution.  Add another 100 million immigrants and we face humongous consequences that will become irreversible and unsolvable.) Photography by www.wikipedia.org
Facts about Pollution from Livestock Farms
Livestock pollution and public health
California officials identify agriculture, including cows, as the major source of nitrate pollution in more than 100,000 square miles of polluted groundwater.
In 1996 the Centers for Disease Control established a link between spontaneous abortions and high nitrate levels in Indiana drinking water wells located close to feedlots.
Manure from dairy cows is thought to have contributed to the disastrous Cryptosporidiumcontamination of Milwaukee's drinking water in 1993, which killed more than 100 people, made 400,000 sick and resulted in $37 million in lost wages and productivity.
Water expert Ken Midkiff said, "In just a few short decades in the US, we have depleted our water supply. In the eastern states, which once had an abundance of water, bitter disputes and legal battles have become commonplace over water shortages caused by overpopulation. In the western states, where water has always been in short supply, population growth in dry areas has led to water shortages that threaten to severely restrict or perhaps even bar further growth."
How do you "bar growth" by adding over 100 million people to America inside of four decades?
Just imagine with me: within 37 years, endless immigration will add 20 million immigrants to California.  Anyone want to guess the outcome of that many people on the water supplies?
Water is essential for all dimensions of life.  Over the past few decades, use of water has increased, and in many places water availability is falling to crisis levels. More than eighty countries, with forty percent of the world's population, are already facing water shortages, while by year 2020 the world's population will double. The costs of water infrastructure have risen dramatically. The quality of water in rivers and underground has deteriorated, due to pollution by waste and contaminants from cities, industry and agriculture. Ecosystems are being destroyed, sometimes permanently. Over one billion people lack safe water, and three billion lack sanitation; eighty per cent of infectious diseases.