The CFR Has Controlled Both Major Parties In Washington, D.C., For Decades…
Just as they did with his father, Ron Paul, globalist elitists within the GOP are pouncing on Kentucky Senator Dr. Rand Paul. Obviously, the only reason for Republican leaders to be ganging up on Rand like this is because they are scared silly that he might just win the Republican nomination for President in 2016. And if there is anything that frightens the GOP establishment, it is an independent-minded, non-interventionist, reader of the Constitution–you know, someone like George Washington or Thomas Jefferson–or Rand Paul.
Here is how Politico covered the story:
"If you had any doubts about how seriously some Republicans are taking the notion of a Rand Paul presidency, look at how far they're going to shut down his views on foreign policy.
"In the past three days alone, Texas Gov. Rick Perry used a Washington Post op-ed to warn about the dangers of 'isolationism' and describe Paul as 'curiously blind' to growing threats in Iraq. Sen. John McCain (R-Ariz.) accused the Kentucky senator on CNN of wanting a 'withdrawal to fortress America.' And former Vice President Dick Cheney declared at a POLITICO Playbook luncheon on Monday that 'isolationism is crazy,' while his daughter, Liz Cheney, said Paul 'leaves something to be desired, in terms of national security policy.'
"The preemptive strikes suggest that many in GOP fear Paul is winning the foreign policy argument with the American people–and that that could make him a formidable candidate in 2016. After all, second-tier presidential hopefuls don't usually get shouted down this way.
"'I think the general fear on the part of a lot of leaders in the Republican Party is that there's an isolationist temptation after two big wars, an isolationist temptation in the American electorate,' said Elliott Abrams, a senior fellow at the Council on Foreign Relations who was a deputy national security adviser in the George W. Bush administration. 'And I think people are genuinely concerned about it and desirous of trying to stop it before it spreads further.'"
See the report here:
Abrams said the GOP establishment is "genuinely concerned" about a Rand Paul presidency. Baloney! They are pee-in-their-pants, scared-out-of-their-minds about it. The GOP establishment is far more concerned over someone like Rand Paul obtaining the White House than they are a Democrat obtaining the White House. In truth, when it comes to globalism, there really isn't a dime's worth of difference between the Democrat and Republican parties in Washington, D.C. The movers and shakers of both parties are globalist to the core.
It is more than interesting that the Politico report quoted above sought the opinion of CFR member Elliot Abrams. The Council on Foreign Relations (CFR) is an elitist cabal of globalists that has dominated the presidential administrations of both Democrats and Republicans for much of the Twentieth (and now Twenty-First) Century.
At this point it is important to remind readers of what Rear Admiral Chester Ward–himself a CFR member until he realized what it was all about and withdrew–said about the CFR. Remember, Admiral Ward was the Judge Advocate General of the Navy from 1956-1960.
Admiral Ward said, "The most powerful clique in these elitist groups [such as the CFR, Trilateral Commission, et al] have one objective in common–they want to bring about the surrender of the sovereignty and the national independence of the United States. A second clique of international members in the CFR . . . comprises the Wall Street international bankers and their key agents. Primarily, they want the world banking monopoly from whatever power ends up in the control of global government."
He also said, "The main purpose of the Council on Foreign Relations is promoting the disarmament of U.S. sovereignty and national independence and submergence into an all-powerful, one world government."
Admiral Ward was exactly right. Even a cursory look at the names of the most prominent politicians, media personalities, and leaders of the Federal Reserve shows a preponderance of influence by the CFR. For example, here is a small listing of some of the most influential members of the CFR or Trilateral Commission (or sometimes both):
George Herbert Walker Bush. Bill Clinton. Sandra Day O'Connor. Dick Cheney. Les Aspin. Colin Powell. Robert Gates. Brent Scowcroft. Jesse Jackson, Sr. Mario Cuomo. Dan Rather. Tom Brokaw. David Brinkley. John Chancellor. Marvin Kalb. Diane Sawyer. Barbara Walters. Cyrus Vance. Paul Volcker. Henry Kissinger. George Schultz. Alan Greenspan. Madeleine Albright. Roger Altman. Bruce Babbitt. Howard Baker. Samuel Berger. Elaine Chao. Dianne Feinstein. Ruth Bader Ginsburg. Chuck Hagel. Gary Hart. John McCain. George Mitchell. Bill Moyers. Jay Rockefeller. Donna Shalala. Strobe Talbott. Fred Thompson. Robert Zoellick. Richard Nixon. Hubert H. Humphrey. George McGovern. Gerald Ford. Jimmy Carter. John Anderson. Walter Mondale. Michael Dukakis. Al Gore. John Kerry.
What readers should immediately notice about this list is the fact that it is filled with both Democrats and Republicans. Can one imagine the outrage if the above names were all members of the Christian Coalition or even the American Civil Liberties Union (ACLU)? But the fact that so many of America's leaders from both major parties all share membership in the CFR seems to go completely unnoticed.
What we have in Washington, D.C., is CFR-dominated party D and CFR-dominated party R. No wonder there hasn't been any significant change in America's foreign policy since World War II, no matter which major party controlled the White House and Congress.
The globalists within the two major parties will do anything to make sure that a non-globalist is not elected President of the United States or given a too-powerful position of congressional leadership. Hence, the GOP establishment is pouncing on Rand Paul early to try and kill any momentum he might garner going into the 2016 presidential race. Virtually everything the global elite plan to do hinge on America engaging in perpetual war. Perpetual war is the linchpin that holds the entire globalist agenda intact. Anyone who threatens that linchpin is declared an enemy by the establishment and is slated for political destruction.
Perpetual war allows the internationalists to continue to fund dirty black-ops drug smuggling, corrupt banking practices, political briberies, political assassinations, etc. Perpetual war is also the number one excuse for creating a universal surveillance society within the United States. Perpetual war justifies spying on the American citizenry, militarizing local and State police agencies, passing legislation that allows the federal government to declare any American citizen an "enemy combatant" or seize and incarcerate indefinitely any U.S. citizen without warrant or Habeas Corpus, and send drones into America's heartland.
And when it comes to perpetual war and building a Police State at home, the neocons within the Republican Party are far more dangerous than Democrats. Far more! With support for abortion-on-demand, homosexual marriages, the secularization of America's schools and public institutions, globalists use liberal Democrats to dismantle America's Christian traditions and value systems. But when it comes to building both the Warfare State and the Police State, globalists primarily use "conservative" Republicans. And, of course, when it comes to obliterating America's traditional culture by swamping the country with illegal immigrants, both Republicans and Democrats are employed. That's why you will find as many Republicans (including those at the U.S. Chamber of Commerce) as Democrats pushing amnesty for illegals. There is absolutely no doubt that had not Tea-Party Republicans recently defeated House Majority Leader Eric Cantor (a major proponent of amnesty) in the Virginia primaries, the GOP-led House would have joined with Barack Obama and Senate Democrats to pass amnesty for illegals this summer. That is absolutely undeniable. We owe Virginia Republicans a huge "Thank You!" (I will write more about the illegal immigration problem in an upcoming column.)
There is no question that right now the battle for the heart and soul (not to mention the future) of America is the burgeoning police state complete with its twin-sister perpetual war. And, yes, illegal immigration is also a major battlefield right now. If the globalist attempt to turn the United States into a Police State–and again ramp up more wars of intervention–is not stopped in the next few short years, it will mean the death of freedom and independence in America forever. And neocon Republicans are the primary culprits in this regard.
Ladies and gentlemen, I don't know how to say it any plainer: if you are forced to choose between a pro-war, pro-police state, neocon Republican candidate for federal office and a Democrat, and if you believe in voting for the "lesser-of-two-evils," the Democrat is the one for whom you must vote.
Unfortunately, that is exactly the choice that the citizens of Montana have this year in its lone U.S. House race. We have a Democrat, John Lewis, running against a pro-war, pro-police state, neocon Republican Ryan Zinke. Without a doubt, the Democrat John Lewis is by far the lesser evil than Ryan Zinke.
Ryan Zinke never met a war he doesn't like. He is already on public record saying "civilians" should not be allowed to possess .50 caliber rifles. (Of course, now that he is a candidate for Congress, he has had a sudden election year conversion on the subject.) He has owning-interest in a drone manufacturing company. He is trying to use his credentials as a former Navy SEAL to propel him to the U.S. Congress; but Ryan Zinke is a warmongering, police state facilitator of the lowest order. Being the U.S. House seat in Montana is typically a Republican seat, it is very likely that if the Democrat Lewis wins, he would be a one-termer. A GOP candidate (someone besides Ryan Zinke, who was the absolute worst of all the candidates that the GOP had to offer this year) would have a very good chance of defeating the Democrat Lewis in 2016. On the other hand, if Zinke wins this November, we are probably going to be stuck with this neocon indefinitely. This would be a monstrous mistake for Montana and the U.S. House of Representatives.
Without a doubt, what the globalist elite at the CFR fear most is a presidential candidate who refuses to comply with the pro-war, pro-police state agenda. And while I am still not certain that Rand Paul has the same courage and convictions of his father, Ron Paul, he is, without a doubt, the closest ideologically to the Washington and Jeffersonian vision of non-entanglement in foreign affairs and the philosophical sacredness of individual liberty that we seem to have at the national level these days. As such, the GOP establishment is literally trying to skewer Senator Paul.
The GOP establishment is not worried about Texas Governor Rick Perry, New Jersey Governor Chris Christie, Mitt Romney, former Florida Governor Jeb Bush, or Wisconsin Congressman Paul Ryan. None of these men would stand in the way of the globalist agenda. But the GOP establishment is terrified of Rand Paul–and to a lesser extent Texas Senator Ted Cruz. But given the way that Republican leaders are pouncing on Mr. Paul, it is obvious that he is the one they believe poses the greatest threat to the globalist agenda.
For the last several years, the press on the disastrous North American Union has been off front-page news. Nonetheless, the plans to remove barriers and open up borders keeps chucking along. Those who belief this course is desirable or those who conclude that it is unpreventable because the climate of globalization is overpowering, are subversive collaborators of the NWO or gutless wimps that deserve to be run over by the hordes of barbarians that flood our country.Jerome R. Corsi writes in the essay, Kerry signals advance of 'North American Union' plan, "with the expected ratification by Congress of the Trans-Pacific Partnership, or TPP, the Obama administration already considers the U.S., Mexico and Canada as part of a "post-NAFTA" world." What a horrendous admission to make. As stated in the article,
Obama Presses "North American Union" With Mexico, Canada, and this plan for hemispheric integration has a very long record of treason. Some background leading to the current crisis.
"Following the establishment of NAFTA in 1994, under the Clinton administration, President George W. Bush attempted to deepen the U.S.-Canada-Mexico tri-national region with the Security and Prosperity Partnership (SPP), but public opposition spearheaded by this publication, The John Birch Society, WorldNetDaily, Phyllis Schlafly's Eagle Forum, and other pro-independence, pro-Constitution groups, forced the Bush administration to shelve the plan — temporarily — and drop the tainted SPP moniker.

At the same time, the Bush administration was pushing the broadening agenda, under the banner of the Free Trade Area of the America's (FTAA), an endeavor launched during the Clinton administration to expand NAFTA to include all the nations of North and South America. As with the SPP, an awakened electorate put sufficient heat on the U.S. Congress to torpedo the FTAA. The subversive integration/merger plans that The New American had been exposing for years were confirmed in 2011 with the release by WikiLeaks of U.S. State Department cables showing that U.S. officials had been colluding with their Canadian and Mexican counterparts to undermine our constitutional government through various "integration" schemes. (See here and here.)"
Therefore, it comes as no surprise when General Petraeus announces, "After America Comes North America." He also boasted about how the three economies have been put "together" over the last 20 years as part of the "implementation" of the North American Free Trade Act. As The New American publication proves, resistance to a NAU is not only justified but also necessary if America is to survive as an independent nation.Back in 2006, Dr. Corsi refutes NeoCon proponent John Hawkins, who uses Saul D. Alinsky tactics, in Human Events account that NORTH AMERICAN UNION IS NO CONSPIRACY. The point is that the Obama administration is carrying forward the same strategy, ever protected by the lame stream media, to advance the disintegration of American sovereignty.
The video, NORTH AMERICAN UNION FORMING NOW!! THIS IS THE END OF THE U.S.A, provides a vivid analysis just what is at stake. In addition, one example of the methods used by Obama is reveled in the 2012 column, New Obama Executive Order Pushes Us Closer To A North American Union And A One World Economic System.
"Most Americans have absolutely no idea how far plans to integrate the United States, Canada and Mexico have advanced.

Last year, Barack Obama signed an agreement to create a "North American security perimeter" and most Americans never even heard about it because the mainstream news networks almost entirely ignored it.

But this is exactly what the globalists want. They don't want people to become alarmed by these moves toward North American integration. In fact, a document uncovered by Wikileaks shows that those involved in the effort to integrate North America believe that an "incremental" approach is best. Apparently they believe that small moves toward integration are less likely to alarm the general population."
Well, the pretence looks to be over. The fear of alarming American nationalists no longer exists. However, the Homeland Security policy to open the southern border is backfiring as seen in the article, Border Patrol Agents Quitting as Obama's Mass Invasion Mess at The Border Permeates the Rest of the Country.
"And now our Border Patrol agents are saying, screw it, and looking for new careers/jobs as known Mexican gang members are enjoying the Obama/Holder 'catch and release' policy.More than one person is concluding the Obama administration is responsible and has intentionally set this massive border mess into motion with his policies on immigration, hoping to force amnesty as his solution to the man-made disaster and humanitarian crisis (which is designed to never allow to go to waste) of his making."
Clearly the establishment's efforts to create a fabricated immigration crisis in order to force a bogus "comprehensive" consolidation in this dreadful North American Union, is at the core of the mass migration. For the bleeding heart do-gooders, the death trains cry out for a more humane mode of transportation to import the Central America into the former Republic of the United States.
One such redemptive fix is to interject a dose of altruism. Replace the clingers on boxcars, reminiscent of Indian Dalit untouchables, with the sleek travel experience of the U.S. and Mexico could be connected by multi-billion-dollar high speed train within FOUR YEARS.
"A multi-billion-dollar high-speed train network linking America with Mexico moved a step closer as officials from both sides of the border thrashed out details.

The proposed 300 mile route would link San Antonio, Texas, to Monterrey, Mexico – slashing the current journey time from five hours by car to under two hours."
Just look at the advantages of streamlining a direct route from Mexico, that bypasses any border checkpoints and deposits these "PC" undocumented immigrants directly to resettlement facilities. The return trip south can be used to transport Fast and Furious guns, useful in the drug trade, which is central to the economics of laundering monies in the North American Union hierarchy.A decade ago, the article, Do Foreigners Have a Right to Enter the United States?, covered the efforts of Asa Hutchinson, the then Under Secretary of Homeland Security for Border and Transportation Security.
"Starting this week foreign visitors will be digitally fingerprinted and photographed as part of a nationwide program to check their backgrounds and keep track of when they enter and leave the United States. On the surface this looks like a necessary and desirable procedure. This procedure is the first phase of the Department of Homeland Security's automated entry-exit system called the U.S. Visitor and Immigrant Status Indicator Technology, or US-VISIT."
Guess that tracking system proved too much of a burden for the latest rush to process these "so called" undocumented migrants. Oh yes, let's correct the terminology; this mass exodus wants to stay permanently in the only country that allows open borders for the premeditated and systemic destruction of their own nation.With the open admission that Former Border Patrol Agents: Illegal Immigration Crisis "Contrived", does any federal officials listen, much less act to close the border? The National Association of Former Border Patrol Officers (NAFBPO) released a statement:
"This is not a humanitarian crisis. It is a predictable, orchestrated and contrived assault on the compassionate side of Americans by her political leaders that knowingly puts minor Illegal Alien children at risk for purely political purposes. Certainly, we are not gullible enough to believe that thousands of unaccompanied minor Central American children came to America without the encouragement, aid and assistance of the United States Government. Anyone that has taken two six to seven year old children to an amusement park can only imagine the problems associated with bringing thousands of unaccompanied children that age up through Mexico and into the United States. I doubt even the Cartels would undertake that chore at any price. No, it has to be heartless corrupt politicians and their minions lusting for more money and power."
There a few issues more absolute than the words of Ronald Reagan, "A nation that cannot control its borders is not a nation." When Congressional Rep. Steve King says that "Ronald Reagan's signature on the 1986 amnesty act" gave Barack Obama about 15 million additional Hispanic votes in 2012, he is prophesying even a worse future and inevitable prospects under a North American Union.
Reading a headline in the New York Times, Pentagon Plans to Shrink Army to Pre-World War II Level, one needs to ponder what it would take for a defensive deployment on the southern border. If General John "Black Jack" Pershing was sent to track down Pancho Villa, what prevents permanent military patrols to simply guard the border? Obviously, there is not any junior grade George S. Patton's in the army that would have the courage to buck the commander of treason. This border war is the true existential threat that Americans do not have the stomach to fight.Those who propagate a North American Union are globalists and hate everything that the authentic America stands for. Look in a mirror, that ugly face could be you, if you fall for the propaganda of the NAU.
Imagine the following scenario.
It is mid-afternoon on the Wednesday just before Thanksgiving. Some jerk walks into the Atlanta airport, gets his boarding pass and makes his way to the mini-North Korea known as TSA. He hands the blueshirt his boarding pass and driver's license. He then reaches into his carry-on bag, presses a button and – KABOOOOOOM!!!!!! – kills 2000 people.
At the same moment, two other jerks are doing the exact same thing at O'Hare and DFW as part of a co-ordinated attack. And not only have more people just died than died on 9/11, but America's three largest aviation hubs have just experienced massive destruction and air travel everywhere has been severely interrupted.
TSA could not prevent this, just like they could not prevent the fatal shooting of a TSA agent at LAX last year. Terrorism need not happen at 35,000 feet. Indeed, extremely few terror attacks have anything to do with aviation.
TSA does not keep you safe. Period.
However, the American people persist in the notion that it does. And they will tolerate endless violations of their civil liberties and physical bodies in the name of Schutz und Sicherheit.
It all started shortly after 9/11 with the passing of the Patriot Act, which ushered in numerous violations on our Fourth Amendment protections against unlawful search and seizure. And most people supported it because, after all, we had to "go after the terrorists." And, hey, we had to give up our liberty for a time until the crisis passed.
I have to confess that I acquiesced in this for a very short time. I, like so many millions of others, was caught up in the passions of the moment.
But then I started asking: now that the camel's nose is under the tent, what else are they going to do? And, more importantly, how much more will the American people accept?
It appears that there is no limit here.
Will we routinely accept the violation of our physical bodies in the name of safety and security? It turns out that we have.
Just consider the passivity with which most people accept "porn, perversion and pedophilia" – I wish I knew who said that first – in the name of "transportation safety". When you look at a nude photograph of a minor, it is child pornography. If someone else feels you up without your consent, it is sexual assault. (And if anyone did this to me under any other circumstances, it would take about one nanosecond for me to put the wretched little pervert's teeth on the ground.)
The Nazis didn't do it. No communist regime ever did it. Yet, in the "land of the free", being felt up in order to prove one's innocence is now a condition of travel.
And just look at these tax-mainlining Uncle Ernies.
And if you will let the authorities photograph you naked and feel you up, why wouldn't you let them violate you even further?
Would you let them catheterize you, like these central Utah police did when looking for marijuana?
Would you let them draw your blood? Read what is happening in Tennessee, Texas and Oregon.
Would you submit to cavity searches, such as those performed in Milwaukee and in Deming, New Mexico?
Would you let them slit your throat and kill you? Police did just this on a drug bust in Huntsville, Alabama. And just as TSA has never caught a terrorist, the cops in this case found no drugs.
"But …… but …… but, they were looking for terrorists and drugs."
The wars on drugs and terror are just like any other type of federal overreach. Both come clothed in somebody's good intention. Both are sold to us in the name of some Higher Good. They always grow bigger and uglier with time. And they always create bigger problems than those they were intended to solve.
Do you want to live in a society when the authorities can invade your body at will and with impunity? Do you want to live in a society where you are constantly required to prove your innocence? A government that will force you to prove your innocence is infinitely more dangerous than any drug or terrorist.
Even more dangerous is a populace that feels protected by such a government. Obama is too good for such a people.
Three Pertinent Observations
*The Las Vegas Shootings
Predictably, the mainstream media is doing its best to try to depict the couple who killed three people (including two police officers) in Las Vegas as right-wing militia-types. No doubt, the Obama administration will try to conjure up more gun-control. The media is already attempting to link the killers to the brave citizens who defended the Bundy family a couple of months ago. But the truth is, the citizen-militia in Bunkerville would not even allow this couple to gain access to that event, as they were concerned about the couple's disconcerting propensities. But, of course, the radical left-wing hate group, the Southern Poverty Law Center (SPLC), won't tell you that.
Watch for Eric Holder and the U.S. Justice Department to use the Las Vegas shootings as an excuse to harass and harangue conservative groups, Tea Party groups, Second Amendment groups, and Patriot groups. And, of course, the media will serve in its typical capacity as propagandists against all things conservative.
Furthermore, the administration's war against freedom-minded people takes on a chilling dimension when one reads this report:
"The Justice Department is resurrecting a program designed to thwart domestic threats to the United States, and Attorney General Eric Holder says those threats include individuals the government deems anti-government or racially prejudiced.
"The Domestic Terrorism Executive Committee was created in the wake of the 1995 Oklahoma City bombing but was scrapped soon after the 2001 terrorist attacks as intelligence and law enforcement officials shifted their focus to threats from outside the country. The committee will be comprised of figures from the FBI, the National Security Division of the Justice Department and the Attorney General's Advisory Committee."
See the report at:
Now Thought Crime Is Terror In U.S.?
However, the fact is, when one examines the political bents of recent mass killers, he or she will find that the majority of them have come from left-wing communities and ideologies. But the media totally ignores that part of the story. They also ignore the common thread of most of these killers being on psychotropic prescription drugs. And they also conveniently overlook the fact that the vast majority of these kinds of killings took place in "gun-free" zones.
On a personal note, I have serious questions about the way in which so many of these mass shootings take place including: witnesses reporting multiple assailants, even when eventually only one shooter is said to have done it; the vast majority of these assailants ultimately killing themselves; the way the media is unwilling to investigate contradicting evidence and testimony; and the way law enforcement seems more inclined to cover up evidence than actually trace it all the way to its source.
*Obama's Dumping of Illegal Aliens in Arizona and Texas
It is now abundantly clear that the Obama administration has chosen to completely ignore federal immigration laws. His administration is mostly refusing to deport illegals–even criminal ones. It is also encouraging the release of thousands of criminal illegals (even violent ones) from America's prisons and jails.
See this report:
U.S. Immigration Officials Released Thousands of Violent Criminals in 2013, Report Says
And, now we learn that the administration is manipulating the "dumping" of thousands of illegals, many of whom are children, in the traditional Republican stronghold states of Arizona and Texas. Through Obama's public statements and comments, the administration has willfully encouraged multiplied thousands of illegals to cross into America's border states, especially the two states mentioned above.
But why isn't the Republican Party challenging President Obama on this egregious and blatant illegal activity? The GOP is already poised to pick up many seats in both the U.S. House and Senate this fall due to the anger and resentment of the country against Obama's dubious and nefarious policies. One would think that Republican leaders on The Hill would pounce on Obama's immigration debacle. Instead, Republican leaders are assisting the administration's pro-illegal alien policy by pushing amnesty for illegals–which only serves to facilitate more illegals pouring over the southern border.
Investors.com reports, "Republicans should take the president to task for unlawfully enticing thousands of 'unaccompanied illegal children' from Latin America to cross the border. Instead, a GOP leader asks for an amnesty deal.
"What is at the top of the Republican wish list? A vibrant economy? An America strong and respected in the world? Capturing the Senate? A Republican elected to the White House in 2016?
"Nah. The GOP wants amnesty for illegal aliens."
The report goes on to say, "Democrats use immigration to smear Republicans as racists. Expanding immigration will give Democrats millions of new votes in the coming decades, destroying forever the political forces that oppose big government.
"The more than 90,000 children who crossed the Mexican border into the U.S. and were apprehended this year, and the more than 140,000 expected next year, could and should turn the immigration issue into a GOP weapon against Democrats.
"Instead of sending them back home to their parents, Attorney General Eric Holder made it a priority to hire taxpayer-funded lawyers for them. Why don't we hear Cantor, Ryan and other GOP leaders shout that Democrats are exploiting children to further their political agenda?"
See the report here:
Child Alien Crisis Is Obama's Fault, But GOP Won't Pounce
Why, indeed?
House Majority Leader Eric Cantor is a major proponent of amnesty for illegals. (Thankfully, Republican voters in Virginia have just thrown Cantor out of Congress and nominated a Tea Party conservative to replace him. More about that in a minute.) So is Republican Speaker of the House, John Boehner. So are republicans John McCain, Lindsey Graham, Marco Rubio, Jeb Bush, Paul Ryan, etc.
If the Republican Party helps Obama pass amnesty for illegals into law, as Boehner and Company say they will do this summer, Arizona and Texas will be inundated with millions of illegals–even more than they already are. Do Republican leaders really believe that illegal aliens are going to vote Republican? If they truly believe this, they are absolutely and positively deluded. So, is Boehner and Company willing to feed Arizona and Texas to the proverbial wolves? Do they think they can win a presidential election without carrying the State of Texas? Again, if they do, they are deluded.
Or, is Boehner and Company really more concerned about appeasing big-money interests at the Chamber of Commerce? Do they even care one whit about GOP victories? As long as they believe themselves to be the personal recipients of the graces of Big Money, why should they care which political party wins an election? At the national level, the differences between the two major parties are negligible, anyway.
*Eric Cantor's Primary Defeat in Virginia
Here is how The New York Times covered the story:
"In one of the most stunning primary election upsets in congressional history, the House majority leader, Eric Cantor, Republican of Virginia, was soundly defeated on Tuesday by a Tea Party-backed economics professor who had hammered him for being insufficiently conservative.
"The result delivered a major jolt to the Republican Party–Mr. Cantor had widely been considered the top candidate to succeed Speaker John A. Boehner–and it has potential to change both the debate in Washington on immigration and, possibly, the midterm elections.
"With just over $200,000, David Brat–a professor at Randolph-Macon College in Ashland, Va.–toppled Mr. Cantor, repeatedly criticizing him for being soft on immigration and contending that he supported what critics call amnesty for immigrants in the country illegally.
"Republicans were so sure that Mr. Cantor would win that most party leaders had been watching for how broad his victory would be. His defeat will reverberate in the capital and could have major implications for any chance of an immigration overhaul."
See the report at:
Eric Cantor Defeated by David Brat, Tea Party Challenger, in G.O.P. Primary Upset
Cantor's defeat offers a glimmer of hope for America's future. It is my studied observation that these neocon Republicans are far more dangerous to our liberties than are Democrats. When forced to choose between a Democrat and a neocon Republican, the "lesser of two evils" vote is for the Democrat. We have such an example here in my home State of Montana.
In the GOP primary for U.S. House of Representatives, a neocon Republican named Ryan Zinke won with just 33% of the vote. That means that some 67% of Montana's Republican voters chose someone else over Zinke–all of whom were decidedly more conservative than Zinke. Unfortunately, Montana does not have a run-off system; otherwise, there is absolutely no question that Zinke would have been trounced in any subsequent run-off.
If Zinke wins in November, his track record in the Montana State Senate demonstrates that he will be the quintessential neocon Republican in Washington, D.C. Any influence he would have in Congress would only serve to take the House leftward. I absolutely refuse to vote for a neocon like Ryan Zinke. A Zinke victory would only serve to counter-balance the defeat of Eric Cantor in Virginia.
And, as The New York Times report observed, Cantor's loss was primarily due to his liberal policies–especially his support for amnesty for illegals. Hopefully, Cantor's historic defeat will shock the GOP leadership into a little bit of political reality.
Now, if we could only clean the GOP house of the likes of Boehner, McCain, Graham, Ryan, etc., and stop nominating neocons like Zinke. And God help us if Republicans nominate someone like Jeb Bush or Chris Christie in 2016.
The World Has Lost Understanding…
"We regard killing on United Nations 'peace-keeping-missions' as 'necessary' and to be accepted as a fact of life.  At the same time, our murderous century views with horror God's law.  God has no right, they hold, to require judgment.  Modern theology believes God should represent love and 'niceness,' never justice and judgment.  Humanistic sentiment wants evil-doers to be dealt with gently.  As a result, we have a culture which tolerates criminals, hoodlums, and exploiters of welfare who believe that they have a 'right' to pursue their evil ways.  Men are intolerant towards the claims of God and tolerant towards evil."  R. J. Rushdoony, "Deuteronomy" Pg. 205
Ninety nine percent of the world's population is controlled by a small group of elite oligarchs that compose less than one percent its inhabitants.
Tiny, high flying aircraft cover the sky with mysterious trails that expand into long, thin, vaporous clouds which are even more mysteriously ignore by the people, the media, and the government – no one seems to know who sponsors the flights, what they are spraying or why they are spraying it..  When it started, those that noticed were called "conspiracy theorists" so comments on the beginning of the spraying were quickly squelched.  Now everyone sees the mysterious chemtrails but no one challenges them.
The price of gasoline has followed a similar pattern.  When gas went to $3.00 a gallon there was a considerable outcry but now that it is approaching $4.00 a gallon no one is complaining.
When rumors of the intended overlay of the laws of the world's nations with world government there was lots of consternation but now that it was begun in earnest during the Twenty-First Century it is quickly progressing with little resistance.
When President Clinton's Administration was responsible for the deaths of over 80 innocent men, women, and children at the Koresh Compound in Waco, Texas and no one was held responsible it set the stage for what happened under the administrations of President Bush and President Obama; Executive Orders have virtually abolished the Bill of Rights setting in place the structure for a police state far worse than in Russia or Germany..
There was lots of publicity when President George W. Bush's mendacity led us into war in Iraq.  But now that our armed assault in the Middle East has gone on for over ten years and amassed debt in the trillion dollar range people are disgruntled but are seemingly unaware that debt is an obligation and eventually the citizens of the United States will be forced to pay it.
Hundreds of thousands of nominal, naïve Christians have spent the last several decades trying to defy the Word of God by predicting the Second Coming of Christ.  It has not happened.  A lessor number of those who acknowledged the Conspiracy have been predicting a national catastrophe for several decades. That has not happened.
People know that the world is being drastically changed.  They know that the governments of the individual nations are involved in ominous events that are happening on a daily basis.  They are beginning to realize that governments are part of the problem and therefore cannot become part of the solution.
While the closely controlled media censors the news so that nothing about the dangers to our freedom is leaked to the public the internet has innumerable speculative and prophetic articles that contain kernels of truth but are tragically surrounded by borders of speculation.
We know that the threat to our freedom is real but like the chemtrails we do not know who is giving the orders or when a particular event will occur.
There is very little that can be done about the clouds of tyranny that are falling over us.  The gun packing patriots that flocked to the Bundy Ranch can resist the government but they are fighting against a far superior force that is fully prepared to overcome such resistance.
The American people do not vote on pernicious legislation. The men and women they elect pass these bills even though they often failed to read them.  Major legislation like NAFTA and GATT passed with unknown content.  This procedure allows the veiled authors of inimical legislation to rule the nation as invisible kings.
Our nation has been infused with immigrants who know little or nothing about our culture and are intent on accumulating as much money and power as possible.  Already defiled by the destruction of voter qualifications our electoral system has been destroyed by allowing the wisdom of informed, long term citizens to be destroyed by the ballot of stupid voters and recent immigrants.  The hope that participation the political process will bring us peace and freedom is futile.
C-Span recently hosted a consortium of female power brokers who discussed what could be done about sexual harassment in the armed services.  This group of very smart women never touched on the fact that men were created with a desire to have sex with women and women were designed to succumb.  Instead, they spent the entire house discussing how they could force men and women into close proximity and then force them to control their desires.  They never considered the fact that forcing different sexes to live together and remain chaste is like setting a building on fire and hoping is doesn't burn.
Fantasy has overtaken our world.  Someone on the internet wondered if chemtrails were real!  The entire government has accepted as fact that our nation is threatened and must sacrifice freedom for safety.  They assume that the attack on the world trade center was perpetrated by Muslim enemies and ignore the sizeable block of evidence that it was a false flag.  Everyone seems to believe that Blacks and Jews are oppressed races and must be protected by sacrificing our right to free speech.  Large segments of our population support our troops and the killing and maiming of innocent people a product of U.S. imperialism.
"In the 21st century it is difficult to find a significant statement made by Washington that is not a lie. Obamacare is a lie. Saddam Hussein's weapons of mass destruction is a lie. Assad's use of chemical weapons is a lie. Iranian nukes are a lie. Russia's invasion and annexation of Crimea is a lie. No fly zones are a lie. Russian aggression against Georgia is a lie. 9/11, the basis for Washington's destruction of civil liberty and illegal military attacks, is itself a lie. The fantastic story that a few Saudi Arabians without government or intelligence agency backing outwitted the entire national security apparatus of the Western world is unbelievable. It is simply not credible that every institution of the national security state simultaneously failed. That Washington would tell such a fantastic lie shows that Washington has no respect for the intelligence of the American people and no respect for the integrity of the American media. It shows also that Washington has no respect for the intelligence and integrity of its European and Asian allies. Paul Craig Roberts, "Gangster State America"
Read Robert's article on the coming nuclear war.
When serious problems are evaded they fester and create bigger problems.  Peace is jeopardized when reality is ignored.  Blacks and Whites cannot live together when bad Black behavior is ignored or erroneously blamed on Whites.  We cannot have peace when the controlled press fails to publish black crime against White citizens and allows denigration of White citizens by both Blacks and Jews; sooner or later this persistent inequity will cause problems.
It would be hard to find another nation that showcases the tragedy of allowing humanist government to erase immutable Law than the United States of America.  Mutable human opinion has reduced the social, legal, and governmental factions of our nation to an absurd jumble of cognitive dissonances that are impervious to order.
Human beings are not gods and their governments are not sovereign.  We live in a created world that is controlled by an Entity Who requires our obeisance.  We were created to live in that world and to obey that Deity, the One True God.  Confusion and tyranny are often results of our disobedience and signs of God's judgment.  It is time the Christian Church acknowledges the fact the God is indeed still on His Throne and is the Sovereign ruler to this fast deteriorating world.
"It is not lonely man but all the nations that have fallen prey to original sin, to the desire to be as God (Gen. 3:5).   Each makes itself its own source of law, a clear usurpation of God's prerogative.  Each seeks to limit or prohibit the freedom of God's Word.  The nations without exception claim sovereignty, a plain assertion of their own lordship or deity.  Every nation is and has been a religious entity.  Moreover, the nations, as they now exist and function, are members of the fallen world of Adam and fanatic advocates of Adam's faith and rebellion." R. J. Rushdoony. "Systematic Theology" Vol.1, Pg. 234
It is easy to stand up and cheer for your favorite government activity. It is quite another to acknowledge what it means in the real world.
I almost never try to speak for other people. However, I think it is fairly safe to say that the average military recruit firmly believes that he joins the military so that you and I can live and breathe in freedom. To be sure, he had other reasons for joining, but I think the defense of liberty is a fairly common characteristic.
That is certainly what I thought when I was in Navy boot camp in Orlando, Florida, in 1983. After all, this is what I had been told all my life: sailors, soldiers, airmen and marines defend freedom.
But is this actually what they do?
Consider the following:
This Marine lost both legs in an IED blast in Iraq. He claims he was forced by TSA to remove both prosthetic legs before he could board an airplane in Phoenix.
This Vietnam veteran in Spicewood, Texas, had flashbacks to his combat experience during a marijuana raid at a friend's house. What police claimed was marijuana turned out to be ragweed.
Jared Goering, who served 19 years in the Army, including tours in Iraq and Afghanistan, was kicked off the boardwalk in Wildwood, N.J. for walking with his service dog, Gator.
Emily Yates, who served two tours with the Army in Iraq, was violently arrested by park police in Philadelphia for asking why she couldn't play her banjo under some shade trees.
Dimitrios Karras is a Marine Corps veteran of Iraq and Afghanistan. Read about the ATF raid on his business in National City, California.
Martin Goldberg of Brooklyn is a World War II veteran whose apartment was subject to a drug raid. Later, the cops realized they had raided the wrong apartment. His 83-year-old wife was hospitalized with an irregular heartbeat as a result of the raid.

In 1997, four sailors from the USS Saipan (LHA-2) were falsely accused of the rape and murder of a Norfolk, Virginia, woman. One spent eight-and-one-half years in prison while the other three were sentenced to life in prison. These three were pardoned in 2009. Even though the actual killer is serving a life sentence, four innocent men are still required to register as sex offenders and are still fighting to clear their names.
Charles Loeks was 18 and fresh out of Marine boot camp. On a trip home to Covina, California, he was hanging out with a few friends when he was arrested for resisting arrest and nothing else. He spent 21 days in Los Angeles County jail, even though he had harmed no one.
Carlos Jaramillo is a former Marine combat instructor who lives in Onslow County, North Carolina. Watch what happened when he recorded a sheriff's deputy who arrested him for no apparent reason.
Noel Polanco was an unarmed 22-year-old National Guardsman who was shot and killed by New York City police at a traffic stop near LaGuardia Airport.
John Laigaie, a retired Army master sergeant, was threatened at gunpoint by police while legally carrying a gun in a park in Bellingham, Washington.
Homer Wright is an 80-year-old Army veteran who was charged with felony gun use after he shot a burglar who entered his home in Englewood, Illinois.

Mark Schmidter, a Vietnam veteran who lives in Orlando, is currently serving 145 days in a cage for passing out jurors' rights information on the steps of a local courthouse.
Justin Ross of Ankeny, Iowa, was recently discharged from the Army. Police used a battering ram to enter his home executing a warrant for some items purchased with stolen credit cards. They did not find any of these items.
Saadiq Long is an Air Force veteran who was placed on a TSA no-fly list. He had to battle for months to be removed from this list just so he could fly home from Qatar to visit his ailing mother.
Chuck Benton of Long Grove, Iowa, served 22 years in the Army. He was arrested and charged simply for living in the same house with his son who was growing medical marijuana.
Cody Donovan is a former Marine MP who lives in New Milford, N.J. He was charged with unlawful possession of a weapon after carrying a loaded gun into the Garden State Plaza mall when he attempted to help police apprehend the shooter.

In 1932, 17,000 veterans marched on Washington to demand payment of bonuses they had been promised as a result of their service in World War I. Two were shot and killed by police. 55 were arrested and 135 were injured when the United States Army became an instrument of domestic law enforcement. Two of the chief enforcers were named MacArthur and Patton. Yes, those two.
Mark England, an Army combat medic who saw action in Iraq and Kosovo was beaten and tasered by police at McCarran Airport in Las Vegas.
Air Force Staff Sergeant Matt Pinkerton of Glen Burnie, Maryland, faces second degree murder charges after fatally shooting a home intruder in September.
Leo Hendrick, an army veteran who lives in Northwood, Iowa, faces up to 30 days in jail and a $600 fine for raising chickens in his yard.
Yes, the cops had a search warrant. However that in no way excuses their vandalizing the home of Army veteran Dan Neary of Lakewood, Washington.
These World War II veterans were threatened with arrest for visiting a closed war memorial in Washington, D.C. during the October "shutdown."

These Vietnam veterans actually were arrested for visiting a New York City war memorial after curfew.
Denis Reynoso was a disabled veteran who saw action with the Marines in Iraq. He was shot dead by police in his Lynn, Massachusetts, apartment.
Nick Morgan, an Iraq veteran, was pulled out of a crowd by police in Hempstead, New York, and trampled by their horses.
Gary Shepherd of Broadhead, Kentucky was a Vietnam veteran. He used medical cannabis to relieve the pain in his left arm, which was crippled during the war. Shepherd was shot dead by a SWAT team, after they had threatened to cut down his cannabis plants.
Valente and Manuel Valenzuela of San Antonio produced sufficient documentation to enlist, respectively, in the Army and Marine Corps. Both fought in Vietnam, where Valente won a Bronze Star. Now they are facing deportation to Mexico because of erroneous entries on their birth certificates.
Jerome Murdough, a homeless Marine Corps veteran, died in a jail cell on New York's Rikers Island after being arrested for trespassing. A heating malfunction caused the temperature in the cell to soar to 100 degrees.
Kenneth Chamberlain was a retired Marine and Vietnam veteran living in White Plains, New York. Early one morning he set off his medical alert device. The first responders in this case were not medics, but rather police, who proceeded to kill Mr. Chamberlain.

This group of combat veterans in Colorado organized to help legalize marijuana during the 2012 elections. They claim – and I believe them – that marijuana helps mitigate PTSD. If you support any punishment whatsoever for a combat veteran who heals himself with a plant that grows wild in some form within a few miles of you, I don't care what you tell me. YOU DON'T BELIEVE IN FREEDOM!
Stanley Gibson, a 43-year-old Gulf War veteran was shot dead over a total non-crime by Las Vegas police in December, 2011.
Army Specialist Michael Sharkey returned home from deployment in Afghanistan to find his home in New Port Richey, Florida, unlawfully occupied by two squatters. The local sheriff says that Sharkey has no grounds upon which to evict them.
These veterans say they are being required to prove they are worthy of gun rights. Our rights are gifts from God that are inherent in our very humanity. We never have to prove to anybody that we have them.
Dwight Edwards, a disabled Marine veteran of Afghanistan, says that cops in Queens brutally beat him for no reason.
Army Staff Sgt. C.J. Grisham, who won the Bronze Star with Valor, was forcibly disarmed for no good reason by a policeman while on a hike with his son not far from Fort Hood, Texas.

Brandon Raub, a Marine who was decorated for bravery in Iraq and Afghanistan, was forced to spend a week in a Virginia mental hospital over some "anti-government" Facebook posts. (His interviewer here, John Whitehead, is a constitutional attorney, Vietnam infantry veteran and superlative anti-police state blogger.)
Operation Vigilant Eagle is a project of the Department of Homeland Security that has led to numerous Iraq and Afghanistan veterans "finding themselves under surveillance, threatened with incarceration or involuntary commitment, or arrested, all for daring to voice their concerns about the alarming state of our union and the erosion of our freedoms." Indeed, merely being a "returning veteran" can have you designated as a potential terrorist.

We will never know the whole truth about Navy veteran and former Los Angeles cop Christopher Dorner, who was the subject of a police manhunt and media witch hunt in 2013. He never got the chance to tell his story in court.
Hector Barrios came to America in 1961. He was drafted and served as an infantry soldier in Vietnam. In 1996, he was busted for possessing marijuana, which he used to treat his PTSD. As a result, he was deported to his native Mexico where he died.
Matthew Corrigan of Washington, D.C. was a first sergeant in the Army Reserve and a veteran of Iraq. His home was destroyed in a SWAT rampage because it was reported to the police that Corrigan had a gun.
Jamie Dean was an Army veteran of Afghanistan was diagnosed with PTSD. Upset about his impending deployment to Iraq, Dean had an intense emotional outburst at his Maryland home in December 2006. Even though he neither harmed nor threatened anyone, he was shot and killed by a local SWAT team.


Bennie Coleman, 76, is a retired Marine who lost his Washington, D.C., home because of a $134 tax lien that District authorities had sold to an investor.
Jeremy Usher is a former Navy hospital corpsman who lives in Greeley, Colorado. He faces jail time for using medical marijuana to treat his PTSD.
Brittany Ball, a 23-year-old soldier at Fort Jackson, S.C., was manhandled by a cop at a local bar, even though she had done nothing wrong.
Air Force Airman First Class Michael Davidson was shot in the stomach by police in Opelika, Alabama, at the scene of a traffic accident.
Benjamin Wassell sustained traumatic brain injuries while with the Marines in Iraq. The Buffalo-area resident was the first person charged with illegal gun sales under New York's new SAFE Act.

Erik Scott graduated from West Point in 1994 and served as a tank platoon leader. In 2010, he was gunned down and killed by police as he peacefully walked out of a Las Vegas Costco.
Scott Olsen saw action with the Marines in Iraq. Later, he would join the Occupy Oakland movement. In October, 2011, suffered a fractured skull after being hit in the head with a projectile fired by police.
Derek Hale served honorably with the Marines in Iraq. Although, he had committed no crime, he died after being tasered three times and then shot three times by police in Wilmington, Delaware.
Roderick King, an Iraq war veteran, was arrested in Philadelphia after he and his friends had criticized a cop's driving.
Howard Dean Bailey, a Navy veteran, was deported to his native Jamaica when immigration authorities discovered he had taken a plea bargain in a marijuana case in Norfolk, Virginia.

To be sure, the recently deceased folk singer Pete Seeger could not have been more of a leftist. However, he did serve three years in the Army after being drafted during World War II. He was sentenced to one year in jail after refusing to reveal his political connections to the House Un-American Activities Committee in 1956. He appealed this sentence, citing the First Amendment, and ultimately spent only four hours behind bars.
Larry Kirschenman of Nogales, Arizona, served 22 years in the Army and was decorated for bravery in Vietnam. Learn how he was brutalized by Border Patrol agents when asking why he was subjected to a warrantless search.
We will never know for sure what happened in Army veteran Matthew Stewart's Ogden, Utah, apartment one night in January 2012, as he will never have his day in court. He was in prison awaiting trial on charges of shooting and killing one of the police officers who raided his apartment searching for marijuana. Stewart, whose guilt was never proven, committed suicide in his cell.
Sergio Arreola is a cop in Los Angeles who served with the Marines in Iraq. He was beaten by the police in suburban Pomona for no good reason whatsoever.
This former Army paratrooper is appealing to the New York state legislature to legalize medical marijuana. He has severe multiple sclerosis and is "forced to break the law to have some semblance of a bearable existence."


On May 5, 2011, a Tucson SWAT team approached the home of Jose Guerena, who had served two tours with the Marines in Iraq. Guerena grabbed his AR-15 as is his right, but did not fire. The SWAT team let loose with 71 rounds, 60 of which perforated Guerena's body.
Marty Maiden lived a few blocks from Guerena in Tucson. and saw action with the Army in Afghanistan. He posted a suicidal note on Facebook which prompted a call to the police, who shot him dead.
Steve Lefemine is a West Point graduate who was arrested for protesting against abortion in a "no-demonstration zone" outside the Republican National Convention in New York in 2004. The 2nd Circuit U.S. Circuit Court justified the arrest based on a "compelling state interest in security".

Eileen Erickson's husband Sid served in Vietnam and died of Agent Orange exposure. Erickson is now in the crosshairs of authorities in Venice, California, who want to tear down the tree house Sid built before he died.
Listen to this disabled Navy veteran plead with then-Senate candidate Kelly Ayotte (R-NH) about the benefits of medical marijuana. Listen to the totalitarian response.
John Wrana, a 95-year-old Army Air Corps veteran of World War II, was tasered and then shot to death by police in Forest Park, Illinois. His "crime"? Refusing medical attention.
John Colaprete saw action in Vietnam as a Marine Corps officer. In 1994, his Virginia Beach home and restaurants were the object of paramilitary-style raids by the IRS. The raid was prompted by a false accusation by a former employee. While you need to watch this documentary in its entirety some time, for now just pick it up for a few minutes starting at the 55:40 mark.

Boxing legend Joe Louis was also tyrannized by the IRS. The Brown Bomber enlisted in the Army in 1942 saying "Let us at them Japs." Louis never saw combat, as he was assigned to the Special Services Division. While still a civilian, Louis fought some charity bouts and donated the proceeds to the Navy Relief Society. The IRS, however, viewed these proceeds as taxable income. IRS problems would plague him all his life. Please watch this video starting at the 53:17 mark.
Adam Arroyo is a Hispanic veteran of the Iraq war who lives in Buffalo. Police shot and killed his dog while executing a drug warrant for a black man.
Henry Taylor was a retired Air Force veteran in Louisville, Tennessee, who was shot dead by a local sheriff's deputy while investigating a burglary at a rental property he owned.
This is a fascinating article: When Johnny Comes Marching Home … He Goes to Jail. It is absolutely tragic how we chew up and spit out so many of those we send to "fight for our freedom."

Radio talk host Adam Kokesh won the Navy Commendation Medal as a Marine in Iraq. In recent years, he has been arrested several times for various non-violent protests. His most recent arrest happened after he loaded a shotgun in public in Washington, D.C. on July 4, 2013. On July 10, police violently raided his home and arrested him. He was incarcerated for four months without bond, bail or trial. He is currently on probation for two years. You may not like Kokesh's demeanor or approve of all of his antics, but he has been very courageous when so many of his critics can't be bothered to put down the remote.

James Moore, my brothah from anothah mothah, walked away from a very lucrative engineering position in San Jose to re-enlist in the Army following 9/11. He sustained significant physical injuries as well as PTSD while serving in the Special Forces in Afghanistan. On the afternoon of March 25, 2008, Moore, who had done absolutely nothing wrong, was beaten to the point of flat lining by Denver police.
One of the coolest people I have never met is Antonio Buehler. Buehler graduated from West Point in 1999, earned his Ranger tab, and saw action in Kosovo and Iraq. (He also sports a Stanford MBA.) Early in the morning on January 1, 2012, Buehler was arrested for taking a few pictures of Austin police manhandling a young woman outside a 7-11. Buehler has been arrested four times since. He heads the Peaceful Streets Project, whose members work to expose abuse, brutality and overreach both in Austin and across the nation.

There are no doubt numerous other injustices against veterans that I do not know about. Enough to fill a book. None of these things would have happened if America were a free society. As Kokesh puts it, "The greatest enemies to the Constitution are not to be found in the sands of some far off land but rather right here at home."
I cannot speak to the specific political beliefs of most of the veterans I have mentioned here. Some may be pacifists, while others may make John McCain look like a hippie in Haight-Ashbury. No matter what their individual views may be, the freedom they risked their lives for was flagrantly violated on the streets of the land they fought to protect.
Society endlessly applauds sailors, soldiers, airmen and Marines for "fighting for our freedom". It is in no way disrespectful to say that this is not what they do. No foreign government or terrorist group poses any threat to our liberty. America accounts for about half of the world's military spending. We have 300 ships in our Navy, plus thousands of planes, tanks and nuclear warheads as well as 300 million firearms in private hands. Nobody is going to invade us.
In a constitutional country, which America ceased to be 100 years ago, the job of the military – a vital and most noble one – is to defend the borders, shores and airspace. It cannot protect you from being tyrannized domestically. Indeed, throughout history, armies have been instruments of domestic tyranny. Our Constitution forbids a standing army for just this reason.
Nazi Germany and Soviet Russia had enormous military establishments. How did things work out in these countries?
I am a Christian who believes liberty is a gift from God – Leviticus 25:10; II Corinthians 3:17; Galatians 5:1. To quote Jefferson, liberty is preserved not by military might, but by "eternal vigilance" against one's own government at all levels. It is the grossest form of disrespect to send young men around the world to "fight for freedom" while relinquishing that freedom on the home front.
For several years, America has had the world's highest incarceration rate. Since 2001, Americans have gladly accepted previously unthinkable intrusions on their freedom in the name of "safety" and "security". These include, but are not limited to: warrantless searches and spying, the suspension of habeas corpus, sexual assault as a condition of travel, rampant police brutality, indefinite detention without any semblance of due process, severe restrictions on peaceful protest, massive ammunition purchases by DHS and surveillance drones in our skies watching our every move. Can predator drones be far behind?
And in every election 98 percent of voters put their stamp of approval on perpetuating this monstrosity.
On April 20, 2013, Boston and several surrounding towns got a serious taste of martial law. How many military veterans were on the receiving end of this? Is this what they signed up to fight for?
Stop thinking in clichés. Have a good hard look at everything your media and government tell you. This includes media outlets and parts of the government that you like. Study. Read. Ask questions. And learn that the defense of liberty is not the duty of the military. Rather, it is your duty and mine.
~~~~~~~~~~~~~~~~~~~~~~~~~~~~~~~~~~~~~~~~~~~~~~~~~~~~~~~~~~~~~
What is now called the Tea Party began in 2007 as a loosely-organized yet highly-motivated grassroots support effort for Congressman Ron Paul's bid for the White House. Since those early days, a lot has happened to the Tea Party.
For one thing, the Tea Party is now much larger and broader than any one person's political candidacy. And though a Tea Party candidate has not yet obtained the White House (Ron Paul was the lone Tea Party Republican candidate in both the 2008 and 2012 presidential elections), a host of Tea Party candidates have won several elections in the US House and Senate–as well as many State and local races. And to win these elections, Tea Party candidates have had to repel the attacks against them from the Republican establishment. In fact, the GOP establishment is far and away the Tea Party's biggest enemy.
Republican leaders such as John Boehner, John McCain, Lindsey Graham, Peter King, etc., have made one of their missions in life to defeat Republican Tea Party candidates–even if those candidates are incumbents. This is for good reason: the establishment Republican Party is diametrically opposed to the goals and principles of the Tea Party.
Based on the positions of most Tea Party candidates (which is all we have to go on as the Tea Party is not a real political party but only a grassroots activist effort being conducted mainly within the Republican Party), the goals and objectives of the Tea Party can be summarized generally as follows:
They support a non-interventionist foreign policy.
They support the Constitution and recognize the current attacks against the Constitution, especially against the Second, Fourth, and Tenth Amendments.
They oppose the NSA spying on the American citizenry (including the use of drones for such purposes).
They oppose the Patriot Act and the militarization of the Department of Homeland Security as well as local and State law enforcement agencies.
They oppose the Import-Export Bank.
They oppose the Federal Reserve Bank.
They oppose CISPA.
They oppose the indefinite detention provision of the NDAA.
They support ending the 2001 Authorization for the Use of Military Force (AUMF).
They support limited government spending–especially at the federal level.
One can easily see that many, if not most, of these goals and objectives are diametrically opposite the goals and objectives of the establishment Republican machine. And more than anything else, the Republican leadership in Washington, D.C., wants GOP congressmen and senators to be "team players." Of course, by "team players" they mean good little Republican robots that will not buck party leadership.
Since Representative Ron Paul retired, the Tea Party leader in the U.S. House is Justin Amash of Michigan. And working side-by-side Rep. Amash is Congressman Thomas Massie of Kentucky. In the U.S. Senate, the Tea Party is being led by men such as Rand Paul of Kentucky, Mike Lee of Utah, and Ted Cruz of Texas. There are several other Tea Party supporters in both the U.S. House and Senate, of course. It is no accident or coincidence that each of these congressmen and senators has incurred (and continue to incur) the wrath of establishment Republican leaders.
Congressman Peter King (R-NY) reserves his harshest rhetoric, not for any Democrat, but for Senator Rand Paul. King said that Rand Paul "disgraced his office," he "doesn't deserve to be in the U.S. Senate," and he "tells absolute lies." Karl Rove has repeatedly lambasted Justin Amash. House Speaker Boehner has spearheaded well-financed opposition to Amash's reelection campaign this year. Senator John McCain (the GOP standard bearer in 2008) recently called Amash, Paul, and Cruz "wacko birds." So much for Ronald Reagan's 11th Commandment to not speak evil of fellow Republicans. It would appear that commandment only applies to not criticizing the GOP establishment, while Republicans espousing Tea Party convictions are open-season for Republican leaders to lampoon and lambast without mercy.
Earlier this month, the GOP establishment spent over $1 million in a single House district race in an attempt to defeat 20-year Republican incumbent Walter Jones. The reason? Jones has a history of voting against the wishes of the party establishment–especially concerning the freedom issues listed above. Thankfully, they failed.
But all over the country, in national, State, and local elections, the GOP establishment is working feverishly to keep Tea Party candidates out of office or to defeat incumbent Republicans who support the Tea Party agenda. In fact, one way I can tell whether a candidate deserves my support or not is by the support or opposition he or she receives from the GOP establishment. If the Republican establishment supports him or her, I can pretty much know that I should vote for someone else.
The reason that Boehner, Karl Rove, and other big-government Republican leaders are trying so hard to defeat Justin Amash in particular is due to the fact that Amash has quietly but effectively spearheaded the momentum of small-government conservatives on Capitol Hill. Since the retirement of Ron Paul, Amash has successfully formed a potent coalition of constitutionally-minded Republicans within the Tea Party movement. He calls his coalition the "House Liberty Caucus." Of course, most of the framework for this caucus was put together by former Congressman Ron Paul.
Since Justin Amash was elected to the House and Rand Paul was elected to the Senate in 2010, eight of the eleven Ron Paul-endorsed congressional candidates won elections in 2012, including Senator Ted Cruz. All of these folks had significant Tea Party support. Boehner and Rove have reason to be worried. No wonder Amash's establishment-endorsed opponent has over $1 million to spend trying to oust him. No wonder the U.S. Chamber of Commerce (a long-time establishment organization) has unveiled a $50 million war chest designed to defeat Tea Party congressmen nationwide.
And please know this, too: the establishment has done its best to infiltrate the Tea Party so as to dilute its message and weaken its effectiveness. In fact, some Tea Parties around the country are now mostly dominated by establishment neocons. Thank God, many, if not most, of the Tea Parties around the country are still mostly comprised of strong, constitutionally-minded, non-establishment folks who refuse to bow to the GOP hierarchy. But we must be aware of the neocon infiltration that has taken place among many Tea Parties.
In virtually every political race this year–including national, State, county, and city–the establishment will be working tirelessly to elect their hand-picked neocons. When you hear Tea Party-type candidates being lampooned as "wacko" or "far right," etc., when you hear their critics and detractors say, "He can't win," please understand that you are listening to an establishment elitist whose job is to undermine the candidacies of those folks who refuse to go along with the establishment. Many of these critics will call themselves "conservatives." They will say they are simply being "pragmatic" and "reasonable." Hogwash! What they are doing is trying to ensure that non-establishment candidates never get elected.
The future of the Republican Party–or even if there is a Republican Party in the future–depends on the next few elections and whether or not the establishment will be able to bully and buy-off the votes of the American people. When John Boehner, John McCain, Lindsey Graham, Jeb Bush, Karl Rove, etc., demand that Congress provide amnesty for illegal aliens, when they try to ram their elitist, big-government agenda down the throats of congressmen and senators, when they spend hundreds of millions of dollars trying to defeat Tea Party Republicans, you can rest assured that they are not seeking the welfare of the country or even of the Republican Party.
The big-government establishment doesn't give a flip about freedom, the Constitution, or even the constituent back home. What they care about is THEM. They have become part of a wealthy and powerful cabal of miscreants who are going to be well-taken-care-of NO MATTER WHAT. They are themselves the pawns of evil power-brokers; and in order to survive, they must make sure that there are other pawns coming to Washington, D.C., to keep the power base intact.
This is a war. It is not only a political war; it is a spiritual war. It is a war for both the soul of the Republican Party (which at present, there isn't much of one left) and the soul of the country. It would really help if our pastors and churches could awaken to this war and help us fight it. The establishment knows it's a war; and they are fighting it with every ounce of energy in their collective being. And they have declared the Tea Party as public enemy number one.
What started as one congressman's presidential bid back in 2007 has now become a full-blown assault on the big-government establishment in Washington, D.C.–and around the country. The result is there is now a small army of Ron Pauls on Capitol Hill.
I urge you to ignore the shills of the establishment and go to the polls in the primaries this year and elect as many non-establishment candidates as you possibly can. Let's give Karl Rove and John Boehner something to really worry about.
In 2008, Houston police pulled over CIA agent Roland Carnaby on what appeared to be a routine traffic stop. A few seconds later, Carnaby was dead.
It is illegal to detain a CIA agent under any circumstances. They may carry any weapon, anywhere, anytime, and request assistance from any law enforcement official with more than certainty.
Why then would this incident be part of a highly classified Russian intelligence report? Could it, perhaps, be that Carnaby, answering directly to former President and CIA Director, George H.W. Bush, was murdered to silence his participation in the theft and sale of American nuclear warheads?
Carnaby was holding a trove of documents outlining the theft and transfer of hundreds of nuclear warheads from the Pantex Plant near Amarillo, Texas. Weapons sent there for disassembly were transshipped to Israel and, from there, refurbished, their cores remachined and then sold around the world or stored in Israeli embassies and consulates around the world.
The Russian report outlines a very different view of the past 30 years, a "view" that "fits like a glove."
DIMONA OUT OF ACTION
The report not only confirms Israel's nuclear weapon inventory but outlines the program of subterfuge and piracy required to keep Israel as a nuclear power after their facility at Dimona suffered a critical "event" in 1988.
"Dimona is a standard 75-megawatt thermal open top reactor as used in France for their plutonium weapons production program, their version of Stanford (Editor's note: Probably "Hanford").

Due to overuse as a fast breeder reactor by the Israelis, Dimona suffered a "steam explosion" IE a flash over indecent due to neutron criticality back in the late 1980's under Bush 1. This shut down its operation for many years until repairs could be made.

It know only operates at very low power levels due to neutron absorption damage to the containment vessel. Now mainly use for isotope production. This forced the Israelis to turn to stolen nuclear stockpiles from the US for the continuation of their nuclear program."
The highly classified Russian report, released, experts believe, to demonstrate American hypocrisy over recent events in the Ukraine, is a litany of horror stories. If this is a "first shot over the bow" by Russian intelligence, American officials can only dread what may be to come.
BACKGROUND

48 hours ago, the retired chief of Russia's counter-intelligence effort for the Middle East released a highly classified report designed to embarrass the United States and demonstrate their servitude to Israel and complicity in broad acts of nuclear proliferation.
The report, loaded with "shock value" intelligence and backed by reams of supporting documents including classified nuclear weapons plans demonstrated that Russia has been able to maintain a high level of penetration of not just American nuclear weapons labs but security agencies as well.
ROUND ONE, 9/11
The report, carefully structured for maximum shock value, begins with 9/11, the watershed event of our era:
"The type of nuclear devices used on 911 were a modified version of the W-54 nuclear artillery shells that were covertly provided to the Israelis between 1988 and 1998 from US surplus stockpiles illegally exported during the Bush/Clinton era.
Chemical analysis done by DOE Sandi was able to identify the chemical/radiation footprint or fingerprint of the warheads based on samples taken after 911 of the fallout at ground zero."
According to the report, 911 was an Israeli operation facilitated by blackmail of Bush 41 and 43, threatening them with "outing" for their personal financial involvement in the sale of 350 primarily w54 nuclear artillery rounds, sold through Israel but distributed to a number of nations.
The Russian report further outlines that NATO partners, particularly Britain and France, were involved every step of the way. 911 was cover for stolen gold, stock fraud and the looting of the American economy. The "wars for profit" were the Bush boys cashing in on their own.
THE "HOW" OF 911
A number of theories have been introduced to explain the mysterious effects seen at ground zero on 9/11. In an article on the Press TV website, evidence of a widespread cover-up of an epidemic of radiation exposure-related cancers tied to 9/11, was presented.
Not only has Russia confirmed the Press TV findings, they present evidence of nuclear weapons use, evidence from a suppressed report based on findings by the Department of Energy's Sandia Laboratories.
"Only a 2 kiloton device was needed to drop the buildings. A 2 kiloton device will produce a fireball of apx 150 to 200 feet in diameter at over 4000 degrees Centigrade. Just large enough to melt the I beams of the central core of the building and drop them in place. The light flash would last less than 1 second and primarily be in the UV light range. Overpressure would only be at 60PSI max and directed upwards with the blast.
Fallout would be minimal and located to within ground zero range only. Radiation would drop to acceptable levels within 72 hrs. after the blast. Most fall out was trapped in the cement dust thus causing all of the recent cancer deaths that we are now seeing in NYC amongst first responders."
The report continues with details that close the door on speculation about 9/11, putting an end to conspiracy theories and, in particular, the wildest one of all, the pseudo-science fairy tale broadly rejected by the 9/11 Commission but allowed to stand as America descended into an Islamophobic frenzy.
"Fallout would be minimal and located to within ground zero range only. Radiation would drop to acceptable levels within 72 hrs. after the blast. Most fall out was trapped in the cement dust thus causing all of the recent cancer deaths that we are now seeing in NYC amongst first responders.

Melted steel and iron oxide or "nano thermite" is a byproduct of the very high gamma ray / Neutron flux induced into the central steel core. The radiation dissolves the steel into iron oxide consuming the carbon and silicone in the steel."
This explains the missing steel columns and the very important clue of the "vaporized" 20 ton antenna tower atop the south tower. The upward blast of radiation literally vaporized it. Video evidence proves this to be true.
The total (redacted) data file from DOE Sandia on the 911 event is well over 72 MB. "P.S. Snowden didn't have a Q clearance so he missed this one."
The scope of the Bush/Cheney/Israeli nuclear proliferation operation, according to the report, is well beyond anything imagined. Here, Russia places the blame, naming not only Vice President Dick Cheney and former White House Chief of Staff Ram Emanuel but Tom Countryman, tasked, according to Russian sources, with actually managing the program that spread nuclear weapons to Brazil, North and South Korea, Saudi Arabia and a number of other nations.
"Illegal distribution of US nuclear material to foreign allies was not limited to Israel. Virtually all NATO allies were in on this scam too. Dick Cheney was the bad guy on this one. Bush2/Cheney traded nuclear pits to foreign country as IOU's in order to get what they wanted. Tom Countryman a well-known Israeli operative is curiously now in charge of N.N.P. at the State Department under Obama. He was put there by Ram Emanuel."
REACTIVATING "DEAD NUKES"
Only nuclear weapons that had deteriorated but could be recommissioned were of use to Israel. The Russian report outlines the basis for selecting the W-54 warhead and exacting details on how weapons were created out of America's "nuclear scrap heap."
"A total of over 350 pits were transferred to the Israelis over a 10 to 20 year period of time. The W-54 type of pit design were the most desirable due to the 2 point implosion pit design. This is the easiest to re manufacture and modify as compared to other circular pit designs.
The pill shaped design of the W-54 type weapon contains over 1.5 times more plutonium than a standard pit. This would allow enough Plutonium to be recovered that was still of weapons grade use even after 32 plus years of age. Americium build up in the pit over time eventually makes the Pit unusable as a weapon so they have a limited shelf life based on how fast or slow the Plutonium was produce in the reactor at Stanford.
Usually it was about 150 days max. Irradiation time in the reactor during production determines the shelf life of the pit as weapons grade material. All of the micro nukes used by the Israelis are re-manufactured W-54 type series devices."
CONCLUSION
According to the Russian report, Israel used remanufactured W-54 warheads, reconfigured as micro-nukes, for terror bombings in Bali, London and to destroy the Fukashima nuclear reaction site in Japan.
With weapons around the world, stored in embassies and consulates, and their powerful friends in the American "right," Israel has managed to maintain nuclear superpower status without a real production facility, using only pirates and traitors, something America, according to our Russian sources, seems to have no shortage of.
Gordon Duff is a Marine Vietnam veteran, a combat infantryman, and Senior Editor at Veterans Today. His career has included extensive experience in international banking along with such diverse areas as consulting on counter insurgency, defense technologies or acting as diplomatic representative for UN humanitarian and economic development efforts. Gordon Duff has traveled to over 80 nations. His articles are published around the world and translated into a number of languages. He is regularly on TV and radio, a popular and sometimes controversial guest. 
Source: Veterans Today | Press TV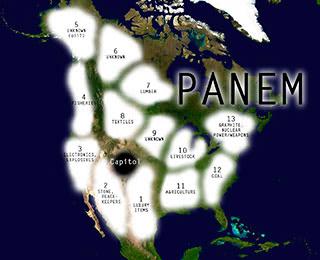 One of the most popular films of 2012 was The Hunger Games which portrayed a post-apocalyptic nation called Panem in which a super-rich, super-pampered, super-callous 'elite' lived in high-tech luxury while the rest of the population daily battled to survive in abject poverty locked away behind prison fences in intensively-populated 'people zones'. Panem comes from the Latin phrase 'panem et circenses' or 'bread and circuses' — a term derived from Rome and meaning to give the people diversions and distractions to hide what is being done to them. Exactly what is happening today.
The Totalitarian Tiptoes to just such a world are happening all around us, although most people can't see this because they don't connect the dots. People tend to live in their own 'little world' and focus on only a few subjects and interests. This gives them a distorted view of what is happening because they are so busy concentrating on the strands that they cannot see the tapestry. The world of The Hunger Games is already well on the way to fruition unless humanity has a fundamental reassessment of reality.
The foundations, structure and 'must haves' of a Hunger Games society are detailed in a plan being imposed through the United Nations called Agenda 21 which encompasses two related themes of 'sustainable development' and 'biodiversity'. Sustainable development — as in don't use more than can be replaced — sounds sensible enough at first until you realize what this and biodiversity really mean in the context of the conspiracy.
Agenda 21 was established at the United Nations Conference on Environment and Development in Rio de Janerio, Brazil, in 1992, hosted by Maurice Strong, a Canadian oil and business billionaire and long-time front man for the Rothschilds and Rockefellers. Strong has been a leader of their exploit-the-environment-to-scam-the-people programme which is now in full flow. Strong is a member of the Club of Rome, the environmental Hidden Hand in the Round Table network that includes the Bilderberg Group, Trilateral Commission and Council on Foreign Relations.
Strong said in support of Agenda 21:
'Isn't the only hope for this planet that the industrialised civilization collapse? Isn't it our responsibility to bring that about?'
This is a man who became mega-rich through the oil industry. He now lives in billionaire luxury in China where carbon-emitting industry is booming and he is a director of the Chicago Climate Exchange (largest shareholder, Goldman Sachs), which is 'the world's first and North America's only legally-binding greenhouse-gas emission registry reduction-system for emission sources and offset projects in North America and Brazil'.
The Exchange was established with funding from the Joyce Foundation where Barack Obama was once a director. Strong and Al Gore make money through the Carbon Exchange and other means from the lies they promote about climate change and the solutions they propose. Kate Johnston wrote on the Globalresearch.cawebsite:
'The same men that sold us the myth of man-made global warming are the same men that sold us the "solution" of a Carbon Tax and Emissions Trading Scheme and now they're profiting off their lucrative investments which are based on lies.' (See "The Climate Change Hoax").
Strong fled to China in 2006 after being accused of corruption with respect to the UN oil for food program.
Climate change propaganda is a No-Problem-Reaction-Solution technique to justify Agenda 21 and its stable-mate the Biodiversity Treaty. This is an internationally-binding document involving nearly 200 countries. The United States signed the treaty, but it was not ratified by the Senate after people like ecologist and ecosystem scientist Dr. Michael Coffman exposed its true consequences and implications. He said that he realized during the 1980s and 1990s that the plan was to use the excuse of protecting the environment to confiscate half the land of the United States.
Similar plans exist for every other country. America may not have ratified the treaty, but it is being implemented by the day. Agenda 21 demands the central global control of all land; all private property; all water sources and distribution; all other resources which includes people in its definition; all energy supplies and distribution and all food production and distribution.
Agenda 21 is called 'the agenda for the 21st century' and that refers to global fascism / communism. This is a summary of what Agenda 21 / Sustainable Development / Biodiversity is seeking to impose:
An end to national sovereignty
State planning and management of all land resources, ecosystems, deserts, forests, mountains, oceans and fresh water; agriculture; rural development; biotechnology; and ensuring 'equity' (equal slavery)
The State to 'define the role' of business and financial resources
Abolition of private property (it's not 'sustainable')
'Restructuring' the family unit
Children raised by the State
People told what their job will be
Major restrictions on movement
Creation of 'human settlement zones'
Mass resettlement as people are forced to vacate land where they currently live
Dumbing down education (achieved)
Mass global depopulation in pursuit of all the above
This horrific plan is being coordinated through the United Nations, the stalking horse for world dictatorship, via a non-governmental network once called the International Council of Local Environmental Initiatives ICLEI), and now known as Local Governments for Sustainability although still using the shortened name ICLEI. The United Nations is now opening 'embassies' around the world called 'UN Houses' under the guise of raising awareness of UN activities, but not the activities that people really need to know about. They have opened one in Hunter Square, Edinburgh, Scotland, for example.
Local Governments for Sustainability (ICLEI) and other organisations are integrating the plan into every village, town, city and region and it is already becoming widespread across the world. The organisational infrastructure of Agenda 21 is already fantastic and involves government agencies, non-governmental organisations (NGOs), think-tanks, trusts, foundations, 'training' (mind control) operations and 'initiatives' which have been building the infrastructure for what they call 'the post-industrial, post-democratic' society while the public go about their daily business oblivious of the prison being built all around them by the hour.
Harvey Ruvin, a vice-chairman of ICLEI, was asked how Agenda 21 would affect liberties with regard to the US Constitution and Bill of Rights, private property and freedom of speech. He replied:
'Individual rights must take a back-seat to the collective.'
The arrogance of these people is breathtaking. The extraordinary network supporting ICLEI and Agenda 21 includes the Rockefeller-sponsored America 2050; United Cities and Local Governments (UCLG); Metropolis; World Economic Forum; United Nations Framework Convention on Climate Change; United Nations International Strategy for Disaster Reduction; World Bank; Clinton Climate Initiative; Climate Group (Tony Blair); World Conservation Union (IUCN); Renewable Energy and Energy Efficiency Partnership; Global Footprint Network; Renewable Energy and Energy Efficiency Partnership; Global Footprint Network; International Centre for Sustainable Cities; Earthquakes and Megacities Initiative and the Stakeholder Forum. These and so many others are working to the same end — Agenda 21 and total human enslavement worldwide, although most of those involved will have no idea that they are building a global prison for themselves and their families.
Another of these front organisations is the World Business Council for Sustainable Development which includes the hideously anti-people Monsanto. Destroying food-growing land, contaminating the countryside with toxins and replacing proper food with deadly and soil-destroying genetically-modified organisms is Monsanto's contribution to 'sustainability'. Agenda 21 is operating in more than 600 towns, cities and counties in the United States and expanding by the day.
A member of the Agenda 21 committees in Santa Cruz, California, in the mid-1990s said that the proposals he heard were so crazy that he laughed at them because they could never happen. These included that 'Mother Earth's surface was not to be scratched'; humans should be concentrated in settlement zones; education should focus on the environment as a central organising principle and all aspects of life covered by Agenda 21, but all of these crazy plans are now being introduced. It's all happy, feely, smiling faces and how we care, when the truth is that Agenda 21 is a vicious, brutal, heartless strategy to impose a global Orwellian state.
Agenda 21 manipulators either create or hijack some local organisation or other, many of them in locations with large populations, and they have their (controlled) leadership to agree the Agenda 21 blueprint for their community together with any uninformed, unwitting idiots who can be sold a human nightmare as saving the planet. This allows them to claim that decisions were made after 'public participation' when that would have been the last thing they wanted, and 99 percent of the 'community' has never heard of Agenda 21 let alone had their say on it. They want no democracy which is why these people talk privately, sometimes even publicly, about the post-democratic, post-industrial society.
They want to control every man, woman and child on the planet — everyone and everywhere and every resource, water source and piece of land. To do this they need a global structure of fascist control that goes right down into every local community with the jackboots at local level enforcing the will of the global centre. This is why there is so much emphasis on local authorities and town and city authorities in Agenda 21.
There is a 'training organisation' called Common Purpose (common purpose, common consensus, everyone the same) which has been paid very large amounts of money by governments and local authorities, police forces and other institutions of state to 'train the leaders' of the post-democratic, post-industrial society. Common Purpose was heavily represented in the Leveson 'inquiry' leading to new media laws in Britain. It is not a training programme; it is a programming programme and turns out unquestioning zombie administrators who serve the god of Agenda 21 and the associated European Union. The theme of 'common' also applies to the ever greater standardisation of laws and regulations and constant reference to 'international law'. This is the unfolding global dictatorship of Agenda 21. What do you need to be a global dictator? Laws that everyone on the planet must obey — international law and the standardisation of global regulation.
You can see The Hunger Games connection when you look at the official Biodiversity wish-for map of the United States in Figure 1. The red areas are designated for no human use and most of the rest of America is confiscated for little and highly-regulated use. The mass of the population would be concentrated in high-rise, densely-packed 'human settlement zones' and denied access to something like 80 percent of present day America. It is without question the world of The Hunger Games with a globally-enforced top-down hierarchy that has a world government using its world army and police force to impose its will at regional and local levels (sectors). The Rockefeller-funded America 2050 has produced a map of the new United States divided into eleven 'megaregions' and includes parts of Canada (Figure 2). Seattle, Portland and Vancouver, British Columbia, become the megaregion known as 'Cascadia' and this regional system comes under the collective name of 'megalopolis' which is Greek for large city or great city. America, Canada and Mexico are due to merge to form the North American Union in line with the European Union blueprint.
The European Union is planned to be broken up into regions and the same structure is in development all over the world. The map of the new Europe has regions from different countries linked up with regions in other countries to end any vestige of national sovereignty or even national existence (Figure 3). This is a global plan with its fierce central control hidden behind its lower elements such as the European Union and local government. What is planned would clearly require a fantastic reduction of the global population and this is indeed what Agenda 21 / Sustainable Development / Biodiversity demand.
The e-book Agenda 21: Your Life In Their Hands can be downloaded here.
reference:
Icke, David. The Perception Deception. Ryde: David Icke Books, 2013.
Julian Websdale is an independent researcher in the fields of esoteric science and metaphysics, and a self-initiate of the Western Esoteric Tradition. His interest in these subjects began in 1988. Julian was born in England, received his education as an electronic and computer engineer from the University of Bolton, served in a Vaishnava monastery during 2010, and has travelled to over 21 countries. Julian is also a member of the Palestinian Solidarity Campaign.
Source: Julian Websdale  |  Waking Times | War Is Crime
Sometimes I just want to pimp slap people.
Last summer, I was at dinner during a sales convention. The conversation didn't get political until someone mentioned the NSA.
There is one in every crowd. Someone piped up and said, "They can spy on me all they want. I am not doing anything wrong."
They sang this song in Germany in 1933. And they sang it with unprecedented gusto in the months following 9/11, all in the name of  "security" and "keeping us safe".
We were at the MGM Grand in Las Vegas, the world's second largest hotel. Nothing in the post-9/11 "national security" apparatus would prevent a terrorist from walking in, setting off a bomb, and killing hundreds or even thousands of people.
The more important questions are: How do you know you are doing nothing that could be construed as wrong by some state functionary? How do you know you are not breaking some law somewhere? And why are you so implicitly trusting that your government would never do anything evil with the information it has collected on you?
This is not purely an academic matter. The practical implications are profound.
I give you several examples.
1. Niakea Williams went to her son's St. Louis-area elementary school one day to pick up her son, who has Asperger's. The school was put on lockdown and Mrs. Williams was escorted out in handcuffs.
2. Adrionna Harris was almost expelled from her middle school in Virginia Beach after taking a razor blade away from a fellow student who was trying to harm himself.
3. Read what Houston police did to this man who gave 75 cents to a homeless person.
4. A little known Denver parking ordinance can get you a $25 fine even if you haven't exceeded the two-hour limit.
5. Police in Iowa City, Iowa, seized $50,000 from this couple without charging them with a crime.
6. Alberto Willmore lost his teaching job in Manhattan over a totally bogus marijuana arrest. Even though he was never convicted of anything, he was unable to get his job back.
7. Norman Gurley was arrested in Lorain County, Ohio, because a compartment in his car could have been used to transport drugs.
8. Los Angeles County sheriff's deputies shot and killed 80-year-old Eugene Mallory in his own bed during a meth raid. No meth, or any other illegal drugs, was discovered.
9. Paul Valin contacted police to report that he found a backpack full of what he believed to be meth-making equipment 15 miles from his home near Des Moines. As a result, the DEA placed his house on its list of meth labs.
10. Ryan Holle of Pensacola, Florida, lent his roommate his car on night in 2004. As a result, Holle is currently serving a life sentence without possibility of parole for pre-meditated murder.
11. New York police seized Gerald Bryan's cash in a nighttime raid in 2012. Even though Bryan was cleared of any wrongdoing, the stolen cash was deposited in the NYPD pension fund.
12. Robert Duncan is currently serving two years in a California prison, even though the business in which he worked was legal in California.
13. Jordan Wiser spent 13 days in jail after Jefferson, Ohio, police found a pocketknife during a warrantless search of his car.
14. During a school lockdown in Clarksville, Tennessee, David Duren-Sanner gave police permission to search his car as he had "nothing to hide". Police found a fishing knife. Duren-Sanner, who previously had never been to the principal's office, was suspended for 10 days and then sent to an alternative school for 90 days.
15. Look what happened to these parents in Napa, California, even though the medical marijuana prescriptions they had were completely legal.
16. Eileen Ann Bower of suburban Pittsburgh had her newborn child taken from her for 75 days because of a false positive drug test.
17. Jerry Hartfield of Bay City, Texas, has spent the majority of his life in prison, even though hisconviction was overturned in 1980.
18. Jason Dewing of update New York was found guilty of violating a law that did not exist.
19. Don Miller of Waldron, Indiana, had his home raided by FBI agents who seized hundreds of cultural artifacts from around the world. Miller was neither arrested nor charged with anything.
20. This San Diego couple was pepper-sprayed and tasered by police who had erroneously identified their vehicle after being stolen.
21. The good news is that Brian Aitken of Mount Laurel, New Jersey, had his prison sentence commuted.The bad news is that he was originally sentenced to seven years behind bars for possessing two legally purchased guns.
22. This special needs student in McDonald, Pennsylvania, was charged with felony wiretapping for recording other students who were bullying him mercilessly.
23. Abner Schoenwetter of Miami served over six years in prison for – you can't make this stuff up – violating Honduran fisheries law.
24. Read what happened to John Filippidis of Hudson, Florida, when he was pulled over by state policewhile driving unarmed through Maryland.
25. In a case of mistaken identity, Lewis James of Durham, North Carolina, "was handcuffed and later jailed under a $1.425 million bond" after he had contacted the police to notify them of a dead body in the middle of the road. As someone put it on Facebook, "Don't call the cops. Ever. Even if you find a dead body. Just don't ever call the cops."
26. Read what happened to Diane Avera of Meridian, Mississippi, when she went to Alabama to buy Sudafed, even though she did not know that this was illegal.
27. Andy Johnson of Uinta County, Wyoming, faces EPA fines of $75,000 per day for building a pond on land that he owns.
28. Douglas Zerby of Long Beach was shot and killed by police while watering his lawn because some idiot neighbor thought the hose nozzle was a gun.
29. Darien Roseen was arrested and had his vehicle searched by sheriff's deputies in Payette County, Idaho, simply because his Colorado license plates led them to believe that he could have been carrying marijuana.
30. Brian Banks of Long Beach spent five years in prison and five more years as a registered sex offenderas a result of a rape conviction. And then his accuser changed her story.
These are not "isolated incidents." There are no doubt countless other examples of people who were doing nothing wrong, yet were harshly punished.
Also, consider the following:
• The Internal Revenue Code is 73,955 pages and millions of words long. No one has read it cover-to-cover and no one knows every aspect of it. Yet if anyone violates any of its provisions it can mean fines, prison or even death.
• We are often told that "ignorance of the law is no defense." To the right is a picture of the Yale Law Library. Do you know every law contained within these tomes?
Read what various emissaries of the Amerikan police state have done to these veterans who went all over the world to "fight for our freedom."
• Seventy-two types of Americans are classified as terrorists in various government documents. Senator Harry Reid has now added a seventy-third category.
• Read how police have used asset forfeiture laws to seize millions of dollars from people without charging them with any crimes.
• Read this article and pay special attention to these words from former NSA official William Binney: "The problem is, if they think they're not doing anything that's wrong, they don't get to define that. The central government does."
• Read how the Innocence Project has helped exonerate over 300 wrongfully imprisoned people, many of whom were on death row.
• Attorney Harvey Silverglate argues that the average American commits three felonies a day without even knowing it.
• This Ford executive claims that, thanks to GPS, "we know everyone who breaks the law."
• Although it has been estimated that there are over 3000 types of federal criminal offenses, no one knows the exact number for sure.
So, do you still feel you have nothing to fear?
America's founders, largely distrustful of centralized power, created several checks and balances into the U.S. Constitution to help insure that one person, or one group of people, would not be able to unilaterally exert his or their will over the American citizenry. First, the federal government itself was divided into three separate and distinct branches–each holding the capability (and responsibility) to check the power of the other. Second, the Bill of Rights was made part of the Constitution for the protection of individual liberties. Third, the "free and independent states" of the nation retained their sovereignty and independence after the central government was created (by the states), with the Tenth Amendment specifically recognizing their authority and jurisdiction over matters not directly delegated to the federal government.
It was also assumed that the freedom of the press and the freedom of religion would help the citizenry be sufficiently informed and inspired to keep the would-be despots at bay. And, of course, "We the People" are recognized as being the ultimate guardians of liberty by the recognition that "to secure these rights, Governments are instituted among Men, deriving their just powers from the consent of the governed." (Declaration) The "consent of the governed" was given teeth by the constitutional recognition of the people's right to wield the power of the voting booth, the jury box, and, as a last resort, the cartridge box.
What has become increasingly obvious to a large segment of the American populace is the complete unwillingness of the national media to hold the federal government accountable. Neither do America's pulpits provide the moral leadership necessary to maintain good government. The freedom of the press and religion accomplish precious little today in the safeguarding of liberty. And it is also absolutely clear that the three branches of government in Washington, D.C., adamantly refuse to use the constitutional obligations placed upon them to hold the federal government in check.
The latter was made crystal clear by a recent decision by the Supreme Court of the United States. Here is the report:
"A decision by the U.S. Supreme Court means the federal government now has an open door to 'detain as a threat to national security anyone viewed as a troublemaker,' according to critics.
"The high court this week refused to review an appeals court decision that said the president and U.S. military can arrest and indefinitely detain individuals.
"The firm of William J. Olson, P.C., which filed a friend-of-the court brief asking the court to step in, noted that not a single justice dissented from the denial of the request for review.
'The court ducked, having no appetite to confront both political parties in order to protect the citizens from military detention,' the legal team said in a statement to WND. 'The government has won, creating a tragic moment for the people–and what will someday be viewed as an embarrassment for the court.'"
The report continues: "The controversial provision authorizes the military, under presidential authority, to arrest, kidnap, detain without trial and hold indefinitely American citizens thought to 'represent an enduring security threat to the United States.'
"Journalist Chris Hedges was among the plaintiffs charging the law could be used to target journalists who report on terror-related issues.
"A friend-of-the-court brief submitted in the case stated: 'The central question now before this court is whether the federal judiciary will stand idly by while Congress and the president establish the legal framework for the establishment of a police state and the subjugation of the American citizenry through the threat of indefinite military arrest and detention, without the right to counsel, the right to confront one's accusers, or the right to trial.'
"The brief was submitted to the Supreme Court by attorneys with the U.S.
Justice Foundation of Ramona, California; Friedman Harfenist Kraut & Perlstein of Lake Success, New York; and William J. Olson, P.C. of Vienna, Virginia."
Amici Curiae of the brief included U.S. Congressman Steve Stockman, Virginia Delegate Bob Marshall, Virginia Senator Dick Black, Gun Owners of America, Downsize DC Foundation, Western Journalism Center, The Lincoln Institute for Research and Education, Tenth Amendment Center, Policy Analysis Center, Constitution Party National Committee, Professor Jerome Aumente, and yours truly, among others.
See the brief here:
The WND report goes on to say: "The 2012 NDAA was fast-tracked through the U.S. Senate, with no time for discussion or amendments, while most Americans were distracted by the scandal surrounding A&E's troubles with 'Duck Dynasty' star Phil Robertson.
"Eighty-five of 100 senators voted in favor of the new version of the NDAA, which had already been quietly passed by the House of Representatives. [Disgustingly, Montana's only U.S. House member, Republican Steve Daines, who purports himself to be a staunch conservative, voted for the indefinite detention provision of the NDAA, as did Montana's two Democrat Senators Max Baucus and Jon Tester. How did your congressman and senators vote? In my opinion, this is a monumentally-important vote, and a vote granting this unconstitutional power to the military and federal police agencies is inexcusable and demonstrates how both Democrats and Republicans will unite together to dismantle the constitutional protections of the American people in the name of "national security."]
"Hedges, a Pulitzer Prize-winning journalist, and others filed a lawsuit in 2012 against the Obama administration to challenge the legality of an earlier version of the NDAA.
"It is Section 1021 of the 2012 NDAA, and its successors, that drew a lawsuit by Hedges, Daniel Ellsberg, Jennifer Bolen, Noam Chomsky, Alex O'Brien, Kai Warg All, Brigitta Jonsottir and the group U.S. Day of Rage. Many of the plaintiffs are authors or reporters who stated that the threat of indefinite detention by the U.S. military already had altered their activities.
"'It's clearly unconstitutional,' Hedges said of the bill. 'It is a huge and egregious assault against our democracy. It overturns over 200 years of law, which has kept the military out of domestic policing.'
"Hedges is a former foreign correspondent for the New York Times and was part of a team of reporters awarded a Pulitzer Prize in 2002 for the paper's coverage of global terrorism."
See the complete WND report here:
Supreme Court Green Lights Detention Of Americans
Remember that it was Republican President George W. Bush and a Republican U.S. House and Senate that shackled the American people with the USA Patriot Act, the Department of Homeland Security–along with the rest of the gargantuan police state apparatus under which the people of the United States are now being forced to live. And it is Democrat President Barack Obama and a Democrat U.S. Senate–along with a Republican U.S. House–that continues to expand the reach of this police state. One thing that both Republicans and Democrats and conservatives and liberals agree on is the construction and implementation of a police state. Under the rubric of "national security" or "law and order," the Bill of Rights is being systematically and deliberately expunged by both sides of the political aisle.
And now we know the judicial branch of government in Washington, D.C., also refuses to hold the executive and legislative branches of government in check–as if we needed more evidence. Both Republican-appointed and Democrat-appointed justices refused to say a word condemning this draconian abuse of power within the NDAA. By so doing, the Supreme Court showed itself unwilling to stand in between the liberties of the American people and an ever-burgeoning police state.
In fact, when it comes to holding the government in DC in check, when does the Supreme Court ever intervene? Hardly ever! If it is a dispute between the states and the federal government or between individuals and the federal government, SCOTUS almost always rules in favor of DC.
Once-in-awhile, one or the other branch of government (including the judicial branch) in DC will be willing to protect constitutional liberties from another branch of government in DC, but such instances are the exception, not the rule.
And since the liberties of the American people have few friends in the national media or in the country's pulpits, the protection of our freedoms has quickly come down to the states, the local media (yes, some local media is still friendly to freedom), county sheriffs, and the people ourselves.
Currently, there is a huge momentum building among State legislatures to begin pushing back against the overreach of Washington, D.C. For example, the State of Texas is squaring off against the BLM over tens of thousands of acres along the Red River border of Texas and Oklahoma, and the State of Utah has already passed legislation claiming more than 30 million acres currently controlled by the federal government. Here is an excerpt from a Breitbart.com report:
"Utah Governor Gary Herbert (R), earlier this year, signed the Transfer of Public Lands Act. This new state law calls upon the federal government to turn over control of more than 30 million acres to the State."
See the complete report at:
Utah Grabbing Land From BLM While Texas Plays Defense
Plus, more and more county sheriffs are beginning to stand against federal encroachments. Read this report:
And, of course, just recently it was "We the People" standing against a brutish, totalitarian-style federal assault against the Bundy family in Bunkerville, Nevada. And among the brave souls at Bunkerville were State and local officials and even county sheriffs. And I was there, too. Here is the video of my message to, and prayer service for, the Oath Keepers and militia on the ground there in Bunkerville:
Sermon & Prayer At Bundy Ranch
As the three branches of government in Washington, D.C., become less and less accountable to the checks and balances assigned them by the Constitution, it is going to require that the states, county sheriffs, and people ourselves become more and more engaged in pushing back against federal overreach and abuse of power.
What happens when an institution becomes more important than the cause for which the institution was formed? How long should people who believe in the cause remain loyal to such an institution? And at what point does loyalty to such an institution comprise an abandonment of the cause itself?
I'm afraid the majority of Americans have been institutionalized in a manner not unlike the way prisoners are institutionalized after a long period of confinement. After a point, a prisoner is so conditioned to accepting the circumstances of his confinement that, should he be released from confinement, he truly would be unable to cope. Such seems to be the mentality of a majority of us today.
Christians have been institutionalized. The reason and purpose of the church or Christian organization is no longer relevant. Generations have grown up reciting the same liturgies, regurgitating the same prayers, and rehearsing the same programs until the reason for it all doesn't even matter. But take the institution away from them, and they would not be able to cope.
The Pharisees despised the Lord Jesus because He challenged the religious institutions that had come to govern people's lives. I am convinced if Jesus came to America today, He would be just as despised by the vast majority of our religious leaders as He was by the Pharisees.
The Church that Jesus built in the Book of Acts owned no buildings, was indebted to no lenders, took no tax benefits from the civil government, had no denominational hierarchy, and identified itself with no ecclesiastical brand. And the Church was just as persecuted by the religious establishment as Christ was.
One of the reasons one may know that the modern church is so unlike Christ and the apostles is by the persecution that it never experiences. Just as the Pharisees were bosom buddies with the Roman Empire's governing elite, so are our religious leaders today. Caesar was very generous in sharing the fruit of his tyrannically-extracted bounty with his allies in the Jewish Sanhedrin. And they were happy to return the favor by insisting that the Hebrew people submit to Caesar's harsh rule over their lives.
The Pharisees also enjoyed a cozy relationship with the moneychangers. The moneychangers were descended from a long line of corrupt banking interests that dated all the way back to the Edomites. We are not talking about your friendly local banker here. These were highly organized, well-positioned money-manipulators. Jesus was so incensed with their manipulation and theft within in the Temple that he used physical violence to remove them from the property. He is recorded as doing this twice in the Gospel narratives. Note that after the second time in which it is recorded that He drove out the moneychangers (with a whip, no less), the Pharisees soon had Jesus crucified. There is no question that one of the reasons Pilate ordered Jesus to be scourged with a whip was in direct retaliation for the manner in which Jesus whipped the moneychangers. Remember, the moneychangers were from a very well-ensconced, elitist national (and even international) organization.
And lest you think all of this is irrelevant to today, the moneychangers are still very much with us. The Rothschilds, Rockefellers, and other members of the international banking elite, are the direct descendants of the moneychangers of Jesus' day. And if you ever have an opportunity to ask one of them about it, they will proudly admit it.
Yes, the Pharisees institutionalized religion. This accomplished two things: 1) it helped enslave the people, 2) it helped make them rich. The institutionalized church is accomplishing much the same things today.
The establishment church is doing as much to enslave people as any other institution in the world. Our political institutions and educational institutions have nothing on the church for making good little subjects and serfs to the all-powerful state. And if you don't think that a host of church leaders are not reaping the spoils from assisting our taskmasters, you're not paying attention.
Many, if not most, of these big-name TV evangelists have as many houses and yachts and Swiss bank accounts as any big-name Hollywood actor or politician. In some cases, more. Most of these big-church pastors are bathing in luxury. Many of them take the kinds of vacations that only CEOs of the biggest corporations or presidents could afford. Do you really think that the IRS rules and regulations governing these non-profit corporations, called churches, really bother these church leaders? Get real!
No wonder all of these "successful" preachers are constantly teaching their congregations to always submit to the government. No wonder they have no interest in abandoning their 501c3 tax-exempt status. They are in the exact same position as were the Pharisees of old. And they are just as effective in helping to enslave people today as were the Pharisees.
The institution of the church–along with its programs, formalities, buildings, rituals, etc.,–has become more important than the purpose for which the church was created. Instead of preaching the liberating message of the Cross, which frees men from the fetters of sin–and that includes sinful political and financial fetters–the church is preaching a message of subjugation and enslavement. It is teaching people to submit to all kinds of oppression, including religious oppression.
Some of the most oppressed and subjugated people in the world are religious people. There are churches and Christian colleges that are every bit as tyrannical as anything coming out of East-bloc or Muslim countries. About the only thing missing is physical torture and execution. Spiritually, however, the oppression is the same.
How could real men who love the liberty they have in Christ allow themselves–and especially their wives–to be told how to dress, how to wear their hair, what kind of music to listen to, what kind of vacations to take, what restaurants they may or may not eat at, what forms of entertainment they may or may not participate in, etc., etc., ad infinitum?
I tell you the truth: many Christians in America are already slaves. To talk to them about freedom is a complete waste of time. The chains of tyranny are already clamped around their hearts. Why should it matter to them if chains are clamped around their necks? When they talk about "defending the faith," they are talking about defending the institution. They are slaves to the institution. And the same is true for many unchurched Americans.
What is more important: liberty, or the government that is supposed to secure liberty? To a sizeable number of Americans today, it is more important to preserve the institution than the freedoms that the institution was created to protect.
Our Declaration of Independence states, "That whenever any Form of Government becomes destructive of these ends [the God-given rights of life, liberty, etc.], it is the Right of the People to alter or to abolish it, and to institute new Government, laying its foundation on such principles and organizing its powers in such form, as to them shall seem most likely to effect their Safety and Happiness."
Did you see that: "any form of government"? ANY FORM. The form of government is only as good as its ability to secure liberty.
I hear a lot of politicians and media personalities talking about "American exceptionalism." This is a potentially dangerous mindset. If one means that America is exceptional in our history and the manner in which our Constitution and Bill of Rights were established to protect liberty, well and good. But if it means that America has carte-blanche to do anything it wants–no matter how unconstitutional or tyrannical–because it is "exceptional," it is a bunch of hooey.
What difference does it make if we have a 50-State Union or not? There is a bill in the California legislature that would divide that State into six states. Five counties in Western Maryland are trying to secede from Baltimore. Ten northern counties in Colorado are trying to secede from Denver. If a State refuses to secure the liberties of the people of that State, they have every right under God to separate. The State is not nearly as important as the liberties of the people within the State.
The spirit of secession is actually growing like wildfire all over the world. In recent history, Serbia, Slovenia, Croatia, Bosnia, Montenegro, Macedonia, and Kosovo all separated from Yugoslavia. Transnistria broke free from Moldova. Abkhazia and South Ossetia fought free from Georgia. The Slovaks seceded from Czechoslovakia. And now Crimea is separating from Ukraine.
To be sure, not every country that secedes from another country is motivated purely by the love of liberty. But for those of us in America, the issue that has propelled the desire to separate from one country or one State has always been liberty. It was the love of liberty that created the United States and that created the free and independent states of Maine, Vermont, Kentucky, and West Virginia–all of which seceded from existing U.S. states.
Furthermore, what difference does it make if Washington, D.C., is our federal capital, or, if say, Helena, Montana, would become the federal capital of a mountain state confederation of Montana, Idaho, Wyoming, Northern Colorado, eastern Washington and Oregon, the Dakotas, Alberta and British Columbia, Canada, and Alaska? Or if Austin was the federal capital of an independent Republic of Texas? Preserving some sort of political union (especially if it is a forced and coerced union) is not nearly as important as preserving liberty.
Again, it is not the political institution that is important. What is important is the liberty that the political institution is supposed to secure.
Many great minds in this country are already philosophizing over the possibility that secession is an idea whose time has come–again. A few years ago, Walter Williams wrote, "Like a marriage that has gone bad, I believe there are enough irreconcilable differences between those who want to control and those want to be left alone that divorce is the only peaceable alternative. Just as in a marriage, where vows are broken, our human rights protections guaranteed by the U.S. Constitution have been grossly violated by a government instituted to protect them. Americans who are responsible for and support constitutional abrogation have no intention of mending their ways.
"Americans who wish to live free have two options: We can resist, fight and risk bloodshed to force America's tyrants to respect our liberties and human rights, or we can seek a peaceful resolution of our irreconcilable differences by separating. That can be done by peopling several states, say Texas and Louisiana, control their legislatures and then issue a unilateral declaration of independence just as the Founders did in 1776. You say, 'Williams, nobody has to go that far, just get involved in the political process and vote for the right person.' That's nonsense. Liberty shouldn't require a vote. It's a God-given or natural right.
"Some independence or secessionists movements, such as our 1776 war with England and our 1861 War Between the States, have been violent, but they need not be. In 1905, Norway seceded from Sweden, Panama seceded from Columbia (1903), and West Virginia from Virginia (1863). Nonetheless, violent secession can lead to great friendships. England is probably our greatest ally and we have fought three major wars together. There is no reason why Texiana (Texas and Louisiana) couldn't peaceably secede, be an ally, and have strong economic ties with United States.
"The bottom line question for all of us is should we part company or continue trying to forcibly impose our wills on one another?"
See William's column here:
Hear! Hear!
In the eyes of God, marriage is the most sacred of all unions. It is far more sacred than any political union. If our Creator has authorized the separation of a husband and wife under certain circumstances in which one party violated the sacred terms of the holy contract (and He has), who among us has the audacity to say that political unions may not be abandoned when government commits political adultery by forsaking its oath to the people?
Again, are we more interested in preserving an institution or the liberty that the institution is supposed to secure?
As an institution, the Church at large is apostate. Yet, millions of Christians continue to prop up an institution that has abandoned the purpose for which it was created. They are more interested in preserving the forms and liturgies and tapestries and buildings of the institution. And, all the while, they are being spiritually enslaved by the very institution they are helping to prop up.
And as an institution, the U.S. federal government is apostate. Yet, millions of citizens continue to make excuses for it, justify it, and condone it. They are more interested in preserving the agencies and entities and power of the institution. Yet, all the while, they are being enslaved by the very institution they are helping to prop up.
What happens when an institution becomes more important than the cause for which the institution was formed? When the institution is civil government and the cause is liberty, tyranny is what happens.
At this time, our U.S. Congress rates a nine percent approval rating. It means nine percent of the American public registers "brain-dead."
Those 535 members over the past 40 years deformed our nation from the largest creditor country in the world to the largest debtor nation in the world. We enjoyed less than $1 trillion in national debt to our current $18 trillion debt. That same Congress forced our young men and women into four hopeless, futile and asinine wars that killed tens of thousands of them and sent millions home with Post Traumatic Stress Disorder, drugs and alcoholism. Not to mention dismembered limbs.
That Congress danced to the Military Industrial Complex's tune of contrived wars benefiting the bankers and corporations that outfitted and fed those young soldiers. Those executives made millions while our kids came home in coffins or missing arms and legs and their minds.
That same Congress turned our nation from a rich manufacturing country into a multi-trillion dollar deficit nation where we import everything we once manufactured, to today where we buy everything from China to make their citizens rich. So rich, in fact, that we owe them $1.4 trillion in trade deficits. Ironically, China now owns many U.S. corporations and buys land for its own beachhead here in America, not to mention Vancouver, BC, Canada where it displaced most of the Canadians in the past 30 years. Chinese now dominates the language in once-English speaking Vancouver, BC.
That bunch of hot shot Congressional Critters took our vibrant economy and turned it into 15 million unemployed and 48 million food stamp users. Those same reps allowed 20 million illegal alien migrants to come into our country and work for crooked employers like Chipotle's, Marriot Hotels, Holiday Inns, McDonald's, Hormel, Tyson Chicken, Swift, painting, landscape and construction firms at minimum wages. They and the presidents that headed this country refused to enforce our laws. That's why you MUST press "1" for Spanish and "2" for English.
Today, we face enormous consequences from their actions. Yet, U.S. voters return 96 percent of incumbents—such as Boxer, Feinstein, Hatch, McCain, Kyle, Schumer, Lindsey Graham, Levin, Udall, Bennet, Rangel, Jackson, DeGette and hundreds of other failed Congressional Critters.
So are they stupid or are they corrupt?
One reader named Brad said, "They are not necessarily stupid. It's just that most of these psychopaths are bought. The wealthy buy their services and they get remuneration by jobs when they leave "service", by getting to indulge in insider trading (again – was cut out, but quietly reinstated) etc.
"Just allowing insider trading makes EVERY decision with any economic consequence suspect, as they will have a vested personal income interest in helping corporations increase profits by any means. Thus the repeal of clean air and water regulations. They allow oil fracking to use 2 million gallons of water per well, pour over 530 toxic chemicals into the aquifer to poison and ruin it, and remain exempt from EPA oversight.
"Some may not be bought. Some not all the time. The sad fact is that enough ARE compromised that essentially the damages get done consistently.
"Most in office are so stupid (such as California's Congresswoman Maxine Waters, who is also corrupt in the league with former Congressman Tom Delay of Texas) that they accept stupid, flawed societal paradigms like "what's good for business is good for America" and we can see how well that's working out.
"The parasitic wealthy class is stealing record profits in some of the worst working economy in history – why? Because they have the true entitlement society in which they get tax breaks, tax exemptions, no bid contracts, inflated government costs, subsidizations and most likely a ton of things we never hear about. Simply by allowing industry execs into the alphabet organizations like FDA, USDA, etc., allows them to regulate competition to a ridiculously low level, and to leverage their income, influence, and profits at everyone else's expense."
The greatest flaw facing all U.S. citizens remains "career politicians" that create a "good-old boy" network of cronyism and corruption.
If we citizens fail to press for a maximum of 12-year term limits, we face a downward spiral into poverty and failed government not seen since the 1930s. The majority of Congress remains corrupt. That's why things in the USA don't get better, but continue on the downward path.
Remember: power corrupts; long-term power corrupts absolutely.
A few days ago, a prominent attorney asked me a question: can religious liberty and the growing demands of government and others occupy the same space?  And if not, who wins?
This is, perhaps, not quite the right question.
Dr. Hannibal Lecter, aka "Hannibal the Cannibal" in  The Silence of the Lambs asked a more fitting one:
First principles, Clarice. Simplicity. Read Marcus Aurelius. Of each particular thing ask: What is it in itself? What is its nature?
Most pundits observing what has gone on recently in Arizona and other states regarding same-sex marriage have concluded, "We are witnessing a clash between religious and civil liberties."  While many nod their heads in agreement, this analysis is wrong.
The fact is that what the left is demanding now through our courts, through legislatures, and at ballot boxes around the country does not constitute "rights" at all, or at least not in the historical sense.
This is not a "clash of religious and civil rights."  This is a clash of freedom and untenable, outrageous demands.
There is something much, much deeper going on here.
Same-sex marriage is a trial balloon of sorts, being used to test how far Americans will allow their consciences to be suppressed by the State.
"If Christians can be compelled to lend a craft to something their conscience objects to, what can't they be compelled to participate in? We're talking about precedent; and the cases before us are bellwether test cases about whether private actors can be forcibly mandated to go against their conscience" ("Of Consciences and Cakes," First Things, Feb. 20, Andrew Walker).
A couple years ago, the Health and Human Services Contraceptive and Abortifacient Mandate served the same purpose, leading the way to where we now are.  When the State can get away with abusive behavior and strong-arm tactics toward even The Little Sisters of the Poor, let alone privately owned businesses such as Hobby Lobby, then statists know that the time is ripe to take another big step.
This battle is much bigger than anybody thinks it is.  We cannot see the forest for the trees.  We are not witnessing a clash of rights; we are in the middle of a massive social experiment.  This is a test for the viability of incremental totalitarianism.  Nothing less.
In a kind of Cloward-Piven Strategy, the assault – or "test," or however you want to identify it – is occurring on many different fronts and on many different levels simultaneously.  In addition to same-sex marriage and the health care mandate(s), we have the IRS targeting of conservative groups, constant Second Amendment attacks, voter photo ID initiatives labeled as racist by the DOJ, and state initiatives to curb abortions labeled a "War on Women."
Perhaps most chilling is the way that federalism is being undermined from within the states themselves.  State judges are now routinely overturning the expressed will of the people, acting unilaterally to impose novel viewpoints on entire state populations.
The fifty states, which are supposed to be laboratories for experimentation – conducting trial runs, so to speak – are being stripped of that function.
The beauty of America is our diversity, much of which is still reflected in the personalities of each of our states.  If the reach of the national government extends too far and we become thoroughly homogenized, we inevitably start moving toward a type of tyranny.  If the rules and the standards are exactly the same in every state, where can one go either for respite or advantage?  As the force of the national government grows, this key element of our American liberty recedes, perhaps to be lost forever.
The Economist magazine once described the wonderful functioning of our local governance very nicely:
America has 50 states with 50 sets of laws. Virginia will never ban hunting, but even if it did, there are 49 other states that won't. In America, people with unusual hobbies are generally left alone. And power is so devolved that you can more or less choose which rules you want to live under.

If you like low taxes and the death penalty, try Texas. For good public schools and subsidized cycle paths, try Portland, Oregon. Even within states, the rules vary widely. Bath County, Kentucky is dry. Next-door Bourbon County, as the name implies, is not. Nearby Montgomery County is in between: a "moist" county where the sale of alcohol is banned except in one city. Liberal foreign students let it all hang out at Berkeley; those from traditional backgrounds may prefer a campus where there is no peer pressure to drink or fornicate, such as Brigham Young in Utah. (Dec. 19, 2009)
If all our laws and regulations are essentially nationalized, there will be no choices left to us other than the single choice to comply.  The very thing that makes the United States such a wonderful success – E pluribus unum, "out of many, one" – is being destroyed.  Ironically, in the name of diversity, we are squashing diversity, trampling out opinions anathema to progressive ideology.
Statists are tickled pink that they are able to make headway on this.  And for the most part, the media are willing collaborators, as pointed out by Mollie Hemingway in The Federalist:
Religious liberty is a deeply radical concept. It was at this country's founding and it hasn't become less so. Preserving it has always been a full-time battle. But it's important, because religion is at the core of people's identity. A government that tramples religious liberty is not a government that protects economic freedom. It's certainly not a government that protects conscience rights. A government that tramples religious liberty does not have expansive press freedoms. Can you think of one country with a narrow view of religious liberty but an expansive view of economic freedom, freedom of association, press freedoms or free speech rights? One?
A media less hostile to religious liberty would think less about scoring cheap political points, creating uncivil political climates, and disparaging institutions that help humans flourish.  A media with a higher regard for truth would, it turns out, have a higher regard for religious liberty.
Sadly, we seem to have left the world of reason and tolerance. Could our media climate demonstrate that any better?  And what lies ahead, if left uncorrected, is illogical and tyrannical.  Freedom of religion was the central principle in the moral case of our country.  Once that's gone, how long can the Republic stand?
Returning to Dr. Lecter's question, "what is it in itself? What is its nature?"
Its nature is this: totalitarianism.
The current visible clash of religious and asserted civil "rights" is secondary – a symptom, not an actual cause.
In fact, the logical conclusion for the trajectory we are now on is the eventual squashing of both civil and religious rights, and this will occur because we have allowed a powerful government to play us one group against another.
What can each of us do?
The only way to stop the advancement of totalitarian measures is for the grassroots of each state to bravely stand up to the bullying, silencing tactics of out-of-touch, frightened judges, legislators, corporate cronies, and media collaborators, as they lead us down a path of decreased liberty and increased totalitarianism.
Stand up for social issues that you know in your gut to be true.  Don't allow yourself to be silenced by political correctness.  Stand up for marriage.  Stand up for life.  Stand up for the right of children to be born and to have both a mom and a dad.
Stand up also for constitutionally limited government and fiscal responsibility.
You have Truth with a capital T on your side.  You are right, and they are wrong, so do not be afraid.
Don't make the mistake of remaining quiet until you are certain you have a winning argument.  That is not your responsibility, and that is what the totalitarian left is hoping you will do.  All you are responsible for is to speak truthfully and to let others know your beliefs.  We outnumber them.  We can overwhelm them with Truth, if only each of us would open our mouths and proclaim the Truth at every opportunity.
Remember: be not afraid.
Source: Doug Mainwaring | American Thinker
What really happened in the Ukrainian crisis?
It is freezing cold in Kiev, legendary city of golden domes on the banks of Dnieper River – cradle of ancient Russian civilisation and the most charming of East European capitals. It is a comfortable and rather prosperous place, with hundreds of small and cosy restaurants, neat streets, sundry parks and that magnificent river. The girls are pretty and the men are sturdy. Kiev is more relaxed than Moscow, and easier on the wallet. Though statistics say the Ukraine is broke and its people should be as poor as Africans, in reality they aren't doing too badly, thanks to their fiscal imprudence. The government borrowed and spent freely, heavily subsidised housing and heating, and they brazenly avoided devaluation of the national currency and the austerity program prescribed by the IMF. This living on credit can go only so far: the Ukraine was doomed to default on its debts next month or sooner, and this is one of the reasons for the present commotion.
A tug-of-war between the East and the West for the future of Ukraine lasted over a month, and has ended for all practical purposes in a resounding victory for Vladimir Putin, adding to his previous successes in Syria and Iran. The trouble began when the administration of President Yanukovich went looking for credits to reschedule its loans and avoid default. There were no offers. They turned to the EC for help; the EC, chiefly Poland and Germany, seeing that the Ukrainian administration was desperate, prepared an association agreement of unusual severity.
The EC is quite hard on its new East European members, Latvia, Romania, Bulgaria et al.: these countries had their industry and agriculture decimated, their young people working menial jobs in Western Europe, their population drop exceeded that of the WWII.
But the association agreement offered to the Ukraine was even worse. It would turn the Ukraine into an impoverished colony of the EC without giving it even the dubious advantages of membership (such as freedom of work and travel in the EC). In desperation, Yanukovich agreed to sign on the dotted line, in vain hopes of getting a large enough loan to avoid collapse. But the EC has no money to spare – it has to provide for Greece, Italy, Spain. Now Russia entered the picture. At the time, relations of the Ukraine and Russia were far from good. Russians had become snotty with their oil money, the Ukrainians blamed their troubles on Russians, but Russia was still the biggest market for Ukrainian products.
For Russia, the EC agreement meant trouble: currently the Ukraine sells its output in Russia with very little customs protection; the borders are porous; people move freely across the border, without even a passport. If the EC association agreement were signed, the EC products would flood Russia through the Ukrainian window of opportunity. So Putin spelled out the rules to Yanukovich: if you sign with the EC, Russian tariffs will rise. This would put some 400,000 Ukrainians out of work right away. Yanukovich balked and refused to sign the EC agreement at the last minute. (I predicted this in my report from Kiev full three weeks before it happened, when nobody believed it – a source of pride).
The EC, and the US standing behind it, were quite upset. Besides the loss of potential economic profit, they had another important reason: they wanted to keep Russia farther away from Europe, and they wanted to keep Russia weak. Russia is not the Soviet Union, but some of the Soviet disobedience to Western imperial designs still lingers in Moscow: be it in Syria, Egypt, Vietnam, Cuba, Angola, Venezuela or Zimbabwe, the Empire can't have its way while the Russian bear is relatively strong. Russia without the Ukraine can't be really powerful: it would be like the US with its Mid-western and Pacific states chopped away. The West does not want the Ukraine to prosper, or to become a stable and strong state either, so it cannot join Russia and make it stronger. A weak, poor and destabilised Ukraine in semi-colonial dependence to the West with some NATO bases is the best future for the country, as perceived by Washington or Brussels.
Angered by this last-moment-escape of Yanukovich, the West activated its supporters. For over a month, Kiev has been besieged by huge crowds bussed from all over the Ukraine, bearing a local strain of the Arab Spring in the far north. Less violent than Tahrir, their Maidan Square became a symbol of struggle for the European strategic future of the country. The Ukraine was turned into the latest battle ground between the US-led alliance and a rising Russia. Would it be a revanche for Obama's Syria debacle, or another heavy strike at fading American hegemony?
The simple division into "pro-East" and "pro-West" has been complicated by the heterogeneity of the Ukraine. The loosely knit country of differing regions is quite similar in its makeup to the Yugoslavia of old. It is another post-Versailles hotchpotch of a country made up after the First World War of bits and pieces, and made independent after the Soviet collapse in 1991. Some parts of this "Ukraine" were incorporated by Russia 500 years ago, the Ukraine proper (a much smaller parcel of land, bearing this name) joined Russia 350 years ago, whilst the Western Ukraine (called the "Eastern Regions") was acquired by Stalin in 1939, and the Crimea was incorporated in the Ukrainian Soviet Republic by Khrushchev in 1954.
The Ukraine is as Russian as the South-of-France is French and as Texas and California are American. Yes, some hundreds years ago, Provence was independent from Paris, – it had its own language and art; while Nice and Savoy became French rather recently. Yes, California and Texas joined the Union rather late too. Still, we understand that they are – by now – parts of those larger countries, ifs and buts notwithstanding. But if they were forced to secede, they would probably evolve a new historic narrative stressing the French ill treatment of the South in the Cathar Crusade, or dispossession of Spanish and Russian residents of California.
Accordingly, since the Ukraine's independence, the authorities have been busy nation-building, enforcing a single official language and creating a new national myth for its 45 million inhabitants. The crowds milling about the Maidan were predominantly (though not exclusively) arrivals from Galicia, a mountainous county bordering with Poland and Hungary, 500 km (300 miles) away from Kiev, and natives of the capital refer to the Maidan gathering as a "Galician occupation".
Like the fiery Bretons, the Galicians are fierce nationalists, bearers of a true Ukrainian spirit (whatever that means). Under Polish and Austrian rule for centuries, whilst the Jews were economically powerful, they are a strongly anti-Jewish and anti-Polish lot, and their modern identity centred around their support for Hitler during the WWII, accompanied by the ethnic cleansing of their Polish and Jewish neighbours. After the WWII, the remainder of pro-Hitler Galician SS fighters were adopted by US Intelligence, re-armed and turned into a guerrilla force against the Soviets. They added an anti-Russian line to their two ancient hatreds and kept fighting the "forest war" until 1956, and these ties between the Cold Warriors have survived the thaw.
After 1991, when the independent Ukraine was created, in the void of state-building traditions, the Galicians were lauded as 'true Ukrainians', as they were the only Ukrainians who ever wanted independence. Their language was used as the basis of a new national state language, their traditions became enshrined on the state level. Memorials of Galician Nazi collaborators and mass murderers Stepan Bandera and Roman Shukhevych peppered the land, often provoking the indignation of other Ukrainians. The Galicians played an important part in the 2004 Orange Revolution as well, when the results of presidential elections were declared void and the pro-Western candidate Mr Yuschenko got the upper hand in the re-run.
However, in 2004, many Kievans also supported Yuschenko, hoping for the Western alliance and a bright new future. Now, in 2013, the city's support for the Maidan was quite low, and the people of Kiev complained loudly about the mess created by the invading throngs: felled trees, burned benches, despoiled buildings and a lot of biological waste. Still, Kiev is home to many NGOs; city intellectuals receive generous help from the US and EC. The old comprador spirit is always strongest in the capitals.
For the East and Southeast of the Ukraine, the populous and heavily industrialised regions, the proposal of association with the EC is a no-go, with no ifs, ands or buts. They produce coal, steel, machinery, cars, missiles, tanks and aircraft. Western imports would erase Ukrainian industry right off the map, as the EC officials freely admit. Even the Poles, hardly a paragon of industrial development, had the audacity to say to the Ukraine: we'll do the technical stuff, you'd better invest in agriculture. This is easier to say than to do: the EC has a lot of regulations that make Ukrainian products unfit for sale and consumption in Europe. Ukrainian experts estimated their expected losses for entering into association with the EC at anything from 20 to 150 billion euros.
For Galicians, the association would work fine. Their speaker at the Maidan called on the youth to 'go where you can get money' and do not give a damn for industry. They make their income in two ways: providing bed-and breakfast rooms for Western tourists and working in Poland and Germany as maids and menials. They hoped they would get visa-free access to Europe and make a decent income for themselves. Meanwhile, nobody offered them a visa-waiver arrangement. The Brits mull over leaving the EC, because of the Poles who flooded their country; the Ukrainians would be too much for London. Only the Americans, always generous at somebody's else expense, demanded the EC drop its visa requirement for them.
While the Maidan was boiling, the West sent its emissaries, ministers and members of parliament to cheer the Maidan crowd, to call for President Yanukovich to resign and for a revolution to install pro-Western rule. Senator McCain went there and made a few firebrand speeches. The EC declared Yanukovich "illegitimate" because so many of his citizens demonstrated against him. But when millions of French citizens demonstrated against their president, when Occupy Wall Street was violently dispersed, nobody thought the government of France or the US president had lost legitimacy…
Victoria Nuland, the Assistant Secretary of State, shared her biscuits with the demonstrators, and demanded from the oligarchs support for the "European cause" or their businesses would suffer. The Ukrainian oligarchs are very wealthy, and they prefer the Ukraine as it is, sitting on the fence between the East and the West. They are afraid that the Russian companies will strip their assets should the Ukraine join the Customs Union, and they know that they are not competitive enough to compete with the EC. Pushed now by Nuland, they were close to falling on the EC side.
Yanukovich was in big trouble. The default was rapidly approaching. He annoyed the pro-Western populace, and he irritated his own supporters, the people of the East and Southeast. The Ukraine had a real chance of collapsing into anarchy. A far-right nationalist party, Svoboda (Liberty), probably the nearest thing to the Nazi party to arise in Europe since 1945, made a bid for power. The EC politicians accused Russia of pressurising the Ukraine; Russian missiles suddenly emerged in the western-most tip of Russia, a few minutes flight from Berlin. The Russian armed forces discussed the US strategy of a "disarming first strike". The tension was very high.
Edward Lucas, the Economist's international editor and author of The New Cold War, is a hawk of the Churchill and Reagan variety. For him, Russia is an enemy, whether ruled by Tsar, by Stalin or by Putin. He wrote: "It is no exaggeration to say that the [Ukraine] determines the long-term future of the entire former Soviet Union. If Ukraine adopts a Euro-Atlantic orientation, then the Putin regime and its satrapies are finished… But if Ukraine falls into Russia's grip, then the outlook is bleak and dangerous… Europe's own security will also be endangered. NATO is already struggling to protect the Baltic states and Poland from the integrated and increasingly impressive military forces of Russia and Belarus. Add Ukraine to that alliance, and a headache turns into a nightmare."
In this cliff-hanging situation, Putin made his pre-emptive strike. At a meeting in the Kremlin, he agreed to buy fifteen billion euros worth of Ukrainian Eurobonds and cut the natural gas price by a third. This meant there would be no default; no massive unemployment; no happy hunting ground for the neo-Nazi thugs of Svoboda; no cheap and plentiful Ukrainian prostitutes and menials for the Germans and Poles; and Ukrainian homes will be warm this Christmas. Better yet, the presidents agreed to reforge their industrial cooperation. When Russia and Ukraine formed a single country, they built spaceships; apart, they can hardly launch a naval ship. Though unification isn't on the map yet, it would make sense for both partners. This artificially divided country can be united, and it would do a lot of good for both of their populaces, and for all people seeking freedom from US hegemony.
There are a lot of difficulties ahead: Putin and Yanukovich are not friends, Ukrainian leaders are prone to renege, the US and the EC have a lot of resources. But meanwhile, it is a victory to celebrate this Christmas tide. Such victories keep Iran safe from US bombardment, inspire the Japanese to demand removal of Okinawa base, encourage those seeking closure of Guantanamo jail, cheer up Palestinian prisoners in Israeli prisons, frighten the NSA and CIA and allow French Catholics to march against Hollande's child-trade laws.
***
What is the secret of Putin's success? Edward Lucas said, in an interview to the pro-Western Ekho Moskvy radio: "Putin had a great year – Snowden, Syria, Ukraine. He checkmated Europe. He is a great player: he notices our weaknesses and turns them into his victories. He is good in diplomatic bluff, and in the game of Divide and Rule. He makes the Europeans think that the US is weak, and he convinced the US that Europeans are useless".
I would offer an alternative explanation. The winds and hidden currents of history respond to those who feel their way. Putin is no less likely a roguish leader of global resistance than Princess Leia or Captain Solo were in Star Wars. Just the time for such a man is ripe.
Unlike Solo, he is not an adventurer. He is a prudent man. He does not try his luck, he waits, even procrastinates. He did not try to change regime in Tbilisi in 2008, when his troops were already on the outskirts of the city. He did not try his luck in Kiev, either. He has spent many hours in many meetings with Yanukovich whom he supposedly personally dislikes.
Like Captain Solo, Putin is a man who is ready to pay his way, full price, and such politicians are rare. "Do you know what is the proudest word you will ever hear from an Englishman's mouth?", asked a James Joyce character, and answered: "His proudest boast is I paid my way." Those were Englishmen of another era, long before the likes of Blair, et al.
While McCain and Nuland, Merkel and Bildt speak of the European choice for the Ukraine, none of them is ready to pay for it. Only Russia is ready to pay her way, in the Joycean sense, whether in cash, as now, or in blood, as in WWII.
Putin is also a magnanimous man. He celebrated his Ukrainian victory and forthcoming Christmas by forgiving his personal and political enemies and setting them free: the Pussy Riot punks, Khodorkovsky the murderous oligarch, rioters… And his last press conference he carried out in Captain Solo self-deprecating mode, and this, for a man in his position, is a very good sign.