What is it that makes young men, reasonably well educated, in good health and nice looking, with long lives ahead of them, use powerful explosives to murder complete strangers because of political beliefs?
I'm speaking about American military personnel of course, on the ground, in the air, or directing drones from an office in Nevada.
Do not the survivors of US attacks in Iraq, Afghanistan, Yemen, Pakistan, Somalia, Libya and elsewhere, and their loved ones, ask such a question?
The survivors and loved ones in Boston have their answer – America's wars in Iraq and Afghanistan.
That's what Dzhokhar Tsarnaev, the surviving Boston bomber has said in custody, and there's no reason to doubt that he means it, nor the dozens of others in the past two decades who have carried out terrorist attacks against American targets and expressed anger toward US foreign policy. 1 Both Tsarnaev brothers had expressed such opinions before the attack as well.  2 The Marathon bombing took place just days after a deadly US attack in Afghanistan killed 17 civilians, including 12 children, as but one example of countless similar horrors from recent years. "Oh", an American says, "but those are accidents. What terrorists do is on purpose. It's cold-blooded murder."
But if the American military sends out a bombing mission on Monday which kills multiple innocent civilians, and then the military announces: "Sorry, that was an accident." And then on Tuesday the American military sends out a bombing mission which kills multiple innocent civilians, and then the military announces: "Sorry, that was an accident." And then on Wednesday the American military sends out a bombing mission which kills multiple innocent civilians, and the military then announces: "Sorry, that was an accident." … Thursday … Friday … How long before the American military loses the right to say it was an accident?
Terrorism is essentially an act of propaganda, to draw attention to a cause. The 9-11 perpetrators attacked famous symbols of American military and economic power. Traditionally, perpetrators would phone in their message to a local media outlet beforehand, but today, in this highly-surveilled society, with cameras and electronic monitoring at a science-fiction level, that's much more difficult to do without being detected; even finding a public payphone can be near impossible.
From what has been reported, the older brother, Tamerlan, regarded US foreign policy also as being anti-Islam, as do many other Muslims. I think this misreads Washington's intentions. The American Empire is not anti-Islam. It's anti-only those who present serious barriers to the Empire's plan for world domination.
The United States has had close relations with Saudi Arabia, Jordan and Qatar, amongst other Islamic states. And in recent years the US has gone to great lengths to overthrow the leading secular states of the Mideast – Iraq, Libya and Syria.
Moreover, it's questionable that Washington is even against terrorism per se, but rather only those terrorists who are not allies of the empire. There has been, for example, a lengthy and infamous history of tolerance, and often outright support, for numerous anti-Castro terrorists, even when their terrorist acts were committed in the United States. Hundreds of anti-Castro and other Latin American terrorists have been given haven in the US over the years. The United States has also provided support to terrorists in Afghanistan, Nicaragua, Kosovo, Bosnia, Iran, Libya, and Syria, including those with known connections to al Qaeda, to further foreign policy goals more important than fighting terrorism.
Under one or more of the harsh anti-terrorist laws enacted in the United States in recent years, President Obama could be charged with serious crimes for allowing the United States to fight on the same side as al Qaeda-linked terrorists in Libya and Syria and for funding and supplying these groups. Others in the United States have been imprisoned for a lot less.
As a striking example of how Washington has put its imperialist agenda before anything else, we can consider the case of Gulbuddin Hekmatyar, an Afghan warlord whose followers first gained attention in the 1980s by throwing acid in the faces of women who refused to wear the veil. This is how these horrible men spent their time when they were not screaming "Death to America". CIA and State Department officials called Hekmatyar "scary," "vicious," "a fascist," "definite dictatorship material". 3 This did not prevent the United States government from showering the man with large amounts of aid to fight against the Soviet-supported government of Afghanistan. 4 Hekmatyar is still a prominent warlord in Afghanistan.
A similar example is that of Luis Posada who masterminded the bombing of a Cuban airline in 1976, killing 73 civilians. He has lived a free man in Florida for many years.
USA Today reported a few months ago about a rebel fighter in Syria who told the newspaper in an interview: "The afterlife is the only thing that matters to me, and I can only reach it by waging jihad." 5 Tamerlan Tsarnaev may have chosen to have a shootout with the Boston police as an act of suicide; to die waging jihad, although questions remain about exactly how he died. In any event, I think it's safe to say that the authorities wanted to capture the brothers alive to be able to question them.
It would be most interesting to be present the moment after a jihadist dies and discovers, with great shock, that there's no afterlife. Of course, by definition, there would have to be an afterlife for him to discover that there's no afterlife. On the other hand, a non-believer would likely be thrilled to find out that he was wrong.
Let us hope that the distinguished statesmen, military officers, and corporate leaders who own and rule America find out in this life that to put an end to anti-American terrorism they're going to have to learn to live without unending war against the world. There's no other defense against a couple of fanatic young men with backpacks. Just calling them insane or evil doesn't tell you enough; it may tell you nothing.
But this change in consciousness in the elite is going to be extremely difficult, as difficult as it appears to be for the parents of the two boys to accept their sons' guilt. Richard Falk, UN special rapporteur on human rights in the Palestinian territories, stated after the Boston attack: "The American global domination project is bound to generate all kinds of resistance in the post-colonial world. In some respects, the United States has been fortunate not to experience worse blowbacks … We should be asking ourselves at this moment, 'How many canaries will have to die before we awaken from our geopolitical fantasy of global domination?'" 6
Officials in Canada and Britain as well as US Ambassador to the United Nations Susan Rice have called for Falk to be fired. 7
President Kennedy's speech, half a century ago
I don't know how many times in the 50 years since President John F. Kennedy made his much celebrated 1963 speech at American University in Washington, DC. 8  I've heard or read that if only he had lived he would have put a quick end to the war in Vietnam instead of it continuing for ten more terrible years, and that the Cold War might have ended 25 years sooner than it did. With the 50th anniversary coming up June 13 we can expect to hear a lot more of the same, so I'd like to jump the gun and offer a counter-view.
Kennedy declared:
Let us re-examine our attitude toward the Soviet Union. It is discouraging to think that their leaders may actually believe what their propagandists write. It is discouraging to read a recent authoritative Soviet text on Military Strategy and find, on page after page, wholly baseless and incredible claims such as the allegation that "American imperialist circles are preparing to unleash different types of war … that there is a very real threat of a preventative war being unleashed by American imperialists against the Soviet Union" … [and that] the political aims – and I quote – "of the American imperialists are to enslave economically and politically the European and other capitalist countries … [and] to achieve world domination … by means of aggressive war."
It is indeed refreshing that an American president would utter a thought such as: "It is discouraging to think that their leaders may actually believe what their propagandists write." This is what radicals in every country wonder about their leaders, not least in the United States. For example, "incredible claims such as the allegation that 'American imperialist circles are preparing to unleash different types of war'."
In Kennedy's short time in office the United States had unleashed many different types of war, from attempts to overthrow governments and suppress political movements to assassination attempts against leaders and actual military combat – one or more of these in Vietnam, Cambodia, Laos, British Guiana, Iraq, Congo, Haiti, Brazil, Dominican Republic, Cuba and Brazil. This is all in addition to the normal and routine CIA subversion of countries all over the world map. Did Kennedy really believe that the Soviet claims were "incredible"?
And did he really doubt that that the driving force behind US foreign policy was "world domination"? How else did he explain all the above interventions (which have continued non-stop into the 21st century)? If the president thought that the Russians were talking nonsense when they accused the US of seeking world domination, why didn't he then disavow the incessant US government and media warnings about the "International Communist Conspiracy"? Or at least provide a rigorous definition of the term and present good evidence of its veracity.
Quoting further: "Our military forces are committed to peace and disciplined in self-restraint." No comment.
"We are unwilling to impose our system on any unwilling people." Unless of course the people foolishly insist on some form of socialist alternative. Ask the people of Vietnam, Laos, Cambodia, British Guiana and Cuba, just to name some of those in Kennedy's time.
"At the same time we seek to keep peace inside the non-Communist world, where many nations, all of them our friends …" American presidents have been speaking of "our friends" for many years. What they all mean, but never say, is that "our friends" are government and corporate leaders whom we keep in power through any means necessary – the dictators, the kings, the oligarchs, the torturers – not the masses of the population, particularly those with a measure of education.
"Our efforts in West New Guinea, in the Congo, in the Middle East, and the Indian subcontinent, have been persistent and patient despite criticism from both sides."
Persistent, yes. Patient, often. But moral, fostering human rights, democracy, civil liberties, self-determination, not fawning over Israel … ? As but one glaring example, the assassination of Patrice Lumumba of the Congo, perhaps the last chance for a decent life for the people of that painfully downtrodden land; planned by the CIA under Eisenhower, but executed under Kennedy.
"The Communist drive to impose their political and economic system on others is the primary cause of world tension today. For there can be no doubt that, if all nations could refrain from interfering in the self-determination of others, the peace would be much more assured."
See all of the above for this piece of hypocrisy. And so, if no nation interfered in the affairs of any other nation, there would be no wars. Brilliant. If everybody became rich there would be no poverty. If everybody learned to read there would be no illiteracy.
"The United States, as the world knows, will never start a war."
So … Vietnam, Laos, Cambodia, Cuba, and literally dozens of other countries then, later, and now, all the way up to Libya in 2012 … they all invaded the United States first? Remarkable.
And this was the man who was going to end the war in Vietnam very soon after being re-elected the following year? Lord help us.
Bush's legacy
This is not to put George W. Bush down. That's too easy, and I've done it many times. No, this is to counter the current trend to rehabilitate the man and his Iraqi horror show, which partly coincides with the opening of his presidential library in Texas. At the dedication ceremony, President Obama spoke of Bush's "compassion and generosity" and declared that: "He is a good man." The word "Iraq" did not pass his lips. The closest he came at all was saying "So even as we Americans may at times disagree on matters of foreign policy, we share a profound respect and reverence for the men and women of our military and their families." 9 Should morality be that flexible? Even for a politician? Obama could have just called in sick.
At the January 31 congressional hearing on the nomination of Chuck Hagel to be Secretary of Defense, Senator John McCain ripped into him for his critique of the Iraq war:
"The question is, were you right or were you wrong?" McCain demanded, pressing Hagel on why he opposed Bush's decision to send 20,000 additional troops to Iraq in the so-called 'surge'.
"I'm not going to give you a yes-or-no answer. I think it's far more complicated than that," Hagel responded. He said he would await the "judgment of history."
Glaring at Hagel, McCain ended the exchange with a bitter rejoinder: "I think history has already made a judgment about the surge, sir, and you are on the wrong side of it." 10
Before the revisionist history of the surge gets chiseled into marble, let me repeat part of what I wrote in this report at the time, December 2007:
The American progress is measured by a decrease in violence, the White House has decided – a daily holocaust has been cut back to a daily multiple catastrophe. And who's keeping the count? Why, the same good people who have been regularly feeding us a lie for the past five years about the number of Iraqi deaths, completely ignoring the epidemiological studies. A recent analysis by the Washington Post left the administration's claim pretty much in tatters. The article opened with: "The U.S. military's claim that violence has decreased sharply in Iraq in recent months has come under scrutiny from many experts within and outside the government, who contend that some of the underlying statistics are questionable and selectively ignore negative trends."

To the extent that there may have been a reduction in violence, we must also keep in mind that, thanks to this lovely little war, there are several million Iraqis either dead, wounded, in exile abroad, or in bursting American and Iraqi prisons. So the number of potential victims and killers has been greatly reduced. Moreover, extensive ethnic cleansing has taken place in Iraq (another good indication of progress, n'est-ce pas? nicht wahr?) – Sunnis and Shiites are now living more in their own special enclaves than before, none of those stinking mixed communities with their unholy mixed marriages, so violence of the sectarian type has also gone down. On top of all this, US soldiers have been venturing out a lot less (for fear of things like … well, dying), so the violence against our noble lads is also down.

One of the signs of the reduction in violence in Iraq, the administration would like us to believe, is that many Iraqi families are returning from Syria, where they had fled because of the violence. The New York Times, however, reported that "Under intense pressure to show results after months of political stalemate, the [Iraqi] government has continued to publicize figures that exaggerate the movement back to Iraq"; as well as exaggerating "Iraqis' confidence that the current lull in violence can be sustained." The count, it turns out, included all Iraqis crossing the border, for whatever reason. A United Nations survey found that 46 percent were leaving Syria because they could not afford to stay; 25 percent said they fell victim to a stricter Syrian visa policy; and only 14 percent said they were returning because they had heard about improved security.

How long can it be before vacation trips to "Exotic Iraq" are flashed across our TVs? "Baghdad's Beautiful Beaches Beckon". Just step over the bodies. Indeed, the State Department has recently advertised for a "business development/tourism" expert to work in Baghdad, "with a particular focus on tourism and related services." 11
Another argument raised again recently to preserve George W.'s legacy is that "He kept us safe". Hmm … I could swear that he was in the White House around the time of September 11 … What his supporters mean is that Bush's War on Terrorism was a success because there wasn't another terrorist attack in the United States after September 11, 2001 while he was in office; as if terrorists killing Americans is acceptable if it's done abroad. Following the American/Bush strike on Afghanistan in October 2001 there were literally scores of terrorist attacks – including some major ones – against American institutions in the Middle East, South Asia and the Pacific: military, civilian, Christian, and other targets associated with the United States.
Even the claim that the War on Terrorism kept Americans safe at home is questionable. There was no terrorist attack in the United States during the 6 1/2 years prior to the one in September 2001; not since the April 1995 bombing of the federal building in Oklahoma City. It would thus appear that the absence of terrorist attacks in the United States is the norm.
William Blum speaking in Wisconsin, near Minnesota
Saturday, July 13th, the 11th Annual Peacestock: A Gathering for Peace will take place at Windbeam Farm in Hager City, WI. Peacestock is a mixture of music, speakers, and community for peace in an idyllic location near the Mississippi, just one hour's drive from the Twin Cities of Minnesota. Peacestock is sponsored by Veterans for Peace, Chapter 115, and has a peace-themed agenda. Kathy Kelly, peace activist extraordinaire, will also speak.
You can camp there and be fed well, meat or vegetarian. Full information at:http://www.peacestockvfp.org 11
Notes
William Blum, Rogue State: A Guide to the World's Only Superpower, chapters 1 and 2, for cases up to about 2003; later similar cases are numerous; e.g., Glenn Greenwald, "They Hate US for our Occupations", Salon, October 12, 2010 ↩
Huffington Post, April 20, 2013; Washington Post, April 21 ↩
Tim Weiner, Blank Check: The Pentagon's Black Budget (1990), p.149-50. ↩
William Blum, Killing Hope: U.S. Military and CIA Interventions Since World War II ↩
USA Today, December 3, 2012 ↩
ForeignPolicyJournal.com, April 21, 2013 ↩
The Telegraph (London), April 25, 2013; Politico.com, April 24 ↩
Los Angeles Times, February 1, 2013 ↩
"Of all the tyrannies a tyranny sincerely exercised for the good of its victims may be the most oppressive." — C.S. Lewis

Caught up in the televised drama of a military-style manhunt for the suspects in the Boston Marathon explosion, most Americans fail to realize that the world around them has been suddenly and jarringly shifted off its axis, that axis being the U.S. Constitution.
For those like myself who have studied emerging police states, the sight of a city placed under martial law—its citizens under house arrest (officials used the Orwellian phrase "shelter in place" to describe the mandatory lockdown), military-style helicopters equipped with thermal imaging devices buzzing the skies, tanks and armored vehicles on the streets, and snipers perched on rooftops, while thousands of black-garbed police swarmed the streets and SWAT teams carried out house-to-house searches in search of two young and seemingly unlikely bombing suspects—leaves us in a growing state of unease.
Mind you, these are no longer warning signs of a steadily encroaching police state. The police state has arrived.
Equally unnerving is the ease with which Americans welcomed the city-wide lockdown, the routine invasion of their privacy, and the dismantling of every constitutional right intended to serve as a bulwark against government abuses. Watching it unfold, I couldn't help but think of Nazi Field Marshal Hermann Goering's remarks during the Nuremberg trials. As Goering noted:
It is always a simple matter to drag people along whether it is a democracy, or a fascist dictatorship, or a parliament, or a communist dictatorship. Voice or no voice, the people can always be brought to the bidding of the leaders. This is easy. All you have to do is tell them they are being attacked, and denounce the pacifists for lack of patriotism and exposing the country to danger. It works the same in every country.
As the events in Boston have made clear, it does indeed work the same in every country. The same propaganda and police state tactics that worked for Adolf Hitler 80 years ago continue to be employed with great success in a post-9/11 America.
Whatever the threat to so-called security—whether it's rumored weapons of mass destruction, school shootings, or alleged acts of terrorism—it doesn't take much for the American people to march in lockstep with the government's dictates, even if it means submitting to martial law, having their homes searched, and being stripped of one's constitutional rights at a moment's notice.
As journalist Andrew O'Hehir observes in Salon:
In America after 9/11, we made a deal with the devil, or with Dick Cheney, which is much the same thing. We agreed to give up most of our enumerated rights and civil liberties (except for the sacrosanct Second Amendment, of course) in exchange for a lot of hyper-patriotic tough talk, the promise of "security" and the freedom to go on sitting on our asses and consuming whatever the hell we wanted to. Don't look the other way and tell me that you signed a petition or voted for John Kerry or whatever. The fact is that whatever dignified private opinions you and I may hold, we did not do enough to stop it, and our constitutional rights are now deemed to be partial or provisional rather than absolute, do not necessarily apply to everyone, and can be revoked by the government at any time.
Particularly disheartening is the fact that Americans, consumed with the need for vengeance, seem even less concerned about protecting the rights of others, especially if those "others" happen to be of a different skin color or nationality. The public response to the manhunt, capture and subsequent treatment of brothers Tamerlan and Dzhokhar Tsarnaev is merely the latest example of America's xenophobic mindset, which was also a driving force behind the roundup and detention of hundreds of Arab, South Asian and Muslim men following 9/11, internment camps that housed more than 18,000 people of Japanese ancestry during World War II, and the arrest and deportation of thousands of "radical" noncitizens during America's first Red Scare.
Moreover, there has been little outcry over the Obama administration's decision to deny 19-year-old U.S. citizen Dzhokhar Tsarnaev his due process rights and treat him as an enemy combatant, first off by interrogating him without reading him his Miranda rights ("You have the right to remain silent. Anything you say can and will be used against you in a court of law…").
Presently, under the public safety exception to the Miranda rule, if law enforcement agents believe a suspect has information that might reduce a substantial threat, they can wait to give the Miranda warning. For years now, however, the Obama administration has been lobbying to see this exception extended to all cases involving so-called terror suspects, including American citizens. Tsarnaev's case may prove to be the game-changer. Yet as journalist Emily Bazelon points out for Slate: "Why should I care that no one's reading Dzhokhar Tsarnaev his Miranda rights? When the law gets bent out of shape for him, it's easier to bend out of shape for the rest of us."
The U.S. Supreme Court rightly recognized in its 1966 ruling in Miranda v. Arizona that police officers must advise a suspect of his/her civil rights once the suspect has been taken into custody, because the police can and often do take advantage of the fact that most Americans don't know their rights. There have been few exceptions to the Miranda rule over the last 40 years or so, and with good reason. However, if the Obama administration is allowed to scale back the Miranda rule, especially as it applies to U.S. citizens, it would be yet another dangerous expansion of government power at the expense of citizens' civil rights.
This continual undermining of the rules that protect civil liberties, not to mention the incessant rush to judgment by politicians, members of the media and the public, will inevitably have far-reaching consequences on a populace that not only remains ignorant about their rights but is inclined to sacrifice their liberties for phantom promises of safety.
Moments after taking Tsarnaev into custody, the Boston Police Dept. tweeted "CAPTURED!!! The hunt is over. The search is done. The terror is over. And justice has won." Yet with Tsarnaev and his brother having been charged, tried and convicted by the government, the media and the police—all without ever having stepped foot inside a courtroom—it remains to be seen whether justice has indeed won.
The lesson for the rest of us is this: once a free people allows the government to make inroads into their freedoms or uses those same freedoms as bargaining chips for security, it quickly becomes a slippery slope to outright tyranny. And it doesn't really matter whether it's a Democrat or a Republican at the helm, because the bureaucratic mindset on both sides of the aisle now seems to embody the same philosophy of authoritarian government. Increasingly, those on the left who once hailed Barack Obama as the antidote for restoring the numerous civil liberties that were lost or undermined as a result of Bush-era policies are finding themselves forced to acknowledge that threats to civil liberties are worse under Obama.
Clearly, the outlook for civil liberties under Obama grows bleaker by the day, from his embrace of indefinite detention for U.S. citizens and drone kill lists to warrantless surveillance of phone, email and internet communications, and prosecutions of government whistleblowers. Most recently, capitalizing on the nation's heightened emotions, confusion and fear, government officials used the Boston Marathon tragedy as a means of extending the reach of the police state, starting with the House of Representatives' overwhelming passage of the controversial Cyber Intelligence Sharing and Protection Act (CISPA), which opens the door to greater internet surveillance by the government.
These troubling developments are the outward manifestations of an inner, philosophical shift underway in how the government views not only the Constitution and the Bill of Rights, but "we the people," as well. What this reflects is a move away from a government bound by the rule of law to one that seeks total control through the imposition of its own self-serving laws on the populace.
All the while, the American people remain largely oblivious to the looming threats to their freedoms, eager to be persuaded that the government can solve the problems that plague us—whether it be terrorism, an economic depression, an environmental disaster or even a flu epidemic. Yet having bought into the false notion that the government can ensure not only our safety but our happiness and will take care of us from cradle to grave—that is, from daycare centers to nursing homes, we have in actuality allowed ourselves to be bridled and turned into slaves at the bidding of a government that cares little for our freedoms or our happiness.
Source: John W. Whitehead | Rutherford Institute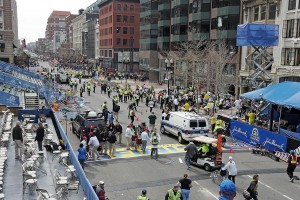 Will we ever learn the full truth about the Boston Marathon bombing?  Personally, I have been looking into this attack for days, and I just keep coming up with more questions than answers.  At this point, I honestly have no idea what really happened.  Why was a bomb drill being held on the day of the attack?  Why have authorities denied that a bomb drill was taking place?  Were Tamerlan and Dzhokhar Tsarnaev acting alone?  What was the nature of their previous contacts with the FBI and other federal agencies?  Why did the FBI at first deny that they had been in contact with the Tsarnaev brothers previously?  Why was the investigation of a mysterious Saudi national with familial links to al-Qaeda suddenly dropped shortly after the Saudi ambassador held an unscheduled meeting with Barack Obama?  Why did Michelle Obama subsequently visit that mysterious Saudi national in the hospital?  If you are looking for answers to these questions, I am afraid that I don't have them at this point.  But what alarms me is that the mainstream media seems to be afraid to ask any of the hard questions that they should be asking.  They just seem to swallow whatever the authorities tell them hook, line and sinker without following up on any of the things in this case that simply do not seem to make sense.
So what kinds of questions should they be asking?  The following are 17 unanswered questions about the Boston Marathon bombing that the media appears to be afraid to ask…
#1 Why were runners being told that a bomb squad drill was taking place during the Boston Marathon?  The following is from an article by Natural News…
Alastair Stevenson is a veteran marathon runner who has competed in dozens of marathons around the world, including the London Marathon. He's very familiar with the security typically found at marathons, and he immediately noticed something odd about the Boston marathon security.

"They kept making announcements on the loud speaker that it was just a drill and there was nothing to worry about. It seemed like there was some sort of threat, but they kept telling us it was just a drill," he was quoted as saying byLocal15TV.com.

In the interview, you'll hear Stevenson say:

"At the start at the event, at the Athlete's Village, there were people on the roof looking down onto the Village at the start. There were dogs with their handlers going around sniffing for explosives, and we were told on a loud announcement that we shouldn't be concerned and that it was just a drill. And maybe it was just a drill, but I've never seen anything like that — not at any marathon that I've ever been to. You know, that just concerned me that that's the only race that I've seen in my life where they had dogs sniffing for explosions, and that's the only place where there had been explosions."
#2 Why did authorities deny that a bomb squad drill was being held?
#3 According to The Mirror, the FBI is reportedly "hunting" a 12-strong terrorist "sleeper cell" that Tamerlan and Dzhokhar Tsarnaev were allegedly a part of…
A source close to the investigation said: "We have no doubt the brothers were not acting alone. The devices used to detonate the two bombs were highly sophisticated and not the kind of thing people learn from Google.

"They were too advanced. Someone gave the brothers the skills and it is now our job to find out just who they were. Agents think the sleeper cell has up to a dozen members and has been waiting several years for their day to come."
If that is the case, why are authorities in Boston adamantly insisting that the two brothers were acting alone?
#4 CBS News is reporting that the FBI interviewed Tamerlan Tsarnaev back in 2011.  The mother of the two Tsarnaev brothers insists that the FBI had been in contact with them for up to five years.  At first, the FBI denied any previous contact with the two suspects.  Will we ever learn the true scope of the previous relationship between the FBI and the Tsarnaev brothers?
#5 Debka is reporting that the Tsarnaev brothers were "double agents" which had been "hired by US and Saudi intelligence to penetrate the Wahhabi jihadist networks which, helped by Saudi financial institutions, had spread across the restive Russian Caucasian."  Could this possibly be true?  If so, will the American people be told the truth about these links?
#6 According to their uncle, there were "mentors" that "radicalized" the Tsarnaev brothers.  So precisely who were those "mentors"?
#7 What happened during Tamerlan Tsarnaev's trip to Dagestan and Chechnya last year?
#8 Were the Tsarnaev brothers in contact with a rebel leader named Doku Umarov who is known as "Russia's Bin Laden"?
#9 Did Tamerlan Tsarnaev post a video on YouTube last summer that expresses a belief that the 12th Imam, Mahdi, will soon come and that an Islamic army with black flags with arise out of a province in Iran known as Khorasan?
#10 Why aren't we being told that the "pressure cooker bombs" used in the Boston Marathon attacks are very similar to the kind of pressure cooker bombs that are commonly used in the Middle East?…
The Daily Beast has confirmed with U.S. counter-terrorism officials that the bombs placed Monday at the marathon were made from pressure cookers, a crude kind of explosive favored by insurgents in Pakistan and Afghanistan. A recipe for a bomb that uses the pressure cooker was part of the debut issue of Inspire, the English-language online magazine of al Qaeda in the Arabian Peninsula.
#11 Initially we were told that Saudi national Abdulrahman Ali Alharbi was a "person of interest" in the case.  But now he is scheduled to leave the countrywith the full blessing of the U.S. government.  Why is there such a rush to get him out of the United States?
#12 Why aren't we being told that Abdulrahman Ali Alharbi was photographedwith two other Saudis in the vicinity of the Boston marathon bombings?
#13 Why aren't we being told of the shocking familial links that Abdulrahman Ali Alharbi has to known members of al-Qaeda?  The following is from research complied by Walid Shoebat…
Many from Al-Harbi's clan are steeped in terrorism and are members of Al-Qaeda. Out of a list of 85 terrorists listed by the Saudi government shows several of Al-Harbi clan to have been active fighters in Al-Qaeda:

#15 Badr Saud Uwaid Al-Awufi Al-Harbi
#73 Muhammad Atiq Uwaid Al-Awufi Al-Harbi
#26 Khalid Salim Uwaid Al-Lahibi Al-Harbi
#29 Raed Abdullah Salem Al-Thahiri Al-Harbi
#43 Abdullah Abdul Rahman Muhammad Al-Harbi (leader)
#60 Fayez Ghuneim Humeid Al-Hijri Al-Harbi
Source: http://aalhameed1.net/vb/showthread.php?t=1565

Then you have Al-Harbi clan members in Gitmo:

Salim Salman Awadallah Al-Sai'di Al-Harbi
Majid Abdullah Hussein Al-Harbi
Muhammad Abdullah Saqr Al-Alawi Al-Harbi
Ghanem Abdul Rahman Ghanem Al-Harbi
Muhammad Atiq Uwaid Al-Awfi Al-Harbi
Source: http://www.muslm.net/vb/showthread.php?169019-أسماء-(90)-سعودياً-لا-زالوا-محتجزين-في-جوانتانامو

There are specific Saudi clans that are rife with members of Al-Qaeda, which makes it quite alarming as to why nearly a hundred thousand student visas are issued to these. Americans are clueless as to clan ties when it comes to terrorism.
#14 Why did U.S. Secretary of State John Kerry have a private meeting with a Saudi foreign minister shortly after Abdulrahman Ali Alharbi was identified as a potential suspect?
#15 Why did Barack Obama hold an unscheduled meeting with the ambassador from Saudi Arabia shortly after Abdulrahman Ali Alharbi was identified as a potential suspect?
#16 Why did Michelle Obama visit Abdulrahman Ali Alharbi in the hospital?
#17 Why did numerous mainstream media outlets openly suggest that "right-wing extremists" were behind the bombings in the immediate aftermath of the attack?
Source: End of the American Dream
Only a media masochist can stand watching network and cable TV news. The extent of self-immolation coming out of their broadcasts, have seldom been more vivid, with their bizarre reports on the Boston Marathon bombing. If one did not know better, the comparison with the Marx Brothers antics would have you believe that you have a ringside seat At the Circus. Silly behavior is the mainstay of the mainstream media. Real news investigation has long ago been relegated to the archives of a half century ago, when there was at least a small measure of a healthy distrust of government sources. Today the clowns that act as ventriloquist dummies have more in common with Karl Marx than Groucho.
The passion of lies flows from the lips of the talking heads, as they get their instructions from corporatist producers in their earpiece. The latest example of a Mossad agent and Zionist exponent is the infamous liar, CNN Wolf Blitzer. A Rush to Misjudgment, states, "CNN is coming under criticism after it falsely reported authorities had arrested a Boston Marathon bombing suspect, whom it had earlier described as a "dark-skinned male." Catching Blitzer tap dancing around the blowup of the designed script of placing culpability on the intended stooges, selected to advance the domestic war of terror, reminds of a skit played by Chico in a bad version of Monkey Business.
That other CNN and CIA plant, Anderson Cooper provides the complementary tag team effort to confuse and distract on a news production that even the global radical and former network owner Ted Turner has to hang his head. Cooper plays the role of Harpo as Pinky as he stirs the Duck Soup broth disinformation. The only way to watch "the government news hour" is with the volume on the Harpo setting - silent no verbal talk.
Not to be outdone the Fox News Network features another CNN alumnus, Bill Hemmer as their Zeppo, performing relatively straight (non-comedic) roles as an authoritive source for an authoritarian mindset of neoconservatives. Deceiving real liberty loving viewers with a pseudo patriotic flag waving is the hallmark of the fair and balanced news format now that Rupert Murdoch is the target of the globalists cabal to act friendly with their new world order scheme.
The next hack over at MSNBC, Chris "Gummo" Matthews on "Hardball" tonight, the host openly questioned whether at least a portion of the horror was an intentional attack against the Democratic Party. What class from this dedicated Marxist brother in media prevarications?
"Let me ask you about domestic terrorism as a category. Normally, domestic terrorists, people tend to be on the far right, well that's not a good category, just extremists, let's call them that. Do they advertise after they do something like this? Do they try to get credit as a group or do they just hate America so much or its politics or its government that they just want to do the damage, they don't care if they get public credit, if you will?"
In addition, the Weekly Standard, the quid essential NeoCon diatribe publication, lashes out at MSNBC as an adjunct enabler of the globalist agenda.
"MSNBC host Lawrence O'Donnell made the case this evening that the National Rifle Association is to blame for the slow investigation into the Boston bombings:
"There are new developments tonight in the bombing investigation here in Boston," said O'Donnell. "But that investigation could be moving faster were it not for the successful lobbying efforts of the National Rifle Association. The NRA's efforts to guarantee that American mass murderers are the best-equipped mass murders in the world is not limited to murderers who use assault weapons and high-capacity magazines. The NRA is also in the business of helping bombers get away with their crimes. Gunpowder could be traced by investigators to a buyer at the point of sale if gunpowder contained a taggant, an element that would enable tracing of the purchase of gunpowder. But thanks to the National Rifle Association, identification taggants are required by law only in plastic explosives. The NRA has successfully blocked any requirements for such taggants in gunpowder. So such supremely helpful evidence as taggants are not available to the FBI in this investigation."
The bombings took place at Monday's marathon."
For an even more revolting low in propaganda, the MSNBC: NRA 'in the Business of Helping Bombers Get Away With Their Crimes' You Tube, is typical of a state sponsored Pravda style media misinformation, that now passes as journalism. Now compare this garbage MSNBC government coordinated onslaught with the perceptive, daring and provocative coverage on Breaking the Set, with host Abby Martin that is aired on RT TV. The video broadcast of Corporate Media Disaster Porn | Weapons of Mass Distraction, raises the issue that the corporate media is reporting false information. The long record of government drill operations during "so called" terrorist events might well prove to apply to the Boston Marathon massacre.
At the forefront of this speculation, Yahoo News lays claim that Alex Jones raises 'false flag' conspiracy after Boston Marathon bombings.
"Jones suggested that the FBI orchestrated the bombings under the false flag of a terrorist organization in order to justify expanded security powers. The Boston attack, he theorized, was staged by the U.S. government to extend the reach of both the Dept. of Homeland Security and Transportation Security Administration."
With the FBI suspects, Tamerlan Tsarnaev dead and his brother Dzhokhar Tsarnaev at large and now captured, it will take some serious investigatory reporting in order to penetrate the layers of government secrecy that reasonably can be expected to conceal what actually transpired on April 15, 2013. Still, the lamestream media will never report any evidence that conflicts with the homeland security police. The presence of sensible alternative explanations are consistently dismissed when the war of terror needs another jolt of fear to keep the public on edge.
Believing any of the government press releases that pass as independent news reporting is more risky than taking your chances in a world of deranged psychopaths. Simply stated, no one in the "so called" know has the inside track on all the complexity of the official investigation, or the potential compartmental complicity in a sanctioned undercover mission.
Where are the brave correspondents that would dare shout from the rooftops, that the response from the Boston carnage is virtually a green light for lock down martial law on the public? Just look to the Faux resident pinhead, Bill O'Reilly for bold reporting, Bill O'Reilly Attacks Alex Jones and Infowars for Daring to Ask Questions About Boston Bomber Narrative.
"Fox resident blowhard Bill O'Reilly and correspondent Juliet Huddy have attacked Alex Jones and Infowars.com reporter Dan Bidondi. For the two Fox News talking heads it is apparently a serious crime to quiz Massachusetts Gov. Deval Patrick about the false flag attack in Boston on Monday. It is impermissible to call into question the validity of the official narrative now coagulating around the event. It is forbidden to deviate from the establishment's script.Huddy dismissed Jones and Bidondi as "idiots" and the accused sexual predator O'Reilly – who has strongly condemned the First Amendment in the past and has shilled for mass murder in Iraq and Afghanistan – made his disgust manifestly apparent, as usual. Both displayed contempt for the internet and alternative media, a quite natural reaction from two irrelevant teleprompter readers. Fox News in particular and the rest of the bloated script-reading dinosaur media in general are seriously threatened by free expression and news reportage on the web."
Viewers that still watch, let alone believe, the fabrications coming out of the bowls of the presstitutesneed a reality check. Just think of all the naive clones that pay their cable or satellite charges for the privilege of bonding with the establishment mouthpieces. What you get from the mind control media is a government version of indoctrination into a slave society. Denial of even the possibility of a false flag operation in the underlying exercise is the only reporting you are supposed to watch.
The FBI tells America: believe us and no one else, outlines the official dictates from the ranks of the G-man enforcers, "The implication is clear: there is official truth and then there is everything else."Since the fascination of following, another manhunt with live feeds is so compelling to the trained seals that are pinned to the screen, the significance of a tyrannical takedown of an entire region of law-abiding citizens, goes unreported by the whores that read from the government approved teleprompters. The autocue message is sanitized of any possibility that the crew of a covert operative drill might just provide cover for a despotic counterattack to the shot heard around the world.
Americans are so easily duped. The Marxist media feed Animal Crackers to a dumb downed public that swallows a systematic federalization of genuine peace keeping functions. The true race in Boston is to re-establish the rebirth of the American Revolution.
"You never let a serious crisis go to waste. And what I mean by that it's an opportunity to do things you think you could not do before." - Rahm Emanuel, former White House Chief Of Staff to Barack Obama
While many people might immediately dismiss the concept, any student of true and unadulterated history has to eventually admit this fact:  Governments exploit crisis.  Sometimes, they merely take advantage of the ensuing chaos and aftermath of a disaster they had nothing to do with directly.  Other times, they create those disasters themselves in order to engineer social and political opportunity.
In regard to the recent bombing of the Boston Marathon, which killed three people and injured at least 140, I have asked "Who do they plan to blame?"  The unaware and naïve will state that "They will blame the true culprit behind the attack, of course!"  Unfortunately, in the past couple decades I have seen numerous terrorist attacks where the blame was NOT placed on the true culprit, or, the blame was extended to totally uninvolved groups and organizations in order to politicize the event.  Governments (especially our government) squeeze each man-made disaster like a ripe papaya until every drop of sweet advantage can be collected.  They use our fear and confusion as license to attack a predetermined list of targets that may or may not have had anything to do with the original event.  They tell the story in a way that suits their end-line interests, and the last thing they are concerned with is helping the public to "understand".  In the end, what average citizens see as an authoritative analysis on the facts from their "loving" leaders is in reality nothing more than an exercise in fantasy.
Now, the thought of persons and institutions within our government being malicious enough to create a terrorist event to be used to manipulate the public towards a certain end tends to bring out furious denial in some Americans.  This is because those people with weak characters and an even weaker sense of identity tend to attach their egos to the collective.  They live vicariously through the group, or the nation state, so that the State's accomplishments and trials become THEIR accomplishments and trails.  To accuse the state of criminality is to accuse them of criminality.
The Boston bombing already has the makings of a subversive and highly exploitable false flag event, and certain undertones remind me of the now exposed Operation Gladio, a false flag program utilized by NATO governments (including the U.S.) for decades which involved multiple bombings and mass shootings of high traffic public areas across Europe that were then falsely blamed on "left-wing terrorists".  The operation was exposed in the early 1990's by the Italian government, and then quickly swept into the dust bin of history.
Vincenzo Vinciguerra, a far-right terrorist linked to Gladio and currently serving a life-sentence for the car bomb murder of three policemen stated during sworn testimony on Gladio in March of 2001:
"You had to attack civilians, the people, women, children, innocent people, unknown people far removed from any political game…"
"The reason was quite simple. They were supposed to force these people, the Italian public, to turn to the state to ask for greater security. This is the political logic that lies behind all the massacres and the bombings which remain unpunished, because the state cannot convict itself or declare itself responsible for what happened…"
The strategy used by NATO was clear – terrorize the common population, target as many innocents as possible in places where they felt most comfortable and at ease, and drive the citizenry into the waiting arms of the establishment.  The tactic creates the cancerous spread of public tension because the sense of "distance" from violence is removed.  An attack could literally happen anytime, anywhere.  A predetermined scapegoat enemy is then presented, completing the circle and galvanizing the people in the direction the establishment desires.
The methods used in Europe to demonize "left-wing" political movements could just as easily be used to demonize what some call "right-wing" political movements here in the U.S.  Let's look at some of the facts surrounding the Boston incident so far:
Boston authorities and witnesses on the scene admit that bomb sniffing dogs and roof spotters were employed before the race even began.  The local bomb squad was also coincidentally running a "controlled explosion drill" only one mile away from the attack:
http://www.local15tv.com/mostpopular/story/UM-Coach-Bomb-Sniffing-Dogs-Spotters-on-Roofs/BrirjAzFPUKKN8z6eSDJEA.cspx
Participants at the race were told repeatedly not to worry, and that a "training exercise" was taking place.  In nearly every major terror attack since 9/11, from the U.S., to the UK and Spain, the government was running "training exercises and drills" fitting the EXACT description of the threat that then suddenly occurred in real life on the same day.  Perhaps it is only an overtly reoccurring negative serendipity, but in my view, if the authorities are running a training exercise for a bombing in your town, it might be best to run for the hills before their little war-game becomes real yet again.
Boston Police Commissioner Edward Davis also stated that authorities were not aware of any specific threats to the marathon before it began, which means that they are not presenting any claims that they had reason to believe a bombing might take place:
http://news.yahoo.com/blogs/lookout/dozens-people-injured-explosion-boston-marathon-190955311.html
So, just to clarify, the Boston police on the suggestion of…someone, decided to run bomb squad training, bomb sniffing dogs, and rooftop spotters on the exact same day that the Boston Marathon happened to be bombed…just because?
I would add to this conundrum another question – With all those bomb sniffing dogs present, and with multiple devices now found on the scene, how did they not find at least one of the explosive packages before people were killed?  Those dogs need to be fired, I suppose…
Along with the immediate strangeness of the attack, the timing is also rather perfect for the establishment.
April 15th is tax day across the nation, and Tax Protest Day sponsored annually by Tea Party organizations across the country also just happened to fall on the 15th this year.  On top of this, in Massachusetts, Patriots Day (a civic holiday celebrating the battles of Lexington and Concord) is held on the third Monday of April every year, which just happened to be the 15th this year.  Oath Keepers, a constitutional organization often wrongly attacked as a "domestic extremist group" by the DHS and SPLC, just happened to have a large pro-freedom rally scheduled for the 19th of April at Lexington Green in Massachusetts.  Are we starting to get the picture here?
With the Senate in the midst of the most blatant attack on our 2nd Amendment rights in history following the passage of the absurdly fascist NDAA and the White House's unwillingness to remove American citizens as potential targets for executive ordered assassination,  and with multiple states now implementing draconian gun restrictions and even confiscations, public opinion is quickly moving against the Federal Government.  Wouldn't it be beneficial for their agenda if it turned out that the Boston Marathon Bombing was executed by a group of "pro-gun anti-income tax anti-government domestic terrorists", or maybe just Constitutionalists and Liberty Movement activists that are labeled as such?
Wouldn't that be a big turn-off for those on the fence but shifting towards gun rights and constitutionalism?  Wouldn't it be great for the DHS and the SPLC if all their anti-Constitutionalist propaganda was suddenly proven "correct"?  Maybe the TSA could even suggest roving street checkpoints and random searches so that such a calamity "never happens again".
No suspects have yet been named in the marathon attacks, and none have claimed responsibility, so perhaps I am jumping to conclusions.  Perhaps we'll find out those dastardly North Koreans were behind it all, or maybe those devious Iranians.  However, I can't shake off that smell of a setup lurking in the musty sickly statist air, and the mainstream media is already suggesting "right-wing involvement" (why don't they ever suggest left-wing extremism as a possibility…?).
As I have said many times before, during any crisis, always look at who benefited the most from the event.  Look at who had something to gain, rather than the first scapegoats they throw in front of you.  Some terror attacks are real, and some are proven as staged, but never forget that government power structures do not see these tragedies as tragedies; rather, they see them as gifts; precious openings that create vulnerabilities in the psyche of the citizenry.  They WILL exploit these vulnerabilities to further their own agenda, and they WILL exploit the Boston Marathon Bombing to demoralize and marginalize their political enemies.  Count on it.
Source: Brandon Smith | Alt-Market
Few polarizing subjects are more hotly debated than gun control. Usually lost in the fray of emotional diatribes to ban guns, are the historic empirical foundations of our forefathers who fought a revolution to escape from imperial tyranny. The true reality in today's AmeriKa is that individual liberty is the most despised activity that any citizen can exert in their lives. Both the popular state worship culture and the authoritarian hoodlums that run the government are so fearful of armed independent citizens, that they are eager to burn the Bill of Rights. Face it, the government is committed to force you to be a ward of the state and will kill you if you resist.
Because of government school propaganda, those indoctrinated during the last several decades are woefully lacking in the knowledge of their own heritage. Phyllis Schlafly writes in, The Founding Fathers On Right To Bear Arms, and reminds of the essence in the Second Amendment.
James Madison: Americans have "the advantage of being armed" — unlike the citizens of other countries where "the governments are afraid to trust the people with arms."

Patrick Henry: "The great objective is that every man be armed. . . . Everyone who is able may have a gun."

George Mason: "To disarm the people [is] the best and most effectual way to enslave them."

Samuel Adams: "The Constitution shall never be construed . . . to prevent the people of the United States who are peaceable citizens from keeping their own arms."

Alexander Hamilton: "The best we can hope for concerning the people at large is that they be properly armed."

Richard Henry Lee: "To preserve liberty, it is essential that the whole body of the people always possess arms, and be taught alike, especially when young, how to use them."
"The chief reason America has remained a free country is the widespread private ownership of firearms. Individual ownership of guns made the American Revolution possible. The principal purpose of the Second Amendment was to maintain our freedom from government. It is an insult to our heritage to imply that the Founding Fathers wrote the Second Amendment just to protect deer hunters."
End of story, but the beginning of the gulag. Before bleeding hearts start their vicious attacks on the gun toting culture, a critical examination of your own national allegiance must be questioned. Do you freely give your loyalty to the principles upon which the nation was founded or do you simply pledge your obedience to an imperium empire?
Consider that public officials are terrified of an armed citizenry because they are well aware that their personal safety might someday be confronted. Their outlaw edicts and coercive submission is recognized as a dictatorship. However, an armed insurrection is so remote, based upon the overwhelming lack of character and courage of most populace denizens. Facing an enemy on a battlefield would be more an exercise of genuflection and public remorse for daring to oppose the institutional establishment.
The current state of the art of weaponry, as any viewer of the TV military channel knows, is so advanced that open conflict against the Federal Stasi would result is suicide by cop. Homeland Security is designed to be the domestic Gestapo. Any thinking and liberty-loving person must conclude that President Barack Obama acts as if he is a potentate.
Rule by executive orders is a formula for tyrannical governance. Gun registration builds the database for constabulary confiscation. An organized knock at the door means that abolition of banned munitions from the "Cold Dead Hands" will look more like a visit from an IRS tax auditor than an assault from the nearest SWAT team.
Too many people accept that subjects must be intimidated into compliance of surrender. The threat of armed defiance is less likely than meek regimentation for transport to a FEMA camp. All those body bags will be used more effectively, when people's opposition to being re-educated fails, than for dragging out your remains from your own house.
The practical prospects to use violence against a well funded and equipped force of government storm troopers is problematic at best. The solution to marital law thuggery is to repatriate the military legions stationed globally in the expansion of the empire. Somewhere within the ranks of the active military, the means to confront Emperor Obama exists. The military oath states:
"I, do solemnly swear (or affirm) that I will support and defend the Constitution of the United States against all enemies, foreign and domestic; that I will bear true faith and allegiance to the same; and that I will obey the orders of the President of the United States and the orders of the officers appointed over me, according to regulations and the Uniform Code of Military Justice. So help me God."
Careerist politicians, a tenured judiciary and an entrenched and escalating bureaucracy that consolidates the central government monster have systematically dismantled the Constitution. The repressive regime would have you believe that the Bradley Manning's in the military machine are traitors just as much as Benedict Arnold. Hitherto, the certainty that going it alone resistance allows for the enormous capacities of the Intelligence Community apparatus to target any lone individual.
Remember the predictive example of the American crypto-anarchist, James Dalton Bell. "He created the idea of arranging for anonymously sponsored assassination payments via the Internet, which he called "assassination politics". Since the publication of the "Assassination Politics" essay, Bell was targeted by the federal government of the United States. He was imprisoned on felony charges of tax evasion in 1997."

Folks, let's get real. Violent subversion just provides an excuse for even greater levels of repression. Likewise, gun confiscation has more to do with instilling universal fear in the minds of ordinary law abiding; translate – valid constitutional laws, than removing firepower out of your home.
Since the system dreads an armed citizenry, the criminal syndicates that divvy up their ruling fiefdoms, fear an informed population even more. Knowledge is required, but action must accompany an awakening that the totalitarian government thrives because civil society obeys the despotism of their feudal master.
Per the pernicious mass media, civil conduct is defined as surrendering your guns in order to repent out of a fictitious guilt or a bogus empathy for innocent victims. Insultingly, the pressitute media professes to be the purveyor of altruism. Never will you hear one utterance about the foundations of individual natural rights that underpins rightful authority for personal and community liberty.
The Second Amendment of the Constitution was written to protect society from the instinctual tendencies of a tyrannical government. Where is the outrage from a horror-struck public? The laundry list of dictatorial politicians from California to Illinois and in New York has identified themselves as enemies of the people.
The disgusting "Gabby Gifford's" executive order that is being engineered by the Biden comrades will prohibit the manufacture and sale of a comprehensive range and types of weapons and accessories. Administrative fiat out of the barrel of a government regulation is more dangerous than a Glock pistol pointed at your head from a FBI agent. Many civil servants still restrain their oppressive actions to the appearance of legal conduct. However, the tyrants that make policy are bent on destroying the will of the public to oppose the transformation of America into a total police state.
The system will implode when enough genuine patriotic resistors organize a modern day Committee of Correspondence. The Tree of Liberty requires heroes. Unfortunately, most compliant citizens are cowards.
The rush to purchase guns demonstrates that a groundswell of public awareness is growing. The hoops designed to make gun ownership burdensome or personal carry permits nearly impossible to obtain, need to be endured and applied for in greater numbers.
By sending a loud and clear message to the establishment elitists, the righteous citizen militia will undertake the legitimate role of the Minute Men. Treason against the people has been official policy for decades. Now is the time to revolt against the TSA mindset that is calculated to condition the acquiescent and the timid from exercising their basic rights.
A countrywide day of protest leading up to a national strike of civil disobedience is the inherent response to government tyranny. Engage in a public dialogue at your local assembly. Organize events that demonstrate the resolve and bravery of our ancestors. Stand up to oppressive authority and defy the illicit tactics of the goon squads.
The system is playing a bluff. Push back now will spare bloodshed later. Never initiate any action that can be construed as violent behavior. Public political speech is the most skillful weapon to use, when exposing the oppressors.
The "War on Liberty" needs to be fought for the minds and hearts of all judicious thinking citizens. Guns are not the issue, recapturing your heritage and exercising your God given rights is the struggle. The state of war is on. Fight it with fervor, while maintaining your dignity. Nothing less would dishonor your defiant forebearers.
All political power comes from the barrel of a gun. The communist party must command all the guns, that way, no guns can ever be used to command the party – Mao Tse Tung
After a shooting spree, they always want to take the guns away from the people who didn't do it. I sure as hell wouldn't want to live in a society where the only people allowed guns are the police and the military – William Burroughs
Revolution?  Yes, it all sounds rather "extreme", but the cold hard reality of our era is not going to comfort us with diplomacies and niceties, so honestly, why should I have to sugar coat anything?  We live in extreme times and there is no longer room for prancing around the ultimate consequences of that which is taking place in America today.  This country is increasingly sliding towards the edge of internal conflict.  The Liberty Movement and true Constitutionalists see it, subsections of Republicans and Democrats see it, and most of all, the federal government sees it.  In fact, they may even be counting on it.
Over the past two years alone, multiple draconian policies have been enacted through executive order by the Obama Administration which build upon the civil liberty crushing actions of George W. Bush and press far beyond.  The Patriot Acts, the FISA domestic spy bill, the bailouts of corrupt international banks, attempts at CISPA and SOPA, actions like the NDAA authorizing the treatment of U.S. citizens as "enemy combatants" without rights to due process; all paint a picture so clear only a one-celled amoeba (or your average suburban yuppie) would not see it.  You and I, and everyone else for that matter, have been designated potential targets of the state.  Our rights have been made forfeit.
There is no ambiguous or muddled separation between the citizenry and the government anymore.  The separation is absolute.  It is undeniable.  It is vast.  It is only a matter of time and momentum, and eventually there will be unbridled oppression, dissent, and conflict.  All that is required is a trigger, and I believe that trigger has arrived…
Though made to appear "complex", the gun control debate is actually an incredibly simple issue.  It all boils down to a couple of questions which gun grabbers rarely ask:  How does the 2nd Amendment affect the future?  That is to say, what was the original intent, and should we still value that intent as it applies to tomorrow?  And, what will really happen if it is forcibly removed?  Gun opponents act as though they are unaware of these questions, or maybe they don't care.  However, it is vital to their safety and the safety of our culture in general that they do finally consider the bigger picture.
We've all heard the prefabricated gun control talking points before.  Some of them so old they predate us.  They are numerous and most of them incredibly thin.  The gist of the anti-gun position, though, could be boiled down to these three points…
Common Anti-Gun Arguments
1) The 2nd Amendment is "outdated" and no longer relevant in today's modern society.

2) We do not want to stop you from "defending yourself", or interfere with the American tradition of hunting, but people do not need "military assault weapons" for either. 

3) Your claimed freedom to own guns should not supersede my freedom to live without fear of guns.  We exist in a society, and our society requires us to give up certain freedoms so that it can function.
Again, in response to these arguments, I have to ask, what does the 2nd Amendment mean for the future?  What was its original intent?  Gun control advocates would like to ignore the fact that the Constitution specifically protects a broad application of gun ownership, but when they cannot deny the legality of it, they instead turn to more abstract and existential methods of attack.  They try to twist the original intent of the 2nd Amendment to further their goals.  To respond briefly to each of the above fallacies:
1) The right to self defense from ANY threat, whether it be an individual, or a criminal government, does not "outdate".  It is a universal and eternal freedom.  It is a foundational pillar of natural law.  Even if the 2nd Amendment did not exist, I would still have the inborn right to arm and protect myself and those I love, and the best way to do that is to own firearms.  The men who drafted the Constitution were far more intelligent than any pithy gun grabber today, yet, these socialist errand boys seem to believe that they have "surpassed" the wisdom of the Founders.  The amount of ego required to fuel such an attitude boggles the mind…
Gun violence and violence in general will not end simply by banning firearms.  The very idea that any society can remove all weapons from their sight is naïve to begin with.  Criminals always find a way.  Murder, rape, and mayhem will continue until you confront the root problem, which is the human mind, and the human heart.  Only when these two things are balanced in all people will violence end.  Disarming good men and women has never made a society "safer".  When the power of defense is removed from the people, someone, somewhere, will seek to abuse their weakness.  The most armed entity of the time invariably becomes the subjugator, and usually this is the government.  Nazi Germany, Stalinist Russia, Mao's China, Pol Pot's Cambodia, etc, all contained disarmed populations.  The guns were gone, and still millions upon millions died.  Modern day Mexico is a perfect example of a disarmed population that is now living in terror because of criminal organizations (which, of course, still have guns).  Disarmament does NOT end gun violence, it only changes the dynamic of who uses that violence, and it makes innocent victims easier to attack.
2) Because the legal argument over the "interpretation" of the 2nd Amendment is essentially over, and the Supreme Court has ruled that gun rights do indeed apply to individuals, and not just collective bodies like the National Guard, gun grabbers are now reverting to the argument that we ARE allowed to defend ourselves with firearms, but the kinds of firearms we are able to use can still be limited.  The goal of this argument is to fool gun owners who only possess conventional firearms (hunting rifles) into believing that they will not be personally affected if they support a ban on military style weapons.  These wishy-washy hunting enthusiasts are often referred to as "Elmer Fudds" because of their gullibility.
All gun confiscation programs start by chipping away at the outer barriers of gun ownership.  Like termites slowly chewing away at the wooden skeleton of a home, anti-gun proponents start small and end by destroying the entire edifice.  Anyone who believes Feinstein's legislation will begin and end with AR-15's and AK-47's is living in fantasy land.  That said, the 2nd Amendment was not established for hunting purposes.  Nowhere in the writings of the Founding Fathers do they mention "hunting" as their primary concern.  Instead, gun rights are protected in order to ensure that the citizenry remains dominant over any centralized government that turns to corruption.  We are supposed to police our own political leaders, and without military style arms, this becomes increasingly difficult.
Gun grabbers will argue that our government is not the enemy because it is derived through democratic elections.  They will say that we can change it anytime we like in the voting box.  I would point out that regardless of which party is placed in power through elections, nothing in terms of our direction as a country has been changed, and, that both parties support almost identical policies.  For instance, Obama has come out in favor of nearly identical policy initiatives to Bush, and I can almost guarantee that many Republicans will sign onto the gun control efforts of Democrats despite their supposed pro-gun rhetoric.  When the two party system becomes a one party system, voting becomes irrelevant.
Finally, they will admonish the idea of an armed citizenry keeping the government in check as a "fairy tale".  They will claim that in the face of modern military might, constitutionalists would be crushed.  For what can an AK-47 do to an F-15?  Apparently, they have never heard of Afghanistan, which has used AK-47's and 30 year old armaments to repel two technologically advanced armies; the Soviet Union and the U.S.  Of course, the Afghanis did not allow themselves to be disarmed…
3) Here is where we get into the nonsense of intellectual idiocy.  The only real skill which academics seem to have is jumbling piles of logical fallacies together to make a single argument that sounds "rational", but, in fact, isn't.  The third debate point is an extremely collectivist one, and collectivist arguments generally exploit the idea that individuals must sacrifice their personal freedoms in order for the group to function.
The truth is, the group does not matter.  The perceived collective concerns and fears of a mass of people are not relevant.  All that matters are the concerns of the singular man or woman, and whether or not those concerns are legitimate.  If a person "fears" guns and gun violence, then that is their private problem, not the problem of our entire society.  We as gun owners should not have to relinquish our rights because others are afraid of what MIGHT happen to them.  We should demand that they control THEIR fear, instead of being allowed to control OUR guns.  Just because a portion of our country shares this individual fear does not make that fear any more credible, or any more our problem.
Do They Know What They Are In For…?
Feinstein's campaign for gun control is not hers alone; it has been the overall establishment's work in progress for decades.  I covered the broad based arguments of gun control advocates above because I wanted to illustrate the tangibility of gun ownership.  I want to show you where we stand as constitutionalists, and I can say confidently that our moral and intellectual footing is strong.  To be clear, when defenders of a particular idea are right in their position, they are much more likely to fight and die for that position, and they are much more likely to win.
In the beginning I asked what the 2nd Amendment means for the future of this country.  Not only if it continues, but if it disappears.  If I was a gun control proponent, I would weigh the aftereffects of my actions carefully, because the penalties will likely be dire…
I have heard it argued that Americans are passive.  We didn't rise up against the last Assault Weapons Ban. We didn't rise up against the Patriot Act.  We didn't rise up against TSA molestation.  We didn't rise up against warrantless wiretapping, the assassination of U.S. citizens, or even the NDAA.  The people who make this point, though, are not looking at the larger issue.  It is one thing for our government to pass legislation; the wider application of that legislation on our streets and at our doorsteps is another matter.
Feinstein's bill is unprecedented in the history of this country, and requires widespread enforcement in every town and hamlet in order to be effective.  The way in which it is designed makes a violent response from the public inevitable.  It reaches far beyond the Assault Weapons Ban of the 1990's, calling for the creation of a massive database of almost all gun owners in the United States.  This database will require citizens to submit their EXISTING firearms to cataloging, and the owners to be filed and fingerprinted like criminals.
The bill will ban the outright sale, manufacture, and transfer of at least 120 models of firearms (which have not yet been named).  It will ban the manufacture and sale of most if not all semi-automatic rifles and the bill specifically targets handguns as well.  Large capacity mags and mag fed weapons will essentially disappear from gun stores.  Though, those guns designated as "hunting rifles" will be exempt (for now).
Feinstein has also openly agreed with NY Governor Andrew Cuomo that government buy back programs (forced selling of firearms at a reduced price) and even physical confiscations are on the table:
http://www.opposingviews.com/i/society/guns/new-york-governor-andrew-cuomo-says-gun-confiscation-could-be-option

http://washingtonexaminer.com/sen.-feinstein-suggests-national-buyback-of-guns/article/2516648
To put this bluntly, there are approximately 50 million gun owners (according to official estimates) in the United States.  If only 2% of those gun owners refuse to submit to the Feinstein Database, and the feds attempt confiscation, they will have a massive revolution on their hands.
Many Americans, including myself, will not be strolling into the local Fusion Center to register our weapons.  Why?  Because gun registration reeks of fascism!  Some might call this "cliche", but let's just examine the guidelines of the Nazi Gun Registration Program of 1938:

- Classified guns for "sporting purposes"
- All citizens who wished to purchase firearms had to register with the Nazi officials and have a background check.
- Presumed German citizens were hostile and thereby exempted Nazis from the gun control law (meaning officials could have guns, citizens could not).
- Gave Nazis unrestricted power to decide what kinds of firearms could, or could not be owned by private persons.
- The types of ammunition that were legal were subject to control by bureaucrats.
- Juveniles under 18 years could not buy firearms and ammunition. 
You see, we've witnessed the Feinstein gun bill before, many times through history.  We know how it ends, so, there is very little incentive for us to go along quietly.
The database itself is truly the crux of it all.  It basically begs to be defied.  When a government has become openly hostile to common people, destructive of their economy, and oppressive of their individual rights, it only follows that gun registration will lead to outright confiscation later down the road or imprisonment for the owner.  Many Americans are simply not going to fall into the same trap that past societies have fallen into.  The eventual refusal of millions of citizens to voluntarily register will lead to a definite federal response.
The Department Of Homeland Security has obviously taken this into account, at least partly, by stockpiling over 1.6 billion rounds of ammunition in the span of a year, most of which are used in weapons distributed by the government for domestic enforcement.  Their projected scenario, I believe, involves limited resistance from people like myself; "gun nuts" and "liberty freaks" who are on the "fringe" of the populous.  At least, that's what the headlines will say.  In the end, who will care if a few "conspiracy theorists" take a bullet in the quest to end gun violence, right?  But then again…
What I see in America is a much harder stance against gun confiscation than at any time in recent memory, and far less compromising than in the 1990's.  Gun grabbers are, in my view, walking into a hornet's nest.  Most average firearms enthusiast may be less aware of the deeper problems at hand, but they know when they are about to be raped, and will react in kind.  We in the Liberty Movement are often accused of "radicalizing" people against government authority, but I have to say, if that is the case, then the Feds are doing a much better job than we ever could.
Simultaneously, the UN (which most gun owners despise) is helping matters along by using the recent Sandy Hook shooting as a springboard for a reintroduction of their failed international Small Arms Treaty:
http://www.huffingtonpost.com/2012/12/28/un-arms-treaty-nra_n_2373417.html
"European and other U.N. delegates who support the arms trade treaty told Reuters on condition of anonymity they hoped Newtown would boost support for the convention in the United States, where gun control is an explosive political issue."
"Newtown has opened the debate within the United States on weapons controls in ways that it has not been opened in the past," Abramson said, adding that "the conversation within the U.S. will give the (Obama) administration more leeway."
The UN has always claimed that their small arms treaty would NOT restrict private gun ownership in the U.S., and that it only deals with the international trade of illicit arms.  Yet, they try to use gun control actions in the face of Sandy Hook as a rationale for reopening negotiations?  They can't have it both ways.  Either they are trying to tie the treaty to domestic gun ownership in the U.S, or they aren't.  Will our government sign on to an international agreement to restrict private gun ownership on top of Feinstein's gun grab bill?
To put this in the most basic terms: registration and restriction equals revolution.  Count on it.  It is not a matter of what we "want", it is a matter of what is necessary.  Without a citizenry armed with weapons of military application, we lose our last deterrent to tyranny, and thus, we lose everything.  When backed into a corner, a victim has two options: he can lie down and die, or, he can fight regardless of the odds.  Sadly, this is where we are in America; fear, servitude, subservience, or civil war.
Let us hope our weapons are never needed –but do not forget what the common people knew when they demanded the Bill of Rights: An armed citizenry is the first defense, the best defense, and the final defense against tyranny. If guns are outlawed, only the government will have guns. Only the police, the secret police, the military, the hired servants of our rulers. Only the government — and a few outlaws. I intend to be among the outlaws – Edward Abbey
Source: Brandon Smith | Alt-Market
The New World Order, designed around a functional police state that is encouraged by continuous popular cultural messages, is apparent to even the most avid establishment apologist. Liberty and freedom, hardly ever mentioned in a positive light by the mass media, is a direct threat to the ruling class. The proliferation of degenerate behavior is lauded so that those who object to such conduct will be demeaned as outcasts of the decadent society. The imposition of a police state is necessary to coerce decent people into forced obedience.
Cultural celebrities and icons come and go, but their art often rings on for good or bad. Political propaganda, embedded in media projects, has transcended subliminal messages and now emphasizes in your face brashness. The breakdown of the traditional value society is so complete, that what was once viewed as insulting political disinformation now passes as a promotion for a loyalist NWO drama.
One such Showtime production is the pathetic Homeland series. Rachel Shabi offers her review assessment in the piece; Does Homeland just wave the American flag?
"Instead, Homeland presents a retuned version of the same unshakeable assurance that, even when things are really complicated, American values are the fairest, the most right and the best. Sure, the series shows US forces doing terrible things: covering up a drone attack that kills civilians in Iraq; trigger-happy in a US mosque, leaving innocents dead there, too. But these are presented as necessary acts in pursuit of far worse crimes. Homeland's core message is that the US means well, but sometimes has to do bad things; while the Arab and/or Muslim enemy doesn't mean well and hence does unfathomably bad things. Not much of a progression really, is it?"
When the postmortem of the Patriotic Act era is dissected, the treason of intelligence community operations will be written in their full horror. The police state glorified in Homeland episodes is meant to prepare the public for the next stage of centralized oppression.
While cable or broadcast TV is so removed from Little House on the Prairie, today's programming is designed to facilitate the psychological acceptance of the transition into a maximum lock down prison society.
In the essay, Mass Mind Control Through Network Television, Alex Ansary warns of the prison industrial complex.
"Turn on your local newscast. You have a few minutes of blue-collar crime, hardly any white collar crime, a few minutes of sports, misc. chit chat, random political jibber-jabber, and a look at the weather that no one is forecasting correctly. Is that what happened in your town? And we're supposed to own the airwaves! The mainstream media openly supports the interests of the prison industrial complex. The stories focus on minority criminal groups, and exploit the real threat to appear much more dangerous than they are. Think about the growing per capita number of prisoners in the country. Then remember that this is happening at the same time that our prison boom began. The police on our streets have created criminals. The focus is to keep us in a state of fear, that way the elitists can attack any group they want to without fear of consequence. This is why the media is continuing to craft the timeless art of dehumanization."
The cutting edge of mind control has long included the use of music and lyrics that produce subconscious meanings. Now the fascist messages in street music indoctrinate not only the youth but target to reinforce the despotic aspirations of TSA flunkies.
The article, The Transhumanist and Police State Agenda in Pop Music, provides two examples of globalist messages disguised as performances by Rihanna and Beyonce.
"In hip-hop slang, the term "hard" usually refers to someone who is street-savvy, gritty, rebellious and who is decisively "not down with police". Hard transposes this term to a military context. Her militaristic video features a gang of uniformed men dancing under the orders of "General Rihanna". We've come a long way from Public Enemy's Fight the Power…it is now Submit to the Power. All of this military/dictatorial imagery is mixed with Rihanna's sexy moves and outfits, appealing to the masses' basest instinct: sex."
"Beyonce walks on stage with a bunch of men dressed in riot gear… the type of unit a police state would use to repress opposition during popular turmoil. What are they doing in Beyonce's performance? Contributing to permeate popular culture with police-state imagery."
In the follow-up account, you can read the description mentioned in this report.
"Two recent examples of the perpetuation of the police state agenda in popular culture are Jay-Z and Kanye West's music video No Church in the Wild and Adam Lambert's Never Close our Eyes. In spite of, or perhaps because of, the fact that these songs are two different genres that aim to reach two different markets, they both contribute to the saturation of popular culture with police state imagery. While the authorities are not necessarily portrayed as the "good guys", they are nevertheless there, as if their presence at any kind of public demonstration is normal."
Contrast this dark brute force portrayal, with an age of optimism and hope. The peace and love themes in the music and political actions of John Lennon offer a rudimentary alternative to the grisly atrocities that the establishment commits routinely in the name of national security.
Gangster rap has little in common with All You Need is Love.
Rebellion of youth is natural, but resigned acceptance for submission to the police state is repression. The thirty-two years since his assassination has been one long road into oblivion. Read the "Interview With Investigative Reporter Jack Jones" for insights into the elimination of a dangerous messenger of peace.What a long way away from John Lennon's lyrics in the song Revolution.
You say you'll change the constitution

Well, you know

We all want to change your head

You tell me it's the institution

Well, you know

You'd better free your mind instead

But if you go carrying pictures of Chairman Mao

You ain't gonna make it with anyone anyhow
Now, transition from the mental liberation of the Beetle era, and go back and examine the overt war crimes of the premier American despot, Abraham Lincoln. Biographer and jingoism jezebel LBJ groupie, Doris Kearns Goodwin's book, Team of Rivals: The Political Genius of Abraham Lincoln served as the backdrop of Steven Spielberg's production of the recent released Lincoln film.
Alec Ryan writes in the American Renaissance:
"In the modern Hollywood narrative, all American history revolves around the Sacred Black Experience. Lincoln confirms this, bending historical truth to paint the most ruthless, bloody-minded, strong-willed American leader in history as some kind of smug, pre-post-modern storyteller croaking gamely through the difficulties like a paleface Obama sans teleprompter. The few Southerners are snarling, greasy bigots, recoiling before the erect, scowling black Union guards as they slink by during a meeting that led to the Hampton Roads peace conference of February 1865.

The film has throughout a sense of hushed awe, as if kowtowing to its own self-evident righteousness. There is no balance, no complexity, no sense of inner struggle or desperation. No opposing arguments. Its simplistic outlook more closely resembles the popcorn-psychology Avengers or Justice League rather than the serious historical movie that it clearly wishes to be acclaimed."
The point of evaluating the worship adoration of the destroyer of the Republic with the authoritarianism of the newly re-elected president is to equate the despotism of both of their regimes. The imposition of the police state is part of the master plan to enslave the inherent autonomy of free citizens.
The insidious popular culture strips the institutions of traditional constitutional protections and separations of powers by diminishing the will of sovereign citizens to fight tyranny. The goal of imposing savage dehumanizing ruthlessness seeks to spread the Sons of Anarchy mindset into positions of authority. The merging of law enforcement into the ranks of criminal organizations becomes a common occurrence in the police state environment.
Once upon a time, the peace officer maintained order and balance. Now law enforcement deems that natural rights are arbitrary and conditional on obedience to government dictates.
911 provided the excuse to inflict a "War of Terror" under the disguise of national security. The Homeland program scripts that foster the ends justify the means are repugnant to every liberty advocate. Each day, the evolving police state is becoming more invasive and punitive.
A culture that glorifies jack booted thugs that order innocent citizens around as sinister terrorists destroys the essence of the nation. The New World Order essentially uses depressing indoctrination of the inevitability for submission to their mind game matrix.
The walking dead that accept a dependent society administered by bureaucratic goons, willingly tolerant a fate of bondage. Since texting is all the rage and the written language is sorely deficient, maybe the best way to communicate though the popular culture is to withdraw from the experience as much as possible. Try one on one contact; you might be surprised with the results.
Neo: "What truth?", Morpheus: "That you are a slave, Neo. That you, like everyone else, was born into bondage… kept inside a prison that you cannot smell, taste, or touch – a prison for your mind."
~The Matrix 
In the movie the Matrix, Morpheus and Trinity knew that something in reality had suddenly changed when Neo experienced a deja-vu. The deja-vu resulted as a bit of the virtual world reformatted changing reality enough so a new 'reality' presented with an advantage to the controllers.
It is interesting to pay attention to the Matrix of 'real' life because there are many similarities to the inspired ideas communicated in the movie of the same name. If you pay attention long enough you'll notice some deja-vu. This 'real' life appears to have scripted components that when noticed change reality right before our eyes.
Right now the global controllers are modifying the script so as to bring about some kind of change that facilitates their plan of global domination and enslavement they'll call global government.
The stage is being populated with new props and I sense a deja-vu.
WHO CONTROLS THE WORLD
I think the sociopolitical framework of the united States and the world are scripted plays created by powers-that-be having critical knowledge of human psychology and control of the worlds media, education, money, military, religions, and energy (including food, water and medicine). And because it is important later, I will note the world's-a-stage script writers are obsessively interested in esoteric occulted symbols, numerology, astrology and religious ritual.
As many of you already know, the united States of America's over government (by agreement made called the Constitution), commonly known as the United States Federal Government (USG), was infiltrated and usurped many years ago; the final purge was nearly complete with the bankruptcy and subsequent relaunch of the USG in 1933. One way to help your mind work better when thinking about this is to mentally rename the USG. Renaming results in clearer thinking because it makes allegiances transparent. I like to think of the USG as Federists (rhymes with terrorists), which helps me remember I'm talking about an foreign occupational, hostile, well funded, highly intelligent, malevolent gang of usurpers. Federists occupy the highest offices and control the primary enforcing agencies of the former USG.
Federists control of America is maintained first by deception, then bribery and blackmail and finally, as needed, murder.
In other words, the control system that has been pulled over our eyes to blind us from the truth, is now in control of the world's wealthiest and militarily powerful nation on earth.
The world, then, is controlled by an unnamed, focused group of powerful, malevolent, super-staters, which, by proxy, occupy and control the highest offices, enforcing agencies and military of the wealthiest and most powerful nation on earth.
The world is controlled by the globalists.
GLOBALIST'S RESOURCES
The globalist maintain their control over the world through control of the worlds media, education, money, military, religions, and energy (including food, water and medicine).
The primary source of globalist power comes from pretended money in the form of currency and energy monopolies. All the other controls are derived from these two sources. And, for future reference, these two main sources of power are the globalist's Achilles heel.
Counterfeit currency is a system of pretended money loaned by imitation banks to governments at interest. The interest represents real wealth streamed back to the imitation banks in payment for the counterfeit currency (nothing).
The crux of the crime is that nothing of value is loaned in return for interest payments. Using the borrower's promise to pay as currency, the imitation banks return debt as money. In other words, nothing of value was loaned by the bank in return for interest payments. Hence a system was devised so globalists can issue currency in nearly unlimited quantities, at no cost to the globalist, in return for an ever growing stream of interest payments siphoning off the wealth of the borrowers.
The globalists using middle men like the Federists can then 'loan' unlimited ( at least in the short term because this banking scam eventually self destructs) currency to the Federists, who use the currency to further the globalists agenda, while the globalist still retain the interest stream now passed off as income tax to the working class of the united States of America.
The actual currency (dollar) is worthless, but derives a phony value because people accept the dollar in trade for real goods. Since the currency grows on trees, the quantity can always increase (and of course it does), thereby reducing the supply of goods available causing prices to rise in proportion to the quantity of pretend money in existence. The rising prices are a second form of tax since it now takes more dollars to purchase the same good. (Your loss of purchasing power has been transferred to the Federists to be used in service of the globalist.)
Using this currency, the globalist can then fund legislation in the affected country to erect monopolies on energy, buy and control the media, fund education trusts and university grants, bribe and control religions and the military.
HOW THE GLOBALISTS WRITE THE SCRIPT
For the record it is easy to write the script when you own the media, schools, churches, energy, money and military.
The globalists write the script through careful control of images, themes and thought. Deception is the operative concept, even if the details are complex and complicated. In essence, the globalists frame the problems of the world and then provide the solutions. Many people have reported this idea, David Icke calls it 'problem, reaction, solution'. Using fear as a means of gaining and keeping attention, globalists, behaving like the best magicians, maintain your attention on fear while they move the props around the stage. Then when horrific problems do emerge (usually staged) , the globalists through their operatives are standing by with solutions, solutions that require the transfer of more power, wealth, resources, liberty and subjugation to the globalists.
Strictly controlling the media and churches with propaganda and topic restrictions , while limiting your energy, issuing your currency and directing the military, the globalist have near total control of an individual's mind, wealth, health and spirituality. This control is used to create a pseudo world, not a complete Matrix (I hope) , but a mixture of scripted and directed macro story and permitting a limited personal directed micro story. You do have control of parts of the play, but the point is, "All the world's a stage, And all the men and women merely players"
DEJA VU
Mind control of Americans is of pivotal importance to the globalist because America has been captured and occupied by the Federists, their primary tool of action and it is American's that have the best chance of switching off the Matrix and welcoming everyone to the real world.
The American media, with the exception of some uncontrolled, unaffiliated, non denominational, unregulated, alternative media is busy supporting normalcy biases or fear (as needed) via images and symbols. Images and symbols are necessary to maintain control of the mind while transmitting massive, encrypted data through the short hand of symbols.
The events of Nine-Eleven (leaving the numerology in the background) permitted a glitch in the Matrix, a deja-vu was noticed by the very sensitive, the Matrix was updating the stage to facilitate the globalists. Unlike other false flag events throughout history however, Nine-One-One happened in a time of technology benefiting the global media. The global media, being controlled by the same people that perpetrated the crimes, provided the globalist with an unprecedented opportunity to reach the minds of Americans and the world in a realtime televised ritualistic mass murder. Murder, being one of the ways the globalist maintain control over Americans (as needed), the globalists were signaling a change in the Matrix to include tighter control of Americans (the new security, police state.) Tighter control that would require cooperation from Americans to achieve. American cooperation was secured using hypnosis and trauma based mind control. The events of Nine-One-One were orchestrated to move the globalists to the next level of their long term plan.
ONE WORLD, ONE STAGE
For decades awake Americans and others have put together the pieces forming a story that told of the controllers, the globalists, destroying the world's social structures, reducing populations and reforming a unified global society taking the form of communism or some similar socio-political-economic top loaded tyranny. Communism and its collective cousins are pseudo economic and socio-political systems invented by the globalist as tools to manipulate minds into cooperating with their own enslavement.
The globalists, it seems, are not happy controlling nations while raping and robbing the people through deception. The globalists have a higher goal, the goal of ruling the world outright, not through deception but through outright tyranny. Perhaps the globalists tire of ruling by deception, only able to tell their story through predictive programming and the works of obscure minions given tidbits of inside information.
Regardless of the reasons, the globalists are moving quickly now to complete their prison planet. In fact it is critical to finish their handy work now because many people are waking up, unplugging and noticing the real world. It's also critical to finish now because the universe is waking up and the sun and the earth are responding with changes of their own.
You see the globalists know Americans, armed with the vestiges of a philosophy supporting right to life, a philosophy that supports individuals living their own life as a means to their own ends, still have an opportunity to change the script.
Americans are also armed with the necessary weapons to take back control of the nation by throwing out the Federists and arresting globalists where ever they may be.
But the clock is running, tick tock, the next change in the Matrix is coming and this time Americans will be traumatized into cooperating with their own disarming.
Nine-Eleven AS A STAGED MEGA RITUAL AND THE FINAL AMERICAN STAGED EVENT 
I mentioned above that our controllers have an obsessive interest in esoteric occulted symbols, numerology, astrology and religious ritual.
Take a stroll around Washington DC looking for occult and ancient religious symbols. See if you can spot Egyptian or Roman gods. Have a good look at the Statue of Liberty, see if you can identify lady Liberty as someone else from ancient occult history. Investigations into the world of Freemasonry and Babylonian cults will expose many overlaps. For fun explore the beginnings of the Mormon religion or the church of Scientology. The world of religion is comprised of symbols and secrets and is an ancient system of mind control. And, as I have said, mind control is even easier when you own the media, schools, churches, energy, money and military.
I have recently read a book by S.K. Bain entitled "The Most Dangerous Book on Earth: 9/11 as a mass ritual"
This is one of the best resources for understanding the occult and esoteric meanings and rituals associated with Nine-One-One. According to the author the entire hideous event was scripted with great attention to detail using ancient religions and occult symbols, numerology, deity worship and incantation.
In this well researched analysis of the scripting of Nine-Eleven, Bain describes the event as having an opening ceremony followed by a declaration asserting the ritual was to worship a deity, followed by incantation identifying the deity and then worship including sacrifices, and finally closing ceremonies. A modern MEGA occult ritual played out, including mocking those that could not see or recognize the event, while doing a hat tip to Aleister Crowley – all done in plain view and transmitted via television around the world.
The point of bringing this to your attention is that Bain makes a good argument, and so do many others in his documented research and elsewhere, that Nine-One-One was planned many decades, if not centuries in advance. Information detailing the extent to which the controllers scripted Nine-Eleven is startling even to those of us that have been awake for some time. For many readers this may be hard to accept, but I recommend you clear your mind of accepted beliefs and begin your research.
The second part of the book is what Bain calls 'Predictive Fiction' wherein, using information learned by decoding the events of Nine-One-One and noting the props placed on the stage of life in advance to be ready for use in the MEGA ritual (recent ritualistic mass murders), he makes a prediction that the MEGA ritual which had its origins long before Nine-One-One, and included the deaths of over 3000 people on September 11, 2001, has not ended.
Using the literary tool of telling a story after the events of the story happened (in advance of the actual events in reality) , Bain follows his line reasoning from investigating Nine-One-One and leads us to the conclusion the next step and the conclusion of the events witnessed on September 11, 2001 will culminate in the nuclear destruction of downtown Phoenix, Arizona on the religiously and astrologically significant date of December 25, 2012. The MEGA ritual concluding as the beginning of the NEW GREAT AGE begins with the start of the next 26,000 year solar cycle around the milky way.
Conclusions and implications drawn in the book are shocking and follow the facts, as they are known to date, including information on recent and related ritualist public sacrifices in Arizona, allegedly by lone gunman Jared Lee Loughner, and Colorado, the 'Batman' shooting, allegedly done by lone gunman James Holmes; sacrifices that foreshadow the Christmas day event.
KNOCK KNOCK
Events in the world and especially in America are telegraphing something big is coming soon. This all leading up to something and If I'm correct, the clues are already in place, props and propaganda are taking shape in the Matrix.
For Americans, like Neo in the Matrix, it means waking up and reading the writing on the screen. We have an exponentially rising police state growing before our eyes. Men, machines and assets are being deployed at rate greater than population growth. Military is actively participating in police duties, cities are seeing full scale military drills including jets and helicopters. The Federists are buying hollow point ammunition in quantities not required except for all out war; ammunition that has no other purpose than killing. The Federists are purchasing MREs, coffins, death certificates, building prison camps and announcing kill lists. The Federists by decree have announced they can do roundups of Americans for detention and disappearing with no due process. The Federists are arming drug gangs in Mexico and America and have opened the border with Mexico for entry by hoards of non American Citizens for purposes of causing stress, chaos and racial strife.
Further indications that something big is planned is the outrageous growth of the TSA. The Transportation Safety Agency was originally part of the department of Transportation, but it did not stay there long. In 2003 the TSA was assimilated by the Soviet sounding (legitimizing and acknowledging the communist system the globalists installed in Russian after 1917) Department of Homeland Security. The TSA originally were badge-less bag checking public servants assigned as ancillary security helpers in airport baggage areas. But after 2003, the agency took on its primary role which has nothing to do with the safety of transportation. The TSA is clearly only a Tyranny Support Asset and is part of security theatre creating false fear in the minds of travelers and traumatizing travelers by groping, sexual assault, theft and verbal abuse. Clearly we are being conditioned to associate fear and pain with travel, and unqualified thugs in blue shirts and tin badges.
As far as security is concerned, the TSA obviously is not charged with or concerned about traveling security. The TSA has no skin in the game of transportation (unlike the airlines or airports) and deliberately employes some of the poorest personality types from the lowest walks of life. Theft, sexual assault and more by TSA agents is rampant, begging the question, how could you trust a TSA agent to protect you from outside criminals when crime is rampant on the inside.
The TSA is a cancer on commercial air travel ( and now moving into the train stations, bus stations, malls and highways) and using them for security is akin to Rolling Stones management hiring the Hells Angels to provide security for the concert in Altamont Park in the winter of 1969. According to Wikipedia "Although peaceful at first, over the course of the day, the mood of both the crowd and the Angels became progressively agitated, intoxicated and violent."
The point is there have been no terrorists, except those admittedly created and deployed by the FBI and intelligence agencies but yet the number of TSA employees has tripled since 2003, from over 16000 to now over 50000.
This agency has never thwarted a single terror plot, never captured a single terrorist and the very best you can say is the airline industry is still surviving despite the TSA. Therefore one might ask is there more to the TSA story than transportation security theatre. Perhaps the TSA is being grown to fill the responsibility of supporting a full on tyranny, where the real function will be to support the tyranny via arrests, documents processing, impeding travel, searching for valuables (under currency controls) and disappearing marked targets.
Perhaps the TSA is being grown for some new event, forming on the stage now, but out of site. After all, at this growth rate the TSA will soon be the size of a small army – yet with nothing productive to do.
What is it going to take to get past the trauma based mind control of Nine-One-One so that Americans can start resisting now. When the weapons are confiscated, America's chances of stopping the tyranny will have been confiscated as well. 
WHAT CAN BE DONE
If we had been able to read something like "The Most Dangerous Book in the World" sometime prior to Nine-One-One, we could have started watching and looking for signs the script writers were placing props and propaganda into the 'Matrix' and, possibly, in pointing out the props and propaganda, we may have been able to stop the event. We might have seen the World Trade centers being prepared for destruction. We may have noticed the outrageous number of financial bets placed against business and airlines involved with the event (insider trading). Flight control center operators and military strategists may have notice the unusual number of exact scenario 'drills' planned for that particular day.
Fortunately we can read the book now, and, even if nothing happens on Christmas day (hopefully), we can all start watching and paying more attention to the stage and the changes in the Matrix.
For example, remembering who the Federists are and globalists control the media, then everything presented in the media must be constantly analyzed for propaganda.
For example the religious media is telling Americans that Iran is a boogie man and Israel must be protected at all costs. This mantra is in support of a propaganda campaign to attack Iran going back more than 10 years. But now a ripple has hit the pond in support of this narrative from a slightly different angle, now we are beginning to hear about possible 'sleeper cells' of Iranians or Hezbollah or other Iran related groups hiding out in America. We are also being told by some alternative media that Iranian or Hezbollah troops may be massing in Mexico or Belize preparing to infiltrate the country via the unprotected borders.
This narrative could be used as a tool for assigning blame after a nuclear attack on an American city via some technology, which by the way could only be created and built by the Federists or globalists, such as a portable nuclear bombs. For the record Iran/Persia has a history of self reliance and non aggression; a nation, ironically, being encircled by warring, aggressive nations claiming Iran is destabilizing the peace in the region. See my article "Iranian Hostage Crisis: Reloaded" for more information regarding Iran.
Globalist misinformation and disinformation usually carries a signature of being opposite of the truth. Remember the Federists tell Americans that al-Qaeda is responsible for Nine-One-One, but Federists in league with NATO and United Nations fund and deploy al-Qaeda to destabilize Middle Eastern and Arab nations.
If an American city is being targeted for a nuclear bomb, there may be other props noticeable by Americans. Now is the time to start looking and reporting.
I recommend buying and reading "The Most Dangerous Book in the World" and do so before Christmas. The in-your-face mockery of the globalists is over the top and the time has come to wake up and route them out.
Bain wonders how the names of Obama and Osama and Saddam Hussein and Barack Hussein can all be so similar. In the name Osama Bin Laden is the name Obama or the name Biden. Inside the name Barack Hussein Obama is the sentence "Amen Ra is Back BHO USA" Is this just an accident ? I firmly believe that accidents are very unlikely in this highly controlled Matrix.
As individuals we do not have to consent to tyranny and rule by occult loving psychopaths. Passive aggression and deliberate peaceful non compliance is possible by anyone ready and willing to work for the end of this madness. The time is now:
Tell People,
• Get vocal at local and state government events and meetings,
• Get your money out of the globalists banks and keep your savings in physical silver and gold and long term food and guns and ammo,
• Move to states that seem to be organizing against this tyranny,
• Withhold consent and support for the system by getting off the grid,
• Support the second amendment, learn to shoot, talk about guns, support second amendment organizations,
• Turn off the TV,
• Stop buying products from globalists companies when possible,
• Grow a garden,
• Oppose agenda 21 any chance you get,
• Create new products and service in the privacy protection market,
• Create new products and services in the home off the grid market,
• If you are teacher, reverse indoctrinate your students, help wake them up,
• If you work for the "defense" industry, find other work,
• If you are a cop or in the military check out Oath Keepers,
• Stop supporting the war on drugs,
• Oppose the militarization of your Sheriff and Police departments,
• Film and post to youtube signs of tyranny,
• Stop answering questions, when silence will do,
• Learn about the law and your rights,
• Exercise and eat right,
• Learn a martial art,
• Stop supporting the system, do not seek help from the state or government, learn to solve your own problems, including domestic problems,
• Get off prescription medicine, alternative medicine has remedy for nearly everything,
• Support food markets selling organic,
• Ask your local food stores to stock organic,
• Oppose Fluoride in your water, even if no one listens,
• Learn more about yourself and your own power.
Stand up now before gun confiscation leads to a false flag civil war.
Source:  Jack Mullen | RedIceCreations.com
A mass exodus from ignorance and organized opposition to tyranny is the dream of every freedom loving person within the Liberty Movement today.  We would like nothing better than to put an end to the expanding establishment police state in the most peaceful manner possible.  We dream of a day when a transition back to the Constitutional values that once made America brilliantly unique in the world is possible, and can be accomplished without incredible pain or terrible bloodshed.  We long for that once-in-a-century uprising, that great march, that spontaneous eruption of the citizenry demanding a more truthful government.  At the same time, though, we realize that such events are rare, and few if any great changes in the history of man are made without sacrifice, and without direct confrontation.
The reason why peaceful and popular activism almost never occurs successfully, the reason why good people are made to stand and suffer, falls not only to the establishment elites who seek out and abuse power; there are others who share in the blame.  Regardless of the age, the culture, or the social conditions, there is ALWAYS a percentage of the general populace that embraces the totalitarian dynamic.  There is always someone in our neighborhood, in our workplace, and within our family that finds vindication or advantage in supporting the state, even if the state has turned viciously criminal.  They are not only useful idiots; they are conscious participants in the process of pacification and enslavement of their own society.  They understand their role perfectly, and they enjoy what they do.
The psychologist Carl Jung in his examination of the rise of violent fascism in Germany as well as the collectivist surveillance state in communist Russia theorized that there is in fact a certain percentage of people in any given epoch that carry within them a latent ability to abandon conscience.  That is to say, there is always hidden within a portion of the multitude an inborn potential for sociopathic and psychopathic tendencies.  These tendencies remain dormant for many under most circumstances, but every once in a while a society falters to the point where such diseases of the soul are encouraged, and the monsters in millions are allowed to come out and play.
Is it possible that some men are more apt towards truth and freedom while others take more naturally to dominance and deceit?  Perhaps.  I find that under certain circumstances even the best human beings can make catastrophic errors in judgment.  However, there is a difference between those who misstep in life, and those who savor destruction.  For these people I reserve the label of the "statist thug"; a ghoul in common man's drag just waiting for the opportunity to scrape out a spoonful of petty authority and assert his will over others.  These folks are the day's damned.  And what's worse; though they may have been born with a predisposition towards despotism, they still had a choice, and they chose villainy.  They deserve no special treatment and no quarter from us.
As America faces down wave after wave of fiscal difficulties, a government gone rogue with false left/right politics, and policies that disregard civil liberties for the sake of centralized authority, I believe the statist thugs of our time will soon flow out of the dark recesses and rotten sputtering gutters of our society like a river of septic putrescence.  We all know them when we see them, but do we really understand what makes them tick?  Here are some common psychological attributes of the overzealous statist; the failings and inadequacies that make him what he is…
Statist Thugs Thrive During Immoral Times
The worst statists are utter screw-ups and failures in normal or semi-normal environments.  They barely have the ability to function without constant surrounding chaos and desperation which they use to camouflage their spastic and childish characters.  They are often seen as the dregs of a culture during peaceful years, and only climb to prominence when crisis overtakes the nation.  When a social environment turns tenuous or explosive, the statist excels.  Corrupt governments require the aid of questionable individuals in order to tighten control at the local level, and so anyone willing to set aside morality and principle automatically becomes a highly valued commodity.  Statists will flock to government employment during national "emergencies" or unjust wars, and use the inbred system to their advantage.
Statist Thugs Want Respect, Even If They Don't Deserve It
Statists demand respect, and they will pursue authoritative positions just so they can remind people of the respect they are supposedly owed.  Some of them do realize that legitimate respect is earned through valuable works, knowledge, experience, and generous creativity.  They know it cannot be bought, and that it cannot be conned through clever talk, boastful discussion, and theatrical chest beating.  And so, instead of attempting real achievement, or taking the risk of falsely playing a part and being exposed, they look for a title and a uniform to fill the void.  They eventually attain respect derived by force through institutions within the system.  This title will likely be a miniscule part of the overall government conglomerate, but the statist will act as if he is the emperor of Earth once you wander into his narrow jurisdiction.  The slightest hint of defiance will send him into fits of rage.
Statist Thugs Only Understand Violence
Keep in mind that not every person in a uniform is a statist, and identifying them is more a matter of behavior than outward appearance.  There is no such thing as reason, logic, or even law in the realm of the statist thug.  You cannot discuss a matter of conflict with him.  You cannot point out that the legal structure he claims to represent does not support his views.  You cannot calm him using words and solid philosophy.  The only thing he understands is power, and the only thing that he regards is strength.  When faced with overwhelming reason, the statist will attack rather than think.  This attack, unfortunately, will only be silenced by an equal or greater display of force…
Statist Thugs Savor Weakness In Others
Show any signs of fear or weakness and you have given the statist exactly what he has always wanted.  He does not desire an equal fight.  In truth, he avoids situations in which his opponents are fairly matched.  This is because, deep down, all statists and power monger are cowards.  Anyone who is so desperate to control every aspect of his environment even to the point of hurting and enslaving others is obviously afraid of a great many things.  Attempting to be quietly diplomatic or grasping for mercy only encourages them to take their maliciousness to the next level.  Statists seek easy prey to satiate their thirst for dominance.  They will abuse women, children, the elderly and disabled, anyone that cannot defend themselves.  As soon as the goon encounters a person willing and able to fight back, however, his smug façade disappears and the hidden coward emerges.

Statist Thugs Love Law For The Law's Sake
Statists revel in bureaucracy and red tape.  They love laws and regulations regardless of application.  They feel safe within a highly structured and contained system because most of them are followers, not leaders.  The idea that they may one day have to blaze their own path without the aid of a vast government machine cradling them like lost infants is terrifying to them.  Statists are not able to survive without someone telling them what to do and when to do it.  On the other side of the coin, they also enjoy the manner in which the modern legal framework can be twisted to fit whatever disturbed logic happens to strike them.  The more a society is cluttered with overt legalities, the easier it is to misinterpret and exploit the distraction and confusion they create.

Statists Believe Government Should Parent Society
The goal of a statist is to impress his will upon others by any means necessary.  Government simply offers the most expedient and convenient tool for them to do the job.  Of course, in their minds many of them will try to rationalize the abuse of government power by asserting that it is ultimately for the good of everyone.  It is not enough for them to live life the way they see fit for themselves; all people must be "shown the light" for the betterment of the group as a whole.  When confronted with someone who dissents against their oppressive world view, they usually respond by accusing the activist of "not caring about other people's well being, or the well being of the country".   You will almost always hear the Statist talk about the group, or the collective, over the individual, because the easiest way to dominate the citizenry is to erase the concept of unique individualism and condition them towards herd behavior.  Individuals with strong characters infuriate statists.

Anyone Can Be A Statist
Many people (myself included) have never found much solace in the establishment and its parade of self-importance.  For me, most methodologies of government have always been a sick kind of joke.  Elaborate buildings and ceremonies, nice suits and uniforms, the money and the celebrity, the news shows and talking heads; it's all costume.  It's a parade of drunken clowns and carneys dipped in glamour and glitter and pomp.
The very concept of government is in itself an abstraction.  It is an artificial social edifice that seems to give weaker men a sense of security (or false security), even when it is at bottom a threat to them.  The assumption is that the establishment (meaning the power elite) must exist at all costs.  The statist cannot imagine otherwise.  He is at once a fan of the totalitarian game and an avid bouncing giggling cheerleader.  His greatest dream is to be a part of the beast; to share in the "glory" of the empire and live vicariously through its conquests.
A statist thug can be anyone, from the overweight and overzealous TSA agent at the airport to the brutally nosy and vicious old lady next door.  Some participate in tyranny directly by wearing the uniform and wielding the baton, while others participate behind closed doors and curtains by informing on their neighbors.  Regardless of their demeanor, each statist has one thing in common; an obsession with the continuance of the system to the point of madness.  There is absolutely nothing the state can do to make them second guess their love affair.  No crime too shocking,no attack too unjust.  During the blackest moments of mankind, they are the willing tools of oppression.  They make revolution – physical revolution, necessary.  With them, oligarchs take root.  Without them, oligarchs take shelter, or disappear altogether.
Source: Brandon Smith | Alt-Market
This may well be the last time I speak on the House Floor. At the end of the year I'll leave Congress after 23 years in office over a 36-year period. My goals in 1976 were the same as they are today: promote peace and prosperity by a strict adherence to the principles of individual liberty.
It was my opinion, that the course the U.S. embarked on in the latter part of the 20th Century would bring us a major financial crisis and engulf us in a foreign policy that would overextend us and undermine our national security.
To achieve the goals I sought, government would have had to shrink in size and scope, reduce spending, change the monetary system, and reject the unsustainable costs of policing the world and expanding the American Empire.
The problems seemed to be overwhelming and impossible to solve, yet from my view point, just following the constraints placed on the federal government by the Constitution would have been a good place to start.


How Much Did I Accomplish?
In many ways, according to conventional wisdom, my off-and-on career in Congress, from 1976 to 2012, accomplished very little. No named legislation, no named federal buildings or highways – thank goodness. In spite of my efforts, the government has grown exponentially, taxes remain excessive, and the prolific increase of incomprehensible regulations continues. Wars are constant and pursued without Congressional declaration, deficits rise to the sky, poverty is rampant and dependency on the federal government is now worse than any time in our history.
All this with minimal concerns for the deficits and unfunded liabilities that common sense tells us cannot go on much longer. A grand, but never mentioned, bipartisan agreement allows for the well-kept secret that keeps the spending going. One side doesn't give up one penny on military spending, the other side doesn't give up one penny on welfare spending, while both sides support the bailouts and subsidies for the banking and corporate elite. And the spending continues as the economy weakens and the downward spiral continues. As the government continues fiddling around, our liberties and our wealth burn in the flames of a foreign policy that makes us less safe.
The major stumbling block to real change in Washington is the total resistance to admitting that the country is broke. This has made compromising, just to agree to increase spending, inevitable since neither side has any intention of cutting spending.
The country and the Congress will remain divisive since there's no "loot left to divvy up."
Without this recognition the spenders in Washington will continue the march toward a fiscal cliff much bigger than the one anticipated this coming January.
I have thought a lot about why those of us who believe in liberty, as a solution, have done so poorly in convincing others of its benefits. If liberty is what we claim it is- the principle that protects all personal, social and economic decisions necessary for maximum prosperity and the best chance for peace- it should be an easy sell. Yet, history has shown that the masses have been quite receptive to the promises of authoritarians which are rarely if ever fulfilled.
Authoritarianism vs. Liberty
If authoritarianism leads to poverty and war and less freedom for all individuals and is controlled by rich special interests, the people should be begging for liberty. There certainly was a strong enough sentiment for more freedom at the time of our founding that motivated those who were willing to fight in the revolution against the powerful British government.
During my time in Congress the appetite for liberty has been quite weak; the understanding of its significance negligible. Yet the good news is that compared to 1976 when I first came to Congress, the desire for more freedom and less government in 2012 is much greater and growing, especially in grassroots America. Tens of thousands of teenagers and college age students are, with great enthusiasm, welcoming the message of liberty.
I have a few thoughts as to why the people of a country like ours, once the freest and most prosperous, allowed the conditions to deteriorate to the degree that they have.
Freedom, private property, and enforceable voluntary contracts, generate wealth. In our early history we were very much aware of this. But in the early part of the 20th century our politicians promoted the notion that the tax and monetary systems had to change if we were to involve ourselves in excessive domestic and military spending. That is why Congress gave us the Federal Reserve and the income tax. The majority of Americans and many government officials agreed that sacrificing some liberty was necessary to carry out what some claimed to be "progressive" ideas. Pure democracy became acceptable.
They failed to recognized that what they were doing was exactly opposite of what the colonists were seeking when they broke away from the British.
Some complain that my arguments makes no sense, since great wealth and the standard of living improved for many Americans over the last 100 years, even with these new policies.
But the damage to the market economy, and the currency, has been insidious and steady. It took a long time to consume our wealth, destroy the currency and undermine productivity and get our financial obligations to a point of no return. Confidence sometimes lasts longer than deserved. Most of our wealth today depends on debt.
The wealth that we enjoyed and seemed to be endless, allowed concern for the principle of a free society to be neglected. As long as most people believed the material abundance would last forever, worrying about protecting a competitive productive economy and individual liberty seemed unnecessary.
The Age of Redistribution
This neglect ushered in an age of redistribution of wealth by government kowtowing to any and all special interests, except for those who just wanted to left alone. That is why today money in politics far surpasses money currently going into research and development and productive entrepreneurial efforts.
The material benefits became more important than the understanding and promoting the principles of liberty and a free market. It is good that material abundance is a result of liberty but if materialism is all that we care about, problems are guaranteed.
The crisis arrived because the illusion that wealth and prosperity would last forever has ended. Since it was based on debt and a pretense that debt can be papered over by an out-of-control fiat monetary system, it was doomed to fail. We have ended up with a system that doesn't produce enough even to finance the debt and no fundamental understanding of why a free society is crucial to reversing these trends.
If this is not recognized, the recovery will linger for a long time. Bigger government, more spending, more debt, more poverty for the middle class, and a more intense scramble by the elite special interests will continue.
We Need an Intellectual Awakening
Without an intellectual awakening, the turning point will be driven by economic law. A dollar crisis will bring the current out-of-control system to its knees.
If it's not accepted that big government, fiat money, ignoring liberty, central economic planning, welfarism, and warfarism caused our crisis we can expect a continuous and dangerous march toward corporatism and even fascism with even more loss of our liberties. Prosperity for a large middle class though will become an abstract dream.
This continuous move is no different than what we have seen in how our financial crisis of 2008 was handled. Congress first directed, with bipartisan support, bailouts for the wealthy. Then it was the Federal Reserve with its endless quantitative easing. If at first it doesn't succeed try again; QE1, QE2, and QE3 and with no results we try QE indefinitely – that is until it too fails. There's a cost to all of this and let me assure you delaying the payment is no longer an option. The rules of the market will extract its pound of flesh and it won't be pretty.
The current crisis elicits a lot of pessimism. And the pessimism adds to less confidence in the future. The two feed on themselves, making our situation worse.
If the underlying cause of the crisis is not understood we cannot solve our problems. The issues of warfare, welfare, deficits, inflationism, corporatism, bailouts and authoritarianism cannot be ignored. By only expanding these policies we cannot expect good results.
Everyone claims support for freedom. But too often it's for one's own freedom and not for others. Too many believe that there must be limits on freedom. They argue that freedom must be directed and managed to achieve fairness and equality thus making it acceptable to curtail, through force, certain liberties.
Some decide what and whose freedoms are to be limited. These are the politicians whose goal in life is power. Their success depends on gaining support from special interests.
No More 'isms'
The great news is the answer is not to be found in more "isms." The answers are to be found in more liberty which cost so much less. Under these circumstances spending goes down, wealth production goes up, and the quality of life improves.
Just this recognition – especially if we move in this direction – increases optimism which in itself is beneficial. The follow through with sound policies are required which must be understood and supported by the people.
But there is good evidence that the generation coming of age at the present time is supportive of moving in the direction of more liberty and self-reliance. The more this change in direction and the solutions become known, the quicker will be the return of optimism.
Our job, for those of us who believe that a different system than the one that we have had for the last 100 years, has driven us to this unsustainable crisis, is to be more convincing that there is a wonderful, uncomplicated, and moral system that provides the answers. We had a taste of it in our early history. We need not give up on the notion of advancing this cause.
It worked, but we allowed our leaders to concentrate on the material abundance that freedom generates, while ignoring freedom itself. Now we have neither, but the door is open, out of necessity, for an answer. The answer available is based on the Constitution, individual liberty and prohibiting the use of government force to provide privileges and benefits to all special interests.
After over 100 years we face a society quite different from the one that was intended by the Founders. In many ways their efforts to protect future generations with the Constitution from this danger has failed. Skeptics, at the time the Constitution was written in 1787, warned us of today's possible outcome. The insidious nature of the erosion of our liberties and the reassurance our great abundance gave us, allowed the process to evolve into the dangerous period in which we now live.

Dependency on Government Largesse
Today we face a dependency on government largesse for almost every need. Our liberties are restricted and government operates outside the rule of law, protecting and rewarding those who buy or coerce government into satisfying their demands. Here are a few examples:
Undeclared wars are commonplace.
Welfare for the rich and poor is considered an entitlement.
The economy is overregulated, overtaxed and grossly distorted by a deeply flawed monetary system.
Debt is growing exponentially.
The Patriot Act and FISA legislation passed without much debate have resulted in a steady erosion of our 4th Amendment rights.
Tragically our government engages in preemptive war, otherwise known as aggression, with no complaints from the American people.
The drone warfare we are pursuing worldwide is destined to end badly for us as the hatred builds for innocent lives lost and the international laws flaunted. Once we are financially weakened and militarily challenged, there will be a lot resentment thrown our way.
It's now the law of the land that the military can arrest American citizens, hold them indefinitely, without charges or a trial.
Rampant hostility toward free trade is supported by a large number in Washington.
Supporters of sanctions, currency manipulation and WTO trade retaliation, call the true free traders "isolationists."
Sanctions are used to punish countries that don't follow our orders.
Bailouts and guarantees for all kinds of misbehavior are routine.
Central economic planning through monetary policy, regulations and legislative mandates has been an acceptable policy.
Questions
Excessive government has created such a mess it prompts many questions:
Why are sick people who use medical marijuana put in prison?
Why does the federal government restrict the drinking of raw milk?
Why can't Americans manufacturer rope and other products from hemp?
Why are Americans not allowed to use gold and silver as legal tender as mandated by the Constitution?
Why is Germany concerned enough to consider repatriating their gold held by the FED for her in New York? Is it that the trust in the U.S. and dollar supremacy beginning to wane?
Why do our political leaders believe it's unnecessary to thoroughly audit our own gold?
Why can't Americans decide which type of light bulbs they can buy?
Why is the TSA permitted to abuse the rights of any American traveling by air?
Why should there be mandatory sentences – even up to life for crimes without victims – as our drug laws require?
Why have we allowed the federal government to regulate commodes in our homes?
Why is it political suicide for anyone to criticize AIPAC ?
Why haven't we given up on the drug war since it's an obvious failure and violates the people's rights? Has nobody noticed that the authorities can't even keep drugs out of the prisons? How can making our entire society a prison solve the problem?
Why do we sacrifice so much getting needlessly involved in border disputes and civil strife around the world and ignore the root cause of the most deadly border in the world-the one between Mexico and the US?
Why does Congress willingly give up its prerogatives to the Executive Branch?
Why does changing the party in power never change policy? Could it be that the views of both parties are essentially the same?
Why did the big banks, the large corporations, and foreign banks and foreign central banks get bailed out in 2008 and the middle class lost their jobs and their homes?
Why do so many in the government and the federal officials believe that creating money out of thin air creates wealth?
Why do so many accept the deeply flawed principle that government bureaucrats and politicians can protect us from ourselves without totally destroying the principle of liberty?
Why can't people understand that war always destroys wealth and liberty?
Why is there so little concern for the Executive Order that gives the President authority to establish a "kill list," including American citizens, of those targeted for assassination?
Why is patriotism thought to be blind loyalty to the government and the politicians who run it, rather than loyalty to the principles of liberty and support for the people? Real patriotism is a willingness to challenge the government when it's wrong.
Why is it is claimed that if people won't or can't take care of their own needs, that people in government can do it for them?
Why did we ever give the government a safe haven for initiating violence against the people?
Why do some members defend free markets, but not civil liberties?
Why do some members defend civil liberties but not free markets? Aren't they the same?
Why don't more defend both economic liberty and personal liberty?
Why are there not more individuals who seek to intellectually influence others to bring about positive changes than those who seek power to force others to obey their commands?
Why does the use of religion to support a social gospel and preemptive wars, both of which requires authoritarians to use violence, or the threat of violence, go unchallenged? Aggression and forced redistribution of wealth has nothing to do with the teachings of the world great religions.
Why do we allow the government and the Federal Reserve to disseminate false information dealing with both economic and foreign policy?
Why is democracy held in such high esteem when it's the enemy of the minority and makes all rights relative to the dictates of the majority?
Why should anyone be surprised that Congress has no credibility, since there's such a disconnect between what politicians say and what they do?
Is there any explanation for all the deception, the unhappiness, the fear of the future, the loss of confidence in our leaders, the distrust, the anger and frustration? Yes there is, and there's a way to reverse these attitudes. The negative perceptions are logical and a consequence of bad policies bringing about our problems. Identification of the problems and recognizing the cause allow the proper changes to come easy.
Trust Yourself, Not the Government
Too many people have for too long placed too much confidence and trust in government and not enough in themselves. Fortunately, many are now becoming aware of the seriousness of the gross mistakes of the past several decades. The blame is shared by both political parties. Many Americans now are demanding to hear the plain truth of things and want the demagoguing to stop. Without this first step, solutions are impossible.
Seeking the truth and finding the answers in liberty and self-reliance promotes the optimism necessary for restoring prosperity. The task is not that difficult if politics doesn't get in the way.
We have allowed ourselves to get into such a mess for various reasons.
Politicians deceive themselves as to how wealth is produced. Excessive confidence is placed in the judgment of politicians and bureaucrats. This replaces the confidence in a free society. Too many in high places of authority became convinced that only they, armed with arbitrary government power, can bring about fairness, while facilitating wealth production. This always proves to be a utopian dream and destroys wealth and liberty. It impoverishes the people and rewards the special interests who end up controlling both political parties.
It's no surprise then that much of what goes on in Washington is driven by aggressive partisanship and power seeking, with philosophic differences being minor.
Economic Ignorance
Economic ignorance is commonplace. Keynesianism continues to thrive, although today it is facing healthy and enthusiastic rebuttals. Believers in military Keynesianism and domestic Keynesianism continue to desperately promote their failed policies, as the economy languishes in a deep slumber.
Supporters of all government edicts use humanitarian arguments to justify them.
Humanitarian arguments are always used to justify government mandates related to the economy, monetary policy, foreign policy, and personal liberty. This is on purpose to make it more difficult to challenge. But, initiating violence for humanitarian reasons is still violence. Good intentions are no excuse and are just as harmful as when people use force with bad intentions. The results are always negative.
The immoral use of force is the source of man's political problems. Sadly, many religious groups, secular organizations, and psychopathic authoritarians endorse government initiated force to change the world. Even when the desired goals are well-intentioned – or especially when well-intentioned – the results are dismal. The good results sought never materialize. The new problems created require even more government force as a solution. The net result is institutionalizing government initiated violence and morally justifying it on humanitarian grounds.
This is the same fundamental reason our government uses force for invading other countries at will, central economic planning at home, and the regulation of personal liberty and habits of our citizens.
It is rather strange, that unless one has a criminal mind and no respect for other people and their property, no one claims it's permissible to go into one's neighbor's house and tell them how to behave, what they can eat, smoke and drink or how to spend their money.
Yet, rarely is it asked why it is morally acceptable that a stranger with a badge and a gun can do the same thing in the name of law and order. Any resistance is met with brute force, fines, taxes, arrests, and even imprisonment. This is done more frequently every day without a proper search warrant.
No Government Monopoly over Initiating Violence
Restraining aggressive behavior is one thing, but legalizing a government monopoly for initiating aggression can only lead to exhausting liberty associated with chaos, anger and the breakdown of civil society. Permitting such authority and expecting saintly behavior from the bureaucrats and the politicians is a pipe dream. We now have a standing army of armed bureaucrats in the TSA, CIA, FBI, Fish and Wildlife, FEMA, IRS, Corp of Engineers, etc. numbering over 100,000. Citizens are guilty until proven innocent in the unconstitutional administrative courts.
Government in a free society should have no authority to meddle in social activities or the economic transactions of individuals. Nor should government meddle in the affairs of other nations. All things peaceful, even when controversial, should be permitted.
We must reject the notion of prior restraint in economic activity just we do in the area of free speech and religious liberty. But even in these areas government is starting to use a backdoor approach of political correctness to regulate speech-a dangerous trend. Since 9/11 monitoring speech on the internet is now a problem since warrants are no longer required.
The Proliferation of Federal Crimes
The Constitution established four federal crimes. Today the experts can't even agree on how many federal crimes are now on the books – they number into the thousands. No one person can comprehend the enormity of the legal system – especially the tax code. Due to the ill-advised drug war and the endless federal expansion of the criminal code we have over 6 million people under correctional suspension, more than the Soviets ever had, and more than any other nation today, including China. I don't understand the complacency of the Congress and the willingness to continue their obsession with passing more Federal laws. Mandatory sentencing laws associated with drug laws have compounded our prison problems.
The federal register is now 75,000 pages long and the tax code has 72,000 pages, and expands every year. When will the people start shouting, "enough is enough," and demand Congress cease and desist.
Achieving Liberty
Liberty can only be achieved when government is denied the aggressive use of force. If one seeks liberty, a precise type of government is needed. To achieve it, more than lip service is required.
Two choices are available.
A government designed to protect liberty – a natural right – as its sole objective. The people are expected to care for themselves and reject the use of any force for interfering with another person's liberty. Government is given a strictly limited authority to enforce contracts, property ownership, settle disputes, and defend against foreign aggression.
A government that pretends to protect liberty but is granted power to arbitrarily use force over the people and foreign nations. Though the grant of power many times is meant to be small and limited, it inevitably metastasizes into an omnipotent political cancer. This is the problem for which the world has suffered throughout the ages. Though meant to be limited it nevertheless is a 100% sacrifice of a principle that would-be-tyrants find irresistible. It is used vigorously – though incrementally and insidiously. Granting power to government officials always proves the adage that: "power corrupts."
Once government gets a limited concession for the use of force to mold people habits and plan the economy, it causes a steady move toward tyrannical government. Only a revolutionary spirit can reverse the process and deny to the government this arbitrary use of aggression. There's no in-between. Sacrificing a little liberty for imaginary safety always ends badly.
Today's mess is a result of Americans accepting option #2, even though the Founders attempted to give us Option #1.
The results are not good. As our liberties have been eroded our wealth has been consumed. The wealth we see today is based on debt and a foolish willingness on the part of foreigners to take our dollars for goods and services. They then loan them back to us to perpetuate our debt system. It's amazing that it has worked for this long but the impasse in Washington, in solving our problems indicate that many are starting to understand the seriousness of the world -wide debt crisis and the dangers we face. The longer this process continues the harsher the outcome will be.
The Financial Crisis Is a Moral Crisis
Many are now acknowledging that a financial crisis looms but few understand it's, in reality, a moral crisis. It's the moral crisis that has allowed our liberties to be undermined and permits the exponential growth of illegal government power. Without a clear understanding of the nature of the crisis it will be difficult to prevent a steady march toward tyranny and the poverty that will accompany it.
Ultimately, the people have to decide which form of government they want; option #1 or option #2. There is no other choice. Claiming there is a choice of a "little" tyranny is like describing pregnancy as a "touch of pregnancy." It is a myth to believe that a mixture of free markets and government central economic planning is a worthy compromise. What we see today is a result of that type of thinking. And the results speak for themselves.
A Culture of Violence
American now suffers from a culture of violence. It's easy to reject the initiation of violence against one's neighbor but it's ironic that the people arbitrarily and freely anoint government officials with monopoly power to initiate violence against the American people – practically at will.
Because it's the government that initiates force, most people accept it as being legitimate. Those who exert the force have no sense of guilt. It is believed by too many that governments are morally justified in initiating force supposedly to "do good." They incorrectly believe that this authority has come from the "consent of the people." The minority, or victims of government violence never consented to suffer the abuse of government mandates, even when dictated by the majority. Victims of TSA excesses never consented to this abuse.
This attitude has given us a policy of initiating war to "do good," as well. It is claimed that war, to prevent war for noble purposes, is justified. This is similar to what we were once told that: "destroying a village to save a village" was justified. It was said by a US Secretary of State that the loss of 500,000 Iraqis, mostly children, in the 1990s, as a result of American bombs and sanctions, was "worth it" to achieve the "good" we brought to the Iraqi people. And look at the mess that Iraq is in today.
Government use of force to mold social and economic behavior at home and abroad has justified individuals using force on their own terms. The fact that violence by government is seen as morally justified, is the reason why violence will increase when the big financial crisis hits and becomes a political crisis as well.
First, we recognize that individuals shouldn't initiate violence, then we give the authority to government. Eventually, the immoral use of government violence, when things goes badly, will be used to justify an individual's "right" to do the same thing. Neither the government nor individuals have the moral right to initiate violence against another yet we are moving toward the day when both will claim this authority. If this cycle is not reversed society will break down.
When needs are pressing, conditions deteriorate and rights become relative to the demands and the whims of the majority. It's then not a great leap for individuals to take it upon themselves to use violence to get what they claim is theirs. As the economy deteriorates and the wealth discrepancies increase – as are already occurring – violence increases as those in need take it in their own hands to get what they believe is theirs. They will not wait for a government rescue program.
When government officials wield power over others to bail out the special interests, even with disastrous results to the average citizen, they feel no guilt for the harm they do. Those who take us into undeclared wars with many casualties resulting, never lose sleep over the death and destruction their bad decisions caused. They are convinced that what they do is morally justified, and the fact that many suffer just can't be helped.
When the street criminals do the same thing, they too have no remorse, believing they are only taking what is rightfully theirs. All moral standards become relative. Whether it's bailouts, privileges, government subsidies or benefits for some from inflating a currency, it's all part of a process justified by a philosophy of forced redistribution of wealth. Violence, or a threat of such, is the instrument required and unfortunately is of little concern of most members of Congress.
Some argue it's only a matter of "fairness" that those in need are cared for. There are two problems with this. First, the principle is used to provide a greater amount of benefits to the rich than the poor. Second, no one seems to be concerned about whether or not it's fair to those who end up paying for the benefits. The costs are usually placed on the backs of the middle class and are hidden from the public eye. Too many people believe government handouts are free, like printing money out of thin air, and there is no cost. That deception is coming to an end. The bills are coming due and that's what the economic slowdown is all about.
Sadly, we have become accustomed to living with the illegitimate use of force by government. It is the tool for telling the people how to live, what to eat and drink, what to read and how to spend their money.
To develop a truly free society, the issue of initiating force must be understood and rejected. Granting to government even a small amount of force is a dangerous concession.
Limiting Government Excesses vs. a Virtuous Moral People
Our Constitution, which was intended to limit government power and abuse, has failed. The Founders warned that a free society depends on a virtuous and moral people. The current crisis reflects that their concerns were justified.
Most politicians and pundits are aware of the problems we face but spend all their time in trying to reform government. The sad part is that the suggested reforms almost always lead to less freedom and the importance of a virtuous and moral people is either ignored, or not understood. The new reforms serve only to further undermine liberty. The compounding effect has given us this steady erosion of liberty and the massive expansion of debt. The real question is: if it is liberty we seek, should most of the emphasis be placed on government reform or trying to understand what "a virtuous and moral people" means and how to promote it. The Constitution has not prevented the people from demanding handouts for both rich and poor in their efforts to reform the government, while ignoring the principles of a free society. All branches of our government today are controlled by individuals who use their power to undermine liberty and enhance the welfare/warfare state-and frequently their own wealth and power.
If the people are unhappy with the government performance it must be recognized that government is merely a reflection of an immoral society that rejected a moral government of constitutional limitations of power and love of freedom.
If this is the problem all the tinkering with thousands of pages of new laws and regulations will do nothing to solve the problem.
It is self-evident that our freedoms have been severely limited and the apparent prosperity we still have, is nothing more than leftover wealth from a previous time. This fictitious wealth based on debt and benefits from a false trust in our currency and credit, will play havoc with our society when the bills come due. This means that the full consequence of our lost liberties is yet to be felt.
But that illusion is now ending. Reversing a downward spiral depends on accepting a new approach.
Expect the rapidly expanding homeschooling movement to play a significant role in the revolutionary reforms needed to build a free society with Constitutional protections. We cannot expect a Federal government controlled school system to provide the intellectual ammunition to combat the dangerous growth of government that threatens our liberties.
The internet will provide the alternative to the government/media complex that controls the news and most political propaganda. This is why it's essential that the internet remains free of government regulation.
Many of our religious institutions and secular organizations support greater dependency on the state by supporting war, welfare and corporatism and ignore the need for a virtuous people.
I never believed that the world or our country could be made more free by politicians, if the people had no desire for freedom.
Under the current circumstances the most we can hope to achieve in the political process is to use it as a podium to reach the people to alert them of the nature of the crisis and the importance of their need to assume responsibility for themselves, if it is liberty that they truly seek. Without this, a constitutionally protected free society is impossible.
If this is true, our individual goal in life ought to be for us to seek virtue and excellence and recognize that self-esteem and happiness only comes from using one's natural ability, in the most productive manner possible, according to one's own talents.
Productivity and creativity are the true source of personal satisfaction. Freedom, and not dependency, provides the environment needed to achieve these goals. Government cannot do this for us; it only gets in the way. When the government gets involved, the goal becomes a bailout or a subsidy and these cannot provide a sense of personal achievement.
Achieving legislative power and political influence should not be our goal. Most of the change, if it is to come, will not come from the politicians, but rather from individuals, family, friends, intellectual leaders and our religious institutions. The solution can only come from rejecting the use of coercion, compulsion, government commands, and aggressive force, to mold social and economic behavior. Without accepting these restraints, inevitably the consensus will be to allow the government to mandate economic equality and obedience to the politicians who gain power and promote an environment that smothers the freedoms of everyone. It is then that the responsible individuals who seek excellence and self-esteem by being self-reliance and productive, become the true victims.

Conclusion
What are the greatest dangers that the American people face today and impede the goal of a free society? There are five.

1. The continuous attack on our civil liberties which threatens the rule of law and our ability to resist the onrush of tyranny.
2. Violent anti-Americanism that has engulfed the world. Because the phenomenon of "blow-back" is not understood or denied, our foreign policy is destined to keep us involved in many wars that we have no business being in. National bankruptcy and a greater threat to our national security will result.
3. The ease in which we go to war, without a declaration by Congress, but accepting international authority from the UN or NATO even for preemptive wars, otherwise known as aggression.
4. A financial political crisis as a consequence of excessive debt, unfunded liabilities, spending, bailouts, and gross discrepancy in wealth distribution going from the middle class to the rich. The danger of central economic planning, by the Federal Reserve must be understood.
5. World government taking over local and US sovereignty by getting involved in the issues of war, welfare, trade, banking, a world currency, taxes, property ownership, and private ownership of guns.
Happily, there is an answer for these very dangerous trends.
What a wonderful world it would be if everyone accepted the simple moral premise of rejecting all acts of aggression. The retort to such a suggestion is always: it's too simplistic, too idealistic, impractical, naïve, utopian, dangerous, and unrealistic to strive for such an ideal.
Source: LewRockwell.com
It was obvious the election was going to be stolen months ago. Rove and company were pulling the same old tricks we have been watching since 2000 with the voting machines, 'de-registering' voters, and using phone calls to keep people away from the polls. It looked like a cakewalk for Karl.
Then reports started coming through the Voter Integrity mailing lists with reports of voters seeing their votes transferred, not just from Obama to Romney, but Romney to Obama. True? Who knows.
The jumping vote was exactly what Marilyn Blankenship of Dallas, Texas, reported happening when she tried to vote for the Libertarian candidate in 2004 instead of George W. The little mark, all on its own, finds the X Spot has been selected for them. Mrs. Blankenship protested vehemently for several years, to no avail.
From both sides the cheating started as both candidates ruthlessly destroyed the opposition from within their own party. Ron Paul was just the most visible example.
Did Obama design a strategy to ignore the popular vote, going for the Electoral College! Did it, too involve hacking? Who knows. Ol' Karl 's eyes probably bugged out. Our electoral process is dead either way.
Now it is kind of quiet. No one is happy. Those who were supporting Obama as the lesser of two evils can now consider how very bad the last four years have been. The lesser of two evils is still not a good deal.
Mike Adams, of Natural News predicts these events.
#1) Huge expansion of TSA and the surveillance state;
#2) Expansion of secret arrests of American citizens;
#3) Acceleration of national debt blowout and endless fiat currency creation;
#4) Rapid expansion of GMOs and USDA collusion;
#5) Increasingly dictatorial government health care;
#6) Immediate surge in sales of guns and ammo;
#7) Accelerated erosion of the Bill of Rights and civil liberties;
#8) Continued destruction and looting of the U.S. Economy;
#9) A "giant sucking sound" of employers leaving America;
#10) Stepped-up attacks on veterans and preppers.
There is really only one solution. We need to take back the vote to the most local level, voting on paper ballots which are counted openly and transparently at the precinct. People from all political viewpoints have traditionally done this routinely with no friction. Each precinct publishes to the Internet. We can count for ourselves.
It can be done. See you in 2016.
With the 2012 Presidential election just a few days away, it is almost superfluous for me to engage in any kind of in depth discussion, as most people cannot, for the life of them, get past the political theater that is currently crescendoing to a climax. Therefore, I will simply provide readers with a few passing thoughts regarding the elections next week.
I think Mitt Romney will somewhat comfortably win the Presidential election. This will cause "conservatives," Christians, and most Republicans to go into a state of deep hibernation, which will allow Romney to wreak havoc upon the Constitution and liberties of the people. In 2012, Barack Obama is the "Boogeyman" that must defeated at all costs. But the fact is, with the exception of Romney's more business-friendly approach to economics, the differences between Obama and Romney are negligible.
As I have noted in previous columns, the differences between Mitt Romney and Barack Obama are miniscule on virtually every salient issue. They both supported TARP; they both supported Obama's economic stimulus package; they both supported so-called assault weapons bans and other gun control measures; Obama has an "F" rating from Gun Owners of America, while Romney has a "D-" rating from GOA; neither man supports a balanced budget; neither man opposes foreign aid; they both supported the bailout of the auto industry; they both have a track record of being big spenders; they both fully support the Federal Reserve; they both oppose a full audit of the Fed; they are both supporters of universal health care; both men are showered with campaign contributions from Wall Street; neither of them wants to eliminate the IRS or the direct income tax; both men are on record as saying the TSA is doing a "great job"; they both supported the NDAA, including the indefinite detention of American citizens without due process of law; they both supported the renewal of the Patriot Act; they both believe that the President has "executive power" to assassinate and kill; both support the "free trade" agenda of the global elite; they are both soft on illegal immigration; they both support NAFTA and CAFTA; they both have a history of appointing liberal judges; they both believe the President has the authority to take the nation to war without the approval of Congress; and neither of them has any qualms about running up more public debt to the already gargantuan debt of 16 trillion dollars.
Judge Andrew Napolitano nailed it when he said, "Barack Obama loves Big Labor; Mitt Romney loves Big Business; but they both love Big Government."
Steve Baldwin (no relation) agrees. Steve is a former California State legislator and former Executive Director of the Council for National Policy. He said:
"As someone who was asked by one of the presidential candidates to investigate Romney's gubernatorial record, I can assure you there is little in Romney's background to suggest he will be a Reagan-type president willing to undertake bold action to save our economy and restore our culture. I know every bill he signed and every statement he made as Governor. I know who his appointees were and the liberal vision that governed his actions. As Massachusetts Governor, he sided with the big government types in every crisis he faced. Indeed, he repeatedly sold out constitutional rights–freedom of religion, the 2nd amendment, etc., every time he had the opportunity to do so.
"He raised taxes on the private sector, destroyed job creation when he implemented RomneyCare, and came out in support of amnesty for illegal aliens. Most of his judicial appointees were to the left of Obama's two appointments to the Supreme Court. As governor, he led the country in advancing three of the left's most sacred issues: Cap and Trade, socialized medicine and gay marriage. Romney even supported Obama's bailouts and the useless $8 billion stimulus. And he's hostile to the notion of engaging in serious budget cuts, telling one reporter, 'I'm not going to cut $1 trillion in the first year.'
"Let's not also forget that Romney's advisors actually met with Obama's advisors on a dozen occasions to assist them with designing ObamaCare! It's no surprise that Romney is refusing to call ObamaCare a tax, even though it's the largest middle class tax hike in American history. The reason for this is because, while governor, his RomneyCare plan–the model for ObamaCare–was attacked as a tax and he argued it wasn't.
"In other words, ObamaCare has been taken off the table as a campaign issue because Romney is afraid of being portrayed as a hypocrite for his past statements on this issue. This is reason number 167 why Romney should never have become our nominee.
"I don't care how his campaign portrays him today, his record as Governor is far more indicative of how he will govern than his campaign sound bites. If you're not familiar with what I am disclosing about Romney, it's because the truth about Romney was kept from Republican voters. Yes, the conservative movement sold out to Romney. Starting in 2004, Romney created a slew of PACS and foundations that funneled thousands of dollars to hundreds of conservative groups, think tanks, grass roots leaders and GOP entities.
"In return, many of these entities that normally would have attacked Romney during the presidential primary went silent or even promoted him. I've tracked all of Romney contributions to conservative and GOP groups and it's disgusting. It means that the leadership of our own conservative movement is up for the highest bidder and cannot be trusted to do the right thing. Even National Review, the nation's leading conservative publication, took money from Romney and for the last six years blocked all articles critical of Romney. Instead, they published a slew of articles portraying him to be a conservative superstar. It was all phony and I can prove it."
Even though Romney will promote at least 85% of the Obama agenda, conservatives have no fear or trepidation of Romney because he is a Republican, whereas Obama scares the pants off of them because he is a Democrat. Ah, don't you just love partisan politics?
Therefore, as I said, absent massive vote-fraud, Romney will be our next President. But he will do NOTHING to stem the tide of coming disaster. Romney will be a military hawk of the highest order. And while corporations doing business with the military-industrial complex will reap huge profits, America's continued foreign interventionism is going to bring us to the brink of World War III. Furthermore, it is the "we are at war" mantra that is used to justify a burgeoning police state in America, which Romney will enthusiastically continue to implement. And unlike the Democrat Barack Obama, the Republican Mitt Romney will have little resistance–except from a Democrat-controlled Senate.
Republicans will maintain control of the House of Representatives, which is probably a good thing; Democrats will probably control the Senate. Between the two, I had much rather have Republicans control the House, because trying to find honest-to-God freedomists among Republican US senators (you could count them on two hands) is like trying to find hen's teeth. Again, Romney isn't going to appoint freedomist judges anyway, so that argument is moot. But if the first six years of this century proved anything, it proved that neither major party in Washington, D.C., can be trusted with control of both chambers of Congress and the White House. That is a recipe for disaster!
At this point, I must remind readers that the reason Barack Obama was elected to begin with was due to the eight years of the phony-conservative G.W. Bush administrations. Americans were disillusioned and angry over Bush's huge spending habits at home and his military adventurism overseas. I predict a Mitt Romney presidency will have the same effect. As with G. W. Bush, Mitt Romney will disappoint and anger the American electorate, which will pave the way for another leftist (Hillary Clinton?) to prevail in 2016.
"And the beat goes on."
At some point–maybe toward the end of Romney's first term–the chickens are going to come home to roost. Neither major party has the guts to do what it takes to put America on a solid financial footing. They are both beholden to too many parasites that are sucking the life's blood out of our country. And neither party will do a darn thing to stop this fascination with empire that is putting our troops in killing fields all over the world. The result: it's only a matter of time before the inevitable happens. And just about anybody with half a brain knows it!
It would be nice if a few states would elect freedomist governors, attorney generals, sheriffs, legislators, senators, secretaries of State, etc., next Tuesday. At the end of the day, freedom is going to be won or lost at the State level anyway. My son, Tim Baldwin, is running for a Montana House seat. Here is his website:
I know of a handful of other freedomists in Montana and around the country who, if elected, could make a real difference in their respective states. We'll see.
So, if it makes you feel better, vote for Mitt Romney. He's probably going to win anyway–but it won't matter! But, by all means, when you find a for-real freedomist to vote for in the other races, be sure you do that, because that WILL matter!
I believe Albert Einstein is credited with saying, "Insanity is doing the same thing over and over again and expecting different results." Using that definition, it would appear that many of our so-called "conservative" friends are insane. Every four years, they accept a phony conservative Presidential candidate and expect somehow that they are going to achieve a different result. They never do. Either the phony conservative loses because he is virtually indistinguishable from his Democrat opponent (i.e., John McCain), or after being elected while campaigning as a true conservative, he governs as a big-government neocon, and the course of the country changes not one iota (i.e., George W. Bush). This election year is no exception.
The GOP has nominated a man who has governed as a big-government liberal in one of the most liberal (if not the most liberal) states in the union: Governor Mitt Romney of Massachusetts. Furthermore, on virtually every issue one can think of, Governor Romney has flip-flopped more often than a fish that just landed in the bottom of a boat. To get a feel for just how often Romney changes his positions, watch this video:
http://www.youtube.com/watch?v=EQwrB1vu74c&feature=related
If Mitt Romney has proven anything, it is that his word means absolutely nothing. Nothing! Romney is an opportunistic chameleon who will say anything or do anything to get elected. Yet, this is the man whom conservatives trumpet as the savior of America! Why? He is a Republican, and, therefore, he must be better than the Democrat. In short, Mitt Romney is the lesser of two evils. But is he really?
First, the short-sighted, narrow-minded thinking of party loyalists (Republican and Democrat) demonstrates what can only be regarded as a slave mentality. People who vote nothing but party label are in truth already slaves. They are slaves to an elitist establishment that uses the machinery of the two major parties (at the national level) to advance a diabolical globalist agenda. That's why it doesn't matter to a tinker's dam whether it's Bill Clinton or G.W. Bush–or Barack Obama or Mitt Romney–who is elected President: nothing changes the march towards globalism and oppression. At the top, both major parties are controlled by globalists.
For the sake of those who truly respect America's founders and the principles upon which this nation was founded, I would encourage readers to familiarize themselves with George Washington's Farewell Address. In my opinion, Washington's Farewell Address is the greatest political speech ever delivered in US history. It literally shaped the course and direction of the country for decades, perhaps even a century. It really was not until the Twentieth Century, when presidents such as Woodrow Wilson and Franklin Roosevelt came along, that America started steering a course in direct opposition to the principles laid forth in Washington's Farewell Address. Since then, the vast majority of presidents, Republican and Democrat, have almost universally ignored the sagacity of Washington's Farewell Address, which is why nothing has changed regardless of which party gains the White House.
In his Farewell Address, George Washington said, "I have already intimated to you the danger of parties in the State, with particular reference to the founding of them on geographical discriminations. Let me now take a more comprehensive view, and warn you in the most solemn manner against the baneful effects of the spirit of party generally.
"This spirit, unfortunately, is inseparable from our nature, having its root in the strongest passions of the human mind. It exists under different shapes in all governments, more or less stifled, controlled, or repressed; but, in those of the popular form, it is seen in its greatest rankness, and is truly their worst enemy.
"The alternate domination of one faction over another, sharpened by the spirit of revenge, natural to party dissension, which in different ages and countries has perpetrated the most horrid enormities, is itself a frightful despotism. But this leads at length to a more formal and permanent despotism. The disorders and miseries which result gradually incline the minds of men to seek security and repose in the absolute power of an individual; and sooner or later the chief of some prevailing faction, more able or more fortunate than his competitors, turns this disposition to the purposes of his own elevation, on the ruins of public liberty.
"Without looking forward to an extremity of this kind (which nevertheless ought not to be entirely out of sight), the common and continual mischiefs of the spirit of party are sufficient to make it the interest and duty of a wise people to discourage and restrain it.
"It serves always to distract the public councils and enfeeble the public administration. It agitates the community with ill-founded jealousies and false alarms, kindles the animosity of one part against another, foments occasionally riot and insurrection. It opens the door to foreign influence and corruption, which finds a facilitated access to the government itself through the channels of party passions. Thus the policy and the will of one country are subjected to the policy and will of another.
"There is an opinion that parties in free countries are useful checks upon the administration of the government and serve to keep alive the spirit of liberty. This within certain limits is probably true; and in governments of a monarchical cast, patriotism may look with indulgence, if not with favor, upon the spirit of party. But in those of the popular character, in governments purely elective, it is a spirit not to be encouraged. From their natural tendency, it is certain there will always be enough of that spirit for every salutary purpose. And there being constant danger of excess, the effort ought to be by force of public opinion, to mitigate and assuage it. A fire not to be quenched, it demands a uniform vigilance to prevent its bursting into a flame, lest, instead of warming, it should consume."
Notice that George Washington said the "spirit of party" has "baneful effects" upon the country; it is our "worst enemy"; it is a "frightful despotism"; it prevails on the "ruins of public liberty"; it "foments riot and insurrection"; it "opens the door to foreign influence and corruption"; people should "discourage and restrain it"; it "agitates… false alarms"; and, like a fire, if it is not quenched, it will "consume."
Are we not seeing, and have we not seen, the veracity of Washington's warnings? People who only see and vote for a party label are more responsible for the demise and deterioration of our liberties than any foreign enemy. For them to accept and support any candidate, as long as they wear the party label regardless how unethical, dishonest, duplicitous, and insensitive to constitutional government they might be, is what has brought America to the precipice of destruction over which she now teeters.
Second, how can a person who has succumbed to evil have the discernment to say which evil is greater? When people consciously surrender the spirit of virtue and integrity by deliberately supporting a candidate they know has a track record that is antithetical to the principles of liberty, how are they qualified to judge what is good and what is evil? By knowingly rejecting truth and a good conscience, they have already accepted the spirit of evil in their hearts. Such people are in no condition to make moral judgments regarding good and evil!
In fact, one could make a darn good argument (and many have) that a phony conservative Republican is a worse evil than a true liberal Democrat. I, for one, share that position. I think only the most biased historian would dare to say that the eight years of Bill Clinton were worse than the eight years of George W. Bush.
One reason why phony conservative Republicans are so dangerous to our liberties is because most conservatives, Christians, and constitutionalists refuse to resist and challenge a Republican President when he abandons the principles of constitutional government. Since he is a Republican, he gets a free pass.
At this juncture, I invite readers to watch the following summary of Barack Obama and Mitt Romney by Dr. Alan Keyes. Having received a Ph.D. from Harvard University and having served as Ambassador to the United Nations under President Ronald Reagan, Keyes is no slouch. Without a doubt, Alan Keyes has one of the sharpest minds and most articulate tongues in the entire country. Listen to his response to the question, "Will you support Mitt Romney?" See the video at:
http://www.youtube.com/watch?v=4R4KtYVF-74&feature=youtu.be
On virtually every salient issue, the differences between Mitt Romney and Barack Obama are miniscule. They both supported TARP; they both supported Obama's economic stimulus package; they both supported so-called assault weapons bans and other gun control measures; they both supported the bailout of the auto industry; neither of them supports immediately balancing the federal budget; they both have a track record of being big spenders; they both fully support the Federal Reserve; they both oppose a full audit of the Fed; they are both supporters of universal health care; both men are showered with campaign contributions from Wall Street; neither of them wants to eliminate the IRS or the direct income tax; both men are on record as saying the TSA is doing a "great job"; they both supported the NDAA, including the indefinite detention of American citizens without due process of law; they both supported the renewal of the Patriot Act; they both support the "free trade" agenda of the global elite; they are both soft on illegal immigration; they both have a history of appointing liberal judges; they both believe the President has the authority to take the nation to war without the approval of Congress; and neither of them has any qualms about running up more public debt to the already gargantuan debt of 16 trillion dollars.
Read this report on InfoWars.com
Tell me again why Romney is better than Obama!
There are even some party slaves who are so brazen as to suggest that if we do not vote for the phony conservative Mitt Romney it means that we are harming true conservatives at the local and State levels. This has to be one of the most ridiculous assertions I have ever heard! What these people don't understand (because they are themselves slaves to a political party) is that most honest constitutionalists vote for the PERSON, not the party. We recognize that parties are not going to make a difference; PEOPLE are going to make a difference!
Therefore, if I lived in the Houston, Texas, area, I would vote for Republican US House candidate Steve Stockman; and if I lived in the Nashville, Tennessee, area, I would vote for Democrat US Senate candidate Mark Clayton. And since I live in the Flathead Valley of Montana, I am supporting Republican State Representative candidate Timothy Baldwin (yes, he is my youngest son); and if he were running again, I would support former Constitution Party State House member Rick Jore.
If anything, Mitt Romney will have the most deleterious impact upon conservative Republican candidates around the country, as they will be thrust into the big-government shadow of their party's standard bearer. Republican landslides came in 1980 when a perceived strong conservative (Ronald Reagan) carried the GOP torch for President and in 1994 when the GOP promoted (but later failed to deliver) a strong conservative congressional agenda. It is when Republicans nominate known pseudo-conservatives, such as John McCain (and now Mitt Romney), that they fail to achieve sizeable victories nationwide. So, even if Romney wins, he will provide no coattails for his fellow Republicans around the country.
And by the way, neither will Obama provide any coattails for his fellow Democrats should he win. By continuing and expanding Bush's wars in the Middle East (among other things), Obama has turned off millions of independents and constitutionally-minded Democrats. It is literally an every-man-for-himself election year.
It's too bad that Ron Paul is not running as an Independent. It would be a tremendously interesting election if he were.
So, here we are again: conservatives keep doing the same thing over and over (supporting a pseudo-conservative for President) and keep expecting a different result. Einstein was right: this is insanity!
A Nation In Decline…
Stories of citizens being assaulted by TSA (Transportation Security Administration) employees are common internet fare. There are numerous groping complaints, little old ladies are forced to remove their diapers and nubile young women are patted down and ogled by X-ray, knives are confiscated, liquids are poured out, shoes are removed, and time is wasted; all without noticeable results.  TSA guru, Janet Napolitano, supports the TSA in the same way police chiefs support errant policemen. When governments write the law they often consider themselves immune to it.  Policemen are seldom held accountable for their actions.  Agents of the government regularly pillage private property, harass citizens, and even commit murder, all without retribution.
During the 1940s, when I was in high school, the older brother of one of my friends had established a dental practice in a small Northern Illinois town.  My friend described his brother's work as a "Racket" and said he was making piles of money.  At that time I had a mouth full of fillings skillfully inserted by a neighbor who was also a relative.   My parents paid for the work which though relatively cheap was expensive in the depression days of the 1930s.  There was, however, more kindness during this era and service providers felt an obligation to provide care to everyone regardless of ability to pay.
When the government gets involved in licensing members of any profession several things eventually result.  1) License restrictions limit supply and costs go up.  2) Participants collude, and 3) become arrogant and self serving.  4) They devise methods of extracting the maximum amount of money from the public.  5) Their egos grow; they take on god-like qualities and look with disdain on customers whose urgent need of their services supports the inflated cost.
Many Americans travel to Costa Rica where they are able to pay for transportation and stay at a four star hotel with the money they save having their dental work done there.  Occasionally an unlicensed dentist learns the mechanics of the trade and establishes a lucrative practice.  Read about one here. http://www.dailymail.co.uk/news/article-2196959/Fake-dentist-performed-root-canals-dental-surgeries-hundreds-illegal-immigrants-home-office.html
American dentists are very expensive.
With a mouthful of bad teeth and an unwillingness to be overcharged my experience with dentists has been dismal.  Several dentists maintained that fillings were not reliable and refused to put fillings in my teeth.  Reluctantly I allowed three teeth to be capped.  Because I complained about the cost of each procedure and was dubious about what I was being told dentists did not enjoy my presence.  Finally, I was shuffled off to a dentist who liked to do fillings.  His personality was as dismal as mine but he was a good mechanic.  Belying what several other dentist had told me he filled my mouth with mercury fillings.
During my last visit for a six month cleaning, I turned down an X-ray.  Past X-rays had added to the cost and had not produced anything of value.  I considered his request that I sign a release paper a form of intimidation and refused to sign it.  Though I had been a patient for several years and had contributed several thousand dollars to his coffers he dismissed me for refusing to sign.   It is my money and that of other patients that support this dentist but it is government created exclusivity and collusion that sustain blunt arrogance.
Collusion allows dentists to ration their services by presenting a universal wall that closes out the uncooperative patient.  Being ushered into a dental chair, opening the mouth and having an assistant begin a set of prescribed procedures without discussion is oppressive and leaves the patient without input.   It discourages talk about fees and allows them to avoid competition.
Following the rude dismissal by the mercury filling expert, I visited another dentist who advertised for new patients.  I was put through the regular expensive set of procedures that go before the appearance of the Mighty One.   His dental assistant took X-rays, measured gum loss, and cleaned and inspected my teeth.  These preliminaries often cost $200 or more.  When all this was finished the dentist inspected my teeth giving his assistant coded remarks about each tooth.
I explained to him that I was almost 83 years old and that I had one tooth that needed to be removed and that I wanted to keep the remainder of my teeth in workable condition for as long as I could. Following a brief examination the dentist disappeared and his assistant arrived with a computer generated treatment sheet recommending several thousand dollars worth of dental work.  I was referred to a dental surgeon for the bad, loose, single rooted tooth which he claimed might break.  It was obvious he paid no attention to my brief request and when the assistant asked that I sign a form indicating receipt of his recommendations I refused.  With predictable arrogance he sent his assistant to tell me I was dismissed.  Rejected patients receive a formal letter confirming the rejection.
It is difficult to break through the wall that screens out competition and uncooperative patients because dentists collude and all present the same competitive barriers.
Cutting a man's hair and filling a tooth both take technical skills and similar amounts of time; the barber gets $10 to $15 while the Dentist gets $200 or more; educational status, the artificial leverage of government licensing, and collusive practices work together to support high fees.
If you have never experienced the God-like demeanor that allows doctors and dentists to dismiss a patient with a formal letter as if partaking of their service is a privilege rather than a high priced sale, you have probably never confronted one of these demigods.  Rather than seeking to provide a needed service to society at an affordable price the touchy plutocrats seek to be treated with divine deference.
Young people who begin working at $10.00 an hour (common here in Florida) will work a week and a half (sixty hours) for what a dentist earns in an hour or less.  Many young people cannot afford dentists and live with poor dental hygiene   Senior citizens whose life span is almost complete can spend several thousand dollars on dental work that death renders useless.
Patients have a vested interest in having their teeth cleaned but despite the heavy padding it is a nuisance to dentists.  They maintain their upper 1% status by gluing on crowns and doing root canals. A root canal takes about an hour of the dentist's time and costs between $600 and $1000 (Sometimes more!).  When a crown is added fixing a single tooth might cost $2000.  My experience seems to indicate that when a dentist see $10,000 work in a person's mouth he will take a little guff and might even negotiate but when only cleaning is involved he is quick to dismiss.
Altruism has been wrung out of medical and dental care.  The Hippocratic Oath may still be administered in some form but in practice it is as dead as Christianity in the church.   Today medical and dental professions are businesses conducted by individuals who have fulfilled educational requirements in order to harvest a bumper financial crop.  Ministering to patients is a means of making money and if there is no money to be made or if the patient cannot pay, the relationship is quickly severed.  For the patient who fails to pay, the credit rating is ruined and harassing bill collectors are marshaled.
Dentists and doctors have succumbed to the advancing brutality that has infected our culture.  It began with the Revolutionary War, advanced during the Civil War; was inflicted on the indigenous Indians, on the civilian population of the Philippines, on the Germans in WWII, on the Vietnamese, it is now ravishing the Arabs in the Middle East and is pervasive in our culture.
Brutality has driven out mercy and justice and fertilized the lawless avarice of pagan Capitalism.  John Adam said, "Our Constitution was made only for a moral and religious people. It is wholly inadequate to the government of any other."  Injustice is rampant and mercy is scarce.  Our people are religious but immoral.  As a nation we have forsaken God's Law and opted to live under a human standard of justice.
Morality is impossible without law and justice is impossible without God's Law. Sinful men and women cannot write just law. Those that claim to follow the God of Abraham, Isaac, and Jacob through the redemptive work of His Son, The Christ, have drifted so far away from their God that His Laws are repugnant.  Even some who should know better delight in the heresy of Dispensationalism  denying the efficacy of God's Law favoring law devised by the evil minds o of men.  Death by stoning sounds like cruel and unusual punishment because death by losing the lower half of a human body to an explosive device is hidden and never pictured in our deluded minds.
We live in a sanitized society; hiding grotesque brutality so we can considering ourselves civilized.  Aborted babies are seldom seen.  Pictures of the slaughter of their tiny bodies are unpopular and in some cases banned.  War is advertised as altruistic and soldiers are urged to sign up and see the world.  The returning caskets and the maimed participants are not public fare.  An aberrant press and media fail to mention that for every soldier killed nine civilians die.  The pillage and wreckage of Iraq is kept from the public.  In spite of the brief publicity around Abu Grave torture continues as a weapon.
We have lost our fear of God.  When there is no fear of God there is no active religion.    If stoning did nothing else, it might renew our fear of God
In his lengthy indictment of the Jews Martin Luther wrote, "For every country, if it is to endure, must have these two things: power and law. The country— must have a lord, a head, a ruler. But it must also have a law by which the ruler is guided— For wherever sheer power prevails without the law— there is no government, but tyranny." (Excerpted)
God admonishes us in Proverbs, "My son, keep my words, and treasure my commandments within you.   Keep my commandments and live, and my teaching as the apple of your eye.  Bind them on your fingers; write them on the tablet of your heart."  Chapter 7; 1-3
As our government continues to impose tyrannical laws and procedures on the United States, patriots and Christians approach the coming election with the usual chronic insanity, repeatedly seeking the culprit as the remedy.  Though many of our older citizens have lived through many of these same charades they still participate with vigor. The human mind is easily distorted and often incapable of reaching sound conclusions.  Elections are rife with empty promises and mendacious accusations. Popularity is manufactured by the press and voting is often controlled by the counter rather than the voter.  When the wicked process is over the winner may initiate some minor social changes but the planned shrinkage of American wealth and power continues as it has now for several decades.
It is tragic that good men sell their souls in order to become marionettes on the stage of government. Ron Paul maintained his stance for many years and seemed to be mostly above the evil pragmatism. Nevertheless, he was summarily shoved aside and though he may have siphoned a few votes from the Mormon King he accomplished very little.  Powerful forces mute the policies that might remedy our downfall and the soulless empty suits we have elected value their jobs more than their character.
The transformation of our doctors and dentists from responsible contributors to the well being of our society to avaricious wealthy craftsmen is a small matter compared to the complete downfall of civilization.  It is, however, a symptom and without confrontation it continues its downward spin along with that of the nation.
Indian Christian intellectual Vishal Mangalwadi has used the clear vision of a Godly man in a newly published book entitled "The Book That Made Your World".  He speaks to Americans in general and Christians in particular about the overweening influence of the Christian Bible on our culture.  In the Forward he writes, "It was above all, a civilization in which truth was understood to be real, where the collective pursuit of virtue shaped behavior, and the redemptive work of God in the person of Jesus Christ provided a radical and historically verifiable transforming response to the abyss of human selfishness, corruption , and sin."  Pg.17
Unfortunately, he writes in the past tense.
Are you better off today than you were four years ago?  This is a question that comes up nearly every election.  This year the Romney campaign has even created a Twitter hashtag for it:#AreYouBetterOff.  The Democrats are making lots of speeches claiming that we are better off, and the Republicans are making lots of speeches claiming that we are not.  So are most Americans actually better off than they were four years ago?  Of course not.  One recent poll found that only 20 percent of Americans believe that they are better off financially than they were four years ago.  But the same thing was true four years ago as well.  Our economy has been in decline and the middle class has been shrinking for a very long time.  The Democrats want to put all of the blame on the Republicans for this, and the Republicans want to put all of the blame on the Democrats for this.  A recent CNN headline defiantly declared the following: "Decline of middle class not Obama's fault", and this is the kind of thing we are going to hear day after day until the election in November.  But obviously something has gone fundamentally wrong with our economy.  So who should we blame?
Sadly, you hear very little on the mainstream news networks or the talk radio shows about the institution that has the most power over our economy.  The Federal Reserve has far more power over our financial system than anyone else does, but the media and both political parties tell us that the Federal Reserve is "above politics" and that their "independence" must never be questioned.
Unfortunately, most Americans have gone along with that.
But the truth is that the debt-based financial system that the Federal Reserve is at the core of is absolutely central to our economic problems.  If you do not understand this, please see this article: "10 Things That Every American Should Know About The Federal Reserve".
The Federal Reserve has done more to mess up our economy than anyone else has.
So shouldn't they be held accountable?
That is a very good question.
Have you ever wondered why financial markets move so dramatically whenever Federal Reserve Chairman Ben Bernanke gives a speech?
The same thing does not happen when Barack Obama gives a speech.
That is because the financial markets know who holds the real power in our financial system.
But during this election season the American people are told to put all of their attention on the "red team" and the "blue team".  We are told that the two major political parties are philosophical opposites and that they want to take the United States is two completely different directions.
The "true believers" on the blue team are completely and totally convinced that Barack Obama will be able to rescue the economy and save America.
The "true believers" on the red team are completely and totally convinced that Mitt Romney will be able to rescue the economy and save America.
Once upon a time I was one of those political activists.  I was fully convinced that America could be turned around if we could just get enough Republicans into office.
But then I noticed that nothing really seemed to change no matter who was in power.  I became disillusioned as I realized that Republicans were doing things pretty much the exact same way that Democrats were doing them when they got into power.
Yes, there are some minor differences between the two parties on taxes and regulations.
If we elect one guy over the other our economy might decline at a slightly different pace.
But in the end both political parties are taking us to the exact same place.
Down the toilet.
I wish that wasn't true.
But we need to be honest with ourselves….
-Both parties fully support the Federal Reserve.
-Both parties supported the nomination of Ben Bernanke to a second term as the head of the Federal Reserve.
-Both parties endlessly push the job-killing "free trade" agenda of the global elite.
-Both parties see nothing wrong with running absolutely enormous trade deficits with the rest of the world.
-Both parties supported TARP.
-Both parties supported the "economic stimulus" packages.
-Both parties supported the auto industry bailouts.
-Both parties have run up massive amounts of federal debt when in power.
-Both parties have greatly expanded the size of the federal government when in power.
-Both parties are full of control freaks and both parties have added more layers of ridiculous regulations to our already overburdened society when in power.
-Neither party supports getting rid of the income tax or the IRS.
-Neither party has any intention of doing anything to prevent the coming derivatives crisis that could bring down the entire global financial system.
-Both parties are absolutely showered with cash from the big Wall Street banks.
-Both parties think that the TSA is doing a great job.
-Both parties supported the NDAA and the renewal of the Patriot Act.
-Both parties have greatly expanded the unconstitutional surveillance of American citizens by government agencies.
-Both parties are extremely soft on illegal immigration.
-Both parties have treated military veterans horribly.
-Both parties are absolutely packed with corrupt politicians that are living the high life at your expense.
-Neither party plans to balance the federal budget in 2013 if their candidate wins the election.
-Neither party has a plan that will fix our deeply broken health care system.
-Neither party has any plans to shut down the Federal Reserve.  In fact, both parties see absolutely nothing wrong with our current system.
Of course this list could go on indefinitely, but hopefully you get the point.
But I can understand those that are deeply frustrated with Barack Obama and that desperately want to avoid another four years of his policies.
I also believe that Barack Obama has been the worst president in U.S. history and that he and his entire cabinet should immediately resign in disgrace.
However, the Republican party foolishly chose to nominate the Republican candidate that was most like Barack Obama to run against him.
That was an enormous mistake.
No matter what the talk radio shows are telling you, the truth is that this country will continue on pretty much the same path no matter who wins the election.
I know that statement is going to make a lot of people angry.  But it is the sad reality of what we are facing.
Even if you focus on just the economy, the truth is that Mitt Romney's "five point plan" is almost exactly the same thing that Barack Obama has been saying.
Many Americans believe that since Mitt Romney made lots of money on Wall Street conducting leveraged buyouts of vulnerable corporations that he understands how to fix our economy.
Sadly, that is not the truth.
I have listened to many Romney speeches about the economy and I keep waiting for some pearls of wisdom, but I have found that he is just as clueless about the economy as our other recent presidents have been.
Look, I know that there are a lot of people out there that have good hearts that want to have someone that they can believe in.
They want to believe that things can get better.
They want to have hope.
And I don't blame them for that.
I just think that it is time to pull our heads out of the sand and realize that things are not going to be getting any better.
A political savior on a white horse is not going to come riding in to save the day.
So by this point in the article a whole lot of Democrats and a whole lot of Republicans are very upset with me.
But I am not against you.  There is way too much hate in our society today.  Even if we disagree with someone else we can still love them.
I just think that it is very important that we understand that there is not going to be a solution to our problems on the national level and that our economy is headed for collapse no matter who gets elected.
The total amount of debt in the United States has risen from less than 2 trillion dollars to nearly 55 trillion dollars over the past 40 years, and there is nothing that Barack Obama or Mitt Romney can do to prevent the "correction" that is coming.
So are Americans better off than they were four years ago?
Of course not.
But things will soon get a whole lot worse no matter how the election turns out.
The following are 40 statistics that will absolutely shock you….
#1 During the time Barack Obama has been in the White House, median household income has fallen by 7.3 percent.
#2 Back in 2007, 19.2 percent of all American families had a net worth of zero or less than zero.  By 2010, that figure had soared to 32.5 percent.
#3 According to the Federal Reserve, the median net worth of American families dropped "from $126,400 in 2007 to $77,300 in 2010".
#4 According to the Pew Research Center, 61 percent of all Americans were "middle income" back in 1971.  Today, only 51 percent of all Americans are "middle income".
#5 Back in 1970, middle income Americans brought home 62 percent of all income in the United States.  In 2010, middle income Americans only brought home 45 percent of all income.
#6 The unemployment rate in the United States has been above 8 percent for 42 straight months.
#7 The percentage of working age Americans with a job has been below 59 percent for 35 months in a row.
#8 In June, the number of Americans added to the food stamp rolls was nearly three times larger than the number of jobs added to the U.S. economy.
#9 Approximately 53 percent of all U.S. college graduates under the age of 25 were either unemployed or underemployed last year.
#10 Since Barack Obama entered the White House, the number of long-term unemployed Americans has risen from 2.7 million to 5.2 million.
#11 Today, the average duration of unemployment in the United States is about three times as long as it was back in the year 2000.
#12 According to a report that has just been released by the National Employment Law Project, 58 percent of the jobs that have been created since the end of the recession have been low paying jobs.
#13 According to the Center for Economic and Policy Research, only 24.6 percent of all of the jobs in the United States are "good jobs".
#14 In 2010, the number of jobs created at new businesses in the United States was less than half of what it was back in the year 2000.
#15 The average pay for self-employed Americans fell by $3,721 between 2006 and 2010.
#16 According to U.S. Representative Betty Sutton, America has lost an average of 15 manufacturing facilities a day over the last 10 years.  During 2010 it got even worse.  That year, an average of 23 manufacturing facilities a day shut down in the United States.
#17 At this point, one out of every four American workers has a job that pays $10 an hour or less.
#18 While Barack Obama has been president the velocity of money has plunged to a post-World War II low.
#19 According to one recent survey, 85 percent of middle class Americans say that it is harder to maintain a middle class standard of living today compared with 10 years ago.
#20 Electricity bills in the United States have risen faster than the overall rate of inflation for five years in a row.
#21 There are now 20.2 million Americans that spend more than half of their incomes on housing.  That represents a 46 percent increase from 2001.
#22 Over the past decade, health insurance premiums have risen three times faster than wages have in the United States.
#23 Health insurance costs have risen by 23 percent since Barack Obama became president.
#24 As I wrote about yesterday, back in 1980 less than 10 percent of U.S. GDP was spent on health care but now about 18 percent of U.S. GDP goes toward health care.
#25 In a previous article, I noted that 62 percent of all middle class Americans say that they have had to reduce household spending over the past year.
#26 Family budgets in America are being stretched to the breaking point.  Today, 77 percent of all Americans live paycheck to paycheck at least part of the time.
#27 While Barack Obama has been president, U.S. home values have fallen by another 11 percent.
#28 More than three times as many new homes were sold in the United States in 2005 as will be sold in 2012.
#29 The United States was once ranked #1 in the world in GDP per capita.  Today we have slipped to #11.
#30 Since Barack Obama became president, the number of Americans living in poverty has risen by 6.4 million.
#31 The number of Americans on food stamps has grown from about 17 million in the year 2000 to 31.9 millionwhen Barack Obama entered the White House to 46.7 million today.
#32 Approximately one-fourth of all U.S. children are enrolled in the food stamp program at this point.
#33 It is being projected that half of all American children will be on food stamps at least once before they turn 18 years of age.
#34 It is estimated that child homelessness in the United States has risen by 33 percent since 2007.
#35 Back in 1965, only one out of every 50 Americans was on Medicaid.  Today, approximately one out of every 6Americans is on Medicaid.
#36 As I wrote about the other day, it is being projected that Obamacare will add 16 million more Americans to the Medicaid rolls.
#37 It is being projected that the number of Americans on Medicare will grow from 50.7 million in 2012 to 73.2 million in 2025.
#38 The number of Americans receiving federal housing assistance increased by a whopping 42 percent between 2006 and 2010.
#39 At this point, well over 100 million Americans are enrolled in at least one welfare program run by the federal government.
#40 Amazingly, more than half of all Americans are now at least partially financially dependent on the government.
So are you better off than you used to be or worse off?