In my last column I emphasized that it was important for American citizens to demand to know what the real agendas are behind the wars of choice by the Bush and Obama regimes. These are major long term wars each lasting two to three times as long as World War II.
Forbes reports that one million US soldiers have been injured in the Iraq and Afghanistan wars.
RT reports that the cost of keeping each US soldier in Afghanistan has risen from $1.3 million per soldier to $2.1 million per soldier.
Matthew J. Nasuti reports in the Kabul Press that it cost US taxpayers $50 million to kill one Taliban soldier. That means it cost $1 billion to kill 20 Taliban fighters.  This is a war that can be won only at the cost of the total bankruptcy of the United States.
Joseph Stiglitz and Linda Bilmes have estimated that the current out-of-pocket and already incurred future costs of the Afghan and Iraq wars is at least $6 trillion.
In other words, it is the cost of these two wars that explain the explosion of the US public debt and the economic and political problems associated with this large debt.
What has America gained in return for $6 trillion and one million injured soldiers, many very severely?
In Iraq there is now an Islamist Shia regime allied with Iran in place of a secular Sunni regime that was an enemy of Iran, one as dictatorial as the other, presiding over war ruins, ongoing violence as high as during the attempted US occupation, and extraordinary birth defects from the toxic substances associated with the US invasion and occupation.
In Afghanistan there is an undefeated and apparently undefeatable Taliban and a revived drug trade that is flooding the Western world with drugs.
The icing on these Bush and Obama "successes" are demands from around the world that Americans and former British PM Tony Blair be held accountable for their war crimes. Certainly, Washington's reputation has plummeted as a result of these two wars. No governments anywhere are any longer sufficiently gullible as to believe anything that Washington says.
These are huge costs for wars for which we have no explanation.
The Bush/Obama regimes have come up with various cover stories: a "war on terror,"
"we have to kill them over there before they come over here," "weapons of mass destruction," revenge for 9/11, Osama bin Laden (who died of his illnesses in December 2001 as was widely reported at the time).
None of these explanations are viable. Neither the Taliban nor Saddam Hussein were engaged in terrorism in the US. As the weapons inspectors informed the Bush regime, there were no WMD in Iraq. Invading Muslim countries and slaughtering civilians is more likely to create terrorists than to suppress them. According to the official story, the 9/11 hijackers and Osama bin Laden were Saudi Arabians, not Afghans or Iraqis. Yet it wasn't Saudi Arabia that was invaded.
Democracy and accountable government simply does not exist when the executive branch can take a country to wars in behalf of secret agendas operating behind cover stories that are transparent lies.
It is just as important to ask these same questions about the agenda of the US police state. Why have Bush and Obama removed the protection of law as a shield of the people and turned law into a weapon in the hands of the executive branch? How are Americans made safer by the overthrow of their civil liberties? Indefinite detention and execution without due process of law are the hallmarks of the tyrannical state. They are terrorism, not a protection against terrorism. Why is every communication of every American and apparently the communications of most other people in the world, including Washington's most trusted European allies, subject to being intercepted and stored in a gigantic police state database? How does this protect Americans from terrorists?
Why is it necessary for Washington to attack the freedom of the press and speech, to run roughshod over the legislation that protects whistleblowers such as Bradley Manning and Edward Snowden, to criminalize dissent and protests, and to threaten journalists such as Julian Assange, Glenn Greenwald, and Fox News reporter James Rosen?
How does keeping citizens ignorant of their government's crimes make citizens safe from terrorists?
These persecutions of truth-tellers have nothing whatsoever to do with "national security" and "keeping Americans safe from terrorists." The only purpose of these persecutions is to protect the executive branch from having its crimes revealed. Some of Washington's crimes are so horrendous that the International Criminal Court would issue a death sentence if those guilty could be brought to trial. A government that will destroy the constitutional protections of free speech and a free press in order to prevent its criminal actions from being disclosed is a tyrannical government.
One hesitates to ask these questions and to make even the most obvious remarks out of fear not only of being put on a watch list and framed on some charge or the other, but also out of fear that such questions might provoke a false flag attack that could be used to justify the police state that has been put in place.
Perhaps that was what the Boston Marathon Bombing was. Evidence of the two brothers' guilt has taken backseat to the government's claims. There is nothing new about government frame-ups of patsies. What is new and unprecedented is the lockdown of Boston and its suburbs, the appearance of 10,000 heavily armed troops and tanks to patrol the streets and search without warrants the homes of citizens, all in the name of protecting the public from one wounded 19 year old kid.
Not only has nothing like this ever before happened in the US, but also it could not have been organized on the spur of the moment. It had to have been already in place waiting for the event. This was a trial run for what is to come.
Unaware Americans, especially gullible "law and order conservatives," have no idea about the militarization of even their local police. I have watched local police forces train at gun clubs. The police are taught to shoot first not once but many times, to protect their lives first at all costs, and not to risk their lives by asking questions. This is why the 13-year old kid with the toy rifle was shot to pieces. Questioning would have revealed that it was a toy gun, but questioning the "suspect" might have endangered the precious police who are trained to take no risks whatsoever.
The police operate according to Obama's presidential kill power: murder first then create a case against the victim.
In other words, dear American citizen, you life is worth nothing, but the police whom you pay, are not only unaccountable but also their lives are invaluable. If you get killed in their line of duty, it is no big deal. But don't you injure a police goon thug in an act of self-defense. I mean, who do you think you are, some kind of mythical free American with rights?
Further reading:
http://www.theatlantic.com/politics/archive/2013/11/clemency-for-torturers-but-not-for-edward-snowden/281142/

http://www.policestateusa.com/2013/innocent-man-given-anal-cavity-search-colonoscopy-after-rolling-through-a-stop-sign/

http://www.policestateusa.com/2013/police-tased-arrested-father-as-he-tried-to-save-his-3-year-old-son-from-house-fire/
http://www.policestateusa.com/2013/tube-fed-3-year-old-treated-like-terrorist-by-tsa-family-misses-flight/
http://www.policestateusa.com/2013/john-geer-shot-by-police/
http://www.policestateusa.com/2013/300-pound-officer-shoots-12-pound-terrier-claims-it-threatened-his-life/
http://www.policestateusa.com/2013/innocent-citizens-held-at-gunpoint-in-terrifying-california-checkpoints/
http://www.policestateusa.com/2013/police-perform-simulated-drug-raid-on-5th-graders-child-attacked-by-police-dog/
http://www.policestateusa.com/2013/john-pike-gets-compensation-for-emotional-suffering/
http://www.policestateusa.com/2013/13-year-old-shot-death-police-open-carrying-toy-rifle/
http://www.policestateusa.com/2013/dallas-police-opened-fire-on-unarmed-man-as-he-stood-in-his-doorway/
http://www.informationclearinghouse.info/article36833.htm
http://www.informationclearinghouse.info/article36841.htm
Paul Craig Roberts was Assistant Secretary of the Treasury for Economic Policy and associate editor of the Wall Street Journal. He was columnist for Business Week, Scripps Howard News Service, and Creators Syndicate. He has had many university appointments. His internet columns have attracted a worldwide following. His latest book, The Failure of Laissez Faire Capitalism and Economic Dissolution of the West is now available
Source: Paul Craig Roberts
It is natural for a society to search for explanations and motivations in the wake of a man-made tragedy. It is also somewhat natural for people to be driven by their personal biases when looking for someone or something to blame. In recent years, however, our country has been carefully conditioned to view almost every criminal event from an ideological perspective.
The mainstream media now places far more emphasis on the political affiliations and philosophies of "madmen" than it does on their personal disorders and psychosis. The media's goal, or mission, if you will, is to associate every dark deed whether real or engineered to the political enemies of the establishment, and to make the actions of each individual the collective shame of an entire group of people.
I could sift through a long list of terror attacks and mass shootings in which the establishment media jumped to the conclusion that the perpetrators were inspired by the beliefs of Constitutional conservatives, "conspiracy theorists", patriots, etc. It is clear to anyone paying attention that the system is going out of its way to demonize those who question the officially sanctioned story, or the officially sanctioned world view. The circus surrounding the latest shooting of multiple TSA agents at Los Angeles International Airport is a perfect example.
Paul Ciancia, the primary suspect in the shooting, was immediately tied to the Liberty Movement by media outlets and the Southern Poverty Law Center, by notes (which we still have yet to see proof of) that law enforcement claims to have found on his person. The notes allegedly use terms such as "New World Order" and "fiat money", commonly covered by those of us in the alternative media. The assertion is, of course, that Paul Ciancia is just the beginning, and that most if not all of us involved in the exposure of the globalist agenda are powder kegs just waiting to "go off." The label often used by the MSM to profile people like Ciancia and marginalize the organizational efforts of liberty based culture is "anti-government."
The establishment desires to acclimate Americans to the idea that being anti-government is wrong; that it is a despicable philosophy embracing social deviance, aimless violence, isolation and zealotry. Looking beyond the mainstream position, my question is, is it really such a bad thing to be anti-government today?
Conspiracy Realists
The terms "anti-government" and "conspiracy theorist" are almost always used in the same paragraph when mainstream media pundits espouse their propaganda. They are nothing more than ad hominem labels designed to play on the presumptions of the general population, manipulating them into dismissing any and all alternative viewpoints before they are ever heard or explained. The establishment and the media are ill-equipped to debate us on fair terms, and understand that they will lose control if Americans are allowed to hear what we have to say in a balanced forum. Therefore, their only fallback is to bury the public in lies so thick they won't want to listen to us at all.
The Liberty Movement now has the upper hand in the war for information. The exposure of multiple conspiracies in the past several years alone has given immense weight to our stance, and reaffirmed warnings we gave long ago.
When we spoke out against the invasion of Iraq, commissioned by George W. Bush on the dubious claim that Iraqi weapons of mass destruction were an immediate threat to the security of our nation, we were called "liberals" and "traitors."  Today, Bush and Cheney have both openly admitted that no WMD's were ever present in the region. When we attempted to educate the masses on the widespread surveillance of innocent people by the NSA, some of them laughed. Today, it is common knowledge that all electronic communications are monitored by the Federal government. When we refused to accept the official story behind the Bureau of Alcohol, Tobacco, Firearms and Explosives' Fast and Furious program, we were called "kooks". Today, it is common knowledge that the Obama Administration purposely allowed U.S. arms to fall into the hands of Mexican cartels. When we roared over the obvious hand the White House played in the Benghazi attack, we were labeled "racists" and "right wing extremists." Today, it is common knowledge that the White House ordered military response units to stand down and allow the attack to take place. I could go on and on…
Events that were called "conspiracy theory" by the mainstream yesterday are now historical fact today. Have we ever received an apology for this slander? No, of course not, and we don't expect one will ever surface. We have already gained something far more important – legitimacy.
And what about Paul Ciancia's apparent belief in the dangers of the "New World Order" and "fiat money"? Are these "conspiracy theories", or conspiracy realism? The Liberty Movement didn't coin the phrase "New World Order", these political and corporate "luminaries" did:
Is economic collapse really just a fairytale perpetrated by "anti-government extremists" bent on fear mongering and dividing society?  Perhaps we should ask Alan Greenspan, who now openly admits that he and the private Federal Reserve knew full well they had helped engineer the housing bubble which eventually imploded during the derivatives collapse of 2008.
Or, why not ask the the White House, which just last month proclaimed that "economic chaos" would result if Republicans did not agree to raise the debt ceiling.
Does this make Barack Obama and the Democratic elite "conspiracy theorists" as well?
It is undeniable that government conspiracies and corporate conspiracies exist, and have caused unquantifiable pain to the American people and the people of the world. Knowing this, is it not natural that many citizens would adopt anti-government views in response? Is it wrong to distrust a criminal individual or a criminal enterprise? Why would it be wrong to distrust a criminal government?
The Purpose Behind The Anti-Government Label
When the establishment mainstream applies the anti-government label, they are hoping to achieve several levels propaganda. Here are just a few:
False Association: By placing the alleged "anti-government" views of violent people in the spotlight, the establishment is asserting that it is the political philosophy, not the individual, that is the problem. They are also asserting that other people who hold similar beliefs are guilty by association. That is to say, the actions of one man now become the trespasses of all those who share his ideology. This tactic is only applied by the media to those on the conservative or constitutional end of the spectrum, as it was with Paul Ciancia. For example, when it was discovered that Arizona mass shooter Jared Loughner was actually a leftist, the MSM did not attempt to tie his actions to liberals in general. Why? Because the left is not a threat to the elitist oligarchy within our government. Constitutional conservatives, on the other hand, are.
False Generalization: The term "anti-government" is so broad that, like the term "terrorist", it can be applied to almost anyone for any reason. The establishment does not want you to distinguish between those who are anti-government for the wrong reasons, and those who are anti-government for the right reasons. Anyone who questions the status quo becomes the enemy regardless of their motives or logic. By demonizing the idea of being anti-government, the establishment manipulates the public into assuming that all government by extension is good, or at least necessary, when the facts actually suggest that most government is neither good or necessary.
False Assertion: The negative connotations surrounding the anti-government stance also suggest that anyone who defends themselves or their principles against government tyranny, whether rationally justified or not, is an evil person. Just look at how Washington D.C. has treated Edward Snowden. Numerous political elites have suggested trying the whistle-blower for treason, or assassinating him outright without due process, even though Snowden's only crime was to expose the criminal mass surveillance of the American people by the government itself. Rather than apologizing for their corruption, the government would rather destroy anyone who exposes the truth.
False Shame: Does government criminality call for behavior like that allegedly taken by Paul Ciancia? His particular action was not morally honorable or even effective.  It helped the establishment's position instead of hurting it, and was apparently driven more by personal psychological turmoil rather than political affiliation. But, would it be wrong for morally sound and rational Americans facing imminent despotism within government to physically fight back? Would it be wrong to enter into combat with a totalitarian system? The Founding Fathers did, but only after they had exhausted all other avenues, and only after they had broken away from dependence on the system they had sought to fight. Being anti-government does not mean one is a violent and dangerous person. It does mean, though, that there will come a point at which we will not allow government to further erode our freedoms. We will not and should not feel shame in making that stand.
I do not agree with every element of the "anti-government" ethos that exists in our era, but I do see the vast majority of reasons behind it as legitimate. If the establishment really desired to quell the quickly growing anti-government methodology, then they would stop committing Constitutional atrocities and stop giving the public so many causes to hate them. If they continue with their vicious bid to erase civil liberties, dominate the citizenry through fear and intimidation and steal and murder in our name, then our response will inevitably be "anti-government", and we will inevitably move to end the system as we know it.
Source: Brandon Smith | Alt-Market
The demonization of free thinking individuals is about to begin. By branding Paul Ciancia a conspiracy theorist, all of us will come under scrutiny.
Anyone who does not believe wholeheartedly in the crap the government tries to feed them on a daily basis will become a danger to society.
It stands to reason that after a major public incidence of violence such as mass shootings or bombings, people want answers. It's right and proper that these cases are investigated and as many answers as possible are provided to the citizens of this country.
Having said that, an alarming pattern is emerging.
Some events are highlighted and get massive coverage on television, on the Internet and in the newspapers, but most incidents do not.
Those that can't be 'spun' by the government are given a couple of lines in the papers or a minute of airtime, and that's it. Done. Gone. Forgotten.
The events that can be used by the government, get acres of print space and constant news coverage. In addition they always have a reason behind them that benefits the government in some way.
Let me show you what I mean. In 2012 88 people were killed in mass shootings in the United States. Sixteen mass shootings with 88 deaths.(source) Here's the list:
February 22, 2012: Five people were killed in at a Korean health spa in Norcross, Georgia, when a man opened fire inside the facility in an act suspected to be related to domestic violence.
February 26, 2012: Multiple gunmen began firing into a nightclub in Jackson, Tennessee, killing one person and injuring 20 others.
February 27, 2012: Three students at Chardon High School in rural Ohio were killed when a classmate opened fire.
March 8, 2012: Two people were killed and seven wounded at a psychiatric hospital in Pittsburgh, Pennsylvania when a gunman entered the hospital with two semiautomatic handguns and began firing.
March 31, 2012: A gunman opened fire on a crowd of mourners at a North Miami, Florida funeral home, killing two people and injuring 12 others.
April 2, 2012: A 43-year-old former student at Oikos University in Oakland, California walked into his former school and killed seven people, "execution-style." Three people were wounded.
April 6, 2012: Two men went on a deadly shooting spree in Tulsa, Oklahoma shooting black men at random in an apparently racially motivated attack. Three men died, and two were wounded.
May 29, 2012: A man in Seattle, Washington opened fire in a coffee shop killing five people and then himself.
July 9, 2012: At a soccer tournament in Wilmington, Delaware, three people were killed, including a 16-year-old player and the event organizer when multiple gunmen began firing shots, apparently targeting the organizer.
July 20, 2012: James Holmes enters a midnight screening of The Dark Knight Rises and opens fire with a semi-automatic weapon; twelve people are killed, and fifty-eight are wounded.
August 5, 2012: A white supremacist and Army veteran shot six people to death inside a Sikh temple in suburban Milwaukee, Wisconsin before killing himself.
August 14, 2012: Three people were killed at Texas A&M University when a 35-year-old man went on a shooting rampage; one of the dead was a police officer.
September 27, 2012: A 36-year-old man who had just been laid off from Accent Signage Systems in Minneapolis, Minnesota entered his former workplace and shot five people to deathand wounded three others before killing himself.
October 21, 2012: 45-year-old Radcliffe Frankin Haughton shot three women to death, including his wife, Zina Haughton, and injured four others at a spa in Brookfield, Wisconsin before killing himself.
December 11, 2012: A 22-year-old began shooting at random at a mall near Portland, Oregonkilling two people and then himself.
December 14, 2012: One man, and possibly more, murders a reported twenty-six people at an elementary school in Newtown, Connecticut, including twenty children, before killing himself.
2013 is looking very similar, those cases that got/get airtime are the Christopher Dorner case back in February, the Boston Bombings in April, the Navy Yard shooting in September, and of course the incident at LAX. There are other cases that in total killed over 30 people (source) but they didn't have the required 'spin' factor so they have not stayed in the news.
All the cases that have made it big, news wise, have had a message from the government to us. These cases were chosen by the government to highlight the need for more gun control, more surveillance and tighter security. I believe that the 'evidence' for these events was tailored. Tailored to suit the government's needs at the time. To give the public a reason for the measures that will be imposed to 'solve' the problem. It was spun and nipped and tucked and most likely bears no resemblance to the original reasons behind the act.
With the LAX shooting they have gone a step further. In addition to once again raising the issue of privately owned assault rifles, they have put terms like 'New World Order' and 'fiat currency' into the wider public domain.
They are pre-conditioning the wider public in subjects usually confined to alternative media.The average Joe on the street is not familiar with these terms. But now the government itself has introduced them. They have publicly acknowledged them and linked them to the term 'conspiracy theorist'.
From Sky News US:
A note allegedly found in the suspect's bag said that he wanted to kill at least one transport officer with his AR-15 semi-automatic rifle and didn't care which one.
"Black, white, yellow, brown, I don't discriminate," the note read, according to a paraphrase by a law enforcement official briefed on the investigation.
The suspect's screed also mentioned "fiat currency" and "NWO," possible references to the New World Order, a conspiracy theory that foresees a one-world government. (emphasis added)
I will bet my last dollar that in the very near future alternative media will be mentioned. Alternative media sites will be accused of spreading these messages.
We, the alternative media, both writers and readers are next on the list to be demonized. We are the next 'issue' that the government needs to find a solution to. Like gun control et al, we have become a target.
The government knows that the alternative media is growing. That more and more people are looking for answers that the mainstream does not provide. This cannot be allowed. It is dangerous to a government that sees itself as omnipotent.
The 'revelations' that will come out over the next few days will most likely say that Paul Ciancia frequented alternative media websites and that these sites had a bearing on his actions.
Gone are the days when a man with a gun is just insane, vindictive or just plain bad and decides to shoot people. Now there always has to be a reason, and that reason always has to be one that will allow the government to ride in and rescue us.
It will always be a reason that gives them justification for exercising more control over our lives and this time the reason could well be us, the alternative media.
Source: The Daily Sheeple
Mainstream media sources are now reporting:
The shooter at LAX, who killed one TSA (?) employee and wounded several others today, is in custody. His name is Paul Anthony Ciancia. He is 23 years old. His weapon was a semi-automatic rifle.
Pete Williams (NBC, who, as chief Pentagon spokesman, covered up the extent of US military killings in the 1989 Panama invasion), states that Ciancia had "anti-government materials" in his bag.
Other sources state Ciancia had a note in his bag which stated that he wanted to "kill TSA."
Ciancia is a Los Angeles resident. His family lives in Pennsville, New Jersey. This morning, prior to the shooting, Ciancia's father called the local Pennsville police and reported his son was missing.
The father also stated that his son had written to a sibling "in reference to taking his own life."
That's the storyline so far.
Agenda? Another gun murder in a public place, so take away guns from everybody. Semi-auto rifle was used? Ban them. Gun plus anti-government opinion? Terrorist. Step up surveillance, ID, watch, harass, and even arrest people who own guns and don't like the government.
And now for the questions. This is a checklist that should accompany every such mass shooting:
Was the accused shooter seeing a psychiatrist?
Had he ever seen a psychiatrist or MD who prescribed psychiatric drugs?
If so, what were the drugs?
Ritalin (or other speed-type compounds) for ADHD?
Antidepressants, in particular the SSRI types (e.g., Prozac, Paxil, Zoloft)?
Both classes of drugs are known to push people over into suicidal ideation, suicide, violence, murder. (See Peter Breggin, Toxic Psychiatry, Medication Madness, and other titles. Also see the website, SSRI stories.)
Had the accused shooter ever withdrawn from, stopped using any psychiatric drugs? Withdrawal, done incorrectly, can cause severe problems, including aggression and violence.
Had the accused shooter ever stated he was under surveillance, was being harassed by authorities, was being targeted with microwaves, was hearing voices?
Yes, there are people who incorrectly believe these things are happening to them; but there are also people who are, in fact, being subjected to such harassment and control.
Has the accused shooter ever been subjected to military indoctrination? Has he ever had connections to military or civilian intelligence employees or assets? If so, what were the specifics?
And finally, was the accused shooter actually the shooter, or was he a patsy, a scapegoat?
I'm not downplaying the difficulty of answering these questions. But I am saying they're all relevant.
Whereas the job of major media, in these incidents, is relaying to the public the statements of law-enforcement personnel and politicians. That's their only job. They don't investigate. They don't go off on their own. They don't know what they pretend to know. Pretending is what earns them their paychecks.
Source: Jon Rappoport
"There was, of course, no way of knowing whether you were being watched at any given moment. How often, or on what system, The Thought Police plugged in on any individual wire was guesswork. It was even conceivable that they watched everybody all the time. But at any rate, they could plug in your wire whenever they wanted to. You had to live — did live, from habit that became instinct — in the assumption that every sound you made was overheard, and, except in darkness, every move was scrutinized."
The above quote is from 1984, by George Orwell. The now-famous date that Orwell chose was actually of no real significance. He simply reversed the last two digits of the year in which he wrote the book, 1948. Orwell concerned himself less with timeline than with concept. And that concept has been chillingly accurate in its foresight.
The quote above should ring alarm bells in today's world, particularly for those who live in the US, as the US government leads the world in the development of surveillance of its people.
Today, the US government is in the process of completing a massive electronic surveillance network that encompasses all telephone calls, all computer-driven communication, and all banking transactions. Quite a tribute to Orwell's Big Brother.
We have in the past predicted that the surveillance net will eventually expand to include all monetary transactions by US residents (possibly through the replacement of the paper dollar by an electronic money system), allowing the US government to ultimately have knowledge of every aspect of the economic activities of US residents and, therefore, control over those activities.
(Editor's note: this is known as the "war on cash;" see more here and from Dr. Joe Salerno here.)
The excuse given for such surveillance has been "to protect America from terrorism." This notion is a wonderful invention, as terrorism can be imagined to be small or large and can occur at anytime, anywhere in the country. Further, if there are no actual occurrences, the government can create false flag incidents as easily and as often as they are needed.
The bogeyman of "terrorism" is particularly useful, as terrorism is faceless. No invasion is necessary. A terrorist can be anyone — even your next door neighbour and, indeed, the government computers are programmed to pay especially close heed to specific words and phrases, such as "freedom" or "patriotism." Should your next door neighbour use such words in his emails, he is more likely to be flagged.
The degree of surveillance that Orwell described in 1984 has not yet been reached, but it is not far off. Most importantly, though, the most essential aspect of its implementation has already been overcome — the aspect of popular acceptance. The American people, in the main, have successfully been sold the concept that it is necessary in order to keep Americans "safe from terrorism."
With this green light, the US government is moving rapidly toward the completion of the implementation of full surveillance.
If any American doubts that this is coming, he need only ask himself whether the present wiretaps, warrantless house raids, and TSA shakedowns would have been possible only a generation ago.
Americans are already being conditioned to understand that, if they object to these intrusions, that only makes them more suspect. Citizens are already being encouraged to report any "suspicious" activity they observe in their fellow citizens, or indeed, even in their own families. It is almost as if 1984 had been used as a guide in creating the new USA.
Of course, it is admittedly easy for non-Americans such as myself to criticise. We lose nothing by suggesting that those who are in a country that is in a state of dramatic decline, plan their exits whist it is still possible. After all, we are not the ones who would be leaving our home, job, and possibly family members behind. We are, in fact, already comfortably settled in our own countries — countries that may actually be thriving and promising us a positive future.
And there is another factor that makes it easy for us. Those Americans that we do meet are generally those who have already left — who have plucked up their courage and made an exit to friendlier, more promising shores. Not surprisingly, they tend to be very positive people.
On the other hand, those who remain in the US are surrounded by others who, at least at present, have chosen to remain. Therefore, to actually entertain the idea of escaping the oppression of an over-reaching government (not to mention a collapsing economic system and perpetual warfare) is a lonely pursuit indeed.
For anyone to actually raise himself up to see the forest for the trees is, in itself, a majorfeat. To actually conceive of and then plan an actual exit to greener pastures is an even greater one.
It is easy for all of us, no matter where we are, to observe that the end product (that of1984) is abhorrent and unfit for humanity. However, the end product does not occur all in one fell swoop. Like the boiling of a frog, it is made possible, first, by the comforting warmth of the water, which increases slowly in temperature, lulling the frog into complacency until he is too sleepy to jump out of the pot.
The US began as, very possibly, the most ideal republic ever conceived. Yet, at intervals, over the last 237 years, the original ideals have been stripped away and, in recent years, as it slides toward a very literal 1984, the deterioration has sped up dramatically. Saddest of all, it is occurring with the approval of the now-complacent frogs.
This is not to say that the US is alone in its deterioration towards a totalitarian state. The countries of the EU and many others of the former "Free World" are also in decline. However, the US does lead the way in its Orwellian surveillance. At this point, the US government does not even deny its surveillance. In Orwellian tradition, they merely state, "If you have nothing to hide, you need not fear your government." And just as in 1984, thatfear is exactly the object. People who live in fear are easily controlled. They stay put and take whatever is dished up.
As Thomas Jefferson observed,
"When the government fears the people, that is liberty; when the people fear the government, that is tyranny."
Source: Jeff Thomas  |  International Man
In 1899 the great libertarian scholar William Graham Scholar of Yale University delivered a speech in which he warned that the Spanish-American War was a crossing-the-Rubicon event in the nation's history that had finally transformed the nation from a constitutional republic to an empire. Empire was what the Pilgrims escaped from, and the American Revolution was fought against, for in an empire the average citizen is viewed by his rulers as nothing more than a tax slave and cannon fodder. Americans would soon become, he warned, exactly what their country was founded to oppose.
The speech was entitled "The Conquest of the United States by Spain" to denote the fact that the Spanish-American war, an imperialistic war of conquest, was no different from the types of aggressive wars that the old empires of Europe had been waging for centuries. Having devoted his adult life to scholarly pursuits in the field of political economy (among others), William Graham Sumner was prescient in his predictions about what America would become once it embarked on the road to empire. Among his observations were the following:
The Spanish-American War, like future American wars of imperialism, was "justified" by a string of "sensational assertions" that are easily proven to be untrue. Spain never threatened any American "interests," and would have been the last to have an incentive to sabotage the Battleship Maine, the calamity that stoked war fever and got the masses ("Boobus Americanus" in H.L. Mencken's words) behind the short "war." Scholars like Sumner may have easily seen through the government's lies, but not the rationally-ignorant masses.
"Where is the statesmanship" in lying and manipulating the public into an aggressive war, Sumner asked rhetorically. This of course had become the new definition of "statesmanship" ever since Lincoln manipulated the Northern-state-public into acquiescing in his waging of total war on their fellow American citizens in the Southern states so that the "duties and imposts" could be collected there, as he promised in his first inaugural address. To this day, Republican Party propaganda mills like the Claremont Institute and Hillsdale College pretend to offer courses of study in "statesmanship" of the sort that was mocked and ridiculed by Sumner.
If "self-government" for people of the Spanish empire was the ostensible purpose of the war, why was the American public not involved in any way in instigating the war?, asked Sumner. There was not even an opinion poll taken, he pointed out. This point echoes the words of Randolph Bourne in his famous essay, "War is the Health of the State," in which he pointed out that the public never has anything to do with the preparations for war. It is always a dozen or so connivers and schemers in the executive branch of government, hidden even from elected members of congresses and parliaments, who plot and plan forwars.
Was the war merely a public school civics class writ large? Sumner also mocked the idea promoted by the war party that Americans are merely interested in teaching Filipinos about democracy and self-government, and then we will leave. Sumner did not believe that "we" would ever leave the Philippines. We are still there today.
The struggle for world domination (imperialism) is destructive of democracy. Although American military interventionism was being sold to Boobus Americanus as a means of spreading democracy, Sumner pointed out that such tactics had led Spain into monarchy and bankruptcy, but such facts were simply ignored by the American war party.
Why do Americans believe they have a "civilizing mission," Sumner asked. The answer to this rhetorical question lies in the deification of Abe Lincoln by the Republican Party, which in effect was the entire federal government, in the previous thirty-five years. Lincoln's deification led to the deification of the presidency in general, and to the federal government as well. As Robert Penn Warren wrote in his outstanding book, The Legacy of the Civil War, the Republican Party in the post-war years claimed to possess a "treasury of virtue" that supposedly justified anything and everything the government did anywhere on earth by virtue of the fact that it was the American government that was doing it. This is what "justified" American entry into World War I, for instance, wrote Robert Penn Warren. It was given the obnoxious name "American exceptionalism." Sumner noted the absurdity of employing Lincoln's "all men are created equal" rhetoric from the Gettysburg Address to argue that it is somehow "liberating" for people of other countries to be governed by us.
William Graham Sumner warned that "a matter of mind" that views other peoples as "less human" than you would lead to "cruelty and tyranny" by the American government, as was the case with all other governments in history that ruled over empires. This of course was always the way of empires. Southerners were demonized to "justify" the mass murder of tens of thousands of civilian women, children, and old men, and the bombing and burning of entire cities like Atlanta and Richmond during the "Civil War." The Plains Indians were dehumanized as "savages" while the brave men of the U.S. Army murdered tens of thousands of Indian women and children from 1865 to 1890. Now it was the Filipinos' turn. At least 200,000 Filipinos were eventually murdered by the U.S. government for resisting becoming a part of the American empire. According to historian Joseph Stromberg, only about 15,000 of them were actual combatants.
"We must devise a government" for other peoples is another piece of war propaganda that Sumner found to be intolerably arrogant and hypocritical. This argument has been used over and over again by generations of American warmongering and imperialistic politicians. A recent example would be Obama's September 25, 2012 speech before the United Nations in which he praised the dead CIA operative Chris Stevens, who was killed in the attack on the American "embassy" in Benghazi, Libya, after being sent there as Obama's "representative." He was sent there, said Obama, to "craft a vision for a future" for Libya and Libyans.
The next time you witness a large American flag covering the entire football field before an NFL game; or the flyover of fighter jets before a sporting event; or people wearing American flag shirts and pants while watching the "President's Cup" golf tournament (which this year featured a naked female streaker carrying a large American flag); or listen to drunks at a bar cheering and shouting "USA! USA!" while watching American bombs dropped on someone in a foreign country on the bar's boob tube; or attend a church service decorated with flags and listen to a sermon that thanks "our heroes" for murdering people in foreign countries, think of this comment by William Graham Sumner: "The thirst for glory is an epidemic which robs people of their judgment, seduces their vanity, cheats them of their interests, and corrupts their consciences."
The "essence of militarism," Sumner observed, is to despise constitutions, to sneer at parliaments, and to look with contempt at civilians. All the neocon talking heads, from Limbaugh to Hannity and Levin and others, adopted the slogan, "9/11 changed everything" every time someone like Judge Andrew Napolitano would argue that the government was acting in contempt of the Constitution with its warrantless wiretaps, internet and cellphone spying, the PATRIOT Act, etc. All American presidents have simply ignored Congress, for the most part, in instigating wars; and of course all politicians at all times (with one or two exceptions) look with absolute contempt at the average citizen.
Sumner wrote of how the war party of his day was making the "the times have changed" argument for war. This was reminiscent of Lincoln's similar argument that "we must think anew and act anew," by which he also meant "to hell with the Constitution."
Militarism destroys capitalist prosperity, Sumner also warned. He observed that all during the late nineteenth century most Europeans were busy working, investing, starting businesses, and improving their standards of living peacefully under a growing capitalist system with little attention being paid to militarism. Such behavior is absolute poison to the state, however, which considers it to be a mortal enemy. So when European war parties began to militarize, Sumner wrote of how government military spending was crowding out private sector growth so much that European capitalism was being "arrested, diverted, and crippled." This is always the effect of the growth of militarism in particular and of government in general, and in Sumner's time America was about to embark on the very same economically-destructive path as the Europeans had so foolishly done.
How will we know when we have become like the Old European empires?, Sumner asked. His answer was that America would become awash in "war, debt, taxation, diplomacy, a grand-government system, pomp, glory, a big army and navy, lavish expenditures, and political jobbery – in a word, imperialism." This has been a textbook definition of American society for quite a long time now, and becoming more and more so by the day.
"The great foe of democracy is plutocracy," Sumner declared, and militarism always fuels plutocracy. It does so trough "jobbery" (i.e., crony capitalism), diverting the public's attention from their real economic problems, large government expenditures that benefit a few well-connected defense contracting corporations, and large government expenditures and debt that make the strong stronger and the weak weaker." This of course is a precise definition of how the American warfare/welfare state, funded by the Fed, has so greatly enriched the "one percenters" at the expense of almost everyone else, as documented in great detail by David Stockman in his book, The Great Deformation: The Corruption of Capitalism in America, and by Hunter Lewis's Crony Capitalism in America. This is also a major theme of my books, The Real Lincoln; Lincoln Unmasked; Hamilton's Curse; and How Capitalism Saved America.
In light of all this, it is understandable why an acquaintance of mine who is a Yale graduate recently remarked that of all the paintings and photographs of famous Yale professors and alumni that adorn the Yale libraries and other buildings on campus, the image of William Graham Sumner cannot be found.
Thomas J. DiLorenzo is professor of economics at Loyola College in Maryland and the author of The Real Lincoln, Lincoln Unmasked, How Capitalism Saved America,Hamilton's Curse: How Jefferson's Archenemy Betrayed the American Revolution – And What It Means for America Today. His latest book is Organized Crime: The Unvarnished Truth About Government.
Source: Thomas DiLorenzo  |  LewRockwell.com
Hey FANS, are you ready for more football? How much do you know about the business end of your favorite entertainment addiction, the NFL? The revenue stream from media contracts, ticket sales, official NFL products and products, government stadium subsidies and syndication rights has reached enormous levels. The pie has grown from a sandlot clubhouse hobby to a billionaire jet set club. Now that fantasy football is in full swing, the beleaguered but rabid buff, sticks with their voyeurism as they act out their heroism celebration. Devotees of the noble sport seek the thrill of victory, but experience the agony of defeat in their pocketbook.
The NFL (not for long) article, Fantasy is the Current Test of Reality, shows that escapism is preferable for most athletic enthusiasts.
"NFL Football is the national sport. It more closely resembles the evolving social trends than any other indicator. Our society is a mirror of a game that once encompassed the essence of the human struggle against the elements of nature and competing warriors. The symbol of this era was the spent sacrifice of an average quarterback who achieved miracles. The famous photo of an exhausted Y.A Tittle captures the meaning of the game that each fan treasured in their heart and desired to know for themselves. The America of this period was not that long ago, but now seems to be from a different century."
Now that the purity of a game is but a mere memory, the business is all about theBenjamins. Forbes notes in The Most Valuable NFL Teams, that the "NFL's 32 teams are worth, on average, $1.17 billion, 5% more than last year. The Cleveland Browns, a lousy team for years in a midsize market, sold for almost $1 billion last year."The last agreement with the players association produced a new contract that "included a provision that gives players between 46 percent and 48 percent of league revenues. That's down from the previous agreement's 50-50 split." Even the causal bystander must admit that the owners are wielding the hammer in free agency. If the marketing machine is geared to extract more revenue out of a hooked public, just what does the future hold?The vision from NFL commissioner, Roger Goodell in another Forbes article, reports:
How The National Football League Can Reach $25 Billion In Annual Revenues.
This year revenues for the National Football League will be somewhere just north of $9 billion, which means the league remains the most lucrative in the world.

He has stated that he wants to reach $25 billion in annual revenues for the league by the year 2027. Here's how the NFL can get there:

1) The first—and most significant step—will be the renegotiation of the league's television rights deals.

2) A new labor deal. The 2011 collective bargaining agreement ends in 2020.

3) The NFL has mastered the art of dividing up its rights. In other words when, say, CBS gets the TV rights deal, it does not get the live-streaming Internet rights.

4) The NFL is in initial discussions about forming its own mobile network.

5) The NFL's fantasy game, at 3 million players, is still well behind ESPN and Yahoo, which have an estimated 14 million and 12 million players, respectively.
This ambitious plan is looking to up the ante. Merchandising will not boost an additional 16 billion out of cash strapped fanatics. Maybe selling NFL uniforms to the military or running a bookmaking network with an anti-trust exemption might get permanent seating in skyboxes for elitist politicians, but it does nothing to bring relief to the lowly stadium season ticketholder. Soon with enhanced and intrusive security measures, many fans will just be content to be tailgaters.
Relying upon the referees to umpire a fair playing field might bring back the perception of an honesty game, but doubts linger that the point spread is often more important than the final score. The Drunk Never Knows When To Leave The Bar, might offer a better option than havingJimmy Haslam or Eddie John DeBartolo Jr. in change of public relations.
"Now you say, what is wrong with the fox guarding the hen house? Surely, you are not saying that this compares to the NFL Players Association passing judgment on all new referees, writing the rule book and picking only from their own ranks every new candidate for the job?"
Looking to the players for that wholesome image has its own pitfalls. Review the NFL Arrests Database.
"These are arrests and citations involving NFL players since 2000 that were more serious than speeding tickets. U-T San Diego reviewed hundreds of news reports and public records in compiling it. The list cannot be considered comprehensive in part because some incidents may not have been reported and some public records proved to be elusive. Increased media coverage of incidents also probably accounts for more incidents listed in recent years."
It seems that the poster boys are running a campaign to rename the NFL to the Aaron Hernandez league. Ownership flack, when Tim Tebow Says Football Comes After Faith and Family, illustrates that selling the NFL vision of Jerry Jones is the way to the $25 billion super bowl.At some point, the public will become played out. Their satisfaction with the NFL experience will never approach the dignity of Y.A Tittle. An aficionado of the sport likeHoward Cosell would tell it like it is. "Don't you remember the $28 million dollar judgment against the NFLPA and its affiliated marketing company (of which $21 million was punitive) for breaching their fiduciary duty to retired players?"
Players, players almost sounds like playoffs, playoffs . . . playoffs !
Soon the virtual reality of a smart phone app will provide the excitement of a two-minute drill without the cost of admission. The NFL marketing machine owes more toNFL films than to the collective wisdom of the players or the owners. The business of the end zone dance rests upon the good will of the fans.
Kit Daniels recently wrote a brief but very enlightening news story on InfoWars.com:
"On the August 6 edition of the Alex Jones Show, Dr. Ron Paul responded to this very straightforward statement which appeared in a recent New York Times article:
"'Some analysts and Congressional officials suggested Friday that emphasizing a terrorist threat now was a good way to divert attention from the uproar over the N.S.A.'s data-collection programs, and that if it showed the intercepts had uncovered a possible plot, even better.'
"'Well, it's not amazing that this is the truth,' Paul said in response. 'It's amazing, I think, that the New York Times would admit it.'
"Paul went on to say that the NSA's claim of saving Americans from dozens of terrorist attacks is simply rhetoric to prove that the agency's massive spying on Americans is a good thing.
"'Their (the NSA officials) claimed successes are all built on lies,' Paul said.
Paul referred to NSA Deputy Director John Inglis' admission that the agency's warrantless wiretapping only prevented maybe one terrorist plot and even that one is questionable, which contradicts the NSA's earlier claim of 54 thwarted plots.
"'It's all based on lies and I think this is probably a benefit to us because most Americans now are being very, very leery of what our government tells us,' Paul continued. 'This is a terrible thing to have to go through… who wants to have to give up on their country?'
"'We don't want to give up on our country but I think it's high time we gave up on a lot of our politicians and the way our government is being run.'"
See the report at:
Ron Paul Calls NSA's Alexander and Clapper Liars
What is even more amazing than the New York Times reporting such a story is the fact that some of Barack Obama's biggest Hollywood supporters are beginning to recognize the evil machinations of Obama's domestic spying.
Breitbart.com covered the following story:
"Actor Matt Damon told Black Entertainment Television (BET) that President Barack Obama 'has some explaining to do:'
"'There are a lot of things that I really question–the legality of the drone strikes, these NSA revelations. Jimmy Carter came out and said we don't live in a democracy. That's a little intense when an ex-president says that. So you know, he's got some explaining to do, particularly for a constitutional law professor.'
"When asked his opinion of the President's second term, Damon chuckled and said, 'He broke up with me.'
See the report here:
Damon is not the only one in Hollywood angry over the NSA's domestic spying. Included in the list are Alec Baldwin, Judd Apatow, Steve Martin, Rob Schneider, Patton Oswalt, John Cusack, Janine Turner, and even (Egad!) Michael Moore.
To read the actors comments, go here:
Here is my problem: how is it that liberal actors in Hollywood can see, and are willing to speak out against, the unconstitutional citizen spying apparatus that Barack Obama is implementing against the American people and our country's pastors and Christian leaders neither see it nor have spoken out against it? What the heck is going on? You mean to tell me that actors in Hollywood care more about freedom than the men standing behind America's pulpits? Creepers, Batman!
Plus, neither let us forget that it was George W. Bush who put all of the infrastructure, policies, and laws in place which created the machinery for everything that Obama's NSA is currently using against the American citizenry. This is NOT a political issue. Both Republican and Democrat administrations and congresses have collaborated to eviscerate the Bill of Rights and turn America into a giant surveillance society.
What is it about people (including Christians and Republicans) that cause them to be infatuated with a police state? All one has to do is say that some law, no matter how egregiously oppressive it might be, is in the interest of "national security," and, presto, everyone blindly supports it. Yes, yes, I realize that not everyone supports it. Ron Paul and a few others oppose this slippery slope; but the vast majority of Republicans and Democrats, pastors and Christians, liberals and conservatives, the media elite and journalists, do support it.
With all of this love and infatuation that so many people have with the Patriot Act, the Department of Homeland Security, the NDAA, the NSA, etc., why don't these same people love Nazi Socialism? After all, the surveillance society created by G.W. Bush and Barack Obama makes Hitler's spy apparatus look amateurish by comparison.
Does anyone really not know that the NSA is lying to us? Does anyone really believe that the surveillance society is about protecting the American people from a few thousand Sand People?
The last report I read on the topic said that the TSA now has almost ONE MILLION people on the no-fly watch list. Almost one million! Al Qaeda has never numbered more than a few thousand people (not to mention that Al Qaeda is a contrivance of our own CIA). And at the rate we keep killing their "number two" guys, it is questionable just how many of them are truly left. Let's put it this way: there are far more people on the TSA watch list than there are Al Qaeda members worldwide. But it really doesn't matter how many or few of them there are; they justify America's politicians turning the United States into a giant police state–for our own protection, or course. BLAH! BLAH! BLAH!
Researcher Joel Skousen quotes a Reuters news report saying, "Details of a U.S. Drug Enforcement Administration program that feeds tips to federal agents and then instructs them to alter the investigation trail were published in a manual used by agents of the Internal Revenue Service for two years.
"A 350-word entry in the Internal Revenue Manuel instructed agents of the U.S. tax agency to omit any reference to tips supplied by the DEA's Special Operations Division, especially from affidavits, court proceedings or investigative files. The entry was published and posted online in 2005 and 2006, and was removed in early 2007. The IRS is among two dozen arms of the government working with the Special Operations Division, including the Federal Bureau of Investigation, the National Security Agency and the Central Intelligence Agency."
Reuters broke another report about the way the government lies to us entitled, "U.S. directs agents to cover up program used to investigate Americans." From the report: "'I have never heard of anything like this at all,' said Nancy Gertner, a Harvard Law School professor who served as a federal judge from 1994 to 2011. Gertner and other legal experts said the program sounds more troubling than recent disclosures that the National Security Agency has been collecting domestic phone records. The NSA effort is geared toward stopping terrorists; the DEA program targets common criminals, primarily drug dealers.
"'It is one thing to create special rules for national security,' Gertner said. 'Ordinary crime is entirely different. It sounds like they are phonying up investigations.'"
See the report at:
U.S. Directs Agents To Cover Up Program Used To Investigate Americans
Ron Paul knows the NSA is lying to us; Alex Jones knows they are lying to us; Stewart Rhodes knows they are lying to us; Joel Skousen knows they are lying to us; Matt Damon knows they are lying to us; Alec Baldwin knows they are lying to us; the New York Times knows they are lying to us; Reuters news knows they are lying to us; even Michael Moore knows they are lying to us. So, why don't America's pastors and Christian leaders know they are lying to us?
A row between the US and Moscow over Snowden's extradition has reached a new level of tension after Barack Obama canceled a long-planned summit with Russian President Vladimir Putin, again showing the adherence of US to double-standard politics.
This goes back to Putin finally deciding to give temporary asylum to NSA whistleblower Edward Snowden, specifically ignoring Obama's personal directive that Snowden should be handed over to the US. With this measure, Putin echoes Russia's and the world's growing weariness with America's hegemonic carrot-and-stick strategy, and its double talk.
Both presidents had agreed to hold a summit in Moscow next month to discuss bilateral issues but, reading between the lines, one can clearly sense the increasing frustration the US and its key global allies feel towards Russia and China, the only two major powers that can stand up to them, bringing some measure of traditional balance-of-power to today's world; even if uneasy and fragile
Disclosure
As with Julian Assange, the case involving Edward Snowden is well-known around the world: both men were in a position to access credible behind-the-curtain information, together with the documentation backing it up, and they both came out boldly disclosing it to the public.
If the proof is in the pudding, then America's rage and ire, as well as that of its allies', are proof that these disclosures are in fact true, which is why such a large portion of global public opinion hail Snowden and Assange as true heroes and freedom fighters.
For when it comes to assessing the true motives and unconfessable activities and goals behind much of US, UK and Israeli foreign and domestic policies, millions of modern-day Hamlets can smell that there is definitely something very rotten and not precisely in the State of Denmark.
If, as we believe, the supranational global power elites are embedded deep inside the public and private power structures of key nations – notably the United States and the United Kingdom  – then clearly their Achilles Heel is any and all disclosure of their crimes, their meddling in the internal affairs of other countries, their direct or indirect involvement in false-flag attacks, their support of genocidal regimes when it serves their purpose, their murderous invasions and occupations in Iraq, Afghanistan, Palestine and Libya, and their obscene funding and support of terrorists, guerrillas and mafias in Syria and elsewhere, under the PsyOps cover of 'Arab Spring'.
Now, if giving temporary asylum to a disgruntled 30-year-old former National Security Agency (NSA) operative like Snowden has such impact on the US power structure – so much so that it led the president of the United States to cancel a key summit with the President of Russia – then one can only wonder at the fear and trembling they must feel when assessing potentially much more serious 'security breaches'.
What if a really organized group of truly powerful insiders-turned-outsiders were to decide to confront Washington, New York, London and Tel-Aviv with unquestionable evidence and proof of their crimes and their criminal perpetrators? What if, say, somebody comes up with total and undisputable proof on the truth behind 9/11? Or Iraq and Libya? Or Wall Street in 2008? Or London 7/7…?
Russia and China: America's 21st-century foes
Naturally global hegemons abhor anyone standing up to them, which is clearly what Russia has been doing for the past decade.  At the UN, where Russia had been more accommodating to many US interests, after the US-backed monstrous assassination of Libyan leader Muammar Gaddafi on live TV and the rape of Libya in 2011, its appears Moscow got really fed up.
Assassinating global leaders to the chuckling of Hillary Clinton on CBS News is definitely not on Moscow's agenda.
A key change in Russian foreign policy can thus be clearly seen in the cases of Iran and, more significantly, in Syria – a traditional Russian ally.
The US, UK and Israel know full well that even if they continue to finance the worst terrorists, mafias, murderers, arms-dealers and Al-Qaeda operatives – whom they collectively dub as 'freedom fighters' - against the legitimate government of Bashar Assad, Russia just won't budge.
Putin's message is clear: the West will not have its way in Syria. Period.
Many readers are probably asking, what about China? Isn't China supposed to be the key Pentagon target in the years to come because it continues to grow and grow, and its economy will soon surpass that of the US?
Yes, but that's just the economy and, yes, China does hold almost $2 trillion in US Treasury Bills, which gives them the potential to wreak havoc on the US by just liquidating them short-term in the major global financial markets. China could, if it wanted, send the US Dollar crumbling down like the World Trade Center twin towers did in 2001.
But the US knows China will not do that; not now, anyway, as they have much more to lose from a US financial collapse than they have to win.  China knows that triggering the mass devaluation of those Treasuries would backfire and explode in their own face.
Besides, China has never had, nor has today, global hegemonic aims. China seems quite happy to be and remain the undisputed power in South East Asia and the Western Pacific, something that is in sharp contrast with the US/UK/Israel, which together insist on running the whole world: politically, territorially, financially, even trying to impose its courts and laws.
In addition, China has few issues for open conflict: Tibet, Taiwan, a couple of disputed islands with Japan, perhaps, but that's basically it. Their struggle lies on the economic and resources stage.
Now, compare that to the permanent conflicts the US and its allies stir up in the Middle East, Africa, Latin America, Central Europe etc.
China does not really need to be contained; it is self-contained. The US and its allies, however, must be contained and, seeing the way things are going, in the long run they must be stopped.
Russia might have far less economic clout than the US, however the Kremlin has always had clear long-term geopolitical objectives; intelligently designed and planned ever since the times of the tsars, later under the Bolsheviks, and today under its mature, coherent and consistent leadership.
For Russia not only has global aims, Russia understands the world and its multicultural complexities far better than the US. On this, Russia is only rivaled by Britain… and China.
So is the US now slipping back into 'Evil Empire', Russia-standing-in-the-way-of-'democracy'; Russia-supporting-the-bad-guys rhetoric?
The truth is that Russia is helping to unmask American social and political decadence, financial weakness, and psychopathic imperial overdrive.
When Russia stands up to America, it shows strength, personality and self-respect. The world looks on and applauds.
Double standards
On August 7, Obama appeared on Jay Leno's popular 'Tonight Show', whining and complaining about Putin, accusing Moscow of slipping back into "Cold-War mode". He listed US grievances against Russia: missile defense and arms control, trade relations, global security, human rights, civil society… and advising President Putin not to look at the past but to "think about the future as there's no reason why we shouldn't be able to cooperate."
Obama doesn't seem to understand that to think correctly about the future, requires learning from the experience of the past. Addressing the Snowden Affair in isolation is but another example of US double-standards and double talk.
As journalist Glenn Greenwald of London's The Guardian newspaper reminded his readers on that same day, whilst Obama and the mainstream media today express so much distress over Snowden's Russian asylum, they seem to forget past cases where the tables were turned, and which did not involve a young, mild-mannered whistleblower, but rather where the US protected the worst criminals and murderers.
For instance, the US refused to heed an extradition request from Italy for two CIA agents indicted in the alleged 2003 abduction of an Egyptian cleric in Milan (New York Times, February 28, 2007); later, when CIA agent Robert Seldon Lady was released in Panama, he was flown back to the US to avert the possibility he might be extradited to Italy (Washington Post, July 19, 2013).
Then we have America's refusal to extradite former CIA-supported Bolivian President Gonzalo Sánchez de Lozada – who for all practical purposes was given US asylum – so he could stand trial for genocide and war crimes in Bolivia (The Guardian, September 9, 2012). Or the case of Luis Posada Carriles, whose extradition to Venezuela was also refused by the US, over his alleged role in the 1976 terror bombing of a Cuban jetliner that killed 73 people (El Paso Times, December 30, 2010).
The list does not stop there. In recent years, Argentina, Uruguay, Chile and Brazil filed repeated requests and legal summons asking the US to give up one Sir Henry A. Kissinger, wanted for questioning over his decades-long involvement with CIA-backed military regime murders in those countries during the 1970s, under a mass genocide strategy which later became known as 'Plan Condor'.
But again, the Global Power Elite always stands behind its problem children like Sir Henry to the very end. Spanish judge Baltasar Garzón went so far as to ask Interpol to arrest Kissinger for questioning during a visit to London but – Alas! – to no avail.
And we won't even mention the repeated extradition requests filed by Belgian Courts against former Israeli Prime Minister Ariel Sharon for his war crimes and crimes against humanity, filed by Lebanese victims of his 2001 killing sprees.
The list is far too long.  But the double standards are glaringly obvious, which does not seem to unduly bother the Global Hegemons, for they are far too used to always having their way.
And even when they do take some risk they use their overpowering leverage to play their game safely, as if saying "let's flip a coin: heads we win; tails you lose".
Adrian Salbuchi is a political analyst, author, speaker and radio/TV commentator in Argentina
In the midst of its short summer, Moscow is balmy and relaxed. Sidewalks brim with tables and merry customers, even traffic jams are less severe due to holiday season. The only danger for men is the girls' dresses, they are precariously short.
In a few days, perhaps even tomorrow, the charms and dangers of the city will be available to Edward Snowden, who is about to receive a refugee ID, allowing him to roam freely the whole length and breadth of Russia and to socialise with its folk.
It will be a nice change from Sheremetyevo International Airport, where he was marooned for quite a while. The airport is vast; some unfortunates, mainly paperless refugees, live in its transit area for ten years or more. For a while, it was felt that our hero would remain stuck forever in limbo. The Russians and the intrepid Snowden sat on the fence, getting used to each other while keeping their distance. At long last, the ice was broken. Snowden had gotten to meet with representatives of the Russian public: a few members of Parliament (called Duma, in Russian), some human rights folks, leading lawyers.
He reminded them that he "had the capability without any warrant to search for, seize, and read your communications… [and] change people's fates". He invoked the US Constitution transgressed by the spooks, for the Constitution "forbids such systems of massive, pervasive surveillance". He rightly rejected the legal ruse of Obama's secret courts, for no secrecy can purify the impure. He recalled the Nuremberg ruling: "Individual citizens have the duty to violate domestic laws to prevent crimes against peace and humanity from occurring." And this system of total surveillance is indeed a crime against humanity, the cornerstone of the Iron Heel regime they plan to establish on the planet. When his declaration was interrupted by the airport's routine announcements over the loudspeaker, he charmingly smiled and said "I've heard it so many times during the last week".
The Russians loved him; the whole attitude to Snowden changed for better, as I expected when I called for this meeting on the pages of the leading Russian newspaper, the KP (Komsomolskaya Pravda). Now we've learned that the Russians have decided to issue him a refugee ID and grant him freedom of movement.
Why did they hesitate for so long?
Snowden is an American, and the Americans, like the British, are quite prejudiced against Russia, their common Cold War enemy. For them, it is the country of the Gulag and the KGB. Though both menaces vanished decades ago, traditions die hard, if at all. Even the Gulag and the KGB were only a modernised version of the Tsar, knout and serfdom horror of the 19th century, to be eventually superseded by the Brutal New Russian Mafia State as updated by Luke Harding. For an average American, the prospect of befriending Russia is nigh unto impossible. Even more so for an American who served in the CIA and NSA, as Snowden did. He felt that by embracing Russia he would lose his whistle-blower status and be regarded as an enemy agent, a totally different kettle of fish.
This was the case for Julian Assange, as well. When it was proposed that the head of Wikileaks flee to Russia (it was technically possible), he procrastinated, dragged his feet and remained in England, unable, in the end, to cross the great East/West divide.
Snowden was not seeking limelight, quite the opposite! He wished to stop the crimes being committed by No Such Agency in the name of American people, no more, no less. He hoped to become a new Deep Throat, whose identity would never be revealed. His first profound revelations were made by correspondence; he flew to Hong Kong as he was familiar with the place, spoke fluent Chinese, and planned to return home to Hawaii. It appears that the Guardian Newspaper pushed him into revealing his identity. Even then he thought himself safe, for Hong Kong is under Chinese sovereignty, and China is a mighty state, not an easy pushover.
The Chinese used Snowden's revelations to defuse American accusations of electronic espionage, but they weren't going to spoil relations with the US for his sake – the hot potato was tossed. As a final courtesy they gave him 24 hours warning of his impending arrest. He had to flee, and he boarded the Aeroflot flight to Moscow in company of charming English lady, a Wikileaks executive Sarah Harrison.
Snowden landed in Moscow, but he never considered taking refuge in Russia. For him, this was just a transit point to a neutral country, be it Iceland or Venezuela, some part of the West. He planned to fly to Havana and change planes there for Caracas. He did not take into account the length to which the US Deep State would go to seize and punish him.
At first, the Americans put enormous pressure on Cuba to refuse transit for Snowden. They threatened Cuba with invasion and blockade, and Castro asked Snowden to look for another route. No airline but Aeroflot would fly Snowden out of Russia, and Aeroflot flies via Havana only. So the first plan got unstuck.
The gas summit in Moscow offered another opportunity for escape: the summit was attended by the presidents of Bolivia and Venezuela, both came with their private planes able to make the long flight. Bolivian president Evo Morales had left Moscow first; his plane was forced down and searched, setting a historical precedent. This served as a warning to the Venezuelan President Nicolas Maduro; he flew away from Moscow Snowden-less.
This was an important discovery for Ed Snowden: he learned by this experience that there is just one country on the planet that is outside of the US grasp. Just one country that is a real alternative to the Empire; the only country Navy Seals are not likely to raid nor Obama drones to bomb, the only country whose planes can't be scrambled and searched. He understood that Moscow is the only safe place on the globe for an identified enemy of the Empire. Now he was ready to contact the Russians; he resumed his temporary refuge request, which will probably be granted.
The Russians also hesitated. They were not keen on angering the US, they were aware that Snowden did not intend to come to them and just happened to get stuck in transit. He was a hot potato, and many people were convinced it's better to follow the Chinese example and toss him.
The US Lobby pulled out all the stops trying to have him extradited. There were human rights activists and NGO members in the employ of the US State Department. Such people and organisations are promoted by the Americans, a Fifth Column of sorts. Lyudmila Alexeeva is a leading Russian activist of this kind; she was an anti-Soviet dissident, acquired US citizenship, came back to Russia and resumed her fight for human rights and against the Russian state. She is on record as saying that Snowden is a traitor to the service, neither a whistle-blower nor a human rights defender. He should be surrendered to the US, she averred. Other notorious dissidents and fighters against Putin's regime agreed with her, unmasking their true colours.
Some siloviki were also against Snowden. These are members and ex-members of Russian intelligence community, who embraced the concept of convergence of security services and collaborated with the Americans and other services, notably the Israelis. They said that loyalty to one's service is the most important virtue, and a traitor can't be trusted. They pooh-poohed Snowden's revelations saying they had known it all along. They said he is not worth quarrelling with Washington about. This was also the line of Konstantin Remchukov, an important Russian media lord, the owner of Nezavisimaya Gazeta, who added that Snowden was a Chinese spy.
And finally there were conspiracy freaks, who said that Snowden is a Trojan Horse, sent to pry open Russian secrets. He was actually a CIA double agent, they said. No, he was an agent of Mossad, others argued. Return him to the US, they asserted. This bottom line has exposed many American agents, whether faux human rights defenders or equally false siloviki, security personnel.
Among supporters of Snowden in Russia, there was my friend, the poet Eduard Limonov, who called Snowden the harbinger of Unipolar World collapse. My newspaper KP supported the cause as well. The state-owned TV took a cautious approach, and was rather dismissive of Snowden's discoveries.
President Putin, too, played a cautious game. Initially, he stopped talk of surrendering Snowden with a laconic statement: «Russia never ever extradites anybody to any state». Then he offered Snowden refuge on condition that he would not act against the US. This is a usual condition for a political refuge. He added that probably Snowden would not accept it as he wants to continue his struggle "just like Professor Sakharov", a renown dissident of Soviet days. He also tried to dissuade America from pursuing Snowden, comparing this pursuit with "shearing a piglet", producing more screams than wool. This cautious game paid well: Snowden accepted his precondition and applied for temporary refuge until the road to Latin America opens up for him, while the President saved face and did his best to avoid quarrelling with the US and with the mighty pro-American lobby in Moscow. I should say that despite his autocratic macho image, Putin does not control free Russian media, which are usually owned by pro-Western media lords. His positions in the national discourse get limited exposure.
The Russian leader was not confrontational. He does not look for trouble, as a rule. He comes off as rather a cautious, prudent, conservative ruler. He would probably prefer that Snowden fly away, especially as Snowden, an American patriot, would not share his stolen crown jewels with the Russians. His granting permission for Snowden to meet with the Russian public was withheld for a long while. However, during this period, the US added many more names to the secret Magnitsky List of Russians whose properties and accounts were to be snatched ("frozen" is the technical term) by the US and its allies. Members of Congress freely vituperated against Putin and referred to Russia in abusive terms. Just wait — Obama will call Putin tonight and he will send Snowden packing, said the White House spokesman. Meanwhile, the US continued its build-up against Syria in the Middle East, and Israel bombed Syrian positions, presumably with American support. Instead of showing any consideration, Obama tried to bully Putin. This was the wrong tactic, and it backfired.
At the same time, Russia carried out a sudden check of its military preparedness, apparently keeping all options open. This great country is not looking for trouble, but it does not shrink from it either. Snowden is safe here in Moscow, where nobody can harm him, so he will be able to tell the world about the crimes against humanity committed by the American secret services. And Moscow is a great place to be, especially in summer.
They're in various forms. They repeat with disturbing regularity. America's war on terror targets Islam. At issue is duplicitous scaremongering. It advances Washington's imperium.
Wars of aggression follow. False arrests target innocent victims. Terror threats repeat. They're strategically timed. They change the subject. They divert attention.
They fool most Americans. They do so most of the time. Here we go again. Media scoundrels march in lockstep. They regurgitate Big Lies.
On August 2, The New York Times headlined "Qaeda Messages Prompt US Terror Warning," saying:
"The United States intercepted electronic communications this week among senior operatives of Al Qaeda, in which the terrorists discussed attacks against American interests in the Middle East and North Africa, American officials said Friday."
"The intercepts and a subsequent analysis of them by American intelligence agencies prompted the United States to issue an unusual global travel alert to American citizens on Friday, warning of the potential for terrorist attacks by operatives of Al Qaeda and their associates beginning Sunday through the end of August."
Fact check
Al Qaeda's a longstanding US asset. It's used strategically as enemy and ally. Terror threats are fabricated. Bin Ladin was used as "Enemy Number One" years after he died.
Obama didn't kill him. He was seriously ill with kidney disease. He had other illnesses. In December 2011, he died naturally. The Pakistan Observer reported it. So did BBC and Fox News.
In July 2002, The New York Times said he's been dead for "almost six months." He was "buried in the mountains of southeast Afghanistan."
On August 1, 2013, The State Department headlined "Temporary Post Closures and Worldwide Travel Alert." It's like previous ones. They're fake.
"The following posts normally open on Sunday will be closed" on August 3 and 4, 2013. It's because of "increased security concerns."
"For further information, please click on the links below. A Worldwide Travel Alert has also been issued."
US Embassy Abu Dhabi, United Arab Emirates
US Embassy Algiers, Algeria
US Embassy Amman, Jordan
US Embassy Baghdad, Iraq
US Consulate Basrah, Iraq
US Embassy Cairo, Egypt
US Consulate Dhahran, Saudi Arabia
US Embassy Djibouti, Djibouti
US Embassy Dhaka, Bangladesh
US Embassy Doha, Qatar
US Consulate Dubai, United Arab Emirates
US Consulate Erbil, Iraq
US Consulate Jeddah, Saudi Arabia
US Embassy Kabul, Afghanistan
US Embassy Khartoum, Sudan
US Embassy Kuwait City, Kuwait
US Embassy Manama, Bahrain
US Embassy Muscat, Oman
US Embassy Nouakchott, Mauritania
US Embassy Riyadh, Saudi Arabia
US Embassy Sana'a, Yemen
US Embassy Tripoli, Libya
According to an unnamed senior American official,"more than the usual chatter" was intercepted. Specifics were omitted. There are none. They don't exist.
They come at Ramadan's close. They followed Russia granting Snowden asylum. They came three days after fake Israeli/Palestinian peace talks began.
They're during worsening economic crisis conditions. They affect growing millions. They're when Washington threatens escalated war on Syria.
They're at the same time administration officials try justifying institutionalized global spying. Meta-data mining is standard practice. NSA monitors everyone it targets all the time everywhere.
Russell Tice is a former Office of Naval Intelligence/Defense Intelligence Agency/NSA analyst. His career spanned 20 years.
In December 2005, he accused NSA and DIA of unconstitutionally wiretapping US citizens. He got national attention, saying:
"Everyone at NSA knew what they were doing was illegal, because it's drilled into our heads over and over that it's against NSA policy, that you do not do that. The choice is to speak out and get fired."
On August 1, he was interviewed on PBS' News Hour. He said NSA collects "everything." It accumulates content "word for word, everything of every domestic communication in this country."
Every phone call, email, and other personal communication is gathered and stored. Nothing escapes its scrutiny. It lies claiming otherwise. Meta-data collection is official policy. It's longstanding. It's done with technological ease.
Earlier he said NSA "targets, sucks-in, stores and analyzes illegally obtained content from the masses in the United States."
Elected officials are monitored. So are federal judges. Candidate Obama's phone was tapped. His private emails were read.
Public awareness grows. Fearmongering diverts attention. False flags shift attention from what matters. Administration officials take full advantage.
On August 2, Russia Today headlined "US issues global travel alert over al-Qaeda attack threat," saying:
It "warn(ed) US citizens about the 'continued potential for terrorist attacks' in the Middle East and North Africa."
It comes weeks ahead of the 12th 9/11 anniversary. It's also the Benghazi, Libya first anniversary.
The travel alert remains throughout August. The State Department "alert(ed) US citizens to the continued potential for terrorist attacks, particularly in the Middle East and North Africa and possibly occurring and emanating from the Arabian Peninsula."
"Current information suggest that al-Qaeda and affiliated organizations continue to plan terrorists attacks booth in the region and beyond and they may focus efforts to conduct attacks in the period between now and the end of August."
Americans were warned about potential dangers on subways, air travel, railways, ships, other forms of public transportation, and prime tourist sites.
Media scoundrels regurgitate fearmongering. They do it ad nauseam. On August 3, CNN headlined "US issues global travel alert, to close embassies due to al Qaeda threat."
Embassy closings and travel alert warning remain in place. Britain and Germany said they'll "close their embassies in the Yemeni capital, Sana'a, on Sunday and Monday. The UK Foreign Office said it was a precautionary measure."
An unnamed US senior official in Yemen called the threat there "much worse than it has (been) in a long time."
According to other unnamed US officials:
"Various Western targets – not just those tied to the United States -are under threat."
Former US ambassador to Iraq Christopher Hill said:
"There have been incidents where they've closed down a number of embassies in the Middle East because the information is not specific enough to say that 'embassy X' got to be closed as opposed to other embassies."
"But I think this, closing all of these embassies in the Middle East to North Africa, is in fact unprecedented. At least, I didn't see this during my career."
Unsubstantiated fearmongering lacks credibility. The usual "experts" hype it. US broadcasters and cable channels feature them. So do major broadsheets.
Notable past terror attacks were false flags. Perhaps Obama has another one in mind. Perhaps multiple ones. Maybe something major.
Last April's Boston Marathon bombing was a black ops scheme. It was state-sponsored terrorism. Tamerlan and Dzhokhar Tsarnaev were set up. They were innocent patsies.
They had nothing to do with it. Police murdered Tamerlan in cold blood. Dzhokhar faces longterm hard time.
The FBI bears responsibility for US terror plots. So does CIA. It's longstanding policy. Post-9/11, it escalated.
Bush declared war on terrorism. Obama continues what he began. Washington needs enemies. When none exist, they're invented.
Muslims are America's target of choice. Innocent victims are entrapped. Doing so lets FBI operatives claim fabricated war on terror victories.
It lets NSA officials saying spying uncovers plots before they hatch. It lets America get away with murder. It does so on a global scale.
Lies, damn lies, and repeated lies facilitate state sponsored terrorism. It remains ongoing. Lots more is planned. America's waging war on humanity. It's longstanding US policy.
Stephen Lendman lives in Chicago. He can be reached at lendmanstephen@sbcglobal.net.
His new book is titled "Banker Occupation: Waging Financial War on Humanity."
http://www.claritypress.com/LendmanII.html
Visit his blog site at sjlendman.blogspot.com.
Would you be shocked to learn that the FBI apparently knew that some organization, perhaps even a law enforcement agency or private security outfit, had contingency plans to assassinate peaceful protestors in a major American city — and did nothing to intervene?
Would you be surprised to learn that this intelligence comes not from a shadowy whistle-blower but from the FBI itself – specifically, from a document obtained from Houston FBI office last December, as part of a Freedom of Information Act (FOIA) request filed by the Washington, DC-based Partnership for Civil Justice Fund?
To repeat: this comes from the FBI itself. The question, then, is: What did the FBI do about it?
The Plot
Remember the Occupy Movement? The peaceful crowds that camped out in the center of a number of cities in the fall of 2011, calling for some recognition by local, state and federal authorities that our democratic system was out of whack, controlled by corporate interests, and in need of immediate repair?
That movement swept the US beginning in mid-September 2011. When, in early October, the movement came to Houston, Texas, law enforcement officials and the city's banking and oil industry executives freaked out  perhaps even more so than they did in some other cities. The push-back took the form of violent assaults by police on Occupy activists, federal and local surveillance of people seen as organizers, infiltration by police provocateurs—and, as crazy as it sounds, some kind of plot to assassinate the "leaders" of this non-violent and leaderless movement.
But don't take our word for it. Here's what the document obtained from the Houston FBI, said:
An identified [DELETED] as of October planned to engage in sniper attacks against protestors (sic) in Houston, Texas if deemed necessary. An identified [DELETED] had received intelligence that indicated the protesters in New York and Seattle planned similar protests in Houston, Dallas, San Antonio and Austin, Texas. [DELETED] planned to gather intelligence against the leaders of the protest groups and obtain photographs, then formulate a plan to kill the leadership via suppressed sniper rifles. (Note: protests continued throughout the weekend with approximately 6000 persons in NYC. 'Occupy Wall Street' protests have spread to about half of all states in the US, over a dozen European and Asian cities, including protests in Cleveland (10/6-8/11) at Willard Park which was initially attended by hundreds of protesters.)
Occupiers Astounded—But Not Entirely
Paul Kennedy, the National Lawyers Guild attorney in Houston who represented a number of Occupy Houston activists arrested during the protests, had not heard of the sniper plot, but said, "I find it hard to believe that such information would have been known to the FBI and that we would not have been told about it."  He then added darkly, "If it had been some right-wing group plotting such an action, something would have been done. But if it is something law enforcement was planning, then nothing would have been done. It might seem hard to believe that a law enforcement agency would do such a thing, but I wouldn't put it past them."
He adds, "The use of the phrase 'if deemed necessary,' sounds like it was some kind of official organization that was doing the planning." In other words, the "identified [DELETED" mentioned in the Houston FBI document may have been some other agency with jurisdiction in the area, which was calculatedly making plans to kill Occupy activists.
Kennedy knows first-hand the extent to which combined federal-state-local law enforcement forces in Houston were focused on disrupting and breaking up the Occupy action in that city. He represented seven people who were charged with felonies for a protest that attempted to block the operation of Houston's port facility. That case fell apart when in the course of discovery, the prosecution disclosed that the Occupiers had been infiltrated by three undercover officers from the Austin Police department, who came up with the idea of using a device called a "sleeping dragon" -- actually chains inside of PVC pipe -- which are devilishly hard to cut through, for chaining protesters together blocking port access. The police provocateurs, Kennedy says, actually purchased the materials and constructed the "criminal instruments" themselves, supplying them to the protesters. As a result of this discovery, the judge tossed out the felony charges.
FBI Response
WhoWhatWhy contacted FBI headquarters in Washington, and asked about this document—which, despite its stunning revelation and despite PCFJ press releases, was (notwithstanding a few online mentions) generally ignored by mainstream and "alternative" press alike.
The agency confirmed that it is genuine and that it originated in the Houston FBI office. (The plot is also referenced in a second document obtained in PCJF's FOIA response, in this case from the FBI's Gainesville, Fla., office, which cites the Houston FBI as the source.)  That second document actually suggests that the assassination plot, which never was activated, might still be operative should Occupy decisively re-emerge in the area. It states:
On 13 October 20111, writer sent via email an excerpt from the daily [DELETED] regarding FBI Houston's [DELETED] to all IAs, SSRAs and SSA [DELETED] This [DELETED] identified the exploitation of the Occupy Movement by [LENGTHY DELETION] interested in developing a long-term plan to kill local Occupy leaders via sniper fire.
Asked why solid information about an assassination plot against American citizens exercising their Constitutional right to free speech and assembly never led to exposure of the plotters' identity or an arrest—as happened with so many other terrorist schemes the agency has publicized—Paul Bresson, head of the FBI media office, offered a typically elliptical response:
The FOIA documents that you reference are redacted in several places pursuant to FOIA and privacy laws that govern the release of such information so therefore I am unable to help fill in the blanks that you are seeking.  Exemptions are cited in each place where a redaction is made.  As far as the question about the murder plot, I am unable to comment further, but rest assured if the FBI was aware of credible and specific information involving a murder plot, law enforcement would have responded with appropriate action.
Note that the privacy being "protected" in this instance (by a government that we now know has so little respect for our privacy) was of someone or some organization that was actively contemplating violating other people's Constitutional rights— by murdering them. That should leave us less than confident about Bresson's assertion that law enforcement would have responded appropriately to a "credible" threat.
Houston Cops Not Warned?
The Houston FBI office stonewalled our requests for information about the sniper-rifle assassination plot and why nobody was ever arrested for planning to kill demonstrators. Meanwhile, the Houston Police, who had the job of controlling the demonstrations, and of maintaining order and public safety, displayed remarkably little interest in the plot:  "We haven't heard about it," said Keith Smith, a public affairs officer for the department, who told us he inquired about the matter with senior department officials.
Asked whether he was concerned that, if what he was saying was correct, it meant the FBI had not warned local police about a possible terrorist act being planned in his city, he said, "No. You'd have to ask the Houston FBI about that."
Craft International Again
Sniper action by law enforcement officials in Texas would not be anything new. Last October, a border patrol officer with the Texas Department of Public Safety, riding in a helicopter, used a sniper rifle to fire at a fast-moving pickup truck carrying nine illegal immigrants into the state from Mexico, killing two and wounding a third, and causing the vehicle to crash and overturn. It turns out that Border Patrol agents, like a number of Texas law enforcement organizations, had been receiving special sniper training from a Dallas-based mercenary-for-hire organization called Craft International LLC.  It seems likely that Houston Police have also received such training, possibly from Craft, which has a contract for such law-enforcement training funded by the US Department of Homeland Security.
Efforts to obtain comment from Craft International have been unsuccessful, but the company's website features photos of Craft instructors training law enforcement officers in sniper rifle use (the company was founded in 2009 by Chris Kyle, a celebrated Army sniper who last year was slain by a combat veteran he had accompanied to a shooting range). A number of men wearing Craft-issued clothing and gear, and bearing the company's distinctive skull logo, were spotted around the finish line of the April Boston Marathon, both before and after the bombing. Some were wearing large black backpacks with markings resembling what was seen on an exploded backpack image released by the FBI.(For more on the backpacks that allegedly contained the bombs, see this piece we did in May.)
An Activist Responds
Remington Alessi, an Occupy Houston activist who played a prominent role during the Occupy events, was one of the seven defendants whose felony charge was dropped because of police entrapment. He says of the sniper plot information, which first came to light last December as one of hundreds of pages of FBI files obtained by PCJF, "We have speculated heavily about it. The 'if deemed necessary' phrase seems to indicate it was an organization. It could have been the police or a private security group."
Alessi, who hails from a law-enforcement family and who ran last year for sheriff of Houston's Harris County on the Texas Green Party ticket, garnering 22,000 votes, agrees with attorney Kennedy that the plotters were not from some right-wing organization. "If it had been that, the FBI would have acted on it," he agrees. "I believe the sniper attack was one strategy being discussed for dealing with the occupation." He adds:
I assume I would have been one of the targets, because I led a few of the protest actions, and I hosted an Occupy show on KPFT.  I wish I could say I'm surprised that this was seriously discussed, but remember, this is the same federal government that murdered (Black Panther Party leader) Fred Hampton. We have a government that traditionally murders people who are threats. I guess being a target is sort of an honor.
There, Alessi is referring to evidence made public in the Church Committee hearings of the 1970s which revealed that the FBI was orchestrating local police attacks (in Chicago, San Francisco and New York) on Panther leaders. (For more on that, see this, starting at p. 185, esp. pp. 220-223; also see this .)
Alessi suspects that the assassination plot cited in the FBI memo was
probably developed in the Houston Fusion Center (where federal, state and local intelligence people work hand-in-glove). During our trial we learned that they were all over our stuff, tracking Twitter feeds etc.  It seems to me that based on the access they were getting they were using what we now know as the NSA's PRISM program.
He notes, correctly, that in documents obtained from the FBI and Homeland Security by the PCJF's FOIA search, the Occupy Movement is classed as a "terrorist" activity.
Ironically, while the Occupy Movement was actually peaceful, the FBI, at best, was simply standing aside while some organization plotted to assassinate the movement's prominent activists.
The FBI's stonewalling response to inquiries about this story, and the agency's evident failure to take any action regarding a known deadly threat to Occupy protesters in Houston, will likely make protesters at future demonstrations look differently at the sniper-rifle equipped law-enforcement personnel often seen on rooftops during such events. What are they there for? Who are the threats they are looking for and potentially targeting? Who are they protecting?  And are they using "suppressed" sniper rifles?  Would this indicate they have no plans to take responsibility for any shots silently fired?  Or that they plan to frame someone else?
WhoWhatWhy plans to continue doing this kind of groundbreaking original reporting. You can count on it. But can we count on you? We cannot do our work without your support.
Please click here to donate; it's tax deductible. And it packs a punch.
Source: Dave Lindorff | Who What Why
Have you ever wondered how the government's misinformation gains traction?
What I have noticed is that whenever a stunning episode occurs, such as 9/11 or the Boston Marathon bombing, most everyone whether on the right or left goes along with the government's explanation, because they can hook their agenda to the government's account.
The leftwing likes the official stories of Muslims creating terrorist mayhem in America, because it proves their blowback theory and satisfies them that the dispossessed and oppressed can fight back against imperialism.
The patriotic rightwing likes the official story, because it proves America is attacked for its goodness or because terrorists were allowed in by immigration authorities and nurtured by welfare, or because the government, which can't do anything right, ignored plentiful warnings.
Whatever the government says, no matter how problematical, the official story gets its traction from its compatibility with existing predispositions and agendas.
In such a country, truth has no relevance. Only agendas are important.
A person can see this everywhere. I could write volumes illustrating how agenda-driven writers across the spectrum will support the most improbable government stories despite the absence of any evidence simply because the government's line can be used to support their agendas.
For example, a conservative writer in the June issue of Chronicles uses the government's story about the alleged Boston Marathon bombers, Dzhokhar and Tamerlan Tsarnaev, to argue against immigration, amnesty for illegals, and political asylum for Muslims. He writes: "Even the most high-tech security systems imaginable will inevitably fail as they are overwhelmed by a flood of often hostile and dangerous immigrants."
The writer accepts all of the improbable government statements as proof that the brothers were guilty. The wounded brother who was unable to respond to the boat owner who discovered him and had to be put on life support somehow managed to write a confession on the inside of the boat.
As soon as the authorities have the brother locked up in a hospital on life support, "unnamed officials" and "authorities who remain anonymous" are planting the story in the media that the suspect is signing written confessions of his guilt while on life support. No one has seen any of these written confessions. But we know that they exist, because the government and media say so.
The conservative writer knows that Dzhokhar is guilty because he is Muslim and a Chechen. Therefore, it does not occur to the writer to wonder about the agenda of the unnamed sources who are busy at work creating belief in the brothers' guilt. This insures that no juror would dare vote for acquittal and have to explain it to family and friends. Innocent until proven guilty in a court has been thrown out the window. This should disturb the conservative writer, but doesn't.
The conservative writer sees Chechen ethnicity as an indication of guilt even though the brothers grew up in the US as normal Americans, because Chechens are "engaged in anti-Russian jihad." But Chechens have no reason for hostility against the US. As evidence indicates, Washington supports the Chechens in their conflict with Russia. By supporting Chechen terrorism, Washington violates all of the laws that it ruthlessly applies to compassionate Americans who give donations to Palestinian charities that Washington alleges are run by Hamas, a Washington-declared terrorist organization.
It doesn't occur to the conservative writer that something is amiss when martial law is established over one of America's main cities and its metropolitan area, 10,000 heavily armed troops are put on the streets with tanks, and citizens are ordered out of their homes with their hands over their heads, all of this just to search for one wounded 19-year old suspect. Instead the writer blames the "surveillance state" on "the inevitable consequences of suicidal liberalism" which has embraced "the oldest sin in the world: rebellion against authority." The writer is so pleased to use the government's story line as a way of indulging the conservative's romance with authority and striking a blow at liberalism that he does not notice that he has lined up against the Founding Fathers who signed the Declaration of Independence and rebelled against authority.
I could just as easily have used a left-wing writer to illustrate the point that improbable explanations are acceptable if they fit with predispositions and can be employed in behalf of an agenda.
Think about it. Do you not think that it is extraordinary that the only investigations we have of such events as 9/11 and the Boston Marathon bombing are private investigations, such as this investigation of the backpacks: http://whowhatwhy.com/2013/05/20/official-story-has-odd-wrinkles-a-pack-of-questions-about-the-boston-bombing-backpacks/
There was no investigation of 9/11. Indeed, the White House resisted any inquiry at all for one year despite the insistent demands from the 9/11 families. NIST did not investigate anything. NIST simply constructed a computer model that was consistent with the government's story. The 9/11 Commission simply sat and listened to the government's explanation and wrote it down. These are not investigations.
The only investigations have come from a physicist who proved that WTC 7 came down at free fall and was thus the result of controlled demolition, from a team of scientists who examined dust from the WTC towers and found nano-thermite, from high-rise architects and structural engineers with decades of experience, and from first responders and firefighters who were in the towers and experienced explosions throughout the towers, even in the sub-basements.
We have reached the point where evidence is no longer required. The government's statements suffice. Only conspiracy kooks produce real evidence.
In America, government statements have a unique authority. This authority comes from the white hat that the US wore in World War II and in the subsequent Cold War. It was easy to demonize Nazi Germany, Soviet Communism and Maoist China. Even today when Russian publications interview me about the perilous state of civil liberty in the US and Washington's endless illegal military attacks abroad, I sometimes receive reports that some Russians believe that it was an impostor who was interviewed, not the real Paul Craig Roberts. There are Russians who believe that it was President Reagan who brought freedom to Russia, and as I served in the Reagan administration these Russians associate me with their vision of America as a light unto the world. Some Russians actually believe that Washington's wars are truly wars of liberation.
The same illusions reign among Chinese dissidents. Chen Guangcheng is the Chinese dissident who sought refuge in the US Embassy in China. Recently he was interviewed by the BBC World Service. Chen Guangcheng believes that the US protects human rights while China suppresses human rights. He complained to the BBC that in China police can arrest citizens and detain them for as long as six months without accounting for their detainment. He thought that the US and UK should publicly protest this violation of due process, a human right. Apparently, Chen Guangcheng is unaware that US citizens are subject to indefinite detention without due process and even to assassination without due process.
The Chinese government allowed Chen Guangcheng safe passage to leave China and live in the US. Chen Guangcheng is so dazzled by his illusions of America as a human rights beacon that it has never occurred to him that the oppressive, human rights-violating Chinese government gave him safe passage, but that Julian Assange, after being given political asylum by Ecuador is still confined to the Ecuadoran embassy in London, because Washington will not allow its UK puppet state to permit his safe passage to Ecuador.
Perhaps Chen Guangcheng and the Chinese and Russian dissidents who are so enamored of the US could gain some needed perspective if they were to read US soldier Terry Holdbrooks' book about the treatment given to the Guantanamo prisoners. Holdbrooks was there on the scene, part of the process, and this is what he told RT: "The torture and information extraction methods that we used certainly created a great deal of doubt and questions in my mind to whether or not this was my America. But when I thought about what we were doing there and how we go about doing it, it did not seem like the America I signed up to defend. It did not seem like the America I grew up in. And that in itself was a very disillusioning experience." http://rt.com/news/guantanamo-guard-islam-torture-608/
In a May 17 Wall Street Journal.com article, Peggy Noonan wrote that President Obama has lost his patina of high-mindedness. What did Obama do that brought this loss upon himself? Is it because he sits in the Oval Office approving lists of US citizens to be assassinated without due process of law? Is it because he detains US citizens indefinitely in violation of habeas corpus? Is it because he has kept open the torture prison at Guantanamo? Is it because he continued the war that the neoconservatives started, despite his promise to end it, and started new wars?
Is it because he attacks with drones people in their homes, medical centers, and work places in countries with which the US is not at war? Is it because his corrupt administration spies on American citizens without warrants and without cause?
No. It is none of these reasons. In Noonan's view these are not offenses for which presidents, even Democratic ones, lose their high-minded patina. Obama can no longer be trusted, because the IRS hassled some conservative political activists.
Noonan is a Republican, and what Obama did wrong was to use the IRS against some Republicans. Apparently, it has not occurred to Noonan that if Obama–or any president–can use the IRS against opponents, he can use Homeland Security and the police state against them. He can use indefinite detention against them. He can use drones against them.
All of these are much more drastic measures. Why isn't Peggy Noonan concerned?
Because she thinks these measures will only be used against terrorists, just as the IRS is only supposed to be used against tax evaders.
When a public and the commentators who inform it accept the collapse of the Constitution's authority and the demise of their civil liberties, to complain about the IRS is pointless.
Source: Paul Craig Roberts
What is it that makes young men, reasonably well educated, in good health and nice looking, with long lives ahead of them, use powerful explosives to murder complete strangers because of political beliefs?
I'm speaking about American military personnel of course, on the ground, in the air, or directing drones from an office in Nevada.
Do not the survivors of US attacks in Iraq, Afghanistan, Yemen, Pakistan, Somalia, Libya and elsewhere, and their loved ones, ask such a question?
The survivors and loved ones in Boston have their answer – America's wars in Iraq and Afghanistan.
That's what Dzhokhar Tsarnaev, the surviving Boston bomber has said in custody, and there's no reason to doubt that he means it, nor the dozens of others in the past two decades who have carried out terrorist attacks against American targets and expressed anger toward US foreign policy. 1 Both Tsarnaev brothers had expressed such opinions before the attack as well.  2 The Marathon bombing took place just days after a deadly US attack in Afghanistan killed 17 civilians, including 12 children, as but one example of countless similar horrors from recent years. "Oh", an American says, "but those are accidents. What terrorists do is on purpose. It's cold-blooded murder."
But if the American military sends out a bombing mission on Monday which kills multiple innocent civilians, and then the military announces: "Sorry, that was an accident." And then on Tuesday the American military sends out a bombing mission which kills multiple innocent civilians, and then the military announces: "Sorry, that was an accident." And then on Wednesday the American military sends out a bombing mission which kills multiple innocent civilians, and the military then announces: "Sorry, that was an accident." … Thursday … Friday … How long before the American military loses the right to say it was an accident?
Terrorism is essentially an act of propaganda, to draw attention to a cause. The 9-11 perpetrators attacked famous symbols of American military and economic power. Traditionally, perpetrators would phone in their message to a local media outlet beforehand, but today, in this highly-surveilled society, with cameras and electronic monitoring at a science-fiction level, that's much more difficult to do without being detected; even finding a public payphone can be near impossible.
From what has been reported, the older brother, Tamerlan, regarded US foreign policy also as being anti-Islam, as do many other Muslims. I think this misreads Washington's intentions. The American Empire is not anti-Islam. It's anti-only those who present serious barriers to the Empire's plan for world domination.
The United States has had close relations with Saudi Arabia, Jordan and Qatar, amongst other Islamic states. And in recent years the US has gone to great lengths to overthrow the leading secular states of the Mideast – Iraq, Libya and Syria.
Moreover, it's questionable that Washington is even against terrorism per se, but rather only those terrorists who are not allies of the empire. There has been, for example, a lengthy and infamous history of tolerance, and often outright support, for numerous anti-Castro terrorists, even when their terrorist acts were committed in the United States. Hundreds of anti-Castro and other Latin American terrorists have been given haven in the US over the years. The United States has also provided support to terrorists in Afghanistan, Nicaragua, Kosovo, Bosnia, Iran, Libya, and Syria, including those with known connections to al Qaeda, to further foreign policy goals more important than fighting terrorism.
Under one or more of the harsh anti-terrorist laws enacted in the United States in recent years, President Obama could be charged with serious crimes for allowing the United States to fight on the same side as al Qaeda-linked terrorists in Libya and Syria and for funding and supplying these groups. Others in the United States have been imprisoned for a lot less.
As a striking example of how Washington has put its imperialist agenda before anything else, we can consider the case of Gulbuddin Hekmatyar, an Afghan warlord whose followers first gained attention in the 1980s by throwing acid in the faces of women who refused to wear the veil. This is how these horrible men spent their time when they were not screaming "Death to America". CIA and State Department officials called Hekmatyar "scary," "vicious," "a fascist," "definite dictatorship material". 3 This did not prevent the United States government from showering the man with large amounts of aid to fight against the Soviet-supported government of Afghanistan. 4 Hekmatyar is still a prominent warlord in Afghanistan.
A similar example is that of Luis Posada who masterminded the bombing of a Cuban airline in 1976, killing 73 civilians. He has lived a free man in Florida for many years.
USA Today reported a few months ago about a rebel fighter in Syria who told the newspaper in an interview: "The afterlife is the only thing that matters to me, and I can only reach it by waging jihad." 5 Tamerlan Tsarnaev may have chosen to have a shootout with the Boston police as an act of suicide; to die waging jihad, although questions remain about exactly how he died. In any event, I think it's safe to say that the authorities wanted to capture the brothers alive to be able to question them.
It would be most interesting to be present the moment after a jihadist dies and discovers, with great shock, that there's no afterlife. Of course, by definition, there would have to be an afterlife for him to discover that there's no afterlife. On the other hand, a non-believer would likely be thrilled to find out that he was wrong.
Let us hope that the distinguished statesmen, military officers, and corporate leaders who own and rule America find out in this life that to put an end to anti-American terrorism they're going to have to learn to live without unending war against the world. There's no other defense against a couple of fanatic young men with backpacks. Just calling them insane or evil doesn't tell you enough; it may tell you nothing.
But this change in consciousness in the elite is going to be extremely difficult, as difficult as it appears to be for the parents of the two boys to accept their sons' guilt. Richard Falk, UN special rapporteur on human rights in the Palestinian territories, stated after the Boston attack: "The American global domination project is bound to generate all kinds of resistance in the post-colonial world. In some respects, the United States has been fortunate not to experience worse blowbacks … We should be asking ourselves at this moment, 'How many canaries will have to die before we awaken from our geopolitical fantasy of global domination?'" 6
Officials in Canada and Britain as well as US Ambassador to the United Nations Susan Rice have called for Falk to be fired. 7
President Kennedy's speech, half a century ago
I don't know how many times in the 50 years since President John F. Kennedy made his much celebrated 1963 speech at American University in Washington, DC. 8  I've heard or read that if only he had lived he would have put a quick end to the war in Vietnam instead of it continuing for ten more terrible years, and that the Cold War might have ended 25 years sooner than it did. With the 50th anniversary coming up June 13 we can expect to hear a lot more of the same, so I'd like to jump the gun and offer a counter-view.
Kennedy declared:
Let us re-examine our attitude toward the Soviet Union. It is discouraging to think that their leaders may actually believe what their propagandists write. It is discouraging to read a recent authoritative Soviet text on Military Strategy and find, on page after page, wholly baseless and incredible claims such as the allegation that "American imperialist circles are preparing to unleash different types of war … that there is a very real threat of a preventative war being unleashed by American imperialists against the Soviet Union" … [and that] the political aims – and I quote – "of the American imperialists are to enslave economically and politically the European and other capitalist countries … [and] to achieve world domination … by means of aggressive war."
It is indeed refreshing that an American president would utter a thought such as: "It is discouraging to think that their leaders may actually believe what their propagandists write." This is what radicals in every country wonder about their leaders, not least in the United States. For example, "incredible claims such as the allegation that 'American imperialist circles are preparing to unleash different types of war'."
In Kennedy's short time in office the United States had unleashed many different types of war, from attempts to overthrow governments and suppress political movements to assassination attempts against leaders and actual military combat – one or more of these in Vietnam, Cambodia, Laos, British Guiana, Iraq, Congo, Haiti, Brazil, Dominican Republic, Cuba and Brazil. This is all in addition to the normal and routine CIA subversion of countries all over the world map. Did Kennedy really believe that the Soviet claims were "incredible"?
And did he really doubt that that the driving force behind US foreign policy was "world domination"? How else did he explain all the above interventions (which have continued non-stop into the 21st century)? If the president thought that the Russians were talking nonsense when they accused the US of seeking world domination, why didn't he then disavow the incessant US government and media warnings about the "International Communist Conspiracy"? Or at least provide a rigorous definition of the term and present good evidence of its veracity.
Quoting further: "Our military forces are committed to peace and disciplined in self-restraint." No comment.
"We are unwilling to impose our system on any unwilling people." Unless of course the people foolishly insist on some form of socialist alternative. Ask the people of Vietnam, Laos, Cambodia, British Guiana and Cuba, just to name some of those in Kennedy's time.
"At the same time we seek to keep peace inside the non-Communist world, where many nations, all of them our friends …" American presidents have been speaking of "our friends" for many years. What they all mean, but never say, is that "our friends" are government and corporate leaders whom we keep in power through any means necessary – the dictators, the kings, the oligarchs, the torturers – not the masses of the population, particularly those with a measure of education.
"Our efforts in West New Guinea, in the Congo, in the Middle East, and the Indian subcontinent, have been persistent and patient despite criticism from both sides."
Persistent, yes. Patient, often. But moral, fostering human rights, democracy, civil liberties, self-determination, not fawning over Israel … ? As but one glaring example, the assassination of Patrice Lumumba of the Congo, perhaps the last chance for a decent life for the people of that painfully downtrodden land; planned by the CIA under Eisenhower, but executed under Kennedy.
"The Communist drive to impose their political and economic system on others is the primary cause of world tension today. For there can be no doubt that, if all nations could refrain from interfering in the self-determination of others, the peace would be much more assured."
See all of the above for this piece of hypocrisy. And so, if no nation interfered in the affairs of any other nation, there would be no wars. Brilliant. If everybody became rich there would be no poverty. If everybody learned to read there would be no illiteracy.
"The United States, as the world knows, will never start a war."
So … Vietnam, Laos, Cambodia, Cuba, and literally dozens of other countries then, later, and now, all the way up to Libya in 2012 … they all invaded the United States first? Remarkable.
And this was the man who was going to end the war in Vietnam very soon after being re-elected the following year? Lord help us.
Bush's legacy
This is not to put George W. Bush down. That's too easy, and I've done it many times. No, this is to counter the current trend to rehabilitate the man and his Iraqi horror show, which partly coincides with the opening of his presidential library in Texas. At the dedication ceremony, President Obama spoke of Bush's "compassion and generosity" and declared that: "He is a good man." The word "Iraq" did not pass his lips. The closest he came at all was saying "So even as we Americans may at times disagree on matters of foreign policy, we share a profound respect and reverence for the men and women of our military and their families." 9 Should morality be that flexible? Even for a politician? Obama could have just called in sick.
At the January 31 congressional hearing on the nomination of Chuck Hagel to be Secretary of Defense, Senator John McCain ripped into him for his critique of the Iraq war:
"The question is, were you right or were you wrong?" McCain demanded, pressing Hagel on why he opposed Bush's decision to send 20,000 additional troops to Iraq in the so-called 'surge'.
"I'm not going to give you a yes-or-no answer. I think it's far more complicated than that," Hagel responded. He said he would await the "judgment of history."
Glaring at Hagel, McCain ended the exchange with a bitter rejoinder: "I think history has already made a judgment about the surge, sir, and you are on the wrong side of it." 10
Before the revisionist history of the surge gets chiseled into marble, let me repeat part of what I wrote in this report at the time, December 2007:
The American progress is measured by a decrease in violence, the White House has decided – a daily holocaust has been cut back to a daily multiple catastrophe. And who's keeping the count? Why, the same good people who have been regularly feeding us a lie for the past five years about the number of Iraqi deaths, completely ignoring the epidemiological studies. A recent analysis by the Washington Post left the administration's claim pretty much in tatters. The article opened with: "The U.S. military's claim that violence has decreased sharply in Iraq in recent months has come under scrutiny from many experts within and outside the government, who contend that some of the underlying statistics are questionable and selectively ignore negative trends."

To the extent that there may have been a reduction in violence, we must also keep in mind that, thanks to this lovely little war, there are several million Iraqis either dead, wounded, in exile abroad, or in bursting American and Iraqi prisons. So the number of potential victims and killers has been greatly reduced. Moreover, extensive ethnic cleansing has taken place in Iraq (another good indication of progress, n'est-ce pas? nicht wahr?) – Sunnis and Shiites are now living more in their own special enclaves than before, none of those stinking mixed communities with their unholy mixed marriages, so violence of the sectarian type has also gone down. On top of all this, US soldiers have been venturing out a lot less (for fear of things like … well, dying), so the violence against our noble lads is also down.

One of the signs of the reduction in violence in Iraq, the administration would like us to believe, is that many Iraqi families are returning from Syria, where they had fled because of the violence. The New York Times, however, reported that "Under intense pressure to show results after months of political stalemate, the [Iraqi] government has continued to publicize figures that exaggerate the movement back to Iraq"; as well as exaggerating "Iraqis' confidence that the current lull in violence can be sustained." The count, it turns out, included all Iraqis crossing the border, for whatever reason. A United Nations survey found that 46 percent were leaving Syria because they could not afford to stay; 25 percent said they fell victim to a stricter Syrian visa policy; and only 14 percent said they were returning because they had heard about improved security.

How long can it be before vacation trips to "Exotic Iraq" are flashed across our TVs? "Baghdad's Beautiful Beaches Beckon". Just step over the bodies. Indeed, the State Department has recently advertised for a "business development/tourism" expert to work in Baghdad, "with a particular focus on tourism and related services." 11
Another argument raised again recently to preserve George W.'s legacy is that "He kept us safe". Hmm … I could swear that he was in the White House around the time of September 11 … What his supporters mean is that Bush's War on Terrorism was a success because there wasn't another terrorist attack in the United States after September 11, 2001 while he was in office; as if terrorists killing Americans is acceptable if it's done abroad. Following the American/Bush strike on Afghanistan in October 2001 there were literally scores of terrorist attacks – including some major ones – against American institutions in the Middle East, South Asia and the Pacific: military, civilian, Christian, and other targets associated with the United States.
Even the claim that the War on Terrorism kept Americans safe at home is questionable. There was no terrorist attack in the United States during the 6 1/2 years prior to the one in September 2001; not since the April 1995 bombing of the federal building in Oklahoma City. It would thus appear that the absence of terrorist attacks in the United States is the norm.
William Blum speaking in Wisconsin, near Minnesota
Saturday, July 13th, the 11th Annual Peacestock: A Gathering for Peace will take place at Windbeam Farm in Hager City, WI. Peacestock is a mixture of music, speakers, and community for peace in an idyllic location near the Mississippi, just one hour's drive from the Twin Cities of Minnesota. Peacestock is sponsored by Veterans for Peace, Chapter 115, and has a peace-themed agenda. Kathy Kelly, peace activist extraordinaire, will also speak.
You can camp there and be fed well, meat or vegetarian. Full information at:http://www.peacestockvfp.org 11
Notes
William Blum, Rogue State: A Guide to the World's Only Superpower, chapters 1 and 2, for cases up to about 2003; later similar cases are numerous; e.g., Glenn Greenwald, "They Hate US for our Occupations", Salon, October 12, 2010 ↩
Huffington Post, April 20, 2013; Washington Post, April 21 ↩
Tim Weiner, Blank Check: The Pentagon's Black Budget (1990), p.149-50. ↩
William Blum, Killing Hope: U.S. Military and CIA Interventions Since World War II ↩
USA Today, December 3, 2012 ↩
ForeignPolicyJournal.com, April 21, 2013 ↩
The Telegraph (London), April 25, 2013; Politico.com, April 24 ↩
Los Angeles Times, February 1, 2013 ↩
"Of all the tyrannies a tyranny sincerely exercised for the good of its victims may be the most oppressive." — C.S. Lewis

Caught up in the televised drama of a military-style manhunt for the suspects in the Boston Marathon explosion, most Americans fail to realize that the world around them has been suddenly and jarringly shifted off its axis, that axis being the U.S. Constitution.
For those like myself who have studied emerging police states, the sight of a city placed under martial law—its citizens under house arrest (officials used the Orwellian phrase "shelter in place" to describe the mandatory lockdown), military-style helicopters equipped with thermal imaging devices buzzing the skies, tanks and armored vehicles on the streets, and snipers perched on rooftops, while thousands of black-garbed police swarmed the streets and SWAT teams carried out house-to-house searches in search of two young and seemingly unlikely bombing suspects—leaves us in a growing state of unease.
Mind you, these are no longer warning signs of a steadily encroaching police state. The police state has arrived.
Equally unnerving is the ease with which Americans welcomed the city-wide lockdown, the routine invasion of their privacy, and the dismantling of every constitutional right intended to serve as a bulwark against government abuses. Watching it unfold, I couldn't help but think of Nazi Field Marshal Hermann Goering's remarks during the Nuremberg trials. As Goering noted:
It is always a simple matter to drag people along whether it is a democracy, or a fascist dictatorship, or a parliament, or a communist dictatorship. Voice or no voice, the people can always be brought to the bidding of the leaders. This is easy. All you have to do is tell them they are being attacked, and denounce the pacifists for lack of patriotism and exposing the country to danger. It works the same in every country.
As the events in Boston have made clear, it does indeed work the same in every country. The same propaganda and police state tactics that worked for Adolf Hitler 80 years ago continue to be employed with great success in a post-9/11 America.
Whatever the threat to so-called security—whether it's rumored weapons of mass destruction, school shootings, or alleged acts of terrorism—it doesn't take much for the American people to march in lockstep with the government's dictates, even if it means submitting to martial law, having their homes searched, and being stripped of one's constitutional rights at a moment's notice.
As journalist Andrew O'Hehir observes in Salon:
In America after 9/11, we made a deal with the devil, or with Dick Cheney, which is much the same thing. We agreed to give up most of our enumerated rights and civil liberties (except for the sacrosanct Second Amendment, of course) in exchange for a lot of hyper-patriotic tough talk, the promise of "security" and the freedom to go on sitting on our asses and consuming whatever the hell we wanted to. Don't look the other way and tell me that you signed a petition or voted for John Kerry or whatever. The fact is that whatever dignified private opinions you and I may hold, we did not do enough to stop it, and our constitutional rights are now deemed to be partial or provisional rather than absolute, do not necessarily apply to everyone, and can be revoked by the government at any time.
Particularly disheartening is the fact that Americans, consumed with the need for vengeance, seem even less concerned about protecting the rights of others, especially if those "others" happen to be of a different skin color or nationality. The public response to the manhunt, capture and subsequent treatment of brothers Tamerlan and Dzhokhar Tsarnaev is merely the latest example of America's xenophobic mindset, which was also a driving force behind the roundup and detention of hundreds of Arab, South Asian and Muslim men following 9/11, internment camps that housed more than 18,000 people of Japanese ancestry during World War II, and the arrest and deportation of thousands of "radical" noncitizens during America's first Red Scare.
Moreover, there has been little outcry over the Obama administration's decision to deny 19-year-old U.S. citizen Dzhokhar Tsarnaev his due process rights and treat him as an enemy combatant, first off by interrogating him without reading him his Miranda rights ("You have the right to remain silent. Anything you say can and will be used against you in a court of law…").
Presently, under the public safety exception to the Miranda rule, if law enforcement agents believe a suspect has information that might reduce a substantial threat, they can wait to give the Miranda warning. For years now, however, the Obama administration has been lobbying to see this exception extended to all cases involving so-called terror suspects, including American citizens. Tsarnaev's case may prove to be the game-changer. Yet as journalist Emily Bazelon points out for Slate: "Why should I care that no one's reading Dzhokhar Tsarnaev his Miranda rights? When the law gets bent out of shape for him, it's easier to bend out of shape for the rest of us."
The U.S. Supreme Court rightly recognized in its 1966 ruling in Miranda v. Arizona that police officers must advise a suspect of his/her civil rights once the suspect has been taken into custody, because the police can and often do take advantage of the fact that most Americans don't know their rights. There have been few exceptions to the Miranda rule over the last 40 years or so, and with good reason. However, if the Obama administration is allowed to scale back the Miranda rule, especially as it applies to U.S. citizens, it would be yet another dangerous expansion of government power at the expense of citizens' civil rights.
This continual undermining of the rules that protect civil liberties, not to mention the incessant rush to judgment by politicians, members of the media and the public, will inevitably have far-reaching consequences on a populace that not only remains ignorant about their rights but is inclined to sacrifice their liberties for phantom promises of safety.
Moments after taking Tsarnaev into custody, the Boston Police Dept. tweeted "CAPTURED!!! The hunt is over. The search is done. The terror is over. And justice has won." Yet with Tsarnaev and his brother having been charged, tried and convicted by the government, the media and the police—all without ever having stepped foot inside a courtroom—it remains to be seen whether justice has indeed won.
The lesson for the rest of us is this: once a free people allows the government to make inroads into their freedoms or uses those same freedoms as bargaining chips for security, it quickly becomes a slippery slope to outright tyranny. And it doesn't really matter whether it's a Democrat or a Republican at the helm, because the bureaucratic mindset on both sides of the aisle now seems to embody the same philosophy of authoritarian government. Increasingly, those on the left who once hailed Barack Obama as the antidote for restoring the numerous civil liberties that were lost or undermined as a result of Bush-era policies are finding themselves forced to acknowledge that threats to civil liberties are worse under Obama.
Clearly, the outlook for civil liberties under Obama grows bleaker by the day, from his embrace of indefinite detention for U.S. citizens and drone kill lists to warrantless surveillance of phone, email and internet communications, and prosecutions of government whistleblowers. Most recently, capitalizing on the nation's heightened emotions, confusion and fear, government officials used the Boston Marathon tragedy as a means of extending the reach of the police state, starting with the House of Representatives' overwhelming passage of the controversial Cyber Intelligence Sharing and Protection Act (CISPA), which opens the door to greater internet surveillance by the government.
These troubling developments are the outward manifestations of an inner, philosophical shift underway in how the government views not only the Constitution and the Bill of Rights, but "we the people," as well. What this reflects is a move away from a government bound by the rule of law to one that seeks total control through the imposition of its own self-serving laws on the populace.
All the while, the American people remain largely oblivious to the looming threats to their freedoms, eager to be persuaded that the government can solve the problems that plague us—whether it be terrorism, an economic depression, an environmental disaster or even a flu epidemic. Yet having bought into the false notion that the government can ensure not only our safety but our happiness and will take care of us from cradle to grave—that is, from daycare centers to nursing homes, we have in actuality allowed ourselves to be bridled and turned into slaves at the bidding of a government that cares little for our freedoms or our happiness.
Source: John W. Whitehead | Rutherford Institute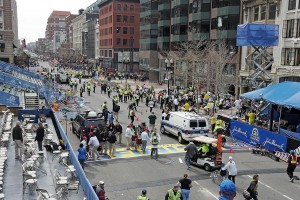 Will we ever learn the full truth about the Boston Marathon bombing?  Personally, I have been looking into this attack for days, and I just keep coming up with more questions than answers.  At this point, I honestly have no idea what really happened.  Why was a bomb drill being held on the day of the attack?  Why have authorities denied that a bomb drill was taking place?  Were Tamerlan and Dzhokhar Tsarnaev acting alone?  What was the nature of their previous contacts with the FBI and other federal agencies?  Why did the FBI at first deny that they had been in contact with the Tsarnaev brothers previously?  Why was the investigation of a mysterious Saudi national with familial links to al-Qaeda suddenly dropped shortly after the Saudi ambassador held an unscheduled meeting with Barack Obama?  Why did Michelle Obama subsequently visit that mysterious Saudi national in the hospital?  If you are looking for answers to these questions, I am afraid that I don't have them at this point.  But what alarms me is that the mainstream media seems to be afraid to ask any of the hard questions that they should be asking.  They just seem to swallow whatever the authorities tell them hook, line and sinker without following up on any of the things in this case that simply do not seem to make sense.
So what kinds of questions should they be asking?  The following are 17 unanswered questions about the Boston Marathon bombing that the media appears to be afraid to ask…
#1 Why were runners being told that a bomb squad drill was taking place during the Boston Marathon?  The following is from an article by Natural News…
Alastair Stevenson is a veteran marathon runner who has competed in dozens of marathons around the world, including the London Marathon. He's very familiar with the security typically found at marathons, and he immediately noticed something odd about the Boston marathon security.

"They kept making announcements on the loud speaker that it was just a drill and there was nothing to worry about. It seemed like there was some sort of threat, but they kept telling us it was just a drill," he was quoted as saying byLocal15TV.com.

In the interview, you'll hear Stevenson say:

"At the start at the event, at the Athlete's Village, there were people on the roof looking down onto the Village at the start. There were dogs with their handlers going around sniffing for explosives, and we were told on a loud announcement that we shouldn't be concerned and that it was just a drill. And maybe it was just a drill, but I've never seen anything like that — not at any marathon that I've ever been to. You know, that just concerned me that that's the only race that I've seen in my life where they had dogs sniffing for explosions, and that's the only place where there had been explosions."
#2 Why did authorities deny that a bomb squad drill was being held?
#3 According to The Mirror, the FBI is reportedly "hunting" a 12-strong terrorist "sleeper cell" that Tamerlan and Dzhokhar Tsarnaev were allegedly a part of…
A source close to the investigation said: "We have no doubt the brothers were not acting alone. The devices used to detonate the two bombs were highly sophisticated and not the kind of thing people learn from Google.

"They were too advanced. Someone gave the brothers the skills and it is now our job to find out just who they were. Agents think the sleeper cell has up to a dozen members and has been waiting several years for their day to come."
If that is the case, why are authorities in Boston adamantly insisting that the two brothers were acting alone?
#4 CBS News is reporting that the FBI interviewed Tamerlan Tsarnaev back in 2011.  The mother of the two Tsarnaev brothers insists that the FBI had been in contact with them for up to five years.  At first, the FBI denied any previous contact with the two suspects.  Will we ever learn the true scope of the previous relationship between the FBI and the Tsarnaev brothers?
#5 Debka is reporting that the Tsarnaev brothers were "double agents" which had been "hired by US and Saudi intelligence to penetrate the Wahhabi jihadist networks which, helped by Saudi financial institutions, had spread across the restive Russian Caucasian."  Could this possibly be true?  If so, will the American people be told the truth about these links?
#6 According to their uncle, there were "mentors" that "radicalized" the Tsarnaev brothers.  So precisely who were those "mentors"?
#7 What happened during Tamerlan Tsarnaev's trip to Dagestan and Chechnya last year?
#8 Were the Tsarnaev brothers in contact with a rebel leader named Doku Umarov who is known as "Russia's Bin Laden"?
#9 Did Tamerlan Tsarnaev post a video on YouTube last summer that expresses a belief that the 12th Imam, Mahdi, will soon come and that an Islamic army with black flags with arise out of a province in Iran known as Khorasan?
#10 Why aren't we being told that the "pressure cooker bombs" used in the Boston Marathon attacks are very similar to the kind of pressure cooker bombs that are commonly used in the Middle East?…
The Daily Beast has confirmed with U.S. counter-terrorism officials that the bombs placed Monday at the marathon were made from pressure cookers, a crude kind of explosive favored by insurgents in Pakistan and Afghanistan. A recipe for a bomb that uses the pressure cooker was part of the debut issue of Inspire, the English-language online magazine of al Qaeda in the Arabian Peninsula.
#11 Initially we were told that Saudi national Abdulrahman Ali Alharbi was a "person of interest" in the case.  But now he is scheduled to leave the countrywith the full blessing of the U.S. government.  Why is there such a rush to get him out of the United States?
#12 Why aren't we being told that Abdulrahman Ali Alharbi was photographedwith two other Saudis in the vicinity of the Boston marathon bombings?
#13 Why aren't we being told of the shocking familial links that Abdulrahman Ali Alharbi has to known members of al-Qaeda?  The following is from research complied by Walid Shoebat…
Many from Al-Harbi's clan are steeped in terrorism and are members of Al-Qaeda. Out of a list of 85 terrorists listed by the Saudi government shows several of Al-Harbi clan to have been active fighters in Al-Qaeda:

#15 Badr Saud Uwaid Al-Awufi Al-Harbi
#73 Muhammad Atiq Uwaid Al-Awufi Al-Harbi
#26 Khalid Salim Uwaid Al-Lahibi Al-Harbi
#29 Raed Abdullah Salem Al-Thahiri Al-Harbi
#43 Abdullah Abdul Rahman Muhammad Al-Harbi (leader)
#60 Fayez Ghuneim Humeid Al-Hijri Al-Harbi
Source: http://aalhameed1.net/vb/showthread.php?t=1565

Then you have Al-Harbi clan members in Gitmo:

Salim Salman Awadallah Al-Sai'di Al-Harbi
Majid Abdullah Hussein Al-Harbi
Muhammad Abdullah Saqr Al-Alawi Al-Harbi
Ghanem Abdul Rahman Ghanem Al-Harbi
Muhammad Atiq Uwaid Al-Awfi Al-Harbi
Source: http://www.muslm.net/vb/showthread.php?169019-أسماء-(90)-سعودياً-لا-زالوا-محتجزين-في-جوانتانامو

There are specific Saudi clans that are rife with members of Al-Qaeda, which makes it quite alarming as to why nearly a hundred thousand student visas are issued to these. Americans are clueless as to clan ties when it comes to terrorism.
#14 Why did U.S. Secretary of State John Kerry have a private meeting with a Saudi foreign minister shortly after Abdulrahman Ali Alharbi was identified as a potential suspect?
#15 Why did Barack Obama hold an unscheduled meeting with the ambassador from Saudi Arabia shortly after Abdulrahman Ali Alharbi was identified as a potential suspect?
#16 Why did Michelle Obama visit Abdulrahman Ali Alharbi in the hospital?
#17 Why did numerous mainstream media outlets openly suggest that "right-wing extremists" were behind the bombings in the immediate aftermath of the attack?
Source: End of the American Dream