On July 1 Croatia became the 28th country to join the European Union, and on current form there will be no further enlargement for many years to come. A look at the glaring dysfunctions in Croatia's accession, compared to the double standards Brussels imposes on Serbia and Ukraine, is indicative of the peculiar mitteleuropäisch view of what constitutes "Europe" which still dominates the political and media elite thinking in Berlin and Vienna.
After the disappointing experience with Bulgaria and Romania, which joined the EU in 2007 but continue to be plagued by unstable governments and all-pervasive corruption, many experts have expressed doubts about Croatia's readiness for membership. On its entry a month ago it became the third-poorest nation in the EU, with unemployment hovering around 20 percent. Of those who work, one-third are employed in the public sector. If it joins the eurozone in three years, Croatia would also become a prime candidate for an eventual bailout.
According to Transparency International, Croatia is ranked below Rwanda, Namibia, Jordan or Cuba in its 1012 graft index. Former prime minister Ivo Sanader, who played a key role in negotiating the EU membership, was sentenced to ten years in jail last year for accepting multi-million bribes from foreign companies. Last March the European Commission expressed concern over Croatia's low level of legal penalties in corruption cases and its effectiveness in battling human trafficking and organized crime. "Widespread political and economic corruption persist, and its courts often show an overly lax attitude toward due process," The New York Times editorialist warned on June 28. "The fact is that the Union may well be about to repeat the mistakes of the last round of accessions," he warned, thus jeopardizing Croatia's own future, diminishing membership prospects for other Balkan states, and stalling further enlargement for the next decade or more.
It is no secret in Brussels that Germany wanted Croatia in for its own geopolitical reasons, however, and that was the end of the debate. There is also an economic interest. Since their products have become significantly more competitive with the elimination of the 20 percent tariff on EU goods, German manufacturers and merchants in particular stand to profit from Croatia's entry. They cherish the prospect of over four million potential new customers who are traditionally fond of German brands.
Many Croatians remain deeply skeptical about the benefits of joining the Union. In last year's referendum on EU membership, only 43 percent of eligible voters cast their ballots and exactly two-thirds voted in favor of the union—a mere 28 percent of Croatia's electorate. Recent polls show that only 39 percent welcomed the accession. State-funded celebration in Zagreb notwithstanding, Croatian accession was marked by all-pervasive gloom among its people as well as across the EU. Some Croats fear that tough competition from the north will drive many struggling companies out of business. Even Greece, Bulgaria and Romania are in better financial shape than Croatia, according to World Bank statistics.
For a country facing serious demographic decline, the most serious likely consequence of EU membership will be an exodus of educated young people when work restrictions expire in two years from now. Among Croatia's under-25s unemployment rate exceeds 50 percent. A massive brain drain has already happened to Poland after it joined the EU in 2004, and to Bulgaria and Romania after 2007.
Croatian Euroskeptics say that just getting ready for EU entry has crippled their country in the same manner as Brussels' neoliberal ideology has damaged the "Club Med." Croatia cannot join the eurozone immediately, but it is maintaining a fixed euro-kuna exchange rate to qualify for membership in three years' time. This denies it an opportunity to devalue and make its exports and tourist industry more competitive. On current form, Croatia's tourist infrastructure can hardly compete with that of Italy, Spain, or Greece.
"Croatian governments have followed obediently the EU's austerity advice, even before the accession." Srecko Horvat and Igor Stiks wrote in an op-ed for the Guardian. The country's foreign debt now exceeds $60 billion, more than $13,000 for each of Croatia's 4.4 million people. It now has virtually no industry and relies heavily on tourism, which accounts for 20 percent of GNP. All this, Horvat and Stiks say, means that "Croatia has not actually joined only the EU; in reality, it has become a fully fledged member of the EU periphery." One of the EU's longest external land borders at 800 miles, they add, will necessarily cut Croatia off from its immediate and natural surroundings and bring further isolation from its neighbors.
By entering the EU Croatia has lost its membership in the Central European Free Trade Agreement (CEFTA), which now consists of Albania, Bosnia and Herzegovina, Macedonia, Moldova, Montenegro and Serbia. The loss of customs privileges and trade benefits in those markets will cost the country at least 220 million dollars a year in lost exports, according to the Croatian Chamber of Commerce. Other analysts say that some 4,000 people will become unemployed as a result of Croatia losing CEFTA membership, with no compensating benefits in the highly competitive EU markets.
Last but not least, EU membership creates a major problem for thousands of Croats who make their living from fishing along the country's Adriatic coast. They will face competition from much larger and better equipped fishing vessels from other EU countries—above all Italy—which are now free to operate in Croatian waters. In addition, they will have to invest heavily into new, EU-compliant trawl nets and safety equipment. Most of their gear is not in accordance with the EU's Common Fishing Policy (CFP), whose regulations were modeled mostly on fishing in the Atlantic Ocean. Local fishers complain that successive Croatian governments did not even try to protect their interests and that they face bankruptcy.
For better or worse, Croatia is in the EU while other aspirants, like Serbia to the east, will stay out for many years to come—or, in the case of Ukraine, are not yet even in discussions for membership. Enlargement fatigue is all-pervasive among old and new Union members alike. The fact that it is particularly strong in Germany is what really matters. (Several smaller countries share the sentiment, notably Austria and Benelux.) German preferences largely explain the unequal treatment by Brussels of other countries in the former Yugoslavia and in Europe's "eastern neighborhood." What is sauce for the Croatian goose is no sauce for the Serbian or Ukrainian gander. Unlike in earlier rounds of accession, the EU no longer offers a specific timetable for achieving the promise of membership made at the summit in Thessaloniki ten years ago. Rather, the process remains open-ended and indeterminate. EU Commissioner for Enlargement Štefan Füle claims that enlargement will continue, but officials in Brussels privately concede that this is not the case.
Last April Serbia had to sign a humiliating, EU-brokered deal with Kosovo's secessionist government in order to obtain a "conditional" date for the opening of accession negotiations next January. Effectively giving up one-seventh of one's sovereign territory for the sake of the elusive "Date" was both a crime and a mistake, but even that does not promise the government in Belgrade that it will be any closer to full EU membership a decade from now than it is today. Turkey has been a candidate since 1999, and yet it will never be allowed to join the EU. Skopje-Macedonia (FYROM) has had a candidate status for the past eight years, with the final goalpost nowhere in sight.
Even after Serbia's capitulation last April, German lawmakers came up with a list of seven additional demands which Belgrade would need to complete in order to be given a date for the commencement of accession negotiations. They wanted the Serbian authorities "to find and prosecute the demonstrators who attacked the German embassy in Belgrade in February 2008" (a day after Berlin recognized Kosovo's independence), which is well-nigh impossible because the German government has refused to give the Serbs any surveillance camera footage. More egregiously, the Bundestag demanded that the Serbs accept, and not deny, that "genocide" was committed in Srebrenica; to apply pressure on northern Kosovo Serbs to "actively cooperate" with EULEX and Kfor; and to display "visible readiness for legally binding normalization of relations" with Kosovo.
Brussels' lack of straight dealing is equally glaring in the case of Ukraine, which is not even being offered the prospect of EU membership anytime soon. Kiev has been struggling since 2007 to obtain the more limited Association Agreement with the EU. At the 15th Ukraine-EU Summit in December 2011, the EU leaders and President Yanukovych announced that they had reached "a common understanding on the text of the Association Agreement," and in March 2012 the chief negotiators of the European Union and Ukraine initialed the text of the Agreement. Stefan Füle announced at that time that the Agreement could be finally signed after the Ukrainian general election in October 2012. It did not happen. Additional demands and conditions keep emerging instead.
Topping the list is the case of Yulia Tymoshenko, a former prime minister, who is serving a seven-year jail sentence for corruption and is facing murder charges for the 1996 killing of a political opponent. Even though the case against the richest woman in Ukraine seems strong, Brussels has taken the position that it was politically motivated. The EU has also criticized Ukrainian authorities for failing to conduct last October's parliamentary elections "in line with international democratic standards."  With Germany again the lead skeptical voice on the EU side, the question of whether the Association Agreement will be signed at the Vilnius summit this November remains uncertain. If it is not signed, it will not be for lack of trying from the Ukrainian side.
Unequal treatment of different countries by the EU's old core—and above all by Germany—reflects some old prejudices and cultural preferences which will not go away. Of course, no German politician will ever admit that his or her judgment is impacted by the fact that the Croats were German allies in both world wars, while the Serbs or Ukrainians were no
A record breaking stock market is distorting a frightening reality: The U.S. is being eaten alive by a horrific cancer that will ultimately destroy the economy and impoverish the vast majority of its citizens.
That's according to Peter Schiff, the best-selling author and CEO of Euro Pacific Capital, who delivered his harsh warning to investors in a recent interview on Fox Business.
"I think we are heading for a worse economic crisis than we had in 2007,"  Schiff said. "You're going to have a collapse in the dollar…a huge spike in interest rates… and our whole economy, which is built on the foundation of cheap money, is going to topple when you pull the rug out from under it."
Schiff says that, despite "phony" signs of an economic recovery, the cancer destroying America stems from a lethal concoction of our $16 trillion federal debt and the Fed's never ending money printing.
Currently, Bernanke and company is buying $1 trillion of Treasury and mortgage bonds a year. That's about $85 billion per month against a budget deficit that is about the same level.
According to Schiff, these numbers are unsustainable. And the Fed has no credible "exit strategy."
Eventually interest rates will rise… and when they do, Schiff says, stocks will tank and bonds dip to nothing. Massive new tax hikes will be imposed and programs and entitlements will be cut to the bone.
"The crisis is imminent," Schiff said. "I don't think Obama is going to finish his second term without the bottom dropping out. And stock market investors are oblivious to the problems."

"We're broke," Schiff added. "We owe trillions. Look at our budget deficit; look at the debt to GDP ratio, the unfunded liabilities. If we were in the Eurozone, they would kick us out."
Schiff points out that the market gains experienced recently, with the Dow first topping 14,000 on its way to setting record highs, are giving investors a false sense of security.
"It's not that the stock market is gaining value… it's that our money is losing value. And so if you have a debased currency… a devalued currency, the price of everything goes up. Stocks are no exception," he said.

"The Fed knows that the U.S. economy is not recovering," he noted. "It simply is being kept from collapse by artificially low interest rates and quantitative easing. As that support goes, the economy will implode."
A noted economist, Schiff has been a fierce critic of the Fed and its policies for years. And his warnings have proven to be prophetic.
In August 2006, when the Dow was hitting new highs nearly every day,  Schiff said in an interview: "The United States is like the Titanic, and I'm here with the lifeboat trying to get people to leave the ship… I see a real financial crisis coming for the United States."
Just over a year later, the meltdown that became the Great Recession began, just as Schiff predicted.
He also predicted the subprime mortgage bubble burst, nearly a year before the real estate market fully crashed.
His recent warnings, however, have been even more alarming. Will they also prove to be true?
In his most recent book,  The Real Crash: America's Coming Bankruptcy — How to Save Yourself and Your Country
,  Schiff writes that when the "real crash" comes, "it will be worse than the Great Depression." Unemployment will skyrocket, credit will dry up, and worse, the dollar will collapse completely, "wiping out all savings and sending consumer prices into the stratosphere."
Schiff estimates this "cancer" could consume a trillion dollars from consumers this year.
"Today we're the world's greatest debtor nation. Companies, homeowners and banks are so highly leveraged, rising interest rates will be devastating."
According to polls, the average American is indeed sensing danger. A recent survey found that 61% of Americans believe a catastrophe is looming — yet only 15% feel prepared for such a deeply troubling event.
Is Devastation The Ultimate Cure?
Despite its bleak outlook,  Schiff's book has become a real wake-up call for millions of readers.
While Schiff's predictions can be grim, he also offers step-by-step solutions that average Americans can follow to protect their wealth, investments and savings.
According to Schiff,  "the crash and what follows" can be beneficial. But only for those who understand beforehand what is happening and have time to prepare for the devastation.
"All we can do now is prepare for the crash," Schiff said. "If we brace ourselves properly and control the impact, we will survive it."
Source: Money Morning Staff Report  |  LewRockwell.com
Cities don't die because of happenstance. The city of Detroit has been murdered by the same forces that are slowly killing cities all across the United States.
Detroit Becomes the Largest US City to Declare Bankruptcy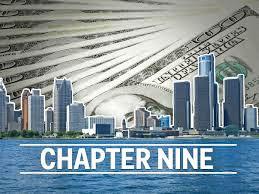 On July 18, 2013, Detroit declared Chapter 9 bankruptcy to squelch most of their $18 billion in debts. The Chapter 9 filing occurred only four months after the appointment of an emergency financial manager. "Let me be blunt: Detroit's broke," says Michigan's governor, Rick Snyder. Snyder went on to say that Detroit is the heart of Michigan and if Detroit is in trouble, Michigan is in trouble.
Detroit is the largest American city to declare bankruptcy, officially succumbing to job losses in the auto industry, decades of population flight, and the collapse of revenue to cover everything from policing to street lighting.
By the end of this article, the reader will come to see the prophetic wisdom of Governor Snyder's words as the bankruptcy of Detroit is a portend of what is to come to most American cities.
Detroit Was Once the Pride of America
At the height of Detroit's success as a city. the city was a representation of the American middle class dominance. It was greatest manufacturing city ever seen on the planet. Detroit made cars that were the envy of the world.
At its peak, Detroit was the America's fourth-largest city, with more than 1.8 million people. Detroit's population losses began in the 1960s with migration to the suburbs. Then in the 1990′s Detroit fell victim to global politics and literally, the roof caved in.
How It All Went Wrong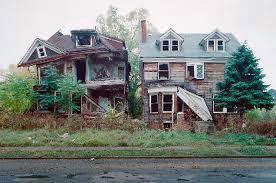 Today, almost 30% of Detroit's 140 square miles are either vacant or deserted. Detroit used to be the fourth-largest city in the US, with a population of nearly 2 million people. Today, Detroit has less than 700,000 residents. There are more than 33,500 vacant houses and over 90,000 vacant lots in Detroit. The city government is razing entire city blocks of business buildings and residential homes. If you are the only one left on your block, you are forced to move and if you are lucky you will receive $10,000 for your home.
The median price of a home in Detroit is only $9,000! In some areas in Detroit, you can buy a house for just $100. There are approximately 85,000 streetlights in Detroit, but copper thieves have stripped so much wiring out  that many of the lights are not working. The Mayor of Detroit previously announced that he will reduce the number of streetlightsto almost half the existing total down to 46,000.
Today, sixty percent of Detroit's children live in poverty, when less than 45 years ago, Detroit boasted the highest per capita income in the United States. Today, Detroit does not have one chain supermarket left in the city.
It has one of the highest murder rates in its country. Its infrastructure has been gutted. Real unemployment may be as high 20% in some parts of the city. This is a real bad city to not be able to find a cop and with the new cutbacks, it is really hard to find a cop because most police stations in Detroit now only open to the public for 8 hours per day. So, if you have to defend yourself, you better be prepared to get through the night on your own. You can call the police on your Obama phone, however, you better only call between 8am and 5pm. Just how dangerous is it? Justifiable homicide in Detroit rose by an amazing 79% during 2011.
The Globalists Murdered Detroit City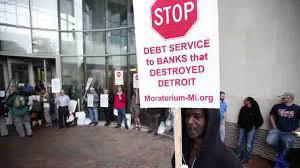 The globalists murdered Detroit through the various free trade agreements. Through NAFTA, GATT, and CAFTA, American auto manufacturing were free to ship their factories overseas in search of near slave labor markets. The passage of these free trade agreements made it possible to hire foreign slave laborers and without the now prohibited tariffs on imports, the globalist controlled corporations could ship slave labor manufactured products back into the United States. Our government failed to protect manufacturers and the net effect is that we are beginning to see third world conditions inside of the United States in cities such as Detroit and it is spreading like wildfire. Since the 1970′s, America has lost 86% of its manufacturing jobs. Actually, the Globalists have been trying to get rid of American tariffs for 100 years in the name of free trade. Look up the Payne-Aldrich Tariff, it is part of our history. A year later, we got the Federal Reserve Act of 1913 and then real fun began in earnest.
Tariffs used to pay our national debt. This is no longer, we replaced tariffs with the Income Tax Amendment. If you are reading this historical facts for the first time, you have to be getting angry. And who could blame you for getting angry? You and I should not be paying income tax, tariffs should be paying for the national debt. We are paying income tax because the globalists wanted free trade and it is our "duty to pay" so they can maximize their profits. The third leg of this scheme was to introduce fiat currency where bankers could invent money out of thin air which caused our money to now be worth less than 4 cents for what used to be a dollar.
Now, back to Detroit which helps us understand where we are headed. You may not live in an area of the country in which the jobs are headed overseas. However, you have been targeted for de-industrialization through Obama's Cap and Trade policies which he has declared he will initiate through Executive Order as this president continues to carry out his Agenda 21 goals.
If you ever let Agenda 21 get a grip on your city, the result will be like Detroit and will result in abject poverty as a result of green zones, Wildlands, promises of Smart Growth, saving the planet from global warming and economic growth inhibitors, etc. By the way, the globalists have the guts to build a $25 million dollar light rail in Detroit, right in the middle of this rotting corpse.
What Happens When a City Goes Into Default?
Look for an organization such at the World Bank to loan Detroit the $18 billion dollars it needs in order to regain temporary financial solvency. However, without a viable industry to maintain the economic foundation of the city, the city will predictably default on its future loan obligations. What follows is a glimpse into the future of all American cities as an increasing number of cities default on their "rescue" loans.
When a political entity defaults on its loans, the lending agency takes possession of the collateral which was pledged to cover the loan. Most often, the infrastructure is the collateral most sought after by the banks. When banksters typically take control over a political entity, like they did in Bolivia, they will quadruple the cost of water, astronomically hike the price of utilities and seize control of public transportation in order to jack up the rates to its ridership (i.e. poor people who cannot afford a car and need public transportation to get to work.). This is Detroit's future and it will soon be all of our futures.
Detroit has failed as a viable entity because of the loss of manufacturing and subsequent population flight out of the city. The rest of our cities will all experience an economic collapse but for different reasons.
When, not if, Obama ushers in his industry killing Cap and Trade Executive orders, every American city will effectively be deindustrialized and we will have nation full of Detroits.
Do you know that Obama has stated that his Cap and Trade plan will eliminate the use of of 80% of the energy that we presently use? Can you drive 80% less miles to work? On a sub-freezing day, can you run your thermostat 80% lower? Can you use your lights 80% less with a major impact on your lives? Can you get buy on 20% of the gasoline that you presently use? And what business will survive these draconian caps placed upon our energy use? And then, where will you find work? Who will pay for your mortgage? Oh by the way, does it make sense now to about why the Federal Reserve is buying up $40 billion dollars worth of mortgage backed securities every month? Hmm, and some people wonder how the powers that be will force the rest of us into stack and pack cities. America, you have just seen your collective future.
Does it makes sense to you that DHS has purchased 2.2 billion rounds of ammo and 2700 armored personnel carriers? The globalists forces know what is coming. It is time that this country wake up and smell the coffee. You have been conquered, America, and many of you will not survive. And if you doubt the words that I have posted here, lets have Obama tell you so in his own words.
Source: Dave Hodges | The Common Sense Show | War Is Crime
They are 67 new families, or about 400 Palestinian refugees displaced from Syria, residing in 60 recently erected tents set up as an emergency 'gathering' near the Ein el-Hilweh Palestinian refugee camp adjacent to the city of Sidon in southern Lebanon.  In all, there are approximately 75,000 thousand Palestinians in Lebanon who have fled from Syria over the past 28 months.
Additional Palestinians arrive every week and sometimes meet former neighbors from Yarmouk and other Syrian Palestinian camps at the Masnaa Lebanon-Syria border crossing. The new arrivals are often grimaced to happen upon their countrymen who are returning to take their chances facing death in Syria including dodging the snipers and bombings targeting Yarmouk and elsewhere. The reasons the returnees give for returning to Syria focus on the appalling humanitarian conditions in Lebanon for Palestinians as well as the nearly 780,000 other refugees here from Syria.
Palestinians forced into Lebanon from Syria soon learn, if they were not aware previously, that all Palestinians refugees in Lebanon are barred by law from the most elementary civil rights to work and to own a home.  More than 50 professions open to Palestinians in Syria and in every other country, including occupied Palestine, are forbidden here. Two examples of jobs Palestinians can do  and  are doing in Lebanon when they arrive from Syria include scavenging through the rotting filth at Saida Garbage Mountain and other Lebanese government public garbage dumps to find something worth a few Lebanese Lira (LL) to help their loved ones survive. No, nearly impossible to secure work permit, is even required so they need not fear arrest by the Lebanese authorities who irregularly round up Palestinian violators of this country's  no work for Palestinian refugees ban.
The same, "no work permit required" reality  is true of another profession which critics accuse the "Government" of Lebanon and its competing politicians of approving instead of allowing even one currently banned legitimate job to those whose lives are at risk and who are desperately in need of livelihood.
That profession which is open to every Palestinian today in Lebanon willing to consider it, is 'hired gun'.
While both the major political grouping in Lebanon will deny they do it but will accuse the other, the fact of the matter is that both continue to discreetly recruit Palestinians to fight their personal battles on the cheap. It is unfortunately the case that some Palestinians, sweltering in the squalid, fetid camps in Lebanon, discriminated against in public institutions of higher learning, and barred from internationally mandated elementary civil rights, are seeking jobs as militiamen. This against the admonitions and sage counsel of the older generation of PLO fighters, now mainly retired, that the Syrian civil war is not theirs and that Palestinian involvement will not advance Return to Palestine and reclaiming stolen homes and land, by one minute or by one inch.
The choice for many Palestinian young men in Lebanon has come down to guns or education.  By force of Lebanese law and under threat of prison for violators, Palestinians are denied the elementary civil rights to work in more than 50 professions and are barred by a 2001 racist law from them or their families, more than six decades living as refugees in Lebanon, from even owning a home. Among Palestinian youth, unemployment rates hover around 70%, while refugee students are also discriminated against in admission to Lebanese state institutions of higher education, including the relatively low-tuition fees at Lebanese University. This makes it difficult for young Palestinians in Lebanon to pursue higher education after graduating from UNWRA schools and passing the Baccalaureate II exam. Being barred from most jobs, it is very difficult to come up with even modest sums for tuition payments.
Against this backdrop of flagrant state sponsored discrimination, if one were to offer un-employed young camp resident, say $ 200 per month, an AK-47 with plenty of ammo, and free cigarettes, the odds are good that you just might have yourself a militiaman. Those journalists and observers who spent much of the summer of 2011 in Libya saw a similar phenomenon and now it's also the case in Syria.  In Lebanon, it is resurgent from the 1975-90 civil war days.  The gun for hire resource is being exploited across the political spectrum here among many of the same confessions and political parties that ignited this country's massively destructive civil war more than three decades ago.
Today, some Palestinians are being  paid to fight for certain factions  whether from the North of Lebanon at Tripoli and Akkar, to  Beirut and various contentious areas such as Tariq al-Jdideh, Sabra, Cola, and down south in Saida during recent clashes that saw 16 Lebanese army killed and twice that number from the supporters of Salafist activist Ahmad Asir.  Despite denials from some sources, there were a few Palestinians who fought for Asir and some Palestinians joined other militia including the Hezbollah organized "Resistance Brigades' and the Lebanese army in fighting against Asir's forces.  An investigation in supposedly underway of the army's conduct and the involvement of political parties from both the March 14anti-Assad sects and elements of the March 8th pro-Assad groups regarding recruitment of Palestinian youngsters.
President Mahmoud Abbas repeatedly warned Palestinians in Lebanon during his 72 hour visit to Lebanon last week to reject these offers and not to be drawn into the Syrian conflict despite the 'market place maneuverings' going on here from various armed confessions. What he meant is that as most of the Lebanese sects are frantically arming and seeking gunmen and weapons, that Palestinian s must refuse to be exploited once again and that they must reject any involvement in a military conflict that contravenes their communities wishes and their national interest. He lectured a gathering of PLO factions at a Palestine Embassy event that this terrible error was the case during the 1975-1990 Lebanese civil wars. For that involvement, Palestinians in Lebanon continue to pay a very heavy price from certain factions here that rather see Lebanon's economy continue to decline than allow Palestinians to work and help build the local economy as they have done in countless other countries which granted them the right to work and the opportunity to invest in the economy with their technical competence and business skills.
As one Palestinian academic pointed out last week to this observer, "While President Abbas assured Lebanese politicians that Palestinian factions did not want to join the Syrian civil war, he also chastised Lebanon's government in private for not pressuring various factions, most with representatives in Parliament, to stop recruiting and enticing the hapless, desperate for work refugees, forced into Lebanon against their will.
PA President Abbas also repeated the PLO's willingness to turn the refugee camps weapons over to the government.  He did this with a straight face but surely he knows well that despite the regular scapegoating of Palestinians refugees in Lebanon and the danger they are said by some to pose because some have access to light arms, as everyone in Lebanon does, the truth of the matter is that the Lebanese political groups, even the most open about their hatred of Palestinians in Lebanon, do not want the state to collect or receive as gifts the arms in the Palestinian camps and gatherings, however many there they in fact are.  The reason is that if the Palestinians had no weapons at all in the camp, it would make it awkward for some politicians to use the fear of a return to the early 1970's and the potential danger of a Palestinian uprising for sects political advantage.  Truth told, there is no realistic fear, unless provoked, from Palestinians arms. They are exaggerated as is the number of salafist factions inside camps. Yet without the right to work, some Palestinians will doubtless be seduced into becoming hired guns for scarce cash to feed their families.
Hiring young men as gunmen in Lebanon is also impliedly condoned by silence on this problem from various polarized and politicized religious leaders.  Some of Lebanon's religious personalities, too often, wearing pious faces and donning prelatical 'Pope-wannabe', if sometimes comical, outfits, and often sporting fingers ringed with gold and precious jewels, intone their gospels according to St. Mark, or his equivalents, about human dignity and being our brother's keeper,  and often referencing  " our blood-veins support for Palestine and the Right of Return." While simultaneously standing in Janus-faced opposition to the elementary internationally mandated right to work for Palestinians in Lebanon.
When a Palestinian is arrested for carrying a weapon, it's often front-page news but also usually exaggerated or later shown to be inaccurate.  What is more surprising is that more Palestinians are not in the streets, motivated by the Arab Spring and Islamic Awakening, demanding the civil right to work. Yet signs are starting to appear of a pending and overdue intifada in Lebanon demanding this universally recognized right of every refugee to be able to seek work to sustain oneself and family.
Rumors abound these tense days in many part of Lebanon, as if to say, "I told you didn't I? The Palestinians are the source of most of Lebanon's problems!" (or the Zionists, or the Saudis, EU, Iranians, Syrians, other Lebanese sects or the Americans, or just about anyone except, this countries deeply destructive confessional system and the Lebanese who profit from this, to date, failed state. Too many Lebanese politicians reject granting rights to Palestinian refugees while they seek to gain personal, regional and international benefits from playing the "Palestinian card". Meanwhile, dangerous temperature and pressure levels are building in the huge Presto cookers that are Lebanon's camps.
On a brighter note, arriving with a late news item of 7/18/13, are the just released results of the General Science (SG) and Life Science (SV) secondary school official exam results known as the Baccalaureate II exam results. Preliminary analysis suggests that despite all their hardships, Palestinian and Syrian refugees have done well on the required exams.
One Palestinian mother from Yarmouk camp in Damascus, now among the 700 Palestinian refugee families temporarily here from Syria, and squeezed into the already overflowing Shatila camp explained to this observer as she proudly displayed this week's announcement of her children's academic success.  She beamed that even with little electricity in her family hovel, polluted drinking water, no fresh air and not much food this past year, her daughter's and son's success in passing 'the BACC II" made her forget her family's misery.
So it is that the doors are cracked open for higher education, if Palestinian refugees in Lebanon can come up with tuition, sometimes fairly modest by western standards but beyond the means of a majority of camp families.  The good news that there will be places in Lebanon's institutions of higher learning this fall semester, assuming that these youngsters, desperate to be allowed to work at the same jobs that every other foreigner in granted on arriving to Lebanon, do not heed the sirens calls of various sects here, singing seductive songs of quick cash in exchange for carrying a gun.
On April 19, 2013 at the Shatila Camp Youth Center,  exactly 30 years to the week following the death of American journalist, Janet Lee Stevens here in Beirut, and recalling times during the 1982 Israeli aggression that rained American bombs of various types down on the civilian population, and still  hearing Janet's voice telling young Palestinian defenders, during the 75-day Zionist siege, " Once the fighting ends you must, every one of you, return to school, whether to study quantum physics or literature or whatever interests you.  Higher education is what will hasten your return to Palestine.  Education is your greatest resource and your most potent weapon."
Speaking at the Shatila Scholarship Award event, one American, paying tribute to Janet as a mediator and advocate for Palestine, and addressing the tuition grant recipients, sought to encourage these future Palestinian leaders:
 "An education is forever and its purpose is to enjoy a more productive lifetime while seeking to fulfill all of what each of us is capable as we give back to our respective communities. Staying in school here in Lebanon where we are all guests, just for the time being, and pursuing knowledge and practical skills is a quintessential and noble  act and commitment of Resistance against oppression and occupation – anywhere. 

Education cannot be ethnically cleansed, stolen, tortured, jailed, uprooted, bulldozed, massacred, murdered, bombed or burned down. Rather, staying in school and pursuing ones dream is what your cherished for-bearers, who were forced from their homes and lands into Lebanon and trekked from Palestine- approximately 130,000- in the summer and fall of 1948, would want for you, and expect of you.
 Education is a Saladinian Resistance toward liberating, six decades after the Nakba, those still under occupation in Palestine.  And to help achieve for refugees in the diaspora, their inalienable full Right of Return." 
When and how do we put an end to this outrage which is an urgent humanitarian imperative shared by every one of us?
We end it immediately.
We do it by Lebanon's parliament, taking 90 minutes of its time, which is all that would be required, and grant these youngsters the most elementary civil right to work which will also enable them to pursue their dreams of higher education.
And by international support.
This can be facilitated by international pressure. One telephone call from Washington, Riyadh, or Tehran, to local political allies, can get the job done in just over an hour without further procrastination.
If not, to add to its other problems, Lebanon may face a civil right intifada– ignited by continued repression.
In the words of the angelic Miss Hiba of Ein el Hilweh camp, now 19 years old and three years after her defiant declaration in 2010 to those who sneered at her that she should get married at age 16, and with her beauty, could demand a handsome dowry for her impoverished family, and forget about college:  "There is no other choice than success with the civil rights goal of every Palestinian in Lebanon to seek a job and to pursue education as we peacefully intensify our struggle to Return to our stolen and still occupied country, Palestine. "
Today, Hiba continues the good fight as she completes next year, her degree in engineering.  She insists she will need this knowledge when she returns to her family's occupied home near Safed.
The American family is at its worst state in the history of the country. The intelligent and informed readership of Off The Grid News likely did not need a Pew Research Center report to alert them to the nationwide decline of the family unit. While the revelation is far from shocking, the statistics relating to the crumbling of the family are fairly startling.
As Libertarian author Charles Murray's controversial best-sellers have aptly noted, the cultural decline and societal norms in America are directly related to the state of the American family. The new Pew Research Center family study at least inadvertently supports Murray's decades of research on the topic. The family represents not only the backbone of the nation, but the building blocks of the community.
Since the 1960s, the American family has been on a downward spiral, according to the statistics noted by both Pew and Murray. The Norman Rockwell depiction of bygone eras might have glossed over some problems of the time, but did accurately illustrate the level of priority the family unit held. When we wax nostalgic, imperfections of a given decade are sometimes cast aside. The Civil Rights movement and a host of other equally Constitution-minded changes improved our nation over the course of the 1950s and early 1960s, but when the family unit started to decline in the following years, so did our society as a whole.
The marriage rate in America has fallen to an all-time low, according to the Pew Research Center study. There are now approximately 6.8 marriages per every 1,000 people on average each year. Only about 51 percent of adults are presently married. In 1960, about 72 percent of adults in the United States were married. In 1950, a total of about 78 percent of American adults were married.
Charles Murray had this to say about the state of marriage in America:
"Starting in 1970, marriage took a nosedive that lasted for nearly twenty years. Among all whites ages 30-49, only 13 percent were not living with spouses as of 1970, Twenty years later, that proportion had more than doubled, to 27 percent — a change in a core social institution that has few precedents for magnitude and speed. From the founding until well into the twentieth century, it was unquestioned that children should be born only within marriage and that failure to maintain that state of affairs would produce catastrophic consequences for society."
While the marriage rate has significantly declined, the birth rate has not. America now has the highest percentage of one-adult households in the entire world. More than half of all babies born to American women under the age of 30 are done so out of wedlock. Today, one out of every three children in the United States lives in a home without a father. A total of 42 percent of single mothers in American are on food stamps.
Discover the story of one family's year-long experiment to consume only what was local, used, homegrown, or homemade…
As previously reported by Off The Grid News, there are now 100 million citizens on food stamps and other forms of taxpayer-funded assistance. There are currently only about 97 million full-time workers in the country. Full-time workers in low-paying positions often do not pay taxes but garner refunds, making the pool of available citizens to fund the entitlement programs quite shallow.
Charles Murray shared this astute observation about how providing for the family was once considered a duty of extreme importance:
"A man who is holding down a menial job and thereby supporting a wife and children is doing something authentically important with his life. He should take deep satisfaction from that and be praised by his community for doing so. If that same man lives under a system that says the children of the woman he sleeps with will be taken care of whether or not he contributes, then that status goes away. I am not describing a theoretical outcome, but American neighborhoods where once working at a menial job to provide for his family made a man proud and gave him status in his community, and where now it doesn't. Taking the trouble out of life strips people in major ways in which human beings can look back on their lives and say, "I made a difference."
Living in the most impoverished county in Ohio and having worked with youth and parents for more than a decade, I have witnessed the change in perspective Murray described. An entitlement mindset is overwhelming not just an entire generation of American parents, it is being handed down to their children and grandchildren.
The United States also holds yet another dubious world record—it has the highest divorce rate on the planet. The study also noted that more than one million public school students are homeless, also a first in the history in the United States. The teen pregnancy rate in America is twice as high as Canada, three times are large as France, and more than seven times as high as Japan. Yes, dear readers, the list of titles bestowed upon our beloved country also include the "Highest Teen Pregnancy Rate in the World" status.
One in every four American teenage girls have had at least one type of a sexually transmitted disease. A total of 47 percent of high school students in the United States have had sex, and more often than not, at an age far younger than we want to imagine.
The land of the free and the home of the brave has the highest rate of child abuse deaths around the globe. About three million child abuse reports are filed around the country each year. Approximately 20 percent of child sexual abuse victims are younger than eight years of age. According to the statistics cited in the study, approximately one in every four American girls will be sexually abused before their eighteenth birthday.
The fiscal and family trends which have been mounting in America, especially under the Obama administration, make an economic meltdown and civil unrest far more likely. The Pew study estimates that about 50 percent of all American children will be on food stamps at some point before they reach adulthood. The once most prosperous nation in the world has turned into a land mass filled with people who cannot support themselves and rely on the government to fund their very survival from the cradle to the grave. Young adults will have to grab quickly to keep the American dream from slipping out of their grasp entirely.
Source: Off The Grid News
Headlines cheered America's June report. Bloomberg said "US Employers Added More Workers in June Than Forecast."
"Employment roared ahead in June." America's "economy is poised for faster growth as it shakes off the impact of tax increases and budget cuts."
The Wall Street Journal headlined "Job Gains Show Staying Power," saying:
June showed "solid promise." Doing so suggests "the economy might be strong enough to grow with less help from the Federal Reserve." More on that below.
Bond investors "rush(ed) to sell." Ten-year Treasuries spiked above 2.7%. In May, yields were about 1.6%. Friday's level was the highest since August 2011.
According to ED&F Man Capital Markets fixed income analyst Tom di Galoma:
"A huge bond bubble was created, and that will take some time to resolve itself."
Thirty-year Treasury yields jumped from 3.45% in April to 4% in June. Junk bonds spiked from 5.79% in April to 7.72% in June.
Vanguard Group bond manager Gregory Nassour expects trouble. "The market is saying (it) think(s) tapering is going to happen much faster than anticipated and that cash flows are going to get very negative."
Fixed income analyst Mike Larson compared what's happening to the dot.com bust.
He calls the bond bubble bigger than late 1990s tech mania. Follow the money, he says. The more speculative investment in asset classes, the greater the risk.
Values skyrocket to irrational levels. "(W)hen everyone (piles in), you can be sure valuations will get ridiculous, and that the groundwork will be laid for a painful bust."
From 2009 through April 2013, investors poured $1.15 trillion into bonds. Doing so excludes ETF investments. They include around another $300 billion.
Last month, another $80 billion overall was added. Bond bubble mania awaits unwinding. It'll likely come incrementally. Expect many months south ahead. Forewarned is forearmed.
Irrational exuberance affects equity investors. Momentum profits don't last forever. Analyst Graham Summers understands. He knows bubbles when he sees them.
He warns about ugly times ahead. He expects worse trouble than 2008. Perhaps it already began, he suggests. No one rings a bell and says so. Markets fluctuate.
Ordinary investors stick with what works. They're mindless of huge risks. Most don't know they've been had until too late. Current problems are too important to ignore.
China faces a potential liquidity crisis. It's slowing its economy to avoid greater trouble later on. Despite unprecedented QE, Japan's economy shows weakness.
Multiple indicators flash America's economy heading south. Corporate profits are down. Europe's back in crisis mode.
Disruptive protests rage in Egypt and Turkey. Others do intermittently in Spain, Portugal, Greece, Italy, and elsewhere across Europe.
Washington's war on Syria rages. It spilled cross border to Lebanon. It threatens regional stability.
QE may slow sooner than expected. Economist David Rosenberg expects it.
It's no longer justifiable, he said. He's not alone saying so. More on that below.
Paul Craig Roberts commented on Friday's job report. "No Hope on The Jobs Front: Rising Unemployment in America," he headlined.
"For the umpteenth consecutive month and year," he said, June's report was less than meets the eye. High-paying/good benefit jobs weren't created. They haven't been for years. America's being thirdworldized.
June added 195,000 jobs. Hold the cheers. A Bureau of Labor Statistics (BLS) reportexplained, saying:
Leisure and hospitality: +75,000
Professional and business services: +37,000
Retail: +37,000
Healthcare (mostly ambulatory services): +20,000
Financial activities: +17,000
Federal government: -5,000 (down 65,000 year-over-year)
"Employment in most other major industries, including mining and
logging, construction, manufacturing, and transportation and
warehousing, showed little change in June."
In other words, except for modest financial services gains and some highly sought skill areas, virtually zero high-quality jobs were created.
The average workweek and overtime hours were unchanged. Year-over-year hourly earnings rose 2.2%. At around 9% based on 1980s calculations, inflation is multiple times higher than official numbers.
According to economist John Williams, full-time June employment plunged by 240,000. "Economic issues accounted for 75% of" part-time jobs. "Payroll gains were warped heavily by inconsistent seasonal factors."
Discouraged workers rose by 197,000. Involuntary part-time ones spiked by 322,000. Real unemployment's 23.4%. The headline 7.6% figure is fake.
According to Roberts:
"This deplorable report provided the cover for the market riggers to take the stock market up and the gold market down."
"Remember that economic theory about 'rational markets?' Another deception."
For weeks, Fed officials suggested slowing QE ahead. Only its timing remains uncertain. According to Graham Summers, investors hoping for continuity "are in for a rough surprise."
QE did wonders for equity investors. It didn't land on Main Street. When consumers have money, they spend it. Doing so stimulates growth. Jobs are created. Maybe better ones than now.
Central banks are losing control, said Summers. Big trouble ahead looms, he suggests.
Martin Feldstein's an establishment economist. He's National Bureau of Economic Research (NBER) president emeritus. On July 1, he headlined "The Fed Should Start to 'Taper' Now," saying:
It shouldn't wait. It "should emphasize that the pace of quantitative easing must adjust to the likely effectiveness of the program itself, and to the costs and risks of continuing to buy large quantities of bonds."
"Although the economy is weak, experience shows that further bond-buying will have little effect on economic growth and employment."
"Meanwhile, low interest rates are generating excessive risk-taking by banks and other financial investors."
Doing so "could have serious adverse effects on bank capital and the value of pension funds."
"In Fed Chairman Ben Bernanke's terms, the efficacy of quantitative easing is low and the costs and risks are substantial."
Where was Feldstein earlier? QE's been ongoing since late 2008. Mortgaged-backed securities (MBS) were bought. QE continued wrongly directed. It's done nothing for economic growth.
Bernanke suggested slowing it weeks earlier. He reiterated doing it in June. He made it conditional on labor market improvement. He said judgment depends on more than the (U-3) unemployment rate.
Year-over-year, there's been "no increase in the ratio of employment to population, no decline in the teenage unemployment rate, and virtually no increase in the real average weekly earnings of those who are employed," said Feldstein.
"The decline in the number of people in the labor force in the past 12 months (way) exceed(s) the decline in the number of unemployed (based on U-3 calculations)."
Real unemployment's the highest in decades. It reflects Depression levels. It's shows a troubled economy. It's getting worse, not better. Half of more of US households are impoverished or bordering on it.
Social safety net protections are eroding when increasing them is vital. Force-fed austerity assures harder than ever hard times.  Growing millions are affected.
Creating money for speculation excludes it for economic growth. America's economy is weak, not strong. Conditions are bleak. Nothing ahead looks promising.
Manufacturing is slowing. Exports are down. So is personal income. Corporate profits are declining. Aggregate demand's weak. Rising interest rates spell trouble. Investors accepting significant risks do so at great peril.
"The danger of mispricing risk is that there is no way out without investors taking losses," said Feldstein. "And the longer the process continues, the bigger those losses could be."
"That's why the Fed should start tapering this summer before financial market distortions become even more damaging." He suggests ending it entirely by mid-2014.
Equitable QE works. Bernanke spurned it. He's Wall Street's man in Washington. He threw money at banks. He's doing it now. What can't go on forever, won't.
Wrongheaded policy continues. It's been that way far too long. Greenspan and Bernanke prioritized money printing/bond buying recklessness. Push eventually meets shove. A day of reckoning looms.
The longer money printing madness continues, the greater the eventual trouble. Feldstein's partly right. Money printing madness should be slowed en route to ending it altogether. It should be done as quickly as possible.
At the same time, he omitted explaining what matters most. Money printing works when done responsibly. David Stockman was Reagan's Office of Management and Budget Director.
In late 2010, he said:
QE "is injecting high grade monetary heroin into the financial system of the world, and one of these days it is going to kill the patient."
In early 2009, Michael Hudson said America "reached its debt limit and is entering its insolvency phase. We are not in a cycle but (at) the end of an era. The old world of debt pyramiding to a fraudulent degree cannot be restored."
Delaying the inevitable postpones a painful day of reckoning. QE helped wreck America's economy. It didn't have to be this way. Responsible officials would have prevented it. America's not run that way.
Monied interests alone are served. Popular needs go begging. Safety net protections are quaint and out-of-date. Speculative gains matter most.
Money printing madness reflects one of the greatest disconnects of all time. It robs poor Peter to benefit rich Paul. It prioritizes rising markets. It's done so at the expense of economic and human wreckage.
QE works when used constructively. Money injected responsibly into the economy creates growth. America once was sustainably prosperous. It can be again. It won't be with rogues making policy. Feldstein didn't explain.
Stephen Lendman lives in Chicago. He can be reached at lendmanstephen@sbcglobal.net.
His new book is titled "Banker Occupation: Waging Financial War on Humanity."
http://www.claritypress.com/LendmanII.html
Visit his blog site at sjlendman.blogspot.com.
America governs lawlessly. Out-of-control rogues run things. Conditions go from bad to worse. Tyranny threatens everyone. So does possible global war.
Fear-mongering, saber rattling, hot wars, proxy ones, drone ones, geopolitical ones, financial ones, anti-populist ones, mass incarceration, censorship, lawless sanctions, subversion, sabotage, targeted assassinations, mass murder, cyberwar, and horrific draconian harshness reflect out-of control governance gone mad.
Lying is official policy. So is state terror. Independent governments aren't tolerated. They're targeted. Regime change is prioritized. World peace is threatened. Humanity's menaced. Survival's uncertain.
Daily revelations explain more. War is called peace. State-sponsored assassins are called freedom fighters. Real ones are called terrorists.
Capital has divine rights. Monied interests run things. Plundering the earth for profit is prioritized. Popular needs go begging. Social America's dying. Poverty, unemployment, hunger, homelessness and human misery go unaddressed. Corporate rights alone matter.
Democracy's a four-letter word. Out-of-control power is unaccountable. Rule of law principles are mocked. Tyranny's the law of the land. Advancing America's imperium matters most.
Workers are exploited. They're unprotected. Human and civil rights are sacrificed. Wealth, power and privilege are served. Militarized control supports them. Nonbelievers aren't tolerated.
Torture is official policy. Gitmo is America's public face. Innocent detainees suffer. So do many others. Thousands of political prisoners fill America's gulag. It's the world's largest. It operates globally. Mercy isn't in Washington's vocabulary.
Diktat power rules. Police state terror threatens everyone. Freedom's fast disappearing. Dissent's not tolerated. Heroic whistleblowers are criminalized.
Even retired four star generals aren't safe. More on that below.
Journalists are spied on. So is everyone worldwide. Big Brother watches everyone. It's no longer fiction.
Censorship prevents truth and full disclosure. Managed news misinformation substitutes. Students are debt entrapped for life. Millions have no futures. An entire generation's lost.
Madness substitutes for sanity. Unconscionable wrongdoing persists. America's unsafe to live in. Oblivion awaits. Most people are too out of touch to notice. Others are dismissive.
Failure to act responsibly matters. It lets Washington get away with murder and much more.
Rogues running America take full advantage. Who knows what's next.
The Pentagon's former second in command's being investigated. General James (Hoss) Cartwright allegedly leaked information higher ups want suppressed.
Cyberwar is official US policy. In spring 2010, Iranian intelligence discovered Stuxnet malwar contamination. Its Bushehr nuclear facility was affected. US/Israeli cyberwar bore full responsibility.
Cartwright perhaps explained. He ran cyber-operation Olympic Games. Obama ordered stepped up attacks. Targeting Iran is prioritized.
Perhaps there's hope if retired four star generals become whistleblowers. Maybe other insiders will be emboldened to act. Legions more than ever are needed. Hopefully many will come forward responsibly.
Edward Snowden provided a vital service. He's a hero in his own time. He's globally recognized. He deserves praise, not prosecution. History won't forget him. He revealed what everyone needs to know.
Unprecedented global spying is official US policy. It's lawless. Spies "R" us defines it. Police states operate this way. America's by far the worst. It's unmatched in human history. No one's safe anywhere any time.
Shoot the messenger. Snowden's hunted. He's a wanted man. Washington wants him arrested. It wants him prosecuted. It wants him imprisoned. It wants him silenced. Perhaps it wants him dead.
It wants information he knows suppressed. London's Guardian revealed it. It plans telling more. On June 28, it headlined "US army blocks access to Guardian website to preserve 'network hygiene.' "
It wants truth suppressed. It wants its message alone circulated.  "The US army has admitted to blocking access to parts of the Guardian website for thousands of defence personnel across the country."
"A spokesman said the military was filtering out reports and content relating to government surveillance programs to preserve 'network hygiene' and prevent any classified material appearing on unclassified parts of its computer systems."
Pentagon officials lied. Censorship is official US policy. NETCOM On-Line Communication Services operates from San Jose, CA. It's an Internet service provider.
Spokesman Gordon Van Vleet said it filtered "some access to press coverage and online content about NSA leaks."
"The Department of Defense routinely takes preventive 'network hygiene' measures to mitigate unauthorized disclosures of classified information onto DoD unclassified networks."
An Army Network Enterprise Technology Command (NETCOM) spokesman said policy affects hundreds of defense facilities. Doing so suggests far worse future policy.
Washington may block anti-government content. It may do so routinely. Alternative media sites may be targeted. Vital truths more than ever may be suppressed.
Revealing them responsibly risks being criminalized. So may discussing what's already known. Pointing fingers the right way is dangerous. Doing so risks being charged with aiding and abetting America's enemies.
Van Vleet added:
"We make every effort to balance the need to preserve information access with operational security, however there are strict policies and directives in place regarding protecting and handling classified information."
"Until declassified by appropriate officials, classified information – including material released through an unauthorized disclosure – must be treated accordingly by DoD personnel. If a public website displays classified information," blocking it will follow.
"Classified" includes vital information people have a right to know. Suppressing it reflects police state harshness. Rogue states operate this way. It bears repeating. America's by far the worst.
According to an unnamed Pentagon spokesman:
"The Guardian website is NOT being blocked by DoD. The Department of Defense routinely takes preventative measures to mitigate unauthorized disclosures of classified information onto DoD unclassified networks."
On June 25, Guardian editors headlined "Edward Snowden: in defence of whistleblowers," saying:
He's no traitor. America's First Amendment matters. It "prevents prior restraint and affords a considerable measure of protection to free speech."
Obama violates its letter and spirit. He's done so by "show(ing) a dismaying aggression in not only criminalising leaking and whistleblowing, but also recently placing reporters under surveillance – tracking them and pulling their phone and email logs in order to monitor their sources for stories that were patently of public importance."
Thanks to Snowden, we know more about what NSA whistleblower Thomas Drake called "a vast, systemic institutionalized, industrial-scale Leviathan surveillance state that has clearly gone far beyond the original mandate to deal with terrorism."
Snowden is today's Daniel Ellsberg. Releasing the Pentagon Papers got him targeted. He also faced Espionage Act charges.
He might have gotten life in prison. He was lucky. Gross government misconduct saved him. His 1973 trial collapsed. At the time, judge William Byrne, Jr. ruled:
"The totality of the circumstances of this case which I have only briefly sketched offend a sense of justice."
"The bizarre events have incurably infected the prosecution of this case."
Federal judges today don't speak this way. Ellsberg later said:
"The public is lied to every day by the President, by his spokespeople, by his officers."
"If you can't handle the thought that the President lies to the public for all kinds of reasons, you couldn't stay in the government at that levelâ¤|."
"The fact is Presidents rarely say the whole truth – essentially, never say the whole truth – of what they expect and what they're doing and what they believe and why they're doing it and rarely refrain from lying, actually, about these matters."
Ellsberg's a modern day hero. So is Snowden. Washington fears ugly truths revealed. Doing so arouses public anger.
Perhaps it emboldens others to tell more. Coming forward  threatens America's imperial ambitions. Preventing them responsibly matters most.
Stephen Lendman lives in Chicago. He can be reached atlendmanstephen@sbcglobal.net.
His new book is titled "Banker Occupation: Waging Financial War on Humanity."
http://www.claritypress.com/LendmanII.html
Visit his blog site at sjlendman.blogspot.com.
Speculation is mounting that "Helicopter Ben" will exit the Fed at the end of his current term. When the Bernanke era ends, what expectation will the next head of the central bank face? Remember the In Greenspan We Trust experience, and the designed pump and dump, crash and burn markets that led to the need to inflate the debt bubble. Bernanke did not save the economy; he merely bailed out the international banksters at the expense of productive main street enterprises. Throwing money to the air currents, when the prevailing winds only blow to Wall Street is the true legacy of Ben Bernanke.
Peter Schroeder from The Hill reports in the article, Federal Reserve's Ben Bernanke dodges questions on his future, that Quantitative Infinity will end, "Bernanke said the Fed will gradually reduce the size of its purchases if the economy continues to improve as expected, with the goal of wrapping up purchases by mid-2014."Politico contributors Ben White and MJ Lee in Preparing for life after Ben Bernanke, postulate much the same.
"It will almost certainly fall to Bernanke's successor to eventually unwind the extraordinary measures the Fed has taken in recent years to try and drag a sluggish economy out of its brutal financial crisis hangover. The end of easy money won't come right away, but it will end, no matter who follows Bernanke."
But will the faucet tighten on cue, especially when the conventional wisdom rests upon the assumption that the economy will improve as advertized? Why would the Fed end the best theft scheme since Charles Ponzi perfected the con game? As long as the rest of the world treats Fed Dollar notes as the reserve currency, there is no need to pay savers a fair interest rate return on their rapidly diminishing capital.
Examine the popular rivals for the Fed Chairman and Central Bank Godfather position.
John Carney of NBC News chimes in along with the Gulf News essay, US Federal Reserve: Preparing for life after Ben Bernanke, gives the following rundown.
Janet Yellen – A forceful advocate of the aggressive steps taken under Bernanke to spur US economic growth, earning her a reputation as a policy "dove" who would tolerate a bit more inflation to drive down unemployment that she deemed too high.

Lawrence Summers – Is a Harvard economist who was Obama's first National Economic Council director, a post within the president's inner circle.

Timothy Geithner – Tapped for Treasury, he was already at the centre of the nation's emergency response to the financial crisis as head of the New York Fed.

Roger Ferguson – Another Harvard-educated economist and lawyer who was Fed vice-chairman from 1999 to 2006, Ferguson was regarded within the Fed as a very smart and thorough policymaker.

Donald Kohn – Retired as Fed vice-chair in 2010 after 40 years at the central bank and was a top staff lieutenant to then chairman Alan Greenspan.

Christina Romer – Served as one of the principal architects of the Obama Administration's economic recovery plan and chairwoman of the White House's Council of Economic Advisers.

Alan Krueger – Is the chairperson of President Obama's Council of Economic Advisors.
Surely, an insider to protect the interests of the plutocrats needs to be willing to play ball with the Obama style of criminality.

The Financial Times columnist, Edward Luce concludes in, Larry Summers top pick to replace Ben Bernanke as Federal Reserve chief, "Mr. Summers has made more than his share of enemies. Any of the other contenders for Fed chairman, including Ms. Yellen, would make a good choice. But if Mr. Obama wants to fill the job solely on merit, Mr. Summers ought to have the edge." What is left unsaid is that Summers joined D.E. Shaw Group in late 2006 as a managing director, which has business and political links to Rahm Emanuel.Significantly, the New York Times publishes, "Mr. Summers and Shaw executives say his role there was to be a sounding board for Shaw's traders. But interviews with friends and former colleagues suggest that Mr. Summers's role at D. E. Shaw was wider and more complex." Review the entire details in the two-part article, Industrial Wind and the Wall Street Cap and Trade Fraud.
Alas, the Obama Chicago Mafia Outfit has an undaunted record of extortion and financial pillage. What better choice to head the supreme paper-printing machine, than a trusted associate, skilled in the working of crony corporatism?The presidential puppet has his strings pulled by the money interests that selected him in the first place. It stands to reason that member bankers want Obama to pick a bean counter, who is experienced in the way monetary policy actually operates. Moreover, it certainly makes sense to the Chicago gang to have a trusted capo in charge of the loot.
Theorizing, comparing and contrasting credentials to head up the Fed after Bernanke, is reminiscent of the same exercise when Greenspan relinquished the reins. How many predicted "Gentle Ben", to get the nod? What is certain is that a fiat money practitioner will continue the paper roll over of government bonds as long as dollar coercion, upon world currency markets, is the only game in town.
Keep monitoring the progress of the BRICS Development Bank. Competition to the dollar-dominated monopoly banking system is the actual challenge to central banking after the Bernanke tour of duty.
With the uninterrupted, increase in federal debt, much of which is held by the Federal Reserve, the prospects of achieving prosperity by growing the economy, when interests rates have been near zero, failed miserably. It becomes almost absurd to believe that higher rates on Treasury Bonds will succeed. The new chair of the Fed will be hard pressed shutting down Quantitative Easing.
What is the saying, caught "between a rock and a hard place"? Expect no other outcome until the entire fractional reserve banking system is abolished. The replacement must be based upon a sound money economy that is not dependent upon bank funding for public financing.
What's Really Driving The Crashing Markets?
Normally, stocks don't fall off a cliff unless the economic data suddenly turns south or there are signs of an emerging crisis, like a run on the shadow banking system or threat to Middle East oil supplies. But neither of these played a part in this week's equities massacre where the Dow Jones Industrial Average (DJIA) plunged 560-plus points in just two sessions and indices around the globe dipped deep into the red. What triggered this week's selloff was an announcement from the Federal Reserve that it was planning to scale down it's asset purchases (QE) in the latter part of 2013, and probably end the program sometime in the middle of 2014. Here's the offending paragraph in the FOMC's statement that lit the fuse:
"If the incoming data are broadly consistent with this forecast, the Committee currently anticipates that it would be appropriate to moderate the monthly pace of purchases later this year. And if the subsequent data remain broadly aligned with our current expectations for the economy, we would continue to reduce the pace of purchases in measured steps through the first half of next year, ending purchases around midyear. In this scenario, when asset purchases ultimately come to an end, the unemployment rate would likely be in the vicinity of 7%, with solid economic growth supporting further job gains, a substantial improvement from the 8.1% unemployment rate that prevailed when the committee announced this program." (FOMC)
Now–unless you think that Fed chairman Ben Bernanke is a complete idiot–then you can assume that he knew what the reaction on Wall Street would be. After all, stock prices have more than doubled in the last 4 years mainly due to the Fed's lavish liquidity spree. So any announcement that the program is "going away" was sure to send traders racing for the exits. Which it did. Traders were not having a "hissy fit" as many in the financial media have said. They were acting rationally. Absent the Fed's turbo-charged monetary stimulus, stocks will go down, there's no question about it. Current prices do not reflect fundamentals nor do they reflect the true health of the economy. They reflect a couple trillion dollars worth of UST and MBS purchases that have goosed stock prices dramatically. Traders know this, which is why they cashed in and walked away when Bernanke announced the prospective end of the program. They acted rationally.
But why would Bernanke want to throw a bucket of cold water on the markets now? Is it because he really believes that the economy is gaining momentum and the labor market is steadily improving?
Hell no, that's pure baloney. Again, Bernanke is not a moron. He sees what everyone else sees, that the headline unemployment number (7.6%) is rubbish that doesn't reveal the rot beneath the surface; the abysmal participation rate, the sharp uptick in part-time workers, and the lousy starvation-wage positions that have replaced the good paying jobs. Trust me on this; Bernanke knows how to read a freaking jobs report. He knows the economy is crap and that people still can't find work. Just look at this clip from the SF Fed's own report on the condition of the economy. It will help you see that Bernanke really doesn't believe the green shoots hype at all:
"Federal fiscal policy during the recession was abnormally expansionary by historical standards. However, over the past 2½ years it has become unusually contractionary as a result of several deficit reduction measures passed by Congress. During the next three years, we estimate that federal budgetary policy could restrain economic growth by as much as 1 percentage point annually beyond the normal fiscal drag that occurs during recoveries….

CBO projections and our estimate based on the countercyclical history of fiscal policy suggest that federal budget trends will weigh on growth much more severely over the next three years. The federal deficit is projected to decline faster than normal over the next three years, largely because tax revenue is projected to rise faster than usual. …The rapid decline in the federal deficit implies a drag on real GDP growth about 1 percentage point per year larger than the normal drag from fiscal policy during recoveries." ("Fiscal Headwinds: Is the Other Shoe About to Drop?", FRBSF)
See? So things are bad and they're going to get worse. This isn't a secret. Fiscal policy is DESIGNED to make things worse. It's deliberate! It's all there in black and white, read it again.
So what's really going on here? Why is Bernanke pretending that the future is looking so rosy, when the exact opposite is closer to the truth? Why is he announcing the end of a program that may never end? Just look at the rate of inflation, fer chrissakes! We are in a deflationary cycle. Inflation has been dropping for 3 straight months and–according to Bloomberg–" is at 53-year low, the lowest inflation since JFK was in office." That means that the Fed will not hit its 2.5% inflation target and the bond buying will continue indefinitely. Guaranteed. Now, no matter how stupid or incompetent you may feel Bernanke is, I assure you, the Fed watches inflation like a hawk, and when the arrow starts to point down, they do everything in their power to get things going in the right direction again. They are always looking for the sweet spot because that's the rate at which their constituents can rake in the biggest profits. In other words, they take inflation (or deflation) seriously.
But if that's so, then why did Bernanke hardly mention inflation in the FOMC's announcement?
He didn't mention it because he's trying to buffalo investors into thinking that QE is going to end sometime in the near future. But how can he end it, after all, unemployment is still high (and likely to go higher when the budget cuts kick in), GDP and output are weak, wages are flatlining, capital investment is non existent, corporations and financial institutions have money piled up around their eyeballs with nothing to invest in, middle class households have seen nearly half their wealth wiped out in the last five years, and the banks have a couple trillion more in deposits than loans because no one in their right mind is borrowing money in the middle of an effing Depression. If any of this sounds like an economic rebound, then maybe Bernanke is actually telling the truth and really plans to terminate QE next year. But I think that's pretty bad bet, all things considered.
So let's cut to the chase: The reason Pavlov Bernanke took away the punch bowl on Thursday and put markets into a tailspin, was because stocks are overheating and because his goofy printing operations have generated all kinds of risky behavior. Keep in mind, that it was Bernanke who said that he thought that goosing stock prices would create the "wealth effect" that would lead to a broader recovery in the real economy. Just as it was Bernanke who signaled that he would keep stocks from breaking lower. (The "Bernanke Put"). In other words, investors have just been following their Master's lead, which is why they loaded up on stocks to begin with. And that's why junk bond yields dropped to record lows. And that's why margin debt climbed to record highs. And that's why all the big corporations have been buying back their own shares hand over fist. And that's why the financial markets are riddled with bubbles. It's because Bernanke tacitly implied that he would support rising stock prices with lavish infusions of funny money NO MATTER WHAT.
Well, guess what? Now Bernanke is worried. He's worried that the real economy is still in the doldrums while bubbles are popping up everywhere in the financial markets; in stocks and bonds, CLOs, CDOs, MBS and every other dodgy debt instrument, derivative or swap. It's all getting very frothy thanks to the Bernanke.
So, how does the Fed chair intend to "contain" the emergent asset bubble until he retires at the end of the year and returns to blissful academia?
He's going to keep doing what he's doing right now; cherry-picking the data so he can rattle Wall Street's cage every so often and keep stocks from zooming too far into the stratosphere. That's the plan. Of course, he could just tell the truth–that QE has been great for Wall Street but done jack for anyone else. But I wouldn't count on that.
Armageddon Without Nukes…
One of the myths of economics is that markets are rational. Theories are based on this assumption, and the belief that markets are rational fuels the argument against regulation. The market response to the Federal Reserve's June 19 statement that it will taper off its bond purchases if its forecast comes true is unequivocal proof that markets are irrational.
The Federal Reserve's statement that it "currently anticipates that it would be appropriate to moderate the monthly pace of purchases [of bonds] later this year" depends on a very big if. The if is the correctness of the Fed's forecast of moderate economic growth and employment gains.
The Fed has not stopped purchasing $85 billion of bonds each month. So nothing real has changed. Indeed, there was no new information in the Fed's statement. It has been known for some time that, according to the Fed, its bond purchases will gradually cease.
In response to this repeat of old information, the stock and bond markets sold off in a major way on June 19-20. This market response to the Fed's statement indicates that the Fed's forecast is unlikely to come true. Low interest rates and a high stock market are totally dependent on the liquidity that the Fed is injecting by printing $1,000 billion per year. If this liquidity is not injected, what will sustain the markets? If the markets crash and interest rates rise, how can the Fed expect recovery?
In other words, the participants in the stock and bond markets know that the markets are bubbles created by the printing press. There is no real basis for the high stock and bond prices. The prices are an artificial reality created by the printing press. Rational markets would take into account the printing press element and would price stocks and bonds at a much lower level.
Zero real interest rates mean that there are no risks. But how can there be no risk in Treasury bonds when the debt is growing faster than the economy?
Normally, high stock values mean strong profits from strong consumer income growth and retail sales. But we know that there is no growth in real median family income and real retail sales.
I suspect that the reason the Fed made the announcement, which seems to be derailing the Fed's forecast of recovery on which the announcement depends, is to relieve pressure on the US dollar. For several years the Fed has been printing 1,000 billion new dollars each year. There is no demand for these dollars. So far these dollars have inflated stock and bond prices instead of consumer prices. But the implication for the dollar's price or exchange value in currency markets is clear. The supply is increasing faster than the demand. If the dollar falters, the Fed would lose control. Rising import prices would soon drive domestic inflation and interest rates far higher than the Fed's targets.
Washington has succeeded in getting Japan and the EU to print yen and euros in order to eliminate the likelihood of flight to other large currency alternatives to the dollar. Smaller countries have also had to print in order to protect their export markets. With so many countries printing money, the Fed's statement implying that the US might stop printing makes the dollar look good, and, indeed, the dollar rose on the currency exchange markets.
Having neutralized the alternative currency threat to the dollar, the Fed and its agents, the bullion banks, the banks too big to fail, are still at work against the gold and silver threats to the dollar. Massive short selling of gold began at the beginning of April. Again on June 20 massive shorts of gold were sold at a time of day chosen to maximize the price decline. Only those who intend to drive down the price would sell in this way.
Since QE began, the Fed has deprived retirees of interest income and has forced retirees to spend down their capital in order to pay living expenses. Judging from the initial market response, the Fed's latest policy announcement is adversely impacting bond, stock and real estate investors, and the manipulation of the bullion markets continues to wreak destruction on wealth stored in the only known safe haven.
How can a recovery happen when the Fed is destroying wealth?
The Fed's irrational behavior could be seen as rational if the assumption is that the Fed's intent is not to save the economy but to save the banks. As the Fed is committed to saving the banks "too big to fail," it is likely that the banks know of the Fed's announcements in advance. With inside information, the banks know precisely when to short the stock, bond, and bullion markets. The banks make billions from the inside information. The billions made help to restore the banks' balance sheets.
Guy Lawson's book, Octopus (2012), shows that front-running on the basis of inside information has always been the source of financial fortunes. In order to save the banks, the Fed now supplies the inside information.
How is this going to play out? I suspect that the recovery, although officially a weak one, does not really exist. However, thanks to statistical artifacts that understate inflation and unemployment and overstate GDP growth, the Fed and the markets think that a recovery of sorts is in process and that the unprecedented money printing by the Fed will succeed in shifting the economy into high gear.
No such thing is likely to happen. Instead, as 2013 progresses, a further downturn will become visible through the orchestrated statistics. This time the Fed will have to get the printed money past the banks and into the economy, and inflation will explode. The dollar will collapse, and import prices–as globalism has turned the US into an import-dependent economy–will turn high inflation into hyperinflation. Disruptions in food and energy deliveries will become widespread, and a depreciated currency will cease to be used as a means of exchange.
I wouldn't bet my life on this prediction, but I think it is as likely as the Fed's prediction of a full recovery that allows the Fed to terminate its bond purchases and money printing by June 2014.
Americans, who have been on top of the world since the late 1940s, are not prepared for the adjustments that they are likely to have to make. And neither is their government.
Paul Craig Roberts was Assistant Secretary of the Treasury for Economic Policy and associate editor of the Wall Street Journal. He was columnist for Business Week, Scripps Howard News Service, and Creators Syndicate. He has had many university appointments. His internet columns have attracted a worldwide following. His latest book, The Failure of Laissez Faire Capitalism and Economic Dissolution of the West is now available.
Source: Paul Craig Roberts
For over two weeks, daily anti-government protests rocked Turkey. Police attacked peaceful demonstrators intermittently. They've done so brutally. Turkey's notorious for police state viciousness.
It's a democracy in name only. Prime Minister Erdogan is thuggish, authoritarian, hardline and despotic.
Turkey's one of 28 NATO countries. Erdogan partners with Washington's imperial wars. He's unapologetic about neoliberal harshness. More on that below.
He's been prime minister for over 10 years. Why Turks put up with him they'll have to explain. Growing opposition demands he resign. New elections are wanted. Erdogan refuses to call them. If protests continue and grow, parliament may overrule him.
On June 11, Russia Today headlined "Turkish police oust Taksim protesters with tear gas as Erdogan cheers removal of 'rags,' " saying:
"Hundreds of Turkish police clashed with protesters in Istanbul." Doing so followed removal of barricades and banners. Erdogan's tactics are polarizing. He called peaceful demonstrators thugs, looters, revolutionaries, marauders and extremists.
RT correspondent Ashraf El Sabbagh said "(t)here are serious clashes in the small streets surrounding (Taksim). They are running after each other tossing stones, bottles and smoke grenades. It's a meat grinder in there."
On June 12, RT headlined "Istanbul warzone: Thousands of protesters try to reclaim Taksim Square," saying:
Riot police attacked protesters viciously. Clashes were fierce. "Thick smoke blankets the square. Turkish police are driving thousands into narrow side streets."
Bystanders are attacked. Tear gas, rubber bullets, pepper spray, and water cannons target indiscriminately. A man in a wheelchair was struck. British journalist Neil Clark said "(i)f you're in NATO, you can get away with murder."
America, Britain, France, and most other NATO countries operate like Turkey. Dissent is verboten. Democracy exists in name only. Some NATO members are worse than others. America's by far the worst.
Turkish protests appear to have legs. The more brutality Erdogan orders, the larger crowds grow. Growing popular sentiment opposes him. On June 11, dozens of Turkish lawyers joined protesters. They came to defend those arrested.
Police attacked them viciously. They did so in front of Caglayan Courthouse. Witnesses called what happened brutal. Lawyer Fatma Elif Koru explained, saying:
"We were just gathering to make a press statement about Gezi Park and then the police attacked. It was very brutal. Now 49 lawyer friends are in custody and many are injured."
"They even kicked their heads. The lawyers were on the ground. They were hitting us they were pushing. They built a circle around us and then they attacked."
On June 11, hundreds of police encircled Taksim Square. They fired rubber bullets and tear gas. They ripped down banners calling for Erdogan's resignation.
Later on Tuesday, dozens more lawyers were arrested. Since protests began, thousands were arrested. Thousands more were injured.
On June 12, brutal attacks continued. More arrests followed. Erdogan's uncompromising. He announced an "end to tolerance." None existed before his pronouncement.
He dismissively ignores criticism. He governs by what he says goes. "If you call this roughness," he said, "I'm sorry, but this Tayyip Erdogan will not change."
His comment replicated Margaret Thatcher once saying "The lady's not for turning." Saying it defined her ideological harshness.
She was unapologetic. She was unforgiving. She was unprincipled. She was despised for good reason. Millions of Brits suffered from the neoliberal flimflam she endorsed.
Erdogan matches her and more. He's way over-the-top. He reflects power politics' dark side. He doesn't know when to quit. He called peaceful demonstrators "a handful of plunderers."
They're "manipulated" to protest, he claims. He won't let them dictate policy, he said. They're the "greatest threat to the society."
"For those who want to continue with the incidents," he said, (i)t's over. As of now, we have no tolerance for them. Not only will we end the actions, we will be at the necks of the provocateurs and terrorists and no one will get away with it. I am sorry, but Gezi Park is for taking promenades, not for occupation."
A previous article called Turkey more police state than democracy. Press freedom is compromised. Censorship is standard practice. Dissent is verboten. Challenging government authority is called terrorism.
No country imprisons more journalists than Turkey. Television channels largely ignored protests. A bureau chief was arrested for airing what authorities wanted suppressed.
On June 11, TV channels broadcast a staged incident. Viewers saw half a dozen "demonstrators" throw molotov cocktails at police. They advanced on police lines provocatively.
They held a flag of a fringe left-wing party. It was a thinly veiled stunt. It's commonly used during protests. America and other Western countries feature them. Doing so lets authorities claim peaceful demonstrators are violent.
So-called protesters were undercover cops. Their mock attack was staged. Expect more like it if protests continue. Expect greater violence ahead. It's already brutal and increasing.
Instead of engaging protesters responsibly, Erdogan wants them crushed. Thousands have been arrested and/or injured. Despots operate this way.
Can Oz is an Istanbul publisher. His London Guardian op-ed headlined "I can never trust the Turkish police and government again." Why before he'll have to explain.
Longstanding Turkish policy is brutal. Now it's more public, widespread and visible.
"For years I did not speak up enough, but no more," said Oz. "I could lose everything, but I cannot live a dishonorable life any longer."
"I am scared. With every speech that prime minister Recep Tayyip Erdogan gives, I feel the hatred and disgust against me and young people of my generation increase."
"All we are after is a bit of freedom, a bit of space to live and a few trees."
"(O)ver the past few days, I have witnessed so many lies from the police and government that I don't think I can ever trust them again. I have spent days with the protesters – withstanding another gas attack, cheering, singing chants and sharing food in the park – and I haven't encountered any signs of weapons or violence on their behalf."
Oz said he received hate mail and death threats. Participating in "passive resistance" leaves him vulnerable.
For years he feared expressing his views publicly. He failed to criticize political wrongdoing he witnessed.
He'll no longer stay silent, he said. He listed five demands he and other protesters want:
(1) They want Gezi Park left unchanged.
(2) They want arrested protesters released.
(3) They want police brutality ended. They want responsible officials prosecuted.
(4) They want the right to protest publicly.
(5) They want Erdogan-ordered violence stopped. They want him held accountable for his actions.
Oz is a large Turkish publisher. He's unaffected by neoliberal harshness. Most Turks want relief. Erdogan spurns popular interests. He's beholden solely to wealth, power and privilege.
Turkish workers and youths demand social justice. Young ones are especially outraged. Their living standards significantly eroded.
They've tasted neoliberal harshness far too long. They know nothing else. Their ability to make ends meet troubles them. Their futures are seriously compromised. They want something better. They deserve it. Perhaps now's their chance for change.
Turkey's economic model features capitalism's dark side. It includes economic freedom as a be-all-and-end-all, unrestrained profit-making, privatizations, cheap labor, deregulation, corporate-friendly tax cuts, marginalized worker rights, and speculative capital inflows.
Economic conditions are inherently unstable. Turkey suffers rolling recessions, crisis conditions, and fragile largely jobless recoveries. It's increasingly dependent on imports of resources and capital goods.
Youth unemployment tops 22%. It's rising. It's socially and economically unstable. It's untenable. It's fuel for public rage.
When well-connected private debtors are troubled or go bankrupt, their losses are socialized. Turkey's next crisis is certain. It's only a matter of when.
Ordinary people are hardest hit. Youths most of all. Growing numbers have no viable futures. Profits matter more than public needs. Insecurity haunts an entire generation.
Turkish neoliberalism replicates what's ongoing throughout Europe, America, Israel and elsewhere. Anger swells up and explodes.
The common thread is democracy in name only, inequality, political corruption, unemployment, growing poverty, insecurity, and corporate priorities over social justice.
Turkey has a long history of rebellion. Turks know what's going on in troubled EU countries. They've seen it throughout the Middle East.
People only take so much before reacting. Protesting is fashionable to do. It's unifying and energizing. It remains to be seen where things go.
Ban Ki-moon reacted as expected. He urged "calm" and "dialogue." He ignored police brutality. It didn't surprise. He fronts for power. He's mindless of public needs.
He turns a blind eye to horrendous imperial crimes. He's secretary-general because Washington installed him. White House spokesman Jay Carney also urged both sides to show restraint.
Washington supports its ally. Police brutality is commonplace in America. Thuggish cops attack peaceful protesters violently. It's common practice. It replicates what's ongoing in Turkey.
America's a democracy in name only. Imperial and corporate priorities alone matter. It's true throughout Europe, Israel and Turkey.
Unchallenged power matters most. Erdogan matches the worst of a bad lot. Turks see him for what he is. Tinpot despots can't hide.
Turkey's military remains a wild card. Maybe it'll intervene. It's done it before. It may again. If not generals, perhaps party leaders or political opposition.
Erdogan remains defiant. He looks like damaged goods. He's vulnerable if internal interests react. He heads Turkey's Justice and Development Party (AKP). It may decide to cut its losses and replace him.
Stephen Lendman lives in Chicago. He can be reached at lendmanstephen@sbcglobal.net.
His new book is titled "Banker Occupation: Waging Financial War on Humanity."
http://www.claritypress.com/LendmanII.html
Visit his blog site at sjlendman.blogspot.com.
Listen to cutting-edge discussions with distinguished guests on the Progressive Radio News Hour on the Progressive Radio Network.
The Census Bureau has reported that one out of six Americans lives in poverty. A shocking figure. But it's actually much worse. Inequality is spreading like a shadowy disease through our country, infecting more and more households, and leaving a shrinking number of financially secure families to maintain the charade of prosperity.
1. Almost half of Americans had NO assets in 2009
Analysis of  Economic Policy Institute data shows that Mitt Romney's famous  47 percent, the alleged 'takers,' have taken nothing. Their debt exceeded their assets in 2009.
2. It's Even Worse 3 Years Later
Since the recession, the disparities have continued to grow. An  OECD report states that "inequality has increased by more over the past three years to the end of 2010 than in the previous twelve," with the U.S. experiencing one of the widest gaps among OECD countries. The 30-year  decline in wages has worsened since the recession, as low-wage jobs have  replaced formerly secure middle-income positions.
3. Based on wage figures, over half of Americans are now IN poverty.
According to IRS data, the average household in the bottom 50% brings in about $18,000 per year. That's less than the  poverty line for a family of three ($19,000) or a family of four ($23,000).
Census income figures are about 25% higher, because they include unemployment compensation, workers' compensation, Social Security, Supplemental Security Income, public assistance, veterans' payments, and various other monetary sources. Based on this supplemental income, the average household in the bottom 50% brings in about $25,000, which is just above the $23,000 poverty line for a family of four.
4. Based on wage figures, 75% of Americans are NEAR poverty.
According to IRS data, the average household in the bottom 75% earns about $31,000 per year. To be eligible for food assistance, a family can earn up to 130% of the federal poverty line, or about $30,000 for a family of four.
Again, Census income figures are about 25% higher because of  SNAP reporting requirements, bringing average household income for the bottom 75% to about $39,000.
Incredibly, Congress is trying to  cut food assistance. Republican Congressman Stephen Fincher of Tennessee referred to food stamps as "stealing." He added a Biblical quote: "The one who is unwilling to work shall not eat." A recent  jobs hearing in Washington was attended by  one Congressman.
5. Putting it in Perspective
Inequality is at its ugliest for the hungriest people. While food support was being targeted for cuts, just  20 rich Americans made as much from their 2012 investments as the entire  2012 SNAP (food assistance) budget, which serves 47 million people.
And as Congress continues to cut life-sustaining programs, its members should note that their 400 friends on the Forbes list made more from their stock market gains last year than the total amount of the  food, housing, andeducation budgets combined.
Mr. Fincher should think about the tax breaks that allow this to happen, and then tell us who's stealing from whom.
Paul Buchheit teaches economic inequality at DePaul University. He is the founder and developer of the Web sites UsAgainstGreed.org,PayUpNow.org and RappingHistory.org, and the editor and main author of "American Wars: Illusions and Realities" (Clarity Press). He can be reached atpaul@UsAgainstGreed.org.

Source: AlterNet
Not only will Senate Bill 744, called the Comprehensive Immigration Reform Act, add 33 million immigrants to the USA within the next 10 years, it will cost American taxpayers a mind-numbing $6.3 trillion.  That amount of money piles on top of our already crippling $16.5 trillion national debt.  When you consider 12 to 20 million illegal alien migrants taping into our social security, schools, medical systems, assisted housing and food stamp benefits—the costs skyrocket beyond imagination.
Robert Rector of the Heritage Foundation stated, "Unlawful immigration and amnesty for current unlawful immigrants can pose large fiscal costs for U.S. taxpayers."
Government provides four types of benefits and services that are relevant to this issue:
Direct benefits. These include Social Security, Medicare, unemployment insurance, and workers' compensation.
Means-tested welfare benefits. There are over 80 of these programs which, at a cost of nearly $900 billion per year, provide cash, food, housing, medical, and other services to roughly 100 million low-income Americans. Major programs include Medicaid, food stamps, the refundable Earned Income Tax Credit, public housing, Supplemental Security Income, and Temporary Assistance for Needy Families.
Public education. At a cost of $12,300 per pupil per year, these services are largely free or heavily subsidized for low-income parents.
Population-based services. Police, fire, highways, parks, and similar services, as the National Academy of Sciences determined in its study of the fiscal costs of immigration, generally have to expand as new immigrants enter a community; someone has to bear the cost of that expansion.
"The cost of these governmental services is far larger than many people imagine," said Rector. "For example, in 2010, the average U.S. household received $31,584 in government benefits and services in these four categories.
"The governmental system is highly redistributive. Well-educated households tend to be net tax contributors: The taxes they pay exceed the direct and means-tested benefits, education, and population-based services they receive. For example, in 2010, in the whole U.S. population, households with college-educated heads, on average, received $24,839 in government benefits while paying $54,089 in taxes. The average college-educated household thus generated a fiscal surplus of $29,250 that government used to finance benefits for other households.
"Other households are net tax consumers: The benefits they receive exceed the taxes they pay. These households generate a "fiscal deficit" that must be financed by taxes from other households or by government borrowing. For example, in 2010, in the U.S. population as a whole, households headed by persons without a high school degree, on average, received $46,582 in government benefits while paying only $11,469 in taxes. This generated an average fiscal deficit (benefits received minus taxes paid) of $35,113.
"The high deficits of poorly educated households are important in the amnesty debate because the typical unlawful immigrant has only a 10th-grade education. Half of unlawful immigrant households are headed by an individual with less than a high school degree, and another 25 percent of household heads have only a high school degree."
Imbedding intractable human poverty into the American fabric
"Some argue that the deficit figures for poorly educated households in the general population are not relevant for immigrants," said Rector. "Many believe, for example, that lawful immigrants use little welfare. In reality, lawful immigrant households receive significantly more welfare, on average, than U.S.-born households. Overall, the fiscal deficits or surpluses for lawful immigrant households are the same as or higher than those for U.S.-born households with the same education level. Poorly educated households, whether immigrant or U.S.-born, receive far more in government benefits than they pay in taxes.
"In contrast to lawful immigrants, unlawful immigrants at present do not have access to means-tested welfare, Social Security, or Medicare. This does not mean, however, that they do not receive government benefits and services. Children in unlawful immigrant households receive heavily subsidized public education. Many unlawful immigrants have U.S.-born children; these children are currently eligible for the full range of government welfare and medical benefits. And, of course, when unlawful immigrants live in a community, they use roads, parks, sewers, police, and fire protection; these services must expand to cover the added population or there will be "congestion" effects that lead to a decline in service quality.
"In 2010, the average unlawful immigrant household received around $24,721 in government benefits and services while paying some $10,334 in taxes. This generated an average annual fiscal deficit (benefits received minus taxes paid) of around $14,387 per household. This cost had to be borne by U.S. taxpayers. Amnesty would provide unlawful households with access to over 80 means-tested welfare programs, Obamacare, Social Security, and Medicare. The fiscal deficit for each household would soar.
"If enacted, amnesty would be implemented in phases. During the first or interim phase (which is likely to last 13 years), unlawful immigrants would be given lawful status but would be denied access to means-tested welfare and Obamacare. Most analysts assume that roughly half of unlawful immigrants work "off the books" and therefore do not pay income or FICA taxes. During the interim phase, these "off the books" workers would have a strong incentive to move to "on the books" employment. In addition, their wages would likely go up as they sought jobs in a more open environment. As a result, during the interim period, tax payments would rise and the average fiscal deficit among former unlawful immigrant households would fall.
"After 13 years, unlawful immigrants would become eligible for means-tested welfare and Obamacare. At that point or shortly thereafter, former unlawful immigrant households would likely begin to receive government benefits at the same rate as lawful immigrant households of the same education level. As a result, government spending and fiscal deficits would increase dramatically."
If passed, S744 not only breaks the back of American taxpayers with jobs, it continues to take jobs away from American workers with an infusion of 1.5 million legal immigrants annually. That number equates to over 125,000 new green card workers per month.
As you read in the First Basic Law of Stupidity, our U.S. Congress works on yet another mass amnesty for 20 million illegal alien migrants now working and residing in our country in violation of dozens of our laws. Notice that Congress failed to enforce the employment laws from the 1965 Immigration Reform Law as well as the 1986 Amnesty that gave four million Mexicans instant citizenship. All totaled, those two new laws by Congress flooded this country with over 120 million more people since 1965. This next amnesty will flood the country with yet another 100 million immigrants at the bare minimum.
Today, we live in 2013 with a few other interesting facts Congress bestowed on the American people:
Congress placed our country into a $16.5 trillion national debt. It's wrecking the foundation of our republic and our financial ability to survive.
Congress waged two useless, worthless and meaningless wars for the past 10 years at a cost of $3 trillion. Trillions more when it comes to the emotional, physical and psychological chaos incurred by our military veterans.
Congress outsource, insourced and offshored millions of US jobs so we now suffer 14 million unemployed and 7 million underemployed.
Congress killed so many jobs and job training that 47 million Americans subsist on food stamps in April of 2013.
Congress refuses to enforce internal immigration employment, housing and transport laws—so that we face 20 million illegal aliens scamming American workers out of jobs as well as using $346 billion annually in taxpayer services like education, medical care, anchor babies, incarceration, drug distribution, shop lifting and more.
Congress refuses to aid lawful American citizens with jobs, but it works its magic in allowing over eight million illegal aliens full time work in our country—and much of it off the books and no taxes collected, but we subsidize their children, health care and prison costs.
Congress huddles in Washington, DC to gift another 20 million illegal aliens with instant citizenship and all the cash and welfare benefits that entails. Heritage Foundation estimates $3 to $5 trillion for the cost of this new amnesty paid for by you, the legal American taxpayer.
Which brings us to the "Second Basic Law of Stupidity" by Carlo M. Cipolla, Professor of
Economics, UC Berkeley in Whole Earth Review, Spring 1987
Cipolla said in the Second Basic Law of Stupidity, "Cultural trends now fashionable in the West favor an egalitarian approach to life. People like to think of human beings as the output of a perfectly engineered mass production machine. Geneticists and sociologists especially go out of their way to prove, with an impressive apparatus of scientific data and formulations that all men are naturally equal and if some are more equal that others, this is attributable to nurture and not to nature.
"I take an exception to this general view. It is my firm conviction, supported by years of observation and experimentation, that men are not equal, that some are stupid and others are not, and that the difference is determined by nature and not by cultural forces or factors. One is stupid in the same way one is red-haired; one belongs to the stupid set as one belongs to a blood group. A stupid man is born a stupid man by an act of Providence."
The collective IQ of America declines below three digits. Notice that 7,000 high school kids drop out or flunk out of high school every day in America. Notice those failure rates correspond to the millions of third world immigrants imported into America. Not only does our Congress import illiteracy, it imports poverty and cultures of poverty. One look at Los Angeles today provides ample proof where a teenager cannot read the bus schedule. Unemployment screams off the charts and immigrants ride the welfare gravy train like a new art form.
"Although convinced that fractions of human beings are stupid and that they are so because of genetic traits," said Cipolla. "I am not a reactionary trying to reintroduce surreptitiously class or race discrimination, I firmly believe stupidity is an indiscriminate privilege of all human groups and is uniformly distributed according to a constant proportion. This fact is scientifically expressed by the Second Basic Law with states that: The probability that a certain person be stupid is independent of any other characteristic of that person."
Today in America 42 million Americans cannot read, write or perform simple math problems. Another 50 million cannot read past the 4th grade level. It will be interesting when we import the projected 100 million more immigrants from the burgeoning third world by 2050—as to what kind of a completely stupid, dumb, dysfunctional and totally illiterate civilization the majority of our citizens will have become.
The democrats and republicans will probably tell us we need more immigrants to revitalize the nation, freshen it and bring new ideas to solve all our problems.
What more time-honored practice in the long history of state sponsored servitude than the institutionalization of prisoners? Incarceration for offenses against government laws is a cornerstone for power and survivability of any regime. Prisons may have been hellholes over the centuries, but seldom has the internment of convicted lawbreakers been a growth industry for private profit. It almost makes one wonder exactly who are the crooks. While most hard-pressed citizens want a safe and secure society, few ever give even a passing thought to the insatiable corporatist criminalization of the criminal justice system. Just how many Americans agree with the proposition, if you did the crime, you need to serve the time.
All loyal law and order proponents can take pride in the one area where the imperium of government discipline still ranks first among nations. A Global Research article - The Prison Industry in the United States: Big Business or a New Form of Slavery? – points out some staggering facts.
"There are approximately 2 million inmates in state, federal and private prisons throughout the country. According to California Prison Focus, "no other society in human history has imprisoned so many of its own citizens." The figures show that the United States has locked up more people than any other country: a half million more than China, which has a population five times greater than the U.S. Statistics reveal that the United States holds 25% of the world's prison population, but only 5% of the world's people. From less than 300,000 inmates in 1972, the jail population grew to 2 million by the year 2000. In 1990 it was one million. Ten years ago there were only five private prisons in the country, with a population of 2,000 inmates; now, there are 100, with 62,000 inmates. It is expected that by the coming decade, the number will hit 360,000, according to reports."
Just imagine the hidden solution to the high unemployment economy is staring in our faces without even a hint of public reaction. The ultimate entrepreneurial partnership allows for corporate security firms to house government dissenters or rebellious non-conformers.
"Private prisons are the biggest business in the prison industry complex. About 18 corporations guard 10,000 prisoners in 27 states. The two largest are Correctional Corporation of America(CCA) and Wackenhut, which together control 75%. Private prisons receive a guaranteed amount of money for each prisoner, independent of what it costs to maintain each one. According to Russell Boraas, a private prison administrator in Virginia, "the secret to low operating costs is having a minimal number of guards for the maximum number of prisoners." The CCA has an ultra-modern prison in Lawrenceville, Virginia, where five guards on dayshift and two at night watch over 750 prisoners. In these prisons, inmates may get their sentences reduced for "good behavior," but for any infraction, they get 30 days added – which means more profits for CCA."
The dramatic increases in prison population are not from violent convicts or rapists and killers. The majority of offense categories are property, drug and especially public-order related. The goal of social rehabilitation is a quaint concept of another era. The pretense of reclamation from a conviction of prosecutorial discretion is a standard that few DA's or judges ever consider. Sentencing guidelines are based upon retribution and punishment, in order to keep the prisons filled with a growing number of new inmates. The supposition is that if you are charged with a crime, the suspect will plea bargain or the jury will follow the directions of the government and convict.
For 2011, the US Department of Justice reported a 93% conviction rate. Such a record implies a culture of criminalization or a hard road for an innocent suspect to navigate. No wonder, the private company screws are such staunch supporters of the transgression and disorder society.
The video, Private prisons - the most profitable real estate in the US? – provides a distressing analysis of the consequences of incentivizing revenue return motivated companies as the jailer overseers.
From the report Prison Labor and Crime in the U.S. - Industry, Privatization, Inmate Facts and Stats – Prison Industries and Inmate Labor – section:
"Many companies are now directly involved in some form of profiting off of incarceration or the labor of inmates. Since 1980 when there was only one prison industry operating as a privatized entity, there are now thirty eight states and at least five county jails with privatized prison industry productions or factory operations. Together state and federal factories now number over three hundred nationwide with between six hundred thousand and one million inmates working in some form of manufacturing or services. Hundreds of companies using inmate labor for manufacturing, services and other duties are now partnered with these operations. This is done under the federal Prison Industries Enhancement Certification Program (PIECP) under 18 USC 1761(c).
Clearly companies, businesses and corporations have become heavily invested in, and dependent upon incarceration for cheap labor and profit. In 2009 total sales of prisoner made products totaled $2.4 billion. Some research places that figure as high as $5 billion and this is in addition to the "prison industry" figure of $34 billion used previously."
Another RT video details the Prison labor booms in US as low-cost inmates bring billions. Is society really safer from the dramatic increase in the prison population, or is this method of crowding a growing herd of cheap labor simply a strategy to enrich politically connected companies?
As the rapid implosion of the economy accelerates, the prospect of even greater numbers of government prosecutions will surely increase. How many Jean Valjean's are there in Les Misérables penal confines baking bread?
Now if you are sympathy challenged and are as hard as the rocks that need to be broken, why is the political class virtually exempt from accountability. Remember the once popular bumper sticker; "I'll Buckle Up When Ted Bundy Does". Well, no compassion for a serial killer is certainly understandable and proper.
However, where is the justice when a professional bankster felon like Jon Corzine skates after his crimes in the MF Global theft? The rules for ex Goldman Sacks predators allows for financing publicly traded private jail companies, but are exempt of ever working on the assembly line making license plates. What is next: a hedge fund totally devoted to the management of a privatized infrastructure of FEMA camps.
Michael Snyder writes in The Economic Collapse article, Private Prisons: The More Americans They Put Behind Bars The More Money They Make.
"If you can believe it, three of the largest private prison companies have spent approximately $45,000,000 combined on lobbying and campaign contributions over the past decade.
Just look at what has happened to the U.S. prison population over the past several decades. Prior to 1980, there were virtually no private prisons in the United States. But since that time, we have seen the overall prison population and the private prison population absolutely explode.
For example, between 1990 and 2009 the number of Americans in private prisons grew by about 1600 percent.
Overall, the U.S. prison population more than quadrupled between 1980 and 2007."
Hard core criminals that violate civic community standards and endanger public safety should pay a price for their transgressions. Conversely, political prisoners that challenge the crony corruption within the governmental hierarchy do not deserve a sentence in a sweatshop.
With the abandonment of a police ethic that was dedicated to keeping the peace for an apparatus of law enforcement for arbitrary and dishonest statutes, which only serve the privileged elites; our society is sentenced to a death penalty. Slavery was eliminated a century ago, right? Thus far, that message has not filtered down to the penal plantation. An inmate deserves the solitude of solitary confinement.
The most effective private prison is the one that interns the personal guilt of wicked deeds. If public officials would act upon the moral judgments of their conscience, the perversion within the laws that they pass, adjudicate or administer, would exempt or reduce the unequal application of legitimate legislation, now deemed as criminal acts.
Human nature being what it is; evil acts are instinctive within malevolent souls. Accepting a corrosive punitive system, that enriches private companies, is a horrible departure that prison is a valid tool that protects society. The most dangerous and violent forfeit their social freedom by their predatory actions. However, the sheer numbers of confined prisoners does not justify a structure that exploits a captured population for forced labor.
Do we really need to criminalize society as the price to coexist in the era of Guantanamo justice? America once strived to maintain a balance among competing factions. Today there are only Statists that absolve government transgressions as acceptable and the dissenters that are now in the sights for retribution and eventual arrest. The criminalization of citizens for capricious infractions is the sign of a doomed society. When the hacks patrol the halls to enforce proper public behavior, the entire country becomes a prison.
Contrary to popular belief, Brussels is not the only major European capital which is away from the seacoast as well as devoid of a river. The Senne is a far cry from the similar-sounding Seine further south, however: it is a nasty, brutish, mercifully short waterway. By the mid-1800's it had become so putrid and unstable that the city elders decided to cover it—the massive project was known as the voûtement de la Senne—and to build boulevards and public edifices on top. The city did not gain much in charm, but its denizens' life expectancy was instantly improved. (Whether living a long life in Belgium's capital is a blessing or a curse is a separate issue.)
There is an equally nasty but infinitely more brutish monstrosity in today's Brussels that cannot be dealt with so neatly. The European Union today is like the "Socialist Community" under Leonid Brezhnev in his dotage: totalitarian yet inefficient, glorified by its self-serving nomenklatura yet unloved by its subjects, devoid of any unifying ideology beyond the worn-out phrases and platitudes parroted by the absurd men and repulsive women in dull suits.
For the reality of this "United Europe," as it is today, let us be dryly empirical for a moment and look at a few EU-related news items reported on one day—Thursday, March 14, 2013:
EU leaders gathered in Brussels for a two-day summit in an attempt to negotiate the dilemma between austerity and growth. Thousands of protestors from all over the 27 member nations converged outside the EU HQ.
Eurozone employment dropped by 0.3% in the fourth quarter of 2012 compared with the third, despite the Christmas shopping season. Experts say the unemployment rate will remain above 11% until early 2018.
European Central Bank (ECB) President Mario Draghi says that "generally unsatisfactory economic developments in Europe" will improve in the course of 2013, but only if governments implement austerity measures and structural reforms. His fellow-Eurocrat, EU-appointed Italian prime minister Mario Monti, nevertheless says he will have to ask his EU partners to grant Italy more "flexibility" in its budget deficit reduction targets.
The troika of international lenders—the EU, the ECB, and the IMF—left Greece without resolving a dispute with the government in Athens over further budgetary cuts. In the meantime, Greek shipyard workers protested outside the development ministry and hundreds of Greek students blocked up the education ministry to protest cuts resulting from EU-imposed austerity measures.Unemployment in Greece is 26%, up from 24.8% in the third quarter of 2012. Among under-24's it is 57.8%. The percentage of unemployed Greeks who have been looking for a job for more than one year is 65.3%.
In Spain, eviction proceedings against defaulters have soared since 2007 to 450,000. The number of repossessions ending in evictions increased by 135% in 2012 from the year before, indicating worsening trends. Spanish retail sales dropped 10.2% in the year to January, continuing the decline of the past 31 months.
Cyprus bailout talks are crucial to next stage of crisis, but deep divisions remain over how to manage a bailout. Without a cut in the €17bn cost, Cypriot sovereign debt will reach 145% of GDP, by far the highest in the eurozone except for Greece.
President François Hollande has said that France won't be able to cut the public deficit to the EU limit of 3% of GDP this year; it was more likely to reach 3.7%. Amazingly, German finance minister Wolfgang Schäuble subsequently corrected Hollande, saying not that he "hoped," or "expected," but that he was "sure that France would, like us, respect the rules" on the public deficit. (Perhaps Herr Schäuble knows a thing or two about France's future finance policy that Monsieur le Président de la République does not!)
Germany, meanwhile, smugly claims that its finances are the model for all humanity. Its 2014 budget plans, revealed on March 13, show the structural deficit dropping to zero. "With all modesty [sic!], this is a result of historic proportions," economy minister Philipp Rösler declared on that occasion. "Germany is in the vanguard in Europe. Our success with a policy of growth-oriented consolidation is the envy of the world." Ach, modesty—the quintessential German weakness…
This is but a quick selection on a randomly selected day—the day of this writing. The tenor and substance have not changed much in recent months and years; and things will likely change for worse—OK, with that oneenviable exception, perhaps—in the months and years ahead.
Unsurprisingly, anti-EU feeling is escalating all over the continent. On March 1, British Prime Minister David Cameron's Conservative Party was beaten into third place in the Eastleigh by-election, in southern England, by a party that wants Britain to leave the EU. The UK Independence Party (UKIP) supporters were once described by Cameron as "fruitcakes, loonies and closet racists"—but they accounted for 28 percent of the vote in the traditionally Tory constituency. UKIP leader Nigel Farage declared the vote "a protest against an entire political class." Under pressure from UKIP, Cameron had earlier promised to hold a referendum on Britain's membership of the EU by the end of 2017 if he wins the next election, but many British Euro-skeptics see this as a mere ploy to deflect the threat from UKIP.
Marine Le Pen, who finished third in the French presidential election, also demands a referendum on France's membership. On Mach 3 she declared that the FN wants France to leave the EU unless four reforms are agreed: the return to the franc; the abolition of the Schengen single-borderarea; the primacy of France's economic interests over "Europe's"; and the primacy of national law over EU law. Otherwise, Le Pen has promised to transform the European elections a year from now into a referendum for or against Europe. Having polled 18% of the vote in the presidential election last year, Mlle Le Pen has a solid base to build upon.
In Italy, two anti-austerity, anti-euro parties—led by Silvio Berlusconi and Beppe Grillo—captured over half the vote and paralyzed the political system. Berlusconi returned from the dead to take just over 29% of the vote, less than one half of one percentage point behind the first-placed Center-Left. Newcomer Grillo's Movimento 5 Stelle (M5S, Five Star Movement), entirely created via the web outside the traditional party system, took just over 25% of the vote for the Chamber of Deputies—and demolished Italy's balance of political forces. Pro-EU Monti's coalition came fourth with a paltry ten percent.
Even in Germany, the apparent hegemon, there is little popular enthusiasm for the Euro-project. The recently-founded Alternative for Germany (AfD) is not even a political party yet, but expects to be a serious player come federal elections on September 22. It demands dissolution of the "coercive euro association," an orderly end of the monetary union, and a referendum to decide if "the Basic Law, the best constitution that Germany ever had," was violated to allow the transfer of sovereignty to the EU. Dr. Bernd Lucke—the AfD co-founder, economics professor and a life-long CDU supporter until he turned against Merkel in 2011 over her bailout policies—is adamant that Germany "has a government that has failed to comply with the law… and has blatantly broken the word that it had given to the German people." With 14,000 paid members thus far, the AfD is respectable and distinctly upper-middle-class, with a higher concentration of PhDs than any party. Among its early supporters is Hans-Olaf Henkel, ex-president of the Federation of German Industry representing 100,000 businesses. Let it be added that as of now 26% of Germans say they would consider voting for a party committed to leaving the monetary union.
It will be a tough fight. Political, media and cultural elites in the leading countries of the Union are overwhelmingly pro-EU, pro-euro, pro-immigration, and vehemently opposed to any sign of national or ethno-linguistic coherence. If those elites have their way, there will be many more "Europeans" by the end of this century than today—some atheist, but mostly Muslim; some black, but mostly brown—but there will be precious few great-grandchildren of Europeans. The native populations are aborting and birth-controlling themselves into minorities. If Euro-elites have their way, disused churches will be converted into teeming mosques. Just over a decade ago, they refused to acknowledge Christian heritage as an element of European identity—but today they insist Islam is essential to that identity. Brussels rejects the notion that Europeans are defined by blood ties, collective memories, emotional bonds, culture, and kinship. Instead, "Europe" marches along the path of "civilization, progress and prosperity, for the good of all its inhabitants, including the weakest and most deprived… to deepen the democratic and transparent nature of its public life, and to strive for peace, justice and solidarity throughout the world…"
This is the mindset of 1792 and 1917 all over again. Its derivative expressions are foreseeable. The EU relentlessly encourages abortion, sexual deviancy, and population replacement as "basic human rights." Its political process means the manufacture of ideologically correct outcomes as defined by the unelected Brussels machine, before the quasi-democratic machine of the European Parliament and the member countries' institutions are set in motion. The preamble of the EU Charter on Human Rights claims to be "based on the principles of democracy and the rule of law" (implying the two were not in conflict), and concludes that "Enjoyment of these rights entails responsibilities and duties with regard to other persons, to the human community and to future generations." Those rights are naturally demarcated by those who reserve the right to decide what exactly one's obligations to "the human community" and "future generation" happen to be.
The true meaning of "the rule of law" is defined by the European Arrest Warrant, a hideous device created by the Lisbon Treaty, under which any citizen of a member country—or even a visitor from outside the Union—is liable to arrest and extradition at the behest of a judge in any other EU member country, under one of 32 categories of "crime." Those offenses include murder, terrorism, as well as "racism and xenophobia." The EU thus came to equate beliefs, opinions and sentiments with the worst of actual crimes, in the best tradition of Soviet and Nazi jurisprudence.
The workings of the machine are mainly in the hands of the European Commission (EC), whose members are appointed by the 27 prime ministers who make up the Council. The EC has the authority to create and impose policies, but it cannot be removed or held accountable by any electorate. Its duty is to uphold the interests of the Union as such: its members swear that they will discard any vestige of loyalty to any nation. The only EU institution that has any claim to democratic credentials is the European Parliament, the least powerful of the three key bodies.
How and why did the monstrosity get this way? Gradually at first, with a great deal of patience and cunning exercised by its visionary creators. In 1945 Western Europe was in ruins, a shadow of what it had been only four decades previously. The old, pre-1914 balance-of-power system had collapsed, and the interwar mechanisms of collective security were neither collective nor secure. The beginnings were seemingly pragmatic: the 1951 European Coal and Steel Community—as engineered by Robert Schuman—seemed like a sound idea, a plus-sum-game if there ever was one. But the upholders of Euro-federalism had a bigger fish to fry. From the outset they held that a sense of common history had to be developed, as well as a sense of an existing and growing common identity, to complement those early economic integration mechanisms. As Jean Monnet, the father of the project (and, significantly, a man never elected to a public office), admitted six decades ago, "Europe has never existed; one has genuinely to create Europe."
Monnet and his disciples had a long way to go. The initial ideological basis for the project was de Gaulle's distinctly non-federalist vision of l'Europe des patries. A concert of nation-states, brought together by a common interest, would seek the withering away of their old hostilities—with France and Germany leading the way—but all of them would retain their substance and identity regardless of the institutional arrangement. This was the "Europe" of the Six, a logical heir to the pragmatic Coal and Steel Community. Euro-integralists—notably Belgium's prime minister Paul-Henri Spaak and Monnet himself—nevertheless kept their powder dry for a more opportune moment when the European Economic Community might be steered in the direction of a political union. De Gaulle and his immediate successor, Georges Pompidou, did not want that; and until the early 1970's the institutional framework remained essentially the same.
Then came the notion of Europe's unity in diversity, the reverse of the Europe of the Fatherlands. (In 2000 In varietate concordia was adopted as the official motto of the European Union.) The new concept coincided with the European Community's expansion to the Nine, then to the Twelve. Its proponents claimed that Europe was not only a mosaic of cultures but an organic whole. The implication that this whole required a single source of decision-making authority gave rise to the method of European integration Monnet had advocated from the outset: a series of gradual yet regular transfers of small slices of national sovereignty—in ostensibly technical areas—from national capitals to Brussels. The Community apparat made a quantum leap toward this goal with the Single European Act (SEA, July 1987). It was a thorough revision of the 1957 Treaty of Rome, but in the direction of a super-authority rather than a superstate.
The distinction is essential. The standard Eurosceptic accusation that the Brussels machine is plotting the creation of a single federal state is incorrect. The people who run the Brussels machine have never wanted the end result to be a superstate modeled after the United States. In the context of pan-European federal statehood they would be held more accountable and would come under far greater public scrutiny than if they remained faceless and continued to operate from the corridors of the monstrous EU HQ at Barleymont. The strategy was for the states to be drained gradually of statehood and their power transferred to Brussels, but without the unwelcome trappings and limitations of statehood itself. Its guiding spirit was then-Commission PresidentJacques Delors, a French Socialist. From the SEA on, the EU became—in the words of British MEP Roger Helmer—"a slow-motion coup d'etat." In addition to the creation of the eurozone 12 years ago, which has grown to 17 member-states since, the Schengen Agreement (1990), the Maastricht Treaty (1992), the Amsterdam Treaty (1998), the Treaty of Nice (2000), and the Treaty of Lisbon (2009) have transferred vast powers from national capitals to Brussels.
The era of Delors coincided with the rise of the Generation of 1968 to the positions of power. The activists had cut their hair, put on suits and ties, and discovered that it was more fruitful and comfortable to take the Gramscian long road through the institutions than to blow them up. The veterans of the hard-left era, like Catherine Ashton and Jose Manuel Barroso, still subscribe to the concept of permanent revolution, but it is wrapped into the open-ended evolution of the EU that they now control. The result is a European Union in a state of indeterminacy and permanent flux, a postmodern edifice within which the meaning of sovereignty is relativized and the separation of foreign and domestic policies blurred to the point of interchangeability. What all of these Euro-enthusiasts share—as John Laughland has noted—is a love of indeterminacy and permanent change, and a hostility to what they regard as inadequate, old-fashioned, and simplistic certainties of classical sovereign statehood.
Far from being the "capital of Europe," Brussels is the regional HQ of the post-Christian anti-Europe, just as Washington DC has morphed into the global HQ of the same project. The goals of the project managers are the same because their degenerate minds are the same. They cannot be shamed into changing their ways through arguments or defeated through the ballot box any more than a malignant cancer can be arrested with aspirin. A stronger medicine is needed.
To paraphrase a bad man from a time much better than our own, écrasez l'infâme!