"The 20th century (was) characterized by three developments of great political importance: the growth of democracy, the growth of corporate power, and the growth of corporate propaganda as a means of protecting corporate power against democracy."- Alex Carey
Recently, while at an event marking the 1,000th day of imprisonment for Bradley Manning, I began to ponder the long and storied role of propaganda that led up to his demonization and incarceration.
Yes, propaganda…
"A scientific method of managing behavior"
Given the unspeakable lessons learned from Joseph Goebbels and Nazi Germany, propaganda has long been a dirty word. But when public relations pioneer Edward Bernays got his start in the early 20th century, it was a word less charged but equally as potent. In fact, Bernays unabashedly named one of his books Propaganda.
"Edward Bernays was surely one of the most amazing and influential characters of the twentieth century," explains PR watchdog, John Stauber. "He was a nephew of Sigmund Freud and helped to popularize Freudianism in the United States. Later, he used his relation to Freud to promote himself. And from his uncle's psychoanalysis techniques, Bernays developed a scientific method of managing behavior, to which he gave the name 'public relations.'"
The Vienna-born Bernays was heavily influenced, of course, by his uncle's work, but it was in the service of war that he helped shape what we call "PR" today.
"Liberty Cabbage"
In what Stauber calls "perhaps the most effective job of large-scale war propaganda which the world has ever witnessed," the Committee on Public Information, run by veteran newspaperman George Creel with the help of others like Bernays, used all available forms of media to promote the noble purpose behind World War I: To keep the world safe for democracy.
The average American was notoriously wary of any hint of their country entering the bloody conflict. As a result, men like Creel and Bernays were called upon to change some minds with some good old-fashioned propaganda and persuasion.
The Creel Committee (as it came to be known) was the first government agency for outright propaganda in U.S. history; it published 75 million books and pamphlets, had 250 paid employees, and mobilized 75,000 volunteer speakers known as "four minute men," who delivered their pro-war messages in churches, theaters, and other places of civic gatherings.
The idea, of course, was to give the war effort a positive spin. To do so, the nation had to be convinced that doing their part to support global military conflict on a scale never before seen was indeed a good idea.
"It is not merely an army that we must train and shape for war," President Woodrow Wilson declared at the time, "it is an entire nation." The age of manipulated public opinion had begun in earnest.
Although Wilson won reelection in 1916 on a promise of peace, it wasn't long before he severed diplomatic relations with Germany and proposed arming U.S. merchant ships — even without congressional authority. Upon declaring war on Germany in December 1917, the president proclaimed, "conformity will be the only virtue and any man who refuses to conform will have to pay the penalty."
In time, the masses got the message as demonstrated by these (and other) results:
Buoyed by the indisputable success of the Creel Committee and armed with the powerful psychoanalytical techniques of his Uncle Sigmund, Bernays set about shaping American consciousness in a major way.
"Torches of Freedom"
"The conscious and intelligent manipulation of the organized habits and opinions of the masses is an important element in democratic society," Bernays wrote in Propaganda. "Those who manipulate this unseen mechanism of society constitute an invisible government which is the true ruling power of our country. We are governed, our minds are molded, our tastes formed, our ideas suggested, largely by men we have never heard of."
Bernays' vision had a dominant economic component. As described by Tim Adams of the London Observer, Bernays "thought that the safest way of maintaining democracy was to distract people from dangerous political thought by letting them think that their real choices were as consumers."
A fine illustration of Bernays' approach involves his efforts — for the American Tobacco Company — to persuade woman to take up cigarette smoking. His slogan, "Reach for a Lucky Instead of a Sweet," exploited women's fear about gaining weight (arguably a fear manufactured through previous advertising and/or public relations work).
While Lucky Strike sales increased by 300 percent in the first year of Bernays' campaign, there was still one more barrier he needed to break down: smoking remained mostly taboo for "respectable" women.
This is where some watered-down Freud came in handy. As Bernays biographer Larry Tye said, he basically wanted to take his uncle's works and "popularize them into little ditties that housewives and others could relate to." With input from psychoanalyst A.A. Brill, Bernays conjured up the now legendary scheme to re-frame cigarettes as a symbol of freedom.
"During the 1929 Easter Parade," explains New York Times reporter Ron Chernow, "he had a troupe of fashionable ladies flounce down Fifth Avenue, conspicuously puffing their 'Torches of Freedom,' as he had called cigarettes."
As Chernow reports, Bernays augmented this successful stunt by lining up "neutral experts" to "applaud the benefits of smoking, all the while concealing the tobacco company's sponsorship of his activity."
Bernays was also concealing his knowledge of tobacco's deleterious effects. "As he hypocritically seduced American women into smoking, he was trying to wean his own wife from the nasty habit," Chernow continues.
His daughter Anne Bernays, the novelist, recalls that whenever he discovered a pack of his wife's Parliaments, 'he'd pull them all out and just snap them like bones, just snap them in half and throw them in the toilet. He hated her smoking.'"
"Insubordination, disloyalty, mutiny"
With the legislative ground made fertile by men like Bernays and Creel, the Espionage Act was passed in June 1917. It read in part:
"Whoever, when the United States is at war, shall willfully cause or attempt to cause insubordination, disloyalty, mutiny, or refusal of duty in the military or naval forces of the United States, shall be punished by a fine of not more than $10,000 or imprisonment of not more than 20 years, or both."
This act cast a wide net and, predictably, civil liberties were trampled. In Vermont, for example, a minister was sentenced to 15 years in prison for writing a pamphlet, distributed to five persons, in which he claimed that supporting the war was wrong for a Christian.
Perhaps the best-known target of the act was noted socialist Eugene V. Debs who, after visiting three fellow socialists in a prison in June 1918, spoke out across the street from the jail for two hours. He was arrested and found guilty, but, before sentencing, Debs famously told the judge:
"Your honor, years ago, I recognized my kinship with all living beings, and I made up my mind that I was not one bit better than the meanest on earth. I said then, and I say now, that while there is a lower class, I am in it; while there is a criminal element, I am of it; while there is a soul in prison, I am not free."
Eugene Debs remained in prison until 1921 and roughly 900 others also did time thanks to the Espionage Act.
While some of more controversial sections were repealed in 1921, the Espionage Act remains on the books today and has been used against, for example, Julius and Ethel Rosenberg, Daniel Ellsberg, and yes, Bradley Manning.
Never forget, comrades: This is what we're up against.
#shifthappens
NYC Event Note: To continue conversations like this, come see Mickey Z. in person on Mar. 19 in NYC for Occupy for All Species: Social Justice in the Age of Climate Change.
The mainstream media covered the inauguration of Barack Obama with breathless anticipation on Monday, but should we really be celebrating another four years of Obama?  The truth is that the first four years of Obama were an absolute train wreck for the U.S. economy.  Over the past four years, the percentage of working age Americans with a job has fallen, median household income has declined by more than $4000, poverty in the U.S. has absolutely exploded and our national debt has ballooned to ridiculous proportions.  Of course all of the blame for the nightmarish performance of the economy should not go to Obama alone.  Certainly much of what we are experiencing today is the direct result of decades of very foolish decisions by Congress and previous presidential administrations.  And of course the Federal Reserve has more influence over the economy than anyone else does.  But Barack Obama steadfastly refuses to criticize anything that the Federal Reserve has done and he even nominated Ben Bernanke for another term as Fed Chairman despite his horrific track record of failure, so at a minimum Barack Obama must be considered to be complicit in the Fed's very foolish policies.  Despite what the Obama administration tells us, the U.S. economy has been in decline for a very long time, and that decline has accelerated in many ways over the past four years.  Just consider the statistics that I have compiled below.  The following are 37 statistics which show how four years of Obama have wrecked the U.S. economy…
1. During Obama's first term, the number of Americans on food stamps increased by an average of about 11,000 per day.
2. At the beginning of the Obama era, 32 million Americans were on food stamps.  Today, more than 47 million Americans are on food stamps.
3. According to one calculation, the number of Americans on food stamps now exceeds the combined populations of "Alaska, Arkansas, Connecticut, Delaware, District of Columbia, Hawaii, Idaho, Iowa, Kansas, Maine, Mississippi, Montana, Nebraska, Nevada, New Hampshire, New Mexico, North Dakota, Oklahoma, Oregon, Rhode Island, South Dakota, Utah, Vermont, West Virginia, and Wyoming."
4. The number of Americans receiving money directly from the federal government each month has grown from 94 million in the year 2000 tomore than 128 million today.
5. According to the U.S. Census Bureau, more than 146 million Americans are either "poor" or "low income" at this point.
6. The unemployment rate in the United States is exactly where it was (7.8 percent) when Barack Obama first entered the White House in January 2009.
7. When Barack Obama first entered the White House, 60.6 percent of all working age Americans had a job.  Today, only 58.6 percent of all working age Americans have a job.
8. During the first four years of Obama, the number of Americans "not in the labor force" soared by an astounding 8,332,000.  That far exceeds any previous four year total.
9. During Obama's first term, the number of Americans collecting federal disability insurance rose by more than 18 percent.
10. The Obama years have been absolutely devastating for small businesses in America.  According to economist Tim Kane, the following is how the number of startup jobs per 1000 Americans breaks down by presidential administration…
Bush Sr.: 11.3
Clinton: 11.2
Bush Jr.: 10.8
Obama: 7.8
11. Median household income in America has fallen for four consecutive years.  Overall, it has declined by over $4000 during that time span.
12. The economy is not producing nearly enough jobs for the hordes of young people now entering the workforce.  Approximately 53 percentof all U.S. college graduates under the age of 25 were either unemployed or underemployed in 2011.
13. According to a report from the National Employment Law Project, 58 percent of the jobs that have been created since the end of the recession have been low paying jobs.
14. Back in 2007, about 28 percent of all working families were considered to be among "the working poor".  Today, that number is up to 32 percent even though our politicians tell us that the economy is supposedly recovering.
15. According to the Center for Economic and Policy Research, only 24.6 percent of all of the jobs in the United States are "good jobs" at this point.
16. According to the U.S. Census Bureau, the middle class is taking home a smaller share of the overall income pie than has ever been recorded before.
17. According to the Economic Policy Institute, the United States is losinghalf a million jobs to China every single year.
18. The United States has fallen in the global economic competitiveness rankings compiled by the World Economic Forum for four years in a row.
19. According to the World Bank, U.S. GDP accounted for 31.8 percentof all global economic activity in 2001.  That number declined steadily over the course of the next decade and was only at 21.6 percent in 2011.
20. The United States actually has plenty of oil and we should not have to import oil from the Middle East.  We need to drill for more oil, but Obama has been very hesitant to do that.  Under Bill Clinton, the number of drilling permits approved rose by 58 percent.  Under George W. Bush, the number of drilling permits approved rose by 116 percent.  Under Barack Obama, the number of drilling permits approved actuallydecreased by 36 percent.
21. When Barack Obama took office, the average price of a gallon of gasoline was $1.84.  Today, the average price of a gallon of gasoline is$3.26.
22. Under Barack Obama, the United States has lost more than 300,000 education jobs.
23. For the first time ever, more than a million public school students in the United States are homeless.  That number has risen by 57 percent since the 2006-2007 school year.
24. Families that have a head of household under the age of 30 now have a poverty rate of 37 percent.
25. More than three times as many new homes were sold in the United States in 2005 as were sold in 2012.
26. Electricity bills in the United States have risen faster than the overall rate of inflation for five years in a row.
27. Health insurance costs have risen by 29 percent since Barack Obama became president.
28. Today, 77 percent of all Americans live paycheck to paycheck at least part of the time.
29. It is being projected that Obamacare will add 16 million more Americans to the Medicaid rolls.
30. The total amount of money that the federal government gives directly to the American people has grown by 32 percent since Barack Obama became president.
31. The Obama administration has been spending money on some of the most insane things imaginable.  For example, in 2011 the Obama administration spent $592,527 on a study that sought to figure out once and for all why chimpanzees throw poop.
32. U.S. taxpayers spend more than 20 times as much on the Obamas as British taxpayers spend on the royal family.
33. The U.S. government has run a budget deficit of well over a trillion dollars every single year under Barack Obama.
34. When Barack Obama was first elected, the U.S. debt to GDP ratio was under 70 percent.  Today, it is up to 103 percent.
35. During Obama's first term, the federal government accumulated more debt than it did under the first 42 U.S presidents combined.
36. As I wrote about yesterday, when you break it down the amount of new debt accumulated by the U.S. government during Obama's first term comes to approximately $50,521 for every single household in the United States.  Are you ready to contribute your share?
37. If you started paying off just the new debt that the U.S. has accumulated during the Obama administration at the rate of one dollar per second, it would take more than 184,000 years to pay it off.
But despite all of these numbers, the mainstream media and the left just continue to shower Barack Obama with worship and praise.  Newsweek recently heralded Obama's second term as "The Second Coming", and at Obama's pre-inauguration church service Reverand Ronald Braxton openly compared Obama to Moses…
At Metropolitan African Methodist Episcopal Church, Braxton reportedly crafted his speech around Obama's personal political slogan: "Forward!"

Obama, said Braxton, was just like Moses facing the Red Sea: "forward is the only option … The people couldn't turn around. The only thing that they could do was to go forward." Obama, said Braxton, would have to overcome all obstacles – like opposition from Republicans, presumably, or the bounds of the Constitution. Braxton continued, "Mr. President, stand on the rock," citing to Moses standing on Mount Horeb as his people camped outside the land of Israel.

But it wasn't enough to compare Obama with the founder of Judaism and the prophet of the Bible. Braxton added that Obama's opponents were like the Biblical enemies of Moses, and that Obama would have to enter the battle because "sometimes enemies insist on doing it the hard way."
So what do you think the next four years of Obama will bring?
Source: The Economic Collapse
As of November of 2012, a mind-numbing 47.7 million Americans subsist on taxpayer-funded food stamps.  One in seven Americans cannot feed himself or herself with a job or work of any kind.  What constitutes the irony to this national tragedy?  Answer: our U.S. Congress imports 100,000 legal immigrants into the USA with green cards every 30 days.
No matter how much poverty and unemployment blacks, whites and Hispanic Americans suffer– the leaders of this country continually pound more humans into the mix without pause.  At the same time, food banks go belly up with bare shelves. Over 13 million American children live in destitute poverty and cannot secure three square meals per day.
While Congress supports our enormous military spending into the trillions of dollars and two 10 year long wars that devour (ed) money—it fails to create jobs and feed our poorest.  It fails the fundamental rights of our own citizens to work and eat.
The gross statistics created by our U.S. Congress:  (Source:hubpages.com)
#1 According to one calculation, the number of Americans on food stamps now exceeds the combined populations of "Alaska, Arkansas, Connecticut, Delaware, District of Columbia, Hawaii, Idaho, Iowa, Kansas, Maine, Mississippi, Montana, Nebraska, Nevada, New Hampshire, New Mexico, North Dakota, Oklahoma, Oregon, Rhode Island, South Dakota, Utah, Vermont, West Virginia, and Wyoming."
#2 In October 2008, 30.8 million Americans were on food stamps. By August 2012 that number had risen to 47.1 million Americans.
#3 Right now, one out of every seven Americans is on food stamps and one out of every four American children is on food stamps.
#4 It is projected that half of all American children will be on food stamps at least once before they turn 18 years of age.
#5 According to new numbers that were just released by the U.S. Census Bureau, the number of Americans living in poverty increased to a new all-time record high of 49.7 million last year.
#6 The number of Americans living in poverty has increased by about 6 million over the past four years.
#7Today, about one out of every four workers in the United States brings home wages that are at or below the federal poverty level.
#8According to the U.S. Census Bureau, the poverty rate for children living in the United States is about 22 percent.
#9 Overall, approximately 57 percent of all children in the United States are living in homes that are either considered to be either "low income" or impoverished.
#10 In the United States today, close to 100 million Americans are considered to be either "poor" or "near poor".
#11 One university study estimates that child poverty costs the U.S. economy 500 billion dollars each year.
#12 Households that are led by a single mother have a 31.6 percent poverty rate.
#13 In 2010, 42 percent of all single mothers in the United States were on food stamps.
Once you research the numbers, you cannot help but look to your own U.S. Senators and House reps and see failure, duplicity and corruption.  No excuses!  How could men and women who are supposed to represent American citizens continually leave American citizens in the grips of poverty, joblessness and homelessness?
Some kind of moral, ethical and spiritual wrong grows in the nation's capitol all the way up to the president.  American citizens become its victims.
Do you think there is any chance of it changing and becoming better as that same U.S. Congress adds over 3.1 million immigrants every year on our way to adding 100 million immigrants within the next 38 years?
In this column last week, I took sportscaster Bob Costas to task for his inane comments regarding the murder-suicide deaths committed by Kansas City Chiefs linebacker Jovan Belcher. Costas ignorantly and irrationally blamed the deaths of Jovan and his girlfriend, Kasandra Perkins, on "our current gun culture." Costas naively said, "If Jovan Belcher didn't possess a gun, he and Kasandra Perkins would both be alive today."
See my column on Bob Costas at:
http://veracityvoice.com/?p=16402
Well, here is another tragic story of an NFL player's untimely death. This time the team is the Dallas Cowboys. USA Today covers the story:
"For the second time in a week, from one Saturday to the next, another young professional football player is dead at the age of 25 and another NFL team is grieving after allegations of a terrible and tragic crime.
"Last weekend, it was Kansas City. This weekend, it's Dallas. The circumstances are different, but the results are eerily similar. Two players are gone: One by his own hand in front of his coach and general manager in the parking lot of the team's practice facility; the second in the morgue after a night out with a teammate, who is now sitting in an Irving, Tex., jail cell while his teammates fly to Cincinnati for Sunday's game.
"One week after Chiefs linebacker Jovan Belcher killed the mother of his nearly 3-month-old daughter and then killed himself, the Cowboys are mourning the loss of a teammate while another has been arrested for intoxication manslaughter.
"Nose tackle Josh Brent, who was to have started this Sunday against the Bengals, was arrested early Saturday morning after the car he was driving flipped over, killing his lone passenger, Cowboys practice-squad player Jerry Brown, who was Brent's teammate not only in Dallas but also at the University of Illinois from 2007-09."
See the report at:
So, why didn't Bob Costas get on national television and say, "If Josh Brent didn't possess a car, Jerry Brown would be alive today"? Why? Because Bob Costas doesn't think critically, that's why! He simply regurgitates the same antiquated anti-gun rhetoric he hears from his pro-gun-control buddies.
But it's true: if the gun is to blame for Belcher and Perkins' deaths, the car is to blame for Brown's death.
And speaking of cars and guns, the total number of deaths nationwide from the misuse of firearms pales in comparison to the total number of deaths from the misuse of automobiles. Yet, I don't hear the Bob Costases of the world screaming for "automobile-control." Come on, folks, get real! Plus, as Larry Pratt and others have already noted, firearms in the possession of American citizens are actually used to protect the lives of people some 4,000 to 6,000 times A DAY. When Costas said, "Handguns do not enhance our safety," not only was he wrong, he was miserably wrong! Handguns DO enhance our safety–not to mention our liberty!
Look at the city of Chicago. More people have been murdered in the city of Chicago this year than soldiers killed in Afghanistan. One hundred and forty-four US troops have been killed in Afghanistan so far in 2012, while 228 people have been murdered so far in 2012 in The Windy City.
According to The Huffington Post, "The war zone-like statistics are not new. As WBEZ reports, while some 2,000 U.S. troops have been killed in Afghanistan since 2001, more than 5,000 people have been killed by gun fire in Chicago during that time, based on Department of Defense and FBI data."
See the report at:
http://www.huffingtonpost.com/2012/06/16/chicago-homicide-rate-wor_n_1602692.html
Yet, Chicago, Illinois, has some of the strictest gun-control laws in America. Then again, maybe that's one of the reasons why so many people are killed in Chicago. The laws of this city forbid honest citizens from being armed and, thus, they are unable to defend themselves. Let the good guys start shooting back and one will see a dramatic lapse of courage among miscreants. Don't believe that? Check out the violent crime rates in Montana, Idaho, Wyoming, or Vermont.
This modern infatuation with blaming inanimate objects for acts of immorality and impropriety is nothing short of epidemic! Of course, the reason for this madness is it facilitates the expansion of government into the minutest details of our lives. Big-Government zealots have an innate fear of power and responsibility resting in individuals. They see government as the only suitable source of power. To big-government toadies, individuals are merely the property of government. To them, government bureaucrats can do nothing wrong, while individual citizens can do nothing right. Hence, to big-government hacks, only government officials have the right to keep and bear arms.
The same reasoning applies to America's so-called "War on Drugs." Marijuana, especially, is blamed for all kinds of immoral and unsavory conduct, even though the overwhelming evidence simply does not support the accusation.
My youngest son, Timothy, is a former Florida Assistant State Attorney who is now in private practice. Regarding marijuana as being a source of criminal conduct, he wrote, "Drawing from my own personal experience, I see the absurdity of the 'war on marijuana.' During my time as a prosecutor at the Florida State Attorney's Office from 2004 to 2006 where I handled literally thousands of criminal cases and tried nearly 60 jury trials, I was never impressed that marijuana was the cause of any criminal activity. Oh sure, possession of marijuana charges comprised a large number of my criminal cases; but the criminal act was merely the man-made law of possession of marijuana. In fact, most criminal activities were in large part caused by alcohol, where one who consumed too much alcohol became violent; beat his wife; neglected his children; drove drunk and hurt someone; caused a disturbance of the peace; or other similar evils.
"I saw those alcohol-related cases every day. Yet, I cannot say the same regarding marijuana. I would estimate that of the thousands of cases I handled, at least half (if not more) were a direct cause of alcohol consumption or addiction. Yet, alcohol is legal and marijuana is illegal."
See Tim's column at:
http://newswithviews.com/Timothy/baldwin159.htm
In fact, marijuana was not even considered harmful or illegal in the United States until 1937, as Tim pointed out in his column. Most people would probably be surprised to learn that four out of our first five presidents not only promoted the use of the hemp plant, but also grew it. Can one imagine putting George Washington or Thomas Jefferson in jail for growing what we now call marijuana? Egad!
The idea that the use of marijuana is harmful because "it leads to hard drugs" is tantamount to saying that beer is harmful because "it leads to hard liquor." But it's just not true! There are tens of millions of people who drink responsibly, or who use alcohol medicinally (as prescribed even by Holy Scripture), who never become alcoholics. Likewise, there are tens of millions of marijuana users who use it responsibly or medicinally, who never go on to use hard drugs or become drug addicts. And when it comes to addictions, Americans' addiction to sugar and laziness kills far more people than those addicted to alcohol–or even tobacco for that matter.
But by making marijuana responsible for all kinds of untoward behavior, and by ignoring the personal accountability of people to behave responsibly, it has helped provide the justification for government to trample the Bill of Rights and create huge bureaucracies, which swell the size and scope of government–especially the federal government.
The same is true for firearms. By making guns responsible for all kinds of untoward behavior, and by ignoring the personal accountability of people to behave responsibly, it helps provide the justification for government to trample the Bill of Rights (in this case the Second Amendment) and create huge bureaucracies (the ATF among others), which swell the size and scope of government–especially the federal government.
Marijuana is a convenient scapegoat. Firearms are a convenient scapegoat. Automobiles, on the other hand, are not so convenient! Hence, we hear nothing from Bob Costas about the need for more "automobile-control." Plus, amazingly enough, neither did Costas say a word about bringing back Prohibition! In Costas' world, only guns are sufficiently evil enough to warrant his righteous indignation.
The tragedies in Kansas City and Dallas cause all people of good will to grieve. We grieve for the people involved; we grieve for the families of the victims; and we grieve for the NFL players, coaches, and management. But what we must not do is use these tragedies as an excuse to justify and condone the suppression of our God-given liberties! In addition, it's past time for America, at every level, to start re-emphasizing the primacy of personal responsibility. That's something that isn't being taught much in our nation's schools, churches, or even families.
But the promotion and expectation of personal responsibility is what made America great; and it's also what provides our nation with its liberties. If men cannot be expected to be accountable for their conduct, they can hardly be expected to be accountable for their freedom. This is why inanimate objects are used as scapegoats by big-government toadies: it diminishes the virtue of individualism and extols the necessity of governmentism.
In Kansas City, the problem was not the gun; the problem was Belcher. And in Dallas, the problem was not the car–or even the booze–the problem was Brent. Straighten out the man and one will have no need to worry about the objects that are at his disposal.
Less than a week after a New Orleans suburbanite petitioned the White House to allow Louisiana to secede from the United States, petitions from seven states have collected enough signatures to trigger a promised review from the Obama administration.
By 6:00 a.m. EST Wednesday, more than 675,000 digital signatures appeared on 69 separate secession petitions covering all 50 states, according to a Daily Caller analysis of requests lodged with the White House's "We the People" online petition system.
A petition from Vermont, where talk of secession is a regular feature of political life, was the final entry.
Petitions from Alabama, Florida, Georgia, Louisiana, North Carolina, Tennessee and Texas residents have accrued at least 25,000 signatures, the number the Obama administration says it will reward with a staff review of online proposals. (RELATED: Will Texas secede? Petition triggers White House review)
The Texas petition leads all others by a wide margin. Shortly before 9:00 a.m. EST Wednesday, it had attracted 94,700 signatures. But a spokesperson for Gov. Rick Perry said Tuesday afternoon that he does not support the idea of his state striking out on its own.
Read more: http://dailycaller.com/2012/11/14/white-house-secede-petitions-reach-660000-signatures-50-state-participation/#ixzz2CCvWggvc
MAP of U.S.States petitioning for secession:
https://www.facebook.com/photo.php?fbid=4358712057342&set=a.4187690941921.159646.1573992709&type=1&ref=nf
Source: investmentwatchblog.com
The supreme illicit fraud of central banking embodied in the Federal Reserve, acts as a private piggybank for favored cartel thieves. The liquidity of unlimited credit transfers to banksters, especially at zero interest, financed by unimaginable new Treasury Bonds, indebting the American public; is a crime committed by outlaws. The significance of the evidence for the extent of the crony financial manipulations, that the controllers of international capital use to maintain their power strangle hold on humanity, needs to be fully exposed. Only when the beleaguered and downtrodden become sufficiently indignant to usury incarceration, will heads start to roll.
Vermont Senator Bernie Sanders announces on his web site page, The Fed Audit.
"The first top-to-bottom audit of the Federal Reserve uncovered eye-popping new details about how the U.S. provided a whopping $16 trillion in secret loans to bail out American and foreign banks and businesses during the worst economic crisis since the Great Depression. An amendment by Sen. Bernie Sanders to the Wall Street reform law passed one year ago this week directed the Government Accountability Office to conduct the study. "As a result of this audit, we now know that the Federal Reserve provided more than $16 trillion in total financial assistance to some of the largest financial institutions and corporations in the United States and throughout the world," said Sanders. "This is a clear case of socialism for the rich and rugged, you're-on-your-own individualism for everyone else."
Yes, you read that correct, 16 TRILLION DOLLARS. When originally disclosed, there was minimal outrage.
The United States Government Accountability Office report on the Federal Reserve Audit on page 203-204 reveals proof positive of the magnitude of the transfer of trillions in bailout credit to the money center international banks.
"The FOMC approved these swap line arrangements to help address challenges in the global market for interbank lending in U.S. dollars. Many foreign banks held U.S. dollar-denominated assets and faced challenges borrowing in dollars to fund these assets. In contrast to U.S. commercial banks, foreign banks did not hold significant U.S. dollar deposits, and as a result, dollar funding strains were particularly acute for many foreign banks. The Board of Governors of the Federal Reserve System (Federal Reserve Board) staff memos recommending that the FOMC approve swap lines noted that continuing strains in dollar funding markets abroad could further exacerbate strains in U.S. funding markets. For example, foreign banks facing difficulties borrowing against U.S. dollar assets may have faced increased pressure to sell these assets at a time of stress, potentially putting downward pressure on prices for these assets. The dollar swap lines allowed foreign central banks to make dollar loans to banks in their jurisdictions without being forced to draw down dollar holdings of foreign exchange reserves or to acquire dollars directly in the foreign exchange market. An FRBNY staff paper noted that the dollar reserves of many foreign central banks at the start of the crisis were smaller than the amounts they borrowed under the swap lines and that efforts by foreign central banks to buy dollars in the market could have crowded out private transactions, making it more difficult for foreign banks to obtain dollars. This paper further noted that the Federal Reserve System (the Federal Reserve Board and Reserve Banks collectively) was in a unique position to provide dollars needed by foreign central banks to provide lender-of-last-resort liquidity to banks in their jurisdictions. The increase in reserves was offset through sales of Treasury securities and increasing incentives for depository institutions to hold excess reserves at FRBNY."
The last statement regarding using Treasury securities to increase banking reserves admits that monetizing the balance sheet of the FED, to unheard of levels, continues unabated. The absence of mainstream media reports on this historic, more than doubling, of the officially disclosed debt is beyond belief. Now that the Federal Reserve openly acknowledges that, the privately held banking cabal is buying up Treasury Notes, because the marketplace has refused to accept and buy the excessive float of new Treasury obligations, should be the most sobering consequence of the greatest bubble of all time.
This off the books concealment reporting by the FED illustrates the importance of the audit.
Watch the video, REAL DEBT that provides a short analysis of the Fed audit.
The Wall Street Journal, in The Federal Reserve's cult of secrecy is unmasked, reveals a disgusting culture of self-aggrandizement.
"The recent audit of the Federal Reserve by the Government Accountability Office is particularly disturbing if read alongside the last report to Congress by the Fed's Inspector General.

The GAO audit found a huge number of serious conflicts of interest at the Fed. Employees and contractors were allowed to own stock in the companies receiving financial assistance from the central bank."
The fact that the FED and their enablers in Congress prevented a complete and comprehensive forensic audit of the books of the "Jackals of Jekyll Island" indicates just how much is at stake.
None other than the formidable blog, The Economic Collapse, expresses the sentiment that most of us should share.
"Another mystery that I would like to see addressed is the trillions of dollars of "off balance sheet transactions" that are unaccounted for at the Federal Reserve. This was brought up once during a Congressional hearing, but nobody seemed to have any answers."
The $9,000,000,000,000 MISSING From The Federal Reserve YouTube captures the absurdity of Congressional oversight. The financial community that created fractional reserve banking is in total control of the political election process. As long as there is no accountability and consequences for outright theft, the money magicians continue to operate their fraudulent scheme of deception as the cornerstone of international economic transactions.
The FED's grip on the global moneychangers' racket is based upon maintaining the U.S. Federal Reserve funny money, as the reserve currency for the planet. The value and worth of Treasury Bills and Bonds are on the path to have the value of Reichsbank marks. Recognize the enemy that is destroying the country and world economy.
Last weekend, the Chicago Police Department collaborated with over 20 local churches in a giant effort to encourage Chicagoans "to get guns out of their homes." WBBM News Radio has the story. "Using the lure of $100 gift cards, the Chicago Police Department is encouraging people to get guns out of their homes and turn them in this Saturday, during the annual gun turn-in program."
The news report goes on to say, "[T]he Police Department is partnering with 20 churches.
First Deputy Supt. Alfonza Wysinger says anyone who turns in a real gun will get a $100 gift card. Replicas and BB guns are worth $10.
"'No questions asked,' Wysinger said. 'Just show up at the church, and hand over the weapons to the CPD officer that will be there, and get your $100 gift card. So we strongly suggest that people come out that have weapons lying around the house, or weapons, maybe, that they don't necessarily want in their house. This is a chance to get some money for their weapon, and get another dangerous weapon on [sic] the street.'"
The report then lists 23 churches that are identified as participating in the gun turn-in event.
See the report at:
But I particularly enjoyed a few of the comments that readers posted to the online report:
One guy wrote, "Gun thieves will be lined up for blocks."
Another wrote, "They can arrest you for having a gun outside of your house."
And another person wrote, "[Criminals] are turning in the guns they used in multiple crimes because the stupid politicians will destroy them thus getting rid of the evidence…"
And perhaps my favorite comment on the story was this one: "WOW. BOTH police and CHURCHES turning traitor against the Constitution."
Truthfully, think about the absurdity of this gun turn-in program. As one reader noted, think of the money gun thieves will make on this program. As any tenured lawman knows, most guns are stolen to resell in order to get the money to purchase drugs, booze, sex, etc. Some are used in crimes, sure. But most are used for the purpose of making a buck. Imagine a gun thief who has perhaps 50 or 60 stolen guns in his possession: that guy has just made a small fortune OFF THE TAXPAYERS. Remember, there are "no questions asked." And since the cops in Chicago seem to be doing this annually, how many gun thieves are stealing guns all year long and just saving up for the big payout, or how many start a gun-stealing frenzy just before the anticipated gun turn-in program? $100 for a stolen gun is often a higher bid than what the thief would get on the street. What a deal!
And think of this angle: what better way to get some quick dough by selling a gun or two that is totally inoperable, and then taking the money and buying a gun that actually works? Again, what a deal!
And another reader nailed it when he observed that taking a firearm outside your home is a CRIME in Chicago. In fact, I am surprised to learn that people in Chicago can even legally have a gun in their homes. You cannot legally carry a firearm in Chicago. So, the CPD is encouraging people to BREAK THE LAW. I can just imagine people all over Chicago caught carrying guns and telling the arresting officer, "I was going to take it to the gun turn-in program." And you know what the cop would say, right? "Tell it to the judge."
This brings up another point: why is there so much gun-related crime in Chicago, anyway? After all, Chicago has some of the most restrictive gun laws in the entire country. GUNS ARE ILLEGAL IN CHICAGO! So, pray tell, where is all of this gun-related crime coming from? I thought that passing laws restricting the ownership and possession of firearms was supposed to reduce crime? If that is truly the case, Chicago, Washington, D.C., and New York City, etc., should be the most peaceful places on earth! Of course, the truth is if you want to find peaceful communities, go to states such as Montana, Wyoming, Idaho, and Vermont where just about everybody is packin' heat!
Plus, the point that another reader made about criminals turning in the guns with which they have committed crimes and thereby letting the authorities destroy those firearms–thus destroying the evidence–is a very astute observation. Way to go CPD!
But the icing on the cake for me is the point that one reader made when he said, "WOW. BOTH police and CHURCHES turning traitor against the Constitution." Bingo!
Another reader was even more direct. He said, "The government and so called churches will be the downfall of this great country's Constitution." Amen!
It grieves me to say that a sizeable percentage (if not a majority) of today's churches are as culpable in the dismantling of our Constitution and Bill of Rights as any entity one can think of. So many pastors and churches today are unwilling to take a stand against almost ANYTHING that might have political overtones. I doubt that most of them would say "Boo" to the devil himself–especially if he came dressed in a government uniform. They are all about making people feel good, entertaining people, and stroking people's egos.
In fact, let me ask my church-going readers to try an experiment. The next time you go to church, ask your pastor where he or she stands on the Second Amendment. Ask them, "Would our church participate in a police-sponsored gun turn-in program?" Ask them, "If the President declared a 'national emergency,' and FEMA (or any federal or State agency) asks you to ask your congregation to turn in their firearms, would you agree to do so?" Go ahead: ask them! Then observe their reaction very carefully.
You can count on this: virtually no pastor whose church is receiving federal "faith based initiative" taxpayer monies would take a public stand for the Second Amendment under those conditions. Count on it. So maybe you should also ask your pastor if your church is receiving federal "faith based initiative" monies. All over America, literally thousands of churches are accepting federal tax dollars to help support their daycare centers, their after-school programs, their "Christian" schools, their food banks, etc.
Contrast today's churches to those of Colonial America. In those days, gun racks for the rifles that had been brought to church were as common as coat racks. In fact, many times, the church basement or back room was used as a place in which caches of firearms were commonly stored.
I realize the times in which we live do not remotely resemble those of Colonial America, but the spirit and attitudes of the pastors and men of the church should still be the same: that freedom is fragile and that firearms are "the people's liberty teeth" (George Washington), that, "An armed society is a polite society" (Robert Heinlein), and, "No freeman shall ever be debarred the use of arms" (Thomas Jefferson).
And while these milquetoast preachers are preparing their sermonettes, they should read what the Lord Jesus said: "He that hath no sword, let him sell his garment, and buy one." (Luke 22:36) Of course, the Roman sword was the First Century equivalent to a Twenty-First Century handgun: it was the weapon of choice for personal, close quarter combat. In today's parlance, Jesus said if you don't have the money, sell your clothes if you have to, and buy a GUN! That's a far cry from churches in Chicago asking people to give up their guns, isn't it?
I don't know about anyone else, but I will take the word of Jesus over the word of Barack Obama and his Chicago Gestapo any day!
Stroller-pushing mothers delivered nearly a million signatures in Sacramento on Wednesday, for an initiative to put to populist vote The California Right to Know Genetically Engineered Food Act.
The ten-week signature drive collected nearly double the amount needed to put the R2K Act on the November 6, 2012 ballot.
The state will take between five and seven weeks to validate the signatures, and then certify the results. Of the 555,236 needed, thousands of volunteers collected 971,126, just shy of the hoped-for million.
"In ten weeks, nearly a million registered voters signed the ballot initiative," said Pamm Larry, who single-handedly started the drive on January 20, 2011. "Even biotech engineers gathered signatures for us." Having founded LabelGMOs.org, Larry then coordinated with other pro-labeling civic groups across the state and nation.
Victory celebrations were held in Sacramento, San Francisco, Los Angeles and San Diego today, reported CA Right to Know in a press conference.
If voters approve the measure this fall, beginning July 1, 2014, food makers will be required to label those products that contain genetically modified ingredients.
Significantly, the "natural" term can no longer be used if the product contains GMOs.
There are several exemptions, including GMO-fed and GMO-drugged animals, as well as any raw ag product that was unintentionally contaminated with GMOs. Suppliers and producers may be asked to provide a sworn statement that as far as they know, the food is GE-free.
According to the Act, anyone relying on those sworn statements is off the hook legally if the product turns out to have GMOs.
There is a requirement in the Act that grocery store bins or shelves must also be GE-labeled if any unlabeled raw agricultural GE products (like GE corn) are sold. But there's no liability to the store owner if the supplier provides a sworn statement that the food is GE-free when it's not.
Given the biotech industry's penchant for hyperbole (relating to yield, cost and pesticide use), it's no surprise tohear them declare the Act will cause food prices to spike.
But, as one of the organizers says, "They have 18 months after the election to change their labels, something that is frequently done in the food industry." Gary Hirshberg, chairman of Stonyfield which has been organic-certified for 20 years, added, "All they have to do is add some ink."
Several large organizations opposing the measure have organized behind Stop Costly Food Labeling (SCFL), including the Grocery Manufacturers Assn., the Council for Biotechnology Information, the CA Farm Bureau Federation, and, you guessed it, the Chamber of Commerce.
Another lie right out of their lying mouths is that the R2K Act will require, "prohibiting processed foods from being labeled as natural, even if they contain no GE ingredients."
No such language exists in the eight-page Act.
Not only that, but there's still a whole lot of wiggle room for GE-contaminated foods. See pages 4-6 for the list of exemptions, like this one:
"Until July 1, 2019, any processed food that would be subject to section 110809 solely because it includes one or more genetically engineered ingredients, provided that: (i) no single such ingredient accounts for more than one-half of one percent of the total weight of such processed food; and (ii) the processed food does not contain more than ten such ingredients." §110809.2(e)
This means that food can have up to 5% genetically modified organisms by weight (and up to ten of the little buggers) and remain free of the GE label. Looks like biotech scored big on that exemption. GE-free should be GE-free.
Fundraising to Counter Biotech Lies
Both sides will engage in a media spectacle aimed at swaying voters, using TV and print to promote their positions. If their April 26 press release is any indication, the biotech sector of Big Ag and its supply chain plans to drive a wedge between small operators and consumers who want to know what's in their food. "It'll put you out of business!" screams the upcoming headline.
Heaven forbid. Requiring food labels is akin to truth in advertising. Big Pharma certainly hasn't disappeared because they can't keep nasty side effects a secret.
Grocery stores have nothing to fear, despite the SCFL's spin that "right to know" means "right to sue." Whining they'll have to follow what's done in 40 other countries, adding a little ink to food labels in the biggest agriculture state in the US won't put anyone out of business.
We're gonna be inundated with a barrage of lies to the point we'll stand in muted awe at the audacity. Kinda like the informed's reaction when Condi Rice objected to her "integrity" being impugned after she promoted the wild WMDs lie.
But now is not the time for muted silence. And the media campaign to support California's initiative must be funded, nationally, says Dr. Mercola, who runs the biggest natural, homeopathic website in the world.
He's teamed up with several groups including Organic Consumers Assn. and Food Democracy Now! to launch a major fundraising campaign for the upcoming battle of words, explained OCA spokesperson, Katherine Paul, in an email to Food Freedom. "But all of the funds will be turned over to the CARighttoKnow campaign to use for media consultants, advertising, and legal help," she advised.
Mercola reports:
"Between May 1 and May 26, a broad coalition of food, farming, health groups, and organic food manufacturers, will attempt to raise one million dollars to defeat Monsanto propaganda and get the California Right to Know Genetically Engineered Food Act on the ballot for November 6, and passed into law. Money raised in this Million Dollar Money Bomb on Monsanto campaign will support the California Ballot Initiative and other state GE-labeling campaigns. If donations totaling $1 million is reached by May 26, a coalition of benefactors will MATCH it, bringing the Money Bomb to $2 million!"
According to the opposition, Mercola has already put up $800,000 of his own money. The busy man didn't get back to me as to whether this is actually true, but it smells right that he'd want to back his own horse.
"We can't leave California to battle the biotech giants on their own," he says. "They need your help! Donating funds to this campaign may be the best money you'll spend all year to safeguard your health, and the health of your children."
This is all great news… and no one doubts California's R2K GE Food Act will be on the ballot on November 6, 2012.
Which brings us to the ballot… cast on electronic voting systems that studies funded by Secretary of State Debra Bowen proved are not secure from hack. (See, e.g., here and here.)  Other studies by different states and universities and privately-hired tech firms agreed, but Bowen and her Sec-State peers across the nation all bought those expensive, hackable machines anyway.
Even so, since over 90% of US eaters want their food labeled, the vote result is a foregone conclusion. And, what's done in the biggest Ag state in the union is sure to be followed in at least some of the 20-some states that allow an initiative process – a tool used by citizens to adopt laws and constitutional amendments without the support of the Governor or the Legislature.
Vermont, another state now undergoing an agricultural renaissance, does not have this freedom, so the GMO-food label bill passed by the legislature will not be enacted, as Governor Shumlin has advised he will veto it. We reported on this in the last half of this news video on Monday.
Robyn O'Brien of Allergy Kids Foundation says:
"My youngest daughter's face began to swell shut at breakfast one day – and I had no idea why. We were only eating waffles, scrambled eggs, and tubes of blue yogurt…so what was happening to her? Before my daughter had a violent allergic reaction that morning, I honestly hadn't given a lot of thought to what I fed my kids. I mean, if it was on grocery store shelves, it was all the same, right?But since then, like so many moms, I learned that there are all kinds of new ingredients in our foods that weren't in what we ate as kids. That's why we need labels."
Just Label It is working on the FDA for a national directive requiring GMO-food labels, and sent their congrats to California. They're still collecting petition signatures until May 13, and have produced this quick little video by Robert Kenner, director of Food, Inc.
But California may beat FDA to the punch, and its Right to Know Act will impact food labeling across the nation. This is the big one from which the biotech-feds' House of Secrecy begins to crumble.  All those who support GMO-food labeling are going to have to drop a bomb of money on them to counter the war chest of the biotech industry.
After failing to get COICA (Combating Online Infringement and Counterfeits Act) passed in 2010, he is back again this year with PIPA. Do not forget PIPA is the son of COICA.  Back then (2010) while the Vermont ACLU was nominating Senator Patrick Leahy as the Civil Libertarian of the Year, the national ACLU office was writing him a letter in opposition to COICA legislation. Senator Wyden from Oregon subsequently tabled it.
These guys really love their acronyms. This ridiculous name – PIPA – or PROTECT IP stands for Preventing Real Online Threats to Economic Creativity and the Theft of Intellectual Property. This should have been our first clue that this is yet another attempt to disguise the truth and put more profits into the coffers of multibillion dollar conglomerates while eliminating infringing sites. As Homeland Security is enhancing the profits of the Military Industrial Complex under the guise of security, PIPA is enhancing the profits of multibillion dollar corporations in the music, film and pharmaceutical industries in the name of copyright infringement. Guess what industry benefits primary from this legislation and then guess which industry has been a principle contributor to Leahy election efforts. Surprise surprise…..
But the public has begun to catch on.  OWS (Occupy Wall Street) efforts and the Internet are raising the consciousness of voters. The public is becoming painfully aware about how politics is run in Washington and PIPA is a perfect illustration of this process. It is entirely about the control of the politicians through legal bribery and the control of the public through a corporately owned and operated mainstream media. So what if PIPA supports no real due process?
So what if thousands of innocent and tiny websites get victimized and shut down without the opportunity to address their accuser before action is taken?
So what if all accusers are to be held harmless for any false accusations that they may make?
So what if legitimate copyright infringers are victimized by this legislation?
So what if the door is now opened to more aggressive censorship and the compromise of free speech?
It is the price we must pay to get billions more into the hands of these billion dollar industries and to silence sites attempting to inform the public through the works of others.
Does the Patriot Act ring a bell?  Without a doubt, this bill represents the most fundamental attack on our constitution ever waged. It was first launched by a Republican and then reauthorized WITHOUT CHANGE by a Democrat. Money, greed and legal bribery control both sides of the isle and PIPA is just another manifestation of business as usual in Washington.  Money pulls the strings and the political puppets then dance. Senator Leahy is no different than any other politician in Washington.  Currently it is the only way to get reelected. Those in office (the incumbents) have all the money and if they play ball with their primary contributors they are allowed to stay in office and become very rich.
Maybe Leahy can pull off a Chris Dodd special. By anyone's measure this former Senator was one of the most legally corrupt politicians in Washington and now he resides over the Motion Picture Association to the tune of over $1 million a year. Perhaps Senator Leahy can do several dances before he leaves office and secure a fat private sector job when he retires.
This is about big money going to big business – not to the people. The people are always second-class citizens to them, and rather than point this out to the public, mainstream media perpetuates it.
Part of copyright law and conspicuously absent from all copyright infringing legislation (PIPA, SOPA and now OPEN) and almost every news outlet is a thing called Fair Use. It is section 107 of title 17 of the copyright law. It generally says for the purpose of commentary, criticism, news reporting, research, teaching, library archival, scholarship and the manifestation of new information,  it is perfectly legal to use the works of others (copyright infringement) without their permission.
Think about this for a moment. What invention was not created by standing on the shoulders of previous inventors? What documentarian can describe the past without using the past to illustrate his works? What political satirist can criticize the hypocrisy of Washington without exposing previous statements and previous actions in film as recorded by others?
Copyright law embraced a key concept when it was established and one that has been absent for quite some time. There is supposed to be a balance between the protection of intellectual property and the public's right to know.  It is called Fair Use and it is part of copyright law.
Further, new copyright infringement laws are not absolutely needed to prosecute these bad boys. Megaupload.com was recently shut down without using new copyright infringement laws to accomplish such. Do not be fooled, Fair Use is not mentioned in any of these pieces of legislation for a reason. Go after the bad guys yes. Prosecute the criminals who copy and sell unaltered and fully intact music, film and drugs, but do not trample the rights of legitimate infringers who want to do nothing more than inform an uninformed public.
Want to put this matter to bed? See how many senators will sponsor a facsimile of the words below into PIPA, SOPA and now OPEN.
"This legislation is directed at all websites engaged in the sale and distribution of unaltered music, movies and drugs and as protected by U.S. trademark and copyright law.
This legislation is not about copyright infringement as it applies to thousands of bloggers,documentarians, political satirists, re-mixers, librarians, scholars and teachers who in the course of their work often use segments from another for archival purposes, to illustrate a point, to initiate a discussion or a criticism or bring new issues to light. This constitutes a fair use of copyright law and is fundamental to free speech and the constitution and will be protected at all costs."
Unfortunately these bills and these efforts are far from dead. A brief pause has been taken and now a new one OPEN (Online Protect and Enforcement of Digital Trade Act) has recently been introduced. Free speech on the Internet is just too significant a Congressional indictment to leave alone. The more we know the more obvious those responsible will become.
Fair Use allows little guys to attempt to do for almost nothing what a corporately owned and controlled Mainstream Media has failed to do with billions. My words, my film and my site are a mosaic of other peoples work. I qualify as an infringing site. Will my work someday be under attack? Will my little squeak be silenced?
I do not possess the resources to battle the DOJ and their corporate sponsors and there are thousands more much more qualified than I trying to point out the rampant injustices that are sweeping this country. Bloggers, writers and filmmakers often use the works of others to illustrate their points. Be extremely leery of any legislation that attempts to regulate the Internet.  It is the last bastion of free speech on the planet and it is definitely under attack, especially by those very forces who proclaim their innocence the loudest.
Thyroid cancer cases have more than doubled since 1997 in the U.S., while deadly industrial practices that contaminate groundwater with radiation and other carcinogens are also rising.
New information released by the U.S. National Cancer Institute (NCI) estimates that 56,460 people will develop thyroid cancer in 2012 and 1,780 will die from it.
That's up from 16,000 thyroid cancer cases in 1997 – a whopping 253% increase in fifteen years, while the US population went up only 18%.
From 1980 to 1996, thyroid cancer increased nearly 300%, while the population increased by (again) 18%.
Most thyroid cancers don't develop for 10-30 years after radiation exposure, but the monstrous spike in thyroid cancer from 1980-2012 is only partly the result of Pennsylvania's Three Mile Island nuclear accident in 1979 (TMI).
Pennsylvania, with its nine nuclear reactors, does have the highest incidence of thyroid cancer across nearly all demographics among 45* states, reports epidemiologist Joseph Mangano, MPH MBA, of the Radiation and Public Health Project. In 2009, he analyzed data from the Centers for Disease Control's national survey of thyroid cancer incidence for the years 2001-2005 and compared it with proximity to nuclear power stations, finding:
"[M]ost U.S. counties with the highest thyroid cancer incidence are in a contiguous area of eastern Pennsylvania, New Jersey, and southern New York. Exposure to radioactive iodine emissions from 16 nuclear power reactors within a 90 mile radius in this area … are likely a cause of rising incidence rates."
TMI also can't explain why the thyroid cancer rate for the four counties flanking Indian Point Nuclear Power Plant in New York was 66% above the national rate in 2001-2005.
Other, more subtle sources may also be contributing to hiked thyroid cancer rates, like leaking nuclear power plants and hydraulic fracturing, both of which contaminate air, soil and groundwater with radiation and other nasty chemicals.
Indeed, remarking on this, Mangano (who recently co-authored a controversial study with toxicologist Janette Sherman suggesting a link between Fukushima fallout and US cancer deaths numbering from 14,000 to 20,000) said:
"From 1970-1993, Indian Point released 17.50 curies of airborne I-131 and particulates…. [That] amount exceeded the official total of 14.20 curies released from the 1979 Three Mile Island accident. In 2007, officials that operate the Indian Point plant reported levels of I-131 in the local air, water, and milk, each of which is a potential vector for ingestion."
Iodine-131, or I-131, is a radioactive isotope produced by nuclear fission.
Fracking a 'Dirty Bomb'
Radiation isn't released into the environment only via nuclear plants and bombs. Geologist Tracy Bank found that fracking mobilizes rock-bound uranium, posing a further radiation risk to our groundwater. She presented her findings at the American Geological Society meeting in Denver last November.
Because of some 65 hazardous chemicals used in fracking operations, former industry insider, James Northrup, calls it a "dirty bomb." With 30 years of experience as an independent oil and gas producer, he explains:
"The volume of fluid in a hydrofrack can exceed three million gallons, or almost 24 million pounds of fluid, about the same weight as 7,500 automobiles. The fracking fluid contains chemicals that would be illegal to use in warfare under the rules of the Geneva Convention. This all adds up to a massive explosion of a 'dirty bomb' underground."
What's underground seeps into our groundwater.
Thomas House and his wife have become ill since New Dominion, LLC began drilling for oil and gas behind their home in Wellston, Oklahoma. He's tested the water for barium and strontium, and indoor air quality for BTEX (benzene, toluene, ethylbenzene, xylenes and styrenes).
Though none of the levels exceed EPA standards, he insists the drilling operations are causing their illness.
"We have been getting sick from headaches, nose bleeds, rashes, vomiting, burning eyes, and breathing problems for the last year," he told me.
House is reliant on the Veterans Administration for health care, but it refuses to test him for BTEX poisoning.
Radioactive Drinking Water
Though scientists have associated thyroid cancer with water supplies contaminated by nitrates (another knock against industrial agriculture), it is usually indicative of radiation poisoning, as the thyroid sucks up iodine – radioactive or not. Those with not enough iodine in their diets are more susceptible to absorbing I-131.
NCI says that the main sources of radiation exposure are X-rays, nuclear fallout and radiated food and drinking water. The Centers for Disease Control reports that women are three times more susceptible to thyroid cancer than men, with white women being most susceptible. Rather than noticing any symptoms, most often, they discover a lump on their neck.
The good news is that 95 percent of thyroid cancer is successfully treated.
The bad news is that radiation exposure is also coming from our food and water supply.
For over a year, a Houston news station has been reporting on a governmental cover-up of radiation in drinking water. KHOU says that the Texas Commission on Environmental Quality under-reported radioactive contaminants in drinking water for over 20 years.
But not just Texas authorities, the U.S. Environmental Protection Agency has also low-balled radiation stats by simply not looking for specific radioactive elements, which can be more common and more dangerous than, say, Strontium-90.
Eventually, Texas shut-down two of Houston's water wells shown to be radioactive.
From an investigative series by the Associated Press last year, we learned that 75 percent of US nuclear power plants leak radioactive materials. Documents from 48 of 65 commercial nuclear power sites showed that radioactive tritium leaked – often into groundwater – in concentrations exceeding the federal drinking water standard, and sometimes at hundreds of times the limit.
Nukes, Fracking and Earthquakes
The global fallout from Fukushima's nuclear meltdown means our food and water absorbed radioactive fallout. But, we also see an increasing number of earthquakes from fracking operations that further threaten nuclear plants, which are old, leaking and "brittle" (AP's word).
Information compiled by Treehugger last year showed that of the 104 commercial nuclear power plants and 34 nuclear research stations, many sit in seismically active locations.
Though earthquake risk in Texas is considered very low, last October, Atascosa County saw a rare 4.8 magnitude quake centered 130 miles from the South Texas Project nuclear power plant. The temblor originated in Fashing Field, a highly productive oil and gas field. One company, Momentum Oil and Gas, is producing 3.8 million cubic feet of gas per day from the field.
Many states that normally had very low seismicity have seen an incredible upswing in earthquake frequency with the advent of hydraulic fracturing, which the feds have long known about. As far back as 1966, federal authorities suspected the fracking-earthquake link so strongly that they shut down Rocky Mountain Arsenal's 12,000-foot injection well after several quakes rattled Denver.
In 1981, researchers suggested that mobile pressure dynamics could explain epicenters some ways distant from such wells.
Ohio recently shut down two fracking waste injection wells after a New Year's Eve earthquake, and in 2010 New York imposed a statewide moratorium. Ohio has two nuclear power plants (both on Lake Erie) and New York has five, operating six reactors.
Ohio's 5.0 earthquake on January 31, 1986 that rocked eleven states and Ontario, Canada was centered 11 miles south of the Perry Nuclear Plant. Researchers suggested the quake was induced by fracking, writing in 1988:
"Three deep waste disposal wells are currently operating within 15 km of the epicentral region and have been responsible for the injection of nearly 1.2 billion liters of fluid at pressures reaching 112 bars above ambient at a nominal depth of 1.8 km. Estimates of stress inferred from commercial hydrofracturing measurements suggest that the state of stress in northeastern Ohio is close to the theoretical threshold for failure along favorably oriented, preexisting fractures."
Not only preexisting fractures, but new ones created by the massive surge in earthquake swarms also present a risk. As modern horizontal fracturing techniques are employed, earthquake frequency goes up.
From 1900-1970, Arkansas experienced 60 earthquakes. After fracking operations picked up in the mid-1970s, that number jumped exponentially. Per the Advanced National Seismic System, in 2010 alone, Arkansas felt over 700 earthquakes; in 2011, it endured over 800.
The number of quakes in 2010 and '11 represents a 2,400% increase over the number of quakes in the first 70 years of the 20th century, before horizontal fracking began. With that spike in frequency, is it any wonder that a new faulthas opened up in Arkansas? Geologists say the new fault shows a history of 7+ magnitude earthquakes.
Though the 2001-2005 thyroid incidence data reveals that Arkansas has the lowest incidence of thyroid cancer of all 45 states surveyed, that may change should the new fault become seismically active and damage the state's two 40-year-old nuclear reactors.
Of note, Arkansas' nuclear reactors are run by Entergy, which operates eleven others including 40-year-old Vermont Yankee (strontium-90 found in nearby fish last August) and New York's nearly 40-year-old Indian Point (failed inspection and sought over 100 safety exemptions last year).
Pennsylvania is another strong fracking state, vulnerable to earthquakes originating within or outside its borders. It also houses nine nuclear reactors at five locations. A swarm of small earthquakes occurred near Dillsburg from 2008 until early 2011, reports the state's Dept. of Conservation and Natural Resources.
Dillsburg is 16 miles from Three Mile Island, which still operates one nuclear reactor.
Last August, most of the east coast felt a 5.8 magnitude quake whose epicenter is just 11 miles from two reactors at the North Anna nuclear power plant in Virginia. Both 30-year-old reactors had to be shut down. RT reports:
"The odds of a quake exceeding a magnitude of 5.5 occurring in central Virginia are so slim that Dominion Power determined only around six quakes of that size would occur in the area over the next 10,000 years."
Protect Your Water Supply
Radioactive particles damage bones, DNA and tissue, including the thyroid. Water softeners, ion exchange, carbon filters or reverse osmosis water-treatment systems can be installed in the home to reduce concentration levels. The National Sanitation Foundation certifies various products for efficacy in reducing or eliminating particular contaminants.
To reduce or eliminate radiation from food and water, see this compilation of articles recommending various techniques, including washing your vegetables in bentonite clay.
A more proactive way to protect the water supply is to decommission nuclear power plants and ban hydraulic fracturing, lest your hometown ranks among the 10 Most Radioactive Places on Earth.
*When the CDC surveyed states for thyroid cancer in its landmark 2001-2005 study, it neglected to publish data for Maryland, Mississippi, Tennessee, Virginia, and Wisconsin.
Need a last minute gift for your beloved locavore? Several books would make excellent holiday gifts, so this review covers a few of them on the environment, as it relates to local food sovereignty, food security and palate delight. There's even one for kids, which starts the set:
Avatars of Gaia: Escape from Hazard Hollow
Professor Heart (self-published: 2009, 210 pp.)
Website: www.avatarsofgaia.org
Charlotte Purin of Los Angeles decided one of the best ways to save Mother Earth is to get kids involved. So she wrote Avatars of Gaia: Escape from Hazard Hollow for preteens. The tale educates as it entertains, integrating the concepts of sustainability, healthy-eating, and environmental consciousness into a fantasy adventure story.
Because she also wants reach all kids, regardless of financial background, she's made several youtube videos, (seed saving, read the label/obesity, how to recycle & compost, how to make a solar oven, and one about saving frogs). Colorful, full-page drawings accompany the text, and the book includes a special seed protection pledge, along with a glossary.  She also has board games: the E.A.K. (environmentally aware kid) game, and 'Gimme Green Grub' game, about what's healthy food.
Motivated by the privatization of water and seeds, an epidemic of childhood obesity, and rising bankruptcies among farmers, she plans several more books along the Gaia line, getting feedback as she tours schools, appearing as Professor Heart.
Life Rules: Why so much is going wrong everywhere at once and how Life teaches us to fix it 
Ellen LaConte (self-published: 2010, 283 pp.)
Website: www.ellenlaconte.com/life-rules-the-book
LaConte provides a fresh take on ecosystem collapse, hierarchical culture, and the global capitalist industrial economy, analogizing them with AIDS.  By following the evolution of life, LaConte shows how human "civilization" will always self-destruct, because it thrives on dominance and environmental exploitation. She provides a detailed comparison of nature to human societies, pointing out that in mature ecosystems there is no dominant species – everything is in balance.
She also contrasts her vision of a sustainable society with "civilization" that thrives on exploitation, domination and wealth concentration. Citing Derrick Jensen (Endgame) and Michael Ruppert (Confronting Collapse), she agrees that Power won't voluntarily change, pointing out that the World Trade Organization has never once decided in favor of the environment. "The best we've done," she writes, "is to flatten they pyramid" of power.  Now is the time to challenge its existence, she says.
More than a third of the book lays out the plan for moving into sustainable human societies. All of the ideas are already being tried somewhere – like permaculture, slow money, slow food, and local organic democracy – going from competition and partisanship to participation and partnership. And this section is what makes the book ideal: all the best ideas are collected, and all of them are underscored by her theme of humanity living in accord with natural law, or Life Rules.
Chasing Chiles: Hot Spots along the Pepper Trail 
Kurt M. Kriese, Kraig Kraft and Gary P. Naghan
(Chelsea Green, 2011, 193 pp.)
Website: http://chasingchiles.com
Here's another delightful read in the eco-genre, although the serious business of climate change – wrought via whatever means – forms the basis for their culinary ecotours spanning the Western Hemisphere. A chef, a chili agroecologist and an ethnobotanist traveled to Mexico, Florida, Cajun Country, the Yucatan, New Mexico and even New England talking with chili pepper farmers about the history of their crops, the weather and the development of "rapid adaptation" farming.
The authors report that aberrant weather is only one problem threatening the diversity of peppers (and all foods): water disputes, agricultural industrialization, globalization, loss of farmland and of specialty markets, and genetic modification. "The Seed Savers Exchange has documented that more than 200 varieties of sweet and hot peppers have disappeared from the seed trade in North America since 1981."
Interspersed throughout the story of how an unstable climate affects these crops – sometimes beneficially, sometimes disastrously – are recipes that include one variety or another, along with side boxes with detailed info. One helpful tip – to cool down your mouth if your pepper (or Tabasco sauce) is too hot, ingest something fatty instead of drinking water, since capsaicin – the heat molecule – is hydrophobic. A glass of milk will bind the hot stuff, taking away its burn. Many believe the chemical also provides arthritic pain relief.
The Superfood Gardener: A step-by-step guide to growing superfood vegetables in your garden
Sharon and Andrew Cooper
(Global Publishing Group, 2010, 161 pp.)
Website: www.thesuperfoodgardener.com
While not everyone can grow chili peppers,Superfood Gardener provides detailed instructions on growing local food. Replete with pictures, drawings and detailed descriptions of plants and their pests, the Coopers also explore soils and companion plants, along with twelve specific veggies in the superfood Hall of Fame.
This is a book you haul out to the garden, and it's built for durability. Thank goodness – mine is well thumbed and smudged with South Florida soil. I highly recommend this colorful how-to manual. Not all those superfoods can be grown here, but I'm making my way with spinach, broccoli, corn, and several varieties of tomato.
(Not on the superfood list, I still can't get the tobacco to grow, and the watermelons failed. But we're not giving up.)
Cooking Close to Home: A Year of Seasonal Recipes
Diane Imrie and Richard Jarmusz
(Chelsea Green, 2011, 240 pp.)
Website: www.cookingclosetohome.com/
Now that you've raised your own veggies – be they superfoods or not – you'll want to prepare them using recipes in Cooking Close to Home.  This is a beautiful hardcover recipe book focused on the Northeast U.S., covering all the seasons for each of the major food groups, including pastries and other sweets. It's even got a recipe for pickling jalapeno peppers, or you can use them in the rib-eye steak marinade.
I've tried the Kale and Mushroom Soup, and the Garlic-Roasted Cherry Tomatoes with Fresh Basil and Goat Cheese, over pasta. Delish. My next endeavor will be the Vermont Vegetable New Year Rolls which I'm serving at the the family gathering this Sunday.
Imrie and Jarmusz introduce the sections with political tidbits to encourage supporting local farms, slow food and eco-consciousness. This is an excellent addition to any locavore's cookbook shelf.
Many times I hear the ostriches among us exclaim, "What freedoms have we lost? America is the freest country on earth." We have all heard that, right? Of course, part of the problem is that, thanks to our education system, media, and churches, many Americans do not even know how to define liberty and freedom. The truth is, America's Founding Fathers were willing to pledge their "lives, fortunes, and sacred honor" and fight a bloody revolutionary war for far fewer abridgments of liberty than we Americans endure every day of our lives today. FAR FEWER!
To answer the second part of the ostrich argument first: no, America is not the freest nation on earth. According to the Index of Economic Freedom, which is produced by the Heritage Foundation and the Wall Street Journal, the United States just barely makes it in the top ten, ranked at number nine in the world.
According to Deroy Murdock, "Among the 179 countries examined in the Index, Hong Kong is ranked first, followed by Singapore, Australia, New Zealand, Switzerland, Canada, Ireland, and Denmark. These nations all outscored the U.S. across ten categories, including taxes, free trade, regulation, monetary policy, and corruption.
"America barely made the top ten. Bahrain was tenth, with 77.7 points, one decimal point behind America's 77.8 score. Chile reached No. 11 with 77.4, just 0.4 points behind the United States.
"Even worse, with a score below 80, the U.S. is spending its second year as a 'mostly free' economy. As it departed the family of 'free' nations in 2010, it led the 'mostly free' category. Even within this less-than-illustrious group, America now lags behind Ireland and Denmark."
See Murdock's report at:
Just ask any small businessman how free the United States is! The regulations, restrictions, prohibitions, assessments, fees, taxes, surcharges, permits, licenses, etc., are worse than almost any industrialized nation in the world. Remember the CEO of Coca Cola recently saying that it was easier doing business in China than in America? Well, he was telling the truth!
Thanks to political correctness, environmental wackoism, and socialistic/fascist ideology running rampant in Washington, D.C., and even many State capitols, "the land of the free" has become "the land of the oppressed." Being able to drive a car, have a job, shop at a mall, watch sports on television, or even vote, is NOT the mark of a free people. Folks in China and other oppressed nations routinely do all of the above.
Virtually every activity once considered a "right" is now regulated or prohibited by either the federal or State and local government. Few states (thankfully, my home State of Montana is one of them) recognize the right of people to marry without getting a State marriage license. And can anyone imagine Paul Revere riding throughout Boston with a license plate and registration on his horse? And can anyone further imagine Sam Adams or those militiamen at Lexington and Concord registering a gun or being asked to get a concealed carry permit? Yeah, right!
In most urban settings, one cannot build a shed on their own property, add a room on their house, or even pour a driveway without asking a variety of government bureaucrats for permission–and paying them hundreds of dollars in fees, of course. And did you know that the federal government even tells your local plumbing contractor how many gallons of water your toilet can flush? Well, they do! You call this freedom? Our Founding Fathers wouldn't have!
To answer the first part of the ostrich question, the freedoms we Americans have lost are literally too numerous to count. A recent report at the American Dream web site makes a very salient argument as to just how many freedoms have been lost in the good old U.S. of A.
The report states, "Once upon a time, our founders thought that they were guaranteeing our freedoms by adding a Bill of Rights to the Constitution.
"But today there are a lot of freedoms that we simply do not have any longer.
"In America today, you do not have the right to say whatever you want. If you say the wrong thing on a blog or a website it can have dramatic consequences.
"In America today, you do not have the right to do raise your own children as you see fit.
"In America today, you do not have the right to grow whatever food you want and you do not have the right to eat whatever food you do grow.
"In America today, you do not have the right to be free from unreasonable search and seizure.
"In America today, you do not have a right to privacy. In fact, you should expect that everything that you do is watched, tracked, monitored and recorded."
The report then goes on to list several real-life examples to prove the assessments listed above.
See the American Dream report at:
And, of course, the ultimate symbol of a free people is the right to keep and bear arms. And while most states theoretically recognize a citizen's right to own and possess a gun, the vast majority of them only do so–not as a right guaranteed to a free people by their Creator–but as a privilege granted to approved subjects by the limited benevolence of the State. At last count, only four states recognize the right of their citizens to keep and bear arms without any kind of State license: Alaska, Arizona, Vermont, and Wyoming. (For clarification, the State of Montana allows open carry Statewide and concealed carry in unincorporated areas, but people carrying concealed in incorporated cities, must have a CCW permit. We passed legislation this year to expunge the incorporated city CCW requirement, but our Democrat governor vetoed it. But Montana will be the fifth State soon!)
To view a current map of Constitutional Carry states, click here:
http://opencarry.org/constcarry.html
So, the next time you hear someone say, "What freedoms have we lost? We are the freest nation on earth," why not give them a copy of this column? And then tell the ostrich to get his head out of the sand and his rump off the couch before the little remnant of freedom we have left is also completely eviscerated.
Unfortunately, many Americans have become inured to the trampling of freedom of association.  You can work your fingers to the bone starting a business, and the government becomes a partner that contributes nothing but extracts much.  It not only shares your profits and regulates you to death, but, more to the point here, dictates whom you must serve and the bases on which you may hire and fire people.  And woe betide he who doesn't bow before Leviathan.
A recent example of this is the Wildflower Inn, a Vermont B&B.  After devout Catholic owners Jim and Mary O'Reilly refused to host a "wedding" reception for two lesbians, they were sued by the ACLU.  As a result, they have had to expend resources retaining a lawyer for a case that they will no doubt lose and that will likely end with their having to pay monetary damages.  Of course, the O'Reilly case is just one of many.  In fact, today, Leviathan's tyranny has reached a point at which you can be put through its meat grinder if you refuse to hire a cross-dresser or a Muslim woman who insists on wearing an eighth-century drape to work.
And tyranny is the word for it.  After all, no one would deny that you have a right to include in or exclude from your home whomever you please.  So why should you lose that right simply because you decide to erect a few more tables and sell food or to rent rooms to travelers?  It's still your private property, paid for with your money, created by the sweat of your own brow.  Oh, yeah, that's right.  At one time a lawyer in a black robe declared such places "public accommodations" – and, as we all know, legal decrees alter reality.
But the reality is that we need a solution, and I just may have one.  And unless there is a catch in the law I'm unaware of – and, by all means, I'd like feedback in this regard – it could restore businesses' freedom of association.
As you may know, private clubs aren't subject to the aforementioned laws.  This is why while rabble-rousing feminist Martha Burke could grind her teeth and protest a bit, she had no legal recourse to force Augusta National Golf Club to take on women members.  Well, businesses should simply go the private-club route.
Here is how it would work: Let's say I have a restaurant.  By all outward appearances it would seem to be just that, but, for Leviathan's benefit, I wouldn't designate it as such.
Instead, it would be a private diners club.
And when a prospective customer walked through the doors, he would be informed that he had to be a member to eat there.
Of course, the membership fee would be a penny and approval (or rejection) would be immediate.
And what of employees?  If private clubs are still subject to EEOC regulations, then all workers would have to be members, too.
Assuming this would fly, it would work with any business.  A hotel would be a private travelers club, a store a private shoppers club (is Costco such an example?), a barber shop a private styling club.  It would be a shot across Leviathan's bow and a very pleasing way of sticking out our collective tongue at the statists.
When contending with the Barbarypirates, earlyAmerica's battle cry was, "Millions for defense, not a penny for tribute."  Can we not muster up the same American spirit when dealing with our barbaric statist pirates?  After all, it's much easier for us.  We will save millions in tribute with a penny for defense.
Numerous critics condemn the insidious nature of Agenda 21. Usually the arguments are based upon the intrusion of the United Nations to mismanage the planet and reduce people to a sinister petri dish experiment. Their reach and methods used by this octopus that is strangling the globe, include specific actions that force their agenda down the throats of government entities. The recent passage of Article X in New York State illustrates a direct assault on the treasured principle of Home Rule. Connecting the dots and tying the links together forecast a grim reality that is ready to explode into a vicious turf fight.
The United Nations publication for Sustainable Development describes their objectives and announcements.
Agenda 21 is a comprehensive plan of action to be taken globally, nationally and locally by organizations of the United Nations System, Governments, and Major Groups in every area in which human impacts on the environment.
Agenda 21, the Rio Declaration on Environment and Development, and the Statement of principles for the Sustainable Management of Forests were adopted by more than 178 Governments at the United Nations Conference on Environment and Development (UNCED) held in Rio de Janerio, Brazil, 3 to 14 June 1992.
The Commission on Sustainable Development (CSD) was created in December 1992 to ensure effective follow-up of UNCED, to monitor and report on implementation of the agreements at the local, national, regional and international levels. It was agreed that a five year review of Earth Summit progress would be made in 1997 by the United Nations General Assembly meeting in special session.
The full implementation of Agenda 21, the Programme for Further Implementation of Agenda 21 and the Commitments to the Rio principles, were strongly reaffirmed at the World Summit on Sustainable Development (WSSD) held in Johannesburg, South Africa from 26 August to 4 September 2002.
The video Agenda 21 For Dummies is an excellent background overview.
New York State is a "Home Rule" jurisdiction, dating back to 1923. New York Municipal Home Rule - Article 2 – § 10 General Powers of Local Governments to Adopt and Amend Local Laws, provides the authority for the cherished prerogative of communities to control their destinies. The stark conflict of local self-determination and the arbitrary imposition of bureaucratic fiats outlined in Agenda 21 are self-evident. Under the guise of streamlining energy siting and land use, New York State has jumped to the tune of the globalist marching band orders. In the darkness of midnight in a closed room, the new governor Andrew Cuomo pushed a secret version of Article X, and the legislature voted approval for the Power NY Act.
NY Senator Patricia Ritchie's opposition explains the violation on Home Rule. Assembly representative Sean Hanna passionate argument against this attempt to diminish Home Rule, echoes the sentiment. But, when it comes to lining the pockets of the latest robber barons, the role of corporatist power broker law firms, like Albany's Whiteman Osterman & Hanna LLP, is quite evident.
The new Article X also makes provision for post decision challenges and imposes procedural and substantive limits on potential claims. The bill prohibits the use of intervenor funds for litigation purposes. It also provides that aggrieved parties must seek rehearing at the Siting Board before approaching the courts. Judicial challenges must be brought in the courts of the Appellate Division, bypassing the trial court level, within 30 days from the issuance of the Board's decision on the application for rehearing. The bill also provides for deferential review under the "substantial evidence" standard. Finally, the new law largely divests the state courts of jurisdiction to determine any cases that seek to stop or delay construction of a generation facility that has received a certificate from the Siting Board.
The video of developer Ecogen's Testimony before the NYS Public Service Commission clearly demonstrate how citizen participation is surgically removed from the rush to rape the land and bury the serfs under the cover of a green canopy. This example of a bogus Agenda 21 corporate welfare scheme to defraud the public and feed the greed of foreign plutocrats stands squarely against the property rights of individuals and local communities.
The Wind Power Law Blog identifies salient elements in the legislation.
The famous (or infamous depending on one's point of view) Article X, which provided for the streamlined siting of power plants, expired in 2003.  The old Article X covered plants with 80MW or more of generational capacity. The new law should permit much faster siting of power plants of only 25MW or greater capacity. It passed both the Assembly and Senate with overwhelming margins.
Governor Cuomo styles the new law as "An Investment to Create More Power in New York"
Streamline the permitting process for power plants greater than 25 megawatts by creating a "one-stop" multi-agency siting board that will make siting decisions
Empower communities to participate in the process by requiring power plant applicants to provide "intervenor funding" for the community affected by the proposed plant to hire experts and lawyers
Improve the environment and public health by requiring the siting board to determine whether a proposed facility will create a disproportionate environmental impact in a community and, if so, requires applicant to minimize or avoid those impacts
The Community Environmental legal Defense Fund recognizes the inherent conflict in fast tracking unbridled and reckless land development exploration for inefficient energy projects.
We believe that we are in the midst of an escalating ecological crisis, and that the crisis is the result of decisions made by a relatively few people who run corporations and government. In doing so, communities must challenge and overturn legal doctrines that have been concocted to eliminate their right to self-government, including the doctrines of corporate constitutional rights, preemption, and limitations on local legislative authority. Inseparable from the right to local self-government – and its sole limitation – are the rights of human and natural communities; they are the implicit and enumerated premises on which local self-government must be built.
Article X has another deceptive purpose. Hydrofracking drilling for natural gas in the Marcellus Shale region of NYS is the immediate underlying motive to obviate Home Rule. A Frack Alert video from the Home Rule Forum makes the case for the danger of losing local control of land use. Citizen community indignation is brewing up all over the state. Watch the reaction and outrage from ordinary people, who are in danger of being forced off their land. When the potable water from the aquifer is no longer fit for human use, because of chemical pollution from the fracking process, who will adjudicate relief?
Another legislative appeal why the State Should Respect "Home Rule" On Drilling, comes from State Senator James L. Seward:
"The topic of drilling in the Marcellus Shale has elicited an overwhelming response with varied opinions on all sides of the issue.  One thing that cannot be discounted moving forward is the desire of local residents," said Senator Seward.  "That is why I am co-sponsoring legislation (S.3472) that would empower local governments and allow them to regulate natural gas drilling through local planning and zoning."
If the political intrigue in New York State does not move you to action for protecting your own homestead, maybe you should focus upon the linkage that this brutal policy of usurping local authority, has within the Agenda 21 plans for all of us. Tom DeWeese identifies, Who is behind it?
ICLEI – Local Governments for Sustainability (formally, International Council for Local Environmental Initiatives). Communities pay ICLEI dues to provide "local" community plans, software, training, etc. Addition groups include American Planning Council, The Renaissance Planning Group, International City/ County Management Group, aided by US Mayors Conference, National Governors Association, National League of Cities, National Association of County Administrators and many more private organizations and official government agencies. Foundation and government grants drive the process.
The entire substructure of alphabet soup, state and federal agencies, are on notice to facilitate and implement the systematic purging of local independence. Governor Cuomo left out the true meaning of the Power NY Act. "An Investment to Create More Power in New York" is designed to consolidate central planning under the control of Agenda 21 dictates. This bill has little to do with fostering cheap dependable energy, but has everything to do with neutering your local town board. This policy is not about energy. Look into why New York State rejected the low cost guaranteed electricity proposal from Canada.
"New York backed out of a long term contract with Hydro Quebec – a contract that was needed to justify the construction of the "project of the century," the James Bay II project. As a consequence, Hydro Quebec put its planned James Bay development "sur la glace" ("on ice") and activists celebrated the victory and moved on to other issues."
The Wall Street criminal syndicate lusts for their cap and trade mandates so that the next financial bubble can start the next cycle of fleecing the public. Remember that your own local government is viewed as an impediment to the Agenda 21. Soon your town board will be inoperative, iced in the same manner as economical energy from O Canada .
Tools of and for Zionism?
Last week Chairwoman of the House Foreign Affairs Committee, Ileana Ros-Lehtinen swooned, "I love John Bolton" after Bolton informed the Committee:
"I've argued for [military strikes against Iran] for about three and a half years. Absent military action against Iran's nuclear weapons program, Iran will have weapons much sooner rather than later. It's a big mistake to conclude, as I believe the Administration has, that a nuclear Iran can be contained and deterred."[1]
Bolton also claimed that containment worked against the Soviet Union because its rulers were atheists and that Soviet leader Nikita "Kruschev was considerably saner than the Iranian regime. I think [Iran's] most likely response would be to unleash Hezbollah and perhaps Hamas for rocket attacks against Israel."
Bolton claims to be a Lutheran and Ros-Lehtinen an Episcopalian, and both ignore that their Lord promised it is the Peacemakers who are God's children, NOT those that bomb, torture or occupy others.
The Committee did not raise any follow-up questions, proving once again that America's 'occupied' congressional 'representatives' remain deaf, dumb and willfully ignorant about what we the people of truth and for justice know so much about!
Cases in Point:
In 2008, HAMAS rocket fire and mortar attacks on Israel totaled, 1,750 rockets and 1,528 mortar shells that landed in Israel, double the amount of those from 2006-2007, which marked a five-fold increase over prior years.
By 15 January 2009, since the beginning of Operation Cast Lead [27 December 2008], four Israelis had been killed and 285 wounded by rocket fire. [2]
1,084 Israelis and at least 6,430 Palestinians have been killed since September 29, 2000. (View Sources & More Information) [3]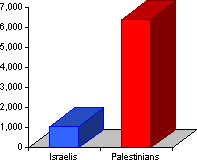 Author of "The Worst-Kept Secret: Israel's Bargain with the Bomb", Dr. Avner Cohen, is a leading expert on Israel's nuclear policy of 'Ambiguity' which is aided and abetted by USA Foreign Policy:   US and Israeli Nuclear Deception
In a recent interview with Haaretz, Cohen spoke about a late-1969 meeting between Golda Meir and Nixon, "the United States and most of the Western world agreed to accept Israel's special nuclear status. In other words, Israel did not join the Non-Proliferation Treaty, but it received special status, and pressure was not exerted on it with regard to this topic. Ambiguity is the Israeli-American policy. Without the West's agreement, there would be no ambiguity.
"I'm often asked why I don't drop this topic of ambiguity. I refer to historic and geopolitical circumstances, but I mainly believe that on the most basic and deepest level, ambiguity is simply not enlightened behavior, not in terms of the state's citizens, and not in foreign relations.
"The bitter irony is that right now, ambiguity serves the interests of Israel's rival in the Middle East. Iran is creating its own version of ambiguity: not the concealment of its project, but rather ambiguity with regard to the distinction separating possession and non-possession of nuclear weapons. It reiterates that it has no intention of building a bomb, but that it has the right to enrich uranium, and even come close to developing [nuclear] weapons – while still remaining true to the nuclear Non-Proliferation Treaty. It is straddling the line, and in my opinion, Iran wants to, and can, remain for some time with the status of a state that might or might not have the bomb. Iran is a state of ambiguity." [4]
Nothing ambiguous about this:
American academic, Sasha Polakow-Suransky, wrote in "The Unspoken Alliance: Israel's secret alliance with Apartheid South Africa" that Israeli officials "formally offered to sell South Africa some of the nuclear-capable Jericho missiles in its arsenal" and that PW Botha, South Africa's defense minister asked Shimon Peres-who was then Israel's defense minister-for nuclear warheads.
Peres offered them "in three sizes" which are understood as conventional, chemical and nuclear weapons.
The two signed a broad-ranging agreement governing military ties between the two countries that included a clause declaring that "the very existence of this agreement" was to remain secret.
On 4 June 1975, Peres and Botha met in Zurich and by then, the Jericho project had been renamed Chalet. The top-secret minutes of that meeting recorded that:
"Minister Botha expressed interest in a limited number of units of Chalet subject to the correct payload being available…Minister Peres said the correct payload was available in three sizes. Minister Botha expressed his appreciation." [5]
Botha did not go ahead with the deal because of the cost and the fact that final approval was dependent on Israel's prime minister. South Africa did build its own nuclear bombs and also provided much of the yellowcake uranium that Israel required to develop its nuclear arsenal.
The documents also confirm that former South African naval commander, Dieter Gerhardt admitted there was an agreement between Israel and South Africa called "Chalet" that involved an offer by Israel to arm eight Jericho missiles with "special warheads" understood as atomic bombs.
"Some weeks before Peres made his offer of nuclear warheads to Botha, the two defense ministers signed a covert agreement governing the military alliance known as Secment. It was so secret that it included a denial of its own existence: 'It is hereby expressly agreed that the very existence of this agreement shall be secret and shall not be disclosed by either party.'" [Ibid]
That 'secret' military agreement signed by Shimon Peres and P W Botha of South Africa can be seen here:
On 16 August 2010, John Bolton, employed by FOX News as a commentator called on Israel to attack Iran "now" and said Israel had "eight days" left to launch a military strike against Iran's Bushehr nuclear facility before Iran injected enriched uranium obtained from Russia into it.
Bolton warned that after 21 August 2010, it "will be too late for Israel to launch a military strike against the facility because it would spread radiation and affect Iranian civilians."
Bolton has yet to mention the probable spread of radiation from a 40-year-old Vermont nuclear reactor. The Nuclear Regulatory Commission just extended the license of a virtual twin of Fukushima, for another two decades even though that reactor's cooling tower had literally fallen down, and the plant had repeatedly leaked radioactive fluid. [6]
On 17 March 2011, Prof. Uzi Even, a former top official at Israel's Dimona, which is also similar in technology to the reactors in Japan, warned that, "The reactors were built about the same time, 40-50 years ago. In principle, the planning of the reactors is similar. The soft underbelly is the cooling system, which must be operated with great force, even after the reactor is turned out. If there is a breakdown in the cooling system, it will cause the core to collapse. That's what happened at the Japanese reactors.
"While we don't have tsunamis or such strong earthquakes, the chances of a breakdown in the cooling system, either by chance or deliberately, are very great. Our reactor is 50 years old, far older than what is permitted to operate in other countries. Another factor here, which is absent in Japan, is the possibility of deliberate sabotage of the reactor's cooling system. We have enough crazies who wouldn't hesitate to do it if they could." [7]
More Than Crazy:
Israel's WMD facility [facilities?] remains un-inspected by the IAEA and nobody in the USA Government will even admit Israel has nuclear weapons:
In April 2004, John Bolton traveled to Israel, just prior to Mordechai Vanunu's release from 18 years in jail for providing the photographic proof and telling the truth that Israel had already manufactured upwards of 200 nuclear warheads by 1985!
Bush and Bolton had hoped to squelch the truth regarding America's collusion in Israel's WMD program and to support Israel's draconian restrictions against Vanunu which continue to this day to deny his right to leave the state; but they have failed to prevent Vanunu from having contact with internationals, to use and own a cell phone and have Internet access.
In 2005, while President G.W. Bush went searching for WMD's in Iraq, Vanunu directed him to the only place in the Middle East where WMD's can actually be found:
Three days after Vanunu was released from 18 years in a windowless tomb sized cell Israeli journalist Uri Avnery wrote:
"Everybody understands that he has no more secrets. What can a technician know after 18 years in jail, during which technology has advanced with giant steps?
"But gradually it becomes clear what the security establishment is really afraid of. Vanunu is in a position to expose the close partnership with the United States in the development of Israel's nuclear armaments.
"This worries Washington so much, that the man responsible in the State Department for 'arms control', Under-Secretary John Bolton, has come to Israel in person for the occasion. Vanunu, it appears, can cause severe damage to the mighty super-power.
"The Americans, it seems, are very worried. The Israeli security services have to dance to their tune. The world must be prevented by all available means from hearing, from the lips of a credible witness, that the Americans are full partners in Israel's nuclear arms program, while pretending to be the world's sheriff for the prevention of nuclear proliferation." [8]
On 5 April 2009, President Obama stood on the world stage in Prague and admitted, "As the only nuclear power to have used a nuclear weapon, the United States has a moral responsibility to act…When we fail to pursue peace, then it stays forever beyond our grasp. We know the path when we choose fear over hope. To denounce or shrug off a call for cooperation is an easy but also cowardly thing to do. That's how wars begin. That's where human progress ends…the voices of peace and progress must be raised together…Human destiny will be what we make of it…Words must mean something."
In 1987, from Ashkelon prison, Mordechai Vanunu wrote:
"The passive acceptance and complacency with regard to the existence of nuclear weapons anywhere on earth is the disease of society today.
"This struggle is not only a legitimate one – it is a moral, inescapable struggle…no government, not even the most democratic, can force us to live under this threat. No state in the world can offer any kind of security against this menace of a nuclear holocaust, or guarantee to prevent it.
"Already now there are enough nuclear missiles to destroy the world many times over. This issue should unite us all, because that is our real enemy.
"Any country, which manufactures and stocks nuclear weapons, is first of all endangering its own citizens. This is why the citizens must confront their government and warn it that it has no right to expose them to this danger. Because, in effect, the citizens are being held hostage by their own government, just as if they have been hijacked and deprived of their freedom and threatened.
"Indeed, when governments develop nuclear weapons without the consent of their citizens – and this is true in most cases – they are violating the basic rights of their citizens, the basic right not to live under constant threat of annihilation.
"Is any government qualified and authorized to produce such weapons." [IBID]
Is this Government representing we the people of this republic; or are we being led by tools for and of Zionism?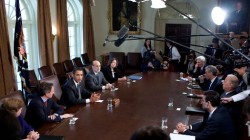 In the United States today, it is not just the economy that is crumbling.  The entire fabric of society is coming apart as well.  Literally almost wherever you look you can find rampant corruption in America.  Our federal government is corrupt, our state and local governments are corrupt, our corporations are corrupt and unfortunately average Americans seem to become more corrupt all the time.  As corruption becomes widespread in America, trust is breaking down.  It is very difficult to know who to trust these days.  But a society cannot function without trust.  So what are we going to do when all the trust is gone?
The SEC announced today that JPMorgan has come to an agreement to pay out 153 million dollars to settle charges related to the sale of a controversial collateralized debt obligation back in 2007.  It turns out that a hedge fund that helped pick the underlying assets for the CDO also bet very heavily that it would fail.  JPMorgan marketed the CDO as a good investment when they knew that it was garbage.
Robert Khuzami, the SEC's top enforcement officer, summed up the charges against JPMorgan this way….
"J.P Morgan marketed highly-complex CDO investments to investors with promises that the mortgage assets underlying the CDO would be selected by an independent manager looking out for investor interests"
So is anyone going to go to jail for this?
Of course not.
In fact, not a single bank executive has gone to jail for anything that happened during the financial crisis.
So how are we supposed to have faith in the system if nobody is ever held accountable?
Are little slaps on the wrist supposed to make us all feel better?
The truth is that what JPMorgan did was far from an isolated incident.  If you doubt this, just read the following article….
"How Goldman Sachs Made Tens Of Billions Of Dollars From The Economic Collapse Of America In Four Easy Steps"
Our system is totally sick and corruption is everywhere.
Cronyism has become so endemic to our system that nobody really seems bothered by it anymore.  For example, just check out this example that was recently reported in The New York Times….
In 2009, a judge in Manhattan had a lucrative appointment to hand out: oversight of a diamond district building that was drifting into foreclosure.

Nearly 600 people in Manhattan had been approved for such work. But the job went to a lawyer named Mark D. Lebow, who is the husband of Patricia E. Harris, Mayor Michael R. Bloomberg's most trusted aide.

Since then, Mr. Lebow has earned $352,000 in fees, more than $5,000 a week, according to court records.
It sure is nice to be "politically-connected", eh?
It is not by accident that so many of our politicians (and their family members) become incredibly wealthy.
But it is not just among the wealthy and powerful that we are seeing an increase in corruption.
All over the United States, thieves are stealing copper wire, train tracks and even drain covers.  People are stealing stuff that nobody would have ever dreamed of stealing in the past.  Just consider the following example from the Atlanta area….
Kids in two Atlanta communities won't have their neighborhood pools to help beat the summer heat, at least for now. Thieves used what is believed to be sledge hammers to bust walls and break fixtures in bathrooms at Adams and South Bend parks to steal copper, brass and steel.
This is how desperate people throughout America are becoming.
In another example from the Atlanta area, thieves recently busted into a southwest Atlanta beauty supply store and took off with $30,000 in hair extensions.
America is becoming a really crazy place.
When times get really hard, people will do whatever they feel they need to do in order to survive.
One elderly man down in North Carolina was so desperate that he actuallyrobbed a bank so that he could be put in prison and be given free health care.
Yes, you read that correctly.
59-year-old Richard James Verone walked into an RBC Bank in North Carolina, handed a clerk a note demanding $1 and sat down and waited for the police to arrive.
It turns out that he has a growth on his chest and two ruptured disks but he does not have any health insurance.  So he robbed the bank so that he would get free health care in prison.
The truth is that our country is rapidly coming apart.  As I have written about so many times before, the American Dream is in an advanced state of decay.
Once upon a time, cities such as Detroit, Michigan were the envy of the entire world.
Today, they are a joke to the rest of the world.  Many of our biggest cities have become war zones.  There are dozens of homes that you can purchase in Detroit right now for literally next to nothing.
For example, 14769 Liberal Street in Detroit is listed for sale on Zillow for just $100.
Not that anyone would actually want to live there.  Many homes in Detroit are literally being ripped to pieces by looters, vandals and thieves.
Of course many Americans are just taking their cue from the government.  Washington D.C. is drowning in so much corruption that it is almost hard to describe.
One of the biggest offenders in Washington D.C. is the Federal Reserve. In a recent article for Rolling Stone, reporter Matt Taibbi exposed some of the folks that the Federal Reserve sent money to during the financial crisis….
The Fed sent billions in bailout aid to banks in places like Mexico, Bahrain and Bavaria, billions more to a spate of Japanese car companies, more than $2 trillion in loans each to Citigroup and Morgan Stanley, and billions more to a string of lesser millionaires and billionaires with Cayman Islands addresses. "Our jaws are literally dropping as we're reading this," says Warren Gunnels, an aide to Sen. Bernie Sanders of Vermont. "Every one of these transactions is outrageous."
Did we really need to send billions of dollars to "millionaires and billionaires" in the Cayman Islands in order to save the U.S. economy?
Something really stinks, but since our politicians are too gutless to authorize a comprehensive audit of the Federal Reserve we may never know what has been going on.
So who does get probed in America today?
The American people do.  The ridiculous airport security measures that we have to put up with have gotten completely out of control.
In the name of "national security", we now allow security goons to feel up our women and children.
Recently, one video of a 6-year-old girl having her private areas touched in publicby the TSA went viral on YouTube.  You can watch the video right here.
The little girl was also apparently drug tested.
How perverse is that?
A 6-year-old girl has to go through all of that, but the corruption of the Federal Reserve and the big Wall Street banks is allowed to continue.
Even the mainstream media is deeply corrupt.  As I wrote about recently, they love to get the American people obsessed with the latest celebrity news or the latest "Twitter scandal", but they often purposely ignore some of the most important news stories that are happening because they do not fit in with the agenda that their corporate owners are trying to push.
Of course one of the worst examples of corruption in America is the U.S. Congress.  A new scandal involving Congress seems to erupt almost weekly, and almost everything Congress tries to do ends up being corrupt in one way or another.
The sad thing is that Congress is not even working most of the time.  Most Americans have no idea how much time off members of Congress get.  Just check out the video posted below.  This is going to shock you….
As noted earlier in the article, without trust a society cannot function. That is why all of this corruption in America is such an important issue.
If we do not reverse this trend, society will continue to break down.  When faith in our major institutions is gone, it is going to be incredibly difficult to get back.
Please pray for the United States of America.  We really need it.
Source: The American Dream