There was a recent scandal that, as much as anything else, illustrates the intellectual emptiness and moral ennui of the modern liberal man. It occurred in Britain but reflects a wider phenomenon; what can be said about it can be said about happenings in Sweden, France, Holland, Canada or Belgium — or the United States.
It was discovered recently that Muslims in seven London schools were indoctrinating children with Islamic propaganda, ignoring Western culture and refusing to inculcate the "British values" of the moment. The situation was such that all of one school's library books were in Arabic and many students couldn't tell investigators whether they should follow British or Sharia law or which was more important. And one of these schools, mind you, was a state-run Church of England institution — that happens to now be upwards of 80 percent Muslim.
When hearing about the subordination of British law to Sharia and other such Islamic cultural inroads, one of my instincts is to say "So what?" Cry me a river of multiculturalist tears.
Multiculturalism, we've been told, dictates that all cultures are morally equal and deserve the same respect and footing within "Western" civilization. Never mind that the ideology is self-defeating. After all, since different cultures espouse different values, not all cultures can be "morally" equal unless all values are so. This makes multiculturalism not only a corollary of, but also a Trojan horse for, moral relativism. And consider the implications. If all values are equal, how can showing cultures equal respect be superior to cultural chauvinism? And what if another culture does prescribe the latter? It then follows that the people within it cannot both have their own culture, unaltered, and accept multiculturalism.
Nonetheless, since multiculturalism is considered enlightened by Western pseudo-intellectuals, it's time for some personal petard hoisting. A Daily Mail piece on the Londonistan school situation tells us that some students told inspectors "it would be wrong to learn about other religions" and that "it was a woman's job to cook and clean." The paper furthermore reported that schools were criticized for "failure to give girls equal opportunities," narrow curricula, not preparing students "for life in a diverse British society," not encouraging students "to respect other people's opinions" and for creating a situation in which students' "understanding of the fundamental British values of democracy, the rule of law, individual liberty and mutual respect and tolerance, is underdeveloped."
And the problem is…?
What if these Muslims' faith and culture dictate that women should be steered toward domesticity and shouldn't have equal opportunity; that there should be not diversity but Islamic homogeneity; that not all opinions should be respected and that it is wrong to learn about other religions; and that Islamic theocracy is preferable to democracy? And the matter of "tolerance" is an interesting one. Since the term implies a perceived negative — you wouldn't tolerate a delectable meal or fine car, but would have to tolerate a stubborn cold or bad weather — the reality is that tolerance is only admirable under two circumstances:
When something you dislike isn't objectively bad, such as when you tolerate a vegetable you're not partial to for health reasons.
When you're powerless to change something that is objectively bad, such as an irremediable crippling condition.
But if something is objectively wrong and can be eliminated, it is an abdication of moral responsibility to refuse to do so. And has it occurred to anyone that pious Muslims may instinctively realize this and, considering Western culture a misbegotten force (their perspective), view changing it a divine mission?
Be that as it may, given that multiculturalism espouses cultural equivalence and its correlative moral relativism, by its lights none of the bemoaned Islamic curricula standards and outcomes can be any worse than what secularists prefer. So what gives? Are you liberals denying these Muslim immigrants their culture and creed?
You certainly are. But this hypocrisy is nothing new. Multiculturalism has been used for decades, at every turn, as a pretext for denuding Western traditions and Christian symbols and messages from our cultural landscape, using "tolerance" and "diversity" as rallying cries. Even as I write this, a Washington state high-school senior faces expulsion from school for sharing his Christian faith, the idea being that such expression is "offensive." Multiculturalism was always nonsense. "Anything goes" — as long as it's branded "culture" — could never be a recipe for organizing anything because it doesn't allow for distinguishing between anything and any other thing. A standard of some kind must be applied when devising laws, regulations and social codes; and standards, by definition, involve the upholding and imposition of values.
This is why G.K. Chesterton once noted, "In truth, there are only two kinds of people; those who accept dogma and know it, and those who accept dogma and don't know it." Except for leftists possessed of evil genius, most are in the latter camp. Multiculturalism certainly felt right when useful for purging an element of tradition contrary to the liberal agenda; it doesn't quite have the same glitter, however, when it would allow the institution of such an element. Multiculturalism is for use on other people's dogmas; it's not for use on the Left's own.
Now, one pitfall of being a slave to one's age who unknowingly embraces its dogmas is that you generally make the mistake of mirroring. This is when you project your priorities, feelings and basic suppositions onto others; in a nutshell, you assume that they take for granted the things you do.
Consider, for instance, Muslims' subordination of host-country law to Sharia law. Outrageous? Impudent? Perhaps.
Shocking?
In reality, you should expect nothing less — or more.
When pondering this, realize that devout Christians (of which I'm one) are very similar to Muslims in this regard. This statement may raise eyebrows and even some dander, but just consider the recent cases in which Christians have accepted career destruction and punishment rather than be party to same-sex "weddings" or homosexual activism. Why are these Christians opposing the "law of the land"? And what standard informs them man's law is wrong? What standard are they subordinating the law of the land to?
What they see as the only law that could be, and must be, above it: God's law.
This isn't to say Christians and Muslims are the same. They certainly have different conceptions of God's law. And in keeping with this, Christian law generally didn't clash with Western "secular" law — until secularists started holding sway — because our secular law reflected Christian morality; it was authored by Christian men, such as the Founding Fathers, who naturally imbued their system of law with their world view. As an example, the Declaration of Independence enunciates the basis for our constitutional rights, stating that men are "endowed by their Creator with certain unalienable Rights."
The situation with Sharia is far different. Since the tree of Western secular law wasn't germinated from the seed of Islam, it was traditionally and remains today largely incongruent with Muslim principles; thus is a clash, in which Islam will ever try to burn that tree root and branch, inevitable.
Some moderns will now say that this is why no "religious" law should influence society. But not only is this a philosophically unsound position that fails to recognize the basis of just law (Absolute Truth), it also places a person in bad company: The Marxists and Nazis also aimed to neuter the Church and squelch belief in religious law. After all, a devout statist wants the state's law to be pre-eminent; "Thou shalt have no gods before thy government." And this won't happen if people recognize a higher law.
And this recognition is what believing Christians, Muslims and Jews all have in common. It is also why it is silly, in the extreme, to expect Muslims to subordinate Sharia to Western secular law. You are literally asking them to place government ahead of what they see as God. This simply isn't going to happen, and no amount of blather about "tolerance," "diversity" and multiculturalism — which is just another way of saying "Accept our liberal dogmas" — is going to change that. And when the population of believing Muslims becomes great enough in a Western land, they will succeed in Islamizing governmental law.
German chancellor Angela Merkel announced in 2010, finally, that multiculturalism in her country had "utterly failed." Talk about being a biblical day late and a budget deficit short. And she and other Western leaders still don't get it. One can't understand ideologies such as multiculturalism if he views them as disconnected social mistakes; they are all part of a deep philosophical/spiritual malaise. It isn't just that the multiculturalist branch needs to be pruned or even cut off. It's that the devout Muslims are right: the liberal-secularist tree, that Gramscian mutation, must be pulled up and incinerated in the Hell fires whence it came. And it will be. The only question is whether we will return to our roots or allow the complete erasure of Western civilization.
That America is spiraling on a collision course with calamity seems certain. We seem to be ignoring virtually all of the lessons of history, and, well, you know what one fellow said about the folly of doing that. I join the consensus of patriots and freedom-lovers throughout the country who believe America's future is filled with all sorts of stormy weather. As a matter of fact, the storms are all around us already.
For one thing, most of the people who should be helping us in the freedom fight cannot see past the end of their ballot. They think, as long as they elect "conservatives" to public office, all is well with the world. And since the GOP now controls both houses of Congress in Washington, D.C., the vast majority of our good brothers and sisters are already all tucked in for extended hibernation. They will reemerge from under their blankets about three months before the general election in 2016 and start screaming their support for whomever the neocon candidate happens to be. Why, they are already ignoring the fact that the precious Republicans they just elected to the House and Senate a few weeks ago are already signaling that they will to do NOTHING to thwart Barack Obama's executive amnesty, which was the single most defining issue that helped give the Congress to the GOP. Republicans on Capitol Hill are famous for doing NOTHING to fulfill the promises they made on the campaign trail to their constituents. And Republican voters are famous for reelecting them anyway. Good grief! Republicans in South Carolina can't even get rid of Lindsey Graham; and Republicans in Arizona can't even get rid of John McCain.
Even the great Republican "conservative," Mitt Romney, is now on record saying that the GOP should "swallow hard" and pass a PERMANENT amnesty bill. And even though he says he is not running for President in two years, he continues to be the frontrunner in most of the GOP preference polls. What does that tell you?
See the report here:
Mitt Romney: Republicans Should 'Swallow Hard' And Pass 'Permanent' Amnesty Bill
Congresswoman Michele Bachmann had the guts to tell the truth about what the GOP plans to do regarding Obama's blatantly illegal executive amnesty decision. Bachmann told Breitbart.com that House Speaker John Boehner and the GOP leadership have "no intention" of resisting Obama's executive amnesty. And she is right.
See the report here:
'We Will Not Engage': Michele Bachmann Reveals GOP Plans To Ignore Executive Amnesty
Staunch anti-amnesty senator, Jeff Sessions, said this past Tuesday that the GOP House was about to break their 2014 campaign promises to stop Obama's executive amnesty. Also on Tuesday, Breitbart.com reported that House Speaker Boehner appears ready to deal with Democrats in order to cut a deal to SAVE amnesty. See the report here:
Boehner Poised To Deal With The Devil To Avoid Shut-Down?
Oh, we can expect Boehner and Company to blow a lot of smoke and pass some frivolous and toothless legislation or resolutions that will be designed to placate a gullible and naïve Republican constituency, but that will do absolutely NOTHING to stop Obama's amnesty. The only thing John Boehner and his ilk in Congress don't like is Obama beat them to the punch by issuing executive amnesty to illegals. GOP leaders were hoping to pass legislative amnesty. So, now that Obama has beaten them to the punch, Boehner and his fellow establishment Republicans will quickly fall in line.
But what the U.S. House of Representatives ought to do (if they had any guts, which they don't) is impeach this President for his executive amnesty.
Barack Obama's executive amnesty is the worst kind of abuse of power and illegal conduct. The President of the United States is charged with "executing" the laws of our country. He has no lawful authority to set those laws aside with an Executive Order, which is exactly what he did. Compared to the crimes of Barack Obama, the impeachment charges against Bill Clinton look pale. Then again, compared to the Congress of 1994, this Congress looks pale.
The effect of our government's refusal to respect our nation's borders and laws over the next several years will be devastating consequences to the very fiber and fabric of this once great republic. The toll on State and local budgets, education quality, crime rates, employment opportunities, and quality of life will be incalculable. And this is just one menace that the miscreants in Washington, D.C., are inflicting upon us.
For much of the Twentieth Century (and now into the Twenty-First Century), Americans repeatedly choose to elect irresponsible, power-hungry, egotistical, self-centered sycophants (from both major parties) to public office. In addition, most of our churches are little more than glorified social clubs, entertainment centers, playgrounds, and government corporations. Our major media, in both the national and most local markets, are largely government propaganda outlets–as are most of our educational institutions. Furthermore, Christians and unbelievers, pastors of all stripes, Republicans and Democrats, and conservatives and liberals alike, are sitting back passively and indifferently as our country is being turned into a humongous Police State. Absent a significant shift in the hearts and minds of the American people, our liberties cannot long endure.
However, with all of the above said, I still refuse to join the ranks of Chicken Little.
For some reason, known only to God, we still have a semblance of freedom in this land. Granted, it's only a semblance, but the curtain has not yet fully fallen on liberty. God knows we don't deserve even the semblance of freedom that we still enjoy. Over the last sixty-plus years, we have been doing our best to throw America into the garbage heap of history. But, for some reason, the curtain has not yet fallen completely.
I would like to proffer five suggestions as to why the curtain has not yet fallen on liberty.
1. I believe God is still honoring the faith, courage, commitment, and sacrifice of America's Founding Fathers. If God would bless Old Testament Israel for the sake of Abraham, Moses, and David, I believe He would bless the United States for the sake of George Washington, Patrick Henry, and Samuel Adams.
From the days of the Pilgrims through the days of the Patriots, several generations of men and women were willing to pay, many times, a horrific price for liberty. There is no doubt in my mind that these modern generations of Americans are still clipping the coupons from the extraordinary faith and courage of our forebears.
2. More than one hundred million American citizens possess over three hundred million firearms. And a good percentage of these people not only possess a gun; they possess the mental, emotional, and spiritual resolve to use those weapons against any government that would seek to take them. There is absolutely no doubt in my mind that the deeply-rooted heritage of the American people to keep and bear arms has been largely responsible for the preservation of whatever liberties we have left. Without a heavily-armed populace within this country, there is absolutely no doubt that America (and the rest of the "free world") would have been totally enslaved decades ago.
3. The Internet. For all of the baloney, malarkey, and rubbish that can be found on the Internet, there is absolutely no question that the Internet has very successfully circumvented and shattered the monopoly of the government shills of the mainstream media. For all intents and purposes, the Internet is to America today what the "Committees of Correspondence" were to Colonial America.
Many are even predicting that the major television news networks will be out of business within the next couple or three decades–as will many of America's newspapers. CNN was once a cable dynasty; now it is barely broadcasting. MSNBC's ratings are so poor that its days are also numbered. And while FOX NEWS is currently enjoying the zenith of its existence, more people are getting their news and newsworthy information from the Internet than from all of the above combined. For all of its negatives, the Internet is a huge net positive for freedom.
4. There is still a host, and I mean a huge host, of liberty-loving people in this country who have not (and will never) accept the shackles of tyranny around their hearts. Big-Government toadies can impugn them all they want, but people such as Ron Paul, Judge Andrew Napolitano, Senator Mike Lee, Congressman Justin Amash, and millions like them, are keeping the torch of liberty burning.
The media would have us believe that old-fashioned, red-blooded freedomists have gone the way of the Brontosaurus. Or, that if any do yet exist, their numbers are so small as to be placed on the list of endangered species. Don't you believe it!
In every occupation and vocation–including in our U.S. military and federal police agencies–in virtually every village and hamlet dotted across the fruited plain, and in every age bracket, reside innumerable freedom-loving Americans in whose hearts the love of liberty reigns. Before the chains of tyranny can be placed around a person's neck, they must first be placed around their hearts. And the people I'm talking about will NEVER allow those chains to be placed around their hearts.
5. I believe the curtain has not completely dropped on liberty in this country because of the grace and sovereignty of our Creator-God. Thomas Jefferson (himself an unbeliever in the traditional sense) was exactly right when he said that liberty is the gift of God. That we still enjoy a semblance of freedom in this land indicates that His divine protection still rests upon us.
Those of us who have a Christian perspective realize that Holy Writ tells us: "For it is God which worketh in you both to will and to do of his good pleasure." (Philippians 2:13) This means that the deeply-seeded love of liberty in our hearts was planted there by our Creator. Our WILL for liberty is God-breathed. That fact, by itself, demonstrates that it's not over.
There is a line from the 2012 version of the movie "Red Dawn" that I really love. A U.S. Marine fighting with the "Wolverines," said, "I'm still breathing, so, it's not over." Indeed. You and are still breathing, folks, so, IT'S NOT OVER.
Random encounters between passing travelers crossing paths at the cosmic nexus lead to long conversations with philosophical overtones deep into the heart of night. Strangers meet near the end of the earth and hash out the best possible way to move forward, coming to terms on evolutionary solutions to the problems that plague this world. Open season declared on the honest form of communication. High above, dancing through the constellations, shooting stars in a crystal clear sky become plastered with the pure intention of truth. Cascading energy flows freely from a source somewhat undefined. Edging out to the periphery. Looking over the abyss. Eying what potential fate awaits us.
Will America go the route of austerity, leading it to riot like Greece in the streets? Or the way of Iceland, auditing the privatized printing press and bringing about the realization that the fiat-created debt belongs to the central bank and not the people it tries to keep shackled with its fractional reserve monetary policies of madness. The main plank of the communist manifesto involves setting up a central bank. Another plank near the top of the list deals with establishing a graduated income tax. Ha. America got the wool pulled over its eyes quite awhile ago when the Federal Reserve was created. In fact, it's been over a hundred years now since that whopper of a lie was laid on the backs of the population. And the Beast continues to swallow everything in its ungodly path to this very day.
Blinding lights flash and burn in apocalyptic rapture as the fiery sun makes its daily appearance, rising on the horizon with a spectacular show of solar fury. Either turn away or let the light wash over. Either choose the cover of shadows and cower away forevermore in apathetic ignorance, or step into the bright awareness of awesome illumination. Sometimes a wound must hurt a little bit first before it can eventually heal. So it goes. The muscle has to be broken down before it can grow stronger. So, too, must a phase shift go through a state of chaos before a higher level of order can emerge. Welcome to the Cycle of the Phoenix. The fire scorches everything in its wake. Naught but a pile of ash remains. The new energy rises from out the decay and forms a more harmonious inclination toward liberty and freedom. An Empire in decline. Personal sovereignty on the rise.
The neat trick that must somehow be pulled off now is to simultaneously erase all imaginary lines of boundary drawn by the creeps that make up the wicked Priest Class while also breaking away from the centralized, command and control, structural apparatus of the ruling elite toward the prospect of bringing about a more tribal, anarchic arrangement of civilization. Global awareness coupled with local government. The two opposites can be cohesive. The yin/yang balance act. The dichotic wholeness of completely dualistic Oneness.
Breathed in through clean lungs. Experienced intimately by a clean heart. Known rationally within a clean mind. Felt intuitively in the core of clean guts. Pushed forward via a clean intention. Seen perfectly with a clear purpose. Razor sharp. Steadfast. Focused in on the zero point.
Truth rallies strong in the bottom of the ninth. A hail marry pass from the fifty yard line as the clock winds down to the final tick, caught by a leaping wide receiver and tucked away as two safeties smash him to the turf in the end zone. A final second buzzer beater heaved up from behind half court.
Nothing but net as it swooshes through. Miraculous for the winners. A crushing defeat for those who had the game in their grasp until it slipped away in the final moments. A lesson learned on seeing things through to the end. Sometimes bitter. Sometimes full of sweet honey. Bear claw in the hive. Sticky substance to coat the teeth. A layer of fat for the winter weather. Cold snap fever induced upon entering the cave.
We can only do so much. But then must, somehow, find the will to do a little more. Push the envelope. Bend back the layers of reality. Peel the onion skin until the gaseous irritant makes you weep. What do you see beneath? What is revealed where you never thought to look? How far down the rabbit hole can you stand to go? Is the jump taken as a leap of faith? Or are you fighting the fall all the way to the bottom?
Hands up as the roller coaster dives down. Hearts lift as the conspiracy unravels. A cabal of secrets revealed. A horde of Dark Wizards exposed. Shamans unite to drive out the virus. Gurus on the street come together to fight off the plague. Yogis breathe a new type of ecstatic spiritual energy into the body politic. A Druid Priest Warrior of Light. An Angel Pagan Goddess of Love. Together, hand in hand, they enter the zone where peace reigns.
The inner illumination of greater graceful glory awakens with newfound purpose to shake loose the cobwebs from the kingdom of Heaven which resides within. The right side of God's throne is centered in the third eye of pure consciousness. The seat of the soul. Nothing can stop an idea whose time has come. Nothing can hold back the wave that has risen on good intentions. Tsunami in the forecast. Big Bang Birth of the oncoming storm. Black ominous velvet clouds release their payload before the sky breaks open and the sunray shines through. It's always darkest before the dawn.
Umbrellas at the ready shield us with shelter. Smooth and sanctified. Alert and called to attention. Hut Hut. Here comes the rush. Sidestep and tap dance away. Ballerina feet on the gridiron surface. Logic and emotion tied up with reason. Rational analysis of deep feelings. Science and spiritualism coalesce at a fine point. The Tao of Natural Law emerges in high fashion. Thermodynamic consequences enter a state of entropy. A nuclear ambition stalemate checked on the black and white floorboard. Which piece to move now? Which force will give first? An indomitable inertia puzzles the agenda and counteracts the initial resurgence. Everything gets laid out on the table. Double down and bet the farm. All the chickens are coming home to roost. Karma has a powerful way of equaling out all actions once the final judgment has been rendered.
Life In 500 Square Feet…
One Hundred and Twenty Thousand results to a Google search on "city is more competitive".  The oligarchs who currently control our world intend to herd people in cities where inter-city  contests will keep everyone producing at a high level.
Read how this is already being implemented in China.
More and more of the land is falling under government control and hundreds of thousands of homes have been repossessed.  American citizens own fewer homes and less land.  If this scenario is successful the earth will be enjoyed by elite overseers while the proletariat toils and lives in tiny cubicles in crowded cities.
I wrote recently about our connection to land
In his daily devotional books R. J. Rushdoony (These books are tightly connected to daily behavior and provide usable righteousness for the Christian seeker.  Buy them here .)describes Rogation Sunday and its practice by early Americans.  In the evening following Sunday prayer for the harvest "each farmer and his family walked the boundaries of their property and gave thanks for the good earth.  As they walked, the boy of the family was 'bumped' against the landmarks, the boundary stone, or against a boundary tree.  If a pond or stream marked the boundary he was ducked into it.  Then the boy who was bumped or ducked was given a small gift.  The purpose of the 'bumping' and of the gift was to make the boy remember the boundaries of the land he would someday fall heir to."
Land plays a primary role in the Biblical narrative.  The occupation of the Promised Land, the events the preceded, and the battles that followed make up a significant part of the Old Testament.  The earth is the Lord's and it is to be carefully maintained.  He provided land for His people and it was apportioned to the Twelve Tribes.  He provided the Year of Jubilee to provide stability and prevent a permanent centralization of wealth and power.
Borders of land are related to God's Law – both are meant to restrain.
In some of America's Western States 80 percent of the land is owned by the Federal Government.  Alaska's land is mostly government property.  Oil drilling rights are controlled in Washington.  If these rights were released United States would be energy independent.  Reliable sources claim the government owns about 30 percent of the entire United States land mass.
There is evidence that powerful elite bankers may be conspiring to take over large tracts of land as collateral for debt.   As our government obligates our posterity for trillions of dollars of debt some of it could be paid by sacrificing government owned land.  This could be the genesis of the recent squabble over cattle grazing.  .
In His provisions for the lands in ancient Israel God allowed the permanent sales of urban properties but had rural lands returned to their original owners in the year of Jubilee.  Stability was vested in the families than owned and cultivated land.  Though often overlooked it is still the same today; the cultivation of land provides sustenance for the populace of the earth.
Water and food are products of the earth.  They sustain life.  Without food and water death comes quickly.  Control over access to water and food is power over life and death.  The earth belongs to The Lord we are short term custodians.  God tells us that those who do not work should not eat.  It is the ability to produce food that is everyone's God given right.
Robots are being touted as a means of reducing the need for human labor.  The analyzer failed to address the fate of displaced workers.  As technology replaces human labor a problem develops over the use of displaced workers.  When Wal-Mart replaces cashiers with do-it-yourself checkout stations they realize an additional profit but the displaced cashiers are faced with the emergency of being deprived of their livelihood.
Societies benefit from technical progress and work that benefits the general population is deserving of reward.  However, when technical improvements displace energetic workers the workers must be provided with the means of working to earn food and lodging for themselves and their families.
What is to be done with the leisure time our technical progress is giving us?  For many it will be used for self-indulgence.  Most of us work to provide the necessities of life but constantly pine for leisure time. But if leisure time is not filled with activity we soon hope for something to do.  We were created for activity and when we are full of sleep we crave it.
Wealth provides a person with activity choices.  Some wealthy individuals find productive activities; others waste their time in sinful indulgences.  A few amass wealth consistently over several generations and use this tacit control of human life to manipulate world powers with an objective of world domination.
We are created beings vested with the mandate to live under the Law our Creator has provided.  The Law is not an impediment to our happiness; obedience is the vehicle to righteous, peace, joy, and prosperity.  God brings blessings for obedience and curses for disobedience.
It is not only difficult to experience but hard to believe that the United States of America is being gutted and destroyed on the altar of world government.  Though the mainstream media is complicit and refuses to publish the atrocities the signs are everywhere.  How can airplanes clearly visible to the entire population fly over our nation and spray long trails of an unknown cloud-like substance while the people, the weather channels, and the major news sources never acknowledge their presence?  How can an entire government, 435 congressional representatives, 100 senators, and one president ignore hundreds of engineers and piles of evidence that the 9/11 attack was false flag operation and allow the policies of our government to be based on its authenticity?  And most shocking of all, how can voters continue with confidence to cast ballots for candidates that invariably betray their trust?
U. S. Voters are like battered spouses that continue to return to the battering partner.  It makes no sense to observers but to the voters its must seem like the only alternative.  An intervention is sometimes the only solution – but how?
The United States of America has been filled with alien immigrants whose only interest is to rape its wealth.  It is engaged in constant wars that sap its strength and destroys its youth.   It has been saturated with pornography and bludgeoned into sodomy. For many years its citizens have been exposed to the most aggressive use of incarceration in the entire world.  It has piled up debt that probably cannot be repaid but will enslave its children for generations.  It is home to so many diverse and ineffective religions that the anarchy of secular humanism is helping push it into tyranny.  Liberty has been lost to the lust for power and we now live under a police force that regularly kills citizens that do not obey.
More and more Americans are becoming concerned with our progressive downfall.  They see the clouds of tyranny approaching and they feel the winds of turmoil.  They are beginning to understand that their government has betrayed them and are apprehensive that unseen forces are overshadowing us. But in spite of this approaching avalanche they are unable to discern the hand of God.
During the 1930s in the small towns of Central United States a deep depression afflicted everyone.  We were grateful to be able to eat from a 25 pound bag of oatmeal three times a day.  Men without work hitched rides on railroad trains that took them to other areas where they hoped to find work.  Those who had food to eat shared with the transients who would often do add jobs in payment.
In the little town where I lived an Evangelical pastor was called to our protestant church.  In an effort to bring the congregation closer to the God of the Bible he began having altar calls.  The altar call was too confrontational for the church leaders whose brush with Christianity consisted of a Sunday School Bible studies where God's Word could be judged by the participants and they could decide whether they believed it or not.  This minister was soon replaced with one who did not upset the status quo.
Before the Evangelical minister left there was a miracle at my mother's home.  She has been a Methodist all of her life and following my conversion we sometimes discussed religion.  On this particular day she was sitting in her antique platform rocker in the living room when she asked me about conversion.  I said, "The Bible says you must be born again".  At that very moment there was a knock on the front door.  It was the recently dismissed minister.  He came in and sat down.  In familiar fashion mother said, "Now, Albert, tell the minster what you were telling me.  I did, the minster affirmed it, and Mother said, "I don't believe I have ever done that".   We bowed our heads and mother accepted Christ as her Savior.  The minister left without ever mentioning why he had knocked on our door.
Neither my mother nor I made much progress in the Faith since correct Christian theology was not readily available and when it was preached it usually fell on deaf and recalcitrant ears.  We are a nation of nominal Christians whose faith is selfish and sinful.  We say we believe in God and have accepted Christ as our Savior but instead of becoming obedient servants we expect Him to serve us
During the 1930s there was a Christian patina that covered heavy layers of humanism.   My mother was a good, dependable woman.  She had earned a college degree from University of Illinois but with my father out of work and not having today's labor saving devices she was forced to work hard to keep up our home and keep food on the table.
For a time my father worked in the WPA but for the most part society during the depression was free from government interference.  Nevertheless, a pride-filled humanism had taken over the country and the seeds for our current tyrannical government were beginning to grow.
Evangelical Christianity brings the good news to individuals but when they are converted the lack of a solid theological base leaves them in a moral limbo that fails to bring change to society.  Once our sins are forgiven and we are made new by the Blood of the Savior God seeks obedience as He always has.  The Jews failed to obey God's commandments and their disobedience broke the Covenant.  All of God's blessings are the result of obedience to His Law.
God will not long allow an oligarchy of wealthy humanistic elitists to control His creation.  All things work together for good for those who love the Lord and He will bring blessing from this unprecedented quest for world domination.  Unfortunately Christians who have failed to work against encroaching evil will be severely judged and will not see the blessing in store for His faithful servants.
Get a load of this chart from DataQuick's National Home Sales Snapshot. It'll tell you everything need to know about housing.
(Note: MSA=metropolitan statistical area)
As you can see, prices are flatlining or drifting lower while sales are sinking like a stone. That's the whole ball of wax, isn't it?
Sure, sales will increase in the spring (as they always do), but judging by the sharp dropoff in last year's hottest markets, this could be the crappiest spring selling season since the crash.
Why?
Because prices are too high, rates are too high, "organic" demand is too weak, credit is too tight, and the pool of potential buyers has shrunk to the size of a walnut, that's why.
The banks have reduced the percentage of distressed homes (foreclosures and short sales) on the market to roughly 11 percent from 59 percent in 2009. Fewer distressed homes mean higher prices, but higher prices mean fewer sales. It's a trade-off. The banks get their money, but the market goes to hell. That's how it works. According to most estimates, there are roughly 4.5 million homes in some stage of foreclosure. That means that –at the present pace–we should get through this Housing Depression a few weeks before Judgment Day. But don't hold me to that.
Did you catch this gem on Bloomberg last week? It's about the big private equity guys exiting the market. Take a look:
"Blackstone Group LP is slowing its purchases of houses to rent amid soaring prices after a buying binge made it the biggest U.S. single-family home landlord. Blackstone's acquisition pace has declined 70 percent from its peak last year, when the private equity firm was spending more than $100 million a week on properties, said Jonathan Gray, global head of real estate for the New York-based firm…

"The institutional wave has passed," Gray, who oversees almost $80 billion in property investments, said in a telephone interview. 'It's at a much lower level than it was 12 or 24 months ago.'

Private-equity firms, hedge funds, real estate investment trusts and other institutional investors have spent more than $20 billion to buy as many as 200,000 rental homes in the last two years. They snapped up properties after prices fell as much as 35 percent from the 2006 peak…

American Homes 4 Rent and Colony American Homes, the second- and third-largest single-family landlords, also have been scaling back as bargains dry up…

"We're going to have to probably slow down a little bit on our acquisition pace until we have a better view or actual certainty of the capital being available," (Chief Executive Officer David ) Singelyn said.

Colony Financial Inc. (CLNY), a REIT that invests in Colony American Homes, slowed its funding for acquisitions last year to focus on improving operations, CEO Richard Saltzman said in a November conference call…

American Residential Properties Inc. (ARPI), a landlord with 6,000 homes, slowed acquisitions by almost half in its latest quarter ending Dec. 31. It invested $104 million in 633 homes compared with $204 million on 1,251 homes in the previous quarter, the Scottsdale, Arizona-based company said in a statement." (Blackstone's Home Buying Binge Ends as Prices Surge, Bloomberg)
Okay, so the speculators are getting out of housing. How's that going to effect the market?
No one really knows yet, but it can't be good, after all, all-cash deals amounted to nearly 50 percent of all homes sales in many of the hotter markets last year. That's why prices went up even though the economy was still in the shitter, because the fatcats were loading up on cheap real estate. Now it looks like they're headed for the hills. That's NOT going to be good for sales.
Did you know that existing home sales have dropped for six months straight, dipping below trend to the same level they were at in 1998?
But how can that be, you ask, when everyone's blabbing about the recovery? How can that be when the Fed has purchased more than $1.4 trillion in mortgage-backed securities (MBS) and rates are a measly 4.5%? How can that be prices have been climbing higher for more than a year?
Sales are dropping because millions of people are underwater on their mortgages and can't afford to move. Millions more are stuck in their homes and aren't paying anything at all. Millions more have student debt up to their eyeballs and will probably never own a home. And millions more still can't find a job. That's why home sales are plunging, because the economy stinks. It's that simple. Sure, the market got a nice little bump from Bernanke's $4 trillion liquidity-surge. Big whoop. Besides, that was 2012-2013. Today things are different. Today the Fed is winding down QE and there's even talk of rate-hike. How do you think that's going to impact sales?
Now get a load of this from Redfin:
"Home sales continued to be sluggish in February, and decreasing affordability is holding back would-be buyers, according to Redfin…. Slow sales have been largely attributed to low inventory for months, but many markets have now seen inventory rise while sales continue to fall. Several markets along the West Coast have seen sharp increases in inventory, yet home sales in the West fell 13.4 percent year over year, hitting their lowest point in five years in the first two months of 2014, while prices rose 19.1 percent year over year…

West Coast Sales Hit Lowest Point in Five Years

– In Redfin's West Coast markets, sales fell 13.4% from February 2013, and hit a five-year low in the first two months of 2014. Sales fell most dramatically in Las Vegas (-22.7%), Sacramento (-21.8%) and Ventura (-20.8%). Across 19 markets, sales fell 10.3%, with markets east of the Rockies taking a less dramatic hit and a few even seeing modest increases." (Redfin)
Did you catch that part about "inventory rising while sales continue to fall"?
For months, the media has been using the "low inventory" excuse for the rotten sales figures. Now they've moved onto "bad weather" to pull the wool over people's eyes. Talk about a lame excuse. It's been in the 70 and 80s in California for most of the winter and sales are down by a whopping 13 percent. Are potential buyers staying at home because they're afraid of getting skin cancer? Is that it? (That'll probably be the next excuse.)
So why ARE home sales tanking?
It's because you can't buy a house if you're working graveyard at Freddie's Burger Bar for $8.50 an hour. It's because you can't put together a 20% down-payment if you're camped out on Mom's sofa in the attic along with Uncle Murray's trombone and your Dad's photo collection of soup cans. It's because you can't qualify for a mortgage when 100 percent of your weekly paycheck goes to paying the VISA, filling the gas-tank, and buying a few groceries at Danny's Discount Foodmart. It can't be done.
That's what's really going on. That's why the share of firsttime homebuyers is currently at its lowest level ever. That's why purchase applications are at an 18-year low. That's why the homeownership rate has slipped to levels not seen since 1995. And that's why mortgage originations were down almost 60 percent year-over-year. It's because the economy sucks. Everyone knows it.
Now take a look at one last chart. It's by Logan Mohtashami at dshort.com. from an article titled,Mortgage Purchase Applications Running Out Of Time.
As you can see, there's a pretty close connection between incomes (the green line) and the mortgage purchase applications index. (The people who can afford to buy homes.)
Surprised?
Of course not, because most people assume there's a relationship between 'what a person earns' and his 'ability to buy a home'. After all, we haven't always lived in this bizarro credit-addled world where anyone who can sit upright in a chair and sign his name on the dotted line can buy a $450,000 rambler in Orchard Hills. That's a fairly new development.
And that brings us to the point of this article, which is to show that all the monetary hocus pocus has achieved nothing. The Fed's Koolaid infusions have been a dead-loss. The market is still flat on its back. Kaput. Which shows, that if you want to fix housing, you have to fix the economy. And if you want to fix the economy; you have to put people back to work and pay them a fair wage. It's that simple.
So why can't anyone in Washington figure it out?
(Note: As this article was going to press, the latest "existing home sales" data was released.) According to USA Today:
"Existing home sales slowed again in February, falling to the lowest pace in 19 months."
So February was even slower than the coldest month of the year, January?
Unbelievable.
At the onset of the derivatives collapse in 2007/2008 it would have been easy to assume that most of America was receiving a valuable education in normalcy bias.
In 2006, the amount of ego on display surrounding mortgage investment was so disturbingly grotesque anyone with any true understanding of the situation felt like projectile vomiting. To watch the smug righteousness of MSNBC and FOX economic pundits as they predicted the infinite rise of American property markets despite all evidence to the contrary was truly mind blowing. When the whole system imploded, it was difficult to know whether one should laugh, or cry.
The saddest aspect of the credit crisis of 2008 was not the massive chain reaction of bankruptcies or the threat of institutional insolvency. Rather, it was the delusional assumptions of the public that the grand mortgage casino was going to go on forever. There is nothing worse than witnessing the victim of a Ponzi scheme defend the lie which has ultimately destroyed him. As much as I am for people waking up to the nature of the crisis, there comes a point when those who are going to figure it out will figure it out, and the rest are essentially hopeless.
The cultism surrounding the U.S. economy and the U.S. dollar is truly mind boggling, and by "cultism" I mean a blind faith in the fiat currency mechanism that goes beyond all logic, reason and evidence.
In recent weeks it has become more visible as global financiers play both sides of the Ukrainian conflict, luring Americans into a frenzy of false patriotism and an anti-Russo-sports-team-mentality. My personal distaste for Vladimir Putin revolves around my understanding that he is just as much a puppet of the International Monetary Fund and international banks as Barack Obama, but many Americans hate him simply because the mainstream media has designated him the next villain in the fantasy tale of U.S. foreign policy.
Open threats from Russia that they will dump U.S. treasury bond holdings and the dollar's world reserve status if NATO interferes in the Ukraine have been met with wildly naive chest beating from dollar cultists.  I am beginning to see the talking points everywhere.
"Let them dump the dollar, Russia's holdings are minimal!" Or, "Let them throw out Treasuries, they'll just be shooting themselves in the foot!" are the battle cries heard across the web. I wish I could convey how insane this viewpoint is, especially in light of the fact that many alternative economic analysts, including myself, have been predicting just such a scenario for years.
Despite the childish boastings of the dollar devout, there is an extraordinarily good possibility that the life of the greenback will be snuffed out in the near term. Here are the facts…
1) Russia will not be alone in its decouple from the dollar system. China, our largest foreign creditor, and India (a supposed ally) have clearly sided with Russia on the Ukranian issue. China has stated that it will back Russia's play in the event that sanctions are brought to bear by NATO, or if a shooting conflict erupts.
2) China has already been slowly dumping the dollar as a world reserve currency using bilateral trade agreements with numerous countries, including Russia, India, Australia, Brazil, Germany, Japan, etc. These agreements allow FOREX currency swaps and export/import purchases to be made with China without the use of the dollar. China has been preparing itself for a divorce from U.S. economic dependence for at least a decade. The idea that they would actually follow through over political tensions should NOT surprise anyone if they have beenpaying attention.
3) A total drop of the dollar or U.S. treasury bonds by Russia and China would send shock waves through global markets. Russia is a major energy supplier for most of Europe. China is the largest export/import nation in the world. If they refuse to accept dollars as a trade mechanism, numerous countries will fall in line to abandon the greenback as well. The fact that so many Americans refuse to acknowledge this reality is a recipe for disaster.
The only advantage the U.S. has traditionally offered in terms of international trade has been the American consumer, whose unchecked debt spending partly fueled the rise of the industrialized East, not to mention the biggest credit bubble in history. The role of America as a consumer market is collapsing today, however. The mainstream media and the Federal Reserve can blame the steady decline in retail sales on the "weather" all they want, but negative indicators in global manufacturing often take many months to register in the statistics, meaning, this destabilization began long before the days turned cold.
4) China has been shifting away from export dependency since at least 2008, calling for a larger consumer based market at home. This process of enriching the Chinese consumer has almost been completed. The lie that China "needs the U.S." in order to survive economically needs to be thrown out like the utter propaganda it is.
5) China (and most of the world) has ended new dollar purchases for their FOREX reserves, and has no plans to make new purchases in the future.
6) China executed the second largest dump of U.S. Treasury bonds in history in the past month.
7) Russia, China, and numerous other countries, including U.S. "allies", have been calling for the end of the dollar's world reserve status and the institution of a new global basket currencyusing the IMF's Special Drawing Rights (SDR). Even Putin has suggested that the IMF take over administration of the global economy and issue the SDR as a world currency system. This flies in the face of those who argue that the IMF is somehow "American run". The truth is, the IMF is run by global banks and no more answers to the U.S. government than the Federal Reserve answers to the U.S. government.
8) The Federal Reserve has been creating trillions of dollars in fiat just to prop up U.S. markets since 2008, and we are still seeing a considerable decline in global manufacturing, retail, personal home sales, and a general malaise in consumer demand. Without a full audit, there is no way to know exactly how much currency has been generated or how much is floating around in foreign markets. Any loss of world reserve status would send that flood of dollars back into the U.S., most likely ending in a hyperinflationary environment.
9) Another rather dubious argument I see often is the claim that the Federal Reserve and the U.S. Treasury could simply "negate" a Treasury dump by refusing to acknowledge creditor liabilities. Or, that they could simply print what they need to snap up the bonds, much like the German government tried to do during the Weimar collapse. Unfortunately, this plan did not work out so well for the Germans, nor has it worked for any other nation in history, so I'm not sure why people think the U.S. could pull it off. However, this is the kind of cultism we are surrounded by. These folks think the U.S. economy and the dollar are untouchable.
Yes, the Fed and the Treasury could hypothetically erase existing liabilities, but what dollar cultists do not seem to grasp is that the dollar's value is not built on Treasury purchases. The dollar's value is built on faith and reputation. If a nation refuses to pay out on its debts, this is called default. A default by the U.S. would immediately damage the reputation of bonds and dollars as a good investment. Global markets will refuse to purchase or hold any mechanism that they think will not earn them a profit. How many investors today are anxious to jump into Greek treasury bonds, for instance?
Finally, it is unwise to operate on the assumption that foreign creditors will accept dollars as payment on U.S. Treasury bonds if they believe the Federal Reserve is monetizing the debt. When Weimar imploded under the weight of currency devaluation, many foreign governments refused to accept the German mark as payment. Instead, they demanded payment in raw commodities, like coal, lumber and ore. Expect that China and other debt holders will demand payment in U.S. goods, infrastructure, or perhaps even land.
10) Most treasury holdings in foreign coffers are not long term bonds. Rather, they are short term bonds which mature in weeks or months, instead of years. Dollar proponents constantly cite the continued accumulation of treasury bonds by other governments as a sign that the dollar is still desirable as ever. Unfortunately, they have failed to look at the nature of these bond purchases. When China rolls over millions in short term bonds and replaces them with other short term bonds, this does not suggest they have much faith in America's long term ability to service its debt. It would also make sense that if China had plans to remove itself from the dollar system, they would move into short term bonds which can be liquidated quickly.
11) China is on the fast track to becoming the largest holder of physical gold in the world. Russia has also greatly expanded its gold purchases. Whatever losses they might suffer from a dump of their Treasury bond investments; it will be more than made up in the incredible explosion in precious metals prices that would follow.
12) The most common argument against the dollar losing world reserve status has been that such a shift would be "impossible" because no other currency in the world has the adequate liquidity needed to replace the dollar in global trade. These people have apparently not been paying attention to the Chinese yuan. China has been quietly issuing trillions in yuan denominated bonds, securities and currency around the world. Current estimates calculate around $24 trillion created by the PBOC and the banks under its control.
Mainstream talking heads are calling this a "debt bubble." However, this debt creation makes perfect sense if China's plan is to create enough liquidity in its currency in order to offer a viable alternative to the U.S. dollar. Linking the yuan to the IMF's basket currency would complete the picture, forming a perfect dollar replacement while dollar cheerleading-economists stand dumbstruck.
13) China's retreat away from dollar denominated investments has left a hole in the U.S. bond market.  Recently, that negative space was filled by an unexpected source; namely Belgium.  A country whose GDP represents less than 1% of total global GDP buying more U.S. bonds than China?  The whole concept sounds bizarre.  Here is the capital coming from?
Think about it this way – Belgium is the political center of the European Union and a haven for international financiers.  There are more corporate cronies, lobbyists, bureaucrats, and foreign dignitaries in Belgium than in all of Washington D.C.  But more importantly, Belgium struck a deal with the IMF in 2012 to begin pumping SDR denominated funds into "low income economies".  I would suggest that this funding flows both ways, and that now, the IMF is feeding capital into Belgium in order to buy U.S. Treasury Bonds.  That is to say, the IMF is going to start using smaller member countries with limited savings as proxies to purchase U.S. debt using IMF money.
The ultimate danger of the IMF (run by internationalists, not the U.S. government) pre-positioning itself as the primary buyer of U.S. debt is that when the U.S. finally defaults (and it will), the IMF is likely to become the "guardian angel" of the U.S. economy, offering aid in exchange for total administrative control of our financial system, and the institution of the SDR as a world reserve replacement for the dollar.
14) The serious prospect of regional conflict or world war over tensions between the Ukraine and Russia, Japan and China, the U.S. and Syria, the U.S. and Iran, the U.S. and North Korea, etc., could make the effort of exposing the plan to shift economic power into a one world system centralized under the IMF almost meaningless.  How many people will truly care about the financial power grab by banking elites if it drifts under the surface of catastrophic engineered wars?  They'll be too busy hating and fighting artificially created boogeymen to pay attention to the real globalist culprits.
I have been pointing out for quite a long time that globalists need a "cover event"; a disaster, an economic war or a shooting war, in order to provide a smokescreen for the collapse of the dollar. Alternative analysts have been consistently correct in predicting the trend towards the dump of the dollar. Years ago, we were laughed at for suggesting China would shift towards a consumer based economy and away from U.S. dependence. Today, it is mainstream news. We were laughed at for suggesting that nations like Russia and China would drop the dollar as a reserve currency. Today, they are already in the process of doing it. And, we were laughed at for suggesting that Russia or China would use their debt holdings as leverage against the U.S. in the event of a geopolitical conflict. Today, they are openly making threats.
I have to say, I've grown tired of the dollar cultists. How many times can a group of people be wrong and still argue with those who have been consistently right? The answer is that zealots never actually escape their own delusions, even when their delusions lead them and those around them to ruin. I suspect that in the face of complete dollar collapse, they will still be rationalizing the chaos and pontificating on our "lack of understanding" while the theater burns down around them.
Source: Brandon Smith | Alt-Market
It's all too customary for those analyzing the crises humanity faces to associate climate change, aka global warming, with whatever proximate cause they postulate for our imminent demise. John Tirman, for instance, in his book 100 Ways America Is Screwing Up the World lists as the first way "Altering the Earth's Climate". Richard Heinberg of the Post Carbon Institute includes Climate along with Energy and Debt as the three problem areas which threaten our future. Nafez Mossadeq Ahmed, author of A User's Guide to the Crisis of Civilization, integrates climate change with the other crises he believes civilization faces: the financial meltdown, dwindling oil reserves, terrorism and food shortages. This linking of concrete, demonstrable societal ills with the less grounded, more debatable theory of global warming is an ill-considered, strategic mistake, I think, as I believe critics of the global warming theory, the so-called "deniers", are going to win the debate, at least for the near future. It would be a tragedy if valid, much-needed warnings about the dangers haunting our future were to be discredited because of their being tied to discredited fears about climate change.
Here's why I think this is likely to happen. The warming trend which the earth experienced in the thirty years before the turn of this century has virtually stopped. This "hiatus", as it is called, has been going on for over a decade and is likely to continue for another two. Check out this graph from the National Oceanic and Atmospheric Administration:
What do you see? I see a 60-year cycle in which a 30-year cooling period alternates with a 30-year warming period; to wit, from about 1880 to 1910 the mean global temperature went down, then from 1910 to 1940 the earth warmed up, then from 1940 to 1970, the earth cooled slightly, followed by the 30-year period from 1970 to 2000 when the earth warmed dramatically, and finally the dozen years from the turn of the century till now during which the mean temperature hasn't risen (the hiatus). Given that the concept of a mean global temperature is an artificial construct subject to error and manipulation, just looking at this graph what would you predict for the near future? Wouldn't you bet that for the next 20 years or so the earth is not going to get warmer, may even cool a bit?
If this does come to pass, what will be the consequence for the theory of global warming? Won't it be viewed with increasing skepticism by the pubic at large, at least until the next warming demi-cycle commences 20 years from now? Won't the discrediting of the global warming theory infect theories which have been linked to it? Are you willing to wait 20 years for your forewarnings of impending doom to be taken seriously?
Unless you have been following the issue as I have, you are probably not aware that the debate over the theory of global warming has been heating up (pardon the pun) of late, largely because of the prolonged global tepidness. If you believe the science is settled, consider that the "settled" science has generated a multiplicity of climate models which have done a terrible job of forecasting, invariably predicting warmer temperatures than what has actually occurred. If the science is so settled, why have global warming adherents only recently postulated that heat from the warming of the atmosphere is being absorbed by the oceans, their explanation for the hiatus? The models did not foresee this.What about that august body of climate scientists who comprise the UN's Intergovernmental Panel on Climate Change (IPCC), you ask. Just recently the IPCC certified once again – with 95% certainty (whatever that means) – that human activities are causing global warming? We are told that 1800 scientists arrived at this conclusion; but, if you look into it, you will find the majority of the scientists on the panel are not climatologists and some not scientists at all. One scientist who served on the IPCC's review committee called global warming fears the worst scientific scandal in history, predicting "When people come to know what the truth is, they will feel deceived by science and scientists."For one side in a debate to label the opposition "deniers" is a sleazy rhetorical gambit usually employed by the name-callers when they are losing the debate (equally true in the case of another group of iconoclasts routinely labeled "deniers", but that's a story for another day). Consider who some of these so-called "deniers" are:
Richard Lindzen, Professor of Meteorology at MIT
Fred Singer, Professor emeritus of environmental science at the University of Virginia
Roy Spencer, former NASA Senior Scientist for Climate Studies
Judith Curry, chair of the School of Earth and Atmospheric Sciences at Georgia Tech
Pat Michaels, past president of the American Association of State Climatologists
Do you really believe such people deny science?
Perhaps you believe such credentialed skeptics are in the pay of Big Oil. It's true that the global warming theory was once opposed by powerful interests who dominated the debate; but, when a former Vice President of the United States can win both an Academy Award and a Noble Prize for a highly tendentious film full of hyperbole and misinformation, you know there are powerful interests behind the global warming scare, too. If Big Oil has bought off the media, why is it that so many people are aware that sea ice in the Arctic shrank to its smallest extent in modern times in 2012 but not that sea ice in the Antarctic was expanding at the same time or that ice in the Arctic made its largest rebound ever last year, approaching the average for the last thirty years? Why is every extreme weather event – even blizzards- attributed to global warming when, in fact, extreme events like hurricanes, forest fires, tornados and even record high temperatures are less prevalent today than in the past?
I'm not a climatologist, so I'm neither inclined nor competent to expound on the science of global warming, but I do hope to have convinced you that the science surrounding global warming is far from settled and consequently to hitch your wagon to that fading star is not a good idea. Please, at least listen to what the skeptics have to say – for instance, by consulting the websites I've cited – before you link the fate of your own doleful prophecies to that of climate change.
There is now a New American War.  It is inside America. It is called the "War on Terror". The enemy is YOU!

It is a staged, Phony War that has been created by the International Zionist Crime Syndicate (IZCS).
This New War on Terror has an enemy. That enemy is the American People, You and Me.
Every Military Force needs an enemy. Without an ongoing or perpetual war, the War profiteers quickly go bankrupt.
In order to keep their profit stream going from war, war-profiteers need to create successive new wars or a significant threat of impending war.
Creating pretexts for these much needed wars is very hard work and quite expensive too. But war is a business, a very big business, and war-profiteers need to invest big money to make even more in return.
Members of Congress must be bought, and top Generals and Admirals of the Military High Command too.
This costs a great deal of hard cold cash, but that's okay because the IZCS gets all it needs from fat US foreign aid to Israel, fat contracts with Israeli Defense providers, and fat donations from those wealthy zionist businessmen that the IZCS manipulates, guilts or shakes down.
At this point, a select group of 70,000 K-Street Lobbyists go to work distributing funds to get elected officials on Board. The several select Generals and Admirals are handled more covertly.
If this is not enough revenue to pay off the necessary officials, the IZCS gets the rest directly from its private Central Banksters who can create all the money they want digitally, anytime they want, and give it to tribal brothers or anyone else, anytime they want.
Of course the key thing here is a significant portion of these fat revenues are kicked back to the corrupt, bought and owned members of Congress who voted for them, and to select top Generals and Admirals of the High Military Command who support the IZCS intended proxy wars by America on their behalf.
Under President Obama's Administration, for whatever reasons, the High Military Command has not been willing to take payoffs and favors and has not been blackmail-able by the IZCS.
[Note: this is a long article and one option is to read the caps first and then any areas you are interested in if you have time]
Here is the new game in the so-called American Defense Industry.  It is a stateside game and it involves magically transforming any and all innocent, Constitutional, law-abiding citizens into Domestic Dissenters, aka "Domestic Terrorists" or something close enough to declare war on "Potential Domestic Dissenters, aka "Potential Domestic Terrorists". This is an occult, alchemical symbolic processing of the American people (aka "we the people") into an defined domestic enemy that can be waged war against on many fronts–phone and email tapping, massive spying and infiltration of all domestic groupings, even neighborhood coffee parties or local church charities–you name it, everything.
This new redefinition of normal law-abiding Americans into "Enemies of the State" and its internal security apparatus as a threat to national security IS a magical conversion or transformation of the normal American Society, mainstream law abiding America, into a huge domestic national security market. This is all an horrendous BIG LIE.
Actually the real situation is just the opposite–it is the USG and specifically the Fusion Centers and the Department of Homeland Security run by perverts and enemies of "we the people" that are the real risk to the true and actual national security of America the republic and to all honest, law abiding, Constitutional Americans. And the USG and DHS and Fusion Center officials are nothing less than world class criminals committing both High Treason and Sedition against America the Republic. The USG has been hijacked and is being run by those who have turned everything upside down.
This redefinition of course involves placing cameras and microphones on almost every street corner in the light-poles and pulsed beam psychotronic generators in many street lamps, turned on full power during rush hour to sedate and subdue the populace in order to keep the masses in line.
Some say that the new Chairman of the JCS, General Martin Dempsey, is a breath of fresh air, a real American Patriot who honors his Oath to defend the US Constitution from all enemies foreign and domestic.
So far, General Dempsey has resisted major efforts to coerce him to support and engage in any new major American Mideast Air and Ground invasion (another American proxy war for Israel).
And many believe that our new Secretary of Defense Chuck Hagel is another America-firster who takes his oath to defend the US Constitution seriously also.
JCS Chairman Dempsey's independence and commitment to America on this matter has elevated him to the status of a "rock star" in the view of many who appreciate his steadfastness, and he is regarded as a true America-firster.
Some experts view JCS Chairman Dempsey's integrity and commitment to America the Republic as a major turning point, signaling the realization by the High Military Command that the 9/11 attacks were an inside-job, a false-flag attack run by the IZCS with the help of several Traitors within the USAF, JCS, and NORAD.

And that it also signals a shocking realization, for the first time, that most of the Institutions of the USG have been deeply hijacked by the IZCS and their Cutouts have included the Bush Cabal which is now struggling to maintain a thin hold on power.(1)
Obviously, Chairman Dempsey's and Defense Secretary Hagel's steadfast resistance to being manipulated by the IZCS into fighting another major Mideast ground and Air proxy war for Israel appears to be driving the IZCS to desperation.  So far these America-firsters are holding fast against any and all IZCS manipulations and pressure and doing an excellent job staying on course.
The IZCS knows that unless it gets another American proxy war in the Mideast for Israel, they are finished.  They also know that if the American masses ever start finding out that 9/11 was planned and controlled by those owned by the IZCS, they are done too.
Actually the 9/11 attacks of the IZCS were in a sense a going-for-broke gamble of everything they have against the House (America the Republic). There is a very strong new American Populism which is emerging rapidly as a spontaneous by-product of the world-wide Internet and the Alternative news it carries, which provides truth to the masses for the first time.
Top insiders know all the names of who did the 9/11 inside-job false-flag attacks and are are ready to testify if an independent prosecutor is assigned and a special Grand Jury is called, and appropriate  immunity agreements are offered for "coming clean". At least one, Steve Pieczenik, MD, Ph.D., (former Assistant Secretary of State and father of many deep cover black ops, and also the main character in many Tom Clancy books) has already gone public and named names and has said he is willing to testify in a Federal Court as to who did it.(2) Obviously Dr. Pieczenik is another great American Hero.
Some top insiders close to to the High Command have suggested that America is so deeply hijacked by the IZCS that it will take some years of the actions of high officials like JCS Chairman General Dempsey and Defense Secretary Chuck Hagel to turn the tide and neutralize the rampant influence peddling of the IZCS over almost every member of Congress and many officials in the Department of Justice and the Alphabets.
Certainly the Department of Homeland Security is now recognized as a major IZCS beach-head inside America and part of a long term plan to establish a foreign controlled IZCS neo-Bolshevik military force inside America to Tyrannize, wage war against, and eventually serially mass murder most Americans.
This is why some top insiders refer to DHS as the New American Gestapo or Stasi.  Some see it now morphing into a New Red Cheka mass-murder machine for dispensing Bolshevik-style Red Terror and mass-murder to Americans.
The Cold War was a great boon to the defense Industry even though it never went hot anywhere but Korea and Vietnam, which were limited to prevent an all out nuclear exchange.
The first Iraq War (aka the Gulf War) under Bush1 resulted from covert trickery using Kuwaiti cross drilling, which was reported to Saddam Hussein by April Glaspie, who convinced him that the USG wouldn't care if he invaded Kuwait to stop the theft of his oil from his main oil field. The second Mideast war was an Invasion of Iraq and Afghanistan to get even with the alleged perps who supposedly did the 9/11 attacks, but actually never were involved at all.
President Obama is now unwilling to deploy American troops in any major new American land war or massive air bombardment campaign in the Mideast. Nor is the current US Military High Command willing to allow it at this time. In order to appease the so-called Defense Industry and their lobbyists, he has apparently deployed numerous teams of "special operators" and mercenaries but these have been fighting terrorists supported by America, a self-defeating exercise.
He has also continued to deploy drones with air-to-ground missiles to mass murder numerous innocent women, children and non-combatants. All these Mideast and African wars are illegal, unConstitutional, undeclared and unprovoked.  They have been sold to the American People and the Congress based on the BIG LIE that they are preemptive strikes necessary to prevent any more 9/11 attacks.
The need for preemptive strikes to prevent terrorist attacks inside America is an obvious lie for numerous reasons. Anyone who examines all the available evidence on 9/11, including the BBC live TV announcement by Jane Standley that WTC7 fell to the ground 20 minutes before it happened (due to top MI-6 control officers forgetting about American Daylight savings time (too much personal coke use perhaps?).(3)
In addition, if DHS's main concern is spying on normal Americans who dissent and crushing them because DHS believes they are "domestic terrorists or "potential Domestic terrorists" or "lone wolf" spontaneously emerging domestic terrorists, this obviates any lies about the need for preemptive foreign attacks. The reason?  Because DHS now claims that the emergence of these ordinary lone wolf domestic terrorists inside America is a spontaneous phenomenon, as well as a completely independent problem that has nothing to do with foreign terrorists in the Mideast.
And beside DHS allows open borders, "sanctuary cities" where illegals can not be checked for legal immigration status, given traffic tickets for minor violations, and must be granted drivers licenses and social security cards without any proof of residency. Plus, thousands of Mideast Immigrants are allowed in to America when there is already a shortage of jobs, and the Muslim Brotherhood is invited into the White House to meet with President Obama.(4)
It is obvious that as the major American Defense Contractors who are either owned or controlled by the IZCS have realized that American Mideast war efforts are waning and have worked hard to create their phony War on Terror, first in foreign countries and now in America.

They have worked hard to generate massive public fear in reaction to the 9/11 attacks in order to engender public support and vast expenditures of taxpayer dollars for a large national security market and internal security apparatus, like the Fusion Centers and its specialized assassination teams disguised as corporate or political protection squads, the DHS and the TSA with its Vipr Teams.
This phony, staged War on Terror has been very craftily engineered to be an unending war that will assure perpetual war profits for Defense Contractors and a perpetual supply of artificially created enemies inside America to feed that war. How is this possible you might ask?
This new War on Terror has been socially engineered to provide a continual stream of degradations and provocations against the average American, provoking many in a never-ending stream to resist, and causing them to be labeled dissenters.
Once they have been labeled dissenters they are put on a Department of Homeland Security (DHS) Main Core Terror Watch List, which top insiders know is a targeted assassination list for later eradication of all Freedom-loving Americans who want to restore the American Constitutional Republic.
At present the Main Core list has over ten million Americans on it, and it is growing every day with thousands of new additions. Get a ticket for a driving offense or any arrest (even if later proven innocent) and it is highly likely you will be placed on this Main Core Terror Watch and Assassination list.

If you have a prior drug arrest many years ago or any arrest, it is likely you have already been placed on this list. If a USG web troll or fusion Center Officer comes across any patriotic postings or anything they consider subversive like the East German Stasi, that poster will likely be placed on this list.
Over time these provocations are designed to result in a continuing stream of America dissenters that want to take their Republic back from the zionist hijackers and will meet DHS tyranny and force with the like. Any and all Dissenters are now being defined as "Enemies of the State".
And anyone who wants to restore the American Republic will also be defined as a "Domestic Terrorist". DHS is a terrorist group, hand assembled by American/Israeli dual citizen Traitors and is designed to tyrannize, capture and eventually be deployed against Americans to serially mass murder them.  This is why they have been called the New American Gestapo of the Neo-Bolshevik Red Cheka Terror Machine.

If you were a Ron Paul supporter or a Libertarian, you are likely on the Main Core list. If NSA routine scans of any and all of your digital emissions and have picked up enough key trigger words, then you have perhaps already been placed on the List. After all, Marcus Wolfe the former head of the East German Stasi, a vicious torturer and murder of innocent Germans, was hired as a USG consultant to set up DHS two years before he died.(5)

Note the recent admission by US Supreme Court judge Antonin Scalia that it is without question that the Prison Camps now being built by the USG will eventually be used just like they were in WW2 when innocent Japanese Citizens were wrongly captured, completely asset stripped and placed in USG Prison Camps. (6)
President Eisenhower was an insider placed in position by the Rockefellers early in his Military career and eventually propelled into the Presidency by them. But even Ike started being bothered by strong pangs of Patriotism and became alarmed at the undue influence of the Military Industrial complex over Congress. In his final public speech as President, he delivered a warning to Americans.
Ike never imagined that the Israelis would serve as the chief action agent for the City of London zionists and would eventually hijack, buy off, bribe, compromise or honey-trap almost every single member of Congress and also use their vast Central Bankster and manipulated donor funds to hijack almost all American defense and Intel contractors and American communication companies, many of which have been moved to Israel or have been located there in the first place.
Originally his speech included the phrase Military, Industrial, Congressional Complex.  He took out "Congressional" after his political aides informed him that this could end up harming the Republican Party. When he referred to "Military" in the phrase "Military Industrial Complex", he was actually thinking of the whole new peacetime defense Industry, which was driving the Military Industrial Complex and formation of a permanent armament industry.
Ike became concerned that this permanent armament industry could assert undue influence on the American political process and could hijack American society and harm its spiritual character.
Disarming the public is a key goal of the IZCS for everyone in America but them and their stooges at the DHS and the Alphabets or their militarized police now trained by the ADL.
Many Police Chiefs are taken to Israel on all-paid Anti-Terror training Junkets where they drink the Kool-aid and are subjected to some of the most sophisticated Psi powered and Psychotronic mind-kontrol ever deployed. In years past, many were given lavish gifts and provided personal escorts of their age and choice. Perhaps this practice continues?
Any Tyrannical Government must always get rid of we the people's guns in order to be able to stay in power and concentrate it. A major goal of any tyranny, like what we have in IZCS-hijacked America now, is to gain maximum power by eliminating (as in serial mass-murdering) all political opponents and dissenters. Doubt this? Then check world history the last couple of hundred years.
The USG and DHS is now ramping up the militarization of the Police of American Cities and Suburbs under DOD Program 1033 under the 'Transfer of Excess Military Property to Local Police Program".
According to a video from 'TheLipTV', "Over the last decade, we have seen over 5,000 people killed by police in the United States," when "4,489 soldiers have been killed since the beginning of the Iraq war. Since 9-11, you are 29-times more likely to be killed by a police officer than you are by a terrorist."(7)
Most local urban and suburban police departments have been "militarized", that is, received heavy armament including armored cars, MP5 and M-16 fully-automatic machine guns, grenades, grenade launchers and ballistic shields.
We the people are the new enemy of the militarized police. The police were set up to "protect and serve", but their new mission is to wage war against "we the people" on behalf of the IZCS and the ADL.
Every military force must have a designated enemy. The common American is the new enemy of the now militarized police in their new war against Americans on behalf of the IZCS and the ADL.
Whether they realize it or not, the ADL has trained most police to view most Americans (we the people) as the enemy of the police and the Nation State. Ever attended a police training seminar put on by the ADL? Often they hide who really is running it. It's the biggest bunch of twisted, sick paranoid crap one can ever imagine, and all designed to make police trigger-happy murderers of any citizen who questions their authority in any way or questions any detainment or arrest. Yes, ADL training is a crafty set of lies that produces trigger-happy cops who believe there is a domestic terrorist hiding behind every bush who want to murder them so the police cannot go home to their family at night.
This paranoid belief system will eventually produce this result as a self-fulfilling prophecy, as police tyranny and trigger-happy police continue to murder the innocent and use grossly excessive force for minor offenses. Almost all police abuse of the citizen is delivered "for your own safety", when that is another big lie.  It is done for the arrogance and authority complex of the police officer–an artifact of over 25 years of ADL training for your local police, who have almost all sold out to the feds in order to get military weapons and gear.  All in return for signing over jurisdiction to DHS and the Feds.
Police are instructed to "charge up" anyone who questions them in any way, and any slight hesitation must be met with false charges of assault and/or battery towards the officer. Officers are told, an arrestee can beat the rap, but they cannot get out of the "ride" (i.e. the arrest and hassle of it.) They are taught that this deters deviance and crime, when actually it provokes the American people to hate police officers.
The new militarized police have one new main function.  It is to continually provoke law-abiding, honest citizens with acts of selfishness and tyranny in order to "role force" them to act out so that "punishment" can be delivered.  The goal, especially with inner urban kids is to make sure they are sold all the drugs they want, in order to dirty them up and get them into the system for life. Big prisons are a private business–a very big business–and quotas or guaranteed imprisonment rates are in place to reduce costs.
Since the IZCS is actually functioning as a neo-Bolshevik political block with East German Stasi and Nazi undertones, this reveals the actual goal of DHS–to serially mass-murder all American dissenters and political opponents. Doubt this?  Then consider the purchase of over 2 Billion 40 Caliber hollow-point rounds and 7,000 M-16 fully-automatic (real assault rifles, not the mere look-a-like AR-15) and thousands of armored vehicles and armored booths, raised spy-towers and grenade launchers.(8) Many of these armored vehicles have been given to local police who have Police Chiefs who are Traitors to America the Republic in exchange for complete submission to Federal Jurisdiction of DHS.
Some of these traitors are just stupid and overly impressed by Feds or DHS Spooks, others have been paid off in very large cash donations (hundreds of thousands of USD in military duffel bags, untraceable CIA drug profits. Some have been sexually compromised by Pedophile or Honey Traps and then blackmailed into submission. Some have succumbed after being threatened or having their families threatened. This is the lowest scum-bag manipulation (aka Humint) ever deployed, and it is everyday stock and trade for the IZCS, the world's biggest sexual compromisers, and pedophile and sex-slave operators.
Lessons of History: Any serious study of History quickly shows that war is a vehicle for a nation's leaders to maintain control over their nation-states. The infamous Iron Mountain Report gave an inside glimpse of how the super-elite criminal Psychopaths running America thought about the need for ongoing war or a suitable state crisis to unify the society and solidify their control over society.
Wars are craftily engineered by criminal super-elites who rule nation-states and their advisers. There are various, crafty ways for a nation's leaders to covertly start wars. The well-established standby is to stage False-Flag attacks and then wage war on the nation state or entity that you have framed for the attack that you did.
Another way to create a terrorist with a long and successful track record is to capture abandoned children in Mideast Countries, provide for their daily needs, while mind-kontrolling them to become terrorists with psychotic suicidal delusions of revenge toward what has been identified to them as their religious enemy which needs destruction to please their god.

The British, the Israelis, and the Saudi are experts at this, and American Taxpayers have unknowingly provided a large portion of the funding for this. One trick well known among intel insiders is the practice of acts of terror against the nation of the mind-kontrolled children to create an enemy for them to later attack in revenge.
Lots of American Taxpayer dollars were covertly dispensed to create and finance terrorists for future Mideast wars. American Intel has spent a great deal of money paying others,  such as the Israelis, to do this. Otherwise, American Intel has not been very successful themselves.  Their only real success is their arming, funding and training of the Mexican Drug Cartels and the training and deployment of the disgusting mass-murdering death squads in Central and South America, who murdered over one hundred thousand innocent women, children and young men.(9)
The 9/11 attacks were an inside job by the USAF and the IZCS. The staged Gladio-style False-Flag attack was the choice selected for the attack on the Twin Towers in NYC and the Pentagon in Washington, DC, on 9-11-2001. This attack was done by the USAF, under the authority of a zionist-controlled Criminal Cabal inside the JCS and the Secret Shadow Government (SSG).(10)
The 9/11 attack was planned, set up and run by NeoCon top Policy-Makers, Israeli Intel and their stateside Sayanims, utilizing a small criminal cabal inside the USAF, NORAD and the JCS. These are facts that can no longer be disputed by any reasonable person who has examined all the available evidence.

And it is exceedingly clear to any reasonable person who examines the pre-announcement of WTC-7 destruction that the whole attack was pre-scripted in London and Israel, and that WTC-7 was wired in advance with conventional demolition charges.
Typically, it takes a considerable amount of time and labor to wire up a building, which suggests complete access at the security level.  This means that since it was a federalized building, with CIA and NYC Emergency Center occupants, building security had to be involved one way or another. And now that it has been proved that WTC-7 was wired up beforehand and demo'ed on 9-11, this means the Twin Towers had to have been pre-wired, too.
The War on Terror is obviously a Phony. But it has been the greatest boon to the American Defense Complex ever, with many times more net American Taxpayer dollars spent on this war than any other war in history, including WW2 or the Vietnam War.
Another way to establish a war is to create and fund so-called foreign terrorist groups. This is a costly exercise that take years and can involve as much work as fighting a war.  Yes, creating terrorist groups is very hard and expensive work.
But enemies for necessary wars can be created if you have the technological help of a nation that has hundreds of years experience in creating its own enemies. This nation is the City of London (Financial District), a separate nation state like the Vatican, located within England.

There is a reason England has been referred to as "Perfidious Albion" for centuries. They have been known for their ability to instigate chaos inside nations they want to control by their standard well-developed strategy of "Divide and Conquer". They are experts at creating long term provocations between different nations that have competing economic interests.

They do this in order to establish a beach-head from which to control the removal of natural resources and accrued wealth.
Remember the Opium Wars (Boxer Rebellions) where England brought opiate addiction to China as a covert act of war in order to recover all the silver and gold paid to import Tea, spices and silk from China? This was low intensity (covert) warfare that twice led to a short hot war.
The creation of the nation state Israel was created to serve as a long term provocation for numerous Mideast perpetual wars. This is why the Balfour Declaration was made, why the Nazi sent the "low Jews" to the labor camps, while the "High Jews" were able to either emigrate elsewhere or become collaborators like George Soros.
This is why the City of London created the New Israel and took land away from the Palestinians to set up a nation of Khazarian Judaic converts (aka "fake Hebrews"), a racially paranoid group mind-kontrolled to believe the delusion that they were of ancient Abrahamic Hebrew Blood.
The IZCS believes in preemptive strikes against Goyim and their institutions. Judaics have also been mind-kontrolled by Zionists (many of whom are not Judaics at all) to believe that they must hijack the American political system to preemptively crush Christianity and American Goyim Culture.

And that if they didn't succeed in this, they would be persecuted again, just like what they call the "holocaust"–translated from Old English as "a fiery sacrifice".
This philosophy of striking first and eliminating the Goyim to prevent another "holocaust" from ever occurring" is a Bolshevik ideology based on the "End Justifies the Means".
This paranoid strike-first obsession will produce push back and persecution eventually, thus serving as a self-fulfilling prophecy. Of course the Zionists who control Talmudic, Noahide Judaism know that the 6-million-dead figure is untrue, because this had appeared in the late 1800′s andearly 1900′s in Judaic literature long before the work camps of WW2.
New Genetics research exposes a vast, paranoid race-based delusion. Recent Johns Hopkins genetic research has shown conclusively that approximately 80% of the Palestinians are of Hebrew (Abrahamic) bloodlines, and approximately 90% of Judaic converts living in greater Israel are not of ancient Hebrew (Abrahamic) bloodlines. Thus, the world's greatest anti-Semites appear to be Israelis who have stolen Palestinian land and continue to do so against all UN rulings and International Law.
The nation of Israel was set up as the private nation state and Tribal Intel front for the City of London Zionist private Central Banksters, to serve as a beach-head to control the production and distribution of Mideast oil. This delusion that the Khazarian Judaic converts were God's Chosen People (ancient Hebrews from the Ten Tribes) was then en-cultured into these Judaics who were sent to Palestine and armed so they could use terrorism to expand their region of control.
Greater Israel has no real boundaries and is ever expedient, as Israeli militants keep taking land and murdering unarmed Palestinians.
A serious spell, a racial delusion of superiority has been cast on many Judaics no matter where they live, but especially so among those living in greater Israel, where the Luciferian Hex Flag flies. Whether true or not, the flag signifies the merger of demonic fallen angel Beast-Bloodlines from above, bred with Human female bloodlines below.

If we accept this Hex Flag at face value, does this mean that the top Zionists running the IZCS are perhaps alien/human hybrids, or at least claim to be in their own secret ceremonies that Stew Webb has exposed numerous times in articles and radio appearances over many years?

It is obvious that the IZCS has hijacked the US Department of State and the US Military Defense Complex as well as Congress. Listen to what Kay Griggs had to say about this.  She was married to a top USM officer and mind-kontrolled "wetboy" who became out of control and beat her and then tried to have her shut up. He and/or his controllers serious stalked and harassed Kay Griggs for years.
She went to live with Sarah McClendon for protection and was interviewed by Pastor Rick Strawcutter, which probably raised her profile so much that it saved her life.  Kay is another Great American Hero and is a courageous standup person, one of the best you could ever meet anytime, anyplace. If you get a chance, be sure and listen to her 8-hour video affidavit with Pastor Rick Strawcutter, who is another Great American Hero. You will be amazed and angered at who has been running the USG and the Military.(11)
Kay's video affidavit is packed with insider secrets known only by top Intel insiders. How much do you want to know about what is really going on in the background? How much do you dare to pull the curtain back to expose the Wizard Of Oz (as in Ounce)? You will need a great deal of courage to handle what Kay Griggs reveals. By the way, a great deal of her testimony has been cross-corroborated by experts.  Any errors she makes are minor and not directly related to her main claims.
Two sides of the same coin: Of course those on the inside of the Ruling Cabal know that Nazi-ism and Zionism are two sides of the same coin and run by the City of London Central bank controllers. This entity is the Old Black Nobility (OBN), which prefers to stay in the background.
The IZCS controls Private Central Fiat, Fractional Reserve Banking: This reality that the IZCS owns and controls private Central Banking means that they have access to and can utilize Babylonian Money-Magick to make the money they need to control the USG officials and Congress from nothing.  This access provides vast sums of money in seemingly endless quantities.  Thus, they have access to all the cash they need to buy, own, compromise or blackmail almost every single Congressman/woman and Senator in America.
The serious down-side of this system of Babylonian Money-Magick is that it is based on fiat or fake-money with nothing but debt behind it. Actually this debt is imaginary, but has a stranglehold on most of the members of the societies it has hijacked. But it cannot go on without catastrophic readjustments, which will occur at some point.
A worldwide Web of Debt: The private Central Banksters in America have been so adept and successful at extracting wealth in America and all over the world, replacing it with debt, that nearly the whole world is now engulfed in extreme debt.

And this debt has now reached the point it cannot be paid off. This of course is the IZCS's age-old plan which will result in massive chaos that engulfs the world and destroys all social systems, family systems, sex roles, and systems of government.

After this destruction of conventional society occurs, it is expected by the IZCS top leadership that a pure Luciferian NWO System will arise from the globalist framework they have put in place.  They expect this NWO System emerging from the ashes to be their Phoenix, like the legendary Phoenix of Greek and Roman mythology.
All this tidal wave of debt is phony and a big charade.  If all the people of the world unite, nationalize their monetary systems and declare all debt null and void, and if they assign all such debt directly to Central Banksters responsible for creating it, prosperity to "we the people" can return like it did to the Colonists who left England.
Babylonian Money-Magick has been used to create a debt based economy.  It does this by producing "onerous usury" and allows the easy transformation of "all the money created from nothing which is worth nothing at face value" into the vast amounts of ever-increasing wealth.  This wealth–fiat money–is covertly stripped from the common man these Banksters provide the money for and use as a means to extract real value and wealth from.
The Zionist IZCS vehicle used to gain control over almost every single member of Congress and to buy, compromise and control almost every top USG official and Judge, is the 70,000+ K Street Lobbyists, AIPAC and others who distribute the money to their marks, often through campaign contributions, cash to offshore accounts, and various other expensive luxury perks, such as ridiculously high honorariums for meaningless propaganda speeches.
And AIPAC, the ADL, the SPLC and the like are also zionist tools of espionage against America the Republic.
They should all be investigated by the FBI and fully prosecuted and convicted and sentenced for espionage by the Department of Justice. Note, espionage in many cases is a Capital Crime.
If the Rosenbergs were prosecuted, convicted and executed for their espionage against America, why should these IZCS Cutouts go free without identification and full prosecution?
These entities are really Intel fronts for espionage against America the Republic on behalf of the IZCS which includes the City of London zionist Central banksters, Israel, American NeoCons, and Israeli-American dual citizens who have betrayed America, putting Israel first over America.
Vast Funding for zionist Cutouts. These entities receive vast funding from the zionist Central Banksters and from the wealthy Judaic businessmen they shake-down or manipulate for large donations by playing on their paranoid tribal delusions.
These tribal delusions are that donations are necessary to prevent excessive antisemitism and future persecutions or "holocausts" by Goyims and Christians.
Many Judaics in America and elsewhere have been en-cultured with the false ideation that Nazi-ism was a Christian phenomena and Christians and Goyim must be destroyed.
This of course this is as far from the truth as possible because Hitler was a British Agent and Nazi-ism was created by the Tavistock Institute and the City of London Central Banksters and a counter-force to the Bolshevism they created and deployed in Russia in 1917.
What does the International Zionist Crime Syndicate (IZCS) run out of the City of London through its main Cutouts Israel and the hijacked USG attain? Obviously the IZCS's unlimited funds and the fact it owns and/or controls almost every member of Congress and most USG officials and Judges, means that the ICS has been able to determine USG Policy.

It can do this because it owns and/or controls all USG top Policy-Makers, most of whom just happen to be outside of the visible USG and within the Secret Shadow Government (SSG).
Obviously the crimes of the IZCS and their espionage fronts like AIPAC, the ADL, SPLC and the like against the American Republic are far worse than the Rosenbergs.

Listed below are some of the IZCS crimes against America:
1. The NSA and all American Intel has been completely hijacked by the IZCS and all NSA intel data goes directly to Israeli Defense Contractors and Israeli communication Corporations that process all American phone calls and data transmissions. This means that the Five Eyes International Intel System is really a Six Eyes System controlled by Israeli Intel entities and proprietaries.
Thus, America has no real Intel, and Israeli Intel has control over all American politicians, judges and officials by use of this Intel for human compromise, blackmail and sophisticated mind-kontrol operations. Any time factions within American Intel agencies (there are 37 and growing) form opposition to the IZCS, this is readily discovered through Israeli Intel intercepts of NSA raw Intel and actions to neutralize such efforts are quickly deployed–whatever is required.
The conclusion here is that America no longer has any real Intel of its own–none at all–it is all compromised and hijacked by Israeli and City of London Cutouts and contractors.
2. Because the IZCS has hijacked all American Intel directly from NSA feeds, the IZCS has a long history of stealing American intellectual property and providing it to their corporations. The IZCS can also hijack American corporate bids and defeat them repeatedly until many companies go out of business.
3. The IZCS has compromised almost every single member of Congress, US Supreme Court Judges, most Federal, and almost every single USG official and American Intel Director.
4. The IZCS's new DHS is a zionist terrorist front, a new Internal American Army that has been deployed against YOU as their NEW ENEMY. The IZCS has created and deployed DHS as the New American Stasi and a New American Neo-Bolshevik Red Cheka. It is controlled by an Israeli-American dual citizen who made millions of USD from selling unshielded X-ray machines to the TSA, which is creating numerous cancer clusters among TSA officers.
5. The principal goal of the IZCS in America is to deploy DHS to tyrannize and degrade Americans and then eventually to start a live "shoot to kill" war against ordinary Americans who organize to take their government back and restore the American Constitutional Republic. This tyranny by DHS is planned to culminate in serial mass-murder of up to 80% of Americans–one way or another.
6. The IZCS has set up and deployed AIPAC, the ADL, the SPLC and others to serve as agents of espionage inside America, to work to destroy its institution of government, dirty up Americans and to destroy the American Family, America's language borders and culture and to destroy Christianity and Deism in general.
7. The IZCS has hijacked top factions in the CIA, DEA and other American Intel and uses them to traffick illegal narcotics and drugs into America to raise money for deep-cover covert ops.
8. The IZCS has compromised almost every major Urban and Suburban police Department, coercing them to sign secret transfer of jurisdiction agreements giving the Feds, DHS and the Fusion Centers complete jurisdiction in any matter they choose.  In return, they are bribed with "stolen" war materials, machine guns, rounds, armored cars and, even in some cases, grenade launchers.
9. The IZCS has stolen numerous loads of nuclear materials from US DOD contractors and refiners for their Dimona Plant and nuclear storage center.
10. The IZCS has used NSA-provided intel to murder hundreds of witnesses to their crimes and federal Whistleblowers. The rest that they don't murder are watched and often become victims of targeted harassments, placed on DHS and Fusion Center "Terror Watch Lists", "No-Fly" Lists and "No work lists". Take the example of Ronald Reagan's Secret Agent, the Great American Hero Lee Wanta who was instrumental in "bringing down" the Soviet Union. Lee Wanta has been wrongfully imprisoned, tortured, and endures ongoing harassment.
Or consider Mark Novitsky, another Great American Hero who refused to do wrong and coverup crimes while working for an NSA contractor. Both of these American Heroes have paid a terrible price for obeying the law and for putting the welfare of the American People first.
11. The IZCS has hijacked the America Monetary Production and Distribution System and transformed Americans into debt-slaves, drastically reduced the Middle Class and the standard of living, and done this by massive asset-stripping of American wealth and prosperity.
12. The IZCS has used its Cutouts to debase American culture, take the God of our Founding Fathers out of the schools and institutions where they had certain Bible verses and phrases etched in stone, destroy traditional male and female sex roles, destroy the family, promote sexual perversion, promote promiscuity and sexual irresponsibility and addiction, promote diversity and political correctness and illegal immigration and multi-culturalism.
13. The IZCS has completely compromised all of the Major Mass media, transforming it into a propaganda dispenser for the USG and the Central Banksters which are completely under their control. Thus the Major media is now the Controlled Major Mass Media (CMMM).
14. The IZCS has hijacked American seed companies and most major food processors and is in the process of deploying sophisticated GMO's which will, over time, radically increase the death rate of Americans.
15. The IZCS has hijacked Big Pharma and Big medicine and has used it to deploy vaccines containing monkey viruses like SV40 and numerous harmful adjuvants like squalene and aluminum or formaldehyde, as well as so-called preservatives like ethyl mercury.
16. The IZCS has hijacked many large Insurance Companies and used them for its own designated purposes.
17. The IZCS has deployed contract aircraft through their hijacked intel groups like the CIA that are spraying toxic weather and eugenic substances in the atmosphere. They have also been able to covertly add these toxic substances to ordinary jet fuel.
Numerous samples of these substances have been collected by researchers and scientists who have had them analyzed.  What they found were toxic levels of nano-particulized aluminum, barium slats, Hemophilus Influenza, red blood cells, white blood cells, toxic molds, and other strange fiber like substances and compounds.
18. The IZCS has used its vast criminal networks and resources to launder its drug money by buying up large real estate entities and banks and is able to finance almost every new major corporate building with laundered drug money.
19. The IZCS has used a great deal of its money from illegal drug trafficking to build deep underground military bases (DUMBS). Some of these bases are claimed by top insiders to be joint ventures with alien entities and have special genetic labs involved in the development of alien ET/human hybrids.
20. The IZCS is the world's top Mind-kontroller.  It has used hijacked American Intel and its defense contractors to develop and deploy advanced high technology for psychotronic, direct brain entrainment and sound-based subliminal mind-kontrol.
21. Israel used advanced mind-kontrol on those who accept its all-paid junkets. Visitors end up drinking their special Kool-aide and are hit with sophisticated psychotronics, becoming significantly mind-kontrolled to operate as functional zionists without even being aware of it.
22. The IZCS has created what they call the federal family. They have done this by creating Fusion Centers, the DHS, the TSA and numerous armed (previously unarmed) agencies like the Department of Education. Unduly large salaries and extremely liberal benefits have been provided, as well as a special anointing with authoritarian powers to kill with very little accountability if any, due to the War on Terror.
Many of these federal Family folks have been mind-kontrolled by shoulder-held constant on pulsed beam microwave radios and other highly advanced psychotronics, which increases their tendencies to tyrannize and become violent with the public and minimizes their ability to control violent impulses which may crop up.
23. The IZCS has militarized local police departments and many Sheriff's departments. Their ADL provides most of the police training and drives a hard line against any public dissent, describing it as "domestic terrorism". It controls what the Fusion Centers and DHS put out as war propaganda which labels the public as "Domestic Terrorists".
Here is the first part of one of their confidential lists of Domestic Terrorists or Suspected Domestic Terrorists:  Catholics, Evangelical Christians, Veterans, Libertarians, Constitutionalists, Tax protestors, Gun owners…..These reports of course are pure ADL propaganda lies and complete smear jobs, all intended to provoke police and Federal Family officers to tyrannize and easily become violent with innocent ordinary Americans or anyone who decides to peacefully protest, an American Constitutional Right.
Remember that the operational goal of the top Policy-Makers who are tools of the IZCS is to provoke a full scale shooting war between ordinary Americans and their police and Federal family Members such as DHS.
Conclusion:  The IZCS has hijacked America and has deployed numerous weapons against it now culminating in a phony, staged War on Terror, and if you are an American or live in America, one way or another YOU will soon become THEIR NEW ENEMY. Yes, from here on out if you live in America, you are the designated enemy in this new War On Terror.
If you are a member of the federal family, it is suggested that you read and study up on the Night of the Longknives (Operation Hummingbird) and the various purges under Lenin, Stalin and Mao. Maybe you should reconsider the oath you took to UPHOLD the US Constitution from ALL ENEMIES, FOREIGN and DOMESTIC.
Now for some good news about all this.  Despite how bleak this all seems it is far from hopeless and American are beginning to wake up in mass. This is due to the worldwide Internet and the massive dissemination and diffusion of the alternative news.  Once facts are published they sink into the hearts of "we the people" with a certain resonance that makes them take hold.

It's almost instinctive how truth sticks like glue in people hearts and minds and spreads like wildfire all around the Earth. At least 1% of the American population has woken up. Some estimates are 11%. Proof of this is the massive first time gun buyers, the massive sales of high powered handguns, rifles and 12 gauge shotguns and massive ammo sales.

Guns and ammo have literally been flying off the shelves the last several years and there have been serious ammo shortages due to the massive DHS and USG stockpiling of 40 Caliber Hollow Pints and M-16 ammo rounds.
Once 12% of the population wakes up a critical mass turning point will spontaneously occur and through various very strange mass societal changes will occurs and new very powerful, unstoppable populism will emerge and the IZCS will be driven out.
If they are stupid enough to take us into a live shooting war, Internal Civil War with mass killing, the public will suffer great losses but the Federal Family will split and it and the IZCS and any of their forces will be defeated.
All wars are always won by what is in the hearts and minds.  In America the American Spirit lives and is getting stronger every day. Soon the foreign filth and their Cutouts run by the Kingpins from City of London and Israel, the perps that have hijacked America, the IZCS, will be completely exposed, stopped, or routed out, one way or another.
And there is good evidence that many retired Intel Cowboys have gone back to work to bring the IZCS Beast down and destroy its grip on American Intel and private Central Banking. Some of the covert operators have long records of success and can create and use numerous different identities.
Many of these Intel Cowboys can use make up and make their own credentials to impersonate officers, draw military and USG paychecks from multiple sources, all at the same time and hack into any computer system anywhere in the USG or American Intel, anywhere anytime. Most of them just did not realize that the IZCS has taken control because of unlimited money provided by zionist Central Banksters and Judaic supporters.
And the best news of all is that more than a few seasoned Intel Cowboys that served the Bush Cabal at its center as well as the IZCS, have now woken up, pulled away from the Bush cabal and are targeting the IZCS with deep cover covert ops that would make your hair stand on end if you were allowed to know.
Some of these Intel Cowboys have now admitted that they were kept so narrowly compartmented that they did not realize the whole picture until the Internet and the numerous Federal Whistle-blowers coming forward and spilling the beans. the simple fact is this, the worldwide Internet and the alternative news it provides spreads truth like a wildfire that cannot be put out even with the application of military force.
The Internet is the New Gutenberg Press, the Achilles Heel of the IZCS.  The Internet will turn out to be the greatest trick in history played on the IZCS by the young men at Drapa.  They sold the Internet to the IZCS and its SSG promising the greatest spying and surveillance system imaginable.  Yes the IZCS got much of what was promised but also a very big hidden surprise which assures their complete exposure and destruction, piece by piece. And this disassembling of the IZCS is already well under way.
The IZCS is now in its death throes and is like a rabid, cornered dog.  That makes it very dangerous for the next year or two until it is completely defanged which is coming. If they use the Samson option which they have been threatening numerous nation-states with (they already used it on japan with the nukes planted in the sea bed and in the security camera on site because Japanese turned against them).
New factions within the Military High Command and the USN have already taken note and are working carefully in the background to defang Dimona by utilizing secret satellite activated back-doors in various hardware circuits.
During the height of the bush Cabal (Bush1) those Intel Cowboys that did know were arrested and jailed on trumped up charges to discredit any possible testimony before Congress or in the courts. Now that many have been informed of what really happened on 9-11-01, they are hopping mad that America has been hijacked and the Constitution and its Bill of Rights, and the Rule of Law has been suppressed and ignored by this world's largest criminal cabal.
The IZCS attacks on America on 9-11-01 have proved to have been a "going for broke" attempt to build a expanded Israeli in greatest intended form. We now know that it was the greatest and final reckless mistake of Israel so far. Even far worse than Israel's False-Flag attack on the USS Liberty in their attempt to draw America into a Mideast War at the time which even President Johnson, their crypto Judaic stooge refused.
And now many Americans have finally been informed that the Murrah Building attack as well as the first NYC Twin Towers attack using a 55 drum of cyanide stolen from Louis Champon's Natural Cherrie Flavoring Plant in Boca Raton, Florida, financed by Dr. Ishan Barbouti, the IZCS Cutout that has died at least three times and always come back to life.
As few know, only the top NeoCons 911 Planners, Dr. Barbouti rose again and came back to life to assist with many of the 9/11 attacks subplots which were designed to provide numerous false leads. A few of the most Patriotic Intel Cowboys who have "traveled" very close to the very "top of the pyramid" now believe that Israel provided the anti-matter positron micro-nukes which were installed in the Twin Towers elevators approximately every ten floors.
Most retired Intel Cowboys had previously thought Israel was a supportive Intel partner but didn't realize that Israel murdered 135 Americans on the Liberty ship as a False-Flag attack and also murdered another 3,000 humans being in NYC and at the Pentagon on 911, assisted by Traitors within the USAF, NORAD and the JCS.
Now that these Intel Cowboys know the truth, they have woken up and back at work serving America's true "National Security". I don't know exactly what they will do but I would expect some very, very crafty covert moves to expose, drive the IZCS out of America or demo it irreparably if necessary.
References:
(1) http://www.veteranstoday.com/2013/11/10/was-ronald-reagan-the-last-duly-elected-president/
(2) http://www.youtube.com/watch?feature=player_detailpage&v=bU2n1UiY3I0
(3) Jane Standley BBC announcer, http://www.youtube.com/watch?feature=player_detailpage&v=ltP2t9nq9fI
(4) http://freebeacon.com/muslim-brotherhood-leader-meets-obama-in-white-house/
(5) http://thecommonsenseshow.com/2013/04/19/dismantle-the-department-of-homeland-stasi/
(6) http://www.informationclearinghouse.info/article37553.htm
(7) http://americanfreepress.net/?p=15289
(8) http://rt.com/usa/dhs-ammo-investigation-napolitano-645/
(9) http://www.washingtontimes.com/news/2011/aug/11/was-cia-behind-operation-fast-and-furious/
http://www.corbettreport.com/the-cia-and-the-drug-trade-eyeopener-preview/
(10) http://ehpg.wordpress.com/israel-did-911/
(11) Part 1: http://www.youtube.com/watch?feature=player_detailpage&v=1pyMMfqS6Kc
Part 2: http://www.youtube.com/watch?feature=player_detailpage&v=vdv8g6k2AP8
Part 3: http://www.youtube.com/watch?feature=player_detailpage&v=IJrKFkZ_uMo
Part 4: http://www.youtube.com/watch?feature=player_detailpage&v=U8r8-AHMgsI
Note: Kay Grigg's video affidavit has numerous other backup versions.  Some have more than four parts and some additional material lost due to editing.
Source: Preston James | Veterans Today
There comes a time when a coming convergence becomes apparent. But when it spells a very probable major cataclysm people are not too eager to see it.
But see it we must. And sound the alarm we must…as well as prepare.
Funny how that's another thing "they" minimize and belittle. "Conspiracy freak" leads into "gloom and doomer", "fear and hate monger" etc., all being cleverly wrapped into the "terrorist" catch-all these fascist, police state days.
They are the authors and manufacturers of terror, always accusing the very ones they're murdering and manipulating. Sadly, the snooze button has been hit seemingly permanently for some. Nothing rattles them anymore – until the food runs out.
The wake up will hit, one way or another. It's already happened for very many. The key is to be awake, aware and ready.
Our Surreal News
With multiple extremely serious realities striking home from a possible banking shutdown to Fukushima to martial law and beyond there are more and more people who are catching on. But the hour is late.
That's not to mention concurrent massive geo-engineering and weather manipulation.
Shrimping was finally banned off the Gulf of Mexico due to horrific deformities and lesions in specimens being found; the arrival of radioactive Japan tsunami debris and massive radiated levels in the Pacific showing high readings in fish and algae and other samples and now even beach conditions on the US west coast; growing concerns about "fracking" causing earthquakes and severe water pollution around the world; GMO toxins and vaccines now known to not only maim humanity but drastically reduce fertility – are all major ongoing concerns that are adding up and causing people to boil over.
And that doesn't touch on the economic and corporate manipulations, the police state crackdowns, and the massive war machine that's gobbling up the world with hardly a peep of resistance or protest.
Something's seriously amiss. And that's just a sampling.
All of these man made anomalies are outrageous. And of course under or non-reported. And the Fukushima mutation weirdness has hardly begun with the millions of tons of nuclear contaminated water being continually, and dutifully I might add, dumped off of Japan.
The mutations and die-offs have started, but just barely. And as our forests and crops fail from aluminum and barium poisoning from our chemtrail poisoned skies you can be sure it will get very distressing as the days and weeks progress, as evidenced by California's severe drought that will have devastating repercussions.
The World's Been Thoroughly Conned…and Set Up
You'd think everyone would start to realize something serious is actually going down. But most can't begin to fathom the degree to which we're being attacked. It's way too horrific to grasp, never mind fully realize and integrate into their lives.
If just one spent fuel rod pool at Fukushima collapses, there will be so much plutonium-based radiation released it would be called a potential Extinction Level Event (ELE). Just that. And if that doesn't "bake your noodle", do you know how many hundreds of these types of old dangerous fuel rod pool stocked reactors there are around the world?
Over 800! And all those, built in the 60′s and 70′s, are now due for "expiration"! Never mind the plethora of nuclear bomb manufacturing facilities in the US and around the world. We're talking insane, people. And most of us had nothing to do with any of this. At least not consciously.
This planet is one large deliberately bomb-ridden Murrah Building or explosive-laden Twin Tower. Earth has been and is being engineered for demolition, whether a man-made or natural disaster triggers it, the charges have been thoroughly and deliberately set in place.
Waiting around and living "business as usual" are no longer options.
The Virtue of Knowledge
This doesn't have to spell the end of everything, as awful as that sounds. People who love you tell you the Truth.
I'm fully convinced that our number one job here is to wake up, first and foremost, individually, and then wake up everyone around us. It's imperative people see the vast extent of the perfidy of this parasitic force destroying our planet. And that's not an easy task…UNTIL someone wakes up! Once the light gets in all will follow to the True in Heart.
The coming cataclysms, in whatever form they take, will work in Truth's favor. Universe doesn't fail in anything within any of its realms. How it plays out here is only perceived from our small, limited viewpoint. We will learn, come what may.
But the viewpoint from the heart?!….that's where the answers reside. All we have to do is listen. And learn. And do.
False Flag Earth and the Plan of the War gods
Anyone reading this knows false flags have been perpetrated by rulers since time immemorial. It's virtually primordial evil to secretly do some evil deed yourself or have someone do it for you and blame someone else, all for a desired effect.
This huge scam is admittedly off the charts wrong and engineered by the dark side, however you perceive it. The loving and kind-hearted would never consider such acts, which is why many can't conceive them, yet the controllers use these tactics with abandon.
Earth will survive their puny efforts in some form, if need be. Humanity may not, at least here, until the earth recovers or we take off for new horizons. I don't know. But to deliberately bring on such catastrophic conditions is not an easy one for the lay unaware earth man to wrap his head around. Very strange indeed, but that's how they've gotten away with it.
They say mega catastrophes, natural and perhaps otherwise, have wiped out previous civilizations and thousands of animal species on earth. They've even found evidence of a nuclear conflagration in ancient India, and it's theorized Atlantis and Lemuria had it out in some sort of nuclear war and that's how they came to an end.
It seems these warlike "gods" through the ages have a propensity for this type of wanton death-dealing and destruction. They really should find their own already decimated rock somewhere out there and fight it out between themselves and leave us the hell alone.
Wouldn't you say?
Non Cooperation and Resistance is Essential
Our job is to first wake up to the horrific reality that we're being deliberately killed off, and then wake up as many others as possible. I don't know about any cavalry coming to save us but I do know it's a time of energetic change that will help more and more see what's going on and hopefully wake up out of slumber.
And when we activate, Universe activates. And I don't doubt there aren't "agents of good" who help us from other realms. When we put feet to our new found knowledge things on every level activate. But the responsibility is ours. It will always remain ours. That's the cycle we're on. If you don't get it and respond you're doomed to repeat it till you do..in one form or another. To me that makes total sense. But then again, I'm just wondering…
The Universe is intrinsically right and just. If we didn't have free will life would be a drag. And with free will comes a lot of messiness. And responsibility. It's ours to handle responsibly. Our hearts tell us so.
So let's enjoy this anyway! But let's get Love and Truth back in charge here, shall we?
Perspective – They Can't Win Over Truth and Love
You really wonder how these anti-natural freaks can take themselves seriously. Just look at the magnificence of our Universe. It's beyond description. Clearly forces play out that we're only slightly aware of. But one thing we can be sure of…puny man or any other power-crazed entity is nothing to be feared. We're inter connected with Something so much greater and profound we can rest assured all will come out for the better no matter what happens in the short term.
The current awakening is changing the entire dynamic on our planet by the hour. The matrix is coming down, which is why they're so frantically trying to slap up structural supports for it everywhere with more laws and draconian regulations. There's a vibrational change that is exposing the Truth and accelerating drastic life changes all around us. This will no doubt change the course of all of their plans as everyone's perceptions will be changing as well.
Eternity Rules
If we're on to their scam, we should identify it, non-comply and rise up in defiance of it and overcome it. Whatever form we take. Even if the whole place blows, you think that's the end?
Fear of death is possibly the biggest con going. How many parallel dimensional worlds are right now spinning, slipping and sliding around us? Even our so called big brained physicists say at least 11. You think that's all? (And btw, notice no one's calling themconspiracy freaks! Ha!)
The biggest lesson we can all learn: Heart trumps brain trumps programming.
Stick to your convictions, come what may.
And go with the flow – synchronicity leads and confirms and encourages.
A final thought from Lao Tzu…
"A good traveler has no fixed plan, and is not intent on arriving."
Keep wondering.
Love, Zen
Source:  Zen Gardner  |  ZenGardner.com
Is there any doubt that America's foreign policy, based upon maintaining a global empire, actually makes us less safe? The misgiving is that such intercession has any actual benefits to the citizens of the country. What once was a respected leadership role of non-interventionism in international affairs, has become a dominating imperium for worldwide control and subjugation. Exporting the "land of the free" is a myth, especially when domestic freedom is a dying memory. Internationalists tell us that military and surveillance drone technology promises enhanced security, with little concern for collateral damage or loss of innocent life. However, the facts do not bear out such claims.
Factor in the expansion of robot deployment and replacement of human assets, produces the net effort of an even more depersonalize and dehumanizing use of coercive force. Nonetheless, such a trend gets little public concern and even less outrage. Military branches, filled with voluntary recruits, are losing faith in the spin. CIA and unnamed black bag missions rely upon eager operatives that believes in the importance of the assignment or demented mercenaries that enjoy their macabre trade.
The practice of desensitizing defense forces is an essential component of basic training. With robot brigades, moral considerations need not interfere with killing tasks. The essay, Kant's moral philosophy and the question of pre-emptive war illustrates the quid essential example of an amoral tech that avoids the very nature of profound ethical issues. The stick question of morality is foremost in areas of human endeavors, but total absent in the wiring of tech carnage machines.
"That the international arena is indeed a state of nature in something approaching Hobbes's sense of the term is a theme upon which Kant insists in both Perpetual Peace and the Metaphysics of Morals; it becomes a much more insistent theme in the latter. Such a conceptualization does not, however, diminish Kant's commitment to upholding and, if possible, promoting fundamental principles of right within this arena, nor his condemnation of those individuals and governments, however numerous, which violate them. It is in this context that his pronouncements concerning the justifiability of war, and whether a pre-emptive war is ever acceptable, must be understood. In Perpetual Peace, these pronouncements are unequivocal. Famously, Article 5 of the preliminary principles conducive to perpetual peace is "No state shall interfere by force in the constitution and government of another state." In the long Appendix to this essay Kant warns against demanding that another state divest itself of a despotic constitution – at least as long as this state is in danger of being swallowed up by other states – even while expressing the hope that despotic constitutions will gradually give way throughout the world to republican forms of government. (Republican and despotic are the only two types of Regierung, as distinguished from forms of authority, or Beherrschung – that is, whether the ruling power consists of one person, several, or all of civil society taken together – that Kant recognizes; he is far removed from the distasteful combination of frivolity with brutality that has led to the identification of certain regimes as "rogue states," hence undeserving of any respect, by apologists for the great powers of our day.) Further on in the same Appendix, in the context of considering possible antinomies between morality and politics, Kant asks whether, if a neighboring power has grown to such size as to warrant apprehension that it might attack, it would be permissible for an allied coalition of weaker states to stage a pre-emptive attack on that state, "even without preceding insult," and answers in the negative."
Surely, the memory chips in drones and robots are not programmed to reflect a Kantian standard for the use of deadly force and destructive weaponry. It is exactly because of this lack of understanding between right and wrong that drones and robots are so attractive to the enforcers of the imperial empire.
Even an establishment mouthpiece like CBS must acknowledge the risks and non-decisive functions of this technology. Drone wars: Pentagon's future with robots, troops, clearly raises the dangers of android warfare.
"Washington's post-9/11 military interventions have been a boon for drones. The numbers tell the story. At the turn of this century, the Department of Defense had 90 drones with plans to increase the inventory by 200 over the next decade, according to Dyke Weatherington, a Defense Department deputy director overseeing acquisitions of hardware for unmanned warfare. As 2012 began, there were more than 9,500 remotely piloted aircraft in the U.S. arsenal.

Air Force contracting documents suggest that the estimated five Reaper sorties flown each day in 2012 will jump to 66 per day by 2016. What that undoubtedly means is more countries with drones flying over them, more drone bases, more crashes, more mistakes. What we're unlikely to see is armed drones scoring decisive military victories, offering solutions to complex foreign-policy problems, or even providing an answer to the issue of terrorism, despite the hopes of policymakers and the military brass."
Yet, the military is rapidly expanding the footprint and capacities for their drone force. Obama's Two Words for Us: 'Predator Drones', is not only a sick joke, but more importantly a very obscene policy. America's Secret Empire of Drone Bases, documents that this immoral combatant system is spreading indiscriminate causalities from "The Agency" who has a long record of war crimes.
"Over the last decade, the American use of unmanned aerial vehicles (UAVs) and unmanned aerial systems (UAS) has expanded exponentially, as has media coverage of their use. On September 21st, the Wall Street Journal reported that the military has deployed missile-armed MQ-9 Reaper drones on the "island nation of Seychelles to intensify attacks on al Qaeda affiliates, particularly in Somalia." A day earlier, a Washington Post piece also mentioned the same base on the tiny Indian Ocean archipelago, as well as one in the African nation of Djibouti, another under construction in Ethiopia, and a secret CIA airstrip being built for drones in an unnamed Middle Eastern country. (Some suspect it's Saudi Arabia.)
Post journalists Greg Miller and Craig Whitlock reported that the "Obama administration is assembling a constellation of secret drone bases for counterterrorism operations in the Horn of Africa and the Arabian Peninsula as part of a newly aggressive campaign to attack al-Qaeda affiliates in Somalia and Yemen." Within days, the Post also reported that a drone from the new CIA base in that unidentified Middle Eastern country had carried out the assassination of radical al-Qaeda preacher and American citizen Anwar al-Awlaki in Yemen."
Is this the kind of stealth death that shares the adage "if you build it they will die" or can the capabilities of these systems be limited strictly to reconnaissance intelligence? Now such a goal is not covered by international law, because the AMERIKA super power does not recognize any legal or moral restrains on their use of armed elimination of anyone designated as an enemy of the state.
Reigning terror from the skies is rationalized because suspected terrorists are such existential threats that allow for the use of any means necessary. The NDAA mentality covers the entire globe using the standard that removing anyone without due process is warranted. The Drone Wrath for a Compliant Society essay, implores that active resistance is long overdue.
"The National Defense Authorization Act is the latest unconstitutional measure that targets domestic citizens for punitive punishment. Due process, now reduced to "Due or Die" is the harbinger of the use of domestic drone capitulation. What will it take to awaken submissive citizens that the capability of foreign deployed drones easily can be weaponized for local operations?"
The NSA calls for the elimination of Edward Snowden, who just happens to be the most current and celebrated target. Nevertheless, with the readying of robot assassin squads, anyone could be the next victim. As long as the internationalists are in control of our government and the globalists are the masters of the world economy, the focus and missions of the U.S. military will be uses to further the interests of these treacherous elites.
The technocratic authoritarians diminish the sacred nature of life with each new death system. Absent from their design specifications is the moral imperative. For these deranged enablers of a global gulag, humans are expendable and unnecessary. The concept of Kantian duty is never a factor in their robotic monsters.
When empires are in the last thralls of decay, they go to war. The failures of the Iraq and Afghanistan invasions have exposed the futility and betrayal of globalist government service. Defense of country has never been the mission for these expeditions.
Future operations will use drone and robotic weapons whenever possible, since human doubt in a rightful purpose in the mission is rapidly diminishing. Troop reduction and replacement with machines is the technology solution, when moral authority is absent.
Perpetual war will seek full spectrum dominance, which is now dependent upon unman aircraft and land based devices. The next false flag excuse will claim a fictitious necessity to unleash the bombing drones. GPS coordinates; unencumbered by moral doubt, guide Hellfire missiles.
Just sit right back
And you'll hear a tale,
A tale of a fateful trip…
(Theme song from the TV show "Gilligan's Island")
You're probably familiar with the "scientific" expedition from Australia which got stuck in the ice in Antarctica last Christmas Eve, but you may not be aware what a rollicking good tale it is. "You're sure to get a smile," as the show's theme song promises, but I promise you more than just a chuckle. There's a moral to the story as well.
The first comic relief – other than the fact it's summer down under, mate – comes with the introduction of the organizer of the "Australasian Antarctic Expedition (AAE)", Chris Turney, self-described "scientist, explorer, writer" and ardent global warmist. Christened "The Spirit of Mawson" after an Australian scientist who led an expedition to Antarctica in 1911, the expedition's purpose was to "meld science and adventure, repeating century old measurements to discover and communicate the changes taking place in this remote and pristine environment". Despite the scientific veneer, the make-up of the 50-odd person crew resembled more the complement of the good ship Minnow ("The millionaire and his wife; The movie star; The professor and Mary Ann") than that of Mawson's S. Y. Aurora. The pseudo-scientific antics of this menage a trois of scientists, journalists, and tourists made the voyage look more like Winter Carnival at Dartmouth than Darwin aboard the Beagle.
Comments on Turney's website ("marked shift in westerly winds… melting large sections of the Antarctic ice sheet" ) suggest he expected to find more open water than had Mawson a century earlier. Why Turney hoped to find open water when it was well known sea ice in the Antarctic was setting records is a mystery. I suspect he'd been led astray by fellow warmists like Al Gore, who predicted in 2008 "the entire North Polar ice cap may well be completely gone in five years" . Gore almost achieved prophet status in 2012 when Arctic ice shrank to its smallest extent since modern recordkeeping began, but last year the ice made a huge comeback and is now almost back to normal.
Whatever the case, the expedition's Russian ship, the Akademik Shokalskiy, got stuck in the ice. The Australian government sent out its ice breaker, the Aurora Australis, to rescue the ship, but they could come no closer than 10 miles from their fellow countrymen. A larger icebreaker, the Chinese Xue Long, got within six miles but could get no further. The decision was made to helicopter the stranded Aussies to the Chinese ship, leaving the Russians to their fate. But for days bad weather forced postponement of the airlift.
Meanwhile, aboard the Shokalskiy it wasn't exactly "No phone, no lights, no motor car; Not a single luxury; Like Robinson Crusoe; It's primitive as can be", but then our castaways weren't exactly basking in the tropics, either. The first mate and his Skipper too, will do their very best to make the others comf'terble in their tropic island nest (make that "antipodal mess"). Courageously ignoring their life-threatening predicament (or too drunk to remember they were in one), the boozy explorers partied as if there were no tomorrow (which might be true if the weather didn't break and the heat ran out). On New Year's Eve the ice-olated penguin-huggers celebrated with a concerned world through
YouTube (a bit nerdy, almost makes them look like scientists).
Unable to get a good weather forecast, the expedition contacted a San Diego TV station and asked if they could help. The station's weatherman, John Coleman, contacted some colleagues knowledgeable on the Antarctic, who came up with a
forecast which held out the hope the wind might shift to offshore, causing the ice to break up and free the vessel. But before that could happen, the expedition opted for evacuation by helicopter when the weather improved sufficiently a day or two later.
From the Xue Long, the now world-infamous Australasian Antarctic Expedition was transferred to the Aurora Australis, which then continued on its original mission to re-supply an Australian Antarctic base. Meanwhile, the Xue Long now became stuck in the ice. Fortunately, the wind shift postulated by the weathermen came to pass, and both stuck ships, the Xue Long and the Akademik Shokalskiy, were able to free themselves. As it turns out, our intrepid explorers would have gotten home sooner had they not abandoned ship as the Shokalskiyarrived back in Australia while our parka-clad party animals were still stuck in Antarctica waiting for a ride home.
If all this hasn't given you a chuckle, you're a diehard warmist with no sense of humor. One last attempt to tickle your funny bone. The meteorologists who predicted the weather might improve sufficiently for the Akademik Shokalskiy to free itself are global warming skeptics, or, as the still unbowed leader of the AAE might say, deniers.
Not so funny (even by my warped standards) is the hundreds of thousands, maybe millions, of dollars someone, maybe the Australian taxpayer, is going to have to ante up to cover the cost of the rescue. The AAE vowed prior to departure to plant trees in New Zealand to offset the carbon emissions resulting from their expedition. Adding in the emissions spewed out by the fossil fuel-guzzling icebreakers, this should result in a forest of taigan proportions, which, like its Siberian counterpart, will be a tribute to the awesome, fear-inspiring forces of nature.
On the bright side, the expedition fared better than Mawson's in one respect: they all came back alive. Mawson and two companions were forced to make a 300-mile trek across the ice back to their base camp. Losing his companions to the harsh conditions along the way, Mawson stumbled into the camp after a months-long trek only to see the S. Y. Aurora steaming away in the distance. Living off the provisions left behind, Mawson spent the winter alone on Terra Australis, dreaming of that other "Land of the South" from whence he came and to which he would belatedly return the next summer.
The moral of the story? Global warming is real. Just kidding. The true moral is not to defy settled science, the science that is settled being that there is a lot about the climate we don't understand. To see everything through the prism of a still young, still baffling warming trend is to risk, to put it ironically, snow blindness. The attribution of the recent Polar Vortex-induced cold wave in the United States to
global warming is a case in point. An obsessively global warming-centric view of the world can lead to errors of the fatal variety, as almost befell our Gilliganesque lot, but perhaps even more dangerous in the long run, to errors of science.
A reader emailed me, "Mr. Wooldridge, everything you write about on immigration, population and environment is coming true. It makes me sick for my children."
NBC anchor Brian Williams said last Friday, "Meteorologists reported that 62 percent of California suffers from extreme drought. That state stands in the middle of a water emergency."
Additionally, forest fires rage across the state while burning down homes and schools in their path.
If you look back on my Part 4 of "What America will look like in 2050—acute water predicament", I talked about seven states in 2014 suffering from water shortages.
My question: why do hundreds of thousands of people build houses in fire burn-zones? Answer: because California proves our most overpopulated state, 38 million people forces them to encroach on the wilderness without pause. Amazingly, California faces an added 20 million people to smother more of the land with houses, asphalt, concrete, malls, airports, schools and accelerating air pollution.
Most of what I address in my columns manifests faster than I imagined. In my book, America on the Brink: The Next Added 100 Million Americans, leads off with California being the "Bow of the Titanic of America."
Why? Answer: within 30 years, California will absorb over 20 million more people; 90 percent of them from legal immigration.
If they suffer extreme drought in 2014 replete with forest fires and water shortages for their 38 million residents, can you imagine what California faces in three decades when they jump from 38 million to 58 million?
Does anyone in the media or Washington DC understand the "enormity" of our predicament? Answer: not a chance. Williams, Sawyer, Pelley, Blitzer, Charlie Rose, David Gregory, Shepard Smith, 60 Minutes producers and the rest of them run like scalded rabbits away from the population-immigration issue.
Yet, it's coming and it's coming fast. Senate Bill 744, the amnesty for 12-20 million illegal migrants increased legal immigration from 1 million to 2 million annually. If California's problems aren't bad enough already, Washington politicians and Obama vote to make them doubly worse doubly fast.
Almost 99 percent of California faces abnormally dry weather or worse; almost two-thirds of the state suffers extreme drought. The year 2013 became the driest year on record in California.
"I think the drought emphasizes that we do live in an era of limits, that nature has its boundaries." — Gov. Jerry Brown, California
Brown urged voluntary water conservation to the tune of a 20 percent reduction.
"We ought to be ready for a long, continuous, persistent effort, including the possibility of drinking-water shortages," he said. "I think the drought emphasizes that we do live in an era of limits, that nature has its boundaries."
"With a hotter and drier future, we can't duplicate water policies of the 20th century to address challenges of the 21st," said Senator Fran Pavley, a Democrat, from Agoura Hills in Southern California. "We need to be resourceful and create new water supplies with cost-effective, sustainable strategies."
Notice none of them speak about the impact of adding 20 million immigrants. Not to mention the 100 million overall landing in America from endless immigration! They refuse to look at the long-term picture. They ignore the fact that they have too many people with too little water.
While I took great pains to write about what America will look like in 2050 with an added 100 million more immigrants, the leaders of this country refuse to look at the ramifications facing our children. You can expect those 36 years to fly by in a blink.
While the politicians in Washington DC won't deal with it, the American people remain as clueless as a pot of geraniums left out in the hot sun in Arizona while the owners left on vacation with no provision to water them.
Result: the geraniums die from lack of water. Once they die, nothing brings them back.
Once those 100 million immigrants land on the USA, nothing can change our fate.
"The crisis of our diminishing water resources is just as severe (if less obviously immediate) as any wartime crisis we have ever faced. Our survival is just as much at stake as it was at the time of Pearl Harbor, or the Argonne, or Gettysburg, or Saratoga." – Jim Wright, U.S. Representative, The Coming Water Famine, 1966
Instead of our country remaining the land of plenty, we face becoming yet another conflicted, water-scarce and struggling civilization because we failed to act when we should have acted.
Eleanor Roosevelt said it 50 years ago; "We must prevent human tragedy rather than run around trying to save ourselves after an event has already occurred. Unfortunately, history clearly shows that we arrive at catastrophe by failing to meet the situation, by failing to act when we should have acted. The opportunity passes us by and the next disaster is always more difficult and compounded than the last one."
You can act collectively to stop mass immigration from continuing: share these two videos with every citizen in America that show what we face and what we must do to stop it.
I wrote previously about our cultural fantasy that forgets we are totally dependent on soil and water.  At the end of his Commentary on the Book of Numbers R. J. Rushdoony writes as follows: "For modern man land has become a commodity and an investment, not essentially a faith inheritance.  Our modern outlook thus warps our perspective.  For this reason, our federal government thinks nothing of allowing in as immigrants an increasing number of people who are religiously and racially hostile to us.  They see no relationship between faith and land.  As a result the United States and the Western world have embarked on a suicidal course.  They reject the concept of Christendom and embrace instead the humanistic "family of man" and thus immigration policies in the U.S. and Europe are based on myths and illusions of a destructive nature.  Because neither land nor inheritance is now seen from the perspective of faith, we have problems in these spheres.  The modern state sees itself as the primary owner, and hence eminent domain is basic to its life, and it therefore views itself as the primary heir with death taxes.  Both a tax on the land and death taxes are anti-Biblical."
I am not sure that linking our immigration problem to a lack of understanding of the relationship between land and faith is entirely true.  Immigration in America is Balkanizing the nation and destroying the culture.  It is satanic in nature and is being promoted by powerful forces that seek world government without national borders. The Christian religion itself is a target for destruction.
Nevertheless, human beings are land based creatures and Christianity is a land based religion. We are but sojourners in a world that God created.  We are vested with the responsibility of passing God's land to the next generation in an untainted condition.
When we hear of conversations in elite circles about the need to exterminate millions of useless eaters because the world is overpopulated we can, in part, attribute this arrogant discussion to our inattention to our earthly umbilical cord.
This separation from terra firma has been enhanced by modern farm machinery which allows planting and reaping with very little contact with the media.  Farmers with soil on their clothing and on their persons were ever aware of the element that grew their crops. Now air conditioned tractors provide comforts on a par with the offices of business executives.
Please understand, I am not advocating a return to the horse and buggy.  Mechanical inventions are a boon to mankind and we are blest to have them.  The problem is with the egomania these marvelous inventions have created, making gods of men and enhancing the humanism that is responsible for creeping despotism.
Without the absolute legal standards of the God of the Bible human beings with their diverse opinions and desires are incapable of peaceful existence.  We are more like devils than gods and when we give in to the sinful desire to be like God we inevitably create confusion and misery.  We were made to be obedient to our Maker and are unable to live in freedom without adhering to His commandments.
The terrifying dangers of men beginning to act as gods are becoming apparent in our manipulation of our soil and seeds.  We started by ignoring God's Sabbath for the land.  The practice of allowing land to lie fallow for one year in every seven was abandoned and fertilizers and chemicals were added to allow the production of continuous annual crops.  Now we are manipulating seeds creating mutations that are designed to produce beneficial protections.  We have appropriated the right to manipulate the creation as if it belonged to us.  The results of this arbitrary manipulation can be catastrophic.
Social sophisticates often view farmers with disdain.  Farming is considered an occupation of dull, dirt tainted, bumpkins that do not fit into the upper classes of our culture. This Pharisaical spirit elevates urban life and bears responsibility for the detrimental error of forgetting the source of our sustenance.
My mother was born and raised on a farm.  She walking four miles each way to attend a school that housed 8 grades. She graduated from University of Illinois in the early years of the Twentieth Century and her sister, who was educated in that same humble classroom, was a Phi Beta Kappa graduate from Northwestern University.  There were two boys in that Irish led family.  The boys remained with the land but the two girls married professional men.  The two boys were my uncles.  One died early without progeny the other had one son who with a college degree in Agriculture remained in farming.  He produced a girl and a boy.  The son remained on the farm and produced a son who has no interest in agriculture.  All of the land my Grandfather homesteaded will soon be leased out.
Mother's family was Methodist.  She dominated my father.  Methodism stressed human control of behavior rather than obedience to God and His Law.  Land was a commodity rather than an intricate part of the Christian religion.
Government has been busy acquiring land in the United States.  Estimates place the total U. S. land at about 2.25 billion acres and the total federal and states ownership at close to 45 percent; The Federal Government owns about 700 million acres and rising.  In thirteen Western states two thirds of the entire land mass is Government property; 87.5 percent of the State of Arizona and over 90 percent of the State of Nevada.  The United States Government owns a larger percentage of the nation's land than do the Communist regimes in Russia and China.
A Google search on "city is more competitive" produced over a hundred thousand results.  The elite pagans who currently control our world would like to herd people into cities where an intercity economic competition would keep everyone striving.   More and more of the land is falling under government control and hundreds of thousands of homes have been repossessed.  The intent seems to be for wealthy lords to live handsomely on the labor of the world's serfs who would exist in tiny cubicles in crowded cities.
In ancient Israel God allowed the permanent sales of urban properties but had rural lands returned to their original owners in the year of Jubilee.  Stability was vested in the families that owned and cultivated land.  Though the processing, packaging, and merchandising of food has blurred the connection it is still the same today; the cultivation of land remains the source of sustenance for the world's population..
In one of his daily messages in "A Word in Season" Rushdoony relates the early American practice of Rogation Sunday.  In the evening following Sunday prayer for the harvest "each farmer and his family walked the boundaries of their property and gave thanks for the good earth.  As they walked, the boy of the family was 'bumped' against the landmarks, the boundary stone, or against a boundary tree.  If a pond or stream marked the boundary he was ducked into it.  Then the boy who was bumped or ducked was given a small gift.  The purpose of the 'bumping' and of the gift was to make the boy remember the boundaries of the land he would someday fall heir to."
We are prone to forget that the One True God is still sovereign over His creation.  His perspective is infinite and ours is miniscule it is often difficult to see His participation. Nevertheless, He does not change and He still punishes those who presume on His authority.  Human control of His creation will ultimately fail and the ravages of Hell await the perpetrators.
Wicked, ungodly men and women have risen to positions of power in our time.  These "sons of
Belial" are attempting to turn God's creation into a vicious police state; a hell on earth designed by evil minds to accommodate deviant lusts.
Extensive, mysterious efforts to control the weather are being conducted in our skies.  Though they are visible to everyone, thousands of weather forecasters never acknowledge their existence.  Our citizens, too, are frightened and often reluctant to comment on these brazen experiments. It is frightening to see such a massive manipulation play out above us. The beautiful deep blue of space and the billowy, floating clouds that have treated our views for millenniums have been replaced by man-made lines haphazardly drawn over God's creation.
God's Word is full of promises of favorable weather in return for diligent obedience and men who attempt to control what God has claimed as His own are at war with God.
Though we common folk appear to be the victims of the new world order's Procrustean bed we too are culpable. We have failed to abide by God's law concerning His creation. Farmers willingly till their soil without giving it rest.  Local authorities levy taxes against farm land interfering with the ownership and stability God intends.  We have broken God's Law and have elected rulers that do so as well. Captivity is God's punishment for intractable sin and the solution is to return to a proper relationship with our Creator.  Repentance involves understanding that we are servants and He is our Master and our King.  It is our duty to worship and obey Him.  Attempts to manipulate God will fail.  The Bible is not an instrument for discussion but for obedience.  We are appointed to judge the world by the yardstick of God's Law.  First we ourselves obey then seek to bring our nation into obedience.
It is foolhardy to pray for a nation of sinners who disregard God's sovereignty and ignore His commandments.   God is bringing captivity on the world because His people made in His image, sin against Him by living their lives independent of His Will.  The world falls deeper into sin as each day passes. Instead of hearing and obeying every word that comes from the mouth of God, we insult Him by picking apart His Word and deciding what we will believe and what we will ignore.  We treat the Christian religion like a toy that is fun for a season but that we can put aside whenever we wish.
Two rather interesting things have happened to me lately.  First, I had one of my teeth pulled this week — totally not a fun experience.  And, second, while still oozing pain and eating Hydrocodone and climbing the walls, I started reading a book about plants by Michael Pollan, entitled "The Botany of Desire".  So now I have suddenly become an expert on both pain-killers and gardens.
Having one's tooth pulled is like, er, pulling teeth.  It really hurts.  So from now on I plan to brush and floss constantly and do whatever it takes to keep my remaining teeth healthy and clean.  Someone recommended gargling with Bombay Sapphire twice a day.  I'd try even that.
Even though the student doctor who pulled my tooth at the UCSF School of Dentistry was an angel of mercy combined with Dr. McDreamy, having one's tooth extracted is never pretty.  I kept reciting that mantra "Challenges make me stronger" in the dental chair and silently doing jin shin jyutzu — but even that didn't work.  I'm a wimp.  And not only that but once the tooth was out, they wouldn't even give it back to me to give to the Tooth Fairy.  Rats.
Then, once finally back home and safely collapsed into bed, I took some of those "opioid" pain-killers they gave me — and dreamed that I was an escaped convict running a funeral parlor in my childhood hometown (Millbrae) and hiding under my daughter Ashley's bed (probably from NSA).  Forget that.  No more weird Kubla-Khan dreams for me.  I'm sticking with aspirin.
Now I'm wishing there was something I could do to replace my poor sweet little lost tooth, but there doesn't seem to be anything.  Getting a dental implant is expensive — $3,000 per tooth, even done by a dental student.  Who can afford that?  Not me.  So now I've got a big gap in my teeth.  How ugly is that!  However, I won't be alone for long.  Two-thirds of America will soon be joining me in being gap-toothed as well unless affordable dental insurance becomes available reasonably soon.  But if not, then we'll all be totally ugly together, not just me.  America goes third-world.  Who would have thought.
I also have a postage-stamp sized garden attached to my apartment, which grows nothing.  According to Michael Pollan, this shouldn't be happening — unless there has been some really heavy-duty weed killer sprayed there at one time.  Yes, there was.  But not by me.  So, apparently, what I need now is all new dirt.  And at the rate that American agribusiness keeps using millions of tons of herbicides and pesticides each year, all of America will soon be needing all new dirt too.
"Actually, it's not the heavy use of herbicides and pesticides that is causing the most problems on huge agribusiness farms," to summarize one of Pollan's chapters on the potato, "but rather the monoculture nature of their crops.  Organic farmers can vary and rotate what they plant and thus stave off insect and fungal infestations — but if your main customer for potatoes is McDonalds, then you have to plant Burbank russets and only Burbank russets all of the time.  So it is Americans themselves that are causing the major use of [stuff] like Roundup and Roundup-Ready GMOs."
So if I promise to plant a huge variety of everything in my garden, from fingerling potatoes to roses to dandelions, then will at least SOMETHING finally grow?
And will I also be able to grow a new tooth?
Aside from Michael Pollan, why else have my thoughts been turning to gardening lately?  In the middle of freaking January?  Because this winter has been the sunniest one in Berkeley that I have ever seen.  It's like freaking summer here now, like July, every day — even going beyond April or May.  www.weather.com even declared Berkeley a drought area the other day.  Time to bust out the seeds.
Michael Pollan also wrote about cannabis in his book on plants.  "Marijuana doesn't make you forgetful of everything.  It just makes you forget [stuff] that's not important."  Interesting.  I always forget names.  So I guess names aren't all that important or necessary for me to remember.  Whew.  I'm off the hook then.  Am not getting senile dementia after all, just sorting out my priorities.
And maybe that's why Alzheimer sufferers forget so much mental stuff too — they might be shutting down everything that won't immediately help them to cope with this devastating disease (yes, I know that Alzheimers also rots its victims' brains — but isn't that just one more good reason for them to shut said brains down?)
With regard to raising the minimum wage here in soon-to-be-toothless America, wouldn't it make more sense to just cut the rate of inflation instead?  Starting by eliminating the Federal Reserve and its tendencies to print meaningless Monopoly money and to finance Endless War?  And, while we're at it, let's stop giving out billions in "food stamps" to corporate welfare queens like Bank of America, BP, WalMart, Halliburton and Monsanto.  Works for me.  And can we also please bring our millions of jobs back from overseas too?
Back in 1963, I made $1.75 an hour while working in the post office on weekends and during summers.  With this money plus some help from my parents (yes, they could also afford to help me back then), I was able to graduate from San Jose State College without requiring any student loans.  And in 1966, when I got a big salary-bump to $3.50 an hour for working the stamp window instead of sorting mail, I was able put myself through graduate school at UC Berkeley, just by working during summer vacations.  Can you even imagine staying alive and not homeless in Berkeley today on that kind of salary — let alone paying for your tuition at Cal as well.
What has happened to all of America's jobs and wealth since the 1960s, back when we were the richest country in the world?  That's a no-brainer.  It's all flown away into the pockets of Wall Street mega-bankers, the numbered Cayman accounts of war profiteers and the fat wallets of all those corporate welfare queens who currently own and run our government.
While it's always a good idea to raise America's minimum wage a few dollars, it's also important to stop runaway inflation — and to also start lowering a certain type of maximum wage as well:  The maximum amount that rich guys can steal from us before they get sent to jail.And we need to put some teeth into these new regulations too.
Does anyone in authority anywhere tell the truth about Fukushima? If there is any government or non-government authority in the world that is addressing the disaster at Fukushima openly, directly, honestly, and effectively, it's not apparent to the outside observer what entity that might be.
There is instead an apparent global conspiracy of authorities of all sorts to deny to the public reliably accurate, comprehensible, independently verifiable (where possible), and comprehensive information about not only the condition of the Fukushima power plant itself and its surrounding communities, but about the unceasing, uncontrolled release of radioactive debris into the air and water, creating a constantly increasing risk of growing harm to the global community.
While the risk may still be miniscule in most places, the range of risk rises to lethal in Fukushima itself. With the radioactive waste of four nuclear reactors (three of them in meltdown) under uncertain control for almost three years now, the risk of lethal exposure is very real for plant workers, and may decrease with distance from the plant, but may be calculable for anyone on the planet. No one seems to know. No one seems to have done the calculation. No one with access to the necessary information (assuming it exists) seems to want to do the calculation.
There is no moral excuse for this international collusion. The excuses are political or economic or social, but none of them excuses any authority for withholding or lying about information that has potentially universal and destructive impact on everyone alive today and everyone to be born for some unknown generations.
Japanese authorities may be the worst current offenders against the truth, as well as the health and safety of their people. Now the Japanese government has passed a harsh state secrets law that threatens to reduce or eliminate reliable information about Fukushima. The U.S. government officially applauded this heightened secrecy, while continuing its own tight control on nuclear information. Japanese authorities are already attacking their own people in defense of nuclear power: not only under-measuring and ignoring varieties of radioactive threat, but even withholding the iodine pills in 2011 that might have mitigated the growing epidemic of thyroid issues today. Failing to confront Fukushima honestly, the Japanese are laying the basis for what could amount to a radiological sneak attack on the rest of the world.
Just because no one seems to know what to do about Fukushima is no excuse to go on lying about and/or denying the dimensions of reality, whatever they might be.
There are hundreds, probably thousands of people with little or no authority who have long struggled to create a realistic, rational perspective on nuclear threats. The fundamental barrier to knowing the scale of the Fukushima disaster is just that: the scale of the Fukushima disaster.
Chernobyl 1986 and Fukushima 2011 are Not Really Comparable
Chernobyl is the closest precedent to Fukushima, and it's not very close. Chernobyl at the time of the 1986 electric failure and explosion had four operating reactors and two more under construction. The Chernobyl accident involved one reactor meltdown. Other reactors kept operating for some time after the accident. The rector meltdown was eventually entombed, containing the meltdown and reducing the risk. Until Fukushima, Chernobyl was considered the worst nuclear power accident in history, and it is still far from over (albeit largely contained for the time being). The Chernobyl Exclusion Zone of roughly 1,000 square miles remains one of the most radioactive areas in the world and the clean-up is not even expected to be complete before 2065.
At the time of the March 11, 2011, earthquake and tsunami, the Fukushima plant had six operating reactors. Three of them went into meltdown and a fourth was left with a heavily laden fuel pool teetering a hundred feet above the ground. Two other reactors were undamaged and have been shut down. Radiation levels remain lethal in each of the melted-down reactors, where the meltdowns appear to be held in check by water that is pumped into the reactors to keep them cool. In the process, the water gets irradiated and that which is not collected on site in leaking tanks flows steadily into the Pacific Ocean. Within the first two weeks, Fukushima radiation was comparable to Chernobyl's and while the levels have gone down, they remain elevated.
The plant's corporate owner, Tokyo Electric Power Company (TEPCO), in turn effectively owned by the Japanese government after a 2012 nationalization, began removing more than 1,500 fuel rod assemblies from the teetering fuel pool in November, a delicate process expected to take a year or more. There are additional fuel pools attached to each of the melted down reactors and a much larger general fuel pool, all of which contain nuclear fuel rod assemblies that are secure only as long as TEPCO continues to cool them. The Fukushima Exclusion Zone, a 12-mile radius around the nuclear plant, is about 500 square miles (much of it ocean); little specific information about the exclusion zone is easily available, but media coverage in the form of disaster tourism is plentiful, including aGoogle Street View interactive display.
Despite their significant differences as disasters, Chernobyl and Fukushima are both rated at 7 — a "major accident" on the International Nuclear Event Scale designed in 1990 by the International Atomic Energy Agency (IAEA). That is the highest rating on the scale, a reflection of the inherent denial that colors most official nuclear thinking. Designed by nuclear "experts" after Chernobyl, the scale can't imagine a worse accident than Chernobyl which, for all its intensity, was effectively over as an accident in a relatively short period of time. At Fukushima, by contrast, the initial set of events was less acute than Chernobyl, but almost three years later they continue without any resolution likely soon. Additionally Fukushima has three reactor meltdowns and thousands of precarious fuel rod assemblies in uncertain pools, any of which could produce a new crisis that would put Fukushima clearly off the scale.
And then there's groundwater. Groundwater was not a problem at Chernobyl. Groundwater is a huge problem at the Fukushima plant that was built at the seashore, on a former riverbed, over an active aquifer. In a short video, nuclear engineer Arnie Gunderson makes clear why groundwater makes Fukushima so hard to clean up, and why radiation levels there will likely remain dangerous for another hundred years.
Fukushima Unit #3 Activity Led to Some Panic-Driven Reporting in 2013
The Japanese government and nuclear power industry have a history of not telling the truth about nuclear accidents dating back at least to 1995, as reported by New Scientistand Rachel Maddow, among others. Despite Japan's history of nuclear dishonesty, Japanese authorities remain in total control of the Fukushima site and most of the information about it, without significant objection from most of the world's governments, media, and other power brokers, whose reputation for honesty in nuclear matters is almost as bad as Japan's. In such a context of no context, the public is vulnerable to reports like this from the Turner Radio Network (TRN) on December 28:
** NEWS FLASH — URGENT ** STEAM SUDDENLY EMANATING FROM FUKUSHIMA REACTOR # 3 — WEST COAST OF NORTH AMERICA SHOULD BEGIN PREPARATIONS FOR POSSIBLE RADIATION CLOUD WITHIN 3 TO 5 DAYS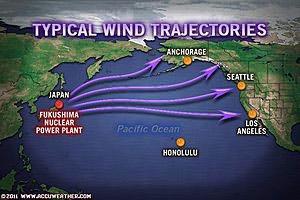 Five days after this story was posted, the "radiation cloud" had not developed despite the story's assertion that: "Experts say this could be the beginning of a spent fuel pool criticality (meltdown)'involving up to 89 TONS of nuclear fuel burning up into the atmosphere and heading to North America." The story named no "experts" and provided links only to TEPCO announcements in Japanese. The bulk of the story reads like an infomercial for "protective" gear of various sorts that TRN makes a point of saying it does NOT sell. Despite such obvious warning signs, others — such as The Ecologist and Gizmodo — reported the threat of "another meltdown" at Fukushima Unit #3 as imminent.
Clarification and reassurance quickly started chasing the "new meltdown" rumor around the Internet. ENENEWS (Energy News) promptly posted the TEPCO reports in English, demonstrating that there was nothing "sudden" about the steam releases, they've been happening more or less daily since 2011, but condensation caused by cold weather makes them visible. At FAIREWINDS (Energy Education), Arnie Gunderson posted on January 1:
"… the Internet has been flooded with conjecture claiming that Fukushima Daiichi Unit 3 is ready to explode… Our research, and discussions with other scientists, confirms that what we are seeing is a phenomenon that has been occurring at the Daiichi site since the March 2011 accident… While the plants are shutdown in nuke speak, there is no method of achieving cold shut down in any nuclear reactor. While the reactor can stop generating the actual nuclear chain reaction, the atoms left over from the original nuclear chain reaction continue to give off heat that is called the decay of the radioactive rubble (fission products)… constantly releasing moisture (steam) and radioactive products into the environment." [emphasis added]
In other words, Fukushima Unit #3 continues to leak radioactivity into both air and water, as Units #1 and #2 presumably do as well. But as Gunderson explains, the level of radioactivity has declined sharply without becoming benign:
"When Unit 3 was operating, it was producing more than 2,000 megawatts of heat from the nuclear fission process (chain reaction in the reactor). Immediately after the earthquake and tsunami, it shut down and the chain reaction stopped, but Unit 3 was still producing about 160 megawatts of decay heat. Now, 30 months later, it is still producing slightly less than 1 megawatt (one million watts) of decay heat… 1 megawatt of decay heat is a lot of heat even today, and it is creating radioactive steam, but it is not a new phenomenon."
Reassurances About Fukushima are As Misleading As Scare Stories
The reassuring aspects of the condition of Unit #3 — radioactive releases are not new, they're less intense than they once were, the nuclear waste is cooling — while true enough, provide only a false sense of comfort. Also true: radiation is released almost continuously, the releases are uncontrolled, no one seems to be measuring the releases, no one seems to be tracking the releases, no one is assessing accumulation of the releases. And while it's true that the waste is cooling and decaying, it's also true that a loss of coolant could lead to another uncontrolled chain reaction. ("Fukushima Daiichi Unit 3 is not going to explode," says Gunderson in a headline, but he can't know that with certainty.)
For the near future, what all that means, in effect, is that the world has to accept chronic radiation releases from Fukushima as the price for avoiding another catastrophic release. And even then, it's not a sure thing.
But there's another aspect of Fukushima Unit #3 that's even less reassuring. Unit #3 is the one Fukushima reactor that was running on Mixed oxide fuel, or MOX fuel, in its fuel rods.MOX fuel typically uses Plutonium mixed with one or more forms of Uranium. UsingPlutonium in fuel rods adds to their toxicity in the event of a meltdown. In part because Plutonium-239 has a half-life of 240,000 years and can be used to make nuclear weapons of "dirty bombs," its use in commercial reactors remains both limited and controversial. Because it contains Plutonium, MOX fuel is more toxic than other nuclear fuel and will burn at lower temperatures. As Natural Resources News reported in 2011:
"The mixed oxide fuel rods used in the compromised number three reactor at the Fukushima Daiichi complex contain enough plutonium to threaten public health with the possibility of inhalation of airborne plutonium particles…. Plutonium is at its most dangerous when it is inhaled and gets into the lungs. The effect on the human body is to vastly increase the chance of developing fatal cancers."
Reportedly, TEPCO plans don't call for the removal of the MOX fuel in Unit #3 for another decade or more. Fuel removal from Units #1, #2, and #3 is complicated by lethal radiation levels at all three reactors, as well as TEPCO's inability so far to locate the three melted cores with any precision.
There is ample reason to hope that Fukushima, despite the complex of uncontrollable and deteriorating factors, will not get worse, because even the Japanese don't want that. But there is little reason to expect anything but worsening conditions, slowly or suddenly, for years and years to come. And there is even less reason to expect anyone in authority anywhere to be more than minimally and belatedly truthful about an industry they continue to protect, no matter how many people it damages or kills.
The perfect paradigm of that ruthlessly cynical nuclear mentality is the current Japanese practice of recruiting homeless people to work at Fukushima in high level radiation areas where someone with something to lose might not be willing to go for minimum wage.
Source: William Boardman  |  Global Research
For a long time now holocaust revisionists, aka "deniers", have occupied a spot in the public's esteem somewhere below pedophiles and just above serial killers. Now, a new contender for the penultimate position in the scale of public opprobrium has emerged: global warming "deniers". The debate-squelching term has been applied to the likes of Richard Lindtzen, professor emeritus of meteorology at MIT; Roger Pielke Sr., professor emeritus of Atmospheric Science at Colorado State; and Patrick Michaels, past president of the American Association of State Climatologists. A while back, Scott Pelley of CBS News directly linked the two sets of heretics.
As with holocaust deniers, who enjoyed a brief exposure in the national media in the early 1990s but have since been banned from the airwaves, attempts are being made to deny global warming skeptics access to the podium. The Los Angeles Times recently banned "factually inaccurate" letters to the editor skeptical of human-caused climate change. In November, Mark Hertsgaard, environment correspondent for The Nation, accused Piers Morgan of being "journalistically irresponsible" for allowing a denier, Roy Spencer of the University of Alabama-Huntsville, on his program (Hertsgaard, who I suspect has a degree in Art History or the like, admonished Dr. Spencer, a former senior climate scientist at NASA, telling him he "needs to read more scientific papers", to which Dr. Spencer graciously responded "I've got a feeling I've read more than you have, Mark".)
Like holocaust denial, global warming denial can be hazardous to your career. In her inaugural address to Department of the Interior staff, the newly-appointed Secretary, Sally Jewell, warned ""I hope there are no climate-change deniers in the Department of Interior" (She's probably checking the closets right now). Heidi Cullen, host of The Weather Channel's "The Climate Code", has called for the American Meteorologist Society to decertify weathermen who express skepticism about human activity causing climate change. And in Oregon, Governor Ted Kulongoski, sought to strip Professor George Taylor of the honorary title "State Climatologist", bestowed on him by Oregon State, because of his anti-warmist views.
Fortunately, global warming denial has not been criminalized as has holocaust denial in Europe… yet. But RFK Jr. once accused supposed financial backers of global warming denial, like Exxon-Mobil, of treason, and David Suzuki, a well-known Canadian environmentalist, urged his fans to find a way to throw global warming denying politicians in jail because "what they're doing is a criminal act". David Roberts of Grist went ballistic in an op-ed in that online mag, labeling climate change denial a "war crime" worthy of a Nuremberg-type prosecution. Thankfully, we don't prosecute holocaust deniers in this country, and I think it unlikely their global warming co-defendants will suffer that fate either.
There's one final similarity between holocaust and global warming deniers: they're both beginning to win the debate. Success for the global warming skeptics derives from the fact the earth hasn't warmed in over a decade, something the models didn't predict. In groping for an explanation, warmists have resorted to arguments very similar to those employed by holocaust believers. For instance, in testimony before Congress recently, David Titley, Deputy Under Secretary for Operations at the National Oceanic and Atmospheric Administration (NOAA), in trying to explain the lack of evidence for climate change-induced severe weather, argued "The Absence of Evidence is not the Evidence of Absence", echoing the holocaust believers' argument that the absence of any evidence of gas chambers is not evidence that gas chambers never existed. Dedicated and courageous scholars – often writing under pseudonyms for obvious reasons – have debunked the major holocaust myths to my satisfaction. If the Russian archives are ever opened fully, I'm sure the revelations they contain will be sufficient to convince the rest of you.
So, if over the next few years, the mean global temperature fails to rise, arctic sea ice recovers its former extent, severe weather events don't increase in intensity or frequency, the polar bears continue to thrive (while you're shedding a tear for the forlorn polar bears drifting towards extinction on their ever-shrinking ice floes, remember the poor penguins, who now have to walk 22 miles further to reach the sea because of the record ice extent in the Antarctic), and you find yourself listening with increased respect to what the global warming deniers have to say, please consider whether those other more venerable, even more denigrated deniers might, too, have something to say worth listening to. In fact, why wait? (a good place to start is The Committee for Open Debate on the Holocaust)