In this article, I had first wanted to claim that America's military-industrial complex has shed more blood in the last 53 years than anyone else in the history of the world, even Attila the Hun!  But then I remembered World War I and World War II in all their grisly splendor.  At the battle of Verdun alone, approximately 300,000 people died brutal and violent deaths.  And at Hiroshima, there were approximately 100,000 dead.  However, my point here is still legit — that American taxpayers have been paying for a whole big bunch of bloodshed during the last 53 years.
Human blood.
Approximately seven trillion dollars worth of human blood.
Seven trillion dollars can certainly buy you a whole lot of bloodshed.  Rivers and oceans of blood.  "Attila the Hun would be so-o-o jealous!"  Let's just look at the record.
It all started way back on January 17, 1961, when President Dwight D. Eisenhower very urgently and emphatically warned all of us — publicly on black-and-white TV — about the extreme dangers of allowing a massive military-industrial complex to keep growing larger and larger in America.
"In the councils of government," President Eisenhower warned us, " we must guard against the acquisition of unwarranted influence, whether sought or unsought, by the military-industrial complex.  The potential for the disastrous rise of misplaced power exists and will persist." https://www.youtube.com/watch?v=8y06NSBBRtY
And nobody in America listened.  I repeat.  Nobody listened.
Shortly thereafter, Robert McNamara invented the bloody Vietnam war.  And Americans happily let McNamara, President Johnson and Congress get away with it.  Enough said about that.  http://www.smirkingchimp.com/node/57410
Next came all those made-in-America mini-slaughters that took place in — I forget where.  East Timor?  Guatemala?  Chile?  Grenada?  South Africa?  Lebanon?  Iran?  Haiti?  Nicaragua?  The Philippines?  Yeah, right, that was Reagan.  And all funded by American taxpayers.  All involving a whole big bunch of blood.  Red Cross blood banks would have loved to have had that many donors!
Then George H.W. Bush trumped up that stupid Gulf War which killed thousands of Iraqis.  Then Clinton tried to out-do Pappy Bush by killing hundreds of thousands more Iraqis with sanctions (400,00 dead children), followed by the Kosovo slaughters (6,000 dead from NATO bombings).  "Not my fault!" cried Clinton.  "We were only trying to stop more blood from being shed."  You just keep telling yourself that.
Then there was Afghanistan back in 2001.  And Afghanistan is still bleeding.  A lot.  Attila would be uber-jealous!
But then the American military-industrial complex really got down to business in Iraq in 2003.  Lots of slaughter.  Brutality.  Blood running in the streets like water. Think Fallugah.  Think Baghdad burning.  And you can't even blame Baby Bush for that one either — he was just an unthinking pawn of Wall Street and War Street (but of course I do blame GWB anyway.  Why isn't that man in jail?).
One million dead on Bush Jr's watch?  That's a war crime almost in the same league with Stalin and Hitler.  Stalin and Hitler too would be jealous.
And wasn't there a whole big bunch of unnecessary and brutal blood shed in Libya recently too?  Benghazi comes to mind.  We gotta thank President Obama for that one — just following orders from the military-industrial complex.  "We are in a recession.  War is good for business."  Especially if there is blood involved.  And there was lots of blood involved in Libya when NATO illegally overturned Gaddafi.
And Libya to this day is still bleeding out. http://www.theguardian.com/world/2014/aug/03/royal-navy-libya-rescue-uk-nationals-tripoli
By now, America has not only turned Attila the Hun green with envy — but also Count Dracula and the entire cast of "True Blood".
Red is such a lovely color, don't you think?  You had better.  After all, you are paying for it — instead of for schools and hospitals and infrastructure and jobs and whatever.  You had better like the color of blood a lot.  It's basically all we have left.
But then on the other hand, we are all such red-blooded Americans that clearly most of us have never even stopped to think for one minute that perhaps all this blood-shed just might be immoral and wrong.  "We are Christians!  Christians shed blood.  It's what we do," Americans cry.  Jesus wept.
And then America's military-industrial complex went on to encourage, weaponize and train ISIS to kill a whole big bunch more women and children in Syria — in a stupid, unnecessary invasion of a country that was pretty much minding its own business (140,000 now dead in Syria, 7,000 of them children).
https://twitter.com/wikileaks/status/497061701590601728
"They may have minded their business over in Syria, but they weren't minding our business — and our business is war!" screamed Wall Street and War Street.  And boy are these guys ever good at the business of war.  Eisenhower nailed it!
And we American taxpayers get to pay for this brand new blood supply too.  And pay.  And pay.  And pay.
In Ukraine, the blood also now runs like wine — and this vintage is being paid for by American taxpayers too.  Of course.  "2014 is a very good year for blood!"  And the American military-industrial complex paid five billion of our U.S. dollars to Ukrainian neo-Nazis to get this blood-bath to start brewing last February.  "A very good year."  https://www.youtube.com/watch?v=WN_Mbe9u-vE&list=UUPLAYER_globalresearchtv
In Ukraine, everybody remembers Attila.
And guess what else?  "Attila, Dracula and even Eric Northman will be happy to know that we've found a whole new blood bank over in Gaza!"  And it is costing U.S. taxpayers a whole lot more blood-money too.  "Yippee!"
http://www.democracynow.org/2014/8/5/iron_dome_boondoggle_has_obama_just
http://www.theecologist.org/blogs_and_comments/commentators/2499454/gaza_is_annexation_israels_permanent_solution.html
http://www.nytimes.com/2014/08/08/world/middleeast/obama-weighs-military-strikes-to-aid-trapped-iraqis-officials-say.html?_r=0
https://www.middleeastmonitor.com/articles/middle-east/13280-dont-look-elsewhere-for-the-third-intifada-because-youre-it
http://www.countercurrents.org/mithiborwala070814.htm
http://www.deliberation.info/showing-love-israeli-hamas-fighters/
Now Attila's rotting skull would be practically grinning in its grave — except for one thing.  Jealousy.  "That blood-sucking Netanyahu is trying to take over my reputation!" screams Attila's ghost.
"I've killed more people on my List," brags Netanyahu, "than that punk Oskar Schindler ever even thought about saving on his!"  And here's Netanyahu's List to prove it:  http://english.al-akhbar.com/content/victims-gaza-list-palestinians-killed-israels-ongoing-assault
http://jpstillwater.blogspot.com/2014/08/netanyahus-list-schindler-would-be-so.html
"What do you think this is, Attila?  Some kind of game show where the contestant who spills the most blood wins?"  Nope, not at all.  You may have slaughtered more civilians back in the day, bossy-pants, but Netanyahu-the-Hun has done it with more flash and charm.  Anyone can wield a sword and ride a horse — but it takes real panache to vaporize 373 little kids by just pushing a button.
"But Gaza has a right to defend itself!" some bleeding-heart liberals might say at this point.  Talk to the hand.
The American military-industrial complex has the God-given right to shed blood anywhere in the world that it wants to — in any invasion, covert action, "war" or proxy war that it chooses.  And to use our money to do it with too.  "Brutality Gone Wild!" is the name of this reality show.  Get over it, Attila.
PS:  During its last 53 seasons of continuous production, the American military-industrial complex's big hit reality show, "Brutality Gone Wild," has been out on location, shedding blood everywhere on the planet so far — except for only one place that has been left unbloodied.  You guessed it.  "America."
Attila the Hun never really had time to discover the New World, but not to worry.  The guys who run Wall Street and War Street now know where we live too.  And that we still have a whole big bunch of un-shed blood to tap into here as well.  "Soon, very soon, it will be time to bring it all back home!" they cry at night from their crypts deep in the bowels of New York and Washington.  "Bottoms up!"
And don't say that you haven't been warned — since way back in 1961.
As the world explodes in violence, war, riots, and uprisings, it is challenging to step back and examine the bigger picture. With airliners being shot down over the Ukraine, missiles flying between Israel and Gaza, ongoing civil war in Syria, Iraq falling apart as ISIS gains ground, dictatorship crackdown in Egypt, Turkey on the verge of revolution, Iran gaining control of Iraq, Saudi Arabia fomenting violence, Africa dissolving into chaos, South America imploding and sending their children across our purposely porous southern border, Mexico under the control of drug lords, China experiencing a slow motion real estate collapse, Japan experiencing their third decade of Keynesian failure, facing a demographic nightmare scenario while being slowly poisoned by radiation, and Chinese-Japanese relations moving towards World War II levels, it is easy to get lost in the day to day minutia of history in the making.
Why is this happening at this point in history? Why is the average American economically worse off today than they were at the height of the economic crisis in 2009? Why is the Cold War returning with a vengeance? Why is the Federal Reserve still employing emergency monetary policies when we are supposedly five years into a recovery and the stock market has attained record highs? Why do the ECB and European politicians continue to paper over the insolvency of their banks and governments? Why did the U.S. support the ouster of a dictator we supported for decades in Egypt and then support the elevation of a new dictator after we didn't like the policies of the democratically elected president? Why did the U.S. eliminate the leader of Libya and allow the country to descend into anarchy and civil war? Why did the U.S. fund and provoke a revolutionary overthrow of a democratically elected leader in the Ukraine? Why did the U.S. fund and arm Al Qaeda associated rebels in Syria who are now fighting our supposed allies in Iraq? Why has the U.S. been occupying Afghanistan for the last thirteen years with the result being a Taliban that is stronger than ever? Why are the BRIC countries forming a monetary union to challenge USD domination? Why is the U.S. attempting to provoke Russia into a conflict with NATO?
Why is the U.S. government collecting every electronic communication made by every American? Why is the U.S. government spying on world leader allies? Why is the U.S. government providing military equipment to local police forces? Why is the U.S. military conducting training exercises within U.S. cities? Why is the U.S. government attempting to restrict Second Amendment rights? Why is the U.S. government attempting to control and lockdown the internet? Why has the U.S. government chosen to treat the Fourth Amendment as if it is obsolete? Why is the national debt still rising by $750 billion per year ($2 billion per day) if the economy is back to normal? Why have 12 million working age Americans left the workforce since the economic recovery began? How could the unemployment rate be back at 2008 levels when there are 14 million more working age Americans and the same number employed as in 2008? Why are there 13 million more people on food stamps today than there were at the start of the economic recovery in 2009? Why have home prices risen by 25% since 2012 when mortgage applications have been at fourteen year lows? Why are Wall Street profits and bonuses at record highs while the real median household income stagnates at 1998 levels?
Why do 98% of incumbent politicians get re-elected when congressional approval levels are lower than whale shit? Why are oil prices four times higher than they were in 2003 if the U.S. is supposedly on the verge of energy independence? Why do the corporate controlled mainstream media choose to entertain and regurgitate government propaganda rather than inform, investigate and seek the truth? Why do corporations and shadowy billionaires control the politicians, media, judges, and financial system in their ravenous quest for more riches? Why has the public allowed a privately owned bank to control our currency and inflate away 96% of its value in 100 years? Why have American parents allowed their children to be programmed and dumbed down by government run public schools? Why have Americans allowed themselves to be lured into debt in an effort to appear wealthy and successful? Why have Americans permitted their brains to atrophy through massive doses of social media, reality TV, iGadget addiction, and a cultural environment of techno-narcissism? Why have Americans lost their desire to read, think critically, question authority, act responsibly, defer gratification, and care about future generations? Why have Americans sacrificed their freedoms, liberties and rights for the false expectation of safety and security? Why will we pay dearly for our delusional, materialistic, debt financed idiocy? – Because we never learn the lessons of history.
There are so many questions and no truthful answers forthcoming from those who pass for leaders in this increasingly totalitarian world. Our willful ignorance, apathy, hubris and arrogance will have consequences. Just because it hasn't happened yet, doesn't mean it's not going to happen. The cyclicality of history guarantees a further deepening of this Crisis. The world has evolved from totalitarian hegemony to republican liberty and regressed back to totalitarianism throughout the centuries. Anyone honestly assessing the current state of the world and our country would unequivocally conclude we have regressed back towards a totalitarian regime where a small cabal of powerful oligarchs believes they can control and manipulate the masses in their gluttonous desire for treasure. Aldous Huxley foretold all the indicators of a world descending into totalitarianism due to overpopulation, propaganda, brainwashing, consumerism, and dumbing down of a distracted populace in his 1958 reassessment of his 1931 novel Brave New World.
Is There a Limit?
"At the rate of increase prevailing between the birth of Christ and the death of Queen Elizabeth I, it took sixteen centuries for the population of the earth to double. At the present rate it will double in less than half a century. And this fantastically rapid doubling of our numbers will be taking place on a planet whose most desirable and pro­ductive areas are already densely populated, whose soils are being eroded by the frantic efforts of bad farmers to raise more food, and whose easily available mineral capital is being squandered with the reckless extravagance of a drunken sailor getting rid of his accumulated pay." –Aldous Huxley – Brave New World Revisited – 1958
Demographics are easy to extrapolate and arrive at an accurate prediction, as long as the existing conditions and trends remain relatively constant. Huxley was accurate in his doubling prediction. The world population was 2.9 billion in 1958. It only took 39 years to double again to 5.8 billion in 1997. It has grown by 24% in the last 17 years to the current level of 7.2 billion. According to United Nations projections, world population is projected to reach 9.6 billion in 2050. The fact that it would take approximately 70 years for the world's population to double from the 1997 level reveals a slowing growth rate, as the death rate in many developed countries surpasses their birth rate. The population of the U.S. grew from 175 million in 1958 to 320 million today, an 83% increase in 56 years.
The rapid population growth over the last century from approximately 1.8 billion in 1914, despite two horrific world wars, is attributable to cheap, easy to access oil and advances in medical technology made possible by access to cheap oil. The projection of 9.6 billion in 2050 is based upon an assumption the world's energy, food and water resources can sustain that many people, no world wars kill a few hundred million people, no incurable diseases spread across the globe and there is no catastrophic geologic, climate, or planetary events. I'll take the under on the 9.6 billion.
Anyone viewing the increasingly violent world situation without bias can already see the strain that overpopulation has created. Today, six countries contain half the world's population.
A cursory examination of population trends around the world provides a frightening glimpse into a totalitarian future marked by vicious resource wars, violent upheaval and starvation for millions. India, a country one third the size of the United States, has four times the population of the United States. A vast swath of the population lives in poverty and squalor. India contains the largest concentration (25%) of people living below the World Bank's international poverty line of $1.25 per day. According to the U.N. India is expected to add 400 million people to its cities by 2050. Its capital city Delhi already ranks as the second largest in the world, with 25 million inhabitants. The city has more than doubled in size since 1990. The assumptions in these U.N. projections are flawed. Without rapidly expanding economic growth, capital formation and energy resources, the ability to employ, house, feed, clothe, transport, and sustain 400 million more people will be impossible. Disease, starvation, civil unrest, war and a totalitarian government would be the result. With its mortal enemy Pakistan, already the sixth most populated country in the world, jamming 182 million people into an area one quarter the size of India and one twelfth the size of the U.S. and growing faster than India, war over resources and space will be inevitable. And both countries have nuclear arms.
More than half the globe's inhabitants now live in urban areas, with China, India and Nigeria forecast to see the most urban growth over the next 30 years. Twenty-four years ago, there were 10 megacities with populations pushing above the 10 million mark. Today, there are 28 megacities with areas of developing nations seeing faster growth: 16 in Asia, 4 in Latin America, 3 in Africa, 3 in Europe and 2 in North America. The world is expected to have 41 sprawling megacities over the next few decades with developing nations representing the majority of that growth. Today, Tokyo, with 38 million people, is the largest in the world, followed by New Delhi, Jakarta, Seoul, Shanghai, Beijing, Manila, and Karachi – all exceeding 20 million people.
To highlight the rapid population growth of the developing world, the New York metropolitan area containing 18 million people was ranked as the third largest urban area in the world in 1990. Today it is ranked ninth and is expected to be ranked fourteenth by 2030. The U.S. had the fewest births since 1998 last year at 3.95 million. We also had the highest recorded deaths in history at 2.54 million.  The fertility rate for 20- to 24-year-olds is now 83.1 births per 1,000 women, a record low. That combination created a gap in births over deaths that is the lowest it has been in 35 years.
This is the plight of the developed world (U.S., Europe, Japan) and even China (due to one child policy). According to the U.N. report, the population of developed regions will remain largely unchanged at around 1.3 billion from now until 2050. In contrast, the 49 least developed countries are projected to double in size from around 900 million people in 2013 to 1.8 billion in 2050. The rapid growth of desperately poor third world countries like Nigeria, Afghanistan, Niger, Congo, Ethiopia, and Uganda will create tremendous strain on their economic, political, social, and infrastructural systems. Nigeria's population is projected to surpass the U.S. by 2050. Japan, Europe and Russia are in demographic death spirals. China is neutral, and the U.S. is expected to grow by another 89 million people. I wonder how many of them the BLS will classify as not in the labor force.
What are the implications to mankind of the world adding another billion people in the next twelve years, primarily in the poorest countries of Asia, Africa and South America? What does the world think of the U.S., which constitutes 4.4% of the world's population, but consumes 20% of the world's oil production and 24% of the world's food? Will there be consequences to having the 85 richest people on earth accumulating as much wealth as the poorest 3.5 billion, with 1.2 billion surviving on less than $1.25 per day? Can a planet with finite amount of easily accessible financially viable extractable resources support an ever increasing number of people? Is there a limit to growth? I believe these questions will be answered in the next fifteen years as the dire consequences play out in civil strife, resource wars, totalitarian regimes, and societal collapse. Fourth Turning Crisis cycles always sweep away the existing social order and replace it with something new. It could be better or far worse.
Impact of Over-Population
"The problem of rapidly increasing numbers in relation to natural resources, to social stability and to the well-being of individuals — this is now the central problem of mankind; and it will remain the central problem certainly for another century, and perhaps for several centuries thereafter. Unsolved, that problem will render insoluble all our other problems. Worse still, it will create conditions in which individual free­dom and the social decencies of the democratic way of life will become impossible, almost unthinkable. Not all dictatorships arise in the same way. There are many roads to Brave New World; but perhaps the straightest and the broadest of them is the road we are travel­ing today, the road that leads through gigantic num­bers and accelerating increases." – Aldous Huxley – Brave New World Revisited – 1958
The turmoil roiling the world today is a function of Huxley's supposition that over-population pushes societies towards centralization and ultimately totalitarianism. The relentless growth in the world's population, not matched by growth in energy resources, water, food, and living space, results in increasing tension, anger, economic decline, government dependency, war and ultimately totalitarianism. Huxley believed politicians and governments would increasingly resort to propaganda and misinformation to mislead citizens as the problems worsened and freedoms were revoked. Could this recent statement by our commander and chief of propaganda have made Edward Bernays and Joseph Goebbels any prouder?
"The world is less violent than it has ever been. It is healthier than it has ever been. It is more tolerant than it has ever been. It is better fed then it's ever been. It is more educated than it's ever been."
I'm sure the people living in Gaza, the Ukraine, Libya, Syria, Iraq, Afghanistan, Thailand, Turkey, Africa and American urban ghettos would concur with Obama's less violent than ever mantra. Disease (Cholera, Malaria, Hepatitis, Aids, Tuberculosis, Ebola, Plague, SARS) and malnutrition beset third world countries, while the U.S. obesity epidemic caused by consumption of corporate processed food peddled to the masses through diabolical marketing methods enriches the mega-corporate food companies, as well as the corporate sick care complex. Religious wars and culture wars rage across the world as intolerance for others beliefs reaches all-time highs. After three decades of government controlled public education they have succeeded in dumbing down the masses through social engineering, propaganda, and promoting equality over excellence. Obama should stop trying to think and stick to what he does best – golf and fundraising. After reading his drivel, I'm reminded of a far more pertinent quote from Huxley:
"Facts do not cease to exist because they are ignored."
The chart below details the fact that 12% of the world's population in countries producing 9% of the world's oil are currently in a state of war. The violence, war, and civil unrest roiling the Ukraine, Syria, Egypt, Libya, Iraq, and Afghanistan are a direct result of U.S. meddling, instigation, and provocation. The U.S. government funds dictators (Hussein, Mubarak, Assad, Gaddafi) until they no longer serve their interests, engineer the overthrow of democratically elected leaders in countries (Iran, Egypt, Ukraine) that don't toe the line, and dole out billions in military aid and arms to countries around the world in an effort to make them do our dirty work and enrich the military industrial complex. The true motivation behind most of the violence, intrigue and war is the U.S. need to maintain the U.S. petro-dollar hegemony and to control the flow of oil and natural gas throughout the world. The ruling oligarchy's power, influence, and wealth are dependent upon dictating currency valuations and flow of oil and gas from foreign fiefdoms.
In Huxley's 1931 Brave New World fable the world's population is maintained at an optimum level (just under 2 billion) calculated by those in control. This is done through technology and biological manipulation. Procreation through sexual intercourse is prohibited. Creation of the desired number of people in each class is scientifically determined and the classes are conditioned from birth to fulfill their roles in society. When Huxley reassessed his novel in 1958's Brave New World Revisited he didn't argue for an optimum level of population. He simply hypothesized a close correlation between too many people, multiplying too rapidly, and the formulation of authoritarian philosophies and rise of totalitarian sys­tems of government.
The introduction of penicillin, DDT, and clean water into even the poorest countries on the planet had the effect of rapidly decreasing death rates around the globe. Meanwhile, birth rates continued to increase due to religious, social and cultural taboos surrounding birth control and the illiteracy and ignorance of those in the poorest regions of the world. The ultimate result has been an explosion in population growth in the developing world, least able to sustain that growth. Huxley just uses common sense in concluding that as an ever growing population presses more heavily upon accessible resources, the economic position of the society undergoing this ordeal becomes ever more precarious.
It essentially comes down to the laws of economics. Most of the developing world is economic basket cases. They cannot produce food, consumer goods, housing, schools, infrastructure, teachers, managers, scientists or educated workers at the same rate as their population growth. Therefore, it is impossible to improve the wretched conditions of the vast majority, as they wallow in squalor. Unless a country can produce more than it consumes, it cannot generate the surplus capital needed to invest in machinery, agricultural production, manufacturing facilities, and education. The rapidly growing population sinks further into poverty and despair. Huxley grasps the nefarious implications for freedom and liberty as over-population wreaks havoc around the globe:
"Whenever the economic life of a nation becomes pre­carious, the central government is forced to assume additional responsibilities for the general welfare. It must work out elaborate plans for dealing with a criti­cal situation; it must impose ever greater restrictions upon the activities of its subjects; and if, as is very likely, worsening economic conditions result in polit­ical unrest, or open rebellion, the central government must intervene to preserve public order and its own authority. More and more power is thus concentrated in the hands of the executives and their bureaucratic managers."– Aldous Huxley – Brave New World Revisited – 1958
Despots, dictators, and power hungry presidents arise in an atmosphere of fear, scarce resources, hopelessness, and misery. As the power of the central government grows the freedoms, liberties and rights of the people are diminished and ultimately relinquished.
Source: The Millennium Report
With the centurial commemoration of the Great War, the Timeline of World War I provides a chronological list of facts and occurrences. Contrast such details with a wholly inadequate and sanitized version of the Top 5 Causes of World War 1:
1. Mutual Defense Alliances

2. Imperialism

3. Militarism

4. Nationalism

5. Immediate Cause: Assassination of Archduke Franz Ferdinand
None of these simplistic categories or labels has any veritable bearing on the underlying political, social, economic and evil forces that conspired to drive Western Civilizations into a self-induced suicidal slaughter. The true history of World War I is rooted in the permanent struggle against satanic powers that seek the destruction of Christendom, the financial enslavement of humanity and the death of gentile society.
Understand the real history of The Rothschild 1901 – 1919: The secret creators of World War 1.
"In this war, the German Rothschild's loan money to the Germans, the British Rothschilds loan money to the British, and the French Rothschilds loan money to the French. Furthermore, the Rothschilds have control of the three European news agencies, Wolff (est. 1849) in Germany, Reuters (est. 1851) in England, and Havas (est. 1835) in France. The Rothschilds use Wolff to manipulate the German people into a fervor for war. From around this time, the Rothschilds are rarely reported in the media, because they own the media."
The video, World War 1, What Happened?, explains in the most fundamental manner, The Role of the Jews in WWI summarized by Benjamin H. Freedman. "The Balfour Declaration was merely Great Britain's promise to pay the Zionists what they had agreed upon as a consideration for getting the United States into the war."
Now read the essay, The Money Masters: How International Bankers Gained Control of America, for the account of America betrayal.
"In America, J.P. Morgan was the sales agent for war materials to both the British and the French.

In fact, six months into the war, Morgan became the largest consumer on earth, spending $10 million a day.

Other Rothschild allies in the United States made out as well from the war. President Wilson appointed Bernard Baruch to head the War Industries Board. According to historian James Perloff, both Baruch and the Rockefellers profited by some $200 million during the war."
The more that things change the further they remain the same. The essay, International Bankers and WW I references, the book, A Century of War by William Engdahl.
"By 1920, Morgan partner Thomas W. Lamont noted with obvious satisfaction that, as a result of four years of war and global devastation, 'the national debts of the world have increased by $210,000,000,000 or about 475% in the last six years, and as a natural consequence, the variety of government bonds and the number of investors in them have been greatly multiplied.' These results have made themselves manifest in all the investment markets of the world but nowhere, perhaps, in greater measure than in the United States."

"It may be noted that in 1913 the US government budget was a mere $714,000,000 (714 million dollars) while the Rockefeller empire was worth 950 million dollars in 1913. The Rockefeller and Morgan empires were built through financing by the Rothschild banking family."
Such financial manipulation deserves an honest evaluation, as Brother Nathaniel offers, in his summary of the Benjamin H. Freedman viewpoint in the article, Jews Blackmailed Wilson Into WW I.
"Not a shot had been fired on German soil yet Germany was offering England peace terms. They offered England a negotiated peace on what the lawyers call a status quo ante basis, which means: "Let's call the war off and let everything be as it was before the war started."

England, in the summer of 1916, was considering Germany's peace terms. They had no choice. It was either accepting this negotiated peace that Germany was offering them or going on with the war and being totally defeated.

While that was going on, the Zionists in Germany, led by the Jew, Chaim Weitzman, who later became the 1st President of Israel, went to the British War Cabinet and said: "Don't capitulate to Germany. You can win this war if the United States comes in as your ally. We can arrange this. But in return, you must promise us Palestine once the tide turns in your favor."

In this war, 115,516 American soldiers were killed and 202,002 were maimed for life.

That is what the Anti-Christian Jews of the world conspired to achieve in their crooked diplomatic underworld."
Harsh words, but what was the actual outcome? Mujahid Kamran in the essay, International bankers and WW I, provides an insight into the true reason behind waging World War I.
"Historian Alan Brugar has pointed out that for every soldier who died in battle, the international bankers made a profit of $10,000 dollars! It was the bankers who manipulated the horrific World War I. This bloodletting was not just to make profits – this was also carried out to exhaust countries by bleeding them and enhance the control of bankers over governments with the objective of setting up the New World Order (NWO)."

"The penetration of the banking families into the power fabric of nations can be gauged from the astonishing fact that during WWI German intelligence was headed by the banker Max Warburg, brother of a naturalized US citizen Paul Warburg. Paul Warburg authored the diabolical Federal Reserve scheme. The Warburg's were among the owners of the Federal Reserve. Both represented their respective "countries" in the "delegations" that met at the "peace" negotiations at Versailles after WWI in which Germany was ripped off completely."
Remember that after World War I, Henry Ford published the Dearborn Independent and accounts on The Jewish Hand in the World War.
"As Henry Ford saw it, "Mr. Wilson, while President, was very close to the Jews. His administration, as everyone knows, was predominantly Jewish."22 Wilson seems to have been the first president to have the full backing of the Jewish Lobby, including multiple major financial donors. And he was the first to fully reward their support."
Today, such writings often criticized as anti-Semitic, present a viewpoint that is acknowledged by the Jewish Writer, Oscar Levy, The World Significance of the Russian Revolution; The International Jew, Vol. III, 1921, p. 184-87. The site, The Evil of Zionism Exposed by Jews, quotes Mr. Levy.
"There is scarcely an event in modern history that cannot be traced to the Jews. Take the Great War (World War I)…the Jews have made this war! … We (Jews) who have posed as the saviors of the world…we Jews, today, are nothing else but the world's seducers, its destroyer's, its incendiaries, its executioners … We have finally succeeded in landing you into a new hell."
Henry Makow Ph.D. comments on the Webster Tarpley version of history (EVIL DEMIURGE OF THE TRIPLE ENTENTE AND WORLD WAR I) in the essay, Illuminati Bankers Instigated World War One, by saying that Dr. Tarpley "eschews mention of Jewish bankers in favor of euphemisms like "Venetians." Therefore it is unusual for him to state bluntly that King Edward VII was in the pay of the Rothschilds and was responsible for World War One."
In a "TC" environment, the modern genteelism, international finance has even more dire consequences facing the world today. The T. Hunt Tooley account, Merchants of Death Revisited: Armaments, Bankers, and the First World War references Professor Carroll Quigley and his books, Tragedy and Hope (1966) and The Anglo-American Establishment (written in 1949).
"In these works, Quigley described explicitly a kind of secret, benevolent "network consisting of international bankers and connected elites in business, education, the media, and government which had existed since the nineteenth century:

The powers of financial capitalism had another far-reaching aim, nothing less than to create a world system of financial control in private hands able to dominate the political system of each country and the economy of the world as a whole.

In Quigley's telling, the role of this elite and its banking connections in World War I was that of financing the "Anglo-American" cause against the Central Powers, whose victory might have threatened what he viewed as the existing Anglo-American Pax Romana."
Contrast these with the banksters inspired and executed system of the pre World War I reality as described by David A, Stockman in If Only The U.S. Had Stayed Out Of World War I. "Between 1870 and 1914, there was a 45-year span of rising living standards, stable prices, massive capital investment and prolific technological progress. In terms of overall progress, these four-plus decades have never been equaled — either before or since."A century ago, the term Jew had negative connotations associated with a long history as shylock moneychangers. In the present day, polite and accepted conversation pressures discourse to strike the idiom from the vocabulary. Purging future history from the scourge of debt created finance requires the courage of Henry Ford to strip international finance from its economic dominance and political power. Any ethnic, religious or tribal identity that bears the responsibility of inciting anti-Christian demise is the avowed enemy of all humanity.
International banksters thrive on war. World War I proved that no political regime is immune from satanic belligerence. The last century is an anthology of fabricated conflicts designed to foster Quigley's NWO financial and coercive control vision. The Rothschild Dynasty vastly extends beyond family and tribe, as it is a matrix for the eradication of the sacred tenants and sanctity of individual life that is a bedrock principle of Western Civilization.
World War I was not about national disputes, but was a planned destruction of Christendom. This defining struggle gave rise to the temple of Totalitarian Collectivism. The only GREAT WAR is the battle to defeat the demon forces that want to impose a Luciferian rule upon the planet. Wars kill citizens, while usury destroys societies.Few people know, much less, understand the essential lesson of World War I. The entire last century needs interpreting and evaluation through the lenses of the eternal struggle. Ignorance is bliss for most people, but faulty history is much more dangerous.
But What Do Globalists Want?
The invasion of illegal aliens across our southern border is no extemporaneous event. It is a cold, calculated, and cunning attempt to fundamentally change America. The Obama Administration has sent a loud and clear signal to our neighbors to the south that illegals are welcome, that they won't be sent home, and that they will be provided either real or de facto amnesty–especially if those illegals are minors. The result is a torrent of illegals pouring over the border into the United States. These illegals are being housed, fed, given medical care, and are being transported to destinations throughout the U.S. Few are being deported. Several military installations have been essentially turned into daycare centers and nurseries, and according to several published reports, up to 70% of U.S. Border Patrol personnel are now being assigned to administrative duties in an attempt to process the hundreds of thousands of illegals that have amassed at the border.
Giving amnesty to illegal aliens is a long time goal of both Democrats and Republicans in Washington, D.C. U.S. Congressman Kerry Bentivolio (R-Mich) stated it succinctly: "Democrats want the votes, and the Republicans want the cheap labor."
The only people opposing granting amnesty to illegals in Washington, D.C., are the Tea Party Republicans. And had it not been for the defeat of Republican House Majority Leader Eric Cantor (a major proponent of amnesty) by Tea Party Republicans in Virginia a few weeks ago, there is absolutely no question that the GOP-led House and Democrat-led Senate would have collaborated on, and passed, an amnesty bill this summer. But with the defeat of Cantor, scores of GOP House members are extremely skittish about supporting amnesty–especially with the fall elections just around the corner.
Of course, the pro-amnesty media and their fellow-travelers in the Congress are pitching the idea that all of these illegal immigrant children are "refugees" escaping war-torn conditions in Central America. This plays well on the heartstrings of a compassionate American citizenry–just as it is designed to do. Even pseudo-conservatives such as Glenn Beck and Joe Scarborough are trying to score ratings points by getting into the "help the children" act by stunts like sending soccer balls and teddy bears to the border. But the facts just don't support the hype.
Think about it: Does anyone really believe those youngsters traveled hundreds of miles on their own? Get real! They were led, fed, and supervised all the way to the border. Someone paid those coyotes (human smugglers) hundreds or even thousands of dollars to take those young people to the border. Make no mistake about it: This is a premeditated strategy of insurgents.
The only veteran of both the Vietnam and Iraq wars serving in Congress, Rep. Bentivolio took a fact-finding trip to Central America to assess conditions there. The congressman told World Net Daily that "conditions in Guatemala, Honduras and El Salvador are certainly not great and there is much hardship, but they are not war zones." In fact, the congressman noted that the conditions of the Central American countries are not dissimilar from many of the inner city neighborhoods of big U.S. cities.
Congressman Bentivolio also said that solving the illegal immigration problem is not complex: "If we had secure borders, we wouldn't have this problem. We need to send a strong message that, if you want to come to America, do it legally, and get in line."
See the WND report here:
Congressman Exposes Truth Behind Illegal Kids
Exactly! "Do it legally, and get it line." That is the way it's been historically done. The next time you hear someone say America is "a nation of immigrants," realize that is not strictly true. America is a nation of LEGAL immigrants.
But neither Republican nor Democrat presidential administrations (Bush I, Clinton, Bush II, Obama) have done diddly-squat to protect America's southern border. Does anyone not find it interesting that the federal government will send U.S. military forces to the Middle East with assignments that include protecting and securing the borders of those countries but will not protect the borders of the United States?
Of course, if the federal government was not underwriting illegal immigration with all kinds of government services, illegals would not even have that much incentive to enter the country in the first place. First, the federal government provides every incentive for illegals to sneak into the country via copious government-subsidized benefits, then it refuses to remotely secure the border, and then it refuses to deport them after they have arrived: DUH! I wonder why we have an illegal alien problem!
Beyond that, the federal government has released thousands of illegals from U.S. jails and prisons who have committed the most heinous crimes within this country. At the same time, it has not even attempted to arrest the influx of hundreds of thousands of violent illegals.
According to Texas State Senator Dan Patrick, there are at least 100,000 illegal immigrant gang members in the State of Texas alone. Breitbart.com covered the story:
"On Monday's The Laura Ingraham Show, Patrick, who is also the Republican candidate for lieutenant governor, said from 2008 to 2012, 143,000 illegal immigrant criminals were arrested and jailed in Texas. He said these were 'hardened criminals, gang members, and other criminals that we identified as being in Texas illegally.'
"'We charged them with 447,000 crimes, a half-million crimes in four years, just in Texas, including over 5,000 rapes and 2,000 murders,' Patrick said. 'We estimate we have 100,000 gang members here illegally.'"
Patrick also noted that only between one in five or one in ten illegals are actually apprehended. So, do the math.
See the report at:
Texas State Senator: 100,000 Illegal Immigrant Gang Members In State
If we know there are at least that many violent criminals coming across the border, how many potential terrorists must we assume have also come into the United States through this porous, unprotected southern border? The prospect is absolutely frightening!
In addition, the unchecked stream of illegals from Mexico and Central America is also taking a toll upon the health of everyone involved in this debacle. Border Patrol agents are coming down with diseases. There are reports of contagious diseases spreading rapidly.
ABC 15 TV (Phoenix, Arizona) recently gave a report regarding the concern many people have about the spread of contagious diseases being brought into the country by illegals from the third-world countries below the United States. Health workers are already seeing scabies, chicken pox, MRSA staph infections, and other diseases.
A quick note on the MRSA disease: MRSA is considered to be one of the 18 microbes listed by the CDC as a multidrug resistant microbe or "superbug." You should Google up that disease and see what our children in the public schools are going to be subjected to when all of these illegals get farmed out to the schools of America's heartland.
And, interestingly enough, the DHS has prohibited health care providers from talking to the media. I wonder why?
See the ABC report here:
Undocumented Immigrants Bringing Diseases Across Border?
Plus, the ABC report above does not even touch on the spread of Sexually Transmitted Diseases (STD) that are being reported as being rampant among the tens of thousands of illegals on the border.
And, yes, America's schoolchildren (and the rest of the U.S. citizenry) will certainly be subjected to the health risks described above. Listen to this:
"The U.S. Senate Appropriations Subcommittee approved a Department of Homeland Security (DHS) budget for Fiscal Year (FY) 2015 that includes $5.508 billion for Immigration and Customs Enforcement operations. Included in that amount is more than $87 million for the transportation of illegal immigrants–most often via plane–from the U.S.-Mexico border to federal facilities around the nation.
"The FY 2015 bill summary states that the federal government will provide '$87.6 million above the request for the transportation of unaccompanied immigrant children–often via commercial or charter aircraft–from DHS custody to the legally required shelters operated by the Office of Refugee Resettlement within Department of Health and Human Services.'
"A DHS request for 'escort services for unaccompanied alien children,' posted online in January, claimed that 50 percent of transported foreign minors are brought to interior U.S. cities via commercial planes. The others are transported via local ground transport and ICE charter air crafts."
See the report here:
Budget To Transport Illegals Across USA Approaches $100M
So, the people of the United States must be subjected to all of the above because "Democrats want the votes, and the Republicans want the cheap labor." But what do the globalists want? The globalists are the real power behind both the Democrat and Republican parties in Washington, D.C. Nothing substantial happens in politics or business without their approbation. So, what do they want to get out of a chaotic border crisis?
Remember, the goal of globalists is the dismantlement of nationhood. They envision a global government complete with a global economy and global military. The United States is the biggest hindrance to this objective. America, alone, has the freedom-oriented history, heritage, culture, laws, arms, attitude, etc., that stands as a huge impediment to the globalists' agenda. This is in spite of the fact that every presidential administration since Ronald Reagan, most congresses, and the national media have been dominated by globalists.
Remember, too, that the two main assets assisting the cause of globalism are perpetual war abroad and the rise of a Police State domestically. In fact, the latter is dependent upon the former. Perpetual war, conflict, crisis, upheaval, etc., is the impetus for the rise of the Super State, (aka the Police State), which is ostensibly designed to "protect" the people from the crisis. It is no exaggeration to say that most of the crises in the post-World War II world have been manufactured crises for the purposes of creating the Super State. The illegal immigration crisis is no exception.
The influx of millions of illegals–many of whom are violent criminals, murderous gang members, potential terrorists, disease-carriers, and people from third-world, socialist countries who have absolutely no understanding of, or appreciation for, constitutional law, Natural Law, republican government, etc.–will most definitely turn American cities into war zones. And that's exactly what globalists want. They want every city in America to look like Chicago.
Do you know that there have been more murders in Chicago than in all of the mass-killings throughout the United States combined? See AWR Hawkins' report:
Report: Far More People Killed In Chicago Than In All Mass Shootings Combined
And what is the City of Chicago but a Police State with barely any rights of self-defense. My friends, that is what the globalists have planned for your city. And illegal immigration is the vehicle that is designed to bring it to pass.
Yes, "Democrats want the votes, and the Republicans want the cheap labor," but the globalists want a national crisis that will further facilitate turning America into a giant Police State. But, I suppose the biggest question is what do the American people want? We'll soon see.
The belief that calling for and instituting sanctions against Russia is a sound policy, illustrates the economic disconnect of the Obama administration. With the fervor for starting a new cold war, the propaganda machine is working overtime to paint a picture that ignores real economic synergism. Note the conflicting reports regarding the EU. Nine EU countries ready to block economic sanctions against Russia, quotes a diplomatic source to ITAR-TASS:
"France, Germany, Luxembourg, Austria, Bulgaria, Greece, Cyprus, Slovenia, and EU President Italy see no reason in the current environment for the introduction of sectorial trade and economic sanctions against Russia and at the summit, will block the measure."

"According to the source, the US sees slapping Russia with sanctions as a way to promote its own trade agenda with Europe, a side rarely explored in mainstream media. The Transatlantic Trade and Investment Partnership (TTIP) between the US and Europe would create the world's largest free trade zone, but some worry it could balloon into an "economic NATO" or could end up putting corporation interest above national."
An article, EU and the USA have adopted new sanctions against Russia reports that the European Council has agreed to extend the restrictive measures for the entities in the Russian Federation. Romanian president Traian Basescu believes the EU needs to adopt tougher sanctions against Russia.
"My point of view was that unless the European Union takes tougher actions and moves on to the third stage of these sanctions, Ukraine might no longer be ready to move towards the European Union and would end up in a situation like that in the Republic of Moldova, currently facing the breakaway tendencies of the region of Transdniester, only with a greater impact for the EU, because Ukraine is a bigger country."
This contradiction between individual national economic interests and the quest for a technocrat administered system of trade that fosters and facilitates an internationalist foreign policy under NATO and EU rule, is the actual objective of Washington and Brussels interventionism. This arrogance and self-delusion treats economic commerce as conducted in a vacuum. As The Hill article cites Putin. "Sanctions are "driving into a corner" relations between the two countries and will damage the interests of U.S. companies and "the long-term national interests of the U.S. government and people."
Russian warns that the US campaign will have consequences as the Alliance News writes, that Moscow Blasts US Sanctions As "Primitive," Promises Retaliation.
"Sergei Ryabkov, a deputy Foreign Minister, told the Interfax news agency that Moscow will hit back with measures that "will be felt in Washington painfully and sharply."

The Russian Foreign Ministry said US measures against a number of state corporations are "a primitive attempt at revenge because events in Ukraine are not developing according to Washington's scenario," and added that it reserves the right to retaliate."
The preposterous strategy that international finance can force a country like Russia, with the world's largest energy resources, into a capitulation dependent status is absurd. The minimal effect according to Russia's Finance Ministry, Says Harsher Sanctions Would Cost Russia 0.3% of GDP, does not sound like much of a threat. Then consider the counter response of Russian Sanctions Retaliation Escalates: Dumps Intel/AMD And Now Foreign Cars.
The cavalier and condescending manner by which the Western central banks assist the New World Order's goal of global dominance has fortified opposition with the emergence of theBRICS Development Bank. Use your common sense, when Putin Wants Measures to Protect BRICS Nations From U.S. Sanctions, much of the rest of the world is listening.
"In an interview published as a two-day BRICS summit got under way in Brazil on Tuesday, Putin said he would urge Brazil, China, India and South Africa to draw "substantive conclusions" from sanctions imposed on Russia over its actions in the Ukraine crisis, and said it was time to dilute the dominance of the U.S.-led West and the U.S. dollar by boosting the role of the BRICS on the global stage."
The American press and media, especially is fueling the fires to demonize Putin's Russia as a resurrected Stalinist Soviet belligerent. Absent in this narrative is an honest chronicle of NATO's expansion to encircle the Russian Federation. At what point will Western journalists and academic scholars admit that the convergence of EU authoritarianism and American hegemony propagates an internationalist foreign policy, designed to isolate and destroy any opposition to this New World Order.
The lesson of these failed attempts for economic bullying a country, with real weapons of mass destruction, has the potential of starting a hot war. The essay, IMF and EU Capture of Ukraine, explains the circumstances and false justification of initiating "regime change". This Ukraine flashpoint may well commence a tangible economic union among countries, who recognize that American sanctions are nothing more than a desperate attempt to prop up a decaying globalist economic structure.
EU antagonism towards the citizens of their member countries is growing expediently. Within this context, US sanctions hurt Europe more than America.
"The Association of European Businesses (AEB), a Moscow-based business lobby, said that new US sanctions against Russia have a more severe effect on European than on American business.

The AEB says it "regrets" the US sanctions, and warns that they will stunt economic growth "not only in Russia".

"These sanctions are more focused on the partners of European businesses than on the partners of American companies," the group said in a statement on Thursday."
Obama's State Department bears a heavy responsibility for promoting a civil war in Ukraine. Using sanctions to push Russia into accelerating a BRICS economic block will have far more adverse effects than can be envisioned by the lunatic proponents of "selective" Free Trade. The moneychanger's financial system is imploding and their rescue plan requires a massive global crisis to bail out their "To Big to Fail" model. Mutually productive commerce will be among the first causalities of the prelude to World War III. Soon clamors for sanctions against American companies will begin, as the blame game diverts the real cause of this fabricated debacle.
The CFR Has Controlled Both Major Parties In Washington, D.C., For Decades…
Just as they did with his father, Ron Paul, globalist elitists within the GOP are pouncing on Kentucky Senator Dr. Rand Paul. Obviously, the only reason for Republican leaders to be ganging up on Rand like this is because they are scared silly that he might just win the Republican nomination for President in 2016. And if there is anything that frightens the GOP establishment, it is an independent-minded, non-interventionist, reader of the Constitution–you know, someone like George Washington or Thomas Jefferson–or Rand Paul.
Here is how Politico covered the story:
"If you had any doubts about how seriously some Republicans are taking the notion of a Rand Paul presidency, look at how far they're going to shut down his views on foreign policy.
"In the past three days alone, Texas Gov. Rick Perry used a Washington Post op-ed to warn about the dangers of 'isolationism' and describe Paul as 'curiously blind' to growing threats in Iraq. Sen. John McCain (R-Ariz.) accused the Kentucky senator on CNN of wanting a 'withdrawal to fortress America.' And former Vice President Dick Cheney declared at a POLITICO Playbook luncheon on Monday that 'isolationism is crazy,' while his daughter, Liz Cheney, said Paul 'leaves something to be desired, in terms of national security policy.'
"The preemptive strikes suggest that many in GOP fear Paul is winning the foreign policy argument with the American people–and that that could make him a formidable candidate in 2016. After all, second-tier presidential hopefuls don't usually get shouted down this way.
"'I think the general fear on the part of a lot of leaders in the Republican Party is that there's an isolationist temptation after two big wars, an isolationist temptation in the American electorate,' said Elliott Abrams, a senior fellow at the Council on Foreign Relations who was a deputy national security adviser in the George W. Bush administration. 'And I think people are genuinely concerned about it and desirous of trying to stop it before it spreads further.'"
See the report here:
Abrams said the GOP establishment is "genuinely concerned" about a Rand Paul presidency. Baloney! They are pee-in-their-pants, scared-out-of-their-minds about it. The GOP establishment is far more concerned over someone like Rand Paul obtaining the White House than they are a Democrat obtaining the White House. In truth, when it comes to globalism, there really isn't a dime's worth of difference between the Democrat and Republican parties in Washington, D.C. The movers and shakers of both parties are globalist to the core.
It is more than interesting that the Politico report quoted above sought the opinion of CFR member Elliot Abrams. The Council on Foreign Relations (CFR) is an elitist cabal of globalists that has dominated the presidential administrations of both Democrats and Republicans for much of the Twentieth (and now Twenty-First) Century.
At this point it is important to remind readers of what Rear Admiral Chester Ward–himself a CFR member until he realized what it was all about and withdrew–said about the CFR. Remember, Admiral Ward was the Judge Advocate General of the Navy from 1956-1960.
Admiral Ward said, "The most powerful clique in these elitist groups [such as the CFR, Trilateral Commission, et al] have one objective in common–they want to bring about the surrender of the sovereignty and the national independence of the United States. A second clique of international members in the CFR . . . comprises the Wall Street international bankers and their key agents. Primarily, they want the world banking monopoly from whatever power ends up in the control of global government."
He also said, "The main purpose of the Council on Foreign Relations is promoting the disarmament of U.S. sovereignty and national independence and submergence into an all-powerful, one world government."
Admiral Ward was exactly right. Even a cursory look at the names of the most prominent politicians, media personalities, and leaders of the Federal Reserve shows a preponderance of influence by the CFR. For example, here is a small listing of some of the most influential members of the CFR or Trilateral Commission (or sometimes both):
George Herbert Walker Bush. Bill Clinton. Sandra Day O'Connor. Dick Cheney. Les Aspin. Colin Powell. Robert Gates. Brent Scowcroft. Jesse Jackson, Sr. Mario Cuomo. Dan Rather. Tom Brokaw. David Brinkley. John Chancellor. Marvin Kalb. Diane Sawyer. Barbara Walters. Cyrus Vance. Paul Volcker. Henry Kissinger. George Schultz. Alan Greenspan. Madeleine Albright. Roger Altman. Bruce Babbitt. Howard Baker. Samuel Berger. Elaine Chao. Dianne Feinstein. Ruth Bader Ginsburg. Chuck Hagel. Gary Hart. John McCain. George Mitchell. Bill Moyers. Jay Rockefeller. Donna Shalala. Strobe Talbott. Fred Thompson. Robert Zoellick. Richard Nixon. Hubert H. Humphrey. George McGovern. Gerald Ford. Jimmy Carter. John Anderson. Walter Mondale. Michael Dukakis. Al Gore. John Kerry.
What readers should immediately notice about this list is the fact that it is filled with both Democrats and Republicans. Can one imagine the outrage if the above names were all members of the Christian Coalition or even the American Civil Liberties Union (ACLU)? But the fact that so many of America's leaders from both major parties all share membership in the CFR seems to go completely unnoticed.
What we have in Washington, D.C., is CFR-dominated party D and CFR-dominated party R. No wonder there hasn't been any significant change in America's foreign policy since World War II, no matter which major party controlled the White House and Congress.
The globalists within the two major parties will do anything to make sure that a non-globalist is not elected President of the United States or given a too-powerful position of congressional leadership. Hence, the GOP establishment is pouncing on Rand Paul early to try and kill any momentum he might garner going into the 2016 presidential race. Virtually everything the global elite plan to do hinge on America engaging in perpetual war. Perpetual war is the linchpin that holds the entire globalist agenda intact. Anyone who threatens that linchpin is declared an enemy by the establishment and is slated for political destruction.
Perpetual war allows the internationalists to continue to fund dirty black-ops drug smuggling, corrupt banking practices, political briberies, political assassinations, etc. Perpetual war is also the number one excuse for creating a universal surveillance society within the United States. Perpetual war justifies spying on the American citizenry, militarizing local and State police agencies, passing legislation that allows the federal government to declare any American citizen an "enemy combatant" or seize and incarcerate indefinitely any U.S. citizen without warrant or Habeas Corpus, and send drones into America's heartland.
And when it comes to perpetual war and building a Police State at home, the neocons within the Republican Party are far more dangerous than Democrats. Far more! With support for abortion-on-demand, homosexual marriages, the secularization of America's schools and public institutions, globalists use liberal Democrats to dismantle America's Christian traditions and value systems. But when it comes to building both the Warfare State and the Police State, globalists primarily use "conservative" Republicans. And, of course, when it comes to obliterating America's traditional culture by swamping the country with illegal immigrants, both Republicans and Democrats are employed. That's why you will find as many Republicans (including those at the U.S. Chamber of Commerce) as Democrats pushing amnesty for illegals. There is absolutely no doubt that had not Tea-Party Republicans recently defeated House Majority Leader Eric Cantor (a major proponent of amnesty) in the Virginia primaries, the GOP-led House would have joined with Barack Obama and Senate Democrats to pass amnesty for illegals this summer. That is absolutely undeniable. We owe Virginia Republicans a huge "Thank You!" (I will write more about the illegal immigration problem in an upcoming column.)
There is no question that right now the battle for the heart and soul (not to mention the future) of America is the burgeoning police state complete with its twin-sister perpetual war. And, yes, illegal immigration is also a major battlefield right now. If the globalist attempt to turn the United States into a Police State–and again ramp up more wars of intervention–is not stopped in the next few short years, it will mean the death of freedom and independence in America forever. And neocon Republicans are the primary culprits in this regard.
Ladies and gentlemen, I don't know how to say it any plainer: if you are forced to choose between a pro-war, pro-police state, neocon Republican candidate for federal office and a Democrat, and if you believe in voting for the "lesser-of-two-evils," the Democrat is the one for whom you must vote.
Unfortunately, that is exactly the choice that the citizens of Montana have this year in its lone U.S. House race. We have a Democrat, John Lewis, running against a pro-war, pro-police state, neocon Republican Ryan Zinke. Without a doubt, the Democrat John Lewis is by far the lesser evil than Ryan Zinke.
Ryan Zinke never met a war he doesn't like. He is already on public record saying "civilians" should not be allowed to possess .50 caliber rifles. (Of course, now that he is a candidate for Congress, he has had a sudden election year conversion on the subject.) He has owning-interest in a drone manufacturing company. He is trying to use his credentials as a former Navy SEAL to propel him to the U.S. Congress; but Ryan Zinke is a warmongering, police state facilitator of the lowest order. Being the U.S. House seat in Montana is typically a Republican seat, it is very likely that if the Democrat Lewis wins, he would be a one-termer. A GOP candidate (someone besides Ryan Zinke, who was the absolute worst of all the candidates that the GOP had to offer this year) would have a very good chance of defeating the Democrat Lewis in 2016. On the other hand, if Zinke wins this November, we are probably going to be stuck with this neocon indefinitely. This would be a monstrous mistake for Montana and the U.S. House of Representatives.
Without a doubt, what the globalist elite at the CFR fear most is a presidential candidate who refuses to comply with the pro-war, pro-police state agenda. And while I am still not certain that Rand Paul has the same courage and convictions of his father, Ron Paul, he is, without a doubt, the closest ideologically to the Washington and Jeffersonian vision of non-entanglement in foreign affairs and the philosophical sacredness of individual liberty that we seem to have at the national level these days. As such, the GOP establishment is literally trying to skewer Senator Paul.
The GOP establishment is not worried about Texas Governor Rick Perry, New Jersey Governor Chris Christie, Mitt Romney, former Florida Governor Jeb Bush, or Wisconsin Congressman Paul Ryan. None of these men would stand in the way of the globalist agenda. But the GOP establishment is terrified of Rand Paul–and to a lesser extent Texas Senator Ted Cruz. But given the way that Republican leaders are pouncing on Mr. Paul, it is obvious that he is the one they believe poses the greatest threat to the globalist agenda.
For the last several years, the press on the disastrous North American Union has been off front-page news. Nonetheless, the plans to remove barriers and open up borders keeps chucking along. Those who belief this course is desirable or those who conclude that it is unpreventable because the climate of globalization is overpowering, are subversive collaborators of the NWO or gutless wimps that deserve to be run over by the hordes of barbarians that flood our country.Jerome R. Corsi writes in the essay, Kerry signals advance of 'North American Union' plan, "with the expected ratification by Congress of the Trans-Pacific Partnership, or TPP, the Obama administration already considers the U.S., Mexico and Canada as part of a "post-NAFTA" world." What a horrendous admission to make. As stated in the article,
Obama Presses "North American Union" With Mexico, Canada, and this plan for hemispheric integration has a very long record of treason. Some background leading to the current crisis.
"Following the establishment of NAFTA in 1994, under the Clinton administration, President George W. Bush attempted to deepen the U.S.-Canada-Mexico tri-national region with the Security and Prosperity Partnership (SPP), but public opposition spearheaded by this publication, The John Birch Society, WorldNetDaily, Phyllis Schlafly's Eagle Forum, and other pro-independence, pro-Constitution groups, forced the Bush administration to shelve the plan — temporarily — and drop the tainted SPP moniker.

At the same time, the Bush administration was pushing the broadening agenda, under the banner of the Free Trade Area of the America's (FTAA), an endeavor launched during the Clinton administration to expand NAFTA to include all the nations of North and South America. As with the SPP, an awakened electorate put sufficient heat on the U.S. Congress to torpedo the FTAA. The subversive integration/merger plans that The New American had been exposing for years were confirmed in 2011 with the release by WikiLeaks of U.S. State Department cables showing that U.S. officials had been colluding with their Canadian and Mexican counterparts to undermine our constitutional government through various "integration" schemes. (See here and here.)"
Therefore, it comes as no surprise when General Petraeus announces, "After America Comes North America." He also boasted about how the three economies have been put "together" over the last 20 years as part of the "implementation" of the North American Free Trade Act. As The New American publication proves, resistance to a NAU is not only justified but also necessary if America is to survive as an independent nation.Back in 2006, Dr. Corsi refutes NeoCon proponent John Hawkins, who uses Saul D. Alinsky tactics, in Human Events account that NORTH AMERICAN UNION IS NO CONSPIRACY. The point is that the Obama administration is carrying forward the same strategy, ever protected by the lame stream media, to advance the disintegration of American sovereignty.
The video, NORTH AMERICAN UNION FORMING NOW!! THIS IS THE END OF THE U.S.A, provides a vivid analysis just what is at stake. In addition, one example of the methods used by Obama is reveled in the 2012 column, New Obama Executive Order Pushes Us Closer To A North American Union And A One World Economic System.
"Most Americans have absolutely no idea how far plans to integrate the United States, Canada and Mexico have advanced.

Last year, Barack Obama signed an agreement to create a "North American security perimeter" and most Americans never even heard about it because the mainstream news networks almost entirely ignored it.

But this is exactly what the globalists want. They don't want people to become alarmed by these moves toward North American integration. In fact, a document uncovered by Wikileaks shows that those involved in the effort to integrate North America believe that an "incremental" approach is best. Apparently they believe that small moves toward integration are less likely to alarm the general population."
Well, the pretence looks to be over. The fear of alarming American nationalists no longer exists. However, the Homeland Security policy to open the southern border is backfiring as seen in the article, Border Patrol Agents Quitting as Obama's Mass Invasion Mess at The Border Permeates the Rest of the Country.
"And now our Border Patrol agents are saying, screw it, and looking for new careers/jobs as known Mexican gang members are enjoying the Obama/Holder 'catch and release' policy.More than one person is concluding the Obama administration is responsible and has intentionally set this massive border mess into motion with his policies on immigration, hoping to force amnesty as his solution to the man-made disaster and humanitarian crisis (which is designed to never allow to go to waste) of his making."
Clearly the establishment's efforts to create a fabricated immigration crisis in order to force a bogus "comprehensive" consolidation in this dreadful North American Union, is at the core of the mass migration. For the bleeding heart do-gooders, the death trains cry out for a more humane mode of transportation to import the Central America into the former Republic of the United States.
One such redemptive fix is to interject a dose of altruism. Replace the clingers on boxcars, reminiscent of Indian Dalit untouchables, with the sleek travel experience of the U.S. and Mexico could be connected by multi-billion-dollar high speed train within FOUR YEARS.
"A multi-billion-dollar high-speed train network linking America with Mexico moved a step closer as officials from both sides of the border thrashed out details.

The proposed 300 mile route would link San Antonio, Texas, to Monterrey, Mexico – slashing the current journey time from five hours by car to under two hours."
Just look at the advantages of streamlining a direct route from Mexico, that bypasses any border checkpoints and deposits these "PC" undocumented immigrants directly to resettlement facilities. The return trip south can be used to transport Fast and Furious guns, useful in the drug trade, which is central to the economics of laundering monies in the North American Union hierarchy.A decade ago, the article, Do Foreigners Have a Right to Enter the United States?, covered the efforts of Asa Hutchinson, the then Under Secretary of Homeland Security for Border and Transportation Security.
"Starting this week foreign visitors will be digitally fingerprinted and photographed as part of a nationwide program to check their backgrounds and keep track of when they enter and leave the United States. On the surface this looks like a necessary and desirable procedure. This procedure is the first phase of the Department of Homeland Security's automated entry-exit system called the U.S. Visitor and Immigrant Status Indicator Technology, or US-VISIT."
Guess that tracking system proved too much of a burden for the latest rush to process these "so called" undocumented migrants. Oh yes, let's correct the terminology; this mass exodus wants to stay permanently in the only country that allows open borders for the premeditated and systemic destruction of their own nation.With the open admission that Former Border Patrol Agents: Illegal Immigration Crisis "Contrived", does any federal officials listen, much less act to close the border? The National Association of Former Border Patrol Officers (NAFBPO) released a statement:
"This is not a humanitarian crisis. It is a predictable, orchestrated and contrived assault on the compassionate side of Americans by her political leaders that knowingly puts minor Illegal Alien children at risk for purely political purposes. Certainly, we are not gullible enough to believe that thousands of unaccompanied minor Central American children came to America without the encouragement, aid and assistance of the United States Government. Anyone that has taken two six to seven year old children to an amusement park can only imagine the problems associated with bringing thousands of unaccompanied children that age up through Mexico and into the United States. I doubt even the Cartels would undertake that chore at any price. No, it has to be heartless corrupt politicians and their minions lusting for more money and power."
There a few issues more absolute than the words of Ronald Reagan, "A nation that cannot control its borders is not a nation." When Congressional Rep. Steve King says that "Ronald Reagan's signature on the 1986 amnesty act" gave Barack Obama about 15 million additional Hispanic votes in 2012, he is prophesying even a worse future and inevitable prospects under a North American Union.
Reading a headline in the New York Times, Pentagon Plans to Shrink Army to Pre-World War II Level, one needs to ponder what it would take for a defensive deployment on the southern border. If General John "Black Jack" Pershing was sent to track down Pancho Villa, what prevents permanent military patrols to simply guard the border? Obviously, there is not any junior grade George S. Patton's in the army that would have the courage to buck the commander of treason. This border war is the true existential threat that Americans do not have the stomach to fight.Those who propagate a North American Union are globalists and hate everything that the authentic America stands for. Look in a mirror, that ugly face could be you, if you fall for the propaganda of the NAU.
What would a psychiatrist call this? Delusions of grandeur?
US Secretary of State John Kerry, July 8, 2014:
"In my travels as secretary of state, I have seen as never before the thirst for American leadership in the world."
President Barack Obama, May 28, 2014:
"Here's my bottom line, America must always lead on the world stage. If we don't, no one else will."
Nicholas Burns, former US Under Secretary of State for Political Affairs, May 8, 2014:
"Where is American power and leadership when the world needs it most?"
Mitt Romney, Republican Party candidate for President, September 13, 2012:
"The world needs American leadership. The Middle East needs American leadership and I intend to be a president that provides the leadership that America respects and keep us admired throughout the world."
Paul Ryan, Congressman, Republican Party candidate for Vice President, September 12, 2012:
"We need to be reminded that the world needs American leadership."
John McCain, Senator, September 9, 2012:
"The situation in Syria and elsewhere 'cries out for American leadership'."
Hillary Clinton, September 8, 2010:
"Let me say it clearly: The United States can, must, and will lead in this new century. Indeed, the complexities and connections of today's world have yielded a new American Moment — a moment when our global leadership is essential, even if we must often lead in new ways."
Senator Barack Obama, April 23, 2007:
"In the words of President Franklin Roosevelt, we lead the world in battling immediate evils and promoting the ultimate good. I still believe that America is the last, best hope of Earth."
Gallup poll, 2013:
Question asked: "Which country do you think is the greatest threat to peace in the world today?"
Replies:
United States 24%
Pakistan 8%
China 6%
Afghanistan, Iran, Israel, North Korea, each 5%
India, Iraq, Japan, each 4%
Syria 3%
Russia 2%
Australia, Germany, Palestinian territories, Saudi Arabia, Somalia, South Korea, UK, each 1%
The question is not what pacifism has achieved throughout history, but what has war achieved?
Remark made to a pacifist: "If only everyone else would live in the way you recommend, I would gladly live that way as well – but not until everyone else does."
The Pacifist's reply: "Why then, sir, you would be the last man on earth to do good. I would rather be one of the first."
Article 9 of the Japanese Constitution, 1947, words long cherished by a large majority of the Japanese people:
"Aspiring sincerely to an international peace based on justice and order, the Japanese people forever renounce war as a sovereign right of the nation and the threat or use of force as means of settling international disputes.

"In order to accomplish the aim of the preceding paragraph, land, sea, and air forces, as well as other war potential, will never be maintained. The right of belligerency of the state will not be recognized."
This statement is probably unique amongst the world's constitutions.
But on July 1, 2014 the government of Japanese Prime Minister Shinzo Abe, without changing a word of Article 9, announced a "reinterpretation" of it to allow for military action in conjunction with allies. This decision can be seen as the culmination of a decades-long effort by the United States to wean Japan away from its post-WW2 pacifist constitution and foreign policy and set it back on the righteous path of being a military power once again, only this time acting in coordination with US foreign policy needs.
In the triumphalism of the end of the Second World War, the American occupation of Japan, in the person of General Douglas MacArthur, played a major role in the creation of this constitution. But after the communists came to power in China in 1949, the United States opted for a strong Japan safely ensconced in the anti-communist camp. For pacifism, it's been downhill ever since … step by step … MacArthur himself ordered the creation of a "national police reserve", which became the embryo of the future Japanese military … visiting Tokyo in 1956, US Secretary of State John Foster Dulles told Japanese officials: "In the past, Japan had demonstrated her superiority over the Russians and over China. It was time for Japan to think again of being and acting like a Great Power."  … various US-Japanese security and defense cooperation treaties, which called on Japan to integrate its military technology with that of the US and NATO … the US supplying new sophisticated military aircraft and destroyers … all manner of Japanese logistical assistance to the US in Washington's frequent military operations in Asia … repeated US pressure on Japan to increase its military budget and the size of its armed forces … more than a hundred US military bases in Japan, protected by the Japanese military … US-Japanese joint military exercises and joint research on a missile defense system … the US Ambassador to Japan, 2001: "I think the reality of circumstances in the world is going to suggest to the Japanese that they reinterpret or redefine Article 9."  … Under pressure from Washington, Japan sent several naval vessels to the Indian Ocean to refuel US and British warships as part of the Afghanistan campaign in 2002, then sent non-combat forces to Iraq to assist the American war as well as to East Timor, another made-in-America war scenario … US Secretary of State Colin Powell, 2004: "If Japan is going to play a full role on the world stage and become a full active participating member of the Security Council, and have the kind of obligations that it would pick up as a member of the Security Council, Article Nine would have to be examined in that light."  …
In 2012 Japan was induced to take part in a military exercise with 21 other countries, converging on Hawaii for the largest-ever Rim of the Pacific naval exercises and war games, with a Japanese admiral serving as vice commander of the combined task force.  And so it went … until, finally, on July 1 of this year, the Abe administration announced their historic decision. Abe, it should be noted, is a member of the Liberal Democratic Party, with which the CIA has had a long and intimate connection, even when party leaders were convicted World War 2 war criminals.
If and when the American empire engages in combat with China or Russia, it appears that Washington will be able to count on their Japanese brothers-in-arms. In the meantime, the many US bases in Japan serve as part of the encirclement of China, and during the Vietnam War the United States used their Japanese bases as launching pads to bomb Vietnam.
The US policies and propaganda not only got rid of the annoying Article 9, but along the way it gave rise to a Japanese version of McCarthyism. A prime example of this is the case of Kimiko Nezu, a 54-year-old Japanese teacher, who was punished by being transferred from school to school, by suspensions, salary cuts, and threats of dismissal because of her refusal to stand during the playing of the national anthem, a World War II song chosen as the anthem in 1999. She opposed the song because it was the same one sung as the Imperial Army set forth from Japan calling for an "eternal reign" of the emperor. At graduation ceremonies in 2004, 198 teachers refused to stand for the song. After a series of fines and disciplinary actions, Nezu and nine other teachers were the only protesters the following year. Nezu was then allowed to teach only when another teacher was present.
Yankee Blowback
The number of children attempting to cross the Mexican border into the United States has risen dramatically in the last five years: In fiscal year 2009 (October 1, 2009 – September 30, 2010) about 6,000 unaccompanied minors were detained near the border. The US Department of Homeland Security estimates for the fiscal year 2014 the detention of as many as 74,000 unaccompanied minors. Approximately 28% of the children detained this year are from Honduras, 24% from Guatemala, and 21% from El Salvador. The particularly severe increases in Honduran migration are a direct result of the June 28, 2009 military coup that overthrew the democratically-elected president, Manuel Zelaya, after he did things like raising the minimum wage, giving subsidies to small farmers, and instituting free education. The coup – like so many others in Latin America – was led by a graduate of Washington's infamous School of the Americas.
As per the standard Western Hemisphere script, the Honduran coup was followed by the abusive policies of the new regime, loyally supported by the United States. The State Department was virtually alone in the Western Hemisphere in not unequivocally condemning the Honduran coup. Indeed, the Obama administration has refused to call it a coup, which, under American law, would tie Washington's hands as to the amount of support it could give the coup government. This denial of reality still persists even though a US embassy cable released by Wikileaks in 2010 declared: "There is no doubt that the military, Supreme Court and National Congress conspired on June 28 [2009] in what constituted an illegal and unconstitutional coup against the Executive Branch". Washington's support of the far-right Honduran government has been unwavering ever since.
The questions concerning immigration into the United States from south of the border go on year after year, with the same issues argued back and forth: What's the best way to block the flow into the country? How shall we punish those caught here illegally? Should we separate families, which happens when parents are deported but their American-born children remain? Should the police and various other institutions have the right to ask for proof of legal residence from anyone they suspect of being here illegally? Should we punish employers who hire illegal immigrants? Should we grant amnesty to at least some of the immigrants already here for years? … on and on, round and round it goes, decade after decade. Those in the US generally opposed to immigration make it a point to declare that the United States does not have any moral obligation to take in these Latino immigrants.
But the counter-argument to this last point is almost never mentioned: Yes, the United States does indeed have a moral obligation because so many of the immigrants are escaping a situation in their homeland made hopeless by American intervention and policy. In addition to Honduras, Washington overthrew progressive governments which were sincerely committed to fighting poverty in Guatemala and Nicaragua; while in El Salvador the US played a major role in suppressing a movement striving to install such a government. And in Mexico, though Washington has not intervened militarily since 1919, over the years the US has been providing training, arms, and surveillance technology to Mexico's police and armed forces to better their ability to suppress their own people's aspirations, as in Chiapas, and this has added to the influx of the oppressed to the United States, irony notwithstanding.
Moreover, Washington's North American Free Trade Agreement (NAFTA), has brought a flood of cheap, subsidized US agricultural products into Mexico, ravaging campesino communities and driving many Mexican farmers off the land when they couldn't compete with the giant from the north. The subsequent Central American Free Trade Agreement (CAFTA) has brought the same joys to the people of that area.
These "free trade" agreements – as they do all over the world – also result in government enterprises being privatized, the regulation of corporations being reduced, and cuts to the social budget. Add to this the displacement of communities by foreign mining projects and the drastic US-led militarization of the War on Drugs with accompanying violence and you have the perfect storm of suffering followed by the attempt to escape from suffering.
It's not that all these people prefer to live in the United States. They'd much rather remain with their families and friends, be able to speak their native language at all times, and avoid the hardships imposed on them by American police and other right-wingers.
M'lady Hillary
Madame Clinton, in her new memoir, referring to her 2002 Senate vote supporting military action in Iraq, says: "I thought I had acted in good faith and made the best decision I could with the information I had. And I wasn't alone in getting it wrong. But I still got it wrong. Plain and simple."
In a 2006 TV interview, Clinton said: "Obviously, if we knew then what we know now, there wouldn't have been a vote. And I certainly wouldn't have voted that way."
On October 16, 2002 the US Congress adopted a joint resolution titled "Authorization for Use of Military Force Against Iraq". This was done in the face of numerous protests and other political events against an American invasion.
On February 15, 2003, a month before the actual invasion, there was a coordinated protest around the world in which people in some 60 countries marched in a last desperate attempt to stop the war from happening. It has been described as "the largest protest event in human history." Estimations of the total number of participants involved reach 30 million. The protest in Rome involved around three million people, and is listed in the 2004 Guinness Book of World Records as the largest anti-war rally in history. Madrid hosted the second largest rally with more than 1½ million protesters. About half a million marched in the United States. How many demonstrations in support of the war can be cited? It can be said that the day was one of humanity's finest moments.
So what did all these people know that Hillary Clinton didn't know? What information did they have access to that she as a member of Congress did not have?
The answer to both questions is of course "Nothing". She voted the way she did because she was, as she remains today, a wholly committed supporter of the Empire and its unending wars.
And what did the actual war teach her? Here she is in 2007, after four years of horrible death, destruction and torture:
"The American military has done its job. Look what they accomplished. They got rid of Saddam Hussein. They gave the Iraqis a chance for free and fair elections. They gave the Iraqi government the chance to begin to demonstrate that it understood its responsibilities to make the hard political decisions necessary to give the people of Iraq a better future. So the American military has succeeded."
And she spoke the above words at a conference of liberals, committed liberal Democrats and others further left. She didn't have to cater to them with any flag-waving pro-war rhetoric; they wanted to hear anti-war rhetoric (and she of course gave them a tiny bit of that as well out of the other side of her mouth), so we can assume that this is how she really feels, if indeed the woman feels anything. The audience, it should be noted, booed her, for the second year in a row.
"We came, we saw, he died." – Hillary Clinton as US Secretary of State, giggling, as she referred to the uncivilized and utterly depraved murder of Moammar Gaddafi in 2011.
Imagine Osama bin Laden or some other Islamic leader speaking of September 11, 2001: "We came, we saw, 3,000 died, ha-ha."
Notes
Los Angeles Times, September 23, 1994
Washington Post, July 18, 2001
BBC, August 14, 2004
Honolulu Star-Advertiser, June 23 and July 2, 2012
Tim Weiner, "Legacy of Ashes: The History of the CIA" (2007), p.116-21
Washington Post, August 30, 2005
Washington Post, June 6, 2014
Speaking at the "Take Back America" conference, organized by the Campaign for America's Future, June 20, 2007, Washington, DC; this excerpt can be heard on the June 21, 2007 edition of Democracy Now!
The Bill of Rights is not an accumulation of mere words that have become expendable, when the government finds them inconvenient. The Fourth Amendment is especially an example of a promise of protecting natural rights, long ignored and often violated. While much of court precedents involve policing powers, these decisions have profound application to NSA metadata mining. With the first anniversary of the Edward Snowden disclosures, no government official or agency can continue to deny the existence of the total surveillance state.
The NSA's "General Warrants": How the Founding Fathers Fought an 18th Century Version of the President's Illegal Domestic Spying, provides an indispensible example of the fundamental conflict that always exists, when magistrates envision their duty as the maintenance of government supremacy over the inherent autonomy of individuals.
"It is "familiar history," the U.S. Supreme Court noted in Payton v. New York, that "indiscriminate searches and seizures conducted under the authority of 'general warrants' were the immediate evils that motivated the framing and adoption of the Fourth Amendment." When James Madison drafted the Fourth Amendment, he relied heavily on the Massachusetts Constitution, which forbade warrants that did not specify the "persons or objects of search, arrest, or seizure."
Since the post World War II era, the radical shift from the remnants of the former Republic, into a global authority, where the meaning of the law has no correlation to the intent of original constitutional conviction, is undeniable. What was enemy signals interception became complete domestic scrutiny and monitoring. Lost for all practical legal purposes was The Central Meaning of the Fourth Amendment. Tracey Maclin provides a historic account and judicial context on how the constitution was perverted.
"The Court's rational basis model essentially asks whether the police have acted irrationally while intruding upon the Fourth Amendment rights of individuals. The Court's model rarely requires warrants authorizing searches, disfavors vigorous judicial oversight of police searches, and prefers deference to police procedures as the mode of constitutional decision-making.

Most importantly, a rational basis model severely diminishes our rights under the Fourth Amendment. As the private container cases demonstrate, a rational basis model does not subject police searches to vigorous judicial check. In many instances, the police are free to undertake unsupervised and suspicionless searches, even when less intrusive means are available to serve the state's interests. In other contexts, warrantless searches are permitted when the only justification for such a search is police convenience.

In the end, the Court finds that all of these searches are reasonable because they rationally serve legitimate state interests. This degree of deference to police searches is at odds with the central purpose of the Fourth Amendment, which is distrust of discretionary police power. The Fourth Amendment was not inserted in the Bill of Rights so that judges could meekly defer to government intrusions of privacy; rather, the amendment was designed to control such intrusions."
The NSA purports that national security not only encompasses data mining on all citizens, but also allows for effective total immunity from oversight and accountability. This mindset expands the ordinary boundaries of maintaining the peace into a tyrannical police state. The commitment to Open Government and Transparency is as believable as the fairy tale that anyone can become President.
Abdication of judicial responsibility is so blatant that the century old decision by Justice William R. Day, Weeks v. United States (1914), U.S. Supreme Court, has no substantive application when the NSA deems that its ECHELON monitoring systems require that a PRISM be kept on everyone person. Also, watch the video, One Year Of Leaks That Turned Surveillance Conspiracy Theory to FACT!
"The point of the Fourth Amendment which often is not grasped by zealous officers is not that it denies law enforcement the support of the usual inferences which reasonable men draw from evidence. Its protection consists in requiring that those inferences be drawn by a neutral and detached magistrate, instead of being judged by the officer engaged in the often competitive enterprise of ferreting out crime. Any assumption that evidence sufficient to support a magistrate's disinterested determination to issue a search warrant will justify the officers in making a search without a warrant would reduce the Amendment to a nullity, and leave the people's homes secure only in the discretion of police officers. Crime, even in the privacy of one's own quarters, is, of course, of grave concern to society, and the law allows such crime to be reached on proper showing. The right of officers to thrust themselves into a home is also a grave concern, not only to the individual, but to a society which chooses to dwell in reasonable security and freedom from surveillance. When the right of privacy must reasonably yield to the right of search is, as a rule, to be decided by a judicial officer, not by a policeman or government enforcement agent.

There are exceptional circumstances in which, on balancing the need for effective law enforcement against the right of privacy, it may be contended that a magistrate's warrant for search may be dispensed with. But this is not such a case. No reason is offered for not obtaining a search warrant except the inconvenience to the officers and some slight delay necessary to prepare papers and present the evidence to a magistrate. These are never very convincing reasons and, in these circumstances, certainly are not enough to bypass the constitutional requirement. No suspect was fleeing or likely to take flight. The search was of permanent premises, not of a movable vehicle. No evidence or contraband was threatened with removal or destruction, except perhaps the fumes which we suppose in time will disappear. But they were not capable at any time of being reduced to possession for presentation to court. The evidence of their existence before the search was adequate and the testimony of the officers to that effect would not perish from the delay of getting a warrant.

If the officers in this case were excused from the constitutional duty of presenting their evidence to a magistrate, it is difficult to think of a case in which it should be required."
The cyber environment of digital existence does not void the need for probable cause. However, the NSA does not observe such constitutional needs when the personal computer is the depository of your private papers. Other than advancements in technological communications and archiving, the precedent of the "exclusionary rule", established in this case, is the ubiquitous causality from NSA collection that vacuums up every byte of data, using the presumption that everyone is a criminal. Even if not charged for an offense at this time, the information awaits future prosecutorial discretion.

So, when in the case Klayman v. Obama, "On December 16, Richard J. Leon of the Federal District Court for the District of Columbia ruled that the metadata collection program violates the Fourth Amendment", hopes were high that at least one federal judge had the courage to uphold the constitution. Metadata and the Fourth Amendment then cites that soon thereafter, the weight and magnate of the intelligence snooping force felt the usual letdown, when American Civil Liberties Union v. Clapper was decided.
"On December 27, Judge William H. Pauley III came to the opposite conclusion. Contrary to Judge Leon's belief that the metadata program has not been effective, Judge Pauley argued that the program could potentially have stopped the 9/11 attacks. However, the crux of his determination was that the Smith precedent applies and that no Fourth Amendment claim can be made out for Americans have no reasonable expectation of privacy regarding the metadata related to their phone calls."
Note the bizarre endorsement of this absurdly twisted legal logic that conveniently destroys the intentional importance of preserving essential privacy that corrupt courts want to make conditional.
"Among the requirements for a successful Fourth Amendment claim is establishing that a reasonable expectation of privacy was violated. On this point, the most relevant precedent to the metadata cases is 1979's Smith v. Maryland, in which the U.S. Supreme Court held that individuals have no reasonable expectation of privacy regarding the telephone numbers they call, for that information is freely provided to telephone companies and it is generally known that telephone companies keep this information in their records."
Abolishing the expectation of privacy is not subject to the redefining of what are reasonable restrictions that the government places upon its agencies. The reason why the NSA is so dangerous stems from the total lack of observing that the spying on ordinary citizens is a profound repudiation of basic and inalienable rights of each individual.
Such systematic and surreptitious gathering also has No Fourth Amendment right in metadata embedded in posted photo, so say the U.S. Court of Appeals for the Fifth Circuit. Before long, this parade of government inspection and retention will subject even the hermit and the deliberate recluse to a profile third degree. It is a never-ending process until snatching your individual identity is the ultimate outcome.
The snoops view you as an enemy of the state, unless you can prove differently, whereas the reality is that The Strange World of NSA Mind Control is the true foe of the liberty of people and a free nation.
During my youth, I grew up as a "Service Brat." My dad served 27 years in the U.S. Marine Corps. I respected God, the Stars and Stripes, America and our presidents without question. I loved my mom's apple pie!
However, credible researches discovered that President Franklin D. Roosevelt "let" Pearl Harbor occur to draw public support to jump the United States into World War II.
Our kids fought the Korean War because somebody in Harry S. Truman's circle decided we needed to stop communism over 10,000 miles from our shores. The best bet on who started the Korean War: a banker, a corporation head or anyone hoping to make enormous gains off mass deaths.
By the time Vietnam conscripted and killed a lot of my friends, as well as my own time in the U.S. Army, I learned about lies, corruption, bankers and the real reason for Vietnam. I learned that presidents lie. They think nothing of sacrificing young men in ridiculous wars such as Lyndon Baines Johnson's onslaught of Southeast Asia. He killed over 2.3 million Vietnamese and 58,319 of our young men. He ruined millions of lives, families and the environment with Agent Orange.
Years later, George W. Bush "created" the Iraq War on his lies and deceptions of "Weapons of Mass Destruction." He destroyed an entire functioning civilization, brought endless death and misery to God knows how many people. We're still fighting and dying in Afghanistan over a year since bin Laden died at the hands of Navy Seals.
Highly decorated U.S. General Smedley Butler, upon retiring, wrote a book that every American should read: War is a Racket. The only people who benefit from war: bankers, munitions manufacturers, clothing and food producers and corporations. They make a lot of money off death of our citizen soldiers.
General Dwight D. Eisenhower warned us about the "Military Industrial Complex" that engineers wars, global tensions and anything to shove our kids into uniform and battles. Congress and presidents shoved our noses into everybody else's business for decades.
We didn't listen to Butler. We "supported" all those wars via massive "advertising" that a "threat" awaited us. Those wars made a lot of CEOs filthy rich.
In 1971, defense expert Daniel Ellsberg presented the Pentagon Papers exposing the incredible corruption and widening of the Vietnam War by Nixon and Johnson before him—all based on lies.
Last week, NBC's Brian Williams interviewed "whistleblower" intelligence officer Edward Snowden about the National Security Agency's incredible spying on American citizens. I watched the entire interview: Snowden showed himself to be incredibly honest, forthright, concerned, all-American, he honors the U.S. Constitution and he is a man of principles. He chronicled his work in the government that opened him to the corruption at the highest offices in our government.
Secretary of State Kerry called Snowden a "Traitor, coward and should come home to face the music."
Daniel Ellsberg responded, "Kerry's remarks are despicable!"
I agree. We need 10,000 Edward Snowden's. In America today, we face incredible corruption in our Congress and Mr. Obama himself. The list grows: Fast and Furious, won't enforce our immigration laws, phony Social Security number, Benghazi killings, suing states from enforcing their own laws, continue to fund 10 year wars when they know they are futile, and on and on. The corruption in Congress runs wide, deep and sickening from 20 and 30 year career Senators and Congressmen swimming in lies, cheating and playing the American people. Insider military trading on the stock market, paid off by corporations to NOT enforce our immigration laws and another 100 crimes against the American people.
"So many things we are told are untrue," said Snowden. "The Iraq War was launched on false premises. We were led by false statements to go into Iraq."
I can stand with Snowden because I know we marched into Vietnam on the same false statements such as the "Gulf of Tonkin Incident."
When he tried to notify superiors, they said, "You should stop asking questions."
I faced the same thing when I served as an officer in the U.S. Army. I learned to never question orders. If I did, command officers ridiculed me. I learned quickly to follow the military protocol.
Snowden said, "I watched the government's dishonesty. What was going on needed to be told to the public. I did nothing to harm the citizens or soldiers of America."
Williams asked, "Why won't you come home and face the music?"
"The Espionage Act states that you cannot have a defense," said Snowden. "The music is not an open court or fair trail."
"Are you blameless," asked Williams.
"The most important idea is that what is right may not be legal," said Snowden.
I can attest to that fact. Once the man or "group" who gained George Bush's ear turned the crank to initiate the Iraq War, no sane, rational or reasoning man could stop it.
"We are seeing an erosion and obstruction of our rights as citizens under the NSA," said Snowden. "I felt that I was/am serving my country and protecting my fellow citizens. Even one of the U.S. Senators said that bulk surveillance is unacceptable. We see senior officials taking powers they don't warrant. In the end, I did the right thing."
I applaud Snowden. If more Snowden's stood up in the face of withering criticism or "following the power elites" that create wars or spy on our own citizens or recklessly endanger our country—none of our kids would have died in Korea, Vietnam, Iraq, Desert Storm or Afghanistan.
Look to career U.S. Senators like Feinstein, Boxer, Reid, Udall, Bennet, McCain, Kyle, Schumer, Levin, Kerry, Durbin, Kennedy, Hatch, Graham and dozens of other senators for their complicity in driving this country into needless wars, not defending our borders, slamming us into $18 trillion debt and putting all of us at risk. For example: the current S744, passed by the Senate last year, guarantees our country spirals into the demographic, cultural and linguistic toilet. Yet, the damned fools passed it. I recall Mark Twain's sage words, "Suppose you are an idiot and suppose you are a member of Congress…ah but I repeat myself."
We should welcome Edward Snowden home as a national hero, and, at the same time shouting out to Secretary of State John Kerry, "You're despicable beyond measure."
It is easy to stand up and cheer for your favorite government activity. It is quite another to acknowledge what it means in the real world.
I almost never try to speak for other people. However, I think it is fairly safe to say that the average military recruit firmly believes that he joins the military so that you and I can live and breathe in freedom. To be sure, he had other reasons for joining, but I think the defense of liberty is a fairly common characteristic.
That is certainly what I thought when I was in Navy boot camp in Orlando, Florida, in 1983. After all, this is what I had been told all my life: sailors, soldiers, airmen and marines defend freedom.
But is this actually what they do?
Consider the following:
This Marine lost both legs in an IED blast in Iraq. He claims he was forced by TSA to remove both prosthetic legs before he could board an airplane in Phoenix.
This Vietnam veteran in Spicewood, Texas, had flashbacks to his combat experience during a marijuana raid at a friend's house. What police claimed was marijuana turned out to be ragweed.
Jared Goering, who served 19 years in the Army, including tours in Iraq and Afghanistan, was kicked off the boardwalk in Wildwood, N.J. for walking with his service dog, Gator.
Emily Yates, who served two tours with the Army in Iraq, was violently arrested by park police in Philadelphia for asking why she couldn't play her banjo under some shade trees.
Dimitrios Karras is a Marine Corps veteran of Iraq and Afghanistan. Read about the ATF raid on his business in National City, California.
Martin Goldberg of Brooklyn is a World War II veteran whose apartment was subject to a drug raid. Later, the cops realized they had raided the wrong apartment. His 83-year-old wife was hospitalized with an irregular heartbeat as a result of the raid.

In 1997, four sailors from the USS Saipan (LHA-2) were falsely accused of the rape and murder of a Norfolk, Virginia, woman. One spent eight-and-one-half years in prison while the other three were sentenced to life in prison. These three were pardoned in 2009. Even though the actual killer is serving a life sentence, four innocent men are still required to register as sex offenders and are still fighting to clear their names.
Charles Loeks was 18 and fresh out of Marine boot camp. On a trip home to Covina, California, he was hanging out with a few friends when he was arrested for resisting arrest and nothing else. He spent 21 days in Los Angeles County jail, even though he had harmed no one.
Carlos Jaramillo is a former Marine combat instructor who lives in Onslow County, North Carolina. Watch what happened when he recorded a sheriff's deputy who arrested him for no apparent reason.
Noel Polanco was an unarmed 22-year-old National Guardsman who was shot and killed by New York City police at a traffic stop near LaGuardia Airport.
John Laigaie, a retired Army master sergeant, was threatened at gunpoint by police while legally carrying a gun in a park in Bellingham, Washington.
Homer Wright is an 80-year-old Army veteran who was charged with felony gun use after he shot a burglar who entered his home in Englewood, Illinois.

Mark Schmidter, a Vietnam veteran who lives in Orlando, is currently serving 145 days in a cage for passing out jurors' rights information on the steps of a local courthouse.
Justin Ross of Ankeny, Iowa, was recently discharged from the Army. Police used a battering ram to enter his home executing a warrant for some items purchased with stolen credit cards. They did not find any of these items.
Saadiq Long is an Air Force veteran who was placed on a TSA no-fly list. He had to battle for months to be removed from this list just so he could fly home from Qatar to visit his ailing mother.
Chuck Benton of Long Grove, Iowa, served 22 years in the Army. He was arrested and charged simply for living in the same house with his son who was growing medical marijuana.
Cody Donovan is a former Marine MP who lives in New Milford, N.J. He was charged with unlawful possession of a weapon after carrying a loaded gun into the Garden State Plaza mall when he attempted to help police apprehend the shooter.

In 1932, 17,000 veterans marched on Washington to demand payment of bonuses they had been promised as a result of their service in World War I. Two were shot and killed by police. 55 were arrested and 135 were injured when the United States Army became an instrument of domestic law enforcement. Two of the chief enforcers were named MacArthur and Patton. Yes, those two.
Mark England, an Army combat medic who saw action in Iraq and Kosovo was beaten and tasered by police at McCarran Airport in Las Vegas.
Air Force Staff Sergeant Matt Pinkerton of Glen Burnie, Maryland, faces second degree murder charges after fatally shooting a home intruder in September.
Leo Hendrick, an army veteran who lives in Northwood, Iowa, faces up to 30 days in jail and a $600 fine for raising chickens in his yard.
Yes, the cops had a search warrant. However that in no way excuses their vandalizing the home of Army veteran Dan Neary of Lakewood, Washington.
These World War II veterans were threatened with arrest for visiting a closed war memorial in Washington, D.C. during the October "shutdown."

These Vietnam veterans actually were arrested for visiting a New York City war memorial after curfew.
Denis Reynoso was a disabled veteran who saw action with the Marines in Iraq. He was shot dead by police in his Lynn, Massachusetts, apartment.
Nick Morgan, an Iraq veteran, was pulled out of a crowd by police in Hempstead, New York, and trampled by their horses.
Gary Shepherd of Broadhead, Kentucky was a Vietnam veteran. He used medical cannabis to relieve the pain in his left arm, which was crippled during the war. Shepherd was shot dead by a SWAT team, after they had threatened to cut down his cannabis plants.
Valente and Manuel Valenzuela of San Antonio produced sufficient documentation to enlist, respectively, in the Army and Marine Corps. Both fought in Vietnam, where Valente won a Bronze Star. Now they are facing deportation to Mexico because of erroneous entries on their birth certificates.
Jerome Murdough, a homeless Marine Corps veteran, died in a jail cell on New York's Rikers Island after being arrested for trespassing. A heating malfunction caused the temperature in the cell to soar to 100 degrees.
Kenneth Chamberlain was a retired Marine and Vietnam veteran living in White Plains, New York. Early one morning he set off his medical alert device. The first responders in this case were not medics, but rather police, who proceeded to kill Mr. Chamberlain.

This group of combat veterans in Colorado organized to help legalize marijuana during the 2012 elections. They claim – and I believe them – that marijuana helps mitigate PTSD. If you support any punishment whatsoever for a combat veteran who heals himself with a plant that grows wild in some form within a few miles of you, I don't care what you tell me. YOU DON'T BELIEVE IN FREEDOM!
Stanley Gibson, a 43-year-old Gulf War veteran was shot dead over a total non-crime by Las Vegas police in December, 2011.
Army Specialist Michael Sharkey returned home from deployment in Afghanistan to find his home in New Port Richey, Florida, unlawfully occupied by two squatters. The local sheriff says that Sharkey has no grounds upon which to evict them.
These veterans say they are being required to prove they are worthy of gun rights. Our rights are gifts from God that are inherent in our very humanity. We never have to prove to anybody that we have them.
Dwight Edwards, a disabled Marine veteran of Afghanistan, says that cops in Queens brutally beat him for no reason.
Army Staff Sgt. C.J. Grisham, who won the Bronze Star with Valor, was forcibly disarmed for no good reason by a policeman while on a hike with his son not far from Fort Hood, Texas.

Brandon Raub, a Marine who was decorated for bravery in Iraq and Afghanistan, was forced to spend a week in a Virginia mental hospital over some "anti-government" Facebook posts. (His interviewer here, John Whitehead, is a constitutional attorney, Vietnam infantry veteran and superlative anti-police state blogger.)
Operation Vigilant Eagle is a project of the Department of Homeland Security that has led to numerous Iraq and Afghanistan veterans "finding themselves under surveillance, threatened with incarceration or involuntary commitment, or arrested, all for daring to voice their concerns about the alarming state of our union and the erosion of our freedoms." Indeed, merely being a "returning veteran" can have you designated as a potential terrorist.

We will never know the whole truth about Navy veteran and former Los Angeles cop Christopher Dorner, who was the subject of a police manhunt and media witch hunt in 2013. He never got the chance to tell his story in court.
Hector Barrios came to America in 1961. He was drafted and served as an infantry soldier in Vietnam. In 1996, he was busted for possessing marijuana, which he used to treat his PTSD. As a result, he was deported to his native Mexico where he died.
Matthew Corrigan of Washington, D.C. was a first sergeant in the Army Reserve and a veteran of Iraq. His home was destroyed in a SWAT rampage because it was reported to the police that Corrigan had a gun.
Jamie Dean was an Army veteran of Afghanistan was diagnosed with PTSD. Upset about his impending deployment to Iraq, Dean had an intense emotional outburst at his Maryland home in December 2006. Even though he neither harmed nor threatened anyone, he was shot and killed by a local SWAT team.


Bennie Coleman, 76, is a retired Marine who lost his Washington, D.C., home because of a $134 tax lien that District authorities had sold to an investor.
Jeremy Usher is a former Navy hospital corpsman who lives in Greeley, Colorado. He faces jail time for using medical marijuana to treat his PTSD.
Brittany Ball, a 23-year-old soldier at Fort Jackson, S.C., was manhandled by a cop at a local bar, even though she had done nothing wrong.
Air Force Airman First Class Michael Davidson was shot in the stomach by police in Opelika, Alabama, at the scene of a traffic accident.
Benjamin Wassell sustained traumatic brain injuries while with the Marines in Iraq. The Buffalo-area resident was the first person charged with illegal gun sales under New York's new SAFE Act.

Erik Scott graduated from West Point in 1994 and served as a tank platoon leader. In 2010, he was gunned down and killed by police as he peacefully walked out of a Las Vegas Costco.
Scott Olsen saw action with the Marines in Iraq. Later, he would join the Occupy Oakland movement. In October, 2011, suffered a fractured skull after being hit in the head with a projectile fired by police.
Derek Hale served honorably with the Marines in Iraq. Although, he had committed no crime, he died after being tasered three times and then shot three times by police in Wilmington, Delaware.
Roderick King, an Iraq war veteran, was arrested in Philadelphia after he and his friends had criticized a cop's driving.
Howard Dean Bailey, a Navy veteran, was deported to his native Jamaica when immigration authorities discovered he had taken a plea bargain in a marijuana case in Norfolk, Virginia.

To be sure, the recently deceased folk singer Pete Seeger could not have been more of a leftist. However, he did serve three years in the Army after being drafted during World War II. He was sentenced to one year in jail after refusing to reveal his political connections to the House Un-American Activities Committee in 1956. He appealed this sentence, citing the First Amendment, and ultimately spent only four hours behind bars.
Larry Kirschenman of Nogales, Arizona, served 22 years in the Army and was decorated for bravery in Vietnam. Learn how he was brutalized by Border Patrol agents when asking why he was subjected to a warrantless search.
We will never know for sure what happened in Army veteran Matthew Stewart's Ogden, Utah, apartment one night in January 2012, as he will never have his day in court. He was in prison awaiting trial on charges of shooting and killing one of the police officers who raided his apartment searching for marijuana. Stewart, whose guilt was never proven, committed suicide in his cell.
Sergio Arreola is a cop in Los Angeles who served with the Marines in Iraq. He was beaten by the police in suburban Pomona for no good reason whatsoever.
This former Army paratrooper is appealing to the New York state legislature to legalize medical marijuana. He has severe multiple sclerosis and is "forced to break the law to have some semblance of a bearable existence."


On May 5, 2011, a Tucson SWAT team approached the home of Jose Guerena, who had served two tours with the Marines in Iraq. Guerena grabbed his AR-15 as is his right, but did not fire. The SWAT team let loose with 71 rounds, 60 of which perforated Guerena's body.
Marty Maiden lived a few blocks from Guerena in Tucson. and saw action with the Army in Afghanistan. He posted a suicidal note on Facebook which prompted a call to the police, who shot him dead.
Steve Lefemine is a West Point graduate who was arrested for protesting against abortion in a "no-demonstration zone" outside the Republican National Convention in New York in 2004. The 2nd Circuit U.S. Circuit Court justified the arrest based on a "compelling state interest in security".

Eileen Erickson's husband Sid served in Vietnam and died of Agent Orange exposure. Erickson is now in the crosshairs of authorities in Venice, California, who want to tear down the tree house Sid built before he died.
Listen to this disabled Navy veteran plead with then-Senate candidate Kelly Ayotte (R-NH) about the benefits of medical marijuana. Listen to the totalitarian response.
John Wrana, a 95-year-old Army Air Corps veteran of World War II, was tasered and then shot to death by police in Forest Park, Illinois. His "crime"? Refusing medical attention.
John Colaprete saw action in Vietnam as a Marine Corps officer. In 1994, his Virginia Beach home and restaurants were the object of paramilitary-style raids by the IRS. The raid was prompted by a false accusation by a former employee. While you need to watch this documentary in its entirety some time, for now just pick it up for a few minutes starting at the 55:40 mark.

Boxing legend Joe Louis was also tyrannized by the IRS. The Brown Bomber enlisted in the Army in 1942 saying "Let us at them Japs." Louis never saw combat, as he was assigned to the Special Services Division. While still a civilian, Louis fought some charity bouts and donated the proceeds to the Navy Relief Society. The IRS, however, viewed these proceeds as taxable income. IRS problems would plague him all his life. Please watch this video starting at the 53:17 mark.
Adam Arroyo is a Hispanic veteran of the Iraq war who lives in Buffalo. Police shot and killed his dog while executing a drug warrant for a black man.
Henry Taylor was a retired Air Force veteran in Louisville, Tennessee, who was shot dead by a local sheriff's deputy while investigating a burglary at a rental property he owned.
This is a fascinating article: When Johnny Comes Marching Home … He Goes to Jail. It is absolutely tragic how we chew up and spit out so many of those we send to "fight for our freedom."

Radio talk host Adam Kokesh won the Navy Commendation Medal as a Marine in Iraq. In recent years, he has been arrested several times for various non-violent protests. His most recent arrest happened after he loaded a shotgun in public in Washington, D.C. on July 4, 2013. On July 10, police violently raided his home and arrested him. He was incarcerated for four months without bond, bail or trial. He is currently on probation for two years. You may not like Kokesh's demeanor or approve of all of his antics, but he has been very courageous when so many of his critics can't be bothered to put down the remote.

James Moore, my brothah from anothah mothah, walked away from a very lucrative engineering position in San Jose to re-enlist in the Army following 9/11. He sustained significant physical injuries as well as PTSD while serving in the Special Forces in Afghanistan. On the afternoon of March 25, 2008, Moore, who had done absolutely nothing wrong, was beaten to the point of flat lining by Denver police.
One of the coolest people I have never met is Antonio Buehler. Buehler graduated from West Point in 1999, earned his Ranger tab, and saw action in Kosovo and Iraq. (He also sports a Stanford MBA.) Early in the morning on January 1, 2012, Buehler was arrested for taking a few pictures of Austin police manhandling a young woman outside a 7-11. Buehler has been arrested four times since. He heads the Peaceful Streets Project, whose members work to expose abuse, brutality and overreach both in Austin and across the nation.

There are no doubt numerous other injustices against veterans that I do not know about. Enough to fill a book. None of these things would have happened if America were a free society. As Kokesh puts it, "The greatest enemies to the Constitution are not to be found in the sands of some far off land but rather right here at home."
I cannot speak to the specific political beliefs of most of the veterans I have mentioned here. Some may be pacifists, while others may make John McCain look like a hippie in Haight-Ashbury. No matter what their individual views may be, the freedom they risked their lives for was flagrantly violated on the streets of the land they fought to protect.
Society endlessly applauds sailors, soldiers, airmen and Marines for "fighting for our freedom". It is in no way disrespectful to say that this is not what they do. No foreign government or terrorist group poses any threat to our liberty. America accounts for about half of the world's military spending. We have 300 ships in our Navy, plus thousands of planes, tanks and nuclear warheads as well as 300 million firearms in private hands. Nobody is going to invade us.
In a constitutional country, which America ceased to be 100 years ago, the job of the military – a vital and most noble one – is to defend the borders, shores and airspace. It cannot protect you from being tyrannized domestically. Indeed, throughout history, armies have been instruments of domestic tyranny. Our Constitution forbids a standing army for just this reason.
Nazi Germany and Soviet Russia had enormous military establishments. How did things work out in these countries?
I am a Christian who believes liberty is a gift from God – Leviticus 25:10; II Corinthians 3:17; Galatians 5:1. To quote Jefferson, liberty is preserved not by military might, but by "eternal vigilance" against one's own government at all levels. It is the grossest form of disrespect to send young men around the world to "fight for freedom" while relinquishing that freedom on the home front.
For several years, America has had the world's highest incarceration rate. Since 2001, Americans have gladly accepted previously unthinkable intrusions on their freedom in the name of "safety" and "security". These include, but are not limited to: warrantless searches and spying, the suspension of habeas corpus, sexual assault as a condition of travel, rampant police brutality, indefinite detention without any semblance of due process, severe restrictions on peaceful protest, massive ammunition purchases by DHS and surveillance drones in our skies watching our every move. Can predator drones be far behind?
And in every election 98 percent of voters put their stamp of approval on perpetuating this monstrosity.
On April 20, 2013, Boston and several surrounding towns got a serious taste of martial law. How many military veterans were on the receiving end of this? Is this what they signed up to fight for?
Stop thinking in clichés. Have a good hard look at everything your media and government tell you. This includes media outlets and parts of the government that you like. Study. Read. Ask questions. And learn that the defense of liberty is not the duty of the military. Rather, it is your duty and mine.
~~~~~~~~~~~~~~~~~~~~~~~~~~~~~~~~~~~~~~~~~~~~~~~~~~~~~~~~~~~~~
China is an economic powerhouse. It's the world's second largest economy. It's heading for number one status.
Perhaps sooner than most expect. It's growth way outdistances America. It's multiples greater.
Russia matches Washington's military might. It does so in nuclear weapons strength. With sophisticated delivery systems.
Able to strike global targets accurately. With hugely destructive force. Enough to decimate potential adversaries. Perhaps to discourage potential aggression.
Russia is rich in what China needs most. Oil and gas mainly. Technological expertise. Industrial equipment. Sophisticated weapons.
Each nation is significant separately. They're able to challenge America responsibly.
Together they're a powerful combination. A force for world peace. For multi-polarity. For humanity. For weakening Washington's imperium.
Sino-Russian ties stress unity. They're strategically important. They're stronger than ever in modern times.
They're deepening. They expanding. Washington is increasingly concerned. It's going all-out to subvert what weakens its strength.
It's waging political, economic and cyberwar. It's fighting a losing battle. Sino/Russian unity is odds on to prevail.
Especially with committed ties. With deepening ones. With stronger than ever ones.
On Tuesday, Putin arrived in Shanghai. It's China's financial capital. He came to finalize a "Holy Grail" trade deal. It's enormously important.
It bonds both countries more closely together. It does so politically economically, commercially and militarily.
Both countries will trade increasingly in their own currencies. They'll strengthen them. They'll bypass dollar transactions. They'll weaken it.
Russia will supply China with around 38 billion cubic million meters of natural gas annually. For the next 30 years.
It may double in size ahead. Depending on China's internal needs.
Other increased trade was agreed on. In technological, industrial, and commercial sectors. In military hardware.
Growing Sino-Russian trade lessens reliance on increasingly undependable Western sources. It gives them less access to their markets.
Putin and Chinese President Xi Jinping reject irresponsible US-led Western bashing. They called sanctions political tools.
They condemned "encouraging and financing" Washington's regime change agenda.
The President of Russia's web site headlined "Russian-Chinese talks." Both leaders met in Shanghai.
They "signed a Joint Declaration of the Russian Federation and the People's Republic of China on the new stage of comprehensive partnership and strategic cooperation between the two countries."
They "witnessed the signing of a package of intergovernmental, interdepartmental and commercial documents on cooperation in the economy, trade, energy and the humanitarian areas."
They issued a joint statement. "(A)mbitious goals" were agreed on, it said. "(L)ong-term milestones" were established.
"(I)mportant bilateral documents" were signed. "Relations between Russia and the People's Republic of China are developing successfully and have reached a new level of comprehensive partnership and strategic cooperation," it stressed.
"(S)pecial attention (was on) economic issues. China is Russia's leading foreign trade partner."
A Sino/Russian Investment Committee was established. Its mandate is expanding economic and financial ties.
It's "diversifying trade." It's "reducing…dependence on global economic" conditions.
It's promoting cooperation in "technology-intensive areas." They include industrial, commercial, banking and military areas.
They're increasing bilateral ruble/renminbi trade. It bears repeating. Doing so bypasses dollar transactions. It weakens dollar strength.
Putin said "the historical memory of the great heroism of our peoples in World War II brings Russia and China even closer."
Both leaders agreed to hold joint celebrations. They'll commemorate "the 70th anniversary of Victory."
Other international issues were discussed. They include common geopolitical ones. Similar priorities are shared. Closer coordination is planned.
Sino/Russian unity, partnership and friendship were strengthened. It's a "new stage" in "strategic relations."
Strong bilateral relations are a force to be reckoned with. It promises to be more so ahead.
Moscow remains justifiably angry. It's enraged about Washington elevating Kiev putschists to power. Rogue EU partners share blame.
Putin and Xi said crisis conditions can only be resolved diplomatically. They demand dialogue. They reject confrontation.
They "urged all Ukrainian regions and public and political groups to enter in broad nationwide talks…"
They want responsible governance. They want legitimate constitutional development.
They want "universally recognized rights and freedoms of people" observed.
Sergey Lavrov said Russian/EU/US-led NATO relations need fundamental reconsideration.
They require "essential rethinking," he said. Disagreements must be resolved diplomatically, he stressed.
US-led NATO created Ukrainian crisis conditions. Russia targeting followed.
Western forces irresponsibly expand eastward. Encroaching on Russia's borders threatens its heartland.
Bilateral relations are jeopardized. East/West confrontation is risked. So is world peace.
The road to Moscow runs through Kiev. Junta power has no legitimacy. Fundamental freedoms are targeted.
Eliminating them altogether is planned. Hardline rules runs things. Opposition isn't tolerated.
Free expression is verboten. Putschists want their message alone getting out. They want vital truths suppressed.
Independent journalists aren't safe. Russian LifeNews ones were targeted.
Oleg Sidyankin and Marat Saichenk were harassed. They were arrested. They're detained. They're held incommunicado.
Their lives potentially are endangered. They're charged with "aiding terrorist groups."
They released damning video images. They showed Kiev military forces using UN-marked attack helicopters against their own people."
Air and ground assaults murder them in cold blood. Kiev wants this type information buried.
It wants reliable news sources eliminated. RT International's stringer journalist Graham Phillips was arrested.
He explained by phone before silenced incommunicado, saying:
"I'm sitting at a blockade post in a portacabin. The dialogue is quite interrogation oriented."
His car was searched. His laptop, equipment and personal belongings were confiscated.
"At the moment I'm with the Ukrainian forces…near Mariupol," he said. "I've been here for over two hours and I've been described, my status, as being detained in terms of I can't leave."
"I would also say I'm being treated OK…I believe that someone is coming."
"They've done checks on my documentation. They found my reports and clips I've done and they're now looking through them asking me my position on things, asking if I'm a spy, and asking me quite thorough questions."
"They've checked all my documentation and photos, my laptop and the car. So that's who I'm with at the moment."
He was asked about separatism. About working with RT. He "describ(ed) (his) position on Crimea."
He called its referendum legitimate. He stands by his position, he said.
He called Kiev's government illegitimate. It "isn't democratic. I don't support this current situation in the east of Ukraine," he said.
In Donetsk and Lugansk regions. He called attacking Eastern Ukrainians "completely wrong."
At the same time, he "maintains complete objectivity and neutrality as a correspondent."
His bulletproof jacket and helmet were confiscated. He's unharmed so far, he said. Incommunicado since cut off there's no way to know for sure.
Right Sector thugs targeted him. They put a bounty on his head. They offered $10,000 for his capture.
They called him a "Russian spy." His life's endanger in their hands. Or in sight to be shot in cold blood.
Radicalized Kiev elements posted a Facebook comment. He "works for terrorists," it said.
"(H)e photographs and publishes the location of Ukrainian troops…"
He "spreads disinformation. (He publishes) Putin's propaganda in the media."
"He must be immediately detained by Ukrainian forces ad deported from Ukraine." Orders come from "EuroMaidan leaders," it claimed.
Russia's Foreign Ministry condemned his detention. Its human rights commissioner Konstantin Dolgov called it media obstruction.
"This is another step…made by Ukrainian authorities to curb the activities of unwanted journalists," he said.
They "work professionally and show an objective picture, the ugly side of the outrages made by ultranationalists, the results of (Kiev putschists') punitive operation in the southeast," he stressed.
Seizing Phillips constitutes an "unlawful seizure, detention of Russian journalists." Moscow demands all lawlessly detained media representatives be released.
Kiev "continues its vicious line," Dolgov added. Coup-appointed officials spurn their "international obligations concerning freedom of speech."
They target media freedom. They want it eliminated altogether. They want their message alone reported. They want truth buried.
They want fascist putschist power enhanced. They deplore democratic values.
They want ordinary Ukrainians having no say. Polls show their popularity eroding. They risk losing it overwhelmingly.
Perhaps nationwide rebellion will follow. When ruthlessness exceeds levels too great to tolerate, all bets are off.
The only solution is nonviolent revolution. Perhaps just a matter of time. It can't happen a moment too soon.
Stephen Lendman lives in Chicago. He can be reached at lendmanstephen@sbcglobal.net.
His new book as editor and contributor is titled "Flashpoint in Ukraine: US Drive for Hegemony Risks WW III."
http://www.claritypress.com/LendmanIII.html
Visit his blog site at sjlendman.blogspot.com.
On the surface, the economic atmosphere of the U.S. has appeared rather calm and uneventful. Stocks are up, employment isn't great but jobs aren't collapsing into the void (at least not openly), and the U.S. dollar seems to be going strong. Peel away the thin veneer, however, and a different financial horror show is revealed.
U.S. stocks have enjoyed unprecedented crash protection due to a steady infusion of fiat money from the Federal Reserve known as quantitative easing. With the advent of the "taper", QE is now swiftly coming to a close (as is evident in the overall reduction in treasury market purchases), and is slated to end by this fall, if not sooner.
Employment has been boosted only in statistical presentation, and not in reality. The Labor Department's creative accounting of job numbers omits numerous factors, the most important being the issue of long term unemployed. Millions of people who have been jobless for so long they no longer qualify for benefits are being removed from the rolls. This quiet catastrophe has the side bonus of making it appear as though unemployment is going down.
U.S. Treasury bonds, and by extension the dollar, have also stayed afloat due to the river of stimulus being introduced by the Federal Reserve. That same river, through QE, is now drying up.
In my article The Final Swindle Of Private American Wealth Has Begun, I outline the data which leads me to believe that the Fed taper is a deliberate action in preparation for an impending market collapse. The effectiveness of QE stimulus has a shelf-life, and that shelf life has come to an end. With debt monetization no longer a useful tool in propping up the ailing U.S. economy, central bankers are publicly stepping back. Why? If a collapse occurs while stimulus is in full swing, the Fed immediately takes full blame for the calamity, while being forced to admit that central banking as a concept serves absolutely no meaningful purpose.
My research over many years has led me to conclude that a collapse of the American system is not only expected by international financiers, but is in fact being engineered by them. The Fed is an entity created by globalists for globalists. These people have no loyalties to any one country or culture. Their only loyalties are to themselves and their private organizations.
While many people assume that the stimulus measures of the Fed are driven by a desire to save our economy and currency, I see instead a concerted program of destabilization which ismeant to bring about the eventual demise of our nation's fiscal infrastructure. What some might call "kicking the can down the road," I call deliberately stretching the country thin over time, so that any indirect crisis can be used as a trigger event to bring the ceiling crashing down.
In the past several months, the Fed taper of QE and subsequently U.S. bond buying has coincided with steep declines in purchases by China, a dump of one-fifth of holdings by Russia, and an overall decline in new purchases of U.S. dollars for FOREX reserves.
With the Ukraine crisis now escalating to fever pitch, BRIC nations are openly discussing the probability of "de-dollarization" in international summits, and the ultimate dumping of the dollaras the world reserve currency.
The U.S. is in desperate need of a benefactor to purchase its ever rising debt and keep the system running. Strangely, a buyer with apparently bottomless pockets has arrived to pick up the slack that the Fed and the BRICS are leaving behind. But, who is this buyer?
At first glance, it appears to be the tiny nation of Belgium.
While foreign investment in the U.S. has sharply declined since March, Belgium has quickly become the third largest buyer of Treasury bonds, just behind China and Japan, purchasing more than $200 billion in securities in the past five months, adding to a total stash of around $340 billion. This development is rather bewildering, primarily because Belgium's GDP as of 2012 was a miniscule $483 billion, meaning, Belgium has spent nearly the entirety of its yearly GDP on our debt.
Clearly, this is impossible, and someone, somewhere, is using Belgium as a proxy in order to prop up the U.S. But who?
Recently, a company based in Belgium called Euroclear has come forward claiming to be the culprit behind the massive purchases of American debt. Euroclear, though, is not a direct buyer. Instead, the bank is a facilitator, using what it calls a "collateral highway" to allow central banks and international banks to move vast amounts of securities around the world faster than ever before.
Euroclear claims to be an administrator for more than $24 trillion in worldwide assets and transactions, but these transactions are not initiated by the company itself. Euroclear is a middleman used by our secret buyer to quickly move U.S. Treasuries into various accounts without ever being identified. So the question remains, who is the true buyer?
My investigation into Euroclear found some interesting facts. Euroclear has financial relationships with more than 90 percent of the world's central banks and was once partly owned and run by 120 of the largest financial institutions back when it was called the "Euroclear System". The organization was consolidated and operated by none other than JP Morgan Bank in 1972. In 2000, Euroclear was officially incorporated and became its own entity. However, one must remember, once a JP Morgan bank, always a JP Morgan bank.
Another interesting fact – Euroclear also has a strong relationship with the Russian government and is a primary broker for Russian debt to foreign investors. This once again proves my ongoing point that Russia is tied to the global banking cabal as much as the United States. The East vs. West paradigm is a sham of the highest order.
Euroclear's ties to the banking elite are obvious; however, we are still no closer to discovering the specific groups or institution responsible for buying up U.S. debt. I think that the use of Euroclear and Belgium may be a key in understanding this mystery.
Belgium is the political center of the EU, with more politicians, diplomats and lobbyists than Washington D.C. It is also, despite its size and economic weakness, a member of an exclusive economic club called the "Group Of Ten" (G10).
The G10 nations have all agreed to participate in a "General Arrangement to Borrow" (GAB) launched in 1962 by the International Monetary Fund (IMF). The GAB is designed as an ever cycling fund which members pay into. In times of emergency, members can ask the IMF's permission for a release of funds. If the IMF agrees, it then injects capital through Treasury purchases and SDR allocations. Essentially, the IMF takes our money, then gives it back to us in times of desperation (with strings attached).  A similar program called 'New Arrangements To Borrow' (NAB) involves 38 member countries.  This fund was boosted to approximately 370 billion SDR (or $575 billion dollars U.S.) as the derivatives crisis struck markets in 2008-2009.  Without a full and independent audit of the IMF, however, it is impossible to know the exact funds it has at its disposal, or how many SDR's it has created.
It should be noted the Bank of International Settlements is also an overseer of the G10. If you want to learn more about the darker nature of globalist groups like the IMF and the BIS, read my articles, Russia Is Dominated By Global Banks, Too, and False East/West Paradigm Hides The Rise Of Global Currency.
The following article from Harpers titled "Ruling The World Of Money," was published in 1983 and boasts about the secrecy and "ingenuity" of the Bank Of International Settlements, an unaccountable body of financiers that dominates the very course of economic life around the world.
It is my belief that Belgium, as a member of the G10 and the GAB/NAB agreements, is being used as a proxy by the BIS and the IMF to purchase U.S. debt, but at a high price. I believe that the banking elite are hiding behind their middleman, Euroclear, because they do not want their purchases of Treasuries revealed too soon. I believe that the IMF in particular is accumulating U.S. debt to be used later as leverage to absorb the dollar and finalize the rise of their SDR currency basket as the world reserve standard.
Imagine what would happen if all foreign creditors abandoned U.S. debt purchases because the dollar was no longer seen as viable as a world reserve currency.  Imagine that the Fed's efforts to stimulate through fiat printing became useless in propping up Treasuries, serving only to devalue the domestic buying power of our currency.  Imagine that the IMF swoops in as the lender of last resort; the only entity willing to service our debt and keep the system running.  Imagine what kind of concessions America would have to make to a global loan shark like the IMF.
Keep in mind, the plan to replace the dollar is not mere "theory".  In fact, IMF head Christine Lagarde has openly called for a "global financial system" to take over in the place of the current dollar based system.
The Bretton Woods System, established in 1944, was used by the United Nations and participating governments to form international rules of economic conduct, including fixed rates for currencies and establishing the dollar as the monetary backbone. The IMF was created during this shift towards globalization as the BIS slithered into the background after its business dealings with the Nazis were exposed. It was the G10, backed by the IMF, that then signed the Smithsonian Agreement in 1971 which ended the Bretton Woods system of fixed currencies, as well as any remnants of the gold standard. This led to the floated currency system we have today, as well as the slow poison of monetary inflation which has now destroyed more than 98 percent of the dollar's purchasing power.
I believe the next and final step in the banker program is to reestablish a new Bretton Woods style system in the wake of an engineered catastrophe. That is to say, we are about to go full circle. Perhaps Ukraine will be the cover event, or tensions in the South China Sea. Just as Bretton Woods was unveiled during World War II, Bretton Woods redux may be unveiled during World War III. In either case, the false East/West paradigm is the most useful ploy the elites have to bring about a controlled decline of the dollar.
The new system will reintroduce the concept of fixed currencies, but this time, all currencies will be fixed or "pegged" to the value of the SDR global basket. The IMF holds a global SDR summit every five years, and the next meeting is set for the beginning of 2015.
If the Chinese yuan is brought into the SDR basket next year, if the BRICS enter into a conjured economic war with the West, and if the dollar is toppled as the world reserve, there will be nothing left in terms of fiscal structure in the way of a global currency system. If the public does not remove the globalist edifice by force, the IMF and the BIS will then achieve their dream – the complete dissolution of economic sovereignty, and the acceptance by the masses of global financial governance. The elites don't want to hide behind the curtain anymore. They want recognition. They want to be worshiped. And, it all begins with the secret buyout of America, the implosion of our debt markets, and the annihilation of our way of life.
Source:  Brandon Smith | Alt-Market
Origin of the Master Model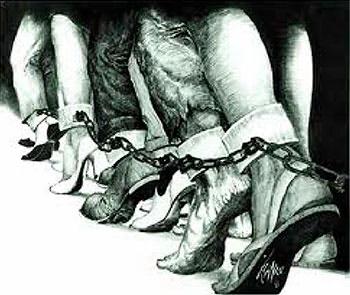 The master plan for world domination we see playing out today was first proposed to the US at the end of World War I. However, there were no takers. People were too war weary. However, when the plan was again proposed at the end of World War II, it was accepted. Consequently, World War II quietly transitioned into the secret "war" to set up what has become known as the "new world order" — an absolute dictatorship over the entire planet.
The United States set up the School of the Americas to train future dictators and terrorists who would be sent out into the world to destroy sovereign nations and place them under US domination by installing puppet governments obedient to the United States. Many conquests were made quietly using clever economic tricks [2]. However, leaders who refused to submit quietly would see their entire country reduced to rubble and the land rendered unlivable by uranium dust scattered by US bombs. The message was clear: Submit to the United States or face total destruction.
A social model based upon the assumption that cleverness and power automatically convey the right to take anything desired from those who are less adept and unable to resist is not a sustainable model for harmonious social interactions. However, this is the chosen model. The mantra for this model, "A man's true worth is measured by the amount of other peoples' happiness that he can possess and destroy" [1], is essentially a call for a class war between the greedy elite and the innocent masses of the world who simply desire a peaceful existence.
Acquisitions
The United States looks at the rest of the world as a "resource". If a country has something — oil, gold, minerals, etc. — that the US covets, it believes it has the right to take those things by whatever means necessary. In many cases the coveted resource is human slave labor. Let's look at some representative examples:
With the cooperation of the dictator, United Fruit Company (US) owned almost half of the country and used the locals as slaves to harvest its Chiquita brand bananas. However, during the period from 1945-1954 new leaders made changes. They helped the poor and set up social security and health care. Then they took land away from United Fruit and gave it to the local people. United fruit complained to the CIA that its business interests were being interfered with by the "communist" government. Any government which shows kindness to the poor and weak is called communist by the US. The US attacked Guatemala — killed the elected leaders and many thousands of citizens — and established a puppet dictatorship which would obey the will of United Fruit. The people were returned to a state of slavery. The CIA trained death squads to make sure the people were crushed into submission.
Strip Mining in Africa [4]
In Africa, the International Monetary Fund — a puppet of the US — destroys a country with strip mining. The original country was self sustaining. People were able to grow lots of food and hunt animals. However, once the land was ruined by US corporations, it was unusable to plant crops and the native animals died. The people had to buy food from other countries with money loaned to them by the IMF which they could never hope to repay. Therefore, a once free and self supporting people were made debt slaves of the IMF. Once all the natural resources have been stolen, the corporations will simply pack up and leave the indigenous people to starve and die.
Countries Used as Trash Dumps [5]
Used computers and associated items are dumped in poor countries where starving barefoot children sift through the mess of hazardous waste and broken obsolete glass computer monitors hoping to find something they can sell to get enough money to stay alive another day. Property stickers show the waste is mainly from the US government and various US state governments.
Corruption of Trusted Sources
Reporters and News Organizations
The masses are conditioned to believe news they receive from establishment sources. In the earlier times, this assumption was often correct. It was considered so important by the founding fathers that freedom of the press was enshrined in the US constitution. However, times have changed.
Walter Cronkite was known as the "trusted voice". No one knew he was also the official announcer at the secret Bohemian Grove meetings. The leaders of the world's news organizations also attend this event. That is why, even though the meetings began over one hundred years ago, until recently no one knew this group even existed. President George W. Bush may have set a new record for bribing journalists to allow their trusted name to be used as the author of material actually written by government propaganda experts. Apparently, everyone has a price and the government, of course, has no problem when it comes to money.
When Ronald Reagan reportedly ordered the death of investigative reporter Jessica Savitch [6], the message to independent journalists was clear: Go against the official party line an you're done!
Today, dedicated journalists face mysterious deaths and strange single car accidents but a few survive long enough to give us a glimpse of truths we would otherwise never know. They are true heroes.
Churches
Churches are everywhere. Unfortunately, legitimate Spiritual teachers are not. People look at churches either as harmless or with some sort of conditioned hypnotic respect. Churches send out "missionaries". However, the "mission" of these missionaries may not be so clear. If you wanted to infiltrate a foreign country, these people would be an ideal asset.
Churches are not Spiritual centers. At best, all they want is your money. At worst, they are Satanic and you are in severe Spiritual danger if you come under their influence and control.
The Catholic Church has been a trusted asset of the US intelligence community for quite some time. Significant information obtained by priests during confessions is routinely passed on to the government.
This agreement predates the internet by many years. Because the church has branches in almost every country, it has great potential for covert activities. For example, if you need to get an operative who is in danger out of a country, they can go to a Catholic church for "confession". Once the door is closed, they can exit through a secret passage, be disguised in robes and spirited safely out of the country. Church secrecy is at least on a par with US secrecy. Also, the Catholic church and the US shadow government share the same Satanic value system and engage in child rape and ritual killings.
Doctors and the Medical Industry
Medicine in the United States is an industry. It is no longer a profession. Its corporate model puts profit above all else. If some patients accidentally benefit they are the lucky ones.
The medical community has a rigid hierarchical structure and effective mechanisms for enforcing secrecy. Essentially, its model closely resembles the military chain of command structure. This makes it a perfect partner for the government in the area of secret human experiments.
For example, when the government was doing radiation experiments on humans, a doctor or someone dressed as a doctor would just walk up to unsuspecting patients and inject them with radioactive material. They were then secretly followed for years to see what would happen. Eventually, some of those who survived were told the truth. Most people used in the MK Ultra and subsequent secret projects were never notified.
Hospitals are set up to protect themselves. Staff may appear to be dedicated, smiling people who truly care about you. However, they are basically prostitutes who are being nice because you are worth money to them. When they make mistakes they have a "loss prevention" department staffed by clever lawyers who are trained to protect the financial interests of the hospital by denying everything and fabricating believable coverups. They are trained to do whatever is necessary. The staff will all agree to support whatever lies are needed. They know their job and their financial future depends upon maintaining strict secrecy.
The only people who receive legitimate medical care are the select elite cleared to accesstop secret medicine. These people always get excellent care because the doctors work for the shadow government and mistakes on their part are simply not tolerated.
Infiltrations
Countries which have the resources to sustain an intelligence community generally try to get operatives (spies) into other countries so they can directly observe activities. When real people gather intelligence, this is called human intelligence or HUMINT. The US, of course, does this too. However, you may not be aware of the extent to which the US also infiltrates itself. The central government really does not trust anyone.
Essentially all local police departments, state offices and state governors have a covert federal agent working close by pretending to be just another employee. Also, every US neighborhood has an informer who reports to the federal government. Large corporations, which tend to behave like "mini governments", need to be infiltrated and kept under observation. Colleges and universities are also monitored.
Here is how this spy network operates: The NSA likes to recruit young kids right out of college. When they are hired and sworn to secrecy they still do not know what their assignment will be. They must agree to do this assignment without first being told what it is.
Some agents, like John Perkins [2], are assigned to work in other countries. However, others are assigned to work inside the US. Their assignment could be to go to some state and apply to join the local police department. They would pretend to be just a regular person looking for a job. They would take the necessary training and spend their life as a local policeman so they could directly observe other local police from the inside and report to the NSA. Since they are actually an employee of the NSA, presumably they get to keep both salaries and, eventually, both retirements. All significant local police forces in the US are infiltrated this way.
Additionally, some agents will be assigned to get a job on the state governor's staff as well as in major local state agencies. A CIA or NSA agent is always on the staff at major colleges and universities. The same goes for major corporations.
Senior level agents are allowed to have special TV receivers in their homes linked to the secret government TV network. This way everyone stays on the same page. The channels on this network actually broadcast the truth. TV channels available to ordinary people contain only government approved propaganda mixed with "bread and circuses" presentations to make sure the sheeple stay asleep and content.
Fronts
The US government is involved in illegal activities internationally and domestically. If it performed these activities overtly in the name of the United States, there would be serious consequences under both international and local laws. To avoid this situation, the US government operates thousands of "front organizations" which appear to be private but are actually shadow operatives of the US.
For example, John Perkins [2] explained that he was recruited, hired and trained by the NSA. He was an NSA agent. However, for his cover as an economic hit man, he "officially" worked for a "private" company called Charles T. Main. This company was a government front to shield the US because the activities the NSA trained Perkins to do were illegal.
This is standard operating procedure for the US as well as other countries and many corporations. It shields them from legal recourse by providing deniability for the crimes they actually direct and commit.
Generally, when the US wants to influence other sovereign countries, it creates harmless looking NGO's which appear to be independent but are actually fronts for covert activities.
Domestically, colleges and universities — especially those with associated medical schools and hospitals — are great places to conceal a variety of covert projects such as the MK Ultra series of human experiments which, reportedly, continue today using new cover names. The US also likes to create non-profit corporations which exist only to provide classified services to the United States. A good example would be the Institutes for Defense Analysis (IDA). The US, reportedly, is its only client.
Programming
Mass media "programming" is actually programming you. It has developed into a subtle form of mind control. Before radio and television, special interests recognized that motion pictures could be used to alter public opinion in their favor. Perhaps, for example, you wanted to attack labor unions. When radio and later television came along providing access to national and international audiences, the temptation to exploit these technologies became irresistible. Originally, the US government recognized this and set up fairness rules to prevent monopolies from taking over the broadcast media and blocking opposing viewpoints. All this ended, unfortunately, when Ronald Regan canceled all the fairness regulations. Today, a handful of powerful corporations own and control essentially all content delivered by radio and television.
Television is the main vehicle for mass indoctrination. It is said that people watching TV actually fall into a light hypnotic trance. The "entertainment" you see on TV does not "just happen to be there". It is very carefully planned and timed to attract and influence targeted audiences. It is said that if some event were to somehow shut down all television broadcasts the government would experience a severe crisis because it would lose control over the minds of the masses.
TV creates sort of a "hive mind" among the masses and keeps everyone coordinated and tuned into the official party line. Without this, people would have no choice but to start thinking for themselves and forming independent opinions. Clearly, this would be a disaster.
The radio broadcast of "War of the Worlds" and the later movie "The Day the Earth Stood Still" are said to be CIA psychological experiments to judge how the general public would react to some type of ET contact.
Today, broadcasting is not just a one way event. Because people react to events and use social media to express these reactions, the effect of specific propaganda can be analyzed in real time. Since the government now intercepts all electronic communications, it is able to see general opinions and then tweak algorithms to maximize the desired effect of propaganda. This ability makes TV a two-way communications system although most people, of course, do not realize this and have no concept of the level of sophistication these technologies have reached.
Information Theory
Information Theory is the name of a relatively new branch of science which became popular in the 1960′s. It covers a broad range of technologies. Basically, it is the science of the flow of information and how that flow can be selectively controlled so that information flows only in desired pathways. As you may have already guessed, governments love this sort of stuff.
ECM
ECM stands for Electronic Counter Measures. In general, these are techniques to disable other electronic devices. Basically, it is electronic warfare. When the secret service is active in an area, for example, they will selectively jam all radio frequencies except for the specific frequencies they are using so that no one else can communicate.
World leaders, who are generally terrified of "threats" materializing from practically anywhere, like to travel with ECM generators running just in case "someone" from "somewhere" was trying to target them for "some reason". Basically, they are paranoid whack jobs.
People familiar with aviation tell the story of how Tony Blair, while traveling to or near a commercial airport, reportedly caused a commercial jet to crash because all the ECM garbage he was transmitting jammed the plane's navigation system. Of course, the British government would never admit this.
Secure Communication With Submarines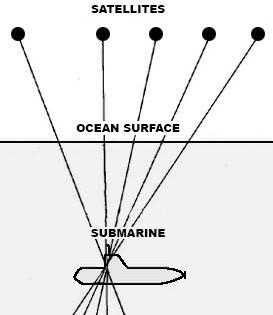 Since submarines were invented, communicating with them has been a problem because conventional radio waves will not travel underwater. Therefore, early submarines had to get close enough to the surface to put up some kind of antenna in the air to send or receive radio messages. Obviously, this could pose a problem if you did not wish to be discovered and located. After all, the motivation to create submarines in the first place was the feeling that they would be able to move about the planet secretly. However, newer technologies now make this impossible.
To solve the problem of reliable secure communication without the need to surface, scientists learned that sea water was essentially transparent to a special type of Argon laser. To set up the current communications network, it was decided to use several satellites with each satellite sending only part of an encrypted communication signal. The complete signal could only be received at a specific point underwater where all the laser beams intersected. Intercepting only one or two beams would prove useless. This communications system is considered to be impossible to intercept.
Quantum Entanglement
Returning to the submarine issue for a moment, before modern communications were perfected, there was a search for some reliable method to send a signal to a submerged submarine that could not be detected. This was considered necessary in a war situation to secretly transmit an attack command. What they originally did was to locate a couple of people who could communicate telepathically. One would be at the command base and the other on the submarine. Doing a bit more research, it was determined that this type of communication is instantaneous and somehow operated outside of time. Radio waves travel at the speed of light.
Quantum entanglement is a process which uses technology to send and receive signals outside of space-time. Now, why would you possibly want to do this? Well, if you had a base or a colony on a planet in some other solar system light years away, you would not want to wait years for messages to be received. Following this thread — and adding some basic common sense — why would you want to dedicate resources to search for habitable planets in distant solar systems when you had already "proven" it would be impossible to ever get there? Could it just be that someone is not coming clean with whole story?
The Separation Barrier
This is a model of the separation barrier which insulates the ruling class from the slave class. It is essentially "intellectual apartheid". The question is, why is it there. It takes considerable effort, money and manpower to maintain this artificial barrier. What is the reasoning behind not having a level playing field for everyone? Why does this idea absolutely terrify the elite? What are they afraid of?
The Pirate Story
This is a summary of a story told years ago on a radio broadcast most likely by Paul Harvey:
Ordinary people were afraid. The Earth was flat so they dare not venture far from home. Periodically, a pirate ship would come. They did not know how it got there or from where it came. It brought treasures they had never seen. The Chief Pirate would encourage the young men to study and specialize in specific skills. He wanted them to become educated but only in one narrow area. The Chief Pirate knew the world was not flat and how to navigate to other lands. However, this knowledge was never discussed. This "top secret" knowledge or the "big picture of the known world" would only be given to the Chief Pirate's son who would inherit his title and someday become the Chief Pirate.
This story is about the origin of the concept we call compartmentalization — the process of controlling the slave masses by only allowing them to know specific bits of the truth while the leaders are allowed to know total truth.
ELITE RULING CLASS
SECURITY CLEARANCES
SECRET POLICE
ASSASSINS
SURVEILLANCE — SIGINT HUMINT COMINT
SPY SATELLITES
SPY DRONES
SMART ELECTRIC METERS
INTERNET SURVEILLANCE
NEIGHBORHOOD SPIES
PLENTIFUL STREET DRUGS
PSYCHIATRIC FORCED DRUGGING
GENETICALLY MODIFIED FOOD
FLUORIDATED WATER
COORDINATED TELEVISION PROPAGANDA
DEGRADED PUBLIC EDUCATION
LOCAL MILITARIZED POLICE
---
SLAVE CLASS
Leaders can only maintain their status if there are slaves. Otherwise, everyone would be equal and operate on a level playing field. This means "leaders" would have to pull their own weight like everyone else. Clearly, this would be intolerable. Leaders love beautiful and exotic things but don't want to do the work needed to create these things. They probably could not even plant a garden much less build the various "ivory towers" where they like to live surrounded by servants. If left on their own they would very likely starve. This is why it is so important to create and maintain the complex separation barrier.
Why don't people who live above the separation barrier ever "come down" and talk to the people below the barrier? Well, other than the obvious fact that they would likely be killed or jailed for espionage or treason, there is another, simpler, reason.
Would you like to spend your days sitting in an open field with kindergarten kids looking for four leaf clovers? Probably not. You have progressed beyond that. The slaves below the separation barrier cannot even imagine the world of those who live above the barrier. In fact, the elite do not even consider the slaves human. They call them "disposable biological units". The United Nations prefers the slang term "the herd". Slaves can be easily bred in quantities needed and programmed to do desired tasks. Then, they can be easily disposed of when no longer useful. That's how they look at you. So, why would they want to make friends with you?
The Mars Example
There is an interesting event playing out today that you may have noticed. This concerns the recruitment and selection of people to be sent to Mars. There are simulation projects where volunteers are locked away to imitate the long voyage to Mars. They are being told that this is a one way trip and they can never hope to return to Earth.
What you are witnessing is the selection process for the "seed people" who will be used to breed the future slave class on Mars. In a situation similar to the period when most believed the Earth was flat and you would fall off if you tried to go to sea, these people are convinced that the only way to get to mars is to ride a rocket on a perilous journey taking years. Because they truly believe this, when they get to Mars, they will teach this crap to their kids along with other misconceptions like it is impossible to go faster than the speed of light and other associated obsolete scientific principles. They will have no
desire to ever return to Earth or go anywhere else because they truly believe it is not possible. They will be contented slaves.
Of course the truth is that there are already secret colonies on Mars. It is not that hard to get there using antigravity and other secret propulsion methods and it is quite likely possible to simply walk through some kind of wormhole device and come out on Mars.
However, the slaves will never know this. Just as it is done on Earth, there will be an artificial separation barrier. The insiders will know the truth and will be physically hidden from the slaves. There will be secret police and other methods — the same as are used on Earth — to make sure no slave ever escapes from the "information prison". Business as usual will continue.
Reinforcement of Ignorance
Governments and their oligarchs love to keep their subjects in a cloud of ignorance. Back in the days when people believed the Earth was flat, the inner circle ruling class knew it was round. Maintaining the deception was convenient because it kept the slaves from developing any desire to travel far from home.
Nothing has changed all that much today. Consider, for example, all the fuss over the missing MH370 plane. You are being played for a sucker. It is impossible for that plane to have "disappeared".
The US DoD spy satellite system reportedly consists of ten constellations of satellites. Each constellation has over seven thousand satellites. They see and record everything that happens on this planet. The floor of the oceans can be seen just as clearly as the land areas. The resolution of the system is better than one square millimeter. Also, everything is recorded so you can go back in time and play past images.

This is a picture of a common electric lamp. Take this lamp and throw it in the ocean — any ocean anywhere on this planet. The spy satellite system will locate it, give you the coordinates and give you a photo at least as good as the one above. That is the capability of the system. So, clearly, it is impossible not to know the location of something as large as a Boeing 777 plane. All the TV publicity is a choreographed play. You are being scammed and you need to wake up and realize this fact.
Murders and Assassinations
To ensure a strong empire, dissent must be crushed. The United States trains assassins and carries out both domestic and foreign murders and assassinations on a regular basis. You may be familiar with the classic movie scenes where a black limousine with tinted windows drives by a target with thugs shooting machine guns. Although this would accomplish the task, it is a bit too obvious in a country that advertises itself to be a free, civilized democracy. Someone might catch on and begin to doubt the party line. Consequently, these things must be done quietly.
Inside the US, murders are reportedly carried out by a group known as "FBI Division Five". Other agencies likely have the responsibility for foreign assassinations. However, the basic techniques used would be similar.
Typically, an agent would wake up every day and connect to the top secret internet to see who he was assigned to kill that day. There would be several options. If it was important to eliminate the target immediately, a fast acting chemical agent would be selected which, for example, would cause the target to die within a few hours of a "natural" heart attack.
However, if time was not critical and the government just wanted the target out of the way, you might want to select one of the cancer causing agents such as those likely used to eliminate Hugo Chavez and Senator Ted Kennedy.
There is also a third possibility. This involves character assassination instead of actual murder. Consider, for example, a person who has gained a lot of public recognition talking about, say, free energy. If you simply kill the person, there could be blowback and talk that he was silenced by the government. In such cases, it is easier to use a chemical agent designed not to kill but, rather, to cause states of mental confusion resulting in obviously strange behavior. This would be coordinated with the government controlled mainstream press to make sure everyone became convinced the person was a nut and would therefore ignore anything said without regard to the truth or validity of the message.
Once the appropriate chemical has been selected, you need to load it into the secret delivery system and locate your target. To find your target you will connect to the top secret internet and pinpoint the location of the target through their cell phone. You can also activate all the cameras and microphones in electronic gadgets connected to the internet associated with the target in case you wish to look around the target's home and hear in real time what is taking place.
Of course, this will not help you locate the target when it is time to actually do the hit. So, you need to get the top secret profile data which will show any predictable habits of the target. Everyone is constantly tracked through their cell phones and profiles are logged and stored. In this case, the profile shows that the target has a favorite restaurant and goes there for lunch every day around 11:30. Now, you know exactly what to do. You go to the restaurant, hang out until you see your target, and get in line behind the target. Now, all you need to do is slightly bump into the target to deliver the chemical. Generally, the targets never even notice.
This mission is now complete. If it is early enough, you can check back in to the top secret system to see who you are supposed to kill next. Just another day. Just a routine job.
Money
Money is an imaginary force. It is used to motivate and control slaves. Real forces effect all life forms. However, only people respond to money. The only reason they do is because they have been artificially programmed to do so.
Money can be created in unlimited quantities by those adept in the use of this force. The physical world is finite, however the world of imagination is not. There is no limit to the quantity of money that can be imagined into existence. Money can also be imagined out of existence.
Let's assume that one day the entire financial system simply disappeared. If you lived in a rural area and had a nice veggie garden, some friendly chickens, collection facilities for rain water and a few photocells for electricity, you would not notice this. The veggies would continue to grow. Rain would periodically fall. The chickens would lay eggs as usual. The sun would continue to shine. However, if you lived in a city environment, you would be devastated.
Before money, people lived in small hunter-gatherer groups. The concept of ownership did not exist. People worked and survived as a group. Men and women were equal. Everyone contributed to the community. Resources were shared equally. The concept of "mine" and "yours" did not exist. Women generally became pregnant only once about every three years although there was no birth control. Later, when the concept of money entered the consciousness, women were seen as having less value because men were paid for work but women were not paid to raise and care for kids. Society has changed, however, the downgraded status of women has not.
Money systems have always been manipulated by clever people. When gold was used as money, people learned they could dilute pure gold with silver or maybe even lead to come up with something that looked like pure gold and had the correct weight but was a fraud. A king suspected he was being scammed but had no way to prove it. He called on the great minds of the time for help. This led to what is known as the Archimedes' principle which is better known today as "specific gravity". This principle made it possible to compare a sample known to be pure gold to a questionable sample and prove the unknown sample was not pure gold. Likely, some clever crook lost his head once this test became known.
There is a general belief that gold is the ultimate reference for all money. However, secrets concerning the exact quantity of gold make this a perilous assumption. Reportedly, the United States stole a tremendous quantity of physical gold from Japan towards the end of World War II. This gold exists off the books. To make matters worse, Japan was not all that concerned. Japan had been using gold bars as ballast on its ships because they were compact and heavy. They thought nothing of throwing the bars overboard as necessary. Japan used platinum as a money reference and the US never got that. This should make one rethink all the hype about the value of gold. It may be a lot more plentiful than we have been led to believe. Also, the secret off the books stashes of gold would allow its relative value to be manipulated at will just like other commodity markets.
The Financial Axis of Evil [3]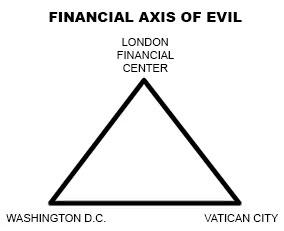 This is the model of the financial axis of evil which rules this planet. It consists of three main branches as shown above. Collectively, they are known as "The Empire of the City". Briefly, here is how this system operates:
The London financial district is in London, Washington D.C. is in the United States and the Vatican is in Italy. However, these three places are not part of the countries where they exist. They are independent "city states" and have their own laws and constitution. They are, effectively, "mini countries" inside of other countries and fly their own flags. The city state of London is a private corporation and pays no taxes to actual London or to Britain. The city state of London is the master power center and is controlled by the Rothschild family which considers itself to be the legal owner of this planet. The Vatican is the largest private land owner in the world and the first true multinational corporation with installations (churches) and secret agents (The Knights of Malta) everywhere. They control through the power of fear of the unknown and practice black magic. Washington D.C. relies upon brute military force. All three closely cooperate combining their specialties of financial trickery, witchcraft and military might. Of course, all three worship Satan as their Master.
Slavery
Slavery is alive and well throughout the world. The US constitution prohibits slavery, however, most americans live in slave-like conditions.
It is said that it will take the average college student until age fifty to pay back their student loan.
The constitutional amendment prohibiting slavery addressed the concept of physically owning another person. However, it did not address the issue of holding another person in bondage as a debt slave. It also did not consider the concept of private for profit prisons who force inmates to work as slaves. These systems exist today and are perfectly legal.
Actually, a recent report from prestigious Princeton University has reclassified the US government as an oligarchy — a country run by and for the rich elite. Former US President Carter has stated that the United States "no longer has a functioning democracy". So much for the Founding Father's dream. Speaking of dreams, check out the free you tube video titled "The American Dream".
Other forms of slavery are illegal but still flourish. Sex slaves are always in demand. Traffickers are sometimes caught but you need to realize that your leaders use sex slaves and also routinely abuse young girls and boys. Sometimes they are also killed during occult rituals. No one ever talks about this and these people are never punished. This has been the normal way of life for Satan worshipers for many years and nothing has changed or is likely to ever change in the future. Stanley Kubrick's last movie, Eyes Wide Shut, covers this subject. Some believe this intense dramatization of how the elite really live may have cost him his life.
People still have some rights left in the United States but other countries are a different story. Qatar is doing construction for the World Cup. The event is not scheduled until the year 2022, however they have already killed 1200 slaves [7] by working them to death. People are lured from poor countries with the promise of jobs and money. When they arrive, their passports are confiscated and they are forced to work until they literally drop dead. If the World Cup is actually held in Qatar in 2022, there will be glamorous TV coverage and no one will remember or care about all the dead slaves. The show must go on.
Qatar, incidentally, sponsors Al Jazeera TV network.
Adaptation Techniques
The status quo of today will never change because the people who created it will never die. Because of top secret medicine, when men like Henry Kissinger, who heads the Bilderberg Group's steering committee, get too feeble to function, they will simply go to one of the secret locations and use the temporal reversal device to regress back to about twenty years old. Their memories will be unaffected. Then they will get new identities and continue on. This process can be repeated indefinitely.
Because you can never change the status quo, your best hope for a lifetime of reasonable quality is to find clever ways to live in this world with as much independence as possible.
One method of adaptation is autonomous and semi-autonomous communities. If the community is registered as a religious institution it is automatically shielded from most government interference by the US constitution. It pays no taxes and can pretty much write its own rules by simply calling whatever it wants to do "religious doctrine". Many small semi-autonomous groups exist where people who share a common set of values find ways to quietly live out their lives pretty much on their own terms. The government does not seem interested in bothering these smaller groups as long as they live peacefully and are not doing anything that the government perceives to be a threat.
The Amish people are a good example of an autonomous group. You would probably not want to live as they do, however, before you completely dismiss them, you may want to look at some definite advantages in their chosen lifestyle.
Remember, these are the people who reject technology. They just might have made the correct choice. Technology, at first, seemed like a good idea. However, now that people are addicted to technology they are also enslaved by technology. Everything they do is monitored and recorded by the government. Privacy no longer exists. It did not have to be this way.
Technology, in itself, is not evil. However, it can be quite evil if you live under a government run by sociopathic control freaks which, unfortunately, you do. In the Amish world, electronic surveillance does not exist because electronic devices do not exist. The constant propaganda from TV has no effect on people who do not have TV. A horse does not report its position to a GPS satellite and is not controlled by a computer.
Also, the people are generally healthy and do not suffer from many diseases common to the mainstream population. They are not being poisoned by fluorinated water or additives found in processed food because they don't use these things. Also, they get lots of physical exercise.
Without totally withdrawing from the world, there are some positive steps you can take. By now you know never to drink fluorinated water or use any personal product containing fluoride such as many brands of toothpaste. To minimize harmful food additives, look for Kosher food which is marked with either the encircled "K" or "U" (Ultra Kosher). These foods have less or no harmful additives. The Jewish community is very protective of its people and the Mossad is widely considered to be the best intelligence service in the world. Therefore, they would have the inside scoop on everything including food and do not want to see their people harmed.
Whatever you decide to do, you definitely do not want to be part of so called mainstream society. These people are doomed. They are sheep (sheeple) slowly walking to the slaughter house. Don't go there!
---
references and credits
[1] DVD "The American Ruling Class". ASIN: B001HM2CE2.
[2] John Perkins. Book: Confessions of an Econemic Hit Man; DVD (free on you tube): "Apology of an Economic Hit Man"; RT interviews.
[3] See the free you tube videos titled "The Red Shield".
[4] DVD: "The Wages of Debt", RT Intl. Also available for purchase.
[5] DVD "Terra Blight", RT Intl. Also available for purchase.
[6] Interview with John Judge of Veterans Against Military Psychiatry.
[7] Also search using the phrase "qatar slaves world cup".
© 2014 W C Vetsch. All rights reserved.
Source: Walter C. Vetsch  |  3108.info | War Is Crime
Quite a stir occurred with the academic presentation, How Technology Is Destroying Jobs, by Brynjolfsson, a professor at the MIT Sloan School of Management, and his collaborator and coauthor Andrew McAfee. Both "have been arguing for the last year and a half that impressive advances in computer technology—from improved industrial robotics to automated translation services—are largely behind the sluggish employment growth of the last 10 to 15 years. Even more ominous for workers, the MIT academics foresee dismal prospects for many types of jobs as these powerful new technologies are increasingly adopted not only in manufacturing, clerical, and retail work but in professions such as law, financial services, education, and medicine."
"Perhaps the most damning piece of evidence, according to Brynjolfsson, is a chart that only an economist could love. In economics, productivity—the amount of economic value created for a given unit of input, such as an hour of labor—is a crucial indicator of growth and wealth creation. It is a measure of progress. On the chart Brynjolfsson likes to show, separate lines represent productivity and total employment in the United States. For years after World War II, the two lines closely tracked each other, with increases in jobs corresponding to increases in productivity. The pattern is clear: as businesses generated more value from their workers, the country as a whole became richer, which fueled more economic activity and created even more jobs. Then, beginning in 2000, the lines diverge; productivity continues to rise robustly, but employment suddenly wilts. By 2011, a significant gap appears between the two lines, showing economic growth with no parallel increase in job creation. Brynjolfsson and McAfee call it the "great decoupling." And Brynjolfsson says he is confident that technology is behind both the healthy growth in productivity and the weak growth in jobs."
Building upon this study, MSM provides a three part series on, Loss of middle-class jobs compounded by tech advances. The following admission by the technological behemoth should give pause for future generations.
"Most of the jobs will never return, and millions more are likely to vanish as well, say experts who study the labor market. What's more, these jobs aren't just being lost to China and other developing countries, and they aren't just factory work. Increasingly, jobs are disappearing in the service sector, home to two-thirds of all workers.

The global economy is being reshaped by machines that generate and analyze vast amounts of data; by devices such as smartphones and tablet computers that let people work just about anywhere, even when they're on the move; by smarter, nimbler robots; and by services that let businesses rent computing power when they need it, instead of installing expensive equipment and hiring IT staffs to run it."
This reality is all around us, but the full impact yet appreciated, is that the cloud of computing is not increasing business employment for the main street economy. For more bad news look at the results from the Associated Press analysis of employment data from 20 countries in, Can smart machines take your job? Middle class jobs increasingly being replaced by technology, which found that "almost all the jobs disappearing are in industries that pay middle-class wages, ranging from $38,000 to $68,000. Jobs that form the backbone of the middle class in developed countries in Europe, North America and Asia."
"In the United States, half of the 7.5 million jobs lost during the Great Recession paid middle-class wages, and the numbers are even more grim in the 17 European countries that use the euro as their currency. A total of 7.6 million midpay jobs disappeared in those countries from January 2008 through last June."
The article then goes on to cite that more information now crosses the Internet every second than the entire Internet stored 20 years ago. Other examples note that:
The British-Australian mining giant Rio Tinto announced plans last year to invest $518 million in the world's first long-haul, heavy-duty driverless train system at its Pilbara iron ore mines in Western Australia.
Dirk Vander Kooij's furniture-making company in the Netherlands needs only a skeleton crew — four people. The hard work at the Eindhoven-based company is carried out by an old industrial robot that Vander Kooij fashioned into a 3D printer.
Soon to come are pilotless airliners joining the several Japanese rail lines already run by themselves. Add the smart utility meter deployment and soon the employee reader, banished to a wax museum, becomes just another sign of "so called" progress.
Missing in all this corporate excitement for slashing payroll is the indisputable fact that the general standard of living is dropping like a rock for the average family. Couple this deadly trend with the unnerving prospects forecasted by Bob Lord in, Our First Trillionaire: Only a Matter of Time.
"The unavoidable result: Wealth at the top is growing at a faster rate than aggregate wealth. That's where the arithmetic comes in to play. If the wealth of one group within a nation grows at a faster rate than the nation's aggregate wealth, that group's share of the aggregate wealth must increase over time. That's a mathematical certainty. And the level of subsequent wealth concentration has no limit."
Technological development coupled with favorable political treatment is regularly the formula for massive accumulation of fortune. However, the horrendous social distortions that inexorably follows such distortions in income, much less the fact that the disappearance in living wage employment of the masses cannot be ignored without fundamental political upheaval.
Once innovated technology of a Henry Ford raised the living standards and was a benefit for society. Today's objective is to remove or eliminate the middle class as the gap in meaningful employment widens. Added leisure time has no significance if spent on playing games on an IPAD, while living off welfare government programs.
Brynjolfsson and McAfee's breakdown is a chilling look at a bleak future and the goodbye kiss to a populist beneficial economy.
So, what do we have here? In Libya, in Syria, and elsewhere the United States has been on the same side as the al-Qaeda types. But not in Ukraine. That's the good news. The bad news is that in Ukraine the United States is on the same side as the neo-Nazi types, who – taking time off from parading around with their swastika-like symbols and calling for the death of Jews, Russians and Communists – on May 2 burned down a trade-union building in Odessa, killing scores of people and sending hundreds to hospital; many of the victims were beaten or shot when they tried to flee the flames and smoke; ambulances were blocked from reaching the wounded. Try and find an American mainstream media entity that has made a serious attempt to capture the horror.
And how did this latest example of American foreign-policy exceptionalism come to be? One starting point that can be considered is what former Secretary of Defense and CIA Director Robert Gates says in his recently published memoir: "When the Soviet Union was collapsing in late 1991, [Defense Secretary Dick Cheney] wanted to see the dismemberment not only of the Soviet Union and the Russian empire but of Russia itself, so it could never again be a threat to the rest of the world." That can serve as an early marker for the new cold war while the corpse of the old one was still warm. Soon thereafter, NATO began to surround Russia with military bases, missile sites, and NATO members, while yearning for perhaps the most important part needed to complete the circle – Ukraine.
In February of this year, US State Department officials, undiplomatically, joined anti-government protesters in the capital city of Kiev, handing out encouragement and food, from which emanated the infamous leaked audio tape between the US ambassador to Ukraine, Geoffrey Pyatt, and the State Department's Victoria Nuland, former US ambassador to NATO and former State Department spokesperson for Hillary Clinton. Their conversation dealt with who should be running the new Ukraine government after the government of Viktor Yanukovich was overthrown; their most favored for this position being one Arseniy Yatsenuk.
My dear, and recently departed, Washington friend, John Judge, liked to say that if you want to call him a "conspiracy theorist" you have to call others "coincidence theorists". Thus it was by the most remarkable of coincidences that Arseniy Yatsenuk did indeed become the new prime minister. He could very soon be found in private meetings and public press conferences with the president of the United States and the Secretary-General of NATO, as well as meeting with the soon-to-be new owners of Ukraine, the World Bank and the International Monetary Fund, preparing to impose their standard financial shock therapy. The current protestors in Ukraine don't need PHDs in economics to know what this portends. They know about the impoverishment of Greece, Spain, et al. They also despise the new regime for its overthrow of their democratically-elected government, whatever its shortcomings. But the American media obscures these motivations by almost always referring to them simply as "pro-Russian".
An exception, albeit rather unemphasized, was the April 17 Washington Post which reported from Donetsk that many of the eastern Ukrainians whom the author interviewed said the unrest in their region was driven by fear of "economic hardship" and the IMF austerity plan that will make their lives even harder: "At a most dangerous and delicate time, just as it battles Moscow for hearts and minds across the east, the pro-Western government is set to initiate a shock therapy of economic measures to meet the demands of an emergency bailout from the International Monetary Fund."
Arseniy Yatsenuk, it should be noted, has something called the Arseniy Yatsenuk Foundation. If you go to the foundation's website you will see the logos of the foundation's "partners".  Among these partners we find NATO, the National Endowment for Democracy, the US State Department, Chatham House (Royal Institute of International Affairs in the UK), the German Marshall Fund (a think tank founded by the German government in honor of the US Marshall Plan), as well as a couple of international banks. Is any comment needed?
Getting away with supporting al-Qaeda and Nazi types may be giving US officials the idea that they can say or do anything they want in their foreign policy. In a May 2 press conference, President Obama, referring to Ukraine and the NATO Treaty, said: "We're united in our unwavering Article 5 commitment to the security of our NATO allies". (Article 5 states: "The Parties agree that an armed attack against one or more of them … shall be considered an attack against them all.") Did the president forget that Ukraine is not (yet) a member of NATO? And in the same press conference, the president referred to the "duly elected government in Kyiv (Kiev)", when in fact it had come to power via a coup and then proceeded to establish a new regime in which the vice-premier, minister of defense, minister of agriculture, and minister of environment, all belonged to far-right neo-Nazi parties.
The pure awfulness of the Ukrainian right-wingers can scarcely be exaggerated. In early March, the leader of Pravy Sektor (Right Sector) called upon his comrades, the infamous Chechnyan terrorists, to carry out further terrorist actions in Russia.
There may be one important difference between the old Cold War and the new one. The American people, as well as the world, can not be as easily brainwashed as they were during the earlier period.
Over the course of a decade, in doing the research for my first books and articles on US foreign policy, one of the oddities to me of the Cold War was how often the Soviet Union seemed to know what the United States was really up to, even if the American people didn't. Every once in a while in the 1950s to 70s a careful reader would notice a two- or three-inch story in the New York Times on the bottom of some distant inside page, reporting that Pravda or Izvestia had claimed that a recent coup or political assassination in Africa or Asia or Latin America had been the work of the CIA; theTimes might add that a US State Department official had labeled the story as "absurd". And that was that; no further details were provided; and none were needed, for how many American readers gave it a second thought? It was just more commie propaganda. Who did they think they were fooling? This ignorance/complicity on the part of the mainstream media allowed the United States to get away with all manner of international crimes and mischief.
It was only in the 1980s when I began to do the serious research that resulted in my first book, which later became Killing Hope, that I was able to fill in the details and realize that the United States had indeed masterminded that particular coup or assassination, and many other coups and assassinations, not to mention countless bombings, chemical and biological warfare, perversion of elections, drug dealings, kidnapings, and much more that had not appeared in the American mainstream media or schoolbooks. (And a significant portion of which was apparently unknown to the Soviets as well.)
But there have been countless revelations about US crimes in the past two decades. Many Americans and much of the rest of the planet have become educated. They're much more skeptical of American proclamations and the fawning media.
President Obama recently declared: "The strong condemnation that it's received from around the world indicates the degree to which Russia is on the wrong side of history on this."  Marvelous … coming from the man who partners with jihadists and Nazis and has waged war against seven nations. In the past half century is there any country whose foreign policy has received more bitter condemnation than the United States? If the United States is not on the wrong side of history, it may be only in the history books published by the United States.
Barack Obama, like virtually all Americans, likely believes that the Soviet Union, with perhaps the sole exception of the Second World War, was consistently on the wrong side of history in its foreign policy as well as at home. Yet, in a survey conducted by an independent Russian polling center this past January, and reported in the Washington Post in April, 86 percent of respondents older than 55 expressed regret for the Soviet Union's collapse; 37 percent of those aged 25 to 39 did so. (Similar poll results have been reported regularly since the demise of the Soviet Union. This is fromUSA Today in 1999: "When the Berlin Wall crumbled, East Germans imagined a life of freedom where consumer goods were abundant and hardships would fade. Ten years later, a remarkable 51% say they were happier with communism.")
Or as the new Russian proverb put it: "Everything the Communists said about Communism was a lie, but everything they said about capitalism turned out to be the truth."
A week before the above Post report in April the newspaper printed an article about happiness around the world, which contains the following charming lines: "Worldwide polls show that life seems better to older people – except in Russia." … "Essentially, life under President Vladimir Putin is one continuous downward spiral into despair." … "What's going on in Russia is deep unhappiness." … "In Russia, the only thing to look forward to is death's sweet embrace."
No, I don't think it was meant to be any kind of satire. It appears to be a scientific study, complete with graphs, but it reads like something straight out of the 1950s.
The views Americans hold of themselves and other societies are not necessarily more distorted than the views found amongst people elsewhere in the world, but the Americans' distortion can lead to much more harm. Most Americans and members of Congress have convinced themselves that the US/NATO encirclement of Russia is benign – we are, after all, the Good Guys – and they don't understand why Russia can't see this.
The first Cold War, from Washington's point of view, was often designated as one of "containment", referring to the US policy of preventing the spread of communism around the world, trying to blockthe very idea of communism or socialism. There's still some leftover from that – see Venezuela and Cuba, for example – but the new Cold War can be seen more in terms of a military strategy. Washington thinks in terms of who could pose a barrier to the ever-expanding empire adding to its bases and other military necessities.
Whatever the rationale, it's imperative that the United States suppress any lingering desire to bring Ukraine (and Georgia) into the NATO alliance. Nothing is more likely to bring large numbers of Russian boots onto the Ukrainian ground than the idea that Washington wants to have NATO troops right on the Russian border and in spitting distance of the country's historic Black Sea naval base in Crimea.
The myth of Soviet expansionism
One still comes across references in the mainstream media to Russian "expansionism" and "the Soviet empire", in addition to that old favorite "the evil empire". These terms stem largely from erstwhile Soviet control of Eastern European states. But was the creation of these satellites following World War II an act of imperialism or expansionism? Or did the decisive impetus lie elsewhere?
Within the space of less than 25 years, Western powers had invaded Russia three times – the two world wars and the "Intervention" of 1918-20 – inflicting some 40 million casualties in the two wars alone. To carry out these invasions, the West had used Eastern Europe as a highway. Should it be any cause for wonder that after World War II the Soviets wanted to close this highway down? In almost any other context, Americans would have no problem in seeing this as an act of self defense. But in the context of the Cold War such thinking could not find a home in mainstream discourse.
The Baltic states of the Soviet Union – Estonia, Latvia, and Lithuania – were not part of the highway and were frequently in the news because of their demands for more autonomy from Moscow, a story "natural" for the American media. These articles invariably reminded the reader that the "once independent" Baltic states were invaded in 1939 by the Soviet Union, incorporated as republics of the USSR, and had been "occupied" ever since. Another case of brutal Russian imperialism. Period. History etched in stone.
The three countries, it happens, were part of the Russian empire from 1721 up to the Russian Revolution of 1917, in the midst of World War I. When the war ended in November 1918, and the Germans had been defeated, the victorious Allied nations (US, Great Britain, France, et al.) permitted/encouraged the German forces to remain in the Baltics for a full year to crush the spread of Bolshevism there; this, with ample military assistance from the Allied nations. In each of the three republics, the Germans installed collaborators in power who declared their independence from the new Bolshevik state which, by this time, was so devastated by the World War, the revolution, and the civil war prolonged by the Allies' intervention, that it had no choice but to accept the fait accompli. The rest of the fledgling Soviet Union had to be saved.
To at least win some propaganda points from this unfortunate state of affairs, the Soviets announced that they were relinquishing the Baltic republics "voluntarily" in line with their principles of anti-imperialism and self-determination. But is should not be surprising that the Soviets continued to regard the Baltics as a rightful part of their nation or that they waited until they were powerful enough to reclaim the territory.
Then we had Afghanistan. Surely this was an imperialist grab. But the Soviet Union had lived next door to Afghanistan for more than 60 years without gobbling it up. And when the Russians invaded in 1979, the key motivation was the United States involvement in a movement, largely Islamic, to topple the Afghan government, which was friendly to Moscow. The Soviets could not have been expected to tolerate a pro-US, anti-communist government on its border any more than the United States could have been expected to tolerate a pro-Soviet, communist government in Mexico.
Moreover, if the rebel movement took power it likely would have set up a fundamentalist Islamic government, which would have been in a position to proselytize the numerous Muslims in the Soviet border republics.
Notes
See RT.com (formerly Russia Today) for many stories, images and videos
Robert Gates, Duty (2014), p.97
If this site has gone missing again, a saved version can be found here.
Voice of Russia radio station, Moscow, April 18, 2014; also see Answer Coalition, "Who's who in Ukraine's new [semi-fascist] government", March 11, 2014
RT.com, news report March 5, 2014
CBS News, March 3, 2014
Washington Post, April 11, 2014
USA Today (Virginia), Oct. 11, 1999, page 1
Washington Post print edition, April 2, 2014; online here