"The crimes of the United States have been systematic, constant, vicious, remorseless, but very few people have actually talked about them. You have to hand it to America. It has exercised a quite clinical manipulation of power worldwide while masquerading as a force for universal good." - Harold Pinter, Nobel Acceptance Speech

"Obama is just a willing executioner. From the ruling class's point of view, he's the perfect figurehead because his mere appearance confuses and disarms so many. He seems to have spent his whole life trying to get chosen to play Judas. And that's all there is in his resume." -bevin, Comments line, Moon of Alabama
According to a newly-released Wall Street Journal/NBC News poll, Barack Obama's job-approval ratings have dipped to a new low of 41 percent with a full 54 percent of respondents saying they "disapproved" of the job he's doing. Obama's handling of the economy, health care and foreign policy were particular areas of concern for most respondents. On health care, Obama is seen as having strengthened the for-profit insurance industry with little benefit for ordinary working people. The survey also showed "the lowest-ever approval" for the president's handling of foreign policy. And, on the economy, the results were even more shocking; a full 57% of the people polled "believe the U.S. is still in a recession" while "65 percent think the country is on the wrong track". Widespread disappointment in Obama's performance has weakened his support among blacks, Hispanics and women, traditionally, the most loyal groups in the Party's base.
There's no doubt that Obama has been hurt by the anemic recovery or by focusing on deficit reduction instead of job creation. High unemployment, flat wages and shrinking incomes have weighed heavily on expectations, which has put a damper on consumption and growth. Gallup's Economic Confidence index now shows a "sharp decline in the outlook for the future" …"with some 57 percent of the respondents saying things are getting worse, not better."
Indeed, things have gotten worse under Obama, much worse, which is why many of his most ardent supporters are falling off the bandwagon. And the disappointment is not limited to economic policy either. Recent surveys confirm what most people already know, that the public is tired of the interventions, the provocations, the meddling and the endless wars. The American people are increasingly isolationist and want the government to disengage from foreign conflicts. Here's an excerpt from a recent survey by PEW that sums up the mood of the country:
"For the first time since 1964, more than half (52%) agree that the U.S. should "mind its own business internationally and let other countries get along the best they can on their own;" 38% disagree, according to a survey conducted Oct.-Nov. 2013. Similarly, 80% agree with the statement, "We should not think so much in international terms but concentrate more on our own national problems and building up our strength and prosperity here at home." (U.S. Foreign Policy: Key Data Points from Pew Research, PEW Research Center)
The PEW poll merely expands on the findings in other surveys like this from the LA Times:
"Two thirds of Americans questioned in a recent poll said the 12-year war fought in Afghanistan…hasn't been worth the price paid in lives and dollars…

The survey conducted for the media by Langer Research Associates of New York found that disillusionment with the U.S.-led war was expressed by a majority of all political leanings. Overall, 66% of respondents said the war hasn't been worth it. Those who identified themselves as liberals were most unhappy with the military investment: 78% said the war was a mistake." (Poll: Two thirds of Americans say Afghan war not worth fighting, LA Times)
The same is true of Iraq. The war wasn't worth fighting. Check this out on ABC News:
"Ten years after U.S. airstrikes on Baghdad punctuated the start of the Iraq war, nearly six in 10 Americans say the war was not worth fighting – a judgment shared by majorities steadily since initial success gave way to years of continued conflict.
Nearly as many in the latest ABC News/Washington Post poll say the same about the war in Afghanistan. And while criticisms of both wars are down from their peaks, the intensity of sentiment remains high, with strong critics far outweighing strong supporters." (A Decade on, Most are Critical of the U.S.-Led War in Iraq, ABC News)
And that brings us to today and the looming prospect of a war with Russia over developments in the Crimea. Here's what people are thinking according to a survey in the Washington Post:
"A new poll suggests Americans have very little appetite for any real involvement in the crisis in Ukraine. Only 29 percent of Americans would like for the Obama administration to take a 'firm stand' against Russia's incursion into its neighbor, according to the Pew Research Center poll, while nearly twice as many — 56 percent — prefer the United States not to get too involved in Ukraine.

The poll reflects a war-weary American public that is still very reticent to get involved in international conflicts. The American people were similarly opposed to military intervention in Syria last year, despite President Obama calling for the use of force and seeking congressional approval for action." (Few Americans want 'firm stand' against Russia in Ukraine, Washington Post)
Of course, Obama doesn't care the American people want. He's going to do what he signed-on to do; crack down on civil liberties, strangle the economy, and spread war across the planet. As far as the warmongering goes–he's doing an even better job than Bush. Don't believe me? Just check out this clip from the International Business Times:
"In their annual End of Year poll, researchers for WIN and Gallup International surveyed more than 66,000 people across 65 nations and found that 24 percent of all respondents answered that the United States "is the greatest threat to peace in the world today." Pakistan and China fell significantly behind the United States on the poll, with 8 and 6 percent, respectively." (In Gallup Poll, The Biggest Threat To World Peace Is… America?, IBT)
There you have it, the Obama presidency in a nutshell: "The United States is the greatest threat to peace in the world today." Keep in mind, this survey wasn't taken during the Bush years. Oh no. This is all Obama's doing, every bit of it.
Let's summarize: The majority of Americans think Obama is doing a lousy job. They think the economy stinks, and they think their financial situation is getting worse. They also think the country is on the wrong track, that America is a threat to world peace, and that they don't want anymore goddamned wars.
Check, check, check, check and check.
So, what do you think the Obama administration's reaction to this public outpouring has been?
I'll tell you what it's been. They're happy. That's right, they're happy. Despite the plunging poll numbers and dwindling public support, the Obama team feels vindicated by the fact that they're not as widely reviled as the Bush administration. That's their benchmark: Bush. And they could be on to something too, after all, who would have thought that a president could repeal habeas corpus, destroy the economy, launch wars and coups like they're going out of style, vaporize hundreds of innocent people in drone attacks, intensify surveillance on every man, woman and child in the United States, and claim the right to assassinate US citizens without due process, without inciting millions of enraged Americans to grab their pitchforks and head to Washington?
That's what would have happened if Bush was still in office, right? But Obama gets a "pass". Why? Because he's an articulate, charismatic black man who the vast majority of Dems still admire. Can you believe it?
Obama represents everything these people profess to hate–war, drone attacks, Gitmo, austerity, Wall Street (no prosecutions), indefinite detention, executive privilege (to assassinate) etc–and yet they still put the man on a pedestal. Which is why we think that Obama is the greatest public relations invention of all-time; a beaming, exuberant, galvanic paragon who embodies all the laudatory characteristics of leadership and who–at the same time– is able to carry out the most despicable, inhuman acts without the slightest hesitation or remorse. He is man who feels nothing towards his fellow human beings, neither empathy, compassion, or mercy. What matters to Obama is that he faithfully follow the script that's been written for him by his miscreant handlers, that odious amalgam of cutthroat corporatists, bank mandarins and loafing ivy league silver-spooners who make up America's iniquitous Kleptocracy. The best description of Obama I've ever read was in the comments section of a foreign policy blogsite called Moon of Alabama by a blogger named "bevin". Here's what he said:
"I think that Obama is completely empty of scruples…just a willing executioner. From the ruling class's point of view he is the perfect figurehead because his mere appearance confuses and disarms so many. He seems to have spent his whole life trying to get chosen to play Judas. And that is all there is in his resume…

They present him as negligent, never responsible, never intentionally connected to an evil act, never drawn into the acts of duplicity by a conscious intent. This is the false image, the disinformation projected about who he is…

It strikes me that Obama is all those things. And that this is the core of the evil in him- that he is without conscience or principle, just an ordinary butcher going about his business, fulfilling the terms of his employment, doing what he was asked to do…

You see him as focused and intentional.

I see him as someone who will sign a stack of death warrants without reading them, or thinking about them again. Remember just after November 2008, waiting to take office, how the Israelis attacked Gaza, obviously to show him who is boss? Didn't you sense that even they were surprised at the insouciance with which he watched those extraordinary massacres pass before his eyes?

He didn't care. And he was, at last, relieved of the chore of pretending that he did care about such things.

That's really what he likes about being President: he can relax while the killing goes on, he doesn't need to pretend it bothers him, he doesn't need to pass any kind of moral judgment.

Remember when he asked his step-father "Have you ever killed men?"

The reply he got was "Only men who were weak."

He has adhered to that moral standard ever since." (bevin, Moon of Alabama)
That perfectly summarizes the man; an empty gourd who never had any intention of fulfilling his promises, who has utter disdain for the fools that voted for him, and who finds it as easy to kill a man, his family and his kids, as to swat a fly on his forearm. As bevin notes Obama "is a pure confidence man and a sociopath."
And now the sociopath has focused his attention on Ukraine where he's determined to draw Russia into a conflict over the Crimea even though Moscow has assisted the US in the War on Terror, removed its heavy weapons from the Western part of Russia, reduced its conventional military by 300,000 troops, and fulfilled all its obligations under the Adapted Conventional Armed Forces Treaty in Europe (ACAF).
Moscow has done everything that was asked of it. And what has Washington done in return. Here's how Valentin Mândrăşescu, Editor of The Voice of Russia's Reality Check, sums it up on the Testosterone Pit website:
"Washington has defaulted on all of its key agreements made with USSR/Russia during the last 30 years. Gorbachev was promised that Eastern Europe would not be taken into NATO. Country by country became part of NATO and Yugoslavia was dismantled despite Russia's objections. The US acted as the winner of the Cold War and guided its policies by the famous principle of "Vae victis!" Woe to the vanquished!" (Valentin Mândrăşescu, Editor of The Voice of Russia's Reality Check, From now on, No compromises are possible with Russia, Testosterone Pit)
Since the breakup of the Soviet Union, the US has surrounded Russia with military bases, trained troops in Georgia that were eventually used to fight Russia in South Ossetia, instigated numerous color-coded revolutions in former Soviet states, and started to deploy a missile defense system in Eastern Europe that will give Washington first-strike nuclear weapons capability that will destroy "the strategic equilibrium in the world" and force Putin to resume the arms race.
That's how Washington makes friends; by stomping their face into the pavement every chance it gets. Sound familiar?
On Wednesday, Obama met with Ukraine's imposter prime minister, Arseniy Yatsenyuk, at the White House in a attempt to lend credibility to the coup leader's Nazi-strew government. Obama used the White House event to applaud the putsch and to promise support for the aggressively anti-Kremlin government. Shortly after Obama finished his statement, blogsites released copies of a resolution that was issued by the European Parliament just 15 months earlier condemning the groups which are now part of the US-backed Ukrainian government. Here's a blurb from the text of that resolution:
"The European Parliament…Is concerned about the rising nationalistic sentiment in Ukraine, expressed in support for the Svoboda Party, which, as a result, is one of the two new parties to enter the Verkhovna Rada; recalls that racist, anti-Semitic and xenophobic views go against the EU's fundamental values and principles and therefore appeals to pro-democratic parties in the Verkhovna Rada not to associate with, endorse or form coalitions with this party." (Moon of Alabama)
How do you like that? So the European Parliament saw the danger of these groups and denounced them before they had a change of heart and realized that these died-in-the-wool, neo-Nazi, jackboot-thugs might be able to help them advance their foreign policy objectives. Now the EU nations are lining up behind Obama who's doing his level-best to provoke Putin so he can push NATO to Russia's borders, take control of critical pipeline corridors and vital resources, and install weapons systems on Russia's perimeter. These are the administration's goals despite the threat they pose to democracy, security, and regional stability, not to mention the possibility of a third world war.
Bottom line: You don't get to be "the greatest threat to world peace" without really applying yourself.
Obama wants to prove he's up to the task. Regrettably, we think he is.
No, I don't mean some place in the Ukraine.  For some of you who went to public school, Connecticut is in the north-eastern corner of the US, but barely.
I understand your confusion since Connecticut is closer to New York City than to the US.  Let's see how Connecticut politicians constructed a situation where honest gun owners could get shot by police.  We can also prescribe a peaceful solution.
How did they get themselves into this mess?  There was a huge outcry of public anguish and frustration after a crazy man murdered children at a public school in Connecticut.  The media used that emotional reaction to sell its anti-gun bigotry.  The media falsely claimed that mass murder by honest gun owners was increasing.  Yes, it is bigotry.  Bigotry is blaming the innocent, and a hundred million honest gun owners are innocent.  They don't shoot school children, but that didn't stop the media from blaming them.  The media blamed people like me.  Maybe they blamed you.
-Politicians used a public tragedy for political gain.  In an equally crazy reaction, politicians said they would do something, do anything, even if it made us less safe.  They outlawed common firearms.  Connecticut politicians ignored the rights of the voters in doing so.  They also ignored the facts about mass violence.  The reason is simple.
Connecticut politicians put their political careers ahead of public safety.
Connecticut gun owners protested as the anti-gun bill went through the legislature, but they were ignored by the Democrat majority.  After the Democrat politicians outlawed common firearms, the citizens returned the favor.  Connecticut gun owners largely ignored the new laws.
Politicians exposed their ill will.  Some gun owners registered their guns as dictated.  Others ignored the new regulations.  Those who registered their firearms late were rejected and ordered to sell their firearms out of state or surrender them to police.  That proves gun registration was never the point of the anti-gun legislation.
Gun owners asked the state police if they would go door to door and seize firearms.  The police said they would follow orders.  Police spokesmen also questioned the patriotism of Connecticut gun owners.  Wise policemen do not deliberately alienate and frighten honest citizens.  Some Connecticut police are not that smart.
Connecticut newspapers called for door-to-door searches and gun confiscation.  That further frightened Connecticut gun owners.  The idea of midnight no-knock raids frightens me too.  It should frighten you.
-The gun law was challenged in court, but lower courts refused to enjoin the legislation until the appeal is completed.  This means the legislature and police can trample the rights of Connecticut gun owners for years to come.
In total, legislators, judges and the media showed stunning bigotry and lack of respect for political minorities.  Their bias is as blatant as watching a southern judge during the Jim Crow era.
Where we are today?  Connecticut has an unenforceable law on its books.  So many gun owners refused to follow the law that Connecticut does not have the physical or fiscal means to enforce their law.  The ranks of law enforcement, the number of courts, and the number of prisons would have to grow ten fold.  The costs of court trials and prison incarcerations are enough to bankrupt the state.  There are other costs as well.
How could the situation get worse?  Police have murdered innocent civilians during no-knock raids.  It is a sad fact, but it has happened.  Examples are here 1 and here 2 and a video here 3.  Though the media will try and cover for them, police and politicians will have blood on their hands if they injure civilian gun owners during firearm confiscation.  Police violence will further heighten the fear felt by honest gun owners in Connecticut.  Connecticut gun owners could try to defend themselves if people violently break into their homes.  This could lead to further bloodshed for all concerned.  Police and politicians would then be seen as murderous oppressors rather than defenders of a fair and impartial justice system.
Respect for Connecticut law enforcement and politicians would plummet even further.  Law enforcement officers would lose community support.  Crime and violence would increase.
That is bad.
The police could conduct door to door sweeps with armed and armored personnel carriers rolling down the street as they did after the Boston Marathon bombing.
Yes, Connecticut could become a police state over this politicized issue.
That is worse.
Is forced disarmament necessary?  Going door to door in no-knock midnight raids is foolishly dangerous.  It is also profoundly unnecessary.  Honest gun owners present no danger to the public.  They never did.  If Connecticut gun owners are a threat at all, they threaten the public image of bigoted politicians who now look politically foolish and publicly inept.
How can this situation de-escalate peacefully?  There are lawsuits in place against the Connecticut gun law.  Let the judicial process work to protect the rights of minorities.  Enjoin the law as the case slowly grinds its way through the courts.
The political solution is to lobby the legislators in person, and some online media have posted lists of legislators who supported gun confiscation.  Some politicians view that publicity with alarm.  They are wrong.  You should not be a politician if you don't want to see the faces of the people affected by your laws.  An isolated and insulated ruling class is a sure way to violence.
Let the courts settle this.
About Rob Morse:
By day, Rob Morse works in Southern California as a mild mannered engineer for a defense contractor. By night he writes about gun rights at Ammoland, at Gun Rights Magazine, www.gunrightsmagazine.com/contributors/rob-morse/ and writes the SlowFacts blog. www.slowfacts.wordpress.com . He also loves the M1911 and shoots combat handgun on the weekends.
Source: Ammoland
When one studies history, all events seem to revolve around the applications and degenerations of war. Great feats of human understanding, realization and enlightenment barely register in the mental footnotes of the average person. War is what we remember, idealize and aggrandize, which is why war is the tool most often exploited by oligarchy to distract the masses while it centralizes power.
With the exception of a few revolutions, most wars are instigated and controlled by financial elites, manipulating governments on both sides of the game to produce a preconceived result. The rise of National Socialism in Germany, for instance, was largely funded by corporate entities based in the U.S., including Rockefeller giant Standard Oil, JPMorgan and even IBM, which built the collating machines specifically used to organize Nazi extermination camps, the same machines IBM representatives serviced on site at places like Auschwitz. As a public figure, Adolf Hitler was considered a joke by most people in German society, until, of course, the Nazi Party received incredible levels of corporate investment. This aid was most evident in what came to be known as the Keppler Fund created through the Keppler Circle, a group of interests with contacts largely based in the U.S.
George W. Bush's grandfather, Prescott Bush, used his position as director of the New York-based Union Banking Corporation to launder money for the Third Reich throughout the war. After being exposed and charged for trading with the enemy, the case against Bush magically disappeared in a puff of smoke, and the Bush family went on to become one of the most powerful political forces in America.
Without the aid of international conglomerates and banks, the Third Reich would have never risen to power.
The rise of communism in Russia through the Bolshevik Revolution was no different. As outlined in Professor Antony Sutton's book Wall Street And The Bolshevik Revolution with vast detail and irrefutable supporting evidence, it was globalist financiers that created the social petri dish in which the communist takeover flourished.  The same financiers that aided the Nazis…
The two sides, National Socialism and communism, were essentially identical despotic governmental structures conjured by the same group of elites. These two sides, these two fraudulent ideologies, were then pitted against each other in an engineered conflict that we now call World War II, resulting in an estimated 48 million casualties globally and the ultimate formation of the United Nations, a precursor to world government.
Every major international crisis for the past century or more has ended with an even greater consolidation of world power into the hands of the few, and this is no accident.
When I discuss the concept of the false left/right paradigm with people, especially those in the liberty movement, I often see a light turn on, a moment of awareness in their faces. Many of us understand the con game because we live it day to day. We see past the superficial rhetoric of Republican and Democratic party leadership and take note of their numerous similarities, including foreign policy, domestic defense policy and economic policy. The voting records of the major players in both parties are almost identical. One is hard-pressed to find much difference in ideology between Bush and Barack Obama, for example; or Obama and John McCain; or Obama and Mitt Romney, for that matter.
When I suggest, however, that similar false paradigms are used between two apparently opposed nations, the light fades, and people are left dumbstruck. Despite the fact that globalist financiers shoveled capital into the U.S., British, German and Soviet military complexes all at the same time during World War II, many Americans do not want to believe that such a thing could be happening today.
In response, I present the crisis in Ukraine versus the crisis in Syria…
Ukraine Versus Syria
It seems as though much of the public has already forgotten that at the end of 2013, the U.S. came within a razor's edge of economic disaster — not to mention the possibility of World War III. The war drums in Washington were thundering for "intervention" in Syria and the overthrow of Bashar Assad. The only thing that saved us, I believe, were the tireless efforts of the independent media in exposing the darker motives behind the Syrian insurgency and the bloodlust of the Obama Administration. The problem is that when the elites lose one avenue toward war and distraction, they have a tendency to simply create another. Eventually, the public is so overwhelmed by multiple trigger points and political powder kegs that they lose track of reality. I often call this the "scattergun effect."
The crisis in the Ukraine is almost a carbon copy of the civil war in Syria, culminating in what I believe to be the exact same intent.
The Money
Money from globalist centers has been flowing into the Ukrainian opposition since at least 2004, when the Carnegie Foundation was caught filtering funds to anti-Russian political candidate Viktor Yushchenko, as well as to the groups who supported him.
The Ukrainian Supreme Court called for a runoff due to massive voter fraud and the rise of the pro-Western Orange Revolution, determining the winner to be Yushchenko over none other than Viktor Yanukovych. Yanukovych went on to win the 2010 elections, and the revolution returned to oust him this year.
It has been discovered that the current revolution has also been receiving funds from NATO and U.S. interests, not just from the State Department, but also from billionaires like Pierre Omidyar, the chairman of eBay and the new boss of journalist Glen Greenwald, the same journalist who is now famous for being the first to expose National Security Agency documents obtained by Edward Snowden.
Much of the monetary support from such financiers was being funneled to men like Oleh Rybachuk, the right-hand man to Yanukovych during the Orange Revolution and a favorite of neoconservatives and the State Department in the U.S.
The International Monetary Fund has also jumped at the chance to throw money at the new Ukrainian regime, which would prevent default of the country and allow the opposition movement to focus their attentions on Russia.
The revolution in Syria was also primarily driven by Western funds and arms transferred through training grounds like Benghazi, Libya. There is much evidence to suggest that theattack on the U.S. consulate in Benghazi was designed to possibly cover up the arming of Syrian rebels by the CIA, who had agents on the ground who still have not been allowed to testify in front of Congress.
After this conspiracy was exposed in the mainstream, globalist-controlled governments decided to openly supply money and weapons to the Syrian insurgency, instead of ending the subterfuge.
The 'Rebels'
Some revolutions are quite real in their intent and motivations. But many either become co-opted by elites through financing, or they are created from thin air from the very beginning. Usually, the rebellions that are completely fabricated tend to lean toward extreme zealotry.
The Syrian insurgency is rife with, if not entirely dominated by, men associated with al-Qaida. Governments in the U.S. and Israel continue to support the insurgency despite their open affiliation with a group that is supposedly our greatest enemy. Syrian insurgents have been recorded committing numerous atrocities, including mass execution, the torture of civilians and even the cannibalism of human organs.
The revolution in Ukraine is run primarily by the Svoboda Party, a National Socialist (fascist) organization headed by Oleh Tyahnybok.  Here is a photo of Tyahnybok giving a familiar salute:
So far, the opposition in Ukraine has been mostly careful in avoiding the same insane displays of random violence that plagued the Syrians' public image. It is important to remember though that mainstream outlets like Reuters went far out of their way in attempts to humanize Syrian al-Qaida. Their methods were exposed only through the vigilance of the independent media. With the fascist Svoboda in power in the Ukraine, I believe it is only a matter of time before we see video reports of similar atrocities, giving Russia a perfect rationalization to use military force.
John McCain?
I am now thoroughly convinced that John McCain is a pasty ghoul of the highest order. He claims to be conservative yet supports almost every action of the Obama Administration. He is constantly defending anti-Constitutional actions by the Federal government, including the Enemy Belligerents Act, which was eventually melded into the National Defense Authorization Act; NSA surveillance of U.S. citizens; and even gun control.
And for some reason, the guy makes appearances like clockwork right before or during major overthrows of existing governments. McCain was in Libya during the coup against Moammar Gadhafi.
McCain showed up to essentially buy off the rebels in Tunisia.
McCain hung out with al-Qaida in Syria.
And, what a surprise, McCain met with the Ukrainian opposition movement just before the overthrow of Viktor Yanukovych.  Here is a photo of McCain giving a speech to the opposition with none other than Neo-Nazi Oleh Tyahnybok standing over his left shoulder.
Why McCain? I have no idea. All I know is, if this guy shows up in your country, take cover.
Russia In The Middle
The great danger in Syria was not necessarily the chance of war with Assad. Rather, it was the chance that a war with Assad would expand into a larger conflagration with Iran and Russia. Russia's only naval facility in the Mideast is on the coast of Tartus in Syria, and Russia has long-standing economic and political ties to Syria and Iran. Any physical action by the West in the region would have elicited a response from Vladimir Putin. The mainstream argument claims that the threat of Russian intervention scared off Obama, but I believe the only reason war actions were not executed by the White House and the globalists was because they didn't have even minimal support from the general public. For any war, you need at least a moderate percentage of the population to back your play.
In Ukraine, we find the globalists creating tensions between the West and the East yet again. Russia's most vital naval base sits in Crimea, an autonomous state tethered to the Ukrainian mainland. Currently, Russia has flooded Crimea with troops in response to the regime change in Ukraine. The new Ukrainian government (backed by NATO) has called this an "invasion" and an act of war, while Western warmongers like McCain and Lindsay Graham spread the propaganda meme that Russia made such a move only because Putin believes the Obama Administration to be "weak."
Clearly, the idea here is to engineer either high tensions or eventual war between Russia and the United States. Syria failed to produce the desired outcome, so the Ukraine was tapped instead.
Energy Markets And The Dollar At Risk
In Syria, any U.S. led military action would have resulted in the immediate closing of the Straight of Hormuz by Iran, threatening to obstruct up to 30% of global petroleum shipments.  Foreign resentment could have easily led to the abandonment of the U.S. dollar as the petro-currency.  Both China and Russia implied the possibility of an economic response to American intervention, though they did not officially go into specifics.  In all likelihood, the dollar's world reserve status would have been damaged irrevocably.
In the Ukraine, the chance of intervention has been countered with VERY specific threats from Russia, including a freeze on natural gas imports to the European Union through Gazprom, which supplies approximately 30% of the EU's fuel.  In 2009, a temporary Ukranian pipeline closure led to widespread shortages across Europe.  While some in the mainstream claim that Russia's influence over EU energy has "diminished" the fact is a loss of 30% of natural gas reserves for an extended period would inflate energy prices wildly and cripple the EU's economy.
Another specific reaction given by Russia is the dumping of U.S. treasury bonds.  Russia's bond holdings may not seem like much leverage, except for the fact that China has now publicly backed Russian efforts in the Ukraine, just as they backed Russian opposition to U.S. activities in Syria.  A dump of bonds by Russia would invariably be followed by a Chinese dump as well.  In fact, China and Russia have been setting the stage for a global dollar decoupling since at least 2008.   I have been warning for years that globalists and central bankers needed a "cover event", a distraction or scapegoat imposing enough to provide a veil of chaos in which they could then destroy the greenback as the world reserve and usher in a global currency system.  The Ukraine crisis offers yet another opportunity for this plan to unfold.
The False Paradigm And The Globalist Chessboard
So far, I have outlined what appears to be a correspondence of conspiracy between Syria and the Ukraine and how each event has the continued potential to trigger regional conflict, dollar collapse, or world war. But is this conspiracy one-sided? Are only the West and NATO being manipulated by globalists to box in Russia and provoke a conflict? And what do globalists have to gain by sparking such disaster?
As with every other catastrophic fabricated war, the goal is the erasure of sovereign identity while consolidating of economic, political and social power. It is not enough that global financiers dominate the banking industry and own most politicians; they want to transform the public psyche. They want US to ask THEM for global governance. This manufacture of consent is often achieved by pitting two controlled governments against each other and then, in the wake of the tragedy, calling for global unification. The argument is always presented that if we simply abandoned the concept of nation states and reform under a single world body, all war would "disappear."
The question is whether Russia's Putin is aware of the plan. Is he a part of it?  Are we seeing repeat theater of a puppet Russia versus a puppet NATO like that witnessed during the Cold War?
What I do know is that Putin has, a number of times in the past, called for global control of the economy through the IMF and the institution of a new global currency using the IMF's Special Drawing Rights (SDR).
Loans from the IMF are what saved Russia from debt default in the late 1990s. And Putin has recently called for consultations with the IMF concerning Crimea. Remember, this is the same IMF that is working to fund his opponents in Western Ukraine.
Bottom line, if you believe in national sovereignty and decentralization of power, Putin is NOT your buddy. Once again, we have the globalists injecting money into both sides of a conflict which could morph into something nightmarish.  Putin wants global economic governance and consolidation under the IMF just as much as the supposedly "American-run" IMF wants consolidation.  Global governance of finance and money creation ultimately means global governance of everything else.
Is a war being created through the false paradigm of East versus West in order to pave the road for global government?  Are East/West tensions being exploited as a smokescreen for the final destruction of the dollar's world reserve status?  It is hard to say if the Ukraine will be the final trigger; however, the evidence suggests that if a conflict occurs, regardless of who "wins" such a scenario, the IMF comes out on top.
Imagine you are playing a game of chess by yourself. Which side wins at the end of that game: black or white? The answer is it doesn't matter. You always win when you control both sides.
Source: Brandon Smith | Alt-Market
"At last the world knows America as the savior of the world!" – President Woodrow Wilson, Paris Peace Conference, 1919
The horrors reported each day from Syria and Iraq are enough to make one cry; in particular, the atrocities carried out by the al-Qaeda types: floggings; beheadings; playing soccer with the heads; cutting open dead bodies to remove organs just for mockery; suicide bombers, car bombs, the ground littered with human body parts; countless young children traumatized for life; the imposition of sharia law, including bans on music … What century are we living in? What millennium? What world?
People occasionally write to me that my unwavering antagonism toward American foreign policy is misplaced; that as awful as Washington's Museum of Horrors is, al-Qaeda is worse and the world needs the United States to combat the awful jihadists.
"Let me tell you about the very rich," F. Scott Fitzgerald famously wrote. "They are different from you and me."
And let me tell you about American leaders. In power, they don't think the way you and I do. They don't feel the way you and I do. They have supported "awful jihadists" and their moral equivalents for decades. Let's begin in 1979 in Afghanistan, where the Moujahedeen ("holy warriors") were in battle against a secular, progressive government supported by the Soviet Union; a "favorite tactic" of the Moujahedeen was "to torture victims [often Russians] by first cutting off their nose, ears, and genitals, then removing one slice of skin after another", producing "a slow, very painful death".
With America's massive and indispensable military backing in the 1980s, Afghanistan's last secular government (bringing women into the 20th century) was overthrown, and out of the victoriousMoujahedeen arose al Qaeda.
During this same period the United States was supporting the infamous Khmer Rouge of Cambodia; yes, the same charming lads of Pol Pot and The Killing Fields.
President Carter's National Security Adviser, Zbigniew Brzezinski, was a leading force behind the US support of both the Moujahedeen and the Khmer Rouge. What does that tell you about that American leader? Or Jimmy Carter – an inspiration out of office, but a rather different person in the White House? Or Nobel Peace Laureate Barack Obama, who chose Brzezinski as one of his advisers?
Another proud example of the United States fighting the awful jihadists is Kosovo, an overwhelmingly Muslim province of Serbia. The Kosovo Liberation Army (KLA) began an armed conflict with Belgrade in the early 1990s to split Kosovo from Serbia. The KLA was considered a terrorist organization by the US, the UK and France for years, with numerous reports of the KLA having contact with al-Qaeda, getting arms from them, having its militants trained in al-Qaeda camps in Pakistan, and even having members of al-Qaeda in KLA ranks fighting against Serbia.  But Washington's imperialists, more concerned about dealing a blow to Serbia, "the last communist government in Europe", supported the KLA.
The KLA have been known for their torture and trafficking in women, heroin, and human body parts (sic).  The United States has naturally been pushing for Kosovo's membership in NATO and the European Union.
More recently the US has supported awful jihadists in Libya and Syria, with awful consequences.
It would, moreover, be difficult to name a single brutal dictatorship of the second half of the 20th Century that was not supported by the United States; not only supported, but often put into power and kept in power against the wishes of the population. And in recent years as well, Washington has supported very repressive governments, such as Saudi Arabia, Honduras, Indonesia, Egypt, Colombia, Qatar, and Israel.
Not exactly the grand savior our sad old world is yearning for. (Oh, did I mention that Washington's policies create a never-ending supply of terrorists?)
And what do American leaders think of their own record? Former Secretary of State Condoleezza Rice was probably speaking for the whole private club when she wrote that in the pursuit of its national security the United States no longer needed to be guided by "notions of international law and norms" or "institutions like the United Nations" because America was "on the right side of history."
If you've never done anything you wouldn't want the government to know about, you should re-examine your life choices.
"The idea is to build an antiterrorist global environment," a senior American defense official said in 2003, "so that in 20 to 30 years, terrorism will be like slave-trading, completely discredited."
One must wonder: When will the dropping of bombs on innocent civilians by the United States, and invading and occupying their country become completely discredited? When will the use of depleted uranium, cluster bombs, CIA torture renditions, and round-the-world, round-the-clock surveillance become things that even men like George W. Bush, Dick Cheney, Barack Obama, and John Brennan will be too embarrassed to defend?
Last month, a former National Security Agency official told the Washington Post that the Agency's workers are polishing up their résumés and asking that they be cleared – removing any material linked to classified programs – so they can be sent out to potential employers. He noted that one employee who processes the résumés said, "I've never seen so many résumés that people want to have cleared in my life."
Morale is "bad overall", said another former official. "The news – the Snowden disclosures – it questions the integrity of the NSA workforce," he said. "It's become very public and very personal. Literally, neighbors are asking people, 'Why are you spying on Grandma?' And we aren't. People are feeling bad, beaten down."
President Obama was recently moved to declare that he would be proposing "some self-restraint on the NSA" and "some reforms that can give people more confidence." He also said "In some ways, the technology and the budgets and the capacity [at NSA] have outstripped the constraints. And we've got to rebuild those in the same way that we're having to do on a whole series of capacities … [such as] drone operations."
Well, dear readers and comrades, we shall see. But if you're looking for a glimmer of hope to begin a new year, you may as well try grabbing onto these little offerings. When the American Empire crumbles, abroad and at home, as one day it must, Edward Snowden's courageous actions may well be seen as one of the key steps along that road. I've long maintained that only the American people have the power to stop The Imperial Machine – the monster that eats the world's environment, screws up its economies, and spews violence on every continent. And for that to happen the American people have to lose their deep-seated, quasi-religious belief in "American Exceptionalism". For many, what they've been forced to learn the past six months has undoubtedly worn deep holes into the protective armor that has surrounded their hearts and minds since childhood.
A surprising and exhilarating example of one of these holes in the armor is the New Year's day editorial in the New York Times that is now well known. Entitled "Edward Snowden, Whistle-blower" – itself a legitimation of his actions – its key part says: "Considering the enormous value of the information he has revealed, and the abuses he has exposed, Mr. Snowden deserves better than a life of permanent exile, fear and flight. He may have committed a crime to do so, but he has done his country a great service."
The president has been moved to appoint a committee to study NSA abuses. This of course is a standard bureaucratic maneuver to keep critics at bay. But the committee – Review Group on Intelligence and Communications Technologies – did come up with a few unexpected recommendations in its report presented December 13, the most interesting of which perhaps are these two:
"Governments should not use surveillance to steal industry secrets to advantage their domestic industry."

"Governments should not use their offensive cyber capabilities to change the amounts held in financial accounts or otherwise manipulate the financial systems."
The first recommendation refers to a practice, though certainly despicable, that is something the United States has been doing, and lying about, for decades.  Just this past September, James Clapper, Director of US National Intelligence, declared: "What we do not do, as we have said many times, is use our foreign intelligence capabilities to steal the trade secrets of foreign companies."
Clapper is the same gentleman who told Congress in March that the NSA does not intentionally collect any kind of data on millions of Americans; and, when subsequently challenged on this remark, declared: "I responded in what I thought was the most truthful, or least untruthful, manner by saying 'no'."
The second recommendation had not been revealed before, in a Snowden document or from any other source.
"That was a strangely specific recommendation for something nobody was talking about," observed the director of a government transparency group.
ABC News reported that "A spokesperson for the NSA declined to comment on the issue of bank account hacking, and a representative for U.S. Cyber Command did not immediately return an emailed request for comment."
Manipulating bank records is about as petty and dishonorable as a superpower can behave, and could conceivably, eventually, lead to the end of the NSA as we've all come to know and love it. On the other hand, the Agency no doubt holds some very embarrassing information about anyone in a position to do them harm.
The bombing of Flight 103 – Case closed?
When the 25th anniversary of the 1988 bombing of PanAm Flight 103 occurred on December 21 I was fully expecting the usual repetitions of the false accusation against Libya and Moammar Gaddafi as being responsible for the act which took the lives of 270 people over and in Lockerbie, Scotland. But much to my surprise, mingled with such, there were a rash of comments skeptical of the official British-US version, made by various people in Scotland and elsewhere, including by the governments of the United States, the United Kingdom and Libya.
In a joint statement the three governments said they were determined to unearth the truth behind the attack. "We want all those responsible for this brutal act of terrorism brought to justice, and to understand why it was committed", they declared.
Remarkable. In 1991, the United States indicted a Libyan named Adelbaset al-Megrahi. He was eventually found guilty of being the sole perpetrator of the crime, kept in prison for many years, and finally released in 2009 when he had terminal cancer, allegedly for humanitarian reasons, although an acute smell of oil could be detected. And now they speak of bringing to justice "those responsible for this brutal act of terrorism".
The 1988 crime was actually organized by Iran in retaliation for the American shooting down of an Iranian passenger plane in July of the same year, which took the lives of 290 people. It was carried out by the Popular Front for the Liberation of Palestine – General Command (PFLP-GC), a 1968 breakaway from a component of the Palestine Liberation Organization, with some help from Syria. And this version was very widely accepted in the Western world, in government and media circles. Until the US buildup to the Gulf War came along in 1990 and the support of Iran and Syria was needed. Then, suddenly, we were told that it was Libya behind the crime.
If the US and UK now wish to return to Iran, and perhaps Syria, as the culprits, they will have a lot of explaining to do about their previous lie. But these two governments always have a lot of explaining to do. They're good at it. And the great bulk of their indoctrinated citizens, with little resistance, will accept the new/old party line, and their mainstream media will effortlessly switch back to the old/new official version, since Iran and Syria are at the top of the current list of Bad Guys. (The PFLP-GC has been quiescent for some time and may scarcely exist.)
If you're confused by all this, I suggest that you start by reading my detailed article on the history of this case, written in 2001 but still very informative and relevant. You may be rather surprised.
The UK, US and Libyan governments have now announced that they will co-operate to reveal "the full facts" of the Lockerbie bombing. And Robert Mueller, the former head of the FBI, said he believes more people will be charged. This could be very interesting.
Free books of historical value
The complete set, less one volume, of the 15 Church Committee (1975-6) volumes. Lacking only Final Report, book 6: "Congressional Research Service. Supplementary Reports on Intelligence Activities."
The complete set, less one volume, of the 6 Pike Committee volumes. Lacking only volume 6: "Committee Proceedings, part II"
The Rockefeller Commission Report, one volume.
Hearings on FISA (Foreign Intelligence Surveillance Act) before Senate Select Committee on Intelligence (same as Church Committee), one volume.
Total of 21 volumes, all from 1975-1976, all in good condition. Either pick them up in Washington, DC or send me $10 for postage.
Notes
Washington Post May 11, 1979; New York Times, April 13 1979
William Blum, "Rogue State: A Guide to the World's Only Superpower" (2005), chapter 10
RT TV (Russia Today, Moscow), May 4, 2012
Associated Press, December 14, 2010
Foreign Affairs (Council on Foreign Relations), January/February 2000 issue
New York Times, January 17, 2003
Washington Post, December 7, 2013
Washington Post, December 18, 2013
Washington Post, December 7, 2013
See Anti-Empire Report, #118, June 26, 2013, second part
Statement by Director of National Intelligence James R. Clapper on Allegations of Economic Espionage, September 8, 2013
NBC News, June 9, 2013
Kel McLanahan, executive director of National Security Counselors, speaking to ABC News Radio, December 23, 2013
ABC News Radio, December 23, 2013
Reuters news agency, December 22, 2013
Does anyone in authority anywhere tell the truth about Fukushima? If there is any government or non-government authority in the world that is addressing the disaster at Fukushima openly, directly, honestly, and effectively, it's not apparent to the outside observer what entity that might be.
There is instead an apparent global conspiracy of authorities of all sorts to deny to the public reliably accurate, comprehensible, independently verifiable (where possible), and comprehensive information about not only the condition of the Fukushima power plant itself and its surrounding communities, but about the unceasing, uncontrolled release of radioactive debris into the air and water, creating a constantly increasing risk of growing harm to the global community.
While the risk may still be miniscule in most places, the range of risk rises to lethal in Fukushima itself. With the radioactive waste of four nuclear reactors (three of them in meltdown) under uncertain control for almost three years now, the risk of lethal exposure is very real for plant workers, and may decrease with distance from the plant, but may be calculable for anyone on the planet. No one seems to know. No one seems to have done the calculation. No one with access to the necessary information (assuming it exists) seems to want to do the calculation.
There is no moral excuse for this international collusion. The excuses are political or economic or social, but none of them excuses any authority for withholding or lying about information that has potentially universal and destructive impact on everyone alive today and everyone to be born for some unknown generations.
Japanese authorities may be the worst current offenders against the truth, as well as the health and safety of their people. Now the Japanese government has passed a harsh state secrets law that threatens to reduce or eliminate reliable information about Fukushima. The U.S. government officially applauded this heightened secrecy, while continuing its own tight control on nuclear information. Japanese authorities are already attacking their own people in defense of nuclear power: not only under-measuring and ignoring varieties of radioactive threat, but even withholding the iodine pills in 2011 that might have mitigated the growing epidemic of thyroid issues today. Failing to confront Fukushima honestly, the Japanese are laying the basis for what could amount to a radiological sneak attack on the rest of the world.
Just because no one seems to know what to do about Fukushima is no excuse to go on lying about and/or denying the dimensions of reality, whatever they might be.
There are hundreds, probably thousands of people with little or no authority who have long struggled to create a realistic, rational perspective on nuclear threats. The fundamental barrier to knowing the scale of the Fukushima disaster is just that: the scale of the Fukushima disaster.
Chernobyl 1986 and Fukushima 2011 are Not Really Comparable
Chernobyl is the closest precedent to Fukushima, and it's not very close. Chernobyl at the time of the 1986 electric failure and explosion had four operating reactors and two more under construction. The Chernobyl accident involved one reactor meltdown. Other reactors kept operating for some time after the accident. The rector meltdown was eventually entombed, containing the meltdown and reducing the risk. Until Fukushima, Chernobyl was considered the worst nuclear power accident in history, and it is still far from over (albeit largely contained for the time being). The Chernobyl Exclusion Zone of roughly 1,000 square miles remains one of the most radioactive areas in the world and the clean-up is not even expected to be complete before 2065.
At the time of the March 11, 2011, earthquake and tsunami, the Fukushima plant had six operating reactors. Three of them went into meltdown and a fourth was left with a heavily laden fuel pool teetering a hundred feet above the ground. Two other reactors were undamaged and have been shut down. Radiation levels remain lethal in each of the melted-down reactors, where the meltdowns appear to be held in check by water that is pumped into the reactors to keep them cool. In the process, the water gets irradiated and that which is not collected on site in leaking tanks flows steadily into the Pacific Ocean. Within the first two weeks, Fukushima radiation was comparable to Chernobyl's and while the levels have gone down, they remain elevated.
The plant's corporate owner, Tokyo Electric Power Company (TEPCO), in turn effectively owned by the Japanese government after a 2012 nationalization, began removing more than 1,500 fuel rod assemblies from the teetering fuel pool in November, a delicate process expected to take a year or more. There are additional fuel pools attached to each of the melted down reactors and a much larger general fuel pool, all of which contain nuclear fuel rod assemblies that are secure only as long as TEPCO continues to cool them. The Fukushima Exclusion Zone, a 12-mile radius around the nuclear plant, is about 500 square miles (much of it ocean); little specific information about the exclusion zone is easily available, but media coverage in the form of disaster tourism is plentiful, including aGoogle Street View interactive display.
Despite their significant differences as disasters, Chernobyl and Fukushima are both rated at 7 — a "major accident" on the International Nuclear Event Scale designed in 1990 by the International Atomic Energy Agency (IAEA). That is the highest rating on the scale, a reflection of the inherent denial that colors most official nuclear thinking. Designed by nuclear "experts" after Chernobyl, the scale can't imagine a worse accident than Chernobyl which, for all its intensity, was effectively over as an accident in a relatively short period of time. At Fukushima, by contrast, the initial set of events was less acute than Chernobyl, but almost three years later they continue without any resolution likely soon. Additionally Fukushima has three reactor meltdowns and thousands of precarious fuel rod assemblies in uncertain pools, any of which could produce a new crisis that would put Fukushima clearly off the scale.
And then there's groundwater. Groundwater was not a problem at Chernobyl. Groundwater is a huge problem at the Fukushima plant that was built at the seashore, on a former riverbed, over an active aquifer. In a short video, nuclear engineer Arnie Gunderson makes clear why groundwater makes Fukushima so hard to clean up, and why radiation levels there will likely remain dangerous for another hundred years.
Fukushima Unit #3 Activity Led to Some Panic-Driven Reporting in 2013
The Japanese government and nuclear power industry have a history of not telling the truth about nuclear accidents dating back at least to 1995, as reported by New Scientistand Rachel Maddow, among others. Despite Japan's history of nuclear dishonesty, Japanese authorities remain in total control of the Fukushima site and most of the information about it, without significant objection from most of the world's governments, media, and other power brokers, whose reputation for honesty in nuclear matters is almost as bad as Japan's. In such a context of no context, the public is vulnerable to reports like this from the Turner Radio Network (TRN) on December 28:
** NEWS FLASH — URGENT ** STEAM SUDDENLY EMANATING FROM FUKUSHIMA REACTOR # 3 — WEST COAST OF NORTH AMERICA SHOULD BEGIN PREPARATIONS FOR POSSIBLE RADIATION CLOUD WITHIN 3 TO 5 DAYS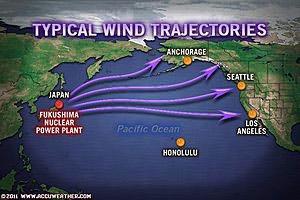 Five days after this story was posted, the "radiation cloud" had not developed despite the story's assertion that: "Experts say this could be the beginning of a spent fuel pool criticality (meltdown)'involving up to 89 TONS of nuclear fuel burning up into the atmosphere and heading to North America." The story named no "experts" and provided links only to TEPCO announcements in Japanese. The bulk of the story reads like an infomercial for "protective" gear of various sorts that TRN makes a point of saying it does NOT sell. Despite such obvious warning signs, others — such as The Ecologist and Gizmodo — reported the threat of "another meltdown" at Fukushima Unit #3 as imminent.
Clarification and reassurance quickly started chasing the "new meltdown" rumor around the Internet. ENENEWS (Energy News) promptly posted the TEPCO reports in English, demonstrating that there was nothing "sudden" about the steam releases, they've been happening more or less daily since 2011, but condensation caused by cold weather makes them visible. At FAIREWINDS (Energy Education), Arnie Gunderson posted on January 1:
"… the Internet has been flooded with conjecture claiming that Fukushima Daiichi Unit 3 is ready to explode… Our research, and discussions with other scientists, confirms that what we are seeing is a phenomenon that has been occurring at the Daiichi site since the March 2011 accident… While the plants are shutdown in nuke speak, there is no method of achieving cold shut down in any nuclear reactor. While the reactor can stop generating the actual nuclear chain reaction, the atoms left over from the original nuclear chain reaction continue to give off heat that is called the decay of the radioactive rubble (fission products)… constantly releasing moisture (steam) and radioactive products into the environment." [emphasis added]
In other words, Fukushima Unit #3 continues to leak radioactivity into both air and water, as Units #1 and #2 presumably do as well. But as Gunderson explains, the level of radioactivity has declined sharply without becoming benign:
"When Unit 3 was operating, it was producing more than 2,000 megawatts of heat from the nuclear fission process (chain reaction in the reactor). Immediately after the earthquake and tsunami, it shut down and the chain reaction stopped, but Unit 3 was still producing about 160 megawatts of decay heat. Now, 30 months later, it is still producing slightly less than 1 megawatt (one million watts) of decay heat… 1 megawatt of decay heat is a lot of heat even today, and it is creating radioactive steam, but it is not a new phenomenon."
Reassurances About Fukushima are As Misleading As Scare Stories
The reassuring aspects of the condition of Unit #3 — radioactive releases are not new, they're less intense than they once were, the nuclear waste is cooling — while true enough, provide only a false sense of comfort. Also true: radiation is released almost continuously, the releases are uncontrolled, no one seems to be measuring the releases, no one seems to be tracking the releases, no one is assessing accumulation of the releases. And while it's true that the waste is cooling and decaying, it's also true that a loss of coolant could lead to another uncontrolled chain reaction. ("Fukushima Daiichi Unit 3 is not going to explode," says Gunderson in a headline, but he can't know that with certainty.)
For the near future, what all that means, in effect, is that the world has to accept chronic radiation releases from Fukushima as the price for avoiding another catastrophic release. And even then, it's not a sure thing.
But there's another aspect of Fukushima Unit #3 that's even less reassuring. Unit #3 is the one Fukushima reactor that was running on Mixed oxide fuel, or MOX fuel, in its fuel rods.MOX fuel typically uses Plutonium mixed with one or more forms of Uranium. UsingPlutonium in fuel rods adds to their toxicity in the event of a meltdown. In part because Plutonium-239 has a half-life of 240,000 years and can be used to make nuclear weapons of "dirty bombs," its use in commercial reactors remains both limited and controversial. Because it contains Plutonium, MOX fuel is more toxic than other nuclear fuel and will burn at lower temperatures. As Natural Resources News reported in 2011:
"The mixed oxide fuel rods used in the compromised number three reactor at the Fukushima Daiichi complex contain enough plutonium to threaten public health with the possibility of inhalation of airborne plutonium particles…. Plutonium is at its most dangerous when it is inhaled and gets into the lungs. The effect on the human body is to vastly increase the chance of developing fatal cancers."
Reportedly, TEPCO plans don't call for the removal of the MOX fuel in Unit #3 for another decade or more. Fuel removal from Units #1, #2, and #3 is complicated by lethal radiation levels at all three reactors, as well as TEPCO's inability so far to locate the three melted cores with any precision.
There is ample reason to hope that Fukushima, despite the complex of uncontrollable and deteriorating factors, will not get worse, because even the Japanese don't want that. But there is little reason to expect anything but worsening conditions, slowly or suddenly, for years and years to come. And there is even less reason to expect anyone in authority anywhere to be more than minimally and belatedly truthful about an industry they continue to protect, no matter how many people it damages or kills.
The perfect paradigm of that ruthlessly cynical nuclear mentality is the current Japanese practice of recruiting homeless people to work at Fukushima in high level radiation areas where someone with something to lose might not be willing to go for minimum wage.
Source: William Boardman  |  Global Research
According to a new Washington Post-ABC poll, Barack Obama now ranks among the least popular presidents in the last century. In fact, his approval rating is lower than Bush's was in his fifth year in office. Obama's overall approval rating stands at a dismal 43 percent, with a full 55 percent of the public "disapproving of the way he is handling the economy". The same percentage  of people "disapprove of the way he is handling his job as president".  Thus, on the two main issues, leadership and the economy, Obama gets failing grades.
An even higher percentage of people are upset at the way the president is implementing his signature health care system dubbed "Obamacare".  When asked "Do you approve or disapprove of the way Obama is handling "implementation of the new health care law?" A full 62% said they disapprove, although I suspect that the anger has less to do with the plan's "implementation" than it does with the fact that Obamacare is widely seen as a profit-delivery system for the voracious insurance industry.  Notwithstanding the administration's impressive public relations campaign, a clear majority of people have seen through Obama's health care ruse and given the program a big thumb's down.
Of course, Obamacare is just the straw that broke the camel's back. The list of policy disasters that preceded this latest fiasco is nearly endless,  including everything from blanket pardons for the Wall Street big-wigs who took down the global financial system, to re-upping the Bush tax cuts, to appointing a commission of deficit hawks to slash Social Security and Medicare (Bowles-Simpson), to breaking his word on Gitmo, to reneging on his promise to pass Card Check, to expanding to wars in Africa, Asia and the Middle East, to droning 4-times as many civilians as the homicidal maniac he replaced as president in 2008.
Obama's treatment of undocumented immigrants has been particularly shocking although the details have been kept out of the media, presumably because the news giants don't want to expose the Dear Leader as a heartless scoundrel who has no problem separating mothers from their children, locking them up in privately-owned concentration camps and booting them out of the country with nothing more than the shirt on their back.  Check out this blurb which sums up Obama's "progressive" immigration policy in one paragraph:
"Obama is on track to deport 3 million immigrants without papers by the end of his second term, more than any other president. George W. Bush deported about 2 million over two terms. Obama will likely hit that mark this month….. The average daily count of immigrants in detention now is about 33,000. In 2001, it was 19,000. In 1994, it was 5,000, according to the Detention Watch Network. Almost all of the detainees and deportees are Latino. True, the population of illegal immigrants has also doubled in that time to more than 11 million. But the detainee and deportee counts have escalated more than twice as fast.

"He could go down as the worst president in history toward immigrants," said Arturo Carmona, executive director of the liberal activist group Presente.org.
Hooray for the Deporter in Chief! You're Numero Uno, buddy. You even beat Bush! Is it any wonder why the man's ratings are in freefall?
All told, Obama has been bad for the economy, bad for civil liberties, bad for minorities,  bad for foreign wars, and bad for health care. He has, however, been a very effective lackey-sock puppet for Wall Street, Big Pharma, the oil magnates, and the other 1% -vermin Kleptocrats who run the country and who will undoubtedly attend his $100,000-per-plate speaking engagements when he finally retires in comfort to some gated community where he'll work on his memoirs and cash in on his 8 years of faithful service to the racketeer class.
But, let's face it; no one really gives a rip about "drone attacks in Waziristan" or "hunger strikes in Gitmo". What they care about is keeping their jobs, paying off their student loans, putting the food on the table or avoiding the fate of next-door-neighbor, Andy, who got his pink slip two months ago and now finds himself living in a cardboard box by the river. That's what the average working stiff worries about; just scraping by enough to stay out of the homeless shelter.  But it's getting harder all the time, mainly because everything's gotten worse under Obama.  It's crazy. It's like the whole middle class is being dismantled in a 10-year period. Wages are flat,  jobs are scarce, incomes are dropping like a stone, and everyone's broke. (Everyone I know, at least.)  Did you know that 76% of Americans are living paycheck-to-paycheck. Check it out:
"Roughly three-quarters of Americans are living paycheck-to-paycheck, with little to no emergency savings, according to a survey released by Bankrate.com Monday.

Fewer than one in four Americans have enough money in their savings account to cover at least six months of expenses, enough to help cushion the blow of a job loss, medical emergency or some other unexpected event, according to the survey of 1,000 adults.

Meanwhile, 50% of those surveyed have less than a three-month cushion and 27% had no savings at all….

Last week, online lender CashNetUSA said 22% of the 1,000 people it recently surveyed had less than $100 in savings to cover an emergency, while 46% had less than $800. After paying debts and taking care of housing, car and child care-related expenses, the respondents said there just isn't enough money left over for saving more."
Savings?!?
Are you kidding me? What's that? Who do you know that's able to save money in this economy? Maybe rich uncle Johnny whose lived on canned sardines and Akmak for the last 50 years, but nobody else can live like that. Subtract the rent, the groceries, the doctor bills etc, and there's barely enough leftover to fill the tank to get to work on Monday. Saving just isn't an option, not in the Obamaworld, that is.
Now check this out from Business Insider:
"Thousands of Americans aged 55 and older are going back to school and reinventing themselves to get an edge in a difficult labor market, hoping to rebuild retirement nest eggs that were almost destroyed by the recession….

According to the Federal Reserve, household financial assets, which exclude homes, dropped from a peak of $57 trillion in the third quarter of 2007 to just over $49 trillion in the fourth quarter of last year, the latest period for which data is available.

A survey to be released this summer by the Public Policy Institute of AARP, an advocacy group for older Americans, found a quarter of Americans 50 years and older used up all their savings during the 2007-09 recession. About 43 percent of the 5,000 respondents who took part in the survey said their savings had not recovered." ("Unemployed Baby Boomers Are Getting Hired By Going Back To School", Business Insider)
Sure they're going back to work. What do you expect them to do? They're broke! They got wiped out in Wall Street's mortgage laundering scam and they're still behind the eightball five years later. And what's left of the money they set aside for retirement is yielding a big zilch thanks to the Fed's zero rate policy which is forcing people back into another decade of penal servitude at minimum wage. That's why you see so many hunched over graybeards in red vests with "Happy to Serve You" splattered on their chests lugging shopping bags out to the cars for old ladies. Because they're broke and out of options. Everyone knows someone like this unless, of course, they're one of the fortunate few who make up the Nobel 1%; aka–The Job Cremators. Then they don't have to fret about that sort of thing.
Here's another gem you might not have seen in USA Today a few months back:
"Four out of 5 U.S. adults struggle with joblessness, near-poverty or reliance on welfare for at least parts of their lives, a sign of deteriorating economic security and an elusive American dream.

Survey data exclusive to The Associated Press points to an increasingly globalized U.S. economy, the widening gap between rich and poor, and the loss of good-paying manufacturing jobs as reasons for the trend….

Hardship is particularly growing among whites, based on several measures. Pessimism among that racial group about their families' economic futures has climbed to the highest point since at least 1987. In the most recent AP-GfK poll, 63% of whites called the economy "poor."

"I think it's going to get worse," said Irene Salyers, 52, of Buchanan County, Va., a declining coal region in Appalachia. Married and divorced three times, Salyers now helps run a fruit and vegetable stand with her boyfriend, but it doesn't generate much income….

Nationwide, the count of America's poor remains stuck at a record number: 46.2 million, or 15% of the population, due in part to lingering high unemployment following the recession. While poverty rates for blacks and Hispanics are nearly three times higher, by absolute numbers the predominant face of the poor is white…

"Poverty is no longer an issue of 'them', it's an issue of 'us'," says Mark Rank, a professor at Washington University in St. Louis who calculated the numbers. "Only when poverty is thought of as a mainstream event, rather than a fringe experience that just affects blacks and Hispanics, can we really begin to build broader support for programs that lift people in need."  ("4 in 5 in USA face near-poverty, no work", USA Today)

Does Obama have any idea of the damage he's doing with his Rich-First policies? The country is in a terrible state and yet Obama continues to approve bills that throw millions of people off unemployment benefits, sharply cut government spending, or undermine vital safetynet programs that keep the sick and the elderly from dying on the streets.  It's like he's trying to reduce 300 million Americans to grinding third world  poverty in his short eight-year term. Is that the goal?
Did you know that–according to Gallup–20.0% of all Americans did not have enough money to buy food that they or their families needed at some point over the past year? Or that –according to a Feeding America hunger study–more than 37 million people are now using food pantries and soup kitchens? Or that one out of six Americans is now living in poverty which is the highest level since the 1960s? Or that the gap between the rich and poor is greater than any in history?
Everything has gotten worse under Obama. Everything. And, not once, in his five years as president, has this gifted and charismatic leader ever lifted a finger to help the millions of people who supported him, who believed in him, and who voted him into office.
These latest poll results indicate that many of those same people are beginning to wake up and see what Obama is really all about.
Adam Smith said governments are "instituted for the defense of the rich against the poor." Wars are waged to make them richer.
Howard Zinn called war "terrorism magnified a hundred times." Make it many thousands of times.
Michael Parenti said "the best way to win a Nobel Peace Prize (is) to wage war or support those who wage (it) instead of peace."
In his book titled "The Face of Imperialism," he discusses a richly financed military/industrial complex. Peter Phillips and Mickey Huff call it the "military-industrial media complex."
Waging wars requires selling them. Public support is needed. Edward Herman and Noam Chomsky call it "Manufacturing Consent."
Propaganda works as intended. Minds are manipulated to support war. Truth is suppressed. Fear is stoked. Patriotism, national security, and democratic values are highlighted.
Longstanding US policy facilitates earning obscene amounts from militarism, wars, homeland security, and related operations.
Doing so has nothing to do with external or internal threats. It's unrelated to spreading democracy. It isn't about humanitarian intervention.
It about advancing America's imperium. Parenti calls the process "the most powerful force in world history over the last four or five centuries. (It) "carves up whole continents."
"(T)he dominant politico-economic interests of one nation expropriate for their own enrichment the land, labor, raw materials, and markets of another people."
Capitalist imperialism differs from earlier forms. It dominates other economies and political systems. It accumulates enormous amounts of wealth.
It uses money to make more of it. It gains market control. It exploits resources and labor.
According to Marx and Engels:
Bourgeois capital "chases over the whole surface of the globe. It must nestle everywhere, settle everywhere, establish connections everywhere…It creates a world after its own image."
Societies are destroyed and remade to do it. Nations are pillaged for profit. Populations become disenfranchised. Workers become serfs. Local cultures become mass-market consumer ones.
Agribusiness replaces local farming. Competitive industries are eliminated.  Foreign investment crowds out local capital.
Dominance legitimizes capital's divine right. Plunder assures obscene profits. Capital accumulation demands more. Profiteering becomes a be-all-and-end-all.
Businesses price according to what the market will bear. Profiteers take advantage of emergency or other out-of-ordinary conditions to cash in excessively.
WikiLeaks calls profiteering "a pejorative term for the act of making profit by methods considered unethical."
Price fixing is illegal. Price gouging reflects grabbing all you can. It's charging more than what's considered reasonable and fair.
War profiteers are in a class by themselves. They thrive on war. They depend on it. Their businesses require conflicts and instability to prosper. The more ongoing, the greater the potential profits.
Lot of players profit from wars. Companies develop technologies with military applications. Black marketeers cash in.
Politicians taking campaign contributions, special favors or bribes benefit handsomely. Nations do by acquiring control over territory, resources and exploitable people.
Private military contractors include companies offering a wide range of services. They provide everything from tactical combat to security to consulting to logistics to technical support.
In his book titled "Halliburton's Army: How a Well-Connected Texas Oil Company Revolutionized the Way America Makes War," Pratap Chatterjee describes a company tainted by sweetheart deal no-bid contacts, bribes, kickbacks, inefficiency, shoddy work, corruption, fraud, gross overcharging, worker exploitation, and other serious offenses.
Other companies operate the same way. Military spending is hugely wasteful. Fraud and abuse are rampant. War is extremely profitable. Why else would so many be waged.
Mercenaries are guns for hire. They're for sale to the highest bidder. They're in it for the money. They're unchecked, unaccountable and unprincipled.
Arms and munitions companies benefit most. Amounts spent are mind-bogging.
Bloomberg says defense budgets "contain hundreds of billions of dollars for new generations of aircraft carriers and stealth fighters, tanks that even the Army says it doesn't need and combat vehicles too heavy to maneuver in desert sands or cross most bridges in Asia, Africa, or the Middle East."
According to BusinessWeek, redundancy wastes lots of money. "One need only spend 10 minutes walking around the Pentagon or any major military headquarters to see" it.
Why doesn't Congress trim fat? Because politicians want lots of pork for constituents. It's a great vote-getter.
BusinessWeek explained more, saying:
"Why is sensible military budgeting so difficult? Because lawmakers, including small-government Republicans, protect defense business in their home states with the ferocity of Spartans."
"Even if the Pentagon offered up (sensible) cuts…Congress would almost certainly reject them."
"The senators and representatives don't have the political courage to face voters and tell them that the republic simply does not need the weapon under construction in their hometown."
Trillions of dollars are spent.  Former Defense Secretary Leon Panetta once said DOD "is the only major federal agency that cannot pass an audit today."
Even during October's 16 day shutdown, huge amounts of wasteful spending continued.
Ralph Nader calls now the time to address bloated military spending. Let's "start shutting down the waste and fraud in our military budget," he stresses.
Billions get tossed around mindlessly. Profiteers never had it better. Government watchdogs identify hundreds of billions of potential savings from unneeded weapons, defective ones, no-bid excess, overpayments, and outright fraud.
The Stockholm International Peace Research Institute (SIPRI) conducts research on security, war and peace.
"A world in which sources of insecurity are identified and understood, conflicts are prevented or resolved, and peace is sustained," it says.
It reports on "recent trends in military expenditure(s)."
Amounts spent are huge. In 2012, nominal global military spending exceeded $1.7 trillion. It's around historic highs.
In real terms, it exceeds peak amounts spent during the Cold War. Post-9/11, spending increased sharply. America led the way.
In 2012, 15 nations accounted for over 80% military spending. SIPRI lists them as follows:
America: $682 billion – 39%

China: $166 billion – 9.5%

Russia: $90.7 billion – 5.2%

Britain: $60.8 billion – 3.5%

Japan: 59.3 billion – 3.4%

France: $58.9 billion – 3.4%

Saudi Arabia: $56.7 billion – 3.2%

India: $46.1 billion – 2.6%

Germany: $45.8 billion – 2.6%

Italy: $34 billion – 1.9%

Brazil: $33.1 billion – 1.9%

South Korea: $31.7 billion – 1.8%

Australia: $26.2 billion – 1.5%

Canada: $22.5 billion – 1.3%

Turkey: $18.2 billion – 1%

Others 18%
SIPRI calculates nominal military spending. Amounts America spends far exceeds annual defense authorizations.
Other allocations are for the Energy Department, State Department, Department of Veterans Affairs, Homeland Security, Treasury, NASA, military construction, various categories related to security, and interest attributable to past defense outlays.
Black intelligence, Pentagon and other budgets add many tens of billions more. So do supplemental military allocations. Foreign aid is mostly military related.
The Library of Congress listed the top 10 2012 recipients and amounts as follows:
Israel: $3.075 billion
Note: Israel gets special benefits provided no other nations.
They include annual $3 billion + direct appropriations, undisclosed additional amounts, state-of-the-art weapons and technology, billions in loan guarantees, military loans as grants, privileged contracts for Israeli companies, trade exemptions, and more.
Special allocations are buried in various agency budgets. Low or no-interest loans are provided. Some are never repaid. Most often, whatever Israel wants it gets.
Afghanistan: $2.327 billion

Pakistan: $2.102 billion

Iraq: $1.683 billion

Egypt: $1.557 billion

Jordan: $676 million

Kenya: $652 million

Nigeria: $625 million

Ethiopia: $580 million

Tanzania: $531 million
US defense related spending exceeds $1.5 trillion annually. It's half or more what other nations spend in total.
Militarism defines America. So do permanent wars. They're a national addiction. They're part of the national culture.
Violence is the American way. Wars are glorified. Pacifism is considered sissy. Peace is deplored. Conflicts persist with no end.
War profiteers gorge themselves at the public trough. Their operations thrive on war. They depend on it.
They're waged for profit and dominance. They continue without end. Peace is verboten. It's a convenient illusion.
Howard Zinn once asked "(h)ow can you have a war on terrorism when war itself is terrorism?"
"There is no flag large enough to cover the shame of killing innocent people."
Why most Americans put up with it they'll have to explain. Doing so lets Washington get away with mass murder and then some. It lets war profiteers benefit at our expense.
Stephen Lendman lives in Chicago. He can be reached at lendmanstephen@sbcglobal.net.
His new book is titled "Banker Occupation: Waging Financial War on Humanity."
http://www.claritypress.com/LendmanII.html
Visit his blog site at sjlendman.blogspot.com.
I realize it is hard for some people to understand (especially those holding political office), but in the United States, "We the People" are the sovereigns. America has no king. In America, "We the People" are Caesar. Someone rightly said, "In America, the people rule; they have the power of the ballot box, the jury box, and the cartridge box." Amen. And in this land of liberty, nothing is more important than the jury box. The right to a speedy trial by a jury of one's peers is a benchmark principle of a free land.
Juries have immeasurable power. Not only do they have power over the fate of the accused, they have power over the accusers. No one has more authority than a jury–not even the judge. And without hyperbole I can say that a constitutionally literate, fully informed jury is pretty much all that stands between the ballot box and the cartridge box.
In a letter to Thomas Paine, Thomas Jefferson wrote, "I consider [trial by jury] as the only anchor ever yet imagined by man by which a government can be held to the principles of its constitution." And two years before the first musket shot was fired that started America's War for Independence, a Boston lawyer by the name of John Adams said, "Representative government and trial by jury are the heart and lungs of liberty. Without them we have no other fortification against being ridden like horses, fleeced like sheep, worked like cattle, and fed and clothed like swine and hounds."
All of the rhetoric of modern judges notwithstanding, juries have a constitutional duty and obligation to judge, not only the merits of the case before them, but also the merits of the law which brought the accused before them. And America's Founding Fathers agree with what I just said.
John Adams said, "It is not only his [the juror's] right, but his duty…to find the verdict according to his own best understanding, judgment, and conscience, though in direct opposition to the direction of the court." Again, this is from one of our country's most celebrated attorneys, a signer of the Declaration of Independence, and America's second President. America's first Supreme Court Chief Justice agreed with Adams. John Jay wrote, "The jury has the right to judge both the law as well as the fact in controversy."
The rest of America's founders agreed with Adams, Jay, and Jefferson. US Supreme Court Justice and signer of the Declaration, Samuel Chase, wrote, "The jury has the right to determine both the law and the facts." Patrick Henry said, "Why do we love this trial by jury? Because it prevents the hand of oppression from cutting you off…This gives me comfort, that, as long as I have existence, my neighbors will protect me."
Protect its neighbors is exactly what a jury in Liberty County, Florida, recently did. The neighbor in the case was none other than the county sheriff, Nick Finch. Infowars.com covers the story:
"Nick Finch, the Florida sheriff arrested in June after he defended the Second Amendment, has been declared 'not guilty' of the charges brought against him by the State of Florida, according to [former Graham County, Arizona, Sheriff] Richard Mack.
"The Liberty Co. sheriff was charged with felony 'official misconduct' and 'falsifying public records' after he released a suspect arrested on an unconstitutional gun charge and removed the arrest file.
"After closing arguments by prosecutors and the defense, the jury took less than 90 minutes to reach its verdict."
The report continues saying, "During the trial, the sheriff testified that he released Floyd Eugene Parrish, who was arrested for unlawfully carrying a firearm, because he believed the Second Amendment trumped all state gun laws.
"As we reported back in June, the Florida Department of Law Enforcement accused Finch of covering up the arrest of Floyd Eugene Parrish after releasing him from the Liberty County Jail.
"On March 8, Sgt. James Joseph Hoagland of the Liberty County Sheriff's Office arrested Parrish during a traffic stop after finding a .25 automatic pistol in Parrish's right front pocket and a holstered revolver in his car, according to court records.
"Parrish was then taken to the county jail.
"After being notified of Parrish's arrest, Finch took the arrest file and told jailers that Parrish would be released with no charges, according to investigators.
"Finch also ordered both the pistol and revolver be returned."
See the report here:
Pro-Gun Sheriff Found Not Guilty
This verdict is one of the most important jury decisions in modern history; and how many reports did you see about it in the mainstream media? Where was ABC, CBS, NBC, MSNBC, CNN, or FOX News?
Sheriff Finch is a modern-day Daniel. He stood for his principles, the Constitution, and the liberties of the people of his county; and he was thrown into a den of lions by Republican Governor Rick Scott and the FDLE (Florida Department of Law Enforcement). But an eight-person jury acquitted him of all charges and the sheriff was reinstated.
This is what a jury is supposed to do: protect its neighbors from the oppression of unlawful government. And that is exactly what that Liberty County jury did. They deserve the gratitude of liberty-loving people all over the United States.
It is pathetic and sad that Governor Scott did not stand with Sheriff Finch as he should have done. Scott threw this modern-day Daniel into the lion's den, but God delivered him. Now the people of Florida should throw Governor Scott into the lion's den (as King Darius did to Daniel's accusers) by impeachment and removal from office for not defending the US Constitution, as he took an oath to do. I guarantee you that Patrick Henry, Thomas Jefferson, John Adams, Samuel Chase, and John Jay would have stood with Sheriff Finch. And so would US Supreme Court Justice Oliver Wendell Holmes. Justice Holmes said, "The jury has the power to bring a verdict in the teeth of both law and fact."
And bringing "a verdict in the teeth of both law and fact" is exactly what a Liberty County, Florida, jury did. They upheld the constitutional right of people to keep and bear arms, and they repudiated the Florida State gun-control laws that abridge that right under the rubric of license.
In truth, every law-abiding citizen in this country has a right under the US Constitution to carry his or her arms–concealed or open. It is past time for county sheriffs, State governors, and local juries to follow the example of Sheriff Finch and this Liberty County, Florida, jury. It is time for freedom-loving people in all 50 states to demand that these copious State and local gun-control laws that prohibit or restrict the right of the people to keep AND BEAR arms be expunged. That means, if you are called upon to serve on a jury in a case involving a law that restricts the Second Amendment right to freely keep and bear arms, you should do what this Liberty County, Florida, jury did and acquit the accused.
All over America, sheriffs and governors pretend to be supporters of the Constitution. All over America, sheriffs and governors give lip service to the Second Amendment. It is time the American people start demanding more than lip service from their elected officials. We need sheriffs like Nick Finch. And we need governors like…well, like PATRICK HENRY. (Sadly, I can't think of a single governor today to use as an example.)
Patrick Henry said he depended on his neighbors, when sitting as a jury, to protect him. Happily, Sheriff Finch has some good neighbors. But in truth, juries do more than protect individuals; they protect liberty itself.  Any law that infringes on or contradicts the Bill of Rights should be considered null and void by any citizen-jury. In this way, it is the citizen-jury, not the Supreme Court, which is the final arbiter of a law's constitutionality. Without the veto power of the jury (call it nullification, if you will), America is not a country of, by, and for the People: but a country of, by, and for the politicians and judges.
Kudos to Sheriff Finch and the people of Liberty County, Florida.
If you would like to send personal kudos to Sheriff Finch, here is the website with his contact information:
Florida Sheriffs Association—Sheriff Nick Finch
The demonization of free thinking individuals is about to begin. By branding Paul Ciancia a conspiracy theorist, all of us will come under scrutiny.
Anyone who does not believe wholeheartedly in the crap the government tries to feed them on a daily basis will become a danger to society.
It stands to reason that after a major public incidence of violence such as mass shootings or bombings, people want answers. It's right and proper that these cases are investigated and as many answers as possible are provided to the citizens of this country.
Having said that, an alarming pattern is emerging.
Some events are highlighted and get massive coverage on television, on the Internet and in the newspapers, but most incidents do not.
Those that can't be 'spun' by the government are given a couple of lines in the papers or a minute of airtime, and that's it. Done. Gone. Forgotten.
The events that can be used by the government, get acres of print space and constant news coverage. In addition they always have a reason behind them that benefits the government in some way.
Let me show you what I mean. In 2012 88 people were killed in mass shootings in the United States. Sixteen mass shootings with 88 deaths.(source) Here's the list:
February 22, 2012: Five people were killed in at a Korean health spa in Norcross, Georgia, when a man opened fire inside the facility in an act suspected to be related to domestic violence.
February 26, 2012: Multiple gunmen began firing into a nightclub in Jackson, Tennessee, killing one person and injuring 20 others.
February 27, 2012: Three students at Chardon High School in rural Ohio were killed when a classmate opened fire.
March 8, 2012: Two people were killed and seven wounded at a psychiatric hospital in Pittsburgh, Pennsylvania when a gunman entered the hospital with two semiautomatic handguns and began firing.
March 31, 2012: A gunman opened fire on a crowd of mourners at a North Miami, Florida funeral home, killing two people and injuring 12 others.
April 2, 2012: A 43-year-old former student at Oikos University in Oakland, California walked into his former school and killed seven people, "execution-style." Three people were wounded.
April 6, 2012: Two men went on a deadly shooting spree in Tulsa, Oklahoma shooting black men at random in an apparently racially motivated attack. Three men died, and two were wounded.
May 29, 2012: A man in Seattle, Washington opened fire in a coffee shop killing five people and then himself.
July 9, 2012: At a soccer tournament in Wilmington, Delaware, three people were killed, including a 16-year-old player and the event organizer when multiple gunmen began firing shots, apparently targeting the organizer.
July 20, 2012: James Holmes enters a midnight screening of The Dark Knight Rises and opens fire with a semi-automatic weapon; twelve people are killed, and fifty-eight are wounded.
August 5, 2012: A white supremacist and Army veteran shot six people to death inside a Sikh temple in suburban Milwaukee, Wisconsin before killing himself.
August 14, 2012: Three people were killed at Texas A&M University when a 35-year-old man went on a shooting rampage; one of the dead was a police officer.
September 27, 2012: A 36-year-old man who had just been laid off from Accent Signage Systems in Minneapolis, Minnesota entered his former workplace and shot five people to deathand wounded three others before killing himself.
October 21, 2012: 45-year-old Radcliffe Frankin Haughton shot three women to death, including his wife, Zina Haughton, and injured four others at a spa in Brookfield, Wisconsin before killing himself.
December 11, 2012: A 22-year-old began shooting at random at a mall near Portland, Oregonkilling two people and then himself.
December 14, 2012: One man, and possibly more, murders a reported twenty-six people at an elementary school in Newtown, Connecticut, including twenty children, before killing himself.
2013 is looking very similar, those cases that got/get airtime are the Christopher Dorner case back in February, the Boston Bombings in April, the Navy Yard shooting in September, and of course the incident at LAX. There are other cases that in total killed over 30 people (source) but they didn't have the required 'spin' factor so they have not stayed in the news.
All the cases that have made it big, news wise, have had a message from the government to us. These cases were chosen by the government to highlight the need for more gun control, more surveillance and tighter security. I believe that the 'evidence' for these events was tailored. Tailored to suit the government's needs at the time. To give the public a reason for the measures that will be imposed to 'solve' the problem. It was spun and nipped and tucked and most likely bears no resemblance to the original reasons behind the act.
With the LAX shooting they have gone a step further. In addition to once again raising the issue of privately owned assault rifles, they have put terms like 'New World Order' and 'fiat currency' into the wider public domain.
They are pre-conditioning the wider public in subjects usually confined to alternative media.The average Joe on the street is not familiar with these terms. But now the government itself has introduced them. They have publicly acknowledged them and linked them to the term 'conspiracy theorist'.
From Sky News US:
A note allegedly found in the suspect's bag said that he wanted to kill at least one transport officer with his AR-15 semi-automatic rifle and didn't care which one.
"Black, white, yellow, brown, I don't discriminate," the note read, according to a paraphrase by a law enforcement official briefed on the investigation.
The suspect's screed also mentioned "fiat currency" and "NWO," possible references to the New World Order, a conspiracy theory that foresees a one-world government. (emphasis added)
I will bet my last dollar that in the very near future alternative media will be mentioned. Alternative media sites will be accused of spreading these messages.
We, the alternative media, both writers and readers are next on the list to be demonized. We are the next 'issue' that the government needs to find a solution to. Like gun control et al, we have become a target.
The government knows that the alternative media is growing. That more and more people are looking for answers that the mainstream does not provide. This cannot be allowed. It is dangerous to a government that sees itself as omnipotent.
The 'revelations' that will come out over the next few days will most likely say that Paul Ciancia frequented alternative media websites and that these sites had a bearing on his actions.
Gone are the days when a man with a gun is just insane, vindictive or just plain bad and decides to shoot people. Now there always has to be a reason, and that reason always has to be one that will allow the government to ride in and rescue us.
It will always be a reason that gives them justification for exercising more control over our lives and this time the reason could well be us, the alternative media.
Source: The Daily Sheeple
Torture, or what our government calls "enhanced interrogation", is not a tactic so much as a darkly artistic process.  The subject of this process has something that the torturer wants; it might be information, or a forced confession to a crime the subject did not commit, but most often, torture is designed to gain nothing more than psychological compliance.
The goal is to manipulate the subject into believing that submission is the only possible future, and that such submission is inevitable regardless of the will of the victim.  The torturer often builds himself up as a kind of parent figure for the subject – becoming the only entity that can supply shelter, water, food, and comfort.  The torturer is taskmaster and abuser, but also caregiver in the twisted relationship dynamic.  A schizophrenic balance is struck in which the subject longs for the outside world and a return to the pleasures of the past (making him desperate and malleable), but he also partially accepts his prison walls as home (giving him a false faith that compliance will lead to a safer and more predictable tomorrow).
Until this compliance is achieved, the subject is exposed to endless and erratic crisis events in which his body is damaged, his mind is deprived of sense, perception, and sleep, and his life is overtly threatened.  He may receive brief moments of rest, but these are designed only to make the next torture session even more raw and painful.  If the subject does not understand how the process works, or if he doesn't have a strong sense of his own identity, then he will quickly lose track of reality.  Every moment becomes a waking nightmare, a warped and gruesome carnival, and life becomes nothing more than an absurd and obscure experiment barely worth living.
It is my belief based on substantial evidence that America, as a nation and a culture, is now being held hostage and tortured into submission on a grand scale using economic terror by the elitist establishment which dominates BOTH major political parties.  The goal?  To push our society to conform completely with the concepts of globalization, bureaucratic micro-management, and greatly reduced living standards.  We are being conditioned to accept defeat and failure, and like children, to cry out for a parental authority to save us in our state of helplessness and fear, even if that authority was the cause of our fear from the very beginning.
The Thin Thread Of The American Economic Fantasy
In the past three months the U.S. has flirted with total fiscal collapse three times.  The first event came in August with market rumors that the Federal Reserve was nearing a "consensus" on plans to cut QE stimulus measures, causing panic amongst investors who now realize that the ONLY pillar still holding our fiscal edifice together is endless fiat currency creation by the Fed.  Markets began a paradigm which is now the "new normal"; plummeting whenever good economic news hits the mainstream on the fear that the central bank will tighten policy, and skyrocketing when bad economic news hits the mainstream on the assumption that the Fed will continue printing.  It is official – lackluster employment reports are something to cheer, and overall systemic crisis is good for stocks:
http://www.reuters.com/article/2013/10/22/us-usa-economy-idUSBRE99L04G20131022
The possibility of a Fed taper has shown us clearly that any action by the private bank to reduce or remove quantitative easing will result in a market panic and implosion.  If the globalists within the Fed apparatus decide one day soon that they want to bring the U.S. to its knees, destroy the dollar, and introduce a new world reserve currency, they can do it with little more than a word proclaiming QE over, or unsuccessful.  So far, they keep the life support machine running…
The second event came with the drive by the Obama Administration to turn their covert war in Syria into a full blown invasion.  Despite presumptions by many naysayers that Russia and China wouldn't lift a finger to aid the Assad regime, both nations staunchly opposed action by the U.S. in the region and tensions neared critical mass.  Make no mistake, a WWIII level event could have easily erupted, and some Americans seem to remain oblivious to the danger.
China and Russia maintain vast influence in global markets.  The EU, for instance, is utterly dependent on Russian natural gas exports for their energy needs.  The U.S. economy could be annihilated within weeks by an announcement by China to dump their treasury holdings or the dollar as the world reserve currency.  This is just a taste of the financial risks associated with a new war in the Middle East, and military risks add even more potential calamity.  Anyone who believes that Chinese or Russian views on American political or military behavior "do not matter" is living in a deluded cartoon-land.
The third event came with the recent debt ceiling debate and government shutdown.  One-third of the U.S. population is disturbingly dependent on scraps from the government's table, and any mention of cuts to entitlement programs (or social security, which government treats exactly like an entitlement program) causes immediate and militant finger pointing.  Democrats have been especially vicious in their accusations and rhetoric, consistently referring to Constitutional conservatives and "Tea Party" legislators as "extremists", "traitors", and even "domestic enemies":
I happen to take a slightly different view to a majority of independent analysts in that I believe the establishment is just as likely to push America into deliberate default as it is to push America into infinite debt and inflationary collapse.  The end result will be exactly the same regardless of the path taken, and we have yet another opportunity to dance on the edge of oblivion coming in three to four months when the debt debate starts all over again.
The point is, our financial system has become so unbalanced and internally diseased that if ANY event follows through to culmination, whether political, economic, or international, the economy WILL shatter.  The past three month are a resounding testament to this fact.

The "De-Americanization' Of The Global Economy
In my article 'How The Dollar Will Be Replaced', published in 2012, I summarized the Catch-22 nature of America's debt problem which I have been warning about since 2006, and how this will eventually end in the abandonment of the dollar as the world reserve currency.  To this day, and in the face of overwhelming evidence that the dollar is doomed, some people still refuse to grasp reality.
In the midst of the latest debt debate China has made clear it's intentions through state run media to end its relationship with the greenback, not just to form a Chinese-centric reserve currency system, but a global currency system centered on a "new world order":
http://news.xinhuanet.com/english/indepth/2013-10/13/c_132794246.htm
Last year China surpassed the U.S. as the world's largest importer and exporter, making its currency, the Yuan, more desirable than the greenback as a reserve in the long term.  Since 2010, China has been quietly but quickly establishing multiple bilateral trade agreements with numerous countries dropping the dollar as the primary purchasing mechanism.  China has accumulated massive gold stores and is set to become the world's largest holder of gold in the next two years.  In the past year, China has also surpassed the U.S. as the number one importer of oil, making it a more valued market for the Middle East and causing many to question the dollar's relevance as the petro-currency:

http://oilprice.com/Energy/Crude-Oil/China-is-Now-the-Worlds-Largest-Importer-of-OilWhat-Next.html
Saudi Arabia, America's primary ally and foothold in the global oil market, is now openly calling for an end to traditional agreements and a separation from the U.S. because of the lack of military action in Syria.  This too does not bode well for the dollar's petro-status.  Like a chess maneuver, it would seem we have been cornered by the globalists on oil.  If we invade Syria or Iran we risk losing petro-status.  If we do not invade Syria or Iran, we still risk losing petro-status:

http://www.reuters.com/article/2013/10/22/us-saudi-usa-idUSBRE99L0K120131022 
In response to the dismal debt ceiling extension and the uncertainty underlying the new debate coming in the next few months, China's ratings agency, Dagong, has downgraded U.S. treasury bonds yet again:
http://money.cnn.com/2013/10/17/news/economy/debt-ceiling-deal-china/
U.S. Treasuries are now witnessing the lowest foreign demand since 2001:

http://www.bloomberg.com/news/2013-10-20/treasuries-losing-cachet-with-weakest-foreign-demand-since-2001.html?cmpid=yhoo
Three near-crisis events in only three months have signaled a severe acceleration in what the Chinese call the "de-Americanization" of the global economy.  All of the financial shifts taking place since the derivatives implosion of 2008, as well as those rushing like white-water rapids through the global system in the wake of the debt ceiling debate, are gravitating towards ONE outcome – the destruction of the dollar, and the introduction of a new global currency (the SDR) controlled the the IMF.
Russia's Vladimir Putin has called for a global currency run by the IMF to replace the dollar:
China has called for a global currency run by the IMF to replace the dollar:
http://abcnews.go.com/Business/story?id=7168919
Elitists within the U.S. have called for a global currency run by the IMF to replace the Dollar:
http://www.youtube.com/watch?v=tBO34qcnoqM
Hell, even the Vatican has called for a global currency run by a "global public authority" to replace the dollar:
http://www.zenit.org/en/articles/pontifical-council-for-justice-and-peace-on-the-global-economy
There is a world-wide strategy in motion to end the dollar, and with it, America as we know it today. The only question is, how many more near-disasters will we have to experience before the trigger event takes place?
The Torture Continues
With so many near misses culminating so close together, it may be wise to consider what could happen in the the next three months while we wait for debt debate theater part duex.  Like a prisoner in Abu Ghraib, America is trapped, waiting for the next humiliation, the next degradation, or the next session of pain.  Are we merely being acclimated to the idea of incessant crisis?  Are we learning to become apathetic at the edge of the chasm?  Or, are we being driven to madness, mass-madness, by a concert of  elitist interrogators seeking our acquiescence?
Again, the central purpose of torture is to acquire consent.  Not just extorted consent, but voluntary consent.  It is not enough for the torturer to force the subject to obey, he wants the subject to EMBRACE his servitude.  To gladly abandon all hope.  To see his captor as his only salvation.
The globalist establishment wants us to beg them to save us from the tortures they create.  If we never give them this, they will never win.
Source: Brandon Smith | Alt-Market
The following articles examine the official and witness stories from the days of the Bin Laden Raid in Pakistan 2011. What really happened that day we still do not know, and the U.S. government and military certainly continue to lie and obfuscate.
21st Century Wire reports on eyewitness testimony and asks whether the SEAL Team 6 casualties from the 2011 chopper crash in Afghanistan were actually killed during the raid itself.
DeadLine Live reveals how the SEAL families are pushing for answers and coming to the conclusion that there's been a cover-up one way or another.
In all, nothing concrete is being released by official channels (except lucrative book deals and public-myth-creation movies) and the truth is a non-story to the mainstream media. Once again vital information is being brought to the forefront by the alternative media in a continued push to learn what really happened.
—
Did Part of SEAL Team Six Die in a Helicopter Explosion During the Bin Laden Raid?
From: 21st Century Wire
21st Century Wire says…
What the public were told by the US government via the corporate media, and what actually happened during the White House's much-celebrated "Bin Laden Raid" in 2011 – are not the same.
One thing which becomes clearer by the day about the fabled Bin Laden Raid which took place in Abbotabad, Pakistan, is that the US government has intentionally deceived the public about what happened. In other words, what President Obama described when he addressed the American people following "the raid" – was a work of pure fiction.
The following interview appeared on Pakistani broadcast channel, Sama TV, and includes a translation in English from an eye witness on the scene. If the translation is accurate, then this eye witness blows the lid off of another plank in the White House's fictional drama.
The following is an interview with Muhammad Bashir, who lives next door to the alleged "compound" of Osama bin Laden. He claims that the first US helicopter suffered an explosion, which killed all of its US military occupants, somewhere between 10 and 20 men.
Based on this man's testimony, we have to ask the question: did the White House cover this up in order to protect the Dear Leader from a devastating "Jimmy Carter moment" (1979 Iran hostage rescue cock-up). That's certainly what this looks like at first glance. Would Obama lie to protect his and his party's political legacy? We'll let the readers answer that question.
"It seems that although initially, the TV station was overjoyed with this interview, they changed their tune, twenty four hours later (for some unknown reason)". You decide why…
So the original lie, the 9/11 Operation, was covered up by the next lie – the Bin Laden Raid. Following on to this, it only stands to reason that the Abbotabad lie should be concealed by the next lie. The next lie is that no one knows where Bin Laden's body is. In stark contrast to President Obama's declaration that bin Laden was "buried at sea", US Navy Sailors on the USS Carl Vinson have stated on record did not witness an at-sea burial of Osama bin Laden. Therefore, someone is lying. Did Barack Obama chop down the cherry tree?
[...]
Read the full article at: 21stcenturywire.com
Red Ice Creations: Here's an article published shortly after the raid, May 3, 2011 by The Associated Press. Inflammatory language, threats of danger, and propagandist statements demonstrate the high emotions around the event – so much for incredulity of the press and actual investigative reporting! This "news" reads like it came right from the DOD Press Office.
—
U.S. analyzing material seized during bin Laden raid
From: News10ABC
Navy SEALs who killed the world's most-wanted terrorist seized a trove of al-Qaida documents during the raid on Osama bin Laden's compound.
The CIA is already poring over confiscated hard drives, DVDs and other documents. The agency is looking for inside information on al-Qaida, including clues that might lead to his presumed successor, Egyptian Ayman al-Zawahri. Al-Qaida under al-Zawahri would likely be further radicalized, unleashing a new wave of attacks to avenge bin Laden's killing by U.S. troops in Pakistan.
Al-Zawahri's extremist views and his readiness to use deadly violence are beyond doubt.
The Associated Press 
Article from: news10.net
Red Ice Creations: This following post from DeadlineLive.info points out that the families of the SEAL Team 6 crash are right to have suspicions about the crash and the soldiers' deaths, but the Washington Times piece seems to be misdirecting blame, and as always, hiding real possibilities:
—
Families suspect SEAL Team 6 crash was "inside job"
By Jack Blood | DeadlineLive
* When reading this we want to keep in mind who the "Taliban" are, and who they work for, etc… And who the Govt / Cops in Kabul are paid by etc…
By Propagandist at the Washington (Mooney) Times
Questions haunt the families of Extortion 17, the 2011 helicopter mission in Afghanistan that suffered the most U.S. military deaths in a single day in the war on terrorism.

Every day, Charlie Strange, the father of one of the 30 Americans who died Aug. 6, 2011, in the flash of a rocket-propelled grenade, asks himself whether his son, Michael, was set up by someone inside the Afghan government wanting revenge on Osama bin Laden's killers — SEAL Team 6.

"Somebody was leaking to the Taliban," said Mr. Strange, whose son intercepted communications as a Navy cryptologist. "They knew. Somebody tipped them off. There were guys in a tower. Guys on the bush line. They were sitting there, waiting. And they sent our guys right into the middle."

Doug Hamburger's son, Patrick, an Army staff sergeant, also perished when the CH-47D Chinook descended to a spot less than 150 yards from where armed Taliban fighters watched from a turret.

He asks why the command sent his son into Tangi Valley toward a "hot landing zone" in a cargo airship instead of a special operations helicopter. The souped-up choppers — the MH-47 and the MH-60 Black Hawk, which SEAL Team 6 rode the stealth version of to kill bin Laden — are flown by Night Stalker pilots skilled in fast, ground-hugging maneuvers to avoid detection.

"When you want to fly them into a valley, when you've got hillsides on both sides of it with houses built into sides of the valley, that is an extremely dangerous mission," Mr. Hamburger said. "The MH, the new model, they've got radar that will pick up an incoming missile or incoming RPG. They're faster. They're quicker on attack. They're more agile. So there was every reason in the world to use the MH that night."

Sith Douangdara, whose 26-year-old son, John, was a Navy expeditionary specialist who handled warrior dog Bart, said he has lots of unanswered questions.

"I want to know why so many U.S. servicemen, especially SEALs, were assembled on one aircraft," he said. "I want to know why the black box of the helicopter has not been found. I want to know many things."
[...]
Read the full article at: deadlinelive.info
Source Compilation: Red Ice Creations
Only a week ago, the consensus among most mainstream economic analysts and even some alternative analysts was that a government shutdown was not going to happen. The Republicans would fold in the shadow of President Barack Obama's overwhelming drive for socialization, spending would continue to grow unabated, and the debt ceiling would be vaulted yet again to feed the bureaucratic machine with more fiat. Today, there is no consensus, very few people continue to be so blithely self-assured and even the mainstream is beginning to wonder if a much bigger game is afoot here.
As I discussed before the shutdown in a recent article, it is important to take all facets of this situation seriously, or risk being bitten by hidden dangers while entranced in one's own arrogant cynicism.
One rule I try to follow whenever possible is to always be open to possibilities beyond the expected and never assume that today's dynamic will be the same as tomorrow's dynamic. Even the Liberty Movement can at times be susceptible to group think.  In a world of staggering political and economic manipulation, one has to grasp hold of certain fundamental truths in order to survive. In my time working within the liberty movement and outside of the mainstream, these are a few of the cold, hard truths that have served me well.
It's Always About Globalization
Every action the elites within our government take pushes the U.S. closer to globalism and away from sovereignty. We may not always see the bigger picture in the heat of the moment, but a look back tells us much. Seemingly simple changes in financial legislation render devastating fiscal shifts a decade later (as with the progressive erasure of Glass-Steagall). Shocking disaster events that appear random suddenly open doors for totalitarian legislation that had been prepared years in advance. Wars end with further calls for world "unification." Nothing, and I mean nothing, happens within government that does not revolve around the desire of establishment oligarchy to achieve total global economic, political and social control.
The Bankers Did It
Central banks and international banks are the bedrock of globalization, and all greater political decisions eventually stand on this bedrock. One need only examine the cabinets of the past four U.S. Presidents; there you will find a regular carnival freak show of banking elites who would go on to revolve in and out of government and back into the international financial sector. Private central banks like the Federal Reserve dominate the very currency (and thus the economy) of most nations on the planet. Most wars and man-made disasters of the past several centuries have served only to further enrich and empower the merchant class, and the same holds true today. If you want to understand why a certain calamity has occurred, first look to who benefited most. Invariably, you will find the banker class smiling when all is said and done.
America's Two-Party System Is Actually A One-Party System
If you do not yet understand that the elite of the Republican Party and the Democratic Party share the same foundational philosophy of globalism, then you will NEVER understand why our government does what it does. Public battles of words and legislation are nothing but rhetorical cinema. Ultimately, the goals of neocons and neolibs revolve around the centralization of power. All legislation is used either to further centralization or as a smokescreen to confuse the public while centralization is taking place. When has the leadership of either party, for instance, ever demanded a full audit of the Federal Reserve? When has the leadership of either party ever attempted to dismantle the Patriot Act or the despotic provisions of the National Defense Authorization Act or the President's openly admitted assassination list? They may seem to disagree violently at times, but do not be fooled. The disagreement is likely just another means to gain more dominance.
The Goal Is To Destroy The American Economy
What you believe to be political blunders are often actually calculated and engineered events. What you believe to be chaotic disasters of coincidence are often actually deliberate acts of attrition warfare against the common people disguised as random catastrophe. Those you believe to be heroes are actually villains in friendly masks. Those you are told to be villains are actually good men and women who refused to be enslaved by the system. That which you see and hear is never exactly as it appears.
Nearly every concrete action our government and central bank have taken in the past several decades has led to the further erosion of the American economy. If this is all just the consequence of "stupidity" or "childish greed," you would think our so-called leadership would have at least made a few good decisions by mistake; but they are incredibly adept at choosing all the wrong paths.
The reality is that collapses on the scale we are now witnessing in America rarely happen by accident.
The destruction of Glass-Steagall was a carefully crafted coup. The Federal Reserve deliberately and artificially lowered interest rates in order to allow banks to generate massive toxic debt through the derivatives markets. The Securities and Exchange Commission did little to nothing to stop the spread of cancerous mortgage instruments and ignored numerous calls for investigation. Ratings agencies like Moody's and Fitch examined all of these toxic assets, knowing exactly what they were, and rated them AAA anyway. And banks like Goldman Sachs, knowing that the market was a sham, sold these bad assets around the world and then secretly bet AGAINST them later. Either this is economic warfare implemented with precision, or it's all a string of coincidental blunders. I don't believe in such coincidences.
America is being destroyed by design to make way for a new global system administered by the International Monetary Fund and the World Bank, as well as a new global currency tied to the IMF's Special Drawing Rights.
If you are able to accept this, the confusion surrounding events like the government shutdown and debt ceiling debate withers, and everything becomes clear. With that clarity in mind, we can now examine the possible outcomes of the shutdown theater.
Republicans Surrender At The Last Minute
Of course, since both parties are essentially one party, the idea of "brinksmanship" on the part of either is absurd. The GOP will surrender, or "stand fast," because its serves the interests of the globalist establishment. There is no political battle here, only the empty chest-beating of a staged wrestling match.
Bets on a last-minute Republican reversal were in the majority for the past week of the shutdown, but that is slowly changing — and for good reason. Obama has stated that the Affordable Care Act is off the table in negotiations, while Republicans like Ted Cruz and John Boehner are now stating with surprising candor that debt default is on the table if Obama refuses to compromise.
Gee, it would seem we are at an impasse.
In the meantime, the GOP is also moving to wrap the debt ceiling debate into the shutdown fight, making a "diplomatic compromise" even less likely to make sense to the public. (Those who argued that the shutdown and the debt ceiling were two entirely separate issued should accept this reality and move on.)
If I were writing this bit of fiction, I would say I was writing myself into a corner and that a last-minute Republican white flag would be illogical to my audience. That said, not all stories are well-written stories, so a Republican rollover remains an option for the time being. The primary reason I can see for the establishment to instruct the GOP to retreat would be to set the stage for a new stimulus event, like a war, which still leaves the U.S. dollar on track to lose its world reserve status — just not as fast a track.
Default Occurs By Winter
This plot twist makes far more sense to me given the way our story has progressed so far. Why? Because it provides perfect cover for an economic collapse that was going to occur anyway, except in this version the banking elite avoid all blame.
Just look at all the angry rhetoric being thrown around in the mainstream media; red team versus blue team has returned as the pervasive American sitcom.
Conservatives blame liberals and Obama. Liberals blame conservatives and the Tea Party. We're all too happy to blame each other. Certainly, both elements of our government share responsibility for any debt default or subsequent collapse. But who started this avalanche to begin with? What about the Federal Reserve? What about Goldman Sachs, JPMorgan, Citigroup, etc.? What about the globalists?
Debt default is no small matter. Such a disaster would indeed fuel a flight from U.S. Treasuries by foreign investors and eventually lead to the complete abandonment of the greenback as the world reserve standard. Austerity measures would be implemented at break-neck speed. Cuts to entitlement programs, pensions, State funding, etc. will hit the American people like a freight train.
The way in which the MSM is already painting "Tea Party" conservative as saboteurs should a default occur is actually a very practical strategy. Not only do the elites get their economic collapse, but they manipulate the general public to believe that Constitutional conservatives, their mortal enemies, were the CAUSE of the pain, rather than the banks.
Order From Chaos
Should the establishment decide this is the moment to pull the plug on our financial structure, expect some rather insane-sounding solutions to be presented as rational alternatives. When Obama was asked by reporters if he considered the 14th Amendment as an option to end the debt ceiling debate, Obama did not rule out the idea.
This should raise some eyebrows. By the 14th Amendment I can only surmise that they mean Section 4, which states:
The validity of the public debt of the United States, authorized by law, including debts incurred for payment of pensions and bounties for services in suppressing insurrection or rebellion, shall not be questioned. But neither the United States nor any State shall assume or pay any debt or obligation incurred in aid of insurrection or rebellion against the United States, or any claim for the loss or emancipation of any slave; but all such debts, obligations and claims shall be held illegal and void.
Some people, including CNBC's Jim Cramer, think that this gives the President the power to raise the debt ceiling regardless of what Congress decides.
And Obama doesn't appear to be dismissing the notion either. However, Section 5 of the 14thAmendment says:
The Congress shall have power to enforce, by appropriate legislation, the provisions of this article.
Nowhere in Section 5 does it say that the President has the power to enforce the provisions of the 14th Amendment, but this may not stop the White House from twisting the law to insinuate more expansive controls.
Beyond the 14th Amendment, there are numerous executive orders and continuity of government programs that the White House could cite as authority to implement national emergency standards. This would probably start as a kind of "soft" martial law, and then grow from there. Each action will be rationalized as necessary for the greater good of the country, but will serve only the interests of the establishment oligarchy.
On the Republican side, there is another disturbing development that may be presented as a solution in the face of crisis — namely, the idea of instituting a Constitutional convention.
A Constitutional convention is essentially a complete rewriting of the document (which they call "amending") in the name of rebooting a government that has strayed too far from the wishes of the people. The concept is being promoted avidly by certain neocon talking heads and scholars, even on the FOX News circuit.
It sounds very noble on the surface, and neocons use very pretty language to candy coat the idea for legitimate Constitutionalists; but it is truly the most foolish action our country could take, opening the door to a complete erasure of Bill of Rights protections while offering no assurances that any meaningful provisions will be respected or afforded by the Federal government.  The people are given the illusion of potential redress when in reality a Con-Con produces only more centralized theater for the masses. If the liberty movement is suckered into a Constitutional convention, we will have been lured into writing our own destruction.
Another scenario could involve the Federal Reserve moving to take what they often call "extraordinary measures".  The Fed, being a private bank, may use the shutdown as an opportunity to paint itself as an economic "hero" (as unbelievable as that may sound), by instituting stimulus measures to the Federal Government regardless of Congressional or presidential impasse.  Given enough public desperation in the midst of default, the Fed may attempt to assert unprecedented financial authority in the name of "saving the country from it's own government".  The bankers then establish their role as the wise saviors and high priests of the fiscal universe, and cement private dominance over American political decisions as "acceptable" in the minds of the citizenry.
The most dangerous solution that will inevitably be paraded for the public will be a petition for aid from the IMF. The IMF has a long history of loansharking to indebted nations and then subsuming them and their natural resources in the process. The ignorant illusion that the United States is the sole power behind the IMF will be exposed all too late when a defaulting American Treasury is told to collateralize infrastructure to pay off creditors, while the dollar is bled completely dry and absorbed by the IMF's Special Drawing Rights basket currency.
Whether default occurs or is avoided, watch vigilantly over the next few weeks. Do not blink. Do not be conned, and do not let fear or bias blind you to the bigger picture. The shutdown could amount to nothing immediate, or it could amount to everything we have warned about for the past five years. I personally believe the month of October may be a major turning point in America's history. Whether it be for good or ill depends on how mentally and physically prepared we are.
Source: Brandon Smith | Alt-Market
There is a considerable amount of debate in alternative economic circles as to whether a federal government shutdown would be a "good thing" or a "bad thing".  Frankly, even I am partially conflicted.  I love to read mainstream news stories about how a shutdown in the capital would be "horrible" because Barack Obama might have to reduce the White House cleaning staff and wash his own laundry:
http://www.bloomberg.com/news/2013-09-27/obama-stripped-to-skeleton-staff-in-a-government-shutdown.html
It's about time that sellout bastard did something to clean up his own act.  I also love the idea of the federal government out of the picture and removed from the U.S. dynamic.  Americans need to learn again how to live without the nanny state, even if only for a few weeks, and what better way than to go cold turkey.  I can hear the tortured sobs of the socialists now, crying for their SNAP cards and low grade government healthcare.  It's like…beautiful music…
That said, as much as centralized government needs to be erased from the face of the planet, there are, indeed, consequences that must be dealt with.  It is foolish to believe otherwise.  No social system, and I mean NO SOCIAL SYSTEM, changes without pain to the population.  I am not among those that cheer a federal shutdown, because I understand that the only people to ultimately feel suffering will be average citizens, not the establishment itself.  The sheeple may be ignorant and blind, but no one deserves the kind of unmitigated hellfire that could rain down upon our country if a shutdown continues for an extended period of time.  Call me a humanitarian…
As I write this, mainstream media projections estimate a 90% chance of government shutdown by midnight on September 30th.  Though technically, government funds will not run out until October 17th:
http://www.usatoday.com/story/news/politics/2013/09/25/treasury-debt-limit-october-17/2867471/
We have dealt with this kind of talk before over the past few years, and it's interesting to see the kind of cynicism that has developed over the idea of a shutdown event.  After all, the last time a government shutdown occurred was at the end of 1995, lasting only a couple of weeks into 1996.  The GOP has folded so many times over the U.S. budget and debt ceiling that most of the public expects they will obviously do it again.  It is certainly possible that the Republicans will roll over, however, I am not so sure of that this time around.  Why?  Not because Obamacare is on the table.  Obamacare is just a distraction.  No, I'm far more interested in the circumstances surrounding the U.S. dollar.
Obamacare is designed to fail.  Anyone with any financial or mathematical sense could look at the real national debt and deficit projections of the U.S. and understand that there is no money and never will be enough money to fund universal healthcare.  The GOP could simply let the program take effect, sit back, and watch it crash and burn over the next three to five years.  This would entail, though, watching the whole of our economy crash and burn with it.
What we have developing in front of us is the recipe for a new false paradigm.  Already, the MSM is discussing the possibility of debt default and who will be responsible under such circumstances.  Not surprisingly "Tea Party" conservatives have been named the primary culprits if a shutdown goes south; even former Democratic president Bill Clinton is getting in on the blame game:
http://abcnews.go.com/blogs/politics/2013/09/bill-clinton-when-it-comes-to-obamacare-gop-begging-for-america-to-fail/
All the bickering over Obamacare is fascinating, I'm sure, but lets set the Affordable Care Act aside for a moment and look at the bigger and more important picture.  The private Federal Reserve Bank has just announced to much surprise a complete reversal on its suggested QE "taper" measures, resulting in a shocked and confused marketplace.  If the U.S. fiscal system is stable and sound, as the Fed has been suggesting for the past year, then why continue stimulus measures at all?  Could it be that most if not all positive economic numbers released by the Fed and the Labor Department are actually fake, and that investors have been duped into assuming overall growth when America is actually in an accelerated decline?   Wouldn't that be a high speed excrement storm straight out of left field!
The first day rally over the Fed announcement faded quickly, resulting in a slow bleed of the Dow ever since.  The magic of Fed stimulus is wearing off, and the investment world is not happy.  If I were a member of the Federal Reserve Bank, I suppose I would appreciate a large scale distraction designed to take attention away from me and my elitist club-mates as the primary culprits behind the greatest currency implosion in the history of the world.
Sadly, a government shutdown is sizable threat to the American financial system, and few people seem to get it.  Perhaps because the expectation is that any shutdown would only be a short term concern.  And, this assumption might be correct.  But, if a shutdown takes place, and, if "gridlock" continues for an extended period of time, I have little doubt that the U.S economy will experience renewed crisis.  Here's why:
Exponential Debt
Obamacare only tops a long list of already existing "unfunded liabilities" (otherwise known as entitlement programs).  These programs are not counted in the government's official calculations of national debt or deficit spending, but they cost taxpayers money all the same.  True deficit costs and national debt costs expand every year without fail.  If the debt ceiling does not rise in accordance with this exponential debt, a default is inevitable.  No amount of increased taxes could ever fill the black hole already created by negative government spending.
A long term government shutdown will eventually require cuts in entitlements, if not a total overhaul of certain aid programs.  Imagine an end to all disability payments, including veterans disability payments.  Imagine federal employee pensions put on hold for an undesignated period of time.  Imagine food stamps placed on hiatus for 50 million people.  Imagine how many states now rely on federal funding just to keep municipalities from bankruptcy.  Get the picture now?
End Of Foreign Faith In U.S. Treasuries
In a disgusting display of propaganda, media outlet Reuters has released an article claiming that, default or not, Asian investors and central banks are "hostage" to U.S. debt:
http://www.reuters.com/article/2013/09/29/us-usa-debt-asia-analysis-idUSBRE98S0GY20130929
Their argument essentially revolves around the lie that Asian investors believe an American default to be "unthinkable".  Surely, the unnamed Japanese investment source they cite as an "insider" truly represents the whole of Asia.
The reality is, the Asians (the Chinese in particular) have been preparing for a calamity in the U.S. Treasury market for years.
Most foreign investors in U.S. Treasuries have converted their long term bond holdings to short term bond holdings; meaning, they are ready to liquidate their bonds at a moment's notice.  Overall purchase levels of treasuries are either static, or falling depending on the nation involved.
China has been internationalizing its currency, the Yuan, since 2005.  China has opened Yuan "clearing houses in multiple countries to allow faster convertibility of the Yuan, quietly supplanting the dollar as the world reserve currency.  These clearing houses now exist in London, Hong Kong, Singapore, Taiwan, and Kenya.  The Federal Reserve and international banks like JP Morgan are heavily involved in the internationalization of the Yuan.
The assertion that Asia is somehow hostage to U.S. debt is a lie beyond all proportions.  In truth, the U.S. economy is actually hostage to Asian holdings of U.S. debt.  A call for a dump of U.S. treasury bonds by China, for example, in the face of a U.S. default, would immediately result in a global chain reaction ending in the destruction of the dollar as the world reserve currency.  This is not speculation, this is mathematical fact.  China is not going to sit back and do nothing while their investment in U.S. debt quickly disintegrates.  Why would they take the chance when they could could just sell, sell, sell!
The very idea that Reuters is attempting to twist the fundamentals surrounding a default event leads me to believe a default event may be preordained.
What Will Be Defunded?
Non-essential personnel (which apparently includes Obama's maids), will be the first to receive a pink slip from the federal government.  Extra Pentagon staff, EPA staff, FDA staff, IRS staff, etc will all be cut.  Good riddance.  But what will follow will not be so pleasant.
If a shutdown stretches for months, expect cuts in all support programs and entitlements.  Veterans disability checks, social security, Medicare, employee pensions, even the Postal Service is likely to undergo defunding.  National Parks, and schools that receive federal aid will discover immediate cash-loss.  In fact, any state or city that relies on federal funds should plan for the possibility that those funds will disappear.
Military cuts would be at the bottom of the list, but I would not discount the chance of that either.
It cannot be denied; an enormous subsection of the American public is dependent on federal money.  If that money dries up, chaos will ensue.  I don't like it, but it is a concern.
Controlled Reaction
A long term shutdown will be catastrophe no matter how you slice it.  Foreign creditors will react harshly.  The bond market will see a haircut not unlike that given to investors in Greek treasuries.  Austerity will become an American way of life.  The only mitigating factor will be the Federal Reserve, which I believe may institute "extraordinary measures" without congressional consent in order to continue feeding stimulus into government regardless of whether the debt ceiling is raised or not.  Given enough desperation, the American public might even applaud such an action and praise the Fed as "heroic".
In this situation, the U.S. would be facing a Weimar-style currency collapse, rather than a debt default.  But in either scenario, the dollar is the final target.
Unfortunately, too many economic analysts presume that the only threat to the dollar's value is hyperinflation (these are the same people that quote the Fed's crooked CPI numbers).  But the dollar is just as vulnerable to a debt default and loss of reserve status.  Devaluation seems to be inevitable regardless of the outcome of the funding debate.
The Republicans could still surrender, and even if they don't, real damages will not be felt until after October 17th.  This is plenty of time to manipulate the public into demanding more spending even when more spending is not in our best interests in the long term.  Our greatest concern, though, should be whether or not the establishment is ready to pull the plug on the dollar altogether, using the debt ceiling crisis as cover in order to distract away from the involvement of international banks in the overall problem.  There is no doubt given the facts at hand that America is on the edge of a terrible pyre.  Is this the event that will finally trigger collapse?  We'll know more in a week…
Source: Brandon Smith | Alt-Market
That Barack Obama is such a kidder. No matter how awkward the moment, he's got just the right quip to purchase some wiggle room. Remember when his old Chicago banking buddy Jamie Dimon, the CEO of JPMorgan Chase, first ran into that bit of trouble over his bank's "London Whale" derivative scam? That scheme has already lost $6 billion with close to another $1 billion piled on by the SEC in fines last week after JPMorgan admitted it broke the law.
Well of course, being Obama, when the scandal first broke last year, the president picked a women's daytime talk show, ABC's "The View," to deal with the scams of his leading Wall Street backer. "JPMorgan is one of the best-managed banks there is," he told the "View" audience. "Jamie Dimon, the head of it, is one of the smartest bankers we got, and they still lost $2 billion and counting."
Yes, counting; that $2 billion is now likely to end up around $16 billion given the future legal fees and possible payouts allotted to countering the myriad lawsuits connected with this admission of illegal activity. That's aside from the mortgage fraud, Libor rate rigging and energy manipulation cases still confronting the beleaguered bank. Thursday, on the same day that Dimon's bank got slapped with the SEC fine, federal regulators revealed that JPMorgan had agreed to pay $389 million in penalties and refunds to compensate for a credit card identity theft protection scam after $309 million already paid out in that case.
It should be remembered that this same Dimon, who appeared before a Senate committee wearing presidential cufflinks, once worked with Sanford Weill in engineering the reversal of the Glass-Steagall law to make Citigroup, a previously illegal merger of investment and commercial banks, possible. But despite his record as a leader in the radical deregulation of banking that caused all of the trouble, Obama turned to Dimon for direction on fixing the economy.
If you still require to be disabused of Obama's pretend populism, consider his decision to select William M. Daley, JPMorgan's representative in Washington, to be his White House chief of staff. It gave Dimon the key White House connection to accompany the passkey he already had at Treasury with his pal Timothy Geithner as secretary.
It was a real cozy arrangement; Dimon was still a governor of the New York Federal Reserve Bank, where he had served during Geithner's presidency overseeing the banking meltdown. Geithner had been instrumental in arranging Fed financing for JPMorgan's acquisition of troubled Bear Stearns through a $55 billion loan and later an additional $25 billion in TARP funds.
Once appointed Treasury secretary, Geithner made himself very accessible to Dimon. As an Associated Press investigation reported, Dimon had numerous personal meetings and phone calls with Geithner while the White House was calibrating its response to the Wall Street crisis.
Why are we not surprised that Obama has done nothing to break up the too-big-to-fail banks, the biggest now being Dimon's? Don't be fooled by the occasional fines; the banks have used the interest-free money to grow ever larger and more unaccountable in their behavior.
Even the recent SEC settlement, while mentioning the despicable behavior of JPMorgan's chief executive, fails to utter Dimon's name, and as Sen. Carl Levin, D-Mich., who did much to unravel this scam, noted, "the whole issue of misinforming investors and the public is conspicuously absent from the SEC findings and settlement."
After the SEC condemnation of JPMorgan's "egregious breakdowns in controls" and conclusion that "senior management broke a cardinal rule of corporate management" to honestly inform the board of directors, top senior manager Dimon made all the right noises. JPMorgan announced that $4 billion and a staff of 5,000 employees would be devoted to compliance with the law.
This was just the sort of commitment Dimon made in 2006 when he hired Stephen M. Cutler, who had been head of the SEC Division of Enforcement, to be JPMorgan's general counsel. Once a committed regulator who urged corporations "to create a culture of compliance," Cutler clearly drank the Kool-Aid at JPMorgan, for he was in charge of legal and compliance activities worldwide at the time of the London Whale fiasco. So much for trusting corporate compliance.
As Donald Langevoort, an expert on compliance issues at Georgetown University School of Law, told The New York Times on Friday, "JPMorgan is by no means unique. None of these big banks really want compliance people causing traders and investment bankers to second-guess themselves too much because that gets in the way of making money. No one will say this, but it's more effective to run the risk of noncompliance and pay a few fines, which is just a cost of doing business."
Exactly the reason that too-big-to-fail banks can't be trusted to do the right thing and why Obama shouldn't have been guided by Dimon in the first place.
Source: Press TV
Hey FANS, are you ready for more football? How much do you know about the business end of your favorite entertainment addiction, the NFL? The revenue stream from media contracts, ticket sales, official NFL products and products, government stadium subsidies and syndication rights has reached enormous levels. The pie has grown from a sandlot clubhouse hobby to a billionaire jet set club. Now that fantasy football is in full swing, the beleaguered but rabid buff, sticks with their voyeurism as they act out their heroism celebration. Devotees of the noble sport seek the thrill of victory, but experience the agony of defeat in their pocketbook.
The NFL (not for long) article, Fantasy is the Current Test of Reality, shows that escapism is preferable for most athletic enthusiasts.
"NFL Football is the national sport. It more closely resembles the evolving social trends than any other indicator. Our society is a mirror of a game that once encompassed the essence of the human struggle against the elements of nature and competing warriors. The symbol of this era was the spent sacrifice of an average quarterback who achieved miracles. The famous photo of an exhausted Y.A Tittle captures the meaning of the game that each fan treasured in their heart and desired to know for themselves. The America of this period was not that long ago, but now seems to be from a different century."
Now that the purity of a game is but a mere memory, the business is all about theBenjamins. Forbes notes in The Most Valuable NFL Teams, that the "NFL's 32 teams are worth, on average, $1.17 billion, 5% more than last year. The Cleveland Browns, a lousy team for years in a midsize market, sold for almost $1 billion last year."The last agreement with the players association produced a new contract that "included a provision that gives players between 46 percent and 48 percent of league revenues. That's down from the previous agreement's 50-50 split." Even the causal bystander must admit that the owners are wielding the hammer in free agency. If the marketing machine is geared to extract more revenue out of a hooked public, just what does the future hold?The vision from NFL commissioner, Roger Goodell in another Forbes article, reports:
How The National Football League Can Reach $25 Billion In Annual Revenues.
This year revenues for the National Football League will be somewhere just north of $9 billion, which means the league remains the most lucrative in the world.

He has stated that he wants to reach $25 billion in annual revenues for the league by the year 2027. Here's how the NFL can get there:

1) The first—and most significant step—will be the renegotiation of the league's television rights deals.

2) A new labor deal. The 2011 collective bargaining agreement ends in 2020.

3) The NFL has mastered the art of dividing up its rights. In other words when, say, CBS gets the TV rights deal, it does not get the live-streaming Internet rights.

4) The NFL is in initial discussions about forming its own mobile network.

5) The NFL's fantasy game, at 3 million players, is still well behind ESPN and Yahoo, which have an estimated 14 million and 12 million players, respectively.
This ambitious plan is looking to up the ante. Merchandising will not boost an additional 16 billion out of cash strapped fanatics. Maybe selling NFL uniforms to the military or running a bookmaking network with an anti-trust exemption might get permanent seating in skyboxes for elitist politicians, but it does nothing to bring relief to the lowly stadium season ticketholder. Soon with enhanced and intrusive security measures, many fans will just be content to be tailgaters.
Relying upon the referees to umpire a fair playing field might bring back the perception of an honesty game, but doubts linger that the point spread is often more important than the final score. The Drunk Never Knows When To Leave The Bar, might offer a better option than havingJimmy Haslam or Eddie John DeBartolo Jr. in change of public relations.
"Now you say, what is wrong with the fox guarding the hen house? Surely, you are not saying that this compares to the NFL Players Association passing judgment on all new referees, writing the rule book and picking only from their own ranks every new candidate for the job?"
Looking to the players for that wholesome image has its own pitfalls. Review the NFL Arrests Database.
"These are arrests and citations involving NFL players since 2000 that were more serious than speeding tickets. U-T San Diego reviewed hundreds of news reports and public records in compiling it. The list cannot be considered comprehensive in part because some incidents may not have been reported and some public records proved to be elusive. Increased media coverage of incidents also probably accounts for more incidents listed in recent years."
It seems that the poster boys are running a campaign to rename the NFL to the Aaron Hernandez league. Ownership flack, when Tim Tebow Says Football Comes After Faith and Family, illustrates that selling the NFL vision of Jerry Jones is the way to the $25 billion super bowl.At some point, the public will become played out. Their satisfaction with the NFL experience will never approach the dignity of Y.A Tittle. An aficionado of the sport likeHoward Cosell would tell it like it is. "Don't you remember the $28 million dollar judgment against the NFLPA and its affiliated marketing company (of which $21 million was punitive) for breaching their fiduciary duty to retired players?"
Players, players almost sounds like playoffs, playoffs . . . playoffs !
Soon the virtual reality of a smart phone app will provide the excitement of a two-minute drill without the cost of admission. The NFL marketing machine owes more toNFL films than to the collective wisdom of the players or the owners. The business of the end zone dance rests upon the good will of the fans.
The really important news from Egypt is not the "martyrdom" of some hundreds of Muslim Brotherhood supporters and underage human shields set up for sacrifice by their leaders. It is not the brutality of the security forces fighting the emergence of a Khalifate within the state. It is the targeting of dozens of Christian churches, institutions and individuals all over Egypt by the MB, instigated by the leaders and eagerly carried out by the rank-and-file.
The Brotherhood has finally shown its terrorist character (a host of Western news editors excusing and implicitly justifying its acts as "reprisal attacks" notwithstanding). Attacking the helpless infidel has always been the essence of the MB's scriptural sources of inspiration, the record of its predecessors through history, and the practice of its contemporary peers. As assorted jihadists fight Assad in Syria, the Christians suffer the most by far proportionate to their numbers. In Libya there were no Christians left after Gaddafy's fall, so several Allied war cemeteries were vandalized. In Iraq, Saddam's pious Shiite successors and their Sunni foes have effectively destroyed the two-million-strong Christian community, one of the oldest in the world.
At least the "Bulgarian Massacres" of 1878 and the Turkish genocide of a million-plus Armenians in 1915 and thereafter had a grim logic to it, following the Russian victories at Plevna and in the Caucasus respectively. The logic of the Brotherhood's assault on Egypt's Christians is to be found in chapter 9, verse 5, of the Kuran and in the example set by Muhammad and his early successors, the four "rightly guided" khalifs. That logic outweighs the pragmatic need not to dissipate forces and not to lose foreign support—not that the West cares. Had a Christian mob put to torch fifty-plus mosques and Islamic centers in Russia, say, that would have been the MSM lead story for days and weeks, never mind the dead. But the persecution, violence and bloodshed that is the daily lot of Christians in most majority-Muslim countries is under-reported or else grotesquely misrepresented.
As Wael Nawara, a former fellow at Harvard's Kennedy School, pointed out in an excellent article last Wednesday, the question is not "Why was it so necessary to clear the sit-ins fully knowing that the blood toll was to be high," but rather, "If it's not too important, why did the Muslim Brothers' react by setting the whole country on fire?" For six weeks, Nawara explains, the Rabia al-Adawiya encampment gradually expanded its borders, creeping to claim mile after mile of neighboring streets, including the highway which connects much of Cairo to the airport. The "sit-in" gradually morphed into a sprawling, fortified city-state with its own police force, complete with torture chambers and border guards. It came to manifest the MB's "Parallel State," and its conflict with the state of Egypt has now reached an existential phase "where for one to survive, the other had to go, at least ideologically and organizationally:
Over the past two and half years of the Egyptian revolution, several sit-ins were dispersed in Tahrir and other squares, with very few casualties, if any. It was never a big deal. But this was not just a sit-in, this was the flashpoint in an 85-year conflict between two states, the Muslim Brotherhood's with its promised Caliphate state and the Egyptian national state, the oldest state history has known. Political factions can negotiate and split seats of power; people from different races, faiths and walks of life can coexist, but two states trying to govern the same people on the same piece of land cannot be together. This is the nature of the conflict now in Egypt and this is one explanation why the Brotherhood fights this battle as if it was Armageddon.
Three weeks ago Secretary of State John Kerry declared that the Egyptian army did not carry out a coup on July 3 but was only "restoring democracy." (He retracted it with some waffle a day later.) That is nonsense. There had never been any democracy in Egypt so there is nothing to restore. The Muslim Brotherhood in general—as manifested by Morsi's year in power—and its assault on the dwindling Coptic community in particular, are the living testimonial to the incompatibility of Islam with democracy as it is commonly understood in the postmodern West.
It cannot be otherwise. As Pope Benedict XVI said in his now famous lecture at the University of Regensburg six years ago, not to act reasonably—not to act with logos—is contrary to the nature of God. For a Muslim, God is absolutely transcendent, however; his will is not bound up with any of our categories, even that of rationality. Indeed, it is impossible to have total transcendence and self-limitation at the same time. Logos cannot be assumed in a supreme being that is so transcendent as to be devoid of personality. As then-Cardinal Josef Ratzinger wrote in 1979, "the unrelated, unrelatable, absolutely one could not be a person. There is no such thing as a person in the categorical singular." The result is a moral philosophy and a legal code that excludes the possibility of judgment based on any other source of authority but itself: the letter of revealed law and the precedent. Analogies thus derived stand above reason, conscience, or nature. A Muslim knows that a thing is right or not simply because Allah says so, or because his prophet has thus said or done. No other standard can be invoked.
The political consequences are crucial for all societies that derive their concept of authority from this image. Any notion of politics distinct from that implicit in complete submission to Allah is forbidden and sinful. A polity not based on Sharia is infidel ab initio; the notion of a society not based on the revealed will of Allah is haram. Any Western concept of justice, prudence, equality, or individual freedom—either Christian or derived from some deist-atheist construct—is incompatible with Islam. For Muslims to live together as sovereign individuals—the hallmark of today's West—is literally unimaginable. It is beyond incompatible with the ideal of ummah, it is its diametrical opposite. The sovereignty of the individual is inconceivable. In his 1970 Islamic Declaration the Bosnian jihadist leader Alija Izetbegovic wrote that "A Muslim generally does not exist as an individual. If he wishes to live and survive as a Muslim, he must create an environment, a community, an order; change the world or be changed himself."
The sovereignty of the people was accepted by the Muslim Brotherhood as a perfect tool to other ends—a step on the irreversible road to Sharia—but it was always seen by Morsi and his ilk as a sinful rebellion against the sovereignty of Allah. Hence their contempt and arrogance, hence their sophistry and duplicity. Only Allah creates our acts and enables us to act, not constitutions and assemblies and courts, which can and should be manipulated and twisted to suit his will.
The result goes beyond politics. An ikhwani a priori has no capacity for logical thought. Disjointed discourse is the norm. Conspiracy theorizing passes for serious discussion. This is the result of the theological and philosophical foundations of mainstream Sunnite Islam, as they were developed in the ninth and tenth centuries. They were tantamount to an "intellectual suicide" which remains at the root of the problem to this day. Since Allah is Pure Will, outside and above reason or nature. Literally everything is possible in a world in which there is no cause and effect, where man's thoughts and actions are subsidiary and contingent, and Allah is the only actor.
For a self-confident West of yore, confronting such confused civilization would be a breeze. "Democracy" has changed the West, however, and the rot is proceeding apace. Roger Scruton thus finds the essence of the West in what he calls the "personal state," which he approvingly describes as characterized by constitution, rule of law, and rotation of office-holders. As I noted last fall, such "society of individuals" is the bane of the West, the poison at its core. However defined, it is also incompatible with Islam. At one level the problem is Sharia. Its key concepts are "blasphemy" and "apostasy," both incurring the death penalty. The whole edifice is based on the basic inequality between Muslims and non-Muslims, men and women, free men and slaves.
More fundamentally, Western-style democracy—Scruton's Personal State—is impossible in the Muslim world because the affairs of men do not belong to men in the universe not governed by natural laws. In this universe, "democracy" is reduced to the act of voting, on the one-way street to Sharia. It is an advanced form of mob rule. "Creation is not imprinted with reason," Robert Reilly noted of Islamic voluntarism in The Closing of the Muslim Mind, and therefore cannot reflect what is not there. There is no rational order, there are only the second-to-second manifestation of God's Will. By contrast, "democracy" presupposes an ordered universe, a Cosmos, with a detached clock-maker or an impersonal set of natural circumstances as its spiritus movens, with Man's self-validating reason as the final check and balance.
The gap between these two Weltanschauungen is unbridgeable. An orthodox Muslim will see each act in itself as fitting an occasion rather than as a link in a chain of cause and consequence. It is blasphemous to assert that Sun will rise in the east tomorrow morning, without adding "insh'Allah!" There is no logos, no law, no freedom separate from His divine caprice. Submitting, and touching the carpet in the direction of Mecca, is the only freedom possible.
The implications are dire. On the one side the "democratic" West has divorced reason from faith and subsequently sank into moral, cultural and demographic self-destruction resulting from its embrace of an unnatural and unworkable political creed. Western decrepitude is allowing the Brotherhood and its ilk to continue divorcing faith from reason with centuries-long gusto. They are impervious now, and will always be, to the concept of democracy based on the tenet of individual freedom. In addition to demography and fanaticism, this immunity is their greatest asset in its expectation of a victory of world-historical proportions some time later this century.
The Egyptian generals sense that this world would be unpleasant in general, and dangerously uncertain for themselves personally. They have much more at stake than The New York Times editorialists and American politicians. Hence the Brotherhood's comeuppance, well deserved and long overdue. May the state of emergency in Egypt last for another thirty years.