The Destruction of a Nation…
"we are asked to feel guilty about men in prison.  We are told how many are of particular racial groups, and this is somehow our fault, no matter how many laws these convicts violated."  R. J. Rushdoony, "Systematic Theology", Vol. 1, pg. 464
With substantial support from biased reporting by the media we have experienced social unrest and rioting by Blacks over police infractions that have subsequently been proven false by a jury and by the Federal judicial system.  In the Tryvon Martin case local authorities decided against indictment but deceptive press coverage caused enough Black outrage to force a trial.   George Zimmerman was acquitted by a jury.  In the Michael Brown case in spite of media-fanned riots both Federal and local authorities decided against indicting Darrin Wilson.
In both cases the neocon controlled media provided distorted and incendiary coverage designed to create a violent reaction.  In both cases rather than presenting the evidence as it existed they distorted the evidence to make it seem that an atrocity had been committed. "White policeman kills unarmed Black teen" does not do justice to either event.
In an article in the "Atlantic" TA-Nehisi Coates writes "The investigation concluded that there was no evidence to contradict Wilson's claim that Brown reached for his gun. The investigation concluded that Wilson did not shoot Brown in the back. That he did not shoot Brown as he was running away. That Brown did stop and turn toward Wilson. That in those next moments 'several witnesses stated that Brown appeared to pose a physical threat to Wilson'. That claims that Brown had his hands up 'in an unambiguous sign of surrender'  are not supported by the 'physical and forensic evidence,' and are sometimes, 'materially inconsistent with that witness's own prior statements with no explanation, credible for otherwise, as to why those accounts changed over time.'"
Though slave owners no longer exist in the United States the media and Black leadership is still trying to harness White Americans with guilt over slavery.  Programs on slavery are frequent and any true depiction of current Black society is studiously suppressed.
We have a Black president, there are Blacks in Congress, sports at both the college and professional levels is primarily Black.  Blacks have responsible high paying government jobs, they are frequently seen in all current advertising; they own businesses and many are now solidly ensconced in Middle Class and upper 1% neighborhoods.  There are many loving and supportive Black families that are producing talented and upwardly mobile children.
An honest assessment of Black progress is very positive.  As a race they are doing extremely well.  Sadly, none of this is put forth in the press and media.  Instead, we get a constant ear splitting whine about racial prejudice.
In the first volume of "Sytematic Theology"  R. J. Rushdoony (RJR) writes, "Basic to all non-Christian politics are, first, a false covering, and, second, the cultivation of guilt. By cultivating guilt the state seeks to make its citizenry impotent and enslaved.  A false sense of guilt, moreover, has no solution and no escape is possible from it, as long as it is held.  The state then offers a false covering to that cultivated guilt: a statist program of noble ideas which in practice means the further enslavement of the people, and the increase in statist powers."  Pg. 465
Slavery and the Holocaust are salient examples of the procedure.  Egregious manipulation of our government is allowed by grief over the Holocaust and preferred racial citizenship is accorded by guilt over slavery.  In both cases the guilt is cultivated and in both cases it is bogus.
Christianity is dangerous to the state because Christians are freed from guilt and able to think clearly.  "Guilty men are not free men: they are slaves." (RJR)
In spite of the great progress Blacks have made there are still major problems.   Shootings are part of the evening news for every major city and too often they involve Blacks shooting other Blacks.  Black unemployment is part of the problem and government assistance programs share part of the guilt.  The major culprit, however, is the media which extends their fraudulent news coverage by giving a bully pulpit to self-serving Black leaders with deceitful messages.  The uncontrolled emotional rage, fanned by the press, ignites riots that make matters worse.  Riots destroy the fabric of society.  They work against freedom.  It must be acknowledge that the crime rate in Black inner-city areas is several times that of similar White neighborhoods.  Racial prejudice can no longer be used as an excuse.  We have elected a Black President, twice; a bigoted society would not do that.
A new group of Black realists needs to sit down with their biased leadership and hammer out a just and honest program for Black citizens.  There are some excellent Black pastors that would help with such a project.  Blaming people, places, and things will not provide progress; it must come from the Blacks themselves.
Though they are hardly coming from a position of strength Blacks are right about policing.  Major changes are needed in the behavior law enforcement.  Demands by policemen that innocent citizens submit to personal indignities tarnishes their reputation; policepersons who cannot determine who needs to be handcuffed and who does not do not belong on the street.   Law enforcement needs to earn a better reputation in both White and Black neighborhoods.  When respect is restored compliance will follow.
It is frightening to see a line of almost automated, black garbed, heavily armored police with loaded guns marching toward a residence where civilians will be surprised by a paralyzing no-knock raid.  The object is to shock with massive impregnable force and demand acquiescence.  These Swat team operations grew from a small number to over 40,000 per year by the beginning of the Twenty-First Century.  Read here.    Policing has morphed from protecting society to considering almost everyone to be an enemy.
Bad laws, too many laws, the war on drugs, and war as a way of life are all part of the problem.  The Neocon hate for Christianity and their success in purging it from U. S. society has had devastating effects on behavior.  We are considered a Christian nation with a population that overwhelmingly claims to be Christian but our flaccid pseudo-Christian population is governed by a satanic pagan power structure that exploits their naivety.  Freedom cannot exist under devilish tyranny.
The confiscation of cash from vehicles stopped for any or no particular reason is pandemic.  In some states the victims are predominantly Black but in others race is not a factor.  In one county in Texas in a two year period 200 citizens were victims of confiscations.  Fifty of the 200 were charged with drug possession but the remainder was never charged with a crime.  In many cases the threat of being charged with a crime which would require lawyers and trips back to the area caused victims to leave the money and go free.  Cash confiscations are common in many of our states.
In a small town in Northern Florida the city budget was almost entirely financed by speeding tickets issued to motorists traveling a main state highway that runs through the town.  That municipal thievery has how been stopped but it continued for years.
There are times when a lawless, recalcitrant citizen must be subdued and taken into custody and there are times when such a procedure is not warranted; policepersons should know the difference.
We have allowed our police departments to become sources of revenue that is used by local politicians.  Forfeiture laws and heavy fines are income streams rather than retribution for crimes.  This is fraudulent; it perverts the duties of the police force and cultivates cynicism.  Police are to be enforces of justice and should be filled with pride in that vocation.
The Black struggle for equality in a White society has now become a struggle for power.  They have more than equal legal status but now as a minority population they seek power over the entire government by calling for the resignation of the entire leadership of Ferguson.  Black riots have regularly resulted in concessions and as long as these concessions continue Black riots will continue. It is a dangerous situation when an errant press and media can create riots almost at will. The quest for power without reference to immutable justice is another form of tyranny.
American citizens are allowing manufactured guilt to be used as an excuse to create revolutionary chaos in our nation.
At the end of the "Atlantic" article TA-Nehisi Coates writes "I do not favor lowering the standard of justice offered Officer Wilson. I favor raising the standard of justice offered to the rest of us."
The immortal words uttered by Prince Hamlet as he contemplates death and suicide, applies for an entire society. The enormous gravity that permeates William Shakespeare's tragic hero represents the same fate confronting the normal mortals, who make up the ranks of Americans. The rapid decline in intelligence and moral character has approached epidemic levels. The ROT which has seeped into the popular culture has become a metamorphosis Reign of Terror. The transformers from a heritage of principle, courage and honor have sunk to a level of Slouching Towards Gomorrah. Such a fate was feared by our Founding Fathers.
Such a band of brothers would be hung together today, for daring to defy the established order. This ageless conflict between those with imposing power and the subjects, who suffer from the rule of tyrannical madmen, never ends. Well before the era of the Bard of Strafford-upon-Avon, the playwrights of the original Greek theater operated as the model for an establishment governance.
From the venerable 11th edition of the Encyclopedia Britannica volume 20 page 144 the pattern of human domination is illustrated.
"The success of the oracle led at last to the establishment of the rule that Herodotus declares to be almost universal in Greece, namely, that no leader of a colony would start without consulting Delphi. Doubtless in many cases the priesthood only gave encouragement to a pre-conceived project. But they were in a unique position for giving direct advice also, and they appear to have used their opportunities with great intelligence.

They could have for it was not by any means far-reaching conscious of no mission to preach Apollo, for his cult was an ancient heritage of the Hellenic stocks. Only the narrower duty devolved upon them of impressing upon the consultants felt the religious obligation of sending tithes or other offerings.

Nevertheless their opportunity of directing the religious ritual and organization of the public worships was great; for Plato's view that all questions of detail in religion should be left to the decision of the god " who sits on the omphalos " was on the whole in accord with the usual practice of Greece. Such consultations would occur when the state was in some trouble, which would be likely to be imputed to some neglect of religion, and the question to the oracle would commonly be put in this way "to what god or goddess or hero shall we sacrifice"?

The oracle would then be inclined to suggest the name of some divine personage hitherto neglected, or of one whose rites who fallen into decay.

Again, Apollo would know the wishes of the other divinities, who were not in the habit of directly communicating with their worshippers; therefore questions about the sacred the goddesses at Eleusis would be naturally referred to land of him. From both these points of view we can understand why Delphi appears to have encouraged the tendency towards hero-worship which was becoming rife in Greece from the 7th century onwards."
The lesson from placing submission in the hands of ruling elite goes back to antiquity. Usually that obedience was based upon physical threats of coercion, slavery or death. The cradle of Democracy interjected a cultural element into the mix that the priesthood class could intercede with the gods on behalf of a civil society of implied, free men.
The notion that citizens could vote on public issues, and confer consent was earth shattering. Making appeals to pagan deities is not unique. Access to "consultations" with the gods, followed a procedure that was strictly maintained by the prevailing order. The standard that saved the city-state required divine approval. Today regimes are protected by controlling mass allegiance through a cultural assault of rigid conformity to basic compliance of laws that is acceptable to the establishment authority.
None of this social dominance is healthy for a free society. Yet, those who give a superficial reading of Robert H. Bork's book, risk missing the balance needed to protect individual common law rights.
"Slouching Towards Gomorrah is a penetrating, devastatingly insightful exposé of a country in crisis at the end of the millennium, where the rise of modern liberalism, which stresses the dual forces of radical egalitarianism (the equality of outcomes rather than opportunities) and radical individualism (the drastic reduction of limits to personal gratification), has undermined our culture, our intellect, and our morality."
In order to promote legitimate individualism and personal freedom, the fundamental canons of natural rights must be the core criterion. Ethical conduct requires personal choices and conscious decisions for behavioral conduct.
Being part of the establishment means that acceptance of the system goes mostly unquestioned. Anti-establishment sentiment does not mean becoming a social misfit is the only path. There is no practical way to drop off the planet altogether and remain alive. Hamlet is correct in questioning his very existence, but few surviving participants in the daily grind of the rat race ever make time to contemplate their own place in the world.
Essentially, being Stuck on Stupid finds a delusive comfort and a false security in acquaintance to the status quo, even if that mode of interaction is wholly corrupt and destructive.
Until the masses make a commitment to be honest and honorable, no effective campaign can be waged against the establishment. Those who vigorously defend the actions of the establishment are lost. Seeking the guidance of the symbolic Delphi requires a total break with hero-worship of establishment proponents.
Radical egalitarianism is a cornerstone of the establishment, in their effort to become the Lord Master of the system. The madness that Hamlet experience drove him to express, "To die, to sleep-/No more", is based upon his torture and fear that there might not be peace even in death. Likewise the torment of thinking social critics understands that current ruling institutions and authorities are rotten to the core.
Trust worthy traditional conservatism offers a cogent, proven and utilitarian approach to achieve a renaissance for Western Civilization. In order to plant the seeds of individual Liberty, a populist message and a spiritual re-awakening must be adopted.
Society as it is presently configured is doomed to a catastrophic upheaval. Now is the time to prepare for personal survival, because the governmental safety network systems are unsustainable.
After the collapse, as the substantive re-alignment struggle is fought out, each of us will need to answer the primary question: Will you obey the Fascist Police State elites or you will you overcome Hamlet's fear of continual existence and resist the tyranny?
The saying often associated about the place one resides: "Where Life is Worth Living", should apply to America. For most of its history this attitude was true. More people than ever are not so sure that the nation once revered deserves to survive.
A new Gallup poll indicates that "Americans continue to view government as their single greatest problem. While the economy and unemployment have given the government a run for its money over the last year, in recent months government has taken a clear lead for the ignominious title."
The establishment most closely is associated with the government. However, the social culture ultimately accepts the system even when vocal activists are protesting. The reason is simple, fear of the unknown. Like Hamlet, death may not be relief in the end. Nevertheless, Abu Bakr's quotation regretfully is all too true. "Cursed is the man who dies, but the evil done by him survives".
How does one respond when the death of humanity comes as the cost of the survival of the establishment? The sickness that has become today's political, social and economic environment is a wholly owned dividend from the establishment's war on God.
Seeking the console of the Delphi to intercede with Apollo is like applying for a government grant to endure one more day of food rations. The dependency milieu is designed with a kill switch. Nothing is more philistine in a stance than to keep accepting that the establishment is a legitimate authority.
While there are few Plato's among us, there are many despotic followers of his ideal Republic despotism. One can explain away that Plato was promoting his Philosopher King, but there is no excuse to execrate the long list of democratic leaders who work tirelessly to establish their kingdom here on earth.
For God's sake! If not for your own; then seek righteousness for His. Remaining dumb and stupid is no defense for encouraging the establishment by providing willful assent. The notion that we can reform ourselves out of this dilemma is folly. Every day the situation deepens into a Shakespearian tragedy. It is too late to avoid the slide into Gomorrah because we are already in the pre Hellstone and brimfire danger zone.
People seldom learn from the past because they are living examples of denial. This experience is different from previous ages when life was short and often came to a violent end. Survivors understood the nature of tyranny. Now the soft kill culture does the dirty work, while most remain silent.
"In order to survive and preserve its leading role on the international stage, the US desperately needs to plunge Eurasia into chaos, (and) to cut economic ties between Europe and Asia-Pacific Region … Russia is the only (country) within this potential zone of instability that is capable of resistance. It is the only state that is ready to confront the Americans. Undermining Russia's political will for resistance… is a vitally important task for America."

-Nikolai Starikov, Western Financial System Is Driving It to War, Russia Insider

"Our first objective is to prevent the re-emergence of a new rival, either on the territory of the former Soviet Union or elsewhere, that poses a threat on the order of that posed formerly by the Soviet Union. This is a dominant consideration underlying the new regional defense strategy and requires that we endeavor to prevent any hostile power from dominating a region whose resources would, under consolidated control, be sufficient to generate global power."

-The Wolfowitz Doctrine, the original version of the Defense Planning Guidance, authored by Under Secretary of Defense Paul Wolfowitz, leaked to the New York Times on March 7, 1992
The United States does not want a war with Russia, it simply feels that it has no choice. If the State Department hadn't initiated a coup in Ukraine to topple the elected president, Viktor Yanukovych, then the US could not have inserted itself between Russia and the EU, thus, disrupting vital trade routes which were strengthening nations on both continents. The economic integration of Asia and Europe–including plans for high-speed rail from China ("The New Silk Road") to the EU–poses a clear and present danger for the US whose share of global GDP continues to shrink and whose significance in the world economy continues to decline. For the United States to ignore this new rival (EU-Russia) would be the equivalent of throwing in the towel and accepting a future in which the US would face a gradual but persistent erosion of its power and influence in world affairs. No one in Washington is prepared to let that happen, which is why the US launched its proxy-war in Ukraine.
The US wants to separate the continents, "prevent the emergence of a new rival", install a tollbooth between Europe and Asia, and establish itself as the guarantor of regional security. To that end, the US is rebuilding the Iron Curtain along a thousand mile stretch from the Baltic Sea to the Black Sea. Tanks, armored vehicles and artillery are being sent to the region to reinforce a buffer zone around Europe in order to isolate Russia and to create a staging ground for future US aggression. Reports of heavy equipment and weapons deployment appear in the media on nearly a daily basis although the news is typically omitted in the US press. A quick review of some of the recent headlines will help readers to grasp the scale of the conflict that is cropping up below the radar:
"US, Bulgaria to hold Balkans military drills", "NATO Begins Exercises In Black Sea", "Army to send even more troops, tanks to Europe", "Poland requests greater US military presence", "U.S. Army sending armored convoy 1,100 miles through Europe", "Over 120 US tanks, armored vehicles arrive in Latvia", "US, Poland to Conduct Missile Exercise in March – Pentagon"
Get the picture? There's a war going on, a war between the United States and Russia.
Notice how most of the headlines emphasize US involvement, not NATO. In other words, the provocations against Russia originate from Washington not Europe. This is an important point. The EU has supported US-led economic sanctions, but it's not nearly as supportive of the military build up along the perimeter. That's Washington's idea and the cost is borne by the US alone. Naturally, moving tanks, armored vehicles and artillery around the world is an expensive project, but the US is more than willing to make the sacrifice if it helps to achieve its objectives.
And what are Washington's objectives?
Interestingly, even political analysts on the far right seem to agree about that point. For example, check out this quote from STRATFOR CEO George Friedman who summed it up in a recent presentation he delivered at The Chicago Council on Foreign Affairs. He said:
"The primordial interest of the United States, over which for centuries we have fought wars–the First, the Second and Cold Wars–has been the relationship between Germany and Russia, because united there, they're the only force that could threaten us. And to make sure that that doesn't happen." … George Friedman at The Chicago Council on Foreign Affairs, Time 1:40 to 1:57)
Bingo. Ukraine has nothing to do with sovereignty, democracy or (alleged) Russian aggression. That's all propaganda. It's about power. It's about imperial expansion. It's about spheres of influence. It's about staving off irreversible economic decline. It's all part of the smash-mouth, scorched earth, take-no-prisoners geopolitical world in which we live, not the fake Disneyworld created by the western media. The US State Department and CIA toppled the elected-government in Ukraine and ordered the new junta regime to launch a desperate war of annihilation against its own people in the East, because, well, because they felt they had no other option. Had Putin's ambitious plan to create a free trade zone between Lisbon to Vladivostok gone forward, then where would that leave the United States? Out in the cold, that's where. The US would become an isolated island of dwindling significance whose massive account deficits and ballooning national debt would pave the way for years of brutal restructuring, declining standards of living, runaway inflation and burgeoning social unrest. Does anyone really believe that Washington would let that to happen when it has a "brand-spanking" trillion dollar war machine at its disposal?
Heck, no. Besides, Washington believes it has a historic right to rule the world, which is what one would expect when the sense of entitlement and hubris reach their terminal phase. Now check out this clip from an article by economist Jack Rasmus at CounterPunch:
"Behind the sanctions is the USA objective of driving Russia out of the European economy. Europe was becoming too integrated and dependent on Russia. Not only its gas and raw materials, but trade relations and money capital flows were deepening on many fronts between Russia and Europe in general prior to the Ukraine crisis that has provided the cover for the introduction of the sanctions. Russia's growing economic integration with Europe threatened the long term economic interests of US capitalists. Strategically, the US precipitated coup in the Ukraine can be viewed, therefore as a means by which to provoke Russian military intervention, i.e. a necessary event in order to deepen and expand economic sanctions that would ultimately sever the growing economic ties between Europe and Russia long term. That severance in turn would not only ensure US economic interests remain dominant in Europe, but would also open up new opportunities for profit making for US interests in Europe and Ukraine as well…

When the rules of the competition game between capitalists break down altogether, the result is war—i.e. the ultimate form of inter-capitalist competition." (The Global Currency Wars, Jack Rasmus, CounterPunch)
See? Analysts on the right and left agree. Ukraine has nothing to do with sovereignty, democracy or Russian aggression. It's plain-old cutthroat geopolitics, where the last man left standing, wins.
The United States cannot allow Russia reap the benefits of its own vast resources. Oh, no. It has to be chastised, it has to be bullied, it has to be sanctioned, isolated, threatened and intimidated. That's how the system really works. The free market stuff is just horsecrap for the sheeple.
Russia is going to have to deal with chaotic, fratricidal wars on its borders and color-coded regime change turbulence in its capital. It will have to withstand reprisals from its trading partners, attacks on its currency and plots to eviscerate its (oil) revenues. The US will do everything in its power to poison the well, to demonize Putin, to turn Brussels against Moscow, and to sabotage the Russian economy.
Divide and conquer, that's the ticket. Keep them at each others throats at all times. Sunni vs Shia, one ethnic Ukrainian vs the other, Russians vs Europeans. That's Washington's plan, and it's a plan that never fails.
US powerbrokers are convinced that America's economic slide can only be arrested by staking a claim in Central Asia, dismembering Russia, encircling China, and quashing all plans for an economically-integrated EU-Asia. Washington is determined to prevail in this existential conflict, to assert its hegemonic control over the two continents, and to preserve its position as the world's only superpower.
Only Russia can stop the United States and we believe it will.
Yesterday's Israeli election proved that Benjamin Netanyahu engineered a miraculously recovery from an imaginary 'downfall.' Netanyahu weathered the intense media campaign against him, both in Israel and internationally, and won despite the miniscule, yet noisy, Jewish international left that promised us that Bibi was about to be wiped out politically. This uniquely dangerous man scored an incredible political victory yesterday.
Israel is a true Jewish democracy. It has many problems but it genuinely represents the spirit and aspirations of the Israelis.  In the Israeli Knesset in 2015, there is not a single Jewish party that cares for the Palestinians and their plight.  There is not a single Jewish member who offers any plan for peace and reconciliation. Meretz, the only so called 'left' Jewish party that used to offer a vision of peace, has been reduced to a microscopic role and is primarily committed to LGBT matters.
In the Jewish democracy, the Arab Unity Party is the third biggest party in the Knesset. This is indeed great news. The so-called 'anti' Zionists must find this slightly embarrassing. While in the racist Zionists State, Arabs have become the third biggest political force in the parliament, in the 'progressive' Jewish pro Palestinian organisations such as JVP, JFJFP or IJAN, Goyim, let alone Arabs, are kept out of decision making circles.
Seemingly, racist Israel is slightly more advanced than its 'progressive' Jews only opponents.
We were told in the last few weeks that Netanyahu's Congressional address was the last nail in his coffin. We read reports that suggested that the Israelis reacted negatively to his warmongering initiative. As usual, we were mislead. The Israelis, as shown by the election results, love Netanyahu and approved his foray into the US Congress. The Israelis love seeing their PM bowed to and cheered on by the American political elite as he persuades them to send their kids to die for Zion.
Those who oppose Israel, its Lobby and Jewish Power must be happy about Bibi's political victory yesterday. I admit I am certainly delighted.  It saves us a lot of time and delusional spins from Israel's advocates, Hasbara merchants and the Jewish Left.
Last week we learned that the vast majority of British Jews support Bibi and his Likud party. Apparently, the Jewish State is no different. Israel is Bibi and Bibi is Israel.
Even a seasoned cynic sometimes gasps in disbelief. "President Putin misinterprets much of what the U.S. is doing or trying to do," U.S. Secretary of State John Kerry told a press conference in Geneva on March 2. "We are not involved in 'numerous color revolutions' as he asserts. In the case of Ukraine, such assumptions are also wrong. The United States support international law with respect to the sovereignty and integrity of other people."
This is akin to Count Dracula asserting his strict adherence to a vegan diet and his principled respect for the integrity of blood banks worldwide.
Various quasi-NGOs funded by American taxpayers and funneled through organizations such as the National Endowment for Democracy, Freedom House and the National Democratic Institute, not to mention George Soros's Open Society Foundations (partly funded by U.S. and other Western governments), have been actively engaged in dozens of "regime-change" operations for a decade and a half. Their work is conducted in disregard of international law and in violation of the sovereignty and integrity of the people whose governments are thus targeted.
The overthrow of Slobodan Milosevic in Belgrade (October 2000) provided the blueprint, in strict accordance with Gene Sharp's manual. Widespread popular discontent was manipulated by the U.S./Soros funded and trained Otpor! network to bring to power a government subservient to Western political and economic interests. The moderately patriotic yet hapless new president, constitutional lawyer Vojislav Kostunica, was used as a battering ram to bring Milosevic down. Once that goal was achieved, Kostunica was promptly marginalized by Prime Minister Zoran Djindjic and his successors – Serbia's two-term president Boris Tadic in particular – who turned the country into a pliant tool of foreign interests. Wholesale robbery of Serbia's state and public assets promptly followed the 2000 coup, resulting in the Balkan country's comprehensive de-industrialization. Official Belgrade was forced to accept Kosovo's de facto "independence" in the name of the elusive goal of joining the European Union.
Georgia's 2003 "Rose Revolution" was carried out by the Kmara ("Enough") network, a carbon copy of Serbia's "Otpor," including the clenched fist logo. Its activists were trained and advised by the U.S.-affiliated Liberty Institute and funded by the Open Society Institute. It brought to power Mikhel Saakashvili, a corrupt "pro-Western" politician currently wanted by Georgia's government on multiple criminal charges. The coup was largely financed by Soros's network, which spent $42 million in the three months before the coup preparing the overthrow of the government of Eduard Shevardnadze. The most important geopolitical result was Georgia's NATO candidacy, supported by Washington, which is currently stalled but which has the potential to be as perniciously destabilizing as the crisis in Ukraine.
Speaking in Tblisi in June 2005, Soros said: "I am very pleased and proud of the work of the Foundation in preparing Georgian society for what became a Rose Revolution, but the role of the Foundation and me personally has been greatly exaggerated." The new government, as it happens, included Alexander Lomaia, former Secretary of the Georgian Security Council and minister of education and science, who at the time of the coup was Executive Director of the Open Society Georgia Foundation. David Darchiashvili, ex-chairman of the Committee for European Integration in the Georgian parliament, was also an executive director of the Foundation. As former Georgian foreign minister Salomé Zourabichvili wrote in 2008, "all the NGO's which gravitate around the Soros Foundation undeniably carried the revolution… [A]fterwards, the Soros Foundation and the NGOs were integrated into power." Interestingly, the U.S. Ambassador in Georgia at the time of the 2003 regime-change operation, Richard Miles, was the Ambassador in Belgrade at the time of Milosevic's downfall three years earlier.
The march of history continued with the 2004 "Orange Revolution" in Ukraine – that grand rehearsal for the Maidan coup a decade later – and the 2005 "Cedar Revolution" in Lebanon, which was given its name by then-U.S. Under Secretary of State for Global Affairs Paula J. Dobriansky. Also in 2005 the "Tulip Revolution" in Kyrgyzstan had as its chief foreign advisor Givi Targamadze, an official of Georgia's aforementioned Liberty Institute, who at the time chaired Saakashvili's parliamentary committee on defense and security.
In 2006 Congress passed the Iran Freedom and Support Act which provided taxpayer funding for groups opposed to the Iranian government, and then-Under Secretary of State for Political Affairs R. Nicholas Burns said the administration was "taking a page from the playbook" on Ukraine and Georgia. A year later the George W. Bush administration authorized a $400 million covert operation budget to foment unrest in Iran. In 2012 Seymor M. Hersh wrote that the U.S. has provided funding and training to the People's Mojahedin Organization of Iran, a militant group which had been listed by the U.S. State Department as a terrorist organization,
In 2012 President Obama authorized U.S. government agencies to support violent regime change in Syria. By early 2013 the Administration was helping the "moderate" rebels – i.e. jihadists with no overt links to al-Qaeda – to the tune of $250 million, and that figure has been at least doubled since. The result has been disastrous for the Syrian people (Christians in particular), and hugely detrimental to U.S. security interests in the region. The insurgency against Bashar al-Assad has directly contributed to the rise of ISIS, with no end to the latest war in sight.
Last month Venezuelan President Nicolas Maduro gave a televised speech in which he alleged systematic U.S. involvement in destabilization attempts against his government. The U.S. Department of State called his claims "baseless" and "false."  "The United States does not support political transitions by non-constitutional means," read the statement from Department spokesperson, Jen Psaki. Indeed. One of the leaders of the failed anti-Chavez coup d'etat in 2002, Rear Admiral Carlos Molina, has stated that he was acting with US support. Ditto the CIA-supported regime-change operation in Nicaragua in 2009.
As for the Maidan Revolution, crowned by "political transition by non-constitutional means" par excellence, Victoria Nuland readily admitted that its preparation cost the U.S. taxpayers some $5 billion over the preceding decade. The result is the most dangerous geopolitical crisis of the post-Cold War era, systematically engineered and conducted by the regime-changing exceptionalists in Washington D.C. who believe that they are exempt from historical forces and legal restraints that apply to merely mortal countries.
Former U.S. Ambassador in Moscow Michael McFaul boasted to The New York Times a week after taking duty in January 2012 that he would make his "pro-democracy" mark in Moscow "in a very, very aggressive way." Some months earlier, McFaul declared that "even while working closely with Putin on matters of mutual interest, Western leaders must recommit to the objective of creating the conditions for a democratic leader to emerge in the long term." This was a regime-change agenda expressed with brutal bluntness: we need to "de-Putinize" Russia, he declared. It would be interesting to see the U.S. reaction if a similar statement ("We need to to de-Obamanize America!") were to be made by an incoming Russian ambassador in Washington.
In Russia the regime-change program did not work, however. First and foremost, there was no popular support: hundreds of "activists" demonstrating against Putin in 2012 could be turned into "thousands" in Western post-election media reports, but that was still far below the tens, let alone hundreds, of thousands needed to kick-start a regime-change op. Infuriatingly for the planners, Russia simultaneously enacted a law regulating foreign "NGO" activities which was patterned directly on the American Foreign Agents Registration Act (FARA), which regulates activities of the agents of foreign governments in the United States. Enacted in the 1930's to require disclosure of Americans working on behalf of Nazi Germany, and used to control Soviet agents thereafter, FARA requires full public disclosure of those same activities that the U.S. government had tried to fund in Russia. The Federal Election Campaign Act flatly prohibits foreign involvement in American elections – yet it was touted as legitimate when conducted in Russia by Washington's protégés under the guise of promoting democracy.
The regime-change mania will go on and on. It is inseparable from the psychotic belief in one's indispensability and exceptionalism. It is a form of self-defeating grandomania that can only stop with America's long-overdue abandonment of the global hegemony experiment.
And yes, John Kerry is a liar.
The saga of continuous deployment and a garrison empire is a long and sad state of affairs. Using the trumped up fright that America's enemies are geared up to bomb malls and sporting venues, builds a phony fear that the only response to combat the threat is to wage continuous foreign campaigns. What put such sophistry to rest are the facts that such uninterrupted carnage just feeds the fields of growing hostility towards America. If the War on Terror was winnable, why not start by stopping the War of Terror that is the center piece of aggressive projection of bellicose power.
The militarist over at Red States warns that Obama is gumming up the works. In the article, Obama's AUMF is Actually a DUMF the horror that placing a limit on the use of expansionist support deeply offends the warmongers. Folks, their positions are not a fair or representative reflection of true and traditional conservative foreign policy.
"The AUMF proposed by Obama, on the other hand, explicitly repeals the 2002 AUMF and furthermore explicitly states that ground troops cannot be used, as they can be used (and have been used by Obama) under the 2002 AUMF. It furthermore contains an automatic three year expiration, which is not contained in the currently active AUMF.

In other words, this is not even fairly called an Authorization for the Use of Military Force. It's actually a Deauthorization for the Use of Military Force. Republicans in Congress should start referring to it as the DUMF (pronounced DUMB-f) so that people will be reminded what sort of person would be convinced that Obama takes confronting the threat of ISIS seriously."
In order to have a sound and constitutional approach to safeguarding the Republic, the first step is to be honest with ourselves. The preservation of the sole superpower mantra is far more dangerous than any suicide bomber. Yet, the internationalists will never be content until they manufacture or invent a new advocacy to keep the full spectrum dominance machine rolling along. Such a mind-set and way of thinking is psychotic.
For those who hope the Obama administration is actually operating on a more balanced level; don't believe that spin for a minute. The essential reality is that there are only two positions in gauging foreign policy. The first is the bipartisan establishment agreement that "Politics Stops at the Water's Edge". Even the Council on Foreign Relations admits in the essay, American Foreign Policy Is Already Post-Partisan the following.
"Yet how deep is the partisan divide over the place of multilateralism in U.S. foreign policy? To explore this question, in the past year we sent a survey to foreign policy professionals: 50 Republicans and 50 Democrats, who had served in a mid-level or higher foreign policy position in the Clinton, Bush, or Obama administrations, or on Capitol Hill. The respondents included 23 Democrats and 20 Republicans.

The results of our study reveal that the parties are not as divided about multilateralism as the conventional wisdom suggests. First, strong majorities of both Republican and Democratic respondents said they believed that working closely with other nations serves U.S. interests and makes the country's foreign policy more effective. Second, foreign policy leaders from both parties agreed that international economic institutions and free trade agreements are valuable, and that working with regional and global multilateral organizations such as NATO and the UN is important."
Such a response is expected from the echo chamber for the New World Order.
The second perspective accepts the wisdom of the historic and guarded non-interventionism approach to foreign affairs. Based upon power politics exponents, who are in control of government agencies and influence institutions, their defiance for a reason and true national security, attacks such advocates for halting the unending cycle as domestic terrorists. The recent BATR RealPolitik Newsletter, Israel Owns Congress, illustrates a significant factor behind the driving pressure that exports violence from the Nefarious Warrior Organism. Yes this fitting description for the New World Order characterizes the essence of the establishment.
Daniel Larison writes in the American Conservative, Paul and the Right's Ideological Enforcers.
"Michael Brendan Dougherty comments on the silly reaction of some "pro-Israel" hard-liners to Rand Paul's insufficiently zealous applause for Netanyahu:

"And I understand the suspicion. If I ever exerted myself so frantically on behalf of a cause, if lobbying for it required investing so many millions of dollars, and if maintaining party discipline on it required "brutal" ad drops on congressional obscurities, I would worry that some of the response I sought was perfunctory and insincere. The sonnets you receive don't sound as sweet. The applause seems forced. Almost like they are faking it."

Unfortunately, this ludicrous ideological policing seems to work only too well. Paul's response in the last two days has been to reaffirm how enthusiastically "pro-Israel" he really is. Even though the fixation on the intensity of his clapping at Tuesday's disgraceful spectacle ought to have made clear that he will never be able to do or say (or clap) enough to satisfy his party's hard-liners, he made sure to emphasize his "pro-Israel" bona fides by talking up his co-sponsorship of Corker's Iran bill and the number of times (50) he has joined in standing ovations for Netanyahu. We can already hear the hard-liners' response: "He gave only 50 standing ovations? He should have given at least 70."
This goes to the heart of the establishment's primacy principle, American adventurism benefits Israel First interests. The reason the United States is engulfed in perpetual war is to keep the power elites in control. The permanent war of terror has the domestic public as the target. Why is this so? Plainly speaking, the globalists who have completed their takeover of the apparatus of governance have eliminated even the semblance of the rule by law.
In the Ron Paul video from a GOP Presidential debate, Let Iran Have Nukes. No Sanctions, No War, you heard for the last time a common sense and prudent approach to counter the NeoCon and NewLib mantra of continual threat of war or actual combat.
Stopping the interventionism of the foreign policy establishment like in their Ukrainian coup d'état, would require a total repudiation of the entire power structure that perverts the body politic. The lawlessness, that is the staple of the Obama administration, just made a pivot in rhetoric from the "Mission Accomplished" absurdity under Bush.
All the time the same drum beat to a truly global conflict marches on because the fundamental axioms upon which, rest the internationalist system, is based has proven beyond any reasonable doubt, to be false and deadly.
We live under a reign of terror from our own illegitimate authorities. The domestic police state is a reflection of tactics used and perfected in Iraq. The creation of ISIL was achieved by western intelligence. The need for a new enemy becomes obvious when the old one turns out to be a phony menace.
If Obama would really sunset the Authorization for the Use of Military Force, it might be the only worthwhile initiative of his years in office. However, in order to judge the feasibility and sincerity of his intentions, one might need to access the private emails of the former Secretary of State. Fat chance!  Dragging out the goods from the heroine of culture concealment brings back all the memories of the former Klinton era.
That's the way the guardians of the establishment work. Brew up mind numbing scandals, while the existential global tragedies of designed world domination, are ignored. The ease upon whom the war of terror is sold to the public is dreadful.
Listing all the transgressions upon lawful restrains, imposed on the country since the 911 Wag the Dog scenarios, would take a book. How long will repeating the same strategy of failure continue to get favorable support? As long as confused conservatives accept that the bogyman is overseas and are not able to focus on the architects of treason at home, the NWO will just waltz its way to the symphony they compose.
The absence of the formerly vocal anti-war movement in the way the Viet Nam war galvanized is a great regret. Adopting a non-interventionist doctrine should not be a left-right dichotomy. It needs to become a unified and committed cause that each citizen will actively adopt.
The pathetic peer pressure used on a Rand Paul to become an Israel-First supporter needs to be condemned. If it was not for the internationalist and globalist lobby, our troops could and should be stationed on our own borders.
Perpetual war to justify a permanent war of terror will destroy all that was once unique about America. The fifth column and systemic treason that passes as "PC" policy, is the enemy. Waking up is not enough. The blowback coming must be against the establishment. In order for the nation to rise from the ashes of destruction, the public needs to defeat the reign of terror conducted in our name.
I just had a talk with a friend of mine who was all pissed off because he had purchased a Series EE savings bond for his little kid way back in 1998.  "I paid $500 for it at the time and, at that time, the bank promised me that the bond would mature in ten years and then be worth $1,000."  So?  Well?  Did it?  Is it?
"Eh — no," sighed my friend.   "When my kid cashed it in last month, she only got $850 back."  What?  You mean after accumulating over 16 years of interest, the bond had only gained $250 in value?  Even after all those promises of doubling its worth after just ten years?  That's whacked.
But, according to the Treasury Direct website, it is also legal.  "Series EE bonds issued from May 1997 through April 2005 continue to earn market-based interest rates set at 90% of the average 5-year Treasury securities yields for the preceding six months.  The new interest rate for these bonds, effective as the bonds enter semiannual interest periods from November 2014 through April 2015 is 1.49%.  Market-based rates are updated each May 1 and November 1."
What the freak does that mean?
It means that Series EE savings-bond-holders have been (and can continue to be) legally ripped off.  Government agencies now under the happy control of the top 1% can legally make the rest of us little guys any promises they want — and then just take them back.
"Buying government savings bonds is practically like loaning the government interest-free money," I told my friend.  "But on the other hand, if you had bought $500 worth of gold back in 1998 instead of that bond, it would have cost you $296 an ounce — and an ounce and a half of gold would now be worth $1,808, a net gain of one thousand three hundred and seven dollars."
However, if you had spent that $500 on baseball cards, you might be pretty much out of luck.
But what if, instead, you had purchased $500 worth of stock for your kid?  If you had bought stock in mortgage companies like Countrywide, for instance, you would have kissed your $500 goodbye.
But if you had bought stock in pharmaceutical companies that produce products like mercury-laden vaccines, psychotropic drugs and male sex-enhancers, or bought stocks in weapons factories or bought stocks in oil companies or WalMart, you could have practically put your rugrat through college with your capital gains by now!
Or suppose you had invested that $500 in buying part-ownership in a Congressman — like the big boys on Wall Street, War Street and K Street do?  Apparently you would have gotten an average of a 5000% return on your investment.
Or if, like your government in cahoots with its sleazy bankster friends, you had invested your $500 in loaning money to college students instead?  Then you would have been able to collect 6% interest from said college students' loans for decades to come — and owned their souls for the rest of their lives too!
But, no.  You had faith in your government and bought savings bonds instead — never dreaming that your government would invest its resources in war and corporate welfare instead of in you.
However if it's any consolation, you and your kid are not alone.  China made that same mistake too.
Remember back when our founding fathers wisely designed our Constitution to include having three different branches of government?  Legislative, executive and judicial?  Well, just over 225 years later, America's government still has three different branches — except now those three branches are Wall Street, War Street and K Street.
A Manhattan jury just awarded a $218.5 million verdict against the Palestinian Authority for damages done to Israelis with American citizenship by Palestinian suicide bombers.  Do you know what this means?  A new precedence has just been set.  A new Pandora's box has just been opened.
Now everyone affected by anything like this can now also use American courts to get recompense for damages done by acts of "terrorism" on American citizens abroad!
For instance, were any Chilean-Americans killed in the CIA coup against Allende in Chile?  Their relatives can now sue Henry Kissinger — but of course they will have to stand in line behind the Cambodian-Americans killed by him.
And what about the bunches and groups of Palestinian-Americans, Yemeni-Americans, Iraqi-Americans, Syrian-Americans, Ukrainian-Americans, African-Americans, Grenada-Americans, Guatemalan-Americans, Haitian-Americans, etc. who have been either killed out in public for all to see by America's overtly-evil war machine — or else killed on the sly by those covertly-evil CIA troublemakers at Langley?
Or, hell, what about all those dead American-Americans too for that matter?  Does this mean that American soldiers killed or wounded in Vietnam, Iraq, Lebanon, Kuwait, Afghanistan, etc. can now sue the Department of Defense in American courts for "terrorism" too — as well as for fraud, creating dangerous conditions, willful negligence, breach of promise and entrapment as well?
Hey, Uncle War Street!  See ya in court!
Common wisdom has China as the future model for the Globalist economy. Also, conventional thinking has the Western financial debt created money system as the backbone of the New World Order. The big question is, are both components of the same intentional plan? When China Has Announced Plans For A 'World Currency', the world is put on notice that a fundamental shift is about to take place.
"What you are about to see is rather startling, but it shouldn't be a surprise.  When it comes to economics and finance, the Chinese have always been playing chess while the western world has been playing checkers.  Sadly, we have gotten to the point where checkmate is on the horizon.
The following comes from CNBC …
The tightly controlled Chinese yuan will eventually supersede the dollar as the top international reserve currency, according to a new poll of institutional investors.
The survey of 200 institutional investors – 100 headquartered in mainland China and 100 outside of it – published by State Street and the Economist Intelligence Unit on Thursday found 53 percent of investors think the renminbi will surpass the U.S. dollar as the world's major reserve currency.
Optimism was higher within China, where 62 percent said they saw a redback world on the horizon, compared with 43 percent outside China."
Before the celebration begins that the game is up for the Federal Reserve mastery from the days of the Bretton Woods Conference, look a little closer. While gold and its fixed price were instrumental to that monitory standard, the freeing from fixed rates has generated the madness of floating currency speculation that now dominates the financial markets.
The cunning and patient Chinese built their export economy on cheap priced goods into their importing customer economies. Saving is a noble objective in the East, while going into debt is the hallmark of Western practices. The Chinese have applied their huge balance of trade surpluses to buying up commodities. Most notable is gold.
The article, Could China actually have 30,000 tonnes of gold in reserves? Makes the strongest argument that China is poised to become the new superior currency is based upon the potential of establishing a convertible relationship between the renminbi and bullion.
"China has much more gold than it is allowing the world to see. As Alasdair Macleod, probably the world's number one analyst of the gold market, wrote that between 1983 and 2002 China probably accumulated 25,000 tons of gold. Thus, its current gold holdings are probably north of 30,000 tons in contrast to the USA which has either sold or leased most of its gold."  Now this statement coming from one of the usual gold megabulls might be ignorable, but Hunt does not fall into this category and has a good track record of insights into China's strategic initiatives as far as metals and minerals are concerned."
Before the rush to the door to dump your U.S. Dollars for whatever store of wealth one believes will maintain its purchasing value, consider what the voice of the global financial establishment, the IMF says. Stating the outlook from the central Bankster's perspective in, Will the Renminbi Rule?, the message is that paper money, burdened by debt, is still firmly in place.
"Given China's size and growth prospects, it is widely seen as inevitable that the renminbi will eventually become a reserve currency. To gauge the likelihood and timing, it is necessary to consider the typical attributes of a reserve currency and evaluate China's progress in each of these dimensions. The factors that generally affect a currency's reserve status includes:
Economic size
Macroeconomic policies
Flexible exchange rate
Open capital account
Financial market development
The IMF concludes:
"The renminbi is unlikely to become a prominent reserve currency—let alone challenge the dollar's dominance—unless it can be freely converted and China adopts an open capital account."
Now for anyone even remotely schooled in the manners and maturations of the financial elites, turning the other cheek to a pretender, is not in the lesson book.
Investment manager, Richard Harris offers in a report, Time to create new Chinese-Hong Kong dollar, an interesting possibility.
"The HK dollar itself is a dead unit having been pegged first to the pound and later to the US dollar, with the current rate fixed in 1983. The prevailing view about depegging is that it would be too dangerous. The unit only floated for a relatively short period from 1974-1983 and, I recall, without much confidence in its success.
The obvious answer is to combine the dead HK dollar with the embryonic CNH. This would be a completely independent, floating currency. The CNY would be used for current account transactions such as exports and imports, whilst the new "Chinese Dollar" (HKD/CNH combined) would cater for capital account financial transactions."
Keeping paper money in place as the international medium of exchange is fundamental to the New World Order. While China may never implement an actual redemption of gold for their renminbi, there is a real possibility that some gold weighted backing for Chinese paper instruments could be introduced.
The U.S. Dollar maintains illusionary worth, only because the central bankers are all in with their dollar dominated derivatives. Moreover, the Chinese are very much dependent upon their exports to keep their economy going. Settlement in Federal Reserve notes is crucial for the American system to keep buying from overseas.
Just the mere threat of payment in the renminbi for all the Chinese goods that Walmart imports     could be devastating. Allowing for a gradual transition into a semi-reserve renminbi status keeps the Bankster's game going.
The prudent analysis suggests that the NWO created China's emergence into an economic power through off-shoring domestic industries in their subject countries. Nonetheless, the international cabal is not about to starve their interest paying indebted nations by letting the Chinese accumulate even greater cash reserves.
Expect a downturn in China's prospects, as soon as any ascendency for their currency begins gaining a reserve acceptance.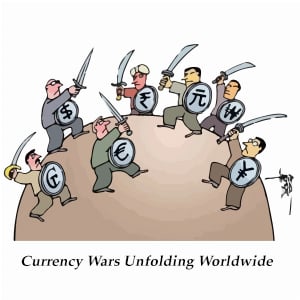 The first two months of 2015 have seen turmoil in the currency markets extend from Russia and Ukraine to the heart of Europe.
"Central Banks Now Open 24/7 Fighting Currency Wars and Deflation," blared a February 12th Bloomberg headline. Against this backdrop, precious metals have been on the rise in terms of all currencies except the Swiss franc and the U.S dollar.
In January, the Swiss National Bank shocked markets by announcing that it would de-link its currency from the euro. The move came one week ahead of the European Central Bank's $1.1 trillion Quantitative Easing announcement. Swiss officials decided it would be too costly to keep accumulating depreciating euros in order to maintain the currency peg. The Swiss franc surged by the most ever in a single day.
With the exception of Switzerland, all other countries in Europe (and many others around the world) are trying to depreciate their currencies.
Since January 1, the following central banks have announced interest rate cuts or other monetary easing measures: European Central Bank, Reserve Bank of Australia, Reserve Bank of New Zealand, Monetary Authority of Singapore, and the central banks of India, Canada, Denmark, and Sweden.
On February 12th, the Swedish Riksbank announced a surprise rate cut from 0% to below 0%. "To ensure that inflation rises towards the target, the Riksbank is prepared to quickly make monetary policy more expansionary, even between the ordinary monetary policy meetings," the world's oldest central bank said in a statement.
Sweden joins the European Central Bank and the central banks of a handful of other countries in pushing benchmark interest rates into negative territory. These central bankers are all aiming to revive inflation. "Investors" who are buying bonds yielding less than nothing (a negative rate) are apparently convinced that central bankers won't succeed in depreciating their currencies.
Insanity! Investors Now Paying for the "Privilege" of Lending to Broke Governments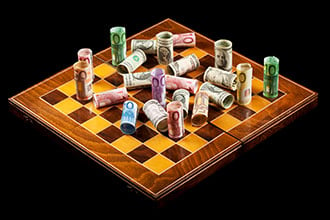 This could go down as one of the oddest, most irrational asset bubbles in history. Trillions of dollars are now tied up in debt instruments that promise to return less than the invested principal. According to a report issued by J.P. Morgan, $3.6 trillion in government bonds around the world now carry negative yields.
It raises the obvious question; why would so many people be willing to accept a negative rate of return?
You'd think that institutional investors would start getting wise to holding gold as a hard-currency alternative to cash instruments that yield less than zero. The fact that gold has no interest rate is actually an advantage in an environment where competing rates are negative! Plus, unlike most of the bonds issued in this upside-down interest rate market, gold has significant appreciation potential.
If inflation rises even modestly to the 2% target of European and U.S. central bankers, then bonds issued at rates of below 2% will all be losers. The two-year Treasury note yields only 0.63%. Even the recent 10-year yield of 1.98% fails to match the Federal Reserve's inflation ambitions.
The fact that gold has no interest rate is actually an advantage in an environment where competing rates are negative!
In this environment of ultra-low nominal yields or even negative real yields, precious metals as a reserve asset look very attractive. Many central bankers around the world agree and are busily accumulating gold. According to a report issued by the World Gold Council in February, governments around the world added 477.2 metric tons of gold to their reserves in 2014. That haul was the second biggest in 50 years.
When inflation fears return to the market, as they eventually will, precious metals will become one of the premier asset classes to hold. Even now, they are performing better than virtually all other world currencies.
The end game of these ongoing currency wars is that all fiat currencies will be debased. And a true flight to quality will accelerate – with assets fleeing depreciating currencies (and debt instruments denominated in them) and piling into gold and silver.
Will the Fed Chicken Out on Rate Hikes?
Of course, right now it's deflation fears that are dominating headlines. But the inflationary policy responses from the European Central Bank and others that have followed the ECB's lead have lifted gold and silver prices markedly in terms of euros and other currencies.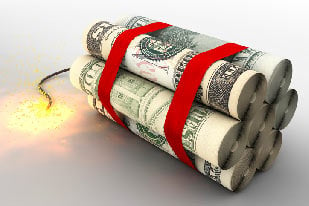 As confidence in European currencies plunges, there's only so much corresponding dollar strength the Federal Reserve is willing to tolerate. There's been much talk of rate hikes coming later this year, and that widespread expectation has been priced into the market. Any rhetorical or policy disappointments from the Fed in the months ahead could cause traders to sell the dollar.
Whether later this year or further down the road, it's only a matter of time before currency turmoil spreads to the United States.
The U.S. has a higher debt-to-GDP ratio than some troubled European countries. It has higher levels of unfunded liabilities (estimated to be in excess of $100 trillion) than any other country. The dollar's status as world reserve currency has allowed the U.S. to become financially overextended. But that vaunted status is slowly deteriorating as Russia, China, and other countries form economic alliances that bypass the dollar.
When these chickens come home to roost, you don't want to be wholly dependent on the U.S. government's promises or its currency. Sizeable holdings in physical precious metals will help make you financially resilient in the face of the spreading global currency crisis.
NATO Lies and Provocations…
"The war has been provoked to destroy the Russian World, to draw Europe into it, and to surround Russia with hostile countries. Unleashing this world war, America is trying to deal with its own internal problems."

– Sergei Glazyev, Advisor to Russian President Vladimir Putin
The fabrications of NATO's top commander in Europe, General Philip Breedlove, have driven a wedge between Germany and the United States that could lead to a collapse of the Atlantic Alliance. According to the German news magazine, Der Spiegel, Breedlove has repeatedly sabotaged Chancellor Angela Merkel's attempts to find a diplomatic solution to the war in Ukraine by spreading "dangerous propaganda" that is misleading the public about Russian "troop advances on the border, (and) the amassing of munitions and alleged columns of Russian tanks." But while the unusually critical article singles out Breedlove for his hyperbolic exaggerations of so-called Russian aggression, the real purpose of the Spiegel piece is to warn Washington that EU leaders will not support a policy of military confrontation with Moscow.
Before we explain what's going on, we need to look at an excerpt from the article. According to Spiegel:
"…for months now, many in the Chancellery simply shake their heads each time NATO, under Breedlove's leadership, goes public with striking announcements about Russian troop or tank movements … it is the tone of Breedlove's announcements that makes Berlin uneasy. False claims and exaggerated accounts, warned a top German official during a recent meeting on Ukraine, have put NATO — and by extension, the entire West — in danger of losing its credibility.

There are plenty of examples….At the beginning of the crisis, General Breedlove announced that the Russians had assembled 40,000 troops on the Ukrainian border and warned that an invasion could take place at any moment. The situation, he said, was "incredibly concerning." But intelligence officials from NATO member states had already excluded the possibility of a Russian invasion. They believed that neither the composition nor the equipment of the troops was consistent with an imminent invasion.

The experts contradicted Breedlove's view in almost every respect. There weren't 40,000 soldiers on the border, they believed, rather there were much less than 30,000 and perhaps even fewer than 20,000. Furthermore, most of the military equipment had not been brought to the border for a possible invasion, but had already been there prior to the beginning of the conflict. Furthermore, there was no evidence of logistical preparation for an invasion, such as a field headquarters.
Breedlove, though, repeatedly made inexact, contradictory or even flat-out inaccurate statements."…

On Nov. 12, during a visit to Sofia, Bulgaria, Breedlove reported that "we have seen columns of Russian equipment — primarily Russian tanks, Russian artillery, Russian air defense systems and Russian combat troops — entering into Ukraine." It was, he noted, "the same thing that OSCE is reporting." But the OSCE had only observed military convoys within eastern Ukraine. OSCE observers had said nothing about troops marching in from Russia.

Breedlove sees no reason to revise his approach. "I stand by all the public statements I have made during the Ukraine crisis," he wrote to SPIEGEL in response to a request for a statement accompanied by a list of his controversial claims."
(Breedlove's Bellicosity: Berlin Alarmed by Aggressive NATO Stance on Ukraine, Der Spiegel)
While it's easy to get swept up in the Spiegel's narrative of a rabid militarist dragging Europe closer to World War 3, the storyline is intentionally misleading. As anyone who's been following the Ukraine fiasco for the last year knows, there's nothing particularly unusual about Breedlove's distortions. Secretary of State John Kerry has made similar claims numerous times as have many others in the major media. The lies about "Russian aggression" are the rule, not the exception. So why has the Spiegel decided to selectively target Breedlove who is no more deceitful than anyone else? What's really going on here?
Clearly, the Spiegel is doing Merkel's work, that is, undermining the credibility of Washington's chief commander in Europe in order to discourage further escalation of the conflict in Ukraine. But while Merkel wants to humiliate Breedlove to show that Germany will not sit on its hands while Washington plunges the region into the abyss; she has also shown considerable restraint in limiting her attack to the General while sparing Kerry and Obama any embarrassment. This is quite an accomplishment given that –as we said earlier–virtually everyone in the political establishment and the media have been lying nonstop about every aspect of the conflict. Merkel doesn't want to discredit these others just yet, although the Spiegel piece infers that she has the power to do so if the "bad behavior" persists.
The Spiegel article is part of a one-two punch designed to force Washington to change its confrontational approach. The second jab appeared late Sunday afternoon when EU Commission President Jean-Claude Juncker announced that Europe needed to field its own army. Here's the story from Reuters:
"The European Union needs its own army to face up to Russia and other threats as well as restore the bloc's foreign policy standing around the world, EU Commission President Jean-Claude Juncker told a German newspaper on Sunday…

"With its own army, Europe could react more credibly to the threat to peace in a member state or in a neighboring state.

"One wouldn't have a European army to deploy it immediately. But a common European army would convey a clear message to Russia that we are serious about defending our European values." (Juncker calls for EU army, says would deter Russia, Reuters)
Can you see what's going on? On the one hand, the Spiegel delivers a hammer-blow to the credibility of NATO's top officer and on the other, the President of the EU Commission blindsides US powerbrokers by announcing a plan to create an independent EU fighting force that will render NATO redundant. These are big developments that have undoubtedly left the Obama troupe reeling. This is a full-blown assault on NATO's role as the primary guarantor of EU regional security. Maybe the European people are gullible enough to accept Junker's absurd claim that an EU army will "send an important message to the world", but you can be damn sure that no one at 1600 Pennsylvania Avenue believes that nonsense. The move is clearly designed to send a message to Washington that Europe is fed up with NATO and wants a change. That means it's "shape up or ship out time" for Breedlove and his ilk.
Ironically, these developments align Merkel with Putin's view of things as stated in his famous Munich speech in 2007 when he said:
"I am convinced that we have reached that decisive moment when we must seriously think about the architecture of global security. And we must proceed by searching for a reasonable balance between the interests of all participants in the international dialogue … The United States, has overstepped its national borders in every way … And of course this is extremely dangerous. It results in the fact that no one feels safe. I want to emphasize this — no one feels safe." (Russian President Vladimir Putin, 43rd Munich Security Conference, 2007)
How can the US possibly cast itself as "steward of the global security system", when its interventions have left a trail of decimated failed states from the southernmost border of Somalia to the northern tip of Ukraine, a chaotic swathe of smoldering ruin and agonizing human suffering that rivals the depredations of the Third Reich.
Europe's security requirements cannot be met by a belligerent, warmongering US-controlled entity that acts solely in Washington's interests. At present, NATO gets 75% of its funding from the US, which is why the alliance is less interested in peacemaking and security than it is in internationalizing its imperial war of aggression across the planet. Prior to the crisis in Ukraine, European leaders didn't see the danger of this idiotic arrangement (even though interventions in Serbia, Libya and Afghanistan should have brought them to their senses) But now that NATO's recklessness could vaporize Europe in a nuclear firestorm, leaders like Merkel and Hollande are starting to change their tune. Keep in mind, the ideal scenario for the US would be a limited war that levels large parts of the European and Asian continents, thus restoring the US to its post WW2 heyday when the "rubblized" world was Washington's oyster. That would be just fine for genocidal maniacs and armchair warriors who rule the globe from the safety of their well-stocked DC bunkers. But for Europe, this is definitely not a winning strategy. Europe doesn't want a war, and it certainly doesn't want to be used as cannon fodder for the greater glory of the dystopian NWO.
Putin advisor, Sergei Glazyev, figured out what Washington was up to long before Kiev launched its wretched "anti terrorism" campaign against federalist rebels in the East. Here's how he summed it up:
"The main task the American puppet masters have set for the (Kiev) junta is to draw Russia into a full-scale war with Ukraine. It is for this purpose that all of these heinous crimes are committed – to force Russia to send troops to Ukraine to protect the civilian population…

The bankruptcy of the US financial system, which is unable to service its foreign debt, the lack of investments to finance a breakthrough to a new technological order and to maintain America's competitiveness, and the potential defeat in the geopolitical competition with China. To resolve these problems, Americans need a new world war." (Sergei Glazyev)
Bingo. The steadily-declining empire, whose share of global GDP continues to shrivel with every passing year, has wanted a war from the get go. That's the only way that the US can reverse its precipitous economic slide and preserve its lofty spot as the world's only superpower. Fortunately, EU leaders are beginning to pull their heads out of the sand long enough to grasp what's going on and change their behavior accordingly.
It's worth noting, that no one in the Merkel administration or anyone else for that matter, has publicly challenged the allegations in the Spiegel article. Why is that, do you think?
Doesn't their silence suggest that they knew all along that all the anti-Putin propaganda hullabaloo was pure bunkum; that "evil" Putin didn't send tanks and soldiers across the border into Ukraine, that Putin didn't shoot down Malaysian Airline 17, that Putin didn't have a political opponent gunned down gangland style just a few hundred yards from the Kremlin? Isn't that what their silence really says?
Of course, it does. The reason no one in power has spoken out is because –as the Spiegel cynically admits–"A mixture of political argumentation and military propaganda is necessary."
"Propaganda is necessary"?
Whoa. Now there's an admission you're not going to see in the media too often. But it's the truth, isn't it? The Euro-leaders have been going along with the lies to keep the public in line. In other words, it's a healthy dose of perception management for the sheeple, but the unvarnished truth for our revered overlords. Sounds about right. Only now these ame elites have decided to share the facts with the lumpen masses. But, why? Why this sudden willingness to share the truth?
It's because they no longer support Washington's policy, that's why. No one in Europe wants the US to arm and train the Ukrainian army. No one wants them to deploy 600 paratroopers to Kiev and increase US logistical support. No one wants further escalation, because no one wants a war with Russia. It's that simple.
For the first time, EU leaders, particularly Merkel, understand that the United States' strategic objectives (the pivot to Asia) do not align with those of the EU, in fact, Washington's geopolitical ambitions pose a serious threat to Europe's security. Regrettably, it's not enough for Merkel to simply understand what is going on. She needs to huddle with her EU colleagues and take positive steps to derail Washington's plan now, otherwise the US will continue its incitements and false flags until Putin is forced to respond. Once that happens, a broader and, perhaps, catastrophic conflagration will be unavoidable.
Under Whose Restraint Shall We Live?
"Few things are more commonly misunderstood than the nature and meaning of theocracy. It is commonly assumed to be a dictatorial rule by self-appointed men who claim to rule for God.  In reality, theocracy in Biblical law is the closest thing to a radical libertarianism that can be had."  "Roots of Reconstruction"   R. J. Rushdoony
There are a number of Christians who walk under the Libertarian label, some of them are prominent.  Some seem attracted by its intellectual qualities, others endorse individual freedom, some believe in non-aggression, many site R. J. Rushdoony's favorable assessment, and others appreciate the big tent.
I am a lover of liberty and an opposer of license.
Libertarians do have a big tent:  In the tent are atheists, agnostics, satanists, homosexuals, lesbians, revolutionaries, Democrats, Republicans, rebels, individualists, koinoniaists, free love lovers, same sex marriage supporters, prostitution condoners, etc.   There is no particular moral standard the only evil is force.
Ayn Rand, often quoted by Libertarians, hated Christianity, Ludwig Von Mises was an agnostic, Fredrick Hayek was an accomplished economist but far from being a Christian.  Individualism and intellectualism attract the scholarly set but do not provide a sound basis for an enduring state.
All Libertarians seem to dance around the light pole of individual freedom.  But the definition of freedom and its extent remains arbitrary. The Libertarian big tent covers a vast philosophical spectrum and an array of quests for freedom running all the way to license.
At a recent Freedom Fest Nelson Hultberg made a presentation that attempted to put a new pair of shoes and the Libertarian philosophy.  Hultberg is a fine writer and a cogent thinker.  In his book "The Golden Mean" and his talk at Freedom Fest he promotes a Libertarian position in the middle of the spectrum between individual freedom and license.
Hultberg is on track; Libertarians need to find a core belief.  At one end are the rabid anarchists who would support violent revolution along with retribution similar to the chaos of the French Revolution; and at the other end are Christians who support the restraint of God's perfect legal system.
Hultberg strives for a righteous mean by recommending the "Judeo-Christian ethic".
Libertarians are human with the same proclivity for sin that permeates the remainder of the social structure.  A recent attempt to form a Libertarian community in Chile, South America, is a case in point.  It was called "Galt's Gulch Chile" from Rand's "Atlas Shrugged". Read here
Begun in 2012 by four wealth escapists, expat John Cobin residing in Chile, Jeff Berwick of The Dollar Vigilante, Cobin's Chilean partner, and Ken Johnson a real estate and anti-aging guru, the project was quickly beset by problems that put its original partners at odds and marred the original plan.  Lots were sold that defied Chilean law because authority to subdivide had not been granted before the sale.   Investors found they could not build on the land they had purchased.
Libertarian investors in the Chilean property did not do enough homework to be sure what exactly they were buying.   Doing such homework is difficult in the U. S. but it is even more difficult in foreign countries where language barriers and unknown prejudices can create enormous problems
In many foreign countries American citizens who are considered wealthy and are targets.  My wife and I made several trips to Costa Rica and Argentina finding it very difficult to invest in property even when Christian ministers were involved.  Read here.  
Jeff Berwick was a strident vocal critic of Johnson but he has decided not to take legal action because of his Libertarian principles.  Though that forebearance might seem laudatory, it is a serious error.  Libertarians tend to avoid the word justice since it involves force but without justice peace cannot endure.
Nelson Hultberg's well written and well planned speech at Freedom Fest (read here) contained some    serious errors and erroneous contentions.  It is not that truth is missing from Hultberg's proposal but that the truth he purposes is just another humanistic attempt to conform society to a formula.
Man was not created to govern himself and because he has continued to ignore the Creator and attempted to make his own laws history is a continuous story of tyranny, war, poverty, and starvation.
Hultberg's reference to the Judeo-Christian ethic has two problems:  One Judaism is not Christianity and most of those who practice that religion harbor a vicious hate for Christians.  Christianity was intended for the people of ancient Israel but was rejected, the Covenant was broken.  An entirely new class of chosen people was created by the New Covenant; the new chosen people are Christians.  Access to the Father is confined to the Son.
Now a word about extremism:  Muslims are a terror to the world because they take their faith seriously.  Christians and Jews are militant but are helpless to combat a religion that enforces its own legal system and understands that victory depends on changing law.  Without an overarching, immutable legal system human beings cannot live in peace.
On too many days I read of some mislead minister who claims God's legal standards are no longer in force and quotes Scripture to support the contention.  These ministers of the Gospel are accusing the One True God of setting a harmful legal standard for His chosen people.  Do not believe it!  Obedience to Old Testament law, both criminal and civil, would bring back peace and prosperity to a social order that is utterly lost.
We are living in a society that accepts human torture and the murder of millions by war but balks at the killing of one human for blaspheming the Living God.  In America, respect for the Creator of the Universe is less than respect for the state.  It is no wonder that the state has become tyrannical.
The Sixties mantra "God is dead" is still in force across the United States.  Humanism has so thoroughly permeated our churches that a true worshiper of the Living God is no longer welcome.  The lack of action by most American Christians shouts to the world that they do not really believe what they say.
All over America, people are frightened by the prospect of Sharia law.  Muslims are coming and they are bringing Sharia law!  Sharia law requires the death penalty for adultery!  It cuts off a hand for stealing, etc. etc.   While all this is stirring up America's so called Bible believing Christians they continue ignore the Book they profess to believe; a book that calls for the death penalty for murder, striking or cursing a parent, kidnapping, adultery, incest, bestiality, sodomy and homosexuality, rape of a betrothed virgin, witchcraft, offering human sacrifices, incorrigible delinquency or habitual criminality, blasphemy, Sabbath desecration, propagation of false doctrines, sacrificing to false gods, refusing to abide by a court decision (defying the law) and failing to restore the pledge or bailment.  This is the Law that blesses us and pleases God when it is obeyed, the Law that Jesus, the Son, obeyed to perfection.
Biblical legal penalties are regularly scoffed at by arrogant pagans.  They are anathema to the majority of America's so called Christian leaders and their followers.  There is some talk of obedience in Charismatic circles but to these Spirit minded Christians it is an ephemeral guidance that is always dubious.  God writes His Law on the hearts of His chosen people but the heart is desperately wicked and untrustworthy.
Few Christians even understand that the main theme of the entire Bible is obedience!  Ancient Israel was rejected for disobedience.  God has not changed He still seeks an obedient people.  We are saved and forgiven by the Blood of Christ but the standard for our behavior is still God's Law.
While we live in a cesspool society so dangerous that we need guns for our protection we reject the antidote preferring the danger and chaos.   We cringe at God's corporal punishments which He provided as a benefit considering them a curse while our military kills millions of innocents in far off places.  Now, gentle Christian, I am going to shock you again:  God's Law provides a righteous system of genocide which over a couple of generations would cull rebellious schemers from the social order and provide for a more peaceful and prosperous existence.
In this video former Congressman and Presidential candidate, Ron Paul, attempts to explain Anarchism.  He emphasizes the non-aggressive foundation of Libertarianism.  Expecting energetic human beings to be placid in the face of disagreement is utopian, it will not happen. Aggression is an intrinsic part of every person, some more than others; if it is directed properly it is good, if wrongly it is bad.   Galt's Gulch in Chile provides a fine example and highlights the tragic error of failing to seek justice.
Hultberg writes, "Freedom requires rational, irrefutable thought to be won and maintained. If we have built our defense of freedom upon a false philosophy with faulty premises, then we are fighting in vain."  The statement is correct but the philosophy is faulty.
Human beings cannot enjoy liberty without just restraints.  All of the fine sounding scenarios produced by the best logic and reason fall apart in the face of sinful men.  The musings of pagans will never result in a peaceful society; requirements set forth by intellectual visionaries will quickly be breached and the beautiful picture will be marred by failure.  Liberty is impossible without voluntary adherence to just restraint.
The Constitution of the United States of America was written to govern a virtuous people.  Virtue and tyranny are inversely proportional – as virtue goes down tyranny goes up.   Consider our current society; virtue is seriously diminished while tyranny has become a monster.
R. J. Rushdoony fancied Libertarian anti-statism. God's Law is not intended to be imposed on any person.  Obedience must be a voluntary matter of the heart. Christian Reconstruction does not seek to impose God's Will on the social order.  We simply seek to live under God's mandates and worship Him as the Creator and King of the universe and to work to bring His creation and His people under the peace and prosperity His rule promises.
The question that must be answered is Under Whose Restraint Shall We Live?  God's or man's?
P.S. Libertarians do a remarkable job of ferreting out and exposing government lies and tyranny.  They are way ahead of the Christian Church in exposing evil in high places.  Kudos!
Andrew Kreig's book reviews are always to the point and chock full of carefully honed points bolstered with facts. You can count of this when reading his work because his training is both in law, he is a licensed attorney in Washington D.C., and journalism. Andrew takes up subjects many won't touch.
This being the case I ordered my copy of, "Visas for Al Qaeda: CIA Handouts That Rocked the World — An Insider's View," by J. Michael Springmann, former State Department foreign service officer immediately.
If Andrew says a book is going to be shocking and timely, and make a, "credible circumstantial case that ties the U.S. training of Islamic radicals to our nation's major foreign policy disasters in the Mideast during the past quarter century," it is a book to read, given how many emails on the subject are coming through my Inbox on the subject.
Andrew's review provided direct quotes from author Springmann, former chief of the visa section of the U.S. Consulate located in Saudi Arabia, who last week launched his book tour at the prestigious National Press Club in D.C.
Springmann said, ""It's past time to expose murder, war crimes and human rights violations by the United States of American and its 'intelligence' services." Continuing, Springman, said claiming "national security," as a justification was dubious.
These claims have been made by both the Central Intelligence Agency and National Security Agency (NSA). Springmann said these agencies were responsible for coups and destabilization acts around the world, "most notably," in the middle east.
Springmann says governments were overthrown, assassinations carried out and ordinary citizens murdered on their orders. This chain of events began, he continued, with the Carter Administration. These acts took place, Springmann says, with the knowledge of the president of the United States and the executive branch but also our two other branches of government,"from Libya to Iran."
Springmann knows because he personally saw "illegal visas issues to large numbers of U.S.-backed Islamic fundamentalists transiting through Jeddah from multiple Islamic nations so they could visit the United States for secret purposes." Covert training took place at a CIA facility in Williamsburg, Virginia for "vagabond Islamic mercenaries, revolutionists and jihadists — an "Arab-Afghan Legion" — who could be unleashed on America's enemies."
Blowback was not taken into account but deniability was ensured. Today, when war has become continuous, this is a book you need to read.