What is more frightening, then the loss of your money. Since most people have, some meager amount held in some form of a financial institution, the prospect of the banksters' cabal placing a charge against your account for the mere privilege of maintaining a deposit, is horrible. The Business Insider warns, In The Future, You May Have To Pay The Bank To Hold Your Money, and raises a very dreadful prospect.
"In recent weeks, economists have discussed the idea of how to implement a negative interest rate while preventing people from hoarding paper currency. Economist Miles Kimball has discussed creating an electronic currency and having an exchange rate between it and dollar bills. Others have discussed going cashless and eliminating paper currency altogether."
Negative interest rates simply mean it will cost you, in fees or service charges, to hold money in banking accounts. Examine Professor Kimball's ivory tower justification for seizing the value and purchasing power of your savings.
"University of Michigan economist Miles Kimball has developed a theoretical solution to this problem in the form of an electronic currency that would allow the Fed to bring nominal rates below zero to combat recessions. He's been presenting his plan to different economists and central bankers around the world. Kimball has also written repeatedly about it and was recently interviewed by Wonkblog's Dylan Matthews."
Now dig deep into the mind of a mentally ill pseudo intellectual to see just how far from rational money policy such monetary eggheads go to provide cover for the fractional reserve central bankers.
"If we repealed the "zero lower bound" that prevents interest rates from going below zero, there would be no need to rely on the large scale purchases of long-term government debt that are a mainstay of "quantitative easing," the quasi-promises of zero interest rates for years and years that go by the name of "forward guidance," or inflation to make those zero rates more potent."
This threat is a continuation from the initial trial balloon that appeared in the Financial Times. A video rant about, Banks to Start Charging You on Deposits, goes ballistic with outrage that the money-centered banks are emboldened as to telegraph their intentions of raiding the nest egg savings of depositors. While the justifiable emotion is understandable for a beleaguered public, the economic aftermaths of interjecting massive QE reserves is explained well by Zerohedgein recent reports with the accompanied chart.
"Furthermore, contrary to what the hypocrite banker said that "the danger is that banks are pushed into riskier assets to find yield", banks are already in the riskiest assets: just look at what JPM was doing with its hundreds of billions in excess deposits, which originated as Fed reserves on its books – we explained the process of how the Fed's reserves are used to push the market higher most recently in "What Shadow Banking Can Tell Us About The Fed's "Exit-Path" Dead End."

What the real danger is, is that once the Fed lowers IOER and there is a massive outflow of deposits, that banks which have used the excess deposits as initial margin and collateral on marginable securities to chase risk to record highs (as JPM's CIO explicitly and undisputedly did) that there would be an avalanche of selling once the negative rate deposit outflow tsunami hit."
Hence, this move to prepare the bank customer for another hosing by imposing negative rates actually is a desperate attempt to keep the derivative "day of reckoning" from hitting. This strategy will not work. In the Negotium article, Low Interest Rates Impoverish Savers, makes the point: "Designed lowering of our standard of living is visible at every turn. The money-centered banks recapitalized their balance sheets at the expense of the passbook accounts customers."With the expectation that bank accounts will actually experience debit fees for parking money will result in a massive outflow of capital. Where will the money go? Will the banks allow the return of your deposits in cash or will they impose significant costs and delay withdrawals?
Consider that under a banking system, which automatically reduces your balances, the acceleration of stripping your net worth goes into high gear. No sane individual would accept this theft willingly. However, the transition to a cashless economy might well inflict a call back of cash (Federal Reserve Notes) in circulation for an enforced substitute legal tender. Or else some variation of the "killer" Kimball electronic compulsory account may be imposed under strict governmental supervision.
Under such a circumstance, the mandatory medium of exchange strips all personal ownership from the individual. Money, in whatever form it takes, no longer will be your own property.
Negative interest rates institutionalize systemic inflation into every transaction. Throughout history, usury is condemned for charging interest on lending. What term should be used for paying no interest on capital saved? Anthony Migchels argues in Our Chains are Forged by Usury, that the objective is to create an interest-free money supply. Much like the Kimball electronic currency, the Migchels alternative resides in his own twisted hermitage, read accordingly.
"The problem is not the creation of money! Quite the opposite: it's marvelous that we never need to have a shortage of money. The problem is when the bookkeeper starts raping the debitor with interest for no other reason than the associated minus."
While debt is the central issue in all financial bubbles, the solution is not to destroy wealth creation through capital saving. Until a universal model of wizardry or alchemy is adopted that creates a stable store of value, independent from work, ingenuity or greed; expectations of an interest free currency are pipe dreams.
The benefits from negative interest rates all go to the banksters. The borrower never sees FREE interest loans, nor does the saver earn a fair rate of return. The maxim remains, Those with the Gold, Make the Rules, is no different in the age of the New World Order of central banking. Starving the saver is negative for the rest of us.
The other leg to the Trans-Pacific Partnership is the Transatlantic Trade and Investment Partnership. In Part I scrutiny of the TPP proposal indicates that standards of monopoly amalgamation far exceeded efforts to advance actual competitive trade. From the White House Fact Sheet, the aims of the TTIP are:
• Further open EU markets, increasing the $458 billion in goods and private services the United States exported in 2012 to the EU, our largest export market.

• Strengthen rules-based investment to grow the world's largest investment relationship. The United States and the EU already maintain a total of nearly $3.7 trillion in investment in each other's economies (as of 2011).

• Eliminate all tariffs on trade.

• Tackle costly "behind the border" non-tariff barriers that impede the flow of goods, including agricultural goods.

• Obtain improved market access on trade in services.

• Significantly reduce the cost of differences in regulations and standards by promoting greater compatibility, transparency, and cooperation, while maintaining our high levels of health, safety, and environmental protection.

• Develop rules, principles, and new modes of cooperation on issues of global concern, including intellectual property and market-based disciplines addressing state-owned enterprises and discriminatory localization barriers to trade.

• Promote the global competitiveness of small- and medium-sized enterprises.
Opponents of TTIP echo the same loss of national sovereignty, similar to the reservations with TPP. The IPS-Inter Press Service reports on the concerns and consequences.
"The claims that this deal will somehow be an economic cure-all and generate significant growth are simply not supported by any reliable evidence," Lori Wallach, director of Public Citizen's Global Trade Watch.

"But we do know that the talks are based on the demands of U.S. and EU corporations that have been pushing for decades to eliminate the best consumer, environmental and financial standards on either side of the Atlantic."

Also stated in the IPS account is that "Tariffs between the U.S. and E.U. are already low, and critic's note that what the deal really seeks to accomplish is the removal of "non tariff barriers" (also referred to as "trade irritants")."

"Non-tariff barriers is a commonly-used euphemism which refers to the array of financial, environmental, health and other policies which the public has put in place to safeguard its own interests," Ben Beachy, a research director for Public Citizen, told IPS.

Under T-TIP, standards such as those mentioned by Beachy would be "converged", so that regulations from state to state would be more closely aligned. Supporters of the deal say this uniformity would facilitate trade, but Beachy contended that the greater effect would be to lower regulation levels to a point that "democratic electorates would never stand for."

Not surprising, the European Commission seeks to rely upon esoteric and speculative economic models to project that increased growth will ensue, while avoiding the hard political concerns in The Economic Analysis Explained study - The overall impact of TTIP.

"The CEPR study predicts that an ambitious TTIP deal would increase the size of the EU economy around €120 billion (or 0.5% of GDP) and the US by €95 billion (or 0.4% of GDP). This would be a permanent increase in the amount of wealth that the European and American economies can produce every year."
The day that John Kennedy was murdered, was the day that Americans lost their country. Since that fateful day in November of 1963, our slide into tyranny has accelerated.
Nearly every form of tyranny which has overrun our country has its roots in the post-JFK assassination event. JFK was seemingly the last watchman on the wall against the encroaching tyranny of the newly created national surveillance security police state grid.
There have only been two prominent politicians who have stood up to the tyranny of the New World Order since the death of JFK. These two men would be Reagan (until he was shot by Hinckley) and Ron Paul.
The Missed Opportunity Connected to the 50th Anniversary
Last summer, I predicted that the upcoming 50th anniversary of JFK's murder would awaken a whole new generation as to the tyranny that the country has fallen under and who is responsible for that tyranny. I wrongly believed that the co-conspirators, the interlocking pieces of the JFK assassination cabal, namely, David Rockefeller, the Federal Reserve, the oil companies, the military industrial complex and the CIA and their mafia assets, would be exposed with all the attention that the 50th anniversary would provide.
I wrongly believed that these groups  with their current and undue influence on America would also be readily identified for what they did to JFK and to the country on November 22, 1963. I further believed that today's younger generation would easily build the bridge linking the corruption and undue influence of these 1963 groups to today's political landscape and this would be an easy association. Unfortunately, my predictions were in error because we in the alternative media dropped the ball.
The 2013 Establishment Propaganda Machine Is Rolled Out

The day that JFK was murdered was the day that Rockefeller won the world's biggest lottery.
With the marking of the 50th anniversary of the assassination of John F. Kennedy, there have been over 2,000 books written on the subject and countless radio and television shows devoted to the topic. This fall, the globalist news corporations have produced a rash of new JFK "investigations" which all purport to show different ways to prove that Oswald, and Oswald alone, killed John Kennedy. The new productions (e.g. National Geographic) are so bad and so faulty, that they are laughable.
Media Propagandists Ignore the Government's Final Conclusion of a Conspiracy
The modern day propagandists are winning the day with regard to the control of the narrative surrounding the assassination. During the height of America's skepticism regarding the 1964 Warren Report which stated that Lee Oswald killed John Kennedy and that he acted alone, most Americans rejected the "official explanation. What the modern day public, as well as the establishment propagandists, seem to have forgotten is that in 1977, the House Select Committee on Assassinations concluded that Oswald had help and JFK was killed as a result of a conspiracy. This was the final word on the subject from our government on the assassination. However, the history revisionists do not want a hint of a conspiracy because this could give birth to a modern day JFK assassination renaissance in a search for the co-conspirators who killed JFK. Once that search would begin, the descendants of the perpetrators organizations would not be able to escape public scrutiny. We in the alternative and truthful media missed a golden opportunity to wake up the country on this 50th Anniversary of JFK's death. This fall, if we had devoted a significant amount of time and effort to covering the assassination, and we had been relentless in our efforts, the under 40 crowd would understand who their present enemies are and they would have been awakened to the present day tyranny. We allowed our voices to be drowned out by the mainstream fictional media with their new JFK cover up pieces. Sadly, we lost a golden opportunity to wake up millions of young Americans.
At the height of JFK conspiracy fervor in the 1970′s-1990′s, according to the Gallup Poll, as many as 80% of Americans believed that there was a conspiracy to kill JFK. Today, that number has slipped to 61% thanks in large part to the new propaganda productions which are influencing our younger Americans.
In the 1990′s, Oliver Stone produced JFK and Bill Kurtis and Nigel Turner produced separate investigations into the assassination (i.e. The Men Who Killed Kennedy). In the 1990′s, the country was spellbound by the new revelations which were also bolstered by JFK admirer, Bill Clinton, as he forced the release of millions of classified JFK documents. However, the evil empire struck back around the year, 2000, and today, you see almost nothing on TV which does not show that Oswald was acting alone.
Follow the Money
What is conspicuously missing in most, if not all of the accounts related to the assassination of John F. Kennedy, is the fact that normal homicidal investigative strategies have not been employed by people in the government who would have the power to do so. One of the hallmark phrases in murder investigations is to "follow the money".
Every year at this time, I become reflective as I wonder what America, and the rest of the world might have looked like if JFK had survived, been re-elected and served a second term as President. This year I decided to follow the money and put my thoughts on paper. So, let's briefly follow the money.
Vietnam
Everybody knows that the Pentagon was frothing at the mouth to get into an armed conflict in Vietnam and/or Laos. In 1961, JFK resisted the military pressure to place troops in Laos, as he clearly instructed diplomat, Averell Harriman, to get the Laos issue settled because JFK was determined to not put combat units on the ground in Southeast Asia.
It is true that JFK was manipulated by his military advisers to place troops on the ground in Vietnam but solely in the role as "combat advisers". JFK's anti-Vietnam war stance frequently gets overlooked because of this. However, in October 1963, a mere month before his death, JFK signed National Security Action Memorandum 263 which called for the withdrawal of 1,000 troops from Vietnam by the end of 1963 and a total withdrawal of all of the combat advisers by the end of 1965. This was one nail in the coffin of JFK.
JFK gave many speeches in which he clearly stated he was opposed to widening U.S. military involvement in the war. South Vietnamese leader, Diem and his brother Nhu were opposed to U.S. attempts to control his regime and Diem and his brother were adamantly opposed U.S. full-scale U.S. military involvement beyond the 16,000 combat advisers stationed in the country. On November 1, 1963, Diem and Nhu were murdered by the CIA against JFK's wishes. Three weeks later, to the day, John F. Kennedy was murdered. Within nine months following the assassination, the LBJ administration launched the now discredited false flag event, the Gulf of Tonkin attack, and 100,000 combat troops were subsequently sent to Vietnam. Many researchers have proven the involvement of the same CIA and its Mafia connections which dates back to 1942 when the CIA was known as the OSS.
Knowing that the CIA and Mafia were involved in JFK's murder, does not tell you who ordered the assassination. Any guesses on who profited the most from the Vietnam War? In radio parlance, you will have to stay tuned, the answer will be revealed at the end.
There were huge financial incentives for the American defense industry to participate in the murder of JFK. Yes, that would be the military industrial complex which Ike warned us about in his 1960 farewell address. In 1963, Chrysler corporation and its subsidiaries received the lion's share of defense contracts for the war, most of which were resold to smaller corporations. Corporations such as Bell Helicopter enjoyed unparalleled growth during the height of the war. There are some interesting and notable parties which controlled the Chrysler defense industry interests in 1963.
Very powerful parties would have stood to have lost a lot of money had the war not materialized into a full-scale air and ground war. Who am I speaking about? All will be revealed when I connect the dots at the end. Oh by the way, the forerunner to the bid rigging and recipient of no bid contracts in Iraq, KBR, was also found guilty of the same thing in Vietnam when they were given the responsibility for building South Vietnam's military infrastructure. The more things change, the more they do stay the same.
Making Enemies with the CIA: The Bay of Pigs
It was very well known that JFK refused to support and sanction the CIA backed Cuban refugee invasion of Cuba by refusing to allow air cover. The invasion failed and the careers of CIA Director, Dulles, and CIA Assistant Director, Cabal, were over. The proverbial line in the sand had been drawn and the CIA and JFK became mortal enemies with JFK threatening to break up the agency into a "thousand pieces". Add to this fact, is the fact that it is well-known that the darker parts of the CIA act as mercenaries for certain groups who are not on the government payroll. Today, we would call these shadowy forces, the New World Order.
It is clear that with the advent of the Bay of Pigs, the brain trust for the assassination had been born and they would double down as this agency would perpetrate the cover-up, such as losing the President's brain during the autopsy to hide the fact that JFK's fatal head shot came from an exploding bullet, which means that Oswald's defective Italian rifle could not have been used in the commission of the crime. Maybe this is also why LBJ had the Presidential limousine "cleaned up" immediately following the crime and the vehicle was never subsequently examined as any other crime scene would have been. LBJ should have gone to prison for obstruction of justice, but I digress. Jim Marrs and other researchers have clearly implicated the CIA as the masterminds of the assassination. I agree with Marrs, however, the CIA were not the original planners, they merely were tasked with carrying out the assassination. Regardless, the rich and famous wanted Cuba back and JFK had destroyed their plans for continued domination of the Island state.
Ten days following the Bay of Pigs, JFK gave his famous "secret society" speech. He is the first, and the only President to ever identify the globalists as the enemy of America and humanity as a whole.
If you have never listened to the speech, you should take the time to listen now, for if you do, the events of today will make a great deal more sense.
The Cuban Missile Crisis
Havana had become a play place for the rich and famous prior to the Castro led revolution. Upon seizing power, Castro promptly nationalized all gaming resorts and the Mafia lost their insanely high profits and the rich and famous lost their financial cut, as well as their 1960 version of Bohemian Grove. In the eyes of the rich and powerful, JFK had one more opportunity to get control over Cuba with the opportunity presented by the Cuban Missile Crisis.
In 1962, in response to America's placing offensive nuclear weapons in Turkey, close to the Soviet border, the Russians did the same in Cuba. This event brought the U.S. and the Soviet Union to the brink of nuclear war. All of JFK's military advisers wanted to invade Cuba with ground troops. JFK opted for the ever-contracting naval blockade. Although history has proven that our invading troops would have been nuked, and that JFK pursued the correct course of action, the powerful military was now lining up against JFK. And, again, the rich and famous were thwarted in their desire to reassert control over Cuba and the defense contractors smelled the end of the gravy train.
Then in June of 1963, JFK gave an incredible speech at American University in which he called for the total destruction of nuclear weapons. This would have resulted in the end of the financially lucrative Cold War and the "Pax Americana enforced on the world by American weapons of war", and a movement toward "general and complete disarmament" would have begun. A few months later JFK signed a Limited Test Ban Treaty with Nikita Khrushchev. What would happen to the profits of Raytheon and Martin Marietta (now Lockheed Martin) if there was no cold war? The executives at the defense plants could relax because when JFK was killed, LBJ ordered the single largest increase in U.S. history and before the ink was even dry on JFK's death certificate.
America Cannot Have Peace, It Is Bad For Business
Please take the time and listen to JFK's, American University Speech, June 10, 1963, and if you understand what it means to be an American, it will bring tears to your eyes and I believe that this speech also brought a bullet to JFK's brain, because he was poking a stick into the eyes of the military industrial complex.
The Federal Reserve

On June 4, 1963, President Kennedy issued Executive Order 11110 and this accompanied the Kennedy act which was the beginning of an attempt to strip the Federal Reserve Bank of its power to loan money, at interest, to the government. JFK was on his way of stripping the then 50 year history of fleecing the American people. In effect, JFK, by issuing 4.3 billion dollars of U.S. notes based upon silver held in reserve, JFK was going to be able to wipe away the beginnings of national debt which, today, has mortally wounded the American economy. Please take note of the fact that this event was only a little over 5 months before the assassination. When JFK was murdered, LBJ failed to continue with the program.
Who stood to lose the most money if the Federal Reserve had lost its stranglehold on the American economy? You would be right if you answered Chase-Manhattan Bank with its 6,389,445 shares of Federal Reserve Board Stock valued at 32.3% of the total value of stock at the Fed. Also, Citibank had a lot to lose by this move as well as they were invested in the Federal Reserve shares to the tune of  4,051,851, or 20.5% of the total value. I think you might be getting an idea who owned and/or controlled the majority interests in these two banks in 1963, but there is more before we answer the question on who profited the most from the murder of a sitting President in 1963.
The Oil Depletion Allowance
By the end of 1962, the robber barons which ran the oil industry estimated, that their earnings on foreign investment capital would fall to 15 percent, compared with 30 percent in 1955 if the oil depletion allowance was diminished in accordance with JFK's proposal.
JFK's attack upon the oil depletion allowance, which permitted oil producers to deduct up to 27.5% of their income as tax exempt provided the robber barons of oil a lower tax rate and a competitive business advantage, not shared by any other business interests. JFK targeted the oil depletion allowance and it was estimated the government might retain more than $300 million in tax revenue each year if the depletion allowance was reduced. Although the oil depletion allowance remained intact, due to the congressmen who were recipients of oil company campaign contributions, JFK made some very powerful enemies in the oil industry.
It was the oil depletion allowance which made drilling for oil a no risk venture. An oil speculator could drill five wells and if four were dry wells and only the fifth struck oil, the speculator would still make money because of tax breaks resulting from the depletion allowance deducted from owed taxes. President Kennedy pointed out the obvious when he stated "… no one industry should be permitted to obtain an undue tax advantage over all others."
JFK had made an enemy out of the oil industry and its biggest tycoon, David Rockefeller with the proposal to reduce the oil depletion allowance. Do you know the two banks which controlled 53% of the Federal Reserve in 1963? Rockefeller owned the controlling interest in both banks. How about Chrysler, KBR, Bell Helicopter and the Vietnam War? You are way ahead if you said, David Rockefeller. And what about the nuclear arms race, to which the cessation of the cold war, would have meant the loss of profits to the defense industry? And who controls the defense industry? David Rockefeller. We had to have a cold war, then, for the same reasons we need a war on terror today. It is good for business and with the subsequent growth of government power which comes with war, the erosion of Constitutional liberties increases. All roads for the motivations of the JFK assassination leads to David Rockefeller as being the first mover in the plot.
Do I have the smoking gun that I can place in Rockefeller's hand? The short answer is no. However, it is safe to say that the day that John Kennedy died, there were no tears shed at the Rockefeller estate.
If JFK's murder had been anything but the killing of the President, any police detective worth his salt, would have followed the money trail and arrests would have been made based on the known facts. It is unacceptable that as we race toward the 50th Anniversary of the event, this next week, that not one person has been brought to justice in a court of law for the assassination of John Kennedy. Instead, a patsy, Lee Oswald,who never fired a gun on November 22, 1963, was framed and used as the patsy. And before Oswald could talk, he was murdered two days later under very mysterious circumstances. Over the next several days, I am going to publish mini-excerpts on facts about the JFK assassination which are not being covered by the MSM. My first entry will focus on how we know that Oswald did not kill JFK.
Reflections on What Could Have Been
If JFK would have lived, we would have not lost 58,000 lives in Vietnam. Millions of Vietnamese would have been spared. We would have an economy that is backed by silver and we would virtually have no debt because the corrupt Federal Reserve would have faded into oblivion as it did during the Andrew Jackson Administration. America would have schools that would the envy of the world, not the butt of jokes, because we would not spending money to kill people, but rather to educate, improve health care and we could have even afforded to pay off all privately held mortgages if we had only remembered the words of JFK when he reminded the faculty and staff at American University on June 10, 1963, that "We all breathe the same air…"
We would live in a far better place had we lived out JFK's expressed ideals. I write this piece, not just to remind America of what we lost and how America suffered with Jack Kennedy's death, I write this piece for those who know little of nothing of what happened on November 22, 1963, mostly young people, in order that they can know that the tyranny being imposed upon us, need not exist. There is a better way and for a moment when I listen to his speeches, I can imagine a better world.
Source: Dave Hodges | The Common Sense Show
It is natural for a society to search for explanations and motivations in the wake of a man-made tragedy. It is also somewhat natural for people to be driven by their personal biases when looking for someone or something to blame. In recent years, however, our country has been carefully conditioned to view almost every criminal event from an ideological perspective.
The mainstream media now places far more emphasis on the political affiliations and philosophies of "madmen" than it does on their personal disorders and psychosis. The media's goal, or mission, if you will, is to associate every dark deed whether real or engineered to the political enemies of the establishment, and to make the actions of each individual the collective shame of an entire group of people.
I could sift through a long list of terror attacks and mass shootings in which the establishment media jumped to the conclusion that the perpetrators were inspired by the beliefs of Constitutional conservatives, "conspiracy theorists", patriots, etc. It is clear to anyone paying attention that the system is going out of its way to demonize those who question the officially sanctioned story, or the officially sanctioned world view. The circus surrounding the latest shooting of multiple TSA agents at Los Angeles International Airport is a perfect example.
Paul Ciancia, the primary suspect in the shooting, was immediately tied to the Liberty Movement by media outlets and the Southern Poverty Law Center, by notes (which we still have yet to see proof of) that law enforcement claims to have found on his person. The notes allegedly use terms such as "New World Order" and "fiat money", commonly covered by those of us in the alternative media. The assertion is, of course, that Paul Ciancia is just the beginning, and that most if not all of us involved in the exposure of the globalist agenda are powder kegs just waiting to "go off." The label often used by the MSM to profile people like Ciancia and marginalize the organizational efforts of liberty based culture is "anti-government."
The establishment desires to acclimate Americans to the idea that being anti-government is wrong; that it is a despicable philosophy embracing social deviance, aimless violence, isolation and zealotry. Looking beyond the mainstream position, my question is, is it really such a bad thing to be anti-government today?
Conspiracy Realists
The terms "anti-government" and "conspiracy theorist" are almost always used in the same paragraph when mainstream media pundits espouse their propaganda. They are nothing more than ad hominem labels designed to play on the presumptions of the general population, manipulating them into dismissing any and all alternative viewpoints before they are ever heard or explained. The establishment and the media are ill-equipped to debate us on fair terms, and understand that they will lose control if Americans are allowed to hear what we have to say in a balanced forum. Therefore, their only fallback is to bury the public in lies so thick they won't want to listen to us at all.
The Liberty Movement now has the upper hand in the war for information. The exposure of multiple conspiracies in the past several years alone has given immense weight to our stance, and reaffirmed warnings we gave long ago.
When we spoke out against the invasion of Iraq, commissioned by George W. Bush on the dubious claim that Iraqi weapons of mass destruction were an immediate threat to the security of our nation, we were called "liberals" and "traitors."  Today, Bush and Cheney have both openly admitted that no WMD's were ever present in the region. When we attempted to educate the masses on the widespread surveillance of innocent people by the NSA, some of them laughed. Today, it is common knowledge that all electronic communications are monitored by the Federal government. When we refused to accept the official story behind the Bureau of Alcohol, Tobacco, Firearms and Explosives' Fast and Furious program, we were called "kooks". Today, it is common knowledge that the Obama Administration purposely allowed U.S. arms to fall into the hands of Mexican cartels. When we roared over the obvious hand the White House played in the Benghazi attack, we were labeled "racists" and "right wing extremists." Today, it is common knowledge that the White House ordered military response units to stand down and allow the attack to take place. I could go on and on…
Events that were called "conspiracy theory" by the mainstream yesterday are now historical fact today. Have we ever received an apology for this slander? No, of course not, and we don't expect one will ever surface. We have already gained something far more important – legitimacy.
And what about Paul Ciancia's apparent belief in the dangers of the "New World Order" and "fiat money"? Are these "conspiracy theories", or conspiracy realism? The Liberty Movement didn't coin the phrase "New World Order", these political and corporate "luminaries" did:
Is economic collapse really just a fairytale perpetrated by "anti-government extremists" bent on fear mongering and dividing society?  Perhaps we should ask Alan Greenspan, who now openly admits that he and the private Federal Reserve knew full well they had helped engineer the housing bubble which eventually imploded during the derivatives collapse of 2008.
Or, why not ask the the White House, which just last month proclaimed that "economic chaos" would result if Republicans did not agree to raise the debt ceiling.
Does this make Barack Obama and the Democratic elite "conspiracy theorists" as well?
It is undeniable that government conspiracies and corporate conspiracies exist, and have caused unquantifiable pain to the American people and the people of the world. Knowing this, is it not natural that many citizens would adopt anti-government views in response? Is it wrong to distrust a criminal individual or a criminal enterprise? Why would it be wrong to distrust a criminal government?
The Purpose Behind The Anti-Government Label
When the establishment mainstream applies the anti-government label, they are hoping to achieve several levels propaganda. Here are just a few:
False Association: By placing the alleged "anti-government" views of violent people in the spotlight, the establishment is asserting that it is the political philosophy, not the individual, that is the problem. They are also asserting that other people who hold similar beliefs are guilty by association. That is to say, the actions of one man now become the trespasses of all those who share his ideology. This tactic is only applied by the media to those on the conservative or constitutional end of the spectrum, as it was with Paul Ciancia. For example, when it was discovered that Arizona mass shooter Jared Loughner was actually a leftist, the MSM did not attempt to tie his actions to liberals in general. Why? Because the left is not a threat to the elitist oligarchy within our government. Constitutional conservatives, on the other hand, are.
False Generalization: The term "anti-government" is so broad that, like the term "terrorist", it can be applied to almost anyone for any reason. The establishment does not want you to distinguish between those who are anti-government for the wrong reasons, and those who are anti-government for the right reasons. Anyone who questions the status quo becomes the enemy regardless of their motives or logic. By demonizing the idea of being anti-government, the establishment manipulates the public into assuming that all government by extension is good, or at least necessary, when the facts actually suggest that most government is neither good or necessary.
False Assertion: The negative connotations surrounding the anti-government stance also suggest that anyone who defends themselves or their principles against government tyranny, whether rationally justified or not, is an evil person. Just look at how Washington D.C. has treated Edward Snowden. Numerous political elites have suggested trying the whistle-blower for treason, or assassinating him outright without due process, even though Snowden's only crime was to expose the criminal mass surveillance of the American people by the government itself. Rather than apologizing for their corruption, the government would rather destroy anyone who exposes the truth.
False Shame: Does government criminality call for behavior like that allegedly taken by Paul Ciancia? His particular action was not morally honorable or even effective.  It helped the establishment's position instead of hurting it, and was apparently driven more by personal psychological turmoil rather than political affiliation. But, would it be wrong for morally sound and rational Americans facing imminent despotism within government to physically fight back? Would it be wrong to enter into combat with a totalitarian system? The Founding Fathers did, but only after they had exhausted all other avenues, and only after they had broken away from dependence on the system they had sought to fight. Being anti-government does not mean one is a violent and dangerous person. It does mean, though, that there will come a point at which we will not allow government to further erode our freedoms. We will not and should not feel shame in making that stand.
I do not agree with every element of the "anti-government" ethos that exists in our era, but I do see the vast majority of reasons behind it as legitimate. If the establishment really desired to quell the quickly growing anti-government methodology, then they would stop committing Constitutional atrocities and stop giving the public so many causes to hate them. If they continue with their vicious bid to erase civil liberties, dominate the citizenry through fear and intimidation and steal and murder in our name, then our response will inevitably be "anti-government", and we will inevitably move to end the system as we know it.
Source: Brandon Smith | Alt-Market
What is the first thing that comes to mind when the term NGO appears? Well, many will respond, the United Nations. Directly from a UN site is their definition for Non-governmental organizations. How uplifting and benign the altruistic effort, the deep-seated purpose and intention of such associations, frequently projects that noble endeavors need to enhance the governance process. The term governance essentially is a loaded political concept that benefits a model of economic activity that requires a managed society as opposed to a free, independent and individualistic economy.
"A non-governmental organization (NGO, also often referred to as "civil society organization" or CSO) is a not-for-profit group, principally independent from government, which is organized on a local, national or international level to address issues in support of the public good. Task-oriented and made up of people with a common interest, NGOs perform a variety of services and humanitarian functions, bring public concerns to governments, monitor policy and programme implementation, and encourage participation of civil society stakeholders at the community level.

Some conduct research and analysis in the legal and other fields (e.g. sociology, economics) relevant to the rule of law. In many cases, they produce reports with policy recommendations, for use in their advocacy."
Of course, not all NGO's fall into an identical pattern. Some can and do provide valuable services. However, exponents of coordinated liaison with civil authority that develops legal eminence for a social vision that defies the basic human nature of inherent autonomy, is dangerous. NGO's seldom practice real charity, although they excel in social engineering.
Looking at the money trail provides evidence of actual intents. Investopedia explains How do NGOs get funding?
"The annual budget of an NGO can be in the hundreds of millions (or even billions) of dollars, fundraising efforts are important for the NGO's existence and success. Funding sources include membership dues, the sale of goods and services, private sector for-profit companies, philanthropic foundations, grants from local, state and federal agencies, and private donations."
That sounds all well and good. Nevertheless, when you get into the weeds on how funding actually works, the touchy feely aspects of raising money have a very different look. One example is the United States Agency for International Development (USAID), funding programs.
"Non-governmental organizations (NGOs) are critical change agents in promoting economic growth, human rights and social progress. USAID partners with NGOs to deliver assistance across all regions and sectors in which we work and to promote inclusive economic growth, strengthen health and education at the community level, support civil society in democratic reforms and assist countries recovering from disasters."
Among the types of NGOs that the Agency partners with are:
1. Cooperative Organizations

2. Foundations

3. Local and Regional Organizations

4. Private Voluntary Organizations

5. U.S. and International Organizations
Government grants presumably for promoting or enacting democratic reforms, discloses an ulterior motive behind the funding. That is natural and understandable in an era of competing political and economic systems. However, with the emergence of a unified New World Order agenda, the practice of doling out government money that undercuts the very existence of national sovereignty has taken a nefarious turn.
The always perceptive, Pat Buchanan weighs in and provides the evidence. US Funding NGOs to Advance New World Order?
"Cairo contends that $65 million in "pro-democracy" funding that IRI, NDI, and Freedom House received for use in Egypt constitutes "illegal foreign funding" to influence their elections. Yet this is not the first time U.S. "pro-democracy" groups have been charged with subverting regimes that fail to toe the Washington line."
The motive to change political, social and economic relationships goes beyond countries influencing foreign policy objectives. When the likes of Ted Turner, George Soros, Warren Buffet and Bill & Melinda Gates use their foundation funds to back NGO's that carry out the globalist agenda, private sector multi billionaires become an existential threat to humanity.
Add to this band of bandit brothers, who all have transformational goals, fostered with the wealth they accumulated by practicing crony corporatism, that diminishes our domestic standard of living, with their internationalization sentiments – Jeffrey Walker, Vice Chairman, United Nation's Secretary General's Envoy for Health Finance and Malaria, who proposes Building Generosity Networks.
"It's time for us to turn our attention to building and growing Generosity Networks that link the philanthropic passions of major donors with others who share those passions and are willing to work, collaboratively, to address the major causes of our day."
Oh, that United Nations record of peaceful philanthropy for universal serfdom has worked so well. The pandemic resolutions for eugenic terminations are often the real intent behind many NGO front organizations.
The economics of world population dictate that market based businesses have no place in a world dominated by transnational monopolies and corporatist cartels. Non-governmental organizations are liberated to advance the "philanthropic passions" of the donors that would normally be suspect if implemented by mega corporations.
Those "so called" generosity networks are used as subsiding endowments for the integration of third world communities into the NWO feudal system of minimal expectations.
That old Peace Corp attitude that was based upon helping others to help themselves is now a mission for global vassal induction. So much for the myth of self-determination, in the land of the rationed and expendable economy, where only the conglomerate matters.
As affluence disparity widens from the mega rich, the former middle class recedes into subsistence level, on a path resembling those that international NGO's are supposed to help. A true merchant based economy, with broad based business ownership, is the only solution to the controlled slave state.
Actual non-governmental organizations, that provide useful functions, must shed their tax-exempt preferences and government subsidies. Helping individuals with volunteer charity under a viable free enterprise economic model is preferable and necessary.
Breaking up monopoly trusts, eliminates the need for generosity networks, because individuals would be able to earn a livable way of life, independent of government and globalist welfare. Most NGO's schemes are fronts for NWO causes.
"The trade in derivatives, using home notes, was designed as a Ponzi scheme. Excel knew it. Cadwalader, Wickersham & Taft (CWT), knew it. My fellow junior associates laughed at me, senior associates got mad at me, and the senior partners ultimately asked me to resign or be fired when I wrote repeated lengthy memoranda explaining this out to them." – Charles Lincoln, III, PH.D., Harvard, J.D., University of Chicago, School of Law
Who is Charles Lincoln, III?
In October, 1993, Charles Lincoln, III began work as an associate at Cadwalader, Wickersham & Taft (CWT). He had just completed a judicial clerkship for Kenneth L. Ryskamp, U. S. District Judge, Southern District of Florida. During his clerkship with Judge Ryskamp, Lincoln had planned, coordinated, and framed the jury questions for a very large securities fraud trial in Palm Beach against Alan B. Levan's Florida-based BankAtlantic Bancorp and Subsidiary Bank Atlantic Financial Company (BAFCO), which were heavily involved in Florida Real Estate from 1952-2011.
What he was about to learn, and challenge, would change the course of his life, from one of privilege to destitution.
In many ways, Lincoln might have appeared exactly the kind of associate who could be expected to make partner rapidly. Ambitious, bright, and energetic, CWT hired him because he received top law school grades in Securities, Antitrust, and Banking Law, as well as for his clerkship experience in Securities & Banking cases in the post-S & L Collapse period in Florida. He had also been President of the Environmental Law Society at University of Chicago, School of Law.
In law school, he had become intrigued by the role of securities in establishing, maintaining, and shaping the global-elites of the 20th century. The complexities of hierarchical and socio-political structures had been his greatest interest in Anthropology & History at Harvard.
In his first month at CWT he turned in 393 billable hours wildly exceeding any expectations. First year associates are expected to bill at least 2000 hours per year, Lincoln managed to do this in less than six months. At Cadwalader, Lincoln aspired to a professional specialization in securities litigation, fraud, shareholder's and directors' relations, rights and obligations, general agency and relationships of fiduciary duty.
Lincoln had taken up law as a second career after a decade as a working archeologist in Mexico & Central America, during which time he wrote a doctoral dissertation "Ethnicity & Social Organization at Chichen Itza, Yucatan" at Harvard's Peabody Museum. His dissertation resulted from a project he directed in his 20s, funded by the National Geographic Society, Harvard's Peabody Museum of Archaeology & Ethnology, and private donors such as Doris Zemurray Stone and novelist James A. Michener.
As an archaeologist, Lincoln had become frustrated, acutely aware of problems mounting in the world, which originated in finance. Determined to use law creatively as a force for positive change, he enrolled at the University of Chicago, School of Law. At the school, he served as President of the Environmental Law Society (ELS), presiding on a year-long symposium at the Law School in 1990-1991, concerning oil spills in the immediate wake of the Exxon Valdez disaster of March 24, 1989.
Raised as the grandson, and effectively adopted son, of a wealthy petro-chemical engineer & military supplier in Highland Park, Dallas, Texas, Lincoln was not a stranger to the better addresses in New York. The welcome dinner held at the Waldorf Astoria for the twenty associates hired at the same time, of which he was one, did not impress him. Cadwalader, Wickersham, & Taft, though claiming to be the oldest, founded in 1792, the same year as the New York Stock Exchange, was by no means the largest.
Lincoln knew Cadwalader's history and greatest claim to fame and power. This is its status as primary law firm to the Bank of New York (BNY), now BNY-Mellon, founded in 1784 by Alexander Hamilton, 8 years before Cadwalader opened its doors under a different name.
The long relationship between the oldest bank and the oldest Wall Street Law Firm include Cadwalader's role in setting up BNY to be the very first law firm to be traded on the NYSE. Cadwalader's historical policies have consistently, matched and supported those of the BNY and the thinking of Alexander Hamilton.
Cadwalader's flagship office was then at 100 Maiden Lane, in New York 10038, close to the heart of the financial district in New York.
Having been hired on for Cadwalader's litigation department, Lincoln encountered a department which was essentially inactive in 1993. The only the only active cases involved municipal defense to voting rights act cases in California.
Even the litigators, in 1993, were all working on one project, one particular project which was shrouded in great mystery and secrecy.
The Excel Mortgage Project
Instead of litigation, Lincoln along with all other first year associates, were temporarily to work with the "Structured Finance Department" on preparing the registration statement of Excel Mortgage. Lincoln's role was to review and assess a series of some 1500 Arizona residential properties in relationship to state and federal environmental law and geographic issues, such as cultural resource management, and other points relating to the entire history and possible condition and liabilities of these properties.
The 1500 or so properties, subject of his study, were earmarked as assets being "deposited" into the Excel Mortgage Bond Fund, along with promissory notes originated by a number of creditors on homes conforming to a certain size and value profile, but having no other relationship. These were not part of the same communities, not part of a single development project, not built by a common builder, or anything else. This struck Lincoln as strange. Why "pool" all these unrelated properties together? And would be in the completed "pool?" Why was the Bank of New York underwriting this project?
Enter the Securitized Derivative
Excel Mortgage, a highly valued client of CWT was about to become part of history, doing something that had never been done before: registering a bond for sale to the public, which bond was based on pooled notes, a hybrid of debt and equity interests in and contingent claims to realty. This type of financial instrument had never before been sold to the public, though it had existed for about 25 years in the "private placement" market.
Lincoln was unwittingly participating in the first initial public offering (IPO) of a bond, a debt instrument, derived in part from promissory notes, 'debts,' and in part from contingent pledges of title, 'secured equity,' in residential real estate.
Securitized derivatives were being born at 100 Maiden Lane.
Bernard Madoff, who founded the NASDAQ when he was 33, was a prominent client of CWT, walking the floors of Cadwalader late at night.
The entire staff of CWT, underwritten by the Bank of New York, supporting Excel, were charged getting these new-fangled "derivative" instruments past examination by the Securities & Exchange Commission (SEC).
This was an arduous, and expensive task, necessitating a "lint-picking" review, before these 'derivative instruments' could be packaged under the name of Excel Mortgage and offered both on the NYSE and NASDAQ. An SEC Registration Statement is an application for Federal Blessings affirming investing in a certain stock, bond, or "other instrument or obligation" is a reasonable investment for an average investor to make.
Supposedly "sophisticated investors" can do whatever they want to do, so long as it's not expressly fraudulent or otherwise illegal. But the average grandmother investing for her grandkids' college needs Federal Protection. Like "Social Security", the concept of "Security" in the "Securities and Exchange Commission" is essentially a matter of "Trust us, We're the Government."
SEC Registration Statements require, prior to sale of any debt or equity instrument to the public, disclosure of all a companies' assets and liabilities along with the qualifications of its officers and directors, and more.
Nobody outside of the law firms who prepare such things and SEC staff, would ever read this, but preparing the registration would bring CWT millions of dollars.
Excel Mortgage, however, was not selling stock in itself as an enterprise or an entity: it was selling a pooled collection of utterly unrelated and unconnected and barely similar promissory notes with contingent interests in, and access to, equity ownership of real property owned by 1500 different people and subject to 1500 separate notes and mortgages.
1993 – Anomalies, and Questions, Emerge
Who was to supervise its operation after "Registration"? What coherence did this "enterprise" have ASIDE FROM the Registration Statement? Would anyone ever recognize it as a "business?" If so, how and why? Lincoln was puzzled and perplexed, and not satisfied with any of the answers he was getting.
The SEC did not appear to inquire into post-issuance management or maintenance of the pool of assets. Once "securitized" the notes would still be handled by individual originators or assigned to servicers. Lincoln asked "what was there left to be assigned or handled once the notes and mortgages were pooled?"
The SEC is charged with protecting small individuals and the corporate investor.
The SEC is expected to be involved in examining and making inquiries about a company's claims for potential and predictions of earnings or profitability.
On what opinion or data would these be based for the Excel Mortgage Pool, since there weren't any?
The opinions used were based on the "normal statistical performance of similarly credit rated and similarly valued mortgages in similar markets from studies of a group at MIT Sloan School of Management headed by a then no-name professor Frank J. Fabozzi. Fabozzi, with close ties to the Bank of New York, was also among the occasional Night walkers at Cadwalader.
The process of preparing an SEC registration statement is a gold-mine for lawyers inclined to highly detailed work. Such a process for registration can normally require Lincoln said, over a thousand individual revisions. The Excel Mortgage registration would be subject to over 2,000 revisions, but in all this there was still no attention given to claims of ownership, transfer of title, the laws of agency and fiduciary duty of managers, any of the concerns which normally plague the corporate world and frame the concern of SEC examiners and securities lawyers.
What's In It for CWT?
The careers of young associates, and even older partners, at firms such as Cadwalader, Wickersham, & Taft, Chadbourne & Park, Sullivan & Cromwell, or Skadden, Arps, depend upon work measured in billable hours. Cadwalader had a "billing goal" of multiple millions of dollars for the Excel Mortgage registration project.
Lincoln recalls three relevant details:
First, the firm was never able to reach it's own goal of billable hours by the time the project was complete.
Second, the firm sent constant "internal memoranda" by e-mail to all employees, down to the lowliest legal secretaries and paralegals, to work harder and BILL MORE HOURS. It was simply inconceivable that Cadwalader might have to refund any part of enormous retainer paid for the Excel Mortgage, SEC Registration Statement project. The money for this had all been advanced by BNY, who counted on Cadwalader to do the job which needed to be done.
Third, the practical purpose of any billable hours stood quite above and beyond any possibility of doubt or question. In fact, any and all billings, however described, so long as they were assigned to the Excel Mortgage Registration Statement Account, were welcomed.
Lincoln was therefore able to unleash his curiosity, delving late at night after hours into issues which ranged far, far afield from the environmental history, condition, and culturally or historically significant use or contents of the subject properties.
Despite some losses during the 2007-2008, CWT was in 1993-1994, and remains today, the top firm representing the creators and implementing the designs of "structure finance and derivative securitization" world wide. Lincoln wanted to understand what he was doing, and what he was involved in creating. The more he found out, the more troubled he became.
As an entry-level associate at Cadwalader Lincoln received his own office and secretary and paralegal. Little time was spent interacting with others in the office. A quick question might be asked but friends did not come quickly. Each associate knew what mattered was the hours billed, and friendly socialization was hard to itemize even on the Cadwalader charts. Hanging over the heads of all new associates was the goal of "making partner."
As an anthropologist, Lincoln saw immediately the subculture of the law firm had its own standards, values, and mandates. The firm had high standards for dress which included ties which remained in place all day, regulations for tie clips or tie pins and cufflinks and belts and, of course, shoes, whether white or "normal."
Standards for women included skirts below the knee and mandated the length for sleeves and the height of necklines and collars. Even the length of hair, for women, was described and outlined in the firm guide, although one paralegal from the litigation department was granted a special exemption, for cause. Known to and noted by everyone in the firm, for his ponytail and paisley shirts, the associate was hired from SDS in California as "our eyes and ears to the lower classes," as the senior partners consistently and uniformly described him.
Lincoln, as an undergraduate, had twice been voted, "best dressed man on campus", but the whole Cadwalader atmospheric ethos of bloodless conformity, as noted above, was for him one of stifling suffocation.
The anomalies which began to intrude on Lincoln's consciousness during his late hours trying to understand the "entity" being sold almost as if it were a company or entity, without actually being one, became an obsession. At first, this lead only to more billable hours, but the trip down the rabbit hole became increasingly disconcerting.
All questions of real value or reasonable expectations, lead the inquirer to the Bank of New York's Heart, ending any questions.
The Disconnect between Law and Derivatives
Lincoln's law school classes, under the University of Chicago's Andrew M. Rosenfield, William Landes, Geoffrey Parsons Miller, and Richard A. Posner, and from his further and ongoing research as a Law Clerk with Ryskamp and now at Cadwalader, had considered the question of real value and reasonable expectations.
Issuing and selling securities, debt or equity, takes place when a company, or group of people who have control over assets they planned to use to make money, or with which they were already doing something generally profitable, or wanted to raise new capital and/or liquidate their ownership and interests in an ongoing and successful venture.
This did not come close to describing what Bank of New York had underwritten for Cadwalader to prepare for Excel Mortgage.
This SEC Registration Statement gave birth to new type of "debt-equity-derivative debt instrument" which had none of the elements or characteristics of a traditional enterprise at all. It was PAPER MADE FROM PAPER, SECURED BY PAPER.
Indeed, the Excel Mortgage Bond, which was soon to be popped onto the market with an SEC certification of Federal conformity was a creation of the lawyers, by the lawyers, for the lawyers.
As one of the most senior associates, now firm Chairman, Christopher White explained to Lincoln when he asked him, "Who will own the interests in these notes once they are securitized?" He grinned boyishly from ear-to-ear and said, "we will, because everyone will have to pay us to tell them."
Without any unifying manager or common owner for these properties, the pool of notes struck Lincoln as like nothing so much as "res nullius" in Ancient Roman Law—the legal category of "property belonging to no one", e.g. virgin forests, wild beasts and undomesticated fur and game animals of every kind, the un-owned and un-ownable creatures of the deep.
Excel Mortgage was going to pool all these "derivative" real estate mortgage interests, whose only commonalities marking them as similar were the price, promissory note, range, size and "single-family home-residential" nature of the properties, and the credit or FICO scores of the owners.
Having "pooled" these "cherry picked" assets, Excel was going to create a strange creature without an owner until either default or foreclosure moved someone to homestead these unownable notes back to control and "ownership" again.
In essence, the concept was, "everything belongs to everyone in common" and "debt is not individual but collective."No one owes his or her debt to any person, but everyone owes it to everyone to pay. This concept seemed, even to Lincoln in 1994, strangely reminiscent of Aldous Huxley's "Brave New World."
The Excel Mortgage Bond to be securitized reflected an artificial "derivative" interests in a non-coherent, uncontrolled mass of wealth, which could and would have to be tamed individually, just like hunting the wild game of the woods.
There would be only a pretense of relationship between the notes originated and the notes collected upon.
There was no one to oversee the transfers, no one to audit the exchanges of values; there were quite simply no responsible parties anymore than anyone can take charge of wheat chaff thrown into the wind or the by-products of a paper mill dumped into a river, yet these "derivative by-products" were being STRUCTURED into something said to have value.
Around 1500 or 2000 properties had been collected together and placed in a basket or pool. But no single plan of real estate development or construction or sales was involved, nor was any contemplated. Nothing joined these properties as a class. Most were not new, but merely resales.
Raising the Issues
Lincoln dug in further, producing and circulating to all his fellow associates and the senior partners at Cadwalader his own memoranda: lengthy studies and analysis on issues such as the fiduciary obligations in the Law of Agency.
Fiduciary responsibility of issuers of securities to purchasers, holder in due course doctrine, implied covenants of good faith and fair dealing between parties to a contract, privity of contract itself, and commercial paper doctrines such as endorsement and ownership as holder, and the comparative rights and priorities of "naked" holders vs. "perfected" holders.
As Lincoln's months stretched out among the whirring circular brushes which polished the green and white marble floors of CWT, he spent more-and-more time with the partners of real estate department, which seemed to understand his worries and concerns better than others, certainly better than the Fourth or Fifth year associate in charge of coordinating the Excel Mortgage Project who kept explaining "this is my road to partner; if I can finish this and make it happen, I won't have to worry about how to live on these lousy six figure salaries anymore, I'll finally be making millions, and that's why we all came here, isn't it?"
Questions Find Answers
Since it was not why Lincoln had arrived at 100 Maiden Lane this presented a dead end for him.
The real estate connection, and an aborted plan to open a CWT office in California, permitted him to compare the Excel Mortgage project with another, more traditional real estate development Sacramento, California.
An extremely prominent CWT client based in Los Angeles was complaining and encountering major problems because of a parallel but separate and distinct set of misapplications of the law of agency, fiduciary duty, and obligation, also originating from the same historical "Cadwalader Memorandum" on transfer of interests which had triggered the explosion of derivative innovations in the securities realm.
With CWT acting as counsel for an old and distinguished California family and collection of enterprises, the Ahmansons, tracts totaling several dozen suburban "townships" in El Dorado, Placer, Sacramento, Sutter, Yolo, and Yuba Counties had sold by the Ahmanson family to a Japanese firm and retained an "Ahmanson Construction Group."
The intention was to build a resort in the area for the benefit of the Japanese owners acting as "construction agents."
Normally construction is performed pursuant to agreements with "independent contractors" who make estimates but are not obligated to continue working if their estimated budgets prove insufficient to complete a project. The Japanese investors were seeking to securitize all the sales in this immense, almost unimaginable project.
Involved, were the Bank of New York, with Cadwalader's long-time California based H.F. Ahmanson holding Company, parent company both to Ahmanson Construction and the since failed Home Savings of America Bank.
The "construction agency relationship" which Cadwalader had created imposed devastating duties and obligations on Ahmanson. As agents, Ahmanson Construction was obligated to use its own money to achieve the ends of the principal, in this case the Japanese company which had purchased the real estate but woefully underfunded the construction of the vast tracts of homes. Ahmanson could not make a profit or even break even. In effect, they had become slaves to the Japanese and might never be compensated.
Lincoln, having reviewed the facts, pointed out to Stephen Meyer, Richard C. Field, and John McDermott, the partners most closely associated with Ahmanson, that by not only failing to protect Ahmanson, but in fact, selling them into quasi-slavery as agents under a contract without guarantees of adequate funding to execute agency obligations, the firm had made a ghastly mistake amounting to nothing less than legal malpractice. This was a breach of fiduciary duty in and of itself.
Lincoln was told, "This firm has a policy of doing no wrong. Therefore, you are wrong. The firm is never wrong. You should reevaluate your conclusions."
This happened in 1994, only two and a half years after the sensational October 1991 confirmation hearings for Justice Clarence Thomas. The Paula Jones allegations against the new President Clinton, were beginning. "Sexual harassment" became a great boogie-man haunting law firms all over America.
Consequences are Clarified
After reading his memorandum on the Ahmanson project, these senior partners asked Lincoln to leave the room.
When they called Lincoln back in, they told him, very solemnly,
"you know you need to keep your nose clean around here. We have all received reports that you have taken your secretary Alex to lunch more than once and what's more you gave Holly, the Senior Secretary in recruitment & personnel, flowers for her birthday and Valentines Day. So just remember: never ever do anything, anything at all, that you would not want to see published on the front page of the New York Times. Anything here can be, you know, and anything will be, at the drop of a pin, because everyone is very sensitive to questions of decorum these days, and, after all, you are a married man."
Lincoln reports he did not even bother to ask how they happened to think of this only after a three hour meeting concerning the Ahmanson contract of construction agency, when he had never heard about any concerns of this nature before.
At work, Lincoln continued to pile up daunting billable hours doing research on a growing list of issues, each going back to the dissection of the elements of value, which were being "deposited" into the derivative pool. He was determined to understand what was really happening. Why were they doing this?
Confirming what Christopher White had told him before, a Properties Department attorney named Stephen Meyer, advised Lincoln to keep his mouth shut, this happening shortly before Lincoln was asked to resign. Both men had made it clear, in nearly the same words, that Lincoln should be careful about questioning or criticizing firm's plan for transforming the economy of the Western World, "this is how things are being done these days. We do because we get to charge everybody. This is how the whole world will be managed by 2020, we have a plan."
As Lincoln was to discover, there was a plan. A book called "Cadwalader 2020" contained a comprehensive manifesto of how the world would be changed by the year 2020. Unsecuritized individual debt would no longer exist.
During Lincoln's entire time at CWT, the firm maintained a high level of security over the Excel Mortgage work, work which finally involved everyone at the firm. All who worked at the firm had to submit to a frisk on leaving work. No papers or laptop computers or diskettes, this still the era of 3.5 inch diskettes, were to be taken home or removed from the premises, and no external e-mail was allowed connecting to firm e-mail. All firm e-mail was in fact carefully monitored.
To entirely use up the retainer on the Excel work, Lincoln and all the other first and second year associates found themselves in a large conference room supervised by some of the partners pasting labels on files.
The partners had to review the signature pages before officers of Excel would sign the documents, and the associates were there to prepare and affix signature tabs, saying "sign here, Mr. So-and-So, on to the final pages of Statement before final submission.
Lincoln said it seemed odd to use attorney billable time to prepare, double-check, and verify signature tabs, even on a super important document until you considered the driving desire of CWT to maximize their billable hours.
Billing rates were $150.00 an hour for new associates, $60 – 80 an hour for paralegals, and $40 – 50 an hour for secretaries. On being told that he had failed to bill his secretary's and paralegals' time for bringing him after hours meals and snacks, Lincoln asked the senior associate in charge of organizing the Excel Mortgage Project how much the firm billed out for the hourly operators of the automated circular marble floor polishers which whirred seemingly ceaselessly day and night throughout the offices. Epstein just glared at Lincoln silently. Those hours were not billable.
CWT was determined to drain every possible penny from the work done for Excel Mortgage, and did. This appeared to be consistent with the Bank of New York's plan in financing the project in the first place.
As Lincoln's research continued, the business plan being followed by Excel Mortgage also emerged, in all of its complexity and disturbing detail. The company had seen the potential to redefine a debt, recreating it as equity, and equity can be used as collateral for originating and extending more debt, which can be hybridized with contingent interests in an ever expanding pyramid of debt, doubled into equity, doubled into debt…. And again, this was the CWT-BNY plan for perpetual inflation.
There was quite simply no plan other than to pool and securitize the notes to issue X millions of dollars in bonds. These would be sold on the major stock exchanges, generating equity. The equity would be used to extend or originate more money to the borrowing public who then "sell" or give their new notes. This then generates more equity through debt, a constantly pooling and production of derivatives then sell to continue the cycle.
Ponzi Scheme Emerges
After his first month of painful research, it took Charles an additional 6 weeks to figure out and map the nature of the pyramid, another 6 weeks to check his work and accept the results, and then he started writing memoranda, one after the other, each one critiqued by other associates or the senior partners and getting longer and longer.
His first memorandum was entitled "The Law of Fiduciary Duty in Agency."
His second was "Transfer and acceptance of instruments by endorsement and receipt: who is responsible?"
There were at least four others, the longest of which was over 500 pages.
Lincoln's conclusion was breathtakingly simple: "merger of identities destroys the identities merged, there is no individual liability for debt in the absence of privity of contract, and no privity of contract without individual identity of contracting parties."
It was clear from the elated attitude of the Senior Partners that designing and implementing the Excel Registration Statement, as the first IPO of its kind, stood in their minds as their most important contribution to western civilization, as envisioned through the world of "Cadwalader 2020".
Finally, Lincoln was asked to resign, about six weeks shy of his first anniversary. His questions and concerns had not ended and the Partners were becoming hostile.
Leaving with a not quite "Golden Parachute" consisting of a $50,000 severance payment, he had vocally identified a series of challenges which the management of Cadwalader had no intention of addressing. It was now clear to Lincoln these were not any kind of mistake or oversight.
Lincoln's final memorandum at Cadwalader opined, perhaps overestimating general knowledge of the law, "no mortgage note included in the Excel mortgage pool will ever be lawfully collected in the event of borrower/credit-debtor default, because the pooling of identities obliterates individual obligations and rights, and discrete transactions lie at the foundation of our system of contract and debt."
At the meeting where he finally resigned, the Senior partners, perhaps understanding the American public better than Lincoln, said to him, "Who is ever going to notice lack of privity of contract besides you? They teach you all those archaic "Elements of Law" at the University of Chicago, we know all about it, but nobody does business that way anymore. The economy of the future is now, nobody cares about endorsements and signatures anymore, it's all going to be electronic, anyhow."
Lincoln responded, "well, then, you're going to have to change the law." And the masters of the CWT universe said, "Don't let the door hit you on your way out, we write the law, we interpret the law, we tell everyone in America what the law means, that's what we do.
The Price Paid
The next nineteen years of Lincoln's life have been filled with constant attacks from the legal establishment from directions and in ways which exacted a hideous toll on him and those he loves. He has repeatedly learned what it is to be hated, rejected, despised, a man of sorrows and acquainted with grief. In those two decades he lost his wife, his birth family, and his son, all his inherited property, including several homes and a gigantic private library and personal collections of fossils, numismatic, painted, and sculptural art, his law licenses in three states and even his own not-at-all-insubstantial investments.
Lincoln notes that, after what can only be called a blessed beginning in life with his loving grandparents supporting him, an exceptional education, and basically a privileged and charmed first three decades of life, his consistent pattern of loss only began when he was 33-34 years with his entry into private law practice at Cadwalader, in what, quite simply should have been "the best of all possible worlds."
Left with nothing, he refused to quit.
All of these events began after those critical months, less than a year, that he had spent at Cadwalader, Wickersham, & Taft.
As historical events unfolded, parallel to his own life, his worst projections regarding the impact of the new market in mortgage derivatives proved to be frighteningly accurate. Lincoln began to research how the runaway Ponzi Scheme could be halted, and reversed.
A Solution
According to Lincoln, for the past ten years, his life has been entirely shaped by the mortgage crisis and its origin in securitization. The question which, he says, drove him is how private property and integrity of contract could restored in the face of the "New World Order" Plan. This is the plan Lincoln first became aware from the internal firm booklet "Cadwalader 2020," while he was working at CWT in 1993-1994.
Lincoln believes such restoration is possible. The systemic fraud has not gone unnoticed, as CWT and BNY clearly thought would be the case. Their concern is registering through the rising wave of settlements which are now extinguishing the cases they deem most threatening. These cases are now settling on the courthouse steps for significant amounts and return of the real estate, free and clear of mortgage related liens.
Banks understand the ominous possibilities they face if juries realize what really happened. And today, it is not just Cadwalader. Nearly every major financial law firm in the United States who is involved, directly or indirectly, in the implementation, defense, or coverup of securitization is potentially liable.
This potential for liability makes the settlements paid out by cigarette companies seem like chump change.
As long as such settlements are few and remain outside the view of the courts, the banks are safe. But the moment juries hear the facts, and see the reality, the banks are toast, and they know it.
And here, Lincoln said, is the leverage point from which change can be enacted. More cases must be litigated using the facts so cases won in the light of day can become case law and precedent. The war can be won, but will be costly. This challange requires, along with several lines of attack, the means for funding litigation.
One possible solution is to solicit private direct investment in litigation for individual cases in exchange for a share of the awards by the jury. Another is to design an "anti-derivative derivative" plan which bundles and pools both investments and potential awards, allowing Americans at all income levels to invest in the effort.
For this derivative, investors would understand both the risk and the benefits of investing.
Lincoln's team, they know, cannot fund its efforts as the banks do, by an out of control pyramid scheme piling debt on equity to create more debt, but Lincoln sees a certain symmatry achieved by using the weapons created by the originators of the problem against them.
Either solution, Lincoln says, lies directly in the hands of Americans. If the money is available, litigation can go forward. He and the team see a build out across the country, with litigation taking place in every state as attorneys sign on and funds are available.
They have already begun. Lincoln's team is now working with homeowners and the currently small number of attorneys willing to litigate. They have no illusions. They are aware they are going up against the most powerful institutions in the world. But they also know that, if they are successful, the crack now forming in the protections constructed by CWT, BNY, and so many others, makes it possible to reverse the ominous trends in the American housing market while proving it is possible to enact accountability for a corrupt establishment and good for the people.
If houses now held by banks go on the market, or are returned to their owners, the heavily inflated prices of homes will drop to its natural market level based on supply and demand. Communities will stabilize, as will the lives of Americans.
The America which emerges from this crisis can be very different. No stability will ever result from the current expectations of perpetual economic growth relying on perpetual inflation and perpetual motion in the market place, and the resultant social instability.
The 99% need to bring the 1% home to live with the rest of us in peace, Lincoln says.
Given the propensity of the legal establishment to go after activist attorneys, Lincoln admits this will not be without risk, but public involvement can help here, too. He remains confident, many will step forward. They did so in 1775 and in other times of crisis in America.
Failing to act, he said, means abandoning Americans to the cartels and monopolies who are responsible for what has happened to our country.
Lincoln and other members of the team believe strongly most attorneys and judges, when asked to make a choice in the light of day, will do the right thing.
The effort has already begin in New Jersey. Right now he has a case in motion in the Garden State, just across the river from Manhattan, where Cadwalader still holds sway at the ominously named "One World Financial Center."
Now, they are looking for more attorneys who love and respect the law, and investors who know what matters most and want to make a difference. His website is, homeownersjustice.com.
The establishment has an entrenched interest in convincing the public that their vote in elections actually decides who is selected for public office. That same power elite runs and controls both Republican and Democratic political parties. Only a neophyte or a delusional idealist believes that the voting cycle reflects the will of the people. When reform candidates engage in the primary process, hoping to win the nomination from either of the two major parties, they face the stark reality that playing ball with the money bundlers means obeying the directives of masters of the universe. These overlords own politicians, especially those who continue in office by winning predetermined elections.
Democracy as expressed by the ballot box is a fairy tale. Anyone with experience within the Tweedledum and Tweedledee party organizations, understands that the comic book characters, who populate the ranks of politics just want to become a Mini-Me version of "Boss" Tweed.
Dispensing the fruits of power and patronage, while fostering the crony corporatist culture, is integral to maintaining the levers of political administration over a society of inconsequential serfs. When people's frustration mounts, and party leadership blocks even modest attempts of populist reform, voting participation declines.
The GOP once was described, as Rockefeller or Country Club Republicans, is really a deranged asylum of NeoCons whose primary purpose is to purge genuine conservatives and libertarians from their ranks. A party that would nominate a John McCain for President and continue to support him in Senate elections is not worthy of trust. Written in 2004, John McCain: The Man Who Would Be President sums up the dilemma.
"McCain's a full fledged phony without an ounce of conservative values running in his veins. Bush has proven himself to be a fraud and the tool of the NeoCons. This election is a charade of a sham called democracy. There are no surprises left, only the substitution of a name; while the same policies remain. Spell it Bush or McCain; but don't use the designation conservative. Kerry is Bush's brother, in the only society that selects those who are granted the nominations. McCain can only settle for second place, in service of the powers, that host the parlor game – picking a President."
Now that the New Jersey Governor Chris Christie is the toast of the town, the praises and speculation begins. Chris Christie landslide: Template for a Republican presidential win in 2016? "The governor won an impressive 57 percent of women and took a majority of Latino voters. He even garnered 21 percent of black voters – a significant inroad for a Republican. He also won nearly half of union voters and those under the age of 30."
The press would have you believe that the next Republican candidate for President needs to adopt a "political correctness" love fest to be elected. Please . . . dump on the Tea Party and disparage traditional conservatives is no formula for any politicians who deserves support.
That Republican 2010 Landslide and What It Means concludes."The Republican Party's attempt to co-opt the spontaneous spirit of the Tea Party geneses illustrates the panic that both entrenched parties have from a true populist movement. The mind dead voters who continually vote for the lesser of two evils, or adhere to the squishy William Buckley rule guarantee perpetual servitude. "The Buckley Rule is, ostensibly, that you vote for the most electable conservative option (in the primary) against a Democrat in November".
The quest for that illusory electability is the trouble with every recent election. When will a true conservative/libertarian populist win the nomination? The apparent answer is never in a party of RINO's and establishment gatekeepers.
Where can a true believer turn? That leaves Hillary Clinton as the apparent frontrunner nominee for the Democrats. The problem with that presumption is that she got the cold shoulder in 2008 in favor of Barry Soetoro, the CIA's Manchurian Candidate. The Republicans are supposed to be the party of next in line Presidential torch carriers.
So why would the Democrats want HilLAIRy as their, Woman of the Year, or is it? The obvious appeal does not go unnoticed. "All you have to do is look under the dress and you will find the stuff that dreams are made from. Hillary is a man's woman that appeals to the trendy tender gender on both coasts. She's has a lock on the fear factor and will be the survivor of all the village people."What better way to succeed Obama, the beyond race President, with a legendary bisexual voice, who will distribute her racism against white rural America as a condition of perpetuating the multicultural collectivism, which is so necessary for the total destruction of traditional values.
Just how well did all those underprivileged minorities do under Barack Hussein Obama? Surely, a first female President Clinton would add to such striking gains in the quality of life and standard of government dependency income.
All this Great Society II would make the LBJ administration look like spendthrifts.
The people, all the people no matter their race, ethnicity or social identity are not benefiting from a New World Order economy and political authoritarianism. Yet, with each election cycle the grip of both outlaw parties continue to expand their extortion policies. Every ten years the gerrymandering of redistricting divides the territory so that the spoils will continue to be shared.
How dumb are the electorate to allow this corrupt process to continue? Inevitably, stupidity knows no bounds. The Meaning of Third Parties in America describes the dilemma.
"If elections are an expression of consent, why is turn out so low for Third Parties? And if discontent was heightened, why are there not more Third Parties? The answer lies in the election returns. The fact that a majority of eligible voters no long take part in the process speaks volumes of their support. The public is stating their choice loud and clear: "NONE of the ABOVE". This is the Third Party that wins the election. When the public deems that there is no 'real' difference between the two parties and that their self-interests cannot be furthered with their vote, the electoral system breaks down. Yes, the public is frustrated; but they conclude that their vote will never, effectively, change the status quo among the choices that are available. Their lack of participation, should not be misread as satisfaction for the current condition."
The misuse of power by both parties illustrates the breakdown in the two tier party system. Having twins with different spots only means that the look of the predator will camouflage their direction for the kill. The Third Parties segment on "Dueling Twins" reminds the nature of the feeding frenzy.
"The duopoly rivalry that emerged over the centuries, grew from the reality of being 'in or out' of power, more than deep seeded ideological principles. For in its bare raw brute reality, politics is about power. How you get it, what you do when you have it, and how you keep it."
When the Obama administration targets conservative Christian groups with IRS retribution, progressive ideologues remain silent. Protecting civil liberties only apply for the faithful of the congregation of state worship.
In addition, when the RINO's mark patriotic groups and activist individuals for banishment from the ranks of the loyal opposition within their own party, they serve the masters of the same establishment that want a pervasive police state.
U.S. Elections are all too often a joke. The election commissions that administer the ballot process are nothing but extensions of the two corrupt parties.
What if a real grassroots national movement emerged that supersedes all ideology with a singular purpose – remove all careerist "pols" from office. Forget about the phony No Labels effort to diffuse popular disgust. The solution is to attract the very citizens who NEVER vote in elections.A national campaign – No Confidence – would be the clear message that the arrogant confidence game crooks could understand.
Term limits will never be voted upon much less adopted until the entire nation strikes against the establishment with a unified proclamation of revolt.
The organization Grassfire urges that people need to confront the system. Time is short and if the following scandals are allowed to be swept under the rug, the candidates in 2014 and 2016 will just continue with their lying ways.
1. "Fast and Furious"

2. The deadly Benghazi attacks

3. The IRS targeting of Tea Party Americans

4. The NSA security breaches

5. The truth about ObamaCare
Populism requires citizen involvement. Elections are meaningless without active accountability.
With the Citizens United v. Federal Election Commission decision, corporations and labor unions can spend as much as they want to convince people to vote for or against a candidate. With all this money going into media campaigns between sibling spotted leopards, the public never gets to choose honest and transformational constitutional candidates. A vote for a Third Party aspirant is never a waste. Consent for RepubliCANTS and DemocRATS is idiotic.
The demonization of free thinking individuals is about to begin. By branding Paul Ciancia a conspiracy theorist, all of us will come under scrutiny.
Anyone who does not believe wholeheartedly in the crap the government tries to feed them on a daily basis will become a danger to society.
It stands to reason that after a major public incidence of violence such as mass shootings or bombings, people want answers. It's right and proper that these cases are investigated and as many answers as possible are provided to the citizens of this country.
Having said that, an alarming pattern is emerging.
Some events are highlighted and get massive coverage on television, on the Internet and in the newspapers, but most incidents do not.
Those that can't be 'spun' by the government are given a couple of lines in the papers or a minute of airtime, and that's it. Done. Gone. Forgotten.
The events that can be used by the government, get acres of print space and constant news coverage. In addition they always have a reason behind them that benefits the government in some way.
Let me show you what I mean. In 2012 88 people were killed in mass shootings in the United States. Sixteen mass shootings with 88 deaths.(source) Here's the list:
February 22, 2012: Five people were killed in at a Korean health spa in Norcross, Georgia, when a man opened fire inside the facility in an act suspected to be related to domestic violence.
February 26, 2012: Multiple gunmen began firing into a nightclub in Jackson, Tennessee, killing one person and injuring 20 others.
February 27, 2012: Three students at Chardon High School in rural Ohio were killed when a classmate opened fire.
March 8, 2012: Two people were killed and seven wounded at a psychiatric hospital in Pittsburgh, Pennsylvania when a gunman entered the hospital with two semiautomatic handguns and began firing.
March 31, 2012: A gunman opened fire on a crowd of mourners at a North Miami, Florida funeral home, killing two people and injuring 12 others.
April 2, 2012: A 43-year-old former student at Oikos University in Oakland, California walked into his former school and killed seven people, "execution-style." Three people were wounded.
April 6, 2012: Two men went on a deadly shooting spree in Tulsa, Oklahoma shooting black men at random in an apparently racially motivated attack. Three men died, and two were wounded.
May 29, 2012: A man in Seattle, Washington opened fire in a coffee shop killing five people and then himself.
July 9, 2012: At a soccer tournament in Wilmington, Delaware, three people were killed, including a 16-year-old player and the event organizer when multiple gunmen began firing shots, apparently targeting the organizer.
July 20, 2012: James Holmes enters a midnight screening of The Dark Knight Rises and opens fire with a semi-automatic weapon; twelve people are killed, and fifty-eight are wounded.
August 5, 2012: A white supremacist and Army veteran shot six people to death inside a Sikh temple in suburban Milwaukee, Wisconsin before killing himself.
August 14, 2012: Three people were killed at Texas A&M University when a 35-year-old man went on a shooting rampage; one of the dead was a police officer.
September 27, 2012: A 36-year-old man who had just been laid off from Accent Signage Systems in Minneapolis, Minnesota entered his former workplace and shot five people to deathand wounded three others before killing himself.
October 21, 2012: 45-year-old Radcliffe Frankin Haughton shot three women to death, including his wife, Zina Haughton, and injured four others at a spa in Brookfield, Wisconsin before killing himself.
December 11, 2012: A 22-year-old began shooting at random at a mall near Portland, Oregonkilling two people and then himself.
December 14, 2012: One man, and possibly more, murders a reported twenty-six people at an elementary school in Newtown, Connecticut, including twenty children, before killing himself.
2013 is looking very similar, those cases that got/get airtime are the Christopher Dorner case back in February, the Boston Bombings in April, the Navy Yard shooting in September, and of course the incident at LAX. There are other cases that in total killed over 30 people (source) but they didn't have the required 'spin' factor so they have not stayed in the news.
All the cases that have made it big, news wise, have had a message from the government to us. These cases were chosen by the government to highlight the need for more gun control, more surveillance and tighter security. I believe that the 'evidence' for these events was tailored. Tailored to suit the government's needs at the time. To give the public a reason for the measures that will be imposed to 'solve' the problem. It was spun and nipped and tucked and most likely bears no resemblance to the original reasons behind the act.
With the LAX shooting they have gone a step further. In addition to once again raising the issue of privately owned assault rifles, they have put terms like 'New World Order' and 'fiat currency' into the wider public domain.
They are pre-conditioning the wider public in subjects usually confined to alternative media.The average Joe on the street is not familiar with these terms. But now the government itself has introduced them. They have publicly acknowledged them and linked them to the term 'conspiracy theorist'.
From Sky News US:
A note allegedly found in the suspect's bag said that he wanted to kill at least one transport officer with his AR-15 semi-automatic rifle and didn't care which one.
"Black, white, yellow, brown, I don't discriminate," the note read, according to a paraphrase by a law enforcement official briefed on the investigation.
The suspect's screed also mentioned "fiat currency" and "NWO," possible references to the New World Order, a conspiracy theory that foresees a one-world government. (emphasis added)
I will bet my last dollar that in the very near future alternative media will be mentioned. Alternative media sites will be accused of spreading these messages.
We, the alternative media, both writers and readers are next on the list to be demonized. We are the next 'issue' that the government needs to find a solution to. Like gun control et al, we have become a target.
The government knows that the alternative media is growing. That more and more people are looking for answers that the mainstream does not provide. This cannot be allowed. It is dangerous to a government that sees itself as omnipotent.
The 'revelations' that will come out over the next few days will most likely say that Paul Ciancia frequented alternative media websites and that these sites had a bearing on his actions.
Gone are the days when a man with a gun is just insane, vindictive or just plain bad and decides to shoot people. Now there always has to be a reason, and that reason always has to be one that will allow the government to ride in and rescue us.
It will always be a reason that gives them justification for exercising more control over our lives and this time the reason could well be us, the alternative media.
Source: The Daily Sheeple
With over 500 pages and 1,200 footnotes, Ted Flynn's book, "Hope of the Wicked: the Master Plan to Rule the World," details many of the agendas of the global 'elite' community.  With several thousand quotes it uses the words of prime ministers, secretaries of treasury, secretaries of state, philanthropists and global business leaders to describe their NWO vision and their plans to bring it about as well as the convergence, on a global basis, of multinational corporations, foundations and the political and sociological instruments that would form a one-world government designed to bring about a New World Order.
Flynn writes that there is a confluence of events pointing to major changes that for many years have been coming to the world and they appear to be coming toward us more quickly now. Flynn argues that an 1846 heavenly apparition, a prophecy delivered by the Blessed Virgin Mary to two peasant children and approved by the Catholic Church is a stark and terrible summary of the major changes that have been coming to the world in general but the West and America in particular:
"All the civil governments will have one and the same plan, which will be to abolish and do away with every religious principle, to make way for materialism, atheism, spiritualism and vice of all kinds….The mountains and all Nature will tremble in terror, for the disorders and crimes of men have pierced the vault of the heavens…The righteous will suffer greatly.  Their prayers, their penances and their tears will rise up to Heaven and all of God's people will beg for forgiveness and mercy…And then Jesus Christ, in an act of His justice and His great mercy will command His Angels to have all His enemies put to death….and the persecutors of the Church of Jesus Christ and all those given over to sin will perish…"  (p. 445)
In another apparition approved by the Church, the Blessed Virgin Mary warned of the "annihilation of nations." (ibid, p. 445) 
Materialism, Atheism, Communism, & Annihilation of Nations and People
Friedrich Engels (1820-1895), a 19th century German political philosopher figures prominently in Karl Marx's life.  Beginning in 1844, Engels and Marx, a God-hating materialist, collaborated closely in the foundation of modern Communism.  By 1848 they had produced The Communist Manifesto and similar works.
The tragedy of Engels is that before joining forces with Marx he had been a faithful Christian.  After meeting Marx for the first time he described him as a monster subjected to devils.  Marx does not,
"…walk or run, he jumps on his heels full of anger…He stretches his arms far away in the air; the wicked fist is clenched, he rages without ceasing, as if ten thousand devils had caught him by the hair."  (Marx & Satan, Richard Wurmbrand, p. 36)
Engels was very well aware of the dangers of entangling himself with devilish sons of perdition like Marx.  In his book, "Schelling, Philosopher in Christ," he warns that a devilish spirit has entered into a great part of mankind in the heart of Christendom and now there are only two kinds of men, Christians and anti-Christians:
"Since the terrible French Revolution, an entirely new, devilish spirit has entered into a great part of mankind, and godlessness lifts its daring head in such an unashamed and subtle manner that you would think the prophecies of Scripture are fulfilled (Matthew 24:11)..And St. Paul says in II Thes. 2:3: That man of sin shall be revealed, the son of perdition, who opposes and exalts himself above all that is God, or that is worshipped…The coming of the Wicked is after the working of Satan….(therefore we must have)  nothing to do any more with indifference or coldness toward the Lord (for as of now) we have only…Christians and anti-Christians….We see the false prophets among us…They travel throughout Germany and wish to intrude everywhere; they teach their Satanic teachings in the market-places and bear the flag of the Devil from one town to another, seducing the poor youth, in order to throw them in the deepest abyss of hell and death." (ibid, p. 40)
The devilish fleshy spirit responsible for converting Engels to godless Communism was Moses Hess, the same man who had previously converted Marx. After meeting Engels in Cologne Hess wrote:
"He parted from me as an overzealous Communist.  This is how I produce ravages…" (ibid, p. 43)
The spiritual counter-conversion of Engels was striking and hideous.  Like Marx, he no longer cared about the destruction of millions of people on behalf of the Revolution. 
A bloodless Marx writes of the coming genocide of millions of men, women, and children:
"A silent, unavoidable revolution is taking place in society, a revolution that cares as little about the human lives it destroys as an earthquake cares about the houses it ravages.  Classes and races…too weak to dominate the new conditions of existence will be defeated." (ibid, p. 42)
In a similar vein, a cold-hearted Engels speaks of the coming annihilation of millions of Christians, Jews, and other peoples and nations:
"The next world war will make whole reactionary peoples disappear from the face of the earth.  This, too, is progress.  Obviously this cannot be fulfilled without crushing some delicate national flower.   But without violence and without pitilessness nothing can be obtained in history."  (p. 43) 
The Revolution
The Revolution is a movement of spirit having its taproot and energy in the devil, the spirit of hate, murder, atheism, apostasy, and 'this world only' naturalism, materialism, pantheism, and spiritualism.   The Revolution is war against the supernatural Trinity, the Father, Son and Holy Spirit, which in the words of Marx's anarchist comrade Bakunin, are the "cursed and fatal principle of authority."
The sentiment of the Revolution is satanic pride:
"….which spurns subjection to any master whatever, whether of divine or human origin." (Bakunin, Nihilism: The Root of the Revolution of the Modern Age, Fr. Seraphim Rose, p. 63)
The nature of the Revolution is the antithesis of authentic Christian faith. Whereas Christian faith is joy, patience, love, truth, humbleness, perseverance, submission in all things to the Will of God and blessed eternal life in Paradise (earth perfected), the Satanic counterfeit is full of hatred, rebelliousness, burning envy and covetousness against man and God, ingratitude, mockery, doubts, lies, revulsion, blasphemy, thoughts of murder and eternal life in Hell.
Fueled by monstrously inflated pride and dissatisfaction with self, the world, society, and God the Father Almighty, it devotes its' infernal energy toward "change," or as Marx put it, toward the wholesale destruction of the Christian-based Old Order and the establishment of a religiously pantheist, totalitarian world order because:
"The idea of God is the keynote of a perverted civilization. It must be destroyed." (Karl Marx, Marx and Satan, p. 59)  
The New World Religion  
 "(The UN is) a weird and diabolical convergence of New Age mysticism, pantheism, aboriginal animism, Communism, socialism, Luciferian occultism, apostate Christianity, Islam, Taoism, Buddhism, and Hinduism."   (The New World Religion: Teaching God's Children to Worship 'Divine Nature.' William Jasper, 2002)
The Revolution, of which the U.N., Lucis Trust (formerly Lucifer Publishing), the Cathedral of St. John the Divine, the Temple of Understanding and Baca Grande (Colorado based New Age Vatican City) are integral components, intends the complete overturning of Biblical moral and spiritual values enjoyed by Western and American civilization for over a thousand years.  As part of this goal, the Bible must be reinterpreted in terms of evolutionary pantheism, man must be fundamentally remade by eradication of every vestige of Imago Dei from his inner being, and Christian leadership reduced to a non-factor.  Flynn writes that this has largely been accomplished,
"…by placing their own leaders in place where they exert tremendous influence.  Much of this program of revolution was confirmed by Franklin D. Roosevelt in his book, 'Our Way' (which) summed up, the spiritual and immoral goals of world revolution (and how they) are being achieved, and nowhere more so than in the United States." (Flynn, p. 361)
Primary goals are:
a. Destruction of the Christian-based foundation of Western and American civilization;

b. Dissolution of legal government;

c. Destruction of sovereignty and patriotism;

d. Demoralizing, atheitizing and bringing the people of the United States into slavery via liberated sin nature and penury via graduated income taxes, property taxes, inheritance taxes, sales taxes, a massive welfare state and now socialized healthcare;

e. The abolition of God-given right to life via reproductive rights (abortion) and euthanasia and of private property via onerous building codes, zoning regulations and restrictions and by taxing property out of existence and targeting inheritance with bigger and bigger taxes;

f. Destruction of the traditional monogamous family unit via divorce, co-habitation, alternative lifestyles, abortion, pornography, hedonism and homosexuality
Before the top-down spiritually pantheist world order dominated by an occult 'elite' can come into existence, there must be a politically correct philosophy of 'new' thought and a philosophy of pantheist-based natural religion and natural science to usher in the coming political, social, legal and educational aspects of the new order since New Age evolutionary pantheism is a politically communist, ecologically 'sustainable,' sexually androgynous way of living.
In her two books on New Age evolutionary pantheism, 'The Hidden Rainbow,' and 'A Planned Deception,' Constance Cumbey writes that these goals have largely been accomplished:
"The New Age Movement is a religion complete with its own Bibles, prayers and mantras, Vatican City/Jerusalem equivalents, priests and gurus, born again experiences (they call it 'rebirthing'), spiritual laws and commandments, psychics and prophets and nearly every other indicia of a religion." (Flynn, p. 361)
According to Cumbey, the Plan for the new order includes the installation of a New Age messiah, implementation of a New Age totalitarian government and new world religion under Maitreya.  As well, there are plans to implement a universal identification system, universal credit system, universal tax, universal draft, and a world food and water authority that will control all of the world's food and water supplies.  To ensure that all people worship the New Age messiah, authentic Christianity will be completely stamped out along with all faithful Christians.
Toward this end, the evil spirit energizing and directing the Revolution intends to fully possess the Christian faith and refashion it completely.  In furtherance of his goal, the devil has audaciously declared that the supernatural Holy God the Father Almighty has been isolated in His transcendence and is therefore dead, so though the notion of God is retained, the devil proposes a functionless God that perhaps serves to ignite the Big Bang and set evolution in motion.  
 According to the devil, the Revolution is now moving with great force and speed across America nearly unopposed and will not stop until every vestige of faith in the supernatural God has been obliterated in every heart. Every man, woman, and child will experience a counter-conversion—a Satanic Initiation in the words of New Age insider David Spangler—to a 'new' pantheist spiritualism dressed in Christian symbols and terminology, an anti-gospel preached by anti-saints from the void who will assure men of their salvation though they will find only the leering face of the devil.
No doubt you have heard about the War on Drugs, the War on Terror and the War on Happiness. However, you may not be familiar with the War on God, possibly because it would be an unpopular war to discuss publicly. By the "War on God" (definition) we mean the collection of strategies, methods and techniques which have the combined effect of preventing or seriously hampering the efforts of individuals to seek or achieve legitimate Spiritual enlightenment and the Soul's eventual return to God.
The War on God is an ancient war. While the United States and other countries play an active role in this war today, they definitely did not initiate the war. If you want to use the Christian bible as a reference, you could argue that the War on God began shortly after man was created and rejected God in favor of Satan. Clearly, in some form, the War on God has existed throughout human history.
Today, the United States has effectively broken off diplomatic relations with God. The oligarchs who run the country never physically die and so their souls stay on Earth. Apparently, the United States actually believes that its technology, occult knowledge and black magic skills place it in a position which is superior to God.
We know from whistleblowers like David Morehouse that the United States sponsors and trains a cult of psychics to carry out psychic espionage (remote viewing) and also assassinations using psychic black magic techniques. According to clips of his various interviews on YouTube, it was the training in psychic assassinations which caused Morehouse to become disillusioned, quit the secret program and blow the whistle on the operation. Other countries may well operate similar programs but the details will remain unknown until someone defects and exposes them.
The leaders of the United States have always worshiped Satan. The United States was founded by a cult of Satanists known as the Masons and remains under control of that cult today. By rebranding their cult as a nation state, the cult created the appearance of legitimacy. Cult secrets simply transitioned to state secrets. Cult threats to kill anyone telling their secrets transitioned to the crimes of treason and espionage.
Nothing really changed except for the rebranding from a cult to a government. Today, essentially all members of the CIA, NSA and NASA are Masons. All US presidents have been Masons with the two exceptions of Abraham Lincoln and John Kennedy who were both assassinated.
The term "national security" refers to the security of the cult and not to the security of the general population. The Masonic motto is "If you are not one of us, you are nothing". The cult exists only to enrich itself.
The Masons study and practice the occult. Serious study begins after they take a formal oath of allegiance to Satan at the 30th degree initiation. Basic occult knowledge is neutral and everyone who advances Spiritually learns it. However, Masons seek this knowledge to gain power and control over others as opposed to knowledge for personal advancement. This choice, commonly called the Left Hand Path, places them in opposition to the will of God.
If the Satanists simply wanted to sell their Souls to Satan and mind their own business, one could argue that they had that right because they had free choice. However, the situation is not that simple. The Satanic oligarchs did freely choose to worship Satan. However, they also desire a comfortable life. They don't want to do any "grunt" work. Therefore, they have enslaved the remainder of humanity and are holding their Souls prisoner on this planet to service their needs. Therefore, if you, as an innocent Soul, ever plan to escape from this place and return to God, it is in your interest to investigate and gain an understanding of this war so that you will have an opportunity to Spiritually evolve. Otherwise, your Soul will remain a prisoner here — lifetime after lifetime — serving the Satanic overlords essentially forever.
Earth Based Religions
The phrase Earth Based Religions (definition) refers to religious schools which seek and use knowledge, including occult knowledge, to enhance their experiences during their human lifetimes as opposed to using the same knowledge to foster Spiritual development with the ultimate goal of achieving a stable non-physical Spiritual existence.
Although Pagan religions are usually grouped into this category, a more careful examination would reveal that essentially all mainstream religions are Earth based religions. Mainstream religions make constant references to God and Heaven but never explain exactly what they are talking about. Their books concentrate on historical narratives concerning how people in the past lived and coped with the basic problems of human physical existence. They never give details of any level of Spiritual existence or even any specific hints about what life beyond death will be.
Let's try an example. Suppose you have never seen a motor vehicle. You have heard vague stories that they exist, but that is all. Then, suddenly, you find yourself behind the wheel of a car on a high speed road like the US interstate system or the A roads in Britain. What would you guess would be your chance of survival? Try less than zero.
Now suppose you physically die. Suddenly, you find yourself in your Astral body. However, no one ever told you that you have an Astral body. It does not operate under the same rules as a physical body does. It is a very pliant and nimble body. It can travel in time to the past or future, access any plane and subplane in the Astral universe and research the absolute accurate and incorruptible records system known as the Akashic Records to name just a few. But, as in the previous example, you never learned how to "drive" it.
You would have done fine on the highway if you had gradually learned to drive a motor vehicle. You would do fine after death if you had some experience and training with your Astral body. However, no one ever taught you. What practical use is any religion that constantly rants about Heaven but offers no practical advice about your life after this life?
This information may have been a guarded secret in the past, but those days are gone. You can research this information to your heart's content on the internet, locate legitimate Spiritual groups and learn from those who can leave their physical body and explore the non-physical dimensions. But, don't expect any help from a mainstream church.
You might do well to recall the famous quote attributed to Jesus, "The truth will set you free". Mainstream churches are large, rich institutions. They did not get that way by "setting people free". They got that way by terrifying their followers with ridiculous horror stories of what will happen to them if they do not obey their crazy doctrines, stay with them and give them all their money.
Gnostic and other "non-traditional" religions may be Spiritual based as opposed to Earth based. Jesus always reminded everyone that he represented a kingdom "not of this world". If we had accurate records of his true lectures we would no doubt find practical instructions and information about this "other world". We don't have this information because any practical Spiritual teachings he might have given were censored out to create the simplified — but Spiritually sterile — mainstream religions we have today. They are simple to comprehend and follow but will not lead you anywhere except another physical lifetime somewhere on Earth.
Life Before Technology
Before technology life was simple. Although existence was hard, the opportunity for Spiritual experiences was greater than today. Consider, for example, all the empty time you would have as, say, a sheep herder. Nothing to do except make sure the sheep kept moving. In this situation, there was ample opportunity for the mind to wander and perhaps contemplate and glimpse other realities.
Also, and perhaps most important, no electric grid existed on the planet. Electric fields appear as solid "matter" in the Astral dimension and so can affect Astral experiences — generally in a negative way. Artificially created electromagnetic waves which blanket the planet today also have subtle and generally negative effects on living creatures.
Pagan groups generally conduct occult rituals outdoors and away from high population areas. When buildings are used, it is desirable that they be made only of wood and assembled without any metal (nails) and, of course, have no electrical wires.
Both good and evil existed before technology as they always have. It was possible to use psychological propaganda to influence and control susceptible masses of people. However, the positive and negative forces were more in balance. It was not possible for a single group to successfully dominate the planet.
Drugs existed in the form of various plants. Adepts learned how to use them to help or harm others. People with developed psychic abilities existed as they always have and white and black occult schools existed. Legitimate Spiritual masters existed.
Some techniques that thrived have essentially become extinct because the population of the planet has devolved. It is next to impossible to successfully teach Tantra (sex yoga), because today's generation is incapable of the required level of self control. Classic Tibetan yoga techniques are still taught in isolated areas, but the masters — for good reason — will no longer consider trusting outsiders.
Information Control Techniques
Information control is essential for protecting the integrity of a compartment. People are held as slaves by constructing an information box which holds the slaves in an information prison. As long as the "walls" of the compartment remain impenetrable, the compartment — or belief system — will be stable and no slave will escape.
Considerable energy is required to achieve this. Those assigned to protect the walls obviously know that the compartment is an intellectual illusion. Therefore, they must be sworn to secrecy and intimidated in such a way that they will not compromise the integrity of the compartment. It only takes one "leak" to initiate a chain of events which could collapse the compartment and so allow the slaves to escape.
Consider, for example, the Snowden leaks. One person sharing knowledge has totally destroyed the illusion of privacy that most people had accepted as fact. It will not be possible to reconstruct this illusion. The compartment has collapsed.
Similar principles apply in the Spiritual spectrum. Because of the characteristics of the human bodies in use on this planet, most people do not retain any conscious memory of events before they were born. This is not universally true. Life forms on many other planets retain the memories of previous existences. Because humans generally do not have this recall, they are easily enslaved and can be conditioned to believe most anything.
To maintain a state of Spiritual ignorance it is important to institute methods which will prevent people from realizing that they are actually Souls experiencing a constructed illusion. People somehow reaching this state, sometimes referred to as "self realization", will no longer respond to establishment propaganda and are generally considered a threat to the current social order.
The easiest and most direct method to achieve a stable slave population is simply not to talk about anything even vaguely esoteric. For example, how often have you heard the words astral, chakra or aura mentioned on a mainstream TV channel?
Most people will then likely "remain asleep" throughout their entire lifetime and will be no problem. Unfortunately, people have a natural desire — even though it may be an unconscious desire — to Spiritually evolve. It is, after all, the true purpose of human existence.
When someone tries to break away from the contrived illusions more direct methods are needed to return the slave to a state of ignorance. Today, various methods which cause brain damage — generally performed by psychiatrists — are used to negate any success in Spiritual evolution and return the slave to a state of vacant contentment.
Diversions and Techniques Promoting Inaction
The simplest and most effective diversionary technique is to promote scientific atheismand darwinian evolutionary philosophy as established fact. If you can get someone to buy into this philosophy, their fate is sealed. Even if they experience some contact with another dimension, such as an out-of-body experience, they will follow their programming, dismiss the experience as a delusion and refuse to investigate further. When they die, they will be totally lost and confused, flounder around on some lower Astral plane and eventually reincarnate just as Spiritually ignorant as before.
A side effect of accepting scientific atheism, which totally cripples Spiritual progress, is the acceptance of suicide as a way out of life's problems. Suicide becomes a learned reaction. Consequently, when the Soul is sent back into another physical lifetime, it is likely to commit suicide again when faced with some unpleasant event. It never learns, and this cycle can repeat essentially indefinitely. Dealing with this is one of the most difficult problems faced by the administrators who work on the Astral planes.
For those who want more than scientific atheism, there is mainstream garden variety religion. Mainstream Christianity has developed a clever stonewalling technique that has worked to promote inaction for thousands of years. This technique is centered upon the argument that no one can make any progress until Jesus returns to show the way. In the meantime, people should just do nothing and wait. The effect of this is essentially the same as scientific atheism. No Spiritual progress is made.
Schemes designed to waste time are common. One really off the wall example is the decision in Syria to prohibit vacuum cleaners and standard flat brooms in homes. "Witch type" brooms consisting of a circular straw bundle are allowed. Surely there must be a good reason to keep these terrorist weapons out of the reach of the typical Syrian housewife. The official reason is to make basic housework as difficult and time consuming as possible so as to prevent the woman from having any free idle time which, if allowed, could lead to the emergence of "immoral thoughts". Perfectly logical!
In the western world, complex bureaucracies seem to be deliberately designed to make the path to whatever you want as difficult as possible. Here the apparent motive is to prevent the acquisition of enough free time for any independent thought process. There are just not enough hours in a day to allow for any quiet contemplation of anything.
"Blank time" is always reported as a factor in the development of Spiritual figures. Time alone in the wilderness, time spent meditating alone in some isolated cave or at least periods of dedicated quiet time somewhere figure prominently in historical accounts of these people.
You may know or have heard of kids who spend all their waking hours playing interactive role model video games with other kids on the internet. They eat meals by the computer and never leave except to briefly sleep before returning to the all important game. Their entire life is spent in an imaginary reality. You may want to consider that your "real" life may not be all that different. You play a role. Your attributes are fixed by what society expects based upon that role. You can't change, because others would notice. Your concept of the world beyond your little world is determined by what you see on TV. Daily, you receive your "fix" of carefully choreographed "programming" which appears unusually coherent because, as you may not know or fully comprehend, everything on TV is controlled by a few corporations and all of them are loyal to the official government party line. If you somehow had the opportunity to break from this structured "game" you play from day to day — say, the opportunity to visit other countries and see other cultures — you would likely realize that your existence has not been that much different from the kid addicted to a computer game. You would find that the actual "real" world had very little relationship to the world you had been conditioned to believe existed.
Chemical Control Techniques
"With the use of chemical brain-control agents it may be possible to control the individual and the masses and to do this unobtrusively and without the active cooperation of the victims — not a question for the future — it is here".
This is a quote from the book by Edgar Cayce titled Edgar Cayce on Atlantis. There are references to Dr. Robert Galbraith Heath, and this book bears a copyright date of 1968. The book cites an interview that Heath gave to a newspaper called The Virginia Lighthouse and cites the above statement made by him on November 20, 1966. Heath founded the Department of Psychiatry and Neurology at Tulane University, New Orleans, in 1949 and remained its Chairman until 1980.
During this period, Tulane University actively participated in the CIA mind control project known as MK Ultra [1]. Also, during this period, Tulane became an active member of the secret Institute for Defense Analyses, or IDA, a corporation whose only client is the US government. Heath reportedly performed many experiments there involving electrical stimulation of the brain via surgically implanted electrodes. This work was reportedly partially financed by the CIA and the US military. Heath is now "officially" [11] deceased.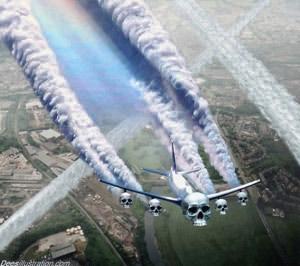 You have been drugged since you were conceived — before you were even born. Your mother was drugged. Soon after birth, you were injected with mercury containing vaccines. And the systematic process of poisoning you never stopped.
By some estimates at least eighty percent of the food in the average supermarket is poison either because it is genetically modified or laced with pesticides and other additives. Even the air is poison now because of geoengineering chemicals sprayed into the upper atmosphere.
It should be noted that things are different in the separate but parallel world of the elite. The Max Keiser show [12] discussed the secret gardens in Japan. These gardens are surrounded by high walls and guarded by the military. They produce the food for the ruling elite. Every plant in the garden has its own health certificate certifying that is pure, healthy and not genetically modified. Obviously, every developed country must have a similar secret supply chain of legitimate food for its ruling class. Certainly the elite know better than anyone that the food supply for the ordinary people is poison. They're not fools. They wouldn't touch the stuff.
Vaccines used for the elite are prepared without the mercury and other toxic additives found in vaccines given to the ordinary people.
Various agents — mainly from plants — have always existed which could be used by those aware of them to harm others or control people by altering their state of consciousness. However, only recently has it become practical to wreck the health of essentially everyone on the planet at the same time. Genetic modification of plants and other life forms used for food has made this possible. Now, quietly, people throughout the world can be sterilized, crippled with serious health problems or even killed by altering the genetic makeup of the food supply. Ordinary people remain generally ignorant of the fact that this awesome power exists and is presently being used against them.
Mind control has become a science. You can't major in it in college because this science is essentially entirely secret. The United States and other countries have spent the equivalent of billions of US dollars investigating and perfecting mind control.
Many secret research projects using unsuspecting or perhaps kidnapped people — some of whom were killed — have been conducted in the past and continue today. We only know about a very few of these projects such as MK Ultra, MK Naomi and Project Other. Even in these projects, specific details are sketchy. From these experiments, practical techniques for creating manchurian candidates and implanting created false personalities and identities have been developed and are in common use today within the secret communities.
Everyone has likely been the victim of some degree of mind control to some extent. Chemical weapons designed to mentally cripple people and render them drooling idiots are freely sold as prescription drugs in drugstores and are available to doctors to use as they please.
The lives of many kids are destroyed by these "drugs" because they have no ability to resist and their parents are ignorant and believe doctors can "do no harm". Actually, today's doctors are agents of the state. Many have top secret clearances and embrace classic Nazi philosophies such as eugenics. Their function is to watch you and make sure you "die appropriately" so as not to burden society. Anything they learn about you and anything you tell them is freely available to anyone in the intelligence community who is curious about you.
Only members of the super elite who are entitled to access top secret medicine will receive legitimate supportive medical care. Ordinary people will be deliberately allowed to die even though doctors with top secret clearances know of effective treatments which would cure them but which are classified and reserved for the chosen elite.
There is no such thing as an incurable disease any more. All the cures have been discovered. If you die, it is because you are not considered important enough to live and not because the cure does not exist.
Common sense should suggest to you that the lives of the elite have statistically different characteristics. For example, members of congress do not live sheltered lives. They work in close quarters and travel extensively both locally and internationally. They are always hanging out with prostitutes as well as playing with the young congressional pages.
Washington D.C. is reported to have more brothels than fast food joints. Strangely, however, these people do not get sick. Have you ever heard that congress had to shut down because everyone was coming down with some infection. It happens in other close populations, so what would make them exempt?
Understanding Astral Damage
Living things have an Astral component. For example, when you cut a leaf and then see the complete leaf on a Kirlian photo you are viewing the Astral component which was unaffected by cutting the physical component because it does not exist in the physical dimension.
Over one hundred years ago, practical techniques for viewing the human Aura were developed by Walter J. Kilner [4]. The original technique used dicyanin dye and a later technique used special glasses. You can't find either one today. In his research, Kilner was able to demonstrate that defects in the human Aura appeared before some corresponding disease manifested in the physical body.
Therefore, he was able to detect and prevent an adverse physical condition before it ever physically materialized. So, you ask, why don't we have this marvelous medical technique available today? Well, we do. It is in use in top secret medicine. However, only the approved elite now have access to it. The information has been removed from public knowledge and classified.
In conventional allopathic medicine, which is based upon scientific atheism and sold to the general public, there is officially no such thing as an Astral body. Conventional medicine denies the existence of anything beyond the physical dimension. Since the Astral body officially does not exist, it is not recognized as a crime to deliberately harm it.
Damage to the Astral body can be compared to damage to the physical body. If you punch holes in the physical body by cutting it, shooting bullets at it or whatever, blood runs out and germs get in. If you cause enough damage, the body dies. Astral bodies do not die, but can suffer critical energy losses. Similar to physical bodies, punching holes in the Astral body allows essential energy to escape and harmful energies to enter.
There are many events which can harm your Astral body. It is in your interest to understand these events because your Astral body will be your primary body when your physical body dies. If it has been damaged, you will be at a severe disadvantage. The chosen elite have perfect Auras because they can use the Aura balancing machines available to them at any top secret medicine provider. However, you cannot.
Also, the ruling elite seem to take some delight in causing harm to the "ordinary" people. Consequently, many drugs, food additives, GMO foods and industrial chemicals found in the environment cause Astral damage. Chemicals recognized as poisons and banned in other countries can be freely added to foods given to ordinary people in the US.
Obviously, there must exist a secret supply chain of safe food and water which is available to the chosen since they know of the contamination and certainly would not want to harm themselves or their friends.
There are ways to closely duplicate the secret techniques available only to the elite. If you can see auras or can find a reputable psychic who can, you can approximate the techniques developed by Kilner and available to everyone over a hundred years ago. Although the secret aura balancing machines are more accurate, a competent psychic healer can do the same thing. Actually, since psychics have always existed, similar techniques have been available throughout the ages to those who were aware.
Fluoride
The concept of adding fluoride to drinking water for the purpose of mind control is said to have originated in the 1930′s as a result of collaboration between German and Russian scientists [2]. Sodium fluoride was originally used and was found to cause a "mild lobotomy" in people who consumed small quantities. The effects were considered to be non reversible after one year of continuous use of the tainted water. Hitler added sodium fluoride to the water in his concentration camps to make the prisoners docile and cooperative as they waited for death.
Sodium fluoride (NaF) is used today in personal products like toothpaste. To poison the water supply of an entire country with sodium fluoride would be expensive. However, it just so happens that there is a waste product created during the manufacture of phosphate fertilizers, Fluorosilicic acid (H2SiF6), which is classified as hazardous waste and would be expensive to dispose of under EPA guidelines.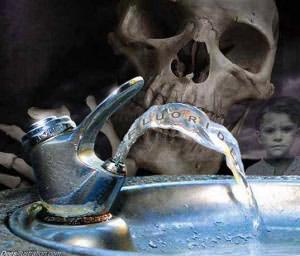 There is lots of this stuff available. This is the poison added to the public water supply in the US and some other countries. It is actually economical for industry because they don't have to pay for hazardous waste disposal. They just pump it into the public water supply.
In the human body, fluoride has an affinity for the pineal gland in the brain. The pineal gland is associated with the "third eye". Everyone has this third eye, but few are aware of it or know how to activate and use it.
Although the pineal gland is part of the physical body, the associated third eye is part of the Astral body and so is invisible in the physical dimension. The third eye allows you to see and communicate with the non-physical dimensions while fully awake and functioning in the physical dimension. So, you could see and carry on a conversation with someone in the physical dimension while invisibly also viewing and communicating with some entity on another plane of existence.
The standard Christian bible refers to the third eye with the phrase, "If thy eye be single thy whole body will be filled with light". However, only students of mysticism would recognize the true meaning of this quote.
Obviously, having this ability would be a threat to the security of any totalitarian society. Poisoning with fluoride destroys this ability and so solves that problem. Literature is available if you wish more detailed information. Simply search using the phrase "fluoride third eye".
On the chance that fluoride in the water is not sufficient to destroy any psychic abilities you may have, there are more aggressive ways to get fluoride into your brain. Here are some structural models of popular psychiatric drugs:
Notice that the element Fluorine (symbolized by its standard chemical symbol "F") figures prominently in all these compounds.
These drugs are used to cause "chemical lobotomy". By blocking communication channels with the higher levels of the human brain, they effectively convert the victim into a lower form of animal. Lower animals do not have the frontal lobes possessed by humans. That is what makes humans special. Disabling the frontal lobes effectively transforms a natural human being into, basically, a docile and obedient house pet which can be trained like a dog.
Incidentally, Fluorine also figures prominently in Sarin nerve gas.
For a more in depth study search YouTube for the free documentary Flouridegate — An American Tragedy by David Kennedy.
They All Drink From the Same Trough
If you casually look out upon the institutions of the world, it may appear to you that they are independent, discrete entities. However, they are not. They are all components of a collective which has successfully hidden its existence and true nature from the general population for generations.
Let's begin with the media in the US. Although it may appear to you that there are thousands of independent sources reporting "news", 90% of all media is controlled by six corporations. They are General Electric, News-Corp, Disney, Viacom, Time-Warner and CBS.
In the US, people believe they are protected from tyranny by the concept of "separation of powers" — that the executive, legislative and judicial branches of government are staffed by independent thinkers who "check and balance" each other. This is also a deception.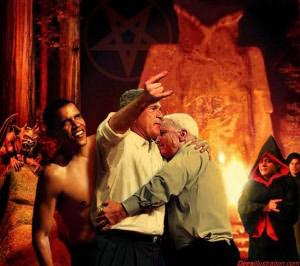 Once a year, at the end of July, there is a secret gathering on private property in the redwood forest of California called the Bohemian Grove. Although this annual meeting has been going on for over one hundred years, it is only during the last several years that outsiders have begun to learn of its existence. The only reason they have is because of the internet and independent journalism. Leaders from the mainstream media are all members of this secret club and so never even report its existence.
Who else goes to this annual secret "party"? Well, for want of a better name, we will call them the "Trusted Satanists". They are the leaders of all the major corporations, banks and representatives from all the major branches of the US government as well as foreign governments.
Although these men outwardly support the concept of capitalism for the masses, this elite group, among themselves, are perhaps best described as "rich socialists". Only men are allowed. For recreation, a stable of prostitutes — both male and female — are kept nearby off-site. The male prostitutes could theoretically enter the Grove.
The "party" begins with a Satanic ritual called "Cremation of Care" (i.e., "we don't care") which features the burning of a coffin at the base of a huge statue of an owl. Walter Cronkite reportedly was the official announcer at the grove until his death.
A secretly filmed video of this event is available on YouTube. It is supposed to be a "simulated" child sacrifice. However, since the CIA, FBI and NSA attend the ritual, who is going to complain on the chance it is a real sacrifice of a human child? After all, they are all trusted Satanists.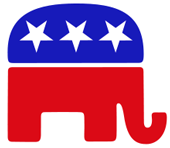 Most attendees from the United States are members of the Republican party. This is completely predictable in view of the fact that the US Republican party flaunts its affiliation with the "dark side" by prominently using the inverted star symbol on its official logo.
During the two week period, corporate leaders, the "independent" government regulators who supposedly keep corporations honest, the leaders from the executive, legislative and judicial branches of US government who are supposed to be "checking and balancing" each other, as well as the media moguls who we "trust" to report the truth, are all running around naked in the woods — pissing on the trees, playing with each other, and the male prostitutes as well as the off-site female prostitutes, and "having discussions".
Well, what are they "having discussions" about? They are discussing what they plan to do with "their world". The Manhattan Project to develop the first atomic bomb was reportedly planned at one of these discussions years ago. What about you? What about your future? What about any expectation of happiness you may have? Well, you see, you "don't need to know". Remember, "If you are not one of us, you are nothing".
Blueprints For the New World
Overview
If this link [7] is still active, it would be in your interest to read through it. This document is a transcript of a speech given by one of the insiders in the year 1969. He boldly states,"Everything is in place and no one can stop us now".
The article details how people ("people" means the slave class who are "nothing"; recall: "If you are not one of us, you are nothing") will just have to get used to changes such needing permission to have children, accepting mandated euthanasia as the law and total surveillance. Essentially all goals are now achieved, although some still remain guarded secrets.
The 1960′s was the period when physical death was eliminated. Of course, this "privilege" is only available to the select Satanic oligarchs. Effective cures for all diseases were also developed. The speaker [7] states that the cures are on file in the Rockefeller Institute. Of course, most are classified and only available to the chosen elite.
Infrastructure
The PBS documentary, Top Secret America [8], presents a good overview of the secret world of the elite. You may think no one is paying attention to the infrastructure in America because streets are in disrepair and bridges are falling down. However, you would be wrong. A tremendous amount of money is being spent on infrastructure in America — for the chosen elite. You will never see it and you will have no need for the decaying bridges and streets because you won't be around to use them. You, as well as 90+ percent of the current population, will be killed in the "Great Culling".
The new infrastructure is quite elaborate as the documentary explains. It consists of thousands of buildings which have a few stories visible above ground but which then extend for 90+ stories underground. All amenities are available within these secret structures which are basically self-sufficient.
It is important for the buildings to reach deep underground so that the lower levels can connect to the secret underground transport network. This network is global and provides safe high speed transport for the elite. Whenever the network crosses a tectonic plate, massive amounts of silicone are used to allow the transport tunnel to flex as needed. The network has access points in all countries. However, these points remain secret in countries which have yet to be subdued and co-opted into the new world order.
NWO Enabling Documents
The treaty known as the Trans-Pacific Partnership appears to be the formal enabling document for the new world. The actual document is secret and only high level corporate executives and politicians are allowed to see it.
Even after the treaty goes into force, its contents will remain secret. Because, in the United States, treaties must be openly debated in congress, the treaty is being called an "agreement" to circumvent the law and keep its contents secret. However, some details have become known.
Although the planet is officially divided into "sovereign" countries, it is overlaid with a network of transnational corporations. This network basically forms a parallel government which encircles the globe. The Trans-Pacific Partnership is designed to cause any country which signs on to surrender its national sovereignty to a secret committee composed of corporate executives. This committee can then alter the constitution and laws of any country which has accepted the treaty as suits their whim. There will be no appeal against this.
Under the treaty, there will be only one purpose to human life. That purpose will be to maximize the profits of the cabal of transnational corporations which will now be essentially a single global corporation in absolute control of the world. This effectively institutionalizes the new world order.
What does this mean for you? Well, to begin with, there can be no retirement. Paying for retirement would negatively impact corporate profits. So, if you can't work, you will be killed. Taking care of sick people would also drain corporate profits. It would be more profitable just to kill the sick and replace them with young, healthy slaves. Disabilities — forget it — disabled kids will never make it out of the womb alive.
Reeducation
To come into compliance with the philosophy of the new world, people will need to be reeducated. Military instruction documents [6] are already teaching that the Founding Fathers of the United States were extremists and anyone who thinks like them would not be suited for today's military.
Well, what did these radical extremists think?
"We hold these truths to be self-evident, that all men are created equal, that they are endowed by their Creator with certain unalienable Rights, that among these are Life, Liberty and the pursuit of Happiness."
Obviously, these principles are not compatible with the new world. The idea of a "Creator" conflicts with the official doctrine of Evolution. We can't have that. People must accept that they and the universe they live in is simply an "accident".
People are already realizing that Liberty and Happiness are gone. They know now that they live under constant surveillance and their lives get worse year after year. How about the right to Life? Can't have that. People need to be reeducated to believe that it is their "duty to die" when they are no longer useful to the state (which is now the global corporation).
Of course, the global elite will live physically forever but ordinary people will not know this.
If a world where people are conditioned to want to die and do not want kids but just sleep around for fun sounds vaguely familiar to you, you might recall that this is the future society described in Huxley's classic novel, Brave New World.
Population Modification
Please refer to [9] as a reference source. Today's "great thinkers" seem to be coming into agreement that most people are unnecessary and need to be exterminated for the convenience of the elite. Bill Gates, who has now been accepted into the super exclusive Bilderberg group, has reportedly taken the task of exterminating the third world population by giving them "free" vaccinations which will render them sterile.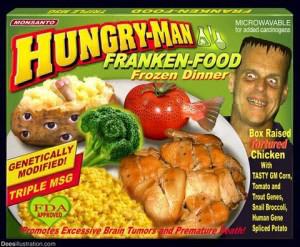 Lots of groups are working on secret sterilization methods. European tests of Monsanto's GM soybeans on hamsters showed the animals became sterile by the third generation [12]. A new gene known as Epicyte [9] is planned to be added to GM corn which will cause immediate sterilization.
Additionally, people are being "eased into" accepting the concept of "after birth abortion". Intellectuals are trying to get people to accept the argument that living human children under three or perhaps even five years old are really "not people but advanced feotuses". Since abortion is already legal, a simple change in the definition of "feotus" would allow young kids to be killed at will for any reason.
Another "new thought" gradually being programmed into the young is the pleasure of the "childless lifestyle". This propaganda seeks to convince people that having kids is too much trouble and they will be happier if they just get sterilized and then run around having lots of sex purely for fun.
These "evolutionary" population control techniques are already in effect. However, the elite likely are not willing to wait several generations to get rid of those they do not need. This brings us to the more direct method commonly called "The Great Culling" which will allow the elite to kill off most of the world's population quickly.
The most likely method will be the release of new designer viruses for which no one will have any natural immunity. Of course, the elite will all get the classified antidote. Preparations for the disposal of the bodies is already complete and stockpiles of plastic coffins — each designed to hold three bodies and manufactured under government contract by Halliburton — have been photographed and documented. Everything is now in place awaiting the "go" command.
Designer Children
Some types of designer children have already been approved for "production". Britain has approved three parent babies [10] and China has proposed a process to artificially fertilize most of a woman's eggs and then examine them to determine which is likely to produce a child with the highest IQ. This will be the only selected egg because Chinese women are only allowed to have one child and must then be sterilized.
In the new world where the only purpose of people will be to do slave labor to serve the elite corporate masters, the concept of allowing the existence of children conceived naturally clearly cannot be allowed. There would be an unexceptable chance for some kind of error that could result, for example, in the creation of a being capable of independent thought who might challenge the establishment.
A man's true worth is measured by the amount of other people's happiness that he can possess and destroy
This is a quote from the docudrama The American Ruling Class [5]. It is worthy of discussion because it is so prophetic.
The Satanic oligarchs who run this world basically exist and thrive on the misery of others. It is not enough just to use and abuse you — they want to consume your Soul. Your misery and suffering is, essentially, their "food". It is the source of their energy.
Ordinary innocent Souls are sustained by the life energy which flows from the Creator. However, since the oligarchs hate God, this energy flow is not available to them. So, they essentially survive by consuming the life energy of the innocent Souls they have captured and enslaved.
Ordinary people do not naturally choose to spend their lives in a state of constant war. They have to be somehow coerced into this behavior. Otherwise, they would likely seek a quiet, peaceful life. The atrocities the US and other warmonger nations force their citizens to commit are so contrary to basic human nature that the US loses more soldiers to suicide than it does to the enemy. The once innocent soldiers find that they simply cannot continue to live with what they have become and the memories of the horrors they have caused to others. The Satanic rulers who create wars, of course, have no problem with this.
Promotions within the inner circles of power are based upon how much evil one has done. The more harm you cause to others the greater your respect. You may have noticed that the stock market, which is a measure of the success of the elite, shows gains during periods when the average person is suffering and losses during periods when, somehow, life for the ordinary person seems to improve. The stock market set a new all time high, for example, during the Vietnam War when innocent young kids were being drafted and slaughtered in Vietnam while peaceful protesters at Penn State were executed by government forces for daring to dissent.
Why You Should Care
On the low Astral planes you will find people — Souls — who are totally lost and confused and seem to move in slow motion. They do not realize they have died. These "people" are not there because they tore up the Bible or burned the Koran or some other offensive act. They are there simply because it is the best they can do. They are using all of the Spiritual energy they have just to maintain this miserable existence. Whatever activities they engaged in while alive had no Spiritual merit and had no effect on developing or increasing their Spiritual energy level. Since the opportunity to do this ended when they died, they will remain strung out in this condition until they reincarnate again at which point they will have another chance to choose activities which enhance Spiritual energies.
You should care because the things you do and the things you fail to do during your brief life here will affect your existence for millions of years in the future.
The other dimensions operate under exact scientific rules just like this dimension. However, the rules are not the same. Because alternate sources of information are available today — mainly because of the internet — it is in your interest to at least investigate the available literature on Spirituality, energy raising techniques and various first-hand reports from people who have successfully visited the neighboring dimensions.
Source:  Walter C. Vetsch   |   3108.info  |  War Is Crime
Torture, or what our government calls "enhanced interrogation", is not a tactic so much as a darkly artistic process.  The subject of this process has something that the torturer wants; it might be information, or a forced confession to a crime the subject did not commit, but most often, torture is designed to gain nothing more than psychological compliance.
The goal is to manipulate the subject into believing that submission is the only possible future, and that such submission is inevitable regardless of the will of the victim.  The torturer often builds himself up as a kind of parent figure for the subject – becoming the only entity that can supply shelter, water, food, and comfort.  The torturer is taskmaster and abuser, but also caregiver in the twisted relationship dynamic.  A schizophrenic balance is struck in which the subject longs for the outside world and a return to the pleasures of the past (making him desperate and malleable), but he also partially accepts his prison walls as home (giving him a false faith that compliance will lead to a safer and more predictable tomorrow).
Until this compliance is achieved, the subject is exposed to endless and erratic crisis events in which his body is damaged, his mind is deprived of sense, perception, and sleep, and his life is overtly threatened.  He may receive brief moments of rest, but these are designed only to make the next torture session even more raw and painful.  If the subject does not understand how the process works, or if he doesn't have a strong sense of his own identity, then he will quickly lose track of reality.  Every moment becomes a waking nightmare, a warped and gruesome carnival, and life becomes nothing more than an absurd and obscure experiment barely worth living.
It is my belief based on substantial evidence that America, as a nation and a culture, is now being held hostage and tortured into submission on a grand scale using economic terror by the elitist establishment which dominates BOTH major political parties.  The goal?  To push our society to conform completely with the concepts of globalization, bureaucratic micro-management, and greatly reduced living standards.  We are being conditioned to accept defeat and failure, and like children, to cry out for a parental authority to save us in our state of helplessness and fear, even if that authority was the cause of our fear from the very beginning.
The Thin Thread Of The American Economic Fantasy
In the past three months the U.S. has flirted with total fiscal collapse three times.  The first event came in August with market rumors that the Federal Reserve was nearing a "consensus" on plans to cut QE stimulus measures, causing panic amongst investors who now realize that the ONLY pillar still holding our fiscal edifice together is endless fiat currency creation by the Fed.  Markets began a paradigm which is now the "new normal"; plummeting whenever good economic news hits the mainstream on the fear that the central bank will tighten policy, and skyrocketing when bad economic news hits the mainstream on the assumption that the Fed will continue printing.  It is official – lackluster employment reports are something to cheer, and overall systemic crisis is good for stocks:
http://www.reuters.com/article/2013/10/22/us-usa-economy-idUSBRE99L04G20131022
The possibility of a Fed taper has shown us clearly that any action by the private bank to reduce or remove quantitative easing will result in a market panic and implosion.  If the globalists within the Fed apparatus decide one day soon that they want to bring the U.S. to its knees, destroy the dollar, and introduce a new world reserve currency, they can do it with little more than a word proclaiming QE over, or unsuccessful.  So far, they keep the life support machine running…
The second event came with the drive by the Obama Administration to turn their covert war in Syria into a full blown invasion.  Despite presumptions by many naysayers that Russia and China wouldn't lift a finger to aid the Assad regime, both nations staunchly opposed action by the U.S. in the region and tensions neared critical mass.  Make no mistake, a WWIII level event could have easily erupted, and some Americans seem to remain oblivious to the danger.
China and Russia maintain vast influence in global markets.  The EU, for instance, is utterly dependent on Russian natural gas exports for their energy needs.  The U.S. economy could be annihilated within weeks by an announcement by China to dump their treasury holdings or the dollar as the world reserve currency.  This is just a taste of the financial risks associated with a new war in the Middle East, and military risks add even more potential calamity.  Anyone who believes that Chinese or Russian views on American political or military behavior "do not matter" is living in a deluded cartoon-land.
The third event came with the recent debt ceiling debate and government shutdown.  One-third of the U.S. population is disturbingly dependent on scraps from the government's table, and any mention of cuts to entitlement programs (or social security, which government treats exactly like an entitlement program) causes immediate and militant finger pointing.  Democrats have been especially vicious in their accusations and rhetoric, consistently referring to Constitutional conservatives and "Tea Party" legislators as "extremists", "traitors", and even "domestic enemies":
I happen to take a slightly different view to a majority of independent analysts in that I believe the establishment is just as likely to push America into deliberate default as it is to push America into infinite debt and inflationary collapse.  The end result will be exactly the same regardless of the path taken, and we have yet another opportunity to dance on the edge of oblivion coming in three to four months when the debt debate starts all over again.
The point is, our financial system has become so unbalanced and internally diseased that if ANY event follows through to culmination, whether political, economic, or international, the economy WILL shatter.  The past three month are a resounding testament to this fact.

The "De-Americanization' Of The Global Economy
In my article 'How The Dollar Will Be Replaced', published in 2012, I summarized the Catch-22 nature of America's debt problem which I have been warning about since 2006, and how this will eventually end in the abandonment of the dollar as the world reserve currency.  To this day, and in the face of overwhelming evidence that the dollar is doomed, some people still refuse to grasp reality.
In the midst of the latest debt debate China has made clear it's intentions through state run media to end its relationship with the greenback, not just to form a Chinese-centric reserve currency system, but a global currency system centered on a "new world order":
http://news.xinhuanet.com/english/indepth/2013-10/13/c_132794246.htm
Last year China surpassed the U.S. as the world's largest importer and exporter, making its currency, the Yuan, more desirable than the greenback as a reserve in the long term.  Since 2010, China has been quietly but quickly establishing multiple bilateral trade agreements with numerous countries dropping the dollar as the primary purchasing mechanism.  China has accumulated massive gold stores and is set to become the world's largest holder of gold in the next two years.  In the past year, China has also surpassed the U.S. as the number one importer of oil, making it a more valued market for the Middle East and causing many to question the dollar's relevance as the petro-currency:

http://oilprice.com/Energy/Crude-Oil/China-is-Now-the-Worlds-Largest-Importer-of-OilWhat-Next.html
Saudi Arabia, America's primary ally and foothold in the global oil market, is now openly calling for an end to traditional agreements and a separation from the U.S. because of the lack of military action in Syria.  This too does not bode well for the dollar's petro-status.  Like a chess maneuver, it would seem we have been cornered by the globalists on oil.  If we invade Syria or Iran we risk losing petro-status.  If we do not invade Syria or Iran, we still risk losing petro-status:

http://www.reuters.com/article/2013/10/22/us-saudi-usa-idUSBRE99L0K120131022 
In response to the dismal debt ceiling extension and the uncertainty underlying the new debate coming in the next few months, China's ratings agency, Dagong, has downgraded U.S. treasury bonds yet again:
http://money.cnn.com/2013/10/17/news/economy/debt-ceiling-deal-china/
U.S. Treasuries are now witnessing the lowest foreign demand since 2001:

http://www.bloomberg.com/news/2013-10-20/treasuries-losing-cachet-with-weakest-foreign-demand-since-2001.html?cmpid=yhoo
Three near-crisis events in only three months have signaled a severe acceleration in what the Chinese call the "de-Americanization" of the global economy.  All of the financial shifts taking place since the derivatives implosion of 2008, as well as those rushing like white-water rapids through the global system in the wake of the debt ceiling debate, are gravitating towards ONE outcome – the destruction of the dollar, and the introduction of a new global currency (the SDR) controlled the the IMF.
Russia's Vladimir Putin has called for a global currency run by the IMF to replace the dollar:
China has called for a global currency run by the IMF to replace the dollar:
http://abcnews.go.com/Business/story?id=7168919
Elitists within the U.S. have called for a global currency run by the IMF to replace the Dollar:
http://www.youtube.com/watch?v=tBO34qcnoqM
Hell, even the Vatican has called for a global currency run by a "global public authority" to replace the dollar:
http://www.zenit.org/en/articles/pontifical-council-for-justice-and-peace-on-the-global-economy
There is a world-wide strategy in motion to end the dollar, and with it, America as we know it today. The only question is, how many more near-disasters will we have to experience before the trigger event takes place?
The Torture Continues
With so many near misses culminating so close together, it may be wise to consider what could happen in the the next three months while we wait for debt debate theater part duex.  Like a prisoner in Abu Ghraib, America is trapped, waiting for the next humiliation, the next degradation, or the next session of pain.  Are we merely being acclimated to the idea of incessant crisis?  Are we learning to become apathetic at the edge of the chasm?  Or, are we being driven to madness, mass-madness, by a concert of  elitist interrogators seeking our acquiescence?
Again, the central purpose of torture is to acquire consent.  Not just extorted consent, but voluntary consent.  It is not enough for the torturer to force the subject to obey, he wants the subject to EMBRACE his servitude.  To gladly abandon all hope.  To see his captor as his only salvation.
The globalist establishment wants us to beg them to save us from the tortures they create.  If we never give them this, they will never win.
Source: Brandon Smith | Alt-Market
First and foremost we should be governed by common sense. ~ Vladimir Putin (Time Magazine, 2007)
President Vladimir Putin is audaciously attempting to remove the brush covering from atop the common sense rabbit hole, which is not only a truly rare and subversive act in the eyes of the Con, but a potentially great gift to humanity – if only humanity had the sensitivity to appreciate it.
Nonetheless, this will no doubt prove to be a thrilling ride for those willing to take up the challenge. Russians are fortunate to have such a sane leader, and the West would be wise to follow his lead, but what exactly does Mr. Putin mean by Common Sense?
Here's a quick peek at a couple of dictionary definitions:
1)     Sound judgment not based on specialized knowledge; native good judgment.
2)     The basic ability to perceive, understand, and judge things.
The ability to soundly judge is important to understanding what common sense is all about, as is the fact that judgment is not an isolated act made according to individuated, specialized knowledge, but of something that is of a more general nature that is shared, common or native to the species as a whole.
To better understand how common sense operates as a cognitive process, Aristotle provides a clear and useful description:
The reason for having several senses is in fact that it increases the chances that we can distinguish and recognize things correctly.] Each sense is used to identify distinctions, such as sight identifying the difference between black and white, but, says Aristotle, all animals with perception must have "some one thing" which can distinguish black from sweet.] 

see section on "Aristotelian Common Sense" http://en.wikipedia.org/wiki/Common_sense
This shared or common sense, as opposed to a two-step Stimulus-Response model, appears to operate, according to Aristotle's description, as a three-step process:
A) Perception
B) Understanding (through comparative analysis)
C) Judgment
Why is something as fundamental and basic to humanity's existence operating according to a three-step rather than two-step process?
If you look around the world today, everything is presented in opposing, pairs: A-B. Not A-B-C.
As such, critical A-B-C thinking, aka Common Sense is fundamental to the evolution of awareness, consciousness, cooperation and love which seems to occur with great frequency in nature, but not nearly as much in most human societies.
The Con understands this reality quite well, and they exploit it to their benefit. The Con does everything it can to lock humanity into a system characterized by dualism, stimulus-response programming, isolation, separation, competition, narcissism and egotism.
According to Aristotle's logic, while each individual is inseparable from the whole, without common sense,i.e. a shared vision of the whole, perception of reality is too narrow, distorted and false.
Aristotle also said:
Common sense is where comparison happens, and this must occur by comparing impressions or symbols or markers of what the specialist senses have perceived. This is therefore also where consciousness originates, "for it makes us aware of having sensations at all"

see section on "Aristotelian Common Sense" http://en.wikipedia.org/wiki/Common_sense
Aristotle emphasizes the act of comparison as critical to Understanding (Step B) the three-step A-B-C Common Sense-making process.
After perceiving an object, the perceiver compares and contrasts that object in relation to similar objects found within the perceiver's experience. Finally, based on that understanding, the perceiver, in a creative act of synthesis, finds the true center or third way derived from the act of comparison and projects that decision out into the world.
In 2006, after carefully analyzing and deconstructing Vladimir Putin's year 2000 Millennium Manifesto, author Gavin Slade from the Central European University in Budapest, an affiliate of The School of Russian and Asian Studies (SRAS), affirms the Russian leader's propensity for utilizing in the political arena the type of Hegelian common sense widely discussed in this article:
In the 1990s Russia's political discourse was framed in terms of good and evil. There was little compromise or synthesis.

The rejection of revolution and change shows that Putin is effectively trying to establish a discourse focused on unity and stability knowing that the binary oppositions of politics during the Yeltsin era had created a situation where the state was unable "to muster a critical mass of leaders who articulate[d] one or another political discourse that resonate[d] in political society.
Rare among today's world leaders, Vladimir Putin appears to well understand the evolutionary necessity of this third way approach to governance based on common sense-derived synthesis, and leverages that knowledge to promote unity, social cohesion and commonality of purpose on a national and international scale.
Aristotle even goes as far as to say that common sense is where consciousness originates. So if a society is lacking in common sense, and there's little to no conscience, morality, empathy, consciousness, creativity, taste, discernment or love, how does one propose to govern such a population? This no doubt created a quandary for the rulers of large populations in the past, and clearly still presents governance challenges today.
The system's time-honored, traditional answer to the problem of populations lacking in common sense was to oppress them into submission, with increased submission leading to an ever more constrictive cycle of dominance, oppression and abuse. It's not outrageous to consider both parties to be at fault for this social dynamic that still exists and thrives today.
The cognitive process of common sense is part of humanity's spiritual endowment and is similar to the Greek idea of knowledge or nous, which is the divine spark or knowledge within that is shared or common to all.
While nous may be common to all, it seems at present to be buried deep within the human psyche, and as such, unfortunately, is largely inactive.
Humanity's drive to separate, exceptionalize and specialize (such groveling at the feet of society's beloved specialists), is but a tiny sliver of the whole spoon-fed matrix. These absurd, self-destructive values are automatically downloaded at face value and parroted aloud as that which everybody knows.
These automatic, pre-programmed responses demonstrate the process of individual and social decay which epitomizes dualistic A-B programming, and as such represents an evolutionary dead-end. And yet despite its flaws, this system, while abhorrent to many not only does have value in populations largely lacking in common sense, but also provides stark contrast to utopian social visions, as well as important motivation for those who wish to overcome its glaring inadequacies.
So cheer up, the news is not entirely bleak. To find oneself, one must first lose oneself, and so humanity has intentionally (if not consciously), led itself astray. The capacity for auto-correction is built into the natural system of the Earth and undoubtedly woven into the very fabric of cosmic existence itself. And yet in order to auto-correct, one must first dare to walk down dark paths leading to destinations unknown.
Compliance with Globalist diktat is ensured by the Con's ability to provide endless streams of mindless distractions and short-term pleasures quick as you can afford them. And if you can't afford them but still crave them, you get a gold star for being a motivated world citizen.
But try inducing people to step off that wheel, swallow the red pill and slide down the rabbit hole. Just see how that works out.
Of course this makes no sense. Why choose isolated, short-term pleasures over long-term ones? Freedom is sold cheap in exchange for a handful of trinkets and beads. But as the late great George Carlin once said: "nobody seems to notice; nobody seems to care."
The average person, lacking common sense, is unable to step outside his bubble and recognize the divinely entangled oneness of reality.
How many times do you have to read in the alternative media about the daunting lack of empathy on the part of the Globalist controllers, and this is true, but how about the lack of empathy among the masses? Without common sense, there is no empathy, and the masses are sorely lacking in common sense.
The inability to put themselves in the shoes of others keeps the un-awoken strapped to the bed of their own egotistical, narcissism. Good luck getting through to them. They are simply incapable of being awakened in anything less than a repeatedly rough manner.
Russian history is chock-full of examples of these rough awakenings, and it therefore should not be so surprising that today's Russian population is relatively more awake than those still snoozing in the pampered, declining West.
Perhaps this is why those cast in the role of Controllers – along with their robotic minions – are as nasty and brutish as they are, since it falls on them to rouse Joe Sixpack in the only way he seems to understand: by shoving his face deep down into the toilet bowl of an unexamined life. Spend enough time down there, and you may finally see that all your dreams of wealth, success and material gain have just been so much meaningless crap.
And so the seemingly endless stream of futile chatter in the alternative media referring to the slumbering masses and how if they just had the right information is, sorry to say, nothing but pure fantasy, wishful thinking and projection on the part of the awakened, common sense minority.
The Great Awakening that many feel today, and it is palpable, is not widespread; it's actually emanating from a very small, scattered fraction of the global population. It's just that this small but slowly growing group of A-B-C common sense types, specialists in their own right, have a tendency, despite their incessant utilization of the common sense process, largely due to a lifetime of incessant "all men are created equal" propaganda, to erroneously project their common sense values on to the masses, and as a result are time and time again disappointed when their best intentions to rouse the herd are not taken seriously. Boo-hoo.
If the world was in fact brimming over with common sense, which currently it is not, reality would appear quite different than it does. No, the prison planet has been specially designed to serve the masochistic masses precisely what they need in order to evolve. It wouldn't actually be so bad if it weren't so damn destructive. If anything, it's not dull.
As it is presented today, the Con's "reality" is designed to stroke the mass ego consciousness with just enough happy endings to keep the machine humming and its occasionally unruly parts alternately motivated, sedated and restrained. This seems to be an unfortunate yet necessary design for an emotionally immature, Id-raging majority.
On the other hand, within an awakened community, no matter how small, which is not characterized by delusion but common sense, the rules of the game could not be more different. Within such a community, you can always choose another path and consciously create what you want. Life there is no longer an either/or A-B equation. You can finally transcend childish dualism as you take a quantum leap into the common sense adult world of contemplation, awareness, empathy, consciousness, comparative analysis, and synthesis. In this vitally thrilling world, A + B = C.
The goal of discourse is to create the transcendental, a higher centre of meaning outside the plurality of visions and interpretations, 'to arrest the flow of differences, to construct a centre. 'Thus, 'at the base of Putin's policies and what we shall describe as his "third way" lies the idea of a grand transcendence of so many of the conflicts that had both shaped and torn Russia in the modern era.' -http://www.sras.org/deconstructing_the_millennium_manifesto
Mr. Putin has tirelessly and with increasing success preached his neo-Gnostic common sense gospel to a Russian population that has in the not-so-distant past become familiar on an unprecedented scale with such intense suffering and pain that an increasingly large portion of them now appear eager to listen to and act upon Putin's challenge to reclaim their common heritage as intelligent, discerning and consciously evolving individuals in a country of rich heritage and national achievement. This development on a national scale is uncommon.
The economic prosperity that Putin's leadership has helped generate, impressive as it is, pales in comparison to the raising of individual consciousness en masse in Russia, which is what can happen to a nation when real common sense is applied to governance. That requires rare leadership qualities on a level that few in other countries have experienced in a long while.
What many in the West often fail to comprehend (because they lack empathy) is that when you're the leader of a 9 time zone wide, 17 million square kilometer (6.6 million sq mi) Eurasian land mass comprised of a wide range of European, Caucasian, Asian and Indigenous cultures, in order to successfully lead and inspire such a diverse group, you must possess a Yin Yang-balanced, personal and diplomatic Swiss Army-like skill-set.
This mixing of Western and Russian ideas is only a part of a blend of inter-discursive features adopted by Putin. It is in his co-optation of different discourses and ideas that Putin attempts to suture rifts in identity and win the war of position within discourse. It is, as some have said, a 'third way.'
As an individual, Vladimir Putin displays many attributes of the modern Renaissance Man. He's a vigorous yet contemplative gentleman of refinement and culture with an admiration for various art forms and a genuine appreciation for the diverse beauty and splendor of nature.
Although Mr. Putin enjoys hunting and fishing, it's not part of some macho power trip to defeat and kill defenseless animals, but rather as a way for him to feel vitally connected to the natural world that we share with each other and are invited to explore if only we dare.
Here's a striking passage from a May, 2011 Outdoor Life Magazine interview where Mr. Putin candidly describes his experience obtaining a whale biopsy:
OL: In August 2010, you helped scientists obtain skin samples from a whale off Russia's Pacific Coast by darting one with a crossbow. I imagine that has to be one of the more incredible of your wildlife encounters.

VP: That was indeed an unforgettable experience, and I remember very well how impressed I was.

First, all that surrounded me—the low sky, the stormy sea and, of course, the whales—was magnificent. Besides, these elegant giants showed us a real performance, leaping out of the water in front of our boat.

Second, I was really thrilled. I do not want to offend your feelings as a hunter, but, by its intensity, its dynamics, that was a real hunt. But without killing the animal. And this was a special pleasure. This is not a melodramatic statement. That's the way it really was.

We left not just to see the whales, but to take a biopsy—in other words, to dart one of the animals with a crossbow arrow, which can rip off a small part of whale skin necessary to make a special analysis. It was not that easy; three times I failed, and only the fourth attempt was successful. Of course, I could justify myself that the boat was tossing badly and that it was the first time for me to handle a crossbow, but the main reason I see was my anxiety, because participation in the scientific experiment is a very important undertaking.

OL: After you successfully darted a whale, a reporter asked you if it was dangerous. You replied that, "Living, in general, is dangerous." Do you have any comment on that?

VP: I think what I meant by that is obvious. Despite all the achievements of civilization, the human being is still one of the most vulnerable creatures on earth. None of us is protected from crimes, epidemic outbreaks, natural and technogenic disasters. What I am saying is not a fatalistic view of the world, it is a realistic one.

http://www.outdoorlife.com/articles/hunting/2011/05/one-one-vladimir-putin?page=0%2C4
Mr. Putin, with obvious empathy for the whale and a humble appreciation for the magnitude of the moment, describes in a nutshell the fragility of the human experience within a natural world that is both nurturing and fraught with risk. Unlike his ego-driven political counterparts who can never admit to any weakness, it's a feather in his cap that he does not appear to be afraid to convey his fear and anxiety at being in the middle of what most would agree was an unsafe situation.
Mr. Putin seems to be implying that you might as well take risks because risk is inherent to life. To therefore feel some degree of anxiety when taking bold steps is natural, and nothing to be afraid of. Taking those bold steps is part of a personal and national awakening process.
Having repeatedly put his personal safety in jeopardy for the sake of the greater good, as demonstrated by his biopsy of whales, soaring with endangered cranes and tranquilizing tigers…
Cranes
http://www.youtube.com/watch?v=kq1DEu5-aWo
Whale
http://www.youtube.com/watch?v=U9nt_IB-vTE
Tiger
http://www.youtube.com/watch?v=Hkt5G0uHO0g
…it should come as no surprise when Mr. Putin applies a calculated risk approach to diplomacy, as demonstrated by his swift response to an extraordinary early August 2013 meeting with the head of Saudi intelligence, Prince Bandar, an event first reported in the UK Telegraph and widely acknowledged in the Russian press as well as a number of other sources.
http://www.telegraph.co.uk/finance/newsbysector/energy/oilandgas/10266957/Saudis-offer-Russia-secret-oil-deal-if-it-drops-Syria.html
http://www.kavkazcenter.com/eng/content/2013/06/25/17953.shtml
http://www.thedailysheeple.com/escalation-vladimir-putin-reportedly-threatens-saudi-arabia-with-massive-counter-strike_082013
http://www.eutimes.net/2013/08/putin-orders-massive-strike-against-saudi-arabia-if-west-attacks-syria/
This colorful September 30th, 2013 recapitulation of that same fateful meeting comes courtesy of an approving Pravda opinion column, "Come the Day, Come The Hour":
Essentially, Bandar Bush went to Putin – purportedly with the full backing of the US, and offered to cut a secret deal to carve up the oil profits if Russia would back off on Syria and allow a regime change. Putin quietly and politely offered a nyet. He was not for sale and neither were his principles. Bandar went on to then threaten Russia by turning loose Chechen terrorists to cause havoc in the Winter Sochi Olympics. Saying that all terrorists groups are under their control and that they can turn them on or off as they like. Well, it appears that at this stage, the negotiations moved from being polite – Putin warned Bandar that if Syria is attacked, Russia would bomb Saudi Arabia. At last, someone with balls. This threat was communicated to senior members of the Armed Forces with instructions to prepare to strike Saudi Arabia. Obviously, this was leaked.

http://english.pravda.ru/opinion/columnists/17-09-2013/125685-president_putin-0/
The now famous and universally acclaimed accord on chemical weapons aside, wouldn't it be more than likely that President Putin's declaration of intent to bomb Saudi Arabia if Syria was attacked is the real, under-reported reason why a near-certain U.S. strike on Syria was called off? Just a theory…
President Putin, a man of principle and a strong advocate of International Law, rejected out of hand Bandar's pathetic bribe, since unlike many other politicians, he has principles, and can't just be bought off.
Nonetheless, upon digesting Prince Bandar's incredible admission of he and his country's direct support for state-sponsored terrorism, despite his usual placid demeanor, President Putin's jaw must have dropped when he received a not-so-thinly veiled threat of Olympic terrorist attack if cooperation on the Syria question was not forthcoming. President Putin rightly determined that this was not only a direct threat to Russia, but to the entire civilized world, and so he did what he had to do: stand up to the bully.
Only a leader so level-headed and eminently comfortable in his own skin could stare the impudent Saudi down and call his bluff in terms that were crystal clear and absolutely appropriate to the threat. Exercising his capacity for A-B-C common sense, Mr. Putin perceived, understood and decided what to do without hesitation.
When threatened with force, sometimes the only way to get the other party to take you seriously is to threaten them right back. That took guts and is deserving of recognition.
World War III was averted (for now), and Putin's stock has deservedly risen to such a high level around the world that he was in serious contention for the Nobel Prize. The fact that he didn't win is probably better PR than if he had won, since Obama won it for bailing out the bankers. Putin is probably ok then with an honorable mention.
When an individual like Vladimir Putin, who both at home and abroad is recognized as having an authentic character, repeatedly demonstrates sane, balanced actions, as he declares the rule of law and common sense governance as the goals of the nation and backs it up with corresponding actions, he naturally enjoys widespread support and trust.
Sadly, these common sense leadership qualities, which should be essential prerequisites for every political leader, are sorely lacking in the West, where there seems to be a permanent disconnect between common sense and politics.
Often unfairly lampooned in the press for his bare-chested macho man image, Mr. Putin also appears to genuinely be in touch with his feminine side.
As a Judo master, Putin is adept at using his opponents' momentum against them, which can only be done by respecting the power of each "adversary," as well as being sensitive to the flow of energy emanating from that person. A perfect example of a real world application of that principle is how President Putin "flipped" and redirected the Saudi Prince's malevolent, threatening, violent energy right back at the Prince and synthesized the product of that energy for the purpose of creating peace.
Check out Putin's judo moves here:
http://www.youtube.com/watch?v=dYtDQ_t-_HQ
Sometimes Presidents really do need to act like car salesmen, but the car that Putin is selling is built to last and runs efficiently on common sense, common law (i.e. as long as you're not hurting anyone, you're acting within the law), and community. And that's a vehicle more and more Russian citizens are being convinced by Putin to buy, since he drives one himself.
Putin's manifesto is rich in inter-discursivity, appropriating elements from competing ideologies and rejecting binary oppositions in order to win the war of position within the discursive field thus creating 'an all-national spiritual reference point that will help to consolidate society, thereby strengthening the state. This reference point, a new Russian idea, helps construct an image of the state as a nation of people represented by a spokesperson, the president.
Those of the awakened minority who are frustrated and at odds with Globalist domination strategies should find solace in the fact that the dream of a New World Order, of which much of the world is presently dreaming into reality, must according to its unnatural and unsustainable underlying principles, much like its Soviet system predecessor, inevitably collapse under the weight of its excessive absurdity.
And if you're one of the small but proud members of the common sense minority community, if you haven't already done so, please do yourselves a big favor and cease all efforts aimed at trying to wake up humanity, because it can't be done. Instead, continue waking yourselves up.
Humanity can only wake itself up one individual at a time. The newly awakened, in their own time, will make connections with others without your incessant nudges. So try to let go. You'll feel better if you do.
In stark contrast to the West's current political downward slope, it's fascinating to observe the progress of Vladimir Putin in his quest to help instill and nurture a return of common sense to the realm of politics. It makes one hopeful that new leadership possessing similar strength of character will follow President Putin's lead.
Unlike Mr. Putin, we can't all play the part of hero in this movie, although there's no character too minor and no act too small.
Continue speaking your truth, get along with others, and have a good time. The rest will take care of itself.
That's just plain old common sense.
And to close the show, Ladies and Gentlemen and Children of all ages, live from the internet, the one, the only…:
http://www.youtube.com/watch?v=Na-31bdtjhI
Source: Waking Times

The wackos that believe that Barack Hussein Obama is a political rock star are blind to reality. It would be one thing if eccentric characteristics shaped such opinions of social outcasts, but when entire segments of the MTV population speak in a PBS lisp, the liberal popular culture has drunk the kool aid. The zombie rage in flicks is no accident. Converting entire generations of lost souls into National Civilian Service Corps NSA informants is an effortless task, when government schooled illiterates adore Barry Soetoro. Turning a constitutional republic into a collectivist gulag is only possible, when the greater fool principle becomes the law of the land.
By objective standards, Obama is a dismal failure as leader of the free world and defender of the underprivileged. The African-American community voice Tavis Smiley states: 'Black People Will Have Lost Ground in Every Single Economic Indicator' Under Obama. "The data is going to indicate sadly that when the Obama administration is over, black people will have lost ground in every single leading economic indicator category."In spite of this, rational assessment, Obama is a commissar inspiration for commie comrades that indulge in the excesses of elitism power consolidation. The Wall Street moneychanger mentors that picked this CIA trained nobody for the assignment of nation self-annihilation, also funded the Russian Revolution and underwrote the Nazi Third Reich. Therefore, it should surprise no one educated in unfeigned factual history that the target of the last obstacle of globalist control, the residual defiance within the United States of America, is Obama's assignment.
A good primer to understand the psyops disinformation career of the tutored revolutionary student is the video, Know Saul Alinsky and you Know Barack Obama and his Regime.
For all the unfortunate activists who missed the joy, intensity and exhilaration of street demonstration and Chicago police brutality of the 1968 Democratic convention, just remember that Alinsky, a committed Communist dedicated the forward of his book, Rules for Radicals to Lucifer. A little ironic, just recall those satanic images from the History Channel's hit series 'The Bible'. Now ask which Alinsky pupil most fits the portrait?
Below is Appendix E from Matthew Vadum's book, Subversion Inc.: How Obama's ACORN Red Shirts are Still Terrorizing and Ripping Off American Taxpayers.
Contrary to popular belief, Saul Alinsky did not state only 13 rules in his seminal community organizing work, Rules for Radicals. He had 24 rules.

Saul Alinsky describes 24 rules in Rules for Radicals. Of those 24 rules, 13 are rules of "power tactics":

1. "Power is not only what you have but what the enemy thinks you have."

2. "Never go outside the experience of your people."

3. "Wherever possible go outside of the experience of the enemy."

4. "Make the enemy live up to their own book of rules."

5. "Ridicule is man's most potent weapon."

6. "A good tactic is one that your people enjoy."

7. "A tactic that drags on too long becomes a drag."

8. "Keep the pressure on, with different tactics and actions, and utilize all events of the period for your purpose."

9. "The threat is usually more terrifying than the thing itself."

10. "The major premise for tactics is the development of operations that will maintain a constant pressure upon the opposition."

11. "If you push a negative hard and deep enough it will break through into its counterside."

12. "The price of a successful attack is a constructive alternative."

13. "Pick the target, freeze it, personalize it, and polarize it."
The remaining 11 rules Alinsky describes are concerned with "the ethics of means and ends":

1. "One's concern with the ethics of means and ends varies inversely with one's personal interest in the issue … Accompanying this rule is the parallel one that one's concern with the ethics of means and ends varies inversely with one's distance from the scene of conflict."

2. "The judgment of the ethics of means is dependent upon the political position of those sitting in judgment."

3. "In war the end justifies almost any means."

4. "Judgment must be made in the context of the times in which the action occurred and not from any other chronological vantage point."

5. "Concern with ethics increases with the number of means available and vice versa."

6. "The less important the end to be desired, the more one can afford to engage in ethical evaluations of means."

7. "Generally success or failure is a mighty determinant of ethics."

8. "The morality of a means depends upon whether the means is being employed at a time of imminent defeat or imminent victory."

9. "Any effective means is automatically judged by the opposition as being unethical."

10. "You do what you can with what you have and clothe it with moral garments."

11. "Goals must be phrased in general terms like 'Liberty, Equality, Fraternity,' 'Of the Common Welfare,' 'Pursuit of Happiness,' or 'Bread and Peace.'"
If you come to appreciate the utter disregard of moral principles and ethical values, the Machiavelli manifestation of the habitual lies out of the Obama administration, stands as sound demonic practices.
John Fund elaborates in Still the Alinsky Playbook, on this theme.
"Alinsky argued for moral relativism in fighting the establishment: "In war the end justifies almost any means. . . . The practical revolutionary will understand [that] in action, one does not always enjoy the luxury of a decision that is consistent both with one's individual conscience and the good of mankind.

Where did Alinsky get this amorality? Clues can be found in a Playboy magazine interview he gave in 1972, just before his death.

Alinsky recalled that he "learned a hell of a lot about the uses and abuses of power from the mob," and that he applied that knowledge "later on, when I was organizing." The Playboy interviewer asked, "Didn't you have any compunction about consorting with — if not actually assisting — murderers?" Alinsky replied: "None at all, since there was nothing I could do to stop them from murdering. . . . I was a nonparticipating observer in their professional activities, although I joined their social life of food, drink, and women. Boy, I sure participated in that side of things — it was heaven."
Thus, when Obama sets loose ACORN affiliates to do the dirty work in electoral campaigns, he is just following Alinsky's deceit model. Let the hip-hop in the street urbanity video RULES FOR RADICALS – Obama's Bible and Saul Alinsky, explain further.Mr. Funds adds:
"What exactly are the connections between Obama and Saul Alinsky's thought? In 1985, the 24-year-old Obama answered a want ad from the Calumet Community Religious Conference, run by Alinsky's Chicago disciples. Obama was profoundly influenced by his years as a community organizer in Chicago, even if he ultimately rejected Alinsky's disdain for electoral politics and, like Hillary Clinton, chose to work within the system. "Obama embraced many of Alinsky's tactics and recently said his years as an organizer gave him the best education of his life," wrote Peter Slevin of the Washington Post in 2007. That same year, The New Republic's Ryan Lizza found Obama still "at home talking Alinskian jargon about 'agitation'" and fondly recalling organizing workshops where he had learned Alinsky concepts such as "being predisposed to other people's power."
In The Rule for Radicals that Alinsky Skipped, author J. Robert Smith analyses the destructive results of believing in your own supremacy. Not that much difference from old Serpent's rebellion.
"For Mr. Obama and his Alinsky fellows, it's one thing to sport a mask to gull voters and whoever else needs gulling; it's another thing to get caught up in the web of your own lies.

Barack Obama has fallen prey to his own and his handlers' propaganda; to wit, that he's a Nubian sun god come to earth to minister to the little people. His reasoning and decisions are as unerring as a pope's (ex cathedra might be inadequate to describe Barack's authority, though, since it originates with himself and not the office). The president was cocooned and nurtured by race-based preferences from his adolescence on. He came to adulthood primed for hubris. And hubris — well, hoary hubris, it may finally be a-coming for Barack."
It is crucial to put into proper perspective that Obama has coordinated political chaos, works to the advantage of the establishment elites, who benefit from the final obliteration of free market enterprise. Totalitarian governance hinges upon the dependence of zombie dupes, who follow their fearless leader into hell, as an obedient pledge of submission. Obama is the servant of the globalist creed and the revolutionary policies that his minions are implementing directly further the strangle hold over the economy.
The Corporatism Fascist merging with the Tyrannous State is the terminal objective that will cause the New World Order to complete its ultimate goal. Alinsky's spirit hovering over the satanic disciple of darkness, is the Obama credo. Obama-mania followers are a flock of fools.
The infamous Trilateral Commission still exists. Many people think the TC, created in 1973 by David Rockefeller, is a relic of an older time. Think again.
Patrick Wood, author of Trilaterals Over Washington, points out there are only 87 members of the Trilateral Commission who live in America. Obama appointed elevenof them to posts in his administration.
Keep in mind that the original stated goal of the TC was to create "a new international economic order." Knowing that you have to break eggs to make an omelette, consider how the following TC members, in key Obama posts, can help engender further national chaos; erase our sovereign national borders; and install binding international agreements that will envelop our economy and money in a deeper global collective: a new world order:
Tim Geithner, Treasury Secretary;
James Jones, National Security Advisor;
Paul Volker, Chairman, Economic Recovery Committee;
Dennis Blair, Director of National Intelligence.
All Trilateralists.
In the run-up to his inauguration after the 2008 presidential election, Obama was tutored by the co-founder of the Trilateral Commission, Zbigniew Brzezinski.
In Europe, the financially embattled nations of Greece and Italy brought in Lucas Papademos and Mario Monti as prime ministers. Both men are Trilateral members, and Monti is the former European chairman of the Trilateral Commission.
In the US, since 1973, author Wood counts eight out of 10 US Trade Representative appointments, and six out of eight World Bank presidencies, as American Trilateral members.
Zbigniew Brzezinski wrote, four years before birthing the TC with his godfather, David Rockefeller:
"[The] nation state as a fundamental unit of man's organized life has ceased to be the principal creative force. International banks and multinational corporations are acting and planning in terms that are far in advance of the political concepts of the nation state."
Several other noteworthy Trilateral members: George HW Bush, Bill Clinton, Dick Cheney, Al Gore. The first three men helped sink the US further into debt by fomenting wars abroad; and Gore's cap and trade blueprint would destroy industrial economies, while vastly increasing the numbers of people in Third World countries who have no access to modern sources of energy.
Does all this offer a clue as to why the US economy has failed to recover from the Wall Street debacle of 2008, why the federal bailout was a handout to super-rich criminals, and why Obama took actions which prevented a recovery?
A closer look at Tim Geithner's circle of economic advisers reveals the chilling Trilateral effect: Paul Volker; Alan Greenspan; E. Gerald Corrigan (director, Goldman Sachs); and Peter G Peterson (former CEO, Lehman Brothers, former chairman of the Council on Foreign Relations). These men are all Trilateral members.
How many foxes in the hen house do we need, before we realize their Trilateral agenda is controlling the direction of our economy?
The TC has no interest in building up the American economy. They want to torpedo it, as part of the end-game of creating a new international currency, ushering in a de facto Globalist management system for the whole planet.
Any doubt on the question of TC goals is answered by David Rockefeller himself, the founder of the TC, in his Memoirs (2003):
"Some even believe we are part of a secret cabal working against the best interests of the United States, characterizing my family and me as 'internationalists' and of conspiring with others around the world to build a more integrated global political and economic structure—one world, if you will. If that is the charge, I stand guilty, and I am proud of it."
Even in what many people mistakenly think of as the TC's heyday, the 1970s, there were few who realized its overarching power.
Here is a close-up snap shot of a remarkable moment from out of the past. It's a through-the-looking-glass secret—in the form of a conversation between a reporter, Jeremiah Novak, and two Trilateral Commission members, Karl Kaiser and Richard Cooper. The interview took place in 1978. It concerned the issue of who exactly, during President Carter's administration, was formulating US economic and political policy.
The careless and off-hand attitude of Trilateralists Kaiser and Cooper is astonishing. It's as if they're saying, "What we're revealing is already out in the open, it's too late to do anything about it, why are you so worked up, we've already won…"
NOVAK (the reporter): Is it true that a private [Trilateral committee] led by Henry Owen of the US and made up of [Trilateral] representatives of the US, UK, West Germany, Japan, France and the EEC is coordinating the economic and political policies of the Trilateral countries [which would include the US]?

COOPER: Yes, they have met three times.

NOVAK: Yet, in your recent paper you state that this committee should remain informal because to formalize 'this function might well prove offensive to some of the Trilateral and other countries which do not take part.' Who are you afraid of?

KAISER: Many countries in Europe would resent the dominant role that West Germany plays at these [Trilateral] meetings.

COOPER: Many people still live in a world of separate nations, and they would resent such coordination [of policy].

NOVAK: But this [Trilateral] committee is essential to your whole policy. How can you keep it a secret or fail to try to get popular support [for its decisions on how Trilateral member nations will conduct their economic and political policies]?

COOPER: Well, I guess it's the press' job to publicize it.

NOVAK: Yes, but why doesn't President Carter come out with it and tell the American people that [US] economic and political power is being coordinated by a [Trilateral] committee made up of Henry Owen and six others?After all, if [US] policy is being made on a multinational level, the people should know.

COOPER: President Carter and Secretary of State Vance have constantly alluded to this in their speeches.

KAISER: It just hasn't become an issue.

Source: Trilateralism: The Trilateral Commission and Elite Planning for World Management, ed. by Holly Sklar, 1980. South End Press, Boston. Pages 192-3.
Of course, although Kaiser and Cooper claimed everything being manipulated by the Trilateral Commission committee was already out in the open, it wasn't.
Their interview slipped under the mainstream media radar, which is to say, it was ignored and buried. It didn't become a scandal on the level of, say, Watergate, although its essence was far larger than Watergate.
US economic and political policy run by a committee of the Trilateral Commission—the Commission had been been created in 1973 as an "informal discussion group" by David Rockefeller and his sidekick, Zbigniew Brzezinski, who would become Jimmy Carter's National Security Advisor.
When Carter won the presidential election, his aide, Hamilton Jordan, said that if after the inauguration, Cy Vance and Brzezinski came on board as secretary of state and national security adviser, "We've lost. And I'll quit." Lost — because both men were powerful members of the Trilateral Commission and their appointment to key positions would signal a surrender of White House control to the Commission.
Vance and Brzezinski were appointed secretary of state and national security adviser, as Jordan feared. But he didn't quit. He became Carter's chief of staff.
Now consider the vast propaganda efforts of the past 40 years, on so many levels, to install the idea that all nations and peoples of the world are a single Collective.
From a very high level of political and economic power, this propaganda op has had the objective of grooming the population for a planet that is one coagulated mass, run and managed by one force. A central engine of that force is the Trilateral Commission.
Source: Patrick Wood, "Trilateral Commission Endgame" | Jon Rappoport  |  No More Fake News
These Dates Forever Changed America For The Worse…
Well, Obamacare is now in effect. The decision by Congress to pass Obamacare into law back in 2010 ranks among the most draconian, most egregious, most horrific actions ever taken by the central government in Washington, D.C. This bill rocks the principles of liberty and constitutional government to the core. It changes fundamental foundations; it repudiates historic values. The same flag may fly on our flagpoles, the same monuments may grace our landscape, and the same National Anthem may be sung during our public ceremonies, but it is not the same America. For all intents and purposes, our nation now more resembles the socialist countries of the old communist East Bloc than it does the constitutional republic of the old land of the free.
I was honored to have been invited to be the keynote speaker at the annual meeting of the Association of American Physicians and Surgeons recently in Denver. It was a very large gathering of physicians from all over the country. And I can tell you that the doctors I spoke with are all very, very concerned about the future of healthcare in the United States. Take a peek at the condition of healthcare in socialist countries throughout the world or take a peek at the condition of healthcare in our VA clinics and hospitals, and you will get a little feel for what healthcare is going to quickly look like in America.
On March 21, 2010, Congress passed, and on March 23, 2010, President Barack Obama signed the dreaded national health care bill into law, and as such, these dates join a list of dates that have contributed to the destruction of a free America. Of course, there are several such dates, but, in my opinion, the following are the most draconian.
April 9, 1865
This is the date when General Robert E. Lee surrendered the Army of Northern Virginia to U.S. Grant at Appomattox Court House, Virginia. Regardless of where one comes down on the subject of the War Between the States, one fact is undeniable: Abraham Lincoln seriously dismantled the Jeffersonian model of federalism in America. Ever since, virtually every battle that free men have fought for the principles of limited government, State sovereignty, personal liberty, etc., has stemmed directly from Lincoln's usurpation of power, which resulted in the subjugation and forced union of what used to be "Free and Independent States" (the Declaration of Independence). In fact, the philosophical battles being waged today regarding the current health care debacle (and every other encroachment upon liberty and State autonomy by the central government) have their roots in Lincoln's autocracy.
July 9, 1868
This is the date when the 14th Amendment was ratified. This amendment codified into law what Lincoln had forced at bayonet point. Until then, people were only deemed citizens of their respective states. The Constitution nowhere referred to people as "US citizens." It only recognized "the Citizens of each State." Notice also that citizenship was only recognized among the "several States," not among people living in non-State territories. Until the 14th Amendment, people were "Citizens of each State." (Article. IV. Section. 2. Paragraph. 1.) The 14th Amendment created a whole new class of persons: "citizens of the United States." This false notion of "one nation" overturned the Jeffersonian principle that our nation was a confederated republic, a voluntary union of states.
February 3, 1913
This is the date when the 16th Amendment was ratified, and the direct income tax and IRS were instituted. This was a flagrant repudiation of freedom principles. What began as a temporary measure to support the War of Northern Aggression became a permanent income revenue stream for an unconstitutional–and ever-growing–central government.
April 8, 1913
This is the date when the 17th Amendment was ratified. This amendment overturned the power of the State legislatures to elect their own senators and replaced it with a direct, popular vote. This was another serious blow against State sovereignty. The framers of the Constitution desired that the influence and power in Washington, D.C., be kept as close to the people and states as possible. For example, the number of representatives in the House of Representatives was to be decided by a limited number of voters. In the original Constitution, the ratio of "people of the several States" deciding their House member could not exceed "one for every thirty thousand." (Article. I. Section. 2. Paragraph. 3.) And when it came to the US Senate, the framers also recognized the authority of each State legislature to select its own senators, thereby keeping power and influence from aggregating in Washington, D.C. The 17th Amendment seriously damaged the influence and power of the states by forcing them to elect their US senators by popular vote. The bigger the State, the less influence the State legislature has in determining its US senator. Senators who answered to State legislators, each answering to a limited number of voters, were much more accountable to the "citizens of the several States" than those who were elected by a large number (many times numbering into the millions) of people. For all intents and purposes (at least in the larger states), US Senators are more like "mini-Presidents" than representatives of sovereign states.
December 23, 1913
This is the date when the Federal Reserve Act was passed. This Act placed oversight of America's financial matters into the hands of a cabal of private international bankers, who have completely destroyed the constitutional principles of sound money and (for the most part) free enterprise. No longer would the marketplace (private consumption, thrift, growth, etc.) be the determinant of the US economy (which is what freedom is all about), but now a private, unaccountable international banking cartel would have total power and authority to micromanage (for their own private, parochial purposes) America's financial sector. Virtually every recession, depression, and downturn (including the one we are now experiencing) has been the direct result of the Fed's manipulation of the market. 1913 was not a good year for the United States.
June 26, 1945
This is the date when the United Nations Charter was signed and America joined the push for global government. Ever since, US forces have spilled untold amounts of blood and sacrificed thousands of lives promoting the UN's agenda. Since the end of World War II, in virtually every war in which US military forces have been engaged, it has been at the behest of the UN. And it is also no accident that America has not fought a constitutionally declared war since we entered the UN–and neither have we won one.
Furthermore, it is America's involvement in the United Nations that has spearheaded this devilish push for a New World Order that George H. W. Bush, Henry Kissinger, Tony Blair, Walter Cronkite, et al., have talked so much about. The United Nations is an evil institution that has completely co-opted our US State Department and much of our Defense Department. It is an anti-American institution that works aggressively and constantly against the interests and principles of the United States. But it is an institution that is ensconced in the American political infrastructure. Like a cancer, the UN eats away at our liberties and values, and both major political parties in Washington, D.C., are culpable in allowing it to exert so much influence over our country.
June 25, 1962, and June 17, 1963
These are the dates when the US Supreme Court removed prayer ('62) and Bible reading ('63) from public schools. At this point, these two Supreme Court decisions were the most serious affront to the First Amendment in US history. Think of it: from before a union of states was established in 1787, children had been free to pray and read the Scriptures in school. We're talking about a period of more than 300 years! Of course, the various State legislatures–and myriad city and county governmental meetings–still open their sessions in prayer, as do the US House and Senate, and even the US Supreme Court. But this same liberty is denied the children of America. There is no question that America has not recovered from these two horrific Supreme Court decisions. In effect, the federal government has expelled God not only from our public schools, but also from our public life. And America has not been the same since.
October 22, 1968
This is the date when President Lyndon Baines Johnson signed the Gun Control Act of 1968. Before this Act, the 2ndAmendment was alive and well in the United States. The Gun Control Act of 1968 turned a right into a privilege and forever forced the American people to bow at the altar of government when seeking to arm themselves. Interestingly enough, this Gun Control Act mirrored Nazi Germany's Gun Control Act of 1938. In fact, the Gun Control Act of 1968 is almost a verbatim copy of Hitler's Gun Control Act of 1938.
Our Founding Fathers could never have imagined that the American people would ever allow their right to keep and bear arms be infringed. In fact, it was the attempted confiscation of the firearms stored at Concord, Massachusetts, that triggered the War of Independence in 1775. That the people of Massachusetts would be denied their right to keep and bear arms, as they are today, could not have been foreseen–and would never have been tolerated–by America's founders.
The hundreds and hundreds of draconian gun control laws that have been inflicted upon the American people have all come about as a result of the Gun Control Act of 1968.
January 22, 1973
This is the date when the US Supreme Court issued the Roe v. Wade and Doe v. Bolton decisions, which, in effect, legalized abortion-on-demand. These two decisions expunged the Jeffersonian principle that all men are endowed by their Creator with the unalienable right to life (Declaration). Since then, more than 50 million unborn babies have been legally murdered in their mothers' wombs. Abortion is, without a doubt, America's national holocaust. It has opened the door to a host of Big Government programs and policies that have resulted in the wanton destruction of human life both in the United States and overseas. It has created an entire industry whose express purpose for existing is the destruction of human life. It has desensitized the conscience and soul of America. Furthermore, it has forced men of decency and good will to finance–with their tax dollars–the unconscionable act of killing unborn children.
And once again, another Jeffersonian principle was eviscerated. He said, "To compel a man to furnish contributions of money for the propagation of ideas which he disbelieves and abhors is sinful and tyrannical." The Roe and Doe decisions violate this principle in the most egregious manner possible.
October 26, 2001
This is the date when President George W. Bush signed the USA Patriot Act, and the federal government's war against individual liberty began in earnest. Most of the unconstitutional eavesdropping, snooping, wiretapping, phone call intercepting, email reading, prying, financial records tracking, travel watching, ad infinitum, ad nauseam, by federal police agencies began with the implementation of the Patriot Act. The Department of Homeland Security and the "war on terrorism," which have resulted in the deaths of tens of thousands of innocent people worldwide, and the usurpation of federal power at home, have all come about as an outgrowth of the Patriot Act. The Patriot Act has forever shifted the focus of American law and jurisprudence against constitutional government and individual liberty, toward a police-state mentality.
October 17, 2006, and October 9, 2009
These are the dates when President G.W. Bush signed and President Barack Obama re-signed the Military Commissions Act. This Act is the outgrowth of the Patriot Act and has, in effect, terminated the fundamental protections of individual liberty, which are found in the US Constitution and Bill of Rights. For all intents and purposes, the Patriot Act and Military Commissions Act (along with the NDAA) eviscerated the 4th and 5th Amendments, and do serious injury to several others. The Military Commissions Act also expunges the constitutional right of Habeas Corpus.
March 21 and 23, 2010
These are the dates when Congress passed and President Obama signed into law the "Patient Protection and Affordable Care Act," the so-called "health care reform" bill that we spoke about at the beginning of this column. While Social Security and various Welfare programs have toyed with socialism in the United States, this bill is the largest and most expansive endorsement of socialism in American history. This bill socializes some 18% of the US economy by socializing the health care industry in America. The fallout and ramifications of this bill are going to be horrific.
When future historians review the demise of our once-great republic, they will observe that the above dates were the dates that destroyed America. The American people have been far too tolerant for far too long.
You know, in spite of the visit from The Bone Lady when I was just three years old, and all the grim foreshadowing that she downloaded to me via direct intuition, I always held out hope that humanity could or would somehow turn things around on this planet, and snatch victory from the jaws of defeat.
As long as there is breath there is always hope, that was my thinking for a long time, but I am no longer so sanguine.
As one of my friends recently remarked to me, there is, indeed, real evil abroad in this world. I don't know how else to explain the wickedness of what is happening at Fukushima, in Japan, where the situation with the exploded and/or melted down nuclear reactors just goes from frightfully dire to unimaginably worse.
I frequently check the developments there at www.enenews.com and the latest news is very disturbing. I said from the outset, in the spring of 2011, that Tokyo would be evacuated. I still believe that to be inevitable. It is possible that much of Japan will be evacuated to elsewhere. The apocalyptic dimensions of the crisis are being covered up by TEPCO, the Japanese government, General Electric, and the USSA government. The reality is that there was at least one, and maybe more, really dirty nuclear blasts there in March of 2011, that wrecked the reactors and created a radioactive hell that no one knows how to remedy or bring under control. At the least we are probably looking at the failure and collapse of Japanese society with likely evacuation of tens of millions of people or more, and the fairly rapid death of vast portions of the Pacific Ocean, as deadly radioactive waste water continues to flow into the sea by the hundreds of tons, every day.
And when the cooling pool at reactor four collapses, the many tons of highly radioactive, spent, fuel rods that it contains will overheat and burn and or catastrophically fission, i.e., cause a runaway, nuclear reaction, or, in lay man's terms, there will be another atomic explosion, along with a mushroom cloud, and tons of highly poisonous nuclear isotopes will be spread aloft into the atmosphere and/or will drain or be blown into the sea, to poison the Pacific Ocean even further.
This is worse than bad news. This is planetary chaos news. This is civilization ending news. This is species extinction level news, as in extinction of the human species on this planet. If you do not think so, all I can say is: wait. It won't be long. Probably not ten years, not five, maybe even by Christmas this year, and you will begin to see what i mean, if you haven't already.
And even if the cooling pool at reactor four doesn't fail or collapse of its own accord in the near future, though that is very highly probable, TEPCO's plan to manually remove the many tons of bent, mangled, fused, welded together, very highly radioactive fuel rods that remain in the pool, beginning in November of this year, is so fraught with peril that it is likely to spectacularly fail, with unimaginably negative consequences. Any slight mistake, miscue or dropped fuel rod could result in a fission criticality, a runaway nuclear chain reaction, to wit, an atomic explosion that will shower the northern hemisphere and the Pacific Basin with a fatal radioactive sleet that will persist for hundreds of thousands of years.
As I said, the situation is somewhere far south of dire, with a headlong, hellward trajectory.
The Nuclear Chain Reaction
Because what is inevitable, the longer the situation at Fukushima festers, is that the whole site will have to be abandoned. Due to the high radiation levels, no one will be able to work there without dying. So the workers will pull back, and the cooling pools and storage pools that contain thousands of tons of extremely radioactive, spent fuel rods will fail or collapse and there will be more explosions and radioactive fires. As the radioactively contaminated NO GO ZONE expands, as the population flees, the day will come when nuclear reactors at other, nearby power generating plants will also fail, melt down and/or explode, because the nuclear engineers and maintenance workers no longer come to work and operate them — BECAUSE THEY ARE DEAD.
And then there will be three or four more, and the radioactive No Go Zone will expand, widen, grow. And other nuclear power plants will then fail, melt down and/or explode, because their operators are also DEAD, and so do not come to work, do not maintain them.
There are over 50 nuclear power reactors in Japan, and they all have their spent fuel rod cooling pools. It doesn't matter if the reactors themselves are shut down, because there are thousands and thousands of tons of highly radioactive, spent, nuclear fuel rods stored in the cooling pools all over Japan. So, given time, the crisis will continue to fester and worsen, and then it will begin to cascade, like a row of toppling dominoes, only it will be a series of failing nuclear power reactors, one after the other, heralding the end of the nuclear age, and quite possible the end of humanity.
It's just that serious.
All of that will send a killing wave of radioactivity across the Pacific to North America. So what happens when the population on the west coast of the USSA flees in panic from the approaching killer wave of radioactivity? Well, there will be no one left to operate the nuclear power reactors in California, for example. or at Palo Verde, the massive nuclear power plant just to the west of Phoenix. So when those nuclear reactors and their spent fuel cooling pools fail, melt down, and/or blow up, the civilization-ending, planet-killing, Fukushima Syndrome will come home to America with a wicked vengeance.
All courtesy of General Electric. General Electric designed five out of the six reactors at Fukushima and built three of them, so what we see here is genocidal, planet-killing failure of American (alleged) "high technology" on a spectacular scale.
General Electric — busy exterminating a planet near you of its resident, biological life forms.
At the end of the day, all the differential calculus, the nuclear physics, the nuclear chemistry, the nuclear engineering, the corporate profits, the Madison Avenue advertising slogans, the multinational wheeling and dealing, all has conspired to assassinate the planet on which we, and they, all live. Make no mistake, the planet is now dying. The global poisoning process is so very far advanced that it probably cannot be stopped. Certainly, there is not now any serious, international effort to do so, not anything remotely commensurate with the level of danger that we are facing.
No doubt we are dealing with profound iniquity, a betrayal so complete of all that is human that no words exist to describe its foul dimension. The ones who have done this thing walk among us, though for how long? – understanding that they, too, will certainly drop dead along with countless millions of others, as a direct result of their abjectly arrogant ignorance.
Arrogant Ignorance
All of their super-computers, the advanced mathematics, their (so-called) "hi-tech" industrial base, all of their billions of dollars of (so-called) "high finance" — and they kill the planet? And themselves and their posterity in the process? That's the best they can do? They get a PhD in nuclear chemistry and use their (so-called) "knowledge" and (so-called) technical "expertise" to kill the planet? The planet that they also live on?
Geniuses. All of them.
Central Banking Middle East Madness
Then there is the very real prospect of a shooting, nuclear war, beginning in the Middle East. The USSA has a powerful fleet in the region. So do the Russians, as a counterpoint. Sadly for all humanity, the Washington, DC — City of London — Lower Manhattan — Tel Aviv — NATO cabal seems hell bent on war, and so we are on the slippery slope to war. Unfortunately, this psychopathic cabal is very heavily nuclear armed.
I saw all of this coming from waaaaaaay back, from way back in my infancy, since the age of three years, when The Bone Lady visited me and clued me in to realities that I still don't want to think about, given their ghastly, hideous savagery. But I'll tell you what, it's enough to give a man insomnia, it's enough to drive him out onto the nuclear missile silos, again and again, in a personal effort to inject a note of sanity and warning into a positively insane political and military climate, in an attempt to wake up anyone who may be susceptible to awakening.
ANYONE.
My latest sally was 15 April 2010 in North Dakota, USA. I went over the security fence onto the H-8 Minuteman III nuclear missile silo in the Minot Air Force Base nuclear missile field, near Parshall, North Dakota, at the intersection of 33rd Street and 76th Avenue. I conducted a nonviolent, peace demonstration on the silo and was arrested by the USSA military and imprisoned for 100 days, almost all of the time served in the Heart of America Correctional and Treatment Center in Rugby, North Dakota.
My Minot Manifesto explains my motivations, reasons and spiritual and political philosophy. It is one of the most important documents I have written in my entire life.
A Serious Message From The Heart of America was my personal statement that I mailed to the news media from jail in Rugby, North Dakota, on 14 July 2010, prior to being criminally tried and convicted in USSA federal court in Minot, North Dakota.
I explain the symbolism in my dress and accoutrements in the photo below, in the text of my lengthy Minot Manifesto. It's thirteen pages, but worth the time and effort to read. It is a major life statement on my part, that reflects literal decades of deep thought, a very large quantum of concentrated life energy and hours, weeks, months and years of preparation, a statement that distills an important fraction of my life essence into human language. I invite you to partake of my gift by taking the time to read and reflect on what I have written, and then to take meaningful, principled, creative, nonviolent action yourself.
I don't quite know what more to say, what more to do. In fact, were I to do more than I already have, and I have been out on the nuclear missile silos three times (and been jailed for my trouble all three times, in Arkansas, Missouri and North Dakota), I would run the very real risk of infringing on your right and your very real, personal RESPONSIBILITY to also courageously act. So what are you waiting for? Why are you here on this planet, at this time, reading this blog post, and articles like it?
Because make no mistake about it, the time to act, if you are going to act, is here. The time has arrived. The planet is on the brink. We face the very real prospect of a shooting nuclear war. Additionally, the Fukushima crisis, and the threat from nuclear power plants in general, ALL OF THEM, could not be more serious.
In recent days, I find myself musing about the closing scene from "Dr. Stramgelove," with the haunting song by Vera Lynn, "We'll Meet Again, Don't Know Where, Don't Know When," that was such a huge hit in World War II, for obvious reasons.
And it fills me with such melancholy and sorrow. Because if it starts, this ugly thing called nuclear war, and we are headed that way, can all unravel very rapidly. The machines will take over, and automated, pre-programmed orders of battle will be carried out, without human control, as machines battle machines with nuclear fire. Waves of missiles will come in, again and again, to batter the underground bases. I have read the declassified documents. Warhead after warhead will come in at 10 minute intervals. You cannot imagine the depths of the hell that is already programmed and waiting to be unleashed.
Back in the 1960s, the USSA military was counting on 140 million casualties in the mainland USSA alone. I know this because I have read the documents. I have done the research. The USSA population is much larger now, and much more urban, so the casualty rate would be even higher. Maybe 200 million? 250 million casualties in the USSA alone?
Do you think you will just watch that on CNN?
Refuge in the Southern Hemisphere
If you have read my previous writings you will know that I have said that IF humanity has a future, it is likely to be in the southern hemisphere, if only because the lion's share of the nuclear weapons and nuclear power reactors are in the northern hemisphere. As the nuclear power plants fail, melt down, and/or explode most of them will be in the northern hemisphere. This is not an intellectual exercise — already we have had catastrophic failure of nuclear power plants at Chernobyl, Ukraine and Fukushima, Japan. They are just the first. There will be more.
Likewise, any shooting nuclear war is logically likely to be concentrated in the northern hemisphere, since all of the known, nuclear armed, military powers are in the northern hemisphere
But even then, there are enormous problems in the southern hemisphere. The vegetation in the Amazon region of South America produces something like 20 to 30% of the oxygen in the Earth's atmosphere. As the Amazon dies, and it is being destroyed right now, so too, is the Earth's breathable oxygen supply being destroyed. I don't know about you, but I breathe oxygen all day and all night, every day and every night of my life.
So even if we resolve the nuclear issue, and there is ZERO progress on that front right now, only to lose the Amazon, we all will still die, because none of us can survive with 20 to 30% less oxygen. Just cannot.
Right now, we, humanity, every last one of us, are in a life and death struggle for the life of our species, and the life of our planet.
If we win, we live. If we lose, we die. ALL OF US.
End of the story. End of our species' genetic line. For ever and ever.
Done. Finished.
So maybe moving to Bolivia or Uruguay or Namibia or Madagascar or New Zealand will buy you a little time, a year or ten. However, if we fail to rein in and ABOLISH nuclear reactors and nuclear weapons, if we fail to reforest the Earth and cleanse it of radioactive contamination, then we are through. It's the end for us.
This is our group decision. Right now we are on a self-destructive path to global extinction.
So Here Is My View
If you will act decisively, now is the time. Pick your issue and your spot and act creatively, courageously and nonviolently.
It's your world and your life. Act like they both count for something.
And here's the other thing. If you cannot, or will not act, then how about supporting those of us who have acted, and who continue to act?
In my case, I have paid a very heavy price, in earnings forever foregone, by putting my life on the line, repeatedly, for you, whom I do not even know. But because you are my human kin, I went out on the missile silos, again and again, and I went to jail. I lost more than a year and a half of productive labor. I lost, as well, the opportunity to have a whole wide range of well paying jobs, due to my arrest and prison record, even though I have multiple advanced university degrees, up to the doctorate level.
Subsequent to my arrival in South America, I immersed myself in Amazonian shamanic culture, the better to understand the Amazonian region, the jungle itself, and the shamanic human ecology of the region that interfaces with the hyper-conscious plants in the jungle, only to be very gravely assaulted by one of the said Amazonian shamans and hospitalized for more than four months with massive trauma to both my body and emotions. I am now pursing a criminal case against the shaman and that also costs heavily, several thousands of dollars in attorneys' fees, at the very time when so much of my time and energy is taken up with therapy and the sheer physical effort of getting around with impaired mobility. Nine months after the assault I still have physical nerve trauma in my lower extremities, a good deal of numbness and what is called drop foot. I walk with crutches. My electro-therapy also costs. At the moment I cannot go to electro-therapy, although I badly need it, because I only have $35 to my name.
I have run completely through my meager life savings and there is no more.
Additionally, I have this week begun the formal petition process to the government of Ecuador to request political asylum. My years-long record of anti-nuclear activism and repeated jailing by the USSA government is one factor in my decision, coupled with other factors such as recent revelations of universal NSA surveillance and espionage, the secret arrest and indefinite military detention provisions of the NDAA of 2012 and 2013, the recently revealed, previously secret 2011 FBI documents that blatantly discuss plans to murder Occupy Movement activists by sniper fire, including in San Antonio, Texas, where I lived and worked as a window washer from 2000 to 2009, and all of this in the context of an all encompassing pattern of unbridled lawlessness and pervasive lying with regard to EVERYTHING by the American government. All of this and more, has brought home to me the seriousness of this moment that we are living now.
I have the obligation to safeguard my own liberty and safety. It is clear to me that politically I am freer and safer in Ecuador than in the USSA. The American government has taken a hard, dictatorial turn towards neo-fascism. That is the plain truth. The harsh, repressive treatment of Edward Snowden and Chelsea (formerly Bradley) Manning makes that clear enough. We are in altogether different territory now. And so I have petitioned for political refuge in Ecuador.
This also entails paying an attorney, to assist me in my interactions with the administrative, legal and political system in Ecuador. It is my life on the line and I am proceeding very carefully, every step of the way.
But it is also your life on the line, in that my anti-nuclear activism, my immersion in the Amazonian culture, and my pursuit of political refuge in Ecuador all have profound implications far beyond just me. What happens to me also has broad implications for you. The consequences of nuclear war are too horrific to contemplate, and if it is to be avoided, it is because of actions such as mine. Similarly, we simply cannot afford to lose the Amazon, and yet we are losing it right now. If we are to save it, a big part of that will be due to the personal efforts of those who come to the region and get personally involved in the nitty-gritty, even life-threatening struggle for the soul of the Amazon, because more than anything, we are involved in a pitched battle for the very spirit and soul of the Amazon and of the rest of this planet.
Similarly, if I, with my history of activism, book writing, researching, blogging, public speaking, interviews, and repeated nonviolent civil disobedience and consequent jail record, cannot obtain political refuge abroad, then what hope do you have? You're boxed in, that's what. You're in a cage with no exit.
And so, if you cannot or have not done the things that I and others like myself have done and are doing, then can you please, will you at least please support us?
I desperately need your support now. My legal fees run to thousands of dollars, and my therapy is ongoing. I appreciate and really need your generosity. Please communicate with me at: dr.samizdat1618@gmail.com or via Skype at richard.sauder333 as to how to donate.
Come Ye That Love The Lord
I am a native Virginian, and have lived, worked, traveled, studied and gone to jail all over the American South, from the Virginias and Maryland, all the way across to South Texas, and numerous points in between. A very large block of my life has been spent down South. Although I am not now a church attending man, I have in the past been in all kinds of Christian churches, both Black and White, in big cities and small country towns.
Some of the most memorable sermons I have ever heard have been by Black pastors in rural areas of the deep South. One of the things I like about the traditional Black style of hymn singing down South is the way that the head deacon or pastor will frequently line out a hymn, especially the first line or two of a verse, and then the other deacons or members of the choir will join in, accompanied by riffs on the organ, if there is an organist, and there are some really gifted organists playing in southern Black churches.
I well remember a sermon that I once chanced to hear, decades ago, by a Black lay preacher, one sultry, Sunday night, in a tiny little town way down South, about as far south as you can go, and still be in the South and not somewhere else. The ceiling fans lazily stirred the muggy summer air, as the moths flitted vainly around the naked incandescent light bulbs hanging from the ceiling overhead. The windows were flung wide open and the pale light from the sanctuary washed feebly out through the rusted screens and flooded onto the close cropped lawn that surrounded the church. It was one of the most extraordinary public speaking performances I ever witnessed. The preacher used as his text Ezekiel 37, the theme being dry bones and systematically connecting them one to the other, the purpose being to reassemble and restore "them dry bones" to life. As he spoke, I saw that he fell into a trance, that he entered another state of consciousness, that he was self-hypnotized and that the sermon itself had a sort of existence independent of him, that the message took on a life of its own and was using his mind, his mouth, his body, to project itself into the ears, hearts and minds of the sparse assemblage present that evening. As he finished, he collapsed exhausted backwards into his armchair and lined out the first words of the hymn that he wanted the choir to sing. I don't anymore remember exactly what song he called for, but it could well have been this: Come Ye That Love The Lord
If there is to truly be a new world order, as distinct from the obscene power that currently holds sway on this planet today, then we will need to see a completely new order of human being on this world, a species of human being motivated by love for the Creator and by devotion to inward and outward service to the sacred life impulse. We don't see that now, and the human species may go extinct on this planet for its want.
I do believe in God and have been profoundly privileged to see some of His servants face to face. I find their company congenial.
Come, ye that love the Lord,
And let your joys be known;
Join in a song with sweet accord,
And thus surround the throne.

Let those refuse to sing
That never knew our God,
But children of the heavenly King
May speak their joys abroad.

The God of heaven is ours,
Our Father and our love ;
His care shall guard life's fleeting hours,
Then waft our souls above.

There shall we see his face,
And never, never sin;
There, from the rivers of his grace,
Drink endless pleasures in.

Yes, and before we rise
To that immortal state.
The thoughts of such amazing bliss
Should constant joys create.

Children of grace have found
Glory begun below:
Celestial fruits on earthly ground,
From faith and hope may grow.

The hill of Sion yields
A thousand sacred sweets,
Before we reach the heavenly fields,
Or walk the golden streets.

Then let our songs abound,
And ev'ry tear be dry;
We're trav'lling through Immanuel's ground,
To fairer worlds on high.

(John Wesley, ca. 1703- 1791)
Source: Richard Sauder  |  Event Horizon Chronicle