Rick Warren is one of America's most influential Christian ministers. He's so popular that many folks call him "America's Pastor." Warren has earned a reputation as larger than life and until a couple of years ago he was large around the middle! Because of health concerns he decided to shed a few pounds. But why go it alone? After all, he had his own personal cheering section if he wanted it – Saddleback Church in Lake Forest California, an evangelical megachurch he started in 1980. Thirty-three years later Saddleback boasts over 20,000 weekly attendees. He felt sure that many folks would cheer him on while others would join him in his endeavor to achieve a healthier lifestyle. So he said No! to Jenny Craig and took on the daunting task of developing a weight loss program that, according to Rick Warren, is "God's prescription for your health."
Sound like a plan?
Well, yes, in fact he christened it "The Daniel Plan: 40 Days to a Healthier Life."
On January 15, 2011, over 6,000 people made the trek to Saddleback's main campus to learn what the Bible allegedly says about getting healthy. Thousands more watched online at the other Saddleback campuses.
In order to achieve his lofty goal, he brought together "three of the leading health specialists in America." But surprisingly the three doctors picked by the pastor were not Christians—not by a long shot. In fact, when you look into some of the things they're into (more on this in a moment), it's fair to say that all three of them are into New Age/New Thought spirituality.
Who are the doctors Rick Warren chose? 1) Mehmet Oz. Dr. Oz is a Sufi Muslim, a cardio vascular surgeon, and popular daytime talk show host. 2) Dr. Daniel Amen (pronounced A-mun). Dr. Amen is a psychiatrist and brain imaging specialist. He's also a practitioner of Tanta which is the use of Hinduistic-type mysticism during sexual intercourse. Dr. Amen is also a self-professed Christian. 3) Dr. Mark Hyman. Dr. Hyman is a practitioner in alternative therapies in health and medicine and is a secular Jew.
Does this seem like a good fit too you? I mean, why didn't he elicit the aid of three notable Christian specialists to create "God's prescription for your health"?
Furthermore, why would a high-profile evangelical pastor choose doctors who are entrenched in New Age/New Thought (occult) spirituality, as well as questionable alternative health practices? Warren's fully aware that Paul cautioned the church in Thessalonica to abstain from even the appearance of evil (1 Thes. 5:22).
In light of what the Bible clearly teaches, it's surprising that a Christian minister, who understands what the Bible teaches (or at least he should), is unconcerned that some in his flock may not know that the New Age practices he purports are anti-biblical and that they might very well involve themselves in the sort of pagan practices that the above mentioned doctors promote, practices that are expressly forbidden in Scripture. God's people are to be separate from the pagan nations. In 2 Cor. 6:14-15 Paul says this to the Church:
Be ye not unequally yoked together with unbelievers: for what fellowship hath righteousness with unrighteousness? and what communion hath light with darkness? And what concord hath Christ with Belial? or what part hath he that believeth with an infidel?
When Pastor Rick chose the three doctors—specialists or not–to design a weight loss plan it was done in a way that would appeal to the sheep of his pasture, his audience. And of course many of them bought into their shepherd's health plan, hook line and sinker.
But – why was he not concerned about his flock's spiritual health? What fellowship has righteousness with unrighteousness?
The book
The three doctors believe that practicing meditation on a regular basis is integral to health and fitness. This is known as contemplative prayer (CP). Rick Warren promotes CP even though he knows perfectly well that it's a form of neo-Gnosticism that, sadly, Protestants/evangelicals have borrowed from the monastic traditions of the Roman Catholic Church. Meditation is recommended in the book. On the Daniel Plan website, Dr. Joseph Mercola demonstrates the 4-7-8 breathing exercise (here) that he learned from meditation proponent Dr. Andrew Weil while attending a presentation. Dr. Hyman wrote an article for the site, Six Ways I Changed My Life and How You Can Change Yours without once mentioning God. He did, however, recommend the Hindu practice of yoga. So as you can see, there's a very good reason for sounding the alarm regarding the Daniel Plan book that's set to be released December 3, 2013.
Tell me more…
What does CP involve? Without getting too far afield, practitioners choose a single word or short phrase from the Bible and repeat it over and over during breathing techniques that come from India. Doing breathing techniques is an attempt to "bind the mind with one thought." The goal is to achieve an altered state of consciousness (empty the mind completely) and to attain to the "higher self" that New Age/New Thought devotees believe to be the divinity within each person. The popular term for this is Transcendental Meditation.
So, what's the big deal about Christians involving themselves in Eastern meditation? Well, the big deal is that when a person attains an altered state of consciousness it may bring him/her into contact with "familiar spirits," which is a way of saying neutral or benign spirits. More commonly the spirits are anything but benign; they're demons! According to the Bible, demons are fallen angles – prideful angles that rebelled against God and as a result were banished from His kingdom. Scripture rightly refers to the banished angels as "spiritual forces of evil." They remain in rebellion against God. The spirits often appear to humans as "angels of light" — but they're masters of deceit! So they're not the good guys they trick us into thinking they are. Trust me on this; evil spirits are your worst nightmare – far worse than Freddie Kruger! For this reason Paul forewarned of Satan's fondness for fooling the flock:
For such are false apostles, deceitful workers, transforming themselves into the apostles of Christ. And no marvel; for Satan himself is transformed into an angel of light. Therefore it is no great thing if his ministers also be transformed as the ministers of righteousness; whose end shall be according to their works. (2 Cor. 11:12-15)
Former New Ager Ray Yungen warns:
Many people have unwittingly become New Agers by simply seeking to improve their physical and mental health through meditation.
Doctors Amen and Hyman co-authored the Daniel Plan book but Dr. Oz didn't participate. Here's a bit of background info on the book's co-authors excerpted from my 2011 column Rick Warren Introduces the "Devil Plan":
Dr. Daniel Amen
Dr. Amen is a child and adult psychiatrist and Assistant Clinical Professor of Psychiatry and Human Behavior at the University of California at Irvine School of Medicine. In addition he is a brain imaging specialist.
Dr. Amen teaches "techniques that will improve 'brain health,' claiming that poor brain health is associated with a host of problems from overeating to depression. … He includes meditation (and in fact this is his primary tool) as a way to have a healthy brain."
Dr. Amen recommends a meditation called Kriya Kirtan which is from the Kundalini tradition:
"I teamed with Drs. Dharma Singh Khalsa and Nisha Money to study the impact of meditation on the brain. We chose a simple 12 minute form of meditation, Kriya Kirtan, that is easy for busy people to practice. It is based on the five primal sounds: Saa, Taa, Naa, Maa (aa being the fifth sound). Meditators [sic]say each sound as they consecutively touch their thumb to fingers two, three, four and five. The sounds and fingering are repeated for two minutes out loud, two minutes whispering, four minutes silently, two minutes whispering and two minutes out loud." (Online source)
Dr. Amen is also a practitioner of Tantric or tantric sex which is the use of Hinduistic-type mysticism during sexual intercourse. Lighthouse Trails Research (LTR) reports:
"In a 6-CD set called Create a More Passionate Night, Dr. Amen has teamed up with advanced certified Tantra educator, T. J. Bartel. … Tantra is the name of the ancient Hindu sacred texts that contain certain rituals and secrets. Some deal with taking the energies brought forth in meditation through the chakras and combining them with love-making to enhance sexual experiences."
"Make no mistake about it" says LTR, "Reiki, meditation, tantric sex – these are very powerful mystical experiences that have the capability to delude and deceive those who are involved with it."
For Christians who have read to this point, I hope you're becoming alarmed.
Dr. Mark Hyman
Dr. Mark Hyman is editor-in-chief of Alternative Therapies in Health and Medicine which is said to be "the most prestigious journal in the field of integrative medicine, and the medical editor of Alternative Medicine, the Art and Science of Healthy Living."
In her article, Alternative/ Blended/ Complementary/ Integrated Healing, Marcia Montenegro examines alternative therapies:
"It is called alternative because the technique/ drug/ herb has not been or cannot be adequately tested, or has been found ineffective or dangerous. If it were a safe, tested treatment, it would not be in the alternative category. Many cited studies to support these methods are flawed, short-term, based on anecdotal evidence, conducted by believers in the techniques, & often are not published in a peer-reviewed medical journal. The terms complementary, blended, and integrated are now being used as well since alternative treatments are being combined with traditional medicine. This makes it more difficult to test the alternative methods or to know what is really working when the patient improves. It should be remembered that the placebo effect accounts for 30% or more for a person feeling better."
Dr. Hyman claims he's not into meditation but he does recommend yoga to create calm.
In my article Can A Pagan Practices Be "Christianized" I explain why Christians must avoid yoga:
"Christian apologists John Ankerberg and John Weldon maintain that, 'The basic premise of yoga theory is the fundamental unity of all existence: God, man, and all of creation are ultimately one divine reality.' To explain the basic premise, the authors quote from an editorial in the Yoga Journal: "We are all aware that yoga means 'union' and that the practice of yoga unites body, breath, and mind, lower and higher energy centers and, ultimately self and God, or higher Self. But more broadly, yoga directs our attention to the unity or oneness that underlies our fragmented experiences and equally fragmented world. Family, friends, the Druze guerrilla in Lebanon, the great whale migrating north—all share the same essential [divine] nature.""
Dr. Hyman participated in a program called Yoga, Body & Spirit at Shambhala Mountain. The program included Susan Piver, who offered instruction in the ancient wisdom tradition of Buddhist meditation, and Richard Reoch who presented Golden Ball Chi Kung.
Dr. Hyman retails expensive supplements "critical for supporting lifelong health," books and CDs in his "healthy living store" online. The UltraWellness Essentials Kit for Women costs $130 for a one month supply. For youngsters it's a tad less. Only $47 per month because "Like adults, children need a purified source of essential fatty acids to help build healthy brain cells, support focus and attention, and optimize metabolism."
This is UltraBunk!
Earth to Dr. Hyman! At your exorbitant cost for "high-quality multi vitamin and minerals" most families can't afford to get healthy! (Visit Dr. Hyman's store)
Why has this not dawned on Pastor Rick? In one of his promotional videos he held up each of the doctors' books and urged his congregants to purchase them! This makes one wonder if Dr. Hyman's books recommend the high priced vitamins, and if this is the case, who derives benefit from the sale of these products?
That an evangelical pastor would allow his sheep to be influenced by New Age ideas and questionable medical practices should give us pause. Christians should avoid becoming involved in any sort of assembly where we are powerless to address issues that come up which could cause us to compromise our biblical principles. Moreover, it should give us pause when the minister of the Gospel of Jesus Christ teams up with occultists!
I'll close with a quote from John 10:7-13:
Then said Jesus unto them again, Verily, verily, I say unto you, I am the door of the sheep. All that ever came before me are thieves and robbers: but the sheep did not hear them. I am the door: by me if any man enter in, he shall be saved, and shall go in and out, and find pasture. The thief cometh not, but for to steal, and to kill, and to destroy: I am come that they might have life, and that they might have it more abundantly.I am the good shepherd: the good shepherd giveth his life for the sheep. But he that is an hireling [hired hand], and not the shepherd, whose own the sheep are not, seeth the wolf coming, and leaveth the sheep, and fleeth: and the wolf catcheth them, and scattereth the sheep. The hireling fleeth, because he is an hireling, and careth not for the sheep.
Helpful Resources:
New Age Spirituality–On Solid Rock Resources
http://emailbrigade.com/266.html
Contemplative Prayer—On Solid Rock Resources
http://emailbrigade.com/305.html
Rick Warren's New Age Health Gurus—Berit Kjos and Sara Leslie
http://herescope.blogspot.com/2011/03/rick-warrens-new-age-health-gurus.html
Saddleback Church, Rick Warren, and Spiritual Disciplines–By Ken Silva
http://apprising.org/2010/06/15/saddleback-church-rick-warren-and-spiritual-disciplines/
Rick Warren's Daniel Plan Accelerates – Tells Followers to Practice 4-7-8 Hinduistic Meditation –By Lighthouse Trails Research
http://www.lighthousetrailsresearch.com/blog/?p=13549
With over 500 pages and 1,200 footnotes, Ted Flynn's book, "Hope of the Wicked: the Master Plan to Rule the World," details many of the agendas of the global 'elite' community.  With several thousand quotes it uses the words of prime ministers, secretaries of treasury, secretaries of state, philanthropists and global business leaders to describe their NWO vision and their plans to bring it about as well as the convergence, on a global basis, of multinational corporations, foundations and the political and sociological instruments that would form a one-world government designed to bring about a New World Order.
Flynn writes that there is a confluence of events pointing to major changes that for many years have been coming to the world and they appear to be coming toward us more quickly now. Flynn argues that an 1846 heavenly apparition, a prophecy delivered by the Blessed Virgin Mary to two peasant children and approved by the Catholic Church is a stark and terrible summary of the major changes that have been coming to the world in general but the West and America in particular:
"All the civil governments will have one and the same plan, which will be to abolish and do away with every religious principle, to make way for materialism, atheism, spiritualism and vice of all kinds….The mountains and all Nature will tremble in terror, for the disorders and crimes of men have pierced the vault of the heavens…The righteous will suffer greatly.  Their prayers, their penances and their tears will rise up to Heaven and all of God's people will beg for forgiveness and mercy…And then Jesus Christ, in an act of His justice and His great mercy will command His Angels to have all His enemies put to death….and the persecutors of the Church of Jesus Christ and all those given over to sin will perish…"  (p. 445)
In another apparition approved by the Church, the Blessed Virgin Mary warned of the "annihilation of nations." (ibid, p. 445) 
Materialism, Atheism, Communism, & Annihilation of Nations and People
Friedrich Engels (1820-1895), a 19th century German political philosopher figures prominently in Karl Marx's life.  Beginning in 1844, Engels and Marx, a God-hating materialist, collaborated closely in the foundation of modern Communism.  By 1848 they had produced The Communist Manifesto and similar works.
The tragedy of Engels is that before joining forces with Marx he had been a faithful Christian.  After meeting Marx for the first time he described him as a monster subjected to devils.  Marx does not,
"…walk or run, he jumps on his heels full of anger…He stretches his arms far away in the air; the wicked fist is clenched, he rages without ceasing, as if ten thousand devils had caught him by the hair."  (Marx & Satan, Richard Wurmbrand, p. 36)
Engels was very well aware of the dangers of entangling himself with devilish sons of perdition like Marx.  In his book, "Schelling, Philosopher in Christ," he warns that a devilish spirit has entered into a great part of mankind in the heart of Christendom and now there are only two kinds of men, Christians and anti-Christians:
"Since the terrible French Revolution, an entirely new, devilish spirit has entered into a great part of mankind, and godlessness lifts its daring head in such an unashamed and subtle manner that you would think the prophecies of Scripture are fulfilled (Matthew 24:11)..And St. Paul says in II Thes. 2:3: That man of sin shall be revealed, the son of perdition, who opposes and exalts himself above all that is God, or that is worshipped…The coming of the Wicked is after the working of Satan….(therefore we must have)  nothing to do any more with indifference or coldness toward the Lord (for as of now) we have only…Christians and anti-Christians….We see the false prophets among us…They travel throughout Germany and wish to intrude everywhere; they teach their Satanic teachings in the market-places and bear the flag of the Devil from one town to another, seducing the poor youth, in order to throw them in the deepest abyss of hell and death." (ibid, p. 40)
The devilish fleshy spirit responsible for converting Engels to godless Communism was Moses Hess, the same man who had previously converted Marx. After meeting Engels in Cologne Hess wrote:
"He parted from me as an overzealous Communist.  This is how I produce ravages…" (ibid, p. 43)
The spiritual counter-conversion of Engels was striking and hideous.  Like Marx, he no longer cared about the destruction of millions of people on behalf of the Revolution. 
A bloodless Marx writes of the coming genocide of millions of men, women, and children:
"A silent, unavoidable revolution is taking place in society, a revolution that cares as little about the human lives it destroys as an earthquake cares about the houses it ravages.  Classes and races…too weak to dominate the new conditions of existence will be defeated." (ibid, p. 42)
In a similar vein, a cold-hearted Engels speaks of the coming annihilation of millions of Christians, Jews, and other peoples and nations:
"The next world war will make whole reactionary peoples disappear from the face of the earth.  This, too, is progress.  Obviously this cannot be fulfilled without crushing some delicate national flower.   But without violence and without pitilessness nothing can be obtained in history."  (p. 43) 
The Revolution
The Revolution is a movement of spirit having its taproot and energy in the devil, the spirit of hate, murder, atheism, apostasy, and 'this world only' naturalism, materialism, pantheism, and spiritualism.   The Revolution is war against the supernatural Trinity, the Father, Son and Holy Spirit, which in the words of Marx's anarchist comrade Bakunin, are the "cursed and fatal principle of authority."
The sentiment of the Revolution is satanic pride:
"….which spurns subjection to any master whatever, whether of divine or human origin." (Bakunin, Nihilism: The Root of the Revolution of the Modern Age, Fr. Seraphim Rose, p. 63)
The nature of the Revolution is the antithesis of authentic Christian faith. Whereas Christian faith is joy, patience, love, truth, humbleness, perseverance, submission in all things to the Will of God and blessed eternal life in Paradise (earth perfected), the Satanic counterfeit is full of hatred, rebelliousness, burning envy and covetousness against man and God, ingratitude, mockery, doubts, lies, revulsion, blasphemy, thoughts of murder and eternal life in Hell.
Fueled by monstrously inflated pride and dissatisfaction with self, the world, society, and God the Father Almighty, it devotes its' infernal energy toward "change," or as Marx put it, toward the wholesale destruction of the Christian-based Old Order and the establishment of a religiously pantheist, totalitarian world order because:
"The idea of God is the keynote of a perverted civilization. It must be destroyed." (Karl Marx, Marx and Satan, p. 59)  
The New World Religion  
 "(The UN is) a weird and diabolical convergence of New Age mysticism, pantheism, aboriginal animism, Communism, socialism, Luciferian occultism, apostate Christianity, Islam, Taoism, Buddhism, and Hinduism."   (The New World Religion: Teaching God's Children to Worship 'Divine Nature.' William Jasper, 2002)
The Revolution, of which the U.N., Lucis Trust (formerly Lucifer Publishing), the Cathedral of St. John the Divine, the Temple of Understanding and Baca Grande (Colorado based New Age Vatican City) are integral components, intends the complete overturning of Biblical moral and spiritual values enjoyed by Western and American civilization for over a thousand years.  As part of this goal, the Bible must be reinterpreted in terms of evolutionary pantheism, man must be fundamentally remade by eradication of every vestige of Imago Dei from his inner being, and Christian leadership reduced to a non-factor.  Flynn writes that this has largely been accomplished,
"…by placing their own leaders in place where they exert tremendous influence.  Much of this program of revolution was confirmed by Franklin D. Roosevelt in his book, 'Our Way' (which) summed up, the spiritual and immoral goals of world revolution (and how they) are being achieved, and nowhere more so than in the United States." (Flynn, p. 361)
Primary goals are:
a. Destruction of the Christian-based foundation of Western and American civilization;

b. Dissolution of legal government;

c. Destruction of sovereignty and patriotism;

d. Demoralizing, atheitizing and bringing the people of the United States into slavery via liberated sin nature and penury via graduated income taxes, property taxes, inheritance taxes, sales taxes, a massive welfare state and now socialized healthcare;

e. The abolition of God-given right to life via reproductive rights (abortion) and euthanasia and of private property via onerous building codes, zoning regulations and restrictions and by taxing property out of existence and targeting inheritance with bigger and bigger taxes;

f. Destruction of the traditional monogamous family unit via divorce, co-habitation, alternative lifestyles, abortion, pornography, hedonism and homosexuality
Before the top-down spiritually pantheist world order dominated by an occult 'elite' can come into existence, there must be a politically correct philosophy of 'new' thought and a philosophy of pantheist-based natural religion and natural science to usher in the coming political, social, legal and educational aspects of the new order since New Age evolutionary pantheism is a politically communist, ecologically 'sustainable,' sexually androgynous way of living.
In her two books on New Age evolutionary pantheism, 'The Hidden Rainbow,' and 'A Planned Deception,' Constance Cumbey writes that these goals have largely been accomplished:
"The New Age Movement is a religion complete with its own Bibles, prayers and mantras, Vatican City/Jerusalem equivalents, priests and gurus, born again experiences (they call it 'rebirthing'), spiritual laws and commandments, psychics and prophets and nearly every other indicia of a religion." (Flynn, p. 361)
According to Cumbey, the Plan for the new order includes the installation of a New Age messiah, implementation of a New Age totalitarian government and new world religion under Maitreya.  As well, there are plans to implement a universal identification system, universal credit system, universal tax, universal draft, and a world food and water authority that will control all of the world's food and water supplies.  To ensure that all people worship the New Age messiah, authentic Christianity will be completely stamped out along with all faithful Christians.
Toward this end, the evil spirit energizing and directing the Revolution intends to fully possess the Christian faith and refashion it completely.  In furtherance of his goal, the devil has audaciously declared that the supernatural Holy God the Father Almighty has been isolated in His transcendence and is therefore dead, so though the notion of God is retained, the devil proposes a functionless God that perhaps serves to ignite the Big Bang and set evolution in motion.  
 According to the devil, the Revolution is now moving with great force and speed across America nearly unopposed and will not stop until every vestige of faith in the supernatural God has been obliterated in every heart. Every man, woman, and child will experience a counter-conversion—a Satanic Initiation in the words of New Age insider David Spangler—to a 'new' pantheist spiritualism dressed in Christian symbols and terminology, an anti-gospel preached by anti-saints from the void who will assure men of their salvation though they will find only the leering face of the devil.
No doubt you have heard about the War on Drugs, the War on Terror and the War on Happiness. However, you may not be familiar with the War on God, possibly because it would be an unpopular war to discuss publicly. By the "War on God" (definition) we mean the collection of strategies, methods and techniques which have the combined effect of preventing or seriously hampering the efforts of individuals to seek or achieve legitimate Spiritual enlightenment and the Soul's eventual return to God.
The War on God is an ancient war. While the United States and other countries play an active role in this war today, they definitely did not initiate the war. If you want to use the Christian bible as a reference, you could argue that the War on God began shortly after man was created and rejected God in favor of Satan. Clearly, in some form, the War on God has existed throughout human history.
Today, the United States has effectively broken off diplomatic relations with God. The oligarchs who run the country never physically die and so their souls stay on Earth. Apparently, the United States actually believes that its technology, occult knowledge and black magic skills place it in a position which is superior to God.
We know from whistleblowers like David Morehouse that the United States sponsors and trains a cult of psychics to carry out psychic espionage (remote viewing) and also assassinations using psychic black magic techniques. According to clips of his various interviews on YouTube, it was the training in psychic assassinations which caused Morehouse to become disillusioned, quit the secret program and blow the whistle on the operation. Other countries may well operate similar programs but the details will remain unknown until someone defects and exposes them.
The leaders of the United States have always worshiped Satan. The United States was founded by a cult of Satanists known as the Masons and remains under control of that cult today. By rebranding their cult as a nation state, the cult created the appearance of legitimacy. Cult secrets simply transitioned to state secrets. Cult threats to kill anyone telling their secrets transitioned to the crimes of treason and espionage.
Nothing really changed except for the rebranding from a cult to a government. Today, essentially all members of the CIA, NSA and NASA are Masons. All US presidents have been Masons with the two exceptions of Abraham Lincoln and John Kennedy who were both assassinated.
The term "national security" refers to the security of the cult and not to the security of the general population. The Masonic motto is "If you are not one of us, you are nothing". The cult exists only to enrich itself.
The Masons study and practice the occult. Serious study begins after they take a formal oath of allegiance to Satan at the 30th degree initiation. Basic occult knowledge is neutral and everyone who advances Spiritually learns it. However, Masons seek this knowledge to gain power and control over others as opposed to knowledge for personal advancement. This choice, commonly called the Left Hand Path, places them in opposition to the will of God.
If the Satanists simply wanted to sell their Souls to Satan and mind their own business, one could argue that they had that right because they had free choice. However, the situation is not that simple. The Satanic oligarchs did freely choose to worship Satan. However, they also desire a comfortable life. They don't want to do any "grunt" work. Therefore, they have enslaved the remainder of humanity and are holding their Souls prisoner on this planet to service their needs. Therefore, if you, as an innocent Soul, ever plan to escape from this place and return to God, it is in your interest to investigate and gain an understanding of this war so that you will have an opportunity to Spiritually evolve. Otherwise, your Soul will remain a prisoner here — lifetime after lifetime — serving the Satanic overlords essentially forever.
Earth Based Religions
The phrase Earth Based Religions (definition) refers to religious schools which seek and use knowledge, including occult knowledge, to enhance their experiences during their human lifetimes as opposed to using the same knowledge to foster Spiritual development with the ultimate goal of achieving a stable non-physical Spiritual existence.
Although Pagan religions are usually grouped into this category, a more careful examination would reveal that essentially all mainstream religions are Earth based religions. Mainstream religions make constant references to God and Heaven but never explain exactly what they are talking about. Their books concentrate on historical narratives concerning how people in the past lived and coped with the basic problems of human physical existence. They never give details of any level of Spiritual existence or even any specific hints about what life beyond death will be.
Let's try an example. Suppose you have never seen a motor vehicle. You have heard vague stories that they exist, but that is all. Then, suddenly, you find yourself behind the wheel of a car on a high speed road like the US interstate system or the A roads in Britain. What would you guess would be your chance of survival? Try less than zero.
Now suppose you physically die. Suddenly, you find yourself in your Astral body. However, no one ever told you that you have an Astral body. It does not operate under the same rules as a physical body does. It is a very pliant and nimble body. It can travel in time to the past or future, access any plane and subplane in the Astral universe and research the absolute accurate and incorruptible records system known as the Akashic Records to name just a few. But, as in the previous example, you never learned how to "drive" it.
You would have done fine on the highway if you had gradually learned to drive a motor vehicle. You would do fine after death if you had some experience and training with your Astral body. However, no one ever taught you. What practical use is any religion that constantly rants about Heaven but offers no practical advice about your life after this life?
This information may have been a guarded secret in the past, but those days are gone. You can research this information to your heart's content on the internet, locate legitimate Spiritual groups and learn from those who can leave their physical body and explore the non-physical dimensions. But, don't expect any help from a mainstream church.
You might do well to recall the famous quote attributed to Jesus, "The truth will set you free". Mainstream churches are large, rich institutions. They did not get that way by "setting people free". They got that way by terrifying their followers with ridiculous horror stories of what will happen to them if they do not obey their crazy doctrines, stay with them and give them all their money.
Gnostic and other "non-traditional" religions may be Spiritual based as opposed to Earth based. Jesus always reminded everyone that he represented a kingdom "not of this world". If we had accurate records of his true lectures we would no doubt find practical instructions and information about this "other world". We don't have this information because any practical Spiritual teachings he might have given were censored out to create the simplified — but Spiritually sterile — mainstream religions we have today. They are simple to comprehend and follow but will not lead you anywhere except another physical lifetime somewhere on Earth.
Life Before Technology
Before technology life was simple. Although existence was hard, the opportunity for Spiritual experiences was greater than today. Consider, for example, all the empty time you would have as, say, a sheep herder. Nothing to do except make sure the sheep kept moving. In this situation, there was ample opportunity for the mind to wander and perhaps contemplate and glimpse other realities.
Also, and perhaps most important, no electric grid existed on the planet. Electric fields appear as solid "matter" in the Astral dimension and so can affect Astral experiences — generally in a negative way. Artificially created electromagnetic waves which blanket the planet today also have subtle and generally negative effects on living creatures.
Pagan groups generally conduct occult rituals outdoors and away from high population areas. When buildings are used, it is desirable that they be made only of wood and assembled without any metal (nails) and, of course, have no electrical wires.
Both good and evil existed before technology as they always have. It was possible to use psychological propaganda to influence and control susceptible masses of people. However, the positive and negative forces were more in balance. It was not possible for a single group to successfully dominate the planet.
Drugs existed in the form of various plants. Adepts learned how to use them to help or harm others. People with developed psychic abilities existed as they always have and white and black occult schools existed. Legitimate Spiritual masters existed.
Some techniques that thrived have essentially become extinct because the population of the planet has devolved. It is next to impossible to successfully teach Tantra (sex yoga), because today's generation is incapable of the required level of self control. Classic Tibetan yoga techniques are still taught in isolated areas, but the masters — for good reason — will no longer consider trusting outsiders.
Information Control Techniques
Information control is essential for protecting the integrity of a compartment. People are held as slaves by constructing an information box which holds the slaves in an information prison. As long as the "walls" of the compartment remain impenetrable, the compartment — or belief system — will be stable and no slave will escape.
Considerable energy is required to achieve this. Those assigned to protect the walls obviously know that the compartment is an intellectual illusion. Therefore, they must be sworn to secrecy and intimidated in such a way that they will not compromise the integrity of the compartment. It only takes one "leak" to initiate a chain of events which could collapse the compartment and so allow the slaves to escape.
Consider, for example, the Snowden leaks. One person sharing knowledge has totally destroyed the illusion of privacy that most people had accepted as fact. It will not be possible to reconstruct this illusion. The compartment has collapsed.
Similar principles apply in the Spiritual spectrum. Because of the characteristics of the human bodies in use on this planet, most people do not retain any conscious memory of events before they were born. This is not universally true. Life forms on many other planets retain the memories of previous existences. Because humans generally do not have this recall, they are easily enslaved and can be conditioned to believe most anything.
To maintain a state of Spiritual ignorance it is important to institute methods which will prevent people from realizing that they are actually Souls experiencing a constructed illusion. People somehow reaching this state, sometimes referred to as "self realization", will no longer respond to establishment propaganda and are generally considered a threat to the current social order.
The easiest and most direct method to achieve a stable slave population is simply not to talk about anything even vaguely esoteric. For example, how often have you heard the words astral, chakra or aura mentioned on a mainstream TV channel?
Most people will then likely "remain asleep" throughout their entire lifetime and will be no problem. Unfortunately, people have a natural desire — even though it may be an unconscious desire — to Spiritually evolve. It is, after all, the true purpose of human existence.
When someone tries to break away from the contrived illusions more direct methods are needed to return the slave to a state of ignorance. Today, various methods which cause brain damage — generally performed by psychiatrists — are used to negate any success in Spiritual evolution and return the slave to a state of vacant contentment.
Diversions and Techniques Promoting Inaction
The simplest and most effective diversionary technique is to promote scientific atheismand darwinian evolutionary philosophy as established fact. If you can get someone to buy into this philosophy, their fate is sealed. Even if they experience some contact with another dimension, such as an out-of-body experience, they will follow their programming, dismiss the experience as a delusion and refuse to investigate further. When they die, they will be totally lost and confused, flounder around on some lower Astral plane and eventually reincarnate just as Spiritually ignorant as before.
A side effect of accepting scientific atheism, which totally cripples Spiritual progress, is the acceptance of suicide as a way out of life's problems. Suicide becomes a learned reaction. Consequently, when the Soul is sent back into another physical lifetime, it is likely to commit suicide again when faced with some unpleasant event. It never learns, and this cycle can repeat essentially indefinitely. Dealing with this is one of the most difficult problems faced by the administrators who work on the Astral planes.
For those who want more than scientific atheism, there is mainstream garden variety religion. Mainstream Christianity has developed a clever stonewalling technique that has worked to promote inaction for thousands of years. This technique is centered upon the argument that no one can make any progress until Jesus returns to show the way. In the meantime, people should just do nothing and wait. The effect of this is essentially the same as scientific atheism. No Spiritual progress is made.
Schemes designed to waste time are common. One really off the wall example is the decision in Syria to prohibit vacuum cleaners and standard flat brooms in homes. "Witch type" brooms consisting of a circular straw bundle are allowed. Surely there must be a good reason to keep these terrorist weapons out of the reach of the typical Syrian housewife. The official reason is to make basic housework as difficult and time consuming as possible so as to prevent the woman from having any free idle time which, if allowed, could lead to the emergence of "immoral thoughts". Perfectly logical!
In the western world, complex bureaucracies seem to be deliberately designed to make the path to whatever you want as difficult as possible. Here the apparent motive is to prevent the acquisition of enough free time for any independent thought process. There are just not enough hours in a day to allow for any quiet contemplation of anything.
"Blank time" is always reported as a factor in the development of Spiritual figures. Time alone in the wilderness, time spent meditating alone in some isolated cave or at least periods of dedicated quiet time somewhere figure prominently in historical accounts of these people.
You may know or have heard of kids who spend all their waking hours playing interactive role model video games with other kids on the internet. They eat meals by the computer and never leave except to briefly sleep before returning to the all important game. Their entire life is spent in an imaginary reality. You may want to consider that your "real" life may not be all that different. You play a role. Your attributes are fixed by what society expects based upon that role. You can't change, because others would notice. Your concept of the world beyond your little world is determined by what you see on TV. Daily, you receive your "fix" of carefully choreographed "programming" which appears unusually coherent because, as you may not know or fully comprehend, everything on TV is controlled by a few corporations and all of them are loyal to the official government party line. If you somehow had the opportunity to break from this structured "game" you play from day to day — say, the opportunity to visit other countries and see other cultures — you would likely realize that your existence has not been that much different from the kid addicted to a computer game. You would find that the actual "real" world had very little relationship to the world you had been conditioned to believe existed.
Chemical Control Techniques
"With the use of chemical brain-control agents it may be possible to control the individual and the masses and to do this unobtrusively and without the active cooperation of the victims — not a question for the future — it is here".
This is a quote from the book by Edgar Cayce titled Edgar Cayce on Atlantis. There are references to Dr. Robert Galbraith Heath, and this book bears a copyright date of 1968. The book cites an interview that Heath gave to a newspaper called The Virginia Lighthouse and cites the above statement made by him on November 20, 1966. Heath founded the Department of Psychiatry and Neurology at Tulane University, New Orleans, in 1949 and remained its Chairman until 1980.
During this period, Tulane University actively participated in the CIA mind control project known as MK Ultra [1]. Also, during this period, Tulane became an active member of the secret Institute for Defense Analyses, or IDA, a corporation whose only client is the US government. Heath reportedly performed many experiments there involving electrical stimulation of the brain via surgically implanted electrodes. This work was reportedly partially financed by the CIA and the US military. Heath is now "officially" [11] deceased.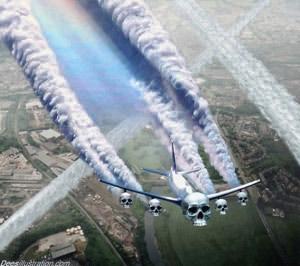 You have been drugged since you were conceived — before you were even born. Your mother was drugged. Soon after birth, you were injected with mercury containing vaccines. And the systematic process of poisoning you never stopped.
By some estimates at least eighty percent of the food in the average supermarket is poison either because it is genetically modified or laced with pesticides and other additives. Even the air is poison now because of geoengineering chemicals sprayed into the upper atmosphere.
It should be noted that things are different in the separate but parallel world of the elite. The Max Keiser show [12] discussed the secret gardens in Japan. These gardens are surrounded by high walls and guarded by the military. They produce the food for the ruling elite. Every plant in the garden has its own health certificate certifying that is pure, healthy and not genetically modified. Obviously, every developed country must have a similar secret supply chain of legitimate food for its ruling class. Certainly the elite know better than anyone that the food supply for the ordinary people is poison. They're not fools. They wouldn't touch the stuff.
Vaccines used for the elite are prepared without the mercury and other toxic additives found in vaccines given to the ordinary people.
Various agents — mainly from plants — have always existed which could be used by those aware of them to harm others or control people by altering their state of consciousness. However, only recently has it become practical to wreck the health of essentially everyone on the planet at the same time. Genetic modification of plants and other life forms used for food has made this possible. Now, quietly, people throughout the world can be sterilized, crippled with serious health problems or even killed by altering the genetic makeup of the food supply. Ordinary people remain generally ignorant of the fact that this awesome power exists and is presently being used against them.
Mind control has become a science. You can't major in it in college because this science is essentially entirely secret. The United States and other countries have spent the equivalent of billions of US dollars investigating and perfecting mind control.
Many secret research projects using unsuspecting or perhaps kidnapped people — some of whom were killed — have been conducted in the past and continue today. We only know about a very few of these projects such as MK Ultra, MK Naomi and Project Other. Even in these projects, specific details are sketchy. From these experiments, practical techniques for creating manchurian candidates and implanting created false personalities and identities have been developed and are in common use today within the secret communities.
Everyone has likely been the victim of some degree of mind control to some extent. Chemical weapons designed to mentally cripple people and render them drooling idiots are freely sold as prescription drugs in drugstores and are available to doctors to use as they please.
The lives of many kids are destroyed by these "drugs" because they have no ability to resist and their parents are ignorant and believe doctors can "do no harm". Actually, today's doctors are agents of the state. Many have top secret clearances and embrace classic Nazi philosophies such as eugenics. Their function is to watch you and make sure you "die appropriately" so as not to burden society. Anything they learn about you and anything you tell them is freely available to anyone in the intelligence community who is curious about you.
Only members of the super elite who are entitled to access top secret medicine will receive legitimate supportive medical care. Ordinary people will be deliberately allowed to die even though doctors with top secret clearances know of effective treatments which would cure them but which are classified and reserved for the chosen elite.
There is no such thing as an incurable disease any more. All the cures have been discovered. If you die, it is because you are not considered important enough to live and not because the cure does not exist.
Common sense should suggest to you that the lives of the elite have statistically different characteristics. For example, members of congress do not live sheltered lives. They work in close quarters and travel extensively both locally and internationally. They are always hanging out with prostitutes as well as playing with the young congressional pages.
Washington D.C. is reported to have more brothels than fast food joints. Strangely, however, these people do not get sick. Have you ever heard that congress had to shut down because everyone was coming down with some infection. It happens in other close populations, so what would make them exempt?
Understanding Astral Damage
Living things have an Astral component. For example, when you cut a leaf and then see the complete leaf on a Kirlian photo you are viewing the Astral component which was unaffected by cutting the physical component because it does not exist in the physical dimension.
Over one hundred years ago, practical techniques for viewing the human Aura were developed by Walter J. Kilner [4]. The original technique used dicyanin dye and a later technique used special glasses. You can't find either one today. In his research, Kilner was able to demonstrate that defects in the human Aura appeared before some corresponding disease manifested in the physical body.
Therefore, he was able to detect and prevent an adverse physical condition before it ever physically materialized. So, you ask, why don't we have this marvelous medical technique available today? Well, we do. It is in use in top secret medicine. However, only the approved elite now have access to it. The information has been removed from public knowledge and classified.
In conventional allopathic medicine, which is based upon scientific atheism and sold to the general public, there is officially no such thing as an Astral body. Conventional medicine denies the existence of anything beyond the physical dimension. Since the Astral body officially does not exist, it is not recognized as a crime to deliberately harm it.
Damage to the Astral body can be compared to damage to the physical body. If you punch holes in the physical body by cutting it, shooting bullets at it or whatever, blood runs out and germs get in. If you cause enough damage, the body dies. Astral bodies do not die, but can suffer critical energy losses. Similar to physical bodies, punching holes in the Astral body allows essential energy to escape and harmful energies to enter.
There are many events which can harm your Astral body. It is in your interest to understand these events because your Astral body will be your primary body when your physical body dies. If it has been damaged, you will be at a severe disadvantage. The chosen elite have perfect Auras because they can use the Aura balancing machines available to them at any top secret medicine provider. However, you cannot.
Also, the ruling elite seem to take some delight in causing harm to the "ordinary" people. Consequently, many drugs, food additives, GMO foods and industrial chemicals found in the environment cause Astral damage. Chemicals recognized as poisons and banned in other countries can be freely added to foods given to ordinary people in the US.
Obviously, there must exist a secret supply chain of safe food and water which is available to the chosen since they know of the contamination and certainly would not want to harm themselves or their friends.
There are ways to closely duplicate the secret techniques available only to the elite. If you can see auras or can find a reputable psychic who can, you can approximate the techniques developed by Kilner and available to everyone over a hundred years ago. Although the secret aura balancing machines are more accurate, a competent psychic healer can do the same thing. Actually, since psychics have always existed, similar techniques have been available throughout the ages to those who were aware.
Fluoride
The concept of adding fluoride to drinking water for the purpose of mind control is said to have originated in the 1930′s as a result of collaboration between German and Russian scientists [2]. Sodium fluoride was originally used and was found to cause a "mild lobotomy" in people who consumed small quantities. The effects were considered to be non reversible after one year of continuous use of the tainted water. Hitler added sodium fluoride to the water in his concentration camps to make the prisoners docile and cooperative as they waited for death.
Sodium fluoride (NaF) is used today in personal products like toothpaste. To poison the water supply of an entire country with sodium fluoride would be expensive. However, it just so happens that there is a waste product created during the manufacture of phosphate fertilizers, Fluorosilicic acid (H2SiF6), which is classified as hazardous waste and would be expensive to dispose of under EPA guidelines.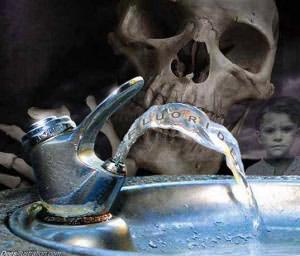 There is lots of this stuff available. This is the poison added to the public water supply in the US and some other countries. It is actually economical for industry because they don't have to pay for hazardous waste disposal. They just pump it into the public water supply.
In the human body, fluoride has an affinity for the pineal gland in the brain. The pineal gland is associated with the "third eye". Everyone has this third eye, but few are aware of it or know how to activate and use it.
Although the pineal gland is part of the physical body, the associated third eye is part of the Astral body and so is invisible in the physical dimension. The third eye allows you to see and communicate with the non-physical dimensions while fully awake and functioning in the physical dimension. So, you could see and carry on a conversation with someone in the physical dimension while invisibly also viewing and communicating with some entity on another plane of existence.
The standard Christian bible refers to the third eye with the phrase, "If thy eye be single thy whole body will be filled with light". However, only students of mysticism would recognize the true meaning of this quote.
Obviously, having this ability would be a threat to the security of any totalitarian society. Poisoning with fluoride destroys this ability and so solves that problem. Literature is available if you wish more detailed information. Simply search using the phrase "fluoride third eye".
On the chance that fluoride in the water is not sufficient to destroy any psychic abilities you may have, there are more aggressive ways to get fluoride into your brain. Here are some structural models of popular psychiatric drugs:
Notice that the element Fluorine (symbolized by its standard chemical symbol "F") figures prominently in all these compounds.
These drugs are used to cause "chemical lobotomy". By blocking communication channels with the higher levels of the human brain, they effectively convert the victim into a lower form of animal. Lower animals do not have the frontal lobes possessed by humans. That is what makes humans special. Disabling the frontal lobes effectively transforms a natural human being into, basically, a docile and obedient house pet which can be trained like a dog.
Incidentally, Fluorine also figures prominently in Sarin nerve gas.
For a more in depth study search YouTube for the free documentary Flouridegate — An American Tragedy by David Kennedy.
They All Drink From the Same Trough
If you casually look out upon the institutions of the world, it may appear to you that they are independent, discrete entities. However, they are not. They are all components of a collective which has successfully hidden its existence and true nature from the general population for generations.
Let's begin with the media in the US. Although it may appear to you that there are thousands of independent sources reporting "news", 90% of all media is controlled by six corporations. They are General Electric, News-Corp, Disney, Viacom, Time-Warner and CBS.
In the US, people believe they are protected from tyranny by the concept of "separation of powers" — that the executive, legislative and judicial branches of government are staffed by independent thinkers who "check and balance" each other. This is also a deception.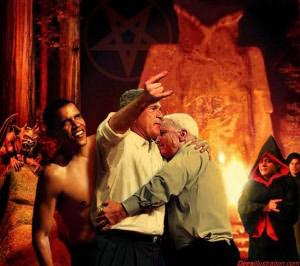 Once a year, at the end of July, there is a secret gathering on private property in the redwood forest of California called the Bohemian Grove. Although this annual meeting has been going on for over one hundred years, it is only during the last several years that outsiders have begun to learn of its existence. The only reason they have is because of the internet and independent journalism. Leaders from the mainstream media are all members of this secret club and so never even report its existence.
Who else goes to this annual secret "party"? Well, for want of a better name, we will call them the "Trusted Satanists". They are the leaders of all the major corporations, banks and representatives from all the major branches of the US government as well as foreign governments.
Although these men outwardly support the concept of capitalism for the masses, this elite group, among themselves, are perhaps best described as "rich socialists". Only men are allowed. For recreation, a stable of prostitutes — both male and female — are kept nearby off-site. The male prostitutes could theoretically enter the Grove.
The "party" begins with a Satanic ritual called "Cremation of Care" (i.e., "we don't care") which features the burning of a coffin at the base of a huge statue of an owl. Walter Cronkite reportedly was the official announcer at the grove until his death.
A secretly filmed video of this event is available on YouTube. It is supposed to be a "simulated" child sacrifice. However, since the CIA, FBI and NSA attend the ritual, who is going to complain on the chance it is a real sacrifice of a human child? After all, they are all trusted Satanists.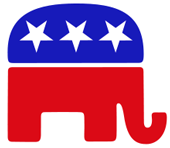 Most attendees from the United States are members of the Republican party. This is completely predictable in view of the fact that the US Republican party flaunts its affiliation with the "dark side" by prominently using the inverted star symbol on its official logo.
During the two week period, corporate leaders, the "independent" government regulators who supposedly keep corporations honest, the leaders from the executive, legislative and judicial branches of US government who are supposed to be "checking and balancing" each other, as well as the media moguls who we "trust" to report the truth, are all running around naked in the woods — pissing on the trees, playing with each other, and the male prostitutes as well as the off-site female prostitutes, and "having discussions".
Well, what are they "having discussions" about? They are discussing what they plan to do with "their world". The Manhattan Project to develop the first atomic bomb was reportedly planned at one of these discussions years ago. What about you? What about your future? What about any expectation of happiness you may have? Well, you see, you "don't need to know". Remember, "If you are not one of us, you are nothing".
Blueprints For the New World
Overview
If this link [7] is still active, it would be in your interest to read through it. This document is a transcript of a speech given by one of the insiders in the year 1969. He boldly states,"Everything is in place and no one can stop us now".
The article details how people ("people" means the slave class who are "nothing"; recall: "If you are not one of us, you are nothing") will just have to get used to changes such needing permission to have children, accepting mandated euthanasia as the law and total surveillance. Essentially all goals are now achieved, although some still remain guarded secrets.
The 1960′s was the period when physical death was eliminated. Of course, this "privilege" is only available to the select Satanic oligarchs. Effective cures for all diseases were also developed. The speaker [7] states that the cures are on file in the Rockefeller Institute. Of course, most are classified and only available to the chosen elite.
Infrastructure
The PBS documentary, Top Secret America [8], presents a good overview of the secret world of the elite. You may think no one is paying attention to the infrastructure in America because streets are in disrepair and bridges are falling down. However, you would be wrong. A tremendous amount of money is being spent on infrastructure in America — for the chosen elite. You will never see it and you will have no need for the decaying bridges and streets because you won't be around to use them. You, as well as 90+ percent of the current population, will be killed in the "Great Culling".
The new infrastructure is quite elaborate as the documentary explains. It consists of thousands of buildings which have a few stories visible above ground but which then extend for 90+ stories underground. All amenities are available within these secret structures which are basically self-sufficient.
It is important for the buildings to reach deep underground so that the lower levels can connect to the secret underground transport network. This network is global and provides safe high speed transport for the elite. Whenever the network crosses a tectonic plate, massive amounts of silicone are used to allow the transport tunnel to flex as needed. The network has access points in all countries. However, these points remain secret in countries which have yet to be subdued and co-opted into the new world order.
NWO Enabling Documents
The treaty known as the Trans-Pacific Partnership appears to be the formal enabling document for the new world. The actual document is secret and only high level corporate executives and politicians are allowed to see it.
Even after the treaty goes into force, its contents will remain secret. Because, in the United States, treaties must be openly debated in congress, the treaty is being called an "agreement" to circumvent the law and keep its contents secret. However, some details have become known.
Although the planet is officially divided into "sovereign" countries, it is overlaid with a network of transnational corporations. This network basically forms a parallel government which encircles the globe. The Trans-Pacific Partnership is designed to cause any country which signs on to surrender its national sovereignty to a secret committee composed of corporate executives. This committee can then alter the constitution and laws of any country which has accepted the treaty as suits their whim. There will be no appeal against this.
Under the treaty, there will be only one purpose to human life. That purpose will be to maximize the profits of the cabal of transnational corporations which will now be essentially a single global corporation in absolute control of the world. This effectively institutionalizes the new world order.
What does this mean for you? Well, to begin with, there can be no retirement. Paying for retirement would negatively impact corporate profits. So, if you can't work, you will be killed. Taking care of sick people would also drain corporate profits. It would be more profitable just to kill the sick and replace them with young, healthy slaves. Disabilities — forget it — disabled kids will never make it out of the womb alive.
Reeducation
To come into compliance with the philosophy of the new world, people will need to be reeducated. Military instruction documents [6] are already teaching that the Founding Fathers of the United States were extremists and anyone who thinks like them would not be suited for today's military.
Well, what did these radical extremists think?
"We hold these truths to be self-evident, that all men are created equal, that they are endowed by their Creator with certain unalienable Rights, that among these are Life, Liberty and the pursuit of Happiness."
Obviously, these principles are not compatible with the new world. The idea of a "Creator" conflicts with the official doctrine of Evolution. We can't have that. People must accept that they and the universe they live in is simply an "accident".
People are already realizing that Liberty and Happiness are gone. They know now that they live under constant surveillance and their lives get worse year after year. How about the right to Life? Can't have that. People need to be reeducated to believe that it is their "duty to die" when they are no longer useful to the state (which is now the global corporation).
Of course, the global elite will live physically forever but ordinary people will not know this.
If a world where people are conditioned to want to die and do not want kids but just sleep around for fun sounds vaguely familiar to you, you might recall that this is the future society described in Huxley's classic novel, Brave New World.
Population Modification
Please refer to [9] as a reference source. Today's "great thinkers" seem to be coming into agreement that most people are unnecessary and need to be exterminated for the convenience of the elite. Bill Gates, who has now been accepted into the super exclusive Bilderberg group, has reportedly taken the task of exterminating the third world population by giving them "free" vaccinations which will render them sterile.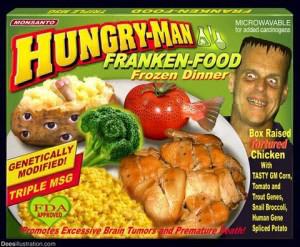 Lots of groups are working on secret sterilization methods. European tests of Monsanto's GM soybeans on hamsters showed the animals became sterile by the third generation [12]. A new gene known as Epicyte [9] is planned to be added to GM corn which will cause immediate sterilization.
Additionally, people are being "eased into" accepting the concept of "after birth abortion". Intellectuals are trying to get people to accept the argument that living human children under three or perhaps even five years old are really "not people but advanced feotuses". Since abortion is already legal, a simple change in the definition of "feotus" would allow young kids to be killed at will for any reason.
Another "new thought" gradually being programmed into the young is the pleasure of the "childless lifestyle". This propaganda seeks to convince people that having kids is too much trouble and they will be happier if they just get sterilized and then run around having lots of sex purely for fun.
These "evolutionary" population control techniques are already in effect. However, the elite likely are not willing to wait several generations to get rid of those they do not need. This brings us to the more direct method commonly called "The Great Culling" which will allow the elite to kill off most of the world's population quickly.
The most likely method will be the release of new designer viruses for which no one will have any natural immunity. Of course, the elite will all get the classified antidote. Preparations for the disposal of the bodies is already complete and stockpiles of plastic coffins — each designed to hold three bodies and manufactured under government contract by Halliburton — have been photographed and documented. Everything is now in place awaiting the "go" command.
Designer Children
Some types of designer children have already been approved for "production". Britain has approved three parent babies [10] and China has proposed a process to artificially fertilize most of a woman's eggs and then examine them to determine which is likely to produce a child with the highest IQ. This will be the only selected egg because Chinese women are only allowed to have one child and must then be sterilized.
In the new world where the only purpose of people will be to do slave labor to serve the elite corporate masters, the concept of allowing the existence of children conceived naturally clearly cannot be allowed. There would be an unexceptable chance for some kind of error that could result, for example, in the creation of a being capable of independent thought who might challenge the establishment.
A man's true worth is measured by the amount of other people's happiness that he can possess and destroy
This is a quote from the docudrama The American Ruling Class [5]. It is worthy of discussion because it is so prophetic.
The Satanic oligarchs who run this world basically exist and thrive on the misery of others. It is not enough just to use and abuse you — they want to consume your Soul. Your misery and suffering is, essentially, their "food". It is the source of their energy.
Ordinary innocent Souls are sustained by the life energy which flows from the Creator. However, since the oligarchs hate God, this energy flow is not available to them. So, they essentially survive by consuming the life energy of the innocent Souls they have captured and enslaved.
Ordinary people do not naturally choose to spend their lives in a state of constant war. They have to be somehow coerced into this behavior. Otherwise, they would likely seek a quiet, peaceful life. The atrocities the US and other warmonger nations force their citizens to commit are so contrary to basic human nature that the US loses more soldiers to suicide than it does to the enemy. The once innocent soldiers find that they simply cannot continue to live with what they have become and the memories of the horrors they have caused to others. The Satanic rulers who create wars, of course, have no problem with this.
Promotions within the inner circles of power are based upon how much evil one has done. The more harm you cause to others the greater your respect. You may have noticed that the stock market, which is a measure of the success of the elite, shows gains during periods when the average person is suffering and losses during periods when, somehow, life for the ordinary person seems to improve. The stock market set a new all time high, for example, during the Vietnam War when innocent young kids were being drafted and slaughtered in Vietnam while peaceful protesters at Penn State were executed by government forces for daring to dissent.
Why You Should Care
On the low Astral planes you will find people — Souls — who are totally lost and confused and seem to move in slow motion. They do not realize they have died. These "people" are not there because they tore up the Bible or burned the Koran or some other offensive act. They are there simply because it is the best they can do. They are using all of the Spiritual energy they have just to maintain this miserable existence. Whatever activities they engaged in while alive had no Spiritual merit and had no effect on developing or increasing their Spiritual energy level. Since the opportunity to do this ended when they died, they will remain strung out in this condition until they reincarnate again at which point they will have another chance to choose activities which enhance Spiritual energies.
You should care because the things you do and the things you fail to do during your brief life here will affect your existence for millions of years in the future.
The other dimensions operate under exact scientific rules just like this dimension. However, the rules are not the same. Because alternate sources of information are available today — mainly because of the internet — it is in your interest to at least investigate the available literature on Spirituality, energy raising techniques and various first-hand reports from people who have successfully visited the neighboring dimensions.
Source:  Walter C. Vetsch   |   3108.info  |  War Is Crime
America's 'New' Reality of Non-Self and Madness…
In the wake of the insurrection against the living, personal God of Revelation that began during the Renaissance eventuating in the proclamation of the death of God and cataclysmic eruptions of fire, brimstone and rivers of blood during the 20th century, ex-atheist Alexander Solzhenitsyn said the world had never before known,
"…godlessness as organized, militarized, and tenaciously malevolent as that practiced by Marxism. Within the philosophical system of Marx and Lenin, and at the heart of their psychology, hatred of God is the principal driving force, more fundamental than all their political and economic pretensions. Militant atheism is not merely incidental or marginal to Communist policy; it is not a side effect, but the central pivot." (goodreads.com)
In his analysis of Marxist Communism and its' alter ego, scientific materialism, Frank Meyers, an early conservative intellectual concluded that Communism is the state form,
"….taken by a materialist faith determined to rule the world."  Godless Communism is the "final synthesis of all heretical tendencies that have pervaded Western civilization for many centuries."  It is materialist scientism of which, "Communism is the culminating hubris of the Promethean man who reaches out for the world and means to remake creation.  It is scientism gone political." (The Conservative Intellectual Movement in America, George H. Nash, pp. 251-252)
Both scientific evolutionary materialism and its new age evolutionary pantheist counterpart belong to the family of 'new' pagan or modern naturalism.  Modern naturalism refers to a one-dimensional view of reality grounded in a monist pagan philosophy holding that only void, matter and evolutionary (developmental and change-making) energies exist.  Therefore void, matter and energy are the Ultimate One Substance of which the universe consists and with which all life is in continuity, thus "all is one" and "everything is perpetually evolving and ascending."
The main difference between these two views resides in whether matter is thought to be physical (i.e., Greek Atomism) or spiritual (Hinduism). However, both views share in common the following:
Hatred of the supernatural God of Revelation and of man as His spiritual image-bearer
One dimensional views of reality
An inverted account of  origins and history lending itself to the notion that since there was no fall then Lucifer is not the devil and men are not sinful but rather evolving into gods
Scientific materialism or its' New Age spiritual science counterpart
Evolutionary conceptions.  These serve two main functions. First, as a mechanical process of development and second, as a mechanism for purification of matter
The nihilism of Buddha
Jesus Christ to Buddha,
"…you took God away (and) your espousal of an absence of self is the most unique and fearsome claim you made." (The Lotus and the Cross: Jesus Talks with Buddha, Ravi Zacharias, pp. 59, 67)
Life is only with the living God of Revelation, the creator and upholder of the life and being (soul/spirit) of men.  But if He does not exist, it logically follows that there is no ultimate source for life, conscious being, meaning and purpose; or for the sanctity of human life, worth, dignity, individual liberty and personal property.  Without God the Father Almighty unalienable (God given) human rights are as meaningless as America's founding documents have become in our Godless pagan society.
If man is not God's spiritual image-bearer then he is less than nothing, a conclusion Buddha reached long before Jesus Christ God Incarnate walked this earth:
"Six centuries before Jesus Christ, the Buddha already knew that if God does not exist, then the human self cannot exist either…Therefore, he deconstructed the Hindu idea of the soul.  When one starts peeling the onion skin of one's psyche, he discovers that there is no solid core at the center of one's being."  Thus your sense of self becomes illusion, "Reality is nonself…You don't exist. Liberation, the Buddha taught, is realizing the unreality of your existence." (The Book that Made Your World: How the Bible Created the Soul of Western Civilization, Vishal Mangalwadi, p. 6)
Naturalism: the Antithesis
Modern naturalism is in every way the antithesis of God's Revelations and Christianity, the spiritual and moral foundation of Western civilization.   For fifteen hundred years, Christendom and then later Protestant America had affirmed the biblical view of total reality. In this historically unique view total reality consists of two interfacing, interactive halves: the seen (natural) and the unseen (supernatural).
According to this view, man faces both unseen and seen and interprets truth against these two interfacing halves of reality.  Thus Paul declares that as men live out their lives they are spectacles, "unto the world, and to angels and men." (1 Cor. 4:9)
In opposition to modern naturalism's one dimensional view, Paul affirms that total reality consists of two halves, hence this earth (the seen) is really a theater and men are actors on its stage observed not only by other men (the seen) but by the Spirit of God and angels (the unseen).
Though men cannot see the Spirit of God and very rarely see angels they can see, hear and interact with men.  The Spirit of God opens our eyes to understanding (Ps. 118: 34, 125, 144), tests our hearts, knows out secrets, motives, and thoughts (Psa. 17:3; 44:21; 139:1-4).
Both holy and unholy angels are all around us, watching, listening, helping and protecting if holy, if unholy then binding the disobedient to their power.   Just as the Lord of Hosts gives His Holy Spirit to those who love and obey Him, He can send evil spirits upon those who are rebellious, live in persistent sin, practice occult arts or men who in their pride, covetousness and envy reject and hate Him as was the case with Karl Marx and Nietzsche, the apostate Christian philosopher who proclaimed the death of God.  Unto these men the Lord of Hosts sent evil spirits just as He sent one to King Saul (1 Sam. 16:14).   The evil spirit influenced and disordered Saul's thinking, afflicted him with obsessions and paranoia, befouled his conscience, and inflated his disordered passions thereby, "filling him with unrest, anger, fear and murderous intent."  (Occult Bondage and Deliverance, Kurt E. Koch, p. 137)
Dr. Kurt Koch (1913-1987) was a highly respected German minister who pastored, counseled and delivered in excess of twenty thousand people suffering from demonic subjection. According to Koch, demonic subjection is an increasingly common occurrence in post-Christian Western and American society.  Most people have little or no clue that they are in fact demonically subjected while some people, such as Marx, Nietzsche, Hitler and Stalin seem to possess a limitless supply of demonic energy, especially when engaged in imposing their will over the wills of others.
There are many underlying causes of demonic subjection.  Koch delineates some of the leading ones common to apostatizing America:
"If a person blatantly lives a life of sin and persistently resists the Spirit of God and remains completely unrepentant, or…carries the sin of murder or abortion on his conscience, or has committed perjury or practical incest, if he has cursed his fellow men or blasphemed against the cross or against Christ, the Holy Spirit, or God, then he will have laid himself open to the devil's attacks.  Every curse is in fact a cry to the devil, and can…lead a person into bondage." (Koch, p. 138)
"….God created man in his own image…..male and female created he them." Gen. 1:27
According to the uniquely Christian view of total reality, the essence of the human is not the body and brain (the seen) but the unseen…the soul/spirit:
"It is the soul alone that God made in his own image and the soul that he loves…For the sake of the soul…the Son of God came into the world…" (Incomplete Work on Matthew, Homily 25, Ancient Christian Devotional, Oden and Crosby, p. 153)
Building off of the view of man as embodied spirit, St. Augustine (AD 354-430) affirmed that as all men are the spiritual image bearers of the supernatural Triune God in three Persons, then it logically follows that each man is a person; a trinity of being comprised of soul/spirit (unseen), and body, brain (seen).
The citadel of the soul is spirit (heart).  Spirit is immortal and self-aware.  It can will and think and is responsible for what it wills, thinks, speaks, and acts on while in this world.
Spirit is the unique property that distinguishes soul from the material body in which it is fully embedded.  In Biblical thought, spirit allows man to spiritually transcend the natural dimension in order to access the third Heaven.  By way of prayer and petitions the spirit of man's mind allows him to enter into a personal relationship with the Spirit of God.  Through this relationship, spirit is renewed over time, thus enabling man to more perfectly orient the manner of his thoughts, passions, words and actions in this world in preparation for eternity in Paradise.
In Christian thought, a person is a spirit (self) and personality is the total individuality of the spirit.  Without spirit there is no 'self,' hence no person.
The key to personal liberty in the natural or sensory half of reality is man's spiritual liberty contrasted against a genetically pre-programmed animal-like orientation.  Animals have souls but not spirits, the basis of intelligence, sensitivity, imagination, self-consciousness, reflection back and forward into time, and the capacity for truth and moral goodness.
A person is uniquely free because he can spiritually transcend his material brain to access the Spirit of the Lord as Paul affirms:
"Now the Lord is Spirit, and where the Spirit of the Lord is, there is freedom." (2 Cor. 3:17)
Vishal Mangalwadi, India's foremost Christian intellectual observes that this historically unique concept of man as God's spiritual image-bearer gave birth to the "belief in the unique dignity of human beings," and this is the force,
"…that created Western civilization, where citizens do not exist for the state but the state exists for the individual.  Even kings, presidents, prime ministers, and army generals cannot be allowed to trample upon an individual and his or her rights." (Truth and Transformation: A Manifesto for Ailing Nations, Mangalwadi, pp. 12-13)

One-Dimensional Godless Naturalism: the Reality of Non-Self
Modern naturalism, whether of materialist or pantheist permutation positing a non-existent immanent conception of deity (i.e. Omega, Gaia) is at bottom Godless, and said Ravi Zacharias,  absolutely nothing,
"… has a more direct bearing on the moral choices made by individuals or the purposes pursued by society than belief or disbelief in God." Key issues of the day "whether it be…sexual orientation and practice, or life in the fetal stage, sooner or later filter down to whether there is a God, and if so, has he spoken?" (The Real Face of Atheism, Zacharias, p. 21)
In "The Gnostic Religion," Hans Jonas provides a full-scale study of the heretical world of pre-Christian and Christian era pagan Gnostic nihilism together with its modern variants:  materialist and pantheist naturalism.
Jonas writes that while ancient Gnostic pagan man was thrown,
"…into an antagonistic, anti-divine, and therefore anti-human nature, modern man (is thrown) into an indifferent one." (p. 338)
The ancient gnostic conception was still anthropomorphic despite the nihilism, hostility and demonic.  But its' modern counterpart with its' indifferent nature, its' completely godless, soulless, anti-human, demonic nature, represents the "absolute vacuum, the really bottomless pit."
At least the ancient Gnostic dualism, as fantastic as it was, was at least self-consistent, as there was the illusion of a source for 'self' (being).   Not so for its' modern counterpart:
"So radically has anthropomorphism been banned from….nature that even man must cease to be conceived anthropomorphically if he is just an accident of nature.  As the product of the indifferent, his being, too, must be indifferent.  Then the facing of his mortality would simply warrant the reaction, 'Let us eat and drink for tomorrow we die." (ibid, p. 339)
In conclusion:
"…modern nihilism (is) infinitely more radical and more desperate than gnostic nihilism ever could be for all its panic terror of the world and its defiant contempt of its laws.  That nature does not care, one way or the other, is the true abyss.  That only man cares, in his finitude facing nothing but death, alone with….the objective meaninglessness of his projected meanings, is a truly unprecedented situation." (Jonas, p. 339)
In other words, the death of the living God of Revelation means there is neither source for life and 'self' (soul/spirit) nor for higher truth and morality, purpose, meaning, salvation and eternity.   For depersonalized man, the evolved ape or bag of chemicals, there is nothing—no heaven above, no hell below and no,
"…. vast mind behind the framing of the world; no transcending voice giving counsel to this world…no light at the end of the tunnel (hence only) the loneliness of existence in its most desolate form."  (Zacharias, p. 27)
The determined assault against the living Holy God that began during the Renaissance gained speed and force with the materialist implications of Darwin's neo-pagan theory.  The idea that humans evolved by chance and natural selection from non-life bearing chemicals lay the axe at the very foundation of the Genesis account of creation ex nihilo.  On the heels of Darwin's theory Christianity came under forceful attack allowing a one-dimensional worldview draining into nihilism to be declared a scientifically supported reality.
Darwin's "Origin of Species" was published in 1859 and instantly and uncritically accepted by people such as Karl Marx, T.H. Huxley, Herbert Spencer, Ernst Haeckel in Germany and large numbers of clergy more eager to be thought scientific and modern than to defend the faith once given.
For materialist and pantheist alike, Darwin's theory was a wish come true and so became the center of their respective one-dimensional worldviews.
The demonized Karl Marx hated the God of Revelation and his exuberance for Darwin's idea prompted him to consider dedicating his Das Kapital to Darwin, an honor which he declined.  Since Marx favored scientific materialism the rationale behind his invitation to Darwin was that he saw how Darwin's materialist theory provided a scientific framework to support the economic infrastructure on which Marx could build his godless communist utopia.
Darwin's materialist theory and Marxist materialist presuppositions (economic theory based on envy and hatred of God) together with Freud's materialist-based analysis of religion and human sexuality threw faith in God and Christianity "over the wall of civilization,' said Zacharias:
"With such abusive attacks directed at religious belief coming from so many directions, it was left for someone to cast this creature called theism completely out, and exorcise the world of all such influence.  The one who did that was the German philosopher Friedrich Nietzsche." (p. 25)
By the time of Nietzsche, perceptive thinkers had already been expressing apprehension at the prospect of multitudes of unsuspecting Westerners who would eventually be cruelly exploited by anti-human haters of God.
With Nietzsche, dreadful apprehension deepened into certainty, for Nietzsche despised religion in general, but upon Christianity he poured his unbridled fury:
"I call Christianity the one great curse, the one enormous and innermost perversion, the one great instinct of 
revenge, for which no means are too venomous, too underhanded, too underground, and too petty." (Nietzsche in "The Life of Nietzsche," Faru Forster Nietzsche, 1921, p. 656)
However, rather than mindless infatuation for Darwin's idea, Nietzsche (1844–1900) harshly criticized it:
"What surprises me most when I survey the broad destinies of man is that I always see before me the opposite of that which Darwin and his school see or want to see today: selection in favor of the stronger, better-constituted, and the progress of the species. Precisely the opposite is palpable … I incline to the prejudice that the school of Darwin has been deluded everywhere…" (Nietzsche: The evolutionist who was anti-God and anti-Darwin, Russell Grigg, creation.com)
Nietzsche was not anti-evolution but rather had his own evolutionary conception which he called "the will to power."
While Darwin received his idea from his pantheist grandfather Erasmus Darwin, Nietzsche's conception was preceded by mystical ecstasy.  Nietzsche experienced two mystical encounters with the first one taking place in August, 1881.
Charles Andler writes that previous to his scientific reasoning, Nietzsche received revelations during mystical encounters just as Spinoza did.  Mystical ecstasy,
"…. preceded (Spinoza's) system and his geometric form, thus, with Nietzsche mystical ecstasy preceded his scientific reasoning." (Charles Andler cited by Henri De Lubac, "The Drama of Atheist Humanism," p. 481)
According to Henri De Lubac, secret knowledge was revealed to Nietzsche that he was "….the first of men to know.'   The shock of it was sudden and profound.  Though no direct document relates his experience sure evidence is found in an agitated page of Ecce Homo where Nietzsche wrote:
"Suddenly, with sureness, with indescribable delicacy, a thing makes itself seen, makes itself heard.  It shakes you, it overwhelms you right to your innermost depths.  You hear it…You let it fill you….A thought blazes forth like a flash of lightening…It imposes itself as a necessity…I never had to choose it.  It is an ecstasy….You are enraptured, taken outside of yourself…All of this…is accompanied by a tumultuous feeling of liberty, of independence, of divinity…There you have my experience of the inspiration." (Lubac, p. 472)
In the months that followed he remained silent about the knowledge he received.  But in August of 1882 he discussed his experience with Lou Salome.  Salome writes that Nietzsche spoke of his encounter only in obscure words and with hushed voice.  Giving "every indication of the most profound horror" Nietzsche described the terrible and marvelous revelation he had received with two words: Eternal Return. (ibid, p. 473)
In the autumn of 1882 he experienced his second encounter which he described in the poem Sils Maria:
"I was sitting and waiting, without waiting for anything/Beyond good and evil, tasting Light sometimes and sometimes shade/Absorbed by this brew…When suddenly…what was one became two, And Zarathustra passed before me…" (ibid, p. 475)
It was a vision without a doubt, precise and sudden:
"I could tell you the day and the hour….Zarathustra has fallen on me, he assaults me.."  (ibid)
Zarathustra was an evil spirit who confirmed to Nietzsche the 'truth' of the revelations already received, which included man's evolution from worms:
"You [mankind] have made your way from worm to human, and much in you is still worm. Once you were apes, and even now the human being is still more of an ape than any ape is." (Nietzsche, Thus Spake Zarathustra, Zarathustra's Prologue section 3, trans. by G. Parkes, Oxford University Press, New York, 2005, p. 11)
Henceforth, Nietzsche is an inspired prophet who knows for certain that the God of Revelation is dead, that man's evolution from worms is absolutely true, and that he is Jesus Christ's successor, the 'new' Christ.  Within ten days he drafted by way of automatic writing the whole first book of his prophecy.  He called his finished work Zarathustra, the new Bible of scientific evolutionary naturalism, and told the world to throw away all other books, for now you have my Zarathustra, "a new Holy Book." 
It was Nietzsche, the 'new' Christ, who saw that the death of the personal God had already begun to cast its first dark shadows over Europe, and though,
"the event itself is far too great, too remote, too much beyond most people's power of apprehension, for one to suppose that so much as the report of it could have reached them," still its advent was certain, and it was men like Nietzsche, the 'new' Christ who were "the firstlings and premature children of the coming century," the century of the "triumph of Nihilism." (Nihilism: The Root of the Revolution of the Modern Age, Eugene Rose, p. 44)
Nietzsche was the first apostate Christian to gaze fully upon man's loss of faith and its terrifying consequences.  With no living God 'up there' to obstruct his vision, the nihilism he saw was agonizing.  As there was no longer any Light from God above, there was only darkness in the hermetically sealed world below.  The paralyzing darkness that overtook the mind of the 'new' Christ was spiritual.  It was not so much,
"….an exterior phenomenon crowding inward but rather an inner blinding that spread outward." (Ravi Zacharias, p. 27)
This was precisely Nietzsche's point.  With the death of the personal God of Revelation the darkness of objective meaninglessness would penetrate every avenue of thought and life, making life itself unbearable with the consequence of hedonism, abortion, euthanasia, sodomy, suicide, drugs, crime and murder becoming virtues.
Speaking through the writings of the 'new' Christ, Zarathustra went on to say that because God had died in the 19th century there would follow two terrible consequences beginning in the 20th century. (Romans 1:18)
First, the 20th century would become one of the most evil century's in history, and second, a universal madness (Romans 1:21, 22) would break out and turn the once glorious W. Europe and America upside-down.
Though apostates and the apostatizing professed themselves wise, their cognitive thought processes would become darkened (vain) and with their conscience dead to sin they would become fools, meaning they would accept and publicly profess incredibly stupid conceptions of themselves (i.e., man is an evolved worm, ape or robot; man is evolving into god).
"And I will give children to be their princes, and the effeminate shall rule over them." Isaiah 3:4
In turning away from the Spirit of God and the truth He has given, 'wise' males will become effeminate cowards and females mannish.  They will be adolescent emotional-tyrants in adult-size bodies: sinister, greedy, spiteful, vindictive, treacherous, back-stabbing sophists.  They will celebrate Lucifer (the devil) and in their madness actively seek the way of Luciferian initiation because they will be spiritually blind in regard to total reality.  Like demons they will flee from the cross of Jesus but exalt the devil as the first free thinker, the genetic creator of man, the seething energy and angel of evolution.  Truth will be lies, evil will be good, unfaithfulness will be faith and the 'wise' will preach and blaspheme from pulpits, exercise political power, enact legislation, and wield broken law to plunder, punish, and ruin.
Zarathustra has been right on both counts.  First, apostatizing W. Europe and America, though dotted here and there by small islands of Light, decency and sanity, are becoming darkened, satanically inverted places ruled by the 'wise,' hence boiling over with madness, particularly Hollywood, academia, mainstream media and the highest, most powerful political offices in the land.   Second, Nietzsche was made to show the 'wise' what is in store for them by spending the last eleven years of his life insane.
"Who is a liar but he that denieth that Jesus is the Christ? He is antichrist, that denieth the Father and the Son" (1 John 2:22).
"And the fifth angel sounded the trumpet, and I saw a star fall from heaven upon the earth, and there was given to him the key of the bottomless pit." (Rev. 9:1)
In his Concise Commentary Matthew Henry identifies falling stars as tepid, indecisive, weak or apostate clergy who,
"Having ceased to be a minister of Christ, he who is represented by this star becomes the minister of the devil; and lets loose the powers of hell against the churches of Christ."
John identifies antichrists, in this case clergy who serve the devil rather than Christ, sequentially.  First, like Bultmann, Teilhard de Chardin, Robert Funk, Paul Tillich, and John Shelby Spong, they specifically deny the living, personal Holy Trinity in favor of Gnostic pagan, immanent or Eastern pantheist conceptions.   Though God the Father Almighty in three Persons upholds the souls of men and maintains life and creation, His substance is not within nature (space-time dimension) as pantheism maintains, but outside of it.  Sinful men live within nature and are burdened by time and mortality; God is not.
Second, the specific denial of the Father logically negates Jesus the Christ, the Word who was in the beginning (John 1), was with God, and is God from the creation of all things (1 John 1).  In a pre-incarnate theophany, Jesus is the Angel who spoke "mouth to mouth" to Moses (Num. 12:6-9; John 9:20) and at sundry times and in many ways "spoke in times past to the fathers by the prophets, last of all…" (Hebrews 1:1)  Jesus the Christ is the incarnate Son of God who is the life and light of men, who by His shed blood on the Cross died for the remission of all sins and bestowed the privilege of adoption on all who put their faith in Him. Therefore, to deny the Holy Father is to logically deny the deity of Jesus Christ, the incarnate Son of God, hence,
"…every spirit that confesseth not that Jesus Christ is come in the flesh is not of God: and this is that spirit of antichrist . . . and even now already is it in the world" (1 John 4:3).
According to Peter (2 Peter 2:1), falling stars will work among the faithful, teaching damnable heresies that deny the Lord, cause the fall of men into unbelief, and bring destruction upon themselves:
"The natural parents of modern unbelief turn out to have been the guardians of belief."  Many thinking people came at last "to realize that it was religion, not science or social change that gave birth to unbelief.  Having made God more and more like man—intellectually, morally, emotionally—the shapers of religion made it feasible to abandon God, to believe simply in man." (James Turner of the University of Michigan in "American Babylon," Richard John Neuhaus, p. 95)
Falling Stars and Damnable Heresy
Almost thirty years ago, two well-respected social science scholars, William Sims Bainbridge and Rodney Stark found themselves alarmed by what they saw as a rising tide of irrationalism, superstition and occultism—channeling cults, spirit familiars, necromancers, Wiccans, Satanists, Luciferians, goddess worshippers, 'gay' shamans, Hermetic magicians and other occult madness at every level of society, particularly within the most influential— Hollywood, academia and the highest corridors of political power.
Like many scientists, they were equally concerned by Christian opposition to naturalistic evolution.  As is common in the science community, they assumed the cause of these social pathologies was somehow due to fundamentalism, their term for authentic Christian theism as opposed to liberalized Christianity.  Yet to their credit, the research they undertook to discover the cause was conducted both scientifically and with great integrity.  What they found was so startling it caused them to re-evaluate their attitude toward authentic Christian theism.  Their findings led them to say:
"It would be a mistake to conclude that fundamentalists oppose all science (when in reality they but oppose) a single theory (that) directly contradicts the bible. But it would be an equally great mistake to conclude that religious liberals and the irreligious possess superior minds of great rationality, to see them as modern personalities who have no need of the supernatural or any propensity to believe unscientific superstitions. On the contrary…they are much more likely to accept the new superstitions. It is the fundamentalists who appear most virtuous according to scientific standards when we examine the cults and pseudo-sciences proliferating in our society today." ("Superstitions, Old and New," The Skeptical Inquirer, Vol. IV, No. 4; summer, 1980)
In more detail they observed that authentic 'born again' Christians are far less likely to accept cults and pseudoscientific beliefs while the irreligious and liberalized Christians (i.e., progressive Catholics, Protestant emergent, NAR, word faith, prosperity gospel) are open to unscientific notions.  In fact, these two groups are most disposed toward occultism.
As Bainbridge and Stark admitted, evolution directly contradicts the Bible, beginning with the Genesis account of creation ex nihilo.  This means that evolution is the antithesis of the Genesis account. For this reason, discerning Christians refuse to submit to the evolutionary thinking that has swept Western and American society.  Nor do they accept the evolutionary theism brought into the whole body of the Church by weak, tepid, indecisive, or apostate clergy.
Over eighty years ago, Rev. C. Leopold Clarke wrote that priests who embrace evolution (evolutionary theists) are apostates from the 'Truth as it is in Jesus.' (1 John2:2)  Rev. Clarke, a lecturer at a London Bible college, discerned that evolution is the antithesis to the Revelation of God in the Deity of Jesus Christ, thus it is the greatest and most active agent of moral and spiritual disintegration:
"It is a battering-ram of unbelief—a sapping and mining operation that intends to blow Religion sky-high.  The one thing which the human mind demands in its conception of God, is that, being Almighty, He works sovereignly and miraculously—and this is the thing with which Evolution dispenses….Already a tremendous effect, on a wide scale has been produced by the impact of this teaching—an effect which can only be likened to the…collapse of foundations…" (Evolution and the Break-Up of Christendom, Philip Bell, creation.com, Nov. 27, 2012)
The faith of the Christian Church and of the average Christian has had, and still has, its foundation as much in the literal and historic meaning of Genesis, the book of beginnings revealed 'mouth to mouth' by the Angel to Moses, as in that of the person and deity of Jesus Christ.  But how horrible a travesty of the sacred office of the Christian Ministry to see church leaders more eager to be abreast of the times, than earnestly contending for the Faith once delivered unto the saints (Jude 1:3).  It is high time, said Rev. Clarke, that the Church,
"…. separated herself from the humiliating entanglement attending her desire to be thought up to date…What, after all, have custodians of Divine Revelation to do making terms with speculative Biology, which has….no message of comfort or help to the soul?" (ibid)
The primary tactic employed by priests eager to accommodate themselves and the Church to modern science and evolutionary thinking is predictable.  It is the argument that evolution is entirely compatible with the Bible when we see Genesis, especially the first three chapters, in a non-literal, non-historical context.  This is the argument embraced and advanced by mega-church pastor Timothy J. Keller.
With a position paper Keller published with the theistic evolutionary organization Bio Logos he joined the ranks of falling stars (Catholic and Protestant priests) stretching back to the Renaissance.  Their slippery-slide into apostasy began when they gave into the temptation to embrace a non-literal, non-historical view of Genesis.  (A response to Timothy Keller's 'Creation, Evolution and Christian Laypeople," Lita Cosner, Sept. 9, 2010,creation.com)
This is not a heresy unique to modern times.  The early Church Fathers dealt with this damnable heresy as well, counting it among the heretical tendencies of the Origenists.  Fourth-century Fathers such as John Chrysostom, Basil the Great and Ephraim the Syrian, all of whom wrote commentaries on Genesis, specifically warned against treating Genesis as an unhistorical myth or allegory.  John Chrysostom strongly warned against paying heed to these heretics,
"…let us stop up our hearing against them, and let us believe the Divine Scripture, and following what is written in it, let us strive to preserve in our souls sound dogmas." (Genesis, Creation, and Early Man, Fr. Seraphim Rose, p. 31)
As St. Cyril of Alexandria wrote, higher theological, spiritual meaning is founded upon humble, simple faith in the literal and historic meaning of Genesis and one cannot apprehend rightly the Scriptures without believing in the historical reality of the events and people they describe. (ibid, Seraphim Rose, p. 40)
In the integral worldview teachings of the Fathers, neither the literal nor historical meaning of the Revelations of the pre-incarnate Jesus, the Angel who spoke to Moses, can be regarded as expendable.  There are at least four critically important reasons why.  First, to reduce the Revelation of God to allegory and myth is to contradict and usurp the authority of God, ultimately deny the deity of Jesus Christ; twist, distort, add to and subtract from the entire Bible and finally, to imperil the salvation of believers.
Scenarios commonly proposed by modern Origenists posit a cleverly disguised pantheist/immanent nature deity subject to the space-time dimension and forces of evolution. But as noted previously, it is sinful man who carries the burden of time, not God.  This is a crucial point, for when evolutionary theists add millions and billions of zeros (time) to God they have transferred their own limitations onto Him.  They have 'limited' God and made Him over in their own image. This is not only idolatrous but satanic.
Additionally, evolution inverts creation.  In place of God's good creation from which men fell there is an evolutionary escalator starting at the bottom with matter, then progressing upward toward life, then up and through the life and death of millions of evolved creatures that preceded humans by millions of years until at long last an apish humanoid emerges into which a deity that is always in a state of becoming (evolving) places a soul.
Evolution amputates the entire historical precedent from the Gospel and makes Jesus Christ unnecessary as the atheist Frank Zindler enthusiastically points out:
"The most devastating thing that biology did to Christianity was the discovery of biological evolution.  Now that we know that Adam and Eve never were real people the central myth of Christianity is destroyed.  If there never was an Adam and Eve, there never was an original sin.  If there never was an original sin there is no need of salvation.  If there is no need of salvation there is no need of a saviour.  And I submit that puts Jesus…into the ranks of the unemployed.  I think evolution absolutely is the death knell of Christianity." ("Atheism vs. Christianity," 1996, Lita Cosner, creation.com, June 13, 2013)
None of this was lost on Darwin's bulldog, Thomas Henry Huxley (1825-1985).  Huxley was thoroughly familiar with the Bible, thus he understood that if Genesis is not the authoritative Word of God, is not historical and literal despite its' symbolic and poetic elements, then the entirety of Scripture becomes a collection of fairytales resulting in tragic downward spiraling consequences as the Catholic Kolbe Center for the Study of Creation makes clear in part:
"By denying the historical truth of the first chapters of Genesis, theistic evolutionism has fostered a preoccupation with natural causes almost to the exclusion of supernatural ones.  By denying the several supernatural creative acts of God in Genesis, and by downplaying the importance of the supernatural activity of Satan, theistic evolutionists slip into a naturalistic mentality which seeks to explain everything in terms of natural causes.  Once this mentality takes hold, it is easy for men to regard the concept of spiritual warfare as a holdover from the days of primitive superstition.  Diabolical activity is reduced to material or psychological causes.  The devil and his demons come to be seen as irrelevant.  Soon 'hell' joins the devil and his demons in the category of antiquated concepts.  And the theistic evolutionist easily makes the fatal mistake of thinking that he has nothing more to fear from the devil and his angels.  According to Fr. Gabriele Amorth, the chief exorcist of Rome, there is a tremendous increase in diabolical activity and influence in the formerly Christian world.  And yet most of the bishops of Europe no longer believe in the existence of evil spirits….To the Fathers of the Church who believed in the truth of Genesis, this would be incredible.  But in view of the almost universal acceptance of theistic evolution, it is hardly surprising." (The Difference it makes: The Importance of the Traditional Doctrine of Creation, Hugh Owen, kolbecenter.org)
Huxley had 'zero' respect for modern Origenists and received enormous pleasure from heaping piles of hot coals and burning contempt upon them, thereby exposing their shallow-reasoning, hypocrisy, timidity, fear of non-acceptance, and unfaithfulness.  With sarcasm dripping from his words he quipped,
"I am fairly at a loss to comprehend how any one, for a moment, can doubt that Christian theology must stand or fall with the historical trustworthiness of the Jewish Scriptures. The very conception of the Messiah, or Christ, is inextricably interwoven with Jewish history; the identification of Jesus of Nazareth with that Messiah rests upon the interpretation of passages of the Hebrew Scriptures which have no evidential value unless they possess the historical character assigned to them. If the covenant with Abraham was not made; if circumcision and sacrifices were not ordained by Jahveh; if the "ten words" were not written by God's hand on the stone tables; if Abraham is more or less a mythical hero, such as Theseus; the story of the Deluge a fiction; that of the Fall a legend; and that of the creation the dream of a seer; if all these definite and detailed narratives of apparently real events have no more value as history than have the stories of the regal period of Rome—what is to be said about the Messianic doctrine, which is so much less clearly enunciated? And what about the authority of the writers of the books of the New Testament, who, on this theory, have not merely accepted flimsy fictions for solid truths, but have built the very foundations of Christian dogma upon legendary quicksands?" (Darwin's Bulldog—Thomas Huxley, Russell Grigg, creation.com, Oct. 14, 2008)
Pouring more contempt on them he asked,
"When Jesus spoke, as of a matter of fact, that "the Flood came and destroyed them all," did he believe that the Deluge really took place, or not? It seems to me that, as the narrative mentions Noah's wife, and his sons' wives, there is good scriptural warranty for the statement that the antediluvians married and were given in marriage; and I should have thought that their eating and drinking might be assumed by the firmest believer in the literal truth of the story. Moreover, I venture to ask what sort of value, as an illustration of God's methods of dealing with sin, has an account of an event that never happened? If no Flood swept the careless people away, how is the warning of more worth than the cry of "Wolf" when there is no wolf? If Jonah's three days' residence in the whale is not an "admitted reality," how could it "warrant belief" in the "coming resurrection?" … Suppose that a Conservative orator warns his hearers to beware of great political and social changes, lest they end, as in France, in the domination of a Robespierre; what becomes, not only of his argument, but of his veracity, if he, personally, does not believe that Robespierre existed and did the deeds attributed to him?" (ibid)
Concerning Matthew 19:5:
"If divine authority is not here claimed for the twenty-fourth verse of the second chapter of Genesis, what is the value of language? And again, I ask, if one may play fast and loose with the story of the Fall as a "type" or "allegory," what becomes of the foundation of Pauline theology?" (ibid)
And concerning Cor. 15:21-22:
"If Adam may be held to be no more real a personage than Prometheus, and if the story of the Fall is merely an instructive "type," comparable to the profound Promethean mythus, what value has Paul's dialectic?" (ibid)
After much thought, C.S. Lewis concluded that evolution is the central, most radical lie at the center of a vast network of lies within which modern Westerners are entangled while Rev. Clarke identifies the central lie as the Gospel of another Spirit. The fiendish aim of this Spirit is to help men lose God, not find Him, and by contradicting the Divine Redeemer, compromising Priests are serving this Spirit and its' diabolical purposes.  To contradict the Divine Redeemer is the very essence of unfaithfulness, and that it should be done while reverence is professed,
"…. is an illustration of the intellectual and moral topsy-turvydom of Modernism…'He whom God hath sent speaketh the Words of God,' claimed Christ of Himself (John 3:34), and no assumption of error can hold water in the face of that declaration, without blasphemy."
Evolutionary theists are serving the devil, therefore "no considerations of Christian charity, of tolerance, of policy, can exonerate Christian leaders or Churches who fail to condemn and to sever themselves from compromising, cowardly, shilly-shallying priests"—the falling stars who "challenge the Divine Authority of Jesus Christ." (ibid)
The rebuttals, warnings and counsels of the Fathers against listening to Origenists (and their modern evolutionary counterparts) indicates that the spirit of antichrist operating through modern rationalistic criticism of the Revelation of God is not a heresy unique to our times but was inveighed against by early Church Fathers.
From the scholarly writings of the Eastern Orthodox priest, Fr. Seraphim Rose, to the incisive analysis, rebuttals and warnings of the Catholic Kolbe Center, creation.com, Creation Research Institute, Rev. Clarke, and many other stalwart defenders of the faith once delivered, all are a clear, compelling call to the whole body of the Church to hold fast to the traditional doctrine of creation as it was handed down from the Apostles, for as God spoke and Jesus is the Living Word incarnate, it is incumbent upon the faithful to submit their wills to the Divine Will and Authority of God rather than to the damnable heresy proffered by falling stars eager to embrace naturalistic science and the devil's antithesis— evolution.  But if it seem evil to you to serve the Lord,
"…you have your choice: choose this day that which pleases you, whom you would rather serve….but as for me and my house we will serve the Lord." Joshua 24:15
In the classic work, "Earth's Earliest Ages" English theologian G.H. Pember (1837-1910) examines the role of satanic forces in the first destruction of earth under God's judgment and compares them to the explosion of spiritism (open intercourse with evil spirits), ancient Egyptian Hermetic magic, Theosophy, Buddhism, reincarnation, karma, the Mysteries, astrology and mesmeric healings sweeping across Christendom.  
It was during the Renaissance that many influential Christians at the highest levels of Church and society had returned to the occult Wisdom Teachings that originated in ancient Egypt with Hermes Trismegistus.  In his own time, Pember observes that ancient occult traditions are no longer veiled in mystery but boldly presented by the powerful occult brotherhood as the fruit of modern science, especially evolutionary philosophy, which  the brotherhood assert was included in the instructions given,
 "…to the initiates of the Hermetic, Orphic, Eleusinian, and Cabbalistic mysteries, and were familiar to Chaldean Magi, Egyptian Priests, Hindu Occultists, Essenes, Therapeutae Gnostics, and Theurgic Neo-Platonists." (Pember, pp.243-244) 
 In the impeccably researched "Scientific Analysis of the Writings of Alice A. Bailey and their Applications," Robert A. Hermann Ph.D. affirms Pembers claim with respect to the occult origins of the evolutionary science so widespread in our time.   Herrmann traces modern evolutionary thinking–which has infiltrated the whole body of the Church–back to 1750 and the Spanish-French occultist the Martine's de Pasqually (1715?-1779) whose biological conception predates Darwin's theory and held that an adept spiritually evolves into higher and higher forms on various evolutionary levels.  (raherrmann.com)
Pember knows that occult teachings are grounded in knowledge received from evil spirits, thus he particularly connects evolutionary philosophy to spiritism.   This teaching said Pember, made the world ready for the deeper teachings of the Brotherhood (fallen angels):
 "…..the Brotherhood decided that the time had come to communicate with it, and openly influence its religion and philosophy. They have, however, become so etherealized by their practices that they are unable to endure contact with coarse human nature; it was, therefore, necessary to employ intermediaries.  The first person known to have been chosen for this purpose was a Madame Blavatsky."  (pp. 243-246)
 In affirmation, Corinne McLaughlin and Gordon Davidson, the politically influential co-authors of "Spiritual Politics: Changing the World from the Inside Out," admit that their book is based on the Ageless Wisdom teachings preserved by occultists since the Egyptian pantheon (27th-30th centuries B.C) and handed down over the ages to modern occultists in the time of the Renaissance, the Enlightenment and on into our own time:
 "For centuries, the Ageless Wisdom in the West was shielded from an unprepared public…. The unveiled truths were handed down only orally by individual teachers to tested disciples or by certain religious groups and secret societies, such as the Cabbalists, Druids, Essenes, Sufis, Knights Templar, Rosicrucian's, Freemasons, and others who carefully guarded the teachings down through the centuries. A study of these secret societies would reveal powerful influences on the history of nations…."  (Spiritual Politics, McLaughlin, Davidson from "Reinventing Jesus Christ: The New Gospel,"Warren Smith, crossroad.to)
 Beginning with the work of the Brotherhood and/or Masters acting through Blavatsky, Ageless Wisdom has succeeded in over-spreading W. Europe and America and made deep inroads into the whole body of the Church over the last one hundred years. Blavatsky's important book, 'The Secret Doctrine' (1888) paved the way by synthesizing,
 "…..Christian, Jewish, and Islamic mysticism with the Eastern teachings of Hinduism, Taoism, and Buddhism, showing their common roots and comparing their sacred texts…."
 The next development came through the teachings of Alice Bailey, an apostate Evangelical:
"…. In 1919 Bailey was contacted by a Tibetan master, Djwhal Khul, who asked her to write a series of books with him telepathically that would continue Blavatsky's work. Over a period of thirty years, Bailey received eighteen books from him on the nature of the cosmos and the human being, outlining principles for individual spiritual growth and humanity's next evolutionary steps. In 1923 Bailey founded Lucis Trust [originally called Lucifer Publishing, ed.] to bring the teachings in her books to the public. A year later she began the Arcane School. The books were written to apply to several levels of consciousness at once and thus can be read by both beginners and advanced students. Her works have been especially helpful to the two of us in our own spiritual growth and have provided much of the inspiration for Spiritual Politics."
Central to ancient Egyptian and modern Hermetic orders such as the Order of the Golden Dawn, Theosophy and New Age is ophiolatry (worship of serpents/Lucifer) and the theme of a pantheon of nine Sun Gods or with modern orders, an occult Hierarchy of nine evolved Brothers or Masters: god-men who have finished their cycles of reincarnation and material evolution but have chosen to remain here on the earth (Gaia) to serve people in their own conscious evolution as well as guide Gaia's spiritual evolution:
"(The solar deity Kneph was pictured as a serpent in a fiery circle and Osiris) was essentially identical with Kneph…The worship of Isis, the moon-goddess, was equally entwined with ophiolatry.  Her emblem was the horned viper…The Egyptians often represented Isis and Osiris together, as two serpents."  (The Cult of the All-Seeing Eye, Robert Keith Spenser, p. 35)
Depending on who they are speaking to, the nine Masters variously call themselves the Brotherhood, Space Brothers, Ascended Masters, the ancient Ennead of Egypt (the nine Sun Gods), Nine Principles of God, the Deep Space Nine, the Group, Sirians and Council of Nine.  Today there is a vast and growing network of channelers purporting to receive messages from the Nine and still others calling themselves Light Workers who claim to have presented briefings from the Group five times at the United Nations.  
Another important theme connecting all ancient and modern Hermetic Orders and Mystery religions is the Sirius star system.  From the time of the Egyptians, Sumerians and Babylonians occult teachings have invariably attributed to Sirius a special status in connection with Isis (Sirius A), Osiris (Sirius B), astrology, Hermeticism, the Mysteries, secret initiations, conceptions of transmigration, reincarnation, astral plane travels and other forms of occult evolutionary philosophy.
Hermetic Mystery schools and orders teach that Sirius is the divine "sun behind the sun" that is both the true source of the sun's energy which keeps the physical world alive, as well as the divine substance that keeps the spiritual world alive.  Whereas the sun illuminates the physical world, which is considered to be an illusion, Sirius is the "real light," the Great Dragon, Cosmic Serpent, Chaos, Abraxas, Star Maker, Ground of Being, or Essence of material phenomena, meaning that the material universe exists only as a grand illusion or mental construction as it does for example in the mind of Brahman:
 "Brahman is real, the world is unreal." (swamij.com/mahavakyas) 
 The two most important figures associated with Hermetic Theosophy, Madame Blavatsky and Alice Bailey, considered Sirius to be the source of mystical serpent power: the seething energies of Lucifer that exert a spiritual influence over the entire Sephiroth or cosmic tree of life and therefore directly link with every great religion of antiquity because these energies extend into the psyche of mankind.
Bailey taught that Sirius is the "Great White Lodge" and believed it to be the spiritual home of the "Spiritual Hierarchy." For this reason she considered Sirius as the star of initiation:
 "This is the great star of initiation because our Hierarchy (an expression of the second aspect of divinity) is under the supervision or spiritual magnetic control of the Hierarchy of Sirius. These are the major controlling influences whereby the cosmic Christ works upon the Christ principle in the solar system, in the planet, in man and in the lower forms of life expression. It is esoterically called the "brilliant star of sensitivity."   (The Mysterious Connection Between Sirius and Human History, vigilantcitizen.com, Dec. 12, 2012)
Baily also taught that Luciferian energy emanating from Sirius is the energy of thought: a mind force that reaches the solar system from a distant cosmic center via Sirius. Sirius acts as the transmitter,
 "…or the focalising centre, whence emanate those influences which produce self-consciousness in man."  (ibid)
 The Hermetic Way of the Dragon
The Hermetic way of psychic power and self-salvation is the antithesis of the Way of Jesus Christ God Incarnate (Romans3:24; 6:23; 10:9-10; Eph. 1:7; 2:8-9) and began with a mysterious man known as Hermes Trismegistus.  
The ancients identified Hermes with Mercury and Anubis (brother to Osiris).   His emblem, the caduceus, was a talismanic serpent representing the power of Mercury as a Sun-god. Speculations abound on exactly when and where Hermes lived.  Some modern New Age occultists believe he was a contemporary of Noah in the pre-flood world which they call Atlantis.  Others believe he lived in ancient Egypt during the time of Moses.  
In "Biographa Antiqua" the English occultist Frances Barret writes that Hermes "communicated the sum of the Abyss, and divine knowledge to all posterity." The word "Abyss" refers to ancient and modern pantheist and/or panentheist conceptions such as the Watery Abyss, Divine One Substance, Primordial Matter, or with Hermes, the Universal Life personified by the Great Serpent or Dragon from whose body and wings stream illuminating serpent power, or with Bailey, 'those influences which produce self-consciousness in man.'
 Bailey is expressing the Hermetic principle which speaks of the correlation between the substance of the Great Serpent and the mind of man expressed in the world famous magic formula: "As above, so below."
The substance (body) and seething powers of the Great Dragon or Serpent are symbolized by the Oroboros, a powerful occult symbol also known as the Sephiroth, great chain of being, cosmic tree of life, and with Darwin the tree of life. The Oroboros 'above' corresponds to a number of different evolutionary levels and realms comprising the habitation of all supernatural entities and various heavens and hells such as the Black Lodge.  Thus the substance of the Great Dragon's body  with its supposed multiple dimensions and life and thought-giving serpent energies not only powers the Divine Substance above but reaches down into the psyche, capturing the imagination, stunting and befouling the conscience, causing evolutionary change, and conferring psychic powers and divinity (you can be as God).
The Luciferian Manly P. Hall (1901-1990) concurs.  According to Manly, Hermetic Freemasonry is an occult science of the soul,
 "…a divine symbolic language perpetuating (by) certain concrete symbols the sacred mysteries of the ancients."  When a Masonry adept has learned the "mystery of his Craft (then the) seething energies of Lucifer are in his hands and before he may step onward and upward, he must prove his ability to properly apply energy."  (New World Order: The Ancient Plan of Secret Societies, William T. Still, p. 30) 
The foundation of Hermes occult way is forbidden knowledge revealed to him during self-induced trance and/or meditation states resulting in altered states of consciousness that opened his mind to contact with the Great Dragon:
 "Meditation is the doorway between worlds….the pathway between dimensions." (The Layman's Guide to Enlightenment,Celeste G. Graham, 1980, p. 13) 
 The Dragon revealed to Hermes that his own nature is divine, meaning that God and psychic power is "within."   The Divine Pymander of Hermes Trismegistus relates Hermes mystical encounter with the Great Dragon who called itself Poimandres, the Mind of the Universe that is within Hermes. (themystica.com) 
 Upon transforming itself into a glorious being of Light the Dragon proceeded to enlighten Hermes with the forbidden knowledge that over time found its' way into Christendom during the Renaissance giving birth to an array of Secret Societies as well as to pantheist theological liberalism and its' primary doctrine evolution, William James theory of the subconscious, the demon-haunted Carl Jung's transpersonal and depth psychology, occult New Age, Phillip Pullman's dark Gnosticism, Mind Science, New Thought, the Alpha Course, Silva Method, Word of Faith, Positive Imaging, Visualization/Dreaming, and the multi-million dollar best-sellers "A Course in Miracles" and "The Secret."  The common denominator of these societies, theories, books and techniques is "God and psychic power is within:"
 "People go through their whole lives chasing everything in the material world, and they fail to discover the greatest treasure of all, which is within them.  Shut your eyes to the outside world.  Direct your thoughts and words inside of you.  The Master within you is the key to all the treasures in the world." (Rhonda Byrne, "The Secret Daily Teachings")
 "Since the unconscious is God all along, we may further define the goal of spiritual growth to be the attainment of godhood by the conscious self."  (A Different Drum, M. Scott Peck)
 "….all is mind and…everything is governed by law (thus man) can create, or have created for him from his own thinking.  He can create such a strong mental atmosphere of success that its power of attraction will be irresistible.  He can send his thoughts throughout the world and have it bring back to him whatever he wants." (Creative Mind and Success, Ernest Holmes, New Thought practitioner)
 "Your unconscious mind (has a) power that turns wishes into realities when the wishes are strong enough." ("Positive Imaging," Norman Vincent Peale, 1982, p. 77)
 Word Faith teacher Kenneth Copeland tells people to visualize any image,
 "…that you get down inside you that is so vivid when you close your eyes you see it, it'll come to pass.  When God came at the Tower of Babel, He said, 'Anything they can imagine, they can do." (Inner Image of the Covenant, side 2, Copeland)
 Yonggi Cho similarly teaches that through visualizing and dreaming you will,
 "….incubate that which we want God to do for us….If you have not visualized clearly in your heart exactly what you hope for, it cannot become a reality to you…"  (The Fourth Dimension, Vol. 1, Yonggi Cho, 1979, 9-35, vol. 2, 18-33)
Believing the Lie
 "And for this cause God shall send them strong delusion, that they should believe a lie." (2 Thessalonians 2:11)
 In "The Spiritist Fallacy," a penetrating analysis of the Hermetic Theosophy, Buddhism and Spiritism that emerged out of the Renaissance taking hold of the minds of modernist priests and intellectuals, the highly respected French traditionalist metaphysician Rene Guenon (1886-1951) describes deluded "enlightened" theologians and intellectuals as those who cannot speak of the devil,
 "….without a smile of disdain, or an even more contemptuous shrug of the shoulders." (p. 252)
Their smug contempt is due to the fact that they believed the spiritist lie that Lucifer is not the devil but rather the "light-bearer."  After all, if evolution is true, as enlightened sophisticates believe, then there was no fall, hence man is not fallen and Lucifer is not the devil but the first free-thinker, the emancipator of man and the angel of evolution.  Modern sophisticates even go so far as to call him 'the Great Creative Intelligence.'  Thus they invoke Lucifer and perform his cult, but in fact these people,
 "…though in fact Satanists, are only unconsciously so, for they are mistaken as to the nature of the entity to whom they address their worship….It goes without saying that these 'enlightened' priests are all plainly modernists and that the spirit animating them is strangely similar to that affirmed in these lines." (p. 254)
 With respect to "modern" spiritist doctrine Guenon notes its' peculiar agreement with the esoteric religion of the Brahmins:
 "Now this….has been taught to lower grade initiates in Himalayan temples for perhaps more than a thousand years!  This similarity is curious at the very least, and one can say without paradox that spiritism is only esoteric Brahmanism in broad daylight."  (p. 41)
Guenon also argues that every "modern" conception that notably disfigures the living God as evolution does is Satanic, and in this sense, all theories of a limited God and of an immanent (pantheist) God who evolves must be placed in the front rank.
Turning to the theories of William James (1842-1910), the father of American psychology, Guenon describes them as examples of unconscious Satanism for two reasons.   First, James theory of "religious experience" as a manifestation of the"subconscious" by which man communicates with the pantheist Divine "within" is only one step away from "condoning the practices of spiritism" with the further consequences of conferring on evil spirits an eminently religious character and being initiated into experiences of the psychic and spirit realm. Initiation involves one in something far beyond the conscious control of the human will, thus once a person has been initiated their spirit/soul is open to bondage, harassment and madness.
 Second, the notion that the subconscious puts man in contact with the Divine "within" puts God,
 "…in the inferior states of being, in feris in the literal sense of this expression.  This then is a properly 'infernal' doctrine, a reversal of universal order, which is precisely what we call 'Satanism.'  Guenon adds, "The devil is not only terrible, he is often grotesque…" (pp. 258-262)
 Building off of James serpent-animated theories, the demon-haunted psychiatrist Carl Jung (1875-1961) taught that the psyche (spirit/soul) consists of two main systems:  a personal unconscious and a deeper more significant layer which he called the collective unconscious with archetypes.  
 Jung's system incorporates Hermetic magic, biological and spiritual theories of evolution, reincarnation, pantheist conceptions of a Gnostic pleroma (divine substance) and various other occult doctrines and psycho-spiritual technologies from around the world.
Jung delved deeply into the occult, practiced necromancy and had daily contact with familiar spirits which he called archetypes because he believed they were manifestations of powers innate in the collective unconscious (substance of the Great Dragon).  
 Much of Jung's psychological insight was acquired from his familiar spirits, particularly Philemon and Basilides.  Philemon appeared to Jung in a grotesque humanoid body with wings and the head of a horned bull. At first Jung thought his spirit familiars were manifestations of his own psyche, but toward the end of his life he realized with horror that Philemon, Basilides, and the many other spirit entities that were a common feature of his life were in fact highly intelligent hostile beings independent of human consciousness.   Speaking of Philemon, Jung said:
 "Philemon represented a force which was not myself…..I held conversations with him, and he said things which I had not consciously thought.    For I observed clearly that it was he who spoke, not I….Psychologically, Philemon represented superior insight.  He was a mysterious figure to me.   At times he seemed to me quite real, as if he were a living personality.  I went walking up and down the garden with him, and to me he was what the Indians call a guru."  (Memories, Dreams, Reflections, Carl Jung, p. 183, cited from PsychoHeresy: C.G. Jung's Legacy to the Church, PsychoHeresy Awareness Ministries)
 Jung uses the name Abraxas to describe the impersonal Gnostic pleroma  (substance of the Great Dragon) out of which mind and then other mental powers emerged.  The word Abraxas is found in esoteric Gnostic texts such as the "Holy Book of the Great Invisible Spirit" and also in the Greek "Magical Papyri."
 In 1916 Jung received further revelations from his demon familiars, this time by way of automatic writing as he recorded a Gnostic treatise called "The Seven Sermons to the Dead."   Labeled a core text in depth psychology the treatise describes Abraxas as a "God" higher than the living, personal Holy God in Three Persons that combines all opposites into a single androgynous Being. 
As with all Ageless Wisdom teachings, underlying Jung's demon-derived "transpersonal and depth psychology" is the Hermetic correlation of the substance of Abraxas (collective unconscious and archetypes) with the personal unconscious of man, hence, "As above, so below."  
 According to the Apostle Paul fallen angels cast down from heaven together with demons are dispersed in a multitude throughout the whole expanse of sky (Eph. 2:2; 6:12).  This means that William James 'subconscious' and Jung's 'collective unconscious' with its archetypes are actually the expanse of sky under the heavens which supposedly connects the substance of the Great Dragon to the psyche of man. Thus to "go within" the "subconscious" (James) or "personal unconscious" (Jung) so as to channel the Divine "within," is to perform the cult of Satan which opens the spirit/soul to contact with powers and principalities and their chief, the devil.    
Though there are increasing numbers of psychologists and psychiatrists who now affirm their belief in evil spirits and their ability to harass, influence and possess human beings, the majority are still heavily influenced by Jung's demon-derived theories, thus they insist that what they call "paranormal experiences"are perhaps hallucinations caused by the innate powers of human imagination or representations of interplay between the left and right hemispheres of the brain and/or the therapeutic release of unconscious repressions.
 Unlike most modern psychiatrists and psychologists, Nanci Des Gerlaise, a Cree Native American woman raised on a Metis settlement, needs no convincing. Almost from birth her life consisted of occult bondage and terrifying demonic harassment until she found deliverance through Jesus Christ.
 Nanci knows without the least bit of doubt that demons exist and can even take the shape of animals, birds and other more frightening creatures.   She knows that medicine men still engage in symbolic baby sacrifices to Satan in return for more spiritual power.   She knows because her own father offered her to Satan.  Her life then belonged to the devil and became filled night and day with all kinds of evil: 
"This is what happened to me and one reason why I had such a struggle when I became a Christian.   Satan still claimed ownership of me.  The tug of war first started when I accepted the Lord Jesus Christ as my Lord and Savior….He set me free from occult bondages and demonic harassment….Christianity (is) God's way of salvation.  Colossians 1:12-14 made perfect sense to me…" (Muddy Waters, Gerlaise, pp. 51, 79-80)
 Nanci's book, "Muddy Waters" is far more than a biography.  It is a clear and compelling warning to all Christians living in sin, apostatizing churches, practitioners of occult psycho-spiritual technologies, advocates for interfaith/interspirituality and spiritual formation (occult techniques dressed in Christian motifs) that forces of darkness really do exist and will make your life a living nightmare of disembodied voices, terrifying encounters with demonic entities, thoughts of suicide and murder, and even possession.
 "Now the Spirit manifestly saith, that in the last times some shall depart from the faith, giving heed to spirits of error, and doctrines of devils." 1 Tim. 4:1
 From the time of Hermes, ancient and modern occult pagan adepts have been employing a variety of occult psycho-spiritual techniques to "go within" in search of psychic powers and immortality:    
 "…..I can be saved only by becoming one with the universe.  Thereby, too, my deepest 'pantheist' aspirations.  It was especially the image of God which Teilhard saw in need of urgent redefinition.   Modern man has not yet found the God he can adore, A God commensurate to the newly discovered dimensions of the universe." (Towards a New Mysticism, Teilhard de Chardin and Eastern Religions, Ursula King, p. 172)
The corollary to our age of lawless Christians and spreading apostasy is an explosive revival of ancient Hermetic spiritism.  A major reason is that modern psychology allegedly provides us with a "scientific" explanation that ascribes whatever frightening entities encountered while on brain-altering substances or through centering, yogic trance, visualizing and dreaming or other occult techniques to archetypal images from the collective unconscious.
The common thread running through all of this is the diabolical mind of the serpent, the same fallen angel who tempted Adam and Eve in the Garden with the words, "Ye shall be as Gods" (Gen. 3:5) but now seduces with the words, "go within."
No question, we are a culture that loves to be entertained.  Even churches have caught on to the public's desire for 24/7 entertainment. As a consequence, a large number of evangelical churches are now driven by a need to fulfill this desire in their congregants.  And what better way to pack the house in ginormous auditoriums than to offer a 90 minute stage show enhanced with state-of-the-art sound, lighting and video systems.
Lights, camera, action!
To boost the mood for the Praise and Worship segment of the service, a large number of churches feature a worship leader and several backup singers accompanied by a live band.  I've been in services where the Praise Band could be the opening act for Switchfoot!
To help spice up worship, a team of want-to-be actors treat the audience to a short skit that ties in with the message (sermon). As the lights dim and the actors scurry off stage, a hip cool pastor wearing skinny jeans, a logo T-shirt, and a five o'clock shadow ambles out to preach the "new" Good News.  Hip cool pastors aren't your average run of the mill ministers.  Some of these guys are genuine entertainers loaded with talent!  They're bona fide performers.  True showmen.  And some of them are comics!  In fact, most hip cool pastors could walk off the church stage onto a Las Vegas stage and feel right at home.  No really, they're that good!
By in large, hip cool pastors' main aim is to see that the folks find God, because once they find Him, they'll find themselves and then…drum roll please….they'll find their real "purpose" in life!
Now, I'm not attacking Church entertainment per say.  I'm simply pointing out that in an effort to grow their churches many ministers adopt worldly methods such as the church growth model, a consumer oriented marketing strategy developed to attract the unchurched.  And let's be honest.  For some pastors it's not about saving souls, it's about becoming the CEO of a thriving "megachurch."  Trying to attract large numbers of people, some pastors go way overboard.  The end result is that the house of God has become like the world.
Warning: Adopting secular marketing techniques has risks.  Often the Gospel becomes compromised when we adapt it to the culture.
 
Hellywood's Influence On The Church
Many people are movie-goers…TV-viewers…music lovers…concert-attendees…sports fans…game enthusiasts…computer junkies and users of all sorts of other high tech gadgets.  Those who profess Christ and hold to the authority of the scriptures are among those addicted to this kind of entertainment.  To feed their entertainment addiction there are also what we deem "Doubting Thomases" who attend Sunday servicesprincipally for the entertainment value.
That Christians enjoy the same sort of entertainment as those who walk in darkness is revealing.
This then is the message which we have heard of him, and declare unto you, that God is light, and in him is no darkness at all. If we say that we have fellowship with him, and walk in darkness, we lie, and do not the truth: But if we walk in the light, as he is in the light, we have fellowship one with another, and the blood of Jesus Christ his Son cleanseth us from all sin. (I John 1:5-7)
In this day and age it's rare to find a movie or TV program that's fit for Christian consumption.  Hedonism, sexual explicitness and perversion, violence, occult themes and vile language aside, very few movies refrain from abusing God's holy Name.
Have you ever noticed that Hollywood's elite go out of their way not to offend ethnic groups, homosexuals, environmentalists, abortion providers, radical feminists, illegal immigrants, even Muslim terrorists? Yet evangelical Christians, Catholics and Mormons—especially those with conservative values—are all fair game.
It's an undisputed fact that the entertainment industry is made up of liberals.  Why should this matter to Christians?  I answered this question in my column Sexually Transmitted Diseases Are A Result of Liberalism:
For most liberals right is wrong and wrong is right. Good is bad and bad is good. Normal is abnormal and abnormal is normal. Whatever advances their cause is what counts. "We must remember that liberalism is not just a system of bad ideas. It is a religion with its priests, creeds, confessions, and dogmas. Liberals worship the system, their church. They gladly sacrifice themselves and anyone else, friend or foe, who gets in the way of the cause. They are more religious than most Christians. They are more dedicated than most Christians." (Liberal's Are Evil, Wrong and Nuts!)
In the liberal's way of thinking pretty much anything goes. Liberals view themselves as tolerant of the behaviors of others. They're broad-minded. Generous. Untraditional. Unorthodox. Progressive.(Source)
Most Hollywood liberals don't try to hide their disdain for conservatives — especially if they happen to be conservative Christians!  And liberals don't try to hide their blatant disrespect for the Lord Jesus Christ and for any of His followers who hold to biblical values.
So with this in mind, why do a large number of Christians tolerate Tinseltown's deliberate abuse?  Moreover, why do we cower when we're labeled hateful, bigoted, mean-spirited, homophobic and worse? And why do we lay down our hard earned money at theater box offices when those in the entertainment industry (the same folks who make big bucks off of us) do not give a hoot that they're dishonoring God's Name?
While I'm on the subject of disrespect, I must mention that in churches all across America a number of pastors–especially younger pastors—have sunk to the level of using crude language and R-rated stories to "make a theological point." Would profane pastors deliver a sermon laced with rough language to a church packed to the rafters with God's holy elect angels?  Of course not!  Which makes one wonder, where are the deacons and elders – the so-called Church leadership?  Why do they fail to roundly rebuke profane pastors?  And when did the Church become Comedy Central?
Consider this also.  Many professing Christians use God's Name in vain and think nothing of it.  For instance, you hear Christians utter "Oh G–!" and "Oh my G–!" all the time.  How has it escaped them that they're in violation of the 1st Commandment?  The Bible explicitly says:
Thou shalt not take the name of the LORD thy God in vain; for the LORD will not hold him guiltless that taketh his name in vain (Exodus 20:7).
Clearly, anyone who misuses the Name of the LORD will be held accountable.
Returning to Tinseltown, people who work in entertainment expose young and old alike to gratuitous violence and vile language in films…DVDs…TV…music, especially gangsta rap and grunge! Even pornography, including child pornography, is pushed on society in a myriad of ways through the marvels of modern technology. TV networks have dropped the few remaining standards of decency for prime time telecasts. Those who happen to be TV fans know full well that producers/writers/actors/reality stars relish pushing the envelope. And when someone crosses the line, as is often the case, the FCC looks the other way!
Welcome to the anything goes world of moral relativism, where pretty much nothing is off limits anymore and nothing is sacred – including God's Name.
What's In A Name?
God's Name is special.  His Name carries His personal identity.  So why are followers of Jesus Christ not incensed when they hear someone misusing His Name whether it's in a movie, on TV, or from the lips of one of your friends or business associates?
Look at it this way, Christian:  If someone close to you, say a parent, spouse or child, is called a vile name for no good reason, you'd come to his or her defense, wouldn't you?
Of course you would!
So the next time someone drags God's Name through the mud in your presence, why not turn to the person and say something like: "I'm a Christian, so I'm offended when you take God's Name in vain."
Many Christians will spend two hours viewing a movie that's peppered with language so profane that they readily admit they wouldn't dream of inviting Jesus to watch with them — because they know perfectly well He'd turn down the invite!
Some believers I know offer some of the most flimsy excuses for putting up with hearing God's Name misused. For example, when it comes to seeing a movie that tickles their fancy they deem using the Lord's name in vain acceptable if it's not overused.
Whenever I broach this subject, I receive a slew of emails from so-called believers providing me with excuses for their viewing habits. The top 4 are:
1) We are under grace not under the law; therefore we mustn't maintain a pharisaic attitude.
2) The Holy Spirit hasn't convicted me.
3) Christians can do what is right in their own minds.
4) It doesn't bother me.
Clearly, some Christian moviegoers think they're excused from the moral example God has set forth for His people. Those who fall into this category should consider this: Hollywood is using your hard earned money (God's money) to mock your Savior and to advance a morally bankrupt ideology.
Consider, also, that leftist entertainers use the money they rake in to further an anti-Christian agenda which includes removing all mention of God from the public square; abortion on demand; normalizing every sort of sexual perversion; advancing same-sex "marriage"; and environmental extremism.
What does this tell you about biblical discernment?
What it says to this writer is that far too many followers of the Lord Jesus Christ hold a worldview that is more aligned with Secular Humanism than with biblical Christianity.
The sad fact is that many believers participate in a number of things that the Bible deems inappropriate, immoral, and even toxic to the soul.
Do God's people's viewing and listening habits really matter all that much to Him?  I mean, we're under grace not under law, right?  Listen to the words of the Lord Jesus in Matthew 6:22-23:
The eye is the lamp of the body. If your eyes are good, your whole body will be full of light. But if your eyes are bad, your whole body will be filled with darkness.
A "good eye" should be fixed on the Person who made our eyes!
Would Jesus Invite His followers To A Service Such As This?
At the beginning of this article, I discussed churches that have gone astray and, in an effort to "keep people coming," focus largely on creating a "fun" and "relevant" environment that will draw the seeker in. To that end, hip cool pastors dumb down their sermons in an effort not to offend anyone, church doctrines are disregarded, the gospel is glossed over, worldly music is the norm—some of it with unbiblical lyrics!  Sadly, when people raise holy hands to the God they say they adore, their demonstration of praise and worship comes, not from the heart; it's merely inspired by the music–especially if it has a good beat.
What Would Jesus Have You Do?
First of all, there's no perfect church.  In choosing one, a good rule of thumb is to see that you're in a Bible teaching church that holds to the authority of Scripture. If your current pastor gives a "feel good" message that includes a few Scripture verses with good stories and applications but has no biblical basis, consider shopping for a church with solid Bible teaching.  In other words, find a church where, for the most part, the pastor teaches one verse at a time and rightly divides the word of truth.  (2 Tim. 2:15)
When it comes to entertainment, the professing Christian need only ask:  Would I invite Jesus to sit down next to me during a movie or TV program or while I browse the Net…email…text…comment or "like" something on Facebook?  Would I want my Lord to hear the music stored on my iPod?  Would I offer Him the best-selling book I just finished reading? As I glance through a magazine would it make me a tad uncomfortable to have Jesus looking over my shoulder?  If the answer to any of the above is in the negative, then hightail it out of the theater…turn off the TV…log off the computer…delete the music…close the book!
In "Why Some Scientists Embrace the 'Multiverse," Dennis Prager reports that he recently participated, along with 30 scholars, mostly scientists and mathematicians, in a conference on the question of whether the universe was designed, or at least fine-tuned to make life possible, especially intelligent life. Participants — from Yale, Princeton, Harvard, Berkeley and Columbia among other American and European universities — included agnostics, atheists and believers in God.  (Prager, Jewish World Review, June 18, 2013)
Though the clear scientific consensus was that, at the very least, the universe is exquisitely fine-tuned to allow for the possibility of life said Prager, many atheist scientists and fellow-travelers who insist there be no Creator God put forward the notion of a multiverse despite there being not a shred of evidence for the existence of these universes.  
The multiverse hypothesis is a desperate grasp at the fantasy theory first proposed by David Deutsch in his book, "The Fabric of Reality."  Deutsch's theory posits the existence of an infinite number of parallel universes in the vain hope that in at least one of them, conscious life and order arose by pure chance, meaning that living beings created themselves.
 Eminent quantum theorist John Polkinghorne utterly rejects the multiverse nonsense:
 "Let us recognize these speculations for what they are.  They are not physics, but….metaphysics.  There is no purely scientific reason to believe in an ensemble of universes….To my mind greater economy and elegance would be that this one world is the way it is because it is the creation of the will of a Creator who purposes that it should be so." (Cosmos, Creator and Human Destiny, Dave Hunt, p. 209)
 Multiverse speculations, as Polkinghorne pointed out, are not physics but metaphysics, and in fact are grounded in a two-fold neo-Gnostic vision.  First, that living beings created themselves from pre-existing or spontaneously generated matter, and second, the age-old technology of alchemy and its magical meaning: the ancient Egyptian Hermetic principle of the macrocosm's correlation with the microcosm, "As above, so below" symbolized by the Ouroboros—the great chain of being, cosmic tree of life or with Darwin the tree of life.
In modern Luciferian theosophical thought for example, the Ouroboros 'above' corresponds to a number of different astral planes and sub-planes comprising the habitations,
"(of all) supernatural entities, the locale of gods and demons, the void where the thoughtforms dwell, the region inhabited by spirits of the air and other elements, and the various heavens and hells with their angelic and demonic hosts….With the help of ritual procedures, trained persons believe that they can 'rise on the planes,' and experience these regions in full awareness." ("Beyond the Body: The Human Double and the Astral planes, Benjamin Walker, 1974, pp. 117-8)
The Ouroboros with its astral planes is well-known around the world in its' many esoteric traditions:
"References to this reality are the Dreaming of the Australian Aborigines, the Spirit-world of Shamanism, the Duart of the ancient Egyptians, the Bardo (Intermediate State) of the Tibetans, the Imaginal world of Islamic Esotericism – e.g. the Barzakh (Interworld) or of Suhrawardi and the Mithal (Imaginal realm) of Ibn Arabi – the Universe of Asiyah of some Kabbalists, or of Yetzirah according to others.  Other descriptions are the Nervo degree of the Physical State of Theon, the Astral or 2nd Prakritic plane (corresponding to the Linga Sharira or Subtle or Astral body) and the Kama (Desire-Plane) of Blavatsky, the Astral Plane of the Adyar school of Theosophy and of popular occultism, Rudolf Steiner's "Soul World"; and the Vital and Subtle Physical described by Sri Aurobindo and Mirra.  These are just a few of the innumerable descriptions of this plane of existence." (The Astral Plane, kheper.net)
The Apostle Paul speaks not of cosmic trees, astral planes and the beings supposedly existing there but of fallen angels, the "spirits of wickedness under the heavens" (Eph. 6:12) and their chief, "the prince of the powers of the air." (Eph. 2:2)  
According to Paul, fallen angels are dispersed in a multitude throughout the whole blue expanse of sky which is visible to us—the dwelling place for the host of fallen angels who have been cast down from heaven.    This means that in esoteric multiverse theories and occult cosmic tree of life conceptions, the whole blue expanse of sky under the heavens where fallen angels dwell is the Ouroboros/cosmic tree 'above' consisting of astral planes and sub-planes connected by the great chain of being up which the initiate spiritually ascends (evolves) by way of ritual (i.e., transcendental meditation, mind-altering drugs) as he traverses the occult Path of Life or Western Magical Way to reach divine status and gain psychic powers.  
Royal Astronomer Lord Martin Rees champions multiverse conceptions in the hope that in at least one or more of them living beings created themselves who are far more advanced than our own life-forms.  Rees believes that if this is the case, then super-intelligent aliens might be capable of simulating in their brains or in a super-computer the complex history of our universe, meaning the universe we inhabit is a simulation lacking real substance and existing only as a mental construction, a matrix, in the minds of highly evolved aliens who seeded our world with life and travel through time in order to control man's evolutionary progress. (Scientific Mythologies, James A. Herrick, p. 216)
The idea that the universe we inhabit exists only as a mental construction is very similar to Hinduism's Brahman. Brahman is the Great Cosmic Spirit— the Ultimate One Substance (prakriti matter) or Essence of material phenomena, meaning that the universe exists only as a mental construction in the mind of Brahman: brahma satyam jagan mithya, or "Brahman is real, the world is unreal." (swamij.com/mahavakyas)
Rees proposal is also similar to the hypothesis presented by Olaf Stapledon, a scientist who has always kept one foot firmly planted in neo-Gnostic science fiction accounts and imagines our universe to be an artifact of the Star Maker.  Building off of Stapledon's fantasy Carl Sagan suggests that we are "star folk" made of "star stuff."    (Herrick, pp. 216-217)
Replace Star Maker with Brahman and "star stuff" with sarvam khalvidam brahma, or "All is truly Brahman" (swamij.com) and we have ayam atma brahmam: "The Self is Brahman." (Brihadaranyaka Upanishad 4.4.5)
In the caption of his book, "Just Six Numbers," Rees reveals the ancient occult basis of his propositions:
"The ouraboros. There are links between the microworld of particles, nuclei and atoms and the cosmos." (Rees M., Just Six Numbers, P. 9)
"Now the serpent was more cunning than any beast of the field…" — Genesis 3:1
As a powerful occult symbol, the Ouroboros or Uroboros means the seething power, creative and/or evolutionary impulse or energy of the serpent figuratively depicted as either a serpent or dragon eating its own tail.  The serpent's body is often depicted as the Great Chain of Being, Cosmic Tree of Life, or with Darwin, the Tree of Life.  
 The occult Tree of Life with its' multiple dimensions and life-giving energy systems not only powers the universe but reaches into the psyche, stirring imagination, bringing psychic powers and even awakening pre-human memories of when the scientifically "enlightened occult elite," the Gnostikoi, were fish:
"Remember when you were a fish…." suggested Jean Houston, the prophet of the possible, in a workshop to awaken ancient pre-human memories.  Nearly a thousand evolved life-forms (people) dropped to the floor and began moving their 'fins' as if to propel themselves through water.  "Notice your perception as you roll like a fish. How does your world look, feel, sound, smell, taste?"  Then you crawled up on land said Houston, so now you must, "Allow yourself to fully remember being a reptile….Then some of you flew. Others climbed trees."   A zoo of beastly sounds erupted from the herd of pre-human birds, reptiles and apes. (America: The Sorcerer's New Apprentice, Hunt and McMahon, p. 218)
From the time of the ancients serpent power has been important to religious and mythological symbolism all around the world. Within the Egyptian mysteries, serpent power was associated with,
…"the elemental forces that were in play before the creation of the world." (Carl Teichrib, Gods of Ancient Egypt, p. 182)
 In China serpents were spiritually linked with earth and water while in Scandinavian myth a world serpent protected man from cosmic forces of chaos.  The self-described Gnostic Carl Jung interpreted the Ouroboros as having archetypal consubstantiality to the human psyche.    Serpent power is also associated with today's occult New Age spirituality as well as Gnosticism, occult Hermetic Kabbalah, Roisicrucianism, Illuminati, Freemasonry and its' blatantly Luciferian sister, Theosophy, where according to Helena Blavatsky, serpent power representsself-generation and evolution through its own creative power. 
In his book, "The Sign of the Serpent," Mark Balfour relates how pervasive serpent symbols are within India and the Hindu religion:
 "Any observant traveler who moves from the snow-tipped Himalayas in the North to the sun-soaked sands of Cape Comorin at India's southern tip, will encounter—particularly in the rural areas and at sacred centres of pilgrimage wherever Siva, God of both Divine Wisdom and regeneration, is the presiding Deity—the serpent motif sculptured within shrines, impressed on myriads of stone implants in the ground and depicted in art." (A Short Guide to Occult Symbols: Serpent Power, Carl Teichrib, 2005, Kjos Ministries)  
Balfour elaborates on this belief:
"In Hinduism, the Cosmic Serpent—Ananta Sesha—symbolic of timeless eternity, carries the world on his 1000-fold [Cobra] hood…As the creative impulse stirs within the great Serpent in the Sky—when passive idea becomes active thought—the forces of attraction and repulsion come into play as 'spirit' begins its involution into "matter." (ibid, Teichrib)
Moreover, Kundalini yoga, a discipline within Hinduism, teaches that latent serpent energy lies at the base of the etheric human spine, 
"…like a coiled serpent, ready to spring." (Harper's Dictionary of Hinduism, p. 156, ibid, Teichrib)  
Through strenuous yoga techniques, this Kundalini serpent power uncoils and rises through seven "chakras" or power centers within the human body. The Kundalini serpent force is considered,
"(to be a) concentrated field of intelligent cosmic, invisible energy absolutely vital to life beginning in the base of the spine as a man or a woman begins to evolve in their first incarnation." (The Donning International Encyclopedic Psychic Dictionary, p. 343, ibid, Teichrib)
The serpent power/Masonry connection is revealed by occultist Mason Manly Hall who says that when the Mason learns how to properly channel the power of the serpent he has learned the mystery of his Craft: 
"The seething energies of Lucifer are in his hands and before he may step onward and upward, he must prove his ability to properly apply energy." (New World Order: The Ancient Plan of Secret Societies,William T. Still, p. 30)
In "Occult Theocracy," Edith Starr Miller elaborates on the serpent power/Masonry connection:
"Luciferian Occultism controls Freemasonry (and) is therefore not a novelty, but it bore a different name in the early days of Christianity.  It was called Gnosticism…" (Occult Theocracy, p. 198, 1933)
 Free Masonry is grounded in occult Hermetic Kabbalah, the non-Jewish version of Kabbalah, a syncretic system that draws on Gnosticism, Western astrology, alchemy, ancient Egyptian drom which the alahnry connectionntherefore not a novelty, but it bore a different name in the early days of Chhermeticism, Greco-Roman nature religions, Eastern mysticism/reincarnation/karma, spiritual and biological evolutionary conceptions, neoplatonism, the Enochian system of angelic magic of John Dee and Edward Kelley, rosicrucianism, tantra, and tarot cards, which are seen as keys to the Tree of Life.  
Occult Hermetic Kabbalah is also the underlying philosophy and framework for Western magical societies such as the Golden Dawn, Thelemic orders, mystical-religious societies such as the Builders of the Adytum and is the precursor to the Wiccan, Neopagan and Luciferian New Age spirituality over-taking Western and American civilization.
Regarding the importance of occult Hermetic Kabbalah to Freemasonry, Albert Pike–the most influential Freemason that has lived—has this to say in his Morals and Dogma:
"The Kabalah is the key to the occult sciences; and the Gnostics were born of the Kabalists. (Morals and Dogma, p. 626) 
The famous scientist, engineer, religious writer and mystic, Emanuel Swedenborg (1688-1772) claimed to have been instructed by beings on other planets as well as by angels during his astral plane travels.  Swedenborg has influenced a long line of scientists, philosophers, modern science fiction writers and movie producers as well as Joseph Smith.  
Swedenborg described Masonry as a search after Light said Pike:
"That search leads us directly back, as you see, to the Kabbalah. In that ancient and little understood medley of absurdity and philosophy, the Initiate will find the source of many doctrines; and may in time come to understand the Hermetic philosophers, the Alchemists, all the Anti-papal Thinkers of the Middle Age, and Emanuel Swedenborg. (Morals and Dogma, p. 741)
The Gnostic Hermetic Kabbalah holds to the neoplatonic conception that the manifest universe (One Substance) of which material creation is a part, arose as a series of emanations or evolutions from the godhead or divine Cosmic Spirit. 
In his Dictionary of Mysticism and the Occult, Nevill Drury writes that the Hermetic Kabbalah's Tree of Life consists of ten spheres, 
"…or sephiroth, through which—according to mystical tradition—the creation of the world came about. The sephiroth are aligned in three columns headed by the supernals and together symbolize the process by which the Infinite Light…becomes manifest in the universe." (A Short Guide to Occult Symbols: The Tree of Life, Carl Teichrib)
 The sephiroth also have a role resembling that of the "…charkas [sic] in yoga."
In other words, the sephiroth symbolize the consubstantiality or oneness of the initiate's intellect with the Divine Substance (i.e., ancient Egyptian Nu, Chaos, Brahman, Omega Point, Singularity) as well as the seething evolutionary energies of Lucifer (Moshiach/Nachash/Gematria) while chakras refer to psychic centers that lie along the spine of the etheric body that awaken
by way of kundalini serpent power yoga.
For the initiate, the deeper meaning of the Hermetic Kabbalah is the Tree of Life (snake's body) 'above' as well as the inward path 'below' in which the adept who has mastered the seething energies of Lucifer discovers and experiences the "inner light" (also called the divine spark and inner Christ). 
In short, Hermetic Kabbalah is a system of Luciferian teachings and evolutionary conceptions which open up the mind and the soul to a new level of understanding from the snake: salvation comes from within.
From the Renaissance to our own time, Gnostic Hermetic science packaged as biological and spiritual theories of evolution, various Tree of Life conceptions together with pre-existing or spontaneously generated matter theories, multiverse conceptions, Teilhard's Omega Point and trans-humanism's Technological Singularity for example, has swept the post-Christian West and America, even entering into the whole body of the Church.


Luciferian Occultism: Serpent Power
In "God and the Knowledge of Reality," the Catholic philosopher and historian, Thomas Molnar (1921–2010), writes that during the Renaissance Christian mystics and scholars such as Emanuel Swedenborg discovered Hermetic magic and esoteric Jewish Kabbalah texts which they studied and translated resulting in Hermetic Kabbalah.  Then like Pico della Mirandola, they argued that occult hermetic science—the divine technology or Magic Way of reaching divine status and powers through ritual procedures (and for Swedenborg astral plane traveling) is the best proof of the divinity of Christ.    In other words said Molnar,
"…..by the time of the Renaissance the esoteric texts of the first centuries A.D. had acquired in scholarly and humanist circles an unparalleled prestige, confronting as equals the texts held sacred by the church.  In Pico's estimation, 'nulla est scientia que nos magis certificet de divinitate Christ quam magia et Cabala' (there is no science that would prove for us Christ's divinity better than magic and the Cabala.)"  (pp. 78-79)
From then till now, Luciferian occult science has been working steadily toward its' goal to invert, pervert, and replace the living word of God (Matthew 4:4) beginning with the book of Genesis, the book of beginnings divinely revealed to Moses for our edification and salvation.   As a result, the majority of contemporary Christians no longer know that Genesis is the living Word of God because they have lost contact with the early Church Fathers, the living link between the ancient texts containing God's revelation and today's esoteric evolutionary imperative.
In their day, just as in our own, many people erroneously interpreted Genesis, especially the first three chapters, as an allegory, denying it has any literal and historic meaning.  Therefore the Church Fathers who wrote on Genesis made a specific point in saying it has literal meaning that we must understand correctly even while explaining that anthropomorphic statements about God describing Him as a man who sits on thrones for example, are to be understood symbolically.
Church Fathers regarded Genesis, especially the first three chapters, as divinely inspired text that tells of actual, historical events and people. St. Cyril of Alexandria for example, wrote that Genesis is divinely inspired and cannot be apprehended rightly without respect for its' historical meaning:
"Those who reject the historical meaning in the God-inspired Scriptures as something obsolete are avoiding the ability to apprehend rightly, according to the proper manner, the things written in them…whenever some historical events are presented to us by the Holy Scriptures (a) useful search into the historical meaning is appropriate, in order that the God-inspired Scripture be revealed as salvific and beneficial to us in every way." (St. Cyril, "Commentary on the Prophet Isaiah 1,4, PG 70, 192AB)
Church Fathers make the point that the whole of creation, including the soul of man, was brought into existence from non-existence (ex nihilo), not from eternally existing or spontaneously generated matter as ancient and modern evolutionary adherents and Luciferian occultists believe.
On the miraculous creation of the first man Church Father John Chrysostom writes:
"And God formed man of dust from the earth, and breathed into his face the breath of life, and man became a living soul….the inbreathing communicated to the one created out of earth the power of life, and thus the nature of the soul was formed.  What does a living soul mean?  An active soul, which has the members of the body as the implements of its activities, submissive to its will." (Genesis, Creation, and Early Man, Seraphim Rose, p.215)
Gregory of Nyssa adds:
"The body and the soul were formed at the same time—not one before and the other afterwards…" (ibid, p. 218)
Jesus Christ, the "angel" who spoke with Moses at Sinai, is the Creator.  Foremost of His miracles is creation out of nothing—six acts or days of creation rather than the billions of years of evolutionary alchemical process out of matter:
"The first moment of time is the moment of God's creative act and of creation's simultaneous coming to be." (Philosopher and New Testament scholar William Lane Craig quoted in "If God created the universe, then who created God?' by Jonathan Sarfati, Creation Ministries International)
With Irenaeus, the doctrine of creatio ex nihilo was well established. He also argued that the world (matter) was not coeternal with God:
"But the things established are distinct from Him who has established them, and what [things] have been made from Him who has made them. For He is Himself uncreated, both without beginning and end, and lacking nothing. He is Himself sufficient for this very thing, existence; but the things which have been made by Him have received a beginning… He indeed who made all things can alone, together with His Word, properly be termed God and Lord; but the things which have been made cannot have this term applied to them, neither should they justly assume that appellation which belongs to the Creator." ("Is Creatio Ex Nihilo A Post-Biblical Invention? An Examination Of Gerhard May's Proposal," Paul Copan, Trinity Journal 17.1; Spring 1996)
The Fourth Lateran Council of 1215 affirms creation ex nihilo:
"We firmly believe and simply confess that there is only one true God … the Creator of all things visible and invisible, spiritual and corporeal; who from the very beginning of time by His omnipotent power created out of nothing [de nihilo condidit] both the spiritual beings and the corporeal." (ibid, Copan)
On creation ex nihilo, the Westminster Confession of Faith (1646) asserts:
"It pleased God … in the beginning, to create or make of nothing the world, and all things therein" (IV.I; ibid)
The divinely inspired Genesis account of creation ex nihilo is a great stumbling block for contemporary Westerners and Americans—including great numbers of Christian theologians— brought up with an evolutionary outlook, an antihuman, occult Luciferian/Gnostic materialistic worldview that has left them spiritually and morally impoverished.
"But in his estate shall (Antichrist) honour the God of forces." Dan. 11:38
Today the Nachash, the occult planetary-elites God of forces has confused, deluded and mesmerized vast numbers of Westerners and Americans.  As the animated seething energy called evolution the God of forces is the principle miracle-producing power of the cosmos. Having transformed the consciousness of his followers, they are no longer the spiritual image-bearers of the living Triune God but evolution's conscious products who can achieve ever higher levels of consciousness by directing their own evolution.
So complete has the transformation of consciousness been that the God of forces has successfully inverted the order of creation and for increasing numbers of deluded Christians, reversed the direction of Biblical theism. With creation ex nihilo virtually replaced by evolution, it is now believed that men have not fallen from perfection but instead are gradually evolving upward from their ape beginnings toward greater and greater spiritual perfection. Self-perfecting man no longer needs the living, supernatural God as the idea of "conscious evolution" means he can save himself, and perhaps even attain god-hood.
As the 'Christ' of the hugely popular "A Course in Miracles" the God of forces states that there is an "irresistible Force" within each person, a universal Force that when activated grants unimaginable psychic powers, even immortality.  The 'Christ' tells New Age leader Barbara Marx Hubbard that on the day of Planetary Pentecost a Planetary Smile will flash across the faces of all people who have accepted the Luciferian Initiation.  There will be "uncontrollable joy" that the 'Christ' describes as the "joy of Force" that will "ripple"through the one body of humanity.  ("False Christ Coming: Does Anybody Care? Warren B. Smith, p. 120)
The God of forces who is the serpent power worshipped by mankind from antiquity, the god of Gnostic Masonry, the seething energies of Lucifer, the serpent power of Kundalini yoga, the body of the occult Tree of Life, the Cosmic Spirit of the universe, the Singularity and the Collective who represents self-generation and evolution through its own creative power poses a question to his enthralled worshippers, 
"What if I am not a 'man' at all, but rather a Force, an 'Energy" in the universe, that IS the universe, and that is, in fact, All That Is. What if I am The Collective?" ("God" in Conversations with God: Book 3, p. 125, Neale Donald Walsh, ibid Warren B. Smith, p. 122) 
Tragically, many people today, including growing numbers of Christians, are being seduced by an occult planetary mythology that grew out of the Renaissance and maintains that man is not fallen, that he is ultimately perfectible through a process of evolution and that through leaps of consciousness he can realize that he is God.   The common thread among all occult Hermetic science, secret societies and esoteric teachings since the Renaissance is a single mind directing the formation of the new religious consciousness.   It is the mind of the same fallen angel who tempted Adam and Eve in the Garden with the words, "Ye shall be as Gods." (Gen. 3:5)
When finally the man of lawlessness arrives and appears to triumph for a time, in the end it is he whom the Lord Jesus,
"….shall kill with the spirit of his mouth; and shall destroy with the brightness of his coming, him," (2 Thes. 2:8)
This is no surprise of course. What's interesting is how they're positioning Zionism and Israel in the apocalyptic finale. It certainly is playing a big role in bringing the world into World War 3 which has actually already begun since the US and Israel pulled the pin out of the grenade with 9/11.
Since then the number of countries drawn into these increasing staged middle eastern conflicts meets the definition of a world war.
World war: Merriam-Webster: "a war that involves all or most of the principal nations of the world" or the MacMillan dictionary says "a war that is fought between many countries from different parts of the world". Looks like we're there, people, and it's just going to keep escalating. Clever how they slipped us into this unending conflict that only gathers momentum by the day.
World War for Zion
This WWZ type of predictive programming is standard fare in the media. It's gone on for centuries via books and embedded religious teaching, but now with modern media they can really mash it down the mass mind with abandon – and they do.
Of course they call it "entertainment". The definition? "Something that amuses, pleases, or diverts, especially a performance or show." Remember diverts. Overall might sounds innocent enough, but we know better. It's like the word "amusement". The original meanings were "to divert the attention of so as to deceive", "to occupy the attention of: absorb, distract, bewilder." Now? "to entertain or occupy in a light, playful, or pleasant manner".
It's a tactic for diversion more than anything, while the war mongers carry out their Machiavellian plan.
WWZ – Predictive Programming Propaganda
This world war Z is just another propaganda flick, using the popularized zombie meme to the max to get the biggest bang for the buck. It's written by the son of long time Hollywood Zionist insider Mel Brooks no less, so you can be sure he got all the right coaching, input, directions and help. And of course using another CFR/CIA type gofer in Brad Pitt who's about to marry confirmed CFR member Angelina Jolie.
Predictive programming is very powerful, using the power of suggestion via carefully crafted emotionally charged scenarios to implant an idea for easier later acceptance as the actual scenarios roll out at the hands of the social programmers.
Alan Watt explains Predictive Programming:
"Hollywood is the magician's wand (holly-holy) which has been used to cast a spell on the unsuspecting public."

"Things or ideas which would otherwise be seen as bizarre, vulgar, undesirable or impossible are inserted into films in the realm of fantasy."

"When the viewer watches these films, his/her mind is left open to suggestion and the conditioning process begins."

"These same movies which are designed to program the average person, can give the discerning viewer a better understanding of the workings and the plan of the world agenda. 'Be-aware'"

"Predictive Programming – The power of suggestion using the media of fiction to create a desired outcome."
Enjoy this perceptive write up on "Z is for Zionism" as I call it, he nails it nicely:
Zombie Hasbara: 'World War Z' and Hollywood's Zionist Embrace

I went to the Drive-In in Atlanta Friday night, to celebrate a friend's birthday, a beautiful night under an almost full moon. We watched This is The End and Fast and Furious 6, and two of us stayed for the 2:00 am screening of World War Z. I'm not a zombie fanatic, so other than watching the Walking Dead, I had few expectations beyond the trailers that have been on TV since the Super Bowl. So I was surprised, jarred out of the movie really, when right in the middle of the narrative, Brad Pitt's character, Gerry Lane, travels to Israel and spends more than 10 minutes in a full-on pro-Israel propaganda piece that was as corny as it was crazy.

The Times of Israel may be only slightly exaggerating when it calls this "the greatest piece of cinematic propaganda for Israel since Otto Preminger's "Exodus." Not only is Israel's fanatical Wall Building proven to be justified, against the hordes of undead invaders, and not only are Jewish victimizations paraded to justify the aggrandizement of Israeli military prowess, but it's Israel's supposed humanism, and multicultural inclusiveness, which in the end weakens the fragile post-apocalyptic state and allows the zombies to overrun everything. Its pretty heady stuff.
Conclusion
It's all a smokescreen, with a few hints at what's really going on behind the scenes. Analyzing and looking for meaning in this mass propaganda we're being sprayed with is like looking for corn in a dung heap. But see through it we must, and then wash our minds clean of the stench and stain.
Beware how much you take on board, this type of stuff is toxic and loaded with occult symbolism, trigger words and subliminal messages meant to drag you down to their low vibration where you become even more susceptible.
Stay clear, but see these phony projections for what they are. Same with the news. We're getting what they want us to get in these "breaking" stories, no matter how "revelatory" some of these spying and government and finance "revelations" are. It's under control, and timed releases to test for reaction as well as let people vent some outrage and feel they have some say so are a common tactic.
I just don't take the whole world geopolitical picture that gets painted as a reality. It's a construct and tool of manipulation by its very nature.
Don't let them define your reality by unwittingly adopting their parameters or living within their prescribed playing field.
We're not separate to be put at variance against each other at the drop of a hat. Humanity is one, sharing a common consciousness. The entities that deny and attempt to erase this knowledge are the enemy.
First, get your mind and spirit truly free. Then you will know what you are to do.
Then do it.
All of it.
Love, Zen
[Hat tip: Bob Hitt - tx!]
Source: ZenGardner.com
Intense speculation on the 'ruling elite' many believe is running the world from behind the scenes can lead to the presumption that it is all-powerful and infallible. But is it? Identifying the human foibles and underlying desires of those who may be planning centralised domination could lead to a greater chance to offset their agendas.
In my book The Truth Agenda, I explore a widely-held hypothesis in certain quarters: that the world might be controlled by a powerful ruling elite, which puts its own narrow interests and convictions above ours through manipulation and engineered global crises to help bring about an Orwellian-style 'One World Government'.
The book also considers the possibility that our planet is about to undergo a huge change, social, spiritual or cosmological, something seemingly anticipated by several ancient cultures around the world in the now renowned 2012 prophecies. The exploration of these ideas throws up disturbing possibilities and more pieces of evidence to support them than is entirely comfortable.
However, if all that the most extreme speculation achieves is to help prevent such a grim picture from reaching full fruition, then it will have served a useful purpose. It is also crucial that a note of optimism is struck.
An often valid criticism of conspiracy theorists, or 'truthseekers', is that their fevered investigations into humankind's worst nightmares can leave some listeners feeling more fearful, and risks driving them into a state of disempowered paralysis, putting up the shutters when what is needed is engagement. Yet the unavoidable truth is that looking a potentially tough situation in the eye does mean facing up to disturbing realities that may have been swept under the carpet, for they might require urgent action.
Lifting the blindfold even just a little means that we might not run into the approaching wall at such a great velocity. If the idea of a secretive but all-pervading cabal running the world leaves some feeling shocked, the act of simply contemplating such an idea may in itself spark a new awakening of consciousness.
What psychologically motivates this elite, however? What kind of minds are we really dealing with? How can we attempt to understand them, so that solutions and strategies for dealing with their actions may become clearer?
The Elite and its Motivations
Something too often missed in all the conspiracy speculation is the realisation that if we are being governed by a powerful cabal trying to twist the world to its own ends, then we are still essentially dealing with fellow human beings (putting ET/reptilian bloodline theories aside for a moment).
Like every other person on the planet, they must have physical, social and emotional needs, even if the latter faculty may be too easily set aside in the kind of mind that would plan 9/11-type scenarios (an event widely suspected to have been deliberately staged by Western sources as part of a march towards the 'New World Order'). The personalities involved must have loved ones of their own, and experience thoughts, feelings and cares in at least some directions. They also, like most of us in our lives, probably think they are doing the right thing, however much we may see their schemes as misguided.
This is an important point. We all have reasons for doing what we do, and can often justify actions to ourselves in the face of serious challenges from the outside. Hard though it may be to comprehend, the motivation of those who might think that wiping out their own people would be a positive move, or who believe that planning wars and economic breakdowns to effect the creation of a unifying world government is an acceptable strategy, the fact is that many seemingly well-intentioned visionaries throughout history have voiced the need for such approaches. This does not make them right, of course, but there is plainly a significant, if small, seam of humanity that believes a bigger picture should be put before the needs of the masses. Those who have expressed support for eugenics and depopulation strategies, for instance, often have deep-seated environmental concerns or feel strongly that we have lost our balance with nature and must put the planet's future ahead of the requirements of the common people.
One of the most prominent promoters of the term 'New World Order' was the famous and much revered writer H G Wells, who believed passionately that the only answer to global strife would be the creation of the eponymous hierarchy, actively proposing it in his 1940 book The New World Order. This is clearly not a modern concept, and has roots going back even further than Wells' idealistic vision of it. Some believe both World Wars were deliberately coordinated, or at least used, to help bring about a mandate for world government. As early as 1913, writing in his book The New Freedom, President Woodrow Wilson made clear that some formidable force already underpinned the commercial, and probably political, infrastructure of the USA:
Some of the biggest men in the US, in the field of commerce and manufacturing, are afraid of somebody, are afraid of something. They know that there is a power somewhere so organised, so subtle, so watchful, so interlocked, so complete, so pervasive, that they had better not speak above their breath when they speak in condemnation of it.
What is striking in H G Wells' writings, however, is his sense of excitement and enthusiasm for the idea of a dominating collective that would put all to rights and avert "the disastrous extinction of Mankind." There is no sense of negative intention nor a Malthusian dislike for humanity. Yet at the same time Wells was an advocate of eugenics. Many find this concept entirely repugnant, but here is the paradox – the very kinds of people truth-seekers tend to single out as the enemies of humanity very likely see themselves as its saviours. It is all a matter of perspective and of where one chooses to draw the moral line.
The philosopher Bertrand Russell openly accepted the inevitability of a controlling One World Government, founded on the basis of hard scientific values, and was disturbingly frank about the culture that would result. Writing in his 1953 book The Impact of Science on Society, he states:
Diet, injections, and injunctions will combine, from a very early age, to produce the sort of character and the sort of beliefs that the authorities consider desirable, and any serious criticism of the powers that be will become psychologically impossible…
…Gradually, by selective breeding, the congenital differences between rulers and ruled will increase until they become almost different species. A revolt of the plebs would become as unthinkable as an organised insurrection of sheep against the practice of eating mutton.
On the surface, Russell's thoughts appear to encourage such a world, rather than condemn it, and such thinking seems outrageous, even if it does come close to identifying the very philosophy that may now be actively shaping our society. However, although it seems difficult, almost distasteful, for some to contemplate, there is a thought to be considered here: What if such thinking were definitively shown to be right? What if humankind's very survival did rest on the notion of more control, not less? What if the choice were demonstrated to be between total destruction through over-population, pollution and over-stretched resources, or a selectively-bred, closely-monitored world that regulated itself and continued on? What if an anarchy-ridden post-2012 apocalypse society could be shown to stand no real chance of survival, whereas a tightly-controlled disciplinarian civilisation would?
Uncomfortably, in the light of the world's current challenging issues, it can be seen, at least to a small extent, how arguments could be made in these directions when looked at from a certain viewpoint. The problem comes, as ever, with the massive issue of who gets to decide. Those in comfortable circumstances looking down from on high must inevitably see things rather differently to those scraping an existence lower down the rungs, at their mercy.
We already hold the power of genetic manipulation in our hands, and it will not be too long before required characteristics of children will be able to be routinely selected and engineered. Also, with life spans ever increasing, and our understanding of tissue and brain cell regeneration growing by the year, how long will it be before life can be sustained indefinitely? When that occurs, the population problem will clearly explode if unlimited access to such power is allowed (that is, if the majority of humankind is permitted to survive in the first place – depopulation conspiracy theories are rife). A world of immortals would risk stagnation, but also domination from those who attained the status of immortality first. They would effectively decide who would be offered the gift from thereon. In the end, the gene pool would almost certainly be controlled by such authorities, the new eugenics having arrived through the back door.
These issues are already reality, not dystopian fiction. The power of genetic engineering, which is currently changing our food, both animal and vegetable – and thus our entire ecosystem, as spliced and altered genes make their way into nature through pollination and cross-breeding – means that humankind has already taken the entire planet's evolutionary destiny into its own hands, and there is no going back. Do those calling the shots have the moral compass to carry such a huge responsibility? Can they serve as the gods they are setting themselves up to be?
In a society of angels, perhaps a charter of rigid regulation, surveillance and genetic population control could be applied with compassion and the wide agreement of a common consensus – but we are nowhere near such a state of being. With the motivation of those governing our world today clearly in question, it seems impossible that the kinds of agendas many feel the ruling elite is implementing could work in any way other than being a simple attack on the larger percentage of humankind. Without common consensus, whatever the supposedly good intentions that might exist somewhere behind the plans, any attempt to regulate the world by coercion and draconian measures remains an immoral one.
Inherent Deception
The problem with global cover-ups is that they arrive and build up – as deception does so often for all of us – through a lack of honesty largely sparked by the fear of what people might think or do if they were to perceive the true vulnerability within. The elite appears to fear us and our reactions as much as we may fear it – otherwise it would not need to manipulate and control. Many disingenuous actions are borne of inner psychosis; a lack of trust that other people will understand. Our leaders appear to have got so used to playing deceptive games that they cannot now operate any other strategy. Everything from the banking system to Parliamentary administration appears to be based on subterfuge. Right now we are clearly not trusted by those affecting our lives so strongly and as a result we do not trust them.
Not that some of the elite would be remotely bothered about what any of us thinks of their actions. For those who may feel that caveats to explain such motivation is too generous to people who maim, kill and deceive to get their way, for whatever reason, it should be noted that there do also appear to be those pulling the strings who simply seek power for power's sake. The lessons of history tell us that selfishness, greed and excited bloodlust cannot be ruled out as prime movers in some cases, at least. And, to acknowledge the not-insubstantial suspicion of a 'reptilian agenda', if it were to turn out that this highly exclusive club was indeed the result of a dominating extra-terrestrial gene seeded aeons ago (as some believe, based on ancient myths) and being exploited and/or activated by celestial visitors today, then it admittedly might explain why concern for the needs of humanity appears to be as low down the list of its priorities as our general concern for the welfare of livestock is today.
As for what kind of people may comprise the global elite, the well-intentioned and the not-so well-intentioned, most likely we are largely dealing with high-ranking politicians, academics, intellectuals (as with Wells and Russell), monarchies, and very rich and influential families – with a mixture of political, religious and occult undercurrents. In other words, all the obvious candidates. Numerous books and websites go into the detail, so there is little need to explore it here. How much of the grand plan all of them know, however, and whether there are pyramids-within-pyramids amongst even the power structures near the top, is another matter.
Factions Within Factions
The presumption is often made that the very existence of a ruling elite means that those involved must be all-powerful and of one mind, accurately manipulating domino events that hit the required spot every time, all to a predetermined agenda. But this may apportion them an unwarranted infallibility.
There is evidence to show that there are factions and disputes within the echelons of those with great influence over our lives. After all, the world is a big and complex place. Even with a general agreement on how it should move forward, the pressures of regional needs and personal biases are almost certain to blur the clarity of purpose from time to time. Going on the word that does sneak out from Bilderberg meetings and the suchlike, it seems that as many disagreements, compromises and negotiations arise there as within any supposedly democratic Parliament. If this weren't the case, the meetings would not presumably need to take place, so pre-orchestrated would the scheming be.
As with Masonic and other secret society structures, there is also a pecking order to consider. It is doubtful that all those 'in' on a global conspiracy seeking centralised control would be party to every machination, and certain players may themselves be manipulated from within without realising it. From the outside, for example, it appears that British ex-prime minister Gordon Brown, for all his many references to creating a 'New World Order,' seemed destined to be a fall-guy from the start, set up to come to power just as the world economy took a tumble. The question is, did Brown know the full plan? Was he someone faithfully playing a game with a known outcome of outward failure, while secretly ensuring success in an agenda of weakening the UK on the world stage to quicken a move towards One World Government? Or did he cling on in the genuine belief that all would come right and that he would one day be hailed as a political hero?
Likewise, when Bill Clinton found himself under threat of impeachment following the Monica Lewinsky sex scandal, was this all part of a contrived drama, or a sign of factions within factions very genuinely trying to remove him after an unplanned gaffe? And did Richard Nixon go rogue or was he just playing a pre-auditioned role? On a smaller level, when a man in the crowd died after being pushed to the ground by a policeman during the 2009 G20 protests in London, it took all the seemingly contrived focus away from images of a few people smashing a bank window, and suddenly all the headlines became howls about police brutality. Was this an ongoing twist to deliberately stir civil unrest or was it (as many suspect) something going unexpectedly wrong and changing the script? Does every war and false-flag terror attack really go to plan, or is there as much 'cock-up' involved as conspiracy?
How organised, then, is this global elite, and is it really as united as some truth seekers give credit for? The evidence suggests that there are chinks in the armour and disagreements within, and weaknesses and unpredictable elements always arise in any grand plan. This offers hope. The foibles of human nature and the sheer universality of chaos theory may ensure that unexpected events and peculiar side tracks undermine the apparent solidity of the control agenda just when they are least expected. We could therefore be dealing with something far less coordinated than feared – indeed, the wide truth seeker presumption of the elite's potency may make it seem more of a problem than it really is. But can we take the chance of becoming complacent?
It is clear that certain events and trends do seem to be part of an unfolding pattern that suggests an attempt to engineer a mandate for centralised power. Whilst we must not become petrified into inaction by this, nor, however, should we take the opposite risk of assuming there is no real threat, even if the conspirators are found to be less competent than some believe. Either way, it is important at the very least to call attention to the appalling deeds committed by those at least trying to be an all-powerful force.
Consent by Apathy
If plans for world domination are being laid on any level, a simple fact needs to be recognised – that it only goes on because we collectively allow it. Even with obvious governmental deceptions such as the weapons of mass destruction debacle in Iraq, such things only continue to occur as widely as they do because too few people stand solidly against them or fully call their leaders to account. We have allowed apathy and the distractions of (apparent) comfort, trivia and entertainment to hold us in our armchairs in the hope that anything dark 'out there' will remedy itself in due course, without our input, energetically or even electorally (voter turnouts for Western elections, whatever they are worth, are generally perilously low).
By having become so disconnected with what goes on around us in our names, we have not stood up in our collective power – and are therefore as responsible as any global elite for having created the world we live in today. With the consent granted by our passivity, we have watched obvious lies and manipulations take away our strength, resolve and liberty, and have done little or nothing about it. As such, we have given away our personal responsibility. The energy spent complaining loudly but emptily in the pub or bus queue about the shortcomings of today's society, if applied in more proactive and positive directions, could be used to offset the very things being complained about. The problem is that we have been trained to think that we cannot make a difference – when, in truth, we can, especially when we match the tangible power of the collective mind with the practical rewards of direct action, as I explore more in The Truth Agenda.
Speaking out
Much of the awakening process that HAS begun has come from the kind of people drawn to be part of the truth seeking community. Unfortunately, their often unseen efforts are generally rewarded by undeserved ridicule and sidelining by a culture that has shut its eyes and ears to anything but the skewed vision it is fed by those who prefer to keep us dumb. People who question the status quo are easily neutered in the mainstream by being branded with false 'wacko' stereotypes created by a media that is all too often either itself controlled, fearful or just lazily stupid. Truth seeker enthusiasm does allow things to spill over into fanaticism and lack of discernment sometimes, no doubt, but the fact is that there are also absolutely vital questions and observations being raised by very reasonable, normal people, which could make a real and positive difference to people's lives – if ever given a chance.
It doesn't take long for the average person to see through manipulation once obvious anomalies are pointed out. Assuming the masses will always be dumb may be an arrogant and huge mistake on the part of our masters. When discussed in an accessible and objective way, the concept of a ruling global elite, which believes that some kind of catastrophic cosmological or climatic change may be imminent and has thus been implementing a regime of draconian restrictions by nefarious means to ensure it retains control during and after the chaos, is nowhere near as far-fetched as it may at first seem. It can all be made to sound credible when expressed in balanced tones, and when sensible evidence is presented.
Tones are important. Extreme conspiracy dogma, passionately but indiscriminately shouted, can repel potential support and plays into the hands of the mainstream's characterisation of all alternative thinkers as uneducated fanatics. Those with the power of insight who can rise above this have a responsibility to convey a user-friendly overview of the control agenda. Successful outreach requires initial moderation – and compassion. Newcomers can be confused by all the many complex sources of information out there, and may shrink from the at-first disturbing idea of a manipulative ruling elite if not properly approached. The uncertain era we live in now, with glimpses of the truth shining in through the cracks, provides a unique opportunity for those with the insights to offer another view of the world – while they can.
There may be more than one reason why a world of centralised control would be desired by a ruling elite, and we cannot fully presume to understand from the outside. But no strategy that imposes an undeclared agenda without transparency or choice can be right, and any regime of underhand manipulation must be resisted. To resist successfully, however, those with awareness must hold on to optimism and strike an appropriate tone if they are to be listened to and people awakened so that a self-elected and questionable minority's vision for the world is not allowed to ride roughshod over the needs of everyday people.
No elite, of any kind, can be infallible, and this offers true hope for the future – if enough people can rise above their fears and speak out, loudly and clearly.
Adapted from The Truth Agenda by Andy Thomas (Vital Signs Publishing 2009, revised 2011)
ANDY THOMAS is a leading researcher into unexplained mysteries and is the author of the acclaimed The Truth Agenda (Vital Signs Publishing, 2009, revised 2011). His many other books include Vital Signs, described widely as the definitive guide to crop circles. Andy also edited Geoff Stray's seminal Beyond 2012. Andy extensively writes and lectures, and has made numerous radio and TV appearances around the world. For further information, visit www.truthagenda.org.
Source: The New Dawn
Today we're hearing a lot about Spiritism or Spiritualism, not to be confused with spiritual or spirituality, as in "I'm not religious, I'm spiritual," or "I'm into spirituality."  The term Spiritism has replaced what was once called animism and other religious practices involving the invocation of spiritual beings.
Some religions meld Spiritualism with Christianity.  For example, a blend of Christian and African folk beliefs that originated in Brazil is now practiced in the U.S.   Spiritualism is much the same as Spiritism only it has adopted Christian rites and prayers.  People visiting Spiritualistic services can be misled into thinking they're Christian churches.  The problem is Christianity cannot be melded with any other religion or practice.
One of the major tenets of Spiritism is reincarnation.  The classic form of reincarnation originated in India in the 9th century BC.  Reincarnation has become a hot topic in our post-modern culture.
There are a whole host of beliefs about reincarnation.  The most widely touted belief  is that upon death one's spirit exits the body in search of another body to inhabit. Believing in reincarnation gives hope for continuing one's existence in further lives to work off one's karma.  Karma is broadly defined as the consequences of one's actions.
Ask professing Christians as they flow through the doors of a Sunday worship service if they believe in reincarnation, some will give you a cavalier "Yes," as if it's no big deal for believers to mix Christianity with mystical beliefs.  However, believing in reincarnation is a very big deal for the serious Christian.  For example, reincarnation is a central tenet within Hinduism, not Christianity!
The thing Christians need to come to terms with is that belief in reincarnation goes against what the Bible teaches regarding the soul's final judgment by a holy God.  What Jesus Christ clearly taught is that unrepentant sinners are condemned to an eternity in hell.  Jesus never mentioned reincarnation – not once!
Hebrews 9:27 reveals what occurs when human beings die:
And as it is appointed unto men once to die, but after this the judgment.
Listen to what Paul says happens when we die:
We are confident, I say, and willing rather to be absent from the body, and to be present with the Lord.(2 Cor. 5:8)
It is imperative that serious Christians view mysticism as evil.  When Paul came face to face with the Jewish mystic Elymas, he charged him with being a child of the devil and an enemy of righteousness. Moreover, he accused the mystic of perverting the right ways of the Lord.  (Acts 13:10)  Through the power of the Holy Spirit, Paul caused him to go blind.  Not only did he put out the sorcerer's eyes, he also put him out of a job! When it came to confronting evil, Paul never backed down, never hesitated, wavered or vacillated.  He had all the subtlety of a sledgehammer when it came to evildoers.
God forbids any sort of participation in paganism for our own protection.  His reason is simple: its roots are steeped in pagan idolatry and drug use.  The occult world is an open door to Satan's world.  Those who enter find themselves on a quest for 'hidden wisdom' or 'deeper truth.'  And, not surprisingly, the sought after 'hidden wisdom' is not meant for everyone, it's meant for a select few such as New Age disciples and gurus.
We call those who possess supernatural power (power's what it's all about) shamans, witchdoctors, clairvoyants, trance channelers, spiritists, and the list goes on.  So, how does a spiritist go about getting in contact with the spirit world?  By receiving radiation, frequencies or vibrations from the dead.  "Communication from the spirit world manifests itself in psychical phenomena (e.g., telepathy, clairvoyance, trance speaking, and apparitions) and in physical phenomena (e.g., levitation, automatic writing, and poltergeist and ectoplasmic activities)." (Source)
The Bible tells us that it is God who instigates communication, not man.  Generally the Lord will use angels as His envoys to humans.  We know very little about angels, either the elect or the fallen.  However, the scriptures inform us that on occasion the Lord sent a holy elect angel to Earth to deliver messages. And He also sent angles to minister to people, to protect them, and also to execute His judgment.  The angels have one purpose: to glorify God's holy Name and to carry out His will.
There are also fallen angels – the rebellious ones!  The most notorious of the lot is Lucifer aka Satan.  The Bible refers to the fallen angels as demons, spirits of darkness and evil spirits.  The ones that rebelled against God fell from grace.  Consequently, they were hurled out of heaven, lock stock and barrel.  Bible expositor John MacArthur elucidates what happened next:
At that point, Satan gained the rulership of the world, and the term world took on a third meaning: the evil system opposed to God that now dominates this planet. The system that Satan began will continue to develop up to the time period known as the Great Tribulation.
As I have made clear, Christianity and Spiritism have nothing in common whatsoever.  I mean, think about it. Can you trust God and Satan at the same time?  Here's what Paul said:
Be ye not unequally yoked together with unbelievers: for what fellowship hath righteousness with unrighteousness? and what communion hath light with darkness? And what concord hath Christ with Belial? or what part hath he that believeth with an infidel?
And what agreement hath the temple of God with idols? for ye are the temple of the living God; as God hath said, I will dwell in them, and walk in them; and I will be their God, and they shall be my people.
Wherefore come out from among them, and be ye separate, saith the Lord, and touch not the uncleanthing; and I will receive you, And will be a Father unto you, and ye shall be my sons and daughters, saith the Lord Almighty. (2 Cor. 6:14-18)
Satan is known as the "father of lies."  Even those who are guided by an "inner voice" can be deceived, warns occultist Nicholas Weeks:
Channels such as [Alice] Bailey are sincere and convinced that their inner voices and visions are real Masters. Unhappily, sincerity is no protection from delusion. In 1884 Master KH wrote to a psychic of that time, giving an explanation for the befuddling of a channel or seer. 'Since you have scarcely learned the elements of self-control, in psychism, you must suffer bad consequences. You draw to yourself the nearest and strongest influences "often evil" and absorb them, and are psychically stifled or narcotised by them. The airs become peopled with resuscitated phantoms. They give you false tokens, misleading revelations, deceptive images. Your vivid creative fancy evokes illusive Gurus and chelas [disciples], and puts into their mouths words coined the instant before in the mint of your mind, unknown to yourself. The false appear as real, as the true, and you have no exact method of detection since you are yet prone to force your communications to agree with your preconceptions. (Source)
And to think, many Christians are now engaged in magical mystical practices such as contemplative prayer that can give the practitioner misleading revelations and deceptive images, where the false may appear real.  (See a column I wrote on contemplative prayer here.)
Keep in mind that the spirits that speak through the mouths of the willing are demons.  People who get themselves into a mind-altering trance with the purpose being to channel a benevolent spirit may end up becoming demon possessed!  Granted, some channelers are really nothing more than convincing actors who write the script as they go along.  These are the charlatans who do it for money or fame – or both.  However, there are many dupes that allow their bodies to be used by spirit entities that use the occasion to spew anti-Christian propaganda!
The Bible tells us to, "Prove [test] all things; hold fast that which is good." (1 John 4:1). We're also told to flee (run like a maniac) from the devil who "walketh about, seeking whom he may devour." (1 Peter 5:8) Now, picture a lion hiding in the brush to pounce on an unsuspecting wildebeest.  The devil's like the hungry lion, only he's waiting to pounce on Christ's sheep!  Unfortunately many Christians fail to obey God's command to resist the devil, which is one of the reasons Christianity's in the sorry state it's in today.
Far too many followers of Jesus Christ are unaware that our Lord quite literally detests all forms of sorcery. There are no exceptions!  Sorry to be a wet blanket, but even astrology is banned.  And it doesn't matter if it's done "just for fun."  One cannot be a Presbyterian on Sunday and a spiritist the other six days of the week.
This brings me to two blogs I stumbled on.  Both male bloggers declare their love for Christ and state that the Bible is the standard by which they live their lives.  One studies apologetics; the other is a youth pastor.  They both have their Zodiac signs on display.  That way if you land on aspiring apologist's blog, you'll know that he's a Gemini; likewise, if you land on youth pastor's blog, you'll discover that he's a Virgo.  One can only assume that these young men have not yet read Leviticus 19:26, Deuteronomy 18:9-12, Exodus 22:18 and other similar passages where God commands His people to steer clear of sorcery.  And yet these so-called Bible believers find time to read up on astrology?
Christians who are confronted with an evil practice must lace up their trusty running shoes and high tail it out of there, pronto!  Keep away from horoscopes (astrology), numerology, séances, tarot cards, tealeaves, palm reading, crystal balls, talking boards, omens or signs.  Moreover, do not get involved in wizardry, witchcraft, the study of Kabbalah, nature religion (Wicca), and the practice of yoga (its sole purpose is purely spiritual). Believers must flee from any and all pagan customs and practices.  Those who are currently involved in any of the above must bring it to an end today!
Since dabbling in sorcery is a sin against God, repentance is of paramount importance.  So if you've been dabbling, repent! And never return to any sort of evil practice — even if it's "just for fun."
Bear in mind that the demonic powers operating in the realm of the occult are very real.  These spirits are stronger and more dangerous than people realize.  The Bible warns us to "regard not them that have familiar spirits, neither seek after wizards, to be defiled by them: I am the LORD your God." (Lev. 19:31).
The Apostle Paul understood all too well that evil forces are ever present in the "heavenlies." Hence, he admonished followers of Christ to wear the "armor of God" to protect against familiar spirits that prey on gullible humans.  He even gave specific instructions to the Church in Ephesus:
Put on the whole armour of God, that ye may be able to stand against the wiles of the devil. For we wrestle not against flesh and blood, but against principalities, against powers, against the rulers of the darkness of this world, against spiritual wickedness in high places. Wherefore take unto you the whole armour of God, that ye may be able to withstand in the evil day, and having done all, to stand. Stand therefore, having your loins girt about with truth, and having on the breastplate of righteousness; And your feet shod with the preparation of the gospel of peace; Above all, taking the shield of faith, wherewith ye shall be able to quench all the fiery darts of the wicked. And take the helmet of salvation, and the sword of the Spirit, which is the word of God: (Ephesians 6:1-12).
Christian — take Paul's instructions to heart and daily put on the full armor of God to protect against the rulers of the darkness of this world.
Recommended:
The Old Serpent and the Slacker—an allegory on the "Armor of God" By Marsha West
Are You Armed for Battle? By Marsha West
Occult – On Solid Rock Resources
Angels – On Solid Rock Resources
New Age Movement – On Solid Rock Resources
Contemplative Prayer – On Solid Rock Resources
Christian Yoga? – On Solid Rock Resources
Victoria's Secret (VS) has sunk to a new low – and I didn't think that was possible. Recently the retailer introduced a line of intimate apparel that they're calling "Bright, Young Things." The new line is designed to appeal to teen and tween girls. Get a load of this:
In the spring line, you'll find an array of panties, from lace back cheeksters with the word "Wild" on the back, to a lace trim thong with "Call Me" on the front, to green-and-white polka-dot hipsters reading "Feeling Lucky? (Source)
So – the decision makers at VS see nothing wrong with targeting middle and high school girls for the purpose of purchasing lace trimmed thongs with "Call me" emblazoned on the front? Do these people not comprehend that this new line exploits girls? Have they no sense of decency?
Apparently not.
Because the company is in business to make money it appears every decision is strictly about the bottom (pardon the pun) line: "Sales of lingerie for younger women are a $1.5 billion-a-year business for Victoria's Secret's Pink line, which also woos girls." If making a profit means the company has to hyper-sexualize girls – because that's what they're doing – so be it. Dads, how do you feel about your 12-year-old wearing hipster panties that ask the question: "Feeling lucky?" Would you think it cute? This is what I was referring to when I said that Victoria's Secret has sunk to a new low. One can only hope that parents will have the good sense to shop elsewhere for their precious daughter's undergarments.
But VS is not the only organization pushing sleazy undergarments to young girls. According to Bloomberg Business Week, retailers of top name brands such as Hot Topic and Urban Outfitters present their garments as cute vs. sexy. Marcie Merriman, founder of consulting firm PrimalGrowth, candidly reveals that retailers are "all going to say they're targeting 18- to 22-year-olds, but the reality is you're going to get the younger customer."
The Bloomberg article maintains that intimate apparel for girls generates big bucks for retailers – more than $11.1 billion in annual sales! Limited Brands has done even better – its VS Pink brand has done $1.5 billion and expects to do even better in the coming years.
Bloomberg also reports this sad fact:
A decade ago girls had little choice in underwear; a training bra was often a plain garment bought at Target (TGT). No longer. "Sensuality and body image continues to be a message that young girls are seeing and are being exposed to in a much less controlled fashion perhaps than even 10, 12 years ago," says Dan Stanek, executive vice president at consultancy Big Red Rooster. They're aiming to imitate the lingerie styles worn by celebrities seen on the Web, he says.
Even worse:
Lingerie makers have to be careful adjusting their messaging for a younger audience so it's more about the girl and less about dressing in a way that's appealing for men…" Moreover, "Merchandisers must "use the word 'pretty' more than 'sexy'…. (Source)
Sly devils, aren't they?
Teen Girl Magazine "Seventeen"
While I'm on the subject of hyper-sexualizing teens and tweens, according to a March 11 Fox News report:
Ashley Benson, 23, knows what sells to America's 12-year-old girls: sex, including threesomes. Together with Seventeen magazine, the actress is promoting her new movie "Spring Breakers" on the magazine's cover, despite the fact that the movie is being hyped elsewhere for its steamy sex scene between Benson, actress Vanessa Hudgens, 24, and actor James Franco. The movie is rated R for strong sexual content, language, nudity, drug use and violence. Seventeen targets an audience of females, aged 12 to 19.
What, no cannibalism?
From the Media Research Center:
"Seventeen" Entertainment Director, Carissa Rosenberg Tozzi, introduced the interview with Benson by asking girls, "Ever feel like you want to try something different, but everyone else wants you to stay exactly the same?" The article sought empathy, relating how "It's super-frustrating to be pigeon-holed like that – and Ashley Benson knows exactly how it feels."
According to Tozzi, Benson desired to "branch out and try something edgier" in her new "Spring Breakers" role. She wanted to be "bold" because, in Benson's words, "as long as you're happy, that's what's important."
In an effort to be viewd as bold and edgy, the Disney star happily cast off her wholesome image, much the same as teen idol Miley Cyrus did a few years ago when she decided to change her wholesome image to sultry seductress. In a column I wrote entitled America's Moral Implosion I disclosed what young Miley was up to:
In her raunchy new music video single "Who Owns My Heart" fans won't recognize the cute teenage girl who plays the title role of Hanna Montana on the Disney channel. Miley is17-years-old and apparently thinks she's all grown up. If appearances are any indication, she seems quite comfortable in her new role. Watching the video makes one think that writhing on a bed wearing only underwear and grinding with males and females on the dance floor wearing short shorts and a reveling top is old hat for Lady Miley. One thing's for sure: Miley Cyrus is no longer the Disney darling she once was. Watch her video. See the new Barbarella do her thing.
I also pointed out that ever since the early sixties secularists have done their best to denigrate and coarsen the culture. Five decades later most adults don't bat an eye when they see "teenage girls parade around in public, scantily dressed, wearing getups that 20 years ago only prostitutes turning tricks on street corners would dare dress in." And I warned that, "unbridled immorality is part and parcel of the secular worldview." Moreover:
Young people abuse drugs and alcohol. They lie, cheat and steal without remorse. They do not flinch at brutality. Instead of portraying vampires and witches as villains, they are the new heroes and heroines. Coarse language spews forth from the mouths of preteens…there is little or no respect for authority or for adults…selfishness and narcissism has become the rule, not the exception. What more proof do we need that liberalism brings destruction to a nation?
Dysfunctional Hollywood Liberals
To a great extent, the entertainment industry (EI) is to blame for sexualizing girls. It's a well known fact that liberals are the movers and shakers in the EI. And those who work in entertainment, especially celebrities, are largely to blame for corrupting society.
Pro-family and religious conservatives are not the ones that have brought us the culture of death and destruction – liberals have. Liberals, aka progressives, insist that all mention of God and the scriptures be removed from the public square through their misinterpretation of the First Amendment. Was the First Amendment really intended to rid public education of prayer and the Bible, while at the same time giving license to pornography that has introduced society to every sort of evil imaginable?
Track the increase of gruesome crimes against children such as rape, sodomy and abductions since 1947 and you'll find a huge spike. No one can blame Bible reading and prayer for the upswing in crime against children. No. The blame must be laid squarely upon the shoulders of hedonist "progressives" for the simple reason that they are the ones to blame for our nation's descent onto moral relativism – the belief that there is no right or wrong and that morality does not exist – and if everyone's doing it then it must be okay.
A large number of Americans worry that society is experiencing a moral meltdown. They point to Hollywood as the main culprit for this. Yet Hollywood's elites choose to ignore the obvious. Instead of producing wholesome entertainment, which many people seem to want, the EI continually turns out filth – and the more twisted the better. Sex, violence and occult themes have increased in movies, on TV programs, video games, board games, and so on. Sex sells in magazines. Clothing manufactures sell sex. Even so-called Christian retailers are selling sex! (I reported on this in depth in my columnThe "New Breed" of Christian Fashion.)
A July 2012 study suggests that children who watch sex on TV programs and movies will be more promiscuous and sexually active from a younger age. "Psychologists concluded that teenagers exposed to more sex on screen in popular films are likely to have sexual relations with more people and without using condoms."
Dr. Ross O'Hara, who led the study, cautioned:
This study, and its confluence with other work, strongly suggests that parents need to restrict their children from seeing sexual content in movies at young ages. (Source)
What To Do?
I'll close with an excerpt from a column I wrote entitled Liberals Created the Culture of Evil and Death, Part 1 where I offered the following advice on ways to turn the clock back to a time when children were allowed to be children, before America took a very dark turn:
First, Bible believing Christians must share the Gospel of Jesus Christ with the lost. "For I am not ashamed of the gospel of Christ: for it is the power of God unto salvation to every one that believeth; to the Jew first, and also to the Greek. For therein is the righteousness of God revealed from faith to faith: as it is written, the just shall live by faith" (Rom 1:15-7).
We must make disciples of all nations. (Mat. 28:19) This is a command not a suggestion. People will not change unless hearts and minds are changed. It is men and women who need changing, not just the system (but the system needs changing too). There's a Holy Spirit filled power in the gospel that can change the most hardened criminal into a saint.
Second, Christian parents must instill in their children a Christian worldview on a variety of moral issues such as premarital sex, bearing babies out of wedlock, abortion, homosexuality, biblical marriage, gambling and drug use.
Third, parents must address what's going on in the government-run-schools they send their children to, where individual thinking is discouraged and group-think is rewarded. What kids are being exposed to is humanistic education. A large number of our public school teachers and counselors are radical liberals. Their aim is to persuade students to reject their parent's values and instill their own leftist ideology. In her book "Total Truth," Nancy Pearcey warns parents that they're youngsters "must be equipped to analyze and critique the competing worldviews they will encounter when they leave home" and she explains how to equip them. In short, young people must have the confidence to stand up for what they believe, both in college and the workplace. Turning the other cheek has never deterred a liberal.
Fourth, "Preach the word; be instant in season, out of season; reprove, rebuke, exhort with all longsuffering and doctrine." Why is this important? "For the time will come when they will not endure sound doctrine; but after their own lusts shall they heap to themselves teachers, having itching ears; And they shall turn away their ears from the truth, and shall be turned unto fables. But watch thou in all things, endure afflictions, do the work of an evangelist, make full proof of thy ministry" (2 Tim 4:2-5).
Fifth, pray! "Elias was a man subject to like passions as we are, and he prayed earnestly that it might not rain: and it rained not on the earth by the space of three years and six months. And he prayed again, and the heaven gave rain, and the earth brought forth her fruit" (James 5:17, 18). When you pray you must pray to the only true God.
One day back in high school, a very interesting English teacher asked our class a moral question: if you could press a button and get a million dollars, but a little old man — with no family, friends, or ties of any kind — in the backwoods of China would die, would you push that button?
Approximately a third of the class raised their hands in the affirmative.
This story always comes to mind when I ponder the abortion question. The old line of the pro-abortion lobby was that they wanted abortion to be "safe, legal, and rare," implying it's some sort of necessary evil. Their reasoning always was, "Well, we don't know when human life begins, so whether or not to end a pregnancy should be the woman's choice." Of course, this position was never morally or philosophically sound. After all, if what lies within the womb is just an "unviable tissue mass," why worry about abortion being "rare"? Oh, yes, the pro-aborts aren't sure about the intrauterine being's status. All right, then what they're essentially saying is that they'll err on the side of recklessness. It may be murder, you know — so we'll just do it a little bit.
Yet the truth is different still.
The militant pro-aborts couldn't have cared less about any of the above.
It was simply that pushing the button worked for them.
And now that we've descended further down the rabbit hole of atheism and barbarity, the mask is coming off. New York's Governor Andrew Cuomo just recently bloviated about keeping people safe from imaginary "assault weapons," but then in a later speech advocated abortion almost without restriction. He repeated passionately, "It's her body, her choice!" — three times. Interestingly, this political tactic for manipulating the masses was recommended by Adolf Hitler in Mein Kampf: he said that the average person had a very short memory, so you must use pithy, catchy slogans and repeat them frequently. Hey, now we know why talk-show host Bob Grant dubbed Cuomo's father, a former NY governor, "Il Duce."
But Cuomo the Younger has plenty of company. When Barack Obama infected the Illinois Senate, he voted against the Born Alive Infants Protection Act (BAIPA) and inveighed against it on the Senate floor — on more than one occasion. And understand this law's purpose. It would sometimes happen that a baby was born alive during a botched abortion, and, well, a good contract killer always finishes the job. So these poor children would be left to die of exposure, perhaps in lonely, soiled storerooms. And BAIPA would have prohibited this. But Push-button Obama?
He clearly had no problem with it.
Of course, he did say during the 2008 campaign that the question of when human life begins was above his "pay grade." But how far above? Is it that the president believes human life begins when a person can vote Democrat?
A better explanation was provided by former Obama aide Neera Tanden, who said that her ex-boss "really doesn't like people." And, well, people are people, no matter how small (hat tip: Dr. Seuss).
In reality, however, my erstwhile high-school peers, Cuomo, Obama, and the rest of the Push-button Baal worshipers are simply moving closer to intellectual consistency as they move further from moral sanity. After all, think about where the "pro-choice" position takes us. It doesn't really matter what month one says human life "may" begin because we're always presented with the same correlative questions. What week of that month? What day of that week? What hour and minute of that day? And, then, what second of that minute?
This lends perspective. For what we then must accept is that one second the intrauterine entity isn't a person, but the next second it — although I suppose at that moment we can say "he" — somehow magically becomes one. And this isn't even the moment of conception, a seminal event without which there would be no development in the womb whatsoever. So how, pro-aborts, does this humanizing transformation take place?
And this logic also applies to the justification of abortion throughout pregnancy…and beyond. After all, if it's okay to kill the intrauterine being in a certain month, what is the exact week, day, hour, and second of that month before which it isn't morally licit? This is a case where when seconds count, the police will never come because the wrong second deems you push-button prey.
But here is the reality: that being inside the womb is a person. And forget the intellectual contortions — the truth will out. If it's all right to murder an innocent person one second, there is no reason to think it isn't okay the next, and then the next and the next and…well, finish the progression. So is Obama's tolerance for killing the already born really surprising? "Already born" simply refers to a change in a person's location — not status. And, note, the same is true of "born a long, long time ago."
This brings us back to my question of how the post-conception, second-to-second humanizing transformation occurs. The only logical (which isn't necessarily synonymous with correct) argument is that the moment in question is when the being is implanted with a soul; this is, after all, why Christians say that conception is when personhood begins. Yet theological discussions would be pointless here because the vanguard pro-aborts are secularists who, by and large, don't subscribe to antiquated ideas about souls and "sky fairies." They are materialists.
And this is why the atheistic world view ultimately makes respect for life incomprehensible. For if we don't have souls, we're just some pounds of chemicals and water — mere organic robots — as Stephen Hawking says he considers us. And what could be wrong with terminating the function of a robot? This "insight" frees you from the burden of performing more complex intellectual contortions. Big robot, small robot, temporarily residing inside a larger robot; what does it matter? Robots are robots, no matter how tall.
Taking the matter further, note that if there is no God, there can be no transcendent Moral Truth. Following from this is that what we call morality is just a reflection of man's wants, which means there isn't really any such thing as right and wrong; as the liberals are wont to say, it's all just a matter of "perspective." And with no Truth but only taste, no virtues but only "values," the formula becomes, as occultist Aleister Crowley devilishly put it, "Do what thou wilt shall be the whole of the law."
This is why I've said that if the leftists' moral relativism is taken to its logical conclusion, the result is sociopathy. After all, how does a conscience compute, fellow organic robots, if there is nothing to be conscientious about?
Now perhaps you better understand why leftists' behavior is often so sociopathic. And be afraid, be very afraid. Once the godless left has the power and the mask drops completely, it may be you who they push the button on next.
During the 2012 election, the New Religious Right (NRR) held prayer vigils all throughout the United States. Their rallying cry: "If my people, who are called by my name, shall humble themselves, and pray, and seek my face, and turn from their wicked ways; then will I hear from heaven, and will forgive their sin, and will heal their land." 2 Chronicles 7:14
There is nothing wrong with Christians gathering together to pray for a common cause.  There is nothing wrong with asking God to return our country to biblical principles for the simple reason that those of us who profess Christ believe that there's something diabolical going on, and our country is in the grip of evil.  The way we see it, spiritual forces of wickedness have invaded virtually every aspect of society.  And this reality is what drives us to our knees to plead with God to intervene on our behalf.  As the election drew close, we appealed to the Creator to spare us from an administration that aims to transform America into a socialist utopia.
Even though large groups of conservatives from many religious systems joined together and prayed their brains out, God did not spare America.
What struck me as odd is that many professing Christians met in large groups to pray with people that reject the God of the Bible even knowing that those from other religious faiths do not pray to the God of Christianity. So the purpose for praying with unbelievers is….?
Now consider this. The Bible teaches that anyone who is not born again is not indwelled by the Holy Spirit.  I tackled this subject in "Are you praying to the only true God":
Scripture speaks of God the Holy Spirit residing within all who believe in the Son of God. The Spirit guides, instructs and empowers believers. (John 14:16-17) As well, the "Spirit of truth" confirms everything about Jesus. (John 15:26) The unregenerate (unsaved) person is not Spirit filled. God does not hear anyone's prayer unless it is put into words by the Holy Spirit. So if we want our prayers to be heard and answered we must pray to the right God. (Source)
Paul drives home the point in 1 Timothy 2:5:
For there is one God, and one mediator between God and men, the man Christ Jesus.
As mediator, Jesus Christ stands between God and men to reconcile man to God.  According to Scripture, God does not hear the prayers of the unrepentant sinner. "Sin had made a quarrel between us and God; Jesus Christ is the Mediator who makes peace."
Returning to the election, Albert Mohler believes it was a "catastrophe" and a "disaster" for evangelicals. He said in a New York Times interview:
It's not that our message—we think abortion is wrong, we think same-sex marriage is wrong—didn't get out. It did get out.  It's that the entire moral landscape has changed. An increasingly secularized America understands our positions, and has rejected them.
Perhaps the NRR leaders should put their priorities in order and do what the Bible commands.  First and foremost followers of Jesus Christ must share the Good News of the Gospel with the lost.  (1 Corinthians 15:3-4, Mark 16:15) We may defeat the evils of our day through political means and we may change laws. But unless man's sinful heart is changed, evil will persist.
We must also oppose the evolutionary secularist worldview.  Many pro-family groups have been in the trenches for decades, fighting to "take back America for God."  It has been an up-hill battle — and expensive to boot.  But let's be honest; in spite of all our efforts and the money we've poured into winning the culture war, liberals are winning!
After months of pleading with God to oust Obama, we're now asking, "Why did God allow his re-election?"
In a word: Judgment.
So with that in mind, the question we should be asking ourselves is, "Why is God judging America?"
Again, in a word: Sin.
When I was a child and disobeyed my parents I got a spanking.  But before the boom was lowered I'd cry out, "Don't spank me! I'll be good, I promise!" All the pleading in the world did not work with my parents. They'd give me a licking because I deserved one.
Well, America is getting a licking because we deserve one. It would seem that God has closed his ears to our pleas and stale promises. We the Peeps have not repented of our sins and turned from our wicked ways.  In fact, most Americans could care less what God thinks of their lascivious behavior.  So for now, at least, God will allow us to continue wallowing in filth.
I believe one of the reasons God has turned us over to a reprobate mind, to do what should not be done (Rom. 1:28) is that, like the world, the visible Church is awash in sin.  A whole host of self-professed Christians are deep in sin simply because they have no clear understanding of what God deems sinful — and they have no desire to find out!
Satan uses syncretism to separate God from His people.  Religious syncretism is the blending of differing systems of belief.  "Syncretism relies on the whim of man, not the standard of Scripture."  Syncretism in Protestantism occurred when elements of other religious beliefs were integrated into mainstream denominations. So, what's the big deal?
The big deal is blending historic Christianity with other philosophies!  Listen to Deuteronomy 12:29-31:
When the LORD thy God shall cut off the nations from before thee, whither thou goest to possess them, and thou succeedest them, and dwellest in their land; Take heed to thyself that thou be not snared by following them, after that they be destroyed from before thee; and that thou enquire not after their gods, saying, How did these nations serve their gods? even so will I do likewise. Thou shalt not do so unto the LORD thy God: for every abomination to the LORD, which he hateth, have they done unto their gods; for even their sons and their daughters they have burnt in the fire to their gods.
The LORD was not kidding around.
Syncretism slithered into the Church through liberalism.  But well intended evangelical conservatives who make up a large part of pro-family groups are also responsible.  In their desperation to "bring America back to God" groups such as the American Family Association, Focus on the Family, the Family Research Council, Americans for Working Families, Wall Builders, Traditional Values Coalition, Liberty Council and Concerned Women for America reached out to a slew of controversial Christians (false teachers), including men and women in theological cults!  And they're routinely invited to participate in spiritual and political endeavors — even prayer rallies!
Over the years religious renegades have shared the platform with GOP candidates, congressmen, entertainers, heads of pro-family groups, and other conservative superstars.  Now, I'm not saying that people on stage with renegades share their beliefs; what I'm saying is that when highly regarded leaders unite with heretics and cultists, the public sees it as an endorsement!
"If the New Religious Right were truly committed first and foremost to sound biblical theology and doctrine," says Brannon Howse, "they would not be involved in spiritual enterprises with those who participate in the New Age Movement, the New Apostolic Reformation, ecumenicalism, globalism, communitarianism, the Church of Rome, the Word of Faith movement, social justice, and the social gospel."
As Brannon rightly pointed out, the Word of Faith movement is not committed to sound biblical doctrine. What they teach is heretical!
Here CRI exposes word-faith teaching:
God created man in "God's class," as "little gods," with the potential to exercise what they refer to as the "God-kind of faith" in calling things into existence and living in prosperity and success as sovereign beings. Of course, we forfeited this opportunity by rebelling against God in the Garden and taking upon ourselves Satan's nature. To correct this situation, Jesus Christ became a man, died spiritually (thus taking upon Himself Satan's nature), went to hell, was "born again," rose from the dead with God's nature again, and then sent the Holy Spirit so that the incarnation could be duplicated in believers, thus fulfilling their calling to be what they call "little gods." Since we're called to experience this kind of life now, we should be successful in virtually every area of our lives. To be in debt, then, or be sick, or (as is even taught by the faith teachers) to be left by one's spouse, simply means that you don't have enough faith — or you have some secret sin in your life, because if you didn't, you would be able to handle all of these problems.
Further…
In every instance, the "Word-Faith" teaching is guilty of presenting an inflated view of man and a deflated view of God, thereby compromising God's message as revealed in the Bible. This fast-growing movement has disastrous implications and, in fact, reduces Jesus Christ to a means to an end — when in fact he is the end. If the New Age Movement is the greatest threat to the church from without, "positive confession" may well be its greatest threat from within. (Online source)
Another movement mentioned by Brannon Howse is the New Apostolic Reformation (NAR).  The NAR, aka dominionists, hold that God is restoring the lost offices of church governance, namely the offices of Prophet and Apostle.  The leaders fancy themselves modern-day apostles and prophets and believe they have the same gifts as the Old Testament prophets and the New Testament apostles.  In a piece I wrote entitled "Dominionists are on the move…and they mean business" I brought to light some of their unbiblical beliefs:
The NAR/dominionist's goal is to transform society into the kingdom of God on earth. How? By controlling various aspects of society. The term they use is the "Seven Mountains," or "Seven Spheres" of society. The Seven Mountains are: 1) Arts and Entertainment; 2) Business/Economy; 3) Education; 4) Family; 5) Government; 6) Media; 7) Religion. The NAR holds that as they accomplish ridding the world of evil, things will get better and better and then Jesus Christ will return to set up His kingdom.
The goals of the CR [Christian Right] and the NAR seem like a good idea, right? I mean, who could argue with wanting to influence the seven spheres of society that are dominated by secular humanists. Christians are not wrong in desiring to have a society based on Judeo-Christian principles. But here's the problem. This "mandate" the NAR mob subscribes to did not come from the Lord Jesus Christ. In John 18:36 Jesus made it clear: "My kingdom is not of this world."
However, dominionists never let a little thing like what Jesus said get in the way of their lofty goals. One of the most troubling aspects of their "theology" is the unbiblical teaching on spiritual warfare. They believe they have a kingdom mandate to do "strategic-level spiritual warfare" which is "a popular charismatic method of casting out demons from geographical locations or territories. It identifies three levels of demonic control on earth. Firstly, are "Ground-Level" demons, which possess people. Secondly, "Occult-Level" demons empower witches, shamans, magicians. Finally, "Strategic-Level" demons which are the most powerful of the three, are said to rule over certain regions or territories. Their main purpose is to hinder people from coming to Christ."
Hence, dominionists go hither and yon to do strategic-level spiritual warfare to tear down demonic strongholds established by Satan and his demons. This is not local; it's global. (Source)
The fact of the matter is that the word-faith/positive confession movement and the NAR have many of the same heretical beliefs.  In Matthew 7:15-17, Jesus warned:
Beware of false prophets, who come to you in sheep's clothing, but inwardly they are ravening wolves. You shall know them by their fruits. Do men gather grapes of thorns, or figs of thistles? Even so every good tree brings forth good fruit; but a corrupt tree brings forth evil fruit. … Therefore by their fruits you shall know them.
In Ephesians 5:11 Paul tells us to "have no fellowship with the unfruitful works of darkness, but rather expose them."  We are not only to expose them, we are to call them what they are – evil!  We have many examples in the Bible of name calling. For example, in Matthew 23 Jesus called the scribes and Pharisees hypocrites and "whitewashed tombs, which outwardly appear beautiful, but within are full of dead people's bones."  He called these same men serpents and a brood of vipers, looked them squarely in the face and said, "how are you to escape being sentenced to hell?"
But instead of exposing unfruitful works of darkness as we are commanded to do, New Religious Right leaders, many of whom profess Christ, organize prayer events with them!
So – did God hear those prayers?  Consider who He hears according to Scripture and draw your own conclusion.
Resources:
New Apostolic Reformation articles—On Solid Rock Resources
Televangelists & Word of Faith Movement—On Solid Rock Resources
Are you praying to the only true God? By Marsha West
Liberals created the culture of evil and death, part 2 By Marsha West
How the Religious Right Assisted in the Re-Election of President Obama And Are Hastening God's Judgment of America By Brannon Howse
Neo: "What truth?", Morpheus: "That you are a slave, Neo. That you, like everyone else, was born into bondage… kept inside a prison that you cannot smell, taste, or touch – a prison for your mind."
~The Matrix 
In the movie the Matrix, Morpheus and Trinity knew that something in reality had suddenly changed when Neo experienced a deja-vu. The deja-vu resulted as a bit of the virtual world reformatted changing reality enough so a new 'reality' presented with an advantage to the controllers.
It is interesting to pay attention to the Matrix of 'real' life because there are many similarities to the inspired ideas communicated in the movie of the same name. If you pay attention long enough you'll notice some deja-vu. This 'real' life appears to have scripted components that when noticed change reality right before our eyes.
Right now the global controllers are modifying the script so as to bring about some kind of change that facilitates their plan of global domination and enslavement they'll call global government.
The stage is being populated with new props and I sense a deja-vu.
WHO CONTROLS THE WORLD
I think the sociopolitical framework of the united States and the world are scripted plays created by powers-that-be having critical knowledge of human psychology and control of the worlds media, education, money, military, religions, and energy (including food, water and medicine). And because it is important later, I will note the world's-a-stage script writers are obsessively interested in esoteric occulted symbols, numerology, astrology and religious ritual.
As many of you already know, the united States of America's over government (by agreement made called the Constitution), commonly known as the United States Federal Government (USG), was infiltrated and usurped many years ago; the final purge was nearly complete with the bankruptcy and subsequent relaunch of the USG in 1933. One way to help your mind work better when thinking about this is to mentally rename the USG. Renaming results in clearer thinking because it makes allegiances transparent. I like to think of the USG as Federists (rhymes with terrorists), which helps me remember I'm talking about an foreign occupational, hostile, well funded, highly intelligent, malevolent gang of usurpers. Federists occupy the highest offices and control the primary enforcing agencies of the former USG.
Federists control of America is maintained first by deception, then bribery and blackmail and finally, as needed, murder.
In other words, the control system that has been pulled over our eyes to blind us from the truth, is now in control of the world's wealthiest and militarily powerful nation on earth.
The world, then, is controlled by an unnamed, focused group of powerful, malevolent, super-staters, which, by proxy, occupy and control the highest offices, enforcing agencies and military of the wealthiest and most powerful nation on earth.
The world is controlled by the globalists.
GLOBALIST'S RESOURCES
The globalist maintain their control over the world through control of the worlds media, education, money, military, religions, and energy (including food, water and medicine).
The primary source of globalist power comes from pretended money in the form of currency and energy monopolies. All the other controls are derived from these two sources. And, for future reference, these two main sources of power are the globalist's Achilles heel.
Counterfeit currency is a system of pretended money loaned by imitation banks to governments at interest. The interest represents real wealth streamed back to the imitation banks in payment for the counterfeit currency (nothing).
The crux of the crime is that nothing of value is loaned in return for interest payments. Using the borrower's promise to pay as currency, the imitation banks return debt as money. In other words, nothing of value was loaned by the bank in return for interest payments. Hence a system was devised so globalists can issue currency in nearly unlimited quantities, at no cost to the globalist, in return for an ever growing stream of interest payments siphoning off the wealth of the borrowers.
The globalists using middle men like the Federists can then 'loan' unlimited ( at least in the short term because this banking scam eventually self destructs) currency to the Federists, who use the currency to further the globalists agenda, while the globalist still retain the interest stream now passed off as income tax to the working class of the united States of America.
The actual currency (dollar) is worthless, but derives a phony value because people accept the dollar in trade for real goods. Since the currency grows on trees, the quantity can always increase (and of course it does), thereby reducing the supply of goods available causing prices to rise in proportion to the quantity of pretend money in existence. The rising prices are a second form of tax since it now takes more dollars to purchase the same good. (Your loss of purchasing power has been transferred to the Federists to be used in service of the globalist.)
Using this currency, the globalist can then fund legislation in the affected country to erect monopolies on energy, buy and control the media, fund education trusts and university grants, bribe and control religions and the military.
HOW THE GLOBALISTS WRITE THE SCRIPT
For the record it is easy to write the script when you own the media, schools, churches, energy, money and military.
The globalists write the script through careful control of images, themes and thought. Deception is the operative concept, even if the details are complex and complicated. In essence, the globalists frame the problems of the world and then provide the solutions. Many people have reported this idea, David Icke calls it 'problem, reaction, solution'. Using fear as a means of gaining and keeping attention, globalists, behaving like the best magicians, maintain your attention on fear while they move the props around the stage. Then when horrific problems do emerge (usually staged) , the globalists through their operatives are standing by with solutions, solutions that require the transfer of more power, wealth, resources, liberty and subjugation to the globalists.
Strictly controlling the media and churches with propaganda and topic restrictions , while limiting your energy, issuing your currency and directing the military, the globalist have near total control of an individual's mind, wealth, health and spirituality. This control is used to create a pseudo world, not a complete Matrix (I hope) , but a mixture of scripted and directed macro story and permitting a limited personal directed micro story. You do have control of parts of the play, but the point is, "All the world's a stage, And all the men and women merely players"
DEJA VU
Mind control of Americans is of pivotal importance to the globalist because America has been captured and occupied by the Federists, their primary tool of action and it is American's that have the best chance of switching off the Matrix and welcoming everyone to the real world.
The American media, with the exception of some uncontrolled, unaffiliated, non denominational, unregulated, alternative media is busy supporting normalcy biases or fear (as needed) via images and symbols. Images and symbols are necessary to maintain control of the mind while transmitting massive, encrypted data through the short hand of symbols.
The events of Nine-Eleven (leaving the numerology in the background) permitted a glitch in the Matrix, a deja-vu was noticed by the very sensitive, the Matrix was updating the stage to facilitate the globalists. Unlike other false flag events throughout history however, Nine-One-One happened in a time of technology benefiting the global media. The global media, being controlled by the same people that perpetrated the crimes, provided the globalist with an unprecedented opportunity to reach the minds of Americans and the world in a realtime televised ritualistic mass murder. Murder, being one of the ways the globalist maintain control over Americans (as needed), the globalists were signaling a change in the Matrix to include tighter control of Americans (the new security, police state.) Tighter control that would require cooperation from Americans to achieve. American cooperation was secured using hypnosis and trauma based mind control. The events of Nine-One-One were orchestrated to move the globalists to the next level of their long term plan.
ONE WORLD, ONE STAGE
For decades awake Americans and others have put together the pieces forming a story that told of the controllers, the globalists, destroying the world's social structures, reducing populations and reforming a unified global society taking the form of communism or some similar socio-political-economic top loaded tyranny. Communism and its collective cousins are pseudo economic and socio-political systems invented by the globalist as tools to manipulate minds into cooperating with their own enslavement.
The globalists, it seems, are not happy controlling nations while raping and robbing the people through deception. The globalists have a higher goal, the goal of ruling the world outright, not through deception but through outright tyranny. Perhaps the globalists tire of ruling by deception, only able to tell their story through predictive programming and the works of obscure minions given tidbits of inside information.
Regardless of the reasons, the globalists are moving quickly now to complete their prison planet. In fact it is critical to finish their handy work now because many people are waking up, unplugging and noticing the real world. It's also critical to finish now because the universe is waking up and the sun and the earth are responding with changes of their own.
You see the globalists know Americans, armed with the vestiges of a philosophy supporting right to life, a philosophy that supports individuals living their own life as a means to their own ends, still have an opportunity to change the script.
Americans are also armed with the necessary weapons to take back control of the nation by throwing out the Federists and arresting globalists where ever they may be.
But the clock is running, tick tock, the next change in the Matrix is coming and this time Americans will be traumatized into cooperating with their own disarming.
Nine-Eleven AS A STAGED MEGA RITUAL AND THE FINAL AMERICAN STAGED EVENT 
I mentioned above that our controllers have an obsessive interest in esoteric occulted symbols, numerology, astrology and religious ritual.
Take a stroll around Washington DC looking for occult and ancient religious symbols. See if you can spot Egyptian or Roman gods. Have a good look at the Statue of Liberty, see if you can identify lady Liberty as someone else from ancient occult history. Investigations into the world of Freemasonry and Babylonian cults will expose many overlaps. For fun explore the beginnings of the Mormon religion or the church of Scientology. The world of religion is comprised of symbols and secrets and is an ancient system of mind control. And, as I have said, mind control is even easier when you own the media, schools, churches, energy, money and military.
I have recently read a book by S.K. Bain entitled "The Most Dangerous Book on Earth: 9/11 as a mass ritual"
This is one of the best resources for understanding the occult and esoteric meanings and rituals associated with Nine-One-One. According to the author the entire hideous event was scripted with great attention to detail using ancient religions and occult symbols, numerology, deity worship and incantation.
In this well researched analysis of the scripting of Nine-Eleven, Bain describes the event as having an opening ceremony followed by a declaration asserting the ritual was to worship a deity, followed by incantation identifying the deity and then worship including sacrifices, and finally closing ceremonies. A modern MEGA occult ritual played out, including mocking those that could not see or recognize the event, while doing a hat tip to Aleister Crowley – all done in plain view and transmitted via television around the world.
The point of bringing this to your attention is that Bain makes a good argument, and so do many others in his documented research and elsewhere, that Nine-One-One was planned many decades, if not centuries in advance. Information detailing the extent to which the controllers scripted Nine-Eleven is startling even to those of us that have been awake for some time. For many readers this may be hard to accept, but I recommend you clear your mind of accepted beliefs and begin your research.
The second part of the book is what Bain calls 'Predictive Fiction' wherein, using information learned by decoding the events of Nine-One-One and noting the props placed on the stage of life in advance to be ready for use in the MEGA ritual (recent ritualistic mass murders), he makes a prediction that the MEGA ritual which had its origins long before Nine-One-One, and included the deaths of over 3000 people on September 11, 2001, has not ended.
Using the literary tool of telling a story after the events of the story happened (in advance of the actual events in reality) , Bain follows his line reasoning from investigating Nine-One-One and leads us to the conclusion the next step and the conclusion of the events witnessed on September 11, 2001 will culminate in the nuclear destruction of downtown Phoenix, Arizona on the religiously and astrologically significant date of December 25, 2012. The MEGA ritual concluding as the beginning of the NEW GREAT AGE begins with the start of the next 26,000 year solar cycle around the milky way.
Conclusions and implications drawn in the book are shocking and follow the facts, as they are known to date, including information on recent and related ritualist public sacrifices in Arizona, allegedly by lone gunman Jared Lee Loughner, and Colorado, the 'Batman' shooting, allegedly done by lone gunman James Holmes; sacrifices that foreshadow the Christmas day event.
KNOCK KNOCK
Events in the world and especially in America are telegraphing something big is coming soon. This all leading up to something and If I'm correct, the clues are already in place, props and propaganda are taking shape in the Matrix.
For Americans, like Neo in the Matrix, it means waking up and reading the writing on the screen. We have an exponentially rising police state growing before our eyes. Men, machines and assets are being deployed at rate greater than population growth. Military is actively participating in police duties, cities are seeing full scale military drills including jets and helicopters. The Federists are buying hollow point ammunition in quantities not required except for all out war; ammunition that has no other purpose than killing. The Federists are purchasing MREs, coffins, death certificates, building prison camps and announcing kill lists. The Federists by decree have announced they can do roundups of Americans for detention and disappearing with no due process. The Federists are arming drug gangs in Mexico and America and have opened the border with Mexico for entry by hoards of non American Citizens for purposes of causing stress, chaos and racial strife.
Further indications that something big is planned is the outrageous growth of the TSA. The Transportation Safety Agency was originally part of the department of Transportation, but it did not stay there long. In 2003 the TSA was assimilated by the Soviet sounding (legitimizing and acknowledging the communist system the globalists installed in Russian after 1917) Department of Homeland Security. The TSA originally were badge-less bag checking public servants assigned as ancillary security helpers in airport baggage areas. But after 2003, the agency took on its primary role which has nothing to do with the safety of transportation. The TSA is clearly only a Tyranny Support Asset and is part of security theatre creating false fear in the minds of travelers and traumatizing travelers by groping, sexual assault, theft and verbal abuse. Clearly we are being conditioned to associate fear and pain with travel, and unqualified thugs in blue shirts and tin badges.
As far as security is concerned, the TSA obviously is not charged with or concerned about traveling security. The TSA has no skin in the game of transportation (unlike the airlines or airports) and deliberately employes some of the poorest personality types from the lowest walks of life. Theft, sexual assault and more by TSA agents is rampant, begging the question, how could you trust a TSA agent to protect you from outside criminals when crime is rampant on the inside.
The TSA is a cancer on commercial air travel ( and now moving into the train stations, bus stations, malls and highways) and using them for security is akin to Rolling Stones management hiring the Hells Angels to provide security for the concert in Altamont Park in the winter of 1969. According to Wikipedia "Although peaceful at first, over the course of the day, the mood of both the crowd and the Angels became progressively agitated, intoxicated and violent."
The point is there have been no terrorists, except those admittedly created and deployed by the FBI and intelligence agencies but yet the number of TSA employees has tripled since 2003, from over 16000 to now over 50000.
This agency has never thwarted a single terror plot, never captured a single terrorist and the very best you can say is the airline industry is still surviving despite the TSA. Therefore one might ask is there more to the TSA story than transportation security theatre. Perhaps the TSA is being grown to fill the responsibility of supporting a full on tyranny, where the real function will be to support the tyranny via arrests, documents processing, impeding travel, searching for valuables (under currency controls) and disappearing marked targets.
Perhaps the TSA is being grown for some new event, forming on the stage now, but out of site. After all, at this growth rate the TSA will soon be the size of a small army – yet with nothing productive to do.
What is it going to take to get past the trauma based mind control of Nine-One-One so that Americans can start resisting now. When the weapons are confiscated, America's chances of stopping the tyranny will have been confiscated as well. 
WHAT CAN BE DONE
If we had been able to read something like "The Most Dangerous Book in the World" sometime prior to Nine-One-One, we could have started watching and looking for signs the script writers were placing props and propaganda into the 'Matrix' and, possibly, in pointing out the props and propaganda, we may have been able to stop the event. We might have seen the World Trade centers being prepared for destruction. We may have noticed the outrageous number of financial bets placed against business and airlines involved with the event (insider trading). Flight control center operators and military strategists may have notice the unusual number of exact scenario 'drills' planned for that particular day.
Fortunately we can read the book now, and, even if nothing happens on Christmas day (hopefully), we can all start watching and paying more attention to the stage and the changes in the Matrix.
For example, remembering who the Federists are and globalists control the media, then everything presented in the media must be constantly analyzed for propaganda.
For example the religious media is telling Americans that Iran is a boogie man and Israel must be protected at all costs. This mantra is in support of a propaganda campaign to attack Iran going back more than 10 years. But now a ripple has hit the pond in support of this narrative from a slightly different angle, now we are beginning to hear about possible 'sleeper cells' of Iranians or Hezbollah or other Iran related groups hiding out in America. We are also being told by some alternative media that Iranian or Hezbollah troops may be massing in Mexico or Belize preparing to infiltrate the country via the unprotected borders.
This narrative could be used as a tool for assigning blame after a nuclear attack on an American city via some technology, which by the way could only be created and built by the Federists or globalists, such as a portable nuclear bombs. For the record Iran/Persia has a history of self reliance and non aggression; a nation, ironically, being encircled by warring, aggressive nations claiming Iran is destabilizing the peace in the region. See my article "Iranian Hostage Crisis: Reloaded" for more information regarding Iran.
Globalist misinformation and disinformation usually carries a signature of being opposite of the truth. Remember the Federists tell Americans that al-Qaeda is responsible for Nine-One-One, but Federists in league with NATO and United Nations fund and deploy al-Qaeda to destabilize Middle Eastern and Arab nations.
If an American city is being targeted for a nuclear bomb, there may be other props noticeable by Americans. Now is the time to start looking and reporting.
I recommend buying and reading "The Most Dangerous Book in the World" and do so before Christmas. The in-your-face mockery of the globalists is over the top and the time has come to wake up and route them out.
Bain wonders how the names of Obama and Osama and Saddam Hussein and Barack Hussein can all be so similar. In the name Osama Bin Laden is the name Obama or the name Biden. Inside the name Barack Hussein Obama is the sentence "Amen Ra is Back BHO USA" Is this just an accident ? I firmly believe that accidents are very unlikely in this highly controlled Matrix.
As individuals we do not have to consent to tyranny and rule by occult loving psychopaths. Passive aggression and deliberate peaceful non compliance is possible by anyone ready and willing to work for the end of this madness. The time is now:
Tell People,
• Get vocal at local and state government events and meetings,
• Get your money out of the globalists banks and keep your savings in physical silver and gold and long term food and guns and ammo,
• Move to states that seem to be organizing against this tyranny,
• Withhold consent and support for the system by getting off the grid,
• Support the second amendment, learn to shoot, talk about guns, support second amendment organizations,
• Turn off the TV,
• Stop buying products from globalists companies when possible,
• Grow a garden,
• Oppose agenda 21 any chance you get,
• Create new products and service in the privacy protection market,
• Create new products and services in the home off the grid market,
• If you are teacher, reverse indoctrinate your students, help wake them up,
• If you work for the "defense" industry, find other work,
• If you are a cop or in the military check out Oath Keepers,
• Stop supporting the war on drugs,
• Oppose the militarization of your Sheriff and Police departments,
• Film and post to youtube signs of tyranny,
• Stop answering questions, when silence will do,
• Learn about the law and your rights,
• Exercise and eat right,
• Learn a martial art,
• Stop supporting the system, do not seek help from the state or government, learn to solve your own problems, including domestic problems,
• Get off prescription medicine, alternative medicine has remedy for nearly everything,
• Support food markets selling organic,
• Ask your local food stores to stock organic,
• Oppose Fluoride in your water, even if no one listens,
• Learn more about yourself and your own power.
Stand up now before gun confiscation leads to a false flag civil war.
Source:  Jack Mullen | RedIceCreations.com
Is it possible for a Christian to know God's will and not have to agonize over it? Should a believer make a decision without first spending hours in prayer, asking God to reveal His will? Must a Christian avoid making a decision until he or she has a "peace about it"? What about waiting for a "sign" from God? Is it okay for a Christian to consult a psychic or a Ouija board to seek God's guidance?
A married couple, John and Tina, is faced with a dilemma. They would like to move to Colorado to be closer to John's family. They've been praying about it, asking God to show them His will. Their decision must be made before the end of the week, yet they're still not sure what God wants them to do — should they stay or should they go?
Naturally John and Tina are confused and frustrated. John is leaning toward moving because he knows it will be good for the kids to live close to their grandparents. He's even getting excited about it. Not Tina! She wants to wait for a "confirmation," from God before they pull up stakes and move half way across the country.
John and Tina are in the proverbial pickle.
Many Christians talk about finding God's will as though it were some deep dark secret, hidden away in the pages of Scripture. Maybe God doesn't want us to find it.
Where does the Bible teach that God tries to hide His will from us?
Tina and John believe their heavenly Father loves them, yet they've decided that He's hiding His will from them. Maybe God likes playing hide and seek.
Most good parents want what's best for their children, right? So does it make sense that God would want to hide His will from those He loves? If Tina and John really believe He's a loving Father, why are they clinging to the ridiculous notion that He wants to keep them in the dark?
If you search the New Testament you'll find no explicit command to "Find God's will." Read through the book of Acts and you'll see what I mean. The Apostles were given no clear instructions on how they were to discern God's will. No prayer ritual. No magic formulas. Nothing!
Christians shouldn't waste their time searching for a magic formula that will cause the Almighty to reveal His will. Since God forbids pagan divination, dabbling in the magic arts is risky business. Yet professed Christians are using eastern meditative techniques hoping to gain secret information that God has not chosen to reveal. Followers of Jesus Christ should never seek supernatural powers. God has determined the means by which we come to Him in prayer–and He set certain boundaries! Try to imagine, if you will, Christians determining the boundaries for themselves. There would be no limits whatsoever!
Some Christians push the limits to the brink. Mystics like Brennan Manning and Richard Foster believe God can be found within through achieving an altered state of consciousness. Individuals involved in contemplative prayer commune with God through meditation and yoga. By using these techniques they're able to reach stillness, thus opening themselves to new experiences within, and receiving illumination. Gary Gilley offers this insight into what Christian mystics believe:
"[T]he mystic has no confidence in human knowledge accessible through normal means such as the propositional revelation of God (Scripture). If we are to know God, it must come from a mystical union with Him that transcends the rational thought process or even normal sensory experience. This takes place through following the three stages of purgation, illumination and union; implementing the spiritual disciplines and most importantly, practicing contemplative prayer." (Source)
Contemplatives admit that the means they use to commune with God can be dangerous as it invites demon oppression. And for those who are not Christians, it invites demon possession! In Acts 8 we learn that Simon (the sorcerer) Magus was severely rebuked by Peter for seeking supernatural powers. Christ himself criticized the "perverse generation" that always asks for a sign from God.
Looking for signs through coincidences, or flipping through the Bible and placing a finger on a verse, or relying on the first thought to enter your mind after a prayer, are forms of Christian divination.
In order for Christians to mature in their faith they must read and study Scripture, meditate on it (this does not mean eastern meditation), then put its principles into practice. We must put our Bibles before all the other books we're reading. It's the only book that has God's direct message to His people.
"I delight in your decrees; I will not neglect your word — Open my eyes that I may see wonderful things in your law–Your statutes are my delight; they are my counselors — I have chosen the way of truth; I have set my heart on your laws…Direct me in the path of your commands, for there I find delight" (Psalm 119:16-35 KJV).
An important aspect of reading the Bible is knowing how to interpret Scripture correctly. Paul said to Timothy, "[T]he things that thou hast heard of me among many witnesses, the same commit thou to faithful men, who shall be able to teach others also. … 15Study to shew thyself approved unto God, a workman that needeth not to be ashamed, rightly dividing the word of truth." (2 Tim 2 & 15). We must seek accurate interpretations–and correctly handle the word of truth! That way we will not only know what the words say, but the intended meaning of the words. Christian apologist Greg Koukl makes this point: "Private interpretations do not yield accurate meaning–there is a particular truth–a determinate meaning–God intends to convey. Individual, personalized interpretations that distort this meaning only bring danger."
Stay out of the danger zone! Applying esoteric meanings to Scripture is irresponsible. Anyone who distorts God's Word does so "to their own destruction" (2 Peter 3:16).
I haven't forgotten about John and Tina. Why haven't they received an answer from God on the Colorado question? A simple yes or no will do. They're not expecting God to appear to them in a burning bush or through thunder and lightning as He did with Saul. Why the silence?
We may think God intends to reveal His plan — but what if He chooses not to? What if He has no intention of sharing His plan with us? Part of God's plan for Job's life was to allow ghastly things to happen to him. What if Job had known in advance about the losses he would suffer, the pain he would have to endure? The man would never have left his tent! God's plan for Job was that he should suffer more than any man. God never told Job about His plan. And he never found out why he was made to suffer.
God still speaks to us today–but not through a burning bush! He speaks to us through the pages of Scripture. If we read and study the Bible what we'll discover is that His will for us is not hidden. In fact, it's crystal clear. So why do so many believers agonize over it? I'll answer this burning question (pun intended) in a moment. But first, is it possible for a Christian to know God's will and not have to agonize over it? Should a Christian (a) make a decision without first spending hours in prayer, asking God to reveal His will? (b) avoid making a decision until he or she has a "peace about it"? (c) wait for a "sign" from God? (d) consult a psychic or a Ouija board to seek God's guidance?
Pastor and Bible expositor John MacArthur reminds us that:
"The will of God is not meant to be a secret we must uncover.  God wants us to understand His will far more than we want to understand it. He always makes His will clear to those who seek it with an obedient heart. Most of the real problem areas in the question of God's will are settled for us in Scripture."
What does Scripture tell us about seeking God's will for our lives? According to noted Old Testament scholar Bruce Waltke:
"There are no examples of explicitly seeking or finding God's will after Acts 1:24-26, in which the disciples drew lots to select Matthias as a replacement for Judas. There are dreams, visions, and revelations after this, but never in the context of explicitly seeking God's will. From this point onward it is not divination (seeking to probe the divine mind) but revelation given by God to His people. After Pentecost there is no instance of the church seeking God's will through any of the forms of divination? The problem of using divination today is that the techniques Christians use, like promise boxes and seeking signs are not examples offered to those living under the New Covenant. So when a believer is told to "not take a job until you have God's mind," I think he may be led astray. His faulty logic and faulty exegesis cause him to believe in divination, but there is no such biblical example to follow for Christians." (Source: Knowing the Will of God By Bruce Waltke, with Jerry MacGregor Published by Harvest House Publishers, Eugene OR.)
Nowhere in the New Testament does God tell His followers to "seek his will." Christians are commanded to seek His kingdom and do His will.
The means God used to reveal His will before Pentecost is not normative for the church today. According to Waltke, "God does not administer His church in the same way He administered old Israel. He administered old Israel by the Mosaic Law, but we are no longer administered by that law. He administers us by the Spirit, not the Law, and this changed at Pentecost."
God operates differently today because we are under grace, not under the Law. (Romans 6:14). Born again Christians are controlled by the Spirit of God. Through the work of the Holy Spirit in us, we know how to tell right from wrong. Hebrews 8:10 says, "I will put my laws into their mind, and write them in their hearts: and I will be to them a God, and they shall be to me a people."
God speaks to us through the pages of Scripture. "For all our talk about sola Scriptura," says Greg Koukl, "many also hold that God speaks to them on a regular basis giving true information about Himself and specific directions for their lives. Their claim is, essentially, 'I believe the Bible is a bona fide source of information and the Spirit also gives private information directly to me.' The second step frequently follows the first: The personal, subjective sense of what a person thinks God is telling him trumps the objective Scripture."
Koukl makes an important point. Should what we hear in our mind take precedence over what Scripture says? Christians will often toss out the phrase, "God told me" that they should do this or that. Or "I felt led," or "I sensed that God wanted me to___" You fill in the blank. Televangelists, who pretend to have a direct pipeline to God, prance around in front of the TV camera, claiming to hear a "word from the Lord." At the risk of sounding divisive, most televangelists teach outright heresy (I can prove it), so why would God speak to them at all? Frauds should not expect to hear from God; they should expect to be rebuked by God. But I digress.
Now for an example of divining God's will.  Loretta wanted to change jobs so she prayed for guidance. When God didn't answer immediately she experienced doubts and anxiety. Maybe she should stay at her current job. After being in limbo for a week, someone mentioned a company that was hiring and thought Loretta would be the perfect candidate.  A sign from God, perhaps? Loretta applied and landed an interview. The interview went well and she knew it would be a good fit. Loretta really wanted the job, yet she felt uncertain about accepting it, as she still hadn't heard from God. Frustrated, Loretta decided to lay out a fleece. If the company offered her the job, with a raise in salary to boot, she'd know for certain it was God's will. Eventually the company extended an offer, which included an increase in salary–and a private office! There was no doubt in her mind that God had spoken. The fact that she had gotten everything she prayed about–and more–was the confirmation she was waiting for. Loretta also felt a peace about it.