Reportedly, the CIA and its friends have taken a strong interest in Mick Jagger (seen above with Obama).
The CIA plan is to control the minds of the musicians and then use the musicians to control the minds of the populace.
The CIA uses drugs and Satanism when it mind-controls the stars.
The Rolling Stones and The Occult – Global Truth
In his book, The Ultimate Evil, Maury Terry wrote that between 1966 and 1967, the (CIA-linked) Satanic cult called the Process Church, "sought to recruit the Rolling Stones."
Jagger has been influenced by Kenneth Anger, a follower of Aleister Crowley.
Crowley worked for the UK spy service MI5.
(Aleister Crowley Was A British Intel Agent – Rense)
Author Tony Sanchez wrote that Mick Jagger "listened spellbound as Anger turned them on to Crowley's powers and ideas."
(Tony Sanchez, Up and Down WIth the Rolling Stones, p.155)
While in the UK, Anger worked on a film 'dedicated to Aleister Crowley', called Lucifer Rising, which was renamed "Invocation of My Demon Brother."
Invocation of My Demon Brother.
Mick Jagger had a starring role in the film and he composed the music.
The CIA-connected Satanist Anton LaVey played the part of His Satanic Majesty.
Chris Jagger, brother of Mick 'was originally to take the role of Lucifer'.
Then it was decided that Lucifer would be played played by Bobby Beausoleil, a member of the Manson Family, and Anger's homosexual lover.
Process Church follower Marianne Faithfull went to Egypt to take part in the film's depiction of a Black Mass.
In London, 'Anger recruited Anita Pallenberg to Satanism'.
The Rolling Stones and The Occult – Global Truth
She became the lover of three members of the Rolling Stones.
Anger said of Anita, said, "I believe that Anita is, for want of a better word, a witch…The occult unit within the Stones was Keith and Anita…and Brian. You see, Brian was a witch too."
Tony Sanchez wrote of Pallenberg in his book, Up and Down with the Rolling Stones, "She was obsessed with black magic."
The Rolling Stones and The Occult – Global Truth
LSD can lead to a person becoming mentally ill and dangerous.
MK-Ultra mind-control operations involve the use of drugs and Satanism.
Charles Manson is believed to have been a victim of the CIA's MK ULTRA brainwashing.
Manson supplied sex and drugs "to Hollywood actors, actresses, promoters, partners and rock stars."
Source: aangirfan.blogspot.ca
Large numbers of people today believe that modern secular science has proven the earth and cosmos to be billions of years old, and that every living thing, from fish to dogs, apes and humans, evolved from a single cell which itself is the result of chance combination of chemicals. Most believe that primordial matter resulted from the Big Bang. Certain high profile Christians like Hugh Ross and the influential Evangelical theologians and scholars who support him, teach that God is both the energizing force behind the Big Bang and the director of evolutionary process.
Against this way of thinking, the Word of God authoritatively teaches a six day historical creation, which today is vastly unpopular with and downright offensive to scientifically enlightened theologians and their followers.
The rejection of the literal six day creation is an aberration of modernism, meaning liberal (pantheist) Protestantism and its' openly hostile 'secular' antitheist and atheist counterparts such as Marxist Communism and Secular Humanism.
Of the many early Church Fathers who wrote on Genesis, all but Augustine, who erred by teaching instantaneous creation, affirmed a literal, historic six day account of creation.
For instance, St. Cyril of Alexandria argued that higher theological, spiritual meaning is founded upon humble, simple faith in the literal and historic meaning of Genesis and one cannot apprehend rightly the Scriptures without believing in the historical reality of the events and people they describe. (Genesis, Creation, and Early Man, Fr. Seraphim Rose, p. 40)
In the integral worldview teachings of the Fathers, neither the literal nor historical meaning of the Revelations of the pre-incarnate Jesus, the Angel who spoke to Moses, can be regarded as expendable. There are at least four critically important reasons why. First, to wrest and distort Genesis so as to conform it to Big Bang and other secular scientific assumptions is to contradict and usurp the authority of God, ultimately deny the deity of Jesus Christ; twist, distort, add to and subtract from the entire Bible and finally, to imperil the salvation of believers.
It's important that we understand that the Church Fathers weren't primitive, unscientific goat-herders as dishonest modernists have made them out to be, but rather highly intelligent, well-educated men.  Many came from backgrounds of evolutionary pantheism, occultism and pagan animism thus were intimately familiar with much of what passes for contemporary secular science such as Big Bang and Steady State theories (evolutionary cosmogonies), inflationary models, vast ages, chance, the universal life force (serpent power, Zoë, evolution) and much more, even though by other designations.
Long before Darwin, Greek nature philosophers (600–100BC) were teaching primitive evolutionary conceptions, abiogenesis, chance, determinism, natural selection, transmigration, reincarnation and vast ages together with many other modern assumptions.
The fragments of Anaximander's (c. 610–546 BC) evolutionary speculations show he taught that 'humans originally resembled another type of animal, namely fish' while Democritus (c.460–370BC) taught that primitive people began to speak with 'confused' and 'unintelligible' sounds but 'gradually they articulated words.' (Evolution: An Ancient Pagan Idea, Paul James Griffith, creation.com)
The Greek Atomist Epicurus (341–270BC), the father of contemporary materialism and many of its' secular scientific assumptions, taught there was no need of a God or gods, for the Universe came about by a chance movement of atoms. (ibid)
Darwinism affirms the claim made by Epicurus that living beings created themselves, while modern evolutionary biology affirms Anaximander's claim that humans evolved from lower order life-forms.
With respect to old earth or vast ages, Plato and many other Greek philosophers taught that the present universe came about millions of years ago. Writing in the fourth century AD, Lactantius said:
"Plato and many others of the philosophers, since they were ignorant of the origin of all things, and of that primal period at which the world was made, said that many thousands of ages had passed since this beautiful arrangement of the world was completed … ." (ibid)
After the Greeks, the Roman naturalist Pliny the Elder (AD23–79) said we are so subject to chance,
"….that Chance herself takes the place of God; she proves that God is uncertain." (ibid)
Greek and Roman philosophers received these ideas from ancient Sumerians (Babylonians), Egyptians and Hindus whose Mysteries, nature philosophies and evolutionary cosmogonies extended back centuries before Greek and Roman civilization. For example, one Hindu belief was that Brahman (the Void or Universe) spontaneously generated itself (the modern theory of abiogenesis) as something like a seed or singularity (Cosmic Egg or Big Bang) about 4.3 billion years ago and then evolved under its' own power by which it expanded and formed all that exists:
"These Hindus believed in an eternal Universe that had cycles of rebirth, destruction and dormancy, known as 'kalpas', rather like oscilla­ting big bang theories. We also read in the Hindu Bhagavad Gita that the god Krishna says, 'I am the source from which all creatures evolve." (ibid, Griffith)
In India the doctrines of evolution/reincarnation/karma were thoroughly established from ancient times. They were expounded first in the Upanishads (c. 1000 BC – AD 4), the philosophical-mystical texts held to be the essence of the Vedas.
Representing the young earth view and resurrection of the dead (Acts 17: 16-34) the Apostle Paul contended against the Greek Epicureans (materialists) and Stoics (pantheists), representatives of Cosmic Egg theories (Big Bang), vast ages (old earth view), universal life force (evolution), void, atoms, animism (i.e. Karl Marx's animated 'divine thinking' matter), fate, determinism, and reabsorption after death.
Speaking to the nature sages, Paul said "this is what I'm going to proclaim to you,"
"The God who made the world and everything in it is the Lord of heaven and earth… he himself gives everyone life and breath and everything else. From one man he made all the nations, that they should inhabit the whole earth; and he marked out their appointed times in history and the boundaries of their lands. God did this so that they would seek him and perhaps reach out for him and find him, though he is not far from any one of us. 'For in him we live and move and have our being.' Therefore since we are God's offspring, we should not think that the divine being is like gold or silver or stone—an image made by human design and skill. In the past God overlooked such ignorance, but now he commands all people everywhere to repent. For he has set a day when he will judge the world with justice by the man he has appointed. He has given proof of this to everyone by raising him from the dead."
When Greek sages heard about the resurrection of the dead, many of them sneered due to their belief that the body is a rotting tomb within which their souls were trapped.   Since they believed that the fall consisted of an inexplicable plunge from being as one with the impersonal One Substance, then salvation was reabsorption of soul into the One Substance, therefore the idea of bodily resurrection was repulsive. In "Adversus nationes" (2:37) Arnobius complains,
"If souls were of the Lord's race…They would never come to these terrestrial places (and) inhabit opaque bodies and (be) mixed with humors and blood, in receptacles of excrement, in vases of urine." (The Pagan Temptation, Thomas Molnar, p. 27)
The framework behind the way of thinking which Paul contended against is naturalism, the ancient idea that living beings make themselves. Naturalism is like a leopard, meaning its' spots cannot be changed even by defiant Scriptural retrofitters like Teilhard de Chardin, Leonard Sweet, Hugh Ross and other natural science and evolution compromisers.
As Solomon said, there is nothing new under the sun.   What once was will be again.  In this light, when Peter prophesied about the "scoffers" in "the last days" who claim that"everything goes on as it has since the beginning of creation" (2 Peter 3:4) he is speaking of this generation of God-haters and theological compromisers, who being wise in their own wisdom, willingly reject the Authority of God and six day special creation in preference of ancient ways of thinking revised and revamped for our own age.
The real issue behind objections to literal six day special creation is what kind of God progressive creationists and evolutionary theists believe in and peddle to unsuspecting believers.  This is a question that needs to be addressed because by espousing Big Bang and old earth views theological compromisers have elevated naturalism in the guise of secular science and evolution above the Word and Authority of God resulting in an upside-down exegesis consisting  of abundant mind-boggling inconsistencies.
Their inverted creation account is in the claim of a six day creation that occurred at the end of billions of years of evolutionary process.  Logically, this means that billions of creatures lived and died long before man arrived on the scene, making the Word (John 1:1), our Lord and Savior Jesus Christ the cause of death and suffering rather than the fall of Adam.  By making the fossil record the measure of a sequence of long ages, God becomes the cause of death and suffering because the history of life appears to be a record of ineptitude, extinctions and constant brutality for billions of years.  In the words of the atheist astronomer and evolution promoter Carl Sagan (1934-1996), if God,
"….is omnipotent and omniscient, why didn't he start the universe out in the first place so it would come out the way he wants?  Why is he constantly repairing and complaining?  No, there's one thing the Bible makes clear:  The biblical God is a sloppy manufacturer.   He's not good at design, he's not good at execution.  He'd be out of business if there was any competition."  (Refuting Compromise, Jonathan Sarfati, Ph.D., F.M., p. 220)
The Big Bang, old earth view also leads to a philosophy of moral relativism because if men were once something else, a genderless blob of matter and then later on lizards and even later still some kind of ape-like creature, then not only are we going to become something else–maybe divine supermen, god-men, super robots or cosmic beings—but nothing can be said about transgender, 'gay,' and lesbianism since all life forms ascended from a genderless blob of matter generated by the inexplicable explosion of a Cosmic Egg which may or may not involve a stumbling God shaped and molded by theologians who require Him to ignite the Big Bang.
With regard to soul/spirit, if life arose from chemicals and then billions of years later man evolved from lower life-forms, then his rational nature, his soul, differs not qualitatively but only quantitatively from the beasts.  Like beasts, man is not a person but a creature of the earth.  Like them he has no spirit—free will, higher mental faculties, and conscience.  He is a fleshy androgynous robot or hominid whose brain is organized by the genome and the genome shaped by natural selection.
Dr. Sarfati argues that denial of the literal and historic meaning of Genesis (young earth view) is foundationally the result of 'imposing outside ideas upon the Bible.' Thus, it has'baneful consequences which don't just stop with Genesis,' but adversely affect many areas.  The atheist Frank Zindler enthusiastically agrees:
"The most devastating thing that biology did to Christianity was the discovery of biological evolution. Now that we know that Adam and Eve never were real people the central myth of Christianity is destroyed. If there never was an Adam and Eve, there never was an original sin. If there never was an original sin there is no need of salvation. If there is no need of salvation there is no need of a savior. And I submit that puts Jesus…into the ranks of the unemployed. I think evolution absolutely is the death knell of Christianity." ("Atheism vs. Christianity," 1996, Lita Cosner, creation.com, June 13, 2013)
The faith of the Christian Church and of the average Christian has had its foundation as much in the literal and historic meaning of Genesis as in that of the person and deity of Jesus Christ. Belief in a six day creation period about 6,000 years ago has been the authoritative teaching of the Church for most of its history and is essential for consistency in doctrine and apologetics.  Only with a firm, unshakable foundation in Genesis are Christians able to stand strong in their faith.
"In the beginning was the Word, and the Word was with God, and the Word was God. He was in the beginning with God…" "The Word became flesh and made his dwelling among us. We have seen his glory, the glory of the one and only Son, who came from the Father, full of grace and truth."  John 1: 1-2, 14
"Very truly I tell you," Jesus answered, "before Abraham was born, I am!"  "And now, Father, glorify me in your presence with the glory I had with you before the world began." John 8:58 & 17:5
If God is really Who He said He is, if He is the God Who revealed Himself to man through Jesus Christ (Messiah), then He can call everything into existence in six literal days (Gen. 1), bring about a virgin birth (Isaiah 7:14; Matthew 1:23), be both God and man (Gen. 3:15; Isaiah 7:14; Zechariah 12:10 & 13:7; 1 Chron. 17:1014), remove the curse due to Adam's fall (Gen 5:21-29), resurrect Himself from the dead and ascend unto Heaven (1 Pet. 1:3; Romans 1:4; Matthew 27:53) because for the Word Who became flesh, all of these things are very simple matters.
So what kind of God do you believe in?  The limited, bumbling God of death and suffering, the incompetent 'sloppy manufacturer' peddled by evolutionary theists and progressive creationists or the all-powerful personal loving God Who called everything into existence in six literal days?   The first one is an untrustworthy deity that cannot save you.  The second one is the God of eternal life.  Only He can resurrect the faithful unto eternal physical life in a physical paradise.
What will paradise be like? C.S. Lewis describes paradise as a place of matter, of weight and mass, and the blessed inhabitants in their resurrected bodies are the beautiful "bright solid people." N.T. Wright explains,
"…there will be a new mode of physicality, which stands in relation to our present body as our present body does to a ghost….a Christian in the present life is a mere shadow of his or her future self, the self that person will be when the body that God has waiting in his heavenly storeroom is brought out…and put on…over the self that will still exist after bodily death." (Eternal Perspectives, Randy Alcorn, p. 154-155)
Take no part in the unfruitful works of darkness, but instead expose them. ~ Eph 5:11
Not surprisingly the movie "Son of God" has created quite a stir in the Christian community.  Before I gave the theater my money I read several reviews, blog posts, Facebook comments and viewed TV interviews of husband and wife team Mark Burnett and Roma Downey promoting their film.  Roma is a familiar face to many and is best-known for her role on the successful TV show "Touched by An Angel."  Mark Burnett is the executive producer of a string of hit TV shows such as "Survivor," "The Voice, "Celebrity Apprentice," "Shark Tank," and he has won several Emmys.
When I first heard that another full-length feature film about the life of Christ was coming to the silver screen, I was skeptical for several reasons.  First, Mark and Roma are Catholic and I was concerned that the movie would be produced from this perspective; a perspective that in many cases I disagree with.
Second, I learned that Roma earned a degree in "spiritual psychology" from the University of Santa Monica, a private graduate school founded by New Age spiritual and self-help quack John-Roger.   P.J. Miller is not being flippant when he asks:
What do you call someone who is a student of new age psychology and spiritualism? Do you call them new agers? Do you call them seekers? Would you dare call them Christian? Well, if you're Roma Downey, then yes, you would call yourself all the above. (Source)
Third, a movie trailer shows Jesus asking Peter to follow Him. Peter looks skeptical and asks Jesus what they're going to do.  Jesus grins and replies "Change the world."  Well, no.  Jesus never said those words to Peter!  Here's what Jesus actually said:
While walking by the Sea of Galilee, he saw two brothers, Simon (who is called Peter) and Andrew his brother, casting a net into the sea, for they were fishermen. And he said to them, "Follow me, and I will make you fishers of men." Immediately they left their nets and followed him. (Mat 4:18-20)
Jesus commanded  – Peter and Andrew dropped what they were doing to follow Him.  (More on this in a moment.)  Another clip shows a woman sitting in a boat on the Sea of Galilee with Jesus and the apostles during the storm where Jesus walks on water.  But according to Scripture there was no woman in the boat:
Immediately he made the disciples get into the boat and go before him to the other side, while he dismissed the crowds.  (Mat 14:22) 
In the movie Mary was the woman in the boat.  But why would they have a woman in the boat when Matthew informs us that the disciples/apostles got into the boat.  Mary wasn't one of the twelve disciples/apostles – no woman was!
Finally, S. Michael Houdmann revealed in his review of the movie that, "the reason for Jesus' death and the meaning of His resurrection are completely missing. The fact that Jesus' death is the atoning sacrifice for sin is not mentioned at all (1 John 2:2)."
As I said, "Son of God" has elicited a great deal of controversy as did Mark and Roma's "The Bible" miniseries produced by LightWorkers Media, a company owned by them. This "heretical and blasphemous" program aired on the History Channel last year. "We knew when we were shooting," said Downey, "that the Jesus portion of our 'Bible' series was special and we shot much more footage and we've re-edited many more scenes into a stand-alone feature film called 'Son of God.'"   I don't have the space to tackle the "The Bible" brouhaha.  I will say, though, that several highly controversial pastors sat on the Board of Advisors. They include Rick Warren, Joel Osteen, T.D. Jakes, Richard Mouw andSamuel Rodriguez.  (For more on "The Bible" go to Resources below)
The Son of God?
"Son of God" opened on February 28, so by now a lot of folks have had the opportunity to view it in theatres and many more will have it streaming into their living rooms in a few months.  Naturally, reviews were quickly written, some good, some not so good.  (You'll find links to the reviews at the end of this piece.) Suffice to say that in a short amount of time a lot has been said about the film.
Many of you won't be surprised to learn that Mark and Roma asked Saddleback Church founder Rick Warren to help spread their version of the "good news."   He happily agreed.  "I've seen most of the films produced about Jesus in the past 50 years," said the pastor, "and 'Son of God' is the best.  We're excited Jesus is back on the big screen, and we're going to fill the theaters. I want every other faith leader in America to do the same."
So – why would the man who is affectionately called "America's Pastor" agree to promote a film that its critics describe as outright unbiblical?
Not only did Warren endorse the film, according to the Baptist Standard staff report :
Pastor and author Rick Warren partnered with LifeWay Christian Resources to release a Bible study related to the Son of God movie from 20th Century Fox, which hits theaters Feb. 28.
The small-group curriculum resource by Warren, Son of God: The Life of Jesus in You, is a companion piece to the movie produced by husband-and-wife team Mark Burnett and Roma Downey.
The six-session study features video clips from the movie and videos from Warren explaining Jesus' teachings and their impact on people's lives. Topics include baptism, temptation, suffering, death, resurrection and ministry. (Source)
As a Southern Baptist preacher, Rick Warren knows perfectly well that the Roman Catholic Church holds to the view that it is the one true Church.  Thus, any church outside the RCC is anathematized (excommunicated, cursed or damned). The Protestant Reformers held the view that the RCC's gospel is not a gospel that saves; therefore the RCC is apostate.  Anyone who rejects the true gospel – we are saved by grace alone through faith alone in Christ alone – is an unbeliever.  Period.  Warren also knows what the Bible teaches regarding believers going into partnerships with unbelievers:
Do not be unequally yoked with unbelievers. For what partnership has righteousness with lawlessness? Or what fellowship has light with darkness. (2 Corinthians 6:14)
Here's the thing.  Not everyone who professes the name of Christ has a true saving faith.  What about Mark Burnett and Roma Downey?  Do they have a true saving faith?  Let's examine the fruit.
Endorsements
Popular pastor and author Mark Driscoll's church bought out 3,500 seats.  In 2013 he and his wife shared a stage with Mark and Roma at Resurgence 13.  Driscoll later remarked:
We watched the world premier trailer for The Son of God at the conference, and the footage choked me up as I thought of the millions of people who will hear about Jesus through this project. I am so encouraged by God's work through this couple. (Source)
God's work?
The connection between the Passover sacrifice (Exodus 12) and Jesus as the Lamb of God (John 1:29) is not made. The fact that Jesus' resurrection proves His victory over death and sin and guarantees a resurrected eternal life for all who believe in Him (1 Corinthians 15) is nowhere to be found.  – S. Michael Houdmann
Another endorser of the film was "Social Justice Christian" Rev. Jim Wallis.  In my column Liberalism created the culture of evil and death, part 3 I wrote:
This man wears many hats.  He is the founder of Sojourner's Magazine, speaker, author and activist.  He's also President Obama's "spiritual advisor."  This alone speaks volumes.  Rev. Wallis insists that he's an evangelical Christian even though he has abandoned the biblical gospel for the "social gospel."  He believes he's on a mission from God to assist the poor and oppressed to bring forth the Kingdom of God on earth. 
When this purveyor of the false social justice gospel was asked for advice by the couple, he gladly gave it to them:
What won me over to the whole series was the clip about Jesus meeting Peter, the fisherman. In a Washington, D.C., premiere of "The Bible" series a few weeks ago, I had wonderful conversations with Mark and Roma. Mark asked me if they were right to have Jesus say that he wanted to change the world. Those words are not literally in the scriptures, but it seemed to him and Roma that's exactly what Jesus was talking about. Absolutely correct, I told them both. And we went through the first few chapters of Mathew which demonstrate that truth. I love the clarity and courage of the statement from Jesus in "The Bible."
Sunny Shell disagrees:
Christ came into the world to save sinners from the righteous wrath of God, which is the just penalty for our sins. He never said He came to change the world. He said He came to transform people by giving them new hearts and new minds through repentance and faith in Christ alone. (Source)
The Examiner listed the names of churches and organizations that distributed tickets for a so-called "Theater Take-Over":
Joel Osteen, pastor of Lakewood Church in Houston, Tex., who is distributing 8,000 tickets donated by an anonymous donor; Jerry Falwell, Jr., of Liberty University which has more than 12,000 students; Craig Groeschel of LifeChurch which has 18 campuses in Oklahoma City and Tulsa, Oklahoma; Archbishop Jose Gomez of Los Angeles with over four million members and Miles McPherson of the Rock Church with weekly attendance of more than 10,000 in San Diego, Calif. (Emphasis in original - source)
In an article that appeared on Fox News, Mark and Roma wrote:
In all our combined years in the entertainment industry, we've never seen anything like this kind of grass-roots support for a project. It is truly miraculous.
So, too, is the unprecedented depth and breadth of those who have endorsed the film. Pastors like Rick, as well as scholars and faith organizations, have graciously supported our effort to share this story of our Savior – though they belong to different denominations, adhere to varying theological doctrine, worship God in their own unique ways. 
Bishop T.D. Jakes of The Potter's House in Dallas said "the audience will be enthralled, encouraged and inspired." 
S. Michael Houdmann was not enthralled by the movie.  In his review he writes:
The Son of God presents a Jewish Messiah who is crucified, dies, comes back to life, and commissions His followers to spread the word. But why did He have to die? What is the meaning of the resurrection? What is the message the apostles were supposed to proclaim, and why was it worth dying for? 
More from the Fox News article…
Joel Osteen of Lakewood Church in Houston called it "an epic work that touches the heart."
The Catholic Archbishop of Los Angeles Jose Gomez says it's "a very important movie because it gives us the opportunity to realize God's presence in our own lives."(Source)
Certainly there are by now "Church leaders" that are sincerely shocked to find out that they endorsed a movie produced by New Age Catholics.  Here's more proof from a 2010 article Roma Downey Happy Out of the Spotlight that shows she's an advocate of New Age/New Thought spirituality:
Says Roma, who lives in Malibu, 'My kids go to school about a 40-minute drive away. I'm open to the group's opinion about what we listen to on the way there. On the way back, I get my own selections — books on tape by Eckhart Tolle, Tony Robbins…My husband says I'm so self-realized I'm practically levitating.'
For those who are unfamiliar with Eckhart Tolle, he's a New Ager.  A few years ago Tolle paired up with Oprah Winfrey to do 10 online classes on XM Satellite radio on his blockbuster book "A New Earth: Are You Ready to Be Awakened."  Oprah and Tolle took participants through his book chapter by chapter.  Regrettably, a large number of professing Christians took the class!
Human Potential guru and "coach for success" Anthony Robbins once said: "My definition of success is to live your life in a way that causes you to feel tons of pleasure and very little pain."  Evidently no pain is experienced after completing a barefoot firewalk, a self-empower technique Robbins' teaches to get an otherwise sane person to walk on a bed of burning hot coals during his "Unleash The Power Within" seminar.  On this video you'll hear the sound of drums beating and the crowd chanting "YES! YES! YES!" as Robbinswhips them into a frenzy in preparation for the firewalk.
More…
Roma appeared on "psychic medium" John Edward's TV show and allegedly spoke to her deceased mother.  What does the Bible have to say about consulting a medium?
And he burned his son as an offering and used fortune-telling and omens and dealt with mediums and with necromancers. He did much evil in the sight of the Lord, provoking him to anger. (2 Kings 21:6)
Well, it's apparent that Roma, who says she loves the Bible, is unaware—or doesn't care–that God says consulting a medium is evil.
Later she collaborated with Edwards by providing a CD to accompany a book he wrote:
Roma prays the entire rosary on the beautiful CD that comes along with this book. It's quite lovely and gives you the special opportunity and a unique spiritual closeness to Roma to be able to pray right along with her as if she was right there at your side." (Source)
So now you know a bit about two New Age gurus Roma Downey looks forward to listening to each day and an occultist she collaborated with.  The worldview of these men is as far from Christianity as the Earth is from Pluto.
P.J. Miller sat listening to Jim Bakker introduce Mark and Roma on Bakker's TV show and recalled "their previous work on the History Channel's The Bible and how they managed to literally re-write the Bible itself, and presented another gospel message altogether. I was captured by their … aggressive but subtle attempt to portray themselves as 'believers'.  The sappy spiritual love fest that permeated on set showed me that something was indeed changing within Christianity, and that something was another Jesus being introduced to the masses."
Then if anyone says to you, 'Look, here is the Christ!' or 'There he is!' do not believe it. For false christs and false prophets will arise and perform great signs and wonders, so as to lead astray, if possible, even the elect. (Mat/ 24: 23-24)
After several weeks of due diligence I've decided that "Son of God" is not a film I wish to see.  In addition to the concerns I have included in this article, my research has turned up many more — way too many to incorporate here.  Most troubling is the astonishing lack of discernment shown by some of our so-called Christian leaders.  The Son of God I serve is best described in the Bible which is the inerrant, infallible, inspired Word of God.  Inspired means that God moved through the writers to convey to those who read it the words He wanted us to hear.  So to change the words that Christ spoke is prideful and wicked.
It's unfortunate that those who are unfamiliar with the biblical Jesus and see this film will not come away with a clear understanding of His mission here on Earth.
He is the propitiation for our sins, and not for ours only but also for the sins of the whole world. (1John 2:2)
Resources:
"Son of God" Reviews
'Son of God' Is Most Certainly Not the Son of God by Sunny Shell
Son of God Review by S. Michael Houdmann
Is the Son of God Biblical by Ben Kayser
"The Bible" Review
History Channel's 'The Bible' Exalts Man Over God  by Sunny Shell
Jim Wallis Produces Commentaries for "The Bible" by Stand Up For The Truth
Endorsements
Religious leaders of all stripes endorse Son of God by Stand Up For The Truth
New Age/New Thought Movement
Rick Warren and Joel Osteen acquiesce to Oprah by Marsha West
A subtle and dangerous shift in Christianity by Marsha West
Rick Warren
Rick Warren's 'Son of God' Study Kit by Stand Up For The Truth
Rick Warren's new book "Daniel Plan: 40 Days to a Healthier Life" awash with doctrines of demons by Marsha West
Rick Warren and Teaching of Demons by Ken Silva
Miscellaneous
Questions to ask watching the Son of God
What Still Keeps Us Apart? by Michael Horton
Rome anathematized itself at the Council of Trent
Purpose Driven Dismantling of Christianity, Part 1 by Marsha West
"We are of God: he that knoweth God heareth us; he that is not of God heareth not us.  Hereby know the spirit of truth, and the spirit of error." (1 John 4:6)
In this verse the emphasis is on the believer's ability to discern between a spirit of truth and a spirit of error, heresy, apostasy, lies and cleverly disguised deceptions such as modern evolutionary thinking and methodological naturalism.
The spirit of truth is relatively easy to discern as such people come willingly to the light of truth (John 3:21).  Having a heart for truth, they really and truly want to know and embrace Truth.  On the other hand, the spirit of error is more difficult to discern because the taproot and energy of this spirit is in Satan, the father of lies, of false gods, cleverness, sophistry, false science and evolution, heresy, apostasy, rebellion, murder, and envy.
Satan is the great deceiver (Rev. 12:9).  He uses his servants of deception to manipulate, confuse, and mislead (Ephesians 4:14).   Today his most powerfully influential servants are the world's occult 'elites' but are also found throughout the secular, Christian, cult and occult New Age arenas. (2 Cor. 11:14-15)
One of Satan's important servants, the evangelical apostate Alice Bailey (1880-1949), is a major architect of today's rapidly spreading serpent-powered occult New Age movement, a spiritual juggernaut effecting a counter-conversion of consciousness that closes the soul to Jesus Christ while opening it to powers of darkness.
According to Bailey's contemporary apostles, the 'Plan' telepathically revealed to Bailey for the coming New Age can be traced back to the fall of Lucifer and his angels from heaven. Bailey's demon-master, the Tibetan, described the revolt of the angels against the Holy God as part of the"divine plan of evolution," by which angels "descended from their sinless and free state of existence in order to develop full divine awareness on earth."  (Orthodoxy and the Religion of the Future, Fr. Seraphim Rose, p. 224)
In this total reversal and inversion of the Revealed Word of God, the Fall of man was really an evolutionary ascent to liberating knowledge by which man's eyes were opened to good (Satan) and evil (the Holy God).  Thus Helena Blavatsky, another important servant of Satan and architect of New Age spirituality concluded that it is but natural,
"…to view Satan, the Serpent of Genesis, as the real creator and benefactor, the Father of Spiritual mankind.  For it was he who was the 'Harbinger of Light,' bright radiant Lucifer, who opened the eyes of the automaton created by Jehovah…Indeed, (mankind) was taught wisdom and the hidden knowledge by the 'Fallen Angel."   As man's benefactor, Lucifer continues to assist man's evolution.   In the words of the apostate evangelical, now New Age theologian David Spangler, a disciple of both Blavatsky and Bailey, Lucifer is 'the angel of man's evolution."  (ibid, pp. 224-225)
From the time of the Apostles of Jesus Christ to our own day, an unbroken chain of Satan's servants have disguised themselves as super apostles and ministers of righteousness who as always are,
"…the inventors of impure heresies (the) profaners and apostates (who open) their mouths wide against the divine glory". ...Church Father Cyril of Alexandria
These spirits hate Truth and most generally elevate themselves among God's family so as to lead believers into compromise and conformity with the pagan world system.
On behalf of what Satan's contemporary ministers term 'rational' and 'scientific' they sweep away the essentials of the faith necessary both for salvation and the recognition of evil. (2 Peter 2:18) And without the grace and spiritual discernment that is born of true faith, Satan ceases to exist in the eyes of the spiritually blind, whether secular or Christian.
Commenting on the incredible blindness of our scientifically enlightened, theologically compromised and apostate modern society, the cultural theorist Denis de Rougemont (1906-1985), author of "The Devil's Share, An Essay on the Diabolic in Modern Society" observed:
"What appears to me incredible is not the Devil, not the Angels, but rather the candor and the credulity of the skeptic, and the unpardonable sophism of which they show themselves to be the victims (they say) 'The Devil is a gent with red horns and a long tail; now I cannot believe in a gent with red horns and a long tail; therefore I don't believe in the Devil.'  And so the Devil has them precisely where he wants them." (The Coming Darkness, John Ankerberg and John Weldon, p. 61)
When believers find spiritual Truth trivialized and diminished, marginalized and ridiculed in the church, some will go in search of a faithful church, some will fall away entirely, and others will turn to cults and the occult.
Tragically, since Satan's ministers ridicule and reject the authority of God's Word, the second and third groups have no guidelines for evaluating and testing the occult/Eastern spiritual experiences and devices they encounter such as the Enneagram, Jungian psychology, the MBTI, kundalini yoga, and meditation techniques already popular in our culture, apostatizing churches and steadily creeping into compromised churches.  Thus they can easily stumble into the spirit world and if not already fallen away, then onto the broad smooth way of apostasy:
"…..acceptance of the enneagram, if not already a sign of apostasy, must lead to a loss of faith since it distorts the Gospel and contradicts Catholic doctrine, depriving the individual of a genuine Catholic language and setting in its place what has been most aptly termed as psychobabbling. What is most puzzling, however, is the continued silence of the Church's official teachers who know that this absurdity is being promoted and spread among our Catholic school teachers and priests."  (NCCB Preparing Cautionary Note on Use of Enneagram, Paul Likoudis, Catholic Culture.org)
For an eye-opening look at the demon-oppressed Carl Jung and a penetrating analysis of his occult, alchemical, Gnostic, and demon-informed psychology and connections to the wildly popular Enneagram and MBTI, read "Carl Jung, Neo-Gnosticism, & the MBTI," by Rev. Ed Hird, past National Chair of Anglican Renewal Ministries of Canada:  http://www3.telus.net/st_simons/arm03.htm
"Beloved, believe not every spirit, but try the spirits whether they are of God: because many false prophets are gone out into the world." 1 John 4:1
In his best-selling book "Strange Fire," Pastor John MacArthur masterfully chronicles the unsavory history underpinning the modern Charismatic/Apostolic Movement (NAR) and its false prophets.  The New Apostolic Reformation is both a breeding ground for scandal, bad doctrine, and spiritual chicanery and the fastest growing "Christian" movement in the world.  MacArthur lays out a chilling case for rejecting its false prophets and for exposing their errors to the cleansing light of Truth.
In his own penetrating analysis of the Charismatic/Apostolic movement, Fr. Seraphim Rose notes that the spiritist manifestations (i.e., impartation, holy laughter, drunk in the spirit, roaring, barking, hissing, slain in the spirit) experienced in Charismatic churches are found in the occult New Age movement.   The spirit that invaded the Charismatic movement during the 'Toronto Blessing' is not the Holy Spirit, said Rose, but the kundalini spirit (serpent power), the same spirit that ancient Egyptians, Hindus, yoga practitioners, and New Agers are familiar with.
From the time of the ancients serpent power has been important to religious and mythological symbolism all around the world. Within the Egyptian mysteries, serpent power was associated with,
…"the elemental forces that were in play before the creation of the world." (Carl Teichrib, Gods of Ancient Egypt, p. 182)
In his book, "The Sign of the Serpent," Mark Balfour relates how pervasive serpent symbols are within India and the Hindu religion:
"Any observant traveler who moves from the snow-tipped Himalayas in the North to the sun-soaked sands of Cape Comorin at India's southern tip, will encounter – particularly in the rural areas and at sacred centres of pilgrimage wherever Siva, God of both Divine Wisdom and regeneration, is the presiding Deity – the serpent motif sculptured within shrines, impressed on myriads of stone implants in the ground and depicted in art." (A Short Guide to Occult Symbols: Serpent Power, Carl Teichrib, 2005, Kjos Ministries)
Balfour elaborates on this belief:
"In Hinduism, the Cosmic Serpent – Ananta Sesha – symbolic of timeless eternity, carries the world on his 1000-fold [Cobra] hood…As the creative impulse stirs within the great Serpent in the Sky – when passive idea becomes active thought – the forces of attraction and repulsion come into play as 'spirit' begins its involution into "matter." (ibid, Teichrib)
Moreover, Kundalini yoga, a discipline within Hinduism, teaches that latent serpent power lies at the base of the etheric human spine,
"…like a coiled serpent, ready to spring." (Harper's Dictionary of Hinduism, p. 156, ibid, Teichrib)
Through strenuous yoga techniques, serpent power uncoils and rises through seven "chakras" or power centers within the human body. Serpent power is considered,
"(to be a) concentrated field of intelligent cosmic, invisible energy absolutely vital to life beginning in the base of the spine as a man or a woman begins to evolve in their first incarnation." (The Donning International Encyclopedic Psychic Dictionary, p. 343, ibid, Teichrib)
"Now the serpent was more cunning than any beast of the field…" – Genesis 3:1
Serpent power is imparted by laying on of hands, or Shakti-pat.  The demon-possessed Indian guru Bhagwan Shree Rajineesh was called the "divine drunkard" by his disciples, and according to Tal Brook, author of "Riders of the Cosmic Circuit," by his millions of worshippers in India, America, and Europe and throughout the world.  Rajineesh encouraged his devotees to come and drink from him, meaning, receive his touch:
"His spiritual 'wine' was often passed on with a single touch to the head (Shakti-pat), at which his followers would collapse in ecstatic laughter. Another famous guru, Swami Muktananda, would hold meetings at which thousands of his followers from around the world came to receive his touch.  They experienced uncontrollable laughing, roaring, barking, hissing, crying, shaking, as well as falling unconscious."(Rose, p. 217)
These demon-possessed gurus were imparting to their adoring worshippers experiences they had undergone during initiation rituals and which they attributed to spirit-possession.
Veteran researcher Brooks Alexander observes of Rajineesh, Muktananda and other gurus:
"All of these gurus espouse a similar philosophy, and they all turn it into practice in a similar way.  It is a pattern that we find not only in tantra (Indo-Tibetan occultism), but in European Satanism, antinomian Gnosticism, and ancient pagan sorcery as well." (Book Review: Riders of the Cosmic Circuit," in SCP Journal, Vol. 7, No. 1, 1987, p. 39)
According to Alexander, Satan's servants have successfully assimilated occult Eastern teachings and techniques into our church and our culture.  With remarkable speed and ease, Eastern and occult ideas and spiritist techniques for contacting spirits such as trance music, brain-altering drugs, meditation and yoga are being propagated to undiscerning Westerners and Americans, within and without the church, on a mass scale:
"…they are filtered through the pervasive secularism of our culture.  In this way they are demystified without changing their essential content.  The basic components of an Eastern/occult world view are recast in forms of expression that are naturalistic, scientific, and humanistic…Occult philosophy is being secularized and psychologized with increasing refinement….Their underlying themes run through contemporary science, economics, politics, art, psychology, and religion."  (The Coming Darkness, p. 55)
"Be sober, be vigilant: because your adversary the devil, as a roaring lion, walketh about, seeking whom he may devour." 1  Peter 5:8
Satan's servants are out in the open today.  They have successfully initiated a devastating assault upon the whole body of the Christian church and by extension, upon Western and American society in ways that to previous generations would have seemed unthinkable.
Therefore,
"Put you on the armour of God, that you may be able to stand against the deceits of the devil."  Ephesians 6:11
And though all may seem dark, hopeless and lost, fear not, for the faithful believer, the one who seeks and perseveres in Truth, is of God:
"Ye are of God, little children, and have overcome them: because greater is he that is in you, than he that is in the world." (1 John 4:4)
A few years ago I participated in a radio debate on "white privilege" with a certain man, whose name is unimportant, who had a Ph.D. in "ethnic studies." At one point he introduced an argument by saying, "If whites are 80 percent of the population…," which prompted me to interject and point out that whites (non-Hispanic) are now only 63 percent of America. Of course, you might think that someone with a doctorate in "ethnic studies" would know what the ethnic and racial composition of the country is.
While no one wants to be a real-life Cliff Clavin (of Cheers fame), mistaking trivia for intellectualism, facts matter because they're small snippets of reality. They're little pictures — and, as with a jigsaw puzzle — if you have enough of them, assembled properly, you can see the big picture. This is otherwise known as being in touch with reality.
This is why a certain trend in that liberal bastion called education is quite interesting. Educators will often say today, "We don't just teach kids facts [uttered dripping with derision]; we teach them how to think." This is quite convenient. After all, it's easy to test knowledge of facts; thus, such measures can reveal modern education as a fraudulent enterprise. But "how to think" is a bit more nebulous, and, if you define the expression of feelings-derived folderol as reason, your students cannot fail.
Yet there is a deeper reason why liberals eschew facts: they refute fiction. And since leftist agendas have no basis in reality, exposure to snippets of it is deadly; for, just as one small pin can pop a balloon, one little fact can shatter a rationalization.
This brings us back to Dr. Ethnic Studies. His field of expertise isn't about anything as old-fashioned as facts, but he can expound at length on oppression, white privilege, critical-race theory and "micro-aggressions." These things, you see, are the stuff of sophisticated modern men. Never mind that they're complete fiction.
But liberals are raised on fiction. Fiction about America's nature and Western influence; fiction about the races and sexes (not to mention "genders"), and fiction about sex; fiction about history and culture; fiction about economics; fiction about religion. Heck, with how liberals claim old fairy tales are destructive, they're raised with fiction about fiction. This brings us to another fiction: Barack Obama as educated man.
If we were to mention, again, that he thought "Austrian" was spoken in Austria, pronounced "corpsman" "corpse-man" (three times in one speech) or that he called the "transcontinental" railroad the "intercontinental" one (Amtrak to Bangkok, anyone?), we'd obviously have to be racists. After all, anyone can make a mistake. But it's one thing to commit a Spoonerism and say "a scoop of boy trouts" or, like Dan Quayle, correct a spelling-bee participant based upon the antiquated word form "potatoe" (which The New York Times used as recently as 1988). But then there are those mistakes indicating that, just perhaps, you don't really possess the knowledge base one might expect from an educated Western gentleman.
And a fact about Obama's upbringing is that it was defined by fiction. Clergyman Hosea Ballou said, "Education commences at the mother's knee…," but not only was Obama's mother's knee not around all the time, but what an odd knee it was. Her father had given her his first name, Stanley, because he'd wanted a boy, and Stanley Ann Dunham's personal development reflected that bizarre beginning. She attended Mercer Island High in Seattle, which had a wing known as "anarchy alley" that was infested with radical leftist teachers. It is said that Dunham "thrived" in that atmosphere, and she became a committed left-wing atheist herself. Then there was Obama's mentor in Hawaii, Frank Marshall Davis, a pornographic-novel writer and anti-white, card-carrying member of the Communist Party USA. And how radical were Obama's leftist grandparents, with whom he lived in the AlohaState? Obama's grandfather, Stanley Armour Dunham, was the one who chose Davis to be scrambler of young Barry's brains.
The point is that there was no prominent person in the young Obama's life who could or would expose him to reality. It was all anti-American, anti-Western isms and destructive schism. This brings us to Obama's mind-numbingly ridiculous description of his 2008 campaign travels: "I've now been in 57 states; I think, one left to go." Where does such a bizarre mistake come from? After all, that there are 50 states is drummed into every American child so that it just instinctively rolls off the tongue: 50 states, 50 states, 50 states….
That is, again, every "American child."
It's not that I don't think Obama knew there are 50 states. Rather, he doesn't have the intellectual foundation you'd expect of an educated Western man, and this includes a lack of the rote knowledge that, like an actor who has spoken a certain line in 500 rehearsals and performances, is expressed the same way every time. And this, by the way, has nothing to do with where anyone thinks Obama was born. He simply is not truly American in mind, heart and spirit.
But to fully grasp the nature of leftists' ignorance, an understanding of their philosophical foundation is necessary. There is a certain experience many conservatives know very well: You debate a liberal, and he just seems immune to facts and reason. No matter how airtight your point, it rolls off him like water off a duck.
To explain this, let's start with an analogy. Becoming proficient at golf involves gaining knowledge about the swing. And if you realize you've fallen victim to a misconception, improvement depends upon rejecting it and accepting the truth in question. But what if you were so bent on using your old swing — so attached to "hackerism" — that you simply would not accept that truth? A pustule on the face of the game you'd remain.
So it is in all of life. Everyone falls victim to certain misconceptions, and growing in knowledge and wisdom involves rejecting them when we're blessed enough to discover refutative truths. But this can be difficult for two reasons. First, it may involve relinquishing ideas to which we're strongly attached. This could be because they're integral pieces of an incorrect jigsaw puzzle we've glommed onto, an example of which would be a committed atheist who insists there are no moral absolutes because he knows their existence implies God's. Or it could be that an incorrect belief is embraced as a justification for a behavior (e.g., sexual perversion, heavy drinking) to which we're attached. Or it could be both.
Second, pride can get in the way, as correcting oneself involves admitting error, often with respect to ideas we've spent an entire lifetime defending. It can be like giving up a cherished son.
And while most everyone exhibits to some degree this tendency to rationalize, leftists are defined by it. They are, to use a favored psycho-babble term, morally and philosophically "dysfunctional" people. They live lives of rationalization — which is when you lie to yourself, sell yourself on a fiction — and for this reason only intensify whatever dislocation from reality their upbringing, sometimes, might have wrought.
Their greatest act of self-delusion — their ultimate denial of reality and the one that facilitates all others — is their embrace of moral relativism, the idea that there are no moral absolutes. The appeal of this fiction is that it allows one to justify any behavior imaginable. After all, my sins are not sins if there's no vice, only viewpoint. Who is to judge? Who is to say? There's no black and white, only gray.
But once you unmoor yourself from objective moral reality, there is no limit to how immoral you can become. This is why Fyodor Dostoevsky's Ivan Karamazov said that without God, "everything is permitted." It's why occultist Aleister Crowley insisted, "Do what thou wilt shall be the whole of the law." And it explains leftists' bizarre thinking. Did you ever wonder, for instance, how modern liberals can say something so preposterous as "The truth is no defense against a hate-speech charge"? It's not hard to understand.
When a person who lives a sincere life finds that part of his ideology conflicts with the Truth, he alters his ideology. But what if you not only were attached to your ideology like a drunkard to drink, but didn't acknowledge Truth's existence? It is then that you, instead, rationalize away the Truth.
In fact, with his denial of Truth, the leftist places his ideology where Truth should be: the center of his life. This ideology, which just reflects his emotions, anyway, then takes on the role of God. It becomes the ultimate arbiter, the fiction that becomes "fact." This is why Nazi propaganda minister Joseph Goebbels once said, "National Socialism is a religion. …My Party is my church…." Like him, today's leftists have repeated a big lie to themselves so often that it has become the "truth."
Interestingly, or maybe ominously, the Bible speaks of the end times in 2 Timothy 3 and writes of "men of depraved minds" who are "always learning but never able to come to a knowledge of the truth." I don't know if these are the last days, or just the last days of freedom, but our republic is now infested with millions of fiction voters who elected a fiction president based on fairy-tale promises. And it's looking less and less like our story ends with "happily ever after."
It is no secret that Barack Obama is one of the supreme illusionists of modern times. The disconnect between his words and his deeds is so profound as to be almost sublime, far surpassing the crude obfuscations of George W. Bush and Dick Cheney. Their projections of unreality were more transparent, and in any case were merely designed to put a little lipstick on the pig of policies they were openly pushing. For example, they openly wanted to conquer Iraq and expand the militarist state, they openly wanted to redistribute national wealth to the elite, so they just gussied up this unhidden agenda with some fantasies about WMD and the occult magic of "tax cuts," whereby enriching the rich and degrading all notion of the common good would somehow create a utopia of prosperity (for deserving white folk, at least).
There was a disconnect between their rhetoric and reality, to be sure, but it was easily seen through (except, of course, by the highly-paid credulous cretins of our national media). Indeed, the Bushists seemed unconcerned by how threadbare their lies were; they delivered their lines like bored performers at the end of a long stage run, not caring whether they were believed or not — just as long as they got to do what they wanted.
But Obama has taken all this to another level. He is a consummate performer, and strives to "inhabit" the role and mouth his lines as if they make sense and convey some sort of emotional truth. Also, most of the time his rhetoric, his role, his emotional stance are in stark opposition to his actual policies. He is not just gilding his open agenda with some slap-dash lies; he is masking a hidden agenda with a vast array of artifice, expending enormous effort not to prettify an ugly reality but to create an entire counter-reality, an alternate world that does not exist. Again, no one one was in any doubt about the Bushists' militarism, their dedication to the financial elite or their disdain for anyone who was not, in their view, a "normal American" (white, traditionalist, bellicose, greedy). In fact, that's exactly why millions of "normal Americans" voted for them. But Obama's image — cool, compassionate, progressive, peace-seeking, non-traditionalist, anti-elitist — is so far at odds with his actual policies, and with the world as it actually exists, that you can get severe whiplash turning from his rhetoric to reality.
Take his astonishing attack on Vladimir Putin for "interfering" in Ukraine. That Obama could make this charge with a straight face — days after his own agents had been exposed (in the infamous "Fuck the EU" tape) nakedly interfering in Ukraine, trying to overthrow a democratically elected government and place their own favorites in charge — was brazen enough. But in charging Putin with doing exactly what the Americans have been doing in Ukraine, Obama also fabricated yet another alternate world, turning reality on its head.
Speaking at a summit in Mexico, Obama unilaterally declared that Ukraine should overturn the results of its democratic election in 2010 (which most observers said was generally "fair and free" — perhaps more "fair and free" than national elections in, say, the United States, where losing candidates are sometimes wont to take power anyway, and where whole states dispossess or actively discourage millions of free citizens from voting). Instead, the Ukrainians should install an unelected "transitional government" in Kiev. Why should they do this? Because, says Obama, now channeling all Ukrainians in his own person, "the people obviously have a very different view and vision for their country" from the government they democratically elected. All of the people of Ukraine have a different vision, you understand; every last one of them. And what is their vision, according to Obama the Ukrainian Avatar? To enjoy "freedom of speech, freedom of assembly, fair and free elections." Something you might think they had enjoyed by having fair and free elections in 2010, and exercising freedom of speech and assembly to such a degree that a vast opposition force had occupied much of the central government district for months. But the Avatar knows better, of course.
Now, this is not a defense of Ukrainian President Viktor Yanukovych's government. It is, by all accounts, a highly corrupt enterprise given to insider deals for well-connected elites who influence government policy for their own benefit. I guess this might be a reason for overthrowing a democratically elected government with an armed uprising supported by foreign countries, but I would be careful about espousing this as a general rule if I were an American president. The old saw about stones and glass houses comes to mind.
The reality (if anyone cares about such a thing) is that the situation in Ukraine is complex. Opposition forces have a legitimate beef against a corrupt and heavy-handed government. The Kremlin is obviously trying to manipulate events and policies in Ukraine, just the United States is doing.  (Obama's remarks on this topic are comedy gold: "Our approach in the United States is not to see [this] as some cold war chessboard in which we're in competition with Russia. Our goal is to make sure that the people of Ukraine are able to make decisions for themselves about their future." Yes, as long as they make the right decisions, unlike in 2010, when they voted for the wrong person.) Ukraine is polarized along several different lines — political, ethnic, historical, religious, linguistic – but these lines are not clear-cut, and often intersect, intermingle, are in flux. The pull away from Russia's orbit is strong in many people; the desire to retain close relations to Russia is equally strong in others. (Although any attempt by Russia to quash Ukraine's independence would likely unite all factions in resistance.) Many people look to the West as a model, even a saviour, although the EU deal that Yanukovych turned down, precipitating the outpouring of opposition, actually offered Ukraine very little other than Greek-style financial servitude, while the Kremlin, at least, proffered cash on the barrelhead. The opposition itself is not a monolith of moral rectitude; one of its driving forces is an ultra-nationalist faction that happily harks back to Ukraine's fascist collaborators with Nazi invaders and spouts vile anti-Semitic rhetoric. It is likely that the ultra-nationalists are chiefly behind the opposition's turn toward violent resistance, overshadowing the young, moderate, West-yearning, anti-corruption factions that have been the face of the uprising thus far.
And the fact is, not a single one of the Western governments now denouncing Ukraine for its repression would have tolerated a similar situation. Try to imagine thousands of, say, Tea Partiers, having declared that the elected government of Barack Obama was too corrupt and illegitimate to stand, setting up an armed camp in the middle of Washington, occupying the Treasury Building and Justice Department for months on end, while meeting with Chinese and Russian leaders, who then begin demanding a 'transitional government' be installed in the White House. What would be the government's reaction? There is no doubt that it would make even Yanukovych's brutal assault this week look like a Sunday School picnic.
So the situation in Ukraine is many-sided, complex, filled with ambiguity, change, nuance and chaos. Protest against a specific unpopular government policy first turned into a broader opposition to the government in general and is now threatening to turn into civil war. Such things do happen in the world, and yes, great powers do seek to influence and direct these events to their own advantage. It would be good if Ukraine could be rid of rule by corrupt elites; it is not all clear that a civil war led, at least in part, by racist nationalists, would lead to this happy outcome. But one thing that is not happening in Ukraine is Barack Obama's fantasy that the entire Ukrainian people is rising to rid themselves of a tyrant so they can hold fair and free elections. They had such elections in 2010; and if the entire Ukrainian people now wants to get rid of their president, there are free elections scheduled for 2015. It is highly likely that Yanukovych's corrupt and maladroit performance in office — not least his reaction to the protest movement itself — would have guaranteed his peaceful defeat at the ballot box next year. But it is also likely that these elections will not be held now. One way or another, Yanukovych will be forced out of office by the violent chaos that he, and sections of the opposition, and the machinations of Moscow and Washington have together produced. In any case, there is almost certainly more needless suffering in store for ordinary Ukrainians.
This is the reality, and tragedy, of the situation. But in the artfully hallucinated world of Barack Obama – a fantasy-land in which the entire American political and media elite also live – none of this matters. All that matters is the real agenda (which was also the agenda of George W. Bush, and Vladimir Putin for that matter): advancing the dominance of a brutal ruling class through manipulation, militarism, and deception, whenever the opportunity arises.
Chris Floyd is an American journalist. He is the author of Empire Burlesque: High Crimes and Low Comedy in the Bush Imperium, and is co-founder and editor of the "Empire Burlesque" political blog. He can be reached at cfloyd72@gmail.com. http://twitter.com/empireburlesque
"In this postmodern age many think that no one can know Truth. It is true that we cannot know truth if there is no revelation from God."  – Vishal Mangalwadi
Dr. Vishal Mangalwadi (1949—), founder-president of BOMI/Revelation Movement, is an Indian philosopher and social reformer.   He has lectured in over 40 countries and published seventeen books including "The Book That Made Your World: How the Bible Created the Soul of Western Civilization!"  Mangalwadi's Revelation Movement exists to re-establish the cultural authority of VERITAS (Truth) because God has revealed Truth in scripture and God has given man the mind and clues to help us discover what He has concealed. Proverbs 25:2.  (RevelationMovement.com)
In a recent e-mail message entitled "The Kingdom of Darkness Encircles North America," Vishal writes that his third visit to North America opened his eyes to the magnitude and the power of a massive force of darkness facing the faithful.  Because darkness has deeply penetrated much of the body of the church it is hard to estimate how much essential theology and how many churches in North America have been lost.
Nevertheless, there are truth-warriors determinedly digging in their heels against the darkness that is rapidly encompassing both the church and North America.  Vishal compared these truth-warriors to Jedi knights and the Hobbits of middle earth who carried the day against Sauron:
"When Luke Skywalker joined the Star Wars saga, he had no idea that he was a Jedi. Nor did the tiny, motley crew that teamed up with him know what they were up against. To mix metaphors, they were little Hobbits, unaware of the importance of their mission."
The Return of Sauron's Kingdom of Darkness
During the "Fading Years," many things of "beauty and wonder remained on earth…" but also many things of "evil and dread." Then all things began to change.  A living darkness crept slowly through Greenwood the Great, and fear walked there in shadowy glades.  Then the name of the forest was changed to Mirkwood, for the "nightshade lay deep there," and few dared pass through.  Whence the evil came few could tell,
 "…and it was long ere even the Wise could discover it.  It was the shadow of Sauron and the sign of his return…and all folk feared the Sorcerer of Dol Guldur, and yet they knew not at first how great was their peril."   (The Silmarillion, J.R.R. Tolkien, p. 299)
Sauron's Kingdom of Darkness is evident in both the devastating loss of God's revealed Truth, moral law and norms in our culturally desolate secular-atheist society as well as in the failure of Americans, within and without the whole body of the Christian Church, to restrain their own corrupt passions. (James 1:14-15)
Devilish depravity in the guise of special rights and privileges such as free phones, free gas, free housing, and free condoms together with the myth of evolution as scientific fact, perverse sex-education for tots and teens, same-sex and kundalini-Holy Spirit equality, the lie of global warming, paganized Christianity and a long list of destructive freedoms such as unfettered killing as 'choice,' and 'gay' marriage and pornography and sodomy as Constitutionally guaranteed rights have become dictatorial both outside of the Church, where Sauron's 'secular' servants of sin demand all others give up their God-given rights in gratification of depraved desires, and within, where Sauron's 'Christian' servants of sin sweep away the essentials of the faith to make room for mindless, self-centered values resulting in lawless churches:
"Everyone who practices sin also practices lawlessness; and sin is lawlessness. You know that He appeared in order to take away sins; and in Him there is no sin. No one who abides in Him sins; no one who sins has seen Him or knows Him. Little children, make sure no one deceives you; the one who practices righteousness is righteous, just as He is righteous; the one who practices sin is of the devil; for the devil has sinned from the beginning. The Son of God appeared for this purpose, to destroy the works of the devil. No one who is born of God practices sin, because His seed abides in him; and he cannot sin, because he is born of God. By this the children of God and the children of the devil are obvious: anyone who does not practice righteousness is not of God, nor the one who does not love his brother. (1 John 3:4-10)
Lawless churches are nothing more than Sauron's social clubs for his servants of sin where they,
"…exercise no discernment, enforce no standards, and teach more pop psychology than timeless truth. Naturally, lawless churches are populated with lawless Christians, the greatest absurdity of them all. "What fellowship have righteousness and lawlessness?" 1 Corinthians 6:14 (How can I walk North and South at the same time?" Lawless Christians, Dan Popp, Renew America, Mar. 10, 2012)
Dr. Kurt Koch (1913-1987), a noted German theologian who counseled and delivered thousands of people suffering from demonic bondage in its various forms throughout the world argues that sin cuts a person off from God. Sin opens the door to Sauron, meaning to demonic oppression and possession seen in relation to psychological distortions having the following predominant characteristics: narcissism, hard egoism, uncongenial dark nature, violent temper, belligerence, meanness, abnormal sexuality, blasphemous thoughts and rebellious, bigoted attitudes toward Christ and God, conscious atheism, and destructive, murderous rages. (Occult ABC, Koch, pp. 266-282)
Cutting Edge Ministries David Bay identifies the 'values' of the lawless as Satanic, and adds that lawless Americans at every level of society, both in and out of the church, have embraced Satanic values with no conscious awareness that they have done so.  When a people believe in nothing higher than 'self', they make personal selfishness, intellectual arrogance, irrational feelings, lying, covetousness, physical lust, hate and envy their gods.  The elevation of these Satanic values produces in them other strong desires: for power over others, for the amassing of material possessions and the acquisition of privilege, status, star-power, and wealth as well as powerful sexual urges that must be satisfied at any cost, no matter who or what might be harmed.  (Six Step Attitudinal Change Plan, Bay, Cutting Edge Ministries)
The Christian church is the only element in society with the moral authority and the availing remedy to counteract such manifest evil, but much of America's Christian church has been compromised, thereby rendered impotent.   Having compromised and conformed itself in one way or another to our paganized culture and dictates of the scientism/evolution crowd it is no longer salt and light, thus on the fast track to being spewed out.
Malachi Martin, author of "Hostage to the Devil: the Possession and Exorcism of Five Contemporary Americans," briefly outlines the spiritually desolate condition and resulting consequences of the compromising church:
"Among the general population of Catholics and Christians of other denominations, large numbers of people no longer learn even so basic a prayer as the Our Father.   In churches and parochial schools alike, the subject of Hell is avoided, as one Midwestern priest put it, in order not to put people on a 'guilt trip.'  The idea of sin is likewise avoided, according to the same source, in order not to do 'irreparable damage to what has been taught for the past fifteen years." (P. xvi)
Fearing rejection by our paganized culture and scientistic/evolutionary establishment, compromising churches refuse to contaminate what is termed the 'rational' and 'scientific' with the essentials of the faith necessary both for salvation and for the recognition of evil.  And without the grace that is born of true faith,
"….Satan does what he does best—he ceases to exist in the eyes of those who do not see." (ibid)
Consequently, a favorable climate exists for the occurrence of demonic oppression and possession among the general population:
"Possession among the general population is so clear that it is attested to daily by competent social and psychological experts, who for the most part, appear to have no 'religious bias.'  Our cultural desolation—a kind of agony of aimlessness coupled with a dominant self-interest—is documented for us in the disintegration of our families.  In the break-up of our educational system.  In the disappearance of publicly accepted norms of decency in language, dress and behavior.  In the lives of our youth, everywhere deformed by stunning violence and sudden death, by teenage pregnancy; by drug and alcohol addiction; by disease; by suicide; by fear." And whether spoken or acted out without explanation, the dominant question of the deformed generation is, "What can you do for me?  What can my parents, my friends, my acquaintances, my enemies, my government, my country, do for me?" (pp. xiii-xiv)
Overshadowing secular-atheist America is a malevolent, living darkness sweeping virtually unseen in and through our society and compromising churches.
Dr. Carl Raschke, Professor of Religious Studies at the University of Denver, concurs.  His chilling book "Painted Black" takes you through the minds of the deviant and murderous and then explores the growing evil sweeping through our hometowns.  He concludes that the decadence, pornography, heavy metal music, drug culture, fantasy role-playing games, cruelty, mass murders, criminality, the 'new religions' and upsurge in overt Satanism in American culture have certain social and spiritual ties that bind them together, revealing that they are part of a similar dark spiritual genus enabled by mystification of the most corrupt passions and secular values:
"Satanism is but the spiritual Frankenstein created by a social order that has attempted to sustain itself without God." (Satanism and Witchcraft: The Occult and the West — Part 6, Dr. John Ankerberg and Dr. John Weldon)
America's spiritual Frankenstein bears a striking similarity to the pre-flood Frankenstein of Noah's time:
"Barbarism is that which prevailed from the days of Adam down through ten generations to the time of Noah. It is called barbarism because of the fact that in those times men had no ruling authority or mutual accord, but every man was independent and a law unto himself after the dictates of his own will." (John of Damascus, "The Fount of Knowledge," cited in Political Apocalypse, Ellis Sandoz, p. 131)
Sauron's Kingdom of Darkness has slowly crept into and changed all things in the West and America.  Within its' living shadow barbarians situated within our government, media, entertainment, military, law enforcement, academia, and compromised church work their destructive magic while fell beasts and shapes of dread openly hunt the spiritually blind in the shadowy glades of the American Mirkwood.
Please pray that our Lord will cleanse, revive and fortify His church and build up a force for spiritual and cultural resistance and renewal.   America desperately needs an army of courageous, selfless Hobbits: faithful male and female truth-warriors who will stand and fight the forces of darkness for both the soul of America and individual souls who, though their eyes are open, they cannot see the infernal darkness closing in on them.
There is now a New American War.  It is inside America. It is called the "War on Terror". The enemy is YOU!

It is a staged, Phony War that has been created by the International Zionist Crime Syndicate (IZCS).
This New War on Terror has an enemy. That enemy is the American People, You and Me.
Every Military Force needs an enemy. Without an ongoing or perpetual war, the War profiteers quickly go bankrupt.
In order to keep their profit stream going from war, war-profiteers need to create successive new wars or a significant threat of impending war.
Creating pretexts for these much needed wars is very hard work and quite expensive too. But war is a business, a very big business, and war-profiteers need to invest big money to make even more in return.
Members of Congress must be bought, and top Generals and Admirals of the Military High Command too.
This costs a great deal of hard cold cash, but that's okay because the IZCS gets all it needs from fat US foreign aid to Israel, fat contracts with Israeli Defense providers, and fat donations from those wealthy zionist businessmen that the IZCS manipulates, guilts or shakes down.
At this point, a select group of 70,000 K-Street Lobbyists go to work distributing funds to get elected officials on Board. The several select Generals and Admirals are handled more covertly.
If this is not enough revenue to pay off the necessary officials, the IZCS gets the rest directly from its private Central Banksters who can create all the money they want digitally, anytime they want, and give it to tribal brothers or anyone else, anytime they want.
Of course the key thing here is a significant portion of these fat revenues are kicked back to the corrupt, bought and owned members of Congress who voted for them, and to select top Generals and Admirals of the High Military Command who support the IZCS intended proxy wars by America on their behalf.
Under President Obama's Administration, for whatever reasons, the High Military Command has not been willing to take payoffs and favors and has not been blackmail-able by the IZCS.
[Note: this is a long article and one option is to read the caps first and then any areas you are interested in if you have time]
Here is the new game in the so-called American Defense Industry.  It is a stateside game and it involves magically transforming any and all innocent, Constitutional, law-abiding citizens into Domestic Dissenters, aka "Domestic Terrorists" or something close enough to declare war on "Potential Domestic Dissenters, aka "Potential Domestic Terrorists". This is an occult, alchemical symbolic processing of the American people (aka "we the people") into an defined domestic enemy that can be waged war against on many fronts–phone and email tapping, massive spying and infiltration of all domestic groupings, even neighborhood coffee parties or local church charities–you name it, everything.
This new redefinition of normal law-abiding Americans into "Enemies of the State" and its internal security apparatus as a threat to national security IS a magical conversion or transformation of the normal American Society, mainstream law abiding America, into a huge domestic national security market. This is all an horrendous BIG LIE.
Actually the real situation is just the opposite–it is the USG and specifically the Fusion Centers and the Department of Homeland Security run by perverts and enemies of "we the people" that are the real risk to the true and actual national security of America the republic and to all honest, law abiding, Constitutional Americans. And the USG and DHS and Fusion Center officials are nothing less than world class criminals committing both High Treason and Sedition against America the Republic. The USG has been hijacked and is being run by those who have turned everything upside down.
This redefinition of course involves placing cameras and microphones on almost every street corner in the light-poles and pulsed beam psychotronic generators in many street lamps, turned on full power during rush hour to sedate and subdue the populace in order to keep the masses in line.
Some say that the new Chairman of the JCS, General Martin Dempsey, is a breath of fresh air, a real American Patriot who honors his Oath to defend the US Constitution from all enemies foreign and domestic.
So far, General Dempsey has resisted major efforts to coerce him to support and engage in any new major American Mideast Air and Ground invasion (another American proxy war for Israel).
And many believe that our new Secretary of Defense Chuck Hagel is another America-firster who takes his oath to defend the US Constitution seriously also.
JCS Chairman Dempsey's independence and commitment to America on this matter has elevated him to the status of a "rock star" in the view of many who appreciate his steadfastness, and he is regarded as a true America-firster.
Some experts view JCS Chairman Dempsey's integrity and commitment to America the Republic as a major turning point, signaling the realization by the High Military Command that the 9/11 attacks were an inside-job, a false-flag attack run by the IZCS with the help of several Traitors within the USAF, JCS, and NORAD.

And that it also signals a shocking realization, for the first time, that most of the Institutions of the USG have been deeply hijacked by the IZCS and their Cutouts have included the Bush Cabal which is now struggling to maintain a thin hold on power.(1)
Obviously, Chairman Dempsey's and Defense Secretary Hagel's steadfast resistance to being manipulated by the IZCS into fighting another major Mideast ground and Air proxy war for Israel appears to be driving the IZCS to desperation.  So far these America-firsters are holding fast against any and all IZCS manipulations and pressure and doing an excellent job staying on course.
The IZCS knows that unless it gets another American proxy war in the Mideast for Israel, they are finished.  They also know that if the American masses ever start finding out that 9/11 was planned and controlled by those owned by the IZCS, they are done too.
Actually the 9/11 attacks of the IZCS were in a sense a going-for-broke gamble of everything they have against the House (America the Republic). There is a very strong new American Populism which is emerging rapidly as a spontaneous by-product of the world-wide Internet and the Alternative news it carries, which provides truth to the masses for the first time.
Top insiders know all the names of who did the 9/11 inside-job false-flag attacks and are are ready to testify if an independent prosecutor is assigned and a special Grand Jury is called, and appropriate  immunity agreements are offered for "coming clean". At least one, Steve Pieczenik, MD, Ph.D., (former Assistant Secretary of State and father of many deep cover black ops, and also the main character in many Tom Clancy books) has already gone public and named names and has said he is willing to testify in a Federal Court as to who did it.(2) Obviously Dr. Pieczenik is another great American Hero.
Some top insiders close to to the High Command have suggested that America is so deeply hijacked by the IZCS that it will take some years of the actions of high officials like JCS Chairman General Dempsey and Defense Secretary Chuck Hagel to turn the tide and neutralize the rampant influence peddling of the IZCS over almost every member of Congress and many officials in the Department of Justice and the Alphabets.
Certainly the Department of Homeland Security is now recognized as a major IZCS beach-head inside America and part of a long term plan to establish a foreign controlled IZCS neo-Bolshevik military force inside America to Tyrannize, wage war against, and eventually serially mass murder most Americans.
This is why some top insiders refer to DHS as the New American Gestapo or Stasi.  Some see it now morphing into a New Red Cheka mass-murder machine for dispensing Bolshevik-style Red Terror and mass-murder to Americans.
The Cold War was a great boon to the defense Industry even though it never went hot anywhere but Korea and Vietnam, which were limited to prevent an all out nuclear exchange.
The first Iraq War (aka the Gulf War) under Bush1 resulted from covert trickery using Kuwaiti cross drilling, which was reported to Saddam Hussein by April Glaspie, who convinced him that the USG wouldn't care if he invaded Kuwait to stop the theft of his oil from his main oil field. The second Mideast war was an Invasion of Iraq and Afghanistan to get even with the alleged perps who supposedly did the 9/11 attacks, but actually never were involved at all.
President Obama is now unwilling to deploy American troops in any major new American land war or massive air bombardment campaign in the Mideast. Nor is the current US Military High Command willing to allow it at this time. In order to appease the so-called Defense Industry and their lobbyists, he has apparently deployed numerous teams of "special operators" and mercenaries but these have been fighting terrorists supported by America, a self-defeating exercise.
He has also continued to deploy drones with air-to-ground missiles to mass murder numerous innocent women, children and non-combatants. All these Mideast and African wars are illegal, unConstitutional, undeclared and unprovoked.  They have been sold to the American People and the Congress based on the BIG LIE that they are preemptive strikes necessary to prevent any more 9/11 attacks.
The need for preemptive strikes to prevent terrorist attacks inside America is an obvious lie for numerous reasons. Anyone who examines all the available evidence on 9/11, including the BBC live TV announcement by Jane Standley that WTC7 fell to the ground 20 minutes before it happened (due to top MI-6 control officers forgetting about American Daylight savings time (too much personal coke use perhaps?).(3)
In addition, if DHS's main concern is spying on normal Americans who dissent and crushing them because DHS believes they are "domestic terrorists or "potential Domestic terrorists" or "lone wolf" spontaneously emerging domestic terrorists, this obviates any lies about the need for preemptive foreign attacks. The reason?  Because DHS now claims that the emergence of these ordinary lone wolf domestic terrorists inside America is a spontaneous phenomenon, as well as a completely independent problem that has nothing to do with foreign terrorists in the Mideast.
And beside DHS allows open borders, "sanctuary cities" where illegals can not be checked for legal immigration status, given traffic tickets for minor violations, and must be granted drivers licenses and social security cards without any proof of residency. Plus, thousands of Mideast Immigrants are allowed in to America when there is already a shortage of jobs, and the Muslim Brotherhood is invited into the White House to meet with President Obama.(4)
It is obvious that as the major American Defense Contractors who are either owned or controlled by the IZCS have realized that American Mideast war efforts are waning and have worked hard to create their phony War on Terror, first in foreign countries and now in America.

They have worked hard to generate massive public fear in reaction to the 9/11 attacks in order to engender public support and vast expenditures of taxpayer dollars for a large national security market and internal security apparatus, like the Fusion Centers and its specialized assassination teams disguised as corporate or political protection squads, the DHS and the TSA with its Vipr Teams.
This phony, staged War on Terror has been very craftily engineered to be an unending war that will assure perpetual war profits for Defense Contractors and a perpetual supply of artificially created enemies inside America to feed that war. How is this possible you might ask?
This new War on Terror has been socially engineered to provide a continual stream of degradations and provocations against the average American, provoking many in a never-ending stream to resist, and causing them to be labeled dissenters.
Once they have been labeled dissenters they are put on a Department of Homeland Security (DHS) Main Core Terror Watch List, which top insiders know is a targeted assassination list for later eradication of all Freedom-loving Americans who want to restore the American Constitutional Republic.
At present the Main Core list has over ten million Americans on it, and it is growing every day with thousands of new additions. Get a ticket for a driving offense or any arrest (even if later proven innocent) and it is highly likely you will be placed on this Main Core Terror Watch and Assassination list.

If you have a prior drug arrest many years ago or any arrest, it is likely you have already been placed on this list. If a USG web troll or fusion Center Officer comes across any patriotic postings or anything they consider subversive like the East German Stasi, that poster will likely be placed on this list.
Over time these provocations are designed to result in a continuing stream of America dissenters that want to take their Republic back from the zionist hijackers and will meet DHS tyranny and force with the like. Any and all Dissenters are now being defined as "Enemies of the State".
And anyone who wants to restore the American Republic will also be defined as a "Domestic Terrorist". DHS is a terrorist group, hand assembled by American/Israeli dual citizen Traitors and is designed to tyrannize, capture and eventually be deployed against Americans to serially mass murder them.  This is why they have been called the New American Gestapo of the Neo-Bolshevik Red Cheka Terror Machine.

If you were a Ron Paul supporter or a Libertarian, you are likely on the Main Core list. If NSA routine scans of any and all of your digital emissions and have picked up enough key trigger words, then you have perhaps already been placed on the List. After all, Marcus Wolfe the former head of the East German Stasi, a vicious torturer and murder of innocent Germans, was hired as a USG consultant to set up DHS two years before he died.(5)

Note the recent admission by US Supreme Court judge Antonin Scalia that it is without question that the Prison Camps now being built by the USG will eventually be used just like they were in WW2 when innocent Japanese Citizens were wrongly captured, completely asset stripped and placed in USG Prison Camps. (6)
President Eisenhower was an insider placed in position by the Rockefellers early in his Military career and eventually propelled into the Presidency by them. But even Ike started being bothered by strong pangs of Patriotism and became alarmed at the undue influence of the Military Industrial complex over Congress. In his final public speech as President, he delivered a warning to Americans.
Ike never imagined that the Israelis would serve as the chief action agent for the City of London zionists and would eventually hijack, buy off, bribe, compromise or honey-trap almost every single member of Congress and also use their vast Central Bankster and manipulated donor funds to hijack almost all American defense and Intel contractors and American communication companies, many of which have been moved to Israel or have been located there in the first place.
Originally his speech included the phrase Military, Industrial, Congressional Complex.  He took out "Congressional" after his political aides informed him that this could end up harming the Republican Party. When he referred to "Military" in the phrase "Military Industrial Complex", he was actually thinking of the whole new peacetime defense Industry, which was driving the Military Industrial Complex and formation of a permanent armament industry.
Ike became concerned that this permanent armament industry could assert undue influence on the American political process and could hijack American society and harm its spiritual character.
Disarming the public is a key goal of the IZCS for everyone in America but them and their stooges at the DHS and the Alphabets or their militarized police now trained by the ADL.
Many Police Chiefs are taken to Israel on all-paid Anti-Terror training Junkets where they drink the Kool-aid and are subjected to some of the most sophisticated Psi powered and Psychotronic mind-kontrol ever deployed. In years past, many were given lavish gifts and provided personal escorts of their age and choice. Perhaps this practice continues?
Any Tyrannical Government must always get rid of we the people's guns in order to be able to stay in power and concentrate it. A major goal of any tyranny, like what we have in IZCS-hijacked America now, is to gain maximum power by eliminating (as in serial mass-murdering) all political opponents and dissenters. Doubt this? Then check world history the last couple of hundred years.
The USG and DHS is now ramping up the militarization of the Police of American Cities and Suburbs under DOD Program 1033 under the 'Transfer of Excess Military Property to Local Police Program".
According to a video from 'TheLipTV', "Over the last decade, we have seen over 5,000 people killed by police in the United States," when "4,489 soldiers have been killed since the beginning of the Iraq war. Since 9-11, you are 29-times more likely to be killed by a police officer than you are by a terrorist."(7)
Most local urban and suburban police departments have been "militarized", that is, received heavy armament including armored cars, MP5 and M-16 fully-automatic machine guns, grenades, grenade launchers and ballistic shields.
We the people are the new enemy of the militarized police. The police were set up to "protect and serve", but their new mission is to wage war against "we the people" on behalf of the IZCS and the ADL.
Every military force must have a designated enemy. The common American is the new enemy of the now militarized police in their new war against Americans on behalf of the IZCS and the ADL.
Whether they realize it or not, the ADL has trained most police to view most Americans (we the people) as the enemy of the police and the Nation State. Ever attended a police training seminar put on by the ADL? Often they hide who really is running it. It's the biggest bunch of twisted, sick paranoid crap one can ever imagine, and all designed to make police trigger-happy murderers of any citizen who questions their authority in any way or questions any detainment or arrest. Yes, ADL training is a crafty set of lies that produces trigger-happy cops who believe there is a domestic terrorist hiding behind every bush who want to murder them so the police cannot go home to their family at night.
This paranoid belief system will eventually produce this result as a self-fulfilling prophecy, as police tyranny and trigger-happy police continue to murder the innocent and use grossly excessive force for minor offenses. Almost all police abuse of the citizen is delivered "for your own safety", when that is another big lie.  It is done for the arrogance and authority complex of the police officer–an artifact of over 25 years of ADL training for your local police, who have almost all sold out to the feds in order to get military weapons and gear.  All in return for signing over jurisdiction to DHS and the Feds.
Police are instructed to "charge up" anyone who questions them in any way, and any slight hesitation must be met with false charges of assault and/or battery towards the officer. Officers are told, an arrestee can beat the rap, but they cannot get out of the "ride" (i.e. the arrest and hassle of it.) They are taught that this deters deviance and crime, when actually it provokes the American people to hate police officers.
The new militarized police have one new main function.  It is to continually provoke law-abiding, honest citizens with acts of selfishness and tyranny in order to "role force" them to act out so that "punishment" can be delivered.  The goal, especially with inner urban kids is to make sure they are sold all the drugs they want, in order to dirty them up and get them into the system for life. Big prisons are a private business–a very big business–and quotas or guaranteed imprisonment rates are in place to reduce costs.
Since the IZCS is actually functioning as a neo-Bolshevik political block with East German Stasi and Nazi undertones, this reveals the actual goal of DHS–to serially mass-murder all American dissenters and political opponents. Doubt this?  Then consider the purchase of over 2 Billion 40 Caliber hollow-point rounds and 7,000 M-16 fully-automatic (real assault rifles, not the mere look-a-like AR-15) and thousands of armored vehicles and armored booths, raised spy-towers and grenade launchers.(8) Many of these armored vehicles have been given to local police who have Police Chiefs who are Traitors to America the Republic in exchange for complete submission to Federal Jurisdiction of DHS.
Some of these traitors are just stupid and overly impressed by Feds or DHS Spooks, others have been paid off in very large cash donations (hundreds of thousands of USD in military duffel bags, untraceable CIA drug profits. Some have been sexually compromised by Pedophile or Honey Traps and then blackmailed into submission. Some have succumbed after being threatened or having their families threatened. This is the lowest scum-bag manipulation (aka Humint) ever deployed, and it is everyday stock and trade for the IZCS, the world's biggest sexual compromisers, and pedophile and sex-slave operators.
Lessons of History: Any serious study of History quickly shows that war is a vehicle for a nation's leaders to maintain control over their nation-states. The infamous Iron Mountain Report gave an inside glimpse of how the super-elite criminal Psychopaths running America thought about the need for ongoing war or a suitable state crisis to unify the society and solidify their control over society.
Wars are craftily engineered by criminal super-elites who rule nation-states and their advisers. There are various, crafty ways for a nation's leaders to covertly start wars. The well-established standby is to stage False-Flag attacks and then wage war on the nation state or entity that you have framed for the attack that you did.
Another way to create a terrorist with a long and successful track record is to capture abandoned children in Mideast Countries, provide for their daily needs, while mind-kontrolling them to become terrorists with psychotic suicidal delusions of revenge toward what has been identified to them as their religious enemy which needs destruction to please their god.

The British, the Israelis, and the Saudi are experts at this, and American Taxpayers have unknowingly provided a large portion of the funding for this. One trick well known among intel insiders is the practice of acts of terror against the nation of the mind-kontrolled children to create an enemy for them to later attack in revenge.
Lots of American Taxpayer dollars were covertly dispensed to create and finance terrorists for future Mideast wars. American Intel has spent a great deal of money paying others,  such as the Israelis, to do this. Otherwise, American Intel has not been very successful themselves.  Their only real success is their arming, funding and training of the Mexican Drug Cartels and the training and deployment of the disgusting mass-murdering death squads in Central and South America, who murdered over one hundred thousand innocent women, children and young men.(9)
The 9/11 attacks were an inside job by the USAF and the IZCS. The staged Gladio-style False-Flag attack was the choice selected for the attack on the Twin Towers in NYC and the Pentagon in Washington, DC, on 9-11-2001. This attack was done by the USAF, under the authority of a zionist-controlled Criminal Cabal inside the JCS and the Secret Shadow Government (SSG).(10)
The 9/11 attack was planned, set up and run by NeoCon top Policy-Makers, Israeli Intel and their stateside Sayanims, utilizing a small criminal cabal inside the USAF, NORAD and the JCS. These are facts that can no longer be disputed by any reasonable person who has examined all the available evidence.

And it is exceedingly clear to any reasonable person who examines the pre-announcement of WTC-7 destruction that the whole attack was pre-scripted in London and Israel, and that WTC-7 was wired in advance with conventional demolition charges.
Typically, it takes a considerable amount of time and labor to wire up a building, which suggests complete access at the security level.  This means that since it was a federalized building, with CIA and NYC Emergency Center occupants, building security had to be involved one way or another. And now that it has been proved that WTC-7 was wired up beforehand and demo'ed on 9-11, this means the Twin Towers had to have been pre-wired, too.
The War on Terror is obviously a Phony. But it has been the greatest boon to the American Defense Complex ever, with many times more net American Taxpayer dollars spent on this war than any other war in history, including WW2 or the Vietnam War.
Another way to establish a war is to create and fund so-called foreign terrorist groups. This is a costly exercise that take years and can involve as much work as fighting a war.  Yes, creating terrorist groups is very hard and expensive work.
But enemies for necessary wars can be created if you have the technological help of a nation that has hundreds of years experience in creating its own enemies. This nation is the City of London (Financial District), a separate nation state like the Vatican, located within England.

There is a reason England has been referred to as "Perfidious Albion" for centuries. They have been known for their ability to instigate chaos inside nations they want to control by their standard well-developed strategy of "Divide and Conquer". They are experts at creating long term provocations between different nations that have competing economic interests.

They do this in order to establish a beach-head from which to control the removal of natural resources and accrued wealth.
Remember the Opium Wars (Boxer Rebellions) where England brought opiate addiction to China as a covert act of war in order to recover all the silver and gold paid to import Tea, spices and silk from China? This was low intensity (covert) warfare that twice led to a short hot war.
The creation of the nation state Israel was created to serve as a long term provocation for numerous Mideast perpetual wars. This is why the Balfour Declaration was made, why the Nazi sent the "low Jews" to the labor camps, while the "High Jews" were able to either emigrate elsewhere or become collaborators like George Soros.
This is why the City of London created the New Israel and took land away from the Palestinians to set up a nation of Khazarian Judaic converts (aka "fake Hebrews"), a racially paranoid group mind-kontrolled to believe the delusion that they were of ancient Abrahamic Hebrew Blood.
The IZCS believes in preemptive strikes against Goyim and their institutions. Judaics have also been mind-kontrolled by Zionists (many of whom are not Judaics at all) to believe that they must hijack the American political system to preemptively crush Christianity and American Goyim Culture.

And that if they didn't succeed in this, they would be persecuted again, just like what they call the "holocaust"–translated from Old English as "a fiery sacrifice".
This philosophy of striking first and eliminating the Goyim to prevent another "holocaust" from ever occurring" is a Bolshevik ideology based on the "End Justifies the Means".
This paranoid strike-first obsession will produce push back and persecution eventually, thus serving as a self-fulfilling prophecy. Of course the Zionists who control Talmudic, Noahide Judaism know that the 6-million-dead figure is untrue, because this had appeared in the late 1800′s andearly 1900′s in Judaic literature long before the work camps of WW2.
New Genetics research exposes a vast, paranoid race-based delusion. Recent Johns Hopkins genetic research has shown conclusively that approximately 80% of the Palestinians are of Hebrew (Abrahamic) bloodlines, and approximately 90% of Judaic converts living in greater Israel are not of ancient Hebrew (Abrahamic) bloodlines. Thus, the world's greatest anti-Semites appear to be Israelis who have stolen Palestinian land and continue to do so against all UN rulings and International Law.
The nation of Israel was set up as the private nation state and Tribal Intel front for the City of London Zionist private Central Banksters, to serve as a beach-head to control the production and distribution of Mideast oil. This delusion that the Khazarian Judaic converts were God's Chosen People (ancient Hebrews from the Ten Tribes) was then en-cultured into these Judaics who were sent to Palestine and armed so they could use terrorism to expand their region of control.
Greater Israel has no real boundaries and is ever expedient, as Israeli militants keep taking land and murdering unarmed Palestinians.
A serious spell, a racial delusion of superiority has been cast on many Judaics no matter where they live, but especially so among those living in greater Israel, where the Luciferian Hex Flag flies. Whether true or not, the flag signifies the merger of demonic fallen angel Beast-Bloodlines from above, bred with Human female bloodlines below.

If we accept this Hex Flag at face value, does this mean that the top Zionists running the IZCS are perhaps alien/human hybrids, or at least claim to be in their own secret ceremonies that Stew Webb has exposed numerous times in articles and radio appearances over many years?

It is obvious that the IZCS has hijacked the US Department of State and the US Military Defense Complex as well as Congress. Listen to what Kay Griggs had to say about this.  She was married to a top USM officer and mind-kontrolled "wetboy" who became out of control and beat her and then tried to have her shut up. He and/or his controllers serious stalked and harassed Kay Griggs for years.
She went to live with Sarah McClendon for protection and was interviewed by Pastor Rick Strawcutter, which probably raised her profile so much that it saved her life.  Kay is another Great American Hero and is a courageous standup person, one of the best you could ever meet anytime, anyplace. If you get a chance, be sure and listen to her 8-hour video affidavit with Pastor Rick Strawcutter, who is another Great American Hero. You will be amazed and angered at who has been running the USG and the Military.(11)
Kay's video affidavit is packed with insider secrets known only by top Intel insiders. How much do you want to know about what is really going on in the background? How much do you dare to pull the curtain back to expose the Wizard Of Oz (as in Ounce)? You will need a great deal of courage to handle what Kay Griggs reveals. By the way, a great deal of her testimony has been cross-corroborated by experts.  Any errors she makes are minor and not directly related to her main claims.
Two sides of the same coin: Of course those on the inside of the Ruling Cabal know that Nazi-ism and Zionism are two sides of the same coin and run by the City of London Central bank controllers. This entity is the Old Black Nobility (OBN), which prefers to stay in the background.
The IZCS controls Private Central Fiat, Fractional Reserve Banking: This reality that the IZCS owns and controls private Central Banking means that they have access to and can utilize Babylonian Money-Magick to make the money they need to control the USG officials and Congress from nothing.  This access provides vast sums of money in seemingly endless quantities.  Thus, they have access to all the cash they need to buy, own, compromise or blackmail almost every single Congressman/woman and Senator in America.
The serious down-side of this system of Babylonian Money-Magick is that it is based on fiat or fake-money with nothing but debt behind it. Actually this debt is imaginary, but has a stranglehold on most of the members of the societies it has hijacked. But it cannot go on without catastrophic readjustments, which will occur at some point.
A worldwide Web of Debt: The private Central Banksters in America have been so adept and successful at extracting wealth in America and all over the world, replacing it with debt, that nearly the whole world is now engulfed in extreme debt.

And this debt has now reached the point it cannot be paid off. This of course is the IZCS's age-old plan which will result in massive chaos that engulfs the world and destroys all social systems, family systems, sex roles, and systems of government.

After this destruction of conventional society occurs, it is expected by the IZCS top leadership that a pure Luciferian NWO System will arise from the globalist framework they have put in place.  They expect this NWO System emerging from the ashes to be their Phoenix, like the legendary Phoenix of Greek and Roman mythology.
All this tidal wave of debt is phony and a big charade.  If all the people of the world unite, nationalize their monetary systems and declare all debt null and void, and if they assign all such debt directly to Central Banksters responsible for creating it, prosperity to "we the people" can return like it did to the Colonists who left England.
Babylonian Money-Magick has been used to create a debt based economy.  It does this by producing "onerous usury" and allows the easy transformation of "all the money created from nothing which is worth nothing at face value" into the vast amounts of ever-increasing wealth.  This wealth–fiat money–is covertly stripped from the common man these Banksters provide the money for and use as a means to extract real value and wealth from.
The Zionist IZCS vehicle used to gain control over almost every single member of Congress and to buy, compromise and control almost every top USG official and Judge, is the 70,000+ K Street Lobbyists, AIPAC and others who distribute the money to their marks, often through campaign contributions, cash to offshore accounts, and various other expensive luxury perks, such as ridiculously high honorariums for meaningless propaganda speeches.
And AIPAC, the ADL, the SPLC and the like are also zionist tools of espionage against America the Republic.
They should all be investigated by the FBI and fully prosecuted and convicted and sentenced for espionage by the Department of Justice. Note, espionage in many cases is a Capital Crime.
If the Rosenbergs were prosecuted, convicted and executed for their espionage against America, why should these IZCS Cutouts go free without identification and full prosecution?
These entities are really Intel fronts for espionage against America the Republic on behalf of the IZCS which includes the City of London zionist Central banksters, Israel, American NeoCons, and Israeli-American dual citizens who have betrayed America, putting Israel first over America.
Vast Funding for zionist Cutouts. These entities receive vast funding from the zionist Central Banksters and from the wealthy Judaic businessmen they shake-down or manipulate for large donations by playing on their paranoid tribal delusions.
These tribal delusions are that donations are necessary to prevent excessive antisemitism and future persecutions or "holocausts" by Goyims and Christians.
Many Judaics in America and elsewhere have been en-cultured with the false ideation that Nazi-ism was a Christian phenomena and Christians and Goyim must be destroyed.
This of course this is as far from the truth as possible because Hitler was a British Agent and Nazi-ism was created by the Tavistock Institute and the City of London Central Banksters and a counter-force to the Bolshevism they created and deployed in Russia in 1917.
What does the International Zionist Crime Syndicate (IZCS) run out of the City of London through its main Cutouts Israel and the hijacked USG attain? Obviously the IZCS's unlimited funds and the fact it owns and/or controls almost every member of Congress and most USG officials and Judges, means that the ICS has been able to determine USG Policy.

It can do this because it owns and/or controls all USG top Policy-Makers, most of whom just happen to be outside of the visible USG and within the Secret Shadow Government (SSG).
Obviously the crimes of the IZCS and their espionage fronts like AIPAC, the ADL, SPLC and the like against the American Republic are far worse than the Rosenbergs.

Listed below are some of the IZCS crimes against America:
1. The NSA and all American Intel has been completely hijacked by the IZCS and all NSA intel data goes directly to Israeli Defense Contractors and Israeli communication Corporations that process all American phone calls and data transmissions. This means that the Five Eyes International Intel System is really a Six Eyes System controlled by Israeli Intel entities and proprietaries.
Thus, America has no real Intel, and Israeli Intel has control over all American politicians, judges and officials by use of this Intel for human compromise, blackmail and sophisticated mind-kontrol operations. Any time factions within American Intel agencies (there are 37 and growing) form opposition to the IZCS, this is readily discovered through Israeli Intel intercepts of NSA raw Intel and actions to neutralize such efforts are quickly deployed–whatever is required.
The conclusion here is that America no longer has any real Intel of its own–none at all–it is all compromised and hijacked by Israeli and City of London Cutouts and contractors.
2. Because the IZCS has hijacked all American Intel directly from NSA feeds, the IZCS has a long history of stealing American intellectual property and providing it to their corporations. The IZCS can also hijack American corporate bids and defeat them repeatedly until many companies go out of business.
3. The IZCS has compromised almost every single member of Congress, US Supreme Court Judges, most Federal, and almost every single USG official and American Intel Director.
4. The IZCS's new DHS is a zionist terrorist front, a new Internal American Army that has been deployed against YOU as their NEW ENEMY. The IZCS has created and deployed DHS as the New American Stasi and a New American Neo-Bolshevik Red Cheka. It is controlled by an Israeli-American dual citizen who made millions of USD from selling unshielded X-ray machines to the TSA, which is creating numerous cancer clusters among TSA officers.
5. The principal goal of the IZCS in America is to deploy DHS to tyrannize and degrade Americans and then eventually to start a live "shoot to kill" war against ordinary Americans who organize to take their government back and restore the American Constitutional Republic. This tyranny by DHS is planned to culminate in serial mass-murder of up to 80% of Americans–one way or another.
6. The IZCS has set up and deployed AIPAC, the ADL, the SPLC and others to serve as agents of espionage inside America, to work to destroy its institution of government, dirty up Americans and to destroy the American Family, America's language borders and culture and to destroy Christianity and Deism in general.
7. The IZCS has hijacked top factions in the CIA, DEA and other American Intel and uses them to traffick illegal narcotics and drugs into America to raise money for deep-cover covert ops.
8. The IZCS has compromised almost every major Urban and Suburban police Department, coercing them to sign secret transfer of jurisdiction agreements giving the Feds, DHS and the Fusion Centers complete jurisdiction in any matter they choose.  In return, they are bribed with "stolen" war materials, machine guns, rounds, armored cars and, even in some cases, grenade launchers.
9. The IZCS has stolen numerous loads of nuclear materials from US DOD contractors and refiners for their Dimona Plant and nuclear storage center.
10. The IZCS has used NSA-provided intel to murder hundreds of witnesses to their crimes and federal Whistleblowers. The rest that they don't murder are watched and often become victims of targeted harassments, placed on DHS and Fusion Center "Terror Watch Lists", "No-Fly" Lists and "No work lists". Take the example of Ronald Reagan's Secret Agent, the Great American Hero Lee Wanta who was instrumental in "bringing down" the Soviet Union. Lee Wanta has been wrongfully imprisoned, tortured, and endures ongoing harassment.
Or consider Mark Novitsky, another Great American Hero who refused to do wrong and coverup crimes while working for an NSA contractor. Both of these American Heroes have paid a terrible price for obeying the law and for putting the welfare of the American People first.
11. The IZCS has hijacked the America Monetary Production and Distribution System and transformed Americans into debt-slaves, drastically reduced the Middle Class and the standard of living, and done this by massive asset-stripping of American wealth and prosperity.
12. The IZCS has used its Cutouts to debase American culture, take the God of our Founding Fathers out of the schools and institutions where they had certain Bible verses and phrases etched in stone, destroy traditional male and female sex roles, destroy the family, promote sexual perversion, promote promiscuity and sexual irresponsibility and addiction, promote diversity and political correctness and illegal immigration and multi-culturalism.
13. The IZCS has completely compromised all of the Major Mass media, transforming it into a propaganda dispenser for the USG and the Central Banksters which are completely under their control. Thus the Major media is now the Controlled Major Mass Media (CMMM).
14. The IZCS has hijacked American seed companies and most major food processors and is in the process of deploying sophisticated GMO's which will, over time, radically increase the death rate of Americans.
15. The IZCS has hijacked Big Pharma and Big medicine and has used it to deploy vaccines containing monkey viruses like SV40 and numerous harmful adjuvants like squalene and aluminum or formaldehyde, as well as so-called preservatives like ethyl mercury.
16. The IZCS has hijacked many large Insurance Companies and used them for its own designated purposes.
17. The IZCS has deployed contract aircraft through their hijacked intel groups like the CIA that are spraying toxic weather and eugenic substances in the atmosphere. They have also been able to covertly add these toxic substances to ordinary jet fuel.
Numerous samples of these substances have been collected by researchers and scientists who have had them analyzed.  What they found were toxic levels of nano-particulized aluminum, barium slats, Hemophilus Influenza, red blood cells, white blood cells, toxic molds, and other strange fiber like substances and compounds.
18. The IZCS has used its vast criminal networks and resources to launder its drug money by buying up large real estate entities and banks and is able to finance almost every new major corporate building with laundered drug money.
19. The IZCS has used a great deal of its money from illegal drug trafficking to build deep underground military bases (DUMBS). Some of these bases are claimed by top insiders to be joint ventures with alien entities and have special genetic labs involved in the development of alien ET/human hybrids.
20. The IZCS is the world's top Mind-kontroller.  It has used hijacked American Intel and its defense contractors to develop and deploy advanced high technology for psychotronic, direct brain entrainment and sound-based subliminal mind-kontrol.
21. Israel used advanced mind-kontrol on those who accept its all-paid junkets. Visitors end up drinking their special Kool-aide and are hit with sophisticated psychotronics, becoming significantly mind-kontrolled to operate as functional zionists without even being aware of it.
22. The IZCS has created what they call the federal family. They have done this by creating Fusion Centers, the DHS, the TSA and numerous armed (previously unarmed) agencies like the Department of Education. Unduly large salaries and extremely liberal benefits have been provided, as well as a special anointing with authoritarian powers to kill with very little accountability if any, due to the War on Terror.
Many of these federal Family folks have been mind-kontrolled by shoulder-held constant on pulsed beam microwave radios and other highly advanced psychotronics, which increases their tendencies to tyrannize and become violent with the public and minimizes their ability to control violent impulses which may crop up.
23. The IZCS has militarized local police departments and many Sheriff's departments. Their ADL provides most of the police training and drives a hard line against any public dissent, describing it as "domestic terrorism". It controls what the Fusion Centers and DHS put out as war propaganda which labels the public as "Domestic Terrorists".
Here is the first part of one of their confidential lists of Domestic Terrorists or Suspected Domestic Terrorists:  Catholics, Evangelical Christians, Veterans, Libertarians, Constitutionalists, Tax protestors, Gun owners…..These reports of course are pure ADL propaganda lies and complete smear jobs, all intended to provoke police and Federal Family officers to tyrannize and easily become violent with innocent ordinary Americans or anyone who decides to peacefully protest, an American Constitutional Right.
Remember that the operational goal of the top Policy-Makers who are tools of the IZCS is to provoke a full scale shooting war between ordinary Americans and their police and Federal family Members such as DHS.
Conclusion:  The IZCS has hijacked America and has deployed numerous weapons against it now culminating in a phony, staged War on Terror, and if you are an American or live in America, one way or another YOU will soon become THEIR NEW ENEMY. Yes, from here on out if you live in America, you are the designated enemy in this new War On Terror.
If you are a member of the federal family, it is suggested that you read and study up on the Night of the Longknives (Operation Hummingbird) and the various purges under Lenin, Stalin and Mao. Maybe you should reconsider the oath you took to UPHOLD the US Constitution from ALL ENEMIES, FOREIGN and DOMESTIC.
Now for some good news about all this.  Despite how bleak this all seems it is far from hopeless and American are beginning to wake up in mass. This is due to the worldwide Internet and the massive dissemination and diffusion of the alternative news.  Once facts are published they sink into the hearts of "we the people" with a certain resonance that makes them take hold.

It's almost instinctive how truth sticks like glue in people hearts and minds and spreads like wildfire all around the Earth. At least 1% of the American population has woken up. Some estimates are 11%. Proof of this is the massive first time gun buyers, the massive sales of high powered handguns, rifles and 12 gauge shotguns and massive ammo sales.

Guns and ammo have literally been flying off the shelves the last several years and there have been serious ammo shortages due to the massive DHS and USG stockpiling of 40 Caliber Hollow Pints and M-16 ammo rounds.
Once 12% of the population wakes up a critical mass turning point will spontaneously occur and through various very strange mass societal changes will occurs and new very powerful, unstoppable populism will emerge and the IZCS will be driven out.
If they are stupid enough to take us into a live shooting war, Internal Civil War with mass killing, the public will suffer great losses but the Federal Family will split and it and the IZCS and any of their forces will be defeated.
All wars are always won by what is in the hearts and minds.  In America the American Spirit lives and is getting stronger every day. Soon the foreign filth and their Cutouts run by the Kingpins from City of London and Israel, the perps that have hijacked America, the IZCS, will be completely exposed, stopped, or routed out, one way or another.
And there is good evidence that many retired Intel Cowboys have gone back to work to bring the IZCS Beast down and destroy its grip on American Intel and private Central Banking. Some of the covert operators have long records of success and can create and use numerous different identities.
Many of these Intel Cowboys can use make up and make their own credentials to impersonate officers, draw military and USG paychecks from multiple sources, all at the same time and hack into any computer system anywhere in the USG or American Intel, anywhere anytime. Most of them just did not realize that the IZCS has taken control because of unlimited money provided by zionist Central Banksters and Judaic supporters.
And the best news of all is that more than a few seasoned Intel Cowboys that served the Bush Cabal at its center as well as the IZCS, have now woken up, pulled away from the Bush cabal and are targeting the IZCS with deep cover covert ops that would make your hair stand on end if you were allowed to know.
Some of these Intel Cowboys have now admitted that they were kept so narrowly compartmented that they did not realize the whole picture until the Internet and the numerous Federal Whistle-blowers coming forward and spilling the beans. the simple fact is this, the worldwide Internet and the alternative news it provides spreads truth like a wildfire that cannot be put out even with the application of military force.
The Internet is the New Gutenberg Press, the Achilles Heel of the IZCS.  The Internet will turn out to be the greatest trick in history played on the IZCS by the young men at Drapa.  They sold the Internet to the IZCS and its SSG promising the greatest spying and surveillance system imaginable.  Yes the IZCS got much of what was promised but also a very big hidden surprise which assures their complete exposure and destruction, piece by piece. And this disassembling of the IZCS is already well under way.
The IZCS is now in its death throes and is like a rabid, cornered dog.  That makes it very dangerous for the next year or two until it is completely defanged which is coming. If they use the Samson option which they have been threatening numerous nation-states with (they already used it on japan with the nukes planted in the sea bed and in the security camera on site because Japanese turned against them).
New factions within the Military High Command and the USN have already taken note and are working carefully in the background to defang Dimona by utilizing secret satellite activated back-doors in various hardware circuits.
During the height of the bush Cabal (Bush1) those Intel Cowboys that did know were arrested and jailed on trumped up charges to discredit any possible testimony before Congress or in the courts. Now that many have been informed of what really happened on 9-11-01, they are hopping mad that America has been hijacked and the Constitution and its Bill of Rights, and the Rule of Law has been suppressed and ignored by this world's largest criminal cabal.
The IZCS attacks on America on 9-11-01 have proved to have been a "going for broke" attempt to build a expanded Israeli in greatest intended form. We now know that it was the greatest and final reckless mistake of Israel so far. Even far worse than Israel's False-Flag attack on the USS Liberty in their attempt to draw America into a Mideast War at the time which even President Johnson, their crypto Judaic stooge refused.
And now many Americans have finally been informed that the Murrah Building attack as well as the first NYC Twin Towers attack using a 55 drum of cyanide stolen from Louis Champon's Natural Cherrie Flavoring Plant in Boca Raton, Florida, financed by Dr. Ishan Barbouti, the IZCS Cutout that has died at least three times and always come back to life.
As few know, only the top NeoCons 911 Planners, Dr. Barbouti rose again and came back to life to assist with many of the 9/11 attacks subplots which were designed to provide numerous false leads. A few of the most Patriotic Intel Cowboys who have "traveled" very close to the very "top of the pyramid" now believe that Israel provided the anti-matter positron micro-nukes which were installed in the Twin Towers elevators approximately every ten floors.
Most retired Intel Cowboys had previously thought Israel was a supportive Intel partner but didn't realize that Israel murdered 135 Americans on the Liberty ship as a False-Flag attack and also murdered another 3,000 humans being in NYC and at the Pentagon on 911, assisted by Traitors within the USAF, NORAD and the JCS.
Now that these Intel Cowboys know the truth, they have woken up and back at work serving America's true "National Security". I don't know exactly what they will do but I would expect some very, very crafty covert moves to expose, drive the IZCS out of America or demo it irreparably if necessary.
References:
(1) http://www.veteranstoday.com/2013/11/10/was-ronald-reagan-the-last-duly-elected-president/
(2) http://www.youtube.com/watch?feature=player_detailpage&v=bU2n1UiY3I0
(3) Jane Standley BBC announcer, http://www.youtube.com/watch?feature=player_detailpage&v=ltP2t9nq9fI
(4) http://freebeacon.com/muslim-brotherhood-leader-meets-obama-in-white-house/
(5) http://thecommonsenseshow.com/2013/04/19/dismantle-the-department-of-homeland-stasi/
(6) http://www.informationclearinghouse.info/article37553.htm
(7) http://americanfreepress.net/?p=15289
(8) http://rt.com/usa/dhs-ammo-investigation-napolitano-645/
(9) http://www.washingtontimes.com/news/2011/aug/11/was-cia-behind-operation-fast-and-furious/
http://www.corbettreport.com/the-cia-and-the-drug-trade-eyeopener-preview/
(10) http://ehpg.wordpress.com/israel-did-911/
(11) Part 1: http://www.youtube.com/watch?feature=player_detailpage&v=1pyMMfqS6Kc
Part 2: http://www.youtube.com/watch?feature=player_detailpage&v=vdv8g6k2AP8
Part 3: http://www.youtube.com/watch?feature=player_detailpage&v=IJrKFkZ_uMo
Part 4: http://www.youtube.com/watch?feature=player_detailpage&v=U8r8-AHMgsI
Note: Kay Grigg's video affidavit has numerous other backup versions.  Some have more than four parts and some additional material lost due to editing.
Source: Preston James | Veterans Today
Urban War Zones are now a reality inside many American cities.
It's no longer necessary to go to Iraq, Afghanistan or Africa to enter a real war zone and have to fight for your life.
Thanks to massive CIA drug trafficking and American Free-trade Treaties like NAFTA, CAFTA, GATT & WTO, many American inner cities have been transformed into actual war zones.
These inner city war zones are infested with drug gangs that outnumber police and out gun them too.
At present these gangs are typically competing and battling with each other for turf and making a living selling drugs and running prostitutes, some captive sex-slaves. At some point if the economy worsens and the SHTF, they could easily start looting and attacking anyone and everyone.
However, in every major city in America at present, violent urban predators prey on the unarmed, old, weak, sick or disabled. And while out of control Police Swat Teams battle these predators and drug gangs, they often tyrannize the innocent which include women and young children, using excessive force all too often. There are numerous incidents of such teams murdering innocents after attacking the wrong home.
The massive War on Drugs was designed as a dualistic program. One hand, the top secret part involves the USG bringing in massive amounts of illegal drugs to raise "off the books money" for covert ops. The other hand uses all serious gang crimes arising as a pretext to militarize the police as justify their deployment as Nazi Storm Troopers.
This second part of the War on Drugs is for public disclosure and consumption. In response to all this massive urban breakdown, the worsening economy and increasing government tyranny from the Department of Homeland Security, the TSA and out of control local police, Americans are arming at an astounding rate. Guns are literally flying off the shelves and ammo sales are at an all time high also.
Americans now arming up in mass in order  to protect themselves from and this increasing USG Tyranny of the USG, DHS and their local militarized and Mind-kontrolled local police (1)  and from increasing and spreading urban crime which includes robberies, car-jackings, home burglaries and home invasions.
Also given as an important reason for arming up for the first time when asked, is a fear of possible impending economic collapse with an associated SHTF occurrence. Many express a salient and absolute need to be able to protect themselves and/or their family members from possible looters and armed home invaders which would likely accompany a SHTF urban breakdown situation.
And who should be credited with creating such a foreboding urban environment? It is the Globalist Traitors and infil-Traitors who have hijacked the political process and Banking in America.
These Globalist "enemies within" have rammed through economically disastrous Free-Trade Agreements and forced Diversity, Perversions and Political correctness accompanied by massive immigration, most illegal. All this has been designed to destroy the borders, language and culture of America, to neutralize its Constitution, Bill of Rights and Rule of Law while transforming America into a economically distressed Third World Nation.
These Globalist enemies within the Gates have been working very hard to transform America into a Democracy (Mob rule by the masses) from the Republic which was set up by our Founding Fathers.  Obviously any real enforcement of the US Constitution would assure that American would remain a republic the way it was set up.
Since the imposition of so-called "Free Trade" policies upon the American Republic, urban decay and blight have become epidemic in major American cities. Many cities have turned into Urban Jungles, where only the strongest survive. In these Urban Jungles, violent gangs prevail and the weak are parasitized and consumed, afraid to go out of their homes, especially after dark.
Take Chicago, which has become a "kill or be kill" free fire Urban War Zone in some of its Urban areas. Chicago is the one of the most gun restricted areas ever, but the only ones that do not carry guns to defend themselves are law abiding citizens.
Gang members have all the guns they want, supplied by drug gangs and the CIA and BATF.http://www.cbsnews.com/news/gang-wars-at-the-root-of-chicagos-high-murder-rate/
Some of these areas such as Washington DC have been rated as having a 300% chance of being mugged if out after dark in certain areas, which means you could likely be robbed three times in a single block if you have a victim profile (old, young, weak, disabled, female). The real unemployment rate is 37%, despite phony USG that it is 7% or less.(2)
And now Detroit has been declared Bankrupt. It has been reported that retired police and City workers will now receive approximately 13% of their pensions due.
The Ruins of Detroit:
The ten Most Dangerous American Cities which are truly Urban Jungles at Night:
There are areas in Detroit, South Chicago and St. Louis that are so violent and infested with violent gangs that even the police refuse to enter unless ordered and then do so with major forces.
Until recently parts of Detroit was so violent that police and ambulances refused to provide service during the night hours and often found abandoned dead bodies (murder victims) days later. Detroit, known as "Iron City", the jewel of America, used to be prosperous beyond measure based on the manufacture of the world's finest cars.
Remember what a 1965 Olds Starfire coupe was like, or a mid 60′s Buick Wildcat or Pontiac Bonneville was like.  How about a mid 60′s Chevy with a HP409 engine or a Plymouth Belvedere with a 426 Hemi or 440 Wedge engine?
That all changed in 1971 with the introduction of very extreme anti-pollution "clean air" laws which reduced automotive engine compression ratios from approximately 10.5 to 8.5, required the installation of retarded, goofy extremely inefficient camshafts.  The result was garbage engines that had little power, consumed huge increases in gasoline and a major shift in chassis quality to near complete crap. At that point American automotive quality was gone and is only starting to come back now forty years later.
This is but one symptom of the covert Globalist engineering of American Society on behalf of the City of London zionist Central Banksters.
This of course created a great opportunity for the Japanese Auto manufacturers, secretly owned and controlled by the super-elite American Banking families. When W. Edwards Deming, an astute American engineer approached American Automotive Manufacturers in Detroit and proposed his plan to drastically reduce defects and lemons, he was rebuffed because it was felt his plan was too expensive and too slow.
Deming's plan required 100% quality checks and verification of all parts from every supplier instead of the approximately 1% or less sampling. When Deming approached the Japanese, who had already shown a new coming expertise in motorcycles and quality circles in their electronics manufacturing, his program was accepted and implemented.
The rest is history, and after about 15 years, the American Automotive manufacturers have been playing a catch up game ever since for quality with the Japanese Auto manufacturers.
And now the Korean Automotive Manufacturers have hired retired Japanese automotive engineers as consultants and have adopted many of their same practices and principals to their automotive manufacturing.  The result?
Some Autos manufactured in South Korea have attained the same quality as the Japanese which are considered to currently be the highest quality in the world. As many automotive enthusiasts suggest, if you want the best performance buy German, if you want the highest quality buy Japanese.
It is a fair assumption that Globalism and the Free-Trade Agreements it produced, have resulted in the exportation of most American heavy industry, manufacturing and millions of good paying jobs. This alone has seriously harmed the American economy and set America on a path of destruction, starting first with its Urban Centers which have become urban wastelands and jungles, and now progressively spreading to middle class and upper middle class outlying suburbs.
Fair Trade with suitably adjusted reasonable Tariffs to protect American Jobs are necessary to America's economic survival and prosperity. Free Trade is not Free at all and is an abomination to the American republic and its Sovereignty.
It is a tool of the Globalists to enhance the earnings of their international offshore Globalist corporations at the expense of the American worker.  It is nothing less than a secret war against America's Sovereignty and the Republic itself.
The only other globalist tactic to destroy America that approaches its effectiveness are the policies of unrestricted illegal immigration, forced diversity, cultural programming that perversion is good, required perversion programming in the public schools that it is normal, and political correctness.
Obviously these are all Globalist weapons of covert war waged against America to destroy its borders, language and culture and gut it economically.  These Globalist weapons have been deployed against Americans in order to transform America into a Third World "Democracy" instead of the Republic that it was set up to be by the Founding Fathers.
These Traitors and Infil-Traitors in Congress and the Administration keep financing and running foreign wars for Israel in order to establish Democracy like they keep claiming we have in America. We have never had a democracy but they have been doing their best to kill the Republic on the behalf of their zionist owners and masters This is of course one of the biggest lies ever told.
America has always been a Republic, a democracy is mob rule. Of course bringing in 30-60 million illegal immigrants and millions of legally sanctioned foreign workers has quickly undermined American culture and tradition and established a real base to elect politicians who appeal to the masses. The election of President Obama was the first of such travesties.
Up until recently when American aircraft manufacturers starting buying foreign parts, American aircraft were the best in the world, especially the military aircraft and fighter/interceptors. Now we have an F-22 with a contaminated O2 system from China that causes some pilots to start passing out and a Boeing Dreamliner with a faulty battery system that was imported.
For years St. Louis has been so poor that some of their police radio don't work properly and their squad cars are in disrepair. In East Los Angeles, despite how tough and well armed the LA Police Department is, top police officials know that they are completely outgunned by Mexican drug gangs allowed to enter and do business inside America and also provided arms shipped by the CIA and the BATF.
It's not as if Americans weren't duly warned what such Free-Trade Treaties would produce, because Presidential Candidate Ross Perot went public with what was coming.  He described the effects as a "giant sucking sound" for American jobs as they would leave America in droves.
But despite Perot's grave warnings, President George HW Bush signed NAFTA on Dec. 17, 1992 with full Congressional support. The NAFTA Treaty was ratified after Bill Clinton became President. Soon after the sucking sound started, with shocking support the the US Department of State which provided massive grants to major corporations to move manufacturing to Mexico.  These grants continued at American taxpayer expense under the subsequent Trade Treaties that were subsequently signed and ratified such as CAFTA, GATT, and WTO.
Unbeknownst to most Americans, President Obama is now deeply involved in secret negotiations to pass the Trans Pacific Partnership Treaty (TPP) which experts have described as "NAFTA on Steroids". TPP is far more than just another Free Trade Treaty which continues to lower the value of American wages to the "rock bottom" levels in third world  countries. If signed and ratified by Congress, the TPP would be the complete end to any remaining American Sovereignty.
What established this frenzy for Free-Trade Agreements? It is now known that The last duly elected President of the United States of America was Ronald Reagan.  It is also known by seasoned intel officers that Ronald Reagan distrusted American Intel in general and especially his Vice President George HW Bush.
In fact it has now been discovered that President Reagan distrusted the CIA and American Intel so much, he set up his "Kitchen Cabinet" and brought in Lee Wanta as his Secret Agent under the Totten Doctrine (3).
George HW Bush was illegally elected later as President, since his father Prescott Bush had signed an Immunity Agreement that no future Bushes (Scherfs) would ever run for office after he was arrested for "aiding the enemy" and his Union Bank assets were seized by FDR during WW2.
It is also known that George HW Bush ran his own private CIA inside the CIA which served the specific needs of the zionist City of London Central Banksters and their franchisees, the American private Federal Reserve and major Wall Street Banksters.
Some former top American Intel believe that it was this private GHW Bush Intel organization that tried to assassinate President Reagan, by using their man, a secret service man who fired a high speed plastic disc from a compressed air powered disc-gun, the type displayed by William Colby in Congressional Hearings on the abuses of American Intel.
PBS Judy Woodruff had reported this of seeing the SS man fire a gun from a second story window that night on PBS but the story was quickly squelched and she changed it after a very convincing "not to worry visit" from some very serious American Intel agents. President Reagan, despite a long slow disjointed route to the hospital, survived. This assassination attempt however signaled that the Treasonous Bush Cabal had attained a major power base inside the Military and Congress.
The sad thing is that all the political power and influence  necessary to accomplish this and to transform the American Congress into Traitors was due to the vast money provided to K Street Lobbyists and zionist espionage groups like AIPAC, ADL, B'nai B'brith, and the like by the Central Banksters and the various Judaic groups shaken down and manipulated by zionist for donations.
So the first beach-head of the Globalists (aka zionist City of London Central Banksters and the "Old Black Nobility" they represented) was established with a bought, owned and controlled US Congress.  Once GHW Bush was elected President, the circle of control was complete.
One of George W. Bush's major assignments was to take American further down the Globalist path by fighting more Mideast wars for Israel. Another was to destroy the Republic party by being the worst President ever and fully debasing the Republican, which he did. Now the Republican leaders in Congress are tricking the Republican Party into committing suicide by agreeing to back the Democratic legislation for making illegal immigrants legal and future citizens.
So it is now obvious that the Republic Party is finished and Americans need to rise up and form a new Third Party. Otherwise you can be assured that just like in the last Presidential election, both candidates will be owned by the Bush Cabal.Unless the Bush Cabal has been fully exposed and displaced by then which is now  real possibility.
It has been estimated that there are now approximately 30 million illegal immigrants inside Americaallowed in by a Globalist controlled USG who prevented border enforcement and liberal immigration laws which are not enforced. With the the passage of the currently proposed Democratic plan for legalizing illegal immigrants, this number could easily grow to 60 to 100 million.
In most major American Cities, Police are not allowed to arrest suspected illegal immigrants for minor traffic violations or check their identification for legal status. Not so for those whose license plates are run and show up as actual American Citizens. And this is all due to orders coming down from a few top policy-Makers who operate at the nexus of the Secret Shadow Government (SSG).
GHWB could now institute major efforts to undo all the excellent plans for the economic and industrial reconstruction of America that President Reagan had set in place and activated. As has been disclosed in a previous article (4), President Reagan had brought in Lee Wanta to serve as his Secret Agent because he didn't trust the CIA which had been corrupted and hijacked by GHWB.
It should now be exceedingly clear to those who are well informed about the degradation of the American economy and rule of law accompanied by increasing tyranny, deployment of DHS, TSA and the passage of all the unConstitutional draconian laws (like the so-called Patriot Act, the Military Commissions Act, and NDAA 2014).
All this is being engineered by foreign controlled Globalist traitors and infil-Traitors who have hijacked America and worked hard to export  heavy industry, manufacturing and jobs.
And that they are doing this to asset strip America, destroy it's economy and the Republic itself in order to Balkanize America and prevent it from ever rising in economic strength again and operating as a Republic "of the people, by the people and for the people".
Their motives for all this?  To covertly re-fight the Revolutionary war that was lost and retake America on behalf of the zionist City of London Central Banksters and their Kingpin overlords the Old Black Nobility (OBN).  These hidden masters of the world-wide occult network which runs the IZCS prefer to stay hidden in the background where they can pull all the strings of several top Policy-Makers in America with no personal risk to themselves.
What can be done to turn this around? Obviously the first step is to get rid of all Free-Trade Agreements. In order to do this all the zionist espionage fronts inside America such as AIPAC, ADL, B'nai B'rith and the like must be fully exposed and prosecuted to the fullest extent of the law. In order to do this zionist Israeli-American dual citizens inside Congress and the USG and its Agencies must be exposed as traitors and agents of foreign espionage and routed out of power.
America has to stop fighting Israel's illegal Mideast wars and withdraw all aid and support for Israel as long as it is a criminal, racist apartheid state persecuting and murdering Palestinians and stealing their land incrementally.
Lee Wanta, a great American Heroe that served as President Reagan's Secret Agent under the Totten Doctrine and was instrumental in bringing down the evil Soviet Union
We need to re-institute the Wanta Reconstructing America Plan based on the Maglev High Speed Rail System which has the necessary funding already available. (5)
And it is time to also re-establish the Want Economic Recovery Plan for America that was also set up under President Reagan, but later stopped cold by George HW Bush and his Cabal when they instituted a secret coup to take over the whole USG on behalf of the City of London zionist Central Banksters and their Wall Street and Federal Reserve Franchisees.(6)
In fact it is a reasonable assumption that the massive Free-Trade attack on America's economy was largely a reaction by the Bush Cabal to these amazing economic reconstruction plans President Reagan had put in place through his Secret Agent Lee Wanta, who was the master strategist that took down the Soviet Union for President Reagan.
Recent respected surveys show that a majority of American are disgusted with the current administration and rating of the lowest ever experienced in America in the last century. Congress is also rated at an all time low with only 9% approving of it. Many view the current President as an alien imposter with no traceable past.  Some alternative media writers have stated that he is a sheep-dipped CIA creation just like Bill Clinton. All this is a mute point.  Why?
Because Ronald Reagan was the last duly elected President of the United States of America, the Republic, all presidents since have been fraudulently elected and owned by the Bush Cabal. And this Bush Cabal is the Action Agent of the City of London zionist Central Banksters and their International Zionist Crime Syndicate (IZCS).
The IZCS is centered in Israel where most intel is done by privatized Israeli corporations serving as American Defense and Intel contractors.  It is these private Israeli contactors who control all NSA raw intel and almost all American communications including internal White House phone calls and messaging, as well as all Pentagon and DOD communications.
Obviously the Bush Cabal has been able to install its own Presidential puppets and run a lucrative illegal drug trafficking operations into America.  All done to destabilize and "dirty up" American Cities while absorbing a great deal of the Welfare dollars and capturing vast "off the books" funds for their own covert operations and bribery of Congress. It is a fair conclusion that the Bush Cabal has destroyed the American Rule of Law, debased any true enforcement of the US Constitution and Bill of Rights and has corrupted every institution and agency of the USG.
However there is good news.  A growing force for good has emerged in the Alternative Media now transmitted everywhere instantly on demand by the worldwide Internet, the new Gutenberg Press and the NWO Globalist's Achilles Heel. Yes, the Controlled Mass media (CMMM) has been a propaganda mouthpiece for the Bush Cabal and the IZCS, but is now losing its appeal and credibility. The CMMM keeps feeding lies and crap to the American public that are obviously false, like the Mideast American wars are wars to establish Democracy.  More and more Americans now realize this is complete BS, that we are there to fight Israel's wars and defend British Oil interests.
Compare the articles of Veterans Today and other respected truth media now which are being published and read by millions inside America and all over the world with the CMMM. You will see the gap between the alternative media truth and the CMMM lies is ever widening and we are starting to see Alternative Media's popularity driving stories into the CMMM, even thought the CMMM usually attempts to neutralize their significance.
Many thousands of brave American Soldiers who were lied to and deceived into fighting these illegal, unConstitutional, unprovoked, undeclared wars for Israel and Big Oil, thinking that they were defending America and its freedom. Few greater lies and deceptions has ever been predicated on Americans than this complete lie.  Many thousands of Americans have been killed and horribly wounded and disabled in this war.
If the American Military ever fully realizes that all these wars were phony and based on a lie and that Israel did the 9/11 attacks with the help of a cabal within the USAF and JCS, there will be hell to pay for all those perps involved. And now there is good reason to believe that day is coming in the not too distant future.
As most Americans are beginning to realize, America has been infil-Traited by Traitors and Infil-Traitors in the highest positions of the USG.  The major economic deterioration and loss of assets to the Wall Street Banksters and the private Federal reserve through financial Fraud have been staggering and Americans are catching on the the BLATANTLY OBVIOUS.
When American society reaches a critical mass awakening to this obvious situation that Globalists have been doing everything they can to destroy America, there will be major Blow-back of astounding proportions. When 12% of Americans are awakened, a critical mass and major turning point will be reached and you will begin to see major social change like never conceived, and this will all be due to major Blow-back from awakening.
The elites hate to acknowledge it, but when large numbers of ordinary people are moved to action, it changes the narrow political world where the elites call the shots. Inside accounts reveal the extent to which Johnson and Nixon's conduct of the Vietnam War was constrained by the huge anti-war movement. It was the civil rights movement, not compelling arguments, that convinced members of Congress to end legal racial discrimination. More recently, the townhall meetings, dominated by people opposed to health care reform, have been a serious roadblock for those pushing reform…. A big turnout … can make a real difference….When someone tells you to stop imagining that you are having an impact, ask them to please direct their energy into getting 10 friends to join you in doing what needs to be done. If it has no impact, you'll have gone down trying. If it has an impact, nobody will tell you for many years. (7)
This coming complete awakening will be due to information dispensed and diffused by the Alternative Media and the worldwide Internet as well as word of mouth. it is best viewed as a byproduct of a new and powerful emerging worldwide populism which has now reached the point it is unstoppable. One recent study has established 10% as a critical mass, turning point for Society.(8)
I believe we are already at 11% and when we reach 12%, the days of the Bush cabal will be dated. They know it too and are scared sh*tless. That is why they have been going for broke trying to ram the NWO down our throats and militarize local police and build up DHS to oppress and then mass murder us.
It's time to speak up to all your family, friends and associates that we need to abandon the Republican and Democratic political Parties.  Both parties are owned and controlled by the same Overlord, the IZCS who bought them and can blackmail them with NSA provided intel.
Former Minnesota Governor Jesse Ventura, who is also a Vet and a Navy Seal/UDT man had it right in his book of the Replican and Democrat Political Gangs in America, DemoCRIPS and ReBLOODlicans (9).
Gov. Ventura recommends Americans dump both political Parties which serve the same corrupt masters and start electing alternative candidates only who are not associated with either of the two parties.
Conclusion:
It should now be exceedingly clear to those who are well informed about the degradation of the American economy and rule of law accompanied by increasing tyranny, deployment of DHS, TSA and the passage of all the unConstitutional draconian laws (like the so-called Patriot Act, the Military Commissions Act, and NDAA 2014), that all this is being engineered by foreign controlled Globalist traitors and infil-Traitors who have hijacked America and worked hard to export  heavy industry, manufacturing and jobs.
And that they are doing this to asset strip America, destroy it's economy and the Republic itself in order to Balkanize America and prevent it from ever rising in economic strength again and operating as a Republic "of the people, by the people and for the people".
Their motives for all this?  To covertly re-fight the Revolutionary war that was lost and retake America on behalf of the zionist City of London Central Banksters and their Kingpin overlords the Old Black Nobility (OBN).  These hidden masters of the world-wide occult network which runs the IZCS prefer to stay hidden in the background where they can pull all the strings of several top Policy-Makers in America with no personal risk to themselves.
(1) http://www.veteranstoday.com/2013/02/17/robocops/
(2) http://www.tpnn.com/2014/01/22/actual-unemployment-rate-37-2-not-6-7-says-wall-street-adviser/
(3) TOTTEN DOCTRINE [ 92 U.S. 105, 107 (1875) ]
(4) http://www.veteranstoday.com/2014/01/05/the-wanta-reconstructing-america-plan/
(5) http://www.veteranstoday.com/2013/12/28/high-speed-rail/
(6) http://wantarevelations.com/2014/01/wanta-plan-macro-financial-economic-check-list/
(7) http://www.zerohedge.com/contributed/2014-01-31/powers-be-are-secretly-terrified-people%E2%80%99s-power-%E2%80%A6-and-only-pretend-they%E2%80%99re-fi
(8) http://scienceblog.com/46622/minority-rules-scientists-discover-tipping-point-for-the-spread-of-ideas/
(9) http://www.amazon.com/DemoCRIPS-ReBLOODlicans-More-Gangs-Government/dp/162087587X/ref=sr_1_2?s=books&ie=UTF8&qid=1391327762&sr=1-2&keywords=jesse+ventura+democrips+and+rebloodlicans
Source: Preston James | Veterans Today
"When also all that generation were gathered unto their fathers; and there arose another generation after them, which knew not the Lord, nor yet the works which He had done for Israel.  Then the Israelites did evil in the eyes of the Lord and served the Baals. They forsook the Lord, the God of their ancestors, who had brought them out of Egypt. They followed and worshiped various gods of the peoples around them. They aroused the Lord's anger…they forsook him and served Baal and the Ashtoreths."  Judges 2:10-13
In his book "New Evangelicalism: the New World Order," Paul Smith, the younger brother of Pastor Chuck Smith of Calvary Chapel, reports that the second generation sons of faithful evangelicals and evangelical pastors are going astray.  Among those who have already done so are Daniel Fuller, Frank Schaeffer, Rick Warren, and Chuck Smith Jr. (p. 177)
"New" evangelicals are traveling the broad smooth road to compromise, syncretism, universalism and evolutionary pantheism taken years ago by mainline Protestantism.  Already some apostate evangelicals have embraced and are teaching pantheist conceptions of Jesus Christ.
In the "The Christ of the New Age Movement," Ron Rhodes notes that apostate evangelical, now New Age theologian David Spangler defines Christ as a cosmic principle:
"Any old Christ will not do, not if we need to show that we have something better than the mainstream Christian traditions. It must be a cosmic Christ, a universal Christ, a New Age Christ." The Christ is not so much a religious figure, "but rather a cosmic principle, a spiritual presence whose quality infuses and appears in various ways in all the religions and philosophies that uplift humanity and seek unity with spirit." ("The Christ of the New Age Movement: Part One in a Two-Part Series on New Age Christology," cited in "A Quantum Cosmic Christ," Herescope BlogSpot, June 2012)
The cosmic Christ is the Omega refashioned.   The Omega is the Hermetic Hindu-pantheist divine One Substance featured by apostate Catholic theologian Teilhard de Chardin in his New Religion and now by Leonard Sweet in his Quantum Spirituality.
Leonard Sweet, preacher, scholar, and ordained United Methodist clergyman teaches a version of de Chardin's New Religion that he calls Quantum Spirituality. Sweet has remolded Omega as an embodiment of God in process of evolving within the substance of creation:
"Quantum spirituality bonds us to all creation as well as to other members of the human family…. This entails a radical doctrine of embodiment of God in the very substance of creation…. But a spirituality that is not in some way entheistic (whether pan- or trans-), that does not extend to the spirit-matter of the cosmos, is not Christian." (ibid, Leonard Sweet, Quantum Spirituality: A Postmodern Apologetic ")
The fall of the Christian Church is not limited to the Evangelical Church but rather the disaster is manifest over the entire denominational spectrum from the Presbyterian Church USA, which has lost hundreds of churches in the last few years, to the Episcopal and Catholic denominations.
In "Tidings of Discomfort and Joy," Jamie Dean describes a scorched earth policy being conducted by the apostate Episcopal Church against faithful Anglicans leaving the TEC:
"TEC leaders have fought dozens of court battles to force congregations leaving the denomination to forfeit the buildings they, their parents, and their grandparents paid for." (Jamie Dean, World Magazine, Dec. 28, 2013)
Phil Ashey of the American Anglican Council, an advocacy group for parishes and dioceses leaving the TEC, says these conflicts are a kind of "first fruits" of what faithful Christians outside TEC could face in coming years.
Since the TEC consecrated openly homosexual Gene Robinson as its first 'gay' bishop a decade ago, hundreds of churches have fled the denomination.  Departing churches emphasize TEC's approval of open homosexuality as an outgrowth of deeper doctrinal problems: TEC leadership has questioned the authority of Scripture for decades.
Under Katherine Jefferts Schori, the first female presiding bishop, the scorched earth policy has reached new heights.  The apostate Schori said this is because,
"Bad behavior must be confronted." (ibid)
Schori preaches a brand of evolutionary pantheism while masquerading as a Christian bishop.  As she mocks the crucial doctrines of the Christian faith, including the God of creation, the Incarnation, and the Trinity, she calls on Christians to boldly cross the frontier to become God while she taunts the Lord by use of the name Big Man,
"… and then points her finger at everyone listening and tells them that they have "missed the boat." Jefferts Schori then proclaims that she has the answer for this. We all need the "act of crossing boundaries" to become God after which our hands become a "sacrament of mission." In this way Schori continues "her mission of destroying the Christian faith through her rhetorical device of dismissive ridicule. (The False Theology of Episcopalian Bishop Katherine Jefferts Schori," Sarah Frances Ives, PhD, VirtueOnline,   Wednesday, July 11, 2012)
Within the Catholic Church losses have also been devastating, said Patrick Buchanan:
"…Catholic losses have been staggering (and) Catholics who remain in the Church are not nearly as firm in the faith or devout as their parents were.  The institutional shrinkage mirrors a spreading disbelief in doctrines that define the faith.  Millions of Catholic children are being taught their faith by heretics."  (Suicide of a Super Power: Will America Survive to 2025? pp. 91-93)
Evolutionary pantheism quietly infiltrated the Catholic Church years ago.  Bishop Fulton J. Sheen identifies the infamous heretic Teilhard de Chardin as the main villain:
"As one looks at the various trends in our day, one sees that Teilhard's conception of spirituality is in the forefront. He knew that he had to pass through many hazards, but he was directed principally to the cosmic world…..His fundamental orientation was "to attain heaven through the fulfillment of earth. Christify matter." (Bishop Fulton J. Sheen, Footprints In A Darkened Forest, p. 73)
By any name, Quantum Spirituality, Evolutionary Christianity, Schori's brand of evolutionary pantheism or Teilhard's New Religion, all are a synthesis of heresies whose primary doctrine is evolution.
Dr. R. Albert Mohler, president of The Southern Baptist Theological Seminary, describes our age as marked by so much spiritual and theological confusion that the God of the Bible has largely disappeared from view and been replaced by,
"…less imposing deities that are more amenable to the modern mind." (The Disappearance of God, Mohler, p. xiii)
We are witnessing the secularization, paganization and evaporation of orthodox Biblical theism to which must be added rebellion against every vestige of authority, an inversion of history caused by evolutionary thinking, the privatization of truth and,
"…..the fact that millions of Americans claim a divine right to their own spiritual cocoon and belief system."   Americans, "now lay claim to their 'own personal Jesus.' This personal vision of Jesus Christ may well bear little or no resemblance to Jesus as He is revealed in the Bible."  (xiii)
We are on the very brink of an anti-orthodox Christian mentality empowered and promoted by America's apostate paganized 'church.'  This development is approved and applauded by America's cultural elites.  For a long time our 'highly evolved' cultural elites–political, legal, judicial, academic, scientific, entertainment, education—have been not only been largely post-Christian in their mentality but openly hostile:
"NBC's sitcom "The New Normal" isn't just trying to remake society for the Gay Left. It's trying to remake Christianity, which is to say, destroy it."    (Brent Bozell, "The New Normal Christianity?" Townhall.com, Oct 26, 2012)
Paganized, post-Christian, sexually emancipated America is in a very advanced state of moral decay.  Years ago when its' decay was not as advanced, Pitirim Sorokin even then compared it with the morally depraved, sexually decadent social conditions in the Old Kingdom of Egypt 4,500 years ago just prior to its collapse.   In his book, "The American Sex Revolution," Sorokin reported that in the Old Kingdom:
"Sexual anarchy assumed extreme forms and spread through a large part of the population. Side by side with an increase of sexual perversions, a shameless sexual promiscuity also greatly increased. They seduced members of the same family. Relations between father and daughter…..son and mother…….Adultery, rape……prostitution greatly increased………homosexual love entered the mores of the population……all the aberrations of morbid eroticism……..unnatural relations, flagellations, and sodomy." (p. 93)
When sodomy becomes not just socially acceptable to a people but is rather a cause for celebration then collapse cannot be far behind:
"The Southern Decadence Festival is one of our nation's most notorious celebrations of sodomy, public sex acts, prostitution, drunkenness, and worse, but is by no means the only such festival. According to this year's Autumn Gay Pride Calendar, decadence festivals are held over and across post-Christian America and Western Europe as well as in Canada, Hong Kong, Australia, Thailand, Brazil, Belarus, Ireland, Japan, Scotland, China, S. Africa, India and Taipei. ("Sex slaves, sexual anarchy and decadence festivals: ominous signs of something really rotten," L. Kimball, Renew America, Oct. 25, 2012)
One of the central realities of America's moral decay was the dawning of a post-Christian culture now rapidly transitioning into an anti-orthodox Christian society.
The anti-orthodox Christian consciousness is now well developed. Tolerance is perverted into a radical secularism that is wholly open to 'gay' marriage and sodomy, abortion as  legalized 'choice,' perverse sex education for children, occult practices, Satanism, sorcery, Wicca, magic, nudity, pornography and Decadence Festivals but intolerant of God's Authority, Moral Law and sexual ethics.  The post-Christian mind is closed to the eternally unchanging higher truths of God but completely open to the idea that truth has no objective or absolute basis whatsoever.  Indeed, the postmodern mind has a fanatical dedication to moral relativism, love of self, pleasure, and its own personal Jesus idols and gods, be they evolution-gods, science-gods, mystical passion-gods, Omegas, gods-of-reason or something else.
We are living in an age of deep and undeniable breakdown, an age of darkness and spreading evil where moral constraints and restraints have been thrown off in the name of a liberation that does not emancipate but enslave.  Our increasingly bizarre age is marked by a fundamental failure of conviction in unison with deepening corruption and lawlessness characterized by pathological lying, hard-edged egotism and warped, distorted personalities; but then Scripture has told us that sinners love darkness rather than the light.
Something is happening to the consciousness of this age.   A counter-conversion of consciousness is closing the soul to Jesus Christ while opening it to powers of darkness.  If we listen closely said Albert Mohler, we can hear something,
"….like the closing of a steel door—a solemn, cataclysmic slamming of a door." (p. 166)
No matter how much discomfort and suffering it causes us we nevertheless need to "wake up" and "see" and "comprehend" these developments in order to understand the challenges we are already facing and the those yet to come.  We are in a time of shaking, and there is far worse to come.  We are about to see what remains and what falls. There is a sense, said Dr. Mohler, that we are waiting for a signal for something to tell us which way we are going to go,
"Something is happening and about to happen.   The landscape is changing, the skies are darkening—and this is something we know with a spiritual perception, a spiritual sense, a spiritual urgency.  Something is happening that we as believers in the Lord Jesus Christ should see and understand. For we cannot say that we were not warned." (pp. 158, 164, 166)
Rick Warren is one of America's most influential Christian ministers. He's so popular that many folks call him "America's Pastor." Warren has earned a reputation as larger than life and until a couple of years ago he was large around the middle! Because of health concerns he decided to shed a few pounds. But why go it alone? After all, he had his own personal cheering section if he wanted it – Saddleback Church in Lake Forest California, an evangelical megachurch he started in 1980. Thirty-three years later Saddleback boasts over 20,000 weekly attendees. He felt sure that many folks would cheer him on while others would join him in his endeavor to achieve a healthier lifestyle. So he said No! to Jenny Craig and took on the daunting task of developing a weight loss program that, according to Rick Warren, is "God's prescription for your health."
Sound like a plan?
Well, yes, in fact he christened it "The Daniel Plan: 40 Days to a Healthier Life."
On January 15, 2011, over 6,000 people made the trek to Saddleback's main campus to learn what the Bible allegedly says about getting healthy. Thousands more watched online at the other Saddleback campuses.
In order to achieve his lofty goal, he brought together "three of the leading health specialists in America." But surprisingly the three doctors picked by the pastor were not Christians—not by a long shot. In fact, when you look into some of the things they're into (more on this in a moment), it's fair to say that all three of them are into New Age/New Thought spirituality.
Who are the doctors Rick Warren chose? 1) Mehmet Oz. Dr. Oz is a Sufi Muslim, a cardio vascular surgeon, and popular daytime talk show host. 2) Dr. Daniel Amen (pronounced A-mun). Dr. Amen is a psychiatrist and brain imaging specialist. He's also a practitioner of Tanta which is the use of Hinduistic-type mysticism during sexual intercourse. Dr. Amen is also a self-professed Christian. 3) Dr. Mark Hyman. Dr. Hyman is a practitioner in alternative therapies in health and medicine and is a secular Jew.
Does this seem like a good fit too you? I mean, why didn't he elicit the aid of three notable Christian specialists to create "God's prescription for your health"?
Furthermore, why would a high-profile evangelical pastor choose doctors who are entrenched in New Age/New Thought (occult) spirituality, as well as questionable alternative health practices? Warren's fully aware that Paul cautioned the church in Thessalonica to abstain from even the appearance of evil (1 Thes. 5:22).
In light of what the Bible clearly teaches, it's surprising that a Christian minister, who understands what the Bible teaches (or at least he should), is unconcerned that some in his flock may not know that the New Age practices he purports are anti-biblical and that they might very well involve themselves in the sort of pagan practices that the above mentioned doctors promote, practices that are expressly forbidden in Scripture. God's people are to be separate from the pagan nations. In 2 Cor. 6:14-15 Paul says this to the Church:
Be ye not unequally yoked together with unbelievers: for what fellowship hath righteousness with unrighteousness? and what communion hath light with darkness? And what concord hath Christ with Belial? or what part hath he that believeth with an infidel?
When Pastor Rick chose the three doctors—specialists or not–to design a weight loss plan it was done in a way that would appeal to the sheep of his pasture, his audience. And of course many of them bought into their shepherd's health plan, hook line and sinker.
But – why was he not concerned about his flock's spiritual health? What fellowship has righteousness with unrighteousness?
The book
The three doctors believe that practicing meditation on a regular basis is integral to health and fitness. This is known as contemplative prayer (CP). Rick Warren promotes CP even though he knows perfectly well that it's a form of neo-Gnosticism that, sadly, Protestants/evangelicals have borrowed from the monastic traditions of the Roman Catholic Church. Meditation is recommended in the book. On the Daniel Plan website, Dr. Joseph Mercola demonstrates the 4-7-8 breathing exercise (here) that he learned from meditation proponent Dr. Andrew Weil while attending a presentation. Dr. Hyman wrote an article for the site, Six Ways I Changed My Life and How You Can Change Yours without once mentioning God. He did, however, recommend the Hindu practice of yoga. So as you can see, there's a very good reason for sounding the alarm regarding the Daniel Plan book that's set to be released December 3, 2013.
Tell me more…
What does CP involve? Without getting too far afield, practitioners choose a single word or short phrase from the Bible and repeat it over and over during breathing techniques that come from India. Doing breathing techniques is an attempt to "bind the mind with one thought." The goal is to achieve an altered state of consciousness (empty the mind completely) and to attain to the "higher self" that New Age/New Thought devotees believe to be the divinity within each person. The popular term for this is Transcendental Meditation.
So, what's the big deal about Christians involving themselves in Eastern meditation? Well, the big deal is that when a person attains an altered state of consciousness it may bring him/her into contact with "familiar spirits," which is a way of saying neutral or benign spirits. More commonly the spirits are anything but benign; they're demons! According to the Bible, demons are fallen angles – prideful angles that rebelled against God and as a result were banished from His kingdom. Scripture rightly refers to the banished angels as "spiritual forces of evil." They remain in rebellion against God. The spirits often appear to humans as "angels of light" — but they're masters of deceit! So they're not the good guys they trick us into thinking they are. Trust me on this; evil spirits are your worst nightmare – far worse than Freddie Kruger! For this reason Paul forewarned of Satan's fondness for fooling the flock:
For such are false apostles, deceitful workers, transforming themselves into the apostles of Christ. And no marvel; for Satan himself is transformed into an angel of light. Therefore it is no great thing if his ministers also be transformed as the ministers of righteousness; whose end shall be according to their works. (2 Cor. 11:12-15)
Former New Ager Ray Yungen warns:
Many people have unwittingly become New Agers by simply seeking to improve their physical and mental health through meditation.
Doctors Amen and Hyman co-authored the Daniel Plan book but Dr. Oz didn't participate. Here's a bit of background info on the book's co-authors excerpted from my 2011 column Rick Warren Introduces the "Devil Plan":
Dr. Daniel Amen
Dr. Amen is a child and adult psychiatrist and Assistant Clinical Professor of Psychiatry and Human Behavior at the University of California at Irvine School of Medicine. In addition he is a brain imaging specialist.
Dr. Amen teaches "techniques that will improve 'brain health,' claiming that poor brain health is associated with a host of problems from overeating to depression. … He includes meditation (and in fact this is his primary tool) as a way to have a healthy brain."
Dr. Amen recommends a meditation called Kriya Kirtan which is from the Kundalini tradition:
"I teamed with Drs. Dharma Singh Khalsa and Nisha Money to study the impact of meditation on the brain. We chose a simple 12 minute form of meditation, Kriya Kirtan, that is easy for busy people to practice. It is based on the five primal sounds: Saa, Taa, Naa, Maa (aa being the fifth sound). Meditators [sic]say each sound as they consecutively touch their thumb to fingers two, three, four and five. The sounds and fingering are repeated for two minutes out loud, two minutes whispering, four minutes silently, two minutes whispering and two minutes out loud." (Online source)
Dr. Amen is also a practitioner of Tantric or tantric sex which is the use of Hinduistic-type mysticism during sexual intercourse. Lighthouse Trails Research (LTR) reports:
"In a 6-CD set called Create a More Passionate Night, Dr. Amen has teamed up with advanced certified Tantra educator, T. J. Bartel. … Tantra is the name of the ancient Hindu sacred texts that contain certain rituals and secrets. Some deal with taking the energies brought forth in meditation through the chakras and combining them with love-making to enhance sexual experiences."
"Make no mistake about it" says LTR, "Reiki, meditation, tantric sex – these are very powerful mystical experiences that have the capability to delude and deceive those who are involved with it."
For Christians who have read to this point, I hope you're becoming alarmed.
Dr. Mark Hyman
Dr. Mark Hyman is editor-in-chief of Alternative Therapies in Health and Medicine which is said to be "the most prestigious journal in the field of integrative medicine, and the medical editor of Alternative Medicine, the Art and Science of Healthy Living."
In her article, Alternative/ Blended/ Complementary/ Integrated Healing, Marcia Montenegro examines alternative therapies:
"It is called alternative because the technique/ drug/ herb has not been or cannot be adequately tested, or has been found ineffective or dangerous. If it were a safe, tested treatment, it would not be in the alternative category. Many cited studies to support these methods are flawed, short-term, based on anecdotal evidence, conducted by believers in the techniques, & often are not published in a peer-reviewed medical journal. The terms complementary, blended, and integrated are now being used as well since alternative treatments are being combined with traditional medicine. This makes it more difficult to test the alternative methods or to know what is really working when the patient improves. It should be remembered that the placebo effect accounts for 30% or more for a person feeling better."
Dr. Hyman claims he's not into meditation but he does recommend yoga to create calm.
In my article Can A Pagan Practices Be "Christianized" I explain why Christians must avoid yoga:
"Christian apologists John Ankerberg and John Weldon maintain that, 'The basic premise of yoga theory is the fundamental unity of all existence: God, man, and all of creation are ultimately one divine reality.' To explain the basic premise, the authors quote from an editorial in the Yoga Journal: "We are all aware that yoga means 'union' and that the practice of yoga unites body, breath, and mind, lower and higher energy centers and, ultimately self and God, or higher Self. But more broadly, yoga directs our attention to the unity or oneness that underlies our fragmented experiences and equally fragmented world. Family, friends, the Druze guerrilla in Lebanon, the great whale migrating north—all share the same essential [divine] nature.""
Dr. Hyman participated in a program called Yoga, Body & Spirit at Shambhala Mountain. The program included Susan Piver, who offered instruction in the ancient wisdom tradition of Buddhist meditation, and Richard Reoch who presented Golden Ball Chi Kung.
Dr. Hyman retails expensive supplements "critical for supporting lifelong health," books and CDs in his "healthy living store" online. The UltraWellness Essentials Kit for Women costs $130 for a one month supply. For youngsters it's a tad less. Only $47 per month because "Like adults, children need a purified source of essential fatty acids to help build healthy brain cells, support focus and attention, and optimize metabolism."
This is UltraBunk!
Earth to Dr. Hyman! At your exorbitant cost for "high-quality multi vitamin and minerals" most families can't afford to get healthy! (Visit Dr. Hyman's store)
Why has this not dawned on Pastor Rick? In one of his promotional videos he held up each of the doctors' books and urged his congregants to purchase them! This makes one wonder if Dr. Hyman's books recommend the high priced vitamins, and if this is the case, who derives benefit from the sale of these products?
That an evangelical pastor would allow his sheep to be influenced by New Age ideas and questionable medical practices should give us pause. Christians should avoid becoming involved in any sort of assembly where we are powerless to address issues that come up which could cause us to compromise our biblical principles. Moreover, it should give us pause when the minister of the Gospel of Jesus Christ teams up with occultists!
I'll close with a quote from John 10:7-13:
Then said Jesus unto them again, Verily, verily, I say unto you, I am the door of the sheep. All that ever came before me are thieves and robbers: but the sheep did not hear them. I am the door: by me if any man enter in, he shall be saved, and shall go in and out, and find pasture. The thief cometh not, but for to steal, and to kill, and to destroy: I am come that they might have life, and that they might have it more abundantly.I am the good shepherd: the good shepherd giveth his life for the sheep. But he that is an hireling [hired hand], and not the shepherd, whose own the sheep are not, seeth the wolf coming, and leaveth the sheep, and fleeth: and the wolf catcheth them, and scattereth the sheep. The hireling fleeth, because he is an hireling, and careth not for the sheep.
Helpful Resources:
New Age Spirituality–On Solid Rock Resources
http://emailbrigade.com/266.html
Contemplative Prayer—On Solid Rock Resources
http://emailbrigade.com/305.html
Rick Warren's New Age Health Gurus—Berit Kjos and Sara Leslie
http://herescope.blogspot.com/2011/03/rick-warrens-new-age-health-gurus.html
Saddleback Church, Rick Warren, and Spiritual Disciplines–By Ken Silva
http://apprising.org/2010/06/15/saddleback-church-rick-warren-and-spiritual-disciplines/
Rick Warren's Daniel Plan Accelerates – Tells Followers to Practice 4-7-8 Hinduistic Meditation –By Lighthouse Trails Research
http://www.lighthousetrailsresearch.com/blog/?p=13549
With over 500 pages and 1,200 footnotes, Ted Flynn's book, "Hope of the Wicked: the Master Plan to Rule the World," details many of the agendas of the global 'elite' community.  With several thousand quotes it uses the words of prime ministers, secretaries of treasury, secretaries of state, philanthropists and global business leaders to describe their NWO vision and their plans to bring it about as well as the convergence, on a global basis, of multinational corporations, foundations and the political and sociological instruments that would form a one-world government designed to bring about a New World Order.
Flynn writes that there is a confluence of events pointing to major changes that for many years have been coming to the world and they appear to be coming toward us more quickly now. Flynn argues that an 1846 heavenly apparition, a prophecy delivered by the Blessed Virgin Mary to two peasant children and approved by the Catholic Church is a stark and terrible summary of the major changes that have been coming to the world in general but the West and America in particular:
"All the civil governments will have one and the same plan, which will be to abolish and do away with every religious principle, to make way for materialism, atheism, spiritualism and vice of all kinds….The mountains and all Nature will tremble in terror, for the disorders and crimes of men have pierced the vault of the heavens…The righteous will suffer greatly.  Their prayers, their penances and their tears will rise up to Heaven and all of God's people will beg for forgiveness and mercy…And then Jesus Christ, in an act of His justice and His great mercy will command His Angels to have all His enemies put to death….and the persecutors of the Church of Jesus Christ and all those given over to sin will perish…"  (p. 445)
In another apparition approved by the Church, the Blessed Virgin Mary warned of the "annihilation of nations." (ibid, p. 445) 
Materialism, Atheism, Communism, & Annihilation of Nations and People
Friedrich Engels (1820-1895), a 19th century German political philosopher figures prominently in Karl Marx's life.  Beginning in 1844, Engels and Marx, a God-hating materialist, collaborated closely in the foundation of modern Communism.  By 1848 they had produced The Communist Manifesto and similar works.
The tragedy of Engels is that before joining forces with Marx he had been a faithful Christian.  After meeting Marx for the first time he described him as a monster subjected to devils.  Marx does not,
"…walk or run, he jumps on his heels full of anger…He stretches his arms far away in the air; the wicked fist is clenched, he rages without ceasing, as if ten thousand devils had caught him by the hair."  (Marx & Satan, Richard Wurmbrand, p. 36)
Engels was very well aware of the dangers of entangling himself with devilish sons of perdition like Marx.  In his book, "Schelling, Philosopher in Christ," he warns that a devilish spirit has entered into a great part of mankind in the heart of Christendom and now there are only two kinds of men, Christians and anti-Christians:
"Since the terrible French Revolution, an entirely new, devilish spirit has entered into a great part of mankind, and godlessness lifts its daring head in such an unashamed and subtle manner that you would think the prophecies of Scripture are fulfilled (Matthew 24:11)..And St. Paul says in II Thes. 2:3: That man of sin shall be revealed, the son of perdition, who opposes and exalts himself above all that is God, or that is worshipped…The coming of the Wicked is after the working of Satan….(therefore we must have)  nothing to do any more with indifference or coldness toward the Lord (for as of now) we have only…Christians and anti-Christians….We see the false prophets among us…They travel throughout Germany and wish to intrude everywhere; they teach their Satanic teachings in the market-places and bear the flag of the Devil from one town to another, seducing the poor youth, in order to throw them in the deepest abyss of hell and death." (ibid, p. 40)
The devilish fleshy spirit responsible for converting Engels to godless Communism was Moses Hess, the same man who had previously converted Marx. After meeting Engels in Cologne Hess wrote:
"He parted from me as an overzealous Communist.  This is how I produce ravages…" (ibid, p. 43)
The spiritual counter-conversion of Engels was striking and hideous.  Like Marx, he no longer cared about the destruction of millions of people on behalf of the Revolution. 
A bloodless Marx writes of the coming genocide of millions of men, women, and children:
"A silent, unavoidable revolution is taking place in society, a revolution that cares as little about the human lives it destroys as an earthquake cares about the houses it ravages.  Classes and races…too weak to dominate the new conditions of existence will be defeated." (ibid, p. 42)
In a similar vein, a cold-hearted Engels speaks of the coming annihilation of millions of Christians, Jews, and other peoples and nations:
"The next world war will make whole reactionary peoples disappear from the face of the earth.  This, too, is progress.  Obviously this cannot be fulfilled without crushing some delicate national flower.   But without violence and without pitilessness nothing can be obtained in history."  (p. 43) 
The Revolution
The Revolution is a movement of spirit having its taproot and energy in the devil, the spirit of hate, murder, atheism, apostasy, and 'this world only' naturalism, materialism, pantheism, and spiritualism.   The Revolution is war against the supernatural Trinity, the Father, Son and Holy Spirit, which in the words of Marx's anarchist comrade Bakunin, are the "cursed and fatal principle of authority."
The sentiment of the Revolution is satanic pride:
"….which spurns subjection to any master whatever, whether of divine or human origin." (Bakunin, Nihilism: The Root of the Revolution of the Modern Age, Fr. Seraphim Rose, p. 63)
The nature of the Revolution is the antithesis of authentic Christian faith. Whereas Christian faith is joy, patience, love, truth, humbleness, perseverance, submission in all things to the Will of God and blessed eternal life in Paradise (earth perfected), the Satanic counterfeit is full of hatred, rebelliousness, burning envy and covetousness against man and God, ingratitude, mockery, doubts, lies, revulsion, blasphemy, thoughts of murder and eternal life in Hell.
Fueled by monstrously inflated pride and dissatisfaction with self, the world, society, and God the Father Almighty, it devotes its' infernal energy toward "change," or as Marx put it, toward the wholesale destruction of the Christian-based Old Order and the establishment of a religiously pantheist, totalitarian world order because:
"The idea of God is the keynote of a perverted civilization. It must be destroyed." (Karl Marx, Marx and Satan, p. 59)  
The New World Religion  
 "(The UN is) a weird and diabolical convergence of New Age mysticism, pantheism, aboriginal animism, Communism, socialism, Luciferian occultism, apostate Christianity, Islam, Taoism, Buddhism, and Hinduism."   (The New World Religion: Teaching God's Children to Worship 'Divine Nature.' William Jasper, 2002)
The Revolution, of which the U.N., Lucis Trust (formerly Lucifer Publishing), the Cathedral of St. John the Divine, the Temple of Understanding and Baca Grande (Colorado based New Age Vatican City) are integral components, intends the complete overturning of Biblical moral and spiritual values enjoyed by Western and American civilization for over a thousand years.  As part of this goal, the Bible must be reinterpreted in terms of evolutionary pantheism, man must be fundamentally remade by eradication of every vestige of Imago Dei from his inner being, and Christian leadership reduced to a non-factor.  Flynn writes that this has largely been accomplished,
"…by placing their own leaders in place where they exert tremendous influence.  Much of this program of revolution was confirmed by Franklin D. Roosevelt in his book, 'Our Way' (which) summed up, the spiritual and immoral goals of world revolution (and how they) are being achieved, and nowhere more so than in the United States." (Flynn, p. 361)
Primary goals are:
a. Destruction of the Christian-based foundation of Western and American civilization;

b. Dissolution of legal government;

c. Destruction of sovereignty and patriotism;

d. Demoralizing, atheitizing and bringing the people of the United States into slavery via liberated sin nature and penury via graduated income taxes, property taxes, inheritance taxes, sales taxes, a massive welfare state and now socialized healthcare;

e. The abolition of God-given right to life via reproductive rights (abortion) and euthanasia and of private property via onerous building codes, zoning regulations and restrictions and by taxing property out of existence and targeting inheritance with bigger and bigger taxes;

f. Destruction of the traditional monogamous family unit via divorce, co-habitation, alternative lifestyles, abortion, pornography, hedonism and homosexuality
Before the top-down spiritually pantheist world order dominated by an occult 'elite' can come into existence, there must be a politically correct philosophy of 'new' thought and a philosophy of pantheist-based natural religion and natural science to usher in the coming political, social, legal and educational aspects of the new order since New Age evolutionary pantheism is a politically communist, ecologically 'sustainable,' sexually androgynous way of living.
In her two books on New Age evolutionary pantheism, 'The Hidden Rainbow,' and 'A Planned Deception,' Constance Cumbey writes that these goals have largely been accomplished:
"The New Age Movement is a religion complete with its own Bibles, prayers and mantras, Vatican City/Jerusalem equivalents, priests and gurus, born again experiences (they call it 'rebirthing'), spiritual laws and commandments, psychics and prophets and nearly every other indicia of a religion." (Flynn, p. 361)
According to Cumbey, the Plan for the new order includes the installation of a New Age messiah, implementation of a New Age totalitarian government and new world religion under Maitreya.  As well, there are plans to implement a universal identification system, universal credit system, universal tax, universal draft, and a world food and water authority that will control all of the world's food and water supplies.  To ensure that all people worship the New Age messiah, authentic Christianity will be completely stamped out along with all faithful Christians.
Toward this end, the evil spirit energizing and directing the Revolution intends to fully possess the Christian faith and refashion it completely.  In furtherance of his goal, the devil has audaciously declared that the supernatural Holy God the Father Almighty has been isolated in His transcendence and is therefore dead, so though the notion of God is retained, the devil proposes a functionless God that perhaps serves to ignite the Big Bang and set evolution in motion.  
 According to the devil, the Revolution is now moving with great force and speed across America nearly unopposed and will not stop until every vestige of faith in the supernatural God has been obliterated in every heart. Every man, woman, and child will experience a counter-conversion—a Satanic Initiation in the words of New Age insider David Spangler—to a 'new' pantheist spiritualism dressed in Christian symbols and terminology, an anti-gospel preached by anti-saints from the void who will assure men of their salvation though they will find only the leering face of the devil.
No doubt you have heard about the War on Drugs, the War on Terror and the War on Happiness. However, you may not be familiar with the War on God, possibly because it would be an unpopular war to discuss publicly. By the "War on God" (definition) we mean the collection of strategies, methods and techniques which have the combined effect of preventing or seriously hampering the efforts of individuals to seek or achieve legitimate Spiritual enlightenment and the Soul's eventual return to God.
The War on God is an ancient war. While the United States and other countries play an active role in this war today, they definitely did not initiate the war. If you want to use the Christian bible as a reference, you could argue that the War on God began shortly after man was created and rejected God in favor of Satan. Clearly, in some form, the War on God has existed throughout human history.
Today, the United States has effectively broken off diplomatic relations with God. The oligarchs who run the country never physically die and so their souls stay on Earth. Apparently, the United States actually believes that its technology, occult knowledge and black magic skills place it in a position which is superior to God.
We know from whistleblowers like David Morehouse that the United States sponsors and trains a cult of psychics to carry out psychic espionage (remote viewing) and also assassinations using psychic black magic techniques. According to clips of his various interviews on YouTube, it was the training in psychic assassinations which caused Morehouse to become disillusioned, quit the secret program and blow the whistle on the operation. Other countries may well operate similar programs but the details will remain unknown until someone defects and exposes them.
The leaders of the United States have always worshiped Satan. The United States was founded by a cult of Satanists known as the Masons and remains under control of that cult today. By rebranding their cult as a nation state, the cult created the appearance of legitimacy. Cult secrets simply transitioned to state secrets. Cult threats to kill anyone telling their secrets transitioned to the crimes of treason and espionage.
Nothing really changed except for the rebranding from a cult to a government. Today, essentially all members of the CIA, NSA and NASA are Masons. All US presidents have been Masons with the two exceptions of Abraham Lincoln and John Kennedy who were both assassinated.
The term "national security" refers to the security of the cult and not to the security of the general population. The Masonic motto is "If you are not one of us, you are nothing". The cult exists only to enrich itself.
The Masons study and practice the occult. Serious study begins after they take a formal oath of allegiance to Satan at the 30th degree initiation. Basic occult knowledge is neutral and everyone who advances Spiritually learns it. However, Masons seek this knowledge to gain power and control over others as opposed to knowledge for personal advancement. This choice, commonly called the Left Hand Path, places them in opposition to the will of God.
If the Satanists simply wanted to sell their Souls to Satan and mind their own business, one could argue that they had that right because they had free choice. However, the situation is not that simple. The Satanic oligarchs did freely choose to worship Satan. However, they also desire a comfortable life. They don't want to do any "grunt" work. Therefore, they have enslaved the remainder of humanity and are holding their Souls prisoner on this planet to service their needs. Therefore, if you, as an innocent Soul, ever plan to escape from this place and return to God, it is in your interest to investigate and gain an understanding of this war so that you will have an opportunity to Spiritually evolve. Otherwise, your Soul will remain a prisoner here — lifetime after lifetime — serving the Satanic overlords essentially forever.
Earth Based Religions
The phrase Earth Based Religions (definition) refers to religious schools which seek and use knowledge, including occult knowledge, to enhance their experiences during their human lifetimes as opposed to using the same knowledge to foster Spiritual development with the ultimate goal of achieving a stable non-physical Spiritual existence.
Although Pagan religions are usually grouped into this category, a more careful examination would reveal that essentially all mainstream religions are Earth based religions. Mainstream religions make constant references to God and Heaven but never explain exactly what they are talking about. Their books concentrate on historical narratives concerning how people in the past lived and coped with the basic problems of human physical existence. They never give details of any level of Spiritual existence or even any specific hints about what life beyond death will be.
Let's try an example. Suppose you have never seen a motor vehicle. You have heard vague stories that they exist, but that is all. Then, suddenly, you find yourself behind the wheel of a car on a high speed road like the US interstate system or the A roads in Britain. What would you guess would be your chance of survival? Try less than zero.
Now suppose you physically die. Suddenly, you find yourself in your Astral body. However, no one ever told you that you have an Astral body. It does not operate under the same rules as a physical body does. It is a very pliant and nimble body. It can travel in time to the past or future, access any plane and subplane in the Astral universe and research the absolute accurate and incorruptible records system known as the Akashic Records to name just a few. But, as in the previous example, you never learned how to "drive" it.
You would have done fine on the highway if you had gradually learned to drive a motor vehicle. You would do fine after death if you had some experience and training with your Astral body. However, no one ever taught you. What practical use is any religion that constantly rants about Heaven but offers no practical advice about your life after this life?
This information may have been a guarded secret in the past, but those days are gone. You can research this information to your heart's content on the internet, locate legitimate Spiritual groups and learn from those who can leave their physical body and explore the non-physical dimensions. But, don't expect any help from a mainstream church.
You might do well to recall the famous quote attributed to Jesus, "The truth will set you free". Mainstream churches are large, rich institutions. They did not get that way by "setting people free". They got that way by terrifying their followers with ridiculous horror stories of what will happen to them if they do not obey their crazy doctrines, stay with them and give them all their money.
Gnostic and other "non-traditional" religions may be Spiritual based as opposed to Earth based. Jesus always reminded everyone that he represented a kingdom "not of this world". If we had accurate records of his true lectures we would no doubt find practical instructions and information about this "other world". We don't have this information because any practical Spiritual teachings he might have given were censored out to create the simplified — but Spiritually sterile — mainstream religions we have today. They are simple to comprehend and follow but will not lead you anywhere except another physical lifetime somewhere on Earth.
Life Before Technology
Before technology life was simple. Although existence was hard, the opportunity for Spiritual experiences was greater than today. Consider, for example, all the empty time you would have as, say, a sheep herder. Nothing to do except make sure the sheep kept moving. In this situation, there was ample opportunity for the mind to wander and perhaps contemplate and glimpse other realities.
Also, and perhaps most important, no electric grid existed on the planet. Electric fields appear as solid "matter" in the Astral dimension and so can affect Astral experiences — generally in a negative way. Artificially created electromagnetic waves which blanket the planet today also have subtle and generally negative effects on living creatures.
Pagan groups generally conduct occult rituals outdoors and away from high population areas. When buildings are used, it is desirable that they be made only of wood and assembled without any metal (nails) and, of course, have no electrical wires.
Both good and evil existed before technology as they always have. It was possible to use psychological propaganda to influence and control susceptible masses of people. However, the positive and negative forces were more in balance. It was not possible for a single group to successfully dominate the planet.
Drugs existed in the form of various plants. Adepts learned how to use them to help or harm others. People with developed psychic abilities existed as they always have and white and black occult schools existed. Legitimate Spiritual masters existed.
Some techniques that thrived have essentially become extinct because the population of the planet has devolved. It is next to impossible to successfully teach Tantra (sex yoga), because today's generation is incapable of the required level of self control. Classic Tibetan yoga techniques are still taught in isolated areas, but the masters — for good reason — will no longer consider trusting outsiders.
Information Control Techniques
Information control is essential for protecting the integrity of a compartment. People are held as slaves by constructing an information box which holds the slaves in an information prison. As long as the "walls" of the compartment remain impenetrable, the compartment — or belief system — will be stable and no slave will escape.
Considerable energy is required to achieve this. Those assigned to protect the walls obviously know that the compartment is an intellectual illusion. Therefore, they must be sworn to secrecy and intimidated in such a way that they will not compromise the integrity of the compartment. It only takes one "leak" to initiate a chain of events which could collapse the compartment and so allow the slaves to escape.
Consider, for example, the Snowden leaks. One person sharing knowledge has totally destroyed the illusion of privacy that most people had accepted as fact. It will not be possible to reconstruct this illusion. The compartment has collapsed.
Similar principles apply in the Spiritual spectrum. Because of the characteristics of the human bodies in use on this planet, most people do not retain any conscious memory of events before they were born. This is not universally true. Life forms on many other planets retain the memories of previous existences. Because humans generally do not have this recall, they are easily enslaved and can be conditioned to believe most anything.
To maintain a state of Spiritual ignorance it is important to institute methods which will prevent people from realizing that they are actually Souls experiencing a constructed illusion. People somehow reaching this state, sometimes referred to as "self realization", will no longer respond to establishment propaganda and are generally considered a threat to the current social order.
The easiest and most direct method to achieve a stable slave population is simply not to talk about anything even vaguely esoteric. For example, how often have you heard the words astral, chakra or aura mentioned on a mainstream TV channel?
Most people will then likely "remain asleep" throughout their entire lifetime and will be no problem. Unfortunately, people have a natural desire — even though it may be an unconscious desire — to Spiritually evolve. It is, after all, the true purpose of human existence.
When someone tries to break away from the contrived illusions more direct methods are needed to return the slave to a state of ignorance. Today, various methods which cause brain damage — generally performed by psychiatrists — are used to negate any success in Spiritual evolution and return the slave to a state of vacant contentment.
Diversions and Techniques Promoting Inaction
The simplest and most effective diversionary technique is to promote scientific atheismand darwinian evolutionary philosophy as established fact. If you can get someone to buy into this philosophy, their fate is sealed. Even if they experience some contact with another dimension, such as an out-of-body experience, they will follow their programming, dismiss the experience as a delusion and refuse to investigate further. When they die, they will be totally lost and confused, flounder around on some lower Astral plane and eventually reincarnate just as Spiritually ignorant as before.
A side effect of accepting scientific atheism, which totally cripples Spiritual progress, is the acceptance of suicide as a way out of life's problems. Suicide becomes a learned reaction. Consequently, when the Soul is sent back into another physical lifetime, it is likely to commit suicide again when faced with some unpleasant event. It never learns, and this cycle can repeat essentially indefinitely. Dealing with this is one of the most difficult problems faced by the administrators who work on the Astral planes.
For those who want more than scientific atheism, there is mainstream garden variety religion. Mainstream Christianity has developed a clever stonewalling technique that has worked to promote inaction for thousands of years. This technique is centered upon the argument that no one can make any progress until Jesus returns to show the way. In the meantime, people should just do nothing and wait. The effect of this is essentially the same as scientific atheism. No Spiritual progress is made.
Schemes designed to waste time are common. One really off the wall example is the decision in Syria to prohibit vacuum cleaners and standard flat brooms in homes. "Witch type" brooms consisting of a circular straw bundle are allowed. Surely there must be a good reason to keep these terrorist weapons out of the reach of the typical Syrian housewife. The official reason is to make basic housework as difficult and time consuming as possible so as to prevent the woman from having any free idle time which, if allowed, could lead to the emergence of "immoral thoughts". Perfectly logical!
In the western world, complex bureaucracies seem to be deliberately designed to make the path to whatever you want as difficult as possible. Here the apparent motive is to prevent the acquisition of enough free time for any independent thought process. There are just not enough hours in a day to allow for any quiet contemplation of anything.
"Blank time" is always reported as a factor in the development of Spiritual figures. Time alone in the wilderness, time spent meditating alone in some isolated cave or at least periods of dedicated quiet time somewhere figure prominently in historical accounts of these people.
You may know or have heard of kids who spend all their waking hours playing interactive role model video games with other kids on the internet. They eat meals by the computer and never leave except to briefly sleep before returning to the all important game. Their entire life is spent in an imaginary reality. You may want to consider that your "real" life may not be all that different. You play a role. Your attributes are fixed by what society expects based upon that role. You can't change, because others would notice. Your concept of the world beyond your little world is determined by what you see on TV. Daily, you receive your "fix" of carefully choreographed "programming" which appears unusually coherent because, as you may not know or fully comprehend, everything on TV is controlled by a few corporations and all of them are loyal to the official government party line. If you somehow had the opportunity to break from this structured "game" you play from day to day — say, the opportunity to visit other countries and see other cultures — you would likely realize that your existence has not been that much different from the kid addicted to a computer game. You would find that the actual "real" world had very little relationship to the world you had been conditioned to believe existed.
Chemical Control Techniques
"With the use of chemical brain-control agents it may be possible to control the individual and the masses and to do this unobtrusively and without the active cooperation of the victims — not a question for the future — it is here".
This is a quote from the book by Edgar Cayce titled Edgar Cayce on Atlantis. There are references to Dr. Robert Galbraith Heath, and this book bears a copyright date of 1968. The book cites an interview that Heath gave to a newspaper called The Virginia Lighthouse and cites the above statement made by him on November 20, 1966. Heath founded the Department of Psychiatry and Neurology at Tulane University, New Orleans, in 1949 and remained its Chairman until 1980.
During this period, Tulane University actively participated in the CIA mind control project known as MK Ultra [1]. Also, during this period, Tulane became an active member of the secret Institute for Defense Analyses, or IDA, a corporation whose only client is the US government. Heath reportedly performed many experiments there involving electrical stimulation of the brain via surgically implanted electrodes. This work was reportedly partially financed by the CIA and the US military. Heath is now "officially" [11] deceased.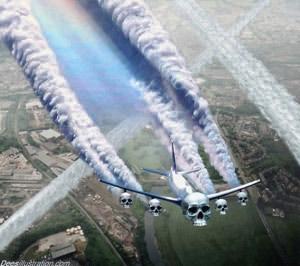 You have been drugged since you were conceived — before you were even born. Your mother was drugged. Soon after birth, you were injected with mercury containing vaccines. And the systematic process of poisoning you never stopped.
By some estimates at least eighty percent of the food in the average supermarket is poison either because it is genetically modified or laced with pesticides and other additives. Even the air is poison now because of geoengineering chemicals sprayed into the upper atmosphere.
It should be noted that things are different in the separate but parallel world of the elite. The Max Keiser show [12] discussed the secret gardens in Japan. These gardens are surrounded by high walls and guarded by the military. They produce the food for the ruling elite. Every plant in the garden has its own health certificate certifying that is pure, healthy and not genetically modified. Obviously, every developed country must have a similar secret supply chain of legitimate food for its ruling class. Certainly the elite know better than anyone that the food supply for the ordinary people is poison. They're not fools. They wouldn't touch the stuff.
Vaccines used for the elite are prepared without the mercury and other toxic additives found in vaccines given to the ordinary people.
Various agents — mainly from plants — have always existed which could be used by those aware of them to harm others or control people by altering their state of consciousness. However, only recently has it become practical to wreck the health of essentially everyone on the planet at the same time. Genetic modification of plants and other life forms used for food has made this possible. Now, quietly, people throughout the world can be sterilized, crippled with serious health problems or even killed by altering the genetic makeup of the food supply. Ordinary people remain generally ignorant of the fact that this awesome power exists and is presently being used against them.
Mind control has become a science. You can't major in it in college because this science is essentially entirely secret. The United States and other countries have spent the equivalent of billions of US dollars investigating and perfecting mind control.
Many secret research projects using unsuspecting or perhaps kidnapped people — some of whom were killed — have been conducted in the past and continue today. We only know about a very few of these projects such as MK Ultra, MK Naomi and Project Other. Even in these projects, specific details are sketchy. From these experiments, practical techniques for creating manchurian candidates and implanting created false personalities and identities have been developed and are in common use today within the secret communities.
Everyone has likely been the victim of some degree of mind control to some extent. Chemical weapons designed to mentally cripple people and render them drooling idiots are freely sold as prescription drugs in drugstores and are available to doctors to use as they please.
The lives of many kids are destroyed by these "drugs" because they have no ability to resist and their parents are ignorant and believe doctors can "do no harm". Actually, today's doctors are agents of the state. Many have top secret clearances and embrace classic Nazi philosophies such as eugenics. Their function is to watch you and make sure you "die appropriately" so as not to burden society. Anything they learn about you and anything you tell them is freely available to anyone in the intelligence community who is curious about you.
Only members of the super elite who are entitled to access top secret medicine will receive legitimate supportive medical care. Ordinary people will be deliberately allowed to die even though doctors with top secret clearances know of effective treatments which would cure them but which are classified and reserved for the chosen elite.
There is no such thing as an incurable disease any more. All the cures have been discovered. If you die, it is because you are not considered important enough to live and not because the cure does not exist.
Common sense should suggest to you that the lives of the elite have statistically different characteristics. For example, members of congress do not live sheltered lives. They work in close quarters and travel extensively both locally and internationally. They are always hanging out with prostitutes as well as playing with the young congressional pages.
Washington D.C. is reported to have more brothels than fast food joints. Strangely, however, these people do not get sick. Have you ever heard that congress had to shut down because everyone was coming down with some infection. It happens in other close populations, so what would make them exempt?
Understanding Astral Damage
Living things have an Astral component. For example, when you cut a leaf and then see the complete leaf on a Kirlian photo you are viewing the Astral component which was unaffected by cutting the physical component because it does not exist in the physical dimension.
Over one hundred years ago, practical techniques for viewing the human Aura were developed by Walter J. Kilner [4]. The original technique used dicyanin dye and a later technique used special glasses. You can't find either one today. In his research, Kilner was able to demonstrate that defects in the human Aura appeared before some corresponding disease manifested in the physical body.
Therefore, he was able to detect and prevent an adverse physical condition before it ever physically materialized. So, you ask, why don't we have this marvelous medical technique available today? Well, we do. It is in use in top secret medicine. However, only the approved elite now have access to it. The information has been removed from public knowledge and classified.
In conventional allopathic medicine, which is based upon scientific atheism and sold to the general public, there is officially no such thing as an Astral body. Conventional medicine denies the existence of anything beyond the physical dimension. Since the Astral body officially does not exist, it is not recognized as a crime to deliberately harm it.
Damage to the Astral body can be compared to damage to the physical body. If you punch holes in the physical body by cutting it, shooting bullets at it or whatever, blood runs out and germs get in. If you cause enough damage, the body dies. Astral bodies do not die, but can suffer critical energy losses. Similar to physical bodies, punching holes in the Astral body allows essential energy to escape and harmful energies to enter.
There are many events which can harm your Astral body. It is in your interest to understand these events because your Astral body will be your primary body when your physical body dies. If it has been damaged, you will be at a severe disadvantage. The chosen elite have perfect Auras because they can use the Aura balancing machines available to them at any top secret medicine provider. However, you cannot.
Also, the ruling elite seem to take some delight in causing harm to the "ordinary" people. Consequently, many drugs, food additives, GMO foods and industrial chemicals found in the environment cause Astral damage. Chemicals recognized as poisons and banned in other countries can be freely added to foods given to ordinary people in the US.
Obviously, there must exist a secret supply chain of safe food and water which is available to the chosen since they know of the contamination and certainly would not want to harm themselves or their friends.
There are ways to closely duplicate the secret techniques available only to the elite. If you can see auras or can find a reputable psychic who can, you can approximate the techniques developed by Kilner and available to everyone over a hundred years ago. Although the secret aura balancing machines are more accurate, a competent psychic healer can do the same thing. Actually, since psychics have always existed, similar techniques have been available throughout the ages to those who were aware.
Fluoride
The concept of adding fluoride to drinking water for the purpose of mind control is said to have originated in the 1930′s as a result of collaboration between German and Russian scientists [2]. Sodium fluoride was originally used and was found to cause a "mild lobotomy" in people who consumed small quantities. The effects were considered to be non reversible after one year of continuous use of the tainted water. Hitler added sodium fluoride to the water in his concentration camps to make the prisoners docile and cooperative as they waited for death.
Sodium fluoride (NaF) is used today in personal products like toothpaste. To poison the water supply of an entire country with sodium fluoride would be expensive. However, it just so happens that there is a waste product created during the manufacture of phosphate fertilizers, Fluorosilicic acid (H2SiF6), which is classified as hazardous waste and would be expensive to dispose of under EPA guidelines.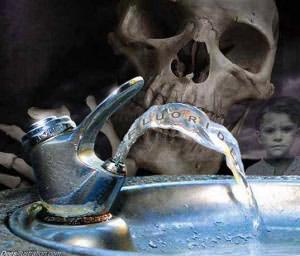 There is lots of this stuff available. This is the poison added to the public water supply in the US and some other countries. It is actually economical for industry because they don't have to pay for hazardous waste disposal. They just pump it into the public water supply.
In the human body, fluoride has an affinity for the pineal gland in the brain. The pineal gland is associated with the "third eye". Everyone has this third eye, but few are aware of it or know how to activate and use it.
Although the pineal gland is part of the physical body, the associated third eye is part of the Astral body and so is invisible in the physical dimension. The third eye allows you to see and communicate with the non-physical dimensions while fully awake and functioning in the physical dimension. So, you could see and carry on a conversation with someone in the physical dimension while invisibly also viewing and communicating with some entity on another plane of existence.
The standard Christian bible refers to the third eye with the phrase, "If thy eye be single thy whole body will be filled with light". However, only students of mysticism would recognize the true meaning of this quote.
Obviously, having this ability would be a threat to the security of any totalitarian society. Poisoning with fluoride destroys this ability and so solves that problem. Literature is available if you wish more detailed information. Simply search using the phrase "fluoride third eye".
On the chance that fluoride in the water is not sufficient to destroy any psychic abilities you may have, there are more aggressive ways to get fluoride into your brain. Here are some structural models of popular psychiatric drugs:
Notice that the element Fluorine (symbolized by its standard chemical symbol "F") figures prominently in all these compounds.
These drugs are used to cause "chemical lobotomy". By blocking communication channels with the higher levels of the human brain, they effectively convert the victim into a lower form of animal. Lower animals do not have the frontal lobes possessed by humans. That is what makes humans special. Disabling the frontal lobes effectively transforms a natural human being into, basically, a docile and obedient house pet which can be trained like a dog.
Incidentally, Fluorine also figures prominently in Sarin nerve gas.
For a more in depth study search YouTube for the free documentary Flouridegate — An American Tragedy by David Kennedy.
They All Drink From the Same Trough
If you casually look out upon the institutions of the world, it may appear to you that they are independent, discrete entities. However, they are not. They are all components of a collective which has successfully hidden its existence and true nature from the general population for generations.
Let's begin with the media in the US. Although it may appear to you that there are thousands of independent sources reporting "news", 90% of all media is controlled by six corporations. They are General Electric, News-Corp, Disney, Viacom, Time-Warner and CBS.
In the US, people believe they are protected from tyranny by the concept of "separation of powers" — that the executive, legislative and judicial branches of government are staffed by independent thinkers who "check and balance" each other. This is also a deception.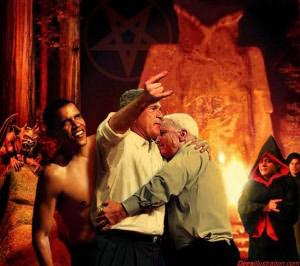 Once a year, at the end of July, there is a secret gathering on private property in the redwood forest of California called the Bohemian Grove. Although this annual meeting has been going on for over one hundred years, it is only during the last several years that outsiders have begun to learn of its existence. The only reason they have is because of the internet and independent journalism. Leaders from the mainstream media are all members of this secret club and so never even report its existence.
Who else goes to this annual secret "party"? Well, for want of a better name, we will call them the "Trusted Satanists". They are the leaders of all the major corporations, banks and representatives from all the major branches of the US government as well as foreign governments.
Although these men outwardly support the concept of capitalism for the masses, this elite group, among themselves, are perhaps best described as "rich socialists". Only men are allowed. For recreation, a stable of prostitutes — both male and female — are kept nearby off-site. The male prostitutes could theoretically enter the Grove.
The "party" begins with a Satanic ritual called "Cremation of Care" (i.e., "we don't care") which features the burning of a coffin at the base of a huge statue of an owl. Walter Cronkite reportedly was the official announcer at the grove until his death.
A secretly filmed video of this event is available on YouTube. It is supposed to be a "simulated" child sacrifice. However, since the CIA, FBI and NSA attend the ritual, who is going to complain on the chance it is a real sacrifice of a human child? After all, they are all trusted Satanists.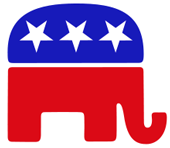 Most attendees from the United States are members of the Republican party. This is completely predictable in view of the fact that the US Republican party flaunts its affiliation with the "dark side" by prominently using the inverted star symbol on its official logo.
During the two week period, corporate leaders, the "independent" government regulators who supposedly keep corporations honest, the leaders from the executive, legislative and judicial branches of US government who are supposed to be "checking and balancing" each other, as well as the media moguls who we "trust" to report the truth, are all running around naked in the woods — pissing on the trees, playing with each other, and the male prostitutes as well as the off-site female prostitutes, and "having discussions".
Well, what are they "having discussions" about? They are discussing what they plan to do with "their world". The Manhattan Project to develop the first atomic bomb was reportedly planned at one of these discussions years ago. What about you? What about your future? What about any expectation of happiness you may have? Well, you see, you "don't need to know". Remember, "If you are not one of us, you are nothing".
Blueprints For the New World
Overview
If this link [7] is still active, it would be in your interest to read through it. This document is a transcript of a speech given by one of the insiders in the year 1969. He boldly states,"Everything is in place and no one can stop us now".
The article details how people ("people" means the slave class who are "nothing"; recall: "If you are not one of us, you are nothing") will just have to get used to changes such needing permission to have children, accepting mandated euthanasia as the law and total surveillance. Essentially all goals are now achieved, although some still remain guarded secrets.
The 1960′s was the period when physical death was eliminated. Of course, this "privilege" is only available to the select Satanic oligarchs. Effective cures for all diseases were also developed. The speaker [7] states that the cures are on file in the Rockefeller Institute. Of course, most are classified and only available to the chosen elite.
Infrastructure
The PBS documentary, Top Secret America [8], presents a good overview of the secret world of the elite. You may think no one is paying attention to the infrastructure in America because streets are in disrepair and bridges are falling down. However, you would be wrong. A tremendous amount of money is being spent on infrastructure in America — for the chosen elite. You will never see it and you will have no need for the decaying bridges and streets because you won't be around to use them. You, as well as 90+ percent of the current population, will be killed in the "Great Culling".
The new infrastructure is quite elaborate as the documentary explains. It consists of thousands of buildings which have a few stories visible above ground but which then extend for 90+ stories underground. All amenities are available within these secret structures which are basically self-sufficient.
It is important for the buildings to reach deep underground so that the lower levels can connect to the secret underground transport network. This network is global and provides safe high speed transport for the elite. Whenever the network crosses a tectonic plate, massive amounts of silicone are used to allow the transport tunnel to flex as needed. The network has access points in all countries. However, these points remain secret in countries which have yet to be subdued and co-opted into the new world order.
NWO Enabling Documents
The treaty known as the Trans-Pacific Partnership appears to be the formal enabling document for the new world. The actual document is secret and only high level corporate executives and politicians are allowed to see it.
Even after the treaty goes into force, its contents will remain secret. Because, in the United States, treaties must be openly debated in congress, the treaty is being called an "agreement" to circumvent the law and keep its contents secret. However, some details have become known.
Although the planet is officially divided into "sovereign" countries, it is overlaid with a network of transnational corporations. This network basically forms a parallel government which encircles the globe. The Trans-Pacific Partnership is designed to cause any country which signs on to surrender its national sovereignty to a secret committee composed of corporate executives. This committee can then alter the constitution and laws of any country which has accepted the treaty as suits their whim. There will be no appeal against this.
Under the treaty, there will be only one purpose to human life. That purpose will be to maximize the profits of the cabal of transnational corporations which will now be essentially a single global corporation in absolute control of the world. This effectively institutionalizes the new world order.
What does this mean for you? Well, to begin with, there can be no retirement. Paying for retirement would negatively impact corporate profits. So, if you can't work, you will be killed. Taking care of sick people would also drain corporate profits. It would be more profitable just to kill the sick and replace them with young, healthy slaves. Disabilities — forget it — disabled kids will never make it out of the womb alive.
Reeducation
To come into compliance with the philosophy of the new world, people will need to be reeducated. Military instruction documents [6] are already teaching that the Founding Fathers of the United States were extremists and anyone who thinks like them would not be suited for today's military.
Well, what did these radical extremists think?
"We hold these truths to be self-evident, that all men are created equal, that they are endowed by their Creator with certain unalienable Rights, that among these are Life, Liberty and the pursuit of Happiness."
Obviously, these principles are not compatible with the new world. The idea of a "Creator" conflicts with the official doctrine of Evolution. We can't have that. People must accept that they and the universe they live in is simply an "accident".
People are already realizing that Liberty and Happiness are gone. They know now that they live under constant surveillance and their lives get worse year after year. How about the right to Life? Can't have that. People need to be reeducated to believe that it is their "duty to die" when they are no longer useful to the state (which is now the global corporation).
Of course, the global elite will live physically forever but ordinary people will not know this.
If a world where people are conditioned to want to die and do not want kids but just sleep around for fun sounds vaguely familiar to you, you might recall that this is the future society described in Huxley's classic novel, Brave New World.
Population Modification
Please refer to [9] as a reference source. Today's "great thinkers" seem to be coming into agreement that most people are unnecessary and need to be exterminated for the convenience of the elite. Bill Gates, who has now been accepted into the super exclusive Bilderberg group, has reportedly taken the task of exterminating the third world population by giving them "free" vaccinations which will render them sterile.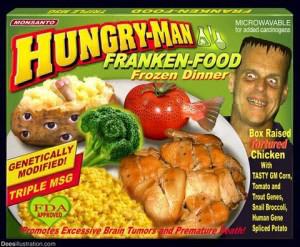 Lots of groups are working on secret sterilization methods. European tests of Monsanto's GM soybeans on hamsters showed the animals became sterile by the third generation [12]. A new gene known as Epicyte [9] is planned to be added to GM corn which will cause immediate sterilization.
Additionally, people are being "eased into" accepting the concept of "after birth abortion". Intellectuals are trying to get people to accept the argument that living human children under three or perhaps even five years old are really "not people but advanced feotuses". Since abortion is already legal, a simple change in the definition of "feotus" would allow young kids to be killed at will for any reason.
Another "new thought" gradually being programmed into the young is the pleasure of the "childless lifestyle". This propaganda seeks to convince people that having kids is too much trouble and they will be happier if they just get sterilized and then run around having lots of sex purely for fun.
These "evolutionary" population control techniques are already in effect. However, the elite likely are not willing to wait several generations to get rid of those they do not need. This brings us to the more direct method commonly called "The Great Culling" which will allow the elite to kill off most of the world's population quickly.
The most likely method will be the release of new designer viruses for which no one will have any natural immunity. Of course, the elite will all get the classified antidote. Preparations for the disposal of the bodies is already complete and stockpiles of plastic coffins — each designed to hold three bodies and manufactured under government contract by Halliburton — have been photographed and documented. Everything is now in place awaiting the "go" command.
Designer Children
Some types of designer children have already been approved for "production". Britain has approved three parent babies [10] and China has proposed a process to artificially fertilize most of a woman's eggs and then examine them to determine which is likely to produce a child with the highest IQ. This will be the only selected egg because Chinese women are only allowed to have one child and must then be sterilized.
In the new world where the only purpose of people will be to do slave labor to serve the elite corporate masters, the concept of allowing the existence of children conceived naturally clearly cannot be allowed. There would be an unexceptable chance for some kind of error that could result, for example, in the creation of a being capable of independent thought who might challenge the establishment.
A man's true worth is measured by the amount of other people's happiness that he can possess and destroy
This is a quote from the docudrama The American Ruling Class [5]. It is worthy of discussion because it is so prophetic.
The Satanic oligarchs who run this world basically exist and thrive on the misery of others. It is not enough just to use and abuse you — they want to consume your Soul. Your misery and suffering is, essentially, their "food". It is the source of their energy.
Ordinary innocent Souls are sustained by the life energy which flows from the Creator. However, since the oligarchs hate God, this energy flow is not available to them. So, they essentially survive by consuming the life energy of the innocent Souls they have captured and enslaved.
Ordinary people do not naturally choose to spend their lives in a state of constant war. They have to be somehow coerced into this behavior. Otherwise, they would likely seek a quiet, peaceful life. The atrocities the US and other warmonger nations force their citizens to commit are so contrary to basic human nature that the US loses more soldiers to suicide than it does to the enemy. The once innocent soldiers find that they simply cannot continue to live with what they have become and the memories of the horrors they have caused to others. The Satanic rulers who create wars, of course, have no problem with this.
Promotions within the inner circles of power are based upon how much evil one has done. The more harm you cause to others the greater your respect. You may have noticed that the stock market, which is a measure of the success of the elite, shows gains during periods when the average person is suffering and losses during periods when, somehow, life for the ordinary person seems to improve. The stock market set a new all time high, for example, during the Vietnam War when innocent young kids were being drafted and slaughtered in Vietnam while peaceful protesters at Penn State were executed by government forces for daring to dissent.
Why You Should Care
On the low Astral planes you will find people — Souls — who are totally lost and confused and seem to move in slow motion. They do not realize they have died. These "people" are not there because they tore up the Bible or burned the Koran or some other offensive act. They are there simply because it is the best they can do. They are using all of the Spiritual energy they have just to maintain this miserable existence. Whatever activities they engaged in while alive had no Spiritual merit and had no effect on developing or increasing their Spiritual energy level. Since the opportunity to do this ended when they died, they will remain strung out in this condition until they reincarnate again at which point they will have another chance to choose activities which enhance Spiritual energies.
You should care because the things you do and the things you fail to do during your brief life here will affect your existence for millions of years in the future.
The other dimensions operate under exact scientific rules just like this dimension. However, the rules are not the same. Because alternate sources of information are available today — mainly because of the internet — it is in your interest to at least investigate the available literature on Spirituality, energy raising techniques and various first-hand reports from people who have successfully visited the neighboring dimensions.
Source:  Walter C. Vetsch   |   3108.info  |  War Is Crime
America's 'New' Reality of Non-Self and Madness…
In the wake of the insurrection against the living, personal God of Revelation that began during the Renaissance eventuating in the proclamation of the death of God and cataclysmic eruptions of fire, brimstone and rivers of blood during the 20th century, ex-atheist Alexander Solzhenitsyn said the world had never before known,
"…godlessness as organized, militarized, and tenaciously malevolent as that practiced by Marxism. Within the philosophical system of Marx and Lenin, and at the heart of their psychology, hatred of God is the principal driving force, more fundamental than all their political and economic pretensions. Militant atheism is not merely incidental or marginal to Communist policy; it is not a side effect, but the central pivot." (goodreads.com)
In his analysis of Marxist Communism and its' alter ego, scientific materialism, Frank Meyers, an early conservative intellectual concluded that Communism is the state form,
"….taken by a materialist faith determined to rule the world."  Godless Communism is the "final synthesis of all heretical tendencies that have pervaded Western civilization for many centuries."  It is materialist scientism of which, "Communism is the culminating hubris of the Promethean man who reaches out for the world and means to remake creation.  It is scientism gone political." (The Conservative Intellectual Movement in America, George H. Nash, pp. 251-252)
Both scientific evolutionary materialism and its new age evolutionary pantheist counterpart belong to the family of 'new' pagan or modern naturalism.  Modern naturalism refers to a one-dimensional view of reality grounded in a monist pagan philosophy holding that only void, matter and evolutionary (developmental and change-making) energies exist.  Therefore void, matter and energy are the Ultimate One Substance of which the universe consists and with which all life is in continuity, thus "all is one" and "everything is perpetually evolving and ascending."
The main difference between these two views resides in whether matter is thought to be physical (i.e., Greek Atomism) or spiritual (Hinduism). However, both views share in common the following:
Hatred of the supernatural God of Revelation and of man as His spiritual image-bearer
One dimensional views of reality
An inverted account of  origins and history lending itself to the notion that since there was no fall then Lucifer is not the devil and men are not sinful but rather evolving into gods
Scientific materialism or its' New Age spiritual science counterpart
Evolutionary conceptions.  These serve two main functions. First, as a mechanical process of development and second, as a mechanism for purification of matter
The nihilism of Buddha
Jesus Christ to Buddha,
"…you took God away (and) your espousal of an absence of self is the most unique and fearsome claim you made." (The Lotus and the Cross: Jesus Talks with Buddha, Ravi Zacharias, pp. 59, 67)
Life is only with the living God of Revelation, the creator and upholder of the life and being (soul/spirit) of men.  But if He does not exist, it logically follows that there is no ultimate source for life, conscious being, meaning and purpose; or for the sanctity of human life, worth, dignity, individual liberty and personal property.  Without God the Father Almighty unalienable (God given) human rights are as meaningless as America's founding documents have become in our Godless pagan society.
If man is not God's spiritual image-bearer then he is less than nothing, a conclusion Buddha reached long before Jesus Christ God Incarnate walked this earth:
"Six centuries before Jesus Christ, the Buddha already knew that if God does not exist, then the human self cannot exist either…Therefore, he deconstructed the Hindu idea of the soul.  When one starts peeling the onion skin of one's psyche, he discovers that there is no solid core at the center of one's being."  Thus your sense of self becomes illusion, "Reality is nonself…You don't exist. Liberation, the Buddha taught, is realizing the unreality of your existence." (The Book that Made Your World: How the Bible Created the Soul of Western Civilization, Vishal Mangalwadi, p. 6)
Naturalism: the Antithesis
Modern naturalism is in every way the antithesis of God's Revelations and Christianity, the spiritual and moral foundation of Western civilization.   For fifteen hundred years, Christendom and then later Protestant America had affirmed the biblical view of total reality. In this historically unique view total reality consists of two interfacing, interactive halves: the seen (natural) and the unseen (supernatural).
According to this view, man faces both unseen and seen and interprets truth against these two interfacing halves of reality.  Thus Paul declares that as men live out their lives they are spectacles, "unto the world, and to angels and men." (1 Cor. 4:9)
In opposition to modern naturalism's one dimensional view, Paul affirms that total reality consists of two halves, hence this earth (the seen) is really a theater and men are actors on its stage observed not only by other men (the seen) but by the Spirit of God and angels (the unseen).
Though men cannot see the Spirit of God and very rarely see angels they can see, hear and interact with men.  The Spirit of God opens our eyes to understanding (Ps. 118: 34, 125, 144), tests our hearts, knows out secrets, motives, and thoughts (Psa. 17:3; 44:21; 139:1-4).
Both holy and unholy angels are all around us, watching, listening, helping and protecting if holy, if unholy then binding the disobedient to their power.   Just as the Lord of Hosts gives His Holy Spirit to those who love and obey Him, He can send evil spirits upon those who are rebellious, live in persistent sin, practice occult arts or men who in their pride, covetousness and envy reject and hate Him as was the case with Karl Marx and Nietzsche, the apostate Christian philosopher who proclaimed the death of God.  Unto these men the Lord of Hosts sent evil spirits just as He sent one to King Saul (1 Sam. 16:14).   The evil spirit influenced and disordered Saul's thinking, afflicted him with obsessions and paranoia, befouled his conscience, and inflated his disordered passions thereby, "filling him with unrest, anger, fear and murderous intent."  (Occult Bondage and Deliverance, Kurt E. Koch, p. 137)
Dr. Kurt Koch (1913-1987) was a highly respected German minister who pastored, counseled and delivered in excess of twenty thousand people suffering from demonic subjection. According to Koch, demonic subjection is an increasingly common occurrence in post-Christian Western and American society.  Most people have little or no clue that they are in fact demonically subjected while some people, such as Marx, Nietzsche, Hitler and Stalin seem to possess a limitless supply of demonic energy, especially when engaged in imposing their will over the wills of others.
There are many underlying causes of demonic subjection.  Koch delineates some of the leading ones common to apostatizing America:
"If a person blatantly lives a life of sin and persistently resists the Spirit of God and remains completely unrepentant, or…carries the sin of murder or abortion on his conscience, or has committed perjury or practical incest, if he has cursed his fellow men or blasphemed against the cross or against Christ, the Holy Spirit, or God, then he will have laid himself open to the devil's attacks.  Every curse is in fact a cry to the devil, and can…lead a person into bondage." (Koch, p. 138)
"….God created man in his own image…..male and female created he them." Gen. 1:27
According to the uniquely Christian view of total reality, the essence of the human is not the body and brain (the seen) but the unseen…the soul/spirit:
"It is the soul alone that God made in his own image and the soul that he loves…For the sake of the soul…the Son of God came into the world…" (Incomplete Work on Matthew, Homily 25, Ancient Christian Devotional, Oden and Crosby, p. 153)
Building off of the view of man as embodied spirit, St. Augustine (AD 354-430) affirmed that as all men are the spiritual image bearers of the supernatural Triune God in three Persons, then it logically follows that each man is a person; a trinity of being comprised of soul/spirit (unseen), and body, brain (seen).
The citadel of the soul is spirit (heart).  Spirit is immortal and self-aware.  It can will and think and is responsible for what it wills, thinks, speaks, and acts on while in this world.
Spirit is the unique property that distinguishes soul from the material body in which it is fully embedded.  In Biblical thought, spirit allows man to spiritually transcend the natural dimension in order to access the third Heaven.  By way of prayer and petitions the spirit of man's mind allows him to enter into a personal relationship with the Spirit of God.  Through this relationship, spirit is renewed over time, thus enabling man to more perfectly orient the manner of his thoughts, passions, words and actions in this world in preparation for eternity in Paradise.
In Christian thought, a person is a spirit (self) and personality is the total individuality of the spirit.  Without spirit there is no 'self,' hence no person.
The key to personal liberty in the natural or sensory half of reality is man's spiritual liberty contrasted against a genetically pre-programmed animal-like orientation.  Animals have souls but not spirits, the basis of intelligence, sensitivity, imagination, self-consciousness, reflection back and forward into time, and the capacity for truth and moral goodness.
A person is uniquely free because he can spiritually transcend his material brain to access the Spirit of the Lord as Paul affirms:
"Now the Lord is Spirit, and where the Spirit of the Lord is, there is freedom." (2 Cor. 3:17)
Vishal Mangalwadi, India's foremost Christian intellectual observes that this historically unique concept of man as God's spiritual image-bearer gave birth to the "belief in the unique dignity of human beings," and this is the force,
"…that created Western civilization, where citizens do not exist for the state but the state exists for the individual.  Even kings, presidents, prime ministers, and army generals cannot be allowed to trample upon an individual and his or her rights." (Truth and Transformation: A Manifesto for Ailing Nations, Mangalwadi, pp. 12-13)

One-Dimensional Godless Naturalism: the Reality of Non-Self
Modern naturalism, whether of materialist or pantheist permutation positing a non-existent immanent conception of deity (i.e. Omega, Gaia) is at bottom Godless, and said Ravi Zacharias,  absolutely nothing,
"… has a more direct bearing on the moral choices made by individuals or the purposes pursued by society than belief or disbelief in God." Key issues of the day "whether it be…sexual orientation and practice, or life in the fetal stage, sooner or later filter down to whether there is a God, and if so, has he spoken?" (The Real Face of Atheism, Zacharias, p. 21)
In "The Gnostic Religion," Hans Jonas provides a full-scale study of the heretical world of pre-Christian and Christian era pagan Gnostic nihilism together with its modern variants:  materialist and pantheist naturalism.
Jonas writes that while ancient Gnostic pagan man was thrown,
"…into an antagonistic, anti-divine, and therefore anti-human nature, modern man (is thrown) into an indifferent one." (p. 338)
The ancient gnostic conception was still anthropomorphic despite the nihilism, hostility and demonic.  But its' modern counterpart with its' indifferent nature, its' completely godless, soulless, anti-human, demonic nature, represents the "absolute vacuum, the really bottomless pit."
At least the ancient Gnostic dualism, as fantastic as it was, was at least self-consistent, as there was the illusion of a source for 'self' (being).   Not so for its' modern counterpart:
"So radically has anthropomorphism been banned from….nature that even man must cease to be conceived anthropomorphically if he is just an accident of nature.  As the product of the indifferent, his being, too, must be indifferent.  Then the facing of his mortality would simply warrant the reaction, 'Let us eat and drink for tomorrow we die." (ibid, p. 339)
In conclusion:
"…modern nihilism (is) infinitely more radical and more desperate than gnostic nihilism ever could be for all its panic terror of the world and its defiant contempt of its laws.  That nature does not care, one way or the other, is the true abyss.  That only man cares, in his finitude facing nothing but death, alone with….the objective meaninglessness of his projected meanings, is a truly unprecedented situation." (Jonas, p. 339)
In other words, the death of the living God of Revelation means there is neither source for life and 'self' (soul/spirit) nor for higher truth and morality, purpose, meaning, salvation and eternity.   For depersonalized man, the evolved ape or bag of chemicals, there is nothing—no heaven above, no hell below and no,
"…. vast mind behind the framing of the world; no transcending voice giving counsel to this world…no light at the end of the tunnel (hence only) the loneliness of existence in its most desolate form."  (Zacharias, p. 27)
The determined assault against the living Holy God that began during the Renaissance gained speed and force with the materialist implications of Darwin's neo-pagan theory.  The idea that humans evolved by chance and natural selection from non-life bearing chemicals lay the axe at the very foundation of the Genesis account of creation ex nihilo.  On the heels of Darwin's theory Christianity came under forceful attack allowing a one-dimensional worldview draining into nihilism to be declared a scientifically supported reality.
Darwin's "Origin of Species" was published in 1859 and instantly and uncritically accepted by people such as Karl Marx, T.H. Huxley, Herbert Spencer, Ernst Haeckel in Germany and large numbers of clergy more eager to be thought scientific and modern than to defend the faith once given.
For materialist and pantheist alike, Darwin's theory was a wish come true and so became the center of their respective one-dimensional worldviews.
The demonized Karl Marx hated the God of Revelation and his exuberance for Darwin's idea prompted him to consider dedicating his Das Kapital to Darwin, an honor which he declined.  Since Marx favored scientific materialism the rationale behind his invitation to Darwin was that he saw how Darwin's materialist theory provided a scientific framework to support the economic infrastructure on which Marx could build his godless communist utopia.
Darwin's materialist theory and Marxist materialist presuppositions (economic theory based on envy and hatred of God) together with Freud's materialist-based analysis of religion and human sexuality threw faith in God and Christianity "over the wall of civilization,' said Zacharias:
"With such abusive attacks directed at religious belief coming from so many directions, it was left for someone to cast this creature called theism completely out, and exorcise the world of all such influence.  The one who did that was the German philosopher Friedrich Nietzsche." (p. 25)
By the time of Nietzsche, perceptive thinkers had already been expressing apprehension at the prospect of multitudes of unsuspecting Westerners who would eventually be cruelly exploited by anti-human haters of God.
With Nietzsche, dreadful apprehension deepened into certainty, for Nietzsche despised religion in general, but upon Christianity he poured his unbridled fury:
"I call Christianity the one great curse, the one enormous and innermost perversion, the one great instinct of 
revenge, for which no means are too venomous, too underhanded, too underground, and too petty." (Nietzsche in "The Life of Nietzsche," Faru Forster Nietzsche, 1921, p. 656)
However, rather than mindless infatuation for Darwin's idea, Nietzsche (1844–1900) harshly criticized it:
"What surprises me most when I survey the broad destinies of man is that I always see before me the opposite of that which Darwin and his school see or want to see today: selection in favor of the stronger, better-constituted, and the progress of the species. Precisely the opposite is palpable … I incline to the prejudice that the school of Darwin has been deluded everywhere…" (Nietzsche: The evolutionist who was anti-God and anti-Darwin, Russell Grigg, creation.com)
Nietzsche was not anti-evolution but rather had his own evolutionary conception which he called "the will to power."
While Darwin received his idea from his pantheist grandfather Erasmus Darwin, Nietzsche's conception was preceded by mystical ecstasy.  Nietzsche experienced two mystical encounters with the first one taking place in August, 1881.
Charles Andler writes that previous to his scientific reasoning, Nietzsche received revelations during mystical encounters just as Spinoza did.  Mystical ecstasy,
"…. preceded (Spinoza's) system and his geometric form, thus, with Nietzsche mystical ecstasy preceded his scientific reasoning." (Charles Andler cited by Henri De Lubac, "The Drama of Atheist Humanism," p. 481)
According to Henri De Lubac, secret knowledge was revealed to Nietzsche that he was "….the first of men to know.'   The shock of it was sudden and profound.  Though no direct document relates his experience sure evidence is found in an agitated page of Ecce Homo where Nietzsche wrote:
"Suddenly, with sureness, with indescribable delicacy, a thing makes itself seen, makes itself heard.  It shakes you, it overwhelms you right to your innermost depths.  You hear it…You let it fill you….A thought blazes forth like a flash of lightening…It imposes itself as a necessity…I never had to choose it.  It is an ecstasy….You are enraptured, taken outside of yourself…All of this…is accompanied by a tumultuous feeling of liberty, of independence, of divinity…There you have my experience of the inspiration." (Lubac, p. 472)
In the months that followed he remained silent about the knowledge he received.  But in August of 1882 he discussed his experience with Lou Salome.  Salome writes that Nietzsche spoke of his encounter only in obscure words and with hushed voice.  Giving "every indication of the most profound horror" Nietzsche described the terrible and marvelous revelation he had received with two words: Eternal Return. (ibid, p. 473)
In the autumn of 1882 he experienced his second encounter which he described in the poem Sils Maria:
"I was sitting and waiting, without waiting for anything/Beyond good and evil, tasting Light sometimes and sometimes shade/Absorbed by this brew…When suddenly…what was one became two, And Zarathustra passed before me…" (ibid, p. 475)
It was a vision without a doubt, precise and sudden:
"I could tell you the day and the hour….Zarathustra has fallen on me, he assaults me.."  (ibid)
Zarathustra was an evil spirit who confirmed to Nietzsche the 'truth' of the revelations already received, which included man's evolution from worms:
"You [mankind] have made your way from worm to human, and much in you is still worm. Once you were apes, and even now the human being is still more of an ape than any ape is." (Nietzsche, Thus Spake Zarathustra, Zarathustra's Prologue section 3, trans. by G. Parkes, Oxford University Press, New York, 2005, p. 11)
Henceforth, Nietzsche is an inspired prophet who knows for certain that the God of Revelation is dead, that man's evolution from worms is absolutely true, and that he is Jesus Christ's successor, the 'new' Christ.  Within ten days he drafted by way of automatic writing the whole first book of his prophecy.  He called his finished work Zarathustra, the new Bible of scientific evolutionary naturalism, and told the world to throw away all other books, for now you have my Zarathustra, "a new Holy Book." 
It was Nietzsche, the 'new' Christ, who saw that the death of the personal God had already begun to cast its first dark shadows over Europe, and though,
"the event itself is far too great, too remote, too much beyond most people's power of apprehension, for one to suppose that so much as the report of it could have reached them," still its advent was certain, and it was men like Nietzsche, the 'new' Christ who were "the firstlings and premature children of the coming century," the century of the "triumph of Nihilism." (Nihilism: The Root of the Revolution of the Modern Age, Eugene Rose, p. 44)
Nietzsche was the first apostate Christian to gaze fully upon man's loss of faith and its terrifying consequences.  With no living God 'up there' to obstruct his vision, the nihilism he saw was agonizing.  As there was no longer any Light from God above, there was only darkness in the hermetically sealed world below.  The paralyzing darkness that overtook the mind of the 'new' Christ was spiritual.  It was not so much,
"….an exterior phenomenon crowding inward but rather an inner blinding that spread outward." (Ravi Zacharias, p. 27)
This was precisely Nietzsche's point.  With the death of the personal God of Revelation the darkness of objective meaninglessness would penetrate every avenue of thought and life, making life itself unbearable with the consequence of hedonism, abortion, euthanasia, sodomy, suicide, drugs, crime and murder becoming virtues.
Speaking through the writings of the 'new' Christ, Zarathustra went on to say that because God had died in the 19th century there would follow two terrible consequences beginning in the 20th century. (Romans 1:18)
First, the 20th century would become one of the most evil century's in history, and second, a universal madness (Romans 1:21, 22) would break out and turn the once glorious W. Europe and America upside-down.
Though apostates and the apostatizing professed themselves wise, their cognitive thought processes would become darkened (vain) and with their conscience dead to sin they would become fools, meaning they would accept and publicly profess incredibly stupid conceptions of themselves (i.e., man is an evolved worm, ape or robot; man is evolving into god).
"And I will give children to be their princes, and the effeminate shall rule over them." Isaiah 3:4
In turning away from the Spirit of God and the truth He has given, 'wise' males will become effeminate cowards and females mannish.  They will be adolescent emotional-tyrants in adult-size bodies: sinister, greedy, spiteful, vindictive, treacherous, back-stabbing sophists.  They will celebrate Lucifer (the devil) and in their madness actively seek the way of Luciferian initiation because they will be spiritually blind in regard to total reality.  Like demons they will flee from the cross of Jesus but exalt the devil as the first free thinker, the genetic creator of man, the seething energy and angel of evolution.  Truth will be lies, evil will be good, unfaithfulness will be faith and the 'wise' will preach and blaspheme from pulpits, exercise political power, enact legislation, and wield broken law to plunder, punish, and ruin.
Zarathustra has been right on both counts.  First, apostatizing W. Europe and America, though dotted here and there by small islands of Light, decency and sanity, are becoming darkened, satanically inverted places ruled by the 'wise,' hence boiling over with madness, particularly Hollywood, academia, mainstream media and the highest, most powerful political offices in the land.   Second, Nietzsche was made to show the 'wise' what is in store for them by spending the last eleven years of his life insane.
"Who is a liar but he that denieth that Jesus is the Christ? He is antichrist, that denieth the Father and the Son" (1 John 2:22).
"And the fifth angel sounded the trumpet, and I saw a star fall from heaven upon the earth, and there was given to him the key of the bottomless pit." (Rev. 9:1)
In his Concise Commentary Matthew Henry identifies falling stars as tepid, indecisive, weak or apostate clergy who,
"Having ceased to be a minister of Christ, he who is represented by this star becomes the minister of the devil; and lets loose the powers of hell against the churches of Christ."
John identifies antichrists, in this case clergy who serve the devil rather than Christ, sequentially.  First, like Bultmann, Teilhard de Chardin, Robert Funk, Paul Tillich, and John Shelby Spong, they specifically deny the living, personal Holy Trinity in favor of Gnostic pagan, immanent or Eastern pantheist conceptions.   Though God the Father Almighty in three Persons upholds the souls of men and maintains life and creation, His substance is not within nature (space-time dimension) as pantheism maintains, but outside of it.  Sinful men live within nature and are burdened by time and mortality; God is not.
Second, the specific denial of the Father logically negates Jesus the Christ, the Word who was in the beginning (John 1), was with God, and is God from the creation of all things (1 John 1).  In a pre-incarnate theophany, Jesus is the Angel who spoke "mouth to mouth" to Moses (Num. 12:6-9; John 9:20) and at sundry times and in many ways "spoke in times past to the fathers by the prophets, last of all…" (Hebrews 1:1)  Jesus the Christ is the incarnate Son of God who is the life and light of men, who by His shed blood on the Cross died for the remission of all sins and bestowed the privilege of adoption on all who put their faith in Him. Therefore, to deny the Holy Father is to logically deny the deity of Jesus Christ, the incarnate Son of God, hence,
"…every spirit that confesseth not that Jesus Christ is come in the flesh is not of God: and this is that spirit of antichrist . . . and even now already is it in the world" (1 John 4:3).
According to Peter (2 Peter 2:1), falling stars will work among the faithful, teaching damnable heresies that deny the Lord, cause the fall of men into unbelief, and bring destruction upon themselves:
"The natural parents of modern unbelief turn out to have been the guardians of belief."  Many thinking people came at last "to realize that it was religion, not science or social change that gave birth to unbelief.  Having made God more and more like man—intellectually, morally, emotionally—the shapers of religion made it feasible to abandon God, to believe simply in man." (James Turner of the University of Michigan in "American Babylon," Richard John Neuhaus, p. 95)
Falling Stars and Damnable Heresy
Almost thirty years ago, two well-respected social science scholars, William Sims Bainbridge and Rodney Stark found themselves alarmed by what they saw as a rising tide of irrationalism, superstition and occultism—channeling cults, spirit familiars, necromancers, Wiccans, Satanists, Luciferians, goddess worshippers, 'gay' shamans, Hermetic magicians and other occult madness at every level of society, particularly within the most influential— Hollywood, academia and the highest corridors of political power.
Like many scientists, they were equally concerned by Christian opposition to naturalistic evolution.  As is common in the science community, they assumed the cause of these social pathologies was somehow due to fundamentalism, their term for authentic Christian theism as opposed to liberalized Christianity.  Yet to their credit, the research they undertook to discover the cause was conducted both scientifically and with great integrity.  What they found was so startling it caused them to re-evaluate their attitude toward authentic Christian theism.  Their findings led them to say:
"It would be a mistake to conclude that fundamentalists oppose all science (when in reality they but oppose) a single theory (that) directly contradicts the bible. But it would be an equally great mistake to conclude that religious liberals and the irreligious possess superior minds of great rationality, to see them as modern personalities who have no need of the supernatural or any propensity to believe unscientific superstitions. On the contrary…they are much more likely to accept the new superstitions. It is the fundamentalists who appear most virtuous according to scientific standards when we examine the cults and pseudo-sciences proliferating in our society today." ("Superstitions, Old and New," The Skeptical Inquirer, Vol. IV, No. 4; summer, 1980)
In more detail they observed that authentic 'born again' Christians are far less likely to accept cults and pseudoscientific beliefs while the irreligious and liberalized Christians (i.e., progressive Catholics, Protestant emergent, NAR, word faith, prosperity gospel) are open to unscientific notions.  In fact, these two groups are most disposed toward occultism.
As Bainbridge and Stark admitted, evolution directly contradicts the Bible, beginning with the Genesis account of creation ex nihilo.  This means that evolution is the antithesis of the Genesis account. For this reason, discerning Christians refuse to submit to the evolutionary thinking that has swept Western and American society.  Nor do they accept the evolutionary theism brought into the whole body of the Church by weak, tepid, indecisive, or apostate clergy.
Over eighty years ago, Rev. C. Leopold Clarke wrote that priests who embrace evolution (evolutionary theists) are apostates from the 'Truth as it is in Jesus.' (1 John2:2)  Rev. Clarke, a lecturer at a London Bible college, discerned that evolution is the antithesis to the Revelation of God in the Deity of Jesus Christ, thus it is the greatest and most active agent of moral and spiritual disintegration:
"It is a battering-ram of unbelief—a sapping and mining operation that intends to blow Religion sky-high.  The one thing which the human mind demands in its conception of God, is that, being Almighty, He works sovereignly and miraculously—and this is the thing with which Evolution dispenses….Already a tremendous effect, on a wide scale has been produced by the impact of this teaching—an effect which can only be likened to the…collapse of foundations…" (Evolution and the Break-Up of Christendom, Philip Bell, creation.com, Nov. 27, 2012)
The faith of the Christian Church and of the average Christian has had, and still has, its foundation as much in the literal and historic meaning of Genesis, the book of beginnings revealed 'mouth to mouth' by the Angel to Moses, as in that of the person and deity of Jesus Christ.  But how horrible a travesty of the sacred office of the Christian Ministry to see church leaders more eager to be abreast of the times, than earnestly contending for the Faith once delivered unto the saints (Jude 1:3).  It is high time, said Rev. Clarke, that the Church,
"…. separated herself from the humiliating entanglement attending her desire to be thought up to date…What, after all, have custodians of Divine Revelation to do making terms with speculative Biology, which has….no message of comfort or help to the soul?" (ibid)
The primary tactic employed by priests eager to accommodate themselves and the Church to modern science and evolutionary thinking is predictable.  It is the argument that evolution is entirely compatible with the Bible when we see Genesis, especially the first three chapters, in a non-literal, non-historical context.  This is the argument embraced and advanced by mega-church pastor Timothy J. Keller.
With a position paper Keller published with the theistic evolutionary organization Bio Logos he joined the ranks of falling stars (Catholic and Protestant priests) stretching back to the Renaissance.  Their slippery-slide into apostasy began when they gave into the temptation to embrace a non-literal, non-historical view of Genesis.  (A response to Timothy Keller's 'Creation, Evolution and Christian Laypeople," Lita Cosner, Sept. 9, 2010,creation.com)
This is not a heresy unique to modern times.  The early Church Fathers dealt with this damnable heresy as well, counting it among the heretical tendencies of the Origenists.  Fourth-century Fathers such as John Chrysostom, Basil the Great and Ephraim the Syrian, all of whom wrote commentaries on Genesis, specifically warned against treating Genesis as an unhistorical myth or allegory.  John Chrysostom strongly warned against paying heed to these heretics,
"…let us stop up our hearing against them, and let us believe the Divine Scripture, and following what is written in it, let us strive to preserve in our souls sound dogmas." (Genesis, Creation, and Early Man, Fr. Seraphim Rose, p. 31)
As St. Cyril of Alexandria wrote, higher theological, spiritual meaning is founded upon humble, simple faith in the literal and historic meaning of Genesis and one cannot apprehend rightly the Scriptures without believing in the historical reality of the events and people they describe. (ibid, Seraphim Rose, p. 40)
In the integral worldview teachings of the Fathers, neither the literal nor historical meaning of the Revelations of the pre-incarnate Jesus, the Angel who spoke to Moses, can be regarded as expendable.  There are at least four critically important reasons why.  First, to reduce the Revelation of God to allegory and myth is to contradict and usurp the authority of God, ultimately deny the deity of Jesus Christ; twist, distort, add to and subtract from the entire Bible and finally, to imperil the salvation of believers.
Scenarios commonly proposed by modern Origenists posit a cleverly disguised pantheist/immanent nature deity subject to the space-time dimension and forces of evolution. But as noted previously, it is sinful man who carries the burden of time, not God.  This is a crucial point, for when evolutionary theists add millions and billions of zeros (time) to God they have transferred their own limitations onto Him.  They have 'limited' God and made Him over in their own image. This is not only idolatrous but satanic.
Additionally, evolution inverts creation.  In place of God's good creation from which men fell there is an evolutionary escalator starting at the bottom with matter, then progressing upward toward life, then up and through the life and death of millions of evolved creatures that preceded humans by millions of years until at long last an apish humanoid emerges into which a deity that is always in a state of becoming (evolving) places a soul.
Evolution amputates the entire historical precedent from the Gospel and makes Jesus Christ unnecessary as the atheist Frank Zindler enthusiastically points out:
"The most devastating thing that biology did to Christianity was the discovery of biological evolution.  Now that we know that Adam and Eve never were real people the central myth of Christianity is destroyed.  If there never was an Adam and Eve, there never was an original sin.  If there never was an original sin there is no need of salvation.  If there is no need of salvation there is no need of a saviour.  And I submit that puts Jesus…into the ranks of the unemployed.  I think evolution absolutely is the death knell of Christianity." ("Atheism vs. Christianity," 1996, Lita Cosner, creation.com, June 13, 2013)
None of this was lost on Darwin's bulldog, Thomas Henry Huxley (1825-1985).  Huxley was thoroughly familiar with the Bible, thus he understood that if Genesis is not the authoritative Word of God, is not historical and literal despite its' symbolic and poetic elements, then the entirety of Scripture becomes a collection of fairytales resulting in tragic downward spiraling consequences as the Catholic Kolbe Center for the Study of Creation makes clear in part:
"By denying the historical truth of the first chapters of Genesis, theistic evolutionism has fostered a preoccupation with natural causes almost to the exclusion of supernatural ones.  By denying the several supernatural creative acts of God in Genesis, and by downplaying the importance of the supernatural activity of Satan, theistic evolutionists slip into a naturalistic mentality which seeks to explain everything in terms of natural causes.  Once this mentality takes hold, it is easy for men to regard the concept of spiritual warfare as a holdover from the days of primitive superstition.  Diabolical activity is reduced to material or psychological causes.  The devil and his demons come to be seen as irrelevant.  Soon 'hell' joins the devil and his demons in the category of antiquated concepts.  And the theistic evolutionist easily makes the fatal mistake of thinking that he has nothing more to fear from the devil and his angels.  According to Fr. Gabriele Amorth, the chief exorcist of Rome, there is a tremendous increase in diabolical activity and influence in the formerly Christian world.  And yet most of the bishops of Europe no longer believe in the existence of evil spirits….To the Fathers of the Church who believed in the truth of Genesis, this would be incredible.  But in view of the almost universal acceptance of theistic evolution, it is hardly surprising." (The Difference it makes: The Importance of the Traditional Doctrine of Creation, Hugh Owen, kolbecenter.org)
Huxley had 'zero' respect for modern Origenists and received enormous pleasure from heaping piles of hot coals and burning contempt upon them, thereby exposing their shallow-reasoning, hypocrisy, timidity, fear of non-acceptance, and unfaithfulness.  With sarcasm dripping from his words he quipped,
"I am fairly at a loss to comprehend how any one, for a moment, can doubt that Christian theology must stand or fall with the historical trustworthiness of the Jewish Scriptures. The very conception of the Messiah, or Christ, is inextricably interwoven with Jewish history; the identification of Jesus of Nazareth with that Messiah rests upon the interpretation of passages of the Hebrew Scriptures which have no evidential value unless they possess the historical character assigned to them. If the covenant with Abraham was not made; if circumcision and sacrifices were not ordained by Jahveh; if the "ten words" were not written by God's hand on the stone tables; if Abraham is more or less a mythical hero, such as Theseus; the story of the Deluge a fiction; that of the Fall a legend; and that of the creation the dream of a seer; if all these definite and detailed narratives of apparently real events have no more value as history than have the stories of the regal period of Rome—what is to be said about the Messianic doctrine, which is so much less clearly enunciated? And what about the authority of the writers of the books of the New Testament, who, on this theory, have not merely accepted flimsy fictions for solid truths, but have built the very foundations of Christian dogma upon legendary quicksands?" (Darwin's Bulldog—Thomas Huxley, Russell Grigg, creation.com, Oct. 14, 2008)
Pouring more contempt on them he asked,
"When Jesus spoke, as of a matter of fact, that "the Flood came and destroyed them all," did he believe that the Deluge really took place, or not? It seems to me that, as the narrative mentions Noah's wife, and his sons' wives, there is good scriptural warranty for the statement that the antediluvians married and were given in marriage; and I should have thought that their eating and drinking might be assumed by the firmest believer in the literal truth of the story. Moreover, I venture to ask what sort of value, as an illustration of God's methods of dealing with sin, has an account of an event that never happened? If no Flood swept the careless people away, how is the warning of more worth than the cry of "Wolf" when there is no wolf? If Jonah's three days' residence in the whale is not an "admitted reality," how could it "warrant belief" in the "coming resurrection?" … Suppose that a Conservative orator warns his hearers to beware of great political and social changes, lest they end, as in France, in the domination of a Robespierre; what becomes, not only of his argument, but of his veracity, if he, personally, does not believe that Robespierre existed and did the deeds attributed to him?" (ibid)
Concerning Matthew 19:5:
"If divine authority is not here claimed for the twenty-fourth verse of the second chapter of Genesis, what is the value of language? And again, I ask, if one may play fast and loose with the story of the Fall as a "type" or "allegory," what becomes of the foundation of Pauline theology?" (ibid)
And concerning Cor. 15:21-22:
"If Adam may be held to be no more real a personage than Prometheus, and if the story of the Fall is merely an instructive "type," comparable to the profound Promethean mythus, what value has Paul's dialectic?" (ibid)
After much thought, C.S. Lewis concluded that evolution is the central, most radical lie at the center of a vast network of lies within which modern Westerners are entangled while Rev. Clarke identifies the central lie as the Gospel of another Spirit. The fiendish aim of this Spirit is to help men lose God, not find Him, and by contradicting the Divine Redeemer, compromising Priests are serving this Spirit and its' diabolical purposes.  To contradict the Divine Redeemer is the very essence of unfaithfulness, and that it should be done while reverence is professed,
"…. is an illustration of the intellectual and moral topsy-turvydom of Modernism…'He whom God hath sent speaketh the Words of God,' claimed Christ of Himself (John 3:34), and no assumption of error can hold water in the face of that declaration, without blasphemy."
Evolutionary theists are serving the devil, therefore "no considerations of Christian charity, of tolerance, of policy, can exonerate Christian leaders or Churches who fail to condemn and to sever themselves from compromising, cowardly, shilly-shallying priests"—the falling stars who "challenge the Divine Authority of Jesus Christ." (ibid)
The rebuttals, warnings and counsels of the Fathers against listening to Origenists (and their modern evolutionary counterparts) indicates that the spirit of antichrist operating through modern rationalistic criticism of the Revelation of God is not a heresy unique to our times but was inveighed against by early Church Fathers.
From the scholarly writings of the Eastern Orthodox priest, Fr. Seraphim Rose, to the incisive analysis, rebuttals and warnings of the Catholic Kolbe Center, creation.com, Creation Research Institute, Rev. Clarke, and many other stalwart defenders of the faith once delivered, all are a clear, compelling call to the whole body of the Church to hold fast to the traditional doctrine of creation as it was handed down from the Apostles, for as God spoke and Jesus is the Living Word incarnate, it is incumbent upon the faithful to submit their wills to the Divine Will and Authority of God rather than to the damnable heresy proffered by falling stars eager to embrace naturalistic science and the devil's antithesis— evolution.  But if it seem evil to you to serve the Lord,
"…you have your choice: choose this day that which pleases you, whom you would rather serve….but as for me and my house we will serve the Lord." Joshua 24:15
In the classic work, "Earth's Earliest Ages" English theologian G.H. Pember (1837-1910) examines the role of satanic forces in the first destruction of earth under God's judgment and compares them to the explosion of spiritism (open intercourse with evil spirits), ancient Egyptian Hermetic magic, Theosophy, Buddhism, reincarnation, karma, the Mysteries, astrology and mesmeric healings sweeping across Christendom.  
It was during the Renaissance that many influential Christians at the highest levels of Church and society had returned to the occult Wisdom Teachings that originated in ancient Egypt with Hermes Trismegistus.  In his own time, Pember observes that ancient occult traditions are no longer veiled in mystery but boldly presented by the powerful occult brotherhood as the fruit of modern science, especially evolutionary philosophy, which  the brotherhood assert was included in the instructions given,
 "…to the initiates of the Hermetic, Orphic, Eleusinian, and Cabbalistic mysteries, and were familiar to Chaldean Magi, Egyptian Priests, Hindu Occultists, Essenes, Therapeutae Gnostics, and Theurgic Neo-Platonists." (Pember, pp.243-244) 
 In the impeccably researched "Scientific Analysis of the Writings of Alice A. Bailey and their Applications," Robert A. Hermann Ph.D. affirms Pembers claim with respect to the occult origins of the evolutionary science so widespread in our time.   Herrmann traces modern evolutionary thinking–which has infiltrated the whole body of the Church–back to 1750 and the Spanish-French occultist the Martine's de Pasqually (1715?-1779) whose biological conception predates Darwin's theory and held that an adept spiritually evolves into higher and higher forms on various evolutionary levels.  (raherrmann.com)
Pember knows that occult teachings are grounded in knowledge received from evil spirits, thus he particularly connects evolutionary philosophy to spiritism.   This teaching said Pember, made the world ready for the deeper teachings of the Brotherhood (fallen angels):
 "…..the Brotherhood decided that the time had come to communicate with it, and openly influence its religion and philosophy. They have, however, become so etherealized by their practices that they are unable to endure contact with coarse human nature; it was, therefore, necessary to employ intermediaries.  The first person known to have been chosen for this purpose was a Madame Blavatsky."  (pp. 243-246)
 In affirmation, Corinne McLaughlin and Gordon Davidson, the politically influential co-authors of "Spiritual Politics: Changing the World from the Inside Out," admit that their book is based on the Ageless Wisdom teachings preserved by occultists since the Egyptian pantheon (27th-30th centuries B.C) and handed down over the ages to modern occultists in the time of the Renaissance, the Enlightenment and on into our own time:
 "For centuries, the Ageless Wisdom in the West was shielded from an unprepared public…. The unveiled truths were handed down only orally by individual teachers to tested disciples or by certain religious groups and secret societies, such as the Cabbalists, Druids, Essenes, Sufis, Knights Templar, Rosicrucian's, Freemasons, and others who carefully guarded the teachings down through the centuries. A study of these secret societies would reveal powerful influences on the history of nations…."  (Spiritual Politics, McLaughlin, Davidson from "Reinventing Jesus Christ: The New Gospel,"Warren Smith, crossroad.to)
 Beginning with the work of the Brotherhood and/or Masters acting through Blavatsky, Ageless Wisdom has succeeded in over-spreading W. Europe and America and made deep inroads into the whole body of the Church over the last one hundred years. Blavatsky's important book, 'The Secret Doctrine' (1888) paved the way by synthesizing,
 "…..Christian, Jewish, and Islamic mysticism with the Eastern teachings of Hinduism, Taoism, and Buddhism, showing their common roots and comparing their sacred texts…."
 The next development came through the teachings of Alice Bailey, an apostate Evangelical:
"…. In 1919 Bailey was contacted by a Tibetan master, Djwhal Khul, who asked her to write a series of books with him telepathically that would continue Blavatsky's work. Over a period of thirty years, Bailey received eighteen books from him on the nature of the cosmos and the human being, outlining principles for individual spiritual growth and humanity's next evolutionary steps. In 1923 Bailey founded Lucis Trust [originally called Lucifer Publishing, ed.] to bring the teachings in her books to the public. A year later she began the Arcane School. The books were written to apply to several levels of consciousness at once and thus can be read by both beginners and advanced students. Her works have been especially helpful to the two of us in our own spiritual growth and have provided much of the inspiration for Spiritual Politics."
Central to ancient Egyptian and modern Hermetic orders such as the Order of the Golden Dawn, Theosophy and New Age is ophiolatry (worship of serpents/Lucifer) and the theme of a pantheon of nine Sun Gods or with modern orders, an occult Hierarchy of nine evolved Brothers or Masters: god-men who have finished their cycles of reincarnation and material evolution but have chosen to remain here on the earth (Gaia) to serve people in their own conscious evolution as well as guide Gaia's spiritual evolution:
"(The solar deity Kneph was pictured as a serpent in a fiery circle and Osiris) was essentially identical with Kneph…The worship of Isis, the moon-goddess, was equally entwined with ophiolatry.  Her emblem was the horned viper…The Egyptians often represented Isis and Osiris together, as two serpents."  (The Cult of the All-Seeing Eye, Robert Keith Spenser, p. 35)
Depending on who they are speaking to, the nine Masters variously call themselves the Brotherhood, Space Brothers, Ascended Masters, the ancient Ennead of Egypt (the nine Sun Gods), Nine Principles of God, the Deep Space Nine, the Group, Sirians and Council of Nine.  Today there is a vast and growing network of channelers purporting to receive messages from the Nine and still others calling themselves Light Workers who claim to have presented briefings from the Group five times at the United Nations.  
Another important theme connecting all ancient and modern Hermetic Orders and Mystery religions is the Sirius star system.  From the time of the Egyptians, Sumerians and Babylonians occult teachings have invariably attributed to Sirius a special status in connection with Isis (Sirius A), Osiris (Sirius B), astrology, Hermeticism, the Mysteries, secret initiations, conceptions of transmigration, reincarnation, astral plane travels and other forms of occult evolutionary philosophy.
Hermetic Mystery schools and orders teach that Sirius is the divine "sun behind the sun" that is both the true source of the sun's energy which keeps the physical world alive, as well as the divine substance that keeps the spiritual world alive.  Whereas the sun illuminates the physical world, which is considered to be an illusion, Sirius is the "real light," the Great Dragon, Cosmic Serpent, Chaos, Abraxas, Star Maker, Ground of Being, or Essence of material phenomena, meaning that the material universe exists only as a grand illusion or mental construction as it does for example in the mind of Brahman:
 "Brahman is real, the world is unreal." (swamij.com/mahavakyas) 
 The two most important figures associated with Hermetic Theosophy, Madame Blavatsky and Alice Bailey, considered Sirius to be the source of mystical serpent power: the seething energies of Lucifer that exert a spiritual influence over the entire Sephiroth or cosmic tree of life and therefore directly link with every great religion of antiquity because these energies extend into the psyche of mankind.
Bailey taught that Sirius is the "Great White Lodge" and believed it to be the spiritual home of the "Spiritual Hierarchy." For this reason she considered Sirius as the star of initiation:
 "This is the great star of initiation because our Hierarchy (an expression of the second aspect of divinity) is under the supervision or spiritual magnetic control of the Hierarchy of Sirius. These are the major controlling influences whereby the cosmic Christ works upon the Christ principle in the solar system, in the planet, in man and in the lower forms of life expression. It is esoterically called the "brilliant star of sensitivity."   (The Mysterious Connection Between Sirius and Human History, vigilantcitizen.com, Dec. 12, 2012)
Baily also taught that Luciferian energy emanating from Sirius is the energy of thought: a mind force that reaches the solar system from a distant cosmic center via Sirius. Sirius acts as the transmitter,
 "…or the focalising centre, whence emanate those influences which produce self-consciousness in man."  (ibid)
 The Hermetic Way of the Dragon
The Hermetic way of psychic power and self-salvation is the antithesis of the Way of Jesus Christ God Incarnate (Romans3:24; 6:23; 10:9-10; Eph. 1:7; 2:8-9) and began with a mysterious man known as Hermes Trismegistus.  
The ancients identified Hermes with Mercury and Anubis (brother to Osiris).   His emblem, the caduceus, was a talismanic serpent representing the power of Mercury as a Sun-god. Speculations abound on exactly when and where Hermes lived.  Some modern New Age occultists believe he was a contemporary of Noah in the pre-flood world which they call Atlantis.  Others believe he lived in ancient Egypt during the time of Moses.  
In "Biographa Antiqua" the English occultist Frances Barret writes that Hermes "communicated the sum of the Abyss, and divine knowledge to all posterity." The word "Abyss" refers to ancient and modern pantheist and/or panentheist conceptions such as the Watery Abyss, Divine One Substance, Primordial Matter, or with Hermes, the Universal Life personified by the Great Serpent or Dragon from whose body and wings stream illuminating serpent power, or with Bailey, 'those influences which produce self-consciousness in man.'
 Bailey is expressing the Hermetic principle which speaks of the correlation between the substance of the Great Serpent and the mind of man expressed in the world famous magic formula: "As above, so below."
The substance (body) and seething powers of the Great Dragon or Serpent are symbolized by the Oroboros, a powerful occult symbol also known as the Sephiroth, great chain of being, cosmic tree of life, and with Darwin the tree of life. The Oroboros 'above' corresponds to a number of different evolutionary levels and realms comprising the habitation of all supernatural entities and various heavens and hells such as the Black Lodge.  Thus the substance of the Great Dragon's body  with its supposed multiple dimensions and life and thought-giving serpent energies not only powers the Divine Substance above but reaches down into the psyche, capturing the imagination, stunting and befouling the conscience, causing evolutionary change, and conferring psychic powers and divinity (you can be as God).
The Luciferian Manly P. Hall (1901-1990) concurs.  According to Manly, Hermetic Freemasonry is an occult science of the soul,
 "…a divine symbolic language perpetuating (by) certain concrete symbols the sacred mysteries of the ancients."  When a Masonry adept has learned the "mystery of his Craft (then the) seething energies of Lucifer are in his hands and before he may step onward and upward, he must prove his ability to properly apply energy."  (New World Order: The Ancient Plan of Secret Societies, William T. Still, p. 30) 
The foundation of Hermes occult way is forbidden knowledge revealed to him during self-induced trance and/or meditation states resulting in altered states of consciousness that opened his mind to contact with the Great Dragon:
 "Meditation is the doorway between worlds….the pathway between dimensions." (The Layman's Guide to Enlightenment,Celeste G. Graham, 1980, p. 13) 
 The Dragon revealed to Hermes that his own nature is divine, meaning that God and psychic power is "within."   The Divine Pymander of Hermes Trismegistus relates Hermes mystical encounter with the Great Dragon who called itself Poimandres, the Mind of the Universe that is within Hermes. (themystica.com) 
 Upon transforming itself into a glorious being of Light the Dragon proceeded to enlighten Hermes with the forbidden knowledge that over time found its' way into Christendom during the Renaissance giving birth to an array of Secret Societies as well as to pantheist theological liberalism and its' primary doctrine evolution, William James theory of the subconscious, the demon-haunted Carl Jung's transpersonal and depth psychology, occult New Age, Phillip Pullman's dark Gnosticism, Mind Science, New Thought, the Alpha Course, Silva Method, Word of Faith, Positive Imaging, Visualization/Dreaming, and the multi-million dollar best-sellers "A Course in Miracles" and "The Secret."  The common denominator of these societies, theories, books and techniques is "God and psychic power is within:"
 "People go through their whole lives chasing everything in the material world, and they fail to discover the greatest treasure of all, which is within them.  Shut your eyes to the outside world.  Direct your thoughts and words inside of you.  The Master within you is the key to all the treasures in the world." (Rhonda Byrne, "The Secret Daily Teachings")
 "Since the unconscious is God all along, we may further define the goal of spiritual growth to be the attainment of godhood by the conscious self."  (A Different Drum, M. Scott Peck)
 "….all is mind and…everything is governed by law (thus man) can create, or have created for him from his own thinking.  He can create such a strong mental atmosphere of success that its power of attraction will be irresistible.  He can send his thoughts throughout the world and have it bring back to him whatever he wants." (Creative Mind and Success, Ernest Holmes, New Thought practitioner)
 "Your unconscious mind (has a) power that turns wishes into realities when the wishes are strong enough." ("Positive Imaging," Norman Vincent Peale, 1982, p. 77)
 Word Faith teacher Kenneth Copeland tells people to visualize any image,
 "…that you get down inside you that is so vivid when you close your eyes you see it, it'll come to pass.  When God came at the Tower of Babel, He said, 'Anything they can imagine, they can do." (Inner Image of the Covenant, side 2, Copeland)
 Yonggi Cho similarly teaches that through visualizing and dreaming you will,
 "….incubate that which we want God to do for us….If you have not visualized clearly in your heart exactly what you hope for, it cannot become a reality to you…"  (The Fourth Dimension, Vol. 1, Yonggi Cho, 1979, 9-35, vol. 2, 18-33)
Believing the Lie
 "And for this cause God shall send them strong delusion, that they should believe a lie." (2 Thessalonians 2:11)
 In "The Spiritist Fallacy," a penetrating analysis of the Hermetic Theosophy, Buddhism and Spiritism that emerged out of the Renaissance taking hold of the minds of modernist priests and intellectuals, the highly respected French traditionalist metaphysician Rene Guenon (1886-1951) describes deluded "enlightened" theologians and intellectuals as those who cannot speak of the devil,
 "….without a smile of disdain, or an even more contemptuous shrug of the shoulders." (p. 252)
Their smug contempt is due to the fact that they believed the spiritist lie that Lucifer is not the devil but rather the "light-bearer."  After all, if evolution is true, as enlightened sophisticates believe, then there was no fall, hence man is not fallen and Lucifer is not the devil but the first free-thinker, the emancipator of man and the angel of evolution.  Modern sophisticates even go so far as to call him 'the Great Creative Intelligence.'  Thus they invoke Lucifer and perform his cult, but in fact these people,
 "…though in fact Satanists, are only unconsciously so, for they are mistaken as to the nature of the entity to whom they address their worship….It goes without saying that these 'enlightened' priests are all plainly modernists and that the spirit animating them is strangely similar to that affirmed in these lines." (p. 254)
 With respect to "modern" spiritist doctrine Guenon notes its' peculiar agreement with the esoteric religion of the Brahmins:
 "Now this….has been taught to lower grade initiates in Himalayan temples for perhaps more than a thousand years!  This similarity is curious at the very least, and one can say without paradox that spiritism is only esoteric Brahmanism in broad daylight."  (p. 41)
Guenon also argues that every "modern" conception that notably disfigures the living God as evolution does is Satanic, and in this sense, all theories of a limited God and of an immanent (pantheist) God who evolves must be placed in the front rank.
Turning to the theories of William James (1842-1910), the father of American psychology, Guenon describes them as examples of unconscious Satanism for two reasons.   First, James theory of "religious experience" as a manifestation of the"subconscious" by which man communicates with the pantheist Divine "within" is only one step away from "condoning the practices of spiritism" with the further consequences of conferring on evil spirits an eminently religious character and being initiated into experiences of the psychic and spirit realm. Initiation involves one in something far beyond the conscious control of the human will, thus once a person has been initiated their spirit/soul is open to bondage, harassment and madness.
 Second, the notion that the subconscious puts man in contact with the Divine "within" puts God,
 "…in the inferior states of being, in feris in the literal sense of this expression.  This then is a properly 'infernal' doctrine, a reversal of universal order, which is precisely what we call 'Satanism.'  Guenon adds, "The devil is not only terrible, he is often grotesque…" (pp. 258-262)
 Building off of James serpent-animated theories, the demon-haunted psychiatrist Carl Jung (1875-1961) taught that the psyche (spirit/soul) consists of two main systems:  a personal unconscious and a deeper more significant layer which he called the collective unconscious with archetypes.  
 Jung's system incorporates Hermetic magic, biological and spiritual theories of evolution, reincarnation, pantheist conceptions of a Gnostic pleroma (divine substance) and various other occult doctrines and psycho-spiritual technologies from around the world.
Jung delved deeply into the occult, practiced necromancy and had daily contact with familiar spirits which he called archetypes because he believed they were manifestations of powers innate in the collective unconscious (substance of the Great Dragon).  
 Much of Jung's psychological insight was acquired from his familiar spirits, particularly Philemon and Basilides.  Philemon appeared to Jung in a grotesque humanoid body with wings and the head of a horned bull. At first Jung thought his spirit familiars were manifestations of his own psyche, but toward the end of his life he realized with horror that Philemon, Basilides, and the many other spirit entities that were a common feature of his life were in fact highly intelligent hostile beings independent of human consciousness.   Speaking of Philemon, Jung said:
 "Philemon represented a force which was not myself…..I held conversations with him, and he said things which I had not consciously thought.    For I observed clearly that it was he who spoke, not I….Psychologically, Philemon represented superior insight.  He was a mysterious figure to me.   At times he seemed to me quite real, as if he were a living personality.  I went walking up and down the garden with him, and to me he was what the Indians call a guru."  (Memories, Dreams, Reflections, Carl Jung, p. 183, cited from PsychoHeresy: C.G. Jung's Legacy to the Church, PsychoHeresy Awareness Ministries)
 Jung uses the name Abraxas to describe the impersonal Gnostic pleroma  (substance of the Great Dragon) out of which mind and then other mental powers emerged.  The word Abraxas is found in esoteric Gnostic texts such as the "Holy Book of the Great Invisible Spirit" and also in the Greek "Magical Papyri."
 In 1916 Jung received further revelations from his demon familiars, this time by way of automatic writing as he recorded a Gnostic treatise called "The Seven Sermons to the Dead."   Labeled a core text in depth psychology the treatise describes Abraxas as a "God" higher than the living, personal Holy God in Three Persons that combines all opposites into a single androgynous Being. 
As with all Ageless Wisdom teachings, underlying Jung's demon-derived "transpersonal and depth psychology" is the Hermetic correlation of the substance of Abraxas (collective unconscious and archetypes) with the personal unconscious of man, hence, "As above, so below."  
 According to the Apostle Paul fallen angels cast down from heaven together with demons are dispersed in a multitude throughout the whole expanse of sky (Eph. 2:2; 6:12).  This means that William James 'subconscious' and Jung's 'collective unconscious' with its archetypes are actually the expanse of sky under the heavens which supposedly connects the substance of the Great Dragon to the psyche of man. Thus to "go within" the "subconscious" (James) or "personal unconscious" (Jung) so as to channel the Divine "within," is to perform the cult of Satan which opens the spirit/soul to contact with powers and principalities and their chief, the devil.    
Though there are increasing numbers of psychologists and psychiatrists who now affirm their belief in evil spirits and their ability to harass, influence and possess human beings, the majority are still heavily influenced by Jung's demon-derived theories, thus they insist that what they call "paranormal experiences"are perhaps hallucinations caused by the innate powers of human imagination or representations of interplay between the left and right hemispheres of the brain and/or the therapeutic release of unconscious repressions.
 Unlike most modern psychiatrists and psychologists, Nanci Des Gerlaise, a Cree Native American woman raised on a Metis settlement, needs no convincing. Almost from birth her life consisted of occult bondage and terrifying demonic harassment until she found deliverance through Jesus Christ.
 Nanci knows without the least bit of doubt that demons exist and can even take the shape of animals, birds and other more frightening creatures.   She knows that medicine men still engage in symbolic baby sacrifices to Satan in return for more spiritual power.   She knows because her own father offered her to Satan.  Her life then belonged to the devil and became filled night and day with all kinds of evil: 
"This is what happened to me and one reason why I had such a struggle when I became a Christian.   Satan still claimed ownership of me.  The tug of war first started when I accepted the Lord Jesus Christ as my Lord and Savior….He set me free from occult bondages and demonic harassment….Christianity (is) God's way of salvation.  Colossians 1:12-14 made perfect sense to me…" (Muddy Waters, Gerlaise, pp. 51, 79-80)
 Nanci's book, "Muddy Waters" is far more than a biography.  It is a clear and compelling warning to all Christians living in sin, apostatizing churches, practitioners of occult psycho-spiritual technologies, advocates for interfaith/interspirituality and spiritual formation (occult techniques dressed in Christian motifs) that forces of darkness really do exist and will make your life a living nightmare of disembodied voices, terrifying encounters with demonic entities, thoughts of suicide and murder, and even possession.
 "Now the Spirit manifestly saith, that in the last times some shall depart from the faith, giving heed to spirits of error, and doctrines of devils." 1 Tim. 4:1
 From the time of Hermes, ancient and modern occult pagan adepts have been employing a variety of occult psycho-spiritual techniques to "go within" in search of psychic powers and immortality:    
 "…..I can be saved only by becoming one with the universe.  Thereby, too, my deepest 'pantheist' aspirations.  It was especially the image of God which Teilhard saw in need of urgent redefinition.   Modern man has not yet found the God he can adore, A God commensurate to the newly discovered dimensions of the universe." (Towards a New Mysticism, Teilhard de Chardin and Eastern Religions, Ursula King, p. 172)
The corollary to our age of lawless Christians and spreading apostasy is an explosive revival of ancient Hermetic spiritism.  A major reason is that modern psychology allegedly provides us with a "scientific" explanation that ascribes whatever frightening entities encountered while on brain-altering substances or through centering, yogic trance, visualizing and dreaming or other occult techniques to archetypal images from the collective unconscious.
The common thread running through all of this is the diabolical mind of the serpent, the same fallen angel who tempted Adam and Eve in the Garden with the words, "Ye shall be as Gods" (Gen. 3:5) but now seduces with the words, "go within."