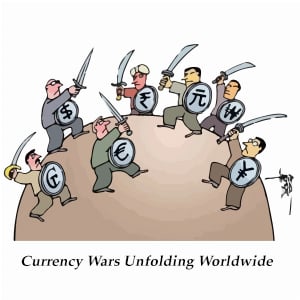 The first two months of 2015 have seen turmoil in the currency markets extend from Russia and Ukraine to the heart of Europe.
"Central Banks Now Open 24/7 Fighting Currency Wars and Deflation," blared a February 12th Bloomberg headline. Against this backdrop, precious metals have been on the rise in terms of all currencies except the Swiss franc and the U.S dollar.
In January, the Swiss National Bank shocked markets by announcing that it would de-link its currency from the euro. The move came one week ahead of the European Central Bank's $1.1 trillion Quantitative Easing announcement. Swiss officials decided it would be too costly to keep accumulating depreciating euros in order to maintain the currency peg. The Swiss franc surged by the most ever in a single day.
With the exception of Switzerland, all other countries in Europe (and many others around the world) are trying to depreciate their currencies.
Since January 1, the following central banks have announced interest rate cuts or other monetary easing measures: European Central Bank, Reserve Bank of Australia, Reserve Bank of New Zealand, Monetary Authority of Singapore, and the central banks of India, Canada, Denmark, and Sweden.
On February 12th, the Swedish Riksbank announced a surprise rate cut from 0% to below 0%. "To ensure that inflation rises towards the target, the Riksbank is prepared to quickly make monetary policy more expansionary, even between the ordinary monetary policy meetings," the world's oldest central bank said in a statement.
Sweden joins the European Central Bank and the central banks of a handful of other countries in pushing benchmark interest rates into negative territory. These central bankers are all aiming to revive inflation. "Investors" who are buying bonds yielding less than nothing (a negative rate) are apparently convinced that central bankers won't succeed in depreciating their currencies.
Insanity! Investors Now Paying for the "Privilege" of Lending to Broke Governments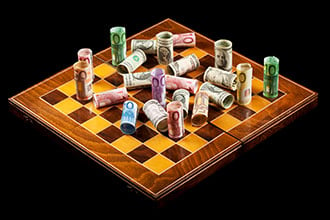 This could go down as one of the oddest, most irrational asset bubbles in history. Trillions of dollars are now tied up in debt instruments that promise to return less than the invested principal. According to a report issued by J.P. Morgan, $3.6 trillion in government bonds around the world now carry negative yields.
It raises the obvious question; why would so many people be willing to accept a negative rate of return?
You'd think that institutional investors would start getting wise to holding gold as a hard-currency alternative to cash instruments that yield less than zero. The fact that gold has no interest rate is actually an advantage in an environment where competing rates are negative! Plus, unlike most of the bonds issued in this upside-down interest rate market, gold has significant appreciation potential.
If inflation rises even modestly to the 2% target of European and U.S. central bankers, then bonds issued at rates of below 2% will all be losers. The two-year Treasury note yields only 0.63%. Even the recent 10-year yield of 1.98% fails to match the Federal Reserve's inflation ambitions.
The fact that gold has no interest rate is actually an advantage in an environment where competing rates are negative!
In this environment of ultra-low nominal yields or even negative real yields, precious metals as a reserve asset look very attractive. Many central bankers around the world agree and are busily accumulating gold. According to a report issued by the World Gold Council in February, governments around the world added 477.2 metric tons of gold to their reserves in 2014. That haul was the second biggest in 50 years.
When inflation fears return to the market, as they eventually will, precious metals will become one of the premier asset classes to hold. Even now, they are performing better than virtually all other world currencies.
The end game of these ongoing currency wars is that all fiat currencies will be debased. And a true flight to quality will accelerate – with assets fleeing depreciating currencies (and debt instruments denominated in them) and piling into gold and silver.
Will the Fed Chicken Out on Rate Hikes?
Of course, right now it's deflation fears that are dominating headlines. But the inflationary policy responses from the European Central Bank and others that have followed the ECB's lead have lifted gold and silver prices markedly in terms of euros and other currencies.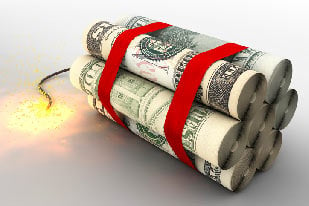 As confidence in European currencies plunges, there's only so much corresponding dollar strength the Federal Reserve is willing to tolerate. There's been much talk of rate hikes coming later this year, and that widespread expectation has been priced into the market. Any rhetorical or policy disappointments from the Fed in the months ahead could cause traders to sell the dollar.
Whether later this year or further down the road, it's only a matter of time before currency turmoil spreads to the United States.
The U.S. has a higher debt-to-GDP ratio than some troubled European countries. It has higher levels of unfunded liabilities (estimated to be in excess of $100 trillion) than any other country. The dollar's status as world reserve currency has allowed the U.S. to become financially overextended. But that vaunted status is slowly deteriorating as Russia, China, and other countries form economic alliances that bypass the dollar.
When these chickens come home to roost, you don't want to be wholly dependent on the U.S. government's promises or its currency. Sizeable holdings in physical precious metals will help make you financially resilient in the face of the spreading global currency crisis.
The edifice of world post-1991 order is collapsing right now before our eyes. President Putin's decision to give a miss to the Auschwitz pilgrimage, right after his absence in Paris at the Charlie festival, gave it the last shove. It was good clean fun to troll Russia, as long as it stayed the course. Not anymore. Russia broke the rules.
Until now, Russia, like a country bumpkin in Eton, tried to belong. It attended the gathering of the grandees where it was shunned, paid its dues to European bodies that condemned it, patiently suffered ceaseless hectoring of the great powers and irritating baiting of East European small-timers alike. But something broke down. The lad does not want to belong anymore; he picked up his stuff and went home – just when they needed him to knee in Auschwitz.
Auschwitz gathering is an annual Canossa of Western leaders where they bewail their historic failure to protect the Jews and swear their perennial obedience to them. This is a more important religious rite of our times, the One Ring to rule them all, established in 2001, when the Judeo-American empire had reached the pinnacle of its power. The Russian leader had duly attended the events. This year, they will have to do without him. Israeli ministers already have expressed their deep dissatisfaction for this was Russia's Red Army that saved the Jews in Auschwitz, after all. Russia's absence will turn the Holocaust memorial day into a parochial, West-only, event. Worse, Russia's place will be taken by Ukraine, ruled by unrepentant heirs to Hitler's Bandera.
This comes after the French 'Charlie' demo, also spurned by Russia. The West hinted that Russia's sins would be forgiven, up to a point, if she joined, first the demo, and later, the planned anti-terrorist coalition, but Russia did not take the bait. This was a visible change, for previously, Russian leaders eagerly participated in joint events and voted for West-sponsored resolutions. In 2001, Putin fully supported George Bush's War on Terrorism in the UN and on the ground. As recently as 2011, Russia agreed with sanctions against North Korea and Iran. As for coming for a demonstration, the Russians could always be relied upon. This time, the Russians did not come, except for the token presence of the foreign minister Mr. Lavrov. This indomitable successor of Mr. Nyet left the event almost immediately and went – to pray in the Russian church, in a counter-demonstration, of sorts, against Charlie. By going to the church, he declared that he is not Charlie.
For the Charlie Hebdo magazine was (and probably is) explicitly anti-Christian as well as anti-Muslim. One finds on its pages some very obnoxious cartoons offending the Virgin and Christ, as well as the pope and the Church. (They never offend Jews, somehow).
A Russian blogger who's been exposed to this magazine for the first time, wrote on his page: I am ashamed that the bastards were dealt with by Muslims, not by Christians. This was quite a common feeling in Moscow these days. The Russians could not believe that such smut could be published and defended as a right of free speech. People planned a demo against the Charlie, but City Hall forbade it.
Remember, a few years ago, the Pussy Riot have profaned the St Saviour of Moscow like Femen did in some great European cathedrals, from Notre Dame de Paris to Strasbourg. The Russian government did not wait for vigilante justice to be meted upon the viragos, but sent them for up to two years of prison. At the same time, the Russian criminal law has been changed to include 'sacrilege' among ordinary crimes, by general consent. The Russians do feel about their faith more strongly than the EC rulers prescribe.
In Charlie's France, Hollande's regime frogmarched the unwilling people into a quite unnecessary gay marriage law, notwithstanding one-million-strong protest demonstrations by Catholics. Femen despoiling the churches were never punished; but a church warden who tried to prevent that, was heavily fined. France has a long anti-Christian tradition, usually described as "laic", and its grand anti-Church coalition of Atheists, Huguenots and Jews coalesced in Dreyfus Affair days. Thus Lavrov's escape to the church was a counter-demonstration, saying: Russia is for Christ, and Russia is not against Muslims.
While the present western regime is anti-Christian and anti-Muslim, it is pro-Jewish to an extent that defies a rational explanation. France had sent thousands of soldiers and policemen to defend Jewish institutions, though this defence antagonises their neighbours. While Charlie are glorified for insulting Christians and Muslims, Dieudonné has been sent to jail (just for a day, but with great fanfare) for annoying Jews. Actually, Charlie Hebdo dismissed a journalist for one sentence allegedly disrespectful for Jews. This unfairness is a source of aggravation: Muslims were laughed out of court when they complained against particularly vile Charlie's cartoons, but Jews almost always win when they go to the court against their denigrators. (Full disclosure: I was also sued by LICRA, the French Jewish body, while my French publisher was devastated by their legal attacks).
The Russians don't comprehend the Western infatuation with Jews, for Russian Jews have been well assimilated and integrated in general society. The narrative of Holocaust is not popular in Russia for one simple reason: so many Russians from every ethnic background lost their lives in the war, that there is no reason to single out Jews as supreme victims. Millions died at the siege of Leningrad; Belarus lost a quarter of its population. More importantly, Russians feel no guilt regarding Jews: they treated them fairly and saved them from the Nazis. For them, the Holocaust is a Western narrative, as foreign as JeSuisCharlie. With drifting of Russia out of Western consensus, there is no reason to maintain it.
This does not mean the Jews are discriminated against. The Jews of Russia are doing very well, thank you, without Holocaust worship: they occupy the highest positions in the Forbes list of Russia's rich, with a combined capital of $122 billion, while all rich ethnic Russians own only $165 billion, according to the Jewish-owned source. Jews run the most celebrated media shows in prime time on the state TV; they publish newspapers; they have full and unlimited access to Putin and his ministers; they usually have their way when they want to get a plot of land for their communal purposes. And anti-Semitic propaganda is punishable by law – like anti-Christian or anti-Muslim abuse, but even more severely. Still, it is impossible to imagine a Russian journalist getting sack like CNN anchor Jim Clancy or BBC's Tim Willcox for upsetting a Jew or speaking against Israel.
Russia preserves its plurality, diversity and freedom of opinion. The pro-Western Russian media –Novaya Gazeta of oligarch Lebedev, the owner of the British newspaper Independent – carries the JeSuis slogan and speaks of the Holocaust, as well as demands to restore Crimea to the Ukraine. But the vast majority of Russians do support their President, and his civilizational choice. He expressed it when he went to midnight Christmas mass in a small village church in far-away province, together with orphans and refugees from the Ukraine. And he expressed it by refusing to go to Auschwitz.
Neither willingly nor easily did Russia break ranks. Putin tried to take Western baiting in his stride: be it Olympic games, Syria confrontation, gender politics, Georgian border, even Crimea-related sanctions. The open economic warfare was a game-changer. Russia felt attacked by falling oil prices, by rouble trouble, by credit downgrading. These developments are considered an act of hostility, rather than the result of "the hidden hand of the market".
Russians love conspiracia, as James Bond used to say. They do not believe in chance, coincidence nor natural occurrences, and are likely to consider a falling meteorite or an earthquake – a result of hostile American action, let alone a fall in the rouble/dollar exchange rate. They could be right, too, though it is hard to prove.
Regarding oil price fall, the jury is out. Some say this action by Saudis is aimed at American fracking companies, or alternatively it's a Saudi-American plot against Russia. However, the price of oil is not formed by supply-demand, but by financial instruments, futures and derivatives. This virtual demand-and-supply is much bigger than the real one. When hedge funds stopped to buy oil futures, price downturn became unavoidable, but were the funds directed by politicians, or did they act so as Quantitative Easing ended?
The steep fall of the rouble could be connected to oil price downturn, but not necessarily so. The rouble is not involved in oil price forming. It could be an action by a very big financial institution. Soros broke the back of British pound in 1991; Korean won, Thai bath and Malaysian ringgit suffered similar fate in 1998. In each case, the attacked country lost about 40% of its GDP. It is possible that Russia was attacked by financial weapons directed from New York.
The European punitive sanctions forbade long-term cheap credit to Russian companies. The Russian state does not need loans, but Russian companies do. Combination of these factors put a squeeze on Russian pockets. The rating agencies kept downgrading Russian rating to almost junk level, for political reasons, I was told. As they were deprived of credit, state companies began to hoard dollars to pay later their debts, and they refrained from converting their huge profits to roubles, as they did until now. The rouble fell drastically, probably much lower than it had to.
This is not pinpoint sanctions aimed at Putin's friends. This is a full-blown war. If the initiators expected Russians to be mad at Putin, they miscalculated. The Russian public is angry with the American organisers of the economical warfare, not with its own government. The pro-Western opposition tried to demonstrate against Putin, but very few people joined them.
Ordinary Russians kept a stiff upper lip. They did not notice the sanctions until the rouble staggered, and even then they shopped like mad rather than protested. In the face of shrinking money, they did not buy salt and sugar, as their grandparents would have. Their battle cry against hogging was "Do not take more than two Lexus cars per family, leave something for others!"
Perhaps, the invisible financiers went too far. Instead of being cowed, the Russians are preparing for a real long war, as they and their ancestors have historically fought – and won. It is not like they have a choice: though Americans insist Russia should join their War-on-Terrorism-II, they do not intend to relinquish sanctions.
The Russians do not know how to deal with a financial attack. Without capital restrictions, Russia will be cleaned out. Russian Central bank and Treasury people are strict monetarists, capital restrictions are anathema for them. Putin, being a liberal himself, apparently trusts them. Capital flight has taken huge proportions. Unless Russia uses the measures successfully tried by Mohammad Mahathir of Malaysia, it will continue. At present, however, we do not see sign of change.
This could be the incentive for Putin to advance in Ukraine. If the Russians do not know how to shuffle futures and derivatives, they are expert in armour movements and tank battles. Kiev regime is also spoiling for a fight, apparently pushed by the American neocons. It is possible that the US will get more than what it bargained for in the Ukraine.
One can be certain that Russians will not support the Middle Eastern crusade of NATO, as this military action was prepared at the Charlie demo in Paris. It is far from clear who killed the cartoonists, but Paris and Washington intend to use it for reigniting war in the Middle East. This time, Russia will be in opposition, and probably will use it as an opportunity to change the uncomfortable standoff in the Ukraine. Thus supporters of peace in the Middle East have a good reason to back Russia.
After Paris, condemnation of religious fanaticism is at its height. I'd guess that even many progressives fantasize about wringing the necks of jihadists, bashing into their heads some thoughts about the intellect, about satire, humor, freedom of speech. We're talking here, after all, about young men raised in France, not Saudi Arabia.
Where has all this Islamic fundamentalism come from in this modern age? Most of it comes – trained, armed, financed, indoctrinated – from Afghanistan, Iraq, Libya, and Syria. During various periods from the 1970s to the present, these four countries had been the most secular, modern, educated, welfare states in the Middle East region. And what had happened to these secular, modern, educated, welfare states?
In the 1980s, the United States overthrew the Afghan government that was progressive, with full rights for women, believe it or not , leading to the creation of the Taliban and their taking power.
In the 2000s, the United States overthrew the Iraqi government, destroying not only the secular state, but the civilized state as well, leaving a failed state.
In 2011, the United States and its NATO military machine overthrew the secular Libyan government of Muammar Gaddafi, leaving behind a lawless state and unleashing many hundreds of jihadists and tons of weaponry across the Middle East.
And for the past few years the United States has been engaged in overthrowing the secular Syrian government of Bashar al-Assad. This, along with the US occupation of Iraq having triggered widespread Sunni-Shia warfare, led to the creation of The Islamic State with all its beheadings and other charming practices.
However, despite it all, the world was made safe for capitalism, imperialism, anti-communism, oil, Israel, and jihadists. God is Great!
Starting with the Cold War, and with the above interventions building upon that, we have 70 years of American foreign policy, without which – as Russian/American writer Andre Vltchek has observed – "almost all Muslim countries, including Iran, Egypt and Indonesia, would now most likely be socialist, under a group of very moderate and mostly secular leaders". Even the ultra-oppressive Saudi Arabia – without Washington's protection – would probably be a very different place.
On January 11, Paris was the site of a March of National Unity in honor of the magazine Charlie Hebdo, whose journalists had been assassinated by terrorists. The march was rather touching, but it was also an orgy of Western hypocrisy, with the French TV broadcasters and the assembled crowd extolling without end the NATO world's reverence for journalists and freedom of speech; an ocean of signs declaring Je suis Charlie … Nous Sommes Tous Charlie; and flaunting giant pencils, as if pencils – not bombs, invasions, overthrows, torture, and drone attacks – have been the West's weapons of choice in the Middle East during the past century.
No reference was made to the fact that the American military, in the course of its wars in recent decades in the Middle East and elsewhere, had been responsible for the deliberate deaths of dozens of journalists. In Iraq, among other incidents, see Wikileaks' 2007 video of the cold-blooded murder of two Reuters journalists; the 2003 US air-to-surface missile attack on the offices of Al Jazeera in Baghdad that left three journalists dead and four wounded; and the American firing on Baghdad's Hotel Palestine the same year that killed two foreign cameramen.
Moreover, on October 8, 2001, the second day of the US bombing of Afghanistan, the transmitters for the Taliban government's Radio Shari were bombed and shortly after this the US bombed some 20 regional radio sites. US Defense Secretary Donald Rumsfeld defended the targeting of these facilities, saying: "Naturally, they cannot be considered to be free media outlets. They are mouthpieces of the Taliban and those harboring terrorists."
And in Yugoslavia, in 1999, during the infamous 78-day bombing of a country which posed no threat at all to the United States or any other country, state-owned Radio Television Serbia (RTS) was targeted because it was broadcasting things which the United States and NATO did not like (like how much horror the bombing was causing). The bombs took the lives of many of the station's staff, and both legs of one of the survivors, which had to be amputated to free him from the wreckage.
I present here some views on Charlie Hebdo sent to me by a friend in Paris who has long had a close familiarity with the publication and its staff:
"On international politics Charlie Hebdo was neoconservative. It supported every single NATO intervention from Yugoslavia to the present. They were anti-Muslim, anti-Hamas (or any Palestinian organization), anti-Russian, anti-Cuban (with the exception of one cartoonist), anti-Hugo Chávez, anti-Iran, anti-Syria, pro-Pussy Riot, pro-Kiev … Do I need to continue?

"Strangely enough, the magazine was considered to be 'leftist'. It's difficult for me to criticize them now because they weren't 'bad people', just a bunch of funny cartoonists, yes, but intellectual freewheelers without any particular agenda and who actually didn't give a fuck about any form of 'correctness' – political, religious, or whatever; just having fun and trying to sell a 'subversive' magazine (with the notable exception of the former editor, Philippe Val, who is, I think, a true-blooded neocon)."
Dumb and Dumber
Remember Arseniy Yatsenuk? The Ukrainian whom US State Department officials adopted as one of their own in early 2014 and guided into the position of Prime Minister so he could lead the Ukrainian Forces of Good against Russia in the new Cold War?
In an interview on German television on January 7, 2015 Yatsenuk allowed the following words to cross his lips: "We all remember well the Soviet invasion of Ukraine and Germany. We will not allow that, and nobody has the right to rewrite the results of World War Two".
The Ukrainian Forces of Good, it should be kept in mind, also include several neo-Nazis in high government positions and many more partaking in the fight against Ukrainian pro-Russians in the south-east of the country. Last June, Yatsenuk referred to these pro-Russians as "sub-humans" , directly equivalent to the Nazi term "untermenschen".
So the next time you shake your head at some stupid remark made by a member of the US government, try to find some consolation in the thought that high American officials are not necessarily the dumbest, except of course in their choice of who is worthy of being one of the empire's partners.
The type of rally held in Paris this month to condemn an act of terror by jihadists could as well have been held for the victims of Odessa in Ukraine last May. The same neo-Nazi types referred to above took time off from parading around with their swastika-like symbols and calling for the death of Russians, Communists and Jews, and burned down a trade-union building in Odessa, killing scores of people and sending hundreds to hospital; many of the victims were beaten or shot when they tried to flee the flames and smoke; ambulances were blocked from reaching the wounded … Try and find a single American mainstream media entity that has made even a slightly serious attempt to capture the horror. You would have to go to the Russian station in Washington, DC, RT.com, search "Odessa fire" for many stories, images and videos. Also see the Wikipedia entry on the 2 May 2014 Odessa clashes.
If the American people were forced to watch, listen, and read all the stories of neo-Nazi behavior in Ukraine the past few years, I think they – yes, even the American people and their less-than-intellectual Congressional representatives – would start to wonder why their government was so closely allied with such people. The United States may even go to war with Russia on the side of such people.
L'Occident n'est pas Charlie pour Odessa. Il n'y a pas de défilé à Paris pour Odessa.
Some thoughts about this thing called ideology
Norman Finkelstein, the fiery American critic of Israel, was interviewed recently by Paul Jay on The Real News Network. Finkelstein related how he had been a Maoist in his youth and had been devastated by the exposure and downfall of the Gang of Four in 1976 in China. "It came out there was just an awful lot of corruption. The people who we thought were absolutely selfless were very self-absorbed. And it was clear. The overthrow of the Gang of Four had huge popular support."
Many other Maoists were torn apart by the event. "Everything was overthrown overnight, the whole Maoist system, which we thought [were] new socialist men, they all believed in putting self second, fighting self. And then overnight the whole thing was reversed."
"You know, many people think it was McCarthy that destroyed the Communist Party," Finkelstein continued. "That's absolutely not true. You know, when you were a communist back then, you had the inner strength to withstand McCarthyism, because it was the cause. What destroyed the Communist Party was Khrushchev's speech," a reference to Soviet premier Nikita Khrushchev's 1956 exposure of the crimes of Joseph Stalin and his dictatorial rule.
Although I was old enough, and interested enough, to be influenced by the Chinese and Russian revolutions, I was not. I remained an admirer of capitalism and a good loyal anti-communist. It was the war in Vietnam that was my Gang of Four and my Nikita Khrushchev. Day after day during 1964 and early 1965 I followed the news carefully, catching up on the day's statistics of American firepower, bombing sorties, and body counts. I was filled with patriotic pride at our massive power to shape history. Words like those of Winston Churchill, upon America's entry into the Second World War, came easily to mind again – "England would live; Britain would live; the Commonwealth of Nations would live." Then, one day – a day like any other day – it suddenly and inexplicably hit me. In those villages with the strange names there were people under those falling bombs, people running in total desperation from that god-awful machine-gun strafing.
This pattern took hold. The news reports would stir in me a self-righteous satisfaction that we were teaching those damn commies that they couldn't get away with whatever it was they were trying to get away with. The very next moment I would be struck by a wave of repulsion at the horror of it all. Eventually, the repulsion won out over the patriotic pride, never to go back to where I had been; but dooming me to experience the despair of American foreign policy again and again, decade after decade.
The human brain is an amazing organ. It keeps working 24 hours a day, 7 days a week, and 52 weeks a year, from before you leave the womb, right up until the day you find nationalism. And that day can come very early. Here's a recent headline from the Washington Post: "In the United States the brainwashing starts in kindergarten."
Oh, my mistake. It actually said "In N. Korea the brainwashing starts in kindergarten."
Let Cuba Live! The Devil's List of what the United States has done to Cuba
On May 31, 1999, a lawsuit for $181 billion in wrongful death, personal injury, and economic damages was filed in a Havana court against the government of the United States. It was subsequently filed with the United Nations. Since that time its fate is somewhat of a mystery.
The lawsuit covered the 40 years since the country's 1959 revolution and described, in considerable detail taken from personal testimony of victims, US acts of aggression against Cuba; specifying, often by name, date, and particular circumstances, each person known to have been killed or seriously wounded. In all, 3,478 people were killed and an additional 2,099 seriously injured. (These figures do not include the many indirect victims of Washington's economic pressures and blockade, which caused difficulties in obtaining medicine and food, in addition to creating other hardships.)
The case was, in legal terms, very narrowly drawn. It was for the wrongful death of individuals, on behalf of their survivors, and for personal injuries to those who survived serious wounds, on their own behalf. No unsuccessful American attacks were deemed relevant, and consequently there was no testimony regarding the many hundreds of unsuccessful assassination attempts against Cuban President Fidel Castro and other high officials, or even of bombings in which no one was killed or injured. Damages to crops, livestock, or the Cuban economy in general were also excluded, so there was no testimony about the introduction into the island of swine fever or tobacco mold.
However, those aspects of Washington's chemical and biological warfare waged against Cuba that involved human victims were described in detail, most significantly the creation of an epidemic of hemorrhagic dengue fever in 1981, during which some 340,000 people were infected and 116,000 hospitalized; this in a country which had never before experienced a single case of the disease. In the end, 158 people, including 101 children, died. That only 158 people died, out of some 116,000 who were hospitalized, was an eloquent testimony to the remarkable Cuban public health sector.
The complaint describes the campaign of air and naval attacks against Cuba that commenced in October 1959, when US president Dwight Eisenhower approved a program that included bombings of sugar mills, the burning of sugar fields, machine-gun attacks on Havana, even on passenger trains.
Another section of the complaint described the armed terrorist groups, los banditos, who ravaged the island for five years, from 1960 to 1965, when the last group was located and defeated. These bands terrorized small farmers, torturing and killing those considered (often erroneously) active supporters of the Revolution; men, women, and children. Several young volunteer literacy-campaign teachers were among the victims of the bandits.
There was also of course the notorious Bay of Pigs invasion, in April 1961. Although the entire incident lasted less than 72 hours, 176 Cubans were killed and 300 more wounded, 50 of them permanently disabled.
The complaint also described the unending campaign of major acts of sabotage and terrorism that included the bombing of ships and planes as well as stores and offices. The most horrific example of sabotage was of course the 1976 bombing of a Cubana airliner off Barbados in which all 73 people on board were killed. There were as well as the murder of Cuban diplomats and officials around the world, including one such murder on the streets of New York City in 1980. This campaign continued to the 1990s, with the murders of Cuban policemen, soldiers, and sailors in 1992 and 1994, and the 1997 hotel bombing campaign, which took the life of a foreigner; the bombing campaign was aimed at discouraging tourism and led to the sending of Cuban intelligence officers to the US in an attempt to put an end to the bombings; from their ranks rose the Cuban Five.
To the above can be added the many acts of financial extortion, violence and sabotage carried out by the United States and its agents in the 16 years since the lawsuit was filed. In sum total, the deep-seated injury and trauma inflicted upon on the Cuban people can be regarded as the island's own 9-11.
Notes
US Department of the Army, Afghanistan, A Country Study (1986), pp.121, 128, 130, 223, 232
Counterpunch, January 10, 2015
Index on Censorship, the UK's leading organization promoting freedom of expression, October 18, 2001
The Independent (London), April 24, 1999
"Ukrainian Prime Minister Arseniy Yatsenyuk talking to Pinar Atalay", Tagesschau (Germany), January 7, 2015 (in Ukrainian with German voice-over)
CNN, June 15, 2014
See William Blum, West-Bloc Dissident: A Cold War Memoir, chapter 3
Washington Post, January 17, 2015, page A6
William Blum, Killing Hope: US Military and CIA Interventions Since World War II, chapter 30, for a capsule summary of Washington's chemical and biological warfare against Havana.
For further information, see William Schaap, Covert Action Quarterly magazine (Washington, DC), Fall/Winter 1999, pp.26-29
Is Putin Creating A New World Order?
"If undercharging for energy products occurs deliberately, it also effects those who introduce these limitations. Problems will arise and grow, worsening the situation not only for Russia but also for our partners." – Russian President Vladimir Putin
It's hard to know which country is going to suffer the most from falling oil prices. Up to now, of course, Russia, Iran and Venezuela have taken the biggest hit, but that will probably change as time goes on. What the Obama administration should be worried about is the second-order effects that will eventually show up in terms of higher unemployment, market volatility, and wobbly bank balance sheets. That's where the real damage is going to crop up because that's where red ink and bad loans can metastasize into a full-blown financial crisis. Check out this blurb from Nick Cunningham at Oilprice.com and you'll see what I mean:
"According to an assessment from the Federal Reserve Bank of Dallas, an estimated 250,000 jobs across eight U.S. states could be lost in 2015 if oil prices don't rise. More than 50 percent of those job losses would occur in Texas, which leads the nation in oil production.

There are some early signs that a slowdown in drilling could spread to the manufacturing sector in Texas… One executive at a metal manufacturing company said in the survey, "the drop in crude oil prices is going to make things ugly… quickly." Another company that manufactures machinery told the Dallas Fed, "Low oil prices will drive reductions in U.S. drilling rigs, which will in turn reduce the market for our products."

The sentiment was similar for a chemical manufacturer, who said "lower oil prices will adversely impact margins. Energy volatility will cause our customers to keep inventories tight."

States like Texas, North Dakota, Oklahoma, and Louisiana have seen their economies boom over the last few years as oil production surged. But the sector is now deflating, leaving gashes in employment rolls and state budgets." (Low Prices Lead To Layoffs In The Oil Patch, Nick Cunningham, Oilprice.com)
Of course industries lay-off workers all the time and it doesn't always lead to a financial crisis. But unemployment is just one part of the picture, lower personal consumption is another. Take a look:
"Falling oil prices are a bigger drag on economic growth than the incremental "savings" received by the consumer…..Another way to show this graphically is to look at the annual changes in Personal Consumption Expenditures (PCE) in aggregate as compared to the subsection of PCE spent on energy and related products. This is shown in the chart below.

Lower Energy Prices To Lower PCE (Personal Consumption Expenditures):
See? So despite what you might have read in the MSM, lower gas prices do not translate into greater personal consumption or more robust growth. Quiet the contrary, they tend to intensify deflationary pressures and reduce activity which is a damper on growth.
Then there's the knock-on effects that crashing prices and layoffs have on other industries like mining, manufacturing and chemical production. Here's more from Oil Price:
"Oil and gas production makeup a hefty chunk of the "mining and manufacturing" component of the employment rolls. Since 2000, when the oil price boom gained traction, Texas has comprised more than 40% of all jobs in the country according to first quarter data from the Dallas Federal Reserve…

The majority of the jobs "created" since the financial crisis have been lower wage paying jobs in retail, healthcare and other service sectors of the economy. Conversely, the jobs created within the energy space are some of the highest wage paying opportunities available in engineering, technology, accounting, legal, etc. In fact, each job created in energy related areas has had a "ripple effect" of creating 2.8 jobs elsewhere in the economy from piping to coatings, trucking and transportation, restaurants and retail….

The obvious ramification of the plunge in oil prices is that eventually the loss of revenue will lead to cuts in production, declines in capital expenditure plans (which comprise almost 1/4th of all capex expenditures in the S&P 500), freezes and/or reductions in employment, and declines in revenue and profitability…

Simply put, lower oil and gasoline prices may have a bigger detraction on the economy than the "savings" provided to consumers." (The Gasoline Price Myth, Lance Roberts, oilprice.com)
None of this sounds very reassuring, does it? And yet, all we hear from the media is how the economy is going to reach "escape velocity" on the back of cheap oil. Nonsense. This is just more "green shoots" baloney wrapped in public relations hype. The fact is, the economy needs the good-paying jobs more than it needs low-priced energy. But now that prices are tumbling, those jobs are going to disappear which is going to be a drag on growth. Now check out these headlines I picked up on Google News that help to show what's going on off the radar:
"Texas is in danger of a recession", CNN Money.
"Texas Could Be Headed for an Oil-Fueled Recession, JP Morgan Economist Says", Wall Street Journal "Good Times From Texas to North Dakota May Turn Bad on Oil-Price Drop", Bloomberg
"Low Oil Prices in the New Year Are Screwing Petrostates", Vice News
"Top US Oil States Are Taking A Hit From Plunging Crude Prices", Business Insider
Get the picture? If oil prices continue to fall, unemployment is going to spike, activity is going to slow, and the economy is going tank. And the damage won't be limited to the US either. Get a load of this from the UK Telegraph:
"A third of Britain's listed oil and gas companies are in danger of running out of working capital and even going bankrupt amid a slump in the value of crude, according to new research.

Financial risk management group Company Watch believes that 70pc of the UK's publicly listed oil exploration and production companies are now unprofitable, racking up significant losses in the region of £1.8bn.

Such is the extent of the financial pressure now bearing down on highly leveraged drillers in the UK that Company Watch estimates that a third of the 126 quoted oil and gas companies on AIM and the London Stock Exchange are generating no revenues.

The findings are the latest warning to hit the oil and gas industry since a slump in the price of crude accelerated in November when the Organisation of Petroleum Exporting Countries (Opec) decided to keep its output levels unchanged. The decision has caused carnage in oil markets with a barrel of Brent crude falling 45pc since June to around $60 per barrel." (Third of listed UK oil and gas drillers face bankruptcy, Telegraph)
"Carnage in oil markets," you say?
Indeed. Many of the oil-drilling newcomers set up shop to take advantage of the low rates and easy money available in the bond market. Now that prices have crashed, investors are avoiding energy-related junk bonds like the plague which is making it impossible for the smaller companies to roll over their debt or attract fresh capital. When these companies start to default en masse, as they certainly will if prices don't rebound, the blowback will be felt on bank balance sheets across the country creating the possibility of another financial meltdown. (Now we ARE talking about a financial crisis.)
The basic problem is that the banks have bundled a lot of their dodgy debt into financially-engineered products like Collateralized Loan Obligations (CLOs) and Collateralized Debt Obligations (CDOs) that will inevitably fail when borrowers are no longer able to service the loans. The rot can be concealed for a while, but eventually, if prices don't recover, a significant number of these companies are going to go under which will push the perennially-undercapitalized banking system to the brink once again. That's why Washington's plan to push down oil prices (to hurt the Russian economy) might have made sense on a short-term basis (to shock Putin into submission) but as a long-term strategy, it's nuts. And what's even crazier, is that Obama has decided to double-down on the same wacky plan even though Putin hasn't given an inch. Check this out from Reuters on Monday:
"The Obama administration has opened a new front in the global battle for oil market share, effectively clearing the way for the shipment of as much as a million barrels per day of ultra-light U.S. crude to the rest of the world…

The Department of Commerce on Tuesday ended a year-long silence on a contentious, four-decade ban on oil exports, saying it had begun approving a backlog of requests to sell processed light oil abroad.

The action comes at a critical juncture for the global oil market. World prices have halved to less than $60 a barrel since the summer as top exporter Saudi Arabia, once a staunch defender of $100 oil, refused to cut production in the face of surging U.S. shale output and tempered global demand…

With global oil markets in flux, it is far from clear how much U.S. condensate will find a market overseas."
(Analysis – U.S. opening of oil export tap widens battle for global market, Reuters)
Does that make sense to you, dear reader? Why would Obama suddenly opt to change the rules of the game when he knows it will increase supply and push prices down even further? Why would he do that? Certainly, he doesn't want to inflict more pain on domestic producers, does he?
Let's let Obama answer the question for himself. Here's a clip from an NPR interview with the president just last week. About halfway through the interview, NPR's Steve Inskeep asks Obama: "Are you just lucky that the price of oil went down and therefore their currency collapsed or …is it something that you did?
Barack Obama: If you'll recall, their (Russia) economy was already contracting and capital was fleeing even before oil collapsed. And part of our rationale in this process was that the only thing keeping that economy afloat was the price of oil. And if, in fact, we were steady in applying sanction pressure, which we have been, that over time it would make the economy of Russia sufficiently vulnerable that if and when there were disruptions with respect to the price of oil — which, inevitably, there are going to be sometime, if not this year then next year or the year after — that they'd have enormous difficulty managing it." (Transcript: President Obama's Full NPR Interview)
Am I mistaken or did Obama just admit that he wanted "disruptions" in the "price of oil" because he figured Putin would have "enormous difficulty managing it"?
Isn't that the same as saying that it was all part of Washington's plan; that plunging prices were just the icing on the cake for their asymmetrical attack on the Russian economy? It sure sounds like it. And that would also explain why Obama decided to allow domestic producers to dump more oil on the market even though it's going to send prices lower. Apparently, none of that matters as long as the policy hurts Russia.
So maybe the US-Saudi oil collusion theory isn't so far fetched after all. Maybe Salon's Patrick L. Smith was right when he said:
"Less than a week after the Minsk Protocol was signed, Kerry made a little-noted trip to Jeddah to see King Abdullah at his summer residence. When it was reported at all, this was put across as part of Kerry's campaign to secure Arab support in the fight against the Islamic State.

Stop right there. That is not all there was to the visit, my trustworthy sources tell me. The other half of the visit had to do with Washington's unabated desire to ruin the Russian economy. To do this, Kerry told the Saudis 1) to raise production and 2) to cut its crude price. Keep in mind these pertinent numbers: The Saudis produce a barrel of oil for less than $30 as break-even in the national budget; the Russians need $105.

Shortly after Kerry's visit, the Saudis began increasing production, sure enough — by more than 100,000 barrels daily during the rest of September, more apparently to come…

Think about this. Winter is coming, there are serious production outages now in Iraq, Nigeria, Venezuela and Libya, other OPEC members are screaming for relief, and the Saudis make back-to-back moves certain to push falling prices still lower? You do the math, with Kerry's unreported itinerary in mind, and to help you along I offer this from an extremely well-positioned source in the commodities markets: "There are very big hands pushing oil into global supply now," this source wrote in an e-mail note the other day." ("What Really Happened in Beijing: Putin, Obama, Xi And The Back Story The Media Won't Tell You", Patrick L. Smith, Salon)
Vladimir Putin: Public Enemy Number 1
Let's cut to the chase: All these oil shenanigans are really aimed at just one man: Vladimir Putin. There are a number of reasons why Washington wants to get rid of Putin, the first of which is that the Russian president has become an obstacle to US plans to pivot to Asia. That's the main issue. As long as Putin is calling the shots, there's going to be growing resistance to NATO's push eastward and Washington's military expansion across Central Asia which could undermine US plans to encircle China and remain the world's only superpower. Here's an excerpt from Zbigniew Brzezinski's The Grand Chessboard which helps to explain the importance Eurasia is in terms of Washington's global ambitions:
"..how America 'manages' Eurasia is critical. A power that dominates Eurasia would control two of the world's three most advanced and economically productive regions. A mere glance at the map also suggests that control over Eurasia would almost automatically entail Africa's subordination, rendering the Western Hemisphere and Oceania (Australia) geopolitically peripheral to the world's central continent. About 75 per cent of the world's people live in Eurasia, and most of the world's physical wealth is there as well, both in its enterprises and underneath its soil. Eurasia accounts for about three-fourths of the world's known energy resources." (p.31) (Zbigniew Brzezinski, The Grand Chessboard: American Primacy And It's Geostrategic Imperatives, Key Quotes From Zbigniew Brzezinksi's Seminal Book)
Get it? Prevailing in Asia is the administration's top priority, which is why the US is rapidly moving its military assets into place. Check this out from the World Socialist Web Site:
"Under Obama's "pivot to Asia," the Pacific Command will account for more than 60 percent of all US military forces, up from 50 percent under the Bush administration. This includes new US basing arrangements in the Philippines, Singapore and Australia, as well as renewed close military ties to New Zealand, and ongoing US military exercises in Thailand, Malaysia, Indonesia and Taiwan….(as well as) large troop deployments in Japan and South Korea, including nuclear-armed units." (The global scale of US militarism, Patrick Martin, World Socialist Web Site)
The "Big Shift" is already underway, which is why obstacles have to be removed and Putin's got to go.
Second, Putin has made himself a general nuisance vis a vis US strategic objectives in Syria, Iran and Ukraine. In Syria, Putin has thrown his support behind Assad who the US wants to topple in order to redraw the map of the Middle East and build gas pipelines from Qatar to Turkey to access the lucrative EU market.
Third, Putin has strengthened a number of coalitions and alliances –the BRICS bank, the Eurasian Economic Union, and the Shanghai Cooperation Organization–all of which pose a challenge to US dominance in the region as well as a viable alternative to neoliberal financial institutions like the IMF and World Bank. Going back to Brzezinski's "chessboard" once again, we see that the US should not feel threatened by any one nation, but should be constantly on-the-lookout for "regional coalitions" which could derail its plans to rule the world. Here's Brzezinski again:
"…the three grand imperatives of imperial geostrategy are to prevent collusion and maintain security dependence among the vassals, to keep tributaries pliant and protected, and to keep the barbarians from coming together." (p.40)

"Henceforth, the United States may have to determine how to cope with regional coalitions that seek to push America out of Eurasia, thereby threatening America's status as a global power." (p.55) (Zbigniew Brzezinski, The Grand Chessboard: American Primacy And It's Geostrategic Imperatives, Key Quotes From Zbigniew Brzezinksi's Seminal Book)
As a founding member and primary backer of these organizations, (and initiator of giant energy deals with China, India and Turkey) Putin has become Washington's biggest headache and a logical target for regime change.
Finally, Putin is doing whatever he can to circumvent dollar-denominated business and financial transactions. The move away from the buck is a direct attack on the US's greatest source of power, the ability to control the de facto international currency and to require that other nation's stockpile dollars for their energy purchases which are then recycled into US financial assets, stocks bonds and US Treasuries. This petrodollar-recycling scam allows the US to run gigantic current account deficits without raising interest rates or reducing government spending. Putin's anti-dollar policies could diminish the greenback's role as reserve currency and put an end to a system that institutionalizes looting.
This is why Putin is Public Enemy Number 1. It's because he's blocking the US pivot to Asia, strengthening anti-Washington coalitions, sabotaging US foreign policy objectives in the Middle East, creating institutions that rival the IMF and World Bank, transacting massive energy deals with critical US allies, increasing membership in an integrated, single-market Eurasian Economic Union, and attacking the structural foundation upon which the entire US empire rests, the dollar.
Naturally, Washington's powerbrokers are worried about these developments, just as they are worried about the new world order which is gradually taking shape under Putin's guidance. But, so far, they haven't been able to do anything about it. The administration's regime change schemers and fantasists have shown time-and-again that they're no match for Bad Vlad who has beaten them at every turn.
Bravo, Putin.
That America is spiraling on a collision course with calamity seems certain. We seem to be ignoring virtually all of the lessons of history, and, well, you know what one fellow said about the folly of doing that. I join the consensus of patriots and freedom-lovers throughout the country who believe America's future is filled with all sorts of stormy weather. As a matter of fact, the storms are all around us already.
For one thing, most of the people who should be helping us in the freedom fight cannot see past the end of their ballot. They think, as long as they elect "conservatives" to public office, all is well with the world. And since the GOP now controls both houses of Congress in Washington, D.C., the vast majority of our good brothers and sisters are already all tucked in for extended hibernation. They will reemerge from under their blankets about three months before the general election in 2016 and start screaming their support for whomever the neocon candidate happens to be. Why, they are already ignoring the fact that the precious Republicans they just elected to the House and Senate a few weeks ago are already signaling that they will to do NOTHING to thwart Barack Obama's executive amnesty, which was the single most defining issue that helped give the Congress to the GOP. Republicans on Capitol Hill are famous for doing NOTHING to fulfill the promises they made on the campaign trail to their constituents. And Republican voters are famous for reelecting them anyway. Good grief! Republicans in South Carolina can't even get rid of Lindsey Graham; and Republicans in Arizona can't even get rid of John McCain.
Even the great Republican "conservative," Mitt Romney, is now on record saying that the GOP should "swallow hard" and pass a PERMANENT amnesty bill. And even though he says he is not running for President in two years, he continues to be the frontrunner in most of the GOP preference polls. What does that tell you?
See the report here:
Mitt Romney: Republicans Should 'Swallow Hard' And Pass 'Permanent' Amnesty Bill
Congresswoman Michele Bachmann had the guts to tell the truth about what the GOP plans to do regarding Obama's blatantly illegal executive amnesty decision. Bachmann told Breitbart.com that House Speaker John Boehner and the GOP leadership have "no intention" of resisting Obama's executive amnesty. And she is right.
See the report here:
'We Will Not Engage': Michele Bachmann Reveals GOP Plans To Ignore Executive Amnesty
Staunch anti-amnesty senator, Jeff Sessions, said this past Tuesday that the GOP House was about to break their 2014 campaign promises to stop Obama's executive amnesty. Also on Tuesday, Breitbart.com reported that House Speaker Boehner appears ready to deal with Democrats in order to cut a deal to SAVE amnesty. See the report here:
Boehner Poised To Deal With The Devil To Avoid Shut-Down?
Oh, we can expect Boehner and Company to blow a lot of smoke and pass some frivolous and toothless legislation or resolutions that will be designed to placate a gullible and naïve Republican constituency, but that will do absolutely NOTHING to stop Obama's amnesty. The only thing John Boehner and his ilk in Congress don't like is Obama beat them to the punch by issuing executive amnesty to illegals. GOP leaders were hoping to pass legislative amnesty. So, now that Obama has beaten them to the punch, Boehner and his fellow establishment Republicans will quickly fall in line.
But what the U.S. House of Representatives ought to do (if they had any guts, which they don't) is impeach this President for his executive amnesty.
Barack Obama's executive amnesty is the worst kind of abuse of power and illegal conduct. The President of the United States is charged with "executing" the laws of our country. He has no lawful authority to set those laws aside with an Executive Order, which is exactly what he did. Compared to the crimes of Barack Obama, the impeachment charges against Bill Clinton look pale. Then again, compared to the Congress of 1994, this Congress looks pale.
The effect of our government's refusal to respect our nation's borders and laws over the next several years will be devastating consequences to the very fiber and fabric of this once great republic. The toll on State and local budgets, education quality, crime rates, employment opportunities, and quality of life will be incalculable. And this is just one menace that the miscreants in Washington, D.C., are inflicting upon us.
For much of the Twentieth Century (and now into the Twenty-First Century), Americans repeatedly choose to elect irresponsible, power-hungry, egotistical, self-centered sycophants (from both major parties) to public office. In addition, most of our churches are little more than glorified social clubs, entertainment centers, playgrounds, and government corporations. Our major media, in both the national and most local markets, are largely government propaganda outlets–as are most of our educational institutions. Furthermore, Christians and unbelievers, pastors of all stripes, Republicans and Democrats, and conservatives and liberals alike, are sitting back passively and indifferently as our country is being turned into a humongous Police State. Absent a significant shift in the hearts and minds of the American people, our liberties cannot long endure.
However, with all of the above said, I still refuse to join the ranks of Chicken Little.
For some reason, known only to God, we still have a semblance of freedom in this land. Granted, it's only a semblance, but the curtain has not yet fully fallen on liberty. God knows we don't deserve even the semblance of freedom that we still enjoy. Over the last sixty-plus years, we have been doing our best to throw America into the garbage heap of history. But, for some reason, the curtain has not yet fallen completely.
I would like to proffer five suggestions as to why the curtain has not yet fallen on liberty.
1. I believe God is still honoring the faith, courage, commitment, and sacrifice of America's Founding Fathers. If God would bless Old Testament Israel for the sake of Abraham, Moses, and David, I believe He would bless the United States for the sake of George Washington, Patrick Henry, and Samuel Adams.
From the days of the Pilgrims through the days of the Patriots, several generations of men and women were willing to pay, many times, a horrific price for liberty. There is no doubt in my mind that these modern generations of Americans are still clipping the coupons from the extraordinary faith and courage of our forebears.
2. More than one hundred million American citizens possess over three hundred million firearms. And a good percentage of these people not only possess a gun; they possess the mental, emotional, and spiritual resolve to use those weapons against any government that would seek to take them. There is absolutely no doubt in my mind that the deeply-rooted heritage of the American people to keep and bear arms has been largely responsible for the preservation of whatever liberties we have left. Without a heavily-armed populace within this country, there is absolutely no doubt that America (and the rest of the "free world") would have been totally enslaved decades ago.
3. The Internet. For all of the baloney, malarkey, and rubbish that can be found on the Internet, there is absolutely no question that the Internet has very successfully circumvented and shattered the monopoly of the government shills of the mainstream media. For all intents and purposes, the Internet is to America today what the "Committees of Correspondence" were to Colonial America.
Many are even predicting that the major television news networks will be out of business within the next couple or three decades–as will many of America's newspapers. CNN was once a cable dynasty; now it is barely broadcasting. MSNBC's ratings are so poor that its days are also numbered. And while FOX NEWS is currently enjoying the zenith of its existence, more people are getting their news and newsworthy information from the Internet than from all of the above combined. For all of its negatives, the Internet is a huge net positive for freedom.
4. There is still a host, and I mean a huge host, of liberty-loving people in this country who have not (and will never) accept the shackles of tyranny around their hearts. Big-Government toadies can impugn them all they want, but people such as Ron Paul, Judge Andrew Napolitano, Senator Mike Lee, Congressman Justin Amash, and millions like them, are keeping the torch of liberty burning.
The media would have us believe that old-fashioned, red-blooded freedomists have gone the way of the Brontosaurus. Or, that if any do yet exist, their numbers are so small as to be placed on the list of endangered species. Don't you believe it!
In every occupation and vocation–including in our U.S. military and federal police agencies–in virtually every village and hamlet dotted across the fruited plain, and in every age bracket, reside innumerable freedom-loving Americans in whose hearts the love of liberty reigns. Before the chains of tyranny can be placed around a person's neck, they must first be placed around their hearts. And the people I'm talking about will NEVER allow those chains to be placed around their hearts.
5. I believe the curtain has not completely dropped on liberty in this country because of the grace and sovereignty of our Creator-God. Thomas Jefferson (himself an unbeliever in the traditional sense) was exactly right when he said that liberty is the gift of God. That we still enjoy a semblance of freedom in this land indicates that His divine protection still rests upon us.
Those of us who have a Christian perspective realize that Holy Writ tells us: "For it is God which worketh in you both to will and to do of his good pleasure." (Philippians 2:13) This means that the deeply-seeded love of liberty in our hearts was planted there by our Creator. Our WILL for liberty is God-breathed. That fact, by itself, demonstrates that it's not over.
There is a line from the 2012 version of the movie "Red Dawn" that I really love. A U.S. Marine fighting with the "Wolverines," said, "I'm still breathing, so, it's not over." Indeed. You and are still breathing, folks, so, IT'S NOT OVER.
"Russia reinforced what Western and Ukrainian officials described as a stealth invasion on Wednesday [August 27], sending armored troops across the border as it expanded the conflict to a new section of Ukrainian territory. The latest incursion, which Ukraine's military said included five armored personnel carriers, was at least the third movement of troops and weapons from Russia across the southeast part of the border this week."
None of the photos accompanying this New York Times story online showed any of these Russian troops or armored vehicles.
"The Obama administration," the story continued, "has asserted over the past week that the Russians had moved artillery, air-defense systems and armor to help the separatists in Donetsk and Luhansk. 'These incursions indicate a Russian-directed counteroffensive is likely underway', Jen Psaki, the State Department spokeswoman, said. At the department's daily briefing in Washington, Ms. Psaki also criticized what she called the Russian government's 'unwillingness to tell the truth' that its military had sent soldiers as deep as 30 miles inside Ukraine territory."
Thirty miles inside Ukraine territory and not a single satellite photo, not a camera anywhere around, not even a one-minute video to show for it. "Ms. Psaki apparently [sic] was referring to videos of captured Russian soldiers, distributed by the Ukrainian government." The Times apparently forgot to inform its readers where they could see these videos.
"The Russian aim, one Western official said, may possibly be to seize an outlet to the sea in the event that Russia tries to establish a separatist enclave in eastern Ukraine."
This of course hasn't taken place. So what happened to all these Russian soldiers 30 miles inside Ukraine? What happened to all the armored vehicles, weapons, and equipment?
"The United States has photographs that show the Russian artillery moved into Ukraine, American officials say. One photo dated last Thursday, shown to a New York Times reporter, shows Russian military units moving self-propelled artillery into Ukraine. Another photo, dated Saturday, shows the artillery in firing positions in Ukraine."
Where are these photographs? And how will we know that these are Russian soldiers? And how will we know that the photos were taken in Ukraine? But most importantly, where are the fucking photographs?
Why am I so cynical? Because the Ukrainian and US governments have been feeding us these scare stories for eight months now, without clear visual or other evidence, often without even common sense. Here are a few of the many other examples, before and after the one above:
The Wall Street Journal (March 28) reported: "Russian troops massing near Ukraine are actively concealing their positions and establishing supply lines that could be used in a prolonged deployment, ratcheting up concerns that Moscow is preparing for another [sic] major incursion and not conducting exercises as it claims, US officials said."
"The Ukrainian government charged that the Russian military was not only approaching but had actually crossed the border into rebel-held regions." (Washington Post, November 7)
"U.S. Air Force Gen. Philip M. Breedlove told reporters in Bulgaria that NATO had observed Russian tanks, Russian artillery, Russian air defense systems and Russian combat troops enter Ukraine across a completely wide-open border with Russia in the previous two days." (Washington Post, November 13)
"Ukraine accuses Russia of sending more soldiers and weapons to help rebels prepare for a new offensive. The Kremlin has repeatedly denied aiding the separatists." (Reuters, November 16)
Since the February US-backed coup in Ukraine, the State Department has made one accusation after another about Russian military actions in Eastern Ukraine without presenting any kind of satellite imagery or other visual or documentary evidence; or they present something that's very unclear and wholly inconclusive, such as unmarked vehicles, or unsourced reports, or citing "social media"; what we're left with is often no more than just an accusation. The Ukrainian government has matched them.
On top of all this we should keep in mind that if Moscow decided to invade Ukraine they'd certainly provide air cover for their ground forces. There has been no mention of air cover.
This is all reminiscent of the numerous stories in the past three years of "Syrian planes bombing defenseless citizens". Have you ever seen a photo or video of a Syrian government plane dropping bombs? Or of the bombs exploding? When the source of the story is mentioned, it's almost invariably the rebels who are fighting against the Syrian government. Then there's the "chemical weapon" attacks by the same evil Assad government. When a photo or video has accompanied the story I've never once seen grieving loved ones or media present; not one person can be seen wearing a gas mask. Is it only children killed or suffering? No rebels?
And then there's the July 17 shootdown of Malaysia Flight MH17, over eastern Ukraine, taking 298 lives, which Washington would love to pin on Russia or the pro-Russian rebels. The US government – and therefore the US media, the EU, and NATO – want us all to believe it was the rebels and/or Russia behind it. The world is still waiting for any evidence. Or even a motivation. Anything at all. President Obama is not waiting. In a talk on November 15 in Australia, he spoke of "opposing Russia's aggression against Ukraine – which is a threat to the world, as we saw in the appalling shoot-down of MH17". Based on my reading, I'd guess that it was the Ukranian government behind the shootdown, mistaking it for Putin's plane that reportedly was in the area.
Can it be said with certainty that all the above accusations were lies? No, but the burden of proof is on the accusers, and the world is still waiting. The accusers would like to create the impression that there are two sides to each question without actually having to supply one of them.
The United States punishing Cuba
For years American political leaders and media were fond of labeling Cuba an "international pariah". We haven't heard that for a very long time. Perhaps one reason is the annual vote in the United Nations General Assembly on the resolution which reads: "Necessity of ending the economic, commercial and financial embargo imposed by the United States of America against Cuba". This is how the vote has gone (not including abstentions):

This year Washington's policy may be subject to even more criticism than usual due to the widespread recognition of Cuba's response to the Ebola outbreak in Africa.
Each fall the UN vote is a welcome reminder that the world has not completely lost its senses and that the American empire does not completely control the opinion of other governments.
Speaking before the General Assembly before last year's vote, Cuban Foreign Minister Bruno Rodriguez declared: "The economic damages accumulated after half a century as a result of the implementation of the blockade amount to $1.126 trillion." He added that the blockade "has been further tightened under President Obama's administration", some 30 US and foreign entities being hit with $2.446 billion in fines due to their interaction with Cuba.
However, the American envoy, Ronald Godard, in an appeal to other countries to oppose the resolution, said:
The international community … cannot in good conscience ignore the ease and frequency with which the Cuban regime silences critics, disrupts peaceful assembly, impedes independent journalism and, despite positive reforms, continues to prevent some Cubans from leaving or returning to the island. The Cuban government continues its tactics of politically motivated detentions, harassment and police violence against Cuban citizens.
So there you have it. That is why Cuba must be punished. One can only guess what Mr. Godard would respond if told that more than 7,000 people were arrested in the United States during the Occupy Movement's first 8 months of protest in 2011-12 ; that many of them were physically abused by the police; and that their encampments were violently destroyed.
Does Mr. Godard have access to any news media? Hardly a day passes in America without a police officer shooting to death an unarmed person.
As to "independent journalism" – What would happen if Cuba announced that from now on anyone in the country could own any kind of media? How long would it be before CIA money – secret and unlimited CIA money financing all kinds of fronts in Cuba – would own or control most of the media worth owning or controlling?
The real reason for Washington's eternal hostility toward Cuba has not changed since the revolution in 1959 – The fear of a good example of an alternative to the capitalist model; a fear that has been validated repeatedly over the years as many Third World countries have expressed their adulation of Cuba.
How the embargo began: On April 6, 1960, Lester D. Mallory, US Deputy Assistant Secretary of State for Inter-American Affairs, wrote in an internal memorandum: "The majority of Cubans support Castro … The only foreseeable means of alienating internal support is through disenchantment and disaffection based on economic dissatisfaction and hardship. … every possible means should be undertaken promptly to weaken the economic life of Cuba." Mallory proposed "a line of action which … makes the greatest inroads in denying money and supplies to Cuba, to decrease monetary and real wages, to bring about hunger, desperation and overthrow of government."
Later that year, the Eisenhower administration instituted its suffocating embargo against its everlasting enemy.
The United States judging and punishing the rest of the world
In addition to Cuba, Washington currently is imposing economic and other sanctions against Burma, Democratic Republic of the Congo, Iran, China, North Korea, South Korea, United Arab Emirates, Pakistan, Sri Lanka, Switzerland, Turkey, Germany, Malaysia, South Africa, Mexico, South Sudan, Sudan, Russia, Syria, Venezuela, India, and Zimbabwe. These are sanctions mainly against governments, but also against some private enterprises; there are also many other sanctions against individuals not included here.
Imbued with a sense of America's moral superiority and "exceptionalism", each year the State Department judges the world, issuing reports evaluating the behavior of all other nations, often accompanied by sanctions of one kind or another. There are different reports rating how each lesser nation has performed in the previous year in areas such as religious freedom, human rights, the war on drugs, trafficking in persons, and sponsors of terrorism. The criteria used in these reports are often political. Cuba, for example, is always listed as a sponsor of terrorism whereas anti-Castro exile groups in Florida, which have committed literally hundreds of terrorist acts over the years, are not listed as terrorist groups or supporters of such.
Cuba, which has been on the sponsor-of-terrorism list longer (since 1982) than any other country, is one of the most glaring anomalies. The most recent State Department report on this matter, in 2012, states that there is "no indication that the Cuban government provided weapons or paramilitary training to terrorist groups." There are, however, some retirees of Spain's Basque terrorist group ETA (which appears on the verge of disbanding) in Cuba, but the report notes that the Cuban government evidently is trying to distance itself from them by denying them services such as travel documents. Some members of the Revolutionary Armed Forces of Colombia (FARC) have been allowed into Cuba, but that was because Cuba was hosting peace talks between the FARC and the Colombian government, which the report notes.
The US sanctions mechanism is so effective and formidable that it strikes fear (of huge fines) into the hearts of banks and other private-sector organizations that might otherwise consider dealing with a listed state.
Some selected thoughts on American elections and democracy
In politics, as on the sickbed, people toss from one side to the other, thinking they will be more comfortable.
– Johann Wolfgang von Goethe (1749-1832)
2012 presidential election:
223,389,800 eligible to vote
128,449,140 actually voted
Obama got 65,443,674 votes
Obama was thus supported by 29.3% of eligible voters
There are 100 million adults in the United States who do not vote. This is a very large base from which an independent party can draw millions of new votes.
If God had wanted more of us to vote in elections, he would give us better candidates.
"The people can have anything they want. The trouble is, they do not want anything. At least they vote that way on election day." – Eugene Debs, American socialist leader (1855-1926)
"If persons over 60 are the only American age group voting at rates that begin to approximate European voting, it's because they're the only Americans who live in a welfare state – Medicare, Social Security, and earlier, GI loans, FHA loans." – John Powers
"The American political system is essentially a contract between the Republican and Democratic parties, enforced by federal and state two-party laws, all designed to guarantee the survival of both no matter how many people despise or ignore them." – Richard Reeves (1936- )
The American electoral system, once the object of much national and international pride, has slid inexorably from "one person, one vote", to "one dollar, one vote".
Noam Chomsky: "It is important to bear in mind that political campaigns are designed by the same people who sell toothpaste and cars. Their professional concern in their regular vocation is not to provide information. Their goal, rather, is deceit."
If the Electoral College is such a good system, why don't we have it for local and state elections?
"All the props of a democracy remain intact – elections, legislatures, media – but they predominantly function at the service of the oligarchy." – Richard Wolff
The RepDem Party holds elections as if they were auctions; indeed, an outright auction for the presidency would be more efficient. To make the auction more interesting we need a second party, which must at a minimum be granted two privileges: getting on the ballot in all 50 states and taking part in television debates.
The US does in fact have two parties: the Ins and the Outs … the evil of two lessers.
Alexander Cockburn: "There was a time once when 'lesser of two evils' actually meant something momentous, like the choice between starving to death on a lifeboat, or eating the first mate."
Cornel West has suggested that it's become difficult to even imagine what a free and democratic society, without great concentrations of corporate power, would look like, or how it would operate.
The United States now resembles a police state punctuated by elections.
How many voters does it take to change a light bulb? None. Because voters can't change anything.
H.L. Mencken (1880-1956): "As democracy is perfected, the office represents, more and more closely, the inner soul of the people. We move toward a lofty ideal. On some great and glorious day the plain folks of the land will reach their heart's desire at last, and the White House will be adorned by a downright moron."
"All elections are distractions. Nothing conceals tyranny better than elections." – Joel Hirschhorn
In 1941, one of the country's more acerbic editors, a priest named Edward Dowling, commented: "The two greatest obstacles to democracy in the United States are, first, the widespread delusion among the poor that we have a democracy, and second, the chronic terror among the rich, lest we get it."
"Elections are a necessary, but certainly not a sufficient, condition for democracy. Political participation is not just a casting of votes. It is a way of life." – UN Human Development Report, 1993
"If you don't vote, you can't complain!" I reply, "You have it backwards. If you DO vote, you can't complain. You asked for it, and they're going to give it to you, good and hard."
"How to get people to vote against their interests and to really think against their interests is very clever. It's the cleverest ruling class that I have ever come across in history. It's been 200 years at it. It's superb." – Gore Vidal
We can't use our democracy/our vote to change the way the economy functions. This is very anti-democratic.
What does a majority vote mean other than that the sales campaign was successful?
Roman Emperor Marcus Aurelius: "The opinion of 10,000 men is of no value if none of them know anything about the subject."
We do have representative government. The question is: Who does our government represent?
"On the day after the 2002 election I watched a crawl on the bottom of the CNN news screen. It said, 'Proprietary software may make inspection of electronic voting systems impossible.' It was the final and absolute coronation of corporate rights over democracy; of money over truth." – Mike Ruppert, RIP
"It's not that voting is useless or stupid; rather, it's the exaggeration of the power of voting that has drained the meaning from American politics." – Michael Ventura
After going through the recent national, state and local elections, I am now convinced that taxation without representation would have been a much better system.
"Ever since the Constitution was illegally foisted on the American people we have lived in a blatant plutocracy. The Constitution was drafted in secret by a self-appointed elite committee, and it was designed to bring three kinds of power under control: Royalty, the Church, and the People. All were to be subjugated to the interests of a wealthy elite. That's what republics were all about. And that's how they have functioned ever since." – Richard K. Moore
"As demonstrated in Russia and numerous other countries, when faced with a choice between democracy without capitalism or capitalism without democracy, Western elites unhesitatingly embrace the latter." – Michael Parenti
"The fact that a supposedly sophisticated electorate had been stampeded by the cynical propaganda of the day threw serious doubt on the validity of the assumptions underlying parliamentary democracy as a whole." – British Superspy for the Soviets Kim Philby (1912-1988), explaining his reasons for becoming a Communist instead of turning to the Labour Party
US Supreme Court Justice Louis Brandeis (1856-1941): "We may have democracy in this country, or we may have wealth concentrated in the hands of a few, but we cannot have both."
"We don't need to run America like a business or like the military. We need to run America like a democracy." – Jill Stein, Green Party presidential candidate 2012
Notes
Democracy Now!, October 30, 2013
Huffingfton Post, May 3, 2012
Department of State, Foreign Relations of the United States, 1958-1960, Volume VI, Cuba(1991), p.885 (online here)
For the complete detailed list, see U.S. Department of State, Nonproliferation Sanctions
U.S. Department of State, "Country Reports on Terrorism 2012, Chapter 3: State Sponsors of Terrorism," May 20, 2013
15 Reasons Why Americans Think We're Still in a Recession…
1: Wage Stagnation:  Why America's Workers Need Faster Wage Growth—And What We Can Do About It, Elise Gould, EPI
Economic Policy Institute:
"The hourly compensation of a typical worker grew in tandem with productivity from 1948-1973. …. After 1973, productivity grew strongly, especially after 1995, while the typical worker's compensation was relatively stagnant. This divergence of pay and productivity has meant that many workers were not benefitting from productivity growth—the economy could afford higher pay but it was not providing it.

Between 1979 and 2013, productivity grew 64.9 percent, while hourly compensation of production and nonsupervisory workers, who comprise over 80 percent of the private-sector workforce, grew just 8.0 percent. Productivity thus grew eight times faster than typical worker compensation…" (EPI)
(Note: Flatlining wages are the Number 1 reason that the majority of Americans still think we're in a recession.)
2: Most people still haven't recouped what they lost in the crash: Typical Household Wealth Has Plunged 36% Since 2003, Zero Hedge
Zero Hedge:
"According to a new study by the Russell Sage Foundation, the inflation-adjusted net worth for the typical household was $87,992 in 2003. Ten years later, it was only $56,335, or a 36% decline… Welcome to America's Lost Decade.

Simply put, the NY Times notes, it's not merely an issue of the rich getting richer. The typical American household has been getting poorer, too.

The reasons for these declines are complex and controversial, but one point seems clear: When only a few people are winning and more than half the population is losing, surely something is amiss. (chart)"
3: Most working people are still living hand-to-mouth:  76% of Americans are living paycheck-to-paycheck, CNN Money
CNN:
"Roughly three-quarters of Americans are living paycheck-to-paycheck, with little to no emergency savings, according to a survey released by Bankrate.com Monday.

Fewer than one in four Americans have enough money in their savings account to cover at least six months of expenses, enough to help cushion the blow of a job loss, medical emergency or some other unexpected event, according to the survey of 1,000 adults. Meanwhile, 50% of those surveyed have less than a three-month cushion and 27% had no savings at all…

Last week, online lender CashNetUSA said 22% of the 1,000 people it recently surveyed had less than $100 in savings to cover an emergency, while 46% had less than $800. After paying debts and taking care of housing, car and child care-related expenses, the respondents said there just isn't enough money left over for saving more."
4: Millennials are Drowning in Red Ink:  Biggest economic threat? Student loan debt, USA Today
USA Today:
"Total student loan debt has grown more than 150% since 2005… We have more than $1.2 trillion of student loan debt…
And while 6.7 million borrowers in repayment mode are delinquent, the sad fact is that many lenders aren't exactly incentivized to work with borrowers. Unlike all other forms of debt, student loans can't be discharged in bankruptcy. Moreover, lenders can garnish wages and even Social Security benefits to get repaid…

In 2005 student loans accounted for less than 13% of the total debt load for adults age 20-29. Today, student loans account for nearly 37% of that group's outstanding debt. Student loan debt's slice of the total debt pie for the age group nearly tripled! The average loan balance for that age group is now more than $25,500, up from $15,900 in 2005."
5: Downward mobility is the new reality: Middle-Class Death Watch: As Poverty Spreads, 28 Percent of Americans Fall Out of Middle Class, Truthout
Truthout:
"The promise of the American dream has given many hope that they themselves could one day rise up the economic ladder. But according to a study released those already in financially-stable circumstances should fear falling down a few rungs too. The study…  found that nearly a third of Americans who were part of the middle class as teenagers in the 1970s have fallen out of it as adults…  its findings suggest the relative ease with which people in the U.S. can end up in low-income, low-opportunity lifestyles — even if they started out with a number of advantages. Though the American middle class has been repeatedly invoked as a key factor in any economic turnaround, numerous reports have suggested that the middle class enjoys less existential security than it did a generation ago, thanks to stagnating incomes and the decline of the industrial sector."
6: People are more vulnerable than ever:  "More Than Half Of All Americans Can't Come Up With $400 In Emergency Cash… Unless They Borrow", Personal Liberty
"According to a Federal Reserve report on American households' "economic well-being" in 2013,  fewer than half of all Americans said they'd be able to come up with four Benjamins on short notice to deal with an unexpected expense…
Under a section titled "Savings," the report notes that "[s]avings are depleted for many households after the recession," and lists the following findings:

*Among those who had savings prior to 2008, 57 percent reported using up some or all of their savings in the Great Recession and its aftermath.

*39 percent of respondents reported having a rainy day fund adequate to cover three months of expenses.

*Only 48 percent of respondents said that they would completely cover a hypothetical emergency expense costing $400 without selling something or borrowing money.
7: Working people are getting poorer: The Typical Household, Now Worth a Third, New York Times
NYT:
"The inflation-adjusted net worth for the typical household was $87,992 in 2003. Ten years later, it was only $56,335, or a 36 percent decline, according to a study financed by the Russell Sage Foundation.

Those are the figures for a household at the median point in the wealth distribution — the level at which there are an equal number of households whose worth is higher and lower. But during the same period, the net worth of wealthy households increased substantially…."The housing bubble basically hid a trend of declining financial wealth at the median that began in 2001," said Fabian T. Pfeffer, the University of Michigan professor who is lead author of the Russell Sage Foundation study.

The reasons for these declines are complex and controversial, but one point seems clear: When only a few people are winning and more than half the population is losing, surely something is amiss."
8: Most people can't even afford to get their teeth fixed:  7 things the middle class can't afford anymore, USA Today
USA Today:
"A vacation is an extra expense that many middle-earners cannot afford without sacrificing something else. A Statista survey found that this year 54% of people gave up purchasing big ticket items like TVs or electronics so they can go on a vacation. Others made sacrifices like reducing or eliminating their trips to the movies (47%), reducing or eliminating trips out to restaurants (43%), or avoiding purchasing small ticket items like new clothing (43%).

2–New vehicles…
3–To pay off debt…
4–Emergency savings…
5–Retirement savings…
6–Medical care…
7–Dental work…

According to the U.S. Department of Health and Human Services, "the U.S. spends about $64 billion each year on oral health care — just 4% is paid by Government programs." About 108 million people in the U.S. have no dental coverage and even those who are covered may have trouble getting the care they need, the department reports."
9: The good, high-paying jobs have vanished:  Recovery Has Created Far More Low-Wage Jobs Than Better-Paid Ones, New York Times
NYT:
"The deep recession wiped out primarily high-wage and middle-wage jobs. Yet the strongest employment growth during the sluggish recovery has been in low-wage work, at places like strip malls and fast-food restaurants.

In essence, the poor economy has replaced good jobs with bad ones. That is the conclusion of anew report from the National Employment Law Project, a research and advocacy group, analyzing employment trends four years into the recovery.

"Fast food is driving the bulk of the job growth at the low end — the job gains there are absolutely phenomenal," said Michael Evangelist, the report's author. "If this is the reality — if these jobs are here to stay and are going to be making up a considerable part of the economy — the question is, how do we make them better?"
10: More workers are throwing in the towel:  Labor Participation Rate Drops To 36 Year Low; Record 92.6 Million Americans Not In Labor Force, Zero Hedge
Zero Hedge:
"For those curious why the US unemployment rate just slid once more to a meager 5.9%, the lowest print since the summer of 2008, the answer is the same one we have shown every month since 2010: the collapse in the labor force participation rate, which in September slid from an already three decade low 62.8% to 62.7% – the lowest in over 36 years, matching the February 1978 lows. And while according to the Household Survey, 232,000 people found jobs, what is more disturbing is that the people not in the labor force, rose to a new record high, increasing by 315,000 to 92.6 million!

Bottom line: Unemployment has gone down because more people aren't working and have fallen off the radar."
11: Nearly twice as many people still rely on Food Stamps than before the recession: Food-stamp use is falling from its peak, Marketwatch
Marketwatch:
"Food-stamp use is finally moving away from the peak. At 46.1 million people, total food-stamp usage is down about 4% from its high in December 2012 of 47.8 million. Only eight states in March (the latest data available) were up from the same month of 2013.

It's still not great news, however, considering there were 26.3 million people receiving food stamps in 2007…"
12: The ocean of  red ink continues to grow: American Household Credit Card Debt Statistics: 2014, Nerd Wallet Finance
Nerd Wallet Finance:
U.S. household consumer debt profile:

*Average credit card debt: $15,607

*Average mortgage debt: $153,500

*Average student loan debt: $32,656

In total, American consumers owe:

*$11.63 trillion in debt

*An increase of 3.8% from last year

*$880.5 billion in credit card debt

*$8.07 trillion in mortgages

*$1,120.3 billion in student loans

*An increase of 11.5% from last year
13: No Recovery for working people: The collapse of household income in the US, World Socialist Web Site
WSWS:
"The US Federal Reserve's latest Survey of Consumer Finances, released last Thursday, documents a devastating decline in economic conditions for a large majority of the population during the so-called economic recovery.
The report reveals that between 2007 and 2013, the income of a typical US household fell 12 percent. The median American household now earns $6,400 less per year than it did in 2007.

Source: Federal Reserve Survey of Consumer Finances
Much of the decline occurred during the "recovery" presided over by the Obama administration. In the three years between 2010 and 2013, the annual income of a typical household fell by an additional 5 percent.
The report also shows that wealth has become even more concentrated in the topmost economic layers. The wealth share of the top 3 percent climbed from 44.8 percent in 1989 to 54.4 percent in 2013. The share of wealth held by the bottom 90 percent fell from 33.2 percent in 1989 to 24.7 percent in 2013."
14: Most people will work until they die:  The Greatest Retirement Crisis In American History, Forbes
Forbes:
"We are on the precipice of the greatest retirement crisis in the history of the world. In the decades to come, we will witness millions of elderly Americans, the Baby Boomers and others, slipping into poverty.

Too frail to work, too poor to retire will become the "new normal" for many elderly Americans.

That dire prediction… is already coming true. Our national demographics, coupled with indisputable glaringly insufficient retirement savings and human physiology, suggest that a catastrophic outcome for at least a significant percentage of our elderly population is inevitable. With the average 401(k) balance for 65 year olds estimated at $25,000 by independent experts …the decades many elders will spend in forced or elected "retirement" will be grim…

The signs of the coming retirement crisis are all around you. Who's bagging your groceries: a young high school kid or an older "retiree" who had to go back to work to supplement his income or qualify for health insurance?"
15: Americans are more pessimistic about the future, Polling Report
According to a CNN/ORC Poll May 29-June 1, 2014:
"Do you agree or disagree? The American dream has become impossible for most people to achieve."

Agree: 59%

Disagree: 40%

Unsure: 1%

According to a NBC News/Wall Street Journal Poll conducted by the polling organizations of Peter Hart (D) and Bill McInturff (R). April 23-27, 2014:

"Do you agree or disagree with the following statement? Because of the widening gap between the incomes of the wealthy and everyone else, America is no longer a country where everyone, regardless of their background, has an opportunity to get ahead and move up to a better standard of living."Agree: 54%

Disagree: 43%

Mixed: 2%

Unsure: 1%

Also, according to a CBS News Poll. Jan. 17-21, 2014. N=1,018 adults nationwide.

"Looking to the future, do you think most children in this country will grow up to be better off or worse off than their parents?"Better off: 34%

Worse off: 63%

Same: 2%

Unsure: 1%

The majority of people in the United States, no longer believe in the American dream, or that America is the land of opportunity, or that their children will have a better standard of living than their own.  They've grown more pessimistic because  they haven't seen the changes they were hoping for, and because their lives are just as hard as they were right after the crash.  In fact, according to a 2014 Public Religion Research Institute poll– 72 percent of those surveyed said they think "the economy is still in recession."
Judging by the info in the 15 links above,  they're probably right.
"Financial markets are faced with uncertainty that isn't going away. The slowdown in Europe is probably in the early innings, the Fed hasn't begun to raise interest rates, and geopolitical crises seem to pop up by the day." Jeff Cox, Finance editor, CNBC
Six years of zero rates and trillions of dollars of asset purchases couldn't stop stocks from falling sharply on Wednesday. All three major indices moved deep into the red, with the Dow Jones leading the pack, dropping an eye-watering 460 points before rebounding nearly 300 points by the end of the session. Risk-free assets, particularly US Treasuries, rallied hard on the flight-to-safety move with the benchmark 10-year Treasury yield slipping to a Depression era 1.87 percent before climbing back above the 2 percent mark. US financials were the worst hit sector, taking it on the chin for 9 percent by mid-day, while Brent crude was soundly walloped, falling to a 47-month low on oversupply and deflation fears. Stock market gains for the year had nearly been wiped out before a miraculous about-face turned Armageddon into a so-so day with survivable losses. Even so, analysts have already started paring back their estimates for 4th quarter growth while traders stocked up on antacid for Thursday's opening bell.
The proximate cause of Wednesday's bloodbath was weaker than expected economic data from Europe–which is sliding towards its third recession in five years– droopy retail sales in the US, and a report from Department of Labor showing that wholesale prices for producers are edging closer towards deflation, the opposite of what the Fed is trying to achieve via its aggressive monetary policy.
But the real trigger for the selloff was not the dismal data, but the policies that have been in place since the Financial Crisis of 2008. While the Obama administration has steadily decreased demand by shaving the deficits which provide vital fiscal stimulus for the economy, (On Wednesday, the USG announced the budget deficit fell to $483 billion, the lowest since 2008) the Federal Reserve has been providing trillions of dollars of cheap money to the banks and brokerages. The result of this one-two combo has not only been the biggest transfer of wealth in human history, but also "a fundamental breakdown in the functioning of the global capitalist economy." As the International Monetary Fund (IMF) noted in a recent paper on the global recovery: "a pickup in investment has not yet materialized…reflecting concerns about low medium-term growth potential and subdued private consumption." Demand shortfalls in the advanced countries "could lead to sustained global economic weakness over a five-year period." (IMF report records global economic breakdown, Nick Beams, World Socialist Web Site)
Simply put: The Fed's policies have made investors richer, but they haven't created opportunities for recycling profits, which is a critical part of capitalism's so called virtuous circle. Anemic investment, means less hiring, less spending, weaker demand and slower growth, all of which are visible in today's sluggish, underperforming economy. Pumping money into financial assets (QE) can fatten the bank accounts of rich speculators, but it doesn't do jack for the economy. It just creates bubbles that burst in a flurry of panic selling. Here's more from Larry Elliot at the Guardian:
"Six years after the global banking system had its near-death experience, interest rates are still at emergency levels. Even attaining the mediocre levels of activity expected by the IMF in the developed countries requires central banks to continue providing large amounts of stimulus. The hope has been that copious amounts of dirt-cheap money will find its way into productive uses, with private investment leading to stronger and better balanced growth.

It hasn't happened like that. Instead, as the IMF rightly pointed out, the money has not gone into economic risk-taking but into financial risk-taking. Animal spirits of entrepreneurs have remained weak but asset prices have been strong. Tighter controls on banks have been accompanied by the emergence of a powerful and largely unchecked shadow banking system. Investors have been piling into all sorts of dodgy-looking schemes, just as they did pre-2007. Recovery, such as it is, is once again reliant on rising debt levels. Central bankers know this but also know that jacking up interest rates would push their economies back into recession. They cross their fingers and hope for the best." (World leaders play war games as the next financial crisis looms, Larry Elliot, Guardian)
The policies implemented by the Obama administration and Fed have achieved precisely what they were designed to achieve; they've enriched the voracious plutocrats who run the system but left everyone else scraping by on less and less. An article in the Washington Post explains what's going on in greater detail. Here's a short excerpt from the piece titled "Why is the recovery so weak? It's the austerity, stupid":
"Welcome to Austerity U.S.A., where the deficit is back below 3 percent of GDP and growth is still disappointing—which aren't unrelated facts.
It started when the stimulus ran out. Then state and local governments had to balance their budgets amidst a still-weak economy. And finally, there was the debt ceiling deal with its staggered $2.1 trillion of cuts over the next decade. Add it all up, and there's been a big fiscal tightening the past few years, something like 4 percent of potential GDP. Indeed, as Paul Krugman points out, real government spending per capita has been falling faster now than any time since the Korean War demobilization. (chart)
And, as you can see above, all this austerity has been hurting GDP growth since 2011. It shows the Hutchins Center's new "fiscal impact measure," which looks at how much total government tax-and-spending decisions have helped or harmed growth. The dark blue line is what policy has actually done, and the light blue one is what a neutral policy would have done. So, in other words, if the dark blue line is below the light blue one, like it has the last three years, then policy has subtracted from growth." (Why is the recovery so weak? It's the austerity, stupid. Washington Post)
By cutting the deficits, Obama reduced the blood flow to the real economy and weakened demand. That's what torpedoed the recovery. In contrast, stocks and bonds have done remarkably well, mainly because the Fed pumped $4 trillion into financial assets which was a taken as a greenlight by risk takers everywhere to load up on everything from overpriced equities to low-yield junk. Now, after more than three years without as much as a 10 percent correction, the momentum has shifted, volatility has returned, earnings are looking wobbly, and the fear is palpable. Stocks appear to be headed for a major repricing event. Here's how investment guru John Hussman sums it up in his Weekly Market Comment:
"Our concerns at present mirror those that we expressed at the 2000 and 2007 peaks, as we again observe an overvalued, overbought, overbullish extreme that is now coupled with a clear deterioration in market internals, a widening of credit spreads, and a breakdown in our measures of trend uniformity…

…it has become urgent for investors to carefully examine all risk exposures. When extreme valuations on historically reliable measures, lopsided bullishness, and compressed risk premiums are joined by deteriorating market internals, widening credit spreads, and a breakdown in trend uniformity, it's advisable to make certain that the long position you have is the long position you want over the remainder of the market cycle. As conditions stand, we currently observe the ingredients of a market crash." (The Ingredients of a Market Crash, John P. Hussman, Ph.D., Hussman Funds)
Sounds ominous, doesn't it? And Hussman is not alone either. The bearish mood on Wall Street is gaining pace even among those who focus more on geopolitical issues than fundamentals, like the Bank for International Settlements' Guy Debelle who said in an interview on CNBC on Tuesday that he was concerned about the possibility of a "violent" market drop, particularly in bonds.
"If I had told you that there were heightened tensions in the Middle East and Eastern Europe, uncertainty about the turning point in U.S. monetary policy, a succession of strong U.S. job numbers, uncertainty about the future direction of policy in Europe and Japan, as well as increased concern about the strength of the Chinese economy, you would not be expecting that to make for a benign time in financial markets," Guy Debelle of the BIS said. "But that is what we have seen for much of this year." (CNBC)
But stocks aren't cratering because of tensions in the Middle East or Eastern Europe. That's baloney. And they're not falling because of decelerating global growth, plunging oil prices or Ebola. They're falling because no one knows what the heck is going to happen when QE stops at the end of October. That's what has everyone in a lather.
Keep in mind, that 20 percent of the current market cap (more than $4 trillion) is stock buybacks, that is, corporations that have bought their own shares to juice prices. Do you really think that corporate bosses are going to play as fast and loose after the Fed stops its liquidity injections?
Not on your life. They're going to pull in their horns and see what happens next. And if things go sideways, (which they very well could) they're going to cash in and call it a day. That's going to drive down stock prices and send markets reeling.
Stocks have nearly tripled since March 2009 when the Fed started this "credit easing" fiasco. So if stocks rode higher on an ocean of Fed liquidity, then how low are they going to go when the spigot is turned off? There are some, like technical strategist Abigail Doolittle, who think the S and P 500 could suffer a major heart attack, dropping as much as 60 percent before equities touch down. Check it out from CNBC:
"(Abigail) Doolittle, founder of Peak Theories Research, has made headlines lately suggesting a market correction worse than anyone thinks is ahead. The long-term possibility, she has said, is a 60 percent collapse for the S&P 500.

In early August, Doolittle was warning both of a looming "super spike" in the CBOE Volatility Index as well as a "death cross" in the 10-year Treasury note.

And so it's come to pass at least for the VIX, which has jumped 74 percent over the past three months and crossed the 20 threshold that historically has served as a dividing line between complacency and fear. That's its highest level in nearly two years. From Doolittle's perspective, the spike represents a bad-news/bad-news scenario … that the near-term selling action is likely to continue and even accelerate…

…she thinks "violent waves of selling action" could send the VIX all the way to 90—even beyond its peak during the financial crisis." (CNBC)
Now maybe Doolittle is just exaggerating or paranoid, but her conclusions do seem to square with CNN Money. Here's a clip from yesterday's article:
"CNNMoney's Fear & Greed Index is a good indicator of market momentum. Today it hit zero. That's a huge red flag and showcases extreme fear in the stock market. The only other time the index ever touched that low point is in August 2011 — shortly after Standard & Poor's downgraded the U.S. debt.

Volatility — or what some are calling "market whiplash" — is clearly back in the market. The VIX, an index that measures volatility and is one of the factors that goes into the Fear & Greed Index — spiked again today. It's up a whopping 60% in the past week alone." (Extreme Fear in stock market, CNN Money)
So fear and volatility are back, but liquidity has suddenly gone missing. That sounds like a prescription for disaster to me. So what can we expect in the weeks to come?
Well, more of the same, at least that's how Pimco's former chief executive officer Mohamed El Erian sees it. Here's how he summed it up on Wednesday in a Bloomberg editorial:
"Though unlikely to be as dramatic as today, market volatility can be expected to continue in the days and weeks to come as two forces compete: first, the forced deleveraging of certain investors, particularly overstretched hedge funds registering big October losses; second, central banks scrambling to say all sorts of reassuring things. All of this will serve to reinforce October's longstanding reputation as a threatening month for investors around the world." (October's Wild Ride Isn't Over Yet, Mohamed A. El-Erian, Bloomberg)
Did he say "forced deleveraging"?
Uh huh. So, after a 6 year bacchanal, the Fed is finally going to take away the punch bowl and force the revelers to pay down their debts, clean up their balance sheets, and take a few less risks. Is that it?
Yep. It sure looks like it. But, that could change in the blink of an eye, after all, the Fed has its friends to think of. Which means that Ms. Yellen could announce QE4 any day now.
The ISIS siege of Kobane continued overnight while cities across Turkey were set ablaze by Kurdish protestors. At least 19 civilians were killed by Turkish riot police who were trying to disperse angry crowds that had gathered to protest the government's unwillingness to defend the predominantly Kurdish city.  According to Hurriyet, "The worst violence was seen in Diyarbakır during a reported gunfight between the Kurdistan Workers Party (PKK) supporters and Hizbullah, a radical Islamist group whose members are mostly Kurdish and who allegedly aided the state in the torture and killing of Kurdish activists in the 1990s." (Hurriyet)
Although the Turkish Parliament approved a measure to allow the government to carry out cross-border  attacks on ISIS,  President Recep Tayyip Erdogan has not yet ordered its tanks and troops into battle. Erdogan has been dragging his feet so that ISIS will prevail over Kobane's Kurdish fighters thus ending their struggle for autonomy and independence.  This is why the reaction among Turkish Kurds has been so ferocious; it's because Erdogan is using the Sunni radicals as a proxy army to batter the Kurds into submission. A scathing op-ed in last night's Hurriyet summarized Erdogan's tacit support for ISIS like this:
"Naturally, one has to ask who fathered, breastfed and nourished these Islamist terrorists in hopes and aspirations of creating a Sunni Muslim Brotherhood Khalifat state? Even when Kobane and many Turkish cities were on fire, did not the Turkish prime minister talk in his interview with CNN about his readiness to order land troops into the Syrian quagmire if Washington agreed to also target al-Assad?

This is a dirty game…." (Editorial, "Kobane and Turkey are Burning", Hurriyet Daily News)
This is true, Turkey has "fathered, breastfed and nourished" Sunni extremism which is what makes the country a particularly untrustworthy ally in a war intended to defeat ISIS. According to author Nafeez Ahmed:
"With their command and control centre based in Istanbul, Turkey, military supplies from Saudi Arabia and Qatar in particular were transported by Turkish intelligence to the border for rebel acquisition. CIA operatives along with Israeli and Jordanian commandos were also training FSA rebels on the Jordanian-Syrian border with anti-tank and anti-aircraft weapons. In addition, other reports show that British and French military were also involved in these secret training programmes. It appears that the same FSA rebels receiving this elite training went straight into ISIS – last month one ISIS commander, Abu Yusaf, said, "Many of the FSA people who the west has trained are actually joining us."

("How the West Created the Islamic State", Nafeez Ahmed, CounterPunch
Then there's this from Tuesday's USA Today:
"Militants have funneled weapons and fighters through Turkey into Syria. The Islamic State and Jabhat al-Nusra, an al-Qaeda affiliate in Syria, have networks in Turkey….

Turkish security and intelligence services may have ties to Islamic State militants. The group released 46 Turkish diplomats it had abducted the day before the United States launched airstrikes against it. Turkey, a NATO member, may have known the airstrikes were about to begin and pressured its contacts in the Islamic State to release its diplomats.

"This implies Turkey has more influence or stronger ties to ISIS than people would think," Tanir said."

("5 reasons Turkey isn't attacking Islamic State in Syria", USA Today)
So while the connection between ISIS and Turkish Intelligence remains murky, it's safe to say there is a connection which makes Turkey an unreliable partner in a prospective war against the same group. So why is Erdogan so eager to lead the charge into Syria?
It's because Erdogan thinks he can use ISIS as cover for his real objective, which is seize Damascus, topple Assad and replace him with a Sunni stooge who will tilt in Ankara's direction. This is from a post by Stratfor at Zero Hedge:
"This is why Turkey is placing conditions on its involvement in the battle against the Islamic State: It is trying to convince the United States and its Sunni Arab coalition partners that it will inevitably be the power administering this region. Therefore, according to Ankara, all players must conform to its priorities, beginning with replacing Syria's Iran-backed Alawite government with a Sunni administration that will look first to Ankara for guidance." ("Turkey, The Kurds And Iraq – The Prize & Peril Of Kirkuk", zero hedge)
So this is why Turkey wants to spearhead the invasion into Syria, so it can expand its power in the region?
It appears so, but there's more to it than just that. As is true with most conflicts in the Middle East, oil is also a major factor. The Turks expect to be big players in the regional energy market after Assad is removed and pipeline corridors are established from the giant South Pars/North Dome gas field off Qatar. The pipeline will run from Qatar, to Iraq, to Syria and on to Turkey, providing vital supplies for the voracious EU market. There are also plans for an Israel to Turkey pipeline accessing gas from the massive Leviathan gas field located off the coast of Gaza. Both of these projects will strengthen Turkey's flagging economy as well as bolster its stature and influence in the region.
Naturally, the allure of wealth and power has been a decisive factor in shaping Ankara's Syria policy. But there's a good chance that Erdogan's strategy will backfire and Turkey will get bogged down in a protracted conflict in which there are no clear winners and no easy way out.  In this respect, Erdogan follows a long line of equally aggressive leaders whose ambitions clouded their judgment precipitating their downfall. Only a fool would think that Syria will be a cakewalk.
Turkey has made it clear that it will not go-it-alone in Syria. According to CNN report on Thursday:
"Turkey's foreign minister insisted Thursday that it is not "realistic" for the world to expect it alone to launch a ground operation against ISIS, even as a monitoring group said the extremists had seized a chunk of a key battleground town near its border." (CNN)
Erdogan wants US support although, so far, he has not stipulated whether that means ground troops or not. He has said repeatedly, however, that bombing ISIS from the air won't achieve their purpose. And even on that score, the US has been AWOL.   So far, the US has launched a mere six aerial attacks on ISIS positions on the outskirts of the city, not nearly enough to deter battle-hardened jihadis from pressing deeper into Kurdish territory. Could it be that Obama made a deal with Erdogan to allow Kobane to be overrun in exchange for concessions on the use of Turkish military bases that will be used to carry out attacks on Syria?
It could be, although there's no way of knowing for sure. What's clear is that Obama doesn't really care what happens to the Kurds in Kobane or not. What matters to Obama is toppling Assad and replacing him with a US puppet. The death of innocent civilians at the hands of homicidal maniacs doesn't even factor into Washington's calculations. It's just more grist for the mill. Now check out this excerpt from an article by Patrick Cockburn:
"The leader of the (Kurdish) PYD, Salih Muslim, is reported to have met officials from Turkish military intelligence to plead for aid but was told this would only be available if the Syrian Kurds abandoned their claim for self-determination, gave up their self-governing cantons, and agreed to a Turkish buffer zone inside Syria. Mr Muslim turned down the demands and returned to Kobani." (ISIS on the Verge of Victory at Kobani", Patrick Cockburn, Counterpunch)
Is this blackmail or what? Doesn't this explain why Kurds are rioting and setting buildings ablaze across Turkey? How would you react, dear reader, if your people were told to either  'Give up your dreams of independence or face a violent death at the hands of religious fanatics'? Would you think that was an unreasonable demand?
Erdogan wants to defeat the Kurdish fighters in Kobane and put an end to Kurdish nationalism. And he doesn't care how he does it.
Keep in mind,  that just this week, Turkish Prime Minister Ahmet Davutoglu said in a CNN interview that the US must agree that Assad will be removed before Turkey will commit ground troops to the war against ISIS. To his credit, Obama has not yet agreed to Erdogan's terms although pressure in Congress and the media is steadily building.  And this is just one of Erdogan's many demands. He also wants the US to implement a no-fly zone over Syria and to create buffer zone along the Turkish border. In exchange, Turkey will provide boots on the ground and the use of its military bases. The US can expect to pay a heavy price for Turkey's help in Syria.
OBAMA: "Don't do stupid shit"
US policy towards Syria is not yet set in stone, in fact, the Obama administration appears to be in a state of turmoil. It could be that Obama's chief advisors see the potential pitfalls of an invasion of Syria or of persisting with the same lame policy of arming, training and funding Islamic radicals. Or it could it be that the administration doesn't want to team up with an unreliable ally like Turkey whose Intel agencies have helped create the present crisis? Or it could simply be that Obama has decided to follow his own advice and "Don't do stupid shit". Whatever the reason, the administration seems to be vacillating on the way forward.
One can only hope that Obama will grasp the inherent risks of the poring more gas on the Middle East, reject the orders of his deep state handlers, and seek a peaceful solution to the crisis in Syria. That, of course, would require cooperation with Syria's allies, Russia and Iran, to settle on a way to defeat the jihadis, strengthen Syria's sovereign control over its own territory, and restore peace across the country. No doubt Assad would be more than willing to make democratic concessions if he believed it would save his country from the destruction of a full-blown war.
As our society bounces down ward, flowing this way now and that way a little later, it is difficult to pinpoint exactly what is happening until it has already overwhelmed us.
Almost everyone now knows that football stars Ray Rice and Adrian Peterson are guilty of violence within their families; a video shows Rice knocking his wife unconscious and dragging her out of an elevator.  Pictures of Adrian Peterson's ten year of son with red switch welts on his back and legs have been widely circulated.  Both are being disciplined by the National Football League.
Another one that still sticks in my mind happened way back in 1988, Dimetrios Georgios Synodinos (Jimmy the Greek Snyder), a popular 12 year employee of the CBS network was fired for contending at a lunch with TV reporter Ed Hoteling that African Americans were superior athletes because during slavery they had been bred to produce superior physical characteristics.
In July 2002 Phil Donahue, following a record 26 year stint of staring in his own show, returned to TV on MSNBC.  His show was an immediate success but was terminated in slightly over six months ostensibly for opposing the Iraq War.
In 2003, Pulitzer Prize winner Peter Arnett was fired by NBC for spreading factual information about the Iraq war.
In 2004, Paul Craig Roberts was banned from the mainstream media for the crime of being critical of the George W. Bush Administration and the war in Iraq.
On January 26, 2009 Juan Williams was separated from National Public Radio for making this comment about First Lady Michelle Obama, "Michelle Obama, you know, she's got this Stokely Charmichael in a designer dress thing going. If she starts talking…her instinct is to start with this blame America, you know, I'm the victim. If that stuff starts coming out, people will go bananas and she'll go from being the new Jackie O to being something of an albatross".
In 2007, Don Imus, pre-eminent New York radio shock-jock, for a flippant racial reference to a Rutgers Women's Basketball player was fired in the syrupy sweet jargon of the lily white president of CBS, Leslie Moonves, who intoned "From the outset, I believe all of us have been deeply upset and revulsed by the statements that were made on our air about the young women who represented Rutgers University in the NCAA Women's Basketball Championship with such class, energy and talent. There has been much discussion of the effect language like this has on our young people, particularly young women of color trying to make their way in this society. That consideration has weighed most heavily on our minds as we made our decision."
In 2010, Lebanese journalist Octavia Nasr, a 20 year employee of CNN was fired for expressing admiration for fellow Lebanese Shiite cleric Ayatollah Mohammed Hussein Fadlallah after she read his obituary.
In 2013 Paula Deen, a popular chef on the Food Channel, was summarily dismissed.  A law suit by a Black employee for sexual harassment and discrimination resulted in her admission that she had used racial slurs in the past.  Perfuse apologies were useless.
Crystal Dixon was dismissed from her job at the University of Toledo for expressing this bit of sound logic in a letter to the editor of a local paper. "I take great umbrage at the notion that those choosing the homosexual lifestyle are 'civil rights victims.' Here's why. I cannot wake up tomorrow and not be a black woman," she wrote. "I am genetically and biologically a black woman and very pleased to be so as my Creator intended. Daily, thousands of homosexuals make a life decision to leave the gay lifestyle evidenced by the growing population of PFOX (Parents and Friends of Ex Gays) and Exodus International just to name a few."
In 2014, Bob Eschliman, a Christian, lost his job as editor of the Newtown Daily News, an Iowa periodical, for criticizing the Queen James Bible Website.  He was fired and publically castigated for expressing his opinion.
Additional examples of politically incorrect dismissals abound.
Some of these excoriations were at least partially a result of other behavior that offended the power structure.   Jimmy the Greek once punched Brent Musburger in the face for calling him stupid.  They were bitter enemies.   He also brought Phyllis George to tears by insulting her husband.  As popular as he was he did not fit into the media social structure.
Roger Goodell is a lonely Gentile in the midst of major sport commissioners.  There may be an effort to replace him by criticizing his performance.  Adrian Peterson is a professing Christian Any Christian is fair game.
When Phil Donahue joined NBC in 2002 Chris Matthews fancied himself the heart of the station.  Matthews did not like the Donahue Show – it drew a larger audience and pursued peace.  He was pro-war and also enjoyed and ethnic advantage.
Peter Arnette was just too honest to survive in the media sea of deception.
Paul Craig Roberts is a thinker, writer, and researcher.  He is one of our nation's most talented individuals but the American Media is monolithic and does not allow deviation from its unwritten and unacknowledged laws.  Criticizing war and seeking peace when they support war and death is an affront to their superior agenda.
Juan Williams may have touched on a hidden truth with a conservative type statement.  Either or both are no, nos.  He is Black and is working again but if a White man had made the same statement he would be banned for life.
Don Imus referred to the Rutgers lady basketball players as "nappy-headed hos", a racial slur against a race that is sacrosanct in press and media circles.  He had friends that got him his job back.
Octavia Nasr expressed admiration for an enemy of the power elite.  We must love what they love and hate what they hate.
Paula Deen's situation was similar to that of Jimmy the Greek.  Though she had a popular show and was herself a success story her family was a bit crude for the elite social structure.
Homosexuality is an idol of a high order in the educational hierarchy.  Even though Crystal Dixon is Black, pointing in clear logic to the absurdity of comparing civil rights for Blacks to civil rights for homosexuals was unacceptable to the meritocratic humbugs at her university.  Of course her reference to and tacit support of Christian organizations is damnable all by itself.
Christians are still naïve about the hate their religion engenders in those that control our press and media.  Bob Eschliman found out.
When the powerful purveyors of news and entertainment forsook the Law given them by erstwhile religion they opened the door to the tyranny of their own power.  They are now the determiners of good and evil within their sizeable dominions. Morality is now an arbitrary doctrine enforced by raw power.
We might blame the leadership which owns and controls most of the world's press and media but that leadership is being supported by millions of American Christians and validated by others who support Zionism.
Humanism is the religion of the day.  The oligarchs think of themselves as a superior race endowed with authority to exert their will on the world with physical force. They will use Evangelicals who support their wars but they will not abide God's legal structure.
Questioning the authenticity of 9/11 or the validity of the War in the Middle East is not allowed.  Conspiracy talk is squelched as is criticism of Blacks, Jews, The Media, the Iraq War, homosexuality and lesbianism. Christianity can be lambasted but never extolled or promoted.  Even if the dismissal is a result of other behavior the elite power structure will look for one of the key "no noes" to re-enforce fear of future infractions.
Law is what the power elite say it is.  Justice is a result of abiding by the immutable Law of our Creator – it has vanished from most of the earth. War and chaos have replaced justice and peace.
"To Learn who rules over you simply find out who you are not allowed to criticize."  Attributed to Voltaire
Norman Rockwell's America carried incredible nostalgia for the way this country once operated.  "Father Knows Best" captured our understanding of "family" in America.  Jackie Gleason on the "Honeymooners" along with Andy Taylor and Barney Fife instilled our mutual belonging.  Bill Cosby brought us together with the "Cosby Show."  Everyone spoke English and everyone enjoyed employment and hope.
From the 50s to the 70s, most people worked a job, our Congress made laws to ensure our well-being along with a viable nationhood.  Even with our racial strife, women's rights, gay rights and battles over Roe vs. Wade—America allowed every citizen the right to pursue "Life, liberty and the pursuit of happiness."
After my latest bicycle journey across America this summer, we unknowingly bear witness to the greatest racial and demographic shift ever self-inflicted on one country in the history of the world.  By 2042, the Pew Research Center reports that the current European-American majority (down from 90 percent in 1960 to 54 percent in 2014) faces the new Latino majority within 28 years.  All of it created by endless legal and illegal immigration.
During the next 36 years, Americans face an added 100 million legal immigrants from 150 countries around the globe.  They stream into America at blinding speed via our invitations, chain migration and birth rates.  How can we equate adding 100 million immigrants?  Answer: that number equates to doubling the size of our 25 most populated cities.  It means New York City jumps from 8.3 million to 16.6 million, Chicago from 5.1 million to 10.2 million and on down the line.
What does such an immigration invasion mean to our communities?  Our way of life?  Our quality of life?  Our standard of living?  Our environment?  Our educational systems?
Answer:  as the numbers rise to that 100 million level, everything in our society degrades, devolves, degenerates and worsens.
You cannot stop a fire by spraying gasoline on it.  You can't solve California's drought or wildfires by adding another 20 million foreigners to that state via immigration.  We cannot EVER catch up to exponential growth because it outruns our ability to solve its endemic and systemic consequences.
And, oxymoronically, we can't solve our predicament by passing S744 Amnesty Bill that doubles legal immigration to 2.0 million annually.
What's the final equation?  Since I traveled through dozens of third world countries in the last 40 years, I noticed they couldn't solve their problems, either.  They face(d) horrific food and water contamination, disease and shortages.  Just look at Ebola in Africa along with AIDS that killed 15 million thus far.  Their citizens face endless illiteracy because they can't install a viable educational system. They face conflict over resources.
As you notice in such areas as Iraq, Afghanistan, Haiti, Mexico, Brazil, China, India, Bangladesh, Indochina, Congo, Ethiopia, Somalia and dozens of other countries—you see continual religious, resource, food and water conflicts.
That's where the United States of America steams.  You can see it in our ethnic conflicts today whether Ferguson, MO riots, Chicago featuring 50 gun fights over the 4th of July weekend, black on black killings into the tens of thousands over the past several decades, 76 percent dropout/flunkout rates for Detroit public schools, which creates over 60 percent illiteracy rates.  Illiteracy remains the key indicator of a third world country.  Once it takes hold, it becomes intractable.
One look at our welfare system shows 68 percent of African-American children reared by a single mother on welfare.  We feed 48 million Americans and non-Americans with EBT or food stamps.  We see a complete breakdown of our middle class with no way to fight joblessness, futility or obesity caused by illiteracy.  Right now, obesity explodes as a national epidemic of health care nightmares for our citizens.
Question: how do you think any of our current sociological, environmental, water, energy, racial and growing religious strife can or will get better.  With those 100 million legal immigrants, you may expect to see an increase of Muslims in our country from 7.5 million to well over 20-30 million by 2050.  Sociologists reported that once Islam reaches 8 percent of the host nation's population, they become violent, arrogant and use the system to back the host country down to agree to Sharia Law. Notice the riots in Sweden and two separate London's. Look at France's nightmare.  Sharia law stands against every Western sensibility for women's rights, gays' rights, free speech, education, marriage choices and religious choice.  Note that hundreds of Muslim-Americans signed up to join terrorists groups in the Middle East.   What happens when they turn their terror toward us?
Australia discovered a major plot fomented by citizen Muslims to commit beheadings in the streets of Sydney this summer. If you think I am kidding, watch this short video:
Published on Sep 18, 2014: More than 800 Police in Australia have carried out anti-terror raids in Sydney (12 suburbs) sparked by intelligence reports that Islamic extremists were planning random killings (beheadings) in Australia:https://www.youtube.com/watch?v=V0ctrDnM__4
Additionally, look for three major languages to create major chaos and loss of our national ethos in the coming decades. Look for linguistic confusion and separation from being a citizen of the United States because you speak Arabic, Spanish or English.  In the end, we face becoming a nation of strangers.
What solutions might we enact to save ourselves?
Immediate reduction of all legal immigration to less than 100,000 annually instead of the current 100,000 every 30 days from 150 countries around the globe.
Immediate enforcement of our current work, rent and transport laws against employers of anyone illegally in the USA.
Immediate discussion on "60 Minutes"; "Face the Nation" ; "Meet the Press" ; Charlie Rose; NBC, CBS, FOX, ABC, CNN, Bill O'Reilly, Wolf Blitzer, Shepard Smith, Megyn Kelley and all talk radio shows on how many people can our country hold and what's the point of adding another 100 million foreigners when we already face enormous problems with what we currently hold.
Millions of Americans need to join www.NumbersUSA.org; www.CapsWeb.org and www.Fairus.org and www.TheSocialContract.com in order to grow you strength via collective empowerment.
Otherwise, we keep heading where we're headed. And, we'll end up just like any third world country.  Crowded, scant opportunities, lack of education, water shortages, energy crisis, religious conflict, environmental degradation and worse.  It's inevitable if we fail to stop mass immigration.  I am amazed that I am the only US journalist who sees this monster so clearly, yet I see no national movement to stop it.  Result: we doom our kids to a very sobering future of a fractured and fragmented civilization that cannot right itself.
With election time almost upon us, here's a rather sobering thought:  By spending as little as a mere two billion dollars, anyone with that amount of money can now afford to buy an entire American election — Congress, the White House, governorships and all.
"But Jane," you might ask, "why would anyone even want to do that?"  Why?  Just look at all the immense amount of loot you can score with just this tiny investment.  Access to national park land, bank deregulation, profits from weapons production, corporate monopoly status, pro-pollution laws, judges' rulings in your favor…need I go on?
For instance, eleven trillion dollars has been recently spent on escalating and pursuing fake wars.  So if you "invest" in American elections and still only receive, say, just ten percent of those eleven trillion singles for your weapons-manufacturing services or whatever the heck else companies like Halliburton do, you still have just grown your measly two-billion-buck investment at least a thousand times over.  Forever War really pays off!
Or if you are guys like Obama, Bush and Cheney — and can't resist playing with war toys?  Then you get to buy your very own wars!  Lots and lots of wars.  You get to play with actual life-sized GI Joe dolls and call yourself "Commander in Chief".  You get to bomb Libya and Ukraine and Iraq and Syria.  What fun!  Two billion dollars can buy you a hecka lot of war toys — eleven trillion dollars worth to be exact.
Or let's say that your net worth is approximately 100 billion dollars, like, say, the Koch brothers' worth is.  You spend less than three percent of that money on buying elections — and voila!  You too get over a thousand percent return on every dollar you spend.  What kind of crazy-good investment is that!
Or let's say you are a member of the notorious WalMart family, worth hundreds of billions of dollars.  You spend just a few paltry billion on election buyouts — and suddenly us taxpayers are paying for all of your employees' healthcare.  And we're throwing food stamps into the bargain too.  Brilliant idea!
Or what if you own a giant coal company, oil company, car company, power company or some other major polluter?  Common sense tells us voters that we need to cut down on polluting the atmosphere so as to avoid drastic climate change that even now threatens to kill off the whole human race.
We could have been using solar power all this time for instance — and also cleaned up our rivers and even eliminated the need for fossil fuel.  But no.  For a few (billion) dollars more at election time, you can potentially doom the entire human race.  America, are we having fun yet?
Or let's say for instance that you are AIPAC, that Israeli political action committee.  Spend just two billion dollars to buy every election in America — up to and including the dog catcher?  What a deal!  And since Israel is already receiving three billion dollars every year from America, guaranteed, voted by Congress, you don't even have to risk using your own moolah.  You can use ours.  Fabulous investment.  http://www.counterpunch.org/2014/09/12/how-the-west-created-the-islamic-state/
Plus you also get permission to bomb Gaza, take over the West Bank, design America's stupid "Bomb Syria" policy, have red-carpet access to the entire Middle East (as in red carpets of blood) and get away with committing all kinds of other violations of the Nuremberg precedents and Geneva war crime conventions too.  
According to Middle East expert Paul Larudee, "Israeli prime minister Benjamin Netanyahu infamously bragged that 'America is a thing you can move very easily'."  Apparently all you need is just two billion bucks.   Hell, Attila the Hun never even had that kind of power.  Or even Josef Stalin.  All he ever got out his American investments was the freaking Cold War.
But don't worry, Josef!  The Cold War is about to heat up again, thanks to AIPAC.  Hell, now AIPAC is even an unofficial member of NATO (and apparently its most influential member too).  And, as such, Israeli war hawks seem hell-bent on fomenting World War III.  Does the American public really want to go there?  I think not.
Or you could invest your capital in running America's prison-industrial complex?  Just think of all the cheap labor you'll get!  For much less than two billion in folding money, you don't even have to ship your goods over from China any more.  Plus you get to have them stamped "Made in America" too.  Definitely a win-win for you.
Or what if you are Monsanto or Big Pharma or Bank of America or CitiCorp or Goldman Sachs or General Electric?  For far less than two billion dollars, you can get rid of unions, create your own monopolies, write your own "regulations", appoint your own "regulators" and rake in the profits.  And if you are Big Media, our publicly-owned airwaves now belong to you.  Think Rupert Murdock.  Or net neutrality up in smoke.  Think AT&T.  Boo-yah!
Yep, America is for sale for really cheap these days.  The total assets of the United States of America is currently 188 trillion dollars.  And just think.  For just a mere two billion simoleons, all that can be yours!  Buy a little false advertizing, do a bit of voter-suppression, get your hands on a few electronic voting machines, tell a few lies on Fox News and CNN and, boom shake the room, you can own all of that.  All $188,000,000,000,000.00 worth.  "Worth playing for?"  Yeah.
My country these days has become like some aging cheap whore, selling herself on street corners to the first two-bit John who comes along and offers her a couple of dollars.
America these days isn't even a high-priced call girl any more.
"There is no innocent explanation for the sudden disappearance of MH17 from the media and political spotlight. The plane's black box has been held in Britain for examination for weeks, and US and Russian spy satellites and military radar were intensively scanning east Ukraine at the time of the crash. The claim that Washington does not have detailed knowledge of the circumstances of the crash and the various forces involved is not credible."

– Niles Williamson, "Why have the media and Obama administration gone silent on MH17?", WSWS – http://www.wsws.org/en/articles/2014/08/18/ukmh-a18.html

See: 11 minute you tube "MH17 – We know with 99% certainty who shot down MH17"
The Obama administration has failed to produce any hard evidence that pro-Russia separatists were responsible for the downing of Malaysia Flight 17.  The administration's theory– that the jetliner was downed by a surface-to-air missile launched from rebel territory in east Ukraine– is not supported by radar data, satellite imagery, eyewitness testimony or forensic evidence.  In fact, there is no factual basis for the hypothesis at all. It's merely politically-motivated speculation that's been repeated endlessly in the media to shape public opinion. The preponderance of evidence suggests a different scenario altogether, that is, that MH17 was shot down by Ukrainian fighters in an effort to frame the pro-Russia separatists and demonize Russia by implication.  This is precisely why the MH17 story has vanished from all the major media for the last three weeks. It's because the bloody fingerprints point to Obama's puppet-government in Kiev.
So what are the facts?
Fact Number 1: There were eyewitnesses.
According to the Oxford dictionary, an eyewitness is "A person who has personally seen something happen and can give a first-hand description of it."  This is why eyewitness testimony is so important in criminal investigations, because what people actually see matters. In a capital case, eyewitness testimony can be just as damning as the bloody fingerprints on a murder weapon. In contrast, theories are of little or no importance at all. The administration's missile theory is just obfuscating blabber intended to pacify the public with a soothing explanation that is entirely divorced from the facts. Eyewitness accounts help to cut through government bullsh** and uncover what really happened.
So, what did happen to MH17? Check out this blurb from a report by the BBC:
"The inhabitants of the nearby villages are certain they saw military aircraft in the sky shortly before the catastrophe. According to them, it was actually the jet fighters that brought down the Boeing.

Eyewitness number one: "There were two explosions in the air. And this is how it broke apart, (Waves her hands to show the plane exploding) And there was another aircraft, a military one, beside it. Everyone saw it….

Yes, yes, It was flying under it, because it could be seen.  It was flying underneath…below the civilian plane."
Many people saw what happened. Many people saw the Ukrainian fighter rise in a shark-on-seal type motion. Many people saw the explosion. Are these credible witnesses? Are they lying? Do they have a political agenda?
We don't know, but we do know what they said. They said they saw a fighter (probably a Ukrainian SU 25) stalking MH17 just before it blew up.  That's significant and it should have a bearing on the investigation.
Fact Number 2: Russia picked up the Ukrainian fighters on their radar.
According to Russian military analysts:
"Russian monitoring systems registered Ukrainian airforce jet, probably an SU 25 fighter, climbing and approaching the Malaysia aircraft. The SU 25 was between 3 to 5 kilometers away from the Malaysian plane. The fighter is capable of reaching an altitude of 10,000 meters for short periods of time. It's standard armaments include R-60 air-to-air missiles which are capable of locking and destroying targets within a range of 12 kilometers and which are guaranteed to hit their target from a distance of 5 kilometers.

What was a military aircraft doing on a route intended for civilian planes flying at the same time and same altitude of a passenger plane? We would like an answer to this question? …

To corroborate this evidence we have a picture taken at the regional air traffic control center at Rostov….Ukrainian military officials claimed there were no Ukrainian military aircraft in that area of the crash that day. As you can see, that is not true"   ("MH17 Fully Exposed", The Corbett report; Check minute 34:17 on https://www.youtube.com/watch?v=gWlAARb0fN4video
Repeat:   "Ukrainian military officials claimed there were no Ukrainian military aircraft in that area of the crash that day. As you can see, that is not true."
Kiev lied. Not only was one of their fighters in the vicinity, but the warplane  also had the capacity to take down a jetliner.
Let's be clear about how important this information is: We now have hard evidence (Russian radar data and eyewitness testimony) that a Ukrainian fighter was in the vicinity of Malaysia Flight 17 when it was shot down. Thus, the Ukrainian fighter very well may have played a role in the downing of  MH17.  This is a possibility that cannot be excluded if one is basing their judgments on the facts alone.
Then there the story of Carlos who worked at  Kiev's Air Traffic Control at Borispol but who mysteriously vanished immediately after the crash. Carlos's twitter feeds on the day of the incident have become something of a legend on the internet, so we would like to narrow our focus to just a few of his communiques.
Carlos tweets on day of MH17 crash:
"Kiev Authorities, trying to make looks like an attack by pro-Russian"…
"warning! It can be a downing, Malaysia Airlines B777 in ukraine, 280 passengers"…
(Military?) "has taken control of ATC in Kiev"….
"The Malaysia Airlines B777 plane disappeared from the radar, there was no communication of any anomaly, confirmed"….
"Plane shot down, shot down, shot down, no accident"….
"Before They remove my phone or they break my head, shot down by Kiev"…
"The B777 plane flew escorted by Ukraine jet fighter until 2 minutes before disappearing from the radar"…
"If Kiev authorities want to tell the truth, It´s gathered, 2 jet fighters flew very close minutes before, wasn't downed by a fighter"….
"Malaysia Airlines B777 plane just disappeared and Kiev military authority informed us of the downing, How they knew?"…
"all this is gathered in radars, to the unbelieving, shot down by kiev, here we know it and military air traffic control also"…
"military control now officially [say] the plane was shot down by missile"….("FINAL – Spanish Air Controller @ Kiev Borispol Airport: Ukraine Military Shot Down Boeing #MH17",  Rebel's Blog)
Shortly after posting the news on Twitter, the Military took over the tower, the SBU seized the Air traffic Control recordings, and Carlos disappeared never to be seen again.  At the very least, Carlos's postings lend support to our thesis that one or two SU 25 fighters were in the vicinity of the Boeing 777 at the time of the incident, which is to say they were in a position to shoot it down.
So why have Obama, Kerry and the entire western media excluded the SU 25s from their analysis?  And why are they withholding the satellite and radar data (that everyone knows they have) of the area at the time of the crash?     According to the World Socialist Web Site: "The US Air Force's Defense Support Program utilizes satellites with infrared sensors to detect missile launches anywhere on the planet, and US radar posts in Europe would have tracked the missile as it shot through the sky."
Indeed, the US does have the capability to track  missiles launches anywhere on the planet, so where is the data to support their theory that a missile took down MH17?  Where is the satellite imagery? Where is the radar data?  What is it Obama doesn't want the American people to know?
German pilot and airlines expert, Peter Haisenko,  thinks that Malaysia Flight 17 was not blown up by a  missile, but shot down by the type of double-barreled 30-mm guns used on Ukrainian SU-25 fighter planes.  Haisenko presented his theory in an article which appeared on the Global Research website titled "Revelations of German Pilot: Shocking Analysis of the "Shooting Down" of Malaysian MH17. "Aircraft Was Not Hit by a Missile". Here's an excerpt from the article:
"The facts speak clear and loud and are beyond the realm of speculation: The cockpit shows traces of shelling! You can see the entry and exit holes. The edge of a portion of the holes is bent inwards. These are the smaller holes, round and clean, showing the entry points most likely that of a 30 millimeter caliber projectile…."  ("Revelations of German Pilot: Shocking Analysis of the "Shooting Down" of Malaysian MH17. "Aircraft Was Not Hit by a Missile"", Global Research)
Haisenko notes that the munitions used on Ukrainian fighters–anti-tank incendiary and splinter-explosive shells–are capable of taking down a jetliner and that the dense pattern of metal penetrated by multiple projectiles is consistent with the firing pattern of a 30-mm gun.
Also, Michael Bociurkiw, who was one of the first international inspectors from the Organization for Security and Cooperation in Europe (OSCE) to reach the crash site and who spent more than a week examining the ruins– appears to be convinced that MH17 was downed by machinegun fire consistent with the myriad bullet-holes visible on the fuselage.  Here's what he told on CBC World News:
"There have been two or three pieces of fuselage that have been really pock-marked. It almost looks like machine gun fire; very, very strong machine gun fire that has left these unique marks that we haven't seen anywhere else.

We've also been asked if we've seen any signs of a missile?

Well, no we haven't. That's the answer."

("Malaysia Airlines MH17: Michael Bociurkiw talks about being first at the crash site," CBC News. Note: The above quote is from the video)
Now, admittedly, the observations of Haisenko and Bociurkiw could mean nothing, after all, they are just opinions. But for the sake of argument, let's compare what they have to say to the comments made by Obama and Kerry.
Here's Obama on the day after the crash:
"Here is what we know so far. Evidence indicates that the plane was shot down by a surface-to-air missile that was launched from an area that is controlled by Russian-backed separatists inside of Ukraine.

We also know that this is not the first time a plane has been shot down in eastern Ukraine. Over the last several weeks Russian- backed separatists have shot down a Ukrainian transport plane and a Ukrainian helicopter, and they claimed responsibility for shooting down a Ukrainian fighter jet.

Moreover, we know that these separatists have received a steady flow of support from Russia.

This includes arms and training. It includes heavy weapons. And it includes anti-aircraft weapons.

Now, here's what's happened now. This was a global tragedy. An Asian airliner was destroyed in European skies, filled with citizens from many countries. So there has to be a credible international investigation into what happened. The U.N. Security Council has endorsed this investigation, and we will hold all its members, including Russia, to their word…
Now, the United States stands ready to provide any assistance that is necessary…..
Let's summarize Obama's allegations:
1–MH17 was shot down in east Ukraine.
2–The separatists have shot down planes in east Ukraine before.
3–Therefore the separatists shot down MH17
Do you find that argument persuasive, dear reader? Keep in mind, Obama has never veered from his original position on the issue nor has he ever addressed the eyewitness reports or the technical data provided by Moscow. When all the media repeat the government's version of events word-for-word, the facts don't matter. In other words, Obama hasn't changed his story, because he doesn't have to. He knows the dissembling media will assist him in the cover up. Which it has.
Now let's take a look at what Kerry had to say two days after the crash when he visited all five Sunday talk shows to blast Putin and blame the rebels for downing MH17. According to the Guardian:
"Kerry said all the evidence surrounding the downed Malaysia Airlines flight MH17 points towards pro-Russia separatists in eastern Ukraine…..

"We have enormous input about this that points fingers," Kerry told CNN's State of the Union. "It is pretty clear that this was a system from Russia, transferred to separatists. We know with confidence that the Ukrainians did not have such a system anywhere near the vicinity at that point of time."…

Kerry said social media reports and US surveillance put the missile system in question in the vicinity of the crash before the tragedy.

"We know because we observed it by imagery that at the moment of the shootdown we detected a launch from that area," he said. "Our trajectory shows that it went to the aircraft." ("MH17 crash: Kerry lays out evidence of pro-Russia separatists' responsibility", Guardian)
Needless to say, Kerry has never provided any proof of the satellite "imagery" he referred to on the day of the interview. The administration's case still depends on the discredited information it picked up on social media and on its own politically-motivated theory. It's worth noting, that the administration used its shaky claims to great effect by convincing leaders of the European Union to impose more economic sanctions on Russia before any of the facts were known and without any legal process in place for Russia to defend itself.  The sanctions, of course, are still in effect today even though the administrations hysterical accusations have come under increasing scrutiny.
Russian Foreign Minister Sergei Lavrov has repeatedly called for a transparent and thorough international investigation, but Washington seems more eager to sweep the whole matter under the rug. Moscow is particularly interested in recovering the Air Traffic Control tapes which were seized by Kiev's security services immediately following the crash. It's imperative that these tapes be handed over to international inspectors to analyze communications between the cockpit and the tower. There's no doubt that Kiev would hand over the recordings if Washington simply demanded that they do so. But Obama has issued no such order. Why is that?
Keep in mind, that the ATC recordings could be much more valuable than the black boxes because they record both sides of every communication on every frequency used by that facility (including frequencies used for communication with other ground facilities and/or agencies), and also on every land line in use at that facility."
What does that mean? It means that ATC recorders also include communications between ATC operators and, lets say, government or military authorities. They would also have recorded the communications between ATC and any fighters that may have been in the vicinity of Flight 17. In other words, if MH17 was in fact shot down by a SU 25, there's a good chance the communications would show up in the ATC tapes.
Is this why Obama hasn't demanded that Kiev surrender the recordings, because he doesn't really want the truth to come out? Now take a look at this out from the WSWS:
"After a month during which Washington has failed to release evidence to support its charges against Putin, it is clear that the political offensive of the NATO governments and the media frenzy against Putin were based on lies.

If pro-Russian separatists had fired a ground-to-air missile, as the US government claims, the Air Force would have imagery in their possession confirming it beyond a shadow of a doubt…..

On August 9, the Malaysian New Straits Times published an article charging the Kiev regime with shooting down MH17. It stated that evidence from the crash site indicated that the plane was shot down by a Ukrainian fighter with a missile followed by heavy machine gun fire.

While it is too early to say conclusively how MH17 was shot down, the preponderance of the evidence points directly at the Ukrainian regime and, behind them, the American government and the European powers. They created the conditions for the destruction of MH17, backing the fascist-led coup in Kiev this February that brought the current pro-Western regime to power."

("Why have the media and Obama administration gone silent on MH17?", Niles Williamson, WSWS)
The media has played a pivotal role in this tragedy, deliberately misleading the American people on critical details related to the case in order to shape their coverage in a way that best serves the interests of the government.  The MSM doesn't care about identifying the criminals who killed 298 passengers. Their job is to demonize Putin and create a pretext for waging war on Russia.   And that's exactly what they're doing.
When the billionaire tech jet set decides to let down their hair, what do they talk about around the campfire? According to the New Your Times, "Google is sponsoring an elite conference this week at a golf resort in Sicily, with a guest list of chief executives, investors and celebrities, all of whom were invited to bring their families. On the agenda are high-minded discussions of global issues — along with relaxation by the Mediterranean Sea." How quaint! . . . For the real scoop, Here's What Went On At Google's Exclusive Conference For The Rich And Famous In Sicily.
"Sicilian blogger Tony Siino talked to an attendee about what went on, and told Business Insider via email that the conference, dubbed "The Camp," was three-days of intellectual discussions, relaxation, and sight-seeing.According to Siino's source, morning discussions included a wide range of topics, including how to extend human life and the design of cities of the future."
Reported by NBC local TV channel in the Bay Area has "guests include Goldman Sachs chief executive Lloyd C. Blankfein, executives from German and Spanish banks, Uber chief Travis Kalanick, Tesla boss Elon Musk, Comcast CEO Brian L. Roberts and Snapchat boss Evan Spiegel. Also on hand is Ben Horowitz, venture capitalist with Marc Andreessen at make-or-break Silicon Valley fund Andreessen Horowitz."
Spending quality time with the family between sessions in the next round of tech discoveries hardly seems to be the best use of time. Yet, time may well be the ultimate objective if you can uncover the mysteries of anti-aging research. Life Extension Magazine reports that Google Life Extension is investing in a venture called California Life Company, or Calico for short, and its goal is to extend human life by 20 to 100 years.
At this point, Google is being highly secretive about their plans for Calico. All Google would reveal is that Calico will focus "in particular on the challenge of aging and associated diseases."
Calico could produce startlingly counterintuitive breakthroughs, as a result, of Google's strengths in the following areas:
Non-commercial dedication — rather than a focus on commercial marketing of mediocre drugs as pharmaceutical companies now do.
Vast consumer access and core data-handling skills — with unprecedented data gathering, pattern-matching, and causal-relationship detection.
Ability to attract the brightest minds — potentially preferring to work on life-and-death problems instead of cutesy apps and games.
Further speculation in an essay – How's Google Dabbling in Health, Life, DNA, and Immortality? – cites areas of research has cutting-edge technology pushing the limits of the wheel of life itself.
"A CNN article listed a few common subjects, like cryonics (a process where the body is preserved in liquid nitrogen), cryotherapy (which exposes injured patients to very low temperatures for short periods of time), cloning and body part replacement, nanotechnology (deploying small robots to overcome the problem of incorrect DNA replication, one cause of aging), and even research into telomeres, the ends of a chromosome that protect cells against degradation."
Hidden within a "feel good" sentiment behind the altruism to elevate the life span of the human race is an unconvincing skepticism. In an article like Google Wants You to Live 170 Years, just does not seem believable to a rational observer.
"What Google brings to the table is data. "Not just one set of data, multiple forms," says Harry Glorikian, founder of life sciences consulting firm Scientia Advisors. "Search data, GPS data, all sorts of other pieces, electronic breadcrumbs that you produce all out there to get a picture of you."This data could be paired with each person's genome — a partial genome can be mapped today for $99 via 23andMe (another Google investment), but many are hoping a full genome will cost as much in the next few years."
Even if such ambitious projections that life extension might become common-place for the masses, it does not guarantee that everyone will be a candidate for future "Camp" invitations. Google hardly needs to market the secrets of the gods in order to maintain or enhance their cash flow. The Globe and Mail describes the gathering, "Like the World Economic Forum in Davos, Switzerland – an annual gathering of the elite at a snowy ski resort – the upstart conference from Google projects an aura of exclusivity. Its existence has not previously been disclosed."
Following the example of other enigmatic elitist stratagems, "The Camp" shows no signs of a charitable motivation when the onion is peeled. Michael Downey in the account, Google Wants To Extend Your Life laments that not enough is being done to achieve the holy grail of Ponce de Leon's Fountain of Youth.
"Tragically, while the government spends over $3 billion annually on "health concerns" of the elderly, it operates on the assumption that aging is not a disease. Corporations lack the longer-term view needed. And extremely few of the world's 1,426 billionaires, with a total net worth of $5.4 trillion, have included anti-aging research in their charities."
Do you really believe that the beautiful people, much less, the corporatist return on assets crowd, or the great democracies of the planet are eager to share any medical, genetic or nanotech leap forwards with the chattel serfs? Attending boot camp for the peasants is quite different from rubbing elbows with these Nouveau riche Sicilian Dons in the global technocratic mafia. The blueblood patricians of the banksters' families will enlighten their newly made men into the rules and ways of the global syndicate.
The Calico family franchise promises to be more alluring than the temporary ecstasy of a drug high. Most godless souls want to live forever, since rejecting an afterlife is automatic to such atheistic masters of the universe. Google has proven to be a "New Age" android. Hence, it is natural for apps, developed to manage the life cycle, become part of the smart set. The key question is will the source code become available to the masses, or will the elites maintain the restricted knowledge only for their devil witch coven.
During Cold War One those of us in the American radical left were often placed in the position where we had to defend the Soviet Union because the US government was using that country as a battering ram against us. Now we sometimes have to defend Russia because it may be the last best hope of stopping TETATW (The Empire That Ate The World). Yes, during Cold War One we knew enough about Stalin, the show trials, and the gulags. But we also knew about US foreign policy.
E-mail sent to the Washington Post July 23, 2014 about the destruction of Malaysian Airlines Flight 17:
Dear Editor,
Your July 22 editorial was headed: "Russia's barbarism. The West needs a strategy to contain the world's newest rogue state."
Pretty strong language. Vicious, even. Not one word of hard evidence in the editorial to back it up. Then, the next day, the Associated Press reported:
Senior U.S. intelligence officials said Tuesday that Russia was responsible for 'creating the conditions' that led to the shooting down of Malaysia Airlines Flight 17, but they offered no evidence of direct Russian government involvement. … the U.S. had no direct evidence that the missile used to shoot down the passenger jet came from Russia.
Where were these words in the Post? You people are behaving like a rogue newspaper.
– William Blum
I don't have to tell you whether the Post printed my letter. I've been reading the paper for 25 years – six years during Vietnam (1964-1970) and the last 19 years (1995-2014) – usually spending about three hours each day reading it very carefully. And I can say that when it comes to US foreign policy the newspaper is worse now than I can remember it ever was during those 25 years. It's reached the point where, as one example, I don't take at face value a word the Post has to say about Ukraine. Same with the State Department, which makes one accusation after another about Russian military actions in Eastern Ukraine without presenting any kind of satellite imagery or other visual or documentary evidence; or they present something that's wholly inconclusive and/or unsourced or citing "social media"; what we're left with is often no more than just an accusation.  Do they have something to hide?
The State Department's Public Affairs spokespersons making these presentations exhibit little regard or respect for the reporters asking challenging questions. It takes my thoughts back to the Vietnam era and Arthur Sylvester, Assistant Secretary of Defense for Public Affairs, the man most responsible for "giving, controlling and managing the war news from Vietnam". One day in July 1965, Sylvester told American journalists that they had a patriotic duty to disseminate only information that made the United States look good. When one of the reporters exclaimed: "Surely, Arthur, you don't expect the American press to be handmaidens of government," Sylvester replied: "That's exactly what I expect," adding: "Look, if you think any American official is going to tell you the truth, then you're stupid. Did you hear that? – stupid."
Such frankness might be welcomed today as a breath of fresh air compared to the painful-to-observe double-talk of a State Department spokesperson.
My personal breath of fresh air in recent years has been the television station RT (formerly Russia Today). On a daily basis many progressives from around the world (myself included occasionally) are interviewed and out of their mouths come facts and analyses that are rarely heard on CNN, NBC, ABC, CBS, NPR, PBS, Fox News, BBC, etc. The words of these progressives heard on RT are typically labeled by the mainstream media as "Russian propaganda", whereas I, after a long lifetime of American propaganda, can only think: "Of course. What else are they going to call it?"
As for Russia being responsible for "creating the conditions" that led to the shooting down of Flight 17, we should keep in mind that the current series of events in Ukraine was sparked in February when a US-supported coup overthrew the democratically-elected government and replaced it with one that was more receptive to the market-fundamentalism dictates of the World Bank, International Monetary Fund, and the European Union. Were it not for the coup there would have been no eastern rebellion to put down and no dangerous war zone for Flight 17 to be flying over in the first place.
The new regime has had another charming feature: a number of outspoken neo-Nazis in high and low positions, a circumstance embarrassing enough for the US government and mainstream media to turn it into a virtual non-event. US Senator John McCain met and posed for photos with the leader of the neo-Nazi Svoboda Party, Oleh Tyahnybok (photos easily found on the Internet). Ukraine – whose ties to Naziism go back to World War Two when their homegrown fascists supported Germany and opposed the Soviet Union – is on track to becoming the newest part of the US-NATO military encirclement of Russia and possibly the home of the region's newest missile base, target Moscow.
It is indeed possible that Flight 17 was shot down by the pro-Russian rebels in Eastern Ukraine in the mistaken belief that it was the Ukrainian air force returning to carry out another attack. But other explanations are suggested in a series of questions posed by Russia to the the Secretary-General of the UN General Assembly, accompanied by radar information, satellite images, and other technical displays:
"Why was a military aircraft flying in a civil aviation airway at almost the same time and the same altitude as a civilian passenger aircraft? We would like to have this question answered."
"Earlier, Ukrainian officials stated that on the day of the accident no Ukrainian military aircraft were flying in that area. As you can see, that is not true."
"We also have a question for our American colleagues. According to a statement by American officials, the United States has satellite images which show that the missile aimed at the Malaysian aircraft was launched by the militants. But no one has seen these images."
There is also this intriguing speculation, which ties in to the first Russian question above. A published analysis by a retired Lufthansa pilot points out that Flight 17 looked similar in its tricolor design to that of Russian President Putin's plane, whose plane with him on board was at the same time "near" Flight 17. In aviation circles "near" would be considered to be anywhere between 150 to 200 miles.  Could Putin's plane have been the real target?
There is as well other serious and plausible questioning of the official story of Russia and/or Ukrainian anti-Kiev militias being responsible for the shootdown. Is Flight 17 going to become the next JFK Assassination, PanAm 103, or 9-11 conspiracy theory that lingers forever? Will the Iraqi weapons of mass destruction and the Syrian chemical weapons be joined by the Russian anti-aircraft missile? Stay tuned.
Will they EVER leave Cuba alone? No.
The latest exposed plot to overthrow the Cuban government … Oh, pardon me, I mean the latest exposed plot to bring democracy to Cuba …
Our dear friends at the Agency For International Development (USAID), having done so well with their covert sub-contractor Alan Gross, now in his fifth year in Cuban custody … and their "Cuban Twitter" project, known as ZunZuneo, exposed in 2012, aimed at increasing the flow of information amongst the supposedly information-starved Cubans, which drew in subscribers unaware that the service was paid for by the US government … and now, the latest exposure, a project which sent about a dozen Venezuelan, Costa Rican and Peruvian young people to Cuba in hopes of stirring up a rebellion; the travelers worked clandestinely, using the cover of health and civic programs, or posing as tourists, going around the island, on a mission to "identify potential social-change actors" to turn into political activists. Can you believe that? Can you believe the magnitude of naiveté? Was it a conviction that American exceptionalism would somehow work its magic? Do they think the Cuban people are a bunch of children just waiting for a wise adult to come along and show them what to think and how to behave?
One of these latest USAID contracts was signed only days after Gross was detained, thus indicating little concern for the safety of their employees/agents. As part of the preparation of these individuals, USAID informed them: "Although there is never total certainty, trust that the authorities will not try to harm you physically, only frighten you. Remember that the Cuban government prefers to avoid negative media reports abroad, so a beaten foreigner is not convenient for them."
It's most ironic. The US government could not say as much about most of their allies, who frequently make use of physical abuse. Indeed, the statement could not be made in regard to almost any American police force. But it's this Cuba that doesn't beat or torture detainees that is the enemy to be reformed and punished without mercy … 55 years and counting.
The United States and torture
Two of the things that governments tend to cover-up or lie about the most are assassinations and torture, both of which are widely looked upon as exceedingly immoral and unlawful, even uncivilized. Since the end of the Second World War the United States has attempted to assassinate more than 50 foreign leaders and has led the world in torture; not only the torture performed directly by Americans upon foreigners, but providing torture equipment, torture manuals, lists of people to be tortured, and in-person guidance and encouragement by American instructors, particularly in Latin America.
Thus it is somewhat to the credit of President Obama that at his August 1 press conference he declared "We did a whole lot of things that were right, but we tortured some folks. We did some things that were contrary to our values."
And he actually used the word "torture" at that moment, not "enhanced interrogation", which has been the euphemism of preference the past decade, although two minutes later the president used "extraordinary interrogation techniques". And "tortured some folks" makes me wince. The man is clearly uncomfortable with the subject.
But all this is minor. Much more important is the fact that for several years Mr. Obama's supporters have credited him with having put an end to the practice of torture. And they simply have no right to make that claim.
Shortly after Obama's first inauguration, both he and Leon Panetta, the new Director of the CIA, explicitly stated that "rendition" was not being ended. As the Los Angeles Times reported at the time: "Under executive orders issued by Obama recently, the CIA still has authority to carry out what are known as renditions, secret abductions and transfers of prisoners to countries that cooperate with the United States."
The English translation of "cooperate" is "torture". Rendition is simply outsourcing torture. There was no other reason to take prisoners to Lithuania, Poland, Romania, Egypt, Jordan, Kenya, Somalia, Kosovo, or the Indian Ocean island of Diego Garcia, to name some of the known torture centers frequented by the United States. Kosovo and Diego Garcia – both of which house large and very secretive American military bases – if not some of the other locations, may well still be open for torture business. The same for the Guantánamo Base in Cuba.
Moreover, the Executive Order referred to, number 13491, issued January 22, 2009, "Ensuring Lawful Interrogations", leaves a major loophole. It states repeatedly that humane treatment, including the absence of torture, is applicable only to prisoners detained in an "armed conflict". Thus, torture by Americans outside an environment of "armed conflict" is not explicitly prohibited. But what about torture within an environment of "counter-terrorism"?
The Executive Order required the CIA to use only the interrogation methods outlined in a revised Army Field Manual. However, using the Army Field Manual as a guide to prisoner treatment and interrogation still allows solitary confinement, perceptual or sensory deprivation, sensory overload, sleep deprivation, the induction of fear and hopelessness, mind-altering drugs, environmental manipulation such as temperature and noise, and stress positions.
After Panetta was questioned by a Senate panel, the New York Times wrote that he had "left open the possibility that the agency could seek permission to use interrogation methods more aggressive than the limited menu that President Obama authorized under new rules … Mr. Panetta also said the agency would continue the Bush administration practice of 'rendition' – picking terrorism suspects off the street and sending them to a third country. But he said the agency would refuse to deliver a suspect into the hands of a country known for torture or other actions 'that violate our human values'."
The last sentence is of course childishly absurd. The countries chosen to receive rendition prisoners were chosen precisely because they were willing and able to torture them.
No official in the Bush and Obama administrations has been punished in any way for torture or other war crimes in Iraq, Afghanistan and the other countries they waged illegal war against. And, it could be added, no American bankster has been punished for their indispensable role in the world-wide financial torture they inflicted upon us all beginning in 2008. What a marvelously forgiving land is America. This, however, does not apply to Julian Assange, Edward Snowden, or Chelsea Manning.
In the last days of the Bush White House, Michael Ratner, professor at Columbia Law School and former president of the Center for Constitutional Rights, pointed out:
The only way to prevent this from happening again is to make sure that those who were responsible for the torture program pay the price for it. I don't see how we regain our moral stature by allowing those who were intimately involved in the torture programs to simply walk off the stage and lead lives where they are not held accountable.
I'd like at this point to once again remind my dear readers of the words of the "Convention Against Torture and Other Cruel, Inhuman or Degrading Treatment or Punishment", which was drafted by the United Nations in 1984, came into force in 1987, and ratified by the United States in 1994. Article 2, section 2 of the Convention states: "No exceptional circumstances whatsoever, whether a state of war or a threat of war, internal political instability or any other public emergency, may be invoked as a justification of torture."
Such marvelously clear, unequivocal, and principled language, to set a single standard for a world that makes it increasingly difficult for one to feel proud of humanity.
The Convention Against Torture has been and remains the supreme law of the land. It is a cornerstone of international law and a principle on a par with the prohibition against slavery and genocide.
"Mr. Snowden will not be tortured. Torture is unlawful in the United States." – United States Attorney General Eric Holder, July 26, 2013
John Brennan, appointed by President Obama in January 2013 to be Director of the CIA, has defended "rendition" as an "absolutely vital tool"; and stated that torture had produced "life saving" intelligence.
Obama had nominated Brennan for the CIA position in 2008, but there was such an outcry in the human-rights community over Brennan's apparent acceptance of torture, that Brennan withdrew his nomination. Barack Obama evidently learned nothing from this and appointed the man again in 2013.
During Cold War One, a common theme in the rhetoric was that the Soviets tortured people and detained them without cause, extracted phony confessions, and did the unspeakable to detainees who were helpless against the full, heartless weight of the Communist state. As much as any other evil, torture differentiated the bad guys, the Commies, from the good guys, the American people and their government. However imperfect the US system might be – we were all taught – it had civilized standards that the enemy rejected.
Just because you have a right to do something does not make it right.
The city of Detroit in recent months has been shutting off the supply of water to city residents who have not paid their water bills. This action affects more than 40% of the customers of the Detroit Water and Sewage Department, bringing great inconvenience and threats to the health and sanitation of between 200 and 300 thousand residents. Protests have of course sprung up in the city, with "Water is a human right!" as a leading theme.
Who can argue with that? Well, neo-conservatives and other true believers in the capitalist system who maintain that if you receive the benefit of a product or service, you pay for it. What could be simpler? What are you, some kind of socialist?
For those of you who have difficulty believing that an American city could be so insensitive, allow me to remind you of some history.
On December 14, 1981 a resolution was proposed in the United Nations General Assembly which declared that "education, work, health care, proper nourishment, national development are human rights". Notice the "proper nourishment". The resolution was approved by a vote of 135-1. The United States cast the only "No" vote.
A year later, December 18, 1982, an identical resolution was proposed in the General Assembly. It was approved by a vote of 131-1. The United States cast the only "No" vote.
The following year, December 16, 1983, the resolution was again put forth, a common practice at the United Nations. This time it was approved by a vote of 132-1. There's no need to tell you who cast the sole "No" vote.
These votes took place under the Reagan administration.
Under the Clinton administration, in 1996, a United Nations-sponsored World Food Summit affirmed the "right of everyone to have access to safe and nutritious food". The United States took issue with this, insisting that it does not recognize a "right to food". Washington instead championed free trade as the key to ending the poverty at the root of hunger, and expressed fears that recognition of a "right to food" could lead to lawsuits from poor nations seeking aid and special trade provisions.
The situation of course did not improve under the administration of George W. Bush. In 2002, in Rome, world leaders at another UN-sponsored World Food Summit again approved a declaration that everyone had the right to "safe and nutritious food". The United States continued to oppose the clause, again fearing it would leave them open to future legal claims by famine-stricken countries.
I'm waiting for a UN resolution affirming the right to oxygen.
Notes
See various examples at RT.com, such as "Jen Psaki's most embarrassing fails, most entertaining grillings", or simply search the site for "Ukraine Jen Psaki"
Congressional Record (House of Representatives), May 12, 1966, pp. 9977-78, reprint of an article by Morley Safer of CBS News
"Letter dated 22 July 2014 from the Permanent Representative of the Russian Federation to the United Nations addressed to the Secretary-General", released by the UN 24 July, Document No. A/68/954-S/2014/524
"Pre-WWIII German Pilot Shocker, MH17 'Not Hit By Missile'", Before It's News, July 31 2014
Associated Press, August 4, 2014
Los Angeles Times, February 1, 2009
New York Times, February 6, 2009
Associated Press, November 17, 2008
Associated Press, November 26, 2008
Washington Post, November 18, 1996
Reuters news agency, June 10, 2002
"In acting, sincerity is everything. If you can fake that, you've got it made." (George Burns)
Reality is a psychological operation.
Socio-political reality basically means some group has force, money, and access to fawning media. They can define what exists.
A psyop depends on being able to engineer one story line.
A psyop depends on selling one centralized story.
If, magically, overnight, you found yourself in possession of overwhelming force and a direct pipeline to elite media anchors, you could tell your story about what exists, and you would find millions of people believing you.
What would happen if the three major networks, each with considerable power, had come up with three vastly different versions of the Boston massacre?
CBS: "FBI and local police killed one terrorist and captured the other in what observers are calling one of the bravest days in the history of law enforcement in America."
NBC: "After a violent gun battle on the streets of a great American city, during which a suspect in the Boston massacre was killed, an FBI source stunningly revealed the Bureau had shifted the blame on to their own cooperating informants. The source put it this way: 'The Tsarnaev brothers were recruited by a secret Bureau unit to plant the bombs. The plan was to blame the bombing on so-called patriots, but that fell through, so the Bureau exercised their only option. They put their own informants front and center and called them terrorists…'"
ABC: "Today, the tragic loss of life and wounding of more than 180 persons at the Boston Marathon were partially redeemed, when, amazingly, Boston police traced three pipe bombs to a CIA storage locker in Maryland…"
Suppose, in the midst of an uproar heard and echoed around the world, the networks stood by their contradictory versions of events and wouldn't back down?
A massive blow would hit psyop-land. Centralized story? Poleaxed.
People wouldn't know what to do. They expect one story line and they get three, from the highest hypnotic and influential media giants.
In a literal, though unconscious, sense, familiar time and space begin to fall apart.
But actually, it's far more surreal for the three major television networks to agree on the substance of every significant event than to come to radically different conclusions.
Unfortunately, people don't see it that way. They don't see that three behemoths dispensing the same information are key elements in thought-police fascism. They don't see that the consensus is arranged.
"Bargain price! We'll shave down your perceptual field so you can fit in with eight billion androids. You'll never miss what you can't see. On a scale from 0 to 10, your creative impulse will be coming in at about .06. That'll cement you right into the limited spectrum, where all the action is. Yes, folks, there really is a sense of family in this reality. People liking people. We're all in this together. Remember, life is better when you see what we want you to see! It takes the pressure off. Do you really care about what you think? Don't you want to be fixed, so you can think what everybody else thinks? Now that's a real program. Once we lock you in and reshuffle your electromagnetic fields, you'll emerge with our new Sameness system. You'll see what your friends see with just a bit of difference, to make it interesting…"
In a country in which art has little or no perceived value, there's a sucker born every millisecond. Why? Because when consciousness of art is nil, people accept official art, which is always present, as the guiding and only reality. And of course, they don't see it as art.
"Things can't be any other way. This is it."
Nowhere is this truer than in television news.
It's not only the content of news that is embraced, it's the style, the manner of presentation—and in the long run, the presentation is far more corrosive, far more deadly than the content.
The imitations of life called anchors are the arbiters of style. How they speak, how they look, how they themselves experience emotion—all this is planted deep in the brains of the viewers.
Most of America can't imagine the evening news could look and sound any other way.
That's how solid the long-term brainwashing is.
The elite anchors, from John Daly, in the early days of television, all the way to Brian Williams and Scott Pelley, have set the tone. They define the genre.
The elite anchor is not a person filled with passion or curiosity. Therefore, the audience doesn't have to be passionate or filled with curiosity, either.
The anchor is not a demanding voice on the air; therefore, the audience doesn't have to be demanding.
The anchor isn't hell-bent on uncovering the truth. For this he substitutes a false dignity. Therefore, the audience can surrender its need to wrestle with the truth and replace that with a false dignity of its own.
The anchor takes propriety to an extreme: it's unmannerly to look below the surface of things. Therefore, the audience adopts those manners.
The anchor inserts an actor's style into what should instead be a relentless reporter's forward motion. Therefore, the audience can remain content in its own related role: watching the actor.
The anchor taps into, and mimics, that part of the audience's psyche that wants smooth delivery of superficial cause and effect.
Night after night, the anchor, working from a long tradition, confirms that he is delivering the news as it should be delivered, in both style and substance. The audience bows before the tradition and before him.
From their perch, the elite television anchors can deign to allow a trickle of sympathy here, a slice of compassion there.
But they let the audience know that objectivity is their central mission. "We have to get the story right. You can rely on us for that."
This is the great PR arch of national network news. "These facts are what's really happening and we're giving them to you." The networks spend untold millions to convey that false assurance.
The elite anchor must pretend to believe the narrow parameters and boundaries of a story are all there is. There is no deeper meaning. There is no abyss waiting to swallow whole a major story and reveal it as a hoax. No. Never.
With this conviction in tow, the anchor can fiddle and diddle with details.
The network anchor is the wizard of Is. He keeps explaining what is. "Here's something that is, and then over here we have something else that is, and now, just in, a new thing that is." He lays down miles of "is-concrete" to pave over deeper, uncomfortable, unimaginable truth.
The anchor is quite satisfied to obtain all his information from "reputable sources." This mainly means government and corporate spokespeople. Not a problem.
Every other source, for the anchor, is murky and unreliable. He doesn't have to worry his pretty little head about whether his sources are, indeed, trustworthy. He calculates it this way: if government and corporations are releasing information, that means there is news to report.
What the FBI director has to say is news whether it's true or false, because the director said it. So why not blur over the mile-wide distinction between "he spoke the truth" and "he spoke"?
On air, the anchor is neutral, a castratus, a eunuch.
This is a time-honored ancient tradition. The eunuch, by his diminished condition, has the trust of the ruler. He guards the emperor's inner sanctum. He acts as a buffer between his master and the people. He applies the royal seal to official documents.
Essentially, the anchor is saying, "See, I'm ascetic in the service of truth. Why would I hamstring myself this way unless my mission is sincere objectivity?" And the public buys it.
All expressed shades of emotion occur and are managed within that persona of the dependable court eunuch. The anchor who can move the closest to the line of being human without actually arriving there is the champion. These days, it's Brian Williams.
The vibrating string between eunuch and human is the frequency that makes an anchor great. Think Cronkite, Chet Huntley, Edward R Murrow. Huntley was a just a touch too masculine, so they teamed him up with David Brinkley, a medium-boiled egg. Brinkley supplied twinkles of comic relief.
The public expects to hear that vibrating string. It's been conditioned by many hard nights at the tube, watching the news. When Diane Sawyer goes too far and begins dribbling (alcohol? tranqs?) on her collar, that's soap opera, and the audience loves soap opera, too.
The cable news networks don't really have anyone who qualifies as an elite anchor. Wolf Blitzer of CNN made his bones during the first Iraq war only because his name fit the bombing action so well. Brit Hume of FOX has more anchor authority than anyone now working in network television, but he's semi-retired, content to play the role of contributor, because he knows the news is a scam on wheels.
There are other reasons for "voice-neutrality" of the anchor. Neutrality conveys a sense of science. "We did the experiment in the lab and this is how it turned out."
Neutrality gives assurance that everything is under control. And neutrality implies: the nation is so powerful we don't need to trumpet our facts; we don't need to become excited; our strength is that secure.
Neutrality implies: this is a democracy; an anchor is no more important than the next person (and yet he is—another contradiction, swallowed).
Neutrality implies: we, the news division, don't have to make money (a lie); we're not like the cop shows; we're on a higher plane; we're performing a public service; we're like a responsible charity.
The anchor is the answer to the age-old question about the people. Do the people really want to suck in superficial cause and effect and surface detail, or do they want deeper truth? Do the people want comfortable gigantic lies, or do they want to look behind the curtain?
The anchor, of course, goes for surface only.
The anchor is so accustomed to lying and so accustomed to pretending the lies are true that he wouldn't know how to shift gears.
"Well, folks, our top story tonight…it turns out that IG Farben, a famous chemical and pharmaceutical octopus that put Hitler over the top in Germany, was instrumental in planning what became the EU, the European Union. In other words, today's United Europe is World War Two by other means."
I don't think Williams, Pelley, or Sawyer could deliver that line without going into a terminal paroxysm.
At the end of the Roman Empire, when the whole structure was coming apart, a brilliant and devious decision was made at the top. The Empire would proceed according to a completely different plan. Instead of continuing to stretch its resources to the breaking point with military conquests, it would attack the mind.
It would establish the Roman Church and write new spiritual law. These laws and an overriding cosmology would be dispensed, in land after land, by official "eunuchs." Men who, distanced from the usual human appetites, would automatically gain the trust of the people.
These priests would "deliver the news." They would be the elite anchors, who would translate God's orders and revelations to the public.
By edict, no one would be able to communicate with God, except through these "trusted ones." Therefore, in a sense, the priest was actually higher on the ladder of power than God Himself.
In fact, it would fall to the new Church to reinterpret all of history, writing it as a series of symbolic clues that revealed and confirmed Church doctrine (story line).
Today, people are believers because the popular stories are delivered by contemporary castrati, every night on the evening news.
If these castrati say a virus is threatening the world, and if they are backed up by neutral castrati bishops, the medical scientists, and if those medical scientists are supported by public health bureaucrats, the cardinals, and if the cardinals are given a wink and a nod by the President, the Pope, and if the Pope has just issued a missive warning that anyone with a lung infection can be isolated and quarantined, the Program is working.
Reality is a psyop.
The author of three explosive collections, THE MATRIX REVEALED, EXIT FROM THE MATRIX, and POWER OUTSIDE THE MATRIX, Jon was a candidate for a US Congressional seat in the 29th District of California. He maintains a consulting practice for private clients, the purpose of which is the expansion of personal creative power. Nominated for a Pulitzer Prize, he has worked as an investigative reporter for 30 years, writing articles on politics, medicine, and health for CBS Healthwatch, LA Weekly, Spin Magazine, Stern, and other newspapers and magazines in the US and Europe. Jon has delivered lectures and seminars on global politics, health, logic, and creative power to audiences around the world. You can sign up for his free emails atwww.nomorefakenews.com
Source: Jon Rappoport