"Truth and reason are eternal," Thomas Jefferson wrote to Rev. Samuel Knox in 1810. "They have prevailed. And they will eternally prevail…" Jefferson was wrong. As the current media pack coverage of the 20th anniversary of the "Srebrenica massacre" indicates, his belief that "error of opinion may be tolerated where reason is left to combat it" was somewhat naive.
It is noteworthy that "Srebrenica" in the mainstream media discourse is no longer a geographic location that needs to be preceded by a noun ("the massacre in…"). It has been developed into a stand-alone term that denotes horror, on par with "Auschwitz," "Katyn," or "Hiroshima." In reality, unlike those very real horrors, it is a postmodern myth based on a distortion of facts and their willful omission.
In a Jeffersonian paradigm, two decades later we would have a reasonable, factually based debate on what happened in and around Srebrenica in July 1995, how and why; but the very term "debate" is rejected by an elite class in the West that treats "Srebrenica" as a metaphysical concept. Its luminaries deny as a matter of principle that there is anything to debate. They claim that eight thousand prisoners were executed in cold blood and that a UN-established judicial forum of unquestioned authority has found it to constitute "genocide."
As it happens, many authoritative and reasonable people with no ethnic, religious or personal axe to grind in the Balkan quagmire disagree. They have spoken and written as if a Jeffersonian debate existed, only to be dismissed as "genocide deniers."
The fact beyond dispute is that during the Bosnian war thousands of Muslim men were killed in the region of Srebrenica. Most of them died in July of 1995 when the enclave fell almost without a fight to the Bosnian Serb Army and the Muslim garrison—the 28th division of the (Muslim) Bosnia-Herzegovina Army—attempted a breakthrough. A significant number reached safety at the Muslim-held town of Tuzla, 40 miles to the north; some found shelter in Serbia, across the Drina River to the east. An unknown were killed while fighting their way through; and many others—numbers remain disputed—were taken prisoner and executed by the Bosnian Serb army.
The numbers remain unknown and misrepresented. With "8,000 executed" and thousands more killed in the fighting while trying to reach the Muslim lines, the column attempting to break out should have counted 15,000 men—an impossibly large number. There should have been huge gravesites and satellite evidence of  executions, burials, and body removals. The UN searches in the Srebrenica vicinity, breathlessly frantic at times, still falls far short of the sanctified figure of 8,000. The Islamic shrine at Potocari, where the supposed victims are buried, includes those of soldiers killed in action and civilians who died of natural causes, Muslim and Serb, between May 1992 and July 1995.
The Yugoslav War Crimes Tribunal at The Hague (ICTY) never came up with a conclusive breakdown of casualties. That a war crime did take place is undeniable: many Muslim prisoners were killed. The number of actual victims remains forensically and demographically unproven. According to the former BBC reporter Jonathan Rooper, "from the outset the numbers were used and abused" for political purposes. The number of likely casualties from all causes corresponds closely to the 'missing' list of 7,300 compiled by the International Committee of the Red Cross (ICRC), Rooper says.  But the early estimates were based on nothing more than the simple combination of an estimated 3,000 men last seen at the UN base at Potocari and an estimated 5,000 people reported "to have left the enclave before it fell," Rooper says:
Perhaps the most startling aspect of the 7-8,000 figure is that it has always been represented as synonymous with the number of people executed.  This was never a possibility: numerous contemporary accounts noted that UN and other independent observers had witnessed fierce fighting with significant casualties on both sides. It was also known that others had fled to Muslim-held territory around Tuzla and Zepa, that some had made their way westwards and northwards, and that some had fled into Serbia.  It is therefore certain that nowhere near all the missing could have been executed.
The Red Cross reported at the time that some 3,000 Bosnian Army soldiers managed to reach Muslim lines near Tuzla and were redeployed by the Bosnian Army "without their families being informed." The number of military survivors was also confirmed by Muslim General Enver Hadzihasanovic in his testimony at The Hague.
The last census results, from 1991, counted 37,211 inhabitants in Srebrenica and the surrounding villages, of which 27,118 were Muslims (72.8 percent) and 9,381 Serbs (25.2 percent). Displaced persons from Srebrenica registered with the World Health Organization and Bosnian government in early August 1995 totaled 35,632. With 3,000 Muslim men who reached Tuzla "without their families being informed" we come to the figure of over 38,000 survivors. The Hague Tribunal's own estimates of the total population of the Srebrenica enclave before July 1995—notably that made by Judge Patricia Wald—give 40,000 as the maximum figure. It simply does not add up to support the sanctified figure of "8,000.".
Having spent five days interviewing over 20,000 Srebrenica survivors at Tuzla a week after the fall of the enclave, the UN High Commissioner for Human Rights Henry Wieland declared urbi et orbi, "we have not found anyone who saw with their own eyes an atrocity taking place." A decade later a Dutch field investigator, Dr Dick Schoonoord, confirmed Wieland's verdict: "It has been impossible during our investigations in Bosnia to find any people who witnessed the mass murder or would talk about the fate of the missing men."
A "PROTECTED ZONE"?—It is often pointed out that Srebrenica was an UN "protected zone," but it is seldom noted that the enclave was simultaneously an armed camp used for attacks against Serb villages in the surrounding areas. Muslim General Sefer Halilovic confirmed in his testimony at the Hague Tribunal that there were at least 5,500 Bosnian Muslim Army soldiers in Srebrenica after it had obtained the "safe haven" status, and that he had personally arranged numerous deliveries of sophisticated weapons by helicopter.
French General Philippe Morillon, the UNPROFOR commander who first called international attention to the Srebrenica enclave, was adamant that the crimes committed by those Muslim soldiers made the Serbs' desire for revenge inevitable. He testified at The Hague Tribunal on February 12, 2004, that the Muslim commander in Srebrenica, Naser Oric, "engaged in attacks during Orthodox holidays and destroyed villages, massacring all the inhabitants. This created a degree of hatred that was quite extraordinary in the region." Asked by the ICTY prosecutor how Oric treated his Serb prisoners, General Morillon, who knew him well, replied that "Naser Oric was a warlord who reigned by terror in his area and over the population itself… he didn't even look for an excuse… One can't be bothered with prisoners."
Cees Wiebes, who wrote the intelligence section of the Dutch Government report on Srebrenica, has noted that despite signing the demilitarization agreement, Bosnian Muslim forces in Srebrenica were heavily armed and engaged in provocations ("sabotage operations") against Serbian forces. Professor Wiebes caused a storm with his book Intelligence and the War in Bosnia 1992-1995, detailing the role of the Clinton administration in allowing Iran to arm the Bosnian Muslims.
On 11 July, 1995, the Muslim garrison was ordered to evacuate the town which the Serbs entered unopposed. Local Deputy Director of UN Monitors, Carlos Martins Branco, wrote in 2004  a hugely important study based on his experiences and additional documents ("Was Srebrenica a Hoax?"). Branco asserts that Muslim forces did not even try to take advantage of their heavy artillery because "military resistance would jeopardize the image of 'victim,' which had been so carefully constructed, and which the Muslims considered vital to maintain." His findings have been ignored by the mainstream media and the Western political class.
POLITICAL BACKGROUND—Two prominent local supporters of the late Muslim leader Alija Izetbegovic, his Srebrenica SDA party chairman Ibran Mustafic and police commander Hakija Meholjic, have subsequently accused Izetbegovic of deliberately sacrificing the enclave in order to trigger NATO intervention. Meholjic is explicit: in his presence, Izetbegovic quoted President Bill Clinton as saying that 5,000 dead Muslims would be sufficient to provide the political basis for an American-led intervention on the side of the Muslims.
Testifying at The Hague Tribunal, Muslim Generals Halilovic and Hadzihasanovic confirmed this theory by describing how 18 top officers of the Srebrenica garrison were abruptly removed in May 1995. Ibran Mustafic, the former head of the Muslim SDA party in Srebrenica, is adamant that the scenario for the sacrifice of Srebrenica was carefully prepared:
Unfortunately, the Bosnian presidency and the Army command were involved in this business … Had I received orders to attack the Serb army from the demilitarized zone, I would have rejected to carry out that order. I would have asked the person who had issued that order to bring his family to Srebrenica, so that I can give him a gun let him stage attacks from the demilitarized zone. I knew that such shameful, calculated moves were leading my people to catastrophe. The order came from Sarajevo.
Military analyst Tim Ripley agrees that Srebrenica was deliberately sacrificed by the Muslim political leaders for more lucrative purposes. He noted that Dutch UN soldiers "saw Bosnian troops escaping from Srebrenica past their observation points, carrying brand new anti-tank weapons [which] made many UN officers and international journalists suspicious."
The term "genocide" is even more contentious than the exact circumstances of Srebrenica's fall. Local chief of UN Monitors, Carlos Martins Branco, noted that if there had been a premeditated plan of genocide, instead of attacking in only one direction, from the south to the north—which left open escape routes to the north and west, the Serbs would have established a siege in order to ensure that no one escaped:
The UN observation posts to the north of the enclave were never disturbed and remained in activity after the end of the military operations. There are obviously mass graves in the outskirts of Srebrenica as in the rest of ex-Yugoslavia where combat has occurred, but there are no grounds for the campaign which was mounted, nor the numbers advanced by CNN. The mass graves are filled by a limited number of corpses from both sides, the consequence of heated battle and combat and not the result of a premeditated plan of genocide, as occurred against the Serbian populations in Krajina, in the Summer of 1995, when the Croatian army implemented the mass murder of all Serbians found there.
The fact that The Hague Tribunal called the massacre in Srebrenica "genocide" does not make it so. How can a "genocide" happen within a single municipality? What plan for genocide includes offering safe passage to women and children? And if this was all part of a Serb plot to eliminate Muslims, what about hundreds of thousands of Muslims living peacefully in Serbia itself, including thousands of refugees who fled there from Srebrenica and other parts of Bosnia? Or the Muslims in the neighboring enclave of Žepa, who were unharmed when the Serbs captured that town a few days after capturing Srebrenica?
To get around these common sense obstacles, the ICTY prosecution came up with a sociologist who provided an "expert" opinion: the Srebrenica Muslims lived in a patriarchal society, therefore killing the men was enough to ensure that the widows would not remarry and there would be no more young Muslims in Srebrenica. Such psychobabble turns the term "genocide" into a gruesome joke. Yet it was on the basis of this definition that in August 2001, the Tribunal found Bosnian Serb General Radislav Krstic guilty of "complicity in genocide."
Even if the unproven figure of "8,000" is assumed, it affected less than one-half of one percent of Bosnia's Muslim population in a locality covering one percent of its territory. On such form, the term "genocide" loses all meaning and becomes a propaganda tool rather than a legal and historical concept. On that form, America's NATO ally Turkey – a major regional player in today's Balkans – committed genocide in northern Cyprus in 1974. On that form, no military conflict can be genocide-free.
As Diana Johnstone explained in a seminal article a decade ago,  the 'Srebrenica massacre' is part of a dominant culture discourse that is highly relevant to a host of U.S.-led or supported interventions in the Greater Middle East:
We people in the advanced democracies have reached a new moral plateau, from which we are both able and have a duty both to judge others and to impose our 'values' when necessary. The others, on a lower moral plateau, must be watched carefully, because unlike us, they may commit 'genocide.' … The subliminal message in the official Srebrenica discourse is that because 'we' let that happen, 'we' mustn't let 'it' happen again, ergo, the U.S. should preventively bomb potential perpetrators of 'genocide'.
The accepted Srebrenica story, influenced by war propaganda and uncritical media reports, is neither historically correct nor morally satisfying. The relentless 1990's Western campaign against the Serbs and in favor of their Muslim foes—which is what "Srebrenica" is really all about—is detrimental to the survival of our culture and civilization. It seeks to give further credence to the myth of Muslim blameless victimhood, Christian "Islamophobic" viciousness, and alleged Western indifference. The myth is calculated to weaken our resolve in the global struggle once euphemistically known as "war on terrorism." The former is a crime; the latter, a mistake.
J. Rushdoony wrote a book about confession: "The Cure of Souls". (CofS)   His intent was to provide a Biblical foundation to a necessary Christian procedure that has been a source of frustration.  As with all of his extensive writing he did it extremely well.
When confronted with the snooping that is the source of Goggle's income C. E. O. Eric Schmidt replied that people should not mind having their internet tracks followed if they were not doing something they shouldn't. He was partially correct.
There are a variety of practices that individuals indulge that they wish to keep secret – some are problems and some are solutions.  Pornography is a serious problem in America.  Many people, both men and women, become addicted to it and want to keep it private.  The use of internet pornography is tracked, recorded, and shared. On the other side of the coin there are many who oppose the current course of our nation and seek to use the internet as a source of information; their journey, too, is tracked, recorded, and shared.
Recreational drug use is widespread and those who indulge often seek anonymity.  Some drug use is controlled and remains recreational, other users become addicted and invariably hide their addiction.  Alcohol, also a drug, is socially acceptable even though it creates similar problems.
Rushdoony writes about an early contact with Catholics who made jokes about their sessions with the priest.  Biblical confession is a serious procedure between the confessor and God.  For the Christian, Jesus' death as propitiation for sin is a positive and primary confession.  When confession becomes titillating or routine it is bogus.
Biblical confession petitions God to forgive violations of His Law.  Violation of God's Law is sin.  Jesus died for our sins and when we confess them He forgives them. However, the Biblical pattern for confession involves restoration and repentance.
Law is a prerequisite to legitimate confession.   Known breaches of human law are followed by punishments that are often arbitrary. Breaches of God's Law are sin.  In our current society the state has become sovereign and all offenses are against the state.  God and His Law have been replaced by the capricious and arbitrary laws of men.   Some of God's Law has been preserved but even in those cases the penalties are humanistic.
Rushdoony believed that sin was a serious disorder that affects the "church, state, family, business, and more….. It shatters trust and communication.  Non-confessional societies cease to be societies and develop a 'communication problem'". (CofS Pg.144)
A current article on Greece called its government a "Fantasy Government".  United States of America has had a fantasy government for several decades.  The Trans-Pacific Partnership, is another voluminous, wealth robbing, globalist international agreement.  All of the international trade agreements have resulted in the theft of wealth for the United States. A treasonous congress passes these bills without knowing their contents.  Elected officials are oath-bound to support our Constitution. When they vote for legislation they have not read they are guilty of treason against the American people.  Greece has a small fantasy government; ours, with the world's largest stock of weapons of mass destruction, is a gargantuan chimera.
The word "sin" has become anachronistic.  Right and wrong is now determined by the state with accompanying cognitive dissonances.  While laws against sexual harassment in the military and in the office are being strengthened and enforced, homosexuals can parade their deviance everywhere.  And, on a more dangerous note, while the Bramble men celebrating marriages that are unable to reproduce we are regularly told by our demographers that the White race is becoming extinct.
Evangelical Christians are against sin but they seldom have a proper definition.  Biblical sin is disobedience to God's Law.  Antinomianism is so widespread that a true confession of sin is rare.
Bristol Palin  is pregnant again.  She says "I know this has been, and will be, a huge disappointment to my family, to my close friends, and to many of you".   She does not want any lectures; she and her family will be fine.  She has another illegitimate child fathered by Levi Johnson. His name is Tripp.  The father of the unborn child remains anonymous.  Ignoring the price that was paid for her forgiveness Bristol depends on a merciful God.
Not only does the United States have a fantasy government but it is also distinctly Pharisaical.  Ellen White in her book "The Great Controversy" describes the behavior of the comely and talented archangel, Lucifer.  While not endorsing her religious affiliation I quote her excellent description: "Leaving his place in the immediate presence of God, Lucifer went forth to diffuse the spirit of discontent among the angels. Working with mysterious secrecy, and for a time concealing his real purpose under an appearance of reverence for God, he endeavored to excite dissatisfaction concerning the laws that governed heavenly beings, intimating that they imposed an unnecessary restraint. Since their natures were holy, he urged that the angels should obey the dictates of their own will. He sought to create sympathy for himself by representing that God had dealt unjustly with him in bestowing supreme honor upon Christ."
It is hard to miss the corollary with the present leadership of the United States.  We are being controlled by self-described superior beings who are mysterious and who seek to destroy the embers of devotion to the One True God.  We are manipulated with lies and with events that are planned and perpetrated with intent to deceive the people.  A mysterious oligarchy seeks to gain absolute control over God's people and His creation.  It is a Luciferian plot in both intent and practice.
Rushdoony writes, "A culture which is not truly Christian may plan grandly for 'a new world order'.  It may imagine that all problems are to be solved by its wisdom, and it has a great deal of self-admiration.  Is there a major country in the world today which does not see itself as the earth's true center?  Each seeks to direct itself and the world in terms of its ostensible superior eminence and wisdom." (CofS pg. 211)
Since Christianity has been banned from everyday life right and wrong are now determined by the puppeteers that control the American State.  The rules that govern life are no longer immutable but are subject to change and interpretation as the power structure sees fit.
When the state becomes sovereign as it is now doing in America and has done in the past, particularly in Stalin's Russia, confession becomes staged and coerced. Loyal Russian Communists were sometimes forced to confess erroneous sins against the state to showcase its divine nature.  Actions against the state were punishable by death.
The legalization of same sex marriage by the United States Supreme Court is a leap into the arena of state divinity. This law not only plunges a knife into the heart of Christianity, the major religion of the nation, but violates the obvious tenets of Natural Law as well.  It puts the engine of government on a straight track to godhood.
While this momentous evil is engulfing the world the Protestant Church remains as silent as the insouciant people in her pews.  The Catholic Church has in the past produced a call to righteousness but is now supporting centralization and seems to have a soft spot for sodomy.
Humanistic churches have no vision.  They cannot conceive of a world living in peaceful prosperity under the rule of a merciful God.  For Evangelicals conversion is the beginning and the end.  The theological hole that obedience should fill is ignored and misinformed Christians like Bristol Palin and her mother fail to properly understand the God they claim to worship.
Justice has fled and the sound for righteousness is faint and fading.
Rushdoony writes, "we live in an age when the world and its apostate cultures are dying, and they do not know it.  They dream and plan in terms of a new world order. Its name is death." CofS Pg.179)
Yes, "Its name is death".
By now, everyone on the planet knows that the Supreme Court of the United States (SCOTUS) has rendered a decision to legalize same-sex marriage nationwide. In a landmark 5-4 decision, Justices Anthony Kennedy, Ruth Bader Ginsburg, Sonia Sotomayor, Stephen Breyer, and Elena Kagan ruled that states may not prohibit homosexual couples from getting "married." The reasoning of their decision was based on the 14th Amendment's "Due Process" clause.
Writing for the majority, Justice Kennedy said, "Under the Due Process Clause of the Fourteenth Amendment, no State shall 'deprive any person of life, liberty, or property, without due process of law.' The fundamental liberties protected by this Clause include most of the rights enumerated in the Bill of Rights."
Obviously, there is nothing in the Bill of Rights specifically about the right of homosexuals to "marry." But there is something in the Bill of Rights specifically about the right to keep and bear arms. Using the reasoning and conclusion of the Court's homosexual "marriage" ruling, states have absolutely no authority to deny recognition of concealed carry permits that have been issued in other states. In other words, if the 14th Amendment protects an unspecified right (same-sex "marriage"), it certainly protects a specified right (the right to keep and bear arms). And since some states recognize the right of citizens to openly carry firearms, this right should also be determined to be protected by the 14th Amendment. If states must recognize driver's licenses (and now same-sex "marriage" licenses) issued in other states, it is now clear that they must also be required to recognize concealed weapon licenses issued in other states.
See this report:
SCOTUS Same-sex Marriage Decision May Have Just Legalized The Concealed Carry Of Loaded Firearms Across All 50 States, Nullifying Gun Laws Everywhere  
It should be obvious to any objective person that by providing 14th Amendment protection to homosexual "marriage," SCOTUS has banned most gun control laws throughout the country. However, I seriously doubt that the five justices passing the same-sex "marriage" decision had gun control in mind. Nevertheless, that shouldn't stop gun rights activists from taking advantage of the SCOTUS decision.
Many libertarian jurists are lauding the SCOTUS same-sex decision as a victory for the right of individuals to enter into contracts with one another. But marriage is more than a "contract." It is an institution–an institution created by GOD. No human authority can redefine what our Creator has already defined in both revealed and Natural Law. Forevermore, true marriage can only be between a man and a woman–a SCOTUS decision notwithstanding.
Senator Rand Paul wisely noted, "While I disagree with Supreme Court's redefinition of marriage, I believe that all Americans have the right to contract.
"The Constitution is silent on the question of marriage because marriage has always been a local issue. Our founding fathers went to the local courthouse to be married, not to Washington, D.C.
"I've often said I don't want my guns or my marriage registered in Washington.
"Those who disagree with the recent Supreme Court ruling argue that the court should not overturn the will of legislative majorities. Those who favor the Supreme Court ruling argue that the 14th Amendment protects rights from legislative majorities.
"Do consenting adults have a right to contract with other consenting adults? Supporters of the Supreme Court's decision argue yes but they argue no when it comes to economic liberties, like contracts regarding wages.
"It seems some rights are more equal than others.
"Marriage, though a contract, is also more than just a simple contract.
"I acknowledge the right to contract in all economic and personal spheres, but that doesn't mean there isn't a danger that a government that involves itself in every nook and cranny of our lives won't now enforce definitions that conflict with sincerely felt religious convictions of others.
"Some have argued that the Supreme Court's ruling will now involve the police power of the state in churches, church schools, church hospitals.
"This may well become the next step, and I for one will stand ready to resist any intrusion of government into the religious sphere.
"Justice Clarence Thomas is correct in his dissent when he says: 'In the American legal tradition, liberty has long been understood as individual freedom from governmental action, not as a right to a particular governmental entitlement.'
"The government should not prevent people from making contracts but that does not mean that the government must confer a special imprimatur upon a new definition of marriage.
"Perhaps the time has come to examine whether or not governmental recognition of marriage is a good idea, for either party."
See the report here:
Rand Paul: Government Should Get Out of the Marriage Business Altogether
Note that Dr. Paul correctly recognized that the SCOTUS attempted to render a "redefinition" of marriage. That it did.
Since the beginning of human history (not to mention Western Civilization) marriage has been recognized as being between a man and a woman. Again, marriage is much more than a civil contract.
As I have noted several times, the right of civil contracts includes the right of homosexuals to enter into civil unions. But marriage is NOT a civil union. Nor is it merely a civil contract. In fact, real marriage is NOT a civil matter at all. It is a spiritual matter. Civil governments can recognize or not recognize all they want; it doesn't change the definition of marriage one iota. Civil governments can no more redefine marriage than they can redefine worship or prayer. Marriage is a divine institution. Therefore, it is completely outside the scope and jurisdiction of SCOTUS or any other civil authority.
The problem is that many years ago the Church decided to allow civil government licensing authority over marriage. When they did this, they absconded divine authority over marriage and reduced it into nothing more than just another government-sanctioned civil contract. Now the chickens have come home to roost.
The problem is not SCOTUS; the problem is the CHURCH.
Rand Paul is right: "Perhaps the time has come to examine whether or not governmental recognition of marriage is a good idea, for either party."
So far, the only State to have the correct response to the SCOTUS decision is the State of Alabama, led by my friend Alabama Supreme Court Chief Justice Roy Moore. The State of Alabama is encouraging county courthouses to not issue ANY marriage licenses. And this is exactly what many Alabama counties are doing. This strategy should be replicated by all fifty states and the counties within those states.
Furthermore, pastors across the country should stop performing ALL marriages that are licensed by the State. In other words, the Church should do what it did for some 1,800+ years of Church history: keep the State out of the marriage business.
But all of that doesn't change the intention of the Court decision and the agenda of the radical secularists who are the impetus behind the decision and their attempt to expunge all semblances of Christianity (and morality) from America's public life.
In the majority decision, Justice Kennedy attempted to throw people of faith a bone by stating, "Finally, it must be emphasized that religions, and those who adhere to religious doctrines, may continue to advocate with utmost, sincere conviction that, by divine precepts, same-sex marriage should not be condoned. The First Amendment ensures that religious organizations and persons are given proper protection as they seek to teach the principles that are so fulfilling and so central to their lives and faiths, and to their own deep aspirations to continue the family structure they have long revered."
However, notice that Kennedy said that religious people may "advocate" for traditional marriage, but he said nothing about non-compliance. What will happen to those pastors and churches that refuse to "marry" same-sex couples? If you think for one minute that radical homosexuals are going to be content with a Supreme Court decision that doesn't have enforcement power, you are very mistaken.
Already, allies of the militant homosexual agenda are promoting public censorship and the loss of tax exempt status for those churches that refuse to submit to the Supreme Court decision.
My friend Cal Thomas got it right: "Given their political clout and antipathy to Christian doctrines, some gay activists are likely to go after the tax-exempt status of Christian colleges that prohibit cohabitation of unmarried students, or openly homosexual ones, as well as churches that refuse to marry them. As with legal challenges to the owners of bakeries that have been in the news for refusing to bake a cake for same-sex weddings, activists who demand total conformity to their agenda will seek to put out of business and silence anyone who believes differently."
See Cal's column here:
You've Been Warned, America, Gay Marriage Is Just The Beginning
Cal is exactly right. The purge has already begun.
"CNN Senior Legal Analyst Jeffrey Toobin said that it wasn't legal 'to talk about gay people the way Justice Scalia used to talk about gay people' while recounting Scalia's prior dissent in Lawrence v. Texas on Friday's 'CNN Newsroom.'"
See the report here:
CNN's Toobin: Not 'Legal' For Scalia To Talk About Gay People Like He Used To
Again, this is from CNN's SENIOR LEGAL ANALYST. "Beam me up, Mr. Speaker." Anti-Christian purgers are already advocating the cancellation of the right of free speech in the wake of the SCOTUS decision.
Look at this: "A newspaper in Harrisburg, PA has announced henceforth it intends to censor certain views about marriage deemed no better than racism, sexism, anti-Semitism.
"John L. Micek, editorial page editor and formerly state capital reporter, made the announcement shortly after the Supreme Court handed down its imposition of gay marriage on the county. Micek wrote:
"'As a result of Friday's ruling, PennLive/The Patriot-News will no longer accept, nor will it print, op-Eds and letters to the editor in opposition to same sex marriage.' In a Tweet later in the day, Micek doubled down, 'This is not hard: We would not print racist, sexist, or anti-Semitic letters. To that we add homophobic ones. Pretty simple.'"
Here is the report:
Pennsylvania Newspaper Censors All Dissent On Same-sex Marriage
You can take this to the bank: there will be hundreds of local and State laws reflecting the SCOTUS decision and hundreds of lawsuits forthcoming against people who seek to live by their religious convictions to not directly participate in homosexual "marriages." And that means there will be hundreds of court decisions ruling in favor of the plaintiffs, hundreds of arrest warrants, civil fines, prison sentences, etc. Anyone who doesn't see this coming is blind.
Then there is this column written by Mark Oppenheimer who writes for America's flagship newspaper, The New York Times, calling for the elimination of tax-exempt status for churches on the heels of the SCOTUS gay "marriage" decision.
See Mark's column here:
Now's The Time To End Tax Exemptions For Religious Institutions
You can mark it down: his will not be the last such call.
So, this begs the question, what will all of these Romans 13 "obey-the-government-no-matter-what" preachers do now? When they are told by the IRS and local civil authorities to "marry" homosexuals or lose their tax exemption–or maybe even go to jail–what will they do?
All of this goes back to what I've been saying for years: the Church is to blame for this mess. Pastors are to blame for this mess.
For decades, pastors and churches allowed the state to supplant the authority of Christ over them. They volunteered to become creatures of the state by submitting to the IRS 501c3 non-profit, tax-exempt status. By doing so, they forfeited their independence and autonomy (not to mention their spiritual identity and authority) and became nothing more than a state-created non-profit organization. Again, now the chickens are coming home to roost.
Actually, I think it's time for pastors and churches to decide once and for all to whom they belong and what they are. And if that means losing their precious tax-exempt status, SO BE IT.
For the sake of tax exemption, pastors and churches have stayed mostly silent on virtually every evil contrivance of civil government under the sun. Most of them said nothing when SCOTUS expunged prayer and Bible reading from our schools; most of them said nothing when the Gun Control Act of 1968 (which is almost copied word for word from Adolf Hitler's gun control act) was passed; most of them said nothing when SCOTUS legalized the murder of unborn babies; most of them said nothing with the Patriot Act, Military Commissions Act, indefinite detention of American citizens under NDAA was passed, and just recently, when the Republican Congress collaborated with Barack Obama to cast America's national sovereignty upon the altar of international "free trade" deals. For the sake of tax exemption, the vast, vast majority of today's pastors and churches are totally silent about almost EVERYTHING.
So, what will America's pastors and churches do now? What will they do when they must choose between "marrying" same-sex couples and losing tax exemption? If their track record is any indicator, we know what most of them will do: THEY WILL SUBMIT TO CAESAR.
Plus, the SCOTUS decision opens the door for a host of other possibilities. If every consenting adult has an absolute right to enter into civil contracts, how can a State prohibit polygamy? In his dissenting opinion, Chief Justice Roberts said that the Court's decision to legalize same-sex "marriage" made the future legalization of polygamy inevitable.  Where does it end?
Popular radio talk show host Rush Limbaugh agrees with Justice Roberts. Read Rush's analysis here:
Rush Limbaugh: Here's What's Next For Marriages
And if a State must recognize polygamous "marriages," what's next? Where will it end?
And there is one more thing that almost no one is willing to talk about: what is at stake here is the national acceptance of sexual perversion. The SCOTUS decision lends national approbation to an act that our Creator has condemned with the strongest language. (See Romans chapter one.) It has lent national approbation to an act that Western Civilization has always (rightly) regarded as deviant.
Understand this: once any society universally embraces and promotes the sodomite lifestyle, there is no going back. One cannot find a single civilization in history that has survived once homosexuality has become a driving, dominant force over it. It is both a divine and Natural Law. There is a huge difference between recognizing the civil rights of individuals to live immorally (that is a personal matter between the individual and God) and forcing society as a whole to grant societal acceptance and recognition to the immoral act. To quote Rand Paul again: "The government should not prevent people from making contracts but that does not mean that the government must confer a special imprimatur upon a new definition of marriage." Yet, that is exactly what the Supreme Court has done.
But, once again, the fault is the Church. The Church has refused to be the moral leader of the country. Things like homosexuality are too "controversial" for most pulpits. It is a forbidden subject. And too many churches that have been willing to address the issue have done so with such a lack of love and compassion as to do more harm than good. To not speak the truth is bad; to not speak the truth in love is worse.
And dare I say that many of our Christian churches, schools, colleges, and universities have become breeding grounds for homosexual behavior. The absence of male leadership is epidemic in the Church–and in the home, for that matter. And by leadership, I do not mean dictatorship. But true, godly, strong, kind, loving male leadership has eroded significantly from twentieth, and now twenty-first, century churches.
The Church is the moral rudder of a nation. The SCOTUS decision to legalize same-sex "marriage" is the result of the Church abandoning its moral leadership. The Church surrendered its spiritual and moral authority to the state. Why should it now be surprised when the state chooses to not recognize a moral authority that the Church, itself, refuses to recognize?
We just heard about the Miami high-school principal fired for soberly disagreeing on social media with the McKinney narrative. Now comes an even more outrageous story involving what's usually called political correctness, but should really be labeled what it is: evil.
Sir Tim Hunt is a darn good scientist. So good, apparently, that he won the 2001 Nobel Prize in physiology. But none of this matters to the University College London, which just forced this esteemed mind to resign over a joke he made at a conference on women in science in South Korea. The quip has been called "sexist," you see.
And what was his trespass? Did he take the podium drunken and make lewd comments about women's anatomy? Was it a remark about wife-battery? It must be just awful, as the 39 words uttered have now ended his career. Here's the joke he told attendees:
"Let me tell you about my trouble with girls. Three things happen when they are in the lab. You fall in love with them, they fall in love with you, and when you criticize them, they cry."
No, I'm not joking. That's it. Nothing more. Yet it inspired social-media campaigners to hunt for Hunt, and the 72-year-old was ousted from his research position. Is this shell of Western civilization we're living in for real?
Hunt's wife, Professor Mary Collins, whom The Guardian describes as "one of Britain's most senior immunologists," was not immune to the fallout. She said that her "relations with University College have been badly tarnished"; I guess this was for the sin of marrying a man who'd one day make a joke to which the evil ones would take exception.
This could remind one of the babies born in North Korean prison camps, who remain in those camps, sometimes being tortured, for having the temerity to be born to a female political prisoner. And it didn't matter that Hunt and Collins quite sincerely did the requisite groveling. Writes The Guardian, "'I stood up and went mad,' he [Hunt] admits. 'I was very nervous and a bit confused but, yes, I made those remarks – which were inexcusable – but I made them in a totally jocular, ironic way.' …Collins clutches her head as Hunt talks. 'It was an unbelievably stupid thing to say,' she says."
Actually, no, we live in an unbelievably stupid civilization. That the couple is so sincerely contrite only proves again that great scientists are often social morons. After all, what reflected in Hunt's joke is untrue? Men have, I understand, fallen in love with female co-workers; it has even been rumored that women sometimes fall in love with male co-workers. And everyone knows that, as a general rule, women are far more apt to cry than are men — including when being criticized. So what's the problem?
It's that we live in an age of cultural despots who subordinate Truth to the "party line."
Note that one hallmark of tyranny is that it compels people to deny what they know is true.
The reality is that Hunt has been a good little liberal boy, but it didn't save him. His wife proclaimed her feminism, and his, saying that he did all the cooking and chores around the house. Female scientists came forward and said he was "immensely supportive" of efforts at sexual equality and advanced the careers of both men and women researchers. But no deviation from the party line is allowed by leftist tyrannies. It's no different from when Joseph Stalin said he would destroy even the Old Bolshevik, and "his kin, his family. Anyone who by his actions or thoughts encroaches on the unity of the socialist state, we shall destroy relentlessly." You must be a new Bolshevik, comrade — and make sure that nothing you said yesterday was "old."
But the "new school" people, as another great mind, Rachel Jeantel (remember her?), put it, are in like Flynn. Black Boston University professor Saida Grundy tweeted that white males are a "problem population" and viciously taunted a white rape victim on Facebook, and she will still be assuming her BU position July 1. Professor Jacqueline Warwick of Dalhousie University in Nova Scotia said at a panel discussion that men should not be "allowed to speak first" in class, and she still has a job. Profane anti-Christian bigot and sex columnist Dan Savage once told high-school age kids to "ignore the bull[**]*t in the Bible" and called some of them "pansy-a**ed" when they took exception to his remarks, and he still gets paid to peddle perversion to students ($24,000 for one speech). But Hunt? He had to acknowledge, reports The Guardian, "I am finished. I had hoped to do a lot more to help promote science in this country and in Europe, but I cannot see how that can happen. I have become toxic."
So let's get this straight. While I'm not acquainted with Hunt's work on cell division, I'm assuming that Nobel Prizes in science aren't like the peace prizes, which can be awarded simply because you're a "mainstream African-American who is articulate and bright and clean and a nice-looking guy," as Joe Biden put it (Crazy Joe still has his job, too). This means that Western institutions will now choose ideological "purity" over a brilliant scientist. Is this not reminiscent of Marxist nations, which would often replace qualified doctors and researchers with goose-stepping incompetents?
The sad part of this submission to evil is that leftists are abject cowards and pack animals; stand up to them en masse, and they'll scatter like the capons and clucking hens they are. Instead, legitimate freedom is being lost. Of course, there certainly are those in the hierarchy above Hunt who subscribe to the politically correct nonsense. But there no doubt are others who realize his joke was no big deal yet are making a calculation: "If I don't fire the man, the guns could be turned on me and I'll be next on the chopping block." It could remind one of Ben Franklin's words, "We must all hang together, or assuredly we shall all hang separately."
And we are hanging separately, as sane people are picked off one by one and an iron muzzle descends across the West. It has already touched you, no doubt, as everyone is watching what he says. And barring a revolution, it's only a matter of time before the effecting of oppression moves from the social to the governmental sphere, as we transition from the gag to the gulag.
In a stunning blow to Turkey's president Recep Tayyip Erdogan, the ruling Justice and Development Party (AKP) has lost its parliamentary majority for the first time in over 13 years. By curtailing Erdogan's power, the results of the general election held last Sunday (June 7) are likely – at long last – to have some positive repercussions for the Greater Middle East.
Erdogan had hoped to obtain a two-thirds legislative supermajority, which would enable him to push through a new constitution that would create an executive presidency and make him de iure, as well asde facto, Turkey's autocrat with sweeping powers which would have made the U.S. presidency look weak by comparison. His by now openly Islamist AKP, which has governed Turkey since February 2002, went along with his plan. In view of Erdogan's victory in the presidential election less than a year ago with 52 percent of the vote in the first round, and the AKP's ability to steadily increase its share of the vote in three consecutive elections, the party's top brass initially assumed the AKP would be able to gain the 400 seats which Erdogan boldly promised at the beginning of the campaign. Some weeks later he lowered his expectations to 330 seats, the number necessary to hold a referendum on the constitutional amendment he wanted. In the final fortnight of the campaign he remained confident that the AKP would get at least 276 seats needed to form a single-party government for the fourth time.
Erdogan's name was not on the ballot, but the election was widely perceived as a referendum on his proposed "Turkish-style presidency" – and he has overplayed his hand. Unprecedentedly high turnout of 86 percent included a significant number of former abstainees who were now motivated simply by the desire to stop Erdogan. After last Sunday's fiasco, his overall power and even his authority in the AKP will no longer be absolute.
With 258 seats and 41 percent of the vote the AKP remains Turkey's largest party by far, but it is now 18 mandates short of a simple majority in the 550-seat national assembly. In order to continue governing it has two options: to find a coalition partner among the three opposition parties which have crossed the (blatantly undemocratic) ten-percent threshold, or else to form a minority government with the tacit support of one of those three parties. If neither scenario works in the next 45 days, there will have to be a new election in three months' time.
The secular-Kemalist Republican People's Party (CHP) remains the second largest force in Turkish politics, with 25 percent of the vote and 132 seats. Its social-democratic agenda is supported mainly by the urban middle class and by pro-European liberals who regard Erdogan as a calamity that must be stopped. It is therefore unlikely to consider a coalition with the AKP, let alone to provide passive support for a minority government. CHP leader Kemal Kilicdaroglu declared that the nation "stopped the rot" on Sunday, but also expressed his opposition to yet another election. He and his colleagues would like to form a broad coalition without the AKP, but the problem is that the other two opposition parties fundamentally disagree on several key issues at home and abroad.
Even less likely to help Erdogan and the AKP is the success story of this election, the Peoples' Democratic Party (HDP), which enters parliament for the first time with 80 seats and 13 percent of the vote. Its leader Selahattin Demirtas openly taunted Erdogan in his speech late on election night: "As of this hour, the debate about the presidency, the debate about dictatorship is over. Turkey averted a disaster at the brink. We prevented you from being the kind of president you wanted to be!" This mainly Kurdish party has successfully appealed to young Turks everywhere with its staunch opposition to AKP's Islamist conservatism and with its advocacy of a radical social agenda which includes Western-style homosexual and women's rights.
All this is anathema to the third opposition party, the far-right Nationalist Movement Party (MHP) – the home of the "Grey Wolves" of yore – which also has 80 seats, with just over 16 percent of the vote. It is opposed to practically everything the HDP stands for, Kurdish minority rights in particular. When the chips are down the Nationalist Movement Party is more likely to join an AKP-led coalition. Its price is likely to be Erdogan's acceptance of a greatly curtailed presidential role, in accordance with the existing constitution, and his public commitment that he would not make another attempt to change the rules.
This may well be quietly welcomed by many AKP leaders who have grown weary  Erdogan's  confrontational style and autocratic ways. Former president and party founder Abdullah Gul, who is known to resent Erdogan, may reenter the fray. There are many influential Turks of Islamist persuasion, within and without the AKP, who have not been adverse to the drift away from secularism at home and to the assertive pursuit of neo-Ottomanism abroad, but who believe that the power of "the Sultan" (as Erdogan is known among his friends and foes alike) needs to be curtailed. While they do not identify with the values and aspirations of the secular and liberal urban middle class which dominates the opposition, some religious conservatives will see the election result as an opportunity to persuade the "Sultan" that he needs to listen to the neglected pashas and viziers.
Erdogan was not the only reason for AKP's poor showing. Turkey's no longer growing economy and a weak lira have played a major role, as well as the government's involvement in Syria, the growingmedia censorship, government corruption, and the typically Islamist disregard for the Kemalist legacy of women's equality. Last but not least, Erdogan's brazen involvement in the campaign process – in spite of the fact that the president of the republic is constitutionally required to remain politically neutral – may have cost cost the AKP a couple of percentage points.
Internationally, the election result and the ensuing weeks, perhaps months, of domestic political uncertainty will probably decrease Turkey's involvement in the Syrian civil war, specifically its support for the hard-core jihadist Nusra Front. Most Turks, AKP supporters and Kemalists alike, are opposed to Erdogan's support for the Syrian rebels and advocacy of foreign intervention, which is perceived as an "American," rather than "Turkish" policy. If Turkey becomes less involved in Arab affairs in the period ahead, that will be good news for Syria's beleaguered president Bashar al-Assad, the man who commands the only army in the field capable of opposing ISIS.
There was only an en passant reference to Syria at the end of my analysis of Erdogan's defeat three days ago. This subject deserves closer scrutiny. His controversial policy vis-à-vis Damascus now appears to have been a major factor in his defeat, and Turkey's likely fine-tuning of her posture in the months ahead may have major repercussions for the Greater Middle East.
Turkey's three opposition parties, the social-democratic, neoKemalist Republican People's Party (CHP), the sternly nationalist Action Party (MHP), and the predominantly Kurdish Peoples' Democratic Party (HDP) may not have much in common on social, cultural, ethnic and religious issues, but they all agree that Erdogan was mistaken in entering the Syrian fray. He did so by arming Islamic militants fighting Syrian President Bashar al-Assad's government, by quietly allowing thousands of foreign jihadists to cross from Turkey into Iraq and Syria, and by enabling the Islamic State (ISIS) and the Jabhat al-Nusra – a hard-line jihadist fighting force if there ever was one – to become major players in the conflict. Turkey's assistance to the latter group is a matter of well documented record.
It is now apparent that the ruling AKP performed poorly, in contrast to its earlier showing, in all provinces bordering Syria. and especially among the millions of Kurds disenchanted with Turkey's failure to help their Syrian brethern in Kobani. As a reliable news source has noted,
The change of power structure in Turkey came precisely at a time when the new Saudi Arabia, Qatar and Turkey partnership is changing the balances in the field against Assad's regime. The double-pronged strategy of the partnership sought to arm and expand the territory dominated in the northern front of Idlib and Hatay and the southern front of Daara, Quneitra, Suwayda and Damascus via Jordan. The Turkish prong of this strategy is now up in the air.
Erdogan had agreed with the recently enthroned Saudi King Salman to supply weapons and training to al-Qaeda's Syrian branch of Jabhat al-Nusra and the affiliated Army of Conquest (Jaish al-Fateh), led by Ahrar al-Sha. These al-Qaeda affiliates are hard-core jihadists, of course, whose only claim to respectability (in the eyes of Washington's "foreign policy community") is the fact that they are anti-Bashar and not affiliated with ISIS. They are horrible people nevertheless, and designing them as "moderates" in the mainstream Western media simply serves the bipartisan neocon-neolib agenda of bringing down Assad – regardless of consequences for Syria's Christians, for Syria itself, and for Israel's vulnerable Golan frontier.
It is noteworthy that HDP co-chair Selahattin Demirtas, speaking to CNN International, stated point blank that any coalition government would have to discontinue Turkey's "support IS and other radical groups in the region." Turkey's eventual disengagement from Erdogan's axis of evil with the worst purveyor of Islamic agenda in the world – Saudi Arabia – would be a long overdue ray of hope in the nightmarish Middle Eastern equation.
The South China Sea (SCS) is fast becoming one of the key geopolitical battlegrounds of our time. China's systematic, rapid and large-scale island-building campaign has suddenly altered the strategic equation in "Asia's Mediterranean." It has also presented Washington with a long-term strategic dilemma in the Western Pacific.
There are literally dozens of disputed islands, atolls, submerged banks, reefs, rocks and shoals in the SCS. Incompatible territorial claims involving China, Vietnam, Malaysia and the Philippines have been the subject of legal wrangling and rhetorical bickering for years. In recent months China has suddenly upped the ante with its Spratly Island building expansion on the Johnson, Cuarteron, and Gaven reefs. Over Fiery Cross Reef and, more recently, Mischief Reef, fleets of dozens of dredgers have been continually sucking sand off the bottom of the sea and blowing it in huge plumes to create new land above the surface, while simultaneously digging deep harbors. What used to be reefs barely visible above the waves are now massive building projects which already house permanent air and naval facilities. Since early last year China has expanded these islands by 2,000 acres – and the work of its engineering teams appears to be far from over. Future likely flashpoints are the Scarborough Shoals (claimed by Philippines and China), and the Paracel Islands, already occupied by China but still claimed by Vietnam.
For China, asserting control over the disputed zone is seen as a near-existential issue. The UN Environmental Program (UNEP) estimates that the South China Sea currently accounts for as much as one tenth of global fish catches. China will have no more than 20 percent of the world's population by 2030, but she will account for 38 percent of global fish consumption by that time. Energy-hungry China is also hoping to exploit massive likely deposits of oil and gas below the SCS surface, if and when its fait accompli is accepted as irreversible.
The series of man-made islands and the massive Chinese military build-up on them have alarmed Washington, with the U.S. Navy carrying out P8-A Poseidon surveillance flights over the new islands. Ten days ago former CIA Deputy Director Michael Morell told CNN's Erin Burnett Wednesday night that the confrontation indicates there is "absolutely" a risk of the U.S. and China going to war sometime in the future. "China is a rising power. We're a status quo power. We're the big dog on the block . . . They want more influence," Morell said. "Are we going to move a little bit? Are they going to push? How is that dance going to work out? This is a significant issue for the next President of the United States."
It is indeed. The challenge that the rise of China presents to the United States global strategy ascurrently concieved is more pressing than any other global issue except for the ever-present threat ofjihad. Beijing is rapidly becoming a regional power of the first order, the potential Asian hegemon that will need to be contained and confronted, or in some way appeased. Its ruling party still calls itself "communist," but the ethos of the nomenklatura is eminently traditional: nationalist, xenophobic, and authoritarian. The sacro egoismo has been China's guiding light in foreign affairs for over two millennia.
With the demise of Maoism, Han nationalism is the only ideological cement that binds the nation under CPC rule, granting it legitimacy. Nurtured by the collective memory of humiliations, invasions and massacres that started with the First Opium War in 1839, it is a potent force. Taiwan epitomizes the legacy of past shame. She was taken by force by Japan and ruled as a colony for 50 years (1895-1945). To condone her separation, under whatever name, would be tantamount to accepting the status of a second-class power. Furthermore, a soft line on Taiwan would have serious implications for the future status of Tibet and – even more significantly – for the restive Muslim-populated Sinkiang-Uigur province in the far west of the country.
The choice facing the United States is fairly clear. China is an ancient power, studiedly contemptuous of outsiders, steeped in Realpolitik. If she is to be treated as a rival and potential enemy, it is necessary to halt further American investment in the Chinese economy, to reverse massive outsourcing of the past quarter-century, and to erect effective trade barriers against the continuing deluge of Chinese-made consumer products in American stores. It is also necessary to improve defense capabilities of China's regional foes – from Japan and South Korea in the north to the Philippines and (yes) Vietnam in the south – who are not necessarily on friendly terms with each other. The geopolitical equation of containing and confronting China also demands an alliance, informal or otherwise, between the United States and India, which is, in the long term, China's sole natural rival in Asia.
If the list is unappetizing or even impossible to fulfill (India), then the alternative is to accept the rise of China as a first-order power, and to do so with the best possible grace. Exactly ten years ago I wrote in these pages that "a reigning power is naturally disinclined to look on benignly as another rises, but the middle road would be based on the notion that a conflict between America and China is not inevitable. The relationship will need to be managed skillfully – with more reciprocity in the field of trade and exchange rates – but its essential ingredient will be to accept that Taiwan is part of China and that she will eventually be reintegrated . . . "
The diagnosis still stands, and China is in no hurry. She is the fastest growing among the world's major economies; per capita basis, her growth over the past two decades was the highest in the world. That Western-style political liberties have not kept pace with China's increasing economic freedom is true but irrelevant. A decade from now she will be a great power of the first order. In foreign affairs, her leaders will continue to trust China's wealth and power as a means of achieving diplomatic objectives and treating a strong defense as an outgrowth of a strong economy.
The current tension in the SCS notwithstanding, countries of the region will be hard pressed to negotiate the terms and conditions of an acceptable relationship with Beijing that would fall short of China's outright hegemony. At the same time, it is self-defeating for the U.S. to assume that anychange of the status quo in Asia is detrimental to American interests. As China continues to transform herself into a global economic power, her interests, security concerns, and aspirations will be asserted with ever-greater self-confidence. The task of U.S. policy in East and Southeast Asia should be to consider whether, and to what extent, those aspirations are compatible with American interests and security. Ultimately the American interest demands a pragmatic acceptance of the emerging redistribution of power in Asia, and – on the global scale – policies that will seek to manage, rather than resist, the emerging multipolar structure.
"Where does ISIS come from and how can we stop them?" you might ask.  Answering that question is easy if you just do the math. So let's find out the answer — by simply adding up the columns of numbers listed below: 
ISIS = American weapons and training.
ISIS = Israeli supplies, weapons and medical backup.
ISIS = Chechen, Libyan, Malaysian, Al Qaeda and other foreign fighters paid for and armed by the House of Saud.
ISIS = Access to Syria from Turkey
ISIS = American neo-colonialists working in tandem with Al Qaeda.
When we subtract American, Turkish, Israeli and Saudi neo-colonialists' $$$ and weapons from ISIS, we get peace in the Middle East — or at least a hopeful shot at it.
"But, Jane," you might ask next, "how can we prove this equation?"  We don't have to be Euclid or Einstein.  We just have to do the math.
The Middle East minus Syria, Yemen, Lebanon, Iraq, Iran, Libya and Palestine equals more land + more oil + more power + more $$$ for Turkish, American, Israeli and Saudi neo-colonialists.
ISIS + Al Qaeda + the spoiled-brat House of Saud's grand illusion that oil $$$ can buy them anything they want + America's Wall Street and War Street immoral lust for profit and power + Zionist neo-con lust for "Greater Israel" + Turkish neo-con lust for a return of the old Ottoman Empire = Bad News for the Middle East + Bad News for you and me too.
Our tax $$$ to America's Wall Street and War Street + ISIS + Al Qaeda + Israeli neo-colonialists also equals less jobs, more class conflict, less education for our children, more paramilitary cops, more Fergusons and Baltimores, more homelessness and tent cities and a lot less democracy here at home.
Bottom line:  To stop ISIS, all we have to do is cut off the flow of $$$ + weapons + training to it from American + Saudi + Israeli + Turkish neo-colonialists.  Plus start up a flow of $$$ to Americans like you and me instead.  Plus hopefully stop the eventual flow of ISIS to Turkey, Arabia, Israel and America as well.
Can one imagine how difficult it was for America's founders to actually make the decision to separate from Great Britain? England was the Motherland. The Crown was the central government. For all of their lives, the government of Great Britain was the only government they had ever known. The history of England was their history. Not only that, these men had never experienced any other system of government.  Neither was there history to guide them. A monarchical form of government was all they knew. The "divine right of kings" was inculcated into their hearts and minds via virtually every established institution, including the Church, from the time they were born.
The Magna Carta had paved the highway of philosophy for the acceptance of self-government and individual liberty, but it was hardly practiced. King John signed the charter under extreme duress and then spent the rest of his reign in bloody retaliation against those who had pressed him to accept it. For over five hundred years, the Magna Carta lay as a noble idea but with little practical application. The Enlightenment philosophers wrote  and theorized much about the principles contained in the Great Charter, but, again, until America's founding generation came on the scene, nothing much of substance had been achieved. It was America's Founding Fathers and founding generation that took the principles of the Magna Carta and the Enlightenment philosophers and actually used those principles to birth a new nation.
But how did they come to such a decision? Imagine the consternation. Imagine the inner conflicts. Communities were divided. Friends were divided. Families were divided. Brothers were divided. Parents and children and husbands and wives were divided. Yet, make the decision, they did. They pledged their lives, fortunes, and sacred honor to the cause. They obtained liberty and independence for their posterity–at great cost.
Granted, the decision to separate from the British Crown was not made overnight. Thomas Jefferson explained the process of reasoning behind the separation in the Declaration of Independence. Hear him:
"Prudence, indeed, will dictate that Governments long established should not be changed for light and transient causes; and accordingly all experience hath shewn, that mankind are more disposed to suffer, while evils are sufferable, than to right themselves by abolishing the forms to which they are accustomed. But when a long train of abuses and usurpations, pursuing invariably the same Object evinces a design to reduce them under absolute Despotism, it is their right, it is their duty, to throw off such Government, and to provide new Guards for their future security.–Such has been the patient sufferance of these Colonies; and such is now the necessity which constrains them to alter their former Systems of Government."
How could Jefferson have been any clearer? He and the rest of America's founders were convinced of "a design to reduce them under absolute Despotism."
Noah Webster's Dictionary Of The English Language (1828) defines "design" as verb: "To project; to form in idea, as a scheme." And as noun: "A scheme or plan in the mind." And, "Purpose; intention; aim; implying a scheme or plan in the mind."
Hence, America's founders were convinced of a scheme, a plan, and an intention in the minds of those within the British Crown to "reduce them under absolute Despotism." Yes, friends, America's founders were convinced there was a CONSPIRACY within the hearts and minds of the British government to enslave them. Hear Jefferson again:
"But when a long train of abuses and usurpations, pursuing invariably the same Object evinces a design…"
When abuses and usurpations which pursue invariably the "same Object" continue unabated over a long period of time, this is NOT an act of happenstance; it is by "design." Somewhere along the line, the eyes of America's founders were opened to the conspiracy within the British government to enslave them. Once their eyes were opened to the conspiracy, the rest, as we say, is history.
I submit that what we have in America today are basically two groups of people: those whose eyes are opened to conspiracy, and those who eyes are blind to conspiracy. This is exactly as it was in 1775 and 1776. Christian or unchurched, Republican or Democrat, conservative or liberal, if one is blind to the conspiracy to "reduce [us] under absolute Despotism," one cannot truly comprehend the real danger or the real war.
And, sadly, it appears that most people today do NOT see the CONSPIRACY. All they see is Republican and Democrat; conservative and liberal; right and left; Christian and Muslim; religious and secular; FOX News and CNN, etc. Until Americans awaken to the same "design" that our founders awakened to, they will not be able to obtain a solution to our country's malaise, as they are blind to the real enemy.
Mind you, not everyone in the British government in 1775 had it in mind to enslave the Colonists. Not every British soldier, not every British magistrate, not every British agent had a personal goal to enslave the colonies. They were just following orders; their eyes were blind to the plans and objects of those who were orchestrating the conspiracy. And, of course, those within the colonies who supported the British Crown were, likewise, blind to the conspiracy. Thank God, enough of our forebears were enlightened to the design of the Crown to be willing to cast it off.
I will say it plainly: there is a design (conspiracy) within Washington, D.C., and its allies to reduce us under absolute despotism.
Come on, folks, think: when has it mattered to a tinker's dam which party controlled the White House or Congress? No matter which party is in charge, the central government in D.C. continues to get bigger and bigger and more and more oppressive. Regardless of whether the President is a Democrat or Republican, NOTHING changes in regards to America's foreign policies or our economic policies. Regardless of party, the Council on Foreign Relations (CFR) dominates our foreign policies and the Federal Reserve Bank (FRB) dominates our economic policies.  Regardless of party, an American Police State and surveillance society continue to mushroom, the Department of Homeland Security (DHS) and Internal Revenue Service (IRS) continue to exert more and more control over the American citizenry, and states and communities continue to fall under the heel of federal overreach.
Both parties in Washington, D.C., are led by warmongering zealots who use war, not only to enrich themselves, but also to carry out their preconceived plans of perpetual war for the purpose of paving the way for international bankers to control the world's economies and for the purpose of subjecting the American citizenry to greater and greater infringements of their liberties.
In this regard, militant Islam is but a tool of the globalists. As long as Americans think that Islam is our enemy, they are blind to who the real enemy is. Our enemy is NOT Islam; our enemy is the cabal of globalists who are manipulating militant Islamists. The same people (the CFR and their fellow travelers) who took one of our strongest allies in the Middle East (Iran) and turned it into one our (supposed) greatest enemies are the same ones who are manipulating all of the wars of the Middle East, as well as bringing Russia and China to the brink of global conflict.
I submit the conspiracy of the British Crown has returned; and what used to be an indefatigable, recalcitrant, and vigilant independent republic (the United States) has become little more than a puppet of the old European monarchy. What the Crown could not accomplish through military force, it has accomplished through international banking.
The Federal Reserve wields absolute control over U.S. economic policy, and yet, no one really knows exactly who all of the members of the FRB even are. One thing is known, many (if not most) of them are NOT even U.S. citizens. Yes, ladies and gentlemen, foreign bankers have been controlling U.S. financial policy for the better part of a century.
In like fashion, the CFR virtually controls U.S. foreign policy. And the goal of the CFR is the reduction of national sovereignty and the rise of global government. Listen to Admiral Chester Ward.
Rear Admiral Chester Ward, who was the Judge Advocate General of the Navy from 1956-1960 and a former member of the CFR, but withdrew from the organization after realizing what they were all about, warned the American people about the dangers of this and similar organizations (such as the Trilateral Commission). He said, "The most powerful clique in these elitist groups have one objective in common–they want to bring about the surrender of the sovereignty and the national independence of the United States. A second clique of international members in the CFR . . . comprises the Wall Street international bankers and their key agents. Primarily, they want the world banking monopoly from whatever power ends up in the control of global government."
Admiral Ward also said, "The main purpose of the Council on Foreign Relations is promoting the disarmament of U.S. sovereignty and national independence and submergence into an all-powerful, one world government."
Now, observe that the administrations of both Republican and Democrat presidents are littered with CFR members. Under President George H.W. Bush, CFR members comprised 20% of his cabinet; under President Bill Clinton, CFR members comprised 34% of his cabinet; under President G.W. Bush, CFR members comprised 22% of his cabinet; and under President Barack Obama, CFR members comprise 36% of his cabinet. And these figures do not take into account how many CFR members are scattered throughout the national news media.
Can one imagine how people would react if twenty or thirty percent of a given presidential administration's cabinet members were from, say, the Christian Coalition–or, even the ACLU. If the Christian Coalition had that many members in a presidential administration, people on the left would be screaming bloody murder. And if the ACLU had that many members in a presidential administration, people on the right would be screaming bloody murder. As it is, the CFR DOES have that many members in EVERY presidential administration and no one from the right or the left even says "boo." It's because they (from both left and right) are blind to the conspiracy.
These international conspirators can be found in London, Brussels, Washington, D.C., New York City, Tel Aviv, etc. In terms of U.S. foreign policy, these conspirators completely control the neocon agenda. That doesn't mean that every politician who embraces the neocon foreign policy agenda is him or herself aware of the conspiracy. In the same way, not every federal officer within the DHS is aware of the conspiracy. Not every soldier who is fighting these perpetual wars of aggression is aware of the conspiracy. But as with many in the old British monarchy, they are the pawns of the conspirators.
George Washington, Thomas Jefferson, Sam Adams, et al., were only able to declare and fight for independence and liberty after they understood that they were dealing with "a design to reduce them under absolute Despotism."
Until the American people, including our State legislators, governors, city mayors, councilmen, county sheriffs, district attorneys, congressmen, senators, pastors, educators, journalists, etc., awaken to the conspiracy that seeks to enslave us, we will never have the sagacity and strength of will to properly resist it. This means that many of the current battles in which good people are engaged merely play into the designs of those who seek our enslavement. We can't win the war until we know who the real enemy is.
P.S. On Sunday, April 19 of this year, I delivered the famous sermon of Pastor Jonas Clark that was originally delivered on April 19, 1776, on the occasion of the first anniversary of the Battle of Lexington. Pastor Clark was the pastor of the men who fought that historic battle, which began America's War for Independence. Obviously, this message was delivered just a couple of months before our Declaration of Independence was signed. I preached this message word-for-word. And I tried to deliver it with the same zeal and passion in which it was originally preached.
The vast majority of today's Christians NEVER hear a message that remotely resembles the kind of sermons that the pastors of Colonial America delivered. And since April 19 fell on Sunday this year, I delivered Jonas Clark's powerful message regarding the Battle of Lexington and American liberty so people could listen to the kind of preaching that Christians in Colonial America heard routinely. Pastor Clark entitled his message, "The Fate of Blood-Thirsty Oppressors and God's Tender Care of His Distressed People."
My delivery of this awesome message is on DVD. I offer this DVD to my readers in the hope that many of you will purchase copies of the DVD and let your friends, relatives, fellow Christians, pastor, etc., hear true Colonial American preaching. Again, this is word-for-word the message of Jonas Clark delivered on April 19, 1776, concerning the Battle of Lexington Green and America's fight for liberty.
I have never heard anyone deliver Rev. Clark's famous message. As far as I know, this is the only verbatim recording of this historic message in existence–preached with the same kind of passion and fervor as it was said Pastor Clark delivered it.
To order my delivery of Jonas Clark's message, go here:
Jonas Clark's Famous Message Of April 19, 1776
Part I
Saudi Arabia has been dominating the Middle Eastern news recently. Its bombing of the Shia Houthis in Yemen, supported by Washington, and its ambivalent stand on ISIS, concealed in Washington, should raise questions about the nature and long-term ambitions of the desert kingdom. On those key issues there is an apparent conspiracy of silence in the American mainstream media and the policy-making community.
Saudi Arabia, the most authentically Muslim country in the world, is a polity based on a set of religious, legal, and political assumptions rooted in mainstream Sunni Islam. To understand its pernicious role in the ongoing Middle Eastern crisis, and to grasp the magnitude of its ongoing threat to America's long-term strategic interests and security, we should start with the early history of that strange and unpleasant place.
MUHAMMAD IBN ABD AL-WAHHAB was born in central Arabia over three centuries ago, but his legacy is alive and well. Wahhab was a zealous Muslim revivalist who lived in the period of the Ottoman Empire's early decline. He felt that Islam in general, and Arabia in particular, needed to be spiritually and literally re-purified and returned to the true tenets of the faith. Like Islam's prophet he married a wealthy woman much older than himself, whose inheritance enabled him to engage in theological and political pursuits. His Sharia training, combined with a brief encounter with suffism – which he rejected – produced a powerful mix. From the suffis he took the concept of a fraternal religious order, but rejected initiation rituals and music in any form. He also condemned the decorations of mosques, however non-representational, and sinful frivolities such as smoking tobacco. This Muslim anabaptist rejected veneration of saints and sites and objects connected with them, and gave rise to a movement that sees itself as the guardian of true Islamic values. His ideas were espoused in the Book of Unity which gave rise to the name of the movement, al-Muwahhidun, or Unitarians.
By the middle of the 18th century Wahhab, like Muhammad eleven centuries earlier, found a politically powerful backer for his cause. In 1744 he struck a partnership with Muhammad ibn-Saud, leader of a powerful clan in central Arabia, and moved to his "capital," the semi-nomadic settlement of ad-Dir'yah (Riyadh). Since that time the fortunes of the Wahhabis and the Ibn Said family have been intertwined. Under ibn-Saud's successor Abdul-Aziz, the Wahhabis struck out of their desert base at Najd with the fury unseen in a millennium. In what looked for a while like the repetition of Muhammad's and the Four Caliphs' phenomenal early success a millennium earlier, they temporarily captured Mecca and Medina, marched into Mesopotamia – forcing the Ottoman governor to negotiate humiliating terms – and invaded Syria.
This was an unacceptable challenge to the Sultan, the heir to the caliphate and "protector of the holy places." In 1811 he obtained the agreement of Ali Pasha, Egypt's de facto autonomous ruler following Napoleon's withdrawal, to launch a campaign against the Wahhabis. After seven years they were routed. Later in the century, however, the sect revived under Faysal to provide the focus of Arab resistance to the Ottoman Empire, which they considered degenerate and corrupt.
In 1902 a daring and bellicose prince of the ibn-Saud family, named after Abdul-Aziz "the warrior," returned from exile with 40 horsemen and took control of Riyadh. He exploited the terminal weakness of the Ottoman Empire, soon to be embroiled in revolution and beset by external threats to its crumbling empire in the Balkans and Libya. Fired by the spirit of Wahhabism, Abdul Aziz embarked on a campaign to recover control over the whole of Arabia. In 1912 the Wahhabi revival prompted the founding of a religious settlement at Artawiyah, 300 miles north of Riyadh, under the auspices of theIkhwan, the Brotherhood. This was a stern Arabian variety of Plymouth, a Muslim New Jerusalem in which people were dragged from their homes and whipped for failing to attend Friday prayers.
IN THE CHAOTIC YEARS after the demise of the Ottoman Empire the Ikhwan proved to be an able and fanatical fighting force, securing victory for Ibn Saud, their leader and the founder of the present royal dynasty. In 1925 they carried out Ibn Saud's order that all revered burial sites in Mecca and Medina be destroyed, including the "heavenly orchard" in Medina, where relatives and many early companions of Muhammad were buried. In 1926 they proclaimed Abdul-Aziz the King of Hejaz. Within a decade he had united the rest of Arabia and imposed the Wahhabist view of the world, man, law, and Allah, on most of the peninsula.
It is incorrect to say that the Wahhabi movement is to Islam what Puritanism is to Christianity, however. While Puritans could be regarded as Christianity's Islamicists sui generis with their desire to turn Christianity into a druly scriptural, literalist theocracy, Wahhabism is unmistakably "mainstream" in its demand for the return to the original glory of the early Islamic Ummah. Their iconoclastic zeal notwithstanding, the Wahhabis were no more extreme or violent than the models for Islam – the "prophet" and his companions – have been in all ages and to this day.
THE HEIRS OF ABDUL WAHHAB are still heading the Saudi religious establishment. They resisted the introduction of "heathen" contraptions such as radio, cars, and television, and relented only when the King promised to use those suspect mediums to promote the faith. They stopped the importation of all alcohol, previously sold to foreigners (1952), and banned women driving motor vehicles (1957). The Kuran and Sunna are formally the country's constitution and the source of its legal code. The original sources of Islamic orthodoxy – the Kuran and Hadith – provide ample and detailed evidence that Saudi Arabia is as close as we can get to an Islamic state and society. The State Department report on human rights in the Kingdom of Saudi Arabia published 15 years ago offers an accurate glimpse of that vision in action:
Freedom of religion does not exist. Islam is the official religion and all citizens must be Muslims. Neither the Government nor society in general accepts the concepts of separation of religion and state, and such separation does not exist. Under Shari'a conversion by a Muslim to another religion is considered apostasy. Public apostasy is a crime punishable by death -if the accused does not recant. Islamic religious education is mandatory in public schools at all levels. All children receive religious instruction… Citizens do not have the right to change their government. The Council of Senior Islamic Scholars… reviews the Government's public policies for compliance with Shari'a. The Government [views] Islamic law as the only necessary guide to protect human rights. There is legal and systemic discrimination based on sex and religion.
Nothing has changed since: the Kingdom of Saudi Arabia is the most intolerant Islamic regime in the world. While the Saudis continue to build mosques all over the world, tens of thousands of Christians among the millions of foreign workers from Asia, Europe and America must worship in secret, if at all. They are arrested, lashed or deported for public display of their beliefs. The Saudi religious police, known as the Committee to Promote Virtue and Prevent Vice, continues to routinely intimidate, abuse, and detain citizens and foreigners. In 2002 they pushed girls escaping from burning school buildings back into the inferno and certain death because they did not have their heads properly covered. Its detainees are routinely subjected to beatings, sleep deprivation and torture. Punishments include flogging, amputation, and public execution by beheading, stoning, or firing squad – over 50 were performed so far this year.
Women are second class citizens: according to the CIA world factbook, 82.2% of females are literate, in comparison to 90.8% literacy rates in males. The testimony of one man equals that of two women, and female parties to court proceedings must deputize male relatives to speak on their behalf. Women are not admitted to a hospital for medical treatment (often for wounds resulting from domestic violence) without the consent of a male relative. In public a woman is expected to wear an abaya (a black garment that covers the entire body) and to cover her head and face. Daughters receive half the inheritance awarded to their brothers. Women must demonstrate Sharia-specified grounds for divorce, but men may divorce them without giving any cause. In addition women must not drive cars, must not be driven except by an employee, or husband, or a close relative, and even then must not occupy the front seat. Women may study abroad if accompanied by a spouse or an immediate male relative. Women may own a businesses, but they must deputize a male relative to represent it.
Political detainees commonly are held incommunicado in special prisons during the initial phase of an investigation, which may last weeks or months, without access to lawyers. Defendants usually appear without an attorney before a judge, who determines guilt or innocence in accordance with Shari'a standards. Most trials are closed, and crimes against Muslims receive harsher penalties than those against non-Muslims. A sentence may be changed at any stage of review, except for punishments stipulated by the Koran.
The only expanding industry in Saudi Arabia is that of Islamic obscurantism. Some examples are grotesque: in 1966 the Vice-President of the Islamic University of Medina complained that Copernican theory was being taught at Riyadh University; it has been banned ever since. Three hundred years after the Christian theologians had to concede that the Earth went around the Sun, the geocentric theory was reaffirmed in the centers of Saudi learning. Segregation of the sexes at schools is set at age nine, which is the age for girls to start to wear the veil.
The opinions of the ullema are the only internal check and balance on the ruling family. Five Saudi Islamic universities produce thousands of clerics, many more than will ever be hired to work in the country's mosques. Thousands end up spreading and promoting Wahhabism abroad. The King of the Saudis remains their Imam. He and the Wahhabi religious establishment see it as their sacred duty and purpose to evangelize the world. The petro-dollar windfall has paid for the construction of some ten thousand mosques and "Islamic centers" in the United States and other parts of the world. All along, needless to say, no churches (let alone synagogues) can be built in Saudi Arabia, and all non-Muslim religious practice is strictly forbidden.
Read more
That notorious time of the year is upon us again; the income tax deadline. It is an affected date because the tax system tells it is so. The torment and extortion of organized theft goes on all year long, but April 15 has a special place in the gut of every victim of larceny by government. Oh sure, paying taxes is supposed to be the price of maintaining civilization, but when was the last time that government protected , much less promoted, the mythical "Good Society". The notion that paying tribute to a federal self ordained authority as a duty is only accepted by delusional proponents of a fantasy existence of welfare recipient beneficiaries.
For the productive wealth creators, the government pensioners aid and abet the tax distribution scheme that extracts revenue from the private sectors and rewards public scavengers. This entire arrangement is based upon fear. The axiom is that your money is not your own and that tax rates run on an arbitrary scale and deductions are granted to privileged sympathizers.
If you buck the tax swindle, folks expect to be harassed and targeted. However, when law abiding citizens become the focus of financial molestation, the checks and balances in the legal adjudication, hypothetically should grant relief. The manner by which Tea Party groups were persecuted by the IRS division under the direction of Lois Lerner reach new heights of bureaucratic tyranny.
With the announcement that DOJ Will Not Prosecute IRS's Lois Lerner for Contempt of Congress, righteous outrage builds among the remnant of justice seeking organizations.
"The American Center for Law and Justice has represented dozens of the conservative groups targeted by the IRS. It says the decision not to prosecute Lerner "is troubling but not surprising."

"This latest development reflects what has become standard operating procedure for the Obama Administration in its so-called investigation of this unlawful targeting scheme by the IRS. One year ago, the Justice Department refused to appoint a special prosecutor to investigate the unconstitutional actions of Lerner and others at the IRS.

"Now, by refusing to pursue criminal contempt charges against Lerner…the Justice Department is making a mockery of our criminal justice system. This is just one more example of an administration that refuses to hold anyone accountable for a scheme that unlawfully targeted conservative groups."
Read the conclusion in the full letter from the Department of Justice letter to John Boehner, Speaker of the House, from Ronald C. Machen Jr.
We wish to assure you that the Department of Justice does not question the authority of Congress "to summon witnesses before either House or before their committees," or "to pass laws 'necessary and proper' to carry into effect its power to get testimony." See Adams v. Maryland, 347 U.S. 179, 183 (1954) (citing U.S. Const. art. I, $ 8). Thus, in appropriate circumstances, a United States Attomey's Office will refer to a grand jury under Section 192 witnesses who contumaciously withhold testimony or other information that Congress has legitimately sought to compel in the exercise of its legislative or oversight responsibilities. Because, however, the authority of any branch of the United States government to compel witness testimony is limited by the protections of the Constitution, and Ms. Lerner did not waive those protections in this matter, the United States Attorney's Office will not bring the instant contempt citation before a grand jury.
Robert W. Wood over at Forbes, provides invaluable background in, No Criminal Charges For Lois Lerner Of IRS, Keeps Bonuses, Nice Retirement.
"There is considerable back story. Ms. Lerner and Justice Department officials met in 2010 about going after conservative organizations after the Supreme Court's Citizens United case. In August 2010, the IRS distributed a 'be on the lookout' list for Tea Party organizations. By March 2012, amid reports of targeting, former IRS Commissioner Doug Shulman testified there is "absolutely no targeting" by the IRS.

On November 9, 2012, Mr. Shulman stepped down, replaced by Steven Miller. On May 10, 2013, Ms. Lerner admitted targeting, calling it "absolutely incorrect, insensitive, and inappropriate." Four days later, on May 14, 2013, the Inspector General issued a report confirming targeting. Attorney General Eric Holder announced an FBI investigation, and Acting IRS Commissioner Steven Miller resigned.

On May 22, 2013, Ms. Lerner professed her innocence, then took the Fifth. Next day, she was placed on administrative leave. On September 24, 2013, Ms. Lerner's retirement was announced with full pension. President Obama said there is "not a smidgen of corruption" at the IRS, but the Committee on House Oversight and Reform issues a report on Lois Lerner."
The substantiation and source evidence within this chronicle of corruption should alarm all Americans. Especially if the arguments and historic accounts in the essay, Proof that Paying Federal Income Tax is Voluntary, are operationally sound. Nonetheless, the punitive powers of autocratic administration operate under their own selective rulings, applying penalties to any group or individual who threatens the Federal Hydra Dragon.
The pattern of protective cover for arrogant and vicious operatives from the politicization of an IRS goon squad to destroy the Tea Party is undeniable. Jim Kouri writes in the article Sens. McCain and Levin urged IRS to target Tea Party, conservative groups, that a compelling reason for the protective status for Lerner came from familiar political crooks.
"Government documents obtained by a top "Inside the Beltway" watchdog group and released on Thursday reveal that Internal Revenue Service's Lois Lerner was strongly urged by Sen. Carl Levin, D-Michigan, and Sen. John McCain, R-Arizona, her assistance in attacking certain non-profit political groups. The organizations they selected for targeting by Lerner were part of the Tea Party and conservative movements."
When Senators undermine the legitimate investigatory efforts of a House committee, the prospects for confidence in tax compliance is demolished. Few people expect the Department of Injustice to hold corrupt officials accountable. But when the Statists within Congress act as co-conspirators to block honest government, all the public suffers.
Apologists for the IRS exaction machine are tapping taxpayers for record amounts. First Time Ever: Federal Tax Revenues Top $1 Trillion Thru January; Gov't Still Runs $194B Deficit.
"For the first time ever, real federal tax revenues topped $1 trillion in the first four months of the fiscal year–October through January–according to data released Wednesday by the U.S Treasury.

Federal tax revenues hit a record $1,046,224,000,000 for fiscal year 2015 through January, according to the Monthly Treasury Statement, but the federal government still ran a $194,209,000,000 deficit during that time."
In spite of the record flow of cash into government coffers, the culture of deficit spending still continues. Bleeding the public while paying the pension of the likes of Lois Lerner epitomizes the mental illness that is the crux conduct of the tax collection force.
When Eric Holder's shysters tweet their perversion of the law, anyone even remotely concerned about defending a constitutional framework are demeaned. DOJ acted as a prosecutor of the House, while giving a pass to the governance agent doing the dirty work for the establishment.
The WSJ reports on a reaction to the announcement, Lois Lerner Won't Be Prosecuted on Contempt of Congress Charges.
"Once again, the Obama administration has tried to sweep IRS targeting of taxpayers for their political beliefs under the rug," said Boehner spokesman Michael Steel. "But unaccountable federal bureaucrats using their power to attack the First Amendment strikes at the heart of our democracy, and the American people deserve the truth."
As the flood of 1040 returns hit the processing facilities of the IRS, make April 15th a day of disgust, symbolic of the Lois Lerner retirement contribution fund. Deplorably, the rule of law has been relegated to the safekeeping of the most corrupt Attorney General in memory. By comparison, John Mitchell was an angel when stacked up to the careerist criminal Eric Holder.
The image of illegal defiance from Lois Lerner should invoke Congressional outrage to purge the Fifth Column traitors that make a vocation of persecuting Middle America, while maintaining a bipartisan alliance to destroy entirely all constitutional restraints.
Calls to abolish the IRS and replace revenue collection with a flat or consumption tax requires a ground swell to jump start a national movement. However, the likelihood that an additional VAT tax will be imposed before any actual remedy would be enacted is more probable.
Lois Lerner is the embodiment of all that is wrong with the tax shakedown racket. Funding of limited legitimate government expenditures must start with breaking the corrosive culture of bureaucratic benefits and retirement rewards. Maintaining employment and promoting the vile LL character model, dooms the system to continuous despotism.
In an Obamacare world of further scrutiny, the IRS will become even more selective with their targeting. It is not about collecting revenue, it is all about punishment and retribution to anyone resistant to Federal mandates. As long as the likes of Lerner and Holder escape accountability, the system will sink even lower into the abyss.
"The interventions of US imperialism, with the direct collaboration of the Saudi monarchy, have plunged the entire Middle East into chaos and bloodshed—from the destruction of Iraq, to the transformation of Libya into a militia-ravaged "failed state," to the ongoing carnage inflicted upon Syria … This predatory imperialist offensive threatens to ignite a region-wide conflagration, even as Washington deliberately ratchets up military tensions with both Russia and China. The threat of these separate conflicts coalescing into a third world war grows by the day."
— Bill Van Auken, Obama's criminal war against Yemen, WSWS

"Will the reactionary rulers of Saudi Arabia manage to break the legitimate hopes and enthusiastic dreams burning in the hearts of thousands of young people of the Arabian Peninsula? Never!"
— Gamal Abd al-Nasser, President of Egypt 1956 to 1970
In its ongoing effort to prevent the rise of "any popularly supported government in the region", the US has joined Saudi Arabia's savage war of annihilation against Yemen's northern tribal rebels, the Houthis. The Pentagon has expedited the delivery of bombs, ammunition and guidance systems to assist the Saudi-led campaign and is providing logistical support to maximize the impact of its bombing raids. The US has also set up a "joint fusion center", provided "aerial re-fueling platforms" and "advanced US-made weaponry" with the explicit intention of suppressing a militant group that overthrew the US-backed puppet government in the capital of Sanaa in the fall of 2014. The level of coordination between the makeshift Arab coalition (The Gulf Cooperation Council or GCC) and the US suggests that Washington is not only fully aware that food depots, water facilities, refugee camps and critical civilian infrastructure are being deliberately targeted and destroyed, but that the White House has given the green light to actions that will inevitably lead to widespread famine and social collapse. Here's a little background from an article in The National:
"Yemen Economic Corporation, one of Yemen's largest food storage centres, was destroyed by three coalition missile strikes in Hodeidah last Tuesday, according to the Houthi-controlled defence ministry. The corporation had enough food for the entire country. The government's military food storage centre in Hodeidah was also targeted and destroyed on Tuesday, according to the defence ministry.

Also in Hodeidah, country's second largest dairy plant was hit by five Saudi missiles on Wednesday, killing at least 29 people, mostly employees, and injuring dozens of others." (Yemeni civilians struggle to get by amid conflict, The National)
This is from Channel News Asia:
DUBAI: Warships from the Saudi-led coalition have blocked a vessel carrying more than 47,000 tonnes of wheat from entering a Yemeni port, demanding United Nations guarantees that the cargo would not go to military personnel, shipping sources said on Thursday." (Saudi-led coalition bars wheat ship from entering Yemen port – sources, Channel News Asia)
This is from WSWS:
"Airstrikes as well as fighting on the ground has knocked out electrical infrastructure, cutting off power in many urban areas and stopping the operation of crucial pumps that supply Yemen's cities with drinking water. "We're worried that this system will break down shortly; Aden is a dry, hot place, and without water people will really suffer," UNICEF representative Harneis told reporters…

The no-fly zone and blockade enforced by Saudi Arabia and its coalition partners has effectively blocked the delivery of medical aid and supplies for the last two weeks, exacerbating the developing crisis." WSWS
Live reports on the ground confirm that food depots have been bombed across the country; " in Asr (west) hit as well as Urdhi complex (center) & Noqum (east).
This is how America fights its wars, by precipitating massive humanitarian crises that help it to achieve its political objectives. If that isn't terrorism, then what is?
Here's more from the Washington Post:
"As tons of desperately needed medical supplies await clearance to be flown into Yemen, aid workers warned Tuesday of an unfolding humanitarian crisis, saying at least 560 people, including dozens of children, have been killed, mostly in a Saudi-led air campaign and battles between Shiite rebels and forces loyal to the embattled president. More than 1,700 people have been wounded and another 100,000 have fled their homes as fighting intensified over the past three weeks, the World Health Organization said." (560 dead amid fears of humanitarian collapse in Yemen, Washington Post)
The Saudis launched this latest aggression invoking the thinnest of pretexts, that it wanted to "restore the legitimate government" and protect the "Yemeni constitution and elections." As CNN's Ali Alahmed sardonically quipped:
"The need to protect constitutions and elections is a rather strange message from the representative of an absolute monarchy … The kingdom's real motives seem clear if one looks at Saudi monarchy's history of not allowing regional competition of any kind, while consistently combating efforts to build democratic governments that empower the people…

The Saudi goal is simple: Prevent the rise of any popularly supported government in the region that seeks self-determination. And the excuse of "resisting Iran's influence," meanwhile, appears to be nothing but sectarian bluster." (What Saudi Arabia wants in Yemen, CNN)
While we agree with Alahmed's basic thesis, we think the rule applies more to the United States than Saudi Arabia. After all, it's the US that has gone from one country to the next, toppling governments, installing puppets, and spreading anarchy wherever it goes. Whatever role the Saudis might have played in Washington's grand plan to redraw the map of the Middle East and project US tentacles into Eurasia, it is quite small by comparison. It's the US that refuses to allow an independent government to emerge in a region that it's committed to control. And it's the US that is facilitating the attacks on innocent Yemenis by providing the bombs, weaponry and logistical support to the reactionary Saudi leadership. Check this out from Gregory Johnson at Buzzfeed:
"A consensus appears to be building in Riyadh, Cairo, and Islamabad toward inserting ground troops into the conflict in Yemen. One Egyptian military official told BuzzFeed News the decision had already been made. "Ground forces will enter the war," the official said on condition of anonymity in order to discuss classified military operations.

The timing of such a move, which would be a significant escalation in the Saudi-led air campaign in Yemen, is still being discussed. But the Egyptian military source said it could happen as soon as "two or three days." (Ground Forces Seen Joining Bloody War In Yemen, Buzzfeed)
So after two weeks of nonstop bombing, the coalition is now planning to intensify the conflict by putting boots on the ground. But that will only prolong the hostilities and plunge the country deeper into crisis. It will also increase the risk of Houthi retaliation, which appears to already be taking place. According to Al Arabiya English, fighting broke out in the Southern Saudi city of Narjan on April 11. (#BREAKING Asiri: Houthi militias are amassing close to the Saudi-Yemeni border… #BREAKING: Asiri: clashes reported near the Saudi city of Najran)
While no one expects the Houthis to invade their northern neighbor, there are some analysts who think the monarchy has taken on more than it can chew and will eventually suffer blowback from its incursion. One such critic is Sayed Hassan Nasrallah, Secretary General of the Lebanese paramilitary organization Hezbollah. In a recent interview, Nasrallah suggested that the Houthis have the means to curtail vital energy supplies, strike a blow against Saudi Arabia, and send financial markets tumbling at the same time. Here's an excerpt from the interview:
"There is now a demand on the Yemeni leaders… who have not taken the decision to close (the strategic Strait) of Bab al-Mandeb, which they could do at any time. (It is only 20 kilometres-large, they are quite capable of it.) And they could also hit targets inside Saudi Arabia with missiles, or even enter the interior of Saudi Arabia, although they have not yet made this decision, so far … There is currently a Yemeni popular demand: "Let us go to Saudi Arabia." Leadership thus far has not taken such a decision. I wanted to indicate this."…

Nasrallah again: "I am absolutely certain that Saudi Arabia will undergo a major defeat. And its defeat will impact its internal situation, the royal family … and the entire region." ("Hassan Nasrallah: The war in Yemen announces the end of the House of Saud", The Vineyard of the Saker)

So the Houthis could close the Bab Al Mandeb straits and prevent millions of barrels of oil from getting to market? That changes the calculus entirely. How would that effect Washington's plan to crash Russia's economy with plunging oil prices? How would it impact global stock markets which are already jittery over the Fed's projected rate hikes? What effect would it have on al Nusra, ISIS and other Al Qaeda-linked groups that would then seek to launch similar attacks against critical energy infrastructure as the best way to achieve their aims?

There are things the Houthis can do to discourage Saudi aggression. They can take matters into their own hands and strike where it hurts most. Washington is so convinced of its own invincibility, that no one has even thought of this. Without the slightest hesitation, the Obama troupe has embroiled a key ally in bloody conflagration that could backfire and seriously undermine US interests in the region. Saudi Arabia is the cornerstone of US power in the Middle East, but it is also its Achilles heel. By supporting the attack on the Houthis instead of seeking a political solution, Washington has strengthened Al Qaeda on the Arabian Peninsula (AQAP) which poses the greatest single threat to the monarchy. As Nasrallah notes: "they (the US and SA) protect Al Qaeda and Daesh in Yemen, and more, they drop them weapons by air. This is an achievement? This goes against the interests of Saudi Arabia."
Indeed, it does. Al Qaeda has much greater ability to infiltrate Saudi Arabia and either launch terrorist attacks or foment popular revolution. The Houthis present no such security threat, they're only interest is to maintain their own sovereignty, borders, and independent foreign policy. A 2003 article in the Atlantic by CIA Bureau Chief Robert Baer titled "The Fall of the House of Saud" provides a window into Riyadh's vulnerabilities and draws the ominous conclusion that the kingdom's days are numbered. Here's a clip from the article:
"Saudi oil is controlled by an increasingly bankrupt, criminal, dysfunctional, and out-of-touch royal family that is hated by the people it rules and by the nations that surround its kingdom…

Signs of impending disaster are everywhere, but the House of Saud has chosen to pray that the moment of reckoning will not come soon—and the United States has chosen to look away. So nothing changes: the royal family continues to exhaust the Saudi treasury, buying more and more arms and funneling more and more "charity" money to the jihadists, all in a desperate and self-destructive effort to protect itself.

The most vulnerable point and the most spectacular target in the Saudi oil system is the Abqaiq complex—the world's largest oil-processing facility, which sits about twenty-four miles inland from the northern end of the Gulf of Bahrain. All petroleum originating in the south is pumped to Abqaiq for processing. For the first two months after a moderate to severe attack on Abqaiq, production there would slow from an average of 6.8 million barrels a day to one million barrels, a loss equivalent to one third of America's daily consumption of crude oil. For seven months following the attack, daily production would remain as much as four million barrels below normal—a reduction roughly equal to what all of the opec partners were able to effect during their 1973 embargo…

I served for twenty-one years with the CIA's Directorate of Operations in the Middle East, and during all my years there I accepted on faith my government's easy assumption that the money the House of Saud was dumping into weaponry and national security meant that the family's armed forces and bodyguards could keep its members—and their oil—safe … I no longer believe this … sometime soon, one way or another, the House of Saud is coming down." (The Fall of the House of Saud, Robert Baer, The Atlantic)
Neither the United States nor Saudi Arabia have any right to interfere in Yemen's internal affairs or to install their own political puppets to head the government. That is the right of the Yemeni people. And while the current process of regime change might be messy and violent, the Houthi rebels better represent the interests of the indigenous population than anyone in Riyadh or Washington. The Saudi-US war is merely aimed at controlling the outcome so Yemen remains within the imperial grip. As Nasrallah says, "The real goal of the war is to retain control and domination of Yemen (but) the Yemeni people will not put up with this aggression and humiliation. They will fight to defend their dignity, their existence, their families, and their territory. And they will be victorious."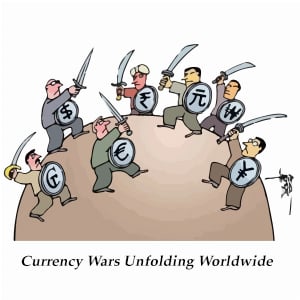 The first two months of 2015 have seen turmoil in the currency markets extend from Russia and Ukraine to the heart of Europe.
"Central Banks Now Open 24/7 Fighting Currency Wars and Deflation," blared a February 12th Bloomberg headline. Against this backdrop, precious metals have been on the rise in terms of all currencies except the Swiss franc and the U.S dollar.
In January, the Swiss National Bank shocked markets by announcing that it would de-link its currency from the euro. The move came one week ahead of the European Central Bank's $1.1 trillion Quantitative Easing announcement. Swiss officials decided it would be too costly to keep accumulating depreciating euros in order to maintain the currency peg. The Swiss franc surged by the most ever in a single day.
With the exception of Switzerland, all other countries in Europe (and many others around the world) are trying to depreciate their currencies.
Since January 1, the following central banks have announced interest rate cuts or other monetary easing measures: European Central Bank, Reserve Bank of Australia, Reserve Bank of New Zealand, Monetary Authority of Singapore, and the central banks of India, Canada, Denmark, and Sweden.
On February 12th, the Swedish Riksbank announced a surprise rate cut from 0% to below 0%. "To ensure that inflation rises towards the target, the Riksbank is prepared to quickly make monetary policy more expansionary, even between the ordinary monetary policy meetings," the world's oldest central bank said in a statement.
Sweden joins the European Central Bank and the central banks of a handful of other countries in pushing benchmark interest rates into negative territory. These central bankers are all aiming to revive inflation. "Investors" who are buying bonds yielding less than nothing (a negative rate) are apparently convinced that central bankers won't succeed in depreciating their currencies.
Insanity! Investors Now Paying for the "Privilege" of Lending to Broke Governments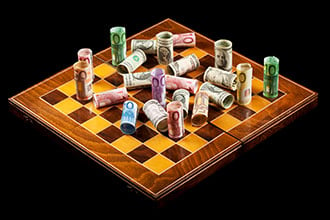 This could go down as one of the oddest, most irrational asset bubbles in history. Trillions of dollars are now tied up in debt instruments that promise to return less than the invested principal. According to a report issued by J.P. Morgan, $3.6 trillion in government bonds around the world now carry negative yields.
It raises the obvious question; why would so many people be willing to accept a negative rate of return?
You'd think that institutional investors would start getting wise to holding gold as a hard-currency alternative to cash instruments that yield less than zero. The fact that gold has no interest rate is actually an advantage in an environment where competing rates are negative! Plus, unlike most of the bonds issued in this upside-down interest rate market, gold has significant appreciation potential.
If inflation rises even modestly to the 2% target of European and U.S. central bankers, then bonds issued at rates of below 2% will all be losers. The two-year Treasury note yields only 0.63%. Even the recent 10-year yield of 1.98% fails to match the Federal Reserve's inflation ambitions.
The fact that gold has no interest rate is actually an advantage in an environment where competing rates are negative!
In this environment of ultra-low nominal yields or even negative real yields, precious metals as a reserve asset look very attractive. Many central bankers around the world agree and are busily accumulating gold. According to a report issued by the World Gold Council in February, governments around the world added 477.2 metric tons of gold to their reserves in 2014. That haul was the second biggest in 50 years.
When inflation fears return to the market, as they eventually will, precious metals will become one of the premier asset classes to hold. Even now, they are performing better than virtually all other world currencies.
The end game of these ongoing currency wars is that all fiat currencies will be debased. And a true flight to quality will accelerate – with assets fleeing depreciating currencies (and debt instruments denominated in them) and piling into gold and silver.
Will the Fed Chicken Out on Rate Hikes?
Of course, right now it's deflation fears that are dominating headlines. But the inflationary policy responses from the European Central Bank and others that have followed the ECB's lead have lifted gold and silver prices markedly in terms of euros and other currencies.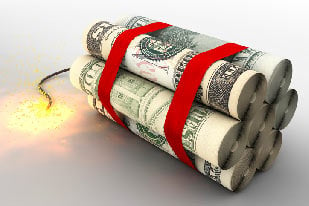 As confidence in European currencies plunges, there's only so much corresponding dollar strength the Federal Reserve is willing to tolerate. There's been much talk of rate hikes coming later this year, and that widespread expectation has been priced into the market. Any rhetorical or policy disappointments from the Fed in the months ahead could cause traders to sell the dollar.
Whether later this year or further down the road, it's only a matter of time before currency turmoil spreads to the United States.
The U.S. has a higher debt-to-GDP ratio than some troubled European countries. It has higher levels of unfunded liabilities (estimated to be in excess of $100 trillion) than any other country. The dollar's status as world reserve currency has allowed the U.S. to become financially overextended. But that vaunted status is slowly deteriorating as Russia, China, and other countries form economic alliances that bypass the dollar.
When these chickens come home to roost, you don't want to be wholly dependent on the U.S. government's promises or its currency. Sizeable holdings in physical precious metals will help make you financially resilient in the face of the spreading global currency crisis.
The edifice of world post-1991 order is collapsing right now before our eyes. President Putin's decision to give a miss to the Auschwitz pilgrimage, right after his absence in Paris at the Charlie festival, gave it the last shove. It was good clean fun to troll Russia, as long as it stayed the course. Not anymore. Russia broke the rules.
Until now, Russia, like a country bumpkin in Eton, tried to belong. It attended the gathering of the grandees where it was shunned, paid its dues to European bodies that condemned it, patiently suffered ceaseless hectoring of the great powers and irritating baiting of East European small-timers alike. But something broke down. The lad does not want to belong anymore; he picked up his stuff and went home – just when they needed him to knee in Auschwitz.
Auschwitz gathering is an annual Canossa of Western leaders where they bewail their historic failure to protect the Jews and swear their perennial obedience to them. This is a more important religious rite of our times, the One Ring to rule them all, established in 2001, when the Judeo-American empire had reached the pinnacle of its power. The Russian leader had duly attended the events. This year, they will have to do without him. Israeli ministers already have expressed their deep dissatisfaction for this was Russia's Red Army that saved the Jews in Auschwitz, after all. Russia's absence will turn the Holocaust memorial day into a parochial, West-only, event. Worse, Russia's place will be taken by Ukraine, ruled by unrepentant heirs to Hitler's Bandera.
This comes after the French 'Charlie' demo, also spurned by Russia. The West hinted that Russia's sins would be forgiven, up to a point, if she joined, first the demo, and later, the planned anti-terrorist coalition, but Russia did not take the bait. This was a visible change, for previously, Russian leaders eagerly participated in joint events and voted for West-sponsored resolutions. In 2001, Putin fully supported George Bush's War on Terrorism in the UN and on the ground. As recently as 2011, Russia agreed with sanctions against North Korea and Iran. As for coming for a demonstration, the Russians could always be relied upon. This time, the Russians did not come, except for the token presence of the foreign minister Mr. Lavrov. This indomitable successor of Mr. Nyet left the event almost immediately and went – to pray in the Russian church, in a counter-demonstration, of sorts, against Charlie. By going to the church, he declared that he is not Charlie.
For the Charlie Hebdo magazine was (and probably is) explicitly anti-Christian as well as anti-Muslim. One finds on its pages some very obnoxious cartoons offending the Virgin and Christ, as well as the pope and the Church. (They never offend Jews, somehow).
A Russian blogger who's been exposed to this magazine for the first time, wrote on his page: I am ashamed that the bastards were dealt with by Muslims, not by Christians. This was quite a common feeling in Moscow these days. The Russians could not believe that such smut could be published and defended as a right of free speech. People planned a demo against the Charlie, but City Hall forbade it.
Remember, a few years ago, the Pussy Riot have profaned the St Saviour of Moscow like Femen did in some great European cathedrals, from Notre Dame de Paris to Strasbourg. The Russian government did not wait for vigilante justice to be meted upon the viragos, but sent them for up to two years of prison. At the same time, the Russian criminal law has been changed to include 'sacrilege' among ordinary crimes, by general consent. The Russians do feel about their faith more strongly than the EC rulers prescribe.
In Charlie's France, Hollande's regime frogmarched the unwilling people into a quite unnecessary gay marriage law, notwithstanding one-million-strong protest demonstrations by Catholics. Femen despoiling the churches were never punished; but a church warden who tried to prevent that, was heavily fined. France has a long anti-Christian tradition, usually described as "laic", and its grand anti-Church coalition of Atheists, Huguenots and Jews coalesced in Dreyfus Affair days. Thus Lavrov's escape to the church was a counter-demonstration, saying: Russia is for Christ, and Russia is not against Muslims.
While the present western regime is anti-Christian and anti-Muslim, it is pro-Jewish to an extent that defies a rational explanation. France had sent thousands of soldiers and policemen to defend Jewish institutions, though this defence antagonises their neighbours. While Charlie are glorified for insulting Christians and Muslims, Dieudonné has been sent to jail (just for a day, but with great fanfare) for annoying Jews. Actually, Charlie Hebdo dismissed a journalist for one sentence allegedly disrespectful for Jews. This unfairness is a source of aggravation: Muslims were laughed out of court when they complained against particularly vile Charlie's cartoons, but Jews almost always win when they go to the court against their denigrators. (Full disclosure: I was also sued by LICRA, the French Jewish body, while my French publisher was devastated by their legal attacks).
The Russians don't comprehend the Western infatuation with Jews, for Russian Jews have been well assimilated and integrated in general society. The narrative of Holocaust is not popular in Russia for one simple reason: so many Russians from every ethnic background lost their lives in the war, that there is no reason to single out Jews as supreme victims. Millions died at the siege of Leningrad; Belarus lost a quarter of its population. More importantly, Russians feel no guilt regarding Jews: they treated them fairly and saved them from the Nazis. For them, the Holocaust is a Western narrative, as foreign as JeSuisCharlie. With drifting of Russia out of Western consensus, there is no reason to maintain it.
This does not mean the Jews are discriminated against. The Jews of Russia are doing very well, thank you, without Holocaust worship: they occupy the highest positions in the Forbes list of Russia's rich, with a combined capital of $122 billion, while all rich ethnic Russians own only $165 billion, according to the Jewish-owned source. Jews run the most celebrated media shows in prime time on the state TV; they publish newspapers; they have full and unlimited access to Putin and his ministers; they usually have their way when they want to get a plot of land for their communal purposes. And anti-Semitic propaganda is punishable by law – like anti-Christian or anti-Muslim abuse, but even more severely. Still, it is impossible to imagine a Russian journalist getting sack like CNN anchor Jim Clancy or BBC's Tim Willcox for upsetting a Jew or speaking against Israel.
Russia preserves its plurality, diversity and freedom of opinion. The pro-Western Russian media –Novaya Gazeta of oligarch Lebedev, the owner of the British newspaper Independent – carries the JeSuis slogan and speaks of the Holocaust, as well as demands to restore Crimea to the Ukraine. But the vast majority of Russians do support their President, and his civilizational choice. He expressed it when he went to midnight Christmas mass in a small village church in far-away province, together with orphans and refugees from the Ukraine. And he expressed it by refusing to go to Auschwitz.
Neither willingly nor easily did Russia break ranks. Putin tried to take Western baiting in his stride: be it Olympic games, Syria confrontation, gender politics, Georgian border, even Crimea-related sanctions. The open economic warfare was a game-changer. Russia felt attacked by falling oil prices, by rouble trouble, by credit downgrading. These developments are considered an act of hostility, rather than the result of "the hidden hand of the market".
Russians love conspiracia, as James Bond used to say. They do not believe in chance, coincidence nor natural occurrences, and are likely to consider a falling meteorite or an earthquake – a result of hostile American action, let alone a fall in the rouble/dollar exchange rate. They could be right, too, though it is hard to prove.
Regarding oil price fall, the jury is out. Some say this action by Saudis is aimed at American fracking companies, or alternatively it's a Saudi-American plot against Russia. However, the price of oil is not formed by supply-demand, but by financial instruments, futures and derivatives. This virtual demand-and-supply is much bigger than the real one. When hedge funds stopped to buy oil futures, price downturn became unavoidable, but were the funds directed by politicians, or did they act so as Quantitative Easing ended?
The steep fall of the rouble could be connected to oil price downturn, but not necessarily so. The rouble is not involved in oil price forming. It could be an action by a very big financial institution. Soros broke the back of British pound in 1991; Korean won, Thai bath and Malaysian ringgit suffered similar fate in 1998. In each case, the attacked country lost about 40% of its GDP. It is possible that Russia was attacked by financial weapons directed from New York.
The European punitive sanctions forbade long-term cheap credit to Russian companies. The Russian state does not need loans, but Russian companies do. Combination of these factors put a squeeze on Russian pockets. The rating agencies kept downgrading Russian rating to almost junk level, for political reasons, I was told. As they were deprived of credit, state companies began to hoard dollars to pay later their debts, and they refrained from converting their huge profits to roubles, as they did until now. The rouble fell drastically, probably much lower than it had to.
This is not pinpoint sanctions aimed at Putin's friends. This is a full-blown war. If the initiators expected Russians to be mad at Putin, they miscalculated. The Russian public is angry with the American organisers of the economical warfare, not with its own government. The pro-Western opposition tried to demonstrate against Putin, but very few people joined them.
Ordinary Russians kept a stiff upper lip. They did not notice the sanctions until the rouble staggered, and even then they shopped like mad rather than protested. In the face of shrinking money, they did not buy salt and sugar, as their grandparents would have. Their battle cry against hogging was "Do not take more than two Lexus cars per family, leave something for others!"
Perhaps, the invisible financiers went too far. Instead of being cowed, the Russians are preparing for a real long war, as they and their ancestors have historically fought – and won. It is not like they have a choice: though Americans insist Russia should join their War-on-Terrorism-II, they do not intend to relinquish sanctions.
The Russians do not know how to deal with a financial attack. Without capital restrictions, Russia will be cleaned out. Russian Central bank and Treasury people are strict monetarists, capital restrictions are anathema for them. Putin, being a liberal himself, apparently trusts them. Capital flight has taken huge proportions. Unless Russia uses the measures successfully tried by Mohammad Mahathir of Malaysia, it will continue. At present, however, we do not see sign of change.
This could be the incentive for Putin to advance in Ukraine. If the Russians do not know how to shuffle futures and derivatives, they are expert in armour movements and tank battles. Kiev regime is also spoiling for a fight, apparently pushed by the American neocons. It is possible that the US will get more than what it bargained for in the Ukraine.
One can be certain that Russians will not support the Middle Eastern crusade of NATO, as this military action was prepared at the Charlie demo in Paris. It is far from clear who killed the cartoonists, but Paris and Washington intend to use it for reigniting war in the Middle East. This time, Russia will be in opposition, and probably will use it as an opportunity to change the uncomfortable standoff in the Ukraine. Thus supporters of peace in the Middle East have a good reason to back Russia.
After Paris, condemnation of religious fanaticism is at its height. I'd guess that even many progressives fantasize about wringing the necks of jihadists, bashing into their heads some thoughts about the intellect, about satire, humor, freedom of speech. We're talking here, after all, about young men raised in France, not Saudi Arabia.
Where has all this Islamic fundamentalism come from in this modern age? Most of it comes – trained, armed, financed, indoctrinated – from Afghanistan, Iraq, Libya, and Syria. During various periods from the 1970s to the present, these four countries had been the most secular, modern, educated, welfare states in the Middle East region. And what had happened to these secular, modern, educated, welfare states?
In the 1980s, the United States overthrew the Afghan government that was progressive, with full rights for women, believe it or not , leading to the creation of the Taliban and their taking power.
In the 2000s, the United States overthrew the Iraqi government, destroying not only the secular state, but the civilized state as well, leaving a failed state.
In 2011, the United States and its NATO military machine overthrew the secular Libyan government of Muammar Gaddafi, leaving behind a lawless state and unleashing many hundreds of jihadists and tons of weaponry across the Middle East.
And for the past few years the United States has been engaged in overthrowing the secular Syrian government of Bashar al-Assad. This, along with the US occupation of Iraq having triggered widespread Sunni-Shia warfare, led to the creation of The Islamic State with all its beheadings and other charming practices.
However, despite it all, the world was made safe for capitalism, imperialism, anti-communism, oil, Israel, and jihadists. God is Great!
Starting with the Cold War, and with the above interventions building upon that, we have 70 years of American foreign policy, without which – as Russian/American writer Andre Vltchek has observed – "almost all Muslim countries, including Iran, Egypt and Indonesia, would now most likely be socialist, under a group of very moderate and mostly secular leaders". Even the ultra-oppressive Saudi Arabia – without Washington's protection – would probably be a very different place.
On January 11, Paris was the site of a March of National Unity in honor of the magazine Charlie Hebdo, whose journalists had been assassinated by terrorists. The march was rather touching, but it was also an orgy of Western hypocrisy, with the French TV broadcasters and the assembled crowd extolling without end the NATO world's reverence for journalists and freedom of speech; an ocean of signs declaring Je suis Charlie … Nous Sommes Tous Charlie; and flaunting giant pencils, as if pencils – not bombs, invasions, overthrows, torture, and drone attacks – have been the West's weapons of choice in the Middle East during the past century.
No reference was made to the fact that the American military, in the course of its wars in recent decades in the Middle East and elsewhere, had been responsible for the deliberate deaths of dozens of journalists. In Iraq, among other incidents, see Wikileaks' 2007 video of the cold-blooded murder of two Reuters journalists; the 2003 US air-to-surface missile attack on the offices of Al Jazeera in Baghdad that left three journalists dead and four wounded; and the American firing on Baghdad's Hotel Palestine the same year that killed two foreign cameramen.
Moreover, on October 8, 2001, the second day of the US bombing of Afghanistan, the transmitters for the Taliban government's Radio Shari were bombed and shortly after this the US bombed some 20 regional radio sites. US Defense Secretary Donald Rumsfeld defended the targeting of these facilities, saying: "Naturally, they cannot be considered to be free media outlets. They are mouthpieces of the Taliban and those harboring terrorists."
And in Yugoslavia, in 1999, during the infamous 78-day bombing of a country which posed no threat at all to the United States or any other country, state-owned Radio Television Serbia (RTS) was targeted because it was broadcasting things which the United States and NATO did not like (like how much horror the bombing was causing). The bombs took the lives of many of the station's staff, and both legs of one of the survivors, which had to be amputated to free him from the wreckage.
I present here some views on Charlie Hebdo sent to me by a friend in Paris who has long had a close familiarity with the publication and its staff:
"On international politics Charlie Hebdo was neoconservative. It supported every single NATO intervention from Yugoslavia to the present. They were anti-Muslim, anti-Hamas (or any Palestinian organization), anti-Russian, anti-Cuban (with the exception of one cartoonist), anti-Hugo Chávez, anti-Iran, anti-Syria, pro-Pussy Riot, pro-Kiev … Do I need to continue?

"Strangely enough, the magazine was considered to be 'leftist'. It's difficult for me to criticize them now because they weren't 'bad people', just a bunch of funny cartoonists, yes, but intellectual freewheelers without any particular agenda and who actually didn't give a fuck about any form of 'correctness' – political, religious, or whatever; just having fun and trying to sell a 'subversive' magazine (with the notable exception of the former editor, Philippe Val, who is, I think, a true-blooded neocon)."
Dumb and Dumber
Remember Arseniy Yatsenuk? The Ukrainian whom US State Department officials adopted as one of their own in early 2014 and guided into the position of Prime Minister so he could lead the Ukrainian Forces of Good against Russia in the new Cold War?
In an interview on German television on January 7, 2015 Yatsenuk allowed the following words to cross his lips: "We all remember well the Soviet invasion of Ukraine and Germany. We will not allow that, and nobody has the right to rewrite the results of World War Two".
The Ukrainian Forces of Good, it should be kept in mind, also include several neo-Nazis in high government positions and many more partaking in the fight against Ukrainian pro-Russians in the south-east of the country. Last June, Yatsenuk referred to these pro-Russians as "sub-humans" , directly equivalent to the Nazi term "untermenschen".
So the next time you shake your head at some stupid remark made by a member of the US government, try to find some consolation in the thought that high American officials are not necessarily the dumbest, except of course in their choice of who is worthy of being one of the empire's partners.
The type of rally held in Paris this month to condemn an act of terror by jihadists could as well have been held for the victims of Odessa in Ukraine last May. The same neo-Nazi types referred to above took time off from parading around with their swastika-like symbols and calling for the death of Russians, Communists and Jews, and burned down a trade-union building in Odessa, killing scores of people and sending hundreds to hospital; many of the victims were beaten or shot when they tried to flee the flames and smoke; ambulances were blocked from reaching the wounded … Try and find a single American mainstream media entity that has made even a slightly serious attempt to capture the horror. You would have to go to the Russian station in Washington, DC, RT.com, search "Odessa fire" for many stories, images and videos. Also see the Wikipedia entry on the 2 May 2014 Odessa clashes.
If the American people were forced to watch, listen, and read all the stories of neo-Nazi behavior in Ukraine the past few years, I think they – yes, even the American people and their less-than-intellectual Congressional representatives – would start to wonder why their government was so closely allied with such people. The United States may even go to war with Russia on the side of such people.
L'Occident n'est pas Charlie pour Odessa. Il n'y a pas de défilé à Paris pour Odessa.
Some thoughts about this thing called ideology
Norman Finkelstein, the fiery American critic of Israel, was interviewed recently by Paul Jay on The Real News Network. Finkelstein related how he had been a Maoist in his youth and had been devastated by the exposure and downfall of the Gang of Four in 1976 in China. "It came out there was just an awful lot of corruption. The people who we thought were absolutely selfless were very self-absorbed. And it was clear. The overthrow of the Gang of Four had huge popular support."
Many other Maoists were torn apart by the event. "Everything was overthrown overnight, the whole Maoist system, which we thought [were] new socialist men, they all believed in putting self second, fighting self. And then overnight the whole thing was reversed."
"You know, many people think it was McCarthy that destroyed the Communist Party," Finkelstein continued. "That's absolutely not true. You know, when you were a communist back then, you had the inner strength to withstand McCarthyism, because it was the cause. What destroyed the Communist Party was Khrushchev's speech," a reference to Soviet premier Nikita Khrushchev's 1956 exposure of the crimes of Joseph Stalin and his dictatorial rule.
Although I was old enough, and interested enough, to be influenced by the Chinese and Russian revolutions, I was not. I remained an admirer of capitalism and a good loyal anti-communist. It was the war in Vietnam that was my Gang of Four and my Nikita Khrushchev. Day after day during 1964 and early 1965 I followed the news carefully, catching up on the day's statistics of American firepower, bombing sorties, and body counts. I was filled with patriotic pride at our massive power to shape history. Words like those of Winston Churchill, upon America's entry into the Second World War, came easily to mind again – "England would live; Britain would live; the Commonwealth of Nations would live." Then, one day – a day like any other day – it suddenly and inexplicably hit me. In those villages with the strange names there were people under those falling bombs, people running in total desperation from that god-awful machine-gun strafing.
This pattern took hold. The news reports would stir in me a self-righteous satisfaction that we were teaching those damn commies that they couldn't get away with whatever it was they were trying to get away with. The very next moment I would be struck by a wave of repulsion at the horror of it all. Eventually, the repulsion won out over the patriotic pride, never to go back to where I had been; but dooming me to experience the despair of American foreign policy again and again, decade after decade.
The human brain is an amazing organ. It keeps working 24 hours a day, 7 days a week, and 52 weeks a year, from before you leave the womb, right up until the day you find nationalism. And that day can come very early. Here's a recent headline from the Washington Post: "In the United States the brainwashing starts in kindergarten."
Oh, my mistake. It actually said "In N. Korea the brainwashing starts in kindergarten."
Let Cuba Live! The Devil's List of what the United States has done to Cuba
On May 31, 1999, a lawsuit for $181 billion in wrongful death, personal injury, and economic damages was filed in a Havana court against the government of the United States. It was subsequently filed with the United Nations. Since that time its fate is somewhat of a mystery.
The lawsuit covered the 40 years since the country's 1959 revolution and described, in considerable detail taken from personal testimony of victims, US acts of aggression against Cuba; specifying, often by name, date, and particular circumstances, each person known to have been killed or seriously wounded. In all, 3,478 people were killed and an additional 2,099 seriously injured. (These figures do not include the many indirect victims of Washington's economic pressures and blockade, which caused difficulties in obtaining medicine and food, in addition to creating other hardships.)
The case was, in legal terms, very narrowly drawn. It was for the wrongful death of individuals, on behalf of their survivors, and for personal injuries to those who survived serious wounds, on their own behalf. No unsuccessful American attacks were deemed relevant, and consequently there was no testimony regarding the many hundreds of unsuccessful assassination attempts against Cuban President Fidel Castro and other high officials, or even of bombings in which no one was killed or injured. Damages to crops, livestock, or the Cuban economy in general were also excluded, so there was no testimony about the introduction into the island of swine fever or tobacco mold.
However, those aspects of Washington's chemical and biological warfare waged against Cuba that involved human victims were described in detail, most significantly the creation of an epidemic of hemorrhagic dengue fever in 1981, during which some 340,000 people were infected and 116,000 hospitalized; this in a country which had never before experienced a single case of the disease. In the end, 158 people, including 101 children, died. That only 158 people died, out of some 116,000 who were hospitalized, was an eloquent testimony to the remarkable Cuban public health sector.
The complaint describes the campaign of air and naval attacks against Cuba that commenced in October 1959, when US president Dwight Eisenhower approved a program that included bombings of sugar mills, the burning of sugar fields, machine-gun attacks on Havana, even on passenger trains.
Another section of the complaint described the armed terrorist groups, los banditos, who ravaged the island for five years, from 1960 to 1965, when the last group was located and defeated. These bands terrorized small farmers, torturing and killing those considered (often erroneously) active supporters of the Revolution; men, women, and children. Several young volunteer literacy-campaign teachers were among the victims of the bandits.
There was also of course the notorious Bay of Pigs invasion, in April 1961. Although the entire incident lasted less than 72 hours, 176 Cubans were killed and 300 more wounded, 50 of them permanently disabled.
The complaint also described the unending campaign of major acts of sabotage and terrorism that included the bombing of ships and planes as well as stores and offices. The most horrific example of sabotage was of course the 1976 bombing of a Cubana airliner off Barbados in which all 73 people on board were killed. There were as well as the murder of Cuban diplomats and officials around the world, including one such murder on the streets of New York City in 1980. This campaign continued to the 1990s, with the murders of Cuban policemen, soldiers, and sailors in 1992 and 1994, and the 1997 hotel bombing campaign, which took the life of a foreigner; the bombing campaign was aimed at discouraging tourism and led to the sending of Cuban intelligence officers to the US in an attempt to put an end to the bombings; from their ranks rose the Cuban Five.
To the above can be added the many acts of financial extortion, violence and sabotage carried out by the United States and its agents in the 16 years since the lawsuit was filed. In sum total, the deep-seated injury and trauma inflicted upon on the Cuban people can be regarded as the island's own 9-11.
Notes
US Department of the Army, Afghanistan, A Country Study (1986), pp.121, 128, 130, 223, 232
Counterpunch, January 10, 2015
Index on Censorship, the UK's leading organization promoting freedom of expression, October 18, 2001
The Independent (London), April 24, 1999
"Ukrainian Prime Minister Arseniy Yatsenyuk talking to Pinar Atalay", Tagesschau (Germany), January 7, 2015 (in Ukrainian with German voice-over)
CNN, June 15, 2014
See William Blum, West-Bloc Dissident: A Cold War Memoir, chapter 3
Washington Post, January 17, 2015, page A6
William Blum, Killing Hope: US Military and CIA Interventions Since World War II, chapter 30, for a capsule summary of Washington's chemical and biological warfare against Havana.
For further information, see William Schaap, Covert Action Quarterly magazine (Washington, DC), Fall/Winter 1999, pp.26-29
Is Putin Creating A New World Order?
"If undercharging for energy products occurs deliberately, it also effects those who introduce these limitations. Problems will arise and grow, worsening the situation not only for Russia but also for our partners." – Russian President Vladimir Putin
It's hard to know which country is going to suffer the most from falling oil prices. Up to now, of course, Russia, Iran and Venezuela have taken the biggest hit, but that will probably change as time goes on. What the Obama administration should be worried about is the second-order effects that will eventually show up in terms of higher unemployment, market volatility, and wobbly bank balance sheets. That's where the real damage is going to crop up because that's where red ink and bad loans can metastasize into a full-blown financial crisis. Check out this blurb from Nick Cunningham at Oilprice.com and you'll see what I mean:
"According to an assessment from the Federal Reserve Bank of Dallas, an estimated 250,000 jobs across eight U.S. states could be lost in 2015 if oil prices don't rise. More than 50 percent of those job losses would occur in Texas, which leads the nation in oil production.

There are some early signs that a slowdown in drilling could spread to the manufacturing sector in Texas… One executive at a metal manufacturing company said in the survey, "the drop in crude oil prices is going to make things ugly… quickly." Another company that manufactures machinery told the Dallas Fed, "Low oil prices will drive reductions in U.S. drilling rigs, which will in turn reduce the market for our products."

The sentiment was similar for a chemical manufacturer, who said "lower oil prices will adversely impact margins. Energy volatility will cause our customers to keep inventories tight."

States like Texas, North Dakota, Oklahoma, and Louisiana have seen their economies boom over the last few years as oil production surged. But the sector is now deflating, leaving gashes in employment rolls and state budgets." (Low Prices Lead To Layoffs In The Oil Patch, Nick Cunningham, Oilprice.com)
Of course industries lay-off workers all the time and it doesn't always lead to a financial crisis. But unemployment is just one part of the picture, lower personal consumption is another. Take a look:
"Falling oil prices are a bigger drag on economic growth than the incremental "savings" received by the consumer…..Another way to show this graphically is to look at the annual changes in Personal Consumption Expenditures (PCE) in aggregate as compared to the subsection of PCE spent on energy and related products. This is shown in the chart below.

Lower Energy Prices To Lower PCE (Personal Consumption Expenditures):
See? So despite what you might have read in the MSM, lower gas prices do not translate into greater personal consumption or more robust growth. Quiet the contrary, they tend to intensify deflationary pressures and reduce activity which is a damper on growth.
Then there's the knock-on effects that crashing prices and layoffs have on other industries like mining, manufacturing and chemical production. Here's more from Oil Price:
"Oil and gas production makeup a hefty chunk of the "mining and manufacturing" component of the employment rolls. Since 2000, when the oil price boom gained traction, Texas has comprised more than 40% of all jobs in the country according to first quarter data from the Dallas Federal Reserve…

The majority of the jobs "created" since the financial crisis have been lower wage paying jobs in retail, healthcare and other service sectors of the economy. Conversely, the jobs created within the energy space are some of the highest wage paying opportunities available in engineering, technology, accounting, legal, etc. In fact, each job created in energy related areas has had a "ripple effect" of creating 2.8 jobs elsewhere in the economy from piping to coatings, trucking and transportation, restaurants and retail….

The obvious ramification of the plunge in oil prices is that eventually the loss of revenue will lead to cuts in production, declines in capital expenditure plans (which comprise almost 1/4th of all capex expenditures in the S&P 500), freezes and/or reductions in employment, and declines in revenue and profitability…

Simply put, lower oil and gasoline prices may have a bigger detraction on the economy than the "savings" provided to consumers." (The Gasoline Price Myth, Lance Roberts, oilprice.com)
None of this sounds very reassuring, does it? And yet, all we hear from the media is how the economy is going to reach "escape velocity" on the back of cheap oil. Nonsense. This is just more "green shoots" baloney wrapped in public relations hype. The fact is, the economy needs the good-paying jobs more than it needs low-priced energy. But now that prices are tumbling, those jobs are going to disappear which is going to be a drag on growth. Now check out these headlines I picked up on Google News that help to show what's going on off the radar:
"Texas is in danger of a recession", CNN Money.
"Texas Could Be Headed for an Oil-Fueled Recession, JP Morgan Economist Says", Wall Street Journal "Good Times From Texas to North Dakota May Turn Bad on Oil-Price Drop", Bloomberg
"Low Oil Prices in the New Year Are Screwing Petrostates", Vice News
"Top US Oil States Are Taking A Hit From Plunging Crude Prices", Business Insider
Get the picture? If oil prices continue to fall, unemployment is going to spike, activity is going to slow, and the economy is going tank. And the damage won't be limited to the US either. Get a load of this from the UK Telegraph:
"A third of Britain's listed oil and gas companies are in danger of running out of working capital and even going bankrupt amid a slump in the value of crude, according to new research.

Financial risk management group Company Watch believes that 70pc of the UK's publicly listed oil exploration and production companies are now unprofitable, racking up significant losses in the region of £1.8bn.

Such is the extent of the financial pressure now bearing down on highly leveraged drillers in the UK that Company Watch estimates that a third of the 126 quoted oil and gas companies on AIM and the London Stock Exchange are generating no revenues.

The findings are the latest warning to hit the oil and gas industry since a slump in the price of crude accelerated in November when the Organisation of Petroleum Exporting Countries (Opec) decided to keep its output levels unchanged. The decision has caused carnage in oil markets with a barrel of Brent crude falling 45pc since June to around $60 per barrel." (Third of listed UK oil and gas drillers face bankruptcy, Telegraph)
"Carnage in oil markets," you say?
Indeed. Many of the oil-drilling newcomers set up shop to take advantage of the low rates and easy money available in the bond market. Now that prices have crashed, investors are avoiding energy-related junk bonds like the plague which is making it impossible for the smaller companies to roll over their debt or attract fresh capital. When these companies start to default en masse, as they certainly will if prices don't rebound, the blowback will be felt on bank balance sheets across the country creating the possibility of another financial meltdown. (Now we ARE talking about a financial crisis.)
The basic problem is that the banks have bundled a lot of their dodgy debt into financially-engineered products like Collateralized Loan Obligations (CLOs) and Collateralized Debt Obligations (CDOs) that will inevitably fail when borrowers are no longer able to service the loans. The rot can be concealed for a while, but eventually, if prices don't recover, a significant number of these companies are going to go under which will push the perennially-undercapitalized banking system to the brink once again. That's why Washington's plan to push down oil prices (to hurt the Russian economy) might have made sense on a short-term basis (to shock Putin into submission) but as a long-term strategy, it's nuts. And what's even crazier, is that Obama has decided to double-down on the same wacky plan even though Putin hasn't given an inch. Check this out from Reuters on Monday:
"The Obama administration has opened a new front in the global battle for oil market share, effectively clearing the way for the shipment of as much as a million barrels per day of ultra-light U.S. crude to the rest of the world…

The Department of Commerce on Tuesday ended a year-long silence on a contentious, four-decade ban on oil exports, saying it had begun approving a backlog of requests to sell processed light oil abroad.

The action comes at a critical juncture for the global oil market. World prices have halved to less than $60 a barrel since the summer as top exporter Saudi Arabia, once a staunch defender of $100 oil, refused to cut production in the face of surging U.S. shale output and tempered global demand…

With global oil markets in flux, it is far from clear how much U.S. condensate will find a market overseas."
(Analysis – U.S. opening of oil export tap widens battle for global market, Reuters)
Does that make sense to you, dear reader? Why would Obama suddenly opt to change the rules of the game when he knows it will increase supply and push prices down even further? Why would he do that? Certainly, he doesn't want to inflict more pain on domestic producers, does he?
Let's let Obama answer the question for himself. Here's a clip from an NPR interview with the president just last week. About halfway through the interview, NPR's Steve Inskeep asks Obama: "Are you just lucky that the price of oil went down and therefore their currency collapsed or …is it something that you did?
Barack Obama: If you'll recall, their (Russia) economy was already contracting and capital was fleeing even before oil collapsed. And part of our rationale in this process was that the only thing keeping that economy afloat was the price of oil. And if, in fact, we were steady in applying sanction pressure, which we have been, that over time it would make the economy of Russia sufficiently vulnerable that if and when there were disruptions with respect to the price of oil — which, inevitably, there are going to be sometime, if not this year then next year or the year after — that they'd have enormous difficulty managing it." (Transcript: President Obama's Full NPR Interview)
Am I mistaken or did Obama just admit that he wanted "disruptions" in the "price of oil" because he figured Putin would have "enormous difficulty managing it"?
Isn't that the same as saying that it was all part of Washington's plan; that plunging prices were just the icing on the cake for their asymmetrical attack on the Russian economy? It sure sounds like it. And that would also explain why Obama decided to allow domestic producers to dump more oil on the market even though it's going to send prices lower. Apparently, none of that matters as long as the policy hurts Russia.
So maybe the US-Saudi oil collusion theory isn't so far fetched after all. Maybe Salon's Patrick L. Smith was right when he said:
"Less than a week after the Minsk Protocol was signed, Kerry made a little-noted trip to Jeddah to see King Abdullah at his summer residence. When it was reported at all, this was put across as part of Kerry's campaign to secure Arab support in the fight against the Islamic State.

Stop right there. That is not all there was to the visit, my trustworthy sources tell me. The other half of the visit had to do with Washington's unabated desire to ruin the Russian economy. To do this, Kerry told the Saudis 1) to raise production and 2) to cut its crude price. Keep in mind these pertinent numbers: The Saudis produce a barrel of oil for less than $30 as break-even in the national budget; the Russians need $105.

Shortly after Kerry's visit, the Saudis began increasing production, sure enough — by more than 100,000 barrels daily during the rest of September, more apparently to come…

Think about this. Winter is coming, there are serious production outages now in Iraq, Nigeria, Venezuela and Libya, other OPEC members are screaming for relief, and the Saudis make back-to-back moves certain to push falling prices still lower? You do the math, with Kerry's unreported itinerary in mind, and to help you along I offer this from an extremely well-positioned source in the commodities markets: "There are very big hands pushing oil into global supply now," this source wrote in an e-mail note the other day." ("What Really Happened in Beijing: Putin, Obama, Xi And The Back Story The Media Won't Tell You", Patrick L. Smith, Salon)
Vladimir Putin: Public Enemy Number 1
Let's cut to the chase: All these oil shenanigans are really aimed at just one man: Vladimir Putin. There are a number of reasons why Washington wants to get rid of Putin, the first of which is that the Russian president has become an obstacle to US plans to pivot to Asia. That's the main issue. As long as Putin is calling the shots, there's going to be growing resistance to NATO's push eastward and Washington's military expansion across Central Asia which could undermine US plans to encircle China and remain the world's only superpower. Here's an excerpt from Zbigniew Brzezinski's The Grand Chessboard which helps to explain the importance Eurasia is in terms of Washington's global ambitions:
"..how America 'manages' Eurasia is critical. A power that dominates Eurasia would control two of the world's three most advanced and economically productive regions. A mere glance at the map also suggests that control over Eurasia would almost automatically entail Africa's subordination, rendering the Western Hemisphere and Oceania (Australia) geopolitically peripheral to the world's central continent. About 75 per cent of the world's people live in Eurasia, and most of the world's physical wealth is there as well, both in its enterprises and underneath its soil. Eurasia accounts for about three-fourths of the world's known energy resources." (p.31) (Zbigniew Brzezinski, The Grand Chessboard: American Primacy And It's Geostrategic Imperatives, Key Quotes From Zbigniew Brzezinksi's Seminal Book)
Get it? Prevailing in Asia is the administration's top priority, which is why the US is rapidly moving its military assets into place. Check this out from the World Socialist Web Site:
"Under Obama's "pivot to Asia," the Pacific Command will account for more than 60 percent of all US military forces, up from 50 percent under the Bush administration. This includes new US basing arrangements in the Philippines, Singapore and Australia, as well as renewed close military ties to New Zealand, and ongoing US military exercises in Thailand, Malaysia, Indonesia and Taiwan….(as well as) large troop deployments in Japan and South Korea, including nuclear-armed units." (The global scale of US militarism, Patrick Martin, World Socialist Web Site)
The "Big Shift" is already underway, which is why obstacles have to be removed and Putin's got to go.
Second, Putin has made himself a general nuisance vis a vis US strategic objectives in Syria, Iran and Ukraine. In Syria, Putin has thrown his support behind Assad who the US wants to topple in order to redraw the map of the Middle East and build gas pipelines from Qatar to Turkey to access the lucrative EU market.
Third, Putin has strengthened a number of coalitions and alliances –the BRICS bank, the Eurasian Economic Union, and the Shanghai Cooperation Organization–all of which pose a challenge to US dominance in the region as well as a viable alternative to neoliberal financial institutions like the IMF and World Bank. Going back to Brzezinski's "chessboard" once again, we see that the US should not feel threatened by any one nation, but should be constantly on-the-lookout for "regional coalitions" which could derail its plans to rule the world. Here's Brzezinski again:
"…the three grand imperatives of imperial geostrategy are to prevent collusion and maintain security dependence among the vassals, to keep tributaries pliant and protected, and to keep the barbarians from coming together." (p.40)

"Henceforth, the United States may have to determine how to cope with regional coalitions that seek to push America out of Eurasia, thereby threatening America's status as a global power." (p.55) (Zbigniew Brzezinski, The Grand Chessboard: American Primacy And It's Geostrategic Imperatives, Key Quotes From Zbigniew Brzezinksi's Seminal Book)
As a founding member and primary backer of these organizations, (and initiator of giant energy deals with China, India and Turkey) Putin has become Washington's biggest headache and a logical target for regime change.
Finally, Putin is doing whatever he can to circumvent dollar-denominated business and financial transactions. The move away from the buck is a direct attack on the US's greatest source of power, the ability to control the de facto international currency and to require that other nation's stockpile dollars for their energy purchases which are then recycled into US financial assets, stocks bonds and US Treasuries. This petrodollar-recycling scam allows the US to run gigantic current account deficits without raising interest rates or reducing government spending. Putin's anti-dollar policies could diminish the greenback's role as reserve currency and put an end to a system that institutionalizes looting.
This is why Putin is Public Enemy Number 1. It's because he's blocking the US pivot to Asia, strengthening anti-Washington coalitions, sabotaging US foreign policy objectives in the Middle East, creating institutions that rival the IMF and World Bank, transacting massive energy deals with critical US allies, increasing membership in an integrated, single-market Eurasian Economic Union, and attacking the structural foundation upon which the entire US empire rests, the dollar.
Naturally, Washington's powerbrokers are worried about these developments, just as they are worried about the new world order which is gradually taking shape under Putin's guidance. But, so far, they haven't been able to do anything about it. The administration's regime change schemers and fantasists have shown time-and-again that they're no match for Bad Vlad who has beaten them at every turn.
Bravo, Putin.
That America is spiraling on a collision course with calamity seems certain. We seem to be ignoring virtually all of the lessons of history, and, well, you know what one fellow said about the folly of doing that. I join the consensus of patriots and freedom-lovers throughout the country who believe America's future is filled with all sorts of stormy weather. As a matter of fact, the storms are all around us already.
For one thing, most of the people who should be helping us in the freedom fight cannot see past the end of their ballot. They think, as long as they elect "conservatives" to public office, all is well with the world. And since the GOP now controls both houses of Congress in Washington, D.C., the vast majority of our good brothers and sisters are already all tucked in for extended hibernation. They will reemerge from under their blankets about three months before the general election in 2016 and start screaming their support for whomever the neocon candidate happens to be. Why, they are already ignoring the fact that the precious Republicans they just elected to the House and Senate a few weeks ago are already signaling that they will to do NOTHING to thwart Barack Obama's executive amnesty, which was the single most defining issue that helped give the Congress to the GOP. Republicans on Capitol Hill are famous for doing NOTHING to fulfill the promises they made on the campaign trail to their constituents. And Republican voters are famous for reelecting them anyway. Good grief! Republicans in South Carolina can't even get rid of Lindsey Graham; and Republicans in Arizona can't even get rid of John McCain.
Even the great Republican "conservative," Mitt Romney, is now on record saying that the GOP should "swallow hard" and pass a PERMANENT amnesty bill. And even though he says he is not running for President in two years, he continues to be the frontrunner in most of the GOP preference polls. What does that tell you?
See the report here:
Mitt Romney: Republicans Should 'Swallow Hard' And Pass 'Permanent' Amnesty Bill
Congresswoman Michele Bachmann had the guts to tell the truth about what the GOP plans to do regarding Obama's blatantly illegal executive amnesty decision. Bachmann told Breitbart.com that House Speaker John Boehner and the GOP leadership have "no intention" of resisting Obama's executive amnesty. And she is right.
See the report here:
'We Will Not Engage': Michele Bachmann Reveals GOP Plans To Ignore Executive Amnesty
Staunch anti-amnesty senator, Jeff Sessions, said this past Tuesday that the GOP House was about to break their 2014 campaign promises to stop Obama's executive amnesty. Also on Tuesday, Breitbart.com reported that House Speaker Boehner appears ready to deal with Democrats in order to cut a deal to SAVE amnesty. See the report here:
Boehner Poised To Deal With The Devil To Avoid Shut-Down?
Oh, we can expect Boehner and Company to blow a lot of smoke and pass some frivolous and toothless legislation or resolutions that will be designed to placate a gullible and naïve Republican constituency, but that will do absolutely NOTHING to stop Obama's amnesty. The only thing John Boehner and his ilk in Congress don't like is Obama beat them to the punch by issuing executive amnesty to illegals. GOP leaders were hoping to pass legislative amnesty. So, now that Obama has beaten them to the punch, Boehner and his fellow establishment Republicans will quickly fall in line.
But what the U.S. House of Representatives ought to do (if they had any guts, which they don't) is impeach this President for his executive amnesty.
Barack Obama's executive amnesty is the worst kind of abuse of power and illegal conduct. The President of the United States is charged with "executing" the laws of our country. He has no lawful authority to set those laws aside with an Executive Order, which is exactly what he did. Compared to the crimes of Barack Obama, the impeachment charges against Bill Clinton look pale. Then again, compared to the Congress of 1994, this Congress looks pale.
The effect of our government's refusal to respect our nation's borders and laws over the next several years will be devastating consequences to the very fiber and fabric of this once great republic. The toll on State and local budgets, education quality, crime rates, employment opportunities, and quality of life will be incalculable. And this is just one menace that the miscreants in Washington, D.C., are inflicting upon us.
For much of the Twentieth Century (and now into the Twenty-First Century), Americans repeatedly choose to elect irresponsible, power-hungry, egotistical, self-centered sycophants (from both major parties) to public office. In addition, most of our churches are little more than glorified social clubs, entertainment centers, playgrounds, and government corporations. Our major media, in both the national and most local markets, are largely government propaganda outlets–as are most of our educational institutions. Furthermore, Christians and unbelievers, pastors of all stripes, Republicans and Democrats, and conservatives and liberals alike, are sitting back passively and indifferently as our country is being turned into a humongous Police State. Absent a significant shift in the hearts and minds of the American people, our liberties cannot long endure.
However, with all of the above said, I still refuse to join the ranks of Chicken Little.
For some reason, known only to God, we still have a semblance of freedom in this land. Granted, it's only a semblance, but the curtain has not yet fully fallen on liberty. God knows we don't deserve even the semblance of freedom that we still enjoy. Over the last sixty-plus years, we have been doing our best to throw America into the garbage heap of history. But, for some reason, the curtain has not yet fallen completely.
I would like to proffer five suggestions as to why the curtain has not yet fallen on liberty.
1. I believe God is still honoring the faith, courage, commitment, and sacrifice of America's Founding Fathers. If God would bless Old Testament Israel for the sake of Abraham, Moses, and David, I believe He would bless the United States for the sake of George Washington, Patrick Henry, and Samuel Adams.
From the days of the Pilgrims through the days of the Patriots, several generations of men and women were willing to pay, many times, a horrific price for liberty. There is no doubt in my mind that these modern generations of Americans are still clipping the coupons from the extraordinary faith and courage of our forebears.
2. More than one hundred million American citizens possess over three hundred million firearms. And a good percentage of these people not only possess a gun; they possess the mental, emotional, and spiritual resolve to use those weapons against any government that would seek to take them. There is absolutely no doubt in my mind that the deeply-rooted heritage of the American people to keep and bear arms has been largely responsible for the preservation of whatever liberties we have left. Without a heavily-armed populace within this country, there is absolutely no doubt that America (and the rest of the "free world") would have been totally enslaved decades ago.
3. The Internet. For all of the baloney, malarkey, and rubbish that can be found on the Internet, there is absolutely no question that the Internet has very successfully circumvented and shattered the monopoly of the government shills of the mainstream media. For all intents and purposes, the Internet is to America today what the "Committees of Correspondence" were to Colonial America.
Many are even predicting that the major television news networks will be out of business within the next couple or three decades–as will many of America's newspapers. CNN was once a cable dynasty; now it is barely broadcasting. MSNBC's ratings are so poor that its days are also numbered. And while FOX NEWS is currently enjoying the zenith of its existence, more people are getting their news and newsworthy information from the Internet than from all of the above combined. For all of its negatives, the Internet is a huge net positive for freedom.
4. There is still a host, and I mean a huge host, of liberty-loving people in this country who have not (and will never) accept the shackles of tyranny around their hearts. Big-Government toadies can impugn them all they want, but people such as Ron Paul, Judge Andrew Napolitano, Senator Mike Lee, Congressman Justin Amash, and millions like them, are keeping the torch of liberty burning.
The media would have us believe that old-fashioned, red-blooded freedomists have gone the way of the Brontosaurus. Or, that if any do yet exist, their numbers are so small as to be placed on the list of endangered species. Don't you believe it!
In every occupation and vocation–including in our U.S. military and federal police agencies–in virtually every village and hamlet dotted across the fruited plain, and in every age bracket, reside innumerable freedom-loving Americans in whose hearts the love of liberty reigns. Before the chains of tyranny can be placed around a person's neck, they must first be placed around their hearts. And the people I'm talking about will NEVER allow those chains to be placed around their hearts.
5. I believe the curtain has not completely dropped on liberty in this country because of the grace and sovereignty of our Creator-God. Thomas Jefferson (himself an unbeliever in the traditional sense) was exactly right when he said that liberty is the gift of God. That we still enjoy a semblance of freedom in this land indicates that His divine protection still rests upon us.
Those of us who have a Christian perspective realize that Holy Writ tells us: "For it is God which worketh in you both to will and to do of his good pleasure." (Philippians 2:13) This means that the deeply-seeded love of liberty in our hearts was planted there by our Creator. Our WILL for liberty is God-breathed. That fact, by itself, demonstrates that it's not over.
There is a line from the 2012 version of the movie "Red Dawn" that I really love. A U.S. Marine fighting with the "Wolverines," said, "I'm still breathing, so, it's not over." Indeed. You and are still breathing, folks, so, IT'S NOT OVER.