With the approval vote in the United Nation Security Council of the P5 + 1 Iranian agreement, a smorgasbord of eager trading partners claw themselves out of the woodwork. The liquid black gold rush is on. With the rescinding of sanctions put into motion, over time the wheels of commerce will be put back on track. No matter what the U.S. Congress does, the flood from international trade will start making deals with Iran.
A sample of some of these activities follows:
1) Even before sanctions are lifted, foreign investors try to tap into Iran
"Multinational mobile phone companies, car makers and hospitality firms are seen as the most primed to benefit from the lifting of sanctions.
Bank of America Merrill Lynch said it sees Turkey and the United Arab Emirates as likely beneficiaries from Iranian foreign trade, which could increase to $200 billion by 2020 from $80 billion now."
2) Corporate winners from the nuclear agreement
"Citi Research analyst Chris Wetherbee said the opening of Iran is a "net positive" for international tanker firms, because Iran's aging fleet won't be able to compete, and more energy supplies will be on the market."
"All of the major banking institutions in the industrial world will try to finance and facilitate increased trade with Iran," Christopher Whalen, senior managing director at Kroll Bond Rating Agency, told CNBC. "It's a big country, (and) they are very Western-focused. Iranians are consumers of everything. You can anticipate anything from industrial equipment to consumer products will definitely be bought, and will definitely be financed."
3) Lifting of Iran sanctions positive for Indian oil refiners: India Ratings
"Lower crude oil prices following the Iran nuclear deal will contribute positively to the Indian economy, across the oil and gas value chain barring domestic upstream players, India Ratings and Research has said.
A decline in oil prices could lower LNG (liquefied natural gas) prices and this is likely to benefit end-consumer industries such as fertilizer and petrochemicals, it said."
4) Pakistan Hopes to Benefit from Iran Deal, With Chinese Help
"Now, with the prospect of sanctions on Iran lifting in the near future, Pakistan is hoping to become one of the early beneficiaries of a nuclear deal between Iran and six world powers by finally completing the Iran-Pakistan pipeline.
But funding for the expensive project, expected to cost about $2 billion, is another problem for cash-strapped Pakistan.   That is why it is trying to piggyback this project on another one funded mostly by its rich neighbor, China.
China will provide 85 percent of the $2 billion required to build a liquid natural gas terminal at Pakistan's southern port city Gwadar.  The project includes a 700 kilometer long pipeline to other areas of the country."
5) Russia may benefit most from West's agreement with Iran
"Washington will live to regret this decision as its once greatest allies in the region, Saudi Arabia, Qatar, the United Arab Emirates, as well as Egypt and even Turkey, start to feel as though they were betrayed by the United States.
Looking to counter what the Gulf Arabs perceive as a genuine threat, logic dictates they are likely to turn to Russia for a fresh alliance and to help them counter the Iranian threat."
6) Lifting of sanctions brings hopes for Iran Air fleet frozen in time
"Trapped in isolation with outdated planes, Iran Air – a carrier dragged down by decades of economic restrictions – finally felt a gust of hope last week thanks to the international nuclear accord and a potential lifting of sanctions.
Once the deal is implemented, the Islamic republic will be able to replace its vintage aircraft, some of which are almost 30 years old."
All these examples share in a common interest that comes from commerce. Nonetheless, buying and selling is seldom a strict barter arrangement. The banking system and currency conversion for payment and settlement becomes a necessary component. The lifting of sanctions is really reducible to reestablishing the financial clearing function.
While the creation of the BRICS trading block provides a workable competing opportunity for Iran to engage, the necessity to transact with Western companies becomes obvious.
Replacement of an airline fleet means buying from Western companies like Boeing and Airbus.  Hoping that Russia or China would be able to construct an alternative is just not practical.
The Asian ship builders like South Korea may be looking for future tanker orders, since competitive fabrication companies are producing the most functional naval transports.
Finally, the consumer electronic sector sees the Iranian market as a prime target long restricted from all the gadgets that facilitate global communication.
The United States will lag behind most other countries from trading with Iran for a simple reason. Iranian unwelcoming attitudes towards America will translate into doing business with anyone but the Yankee devil, whenever possible.
While Iranian youth may be far more open to reinstituting commercial relations with America, the political regime holds fast to fighting the imperial globalization of Western corporatism.
In order to grease the gears of advantageous international commerce, the energy sector will still lead an Iranian economic reintegration. Marking the difference between mutually beneficial business transactions from corporatist exploration and plunder of natural resources, should be the task for going forward.
Set aside the politics of the neo-feudalism version of 21st colonialism and reopen the prospects of reducing tension and hatred by abolishing sanctions as a destructive tool for foreign policy.
All sincere parties benefit and profit from cordial business relations. Iran's desire to have sanctions eliminated offers hope that better relationships and positive interaction can progress.
The overwhelming approval of foreign nations to break the embargo of NeoCon "axis of evil" propaganda demonstrates that promoting "good business" is preferable to detrimental isolation and damaging hostilities.
The proper standard to adopt was established by George Washington in his Farewell Address.
"Harmony, liberal intercourse with all nations, are recommended by policy, humanity, and interest. But even our commercial policy should hold an equal and impartial hand; neither seeking nor granting exclusive favors or preferences; consulting the natural course of things; diffusing and diversifying by gentle means the streams of commerce, but forcing nothing; establishing (with powers so disposed, in order to give trade a stable course, to define the rights of our merchants, and to enable the government to support them) conventional rules of intercourse, the best that present circumstances and mutual opinion will permit, but temporary, and liable to be from time to time abandoned or varied, as experience and circumstances shall dictate; constantly keeping in view that it is folly in one nation to look for disinterested favors from another; that it must pay with a portion of its independence for whatever it may accept under that character; that, by such acceptance, it may place itself in the condition of having given equivalents for nominal favors, and yet of being reproached with ingratitude for not giving more. There can be no greater error than to expect or calculate upon real favors from nation to nation. It is an illusion, which experience must cure, which a just pride ought to discard."
Sanctions violate "conventional rules of intercourse". International affairs never remain constant. Notwithstanding, the wisdom of President Washington, the current political and economic culture is hell bent on breaking the rules for favorable commerce.  Resumed trade with Iran will offer a positive opportunity to lower the antagonistic tension and restart rehabilitative dialogue.
Why are stocks still flying-high when the smart money has fled overseas and the US economy has ground to a halt?
According to Marketwatch:
"For the eighth week in a row, long-term mutual funds saw more money flowing out of U.S. stocks and into international stocks, according to the Investment Company Institute……For the week ended April 22, U.S. stocks saw $3.4 billion in net outflows from long-term mutual funds…For the year to date, net outflows for U.S. stocks are $13.79 billion, while inflows for international stocks are $41.12 billion.

Those figures, however, don't count exchange-traded funds. In April alone, mutual funds and ETFs that focus on international stocks saw $31.8 billion in net inflows, while U.S.-focused funds and ETFs shed $15.4 billion, according to TrimTabs Investment Research." ("Why U.S. stocks are near highs even as fund investors flee", Marketwatch)
So if retail investors are moving their cash to Europe and Japan (to take advantage of QE), and the US economy is dead-in-the-water, (First Quarter GDP checked in at an abysmal 0.1 percent) then why are stocks still just two percent off their peak?
Answer: Stock buybacks.
The Fed's uber-accommodative monetary policy has created an environment in which corporate bosses can borrow boatloads of money at historic low rates in the bond market which they then use to purchase their own company's shares.  When a company reduces the number of outstanding shares on the market, stock prices move higher which provides lavish rewards for both management and shareholders.  Of course, goosing prices adds nothing to the company's overall productivity or growth prospects, in fact, it undermines future earnings by adding more red ink to the balance sheet. But these "negatives" are never factored into the decision-making which focuses exclusively on short-term profits. Now get a load of this from Morgan Stanley via Zero Hedge:
 "In 2014, the constituents of the S&P 500 on a net basis bought back ~$430Bn worth of common stock and spent a further ~$375Bn on dividend payouts. The total capital returned to shareholders was only slightly less than the annual earnings reported. On the fixed income front, the investment grade corporate bond market saw a record $577Bn of net issuance in 2014. While the equity and bond universes don't overlap 100%, we think these numbers convey a simple yet important story. US corporations have essentially been issuing record levels of debt and using a significant chunk of their earnings and cash reserves to buy back record levels of common stock."  ("Buyback Bonanza, Margin Madness Behind US Equity Rally", Zero Hedge)
So corporations are borrowing hundreds of billions of dollars from investors through the bond market. They're using this cheap capital to repurchase shares in order to boost skyrocketing executive compensation and to line the pockets of their shareholders. At the same time, they are weakening the capital structure of the company by loading on more debt.  (It's worth noting that "highly rated U.S. nonfinancial companies" are now more leveraged than they were in 2007 just before the crash.)
This madcap buyback binge has gotten so crazy, that buybacks actually exceeded profits in two quarters in 2014. Here's the story from Bloomberg:
"Companies in the Standard & Poor's 500 Index really love their shareholders….Money returned to stock owners exceeded profits in the first quarter and may again in the third. The proportion of cash flow used for repurchases has almost doubled over the last decade while it's slipped for capital investments, according to Jonathan Glionna, head of U.S. equity strategy research at Barclays Plc.

Buybacks have helped fuel one of the strongest rallies of the past 50 years as stocks with the most repurchases gained more than 300 percent since March 2009." (Bloomberg)
But maybe we're being too pessimistic here. Maybe stocks would have risen anyway due to record high earnings and improvements in the economy. That's possible, isn't it?
Nope. Not according to Morgan Stanley at least. Check it out:
"Since 2012, more than 50% of EPS growth in the S&P 500 has been driven by buybacks and growth ex-buybacks has been a mere 3.3% annualized. (EPS: Earnings Per Share)
"More than 50% "!  There's your market summary in one damning sentence. No buybacks means no 5-year stock market rally. Period.  If it wasn't for financial engineering and the Fed's easy money, stocks would be in the same general location as the real economy, circling the plughole, that is.
What's so frustrating about the present phenom is that the Fed knows exactly what's going on, but just looks the other way.  So while the stock bubble gets bigger and bigger,  CAPEX –which is investment in future productivity and growth– continues to deteriorate, GDP drops to zero, and demand gets progressively weaker. Shouldn't that warrant a rethinking of the policy?
Heck, no. The Fed is determined to stick with the same lame policy until hell freezes over. Whether it works or not is entirely irrelevant.
Now take a look at this eye-popper from Wolf Street:  "GE, in order to paper over a net loss of $13.6 billion and declining revenues in the first quarter, said on April 10 that it would buy back $50 billion of its own shares." (Wolf Street)
I can't tell you how many times I've read similar stories in the last couple years.  The company's revenues are shrinking, they're losing money hand over fist, and what do they do?
They announce they're going to buy back $50 billion of their own shares.
What a joke. And it doesn't stop there. The Fed's policies have also ignited a flurry of activity in margin borrowing. This is from CNBC:
"NYSE margin debt rose to an all-time high in March, according to recently released data from the stock exchange….NYSE margin debt sat at $476.4 billion, up from $464.9 billion at the end of February..(Note: That's $95 billion more than 2007 at the peak of the bubble.)
Margin debt is created when investors borrow money in order to buy stocks. If an investor buys $100 worth of stocks with $50 in capital, that individual has $50 of margin debt outstanding. Since margin debt provides leverage, it amplifies gains, but also increases the risk to an investor." ("What record-high margin debt means for stocks", CNBC)
More borrowing, more risk taking, more financial instability. And it's all the Fed's doing. If rates were neutral, then prices would normalize and CEOs would not be engaged in this reckless game of Russian roulette. Instead, it's caution to the wind; just keep piling on the debt until the whole market comes crashing down in a heap like it did six years ago. And that's the trajectory we're on today, in fact,  according to TrimTabs Investment Research, February saw buybacks in the amount of $104 billion, " the largest monthly figure since these flows were first tracked 20 years ago. "
So things are getting worse not better. Bottom line: The Fed has led the country to the cliff-edge once again where the slightest uptick in interest rates is going to send the economy into freefall.
But why? Why does the Fed keep steering the country from one financial catastrophe to the next?
That's a question that economists Atif Mian and Amir Sufi answer persuasively with one small chart. Check it out:
"Here is the distribution of financial asset holdings across the wealth distribution. This is from the 2010 Survey of Consumer Finances:
The top 20% of the wealth distribution holds over 85% of the financial assets in the economy. So it is clear that the direct income from capital goes to the wealthiest American households." (Capital Ownership and Inequality, House of Debt)
Why does the Fed create one bubble after the other?
Now you know.
Common wisdom has China as the future model for the Globalist economy. Also, conventional thinking has the Western financial debt created money system as the backbone of the New World Order. The big question is, are both components of the same intentional plan? When China Has Announced Plans For A 'World Currency', the world is put on notice that a fundamental shift is about to take place.
"What you are about to see is rather startling, but it shouldn't be a surprise.  When it comes to economics and finance, the Chinese have always been playing chess while the western world has been playing checkers.  Sadly, we have gotten to the point where checkmate is on the horizon.
The following comes from CNBC …
The tightly controlled Chinese yuan will eventually supersede the dollar as the top international reserve currency, according to a new poll of institutional investors.
The survey of 200 institutional investors – 100 headquartered in mainland China and 100 outside of it – published by State Street and the Economist Intelligence Unit on Thursday found 53 percent of investors think the renminbi will surpass the U.S. dollar as the world's major reserve currency.
Optimism was higher within China, where 62 percent said they saw a redback world on the horizon, compared with 43 percent outside China."
Before the celebration begins that the game is up for the Federal Reserve mastery from the days of the Bretton Woods Conference, look a little closer. While gold and its fixed price were instrumental to that monitory standard, the freeing from fixed rates has generated the madness of floating currency speculation that now dominates the financial markets.
The cunning and patient Chinese built their export economy on cheap priced goods into their importing customer economies. Saving is a noble objective in the East, while going into debt is the hallmark of Western practices. The Chinese have applied their huge balance of trade surpluses to buying up commodities. Most notable is gold.
The article, Could China actually have 30,000 tonnes of gold in reserves? Makes the strongest argument that China is poised to become the new superior currency is based upon the potential of establishing a convertible relationship between the renminbi and bullion.
"China has much more gold than it is allowing the world to see. As Alasdair Macleod, probably the world's number one analyst of the gold market, wrote that between 1983 and 2002 China probably accumulated 25,000 tons of gold. Thus, its current gold holdings are probably north of 30,000 tons in contrast to the USA which has either sold or leased most of its gold."  Now this statement coming from one of the usual gold megabulls might be ignorable, but Hunt does not fall into this category and has a good track record of insights into China's strategic initiatives as far as metals and minerals are concerned."
Before the rush to the door to dump your U.S. Dollars for whatever store of wealth one believes will maintain its purchasing value, consider what the voice of the global financial establishment, the IMF says. Stating the outlook from the central Bankster's perspective in, Will the Renminbi Rule?, the message is that paper money, burdened by debt, is still firmly in place.
"Given China's size and growth prospects, it is widely seen as inevitable that the renminbi will eventually become a reserve currency. To gauge the likelihood and timing, it is necessary to consider the typical attributes of a reserve currency and evaluate China's progress in each of these dimensions. The factors that generally affect a currency's reserve status includes:
Economic size
Macroeconomic policies
Flexible exchange rate
Open capital account
Financial market development
The IMF concludes:
"The renminbi is unlikely to become a prominent reserve currency—let alone challenge the dollar's dominance—unless it can be freely converted and China adopts an open capital account."
Now for anyone even remotely schooled in the manners and maturations of the financial elites, turning the other cheek to a pretender, is not in the lesson book.
Investment manager, Richard Harris offers in a report, Time to create new Chinese-Hong Kong dollar, an interesting possibility.
"The HK dollar itself is a dead unit having been pegged first to the pound and later to the US dollar, with the current rate fixed in 1983. The prevailing view about depegging is that it would be too dangerous. The unit only floated for a relatively short period from 1974-1983 and, I recall, without much confidence in its success.
The obvious answer is to combine the dead HK dollar with the embryonic CNH. This would be a completely independent, floating currency. The CNY would be used for current account transactions such as exports and imports, whilst the new "Chinese Dollar" (HKD/CNH combined) would cater for capital account financial transactions."
Keeping paper money in place as the international medium of exchange is fundamental to the New World Order. While China may never implement an actual redemption of gold for their renminbi, there is a real possibility that some gold weighted backing for Chinese paper instruments could be introduced.
The U.S. Dollar maintains illusionary worth, only because the central bankers are all in with their dollar dominated derivatives. Moreover, the Chinese are very much dependent upon their exports to keep their economy going. Settlement in Federal Reserve notes is crucial for the American system to keep buying from overseas.
Just the mere threat of payment in the renminbi for all the Chinese goods that Walmart imports     could be devastating. Allowing for a gradual transition into a semi-reserve renminbi status keeps the Bankster's game going.
The prudent analysis suggests that the NWO created China's emergence into an economic power through off-shoring domestic industries in their subject countries. Nonetheless, the international cabal is not about to starve their interest paying indebted nations by letting the Chinese accumulate even greater cash reserves.
Expect a downturn in China's prospects, as soon as any ascendency for their currency begins gaining a reserve acceptance.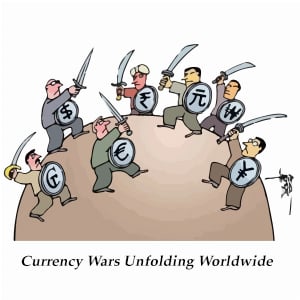 The first two months of 2015 have seen turmoil in the currency markets extend from Russia and Ukraine to the heart of Europe.
"Central Banks Now Open 24/7 Fighting Currency Wars and Deflation," blared a February 12th Bloomberg headline. Against this backdrop, precious metals have been on the rise in terms of all currencies except the Swiss franc and the U.S dollar.
In January, the Swiss National Bank shocked markets by announcing that it would de-link its currency from the euro. The move came one week ahead of the European Central Bank's $1.1 trillion Quantitative Easing announcement. Swiss officials decided it would be too costly to keep accumulating depreciating euros in order to maintain the currency peg. The Swiss franc surged by the most ever in a single day.
With the exception of Switzerland, all other countries in Europe (and many others around the world) are trying to depreciate their currencies.
Since January 1, the following central banks have announced interest rate cuts or other monetary easing measures: European Central Bank, Reserve Bank of Australia, Reserve Bank of New Zealand, Monetary Authority of Singapore, and the central banks of India, Canada, Denmark, and Sweden.
On February 12th, the Swedish Riksbank announced a surprise rate cut from 0% to below 0%. "To ensure that inflation rises towards the target, the Riksbank is prepared to quickly make monetary policy more expansionary, even between the ordinary monetary policy meetings," the world's oldest central bank said in a statement.
Sweden joins the European Central Bank and the central banks of a handful of other countries in pushing benchmark interest rates into negative territory. These central bankers are all aiming to revive inflation. "Investors" who are buying bonds yielding less than nothing (a negative rate) are apparently convinced that central bankers won't succeed in depreciating their currencies.
Insanity! Investors Now Paying for the "Privilege" of Lending to Broke Governments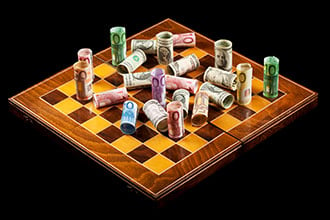 This could go down as one of the oddest, most irrational asset bubbles in history. Trillions of dollars are now tied up in debt instruments that promise to return less than the invested principal. According to a report issued by J.P. Morgan, $3.6 trillion in government bonds around the world now carry negative yields.
It raises the obvious question; why would so many people be willing to accept a negative rate of return?
You'd think that institutional investors would start getting wise to holding gold as a hard-currency alternative to cash instruments that yield less than zero. The fact that gold has no interest rate is actually an advantage in an environment where competing rates are negative! Plus, unlike most of the bonds issued in this upside-down interest rate market, gold has significant appreciation potential.
If inflation rises even modestly to the 2% target of European and U.S. central bankers, then bonds issued at rates of below 2% will all be losers. The two-year Treasury note yields only 0.63%. Even the recent 10-year yield of 1.98% fails to match the Federal Reserve's inflation ambitions.
The fact that gold has no interest rate is actually an advantage in an environment where competing rates are negative!
In this environment of ultra-low nominal yields or even negative real yields, precious metals as a reserve asset look very attractive. Many central bankers around the world agree and are busily accumulating gold. According to a report issued by the World Gold Council in February, governments around the world added 477.2 metric tons of gold to their reserves in 2014. That haul was the second biggest in 50 years.
When inflation fears return to the market, as they eventually will, precious metals will become one of the premier asset classes to hold. Even now, they are performing better than virtually all other world currencies.
The end game of these ongoing currency wars is that all fiat currencies will be debased. And a true flight to quality will accelerate – with assets fleeing depreciating currencies (and debt instruments denominated in them) and piling into gold and silver.
Will the Fed Chicken Out on Rate Hikes?
Of course, right now it's deflation fears that are dominating headlines. But the inflationary policy responses from the European Central Bank and others that have followed the ECB's lead have lifted gold and silver prices markedly in terms of euros and other currencies.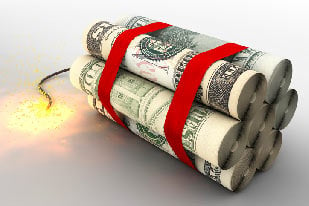 As confidence in European currencies plunges, there's only so much corresponding dollar strength the Federal Reserve is willing to tolerate. There's been much talk of rate hikes coming later this year, and that widespread expectation has been priced into the market. Any rhetorical or policy disappointments from the Fed in the months ahead could cause traders to sell the dollar.
Whether later this year or further down the road, it's only a matter of time before currency turmoil spreads to the United States.
The U.S. has a higher debt-to-GDP ratio than some troubled European countries. It has higher levels of unfunded liabilities (estimated to be in excess of $100 trillion) than any other country. The dollar's status as world reserve currency has allowed the U.S. to become financially overextended. But that vaunted status is slowly deteriorating as Russia, China, and other countries form economic alliances that bypass the dollar.
When these chickens come home to roost, you don't want to be wholly dependent on the U.S. government's promises or its currency. Sizeable holdings in physical precious metals will help make you financially resilient in the face of the spreading global currency crisis.
Varoufakis vs. The Troika…
"Will the United States, Germany, the rest of the European Union, the European Central Bank, and the International Monetary Fund – collectively constituting the International Mafia – allow the new Greek leaders of the Syriza party to dictate the conditions of Greece's rescue and salvation? The answer at the moment is a decided "No".

— William Blum, The Greek Tragedy, Veracity Voice

"The Greek economy is finished…. There is no power, no force within the Greek economy, within Greek society that can avert – it's like – imagine if we were in Ohio in 1931 and we were to ask: What can Ohio politicians do to get Ohio out of the Great Depression? The answer is nothing."

— Yanis Varoufakis, Greek Finance Minister
A disagreement over the terms of a deal to provide a bailout extension for Greece, has set the stage for a final clash between the Eurogroup and members of the Greek ruling party, Syriza.  Although the agreement was approved on Tuesday when a list of reforms were submitted by Greek finance minister Yanis Varoufakis to the Eurogroup, Varoufakis believes that changes to the original program give him greater flexibility to implement policies that will end austerity, reduce the ailing country's primary budget surplus, and ease the humanitarian crisis that has persisted for 6 years.  Regrettably,  no one at the ECB, the European Commission or the IMF shares Varoufakis's views on the subject. The so called "troika" thinks that Greece has signed on to essentially the same program that was in place before the negotiations, give or take a few cosmetic changes in the language. And because the program is the same, they think Varoufakis should stick with the same policies as his predecessor and ignore mounting public opposition to austerity. Given the irreconcilable differences between the two parties, there's bound to be a violent confrontation in the near future that will lead to heated recriminations and, eventually, a Grexit.
To illustrate the widening chasm between Varoufakis and the members of the Eurogroup, consider the fact that, going into the negotiations, Varoufakis was determined to end the bailouts and secure a "bridge" loan that would shield Greece from default for a six month period of adjustment after which basic changes to the current austerity regime would be re-negotiated. While the Eurogroup agreed to change the term "program" to "agreement" and "troika" to "institutions", in the minds of the EU finance minsters, the substance of the original deal, which was laid out in the hated Memorandum of Understanding, remained the same. Take a look at this excerpt from a letter from ECB president Mario Draghi and Eurogroup president Jeroen Dijsselbloem and you'll see how this is playing out:
"I assume that it is clear, that the basis of concluding the current review, and also any future arrangements, will be the existing commitments in the current Memorandum of Understanding and The Memorandum of Economic and Financial Policies  (MEFP). In this context we note that the commitments outlined by the authorities differ from existing programme commitments in a number of areas. In such cases, we will have to assess during the review whether measures which are not accepted by the authorities are replaced with measures of equal or better quality in terms of achieving the objectives of the programme." (Naked Capitalism)
What Draghi is saying is that Varoufakis's changes will be put under a microscope to see if they conform with the memorandum which Varoufakis believes no longer applies. The way this will work on a practical basis, is that additional money will only be meted out incrementally depending on compliance with, you guessed it, the old agreement. In other words, Varoufakis will not have a 4 month grace period to experiment with his pro-growth, anti-austerity economic policies. He'll be expected to toe the line from Day 1.
Varoufakis either doesn't understand what he signed or thinks he can implement his own plan without too much interference from the Eurogroup. Either way, there's probably going to be a confrontation given the vast disparity in the way the agreement is being interpreted. In a Tuesday interview with CNBC, Varoufakis said that the new deal is fundamentally different than the previous agreement. He said:
"Some people have been insisting that the program that we've been under must surely be the program that we shall remain under simply refuse to understand that this has changed. So they keep insisting that that program is still on-going. Let me give you a very simple number. The program that we challenged compelled to the Greek government to extract 4.5% of the primary surplus every year in a depressed economy. We've changed that. Now surely that is not dismissed as simply a non-event and it's business as usual, so it's not business as usual we have a fresh start and now what matters is to use the opportunity of that fresh start in order to build something good on top of it. And we will endeavor to do this." ("CNBC Exclusive Interview: Greek Finance Minister, Yanis Varoufakis", CNBC)
See? He sincerely believes that the old deal is history. But the troika, the Eurogroup, and the majority of people who have analyzed the new arrangement, disagree. They think everything is the same (which explains why critics on the right and left have repudiated the deal as a "climb-down, a capitulation and a sellout.)
In an interview with Nikos Hatzinikolaou on REAL FM, Greece, Varoufakis rejected the Memorandum while claiming that the new agreement represents "a huge success' in ending the "recessionary measures" that are needlessly prolonging Greece's Great Depression. Here's what he said:
Varoufakis: "The current  government (Syriza) wants to say things with their name. I will explain it to you in very simple terms, Mr. Hatzinikolaou. As long as our debt is what it is, as long as Greece was bounded within this iron cage of primary surpluses that were impossible to achieve without killing whatever is left in the private sector, and as long we have a negative sign in investments (essentially, real investments), it was impossible to achieve this exit.
What we are trying to do – and have succeeded in doing so; it was a huge success, I'd say – is to create a four-month bridge during which we achieve the following:

First, the cancelation of the recessionary measures and the implementation of a transitional program we ourselves have made, one the Greek society will be able to withstand. This will help us negotiate during this four-month period a new contract between us and our partners with the goal of solving this system of three equations with three unknowns.

Hatzinikolaou: Thus, we are talking about a new Memorandum? ….

Varoufakis: OK. Let us be careful with the words. What does the Memorandum mean? … Let me remind you of what it comprises. It comprises the logic of continuous domestic [or internal] devaluation, of  huge primary surpluses in an economy that does not have a real credit system, where investments are negative, and at the same time where we have a series of measures that empower this recession.  This is the MoU. It is the automation, the a-politicization, and the subjection to the crisis." ("The juicy interview of Greek Finance Minister, Yanis Varoufakis", Greek Analyst)
Varoufakis  appears to be saying that, in his view, the new agreement constitutes a rejection of the memorandum and, thus, is a de facto repudiation of austerity.  The question is whether Varoufakis is stretching the facts to give himself greater latitude to relieve Greece's humanitarian crisis and to put Greece back on a sound path to growth.  While those are worthy goals, they are not likely to win the Eurogroup's support. Check out this excerpt from a letter from the IMF to Dijsselbloem concerning the vagueness of Varoufakis's reform package:
"In quite a few areas, however, including perhaps the most important ones, the letter is not conveying clear assurances that the Government intends to undertake the reforms envisaged in the Memorandum on Economic and Financial Policies. We note in particular that there are neither clear commitments to design the envisaged comprehensive pension and VAT policy reforms, nor unequivocal undertakings to continue already-agreed policies for opening up closed sectors, for administrative reforms, for privatization, and for labor market reforms. As you know, we consider such commitments and undertakings to be critical for Greece's ability to meet the basic objectives of its Fund-supported program, which is why these are the areas subject to most of the structural benchmarks agreed with the Fund." (Excerpt IMF letter posted at Naked capitalism)
Repeat: "We consider such commitments and undertakings to be critical for Greece's ability to meet the basic objectives of its Fund-supported program."  In other words, Greece should not expect to get its loan extension unless it follows the troika's explicit orders on pensions, VAT (sales taxes), government cutbacks, privatization and labor market reforms.
So, what is Varoufakis's approach to these benchmarks?
Let's take a look at pension reform. In an interview with CNBC's Julia Chatterley on Tuesday, Chatterley asked Varoufakis point blank, "So you're ruling out pension cuts?"
Varoufakis: "Of course over the next four months there will be no such thing." (CNBC)
How about raising the VAT tax?
Same thing. And in the interview on REAL FM Varoufakis covered the other policies that the troika sees as "critical". Listen to this exchange:
Hatzinikolaou: My fundamental question about the e-mail is whether or not it entails layoffs in the public sector …, if it entails pension reductions … if it entails wage reductions?

Varoufakis: I will answer to all these questions, since these are very specific questions, and it is best that we speak forthrightly. My answer to all of these questions is NO, in NO WAY."
Let's summarize: No pension cuts, no higher VAT taxes, no lower wages for public workers, and no layoffs. While I admire what Varoufakis is suggesting, I can't figure out how he's going to convince the troika to give him more money.  Apparently, he thinks that streamlining the government and aggressively pursuing tax cheats will do the trick. Or maybe he has something else up his sleeve, like ignoring the terms of the agreement long enough to generate growth in the economy, lower unemployment, and create an improved environment for foreign investment. He might think that that will force the troika to acknowledge that austerity has failed and that pro-growth Keynesian strategies actually produce positive results. Of course, that's just a guess on my part. It's impossible to know for sure.
Here's more of the interview with CNBC:
Varoufakis:   "The reason why we have this 4 month period is to re-establish bonds of trust between us and our European partners as well as the IMF in order to build a new, we call it, contract between us and our partners so as to put an end to this spiral, the debt inflationary spiral; reform Greece; and make sure that CNBC doesn't care about Greece anymore, because we don't want to be in the headlines for all the wrong reasons." ("CNBC Exclusive Interview: Greek Finance Minister, Yanis Varoufakis", CNBC)
The "bonds of trust" are going to  put to the test if Varoufakis doesn't comply with the troika's diktats, that's for sure.
Varoufakis assumes that the troika doesn't understand the impact of its belt-tightening policies. He seems to think that the punishment that's being inflicted on Greece is just the unfortunate byproduct of debt reduction policy and not a deliberate attempt to crush the unions, roll back progressive reforms, decimate the welfare state, and reduce the country to a condition of "permanent colonial dependency."    But that viewpoint is shockingly naïve, after all, the IMF has been in the looting biz for a long time and has a pretty good grasp of the effects its toxic policies.  They know what they're doing, just like know that austerity is just a refinement of the "shock doctrine" which is the traditional way the elites exploit crises by imposing harsh, economy-demolishing reforms that only benefit themselves and their class. The men who conjure up these thieving schemes aren't likely to be hoodwinked by Varoufakis's vague reforms. They're going to force Varoufakis to jump through all their respective hoops before he gets one dime of their precious money. Here's Varoufakis again:
"There is going to be a great deal of toing and froing between us and the institutions and our partners but what we have established through stubborn refusal to succumb to the notion that elections change nothing over the past couple of months or weeks I should say is the notion that this government deserves to have a degree of room for policy-making that allows us to reform Greece and to carry the great multitude out there with us. This is the government for the first time in Greece that has the people behind it and it would be a terrible waste not just for us but for our partners to allow this wave of support to dissipate through non-action." (CNBC)
Does Varoufakis really think he can pull this off?  Does he really think he can out-fox the slimy, authoritarian brigands and leg-breakers who run these extortionist institutions and who will use every means possible to extract the last drop of blood from their victim be he an aspiring, but penniless student at the university or a destitute pensioner huddling homeless and frozen in an abandoned doorway in downtown Athens?
This isn't going to end well. Varoufakis had one card to play–the threat of leaving the Euro–and he failed to play it. Now his leverage is gone and the roof is about to cave in. Just wait and see.
The troika isn't going to convene another dreary round of negotiations to rehash the same old nonsense. Those days are over.  They're simply going to withhold the money, curtail liquidity assistance, and torpedo the Greek banking system. Kaboom! That's the way this thing is going to go down. The mood among the EZ finance ministers has soured considerably since the last meeting. They want to put this whole thing behind them. They're sick of it.  They want closure. They're not going to quibble over issues they've already gone over and clarified a million times.  Varoufakis will either have to get with the program or face the consequences. That's the way it works in Mafia-land; you either pay the piper or you find yourself in the East River in cement booties.
Who knows: maybe this is what Varoufakis wanted from the beginning, a ferocious clash ending in banishment, a Grexit.  Well, he won't have to wait long now.
Some things not to forget, which the new Greek leaders have not…
American historian D.F. Fleming, writing of the post-World War II period in his eminent history of the Cold War, stated that "Greece was the first of the liberated states to be openly and forcibly compelled to accept the political system of the occupying Great Power. It was Churchill who acted first and Stalin who followed his example, in Bulgaria and then in Rumania, though with less bloodshed."
The British intervened in Greece while World War II was still raging. His Majesty's Army waged war against ELAS, the left-wing guerrillas who had played a major role in forcing the Nazi occupiers to flee. Shortly after the war ended, the United States joined the Brits in this great anti-communist crusade, intervening in what was now a civil war, taking the side of the neo-fascists against the Greek left. The neo-fascists won and instituted a highly brutal regime, for which the CIA created a suitably repressive internal security agency (KYP in Greek).
In 1964, the liberal George Papandreou came to power, but in April 1967 a military coup took place, just before elections which appeared certain to bring Papandreou back as prime minister. The coup had been a joint effort of the Royal Court, the Greek military, the KYP, the CIA, and the American military stationed in Greece, and was followed immediately by the traditional martial law, censorship, arrests, beatings, and killings, the victims totaling some 8,000 in the first month. This was accompanied by the equally traditional declaration that this was all being done to save the nation from a "communist takeover". Torture, inflicted in the most gruesome of ways, often with equipment supplied by the United States, became routine.
George Papandreou was not any kind of radical. He was a liberal anti-communist type. But his son Andreas, the heir-apparent, while only a little to the left of his father, had not disguised his wish to take Greece out of the Cold War, and had questioned remaining in NATO, or at least as a satellite of the United States.
Andreas Papandreou was arrested at the time of the coup and held in prison for eight months. Shortly after his release, he and his wife Margaret visited the American ambassador, Phillips Talbot, in Athens. Papandreou later related the following:
I asked Talbot whether America could have intervened the night of the coup, to prevent the death of democracy in Greece. He denied that they could have done anything about it. Then Margaret asked a critical question: What if the coup had been a Communist or a Leftist coup? Talbot answered without hesitation. Then, of course, they would have intervened, and they would have crushed the coup.
Another charming chapter in US-Greek relations occurred in 2001, when Goldman Sachs, the Wall Street Goliath Lowlife, secretly helped Greece keep billions of dollars of debt off their balance sheet through the use of complex financial instruments like credit default swaps. This allowed Greece to meet the baseline requirements to enter the Eurozone in the first place. But it also helped create a debt bubble that would later explode and bring about the current economic crisis that's drowning the entire continent. Goldman Sachs, however, using its insider knowledge of its Greek client, protected itself from this debt bubble by betting against Greek bonds, expecting that they would eventually fail.
Will the United States, Germany, the rest of the European Union, the European Central Bank, and the International Monetary Fund – collectively constituting the International Mafia – allow the new Greek leaders of the Syriza party to dictate the conditions of Greece's rescue and salvation? The answer at the moment is a decided "No". The fact that Syriza leaders, for some time, have made no secret of their affinity for Russia is reason enough to seal their fate. They should have known how the Cold War works.
I believe Syriza is sincere, and I'm rooting for them, but they may have overestimated their own strength, while forgetting how the Mafia came to occupy its position; it didn't derive from a lot of compromise with left-wing upstarts. Greece may have no choice, eventually, but to default on its debts and leave the Eurozone. The hunger and unemployment of the Greek people may leave them no alternative.
The Twilight Zone of the US State Department
"You are traveling through another dimension, a dimension not only of sight and sound but of mind. A journey into a wondrous land whose boundaries are that of imagination. Your next stop … the Twilight Zone." (American Television series, 1959-1965)
State Department Daily Press Briefing, February 13, 2015. Department Spokesperson Jen Psaki, questioned by Matthew Lee of The Associated Press.
Lee: President Maduro [of Venezuela] last night went on the air and said that they had arrested multiple people who were allegedly behind a coup that was backed by the United States. What is your response?
Psaki: These latest accusations, like all previous such accusations, are ludicrous. As a matter of longstanding policy, the United States does not support political transitions by non-constitutional means. Political transitions must be democratic, constitutional, peaceful, and legal. We have seen many times that the Venezuelan Government tries to distract from its own actions by blaming the United States or other members of the international community for events inside Venezuela. These efforts reflect a lack of seriousness on the part of the Venezuelan Government to deal with the grave situation it faces.
Lee: Sorry. The US has – whoa, whoa, whoa – the US has a longstanding practice of not promoting – What did you say? How longstanding is that? I would – in particular in South and Latin America, that is not a longstanding practice.
Psaki: Well, my point here, Matt, without getting into history –
Lee: Not in this case.
Psaki: – is that we do not support, we have no involvement with, and these are ludicrous accusations.
Lee: In this specific case.
Psaki: Correct.
Lee: But if you go back not that long ago, during your lifetime, even – (laughter)
Psaki: The last 21 years. (Laughter.)
Lee: Well done. Touché. But I mean, does "longstanding" mean 10 years in this case? I mean, what is –
Psaki: Matt, my intention was to speak to the specific reports.
Lee: I understand, but you said it's a longstanding US practice, and I'm not so sure – it depends on what your definition of "longstanding" is.
Psaki: We will – okay.
Lee: Recently in Kyiv, whatever we say about Ukraine, whatever, the change of government at the beginning of last year was unconstitutional, and you supported it. The constitution was –
Psaki: That is also ludicrous, I would say.
Lee: – not observed.
Psaki: That is not accurate, nor is it with the history of the facts that happened at the time.
Lee: The history of the facts. How was it constitutional?
Psaki: Well, I don't think I need to go through the history here, but since you gave me the opportunity –- as you know, the former leader of Ukraine left of his own accord.
………………
Leaving the Twilight Zone … The former Ukrainian leader ran for his life from those who had staged the coup, including a mob of vicious US-supported neo-Nazis.
If you know how to contact Ms. Psaki, tell her to have a look at my list of more than 50 governments the United States has attempted to overthrow since the end of the Second World War. None of the attempts were democratic, constitutional, peaceful, or legal; well, a few were non-violent.
The ideology of the American media is that it believes that it doesn't have any ideology
So NBC's evening news anchor, Brian Williams, has been caught telling untruths about various events in recent years. What could be worse for a reporter? How about not knowing what's going on in the world? In your own country? At your own employer? As a case in point I give you Williams' rival, Scott Pelley, evening news anchor at CBS.
In August 2002, Iraqi Deputy Prime Minister Tariq Aziz told American newscaster Dan Rather on CBS: "We do not possess any nuclear or biological or chemical weapons."
In December, Aziz stated to Ted Koppel on ABC: "The fact is that we don't have weapons of mass destruction. We don't have chemical, biological, or nuclear weaponry."
Iraqi leader Saddam Hussein himself told CBS's Rather in February 2003: "These missiles have been destroyed. There are no missiles that are contrary to the prescription of the United Nations [as to range] in Iraq. They are no longer there."
Moreover, Gen. Hussein Kamel, former head of Iraq's secret weapons program, and a son-in-law of Saddam Hussein, told the UN in 1995 that Iraq had destroyed its banned missiles and chemical and biological weapons soon after the Persian Gulf War of 1991.
There are yet other examples of Iraqi officials telling the world, before the 2003 American invasion, that the WMD were non-existent.
Enter Scott Pelley. In January 2008, as a CBS reporter, Pelley interviewed FBI agent George Piro, who had interviewed Saddam Hussein before he was executed:
PELLEY: And what did he tell you about how his weapons of mass destruction had been destroyed?
PIRO: He told me that most of the WMD had been destroyed by the U.N. inspectors in the '90s, and those that hadn't been destroyed by the inspectors were unilaterally destroyed by Iraq.
PELLEY: He had ordered them destroyed?
PIRO: Yes.
PELLEY: So why keep the secret? Why put your nation at risk? Why put your own life at risk to maintain this charade?
For a journalist there might actually be something as bad as not knowing what's going on in his area of news coverage, even on his own station. After Brian Williams' fall from grace, his former boss at NBC, Bob Wright, defended Williams by pointing to his favorable coverage of the military, saying: "He has been the strongest supporter of the military of any of the news players. He never comes back with negative stories, he wouldn't question if we're spending too much."
I think it's safe to say that members of the American mainstream media are not embarrassed by such a "compliment".
In his acceptance speech for the 2005 Nobel Prize for Literature, Harold Pinter made the following observation:
Everyone knows what happened in the Soviet Union and throughout Eastern Europe during the post-war period: the systematic brutality, the widespread atrocities, the ruthless suppression of independent thought. All this has been fully documented and verified.
But my contention here is that the US crimes in the same period have only been superficially recorded, let alone documented, let alone acknowledged, let alone recognized as crimes at all.
It never happened. Nothing ever happened. Even while it was happening it wasn't happening. It didn't matter. It was of no interest. The crimes of the United States have been systematic, constant, vicious, remorseless, but very few people have actually talked about them. You have to hand it to America. It has exercised a quite clinical manipulation of power worldwide while masquerading as a force for universal good. It's a brilliant, even witty, highly successful act of hypnosis.
Cuba made simple
"The trade embargo can be fully lifted only through legislation – unless Cuba forms a democracy, in which case the president can lift it."
Aha! So that's the problem, according to a Washington Post columnist – Cuba is not a democracy! That would explain why the United States does not maintain an embargo against Saudi Arabia, Honduras, Guatemala, Egypt and other distinguished pillars of freedom. The mainstream media routinely refer to Cuba as a dictatorship. Why is it not uncommon even for people on the left to do the same? I think that many of the latter do so in the belief that to say otherwise runs the risk of not being taken seriously, largely a vestige of the Cold War when Communists all over the world were ridiculed for blindly following Moscow's party line. But what does Cuba do or lack that makes it a dictatorship?
No "free press"? Apart from the question of how free Western media is, if that's to be the standard, what would happen if Cuba announced that from now on anyone in the country could own any kind of media? How long would it be before CIA money – secret and unlimited CIA money financing all kinds of fronts in Cuba – would own or control almost all the media worth owning or controlling?
Is it "free elections" that Cuba lacks? They regularly have elections at municipal, regional and national levels. (They do not have direct election of the president, but neither do Germany or the United Kingdom and many other countries). Money plays virtually no role in these elections; neither does party politics, including the Communist Party, since candidates run as individuals. Again, what is the standard by which Cuban elections are to be judged? Is it that they don't have the Koch Brothers to pour in a billion dollars? Most Americans, if they gave it any thought, might find it difficult to even imagine what a free and democratic election, without great concentrations of corporate money, would look like, or how it would operate. Would Ralph Nader finally be able to get on all 50 state ballots, take part in national television debates, and be able to match the two monopoly parties in media advertising? If that were the case, I think he'd probably win; which is why it's not the case.
Or perhaps what Cuba lacks is our marvelous "electoral college" system, where the presidential candidate with the most votes is not necessarily the winner. If we really think this system is a good example of democracy why don't we use it for local and state elections as well?
Is Cuba not a democracy because it arrests dissidents? Many thousands of anti-war and other protesters have been arrested in the United States in recent years, as in every period in American history. During the Occupy Movement two years ago more than 7,000 people were arrested, many beaten by police and mistreated while in custody. And remember: The United States is to the Cuban government like al Qaeda is to Washington, only much more powerful and much closer; virtually without exception, Cuban dissidents have been financed by and aided in other ways by the United States.
Would Washington ignore a group of Americans receiving funds from al Qaeda and engaging in repeated meetings with known members of that organization? In recent years the United States has arrested a great many people in the US and abroad solely on the basis of alleged ties to al Qaeda, with a lot less evidence to go by than Cuba has had with its dissidents' ties to the United States. Virtually all of Cuba's "political prisoners" are such dissidents. While others may call Cuba's security policies dictatorship, I call it self-defense.
The Ministry of Propaganda has a new Commissar
Last month Andrew Lack became chief executive of the Broadcasting Board of Governors, which oversees US government-supported international news media such as Voice of America, Radio Free Europe/Radio Liberty, the Middle East Broadcasting Networks and Radio Free Asia. In a New York Times interview, Mr. Lack was moved to allow the following to escape his mouth: "We are facing a number of challenges from entities like Russia Today which is out there pushing a point of view, the Islamic State in the Middle East and groups like Boko Haram."
So … this former president of NBC News conflates Russia Today (RT) with the two most despicable groups of "human beings" on the planet. Do mainstream media executives sometimes wonder why so many of their audience has drifted to alternative media, like, for example, RT?
Those of you who have not yet discovered RT, I suggest you go to RT.com to see whether it's available in your city. And there are no commercials.
It should be noted that the Times interviewer, Ron Nixon, expressed no surprise at Lack's remark.
Notes
William Blum, Killing Hope: U.S. Military and C.I.A. Interventions Since World War II, chapters 3 and 35
"Greek Debt Crisis: How Goldman Sachs Helped Greece to Mask its True Debt", Spiegel Online (Germany), February 8, 2010. Google "Goldman Sachs" Greece for other references.
U.S. Department of State Daily Press Briefing, February 13, 2015
CBS Evening News, August 20, 2002
ABC Nightline, December 4, 2002
"60 Minutes II", February 26, 2003
Washington Post, March 1, 2003
"60 Minutes", January 27, 2008
Democracy Now!, February 12, 2015, Wright statement made February 10
Al Kamen, Washington Post, February 18, 2015
Huffington Post, May 3, 2012
New York Times, January 21, 2015
Kent Hovind is a creation-science evangelist and Baptist minister who has already served eight years of a ten-year prison sentence for alleged tax evasion. Kent has a master's degree in education. He founded and operated Creation Science Evangelism and has traveled extensively presenting creation-science lectures. He has debated evolutionists in over one hundred debates across the country. Kent also operated Dinosaur Adventure Land in Pensacola, Florida. This was a very popular creation-science museum/theme park. Kent also produced scores of videos on the subject of creation-science that have circled the globe and been translated in over thirty languages. Many people affectionately refer to Kent as "Dr. Dino." He and his wife have three children; and all three of their children (all grown) worked alongside of him in the ministry.
Kent and I were college classmates for one year in Michigan. I was a sophomore when Kent transferred to the school from Illinois. I transferred colleges after that year. Kent stayed and graduated from the college in Michigan. After graduation in 1975, my wife and I moved to Pensacola, Florida, to begin our ministerial work. Some years later, Kent and his family also moved to Pensacola. So, I've known Kent a long time.
Kent considered his ministry a church and the people who worked for him as missionaries. He did not incorporate under the 501c3 non-profit organization status. Of course, the Internal Revenue Code states that churches are not required to do so; that, as a church, they automatically have tax-exempt status. Accordingly, Kent believed his ministry was tax-exempt.
Nevertheless, in 2004, IRS agents raided Kent's home and ultimately brought multiple counts of tax-evasion-type charges, including "structuring," against him. "Structuring" means deliberately making cash deposits or withdrawals of just under the supposed reporting level of ten thousand dollars. (Egad! God forbid that the IRS not know the details of our banking transactions.) In 2006, Kent went to trial and was convicted on all counts and sentenced to ten years in federal prison. He has been there ever since.
But now the story gets bizarre. Federal prosecutors are currently bringing charges of mail fraud against Kent for using the mail system from inside prison to challenge the lien that the IRS placed upon his property. And, are you ready for this? They want Kent to serve an additional twenty to one hundred years in prison. Obviously, even if he received twenty years, this amounts to a life sentence.
See this report:
IRS vs. Kent Hovind: Imprisoned Evolutionary Foe Now Facing New Charges, Life Behind Bars
By contrast, the Rev. Al Sharpton is reported to owe nearly $1.5 million in overdue taxes and penalties from many years ago. But our federal government doesn't put Mr. Sharpton in the Big House; it invites him to the White House instead.
See the report here:
Sharpton Owes Nearly $1.5 Million In Back Taxes
Regardless of where one comes down on the whole tax-exempt status issue for churches and non-profit organizations, here is a very relevant fact: the average time spent behind bars for tax "crimes" is between two to five years. For instance, Pete Rose served five months; Chuck Berry served four months; Aldo Gucci served one year; Sun Myung Moon served eighteen months; and Leona Helmsley served four years. Kent has already served much more time than any of those people did.
To help put it in perspective even further, the infamous Chicago gangster, Al Capone, was released after eight years in prison. And, as everyone knows, the only reason the government put him prison for tax evasion was because they couldn't obtain the evidence they needed to convict him of murder, racketeering, bribery, etc. Yet, our federal government wants to keep a Christian minister–who never committed an act of violence against anyone–in prison for the rest of his natural life. In truth, there are thousands of people who have been convicted of some form of homicide who have not spent as many years in prison as Kent has already.
Back in 2001, restaurant owner, fisherman, and ship builder, Frank Patti (also of Pensacola, Florida) was indicted on 24 counts of tax evasion of more than $12 million. He was sentenced to 79 months in prison and released after serving but 39 months. Kent has already served almost 100 months.
After witnessing the Frank Patti case, I wrote this in 2002: "The prospect of local businessman Frank Patti spending 8 years in federal prison for tax evasion causes me to once again reflect upon the justness of throwing people in jail for nonviolent crimes.
"I believe it is past time for America to examine its practice of locking people up for nonviolent crimes. Even though the United States is far from being the most populous country in the world, we incarcerate more people than any other nation. According to recent reports, there are more than two million people behind bars in U.S. jails and prisons [now the number exceeds six million]. Many of these people are there for crimes in which no one was physically injured or killed and, therefore, pose little or no threat to society.
"Furthermore, it seems that this infatuation with locking people up serves more the interests of ever-burgeoning government bureaucracies than the interests of justice. A breadwinner behind bars means more welfare, more food stamps, and more dependence upon government, not to mention more government jobs, of course.
"With the federal government increasingly encroaching into the area of crime and punishment and with an exploding number of new laws continually being created, more and more people are losing their freedom over crimes that have more to do with offending the powers of government than injuring the lives of innocent people. Such a system hardly promotes justice."
These comments do not even take into account the question as to whether refusing to pay personal income taxes to Uncle Sam should even be regarded as a crime at all. The income tax was initially sold to the American people as being a "voluntary" tax, remember? Regardless, the federal government treats the income tax as obligatory and most jurors have the attitude, "If I have to pay taxes, so does this defendant," which is why most juries never acquit folks charged with tax evasion.
In Kent's case, the argument was that his ministry was a church and as such should have been automatically tax exempt.
What Kent's case does show is that the IRS can make its own decisions as to who and what owes taxes, the 501c3 non-profit organization status for churches notwithstanding. Charges of tax evasion are very subjective to the whims of the IRS–as Al Sharpton proves. And let's not forget the Lois Lerner version of selective tax enforcement that targeted conservative organizations. And there is nothing new about that. The federal government has been using the IRS to intimidate or silence individuals or groups it does not like for many, many years under both Republican and Democrat administrations.
While I will not elaborate on this issue here (I've done so many times already in this column), this is just another example of the danger of the 501c3 tax exempt status for churches. With the way the IRS can subjectively interpret and enforce the tax code with impunity, a church or so-called non-profit organization that accepts tax-exempt status, can literally be "damned if you do and damned if you don't." It's mostly to do with politics. Remember, it is the IRS–NOT THE CHURCH–that ultimately defines whether an organization is qualified to be tax-exempt. What the Internal Revenue Code stipulates about churches being automatically tax-exempt means NOTHING to the IRS. You must remember that!
In the case of Kent Hovind, one has to wonder if he is actually being treated as a political prisoner. A life sentence for tax evasion? Whoever heard of such a thing?
Then again, I am reminded of the way our government treated former Idaho Congressman George Hansen. His book "To Harass Our People" (about the IRS) should be regarded as a must-read for every lover of liberty. Then, after you read the book, find out how our federal government railroaded him into a prison sentence and how it mercilessly tortured him afterward. It will make your hair stand on end.
Then, after reading what our federal government did to one of its own congressmen, try to convince yourself that our federal government would NOT do almost anything to anyone. And if this is true for American citizens (and it is) imagine how our federal government (CIA, military Dark Ops, etc.) treats foreign governments–even those it once befriended. Come on, folks. Turn off FOX News long enough to start thinking for yourself a little bit.
If you would like to sound off regarding the obvious injustice being committed against Kent Hovind, there is a website set up for that purpose. See it here:
If enough people rally to Kent's defense, the IRS might rethink its attempt to keep him in prison for the rest of his life. Like most dark forces, the IRS loves darkness and hates light. Whether you think Kent is guilty or not, eight years is enough! Please help spread a little light for Kent Hovind.
You're not paranoid if you think the world feels more unstable — it is.  There's a dangerous confluence of political, economic, and military phenomena that is producing a very hazardous international situation.   Heightened national tensions that lead to regional confrontations have become normal as economic and political winds constantly shift in the direction of instability and conflict.
At the center of each maelstrom is the U.S. Government, and instead of acting as a promoter of peace and stability the Obama administration has been a catalyst of confrontation and war.
Whether it be the Middle East, Asia, Russia's border, or the world economy, the actions of the Obama administration have leaned towards various forms of provocation and aggression — economic sanctions, threats, funneling arms, etc. This dynamic makes an eventual regional conflict inevitable, beyond the one already occurring in Syria/Iraq, where a U.S.-led proxy war against Syria and Iran is dangerously close to a full-out regional war.
The U.S. public is dangerously ignorant about the significance of these various regional conflicts. To the extent that they're even reported, the "news" has excelled at blaming others and sharpening conflict, rather than shedding light or presenting peaceful alternatives.
An especially combustible zone is the Ukraine, where the U.S. is engaged in what is becoming a full-fledged proxy war with Russia. The Obama administration's decisive role in the Ukrainian conflict has received only a sliver of space from the U.S. media, even after an audio of Obama's Under Secretary of State was leaked, exposing the U.S.' direct leadership role in a coup that overthrew Ukraine's democratically elected government.
Obama's allied boots on the ground in the Ukrainian coup were open fascists — the Svoboda and "Right Sector" — whose ideological hero, Stepan Bandera, was one of Hitler's most reliable fascist allies during World War II.
The Obama administration has given crucial military and economic support to the anti-Russian Ukrainian government, and provided this fascist-friendly government with various forms of military assistance, and now is considering giving more "lethal" military aid to a government that cemented its coup power via questionable elections during the start of a civil war.
Former USSR president and media darling, Mikhail Gorbachev, is now disregarded by the U.S. media, since his words no longer promote U.S. foreign policy objectives. Gorbachev recently said:
"If we call a spade a spade, America has pulled us into a new cold war, trying to openly implement its general idea of triumphalism. Where will it take us all? The [new] cold war is already on. What's next? Unfortunately, I cannot say firmly that the cold war will not lead to the hot one. I'm afraid that they might take the risk."
This "new cold war" is warming quickly, since the U.S.-Russian proxy war in Ukraine shares a large chunk of Russia's border, and like all wars borders are ignored when convenient. Gorbachev fears that the 5,000 dead Ukrainians and 1.5 million refugees may just be the detonator for a larger war between two fully nuclear countries. Meanwhile, the U.S. media completely ignores this very real threat, giving valuable political cover to Obama's reckless actions.
Equally crazy is Obama's longstanding policy in the Middle East, where his "no troops on the ground" mantra has led to non-stop drone bombing and a massive proxy war in Syria, which every nation in the region has directly contributed to. The 200,000 dead and millions of refugees have boiled political tensions across the region, and Obama's dedication to regime change in Syria is partially due to his dedication to the two biggest pariah nations in the world — Saudi Arabia and Israel.
When Israel recently bombed Syria again — a now regular occurrence — an Iranian general and Hezbollah leader were killed in the attack, which was labeled an assassination. Soon after, it was finally revealed that in 2008 the U.S. and Israel organized a terrorist attack in Lebanon that killed a Hezbollah leader. Both events push the Syrian conflict to the tipping point of regional war, and Obama's silence over Israel's repeated bombings against Syria only encourage an extremely dangerous regional conflagration.
Equally reckless is that Obama's Syrian proxy war relied on thousands of Islamic extremists from neighboring countries.  Obama's funding, training, and tolerating these extremists created the ideal conditions for a group like ISIS to rise from obscurity into a regional colossus.
To date the Obama administration has proposed no peace plan for Syria outside of "regime change." When the Russian government recently organized a major peace conference to address the Syrian war, the U.S.-led Syrian National Coalition boycotted the talks, and Obama put no public pressure on his allies to attend, when he should have been publicly demanding it. Once the peace conference started neither Obama nor the U.S. media cared much to talk about the happenings, since continued fighting is the priority.
One shouldn't forget Obama's Africa policies, where his "successful" bombing campaign-turned regime change in Libya has ruined a country that previously had the highest standard of living on the continent. After Obama waged an illegal, aggressive war and assassinated the Libyan president, Muammar Gaddafi, Hillary Clinton said — while giggling — "we came, we saw, he died."
Libya's weapons were looted and are now, according to the U.N., being funneled throughout the Middle East and Africa, destabilizing neighboring countries and empowering the Islamic extremists that Obama allied with against Gaddafi (similar to the ones he allied with against Syria's president).
When it comes to the global economy Obama has been launching financial weapons of mass destruction against his enemies. The economic sanctions against Iran, Russia, N. Korea, Venezuela, Syria, etc., are of course an act of war. This kind of war is described in the book, "Treasury's War," by former Under Secretary of the U.S. Treasury, Juan Zarate, who glamorizes this "new" form of war that the U.S. has a monopoly over, given the U.S. dollar's preeminence as the global reserve currency.
Another lethal non-military weapon Obama has recklessly used is his helping crash the price of oil. The U.S. media publicly discussed the anti-Russian motive behind Obama intervening in the oil markets, by selling the "strategic oil reserves" held by the U.S. government — intended to be used at times of severe shortages. But Obama started unloading the strategic reserves at a time when there was already increasing global supply. The oil price floor fell out when Obama persuaded Saudi Arabia to ramp up production, flooding the market with cheap oil.
And whereas the Obama administration has kept mum about the Saudi's accomplice role in crashing the oil market, the Saudis themselves have been pretty open about using their oil weapon, which they're using to force Russia to drop support for Syria's President Bashar al-Assad. The New York Times reported:
"Saudi Arabia has been trying to pressure President Vladimir Putin of Russia to abandon his support for President Bashar al-Assad of Syria, using its dominance of the global oil markets at a time when the Russian government is reeling from the effects of plummeting oil prices."
Russia's economy is consequently in free fall, with Iran, Venezuela and every other oil-producing nation suffering massive economic consequences. All of this is barely mentioned in the complicit U.S. media, content with shrugging its shoulders over the subsequent political chaos that directly affects hundreds of millions of people globally, and threatens to boomerang back on the U.S. in the form of unemployment and economic disruption.
All of the above policies have directly created havoc internationally. And today's world is more inter-connected than ever; the chaos in the oil markets has already caused layoffs in the U.S., and threatens a larger economic conflagration. Obama's policies in Libya, Syria, Iraq, and Afghanistan have greatly increased the likelihood of another terror attack in the U.S.
In a world of increasing danger and threats of war, the Obama administration has been completely unable to champion any serious peace proposal. His main contribution to global affairs has been chaos and death — either by proxy (Syria and Ukraine), drones (Pakistan, Yemen, Somalia, etc.) dollars, gun trafficking, sanctions, or direct military intervention (Afghanistan and Libya).
Even the pathetic "peace process" Obama faked with Israel-Palestine was revealed as farce the second Israel decided to re-destroy the Gaza Strip: Obama gave crucial support to Israel in committing its numerous war crimes.
Obama is aided and abetted in his reckless actions by a media that cheer-leads the government's every move, except when it encourages a more "aggressive" approach. In this way the above realities of U.S. foreign policy — and the very real dangers they present — are completely obscured from the American public. And when the next inevitable military combustion occurs, the public may be disorientated just long enough to fall victim to scapegoating and fear mongering that can lead to a bi-partisan military "solution."
If This Doesn't Make You Mad…
Why is the Fed threatening to raise interest rates when the economy is still in the doldrums? Is it because they want to avoid further asset-price inflation, prevent the economy from overheating, or is it something else altogether? Take a look at the chart below and you'll see why the Fed might want to raise rates prematurely. It all has to do with the sharp decline in petrodollars that are no longer recycling into US financial assets. This is from Reuters:
Petrodollar Exports
Source: Reuters

"Energy-exporting countries are set to pull their 'petrodollars' out of world markets this year for the first time in almost two decades, according to a study by BNP Paribas. Driven by this year's drop in oil prices, the shift is likely to cause global market liquidity to fall, the study showed…

This decline follows years of windfalls for oil exporters such as Russia, Angola, Saudi Arabia and Nigeria. Much of that money found its way into financial markets, helping to boost asset prices and keep the cost of borrowing down, through so-called petrodollar recycling.

This year, however, the oil producers will effectively import capital amounting to $7.6 billion. By comparison, they exported $60 billion in 2013 and $248 billion in 2012, according to the following graphic based on BNP Paribas calculations:

'At its peak, about $500 billion a year was being recycled back into financial markets. This will be the first year in a long time that energy exporters will be sucking capital out,' said David Spegel, global head of emerging market sovereign and corporate Research at BNP.

In other words, oil exporters are now pulling liquidity out of financial markets rather than putting money in. That could result in higher borrowing costs for governments, companies, and ultimately, consumers as money becomes scarcer." (Petrodollars leave world markets for first time in 18 years – BNP, Reuters)
Can you see what's going on?
Now that petrodollar funding has dried up, the Fed needs to find an alternate source of capital to keep the markets bubbly and to shore up the greenback. That's why the Fed has been talking up the dollar ("jawboning") and promising to raise rates even though the economy is still pushing up daisies. According to the Fed's favorite mouthpiece, Jon Hilsenrath:
"Federal Reserve officials are on track to start raising short-term interest rates later this year, even though long-term rates are going in the other direction amid new investor worries about weak global growth, falling oil prices and slowing consumer price inflation…

Many Fed officials have signaled they expect to start lifting their benchmark short-term rate from near zero around the middle of the year. Recent developments in the economy and markets have caused some trepidation among Fed officials and, if sustained, could cause them to delay acting. However several have indicated recently they still expect to move this year and are withholding judgment on delay." (Fed Officials on Track to Raise Short-Term Rates Later in the Year, Jon Hilsenrath, Wall Street Journal)
And we're hearing the same from Reuters: "The Federal Reserve is still on track for a potential mid-year interest-rate increase, a top Fed official said on Friday, citing strong U.S. economic momentum and a falling unemployment rate."
Notice the sudden change in tone from dovish to hawkish? Expect that to intensify in the months ahead as the major media tries to spin the data in a way that serves the Fed's broader objectives. Like this article in Bloomberg titled, "Yellen Signals She Won't Babysit Markets in Turmoil":
"Janet Yellen is leaving the Greenspan 'put"'behind as she charts the first interest-rate increase since 2006 amid growing financial-market volatility.

The Federal Reserve chair has signaled she wants to place the economic outlook at the center of policy making, while looking past short-term market fluctuations. To succeed, she must wean investors from the notion, which gained currency under predecessor Alan Greenspan, that the Fed will bail them out if their bets go bad — just as a put option protects against a drop in stock prices.

"The succession of Fed puts over the years has led to a wide range of distortions in financial markets," said Lawrence Goodman, president of the Center for Financial Stability, a monetary research group in New York. "There have been swollen asset values followed by sharp declines. This is a very good time for the Fed to move away.

"Let me be clear, there is no Fed equity market put," William C. Dudley, president of the New York Fed, the central bank's watchdog on financial markets, said in a Dec. 1 speech in New York." (She's No Greenspan: Yellen Signals She Won't Babysit Markets in Turmoil)
"There's no Fed equity put"?
That's ridiculous. Then how does one explain the way the Fed has launched additional rounds of QE every time stocks have started to sputter? And how does one explain the Fed's $4 trillion balance sheet all of which was spent on financial assets?
Let's face it, Central bank intervention has been the only game in town. It's not just the main driver of stocks. It's the only driver of stocks. Everyone knows that. Yellen is going to do everything in her power to keep stocks in the stratosphere just like her predecessors, Greenspan and Bernanke. The only that's going to change, is her approach.
As for the economy, well, just a glance of the headlines tells the whole story. Like this gem from CNBC last week:
"U.S. consumer prices recorded their biggest decline in six years in December and underlying inflation pressures were benign,…The Labor Department said on Friday its Consumer Price Index fell 0.4 percent last month, the largest drop since December 2008, after sliding 0.3 percent in November. In the 12 months through December, CPI increased 0.8 percent…

Darkening prospects for the global economy could also complicate matters for the U.S. central bank.

Inflation is running below the Fed's 2 percent target, despite a strengthening labor market and overall economy." (Consumer Price Index drops 0.4% in December, in line with estimates, CNBC)
Think about that for a minute: Consumer prices just logged their biggest drop since the freaking slump of 2008 and, yet, the Fed is still babbling about raising rates.
Talk about lunacy. Not only has the Fed not reached its inflation target of 2%, but it's abandoned the project altogether. Why? Why has the Fed suddenly stopped trying to boost inflation when the yields on benchmark 10-year US Treasuries have just plunged to record lows (1.70%) and are blinking red? In other words, the bond market is signaling slow growth and zero inflation for as far as the eye can see, but the Fed wants to raise rates and slash growth even more?? It doesn't make any sense, unless of course, Yellen has something else up her sleeve. Which she does.
Now get a load of this shocker on retail sales in last week's news. This is from Bloomberg:
"The optimism surrounding the outlook for U.S. consumers was taken down a notch as retail sales slumped in December by the most in almost a year, prompting some economists to lower spending and growth forecasts.
The 0.9 percent decline in purchases …. extended beyond any single group as receipts fell in nine of 13 major retail categories.
…
Treasury yields and stocks fell as a deepening commodities rout and the drop in sales spurred concern global growth is slowing…

…average hourly earnings falling 0.2 percent in December from the month before in the first drop since late 2012. That limits the amount of spending consumers can undertake without dipping into savings or racking up debt." (U.S. Retail Sales Down Sharply, Likely Cuts to Growth Forecasts Ahead, Bloomberg)
Remember when everyone thought that low oil prices were going to save the economy? It hasn't worked out that way though, has it? Nor will it. Falling oil prices usually indicate recession, crisis or deflation. Take your pick. They're usually not a sign of green shoots, escape velocity, or sunny uplands.
And did you catch that part about falling wages? How do you expand a consumer-dependent economy, when workers are seeing their wages shrivel every month? In case, you haven't seen the abysmal stagnation of wages in graph-form, here's a chart from American Progress:
Negative real wage growth means the amount of slack in the market is still considerable.
So while stock prices have doubled or tripled in the last 6 years, wages have basically been flatlining. That's a pretty crummy distribution system, don't you think. Unless you're in the 1 percent of course, then everything is just hunky dory.
But at least Yellen can find some comfort in the fact that unemployment continues to improve. In fact, just two weeks ago unemployment dropped to an impressive 5.4%, the lowest since 2007. So if we forget about the fact that wages are stagnating, that management has nabbed all the productivity-gains for the last 40 years, and that another 451,000 workers dropped off the radar altogether in December, then everything looks pretty rosy. But, of course, it's all just a bunch of baloney. Take a look at this from Zero Hedge:
"Another month, another attempt by the BLS to mask the collapse in the US labor force with a seasonally-adjusted surge in waiter, bartender and other low-paying jobs. Case in point… the labor participation rate just slid once more, dropping to 62.7%, or the lowest print since December 1977. This happened because the number of Americans not in the labor forced soared by 451,000 in December, far outpacing the 111,000 jobs added according to the Household Survey, and is the primary reason why the number of uenmployed Americans dropped by 383,000.
(Labor Participation Rate Drops To Fresh 38 Year Low; Record 92.9 Million Americans Not In Labor Force, Zero Hedge)
So, yeah, unemployment looks great until you pick through the data and see it's all a big fraud. Unemployment is only falling because more and more people are throwing in the towel and giving up entirely.
Finally, there's the rapidly-expanding mess in the oil patch where the news on layoffs and cut backs gets worse by the day. This is from Wolf Richter at Naked Capitalism:
"Layoffs are cascading through the oil and gas sector. On Tuesday, the Dallas Fed projected that in Texas alone, 140,000 jobs could be eliminated. Halliburton said that it was axing an undisclosed number of people in Houston. Suncor Energy, Canada's largest oil producer, will dump 1,000 workers in its tar-sands projects. Helmerich & Payne is idling rigs and cutting jobs. Smaller companies are slashing projects and jobs at an even faster pace. And now Slumberger, the world's biggest oilfield-services company, will cut 9,000 jobs." (Money dries up for oil and gas, layoffs spread, write-offs start, Wolf Richter, Naked Capitalism)
And then there's this tidbit from Pam Martens at Wall Street on Parade:
"In a December 15 article by Patrick Jenkins in the Financial Times, readers learned that data from Barclays indicated that "energy bonds now make up nearly 16 per cent of the $1.3 trillion junk bond market — more than three times their proportion 10 years ago," and "Nearly 45 per cent of this year's non-investment grade syndicated loans have been in oil and gas." Raising further alarms, AllianceBernstein has released research suggesting that the deals were not fully subscribed by investors with the potential that "as much as half of the outstanding financing from the past couple of years may be stuck on banks' books." (The perfect storm for Wall Street banks, Russ and Pam Martens, Wall Street on Parade)
How do you like that? So nearly half the toxic energy-related gunk that was bundled up into dodgy junk bonds (and is likely to default in the near future) is sitting on bank balance sheets. Does that sound like a potential trigger for another financial crisis or what?
And, no, I am not trying to ignore the fact that third quarter GDP came in at a whopping 5 percent which vastly exceeded all the analysts estimates. But let's put that into perspective. According to economist Dean Baker, the growth spurt was mainly "an anomaly" …"driven by extraordinary jump in military spending and a big fall in the size of the trade deficit that is unlikely to be repeated." Here's more from Baker:
"As usual, just about everything we've heard about the economy is wrong. To start, the 5.0 percent growth number must be understood against a darker backdrop: The economy actually shrank at a 2.1 percent annual rate in the first quarter. If we take the first three quarters of the year together, the average growth rate was a more modest 2.5 percent." (Don't Believe What You Hear About the US Economy, Dean Baker, CEPR)
So, the economy is growing at a crummy 2.5 percent, but Yellen wants to raise rates. Why? Does she want to shave that number to 2 percent or 1.5 percent? Is that it? She wants to go backwards?
Of course not. The real reason the Fed wants to raise rates, is to attract foreign capital to US markets in order to keep stocks soaring, keep borrowing costs low, and reinforce the dollar's role as the world's reserve currency. That's what's really going on. The petrodollars are drying up, so US markets need a new source of funding. Direct foreign investment, that's the ticket, Ducky. All the Fed needs to do is boost rates by, let's say, 0.5 percent and "Cha-ching", here comes the capital. Works like a charm every time, just ask former Treasury Secretary Robert Rubin whose strong dollar policy sent stock prices into orbit while widening the nation's current account deficit by many orders of magnitude. (We never said the plan didn't have its downside.)
The Fed's sinister plan to raise interest rates (sometime by mid-2015) will push the dollar's exchange rate higher thus triggering capital flight in the emerging markets which are already struggling with plunging commodities prices and an excruciating slowdown. The investment flows from the EMs to US financial assets and Treasuries will offset the loss of petrodollar revenue while expanding Wall Street's ginormous stock market bubble. As for the emerging markets, well, they're going to take it in the shorts bigtime as one would expect. Here's a clip from an article by Ambrose-Evans Pritchard that lays it out in black and white:
"The US Federal Reserve has pulled the trigger. Emerging markets must now brace for their ordeal by fire. They have collectively borrowed $5.7 trillion in US dollars, a currency they cannot print and do not control. This hard-currency debt has tripled in a decade, split between $3.1 trillion in bank loans and $2.6 trillion in bonds. It is comparable in scale and ratio-terms to any of the biggest cross-border lending sprees of the past two centuries…

Officials from the Bank for International Settlements say privately that developing countries may be just as vulnerable to a dollar shock as they were in the Fed tightening cycle of the late 1990s, which culminated in Russia's default and the East Asia Crisis. The difference this time is that emerging markets have grown to be half the world economy. Their aggregate debt levels have reached a record 175pc of GDP, up 30 percentage points since 2009…"

This time the threat does not come from insolvent states. They have learned the lesson of the late 1990s. Few have dollar debts. But their companies and banks most certainly do, some 70pc of GDP in Russia, for example. This amounts to much the same thing in macro-economic terms. " (Fed calls time on $5.7 trillion of emerging market dollar debt, Ambrose-Evans Pritchard, Telegraph)
The Fed has been through this drill so many times before they could do it in their sleep. (" U.S. interest-rate hikes in 1980s and 1990s played a role in financial crises across Latin America and East Asia." Foreign Policy Magazine) They've learned how to profit off every crisis, particularly the one's that they themselves create, which is just about all of them. In this case, most of the loans to foreign businesses and banks were denominated in dollars. So, now that the dollar is soaring, ("The dollar's value has risen about 15 percent relative to the euro and the yen just since the summer." NPR) the debts are going to balloon accordingly (in real terms) which is going to push a lot of businesses off a cliff forcing sovereigns to step in and provide emergency bailouts.
Did someone say "looming financial crisis"?
Indeed. Bernanke's "easy money" has inflated bubbles across the planet. Now these bubbles are about to burst due to the strong dollar and anticipated higher rates. At the same time, the policy-switch will send hundreds of billions of foreign capital flooding into US markets pushing stocks and bonds through the roof while generating mega-profits for JPM, G-Sax and the rest of the Wall Street gang. All according to plan.
Naturally, the stronger dollar will weigh heavily on employment and exports as foreign imports become cheaper and more attractive to US consumers. That will reduce hiring at home. Also the current account deficit will widen significantly, meaning that the US will again be consuming much more than it produces. (This took place under Rubin, too.) But here's what's interesting about that: According to the Bureau of Economic Analysis: "Our current account deficit has narrowed sharply since the crisis…The U.S. current account deficit now stands at 2.5 percent of GDP, down from more than 6 percent in the fourth quarter of 2005." (BEA)
Great. In other words, Obama's obsessive fiscal belt-tightening lowered the deficits enough so that Wall Street can "party on" for the foreseeable future, ignoring the gigantic bubbles they're inflating or the emerging market economies that are about to be decimated in this latest dollar swindle.
If that doesn't make you mad, I don't know what will.
That America is spiraling on a collision course with calamity seems certain. We seem to be ignoring virtually all of the lessons of history, and, well, you know what one fellow said about the folly of doing that. I join the consensus of patriots and freedom-lovers throughout the country who believe America's future is filled with all sorts of stormy weather. As a matter of fact, the storms are all around us already.
For one thing, most of the people who should be helping us in the freedom fight cannot see past the end of their ballot. They think, as long as they elect "conservatives" to public office, all is well with the world. And since the GOP now controls both houses of Congress in Washington, D.C., the vast majority of our good brothers and sisters are already all tucked in for extended hibernation. They will reemerge from under their blankets about three months before the general election in 2016 and start screaming their support for whomever the neocon candidate happens to be. Why, they are already ignoring the fact that the precious Republicans they just elected to the House and Senate a few weeks ago are already signaling that they will to do NOTHING to thwart Barack Obama's executive amnesty, which was the single most defining issue that helped give the Congress to the GOP. Republicans on Capitol Hill are famous for doing NOTHING to fulfill the promises they made on the campaign trail to their constituents. And Republican voters are famous for reelecting them anyway. Good grief! Republicans in South Carolina can't even get rid of Lindsey Graham; and Republicans in Arizona can't even get rid of John McCain.
Even the great Republican "conservative," Mitt Romney, is now on record saying that the GOP should "swallow hard" and pass a PERMANENT amnesty bill. And even though he says he is not running for President in two years, he continues to be the frontrunner in most of the GOP preference polls. What does that tell you?
See the report here:
Mitt Romney: Republicans Should 'Swallow Hard' And Pass 'Permanent' Amnesty Bill
Congresswoman Michele Bachmann had the guts to tell the truth about what the GOP plans to do regarding Obama's blatantly illegal executive amnesty decision. Bachmann told Breitbart.com that House Speaker John Boehner and the GOP leadership have "no intention" of resisting Obama's executive amnesty. And she is right.
See the report here:
'We Will Not Engage': Michele Bachmann Reveals GOP Plans To Ignore Executive Amnesty
Staunch anti-amnesty senator, Jeff Sessions, said this past Tuesday that the GOP House was about to break their 2014 campaign promises to stop Obama's executive amnesty. Also on Tuesday, Breitbart.com reported that House Speaker Boehner appears ready to deal with Democrats in order to cut a deal to SAVE amnesty. See the report here:
Boehner Poised To Deal With The Devil To Avoid Shut-Down?
Oh, we can expect Boehner and Company to blow a lot of smoke and pass some frivolous and toothless legislation or resolutions that will be designed to placate a gullible and naïve Republican constituency, but that will do absolutely NOTHING to stop Obama's amnesty. The only thing John Boehner and his ilk in Congress don't like is Obama beat them to the punch by issuing executive amnesty to illegals. GOP leaders were hoping to pass legislative amnesty. So, now that Obama has beaten them to the punch, Boehner and his fellow establishment Republicans will quickly fall in line.
But what the U.S. House of Representatives ought to do (if they had any guts, which they don't) is impeach this President for his executive amnesty.
Barack Obama's executive amnesty is the worst kind of abuse of power and illegal conduct. The President of the United States is charged with "executing" the laws of our country. He has no lawful authority to set those laws aside with an Executive Order, which is exactly what he did. Compared to the crimes of Barack Obama, the impeachment charges against Bill Clinton look pale. Then again, compared to the Congress of 1994, this Congress looks pale.
The effect of our government's refusal to respect our nation's borders and laws over the next several years will be devastating consequences to the very fiber and fabric of this once great republic. The toll on State and local budgets, education quality, crime rates, employment opportunities, and quality of life will be incalculable. And this is just one menace that the miscreants in Washington, D.C., are inflicting upon us.
For much of the Twentieth Century (and now into the Twenty-First Century), Americans repeatedly choose to elect irresponsible, power-hungry, egotistical, self-centered sycophants (from both major parties) to public office. In addition, most of our churches are little more than glorified social clubs, entertainment centers, playgrounds, and government corporations. Our major media, in both the national and most local markets, are largely government propaganda outlets–as are most of our educational institutions. Furthermore, Christians and unbelievers, pastors of all stripes, Republicans and Democrats, and conservatives and liberals alike, are sitting back passively and indifferently as our country is being turned into a humongous Police State. Absent a significant shift in the hearts and minds of the American people, our liberties cannot long endure.
However, with all of the above said, I still refuse to join the ranks of Chicken Little.
For some reason, known only to God, we still have a semblance of freedom in this land. Granted, it's only a semblance, but the curtain has not yet fully fallen on liberty. God knows we don't deserve even the semblance of freedom that we still enjoy. Over the last sixty-plus years, we have been doing our best to throw America into the garbage heap of history. But, for some reason, the curtain has not yet fallen completely.
I would like to proffer five suggestions as to why the curtain has not yet fallen on liberty.
1. I believe God is still honoring the faith, courage, commitment, and sacrifice of America's Founding Fathers. If God would bless Old Testament Israel for the sake of Abraham, Moses, and David, I believe He would bless the United States for the sake of George Washington, Patrick Henry, and Samuel Adams.
From the days of the Pilgrims through the days of the Patriots, several generations of men and women were willing to pay, many times, a horrific price for liberty. There is no doubt in my mind that these modern generations of Americans are still clipping the coupons from the extraordinary faith and courage of our forebears.
2. More than one hundred million American citizens possess over three hundred million firearms. And a good percentage of these people not only possess a gun; they possess the mental, emotional, and spiritual resolve to use those weapons against any government that would seek to take them. There is absolutely no doubt in my mind that the deeply-rooted heritage of the American people to keep and bear arms has been largely responsible for the preservation of whatever liberties we have left. Without a heavily-armed populace within this country, there is absolutely no doubt that America (and the rest of the "free world") would have been totally enslaved decades ago.
3. The Internet. For all of the baloney, malarkey, and rubbish that can be found on the Internet, there is absolutely no question that the Internet has very successfully circumvented and shattered the monopoly of the government shills of the mainstream media. For all intents and purposes, the Internet is to America today what the "Committees of Correspondence" were to Colonial America.
Many are even predicting that the major television news networks will be out of business within the next couple or three decades–as will many of America's newspapers. CNN was once a cable dynasty; now it is barely broadcasting. MSNBC's ratings are so poor that its days are also numbered. And while FOX NEWS is currently enjoying the zenith of its existence, more people are getting their news and newsworthy information from the Internet than from all of the above combined. For all of its negatives, the Internet is a huge net positive for freedom.
4. There is still a host, and I mean a huge host, of liberty-loving people in this country who have not (and will never) accept the shackles of tyranny around their hearts. Big-Government toadies can impugn them all they want, but people such as Ron Paul, Judge Andrew Napolitano, Senator Mike Lee, Congressman Justin Amash, and millions like them, are keeping the torch of liberty burning.
The media would have us believe that old-fashioned, red-blooded freedomists have gone the way of the Brontosaurus. Or, that if any do yet exist, their numbers are so small as to be placed on the list of endangered species. Don't you believe it!
In every occupation and vocation–including in our U.S. military and federal police agencies–in virtually every village and hamlet dotted across the fruited plain, and in every age bracket, reside innumerable freedom-loving Americans in whose hearts the love of liberty reigns. Before the chains of tyranny can be placed around a person's neck, they must first be placed around their hearts. And the people I'm talking about will NEVER allow those chains to be placed around their hearts.
5. I believe the curtain has not completely dropped on liberty in this country because of the grace and sovereignty of our Creator-God. Thomas Jefferson (himself an unbeliever in the traditional sense) was exactly right when he said that liberty is the gift of God. That we still enjoy a semblance of freedom in this land indicates that His divine protection still rests upon us.
Those of us who have a Christian perspective realize that Holy Writ tells us: "For it is God which worketh in you both to will and to do of his good pleasure." (Philippians 2:13) This means that the deeply-seeded love of liberty in our hearts was planted there by our Creator. Our WILL for liberty is God-breathed. That fact, by itself, demonstrates that it's not over.
There is a line from the 2012 version of the movie "Red Dawn" that I really love. A U.S. Marine fighting with the "Wolverines," said, "I'm still breathing, so, it's not over." Indeed. You and are still breathing, folks, so, IT'S NOT OVER.
"It's not the underlying economics that's driving things, it's central bank liquidity."

— Matt King, Citigroup
Soaring auto sales are not so much a sign of a strong economy as they are an indication of financial hanky-panky. We saw this same type of fakery play out in housing between 2004 – 2006, when prices went through the roof due to a mortgage-lending scam ("subprime") that crashed the stock market and sent the economy reeling. Now the bigtime money guys are at it again, writing up auto loans for anyone who can sit upright in a chair and scribble an "X" on the dotted line. As a result, car sales have surged to over 16 million for the last 6 months. (A full 7 million more than the low point in January, 2009.)   And it's not hard to see why either. The finance gurus are packaging these sketchy subprimes into bonds, offloading them on eager investors, and recycling the profits into more crappy loans. It's a perfect circle and it won't end until the loans start blowing up, jittery investors head for the exits,  and Uncle Sugar rides to the rescue with more bailouts.
But we're getting ahead of ourselves.  First take a look at these charts by House of Debt which shows the disparity between auto spending and other types of spending since the end of the slump in 2009.
House of Debt:  "New auto purchases have driven the consumer spending recovery to a large degree. The chart below shows the spending recovery for new auto sales and for all other retail spending…

From 2009 to 2013, spending on new autos increased by 40% in nominal terms. All other spending increased by only 20%. Further, excluding autos, 2013 saw lower growth in nominal retail spending than 2012…

The concern is that a lot of auto purchases are being fueled with debt, given a strong recovery in the auto loan market. Below is the net flow of auto loans from 2002 to 2013. It is a net flow because it includes pay downs in addition to new originations. As it shows, auto lending in 2012 and 2013 tops any other year during the previous expansion from 2002 to 2007 (although it is still below the amount of new auto loans in 2000 and 2001).

("Another Debt-Fueled Spending Spree?" House of Debt) 
How about that? So there's a bigger debt bubble in auto loans today than there was before the bust. But why? Is it because demand is strong,  jobs are plentiful, wages are rising, the economy is growing, and people are optimistic about the future?
Heck, no. It's because rates are low, credit is easy, and dealers are ready to put anyone with a license and a heartbeat into a brand-spanking new car no questions asked.  Here are the details from an article in the New York Times titled "In a Subprime Bubble for Used Cars, Borrowers Pay Sky-High Rates" by Jessica Silver-Greenberg and Michael Corkery:
"Auto loans to people with tarnished credit have risen more than 130 percent in the five years since the immediate aftermath of the financial crisis, with roughly one in four new auto loans last year going to borrowers considered subprime — people with credit scores at or below 640.

The explosive growth is being driven by some of the same dynamics that were at work in subprime mortgages. A wave of money is pouring into subprime autos, as the high rates and steady profits of the loans attract investors. Just as Wall Street stoked the boom in mortgages, some of the nation's biggest banks and private equity firms are feeding the growth in subprime auto loans by investing in lenders and making money available for loans.

And, like subprime mortgages before the financial crisis, many subprime auto loans are bundled into complex bonds and sold as securities by banks to insurance companies, mutual funds and public pension funds — a process that creates ever-greater demand for loans.

The New York Times examined more than 100 bankruptcy court cases, dozens of civil lawsuits against lenders and hundreds of loan documents and found that subprime auto loans can come with interest rates that can exceed 23 percent. The loans were typically at least twice the size of the value of the used cars purchased, including dozens of battered vehicles with mechanical defects hidden from borrowers. Such loans can thrust already vulnerable borrowers further into debt, even propelling some into bankruptcy, according to the court records, as well as interviews with borrowers and lawyers in 19 states.

In another echo of the mortgage boom, The Times investigation also found dozens of loans that included incorrect information about borrowers' income and employment, leading people who had lost their jobs, were in bankruptcy or were living on Social Security to qualify for loans that they could never afford." ("In a Subprime Bubble for Used Cars, Borrowers Pay Sky-High Rates", New York Times)
Can you believe that this kind of chicanery is going on in broad daylight without the regulators stepping in? Think about it for a minute: If the NYT's journalists can find "dozens of loans that included incorrect information about borrowers' income and employment", then why can't the government regulators? It's ridiculous. What we're talking about here is a new version of "liar's loans" where dealers are helping people who don't have the means to repay the debt, to fudge the details on their loan application so they can drive off in a shiny new Impala.
Haven't we seen this movie before?
Here's more from USA Today: "In the first quarter of 2014, 24.9% of all new-car loans were 73 to 84 months long. Four years ago, less than 10% of loans were that long. In fact, such lengthy terms have pulled the average new-car loan to 66 months. That's an all-time record."
7 years to pay off a car?  You got to be kidding me? It's like a second mortgage. And there's more, too. The average monthly payment and average amount financed hit record highs in the first quarter too. This is from Auto News:
"The average monthly new-vehicle payment was $474 in the first quarter, up 3.3 percent from a year ago. The average monthly used-vehicle payment was $352, up 1.1 percent, Experian Automotive said.

Also in the first quarter, the average amount financed on a new-vehicle loan was $27,612, an increase of $964, or 3.6 percent. For used vehicles, the average amount financed was $17,927, up $395 or 2.3 percent."

("Auto loan terms, monthly payments hit high in Q1, Experian says", Auto News)
So Americans are not just loading on more debt, they're also assuming that they're financial situation is going to be stable enough to make these large payments well into the future.  Good luck with that.
It's also worth noting that, in many transactions, dealers are actually lending more than the value of the vehicle. According to Reuters David Henry,
"The average loan-to-value on new cars rose to 110.6 percent… On used cars it rose to 133.2 percent…
Auto lenders often provide loans that exceed the value of cars they are financing because borrowers want cash to pay sales taxes and fees."
("U.S. car buyers borrow more as rates fall and standards loosen", David Henry, Reuters)
Let me see if I got this straight: You walk onto a car lot without a dime in your pocket, and drive off in a brand new car with everything paid for upfront? Such a deal! Can you see why we think that the sales numbers are a big fake?  This isn't the sign of a strong economy. It's the sign of another gigantic credit bubble rip-off. But what do the dealers get out of this thing? Is it really worth their while to botch the underwriting when they know that eventually they'll have to repossess the vehicle? Sure, it is, because there's big money in stuffing people into loans they can't afford.
Here's how the Times explains it: "Auto loans to borrowers considered subprime, those with credit scores at or below 640, have spiked in the last five years. The jump has been driven in large part by the demand among investors for securities backed by the loans, which offer high returns at a time of low interest rates. Roughly 25 percent of all new auto loans made last year were subprime, and the volume of subprime auto loans reached more than $145 billion in the first three months of this year."
Bingo. So not only do they make dough on the high interest rates they charge their subprime borrowers, (Sometimes 23 percent or more.) they also make it by selling the loan to investors who are eager to buy any manner of crappy bond provided it offers a better return than US Treasuries. This is the mess Bernanke created by fixing interest rates at zero for nearly 6 years.  Zirp (zero interest rate policy) unavoidably leads to excessive risk taking by yield-crazed speculators.    The voracious appetite for subprime securities (ABS–Asset-Backed Securities) has even surprised the bond issuers who are constantly beating the bushes looking for sketchier products.  This is from the same article by the NY Times:
"Investors, seeking a higher return when interest rates are low, recently flocked to buy a bond issue from Prestige Financial Services of Utah. Orders to invest in the $390 million debt deal were four times greater than the amount of available securities.

What is backing many of these securities? Auto loans made to people who have been in bankruptcy.

An affiliate of the Larry H. Miller Group of Companies, Prestige specializes in making the loans to people in bankruptcy, packaging them into securities and then selling them to investors.

"It's been a hot space," Richard L. Hyde, the firm's chief operating officer, said during an interview in March. Investors are betting on risky borrowers. The average interest rate on loans bundled into Prestige's latest offering, for example, is 18.6 percent, up slightly from a similar offering rolled out a year earlier…. To meet that rising demand, Wall Street snatches up more and more loans to package into the complex investments." (NYT)
HA! Now there's a good way to feather the old retirement fund; load up on bonds made up of loans to people who've gone bust.
This is the impact that zero rates have on investor behavior. The abundance of cheap and plentiful liquidity invariably leads to trouble. And there are victims in this Central Bank-authored gold rush too, namely the unsophisticated borrowers who pay prohibitively high rates on beater vehicles that are typically worth less-than-half the value of the loan. (Check the NYT article for examples.)
The Times also notes that the ratings agencies have been playing along with the finance companies just as they did during the subprime mortgage fiasco. Here's more from the Times:
"Rating agencies, which assess the quality of the bonds, are helping fuel the boom. They are giving many of these securities top ratings, which clears the way for major investors, from pension funds to employee retirement accounts, to buy the bonds. In March, for example, Standard & Poor's blessed most of Prestige's bond with a triple-A rating. Slices of a similar bond that Prestige sold last year also fetched the highest rating from S.&P. A large slice of that bond is held in mutual funds managed by BlackRock, one of the world's largest money managers." (NYT)
Ask yourself this, dear reader: How are the ratings agencies able to give "many of these securities top ratings", when the investigators from the Times found "dozens of loans that included incorrect information about borrowers' income and employment, leading people who had lost their jobs, were in bankruptcy or were living on Social Security to qualify for loans that they could never afford"?
Let's face it: The regulatory changes in Dodd-Frank haven't done a damn thing to protect the victims of these dodgy subprime schemes. Borrowers and investors are both getting gouged by a system that only protects the interests of the perpetrators. The sad fact is that nothing has changed. The system is just as corrupt as it was when Lehman went down.
So, how long can this go on before the market implodes?
According to the Times:
"financial firms are beginning to see signs of strain. In the first three months of this year, banks had to write off as entirely uncollectable an average of $8,541 of each delinquent auto loan, up about 15 percent from a year earlier, according to Experian…

In another sign of trouble ahead, repossessions, while still relatively low, increased nearly 78 percent to an estimated 388,000 cars in the first three months of the year from the same period a year earlier, according to the latest data provided by Experian. The number of borrowers who are more than 60 days late on their car payments also jumped in 22 states during that period…." (NYT)
(According to Amber Nelson at loan.com: "In the second quarter, the value of all auto loans late by 60 days or more was more than $4 billion, up 27 percent from the prior year, according to Experian.")
So, yeah, the trouble is mounting, but that doesn't mean that this madness won't continue for some time to come. It probably will. It'll probably drag-on until the economy turns south and more borrowers start falling behind on their payments. That will lead to more defaults, heavier losses on auto bonds, and a hasty race to the exits by investors. Isn't that how the subprime mortgage scam played out?
Indeed. But at least there are signs of hope on the regulatory front. Check out this clip from an article at CNBC:
"In August, both Santander Consumer and General Motors Financial Co. acknowledged receiving Justice Department subpoenas in connection with a probe over possible violations of civil-fraud laws. And the Consumer Financial Protection Bureau and the Securities and Exchange Commission have both stepped up their scrutiny of the auto-loan market." ("New debt crisis fear: Subprime auto loans", CNBC)
So the SEC, the DOJ, and the CFPB are actually investigating the underwriting practices of these behemoth finance companies to see if they violated "civil fraud laws"?
Will wonders never cease?
Just don't hold your breath waiting for convictions.
15 Reasons Why Americans Think We're Still in a Recession…
1: Wage Stagnation:  Why America's Workers Need Faster Wage Growth—And What We Can Do About It, Elise Gould, EPI
Economic Policy Institute:
"The hourly compensation of a typical worker grew in tandem with productivity from 1948-1973. …. After 1973, productivity grew strongly, especially after 1995, while the typical worker's compensation was relatively stagnant. This divergence of pay and productivity has meant that many workers were not benefitting from productivity growth—the economy could afford higher pay but it was not providing it.

Between 1979 and 2013, productivity grew 64.9 percent, while hourly compensation of production and nonsupervisory workers, who comprise over 80 percent of the private-sector workforce, grew just 8.0 percent. Productivity thus grew eight times faster than typical worker compensation…" (EPI)
(Note: Flatlining wages are the Number 1 reason that the majority of Americans still think we're in a recession.)
2: Most people still haven't recouped what they lost in the crash: Typical Household Wealth Has Plunged 36% Since 2003, Zero Hedge
Zero Hedge:
"According to a new study by the Russell Sage Foundation, the inflation-adjusted net worth for the typical household was $87,992 in 2003. Ten years later, it was only $56,335, or a 36% decline… Welcome to America's Lost Decade.

Simply put, the NY Times notes, it's not merely an issue of the rich getting richer. The typical American household has been getting poorer, too.

The reasons for these declines are complex and controversial, but one point seems clear: When only a few people are winning and more than half the population is losing, surely something is amiss. (chart)"
3: Most working people are still living hand-to-mouth:  76% of Americans are living paycheck-to-paycheck, CNN Money
CNN:
"Roughly three-quarters of Americans are living paycheck-to-paycheck, with little to no emergency savings, according to a survey released by Bankrate.com Monday.

Fewer than one in four Americans have enough money in their savings account to cover at least six months of expenses, enough to help cushion the blow of a job loss, medical emergency or some other unexpected event, according to the survey of 1,000 adults. Meanwhile, 50% of those surveyed have less than a three-month cushion and 27% had no savings at all…

Last week, online lender CashNetUSA said 22% of the 1,000 people it recently surveyed had less than $100 in savings to cover an emergency, while 46% had less than $800. After paying debts and taking care of housing, car and child care-related expenses, the respondents said there just isn't enough money left over for saving more."
4: Millennials are Drowning in Red Ink:  Biggest economic threat? Student loan debt, USA Today
USA Today:
"Total student loan debt has grown more than 150% since 2005… We have more than $1.2 trillion of student loan debt…
And while 6.7 million borrowers in repayment mode are delinquent, the sad fact is that many lenders aren't exactly incentivized to work with borrowers. Unlike all other forms of debt, student loans can't be discharged in bankruptcy. Moreover, lenders can garnish wages and even Social Security benefits to get repaid…

In 2005 student loans accounted for less than 13% of the total debt load for adults age 20-29. Today, student loans account for nearly 37% of that group's outstanding debt. Student loan debt's slice of the total debt pie for the age group nearly tripled! The average loan balance for that age group is now more than $25,500, up from $15,900 in 2005."
5: Downward mobility is the new reality: Middle-Class Death Watch: As Poverty Spreads, 28 Percent of Americans Fall Out of Middle Class, Truthout
Truthout:
"The promise of the American dream has given many hope that they themselves could one day rise up the economic ladder. But according to a study released those already in financially-stable circumstances should fear falling down a few rungs too. The study…  found that nearly a third of Americans who were part of the middle class as teenagers in the 1970s have fallen out of it as adults…  its findings suggest the relative ease with which people in the U.S. can end up in low-income, low-opportunity lifestyles — even if they started out with a number of advantages. Though the American middle class has been repeatedly invoked as a key factor in any economic turnaround, numerous reports have suggested that the middle class enjoys less existential security than it did a generation ago, thanks to stagnating incomes and the decline of the industrial sector."
6: People are more vulnerable than ever:  "More Than Half Of All Americans Can't Come Up With $400 In Emergency Cash… Unless They Borrow", Personal Liberty
"According to a Federal Reserve report on American households' "economic well-being" in 2013,  fewer than half of all Americans said they'd be able to come up with four Benjamins on short notice to deal with an unexpected expense…
Under a section titled "Savings," the report notes that "[s]avings are depleted for many households after the recession," and lists the following findings:

*Among those who had savings prior to 2008, 57 percent reported using up some or all of their savings in the Great Recession and its aftermath.

*39 percent of respondents reported having a rainy day fund adequate to cover three months of expenses.

*Only 48 percent of respondents said that they would completely cover a hypothetical emergency expense costing $400 without selling something or borrowing money.
7: Working people are getting poorer: The Typical Household, Now Worth a Third, New York Times
NYT:
"The inflation-adjusted net worth for the typical household was $87,992 in 2003. Ten years later, it was only $56,335, or a 36 percent decline, according to a study financed by the Russell Sage Foundation.

Those are the figures for a household at the median point in the wealth distribution — the level at which there are an equal number of households whose worth is higher and lower. But during the same period, the net worth of wealthy households increased substantially…."The housing bubble basically hid a trend of declining financial wealth at the median that began in 2001," said Fabian T. Pfeffer, the University of Michigan professor who is lead author of the Russell Sage Foundation study.

The reasons for these declines are complex and controversial, but one point seems clear: When only a few people are winning and more than half the population is losing, surely something is amiss."
8: Most people can't even afford to get their teeth fixed:  7 things the middle class can't afford anymore, USA Today
USA Today:
"A vacation is an extra expense that many middle-earners cannot afford without sacrificing something else. A Statista survey found that this year 54% of people gave up purchasing big ticket items like TVs or electronics so they can go on a vacation. Others made sacrifices like reducing or eliminating their trips to the movies (47%), reducing or eliminating trips out to restaurants (43%), or avoiding purchasing small ticket items like new clothing (43%).

2–New vehicles…
3–To pay off debt…
4–Emergency savings…
5–Retirement savings…
6–Medical care…
7–Dental work…

According to the U.S. Department of Health and Human Services, "the U.S. spends about $64 billion each year on oral health care — just 4% is paid by Government programs." About 108 million people in the U.S. have no dental coverage and even those who are covered may have trouble getting the care they need, the department reports."
9: The good, high-paying jobs have vanished:  Recovery Has Created Far More Low-Wage Jobs Than Better-Paid Ones, New York Times
NYT:
"The deep recession wiped out primarily high-wage and middle-wage jobs. Yet the strongest employment growth during the sluggish recovery has been in low-wage work, at places like strip malls and fast-food restaurants.

In essence, the poor economy has replaced good jobs with bad ones. That is the conclusion of anew report from the National Employment Law Project, a research and advocacy group, analyzing employment trends four years into the recovery.

"Fast food is driving the bulk of the job growth at the low end — the job gains there are absolutely phenomenal," said Michael Evangelist, the report's author. "If this is the reality — if these jobs are here to stay and are going to be making up a considerable part of the economy — the question is, how do we make them better?"
10: More workers are throwing in the towel:  Labor Participation Rate Drops To 36 Year Low; Record 92.6 Million Americans Not In Labor Force, Zero Hedge
Zero Hedge:
"For those curious why the US unemployment rate just slid once more to a meager 5.9%, the lowest print since the summer of 2008, the answer is the same one we have shown every month since 2010: the collapse in the labor force participation rate, which in September slid from an already three decade low 62.8% to 62.7% – the lowest in over 36 years, matching the February 1978 lows. And while according to the Household Survey, 232,000 people found jobs, what is more disturbing is that the people not in the labor force, rose to a new record high, increasing by 315,000 to 92.6 million!

Bottom line: Unemployment has gone down because more people aren't working and have fallen off the radar."
11: Nearly twice as many people still rely on Food Stamps than before the recession: Food-stamp use is falling from its peak, Marketwatch
Marketwatch:
"Food-stamp use is finally moving away from the peak. At 46.1 million people, total food-stamp usage is down about 4% from its high in December 2012 of 47.8 million. Only eight states in March (the latest data available) were up from the same month of 2013.

It's still not great news, however, considering there were 26.3 million people receiving food stamps in 2007…"
12: The ocean of  red ink continues to grow: American Household Credit Card Debt Statistics: 2014, Nerd Wallet Finance
Nerd Wallet Finance:
U.S. household consumer debt profile:

*Average credit card debt: $15,607

*Average mortgage debt: $153,500

*Average student loan debt: $32,656

In total, American consumers owe:

*$11.63 trillion in debt

*An increase of 3.8% from last year

*$880.5 billion in credit card debt

*$8.07 trillion in mortgages

*$1,120.3 billion in student loans

*An increase of 11.5% from last year
13: No Recovery for working people: The collapse of household income in the US, World Socialist Web Site
WSWS:
"The US Federal Reserve's latest Survey of Consumer Finances, released last Thursday, documents a devastating decline in economic conditions for a large majority of the population during the so-called economic recovery.
The report reveals that between 2007 and 2013, the income of a typical US household fell 12 percent. The median American household now earns $6,400 less per year than it did in 2007.

Source: Federal Reserve Survey of Consumer Finances
Much of the decline occurred during the "recovery" presided over by the Obama administration. In the three years between 2010 and 2013, the annual income of a typical household fell by an additional 5 percent.
The report also shows that wealth has become even more concentrated in the topmost economic layers. The wealth share of the top 3 percent climbed from 44.8 percent in 1989 to 54.4 percent in 2013. The share of wealth held by the bottom 90 percent fell from 33.2 percent in 1989 to 24.7 percent in 2013."
14: Most people will work until they die:  The Greatest Retirement Crisis In American History, Forbes
Forbes:
"We are on the precipice of the greatest retirement crisis in the history of the world. In the decades to come, we will witness millions of elderly Americans, the Baby Boomers and others, slipping into poverty.

Too frail to work, too poor to retire will become the "new normal" for many elderly Americans.

That dire prediction… is already coming true. Our national demographics, coupled with indisputable glaringly insufficient retirement savings and human physiology, suggest that a catastrophic outcome for at least a significant percentage of our elderly population is inevitable. With the average 401(k) balance for 65 year olds estimated at $25,000 by independent experts …the decades many elders will spend in forced or elected "retirement" will be grim…

The signs of the coming retirement crisis are all around you. Who's bagging your groceries: a young high school kid or an older "retiree" who had to go back to work to supplement his income or qualify for health insurance?"
15: Americans are more pessimistic about the future, Polling Report
According to a CNN/ORC Poll May 29-June 1, 2014:
"Do you agree or disagree? The American dream has become impossible for most people to achieve."

Agree: 59%

Disagree: 40%

Unsure: 1%

According to a NBC News/Wall Street Journal Poll conducted by the polling organizations of Peter Hart (D) and Bill McInturff (R). April 23-27, 2014:

"Do you agree or disagree with the following statement? Because of the widening gap between the incomes of the wealthy and everyone else, America is no longer a country where everyone, regardless of their background, has an opportunity to get ahead and move up to a better standard of living."Agree: 54%

Disagree: 43%

Mixed: 2%

Unsure: 1%

Also, according to a CBS News Poll. Jan. 17-21, 2014. N=1,018 adults nationwide.

"Looking to the future, do you think most children in this country will grow up to be better off or worse off than their parents?"Better off: 34%

Worse off: 63%

Same: 2%

Unsure: 1%

The majority of people in the United States, no longer believe in the American dream, or that America is the land of opportunity, or that their children will have a better standard of living than their own.  They've grown more pessimistic because  they haven't seen the changes they were hoping for, and because their lives are just as hard as they were right after the crash.  In fact, according to a 2014 Public Religion Research Institute poll– 72 percent of those surveyed said they think "the economy is still in recession."
Judging by the info in the 15 links above,  they're probably right.
"Financial markets are faced with uncertainty that isn't going away. The slowdown in Europe is probably in the early innings, the Fed hasn't begun to raise interest rates, and geopolitical crises seem to pop up by the day." Jeff Cox, Finance editor, CNBC
Six years of zero rates and trillions of dollars of asset purchases couldn't stop stocks from falling sharply on Wednesday. All three major indices moved deep into the red, with the Dow Jones leading the pack, dropping an eye-watering 460 points before rebounding nearly 300 points by the end of the session. Risk-free assets, particularly US Treasuries, rallied hard on the flight-to-safety move with the benchmark 10-year Treasury yield slipping to a Depression era 1.87 percent before climbing back above the 2 percent mark. US financials were the worst hit sector, taking it on the chin for 9 percent by mid-day, while Brent crude was soundly walloped, falling to a 47-month low on oversupply and deflation fears. Stock market gains for the year had nearly been wiped out before a miraculous about-face turned Armageddon into a so-so day with survivable losses. Even so, analysts have already started paring back their estimates for 4th quarter growth while traders stocked up on antacid for Thursday's opening bell.
The proximate cause of Wednesday's bloodbath was weaker than expected economic data from Europe–which is sliding towards its third recession in five years– droopy retail sales in the US, and a report from Department of Labor showing that wholesale prices for producers are edging closer towards deflation, the opposite of what the Fed is trying to achieve via its aggressive monetary policy.
But the real trigger for the selloff was not the dismal data, but the policies that have been in place since the Financial Crisis of 2008. While the Obama administration has steadily decreased demand by shaving the deficits which provide vital fiscal stimulus for the economy, (On Wednesday, the USG announced the budget deficit fell to $483 billion, the lowest since 2008) the Federal Reserve has been providing trillions of dollars of cheap money to the banks and brokerages. The result of this one-two combo has not only been the biggest transfer of wealth in human history, but also "a fundamental breakdown in the functioning of the global capitalist economy." As the International Monetary Fund (IMF) noted in a recent paper on the global recovery: "a pickup in investment has not yet materialized…reflecting concerns about low medium-term growth potential and subdued private consumption." Demand shortfalls in the advanced countries "could lead to sustained global economic weakness over a five-year period." (IMF report records global economic breakdown, Nick Beams, World Socialist Web Site)
Simply put: The Fed's policies have made investors richer, but they haven't created opportunities for recycling profits, which is a critical part of capitalism's so called virtuous circle. Anemic investment, means less hiring, less spending, weaker demand and slower growth, all of which are visible in today's sluggish, underperforming economy. Pumping money into financial assets (QE) can fatten the bank accounts of rich speculators, but it doesn't do jack for the economy. It just creates bubbles that burst in a flurry of panic selling. Here's more from Larry Elliot at the Guardian:
"Six years after the global banking system had its near-death experience, interest rates are still at emergency levels. Even attaining the mediocre levels of activity expected by the IMF in the developed countries requires central banks to continue providing large amounts of stimulus. The hope has been that copious amounts of dirt-cheap money will find its way into productive uses, with private investment leading to stronger and better balanced growth.

It hasn't happened like that. Instead, as the IMF rightly pointed out, the money has not gone into economic risk-taking but into financial risk-taking. Animal spirits of entrepreneurs have remained weak but asset prices have been strong. Tighter controls on banks have been accompanied by the emergence of a powerful and largely unchecked shadow banking system. Investors have been piling into all sorts of dodgy-looking schemes, just as they did pre-2007. Recovery, such as it is, is once again reliant on rising debt levels. Central bankers know this but also know that jacking up interest rates would push their economies back into recession. They cross their fingers and hope for the best." (World leaders play war games as the next financial crisis looms, Larry Elliot, Guardian)
The policies implemented by the Obama administration and Fed have achieved precisely what they were designed to achieve; they've enriched the voracious plutocrats who run the system but left everyone else scraping by on less and less. An article in the Washington Post explains what's going on in greater detail. Here's a short excerpt from the piece titled "Why is the recovery so weak? It's the austerity, stupid":
"Welcome to Austerity U.S.A., where the deficit is back below 3 percent of GDP and growth is still disappointing—which aren't unrelated facts.
It started when the stimulus ran out. Then state and local governments had to balance their budgets amidst a still-weak economy. And finally, there was the debt ceiling deal with its staggered $2.1 trillion of cuts over the next decade. Add it all up, and there's been a big fiscal tightening the past few years, something like 4 percent of potential GDP. Indeed, as Paul Krugman points out, real government spending per capita has been falling faster now than any time since the Korean War demobilization. (chart)
And, as you can see above, all this austerity has been hurting GDP growth since 2011. It shows the Hutchins Center's new "fiscal impact measure," which looks at how much total government tax-and-spending decisions have helped or harmed growth. The dark blue line is what policy has actually done, and the light blue one is what a neutral policy would have done. So, in other words, if the dark blue line is below the light blue one, like it has the last three years, then policy has subtracted from growth." (Why is the recovery so weak? It's the austerity, stupid. Washington Post)
By cutting the deficits, Obama reduced the blood flow to the real economy and weakened demand. That's what torpedoed the recovery. In contrast, stocks and bonds have done remarkably well, mainly because the Fed pumped $4 trillion into financial assets which was a taken as a greenlight by risk takers everywhere to load up on everything from overpriced equities to low-yield junk. Now, after more than three years without as much as a 10 percent correction, the momentum has shifted, volatility has returned, earnings are looking wobbly, and the fear is palpable. Stocks appear to be headed for a major repricing event. Here's how investment guru John Hussman sums it up in his Weekly Market Comment:
"Our concerns at present mirror those that we expressed at the 2000 and 2007 peaks, as we again observe an overvalued, overbought, overbullish extreme that is now coupled with a clear deterioration in market internals, a widening of credit spreads, and a breakdown in our measures of trend uniformity…

…it has become urgent for investors to carefully examine all risk exposures. When extreme valuations on historically reliable measures, lopsided bullishness, and compressed risk premiums are joined by deteriorating market internals, widening credit spreads, and a breakdown in trend uniformity, it's advisable to make certain that the long position you have is the long position you want over the remainder of the market cycle. As conditions stand, we currently observe the ingredients of a market crash." (The Ingredients of a Market Crash, John P. Hussman, Ph.D., Hussman Funds)
Sounds ominous, doesn't it? And Hussman is not alone either. The bearish mood on Wall Street is gaining pace even among those who focus more on geopolitical issues than fundamentals, like the Bank for International Settlements' Guy Debelle who said in an interview on CNBC on Tuesday that he was concerned about the possibility of a "violent" market drop, particularly in bonds.
"If I had told you that there were heightened tensions in the Middle East and Eastern Europe, uncertainty about the turning point in U.S. monetary policy, a succession of strong U.S. job numbers, uncertainty about the future direction of policy in Europe and Japan, as well as increased concern about the strength of the Chinese economy, you would not be expecting that to make for a benign time in financial markets," Guy Debelle of the BIS said. "But that is what we have seen for much of this year." (CNBC)
But stocks aren't cratering because of tensions in the Middle East or Eastern Europe. That's baloney. And they're not falling because of decelerating global growth, plunging oil prices or Ebola. They're falling because no one knows what the heck is going to happen when QE stops at the end of October. That's what has everyone in a lather.
Keep in mind, that 20 percent of the current market cap (more than $4 trillion) is stock buybacks, that is, corporations that have bought their own shares to juice prices. Do you really think that corporate bosses are going to play as fast and loose after the Fed stops its liquidity injections?
Not on your life. They're going to pull in their horns and see what happens next. And if things go sideways, (which they very well could) they're going to cash in and call it a day. That's going to drive down stock prices and send markets reeling.
Stocks have nearly tripled since March 2009 when the Fed started this "credit easing" fiasco. So if stocks rode higher on an ocean of Fed liquidity, then how low are they going to go when the spigot is turned off? There are some, like technical strategist Abigail Doolittle, who think the S and P 500 could suffer a major heart attack, dropping as much as 60 percent before equities touch down. Check it out from CNBC:
"(Abigail) Doolittle, founder of Peak Theories Research, has made headlines lately suggesting a market correction worse than anyone thinks is ahead. The long-term possibility, she has said, is a 60 percent collapse for the S&P 500.

In early August, Doolittle was warning both of a looming "super spike" in the CBOE Volatility Index as well as a "death cross" in the 10-year Treasury note.

And so it's come to pass at least for the VIX, which has jumped 74 percent over the past three months and crossed the 20 threshold that historically has served as a dividing line between complacency and fear. That's its highest level in nearly two years. From Doolittle's perspective, the spike represents a bad-news/bad-news scenario … that the near-term selling action is likely to continue and even accelerate…

…she thinks "violent waves of selling action" could send the VIX all the way to 90—even beyond its peak during the financial crisis." (CNBC)
Now maybe Doolittle is just exaggerating or paranoid, but her conclusions do seem to square with CNN Money. Here's a clip from yesterday's article:
"CNNMoney's Fear & Greed Index is a good indicator of market momentum. Today it hit zero. That's a huge red flag and showcases extreme fear in the stock market. The only other time the index ever touched that low point is in August 2011 — shortly after Standard & Poor's downgraded the U.S. debt.

Volatility — or what some are calling "market whiplash" — is clearly back in the market. The VIX, an index that measures volatility and is one of the factors that goes into the Fear & Greed Index — spiked again today. It's up a whopping 60% in the past week alone." (Extreme Fear in stock market, CNN Money)
So fear and volatility are back, but liquidity has suddenly gone missing. That sounds like a prescription for disaster to me. So what can we expect in the weeks to come?
Well, more of the same, at least that's how Pimco's former chief executive officer Mohamed El Erian sees it. Here's how he summed it up on Wednesday in a Bloomberg editorial:
"Though unlikely to be as dramatic as today, market volatility can be expected to continue in the days and weeks to come as two forces compete: first, the forced deleveraging of certain investors, particularly overstretched hedge funds registering big October losses; second, central banks scrambling to say all sorts of reassuring things. All of this will serve to reinforce October's longstanding reputation as a threatening month for investors around the world." (October's Wild Ride Isn't Over Yet, Mohamed A. El-Erian, Bloomberg)
Did he say "forced deleveraging"?
Uh huh. So, after a 6 year bacchanal, the Fed is finally going to take away the punch bowl and force the revelers to pay down their debts, clean up their balance sheets, and take a few less risks. Is that it?
Yep. It sure looks like it. But, that could change in the blink of an eye, after all, the Fed has its friends to think of. Which means that Ms. Yellen could announce QE4 any day now.
As our society bounces down ward, flowing this way now and that way a little later, it is difficult to pinpoint exactly what is happening until it has already overwhelmed us.
Almost everyone now knows that football stars Ray Rice and Adrian Peterson are guilty of violence within their families; a video shows Rice knocking his wife unconscious and dragging her out of an elevator.  Pictures of Adrian Peterson's ten year of son with red switch welts on his back and legs have been widely circulated.  Both are being disciplined by the National Football League.
Another one that still sticks in my mind happened way back in 1988, Dimetrios Georgios Synodinos (Jimmy the Greek Snyder), a popular 12 year employee of the CBS network was fired for contending at a lunch with TV reporter Ed Hoteling that African Americans were superior athletes because during slavery they had been bred to produce superior physical characteristics.
In July 2002 Phil Donahue, following a record 26 year stint of staring in his own show, returned to TV on MSNBC.  His show was an immediate success but was terminated in slightly over six months ostensibly for opposing the Iraq War.
In 2003, Pulitzer Prize winner Peter Arnett was fired by NBC for spreading factual information about the Iraq war.
In 2004, Paul Craig Roberts was banned from the mainstream media for the crime of being critical of the George W. Bush Administration and the war in Iraq.
On January 26, 2009 Juan Williams was separated from National Public Radio for making this comment about First Lady Michelle Obama, "Michelle Obama, you know, she's got this Stokely Charmichael in a designer dress thing going. If she starts talking…her instinct is to start with this blame America, you know, I'm the victim. If that stuff starts coming out, people will go bananas and she'll go from being the new Jackie O to being something of an albatross".
In 2007, Don Imus, pre-eminent New York radio shock-jock, for a flippant racial reference to a Rutgers Women's Basketball player was fired in the syrupy sweet jargon of the lily white president of CBS, Leslie Moonves, who intoned "From the outset, I believe all of us have been deeply upset and revulsed by the statements that were made on our air about the young women who represented Rutgers University in the NCAA Women's Basketball Championship with such class, energy and talent. There has been much discussion of the effect language like this has on our young people, particularly young women of color trying to make their way in this society. That consideration has weighed most heavily on our minds as we made our decision."
In 2010, Lebanese journalist Octavia Nasr, a 20 year employee of CNN was fired for expressing admiration for fellow Lebanese Shiite cleric Ayatollah Mohammed Hussein Fadlallah after she read his obituary.
In 2013 Paula Deen, a popular chef on the Food Channel, was summarily dismissed.  A law suit by a Black employee for sexual harassment and discrimination resulted in her admission that she had used racial slurs in the past.  Perfuse apologies were useless.
Crystal Dixon was dismissed from her job at the University of Toledo for expressing this bit of sound logic in a letter to the editor of a local paper. "I take great umbrage at the notion that those choosing the homosexual lifestyle are 'civil rights victims.' Here's why. I cannot wake up tomorrow and not be a black woman," she wrote. "I am genetically and biologically a black woman and very pleased to be so as my Creator intended. Daily, thousands of homosexuals make a life decision to leave the gay lifestyle evidenced by the growing population of PFOX (Parents and Friends of Ex Gays) and Exodus International just to name a few."
In 2014, Bob Eschliman, a Christian, lost his job as editor of the Newtown Daily News, an Iowa periodical, for criticizing the Queen James Bible Website.  He was fired and publically castigated for expressing his opinion.
Additional examples of politically incorrect dismissals abound.
Some of these excoriations were at least partially a result of other behavior that offended the power structure.   Jimmy the Greek once punched Brent Musburger in the face for calling him stupid.  They were bitter enemies.   He also brought Phyllis George to tears by insulting her husband.  As popular as he was he did not fit into the media social structure.
Roger Goodell is a lonely Gentile in the midst of major sport commissioners.  There may be an effort to replace him by criticizing his performance.  Adrian Peterson is a professing Christian Any Christian is fair game.
When Phil Donahue joined NBC in 2002 Chris Matthews fancied himself the heart of the station.  Matthews did not like the Donahue Show – it drew a larger audience and pursued peace.  He was pro-war and also enjoyed and ethnic advantage.
Peter Arnette was just too honest to survive in the media sea of deception.
Paul Craig Roberts is a thinker, writer, and researcher.  He is one of our nation's most talented individuals but the American Media is monolithic and does not allow deviation from its unwritten and unacknowledged laws.  Criticizing war and seeking peace when they support war and death is an affront to their superior agenda.
Juan Williams may have touched on a hidden truth with a conservative type statement.  Either or both are no, nos.  He is Black and is working again but if a White man had made the same statement he would be banned for life.
Don Imus referred to the Rutgers lady basketball players as "nappy-headed hos", a racial slur against a race that is sacrosanct in press and media circles.  He had friends that got him his job back.
Octavia Nasr expressed admiration for an enemy of the power elite.  We must love what they love and hate what they hate.
Paula Deen's situation was similar to that of Jimmy the Greek.  Though she had a popular show and was herself a success story her family was a bit crude for the elite social structure.
Homosexuality is an idol of a high order in the educational hierarchy.  Even though Crystal Dixon is Black, pointing in clear logic to the absurdity of comparing civil rights for Blacks to civil rights for homosexuals was unacceptable to the meritocratic humbugs at her university.  Of course her reference to and tacit support of Christian organizations is damnable all by itself.
Christians are still naïve about the hate their religion engenders in those that control our press and media.  Bob Eschliman found out.
When the powerful purveyors of news and entertainment forsook the Law given them by erstwhile religion they opened the door to the tyranny of their own power.  They are now the determiners of good and evil within their sizeable dominions. Morality is now an arbitrary doctrine enforced by raw power.
We might blame the leadership which owns and controls most of the world's press and media but that leadership is being supported by millions of American Christians and validated by others who support Zionism.
Humanism is the religion of the day.  The oligarchs think of themselves as a superior race endowed with authority to exert their will on the world with physical force. They will use Evangelicals who support their wars but they will not abide God's legal structure.
Questioning the authenticity of 9/11 or the validity of the War in the Middle East is not allowed.  Conspiracy talk is squelched as is criticism of Blacks, Jews, The Media, the Iraq War, homosexuality and lesbianism. Christianity can be lambasted but never extolled or promoted.  Even if the dismissal is a result of other behavior the elite power structure will look for one of the key "no noes" to re-enforce fear of future infractions.
Law is what the power elite say it is.  Justice is a result of abiding by the immutable Law of our Creator – it has vanished from most of the earth. War and chaos have replaced justice and peace.
"To Learn who rules over you simply find out who you are not allowed to criticize."  Attributed to Voltaire
Norman Rockwell's America carried incredible nostalgia for the way this country once operated.  "Father Knows Best" captured our understanding of "family" in America.  Jackie Gleason on the "Honeymooners" along with Andy Taylor and Barney Fife instilled our mutual belonging.  Bill Cosby brought us together with the "Cosby Show."  Everyone spoke English and everyone enjoyed employment and hope.
From the 50s to the 70s, most people worked a job, our Congress made laws to ensure our well-being along with a viable nationhood.  Even with our racial strife, women's rights, gay rights and battles over Roe vs. Wade—America allowed every citizen the right to pursue "Life, liberty and the pursuit of happiness."
After my latest bicycle journey across America this summer, we unknowingly bear witness to the greatest racial and demographic shift ever self-inflicted on one country in the history of the world.  By 2042, the Pew Research Center reports that the current European-American majority (down from 90 percent in 1960 to 54 percent in 2014) faces the new Latino majority within 28 years.  All of it created by endless legal and illegal immigration.
During the next 36 years, Americans face an added 100 million legal immigrants from 150 countries around the globe.  They stream into America at blinding speed via our invitations, chain migration and birth rates.  How can we equate adding 100 million immigrants?  Answer: that number equates to doubling the size of our 25 most populated cities.  It means New York City jumps from 8.3 million to 16.6 million, Chicago from 5.1 million to 10.2 million and on down the line.
What does such an immigration invasion mean to our communities?  Our way of life?  Our quality of life?  Our standard of living?  Our environment?  Our educational systems?
Answer:  as the numbers rise to that 100 million level, everything in our society degrades, devolves, degenerates and worsens.
You cannot stop a fire by spraying gasoline on it.  You can't solve California's drought or wildfires by adding another 20 million foreigners to that state via immigration.  We cannot EVER catch up to exponential growth because it outruns our ability to solve its endemic and systemic consequences.
And, oxymoronically, we can't solve our predicament by passing S744 Amnesty Bill that doubles legal immigration to 2.0 million annually.
What's the final equation?  Since I traveled through dozens of third world countries in the last 40 years, I noticed they couldn't solve their problems, either.  They face(d) horrific food and water contamination, disease and shortages.  Just look at Ebola in Africa along with AIDS that killed 15 million thus far.  Their citizens face endless illiteracy because they can't install a viable educational system. They face conflict over resources.
As you notice in such areas as Iraq, Afghanistan, Haiti, Mexico, Brazil, China, India, Bangladesh, Indochina, Congo, Ethiopia, Somalia and dozens of other countries—you see continual religious, resource, food and water conflicts.
That's where the United States of America steams.  You can see it in our ethnic conflicts today whether Ferguson, MO riots, Chicago featuring 50 gun fights over the 4th of July weekend, black on black killings into the tens of thousands over the past several decades, 76 percent dropout/flunkout rates for Detroit public schools, which creates over 60 percent illiteracy rates.  Illiteracy remains the key indicator of a third world country.  Once it takes hold, it becomes intractable.
One look at our welfare system shows 68 percent of African-American children reared by a single mother on welfare.  We feed 48 million Americans and non-Americans with EBT or food stamps.  We see a complete breakdown of our middle class with no way to fight joblessness, futility or obesity caused by illiteracy.  Right now, obesity explodes as a national epidemic of health care nightmares for our citizens.
Question: how do you think any of our current sociological, environmental, water, energy, racial and growing religious strife can or will get better.  With those 100 million legal immigrants, you may expect to see an increase of Muslims in our country from 7.5 million to well over 20-30 million by 2050.  Sociologists reported that once Islam reaches 8 percent of the host nation's population, they become violent, arrogant and use the system to back the host country down to agree to Sharia Law. Notice the riots in Sweden and two separate London's. Look at France's nightmare.  Sharia law stands against every Western sensibility for women's rights, gays' rights, free speech, education, marriage choices and religious choice.  Note that hundreds of Muslim-Americans signed up to join terrorists groups in the Middle East.   What happens when they turn their terror toward us?
Australia discovered a major plot fomented by citizen Muslims to commit beheadings in the streets of Sydney this summer. If you think I am kidding, watch this short video:
Published on Sep 18, 2014: More than 800 Police in Australia have carried out anti-terror raids in Sydney (12 suburbs) sparked by intelligence reports that Islamic extremists were planning random killings (beheadings) in Australia:https://www.youtube.com/watch?v=V0ctrDnM__4
Additionally, look for three major languages to create major chaos and loss of our national ethos in the coming decades. Look for linguistic confusion and separation from being a citizen of the United States because you speak Arabic, Spanish or English.  In the end, we face becoming a nation of strangers.
What solutions might we enact to save ourselves?
Immediate reduction of all legal immigration to less than 100,000 annually instead of the current 100,000 every 30 days from 150 countries around the globe.
Immediate enforcement of our current work, rent and transport laws against employers of anyone illegally in the USA.
Immediate discussion on "60 Minutes"; "Face the Nation" ; "Meet the Press" ; Charlie Rose; NBC, CBS, FOX, ABC, CNN, Bill O'Reilly, Wolf Blitzer, Shepard Smith, Megyn Kelley and all talk radio shows on how many people can our country hold and what's the point of adding another 100 million foreigners when we already face enormous problems with what we currently hold.
Millions of Americans need to join www.NumbersUSA.org; www.CapsWeb.org and www.Fairus.org and www.TheSocialContract.com in order to grow you strength via collective empowerment.
Otherwise, we keep heading where we're headed. And, we'll end up just like any third world country.  Crowded, scant opportunities, lack of education, water shortages, energy crisis, religious conflict, environmental degradation and worse.  It's inevitable if we fail to stop mass immigration.  I am amazed that I am the only US journalist who sees this monster so clearly, yet I see no national movement to stop it.  Result: we doom our kids to a very sobering future of a fractured and fragmented civilization that cannot right itself.
Ever since serious protest broke out in Ukraine in February the Western mainstream media, particularly in the United States, has seriously downplayed the fact that the usual suspects – the US/European Union/NATO triumvirate – have been on the same side as the neo-Nazis. In the US it's been virtually unmentionable. I'm sure that a poll taken in the United States on this issue would reveal near universal ignorance of the numerous neo-Nazi actions, including publicly calling for death to "Russians, Communists and Jews". But in the past week the dirty little secret has somehow poked its head out from behind the curtain a bit.
On September 9 NBCnews.com reported that "German TV shows Nazi symbols on helmets of Ukraine soldiers". The German station showed pictures of a soldier wearing a combat helmet with the "SS runes" of Hitler's infamous black-uniformed elite corps. (Runes are the letters of an alphabet used by ancient Germanic peoples.) A second soldier was shown with a swastika on his helmet.
On the 13th, the Washington Post showed a photo of the sleeping quarter of a member of the Azov Battalion, one of the Ukrainian paramilitary units fighting the pro-Russian separatists. On the wall above the bed is a large swastika. Not to worry, the Post quoted the platoon leader stating that the soldiers embrace symbols and espouse extremist notions as part of some kind of "romantic" idea.
Yet, it is Russian president Vladimir Putin who is compared to Adolf Hitler by everyone from Prince Charles to Princess Hillary because of the incorporation of Crimea as part of Russia. On this question Putin has stated:
The Crimean authorities have relied on the well-known Kosovo precedent, a precedent our Western partners created themselves, with their own hands, so to speak. In a situation absolutely similar to the Crimean one, they deemed Kosovo's secession from Serbia to be legitimate, arguing everywhere that no permission from the country's central authorities was required for the unilateral declaration of independence. The UN's international court, based on Paragraph 2 of Article 1 of the UN Charter, agreed with that, and in its decision of 22 July 2010 noted the following, and I quote verbatim: No general prohibition may be inferred from the practice of the Security Council with regard to unilateral declarations of independence.
Putin as Hitler is dwarfed by the stories of Putin as invader (Vlad the Impaler?). For months the Western media has been beating the drums about Russia having (actually) invaded Ukraine. I recommend reading: "How Can You Tell Whether Russia has Invaded Ukraine?" by Dmitry Orlov
And keep in mind the NATO encirclement of Russia. Imagine Russia setting up military bases in Canada and Mexico, from the Atlantic to the Pacific. Remember what a Soviet base in Cuba led to.
Has the United States ever set a bad example?
Ever since that fateful day of September 11, 2001, the primary public relations goal of the United States has been to discredit the idea that somehow America had it coming because of its numerous political and military acts of aggression. Here's everyone's favorite hero, George W. Bush, speaking a month after 9-11:
"How do I respond when I see that in some Islamic countries there is vitriolic hatred for America? I'll tell you how I respond: I'm amazed. I'm amazed that there's such misunderstanding of what our country is about that people would hate us. I am – like most Americans, I just can't believe it because I know how good we are."
Thank you, George. Now take your pills.
I and other historians of US foreign policy have documented at length the statements of anti-American terrorists who have made it explicitly clear that their actions were in retaliation for Washington's decades of international abominations. But American officials and media routinely ignore this evidence and cling to the party line that terrorists are simply cruel and crazed by religion; which many of them indeed are, but that doesn't change the political and historical facts.
This American mindset appears to be alive and well. At least four hostages held in Syria recently by Islamic State militants, including US journalist James Foley, were waterboarded during their captivity. The Washington Post quoted a US official: "ISIL is a group that routinely crucifies and beheads people. To suggest that there is any correlation between ISIL's brutality and past U.S. actions is ridiculous and feeds into their twisted propaganda."
The Post, however, may have actually evolved a bit, adding that the "Islamic State militants … appeared to model the technique on the CIA's use of waterboarding to interrogate suspected terrorists after the Sept. 11, 2001, attacks."
Talk given by William Blum at a Teach-In on US Foreign Policy, American University, Washington, DC, September 6, 2014
Each of you I'm sure has met many people who support American foreign policy, with whom you've argued and argued. You point out one horror after another, from Vietnam to Iraq. From god-awful bombings and invasions to violations of international law and torture. And nothing helps. Nothing moves this person.
Now why is that? Are these people just stupid? I think a better answer is that they have certain preconceptions. Consciously or unconsciously, they have certain basic beliefs about the United States and its foreign policy, and if you don't deal with these basic beliefs you may as well be talking to a stone wall.
The most basic of these basic beliefs, I think, is a deeply-held conviction that no matter what the United States does abroad, no matter how bad it may look, no matter what horror may result, the government of the United States means well. American leaders may make mistakes, they may blunder, they may lie, they may even on the odd occasion cause more harm than good, but they do mean well. Their intentions are always honorable, even noble. Of that the great majority of Americans are certain.
Frances Fitzgerald, in her famous study of American school textbooks, summarized the message of these books: "The United States has been a kind of Salvation Army to the rest of the world: throughout history it had done little but dispense benefits to poor, ignorant, and diseased countries. The U.S. always acted in a disinterested fashion, always from the highest of motives; it gave, never took."
And Americans genuinely wonder why the rest of the world can't see how benevolent and self-sacrificing America has been. Even many people who take part in the anti-war movement have a hard time shaking off some of this mindset; they march to spur America – the America they love and worship and trust – they march to spur this noble America back onto its path of goodness.
Many of the citizens fall for US government propaganda justifying its military actions as often and as naively as Charlie Brown falling for Lucy's football.
The American people are very much like the children of a Mafia boss who do not know what their father does for a living, and don't want to know, but then wonder why someone just threw a firebomb through the living room window.
This basic belief in America's good intentions is often linked to "American exceptionalism". Let's look at how exceptional US foreign policy has been. Since the end of World War 2, the United States has:
Attempted to overthrow more than 50 foreign governments, most of which were democratically-elected.
Dropped bombs on the people of more than 30 countries.
Attempted to assassinate more than 50 foreign leaders.
Attempted to suppress a populist or nationalist movement in 20 countries.
Grossly interfered in democratic elections in at least 30 countries.
Led the world in torture; not only the torture performed directly by Americans upon foreigners, but providing torture equipment, torture manuals, lists of people to be tortured, and in-person guidance by American teachers, especially in Latin America.
This is indeed exceptional. No other country in all of history comes anywhere close to such a record.
So the next time you're up against a stone wall … ask the person what the United States would have to do in its foreign policy to lose his support. What for this person would finally be TOO MUCH. If the person mentions something really bad, chances are the United States has already done it, perhaps repeatedly.
Keep in mind that our precious homeland, above all, seeks to dominate the world. For economic reasons, nationalistic reasons, ideological, Christian, and for other reasons, world hegemony has long been America's bottom line. And let's not forget the powerful Executive Branch officials whose salaries, promotions, agency budgets and future well-paying private sector jobs depend upon perpetual war. These leaders are not especially concerned about the consequences for the world of their wars. They're not necessarily bad people; but they're amoral, like a sociopath is.
Take the Middle East and South Asia. The people in those areas have suffered horribly because of Islamic fundamentalism. What they desperately need are secular governments, which have respect for different religions. And such governments were actually instituted in the recent past. But what has been the fate of those governments?
Well, in the late 1970s through much of the 1980s, Afghanistan had a secular government that was relatively progressive, with full rights for women, which is hard to believe, isn't it? But even a Pentagon report of the time testified to the actuality of women's rights in Afghanistan. And what happened to that government? The United States overthrew it, allowing the Taliban to come to power. So keep that in mind the next time you hear an American official say that we have to remain in Afghanistan for the sake of women's rights.
After Afghanistan came Iraq, another secular society, under Saddam Hussein. And the United States overthrew that government as well, and now the country is overrun by crazed and bloody jihadists and fundamentalists of all kinds; and women who are not covered up are running a serious risk.
Next came Libya; again, a secular country, under Moammar Gaddafi, who, like Saddam Hussein, had a tyrant side to him but could in important ways be benevolent and do marvelous things for Libya and Africa. To name just one example, Libya had a high ranking on the United Nation's Human Development Index. So, of course, the United States overthrew that government as well. In 2011, with the help of NATO we bombed the people of Libya almost every day for more than six months. And, once again, this led to messianic jihadists having a field day. How it will all turn out for the people of Libya, only God knows, or perhaps Allah.
And for the past three years, the United States has been doing its best to overthrow the secular government of Syria. And guess what? Syria is now a playground and battleground for all manner of ultra militant fundamentalists, including everyone's new favorite, IS, the Islamic State. The rise of IS owes a lot to what the US has done in Iraq, Libya, and Syria in recent years.
We can add to this marvelous list the case of the former Yugoslavia, another secular government that was overthrown by the United States, in the form of NATO, in 1999, giving rise to the creation of the largely-Muslim state of Kosovo, run by the Kosovo Liberation Army (KLA). The KLA was considered a terrorist organization by the US, the UK and France for years, with numerous reports of the KLA being armed and trained by al-Qaeda, in al-Qaeda camps in Pakistan, and even having members of al-Qaeda in KLA ranks fighting against the Serbs of Yugoslavia. Washington's main concern was dealing a blow to Serbia, widely known as "the last communist government in Europe".
The KLA became renowned for their torture, their trafficking in women, heroin, and human body parts; another charming client of the empire.
Someone looking down upon all this from outer space could be forgiven for thinking that the United States is an Islamic power doing its best to spread the word – Allah Akbar!
But what, you might wonder, did each of these overthrown governments have in common that made them a target of Washington's wrath? The answer is that they could not easily be controlled by the empire; they refused to be client states; they were nationalistic; in a word, they were independent; a serious crime in the eyes of the empire.
So mention all this as well to our hypothetical supporter of US foreign policy and see whether he still believes that the United States means well. If he wonders how long it's been this way, point out to him that it would be difficult to name a single brutal dictatorship of the second half of the 20th Century that was not supported by the United States; not only supported, but often put into power and kept in power against the wishes of the population. And in recent years as well, Washington has supported very repressive governments, such as Saudi Arabia, Honduras, Indonesia, Egypt, Colombia, Qatar, and Israel.
And what do American leaders think of their own record? Former Secretary of State Condoleezza Rice was probably speaking for the whole private club of our foreign-policy leadership when she wrote in 2000 that in the pursuit of its national security the United States no longer needed to be guided by "notions of international law and norms" or "institutions like the United Nations" because America was "on the right side of history."
Let me remind you of Daniel Ellsberg's conclusion about the US in Vietnam: "It wasn't that we were on the wrong side; we were the wrong side."
Well, far from being on the right side of history, we have in fact fought – I mean actually engaged in warfare – on the same side as al Qaeda and their offspring on several occasions, beginning with Afghanistan in the 1980s and 90s in support of the Islamic Moujahedeen, or Holy Warriors.
The US then gave military assistance, including bombing support, to Bosnia and Kosovo, both of which were being supported by al Qaeda in the Yugoslav conflicts of the early 1990s.
In Libya, in 2011, Washington and the Jihadists shared a common enemy, Gaddafi, and as mentioned, the US bombed the people of Libya for more than six months, allowing jihadists to take over parts of the country; and they're now fighting for the remaining parts. These wartime allies showed their gratitude to Washington by assassinating the US ambassador and three other Americans, apparently CIA, in the city of Benghazi.
Then, for some years in the mid and late 2000s, the United States backed Islamic militants in the Caucasus region of Russia, an area that has seen more than its share of religious terror going back to the Chechnyan actions of the 1990s.
Finally, in Syria, in attempting to overthrow the Assad government, the US has fought on the same side as several varieties of Islamic militants. That makes six occasions of the US being wartime allies of jihadist forces.
I realize that I have fed you an awful lot of negativity about what America has done to the world, and maybe it's been kind of hard for some of you to swallow. But my purpose has been to try to loosen the grip on your intellect and your emotions that you've been raised with – or to help you to help others to loosen that grip – the grip that assures you that your beloved America means well. US foreign policy will not make much sense to you as long as you believe that its intentions are noble; as long as you ignore the consistent pattern of seeking world domination, which is a national compulsion of very long standing, known previously under other names such as Manifest Destiny, the American Century, American exceptionalism, globalization, or, as Madeleine Albright put it, "the indispensable nation" … while others less kind have used the term "imperialist".
In this context I can't resist giving the example of Bill Clinton. While president, in 1995, he was moved to say: "Whatever we may think about the political decisions of the Vietnam era, the brave Americans who fought and died there had noble motives. They fought for the freedom and the independence of the Vietnamese people." Yes, that's really the way our leaders talk. But who knows what they really believe?
It is my hope that many of you who are not now activists against the empire and its wars will join the anti-war movement as I did in 1965 against the war in Vietnam. It's what radicalized me and so many others. When I hear from people of a certain age about what began the process of losing their faith that the United States means well, it's Vietnam that far and away is given as the main cause. I think that if the American powers-that-be had known in advance how their "Oh what a lovely war" was going to turn out they might not have made their mammoth historical blunder. Their invasion of Iraq in 2003 indicates that no Vietnam lesson had been learned at that point, but our continuing protest against war and threatened war in Afghanistan, Iran, Syria, and elsewhere may have – may have! – finally made a dent in the awful war mentality. I invite you all to join our movement. Thank you.
Notes
NBC News, "German TV Shows Nazi Symbols on Helmets of Ukraine Soldiers", September 6 2014
BBC, March 18, 2014
Information Clearinghouse, "How Can You Tell Whether Russia has Invaded Ukraine?", September 1 2014
Boston Globe, October 12, 2001
See, for example, William Blum, Rogue State: A Guide to the World's Only Superpower(2005), chapter 1
Washington Post, August 28, 2014
Foreign Affairs magazine (Council on Foreign Relations), January/February 2000