Volatility in the currency markets, bond markets, and stock markets likely has a lot of people on Wall Street feeling a bit worn out. Taking a summer vacation in the Hamptons might just be their best idea.
The coming months promise to be anything but quiet and predictable. Here are a couple of items that may yield profound implications for stock, bond and currency investors before summer ends…
The Threat of an Official Recession Is Looming
The next few months are critical for the U.S. economy. The official definition of recession calls for two successive quarters of negative GDP. First quarter GDP came in barely positive, initially estimated at 0.2%, but it will be revised twice before July. Some experts expect it will wind up in negative territory.
The U.S. trade deficit recently came in much larger than expected. The higher deficit will, setting other factors aside, translate to lower GDP. Investors will get a look at 2nd quarter GDP in late July and pessimism among forecasters is growing.
So far U.S. equity investors are hoping for the best, or at least hoping the Fed will reverse course on tightening. Stocks are shrugging off bad news and powering higher with price-to-earnings valuations climbing into the nosebleed section.
It is hard to imagine valuations at these levels holding if investors and high frequency trading algorithms must grapple with an official recession. Of course, should the Fed announce some new form of stimulus in response to bad news then all bets are off.
The End Is Nigh for Greece
The Greek government is running out of tricks to avoid a default. Last week, officials there paid €750 million Greece owed to the IMF by borrowing €650 from the IMF; a last resort gimmick they won't be able to repeat.
Absent finding an agreement with lenders to modify loans and dramatically reduce what is owed, the Greeks will be in outright default as early as next month. This summer should tell the tale on Greece's future within the European Union.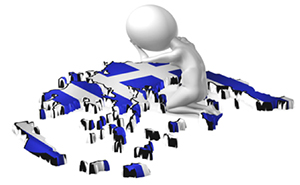 Should Greece default and exit the EU, it will be the first event of its kind, and it has the potential to open a Pandora's Box. There will be bank failures within Greece and pain for anyone holding Greek debt. It could pave the way for bankruptcy and an exit in a number of other nations where finances are also in shambles. And no one can confidently predict the outcome in derivatives markets where banks and hedge funds have been making highly leveraged bets.
Should the Greeks manage to reach an accord with lenders, markets will have to contend with a different set of challenges. You can bet other overly indebted nations including Ireland, Spain, Portugal, and Italy will aggressively pursue similar deals. The pain for bond holders isn't likely to end with Greece.
The EU has a flood of bad debt swirling around its knees, but officials there continue to pretend they stand on solid ground. Regardless of whether Greece defaults outright or manages to cut a deal, it looks like the pretending will have to stop – and soon.
The shadow cabal that exerts raw power over the public controls and dictates the mindset that passes as the popular culture. Keeping people in fear, real or manufactured is essential to keep the police state omnipresent. Both foreign and domestic operations are conducted to divide and rule, not only other nations, but the indigenous populations that are targets of the next clandestine mission. Since the end of WWII, the intelligence community has lead the way to overturn our constitutional republic and put into place a controlled social environment that is docile and obedient to the masters of the Amerika Empire.
In order to accomplish this fundamental transition from a free society into a despotic police state, threats must be fashioned, real or imaginary. Bona fide menaces that imperil our legitimate national security require intelligent and defensive action. However, such situations are rare, when compared to the entire mix of manufactured crisis that are designed to increase the range and scope of the power establishment.
The sordid and soiled history of the Central Intelligence Agency is a prime example of furthering international conflict and tension so that the national subjects will accept a trepidation culture. But the CIA is not alone in this coordinated effort to create undeviating terror. In the 50's the FBI looked for a commie under any bed. Just consider how far we have sunk since Hoover did his illegal wire taps to a society that routinely accept the NSA collection of all electronic communications.
With the collapse of the Soviet International and the intellectual disrepute of Marxist ideology, one might think that the efforts of the intelligence communities might have earned their keep. With the recent disclosure of the CIA cooperated with Chinese intelligence to target Russia, the book "The Hundred Year Marathon" by former Pentagon official Michael Pillsbury reveals the following:
"Covert CIA-China cooperation was part of successive administrations' programs to undermine the Soviet Union, which China turned on after realizing Moscow's Marxist-Leninist economic model was doomed. China instead began courting the United States for economic benefit while creating a revised communist economic system.

The disclosures of clandestine U.S.-China intelligence cooperation dating to the 1970s are likely to embarrass Beijing. China frequently attacks the CIA for allegedly fomenting democratic revolution in China and for supporting the exiled Tibetan leader the Dalai Lama, whom China designated as a major enemy. Beijing also accused the CIA of organizing the recent large-scale pro-democracy demonstrations in Hong Kong. The U.S. government has denied any role in the public outcry over creeping Chinese control over the former British colony."
The significance of the "Agency" working with an advocacy to destabilize a different foe should not shock seasoned observers of international intrigue. What is even less surprising is that the defeat of the Soviet Communist regime brought a new era of openness to Russia, while the neo-commies in Beijing China perfected their totalitarian model for the NWO globalism elites.
Now that the Putin administration is exerting its own national interest and pushes back against the American expansion to surround the "Motherland", the pro Zionists over at the State Department ratchet up pressure on the new Russia. The U.S. inspired coup in Ukraine has always been about neutering the Christian revival in Russia.
As currency wars develop and the Russia Rubble was recently undermined, the attack on any intended opposition to the "world community" is set to expand. Conversely, speculation that the IMF will soon add the Chinese Yuan as a reserve currency indicates that it is vital to craft essential enemies when needed and elevate opportunist when useful.
The common theme throughout the last century has been the planned technocratic human bondage of the world population. The calls for democratic self determination and economic uplifting for subsistent level peasants may seem to have improved the human condition. Even so, the upgrading in material minimalism has not been accompanied with respect for individual human rights.
The State, no matter what nationality or ideological orientation all share a consistent flaw; namely, a false authority of supremacy that imposes the dictates of committed globalists.
Failure to recognize that intelligence and security agencies are nothing more than police state enforcers is a prime reason why a universal populist movement does not gain traction.
Different cultures perceive the world within their own ethnic eyes. Expecting varied outlooks should be accepted as normal. However, the overriding message that comes out of the mass media, both foreign and domestic, share a common commercial content. The powers that be must be obeyed. This social indoctrination is intended to protect the interdependency of a unified global matrix.
In order to achieve this objective, perceived threats are useful. Distinguishing between tangible and phony dangers, contrary to popular wisdom, is not a function, preformed by the security apparatus, one can have confidence in. Their literal agenda is to serve the shifting global instability template, so that the elite's can continue to have free reign on adding more layers of servitude.
Today's serfs often wear designer duds. But more important, perception is altered when history is perverted. How the CIA Turned Doctor Zhivago into a Propaganda Weapon Against the Soviet Union provided a valuable lesson.
"The CIA's recently revealed use of Boris Pasternak's novel Doctor Zhivago as a propaganda weapon. Repressed in Pasternak's native Russia, the book first appeared in Italy in 1957. The following year, the British suggested to America's Central Intelligence Agency that the book stood a decent chance of winning hearts and minds behind the Iron Curtain — if, of course, they could get a few copies in there. A CIA memo sent across its own Soviet Russia Division subsequently pronounced Doctor Zhivago as possessed of "great propaganda value, not only for its intrinsic message and thought-provoking nature, but also for the circumstances of its publication. We have the opportunity to make Soviet citizens wonder what is wrong with their government, when a fine literary work by the man acknowledged to be the greatest living Russian writer is not even available in his own country in his own language for his own people to read."
That evaluation comes from one of the over 130 declassified documents used by Peter Finn and Petra Couvée in their brand new history of this act of real-life literary espionage, The Zhivago Affair: The Kremlin, the CIA and the Battle Over a Forbidden Book."
The message behind this outstanding treasure of literature is undeniable. Hopeful, uplifting of the human spirit, while describing the grim circumstances of the commissar system, is memorable. Comrades beware; bringing down an evil empire to have it replaced with a kinder and gentler Western version of globalization is not exactly the definition of success.
Who among the defenders of Western Civilization will write the next masterpiece about the sinister motives and dire effects of the true global hegemony that seeks to subjugate all of humanity under the banner of world unity?
The imposition of State terror initiates its next operation with the full blessing of the financial controllers. Keeping and expanding the danger level of false flag terrorism, provides the excuse to impose the Jade Helm gulag.
"JADE-HELM – stands for: "Joint Assistance For Deployment and Execution – Homeland Eradication of Local Militants." In other words, the Government is getting nervous about the fact that more Americans are now aware of the corruption, criminality and destruction of civil rights. Jade Helm is specifically intended for the purpose of eliminating fomenting Government insurrection groups. The States in which Jade Helm exercises are being conducted are "hot beds" for anti-Government militia groups (the latter are your allies)."
The faint-hearted vassals, who would never dare to jeopardize their own tranquility, if not meaningless subsistence, or oppose their countries deep sleep into oblivion, are real bondage serfs.
Keeping or amplifying the CIA sub-rosa agenda of warfare missions to include domestic operations should be opposed by any loyal citizen. Since apathy, confusion and denial of what actually constitutes a "Good and Open Society" is in such short supply, few will act upon resisting the forces of global tyranny.
When genuine national security is sacrificed to further a climate of prefab fear, we lose the battle for true safety. If enduring under a Reign of Terror is the price we all must pay to complete the global New World Order, we must be collectively insane to allow this transition to be accepted without a fight to the death.
Many will conclude that this conversion is inevitable. Doctor Zhivago was a heroic figure and fought the autocrats. His example provides motivation to apply the same principles of opposition to the established order of a demonic organized criminal syndicate.
Having the courage to combat despotism in favor of individual liberation, is fundamentally our duty and purpose as true Americans. Reject phony intelligence community terrorist threats. In order to restore the essence of our nation, every citizen needs to oppose any and all   components of the New World Order. Reform will not work. Only total rebellion is left.
Regular readers of this Corporatocracy series should have a firm grasp on the concept of Corporatism. However, the uninitiated might presume that a corporation is merely a vehicle for protecting the owners of the enterprise from the liability risks of conducting business. Much attention has been devoted to the economic conditions and aspects when examining the corporate structure. But modest effort is found in business journals that discuss the social consequences of consolidating the entire hierarchy of political favoritism, access to capital and protection from competition that is at the heart of the corporatist model.
Corporatism as Theory and Practice by Joseph R. Stromberg offers a historic perspective.
"Corporatism and corporations are not yet the same subject. The key word is "yet." If there is a relationship, it is historical. Very briefly, corporations — legally privileged from birth, pampered by courts, subsidized by Congress, with a social "in" with the most important state personnel — were likely, as ideal engines for accumulating capital, to produce unbalanced economic outcomes, mass discontent, and political unrest. Combine those engines with inherited dysfunctional institutions such as fractional-reserve banking, eminent domain, primitive military accumulation (e.g., the Indian wars), governmental distribution of resources, a venal party system, and a mighty executive, and you have a recipe for crisis. American elites recognized the danger fairly early. By trial and error they put together "corporate syndicalism" (Williams), "political capitalism" (Kolko), corporatism (varii), or "interest-group liberalism" (Lowi). It remained to be seen who (business or state?) would dominate the partnership. Hoover himself reflected in 1922 on the danger of "a syndicalist nation on a gigantic scale."
Out of such a context the 21th century version of corporatism maintains little effort to satisfy mass discontent of the populace, because the will to achieve an independent livelihood has been stamped out so wholly by the merged state/corporate system. Viewing this alliance as a partnership vying for dominance is a false outlook. In this new millennium, the globalist economy is under total control by a financial dictate that makes laws, writes regulations, enforces compliance, bankrupts companies not in the club, subsidizes crony ventures, and imposes access to capital as a reward for playing ball.
This is not Capitalism, it is demented Corporatocracy.
Don Quijones writes in Crunch Time for the Global Corporatocracy about the closed door negotiations for the Trans Pacific Partnership (TPP), the US-EU trade deal (TIPP) and TISA.
"The hyper-secret Trade in Services Act (TiSA), which seeks to bind together the U.S., the EU and 22 other Western-aligned nations under a new system of laws and regulations covering telecoms, water, gas, electricity, transport, financial and legal services, software design, electronic data, tourism, healthcare and a whole lot more, is infinitely worse. The treaty's text is designed to be almost impossible to repeal, and is to be "considered confidential" for at least five years after being signed."
Basically, the nature of all these destructive trade agreements is reducible to "The fact that we now live in a world dominated by highly undemocratic and unaccountable supranational organizations (the IMF, World Bank, WTO, EU…) is no mere accident."
Corporatism 101 is not taught in school or even debated in the mass media. It falls to online publications like Naked Capitalism to feature another persuasive argument by Mr. Quijones, which concludes.
"The rise of investor-state dispute settlements and the broad application of arbitration procedures are the ultimate victory in the global corporatocracy's decades-long coup d'état. If allowed to take universal effect, the system will impose above you, me, and our governments a rigid framework of international corporate law designed to exclusively protect the interests of corporations, relieving them of all financial risk and social and environmental responsibility. From then on, every investment they make will effectively be backstopped by our governments (and by extension, you and me); it will be too-big-to-fail writ on an unimaginable scale."
It seems that all the attention provided in business news is diverted away from the totality of integration under the auspices of a pseudo and hostile legal framework that only deepen the aggregate control over the social, political, economic and global functions, is silent by design.
So when Suarez-Villa, Luis, publishes in Globalization and Technocapitalism: the political economy of corporate power and technological domination, page 203, we all should take notice.
"It should not surprise, therefore, that a major objective of the fast neo-imperialism is to establish corporatocratic governance whenever and wherever campaigns of conquest happen to be carried out. Fast militarism thereby comes into the scene, whenever aggression is executive. Military conquest for its own sake is pointless, and the fast neo-imperialism has no real reason for being, unless the imposition of corporatocracy is part of the end game of conquest."
The re-establishment of a neo-feudalism is not a function of privatization, when market forces are unleashed from the choke hold that keeps real competition at bay. Allowing businesses to vie for consumer favor is healthy under a free market economy. Today, there are few examples where the corporatocracy allows for free trading in goods and services.
This is the important lesson that techno corporatism refuses to accept. As the bondage economy expands, the serfs become expendable. Since the consumer economy is shifting into a financial speculation arena, the elites see little reason for continued subsistence of the bottom feeders, since they are not needed to till their estates.
Knowing this object lesson is the actual answer to the Corporatism 101 studies.
Maybe Bruce E. Levine PhD should be teaching class. Get Up, Stand Up: Uniting Populists, Energizing the Defeated, and Battling the Corporate Elite, argues that "individuals must recover self-respect, and a people must regain collective confidence that they can succeed at eliminating top-down controls. Get Up, Stand Up describes how we can recover dignity, confidence, and the energy to do battle."
It all starts with a required understanding that the Corporatocracy economy is inherently destructive to individual liberty. If people are unable to learn this fact, life on earth will sink into oblivion.
Eleven years ago I wrote a column for the print edition of Chronicles under this title. Tom Piatak's grim reminder of the continued destructive presence of this cabal in what passes for the commentariat in today's America has prompted me to dig into my old files and recap for our readers the historical and ideological roots of neoconservatism. The 2004 diagnosis, reproduced here in an abbreviated form, still stands.
The neoconservatives are often depicted as former Trotskyites who have morphed into a new, closely related life form. It is pointed out that many early neocons—including The Public Interest founder Irving Kristol and coeditor Nathan Glazer, Sidney Hook, and Albert Wohlstetter—belonged to the anti-Stalinist far left in the late 1930s and early 1940s, and that their successors, including Joshua Muravchik and Carl Gershman, came to neoconservatism through the Socialist Party at a time when it was Trotskyite in outlook and politics. As early as 1963 Richard Hofstadter commented on the progression of many ex-Communists from the paranoid left to the paranoid right, clinging all the while to the fundamentally Manichean psychology that underlies both. [Half a century] later the dominant strain of neoconservatism is declared to be a mixture of geopolitical militarism and "inverted socialist internationalism."
Blanket depictions of neoconservatives as redesigned Trotskyites need to be corrected in favor of a more nuanced analysis. In several important respects the neoconservative world outlook has diverged from the Trotskyite one and acquired some striking similarities with Stalinism and German National Socialism. Today's neoconservatives share with Stalin and Hitler an ideology of nationalist socialism and internationalist imperialism. The similarities deserve closer scrutiny and may contribute to a better understanding of the most influential group in the U.S. foreign policy-making community.
Certain important differences remain, notably the neoconservatives' hostility not only to Nazi race-theory but even to the most benign understanding of national or ethnic coherence. On the surface, there are also glaring differences in economics. However, the neoconservative glorification of the free market is mere rhetoric, designed to placate the businessmen who fund them, than reality. In fact, the neoconservatives favor not free enterprise but a kind of state capitalism—within the context of the global apparatus of the World Bank and the IMF—that Hitler would have appreciated.
Some form of gradual but irreversible and desirable withering away of the state is a key tenet of the Trotskyite theoretical outlook. The neoconservatives, by contrast, are statists par excellence. Their core belief—that society can be managed by the state in both its political and economic life—is equally at odds with the traditional conservative outlook and with the non-Stalinist Left. In this important respect the neoconservatives are much closer to Stalinism and National Socialism.
They do not want to abolish the state; they want to control it—especially if the state they control is capable of controlling all others. They are not "patriotic" in any conventional sense of the term and do not identify themselves with the real and historic America but see the United States merely as the host organism for the exercise of their Will to Power. Whereas the American political tradition has been fixated on the dangers of centralized state power, on the desirability of limited government and non-intervention in foreign affairs, the neoconservatives exalt and worship state power, and want America to become a hyper-state in order to be an effective global hegemon. Even when they support local government it is on the grounds that it is more efficient and responsive to the demands of the Empire, not on constitutional grounds.
The neoconservative view of America as a hybrid, "imagined" nation had an ardent supporter eight decades ago: in Mein Kampf Adolf Hitler argued for a new, tightly centralized Germany by invoking the example of the United States and the triumph of the Union over states' rights. He concluded that "National Socialism, as a matter of principle, must lay claim to the right to force its principles on the whole German nation without consideration of previous federated state boundaries."
Hitler was going to make a new Germany the way he imagined it, or else destroy it. In the same vein the Weekly Standard writers are "patriots" only insofar as the America they imagine is a pliable tool of their global design. Their relentless pursuit of an American Empire overseas is coupled by their deliberate domestic transformation of the United States' federal government into a Leviathan unbound by constitutional restraints. The lines they inserted into President Bush's State of the Union address [in January 2004] aptly summarized their Messianic obsessions: the call of history has come to the right country, we exercise power without conquest, and sacrifice for the liberty of strangers, we know that freedom is the right of every person and the future of every nation: "The liberty we prize is not America's gift to the world, it is God's gift to humanity."
Such megalomania is light years away from a patriotic appreciation of one's nation. A psychotic quest for power and dominance is the driving force, and the "nationalist" discourse its justification. The reality is visible in ultimate distress: Towards the end of the Second World War Josef Goebbels welcomed the Allied bombing for its destruction of the old bourgeois cuckoo-clock and marzipan Germany of the feudal principalities. Driven by the same impulse, Bill Kristol's "national greatness" psychosis seeks to sweep away the old localized, decentralized America of bingo parlors and little league games.
Most heirs of the Trotskyite Left are internationalists and one-world globalists, whereas all neoconservatives are unabashed imperialists. The former advocate "multilateralism," in the form of an emerging "international community" controlled by the United Nations or through a gradual transfer of sovereign prerogatives to regional groupings exemplified by the European Union. By contrast the neoconservative urge for uninhibited physical control of other lands and peoples bears resemblance to the New European Order of [the early 1940's], or to the "Socialist Community" that succeeded it in Eastern Europe. Even when they demand wars to export democracy, the term "democracy" is used as an ideological concept. It does not signify broad participation of informed citizens in the business of governance, but it denotes the desirable social and political content of ostensibly popular decisions . . .
Whereas the Trotskyite Left is predominantly anti-militarist, the neoconservatives are enthusiastically militarist in a manner reminiscent of German and Soviet totalitarianism. Their strategic doctrine, promulgated into official policy [in September 2002], calls for an indefinite and massive military build-up unconnected to any identifiable military threat to the United States. Their scribes demand 'citizen involvement,' in effect, militarization of the populace, but the traditional 'citizen soldier' concept is reversed . . .
The neoconservative mindset is apocalyptic (which is a Nazi and Stalinist trait), rather than utopian (which characterizes the Trotskyite Left). The replacement of the Soviet threat with the more amorphous "terrorism" reflects the doomsday revolutionary mentality that can never rest. New missions and new wars will have to be engineered, and pretexts manufactured, with the same subtlety that characterized the "attack" on the German radio station at Gleiwitz on August 31, 1939. Even the tools for the enforcement of domestic acquiescence are not dissimilar: the Patriot Act followed 9-11 as smoothly as the suspension of the Weimar constitution followed the Reichstag fire. Echoing the revolutionary dynamism and the historicist Messianism equally common to fascists and communists, Michael Ledeen wrote that "creative destruction" is America's eternal mission, both at home and abroad, and the reason America's "enemies" hate it: "They cannot feel secure so long as we are there, for our very existence—our existence, not our politics—threatens their legitimacy. They must attack us in order to survive, just as we must destroy them to advance our historic mission."
The neoconservatives' mendacity apparent in the misrepresentation of the Iraqi crisis to the American people recalls the Goebbelsian "hypodermic needle approach" to communication, in which the communicator's objective was to "inject" his ideas into the minds of the target population . . . [which] is echoed in our time by the Straussian dictum that perpetual deception of the citizens by those in power is necessary because they need to be led, and they need to be told what is good for them. On this, at least, Trotsky, Stalin, and Hitler would all agree. (As Hitler had said, "The receptive powers of the masses are very restricted, and their understanding is feeble.") In the Straussian-neoconservative mindset, those who are fit to rule are those who realize there is no morality and that there is only one natural right, the right of the superior to rule over the inferior.
That mindset is America's enemy. It is the greatest threat to the constitutional order, identity, and way of life of the United States, in existence today. Its adherents have only modified the paradigm of dialectical materialism in order to continue pursuing the same eschatological dream, the End of History devoid of God. They are in pursuit of Power for its own sake—thus sinning against God and man—and the end of that insane quest will be the same as the end of the Soviet empire and of the Thousand-Year Reich.
The misplaced reverence to the ill formulated U.S Constitution and hidden subjugation back to the City of London is one aspect of history that is not taught in government schools or discussed in institutes of higher education. This subject is probably new to most observers of the legacy from the Founding Father's biggest mistake. Regular readers of BREAKING ALL THE RULES are familiar with the arguments made in the essays, In the beginning: Let there be the Articles of Confederation and Articles of Confederation was Preferable. Now the case for the betrayal of the purpose of the American Revolution needs to be explored.
Cited on the US Constitution Gave Legal Ownership and Control of the United States to London site is an assessment by Michael Edward.
"Neither the American people nor the Queen of Britain own America. The Crown Temple owns America through the deception of those who have worn their allegiance by oath to the Middle Templar Bar. The Crown Bankers and their Middle Templar Attorneys rule America through unlawful contracts, unlawful taxes, and, contract documents of false equity through debt deceit, all strictly enforced by their completely unlawful, but 'legal,' Orders, Rules and Codes of the Crown Temple Courts Our so-called 'judiciary' in America. This is because the Crown Temple holds the land titles and estate deeds to all of North America."
An examination of The Templars of the Crown provides elaboration on this appraisal. For an even more in-depth analysis, review the material that probes AMERICAN LAND OWNERSHIP, A TRUE OXYMORON, which deals with the work of James Montgomery.
"Many of you are aware that the laws of this nation and it's states, were made to be in compliance and submission to the laws of England, only modified by state and federal law. You will see in this last Chapter state statutes from just a few of the original colonies, that this is the case. Are these what are called ancient statutes? Yes. However, since the king's Corporation is alive and well as are his heirs, so is his Trust and the law used to create and govern it. The law that governs his Trust can only be amended, no law could be enacted contrary to the king's will and cestui que trust, the main corporate sole where office is always found, the Crown. The king's practice of granting lands in this country to those loyal to him continues, along with their land grants being protected by state ancient statutes which are still on the books. We are governed by the king's nobles just as in times of old England, self proclaimed nobles, and corporate trusts. They rule this country and the world. The huge corporations have been granted power and liberty not known by the common man. The nobles, real and the created, occupy their possessions as fiduciaries and trustees of the king's grants; only if they remain loyal to the system, their privilege and life style are their reward."
Invest the time in discovering all the historic accounts, legal rulings and linkages that go back to the Crown, AKA, the City of London.
If you are unfamiliar with The (British) Crown Empire and the City of London Corporation take a quick refresher course on the actual nature of the financial foundation and codified sanction that purports to be lawful. Jurisprudence may be legal by the definition and formulations of the judicious barrister class, but it certainly is not founded on the basic principles of natural law.
Julian Websdale concludes: "The whole Earth is governed by The Crown, through Crown Colonies which belong to The City – The Crown Empire. It governs Africa and still governs China and India. The colonies of the Earth are really just Crown Colonies – The United States of America are states of The Crown."
Now this interpretation may seem bizarre to most and the plot thickens in the The construe Powers – Behind the Global Empire piecing together a long account of legalized equity mandates.
"The signed treaties and charters between Britain and the United States reveals that King James the 1st was not only famous for translating the Bible, but for signing the first charter of Virginia in 1606. That charter granted America's British forefathers a license to settle and colonize America and guaranteed future kings and queens of England to have sovereign authority over citizens and colonized land in America. The treaty of 1783 identifies the king of England as the prince of the United States. King George the 3rd gave up most of his claims over American colonies, but he kept his right to continue receiving payment for his business venture of colonizing America."
The next element to consider has The Top of the Pyramid: The Rothschilds, the British Crown and the Vatican Rule the World. Read this account and trace back the historic lineage of  some of the Englishmen who founded America.
"To have the Declaration of Independence recognized internationally, Middle Templar King George III agreed in the Treaty of Paris of 1783 to establish the legal Crown entity of the incorporated United States, referred to internally as the Crown Temple States (Colonies). States spelled with a capital letter 'S,' denotes a legal entity of the Crown.
At least five Templar Bar Attorneys under solemn oath to the Crown, signed the American Declaration of Independence. This means that both parties were agents of the Crown."
As time proceeds, the sell out of the "shot heard around the world" revolution deepens.Two Constitutions in the United States. 1st was illegally suspended in favor of a Vatican "Crown" corporation in 1871. This approving assessment of the Federal Constitution views a Shadow Government in place since 1871.
"Since 1871 the United States president and the United States Congress has been playing politics under a different set of rules and policies.  The American people do not know that there are two Constitutions in the United States.  The first penned by the leaders of the newly independent states of the United States in 1776.  On July 4, 1776, the people claimed their independence from the Crown (temporal authority of the Roman Catholic Pope) and Democracy was born.  And for 95 years the United States people were free and independent.  That freedom ended in 1871 when the original "Constitution for the United States for America" was changed to the "THE CONSTITUTION OF THE UNITED STATES OF AMERICA".
The Congress realized that the country was in dire financial straits, so they made  a financial deal with the devil –  the Crown (a.k.a. City of London Corporation – est. by the Catholic Church on Jan 1, 1855 ) thereby incurring a DEBT to the Pope.  The conniving Pope and his bankers were not about to lend the floundering nation any money without some serious stipulations. So, they devised a way of taking back control of the United States and thus, the Act of 1871 was passed.  With no constitutional authority to do so, Congress created a separate form of government for the District of Columbia.
With the passage of  "the Act of 1871" a city state (a state within a state) called the District of Columbia located on 10 sq miles of land in the heart of Washington was formed with its own flag and its own independent constitution – the United States' secret second constitution."
Lastly, Three Corporations run the world: City of London, Washington DC and Vatican City list the City of London houses as including:
Rothschild controlled 'Bank of England'
Lloyds of London
The London Stock Exchange
All British Banks
The Branch offices of 384 Foreign Banks
70 USA Banks
Fleet Streets Newspaper and Publishing Monopolies
Headquarters for Worldwide Freemasonry
Headquarters for the worldwide money cartel known as 'THE CROWN'
Conclusion: "City of London directly and indirectly controls all mayors, councils, regional councils, multi-national and trans-national banks, corporations, judicial systems (through Old Bailey, Temple Bar and the Royal Courts of Justice in London), the IMF, World Bank, Vatican Bank (through N. M. Rothschild & Sons London Italian subsidiary Torlonia), European Central Bank, United States Federal Reserve (which is privately owned and secretly controlled by eight British-controlled shareholding banks), the Bank for International Settlements in Switzerland (which is also British-controlled and oversees all of the Reserve Banks around the world including our own) and the European Union and the United Nations Organization."
This introduction to the actual influence and pompous legal authority that underpins the financial hierarchy is based upon a historic explanation that is foreign to most Americans. The implications are staggering and for this reason alone, most are not willing to do their own research. Do not get caught up in the uncanny departure from the usual rendering of reality. Remember that the City of London's coat-of-arms reads in Latin – Domine Dirige Nos – which translates, Lord, direct us. The true question, asks just which deity do the soldiers of the Crown adore?
The immortal words uttered by Prince Hamlet as he contemplates death and suicide, applies for an entire society. The enormous gravity that permeates William Shakespeare's tragic hero represents the same fate confronting the normal mortals, who make up the ranks of Americans. The rapid decline in intelligence and moral character has approached epidemic levels. The ROT which has seeped into the popular culture has become a metamorphosis Reign of Terror. The transformers from a heritage of principle, courage and honor have sunk to a level of Slouching Towards Gomorrah. Such a fate was feared by our Founding Fathers.
Such a band of brothers would be hung together today, for daring to defy the established order. This ageless conflict between those with imposing power and the subjects, who suffer from the rule of tyrannical madmen, never ends. Well before the era of the Bard of Strafford-upon-Avon, the playwrights of the original Greek theater operated as the model for an establishment governance.
From the venerable 11th edition of the Encyclopedia Britannica volume 20 page 144 the pattern of human domination is illustrated.
"The success of the oracle led at last to the establishment of the rule that Herodotus declares to be almost universal in Greece, namely, that no leader of a colony would start without consulting Delphi. Doubtless in many cases the priesthood only gave encouragement to a pre-conceived project. But they were in a unique position for giving direct advice also, and they appear to have used their opportunities with great intelligence.

They could have for it was not by any means far-reaching conscious of no mission to preach Apollo, for his cult was an ancient heritage of the Hellenic stocks. Only the narrower duty devolved upon them of impressing upon the consultants felt the religious obligation of sending tithes or other offerings.

Nevertheless their opportunity of directing the religious ritual and organization of the public worships was great; for Plato's view that all questions of detail in religion should be left to the decision of the god " who sits on the omphalos " was on the whole in accord with the usual practice of Greece. Such consultations would occur when the state was in some trouble, which would be likely to be imputed to some neglect of religion, and the question to the oracle would commonly be put in this way "to what god or goddess or hero shall we sacrifice"?

The oracle would then be inclined to suggest the name of some divine personage hitherto neglected, or of one whose rites who fallen into decay.

Again, Apollo would know the wishes of the other divinities, who were not in the habit of directly communicating with their worshippers; therefore questions about the sacred the goddesses at Eleusis would be naturally referred to land of him. From both these points of view we can understand why Delphi appears to have encouraged the tendency towards hero-worship which was becoming rife in Greece from the 7th century onwards."
The lesson from placing submission in the hands of ruling elite goes back to antiquity. Usually that obedience was based upon physical threats of coercion, slavery or death. The cradle of Democracy interjected a cultural element into the mix that the priesthood class could intercede with the gods on behalf of a civil society of implied, free men.
The notion that citizens could vote on public issues, and confer consent was earth shattering. Making appeals to pagan deities is not unique. Access to "consultations" with the gods, followed a procedure that was strictly maintained by the prevailing order. The standard that saved the city-state required divine approval. Today regimes are protected by controlling mass allegiance through a cultural assault of rigid conformity to basic compliance of laws that is acceptable to the establishment authority.
None of this social dominance is healthy for a free society. Yet, those who give a superficial reading of Robert H. Bork's book, risk missing the balance needed to protect individual common law rights.
"Slouching Towards Gomorrah is a penetrating, devastatingly insightful exposé of a country in crisis at the end of the millennium, where the rise of modern liberalism, which stresses the dual forces of radical egalitarianism (the equality of outcomes rather than opportunities) and radical individualism (the drastic reduction of limits to personal gratification), has undermined our culture, our intellect, and our morality."
In order to promote legitimate individualism and personal freedom, the fundamental canons of natural rights must be the core criterion. Ethical conduct requires personal choices and conscious decisions for behavioral conduct.
Being part of the establishment means that acceptance of the system goes mostly unquestioned. Anti-establishment sentiment does not mean becoming a social misfit is the only path. There is no practical way to drop off the planet altogether and remain alive. Hamlet is correct in questioning his very existence, but few surviving participants in the daily grind of the rat race ever make time to contemplate their own place in the world.
Essentially, being Stuck on Stupid finds a delusive comfort and a false security in acquaintance to the status quo, even if that mode of interaction is wholly corrupt and destructive.
Until the masses make a commitment to be honest and honorable, no effective campaign can be waged against the establishment. Those who vigorously defend the actions of the establishment are lost. Seeking the guidance of the symbolic Delphi requires a total break with hero-worship of establishment proponents.
Radical egalitarianism is a cornerstone of the establishment, in their effort to become the Lord Master of the system. The madness that Hamlet experience drove him to express, "To die, to sleep-/No more", is based upon his torture and fear that there might not be peace even in death. Likewise the torment of thinking social critics understands that current ruling institutions and authorities are rotten to the core.
Trust worthy traditional conservatism offers a cogent, proven and utilitarian approach to achieve a renaissance for Western Civilization. In order to plant the seeds of individual Liberty, a populist message and a spiritual re-awakening must be adopted.
Society as it is presently configured is doomed to a catastrophic upheaval. Now is the time to prepare for personal survival, because the governmental safety network systems are unsustainable.
After the collapse, as the substantive re-alignment struggle is fought out, each of us will need to answer the primary question: Will you obey the Fascist Police State elites or you will you overcome Hamlet's fear of continual existence and resist the tyranny?
The saying often associated about the place one resides: "Where Life is Worth Living", should apply to America. For most of its history this attitude was true. More people than ever are not so sure that the nation once revered deserves to survive.
A new Gallup poll indicates that "Americans continue to view government as their single greatest problem. While the economy and unemployment have given the government a run for its money over the last year, in recent months government has taken a clear lead for the ignominious title."
The establishment most closely is associated with the government. However, the social culture ultimately accepts the system even when vocal activists are protesting. The reason is simple, fear of the unknown. Like Hamlet, death may not be relief in the end. Nevertheless, Abu Bakr's quotation regretfully is all too true. "Cursed is the man who dies, but the evil done by him survives".
How does one respond when the death of humanity comes as the cost of the survival of the establishment? The sickness that has become today's political, social and economic environment is a wholly owned dividend from the establishment's war on God.
Seeking the console of the Delphi to intercede with Apollo is like applying for a government grant to endure one more day of food rations. The dependency milieu is designed with a kill switch. Nothing is more philistine in a stance than to keep accepting that the establishment is a legitimate authority.
While there are few Plato's among us, there are many despotic followers of his ideal Republic despotism. One can explain away that Plato was promoting his Philosopher King, but there is no excuse to execrate the long list of democratic leaders who work tirelessly to establish their kingdom here on earth.
For God's sake! If not for your own; then seek righteousness for His. Remaining dumb and stupid is no defense for encouraging the establishment by providing willful assent. The notion that we can reform ourselves out of this dilemma is folly. Every day the situation deepens into a Shakespearian tragedy. It is too late to avoid the slide into Gomorrah because we are already in the pre Hellstone and brimfire danger zone.
People seldom learn from the past because they are living examples of denial. This experience is different from previous ages when life was short and often came to a violent end. Survivors understood the nature of tyranny. Now the soft kill culture does the dirty work, while most remain silent.
Common wisdom has China as the future model for the Globalist economy. Also, conventional thinking has the Western financial debt created money system as the backbone of the New World Order. The big question is, are both components of the same intentional plan? When China Has Announced Plans For A 'World Currency', the world is put on notice that a fundamental shift is about to take place.
"What you are about to see is rather startling, but it shouldn't be a surprise.  When it comes to economics and finance, the Chinese have always been playing chess while the western world has been playing checkers.  Sadly, we have gotten to the point where checkmate is on the horizon.
The following comes from CNBC …
The tightly controlled Chinese yuan will eventually supersede the dollar as the top international reserve currency, according to a new poll of institutional investors.
The survey of 200 institutional investors – 100 headquartered in mainland China and 100 outside of it – published by State Street and the Economist Intelligence Unit on Thursday found 53 percent of investors think the renminbi will surpass the U.S. dollar as the world's major reserve currency.
Optimism was higher within China, where 62 percent said they saw a redback world on the horizon, compared with 43 percent outside China."
Before the celebration begins that the game is up for the Federal Reserve mastery from the days of the Bretton Woods Conference, look a little closer. While gold and its fixed price were instrumental to that monitory standard, the freeing from fixed rates has generated the madness of floating currency speculation that now dominates the financial markets.
The cunning and patient Chinese built their export economy on cheap priced goods into their importing customer economies. Saving is a noble objective in the East, while going into debt is the hallmark of Western practices. The Chinese have applied their huge balance of trade surpluses to buying up commodities. Most notable is gold.
The article, Could China actually have 30,000 tonnes of gold in reserves? Makes the strongest argument that China is poised to become the new superior currency is based upon the potential of establishing a convertible relationship between the renminbi and bullion.
"China has much more gold than it is allowing the world to see. As Alasdair Macleod, probably the world's number one analyst of the gold market, wrote that between 1983 and 2002 China probably accumulated 25,000 tons of gold. Thus, its current gold holdings are probably north of 30,000 tons in contrast to the USA which has either sold or leased most of its gold."  Now this statement coming from one of the usual gold megabulls might be ignorable, but Hunt does not fall into this category and has a good track record of insights into China's strategic initiatives as far as metals and minerals are concerned."
Before the rush to the door to dump your U.S. Dollars for whatever store of wealth one believes will maintain its purchasing value, consider what the voice of the global financial establishment, the IMF says. Stating the outlook from the central Bankster's perspective in, Will the Renminbi Rule?, the message is that paper money, burdened by debt, is still firmly in place.
"Given China's size and growth prospects, it is widely seen as inevitable that the renminbi will eventually become a reserve currency. To gauge the likelihood and timing, it is necessary to consider the typical attributes of a reserve currency and evaluate China's progress in each of these dimensions. The factors that generally affect a currency's reserve status includes:
Economic size
Macroeconomic policies
Flexible exchange rate
Open capital account
Financial market development
The IMF concludes:
"The renminbi is unlikely to become a prominent reserve currency—let alone challenge the dollar's dominance—unless it can be freely converted and China adopts an open capital account."
Now for anyone even remotely schooled in the manners and maturations of the financial elites, turning the other cheek to a pretender, is not in the lesson book.
Investment manager, Richard Harris offers in a report, Time to create new Chinese-Hong Kong dollar, an interesting possibility.
"The HK dollar itself is a dead unit having been pegged first to the pound and later to the US dollar, with the current rate fixed in 1983. The prevailing view about depegging is that it would be too dangerous. The unit only floated for a relatively short period from 1974-1983 and, I recall, without much confidence in its success.
The obvious answer is to combine the dead HK dollar with the embryonic CNH. This would be a completely independent, floating currency. The CNY would be used for current account transactions such as exports and imports, whilst the new "Chinese Dollar" (HKD/CNH combined) would cater for capital account financial transactions."
Keeping paper money in place as the international medium of exchange is fundamental to the New World Order. While China may never implement an actual redemption of gold for their renminbi, there is a real possibility that some gold weighted backing for Chinese paper instruments could be introduced.
The U.S. Dollar maintains illusionary worth, only because the central bankers are all in with their dollar dominated derivatives. Moreover, the Chinese are very much dependent upon their exports to keep their economy going. Settlement in Federal Reserve notes is crucial for the American system to keep buying from overseas.
Just the mere threat of payment in the renminbi for all the Chinese goods that Walmart imports     could be devastating. Allowing for a gradual transition into a semi-reserve renminbi status keeps the Bankster's game going.
The prudent analysis suggests that the NWO created China's emergence into an economic power through off-shoring domestic industries in their subject countries. Nonetheless, the international cabal is not about to starve their interest paying indebted nations by letting the Chinese accumulate even greater cash reserves.
Expect a downturn in China's prospects, as soon as any ascendency for their currency begins gaining a reserve acceptance.
Varoufakis vs. The Troika…
"Will the United States, Germany, the rest of the European Union, the European Central Bank, and the International Monetary Fund – collectively constituting the International Mafia – allow the new Greek leaders of the Syriza party to dictate the conditions of Greece's rescue and salvation? The answer at the moment is a decided "No".

— William Blum, The Greek Tragedy, Veracity Voice

"The Greek economy is finished…. There is no power, no force within the Greek economy, within Greek society that can avert – it's like – imagine if we were in Ohio in 1931 and we were to ask: What can Ohio politicians do to get Ohio out of the Great Depression? The answer is nothing."

— Yanis Varoufakis, Greek Finance Minister
A disagreement over the terms of a deal to provide a bailout extension for Greece, has set the stage for a final clash between the Eurogroup and members of the Greek ruling party, Syriza.  Although the agreement was approved on Tuesday when a list of reforms were submitted by Greek finance minister Yanis Varoufakis to the Eurogroup, Varoufakis believes that changes to the original program give him greater flexibility to implement policies that will end austerity, reduce the ailing country's primary budget surplus, and ease the humanitarian crisis that has persisted for 6 years.  Regrettably,  no one at the ECB, the European Commission or the IMF shares Varoufakis's views on the subject. The so called "troika" thinks that Greece has signed on to essentially the same program that was in place before the negotiations, give or take a few cosmetic changes in the language. And because the program is the same, they think Varoufakis should stick with the same policies as his predecessor and ignore mounting public opposition to austerity. Given the irreconcilable differences between the two parties, there's bound to be a violent confrontation in the near future that will lead to heated recriminations and, eventually, a Grexit.
To illustrate the widening chasm between Varoufakis and the members of the Eurogroup, consider the fact that, going into the negotiations, Varoufakis was determined to end the bailouts and secure a "bridge" loan that would shield Greece from default for a six month period of adjustment after which basic changes to the current austerity regime would be re-negotiated. While the Eurogroup agreed to change the term "program" to "agreement" and "troika" to "institutions", in the minds of the EU finance minsters, the substance of the original deal, which was laid out in the hated Memorandum of Understanding, remained the same. Take a look at this excerpt from a letter from ECB president Mario Draghi and Eurogroup president Jeroen Dijsselbloem and you'll see how this is playing out:
"I assume that it is clear, that the basis of concluding the current review, and also any future arrangements, will be the existing commitments in the current Memorandum of Understanding and The Memorandum of Economic and Financial Policies  (MEFP). In this context we note that the commitments outlined by the authorities differ from existing programme commitments in a number of areas. In such cases, we will have to assess during the review whether measures which are not accepted by the authorities are replaced with measures of equal or better quality in terms of achieving the objectives of the programme." (Naked Capitalism)
What Draghi is saying is that Varoufakis's changes will be put under a microscope to see if they conform with the memorandum which Varoufakis believes no longer applies. The way this will work on a practical basis, is that additional money will only be meted out incrementally depending on compliance with, you guessed it, the old agreement. In other words, Varoufakis will not have a 4 month grace period to experiment with his pro-growth, anti-austerity economic policies. He'll be expected to toe the line from Day 1.
Varoufakis either doesn't understand what he signed or thinks he can implement his own plan without too much interference from the Eurogroup. Either way, there's probably going to be a confrontation given the vast disparity in the way the agreement is being interpreted. In a Tuesday interview with CNBC, Varoufakis said that the new deal is fundamentally different than the previous agreement. He said:
"Some people have been insisting that the program that we've been under must surely be the program that we shall remain under simply refuse to understand that this has changed. So they keep insisting that that program is still on-going. Let me give you a very simple number. The program that we challenged compelled to the Greek government to extract 4.5% of the primary surplus every year in a depressed economy. We've changed that. Now surely that is not dismissed as simply a non-event and it's business as usual, so it's not business as usual we have a fresh start and now what matters is to use the opportunity of that fresh start in order to build something good on top of it. And we will endeavor to do this." ("CNBC Exclusive Interview: Greek Finance Minister, Yanis Varoufakis", CNBC)
See? He sincerely believes that the old deal is history. But the troika, the Eurogroup, and the majority of people who have analyzed the new arrangement, disagree. They think everything is the same (which explains why critics on the right and left have repudiated the deal as a "climb-down, a capitulation and a sellout.)
In an interview with Nikos Hatzinikolaou on REAL FM, Greece, Varoufakis rejected the Memorandum while claiming that the new agreement represents "a huge success' in ending the "recessionary measures" that are needlessly prolonging Greece's Great Depression. Here's what he said:
Varoufakis: "The current  government (Syriza) wants to say things with their name. I will explain it to you in very simple terms, Mr. Hatzinikolaou. As long as our debt is what it is, as long as Greece was bounded within this iron cage of primary surpluses that were impossible to achieve without killing whatever is left in the private sector, and as long we have a negative sign in investments (essentially, real investments), it was impossible to achieve this exit.
What we are trying to do – and have succeeded in doing so; it was a huge success, I'd say – is to create a four-month bridge during which we achieve the following:

First, the cancelation of the recessionary measures and the implementation of a transitional program we ourselves have made, one the Greek society will be able to withstand. This will help us negotiate during this four-month period a new contract between us and our partners with the goal of solving this system of three equations with three unknowns.

Hatzinikolaou: Thus, we are talking about a new Memorandum? ….

Varoufakis: OK. Let us be careful with the words. What does the Memorandum mean? … Let me remind you of what it comprises. It comprises the logic of continuous domestic [or internal] devaluation, of  huge primary surpluses in an economy that does not have a real credit system, where investments are negative, and at the same time where we have a series of measures that empower this recession.  This is the MoU. It is the automation, the a-politicization, and the subjection to the crisis." ("The juicy interview of Greek Finance Minister, Yanis Varoufakis", Greek Analyst)
Varoufakis  appears to be saying that, in his view, the new agreement constitutes a rejection of the memorandum and, thus, is a de facto repudiation of austerity.  The question is whether Varoufakis is stretching the facts to give himself greater latitude to relieve Greece's humanitarian crisis and to put Greece back on a sound path to growth.  While those are worthy goals, they are not likely to win the Eurogroup's support. Check out this excerpt from a letter from the IMF to Dijsselbloem concerning the vagueness of Varoufakis's reform package:
"In quite a few areas, however, including perhaps the most important ones, the letter is not conveying clear assurances that the Government intends to undertake the reforms envisaged in the Memorandum on Economic and Financial Policies. We note in particular that there are neither clear commitments to design the envisaged comprehensive pension and VAT policy reforms, nor unequivocal undertakings to continue already-agreed policies for opening up closed sectors, for administrative reforms, for privatization, and for labor market reforms. As you know, we consider such commitments and undertakings to be critical for Greece's ability to meet the basic objectives of its Fund-supported program, which is why these are the areas subject to most of the structural benchmarks agreed with the Fund." (Excerpt IMF letter posted at Naked capitalism)
Repeat: "We consider such commitments and undertakings to be critical for Greece's ability to meet the basic objectives of its Fund-supported program."  In other words, Greece should not expect to get its loan extension unless it follows the troika's explicit orders on pensions, VAT (sales taxes), government cutbacks, privatization and labor market reforms.
So, what is Varoufakis's approach to these benchmarks?
Let's take a look at pension reform. In an interview with CNBC's Julia Chatterley on Tuesday, Chatterley asked Varoufakis point blank, "So you're ruling out pension cuts?"
Varoufakis: "Of course over the next four months there will be no such thing." (CNBC)
How about raising the VAT tax?
Same thing. And in the interview on REAL FM Varoufakis covered the other policies that the troika sees as "critical". Listen to this exchange:
Hatzinikolaou: My fundamental question about the e-mail is whether or not it entails layoffs in the public sector …, if it entails pension reductions … if it entails wage reductions?

Varoufakis: I will answer to all these questions, since these are very specific questions, and it is best that we speak forthrightly. My answer to all of these questions is NO, in NO WAY."
Let's summarize: No pension cuts, no higher VAT taxes, no lower wages for public workers, and no layoffs. While I admire what Varoufakis is suggesting, I can't figure out how he's going to convince the troika to give him more money.  Apparently, he thinks that streamlining the government and aggressively pursuing tax cheats will do the trick. Or maybe he has something else up his sleeve, like ignoring the terms of the agreement long enough to generate growth in the economy, lower unemployment, and create an improved environment for foreign investment. He might think that that will force the troika to acknowledge that austerity has failed and that pro-growth Keynesian strategies actually produce positive results. Of course, that's just a guess on my part. It's impossible to know for sure.
Here's more of the interview with CNBC:
Varoufakis:   "The reason why we have this 4 month period is to re-establish bonds of trust between us and our European partners as well as the IMF in order to build a new, we call it, contract between us and our partners so as to put an end to this spiral, the debt inflationary spiral; reform Greece; and make sure that CNBC doesn't care about Greece anymore, because we don't want to be in the headlines for all the wrong reasons." ("CNBC Exclusive Interview: Greek Finance Minister, Yanis Varoufakis", CNBC)
The "bonds of trust" are going to  put to the test if Varoufakis doesn't comply with the troika's diktats, that's for sure.
Varoufakis assumes that the troika doesn't understand the impact of its belt-tightening policies. He seems to think that the punishment that's being inflicted on Greece is just the unfortunate byproduct of debt reduction policy and not a deliberate attempt to crush the unions, roll back progressive reforms, decimate the welfare state, and reduce the country to a condition of "permanent colonial dependency."    But that viewpoint is shockingly naïve, after all, the IMF has been in the looting biz for a long time and has a pretty good grasp of the effects its toxic policies.  They know what they're doing, just like know that austerity is just a refinement of the "shock doctrine" which is the traditional way the elites exploit crises by imposing harsh, economy-demolishing reforms that only benefit themselves and their class. The men who conjure up these thieving schemes aren't likely to be hoodwinked by Varoufakis's vague reforms. They're going to force Varoufakis to jump through all their respective hoops before he gets one dime of their precious money. Here's Varoufakis again:
"There is going to be a great deal of toing and froing between us and the institutions and our partners but what we have established through stubborn refusal to succumb to the notion that elections change nothing over the past couple of months or weeks I should say is the notion that this government deserves to have a degree of room for policy-making that allows us to reform Greece and to carry the great multitude out there with us. This is the government for the first time in Greece that has the people behind it and it would be a terrible waste not just for us but for our partners to allow this wave of support to dissipate through non-action." (CNBC)
Does Varoufakis really think he can pull this off?  Does he really think he can out-fox the slimy, authoritarian brigands and leg-breakers who run these extortionist institutions and who will use every means possible to extract the last drop of blood from their victim be he an aspiring, but penniless student at the university or a destitute pensioner huddling homeless and frozen in an abandoned doorway in downtown Athens?
This isn't going to end well. Varoufakis had one card to play–the threat of leaving the Euro–and he failed to play it. Now his leverage is gone and the roof is about to cave in. Just wait and see.
The troika isn't going to convene another dreary round of negotiations to rehash the same old nonsense. Those days are over.  They're simply going to withhold the money, curtail liquidity assistance, and torpedo the Greek banking system. Kaboom! That's the way this thing is going to go down. The mood among the EZ finance ministers has soured considerably since the last meeting. They want to put this whole thing behind them. They're sick of it.  They want closure. They're not going to quibble over issues they've already gone over and clarified a million times.  Varoufakis will either have to get with the program or face the consequences. That's the way it works in Mafia-land; you either pay the piper or you find yourself in the East River in cement booties.
Who knows: maybe this is what Varoufakis wanted from the beginning, a ferocious clash ending in banishment, a Grexit.  Well, he won't have to wait long now.
What can be written about Hillary Clinton that has not already been said? HilLIARy fatigue is natural, but ignoring all the lies and sleaze becomes the first goal of her 2016 presidential campaign. What is clear during the preliminary posturing is that hubby "Big Dog" Bill's practice of trolling for bitches in heat will dominate the coverage. Poor old Hillary, a pureblood victim among mix breeds. The pretense that she continues in a loving marriage is about as insulting to the voters as the perverse behavior of either of the Clintons.
OK, forget the sex allegations no one cares, right? But what about continuing in a relationship with a certified criminal? Oh yes, that is the easy part, since being married to a crook is the part that Bill loves, and "Big Mama" takes no back seat to her partner outlaw in political offense.
From the ancient history files, the article Proof Hillary isn't fit to be president by Larry Klayman reminds such past hits.
Whitewater scandal
Travelgate
Filegate
Chinagate
You can hear the cat calls now, "that's old news, "we need to move forward", but the best one comes from Hillary herself", what difference at this point does it make"?
Well, maybe the monarch of deceit is correct. Who even remembers the scandal years under the "get two for the price of one" regime? Bygone days need to let sleeping dogs lie, but the past is screaming out as a warning for exactly what citizens should fairly expect if she was coroneted as Mister President.
Yet in the instant social media climate that will dominate the next Presidential campaign, both in the primaries and in the general election, 2016 will be all hyped up to report on the next Bill's libido threatens to derail Hillary — again. A sample like this only forecasts the disclosures that will come out of the secretive cabinet recordings.
"And that is to say nothing of Bill's solicitation of mystery donors, the concerns about financial malfeasance at the Bill, Hillary & Chelsea Clinton Foundation, Bill's racially charged verbal gaffes during Hillary's 2008 bid and the alleged longtime, serious mistress who diverted Hillary's presidential campaign from larger problems."
Further background from Hillary Clinton's Skeleton Closet claims that "she has some significant and troubling scandals that get overlooked with all the foo-farah over crazy conspiracy theories."
Now that this ugly aspect is out of the way, what "exactly are the compelling reasons for Hillary to become President? The answer is reducible to one simple motive; she wants to be the Big Kahuna.
Eric Golub on Communities Digital News responds accordingly. "Can anyone name a single significant thing she has ever done that qualifies her to be president? The presidency is too important to be given to another celebrity heavy on cultish devotees but light on substantive successful accomplishments."
Her qualifications as a superstar luminary and passed over by the Democratic power brokers in favor of Barack Obama in 2008, seems to be the basic argument why 2016 is now her turn. Such inevitability out of the GOP playbook just does not play well with the most fanatical of the loony left.
The NYT reveals that Hillary Clinton, Privately, Seeks the Favor of Elizabeth Warren. Their description of some lesson learned from the 2008 campaign seems to point that defusing the competition is her primary platform concern.
"Some of Mrs. Clinton's supporters, frustrated by the attention and adulation generated by Ms. Warren, noted Tuesday that the two actually hold similar positions on a range of economic issues, though Ms. Warren's rhetoric has been more fiery. Mrs. Clinton, hoping to delay formally starting her candidacy for as long as possible, has refrained from detailed discussions of economic policy. In recent weeks, though, she has become more vocal, using Twitter to offer support for the Dodd-Frank financial overhaul, for instance."
Hit the ground running with a splash. ARE YOU READY? So asks to take the Pledge to Support Hillary for President Site. Before you register, a little investigation is in order.
3 Problems Standing in the Way of a Hillary Clinton Presidency starts with the following:
Politics and Experience
Hillary definitely has a legacy problem to overcome. More importantly, she has to talk up her record as Secretary of State. A sizable share of Democrats polled by YouGov, 79%, said earlier this year that they approved of her performance, but only 21% of Republicans and 45% of independents shared that assessment. And public opinion split along the same ideological lines when respondents were asked about her qualifications for office. More to the point, most Republicans are not as concerned with her experience as they are with her politics; although Republicans and independent voters cite her role in the Benghazi terrorist attack as one of her major errors in the State Department.
The Competition
Hillary Clinton could be too establishment. Of course, possible contenders who would fit this progressive and insurgent role do not have the same weight as the former Secretary of State. But they are worth examining, if for nothing else than the fresh perspective and debate they will bring to the presidential primaries.
Money
According to the Wall Street Journal, Wall Street has provided the largest source of campaign funds for the Clintons since 1992, with Goldman Sachs as the largest single contributor, giving close to $5 million. "Clinton Inc. is going to be the most formidable fundraising operation for the Democrats in the history of the country. Period. Exclamation point," Rick Hohlt, a lobbyist and fundraiser for Republican Party presidential candidates, told the Journal, "It sure causes concern." Plus, both Clintons earn massive speaking fees.
How does the public react with something positive about a Hillary Presidency? A Gallop poll reveals that 49% answers nothing or has no opinion.
So much for grassroots popular enthusiasm . . .
With any run-up to the primary season and supporting media barrage of electing the first woman President, a viewpoint that Hillary Clinton Shouldn't Be President: A Feminist Perspective is insightful. "Any woman can become president. It feels like a slap to the face of America that so many of our politicians stem from the same family, or that our first female president appears to require a husband who came before her. It reminds us just how limited access is."
Hillary's retort to such an argument reeks of elitist privilege. Politico reports that Hillary Clinton: Other women qualified for White House.
"A lot of the women senators, we have a couple of women governors — I'm talking on the Democratic side — we have a good bench, so to speak," Clinton says in a video clip posted Monday. "But they haven't gone through the fire. Part of the reason why there's a big drumbeat for me to run is because I've done it."
And in 2008 the Wall Street king makers decided on Obama. In the flip flop composition of Tweedledum and Tweedledee politics, a Republican establishment candidate may well get the nod as the safer capitalist tool.
The real wall that Hillary faces is to massage the Occupy Wall Street wing of the progressive primary activities, while keeping and confirming her true symbiotic identification to the money wing of influence Banksters, who actually decide the direction of the government.
For in the end, the only qualifications that Hillary Clinton has for holding the office of the Presidency is that her hubby will occupy the distractions of a Clinton II kingdom. What a great country that elevates a Hill Billy couple to the highest pinnacle of the scandal sheets, while conducting diplomatic relations with the Davos set.
Can Hillary win in 2016? Hermene Hartman in the Huffington Post thinks so in the article, 10 Reasons Why Hillary Clinton Will Be the Next President. Read her list and consider just how far this nation has fallen.
1)    The Republicans don't have a viable candidate and probably won't.

2)    The Hillary Papers have been released.

3)    Hillary should not and cannot take blame for Bill's poor judgments.

4)    The Clintons are the ultimate Power Couple.

5)    Hillary is ruthless.

6)    Hillary learned valuable lessons from the 2008 election.

7)    She is not a quitter or a loser.

8)    The health bill has passed.

9)    Hillary is a smart politician.

10)   America is ready for the leadership of a Hillary Clinton.
If this list of excited imbecility does not give you pause, you must be part of the Hildebeest groupie crowd and better sign-up for, ARE YOU READY? alerts.
Hillary Klinton has all the worst attributes and moral depravity of her more infamous partner in corruption. Moreover, she lacks the political skills and rogue charm of her flimflam significant other. The brick wall in front of the electorate is that a vote for Hillary is a ballot cast for continuation of the decent into enslavement of the last 25 + years. Knowing the way the selection system for Presidents works, the next guests in the Lincoln bedroom may well be friends of the late Marc Rich.
Is Putin Creating A New World Order?
"If undercharging for energy products occurs deliberately, it also effects those who introduce these limitations. Problems will arise and grow, worsening the situation not only for Russia but also for our partners." – Russian President Vladimir Putin
It's hard to know which country is going to suffer the most from falling oil prices. Up to now, of course, Russia, Iran and Venezuela have taken the biggest hit, but that will probably change as time goes on. What the Obama administration should be worried about is the second-order effects that will eventually show up in terms of higher unemployment, market volatility, and wobbly bank balance sheets. That's where the real damage is going to crop up because that's where red ink and bad loans can metastasize into a full-blown financial crisis. Check out this blurb from Nick Cunningham at Oilprice.com and you'll see what I mean:
"According to an assessment from the Federal Reserve Bank of Dallas, an estimated 250,000 jobs across eight U.S. states could be lost in 2015 if oil prices don't rise. More than 50 percent of those job losses would occur in Texas, which leads the nation in oil production.

There are some early signs that a slowdown in drilling could spread to the manufacturing sector in Texas… One executive at a metal manufacturing company said in the survey, "the drop in crude oil prices is going to make things ugly… quickly." Another company that manufactures machinery told the Dallas Fed, "Low oil prices will drive reductions in U.S. drilling rigs, which will in turn reduce the market for our products."

The sentiment was similar for a chemical manufacturer, who said "lower oil prices will adversely impact margins. Energy volatility will cause our customers to keep inventories tight."

States like Texas, North Dakota, Oklahoma, and Louisiana have seen their economies boom over the last few years as oil production surged. But the sector is now deflating, leaving gashes in employment rolls and state budgets." (Low Prices Lead To Layoffs In The Oil Patch, Nick Cunningham, Oilprice.com)
Of course industries lay-off workers all the time and it doesn't always lead to a financial crisis. But unemployment is just one part of the picture, lower personal consumption is another. Take a look:
"Falling oil prices are a bigger drag on economic growth than the incremental "savings" received by the consumer…..Another way to show this graphically is to look at the annual changes in Personal Consumption Expenditures (PCE) in aggregate as compared to the subsection of PCE spent on energy and related products. This is shown in the chart below.

Lower Energy Prices To Lower PCE (Personal Consumption Expenditures):
See? So despite what you might have read in the MSM, lower gas prices do not translate into greater personal consumption or more robust growth. Quiet the contrary, they tend to intensify deflationary pressures and reduce activity which is a damper on growth.
Then there's the knock-on effects that crashing prices and layoffs have on other industries like mining, manufacturing and chemical production. Here's more from Oil Price:
"Oil and gas production makeup a hefty chunk of the "mining and manufacturing" component of the employment rolls. Since 2000, when the oil price boom gained traction, Texas has comprised more than 40% of all jobs in the country according to first quarter data from the Dallas Federal Reserve…

The majority of the jobs "created" since the financial crisis have been lower wage paying jobs in retail, healthcare and other service sectors of the economy. Conversely, the jobs created within the energy space are some of the highest wage paying opportunities available in engineering, technology, accounting, legal, etc. In fact, each job created in energy related areas has had a "ripple effect" of creating 2.8 jobs elsewhere in the economy from piping to coatings, trucking and transportation, restaurants and retail….

The obvious ramification of the plunge in oil prices is that eventually the loss of revenue will lead to cuts in production, declines in capital expenditure plans (which comprise almost 1/4th of all capex expenditures in the S&P 500), freezes and/or reductions in employment, and declines in revenue and profitability…

Simply put, lower oil and gasoline prices may have a bigger detraction on the economy than the "savings" provided to consumers." (The Gasoline Price Myth, Lance Roberts, oilprice.com)
None of this sounds very reassuring, does it? And yet, all we hear from the media is how the economy is going to reach "escape velocity" on the back of cheap oil. Nonsense. This is just more "green shoots" baloney wrapped in public relations hype. The fact is, the economy needs the good-paying jobs more than it needs low-priced energy. But now that prices are tumbling, those jobs are going to disappear which is going to be a drag on growth. Now check out these headlines I picked up on Google News that help to show what's going on off the radar:
"Texas is in danger of a recession", CNN Money.
"Texas Could Be Headed for an Oil-Fueled Recession, JP Morgan Economist Says", Wall Street Journal "Good Times From Texas to North Dakota May Turn Bad on Oil-Price Drop", Bloomberg
"Low Oil Prices in the New Year Are Screwing Petrostates", Vice News
"Top US Oil States Are Taking A Hit From Plunging Crude Prices", Business Insider
Get the picture? If oil prices continue to fall, unemployment is going to spike, activity is going to slow, and the economy is going tank. And the damage won't be limited to the US either. Get a load of this from the UK Telegraph:
"A third of Britain's listed oil and gas companies are in danger of running out of working capital and even going bankrupt amid a slump in the value of crude, according to new research.

Financial risk management group Company Watch believes that 70pc of the UK's publicly listed oil exploration and production companies are now unprofitable, racking up significant losses in the region of £1.8bn.

Such is the extent of the financial pressure now bearing down on highly leveraged drillers in the UK that Company Watch estimates that a third of the 126 quoted oil and gas companies on AIM and the London Stock Exchange are generating no revenues.

The findings are the latest warning to hit the oil and gas industry since a slump in the price of crude accelerated in November when the Organisation of Petroleum Exporting Countries (Opec) decided to keep its output levels unchanged. The decision has caused carnage in oil markets with a barrel of Brent crude falling 45pc since June to around $60 per barrel." (Third of listed UK oil and gas drillers face bankruptcy, Telegraph)
"Carnage in oil markets," you say?
Indeed. Many of the oil-drilling newcomers set up shop to take advantage of the low rates and easy money available in the bond market. Now that prices have crashed, investors are avoiding energy-related junk bonds like the plague which is making it impossible for the smaller companies to roll over their debt or attract fresh capital. When these companies start to default en masse, as they certainly will if prices don't rebound, the blowback will be felt on bank balance sheets across the country creating the possibility of another financial meltdown. (Now we ARE talking about a financial crisis.)
The basic problem is that the banks have bundled a lot of their dodgy debt into financially-engineered products like Collateralized Loan Obligations (CLOs) and Collateralized Debt Obligations (CDOs) that will inevitably fail when borrowers are no longer able to service the loans. The rot can be concealed for a while, but eventually, if prices don't recover, a significant number of these companies are going to go under which will push the perennially-undercapitalized banking system to the brink once again. That's why Washington's plan to push down oil prices (to hurt the Russian economy) might have made sense on a short-term basis (to shock Putin into submission) but as a long-term strategy, it's nuts. And what's even crazier, is that Obama has decided to double-down on the same wacky plan even though Putin hasn't given an inch. Check this out from Reuters on Monday:
"The Obama administration has opened a new front in the global battle for oil market share, effectively clearing the way for the shipment of as much as a million barrels per day of ultra-light U.S. crude to the rest of the world…

The Department of Commerce on Tuesday ended a year-long silence on a contentious, four-decade ban on oil exports, saying it had begun approving a backlog of requests to sell processed light oil abroad.

The action comes at a critical juncture for the global oil market. World prices have halved to less than $60 a barrel since the summer as top exporter Saudi Arabia, once a staunch defender of $100 oil, refused to cut production in the face of surging U.S. shale output and tempered global demand…

With global oil markets in flux, it is far from clear how much U.S. condensate will find a market overseas."
(Analysis – U.S. opening of oil export tap widens battle for global market, Reuters)
Does that make sense to you, dear reader? Why would Obama suddenly opt to change the rules of the game when he knows it will increase supply and push prices down even further? Why would he do that? Certainly, he doesn't want to inflict more pain on domestic producers, does he?
Let's let Obama answer the question for himself. Here's a clip from an NPR interview with the president just last week. About halfway through the interview, NPR's Steve Inskeep asks Obama: "Are you just lucky that the price of oil went down and therefore their currency collapsed or …is it something that you did?
Barack Obama: If you'll recall, their (Russia) economy was already contracting and capital was fleeing even before oil collapsed. And part of our rationale in this process was that the only thing keeping that economy afloat was the price of oil. And if, in fact, we were steady in applying sanction pressure, which we have been, that over time it would make the economy of Russia sufficiently vulnerable that if and when there were disruptions with respect to the price of oil — which, inevitably, there are going to be sometime, if not this year then next year or the year after — that they'd have enormous difficulty managing it." (Transcript: President Obama's Full NPR Interview)
Am I mistaken or did Obama just admit that he wanted "disruptions" in the "price of oil" because he figured Putin would have "enormous difficulty managing it"?
Isn't that the same as saying that it was all part of Washington's plan; that plunging prices were just the icing on the cake for their asymmetrical attack on the Russian economy? It sure sounds like it. And that would also explain why Obama decided to allow domestic producers to dump more oil on the market even though it's going to send prices lower. Apparently, none of that matters as long as the policy hurts Russia.
So maybe the US-Saudi oil collusion theory isn't so far fetched after all. Maybe Salon's Patrick L. Smith was right when he said:
"Less than a week after the Minsk Protocol was signed, Kerry made a little-noted trip to Jeddah to see King Abdullah at his summer residence. When it was reported at all, this was put across as part of Kerry's campaign to secure Arab support in the fight against the Islamic State.

Stop right there. That is not all there was to the visit, my trustworthy sources tell me. The other half of the visit had to do with Washington's unabated desire to ruin the Russian economy. To do this, Kerry told the Saudis 1) to raise production and 2) to cut its crude price. Keep in mind these pertinent numbers: The Saudis produce a barrel of oil for less than $30 as break-even in the national budget; the Russians need $105.

Shortly after Kerry's visit, the Saudis began increasing production, sure enough — by more than 100,000 barrels daily during the rest of September, more apparently to come…

Think about this. Winter is coming, there are serious production outages now in Iraq, Nigeria, Venezuela and Libya, other OPEC members are screaming for relief, and the Saudis make back-to-back moves certain to push falling prices still lower? You do the math, with Kerry's unreported itinerary in mind, and to help you along I offer this from an extremely well-positioned source in the commodities markets: "There are very big hands pushing oil into global supply now," this source wrote in an e-mail note the other day." ("What Really Happened in Beijing: Putin, Obama, Xi And The Back Story The Media Won't Tell You", Patrick L. Smith, Salon)
Vladimir Putin: Public Enemy Number 1
Let's cut to the chase: All these oil shenanigans are really aimed at just one man: Vladimir Putin. There are a number of reasons why Washington wants to get rid of Putin, the first of which is that the Russian president has become an obstacle to US plans to pivot to Asia. That's the main issue. As long as Putin is calling the shots, there's going to be growing resistance to NATO's push eastward and Washington's military expansion across Central Asia which could undermine US plans to encircle China and remain the world's only superpower. Here's an excerpt from Zbigniew Brzezinski's The Grand Chessboard which helps to explain the importance Eurasia is in terms of Washington's global ambitions:
"..how America 'manages' Eurasia is critical. A power that dominates Eurasia would control two of the world's three most advanced and economically productive regions. A mere glance at the map also suggests that control over Eurasia would almost automatically entail Africa's subordination, rendering the Western Hemisphere and Oceania (Australia) geopolitically peripheral to the world's central continent. About 75 per cent of the world's people live in Eurasia, and most of the world's physical wealth is there as well, both in its enterprises and underneath its soil. Eurasia accounts for about three-fourths of the world's known energy resources." (p.31) (Zbigniew Brzezinski, The Grand Chessboard: American Primacy And It's Geostrategic Imperatives, Key Quotes From Zbigniew Brzezinksi's Seminal Book)
Get it? Prevailing in Asia is the administration's top priority, which is why the US is rapidly moving its military assets into place. Check this out from the World Socialist Web Site:
"Under Obama's "pivot to Asia," the Pacific Command will account for more than 60 percent of all US military forces, up from 50 percent under the Bush administration. This includes new US basing arrangements in the Philippines, Singapore and Australia, as well as renewed close military ties to New Zealand, and ongoing US military exercises in Thailand, Malaysia, Indonesia and Taiwan….(as well as) large troop deployments in Japan and South Korea, including nuclear-armed units." (The global scale of US militarism, Patrick Martin, World Socialist Web Site)
The "Big Shift" is already underway, which is why obstacles have to be removed and Putin's got to go.
Second, Putin has made himself a general nuisance vis a vis US strategic objectives in Syria, Iran and Ukraine. In Syria, Putin has thrown his support behind Assad who the US wants to topple in order to redraw the map of the Middle East and build gas pipelines from Qatar to Turkey to access the lucrative EU market.
Third, Putin has strengthened a number of coalitions and alliances –the BRICS bank, the Eurasian Economic Union, and the Shanghai Cooperation Organization–all of which pose a challenge to US dominance in the region as well as a viable alternative to neoliberal financial institutions like the IMF and World Bank. Going back to Brzezinski's "chessboard" once again, we see that the US should not feel threatened by any one nation, but should be constantly on-the-lookout for "regional coalitions" which could derail its plans to rule the world. Here's Brzezinski again:
"…the three grand imperatives of imperial geostrategy are to prevent collusion and maintain security dependence among the vassals, to keep tributaries pliant and protected, and to keep the barbarians from coming together." (p.40)

"Henceforth, the United States may have to determine how to cope with regional coalitions that seek to push America out of Eurasia, thereby threatening America's status as a global power." (p.55) (Zbigniew Brzezinski, The Grand Chessboard: American Primacy And It's Geostrategic Imperatives, Key Quotes From Zbigniew Brzezinksi's Seminal Book)
As a founding member and primary backer of these organizations, (and initiator of giant energy deals with China, India and Turkey) Putin has become Washington's biggest headache and a logical target for regime change.
Finally, Putin is doing whatever he can to circumvent dollar-denominated business and financial transactions. The move away from the buck is a direct attack on the US's greatest source of power, the ability to control the de facto international currency and to require that other nation's stockpile dollars for their energy purchases which are then recycled into US financial assets, stocks bonds and US Treasuries. This petrodollar-recycling scam allows the US to run gigantic current account deficits without raising interest rates or reducing government spending. Putin's anti-dollar policies could diminish the greenback's role as reserve currency and put an end to a system that institutionalizes looting.
This is why Putin is Public Enemy Number 1. It's because he's blocking the US pivot to Asia, strengthening anti-Washington coalitions, sabotaging US foreign policy objectives in the Middle East, creating institutions that rival the IMF and World Bank, transacting massive energy deals with critical US allies, increasing membership in an integrated, single-market Eurasian Economic Union, and attacking the structural foundation upon which the entire US empire rests, the dollar.
Naturally, Washington's powerbrokers are worried about these developments, just as they are worried about the new world order which is gradually taking shape under Putin's guidance. But, so far, they haven't been able to do anything about it. The administration's regime change schemers and fantasists have shown time-and-again that they're no match for Bad Vlad who has beaten them at every turn.
Bravo, Putin.
Global trade relationships and agreements are moving in very different directions. The public relations press releases hide the undercurrents that are driving the formations of alternative economic alliances. While the G 20, markets its all inclusive umbrella policy forums, the mere formation of a BRICS counterweight forecasts deep and fundamental differences. So what is really behind the creation of a different approach to the post WWII dominate U.S. lead model? A clue can be found in an attempt to modify the operations and direction of IMF functions.
Announced in the Russian press, BRICS to propose IMF reform at G20 summit, is a pressure attempt to move the center of power away from current synergism.
"At the G20 summit in the Australian city of Brisbane on November 15-16, Russia and other BRICS countries (Brazil, India, China and South Africa) will propose alternative solutions concerning the reform of the International Monetary Fund, involving, in particular, gradual implementation of reforms, Russian G20 Sherpa Svetlana Lukash told reporters.

"The most important thing for us is the still unresolved G20 problem of the IMF reform," Lukash said. She recalled the U.S. Congress has yet to ratify the 2010 resolution. "Not only does it thwart the process of renewing the IMF in accordance with the current reality where we see a big rise in the role of emerging economies. It also prevents the decisions to double the IMF capital from coming into force," she said."
The appearance of maintaining a working relationship among opposing interests may present an assuring PR message, but who really believes that the path to a new cold war is paved with mutual cooperation? Impetus for a parallel financial system is certainly based more on political objective than commerce or economic benefits.
The Washington Post describes What the new bank of BRICS is all about in this manner.
"Heads of state from Brazil, Russia, India, China, and South Africa (the so-called BRICS countries) agreed to establish a New Development Bank (NDB) at their summit meeting. They will have a president (an Indian for the first six years), a Board of Governors Chair (a Russian), a Board of Directors Chair (a Brazilian), and a headquarters (in Shanghai). What is the purpose of this BRICS bank? Why have these countries created it now? And, what implications does it have for the global development-finance landscape?

The "what" is relatively straightforward. The NDB has been given $50 billion in initial capital. As with similar initiatives in other regions (see below), the BRICS bank appears to work on an equal-share voting basis, with each of the five signatories contributing $10 billion. The capital base is to be used to finance infrastructure and "sustainable development" projects in the BRICS countries initially, but other low and middle-income countries will be able buy in and apply for funding. BRICS countries have also created a $100 billion Contingency Reserve Arrangement (CRA), meant to provide additional liquidity protection to member countries during balance of payments problems. The CRA—unlike the pool of contributed capital to the BRICS bank, which is equally shared—is being funded 41 percent by China, 18 percent from Brazil, India, and Russia, and 5 percent from South Africa."

China's motivation to participate in BRICS banking is most interesting and revealing. Since it is not absolutely essential for China to be a member of BRICS, Gudrun Wacker, from the German Institute for International and Security Affairs presents this finding in a report, China's role in G20 / BRICS and Implications, may shed an insight on their reasoning.

"The future of BRICS depends on the future performance of the G7/8 and G20: If the G20 develops into a real coordination mechanism, there might be less Chinese interest in BRICS. The future prospects of BRICS were presented as less promising than those of the G20, since BRICS will not be able to solve global problems. It is not yet clear whether the main deliverable of BRICS will be directed at cooperation among its members or at third countries. While the idea of BRIC as a group was originally picked up by Russia (the invitation to the first summit, as a move toward "extension" of the strategic triangle Russia, China. India?), its members are now all active in certain fields. For China, it is also an important effort to emerge from its isolation (Copenhagen climate summit). Another factor shaping the future of BRICS might be the development of US-China relations: While all interview partners agreed that BRICS does not aim at creating a new, anti-Western world order, it can be seen as a response to the US-led world order."
The methodology of Mr. Wacker's research relied upon comments from interviews. Relying on sentiments that BRICS goal is not bent on developing a counterbalance to Western banking hegemony is poppycock. Geopolitical dimensions in international affairs have Russia as the latest bogyman. Any economic analysis that ignores power brokers desperate attempt to shift the causes of a failing world economy onto the backs of enemy nations is flawed.
Also, the notion that major economic transnational corporatists operate with altruism for third world countries is sheer lunacy. All these trade organizations are attempts to position vying interests to settle for a subservient role to a subordinate structure under a global debt creation banking system.
Attempts to scare the populist into believing that Global Warming inaction raises specter of war over climate change are absurd. "At the G20 summit, other nations overrode host Australia's attempts to keep climate change off the agenda and agreed to call for strong action with the aim of adopting a binding protocol at the Paris conference." Such initiatives are pure political "PC" orthodoxy and actually diminish prosperity.
The great schism in trade among nations is that some countries are not willing to lie down with diseased parasites. This should not be construed to favor the emergence of the BRICS union as a shining future. However, what it does purport is that the road to the NWO modeling for globalism by entrenched financial elites has produced opposition.
Conflict is the normal human condition, and especially when money is used as a medium of world control and domination is the goal. The G 20 is useless. Breaking the banking monopoly that fosters endless terror and war is the universal objective for the inhabitants of this planet. Another unsavory photo op for world leaders just produces more nausea.
This week I am going down to Long Beach, CA, in order to attend the world-renowned BoucherCon, a fabulous annual convention for mystery book writers and readers.  You just gotta love BoucherCon.
At last year's convention in Albany, NY, I scored 50 free books — but still haven't finished reading them yet.  However, it's always reassuring to know that I'll probably never run out of murder-mystery books to read ever again — especially since I'm about to score yet another 50 free books at this Long Beach convention.
But the biggest mystery of all these days seems to be "Who, exactly, is actually running the American government?"  Well, here's a big clue:  "It ain't you or me."  The fact that we ourselves definitely do not run America was clearly demonstrated once again in this last election cycle — when a huge majority of Americans either voted against their own best self-interests or didn't even vote at all.
Apparently we Americans can just barely manage to keep the kids dressed, the dog washed, the bathroom stocked with toilet paper, the mortgage paid, the 401K alive and our own lives up and running — let alone keep a democracy alive and well.  It's definitely not like 1776 around here right now.
But not to worry.  I myself have already solved the mystery of who actually does run America while most Americans are all busy doing something else.
According to political analyst Peter Dale Scott, America is actually run by a select group of people that he calls the "American Deep State".  And these guys are really bad-ass.  They even have their own internet system — and probably even their own FaceBook apps too.  And of course they also have their own bunkers, billionaire supporters, lobbyists and election fixers as well — and Congress, the Supreme Court and the White House all take orders from them.  That's totally scary!  Makes those "October Surprise" Ebola and ISIS scares look like a walk in the park.  http://whowhatwhy.com/2014/10/05/the-hidden-government-group-linking-jfk-watergate-iran-contra-and-911/
So.  Why do I think that Peter Dale Scott is right?  There just has to be a shadow government here in America — because what else could possibly explain why America continuously and consistently acts so strongly against its own best interests?  http://3chicspolitico.com/2014/11/09/canadians-on-midterm-elections-you-americans-have-no-idea-just-how-good-you-have-it-with-obama/
"But Jane," you might ask, "just exactly who are these underworld shadowy cartoonish characters that you've just described — and exactly what are they up to?"  Well, from all my recent sleuthing around, I've discovered that this uber-shadow government, whoever it is composed of, obviously has a soft spot in its heart for starting wars, ruining economies, and disrupting countries, regions and even whole continents whenever they possibly can.  No American in his or her right mind would ever want to do that.
"But, Jane," you might ask next, "how can you actually prove all this?  Sounds rather paranoid and conspiracy-theory-ish to me."  Hey, I'm on this like Sherlock Holmes!
But even though I can't exactly sneak into these guys' bunkers or onto their yachts or secretly listen in on their phone conversations, I can still easily see all the footprints these hoodlums have left behind in the snow.  "Means, motive and opportunity," as Holmes would say.  Just get out your magnifying glass and look at these clues:
Footprint # 1:  China and Korea.  Before we even knew what hit us after WWII, suddenly China had been torn up in rebellion against our corrupt man in Peking, Chaing Kai Shek.  And then the whole Korean peninsula blew up.  Was the loss of China and the destruction of Korea in the average American's best interests?  Totally not.  So who had the motive, means and opportunity here?  You tell me.
Footprint # 2:  Vietnam.  The whole result of that "war" was to destabilize all of Southeast Asia.  Okay.  You got China, Korea and Southeast Asia destabilized now.  And did it benefit the average American to have Asia so broken and hateful against us?  It did not.  But who did it benefit?
Footprint # 3:  Mexico, Central America and South America.  Do Americans really benefit from having death squads and drug lords on the rampage down there?  What do you think?  I think not.  All we got out of this deal was a whole bunch of undocumented refugees coming up here in search of their lost treasures.  But then who does benefit?  Those shadowy guys behind the curtain who sell arms and own banks?  Yeah.
Footprint # 4:  Yugoslavia.  The American Deep State picked at Yugoslavia and picked at Yugoslavia until it too finally fell apart.  Balkanization.  How could that have possibly been good for America?  It wasn't.  But who did benefit from its fall?  Wall Street and War Street.  Of course.
Footprint # 5:  The Middle East.  What a freaking mess!  And who made this mess?  It wasn't the American people.  We had no dog in this fight.  But the American Deep State both did then and does now.  Libya, Syria, Palestine, Iraq, Lebanon, Egypt, Israel?  Means, motive and opportunity to make a real mess.  And, yes, Israel is a hot mess too.
Footprint # 6:  Africa.  Africa has been fried, poached and eaten whole by the American Deep State too.  From apartheid South Africa and the bloody attacks on democratic Angola to the Ebola and HIV disasters, blood diamonds, IMF loans with never-ending interest payments and rape in the Congo, Africa is now a hot mess.  And who exactly benefited from this scramble for Africa?  Not you and me — or our children or our dogs either.
Footprint # 7:  Ukraine:  You have no idea what a broken egg Ukraine has become recently as neo-Nazis kill innocent civilians right and left.  Their theme song seems to be, "Party like it's Serbia in 1995!"  Plus a German company, Telefunken Racoms, is actually selling these Ukrainian neo-Nazis their weapons.  "Party like it's Leningrad in 1942!"  http://cyber-berkut.net/traitors/0024.php
But have any of us average Americans actually benefited from all this world-wide chaos?  No, no, no and no.  So who did?  The American Deep State.
Footprint # 8:  America.  That's us.  It should come as no surprise to anyone even semi-conscious right now that our economy has tanked, we're at each others' throats and Corporations are now People.  The propaganda machine that the Deep State now runs here would make Hitler proud!  Or happily match up with George Orwell's prescient observation that "War is Peace."  And this is all part of a plan to make Americans as dazed and confused as, say, Africans and the folks in the Middle East are now.  But who the freak benefits from all this?  Definitely not us.  http://readersupportednews.org/opinion2/277-75/26813-the-9-billion-witness
So then your next question should be, "How can we stop this, put an end to the American Deep State and return to being a democracy?"  How can you even try to stop a shadow?  It's hard.  But we could start by regulating Wall Street, limiting weapons manufacturers' profits, making sure that our election laws never let anyone anywhere for any reason contribute more than $200 to any election campaign, having fact-checkers sort out all those blatant lies in campaign broadcasts, and fiercely guarding against election violations.  Oh, and also get rid of all those Deep State bunkers, yachts and private internet rat-lines that we American taxpayers are paying for now.
Or perhaps we could just run a PowerBall lottery for every available position in Congress, on the Supreme Court and in the White House.  Surely any random lottery winner would do a better job of resisting the American Deep State than those sorry wimps that we now have kissing the DS's booties and being their gollums.
But however we go about it, we have just got to stop the American Deep State from murdering our democracy — before it's too late and the American dream's corpse arrives DOA at the morgue.
PS:  See you at BoucherCon!  It would be a mystery to me why anyone would not want to attend that.
Unbelievable.
On Wednesday, stocks were hammered after economic data showed that the US and global economies were headed for a major slowdown. By mid-day, the Dow was down 460 points before clawing its way back to minus 173 points. It looked like the market was set for another triple-digit flogging on Thursday when the Fed stepped in and started talking-up an extension to QE3. That's all it took to ease investors jitters, stop the meltdown and send equities rocketing back into space. By the end of Friday's session, all the markets were back in the green with the Dow logging an impressive 263 points on the day. Here's more background from Wolf Street:
"But just when some profusely sweating souls on Wall Street thought that the bottom was falling out, a savior appears. St. Louis Fed President James Bullard got on Bloomberg TV and pressed the red panic button (and) handed them what they wanted….That was enough.

Using declining inflation expectations as a pretext, he proposed to delay the end of QE. The Fed should continue buying $15 billion in securities a month…. it instantly turned around the markets. The spoiled brats on Wall Street were ecstatic to imagine that the Fed might continue to deliver the goodies they've become addicted to, and without which life seems unbearable." (This Market is Driven by Psychology and Momentum,' which 'Works Really Painfully on the Way Down, Wolf Street)
For those readers who still think that the Fed doesn't meddle in the markets: Think again. Friday's stock surge had nothing to do with productivity, price, earnings, growth or any of the other so called fundamentals. It was all about manipulation; telling people what they want to hear, so they do exactly what you want them to do. The pundits calls this jawboning, and the Fed has turned it into an art-form. All Bullard did was assure investors that the Fed "has their back", and , sure enough, another wild spending spree ensued. One can only imagine the backslapping and high-fives that broke out at the Central Bank following this latest flimflam.
As most people now realize, stocks haven't tripled in the last 5 years because the economy is expanding. Heck, no. The economy is still on all-fours and everyone knows it. The reason stocks have been flying-high is because the Fed added a hefty $4 trillion in red ink to its balance sheet. Naturally, when someone buys $4 trillion in financial assets, the price of financial assets go up.
Who would've known?
And here's something else to chew on: On Thursday I wrote an article titled "Stocks Plunge 460 Points on QE Exit". Among the 2 or 3 thousand other articles on the topic in the mainstream, not one mentioned the fact that QE was set to end at the end of October. Instead, they pointed to sluggishness in Europe and China, and weaker-than-expected economic data in the US as the proximate causes of the downturn.
So let me ask you this, dear reader, if the end of QE was not the real trigger for the Dow's 460 point bungee jump, then why did the markets do a quick 180 right after Bullard made his statement on Thursday? In fact, the media even admits that point now. Check out this article on Marketwatch on Friday titled "Bullard's surprise suggestion of continuing QE lifts markets":
"A comment from a hawkish Federal Reserve official on Thursday that central-bank bond buying should continue beyond its scheduled end lifted stock markets and surprised many observers.

The Federal Reserve should consider extending its bond-buying program beyond October due to the market selloff to see how the U.S. economic outlook evolves, said James Bullard, the president of the St. Louis Fed, on Thursday. …

If the economy is still as robust as I am describing it, then I think we could just end the program in December. But if the market is right, and this is portending something more serious for the U.S. economy, than the committee would have an option of ramping up QE at that point," he said.

The S&P 500 SPX, +1.65% jumped from its session low of a 0.9% drop after Bullard's remarks came out." (Bullard's surprise suggestion of continuing QE lifts markets, Marketwatch)
How do you like that? Just one word from the Fed and the markets do an immediate about-face. Now that's power.
It's too bad the Fed can't put in a good word for the real economy while they're at it. But, oh, I forgot that the real economy is stuffed with working stiffs who don't warrant the same kind of treatment as the esteemed supermen who trade stocks for a living. Besides, the Fed doesn't give a rip about the real economy. If it did, it would have loaded up on infrastructure bonds instead of funky mortgage backed securities (MBS). The difference between the two is pretty stark: Infrastructure bonds put people to work, circulate money, boost economic activity, and strengthen growth. In contrast, MBS purchases help to fatten the bank accounts of the fraudsters who created the financial crisis while doing bupkis for the economy. Guess who the Fed chose to help out?
Do you really want to know why the Fed isn't going to end QE? Here's how Nomura's chief economist Bob Janjuah summed it up:
"I want to remind readers of a message that may be buried in the past: When QE1 ended, the S&P 500 fell just under 20% in a roughly three-month period before the QE2 recovery.
When the QE2 ended, the S&P 500 fell about 20% in a three-month period before the next Fed-inspired bounce (aided by the ECB). QE3 is ending this month…"
Is that why the Fed started jawboning QE4, to avoid the inevitable 20 percent correction?
You bet it is. But what's odd is that stocks hadn't even dropped 10 percent before the Fed hit the panic button. Why is that?
Could it be that they have no confidence in the market? Could it be that they know that their loosy-goosey monetary policies have inflated the biggest bubble of all time which has created a fragile, crisis prone system that can't even withstand a measly 10 percent drop before bank balance sheets start going up in flames and the whole wobbly financial house of cards comes crashing to earth in a thud?
Of course, it is. They're scared sh**less, which is why they dispatched bigmouth Bullard to promise investors the moon as long as they keep loading up on equities. Yellen an Co. are going to do everything in their power to keep this runaway train from going off the cliff, even if they kill us all in the process.
Now check out this blurb from Allianz 's chief economic adviser, Mohamed A. El-Erian, one of the few analysts who got it right:
"Due to excessive confidence in central banks, investors eagerly decoupled high market valuations from what was warranted by the sluggish fundamentals."… That disconnect has been undermined over the last few weeks by signs that the global economy's fundamentals are weaker than they seemed and concern that the European Central Bank will not adequately fight that continent's economic drift…" (New York Times)
What El Erian is saying, is that, stocks are vastly overpriced given "sluggish fundamentals". The only reason investors have been buying is because the Fed has been shoving money into the market hand-over-fist. That's what's kept equities airborne. But on Wednesday, investors woke up and said to themselves, "Hey, the economy's circling the plughole, the Fed is bailing out, and I'm left with a boatload of dodgy stocks that might be worth $.30 on the dollar. Maybe I'll get out now while I still can." That's why the market tanked.
So, what's the lesson here?
The lesson is that the Fed is driving the markets. The whole "free market" trope is baloney. No one is loading up on stocks because they're a good deal or because they think the economy is going gangbusters. Investors are buying stocks because they still believe in the power of money. They still think the Fed can pump a few more wisps of helium into the equities balloon and keep the rally going for a bit longer. And that's why stocks surged on Friday, because, at least for now, greed still trumps fear.
But what's the overall effect of this loony policy on the economy, or is that a fair question to ask after 6 years of falling incomes, flatlining wages, widening inequality and widespread economic stagnation?
The truth is, we already know what the impact is: The rich have gotten richer while the poor have been shunted off to tent cities, food pantries and under freeway off-ramps. Isn't that what's happened? Get a load of this brief summary in Friday's WSWS:
"The richest one percent of the world's population now controls 48.2 percent of global wealth, up from 46 percent last year, according to the most recent global wealth report issued by Credit Suisse, the Swiss-based financial services company.

Hypothetically, if the growth of inequality were to proceed at last year's rate, the richest one percent for all intents and purposes would control all the wealth on the planet within 23 years.

The report found that the growth of global inequality has accelerated sharply since the 2008 financial crisis, as the values of financial assets have soared while wages have stagnated and declined…

The study revealed that the richest 8.6 percent of the world's population—those with a net worth of more than $100,000—control 85 percent of the world's wealth. Meanwhile, the bottom 70 percent of the world's population—those with less than $10,000 in net worth—hold a mere 2.9 percent of global wealth.

The growth in inequality is bound up with a worldwide surge in paper wealth, fueled by the trillions of dollars pumped into the financial system by central banks via zero interest rate and "quantitative easing" policies…

As the report noted, "The overall global economy may remain sluggish, but this has not prevented personal wealth from surging ahead during the past year. Driven by … robust equity prices, total wealth grew by 8.3% worldwide … the first time household wealth has passed the $250 trillion threshold." (Richest one percent controls nearly half of global wealth, Andre Damon)
That says it all, doesn't it? The widening chasm between rich and poor is traceable to the policies that were adopted in 2008. That's why things are so fu**ed up, it's because the "surge in paper wealth, fueled by the trillions of dollars pumped into the financial system by central banks via zero interest rate and "quantitative easing" policies."
In other words, it's all deliberate. Robbing the poor and giving to the rich is all part of the plan.
That strikes me as an important point, and one that's worth mulling over for awhile; that crushing the middle class isn't an accident. It's what they want. It's the policy.
"Financial markets are faced with uncertainty that isn't going away. The slowdown in Europe is probably in the early innings, the Fed hasn't begun to raise interest rates, and geopolitical crises seem to pop up by the day." Jeff Cox, Finance editor, CNBC
Six years of zero rates and trillions of dollars of asset purchases couldn't stop stocks from falling sharply on Wednesday. All three major indices moved deep into the red, with the Dow Jones leading the pack, dropping an eye-watering 460 points before rebounding nearly 300 points by the end of the session. Risk-free assets, particularly US Treasuries, rallied hard on the flight-to-safety move with the benchmark 10-year Treasury yield slipping to a Depression era 1.87 percent before climbing back above the 2 percent mark. US financials were the worst hit sector, taking it on the chin for 9 percent by mid-day, while Brent crude was soundly walloped, falling to a 47-month low on oversupply and deflation fears. Stock market gains for the year had nearly been wiped out before a miraculous about-face turned Armageddon into a so-so day with survivable losses. Even so, analysts have already started paring back their estimates for 4th quarter growth while traders stocked up on antacid for Thursday's opening bell.
The proximate cause of Wednesday's bloodbath was weaker than expected economic data from Europe–which is sliding towards its third recession in five years– droopy retail sales in the US, and a report from Department of Labor showing that wholesale prices for producers are edging closer towards deflation, the opposite of what the Fed is trying to achieve via its aggressive monetary policy.
But the real trigger for the selloff was not the dismal data, but the policies that have been in place since the Financial Crisis of 2008. While the Obama administration has steadily decreased demand by shaving the deficits which provide vital fiscal stimulus for the economy, (On Wednesday, the USG announced the budget deficit fell to $483 billion, the lowest since 2008) the Federal Reserve has been providing trillions of dollars of cheap money to the banks and brokerages. The result of this one-two combo has not only been the biggest transfer of wealth in human history, but also "a fundamental breakdown in the functioning of the global capitalist economy." As the International Monetary Fund (IMF) noted in a recent paper on the global recovery: "a pickup in investment has not yet materialized…reflecting concerns about low medium-term growth potential and subdued private consumption." Demand shortfalls in the advanced countries "could lead to sustained global economic weakness over a five-year period." (IMF report records global economic breakdown, Nick Beams, World Socialist Web Site)
Simply put: The Fed's policies have made investors richer, but they haven't created opportunities for recycling profits, which is a critical part of capitalism's so called virtuous circle. Anemic investment, means less hiring, less spending, weaker demand and slower growth, all of which are visible in today's sluggish, underperforming economy. Pumping money into financial assets (QE) can fatten the bank accounts of rich speculators, but it doesn't do jack for the economy. It just creates bubbles that burst in a flurry of panic selling. Here's more from Larry Elliot at the Guardian:
"Six years after the global banking system had its near-death experience, interest rates are still at emergency levels. Even attaining the mediocre levels of activity expected by the IMF in the developed countries requires central banks to continue providing large amounts of stimulus. The hope has been that copious amounts of dirt-cheap money will find its way into productive uses, with private investment leading to stronger and better balanced growth.

It hasn't happened like that. Instead, as the IMF rightly pointed out, the money has not gone into economic risk-taking but into financial risk-taking. Animal spirits of entrepreneurs have remained weak but asset prices have been strong. Tighter controls on banks have been accompanied by the emergence of a powerful and largely unchecked shadow banking system. Investors have been piling into all sorts of dodgy-looking schemes, just as they did pre-2007. Recovery, such as it is, is once again reliant on rising debt levels. Central bankers know this but also know that jacking up interest rates would push their economies back into recession. They cross their fingers and hope for the best." (World leaders play war games as the next financial crisis looms, Larry Elliot, Guardian)
The policies implemented by the Obama administration and Fed have achieved precisely what they were designed to achieve; they've enriched the voracious plutocrats who run the system but left everyone else scraping by on less and less. An article in the Washington Post explains what's going on in greater detail. Here's a short excerpt from the piece titled "Why is the recovery so weak? It's the austerity, stupid":
"Welcome to Austerity U.S.A., where the deficit is back below 3 percent of GDP and growth is still disappointing—which aren't unrelated facts.
It started when the stimulus ran out. Then state and local governments had to balance their budgets amidst a still-weak economy. And finally, there was the debt ceiling deal with its staggered $2.1 trillion of cuts over the next decade. Add it all up, and there's been a big fiscal tightening the past few years, something like 4 percent of potential GDP. Indeed, as Paul Krugman points out, real government spending per capita has been falling faster now than any time since the Korean War demobilization. (chart)
And, as you can see above, all this austerity has been hurting GDP growth since 2011. It shows the Hutchins Center's new "fiscal impact measure," which looks at how much total government tax-and-spending decisions have helped or harmed growth. The dark blue line is what policy has actually done, and the light blue one is what a neutral policy would have done. So, in other words, if the dark blue line is below the light blue one, like it has the last three years, then policy has subtracted from growth." (Why is the recovery so weak? It's the austerity, stupid. Washington Post)
By cutting the deficits, Obama reduced the blood flow to the real economy and weakened demand. That's what torpedoed the recovery. In contrast, stocks and bonds have done remarkably well, mainly because the Fed pumped $4 trillion into financial assets which was a taken as a greenlight by risk takers everywhere to load up on everything from overpriced equities to low-yield junk. Now, after more than three years without as much as a 10 percent correction, the momentum has shifted, volatility has returned, earnings are looking wobbly, and the fear is palpable. Stocks appear to be headed for a major repricing event. Here's how investment guru John Hussman sums it up in his Weekly Market Comment:
"Our concerns at present mirror those that we expressed at the 2000 and 2007 peaks, as we again observe an overvalued, overbought, overbullish extreme that is now coupled with a clear deterioration in market internals, a widening of credit spreads, and a breakdown in our measures of trend uniformity…

…it has become urgent for investors to carefully examine all risk exposures. When extreme valuations on historically reliable measures, lopsided bullishness, and compressed risk premiums are joined by deteriorating market internals, widening credit spreads, and a breakdown in trend uniformity, it's advisable to make certain that the long position you have is the long position you want over the remainder of the market cycle. As conditions stand, we currently observe the ingredients of a market crash." (The Ingredients of a Market Crash, John P. Hussman, Ph.D., Hussman Funds)
Sounds ominous, doesn't it? And Hussman is not alone either. The bearish mood on Wall Street is gaining pace even among those who focus more on geopolitical issues than fundamentals, like the Bank for International Settlements' Guy Debelle who said in an interview on CNBC on Tuesday that he was concerned about the possibility of a "violent" market drop, particularly in bonds.
"If I had told you that there were heightened tensions in the Middle East and Eastern Europe, uncertainty about the turning point in U.S. monetary policy, a succession of strong U.S. job numbers, uncertainty about the future direction of policy in Europe and Japan, as well as increased concern about the strength of the Chinese economy, you would not be expecting that to make for a benign time in financial markets," Guy Debelle of the BIS said. "But that is what we have seen for much of this year." (CNBC)
But stocks aren't cratering because of tensions in the Middle East or Eastern Europe. That's baloney. And they're not falling because of decelerating global growth, plunging oil prices or Ebola. They're falling because no one knows what the heck is going to happen when QE stops at the end of October. That's what has everyone in a lather.
Keep in mind, that 20 percent of the current market cap (more than $4 trillion) is stock buybacks, that is, corporations that have bought their own shares to juice prices. Do you really think that corporate bosses are going to play as fast and loose after the Fed stops its liquidity injections?
Not on your life. They're going to pull in their horns and see what happens next. And if things go sideways, (which they very well could) they're going to cash in and call it a day. That's going to drive down stock prices and send markets reeling.
Stocks have nearly tripled since March 2009 when the Fed started this "credit easing" fiasco. So if stocks rode higher on an ocean of Fed liquidity, then how low are they going to go when the spigot is turned off? There are some, like technical strategist Abigail Doolittle, who think the S and P 500 could suffer a major heart attack, dropping as much as 60 percent before equities touch down. Check it out from CNBC:
"(Abigail) Doolittle, founder of Peak Theories Research, has made headlines lately suggesting a market correction worse than anyone thinks is ahead. The long-term possibility, she has said, is a 60 percent collapse for the S&P 500.

In early August, Doolittle was warning both of a looming "super spike" in the CBOE Volatility Index as well as a "death cross" in the 10-year Treasury note.

And so it's come to pass at least for the VIX, which has jumped 74 percent over the past three months and crossed the 20 threshold that historically has served as a dividing line between complacency and fear. That's its highest level in nearly two years. From Doolittle's perspective, the spike represents a bad-news/bad-news scenario … that the near-term selling action is likely to continue and even accelerate…

…she thinks "violent waves of selling action" could send the VIX all the way to 90—even beyond its peak during the financial crisis." (CNBC)
Now maybe Doolittle is just exaggerating or paranoid, but her conclusions do seem to square with CNN Money. Here's a clip from yesterday's article:
"CNNMoney's Fear & Greed Index is a good indicator of market momentum. Today it hit zero. That's a huge red flag and showcases extreme fear in the stock market. The only other time the index ever touched that low point is in August 2011 — shortly after Standard & Poor's downgraded the U.S. debt.

Volatility — or what some are calling "market whiplash" — is clearly back in the market. The VIX, an index that measures volatility and is one of the factors that goes into the Fear & Greed Index — spiked again today. It's up a whopping 60% in the past week alone." (Extreme Fear in stock market, CNN Money)
So fear and volatility are back, but liquidity has suddenly gone missing. That sounds like a prescription for disaster to me. So what can we expect in the weeks to come?
Well, more of the same, at least that's how Pimco's former chief executive officer Mohamed El Erian sees it. Here's how he summed it up on Wednesday in a Bloomberg editorial:
"Though unlikely to be as dramatic as today, market volatility can be expected to continue in the days and weeks to come as two forces compete: first, the forced deleveraging of certain investors, particularly overstretched hedge funds registering big October losses; second, central banks scrambling to say all sorts of reassuring things. All of this will serve to reinforce October's longstanding reputation as a threatening month for investors around the world." (October's Wild Ride Isn't Over Yet, Mohamed A. El-Erian, Bloomberg)
Did he say "forced deleveraging"?
Uh huh. So, after a 6 year bacchanal, the Fed is finally going to take away the punch bowl and force the revelers to pay down their debts, clean up their balance sheets, and take a few less risks. Is that it?
Yep. It sure looks like it. But, that could change in the blink of an eye, after all, the Fed has its friends to think of. Which means that Ms. Yellen could announce QE4 any day now.
Back when we took biology classes in high school, we all studied the life-cycle of the caterpillar, right?  Where it went from being a caterpillar to spinning a cocoon to becoming a butterfly to laying its eggs to hatching back into a caterpillar again, right?
I'm thinking that this life-cycle is rather similar to the life-cycle of Wall Street & War Street's huge, scary war machine — which started out being mostly financed by American taxpayers, right?  But then as the "world's greatest super-power" began to grow and grow, its insatiable appetite for more and more weaponization began to grow and grow too — and it started to need a whole big bunch of more "lettuce" to pay for these weapons as well.
And so even though the huge amount of taxes paid by our parents and grandparents had clearly been enough to keep the American armies of World War II afloat, the American military-industrial complex of the 21st century really couldn't just rely on just us lowly taxpayers to keep their huge new American "peace-keeping" forces supplied — especially with so many of us now not even having any more income left to tax!
There was definitely no longer enough "lettuce" left in the United States to keep this big caterpillar fed, right?
So how is Wall Street & War Street going to continue to feed its insatiable appetite?  By expanding its reach, right?  By conquering other countries and then getting these new vassals to finance their own destruction — and to also finance the American weapons machine as well.  Whew!  Bad news for the conquered countries — but good news for American taxpayers.  We don't get stuck with the bill at the end of the meal.  Maybe.
And so Africa is forced to pay for its own colonization.   And the Middle East is forced to pay for its own colonization.  And Europe is forced to pay for its own colonization.  And so on and so forth.  You get the idea, right?
So then the big fat happy American war machine caterpillar finally begins spinning its cocoon.  And soon that part of its life-cycle is accomplished, thanks to tanks and guns and NATO and the World Bank and the IMF.
And then what happens next?  Out pops a big beautiful butterfly, right?  Well, not exactly.  The butterfly then dies in the cocoon?  Not that either.  What actually happens next is that the butterfly goes on to lay even more eggs — but they are eggs of destruction, and soon the whole world will have been eaten up by its infinite number of baby vassals and baby wars, gobbling up everything in sight.
Just look what happened to the American war machine's babies in Ukraine.  That whole country is now toast after it let the Iron Butterfly in.  And its baby, Israel?  Almost every "gardener" in the world hates Israel now — because it has become yet another caterpillar pest, eating up everything in sight.
And just look at those ISIS "rebels" in Syria that the American war machine has sponsored, supported, encouraged and trained.  John McCain even had his photo taken with some of these guys.
According to Rick Sterling, writing in Counterpunch, "The names of James Foley and Steven Sotloff can be added to those of about 200,000 Syrians who have died as a direct consequence of US policy of regime change by proxy war in Syria."
And according to journalist Thierry Meyssan, "We know from the British news agency Reuters that, in January 2014, a secret session of Congress voted financing and arming the Free Syrian Army, the Islamic Front, and Al-Nosra Front of the Islamic Emirate until September 30, 2014…[and] finally, in mid-February, a two-day seminar at the US National Security Council was attended by heads of allied secret services involved in Syria, definitely to prepare the EIS offensive in Iraq."
But now America's war machine is currently bombing the crap out of ISIS, its own baby.  Eating it alive too.  What's with that?
Nigeria thought it could cuddle up to this butterfly mother too.  Well, Nigeria's oil is now paying for America's endless wars.  And so is Iraq's oil.  And Syria's oil.  And Libya's.  Libyan "rebel" leaders thought they could kiss up to its mother as well — and now they also have had their heads bitten off by good old Mom.
And Saudi Arabia had better watch out.  It is next.  That's all I gotta say about that.
I guess that the only difference between the life-cycle of the caterpillar and the life-cycle of the American war machine is thatcaterpillars turn into butterflies, go on to lay more eggs and so the cycle continues — whereas the American war machine just eats its young.
Calling it treason: When American leaders steal over 11 trillion dollars from US taxpayers
"None dare call it treason," intoned various Joe McCarthy supporters back in the 1950s.    But I'm daring to call it treason now — when the very people that Americans elect and trust set about to deliberately and purposely steal all our money so they can run a serial-killer torture chamber in our basement.
What red-blooded decent patriotic American has ever said, "Gee, I want to spend my tax money on Abu Ghraib and blowing up women and children and 'full spectrum dominance' rather than infrastructure and schools!"  But yet that is where our money is now going.  In my book, that is treason.
People are starving on the mean streets of New York City and Houston and Miami so that others can afford to bomb women and children in Syria, Libya, Iraq, Palestine and Ukraine.  Sounds like treason to me.
We Americans have neglected our own country for far too long.  And if we ourselves don't stop the American military-industrial complex's war machine, then we too should be tried for treason and sent to jail for forsaking the precious values of freedom and equality that this country was founded upon.
Us.  Off to jail too — along with the faceless serial-killer treasonous ogres in Washington who hide behind their benevolent Jason-like masks of Patriotism and War.
The New World Order has been in place for centuries. Is it not time to start calling the NWO by another name? A descriptive term that encapsulates the essence of the beast would be a Nefarious Warrior Organism. Such a phrase strips away the ridiculous notion that there is any order in the malevolent organization of the parasitic global structure, based upon perpetual and permanent warfare. This depiction more closely resembles reality, even if the master mass media refuses to acknowledge How the World Really Works. Discard any condemnation that criticism of the established order rests upon conspiratorial fantasy or pre-medieval prejudices. Explaining away or ignoring basic human nature in a "PC" culture ultimately requires the adoption of a depraved Totalitarian Collectivism system.
Students of world affairs are not strangers to the practice of lies and deception. One of the grand daddies of the Nefarious Warrior Organism, and infamous war criminal, Henry Kissinger has a new book, World Order. An excerpt published in the Wall Street Journal, Henry Kissinger on the Assembly of a New World Order, spews the same poppycock that underpins the destructive policies and practices that has the world ripe for an apocalyptic conflict, needed to rescue the banksters of international finance from their derivative Ponzi scheme.
"Libya is in civil war, fundamentalist armies are building a self-declared caliphate across Syria and Iraq and Afghanistan's young democracy is on the verge of paralysis. To these troubles are added a resurgence of tensions with Russia and a relationship with China divided between pledges of cooperation and public recrimination. The concept of order that has underpinned the modern era is in crisis.

The international order thus faces a paradox: Its prosperity is dependent on the success of globalization, but the process produces a political reaction that often works counter to its aspirations."