Counting the sellouts, sycophants, sissies and socialists (by whatever name they call themselves, including Republican) is certainly easier than counting the plucky, perspicacious, passionate patriots, that is for sure. For every one of the latter, there are thousands of the former. In fact, since God would have spared Sodom and Gomorrah had he found a faithful ten (out of a population of around ten thousand), it may be that America is teetering around that same percentage. We might be looking at a similar one in a thousand preserving percentage in this country today.
On Capitol Hill, there are fewer than fifty House members and senators (out of 535) that could be categorized as faithful patriots. In certain State houses and senate chambers, the percentage would be considerably higher. In many states, however, the percentage would be much lower.
When it comes to America's pulpits, the percentage of faithful patriots is almost certainly no more than five percent. That was the percentage of faithful pastors in Nazi Germany who boldly stood against Hitler's Police State. And I'm confident the percentage of pastors in America today who are courageously standing against the modern-day Police State is about the same.
There are almost NO mainstream journalists in print or television who haven't sold their souls to a paycheck. The same is true for the talking heads on the talk radio shows. Likewise, the vast majority of our judges seem completely ignorant of constitutional government and the Bill of Rights–or have complete contempt for the same. As for educators in the halls of higher learning, forget it!
From a futuristic perspective, the horizon of America can be put into three basic camps: 1) Jesus is going to come like the Seventh Cavalry and bail all of the good Christians to Heaven, and then destroy everything; but who cares? Only the "bad" people will be here, 2) There is no hope; it's all over; it's only going to get worse until the fiery end comes, and all one can hope for is to prepare his family and close friends to "survive," 3) All of the trends point to a continuing demise of liberty, and, in all probability, the future will be very problematic for EVERYONE (Christians and unbelievers alike), but our Creator–who is the author of liberty–still has a providential plan for freedom in this land and is (and will continue) separating and calling out a courageous remnant for that purpose. Put me in the last camp.
With all due respect, I think the folks who align themselves in the first two camps are trying to escape reality and evade responsibility. One is as bad as the other. The one who sits back and does nothing because he believes God would never allow Christians in America to go through "tribulation," and the person who believes tribulation is coming but the only option is to hide in a hole (figuratively speaking) are both abrogating their responsibility to be the "salt" of the earth and the protectors and defenders of liberty.
However, between the two, I feel more umbrage against my Christian brethren in the first group. They are supposed to have the Spirit of God in them. They are supposed to be students of the Scriptures. More than anyone, they should be the ones to take seriously their charge to "Occupy" till Christ comes.
Try selling the line that "Jesus won't let us go through tribulation" to the Christians in Sudan. For the last twenty years, more than two million Christians have been persecuted, imprisoned, beheaded, disemboweled, dismembered, tortured, sold into slavery, hung on crosses, etc., in that war-torn land. I guess God doesn't love those poor suffering souls as much as He loves us soft, self-righteous, comfort-crazy, entertainment-mad, feel-good Christians in America. What rubbish!
Try selling that line to the beleaguered Christians in Iraq, Syria, Saudi Arabia, Iran, North Korea, Burma, China, India, even Israel, etc. These believers have been in tribulation for generations. Only in America could a theological position on eschatology result in a complete slave-mentality.
I can understand people who don't believe in God losing hope and resorting to withdrawing from society. But, for the life of me, I cannot understand my Christian brethren using the doctrine of the Rapture as an excuse to remove themselves from the freedom fight. Personally, I think the doctrine of the Rapture is often nothing but a covering to mask the cowardice or indifference that grips their hearts.
Therefore, I regard patriots as possibly being from virtually any religion, church denomination, political affiliation, ethnicity, race, educational background, or social strata. I know Catholics who are patriots, Mormons who are patriots. I know Jews who are patriots. I even know Muslims who are patriots. Yes, you read it right, Muslims. There are patriots who are black, white, Hispanic, Asian, Indian, etc. There are self-proclaimed liberals who have more understanding of liberty than many professing conservatives. There are patriots counted among the Democrat Party, the Republican Party, the Constitution Party, the Libertarian Party, The Reform Party, the Green Party, etc.
As Thomas Jefferson and John Adams stood side by side for the Declaration of Independence, as George Washington and Alexander Hamilton and Patrick Henry and Benjamin Franklin, did the same, so I will stand with any defender of liberty, regardless of race, religion, denomination–and even with those who have no faith.
Of course, my approach to liberty is God-centered. And my hope in the future is, likewise, God-centered. I do not believe that God is finished with liberty in America. And I am convinced that God is calling out a freedom-remnant even as we speak. I see this almost every week here in the redoubt of the Montana Flathead Valley. I am very much a realist; but I am very much NOT a pessimist. I guess I am a futurist: I believe there is a future for liberty-minded people in this country. The one in a thousand is still among us; I am convinced of that.
On Capitol Hill there are a faithful few: Justin Amash of Michigan, Mike Lee of Utah, Steve Stockman of Texas, and Thomas Massie of Kentucky, for example. (I'm withholding judgment on Rand Paul, although among the current list of presidential hopefuls, I like him best so far. I think his foreign policy is far superior to that of Ted Cruz. But Ted's stand on illegal immigration eclipses Rand's so far. So, I'm reserving judgment. Jeb Bush is disaster!)
In many State legislatures, there are dynamic patriots fighting ferociously for our liberties. I'm talking about people such as Montana's Jerry O'Neil, Washington State's Matt Shea, and Nevada's Michele Fiore.
Behind the pulpit, there are only a precious few numbered among the patriots. Those five pastors whom the Liberty Church Project just recently helped to withdraw from (or bypass altogether) the devilish 501c3 tax exempt organization status stand out. Warren Luke Campbell and his dad, Warren Campbell, in Coeur d'Alene, Idaho, Tony McGhee in Wilmington, North Carolina, Eric Philpot and Nathan Kealer of Dallas,Texas, and Roy Magnuson and his son, Josiah, in Greenville, South Carolina.
Of course, Dr. Greg Dixon, Sr. has been in the freedom fight longer than most of us have been alive. And Dr. David Manning has been an indefatigable opponent of the New World Order as I have ever seen. He just might be the most politically incorrect and bravest pastor in America. And thank God for patriot-preachers such as David Schnittger, Paul Blair, Barry Byrd, Stevie Craft, Hal Curtis, Wiley Drake, Jay Grimstead, and Steve Wagner.
I appreciate the founder and editor of NewsWithViews.com. His website has grown to include a plethora of writers, not all of whom do I agree with, of course. But I know Paul Walter: in his core, he is a patriot. Tom DeWeese has been fighting Agenda 21 longer and more effectively than anyone I know. Christine Tobin over at "Fair And Equal" has done yeoman's work for years to try and restore free and equal elections to America's political process. Judge Andrew Napolitano has been a refreshing voice for individual liberty and constitutional government for years, as well. Dr. Tom Kendall stands extremely tall in the world of medicine, as does Dr. Curtis Caine, and the Flathead Valley's very own Dr. Annie Bukacek.
In the field of law, I am very proud of the stand for freedom taken by my son, Tim. And attorneys Bill Olson and Herb Titus stand as pillars of their profession. And I also greatly admire other patriot-lawyers such as John Whitehead, Larry Klayman, Gene Garrison, Gary Kreep, Ed Vieira, and my dear friend, Danny Kepner.
And though not a majority, there are hundreds of patriot-sheriffs across the country who are relentless in their defense of the liberties of the people of their counties. I'm talking about sheriffs such as Shane Harrington, Joe Arpaio, Bruce Newman, John Hanlin, Gil Gilbertson, Denny Peyman, Larry Smith, and Richard Mack.
And patriots such as Scott Bradley, Sam Bushman, Larry Breazeale, Randy Brogdon, Joel Skousen, Alex Jones, LCDR Guy Cunningham, Aubyn Curtis, Coach Dave Daubenmire, author Thomas DiLorenzo, LCDR David Gillie, filmmaker James Jaeger, Brigadier General Charles Jones, Rick Jore, Roger Koopman, Gary Marbut, and Stewart Rhodes have been fighting the good fight for years. And, of course, Richard Viguerie has been our champion forever.
The numbers of patriots that we have lost over the past few years is too numerous to list. The hole in the freedom fight that they left is massive. God, please raise up freedom-loving Elishas to wear their mantles.
If my estimation is correct, and we still have that preserving-percentage of one in a thousand yet in this country, it means we have ­­­­­­325,000 patriots in America who have not bowed the knee to the New World Order and in whose hearts the love of liberty still beats strong. Ladies and gentlemen, this is an UNCONQUERABLE host.
To all of my fellow patriots: Kudos! Don't quit! Stay strong! The battle is not over! Freedom still has a future in America!
"If not for my faith, I would be barely human." That was the answer English writer Evelyn Waugh gave when asked, as all Christians will be at some point, how he could call himself a Christian given his behavior. Often rhetorical, the question is sometimes a ploy used to gain leverage and discredit the target by painting him as a hypocrite or to discredit the faith through guilt by association. Yet it can also be sincere, and it is then, especially, that it warrants a response.
The first thing to note about those who honestly ask the question is that they must think very highly of Christianity; if they didn't, they'd merely assume you were acting wholly in accordance with your faith. This is the only thing that would explain — again, when the question is sincere — the higher standard to which they hold Christians. Others may exhibit the frailties and character flaws plaguing man, but they never hear "Such licentious behavior! How can you lay claim to hedonism?!" or, upon a loss of temper, "You call yourself a communist?!" Yet this raises a question: If Christianity provides this superior model for life, why don't these secularists embrace it?
Don't ask me why I'm a terrible Christian. Maybe I'm just a lost soul. Virtues are caught more than taught; actions speak louder than words.
Walk the walk and show me how it's done.
Otherwise, you're simply a Monday-night quarterback condemning the players when your only accomplishment is creating a buttock-shaped impression in upholstery.
Yet certain secularists may honestly find many Christians lacking. One reason for this is simple:
Christians are lacking.
The second reason, which I'll address right now, has to do with something called mirroring.
When secularists take the measure of Christians and find them wanting, they generally don't apply the yardstick of Christianity. They often, in fact, don't even know what it is. If they did, they would recognize that their glass house is hardly an edifice from which to hurl holy stones; these secular critics, after all, are generally people of libertine morality and loose mouths, and their creed may not extend far beyond "If it feels good, do it." What they are applying in their judgment are their values. Their statement "You're not a good Christian" is, logically translated, "You're not a good secularist."
When considering this, note that secularists don't trouble much over most of the Seven Deadly Sins; they usually can't even name them (and lust and envy are in style). Rather, what earns their reprobation is some sub-category of wrath, which they may identify as "hate," "intolerance" (incorrectly understood) or as merely a fit of pique or perturbation. And being that serene water of life is the image they have of the holy man, who they'd never thus describe but might rather call "enlightened"; just think of Kung Fu's Kwai Chang Caine.
Yet this is a secular ideal forged on a good dose of Hollywood entertainment and eastern mysticism. Jesus wept, forgave, healed, resurrected and rendered parables of divine perspicacity. But He also called people hypocrites, "a den of vipers," said to the apostle Peter "Get behind me, Satan!" and turned over the tables in the temple. It should be emphasized that He who Christianity tells us was, paradoxically, fully God and fully man was fully man. Jesus was not some eastern TV monk with a bare head and bare personality; He experienced a range of human emotions, each one in the right moment and measure.
As for those merely fully human, it is entirely common to mirror, to ascribe your own values and understanding of matters to others. This is why modern films may portray Jesus as if He were a flower child, just as, at the spectrum's other end, movies about Adolf Hitler often portray him as a gruff, raving lunatic. Lost on these secular artists is that Hitler was known for personal charm, and Jesus could chastise. The Devil doesn't appear with a pitchfork and horns and the holy don't always sport visible halos; the demagogue tells you what you want to hear, the deific what you need to know. But it is a sad fact of man's nature that people are more tolerant of clever lies than harshly spoken truths.
The point? It seldom occurs to these secularists that God's dictates may be far different from their values (mostly because they don't believe in God). In fact, were they close to such understanding, they wouldn't even call their values "values." God does not have values — He prescribes virtues.
Yet where the secularists are right is in that Christians do not thoroughly follow that prescription. This is not, however, an indictment of either faith or followers. Secularists' criticism of Christians always amounts to, in so many words, "You're really a bunch of sinners!" This is rather comical considering that Christianity teaches we're all a bunch of sinners, with its holy book telling us "All have sinned and fallen short of the glory of God." Eastern mysticism may concern "finding the god in you"; Christianity is about accepting that you're not God.
Delving deeper, Christians "may" not walk their walk as well as secularists walk theirs. But to condemn the Christian for this is much like saying that the man who never stumbles when playing the toddler's game of putting geometrically shaped pegs in the appropriate holes is superior to the professional golfer who sometimes stumbles on the course. And to condemn Christianity for its adherents' deficiencies would be like saying that ideal golf swing production is not an ideal because no one can ever and always live up to it.
What would indict Christianity?
If people could live up to it.
Then it could not be the Truth.
For how could someone ever conform to perfection?
So ironically, if you can truly live up to your faith, it's not a faith worth living up to. Thus is the Christian a bit like the devoted golfer: He strives for the ideal of never making a mistake while knowing he can never achieve it.
In contrast, secularists are, in a sense, still playing with their pegs and holes of values. Although it certainly appears that they at least match Christians in failure to live up to what they profess, even if they didn't, would it be anything about which to boast?
The issue is that their values pegs and holes really are theirs. That is to say, someone who believes in Absolute Truth (God's will) will use it as his yardstick when seeking an answer to a moral question. But what if someone is an atheist (or simply a relativistic person of "faith") and doesn't believe in anything outside of and above man that determines right and wrong, doesn't believe in Truth? He will then take Protagoras' view that "man is the measure of all things," and it then follows that there is no "morality" — only man's preferences for behavior. This should inform as to what his yardstick for behavior will be.
"Reason" is not the answer because reason is not an answer; it is a method by which answers can be found. Thus, if there is no Moral Truth, there are no answers to be found in the arena of conduct and hence no reason for reason. So blind to Truth and having obviated the reason that could discern it, the average secularist has only one logical yardstick to use: emotion. "If it feels good, do it" — everything then boils down to occultist Aleister Crowley's maxim "Do what thou wilt shall be the whole of the law."
Why is this relevant here? Because the average secularist will often have values that, being emotion-born, are simply a reflection of himself, of his likes and dislikes, passions and prejudices. So how, then, could consistency in application of preferences be a legitimate source of pride? How could you be out of conformity with yourself? A yardstick never fails at being three feet long.
In reality, secularists still do manage contradiction. But why shouldn't they? In a relativistic universe, consistency is no better than hypocrisy, a lie no worse than Truth. And even when hearts are in the right place, being governed by feelings can't yield consistency because emotion changes with the wind. Secularists would be their own measuring stick, one that can always judge them sinless because they are always the length they are — whatever that happens to be at the moment.
Of course, there are secularists who may, in absolute terms, be better people than a given Christian. But this just returns us to Evelyn Waugh's sage admission. What are the person's moral proclivities? We wouldn't dismiss ideal golf instruction because an untalented, all-thumbs duffer who received it wasn't as good as a natural who got the Devil's guidance. And a wise person respects those who make the most of their relatively limited potential, moral or otherwise, more than one blessed with the most ethereal talents but who buries them in the ground. "To whom much is given, much will be expected." Perhaps that "bad Christian" is just a far worse person with a far better faith. And if you can't thank God, perhaps you should thank your lucky stars for it. It could be the reason why he just yelled at you and didn't put you in a gulag, burn you in a pyre or chop your head off.
In Ukraine the United States presented Russia with its most serious challenge in the last quarter-century. Russia has not responded to that challenge in a timely manner. She proved unable to anticipate and then counter the Maidan scenario last winter, even though the grand rehearsal was presented with the "Orange Revolution" ten years ago. Now Russia's relations with her strategically essential neighbor – Ukraine – are on the brink of rupture, or a painful restructuring for decades to come.
Normal US-Russian relations would require the recognition that Russia has legitimate interests in her near abroad. To understand the Washingtonian mindset, however, we need to recall a quote from President Obama's graduation address at West Point in May 2014: "The values of our founding inspire leaders in parliaments and new movements in public squares around the globe." Evidently he was alluding to the Maidan.
The Founding Fathers would turn in their graves to learn that, according to the president of the United States, their values have inspired Messrs. Tyahnibok, Yarosh, and other blood-soaked heirs of Stepan Bandera who now sit in the Parliament of Ukraine. The mindset is hardly new. In 1999 Senator Joseph Lieberman declared, "The United States of America and the Kosovo Liberation Army stand for the same values and principles. Fighting for the KLA is fighting for human rights and American values."
"The United States is and remains the one indispensable nation," Obama says. "That has been true for the century past, and it will be true for the century to come." In reality it has never been true, it is not true now, and it never will be true. Madeleine Albright's famous claim along those lines back in the 1990's was a sign of her mental instability. It was reiterated in Bill Clinton's 1996 speech on Bosnia. That Obama has chosen to recycle such inanities is a sign of intellectual and moral bankruptcy, not only his own but also that of a sizeable segment of the American foreign policy establishment. But the march goes on. If some country dares resist the will of the "indispensable nation," then it is necessarily evil. Susan Rice thus condemned China and Russia at the UN for vetoing the U.S.-supported UN Security Council resolution to bomb Syria as "disgusting," "shameful" and "unforgivable." It's psychotic.
A state's political, military, economic, and moral resources are conventionally used in a balanced way to protect or enhance its security. The U.S. is practicing a different brand of diplomacy, which is in ample evidence in Ukraine. And Russia, in responding to the initial Maidan crisis, has made a severe miscalculation.
This error now needs to be corrected as part of Russia's long-term strategy aimed at regime change in Kiev. Let us be clear: Moscow will never obtain Western recognition of its legitimate interests in the near abroad. Moscow should therefore defend its national interests as it deems fit. It should be understood that the sanctions and demonization of Russia's and Putin personally, of diplomatic abuse and military pressure, will continue regardless of what Russia does. If Russia does not act to prevent the transformation of Ukraine into a Russophobic "Banderistan", then the return of the Crimea will prove to be scant compensation for the overall weakening of Russia's geopolitical position. To avoid this, Russia needs to do several things.
First of all, it should fight the regime in Kiev on all fronts – openly and secretly, diplomatically and undiplomatically. No handshakes with Poroshenko. Join the already raging information war. Moscow should constantly remind the world of the false-flag stunt with the Malaysian Boeing in the sky above Ukraine, and insist on a full disclosure of all facts which are still concealed. It should demand an investigation of the massacres in Odessa on May 2 and on May 9 in Mariupol, and an internationally supervised trial. Finally it should tell the world about the ongoing mass murder of ordinary people in southeastern Ukraine, where a ceasefire is supposed to be in operation.
It is necessary to take TV documentaries and feature films revealing these and other Western myths. It is necessary to politically support the Novorussian de facto independence. The Kiev regime has already lost the right to Novorossia, so now it is necessary to support the irreversible changes to ensure its viability. Using the U.S. terminology, Russia has the "Responsibility to Protect." In my opinion, Kiev should be forced to abandon all hope for the resumption of military operations.
Third, you need to provide political and financial support to the opposition in Ukraine, to the non-Banderist civic groups. These groups are small, but given the fact that Ukraine is facing inevitable economic collapse, there exists a favorable and growing environment for Russia's use of "soft power." It is necessary to tighten the screws in economic relations with Ukraine, based on an understanding that there will be no security, no stability, for as long as Kiev is controlled by the current regime. It needs to be discredited, starting with the coup February 21, 2014.
Regime change in Kiev and Ukraine's de-nazification are a matter of life and death for Russia. Ukraine's partition is a poor alternative. Even if Novorossiya were to include Kharkov and Mariupol, the Banderist remnant will become even more Russophobic – and it will still include most of Ukraine, on both sides of the Dnieper. That would poison Russian-Ukrainian relations for a very long time. It makes more sense to preserve the unity of Ukraine, but to create conditions for its denazification.
Don't expect any readiness for compromise from the U.S. They will continue to bait their protégés in Kiev to continue military operations in the east. Not right now, of course, but in the spring of 2015, when NATO rearms Ukraine's military forces. The chaos in Ukraine is a long-term condition, and this is only one part of the global strategy of the United States based on the notions of global dominance and exceptionality. Instead of calming the situation in the South China Sea, Washington will continue to encourage its Asian satellites Japan, South Korea to be tough with China. But as Obama said two years ago, the national security strategy is to retain full-spectrum dominance, to maintain the ability to counter threats worldwide, and to "confront and defeat aggression anywhere in the world."
Meanwhile, the Hudson Institute claims that the situation in Kyrgyzstan is critical to U.S. national security, and Senator Richard Lugar of Indiana, ranking Republican on the Senate Foreign Relations Committee, says that the U.S. commitment to Moldova's territorial integrity is essential if America is not to surrender its position in a key region to U.S. foreign policy.
So there. Ukraine, Syria, gays, lesbians, Kyrgyzstan, Moldova – all of them are among the vital interests of the one indispensable nation. Not one, not even the smallest such "interest" can ever be dropped, for – as Obama said at West Point – "that's not leadership; that's retreat. That's not strength; that's weakness."
Author's note:  I haven't had much to be grateful for this past Thanksgiving because I spent that time recovering from an operation that involved re-breaking my arm, realigning the bones in my left hand and having nine pins, a bone graft and a titanium plate installed.  Ouch!  So now I'm all busy trying to make up for lost time and dreaming up things to be thankful for.  Here are a couple of items I've come up with (besides my wonderful family of course).
To paraphrase that song by Kermit the Frog, "It's not easy being old." There just aren't that many perks involved.  Your teeth fall out.  Your joints freeze up.  Say goodbye to your sex life, no matter what they claim about Viagra.  Plus no one ever invites you to parties any more and you can no longer Twerk.
However, having enough money to make yourself comfortable in your old age can surely help alleviate all those various aches and pains associated with old age — unless of course you are an elderly widow living in Chicago and have 100K or more in your savings account.  Because if that is you, then getting old is really really gonna to suck eggs.
"But, Jane," you might ask, "why is that?"  Let me tell you.
You've heard of ambulance-chasing lawyers before, right?  Well, in Chicago they also have rich-widow-chasing lawyers.  These heartless scoundrels actually go out and scour through various tax and real estate records until they find clues to locating financially-solvent yet vulnerable senior citizens, preferably rich widows.  And then they move in for the kill.
The first thing they do is have their target victims declared incompetent — which is not all that hard to do when you have Chicago's probate courts helping you out.  Then they get themselves appointed Guardian ad Litems for these vulnerable wealthy elders.  And then the fun part begins.
"First they pop these poor souls into rest homes where they are warehoused, starved, fed tranquilizers and ignored," said one family member whose mother had been victimized in Chicago.  "Then they sell their victim's home, empty her bank accounts and pocket the profits — calling all these ill-begotten gains their 'fees' for services rendered.  And then, when the victim has no more money left, they then throw her unceremoniously out of the rest home and onto the cold streets of Chicago — that is, if she is still alive."
But there is hope.  Some relatives of the victims and other conscientious local attorneys are starting to fight back.  For instance, Joanne Denison, an honest Chicago attorney with a conscience, stumbled onto this racket about three years ago by accident and tried to do something to stop these malfesiants.  "So what did she do?" you might ask.  Denison started a blog.  That's all she did.  She started a blog to try to expose some of these worst practices and blow the whistle on said legal vultures.
According to Denison's blog, "40% of all psychotropic drugs are sold to nursing homes as illegal chemical restraints, and no one ever seems to do anything about it, even though they are deadly dangerous to most elders and the FDA says they are contra-indicated or not recommended for those under 20 or over 60."
"So what happened to attorney Denison as a result?" you might ask next.  What do you think happened to her?  This is Chicago — not Utopia.  Her attorney's license has just been suspended for three years.
Now we all know that Rush Limbaugh and Fox News can tell any lie that they want over public airwaves and/or on the internet and get away with it, right?  But if you ever dare to tell the truth and expose corruption in Chicago, you had better watch out.
And if you are a wealthy widow in Chicago, you had better really watch out!
So during this week after Thanksgiving I'm gonna be super-grateful for a lot of things — and one of those things is going to be that I'm not a widow, am not wealthy and don't live in Chicago!
"What else are you going to be grateful for?" might be your next question.
"That I don't live in Ukraine or Syria or any other foreign country that the US or NATO or BIBI has its eyes on."  If there's just one take-away that I've learned after enduring all this pain in my left arm, it's that injuries to our bodies can really really hurt, really hurt a lot.  And that a human body will probably hurt even a hecka lot more if you are hit by a NATO smart-bomb in Ukraine or if an American-made cruise missile lands on you in Gaza or if you get gang-raped by American-funded ISIS in Syria — and have no pain-killers or hospitals or doctors to help you out like I did.
Do I think that the rich widows of Chicago have it bad?  Yeah.  But this sad injustice is almost minimal compared to having the vultures of Wall Street and War Street eying your assets and trying to steal them by torturing, raping and blowing up yourself and your kids.
At least the rich widows of Chicago don't have to worry about getting hit with NATO smart bombs or having their heads chopped off!
Not really sure why I'm worried about getting old.  It's probably not gonna happen to any of us anyway — at least not while the deep-state neo-cons who now control America, Israel and NATO are all so bound and determined to try to pick a fight with Russia, China and Iran (one that they truly can't win).
And if all this current saber-rattling foolishness doesn't kill us all off in a mass wave of war-induced grim reaping, then don't forget that climate-change-run-a-muck will be sending us off to the happy hunting ground soon too.
Have the oligarchs of DC and NATO and BIBI totally lost their minds — or do they just have a death wish for peons like you and me?  Either way, these malfesiants now hold all the power and the rest of us are all screwed.
But here is the good news.
Perhaps facing WW III and/or the coming climate apocalypse might end up being a good thing.  "But how?"  Because now we're all going to have an air-tight excuse to run down to the mall, max out our credit cards and buy all kinds of new gear to wear to the show.  https://hughw.net/h2o/texas-water-well-level-movie.html  How's that for positive thinking!
And here's another positive thought.  Extinction of the entire human race will surely mean that we won't have to worry about who is gonna pay for our funeral — because there will be no one left alive to attend it!  Sorry, guys, but there won't be any "handsome corpses" on display at the local funeral chapel any more.  Rats.  I was really looking forward to that.
I am so freaking bored from sitting around doing nothing while waiting for my arm to heal that I actually checked Thomas Piketty's new book, "Capital in the Twenty-First Century," out from the library.  If I'm going to be bored, I might as well be really bored.
"The main driver of inequality today [which appears to be wanky pseudo-capitalism run amuck] threatens to generate extreme inequalities that stir discontent and undermine democratic values," sez the dust jacket.  Just one more reason why I won't have to worry about paying for my own funeral — I won't be able to afford it.  And neither will you.
"But if you're so bored, then why don't you just go see the film 'Interstellar' instead," suggested one of my kids.  Good idea.  Now I can go watch our planet die on the big screen instead of having to wait to watch it die in real life.  http://www.theguardian.com/money/2014/sep/21/-sp-thomas-piketty-bestseller-why
What's going on with our police? More and more, it seems that our men in blue have been transformed from a friendly neighborhood peace office, whose mission is to protect and serve, to a hostile military force, whose mission is to harass and intimidate.
I am going to broach a subject in this syndicated column this week that people such as me are not supposed to talk about. By people such as me, I mean Christians, "conservatives," Republican-types, etc. "We" are NEVER supposed to criticize the police–not in any shape, manner, or form. ANY criticism of all things police (and military, for that matter) is immediately deemed to be "left-wing," "unpatriotic," etc. To criticize the police in any way brings immediate and vehement accusations that one is against law and order or is a "bleeding heart liberal," etc. But, in all probability, the vast majority of "our" folks will simply ignore this column. My observation is "WE" are mostly very closed-minded and don't tolerate ideas that are outside the box of what is heard on FOX NEWS or from today's milquetoast preachers.
However, it is an absolute fact that today's law enforcement agencies are more and more being militarized and are becoming more and more hostile to the American citizenry. More and more, police officers view the American people as "enemy combatants" and are developing a deeply imbedded "us versus them" mindset. More and more, police officers are behaving like soldiers, not peace officers. Examples of police abuse are becoming more and more frequent and more and more severe. If this breach of the public trust is not reined in soon, it is going to get very ugly in this country.
When I grew up, we were all taught that policemen were our friends and that we could always trust them. Hardly anyone teaches that to their children anymore–and for good reason. Too many policemen have abused and misused the trust that the American people have placed in them. I'm sorry if you don't like to hear that–I don't enjoy saying that–but it is the honest truth.
More and more often, routine traffic stops quickly escalate into full-fledged police abuse over the most innocent conduct. Too many police officers today have developed an "I-have-a-badge-and-a-gun-and-therefore-I-can-do-anything-I-want" attitude. More and more police officers seem to feel that the law they are sworn to enforce is whatever they determine the law to be. More and more often, bringing up constitutional rights to a police officer today or merely questioning what a police officer is doing often invites physical beating, incarceration, or even death. This is especially true if one attempts to film a police officer.
One does not have to search long to find limitless examples of what I am talking about.
In the State of New York, a police sergeant is under investigation for slapping around a law-abiding young man simply because he asked the officer why he was demanding to search his vehicle. After the young man questioned the sergeant, who is a 27-year veteran of the police force, the officer slapped the man and yelled that he could "rip your f****** head off and s*** down your neck." The only reason an internal investigation is going on is because another passenger video-recorded the event.
See the report:
Cop Suspended After He Was Caught On Camera Brutally Slapping Driver Who Asked Why He Needed To Search His Car
In Philadelphia, Pennsylvania, a police officer threatened to "beat the s***" out of a young man for simply looking at him. That's right. All the young man did was look at him as he walked down the street.
In Miami, Florida, a police officer went ballistic with rage after a young man, whom he had just given a traffic ticket to, said, "God bless you." That simple remark set off a profanity-laced tirade from the officer in which he took out his handcuffs and threatened to put the young man in jail.
See the report:
Cop Goes Nuts When Told "God Bless You"
In East Dublin, Georgia, drug task force police officers gunned down an innocent grandfather in his own home on the word of a self-confessed meth addict. Police executed a no-knock invasion of the home and killed the innocent 59-year-old businessman who had armed himself to protect his family from what he could only determine were armed home invaders. The resident was killed in a hail of gunfire by police. He was completely innocent of any drug offenses. Police acted as judge, jury, and executioner of the poor man.
See the report:
Police Kill Georgia Grandfather During No-Knock Raid On Wrong Home
In Boynton Beach, Florida, two young men were pulled over by police in a traffic stop. One of the young men began to video-record the officers. Quickly, the policemen became enraged and began physically assaulting the young men. One officer pointed his pistol at the boys and threatened to immediately shoot them. At no point did the young men display a weapon or physically assault the officers. Granted, the young men acted rudely and disrespectfully. But since when in America is cockiness and rudeness a potential death sentence?
But the worst part of the story came afterward when the chief of police issued a statement defending the conduct of the officers. Chief Jeffrey Katz viewed the video tape (recorded by a passenger in the car) and said the following: "When I watch this video, I don't see a car full of young men who are behaving in a manner consistent with FEAR OF THE POLICE." (Emphasis added)
See the report here:
'I'll Put A Round In Your A** So Quick': Florida Police Chief Defends Cop Who Threatened To Shoot Young Black Man Because He Filmed His Partner Throwing Him On The Ground
Did you get that? The police chief and his officers were angry that the young men didn't FEAR the police enough.
So, that's it. We are supposed to FEAR the police. Really? Then, pray tell, who are the police supposed to fear? My father didn't teach me to fear the police. He taught me to respect the police. And he taught me that the police were my friends. He did not teach me that I had to fear for my rights and my very life every time I'm pulled over for a traffic stop. And that's not the way that Sheriff Cliff Arnold's deputies behaved while I was growing up.
And, again in the State of Georgia, Henry County Police forced a small group of fifth graders to the ground at gunpoint as they attempted to build a tree fort in their neighborhood. Can you imagine? Throwing 11-year-old children to the ground and putting a gun to their heads for building a tree fort? This is reality in modern America's burgeoning Police State.
See the report here:
Cop Pulls Gun On Fifth Graders Building Tree Fort
These kinds of reports are virtually endless.
Am I suggesting that all sheriff's deputies and police officers behave in such fashion? Of course not! I am confident that the vast majority of our men and women in blue (and brown for sheriff's deputies) are honest, law-abiding people who are doing their best to keep the peace and who respect the rights of the citizens they are charged to serve. But I am saying that the training procedures and mindset of our police agencies nationwide IS quickly developing into a police-state mentality. And the everyday occurrences such as those listed above absolutely prove my assertion. It is also an undeniable fact that more and more police training omits teaching the Constitution and, accordingly, more and more police officers are truly ignorant of the rights and liberties of the American people under the U.S. Constitution.
Based on current statistical data, you and I are eight times more likely to be killed by a police officer than we are an actual terrorist. Since 2001, over 5,000 American citizens have been killed by policemen. How many of these deaths were truly justified we will never know as police departments and courts of law have a proven track record of hardly ever charging an officer with wrongful death.
Add to the above the fact that even many minor incidents will often result in SWAT teams being deployed. In fact, Eastern Kentucky University professor Peter Kraska documents research showing, "There has been more than a 1,400% increase in the total number of police paramilitary deployments, or callouts, between 1980 and 2000. Today, an estimated 45,000 SWAT-team deployments are conducted yearly among those departments surveyed; in the early 1980s there was an average of about 3,000."
See Kraska's report here:
Militarization And Policing–It's Relevance To 21st Century
Has violent crime increased 1,400 percent during that time? Not at all. In fact, for the last several years, violent crime has been decreasing to the point that currently it is at record lows. So, how can the need for SWAT teams increase by 1,400 percent? It is the result of Washington, D.C., deliberately militarizing our police agencies.
I am convinced that the Department of Homeland Security (DHS) is intentionally turning our State and local police agencies against us. Washington, D.C., is deliberately militarizing our police agencies. Give them military equipment, weapons, training, etc., and they will start acting like soldiers, not policemen. And that is exactly what is happening.
The phrase that we hear constantly repeated today by law enforcement personnel and spokesmen is "the safety of the officer." But wait a minute! The sworn duty of a police officer is to obey the Constitution (including the Bill of Rights), which is designed to protect the rights, liberties, and safely of the American people. The role of the police officer is to protect the safety of the public. Any man or woman who volunteers to put on a badge should be consciously willing to put his or her life on the line to protect the public. That's what their job is all about. And no one forces them to take this risk; they take it of their own volition.
Of course the men and women of law enforcement want to go home at the end of their shift. But so do the people of their community. Policemen are not the only ones who face hostility and threats of violence. I have had my life threatened too many times to count. I have even been shot at. (I would venture to say that the vast majority of police officers in the country have never actually been shot at.) I have had my family threatened. And none of us wear Kevlar vests and helmets and can call backup with the push of a button (calling 911 is not the same as a policeman calling for back up–not even close).
If the safety of the officer is the primary duty of policemen, they should just shoot suspects on sight and eliminate the threat before it exists. And that is pretty much what they do in totalitarian countries. But this is America where the rule of law and the rights of the individual reign supreme. In a free country, people are judged to be innocent until proven guilty. Plus, the only lawful reason a police officer has to fire his weapon at someone is for the same reason that the rest of us can do so: for self-defense against an imminent threat to their (our) lives.
Again, the impetus of the militarization of police is coming directly from DHS. In addition to receiving military equipment, hardware, attack helicopters, tanks, etc., from the DOD and DHS, more and more often U.S. military Special Forces troops are being employed to train our local police personnel. To the miscreants inside the Beltway, the American people are seen as the real terrorists, not foreign enemies or the criminal gang members that are pouring across our southern border. In truth, DHS is using our local police agencies in much the same way that the Nazi government used the local police agencies inside the occupied countries of Europe. And, unfortunately, it seems that most of our Christians, "conservatives," and Republican-types are completely oblivious to the problem.
I applaud the numerous constitutionalist sheriffs around the country who are doing their best to maintain constitutional government within their counties and who are courageously resisting the efforts of DHS to turn their deputies into Storm Troopers. I just wish we had a lot more of these stalwart defenders of liberty. The American people are not doing a very good job of electing these kinds of patriots to public office, including the sheriff's office. But on the whole, our sheriff's offices around the country are far less oppressive than their counterparts in city police departments. The obvious reason for this is due to the fact that, while the sheriff is a constitutionally elective office, our chiefs of police are usually appointed by some sort of city council and are not answerable directly to the public. Bureaucrats are seldom known for any kind of allegiance to constitutional government.
And, again, this column is not an indictment against any of our law-abiding, liberty-loving, policemen and sheriff's deputies. And I suggest that any policeman who would take umbrage at this column is subconsciously incriminating him or herself. Of all people, police officers, themselves, should be the most angry when their fellow officers betray the public trust and violate fundamental rights. A bad cop reflects badly on good cops. Therefore, instead of reacting angrily against a column such as this, it should behoove honest policemen to lead the charge against this kind of unlawful conduct being committed by their brethren in blue. They should also be the ones to most doggedly resist the militarization of their agencies by DHS.
However, this column IS an indictment against the current trend within law enforcement to become increasingly federalized, militarized, and Gestapo-like. I suppose it is also an indictment against the American people (including Christians, "conservatives," and Republican-types) who seem to be blind and apathetic to what is becoming a major problem within our country.
Sabotage…
It was several decades ago when I began to understand that there were powerful forces loose in the world bent on destroying the United States of America.  It happened when our markets were thrown open to foreign goods and our domestic industry was forced into a contrived world market.
I was working for a company that provided fabricated steel products to American manufacturers.  When our markets were opened the U. S. companies that supplied our raw material began to shut down their operations being unable to compete with foreign manufactures.  It was at this point that I began to wonder why powerful forces in our nation would intentionally harm their fellow citizens.
The process of using unreasonable competition to export manufacturing and technical knowhow has continued. Knowledgeable writers and film makers have written and produced many films and articles documenting the results of this malignant intent. During the 1930s a popular radio show called "The Shadow",  involved an invisible person that could enter the room, hear all that was being said but never be seen.  Our nation is being controlled by a Shadow Government.
In reviewing Tom Engelhardt's new book "Shadow Government" Philip Giraldi writes "Shadow government operates invisibly and is accountable to no one —,."  From his review it appears that Engelhardt has confirmed the existence of a shadow government and enumerated many of it policies and machinations but failed to identify it.  Read the review here. http://www.unz.com/article/skewering-the-shadow-government/
When lists of the wealthiest families in the world are compiled the name of Rothschild is always missing.  The Rothschild wealth is shadow wealth.  Their dominant presence in world financial circles is usually hidden.
Recently, I ran across an article by Lew Rockwell www.lewrockwell.com  about an attack on his Website by the Neocons.  If the Neocons have the power Rockwell describes (I believe they do.) they are surely a major force in the Shadow government of the United States of America.  The article is entitled "The Neocons Hate Our Guts"
It begins with these words::
"The most despicable group of political gangsters in America want to destroy this site, and everything it stands for. Who are they? The neoconservatives."
"Originating in Trotskyism, through their cells in New York City in the 1930s, this bunch now controls much of the American right, on which they have fastened their ideology of constant war, the police state, the welfare state, militarism, and Soviet-like thought control. The Trots sought, and seek, world power for themselves, through bloody world revolution. Trotsky even sought to have the state determine who could marry and who could have children, long before Hitler, to create a new, subservient man."
"If you read their own books, they are open about their devotion to the "noble lie," an idea they got from Plato. It is a virtue, they claim, to lie to the people, so that the right characters stay in power, under the guidance of the right advisors." Read here http://lewrockwell.com/rockwell/neocons-hate-our-guts.html
There are serious problems in the United States of America.  Some of these problems are a result of the efforts of these same neoconservatives Rockwell deplores.  They are wealthy, powerful and ruthless and, as Rockwell laments, not unwilling to attach the weak and relatedly defenseless. They control the mass media allowing them to squelch any public discussion of their policies. Under their skirts hide the largest portion of so called American Christians who vapidly support an arch enemy of the God they pretend to worship.. Those that challenge their policies are threatened and, if possible, destroyed.
Voltaire is credited with this quote: "To learn who rules over you simply find out who you are not allowed to criticize."  If Voltaire was correct we had better wake up because the American people have lost control of their nation which is now being ruled by the neoconservatives.
Being disciples of Plato, Machiavelli, and Strauss; Neocons manipulate the nation with lies, half lies, and distortions.  Their agenda for America is moral degradation, racial strife, suffocating multi-culturalism, open borders, stifling debt, pandemic mendacity, constant self-serving war, and ultimate destruction.
Their strategy is to use the United States of America to conquer the world with them as the "philosopher kings". As we fight their war we accumulate debt to their kin who control the monetary system. Rockwell nails their agenda: "constant war, the police state, the welfare state, militarism, and Soviet-like thought control".
The U. S. media is a source of constant propaganda, outright distortion, serious omissions, lies and detrimental manipulation; it serves a neocon agenda, at the expense of our citizens.
It is their lucre that motivates Presidential candidates and their media that controls them. True reformers like candidate Ron Paul are not allowed to gain traction.   Elections are a sham.
Neocon promotion of immigration has destroyed our culture and open borders are jeopardizing national sovereignty.
We are on life support!  Our manufacturing base has been perforated, our integrity is gone, our people are mostly ignorant, and our government is controlled by aliens. The neocon infusion of money will keep us afloat for as long as we are needed but what then?
At the founding of our nation we heard a lot about natural law.  Natural law is a humanistic substitute for the Law God gave us in His Word.  When we forsook Biblical Law we also forsook natural law.  Homosexuality and homosexual marriage defy the created order while. centralization and multiculturalism destroy God-given diversity.
The legal system is in shambles.  The courts fail to provide justice and the jails overflow with people that should never have been arrested.  We lead the world in jailing our own citizens.
In a 1575 sermon entitled "Armed for the Fight Against Grave and Serious Error" John Calvin said, "—when a sin is deepening and spreading because of silent acquiescence in it, we must deal with it.  If we only respond when the illness is deep-rooted we will be too late. — Anything that might hold us back must be cast aside, even if it involves family or friends, or those joined by the closes possible ties in this world.  All such thing must be disregarded if souls purchased by the blood of the Lord Jesus Christ are being led astray to be ruined and lost forever, and if things that were once well established are being overturned.  Other- wise, we will have a state of total confusion, to the extent that no one will know that the Gospel came from Jesus Christ."
In 1575 Calvin spoke from the power of the Reformation backdrop.  He understood the need to protect and defend the true Gospel.  We have long since passed the "too late" point.  Christianity has had open borders for too long.  Error is pandemic making Calvin's call for effective, prompt confrontation impossible.  We are living in utter confusion where millions of Christians have forsaken the power of the Gospel and are lost forever.  The dark clouds of despotism have already covered the United States of America and serious judgment seems imminent.
Notable dissident Adam Kokesh recently wrote: As long as we remain as pack animals, we will be restrained by those who would exploit us. As long as we willingly accept the subversion of our own potential, we will remain in such a childlike state of immaturity, uncertainty, and subservience. This is about how you think, how you act, how you treat other people, what you eat, what you buy, who you associate with, and how you appreciate the unique gift that is your own will. The message of freedom demands better people. Step up.
Kokesh does not set a specific criterion for "better people". His admonition is on target – America will not change until its people change.  Groups of humans may agree on principles of right and wrong but their agreement is based on the opinions of men and the opinions of men can be permanently changed by another more powerful man.  Human concepts of right and wrong always lead to tyranny.
There is only one viable source of right and wrong – the Word of God.  Human sources of right and wrong are mutable; Biblical right and wrong is immutable.
It was their distant relative, Moses, who received the Law from the Creator – Neocons need the perfect Law along with the rest of God's creation.  Disobedience got us into this mess and obedience is the only way out.
We exist at the pleasure of those who hold our debt.  When we are no longer useful the nation will self-destruct.
The gullibility of the American public only exceeded by the ease that the fascist establishment is able to conduct their criminal government without any meaningful protest – just keeps rolling along. The mainstream media is still able to practice their black art of painting their masterpiece, entitled discovering a new cell of terrorists in every news report. Making up a scripted narrative to fix all seasons, take the creative ability of a screenwriter and the guidance of the intelligence community to shepherd the story to fix the immediate political objective. In a world where truth is the rarest of all commodities, you can be assured that the simpletons, who believe the psychological warfare accounts reported as fact, will invariably remain docile fools.
The news machine has become pure government propaganda. If the fantasy spin was merely benign diversion or trivia, one might be able to simply ignore or dismiss the poppycock as the price of driving broadcasts for ratings. However, when national survival as a free society, systematically being dismantled to rationalize some phony made up terrorist threat, the luxury of pampering an imbecilic public attitude that accept lies as reality, can no longer be tolerated.
Mikael Thalen's article, ISIS Beheadings of Journalists: CIA Admitted to Staging Fake Jihadist Videos in 2010, cites "A 2010 Washington Post article authored by former Army Intelligence Officer Jeff Stein features a detailed account of how the CIA admittedly filmed a fake Bin Laden video during the run up to the 2003 Iraq war."
Mr. Thalen goes on to say: "Only days after Infowars' questioned several discrepancies in the James Foley beheading video, top British forensic experts concluded that the video was likely staged using "camera trickery and slick post-production techniques."
Whether or not Foley lost his head, the accounts provided by a hysterical media, calling for an immediate reversal from rejecting a bombing campaign against Syria, has the smell of a cooked up plan to expand the Middle East regional conflict.
Note that the LiveLeak provides several links to information that supports the claim, Headless James Foley – His Secret Life and the CIA.
"James Foley was a key propagandist in sparking the U.S. air invasion of Libya, in 2011. The proof is here. Believe it or not, it was through his kidnapping then ALSO… part of it spent on a posh resort island! Just about a year after his 'release' from that, he's kidnapped AGAIN! This time, he's calling us to attack Assad… apparently.

There seems to be plenty of evidence, that we have NOT been told the truth about Foley's life at all – AND, perhaps not surprisingly, that he works for the CIA… under "press" cover."
Most people only hear, and sequentially believe, what their prejudicial indoctrination from the government press releases say, and reported as fact, by the controlled media. Those who doubt this occurrence need to reflect on the Intercept account by Ken Silverstein, The CIA'S Mop-Up Man: L.A. Times Reported Cleared Stories With Agency Before Publication.
"A prominent national security reporter for the Los Angeles Times routinely submitted drafts and detailed summaries of his stories to CIA press handlers prior to publication, according to documents obtained by The Intercept.

Email exchanges between CIA public affairs officers and Ken Dilanian, now an Associated Press intelligence reporter who previously covered the CIA for the Times, show that Dilanian enjoyed a closely collaborative relationship with the agency, explicitly promising positive news coverage and sometimes sending the press office entire story drafts for review prior to publication. In at least one instance, the CIA's reaction appears to have led to significant changes in the story that was eventually published in the Times.
"I'm working on a story about congressional oversight of drone strikes that can present a good opportunity for you guys," Dilanian wrote in one email to a CIA press officer, explaining that what he intended to report would be "reassuring to the public" about CIA drone strikes. In another, after a series of back-and-forth emails about a pending story on CIA operations in Yemen, he sent a full draft of an unpublished report along with the subject line, "does this look better?" In another, he directly asks the flack: "You wouldn't put out disinformation on this, would you?"
Some of the most bold and significant revelations appear under the byline of the Intercept. It comes as no surprise that the founding editor Glenn Greenwald is front and center on the government's radar as a press source that needs silencing. Simply dismissing him as a tin foil hat conspiracy kook does not fly even in the delusional minds of the NeoCons.

Now that the thirteenth anniversary of the false flag spectacle of September 11, 2001 approaches, it would be useful to review the two BATR articles. 911 has become the ultimate excuse and 911 Ten Years After. With all the chatter and hype, that another attack is imminent coming from the airwaves and presses, creating another diversion to warrant the insidious police state, which has engulfed our land, is probable.
The "presstitutes" are the gatekeepers for the New World Order, AKA the Nefarious Warrior Organism. The War of Terror is and always has been a colossal fraud. Even so, the collective mind of the MSM audience sucks up the disinformation and spin and accepts the account as fact and truth. If this was not so, how can it be objectively explained why it is so easy to turn the psyche dislocation of society on the preverbal dime?
Volumes in the social literature, written on the techniques and practices of mind manipulation, do not adequately excuse, and certainly do not vindicate the pernicious undermining of our lawful and traditional social order. Most analysis makes a feeble attempt to rationalize the scientific perfection of mass adverting and focus group polling to gauge current public sentiment.
In a gonzo and ideological viewpoint published in Truthout, Dr. Cynthia Boaz presents her Fourteen Propaganda Techniques Fox "News" Uses to Brainwash Americans.
1. Panic Mongering

2. Character Assassination/Ad Hominem

3. Projection/Flipping

4. Rewriting History

5. Scapegoating/Othering

6. Conflating Violence With Power and Opposition to Violence With Weakness

7. Bullying

8. Confusion

9. Populism

10. Invoking the Christian God

11. Saturation

12. Disparaging Education

13. Guilt by Association

14. Diversion
"Pause for a moment and ask yourself what it means that the world's largest, most profitable and most popular news channel passes off as fact every whim, impulse and outrageously incompetent analysis of its so-called reporters. How did we get here?
My curiosity about this question compelled me to sit down and document the most oft-used methods by which willful ignorance has been turned into dogma by Fox News and other propagandists disguised as media. The techniques I identify here also help to explain the simultaneously powerful identification the Fox media audience has with the network, as well as their ardent, reflexive defenses of it."
Academia liberal bias never disappoints. Even a proponent of peaceful nonviolent struggle and civil resistance backs herself in a corner by simply trashing FAUX News as a purveyor of indoctrination. Surely, the collectivist progressives teach the brain path road to authoritarian fascism better than any self respecting genuine "conservative". The NeoCon persuasion from such stalwart beacons of "Kill'em all, and let God sort'em out" philosophy, does not solely reside at Fox. There is more than enough blood on the hands of the last two Democratic administrations to rival the horrible record of George W. Bush.
Government propaganda continues under a bipartisan umbrella of protection. The War of Terror, entirely embraced by the political class of careerist parasites, has only one litmus test; namely, preservation of the empire.
Deflecting the emphasis away from the root cause in the despotism that is rampant in every institution and agency of government merely practices several of the propaganda techniques that Dr. Boaz condemns.
Rewriting history is the function and purpose of an obedient press. Who can dispute that the corporatist media coverage of the entire Obama administration is a textbook example of submissive adoration? The reign of terror is real, but it stems from internal tyrannical policy, not from an external terrorism, which reinvents itself as the situation demands. ISIS is just the latest morphing of a manufactured enemy whose existence is a direct result of clandestine funding, training and mission selection, from our own intelligence community.
Why has this latest maturation of Islamic assassins not set their sights on Zionist Israel? Just look to the controllers of U.S. foreign policy for the obvious answer. Yet a trusting domestic public so easily accepts the latest photoshop images and video cropping of a bogyman executioner. Jihad John, single handily shifted public sentiment to bomb Syria now that you can envision what the lying eyes in the media sees. It is assured that future ISIS locations for drone annihilations must protect all those stolen weapons from Muammar Gaddafi Libya's arsenals.
The War of Terror is the surest bet in town. Tricking American suckers is just as easy as tuning into your latest government propaganda public service announcement.
Rev. Robert Barron was chagrined, but not entirely surprised when he read Woody Allen's recent ruminations on ultimate things. To state it bluntly, said Rev. Barron, Woody could not be any bleaker in regard to the issue of meaning in the universe. We live, he said,
"… in a godless and purposeless world. The earth came into existence through mere chance and one day it, along with every work of art and cultural accomplishment, will be incinerated. The universe as a whole will expand and cool until there is nothing left but the void. Every hundred years or so, he continued, a coterie of human beings will be "flushed away" and another will replace it until it is similarly eliminated. So why does he bother making films — roughly one every year? Well, he explained, in order to distract us from the awful truth about the meaninglessness of everything, we need diversions, and this is the service that artists provide."  (Woody Allen's Bleak Vision, nationalreview.com, Aug. 12, 2014)
Like millions of other evolutionary humanists in rebellion against our Heavenly Father, Woody Allen is a nihilist—a non-person.  The source of his nihilism is the belief that our Heavenly Father is dead and there is no Absolute Truth, that all truth is relative.  According to Eugene (Fr. Seraphim) Rose, nihilism is the basic philosophy of the 20th century:
"It has become, in our time, so widespread and pervasive, has entered so thoroughly and so deeply into the minds and hearts of all men living today, that there is no longer any 'front' on which it may be fought." The heart of this philosophy, he said, was "expressed most clearly by Nietzsche and by a character of Dostoyevsky in the phrase: 'God is dead, therefore man becomes God and everything is possible."  (Nihilism: The Root of the Revolution of the Modern Age, oodegr.com)
Rev. Richard Wurmbrand (1909 –2001), a Romanian Christian minister of Jewish descent possesses penetrating insight into nihilism because it was his own philosophy for many years.  But after fourteen years of physical and mental torment in a man-made hell on earth operated by soulless psychopaths, this courageous pastor emerged with an unquenchable love for Jesus Christ and his fellow man.   According to Wurmbrand, nihilism freezes and hardens the souls of its' dehumanized believers:
"You freeze when you think of yourself as only a complicated product of chemical reactions….You cannot see stars (or your soul) through the microscope or microbes through the telescope.  Men who cannot think rightly come to the conclusion that God does not exist because they cannot find Him through the senses, which are functions of life in the realm of matter.  Senses are not the right means to see God." (The Answer to the Atheist's Handbook, Wurmbrand, p. 105)
The common denominators of Allen's particular form of nihilism as well as those of militant secularism and its' theological and New Age Eastern oriented counterparts are the denial of the supernatural Triune God and creation ex nihilo, the fall (original sin), man as person because created in the spiritual image of the One God in three Persons, Moral Law, immutable Truth, Jesus Christ God enfleshed, His death and Resurrection, heaven and hell.
Within the secular framework there is also denial of angels and demons, especially of Lucifer as the fallen angel Satan.  Other common denominators are the embrace of the idea of either pre-existing or spontaneously generated evolving matter and energy and mankind collectively dehumanized and reduced to aspects of the evolving universe.   All of these myths are validated by scientism—the instrument of fallen man's will.
Whether matter and energy are held to be eternally existing or spontaneously generated (Cosmic Egg/Big Bang) matters not since the common point of departure for all worldviews grounded in matter and energy is metaphysical nihilism,
"… This position has been held by philosophers such as Parmenides, Buddha, Advaita Vedantins, and perhaps Kant (according to some interpretations of his transcendental idealism). Blob theory can also be considered very closely aligned with mereological nihilism (there are no parts and wholes). Obviously if metaphysical nihilism is correct, empirical reality is an illusion." (What is Metaphysical Nihilism? OpenTopia.com)
Concerned creationists have long pointed out that evolutionary scientism is at the heart of the spiritual and moral crisis facing modern man.  A booklet titled The Surrender to Secularism (Cardinal Mindszenty Foundation, 1967) written by Most Rev. Cuthbert O'Gara, former bishop of Yuanling, China, provides a powerful testimony to this truth.  Rev. O'Gara relates the following:
"When the Communist troops over-ran my diocese they were followed in short order by the propaganda corps—the civilian branch of the Red Forces—an organization…more fanatical, then the People's Army of Liberation itself.  The entire population, city and countryside, was immediately organized into distinctive categories (and) forced to attend the seminar specified for his or her proper category and there (forced to submit) to the official Communist line.   Now what…was the first lesson given to the indoctrinees?  The first, the fundamental, lesson…was man's descent from the ape—Darwinism!   Darwinism negates God, the human soul, the after-life.  Into this vacuum Communism enters as the be-all and end-all of the intellectual slavery it has created.  In the Red prison in which I was held, the slogan, 'Bring your mind over to us and all your troubles will end,' was hammered into the minds of the prisoners with brutal and numbing monotony.  Nothing but a groveling holocaust of the human person can satiate the lust for dominance of Peking's Red Regime."  (Article 12: The Quintessential Evolutionist, waragainstbeing.com)
All forms of the evolutionary scientism dominating our modern societies, from the Neo-Darwinism force-fed to our children to militant forms of secularism, occult New Age evolutionary pantheism and their evolutionary theological counterparts, all are variations of metaphysical nihilism demanding a holocaust of the human person:
"It matters little whether we are dealing with Communism, Socialism, Nazism, abortion, the whole secular culture of perversity and death, the exclusion of God from public education, the crisis within the Church, or a whole host of other individual and social agendas – all are intimately related, and have as a powerful causative factor, belief in Darwinian Evolution." (ibid)
Within the Western civilized world, including America, the idea that everything in the universe reduces to matter and energy is found for example, in the thinking of global NWO socialists, America's progressive ruling class, the evolutionary 'Christianity' of Michael Dowd, the Hindu-pantheism of Teilhard de Chardin, the integral evolutionism of Ken Wilber, the dialectical materialism of Karl Marx, and the 20th century's murderous dictators, Lenin, Trotsky, Stalin, Hitler, Mao and Pol Pot.
In his article, "Leftism a Radical Faith," Bruce Riggs notes that much of the political history of the extended twentieth century is that of massive extinctions of citizenries by their dictatorial governments:
"Take the engineered mass starvations, torture chambers, firing squads, and gulags of Lenin and Stalin; Nazi gas chambers; Pol Pot's Khmer Rouge killing fields; the genocides of Mao's "Great Leap Forward"; and the tyrannical North Korean Sung dynasty, and one will find that over one hundred million people
have been slaughtered." (American Thinker, Jan. 1, 2014)
In one way or another, these dictatorial governments systematically dehumanized and murdered millions to create an imagined earthly Eden, said Riggs, and this is clearly irrational.  In this sense, leftist ideology is an atheist religion with the look of a religious inquisition. Klaus Fischer puts it this way:
"[T]otalitarianism represents the twentieth-century version of traditional religiosity; it is in many ways the secular equivalent of the religious life. Unless this crucial point is captured, the quintessential nature of totalitarianism will elude us." (ibid)
This "totalitarian religiosity" is grounded in metaphysical nihilism and the dehumanization and reduction of mankind to aspects of the evolving universe on a par with slugs, weeds, and apes.  This evil religion continues today as a "scientific," secular, politico-centric faith,
"….disdainful of theistic beliefs and contemptuous of those who subscribe to them.  It is a faith that, in its historical manifestations, has birthed the murderous tyrannies of the extended twentieth century — tyrannies that have marched under left-wing banners of Marxism, Communism, and National Socialism, or, more generally and descriptively, Coercive Collectivism." (ibid, Riggs)
As it was for murderous 20th century dictators, so it is for todays' individual evolutionists that metaphysical nihilism and dehumanization of 'others' is liberating, at least during younger years when death is not yet a blip on the radar.  This is  because for the uncreated, liberated autonomous 'self' who is the measure of all things and whose life no longer has any ultimate meaning or purpose there is no valid reason why he personally should not do as he wants to do, or why his debauched, even murderous friends should not do what they want to do.  But the nihilism, egotism, lying, perverse license, and sadistic pleasure attained through psychological domination and manipulation of dehumanized 'dupes' and their children, all of which nihilists rejoice in during their younger years becomes an unbearable source of  despair, horror, night terrors, dread, and thoughts of murder and suicide with the advent of old age and the approach of death.
God, Heaven, Hell, Souls and Demons:  Do They Exist?
At issue for evolutionary humanists is the existence of the supernatural God of Revelation, the Heavenly Creator who spoke everything into existence ex nihilo.   Does He exist and did He reveal Himself to men or not?    Rebellious evolutionists say no, all that exists is the natural dimension of matter and energy in continuous motion measured by time that may or may not involve the working of a god invented and controlled by man.
However, existence within the natural dimension of space and time is not the only form of existence.  Timeless is the supernatural realm (third heaven) of the eternally existing, omniscient, omnipotent, omnipresent Holy God of Revelation.
There are three heavens.  The first is the immediate sky, or earth's atmosphere. (Genesis 2:19; 7:3, 23; Psalms 8:8; Deuteronomy 11:17)  The second is the starry heavens or outer space. (Deuteronomy 17:3; Jeremiah 8:2; Matthew 24:29).  The third heaven is outside of time and space, meaning the first and second heavens, thus outside the reach of man's science.  The timeless heaven is where God and the holy angels and spirits of righteous men in possession of eternal life dwell and to which Paul was taken. (Deuteronomy 10:14; 1 Kings 8:27; Psalms 115:16; 148:4; 2 Cor.12:2)
Furthermore, all people who have had out-of-body experiences by way of near-death or drugs, astral plane travels, or through shamanism for example, can testify to the existence of their own souls as well as of the timeless abode of demons and fallen angels, the "spirits of wickedness under the heavens" (Eph. 6:12) and their chief, "the prince of the powers of the air." (Eph. 2:2) According to the Apostle Paul, fallen angels thrown down from the third heaven are dispersed in a multitude throughout the first heaven.  It is with this timeless abode of fallen angels and demons that shamans interact and to which astral plane travelers from the time of Nimrod to our own have been visiting. According to Francis Huxley and Jeremy Narby:
"Western observers began participating in shamanistic sessions involving hallucinogenic plants, (and) found, to their astonishment, that they could have experiences similar to those described by shamans."   'Life' magazine popularized shamanism in a 1957 story, "In Mexico, American banker Gordon Wasson ate psilocybin mushrooms in a session conducted by (a) shaman."   Wasson described to 'Life's' readers his experience of "flying out of his body."  Narby and Huxley report that "hundreds of thousands of people read Wasson's account, and many followed his example."  (Modern Shamanism: Spirit Contact & Spiritual Progress, James Herrick, p. 17, from "On Global Wizardry, edited by Peter Jones)
When the soul comes out of its' body, as happened to the Satanist William Schnoebelen, it is immediately within the timeless realm of evil spirits.  According to early Church Fathers, if the soul is that of a faithful believer it will be met by one of Gods' Holy Angels and escorted to the third heaven.   If not, as was the case with Schnoebelen, it will meet with deceiving, malignant spirits.
William Schnoebelen was a great hardboiled sinner whose damnable transgressions included Satanism and receiving the mark of Satan during an out of body experience.  His autobiography, Lucifer Dethroned, is a gripping and horrifying account of his descent into the darkest, most frightening side of the occult, magick, spell-casting, vampirism, astral travel and Satanism and his subsequent restoration through grace and the love of Jesus Christ.
Bill was a demonically-empowered Druidic high priest, high-order Mason, ordained spiritist minister and Satanist who frequently "went out of his body" into the timeless realm for various reasons.  As he tells it, one night he was "yanked" out of his body and drawn up through the paths of the Tree of Life toward the zone of Binah or Saturn.  His terrifying journey took him to a vast, obsidian trapezoidal shaped temple called the Cathedral of Pain situated in the midst of swirling stars. The inside walls were clear glass,
"…holding back a transparent green fluid.  Floating within the fluid…were hundreds of naked (horribly mutilated) human bodies.  They were all dead, most with expressions of exquisite terror etched in a rictus on their frozen faces."  Then a pillar of light struck an "obsidian throne," a sacrificial altar, and out of the light "appeared a huge being…robed in white…"  Mighty wings swept his shoulders.  At one moment the winged being was an incredibly handsome man, the next a "bull" and the next a "woman." Chanting began in Latin: "Ave Satanas, Rege Satanas (Hail Satan, Satan Rules)"  Then the terrifying being reached out his left hand "and placed it on my forehead….I felt a claw tear into my brow (and) insert itself into my brain like a white-hot poker.."  Then a voice spoke: "Now you are mine forever."    (p. 157-159)
Schnoebelen was forced to return to the Cathedral of Pain a few more times before turning to Jesus Christ for salvation.  One night he finally got down on his knees and confessed,
"…to the Lord that I was indeed a sinner—perhaps the chiefest of sinners (but) I repented (Luke 15:5) and confessed that Jesus Christ died on the cross for my sins and rose from the dead so that I might have eternal life (Romans 10: 9-10).  I asked Jesus to save me from my sins (Romans 10: 13), and to be the absolute Lord of my life (Romans 12: 1-2)"    Jesus Christ forgave me and set me "free from unbelievable darkness and evil..."   Jesus Christ liberated his demonically oppressed soul."(p. 315)
All people, including 'scientifically enlightened' evolutionary nihilists live in a mysterious world of which we see in part, and that only darkly, because we are imprisoned in the jail of our senses.  But as Schnoebelen, shamanists and practicing occultists such as Carl Jung know, there are all about us and even here on earth powerful, intelligent beings that move so fast we cannot not see them, who emit rays outside the spectrum of our vision and communicate among themselves on a wavelength beyond what man can hear and apprehend, thus they can observe us, inflate our most disordered passions and influence our dreams and thoughts for good or bad.  They can also, by way of telepathy or automatic writing, transmit through someone like Nietzsche or Carl Jung teachings from the demonic realm.
According to the highly celebrated Jung, Philemon, a winged, horned demon, supervised and inspired the writing of the "Seven Sermons to the Dead."  Jung described the occasion like this:
"The whole house was….crammed full of spirits.   They were packed deep right up to the door, and the air was so thick I could hardly breathe…Then it began to flow out of me, and in the course of three evenings the thing (Septem Sermones ad Mortuos) was written." (Jung relates how his soul departed into the timeless realm)…the mystical land of the dead (and) soon after the…..'dead' appeared to me and the result was the Septem Sermones."   (To Hell and Back, Maurice S. Rawlings, M.D., p.143)
Spirits can, and do, influence the minds of proud evolutionary humanists who then trumpet the nihilistic ideas dropped into their minds as their own brilliant ideas and do the work of devils by leading astray millions of people with their damnable soul-destroying teachings.
Evolutionary seculars and their theological and occult New Age counterparts commit grievous sins and live as if they will never die. But the God of Revelation, heaven, hell, angels and demons exist, and even now, without their knowledge, rebellious nihilists are being prepared to receive the mark of Satan on their foreheads unless they repent.   Before it's too late, let them learn from the despairing words of other adversaries of Jesus Christ:
"I am suffering the pangs of the damned."  Talleyrand (ibid, Wurmbrand, p. 158
"Give me laudanum that I may not think of eternity."  Mirabeau
"I am abandoned by God and man.  I shall go to hell.  Oh Christ, oh Jesus Christ!" Voltaire
"What blood, what murders, what evil counsels have I followed.  I am lost, I see it well." Charles IX, King of France
"I would give worlds, if I had them, if the Age of Reason (an anti-Christian book) had never been published.  Oh, Lord, help me. Christ, help me.  Stay with me.  It is hell to be left alone." Thomas Paine
"…I had a feeling that life was ebbing from me.  I felt powerful sensations of dread (then suddenly everything) turned a glowing red.   I saw twisted faces grimacing as they stared down at me (I tried to defend myself but) could no longer shut out the frightful truth: beyond the faces dominating this fiery world were faces of the damned.  I had a feeling of despair….the sensation of horror was so great it choked me.  Obviously I was in Hell itself (and then suddenly) the black silhouette of a human figure began to draw near…a woman…with lipless mouth and in her eyes an expression that sent icy shudders down my back.  She stretched out her arms…and pulled me by an irresistible force (into) a world filled with….sounds of lamentation….I asked the figure…who she was.  A voice answered: "I am death."  (German actor Curt Jürgen's, To Hell and Back, pp. 76-77)
Nihilists are lost and spiritually blind— to the reality of the timeless realms, but especially to the third heaven of our Heavenly Father.  So too are they are blind to the reality of their own frozen souls and to the existence of devils all around them for their foolish hearts are darkened (Rom. 1:21) and their thoughts evil (Gn. 6:5).  They are ignorant, guilty, and corrupt.  They have exchanged God's Revelation for scientism and His Truth and Way for a lie (Rom. 1:25), and their darkened minds are wholly blind to the saving Light of Christ that shines into the hearts of the faithful. (John 8:12)
From his own experience, Eugene Rose believed that a nihilist cannot come to Christ fully until he is first aware of how far he and his society have fallen away from Him, that is, until he has first faced the Nihilism in himself:
"The Nihilism of our age exists in all," he wrote, "and those who do not, with the aid of God, choose to combat it in the name of the fullness of Being of the living God, are swallowed up in it already. We have been brought to the edge of the abyss of nothingness and, whether we recognize its nature or not, we will, through affinity for the ever-present nothingness within us, be engulfed in it beyond all hope of redemption-unless we cling in full and certain faith (which doubting, does not doubt) to Christ, without Whom we are truly nothing."  (Nihilism: The Root of the Revolution of the Modern Age, oodegr.com)
"This is the judgment, that the Light has come into the world, and men loved the darkness rather than the Light, for their deeds were evil."  "For everyone who does evil hates the Light, and does not come to the Light for fear that his deeds will be exposed.… (John 3:19-20)
For all who repent of their sins, combat their nihilism with the aid of God and unite with the faithful who persevere in the Way of Christ, death is merely a doorway to eternal physical life, first in the third heaven for a while, then in a physical Paradise—the earth and heavens renewed and remade in unimaginably wondrous ways.   But for the stubborn, dehumanized nihilist who prefers darkness to Light the approach of old age and death are accompanied by increasing afflictions of the mind—despair, depression, nightmares, inexplicable feelings of dread and horror—because beyond the grave lies only eternal remorse in utter darkness.
There is this notion, one we hear more and more, that the Republican Party has to shed the social issues to seize the future. "Social issues are not the business of government!" says thoroughly modern millennial. It's a seductive cry, one repeated this past Tuesday in an article about how some young libertarians dubbed the "Liberty Kids" are taking over the moribund Los Angeles GOP. Oh, wouldn't the political landscape be simple if we could just boil things down to fiscal responsibility? But life is seldom simple.
If you would claim to be purely fiscal, or assert that "social issues" should never be government's domain, I'd ask a simple question: would you have no problem with a movement to legalize pedophilia?
Some responses here won't go beyond eye-rolling and scoffing. Others will verbalize their incredulity and say that such a movement would never be taken seriously. This is not an answer but a dodge. First, the way to determine if one's principles are sound is by seeing if they can be consistently applied. For instance, if someone claims he never judges others, it's legitimate to ask whether he remains uncritical even of Nazis and KKK members; that puts the lie to his self-image. And any thinking person lives an examined life and tries to hone his principles.
Second, there is no never-land in reality. People in the '50s would have said that homosexuality will "never" be accepted in the US. And Bill O'Reilly said as recently as 15 or 16 years ago that faux marriage (I don't use the term "gay marriage") would "never" be accepted in America. Sometimes "never" lasts only a decade or two.
Third, my question is no longer just theoretical. As I predicted years ago and wrote about here, there now is a movement afoot — one that has received "unbiased" mainstream-media news coverage — to legitimize pedophilia. Moreover, it has co-opted the language of the homosexual lobby, with doctors suggesting that pedophiles are "born that way" and have a "deep-rooted predisposition that does not change," a film reviewer characterizing pedophilia as "the love that dare not speak its name" and activists saying that lust for children is "normative" and those acting on it are unjustly "demonized." Why, oneLos Angeles Times article quoted a featured pedophile as saying, "These people felt they could snuff out the desire, or shame me into denying it existed. But it's as intrinsic as the next person's heterosexuality." My, where have we heard that before?
So, modern millie, as we venture further down the rabbit hole, know that one day you may be among "these people," these intolerant folks who just can't understand why "social issues" should be kept out of politics and government out of the bedroom.
I should also point out that a movement advancing bestiality has also reared its head, using much of the same language as the homosexual and pedophiliac lobbies.
Of course, I'm sure that many libertarians have no problem with legalized bestiality; hey, my goat, my choice, right? And there may even be a rare few who would shrug off pedophilia, saying that, well, if a child agrees, who am I to get in the way of a consensual relationship? But these issues, as revolting and emotionally charged as they are, are just examples. There are a multitude of others, and this becomes clear if we delve a bit more deeply.
After all, what are "social issues"? What are we actually talking about? We're speaking of moral issues, which, again, thoroughly modern millie would say should be kept out of politics. But this is impossible. For the truth is that every just law is an imposition of morality or a corollary thereof — every one.
Eyes may be rolling again, but let's analyze it logically. By definition a law is a removal of a freedom, stating that there is something we must or must not do. Now, stripping freedom away is no small matter. Why would we do it? Unless we're sociopathic, like Aleister Crowley believe "Do what thou wilt shall be the whole of the law" and are willing to impose our will simply because it feels right, there could be only one reason: we see the need to enforce an element of a conception of right and wrong. We prohibit an act because we believe it's wrong or mandate something because we believe it's a moral imperative. This is indisputable. After all, would you forcibly prevent someone from doing something that wasn't wrong? Would you force someone to do something that wasn't a moral imperative? That would be truly outrageous — genuine tyranny.
There are laws where this is obvious and unquestioned, such as the prohibition against murder. But the same holds true even when the connection to morality isn't so obvious, such as with speed laws: they're justified by the idea that it is wrong to endanger others.
Then there is legislation such as ObamaCare. The wind beneath its wings was the idea that it was wrong to leave people without medical care; this case was consistently made, and, were it not for this belief, the bill could never have gotten off the ground. Or consider the contraception mandate and the supposed "war on women": the issue would have been moot if we believed there was nothing wrong with waging a war on women.
Some will now protest, saying that there is nothing moral about ObamaCare and the contraception mandate. I agree, but this just proves my point. Note that my initial assertion was not that every law is the imposition of morality — it was that every just law is so. Some legislation is based on a mistaken conception of right and wrong, in which case it is merely the imposition of values, which are not good by definition (Mother Teresa had values, but so did Hitler). It is only when the law has a basis in morality, in Moral Truth, which is objective, that it can be just. Hence the inextricable link between law and morality. For a law that isn't the imposition of morality is one of two other things: the legislation of nonsense or, worse still, the imposition of immorality.
So this is the fatal flaw behind the attack on social conservatives. It would be one thing if the only case made were that their conception of morality was flawed; instead, as with those who sloppily bemoan all "judgment," they're attacked with a flawed argument, the notion that their voices should be ignored because they would "impose morality." But what we call "social conservatives" aren't distinguished by concern for social issues; the only difference between them and you, modern millie, is that they care about the social issues that society, often tendentiously, currently defines as social issues and which we happen to be fighting about at the moment. This is seldom realized because most people are creatures of the moment. But rest assured that, one day, the moment and "never" will meet. And then you very well may look in the mirror and recognize that most unfashionable of things: a social-issues voter.
"Actually, as Winston well knew, it was only four years since Oceania had been at war with Eastasia and in alliance with Eurasia. But that was merely a piece of furtive knowledge, which he happened to possess because his memory was not satisfactorily under control. Officially the change of partners had never happened. Oceania was at war with Eurasia: therefore Oceania had always been at war with Eurasia. The enemy of the moment always represented absolute evil, and it followed that any past or future agreement with him was impossible…" – George Orwell, 1984
Nations, cultures and populations are best controlled through the use of false paradigms. This is a historically proven tactic exploited for centuries by oligarchs around the world. Under the Hegelian dialectic (the very foundation of the Marxist and collectivist ideology), one could summarize the trap of false paradigms as follows:
If (A) my idea of freedom conflicts with (B) your idea of freedom, then (C) neither of us can be free until everyone agrees to be a slave.
In other words: problem, reaction, solution. Two sides are pitted against each other in an engineered contest. Each side is led to believe that its position is the good and right position. Neither side questions the legitimacy of the conflict, because each side fears this will lead to ideological weakness and disunity.
The two sides go to war, sometimes economically, sometimes militarily. Both governments demand that individuals relinquish freedom, independence and self-reliance, a sacrifice that "must be made" so that victory can be achieved. In the end, neither nation nor society has truly won. The only winners are the oligarchs, who sing words of loyalty to their respective camps, while acting in league from the very beginning. The oligarchs, who never intended to target each other in the first place. Their target, their ONLY target, was the citizenry itself — the dumbfounded masses now mesmerized with shock, awe and terror.
The false paradigm method and the Hegelian dialectic are in full force today. Only a few years ago, Russia, China and the United States were considered close economic and political allies. Today, those alliances are being quickly scrapped in order to make room for conflict, a conflict useful only to a select international elite. As I have outlined in numerous articles, includingRussia Is Dominated By Global Banks, Too and False East/West Paradigm Hides The Rise Of Global Currency, when one looks beyond all the theatrical rhetoric being thrown around between Barack Obama and Vladimir Putin, the ultimate reality is that the relationship of both governments to the global banking elite is the same.
During both of Obama's Presidential terms, he has flooded his cabinet with current and formeremployees of Goldman Sachs, a longtime proving ground for elitist financiers with globalist aspirations.
And who is the primary economic adviser to Vladimir Putin and the Russian state? WhyGoldman Sachs, of course!
U.S. and European elites have been calling for a centralization of economic power under the control of the International Monetary Fund, as a well as a new global currency.
Not surprisingly, Putin also wants a new global currency under the control of the IMF.
Obama is closely advised by globalists like Zbigniew Brzezinski, a member of the Council on Foreign Relations and cofounder of the Trilateral Commission, who in his book Between Two Ages: America's Role In The Technetronic Era states:
"The nation-state is gradually yielding its sovereignty …[F]urther progress will require greater American sacrifices. More intensive efforts to shape a new world monetary structure will have to be undertaken, with some consequent risk to the present relatively favorable American position…"
As long as he has been in power, Putin has been closely advised by Henry Kissinger, yet another member of the CFR and proponent of the Trilateral Commission, who has said:
"In the end, the political and economic systems can be harmonized in only one of two ways: by creating an international political regulatory system with the same reach as that of the economic world; or by shrinking the economic units to a size manageable by existing political structures, which is likely to lead to a new mercantilism, perhaps of regional units. A new Bretton Woods kind of global agreement is by far the preferable outcome…"
Both Kissinger and Brzezinski refer to this harmonized global economic and political structure as the "New World Order." The fact that the political leaders of Russia and the United States are clearly being directed by such men should not be taken lightly.
China, too, has made demands for a restructuring of the global monetary system into acentralized currency basket under the dominance of the IMF.
China's ties to the banking elite of London are well documented.
The call on both sides for a new monetary system and the end of the dollar as world reserve seems to greatly contradict the fantasy that the East and West are fundamentally at odds.  The progression towards a world currency and/or economic governance also appears to be growing along with the consolidation of economic and military ties between Eastern nations. This would suggest that the rise of the East and the crippling of Western elements is actually advantageous to global bankers in the long term.
While disinformation agents and media shills have attempted to downplay any danger to the strength of America and the dollar, Eastern governments have been swiftly establishing alliances and decoupling from U.S. influence.
The historic 30-year Russia/China gas deal has, of course, been finalized. This deal is already eating up market space and influencing the way in which the energy trade traditionally behaves.
China and Russia have also expanded on their bilateral agreements made in 2010, which remove the dollar as the reserve currency in transactions between the two nations.
China's thirst for gold continues, while the country is now building its own gold exchange to rival the U.S. Comex.
Russia has recently established what Putin calls the "Eurasian Economic Union," a deal which includes Kazakhstan and Belarus, two countries that hold large, freshly discovered oil fields.
In response to the engineered conflict over Ukraine, as well as the "Asian-Pacific Pivot" by the U.S., China has openly called for a new security pact with Russia and Iran.
Let's also not forget that China is set to surpass the U.S. as the world's largest economy by 2016, according to the Organization for Economic Co-operation and Development (OECD).
While the rise of the East is being painted in Western circles as a threat to U.S. and NATO dominance, the bigger picture is being hidden from view. Yes, indeed, the consolidation of the East is a considerable threat to the dollar and the U.S. economy — most importantly in the event that China refuses to accept dollars as payment on exports and debts. With the world's largest exporter/importer refusing to take dollars as a reserve, most nations will inevitably follow their lead.  The argument against this development is, of course, that there is no rational trigger for such a violent fiscal attack. I would remind skeptics that there was no rational trigger for the current strengthened relations between Russia and China until the Ukraine crisis. Is anyone really foolish enough to bet against another direct or indirect conflict between NATO and the East? And is anyone really ignorant enough to assume that said event would not be used as an excuse to cut the legs out from under the dollar completely?
The New World Order players have positioned the East and West for just such a scenario. Why? In my article Who Is The New Secret Buyer Of U.S. Debt?, I give evidence indicating that the Bank of International Settlements and the IMF are preparing the financial world for a new global monetary system, brought into existence by a second Bretton Woods conference. The debasement of the dollar and the rise of the East are NOT obstacles to this plan.  Rather, they are required factors. There can be no truly global economic system without "harmonization", the demise of the dollar's world reserve status, and the end of sovereign economic governance.
For those who doubt this scenario, read Paul Volcker's latest statement, as reported by Zero Hedge.
Volcker, the same man who was directly involved in the destruction of the first Bretton Woods agreement and the final death rattle of the gold standard, is now promoting a NEW Bretton Woods-style agreement in which currencies are pegged to a controlled market system — in essence, a centralized international monetary system. Volcker also suggests that a single nation-based reserve currency like the dollar may be a danger to overall fiscal health.
Volcker is right. The dollar-dominated forex casino and fiat fraud is a danger to the world. Volcker helped make it that way! And what a surprise, the former Federal Reserve chairman has a solution on a silver platter for the American people — all we need is GLOBALcentralization and bureaucratic oversight.
The propaganda is being carefully planted within the mainstream. Christine Lagarde of the IMF now spends the whole of her media interviews inserting the phrase "global economic reset" without explaining exactly what that would entail, while central banking elites like Volcker suggest a Bretton Woods II conference leading to a global monetary authority. In the meantime, Russian government-funded media outlets like RT produce pieces accusing the U.S. of being a nuclear menace while we Americans get to watch manipulative Hollywood films like "Jack Ryan: Shadow Recruit," which depicts a Russian plot to collapse the U.S. economy.  China and U.S. representatives squabble with each other at geopolitical meetings fueling fears of diplomatic breakdown, while the Pentagon "suggests" they may have to revamp their military strategies in consideration of yet another World War.  Just as in Orwell's book, 1984, old enemies become allies and then enemies once again, and at the top of the pyramid, it's all a farce.
The best lies contain elements of truth. The truth here is that the East is forming alliances in opposition to the West, the West is involved in underhanded covert operations all over the planet, and both "sides" are in fact on the verge of a catastrophic battle for supremacy. The great lie is that important details have been left out of our little story. Both sides are merely puppet pieces in a grand game of global chess, and any conflict will ultimately benefit the small group of men standing over the board. They include the international financiers who have influenced the very policy fabric of each government toward a climactic crisis which they hope will finally give them the "New World Order" they have always dreamed of.
Source: Brandon Smith | Alt-Market
Ask any "gun guy," and he'll not only have an opinion, he'll have the opinion. Ask any "pistol-packing mama," and she'll not only offer an answer, she'll offer the answer. At every shooting range, in every gun shop, at every hunting lodge, the question has been asked, answered and asked again. What is the right gun? Specifically, what is the right gun for home defense?
I set out to try to find a definitive answer to the question, and I arrived at one — and only one — inescapable conclusion: The diversity of opinion on the "perfect" gun for home/personal defense ranges wider than Michael Moore's already overburdened waistline.
Before I offer you my own take, let's establish a few ground rules:
There's only one statement on which everyone ought to agree: If you need a gun, you'd bloody well better have one. I'm sure that a baseball bat seems like a good substitute; but if your home, life and/or the lives of your loved ones are on the line, you'd be better served by staying out of arms' reach of the assailant. I don't care if you're Quentin "Rampage" Jackson, Randy Couture and Brock Lesnar all rolled into one. If you can stop a home invader before he gets his hands on you, you're better off. Besides, the fact that you look like a Mixed Martial Arts champion didn't scare him enough to keep him out of your house in the first place.
Power isn't everything. The fact that you own a Blaser R8 chambered in .375 H&H is pretty cool. But you're not looking to stop a charging rhino at 100 meters; you're looking to stop a charging crackhead at less than 10 meters. Unless you live in one of those Malibu palaces Barack Obama's Hollywood friends call home, you probably lack both the square footage and the sight lines to make any of the larger hunting calibers a good choice. Also, high-powered rifle rounds will not only go through a criminal, they'll go through the wall behind him, the framing, the exterior stucco, the neighbor's exterior stucco, their framing and their living room wall. Leave the elephant gun in the safe, Bwana. In fact, the power rule applies to virtually any of the larger-game hunting/sniper calibers. I own a PSL. It's a Romanian-made designated marksman rifle built on a stretched-AK platform and chambered for the 7.62x54r round. It's actually a fine weapon, an excellent deer rifle, and is effective at distances exceeding 800 meters in the right hands. It's also a lousy choice for CQB. Not only is the PSL overpowered for standard home dimensions, it's about 4 feet long. Have fun turning the corner next to the downstairs bathroom while carrying a canoe paddle. Moreover, if you miss your first shot, the recoil may make a decent follow-up shot hard to come by once the bad guy is closer to you than your muzzle brake.
Know your gun. Outside the politics, a gun is just a machine. Take it home, learn to disassemble it, clean it, oil it and maintain it. After you learn proper care and feeding of your firearm, take it to the range and learn how to shoot it. The same gun your buddy uses to dot I's and cross T's at 50 feet won't just jump into your hand and begin making smiley-faces on your Shoot-n-C's™ from the jump. Whatever weapon you settle on, you'd better know how to handle every stage of owning it. If it's for home defense, you're literally betting your life on it.
Be comfortable with the gun you choose. Some of my friends believe that comfort should take a backseat to effectiveness. Of course, some of my friends are speaking from live combat experience. Rangers knock down islamofascists in Waziristan a world away from your kitchen. A home defense scenario is as bad a situation as most people are likely to encounter. If you're going to have to engage some scumbag in a firefight, give yourself as much of an advantage as possible.
Size matters, sort of. A .40 to the forehead will end any dispute. So will the aforementioned .375 H&H. But so will a .22. My wife owns a Ruger 10/22. The stock has been repainted in a color Glidden refers to as "French Lilac." It wouldn't be my first choice for virtually anything. But it can punch holes in paper at 100 meters, meaning it can punch holes in humans at 15 paces. Remember, you're not trying to start a firefight; you're trying to end one. Don't discount the .22 just because it's small. It won't matter to the assailant. Small caliber firearms are lightweight, accurate and easy for even small-framed people to wield — even in French Lilac.
The Shotgun myth. Actually, the shotgun myths. Don't get me wrong; shotguns are excellent CQB/home defense weapons. But they're hardly the room-clearing bulldozers depicted in the movies. Contrary to popular belief, you do have to aim a shotgun, even at inside-the-house distances. Bird shot from a Winchester Defender 1300 will expand more than buckshot, but it won't knock down a guy who's 15 feet away from you if you aimed 3 feet to the left of him.Always aim, even with a .12 gauge. I really do recommend bird shot over buckshot and slugs. No. 6 birdshot is lethal inside 15 paces. While slugs are potent man-stoppers, they will also pass through a lot of material before coming to rest. That's fine if you live on the Kennedy compound — not so much if you live in a subdivision. If you choose a pump-action shotgun, don't make the ridiculous mistake of racking the slide as a warning. The assailant is already in your house. By racking the slide, all you've done is give away your location. He might run; but he also might take cover, draw his own weapon and wait for you to step into a killbox. Also, I can't imagine heading to a gunfight without chambering a round first. Save the theatrics for the Stallone films.
Pistols versus rifles: Which is better? In general, both/neither. Again, it's a matter of comfort and confidence for the individual defending his home. If I can ping some thug in the dome with my cute little NEA .22 magnum derringer, then the .22 magnum is a fine choice. If I'd rather "slice the pie" with my AR, then that's the right choice. However, I would remind you that a properly wielded pistol is wielded at arm's length, making the shooter's profile only a couple of inches shorter than the same person with a standard AR. Don't discount the AR just because it's longer. Just remember the earlier rules: Know your surroundings.
Pistols versus pistols: Revolver or semi-automatic? Conventional wisdom holds that a revolver is a better home defense weapon than a semi-automatic because fewer moving parts means fewer chances for Murphy's Law to appear in the middle of your house on fight night. But today's firearms are — generally — made to high- and tight-enough standards that a well-maintained firearm in the hands of a reasonably intelligent person will work when the time comes.
A note about ammunition: Excepting shotguns, load your weapon with hollow-point rounds. The design of hollow-point rounds ensures greater expansion of the wound channel, damage to internal parts and less chance of rocketing through the target and out the other side. Kill the attacker, not the neighbor's cat, nor the neighbors.
With all of that in mind, here are my choices:
"Tactical" shotguns. From Mossberg, Benelli, Remington and many more, the short-barreled shotgun loaded with birdshot is immensely powerful, reasonably accurate, fairly easy to maintain and comparatively inexpensive. The aftermath will be messy, but better to clean the carpet than be cleaned out of the carpet.
Pistol caliber carbines. These guns get left out of a lot of similar discussions, and I'm not sure why. Police officers across the Nation carry .40 service weapons. Why not add a little length to the gun, thereby giving it more muzzle velocity and less recoil? Besides, PCC's are still short enough to move around in CQB without a hitch. Thanks to HK, Kel-Tec, Beretta and others, PCC's are plentiful, inexpensive and a lot of fun to shoot.
The Taurus Judge. Load it with 410-bore shotgun shells, not the .45LC rounds. Keep in mind, 45LC and 45ACP are not the same caliber.
The AR-15. Minimal recoil, excellent accuracy and plentiful ammunition make the AR a no-brainer in nearly any situation.
Ultimately, I can offer two pieces of advice upon which everyone from the combat-tested veteran to the driven-hunting dove shooter can agree when it comes to guns and home defense:
Have a gun.
Win.
The rest is up to you. I hope you never have to test any of this. The best way to handle a gunfight is to avoid it entirely. However, if someone else forces one upon you, choose wisely. Your life may literally depend on it.
Source: Personal Liberty Digest
"Aliens visiting Earth would report back to their superiors: 'It's quite amazing, those people worship images. They know it and they pretend not to know it.'" — Hypnotherapist Jack True.
This is a backgrounder for my mega-collection, Exit From The Matrix, which contains many exercises designed to liberate an individual from the standardized perception of reality—and usher in his own creative reality.
Mass mind control focuses on two elements: image and feeling.
By linking the two primary elements, it is possible to short-circuit thought and "cut to the chase," when it comes to enlisting the allegiance of huge populations.
Two seemingly unrelated events spurred my interest in mass mind control.
On the evening of April 12, 1945, I listened to a radio report on the death of Franklin D Roosevelt. I was seven years old.
I became upset. I didn't know why. I was angry at my own reaction.
Forty years later, I pulled into a gas station near my apartment in West Los Angeles. I got out of my car and took the cap off my gas tank. I looked to my right and saw Tony Curtis sitting in his car. I was shocked.
A few days later, I began making notes under the heading of "image-emotion cues." At the time, I was working as a reporter, writing articles for LA Weekly. I knew next to nothing about mind control, MKULTRA, Soviet psychiatric gulags, Chinese re-education programs, or US psychological warfare operations.
But because I had been painting for 25 years, I knew something about the power of images.
I remembered my first exhibition of paintings in LA, at my friend Hadidjah Lamas' house. We had hung my work in her large living room and dining room. Hadidjah had enlisted the services of a friend who had videotaped me painting in my studio, and at the exhibition she set up a television set out on her patio and continuously played the videocassette.
People came through her front door, almost automatically walked through the house to the patio, as if guided by an unseen hand, and watched the video; then they came back inside and looked at the paintings.
They would stop at a painting and say: "That picture was in the video!" It excited them.
My first note on "image-emotion cues" was, "Investing an image with importance. Projecting emotion into an image."
Projecting emotion into a newspaper image of the president, FDR. Projecting emotion into the screen image of Tony Curtis. Projecting emotion into a video of a painter working in his studio.
When people encounter an image, when they invest it with importance, they project feeling into the image—and this all happens in a private sphere, a private space.
If this didn't happen, there would be no way to control populations through images. It wouldn't work. It all starts with a person setting up his own personal feedback loop that travels from him to an image and back again.
Coming out of World War 2, US psychological warfare operatives knew they could turn their skills to political purposes. They had just succeeded in making Americans believe that all Japanese and German people were horribly evil. They had been able to manipulate imagery successfully in that area. Why couldn't they shape America's view of a whole planet that lay beyond personal experience?
They could and they did. But the power to do that emanated from the fact that every person invests images with feeling. That's where it really starts.
I had seen the 1957 film, Sweet Smell of Success, a number of times. I admired it. Burt Lancaster and Tony Curtis gave tremendous performances. When, decades later, I saw Curtis sitting in his car at that gas station, I was "working from" the emotion I had invested in his onscreen image. It produced a sense of shock and paralysis for a few seconds.
Other people might have rushed up to Curtis and asked for his autograph. With me, it was shock, cognitive dissonance. Ditto for the death of FDR. I was working off newspaper pictures I'd seen of him, and the feeling I'd invested in those presidential images. Other people, when FDR died, went out into the street and hugged their neighbors and wept openly. For me, it was upset and shock and anger.
There's nothing intrinsically wrong with investing emotion in images. It can be exhilarating. It can be uplifting. As a painter, I know this in spades. Putting emotion into images can, in fact, vault you into a different perception of reality.
But on the downside, it can also take you into lockstep with what media/propaganda operatives want you to experience, second-hand.
We focus to such a degree on how we are being manipulated that we don't stop to consider how we are participating in the operation. And our own role is clear and stark: we invest images with feeling.
So how does one individual's projection of feeling into an image become a uniform projection of the same feeling into one image, by millions of people? How does what one person invests privately become mass mind control?
Through external instruction or cues. And also, by engendering the idea that there is only a limited palette of emotions to work with in the first place.
Why do millions of people fall into line?
Because they don't realize they started the whole ball rolling themselves. All they know is: images are connected to feelings.
If they knew they were the real power in the whole operation, if they knew they were investing feelings into images all day long, if they could actually slow down enough to see how they do this….then they would be far less prone to taking instruction about what feelings they "ought to" invest in second-hand images.
Hypnotherapist Jack True unceremoniously put it to me this way: "If a dog could analyze how he got from eating meat to drooling at the sound of a bell that came at feeding time, he could stop drooling."
(If Chris Matthews could analyze how his own voluntary investment of feeling in the image of Barack Obama sends a tingle up his leg, he could stop tingling.)
We see images of people rioting all over the Middle East. We see burning flags and crowds outside embassies. We're supposed to invest our own anger and resentment into those images. Unless we're suddenly told those rioters are actually "the good rebels," in which case we're supposed to invest our joy in the images.
We see a picture of miles of flat farmland and (GMO) corn waving in the breeze. We're supposed to invest that image with feelings of happiness and pride.
Nowhere are we told we can back up a step and realize that we are the ones who begin the whole process, by projecting feelings into images. Any images.
When I was 19, I was sent to a trained expert in New York to take a Rorschach (ink-blot) Test. I was displaying signs of what would now be called Oppositional Defiance Disorder.
The expert said he wanted me to tell him everything I saw in each ink-blot. I took him at his word.
An hour later, I was still working on the first blot. I was describing everything from bats and owls and chickens to space ships and buckets of hidden treasure in caves.
Well, I was cheating a little. I wasn't really describing what I saw. I was imagining. I was taking off from what was on the page and improvising. This was outside the bounds of the Test.
The expert was seething. He was sweating, because he had many other blots to show me, and it was late in the afternoon, and he was looking at spending the entire evening with me. Finally, he held up his hand and put an end to the Test.
I wasn't playing his game. Among other sins, I wasn't investing a limited palette of feelings in the images. Therefore, my choices of "what to see" in the blots expanded greatly.
When I go to a museum, I like to watch people stand in front of abstract paintings. Many of them are stumped. They're trying to figure out what feelings they "are supposed to" project into the painting. They're looking for "instruction," and there isn't any. They're asking for mind control, and they're not getting it.
Fanaticism of any kind begins with individuals projecting feelings into images. This is harnessed by leaders, who then choose the images and direct which feelings are permitted. The tempting prospect for the follower is: participation in a drama that goes beyond what he would ordinarily experience in life. This is bolstered by the idea that what he is doing is moral.
In an election season, people on the left are urged to project messianic feelings into images of X. People on the right are cued to invest feelings of pride, hope, and "tradition" into images of Y. The real candidates aren't actually experienced.
Since Vietnam, shooting wars have been more difficult to sustain among soldiers. "In the old days," feelings of hatred could be projected into images of enemies that included civilians, so overtly killing everybody on foreign soil was easier to accept. Now, soldiers are taught "enemy combatant" and "civilian" are two different images that require the injection of two different feelings.
Here at home, police and military are taught, more and more, to invest feelings of suspicion into images of American civilians. This is an acceleration of mass mind control for law enforcement.
The astonishing number of civilians who participate in government and corporate surveillance of the public, through technological means, learn to invest "dead empty feelings" into images of citizens, as if these targets are nothing more than ciphers, units.
Bizarre instances of police detaining and questioning parents who allow their children to play unsupervised reveal another accelerating trend. These confrontations start with neighbors snitching on the parents. The neighbors have learned to invest feelings of panic, suspicion, and anger in images of "free children."
In all these cases, there is no real experience. It's all second-hand. It's all feeling-projected-into-image.
In the medical arena, countless advertisements and news stories are geared to convince people to invest feelings of trust in images of doctors. The suggestion, "Ask your doctor if X is right for you," is framed as the solution to a little problem. The problem is set this way: Drug X is wonderful; drug X has serious adverse effects; what to do? Solution: ask your doctor; trust him; he knows.
As the class of victims in society has grown by leaps and bounds, including any group that can organize and promote itself as needing help or justice—going miles beyond the people who really do need assistance—citizens have been trained to invest feelings of sympathy and concern for all images of victims everywhere, real or imagined. This, too, is mass mind control.
Pick an image; invest feelings in it. Facts don't matter. Evidence doesn't matter.
You've heard people say, So-and-so (a celebrity) has become a caricature of himself. Well, that's what it means. The celebrity has projected massive feelings of approval into a concocted, cartoonish image of himself.
As a society, we can go on this way until we become a horrific cartoon of a cartoon (well, we're already there), or we can step back and discover how we invest emotion into images, and then use that process to pour feelings into visions of our own choosing and invent better futures.
Since the dawn of time, leaders have portrayed themselves as gods. They've assembled teams to promote that image, so their followers could project powerful emotion into the image and thereby cement the leaders' control and power.
The game isn't new. Understanding the roots of it within each individual could, however, break the trance of mass mind control.
During the first West Nile fake outbreak of 1999, I spoke with a student who had just dropped out of medical school. He told me he'd been looking at electron-microscope photos of the West Nile Virus, and he suddenly realized he was "supposed to" invest feelings of "great concern" in those images.
Somehow, he broke free from the image-feeling link. He was rather stunned at the experience. His entire conditioning as a medical student evaporated.
Parents all over the world are having the same experience vis-a-vis vaccines. They realize they're supposed to invest fear in images of germs and disease, and they're also supposed to invest feelings of hope and confidence in images of needles and vaccines. They see the game. They're supposed to remain victims of mass mind control.
But they've awakened.
We've all been taught that what we feel is always and everywhere out of our control. These feelings are simply part of us, and we have to act on them. The alternative would be to sit on them and repress them and turn into androids, robots.
This is simply not true. There are an infinite number of feelings, and as strange as it may sound, we can literally invent them.
This, it is said, is inhuman. It's a bad idea. It's wrong. It would lead us to "deserting the human community."
Nonsense. That's part of the propaganda of mind control. If the controllers can convince us that we're working from a limited map of emotions and we have to stay within that territory, they can manipulate that limited set of feelings and trap us.
The power of art is that it shows us there are so many more emotions than we had previously imagined. We can be much freer than we supposed.
The synthetic world of mind control and the handful of feelings that are linked to images is what keeps us in thrall.
The world—the world of what we can be—is so much wider and more thrilling and revealing.
The author of three explosive collections, THE MATRIX REVEALED, EXIT FROM THE MATRIX, and POWER OUTSIDE THE MATRIX, Jon Rappoport was a candidate for a US Congressional seat in the 29th District of California. He maintains a consulting practice for private clients, the purpose of which is the expansion of personal creative power. Nominated for a Pulitzer Prize, he has worked as an investigative reporter for 30 years, writing articles on politics, medicine, and health for CBS Healthwatch, LA Weekly, Spin Magazine, Stern, and other newspapers and magazines in the US and Europe. Jon has delivered lectures and seminars on global politics, health, logic, and creative power to audiences around the world. You can sign up for his free emails atwww.nomorefakenews.com
Source: Jon Rappoport  |  No More Fake News
It is easy to stand up and cheer for your favorite government activity. It is quite another to acknowledge what it means in the real world.
I almost never try to speak for other people. However, I think it is fairly safe to say that the average military recruit firmly believes that he joins the military so that you and I can live and breathe in freedom. To be sure, he had other reasons for joining, but I think the defense of liberty is a fairly common characteristic.
That is certainly what I thought when I was in Navy boot camp in Orlando, Florida, in 1983. After all, this is what I had been told all my life: sailors, soldiers, airmen and marines defend freedom.
But is this actually what they do?
Consider the following:
This Marine lost both legs in an IED blast in Iraq. He claims he was forced by TSA to remove both prosthetic legs before he could board an airplane in Phoenix.
This Vietnam veteran in Spicewood, Texas, had flashbacks to his combat experience during a marijuana raid at a friend's house. What police claimed was marijuana turned out to be ragweed.
Jared Goering, who served 19 years in the Army, including tours in Iraq and Afghanistan, was kicked off the boardwalk in Wildwood, N.J. for walking with his service dog, Gator.
Emily Yates, who served two tours with the Army in Iraq, was violently arrested by park police in Philadelphia for asking why she couldn't play her banjo under some shade trees.
Dimitrios Karras is a Marine Corps veteran of Iraq and Afghanistan. Read about the ATF raid on his business in National City, California.
Martin Goldberg of Brooklyn is a World War II veteran whose apartment was subject to a drug raid. Later, the cops realized they had raided the wrong apartment. His 83-year-old wife was hospitalized with an irregular heartbeat as a result of the raid.

In 1997, four sailors from the USS Saipan (LHA-2) were falsely accused of the rape and murder of a Norfolk, Virginia, woman. One spent eight-and-one-half years in prison while the other three were sentenced to life in prison. These three were pardoned in 2009. Even though the actual killer is serving a life sentence, four innocent men are still required to register as sex offenders and are still fighting to clear their names.
Charles Loeks was 18 and fresh out of Marine boot camp. On a trip home to Covina, California, he was hanging out with a few friends when he was arrested for resisting arrest and nothing else. He spent 21 days in Los Angeles County jail, even though he had harmed no one.
Carlos Jaramillo is a former Marine combat instructor who lives in Onslow County, North Carolina. Watch what happened when he recorded a sheriff's deputy who arrested him for no apparent reason.
Noel Polanco was an unarmed 22-year-old National Guardsman who was shot and killed by New York City police at a traffic stop near LaGuardia Airport.
John Laigaie, a retired Army master sergeant, was threatened at gunpoint by police while legally carrying a gun in a park in Bellingham, Washington.
Homer Wright is an 80-year-old Army veteran who was charged with felony gun use after he shot a burglar who entered his home in Englewood, Illinois.

Mark Schmidter, a Vietnam veteran who lives in Orlando, is currently serving 145 days in a cage for passing out jurors' rights information on the steps of a local courthouse.
Justin Ross of Ankeny, Iowa, was recently discharged from the Army. Police used a battering ram to enter his home executing a warrant for some items purchased with stolen credit cards. They did not find any of these items.
Saadiq Long is an Air Force veteran who was placed on a TSA no-fly list. He had to battle for months to be removed from this list just so he could fly home from Qatar to visit his ailing mother.
Chuck Benton of Long Grove, Iowa, served 22 years in the Army. He was arrested and charged simply for living in the same house with his son who was growing medical marijuana.
Cody Donovan is a former Marine MP who lives in New Milford, N.J. He was charged with unlawful possession of a weapon after carrying a loaded gun into the Garden State Plaza mall when he attempted to help police apprehend the shooter.

In 1932, 17,000 veterans marched on Washington to demand payment of bonuses they had been promised as a result of their service in World War I. Two were shot and killed by police. 55 were arrested and 135 were injured when the United States Army became an instrument of domestic law enforcement. Two of the chief enforcers were named MacArthur and Patton. Yes, those two.
Mark England, an Army combat medic who saw action in Iraq and Kosovo was beaten and tasered by police at McCarran Airport in Las Vegas.
Air Force Staff Sergeant Matt Pinkerton of Glen Burnie, Maryland, faces second degree murder charges after fatally shooting a home intruder in September.
Leo Hendrick, an army veteran who lives in Northwood, Iowa, faces up to 30 days in jail and a $600 fine for raising chickens in his yard.
Yes, the cops had a search warrant. However that in no way excuses their vandalizing the home of Army veteran Dan Neary of Lakewood, Washington.
These World War II veterans were threatened with arrest for visiting a closed war memorial in Washington, D.C. during the October "shutdown."

These Vietnam veterans actually were arrested for visiting a New York City war memorial after curfew.
Denis Reynoso was a disabled veteran who saw action with the Marines in Iraq. He was shot dead by police in his Lynn, Massachusetts, apartment.
Nick Morgan, an Iraq veteran, was pulled out of a crowd by police in Hempstead, New York, and trampled by their horses.
Gary Shepherd of Broadhead, Kentucky was a Vietnam veteran. He used medical cannabis to relieve the pain in his left arm, which was crippled during the war. Shepherd was shot dead by a SWAT team, after they had threatened to cut down his cannabis plants.
Valente and Manuel Valenzuela of San Antonio produced sufficient documentation to enlist, respectively, in the Army and Marine Corps. Both fought in Vietnam, where Valente won a Bronze Star. Now they are facing deportation to Mexico because of erroneous entries on their birth certificates.
Jerome Murdough, a homeless Marine Corps veteran, died in a jail cell on New York's Rikers Island after being arrested for trespassing. A heating malfunction caused the temperature in the cell to soar to 100 degrees.
Kenneth Chamberlain was a retired Marine and Vietnam veteran living in White Plains, New York. Early one morning he set off his medical alert device. The first responders in this case were not medics, but rather police, who proceeded to kill Mr. Chamberlain.

This group of combat veterans in Colorado organized to help legalize marijuana during the 2012 elections. They claim – and I believe them – that marijuana helps mitigate PTSD. If you support any punishment whatsoever for a combat veteran who heals himself with a plant that grows wild in some form within a few miles of you, I don't care what you tell me. YOU DON'T BELIEVE IN FREEDOM!
Stanley Gibson, a 43-year-old Gulf War veteran was shot dead over a total non-crime by Las Vegas police in December, 2011.
Army Specialist Michael Sharkey returned home from deployment in Afghanistan to find his home in New Port Richey, Florida, unlawfully occupied by two squatters. The local sheriff says that Sharkey has no grounds upon which to evict them.
These veterans say they are being required to prove they are worthy of gun rights. Our rights are gifts from God that are inherent in our very humanity. We never have to prove to anybody that we have them.
Dwight Edwards, a disabled Marine veteran of Afghanistan, says that cops in Queens brutally beat him for no reason.
Army Staff Sgt. C.J. Grisham, who won the Bronze Star with Valor, was forcibly disarmed for no good reason by a policeman while on a hike with his son not far from Fort Hood, Texas.

Brandon Raub, a Marine who was decorated for bravery in Iraq and Afghanistan, was forced to spend a week in a Virginia mental hospital over some "anti-government" Facebook posts. (His interviewer here, John Whitehead, is a constitutional attorney, Vietnam infantry veteran and superlative anti-police state blogger.)
Operation Vigilant Eagle is a project of the Department of Homeland Security that has led to numerous Iraq and Afghanistan veterans "finding themselves under surveillance, threatened with incarceration or involuntary commitment, or arrested, all for daring to voice their concerns about the alarming state of our union and the erosion of our freedoms." Indeed, merely being a "returning veteran" can have you designated as a potential terrorist.

We will never know the whole truth about Navy veteran and former Los Angeles cop Christopher Dorner, who was the subject of a police manhunt and media witch hunt in 2013. He never got the chance to tell his story in court.
Hector Barrios came to America in 1961. He was drafted and served as an infantry soldier in Vietnam. In 1996, he was busted for possessing marijuana, which he used to treat his PTSD. As a result, he was deported to his native Mexico where he died.
Matthew Corrigan of Washington, D.C. was a first sergeant in the Army Reserve and a veteran of Iraq. His home was destroyed in a SWAT rampage because it was reported to the police that Corrigan had a gun.
Jamie Dean was an Army veteran of Afghanistan was diagnosed with PTSD. Upset about his impending deployment to Iraq, Dean had an intense emotional outburst at his Maryland home in December 2006. Even though he neither harmed nor threatened anyone, he was shot and killed by a local SWAT team.


Bennie Coleman, 76, is a retired Marine who lost his Washington, D.C., home because of a $134 tax lien that District authorities had sold to an investor.
Jeremy Usher is a former Navy hospital corpsman who lives in Greeley, Colorado. He faces jail time for using medical marijuana to treat his PTSD.
Brittany Ball, a 23-year-old soldier at Fort Jackson, S.C., was manhandled by a cop at a local bar, even though she had done nothing wrong.
Air Force Airman First Class Michael Davidson was shot in the stomach by police in Opelika, Alabama, at the scene of a traffic accident.
Benjamin Wassell sustained traumatic brain injuries while with the Marines in Iraq. The Buffalo-area resident was the first person charged with illegal gun sales under New York's new SAFE Act.

Erik Scott graduated from West Point in 1994 and served as a tank platoon leader. In 2010, he was gunned down and killed by police as he peacefully walked out of a Las Vegas Costco.
Scott Olsen saw action with the Marines in Iraq. Later, he would join the Occupy Oakland movement. In October, 2011, suffered a fractured skull after being hit in the head with a projectile fired by police.
Derek Hale served honorably with the Marines in Iraq. Although, he had committed no crime, he died after being tasered three times and then shot three times by police in Wilmington, Delaware.
Roderick King, an Iraq war veteran, was arrested in Philadelphia after he and his friends had criticized a cop's driving.
Howard Dean Bailey, a Navy veteran, was deported to his native Jamaica when immigration authorities discovered he had taken a plea bargain in a marijuana case in Norfolk, Virginia.

To be sure, the recently deceased folk singer Pete Seeger could not have been more of a leftist. However, he did serve three years in the Army after being drafted during World War II. He was sentenced to one year in jail after refusing to reveal his political connections to the House Un-American Activities Committee in 1956. He appealed this sentence, citing the First Amendment, and ultimately spent only four hours behind bars.
Larry Kirschenman of Nogales, Arizona, served 22 years in the Army and was decorated for bravery in Vietnam. Learn how he was brutalized by Border Patrol agents when asking why he was subjected to a warrantless search.
We will never know for sure what happened in Army veteran Matthew Stewart's Ogden, Utah, apartment one night in January 2012, as he will never have his day in court. He was in prison awaiting trial on charges of shooting and killing one of the police officers who raided his apartment searching for marijuana. Stewart, whose guilt was never proven, committed suicide in his cell.
Sergio Arreola is a cop in Los Angeles who served with the Marines in Iraq. He was beaten by the police in suburban Pomona for no good reason whatsoever.
This former Army paratrooper is appealing to the New York state legislature to legalize medical marijuana. He has severe multiple sclerosis and is "forced to break the law to have some semblance of a bearable existence."


On May 5, 2011, a Tucson SWAT team approached the home of Jose Guerena, who had served two tours with the Marines in Iraq. Guerena grabbed his AR-15 as is his right, but did not fire. The SWAT team let loose with 71 rounds, 60 of which perforated Guerena's body.
Marty Maiden lived a few blocks from Guerena in Tucson. and saw action with the Army in Afghanistan. He posted a suicidal note on Facebook which prompted a call to the police, who shot him dead.
Steve Lefemine is a West Point graduate who was arrested for protesting against abortion in a "no-demonstration zone" outside the Republican National Convention in New York in 2004. The 2nd Circuit U.S. Circuit Court justified the arrest based on a "compelling state interest in security".

Eileen Erickson's husband Sid served in Vietnam and died of Agent Orange exposure. Erickson is now in the crosshairs of authorities in Venice, California, who want to tear down the tree house Sid built before he died.
Listen to this disabled Navy veteran plead with then-Senate candidate Kelly Ayotte (R-NH) about the benefits of medical marijuana. Listen to the totalitarian response.
John Wrana, a 95-year-old Army Air Corps veteran of World War II, was tasered and then shot to death by police in Forest Park, Illinois. His "crime"? Refusing medical attention.
John Colaprete saw action in Vietnam as a Marine Corps officer. In 1994, his Virginia Beach home and restaurants were the object of paramilitary-style raids by the IRS. The raid was prompted by a false accusation by a former employee. While you need to watch this documentary in its entirety some time, for now just pick it up for a few minutes starting at the 55:40 mark.

Boxing legend Joe Louis was also tyrannized by the IRS. The Brown Bomber enlisted in the Army in 1942 saying "Let us at them Japs." Louis never saw combat, as he was assigned to the Special Services Division. While still a civilian, Louis fought some charity bouts and donated the proceeds to the Navy Relief Society. The IRS, however, viewed these proceeds as taxable income. IRS problems would plague him all his life. Please watch this video starting at the 53:17 mark.
Adam Arroyo is a Hispanic veteran of the Iraq war who lives in Buffalo. Police shot and killed his dog while executing a drug warrant for a black man.
Henry Taylor was a retired Air Force veteran in Louisville, Tennessee, who was shot dead by a local sheriff's deputy while investigating a burglary at a rental property he owned.
This is a fascinating article: When Johnny Comes Marching Home … He Goes to Jail. It is absolutely tragic how we chew up and spit out so many of those we send to "fight for our freedom."

Radio talk host Adam Kokesh won the Navy Commendation Medal as a Marine in Iraq. In recent years, he has been arrested several times for various non-violent protests. His most recent arrest happened after he loaded a shotgun in public in Washington, D.C. on July 4, 2013. On July 10, police violently raided his home and arrested him. He was incarcerated for four months without bond, bail or trial. He is currently on probation for two years. You may not like Kokesh's demeanor or approve of all of his antics, but he has been very courageous when so many of his critics can't be bothered to put down the remote.

James Moore, my brothah from anothah mothah, walked away from a very lucrative engineering position in San Jose to re-enlist in the Army following 9/11. He sustained significant physical injuries as well as PTSD while serving in the Special Forces in Afghanistan. On the afternoon of March 25, 2008, Moore, who had done absolutely nothing wrong, was beaten to the point of flat lining by Denver police.
One of the coolest people I have never met is Antonio Buehler. Buehler graduated from West Point in 1999, earned his Ranger tab, and saw action in Kosovo and Iraq. (He also sports a Stanford MBA.) Early in the morning on January 1, 2012, Buehler was arrested for taking a few pictures of Austin police manhandling a young woman outside a 7-11. Buehler has been arrested four times since. He heads the Peaceful Streets Project, whose members work to expose abuse, brutality and overreach both in Austin and across the nation.

There are no doubt numerous other injustices against veterans that I do not know about. Enough to fill a book. None of these things would have happened if America were a free society. As Kokesh puts it, "The greatest enemies to the Constitution are not to be found in the sands of some far off land but rather right here at home."
I cannot speak to the specific political beliefs of most of the veterans I have mentioned here. Some may be pacifists, while others may make John McCain look like a hippie in Haight-Ashbury. No matter what their individual views may be, the freedom they risked their lives for was flagrantly violated on the streets of the land they fought to protect.
Society endlessly applauds sailors, soldiers, airmen and Marines for "fighting for our freedom". It is in no way disrespectful to say that this is not what they do. No foreign government or terrorist group poses any threat to our liberty. America accounts for about half of the world's military spending. We have 300 ships in our Navy, plus thousands of planes, tanks and nuclear warheads as well as 300 million firearms in private hands. Nobody is going to invade us.
In a constitutional country, which America ceased to be 100 years ago, the job of the military – a vital and most noble one – is to defend the borders, shores and airspace. It cannot protect you from being tyrannized domestically. Indeed, throughout history, armies have been instruments of domestic tyranny. Our Constitution forbids a standing army for just this reason.
Nazi Germany and Soviet Russia had enormous military establishments. How did things work out in these countries?
I am a Christian who believes liberty is a gift from God – Leviticus 25:10; II Corinthians 3:17; Galatians 5:1. To quote Jefferson, liberty is preserved not by military might, but by "eternal vigilance" against one's own government at all levels. It is the grossest form of disrespect to send young men around the world to "fight for freedom" while relinquishing that freedom on the home front.
For several years, America has had the world's highest incarceration rate. Since 2001, Americans have gladly accepted previously unthinkable intrusions on their freedom in the name of "safety" and "security". These include, but are not limited to: warrantless searches and spying, the suspension of habeas corpus, sexual assault as a condition of travel, rampant police brutality, indefinite detention without any semblance of due process, severe restrictions on peaceful protest, massive ammunition purchases by DHS and surveillance drones in our skies watching our every move. Can predator drones be far behind?
And in every election 98 percent of voters put their stamp of approval on perpetuating this monstrosity.
On April 20, 2013, Boston and several surrounding towns got a serious taste of martial law. How many military veterans were on the receiving end of this? Is this what they signed up to fight for?
Stop thinking in clichés. Have a good hard look at everything your media and government tell you. This includes media outlets and parts of the government that you like. Study. Read. Ask questions. And learn that the defense of liberty is not the duty of the military. Rather, it is your duty and mine.
~~~~~~~~~~~~~~~~~~~~~~~~~~~~~~~~~~~~~~~~~~~~~~~~~~~~~~~~~~~~~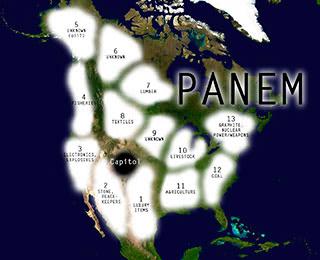 One of the most popular films of 2012 was The Hunger Games which portrayed a post-apocalyptic nation called Panem in which a super-rich, super-pampered, super-callous 'elite' lived in high-tech luxury while the rest of the population daily battled to survive in abject poverty locked away behind prison fences in intensively-populated 'people zones'. Panem comes from the Latin phrase 'panem et circenses' or 'bread and circuses' — a term derived from Rome and meaning to give the people diversions and distractions to hide what is being done to them. Exactly what is happening today.
The Totalitarian Tiptoes to just such a world are happening all around us, although most people can't see this because they don't connect the dots. People tend to live in their own 'little world' and focus on only a few subjects and interests. This gives them a distorted view of what is happening because they are so busy concentrating on the strands that they cannot see the tapestry. The world of The Hunger Games is already well on the way to fruition unless humanity has a fundamental reassessment of reality.
The foundations, structure and 'must haves' of a Hunger Games society are detailed in a plan being imposed through the United Nations called Agenda 21 which encompasses two related themes of 'sustainable development' and 'biodiversity'. Sustainable development — as in don't use more than can be replaced — sounds sensible enough at first until you realize what this and biodiversity really mean in the context of the conspiracy.
Agenda 21 was established at the United Nations Conference on Environment and Development in Rio de Janerio, Brazil, in 1992, hosted by Maurice Strong, a Canadian oil and business billionaire and long-time front man for the Rothschilds and Rockefellers. Strong has been a leader of their exploit-the-environment-to-scam-the-people programme which is now in full flow. Strong is a member of the Club of Rome, the environmental Hidden Hand in the Round Table network that includes the Bilderberg Group, Trilateral Commission and Council on Foreign Relations.
Strong said in support of Agenda 21:
'Isn't the only hope for this planet that the industrialised civilization collapse? Isn't it our responsibility to bring that about?'
This is a man who became mega-rich through the oil industry. He now lives in billionaire luxury in China where carbon-emitting industry is booming and he is a director of the Chicago Climate Exchange (largest shareholder, Goldman Sachs), which is 'the world's first and North America's only legally-binding greenhouse-gas emission registry reduction-system for emission sources and offset projects in North America and Brazil'.
The Exchange was established with funding from the Joyce Foundation where Barack Obama was once a director. Strong and Al Gore make money through the Carbon Exchange and other means from the lies they promote about climate change and the solutions they propose. Kate Johnston wrote on the Globalresearch.cawebsite:
'The same men that sold us the myth of man-made global warming are the same men that sold us the "solution" of a Carbon Tax and Emissions Trading Scheme and now they're profiting off their lucrative investments which are based on lies.' (See "The Climate Change Hoax").
Strong fled to China in 2006 after being accused of corruption with respect to the UN oil for food program.
Climate change propaganda is a No-Problem-Reaction-Solution technique to justify Agenda 21 and its stable-mate the Biodiversity Treaty. This is an internationally-binding document involving nearly 200 countries. The United States signed the treaty, but it was not ratified by the Senate after people like ecologist and ecosystem scientist Dr. Michael Coffman exposed its true consequences and implications. He said that he realized during the 1980s and 1990s that the plan was to use the excuse of protecting the environment to confiscate half the land of the United States.
Similar plans exist for every other country. America may not have ratified the treaty, but it is being implemented by the day. Agenda 21 demands the central global control of all land; all private property; all water sources and distribution; all other resources which includes people in its definition; all energy supplies and distribution and all food production and distribution.
Agenda 21 is called 'the agenda for the 21st century' and that refers to global fascism / communism. This is a summary of what Agenda 21 / Sustainable Development / Biodiversity is seeking to impose:
An end to national sovereignty
State planning and management of all land resources, ecosystems, deserts, forests, mountains, oceans and fresh water; agriculture; rural development; biotechnology; and ensuring 'equity' (equal slavery)
The State to 'define the role' of business and financial resources
Abolition of private property (it's not 'sustainable')
'Restructuring' the family unit
Children raised by the State
People told what their job will be
Major restrictions on movement
Creation of 'human settlement zones'
Mass resettlement as people are forced to vacate land where they currently live
Dumbing down education (achieved)
Mass global depopulation in pursuit of all the above
This horrific plan is being coordinated through the United Nations, the stalking horse for world dictatorship, via a non-governmental network once called the International Council of Local Environmental Initiatives ICLEI), and now known as Local Governments for Sustainability although still using the shortened name ICLEI. The United Nations is now opening 'embassies' around the world called 'UN Houses' under the guise of raising awareness of UN activities, but not the activities that people really need to know about. They have opened one in Hunter Square, Edinburgh, Scotland, for example.
Local Governments for Sustainability (ICLEI) and other organisations are integrating the plan into every village, town, city and region and it is already becoming widespread across the world. The organisational infrastructure of Agenda 21 is already fantastic and involves government agencies, non-governmental organisations (NGOs), think-tanks, trusts, foundations, 'training' (mind control) operations and 'initiatives' which have been building the infrastructure for what they call 'the post-industrial, post-democratic' society while the public go about their daily business oblivious of the prison being built all around them by the hour.
Harvey Ruvin, a vice-chairman of ICLEI, was asked how Agenda 21 would affect liberties with regard to the US Constitution and Bill of Rights, private property and freedom of speech. He replied:
'Individual rights must take a back-seat to the collective.'
The arrogance of these people is breathtaking. The extraordinary network supporting ICLEI and Agenda 21 includes the Rockefeller-sponsored America 2050; United Cities and Local Governments (UCLG); Metropolis; World Economic Forum; United Nations Framework Convention on Climate Change; United Nations International Strategy for Disaster Reduction; World Bank; Clinton Climate Initiative; Climate Group (Tony Blair); World Conservation Union (IUCN); Renewable Energy and Energy Efficiency Partnership; Global Footprint Network; Renewable Energy and Energy Efficiency Partnership; Global Footprint Network; International Centre for Sustainable Cities; Earthquakes and Megacities Initiative and the Stakeholder Forum. These and so many others are working to the same end — Agenda 21 and total human enslavement worldwide, although most of those involved will have no idea that they are building a global prison for themselves and their families.
Another of these front organisations is the World Business Council for Sustainable Development which includes the hideously anti-people Monsanto. Destroying food-growing land, contaminating the countryside with toxins and replacing proper food with deadly and soil-destroying genetically-modified organisms is Monsanto's contribution to 'sustainability'. Agenda 21 is operating in more than 600 towns, cities and counties in the United States and expanding by the day.
A member of the Agenda 21 committees in Santa Cruz, California, in the mid-1990s said that the proposals he heard were so crazy that he laughed at them because they could never happen. These included that 'Mother Earth's surface was not to be scratched'; humans should be concentrated in settlement zones; education should focus on the environment as a central organising principle and all aspects of life covered by Agenda 21, but all of these crazy plans are now being introduced. It's all happy, feely, smiling faces and how we care, when the truth is that Agenda 21 is a vicious, brutal, heartless strategy to impose a global Orwellian state.
Agenda 21 manipulators either create or hijack some local organisation or other, many of them in locations with large populations, and they have their (controlled) leadership to agree the Agenda 21 blueprint for their community together with any uninformed, unwitting idiots who can be sold a human nightmare as saving the planet. This allows them to claim that decisions were made after 'public participation' when that would have been the last thing they wanted, and 99 percent of the 'community' has never heard of Agenda 21 let alone had their say on it. They want no democracy which is why these people talk privately, sometimes even publicly, about the post-democratic, post-industrial society.
They want to control every man, woman and child on the planet — everyone and everywhere and every resource, water source and piece of land. To do this they need a global structure of fascist control that goes right down into every local community with the jackboots at local level enforcing the will of the global centre. This is why there is so much emphasis on local authorities and town and city authorities in Agenda 21.
There is a 'training organisation' called Common Purpose (common purpose, common consensus, everyone the same) which has been paid very large amounts of money by governments and local authorities, police forces and other institutions of state to 'train the leaders' of the post-democratic, post-industrial society. Common Purpose was heavily represented in the Leveson 'inquiry' leading to new media laws in Britain. It is not a training programme; it is a programming programme and turns out unquestioning zombie administrators who serve the god of Agenda 21 and the associated European Union. The theme of 'common' also applies to the ever greater standardisation of laws and regulations and constant reference to 'international law'. This is the unfolding global dictatorship of Agenda 21. What do you need to be a global dictator? Laws that everyone on the planet must obey — international law and the standardisation of global regulation.
You can see The Hunger Games connection when you look at the official Biodiversity wish-for map of the United States in Figure 1. The red areas are designated for no human use and most of the rest of America is confiscated for little and highly-regulated use. The mass of the population would be concentrated in high-rise, densely-packed 'human settlement zones' and denied access to something like 80 percent of present day America. It is without question the world of The Hunger Games with a globally-enforced top-down hierarchy that has a world government using its world army and police force to impose its will at regional and local levels (sectors). The Rockefeller-funded America 2050 has produced a map of the new United States divided into eleven 'megaregions' and includes parts of Canada (Figure 2). Seattle, Portland and Vancouver, British Columbia, become the megaregion known as 'Cascadia' and this regional system comes under the collective name of 'megalopolis' which is Greek for large city or great city. America, Canada and Mexico are due to merge to form the North American Union in line with the European Union blueprint.
The European Union is planned to be broken up into regions and the same structure is in development all over the world. The map of the new Europe has regions from different countries linked up with regions in other countries to end any vestige of national sovereignty or even national existence (Figure 3). This is a global plan with its fierce central control hidden behind its lower elements such as the European Union and local government. What is planned would clearly require a fantastic reduction of the global population and this is indeed what Agenda 21 / Sustainable Development / Biodiversity demand.
The e-book Agenda 21: Your Life In Their Hands can be downloaded here.
reference:
Icke, David. The Perception Deception. Ryde: David Icke Books, 2013.
Julian Websdale is an independent researcher in the fields of esoteric science and metaphysics, and a self-initiate of the Western Esoteric Tradition. His interest in these subjects began in 1988. Julian was born in England, received his education as an electronic and computer engineer from the University of Bolton, served in a Vaishnava monastery during 2010, and has travelled to over 21 countries. Julian is also a member of the Palestinian Solidarity Campaign.
Source: Julian Websdale  |  Waking Times | War Is Crime
"According to the evidence that I've seen …Odessa was a giant false flag operation. It… was one of those staged massacres that the pro-Western forces from Bosnia to Kosovo, now Ukraine, excel at staging, intended to draw Russia to overreact and commit military forces … I believe that the fact that they are willing to stage such a horrendous atrocity shows the depth of their desperation at this point."

– Nebojsa Malic, political analyst, Russia Today

"Not under foreign skies
Nor under foreign wings protected –
I shared all this with my own people
There, where misfortune had abandoned us."

– "Requiem" – Anna Akhmatova
Photos of the victims of the Odessa fire which have been circulating on theInternet have cast doubt on the official version of events. It's now clear that many of the anti-junta activists who occupied the Trade Unions House were neither burned to death nor died of smoke inhalation, but were savagely shot at point-blank range by agents and thugs who had infiltrated the building to kill as many of the occupants as possible, burn the corpses, and then slip away without notice. Some of the victims–like a young woman who was eight months pregnant –were strangled with an electrical chord and left slumped backwards over her desk in a room that shows no sign of fire or smoke damage. In another case, a woman was stripped naked from the waste down, raped, killed, and set ablaze.
In still other cases, victims with bullet-holes through their skulls, had flammable fluid dumped on their heads and were incinerated, leaving a charred head atop a corpse whose clothes were untouched by fire. The sloppily-executed killing-spree proves that the fire was not the result of a spontaneous clash between pro and anti-Kiev demonstrators, but a carefully planned black-op that likely involved foreign Intel agencies working hand-in-hand with the fascist junta government in Kiev. Did we mention that the CIA has taken up residence in the Ukrainian capital? Here's the scoop from the AFP:
"Dozens of specialists from the US Central Intelligence Agency and Federal Bureau of Investigation are advising the Ukrainian government … helping Kiev end the rebellion in the east of Ukraine and set up a functioning security structure…" (CIA, FBI agents 'advising Ukraine government: report, AFP)
We all know about the CIA's energetic efforts to create a "functioning security structure" in nations around the world. The CIA's presence in Ukraine suggests that the US was either actively involved in the Odessa incident or knows who was. Either way, there should be an independent investigation before the case is referred to the ICC for prosecution.
The rampage in Odessa is part a broader strategy to provoke Moscow into a military confrontation. US war planners want to draw Putin into a conflict to justify NATO expansion, block further EU-Russian economic integration, and facilitate the "pivot to Asia." The victims in this tragedy were sacrificed to advance Washington's imperial ambitions and to establish US global hegemony. Obama has repeatedly reiterated his unwavering support for the crackdown on dissidents in the east. In a Rose Garden press conference just days ago, the president applauded the military attack on civilians saying, "The Ukrainian government has shown remarkable restraint throughout this whole process."
Indeed, the Odessa graveyards are now full of people who can attest to the great restraint of the junta government that Obama so admires.
The coverage of the Odessa massacre by the western media is as bad as any in recent memory. The giant news conglomerates no longer make any attempt to pretend they're anything other propaganda organs for the State. Even by that low standard, the coverage has been abysmal. Here's a typical summary from an article on the liberal website, Huffington Post.
"Police said the deadly fire broke out in a trade union building, but did not give details on how it started. Earlier, police said at least three people had died in a clash between the two sides in the city of 1 million.
According to Ukrainian news reports, the pro-Kiev demonstrators broke up an encampment of Moscow supporters outside the trade union building. The latter took refuge in the building, which then caught fire.
Odessa police spokesman Volodymyr Shasbliyenko told AP the fire apparently was caused by Molotov cocktails. He had no further details or identities of the victims." (Odessa Building Fire Kills Dozens, AP)
The author deliberately misleads his readers about what really took place. The fire did not "break out" in a trade union building. It was started. There's no debate about this. There's video footage of the whole incident and tons of eyewitness reports. Right sector goons started the fire by throwing Molotov cocktails through the windows. It's all on tape.
Second, the "pro-Kiev demonstrators" (did not) "break up an encampment of Moscow supporters outside the trade union building…which then caught fire." This is nonsense. The fascist extremists burned down the tent city, chased the activists into the building, barricaded the exits, and then set the building on fire with the obvious intention of killing the people inside. Again, there is no debate about this. It's all on video. The US media is involved in a massive cover up, mainly because a investigation would undoubtedly point to US involvement. This is why none of the major news organizations are covering an incident which would normally be headline news. Odessa is unique blend of Waco and Columbine, a combo that editors typically use to boost sagging ratings by exploiting public empathy and outrage. Only this time, the media has minimized its coverage and refused to report on a story that would probably lead straight to 1600 Pennsylvania Avenue.
While the New York Times has been widely criticized for publishing fake photos of Russian soldiers in Ukraine, the Wall Street Journal wins the trophy for absolute worst coverage. In a piece titled "Deadly Ukraine Fire Likely Sparked by Rebels, Government Says", the WSJ pushes the improbable theory that the anti-coup activists inside the building actually burned the building down themselves, a pathetic attempt to blame the victims of a ruthless government crackdown. Here's an excerpt from the article:
"The fire began from the roof. There were extremists there, we found casings and firearms," Mr. Chebotar said. "But something unexpected happened; their Molotov cocktails fell, and ignited the higher floors of the building." (Deadly Ukraine Fire Likely Sparked by Rebels, Wall Street Journal)
Utterly ridiculous. Are the editors of the WSJ aware of the fact that footage of the Neo Nazis throwing Molotov cocktails at the building are all over the Internet?
The article, of course, fails to explain how many of the people inside the building were either shot or strangled to death. Nor does the author speculate on why the police stood by while people hurled themselves from windows to escape the fire or were savagely beaten by right wing extremists on the pavement in front of the building. Instead, the WSJ tries to provide a plausible excuse for the one part of the story it chooses to focus on as if "who started the fire" can be separated from other important details. The evidence overwhelmingly suggests that the 40 victims of the incident were killed in a homicidal rampage that was perpetrated by Obama's new friends in Kiev. No amount of whitewash is going to hide that one glaring fact. Here's how Serbian historian and political analyst, Nebosja Malic, summed it up:
"According to all the evidence that I have seen, the entire thing in Odessa was a giant false flag operation. It was a provocation, it was one of those stage massacres that the pro-Western forces from Bosnia to Kosovo, now Ukraine excel at staging, intended to draw Russia to overreact…
"We have proof that the West is instigating this. And just the other day, Catherine Ashton, the EU's commissioner for foreign policy, pretty much gave a green light to the extremists from Kiev. She pretty much said they had a right to establish law and order within the borders of the country. I would say that the EU has blood on its hands, especially Catherine Ashton. It's the same thing they did in Yugoslavia in the 90s, when they started encouraging radicals, extremists, secessionists." (Interview with Nebosja Malic, RT)
It's true that Washington supports Neo-Nazi extremists who burned down the Odessa Trade Unions House. If that wasn't the case, then Obama would have spoken out forcefully against the action, which he has not. That implies that things are going according to plan. Malic is also correct when he says the fire was a "giant false flag operation" which refers to a covert military operation where agents disguise themselves as members of their adversary's group to initiate a provocation that will then be blamed on the other side. In this case, pro-regime fascists (and probably agents from the Security Services) disguised themselves as Kiev regime opponents, in order to throw bricks and stones at the police and Right Sector goons. This was the flashpoint that started the melee that ended in a massacre.
Videos on Russia Today show the agents in red arm bands mingled with the pro-Russia activists, initiated a confrontation with the cops, and then quickly switched sides when the fighting broke out. This is classic false flag operation. The police were obviously in on the scam, as they immediately opened their ranks to let the imposters slip by when the street-scrum began. These same imposters were later filmed shooting handguns and automatic weapons in the direction of the building just minutes after they had switched sides. (Take a look at this video from 3:30 minutes to the 6 minute-point and decide for yourself whether this was a false flag operation or not.)
Bottom line: There was nothing spontaneous about the clash that led to the catastrophic fire that killed 40 people in the Trade Unions House. It was a carefully planned and executed operation designed to shock Moscow into sending troops to protect ethnic Russians in Ukraine. If the CIA is working in Kiev –as it is–there is no doubt that they either knew or actively assisted the operation.
In related news: Moscow has announced it will "deploy additional forces in Crimea as part of beefing up the Black Sea fleet…before year's end". According to RT: "The fleet will receive new submarines and surface ships of new generation this year."
The Kremlin is responding to the buildup of NATO forces in Eastern Europe and the Black Sea where additional aircraft, warships and ground troops have been deployed in case war breaks out. Also, according to RT:
"NATO's three-week 'Spring Storm' drills, involving a record-breaking number of 6,000 troops, have begun in Estonia….(bringing) together a record number of allied troops." (Also) around 150 personnel of the US airborne division arrived in a military transport aircraft to Amari airbase (while) the UK and France deployed eight fighter jets to Lithuania and Poland to strengthen NATO air defense over the Baltic regions." (NATO's record 6,000-strong drills kick off in Estonia amid Ukraine tensions, RT)
So while the death toll mounts, the slide to war continues to gain momentum. Odessa was supposed to be the tipping point, the "catalyzing event" that would draw Putin into the fighting. But it hasn't worked out that way. Putin has stayed on the sidelines and refused to take the bait. That means there'll be more provocations to come; more false flags, more bloodshed, more stage-managed terror disguised as civil unrest. Eventually, people will see who's behind all the trouble. But how many will have died by then?
Note: Here's a 12 minute video on Obama's fascist friends in Ukraine. Listen to the last minute of the video to hear neocon Victoria Nuland praise Ukraine's development of "democratic skills and institutions" with the appropriate backdrop of balaclava-clad Nazis and brightly colored swastikas.
I just finished reading an article about how guns and munitions have become Israel's most important export — and immediately I started thinking, "Hey, that is America's most important export too!"   America and Israel now have so much in common.  No wonder AIPAC is so popular here and Israelis love Americans so much.  They are practically twins.
And how many other countries in the world today can make this claim:  "War is our most important product!"  I can't think of a single one offhand.
But now let's take this down a few notches — from the international level to the personal.  What if the best and most important thing that I could do with my own life right now is to manufacture and sell guns too?  Just call me the next Sarah Winchester!
Not to teach children, not grow crops, make music or create films, not be a religious, spiritual or moral person or even to manufacture trains, buttons or soap — screw all that pansy stuff.  Just to manufacture and sell weapons and guns.
"But mommy, we had guns for dinner last night!"
"Just shut up and bite the bullet, kid."
"Can I go over and play with Jenny?  She's got a new bike?"   No she doesn't.  She's got a new AK-47.
And what if a civil war started in America?  That's totally possible.  And what if there was a civil war in Israel too — between its secular neo-cons and ultra-orthodox extremists?  Also totally possible.  Just think of all the profits that gun manufacturers would make from all that.  "War isn't just for foreign countries any more!" could be their slogan.  A buck is a buck.
Never forget that Creativity is the very best antidote for War.
Both America and Israel seem to be addicted to war right now.  And this upside-down sicko attitude toward what is really important in life is going to kill off both countries (sooner or later) if they don't watch out.  But creativity is the strongest antidote for war.  So let's all help people get hooked on being creative instead of on being viscous, immoral and mean.
For one thing, creativity is a hecka lot more fun.  And for another, it doesn't leave you with PTSD the morning after either.
Wouldn't you really rather have composed the "Ode to Joy" than to have brutally and senselessly slaughtered a million people in the Middle East?  http://www.youtube.com/embed/a6W2ZMpsxhg?feature=player_embedded  When I was a war correspondent in Iraq, I saw blood flowing from innocent bodies there — and, yes, I'm still bitter and pissed off about that.
How much nicer it would have been if I had been able to take a tour of the Hanging Gardens of Babylon instead.