It's not hard to find critics of the Assad government in the Governorate (Muhafazat) of Homs or for that matter, to varying degrees in Syria's other thirteen Governorates according to Syrian analysts interviewed by this observer and reports from human rights groups including lawyers representing dissidents in Syria. However, after nearly 27 months of turmoil, the public opinion pendulum is markedly shifting back in support of the current regime.
One international political result was registered at the United Nations this past week when a US-Qatari-Saudi drafted General Assembly Resolution that was designed to increase pressure on the Assad government stumbled badly and fell far short of what the Saudi Ambassador to the UN and other US allies predicted would be an overwhelming vote in favor.
Effect of shift in popular opinion in Syria
Over the past four or five months it has become increasingly clear that public opinion in Syria is shifting for reasons that include, but are not limited to the following:
While inflation at the grocery stores in probably the most common complaint heard from a cross-section of society here, the population is adapting somewhat to higher prices and it appears to credit the government for efforts, some successful, to soften the impact of the illegal US-led sanctions that target this same Syrian population for purely political reasons to achieve regime change.
While Syrians demand dignity and freedom from oppressive security forces and an end to corruption, as all people do in this region and beyond, they are witnessing a return to near normalcy with respect to supplies of electricity, benzene, mazout fuel oil, bus schedules, schools, and a host of public services such as garbage collection, street sweeping, park maintenance, and sympathetic traffic cops who are rather understanding of short-cuts taken by drivers and pedestrians due to "the situation".
In addition, public service announcement and even text messages demonstrate that the government is aware of the degree of suffering among the population, accept partial blame, and are focusing on remedial measure and crucially, ending the crisis with its horrific bloodshed. One observes here a definite trend of the pulling together of a high percentage of Syrians who share a very unique history and culture and who are deeply connected to their country and who are increasingly repelled by the continuing killing from all sides including the recent barbarisms of body mutilations and summary executions videotaped and broadcast on utube by jihadist elements. The latter who these days come from nearly three dozen countries, paid for and indoctrinated by enemies of Syria's Arab nationalism and deep rooted pillar of resistance to the occupation of Palestine.
In addition, many among Syria's 23 million citizens, who initially supported the uprising following government reaction to event in Deraa in March 2011, now have serious second thoughts about who exactly would replace the current government. Events in Syria are also making plain that the army is still loyal to the Assad government, and according to Jane's Defense Weekly, is actually gaining experience and strength as well as the well-known fact that as western diplomats are admitting, the "opposition militias" are hopelessly fractured, turning one another, many essential mafia outfits, and beginning to resemble their fellow jihadists from Libya, Chechnya and in between.
Opinion in Damascus and surrounding areas visited this past week, confirms this observers experience the past five months of a sharp and fairly rapid shift in opinion that now strongly favors letting the Syrian people themselves decide, without outside interference, whether the Assad regime will stay, and indeed, whether, the Baathist party will continue to represent majority opinion, not through wanton violence but rather via next June's election. Many express confidence in the run up to this critical vote, noting that the election will be closely monitored by the international community to assure fairness.
Perhaps aided by the current glorious May weather, a certain optimism, that was more scarce in the past, pervades many neighborhoods.
For different reasons, foreign powers, including the USA, Turkey, European Union, the UK Jordan and even the majority population of the six Gulf Cooperation Council family run countries, according to Pew Research, are shifting their earlier positions which were based in part of the US administration, NATO, and Israeli assurances that the Assad government would surely fall quickly, "A matter of days, not weeks" US President Obama promised. That was two years ago.
As noted above, this trend has accelerated since the UN General Assembly vote with last weeks which did not go as planned on the biased and politicized non-binding draft resolution on Syria.
The public reaction in Syria and across the Middle East is substantially that the "Friends of Syria" non-binding GA resolution contradicts the reality on the ground, backs terrorism in Syria and hinders the international efforts to help achieve a political solution to the crisis in this country. Only 107 states voted in favor of the resolution, 12 against while 59 countries, mostly from Africa and Latin America, abstained from voting.
One reason the vote fell short of the 130 favorable votes that the basically same resolution garnered the past two times is that it is widely viewed as ignoring the crimes and atrocities committed by the armed jihadist groups in Syria and the flow of thousands of international terrorists backed by the West, the Gulf states and Turkey who provide them with weapons and money. According to the Russian delegate, backed by several other speakers, "the resolutions ignores all the terrorists' heinous crimes and denounces what it called the escalation of the attacks by the Syrian government". Afterward one Latin American Permanent Representative told Inner City Press that the count would have been below 100 if not for some "last minute arm-twisting." As it turned out, 15 countries didn't vote at all, opting to "get coffee," as one African Permanent Representative put it before the vote.
Syria's Ambassador al-Jaafari exposes a hoax in the Gulf
Syria's permanent Envoy to the UN Bashar al-Jaafari said his country regretted the adoption of a biased and unbalanced UN resolution, thanking the countries that rejected the resolution "for their responsible positions which support the UN principles and the international law articles". He noted that the decrease in the number of countries that voted in favor and the increase of numbers of those who abstained from voting indicates the growing international understanding of the reality of what is happening in Syria due to the foreign interference, support of terrorism, the spread of extremism and incitement besides the refusal of dialogue.
"We rely on the UN and its member states to support Syria and its people against the culture of extremism and terrorism, and to encourage the comprehensive national dialogue to peacefully resolve the Syrian crisis." he said. In a statement released after the vote on the UN draft resolution on Syria, al-Jaafari He said that the French delegation had foiled the issuance of a number of UN press releases to condemn the terrorist acts committed by al-Qaeda-linked armed groups in Syria which claimed the lives of thousands of Syrians as it foiled a UN release to condemn the attempt of assassination of the Syrian Premier.
After Qatar's ambassador spoke in favor of the resolution his country drafted (and re-drafted several time), Ja'afari revealed that there existed an e-mail, from the representative of the Syrian opposition given to Syria's embassy in Qatar, showing Qatar's involvement in the kidnapping of UN peacekeepers by the Yarmouk Martyrs Brigade. He read out a phone number from the e-mail as several Gulf diplomats grimaced or scowled, and three left the Chamber.
Visibly stunned, the UK Permanent Representative Lyall Grant called the whole matter "deeply confusing". Another Permanent Representative, from a militia contributing country, said that if true, it's "very problematic." The reasons include the fact that UN Secretary General Ban Ki-moon had just thanked Qatar for its roles in the release of the UN Peacekeepers the earlier kidnapping of whom the Qatari government may have planned, paid for and executed.
Meanwhile, Ban Ki-moon's spokesperson Martin Nesirky said he would not disclose any more about the "negotiations to free the peacekeepers or who was behind the crime."
Score a major diplomatic victory for Syria's UN Ambassador as public opinion shifts in favor of the Assad government and pressure as well as certain optimism builds in the run-up to the Geneva II conference being organized by the White House and the Kremlin.
The tempo of events in Syria has accelerated in recent weeks. The government forces have scored significant battlefield victories over the rebels, and this has provoked a mixture of war provocations and peace offers from the U.S. and its anti-Assad allies.
With Obama's blessing Israel fighter jets recently attacked Syria on three occasions; in one massive air strike on a military installation in Damascus 42 Syrian soldiers were killed. Shortly thereafter Obama finally agreed to a peace conference with Russia, which had been asking for such talks for months.
Obama is entering these talks from a weakened position; the Syrian government is winning the war against the U.S.-backed rebels, and success on the ground is the trump card of any peace talks. Obama and the rebels are in no position to be demanding anything in Syria at the moment.
It's possible that Obama wants to avoid further humiliation in his Syria meddling by a last minute face-saving "peace" deal. It's equally likely, however, that these peace talks are a clever diplomatic ruse, with war being the real intention. It's not uncommon for peace talks to break down and be used as a justification for an intensification of war, since "peace was attempted but failed."
And Obama has plenty of reasons to pursue more war:  he would look incredibly weak and foolish if Syria's president were to stay in power after Obama's administration had already announced that Assad's regime was over and hand picked an alternative government of Syrian exiles that the U.S. — and other U.S. allies — were treating as the "legitimate government of Syria."
Here's how the BBC referred to Obama's Syrian puppet government:
"… the Syrian opposition's political leadership – which wanders around international capitals attending conferences and making grand speeches – is not leading anyone. It barely has control of the delegates in the room with it, let alone the fighters in the field."
If an unlikely peace deal is reached, these Syrian exiles — who only a tiny minority of the rebel fighters actually listen to — will be the ones to sign off on the deal.
Many politicians in the U.S. are still clamoring for war in Syria, based on the unproven accusation that the Syrian government used chemical weapons against the rebels. In actuality, however, the UN so far has only indicated that the exact opposite is true: there is significant evidence the U.S.-backed rebels used chemical weapons against the Syrian government.
Of course this fact only made the back pages of the U.S.media, if it appeared at all. Similarly bad news about the U.S.-backed rebels committing large scale ethnic/religious cleansing and numerous human rights violations  didn't manage to make it on to the front pages either. And the numerous terrorist bombings by the U.S.-backed rebels that have indiscriminately killed civilians have likewise been largely ignored by U.S. politicians and the media.
The U.S. position is weakened further by the fact that the majority of the rebel fighters are Islamic extremists, who are fighting for jihad and sharia law, not democracy. The Guardian reported recently:
"Syria's main armed opposition group, the Free Syrian Army (FSA), is losing fighters and capabilities to Jabhat al-Nusra, an Islamist organization with links to al-Qaida that is emerging as the best-equipped, financed and motivated force fighting Bashar al-Assad's [Syrian] regime."
The New York Times adds:
"Nowhere in rebel-controlled Syria is there a secular fighting force to speak of."
But even with all these barriers to the U.S. dictating its terms to the Syrian government, Obama has trump cards of his own: the U.S. and the Israeli military.
It's possible that the Israeli airstrikes on Syria were used as a bargaining chip with the proposed peace conference in Russia. If Obama threatened to bomb Syria into the Stone Age there is plenty of evidence —Afghanistan, Iraq, Libya — to back up this threat.Following through with this kind of threat is actually considered intelligent foreign policy to many politicians in the U.S., since a country not aligned with the U.S. will have been weakened and fragmented as an opposing force, lowering the final barrier to war with Iran.
U.S. foreign policy is now completely dependent on using the threat of annihilation. As U.S. economic power has declined in relation to China and other countries, the economic carrot has been tossed aside in favor of the military stick. Plenty of U.S. foreign policy "experts" are demanding that Obama unsheathe the stick again, lest this foundation of U.S. foreign policy be proven to be just talk and no action.
This is the essence of U.S. involvement in Syria, which is risking regional war that could include Lebanon, Turkey, Iraq, Israel, Iran, Jordan, and Saudi Arabia with the potential to drag in the bigger powers connected to these nations, the U.S. and Europe on one hand and Russia and China on the other.The fate of the already-suffering Middle East is hanging in the balance.
Take off your partisan hat and open your minds to the actual uninterrupted high treason that is part of the foreign policy establishment. Party politics is often just a show that plays to their respective bases. However, the tract and direction of extending the transnational empire just continues on a global scale. The full-blown treason committed by every administration that practices the internationalist vision of democracy domination is really a masquerade for worldwide dominion. Presidents are mere temporary talking heads for the oligarchy that actually rules. Murdering their own diplomats and hired help is incidental, when 1,455,590 Iraqi deaths since the U.S. invasion are ignored and dismissed.
Just how well is the consistent and bipartisan aggressive interventionist foreign policy doing? Go over the list of The Arab Spring country by country.
The Wall Street Journal provides a timeline on U.S. Government Reaction to the Benghazi Attack. "For days after the Sept. 11 attack in Benghazi, Libya, intelligence officials and the Obama administration said it was likely the outgrowth of protests sparked by an anti-Islamic video made in the U.S. Follow some of the administration statements on the Libya attack."The infamous propaganda voice for the Obamaistas, Media Matters puts forth their partisan spin in, What Dick Cheney's Benghazi Criticism Misses.
"David Martosko of the Daily Mail Online provided former Vice President Dick Cheney a platform to criticize the Obama administration's failure to anticipate the September 11, 2012 attacks on U.S. diplomatic facilities in Benghazi, Libya, without noting that seven attacks on U.S. diplomatic facilities occurred during the Bush administration."
Such diversion seeks to limit focus on the literal events that caused the Benghazi attack and the real reasons why Ambassador Christopher Stevens was left to perish by the Obama/Clinton foreign policy team of betrayers.
The shameful chronicle of the intentional and politically motivated stand down that doomed Stevens and his defenders was sensitively told during Gregory Hicks' 30 Minute Recount of Benghazi Attack. While the Congressional hearings were praised for the attempt to restrain partisan grandstanding, the Washington press corps avoids placing blame on the administration as a tenant of their loyalty test. A government cover-up is made easy when the imperium friendly media is reporting on a proclaimed progressive administration.
The facts necessitate that even the venerable CBS mainstream media machine reluctantly admits that the Thousands of Libyan missiles from Qaddafi era missing in action, are a central concern with the overthrow of the Libyan regime.
"In the case of Libya's missing MANPADS, there was also concern they would get into the Syrian conflict. "Once they start getting sold on the black market, we can't control them," says one source.

The source added he's unaware of any U.S. attempt to send recovered Libyan MANPADS to arm Syrian rebels seeking to depose President Bashar al-Assad."
According to the Business Insider, the veracity of this CBS source is questionable. Connect the dots and go back to the reason why a cover-up of the Benghazi murders becomes crucial to the long-term goals to destabilize the Middle East. The US Is Openly Sending Heavy Weapons From Libya To Syrian Rebels cites the following:
"The Obama administration has decided to launch a covert operation to send heavy weapons to Syrian rebels, Christina Lamb of The Sunday Times of London reports.Diplomatic sources told the Sunday Times that the U.S. "bought weapons from the stockpiles of Libya's former dictator Muammar Gaddafi."

The heavy arms include mortars, rocket propelled grenades, anti-tank missiles and the controversial anti-aircraft heat-seeking SA-7 missiles, which are integral to countering Bashar Al-Assad's bombing campaign."
Now compute the decades old design for the territory as stated by Wes Clark and the neocon dream. Glenn Greenwald provides further documentation in Salon that the various Middle Eastern and North African wars were planned before 9/11:
"General Wesley Clark … said the aim of this plot [to "destroy the governments in ... Iraq, ... Syria, Lebanon, Libya, Somalia, Sudan and Iran"] was this: "They wanted us to destabilize the Middle East, turn it upside down, make it under our control." He then recounted a conversation he had had ten years earlier with Paul Wolfowitz — back in 1991 — in which the then-number-3-Pentagon-official, after criticizing Bush 41 for not toppling Saddam, told Clark: "But one thing we did learn [from the Persian Gulf War] is that we can use our military in the region – in the Middle East – and the Soviets won't stop us. And we've got about 5 or 10 years to clean up those old Soviet regimes – Syria, Iran [sic], Iraq – before the next great superpower comes on to challenge us." Clark said he was shocked by Wolfowitz's desires because, as Clark put it: "the purpose of the military is to start wars and change governments? It's not to deter conflicts?"
The diabolic union between Neoconservatives and Neoliberals produces a litter of demonic adventures that build up the body count and push the region into a globalist cesspit of satanic dimensions. In order to comprehend the interconnection of conflicts it is important to understand the deceptive war on terror and the assembled alliance with the Al Qaeda bogyman.
The message in the essay, It's Dishonest to Talk about Benghazi Without Talking About the Syrian War, is a reality that many cowardly Americans are unwilling to deal with, much less act upon.
"Both parties are avoiding the bigger picture … The fact that Democrats and Republicans alike have been using Benghazi as the center of U.S. efforts to arm the Al Qaeda-affiliated Syrian rebels.

Specifically, the U.S. supported opposition which overthrew Libya's Gadaffi was largely comprised of Al Qaeda terrorists.According to a 2007 report by West Point's Combating Terrorism Center's center, the Libyan city of Benghazi was one of Al Qaeda's main headquarters – and bases for sending Al Qaeda fighters into Iraq – prior to the overthrow of Gaddafi:"
What possible justification is there to intervene in Syria? The presupposed civil war is really a designed coup d'état overthrow that only benefits a greater Israel regional expansion. Note how the policy wonks work in their nefarious planning for destabilization. The flagship establishment mouthpiece Foreign Policy has the mission to signal the intentions of government stratagem as the master plans are implemented, in the article How to destabilize the Assad regime.
"In order to re-up its strategy, the administration should employ a cross-governmental approach that enlists the Treasury, Commerce, and Defense Departments. The Treasury Department should use sanctions to limit Assad's ability to repatriate funds from oil exports and more properly enforce the 2012 GRAHVITY sanctions prohibiting the transfer of internet, communications, or surveillance technology to Syria. The Treasury Department should also prohibit U.S. companies from doing business with Assad's enablers by designating those entities that continue to supply him with resources. Congress could bolster the latter measure by requiring federal contractors to certify that they are not in business with Assad's enablers. Congress should also prohibit foreign financial institutions enabling Assad from doing business with U.S. banks. Meanwhile the Commerce Department should secure tighter control over the delivery of information and communications technology to Syria especially through authorized foreign distributors. Finally, as mandated by an amendment to the National Defense Authorization Act of 2013, the Pentagon should cease its business with Rosoboronexport, one of Assad's chief enablers, instead of entering into new contracts as it has expressed the intention to do."
What do you call the treachery, when your own government is committing the subversiveness?
The cryptic psychopolitical spook Dr. Steve Pieczenik presents an astounding analysis that answers this question in the You Tube, Benghazi Truth: Obama Was Running Secret Army. His call to action is a rare and daring challenge to the military that is worth a sober assessment if for no other reason than observing the anxious and flabbergasted reaction from Alex Jones. The treason committed, depends upon the nationalist loyalties of the government agents. In this case, the evidence seems well placed that the security apparatus is serving the wrong master.The substance of the Benghazi duplicity and scandalous evasion of accountability is an entrenched practice that permeates every level of command and control. The courage of Gregory Hicks, Mark Thompson and Eric Nordstrom is an act of legitimate patriotism seldom seen out of Foggy Bottom.
If professional State Department public servants can speak truth to power, where are the guts of the General Military Officers? If the Joint Chiefs of Staff is a brood of poodle puppies and lap dogs, God Save the Republic. Dr. Pieczenik is In Search of James Mattoon Scott. Most subservient subjects are oblivious to the Seven Days in May scenario. Perpetuating the myth, that civilian command preserves the constitutional liberties of citizens, does not conform to the record of presidential dictatorship. When state treason is codified normality, the mere murder of four more Americans is hardly an afterthought to the executioners of the country. Respecting commander in chief traitors is an absurd national death wish.
The United Nations Special Rapporteur for Palestine, Professor Richard Falk, came to Lebanon last week on an unofficial visit to survey opinion while fact finding the condition in Palestinian refugee's camps.
It was the Professors first visit to Lebanon since the fateful summer of 1982. Back then, en route by sea to Beirut, which was under Israeli siege and blockade, Falk was Vice-Chair of the Sean McBride Commission of Inquiry into Israeli crimes against Lebanon. Mid –way between Cyprus and Lebanon, the Zionist navy, in a blatant act of piracy on the high seas, intercepted, circled and demanded the passenger list from the vessel.
Eventually, under reported American pressure via US Envoy Morris Draper's telephoned profanity to Tel Aviv, the pirates allowed Falk's delegation to disembark at the port of Jounieh, just north of Beirut. Draper, who like so many US diplomats, claims he finally "saw the light after retiring", told this observer that "I never swore so much in my life as I did at those SOBS during that summer of 1982 and after I learned the details of Ariel Sharon's choreography of the Sabra-Shatila massacre!" Ambassador Draper added, "The world will never know the extent of Israeli crimes committed against Lebanon and its refugees until Washington threatens to cut off all aid until Tel Aviv opens up its archives on this period."
Professor Falk, as he mentioned during several events here, including a first-rate conference on the status of Palestinian refugees in Lebanon and their struggle for the most elementary civil rights to work and to own a home, organized by the Institute of Palestine Studies, came to Lebanon not to offer counsel to Lebanon's sects or even to the Palestinians. (The IPS, (http://www.palestine-studies.org) founded in 1969, is considered by this observer and many others, as the most reliable and authoritative source of information on Palestinian affairs and the Arab-Israel conflict.)
Falk came to listen and to learn. He did both. He listened intently to each speaker, scribing hurried notes regarding the current conditions of Palestinian refugee, including education and health status, in Lebanon's 12 camps and two dozen "gatherings," reports that were presented by several academics and NGO's based here.
Falk and others in attendance at the briefings found the findings sobering and alarming. They included but are not limited to, the following.
There are currently 42,000 Palestinian refugees from Syria who have been forced into Lebanon as a result of the crisis in Syria. The United Nations Relief and Works Agency for Palestine Refugees in the Near East – UNRWA -reported to the IPS workshop, that they expect 80,000 Palestinians by the end of the year. Others estimate the December 2013 number will exceed 100,000. According to figures, forwarded to Professor Falk by the Palestine Civil Rights Campaign, supplied by refugee camp committees, approximately 6,000 Palestinians who fled Syria remain in Lebanon's Bekaa |Valley, close to the Syrian borders, in two main gatherings, al-Jalil (4,216 refugees) and central Bekaa (2,352). In the North, Baddawi camp hosts 4,116 and Nahr al Bared 2,016. In Beirut, Burj al-Barajneh camp hosts 2,928 additional refugees from Syria, Shatila and the surrounding areas 2,800, and Mar Elias 862. In the South, 8,549 refugees arrived to Ain al-Hilweh and 2,400 are dispersed around Saida. Mieh Mieh camp hosts 1,512, with an additional 2,160 in Wadi al-Zaineh. Further south to Tyre, Palestinian refugees from Syria are distributed among Shabriha (184), Rashidieh (1,370), Al Bass (478), Burj al-Shemali (2,800), Qasimiyeh (372), and Jal al-Bahr (128).
Falk knew, before gracing Lebanon with his visit, that UNWRA is basically out of money and cannot continue to meet its mandate for aiding Lebanon's Palestinians even less those arriving from Syria at the rate of more than two dozen families per day. On 5/5/13, the popular committee representative at Jalil Camp near Baalbec reported that they receive on average 8 additional families per day, with dozens now living in the Jalil camp cemetery.
Palestinian children in Lebanon, Falk was advised, unfortunately provide textbook examples of the fact of life that it is difficult to concentrate on school when ones stomach is growling with hunger. And it's even harder to stay in school when there's even a remote chance to work odd jobs and earn money for food – something education doesn't immediately offer. One new local initiative is the Meals for Schools, whose organizers hope serve food to impoverished schoolchildren in Lebanese slum areas. One idea is to give coupons for meals to schools. Unfortunately the scope will not include Palestinian children "at this time due to limited funding", according to one AUB student hoping to help children stay in school by helping them to have breakfasts.
Palestinian refugee children have limited access to the public educational system in Lebanon. Only 11 per cent these "foreign" children can access free public education in Lebanon while most refugees can't afford the high tuition fees of private schools. Palestinian refugees who attend one of the 58 UNRWA begin at age seven since UNWRA cannot afford pre-school level education. Consequently, for Palestinians here, while the elementary sector comprises more than 60% of students, the number drops to 28% in intermediate and only 10% at the secondary level. While the attendance rate for 7 year olds is 98.6%, by the time they reach age 11 attendance falls to 93.4%. But from this level, the primary level school completion rate cascades to only 37%, due to astronomical dropout rates. The above figures reveal that Palestinian education levels have been indeed progressively dropping in recent years. This is further supported by the passing rate in the Brevet Official exams (official diploma qualifying entry into secondary) which was in some schools as low as 13.6% in some schools according to the UNRWA results of Brevet exams, despite the average passing rate in UNRWA schools being 43% for the 2009-10 academic year.
Professor Falk was briefed on myriad realities including the fact that Palestinians camps in Lebanon remain sites of control and surveillance by the Lebanese Army. People's mobility and access to construction materials have been restricted by the army check points at the entrance of camps. Palestinian refugees are forbidden by law – since 2001 – to own or inherit real estate in Lebanon; consequently when a Palestinian dies, even if she or he inherited property between 1948-2001, before a wave of revenge led to the 2001 racist law, the property goes to Sunni Muslim Dar al-Fatwa one of the richest real estate holding entities in Lebanon. Accused of deep corruption by some, their leadership has a history of opposing full civil rights for Palestinian refugees here remain opposed to home ownership.
The UN's humanitarian chief, Valerie Amos, reported this week that seven million people need humanitarian assistance in Syria. "The needs are growing rapidly and are most severe in the conflict and opposition-controlled areas" of the civil-war ravaged country, the global body's humanitarian chief Valerie Amos told the U.N. Security Council. Amos cited data showing there are 6.8 million people in need — out of a total population of 20.8 million — along with 4.25 million people internally displaced and an additional 1.3 million who have sought refuge in neighboring countries.
Falk was briefed on most recent household surveys of Palestinian refugees carried out by the American University of Beirut which show that two thirds of Palestine refugees are poor. The extreme poverty rate in camps (7.9%) is almost twice of that observed in gatherings (4.2%). The study also developed a Deprivation Index based on components of welfare which included components such as good health, food security, and adequate education, access to stable employment, decent housing, and ownership of essential household assets. The Deprivation Index showed that 40% of Palestine Refugees living in Lebanon are deprived. The study reported that 56% of refugees are jobless and only 37% of the working age population is employed (Hanafi et al. 2012). It is unsurprising that the poor socio-economic situation often encourages students to leave school to get a paid job.
Despite the importance of education fewer Palestinian refugee students are actually interested in continuing their higher education. Lack of motivation to learn, is believed to be one of the main reasons for the high dropout rates. Palestinian refugees' access to Lebanon's public university is limited by their status as foreigners, and their access to private universities is restricted by a lack of resources to pay tuition fees (Hroub, 2012).
The old cliché that stated that "The Palestinians are the most educated Arab nation", is just a myth today. This educational hemorrhage among young Palestinians has been attributed to a number of factors such as the deteriorating socio-economic conditions amongst Palestinian refugees and the growing disillusionment with schooling and the benefits it brings. Palestinian students also suffer from an education acculturation as they are forced to learn only the Lebanese curriculum without being able to access the country's system. The following section examines these three main challenges.
Statistics indicate that just under half of the classrooms in public schools have less than 15 students per class while 20 % are overcrowded with 26 to 35 students per class. However, in UNRWA schools, the average number of students per classroom is 30 making them the most crowded classrooms in Lebanon.
With respect to the UN refugee agency, (UNHCR) the current situation in both Syria and among the more than 450,000 Syrian in Lebanon is only marginally better than the conditions of arriving Palestinians. As Maeve Murphy, UNHCR's Senior Field Coordinator in Lebanon's Bekaa Valley, explained to this observer and others during a visit on 5/5/13, near the Nicolas Khoury Center in Zahle, Lebanon, amidst sea of hundreds of Syrians, some waiting for three months or longer just to get registered, the UN refugee agency is also unable to meet its mandate for the same reason as UNRWA and the World Food Program and others. Ms. Murphy reported that over 453,000 Syrians have either registered with the U.N. agency or are waiting to register. An additional several hundred thousand people are thought to be refugees but haven't approached the U.N.
Complicating the desperate situation of Palestinian and Syrian refugees seeking sanctuary in Lebanon is the fact that millions of Syrian refugees face food rationing and cutbacks to critical medical programs because oil-rich Gulf states have failed to deliver the funding they promised for emergency humanitarian aid, an investigation by James Cusick for The Independent on Sunday has found. Pledges for $ 650 minion in donations from various sources including Saudi Arabia, the United Arab Emirates, Qatar and Bahrain, made during the January 2013, Kuwait UN emergency conference, have yet to materialize.
The World Food Program (WFP), the food aid arm of the UN, says it is spending $19m a week to feed 2.5 million refugees inside Syria and a further 1.5 million who have fled to official camps in Jordan, Turkey, Lebanon and Iraq. By July, the WFP says, there is no guarantee that its work on the Syrian crisis can continue. A spokesman told the UK Independent, "We are already in a hand-to-mouth situation. Beyond mid-June – who knows?"
The emergency conference in Kuwait – hosted by the Emir of Kuwait and chaired by Mr Ban Ki Moon – promised to bring a "message of hope" to the four million Syrian refugees. Mr Ban proclaimed the outcome a shining example of "global solidarity in action". The reality has been markedly different. Oxfam recently issued an appeal: "The League of Arab States must urge all Arab countries that have pledged to the Syrian crisis, to be transparent and to share information about their commitments, and mechanisms for fulfilling their pledges."
Mousab Kerwat, Islamic Relief's Middle East institutional funding manager, said: "It's better for countries to stay away from donor conferences than to attend and make pledges they don't intent to keep. As a minimum, they should communicate where their pledges have gone in a transparent process.
If Professor Falk was weary as he left Lebanon from all the data, visits, and wrenching experiences he was presented with, it would be understandable. But the humanitarian and scholar he showed no signs of fatigue but rather appeared to be energized by the experience. Given his history as a supporter of resistance to occupation and oppression, Richard Falk's assurances that he will continue his work armed with the above sampling of data offers new hope for Palestinian and Syrian refugees from Syria and to those who support their Right and Responsibility to Return to Palestine.
As the debate on distraction-tier issues rages on between the political left and the political right, more and more individuals are turning to the 'third party' of reality for answers.
There's a reason that the mainstream media is continually losing viewers and readers to alternative news publications and aggregators like never before, and it comes down to the newly emerging 'third party' of reality. Of course this third party is so far away from the entire charade of left vs. right distraction-based debate that it really isn't even within the confides of the part system, however it's a suiting title for the mass number of individuals who find themselves going beyond Democrats and Republicans and into the search for truth.
People are discovering that it doesn't matter if the current President identifies with blue or red, but instead what actions are taken to combat corruption and restore liberty. And now they're looking beyond the blue and red, only to discover that the 'bipartisan' issues swept under the rug are in fact the reason this nation is being destroyed.
The reason for this grassroots movement towards reality really has to do with the growing realization of many 'bipartisan issues' that continue to sit at the bottom of the mainstream news articles — if they're ever included at all. Bipartisan items like the National Defense Authorization Act (NDAA), which allows for the President to indefinitely detain individuals from around the world under virtually any circumstance.
Bipartisan items like the recent renewal of the Bush-era Patriot Act by Obama, highlighting that 'bipartisan' issues include the warrantless searches of United States citizens. And a few more  'bipartisan issues' to add to the list that citizens are forced to fight without the aid of the two party system:
 The backing of the Federal Reserve banking system
Non-stop wars in the Middle East and beyond
Internet censorship and anti-privacy bills like CISPA and SOPA
The use of drones on US soil to track and potentially kill US citizens
The support of companies like Monsanto
And the list goes on. It's these issues and many others that sit between the cracks of the two party system that are actually the most important. While countless hours of debate rages on over gender issues and slightly higher or lower taxes, the Federal Reserve banking system and the mega bankers make out like fat cats as they continue to do their work in the shadows. It's already happening with post haste acceleration, but we must understand our ideological enemy is not the opposing party members — it's those who support these 'bipartisan' items that endanger our freedom. The rest is either a distraction or horribly distorted — for example the idea that murdering children in the womb is an issue of 'women's rights'.
This image describes the space between the current two party system:
Anthony Gucciardi is the creator of Storyleak, accomplished writer, producer, and seeker of truth. His articles have been read by millions worldwide and are routinely featured on major alternative news websites like the infamous Drudge Report, Infowars, NaturalNews, G Edward Griffin's Reality Zone, and many others. He is also a founding member of the third largest alternative health site in the world, NaturalSociety.com.
Source: http://www.storyleak.com/three-party-system-left-right-reality/#ixzz2SuGQvHdL
The title of today's column, "There Is A Conspiracy," is a direct quote from Ezekiel 22:25. In this passage, God instructed Ezekiel to blow the whistle on the conspiracy of Israel's prophets to deny people truth, to devour people's souls, to defraud people's substance, and to destroy people's lives. I dare say this conspiracy is still alive and well today. Many pastors and religious leaders in 2013 America are as guilty of Ezekiel's charges as were Israel's ancient prophets.
However, use the word "conspiracy" today and even most Christians will roll their eyes in disbelief. And, of course, the mainstream media is so paranoid of the word conspiracy that one has to speculate that the reason for this aversion to objectively dealing with the subject is simply due to the fact that they are among the co-conspirators.
But once in awhile, someone in the media has the guts to broach the subject of conspiracy. My friends at TruthAlliance.net recently covered a report written by Matt Taibbi of Rolling Stone Magazine. Taibbi begins his report saying, "Conspiracy theorists of the world, believers in the hidden hands of the Rothschilds and the Masons and the Illuminati, we skeptics owe you an apology. You were right. The players may be a little different, but your basic premise is correct: The world is a rigged game. We found this out in recent months, when a series of related corruption stories spilled out of the financial sector, suggesting the world's largest banks may be fixing the prices of, well, just about everything."
Speaking of the LIBOR and other Wall Street scandals, Taibbi goes on to write, "All of these stories collectively pointed to the same thing: These banks, which already possess enormous power just by virtue of their financial holdings–in the United States, the top six banks, many of them the same names you see on the Libor and ISDAfix panels, own assets equivalent to 60 percent of the nation's GDP–are beginning to realize the awesome possibilities for increased profit and political might that would come with colluding instead of competing. Moreover, it's increasingly clear that both the criminal justice system and the civil courts may be impotent to stop them, even when they do get caught working together to game the system.
"If true, that would leave us living in an era of undisguised, real-world conspiracy, in which the prices of currencies, commodities like gold and silver, even interest rates and the value of money itself, can be and may already have been dictated from above. And those who are doing it can get away with it. Forget the Illuminati–this is the real thing, and it's no secret. You can stare right at it, anytime you want."
See the report at:
Hallelujah! Just about everybody with an IQ over 80 knew it; so it's about time someone finally said it: gold and silver prices are "rigged." So is the Petro-Dollar. So is the ammo shortage. So are the headlines on ABC, CBS, NBC, CNN, and MSNBC. And so are many of our national catastrophes.
Back in 2011, Jacqueline Kennedy Onassis was added to the list of "conspiracy nuts" when tapes that were recorded within months of President John F. Kennedy's assassination, which had been sealed in a vault at the Kennedy Library in Boston, were released. In the tapes, former First Lady Jackie Kennedy revealed that she believed Vice President Lyndon Baines Johnson and other "influential individuals" orchestrated the Dallas shooting that killed her husband.
Wow! Jackie Kennedy didn't believe the official government story that her husband was killed by a "lone gunman." She believed there was a conspiracy of "influential individuals" who colluded in killing her husband.
I'm with Jackie! Even though I was only a little boy when President Kennedy was assassinated, I could never wrap my head around the "lone gunman" theory. And the older I got, and the more I studied that tragedy, the more I became convinced there was a giant conspiracy involved in both killing the President and covering it up after he had been killed. I still believe that today.
While we are talking about conspiracies, let's talk about a few more.
TWA Flight 800 "Explosion"
Do you really believe the official story of the crash of TWA flight 800 in 1996? What if an American missile accidentally shot down that jetliner? Do you really think the federal government would come clean about it?
Read this report from The Washington Weekly, if you are willing to be enlightened:
Oklahoma City Bombing
Do readers really believe the official story that Timothy McVeigh acted alone in igniting the explosion that took down the Murrah Federal Building in Oklahoma City, Oklahoma, and that there was no cover-up as to what actually happened? I don't.
Here is where you can get started on this one:
And here:
OK State Representative Charles Key States His Case
9/11 Twin Towers and Pentagon Attacks
There has been so much written on this subject, I will let readers fend for themselves as to personal research on the matter. Without wading too deeply into this discussion (and for the sake of column space), let me ask just one simple question. Pray tell, what took down Building 7? To this good hour, I have not heard one single plausible explanation proffered by any government or media representative that explains why Building 7 collapsed.
Do I know what really happened on 9/11? No. But do I believe that the government is purposefully keeping the American people in the dark as to what really happened on 9/11/01? You bet I do! Do I believe that there is a cover-up of crucial evidence related to 9/11 by both the federal government and the national news media? You bet I do!
Haiti Earthquake
Another event that the official version is just completely unbelievable to me is the earthquake in Haiti in January of 2010. I will always believe that there was so much to this story that we were not being told. It didn't "smell" right to me when it happened; it doesn't "smell" right to me now. If you're interested, try perusing through some of this information:
Iraq, Afghanistan, Libya, Syria Wars
Let me be so blunt as to say I don't believe the official story about any of the wars America is waging in the Middle East. I believe virtually every reason George W. Bush gave the American people for attacking and invading Iraq was a premeditated, bald-faced lie! And I believe every reason Barack Obama gives for staying at war in the Middle East is a premeditated bald-faced lie!
I believe the so-called "War on Terror" which justifies endless wars abroad and endless surveillance at home is completely manufactured by those in government and business for personal economic and political interests. In the name of fighting for freedom overseas, the central government in Washington, D.C., is turning America's homeland into a giant prison-camp. Pray tell, what good does it do to send American troops overseas to fight a war for freedom, then turn around and use the war for freedom overseas as an excuse to expunge the freedoms of the American people here at home? If that doesn't smell of conspiracy, nothing does!
Ron Paul was right! "Blowback" truly is a reality; and America's "War on Terror" is actually making the United States less safe, not more. In fact, if you really want to get sick to your stomach over what this so-called "War on Terror" is accomplishing and why so many people around the world are coming to hate us, take a look at this report:
The Pentagon's New Power Elite: A Secret War in 120 Countries
The Boston Bombings
Noted researcher and analyst, Joel Skousen, recently wrote a detailed and lengthy exposé on the Boston Bombings in his excellent World Affairs Brief (which I highly recommend). Here is just a short clip:
"It seems very suspicious that the FBI would release so many photos and video excerpts (including even partial and grainy shots as if they are presenting everything possible) showing the brothers [accused bombers] in the area, but then they fail to produce the most conclusive evidence that matches what the indictment says.
"This narrative is so specific that it would be very risky for a federal official to make such detailed reference to video evidence if they did not actually possess it–unless they already had a legal strategy worked out where the claimed evidence would be suppressed under the government's habitual use of the State Secrets doctrine or via a compliant judge who has agreed in advance to seal the evidence. The suppression of key evidence has been a central part of every major government cover-up including the JFK and Martin Luther King assassinations, Oklahoma City bombing and both WTC attacks."
To subscribe to Skousen's World Affairs Brief, go to:
Skousen is right to be suspicious. Agencies of the federal government have long-facilitated terrorist plots in this country. Even the New York Times carried an editorial outlining a long list of examples of how the FBI hatches and then "discovers" terrorist plots.
See the Times editorial at:
Terrorist Plots Helped Along By The FBI
Furthermore, writing for Infowars.com, Paul Joseph Watson chronicles the long-established pattern of central governments in creating national terror as a vehicle with which to blame other groups and set in motion whatever predetermined plan had been previously concocted.
See Watson's report at:
Why Government Should Be The First Suspect In Any Terror Attack
The Connecticut School Shootings, The Colorado Theater Shootings, etc.
There are so many inconsistencies, changed stories, and conflicting reports with virtually every official report regarding these mass shootings, so much so that it is difficult for any rationally thinking person to believe them. Unfortunately, the absence of true objective investigative reporting by the national news media means the vast majority of the American people will never have the information they need and, thus, they will never know the truth about any of these mass shootings. All the news media does today is simply regurgitate the official government story, without question. (That's why, if you truly want to be informed, you must abandon the controlled propaganda press corps and research independent sources. But even there, one must be careful. Not every independent source is reliable. Plus, government propagandists are at work planting bogus information on the Internet and elsewhere in an attempt to make government critics appear foolish.) But there is one constant that surrounds every mass shooting: the push for increased gun control by anti-freedom politicians. Yes, I realize we could put this under the "You never want a serious crisis to go to waste" (Rahm Emanuel) category. But I'm so cynical now that I'm seeing the potential for the dark side of government behind every mass shooting.
Speaking of defending the Second Amendment, there is a brand new film being produced entitled, MOLON LABE: How The Second Amendment Guarantees America's Freedom, based on the masterful research of attorney Edwin Vieira, Jr., in his book, The Sword and Sovereignty. The film features people such as Ron Paul, Pat Buchanan, Larry Pratt, G. Edward Griffin, Alex Jones, Stewart Rhodes, and yours truly. This film has the potential to be a "game-changer" in the attacks against the preservation of our right to keep and bear arms. Acclaimed producer James Jaeger is nearing final editing and could really use the support of thousands of freedomists around the country. Your contributions to this project could pay off mightily in helping to preserve the Second Amendment. I highly encourage readers to seriously consider donating to the completion of this terrific film. It is a film that Barack Obama and Dianne Feinstein hope will never be seen. Here is the trailer along with information on how you can contribute:
So, Matt Taibbi at Rolling Stone Magazine, the late Jackie Kennedy Onassis, and the Prophet Ezekiel all agree: "There is a conspiracy." I believe it.
Over the weekend, three more American soldiers lost their lives to IED roadside bombs in Afghanistan while two lost their lives to Afghanistan troops turning the weapons that we provided them—and shot our own young men.  Military people call those deaths: "insider attacks."  (Source: Associated Press report)   The Afghanistans we gave billions of dollars and sent our finest men to "free" them—continue killing our military personnel at the drop of a hat.
Five young kids serving our country in that 11 year war lived in constant danger of dying every day in that backward, goat herder and Islamic-dominated crazy country.  Understand this: illiteracy runs at 80+ percent in Afghanistan.  That country suffers dozens of war lords competing for dominance for the last 1,400 years of Islamic mayhem.  NBC's Brian Williams reported last week that our CIA funneled suitcases full of millions of U.S. taxpayer dollars to Afghanistan President Karzai to pay off tribal leaders—so they would support our troops.  Otherwise, those warlords just as soon kill our boys.
What did Congress, George W. Bush and now Barack Obama get us into?  What have we accomplished in Iraq and Afghanistan?  Why didn't we leave a week after bin Laden saw the raw end of an M-14 in via Seal Team Six?  What in the name of common sense are we doing to ourselves and our young men serving in uniform?
Answer: in the final analysis, we killed a lot of people and their kids, and they killed a lot of our kids.  Result: a lot of death, but we accomplished nothing in the way of national security as proven by our Islamic bomber immigrants at the Boston Marathon two weeks ago.
All those kids died in Vietnam, Iraq and Afghanistan for the Military Industrial Complex run by massive munitions corporations, Halliburton and anyone else who benefits from making war products.
All of it based on a lie!  Saddam Hussein did not own one, single weapon of mass destruction that he could turn onto the people of the United States.  Not one!  George Bush lied, then lied some more, and Obama continued and continues the lie in Afghanistan.   Our complicit Congress and the past two presidents should be brought up on criminal charges for killing so many people without any warrant whatsoever.
After 10 years in Iraq and 4,200 deaths along with tens of thousands of our finest kids being blown up or emotionally blown to pieces with Post Traumatic Stress Syndrome.  Several thousand of our kids already committed suicide from their experiences in Iraq and Afghanistan.  Experts expect no less than 150,000 to 200,000 former U.S. combat troops will commit suicide in the years ahead from their horrific experiences in the Middle East.  As I documented in an earlier column two years ago, 200,000 to 225,000 Vietnam combat troops who walked out of Vietnam in one piece—later killed themselves.  Endless thousands more dove into drugs, alcohol, divorces and homelessness.  Thousands of kids lost their fathers to war's long term insanity and emotional destruction.
Every single one of our "kids" that died in Vietnam, Desert Storm, Iraq and Afghanistan—died for nothing but money by mega-corporations.  I am astounded how the American Military Industrial Complex can manipulate the American people like sheep to follow their propaganda for 10 friggin' long years of lying to us.  Back when I attended college during Vietnam, we marched in the streets to "Stop the war…hell no, we won't go…."    Why? We didn't want to get killed for no reason whatsoever.
Why do those five kids' deaths in Afghanistan this week distress me?  My father served in the US Marine Corps and died while in service to our country. His death wrecked our family.  From my infant brother John who never saw his father to my own emotional turmoil for years if not decades.  My brother Rex suffered horrific emotional trauma and my sister Linda became a zombie for five years.  My mother kept us together with her heroic strength.  But none of our lives recovered and our dad's death changed our destinies.
My pain reaches out to those five kids' families who just received the news that their citizen-soldiers died over the weekend.  They're all crying right now. They weep in shock, pain and bewilderment.    They will suffer for years and decades to come. If those troops enjoyed wives and families, their offspring will forever be changed without dad.
Ironically, our all volunteer Army ingests young men, turns them into killers and spits them out emotionally wrecked or returns them back home in caskets.
War Is a Racket
U.S. Major General Smedley Butler said, "WAR is a racket. It always has been. It is possibly the oldest, easily the most profitable, surely the most vicious. It is the only one in which the profits are reckoned in dollars and the losses in lives.
"A racket is best described, I believe, as something that is not what it seems to the majority of the people. Only a small "inside" group knows what it is about. It is conducted for the benefit of the very few, at the expense of the very many. Out of war a few people make huge fortunes. In the WWI, a mere handful garnered the profits of the conflict. At least 21,000 new millionaires and billionaires were made in the United States during the World War. How many of these war millionaires shouldered a rifle? How many of them dug a trench? How many of them knew what it meant to go hungry in a rat-infested dug-out? How many of them spent sleepless, frightened nights, ducking shells and shrapnel and machine gun bullets? How many of them parried a bayonet thrust of an enemy? How many of them were wounded or killed in battle?"
You can bet that draft dodging Dick Cheney never shouldered a rifle, but he made millions with Halliburton.  George W. Bush smoked weed and snorted cocaine while in the safety of the Texas National Guard, but 58,300 less fortunate American kids got blown away.  Today, Bush's worth exceeds multiple millions while our country stands trillions in debt from the wars he and Cheney started in Iraq.
Sickening: the American people sit on their fat rear ends without so much as a whimper.  Just serve up their kids and watch the death continue.
What is it that makes young men, reasonably well educated, in good health and nice looking, with long lives ahead of them, use powerful explosives to murder complete strangers because of political beliefs?
I'm speaking about American military personnel of course, on the ground, in the air, or directing drones from an office in Nevada.
Do not the survivors of US attacks in Iraq, Afghanistan, Yemen, Pakistan, Somalia, Libya and elsewhere, and their loved ones, ask such a question?
The survivors and loved ones in Boston have their answer – America's wars in Iraq and Afghanistan.
That's what Dzhokhar Tsarnaev, the surviving Boston bomber has said in custody, and there's no reason to doubt that he means it, nor the dozens of others in the past two decades who have carried out terrorist attacks against American targets and expressed anger toward US foreign policy. 1 Both Tsarnaev brothers had expressed such opinions before the attack as well.  2 The Marathon bombing took place just days after a deadly US attack in Afghanistan killed 17 civilians, including 12 children, as but one example of countless similar horrors from recent years. "Oh", an American says, "but those are accidents. What terrorists do is on purpose. It's cold-blooded murder."
But if the American military sends out a bombing mission on Monday which kills multiple innocent civilians, and then the military announces: "Sorry, that was an accident." And then on Tuesday the American military sends out a bombing mission which kills multiple innocent civilians, and then the military announces: "Sorry, that was an accident." And then on Wednesday the American military sends out a bombing mission which kills multiple innocent civilians, and the military then announces: "Sorry, that was an accident." … Thursday … Friday … How long before the American military loses the right to say it was an accident?
Terrorism is essentially an act of propaganda, to draw attention to a cause. The 9-11 perpetrators attacked famous symbols of American military and economic power. Traditionally, perpetrators would phone in their message to a local media outlet beforehand, but today, in this highly-surveilled society, with cameras and electronic monitoring at a science-fiction level, that's much more difficult to do without being detected; even finding a public payphone can be near impossible.
From what has been reported, the older brother, Tamerlan, regarded US foreign policy also as being anti-Islam, as do many other Muslims. I think this misreads Washington's intentions. The American Empire is not anti-Islam. It's anti-only those who present serious barriers to the Empire's plan for world domination.
The United States has had close relations with Saudi Arabia, Jordan and Qatar, amongst other Islamic states. And in recent years the US has gone to great lengths to overthrow the leading secular states of the Mideast – Iraq, Libya and Syria.
Moreover, it's questionable that Washington is even against terrorism per se, but rather only those terrorists who are not allies of the empire. There has been, for example, a lengthy and infamous history of tolerance, and often outright support, for numerous anti-Castro terrorists, even when their terrorist acts were committed in the United States. Hundreds of anti-Castro and other Latin American terrorists have been given haven in the US over the years. The United States has also provided support to terrorists in Afghanistan, Nicaragua, Kosovo, Bosnia, Iran, Libya, and Syria, including those with known connections to al Qaeda, to further foreign policy goals more important than fighting terrorism.
Under one or more of the harsh anti-terrorist laws enacted in the United States in recent years, President Obama could be charged with serious crimes for allowing the United States to fight on the same side as al Qaeda-linked terrorists in Libya and Syria and for funding and supplying these groups. Others in the United States have been imprisoned for a lot less.
As a striking example of how Washington has put its imperialist agenda before anything else, we can consider the case of Gulbuddin Hekmatyar, an Afghan warlord whose followers first gained attention in the 1980s by throwing acid in the faces of women who refused to wear the veil. This is how these horrible men spent their time when they were not screaming "Death to America". CIA and State Department officials called Hekmatyar "scary," "vicious," "a fascist," "definite dictatorship material". 3 This did not prevent the United States government from showering the man with large amounts of aid to fight against the Soviet-supported government of Afghanistan. 4 Hekmatyar is still a prominent warlord in Afghanistan.
A similar example is that of Luis Posada who masterminded the bombing of a Cuban airline in 1976, killing 73 civilians. He has lived a free man in Florida for many years.
USA Today reported a few months ago about a rebel fighter in Syria who told the newspaper in an interview: "The afterlife is the only thing that matters to me, and I can only reach it by waging jihad." 5 Tamerlan Tsarnaev may have chosen to have a shootout with the Boston police as an act of suicide; to die waging jihad, although questions remain about exactly how he died. In any event, I think it's safe to say that the authorities wanted to capture the brothers alive to be able to question them.
It would be most interesting to be present the moment after a jihadist dies and discovers, with great shock, that there's no afterlife. Of course, by definition, there would have to be an afterlife for him to discover that there's no afterlife. On the other hand, a non-believer would likely be thrilled to find out that he was wrong.
Let us hope that the distinguished statesmen, military officers, and corporate leaders who own and rule America find out in this life that to put an end to anti-American terrorism they're going to have to learn to live without unending war against the world. There's no other defense against a couple of fanatic young men with backpacks. Just calling them insane or evil doesn't tell you enough; it may tell you nothing.
But this change in consciousness in the elite is going to be extremely difficult, as difficult as it appears to be for the parents of the two boys to accept their sons' guilt. Richard Falk, UN special rapporteur on human rights in the Palestinian territories, stated after the Boston attack: "The American global domination project is bound to generate all kinds of resistance in the post-colonial world. In some respects, the United States has been fortunate not to experience worse blowbacks … We should be asking ourselves at this moment, 'How many canaries will have to die before we awaken from our geopolitical fantasy of global domination?'" 6
Officials in Canada and Britain as well as US Ambassador to the United Nations Susan Rice have called for Falk to be fired. 7
President Kennedy's speech, half a century ago
I don't know how many times in the 50 years since President John F. Kennedy made his much celebrated 1963 speech at American University in Washington, DC. 8  I've heard or read that if only he had lived he would have put a quick end to the war in Vietnam instead of it continuing for ten more terrible years, and that the Cold War might have ended 25 years sooner than it did. With the 50th anniversary coming up June 13 we can expect to hear a lot more of the same, so I'd like to jump the gun and offer a counter-view.
Kennedy declared:
Let us re-examine our attitude toward the Soviet Union. It is discouraging to think that their leaders may actually believe what their propagandists write. It is discouraging to read a recent authoritative Soviet text on Military Strategy and find, on page after page, wholly baseless and incredible claims such as the allegation that "American imperialist circles are preparing to unleash different types of war … that there is a very real threat of a preventative war being unleashed by American imperialists against the Soviet Union" … [and that] the political aims – and I quote – "of the American imperialists are to enslave economically and politically the European and other capitalist countries … [and] to achieve world domination … by means of aggressive war."
It is indeed refreshing that an American president would utter a thought such as: "It is discouraging to think that their leaders may actually believe what their propagandists write." This is what radicals in every country wonder about their leaders, not least in the United States. For example, "incredible claims such as the allegation that 'American imperialist circles are preparing to unleash different types of war'."
In Kennedy's short time in office the United States had unleashed many different types of war, from attempts to overthrow governments and suppress political movements to assassination attempts against leaders and actual military combat – one or more of these in Vietnam, Cambodia, Laos, British Guiana, Iraq, Congo, Haiti, Brazil, Dominican Republic, Cuba and Brazil. This is all in addition to the normal and routine CIA subversion of countries all over the world map. Did Kennedy really believe that the Soviet claims were "incredible"?
And did he really doubt that that the driving force behind US foreign policy was "world domination"? How else did he explain all the above interventions (which have continued non-stop into the 21st century)? If the president thought that the Russians were talking nonsense when they accused the US of seeking world domination, why didn't he then disavow the incessant US government and media warnings about the "International Communist Conspiracy"? Or at least provide a rigorous definition of the term and present good evidence of its veracity.
Quoting further: "Our military forces are committed to peace and disciplined in self-restraint." No comment.
"We are unwilling to impose our system on any unwilling people." Unless of course the people foolishly insist on some form of socialist alternative. Ask the people of Vietnam, Laos, Cambodia, British Guiana and Cuba, just to name some of those in Kennedy's time.
"At the same time we seek to keep peace inside the non-Communist world, where many nations, all of them our friends …" American presidents have been speaking of "our friends" for many years. What they all mean, but never say, is that "our friends" are government and corporate leaders whom we keep in power through any means necessary – the dictators, the kings, the oligarchs, the torturers – not the masses of the population, particularly those with a measure of education.
"Our efforts in West New Guinea, in the Congo, in the Middle East, and the Indian subcontinent, have been persistent and patient despite criticism from both sides."
Persistent, yes. Patient, often. But moral, fostering human rights, democracy, civil liberties, self-determination, not fawning over Israel … ? As but one glaring example, the assassination of Patrice Lumumba of the Congo, perhaps the last chance for a decent life for the people of that painfully downtrodden land; planned by the CIA under Eisenhower, but executed under Kennedy.
"The Communist drive to impose their political and economic system on others is the primary cause of world tension today. For there can be no doubt that, if all nations could refrain from interfering in the self-determination of others, the peace would be much more assured."
See all of the above for this piece of hypocrisy. And so, if no nation interfered in the affairs of any other nation, there would be no wars. Brilliant. If everybody became rich there would be no poverty. If everybody learned to read there would be no illiteracy.
"The United States, as the world knows, will never start a war."
So … Vietnam, Laos, Cambodia, Cuba, and literally dozens of other countries then, later, and now, all the way up to Libya in 2012 … they all invaded the United States first? Remarkable.
And this was the man who was going to end the war in Vietnam very soon after being re-elected the following year? Lord help us.
Bush's legacy
This is not to put George W. Bush down. That's too easy, and I've done it many times. No, this is to counter the current trend to rehabilitate the man and his Iraqi horror show, which partly coincides with the opening of his presidential library in Texas. At the dedication ceremony, President Obama spoke of Bush's "compassion and generosity" and declared that: "He is a good man." The word "Iraq" did not pass his lips. The closest he came at all was saying "So even as we Americans may at times disagree on matters of foreign policy, we share a profound respect and reverence for the men and women of our military and their families." 9 Should morality be that flexible? Even for a politician? Obama could have just called in sick.
At the January 31 congressional hearing on the nomination of Chuck Hagel to be Secretary of Defense, Senator John McCain ripped into him for his critique of the Iraq war:
"The question is, were you right or were you wrong?" McCain demanded, pressing Hagel on why he opposed Bush's decision to send 20,000 additional troops to Iraq in the so-called 'surge'.
"I'm not going to give you a yes-or-no answer. I think it's far more complicated than that," Hagel responded. He said he would await the "judgment of history."
Glaring at Hagel, McCain ended the exchange with a bitter rejoinder: "I think history has already made a judgment about the surge, sir, and you are on the wrong side of it." 10
Before the revisionist history of the surge gets chiseled into marble, let me repeat part of what I wrote in this report at the time, December 2007:
The American progress is measured by a decrease in violence, the White House has decided – a daily holocaust has been cut back to a daily multiple catastrophe. And who's keeping the count? Why, the same good people who have been regularly feeding us a lie for the past five years about the number of Iraqi deaths, completely ignoring the epidemiological studies. A recent analysis by the Washington Post left the administration's claim pretty much in tatters. The article opened with: "The U.S. military's claim that violence has decreased sharply in Iraq in recent months has come under scrutiny from many experts within and outside the government, who contend that some of the underlying statistics are questionable and selectively ignore negative trends."

To the extent that there may have been a reduction in violence, we must also keep in mind that, thanks to this lovely little war, there are several million Iraqis either dead, wounded, in exile abroad, or in bursting American and Iraqi prisons. So the number of potential victims and killers has been greatly reduced. Moreover, extensive ethnic cleansing has taken place in Iraq (another good indication of progress, n'est-ce pas? nicht wahr?) – Sunnis and Shiites are now living more in their own special enclaves than before, none of those stinking mixed communities with their unholy mixed marriages, so violence of the sectarian type has also gone down. On top of all this, US soldiers have been venturing out a lot less (for fear of things like … well, dying), so the violence against our noble lads is also down.

One of the signs of the reduction in violence in Iraq, the administration would like us to believe, is that many Iraqi families are returning from Syria, where they had fled because of the violence. The New York Times, however, reported that "Under intense pressure to show results after months of political stalemate, the [Iraqi] government has continued to publicize figures that exaggerate the movement back to Iraq"; as well as exaggerating "Iraqis' confidence that the current lull in violence can be sustained." The count, it turns out, included all Iraqis crossing the border, for whatever reason. A United Nations survey found that 46 percent were leaving Syria because they could not afford to stay; 25 percent said they fell victim to a stricter Syrian visa policy; and only 14 percent said they were returning because they had heard about improved security.

How long can it be before vacation trips to "Exotic Iraq" are flashed across our TVs? "Baghdad's Beautiful Beaches Beckon". Just step over the bodies. Indeed, the State Department has recently advertised for a "business development/tourism" expert to work in Baghdad, "with a particular focus on tourism and related services." 11
Another argument raised again recently to preserve George W.'s legacy is that "He kept us safe". Hmm … I could swear that he was in the White House around the time of September 11 … What his supporters mean is that Bush's War on Terrorism was a success because there wasn't another terrorist attack in the United States after September 11, 2001 while he was in office; as if terrorists killing Americans is acceptable if it's done abroad. Following the American/Bush strike on Afghanistan in October 2001 there were literally scores of terrorist attacks – including some major ones – against American institutions in the Middle East, South Asia and the Pacific: military, civilian, Christian, and other targets associated with the United States.
Even the claim that the War on Terrorism kept Americans safe at home is questionable. There was no terrorist attack in the United States during the 6 1/2 years prior to the one in September 2001; not since the April 1995 bombing of the federal building in Oklahoma City. It would thus appear that the absence of terrorist attacks in the United States is the norm.
William Blum speaking in Wisconsin, near Minnesota
Saturday, July 13th, the 11th Annual Peacestock: A Gathering for Peace will take place at Windbeam Farm in Hager City, WI. Peacestock is a mixture of music, speakers, and community for peace in an idyllic location near the Mississippi, just one hour's drive from the Twin Cities of Minnesota. Peacestock is sponsored by Veterans for Peace, Chapter 115, and has a peace-themed agenda. Kathy Kelly, peace activist extraordinaire, will also speak.
You can camp there and be fed well, meat or vegetarian. Full information at:http://www.peacestockvfp.org 11
Notes
William Blum, Rogue State: A Guide to the World's Only Superpower, chapters 1 and 2, for cases up to about 2003; later similar cases are numerous; e.g., Glenn Greenwald, "They Hate US for our Occupations", Salon, October 12, 2010 ↩
Huffington Post, April 20, 2013; Washington Post, April 21 ↩
Tim Weiner, Blank Check: The Pentagon's Black Budget (1990), p.149-50. ↩
William Blum, Killing Hope: U.S. Military and CIA Interventions Since World War II ↩
USA Today, December 3, 2012 ↩
ForeignPolicyJournal.com, April 21, 2013 ↩
The Telegraph (London), April 25, 2013; Politico.com, April 24 ↩
Los Angeles Times, February 1, 2013 ↩
This eminently Bushist Obama "red line" business, applied to Syria, Iran or both, is becoming a tad ridiculous.
Take Pentagon head Chuck Hagel's tour of Israel and the "friendly" GCC (the de facto Gulf Counter-revolution Club) last week. US defense contractors had the Moet flowing as Hagel merrily congregated with that prodigy of democracy – United Arab Emirates (UAE) Crown Prince Mohammed bin Zayed – to celebrate the sale of 25 F-16 fighter jets.
There's more on the way; 48 Terminal High Altitude Area Defense, or THAAD missile interceptors, at a cool US$1 billion. The Pentagon is sending one of its only two of such systems to Guam this month to counter that other threat – missiles from North Korea.
The weaponizing free fest to Israel and the Gulf petro-monarchies – missile defense, fighter jets, mega-bombs – could not but be duly hailed as the proverbial "message" to "counter Iran's nuclear ambitions", or "the air and missile threat posed by Iran", or the general "worry about Iran's pursuit of a nuclear weapon" or "Washington's determination to stop Iran from acquiring nuclear weapons."
There's no "red line" here; just hardcore weaponizing of Israel and the GCC. Any doubts, blame it on Iran. And this while Saudi-controlled media in the Middle East – roughly everything except al-Jazeera – was breathlessly spinning that Tel Aviv is pursuing a deal to use Turkish soil for an attack on Iran.
Wait; there's more weaponizing on the way – bound to neighboring latitudes. Kraus-Maffei Wegmann (KMW) from Germany closed another $2.48 billion deal with Qatar – five years in the making – to deliver 62 Leopard 2 tanks and 24 self-propelled howitzers. Qatar is not exactly using them for the 2022 FIFA World Cup; they are bound to "friendly groups in other countries" – as in Syria's "rebels", via Turkey.
Ask the Nenets 
Now take the Syria chemical weapons charade. The White House now seems to be convinced that the CIA believes, with "varying degrees of confidence", that the Syrian government has used chemical weapons. Secretary of State John Kerry – an "intervention" cheerleader posing as a dove – was already convinced.
But then Hagel said, "Suspicions are one thing; evidence is another." Just to flip-flop a little while later, during his visit to Israel, he became convinced Bashar al-Assad was using sarin gas. Of course; after all, Hagel finally had unimpeded access to Israeli – not US – intel.
And now for the beauty of Hagel's marketing; what about embarking as a traveling salesman to "our bastards" with a sales pitch of " Look, Iran and Syria are both crazy, you might consider stacking up on this, this and this."
The Nenets of Siberia – crossing the Ob river to enter the Arctic Circle – could teach a thing or two about real strategy to those limping armchair warriors in US Think Tankland. Even the Nenets would know that the current chemical weapons hysteria is a total fabrication by the CIA, MI6 and Israeli intelligence – corroborated by zero evidence. Still, the prevailing Washington "wisdom" is that a "red line" must be enforced over Syria so a "red line" must be enforced on Iran.
The fact is that the al-Assad government initially accused the "rebels" of using chemical weapons – and asked the United Nations for an official investigation.
Even the New York Times was forced, grudgingly, to admit the "rebels" acknowledged an attack happened in territory controlled by the government, with 16 Syrian Army dead, plus 10 civilians and over a hundred injured. But then the "rebels" changed the narrative, blaming Damascus of bombing their own soldiers. It was Moscow that introduced a measure of reality, detailing how Washington was stalling the UN investigation.
Our Nenets of Siberia would also know there's hardly anything secular leading the "rebels" in Syria; it's a motley crew of varying degrees of fanaticism. Once again, the Nenets would not need to freeze to death reading the New York Times to find out that the CIA is "secretly" funneling a free for all weaponizing to the "rebels" via Saudi Arabia and Qatar. Still the Obama administration peddles the fiction that Washington only supplies "non lethal" aid as Capitol Hill nutters keep insisting that Obama install a "no fly zone" over Syria – as in Libya-style NATO war remix.
Follow-on strike package, anyone? 
US Think Tankland nonetheless is ecstatic that the GCC petro-monarchies now have access to precision-guided munitions to "strike Iranian targets".
But nothing compares to the cheerleading of Israel's new access to KC-135 aerial refueling tankers – or Stratotankers. Then there's the imminent transfer of anti-radiation missiles as well – advanced versions of the AGM-88 HARM missiles. These toys will "reduce the threat to Israel's follow-on strike package."
No, this is not exactly about "US circumspection", or "US resolve in the campaign against Iranian nuclear weapons"; it's unqualified Dog of War barking.
Meanwhile, that police state run by King Playstation, also known as Jordan, has opened its airspace to Israeli drones now engaged in "monitoring" Syria.
As Asia Times Online has repeatedly warned, Obama in Syria is fast becoming a remix of Reagan in 1980s Afghanistan. We all know what came out of those "freedom fighters" afterwards. In this context, Robert Ford, Obama's alleged Syria expert, telling the Senate Foreign Relations Committee that it's important for Washington to "weigh in" to affect "the internal balance of power in Syria" qualifies as a joke line, not a red line.
There's wild speculation that after the Boston bombing Obama and Russia's Vladimir Putin made a deal; Washington lets Moscow do whatever it wants in Chechnya like, forever, but gets a nod to install a "no-fly zone" and further mayhem in Syria. There's no evidence to that. What a geopolitically savvy Putin wants to know is what does he get out of Syria in practical terms (and Obama does not have a clue). Crumbs from a NATO banquet don't apply.
As for allowing Syria to become a "Western-friendly" Wahhabi emirate or yet another failed Muslim Brotherhood fiefdom, one needs to go no further than Hezbollah's Sheikh Nasrallah … "the goal of anyone standing behind the war in Syria, is destroying Syria so that a strong, centralized state would not be established in it, and so that it would become too weak to take decisions related to its oil, sea, or borders."
Now that's what a red line is all about.
Pepe Escobar is the author of Globalistan: How the Globalized World is Dissolving into Liquid War (Nimble Books, 2007) and Red Zone Blues: a snapshot of Baghdad during the surge. His new book, just out, is Obama does Globalistan (Nimble Books, 2009).
He may be reached at pepeasia@yahoo.com.
Source: Asia Times
Has Syria crossed the "red line" that warrants a U.S. military invasion? Has it not? The political establishment in the United States seems at odds over itself. Obama's government cannot speak with one voice on the issue, and the U.S. media is likewise spewing from both sides of its mouth in an attempt to reconcile U.S. foreign policy with that most stubborn of annoyances, truth.
"The White House said on Thursday that American intelligence agencies now believed, with "varying degrees of confidence," that the Syrian government had used chemical weapons…"
Immediately afterwards, Obama's Secretary of Defense, Chuck Hagel, gave a blunt rebuke: "Suspicions are one thing; evidence is another."
This disunity mirrored the recent disagreement that Chuck Hagel had with Obama's Secretary of State, John Kerry, when both testified in front of Congress with nearly opposite versions of what was happening in Syria and how the U.S. should respond. Kerry was a cheerleader for intervention while Hagel — the military's mouthpiece — advised caution.
The U.S. government's internal squabbling over whether the Syrian government used chemical weapons is really an argument on whether the U.S. should invade Syria, since Obama claimed that any use of chemical weapons was a "red line" that, if crossed, would invoke an American military response. Never mind that Obama's "red line" rhetoric was stolen from the mouth of Bush Jr., who enjoyed saying all kinds of similarly stupid things to sound tough.
But now Obama's Bushism must be enforced, say the politicians, less the U.S. look weak by inaction. This seemingly childish argument is in fact very compelling among the U.S. political establishment, who view foreign policy only in terms of military power. If Syria is not frightened into submission by U.S. military threats, then Iran and other countries might follow suit and do as they please and U.S. "influence" would wane. Only a "firm response" can stop this domino effect from starting.This type of logic is the basis for the recent Syria chemical weapons accusations, which was conjured up by the U.S. "Intelligence" service (CIA) and its British and Israeli counterparts (the same people who "proved" that Iraq had Weapons of Mass Destruction, which later proved to be a fabricated lie). All three of these countries' intelligence agencies simply announced that the Syrian government has used chemical weapons, provided zero evidence, and then let their respective nations' media run with the story, which referred to the baseless accusations as "mounting evidence."
In the real world it appears that the U.S.-backed Syrian rebels are the ones responsible for having used chemical weapons against the Syrian government. It was the Syrian government who initially accused the U.S.-backed rebels of using chemical weapons, and asked the UN to investigate the attack. This triggered the Syrian rebels and later the Obama administration to accuse the Syrian government of the attack.
A very revealing New York Times article quoted U.S.-backed Syrian rebels admitting that the chemical weapons attack took place in a Syrian government controlled territory and that 16 Syrian government soldiers died as a result of the attack, along with 10 civilians plus a hundred more injured. But the rebels later made the absurd claim that the Syrian government accidentally bombed its own military with the chemical weapons.
Interestingly, the Russian government later accused the United States of trying to stall the UN investigation requested by the Syrian government, by insisting that the parameters of the investigation be expanded to such a degree that a never-ending discussion over jurisdiction and rules would eventually abort the investigation.
Complicating the U.S.' stumbling march to war against Syria is the fact that the only effective U.S.-backed rebel forces are Islamist extremists, the best fighters of which have sworn allegiance to Al-Qaeda. The same week that the U.S. media was screaming about chemical weapons, The NewYork Times actually published a realistic picture of the U.S.-backed Syrian rebels, which warrants extended quotes:
"Across Syria, rebel-held areas are dotted with Islamic courts staffed by lawyers and clerics, and by fighting brigades led by extremists. Even the Supreme Military Council, the umbrella rebel organization whose formation the West had hoped would sideline radical groups, is stocked with commanders who want to infuse Islamic law into a future Syrian government."
"Nowhere in rebel-controlled Syria is there a secular fighting force to speak of."

"The Islamist character of the [rebel] opposition reflects the main constituency of the rebellion…The religious agenda of the combatants sets them apart from many civilian activists, protesters and aid workers who had hoped the uprising would create a civil, democratic Syria."
Thus, yet another secular Middle Eastern government — after Iraq and Libya — is being pushed into the abyss of Islamist extremism, and the shoving is being done by the United States, which The NewYork Times discovered was funneling thousands of tons of weapons into Syria through U.S. allies in the region, Saudi Arabia and Qatar. We now know that these weapons were given to the Islamist extremists; directly or indirectly, it doesn't matter.
Even after this U.S.-organized weapons trafficking was uncovered, the Obama administration still has the nerve to say that the U.S. is only supplying "non lethal" aid to the Syrian rebels. Never mind that many of the guns that the U.S. is transporting into Syria from its allies were sold to the allies by the United States, where the weapons were manufactured.Now, many politicians are demanding that Obama institute a "no fly zone" in Syria, a euphemism for military invasion — one country cannot enforce a no fly zone inside another country without first destroying the enemy Air Force, not to mention its surface to air missiles, etc. We saw in Libya that a no fly zone quickly evolved into a full scale invasion, which would happen again in Syria, with the difference being that Syria has a more powerful army with more sophisticated weaponry, not to mention powerful allies — Iran and Russia.
This is the real reason that the U.S. military is not aligned with the Obama administration over Syria. Such a war would be incredibly risky, and inevitably lead to a wider conflict that would engulf an already war-drenched region, creating yet more "terrorists" who would like to attack the United States.
The U.S. public has learned the lessons of Iraq's WMD's, and that lesson is not lost on U.S. soldiers, few of whom want to fight another war for oil against a country which is a zero-threat to the United States.
Zionists and Gulf Monarchs Ponder…
Beirut – "This is one damn fine idea, what took us so long to see a simple solution that was right in front of our eyes for Christ's sake", Senator John McCain of "Bomb, bomb, bomb Iran" and "no-fly zones for Syria" notoriety, reportedly demanded to know from Dennis Ross during a recent Washington Institute for Near East Policy (WINEP) brain storming session in Washington DC.
 Ross, a founder of WINEP with Israeli government start up cash (presumably reimbursed unknowingly by American taxpayers) and currently WINEP's "Counselor", reportedly responded to the idea of facilitating Al Qeada to wage jihad against Hezbollah with the comment: "Shiites aren't the only ones seeking death to demonstrate their 'resistance' to whatever. Plenty of other Muslims also want to die as we saw last week in Boston. Let 'em all go at it and Israel can sweep out their s— when it's over."
One Congressional staffer attending the WINEP event emailed me, "Dennis spoke in jest — well I assumed he did — but who knows anymore? Things are getting ever crazier inside some of these pro-Israel think-tanks around here."
Featured on the front page of its April 25 edition, the Zionist-compliant New York Times writes that the Assad regime is apparently recovering but, "it must be understood that for all of the justified worries about the (al Qaeda affiliated) rebels "Assad remains an ally of Iran and Hezbollah. "
The Times adopts the views of Islamophobe, Daniel Pipes, who recommends that the US try to keep the two sides in Syria fighting as long as possible until they destroy each other.  Pipes, now serving as an advisor to John McClain, wrote in the Washington Times on April 11, "Evil forces pose less danger to us when they make war on each other. This keeps them focused locally, and it prevents either one from emerging victorious and thereby posing a greater danger. Western powers should guide enemies to a stalemate by helping whichever side is losing, so as to prolong their debilitating conflict."
Both Jeffrey Feltman, U.N. Under-Secretary General for Political Affairs and Susan Rice, U.S. Permanent Representative to the U.N, have at a minimum impliedly joined in the intriguing idea of siccing Jabhat al Nusra on the Party of God. This scheme, if launched, would be Feltman's 14th attempt to topple Hezbollah and defeat the Lebanese National Resistance to the occupation of Palestine since he first arrived in Beirut from Tel Aviv in 2005 to become US Ambassador to Lebanon.  This observer, among others in this region sense that given the aura still enveloping the American Embassy here,  that Jeffrey never really left his Lebanese ambassadorial post and continues to occupy this position from his new UN office.
This week Feltman warned that the spillover of Syria's war continues to be felt in Lebanon as Susan Rice, echoed him and condemned Hezbollah for "undermining the country's "dissociation policy." The latter being a bit obscure in meaning but connoting something like sitting around doing nothing while this country is being shelled by jihadists from among the 23 countries currently fighting in Syria.  Feltman informed the media on 4/22/13 that "The Secretary-General is concerned by reports that Lebanese are fighting in Syria both on the side of the regime and on the side of the opposition, hopes that the new government will find ways to promote better compliance by all sides in Lebanon with the "disassociation policy."
Given current divisions in Lebanon that will not happen anymore than Lebanon's June 9th Parliamentary elections will be held on time.
For her part, Susan lectured the UN Security Council that "Hezbollah actively enables Assad to wage war on the Syrian people by providing money, weapons, and expertise to the regime in close coordination with Iran." This position was expressed also through a statement by US. State Department spokesman , Patrick Ventrell, who said that Washington "has always been clear concerning Hezbollah's shameful role and the support it is providing for the Syrian regime and the violence it is inducing in Syria." Ventrell added: "We were clear from the start concerning the destructive role played by Iran as well as the Iranian role."
Several Israeli agents in Congress are today promoting a Jabhat el Nusra-Hezbollah war even as the Obama administration terror-lists the jihadist group. Meanwhile, Senator Lindsay Graham (R-S.C.), McCain's neocon Islamaphobe acolyte, goes a bit further and explains to Fox News, once Assad falls and Hezbollah is out of the picture "We can deal with these (jihadist) fellas."
Recent history in Libya instructs otherwise. As Turkish commentator Cihan Celik recently noted: "A divorce with al-Nusra will not be easy in Syria"
The past two years in Libya, that shadow of a country, reveals countless examples, three witnessed firsthand by this observer, during the long hot summer of 2011. What we saw was Gulf sponsors and funders offering young men, often unemployed, $ 100 per month, free cigarettes, and a Kalashnikov to do jihad.  Plenty down and out lads still accept these offers in Libya, as they do in Syria. One reason why the militias proliferated so quickly in Libya and never melted away was the phenomenon of a wannabe jihadists deciding to be a leader and recruiting perhaps a brother or two, maybe a few cousins or tribe members, and presto, they have created a militia with power they never dreamed of.
Their new life can offer many perceived benefits  from running rough shod over the civilian populations and setting up myriad mini but potent criminal enterprises specializing in kidnappings, robberies, drugs, trafficking in women, and assassinations for cash.  How many of these young men have turned in their weapons in Libya and returned to their former lives?   Or will do so when instructed by the likes of McCain or Graham?
On 4/24/13 Jabhat Al-Nusra Front intensified its threats to officials here including the Lebanese president by releasing a challenge from its media office: "…we inform you – and you may think of that as a warning or an ultimatum – that you must take immediate measures to restrain Hezbollah, otherwise, the fire will reach Beirut. If you do not abide by this within 24 hours, we will consider that you are taking part in the massacres committed by the Hezbollah members and we will unfortunately have to burn everything in Beirut." In addition they are calling for Jihad and the establishment of the "Resistance Factions for Jihad against the Regime in Syria" and also in Saida and Tripoli, Lebanon.
Israeli officials appear to be in agreement with the Ross/Pipes proposal to arrange for Al Qeada to launch a war against Hezbollah.  The Director for External Affairs at "The Moshe Dayan Center for Middle Eastern and African Studies, repeatedly claimed that the Shia are the real threat to Israel, not the Sunni and with the least threat coming from the Gulf monarchs.  He offered the view recently that "Israel is now a partner of the Sunni Arab states."  Indeed, Israel hopes that Hezbollah will forget Israel when tasked with trying repel Al Nusra and other al Qaeda affiliate attacks.
According to various Israel officials who have issued statements on the subject, Saudi Arabia, Egypt and Jordan and several other members of the Arab League constitute an "alliance of anxiety for Israel" because they claim that "Sunni Arabs are not as competent as the Shia and Iran and as a result they express doubts that Israel can rely on the Sunni states in the same way that the Sunni states can rely on Israel."
In a documentary about the Iraq war, an American soldier explains:  "Actually, we don't really have much of a problem with the Sunnis.  It's the Shias who we are afraid of.  The problem has something to do with their leader who was killed centuries ago and these fellas are willing to lay their life down for the guy.  Anyhow, that is what they told us in Special Ops class."
Al Nusra fighters currently occupying parts the south west areas of Yarmouk Palestinian refugee camp in south Damascus, recently expressed eagerness to fight Hezbollah which they claim would give them credibility with Sunni Muslims and, oddly, in this observers view, "credibility with western countries", who supposedly are al Qaeda's sworn enemies. It's sometimes hard to know who precisely is whose enemy these days in Syria as the rebels continue using areas east and southwest of Damascus as rear bases and as gateways into the capital.
Despite boasts to the contrary from Jihadist types in Syria and Lebanon, it is not clear to this observer if Jihadist and al Qaeda-affiliated groups living among Hezbollah communities in Lebanon like Fatah al Islam, Jund al Sham or Osbat al Ansar which have been here for years would actually join the Zionist promoted anti-Hezbollah jihad.
But it is evident that some Lebanese Islamists and jihadists directly connected to al Qaeda do have the ability to target Hezbollah.   Elements from each of these groups are startling to associate and identify with Jabhat al Nusra, inspired partly by their successful military operations in Syria.
Again, we saw the same thing in Libya.  Enthusiastic, ambitious young men who want to improve their lot in life try to go with a winner.  According to sources in the Ain al Hilweh Palestinian refugee camp, jihadist leaders such as Haytham and Mohammed al Saadi, Tawfic Taha, Oussama al Shehabi and Majed al Majed are recruiting followers and fighters in Lebanon and offer a ticket out the the squalid army-surrounded, Syrian-refugee-inflated camp.
Homs-based media activist Mohammad Radwan Raad claims that "the embattled residents of the rebel-controlled Homs province town of Al-Qusayr welcome Saida, Lebanon-based Sunni Sheikh Ahmad al-Assir's call for Jihad in Syria. Claims Raad, "Al-Qusayr residents welcome Assir's call and hope the Lebanese people help kick out Hezbollah members in the area…We need anyone who can get rid of them." This week Assir urged his followers to join Syrian rebels fighting troops loyal to President Bashar al-Assad and Lebanese Shiite movement Hezbollah. Al-Qusayr has been under rebel control for more than a year and on the scene reports indicate that it is about to be returned to central government control.
In response, two Salafist Sunni Lebanese sheikhs urged their followers to go to Syria to fight a jihad (religious war) in defense of Qusayr's Sunni residents. "There is a religious duty on every Muslim who is able to do so… to enter into Syria in order to defend its people, its mosques and religious shrines, especially in Qusayr and Homs," Sheikh Ahmed al-Assir told his followers. For now, experts say, such calls on the part of Lebanon's Salafists are largely bluster because the movement is far from able to wield either the arsenal or the fighting forces of Hezbollah.
Local analysts like Qassem Kassir argue that Jabhat al Nusra and friends are not organized enough to fight against Hezbollah in a conventional war, but they could cause great damage by organizing bomb attacks against the Party of God's bases and militants. The latter would be enough initially for Ross and WINEP and their Zionist handlers. Creating chaos in Lebanon being one of their goals but more importantly weakening the National Lebanese Resistance led by Hezbollah and also challenging Syria and Iran.
In a recent speech, Hezbollah Secretary-General Hassan Nasrallah offered his party's view about a Western-promoted Sunni-Shia clash, with Al-Nusra, AlQaida and all the groups which flocked to Syria, saying that what was wanted of them was to kill and get killed in Syria, in a massacre which will only serve the enemies of the Arabs and Muslims.
The coming months will reveal to us if  the several pro-Zionist Arab regimes as well as Islamophobes, including those at WINEP and other Israel-first think-tanks, are delusional in believing that John McCain's "simple solution" to those resisting the Zionist occupation of Palestine, would be to assist  Jabhat el Nusra type jihadists to make war against Hezbollah.
Whether they could defeat Hezbollah is uncertain but whether Jabhat al Nusra and friends are capable of igniting yet another catastrophe in this region is the looming question.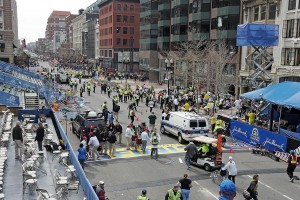 Will we ever learn the full truth about the Boston Marathon bombing?  Personally, I have been looking into this attack for days, and I just keep coming up with more questions than answers.  At this point, I honestly have no idea what really happened.  Why was a bomb drill being held on the day of the attack?  Why have authorities denied that a bomb drill was taking place?  Were Tamerlan and Dzhokhar Tsarnaev acting alone?  What was the nature of their previous contacts with the FBI and other federal agencies?  Why did the FBI at first deny that they had been in contact with the Tsarnaev brothers previously?  Why was the investigation of a mysterious Saudi national with familial links to al-Qaeda suddenly dropped shortly after the Saudi ambassador held an unscheduled meeting with Barack Obama?  Why did Michelle Obama subsequently visit that mysterious Saudi national in the hospital?  If you are looking for answers to these questions, I am afraid that I don't have them at this point.  But what alarms me is that the mainstream media seems to be afraid to ask any of the hard questions that they should be asking.  They just seem to swallow whatever the authorities tell them hook, line and sinker without following up on any of the things in this case that simply do not seem to make sense.
So what kinds of questions should they be asking?  The following are 17 unanswered questions about the Boston Marathon bombing that the media appears to be afraid to ask…
#1 Why were runners being told that a bomb squad drill was taking place during the Boston Marathon?  The following is from an article by Natural News…
Alastair Stevenson is a veteran marathon runner who has competed in dozens of marathons around the world, including the London Marathon. He's very familiar with the security typically found at marathons, and he immediately noticed something odd about the Boston marathon security.

"They kept making announcements on the loud speaker that it was just a drill and there was nothing to worry about. It seemed like there was some sort of threat, but they kept telling us it was just a drill," he was quoted as saying byLocal15TV.com.

In the interview, you'll hear Stevenson say:

"At the start at the event, at the Athlete's Village, there were people on the roof looking down onto the Village at the start. There were dogs with their handlers going around sniffing for explosives, and we were told on a loud announcement that we shouldn't be concerned and that it was just a drill. And maybe it was just a drill, but I've never seen anything like that — not at any marathon that I've ever been to. You know, that just concerned me that that's the only race that I've seen in my life where they had dogs sniffing for explosions, and that's the only place where there had been explosions."
#2 Why did authorities deny that a bomb squad drill was being held?
#3 According to The Mirror, the FBI is reportedly "hunting" a 12-strong terrorist "sleeper cell" that Tamerlan and Dzhokhar Tsarnaev were allegedly a part of…
A source close to the investigation said: "We have no doubt the brothers were not acting alone. The devices used to detonate the two bombs were highly sophisticated and not the kind of thing people learn from Google.

"They were too advanced. Someone gave the brothers the skills and it is now our job to find out just who they were. Agents think the sleeper cell has up to a dozen members and has been waiting several years for their day to come."
If that is the case, why are authorities in Boston adamantly insisting that the two brothers were acting alone?
#4 CBS News is reporting that the FBI interviewed Tamerlan Tsarnaev back in 2011.  The mother of the two Tsarnaev brothers insists that the FBI had been in contact with them for up to five years.  At first, the FBI denied any previous contact with the two suspects.  Will we ever learn the true scope of the previous relationship between the FBI and the Tsarnaev brothers?
#5 Debka is reporting that the Tsarnaev brothers were "double agents" which had been "hired by US and Saudi intelligence to penetrate the Wahhabi jihadist networks which, helped by Saudi financial institutions, had spread across the restive Russian Caucasian."  Could this possibly be true?  If so, will the American people be told the truth about these links?
#6 According to their uncle, there were "mentors" that "radicalized" the Tsarnaev brothers.  So precisely who were those "mentors"?
#7 What happened during Tamerlan Tsarnaev's trip to Dagestan and Chechnya last year?
#8 Were the Tsarnaev brothers in contact with a rebel leader named Doku Umarov who is known as "Russia's Bin Laden"?
#9 Did Tamerlan Tsarnaev post a video on YouTube last summer that expresses a belief that the 12th Imam, Mahdi, will soon come and that an Islamic army with black flags with arise out of a province in Iran known as Khorasan?
#10 Why aren't we being told that the "pressure cooker bombs" used in the Boston Marathon attacks are very similar to the kind of pressure cooker bombs that are commonly used in the Middle East?…
The Daily Beast has confirmed with U.S. counter-terrorism officials that the bombs placed Monday at the marathon were made from pressure cookers, a crude kind of explosive favored by insurgents in Pakistan and Afghanistan. A recipe for a bomb that uses the pressure cooker was part of the debut issue of Inspire, the English-language online magazine of al Qaeda in the Arabian Peninsula.
#11 Initially we were told that Saudi national Abdulrahman Ali Alharbi was a "person of interest" in the case.  But now he is scheduled to leave the countrywith the full blessing of the U.S. government.  Why is there such a rush to get him out of the United States?
#12 Why aren't we being told that Abdulrahman Ali Alharbi was photographedwith two other Saudis in the vicinity of the Boston marathon bombings?
#13 Why aren't we being told of the shocking familial links that Abdulrahman Ali Alharbi has to known members of al-Qaeda?  The following is from research complied by Walid Shoebat…
Many from Al-Harbi's clan are steeped in terrorism and are members of Al-Qaeda. Out of a list of 85 terrorists listed by the Saudi government shows several of Al-Harbi clan to have been active fighters in Al-Qaeda:

#15 Badr Saud Uwaid Al-Awufi Al-Harbi
#73 Muhammad Atiq Uwaid Al-Awufi Al-Harbi
#26 Khalid Salim Uwaid Al-Lahibi Al-Harbi
#29 Raed Abdullah Salem Al-Thahiri Al-Harbi
#43 Abdullah Abdul Rahman Muhammad Al-Harbi (leader)
#60 Fayez Ghuneim Humeid Al-Hijri Al-Harbi
Source: http://aalhameed1.net/vb/showthread.php?t=1565

Then you have Al-Harbi clan members in Gitmo:

Salim Salman Awadallah Al-Sai'di Al-Harbi
Majid Abdullah Hussein Al-Harbi
Muhammad Abdullah Saqr Al-Alawi Al-Harbi
Ghanem Abdul Rahman Ghanem Al-Harbi
Muhammad Atiq Uwaid Al-Awfi Al-Harbi
Source: http://www.muslm.net/vb/showthread.php?169019-أسماء-(90)-سعودياً-لا-زالوا-محتجزين-في-جوانتانامو

There are specific Saudi clans that are rife with members of Al-Qaeda, which makes it quite alarming as to why nearly a hundred thousand student visas are issued to these. Americans are clueless as to clan ties when it comes to terrorism.
#14 Why did U.S. Secretary of State John Kerry have a private meeting with a Saudi foreign minister shortly after Abdulrahman Ali Alharbi was identified as a potential suspect?
#15 Why did Barack Obama hold an unscheduled meeting with the ambassador from Saudi Arabia shortly after Abdulrahman Ali Alharbi was identified as a potential suspect?
#16 Why did Michelle Obama visit Abdulrahman Ali Alharbi in the hospital?
#17 Why did numerous mainstream media outlets openly suggest that "right-wing extremists" were behind the bombings in the immediate aftermath of the attack?
Source: End of the American Dream
Hurrah, 17 Senate Democrats crossed the aisle to support the keystone pipeline. No doubt, these stalwart energy proponents are looking ahead to their 2014 races. "The vote puts new pressure on the Obama Administration to approve the pipeline project. The southern portion of the pipeline, which didn't require White House approval, is already under construction. The Senate vote indicates that even Democrats are growing impatient with the delay." But before the champagne is uncorked, the Green army of diehard crazies form ranks to make their last stand. Putting the issue in proper perspective, the reliable Robert Bryce warns – While opponents protest, oil companies turn to railroads.
Prior to the environmental cohorts starting a run on shorting railroad stocks, opponents move to stop Keystone pipeline, altogether. "The opposition effort is now focused on Secretary of State John Kerry, who will make a recommendation to President Barack Obama on whether to green-light the project."In order to leap to the high moral ground, that fearless leader of foreign policy must be instilled with a new sense of abandoning the Middle East oil rich gulf region for a new austerity on fossil fuel resources. Here is a sample of the tortured logic from the Barron of restraint and sacrifice.
John Kerry: The Science Is Screaming At Us, states:
"Though he uses the flip side of Pascal's Wager, which he restates as "What's the worst that can happen?" Kerry adopts the same basic argument in his Ross Sea speech, in which he makes the case against climate change skeptics:
"What if the other people are wrong and we are right; what's the worst that can happen? The destruction of the ecosystem as we live with it today."
Given that choice, as a matter of public responsibility it makes common sense to configure public policy around the available science and adopt a vigorous plan to reduce carbon emissions."
Sure the global warming fear mongers want you to adopt their weird science as fact, while they go to extreme means to deny or suppress the economic realities that all of us must deal with. Remember that the transportation of choice for attending Keystone Pipeline demonstrations are fueled by gasoline or diesel, not their hallowed wind generated electric vehicles.
The Chicago Council on Global Affairs report, In Support of Canadian Oil Sandscounters the hysteria of often-criticized techniques used to extract liquid gold from the Western Canadian Sedimentary Basin (WCSB) in Alberta, Canada.
"Now, the environmental concerns. Canada works hard to mitigate the impact of oil sands development. In August we took a trip to visit a national laboratory devoted to this pursuit entirely. Canada's practices are equal or better than anything required in the U.S. Yes, oil sands mining operations are not pretty, but then again, neither is coal mining or heavy industry – in the U.S. or elsewhere. The focus should be on whether the activities are carried out with appropriate environmental protections and attention to reclamation. Moreover, most future growth in oil sands development will use so-called in situ technologies that extract oil without surface mining, resulting in less environmental impact and a lower greenhouse gas footprint."
As for environmental concerns for the Keystone Pipeline itself, The Edmond Suneditorial sums up quite nicely.
"Earlier this month, the U.S. Department of State revised an environmental impact statement for the 875-mile Keystone XL pipeline. The report contains no conclusive environmental reason for the pipeline not to be built, said Congressman James Lankford, R-Edmond.

"Fortunately for people in my state of Oklahoma and states around us, the administration is running out of excuses to continue delaying the Keystone XL pipeline," Lankford said. "The last major pipeline from Canada took 27 months to approve by the Obama Administration State Department. So far, the Keystone XL pipeline has consumed 53 months in permitting and administration delays."
The Washington Times item, Unlocking the Keystone pipeline illustrates some of those nasty facts that cause the political blockage from an administration that is bent on fostering an unrealistic energy policy.
"While Mr. Obama says he's all in for boosting oil and gas production, a report by the nonpartisan Congressional Research Service contradicts him. The record of fossil-fuel production during his tenure reveals that nearly every recent increase in oil and natural-gas production was on state-owned and private property, not federal land. U.S. oil production has increased by 1.1 million barrels per day between fiscal 2007 and 2012 on state and private land, but has fallen by 7 percent on federal land. For natural gas, production since 2007 has grown by 4 trillion cubic feet – up 40 percent on state and private land, but down by 33 percent on federal land.

The Congressional Research Service places partial blame on a slowdown in the federal drilling-application process. From 2006 to 2011, the average time needed to approve applications has risen from 218 days to 307 days. The complexity of paperwork involved in getting the government's approval of drilling sites inhibits production and contributes to higher prices at the pump."
Significance of the Seven Reasons Why Obama Will Approve the Keystone Pipeline arguments what should be of especial concern for John Kerry at the State Department:
"If the oil doesn't head south of the Canadian border, it will head west to China, which craves cheap oil for its military build-up and its metastasizing territorial claims in East Asia, which it is Obama's stated policy to vigorously oppose."
The Oil Roustabout Economy is here to stay for the near future. If the country is to reduce reliance on foreign oil from unstable sources, the manifest alternative is to tap our friendly neighbor to the north and the resources domestically in the route of the Keystone Pipeline. "Since the environmentalists base their cosmos on shifting sand, why not go for the real stuff?" Commerce in petroleum is fluid and spongeable, crossing all borders. The artificial political obstruction, which delayed and added gratuitous costs to a utilitarian project, violates our real national security.
Barak Obama's journey to the Holy Land hardly resembles the trek of Moses through the wilderness. Nonetheless, his flee from accountability does remind of that often professed transparency. In this case, he cannot hide from his misdeeds. An open question remains, will public outrages banish the POTUS under the weight of his transgressions. Alternatively, will the powers of Pharaoh succeed in suppressing his enemies?
"Who made you a ruler and judge over us? Do you mean to kill me as you killed the Egyptian?" Then Moses was afraid and thought, "Surely the thing is known." (NRSV Exodus  2:14)
This deed is the event that sends Moses on his long journey. The Old Testament is careful to say that Moses killed the Egyptian when no one was around. Yet the implication in the Bible is that you can run, but you cannot hide. Barry S. Roffman's Ark Code offers an esoteric, if not bizarre theory that attempts to make a connection with the Hebrew Torah.
Barak OBAMA – REINCARNATION OF PHARAOH, KING OF EGYPT, may be a stretch by most mainstream standards. However, the political point that Obama seeks to dictate to others certainly has the stain of Pharaoh.
"This matrix was originally posted in conjunction with President Obama's overt hostility toward Israel. When the crisis arose in Egypt where there was widespread opposition to President Mubarak, Obama declared, "What is clear — and what I indicated tonight to President Mubarak — is my belief that an orderly transition must be meaningful, and it must begin now." The demands made by the U.S. President had a tone that made it sound like he was also elected as President of Egypt. There seemed to be no concept of Egyptian sovereignty, or of the need for Egypt to solve its own problems internally. On the matrix, BARACK OBAMA is the axis term. His name is shown at its 6th lowest ELS in wrapped Torah (which requires more than one computer pass through the 304,805 letters of Torah to find). It is directly crossed by one of the Torah's 8 uses of the term PHARAOH KING OF EGYPT. Perhaps President Obama has a distant memory of being Pharaoh, King of Egypt in a past life. Indeed, there is a statue that backs this idea in the Egyptian Museum in Cairo that was attacked in the rebellion, and which was at the heart of the rebellion in Cairo's Tahrir Square!

Who will play the role of Pharaoh? As shown above, a statute in the Cairo Museum offers a huge clue. It and the actions of Obama, when combined with the Torah Code matrix above, and the odds below appear to make the answer rather apparent.

The p value of the match of BARACK OBAMA and PHARAOH KING OF EGYPT is just ~0.015. It equates to about one chance in 66 that we could find such a match. By itself this is only of mild interest. However, when the matrix is expanded to just 170 letters, a second occurrence of PHARAOH KING OF EGYPT is seen. With just 7 remaining such terms to match, the p value of the larger matrix is now adjusted to 0.000104, which is about one chance in 9,607 – highly significant."
Mr. Roffman's conclusion: "It is not certain who was the Pharaoh of the Exodus, butone suspect is Akhenaten. His statue is found in the Cairo Museum, and it is a dead ringer for President Obama."
For an op-ed viewpoint authored by ANDRÉ ACIMAN, in the New York Times, The Exodus Obama Forgot to Mention, illustrates the complexity of living together, much less in harmony.
"PRESIDENT OBAMA'S speech to the Islamic world was a groundbreaking event. Never before has a young, dynamic American president, beloved both by his countrymen and the nations of the world, extended so timely and eager a hand to a part of the globe that, recently, had seen fewer and fewer reasons to trust us or to wish us well.As important, Mr. Obama did not mince words. Never before has a president gone over to the Arab world and broadcast its flaws so loudly and clearly: extremism, nuclear weapons programs and a faltering record in human rights, education and economic development — the Arab world gets no passing grades in any of these domains. Mr. Obama even found a moment to mention the plight of Egypt's harassed Coptic community and to criticize the new wave of Holocaust deniers. And to show he was not playing favorites, he put the Israelis on notice: no more settlements in the occupied territories. He spoke about the suffering of Palestinians. This was no wilting olive branch.

It is strange that our president, a man so versed in history and so committed to the truth, should have omitted mentioning the Jews of Egypt. He either forgot, or just didn't know, or just thought it wasn't expedient or appropriate for this venue. But for him to speak in Cairo of a shared effort "to find common ground … and to respect the dignity of all human beings" without mentioning people in my position would be like his speaking to the residents of Berlin about the future of Germany and forgetting to mention a small detail called World War II."
Viewing the Ed Show video, from the progressive media, Netanyahu Sets US Conservatives Straight on 'Anti-Israel' Obama, attempts to give the impression that playing nice with Bibi Netanyahu implies progress. Just how realistic is this assessment, when examined in light of the record of the administration?
How far the daring darling of the peace process has fallen from grace among the Middle East Semites, should not be a surprise. Even the pro-Israel establishment Daily Beast questions Obama's ability and commitment to engage the eternal feud in the article, How Obama Became Netanyahu.
"When it comes to the Palestinians, Obama is also governed by political fear. Obama's own dovish instincts on the Israeli-Palestinian conflict are clear.

Before he won the Democratic nomination in 2008, Obama spoke openly about Palestinian suffering, about the narrow confines of the Israel debate inside the United States, and about his dim view of Likud. But ever since his bruising, and ultimately futile, conflicts with Netanyahu over settlements in 2009 and the 1967 lines in 2011, Obama has gone to great lengths to avoid Israel-related fights. During the past 18 months, he's barely uttered a public word about settlements or the 1967 lines. Last year's Democratic platform excised previous language pledging a "personal" presidential "commitment" to the peace process. And now Obama is traveling to Israel without any specific plans for moving toward a Palestinian state.

Obama is essentially telling Palestinians to keep their heads down until an Israeli leader comes along who wants to create a viable Palestinian state. Or until ordinary Israelis stop worrying about the ultra-Orthodox and the price of cottage cheese and create another peace movement. Or until politics change in Washington. He's telling Palestinians to relinquish every form of counterpressure they have and put themselves at Israel's and America's mercy, even though this trip itself is evidence that without Palestinian counterpressure, America and Israel will do little else except entrench the status quo."
Woe is I, for the "so called" reincarnated Pharaoh; his pilgrimage to the Promise Land is not exactly a vacation in Eden. No "parting of the waves" on this visit for the Tempter look alike. Even on the home front, 'The Bible' viewers: Seeing Obama in Satan gains traction.
"The similarity was seen and commented upon by people hostile to the president by people who because of the their general political opinions, found it quite "obvious" that the Devil and the president should look so much alike.

Plenty of the president's biggest fans also saw the similarity and went to social media to spread the word about it. Why? Because, according to them, it was all part of the producers' plan to smear the president and appeal to the "Bible thumpers" who oppose him.

In other words, both groups saw the president in the Devil – one group because they see the Devil in the president, and the other because they see the Devil in those who strongly oppose the president."
If not a Pharaoh or a Beelzebub, what precisely is Barak Obama? While he surely would like to be the sheikh of the last days, he certainly is no vessel of revealed scripture. The "born again" Netanyahu – Obama love fest, is no transcendental relationship. Only by answering, Who made you a ruler and judge over us?, can serious minded brothers of good will cross over into the promise land of honest accountability.
Obama is a creature of satanic control and implements global Talmudic law. With the abandonment of Mosaic Law and the New Testament gospel, the international community is executing a worldwide inferno of hatred and death. "Let my people go" applies to all of humanity. The exodus from perdition needs universal acceptance that only obedience to God is the path to paradise.
I am not sure exactly when the death of television news took place.
The descent was gradual—a slide into the tawdry, the trivial and the inane, into the charade on cable news channels such as Fox and MSNBC in which hosts hold up corporate political puppets to laud or ridicule, and treat celebrity foibles as legitimate news. But if I had to pick a date when commercial television decided amassing corporate money and providing entertainment were its central mission, when it consciously chose to become a carnival act, it would probably be Feb. 25, 2003, when MSNBC took Phil Donahue off the air because of his opposition to the calls for war in Iraq
Donahue and Bill Moyers, the last honest men on national television, were the only two major TV news personalities who presented the viewpoints of those of us who challenged the rush to war in Iraq. General Electric and Microsoft—MSNBC's founders and defense contractors that went on to make tremendous profits from the war—were not about to tolerate a dissenting voice. Donahue was fired, and at PBS Moyers was subjected to tremendous pressure. An internal MSNBC memo leaked to the press stated that Donahue was hurting the image of the network. He would be a "difficult public face for NBC in a time of war," the memo read. Donahue never returned to the airwaves.
The celebrity trolls who currently reign on commercial television, who bill themselves as liberal or conservative, read from the same corporate script. They spin the same court gossip. They ignore what the corporate state wants ignored. They champion what the corporate state wants championed. They do not challenge or acknowledge the structures of corporate power. Their role is to funnel viewer energy back into our dead political system—to make us believe that Democrats or Republicans are not corporate pawns. The cable shows, whose hyperbolic hosts work to make us afraid self-identified liberals or self-identified conservatives, are part of a rigged political system, one in which it is impossible to vote against the interests of Goldman Sachs, Bank of America, General Electric or ExxonMobil. These corporations, in return for the fear-based propaganda, pay the lavish salaries of celebrity news people, usually in the millions of dollars. They make their shows profitable. And when there is war these news personalities assume their "patriotic" roles as cheerleaders, as Chris Matthews—who makes an estimated $5 million a year—did, along with the other MSNBC and Fox hosts.
It does not matter that these celebrities and their guests, usually retired generals or government officials, got the war terribly wrong. Just as it does not matter that Francis Fukuyama and Thomas Friedman were wrong on the wonders of unfettered corporate capitalism and globalization. What mattered then and what matters now is likability—known in television and advertising as the Q score—not honesty and truth. Television news celebrities are in the business of sales, not journalism. They peddle the ideology of the corporate state. And too many of us are buying.
The lie of omission is still a lie. It is what these news celebrities do not mention that exposes their complicity with corporate power. They do not speak about Section 1021 of the National Defense Authorization Act, a provision that allows the government to use the military to hold U.S. citizens and strip them of due process. They do not decry the trashing of our most basic civil liberties, allowing acts such as warrantless wiretapping and executive orders for the assassination of U.S. citizens. They do not devote significant time to climate scientists to explain the crisis that is enveloping our planet. They do not confront the reckless assault of the fossil fuel industry on the ecosystem. They very rarely produce long-form documentaries or news reports on our urban and rural poor, who have been rendered invisible, or on the wars in Iraq and Afghanistan or on corporate corruption on Wall Street. That is not why they are paid. They are paid to stymie meaningful debate. They are paid to discredit or ignore the nation's most astute critics of corporatism, among them Cornel West, Medea Benjamin, Ralph Nader and Noam Chomsky. They are paid to chatter mindlessly, hour after hour, filling our heads with the theater of the absurd. They play clips of their television rivals ridiculing them and ridicule their rivals in return. Television news looks as if it was lifted from Rudyard Kipling's portrait of the Bandar-log monkeys in "The Jungle Book." The Bandar-log, considered insane by the other animals in the jungle because of their complete self-absorption, lack of discipline and outsized vanity, chant in unison: "We are great. We are free. We are wonderful. We are the most wonderful people in all the jungle! We all say so, and so it must be true."
When I reached him by phone recently in New York, Donahue said of the pressure the network put on him near the end, "It evolved into an absurdity." He continued: "We were told we had to have two conservatives for every liberal on the show. I was considered a liberal. I could have Richard Perle on alone but not Dennis Kucinich. You felt the tremendous fear corporate media had for being on an unpopular side during the ramp-up for a war. And let's not forget that General Electric's biggest customer at the time was Donald Rumsfeld [then the secretary of defense]. Elite media features elite power. No other voices are heard."
Donahue spent four years after leaving MSNBC making the movie documentary "Body of War" with fellow director/producer Ellen Spiro, about the paralyzed Iraq War veteran Tomas Young. The film, which Donahue funded himself, began when he accompanied Nader to visit Young in the Walter Reed National Military Medical Center in Washington, D.C.
"Here is this kid lying there whacked on morphine," Donahue said. "His mother, as we are standing by the bed looking down, explained his injuries. 'He is a T-4. The bullet came through the collarbone and exited between the shoulder blades. He is paralyzed from the nipples down.' He was emaciated. His cheekbones were sticking out. He was as white as the sheets he was lying on. He was 24 years old. … I thought, 'People should see this. This is awful.' "
Donahue noted that only a very small percentage of Americans have a close relative who fought in Iraq or Afghanistan and an even smaller number make the personal sacrifice of a Tomas Young. "Nobody sees the pain," he said. "The war is sanitized."
"I said, 'Tomas, I want to make a movie that shows the pain, I want to make a movie that shows up close what war really means, but I can't do it without your permission,' " Donahue remembered. "Tomas said, 'I do too.' "
But once again Donahue ran into the corporate monolith: Commercial distributors proved reluctant to pick up the film. Donahue was told that the film, although it had received great critical acclaim, was too depressing and not uplifting. Distributors asked him who would go to see a film about someone in a wheelchair. Donahue managed to get openings in Chicago, Seattle, Palm Springs, New York, Washington and Boston, but the runs were painfully brief.
"I didn't have the money to run full-page ads," he said. "Hollywood often spends more on promotion than it does on the movie. And so we died. What happens now is that peace groups are showing it. We opened the Veterans for Peace convention in Miami. Failure is not unfamiliar to me. And yet, I am stunned at how many Americans stand mute."
Chris Hedges, whose column is published Mondays on Truthdig, spent nearly two decades as a foreign correspondent in Central America, the Middle East, Africa and the Balkans. He has reported from more than 50 countries and has worked for The Christian Science Monitor, National Public Radio, The Dallas Morning News and The New York Times, for which he was a foreign correspondent for 15 years.
Source: Truthdig
Could the White House Have Dreamt for More?
Damascus - For the past year, a plan C or D, depending on how one numbers the failed US-Israel projects in Syria was badly needed for those presuming to topple the Assad government.
And this week, according  to Congressional staffers, both Tel Aviv and the White House are pinching themselves in disbelief over their good luck with  installing republican leaning conservative Dixie businessman, the congenial, Ghassan Hitto, as Syria's new interim Prime Minister.
Securing the key position for Mr. Hitto, a decision made last year, was not so easy and had to be approached gingerly. But finally, after weeks of sometimes intense debate within Syrian opposition circles, Washington, Ankara, Doha and Tel Aviv among others, managed to appoint their preferred guy.  "The White House thought Hitto was the best of a bad lot", one Congressional committee source, whose work load includes Syria, explained to this observer. "Bottom line, he's an American, nearly thirty years here makes Ghassan one of us. And who cares if he came here as young man to dodge military service in Syria. Many of us dodged our draft during Vietnam and what's important is that we can count of him!"
And just as some Americans were beginning to believe that our government may be afflicted with a congenital incapacity to learn from our past mistakes, installing Hitto,  "should keep hope alive and we should  not give up",  according to our Ambassador in Beirut, Maury Connelly. "Look what we achieved in Libya" she lectured a visiting delegation recently.  After the meeting, one participant deadpanned, "Good lord! If that woman had not been Jeff Feltman's office favorite for whatever reason, she might still be serving coffee to State Department visitors at 2201 C St NW, Washington, DC!"  Having quoted that snide comment, Maury, dear readers, is reputed to be a lovely lady. Just ask her frequent visitor, Samir Geagea of the Lebanese Forces, who is reputed to be her special confident these days and her very favorite Lebanese politician.
One recalls how Washington installed nearly one dozen Libya ex-pats during the uprising just as the NATO no-fly zone was being launched.  Most of them knew foreign countries better than their birth country and some needed to get their hands on a US supplied "non-lethal weapon" i.e. a GPS and a National Geographic map to find the places in west Libya which they were meant to govern.  Not to drop names, but in late June 2011,  Saif el-Islam, now locked up in Zintan west of Tripoli, told this observer, referring to the influx into Benghazi and Misrata of "Team USA-UK"  as Saif referred to those  NATO chose to form an alternative government so they could be recognized quick as the "sole legitimate government "of Libya, "Franklin, you know Libya better than these foreigners do!"
Mr. Hitto's "election" solves several immediate Syria problems for the White House. Or so they are hoping. At minimum,  Hitto will be an American 'potted plant' who can be recognized and around whom NATO can corral an implant some of the desperate factions vying for power. Ghassan appears willing to take orders and is now involved in a crash-course to learn what he needs to know about Syria and how to implement the game plan. One congressional aide who helped vet Mr. Hitto clams he has "spunk and can be tough. And we think he will play ball."
One proposal that Hitto has reportedly agreed to is the Dennis Ross/AIPAC idea for a "political isolation law." If adapted by the Hitto provisional government, this decree would ban nearly the whole ruling class in Syria from having any role in government. Its intension is to eliminate anyone who worked with either the Hafez or Bashar Assad regimen from 1970 until today. "We need a clean break in Syria", Ross reportledly told fellow conferees at the recent AIPAC convention.
Washington has also encouraged Hitto to reject dialogue with the Government of Syria because neocons in Congress are insisting that "negotiations" with the Assad government will drag on interminably and allow the current regime to eradicate pockets of resistance and bring in more help from Russia and Iran.  Citing negotiations with Iran,  Arizona Senator John McCain recently told Fox News that "if you try to negotiate with these people (Iran's government) you will lose. And we did.  We need action!" Some in Congress are telling the White House that the same is true with the Syrian government and it appears Mr. Hitto agrees that dialogue is a bad thing.
The staffer also pointed out that "there has been a misreading of John Kerry's recent position which in fact does not reflects a notable change in the American position nor does it represent a step-back from the statements that President Obama made  earlier concerning the need for Al-Assad to step down. Obama and Hitto are on the same page."
No sooner than Grassan Hitto was set in place than two insatiable US Senate war-mongers, Sen. John McCain (R-Ariz.) and Sen. Lindsey Graham (R-S.C.) used the occasion of conflicting and unconfirmed reports of chemical weapons being used in Syria by increasing pressure on President Obama to belatedly approve U.S. military involvement in Syria. "The White House response should include the provision of arms to vetted Syrian opposition groups, targeted strikes against Assad's aircraft and Scud missile batteries on the ground, and the establishment of safe zones inside Syria to protect civilians and opposition groups," the senators continued in their statement.  "If today's reports are substantiated, the tragic irony will be that these are the exact same actions that could have prevented the use of weapons of mass destruction in Syria." Graham went even further and seemed to endorse a plan to put U.S. on the group in Syria during an interview recently with Foreign Policy. Said he:  "We need a real partner in Syria."
In Ghassan Hitto,  Senators Graham and  McClain just may have one.
Washington and Tel Aviv see in their choice of Mr. Hitto, as a likely solution to numerous barriers to their goals in Syria. They believe that Mr. Hitto can help end the infighting among the opposition to the current regime that has caused a stalemate. While Hitto is no Mohammad Morsi he does lean toward the Muslim Brotherhood and they supported him while knowing he was Washington's choice. Hitto, some in Washington believe, can help neutralize the MB.  The White House has reportedly told the EU that "the CIA recommended Hitto in order to preempt the crazies in this circus and Hitto can, as much as other of our prospects, help with the formation of a US backed international bloc to get rid of Salafist groups in Syria."
The in-depth US training of Ghassan has begun.  An 'advisory team' is already appointed to indoctrinate him with the 'message' and he is being given an intensive cram course of what to do and what pitfalls to avoid.  He will be expected to learn from missteps in Libya, Egypt and Iraq. Mr. Hitto has already been clued that if he wants to achieve more than to be Syria's First "Interim" Prime Minister he will need to be a quick learner,  able to adapt fast  to the "manual", and above all, become a reliable  team player. "We aren't looking for another Hugo Chavez around here", Ghassan was told recently in Istanbul, shortly before announcing his candidacy.
Hitto's CIA handlers gave him the script and he read it well. In his first public address he deadpanned that he recognized the very difficult task that lies ahead for his administration. He has pledged to provide the services that many Syrians are lacking. He has also promised free and fair elections in a post-Assad regime Syria.
John Kerry says he is ready to work with Hitto.  But since Kerry told members of Congress two years ago that he connected with and respects Bahar al-Assad and that "we can deal with him like we deal with the Canadians" he once told ultra Zionist Congressman Barney Frank.  In private Kerry told staff members on the Senate Foreign Reasons Committee, "I like this guy Bashar and we can trust him much more than the Israelis.  He's good."  Having changed his tune, some are wondering how firm his support is for Mr. Hitto.
Mr. Hitto is reportedly eager for both and ready to get started. Earlier this week while giving a speech in Istanbul, he insisted that his priority was to utilize "all conceivable means" to topple President Bashar al-Assad and provide desperately-needed aid to the beleaguered people of Syria."  Washington understands that providing "desperately-needed aid" will soon include weapons.
Still, the White House and Tel Aviv knows that it will be a  daunting task  building legitimacy for Hitto's  fledgling administration, because he is lacking the support of many high-profile members of his own coalition. He was voted in by 35 of the 49 coalition members, who cast ballots, but another 15 members were not present, some bought off with cash it is rumored, and with several walking out in protest over Hitto's suspected links to the Muslim Brotherhood and its backers in Qatar.  "I have backed the idea of an alternative government for a long time," said veteran opposition figure Haitham al-Maleh. "But I put my ballot in without a name because there were no candidates from inside Syria. I want a prime minister from inside Syria."  "The proposed government is controlled by the Muslim Brotherhood and the Qatar government," one coalition member, Mr al-Labwani said. "We will be against this government and will not give it legality. Democracy is from the land and from the people not from a council that is composed by the governments of America and Qatar."

According to a staffer in Kerry's former Senate Foreign Relations Committee "Many Syrians, regard our appointment of Hitto with suspicion. Since the announcement, I have heard both Syrian nationalist figures and those from some minority communities criticize this move."
It appears Washington, Doha and Tel Aviv has got their man in place.  What the Syrian people will think of their selection will likely be known soon.