In II Samuel 19 there is the story about an often-overlooked man by the name of Barzillai. He was a Gileadite who helped save King David's life. The Scripture says of him: "He was a very great man." Today, I'm going to tell you about a very great man. In fact, I'm going to talk about several great men.
I am reminded of these men, because tomorrow I have the distinct honor of speaking at a giant freedom rally on Lexington Green, Massachusetts, on the occasion of the 238th anniversary of the famous Battle of Lexington and Concord. If you live within driving distance, please come and join us. Oath Keepers founder, Stewart Rhodes, will also be speaking at this event. I believe the rally begins at 2pm local time.
In truth, April 19, 1775, should be regarded as important a date to Americans as July 4, 1776. It's a shame that we don't celebrate it as enthusiastically as we do Independence Day. It's even more shameful that many Americans don't even remember what happened on this day back in 1775. For the record, historians call this day, "Patriot's Day." More specifically, it was the day that the shot heard 'round the world was fired. It was the day America's War for Independence began.
Being warned of approaching British troops by Dr. Joseph Warren and Paul Revere, Pastor Jonas Clark and his male congregants of the Church of Lexington (numbering 60-70) were the ones that stood with their muskets in front of the Crown's troops (numbering over 800), who were on orders to seize a cache of arms which were stored at Concord and arrest Sam Adams and John Hancock (who were known to be in the area, and who had actually taken refuge in Pastor Clark's home).
According to eyewitnesses, the king's troops opened fire on the militiamen without warning, immediately killing eight of Pastor Clark's parishioners. In self defense, the Minutemen returned fire. These were the first shots of the Revolutionary War. This took place on Lexington Green, which was located directly beside the church-house where those men worshipped each Sunday. Adams and Hancock were not apprehended. A few of Pastor Clark's men led them to safety as their Christian brothers were preparing to stand in front of the British troops. Sam Adams and John Hancock owed their lives to Pastor Clark and his brave Minutemen.
According to Pastor Clark, these are the names of the eight men who died on Lexington Green as the sun rose on April 19, 1775: Robert Munroe, Jonas Parker, Samuel Hadley, Jonathan Harrington, Jr., Isaac Muzzy, Caleb Harrington, and John Brown, all of Lexington, and one Mr. Porter of Woburn.
However, by the time the British troops arrived at the Concord Bridge, hundreds of colonists had amassed a defense of the bridge. A horrific battle took place, and the British troops were routed and soon retreated back to Boston. America's War for Independence had begun!
Yes, ladies and gentlemen, these two elements of American history are lost to the vast majority of historians today: 1) it was the attempted gun confiscation and seizure of two patriot leaders by British troops that ignited America's War for Independence; and, 2) it was a local church pastor and his male congregants that mostly comprised the Minutemen who fired the shots that started our great Revolution.
With that thought in mind, I want to devote today's column to honoring the brave preachers of Colonial America–these "children of the Pilgrims," as one colonial pastor's descendent put it.
It really wasn't that long ago. However, with the way America's clergymen act today, one would think that preachers such as James Caldwell, John Peter Muhlenberg, Joab Houghton, and Jonas Clark never existed. But they did exist; and without them, this country we call the United States of America would not exist.
Caldwell was a Presbyterian; Muhlenberg was a Lutheran; Houghton was a Baptist; and no one really seems to know what denomination (if any) Jonas Clark claimed, although one historian referred to Clark as a Trinitarian and Calvinist. But these men had one thing in common (besides their faith in Jesus Christ): they were all ardent patriots who participated in America's War for Independence, and in the case of Jonas Clark, actually ignited it.
James Caldwell
James Caldwell was called "The Rebel High Priest" or "The Fighting Chaplain." Caldwell is most famous for the "Give 'em Watts!" story.
During the Springfield (New Jersey) engagement, the Colonial militia ran out of wadding for their muskets. Quickly, Caldwell mounted his horse and galloped to the Presbyterian church, and returning with an armload of hymnals, threw them to the ground, and hollered, "Now, boys, give 'em Watts!" He was referring to the famous hymn writer, Isaac Watts, of course.
The British hated Caldwell so much, they murdered his wife, Hannah, in her own home, as she sat with her children on her bed. Later, a fellow American was bribed by the British to assassinate Pastor Caldwell–which is exactly what he did. Americans loyal to the Crown burned both his house and church. No less than three cities and two public schools in the State of New Jersey bear his name.
John Peter Muhlenberg
John Peter Muhlenberg was pastor of a Lutheran church in Woodstock, Virginia, when hostilities erupted between Great Britain and the American colonies. When news of Bunker Hill reached Virginia, Muhlenberg preached a sermon from Ecclesiastes 3 to his congregation. He reminded his parishioners that there was a time to preach and a time to fight. He said that, for him, the time to preach was past and it was time to fight. He then threw off his vestments and stood before his congregants in the uniform of a Virginia colonel.
Muhlenberg was later promoted to brigadier-general in the Continental Army, and then to major general. He participated in the battles of Brandywine, Germantown, Monmouth, and Yorktown. He went on to serve in both the US House of Representatives and US Senate.
Joab Houghton
Joab Houghton was in the Hopewell (New Jersey) Baptist Meeting House at worship when he received the first information regarding the battles at Lexington and Concord. His great-grandson gives the following eloquent description of the way he treated the tidings:
"[M]ounting the great stone block in front of the meeting-house, he beckoned the people to stop. Men and women paused to hear, curious to know what so unusual a sequel to the service of the day could mean. At the first, words a silence, stern as death, fell over all. The Sabbath quiet of the hour and of the place was deepened into a terrible solemnity. He told them all the story of the cowardly murder at Lexington by the royal troops; the heroic vengeance following hard upon it; the retreat of Percy; the gathering of the children of the Pilgrims round the beleaguered hills of Boston; then pausing, and looking over the silent throng, he said slowly, 'Men of New Jersey, the red coats are murdering our brethren of New England! Who follows me to Boston?' And every man in that audience stepped out of line, and answered, 'I!' There was not a coward or a traitor in old Hopewell Baptist Meeting-House that day." (Cathcart, William. Baptists and the American Revolution. Philadelphia: S.A. George, 1876, rev. 1976. Print.)
Jonas Clark
As I said at the beginning of this column, Jonas Clark was pastor of the Church of Lexington, Massachusetts, on April 19, 1775, the day that British troops marched on Concord with orders to arrest Sam Adams and John Hancock, and to seize a cache of firearms. It was Pastor Clark's male congregants who were the first ones to face-off against the British troops as they marched through Lexington. When you hear the story of the Minutemen at the Battle of Lexington, remember those Minutemen were mostly Pastor Jonas Clark and the men of his congregation.
On the One Year Anniversary of the Battle of Lexington, Clark preached a sermon based upon his eyewitness testimony of the event. He called his sermon, "The Fate of Blood-Thirsty Oppressors and God's Tender Care of His Distressed People." His sermon has been republished by Nordskog Publishing under the title, "The Battle of Lexington, A Sermon and Eyewitness Narrative, Jonas Clark, Pastor, Church of Lexington."
Order the book containing Clark's sermon at:
"The Battle of Lexington, A Sermon and Eyewitness Narrative, Jonas Clark, Pastor, Church of Lexington"
Of course, these four brave preachers were not the only ones to participate in America's fight for independence. There were Episcopalian ministers such as Dr. Samuel Provost of New York, Dr. John Croes of New Jersey, and Robert Smith of South Carolina. Presbyterian ministers such as Adam Boyd of North Carolina and James Armstrong of Maryland, along with many others, also took part.
Numerous Baptist preachers participated in America's War for Independence, so many that at the conclusion of the war, President George Washington wrote a personal letter to the Baptist people saying, "I recollect with satisfaction that the religious societies of which you are a member have been, throughout America, uniformly and almost unanimously, the firm friends to civil liberty, and the preserving promoters of our glorious Revolution." It also explains how Thomas Jefferson could write to a Baptist congregation and say, "We have acted together from the origin to the end of a memorable Revolution." (McDaniel, George White. The People Called Baptists. The Sunday School Board of the Southern Baptist Convention, 1918. Print.)
And although not every pastor was able to actively participate in our fight for independence, because so many pastors throughout colonial America preached the principles of liberty and independence from their pulpits, the Crown created a moniker for them: The Black Regiment (referring to the long, black robes that so many colonial clergymen wore in the pulpit). Without question, the courageous preaching and example of colonial America's patriot-pastors provided the colonists with the inspiration and resolve to resist the tyranny of the Crown and win America's freedom and independence.
I invite readers to visit my Black Regiment web page to learn more about my attempt to resurrect America's Black-Robed Regiment. Go to:
Readers should know, too, that a brand new book co-authored by me and my constitutional attorney son, Tim, entitled, "To Keep Or Not To Keep: Why Christians Should Not Give Up Their Guns," will be released in just a few days. This book examines the entire Bible, both Old and New Testaments, and proves conclusively that nowhere does God expect His people to surrender their arms in the face of any would-be tyrant. With hundreds of references, we show from both Natural and Revealed Law that the right of self-defense, the right to keep and bear arms, is a God-ordained right and responsibility. This book is sure to be a blockbuster. To order the book, go to:
This is the fighting heritage of America's pastors and preachers. So, what has happened? What has happened to that fighting spirit that once existed, almost universally, throughout America's Christian denominations? How have preachers become so timid, so shy, and so cowardly that they will stand apathetic and mute as America faces the destruction of its liberties? Where are the preachers to explain, expound, and extrapolate the principles of liberty from Holy Writ?
I am absolutely convinced that one of the biggest reasons America is in the sad condition that it is in today is because the sermons Americans frequently hear from modern pulpits deal mostly with prosperity theology, entertainment evangelism, feelgoodism, emotionalism, and Aren't-I-Wonderful ear tickling! One man recently wrote and told me that his ears had been tickled so much in church that he had calluses on them.
This milquetoast preaching, along with a totally false "obey-the-government-no-matter-what" interpretation of Romans 13, have made it next to impossible to find Christian men with the courage and resolve to stand against the onslaught of socialism, corporatism, and, yes, fascism that is swallowing America whole.
Tim and I also wrote a book entitled, "Romans 13: The True Meaning of Submission." This book examines Romans 13, and the rest of Scripture, and shows that nowhere does God demand that His people yield to wicked and unjust government. To order this book, to go:
"Romans 13: The True Meaning of Submission"
As we celebrate Patriot's Day tomorrow, please remember Jonas Clark (along with James Caldwell, John Peter Muhlenberg, Joab Houghton, and the other brave pastors of colonial America). "He was a very great man."
Derivatives turn the financial system into a casino. And the House always wins.
Cyprus-style confiscation of depositor funds has been called the "new normal."  Bail-in policies are appearing in multiple countries directing failing TBTF banks to convert the funds of "unsecured creditors" into capital; and those creditors, it turns out, include ordinary depositors. Even "secured" creditors, including state and local governments, may be at risk.  Derivatives have "super-priority" status in bankruptcy, and Dodd Frank precludes further taxpayer bailouts. In a big derivatives bust, there may be no collateral left for the creditors who are next in line.  
Shock waves went around the world when the IMF, the EU, and the ECB not only approved but mandated the confiscation of depositor funds to "bail in" two bankrupt banks in Cyprus. A "bail in" is a quantum leap beyond a "bail out." When governments are no longer willing to use taxpayer money to bail out banks that have gambled away their capital, the banks are now being instructed to "recapitalize" themselves by confiscating the funds of their creditors, turning debt into equity, or stock; and the "creditors" include the depositors who put their money in the bank thinking it was a secure place to store their savings.
The Cyprus bail-in was not a one-off emergency measure but was consistent with similar policies already in the works for the US, UK, EU, Canada, New Zealand, and Australia, as detailed in my earlier articles here and here.  "Too big to fail" now trumps all.  Rather than banks being put into bankruptcy to salvage the deposits of their customers, the customers will be put into bankruptcy to save the banks.
Why Derivatives Threaten Your Bank Account
The big risk behind all this is the massive $230 trillion derivatives boondoggle managed by US banks. Derivatives are sold as a kind of insurance for managing profits and risk; but as Satyajit Das points out in Extreme Money, they actually increase risk to the system as a whole.
In the US after the Glass-Steagall Act was implemented in 1933, a bank could not gamble with depositor funds for its own account; but in 1999, that barrier was removed. Recent congressional investigations have revealed that in the biggest derivative banks, JPMorgan and Bank of America, massive commingling has occurred between their depository arms and their unregulated and highly vulnerable derivatives arms. Under both the Dodd Frank Act and the 2005 Bankruptcy Act, derivative claims have super-priority over all other claims, secured and unsecured, insured and uninsured. In a major derivatives fiasco, derivative claimants could well grab all the collateral, leaving other claimants, public and private, holding the bag.
The tab for the 2008 bailout was $700 billion in taxpayer funds, and that was just to start. Another $700 billion disaster could easily wipe out all the money in the FDIC insurance fund, which has only about $25 billion in it.  Both JPMorgan and Bank of America have over $1 trillion in deposits, and total deposits covered by FDIC insurance are about $9 trillion. According to an article on Bloomberg in November 2011, Bank of America's holding company then had almost $75 trillion in derivatives, and 71% were held in its depository arm; while J.P. Morgan had $79 trillion in derivatives, and 99% were in its depository arm. Those whole mega-sums are not actually at risk, but the cash calculated to be at risk from derivatives from all sources is at least $12 trillion; and JPM is the biggest player, with 30% of the market.
It used to be that the government would backstop the FDIC if it ran out of money. But section 716 of the Dodd Frank Act now precludes the payment of further taxpayer funds to bail out a bank from a bad derivatives gamble. As summarized in a letter from Americans for Financial Reform quoted by Yves Smith:
Section 716 bans taxpayer bailouts of a broad range of derivatives dealing and speculative derivatives activities. Section 716 does not in any way limit the swaps activities which banks or other financial institutions may engage in. It simply prohibits public support for such activities.
There will be no more $700 billion taxpayer bailouts. So where will the banks get the money in the next crisis? It seems the plan has just been revealed in the new bail-in policies.
All Depositors, Secured and Unsecured, May Be at Risk
The bail-in policy for the US and UK is set forth in a document put out jointly by the Federal Deposit Insurance Corporation (FDIC) and the Bank of England (BOE) in December 2012, titled Resolving Globally Active, Systemically Important, Financial Institutions.
In an April 4th article in Financial Sense, John Butler points out that the directive does not explicitly refer to "depositors."  It refers only to "unsecured creditors."  But the effective meaning of the term, says Butler, is belied by the fact that the FDIC has been put on the job. The FDIC has direct responsibility only for depositors, not for the bondholders who are wholesale non-depositor sources of bank credit. Butler comments:
Do you see the sleight-of-hand at work here? Under the guise of protecting taxpayers, depositors of failing institutions are to be arbitrarily, de-facto subordinated to interbank claims, when in fact they are legally senior to those claims!
. . . [C]onsider the brutal, unjust irony of the entire proposal. Remember, its stated purpose is to solve the problem revealed in 2008, namely the existence of insolvent TBTF institutions that were "highly leveraged and complex, with numerous and dispersed financial operations, extensive off-balance-sheet activities, and opaque financial statements." Yet what is being proposed is a framework sacrificing depositors in order to maintain precisely this complex, opaque, leverage-laden financial edifice!

If you believe that what has happened recently in Cyprus is unlikely to happen elsewhere, think again. Economic policy officials in the US, UK and other countries are preparing for it. Remember, someone has to pay. Will it be you? If you are a depositor, the answer is yes.
The FDIC was set up to ensure the safety of deposits. Now it, it seems, its function will be the confiscation of deposits to save Wall Street. In the only mention of "depositors" in the FDIC-BOE directive as it pertains to US policy, paragraph 47 says that "the authorities recognize the need for effective communication to depositors, making it clear that their deposits will be protected." But protected with what? As with MF Global, the pot will already have been gambled away. From whom will the bank get it back? Not the derivatives claimants, who are first in line to be paid; not the taxpayers, since Congress has sealed the vault; not the FDIC insurance fund, which has a paltry $25 billion in it. As long as the derivatives counterparties have super-priority status, the claims of all other parties are in jeopardy.
That could mean not just the "unsecured creditors" but the "secured creditors," including state and local governments. Local governments keep a significant portion of their revenues in Wall Street banks because smaller local banks lack the capacity to handle their complex business. In the US, banks taking deposits of public funds are required to pledge collateral against any funds exceeding the deposit insurance limit of $250,000. But derivative claims are also secured with collateral, and they have super-priority over all other claimants, including other secured creditors. The vault may be empty by the time local government officials get to the teller's window. Main Street will again have been plundered by Wall Street.
Super-priority Status for Derivatives Increases Rather Than Decreases Risk
Harvard Law Professor Mark Row maintains that the super-priority status of derivatives needs to be repealed. He writes:
. . . [D]erivatives counterparties, . . . unlike most other secured creditors, can seize and immediately liquidate collateral, readily net out gains and losses in their dealings with the bankrupt, terminate their contracts with the bankrupt, and keep both preferential eve-of-bankruptcy payments and fraudulent conveyances they obtained from the debtor, all in ways that favor them over the bankrupt's other creditors.
. . . [W]hen we subsidize derivatives and similar financial activity via bankruptcy benefits unavailable to other creditors, we get more of the activity than we otherwise would. Repeal would induce these burgeoning financial markets to better recognize the risks of counterparty financial failure, which in turn should dampen the possibility of another AIG-, Bear Stearns-, or Lehman Brothers-style financial meltdown, thereby helping to maintain systemic financial stability.
In The New Financial Deal: Understanding the Dodd-Frank Act and Its (Unintended) Consequences, David Skeel agrees. He calls the Dodd-Frank policy approach "corporatism" – a partnership between government and corporations. Congress has made no attempt in the legislation to reduce the size of the big banks or to undermine the implicit subsidy provided by the knowledge that they will be bailed out in the event of trouble.
Undergirding this approach is what Skeel calls "the Lehman myth," which blames the 2008 banking collapse on the decision to allow Lehman Brothers to fail. Skeel counters that the Lehman bankruptcy was actually orderly, and the derivatives were unwound relatively quickly. Rather than preventing the Lehman collapse, the bankruptcy exemption for derivatives may have helped precipitate it.  When the bank appeared to be on shaky ground, the derivatives players all rushed to put in their claims, in a run on the collateral before it ran out. Skeel says the problem could be resolved by eliminating the derivatives exemption from the stay of proceedings that a bankruptcy court applies to other contracts to prevent this sort of run.
Putting the Brakes on the Wall Street End Game
Besides eliminating the super-priority of derivatives, here are some other ways to block the Wall Street asset grab:
(1) Restore the Glass-Steagall Act separating depository bankingfrom investment banking. Support Marcy Kaptur's H.R. 129.
(2) Break up the giant derivatives banks.  Support Bernie Sanders' "too big to jail" legislation.
(3) Alternatively, nationalize the TBTFs, as advised in the New York Times by Gar Alperovitz.  If taxpayer bailouts to save the TBTFs are unacceptable, depositor bailouts are even more unacceptable.
(4) Make derivatives illegal, as they were between 1936 and 1982 under the Commodities Exchange Act. They can be unwound by simply netting them out, declaring them null and void.  As noted by Paul Craig Roberts, "the only major effect of closing out or netting all the swaps (mostly over-the-counter contracts between counter-parties) would be to take $230 trillion of leveraged risk out of the financial system."
(5) Support the Harkin-Whitehouse bill to impose a financial transactions tax on Wall Street trading.  Among other uses, a tax on all trades might supplement the FDIC insurance fund to cover another derivatives disaster.
(5) Establish postal savings banks as government-guaranteed depositories for individual savings. Many countries have public savings banks, which became particularly popular after savings in private banks were wiped out in the banking crisis of the late 1990s.
(6) Establish publicly-owned banks to be depositories of public monies, following the lead of North Dakota, the only state to completely escape the 2008 banking crisis. North Dakota does not keep its revenues in Wall Street banks but deposits them in the state-owned Bank of North Dakota by law.  The bank has a mandate to serve the public, and it does not gamble in derivatives.
A motivated state legislature could set up a publicly-owned bank very quickly. Having its own bank would allow the state to protect both its own revenues and those of its citizens while generating the credit needed to support local business and restore prosperity to Main Street.
For more information on the public bank option, see here. Learn more at thePublic Banking Institute conference June 2-4 in San Rafael, California, featuring Matt Taibbi, Birgitta Jonsdottir,Gar Alperovitz and others.
Source: Ellen Brown | Alternet
I am not sure exactly when the death of television news took place.
The descent was gradual—a slide into the tawdry, the trivial and the inane, into the charade on cable news channels such as Fox and MSNBC in which hosts hold up corporate political puppets to laud or ridicule, and treat celebrity foibles as legitimate news. But if I had to pick a date when commercial television decided amassing corporate money and providing entertainment were its central mission, when it consciously chose to become a carnival act, it would probably be Feb. 25, 2003, when MSNBC took Phil Donahue off the air because of his opposition to the calls for war in Iraq
Donahue and Bill Moyers, the last honest men on national television, were the only two major TV news personalities who presented the viewpoints of those of us who challenged the rush to war in Iraq. General Electric and Microsoft—MSNBC's founders and defense contractors that went on to make tremendous profits from the war—were not about to tolerate a dissenting voice. Donahue was fired, and at PBS Moyers was subjected to tremendous pressure. An internal MSNBC memo leaked to the press stated that Donahue was hurting the image of the network. He would be a "difficult public face for NBC in a time of war," the memo read. Donahue never returned to the airwaves.
The celebrity trolls who currently reign on commercial television, who bill themselves as liberal or conservative, read from the same corporate script. They spin the same court gossip. They ignore what the corporate state wants ignored. They champion what the corporate state wants championed. They do not challenge or acknowledge the structures of corporate power. Their role is to funnel viewer energy back into our dead political system—to make us believe that Democrats or Republicans are not corporate pawns. The cable shows, whose hyperbolic hosts work to make us afraid self-identified liberals or self-identified conservatives, are part of a rigged political system, one in which it is impossible to vote against the interests of Goldman Sachs, Bank of America, General Electric or ExxonMobil. These corporations, in return for the fear-based propaganda, pay the lavish salaries of celebrity news people, usually in the millions of dollars. They make their shows profitable. And when there is war these news personalities assume their "patriotic" roles as cheerleaders, as Chris Matthews—who makes an estimated $5 million a year—did, along with the other MSNBC and Fox hosts.
It does not matter that these celebrities and their guests, usually retired generals or government officials, got the war terribly wrong. Just as it does not matter that Francis Fukuyama and Thomas Friedman were wrong on the wonders of unfettered corporate capitalism and globalization. What mattered then and what matters now is likability—known in television and advertising as the Q score—not honesty and truth. Television news celebrities are in the business of sales, not journalism. They peddle the ideology of the corporate state. And too many of us are buying.
The lie of omission is still a lie. It is what these news celebrities do not mention that exposes their complicity with corporate power. They do not speak about Section 1021 of the National Defense Authorization Act, a provision that allows the government to use the military to hold U.S. citizens and strip them of due process. They do not decry the trashing of our most basic civil liberties, allowing acts such as warrantless wiretapping and executive orders for the assassination of U.S. citizens. They do not devote significant time to climate scientists to explain the crisis that is enveloping our planet. They do not confront the reckless assault of the fossil fuel industry on the ecosystem. They very rarely produce long-form documentaries or news reports on our urban and rural poor, who have been rendered invisible, or on the wars in Iraq and Afghanistan or on corporate corruption on Wall Street. That is not why they are paid. They are paid to stymie meaningful debate. They are paid to discredit or ignore the nation's most astute critics of corporatism, among them Cornel West, Medea Benjamin, Ralph Nader and Noam Chomsky. They are paid to chatter mindlessly, hour after hour, filling our heads with the theater of the absurd. They play clips of their television rivals ridiculing them and ridicule their rivals in return. Television news looks as if it was lifted from Rudyard Kipling's portrait of the Bandar-log monkeys in "The Jungle Book." The Bandar-log, considered insane by the other animals in the jungle because of their complete self-absorption, lack of discipline and outsized vanity, chant in unison: "We are great. We are free. We are wonderful. We are the most wonderful people in all the jungle! We all say so, and so it must be true."
When I reached him by phone recently in New York, Donahue said of the pressure the network put on him near the end, "It evolved into an absurdity." He continued: "We were told we had to have two conservatives for every liberal on the show. I was considered a liberal. I could have Richard Perle on alone but not Dennis Kucinich. You felt the tremendous fear corporate media had for being on an unpopular side during the ramp-up for a war. And let's not forget that General Electric's biggest customer at the time was Donald Rumsfeld [then the secretary of defense]. Elite media features elite power. No other voices are heard."
Donahue spent four years after leaving MSNBC making the movie documentary "Body of War" with fellow director/producer Ellen Spiro, about the paralyzed Iraq War veteran Tomas Young. The film, which Donahue funded himself, began when he accompanied Nader to visit Young in the Walter Reed National Military Medical Center in Washington, D.C.
"Here is this kid lying there whacked on morphine," Donahue said. "His mother, as we are standing by the bed looking down, explained his injuries. 'He is a T-4. The bullet came through the collarbone and exited between the shoulder blades. He is paralyzed from the nipples down.' He was emaciated. His cheekbones were sticking out. He was as white as the sheets he was lying on. He was 24 years old. … I thought, 'People should see this. This is awful.' "
Donahue noted that only a very small percentage of Americans have a close relative who fought in Iraq or Afghanistan and an even smaller number make the personal sacrifice of a Tomas Young. "Nobody sees the pain," he said. "The war is sanitized."
"I said, 'Tomas, I want to make a movie that shows the pain, I want to make a movie that shows up close what war really means, but I can't do it without your permission,' " Donahue remembered. "Tomas said, 'I do too.' "
But once again Donahue ran into the corporate monolith: Commercial distributors proved reluctant to pick up the film. Donahue was told that the film, although it had received great critical acclaim, was too depressing and not uplifting. Distributors asked him who would go to see a film about someone in a wheelchair. Donahue managed to get openings in Chicago, Seattle, Palm Springs, New York, Washington and Boston, but the runs were painfully brief.
"I didn't have the money to run full-page ads," he said. "Hollywood often spends more on promotion than it does on the movie. And so we died. What happens now is that peace groups are showing it. We opened the Veterans for Peace convention in Miami. Failure is not unfamiliar to me. And yet, I am stunned at how many Americans stand mute."
Chris Hedges, whose column is published Mondays on Truthdig, spent nearly two decades as a foreign correspondent in Central America, the Middle East, Africa and the Balkans. He has reported from more than 50 countries and has worked for The Christian Science Monitor, National Public Radio, The Dallas Morning News and The New York Times, for which he was a foreign correspondent for 15 years.
Source: Truthdig
The Dow is at a record high and so are corporate profits – so why does it feel like most of the country is deeply suffering right now?  Real household income is the lowest that it has been in a decade, poverty is absolutely soaring,47 million Americans are on food stamps and the middle class is being systematically destroyed.  How can big corporations be doing so well while most American families are having such a hard time?  Isn't their wealth supposed to "trickle down" to the rest of us?  Unfortunately, that is not how the real world works.  Today, most big corporations are trying to minimize the number of "expensive" American workers on their payrolls as much as they can.  If the big corporation that is employing you can figure out a way to replace you with a worker in China or with a robot, it will probably do it.  Corporations are in existence to maximize wealth for their shareholders, and most of the time the largest corporations are dominated by the monopoly men of the global elite.  Over the decades, the politicians that have their campaigns funded by these monopoly men have rigged the game so that the big corporations are able to easily dominate everything.  But this was never what those that founded this country intended.  America was supposed to be a place where the power of collectivist institutions would be greatly limited, and individuals and small businesses would be free to compete in a capitalist system that would reward anyone that had a good idea and that was willing to work hard.  But today, our economy is completely and totally dominated by a massively bloated federal government and by absolutely gigantic predator corporations that are greatly favored by our massively bloated federal government.  Our founders tried to warn us about the dangers of allowing government, banks and corporations to accumulate too much power, but we didn't listen.  Now they dominate everything, and the rest of us are fighting for table scraps.
In early America, most states had strict laws governing the size and scope of corporations.  Individuals and small businesses thrived in such an environment, and the United States experienced a period of explosive economic growth.  We showed the rest of the world that capitalism really works, and we eventually built the largest middle class that the world had ever seen.
But now we have replaced capitalism with something that I like to call "corporatism".  In many ways, it shares a lot of characteristics with communism, and that is why nations such as communist China have embraced it so readily.  Under "corporatism", monolithic predator corporations run around sucking up as much wealth and economic power as they possibly can.  Most individuals and small businesses cannot compete and end up getting absorbed by the corporations.  These mammoth collectivist institutions are in private hands rather than in government hands (as would be the case under a pure form of communism), but the results are pretty much the same either way.  A tiny elite at the top gets almost all of the economic rewards.
There are some out there that would suggest that the answer to our problems is to move more in the direction of "socialism", but to be honest that wouldn't be the solution to anything.  It would just change how the table scraps that the rest of us are getting are distributed.
If we truly wanted a return to prosperity, we need to dramatically shift the rules of the game so that they are tilted back in favor of individuals and small businesses.  A much more pure form of capitalism would mean more wealth, less poverty and a more equitable distribution of the economic rewards in this country.
But it will never happen.  Most of our politicians are married to the big corporations and the wealthy elitists that fund their campaigns.  And most Americans are so uneducated that they believe that what we actually have today is "capitalism" and that the only alternative is to go "to the left" toward socialism.
Very few people out there are suggesting that we need to greatly reduce the power of the federal government and greatly reduce the power of the big corporations, but that is exactly what we need to do.  We need to give individuals and small businesses room to breathe once again.
With each passing year, things get even worse.  In fact, the founder of Subway Restaurants recently said that the environment for small businesses is so toxic in America today that he never would have been able to start Subway if he had to do it today.
For much more on how small business is being strangled to death in the United States, please see my previous article entitled "We Are Witnessing The Death Of Small Business In America".
What I want to do now is to discuss some of the results that "corporatism" is producing in America.
First of all, we continue to see incomes go down even though we live in an inflationary economy.
As Time Magazine recently reported, personal incomes took a huge nosedive during the month of January…
Data released by the Commerce Department last week showed that personal income fell 3.6% in January, the biggest decline in 20 years. The drop was even bigger when taxes and inflation are taken into account. Real personal disposable income fell by 4%, the biggest monthly drop in half a century.
But this is part of a longer term trend.  Median household income in the U.S. has declined for four consecutive years, and it is now significantly lower than it was all the way back in 2001…
Real median US household income — that's "real," as in "adjusted for inflation" — was $50,054 in 2011, the most recent data available from the US Census Bureau. That's 8% lower than the 2007 peak of $54,489.
Meanwhile, big corporations are absolutely raking in the cash.  The following is from a recent New York Times article…
"So far in this recovery, corporations have captured an unusually high share of the income gains," said Ethan Harris, co-head of global economics at Bank of America Merrill Lynch. "The U.S. corporate sector is in a lot better health than the overall economy. And until we get a full recovery in the labor market, this will persist."

The result has been a golden age for corporate profits, especially among multinational giants that are also benefiting from faster growth in emerging economies like China and India.
Today, corporate profits as a percentage of U.S. GDP are at an all-time high, but wages as a percentage of U.S. GDP are near an all-time low.
Just check out the following chart.  Corporate profits have absolutely exploded over the past decade…
Meanwhile, wages as a percentage of GDP continue to fall rapidly…
Most of the jobs being created in America today are "low wage" jobs.  Tens of millions of Americans are working as hard as they can only to find that they can barely put food on the table and provide a roof over the heads of their children.  The ranks of the "working poor" are exploding and the middle class continues to shrink.
Many of you that are reading this article are members of the working poor.  You know what it is like to stare up at your ceiling at night wondering how you are going to pay the bills next month.
Today, most Americans are living very close to the edge financially.  A recent article by NBC News staff writer Allison Linn shared some of their stories.  The following is one example…
Crystal Dupont knows what it's like to try to live on the federal minimum wage.

Dupont has no health insurance, so she hasn't seen a doctor in two years. She's behind on her car payments and has taken out pawn shop and payday loans to cover other monthly expenses. She eats beans and oatmeal when her food budget gets low.

When she got her tax refund recently, she used the money to get ahead on her light bill.

"I try to live within my means, but sometimes you just can't," said Dupont, 25. The Houston resident works 30 to 40 hours a week taking customer service calls, earning between $7.25 and $8 an hour. That came to about $15,000 last year.

It's a wage she's lived on for a while now, but just barely.
Sadly, the number of Americans that are "just barely" surviving continues to grow.
But if corporate profits are soaring to unprecedented heights, then who is getting all of those rewards?
The monopoly men of the global elite are.
Just check out the following video which does a great job of illustrating how corporatism has systematically funneled all of the economic rewards in our system to the very top…
Once again, I want to make it very clear that I am not advocating socialism as the answer in any way, shape or form.  Socialism takes away the incentive to create wealth and it almost always results in almost all of the economic rewards going to a very tiny elite anyway.
As I said earlier, what we need is a return to a much more pure form of capitalism, but this is so foreign to the way that most people think that most people will not be able to grasp this.
It certainly would be possible to greatly reduce the power of the federal government and greatly reduce the power of the big corporations at the same time, but this is so "outside the box" for most people that they cannot even conceive of doing such a thing.
We need to create an environment where individuals and small businesses can thrive once again.  But instead, most of us are content to continue "playing the game" and getting enslaved in even more debt.
For example, according to CNBC, auto loans just continue to get larger and continue to get stretched out for longer periods of time…
American car buyers, attracted by new models and cheap financing, are taking out bigger auto loans and stretching out the terms of those loans to a new record length.

New analysis from Experian Automotive shows the average new car loan in the fourth quarter of last year was $26,691 and stretched out over an average of 65 months. The length of the average loan is one month longer than the previous record set in the third quarter of last year.
What will they think of next?
Will we eventually have auto loans that get paid off over 10 years?
By the way, that is another way that the monopoly men of the global elite get all of our money.  They enslave us to debt, and we spend year after year of our lives slaving away to make them even wealthier.
They are very smart.  There is a reason why they have 32 TRILLION dollars stashed away in offshore tax havens.  They know how to play the game, and they are very happy that most of the rest of us are asleep.
Fortunately, it appears that an increasing number of Americans are waking up.
For example, I wanted to share with you all an excerpt from a comment that one of my readers left on one of my recent articles…
In the past year, I've been slowly but surely waking up to the nonsense happening around me. There's so many things I need to simply get off my chest, so excuse the length of this post. Recently in the past two years, I've gotten married and have been medically discharged from the Marines after being injured in Afghanistan. Being 23 years old and married, my goal is secure a secure a future for my family, but with the way things are going, I'm not exactly sure how much of a future we're going to have in 50 years. I can't explain it, but I've felt this need to change my attitude and motivations lately.

I started by turning off the garbage music, television and other mindless entertainment that seems to plague my generation. It was easier than it looked – I don't miss most of it really. The next order of business was to educate myself on world news, so that's what I did. Every day, like clockwork, I check all major mainstream news feeds (NBC, Fox, Abc, CNN, Reuters, BBC, etc.) as well as not-so-mainstream news sites – yours being one of them. It's incredible how fast our world changes and the manner in which it changes. The local 10 o'clock doesn't show anything but local news, sports, weather, lottery #'s and whatever else they decide to throw in. It's a night and day difference once you start to actually research and see what's happening all over the world. Look at the number of comments about a news story on the economy and then look at a celebrity story on the "news"….People are so blind, it truly amazes me. My friends, family and classmates at college seem to be under a spell of some sort. They're distracted – and it's contagious. Nobody I know gives a damn about global affairs/economics. They're more interested in the newest iPhone, cars, shows, movies, and just about anything else you can think of. I'm not saying there's anything wrong with these things, but my friends/family/peers are CONSUMED by these distractions. When the election was taking place in 2012, every Tom, Dick and Harry on Facebook had an opinion and rant. After the circus ended however, everyone simply went back to posting about parties, kittens, Farmville etc. It's a huge joke. For me, it's little terrifying and exciting to see history unfolding in front of our eyes. This country of ours is going through big changes now that will most certainly affect our future, so I strive to adapt and prepare myself and my family. I'm looking at buying my first home this summer. Right now I live in an apartment right outside Philly and spend more money on rent than most pay for a mortgage. I need a house with a little land to raise chickens, grow fruits/vegetables, store canned food – and to be as independent from the system as I can. For my job, I wanted a skill/trade that people would always need, so I picked the funeral business. On the side, I work in construction and have been learning everything there is to know about building with my own two hands. I feel as though these old forgotten skills are going to be handy in a short while.
Hopefully we can get a lot more people to wake up and start breaking out of "the matrix" of control that is all around us.
Right now, the system is designed to continually funnel more money and more power to the very top of the pyramid.  The global elite are becoming more dominant with each passing day.  Unless something dramatic happens, at some point the American people will become so powerless that they won't be able to do anything about it even if they wanted to.
The idea of a very tiny elite completely dominating all the rest of us goes against everything that America is supposed to stand for.  In the end, it will result in absolute tyranny if it is not stopped.
Source: The Economic Collapse
Fiscal conservatives often are blind when it comes to alternatives to the "so called" commercial banking system. Many conventional Republicans are ignorant or simply carrying the water for the crony capitalist banking establishment. The fractional reserve banking monopoly that operates under the auspices of the privately owned Federal Reserve System, despises any trace of competition. The bondage from debt created money has doomed Main Street to the fate of contrite beggars in search of securing loans. Useful purposes for business financing are not sufficient reason for the qualifying for commercial credit.
Is there an alternative to the Federal Deposit Insurance Corp. and centralized banking dominated by Wall Street investment banksters? Can state chartered commercial banks compete separate from the favoritism shown to the "Not Too Big To Fail" money centered banks? Well, Ellen Hodjson Brown JD, has popularized the subject of the state-owned bank and believes there is a better model for community banking.
"The secret of its success seems to be the state-owned Bank of North Dakota, which was established by the state legislature in 1919 specifically to free farmers and small businessmen from the clutches of out-of-state bankers and railroad men. By law, the state must deposit all its funds in the bank, and the state guarantees its deposits. The bank's stated mission is to deliver sound financial services that promote agriculture, commerce and industry in North Dakota. The bank operates as a bankers' bank, partnering with private banks to loan money to farmers, real estate developers, schools and small businesses. It loans money to students (over 184,000 outstanding loans), and it purchases municipal bonds from public institutions."
The informative video, Bank of North Dakota provides a comprehensive overview, well worth viewing.Such a departure from the normal coordinated federal regulation and Federal Reserve prescribes, gives pause to the plutocrats that despise any departure from the top down banking model that is based upon special treatment for the schemes of investment banking.
Bloomberg News points out the banking industry opposition to the state-own charter in the article, North Dakota's State-Run Bank Adds Millions to Treasury, Spurs Imitators.
"The U.S. banking industry opposes the idea and is lobbying against it, saying a state-run bank would compete with commercial banks for business and politicize a state's lending decisions.

"A state-owned bank? Why don't we just re-label the state capitols the Kremlin?" Camden Fine, president of the Independent Community Bankers of America, a Washington-based trade group that represents more than 5,000 community banks, said in a telephone interview.

"It's a socialistic idea," Fine said. "If you get a state-owned bank that is allocating credit, it can slide very quickly into a situation where those in favor get credit and those not in favor don't get credit."
How ironic the false claim that a sparsely populated state like, North Dakota could be such a citadel of collectivist enterprise when the titans of cartel-controlled crony capitalism were the financiers of the Russian communist revolution. The new generation of algorithmic traders has no more interest in writing business commercial loans then the banker funded Lenin investment of mercy shown to the Czar.
Even more sardonic is the viewpoint that the only banking monopoly acceptable is the one designated by the barons of usury. The slogan – no small business loans, is their operative policy.
Mother Jones examines what Republicans might call an idiosyncratic bastion of socialism in their interview with Bank of North Dakota's president; Eric Hardmeyer, How the Nation's Only State-Owned Bank Became the Envy of Wall Street. Mr. Hardmeyer explains the operation of their system thusly.
"Our funding model, our deposit model is really what is unique as the engine that drives that bank. And that is we are the depository for all state tax collections and fees. And so we have a captive deposit base, we pay a competitive rate to the state treasurer. And I would bet that that would be one of the most difficult things to wrestle away from the private sector—those opportunities to bid on public funds. But that's only one portion of it. We take those funds and then, really what separates us is that we plow those deposits back into the state of North Dakota in the form of loans. We invest back into the state in economic development type of activities. We grow our state through that mechanism."
The significance of the North Dakota experiment is that the dominance and control of the State/Capital cabal can be broken. Sensible banking is based upon making loans for productive enterprises, not derivative speculation. The customer of any bank is a person. Financing business growth and development is the core purpose and function of a bank.
The populist underpinnings of the independent method of funding the Bank of North Dakota provide an alternative model for depository transactions. Prosperity for local economies is an integral objective for any community interest bank. Those who profess free market enterprise principles need to adopt practical partner relationships with proponents of state charted banks.
ABC News reports the inconceivable, State-Owned Banks: The Future of Banking?
"Bank of North Dakota officials said that at least 10 states have turned to them for guidance, including some states, like Michigan, hardest hit by the financial crisis. They include California, Florida and Illinois, where a bill to create a state bank already is under consideration by the state legislature."
Success is the best substitute to the stagnation of Wall Street greed and corporatism. Credit unions and associations provide another option for the depositor to conduct business. Loans are a way of life to most wage earners. Applying with an institution committed to their customer is rare in the era of national banking conglomerates. Trust is the basis of banking and the record of the Bank of North Dakota, compared to Bank America, demonstrates a stark difference. Register your discontent with your money stop doing business with national money-centered banks.
This may well be the last time I speak on the House Floor. At the end of the year I'll leave Congress after 23 years in office over a 36-year period. My goals in 1976 were the same as they are today: promote peace and prosperity by a strict adherence to the principles of individual liberty.
It was my opinion, that the course the U.S. embarked on in the latter part of the 20th Century would bring us a major financial crisis and engulf us in a foreign policy that would overextend us and undermine our national security.
To achieve the goals I sought, government would have had to shrink in size and scope, reduce spending, change the monetary system, and reject the unsustainable costs of policing the world and expanding the American Empire.
The problems seemed to be overwhelming and impossible to solve, yet from my view point, just following the constraints placed on the federal government by the Constitution would have been a good place to start.


How Much Did I Accomplish?
In many ways, according to conventional wisdom, my off-and-on career in Congress, from 1976 to 2012, accomplished very little. No named legislation, no named federal buildings or highways – thank goodness. In spite of my efforts, the government has grown exponentially, taxes remain excessive, and the prolific increase of incomprehensible regulations continues. Wars are constant and pursued without Congressional declaration, deficits rise to the sky, poverty is rampant and dependency on the federal government is now worse than any time in our history.
All this with minimal concerns for the deficits and unfunded liabilities that common sense tells us cannot go on much longer. A grand, but never mentioned, bipartisan agreement allows for the well-kept secret that keeps the spending going. One side doesn't give up one penny on military spending, the other side doesn't give up one penny on welfare spending, while both sides support the bailouts and subsidies for the banking and corporate elite. And the spending continues as the economy weakens and the downward spiral continues. As the government continues fiddling around, our liberties and our wealth burn in the flames of a foreign policy that makes us less safe.
The major stumbling block to real change in Washington is the total resistance to admitting that the country is broke. This has made compromising, just to agree to increase spending, inevitable since neither side has any intention of cutting spending.
The country and the Congress will remain divisive since there's no "loot left to divvy up."
Without this recognition the spenders in Washington will continue the march toward a fiscal cliff much bigger than the one anticipated this coming January.
I have thought a lot about why those of us who believe in liberty, as a solution, have done so poorly in convincing others of its benefits. If liberty is what we claim it is- the principle that protects all personal, social and economic decisions necessary for maximum prosperity and the best chance for peace- it should be an easy sell. Yet, history has shown that the masses have been quite receptive to the promises of authoritarians which are rarely if ever fulfilled.
Authoritarianism vs. Liberty
If authoritarianism leads to poverty and war and less freedom for all individuals and is controlled by rich special interests, the people should be begging for liberty. There certainly was a strong enough sentiment for more freedom at the time of our founding that motivated those who were willing to fight in the revolution against the powerful British government.
During my time in Congress the appetite for liberty has been quite weak; the understanding of its significance negligible. Yet the good news is that compared to 1976 when I first came to Congress, the desire for more freedom and less government in 2012 is much greater and growing, especially in grassroots America. Tens of thousands of teenagers and college age students are, with great enthusiasm, welcoming the message of liberty.
I have a few thoughts as to why the people of a country like ours, once the freest and most prosperous, allowed the conditions to deteriorate to the degree that they have.
Freedom, private property, and enforceable voluntary contracts, generate wealth. In our early history we were very much aware of this. But in the early part of the 20th century our politicians promoted the notion that the tax and monetary systems had to change if we were to involve ourselves in excessive domestic and military spending. That is why Congress gave us the Federal Reserve and the income tax. The majority of Americans and many government officials agreed that sacrificing some liberty was necessary to carry out what some claimed to be "progressive" ideas. Pure democracy became acceptable.
They failed to recognized that what they were doing was exactly opposite of what the colonists were seeking when they broke away from the British.
Some complain that my arguments makes no sense, since great wealth and the standard of living improved for many Americans over the last 100 years, even with these new policies.
But the damage to the market economy, and the currency, has been insidious and steady. It took a long time to consume our wealth, destroy the currency and undermine productivity and get our financial obligations to a point of no return. Confidence sometimes lasts longer than deserved. Most of our wealth today depends on debt.
The wealth that we enjoyed and seemed to be endless, allowed concern for the principle of a free society to be neglected. As long as most people believed the material abundance would last forever, worrying about protecting a competitive productive economy and individual liberty seemed unnecessary.
The Age of Redistribution
This neglect ushered in an age of redistribution of wealth by government kowtowing to any and all special interests, except for those who just wanted to left alone. That is why today money in politics far surpasses money currently going into research and development and productive entrepreneurial efforts.
The material benefits became more important than the understanding and promoting the principles of liberty and a free market. It is good that material abundance is a result of liberty but if materialism is all that we care about, problems are guaranteed.
The crisis arrived because the illusion that wealth and prosperity would last forever has ended. Since it was based on debt and a pretense that debt can be papered over by an out-of-control fiat monetary system, it was doomed to fail. We have ended up with a system that doesn't produce enough even to finance the debt and no fundamental understanding of why a free society is crucial to reversing these trends.
If this is not recognized, the recovery will linger for a long time. Bigger government, more spending, more debt, more poverty for the middle class, and a more intense scramble by the elite special interests will continue.
We Need an Intellectual Awakening
Without an intellectual awakening, the turning point will be driven by economic law. A dollar crisis will bring the current out-of-control system to its knees.
If it's not accepted that big government, fiat money, ignoring liberty, central economic planning, welfarism, and warfarism caused our crisis we can expect a continuous and dangerous march toward corporatism and even fascism with even more loss of our liberties. Prosperity for a large middle class though will become an abstract dream.
This continuous move is no different than what we have seen in how our financial crisis of 2008 was handled. Congress first directed, with bipartisan support, bailouts for the wealthy. Then it was the Federal Reserve with its endless quantitative easing. If at first it doesn't succeed try again; QE1, QE2, and QE3 and with no results we try QE indefinitely – that is until it too fails. There's a cost to all of this and let me assure you delaying the payment is no longer an option. The rules of the market will extract its pound of flesh and it won't be pretty.
The current crisis elicits a lot of pessimism. And the pessimism adds to less confidence in the future. The two feed on themselves, making our situation worse.
If the underlying cause of the crisis is not understood we cannot solve our problems. The issues of warfare, welfare, deficits, inflationism, corporatism, bailouts and authoritarianism cannot be ignored. By only expanding these policies we cannot expect good results.
Everyone claims support for freedom. But too often it's for one's own freedom and not for others. Too many believe that there must be limits on freedom. They argue that freedom must be directed and managed to achieve fairness and equality thus making it acceptable to curtail, through force, certain liberties.
Some decide what and whose freedoms are to be limited. These are the politicians whose goal in life is power. Their success depends on gaining support from special interests.
No More 'isms'
The great news is the answer is not to be found in more "isms." The answers are to be found in more liberty which cost so much less. Under these circumstances spending goes down, wealth production goes up, and the quality of life improves.
Just this recognition – especially if we move in this direction – increases optimism which in itself is beneficial. The follow through with sound policies are required which must be understood and supported by the people.
But there is good evidence that the generation coming of age at the present time is supportive of moving in the direction of more liberty and self-reliance. The more this change in direction and the solutions become known, the quicker will be the return of optimism.
Our job, for those of us who believe that a different system than the one that we have had for the last 100 years, has driven us to this unsustainable crisis, is to be more convincing that there is a wonderful, uncomplicated, and moral system that provides the answers. We had a taste of it in our early history. We need not give up on the notion of advancing this cause.
It worked, but we allowed our leaders to concentrate on the material abundance that freedom generates, while ignoring freedom itself. Now we have neither, but the door is open, out of necessity, for an answer. The answer available is based on the Constitution, individual liberty and prohibiting the use of government force to provide privileges and benefits to all special interests.
After over 100 years we face a society quite different from the one that was intended by the Founders. In many ways their efforts to protect future generations with the Constitution from this danger has failed. Skeptics, at the time the Constitution was written in 1787, warned us of today's possible outcome. The insidious nature of the erosion of our liberties and the reassurance our great abundance gave us, allowed the process to evolve into the dangerous period in which we now live.

Dependency on Government Largesse
Today we face a dependency on government largesse for almost every need. Our liberties are restricted and government operates outside the rule of law, protecting and rewarding those who buy or coerce government into satisfying their demands. Here are a few examples:
Undeclared wars are commonplace.
Welfare for the rich and poor is considered an entitlement.
The economy is overregulated, overtaxed and grossly distorted by a deeply flawed monetary system.
Debt is growing exponentially.
The Patriot Act and FISA legislation passed without much debate have resulted in a steady erosion of our 4th Amendment rights.
Tragically our government engages in preemptive war, otherwise known as aggression, with no complaints from the American people.
The drone warfare we are pursuing worldwide is destined to end badly for us as the hatred builds for innocent lives lost and the international laws flaunted. Once we are financially weakened and militarily challenged, there will be a lot resentment thrown our way.
It's now the law of the land that the military can arrest American citizens, hold them indefinitely, without charges or a trial.
Rampant hostility toward free trade is supported by a large number in Washington.
Supporters of sanctions, currency manipulation and WTO trade retaliation, call the true free traders "isolationists."
Sanctions are used to punish countries that don't follow our orders.
Bailouts and guarantees for all kinds of misbehavior are routine.
Central economic planning through monetary policy, regulations and legislative mandates has been an acceptable policy.
Questions
Excessive government has created such a mess it prompts many questions:
Why are sick people who use medical marijuana put in prison?
Why does the federal government restrict the drinking of raw milk?
Why can't Americans manufacturer rope and other products from hemp?
Why are Americans not allowed to use gold and silver as legal tender as mandated by the Constitution?
Why is Germany concerned enough to consider repatriating their gold held by the FED for her in New York? Is it that the trust in the U.S. and dollar supremacy beginning to wane?
Why do our political leaders believe it's unnecessary to thoroughly audit our own gold?
Why can't Americans decide which type of light bulbs they can buy?
Why is the TSA permitted to abuse the rights of any American traveling by air?
Why should there be mandatory sentences – even up to life for crimes without victims – as our drug laws require?
Why have we allowed the federal government to regulate commodes in our homes?
Why is it political suicide for anyone to criticize AIPAC ?
Why haven't we given up on the drug war since it's an obvious failure and violates the people's rights? Has nobody noticed that the authorities can't even keep drugs out of the prisons? How can making our entire society a prison solve the problem?
Why do we sacrifice so much getting needlessly involved in border disputes and civil strife around the world and ignore the root cause of the most deadly border in the world-the one between Mexico and the US?
Why does Congress willingly give up its prerogatives to the Executive Branch?
Why does changing the party in power never change policy? Could it be that the views of both parties are essentially the same?
Why did the big banks, the large corporations, and foreign banks and foreign central banks get bailed out in 2008 and the middle class lost their jobs and their homes?
Why do so many in the government and the federal officials believe that creating money out of thin air creates wealth?
Why do so many accept the deeply flawed principle that government bureaucrats and politicians can protect us from ourselves without totally destroying the principle of liberty?
Why can't people understand that war always destroys wealth and liberty?
Why is there so little concern for the Executive Order that gives the President authority to establish a "kill list," including American citizens, of those targeted for assassination?
Why is patriotism thought to be blind loyalty to the government and the politicians who run it, rather than loyalty to the principles of liberty and support for the people? Real patriotism is a willingness to challenge the government when it's wrong.
Why is it is claimed that if people won't or can't take care of their own needs, that people in government can do it for them?
Why did we ever give the government a safe haven for initiating violence against the people?
Why do some members defend free markets, but not civil liberties?
Why do some members defend civil liberties but not free markets? Aren't they the same?
Why don't more defend both economic liberty and personal liberty?
Why are there not more individuals who seek to intellectually influence others to bring about positive changes than those who seek power to force others to obey their commands?
Why does the use of religion to support a social gospel and preemptive wars, both of which requires authoritarians to use violence, or the threat of violence, go unchallenged? Aggression and forced redistribution of wealth has nothing to do with the teachings of the world great religions.
Why do we allow the government and the Federal Reserve to disseminate false information dealing with both economic and foreign policy?
Why is democracy held in such high esteem when it's the enemy of the minority and makes all rights relative to the dictates of the majority?
Why should anyone be surprised that Congress has no credibility, since there's such a disconnect between what politicians say and what they do?
Is there any explanation for all the deception, the unhappiness, the fear of the future, the loss of confidence in our leaders, the distrust, the anger and frustration? Yes there is, and there's a way to reverse these attitudes. The negative perceptions are logical and a consequence of bad policies bringing about our problems. Identification of the problems and recognizing the cause allow the proper changes to come easy.
Trust Yourself, Not the Government
Too many people have for too long placed too much confidence and trust in government and not enough in themselves. Fortunately, many are now becoming aware of the seriousness of the gross mistakes of the past several decades. The blame is shared by both political parties. Many Americans now are demanding to hear the plain truth of things and want the demagoguing to stop. Without this first step, solutions are impossible.
Seeking the truth and finding the answers in liberty and self-reliance promotes the optimism necessary for restoring prosperity. The task is not that difficult if politics doesn't get in the way.
We have allowed ourselves to get into such a mess for various reasons.
Politicians deceive themselves as to how wealth is produced. Excessive confidence is placed in the judgment of politicians and bureaucrats. This replaces the confidence in a free society. Too many in high places of authority became convinced that only they, armed with arbitrary government power, can bring about fairness, while facilitating wealth production. This always proves to be a utopian dream and destroys wealth and liberty. It impoverishes the people and rewards the special interests who end up controlling both political parties.
It's no surprise then that much of what goes on in Washington is driven by aggressive partisanship and power seeking, with philosophic differences being minor.
Economic Ignorance
Economic ignorance is commonplace. Keynesianism continues to thrive, although today it is facing healthy and enthusiastic rebuttals. Believers in military Keynesianism and domestic Keynesianism continue to desperately promote their failed policies, as the economy languishes in a deep slumber.
Supporters of all government edicts use humanitarian arguments to justify them.
Humanitarian arguments are always used to justify government mandates related to the economy, monetary policy, foreign policy, and personal liberty. This is on purpose to make it more difficult to challenge. But, initiating violence for humanitarian reasons is still violence. Good intentions are no excuse and are just as harmful as when people use force with bad intentions. The results are always negative.
The immoral use of force is the source of man's political problems. Sadly, many religious groups, secular organizations, and psychopathic authoritarians endorse government initiated force to change the world. Even when the desired goals are well-intentioned – or especially when well-intentioned – the results are dismal. The good results sought never materialize. The new problems created require even more government force as a solution. The net result is institutionalizing government initiated violence and morally justifying it on humanitarian grounds.
This is the same fundamental reason our government uses force for invading other countries at will, central economic planning at home, and the regulation of personal liberty and habits of our citizens.
It is rather strange, that unless one has a criminal mind and no respect for other people and their property, no one claims it's permissible to go into one's neighbor's house and tell them how to behave, what they can eat, smoke and drink or how to spend their money.
Yet, rarely is it asked why it is morally acceptable that a stranger with a badge and a gun can do the same thing in the name of law and order. Any resistance is met with brute force, fines, taxes, arrests, and even imprisonment. This is done more frequently every day without a proper search warrant.
No Government Monopoly over Initiating Violence
Restraining aggressive behavior is one thing, but legalizing a government monopoly for initiating aggression can only lead to exhausting liberty associated with chaos, anger and the breakdown of civil society. Permitting such authority and expecting saintly behavior from the bureaucrats and the politicians is a pipe dream. We now have a standing army of armed bureaucrats in the TSA, CIA, FBI, Fish and Wildlife, FEMA, IRS, Corp of Engineers, etc. numbering over 100,000. Citizens are guilty until proven innocent in the unconstitutional administrative courts.
Government in a free society should have no authority to meddle in social activities or the economic transactions of individuals. Nor should government meddle in the affairs of other nations. All things peaceful, even when controversial, should be permitted.
We must reject the notion of prior restraint in economic activity just we do in the area of free speech and religious liberty. But even in these areas government is starting to use a backdoor approach of political correctness to regulate speech-a dangerous trend. Since 9/11 monitoring speech on the internet is now a problem since warrants are no longer required.
The Proliferation of Federal Crimes
The Constitution established four federal crimes. Today the experts can't even agree on how many federal crimes are now on the books – they number into the thousands. No one person can comprehend the enormity of the legal system – especially the tax code. Due to the ill-advised drug war and the endless federal expansion of the criminal code we have over 6 million people under correctional suspension, more than the Soviets ever had, and more than any other nation today, including China. I don't understand the complacency of the Congress and the willingness to continue their obsession with passing more Federal laws. Mandatory sentencing laws associated with drug laws have compounded our prison problems.
The federal register is now 75,000 pages long and the tax code has 72,000 pages, and expands every year. When will the people start shouting, "enough is enough," and demand Congress cease and desist.
Achieving Liberty
Liberty can only be achieved when government is denied the aggressive use of force. If one seeks liberty, a precise type of government is needed. To achieve it, more than lip service is required.
Two choices are available.
A government designed to protect liberty – a natural right – as its sole objective. The people are expected to care for themselves and reject the use of any force for interfering with another person's liberty. Government is given a strictly limited authority to enforce contracts, property ownership, settle disputes, and defend against foreign aggression.
A government that pretends to protect liberty but is granted power to arbitrarily use force over the people and foreign nations. Though the grant of power many times is meant to be small and limited, it inevitably metastasizes into an omnipotent political cancer. This is the problem for which the world has suffered throughout the ages. Though meant to be limited it nevertheless is a 100% sacrifice of a principle that would-be-tyrants find irresistible. It is used vigorously – though incrementally and insidiously. Granting power to government officials always proves the adage that: "power corrupts."
Once government gets a limited concession for the use of force to mold people habits and plan the economy, it causes a steady move toward tyrannical government. Only a revolutionary spirit can reverse the process and deny to the government this arbitrary use of aggression. There's no in-between. Sacrificing a little liberty for imaginary safety always ends badly.
Today's mess is a result of Americans accepting option #2, even though the Founders attempted to give us Option #1.
The results are not good. As our liberties have been eroded our wealth has been consumed. The wealth we see today is based on debt and a foolish willingness on the part of foreigners to take our dollars for goods and services. They then loan them back to us to perpetuate our debt system. It's amazing that it has worked for this long but the impasse in Washington, in solving our problems indicate that many are starting to understand the seriousness of the world -wide debt crisis and the dangers we face. The longer this process continues the harsher the outcome will be.
The Financial Crisis Is a Moral Crisis
Many are now acknowledging that a financial crisis looms but few understand it's, in reality, a moral crisis. It's the moral crisis that has allowed our liberties to be undermined and permits the exponential growth of illegal government power. Without a clear understanding of the nature of the crisis it will be difficult to prevent a steady march toward tyranny and the poverty that will accompany it.
Ultimately, the people have to decide which form of government they want; option #1 or option #2. There is no other choice. Claiming there is a choice of a "little" tyranny is like describing pregnancy as a "touch of pregnancy." It is a myth to believe that a mixture of free markets and government central economic planning is a worthy compromise. What we see today is a result of that type of thinking. And the results speak for themselves.
A Culture of Violence
American now suffers from a culture of violence. It's easy to reject the initiation of violence against one's neighbor but it's ironic that the people arbitrarily and freely anoint government officials with monopoly power to initiate violence against the American people – practically at will.
Because it's the government that initiates force, most people accept it as being legitimate. Those who exert the force have no sense of guilt. It is believed by too many that governments are morally justified in initiating force supposedly to "do good." They incorrectly believe that this authority has come from the "consent of the people." The minority, or victims of government violence never consented to suffer the abuse of government mandates, even when dictated by the majority. Victims of TSA excesses never consented to this abuse.
This attitude has given us a policy of initiating war to "do good," as well. It is claimed that war, to prevent war for noble purposes, is justified. This is similar to what we were once told that: "destroying a village to save a village" was justified. It was said by a US Secretary of State that the loss of 500,000 Iraqis, mostly children, in the 1990s, as a result of American bombs and sanctions, was "worth it" to achieve the "good" we brought to the Iraqi people. And look at the mess that Iraq is in today.
Government use of force to mold social and economic behavior at home and abroad has justified individuals using force on their own terms. The fact that violence by government is seen as morally justified, is the reason why violence will increase when the big financial crisis hits and becomes a political crisis as well.
First, we recognize that individuals shouldn't initiate violence, then we give the authority to government. Eventually, the immoral use of government violence, when things goes badly, will be used to justify an individual's "right" to do the same thing. Neither the government nor individuals have the moral right to initiate violence against another yet we are moving toward the day when both will claim this authority. If this cycle is not reversed society will break down.
When needs are pressing, conditions deteriorate and rights become relative to the demands and the whims of the majority. It's then not a great leap for individuals to take it upon themselves to use violence to get what they claim is theirs. As the economy deteriorates and the wealth discrepancies increase – as are already occurring – violence increases as those in need take it in their own hands to get what they believe is theirs. They will not wait for a government rescue program.
When government officials wield power over others to bail out the special interests, even with disastrous results to the average citizen, they feel no guilt for the harm they do. Those who take us into undeclared wars with many casualties resulting, never lose sleep over the death and destruction their bad decisions caused. They are convinced that what they do is morally justified, and the fact that many suffer just can't be helped.
When the street criminals do the same thing, they too have no remorse, believing they are only taking what is rightfully theirs. All moral standards become relative. Whether it's bailouts, privileges, government subsidies or benefits for some from inflating a currency, it's all part of a process justified by a philosophy of forced redistribution of wealth. Violence, or a threat of such, is the instrument required and unfortunately is of little concern of most members of Congress.
Some argue it's only a matter of "fairness" that those in need are cared for. There are two problems with this. First, the principle is used to provide a greater amount of benefits to the rich than the poor. Second, no one seems to be concerned about whether or not it's fair to those who end up paying for the benefits. The costs are usually placed on the backs of the middle class and are hidden from the public eye. Too many people believe government handouts are free, like printing money out of thin air, and there is no cost. That deception is coming to an end. The bills are coming due and that's what the economic slowdown is all about.
Sadly, we have become accustomed to living with the illegitimate use of force by government. It is the tool for telling the people how to live, what to eat and drink, what to read and how to spend their money.
To develop a truly free society, the issue of initiating force must be understood and rejected. Granting to government even a small amount of force is a dangerous concession.
Limiting Government Excesses vs. a Virtuous Moral People
Our Constitution, which was intended to limit government power and abuse, has failed. The Founders warned that a free society depends on a virtuous and moral people. The current crisis reflects that their concerns were justified.
Most politicians and pundits are aware of the problems we face but spend all their time in trying to reform government. The sad part is that the suggested reforms almost always lead to less freedom and the importance of a virtuous and moral people is either ignored, or not understood. The new reforms serve only to further undermine liberty. The compounding effect has given us this steady erosion of liberty and the massive expansion of debt. The real question is: if it is liberty we seek, should most of the emphasis be placed on government reform or trying to understand what "a virtuous and moral people" means and how to promote it. The Constitution has not prevented the people from demanding handouts for both rich and poor in their efforts to reform the government, while ignoring the principles of a free society. All branches of our government today are controlled by individuals who use their power to undermine liberty and enhance the welfare/warfare state-and frequently their own wealth and power.
If the people are unhappy with the government performance it must be recognized that government is merely a reflection of an immoral society that rejected a moral government of constitutional limitations of power and love of freedom.
If this is the problem all the tinkering with thousands of pages of new laws and regulations will do nothing to solve the problem.
It is self-evident that our freedoms have been severely limited and the apparent prosperity we still have, is nothing more than leftover wealth from a previous time. This fictitious wealth based on debt and benefits from a false trust in our currency and credit, will play havoc with our society when the bills come due. This means that the full consequence of our lost liberties is yet to be felt.
But that illusion is now ending. Reversing a downward spiral depends on accepting a new approach.
Expect the rapidly expanding homeschooling movement to play a significant role in the revolutionary reforms needed to build a free society with Constitutional protections. We cannot expect a Federal government controlled school system to provide the intellectual ammunition to combat the dangerous growth of government that threatens our liberties.
The internet will provide the alternative to the government/media complex that controls the news and most political propaganda. This is why it's essential that the internet remains free of government regulation.
Many of our religious institutions and secular organizations support greater dependency on the state by supporting war, welfare and corporatism and ignore the need for a virtuous people.
I never believed that the world or our country could be made more free by politicians, if the people had no desire for freedom.
Under the current circumstances the most we can hope to achieve in the political process is to use it as a podium to reach the people to alert them of the nature of the crisis and the importance of their need to assume responsibility for themselves, if it is liberty that they truly seek. Without this, a constitutionally protected free society is impossible.
If this is true, our individual goal in life ought to be for us to seek virtue and excellence and recognize that self-esteem and happiness only comes from using one's natural ability, in the most productive manner possible, according to one's own talents.
Productivity and creativity are the true source of personal satisfaction. Freedom, and not dependency, provides the environment needed to achieve these goals. Government cannot do this for us; it only gets in the way. When the government gets involved, the goal becomes a bailout or a subsidy and these cannot provide a sense of personal achievement.
Achieving legislative power and political influence should not be our goal. Most of the change, if it is to come, will not come from the politicians, but rather from individuals, family, friends, intellectual leaders and our religious institutions. The solution can only come from rejecting the use of coercion, compulsion, government commands, and aggressive force, to mold social and economic behavior. Without accepting these restraints, inevitably the consensus will be to allow the government to mandate economic equality and obedience to the politicians who gain power and promote an environment that smothers the freedoms of everyone. It is then that the responsible individuals who seek excellence and self-esteem by being self-reliance and productive, become the true victims.

Conclusion
What are the greatest dangers that the American people face today and impede the goal of a free society? There are five.

1. The continuous attack on our civil liberties which threatens the rule of law and our ability to resist the onrush of tyranny.
2. Violent anti-Americanism that has engulfed the world. Because the phenomenon of "blow-back" is not understood or denied, our foreign policy is destined to keep us involved in many wars that we have no business being in. National bankruptcy and a greater threat to our national security will result.
3. The ease in which we go to war, without a declaration by Congress, but accepting international authority from the UN or NATO even for preemptive wars, otherwise known as aggression.
4. A financial political crisis as a consequence of excessive debt, unfunded liabilities, spending, bailouts, and gross discrepancy in wealth distribution going from the middle class to the rich. The danger of central economic planning, by the Federal Reserve must be understood.
5. World government taking over local and US sovereignty by getting involved in the issues of war, welfare, trade, banking, a world currency, taxes, property ownership, and private ownership of guns.
Happily, there is an answer for these very dangerous trends.
What a wonderful world it would be if everyone accepted the simple moral premise of rejecting all acts of aggression. The retort to such a suggestion is always: it's too simplistic, too idealistic, impractical, naïve, utopian, dangerous, and unrealistic to strive for such an ideal.
Source: LewRockwell.com
You think that America's corporate-owned government has its drawbacks?  Wait until you hear what the corporate-owned government in Nigeria is up to!  You think that the results of having corporate Big Money buying off America's politicians has been scary and sad?  Then you obviously haven't ever been to Nigeria — where they have definitely gone way far beyond merely "scary" or "sad".
When it comes to having a corporate-owned government, apparently Nigeria has become the prototype, the ideal, the epitome of what corporate-owned government can really achieve if it puts its mind to it.  Corporations in America like Citibank and Monsanto and Georgia-Pacific and Chevron can only hope to aspire to the high levels of corporatism that have been achieved in Nigeria.
Nigeria today has broken the mold and set the bar really high.
But how do I know all this?  From an interview with an expert on Nigeria that took place yesterday in a local park in Berkeley over tuna-fish sandwiches.
"So.  What's up in Nigeria?" I asked him, immediately diving right in.
"Don't even ask," he replied.  "For one thing, our government is composed of mainly puppet thugs put into office by corporate neo-colonialists — but these office-holders have no power at all.  They are only there as a showcase, an illusion, a shadow puppet show created to make it look like someone with dark skin is in charge over there and to give corporations someone to officially sign the documents that have handed Nigeria over to them."
That's ironic.  In America, corporations try to dig up shadow puppets with light skin.
"When we were children in Nigeria," continued the expert, "all of us wanted to go off to college because those in our villages who had gone to college would come home and everyone would honor them.  But not any more.  Now the children in the villages and towns of Nigeria all want to grow up to be government thugs!  To drive big shiny cars and take money from oil companies and beat people up."
     "Something like that has happened in America too," I replied.  "Little kids used to want to grow up to be doctors or firefighters or scientists.  High school kids wanted to go to college and become architects or engineers or Bob the Builder.  Now all they want to do is study business so they can rush off to Wall Street and make a killing.  Who wants to be a doctor when they can orchestrate pension-plan takeovers and outsource American jobs.  Or go into politics."  Yeah.  And become corporate-owned government thugs like in Nigeria.
"And it used to be that everyone in Nigeria at least had a chance of going to high school," said the expert.  "But the levels of available education there are falling fast."  Keep them barefoot and dumb?  Seems to be the trend here in America too.
"Whenever we thought of America when we were children, we all wanted to be like that — democracy and all.  Owning something that said 'Made in America' on it was a very big deal.  And now it's all made in China.  But what amazes me most about Americans today is that they all sit back and take this and say nothing.  They just listen to Rush Limbaugh and Glen Beck and Fox News and accept their fate like lambs to the slaughter."
     I know what he means.  And in my humble opinion, it all started back in 1963 when no one really questioned who shot JFK — and who benefited most.  Who had the motive, means and opportunity?  It surely wasn't Cuba or even the USSR.  "Who killed the Kennedys?  After all it was you and me," sang the Rolling Stones — and they nailed it.  Then most Americans went on to never question the lack of preparedness before 9-11http://www.paulcraigroberts.org/2012/09/11/the-11th-anniversary-911-paul-craig-roberts/ or the obvious lies about weapons of mass destruction or the need for bank bailouts or….  Sheep.
"Don't Tread on Me" is now history, sent off to America's outdated memorabilia rubbish heap.
     "When the BP oil spill happened over here in the Gulf," my expert continued, "BP spent a lot of money on maintaining their public image in America and making excuses.  Well, Nigeria has a big oil spill almost every day.  Oil spills like that are common in Nigeria.  But the major difference between there and here is that BP doesn't even bother to make excuses in Nigeria.  They don't even consider Nigerians important enough to even make excuses.  They treat us like some kind of annoying pests that they just have to put up with while extracting our oil.  Not really human."  Definitely beyond sad.
Imagine all those photos of shorebirds on the Gulf Coast covered with oil — and then imagine Nigerians covered with oil like that too.  The toxic "body burden" that many Nigerian villagers are bearing these days is tragic.
     "Have you ever been to Nigeria?" he asked me.  "Rich people there live in securely gated communities and behind high walls.  There is no walking down the streets in Nigeria for rich people.  Why would anyone ever want to live like that?  To always be guarded and gated and stuck behind walls?  That's no way to live.  Having economic equality leads to more freedom — even for the rich."
But as the rich become more and more separated from the poor here in America too, that's definitely the direction we also are going in.  Freedom, like money, does not trickle down.
    Next we discussed a whole bunch of other reasons why having a corporate-owned government has led to a failed nation in Nigeria — and will also lead to a failed nation here.  But I forgot to take notes and can't remember the rest of what all we discussed.  But you get the gist.  Government of the people, by the people and for the people is good.  Corporate-owned government is proving to be very very bad.
To paraphrase a recent saying that's now making the rounds on FaceBook, "If Romney's proposed corporatist policies actually work, then George W. Bush would have given the keynote speech at the Republican convention — and Nigeria would be a proud role model for democracy and freedom, not just another miserable failed state."
PS:  Has anyone started to miss Libya's Muammar Gaddafi yet?  If he hadn't been brutally murdered and his corpse dragged through the streets of Sirte, Ambassador Stevens would still be alive and well too.
And does anybody but me find it ironic that the rockets used to attack the American consulate in Benghazi probably came from the same stockpile of weapons supplied to NATO's allies, the al-Qaeda-linked Libyan Islamic Fighting Group, and paid for by America's corporate-owned government?
Shades of Ronald Reagan's favorite "freedom fighters" in Afghanistan — Osama bin Ladin and friends. 
It is an absolute fact that no matter which of the two major parties in Washington, D.C., is in power, the freedoms and liberties of the American people continue to be eroded. However, this does NOT mean that there are not basic differences between the two parties. The two parties differ greatly on HOW government will take our liberties. Where they are similar is in the fact that neither of them has any interest in preserving liberty. Until the American people awaken to this reality, whatever freedoms we have left in this country are doomed.
Let me ask you a question: does it really matter whether a free man is enslaved by a socialist state or a fascist state? Are the prisons any more accommodating? Are the lashes from the whip any less painful? Is the agony of losing a loved one any less grievous? Is the persecution any less revolting? What difference does it make to a free man if his liberties are stolen by an Adolf Hitler or by a Joseph Stalin?
Do you want a quick reference to the difference between how the Democrats and Republicans in Washington, D.C., are stealing our liberties? When the Democrats control things, America gets more socialism; when the Republicans control things, America gets more corporatism, which is a polite word for fascism. Socialism requires government to own everything, while fascism requires government to control everything. And remember, too, fascists and socialists have always hated each other. Big deal! Fascists and socialists alike hate freedomists, which is why inside-the-beltway Repubs and Dems can't stand people like Ron Paul, Bob Barr, and yours truly. (Remember the MIAC report identifying the three of us, and our supporters, as being potential "dangerous militia" members?) So who cares which of these two parties happens to be in power? Our freedoms continue to be under siege. That's why the battle in Washington politics has nothing to do with preserving freedom, but everything to do with HOW government will take freedom. Will they take it by ownership or by control? And, unfortunately, what we have right now is the worst of both worlds: government is using a combination of both ownership and control to steal our liberties. Why? Because except for a very precious few elected civil magistrates (like Congressman Ron Paul), there is no one on Capitol Hill or the White House who remotely understands–or fights for–the principles of liberty.
Even worse is that when the Donkeys and the Elephants do agree, it almost always is in an effort to point the bayonets at the American citizenry. What does it matter whether government owns it or controls it? What does it matter whether it more resembles socialism of corporatism? What it doesn't look anything like, is FREEDOM!
Take the Democrat/Republican debate over Obamacare. Even if Mitt Romney and the GOP prevail in the November elections, Obamacare will be replaced with Romneycare. And Romneycare will be 85% Obamacare, with a slight shift toward government control and a slight shift away from government ownership. Again, I say, BIG DEAL! What neither party is talking about is that the federal government has no business being in health care. Period! Just like the federal government has no business being in over 90% of everything it is involved in today. But who do you hear saying that in Washington, D.C., except Ron Paul?
Take the issue of the burgeoning surveillance society. What does it matter which major party is in power in Washington, D.C.? The TSA gets more and more obnoxiously tyrannical; abuses of civil liberties under the guise of fighting a "war on drugs" continues unabated; abuses of the Bill of Rights under the guise of fighting a "war on terror" continues unabated; the federal police state continues to grow exponentially; unconstitutional foreign entanglements continue to proliferate; ad infinitum, ad nauseam.
In a book that I have recommended numerous times, "Hitler's Cross," Erwin Lutzer writes on page 72, "Through surveillance, wiretaps, spying, and rewarding those who betrayed their friends, Hitler tried to control the citizens of Germany." On page 73, Lutzer continues the thought saying, "But Hitler did not have the technology to bring every subject of his realm into line." So, given the technology that is available today, what would Hitler do differently if he were running things in Washington, D.C.? I ask readers to think seriously about that question. What would Hitler do differently?
Today, the federal government monitors virtually every piece of electronic communication. The federal government monitors virtually every major banking transaction. It has spies infiltrated in even harmless organizations all over the country. It threatens people with the loss of their jobs or freedom (or both) to betray their friends. It spies on us with satellites; it spies on us with drones. On July 6, 2012, President Obama signed an Executive Order authorizing the federal government to take control of America's entire communications industry. In 2006, under President George W. Bush, the US military began planning armed confrontation against the American citizenry. (I have the document in my possession.) And, of course, we must not overlook the Patriot Act which has been authorized and reauthorized under both Republicans and Democrats; the Military Commission Act which was signed by G.W. Bush; NDAA 2012 and 2013 which was signed by President Barack Obama, and which was passed by both Republicans and Democrats. And let's not forget the federal attack against the Branch Davidians under Democrats Bill Clinton and Janet Reno, and the assault against the Randy Weaver household under Republican President George Herbert Walker Bush.
So, again, pick your poison. Both the socialist-leaning Democrats and the corporatist-leaning Republicans in Washington, D.C., meet together in pointing the bayonet against the American citizenry. And you really wonder why nothing significant changes in this country?
And in this regard, the platforms of the two major parties are completely meaningless! I dare say that Barack Obama has never read the Democrat platform and doesn't care one iota what it says. I also guarantee you that Mitt Romney hasn't read the Republican platform and doesn't care one iota what it says either. Can anyone remember when Republican Presidential candidate, Bob Dole, in a rare moment of candor, publicly admitted that he had not read his party's platform and didn't care what it said? Party platforms are for the benefit of rank and file party members to make them feel like their ideas count for something to the party leadership. They don't!
So, do the Democrats and Republicans in Washington, D.C., differ? Yes! They differ on how our freedoms will be taken from us. They differ on the degree of government ownership and control. They differ on the nuances of political tyranny. Where they are twins is in their lust and ambition for power, in their approval of stripping more and more freedoms from the American people, and in their absolute and total disregard for constitutional government.
Without some sort of "Great Awakening" both politically and spiritually, whatever is left of our liberties is doomed–and both major parties in Washington, D.C., are equally culpable.
It is now pretty much a matter of record that, after World War II, refugees from Europe landed in Palestine and started a massive terrorist blitzkrieg campaign, massacring thousands of Christians and Muslims in their wake.  In a vast display of ethnic cleansing similar to what had previously happened in Europe, approximately 500 local towns were destroyed, 15,000 residents of Palestine were killed and 750,000 more were expelled.  Local residents of this area (the ones who actually survived, that is) started referring to this premeditated slaughter as "al Nakba" — The Catastrophe.
And a second "Nakba" is apparently now in the works.
According to University of Chicago political science professor John Mearsheimer, "Given the right circumstances – say a war involving Israel that is accompanied by serious Palestinian unrest – Israeli leaders might conclude that they can expel massive numbers of Palestinians from Greater Israel and depend on the lobby to protect them from international criticism and especially from sanctions.  We should not underestimate Israel's willingness to employ such a horrific strategy if the opportunity presents itself." http://www.silviacattori.net/article3322.html
What?
Are the land-grabbing neo-cons and faux-Jewish corporatists who now run Israel actually contemplating the instigation of an actual Second Nakba?   Holy yikes!  Are they seriously actually thinking about starting a second wide-ranging slaughter and ethnic cleansing on the scale of the first Nakba?  Perhaps under the cover of a war on Iran?  Good grief.
Both strategically and morally, that whole idea sucks eggs.
But then I got an e-mail from a Palestinian friend of mine who lives on the West Bank and he said that his village had just been brutally invaded by a needlessly-large number of highly-armed Israeli neo-con occupation forces.
"During the invasion last night," wrote my friend, "one of the soldiers stole 1000 Nis (200€) from a moneybox of the youngest brother of my neighbor Mosab.  Mosab's brother had been saving this money for months, little by little from his work as a vegetable farmer and salesman.  A laptop was also stolen from the house.
"Throughout the operation the soldiers fired sound grenades, a type of riot control weapon that produces a flash and a loud bang.  The sound is sufficient to make the most weathered and well-prepared person flinch in fear and when this weapon is used inside a village at night, it will not only serve to keep people awake but also to bring about memories of past atrocities that the village of Ni'lin has had to live through.
"Many villagers came out of their houses to protest the brutality of the Israeli army and were met with tear gas and more sound bombs.  The tear gas was fired straight at civilian houses which caused dozens children to suffer from tear gas inhalation.  Live ammunition was also used by the Israeli soldiers as a scare tactic."
And, right at this very moment, this type of malicious military activity is going on constantly all over the West Bank.  Constantly.  Night and day.  Occupation armies and armed settlers constantly swoop down upon Palestinian citizens night and day.   No one is safe.  And there are all-too-many instances where the occupation armies shoot Palestinian children, shop-keepers and farmers, steal Palestinian goods, defecate in Palestinian homes and piss in their water supplies.  To say the least.
Sure, maybe some day another full-scale blitzkrieg-style Nakba invasion of armed soldiers, settlers and thugs may suddenly descend en mass upon occupied Palestine and expel every single Christian and Muslim Palestinian in "Greater Isreal" to the other side of the Jordan River, into Lebanon and Syria, or over into Egypt.  And this would be dramatic as hell and make the front pages of all the newspapers.   Sure.
But in the meantime, another "Second Nakba" has actually already begun:  The Nakba by a Thousand Cuts.
According to Mearsheimer, "There are now about 480,000 settlers in the Occupied Territories and a huge infrastructure of connector and bypass roads…  Between 1993 and 2000, Israel confiscated 40,000 acres of Palestinian land, constructed 250 miles of connector and bypass roads, doubled the number of settlers, and built 30 new settlements….   [And since then,] the Israeli prime minister has not only refused to stop building the 2500 housing units that were under construction in the West Bank, but just to make it clear to Obama who was boss, in late June 2009, he authorized the building of 300 new homes in the West Bank.  Netanyahu refused to even countenance any limits on settlement building in East Jerusalem, which is supposed to be the capital of a Palestinian state."
I could write more about this death by a thousand cuts but what good would it do.  The Second Nakba has already begun. And nobody seems to care — except for its victims.  History is repeating itself here.  This is so much like Germany in 1933 when corporatists started establishing prisons-for-profit and nobody cared what happened to the Jews.  And it's also like South Africa in 1962 when corporatists took control of establishing Bantustans and nobody cared what happened to the Blacks.
And will this also be like America in a few more years, after corporatists have also seized absolute power here — and nobody will care what happens to us either?
Here's another example of a forced population displacement that nobody cared about, one that was overseen by Britain and the United States (not by Nazis), involved 13 million Europeans and cost approximately 500,000 to 2,000,000 lives, including the lives of 7,000 children under the age of five:
According to the Chronicle of Higher Education, "Between 1945 and 1950, Europe witnessed the largest episode of forced migration, and perhaps the single greatest movement of population, in human history.  Between 12 million and 14 million German-speaking civilians—the overwhelming majority of whom were women, old people, and children under 16—were forcibly ejected from their places of birth in Czechoslovakia, Hungary, Romania, Yugoslavia, and what are today the western districts of Poland.
"As The New York Times noted in December 1945, the number of people the Allies proposed to transfer in just a few months was about the same as the total number of all the immigrants admitted to the United States since the beginning of the 20th century.  They were deposited among the ruins of Allied-occupied Germany to fend for themselves as best they could.  The number who died as a result of starvation, disease, beatings, or outright execution is unknown, but conservative estimates suggest that at least 500,000 people lost their lives in the course of the operation."  http://chronicle.com/article/The-European-Atrocity-You/132123/?sid=cr&utm_source=cr&utm_medium=en
Are we having fun yet?
I was recently thinking about all the wars that America has been in over time, and then started listing them.  Let's see.  There's been America's various wars on the Middle East, that Korean "police action", World War I, World War II, the American Civil War, Vietnam, the Central American Wars, the Cold War and also various covert wars where other countries did the fighting but Washington supplied the cash — such as the violent and tragic fall of democratic governments in the Congo and Iran.
But when we consider the Big Picture, did any of these wars ever even make even the slightest difference — other than to make innumerable American citizens poorer and/or deader?
Even World War II, which was supposed to keep us safe from corporatism?  But did it?  Now that a kinder, gentler form of corporatism currently runs the world?  Or what about World War I, which was supposed to keep us safe for democracy?  Under Citizens United, is our democracy now all that safe?  Or take Vietnam, which was supposed to keep us safe from China — the landlord who now holds our mortgage?
Did any of these wars make any difference at all?  Other than to kill approximately one billion people and waste trillions of dollars and destroy untold resources — which we now desperately need?  Not really.  And nobody had fun during any of them either.
The horror stories about the Transportation Security Administration are indisputable. In the post 911 environment, civil liberties routinely ignored or eliminated, become a mere memory in a country that once prided itself as the beacon of freedom for the entire world. The TSA is part of the Department of Homeland Security. FEMA, theFederal Emergency Management Agency is also an agency of DHS. The public relation spin for the purpose of such authorities is to protect citizens and guard the nation. The reality is that DHS bureaus have the same mission, keep the government safe from potential real or imaginary threats. Interpret threats to mean anyone who opposes the establishment regime, now known as, the military-industrial-financial-security complex.DHS is the third largest Cabinet department, after the Departments of Defense and Veterans Affairs. A Department of Homeland Security site acknowledges a FY 2012 Budget of $56,941,507,000, in the latest testimony of DHS Secretary Janet Napolitano before Congress,
"The Fiscal Year (FY) 2013 Budget for DHS is $58.6 billion in total budget authority, $48.7 billion in gross discretionary funding, and $39.5 billion in net discretionary funding. Net discretionary budget authority is 0.5 percent below the FY 2012 enacted level. An additional $5.5 billion for the Disaster Relief Fund (DRF) is provided under the disaster relief cap adjustment, pursuant to the Budget Control Act of 2011 (BCA)."
Wikipedia cites a much higher amount, in fiscal year 2011 it, had allocated a budget of $98.8 billion and spent, net, $66.4 billion, with more than 200,000 employees.
Secretary Napolitano defines the assignments and tasks for the DHS.The Budget builds on the progress the Department has made in each of its mission areas while also providing essential support to national and economic security.
Mission 1: Preventing Terrorism and Enhancing Security – Protecting the United States from terrorism is the cornerstone of homeland security. DHS's counterterrorism responsibilities focus on three goals: preventing terrorist attacks; preventing the unauthorized acquisition, importation, movement, or use of chemical, biological, radiological, and nuclear materials and capabilities within the United States; and reducing the vulnerability of critical infrastructure and key resources, essential leadership, and major events to terrorist attacks and other hazards.

Mission 2: Securing and Managing Our Borders – DHS secures the Nation's air, land, and sea borders to prevent illegal activity while facilitating lawful travel and trade. The Department's border security and management efforts focus on three interrelated goals: effectively securing U.S. air, land, and sea borders; safeguarding and streamlining lawful trade and travel; and disrupting and dismantling transnational criminal and terrorist organizations.

Mission 3: Enforcing and Administering Our Immigration Laws – DHS is focused on smart and effective enforcement of U.S. immigration laws while streamlining and facilitating the legal immigration process. The Department has fundamentally reformed immigration enforcement, focusing on identifying and removing criminal aliens who pose a threat to public safety and targeting employers who knowingly and repeatedly break the law.

Mission 4: Safeguarding and Securing Cyberspace – DHS is the Federal Government lead agency for securing civilian government computer systems and works with industry and State, local, tribal, and territorial governments to secure critical infrastructure and information systems. DHS analyzes and mitigates cyber threats and vulnerabilities; distributes threat warnings; and coordinates the response to cyber incidents to ensure that our computers, networks, and cyber systems remain safe.

Mission 5: Ensuring Resilience to Disasters – DHS provides the coordinated, comprehensive Federal response in the event of a terrorist attack, natural disaster, or other large-scale emergency while working with Federal, State, local, and private-sector partners to ensure a swift and effective recovery effort. The Department's efforts to build a ready and resilient Nation include fostering a community-oriented approach, bolstering information sharing, improving the capability to plan, and providing grants and training to our homeland security and law enforcement partners.
The expansion of full spectrum dominance into domestic oversight and the integration of military practices and functions with local law enforcement are especially disturbing.
From a DHS site the security apparatus discloses.
"Today, fusion centers throughout the country serve as focal points at the state and local level for the receipt, analysis, gathering, and sharing of threat and vulnerability-related information.In addition, the Nationwide Suspicious Activity Reporting Initiative helps to train state and local law enforcement to recognize behaviors and indicators related to terrorism, crime and other threats while standardizing how those observations are analyzed and disseminated."
The Jesse Ventura video, THE TRUE FACTS ABOUT FEMA CAMPS is so compelling that it was pulled from cable viewing. Dispelling charges of conspiracy allegations with clear evidence of enslavement preparation is too upsetting for the average media induced zombie. The government dependency society is obedient to the dictates of police authority. Fake nationalists, actually are Tory subjects of a pernicious empire.Just the tip of an intrusive iceberg, the concept of an internal police state emerges as the primary real threat that faces the public. Countless examples of repression, documented in the alternative media, provide evidence that draconian measures to achieve phony internal security, is an integral component of central government subjugation.
Homeland Security chronicles false threats to justify and guarantee greater state control. This bureaucratic behemoth is in the business of recruiting dredges of perverse and pathological domination that would make the "Brownshirts" proud. Flying squadrons of drones for permanent surveillance does not make a country free. America, founded on dissent, now has a timid and docile population. Two examples from history clarify this point.
During the Viet Nam protest movement, flowers of peace inserted into the barrels of National Guard troops were cause for reflection. The internal strife that divided the country, based upon a bogus war, gave rise to the slogan, "Luv it or Leave it" . . . As the decades passed, even the most "gung ho" Rambo has come to the conclusion that the grunts were ferried in country for the purpose of ingratiating the military-industrial-complex. The net result of the conflict was the advancement of Communism. Not just in Southeast Asia, but more significantly, inside the gilded corridors of authoritarian centers of power in our own government.
Do you believe that the dimwitted TSA goons would be receptive to challenges of their S&M dominating practices? An anti internal internment camp protest needs to spread nationwide before the trains start to roll. Where is the outrage from the public? When will the spirit of the 60's resurrect the moral imperative necessary to save this nation from the fascist elites, who are intent on perfecting our own holocaust?
Remember the courage of the lone Chinese dissenter standing in the path of rolling tanks in Tiananmen Square. Just short of two decades after the Kent Stateshootings, the world watched the Red Chinese disgraced and loss of face. Since those days, the United States proceeds in lock step to adopt the Marxist Capitalist version of the Chinese model that operates slave communities and rewards crony comrades.
The international merging of global corporatism into a board of directors designed to abolish any remnants of individual freedom is unassailable. The shredding of the Bill of Rights goes on with little anger. The ACLU of fifty years ago is a gutted shell of a vigorous advocate of liberty. Where are the conservatives and libertarians eager to defend Nobel Peace Prize nominee PFC Bradley Manning? The most silent amendment to the Constitution is the third, Conditions for quarters of soldiers.
"No soldier shall, in time of peace be quartered in any house, without the consent of the owner, nor in time of war, but in a manner to be prescribed by law."
Today's application of Amendment III has Homeland Security effectively quartering their domestic spy warriors in the form of technological devices that gather intelligence on ordinary citizens. The physical barrier of a locked door poses little protection when the DHS Stasi invades and violates your inherent autonomy.
The recent "prescribed law" called the NDAA, National Defense Authorization Act is an offense against every American. The good news is that there is at least one constitutional federal judge, Katherine Forrest, left on the bench. The video, NDAA declared unconstitutional; Indefinite detention of Americans blocked by the court, provides a sliver of relief.The Washington Times concludes,
"Section 1021 of the NDAA could have set a slippery precedent forindefinite detention of American citizens.
This ruling was a milestone in the protection of 900 years of legal precedent, but the fight for due process raises frightening questions about the future of American liberty and the intentions of our representatives."
America desperately needs protection from the Homeland Security Gestapo. Their stated mission is the essence and embodiment of domestic government terrorism. Until Americans acquire the fortitude and will to resist and disobey unlawful edicts, the country will remain in danger of dictatorial despots. Without concerted commitment, the next dictate will include the internment in re-education facilities of Federal Judges that are insistent in upholding the Constitution.
The FEMA armored combat vehicles are ready for deployment. Remember Tiananmen Square before yet another Kent State becomes routine.
One of my all-time favorite pieces of literature is this section from Friedrich Schiller's William Tell:
"By this fair light which greeteth us, before
Those other nations, that, beneath us far,
In noisome cities pent, draw painful breath,
Swear we the oath of our confederacy!
A band of brothers true we swear to be,
Never to part in danger or in death!

"We swear we will be free as were our sires,
And sooner die than live in slavery!

"We swear, to put our trust in God Most High,
And not to quail before the might of man!"

Another personal favorite is the St. Crispin's Day speech from Shakespeare's Henry V:

"This story shall the good man teach his son;
And Crispin Crispian shall ne'er go by,
From this day to the ending of the world,
But we in it shall be remembered.

"We few, we happy few, we band of brothers;
For he today that sheds his blood with me
Shall be my brother, be he ne'er so vile.
This day shall gentle his condition.

"And gentlemen in England now-a-bed
Shall think themselves accurs'd they were not here,
And hold their manhoods cheap whiles any speaks
That fought with us upon Saint Crispin's day."
Schiller and Shakespeare called it "Band of Brothers." The Apostle Peter called it "Brotherhood." (I Peter 2:17) Call it what you will: without it, no cause will prevail. And that is one of the biggest problems we face in America today: there is very little brotherhood among brothers.
No, not all brothers are part of the brotherhood. The Scripture acknowledges this in Proverbs 18:24, "There is a friend that sticketh closer than a brother." And again in Proverbs 27:10, "Better is a neighbor that is near than a brother afar off." A brother that doesn't "stick close" is certainly not part of the brotherhood. Neither is a brother that is "afar off."
The sad truth is, even in the vast majority of churches, brotherhood is virtually unknown. Sitting in a church congregation is no more indicative of brotherhood than sitting in a crowded football stadium. In fact, there might even be MORE brotherhood at a football game than there is in the average church today.
Churches today are literally eaten up with malice, jealousy, gossip, slander, backbiting, faultfinding, ad infinitum. (But the same is true with other establishment organizations as well.) For all intents and purposes, today's churches make a mockery of all that Jesus taught regarding Christian love and brotherhood. On the whole, it simply does not exist today.
This past Sunday, I delivered a message simply entitled, "Brotherhood." I encourage readers to watch or download this message at:
http://chuckbaldwinlive.com/redirection2/go2/?WPNTHJ
For the sake of this column, and for the freedom movement especially, let me issue a clarion call for all of us who call ourselves Patriots. It is absolutely critical that we recognize The Brotherhood of the Free.
After signing the Declaration of Independence, Benjamin Franklin said, "We must hang together, or we most assuredly will hang separately." How right he was!
Our patriot-forebears, this "Band of Brothers," were as diverse a group of men as would ever be found. They represented virtually every Christian denomination that existed in Colonial America. They also included men who identified with no Christian church or denomination. While most of our Founding Fathers were Christians, not all of them were. But they all joined shoulder-to-shoulder in the fight for liberty and independence. Christians were fighting for the freedom to worship God as they pleased, and non-Christians were fighting for the freedom to not worship God if they pleased. But both fought side-by-side for freedom. Why do Christians today have such a blind spot in this regard?
It doesn't matter that Mitt Romney is a Mormon, or that Newt Gingrich is a Catholic, or that Rick Santorum is a Catholic. What matters is that not one of them is part of The Brotherhood of the Free. Not one of them has a clue as to what the real principles of liberty and constitutional government are all about. Not one of them recognizes the New World Order, the emerging police state, or the foolhardiness of perpetual war–whatever church they attend notwithstanding!
And that's the problem with most of our Christian "brothers": They just don't get it! And when push comes to shove, most of them will join with the forces of darkness in persecuting real Patriots and freedom lovers. Don't believe it? Look at how they are treating Ron Paul.
Say what you want about Ron Paul, he is an elder statesman in The Brotherhood of the Free. Ron Paul is in the Brotherhood. He knows what's going on. He sees the danger. He cares about liberty. He understands the Constitution. He is my brother in the fight!
Do I agree with Dr. Paul about every issue? No! We will never agree with our fellow Patriots about every single issue–neither should we have to. We agree on the basics. We each love liberty and independence. We believe in constitutional government. We despise globalism, corporatism, socialism, and fascism. We recognize a police state when we see it. We recognize the right of free moral beings to make their own personal moral choices. As Christians, we know that only Christ can change the hearts (and thereby, the conduct) of men–NOT GOVERNMENT!
Does anyone find it more than interesting that men such as John Adams, Sam Adams, and George Washington joined with Benjamin Franklin in signing the Declaration of Independence? The Adams boys and Mr. Washington were well known far and wide as men of intense piety and personal morality, while Mr. Franklin was known by everyone to be an incurable ladies man–even in his old age. If John and Sam and George would have behaved as so-called Christians do today, they would have said, "If Ben is signing this document, count me out!" But there they were, side-by-side, shoulder-to-shoulder, fighting for liberty and independence.
I, too, will gladly stand with my fellows in The Brotherhood of the Free. It doesn't mean that I approve of all that they do. It doesn't mean that I believe all that they believe. But it does mean as long as they are part of the Brotherhood and are willing to fight for the principles of liberty, I will stand with them!
Joining Ron Paul are thousands of men and women who should be recognized as part of this noble Brotherhood. As did our Founding Fathers, we come from varied walks of life, varied religious persuasions, varied belief systems, etc., but we all share a love of liberty and independence that burns deeply in our breasts.
Accordingly, I am glad to stand with (and to have stood with) Patriots such as Montana State Legislator Rick Jore, John McManus, Dr. Stan Montieth, Howard Phillips, Larry Pratt, Paul Walter, Herb Titus, Bill Olson, Ed Vieira, Judge Darrell White, Judge Andrew Napolitano, Pat Buchanan, Chelene Nightingale, Charley Reese, Scott Bradley, Joel Skousen, Tom DeWeese, Ezola Foster, Sheriff Richard Mack, Alex Jones, Governor Jesse Ventura, Sam Bushman, the late Congresswoman Helen Chenoweth-Hage, the late William Shearer, the late Joseph Sobran, the late George Putnam, and thousands like them.
My dear fellow Patriots, we are part of a Brotherhood. As Franklin said, "We must hang together." If we do, the cause of liberty will prevail. If we do not, the cause of liberty will most assuredly perish.
There may have been a time when the words "conservative" and "liberal" meant something, but that time is no more. Today, "conservatives" in government are doing as much to promote Big Government, as are "liberals." In fact, if one were to honestly evaluate the twelve years of the George Herbert Walker Bush and G.W. Bush administrations, one could say that "conservatives" even eclipse "liberals" in promoting Big Government. Under the two Bushes, the federal government expanded (and even exploded) to levels that for-real liberal Democrats could only dream about.
Let's get realistic. Just because a politico says he or she is "pro-life," or "pro-family," or "pro-marriage," etc., does not mean that they are going to do anything to help save the country. Come on, folks; think! "Conservative" Republican administration appointments have dominated the US Supreme Court since the infamous Roe v. Wade and Doe v. Bolton decisions that effectively legalized abortion-on-demand. And we are no closer to overturning Roe and Doe after almost forty years of electing "pro-life conservatives" than we were the year after the Roe and Doe decisions were rendered. And for the first six years of the 21st Century, "conservative" Republicans dominated the entire federal government, and still the Roe and Doe decisions stand.
And when it comes to marriage and family, there is not a darn thing that Washington, D.C., can do to "save" it. Washington can no more "save" the family than it can "create" jobs! Washington is not God–the attitudes of most Washington politicians and national newscasters notwithstanding.
Herein lies the real problem: both "conservatives" and "liberals" expect Washington, D.C., to be the panacea for all the nation's ills. Oh, the left and right come to Washington expecting different solutions, but they both come to Washington, D.C., for the solution. Both "conservatives" and "liberals" expect the federal government to "fix" America. But, in this regard, Ronald Reagan spoke with great profundity when he said, "Government [especially the federal government] is not the solution to our problem; government [especially the federal government] IS the problem!"
Hear President Reagan's quote at:
http://chuckbaldwinlive.com/home/?p=145
Both "conservatives" and "liberals" look to the federal government to establish and enforce their parochial agendas. "Liberals" look to Washington for the establishment of "social justice," while "conservatives" look to Washington for the establishment of "military justice." The net result is the federal government keeps getting bigger and bigger regardless of who controls the White House, Congress, or Supreme Court.
"Conservatives," whether Christian or not, are just as culpable in the expansion of Big Government as are "liberals." In fact, when it comes to the expansion of military adventurism, "conservatives" are the most culpable. And when it comes to the ever-burgeoning police state that is currently taking shape in the United States, "liberals" and "conservatives" are equally to blame. Let's face it: both "conservatives" and "liberals" are in the midst of an intense and illicit love affair with Washington, D.C.
The way many "conservatives" have embraced the candidacy of Rick Santorum is a prime example of how skewed their understanding of historic, constitutional principles really is. Santorum goes around talking about "pro-life" and "pro-family" issues, while his voting record in the US Senate demonstrates that he is just another conservative-talking, big-spending politician. He has voted for so many Big-Government bills and endorsed so many Big-Government toadies that it is incredible that anyone could refrain from laughing out loud when he calls himself a "conservative."
To check the factual record of Senator Rick Santorum, go here:
By the same token, it is absolutely incredible that "conservatives," especially Christian "conservatives," could so quickly and firmly reject the candidacy of the man who most likely is going to go down in history as the greatest congressman to ever sit in the US House of Representatives, Congressman Ron Paul of Texas. Patrick Henry was probably the greatest governor that the United States has ever seen; and Daniel Webster was probably the greatest senator that the country has ever seen; and I am personally convinced that history will regard Congressman Ron Paul as our greatest US House member. For his entire political career, Congressman Paul has stood like a rock for the fundamental principles of liberty and constitutionalism, and, yet, many "conservatives" reject his Presidential candidacy. They would rather support Big-Government toadies like Rick Santorum, Newt Gingrich, or Mitt Romney. Egad!
Have people not wondered why the direction of the country has not changed one iota regardless if "conservatives" or "liberals" are running things? One would think that at some point people would wake up to the fact that until we start electing civil magistrates who take their oaths to the Constitution seriously, and who truly understand the nature of our federalist form of government, and who are truly committed to the preservation of the Bill of Rights, and who truly understand and appreciate the jurisdiction and authority of the states, nothing is going to change in this country. Nothing! And in 2012, there is only one man in the Presidential field who has an intellectual grasp and moral commitment to all of the above: Ron Paul. I will say it yet again: it will not matter to a tinker's dam if anyone other than Ron Paul is elected President in 2012.
Furthermore, if Americans do not wake up to the importance of electing State governors, attorney generals, senators, legislators, and county sheriffs who understand that their primary responsibility as a State office holder is to safeguard the rights and liberties of the citizens of their respective states FROM THE USURPATION AND OVERREACH OF THE FEDERAL GOVERNMENT, our liberties are lost–no matter how many "conservatives" we elect!
Ladies and gentlemen, face it: the left-right paradigm is a hoax! It creates false conflicts and masks true problems. It caters to the increase of socialism on the one hand and fascism and corporatism on the other hand. It saps our strengths and augments our weaknesses. It blinds our eyes to the warning clouds above us and deafens our ears to the sounds of the sirens around us. It turns friends into adversaries and adversaries into friends. It dulls our senses and sharpens our illusions. It removes true courage and gives false hope. It sullies our character and shines our betrayal, and it puts shackles around our feet and greases the skids of oppression.
Instead of worrying about whether one professes to be a "conservative" or a "liberal," we should be concerned about whether the people we vote for understand the fundamental principles of liberty and constitutional government and have the moral character to defend such principles at all costs. Furthermore, we should be concerned that both "conservatives" and "liberals" look to government for the solutions to our problems instead of looking to the Natural Law principles of our Creator. Yes, Martha, the Golden Rule really does matter–even in Washington, D.C.
I just received one of those chain-letter e-mails that are making the rounds currently and this one cites all the good things that Israelis have done lately.  According to this e-mail, Israelis have invented the cell phone, perfected Windows XP, achieved a per-capita income that exceeds the UK's, developed the Pentium chip, have the highest percentage of college graduates anywhere, discovered how to treat breast cancer without radiation and even invented a cure for pimples.  Go them!
After reading this huge laundry-list of Israel's sparkling achievements, I was immediately reminded of the good old pre-Sputnik glory days of America, back when our education system was the best, our scientists were the best, our economy was the best, our healthcare was the best, our government was the best and everything about America was completely top-drawer.
We were always Number One in everything.
And then along came the corporatists who now own America — taking over our country and shoving their selfish schemes for wealth consolidation, government de-regulation and endless war down our throats.  And today, after spending approximately 40 years under corporatist control. America is now 37th in healthcare, 25th in math education, 10th in economic competitiveness, etc.  Just look how far we have sunk.
And now even Israel, especially even Israel, clearly outranks us in so many areas and ways.  Well, good for them — and bad for us.
However, the corporatists who now own Israel are clearly following the very same policies that originally derailed America:  Corporatism, wealth consolidation, government de-regulation and endless war.  Now all I can say to Israel is, "Good luck with all that.  I hope you do better under corporatism than we did."  But being able to successfully ride the corporatist dragon is probably never gonna happen in Israel either.  Why?  Because past is prologue and Israel is now blithely heading down the very same road to ruin that America has already traveled.  And there's really nothing to stop Israel from becoming just like us — corporate-owned has-beens.
To quote my friend's recent chain-letter, "Israel now has the fourth largest air force in the world (after the U.S, Russia and China) and, in addition to a large variety of other aircraft, Israel's air force has an aerial arsenal of over 250 F-16s.  This is the largest fleet of F-16 aircraft outside of the USA."
Looks like Israel has already traveled a goodly distance down that same road that has already incapacitated the U.S.
America has become like Pinocchio, lured off to Pleasure Island by the corporatists.  And Israel's nose has clearly already started to grow also, marking the beginning of the end for their accessible education, fabulous healthcare, scientific excellence and economic achievement — to say nothing of Israel also losing its only chance to develop a conscience and become a Real Boy.
Prof. Mark Kingwell is a world renowned Canadian author and philosopher. He is the associate chair at University of Toronto's Department of Philosophy. Kingwell is a fellow of Trinity College. He specializes in theories of politics and culture. Kingwell has published twelve books, most notably, A Civil Tongue: Justice, Dialogue, and the Politics of Pluralism, which was awarded the Spitz Prize for political theory in 1997. Spitz Prize is annually awarded by a panel based in the Department of Political Science of Columbia University to the author of the best book in liberal and/or democratic theory.
Kingwell is the contributing editor to Harper's Magazine. His articles on philosophy, culture, journalism, art and architecture have appeared on the New York Times, Utne Reader, Adbusters, Harvard Design Magazine, Toronto Life, the Globe and Mail and the National Post.
His main areas of interest are political philosophy, cultural criticism, philosophy of art and continental philosophy.
Mark has been the editor of "The Varsity," the second oldest student newspaper of Canada from 1983 to 1984 and the "University of Toronto Review" from 1984 to 1985.
Prof. Kingwell's works have been translated into ten languages and among his notable books are " Dreams of Millennium: Report from a Culture on the Brink," "Practical Judgments: Essays in Culture, Politics, and Interpretation" and "Nearest Thing to Heaven: The Empire State Building and American Dreams."
Prof. Kingwell kindly joined me in an exclusive interview and answered my questions about philosophy, popular culture, the Arab Spring, Occupy Wall Street Movement and ethics in journalism.
Kourosh Ziabari: Philosophy, journalism and architecture. How do you make a connection between these three? As to what I have noted, you were enthusiastically interested in journalism since you were very young. Please tell us about your journalistic experiences in the days of youth. Certainly, it's a fantastic opportunity to work with Globe and Mail. Am I right?
Mark Kingwell: I don't consider myself a journalist, just someone who writes for newspapers and magazines as well as academic journals and literary quarterlies. It's true that I edited my university's student newspaper, and worked as a city desk reporter and editorial writer at a big national paper, The Globe and Mail. This was invaluable experience in how to write concisely and accessibly, and also a fast-track education in how cities work. I hung out at city hall and the harbour commissioner's office. I saw dead bodies, fires, and corrupt landlords. I interviewed the survivors of plane crashes. I called the police desk sergeant every night to get crime updates. It was exciting, and very illuminating. But to be honest I liked the romance of it more than the reality, and enjoyed writing more than reporting.
I once had to choose between a fairly secure career in journalism and the uncertainty of a doctoral program. I chose the latter because I knew I could always write magazine or newspaper articles as a philosopher, but I could not philosophize — not, at least, with any rigor — as a journalist. I've never regretted the choice.
Philosophy and architecture is a more recent conjunction of interests, growing out of my work in political theory. Too many political philosophers write as if the subjects of their theories were not real people at all, living and working and raising families in actual places, but abstract bundles of interest, or of decision. At the same time, too many architects use philosophy as casual window-dressing for their work, without actually struggling with the details of the views in question. I have written two books so far that try to address these related gaps: one about a single building, the Empire State in New York (Nearest Thing to Heaven, 2006) and one that is a sort of phenomenological meditation on the built environment and its social dimensions (Concrete Reveries, 2008). I have also edited a collection of essays (Rites of Way, 2009, with Patrick Turmel) which address the issue of public space—a key point of contact between political philosophy and architecture.
KZ: I know that you've focused on the questions of social obligation and the role of citizenship in sustaining a just and democratic society. In the developing societies, like Iran, the citizenship rights are not observed to the full and people have a long way to understand the principles of decent citizenship, neighborhood and social interaction. Can we conclude that one of the reasons why democracy is not institutionalized in such countries is this lack of citizenship culture?
MK: I think we can. At least since Aristotle it has been argued that political institutions will function to foster justice if and only if there is some substantial bonds of ethical life between persons—what Hegel called Sittlichkeit. The focus on the virtues of citizenship in my book The World We Want (2000) was an attempt to join Aristotelian insights about virtue, character, friendship, and justice—the main topics of the Nicomachean Ethics—with a liberal-democratic idea that there could be a distinction between my obligations as a good citizen and my non-conflicting but separate obligations as a good person.
This attempt was perhaps only partially successful, but what remains clear to me is that citizenship is an essential category of political theory. Even the most elaborate theory of social justice or democratic procedure will need to address issues of motivation, fellow feeling, and shared vulnerability. There are numerous ways to do this—Adam Smith's sympathy, Herder's einfuhlen, Derrida's hospitality—but they all make a similar point. Unless and until I see the other as someone to whom I am obliged in some profound way, there can be no political justice.
One form of trouble for this prospect lies in cultural differences concerning fellowship, neighborliness, civility, and the like. I have tried to write about these, especially civility, many times; but it can be very hard to deploy persuasive arguments when the issue comes down to differences in perception. Something I find offensive may not even raise your eyebrows. As philosophers, where do we go from there? Indeed, as members of political bodies—nation-states, regions—how can we forge minimal bonds of connection across such differences?
I am lately exercised by a sense of vulnerability, the shared capacity for suffering, as a start. But that, too, is always open to question. Maybe the pain you feel at the pain of another is just a socio-biological trick that your neurons play on you! Well, maybe. But even so, it creates opportunities to cooperate and coordinate our actions, such that even a confirmed Hobbesian can see the point.
KZ: You have surely taken note of the popular uprisings in the Middle East, instigated by the self-immolation of a young Tunisian vendor before the municipality office. What are the peoples of the region looking for? Are they after improved living conditions, social freedoms and civil liberties? If they're fed up with their authoritarian regimes, why hadn't they taken any step to bring down the autocratic despots in the past years?
MK: It's not for me to say what people in theMiddle Eastwant, except that I see, as everyone must, that there is growing dissatisfaction with the very idea of authority, especially if it is suspected to be aligned with decadence, hereditary privilege, or corruption. People will put up with a lot of hardship, and go about their business even in poverty, if they feel that things cannot be better. But if the hardships are perceived as unnecessary, or wedded to the privileges of others, they will resist. This was as true in 1776 and 1789 as it is now.
As for why it has taken this long, I would only suggest that we recall just how capacious is the human spirit. Most people just want to get on with their lives, to make do. It's only an assault on their basic dignity, as in the case of Mohamed Abouazizi that you mention, which can make someone adopt extreme measures of resistance. This shows something essential about us: we mostly desire to be left in peace, but no peace is worth the cost of feeling debased, or degraded, or subject to contempt.
KZ: What are the features of an inclusive, effective and comprehensive democracy? Is democracy confined to holding elections and giving people the chance to elect president or parliament members?
MK: 'Democracy' is the opaque signifier of our political moment: it means everything and nothing at once. I'm rather with Derrida on this: democracy is always to come, not yet here. One could articulate the basic features of a democratic system—free elections, independent media, strong participatory citizenship, and so on— and still fall short of democracy. Some people, for instance Carl Schmitt, even think that democracy is only present when a being is united against a common enemy in a struggle for survival, and hence democracy is incompatible with liberalism.
Obviously I think is not only extreme, but mistaken. Let us suffice with two very basic points. In emerging democracies, such as those that might be burgeoning in your region, the most important thing is the public enactment of franchise, that is, free and fair elections. In developed democracies, however, the most important thing is to try and minimize the corruption that attends our allegedly free elections, the way they are held hostage by large donors and other corporate interests. There is a cautionary tale in this contrast: one can have apparently open elections, with universal franchise, and still not have democracy.
KZ: What's your analysis of the Occupy Wall Street movement? Do you think that it was inspired by the Arab Spring? Why the American protesters call themselves the 99% of the population and question the authority and supremacy of the 1%? Is there anything wrong with capitalism and corporatism that has exhausted the people? What's your view about the police crackdown on the protesters?
MK: I'm certain there was some inspiration taken from the Arab Spring, yes. The very topic of OWS's connection to the Arab Spring became a contentious issue here, however. Critics of OWS—who grew more repressive and condescending by the day, until the parks were forcibly cleared—were vehement that no comparison with Arab Spring was valid, or even allowed. It was if popular uprising were democratic, and wonderful, but only if they happened somewhere else. One particularly loathsome journalist labeled the OWS protesters as 'capitalism's spoiled children', as if they had no right to object to a system than does not work, that is grossly unjust, and that is sustained by only a sham politics of puppet candidates permanently indebted to the monied interest. Shut up, and get back to shopping for gadgets! It was a disgusting spectacle of provincial, toy-time fascism.
I was especially upset about the police crackdown because of the cavalier way in which 'health and safety concerns' became a blanket justification for police action. The books in the OWS library—including a small volume I co-write, The Wage Slave's Glossary (2011, with Joshua Glenn)—were tossed in garbage containers. In a strange way, this blithe trashing of books was worse than setting fire to them. For this neo-liberal police state, books are not even dangerous or important enough to burn. A depressing thought.
It remains to be seen what political upshot there is from OWS. My own feeling is that the objections to corporate capitalism will not be as easy to eradicate as were a few tents and bodies. They used to say to us left-wingers, when we were young, that socialism is a nice idea, only it doesn't work. Here's an update: capitalism doesn't work either, and it's not even a nice idea.
KZ: Would you please give us a gist of some of your important tips for better living which you proposed in your book "Better Living: In Pursuit of Happiness From Plato to Prozac"? Why are some people so unfriendly with the self-help books? Is it really possible to realize a better living by practicing what the self-help books prescribe? Some people argue that the lifestyle is something inherent and inborn and cannot be changed by practice and exercise, because it's related to one's mindset and ideology. Do you agree?
MK One of my favorite reviews of Better Living called it "the self-help books for people who hate self-help books." In one broad sense, all books of philosophy, at least in the so-called wisdom tradition, are self-help books: they offer a kind of therapy, in book form, whose basic message is that same as that found in Rilke's musing on the Archaic Torso of Apollo: You must change your life! But the therapy is intellectual and ethical, often ironic and prickly, and not delivered in twelve easy or even twelve hard steps. So I wanted to criticize the recent fad of lifestyle guidance by, once again, revisiting some basically Aristotelian insights in a modern form. That's why I used personal narrative, some cultural criticism, and different forms of ironic discourse in the book.
I can't distill the book into tips, but the most obvious take-away is the old insight that a happiness worth having is not a matter of feeling good all the time, or achieving constant joy or bliss, but of cultivating personal virtue, contributing to causes and structures larger than yourself, and exploring human possibility. In a way, Book X of the Nicomachean Ethics makes the best version of the argument: contemplation is the most divine experience we know. The point of our striving, indeed of all our institutions, is finally to give us the space to enjoy the most amazing thing about us, namely that we can play, create art, have philosophical conversations, and enjoy each other's presence.
I have little patience with the idea that lifestyle is inherent, by the way. Most people simply take cues from the cultural surround, follow the herd, and try not to think too much—and then call this a lifestyle. It's always been the job of philosophers to knock them off-course a little, to shake things up. Self-help, maybe, but of a peculiarly challenging sort.
KZ: What's your definition of media ethics? How should the mass media cling to the codes of morality in disseminating the news and publishing the reports? Are the media permitted to publish whatever they want, without having any restriction? From one hand, one may argue that restricting the media and defining limits for their performance is contrary to the freedom of speech which is a prominent value of the democratic societies; however, we should also take note of respecting the privacy of people, avoid directing ad hominem attacks against them and distinguishing between criticism and personality attack. What's your take on that?
MK: I'm one of those paranoid people who think there is already too much information, too much surveillance, and too much revelation of the personal in our world. I find most social media distasteful because it is predicated on a narcissistic trumpeting of the usually banal individual, but I fall on the individual's side when it comes to the media. Short of some pressing political interest, there is no possible justification for an invasion of privacy, and even there the burden of proof must be overwhelming since it is so easily corrupted. The Murdoch papers phone-tapping scandal was an appalling spectacle of media self-righteousness allowed to grow to a pathological level. I can't help thinking sometimes that the arrogance of newspaper and media people is in direct proportion to their slipping sense of actual influence. They're not nearly as important as they think they are.
At the same time, no political system can function without a free press. What this means in practice, then, is that the media are not unlike other bodies of professional workers. They need to police themselves first, maintaining the strictest standards of fairness and respect; and then there must be recourse in the public forum for those whose privacy has been violated. This gets especially tricky underU.S.law where corporations are legally like persons, and have similar protections and abilities. In an ideal world, those decisions would be repealed. Not only would it improve democratic oversight of corporate actions, now sometimes impossible to investigate; it would also limit the amount of corporate money spent, and hence influence bought, in the centers of political power.
KZ: What's your prediction for the future of television in the wake of the growing influence of web-based media and social networking websites? In your book the "Practical Judgments," you accurately pointed out that television is still the dominant medium of information and entertainment of the age. Don't you believe that with the growing penetration of internet in the families, television will be debased and lose its position? I think that internet, with its multimedia attractiveness and dynamic atmosphere will even eliminate the traditional newspapers and magazines. Don't you think so?
MK: The essays in Practical Judgments (2002) were gathered from work I published in the previous decade or so, and the claims about television must now be revised somewhat. In some important sense, television is over. People may still use the sets to watch programs, but the programs have been downloaded, or selected via pay-per-view, or recorded on Blu-Ray or DVD. Even cable television involves self-selection to the point where is no longer any such thing as a television audience. This is great in some ways, since we have more entertainment options; but it comes with the usual price imposed by the tyranny of choice, namely that feeling of ennui or boredom when there are so many options that, somehow, none of them seem worth committing to.
Beneath this, television of a certain sort (The Wire, Game of Thrones, Mad Men) now begins to function more like visual literature. You find yourself discussing it with someone who is also a devotee, the way you might discover another Pynchon or Updike enthusiast at a party or dinner. It helps that some of these programs are as narratively complex and emotionally satisfying as any first-rate novel.
Television news, meanwhile, is floundering in the contradictions of a medium whose primary purpose—entertainment—has always afflicted its attempts at seriousness. Political news shows, at least inNorth America, are a running joked of extreme positions, brain-dead rhetoric, and baggy oratory. The only good news here is that most people no longer look to television to gather their political views, or track current events. The bad news is that the places where they do so, because self-selected, may be even more polarized and worse!
KZ: What's your idea about using media for the purpose of black propaganda? Is it moral to demonize those who we consider enemies, especially at the level of governments, by publishing misinformation about them and blackening their public image? Do you consider state-sanctioned propaganda an intrinsic and natural function of the mass media?
MK: One word answer here: never. Propaganda is worse than falsehood; it is, as in the analysis of philosopher Harry Frankfurt, bullshit. That is, it does not even heed the norm of truth enough to violate it. Therefore, propaganda is even more dangerous than lies, which at least are violations whose existence confirms the idea of truth. (You can compare my earlier remark about why throwing books in dumpsters is actually worse than burning them.)
KZ: In your book "Concrete reveries: consciousness and the city," you analyzed the relationship between urbanism and personal identity. Do you believe that urban construction gives people certain identities and bestows upon them special characteristics? Then, is there any difference between the personal characteristics, demeanors and deportments of people in a city like New York in which the most prominent incarnations of modern architecture can be found, and a city like Tehran (the capital of Iran) which is actually an emerging city and is gradually embracing the new modes and styles of urban construction?
MK: Yes, the material environmental absolutely conditions the consciousness of a person. It can be as obvious as how one walks—how fast, with what demeanour, dodging or bumping into people, looking at a phone or not, and so on. But even less obvious things are quite central to how we experience ourselves. So large cities have many similarities but it is easy, when one travels, to see subtle differences in self-presentation: clothes, gestures, the way space is occupied. These in turn are symptoms of the experience of consciousness we call selfhood. The aim of Concrete Reveries, as I mentioned earlier, was to bring political philosophy and architecture closer together, somewhat in the manner of Hannah Arendt. But it turned out that the common term between them was really phenomenology, especially in our aspects of embodied consciousness. They we inhabit rooms, cross thresholds, mount staircases—these are all forms of thought as well of physical deportment.
In the book I try to get at these somewhat abstract insights by contrasting the feeling evoked by two very different large cities,New YorkandShanghai. The provided, as it were, phenomenological case studies for my larger argument. They also allowed me to re-introduce some of the first-person and second-person styles I had used in other writing. I wanted to produce a book with something of the feeling (if not the grace!) of Bachelard's Poetics of Space. I was really happy that the publisher allowed me to include dozens of images that leaven the text, and make the book itself a kind of phenomenological flanerie, an intellectual stroll through the complex of ideas concerning what cities are, and how they work. In a very roundabout way, this actually ties me back to those days spent as a city-desk reporters, encountering the city's corners, margins, and undersides day after day. . .
KZ: As my final question, I want to ask you about the course of globalization and the future of local, traditional cultures. Will the process of globalization abolish local cultures, vernacular languages and ancient customs and rituals of different peoples around the world? Do you see any chances for their survival in the wake of the domination of Western culture over the developing world?
MK: I suspect we have already witnessed the worst of the globalization cultural bulldozer. What is happening everywhere is the hybridization of culture, such that local traditions, practices, and vernaculars are folding in elements of global culture—not really a culture at all, just an economic expansion program—and creating unique human customs that will continue to evolve. This is precisely what humans have always done with culture, especially in times and places with lots of mobility. My main wish for these 'bottom-up' hybrids is that they include elements of the best in Western culture, especially the discourses of philosophical justification for human rights and social justice. The West has exported lots of awful things, but there are some good things too!
7 Things About The Monolithic Predator Corporations That Dominate Our Economy That Every American Should Know…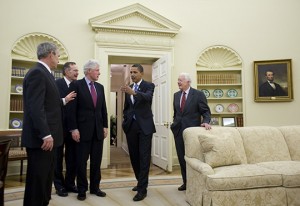 Right now, there is a lot of talk about the evils of "capitalism".  But it is not really accurate to say that we live in a capitalist system.  Rather, what we have in the United States today, and what most of the world is living under, is much more accurately described as "corporatism".  Under corporatism, most wealth and power is concentrated in the hands of giant corporations and big government is used as a tool by these corporations to consolidate wealth and power even further.  In a corporatist system, the wealth and power of individuals and small businesses is dwarfed by the overwhelming dominance of the corporations.  Eventually, the corporations end up owning almost everything and they end up dominating nearly every aspect of society.  As you will see below, this very accurately describes the United States of America today.  Corporatism is killing this country, and it is not what our founding fathers intended.
The following is the definition of "corporatism" from the Merriam-Webster dictionary….
the organization of a society into industrial and professional corporations serving as organs of political representation and exercising control over persons and activities within their jurisdiction
Corporatism is actually not too different from socialism or communism.  They are all "collectivist" economic systems.  Under corporatism, wealth and power are even more highly concentrated than they are under socialism or communism, and the truth is that none of them are "egalitarian" economic systems.  Under all collectivist systems, a small elite almost always enjoys most of the benefits while most of the rest of the population suffers.
The Occupy Wall Street protesters realize that our economic system is fundamentally unjust in many ways, but the problem is that most of them want to trade one form of collectivism for another.
But our founding fathers never intended for us to have a collectivist system.
Instead, they intended for us to enjoy a capitalist system where true competition and the free enterprise system would allow individuals and small businesses to thrive.
In an article that was posted earlier this year on Addicting Info, Stephen D. Foster Jr. detailed how our founding fathers actually felt about corporations….
The East India Company was the largest corporation of its day and its dominance of trade angered the colonists so much, that they dumped the tea products it had on a ship into Boston Harbor which today is universally known as the Boston Tea Party. At the time, in Britain, large corporations funded elections generously and its stock was owned by nearly everyone in parliament. The founding fathers did not think much of these corporations that had great wealth and great influence in government. And that is precisely why they put restrictions upon them after the government was organized under the Constitution.

After the nation's founding, corporations were granted charters by the state as they are today. Unlike today, however, corporations were only permitted to exist 20 or 30 years and could only deal in one commodity, could not hold stock in other companies, and their property holdings were limited to what they needed to accomplish their business goals. And perhaps the most important facet of all this is that most states in the early days of the nation had laws on the books that made any political contribution by corporations a criminal offense.
Our founding fathers would have never approved of any form of collectivism.  They understood that all great concentrations of wealth and power represent a significant threat to the freedoms and liberties of average citizens.
Are you not convinced that we live in a corporatist system?
Well, keep reading.
The following are 7 things about the monolithic predator corporations that dominate our economy that every American should know….
#1 Corporations not only completely dominate the U.S. economy, they also completely dominate the global economy as well.  A newly released University of Zurich study examined more than 43,000 major multinational corporations.  The study discovered a vast web of interlocking ownerships that is controlled by a "core" of 1,318 giant corporations.
But that "core" itself is controlled by a "super-entity" of 147 monolithic corporations that are very, very tightly knit.  As a recent article in NewScientist noted, these 147 corporations control approximately 40 percent of all the wealth in the entire network….
When the team further untangled the web of ownership, it found much of it tracked back to a "super-entity" of 147 even more tightly knit companies – all of their ownership was held by other members of the super-entity – that controlled 40 percent of the total wealth in the network. "In effect, less than 1 percent of the companies were able to control 40 percent of the entire network," says Glattfelder. Most were financial institutions. The top 20 included Barclays Bank, JPMorgan Chase & Co, and The Goldman Sachs Group.
Unsurprisingly, the "super-entity" of 147 corporations is dominated by international banks and large financial institutions.  For example, JP Morgan Chase, Goldman Sachs, Morgan Stanley and Bank of America are all in the top 25.
#2 This dominance of the global economy by corporations has allowed global wealth to become concentrated to a very frightening degree.
According to Credit Suisse, those with a household net worth of a million dollars or more control 38.5% of all the wealth in the world.  Last year, that figure was at35.6%.  As you can see, it is rapidly moving in the wrong direction.
For a group of people that represents less than 0.5% of the global population to control almost 40 percent of all the wealth is insane.
The dominance of corporations is also one of the primary reasons why we are witnessing income inequality grow so rapidly in the United States.  The following comes from a recent article in the Los Angeles Times….
An economic snapshot from the Economic Policy Institute shows that inflation-adjusted incomes of the top 1% of households increased 224% from 1979 to 2007, while incomes for the bottom 90% grew just 5% in the same time period. Those in the top 0.1% of income fared even better, with incomes growing 390% over that time period.
You can see a chart that displays these shocking numbers right here.
#3 Since wealth has become concentrated in very few hands, that means that there are a whole lot of poor people out there.
At a time when technology should be making it possible to lift standards of living all over the globe, poverty just continues to spread.  According to the same Credit Suisse study referenced above, the bottom two-thirds of the global population controls just 3.3% of all the wealth.
Not only that, more than 3 billion people currently live on less than 2 dollar a day.
While the ultra-wealthy live the high life, unimaginable tragedies play out all over the globe every single day.  Every 3.6 seconds someone starves to death andthree-quarters of them are children under the age of 5.
#4 Giant corporations have become so dominant that it has become very hard for small businesses to compete and survive in the United States.
Today, even though our population is increasing, the number of small businesses continues to decrease.
According to the Bureau of Labor Statistics, 16.6 million Americans were self-employed back in December 2006.  Today, that number has shrunk to 14.5 million.
This is the exact opposite of what should be happening under a capitalist system.
#5 Big corporations completely dominate the media.  Almost all of the news that you get and almost all of the entertainment that you enjoy is fed to you by giant corporations.
Back in 1983, somewhere around 50 corporations controlled the vast majority of all news media in the United States.
Today, control of the news media is concentrated in the hands of just six incredibly powerful media corporations.
#6 Big corporations completely dominate our financial system.  Yes, there are hundreds of choices in the financial world, but just a handful control the vast majority of the assets.
Back in 2002, the top 10 banks controlled 55 percent of all U.S. banking assets.  Today, the top 10 banks control 77 percent of all U.S. banking assets.
The "too big to fail" banks just keep getting more and more powerful.  For example, the "big six" U.S. banks (Goldman Sachs, Morgan Stanley, JPMorgan Chase, Citigroup, Bank of America, and Wells Fargo) now possess assetsequivalent to approximately 60 percent of America's gross national product.
#7 Big corporations completely dominate our political system.  Because they have so much wealth and power, corporations can exert an overwhelming amount of influence over our elections.  Studies have shown that in federal elections the candidate that raises the most money wins about 90 percent of the time.
Politics in America is not about winning over hearts and minds.
It is about who can raise the most cash.
Sometimes this truth leaks out a bit in the mainstream media.  For example, during a recent show on MSNBC, Dylan Ratigan made the following statement….
"The biggest contributor to Barack Obama's presidential campaign is Goldman Sachs. The primary activities of this president relative to banking have been to protect the most lucrative aspect of that business, which is the dark market for credit default swaps and the like. That has been the explicit agenda of his Treasury Secretary. This president is advocating trade agreements that allow enhanced bank secrecy in Panama, enhanced murdering of union members in Colombia, and the refunding of North Korean slaves."
Later on, Ratigan followed up by accusing both political parties of working for the bad guys….
"But I guess where I take issue is, this president is working for the bad guys. The Democrats are working for the bad guys. So are the Republicans. The Democrats get away with it by saying, 'Look at how crazy the Republicans are; at the Democrats pretend to care about people.' BUT THE FACT IS THE 2-PARTY POLITICAL SYSTEM IS UTTERLY BOGUS."
Wow – nobody is actually supposed to say that on television.
Today, most of our politicians are bought, and most of them actively help the monolithic predator corporations accumulate even more wealth and even more power.
In fact, as I wrote about recently, the big Wall Street banks are already trying tobuy the election in 2012.
Fortunately, it looks like the American people are starting to wake up.  According to one recent survey, only 23 percent of all Americans now trust the financial system, and 60 percent of all Americans are either "angry" or "very angry" about the economy.
Unfortunately, many of them are joining protest movements such as Occupy Wall Street which are calling for one form of collectivism to replace another.
The American people are being given a false choice.
We don't have to choose between corporatism and socialism.
We don't have to choose between big corporations and big government.
Our founding fathers actually intended for corporations and government to both be greatly limited.
The following is a famous quote from Thomas Jefferson….
"I hope that we shall crush in its birth the aristocracy of our monied corporations, which dare already to challenge our government to a trial of strength, and bid defiance to the laws of our country."
Unfortunately, things did not turn out how Jefferson wanted.  Instead of us controlling the corporations, they now control us.
This next quote is from John Adams….
"Banks have done more injury to the religion, morality, tranquility, prosperity, and even wealth of the nation than they can have done or ever will do good."
But who dominates our economy today?
The big banks.
Perhaps we should have listened to founding fathers such as John Adams.
Lastly, here is another quote from Thomas Jefferson….
"If the American people ever allow private banks to control the issue of their money, first by inflation and then by deflation, the banks and corporations that will grow up around them (around the banks), will deprive the people of their property until their children will wake up homeless on the continent their fathers conquered."
How prescient was that quote?
Last year, over a million American families were booted out of their homes by the big banks.  The financial institutions actually now have more total equity in our homes than we do.
Unemployment is rampant, but corporate profits are soaring.  The number of Americans on food stamps has increased by more than 70 percent since 2007, and yet the incomes of those at the top of the food chain continue to increase.
We need a system that allows all Americans to start small businesses, compete fairly and have a chance at success.
Instead, what we have is a corporatist system where the big corporations have most of the wealth, most of the power and most of the advantages.
We need to get the American people to understand that corporatism is not capitalism.
Corporatism is a collectivist system that allows the elite to accumulate gigantic amounts of wealth and power.
The answer to such a system is not to go to a different collectivist system.
Rather, we need to return as much power as possible to individuals and small businesses.
Our founding fathers intended for us to live in a country where power was highly decentralized.
Why didn't we listen to them?
Source: The American Dream
The political climate of this country is full of tension and anger. Whether one considers themselves to be on the left, right, or something else altogether, they are undoubtedly fed up with this current system. There is no better display of these emotions than the current Occupy movement, now spreading across the country and the whole world. This Saturday was the kickoff of Occupy Pittsburgh.
Being that I count myself among the fed up, I wanted to attend. The political ideologies represented at the Pittsburgh rallies and marches on Saturday were varied. Most people participating no longer trust either political party to represent them anymore. There was popular sentiment that corporations have now bought the vast majority of politicians and that corporate money needs to be barred from flowing into the campaign coffers of these politicians.
The above message I can agree with, but it is the other solutions that many Occupiers advocate that I strongly disagree with. It was my impression that a good majority of the protesters wanted higher taxes for the "rich", more regulation of the economy with special emphasis on the banking sector, and more socialized programs like universal healthcare.
"The rich are hoarding all the wealth and must be forced to give it up and pay their fair share." "Government needs to crack down on the banks and regulate them more because they are now allowed to gamble away peoples' savings in the derivatives market with impunity." "The greedy healthcare companies are raising the cost of healthcare and forcing the poor to go without, therefore they must be restrained or the government should provide all medical care." Many of these same people were calling for an end to capitalism altogether.
But how do these individuals define capitalism? Most point to the current form of a state-regulated market economy and say that it does not work. They say capitalism has failed the average person and enriched the top 1%. Millions are unemployed, millions are on government assistance programs, and banks get bailed out while the people are sold out. Those that do have work are paid scraps while the "capitalist class" siphons off the surplus value they create for themselves.
If this is one's view of capitalism then I cannot blame them for hating it. I hate it as well. But I would not call our current system capitalism. Quite the contrary; what we have now is a situation where the corporate and political power structures are so intertwined that they cannot survive without each other. However, this system is more accurately termed corporatism, mercantilism, or fascism.
In this system, the corporations get the regulations they want by buying off politicians with what are essentially bribes in the form of campaign contributions. Bureaucrats and politicians alike are given high paying jobs as rewards with the same corporations that they pushed the regulations through for.
A great example of this is Michael Taylor, the current Food Safety Czar under the Obama Administration. In the 1980s-90s, Taylor was a corporate lawyer and lobbyist for Monsanto, the notorious bio-tech giant responsible for Agent Orange, Roundup, most of the questionable genetically modified crops(GMO) in America, as well as the dangerous rBGH growth hormone given to cows to increase their milk output. He moved in and out of the FDA every few years pushing through necessary regulations to allow GMOs onto the market without any safety standards at all. He then became Monsanto's vice president on public policy in 1998. Now he heads up food "safety."
This guy epitomizes the revolving door of government and industry, which is the same no matter the department. The people in the regulatory agencies today are the executives of the corporations tomorrow. The Occupiers who naively want to give more power to these regulatory agencies are asking for the top 1% to further press the boot down on their necks.
Real capitalism would free the 99% from the authoritarian controls of the top 1%. In a free market, big companies would not give millions of dollars to politicians because there would be no benefit. The no-bid contracts, favorable regulations, tax loopholes, and subsidies that give big business the advantage over competitors would all disappear. There would finally be a level playing field so that small and medium sized businesses could compete more effectively, thus bringing better services overall to us, the consumers.
In the market, profits come from providing high quality goods and services at low prices, not from bribing the controllers of the public trough. The consumer is king and decides where their voting dollars will go. Reputation matters and companies will do what they can to keep them spotless. Innovation and creativity are unleashed for the benefit of all.
Capitalism is responsible for the relatively easy lifestyles we live today. Corporations, government, and the Federal Reserve have been ruining capitalism for generations and things have finally come to their inevitable destructive end. The choice now is not to overthrow "capitalism" and embrace socialism. The choice is to overthrow the corporatist/mercantilist/fascist system and embrace true free market capitalism where people are free to pursue prosperity and happiness in peaceful competition and cooperation.
This article first appeared at the Publius Foundation for 'Young People Advancing Individual Liberty.'
Source: activistpost.com