Conspiracy theorists, those who look for the facts, ignoring the pressure of jeers, flawed appeals to authority, and intimidation, are the sanest among us. The steady migration of investigative journalists, who turn their backs on more lucrative employment, is only one indication of this.
In a recent article, Scientific Study Reveals Conspiracy Theorists The Most Sane Of All, the author, J. D. Hayes, cites a recent study, published July 2013, by psychologists Michael J. Wood and Karen M. Douglas of the University of Kent in the UK. It was entitled "'What about Building 7?' A Social Psychological Study of Online Discussion of 9/11 Conspiracy Theories."
Their conclusion is that, contrary to those mainstream media stereotypes, "conspiracy theorists" appear to be more sane than people who accept official versions of controversial and contested events.
Attempts to demonize our perception on conspiracy theorists erects barriers to protect those whose profits are endangered by the truth.
These techniques for manufacturing opinion were outlined by Edward Bernays, whose book, "Propaganda," asserts those who rule should use the trust accorded them in exactly this way.
Interestingly, Leo Strauss, whose political philosophy is in alignment with Bernays, asserted the same opinion.  Strauss' work was largely adopted by those who call themselves NeoConservatives who are anything but Conservative.
The opinion shared was that those in power are justified to lie, cheat and steal to keep and increase their power. The Kochs use these techniques in business and politically.
The use of the term, "Conspiracy Theory" increased rapidly in the wake of the JFK assassination due to its pejorative use in the MSM. This worked to stifle questions already being raised.
The issue which underlies the article by William Saletan, Conspiracy Theorists Aren't Really Skeptics attempts to validate intellectual bullying, a logical extension of the philosophies of Bernays and Strauss. You don't get more MSM than the Washington Post.
In the original formulation of American society those in positions of authority were morally and ethically obligated to explain themselves. The facts were to be available to all. Journalists investigated and reported the truth, as they saw it. This changed.
Saletan raised the issue of human psychology but failed to mention a perplexing issue which has long troubled us. This is the presence of those without conscience. For most of the 20th Century therapists believed these individuals could change, the problem was psychological. Today we know this is a neurological issue.
Advances in neurobiology have brought objective understanding. Now, thousands of criminals have been identified as psychopaths using an fMRI. The scan identified malfunctions in areas of the amygdala, which is now known to be associated with conscience, empathy, and compassion.
According to Dr. Robert Hare, serial murderers and con-men are always psychopaths. But Hare has also noted many who are also psychopathic are not violent and well able to control their impulses to gain far more expansive goals.
These individuals are highly intelligent. At any time there are 20,000 psychopaths with I.Q.s over 180 at large in the United States.
It would be instructive to see test results from MRI scans done on Dick Cheney, Karl Rove, and their cadre.
The cost of psychopathy has been calculated at around 360 billion a year – in the US. This does not include the highly intelligent ones which, clearly cost far more, given the impact of Cheney and company on America. Could the people who so desperately wanted torture as a tool be emotionally normal?
Today, experts believe the explanation for the financial meltdown now ongoing can be explained by the concentration of psychopathic individuals in corporations, finance and government.
The characteristics of the condition include calloused unconcern for others. This accounts for the oil companies which routinely externalize their costs, leaving those harmed by the toxic waste they cause, to struggle and die.
Those without conscience, willing to lie for their own profit, have long been with us. But today they can avoid the troublesome issue of having their actions known and understood. They have learned to spin.
To ensure this continues they must continue manufacturing public opinion about their previous actions. This is why they began using the term, "Conspiracy Theory." They work vigorously to ensure the facts remain hidden.
Refusing to accept the officially mandated opinion on any subject, be in the JFK assassination or whether or not to give your child pharmaceuticals as treatment for ADHD has been used to  categorize individuals who refuse to accept predigested conclusions as crazy, stupid or paranoid. When this happens, rest assured, some corporation's profits could be impacted.
This is a form of control intended to intimidate and inject fear. It also marginalizes vast numbers of people, keeping them in fear so they can be controlled.
To that end they, I call them Greedvilleins, also use our love of each other, country, loyalty, and trust, to manipulate us into wars which profit them and place us in perpetual debt.
If you limit what is acceptable to hold as opinions and deny people full access to the facts you  destroy the trust basis of our society.  Emotionally normal people are not comfortable when they cannot trust those around them.
These are rational responses to existing conditions.
What is insane is trusting psychopaths. Yet these are now common in finance and government. You can be sure they will routinely act with a sublime lack of conscience, for your freedom, your assets and your very life.
To cope with these conditions many still refuse to think about it, thus avoiding extreme anxiety. Others, for instance those who look for the facts, and are demeaned as "conspiracy theorists."
The presence of highly intelligent psychopaths among us, who generally avoid being prosecuted, is one of these explanations.
Saladan's article passes today as investigative journalism. It pays well and explains why so many truly honest journalists left to work in the alternative media.
When I started my radio talk show back in 1994–and for the next six years hosting the show–I was considered a hero by conservatives everywhere. Between my leadership position with the Moral Majority back in the 1980s and my radio talk show in the 1990s, I walked shoulder-to-shoulder with practically every notable conservative leader, including Christian leaders, one could think of. I traveled the country speaking with, and for, the most visible conservative leaders in America. I became friends with a host of U.S. congressmen and senators, not to mention several State governors. I even sat at the "king's table" with President Ronald Reagan and Vice President George H.W. Bush. I was one of the "darlings" of conservatism. Just about anybody who was anybody was a guest on my show.
I only mention all of that so readers can understand my background–along with the "rest of the story" that brought me to where I am today.
Back in those days, I fell right in lock-step with the left-right paradigm: Republicans were good; Democrats were bad. And even if the Republican was downright bad, he wasn't as bad as the Democrat. That doctrine was sacrosanct and unassailable. And I believed that malarkey as much as anyone.
I started smelling a rat in 1996 when the GOP anointed Bob Dole as the next "conservative" Republican who was going to lead us to the Promised Land. I knew Dole well enough: he was anything but a conservative. In fact, he joined the likes of Richard Nixon and now John Boehner who say that they have never read the Republican Party platform. Boehner has gone so far as to say that he doesn't know anybody who has read it. He probably told the truth there. The vast majority of Republican leaders in Washington, D.C., have not read it, don't care what it says, and give no heed to it. I knew in my heart that Bob Dole would be a horrible President, and that he would NOT give a hoot in hades about obeying the Constitution. Plus, I had developed a great respect for and friendship with Pat Buchanan, who was an ardent conservative constitutionalist. So, I was supporting Pat's presidential candidacy.
There is so much I would love to tell you about the rest of that primary, but let me fast forward to the end of the season. Toward the end of that 1996 GOP primary season, the congressman that my radio talk show was largely responsible for helping get elected, Joe Scarborough, came to me and pleaded, saying, "Chuck, I'm the only Republican congressman to not have already endorsed Dole. I've held out for as long as I can. Pat can't win the nomination. It's over. Dole will be the candidate. We have to rally behind Dole in order to beat Bill Clinton. You have to help me."
I caved. For the sake of "party unity" and "defeating Bill Clinton," I totally capitulated. Remember the sacred doctrine: Republicans are always good guys, and Democrats are always bad guys. And if even if the Republican is a bad guy he is not as bad as the Democrat.
So, there I was, standing next to Senator Bob Dole and Congressman Joe Scarborough at a press conference at the General Aviation office at the Pensacola, Florida, regional airport publicly endorsing the Republican Bob Dole for President of the United States. Albeit, I was still wearing my Pat Buchanan lapel pin. My defiance wasn't dead, only crippled.
As I walked to my car after the press conference, I felt sick. I mean, totally and thoroughly sick. I had betrayed my convictions and my conscience, and I knew it. I vowed then and there that I would never again support a candidate—any candidate, no matter what his or her party label–for any public office that I did not believe in my heart would at least be faithful to the essential principles of liberty upon which our country was built.
For the next four years I marched forward with my radio talk show extolling the principles of liberty as loudly as I knew how. Mind you, the bitter taste of my compromise stayed in my mouth. It never went away. Still hasn't. In addition, the next four years afforded me great opportunity to awaken to a host of truths, including the truth that both major parties in Washington, D.C., were actually not all that different. I came to realize that what Pat Buchanan had said was really true: "There are not two political parties in Washington, D.C., just two wings of the same bird of prey."
One of the highlights of that awakening came when I interviewed David Schippers, who was the lead counsel for the House Judiciary Committee in the Bill Clinton impeachment hearings. He told me that as he pleaded with Republican leaders in the Senate (Trent Lott, Ted Stevens, etc.) to look at the evidence that his legal team had gathered, one of the "good guy" Republican senators said, "David, we don't care if you have a video tape of the President raping a woman, then standing up and shooting her dead, we are not going to vote to remove this President from office."
Schippers, a lifelong Democrat, was absolutely stunned. You can imagine. Schippers was a tough, no-nonsense, right-is-right, law-and-order kind of guy. He was the guy who took on the Chicago mafia–and won. He was an honest Democrat who was willing to unveil the criminality of a corrupt Democrat. Now he was watching a group of Republican senators in Washington, D.C., make the mafia look like good guys.
Schippers wrote a book of the whole sordid ordeal called, "Sellout: The Inside Story of President Clinton's Impeachment." It was published by Regnery Publishing. If you've never read it, you should do so immediately. The real story will shock you. And you will discover that, no, the Republicans are NOT always good guys–or even the "lesser of two evils."
Enter the 2000 presidential elections. By now, my eyes were much wider open than they had been four years ago. But when G.W. Bush first ran for President, he said all of the right things. He said he was pro-life, pro-Constitution, pro-liberty, pro-less government, pro-Bill of Rights, etc. So in 2000, I supported G.W.
I'm still doing my radio talk show (and by now I was writing this column); I'm still a conservative hero; I'm still basking in the "success" of being a conservative Republican "darling."
But that's when the fun started! It didn't take very long to realize that G.W. Bush was as phony as a three dollar bill. He was no "conservative." He was not pro-liberty, pro-Bill of Rights or anything of the kind. G.W. Bush was Bill Clinton on steroids! Bill Clinton tried to pass what became known as the USA Patriot Act, but couldn't get it done. Bush passed it with ease. He signed the Military Commissions Act into law; he gave America an unconstitutional national police force known as the Department of Homeland Security. Bill Clinton never attempted and could never have accomplished such things. G.W. Bush introduced the "preemptive war" doctrine to America. He invaded nations that had absolutely NOTHING to do with 9/11. He signed a law authorizing U.S. federal agents–or even military troops–to seize American citizens on U.S. soil and incarcerate them indefinitely without a subpoena or court order of any kind, without habeas corpus, without legal counsel, or any other requirement of justice guaranteed in our Bill of Rights. In truth, everything that Barack Obama is using today to abuse the power of the presidency, he borrowed from G.W. Bush.
So, by 2002 and 2003, and with the bitter taste of Bob Dole still gagging me, I made a decision: I will no longer protect and support Republicans for the sake of "party unity" or for the sake of "he's not as bad as the Democrat." No! In truth, it dawned on me that many times Republicans were WORSE than Democrats. From now on I was going to be faithful to my convictions and to the truth as I understood it.
Many of these "pragmatic political scientists" view politics as nothing more than mathematical formulas, test tube experiments, and lab rats. They will support and endorse any formula, no matter how evil the immediate process might be, in order to obtain their supposed "greater good" objective. They recognize absolutely nothing moral or immoral as it relates to politics. It is just "science." Nothing is right; nothing is wrong; it's all about putting in the right formulas in order to obtain some lofty, utopian, long-term objective.
In theological terms, the above is called "moral relativism." In philosophical terms, it is called, "the end justifies the means." In military terms, it is called, "might makes right." In business terms, it is called, "what's good for General Motors is good for America." And it's all a bunch of horse manure!
Republican shills will accept practically any evil committed by Republicans under the rubric of the "lesser of two evils" mantra. Democrat apologists will do the same for their fellow Democrats. In truth, party loyalists from both the Republican and Democrat parties in Washington, D.C., are giving America the royal SHAFT.
Our first and greatest president, George Washington, tried to warn us about this danger in his masterful "Farewell Address." Washington said that the "spirit of party" (meaning, the preoccupation with, and loyalty to, political parties) was our "worst enemy."  He said it was "sharpened by the spirit of revenge," and that it "perpetuated the most horrid enormities." He said that the "spirit of party" led to "a more formal and permanent despotism." He said the leaders of political parties would be elevated "on the ruins of public liberty." He said it is "the interest and duty of wise people to discourage and restrain it."
Washington went on to say that the "spirit of party" "agitates the community with ill-founded jealousies and false alarms." He said it "opens the door to foreign influence and corruption." He said the "force of public opinion" must always "mitigate and assuage it." Then, Washington ended this section of the address saying, "A fire not to be quenched, it demands a uniform vigilance to prevent its bursting into a flame, lest instead of warming it should consume."
Every warning George Washington gave us concerning the "spirit of party" has come true in modern America. Party hacks place more loyalty to doing what is good for their party than doing what is good for their country. In many respects, their preoccupation with party partisanship has become their own worst enemy, just as Washington warned. These party shills constantly demonstrate the "spirit of revenge." In the name of fighting FUTURE despotism, party hacks constantly surrender to an IMMEDIATE and "more formal and permanent despotism." Party members are "elevated [elected] on the ruins of public liberty." Party shills are constantly agitating "the community with ill-founded jealousies and false alarms [especially about how bad the other party's candidate is]." Party shills stand back and say nothing when their party opens the door to "foreign influence and corruption." Again, to them, party is more important than country.
The fascination with "political science" demonstrated by party hacks reveals a complete lack of moral conscience. Remember, to party hacks, nothing is right or wrong, only better or worse. Their mantra is, "Our party is better; their party is worse." And virtually every moral and constitutional malfeasance committed by the favored party member is justified under this mantra.
Thus, Bill Clinton's repeated perjuries could take the Office of The President of The United States to the brink of disgrace and ruin and, yet, he could still be thought a hero by Democrats. And G.W. Bush's unconstitutional wars and assaults against the Bill of Rights could take the American people to the brink of totalitarian government and, yet, he could still be thought a hero by Republicans.
Needless to say, when I started telling the truth about G.W. Bush on my radio talk show (just as I had done when Clinton was in office), the "darling" luster quickly vanished. Suddenly, where I was once a hero, now I was a villain. Where I was once a man with great conviction and honor, now I was considered extremist–or even evil. But I was standing for the exact same principles and ideals I had always stood for. But because I was no longer loyal to the "spirit of party," I became a political outcast. George Washington was exactly right!
As most readers know, I went on to run for President of the United States after Ron Paul was defeated in the Republican primaries in 2008. There was no way in hades I was going to pull another Bob Dole poison pill out of the GOP Big Pharma pill box and vote for the Neocon John McCain. So, when hundreds of Pat Buchanan/Ron Paul conservatives asked me to help keep the voice of constitutional government alive in the 2008 presidential campaign by seeking the presidential nomination of the Constitution Party, I did just that. And as far as I know, I am the only candidate for President that Ron Paul publicly endorsed since Ronald Reagan.
And, no, I didn't vote for the Neocon Mitt Romney in 2012. And I won't vote for any Neocon candidate in 2014. And should the GOP nominate another Neocon for President in 2016, I won't vote for him either.
The liberties of the American people protected in the Bill of Rights are not test tube rats to be scientifically dissected and analyzed by party hacks, who love to call themselves political scientists. Our liberties and freedoms are not subject to the pragmatic "lesser evil" agendas of party shills–be they Democrats or Republicans.
We have been trading Democrats for Republicans and vice versa for as long as any of us can remember. And where has it gotten us? I realize that compromise is necessary in many aspects of politics–but NOT when it comes to the fundamental tenets of the Bill of Rights and Declaration of Independence. Compromise of those fundamental tenets is not compromise at all; it is appeasement and the worst kind of surrender. And to support those who commit such crimes in the name of party partisanship is the worst kind of patriotism.
Here is the problem. The political scientists and hacks among us do NOT recognize in any way, shape, manner or form, the SPIRITUAL warfare that we face. They do not recognize the spirit of darkness that governs in high places. They cannot recognize nor comprehend that the Evil One can just as easily accomplish his devilish purposes through a Republican office-holder as he can through a Democrat office-holder. Even many professing Christians seem to suffer from this myopia. It seems lost to them that there could be very powerful people who are masters at manipulating "conservative Republicans" and "liberal Democrats" alike for their own wicked and evil purposes. Well, there are; and they do. To single out one party as inherently "worse" and another party as inheritably "better" is the height of naiveté.
In fact, in many ways an "in the dark" Republican is MORE DANGEROUS than an "in the dark" Democrat, because the Republican is operating under the ruse of "light." An enemy who wears the uniform of a friend is more dangerous than an enemy who wears the uniform of an enemy. That's why G.W. Bush got away with a whole lot more than Bill Clinton did. And that's why Mitt Romney would have gotten away with a whole lot more than Barack Obama has. And that's why your local Neocon Republican congressional or senatorial candidate will get away with a whole lot more than your local Democrat candidate.
I made my decision as I walked away from a press conference with Bob Dole back in 1996. Somehow, in that short walk from the press room to my car, I came to agree with George Washington; and I traded the "spirit of party" for the "Spirit of '76." And I've never looked back.
Norman Rockwell's America carried incredible nostalgia for the way this country once operated.  "Father Knows Best" captured our understanding of "family" in America.  Jackie Gleason on the "Honeymooners" along with Andy Taylor and Barney Fife instilled our mutual belonging.  Bill Cosby brought us together with the "Cosby Show."  Everyone spoke English and everyone enjoyed employment and hope.
From the 50s to the 70s, most people worked a job, our Congress made laws to ensure our well-being along with a viable nationhood.  Even with our racial strife, women's rights, gay rights and battles over Roe vs. Wade—America allowed every citizen the right to pursue "Life, liberty and the pursuit of happiness."
After my latest bicycle journey across America this summer, we unknowingly bear witness to the greatest racial and demographic shift ever self-inflicted on one country in the history of the world.  By 2042, the Pew Research Center reports that the current European-American majority (down from 90 percent in 1960 to 54 percent in 2014) faces the new Latino majority within 28 years.  All of it created by endless legal and illegal immigration.
During the next 36 years, Americans face an added 100 million legal immigrants from 150 countries around the globe.  They stream into America at blinding speed via our invitations, chain migration and birth rates.  How can we equate adding 100 million immigrants?  Answer: that number equates to doubling the size of our 25 most populated cities.  It means New York City jumps from 8.3 million to 16.6 million, Chicago from 5.1 million to 10.2 million and on down the line.
What does such an immigration invasion mean to our communities?  Our way of life?  Our quality of life?  Our standard of living?  Our environment?  Our educational systems?
Answer:  as the numbers rise to that 100 million level, everything in our society degrades, devolves, degenerates and worsens.
You cannot stop a fire by spraying gasoline on it.  You can't solve California's drought or wildfires by adding another 20 million foreigners to that state via immigration.  We cannot EVER catch up to exponential growth because it outruns our ability to solve its endemic and systemic consequences.
And, oxymoronically, we can't solve our predicament by passing S744 Amnesty Bill that doubles legal immigration to 2.0 million annually.
What's the final equation?  Since I traveled through dozens of third world countries in the last 40 years, I noticed they couldn't solve their problems, either.  They face(d) horrific food and water contamination, disease and shortages.  Just look at Ebola in Africa along with AIDS that killed 15 million thus far.  Their citizens face endless illiteracy because they can't install a viable educational system. They face conflict over resources.
As you notice in such areas as Iraq, Afghanistan, Haiti, Mexico, Brazil, China, India, Bangladesh, Indochina, Congo, Ethiopia, Somalia and dozens of other countries—you see continual religious, resource, food and water conflicts.
That's where the United States of America steams.  You can see it in our ethnic conflicts today whether Ferguson, MO riots, Chicago featuring 50 gun fights over the 4th of July weekend, black on black killings into the tens of thousands over the past several decades, 76 percent dropout/flunkout rates for Detroit public schools, which creates over 60 percent illiteracy rates.  Illiteracy remains the key indicator of a third world country.  Once it takes hold, it becomes intractable.
One look at our welfare system shows 68 percent of African-American children reared by a single mother on welfare.  We feed 48 million Americans and non-Americans with EBT or food stamps.  We see a complete breakdown of our middle class with no way to fight joblessness, futility or obesity caused by illiteracy.  Right now, obesity explodes as a national epidemic of health care nightmares for our citizens.
Question: how do you think any of our current sociological, environmental, water, energy, racial and growing religious strife can or will get better.  With those 100 million legal immigrants, you may expect to see an increase of Muslims in our country from 7.5 million to well over 20-30 million by 2050.  Sociologists reported that once Islam reaches 8 percent of the host nation's population, they become violent, arrogant and use the system to back the host country down to agree to Sharia Law. Notice the riots in Sweden and two separate London's. Look at France's nightmare.  Sharia law stands against every Western sensibility for women's rights, gays' rights, free speech, education, marriage choices and religious choice.  Note that hundreds of Muslim-Americans signed up to join terrorists groups in the Middle East.   What happens when they turn their terror toward us?
Australia discovered a major plot fomented by citizen Muslims to commit beheadings in the streets of Sydney this summer. If you think I am kidding, watch this short video:
Published on Sep 18, 2014: More than 800 Police in Australia have carried out anti-terror raids in Sydney (12 suburbs) sparked by intelligence reports that Islamic extremists were planning random killings (beheadings) in Australia:https://www.youtube.com/watch?v=V0ctrDnM__4
Additionally, look for three major languages to create major chaos and loss of our national ethos in the coming decades. Look for linguistic confusion and separation from being a citizen of the United States because you speak Arabic, Spanish or English.  In the end, we face becoming a nation of strangers.
What solutions might we enact to save ourselves?
Immediate reduction of all legal immigration to less than 100,000 annually instead of the current 100,000 every 30 days from 150 countries around the globe.
Immediate enforcement of our current work, rent and transport laws against employers of anyone illegally in the USA.
Immediate discussion on "60 Minutes"; "Face the Nation" ; "Meet the Press" ; Charlie Rose; NBC, CBS, FOX, ABC, CNN, Bill O'Reilly, Wolf Blitzer, Shepard Smith, Megyn Kelley and all talk radio shows on how many people can our country hold and what's the point of adding another 100 million foreigners when we already face enormous problems with what we currently hold.
Millions of Americans need to join www.NumbersUSA.org; www.CapsWeb.org and www.Fairus.org and www.TheSocialContract.com in order to grow you strength via collective empowerment.
Otherwise, we keep heading where we're headed. And, we'll end up just like any third world country.  Crowded, scant opportunities, lack of education, water shortages, energy crisis, religious conflict, environmental degradation and worse.  It's inevitable if we fail to stop mass immigration.  I am amazed that I am the only US journalist who sees this monster so clearly, yet I see no national movement to stop it.  Result: we doom our kids to a very sobering future of a fractured and fragmented civilization that cannot right itself.
Depression Approaches…
In 1932, the third year of the Great Depression, 25 thousand homeless and destitute WWI veterans and their families camped around Washington, DC urging the government of President Herbert Hoover to make an immediate payment of about $500 which had been authorized by the Adjusted Compensation Act of 1924 but was not due until 1945.  Socialism had no yet grown roots and when these veterans lost their jobs they quickly fell into severe circumstances.  They called themselves the Bonus Expeditionary Force (BEF).
Drew Pearson wrote that they were "ragged, weary, and apathetic".  Will Rogers said they held, "the record for being the best behaved" of any "hungry men assembled anywhere in the world."  Though the soldiers and their families had no weapons and could not even be called able bodied the government acted as if it was under siege.
Yes, they were a nuisance.  They stank and some of them begged.  The government spread the rumor that they were Communists.  Business men complained that they hurt business.
Army Chief of Staff General Douglas MacArthur and his assistants Major Dwight Eisenhower and Major George Patton were assigned to rid the city of the vermin.  Eisenhower's friend Brigadier General George Moseley suggested they arrest the BEF and others "of inferior blood" and ship them off to one of the remote Hawaiian Islands where "they could stew in their own filth".
President Hoover announced that veterans were "entirely of the Communist element" and troops would "put an end to the rioting and defiance of civil authority". Presently, led by Major Patton, troops of the 3rd Cavalry marched down Pennsylvania Avenue brandishing sabers followed by a machine gun detachment, men from the 12 Infantry, and six tanks.  Major Patton's cavalry turned and charged directly into the crowd of unarmed protestors shouting "clear our".  Tear gas was thrown and men women and children began a disorderly flight.  Three children were killed.
The main BEF camp was across the Eleventh Street Bridge.  In spite of the fact the MacArthur had been ordered not to cross the bridge, according to Eisenhower, he defied the order and allowed Patton's cavalry to march into the camp throwing tear gas and burning everything that was combustible.
William Manchester tells this story at the beginning of his two volumes "The Glory and The Dream". He writes that "well to do Washingtonians in yachts cruised close to look at the show. And at 11:15 P.M. they had watched Major George S. Patton, Jr. lead his cavalrymen in a final destructive charge.  Among the ragged bonus marchers routed by their sabers was Joseph T. Angelino, who, on September 26, 1918, had won the Distinguished Service Cross in the Argonne Forest for saving the life of a young officer named George S. Patton, Jr.
As the book progresses Manchester supplies the detailed results of the Great Depression. In 1932, stocks listed on the Big Board had lost 80 percent of their value.  General Motors and U. S. Steel were at 8 percent of their 1929 value.  Five thousand banks failed.  The Gross National Product fell from 104 billion dollars to 41 and 273,000 families were evicted from their homes.
Farm prices fell so that it was cheaper to burn corn than to sell it and buy coal.  Thousands of mortgage foreclosures made farm families homeless.  But in spite of the rural catastrophe city dwellers could still not afford .39 cent butter, .21 cent prime rib, or .20 a dozen eggs.
Men left their families and rode freight trains to other town seeking work; they got a free ride but no work.  Some school teachers worked without pay and many schools were closed.  One percent of the population owned 59 percent of the wealth.
While this tragic devastation was in full swing the nation's newspapers were singing songs of recover. "BUSINESS PULSE BEATING FASTER, factories reopening all over the country"; "BOOM AWAKENS TEXTILE PLANTS IN NEW ENGLAND, capacity production reported in some cities"; "TRADE UPTURN WITHIN 90 DAYS NOW EXPECTED".  Manchester writes, "Nowhere in any of these newspapers was there mention of the remarkable fact that in the United States of America, the richest country in the world, more than 15 million men were looking for jobs that did not exist."
The suicide rate tripled and thousands packed union square in New York to hear Communist speakers.  When upstart Franklin D. Roosevelt was elected by a landslide it was noted that the popular vote for Norman Thomas tripled.  In some cities mobs broke into grocery stores and rifled the shelves, state houses were occupied, in Chicago teachers broke into the banks.
Peacenik Henry Ford began to carry a gun.  The moneyed gentry retreated to their country homes and mounted machine guns on their roofs.   The fuse was short and the nation was near anarchy when Roosevelt took over the presidency.
The Great Depression was an effective instrument to increase control over the populace by creating a dependent class.  If that was the goal, it was a great success.  President-elect Franklin D. Roosevelt assumed dictatorial powers with the blessing of many elected officials of both parties.  This situation was dire and volatile.  Roosevelt was able to remove the fuse and to employ an array of Socialist programs that became permanent parts of American life.
Jumping ahead to the present era, the United States of America, formerly the richest country in the world, is now a tyrannical socialist state where millions of citizens depend on government welfare. The current depression is not yet as brutal as its predecessor but in spite of the propaganda that things are getting better millions of Americans remain out of work and millions more are severely under employed.  Now, as then, veterans have become social flotsam and are often treated with suspicion by the government they served.
If severe economic depressions are unavoidable and not intended by devious power centers with ulterior motives, government assistance has been beneficial; so far we have survived without the guillotines of the French Revolution. Martial law would have been imposed long ago if government support had not calmed the populace.  As the strong arms of government keep us from falling it must be noted that the cost of the strength of governments must be paid by its citizens – governments produce nothing..  When the wealth well runs dry the inevitable results of bankruptcy will explode and government will have secured ultimate power.
There are glaring parallels between our current situation and the 1929 debacle.  Depressions http://en.wikipedia.org/wiki/Great_Depression are the products of the Currency Lords.  In the 1930s the money supply was restricted creating a dearth of buying power.  Today, the money supply is being dramatically increased and interest rates are being held at zero or less.  The house of cards will bring inflation followed by depression.
America's armed forces are attempting to subdue the Muslim world which forbids usury and is less susceptible to the Currency Lords.  This strategy will destroy America and subdue Islam killing two major impediments to world government.
When governments wiggle out from under the dominion of the One True God (Lex Rex) and begins to see themselves in divine terms (Rex Lex) the world begins to march down a deadly road.  It has been marching down that road for several decades and we are beginning to see the mother of all empires in the distance.
The current attempt to subdue the entire continent under a single Rex Lex government is a deadly misadventure that the One True God is allowing because the citizens of the world have forsaken His dominion in favor of the dominion of men.
We are living under a tyrannical government because we have chosen to rule our own lives and to appoint human rulers who rule according to their evil proclivities.  When God's people begin to humble themselves and seek His Will (obedience to His Law) instead of their own faulty reasoning we will be able to progress toward freedom.
Nations, rulers, leaders, pastors and citizens must attend to the Law of the Creator if we ever expect to see freedom again.
In almost every country in the world where America's notorious "Wall Street and War Street" gang of thugs have tampered and interfered with its internal workings, things have always turned out badly for each country involved.  Almost every country that this infamous WSx2 gang has tampered with so far has pretty much seen their way of life turn to dookie.  http://truth-out.org/opinion/item/24710-noam-chomsky-whose-security-how-washington-protects-itself-and-the-corporate-sector
You want some examples?  I've got them!
Take the Spanish-American War for instance.  Wall Street and War Street drummed our country into that war with their torrid yellow journalism, and as a result both Cuba and the Philippines were so devastated and destroyed that they are still trying to recover from it — and from being muscled around afterwards by WSx2's mob bosses Batista and the shoe lady.
During World War I, Britain, France and the Kaiser were all sick of fighting and pretty much ready to throw in the towel and make nice.  But then Woodrow Wilson got a bee in his bonnet over the forged Zimmerman telegram (the Wall Street and War Street gang at work again?) and forced America to join in the fight by suspending freedom of speech, curbing civil liberties, muzzling the press and sending even mild dissenters to jail for years.  http://www.amazon.com/The-Great-Influenza-Deadliest-Pandemic/dp/0143036491  And Hitler was the indirect (or direct) result.
In Congo, Wall Street and War Street destabilized that country completely when they overthrew Patrice Lumumba.  Over ten million dead since then.  Ten million.
Iran used to be a democracy until the CIA, aka Wall Street and War Street's dread enforcer, tampered and interfered.
In Haiti, Papa Doc and his dread Tonton Macoute invited the Marines to come join the party and Wall Street and War Street immediately sent their RSVP to this gala zombie jamboree, giving ordinary Haitians nightmares for decades.  Then WS&WS hung around for the after-party, the bloody and illegal ouster of Jean-Bertrand Aristide.
I swear, I'm not making this stuff up!  Don't believe me?  Go Google it yourself.
Iraq used to be a democracy too — until the WSWS gang installed Saddam Hussein.  And then they deposed him too, scoring themselves a trillion dollars worth of "vig" in the process.
Vietnam?  We all know what happened there.  "3.1 million violent war deaths."
Cambodia?  Millions dead in what used to be a sweet and lovely country.  A whole country suffering from PTSD, thanks to tampering by the US military-industrial complex, who just couldn't keep their bombers and bombs in their jeans.
The Arab nations of the Middle East used to be friends with America before Wall Street and War Street started using Israel as a wedge.  Now nobody over there likes us — not even the Israelis.  http://www.blackagendareport.com/content/empire-reaps-jihadist-whirlwind
"Humanitarian intervention" in Libya by WSx2 was yet another disaster, even worse than when Al Capone took over Chicago.  Libya today is officially a "Failed State".
And now the WSWS gang that can't shoot straight is using its buddies in ISIS as an excuse to interfere and overthrow Syria's legitimate government under Bashar Assad.  And despite all the New York Times' incredibly false lies that Assad and ISIS are buddies, the real truth is that Assad is the only obstacle standing in the way of Syria becoming just yet another WSx2 Failed State.  http://www.globalresearch.ca/us-begins-selling-syria-intervention-using-isis-pretext/5396974
Does Turkey really want to have a failed state overrun by crazies right across its border?  I think not.
Ukraine, Iraq, Afghanistan?  The label of "Failed State" is hovering over their heads too, thanks to WS&WS.
And let's not forget Latin America.  Chile was almost destroyed after the CIA and Kissinger interfered.  Honduras today is a killing field, with men. women and children being butchered like cattle by Wall Street and War Street's government of choice.  And the terms "Death Squad" and "The Disappeared" came into popular use in Central America under Reagan's watch.
Ah, Ronald Reagan, the WSx2's best friend.  And the dread John Negroponte was its chief henchman and capo.  He still is.  Just check out his current efforts to interfere in Iraq, Syria and Ukraine.  He just loves him some snipers — firing at both peaceful protestors and police until war erupts.  It's a wonder he hasn't tried that in Ferguson too.  Or maybe he has.
Tiny Grenada was ruthlessly (and illegally) invaded in 1983 — even Margaret Thatcher and the Queen were pissed off!  And today Grenada's foreign debts equal 35 percent of its GDP and Red China is paying for its cricket pitches.  Yet another WSx2 interference failure.  Yawn.
And Mexico, another victim of becoming close compadres with WS/WS, has now become the drug-lord capital of the world.  Er, maybe not.  Perhaps Columbia holds that title.  Or is it Afghanistan?  I'm confused.  Burma?  Wall Street and War Street would know for sure.  http://www.telesurtv.net/english/news/Number-of-Mexican-Disappeared-Keeps-Rising-Since-War-on-Drugs-Started-20140822-0035.html
Panama's democratic leader was assassinated https://www.youtube.com/watch?v=GvLGJIOLQcE and that country got Manuel Noriega instead.  Thank you, WSx2.
In central Asia, Charlie Wilson viciously fought to support WS-WS's right to tamper with Afghanistan's fate — and look how badly that interference turned out, handing Afghanistan to Al Qaeda and the Taliban on a platter.
And Europe wasn't spared any WSWS gang-related action either.  Take Ukraine for instance.  Do Americans even know what horrors are being perpetrated there in our name by WS&WS even at this very moment?  Gangland-style murders, extortion, turf wars, goons, thugs, the works.  You don't even want to know.
Wall Street and War Street happily tampered with Yugoslavia.  Years of killing resulted.  http://original.antiwar.com/malic/2014/08/22/empires-murderous-fruits/
And even Ronald Reagan's greatest tampering triumph on behalf of the Wall & War Boys, the fall of the USSR, resulted in dookie.  With Gorbachev gone, the poor Russians were stuck with heartless oligarchs and drunken Yeltsin — and they died by the thousands from cold and starvation as a result.  But, fortunately, Putin today is much better than that.  And so WSx2 hates him.
I started out trying to write all these horrors down in chronological order, but now I'm just writing them all down willy-nilly because there are so many examples floating around in my brain right now of WSx2 tampering that has turned into dog poop for the countries involved, that I am totally overwhelmed.
Let's look at Egypt next.  It's gone from Nasser, the people's choice, to military despots like Mubarak and Sisi, thanks to WSx2.  Yuck.  Please give me a moment here to hold my nose.
And the Wall Street and War Street gang also propped up that brutal fascist apartheid regime in South Africa and Angola — just as they are currently propping up that brutal fascist apartheid regime in Israel now.  For example, when Americans picketed the Port of Oakland the other day, to prevent an Israeli ship from unloading its cargo there, in protest of Netanyahu's brutal slaughter of women and children in Gaza, over a hundred police showed up to help protect the Israeli ship — not the protesters. http://www.mercurynews.com/crime-courts/ci_26365041/day-4-protests-at-port-oakland-block-israeli
And speaking of fascists, there is always Saudi Arabia to consider.  http://www.lewrockwell.com/2014/08/eric-margolis/about-that-alleged-beheading/  Wall Street and War Street just love tampering there, encouraging a despot government and looking the other way (and even contributing weapons, training and financial support) as the Saudis happily bankroll ISIS thugs in Syria, Lebanon and Iraq.  And see how badly that interference is turning out.  http://www.tomdispatch.com/blog/175884/tomgram%3A_patrick_cockburn%2C_how_to_ensure_a_thriving_caliphate  Not to mention how badly Saudi Arabia's contributions to 9-11 turned out either.  https://www.youtube.com/watch?v=jLXyB5GtfBU
But the most disastrous tampering of all has occurred when Wall Street and War Street turned its deadly sights on interfering back home, right here in America.  The result for us?  Just look around you.  At your jobs, your infrastructure, your schools, your healthcare, your militarized police, your disappearing freedom of speech, your rigged elections, your lying media, your hate. https://www.facebook.com/photo.php?v=10152641509439483
The Wall Street & War Street Gang needs to stop screwing with our world and zip up its pants.  And we true patriotic Americans need to make them.
But What Do Globalists Want?
The invasion of illegal aliens across our southern border is no extemporaneous event. It is a cold, calculated, and cunning attempt to fundamentally change America. The Obama Administration has sent a loud and clear signal to our neighbors to the south that illegals are welcome, that they won't be sent home, and that they will be provided either real or de facto amnesty–especially if those illegals are minors. The result is a torrent of illegals pouring over the border into the United States. These illegals are being housed, fed, given medical care, and are being transported to destinations throughout the U.S. Few are being deported. Several military installations have been essentially turned into daycare centers and nurseries, and according to several published reports, up to 70% of U.S. Border Patrol personnel are now being assigned to administrative duties in an attempt to process the hundreds of thousands of illegals that have amassed at the border.
Giving amnesty to illegal aliens is a long time goal of both Democrats and Republicans in Washington, D.C. U.S. Congressman Kerry Bentivolio (R-Mich) stated it succinctly: "Democrats want the votes, and the Republicans want the cheap labor."
The only people opposing granting amnesty to illegals in Washington, D.C., are the Tea Party Republicans. And had it not been for the defeat of Republican House Majority Leader Eric Cantor (a major proponent of amnesty) by Tea Party Republicans in Virginia a few weeks ago, there is absolutely no question that the GOP-led House and Democrat-led Senate would have collaborated on, and passed, an amnesty bill this summer. But with the defeat of Cantor, scores of GOP House members are extremely skittish about supporting amnesty–especially with the fall elections just around the corner.
Of course, the pro-amnesty media and their fellow-travelers in the Congress are pitching the idea that all of these illegal immigrant children are "refugees" escaping war-torn conditions in Central America. This plays well on the heartstrings of a compassionate American citizenry–just as it is designed to do. Even pseudo-conservatives such as Glenn Beck and Joe Scarborough are trying to score ratings points by getting into the "help the children" act by stunts like sending soccer balls and teddy bears to the border. But the facts just don't support the hype.
Think about it: Does anyone really believe those youngsters traveled hundreds of miles on their own? Get real! They were led, fed, and supervised all the way to the border. Someone paid those coyotes (human smugglers) hundreds or even thousands of dollars to take those young people to the border. Make no mistake about it: This is a premeditated strategy of insurgents.
The only veteran of both the Vietnam and Iraq wars serving in Congress, Rep. Bentivolio took a fact-finding trip to Central America to assess conditions there. The congressman told World Net Daily that "conditions in Guatemala, Honduras and El Salvador are certainly not great and there is much hardship, but they are not war zones." In fact, the congressman noted that the conditions of the Central American countries are not dissimilar from many of the inner city neighborhoods of big U.S. cities.
Congressman Bentivolio also said that solving the illegal immigration problem is not complex: "If we had secure borders, we wouldn't have this problem. We need to send a strong message that, if you want to come to America, do it legally, and get in line."
See the WND report here:
Congressman Exposes Truth Behind Illegal Kids
Exactly! "Do it legally, and get it line." That is the way it's been historically done. The next time you hear someone say America is "a nation of immigrants," realize that is not strictly true. America is a nation of LEGAL immigrants.
But neither Republican nor Democrat presidential administrations (Bush I, Clinton, Bush II, Obama) have done diddly-squat to protect America's southern border. Does anyone not find it interesting that the federal government will send U.S. military forces to the Middle East with assignments that include protecting and securing the borders of those countries but will not protect the borders of the United States?
Of course, if the federal government was not underwriting illegal immigration with all kinds of government services, illegals would not even have that much incentive to enter the country in the first place. First, the federal government provides every incentive for illegals to sneak into the country via copious government-subsidized benefits, then it refuses to remotely secure the border, and then it refuses to deport them after they have arrived: DUH! I wonder why we have an illegal alien problem!
Beyond that, the federal government has released thousands of illegals from U.S. jails and prisons who have committed the most heinous crimes within this country. At the same time, it has not even attempted to arrest the influx of hundreds of thousands of violent illegals.
According to Texas State Senator Dan Patrick, there are at least 100,000 illegal immigrant gang members in the State of Texas alone. Breitbart.com covered the story:
"On Monday's The Laura Ingraham Show, Patrick, who is also the Republican candidate for lieutenant governor, said from 2008 to 2012, 143,000 illegal immigrant criminals were arrested and jailed in Texas. He said these were 'hardened criminals, gang members, and other criminals that we identified as being in Texas illegally.'
"'We charged them with 447,000 crimes, a half-million crimes in four years, just in Texas, including over 5,000 rapes and 2,000 murders,' Patrick said. 'We estimate we have 100,000 gang members here illegally.'"
Patrick also noted that only between one in five or one in ten illegals are actually apprehended. So, do the math.
See the report at:
Texas State Senator: 100,000 Illegal Immigrant Gang Members In State
If we know there are at least that many violent criminals coming across the border, how many potential terrorists must we assume have also come into the United States through this porous, unprotected southern border? The prospect is absolutely frightening!
In addition, the unchecked stream of illegals from Mexico and Central America is also taking a toll upon the health of everyone involved in this debacle. Border Patrol agents are coming down with diseases. There are reports of contagious diseases spreading rapidly.
ABC 15 TV (Phoenix, Arizona) recently gave a report regarding the concern many people have about the spread of contagious diseases being brought into the country by illegals from the third-world countries below the United States. Health workers are already seeing scabies, chicken pox, MRSA staph infections, and other diseases.
A quick note on the MRSA disease: MRSA is considered to be one of the 18 microbes listed by the CDC as a multidrug resistant microbe or "superbug." You should Google up that disease and see what our children in the public schools are going to be subjected to when all of these illegals get farmed out to the schools of America's heartland.
And, interestingly enough, the DHS has prohibited health care providers from talking to the media. I wonder why?
See the ABC report here:
Undocumented Immigrants Bringing Diseases Across Border?
Plus, the ABC report above does not even touch on the spread of Sexually Transmitted Diseases (STD) that are being reported as being rampant among the tens of thousands of illegals on the border.
And, yes, America's schoolchildren (and the rest of the U.S. citizenry) will certainly be subjected to the health risks described above. Listen to this:
"The U.S. Senate Appropriations Subcommittee approved a Department of Homeland Security (DHS) budget for Fiscal Year (FY) 2015 that includes $5.508 billion for Immigration and Customs Enforcement operations. Included in that amount is more than $87 million for the transportation of illegal immigrants–most often via plane–from the U.S.-Mexico border to federal facilities around the nation.
"The FY 2015 bill summary states that the federal government will provide '$87.6 million above the request for the transportation of unaccompanied immigrant children–often via commercial or charter aircraft–from DHS custody to the legally required shelters operated by the Office of Refugee Resettlement within Department of Health and Human Services.'
"A DHS request for 'escort services for unaccompanied alien children,' posted online in January, claimed that 50 percent of transported foreign minors are brought to interior U.S. cities via commercial planes. The others are transported via local ground transport and ICE charter air crafts."
See the report here:
Budget To Transport Illegals Across USA Approaches $100M
So, the people of the United States must be subjected to all of the above because "Democrats want the votes, and the Republicans want the cheap labor." But what do the globalists want? The globalists are the real power behind both the Democrat and Republican parties in Washington, D.C. Nothing substantial happens in politics or business without their approbation. So, what do they want to get out of a chaotic border crisis?
Remember, the goal of globalists is the dismantlement of nationhood. They envision a global government complete with a global economy and global military. The United States is the biggest hindrance to this objective. America, alone, has the freedom-oriented history, heritage, culture, laws, arms, attitude, etc., that stands as a huge impediment to the globalists' agenda. This is in spite of the fact that every presidential administration since Ronald Reagan, most congresses, and the national media have been dominated by globalists.
Remember, too, that the two main assets assisting the cause of globalism are perpetual war abroad and the rise of a Police State domestically. In fact, the latter is dependent upon the former. Perpetual war, conflict, crisis, upheaval, etc., is the impetus for the rise of the Super State, (aka the Police State), which is ostensibly designed to "protect" the people from the crisis. It is no exaggeration to say that most of the crises in the post-World War II world have been manufactured crises for the purposes of creating the Super State. The illegal immigration crisis is no exception.
The influx of millions of illegals–many of whom are violent criminals, murderous gang members, potential terrorists, disease-carriers, and people from third-world, socialist countries who have absolutely no understanding of, or appreciation for, constitutional law, Natural Law, republican government, etc.–will most definitely turn American cities into war zones. And that's exactly what globalists want. They want every city in America to look like Chicago.
Do you know that there have been more murders in Chicago than in all of the mass-killings throughout the United States combined? See AWR Hawkins' report:
Report: Far More People Killed In Chicago Than In All Mass Shootings Combined
And what is the City of Chicago but a Police State with barely any rights of self-defense. My friends, that is what the globalists have planned for your city. And illegal immigration is the vehicle that is designed to bring it to pass.
Yes, "Democrats want the votes, and the Republicans want the cheap labor," but the globalists want a national crisis that will further facilitate turning America into a giant Police State. But, I suppose the biggest question is what do the American people want? We'll soon see.
Culprits Include The City Of Chicago, Big Retailers, The Media, And Churches…
Proponents of the Nanny State have been trying to take away man's Natural right of self-defense ever since the United Nations was created back in 1945. Of course, the Natural right of self-defense is totally unknown in communist and socialist countries; and big-government toadies in several so-called "democratic" countries have also succeeded in turning citizens into subjects by removing or severely restricting the Natural right of self-defense. Obviously, I'm talking about countries such as Great Britain, France, Germany, New Zealand, Australia, and Canada.
By self-defense, I am talking about a man's right to carry a Personal Defense Weapon (PDW)–which, in modern times, mostly requires a firearm–anywhere and everywhere he goes. A state that does not allow a man to be personally armed in his day-to-day activities is literally stripping him of his right of self-defense. To require a citizen to keep his or her PDW in their home or vehicle is to deny the citizen's Natural right of self-defense. To say a citizen may lawfully protect himself in only limited and duly-prescribed locations is to make the citizen a subject of the state. Furthermore, it removes from him the most fundamental of all the Natural rights that were granted to him by his Creator: the right of self-defense.
Four-legged predators are constantly on the prowl for animals that are defenseless. Two-legged predators do the same thing. These human predators do not respect "gun-free" zones. Like all predators, they are opportunistic beasts. They prey on the weak and vulnerable. When the state takes away a person's right to be always armed, it makes the entire citizenry weak and vulnerable. As I have said many times, guns don't kill people; gun-free zones kill people.
Gun control laws are among the most egregious violations of Natural Law. Men and women who are truly free are allowed to carry a PDW everywhere they go. Banks, schools, government buildings, churches, etc., should be no exceptions. It is no coincidence that just about every single mass-shooting in recent memory has taken place in a so-called "gun-free" zone, where the only people who were armed were the perpetrators. Gun-free zones turn free men into human prey.
For all intents and purposes, several states and major cities within the United States have become "gun-free" zones, in that they mostly deny their citizens the right to carry a PDW on their person. Whether the people of these cities and states realize it or not, they have lost the right to be called free men and have been turned into human prey by their own State and municipal governments. There is no greater example of this tyranny than the city of Chicago, Illinois.
Chicago has some of the strictest and most stringent gun-control laws in the entire nation. The government of Chicago has, in effect, turned the town into a giant killing-field where ravenous two-legged beasts are allowed to feast on the millions of defenseless prey that inhabit our country's third largest city. For example, over the past Independence Day weekend, 82 people were shot and 14 people were killed in Chicago violence. Breitbart.com covered the story:
"Breitbart reported that the violence was high on Friday, Saturday, and Sunday morning, but when Thursday, the final hours of Sunday, and the first few hours of Monday morning were added to the accounting, the rate of violence proved to be even more appalling.
"On Monday morning, July 7, the Chicago Tribune shocked the city with the list of weekend violence reporting that between Thursday, as the holiday weekend began, to the early hours of Monday morning, Chicago experienced 82 shootings with 14 killed."
Included in the Breitbart report is the fact that one man's life was actually saved by virtue of the fact that he had a concealed carry permit (no small feat in the City of Chicago) and used his PDW to protect himself against three violent miscreants. In this case, one of the dead was a violent predator. Had the innocent citizen not been armed, he would have been the statistic. In addition, the report states that eight of the dead were at the hands of Chicago police officers in the line of duty, proving, once again, that policemen carry guns, not for the protection of the citizenry, but for their own protection.
Predictably, Chicago Mayor Rahm Emanuel blamed the increased violence on "weak" gun laws in the neighboring states of Indiana and Wisconsin.
See the Breitbart.com report here:
Between Thursday And Monday 82 Shot, 14 Killed In Chicago Violence
Of course, what Emanuel won't tell you is that the violent crime rates of those states where the right to keep AND BEAR arms is less infringed are far less–far less! For example, there are 11 states in the country that allow their citizens to carry firearms freely and openly with no permit or license required. Those states are Alaska, Montana, Idaho, Wyoming, Nevada, Arizona, New Mexico, South Dakota, Vermont, Kentucky, and Virginia. So, using Emanuel's logic, one could expect that there should have been hundreds of shootings in those states last weekend–what with their "weak" gun laws and all, right? You know that's not true.
Check the incidents of shootings in the above-listed states and we might even discover that the City of Chicago may have had more shootings over this past Independence Day weekend than those 11 states COMBINED. Think of it: the City of Chicago (with some of the strictest gun control laws in the country) may have had more shootings than the combined shootings of the 11 states that recognize their citizens' Natural right of self-defense by allowing them to freely and openly carry a PDW.
Of course, it's not only various and sundry governments (though they are the most egregious usurpers of the Natural right of self-defense) that want to deny people the right to bear arms; many large retailers are adding their weight to the anti-self-defense hysteria.
Just a few days ago, the giant retailer, Target, announced a corporate policy that asks its patrons to leave their firearms at home. Once again, Breitbart.com covers the story.
"On July 2nd, Target 'respectfully' asked law-abiding citizens to 'not bring firearms' in their stores.
"The department store chain did this via an announcement posted on its website and shared by interim CEO John Mulligan.
"The announcement says:
"'As you've likely seen in the media, there's been a debate about whether guests in communities that permit "open carry" should be allowed to bring firearms into Target stores. Our approach has always been to follow local laws, and of course, we will continue to do so. But starting today we will respectfully request that guests not bring firearms to Target–even in communities where it is permitted by law.'
"By taking this step, Target joins Chipotle, Jack in the Box, Sonic, and Chili's in asking law-abiding citizens not to carry guns in their businesses."
The author of the report, AWR Hawkins, notes, "Within two weeks of asking law-abiding customers to come unarmed, two Jack in the Box stores were robbed, and a shooting took place at a third. Patrons were robbed at gunpoint in one of the robberies, as well."
See the report at:
Target 'Respectfully' Asks Law-Abiding Citizens To Leave Guns At Home
But the war against your Natural right to self-defense doesn't stop with the City of Chicago or the Target chain-stores. The mainstream media seem absolutely determined to take away your right to defend yourself and your loved ones.
After CNN sacked Piers Morgan due to his immense unpopularity, which was mostly due to his arrogant attacks against America's Second Amendment, the cable network recently announced that it was replacing Morgan with former America's Most Wanted host, John Walsh, who immediately proclaimed that his show would continue Morgan's attacks against the Second Amendment.
Once more, Breitbart.com covers the story:
"Former America's Most Wanted host John Walsh is hosting a new show on CNN on which he vows to keep the push for gun control and the war on the NRA alive.
"According to The Wrap, Walsh said:
"'I'm the father of a murdered child. I've done nothing but track violence in America since my son was murdered. We have a serious problem with guns in this country… and the NRA solution to arm every grammar-school 80-year-old teacher with a gun is absolutely ludicrous.'
"He claims the NRA has gotten so big and financially powerful through relationships with gun manufacturers that 'they're not a lobbyist on Capitol Hill, they're a gun manufacturer rep.'
"Walsh's new show, The Hunt, premieres July 13. Walsh says he did not initially realize 'how much his gun control efforts would be a part of his new show.'"
See the report at:
New CNN Host John Walsh Vows To Continue Piers Morgan's War On The NRA
Obviously, CNN is hoping that it's continued anti-Second Amendment agenda will be more palatable to the American people if it comes from a fellow American–especially one with whom everyone can truly sympathize with by virtue of his losing a child to an act of violence (although Adam Walsh's murder did not involve the use of a firearm)–than from the arrogant and pompous British elitist, Piers Morgan. But make no mistake about it: the anti-Second Amendment message is the same. Only the messenger has changed.
And most sadly, churches, too, are often at the forefront of the anti-self-defense fanaticism. Christian leaders from denominations across the board are often the ones who promote gun control (even gun confiscation) among their congregations and who deny their parishioners the right to be armed on church property.
For example, back in 2004, the president of the LDS church issued a declaration to all Mormon churches in Utah that gave "public notice that firearms are prohibited in the church's houses of worship, including temples, meetinghouses, the Assembly Hall, the Salt Lake Tabernacle, and the Conference Center."
The declaration went on to say, "Once such public notice is given, persons who bring firearms into a church house of worship should be informed of the church's position and politely asked to take their firearms to another safe location. Persons who refuse to take their firearms from the house of worship or repeatedly ignore the church's prohibition should be referred to local law enforcement officers for possible criminal prosecution."
See the church statement here:
Text Of Letter From First Presidency On Guns
But if you think the LDS church is the only church in the country that has taken such a position, you are sadly misinformed. My educated guess is that the vast majority of denominations and churches in America have a very similar position.
But instead of denying the Christian people of America from exercising their God-given right of self-defense on church property, church leaders should be boldly teaching the Biblical Natural Law principles of self-defense and encouraging their people to jealously guard this most fundamental liberty. By demanding that Christian people not be armed on church property, church leaders are no better than Rahm Emanuel–who insists that Chicago's residents not be allowed to protect themselves–and are opening up their churches to those two-legged wolves who would seek to devour the sheep.
There are only a small handful of countries today that recognize the Natural right of self-defense. The advent of the United Nations has facilitated the demise of this right in country after country. The United States is the last major power that yet somewhat protects this most precious Natural right.
Obviously, several State and local governments within the United States (not to mention the worst offender of all: the federal government in Washington, D.C.) have themselves assisted the dismantlement of the right of self-defense. Several giant retailers are assisting the attacks against our Natural right of self-defense. The mainstream media is incessant in its attacks against the Second Amendment. And even many of America's churches have set themselves against the right to BEAR arms. The war against our Natural right of self-defense continues.
However, I need to point out that the architects of the Nanny State have been trying to disarm the American people since even before the United Nations was created. And while the right to keep and bear arms has been severely restricted by myriads of federal, State, and local laws, the American people continue to be the most heavily armed people in the world. Not only is the American citizenry an armed citizenry, it is an absolutely determined citizenry. The message to any and all potential tyrants who would attempt to remove our Natural right of self-defense is the same–whether they are from King George's London, Mao's Beijing, Stalin's Moscow, Emanuel's Chicago, Obama's Washington, D.C., or the U.N.'s New York City: MOLON LABE, COME AND TAKE THEM!
Are you a person, who repeats the Pledge of Allegiance at a local town board meeting or sings the National Anthem at a sporting event? Well, such people are likely candidates to turn over their firearms, when the collection van stops at your door to remove hazardous guns that endanger you, your family and neighbors. Surely, you file income taxes and pay your financial obligations to the government, what would prevent you from surrendering your personal lethal weapons, for the betterment of the state and the best interests of your community? Let's get real! Any country that demands the capitulation of the right for self-protection does not deserve a citizen's loyalty or obedience.
Guns, Guts and Goons looks at the proposed UN Treaty to ban guns. "The clock is running down and the American public needs to suck up the guts and nerve to oppose such a blatant assault on the natural rights of individuals, and resist repression from an international cabal of globalists", but the implementation of the grand strategy comes from within the numerous layers of your own government.
Following the broad footsteps of Firearms-Control Legislation and Policy: Australia, the Obama administration is hell bent on disarming Americans. In a Summary of Select Firearm Violence Prevention Strategies, The 1997 Australia gun buyback and its associated regulations is cited, concluding, "The Australia buyback appears to have had no effect on crime otherwise", and eliminates evidence that stripping gun ownership has any impact on reducing violent crime.
1. It was large, buying back 20% of the firearm stock.

2. It targeted semi-automatic weapons.

3. It coupled the buyback with a ban on certain weapons and a nationwide registration and licensing program.
This pattern of further restrictions on ammunition, clips and capacity is a back door approach to the data collection policy for national registration. The ultimate and final implication is total gun confiscation.
When Charles C. W. Cooke writes in the National Review, and references a video where Obama Praises Australia's Gun Confiscation, his words are to the point.
"Let me be clear, as Obama likes to say: You simply cannot praise Australia's gun-laws without praising the country's mass confiscation program. That is Australia's law. When the Left says that we should respond to shootings as Australia did, they don't mean that we should institute background checks on private sales; they mean that they we should ban and confiscate guns. No amount of wooly words can change this. Again, one doesn't bring up countries that have confiscated firearms as a shining example unless one wishes to push the conversation toward confiscation."
Back in the jurisdiction of the Metropolis state of totalitarian collectivist empire builders, New York; the likes of Governor Cuomo and former NYC mayor Michael Bloomberg and the current el presidente, Bill de Blasio wage their commissar war against natural rights. Their goal is to enforce coercive governance upon a defenseless populace society, which is at the mercy of the real criminals; namely, the politicians, banksters, and corporatist criminals. Driving out of business gun manufactures is the eventual result of the Economics of Gun Control, while the autocratic elites enjoy the protection of State Police Troopers and private bodyguard mercenaries.
"The operational economics of gun control legislation has the purpose of maintaining a state controlled monopoly for firearms. One such example seen in the bill, known as the NY SAFE Act, included is a ban on any semi-automatic rifles or shotguns with "military-style" features, such as a pistol grip or a folding stock, has the goal of disarming the public. Such draconian methods drive the trade in guns underground. The black market in arms becomes the defiant mart for the new criminalization of self-protection seeking citizens."
The leaked New York State Counter Terrorism Bulletin would have you believe that "the "far right," repeating the meme that those within the liberty movement are more dangerous than Al Qaeda." How long will it be before any gun owner becomes part of this extremist list?
When the chief crook within the Department of Injustice, Obama's enforcer Eric Holder speaks, We Want to Explore Gun Tracking Bracelets, he is preparing the population to accept that the Second Amendment is so arbitrary and conditional to the whims of the governing tyrants, who will oversee that only designated loyal subjects have the legal ability to personal self-protection.
"By making them either through finger print identification, the gun talks to a bracelet or something that you might wear, how guns can be used only by the person who is lawfully in possession of the weapon.

It's those kinds of things that I think we want to try to explore so that we can make sure that people have the ability to enjoy their Second Amendment rights, but at the same time decreasing the misuse of weapons that lead to the kinds of things that we see on a daily basis."
If you are required to have a chip in a gun to fire, the next step is to place an authorization microchip implant into you body to pull the trigger.
The Second Amendment: Last Line of Defense Against Tyranny, states, "The right to keep and bear arms is a doomsday provision to be used as a last resort when all other rights fail. The founders saw firearm ownership as so necessary that they enumerated this right second in the Bill of Rights, immediately after defining the right to free speech." What is so hard to understand about this unambiguous declaration of bothcommon sense and natural law?
There is no doubt, where Thomas Paine stood on the Rights of Man. Paine, best remembered as a professional radical and a revolutionary propagandist without peer, is as relevant today as he was when he wrote his clarion call. Imagine what Professor Barack Obama says about guns and how 18th century would react to this foreign-born Tory.
In 1996, Obama supported a ban on handguns
In 1998, he supported a ban on the sale of all semi-automatic guns
In 2004, he advocated banning gun sales within five miles of a school or park, which would have shut down nearly all gun stores
Radical Reactionaries are by nature revolutionaries. Nonetheless, revolt against a government that has lost illegitimacy does not require arm insurrection. The notion that an armed American citizenry will take on a full-fledged firefight against officials and authorities is a red herring. The purpose of a militant public is to cause doubt in the minds of the armed forces intended to deploy against their own people. A total stand down of militarized martial law enforcers is how to win the Second American Revolution.The revolt against the Crown is no different from the rebellion against the substitute replacement that now reigns under admiralty law from the District of Criminals. The Barry Soetoro presidency is just the latest escalation of imperial rule out of an establishment system that has totally dismissed constitutional restraints.
With The Psychotic Militarization of Law Enforcement, federal funding of local Gestapo and SWAT teams trains to carry out a gun confiscation agenda. Numerous examples are cited in the article, Legal Gun Owners Fight Local Authorities Over Gun Confiscations. Soon the cultural criminalization of gun owners will become a tenant of the newfound and official Pledge of Allegiance to the Empire.Even if avoiding that iron fist knock at the door, the incremental erosions in a society, that defends personal defense, is the most effective munitions used by the authoritarian despots. Slowly and surely, the false flag operations used to frighten gullible and insecure dupes has the intent of moving the collective psyche into a permanently induced state of voluntary subjugation.
The Daily Caller features the question posed in American COP, Would You Take Away Guns From Law-Abiding Citizens? Within this response, the sick mentality of the Eric Holder, Fast and Furious, Justice Department administration, meets the twisted minds of the law enforcement goons who are unable or unwilling to distinguish between Peace Keeping from "just following orders".
"I've known anti-gun cops, who seriously said things like, "They have no right to own a gun, it's my job to protect them. If they have guns, it's just a danger to me!" You might know someone like that too. And certainly, there are politicians out there who think the same way; and those very politicians often appoint police chiefs. Since sheriffs are elected, they can serve as a bit of a buffer on this topic."
Here lies the best barrier for lawful protection, the locally elected county sheriff. In spite of this, hope, the magnitude of the designed and deliberate assault on American Patriots, Tea Party and Truth Movements, readies the preparation for intentional and fabricated civil unrest. Depending on the response of active military and especially the leadership from the relics of a vigilant officer corps, the fate of the fallen Republic rests.
The answer to question, Will You Surrender Your Firearms, should be an emphatic, NO. The Chicago Gangster – Obama the Tyrant article, demonstrates why the Obama regime is an existential danger for all rational and truehearted Americans. Restoring a meaningful future requires resistance against a despotic government. If citizens acquiesce to unconstitutional rule, having a gun will not defeat the traitors. The will to resist all government treason is the first step to prevent national oblivion.
Why do Zionists hate veterans?  That is the question many Americans are asking after witnessing the Israel lobby's media mugging of released prisoner-of-war Sgt. Bowe Bergdahl.
Since 2001, American soldiers have been risking their lives in a crusade whose main beneficiary is the Israeli regime. Nearly 5,000 US troops have been killed in Iraq – almost 4,500 of them since Bush declared "mission accomplished." Another 4,000 US troops and contractors have died in Afghanistan. An estimated 320,000 veterans have brain injuries, and about 18 commit suicide every day according to Dr. Ira Katz, the VA's head of Mental Health.
But as the Jewish Daily Forward newspaper admitted, only 0.64 percent of America's "war on terror" casualties are Jewish Americans. That means that Zionists, the backbone of the Zionist lobby, who represent about 2.5% of America's population, are massively underrepresented among those doing the bleeding, suffering, and dying in the Zionist-driven War on Islam for Israel.
Meanwhile, hard-core neoconservative Jewish Zionists are massively OVER-represented among the PNAC policy elite that set up the 9/11 "New Pearl Harbor" and launched America's endless, futile war on the global Muslim population. And they are equally over-represented among big media owners and their pet presstitutes of the punditocracy.
One would think neocon-Zionist media voices would shower honor and gratitude on Sgt. Bergdahl, a good-hearted goy who suffered and sacrificed in a cause that was theirs, not his. Instead, they are showering him with abuse.
Fox News, the unofficial voice of the Netanyahu neocon nutball brigade, recently published the screaming headline: "EXCLUSIVE: Bergdahl declared jihad in captivity, secret documents show." The story's author is James Rosen, a Jewish Zionist neocon propagandist. Its source is a proven liar: CIA drug smuggler and convicted perjurer Dwayne "Dewey" Claridge, a notorious asset of the Bush crime family. And its thesis – that Bergdahl "declared jihad" – is an absurdity. (Only a legitimate Islamic head of state can declare jihad.)
Fox – Israel's stealth beam weapon targeting the American mind – stooped to an even more disgusting low when it began persecuting Sgt. Bergdahl's family. The rabid Zionist "news channel" ripped Obama for embracing Sgt. Bergdahl's parents at the White House, and insulted Sgt. Bergdahl's father for growing a beard and "looking like a member of the Taliban."
Comedian Jon Stewart responded: "First of all, who the **** are you to judge what a guy does if he thinks it might help him get his son back? And I don't want to complicate your hatred of facial hair there, friend, but my guess is if you gave Bob Bergdahl a bandana and a duck, you'd like him just-****ing-fine."
The Islamophobe extremists behind Fox's Orwellian theater of hate are ranting that Sgt. Bergdahl was a "deserter" and a "collaborator with the enemy." Why? Because Sgt. Bergdahl, like the majority of Americans, knows that the 9/11 wars were launched on lies…and that the biggest liars were Fox News and the rest of the neocon-infested lamestream media.
It is Fox News and the whole Zio-con "mighty wurlitzer" who are deserters, collaborators, and traitors. By trumpeting the 9/11 big lie, and the endless Islamophobic little lies it spawned, they deserted from the USA to join the worst elements of Israel. They have collaborated in the destruction of the American Constitution.  As I told Sean Hannity on his show on July 10th, 2006, Fox should be taken off the air. I should have added that he and the other Fox traitors should be tried, convicted, and lined up against the wall.
On second thought, humane execution might be too gentle a fate for Hannity, media mouthpiece of 9/11 treason. His latest outrage: On June 3rd Hannity invited a friend of Sgt. Bergdahl on his show and brutally bullied the man for resisting Hannity's sleazy attempts to label Bergdahl a traitor. No wonder so many people watch Fox News purely for the entertainment value of watching imbeciles like Hannity wallow in filth and degradation.
The day before Hannity's disgusting attack on Bergdahls friend, Fox brought on one of the most maniacal Zionists in Congress, Sen. John McCain, to bolster its attacks on Obama's prisoner swap. McCain's father, Admiral John S. McCain, supervised the coverup of Israel's slaughter of American sailors in the botched false flag attack on the USS Liberty in 1967. Surviving USS Liberty sailors were informed their families would be murdered if they spoke out about Israel's deliberate butchery of the crew of the unarmed American spy ship. The man behind those threats was the treasonous Admiral McCain.
Senator John McCain has followed in his traitor father's footsteps. Shot down in Vietnam, McCain's enthusiastic cooperation with his North Vietnamese captors earned him the sobriquet "the Hanoi Songbird." After his release, McCain launched a political career whose distinguishing characteristic has been its service to the Israeli flag and the Zionist crime syndicate behind it. McCain covered up the 9/11 inside job by endorsing and introducing the Popular Mechanics book attacking the truth movement – an act that, by itself, should get him hanged for treason. Senator McCain's favorite post-9/11 refrain: the Beach Boys karaoke number "Bomb-bomb-bomb, bomb-bomb Iran."
In his interview with the Fox News anti-Bergdahl witch hunters, McCain incoherently attacked General Martin Dempsey, head of the Joint Chiefs of Staff, who reportedly backed the prisoner swap: "I won't comment on General Dempsey. The point – because I – he has become irrelevant to me, and the whole scenario of talking about national security."
Let's be honest here. McCain doesn't like General Dempsey because Dempsey is pro-American, while McCain is an agent of Israel. McCain and his AIPAC overlords have been lobbying frantically to drag America ever-deeper into the Middle East quagmire; Dempsey has been quietly but effectively blocking those efforts. McCain and his Zionist godfather, Sheldon Adelson, want to "bomb-bomb Iran," while Dempsey says the era of US wars for Israel is over.
It is McCain and the rest of the neocon armchair-warriors-for-Israel – not Gen. Dempsey – who are becoming irrelevant.
Obama and Dempsey should have traded McCain for Sgt. Bergdahl. And they should have thrown in Hannity and a few dozen more chicken-hawks from Fox News. Five years in a Taliban compound in Eastern Afghanistan would give these cretins time to reflect on their role as genocide propagandists in service to a foreign power.
America's veterans are gradually realizing how badly they have been misused by the Zionist architects of the 9/11 wars. They are beginning to see through the toxic smog of Fox News propaganda. More and more are turning to alternative media outlets like VeteransToday.com, the most-read veterans publication in America, which takes no prisoners in its unflinching critique of the Israel lobby's mendacious and malignant crusade against the Muslim world.
For this growing throng of angry veterans, Sgt. Bowe Bergdahl is a hero in the mold of Gen. Smedley Butler, America's all-time greatest military leader. Butler's book War is a Racket exposed the fact that,  as Michael Rivero puts it, "all wars are bankers' wars." Sgt. Bergdahl, like Gen. Butler, has rejected the lying wars and coups of the banksters and Zionists. Like Pat Tillman, Bergdahl rejected a criminal war and paid a price. Now the same forces that assassinated Tillman are performing a character-assassination on Bergdahl.
The media lynching of Sgt. Bergdahl must stop. And if Rupert Murdoch and his genocidal propagandists are not prosecuted soon, America's patriotic truth-loving veterans may decide to march on Fox News headquarters and give the phrase "media lynching" a new and literal meaning.
KB/NN
Dr. Kevin Barrett, a Ph.D. Arabist-Islamologist, is one of America's best-known critics of the War on Terror. Dr. Barrett has appeared many times on Fox, CNN, PBS and other broadcast outlets, and has inspired feature stories and op-eds in the New York Times, the Christian Science Monitor, the Chicago Tribune, and other leading publications. Dr. Barrett has taught at colleges and universities in San Francisco, Paris, and Wisconsin, where he ran for Congress in 2008. He is the co-founder of the Muslim-Christian-Jewish Alliance, and author of the books Truth Jihad: My Epic Struggle Against the 9/11 Big Lie (2007) and Questioning the War on Terror: A Primer for Obama Voters (2009). His website is www.truthjihad.com. More articles by Dr. Barrett
Source: PressTV
President Barack Obama's commencement address at West Point on May 28 managed to displease pretty much everyone in the nation's commentariat. Before making an overall assessment of its significance, it is necessary to examine the validity and implications of Obama's individual statements.
"[B]y most measures America has rarely been stronger relative to the rest of the world. Those who argue otherwise – who suggest that America is in decline or has seen its global leadership slip away – are either misreading history or engaged in partisan politics."
This key assertion, made at the beginning of the President's address, does not stand to empirical scrutiny. In economic terms, America was far stronger vis-à-vis the rest of the world in 1945 than she is today. In more recent times, U.S. share of world GDP peaked in 1985 with just under 33 percent of global GDP (nominal). Between 2004 and 2014, United States' share of global gross domestic product (GDP) adjusted for purchasing power parity (PPP) has fallen from 22.5 percent to 18.5 percent, and it is expected to continue falling. By the end of this year China will overtake the United States in gross domestic product, which had originally been projected to happen by the end of this decade. Analysts concede will gradually shift the ability to confer advantages or disadvantages on other countries – in other words, power – in China's favor.
In military terms, while America enjoyed the nuclear monopoly in 1945-49, her period of undisputed unipolar dominance was between 1991 (the collapse of the USSR) and 2008 (Russia's counterattack in South Ossetia). Although the Pentagon budget will drop from $600 billion this year to $500 billion in 2015, it will continue to account for over a third of the global total. The unsatisfactory outcomes in Iraq and Afghanistan and dented America's image of military invincibility. As the Economist commented on May 3, "The yawning gap between Uncle Sam and his potential foes seems bound to shrink." The prevailing view among most critical analysts is that over the past decade the U.S. has suffered military reverses, and now faces severe global competition.
As for the "global leadership," it is unclear what exactly Obama had in mind. Russia and China are creating a powerful Eurasian counterweight to what they rightly perceive as Washington's continuing bid for the global hegemony. India's new prime minister is a potential partner at best, and certainly loath to acknowledge America's "leadership."  In the Islamic world, Obama's attempts at appeasement – which started with the Cairo speech in 2009 – have not worked: The U.S. is now even more unpopular in the Muslim world than it was under George W. Bush. America is heartily disliked even in Turkey and Jordan, presumably our allies, not least because of the continuing drone strikes. American influence in Latin America is weaker now than at any time since Theodore Roosevelt, as manifested in the unanimous rejection of Washington's efforts to effect a regime change in Venezuela. Members of the American elite class are hard pressed to name a single country with which the U.S. has better relations today than five years ago. The NSA global spying network has infuriated even some otherwise reliable American friends in Western Europe. Most "Old Europeans" are remarkably resistant to U.S. pressure to agree to serious sanctions against Russia.
On balance it appears that Barack Obama is the one misreading history and engaging in partisan politics.
"Meanwhile, our economy remains the most dynamic on Earth, our businesses the most innovative."
In reality, by most value-neutral parameters the American economy is chronically weak and insolvent:
Some "dynamism," some "innovation"…
"America continues to attract striving immigrants."
Obama's statement is correct. It does not illustrate America's alleged strength as was his intent, however; it underscores this country's major weakness. Illegal immigration is spiraling out of control, the Border Patrol is overwhelmed. If the influx continues at current high levels, the U.S. population will increase to almost half a billion in 2060 – more than a 50 percent increase. New immigrants – mostly from the Third World, unskilled, uneducated, and a net drain on American resources – and their descendants will account for over one hundred million of that increase. On current form, English-speaking Americans of European origin will become a minority in their own country four decades from now. They will inhabit an increasingly overpopulated, polluted, lumpenproleterized, permanently impoverished country. America unfortunately does continue "to attract striving immigrants," mostly illegal ones and of poor quality. This is far greater threat to the survival of the United States in a historically or culturally recognizable form than terrorism or any conceivable alliance of foreign powers. Barack Obama does not understand this, or does not care, or – just as likely – cherishes the prospect.
"The values of our founding inspire leaders in parliaments and new movements in public squares around the globe."
By "public squares" Obama was probably alluding to Kiev's Maidan. Indeed, it has propelled some "new movements" to global prominence, such as the Svoboda party and the Right Sector. The Founding Fathers would be horrified to learn that, in the opinion of the President of the United States, their values have inspired Messrs. Tyahnybok, Yarosh, and other blood-soaked heirs to Stepan Bandera. This is on par with Senator Joseph Lieberman saying, "The United States of America and the Kosovo Liberation Army stand for the same values and principles. Fighting for the KLA is fighting for human rights and American values."
"And when a typhoon hits the Philippines, or schoolgirls are kidnapped in Nigeria, or masked men occupy a building in Ukraine, it is America that the world looks to for help."
Obama is mixing apples (natural disasters) and pears (man-made ones). The problem of Islamic terrorism in Nigeria was exacerbated by the refusal of the Department of State under Hillary Clinton to place Boko Haram ("Secular Education is Sinful") on the list of foreign terrorist organizations in 2011, despite the urging of the Justice Department, the FBI, the CIA, and over a dozen Senators and Congressmen. The de facto protection thus given to Boko Haram has enabled it to morph into a state-within-the-state with an estimated 300,000 followers.
It would be ironic if "the world" were to look to America for help in Ukraine (which in any event it does not), since the course of crisis there has been, overwhelmingly, of Washington's own making, as manifested in Victoria Nuland's famous phone call to Ambassador Pyatt. The new Drang nach Ostenmakes sense from the point of view of the liberal globalist-neoconservative duopoly: there is no better way to ensure U.S. dominance along the European rimland in perpetuity than drawing Europe back into NATO (i.e. U.S.) security orbit in general and subverting the Russo-German rapprochement in particular. The "masked men" in buildings are a direct consequence of American meddling.
"So the United States is and remains the one indispensable nation. That has been true for the century past, and it will be true for the century to come."
It has never been true, it is not true now, and it never will be true. Madeleine Albright's famous dictum was an arrogant statement by an immigrant ignorant of American history and a sign of her well-attested instability. It was reiterated in Bill Clinton's 1996 speech, where he explained why he intervened, disastrously, in Bosnia: "The fact is America remains the indispensable nation. There are times when America, and only America, can make a difference between war and peace, between freedom and repression, between hope and fear." That Obama has chosen to recycle such rubbish is a sign of intellectual and moral bankruptcy. "Indispensable" to whom, exactly? It is unimaginable for the leader of any other country in the world – Vladimir Putin, say, or Xi Jinping – to advance such a claim. It is tasteless at best and psychotically grandomaniac at worst, a latter day "Manifest Destiny" on steroids. The problem is that such hubristic delusions easily translate into non-negotiable foreign policy objectives. Resisting the will of the "indispensable nation" is ipso facto evil: Susan Rice's condemnation of Chinese and Russian vetoes of the U.S.-supported UN Security Council resolution on Syria as "disgusting," "shameful" and "unforgivable" comes to mind.
"Russia's aggression towards former Soviet states unnerves capitals in Europe while China's economic rise and military reach worries its neighbors."
Quite apart from the genesis of the crisis in Ukraine, to which "Russia's aggression" hardly applies, Obama's use of the term "former Soviet states," plural, implies that in his opinion Ukraine is not the only "victim of Russia's aggression." Presumably he means Georgia, the only "former Soviet state" with which Russia has had a conflict since the collapse of the Soviet Union. If so, and there is no other explanation for his turn of his phrase, Obama has a dangerously flawed understanding of the August 2008 Georgian crisis.
Georgian then-President Mikheil Saakashvili's order to attack South Ossetia's capital, Tskhinvali, was a breathtakingly audacious challenge to Russia, to which she was bound to react forcefully. That response was promptly exploited, for the first time since Gorbachev, by the American mainstream media machine and the foreign-policy community in Washington to paint Russia as a rogue power that is not only dangerous but intrinsically malignant. The vehemence of that rhetoric exceeded anything ever said or written about jihad, before or after September 11. To be fair, Saakashvili was led to believe that he was tacitly authorized to act as he did. President George W. Bush had treated Georgia as a "strategic partner" ever since the Western-engineered "Rose Revolution" five years earlier, and in early 2008 he strongly advocated NATO membership for Georgia. Washington had repeatedly supported Georgia's "sovereignty and territorial integrity," which implied the right to use force to bring South Ossetia and Abkhazia to heel, just as it is supporting "resolute action" in Donetsk and Lugansk today. Saakashvili may be forgiven for imagining that the United States would have bailed him out if things went badly. It is noteworthy that he was not disabused of such notions. The calculus in Washington appears to have been based on a win-win scenario, not dissimilar to the current Ukrainian strategy. Had Georgian troops occupied South Ossetia in a blitzkrieg operation modeled after Croatia's "Operation Storm," while the Russians remained hesitant or ineffective, Moscow would have suffered a major strategic and (more importantly) psychological defeat after almost four years of sustained strategic recovery. If Russia intervened, however, she would be duly demonized and the U.S. would push for NATO consolidation with new vigor. "Old" Europeans – the Germans especially – would be pressed to abandon their détente with Moscow. A resentful Georgia would become chronically anti-Russian, thus ensuring a long-term American presence in the region.
In the event, like the Ukrainian army today, the Georgian army performed so poorly that a military fait accompli was out of its reach. Excesses against Ossetian civilians – just like the shelling of schools in Slavyansk today – made the "victim of aggression" narrative hard to sell, Obama's "aggression" rhetoric notwithstanding.
"The question we face… is not whether America will lead but how we will lead, not just to secure our peace and prosperity but also extend peace and prosperity around the globe."
It is unclear how, if at all, America will secure her own "peace and prosperity" in the years and decades to come, let alone how she can extend it "around the globe." If this is a statement of Obama's grand strategy, it is flawed in principle and unfeasible in detail. In this statement there is not a hint of an overall blueprint for action that matches our country's resources to her vital interests. A sound grand strategy enables a state to deploy its political, military, economic, and moral resources in a balanced and proportionate manner, in order to protect and enhance its security and promote its well-being, never mind "the globe." In Obama's universe, however, there are no brains behind "indispensable," heavy-handed diplomacy and military power. Obama creates a false dilemma ("the question we face") unsupported by facts. China, India, Russia, the Muslim world and Latin America do not want to be "led," quite the contrary. Old Europe is reluctant at best. Subsaharan Africa is an irrelevant mess. The question we face is not global leadership, but national survival.
"Regional aggression that goes unchecked, whether in southern Ukraine or the South China Sea or anywhere else in the world, will ultimately impact our allies, and could draw in our military. We can't ignore what happens beyond our boundaries."
This simultaneous dig at Russia and China reflects a hubristic world view that is unmatched by conflict-management resources. A sane American relationship with Moscow demands acceptance that Russia has legitimate interests in her "near-abroad." Obama' four-nation tour of East Asia last Aprilescalated existing U.S. military commitments to the region, created some new ones, deeply irritated China, and emboldened American allies and clients to play hardball with Beijing. Obama does not understand that it is extremely dangerous for a great power to alienate two of its nearest rivals simultaneously. The crisis in Ukraine is going on, but the situation in Asia is potentially more volatile. Dealing with both theaters from the position of presumed strength and trying to dictate the outcomes is perilous, as many would-be hegemons (Philip II, Louis XIV, Napoleon, Kaiser Wilhelm, Hitler), blinded by arrogance, have learned to their peril. Obama has continued the hegemonist habit of instigating crises at different spots around the world, even though the resources are scarce and the strategy is fundamentally faulty. An overtly anti-U.S. alliance between Russia and China is now in the making. U.S. overreach led to the emergence of a de facto alliance in the Eurasian Heartland, embodied in the gas deal signed in Shanghai. Russia and China are not natural allies and they may have divergent long-term interests, especially in Central Asia, but they are on the same page when it comes to resisting U.S. hegemony, pardon, "leadership." In the early 1970's Dr. Henry Kissinger wisely understood the benefits of an opening to Beijing as a means of pressuring Moscow on the Cold War's central front. Back then the USSR was far more powerful than the People's Republic. Today, by contrast, China is much more economically and demographically powerful than Russia, and for the United States the optimal strategy would dictate being on good terms with the weaker party in the triangle. America does not have a policymaker of Kissinger's stature today, who would understand the potential of a long-term understanding with Moscow as a tool of curtailing Chinese ambitions along the Pacific Rim.
"America must always lead on the world stage. If we don't, no one else will. The military that you have joined is, and always will be, the backbone of that leadership."
The notion that "the world stage" demands a "leader" is flawed. It is at fundamental odds with the balance-of-power paradigm, which has historically secured the longest periods of peace and unprecedented prosperity to the civilized world. Today's world is being multipolarized, whether Obama the Exceptionalist likes that or not. The very idea of the self-awarded "world leadership" would appear absurd in the days of Bismarck or Metternich. Washington has neither the resources nor the minds for such a role, even if it were called for.
"The United States will use military force, unilaterally if necessary, when our core interests demand it — when our people are threatened; when our livelihoods are at stake; when the security of our allies is in danger."
None of the above applied in Bosnia, Kosovo, Afghanistan, Iraq, or Libya… but enough of Obama. There was more rhetoric at West Point, including an ode to American exceptionalism and further references to America's global leadership, but it just as tedious, vacuous and intellectually wanting as the first ten minutes of his address.
Overall, it is evident that the United States in Barack Obama's final term has not given up the hegemonist habit of instigating crises at different spots around the world, even though the management resources are scarce and the strategy is fundamentally faulty. An overtly anti-U.S. alliance between Russia and China is now in the making. It will be a belated equivalent of the Franco-Russian alliance of 1893 – the predictable result of an earlier great power, Wilhelm's Kaiserreich, basing its strategy on hubristic overestimation of its capabilities. U.S. overreach has led to the emergence of a de facto alliance in the Eurasian Heartland, embodied in last month's energy agreement signed in Shanghai. Russia and China are not natural allies and they may have divergent long-term interests, especially in Central Asia, but they are on the same page when it comes to resisting U.S. hegemony.
In the early 1970's Dr. Henry Kissinger wisely understood the benefits of an opening to Beijing as a means of pressuring Moscow on the Cold War's central front. Back then the USSR was far more powerful than the People's Republic. Today, by contrast, China is much more economically and demographically powerful than Russia, and for the United States the optimal strategy would dictate being on good terms with the weaker party in the triangle. It is unfortunate that America does not have a policymaker of Kissinger's stature today, who would understand the potential of a long-term understanding with Moscow as a tool of curtailing Chinese ambitions along the Pacific Rim.
Judging by the West Point address, for the remaining two and a half years of Obama's term U.S.-initiated global confrontations will continue as before. Instead of de-escalating the bloody mess to which she has made a hefty contribution, Victoria Nuland will continue encouraging her blood-soaked protégés in Kiev to seek a military end-game in the East. Instead of calming the South China Sea, Washington will continue encouraging its clients to be impertinent. And Putin and Xi will draw their conclusions: that they do have a powerful common enemy, a rogue regime not amenable to reason or rational calculus.
It cannot be otherwise, considering the Obama Administration's 2012 Defense Strategic Guidance, which is but a rehash of the strategic assumptions of the Bush era. In Obama's words from two years ago, our "enduring national interest" is to maintain the unparalleled U.S. military superiority, "ready for the full range of contingencies and threats" amid "a complex and growing array of security challenges across the globe." The Guidance itself asserts that the task of the United States is to "confront and defeat aggression anywhere in the world." This is not a grand strategy but a blueprint for disaster—especially when combined with the interventionists' urge to "confront and defeat" not only aggression as such but also "aggression" resulting from  internal conflicts irrelevant to the American interest (Syria, Ukraine) and putative threats to regional stability (Iran).
Obama is a more reluctant interventionist than McCain or Romney would have been, but he, too, does not recognize the limits of American power and does not correlate that power with this country's security and prosperity. He fails to balance military and nonmilitary, short and long-term capabilities. He rejects the fact that the world is becoming multipolar again, while the relative power of the United States is in steady decline. Obama's absence of a viable grand strategy produces policies that are disjointed, nonsensical, and self-defeating. He is prone, no less than his predecessor, to equate any stated political objective in some faraway land with America's vital interests, without ever offering a coherent definition of those "vital" interests.
On both sides of the duopoly, the ideology of American exceptionalism and the doctrine of global dominance reign supreme. At a time of domestic economic weakness and cultural decline, foreign policy based on the American interest requires prudence, restraint, and a rational link between ends and means. Abroad, it demands disengagement from distant countries of which we know little; at home, a sane immigration policy.
It will not happen.
A 1928 book entitled "Propaganda" by Edward Bernays begins with these words. "The conscious and intelligent manipulation of the organized habits and opinions of the masses is an important element in democratic society.  Those who manipulate this unseen mechanism of society constitute an invisible government which is the true ruling power of our country."
"We are governed, our minds are molded, our tastes formed, our ideas suggested, largely by men we have never heard of. This is a logical result of the way in which our democratic society is organized.  Vast numbers of human beings must cooperate in this manner if they are to live together as a smoothly functioning society."
"Our invisible governors are, in many cases, unaware of the identity of their fellow members in the inner cabinet."  Pg. 9
He continues: "Some of the phenomena of this process are criticized—the manipulation of news, the inflation of personality, and the general ballyhoo by which politicians and commercial products and social ideas are brought to the consciousness of the masses. The instruments by which public opinion is organized and focused may be misused. But such organization and focusing are necessary to orderly life."
"As civilization has become more complex, and as the need for invisible government has been increasingly demonstrated, the technical means have been invented and developed by which opinion may be regimented." Pg. 12
Bernays lived to see a practical application of his ideas in the government of the United States of America.  Born in 1891 he died in 1995 at the age of 103.  His brand of Talmudist humanistic government is the guiding light of our current society.
The Frankfort School enhanced Bernays' totalitarian model with an equally onerous Communism.  With the same geographic German roots Horkheimer, Adorno, Marcuse, Pollock, Fromm, Lowenthal, and others fled Hitler's oppressive regime and sang their song of tyranny in American intellectual circles.
Similar authoritarianism were envisioned by University of Chicago professor Leo Strauss whose students included an array of  movers and shakers (Justice Clarence Thomas; Supreme Court nominee Robert Bork; Deputy Defense Secretary Paul Wolfowitz; former Assistant Secretary of State Alan Keyes; former Secretary of Education William Bennett; Weekly Standard editor and former Quayle Chief of Staff William Kristol; Allan Bloom, former New York Post editorials editor John Podhoretz; and former National Endowment for the Humanities Deputy Chairman John T. Agresto) who often damned Constitutional freedoms in favor of war and conquest.
R. J. Rushdoony's writings emphasize the inevitable development of the tyrannical state as the ultimate authority in humanistic societies.  Instead of deriving order from the immutable dictates of the Creator, humanism leaves the creature with an anarchic, goalless absurdity.  Tyranny is the only solution to mutable human opinion. Governments that evade responsibility to the Creator soon become despotic.
Humanism is not confined to totalitarian governments it is just as prominent and even more deadly in religious organizations.  The Protestant Christian Church began its steep slide with the idea that "free will" allowed the creature to decide whether or not it would accept the Will of the Creator.  Arminianism copies the original sin recorded In Genesis 3. The Bible describes a God Who is sovereign and Who both selects and enables His subjects.  Humanism had grown like a cancer in the Christian Church allowing so called Christians to function as humanists while claiming the Name of Christ.
Several doctrines common in the Catholic Church are equally humanistic.  The Church of Jesus Christ has no authority to forgive sin or to confer salvation; both are reserved to God alone.  The Bible contains no injunction to pray to Mary or to any other human figure the church might designate. This contradicts the Biblical mandate and is blasphemous.
Judaism is rife with human error that began with the Pharisees in the time of Christ and has continued to grow and fester.  God's Word contained in the Torah has been replaced with the words of men in the Talmud where Rabbis override the voice of the Creator with sly rebuttals and ameliorate sin with absurd excuses.  The apartheid Talmud, a humanistic guide to the Torah, rules the behavior of the powerful U. S. Jewish community.
Sincere subjugation to the Living God and attentive obedience to His Word is anathema to the prideful heathens that control the world.  The arrogance that results from human hegemony is forcing dissonant evil on a world of confused and sinful people.  Homosexuality, gay marriage, abortion, porn, imperialistic war, murder, torture, legal theft, judicial injustice, and rampant mendacity have all become entrenched in our society.
R. J. Rushdoony writes: "The alternative to the sovereignty, government, and providence of the triune God is in practice the sovereignty, government, and providence of church state or some agency of man.  It means freedom from God for the slavery of sin and rebellion.  The man who is in revolt against God's reign will soon be the slave, not only of sin, but of apostate institutions, churches, states, families , men, women, and children.  For such a slave, freedom is intolerable.  As a young Nazi boasted before WWII, 'We are free of freedom.' "   "Systematic Theology" Pg. 211-212
The passage reminded me of my estranged daughter who along with her husband and five grandchildren left the family, sold their home and all their possessions and moved into a cult.  They had a fine marriage and were excellent parents but they struggled to make a living and to find an outlet for their Christianity.
They were always happy to receive help but they regularly ignored advice.  Their failure to cope with the responsibilities of freedom was a product of their own rebellion and now they live and work under the control of others.
Slavery has been demonized in our society but it is not always bad.  There are those who prefer to delegate their freedom and will work for those who assume responsibility.
When Bernays refers to "the masses" he uses an impersonal derogation to describe the population that failed to ascend into the elite structure.  Today, that would be the 99 percent who are under the rule of a shadowy elite one percent.
It is an interesting fact that our Constitution was crafted in secret by a group of leading citizens.  It was designed to provide freedom to the population through rule of the people by the people.  It was a sterling concept but it had a fatal flaw:  Authority was vested in citizens who do not have the ability to properly govern themselves
Governments that are not bound to God's Law will always become tyrannical.  Libertarians seek a minimum of government intrusion – some seek none.  They come close to the Christian concept which is miniscule.  But since humans were not created to govern themselves they require an overarching authority.  God's model has the entire creation under His mandates.  His model provides maximum freedom for both the leaders and the people. It offers an absolute legal code that cannot be amended.  Without this immutable anchor for all of God's creatures tyranny will continue.
"The providence of God is little spoken of today, because His powers of government have been transferred to the state and to man, together with His sovereignty.  It is the stare that today preaches providence to willing congregations, calling it cradle to grave for (or womb to tomb) care, social security, and a variety of other names.  Men everywhere believe in providence, and they look to their gods to it. Unhappily, their gods are false gods, and not the living Lord."  R. J. Rushdoony  "Systematic Theology", Vol 1, Pg. 211
It is easy to stand up and cheer for your favorite government activity. It is quite another to acknowledge what it means in the real world.
I almost never try to speak for other people. However, I think it is fairly safe to say that the average military recruit firmly believes that he joins the military so that you and I can live and breathe in freedom. To be sure, he had other reasons for joining, but I think the defense of liberty is a fairly common characteristic.
That is certainly what I thought when I was in Navy boot camp in Orlando, Florida, in 1983. After all, this is what I had been told all my life: sailors, soldiers, airmen and marines defend freedom.
But is this actually what they do?
Consider the following:
This Marine lost both legs in an IED blast in Iraq. He claims he was forced by TSA to remove both prosthetic legs before he could board an airplane in Phoenix.
This Vietnam veteran in Spicewood, Texas, had flashbacks to his combat experience during a marijuana raid at a friend's house. What police claimed was marijuana turned out to be ragweed.
Jared Goering, who served 19 years in the Army, including tours in Iraq and Afghanistan, was kicked off the boardwalk in Wildwood, N.J. for walking with his service dog, Gator.
Emily Yates, who served two tours with the Army in Iraq, was violently arrested by park police in Philadelphia for asking why she couldn't play her banjo under some shade trees.
Dimitrios Karras is a Marine Corps veteran of Iraq and Afghanistan. Read about the ATF raid on his business in National City, California.
Martin Goldberg of Brooklyn is a World War II veteran whose apartment was subject to a drug raid. Later, the cops realized they had raided the wrong apartment. His 83-year-old wife was hospitalized with an irregular heartbeat as a result of the raid.

In 1997, four sailors from the USS Saipan (LHA-2) were falsely accused of the rape and murder of a Norfolk, Virginia, woman. One spent eight-and-one-half years in prison while the other three were sentenced to life in prison. These three were pardoned in 2009. Even though the actual killer is serving a life sentence, four innocent men are still required to register as sex offenders and are still fighting to clear their names.
Charles Loeks was 18 and fresh out of Marine boot camp. On a trip home to Covina, California, he was hanging out with a few friends when he was arrested for resisting arrest and nothing else. He spent 21 days in Los Angeles County jail, even though he had harmed no one.
Carlos Jaramillo is a former Marine combat instructor who lives in Onslow County, North Carolina. Watch what happened when he recorded a sheriff's deputy who arrested him for no apparent reason.
Noel Polanco was an unarmed 22-year-old National Guardsman who was shot and killed by New York City police at a traffic stop near LaGuardia Airport.
John Laigaie, a retired Army master sergeant, was threatened at gunpoint by police while legally carrying a gun in a park in Bellingham, Washington.
Homer Wright is an 80-year-old Army veteran who was charged with felony gun use after he shot a burglar who entered his home in Englewood, Illinois.

Mark Schmidter, a Vietnam veteran who lives in Orlando, is currently serving 145 days in a cage for passing out jurors' rights information on the steps of a local courthouse.
Justin Ross of Ankeny, Iowa, was recently discharged from the Army. Police used a battering ram to enter his home executing a warrant for some items purchased with stolen credit cards. They did not find any of these items.
Saadiq Long is an Air Force veteran who was placed on a TSA no-fly list. He had to battle for months to be removed from this list just so he could fly home from Qatar to visit his ailing mother.
Chuck Benton of Long Grove, Iowa, served 22 years in the Army. He was arrested and charged simply for living in the same house with his son who was growing medical marijuana.
Cody Donovan is a former Marine MP who lives in New Milford, N.J. He was charged with unlawful possession of a weapon after carrying a loaded gun into the Garden State Plaza mall when he attempted to help police apprehend the shooter.

In 1932, 17,000 veterans marched on Washington to demand payment of bonuses they had been promised as a result of their service in World War I. Two were shot and killed by police. 55 were arrested and 135 were injured when the United States Army became an instrument of domestic law enforcement. Two of the chief enforcers were named MacArthur and Patton. Yes, those two.
Mark England, an Army combat medic who saw action in Iraq and Kosovo was beaten and tasered by police at McCarran Airport in Las Vegas.
Air Force Staff Sergeant Matt Pinkerton of Glen Burnie, Maryland, faces second degree murder charges after fatally shooting a home intruder in September.
Leo Hendrick, an army veteran who lives in Northwood, Iowa, faces up to 30 days in jail and a $600 fine for raising chickens in his yard.
Yes, the cops had a search warrant. However that in no way excuses their vandalizing the home of Army veteran Dan Neary of Lakewood, Washington.
These World War II veterans were threatened with arrest for visiting a closed war memorial in Washington, D.C. during the October "shutdown."

These Vietnam veterans actually were arrested for visiting a New York City war memorial after curfew.
Denis Reynoso was a disabled veteran who saw action with the Marines in Iraq. He was shot dead by police in his Lynn, Massachusetts, apartment.
Nick Morgan, an Iraq veteran, was pulled out of a crowd by police in Hempstead, New York, and trampled by their horses.
Gary Shepherd of Broadhead, Kentucky was a Vietnam veteran. He used medical cannabis to relieve the pain in his left arm, which was crippled during the war. Shepherd was shot dead by a SWAT team, after they had threatened to cut down his cannabis plants.
Valente and Manuel Valenzuela of San Antonio produced sufficient documentation to enlist, respectively, in the Army and Marine Corps. Both fought in Vietnam, where Valente won a Bronze Star. Now they are facing deportation to Mexico because of erroneous entries on their birth certificates.
Jerome Murdough, a homeless Marine Corps veteran, died in a jail cell on New York's Rikers Island after being arrested for trespassing. A heating malfunction caused the temperature in the cell to soar to 100 degrees.
Kenneth Chamberlain was a retired Marine and Vietnam veteran living in White Plains, New York. Early one morning he set off his medical alert device. The first responders in this case were not medics, but rather police, who proceeded to kill Mr. Chamberlain.

This group of combat veterans in Colorado organized to help legalize marijuana during the 2012 elections. They claim – and I believe them – that marijuana helps mitigate PTSD. If you support any punishment whatsoever for a combat veteran who heals himself with a plant that grows wild in some form within a few miles of you, I don't care what you tell me. YOU DON'T BELIEVE IN FREEDOM!
Stanley Gibson, a 43-year-old Gulf War veteran was shot dead over a total non-crime by Las Vegas police in December, 2011.
Army Specialist Michael Sharkey returned home from deployment in Afghanistan to find his home in New Port Richey, Florida, unlawfully occupied by two squatters. The local sheriff says that Sharkey has no grounds upon which to evict them.
These veterans say they are being required to prove they are worthy of gun rights. Our rights are gifts from God that are inherent in our very humanity. We never have to prove to anybody that we have them.
Dwight Edwards, a disabled Marine veteran of Afghanistan, says that cops in Queens brutally beat him for no reason.
Army Staff Sgt. C.J. Grisham, who won the Bronze Star with Valor, was forcibly disarmed for no good reason by a policeman while on a hike with his son not far from Fort Hood, Texas.

Brandon Raub, a Marine who was decorated for bravery in Iraq and Afghanistan, was forced to spend a week in a Virginia mental hospital over some "anti-government" Facebook posts. (His interviewer here, John Whitehead, is a constitutional attorney, Vietnam infantry veteran and superlative anti-police state blogger.)
Operation Vigilant Eagle is a project of the Department of Homeland Security that has led to numerous Iraq and Afghanistan veterans "finding themselves under surveillance, threatened with incarceration or involuntary commitment, or arrested, all for daring to voice their concerns about the alarming state of our union and the erosion of our freedoms." Indeed, merely being a "returning veteran" can have you designated as a potential terrorist.

We will never know the whole truth about Navy veteran and former Los Angeles cop Christopher Dorner, who was the subject of a police manhunt and media witch hunt in 2013. He never got the chance to tell his story in court.
Hector Barrios came to America in 1961. He was drafted and served as an infantry soldier in Vietnam. In 1996, he was busted for possessing marijuana, which he used to treat his PTSD. As a result, he was deported to his native Mexico where he died.
Matthew Corrigan of Washington, D.C. was a first sergeant in the Army Reserve and a veteran of Iraq. His home was destroyed in a SWAT rampage because it was reported to the police that Corrigan had a gun.
Jamie Dean was an Army veteran of Afghanistan was diagnosed with PTSD. Upset about his impending deployment to Iraq, Dean had an intense emotional outburst at his Maryland home in December 2006. Even though he neither harmed nor threatened anyone, he was shot and killed by a local SWAT team.


Bennie Coleman, 76, is a retired Marine who lost his Washington, D.C., home because of a $134 tax lien that District authorities had sold to an investor.
Jeremy Usher is a former Navy hospital corpsman who lives in Greeley, Colorado. He faces jail time for using medical marijuana to treat his PTSD.
Brittany Ball, a 23-year-old soldier at Fort Jackson, S.C., was manhandled by a cop at a local bar, even though she had done nothing wrong.
Air Force Airman First Class Michael Davidson was shot in the stomach by police in Opelika, Alabama, at the scene of a traffic accident.
Benjamin Wassell sustained traumatic brain injuries while with the Marines in Iraq. The Buffalo-area resident was the first person charged with illegal gun sales under New York's new SAFE Act.

Erik Scott graduated from West Point in 1994 and served as a tank platoon leader. In 2010, he was gunned down and killed by police as he peacefully walked out of a Las Vegas Costco.
Scott Olsen saw action with the Marines in Iraq. Later, he would join the Occupy Oakland movement. In October, 2011, suffered a fractured skull after being hit in the head with a projectile fired by police.
Derek Hale served honorably with the Marines in Iraq. Although, he had committed no crime, he died after being tasered three times and then shot three times by police in Wilmington, Delaware.
Roderick King, an Iraq war veteran, was arrested in Philadelphia after he and his friends had criticized a cop's driving.
Howard Dean Bailey, a Navy veteran, was deported to his native Jamaica when immigration authorities discovered he had taken a plea bargain in a marijuana case in Norfolk, Virginia.

To be sure, the recently deceased folk singer Pete Seeger could not have been more of a leftist. However, he did serve three years in the Army after being drafted during World War II. He was sentenced to one year in jail after refusing to reveal his political connections to the House Un-American Activities Committee in 1956. He appealed this sentence, citing the First Amendment, and ultimately spent only four hours behind bars.
Larry Kirschenman of Nogales, Arizona, served 22 years in the Army and was decorated for bravery in Vietnam. Learn how he was brutalized by Border Patrol agents when asking why he was subjected to a warrantless search.
We will never know for sure what happened in Army veteran Matthew Stewart's Ogden, Utah, apartment one night in January 2012, as he will never have his day in court. He was in prison awaiting trial on charges of shooting and killing one of the police officers who raided his apartment searching for marijuana. Stewart, whose guilt was never proven, committed suicide in his cell.
Sergio Arreola is a cop in Los Angeles who served with the Marines in Iraq. He was beaten by the police in suburban Pomona for no good reason whatsoever.
This former Army paratrooper is appealing to the New York state legislature to legalize medical marijuana. He has severe multiple sclerosis and is "forced to break the law to have some semblance of a bearable existence."


On May 5, 2011, a Tucson SWAT team approached the home of Jose Guerena, who had served two tours with the Marines in Iraq. Guerena grabbed his AR-15 as is his right, but did not fire. The SWAT team let loose with 71 rounds, 60 of which perforated Guerena's body.
Marty Maiden lived a few blocks from Guerena in Tucson. and saw action with the Army in Afghanistan. He posted a suicidal note on Facebook which prompted a call to the police, who shot him dead.
Steve Lefemine is a West Point graduate who was arrested for protesting against abortion in a "no-demonstration zone" outside the Republican National Convention in New York in 2004. The 2nd Circuit U.S. Circuit Court justified the arrest based on a "compelling state interest in security".

Eileen Erickson's husband Sid served in Vietnam and died of Agent Orange exposure. Erickson is now in the crosshairs of authorities in Venice, California, who want to tear down the tree house Sid built before he died.
Listen to this disabled Navy veteran plead with then-Senate candidate Kelly Ayotte (R-NH) about the benefits of medical marijuana. Listen to the totalitarian response.
John Wrana, a 95-year-old Army Air Corps veteran of World War II, was tasered and then shot to death by police in Forest Park, Illinois. His "crime"? Refusing medical attention.
John Colaprete saw action in Vietnam as a Marine Corps officer. In 1994, his Virginia Beach home and restaurants were the object of paramilitary-style raids by the IRS. The raid was prompted by a false accusation by a former employee. While you need to watch this documentary in its entirety some time, for now just pick it up for a few minutes starting at the 55:40 mark.

Boxing legend Joe Louis was also tyrannized by the IRS. The Brown Bomber enlisted in the Army in 1942 saying "Let us at them Japs." Louis never saw combat, as he was assigned to the Special Services Division. While still a civilian, Louis fought some charity bouts and donated the proceeds to the Navy Relief Society. The IRS, however, viewed these proceeds as taxable income. IRS problems would plague him all his life. Please watch this video starting at the 53:17 mark.
Adam Arroyo is a Hispanic veteran of the Iraq war who lives in Buffalo. Police shot and killed his dog while executing a drug warrant for a black man.
Henry Taylor was a retired Air Force veteran in Louisville, Tennessee, who was shot dead by a local sheriff's deputy while investigating a burglary at a rental property he owned.
This is a fascinating article: When Johnny Comes Marching Home … He Goes to Jail. It is absolutely tragic how we chew up and spit out so many of those we send to "fight for our freedom."

Radio talk host Adam Kokesh won the Navy Commendation Medal as a Marine in Iraq. In recent years, he has been arrested several times for various non-violent protests. His most recent arrest happened after he loaded a shotgun in public in Washington, D.C. on July 4, 2013. On July 10, police violently raided his home and arrested him. He was incarcerated for four months without bond, bail or trial. He is currently on probation for two years. You may not like Kokesh's demeanor or approve of all of his antics, but he has been very courageous when so many of his critics can't be bothered to put down the remote.

James Moore, my brothah from anothah mothah, walked away from a very lucrative engineering position in San Jose to re-enlist in the Army following 9/11. He sustained significant physical injuries as well as PTSD while serving in the Special Forces in Afghanistan. On the afternoon of March 25, 2008, Moore, who had done absolutely nothing wrong, was beaten to the point of flat lining by Denver police.
One of the coolest people I have never met is Antonio Buehler. Buehler graduated from West Point in 1999, earned his Ranger tab, and saw action in Kosovo and Iraq. (He also sports a Stanford MBA.) Early in the morning on January 1, 2012, Buehler was arrested for taking a few pictures of Austin police manhandling a young woman outside a 7-11. Buehler has been arrested four times since. He heads the Peaceful Streets Project, whose members work to expose abuse, brutality and overreach both in Austin and across the nation.

There are no doubt numerous other injustices against veterans that I do not know about. Enough to fill a book. None of these things would have happened if America were a free society. As Kokesh puts it, "The greatest enemies to the Constitution are not to be found in the sands of some far off land but rather right here at home."
I cannot speak to the specific political beliefs of most of the veterans I have mentioned here. Some may be pacifists, while others may make John McCain look like a hippie in Haight-Ashbury. No matter what their individual views may be, the freedom they risked their lives for was flagrantly violated on the streets of the land they fought to protect.
Society endlessly applauds sailors, soldiers, airmen and Marines for "fighting for our freedom". It is in no way disrespectful to say that this is not what they do. No foreign government or terrorist group poses any threat to our liberty. America accounts for about half of the world's military spending. We have 300 ships in our Navy, plus thousands of planes, tanks and nuclear warheads as well as 300 million firearms in private hands. Nobody is going to invade us.
In a constitutional country, which America ceased to be 100 years ago, the job of the military – a vital and most noble one – is to defend the borders, shores and airspace. It cannot protect you from being tyrannized domestically. Indeed, throughout history, armies have been instruments of domestic tyranny. Our Constitution forbids a standing army for just this reason.
Nazi Germany and Soviet Russia had enormous military establishments. How did things work out in these countries?
I am a Christian who believes liberty is a gift from God – Leviticus 25:10; II Corinthians 3:17; Galatians 5:1. To quote Jefferson, liberty is preserved not by military might, but by "eternal vigilance" against one's own government at all levels. It is the grossest form of disrespect to send young men around the world to "fight for freedom" while relinquishing that freedom on the home front.
For several years, America has had the world's highest incarceration rate. Since 2001, Americans have gladly accepted previously unthinkable intrusions on their freedom in the name of "safety" and "security". These include, but are not limited to: warrantless searches and spying, the suspension of habeas corpus, sexual assault as a condition of travel, rampant police brutality, indefinite detention without any semblance of due process, severe restrictions on peaceful protest, massive ammunition purchases by DHS and surveillance drones in our skies watching our every move. Can predator drones be far behind?
And in every election 98 percent of voters put their stamp of approval on perpetuating this monstrosity.
On April 20, 2013, Boston and several surrounding towns got a serious taste of martial law. How many military veterans were on the receiving end of this? Is this what they signed up to fight for?
Stop thinking in clichés. Have a good hard look at everything your media and government tell you. This includes media outlets and parts of the government that you like. Study. Read. Ask questions. And learn that the defense of liberty is not the duty of the military. Rather, it is your duty and mine.
~~~~~~~~~~~~~~~~~~~~~~~~~~~~~~~~~~~~~~~~~~~~~~~~~~~~~~~~~~~~~
China is an economic powerhouse. It's the world's second largest economy. It's heading for number one status.
Perhaps sooner than most expect. It's growth way outdistances America. It's multiples greater.
Russia matches Washington's military might. It does so in nuclear weapons strength. With sophisticated delivery systems.
Able to strike global targets accurately. With hugely destructive force. Enough to decimate potential adversaries. Perhaps to discourage potential aggression.
Russia is rich in what China needs most. Oil and gas mainly. Technological expertise. Industrial equipment. Sophisticated weapons.
Each nation is significant separately. They're able to challenge America responsibly.
Together they're a powerful combination. A force for world peace. For multi-polarity. For humanity. For weakening Washington's imperium.
Sino-Russian ties stress unity. They're strategically important. They're stronger than ever in modern times.
They're deepening. They expanding. Washington is increasingly concerned. It's going all-out to subvert what weakens its strength.
It's waging political, economic and cyberwar. It's fighting a losing battle. Sino/Russian unity is odds on to prevail.
Especially with committed ties. With deepening ones. With stronger than ever ones.
On Tuesday, Putin arrived in Shanghai. It's China's financial capital. He came to finalize a "Holy Grail" trade deal. It's enormously important.
It bonds both countries more closely together. It does so politically economically, commercially and militarily.
Both countries will trade increasingly in their own currencies. They'll strengthen them. They'll bypass dollar transactions. They'll weaken it.
Russia will supply China with around 38 billion cubic million meters of natural gas annually. For the next 30 years.
It may double in size ahead. Depending on China's internal needs.
Other increased trade was agreed on. In technological, industrial, and commercial sectors. In military hardware.
Growing Sino-Russian trade lessens reliance on increasingly undependable Western sources. It gives them less access to their markets.
Putin and Chinese President Xi Jinping reject irresponsible US-led Western bashing. They called sanctions political tools.
They condemned "encouraging and financing" Washington's regime change agenda.
The President of Russia's web site headlined "Russian-Chinese talks." Both leaders met in Shanghai.
They "signed a Joint Declaration of the Russian Federation and the People's Republic of China on the new stage of comprehensive partnership and strategic cooperation between the two countries."
They "witnessed the signing of a package of intergovernmental, interdepartmental and commercial documents on cooperation in the economy, trade, energy and the humanitarian areas."
They issued a joint statement. "(A)mbitious goals" were agreed on, it said. "(L)ong-term milestones" were established.
"(I)mportant bilateral documents" were signed. "Relations between Russia and the People's Republic of China are developing successfully and have reached a new level of comprehensive partnership and strategic cooperation," it stressed.
"(S)pecial attention (was on) economic issues. China is Russia's leading foreign trade partner."
A Sino/Russian Investment Committee was established. Its mandate is expanding economic and financial ties.
It's "diversifying trade." It's "reducing…dependence on global economic" conditions.
It's promoting cooperation in "technology-intensive areas." They include industrial, commercial, banking and military areas.
They're increasing bilateral ruble/renminbi trade. It bears repeating. Doing so bypasses dollar transactions. It weakens dollar strength.
Putin said "the historical memory of the great heroism of our peoples in World War II brings Russia and China even closer."
Both leaders agreed to hold joint celebrations. They'll commemorate "the 70th anniversary of Victory."
Other international issues were discussed. They include common geopolitical ones. Similar priorities are shared. Closer coordination is planned.
Sino/Russian unity, partnership and friendship were strengthened. It's a "new stage" in "strategic relations."
Strong bilateral relations are a force to be reckoned with. It promises to be more so ahead.
Moscow remains justifiably angry. It's enraged about Washington elevating Kiev putschists to power. Rogue EU partners share blame.
Putin and Xi said crisis conditions can only be resolved diplomatically. They demand dialogue. They reject confrontation.
They "urged all Ukrainian regions and public and political groups to enter in broad nationwide talks…"
They want responsible governance. They want legitimate constitutional development.
They want "universally recognized rights and freedoms of people" observed.
Sergey Lavrov said Russian/EU/US-led NATO relations need fundamental reconsideration.
They require "essential rethinking," he said. Disagreements must be resolved diplomatically, he stressed.
US-led NATO created Ukrainian crisis conditions. Russia targeting followed.
Western forces irresponsibly expand eastward. Encroaching on Russia's borders threatens its heartland.
Bilateral relations are jeopardized. East/West confrontation is risked. So is world peace.
The road to Moscow runs through Kiev. Junta power has no legitimacy. Fundamental freedoms are targeted.
Eliminating them altogether is planned. Hardline rules runs things. Opposition isn't tolerated.
Free expression is verboten. Putschists want their message alone getting out. They want vital truths suppressed.
Independent journalists aren't safe. Russian LifeNews ones were targeted.
Oleg Sidyankin and Marat Saichenk were harassed. They were arrested. They're detained. They're held incommunicado.
Their lives potentially are endangered. They're charged with "aiding terrorist groups."
They released damning video images. They showed Kiev military forces using UN-marked attack helicopters against their own people."
Air and ground assaults murder them in cold blood. Kiev wants this type information buried.
It wants reliable news sources eliminated. RT International's stringer journalist Graham Phillips was arrested.
He explained by phone before silenced incommunicado, saying:
"I'm sitting at a blockade post in a portacabin. The dialogue is quite interrogation oriented."
His car was searched. His laptop, equipment and personal belongings were confiscated.
"At the moment I'm with the Ukrainian forces…near Mariupol," he said. "I've been here for over two hours and I've been described, my status, as being detained in terms of I can't leave."
"I would also say I'm being treated OK…I believe that someone is coming."
"They've done checks on my documentation. They found my reports and clips I've done and they're now looking through them asking me my position on things, asking if I'm a spy, and asking me quite thorough questions."
"They've checked all my documentation and photos, my laptop and the car. So that's who I'm with at the moment."
He was asked about separatism. About working with RT. He "describ(ed) (his) position on Crimea."
He called its referendum legitimate. He stands by his position, he said.
He called Kiev's government illegitimate. It "isn't democratic. I don't support this current situation in the east of Ukraine," he said.
In Donetsk and Lugansk regions. He called attacking Eastern Ukrainians "completely wrong."
At the same time, he "maintains complete objectivity and neutrality as a correspondent."
His bulletproof jacket and helmet were confiscated. He's unharmed so far, he said. Incommunicado since cut off there's no way to know for sure.
Right Sector thugs targeted him. They put a bounty on his head. They offered $10,000 for his capture.
They called him a "Russian spy." His life's endanger in their hands. Or in sight to be shot in cold blood.
Radicalized Kiev elements posted a Facebook comment. He "works for terrorists," it said.
"(H)e photographs and publishes the location of Ukrainian troops…"
He "spreads disinformation. (He publishes) Putin's propaganda in the media."
"He must be immediately detained by Ukrainian forces ad deported from Ukraine." Orders come from "EuroMaidan leaders," it claimed.
Russia's Foreign Ministry condemned his detention. Its human rights commissioner Konstantin Dolgov called it media obstruction.
"This is another step…made by Ukrainian authorities to curb the activities of unwanted journalists," he said.
They "work professionally and show an objective picture, the ugly side of the outrages made by ultranationalists, the results of (Kiev putschists') punitive operation in the southeast," he stressed.
Seizing Phillips constitutes an "unlawful seizure, detention of Russian journalists." Moscow demands all lawlessly detained media representatives be released.
Kiev "continues its vicious line," Dolgov added. Coup-appointed officials spurn their "international obligations concerning freedom of speech."
They target media freedom. They want it eliminated altogether. They want their message alone reported. They want truth buried.
They want fascist putschist power enhanced. They deplore democratic values.
They want ordinary Ukrainians having no say. Polls show their popularity eroding. They risk losing it overwhelmingly.
Perhaps nationwide rebellion will follow. When ruthlessness exceeds levels too great to tolerate, all bets are off.
The only solution is nonviolent revolution. Perhaps just a matter of time. It can't happen a moment too soon.
Stephen Lendman lives in Chicago. He can be reached at lendmanstephen@sbcglobal.net.
His new book as editor and contributor is titled "Flashpoint in Ukraine: US Drive for Hegemony Risks WW III."
http://www.claritypress.com/LendmanIII.html
Visit his blog site at sjlendman.blogspot.com.
Tony Bennett left his heart in San Francisco — and Michelle Obama left her brain in 1954.
Addressing graduating high-school students the other day in the Topeka, Kansas, school district, the federal lunch lady said, referring to the Brown v. Board of Education decision, "[Y]our experience here in Topeka would have been unimaginable back in 1954…." And perhaps this is true.
It also would have been unimaginable back in 1554 or 954. After all, the institutions making that experience possible hadn't been birthed yet.
You know, those institutions created by European/ European-descent civilization.
That civilization that Darth Vegan is tacitly impugning with her racial agitation.
The point is that if you're going to talk about the past, don't tendentiously cherry-pick it for destructive ideological purposes. It's much as discussion about slavery. Not only is the focus always on the less than one percent of the history of slavery that was written in the US (it's one of the world's oldest institutions), but the most significant point is missed: Whites were not the first to practice slavery.
But they were the first to abolish it.
If some take offense at this, they can pound sand. I take offense at the constant derision aimed at my civilization by critics who should get down on their knees, kiss the ground trod by our ancestors and thank God for our civilization's existence. Where else could effete ne'er do wells complain about injustice while living a life of silk, satin and Sidwell Friends and dining on Kobe beef?
Really, this all reminds me of how no good deed goes unpunished. This focus on a group's sins to the exclusion of its triumphs is much like trying to epitomize a cracker-jack golfer by some of his three-putts while ignoring his many championships; it's like condemning a great rocket engineer over a few failed trial launches and ignoring that he got you to the moon.
M. Obama also said to the students, "We know that today in America, too many folks are still stopped on the street because of the color of their skin…." This is absolutely true. Just this past Mother's Day weekend a white family was stopped and beaten by a black mob because of the color of their skin.
Of course, these black-on-white racial attacks — already a frequent but largely unreported phenomenon — will only worsen with racial hustlers such as the Obamas peddling their "series of agreed-upon myths," to use Napoleon's characterization of history.
And this agitation has its effect. Just consider the testimonial Reverend Jesse Lee Peterson, president of the Brotherhood Organization for a New Destiny (BOND), gave about how race-hustling affected his attitude prior to his religious conversion. He said in a 2013 Los Angeles Times interview, "I believed the lie that because I was black, I wasn't going to be able to make it because of the white man…. I was listening to people like Jackson and Louis Farrakhan…. He talked about the blue-eyed devil, and I believed him. I started hating white people." And since most people don't experience religious conversions, what's the result of this brainwashing?
It's that now, "not all but most black people are so racist toward white people," Peterson explained.
And this explains the Obamas. They are obsessed with race.
Obsessed.
And what, America, did you expect when electing a far-left, radical, black-liberation-theology-church-attending, Marxist-leaning, terrorist-consorting ex-socialist-party member who cut his political teeth in the Chicago machine? Mr. Smith goes to Washington?
Well, it was actually Uncle Sam goes to Hell.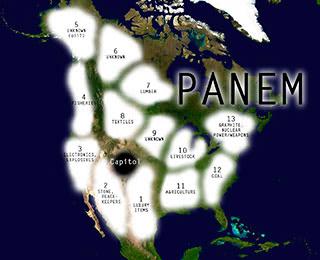 One of the most popular films of 2012 was The Hunger Games which portrayed a post-apocalyptic nation called Panem in which a super-rich, super-pampered, super-callous 'elite' lived in high-tech luxury while the rest of the population daily battled to survive in abject poverty locked away behind prison fences in intensively-populated 'people zones'. Panem comes from the Latin phrase 'panem et circenses' or 'bread and circuses' — a term derived from Rome and meaning to give the people diversions and distractions to hide what is being done to them. Exactly what is happening today.
The Totalitarian Tiptoes to just such a world are happening all around us, although most people can't see this because they don't connect the dots. People tend to live in their own 'little world' and focus on only a few subjects and interests. This gives them a distorted view of what is happening because they are so busy concentrating on the strands that they cannot see the tapestry. The world of The Hunger Games is already well on the way to fruition unless humanity has a fundamental reassessment of reality.
The foundations, structure and 'must haves' of a Hunger Games society are detailed in a plan being imposed through the United Nations called Agenda 21 which encompasses two related themes of 'sustainable development' and 'biodiversity'. Sustainable development — as in don't use more than can be replaced — sounds sensible enough at first until you realize what this and biodiversity really mean in the context of the conspiracy.
Agenda 21 was established at the United Nations Conference on Environment and Development in Rio de Janerio, Brazil, in 1992, hosted by Maurice Strong, a Canadian oil and business billionaire and long-time front man for the Rothschilds and Rockefellers. Strong has been a leader of their exploit-the-environment-to-scam-the-people programme which is now in full flow. Strong is a member of the Club of Rome, the environmental Hidden Hand in the Round Table network that includes the Bilderberg Group, Trilateral Commission and Council on Foreign Relations.
Strong said in support of Agenda 21:
'Isn't the only hope for this planet that the industrialised civilization collapse? Isn't it our responsibility to bring that about?'
This is a man who became mega-rich through the oil industry. He now lives in billionaire luxury in China where carbon-emitting industry is booming and he is a director of the Chicago Climate Exchange (largest shareholder, Goldman Sachs), which is 'the world's first and North America's only legally-binding greenhouse-gas emission registry reduction-system for emission sources and offset projects in North America and Brazil'.
The Exchange was established with funding from the Joyce Foundation where Barack Obama was once a director. Strong and Al Gore make money through the Carbon Exchange and other means from the lies they promote about climate change and the solutions they propose. Kate Johnston wrote on the Globalresearch.cawebsite:
'The same men that sold us the myth of man-made global warming are the same men that sold us the "solution" of a Carbon Tax and Emissions Trading Scheme and now they're profiting off their lucrative investments which are based on lies.' (See "The Climate Change Hoax").
Strong fled to China in 2006 after being accused of corruption with respect to the UN oil for food program.
Climate change propaganda is a No-Problem-Reaction-Solution technique to justify Agenda 21 and its stable-mate the Biodiversity Treaty. This is an internationally-binding document involving nearly 200 countries. The United States signed the treaty, but it was not ratified by the Senate after people like ecologist and ecosystem scientist Dr. Michael Coffman exposed its true consequences and implications. He said that he realized during the 1980s and 1990s that the plan was to use the excuse of protecting the environment to confiscate half the land of the United States.
Similar plans exist for every other country. America may not have ratified the treaty, but it is being implemented by the day. Agenda 21 demands the central global control of all land; all private property; all water sources and distribution; all other resources which includes people in its definition; all energy supplies and distribution and all food production and distribution.
Agenda 21 is called 'the agenda for the 21st century' and that refers to global fascism / communism. This is a summary of what Agenda 21 / Sustainable Development / Biodiversity is seeking to impose:
An end to national sovereignty
State planning and management of all land resources, ecosystems, deserts, forests, mountains, oceans and fresh water; agriculture; rural development; biotechnology; and ensuring 'equity' (equal slavery)
The State to 'define the role' of business and financial resources
Abolition of private property (it's not 'sustainable')
'Restructuring' the family unit
Children raised by the State
People told what their job will be
Major restrictions on movement
Creation of 'human settlement zones'
Mass resettlement as people are forced to vacate land where they currently live
Dumbing down education (achieved)
Mass global depopulation in pursuit of all the above
This horrific plan is being coordinated through the United Nations, the stalking horse for world dictatorship, via a non-governmental network once called the International Council of Local Environmental Initiatives ICLEI), and now known as Local Governments for Sustainability although still using the shortened name ICLEI. The United Nations is now opening 'embassies' around the world called 'UN Houses' under the guise of raising awareness of UN activities, but not the activities that people really need to know about. They have opened one in Hunter Square, Edinburgh, Scotland, for example.
Local Governments for Sustainability (ICLEI) and other organisations are integrating the plan into every village, town, city and region and it is already becoming widespread across the world. The organisational infrastructure of Agenda 21 is already fantastic and involves government agencies, non-governmental organisations (NGOs), think-tanks, trusts, foundations, 'training' (mind control) operations and 'initiatives' which have been building the infrastructure for what they call 'the post-industrial, post-democratic' society while the public go about their daily business oblivious of the prison being built all around them by the hour.
Harvey Ruvin, a vice-chairman of ICLEI, was asked how Agenda 21 would affect liberties with regard to the US Constitution and Bill of Rights, private property and freedom of speech. He replied:
'Individual rights must take a back-seat to the collective.'
The arrogance of these people is breathtaking. The extraordinary network supporting ICLEI and Agenda 21 includes the Rockefeller-sponsored America 2050; United Cities and Local Governments (UCLG); Metropolis; World Economic Forum; United Nations Framework Convention on Climate Change; United Nations International Strategy for Disaster Reduction; World Bank; Clinton Climate Initiative; Climate Group (Tony Blair); World Conservation Union (IUCN); Renewable Energy and Energy Efficiency Partnership; Global Footprint Network; Renewable Energy and Energy Efficiency Partnership; Global Footprint Network; International Centre for Sustainable Cities; Earthquakes and Megacities Initiative and the Stakeholder Forum. These and so many others are working to the same end — Agenda 21 and total human enslavement worldwide, although most of those involved will have no idea that they are building a global prison for themselves and their families.
Another of these front organisations is the World Business Council for Sustainable Development which includes the hideously anti-people Monsanto. Destroying food-growing land, contaminating the countryside with toxins and replacing proper food with deadly and soil-destroying genetically-modified organisms is Monsanto's contribution to 'sustainability'. Agenda 21 is operating in more than 600 towns, cities and counties in the United States and expanding by the day.
A member of the Agenda 21 committees in Santa Cruz, California, in the mid-1990s said that the proposals he heard were so crazy that he laughed at them because they could never happen. These included that 'Mother Earth's surface was not to be scratched'; humans should be concentrated in settlement zones; education should focus on the environment as a central organising principle and all aspects of life covered by Agenda 21, but all of these crazy plans are now being introduced. It's all happy, feely, smiling faces and how we care, when the truth is that Agenda 21 is a vicious, brutal, heartless strategy to impose a global Orwellian state.
Agenda 21 manipulators either create or hijack some local organisation or other, many of them in locations with large populations, and they have their (controlled) leadership to agree the Agenda 21 blueprint for their community together with any uninformed, unwitting idiots who can be sold a human nightmare as saving the planet. This allows them to claim that decisions were made after 'public participation' when that would have been the last thing they wanted, and 99 percent of the 'community' has never heard of Agenda 21 let alone had their say on it. They want no democracy which is why these people talk privately, sometimes even publicly, about the post-democratic, post-industrial society.
They want to control every man, woman and child on the planet — everyone and everywhere and every resource, water source and piece of land. To do this they need a global structure of fascist control that goes right down into every local community with the jackboots at local level enforcing the will of the global centre. This is why there is so much emphasis on local authorities and town and city authorities in Agenda 21.
There is a 'training organisation' called Common Purpose (common purpose, common consensus, everyone the same) which has been paid very large amounts of money by governments and local authorities, police forces and other institutions of state to 'train the leaders' of the post-democratic, post-industrial society. Common Purpose was heavily represented in the Leveson 'inquiry' leading to new media laws in Britain. It is not a training programme; it is a programming programme and turns out unquestioning zombie administrators who serve the god of Agenda 21 and the associated European Union. The theme of 'common' also applies to the ever greater standardisation of laws and regulations and constant reference to 'international law'. This is the unfolding global dictatorship of Agenda 21. What do you need to be a global dictator? Laws that everyone on the planet must obey — international law and the standardisation of global regulation.
You can see The Hunger Games connection when you look at the official Biodiversity wish-for map of the United States in Figure 1. The red areas are designated for no human use and most of the rest of America is confiscated for little and highly-regulated use. The mass of the population would be concentrated in high-rise, densely-packed 'human settlement zones' and denied access to something like 80 percent of present day America. It is without question the world of The Hunger Games with a globally-enforced top-down hierarchy that has a world government using its world army and police force to impose its will at regional and local levels (sectors). The Rockefeller-funded America 2050 has produced a map of the new United States divided into eleven 'megaregions' and includes parts of Canada (Figure 2). Seattle, Portland and Vancouver, British Columbia, become the megaregion known as 'Cascadia' and this regional system comes under the collective name of 'megalopolis' which is Greek for large city or great city. America, Canada and Mexico are due to merge to form the North American Union in line with the European Union blueprint.
The European Union is planned to be broken up into regions and the same structure is in development all over the world. The map of the new Europe has regions from different countries linked up with regions in other countries to end any vestige of national sovereignty or even national existence (Figure 3). This is a global plan with its fierce central control hidden behind its lower elements such as the European Union and local government. What is planned would clearly require a fantastic reduction of the global population and this is indeed what Agenda 21 / Sustainable Development / Biodiversity demand.
The e-book Agenda 21: Your Life In Their Hands can be downloaded here.
reference:
Icke, David. The Perception Deception. Ryde: David Icke Books, 2013.
Julian Websdale is an independent researcher in the fields of esoteric science and metaphysics, and a self-initiate of the Western Esoteric Tradition. His interest in these subjects began in 1988. Julian was born in England, received his education as an electronic and computer engineer from the University of Bolton, served in a Vaishnava monastery during 2010, and has travelled to over 21 countries. Julian is also a member of the Palestinian Solidarity Campaign.
Source: Julian Websdale  |  Waking Times | War Is Crime
No one has ever claimed that the financial markets are a level playing field. Equities, bonds, currencies, options and futures are not arenas that operate by equivalent standards for all parties. Great fortunes were built not by chance, but on superior information, known to the few. Professional traders are not risk gamblers, but operate on the premise of special advantage. Through advance and proprietary techniques that reduce exposure hazards and provide exclusive head start triggers, which virtually guarantee profits, the elite firms dominate Wall Street.
Business Week states in the article, Is High-Frequency Trading Insider Trading?, that
"Classically defined, insider trading means having access to material, non-public information before it reaches the rest of the market; it's like getting a heads-up about a merger before it's announced, or maybe a phone call from a Goldman Sachs (GS) board member saying that Warren Buffett is about to invest $5 billion in the bank."
With the introduction of super computers and Financial Algorithmic Trading, the era of generated trading strategies emerged that fill automatically, when predetermined prices are reached. Some would argue that exchanges were simply applying the latest technology to the time honored system of flipping positions.
Now we live in the High-Frequency matrix, based upon millisecond reactions, which activates on information that is not offered to everyone at the same time. Forbes explains accordingly in High Frequency Insider Trading – And It's Completely Legal!
"According to a team of Wall Street Journal reporters from an article on June 12, the practice works to the advantage of professional traders. "Economic reports from public universities, trade groups and other nongovernmental organizations can move markets as surely as official data from the U.S. government," according to the Journal's team of four reporters: Brody Mullins, Michael Rothfeld, Tom McGinty, Jenny Strasburg. "But unlike government reports, where pains are taken to make certain no one gets them ahead of time, few rules control release of nongovernmental economic reports. Unknown to many investors, selling early access is routine."
Access to this highly valuable information is the key. And such access comes at a price. Rapid traders pay information companies like Thomson Reuters thousands of dollars each month for a look at such reports, moments before they are widely disseminated. And it's in those few key seconds, that they make their killing."
Seemingly, this high-tech access to supercharged information is the newest version of insider information. The following assessment is also from the same Business Week account.
"New York Attorney General Eric Schneiderman has called HFT "insider trading 2.0″ on a number of occasions. His office is looking into the relationships between traders, brokers and exchanges and asking whether it all needs to be reformed. The FBI spent the last year looking to uncover manipulative trading practices among HFT firms; the federal agency is now asking speed traders to come forward as whistleblowers."
Chicago is not much different from their Wall Street exchange cousins. Litigation over this practice is referenced in the report, CME Sued For Giving "High-Frequency Traders Peek At Market" Since 2007.
"In a lawsuit that was just filed by lead plaintiff William Charles Braman, seeking class-action status, and filed on behalf of all users of real-time futures market data and futures contracts listed on the CBOT and CME from 2007 to now, the CME is alleged to have sold order information to high-frequency traders ahead of other market participants.
Apparently it took the general public a Michael Lewis book to reread out post from October 2012 in which we showed that an estimated over 30% of CME revenues were made from HFT – in other words from selling proprietary data in direct feeds to high-paying subscribers, that hits collocated servers ahead of the consolidated tape."
Well, what the layman would see as obvious, influential security lawyers see as neat ambiguity. The Forbes story continues.
"But it is legal, and so is trading on the advance peeks," the Journal reported. "Even as securities rules bar companies from selective data disclosure, and as authorities vigorously pursue insider trading in all its forms, no law prevents investors from trading on nonpublic information they have legally purchased from other private entities. Trading would be illegal only if the information was passed through a breach of trust, said securities lawyers."
It should be clear that the financial system is designed to accommodate creative and innovative methods of price manipulation. The defenders of "Crony Capitalism" see such stratagems as a 21th century sophisticated version of robber baron corporatism, in the fine tradition of Jay Gould and James Fisk. Clipping an ensured few cents on billions of transactions is surely a slick system.
Fabricating automatic returns is bad enough, but what is the public risk of producing a real panic when High-Frequency momentum turns into a full propelled blow off?
When a robot computer generates buy or sell orders, the difference between winning and losing is based upon the speed of the information used to place and execute orders. If your algobots taps into info, not available to the entire market, the game is rigged.
Matthew O'Brien in Everything You Need to Know About High-Frequency Trading, makes a valid point.
"Every HFT strategy depends on not only being faster than ordinary investors, but being faster than each other too. Anytime somebody comes up with a new way to cut a few microseconds—that is, a millionth of a second—off of trading time, they have to spend whatever it takes to do it. Otherwise, they'll lose out to their competitors who do."
Imagine this disconnect with real economic reality that place trades, with little concern if it is a long or short. Only the speed matters. The conclusion from the Negotium essay Financial Algorithmic Trading, holds true. "Banning the interconnect of proprietary programs that amalgamate directly into the systems on the floor of the exchanges is the only way to prevent the integration of systemic collusion among the 1 and 0 computer programs."