One of America's most notorious bank robbers, Willie Sutton(1901-80), is said to have remarked that he robbed banks "because that's where the money is." In a strange twist, the banks themselves are now beginning literally to rob their own customers.
The theft occurs via the innovative practice of "paying" (i.e. "charging") negative interest rates on savings and checking account balances combined with account maintenance fees. Cash strapped Greece is looking to go even further – charging customers for daring to withdraw cash! So what gives here?
Banking Policies Are Becoming Injurious to Your Financial Well-being
Since the global financial near-collapse of 2008, Central Banks, led by the U.S. Federal Reserve, have tried to solve the problem of faltering economies, excessive debt creation, government deficit spending and a deflationary landscape by flooding the system with fiat money, literally created out of thin air.
Their reasoning is that the problem of excessive, unpayable debt can be solved by creating still more debt!
If you had trouble paying off a $300,000 dollar home mortgage, would borrowing another $200,000 to continue making payments help you solve your dilemma? Of course not. You would simply owe a total of $500,000! Yet this is exactly what many of the world's leading financial wizards have been doing to keep government budgets afloat for the last 7 years.
In an effort to stimulate the economy and encourage consumption, the Federal Reserve has lowered interest rates well below where they would be if allowed to fluctuate based on free-market forces like business and consumer demand.
This has taken us to a Zero Interest Rate Policy (ZIRP), which by definition is theoretically the lowest rate that a central bank can impose as part of its strategic agenda. The closer rates get to zero, the fewer options monetary planners have at their disposal to attempt to stimulate economic demand.
Altering Your Behavior
The effect of excessive money creation has been compared to the liquid sloshing around in a giant punch bowl.
And since interest rates are so low, investors must take on more risk in the search get greater returns. Across the globe, this new money – in an uncontrolled manner – seeks out profitable venues for growth.
A great deal of the central bank-created paper/digital money thus ends up chasing finite amounts of art, real estate, collectibles, or financial assets like stocks or bonds. This has sparked the latest stock market bull runs in one country or another, leading to new and unsustainable bubbles.
Afterwards, the supposedly most-connected person on the planet – the U.S. Federal Reserve Chairman – always seems to be surprised.
The War against Cash
While investors are chased into higher risk assets in search of yield, we are witness to a simultaneous "war on cash."
Governments around the globe have lowered the amount of cash a person can withdraw without attracting the attention of authorities, who snoop on you to make extra sure you aren't dealing drugs or selling weapons to terrorists. France, Sweden, Denmark, Israel are just the most recent to have announced this change.
With the formation of groups like the Orwellian "Better Than Cash Alliance," plans are underway to eliminate cash altogether and leave the public with little choice but to keep all their money in a digital account. While using only electronic money may seem to be more "efficient," it makes it possible for authorities to track all of your financial dealings AND even allow banks to impose a Negative Interest Rate Policy (NIRP) upon you.
Without measures to prevent block them, account holders with cash balances might choose to withdraw and hoard paper currency. That would be the simplest way to escape negative interest rates.
But with funds trapped inside of bank accounts, bankers could simply deduct the negative rate charge from each customer's balance. (Question: Would not such "digital cash balance robbery" be just a modernized version of what Willie Sutton was doing back in the day?)
Targeting You for Outright Theft through NIRP or Asset Forfeiture
And then there are the rising abuses of Civil Asset Forfeiture. If you're stopped on the road and have a few thousand dollars on you – no matter that you might be going to buy a used car or plan to make some purchases during an extended vacation… the police can easily deprive you of the cash, without even charging you with a crime.
In recent years, Civil Asset Forfeitures have reached the scale of billions of dollars. And police departments come to depend on this tempting "revenue stream," creating the perverse incentive to seize even more.
Following a lengthy investigation last year, The Washington Post reported,
"There have been 61,998 cash seizures made on highways and elsewhere since 9/11 without search warrants or indictments through the Equitable Sharing Program, totaling more than $2.5 billion. State and local authorities kept more than $1.7 billion of that while Justice, Homeland Security and other federal agencies received $800 million. Half of the seizures were below $8,800."
"Monetary thinkers" feel things would be so much more efficient — for the government — if we all went totally to digital accounts. No need to carry cash around or pay bills by mail. The authorities will know exactly how much money you have and what you spend it on, placing your balance under their control at the press of a button.
The legend of the Greek craftsman Daedalus is relevant today. He learned how to fly and taught his son Icarus – cautioning him not to get too close to the sun at the risk of melting the wax on his wings.
Immensely powerful central bankers believe that they can safely "fly high" with their monetary policies. But like Icarus, who flew too close to the sun and plunged from the sky when his contraption fell apart, so too do our monetary authorities run the risk of similar demise – and taking the rest of us down with them.
Financial Repression Has One Logical Outcome…
In a recent article at mining.com, David Levenstein really nails it, saying:
"Financial repression has long been a driver of demand for physical precious metals. This demand will accelerate as measures become more draconian. Some bank customers… will decide that bullion is a better option than sitting on piles of depreciating paper currency or paying banks to hold deposits… Historically, only gold and silver have been trusted private stores of value as well as a hedge against political, financial, and economic turmoil. In such an insane environment, gold and silver will become the only real trusted alternative to fiat currencies. And, as more new capital flows into physical bullion, its price will soar."
Got gold? Got silver? Got common sense?
"China is reaching deep within the world island in an attempt to thoroughly reshape the geopolitical fundamentals of global power…… Its two-step plan is designed to build a transcontinental infrastructure for the economic integration of the world island from within, while mobilizing military forces to surgically slice through Washington's encircling containment…….If China succeeds in linking its rising industries to the vast natural resources of the Eurasian heartland, then quite possibly…. "the empire of the world would be in sight."

— Alfred McCoy, The Geopolitics of American Global Decline, The Unz Review

"The future of politics will be decided in Asia, not Afghanistan or Iraq, and the United States will be right at the center of the action."

— Former Secretary of State, Hillary Clinton,  "America's Pacific Century",  Foreign Policy magazine.
June 23, 2015 "Information Clearing House" – "Counterpunch" – China's meteoric rise has Washington worried, not because China is a threat to its neighbors or to US national security, but because China's influence is expanding across the region. It's creating the institutions it needs to finance its own development (AIIB and New BRICS Bank),  it's building the infrastructure needed to connect the continents with state-of-the-art high-speed rail (New Silk Road), and its attracting allies and trading partners who want to participate in its plan for growth and prosperity. This is why Washington is worried; it's because China has transformed itself into an economic powerhouse that doesn't conform to the neoliberal model of punitive austerity, pernicious privatization,  and madcap asset inflation.  China has slipped out of the empire's orbit and charted its own course, which is why Washington wants to provoke Beijing over its negligible land reclamation activities in the South China Sea. Washington thinks it can succeed militarily where it has failed economically and politically. Case in point; check this out from Bloomberg News:
"The U.S. and Japan are conducting separate military drills with the Philippines near the disputed South China Sea,…The annual CARAT Philippines joint exercise started Monday off the east coast of Palawan island and will run until June 26, according to U.S. Navy spokesman Arlo Abrahamson. The Philippine and Japanese navies are holding drills around the same island through June 27, Japan's Maritime Self-Defense Force said last week.

The U.S. has backed Southeast Asian nations including the Philippines as tensions escalate with China over territorial claims in the South China Sea, while Japan is providing patrol vessels to the Philippine coast guard….The drill includes a sea phase with the littoral combat ship USS Fort Worth, diving and salvage ship USNS Safeguard and a P-3 Orion surveillance aircraft and at least one Philippine frigate, according to the U.S. Navy….

Japan's exercises with the Philippines will take place adjacent to the Spratly Islands, where China has created more than 2,000 acres of land in waters also claimed by the Philippines, Vietnam, Brunei, Taiwan and Malaysia. Japan will send a P-3C anti-submarine, maritime surveillance aircraft and 20 personnel."  ("U.S., Japan Join Philippines in Navy Drills Near South China Sea", Bloomberg)
The "show of force" drills are designed to harass and intimidate China. They have no other purpose.  The US wants to force China to succumb to its diktats, to abandon its commitment to new institutions, to open its markets to US corporations and Wall Street, and to allow the US a free-hand in writing trade rules.   That's what Washington really wants and that's why the moderate Chuck Hagel was dumped for the combative Ashton Carter as Secretary of Defense. US powerbrokers wanted a scrappy taskmaster who'd bloody China's nose and show them who's boss. Carter fit the bill to a "T", an icy bureaucratic leg-breaker who fancies himself the "smartest guy in the room".  Peter Lee provides an interesting insight on Carter in a recent blog-post at China Matters. He says:
"…assertive Ash Carter is not playing bad cop to Obama/Kerry's good cop; he's the whole show, which will delight fans of military control of foreign policy everywhere."
We're glad that others are beginning to see that the Pentagon has taken over US foreign policy. Carter is clearly calling the shots in Asia and Europe.
Lee seems to believe that Carter will outlast Obama's time in office if Madame Clinton is elected president. Which is not surprising, since it was Clinton who first introduced "pivot" to the strategic lexicon in a speech she gave in 2010 titled  "America's Pacific Century".  Clinton's presentation laid out the basic themes that would later become America's "top priority", the rebalancing of US power to the Asia Pacific. Here's an excerpt from the speech that appeared in Foreign Policy magazine:
 "As the war in Iraq winds down and America begins to withdraw its forces from Afghanistan, the United States stands at a pivot point. Over the last 10 years, we have allocated immense resources to those two theaters. In the next 10 years, we need to be smart and systematic about where we invest time and energy, so that we put ourselves in the best position to sustain our leadership, secure our interests, and advance our values. One of the most important tasks of American statecraft over the next decade will therefore be to lock in a substantially increased investment — diplomatic, economic, strategic, and otherwise — in the Asia-Pacific region…

Harnessing Asia's growth and dynamism is central to American economic and strategic interests and a key priority for President Obama. Open markets in Asia provide the United States with unprecedented opportunities for investment, trade, and access to cutting-edge technology…..American firms (need) to tap into the vast and growing consumer base of Asia…

The region already generates more than half of global output and nearly half of global trade. As we strive to meet President Obama's goal of doubling exports by 2015, we are looking for opportunities to do even more business in Asia…and our investment opportunities in Asia's dynamic markets." ("America's Pacific Century", Secretary of State Hillary Clinton", Foreign Policy Magazine, 2011)
Repeat: "Harnessing Asia's growth and dynamism is central to American economic and strategic interests…. Open markets in Asia provide the United States with unprecedented opportunities for investment, trade, and access to cutting-edge technology…..American firms (need) to tap into the vast and growing consumer base of Asia."
There it is in a nutshell. Having reduced the great American middle class to a lifeless, rotting corpse incapable of sustaining even meager demand or growth, US elites are packing the boats and heading for China, the shining corporate Valhalla on the hill. Clinton seems to think it should be pretty easy to penetrate these bustling Asian markets provided we back up our crackbrain aspirations with a strong dose of gunboat diplomacy–which is where Boss-man Carter comes in.
It's worth noting that Clinton did not conjure up the pivot on her own, but was briefed on the theory by pivot mastermind Kurt M. Campbell. Campbell is Co-Founder and former CEO of the Center for a New American Security.  According to the Center for a New American Security website: "From 2009 to 2013, he served as the Assistant Secretary of State for East Asian and Pacific Affairs, where he is widely credited as being a key architect of the "pivot to Asia." In this capacity, Dr. Campbell advanced a comprehensive U.S. strategy that took him to every corner of the Asia-Pacific region where he was a tireless advocate for American interests, particularly the promotion of trade and investment."
In a recent video interview with neocon Robert Kagan,  Campbell regurgitates the same rhetoric that appears in Clinton's speech. He opines: "Most of the history of the 21 century is going to be in the Asia Pacific region….It is in our best national interest to show that we are going to play a central role in that drama just as we have in the 20th century….(There is  bipartisan)… recognition that our military presence is our ticket to the big game in the Asia Pacific."  (See entire interview here.)
There seems to be a growing consensus that the US military is the right tool for persuading China to cave in, but is it?
The last thing the Obama administration wants is a shooting war with China, mainly because China has the ability to strike back, and not just militarily either.  Let me explain: According to political scientist Pang Zhongying, "The current relationship between China and the US is one that has never existed in the history of international relations…..The level of interdependence between China and the US is unprecedented in history. Before the 1970s, no one could possibly imagine or predict that these two countries would be interdependent to the extent of today. At that time, interdependence existed only between the US and Europe, or among the G7 at the most. The level of interdependence today did not exist between the US and China."
In other words, the two countries need each other and are bound together in a complex web of economic and financial ties, including China's massive holding of US debt which amounts to an eyewatering $1.3 trillion.  This interdependence means that the US cannot abuse China in the same way it has Russia without putting itself at risk.   So, while the US still maintains the dominant position economically and militarily, it can't simply throw caution to the wind by imposing sanctions or escalating hostilities beyond a certain point without jeopardizing its own security. China knows this, which is why it will continue to pursue its own agenda aggressively while deflecting US belligerence and hostility as best as it can.
The People's Republic of China (PRC) is still committed to "peaceful development". US antagonism is just one of the many hurtles that China will have to overcome to actualize its plan for integrating the Eurasian landmass into the world's largest and most prosperous trading bloc. Check out this excerpt from Alfred McCoy's seminal piece "The Geopolitics of American Global Decline":
"China's leadership began collaborating with surrounding states on a massive project to integrate the country's national rail network into a transcontinental grid. Starting in 2008, the Germans and Russians joined with the Chinese in launching the "Eurasian Land Bridge." Two east-west routes, the old Trans-Siberian in the north and a new southern route along the ancient Silk Road through Kazakhstan are meant to bind all of Eurasia together….

In April, President Xi Jinping announced construction of that massive road-rail-pipeline corridor direct from western China to its new port at Gwadar, Pakistan, creating the logistics for future naval deployments in the energy-rich Arabian Sea….. By building the infrastructure for military bases in the South China and Arabian seas, Beijing is forging the future capacity to surgically and strategically impair U.S. military containment. …

In a decade or two….China will be ready to surgically slice through Washington's continental encirclement at a few strategic points without having to confront the full global might of the U.S. military, potentially rendering the vast American armada of carriers, cruisers, drones, fighters, and submarines redundant….. If China succeeds in linking its rising industries to the vast natural resources of the Eurasian heartland, then quite possibly…. "the empire of the world would be in sight." ("The Geopolitics of American Global Decline", Alfred McCoy, The Unz Review)
There it is, eh? The end of one empire and the beginning of another.
China's leaders aren't going to blow their big chance by getting sucked into a costly and pointless war with the United States.  That's ridiculous. They're going to keep plugging away until the Silk Road becomes a reality.
"Barbarism is that which prevailed from the days of Adam down through ten generations to the time of Noah.  It is called barbarism because of the fact that in those times men had no ruling authority or mutual accord, but every man was independent and a law unto himself after the dictates of his own will."   (John of Damascus, "The Fount of Knowledge," cited in Political Apocalypse, Ellis Sandoz, p. 131)
As pre-flood barbarism was an anarchy of selfishness in accord with Nietzsche's moral philosophy, "You have your way, I have my way. As for the right way, the correct way, it does not exist," it is no different from its' "enlightened" and supposedly "evolved" modern Western counterpart.    The animating spirit of both pre-flood and post-flood barbarism is "there is no fear of God before their eyes," (Rom. 3:18) and "they do not love the Truth" (2 Thes. 2:10).
In our "enlightened" age hatred of immutable Truth is cloaked in deceptive terms such as subjectivism, scientism, postmodernism, syncretism, moral relativism, universal evolution, evolutionary biology, and deconstruction (1).  As evolution implies continuous change it is a two-pronged fork, a hellish spike scepter of relativism and deconstruction that with one tine serves up an anti-creation account—an inverted exegesis that reduces man in the spiritual image of the Holy Trinity to evolved ape, and with the other argues that since humanity has evolved from lesser to greater biological organisms, the same change process is in play in the area of morals and biblical infallibility. (2) Therefore, all that can be known at present—and forever—is that there is no absolute or fixed certainty in either the area of morality or the Revealed Word of God.
In his well-known book, "The Battle for the Bible," (1976) the late Dr. Harold Lindsell foresaw the ominous eventuality of apostasy once the doctrine of biblical inerrancy was largely scrapped as is increasingly the situation today:
"It is my contention that once biblical infallibility is surrendered it…will end up as apostasy at last. It is my opinion that it is next to impossible to stop the process of theological deterioration once inerrancy is abandoned…. "  (The Battle for the Bible, pg. 142
Universal Madness
Modern barbarism is the universal madness (raging soul sickness) issuing in demonic darkness foreseen by the dark prophet Nietzsche. It was the apostate Christian philosopher Nietzsche,  the son of a Lutheran pastor who pronounced the death of the Christian God and saw that His death had already begun to cast its first shadows over Europe, and though the event itself is far too great,
"….  too much beyond most people's power of apprehension, for one to suppose that so much as the report of it could have reached them," still its advent was certain, and it was men like Nietzsche who were "the firstlings and premature children of the coming century," the century of the "triumph of Nihilism." (Nihilism: The Root of the Revolution of the Modern Age, Eugene Rose, p. 44)
Calling himself the Antichrist, Nietzsche went on to say that because apostate Christians had murdered the God of Revelation in the 19th century there would follow two calamitous consequences (two Judgments) during the 20th century and beyond.
First, the 20th century would become the bloodiest, most catastrophically destructive century in history, and second, a universal madness would break out and as it reached its fullness in time would turn the West upside-down. Having rejected the Light that came into the world (John 3:19) Western 'elites' would turn back to irrational ancient occult doctrines and Gnostic pagan and mystical pantheist conceptions.  Lucifer would be hailed as the first free-thinker and genetic creator of man, totalitarian communism and socialism would become heaven on earth, and love would no longer be the summation of the Ten Commandments but rather unconditional acceptance of the evil in man.  In this way everything perverse and abnormal would be good and normal so that male would also be female and female also be male while universal sodomy, pederasty, lesbianism, sadism, incest, rape and bestiality would become the norm.
"Pilate said to him, 'What is truth?'"  (John 18: 38)
Nietzsche has been right on both counts.  Our age is a darkly twisted, obscenely inverted time in which the things that everyone  really know to be true, good, decent, and right, are treated as unheard of, intolerant, judgmental, hateful, bigoted, anti-science and evolution, backward, stupid, narrow-minded, moronic, alarmist, divisive, racist, xenophobic and homophobic because the prevailing climate is one of moral relativism.  For example, a majority of Americans, both Christian and secular, deny that there is any absolute truth, especially when it comes to matters of personal and private vice.  This penetrating darkness is even deeper in Europe where most people have a live-and-let-live attitude, and voice opinions like, "What is right for you may not be right for me, and what is right for me may not be right for you." (3)
According to Collin Garbarino, author of "Moral Relativists in the University: They Aren't Who You Think They Are," young conservatives arriving on campus are as morally relative as liberals. While a liberal faculty certainly promotes the idea that "good" is a relative term defined by the individual and the only "bad" is to infringe on another person's ability to express their own version of "good," the battle for conservatism was lost long before students ever met their first college professor. In my experience, said Garbarino, freshmen arrive on campus as moral relativists.  (The Aquila Report, August 24, 2014)
In other words, it's Christian and Jewish parents who impress their own moral relativism upon their children.  Christian philosopher Peter Kreeft, Ph.D., reports that polls show that Catholics are as relativistic, both in behavior and in belief, as Protestants. Sixty-two percent of Evangelicals say they disbelieve in any absolute or unchanging truths, and American Jews are significantly more relativistic and more secular than Gentiles. (A Refutation of Moral Relativism, Peter Kreeft)
In "What We Can't Not Know," a penetrating examination of the lost world of unchanging truths, moral absolutes, and morally-grounded common sense  that we all really do know about right and wrong, author J. Budzisewski, professor of government and philosophy at the University of Texas, writes that the pervasive darkness within both our churches and society requires lots of lies:
"…the public relations of moral wrong require lies, and a lot of them…There are the lies about whether infidelity and promiscuity really hurt anyone. There are the lies about whether the living child is really alive, or really a child. Next come lies about the meaning of fairness, the nature of promises, and what the "committed gay relationship" is really like. Amid all of them is the lie about how hard it is to know what to do." (p. 195)
And then there are the lies about whether the Bible is the inerrant, infallible, authoritative Word of God written by men inspired by the Holy Spirit or is really nothing more than a book of myths and morals written by superstitious men in our prescientific, pre-evolutionary past.  And since this is the case, say relativists (liars), then why not say that God made and ignited a Cosmic Egg (Big Bang) which generated matter and energy. Then after billions of years of God-directed evolution eventuating in the suffering and death of millions of life-forms (making God the cause of death and evil), man inexplicably fell from grace even though God is the guilty party.  If everyone feels that this version of events feels right then why not make it the indisputable account?    After all, who can know truth?
The Truth about Evil
Subjectivism begins with pride (love of self), and a will turned toward evil, the perfect anti-God, anti-truth, anti-authority, anti-higher knowledge state of mind:
"Our first parents fell into open disobedience because already they were secretly corrupted; for the evil act [would] never [have] been done had not an evil will preceded it. And what is the origin of our evil will but pride? For "pride is the beginning of sin" [Ecclus. 10:13?]. And what is pride but the craving for undue exaltation? And this is undue exaltation, when the soul abandons Him to whom it ought to cleave as its end, and becomes a kind of end to itself. This happens when it becomes its own satisfaction. . . . This falling away is spontaneous; for if the will had remained steadfast in the love of that higher and changeless good by which it was illumined to intelligence and kindled into love, it would not have turned away to find satisfaction in itself. . . . The wicked deed, then that is to say, the transgression of eating the forbidden fruit was committed by persons who were already wicked."  (Augustine, The City of God, trans. Marcus Dods et al., in Augustine, Basic Writings, 2:257-58; 14.13)
R.C. Sproul comments:
"Augustine…identifies the cause of the first transgression as pride. But he recognizes that the presence of pride is already evil. He does not shrink from declaring that the first actual sin was committed by creatures who were already fallen. They fell before they ate the fruit."  (Sproul, Willing to Believe: The Controversy Over Free Will, p.53)
In "Against the Heathen," early Church Father Athanasius writes that a haughty spirit filled with pride and conceit of self-preceded pre-flood man's fall.  A haughty spirit led them to make light of the immutable truth and moral law of the Holy God, and deliberately disregarding what they knew to be true they began to seek in preference things in the lower or man-centered universe.  Thus, in preference to the Holy God and higher knowledge, they fell into worship of self, sexual pleasures and acquisition of status and things. Moreover, as they attributed the existence of all things animate and inanimate to nature they worshipped and served matter, movement and energy.
The truth as to evil said Athanasius,
"….is that it originates, and resides, in the perverted choice of the darkened soul" which, "materialized by forgetting God" and engrossed in lower things, "makes them into gods," and thereby "descends into a hopeless depth of delusion and superstition," whereby "they ceased to think that anything existed beyond what is seen, or that anything was good save things temporal and bodily; so turning away and forgetting that she was in the image of the good God, she no longer… sees God the Word after whose likeness she is made; but having departed from herself, imagines and feigns what is not (and then) advancing further in evil, they came to celebrate as gods the elements and the principles of which bodies are composed…." (Against the Heathen, New Advent)
What is Truth?  
Since the fall, all men and women—like dumb sheep—have obeyed the lusts of the flesh, worshipped the gods of intellectual arrogance and appetites, followed after the prince of the air and allured by his lies packaged as gleaming nuggets of esoteric truth dutifully slouched toward hell.
Truth however, is neither the seductive lies of the devil nor the opinions, fleeting feelings and perverted choices of fallen men but rather the Second Person of the Holy Trinity (John 16:6).  Jesus is the embodiment of the wisdom of God; He is the eternally unchanging Word of God.  John 1:10 tells us that everything seen and unseen was created ex nihilo by the spoken Word of the Son of God, which means that Jesus Christ was active and present long before His incarnation, therefore eternally co-existent with the Father. Jesus Christ is therefore God just as the Father and Holy Spirit are God, thus the Word of the Old Testament's creation account is Jesus Christ of the New Testament (John 1:1). Jesus Christ is the Word. His Word is Truth even as He Himself is Truth, the same today as yesterday and for always. Truth then is Jesus Christ Who teaches, "The truth will make you free."
Truth is fidelity to Jesus Christ, hence Truth is an objective social good meant to be shared by all mankind.  But like their father the devil, subjectivists hate Truth and work to suppress it, and  herein lay the psychological violence which is the evil fruit of moral relativism:
"The clue to the mentality of the liar, in his hatred of truth, is his hatred of God.  And this hatred of God floods over into hatred of those whom God loves, the innumerable millions for whom his divine Son died."   (The Roots of Violence, Vincent P. Miceli, S.J., p. 29)
In "The Poison of Subjectivism," C.S. Lewis warns that subjectivism will certainly end the human race and "damn our souls."   Because Lewis was an orthodox Christian he agreed with the fundamental teachings of his Lord and savior Jesus Christ  and the Old Testament prophets that salvation presupposes sin (soul sickness) and the need of repentance, therefore repentance logically presupposes an objectively real Moral Law and need of a Savior.  It follows that Jesus Christ, our Savior, did not die for our opinions:
" He did not say that His blood was the blood of the new and everlasting covenant and that it would be shed for you and for all so that opinions may be forgiven; He did not say, "I am a way, a truth, and a life"; He did not say, "Let he who is without opinion cast the first stone"; He did not say to that dark tempter, "It is said, 'Thou shalt not tempt the Lord thy God,' but hey, Satan, whatever works for you." (4)
In this light we can see that moral relativism will surely damn our souls because just as it suppresses objective truth and reality, so it eliminates Moral Law, thereby trivializing repentance, imperiling salvation and ending the human race, not by flood as in the days of pre-flood subjectivists, but by fire, reserved for the post-flood world and its "enlightened" subjectivists.
Lewis sees farther than most, thus he argues that human kind will be ended because the entire human race is becoming increasingly Westernized, thereby relativized.  The tragic irony here is that America,  which at one time was a fortress of Christian light, is now the primary source of moral relativism (demonic darkness) in the world today.  This is because America's collapsing Christian denominations no longer defend Biblical infallibility, objective truth and moral law.
Os Guinness comments:
"….it is a point of fact that in many, if not most parts of the Western world, what was still left of the Christian foundations of the West have collapsed or are collapsing.  The Christian church is on the defensive everywhere.  The Christian faith is derided among the thought leaders of our societies, and now we are told it is being abandoned in droves—even if many of the defectors are not really atheists or even agnostic, but in limbo between the….halfway houses of 'believing without belonging' or still 'belonging without believing.'"  (Renaissance: The Power of the Gospel However Dark the Times, Os Guinness, p. 18)
Erwin Lutzer concurs:
"No nation has turned away from so much light in order to choose darkness. No nation has squandered as many opportunities as we have. We can only call on God for mercy, and if it pleases Him He will come to our aid….if we humble ourselves, weeping for this nation, God may yet intervene and restore decency to this crazed world. Most of all, we should pray that millions would be converted and belong to God forever. People change their minds only when God changes their hearts."  (Erwin W. Lutzer, Where Do We Go From Here?: Hope and Direction in our Present Crisis)
Guinness sums up the downward spiral of the West:
" Western cultural elites have disregarded God for more than two centuries, but for a while the effects were mostly confined to their own circles. At first, they disregarded God. Then they deliberately desecrated Western tradition and lived in ways that would have spelled disaster if they had been followed more closely. But now in the early twenty-first century, their movement from disregard to desecration to decadence is going mainstream, and the United States is only the lead society among those close to the tipping point…. Soon, as the legalization and then normalization of polyamory, polygamy, pedophilia and incest follow the same logic as that of abortion and homosexuality, the socially destructive consequences of these trends will reverberate throughout society until social chaos is beyond recovery. We can only pray there will be a return to God and sanity before the terrible sentence is pronounced: "God has given them over" to the consequences of their own settled choices." (p. 20)
"… as in the days of Noah….and of Lot (Sodom) so will it be in the days of the Son of Man."   Luke 17: 26-28
A stunning spiritual transformation of consciousness is rapidly shifting Western and American thinking away from the supernatural God of Revelation and biblical religion and toward a  'new' pagan/mystical pantheist religion of nature and goddess worship (Gaia), evolution, relativism and androgyny, the pagan ideal.  In his book, "The Making of the New Spirituality: The Eclipse of the Western Tradition," James Herrick calls it the "New Religious Synthesis."
The New Synthesis reverses and inverts each major tenet of God's Revealed Word.  For instance, the Holy Triune God is supplanted by a universal life force called evolution, the principle miracle-producing power of  an evolving man-centered universe infused with divine consciousness.  Moreover, human beings are no longer created but rather the conscious products of the universal life force evolving upward toward a divinity of their own and can now achieve ever-higher levels of consciousness by directing their own evolution.  Man's rational self-consciousness as well as science, the instrument of his autonomous will, supplants the Mind of God and is the first inkling of man's own latent divinity.
Moreover, immutable truth, Moral Law, history and Christian-based holidays and tradition are rendered obsolete because the idea of continuous change (evolution) makes them absurd.
The  New Synthesis  is rooted in common mystical experiences and telepathic revelations from disembodied intelligences while 'Science' is divine Reason's instrument which,
"…provides theological insight to guide our quest for spiritual awareness and attainment.  Among science's greatest revelations–second only to its confirmation of evolution as the operative principle of the cosmos—is that monism and pantheism are proven by deep inspection of physical matter.  This massively significant discovery confirms ancient ideas about universal unity originally delivered through shamans and mystics and still reflected in tribal spirituality."  (pp. 33-35; 250-251)
What all of this means is that the rebellion, apostasy, idolatry and subjectivism that has characterized the modern age since its beginning is actually an ominous neon arrow pointing to the Judgment and end of  the West and America.   And when these evils finally prevail throughout the world, then as a thief in the night will come the Day of the Lord (2 Pet. 3:10) and the unrepentant soul-sick human race will meet its' allotted fate:
"Their destruction will overtake them while they dream of happiness, and please themselves with vain amusements. There will be no means to escape the terror or the punishment of that day."   However, the Day of the Lord, "will be a happy day to the righteous. They are not in darkness; they are the children of the light. It is the happy condition of all true Christians." (Matthew Henry, commentary on 1 Thessalonians 5:2)
The Day of the Lord—-when?
As no man can see what lies beyond the horizon no one can say when the Day of the Lord will be.  So in the light of all of this bad news what are faithful Christians to do?   For one thing, said Guinness, we can recognize that the faithful and orthodox in each tradition, whether Eastern or Roman Catholic and Protestant are actually closer to Jesus and each other than to the liberal subjectivist revisionists in their own traditions.  In other words, a remnant according to the election of grace is slowly but surely emerging from the wreckage.  (Roman 11:5)
Though the final factor in the future is unknown it is sure because we can trust that our Lord will build His church and the gates of hell will not prevail against it. Therefore, as faithful and orthodox believers we can and must repent of our sins, trust in God, stand on His Truth, edify and comfort the saints and proclaim His gospel.  We are to be busy about the Father's business in making disciples and seeing the power of the gospel transform lives.  We must trust in God and His gospel and challenge the darkness with the only hope there is—the hope brought into being through the presence of the promised Holy Spirit (Romans 8:2-25); the future hope of the resurrection of the dead (Acts 23:6); the redemption of the body and of the whole creation (Romans 8:23-25), the glorious return of Christ (Titus 2:11-14) and eternal life in paradise—the inheritance of the saints (Titus 3:5-7).
(1) Scientific Neutrality, Biblical Deconstruction, and Modernist Christians in a Man-Centered Universe, Linda Kimball, 2015
(2) The Problems with Moral Relativism, Robin Schumacher, Christian Post, 9/23/12
(3) Moral Relativism, Ligonier.org
(4) American Christians and Moral Relativism, Selwyn Duke, American Thinker, Feb. 2010
Any [teaching] that is good is in the Word of God, and any that is not in the Word of God is not good. I am a Bible Christian and if an archangel with a wingspread as broad as a constellation shining like the sun were to come and offer me some new truth, I'd ask him for a reference. If he could not show me where it is found in the Bible, I would bow him out and say, "I'm awfully sorry, you don't bring any references with you." ~ A.W. Tozier
There's an ongoing debate as to whether or not Bono, U2 front man and one of the world's most recognized rock stars, is an authentic Christian, although he states that he is.  Many Bible believing Christians have looked at the evidence and have come out and said that, although he professes Christ, he's not a true Christian.
So let's examine the evidence.
On his belief about Jesus Christ, Bono said this:
I believe that Jesus was, you know, the Son of God.
Does he mean the Jesus who's the Second Person of the holy Trinity?
In 2005 after the release of his book "Grace Over Karma" he stated:
The point of the death of Christ is that Christ took on the sins of the world, so that what we put out did not come back to us, and that our sinful nature does not reap the obvious death. That's the point. It should keep us humbled. It's not our own good works that get us through the gates of heaven.
He's right.  It's not our own good works that gets us to heaven "for by grace you have been saved through faith, and that not of yourselves; it is the gift of God, not of works, lest anyone should boast" that saves us. (Eph. 2:8-9)
In 2014 Jim Daly, President of Focus on the Family, interviewed the rock star on his radio broadcast and said this:
[H]e's known great success, both in his career as a musician, and in his work as a global advocate for the poorest of the poor. He's also the co-founder of The ONE Campaign, and their motivation is to help people who are suffering.
All of this is true.  But that means he's a do-gooder.  It does not make him regenerate.
Not surprisingly, when Daly invited him on the show conservative Christians who are aware of some of the controversial things he has said over the years thought it was a mistake.  Many people wondered why a pro-family leader of Daly's stature would pass him off as a Christian by saying, "he's a believer in Jesus Christ, and professes Christ as his Savior. In fact, Bono's spiritual journey has been greatly influenced by a mutual good friend — Eugene Peterson, who's the author of The Message. And he's also written a great book called Run With The Horses that has had a great influence on Bono and many of us."
I don't have the space to address my concerns with Eugene Peterson or The Message Bible he penned – it's a parody of the Bible.  So links are included below.
Looking at the things Bono has said (I'm coming to that) although he professes a belief in Christ clearly he doesn't believe that the Bible is the inerrant Word of God.  Moreover, his social views are decidedly "progressive."  In fact, his religious beliefs blend nicely with emergent gurus such as Brian McLaren, Jim Wallis and Tony Campolo.  These men are leftists who are leading the Church away from Sola Scriptura into what Ken Silva referred to as the "emerging cult of the new liberal theology."  The controversial movement, called the Emerging/Emergent Church (EC), seeks to reach the unchurched with their unbiblical version of the Christian message.  In so doing they have cooked up a cauldron ofsyncretism stew.
So – what's important to know about EC leaders is that their aim is change and their plan, and they do have one, is to dismantle historic orthodox Christianity and bring forth a "new paradigm," a "new kind of Christianity."  Be wary of words such as story (story of God, story of Jesus)… becoming… conversation… missional… reimagine… tribe… deconstruction… vision, etc.  Emergents are "Christ followers," they are "Social Justice Christians."
Social Justice Christianity
The moniker liberals who profess Christ prefer is Social Justice Christian.   One conservative blogger commented that Bono is "social justice, ecumenical, globalist, Agenda 21 promoting."
He's all of that for sure.  Bono's an activist and philanthropist with a stated goal to eliminate world poverty.  Because he's hugely popular people want to know what he thinks about this and that.  So naturally he takes every opportunity to promote causes he cares about including HIV/AIDS infection in Africa and third-world debt relief.  Tom De Weese of the American Policy Center once quipped that he "dogged political leaders around the world, using his rock star status to pressure them into accepting his brand of global guilt."
So – should it matter to Bible believing Christians that Bono is a "progressive"?  Should we be concerned that he's spreading Social Justice Christianity around the globe?  I mean, he's telling people about Jesus, isn't he?
Well, yes, it should matter to Christians that a person as famous as Bono is promoting an unbiblical version of Christianity and a "different Jesus."  Many people idolize celebrities.  Adoring fans hang on their every word.   And, sadly, many Christians don't read their bibles so they not only are ignorant of its teaching, they lack spiritual discernment.  In other words, they're easily influenced by celebrity but not so much by the Bible.
When it comes to a LIE-celeb such as Bono, the question we must ask ourselves is this: What gospel is he sharing, the true Gospel of Jesus Christ or is he sharing another Jesus…another spirit…another gospel (2 Cor. 11:4)?  If it's the later then it makes him a false teacher.
The Apostle Paul spoke out against counterfeit Christians:
And what I am doing I will continue to do, in order to undermine the claim of those who would like to claim that in their boasted mission they work on the same terms as we do.  For such men are false apostles, deceitful workmen, disguising themselves as apostles of Christ.  And no wonder, for even Satan disguises himself as an angel of light. So it is no surprise if his servants, also, disguise themselves as servants of righteousness. Their end will correspond to their deeds. (2 Cor. 12-15)
Elliott Nesch of The Waundering Path writes:
How many of those who have been saved from extreme poverty through Bono's ONE Campaign are now saved from their sins through the same effort? Can social justice, debt relief, and elimination of the AIDS epidemic bring glory to God when it is completely unconnected to the preaching of the Gospel of Jesus Christ? (Source)
A very good question.
Can't We All Just COEXIST?
Lighthouse Trails Research (LTR) has a piece entitled Focus on the Family Gives Bono a Platform – Another Example Where 2 +2 Don't Add Up.  LTR shares a quote by Christian researcher Berit Kjos from her book Protect Your Child From the New Age & Spiritual Deception:
U2's 2005 tour was aimed at joining all religions into a unified global spirituality. To emphasize the coming solidarity, the word "COEXIST" was featured on a giant screen. The capital "C" pointed to the Islamic crescent, the "X" symbolized the Jewish Star of David, and the "T" was a reminder of the Christian cross. Bono led massive crowds in a vibrant chant: "Jesus, Jew, Mohammed—It's True!
Not everyone approved. Singer/songwriter Tara Leigh Cobble said, "He repeated the words like a mantra, and some people even began to repeat it with him. I suddenly wanted to crawl out of my skin. . . . Was Bono, my supposed brother in Christ, preaching some kind of universalism?"
"I felt like I was witnessing an antichrist," said her friend.
In one song, "God's Country," Bono belts out the words, "I stand with the sons of Cain," The Bible tells us that Cain "was of that wicked one, and slew his brother" (1 John 3:12), not exactly someone who a Christian would want to be found standing in agreement with.
Kjos later says:
Are Christian leaders speaking up and warning others about Bono? No, on the contrary, reveals one Christian journalist:
"One of the leaders being promoted today by those purporting to be officiating the way for our young people—to include Bill Hybels, Brian McLaren, Rick Warren, and Rob Bell—is 'Christian' Rock star Bono of U2, whom many emergents view as their 'prophet' and the main icon of their movement. In Bono's rendition of Psalm 23, he alters the entire thrust and message of this beautiful psalm to something that sounds nothing less than blasphemous. For example . . . he alters the wording to say 'I have cursed thy rod and staff. They no longer comfort me.'"  [This rendition of Psalm 23 is documented in The Submerging Church DVD.]
And in the summer of 2005, Rick Warren attended the Live 8 Concert with Bono where he was made the official pastor at the event.  Rick Warren did not issue a warning at the event about Bono, leaving the impression on thousands of young people's minds that Bono is OK.  (from chapter 17, HPC)
Bono Helps Gay's Win The Day
Bill Muehlenberg of Culture Watch is one Christian who isn't standing up for Bono.  And he isn't concerned about issuing a warning either.  Muehlenberg came out swinging after Bono threw his support to Bible torturing radical gay activists who were out to legalize same-sex "marriage" in Ireland.  Homosexuals were ecstatic to have a rock star behind them in their effort to legalize same-sex "marriage."  Pink News reported:
Irish singer Bono, speaking ahead of the band's latest world tour, said "Marriage is an idea that transcends religion."
Bono, who is from a mixed Anglican and Catholic family, told the Irish Times:
"[Marriage] is owned by the people. They can decide. It is not a religious institution.
"As far as I know, Jesus wasn't a married man and neither are most priests talking about it. It is not a religious idea.
"In my mind, commitment is one of the most impossibly great human traits. It is a hard thing to hold on to, and anything that brings that together is a totally wonderful thing."
Gay-affirming Bono does not understand the implications of tossing aside God's plan for marriage—one man one woman for life—so that men can marry men.
Muehlenberg had these harsh words for U2's front man:
Another clear-cut acid test of Christian commitment has to do with the issue of homosexuality. If you get someone trying to tell you that homosexual marriage is just peachy and Jesus would be fully supportive of it, then you know you've got a religious fraud on your hands, and you should give him a very wide berth.
One so-called believer who has worried me greatly for years has in my eyes nailed his coffin completely by his recent support of sodomite marriage. Bono and U2 are going utterly brain-dead in supporting the Irish vote on homosexual marriage.
So if you think Bono is some sort of great Christian, you better think again. This comes from the U2 website:
On Friday Ireland votes in an historic referendum on legalizing same-sex marriage. Here's what the band say: #voteYes.

"Commitment, love and devotion are some of the most impossibly great human traits. Trying to co-opt the word marriage is like trying to make love or devotion gender- or religion-specific. And that has to stop. Marriage is human-specific: a human commitment, one that transcends religion, transcends politics. It should be encouraged wherever, whenever and between whomever that love, that devotion and that commitment exists. #voteYES"
This has got to be one of the most idiotic things I have read in a long time. We expect atheists and militant homosexual activists to come up with sheer baloney like this, but someone who calls himself a Christian? This man is a fool, in the biblical sense of the word. (Source)
The bottom line is this: A person cannot profess a belief in Jesus Christ and live like the devil.  Like so many so-called Christians, Bono takes Christianity cafeteria style – he picks and chooses what pleases him and avoids what doesn't.
Christianity is serious business, brethren.  Jesus requires much of His sheep.  "If you love me you will keep my commandments" (John 14:15).
Do you love Him?
"Thy word is a lamp to my feet and a light to my path" (Psalm 119:105).
Do you get your guidance from the Bible?
Bono does but only when it suits his purpose.
Recommended Resources:
Transcript of Focus on the Family interview
The Homosexual Agenda—Berean Research
What is the purpose of marriage?–CARM
Also,
Reading
Does the Bible Really Say We're Not to Judge—Marsha West
U2's Bono, Unorthodox Superman—Elliott Nesch
The Source and the Effect…
Power is a key element in the function of a culture. Its source and the way it is used or controlled determine success or failure.
I am not opposed to scientific advancement or to the comfort and efficiency mechanical and technical minds have provided to humanity.  However, I am opposed to the deification of science and reason to the detriment of the peace and prosperity of the earth's population.
We are born of woman but ultimately our physical bodies return to the earth as dust.  We are tied to the earth for food and water and for the resources we use to create marvelous mechanical and technical devices.  Seeds produce plants and plants sustain both human and animal life.  Without food and water everything would die – humans, animals, plants, and insects.
Designed to rule the earth and all lower forms of life, we are equipped to find water, produce food and reproduce ourselves.  Our minds are capable of creating a proper government over the creation. However, we have a defect that prevents us from properly administering dominion.  Instead of accepting the reality that we are created beings made to live under the authority of our Creator we choose to use our godlike qualities in a quest for unaccountable individual control.  We seek to be like God exerting unauthorized power over ourselves and others.  This defect is the cause of murder, mayhem, and tyranny rather than justice and peace.
We arrived into a world already in existence and a society developed by previous tenants.  Helpless at birth we were fed and nurtured into childhood and on until we are able to care for ourselves. Rather than being humbly thankful for the gift of life we often rebel against source of life and act as if we are beholden to nothing and our existence authorizes us to bring power over it all.
Because we have refused to live under the authority of our Creator, who is our legitimate sovereign, we have allowed power to flow to the state which has now become our sovereign and is accruing absolute power.  We are unwilling to live under the rule of the One True God preferring the rule of our fellows whose evil dominion will begin to teach us the true nature of our fellow human beings.
Through several thousand years of human history the world population has been relatively small and our home on the earth was taken for granted.  Now that the world population has grown exponentially we are beginning to be concerned about its ability to sustain us.  We are even beginning to think we have outgrown our birthplace and must seek additional living quarters elsewhere in the universe.
The Industrial Revolution removed most of us from our land and employed us as cogs in the mass production of products that provide comfort and leisure.   Instead of working to supply food for our families on our own land we sold our land and moved to cities where we traded the independence and pride of ownership for easier work and leisure.
We now work for money instead of food and are subject to the manipulation of the value of the money and the availability of work itself.  Our destiny is in the hands of massive corporations that want to use us as units of production but do not want to know us or care about our welfare.  Children, welcomed as assets in the agrarian society, are now liabilities and our culture is no longer producing babies in quantities that replace the dead putting its continued existence in jeopardy.
Under the auspices of science with no consideration for the ancillary results we have delved into subjects that may be outside our permissions.  We are using our finite minds to tinker with the basic units of life hoping to affect the qualities of the embryo by modifying the DNA that controls it.  Others of us are working at producing robots that can act as human beings by making independent decisions and carrying them out.
As demography warns us that we are in danger of becoming a minority population in a land we and our ancestors founded and developed we ignore the warning, fail to make adjustments, and continue to support small families, abortion, and same sex unions
We are created beings constructed for obedience and humility.   Contrived, illogical theories of evolution provide the arrogance of autonomy and we begin to act like gods.  All humility evaporates and we begin to fight for control over our fellow human beings.   We, to whom life was a gift, who had nothing to do with our existence, seek to act as sovereign lords with the right to determine right and wrong and to live as kings in gifted space.
"Pride goes before destruction and a haughty spirit before stumbling.  It is better to be of a humble spirit with the lowly, than to divide the spoil with the proud."  (Prov. 16:18)  American exceptionalism and national pride have run its course and a stumble is imminent.
Paul Craig Roberts   points out that the boasting about winning WWII is not only impolite but totally wrong.  Russia through tremendous sacrifice of lives and property defeated Germany and Eisenhower invaded Europe after the war had been won.  Roberts claims the U. S. has not won a war since defeating the Japanese and that was more a technical achievement than a military victory. .
Pastor Chuck Baldwin   says that America has been a captive nation for more than a Century; controlled by a cabal of foreign bankers whose identity cannot be verified.  The Federal Reserve removed control of the nation from the people allowing bankers to control our government through manipulation of elections.  No one can win an election to a Federal Government position without supporting neo-Israel.  The neocons have gained enough power over policies to force the American people to finance their wars and their quest for world domination.
The United States of America is indeed a puppet nation inhabited by an insouciant people that are too lazy and gullible to discern reality and fight for righteousness.  While our people have been busy with their jobs and the enjoyment of a hedonistic lifestyle the basic unit of civilization has been dismantled and replaced by unreasonable and unnatural arrangements ineptly described as families; two men are a family, two women are a family, a woman and a child are a family, and a man and a child are a family – an individual and a dog may soon qualify. The conventional family composed of a married man and woman with children has been arbitrarily dismantled by powerful individuals who seek to certify deviant lifestyles.
"America and the World" is a 2008 book containing an interview with Zbigniew Brzezinski and Brent Scowcroft moderated by David Ignatious.  Brzezinski and Scowcroft have been long time advisers to U. S. presidents and other leaders.  On page 242 Brzezinski made this statement. "The president (George W. Bush) said in his latest State of the Union message that the defining character of the Twenty-First Century is going to be the struggle against terrorism.  This is an absurd statement – first of all it is 2008, so we still have 92 years to run.  To define the essence of this century so early on is premature.  What Brent and I are doing today is trying to grope our way towards a more complex and sophisticated definition of the challenges of the century, and to say how, in that context, an American national policy that combines power with principle Is the right response."
Brzezinski and Scowcroft are globalists but they seem to cling to the old fashioned idea of adhering to principles.  On the following page Scowcroft says the when he was in graduate school the bible for students of international politics was a book by Hans Morgenthau entitled "Politics Among Nations".  He describes the book this way: "international politics is a struggle for power and that power is the only thing that matters".
In 2003 I wrote an article entitled "Judeo-Christian Decadence"  (Read it here) it describes the education of many of the Bush II advisors who studied under University of Chicago professor Leo Strauss  The Strauss philosophy lacked principles.  It was Machiavellian, elitist, deceptive, and esoteric.  Out of it came the Project for the New American Century (PNAC), a neocon document that recommended growing our armaments and sending our armed forces into the world to exert American hegemony.  It was enthusiastically accepted by the Bush II Administration and has continued to exert heavy influence on our foreign policy.  Read about it here.  (Note that current presidential candidate Jeb Bush was one of the authors.)
Writing about the cabal that is controlling our world is a conjecture at best but it appears that the recommendations of men like Brzezinski and Scowcroft have lost their influence being replaced by the brutal power and shrewd deception of the neocon cabal.
PNAC was the guiding light of the George W. Bush Administration.  It developed the War on Terror and the ruse that America was in danger from Middle Eastern Muslim nations.  Brzezinski called the idea "absurd".
When the true ruler of the universe is ignored and individual sovereignty begins to create chaos power begins to flow to government.  When government becomes the sovereign the next step is a new world order.  To some a world order is an advancement that would stop war and bring peace.  To others it is considered a fulfillment of destiny for a superior group of people whose elite status entitles them to world hegemony.  This group of neocons whose power came to the fore during the Bush II Administration is in the process of destroying the United States of America by using it in their quest for world tyranny.
The new power brokers are not bound by principle.  Their conduct is both deceptive and cold blooded.  It is characterized by massive propaganda, outright lies, deception, cruel retaliation, and the use of power over law.  Their attempts to destroy the United States has had considerable success during the Twentieth Century and now that their hegemony is almost absolute they have accelerated their efforts during the decade and a half of the new era.
Efforts to bring the world order into existence peacefully using power and principle have been replaced by mass murder, lethal bombers, drones, and assassins.  With the traitorous help of our own elected representatives they have engaged us in an endless war against a nebulous enemy called "Terrorists". By propagandizing the lie that we are in danger they have used our armies to invade nations that could never be a threat to United States creating death and chaos among hundreds of thousands of innocent civilians.
Instituting unnecessary foreign wars and obligating the American people with massive debt without their approval can ultimately result in an aroused citizenry – even in an insouciant people. So the government has passed mountains of restrictive law that could remove all of our rights and bring on a grinding tyranny. . John Whitehead writes about it here.
Concentrations of power are dangerous.  During the late Middle Ages an accumulation of power in the Catholic Church produced a gross distortion of the character of the God it claimed to represent.  Murder, adultery, fornication, and conspiracy were evident in the hierarchy and cupidity resulted in a lucrative business in the sale of indulgences which not only distorted the essence of the Gospel but elevated an arrogant church into the sin of being like God.  Human beings in control of the church were offering forgiveness of sin in exchange for money.
Absolute power results in similar travesties whether vested in kings, in governments, churches, or private homes.  Those who exercise such power revert to the original sin of being like God.  They claim dominion over life and death and demand that their edicts are carried out under the threat of death.  The church had elevated itself into the wicked position of claiming its word was the Word of God.  To defy the church was heresy and heresy was punished with death.
The position of the Catholic Church during the middle ages was similar to that of the United States government under President Barak Obama. Our government seeks to prosecute Edward Snowden for revealing to the people a criminal invasion of the privacy of its citizens in defiance to the Fourth Amendment to our Constitution, the law of the land.  Just as the Catholic Church reserves the right to act as a god by forgiving sin, our government is claims the right to overrule our Constitution by blatant invasions of our privacy.   When exposed, evil being done under the cover of darkness bites like a rattlesnake!
The reformation began by publishing the Bible in languages that the people could understand and using it to preach the gospel and to point to the errors of Rome. In that era many people were blest to receive Biblical truths and began to follow a Reformed Christianity.
The Bible was purposely kept from the people allowing the Catholic Church to become humanistic without accountability.  It was access to the Bible that brought about the Reformation.  Reformers claimed the Word of God should govern the world – the Catholic Church claims that since it collated and put together the Bible, it is subject to the Church allowing the church to tinker with the Word of God..  Protestant Reformers believed.l the church should be subject to God and His Law along with all else.
Attempts to reform flagrant errors in the Catholic Church – errors both human and theological – resulted in charges of heresy and sentences of death.  There were similarities in the tyrannical governments of Stalin and Hitler.  Tyranny is a humanistic evil that echoes the Biblical record of the sin of Adam.  Instead of seeing themselves as created beings in need of the wisdom of the Creator men beguiled by the Devil see themselves as god and with the chaos and cruelty of Godlessness they produce murder and mayhem.
The Church refused to correct it errors and critics were burned at the stake. There is no Biblical support for Papal infallibility, for Baptismal conversion, for confessional forgiveness of sin, for worship and prayer to Mary or to any of the dead icons.  The original church of Jesus Christ continues as a sizeable world force but it is secular, a supporter of the world order, and promoter of heretical, humanistic theology.  Read here.
People who cling to sinful doctrines are often intellectually lazy and unwilling to join the perennial battle against evil by accepting the responsibility of supporting righteousness.  It is easier to maintain the status quo even if it is evil.
Tyranny is the destiny of nations that are too lazy to fight on the side of righteousness.
As right becomes wrong and good becomes bad, as the social structure of our once peaceful and prosperous nation is destroyed, and strife is purposely created, as the press promotes animosity between races and denigrates the basic religion of our nation,  as Hollywood desecrates morality and promotes violence, as our elected officials respond to illegitimate power and choose to believe the existence of ghostly dangers, as the generals who lead our armies accept fantasies and order them carried out, as laws are encoded that destroy our liberty and create a police state, as the legality of our Constitution is ignored, as we amass a debt that will enslave our children for generations, as our armies murder thousands of innocent civilians, as our churches become social clubs and fail to address immorality, as Satan dances gleefully in our nation's capital our citizens go about their daily tasks as if nothing is amiss.  That is what Paul Craig Roberts means by "insouciant".
Hard times are coming.  Death and destruction are hovering over us.  We are a rogue nation that has created the ire of a large portion of the world and we will reap what we have sown.  That is our destiny.  Our people have had access to the truth for decades but have preferred their intractable ignorance to the truth that could have set them free.  We have earned it, we deserve what is coming.
Absolute power is vested in God – legitimate human power is a derivative!
Citizen contacts with police are becoming more and more frequent, and often more and more hostile. Sadly, the vast majority of the American people have absolutely NO IDEA how to lawfully and peacefully protect themselves against police overreach and abuse. And sadder still is the fact that the average police officer has but a rudimentary knowledge of the law. To a degree, police' lack of knowledge on finer points of the Constitution is excusable since they are not constitutional scholars and jurists and not all situations are normal in every-day policing. Still, today's problems with police go beyond these understandable mistakes because many police officers willingly ignore and violate the constitutional limitations concerning their conduct with the public.
If you are a Baby Boomer like me, you were probably taught that the policeman is ALWAYS your friend and can ALWAYS be trusted. You were taught that he or she is looking out for YOU. And if you were raised in church, you were probably taught that the police officer is ALWAYS right. Most of us were probably raised this way, even if we came along after the Baby Boomers. Most people are "law and order" folks, and, therefore, have nothing but positive thoughts about police officers. Plus, many of us have friends, neighbors, and relatives that are police officers or sheriff's deputies, and we assume all policemen are as honest and well intentioned as are our friends and loved ones.
Without a doubt, many (if not most) police officers and sheriff's deputies are truly honest, respectable, morally decent, well intentioned people. Most of them come from good homes. As youngsters, they stayed out of trouble. Most of them didn't join the police force to become Storm Troopers. I readily understand all of that.
However, it is an absolute FACT that local policing is NOT WHAT IT USED TO BE. In the old days, policemen were almost universally taught to respect both the Constitution and the individual citizen. Most were trained by local officers. Most of them had lived their entire lives in the communities in which they served. And very few of them were former military. That is NOT the way it is today.
And since the Department of Homeland Security was invented, many police procedures, policies, philosophies, etc., come from this federal agency (along with the Department of Defense). The net result of the influence of DHS is that local police agencies have become more and more militaristic in methodology and antagonistic in attitude. This is especially true in America's larger cities, but it happens in rural areas, too. And, that, folks, is a fact.
Plus, more and more police officers are coming out of the ranks of the military. This is not wrong in and of itself; but citizen policing is one hundred and eighty degrees opposite from military purposes, policies, and protocols. American citizens are NOT enemy combatants. And police officers are NOT soldiers. Combine the military mindset and an increasing militarization of domestic police training and the result is an emerging Police State. And that is EXACTLY what is happening in front of our very eyes.
And those police officers and sheriff's deputies that are reading this column who still reverence the Constitution and personal liberty will find NOTHING I say offensive. In fact, honest policemen are more disturbed about the current militarization taking place in law enforcement than I am, because they still take pride in being a constitutional peace officer and love liberty as much as the rest of us.
I know police officers, who are former military, who are exemplary enforcers of the law. And I know some who are nothing more than would-be Brown Shirts. Unfortunately, the former group seems to be shrinking, and the latter group seems to be growing.
Regardless of the proclivities and character of the individual officers, the SYSTEM today is anything but friendly to law abiding citizens. For the most part, the system leans to the proposition that all men are guilty until proven innocent.
Folks, never forget this: when police stop people, they are constantly trying to find something (anything) to arrest you for. NEVER FORGET THAT. Every traffic stop, and every police contact is designed to discover something for which you can be arrested. Add the "us versus them" mindset that most police officers are trained under these days along with their endemic ignorance of the law, and you are susceptible to arrest every time you leave your house or place of business. Plus, many times a police officer's advancement is directly determined by the number of arrests he makes. Some jurisdictions have quotas for tickets and arrests made. This reality makes you a potential "meal ticket."
And should one have the attitude, "I have done nothing wrong; I have nothing to worry about," please remember that "wrong" is a very subjective term. What you consider lawful and non-criminal, a police officer (and prosecutor) could construe to be felonious. There are thousands of people in prison today who considered their conduct innocent–and for many of them, it probably was.
As I said at the beginning of this column, most people have absolutely NO IDEA how to lawfully protect themselves from illegal police procedures (be those procedures well intentioned or not). By lawfully, I mean constitutionally. Like most police officers, most citizens are woefully ignorant of their rights and protections under the Constitution.
How many times have we heard the expression, "Anything you say can and will be used against you in a court of law"? Well, folks, that is not just an expression; that is an absolute fact. Anything you say. Absolutely anything!
Not only can what you say be used against you, if you say anything to police, an officer can distort and twist what you say to sound incriminating. And if a judge is judging the credibility of an officer he or she sees in court on a regular basis, whose word do you think will prevail: yours or the officer's? The truth is, there is an inherent danger that exists in every case where officers are investigating you for criminal activity–even if you are as innocent as can possibly be.
ANY CONTACT with a police officer or sheriff's deputy or highway patrolman can result in the forfeiture of your freedom–and more and more frequently, your LIFE.
As much as I respect the office of policemen or sheriff's deputy or highway patrolman (and I do), reality forces me to acknowledge that policemen today are not being trained to strictly adhere to the Constitution and cannot be trusted to always act within the boundaries of those protections. Therefore, it is incumbent upon ME to be sufficiently educated in my constitutional rights and obligations in order to insure that my liberties are not arbitrarily absconded by unlawful police procedures–be they well intentioned or otherwise. My liberties are too precious to be taken away because I have been too casual or lethargic to know how to protect them.
And, lest anyone misconstrue what I am saying at this point, I am NOT talking about acts of violence against police. I am talking about knowing my rights under the Constitution and knowing how to peacefully use those rights to defend myself against unlawful police behavior. And, folks, ignore this to your own peril: even the best and most sincere police officers sometimes use unlawful procedures and tactics. Again, they are NOT legal scholars.
In truth, a constitutionally knowledgeable citizenry is the very BEST defense against police abuse. If a majority of citizens truly understood their constitutional rights and faithfully acted upon them, our State and local police agencies would quickly learn what is proper and improper and would become much better peace officers. In other words, the deterioration of proper policing is not as much the policeman's fault as it is OURS.
And please understand this: no matter what you hear and think, the court system can still very much be used to PROTECT our rights as much as it can be used to take them away. Despite what you hear from "conservative" pundits, there is still a plethora of attorneys who very much care about constitutional law and practice it every day to protect the public. Not every attorney is an enemy of freedom. Stop listening to people who say otherwise. I can promise you, if I am ever forced to defend myself in a court of law, I will hire the very best defense attorney that I can. And the truth is, there are public defenders across the nation who are some of the best attorneys around and stand as a formidable wall between overreaching police and prosecutors and civil liberty.
In fact, when it comes to Fourth Amendment (Fifth Amendment, Sixth Amendment, etc.) protections, personal liberties, civil rights, etc., Democrat lawyers are often MUCH BETTER than Republican lawyers. We need to stop stereotyping all attorneys and judges. The issue is freedom, not politics!
I know of constitutional attorneys who often provide seminars in order to teach people the "do's and don'ts" regarding police encounters. Most of these seminars are not cheap–and they are worth whatever the cost might be. (How much value do you place on your liberties?) But just recently, I asked my attorney son, Tim, if he would present a seminar on this subject to Liberty Fellowship. And he happily agreed to do so.
Therefore, I am pleased to announce to my readers that we have just produced an hour-long DVD wherein Attorney Tim Baldwin lectures (complete with instructional slides) on the topic: "Police Contact: How To Respond."
Tim explains your rights and the law regarding police contacts in a variety of circumstances, such as traffic stops, etc. He explains the rights and protections you have under the Constitution. He presents a constitutional, legal analysis of what you should and shouldn't do when brought into contact with a police officer, sheriff's deputy, or highway patrolman.
Tim is a former felony prosecutor and is now a criminal defense attorney. He has seen both sides of the criminal justice system and is imminently qualified to discuss this subject. He knows that for an attorney to best protect his or her clients, his clients need to know how to protect themselves before and during the investigative and arrest procedures.
As his dad, I can tell you, he taught me a lot! Believe me, being informed of your legal rights and responsibilities under the law is very empowering, which is exactly what America's Founding Fathers intended. True power, true authority rests with the People under God and the Constitution. Police officers are SERVANTS of the People and are as obligated to obey the Constitution as are each of us. Knowing these rights and protections will give you much CONFIDENCE when you are pulled over by a police officer.
Let me hasten to say that I am ALWAYS respectful to a police officer. And so should we always be. We must respect his position. But mostly, we must respect the law that he, the police officer, is sworn to uphold. But how can we respect the law if we don't even know and understand the law? How can officers improve their law-enforcement practice unless citizens know when police are following the law? How is the legal system benefited if police can trample citizens' constitutional rights with the consent of the people? Tim's DVD will help tremendously in this regard.
In light of the climate that we all live in today, I cannot emphasize enough how important it is that we become familiar with our constitutional rights and responsibilities. If enough of the American people would learn these constitutional principles, they could stem the growing tide of unconstitutional conduct by our public servants, including, and especially, by those in law enforcement.
Here is where you can order the DVD, "Police Contact: How To Respond," by Attorney Tim Baldwin.
Police Contact: How To Respond
And, folks, this DVD is a bargain at whatever price. Again, how much value do you place on your liberties?
"Hasn't US belligerence toward Russia – particularly on the Ukrainian situation – given rise to closer Sino-Russian cooperation to counter the US?," Harry Colin asked in response to my latest article. My answer is a heavily qualified "yes." Russia and China have upgraded their strategic partnership over the past year and a half, but they are very far from forging a strategic alliance deliberately aimed at countering Washington's global-hegemonistic designs.
On the basis of my six visits to Moscow in 2014-15, I can aver that some influential Russians' expectations of their recent pivot to Asia far exceed China's readiness – at this stage, anyway – to confront the hegemonistic power in a coordinated, grand-strategic manner. To put it simply, Moscow's prevailing image of China as a natural ally – on the account of Russia's willingness and ability to confront what it perceives as a drastic geopolitical encroachment on its vulnerable southeastern flank – does not necessarily fit in with China's own calculus and long-term strategy. There is a deep imbalance in the two countries' perceptions of each others' commitment to a joint geopolitical project, and there is an even greater discrepancy in their economic and hence political interests.
At under $100bn two-way total last year, Russia was China's tenth trade partner (well below the United States, Japan, South Korea, Taiwan, Germany, even Malaysia), accounting for a mere two percent of China's foreign trade turnover. By contrast, China is Russia's top trading partner – and Russia exports almost nothing other than oil, gas and timber to the People's Republic. Their long-term energy partnership, embodied in the 30-year gas agreement signed during Vladimir Putin's visit to Beijing in May 2014, will represent only a fraction of China's foreign trade on annual basis. Even if the bilateral total is increased to $200bn by 2020, as envisaged in the trade agreement signed in Moscow last October, that will still be barely equal to the value of the value of China's trade with its estranged province of Taiwan (population 23 million) in 2014. Currently China exports to Russia 66 times more machinery, equipment and processed goods than she imports from Russia. The list goes on… The relative power of Russia and China have been spectacularly reversed over the past quarter-century.
Metahistorically speaking, Russia was far more deeply wounded by the communist tragedy than China. Russia has lost the ability to think and plan grand-strategically, as evidenced by her largely reactive posture over Ukraine and by her utter failure to project anything resembling soft power abroad. China, by contrast, is as much the Middle Kingdom now as she has been for two and a half millennia, coldly contemptuous of the Wilsonian notions of a converging world. Russia responds, often clumsily, to immediate threats, real and perceived, while China plans for the long term, methodically and single-mindedly.
There is no natural affinity between their civilizations and their peoples. China does not forget the fact that Russia was a full-fledged participant in her 19th century humiliation by the Western powers. In the 19th century Russia annexed her Far Eastern region (the Amur basin, Vladivostok to Khabarovsk), and dominated Manchuria until the disastrous war with Japan in 1904-5. The ideological schism of the early 1960's was but a veneer for deeper historical grievances.
China's current muscle-flexing in the South China Sea is a carefully calculated ploy to achieve geopolitical advantage at little or no cost, especially in terms of a determined American response, above all regarding commerce. Beijing expects business to continue as usual, and Beijing is right. Lenin's dictum ("the capitalists will sell us the rope with which we will hang them") comes to mind.
Of course the Chinese leadership does expect a major confrontation with the U.S. in the fulness of time, but they are far from ready for it now. Overall, China has it made in terms of global trade flows and financial solidity, and she is harnessing her resources for the great showdown some time later this century. Russia's needs in this respect are immediate, but Beijing thinks it is far too early in the day to up the ante. My considered verdict is that China will stay aloof to Russia's optimistic rhetoric, while paying polite lip-service to the two powers' decade-long strategic partnership. When it comes to America's global interests, of course in the long term China is far more perilous to the putative pax Americana than Russia has ever been.
The Skirmish in the Spratlys…
"Washington is not looking for peace or war. They're looking for domination. If they can achieve domination peacefully – that's fine. If they can't, they'll use war. It's that simple."

— William Blum, Interview with Russia Today

"The U.S. is frantically surrounding China with military weapons, advanced aircraft, naval fleets and a multitude of military bases from Japan, South Korea and the Philippines through several nearby smaller Pacific islands to its new and enlarged base in Australia…. The U.S. naval fleet, aircraft carriers and nuclear submarines patrol China's nearby waters. Warplanes, surveillance planes, drones and spying satellites cover the skies, creating a symbolic darkness at noon."

— Jack A. Smith, "Hegemony Games: USA vs. PRC", CounterPunch
The vast build up of military assets in the Asia-Pacific signals a fundamental change in U.S. policy towards China. Washington no longer believes that China can be integrated into the existing US-led system. Recent actions taken by China– particularly the announcement that it planned to launch an Asian Infrastructure Investment Bank (AIIB) that would compete head-to-head with the World Bank and IMF— have set off alarms in the Capital where behind-the-scenes powerbrokers and think tank pundits agree that a more "robust" policy is needed to slow China's ascendency. The current confrontation in the South China Sea–where the US has demanded that China immediately cease all land reclamation activities–indicates that the new policy has already been activated increasing the prospects of a conflagration between the two nuclear-armed adversaries.
There's no need to go over the details of China's land reclamation activities in the Spratly Islands since reasonable people can agree that Washington has no real interest in a few piles of sand heaped up on reefs 10,000 miles from the United States. The man-made islands pose no threat to US national security or to freedom of navigation. The Obama administration is merely using the Spratlys as a pretext to provoke, intimidate and harass Beijing. The Spratly's provide a justification for escalation, for building an anti-China coalition among US allies in the region, for demonizing China in the media, for taking steps to disrupt China's ambitious Silk Roads economic strategy, and for encircling China to the West with US warships that threaten China's access to critical shipping lanes and vital energy supplies. This is the ultimate objective; to bring China to its knees and to force it to comply with Washington's diktats. This is what Washington really wants.
In a recent speech at the Shangri La Dialogue in Singapore, US Secretary of Defense Ashton Carter said that "there is no military solution to the South China Sea disputes." Just moments later, and without a trace of irony, Carter rattled off a long list of military assets the Pentagon plans to deploy to the Asia-Pacific to shore up US offensive capability. The list includes "the latest Virginia-class [nuclear] submarines, the Navy's P-8 Poseidon surveillance aircraft, the newest stealth destroyer, the Zumwalt, and brand-new carrier-based E-2D Hawkeye early-warning-and-control aircraft." The Pentagon is also going to add "new unmanned systems for the air and sea, a new long-range bomber, (an) electromagnetic railgun, lasers, and new systems for space and cyberspace, including a few surprising ones."
For someone who doesn't believe in a military solution, Carter is certainly adding a lot of lethal hardware to his arsenal. The question is: Why? Is Washington preparing for war?
Probably not. The United States does not want a war with China. What Washington wants is to be the dominant player in this century's most promising and prosperous market, Asia. But China's meteoric growth has put Washington's plan at risk, which is why Obama is wheeling out the heavy artillery. The anti-China coalition, the China-excluding trade agreements (TPP) and the unprecedented military build up are all aimed at preserving Washington's dominant role without actually starting a war. The administration thinks that the show of force alone will precipitate a change in behavior. They think China will back down rather than face the awesome military power of the American empire. But will it? Here's another clip from Carter's speech at Shangri La:
The United States will continue to protect freedom of navigation and overflight – principles that have ensured security and prosperity in this region for decades. There should be no mistake: the United States will fly, sail, and operate wherever international law allows, as U.S. forces do all around the world.

America, alongside its allies and partners in the regional architecture, will not be deterred from exercising these rights – the rights of all nations. After all, turning an underwater rock into an airfield simply does not afford the rights of sovereignty or permit restrictions on international air or maritime transit.
Who is Carter kidding? China poses no threat to freedom of navigation or overflight. The real threat is China's participation in the $100 billion BRICS Development Bank which is set to finance some of the "largest projects of the modern history (including) the construction of new Eurasian infrastructure from Moscow to Vladivostok, in South China and India." The so called BRICS (Brazil, Russia, India, China and South Africa) "represent 56% of world economic output, and account for 85% of world population. They control about 70% of the world's foreign exchange reserves. They grow annually by an average of 4% —5%." (Sputnik News) In other words, US-backed institutions are going to lose their exalted role as "underwriter for the global economy" because the world's biggest infrastructure projects are going to be funded by China and its allies. Naturally, this doesn't sit well with Washington where policy bigwigs are worried that US influence will gradually erode as global power inevitably shifts eastward.
US hegemony is also threatened by China's Sino-centric economic policy which author Robert Berke sums up in an article on Oil Price.com titled "New Silk Road Could Change Global Economics Forever". Here's an excerpt from the article:
China is building the world's greatest economic development and construction project ever undertaken: The New Silk Road. The project aims at no less than a revolutionary change in the economic map of the world…The ambitious vision is to resurrect the ancient Silk Road as a modern transit, trade, and economic corridor that runs from Shanghai to Berlin. The 'Road' will traverse China, Mongolia, Russia, Belarus, Poland, and Germany, extending more than 8,000 miles, creating an economic zone that extends over one third the circumference of the earth.

The plan envisions building high-speed railroads, roads and highways, energy transmission and distributions networks, and fiber optic networks. Cities and ports along the route will be targeted for economic development.

An equally essential part of the plan is a sea-based "Maritime Silk Road" (MSR) component, as ambitious as its land-based project, linking China with the Persian Gulf and the Mediterranean Sea through Central Asia and the Indian Ocean. When completed, like the ancient Silk Road, it will connect three continents: Asia, Europe, and Africa. The chain of infrastructure projects will create the world's largest economic corridor, covering a population of 4.4 billion and an economic output of $21 trillion…

For the world at large, its decisions about the Road are nothing less than momentous. The massive project holds the potential for a new renaissance in commerce, industry, discovery, thought, invention, and culture that could well rival the original Silk Road. It is also becoming clearer by the day that geopolitical conflicts over the project could lead to a new cold war between East and West for dominance in Eurasia. The outcome is far from certain. ("New Silk Road Could Change Global Economics Forever", Robert Berke, Oil Price)
China is perfectly situated to take advantage of Asia's explosive growth. They've paid their dues, built up their infrastructure and industrial capability, and now they're in the catbird seat fully prepared to benefit from the fact that "Half of humanity will live in Asia by 2050″ and that "more than half of the global middle class and its accompanying consumption will come from that region." US corporations will be welcome to compete in these new markets, but they won't do nearly as well as businesses located in China. (This is why the Pentagon has been asked to intervene by powerful members of the corporate establishment.)
Washington's gambit in the Spratly's is an attempt to reverse the tide, derail China's current trajectory and insert the US as the regional kingpin who writes the rules and picks the winners. As Sec-Def Carter said in an earlier speech at the McCain Institute in Arizona, "There are already more than 525 million middle class consumers in Asia, and there will be 3.2 billion in the region by 2030." US corporations want the lion's-share of those customers so they can peddle their widgets, goose their stock prices and pump up their quarterly profits. Carter's job is to help them achieve that objective.
Another threat to US global rule is the aforementioned Asian Infrastructure Investment Bank (AIIB). The danger of the AIIB is not simply that it will fund many of the infrastructure projects that will be needed to integrate Europe, Asia and Africa into one giant free trade zone, but that the bank will replace key US-backed financial institutions (The IMF and World Bank) which have helped maintain Washington's iron-grip on the global system. As that grip progressively loosens, there will be less need for cross-border transactions to be carried out in US dollars which, in turn, will threaten the dollar's role as the world's reserve currency. As author Bart Gruzalski notes in his excellent article at Counterpunch, "China and Russia are creating alternatives that threaten the dollar's status as the sole dominant international currency. By instituting trade alternatives to the dollar, they challenge the value of the dollar and so threaten the US economy." ("An Economic Reason for the US vs. China Conflict", Bart Gruzalski, CounterPunch)
Former Treasury Secretary Larry Summers offered a particularly bleak assessment of the AIIB flap in an editorial that appeared in April in the Washington Post. He said:
This past month may be remembered as the moment the United States lost its role as the underwriter of the global economic system. True, there have been any number of periods of frustration for the United States before and multiple times when U.S. behavior was hardly multilateralist, such as the 1971 Nixon shock ending the convertibility of the dollar into gold. But I can think of no event since Bretton Woods comparable to the combination of China's effort to establish a major new institution and the failure of the United States to persuade dozens of its traditional allies, starting with Britain, to stay out. (Washington Post)
Summers goes on to acknowledge the threat that political dysfunction (on Capitol Hill) poses to "the dollar's primary role in the international system". It's clear that Summers grasps the gravity of what has unfolded and the challenge the AIIB poses to US hegemony. Readers should note that Summers ominous warnings were delivered just months before Washington dramatically revamped its China policy which suggests that the announcement of the AIIB was the straw that broke the camel's back. Shortly after, the Obama administration made "crucial changes" to the existing policy. Containment and integration were replaced with the current policy of intimidation, incitement and confrontation. Beijing was elevated to Public Enemy Number 1, America's primary strategic rival.
What happens next, should be fairly obvious to anyone who has followed US meddling in recent years. The US is now at war with China, which means that it will use all of its resources and capabilities, except it's military assets, to defeat the enemy. The United States will not militarily engage an enemy that can fight back or inflict pain on the US. That's the cardinal rule of US military policy. While that precludes a nuclear conflagration, it does not exclude a hyperbolic propaganda campaign demonizing China and its leaders in the media (Sadly, the comparisons to Hitler and the Kaiser have already started), asymmetrical attacks on Chinese markets and currency, excruciating economic sanctions, US-NGO funding for Chinese dissidents, foreign agents and fifth columnists, intrusions into China's territorial waters and airspace, strategic denial of critical energy supplies, (80 percent of China's oil supplies are delivered via the Malacca Strait to the South China Sea) and, finally, covert support for "moderate" jihadis who are committed to toppling the Chinese government and replacing it with an Islamic Caliphate. All of these means and proxies will be employed to defeat Beijing, to derail its ambitious Silk Roads strategy, to curtail its explosive growth, and to sabotage its plan to be the preeminent power in Asia.
Washington has thrown down the gauntlet in the South China Sea. If Beijing wants to preserve its independence and surpass the US as the world's biggest economy, it's going to have to meet the challenge, prepare for a long struggle, and beat Uncle Sam at his own game.
It won't be easy, but it can be done.
Torture, pain, beheadings, the murder of children…. If God exists and is all good, how could He allow such suffering and evil? This is a common question, and a lament often an impediment to faith. It also was addressed recently on the Savage Nation radio show, where host Michael Savage — exhibiting his versatility and talk virility — will sometimes broach that certain thing we're supposed to discuss even less than politics. His answer to the question was contained in his newsletter and is:
I actually believe that God has no effect on a moment-by-moment basis or a person-by-person basis.
If I did, then I'd have to stop believing in God.
If I were to believe that God controlled everything on earth, then I'd have to believe that God is evil.
I believe God is not omnipotent. He is omnipresent.
That's what saved me from atheism.
It certainly is good to have an answer that saves one from atheism, but is the above the answer?
God undoubtedly doesn't micromanage our lives, controlling matters on a moment-by-moment basis; this reality is called His "permitting will" in theological circles, as opposed to His "ordaining will." But why is God, as some might say, so "permissive" (He isn't, really)? There is an answer, but before addressing it let's examine the matter of God's omnipotence.
God is known as the "Creator" because the belief is that He created the whole Universe, the heavens and the Earth and all living creatures — out of nothing. He is the first cause. In this case, however, it would seem fanciful to suppose that He could create life but not control that life. After forging the wonders called the Universe and its denizens, controlling man would seem small potatoes.
To suggest otherwise is to say that God is not really "God" — by definition all-powerful and perfect — but a different kind of being entirely. For He then either created something He couldn't control (which certainly can be a fault of man) or didn't create it at all. If the latter, though, where does that leave us? We can't say something else created the Universe, for that entity would then be above what would merely be but a cosmic middleman, and it would be God (the "Immovable Mover," as Aristotle said). The only other possibility is that we believe in something and call it "God" even though it would just be some spirit being formed as a cosmic accident via some evolutionary process wholly unknown to us. But this would just bring us back to atheism and its inherent relativism and meaninglessness — with the twist that, for sure, we're not the most powerful cosmic accidents in the Universe.
This is why philosophers have long explained God's tolerance of evil by way of "free will." Yes, I know it sounds clichéd now to some, but my explanation won't be. So why is free will so important that God would allow profound evil in its name?
Imagine you could have a computer chip implanted in your child's brain that would control his behavior (something perhaps possible in the foreseeable future). No more terrible twos or toddler tantrums, no disobedience, no crying, no frowns, no shirking of responsibility — just a perfectly agreeable Stepford Child. Would you implant away?
This would defeat the purpose of having a child. Sure, we want our kids to mature into moral beings, but that is impossible if you're merely a controlled being. For being moral involves making moral choices, and this cannot happen if you have no choice. The chipped child would have been dehumanized, reduced to automaton status via the negation of his free will. You might as well just purchase a cute robot and be done with it.
Think about what is being said here, however: You're willing to tolerate sinful acts in your child — and the possibility of truly horrible behavior — in the name of his being fully human.
God is no different with respect to us, His children. He could completely control us with the snap of divine fingers, but we are then reduced to mere organic robots; we are not then His children, but His things. Note, when it's said we're created in God's image, this does not refer to our physical being but that, like God, we have intellect and free will. Remove either quality and we're mere animals.
(Speaking of which, it's hard to imagine even a pet owner chipping his dog; we'd likely feel that this would eliminate his "dogness" and wouldn't want to use perverted science to accomplish what training should.)
Then there is the matter of love, which is represented in action: Loving attitudes beget loving acts. When someone serves us — whether it's a spouse bringing home the bacon or serving it, or a child doing chores — we're by far most pleased if it's done in a spirit of love because the person wants to make us happy (yes, much to expect in a child!). It doesn't touch us in the same way if the work is performed out of a mere sense of obligation; worse still is if the person is acting as a slave, compelled to labor against his will. Most of us wouldn't even want to be served under those circumstances.
God is no different. He wants us to serve Him as a representation of our love (not because He needs our love and service, but because we need to love and serve Him), and trumping our free will would defeat that purpose. It would reduce us to not just slaves, but those organic robots.
Some may now say that this is all well and good, but aren't there limits to free will's abuse? When people are being burned alive and children massacred, don't you draw a line? The answer is that God is far more logical and consistent than we are.
We talk about "freedom of speech" but then set limits on what can be said; we trumpet "freedom of religion" but then draw lines at certain practices (e.g., human sacrifice). I'm not implying that such lines aren't sometimes necessary, mind you, only pointing out that once they're drawn, it follows that we aren't actually allowing true "freedom of religion." But God means what He says and says what He means. Free will is just that: free will. It's absolute. Besides, He makes the rules, but their application and enforcement are our business — in this world.
This brings us to the last point: worldliness. Too often we analyze faith-based propositions while coupling them with atheistic corollaries. We may wonder, for example, how a just and loving God could allow the deaths of large numbers of children in free will's name. But He doesn't.
He gave the children life, and upon leaving this fold they pass on to eternal life.
I know, this sounds like a handy rationalization to modernistic ears. But we are discussing matters within the context of the Judeo-Christian world view, no? In other words, people could question the data — that God and the afterlife are real, etc. — but that is a different question. The logic when operating within this data set, however, is unassailable. To wit: What is this temporal life as compared to eternity? It's as a grain of sand in a desert or a drop of water in an ocean. It's eternity that matters. And if slaughtered children pass on to a far, far better place, God has done them no disservice.
I don't want to seem unfeeling; I react to worldly horrors much as does everyone else. And it's understandable: This world is all we know firsthand. The hell we so often create on it we see and hear, as it accosts our senses; we feel it. Heaven is generally just something we try to apprehend intellectually. And the heart has seductions the mind cannot match.
There is something we can do, however. Even if we don't feel certain truths on an emotional level, we can choose to believe them. That is a proper exercise of free will — one that lends much happiness and meaning to the life God gave us.
A major investigative report by the Washington Post tells a chilling story: police killings nationwide are on a pace to eclipse 1,000 by year's end. That's more than double the national average in recent years. Even more disturbing is the fact that police shootings are largely underreported. Mind you, these statistics do not include police-inflicted deaths by means other than police bullets, such as stun guns and people in police custody.
The report states, "'These shootings are grossly under­reported,' said Jim Bueermann, a former police chief and president of the Washington-based Police Foundation, a nonprofit organization dedicated to improving law enforcement. 'We are never going to reduce the number of police shootings if we don't begin to accurately track this information.'"
"And in a high-rise apartment in Birmingham, Ala., police shot an elderly man after his son asked them to make sure he was okay. Douglas Harris, 77, answered the door with a gun."
Mr. Harris is one of nearly 400 people who were shot and killed by police during the first five months of this year. This equates to more than two a day.
Eighty percent of the victims of police shootings were in possession of "potentially lethal objects." However, this statistic is deceptive, in that it includes people such as Mr. Harris who was simply armed for his own protection and was shot and killed because he was armed. The remaining victims were completely unarmed; and many were actually running away.
The dead ranged in age from 16 to 83. About half of the calls were in response to some sort of domestic disturbance. Some involved homeless people behaving erratically or someone threatening suicide. Nearly 25% of the victims were identified as being "mentally ill."
"In Miami Gardens, Fla., Catherine Daniels called 911 when she couldn't persuade her son, Lavall Hall, a 25-year-old black man, to come in out of the cold early one morning in February. A diagnosed schizophrenic who stood 5-foot-4 and weighed barely 120 pounds, Hall was wearing boxer shorts and an undershirt and waving a broomstick when police arrived. They tried to stun him with a Taser gun and then shot him."
Police are only authorized to use deadly force when they fear for their lives or the lives of others and there is an imminent threat to life. This is the same principle of law that governs the conduct of American citizens in general. However, nowadays, running away from a police officer could easily get one shot.
"Running is such a provocative act that police experts say there is a name for the injury officers inflict on suspects afterward: a 'foot tax.'"
Of the nearly 400 police killings so far this year, only three have resulted in an officer being charged with a crime. That's less than one percent.
"The low rate mirrors the findings of a Post investigation in April that found that of thousands of fatal police shootings over the past decade, only 54 had produced criminal ­charges. Typically, those cases involved layers of damning evidence challenging the officer's account. Of the cases resolved, most officers were cleared or acquitted."
According to FBI statistics, over the past several years, police have killed around 400 people each year. But this stat was achieved in just the first five months of this year. To be sure, many of these killings were completely justified–and sometimes even heroic.
The problem is, far too many chiefs of police, sheriffs, county prosecutors, judges, etc., are willing to either, 1) not properly and thoroughly investigate police killings or, 2) look the other way at questionable killings or, 3) actually cover-up wrongful deaths committed by police. Regardless, all of the above leads to a breakdown of justice and true law and order–and serious distrust on the part of the American citizenry regarding law enforcement agencies and the court system itself.
Just about everyone is predicting a long, hot summer of anti-police violence this year in many of America's major cities–especially after the highly controversial episodes involving police killings in Ferguson, Missouri, and Baltimore, Maryland. But the problem is much deeper than these two events. A recent history of police abuse and killings has produced deep resentment against the police, especially within many minority communities. And it's time that the American people (and especially America's police agencies) began realizing that this resentment is not entirely unfounded.
The Post report notes that for most police departments and sheriff's offices, a fatal shooting is a rare event (as it should be). However, 19 state and local police agencies have had at least three police killings so far this year including the police departments in Los Angeles, California, Oklahoma City, Oklahoma, and Bakersfield, California.
"The most troubling ­cases began with a cry for help.
"About half the shootings occurred after family members, neighbors or strangers sought help from police because someone was suicidal, behaving erratically or threatening violence.
"Take Shane Watkins, a 39-year-old white man, who died in his mother's driveway in Moulton, Ala.
"Watkins had never been violent, and family members were not afraid for their safety when they called Lawrence County sheriff's deputies in March. But Watkins, who suffered from bipolar disorder and schizophrenia, was off his medication. Days earlier, he had declared himself the 'god of the fifth element' and demanded whiskey and beer so he could 'cleanse the earth with it,' said his sister, Yvonne Cote.
"Then he started threatening to shoot himself and his dog, Slayer. His mother called Cote, who called 911. Cote got back on the phone with her mother, who watched Watkins walk onto the driveway holding a box cutter to his chest. A patrol car pulled up, and Cote heard her mother yell: 'Don't shoot! He doesn't have a gun!'
"'Then I heard the gunshots,' Cote said.
"Lawrence County sheriff's officials declined to comment and have refused to release documents related to the case."
"Catherine Daniels called police for the same reason. 'I wanted to get my son help,' she said. Instead, officers Peter Ehrlich and Eddo Trimino fired their stun guns after Hall hit them with the metal end of the broomstick, according to investigative documents.
"'Please don't hurt my child,' Daniels pleaded, in a scene captured by a camera mounted on the dash of one of the patrol cars.
"'Get on the f—ing ground or you're dead!' Trimino shouted. Then he fired five shots.
"Police spokesman Mike Wright declined to comment on the case. Daniels said no one from the city has contacted her. 'I haven't received anything. No apology, nothing.'
"But hours after her son was killed, Daniels said, officers investigating the shooting dropped off a six-pack of Coca-Cola.
"'I regret calling them,' Daniels said. 'They took my son's life.'"
See the Washington Post report here:
Fatal Police Shootings In 2015 Approaching 400 Nationwide
The Post report seems to suggest that the answer is for the Justice Department in Washington, D.C., to take a more active role in monitoring local and State policing. I strongly disagree!
One of the reasons why so many of our police officers and sheriff's deputies have become so abusive and trigger-happy is due to the training they are receiving. The "us versus them" mentality is much the result of training indoctrination. And, since 9/11 and the advent of the Department of Homeland Security (DHS), the federal government is mostly responsible for training policies, procedures, philosophies, etc., within State and local police agencies. In fact, most of our local police SWAT teams are trained by U.S. military Special Forces troops. DHS has turned our State and local police agencies into quasi-military units. And it has turned the U.S. citizenry into enemy combatants. I argue that the problems we are having with our police agencies today is the result of the ubiquitous and draconian influence from Washington, D.C.
Plus, think about the manner in which the federal government "bribes" State and local police agencies with all kinds of funding for everything from personnel to tanks and armored carriers, to sophisticated eavesdropping equipment, to military arms and ammunition, to helicopters, ad infinitum. If anything, the American people should be demanding that their local police departments and sheriff's offices STOP accepting federal funding OF ANY KIND for their agencies. The way it is now, our State and local law enforcement agencies are more beholden to Uncle Sam than they are to the people whom they are supposed to serve. To ask the federal Justice Department to become more involved in local policing is like asking the proverbial fox to guard the proverbial hen house. Do you really want to turn your local police department over to the people who massacred the Branch Davidians?
Another remedy is the citizens of our respective counties should demand that the State legislatures and/or county commissions establish an independent Citizen Review Committee charged with the task of investigating EVERY incident of alleged police abuse and, especially, EVERY incident involving a police shooting. Quite frankly, we can no longer trust the internal affairs division of our respective police agencies to adequately police their own. This committee should have the financial ability to hire independent private investigators to examine these incidents. And the committee should be given teeth. It should be mandatory that the prosecutor's office prosecute an officer if the committee investigation finds probable cause–in much the same way that a grand jury's indictment is binding. It would be even better if an independent prosecutor was assigned to these type cases. In many counties, blatant cronyism  between the prosecutor's office and the city police departments and county sheriff's office is way too common. The money should be taken from the annual budget appropriated for the actual police agencies. After all, providing accountability to the public is as much a part of a police department's responsibility as providing a squad car or K-9 unit to police personnel. Without accountability and the respect of the public, all of the police personnel and equipment in the world is not sufficient to keep the peace.
Thirdly, the American people should demand that appropriate tax-dollars be allotted for the Office of Public Defender (OPD)–even if that means it is taken from funds allotted to police departments. In most states and districts, the OPD is one of the most underfunded entities of all. And the OPD is the one office at the courthouse that is constitutionally-mandated within our U.S. Constitution. Yet, most "law and order" conservatives look at the OPD with disdain–but somehow they still refer to themselves as "constitutionalists."
Believe me, the last place you want to be forced to defend yourself in a court of law is in a mostly conservative, Christian, FOX News-type-Republican district. To many, if not to most of these good folks, you are guilty simply because you are arrested and you must PROVE YOURSELF INNOCENT. I know what I'm saying rubs many people the wrong way; but it is an absolute fact.
One of the bedrock principles of American law and justice is that a person is INNOCENT until PROVEN guilty in a court of law. Tragically, this principle has been all but lost in the thinking of many of our citizens today–especially those who watch FOX News too much. It demonstrates a serious lack of understanding and appreciation for liberty itself. For a civil government–any civil government–to take away an individual's liberty should require the strictest requirements. The old adage is still true: "It is better for ten guilty men to go free than for one innocent man to go to jail." Americans need to start defaulting to liberty in their thinking once again. This was the Spirit of '76. For so-called "conservatives" and Christians to demonstrate a "prove your innocence" mentality reveals that they have lost all appreciation and respect for individual liberty and the due process of law.
The county prosecutor's office has virtually unlimited monies to prosecute people. In fact, the prosecution and imprisonment of the American people has become a HUGELY PROFITABLE BUSINESS. The confiscation of properties and assets of accused (sometimes accusation is all that is required to confiscate a person's wealth and property) and convicted persons often serves as a significant revenue stream for many cities and counties–as do traffic citations.
Anyone who thinks speed laws are mostly for "safety" is seriously naïve. It's mostly about generating revenue for the various State and local police agencies, prosecutor's offices, courts, etc. Most police agencies and prosecutor's offices directly benefit from speeding tickets and from people being arrested and sent to jail. Not to mention, the incentives that come from Washington, D.C.
A properly constituted and funded OPD is the second to the last line of peaceful defense against government overreach, abuse, and tyranny. The last line of peaceful defense against government overreach and abuse is the citizen jury. There is no doubt in my mind whatsoever that a sizeable percentage of people serving time behind bars today are there unjustly. They were convicted by overzealous prosecutors trying to make a name for themselves (not to mention a pile of money), by circumstantial evidence, and by the lack of an adequate defense.
Public defenders are pressured to "go along with the system" and not backlog the court by rendering a thorough and vigorous defense of their clients. The weight of city hall often threatens to come down hard on honest public defenders who won't roll over for the prosecutor's office. Judges, likewise, pressure public defenders to "hurry up" with their defense procedures, as all of these myriad laws (especially drug laws) enacted over the years have resulted in most courts being seriously backlogged with cases. And in the minds of most of these "public servants," the answer is for the public defenders to not bog down the system by being too detailed and thorough in the defense of their clients.
It's a rigged system, folks! And it's not rigged in favor of you and me; it's rigged in favor of the police and prosecutors. This reality makes it far too easy for police to literally "get away with murder." Fully authorized and functional Citizen Review Committees, and an adequately funded (and appreciated) Office of Public Defender, and police departments and sheriff's offices that are NOT beholden to the federal government could make a tremendous difference in restoring accountability to our police agencies and public trust in our police departments and prosecutors' offices.
As police killings rise–and as public distrust and anger rise along with it–a rational and reasoned response becomes obligatory. It begins with people, especially our conservative, Christian, Republican friends, recognizing the current holes in our justice system and returning to common-sense, constitutional principles. If this doesn't happen soon, political agitators will create a climate of violence and lawlessness that will only produce more of the abuse and misuse of law that is already taking place. And this accomplishes nothing, except making it easier for Big-Government usurpers to justify themselves in their attempt to encroach upon more and more of our liberties.
The quandary of the economic dilemma continues. A globe suffering from a deflationary financial impact, while consumer prices rise well above the reported cost of living increases, does not bode well that prospects of commercial growth can rescue the world economy. What changes can overcome this predicament? Well, some academic scholar's offers serious concern that a long term rebound towards prosperity is no longer possible.
In an essay, What if economic growth is no longer possible in the 21st century?, Sean McElwee and Lew Daly argue that fundamental changes will be the norm in this century.
"Many economists have warned that the old model is dying out. In a much-cited paper, Robert Gordon argues that the rapid growth we take for granted is not only historically anomalous but likely to slow significantly in the 21st century, pointing in particular to diminishing returns from technology as one major drag. Developed countries have already picked the "low-hanging fruit" of technological advance (in Tyler Cowen's phrase), and future innovations will produce far less growth, he argues."
Postulating from a climate charge bias the authors claim a bleak future is in the cards.
"The conclusions that flow from these observations are stark. The old economic paradigm relied on unsustainable growth, so we must change the paradigm. For decades, our rising standard of living came at a deep cost to our environment and our children's future. There is simply not enough planetary bio-capacity to grow our way out of the messy moral discussions of distribution. The idea that inequality is merely an inefficiency to be corrected with a technocratic fix or perpetual growth is no longer tenable."
Compare this perspective with that in The End of Economic Growth by Charles Siegel who presents three backdrops.
"First, imagine that people decide they have enough at the economic level of the United States in the 1960s—the time when American social critics began to say that our economy was so affluent that it was geared to waste. Imagine that individuals generally chose more free time rather than more income, and imagine that people also made the political decisions needed to limit sprawl, excessive automobile use, and other forms of destructive consumption, so per capita GWP stops growing when it reaches the level of 1965 America.

As a second scenario, imagine that the world imitates the current American consumerist style, so growth does not end until everyone in the world has the income that more affluent Americans have today. Imagine that everyone wants as many useless medical treatments as insured Americans receive today, everyone wants to spend as much on schooling as the most affluent American suburbs do today, everyone wants to drive to the mall and shop till they drop, everyone wants an oversized house in a sprawl suburb and at least two family cars. People are not satisfied until there are more motor vehicles than registered drivers in the world, as there already are in the United States.

Finally, as a third scenario, imagine that we do not do not allow choice of work hours. Instead, we continue to believe the economists who tell us we need growth to avoid unemployment, so the entire world decides it must stimulate demand and promote growth endlessly to create more jobs, as America did after World War II."
An objective analysis of both research approaches needs to ask, what about the unabated increase in population and world-wide debt.
If technology is pushing the limits of providing real economy of scale or reduced innovative and useful generation of economic growth, the prospects for a rising prosperity is significantly diminished. Ever since the industrial revolution, a general economic improvement has registered improvement in individual lives.
The supposition that the planet is running out of bio-capacity is certainly debatable. However, dispute over spending beyond our mutual means and burdening future generations is not arguable.
A forecast that people will choose to consume less will not be from a perspective of voluntary design, but from decreased employment opportunities, lower pay and increases in taxes.
The notion that the entire world will achieve the Herbert Hoover adage, A chicken in every pot and a car in every garage, is about as remote as achieving universal brotherhood.
As for stimulating demand, is that really possible when currencies continue to lose their purchasing power, low interest rates savage savers and government debt is the only engine of funding public programs and make- work jobs?
Lacking in all these academic approaches is the fact that corporatists, bureaucrats, authority officials and the financial elites have no interest or desire to see ordinary citizen prosper.
Economic growth is no longer possible; because of intentional decisions that accept the strategy that most people are no longer necessary to maintain the conspicuous excesses of the super rich.
Since the consumer society is distained by the socialists in academia, it is not expected that their analysis would value a strong independent domestic economy.
The message they would have you believe and work to impose on all of us is that we must sacrifice for the communal good.
Contrary to this attitude is to accept that the common good is actually achieved under a prosperous national economy.
The bare facts are hard to accept for most "Free Trade" proponents. The primary starting point is to write off the bankster debt and issue honest money. As long as the Federal Reserve is allowed to control the monetary creation of currency, the rules of compound interest apply and actual economic growth is impossible.
Accept that the economic woes of the planet are solvable by the liberating spirit of individual entrepreneurs and small business merchants if the stranglehold of transnational corporatocracy model was broken.
The actual resource in short supply is the will and courage to build a true free market where competition is encouraged and monopolies are broken up. Without the insurmountable burden imposed by the counterfeit financial dictatorship, the world could recover. As it stands now, business as usual will destroy the masses.
What is the goal of the NAR loons leaders?  To transform society into the kingdom of God on earth.
John Burton has written a piece entitled "Ancient and Emerging: 5 Major Changes Coming to the Church."  Before you get all excited, or maybe even concerned over those changes, you should know a bit more about Burton.  As it turns out he's a "prophet in the New Apostolic Reformation (NAR) movement.   According to his blog, John Burton, he "has been developing and leading ministries for over 20 years and is a sought out teacher, prophetic messenger and revivalist. Burton has authored ten books, has appeared on Christian television and radio and directed one of the primary internships at the International House of Prayer (IHOP) in Kansas City." 
That Burton was associated with IHOP-KC could only mean that he has served under IHOP's Pied Piper Mike Bickle.  I spent quite a bit of time researching Bickle for a piece I wrote and discovered his strong ties to the NAR or what some refer to as Dominionism.  Also identified was his involvement with the Kansas City Prophets (KCP).  According toPastor Ken Silva, the KCP:
brought grandiose claims that a 'new breed' of super prophets were beginning to arrive on planet earth who would change the world forever. These so-called prophets were a group of men that coalesced around a church known as the Kansas City Fellowship, pastored by Mike Bickle, that attracted a following of other likeminded churches in that region. (More on the KCP here)
It gets worse.  Mike Bickle believes that God speaks to him in an audible voice.  But here's the kicker.  He has visited heaven – twice.  On one visit he told false teacher Bob Jones:
I stood in this room and it had…clouds, it was a room only maybe 20 by 20 or 30. It was a little room. It had clouds in the bottom, on the top and the walls…I stood there, I was at the Lord's left hand, and I stood there, this was not a dream, this was as real as life here…I know it wasn't a dream or a vision… (There's more to the story  here)
I included Bickle's background and a snippet of the tall tale he spun on his alleged visit to heaven to highlight the fact that he's a wolf in sheep's clothing.
So here's my question: why is John Burton proud of his association with a false prophet who's the main man at IHOP-KC?  IHOP –KC is viewed by many mainstream scholars as a cult because it is a "false, unorthodox, extremist" sect of Christianity (dictionary.com).
On his blog Burton calls himself a "prophetic messenger and revivalist." Revival?  What revival?  There's no sign of any sort of "revival" in America or any place else (except an occult revival), so the "revival" the so-called prophet refers to is……where?
Before I get to the 5 major changes "Prophet" John B predicts, those of you who are unfamiliar with the nuts and bolts of the NAR should know what we're dealing with. Over the years it has had many handles such as Kingdom Now; Latter Rain; Joel's Army; Manifest Sons of God – they keep changing the name as if this will allow them to keep their heretical teachings hidden.
What is the goal of the NAR loons leaders?  To transform society into the kingdom of God on earth. 
How do they hope to accomplish this lofty goal?  By taking control of various aspects of society.  (Here's the plan)
Apologetics Index describes it as a:
dominionist movement which asserts that God is restoring the lost offices of church governance, namely the offices of Prophet and Apostle.
Leading figures in this seemingly loosely organized movement claim that these prophets and apostles alone have the power and authority to execute God's plans and purposes on earth. They believe they are laying the foundation for a global church, governed by them.
They place a greater emphasis on dreams, visions and extra-biblical revelation than they do on the Bible, claiming that their revealed teachings and reported experiences (e.g. trips to heaven, face-to-face conversations with Jesus, visits by angels) can not be proven by the 'old' Scripture. (emphasis added )
So, keeping John Burton's background in mind—especially the part about his affiliation with IHOP-KC– here's what this so-called prophetic messenger revealed about the future:
I call this the ancient and emerging church. Ancient because it's rooted in scripture; emerging because the biblical structure has been largely forsaken. What will this ancient and emerging church look like? Here's just a small peek into a grand shift in the structure of the church:
1. Services will become more like prayer meetings. One of the greatest indictments on the church today is that prayer is not the driving force. Today, people tend to choose churches based on the appeal of the teaching and the worship instead of the fervency of prayer. If the church was a house of teaching, or a house of worship, that would make sense, but it's not. The church is a house of prayer for all nations. Every person in the church will function as a burning intercessor and the services will be marked by this unified groan of fiery prayer.
2. Personal need will give way to personal mission. Today, churches are often more like organic, socially driven hospitals. People tend to use the church as a way to meet their personal needs instead of serving it as a minister of God. This is going to change. Of course, there will still be personal ministry and true needs will be addressed.
However, instead of the church functioning as a hospital, it will once again function as a mission-driven military. The mission will take precedence. The saints will be equipped for service, not for personal survival. In this ancient and emerging model, their will be MASH units that will take very good care of the wounded with the primary purpose of getting the soldier back into battle. Apostles will again lead with governmental authority and pastors will be seen as the main leader less and less as they focus more on shepherding and less on primary leadership.
3. Teaching will be minimized while instruction is emphasized. Teaching is mostly for personal edification while instruction is mostly for corporate assignments. Today, most churches focus on teaching principles of scripture, providing truths that will help Believers navigate through their lives and giving nuggets of biblical info. While there will still be important Bible teaching, apostolic instruction will emerge as a necessary new ministry.
There is enough Bible teaching online, on CDs, in books and on video to turn every one of us into personal spiritual giants. We need to take it upon ourselves to grow. What is lacking, however, is apostolic leaders, military commanders who give instruction and assignments to a ready army. Teaching is personal growth-based while instruction is a call to corporate action for the sake of mission fulfillment.
An example of apostolic instruction is this: The apostolic leader gives a corporate assignment for everybody in the church to fast for a week and then show up together to prayer walk through the city streets. It's a corporate call to action versus biblical study. It's mission focused versus personal growth focused. Personal growth will be largely our responsibility between services so we can be ready to respond to the corporate instruction where we will receive our assignments.
4. We will gather together most days of the week. The 24/7 church will again emerge as the church drives culture instead of reacting to culture. Cares of life will lose their power as we simplify our lives and put corporate prayer and mission ahead of most everything else.
This may be the most challenging change for Christians. Today, Sundays are the days to set aside for corporate worship while we give precedence to our 'normal lives.' In The Coming Church, the very reason we live will be to pray on fire together every day, receive apostolic assignments and then move out into our lives as kingdom ambassadors. It wouldn't be surprising if a tithe of our time is what became the standard. Two to three hours a day, whether it's in the morning, afternoon or evening, or even in the late night hours, will be given by every believer to praying on site together with others, ministering and giving ourselves to intercession-fueled kingdom ministry. Of course, much of what we have been giving ourselves to will have to be eliminated so we have the time necessary to devote.
5. Worship will be supernaturally driven. There is a new sound coming to worship, and it's not simply a new style. There is a supernatural, otherworldly groan of intercessory worship that will explode out of the entire body as a new breed of trembling worship leaders lead the way into the shock and awe of the glory of God. We will no longer simply sit in a pew or stand with a raised hand while a familiar worship song is sung.
The prophetic, groaning sounds of Holy Spirit facilitated worship will make it normal to shake and fall to our faces as we cry Holy! The natural, logical sing-a-longs will be no more. We will have a hard time standing as God's Shekinah and Kabod glory resides in his church. Worship teams will practice less and pray in the Spirit with tears in their eyes more.
Of course, this is an extremely limited glance into the many, many changes that are coming. I wanted to share this to provoke you to preparation. There is much that you and I enjoy in the church, or that is comfortable to us, that we will have to let go. Again, the coming church will be troubling and shocking, but it will result in the power and life that we have been crying out for.
God is about to answer that cry.
This is…..nauseating.  My head is spinning.  Seems the Church is in for some BIG changes, at least according to "Prophet" John B.  Notice that the changes he purports would empower a few and turn the rest of us into mere puppets.  Sound familiar?  The message he's sending is that we mustn't hold to God's sacred Word as our final authority.  No.  We must abide in what those who are supposedly hearing from God tell us.  I mean, really?  Coming from someone with his decidedly unbiblical theology it's pretty easy to figure out where this rubbish came from. 
Hint: The Evil One
We are not to fear evil, brethren.  We are not to back away from it.  We are not to cower in the corner.  We are commanded to:
Be strong in the Lord and in the strength of his might.  Put on the whole armor of God, that you may be able to stand against the schemes of the devil.  For we do not wrestle against flesh and blood, but against the rulers, against the authorities, against the cosmic powers over this present darkness, against the spiritual forces of evil in the heavenly places.  Therefore take up the whole armor of God, that you may be able to withstand in the evil day, and having done all, to stand firm.  Standtherefore, having fastened on the belt of truth, and having put on the breastplate of righteousness, and, as shoes for your feet, having put on the readiness given by the gospel of peace.  In all circumstances take up the shield of faith, with which you can extinguish all the flaming darts of the evil one;  and take the helmet of salvation, and the sword of the Spirit, which is the word of God,  praying at all times in the Spirit, with all prayer and supplication. To that end keep alert with all perseverance, making supplication for all the saints,  and also for me, that words may be given to me in opening my mouth boldly to proclaim the mystery of the gospel… Ephesians 6:10-19  (emphasis added)
I'll close with this admonition: Stand against the schemes of the devil!
Recommended:
Dominionism and the Rise of Western Imperialism by Sarah Leslie
Dominionist are on the move…and they mean business by Marsha West
Research Sites:
Herescope
Deception in the Church
Apologetics Index
General Butler, the most decorated American military figure of the first half of the 20th Century, wrote a book about his military service titled, "War is a Racket." The corporate cabal, which reportedly included a du Pont and Prescott Bush, asked him to assist in removing FDR from office in 1934, were deceived by Butler's vocal criticisms of FDR, and unfamiliar with his belief his service to his country had actually made him an enforcer for the corporations. Smedley was alive to the impropriety of using America's military might to intimidate small central and south American countries for the profit of corporations controlled by these men.
Instead of handling their problem for these wealthy folks Smedley reported them to Roosevelt, who was well aware of the hazards of having the heads of houses of banking which included Morgan as well, arrested. FDR leaked word of the plan, which would have placed Butler in the White House, to the press.
This resulted in a Congressional investigation which achieved nearly as much as the Warren Commission would thirty years later. It was four years before the terrified men would publish their findings, marked for, "restricted circulation." Sadly, the General, recipient of two Medals of Honor, died unexpectedly in 1940, just before our entry into World War II.
Charges conveyed by General Butler, which the committee confirmed, included the information a million people had agreed to join the insurrection using arms and munitions made available by a close associate of du Pont, Remington.
Many of those involved were still the heads of their various corporations when charges of doing business with German corporations during World War II surfaced. This continued to be true when departing president, Dwight D. Eisenhower gave his speech warning Americans of the dangers they faced during his farewell address to the nation on January 17, 1961.
Nothing had changed when John Perkins published his book, "Confessions of an Economic Hit Man," in 2004. Perkins work ensured the continued flow of money from smaller and weaker nations into the same corporate interests who schemed to remove FDR in 1933 and who did remove JFK in 1963.
Since then occupiers of the Oval Office have been much less likely to make waves, understanding who is really in charge. Choosing between Jeb and Hillary is just picking between, "chocolate or strawberry." They are both corporate ice cream, bad for us and America.
US Secretary of Defense Ashton Carter is willing to risk a war with China in order to defend  "freedom of navigation" in the South China Sea. Speaking in Honolulu, Hawaii on Wednesday, Carter issued his "most forceful" warning yet, demanding "an immediate and lasting halt to land reclamation" by China in the disputed Spratly Islands.
Carter said:   "There should be no mistake: The United States will fly, sail, and operate wherever international law allows, as we do all around the world." He also added that the United States intended to remain "the principal security power in the Asia-Pacific for decades to come."
In order to show Chinese leaders "who's the boss", Carter has threatened to deploy US warships and surveillance aircraft to within twelve miles of the islands that China claims are within their territorial waters. Not surprisingly, the US is challenging China under the provisions of the UN Convention on the Law of the Sea,  a document the US has stubbornly refused to ratify.  But that's neither here nor there for the bellicose Carter whose insatiable appetite for confrontation makes him the most reckless Sec-Def since Donald Rumsfeld.
So what's this really all about?  Why does Washington care so much about a couple hundred yards of sand piled up on reefs reefs in the South China Sea? What danger does that pose to US national security? And, haven't Vietnam, Taiwan and the Philippines all engaged in similar "land reclamation" activities without raising hackles in DC?
Of course, they have. The whole thing is a joke. Just like Carter's claim that he's defending the lofty principal of "freedom of navigation" is a joke. China has never blocked shipping lanes or seized boats sailing in international waters. Never.  The same cannot be said of the United States that just  recently blocked an Iranian ship loaded with humanitarian relief–food, water and critical medical supplies–headed to starving refugees in Yemen. Of course, when the US does it, it's okay.
The point is, Washington doesn't give a hoot about the Spratly Islands; it's just a pretext to slap China around and show them who's running the show in their own backyard. Carter even admits as much in his statement above when he says that the US plans to be "the principal security power in the Asia-Pacific for decades to come." China knows what that means. It means "This is our planet, so you'd better shape up or you're going to find yourself in a world of hurt." That's exactly what it means.
So let's cut to the chase and try to explain what's really going on, because pretty soon no one is going to be talking about Ukraine, Syria or Yemen because all eyes are going to be focused on China where our madhatter Secretary of Defense is trying to start a third world war.
Here's the scoop: Washington has abandoned its China policy of "containment" and moved on to Plan B:  Isolation, intimidation and confrontation. In my opinion, this is why the powerbrokers behind Obama dumped Hagel. Hagel just wasn't hawkish enough for the job. They wanted a died-in-the-wool, warmongering neocon, like Carter, who is, quite likely, the most dangerous man in the world.
Carter's assignment is to implement the belligerent new policy of incitement and conflict. His actions will prove to the skeptics that Washington is no longer interested in integrating China into the US-led system. Rather, China has become a the biggest threat to Washington's plan to pivot to Asia. And, just to remind readers how important the pivot is to America's future, here's an Obama quote I lifted up from Tom Engelhardt's latest titled "Superpower in Distress":
"After a decade in which we fought two wars that cost us dearly, in blood and treasure, the United States is turning our attention to the vast potential of the Asia Pacific region….As we end today's wars, I have directed my national security team to make our presence and mission in the Asia Pacific a top priority."
The so called pivot is Washington's "top priority", which means that China's unprecedented ascendency must be slowed and its regional influence curtailed. Thus, the dust up over the Spratly Islands will be used in the same way the US has used other incidents, that is, by demonizing China's leaders in the media, by assembling a coalition that will publicly oppose China's activities, by implementing harsh economic sanctions, by launching asymmetrical attacks on China's currency and financial markets, by excluding China from critical trade agreements, and by inciting social unrest (color-coded revolution) through the support of dissidents living in China. These are the all-too-familiar signs of US meddling directed at "emerging rivals" who threaten US global hegemony. China now finds itself at the top of the list.
US powerbrokers know that bullying China involves significant risks for themselves and the world. Even so, they have decided to pursue this new policy and force a confrontation. Why? Why would they embark on a strategy so fraught with danger?
The answer is: They don't see any way around it. They've tried containment and it hasn't worked.  China's growing like crazy and its regional influence threatens to leave the US on the outside looking in. Carter even admitted as much in a recent speech he gave at the McCain Institute at Arizona State University. He said: "We already see countries in the region trying to carve up these markets…forging many separate trade agreements in recent years, some based on pressure and special arrangements…. Agreements that…..leave us on the sidelines.  That risks America's access to these growing markets. We must all decide if we are going to let that happen.  If we're going to help boost our exports and our economy…and cement our influence and leadership in the fastest-growing region in the world; or if, instead, we're going to take ourselves out of the game."
See? It's all about markets. It's all about money. Here's more from Carter's speech:  (The) " Asia-Pacific…is the defining region for our nation's future"… "Half of humanity will live there by 2050″ and that "more than half of the global middle class and its accompanying consumption will come from that region."…."There are already more than 525 million middle class consumers in Asia, and we expect there to be 3.2 billion in the region by 2030…President Obama and I want to ensure that… businesses can successfully compete for all these potential customers. ….Over the next century, no region will matter more… for American prosperity."
This is why the Obama administration is making a general nuisance of itself in the South China Sea. It's so the big US mega-corporations will have new customers for their IPADs and toaster ovens.
For that, they are willing to risk a nuclear war.
Volatility in the currency markets, bond markets, and stock markets likely has a lot of people on Wall Street feeling a bit worn out. Taking a summer vacation in the Hamptons might just be their best idea.
The coming months promise to be anything but quiet and predictable. Here are a couple of items that may yield profound implications for stock, bond and currency investors before summer ends…
The Threat of an Official Recession Is Looming
The next few months are critical for the U.S. economy. The official definition of recession calls for two successive quarters of negative GDP. First quarter GDP came in barely positive, initially estimated at 0.2%, but it will be revised twice before July. Some experts expect it will wind up in negative territory.
The U.S. trade deficit recently came in much larger than expected. The higher deficit will, setting other factors aside, translate to lower GDP. Investors will get a look at 2nd quarter GDP in late July and pessimism among forecasters is growing.
So far U.S. equity investors are hoping for the best, or at least hoping the Fed will reverse course on tightening. Stocks are shrugging off bad news and powering higher with price-to-earnings valuations climbing into the nosebleed section.
It is hard to imagine valuations at these levels holding if investors and high frequency trading algorithms must grapple with an official recession. Of course, should the Fed announce some new form of stimulus in response to bad news then all bets are off.
The End Is Nigh for Greece
The Greek government is running out of tricks to avoid a default. Last week, officials there paid €750 million Greece owed to the IMF by borrowing €650 from the IMF; a last resort gimmick they won't be able to repeat.
Absent finding an agreement with lenders to modify loans and dramatically reduce what is owed, the Greeks will be in outright default as early as next month. This summer should tell the tale on Greece's future within the European Union.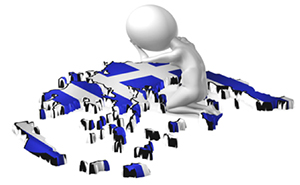 Should Greece default and exit the EU, it will be the first event of its kind, and it has the potential to open a Pandora's Box. There will be bank failures within Greece and pain for anyone holding Greek debt. It could pave the way for bankruptcy and an exit in a number of other nations where finances are also in shambles. And no one can confidently predict the outcome in derivatives markets where banks and hedge funds have been making highly leveraged bets.
Should the Greeks manage to reach an accord with lenders, markets will have to contend with a different set of challenges. You can bet other overly indebted nations including Ireland, Spain, Portugal, and Italy will aggressively pursue similar deals. The pain for bond holders isn't likely to end with Greece.
The EU has a flood of bad debt swirling around its knees, but officials there continue to pretend they stand on solid ground. Regardless of whether Greece defaults outright or manages to cut a deal, it looks like the pretending will have to stop – and soon.
Hedge Fund schemers are the modern version of robber barons. At the top of the list of unscrupulous manipulators is the Nazi collaborator, George Soros. With reports like in Forbes that George Soros May Owe Billions In Taxes, an alarm should go off to all investors.
"By the early 2000s, hedge funds were considered de rigeur for sophisticated investors willing to take a risk in exchange for potential wealth. As that potential wealth grew, so did the potential tax bill, and managers began looking at other options. The solution? Investing in offshore hedge funds. Hedge fund managers are generally taxed on income in the country where the fund is located making relocating to the usual offshore suspects such as the Caymans, Bermuda and Ireland attractive. Tax was essentially deferred on fees from these funds until it landed in the hands of those in the U.S."
The 2008 financial meltdown had all the Wall Street elites scrambling to protect their investment, while avoiding the day of reckoning with the tax man. One such effort as Forbes cites allowed for another deferred work around.
The change was inserted into the Emergency Economic Stabilization Act of 2008 (Public Law 110-343) – and if that sounds familiar, you're not imagining it. That law was also instrumental in the administration of the Troubled Assets Relief Program, or TARP. The new law essentially banned the deferral of fees and compensation by these offshore hedge funds.
Moving the domicile for the Soros fund to Ireland was an attempt to circumvent the intent of an ill-written law.
The Street lays out the basis for the enormous tax bill coming due.
"At the end of 2013, Soros—through Soros Fund Management—had amassed $13.3 billion through the use of deferrals, according to Irish regulatory filings by Soros.

Congress closed the loophole in 2008 and ordered hedge fund managers who used it to pay the accumulated taxes by 2017. A New York-based money manager such as Soros would be subject to a federal rate of 39.6 percent, combined state and city levies totaling 12 percent, and an additional 3.8 percent tax on investment income to pay for Obamacare, according to Andrew Needham, a tax partner at Cravath, Swaine & Moore. Applying those rates to Soros's deferred income would create a tax bill of $6.7 billion."
Now this background provides the business analysis but far more important is the relevance of the political clout that Soros has wheeled for decades and how that influence will effect if he will actually pay his tax bill.
Review the long laundry list of Organizations Funded Directly by George Soros and his Open Society Institute that have received direct funding and assistance from George Soros.
Note that the deadline for payment is 2017, just after the next election. Image the next puppet taking office using an executive order to further delay or water down the actual collection of the Soros tax obligation.
It should be self-evident that the weight of Wall Street influence will be enormous in the 2016 Presidential coronation.
Dismiss the obvious hypocrisy of advocating for higher taxes while avoiding your own tax payment and focus on the actual results.
"A manager with Soros's track record who started with $12 million from investors, took 20 percent of the profits, and reinvested that money tax-free over 40 years, would end up with $15.9 billion. If that same manager paid federal, state, and local taxes on the fees and related investment gains before reinvesting them, the figure would shrink to $2.4 billion…"
This strategy is not unique but it is symbolic of the way the financial elites benefit from their extraordinary influence over the biased tax regulations that favors the politically well connected.
The difficulty for leftist supporters of the Soros mind numbing collectivist culture is that they are unable to separate between the rhetoric and the reality of actual actions.
Soros is a pied piper for the naïve and misguided. All the millions he spends on altering the political landscape have a financial component to protect his own fortune.
Restructuring tax law and regulations never reforms the system. This one example, how hedge funds circumvent taxes, should illustrate that inserting loopholes into statutes is the function of lobbying and providing campaign contributions.
George Soros has a long record of avoiding paying taxes, while undermining political regimes. But he is not alone in avoiding taxes. Bankers Anonymous outlines how the game is played.
"If you set up a traditional hedge fund, first things first: you'll want to charge the traditional "2/20."Embedded in this short-hand lingo of "2/20" for hedge fund fees are two types of income.

With the two types of income, you need the two entities to keep the income tracked separately.  Entity #1 collects the "2," which is taxed like regular business income, and Entity #2 collects the "20," which collects your totally awesome income at a lower tax rate.

The "2" refers to an annual management fee of 2% of assets under management.  On a small/medium-sized hedge fund of, for example, $500 million under management, you will collect $10 million in management fees per year."
Since the standard format for a hedge fund treats fees as different tax rates, the hidden deception is why such hedge funds go unregulated by the SEC? The sweet heart tax treatment deal that allows circumvention of normal rates is a profound offence. Moving the venture offshore just adds to the outrage. Targeting 2017 for final settle up will be forgotten as the next deferment exception is adopted.
Unless people admit the elite as the real power behind the political charade, there will never be equitable tax accountability. Soros plots to overthrow governments. Ignoring the tax bill should be a cake walk. A better solution is to institute serious and comprehensive oversight over the 2-20 tax dodge and apply the same rules to the financial privileged that ordinary citizens must observe. If you agree, keep the pressure on Soros and demand a long overdue resolution.