Entrepreneurs' versus the corporatists' mode of business culture are separated by a vastly different view of enterprise. The former deems his work as innovative, creative and beneficial to customers. The later see the corporate organization as an institution end of itself. Competition makes the business pioneer sharp and driven, while any competitor is targeted for demise within the corporative culture. Buyouts of ventures that show promise may be a payoff reward for the struggling enterpriser, but the corporatist CEO sees the absorption of new technology as a twofold gain. Acquiring the means to create or advance market share and stamping out any future competitive threats.
This corporatist culture actually has merged with the definitive enforcement partner; namely, the state. The morphing of anti-trust safeguards into a system of crony alliance protection is the current standard for the globalist economy. The implication is that a company needs to pay to play and become "Free Trade" proponents to even remain in business.
Thomas E. Woods Jr. cites a prime example of the contemporary corporate-government fascism that controls the global economy, with the example of Government Electric. In The Cultural Costs of Corporatism: How Government-Business Collusion Denigrates the Entrepreneur and Rewards the Sycophant, the formula is set.
The best case study in political entrepreneurship may be General Electric. CEO Jeffrey Immelt pretty clearly laid out his approach in a letter to stockholders in the depths of the 2008–9 recession, and just days after the inauguration of Barack Obama, who promised to "remake America."
Immelt wrote:
"The global economy, and capitalism, will be "reset" in several ways. The interaction between government and business will change forever. In a reset economy, the government will be a regulator; and also an industry policy champion, a financier, and a key partner. . . . Successful companies won't just "hunker down"; they will seek out the new opportunities in a reset world."
Later in the letter, Immelt stated more directly that GE saw the government as its best potential customer:
"GE's broad technical portfolio positions us as a natural partner as the role of government increases in the current crisis. Over the past decade, we have positioned GE to lead in the "big themes." These include emerging market growth, clean energy, and sustainable healthcare. . . .
Governments will invest to stimulate their economies, solve societal problems, and create jobs. GE's broad portfolio and expertise position us as a natural partner. Tackling important problems together will require teamwork and respect between business, government, and society. We know how to do this and intend to play an important part in solving these essential challenges."
If success is measured by the amount of retained money or return on assets and especially how little taxes are paid, the GE mold is frightening. Corporatism: The Real World of Corporate Favoritism reports.
"General Electric's annual SEC 10-K filing for 2011 (filed February 24, 2012) reveals that the company paid at most 2.3% of its $81.2 billion in U.S. pretax profits in federal income taxes over the last 10 years.

Indeed, General Electric, the nation's largest corporation, paid no federal corporate taxes in the United States in 2010, according to a report in The New York Times."
The book, Rescuing Capitalism from Corporatism by John David Rose documents the long record of GE's criminal price fixing going back to 1911 anti-trust violations. By any reasonable criteria, over a century of predatory pricing and monopolist market domination is a definite cultural deficiency.
Corp Watch contributor Charlie Cray lists a series of General Electric transgression topics and examples. Some of the more relevant items are:
Enronomics

Defense Contracting Fraud

Violations of Securities Laws

Tax issues

History of GE Labor Relations

Environment and product safety

Anti-competitive and consumer protection

Unlawful Debt Collection Practices
It would be difficult to explain away such a pattern of conduct as merely the side effects of becoming a prevailing behemoth. More to the point, the mentality that allows and encourages such behavior is a fundamental component that invigorates transgressions against ethical business practices. The net effects upon society, encourages the corporatist mindset to consolidate their state sponsor cronyism.
It seems unnecessary to dispute the negative consequences of "too big to fail" after the 2008 collapse. However, the concept of The Economic System of Corporatism offers this assessment.
"Coupled with the anti-market sentiments of the medieval culture there was the notion that the rulers of the state had a vital role in promoting social justice. Thus corporatism was formulated as a system that emphasized the positive role of the state in guaranteeing social justice and suppressing the moral and social chaos of the population pursuing their own individual self-interests. And above all else, as a political economic philosophy corporatism was flexible. It could tolerate private enterprise within limits and justify major projects of the state. Corporatism has sometimes been labeled as a Third Way or a mixed economy, a synthesis of capitalism and socialism, but it is in fact a separate, distinctive political economic system."
Yes, once again, let's called this synthesis by its true name; fascism. Just how well has the government achieved this utopian and fantasy notion that government is in the business of dispensing social justice?
At the heart of the corporatist mindset is control of markets and elimination of competitors. Government survives on deceiving the public and transnational corporations thrive on working their partnership relations with official authorities.
GE may be one of the most obvious offenders; nonetheless, the formulation of politics picking winners and losers based upon bribes and favoritism is a dreadful system. Preference for an actual free market based upon a decentralized merchant economy is the only alternative to globalism, which is enslaving the world.
The corporatist culture fuels the despotism, which society is so willing to accept. Voting how to spend your money is one of the few options a consumer has. Business collaborators with government crooks feed the abuses that GE perfects so well. This confederation in crime naturally harms ordinary citizens.
The misplaced reverence to the ill formulated U.S Constitution and hidden subjugation back to the City of London is one aspect of history that is not taught in government schools or discussed in institutes of higher education. This subject is probably new to most observers of the legacy from the Founding Father's biggest mistake. Regular readers of BREAKING ALL THE RULES are familiar with the arguments made in the essays, In the beginning: Let there be the Articles of Confederation and Articles of Confederation was Preferable. Now the case for the betrayal of the purpose of the American Revolution needs to be explored.
Cited on the US Constitution Gave Legal Ownership and Control of the United States to London site is an assessment by Michael Edward.
"Neither the American people nor the Queen of Britain own America. The Crown Temple owns America through the deception of those who have worn their allegiance by oath to the Middle Templar Bar. The Crown Bankers and their Middle Templar Attorneys rule America through unlawful contracts, unlawful taxes, and, contract documents of false equity through debt deceit, all strictly enforced by their completely unlawful, but 'legal,' Orders, Rules and Codes of the Crown Temple Courts Our so-called 'judiciary' in America. This is because the Crown Temple holds the land titles and estate deeds to all of North America."
An examination of The Templars of the Crown provides elaboration on this appraisal. For an even more in-depth analysis, review the material that probes AMERICAN LAND OWNERSHIP, A TRUE OXYMORON, which deals with the work of James Montgomery.
"Many of you are aware that the laws of this nation and it's states, were made to be in compliance and submission to the laws of England, only modified by state and federal law. You will see in this last Chapter state statutes from just a few of the original colonies, that this is the case. Are these what are called ancient statutes? Yes. However, since the king's Corporation is alive and well as are his heirs, so is his Trust and the law used to create and govern it. The law that governs his Trust can only be amended, no law could be enacted contrary to the king's will and cestui que trust, the main corporate sole where office is always found, the Crown. The king's practice of granting lands in this country to those loyal to him continues, along with their land grants being protected by state ancient statutes which are still on the books. We are governed by the king's nobles just as in times of old England, self proclaimed nobles, and corporate trusts. They rule this country and the world. The huge corporations have been granted power and liberty not known by the common man. The nobles, real and the created, occupy their possessions as fiduciaries and trustees of the king's grants; only if they remain loyal to the system, their privilege and life style are their reward."
Invest the time in discovering all the historic accounts, legal rulings and linkages that go back to the Crown, AKA, the City of London.
If you are unfamiliar with The (British) Crown Empire and the City of London Corporation take a quick refresher course on the actual nature of the financial foundation and codified sanction that purports to be lawful. Jurisprudence may be legal by the definition and formulations of the judicious barrister class, but it certainly is not founded on the basic principles of natural law.
Julian Websdale concludes: "The whole Earth is governed by The Crown, through Crown Colonies which belong to The City – The Crown Empire. It governs Africa and still governs China and India. The colonies of the Earth are really just Crown Colonies – The United States of America are states of The Crown."
Now this interpretation may seem bizarre to most and the plot thickens in the The construe Powers – Behind the Global Empire piecing together a long account of legalized equity mandates.
"The signed treaties and charters between Britain and the United States reveals that King James the 1st was not only famous for translating the Bible, but for signing the first charter of Virginia in 1606. That charter granted America's British forefathers a license to settle and colonize America and guaranteed future kings and queens of England to have sovereign authority over citizens and colonized land in America. The treaty of 1783 identifies the king of England as the prince of the United States. King George the 3rd gave up most of his claims over American colonies, but he kept his right to continue receiving payment for his business venture of colonizing America."
The next element to consider has The Top of the Pyramid: The Rothschilds, the British Crown and the Vatican Rule the World. Read this account and trace back the historic lineage of  some of the Englishmen who founded America.
"To have the Declaration of Independence recognized internationally, Middle Templar King George III agreed in the Treaty of Paris of 1783 to establish the legal Crown entity of the incorporated United States, referred to internally as the Crown Temple States (Colonies). States spelled with a capital letter 'S,' denotes a legal entity of the Crown.
At least five Templar Bar Attorneys under solemn oath to the Crown, signed the American Declaration of Independence. This means that both parties were agents of the Crown."
As time proceeds, the sell out of the "shot heard around the world" revolution deepens.Two Constitutions in the United States. 1st was illegally suspended in favor of a Vatican "Crown" corporation in 1871. This approving assessment of the Federal Constitution views a Shadow Government in place since 1871.
"Since 1871 the United States president and the United States Congress has been playing politics under a different set of rules and policies.  The American people do not know that there are two Constitutions in the United States.  The first penned by the leaders of the newly independent states of the United States in 1776.  On July 4, 1776, the people claimed their independence from the Crown (temporal authority of the Roman Catholic Pope) and Democracy was born.  And for 95 years the United States people were free and independent.  That freedom ended in 1871 when the original "Constitution for the United States for America" was changed to the "THE CONSTITUTION OF THE UNITED STATES OF AMERICA".
The Congress realized that the country was in dire financial straits, so they made  a financial deal with the devil –  the Crown (a.k.a. City of London Corporation – est. by the Catholic Church on Jan 1, 1855 ) thereby incurring a DEBT to the Pope.  The conniving Pope and his bankers were not about to lend the floundering nation any money without some serious stipulations. So, they devised a way of taking back control of the United States and thus, the Act of 1871 was passed.  With no constitutional authority to do so, Congress created a separate form of government for the District of Columbia.
With the passage of  "the Act of 1871" a city state (a state within a state) called the District of Columbia located on 10 sq miles of land in the heart of Washington was formed with its own flag and its own independent constitution – the United States' secret second constitution."
Lastly, Three Corporations run the world: City of London, Washington DC and Vatican City list the City of London houses as including:
Rothschild controlled 'Bank of England'
Lloyds of London
The London Stock Exchange
All British Banks
The Branch offices of 384 Foreign Banks
70 USA Banks
Fleet Streets Newspaper and Publishing Monopolies
Headquarters for Worldwide Freemasonry
Headquarters for the worldwide money cartel known as 'THE CROWN'
Conclusion: "City of London directly and indirectly controls all mayors, councils, regional councils, multi-national and trans-national banks, corporations, judicial systems (through Old Bailey, Temple Bar and the Royal Courts of Justice in London), the IMF, World Bank, Vatican Bank (through N. M. Rothschild & Sons London Italian subsidiary Torlonia), European Central Bank, United States Federal Reserve (which is privately owned and secretly controlled by eight British-controlled shareholding banks), the Bank for International Settlements in Switzerland (which is also British-controlled and oversees all of the Reserve Banks around the world including our own) and the European Union and the United Nations Organization."
This introduction to the actual influence and pompous legal authority that underpins the financial hierarchy is based upon a historic explanation that is foreign to most Americans. The implications are staggering and for this reason alone, most are not willing to do their own research. Do not get caught up in the uncanny departure from the usual rendering of reality. Remember that the City of London's coat-of-arms reads in Latin – Domine Dirige Nos – which translates, Lord, direct us. The true question, asks just which deity do the soldiers of the Crown adore?
The Destruction of a Nation…
"we are asked to feel guilty about men in prison.  We are told how many are of particular racial groups, and this is somehow our fault, no matter how many laws these convicts violated."  R. J. Rushdoony, "Systematic Theology", Vol. 1, pg. 464
With substantial support from biased reporting by the media we have experienced social unrest and rioting by Blacks over police infractions that have subsequently been proven false by a jury and by the Federal judicial system.  In the Tryvon Martin case local authorities decided against indictment but deceptive press coverage caused enough Black outrage to force a trial.   George Zimmerman was acquitted by a jury.  In the Michael Brown case in spite of media-fanned riots both Federal and local authorities decided against indicting Darrin Wilson.
In both cases the neocon controlled media provided distorted and incendiary coverage designed to create a violent reaction.  In both cases rather than presenting the evidence as it existed they distorted the evidence to make it seem that an atrocity had been committed. "White policeman kills unarmed Black teen" does not do justice to either event.
In an article in the "Atlantic" TA-Nehisi Coates writes "The investigation concluded that there was no evidence to contradict Wilson's claim that Brown reached for his gun. The investigation concluded that Wilson did not shoot Brown in the back. That he did not shoot Brown as he was running away. That Brown did stop and turn toward Wilson. That in those next moments 'several witnesses stated that Brown appeared to pose a physical threat to Wilson'. That claims that Brown had his hands up 'in an unambiguous sign of surrender'  are not supported by the 'physical and forensic evidence,' and are sometimes, 'materially inconsistent with that witness's own prior statements with no explanation, credible for otherwise, as to why those accounts changed over time.'"
Though slave owners no longer exist in the United States the media and Black leadership is still trying to harness White Americans with guilt over slavery.  Programs on slavery are frequent and any true depiction of current Black society is studiously suppressed.
We have a Black president, there are Blacks in Congress, sports at both the college and professional levels is primarily Black.  Blacks have responsible high paying government jobs, they are frequently seen in all current advertising; they own businesses and many are now solidly ensconced in Middle Class and upper 1% neighborhoods.  There are many loving and supportive Black families that are producing talented and upwardly mobile children.
An honest assessment of Black progress is very positive.  As a race they are doing extremely well.  Sadly, none of this is put forth in the press and media.  Instead, we get a constant ear splitting whine about racial prejudice.
In the first volume of "Sytematic Theology"  R. J. Rushdoony (RJR) writes, "Basic to all non-Christian politics are, first, a false covering, and, second, the cultivation of guilt. By cultivating guilt the state seeks to make its citizenry impotent and enslaved.  A false sense of guilt, moreover, has no solution and no escape is possible from it, as long as it is held.  The state then offers a false covering to that cultivated guilt: a statist program of noble ideas which in practice means the further enslavement of the people, and the increase in statist powers."  Pg. 465
Slavery and the Holocaust are salient examples of the procedure.  Egregious manipulation of our government is allowed by grief over the Holocaust and preferred racial citizenship is accorded by guilt over slavery.  In both cases the guilt is cultivated and in both cases it is bogus.
Christianity is dangerous to the state because Christians are freed from guilt and able to think clearly.  "Guilty men are not free men: they are slaves." (RJR)
In spite of the great progress Blacks have made there are still major problems.   Shootings are part of the evening news for every major city and too often they involve Blacks shooting other Blacks.  Black unemployment is part of the problem and government assistance programs share part of the guilt.  The major culprit, however, is the media which extends their fraudulent news coverage by giving a bully pulpit to self-serving Black leaders with deceitful messages.  The uncontrolled emotional rage, fanned by the press, ignites riots that make matters worse.  Riots destroy the fabric of society.  They work against freedom.  It must be acknowledge that the crime rate in Black inner-city areas is several times that of similar White neighborhoods.  Racial prejudice can no longer be used as an excuse.  We have elected a Black President, twice; a bigoted society would not do that.
A new group of Black realists needs to sit down with their biased leadership and hammer out a just and honest program for Black citizens.  There are some excellent Black pastors that would help with such a project.  Blaming people, places, and things will not provide progress; it must come from the Blacks themselves.
Though they are hardly coming from a position of strength Blacks are right about policing.  Major changes are needed in the behavior law enforcement.  Demands by policemen that innocent citizens submit to personal indignities tarnishes their reputation; policepersons who cannot determine who needs to be handcuffed and who does not do not belong on the street.   Law enforcement needs to earn a better reputation in both White and Black neighborhoods.  When respect is restored compliance will follow.
It is frightening to see a line of almost automated, black garbed, heavily armored police with loaded guns marching toward a residence where civilians will be surprised by a paralyzing no-knock raid.  The object is to shock with massive impregnable force and demand acquiescence.  These Swat team operations grew from a small number to over 40,000 per year by the beginning of the Twenty-First Century.  Read here.    Policing has morphed from protecting society to considering almost everyone to be an enemy.
Bad laws, too many laws, the war on drugs, and war as a way of life are all part of the problem.  The Neocon hate for Christianity and their success in purging it from U. S. society has had devastating effects on behavior.  We are considered a Christian nation with a population that overwhelmingly claims to be Christian but our flaccid pseudo-Christian population is governed by a satanic pagan power structure that exploits their naivety.  Freedom cannot exist under devilish tyranny.
The confiscation of cash from vehicles stopped for any or no particular reason is pandemic.  In some states the victims are predominantly Black but in others race is not a factor.  In one county in Texas in a two year period 200 citizens were victims of confiscations.  Fifty of the 200 were charged with drug possession but the remainder was never charged with a crime.  In many cases the threat of being charged with a crime which would require lawyers and trips back to the area caused victims to leave the money and go free.  Cash confiscations are common in many of our states.
In a small town in Northern Florida the city budget was almost entirely financed by speeding tickets issued to motorists traveling a main state highway that runs through the town.  That municipal thievery has how been stopped but it continued for years.
There are times when a lawless, recalcitrant citizen must be subdued and taken into custody and there are times when such a procedure is not warranted; policepersons should know the difference.
We have allowed our police departments to become sources of revenue that is used by local politicians.  Forfeiture laws and heavy fines are income streams rather than retribution for crimes.  This is fraudulent; it perverts the duties of the police force and cultivates cynicism.  Police are to be enforces of justice and should be filled with pride in that vocation.
The Black struggle for equality in a White society has now become a struggle for power.  They have more than equal legal status but now as a minority population they seek power over the entire government by calling for the resignation of the entire leadership of Ferguson.  Black riots have regularly resulted in concessions and as long as these concessions continue Black riots will continue. It is a dangerous situation when an errant press and media can create riots almost at will. The quest for power without reference to immutable justice is another form of tyranny.
American citizens are allowing manufactured guilt to be used as an excuse to create revolutionary chaos in our nation.
At the end of the "Atlantic" article TA-Nehisi Coates writes "I do not favor lowering the standard of justice offered Officer Wilson. I favor raising the standard of justice offered to the rest of us."
The saga of continuous deployment and a garrison empire is a long and sad state of affairs. Using the trumped up fright that America's enemies are geared up to bomb malls and sporting venues, builds a phony fear that the only response to combat the threat is to wage continuous foreign campaigns. What put such sophistry to rest are the facts that such uninterrupted carnage just feeds the fields of growing hostility towards America. If the War on Terror was winnable, why not start by stopping the War of Terror that is the center piece of aggressive projection of bellicose power.
The militarist over at Red States warns that Obama is gumming up the works. In the article, Obama's AUMF is Actually a DUMF the horror that placing a limit on the use of expansionist support deeply offends the warmongers. Folks, their positions are not a fair or representative reflection of true and traditional conservative foreign policy.
"The AUMF proposed by Obama, on the other hand, explicitly repeals the 2002 AUMF and furthermore explicitly states that ground troops cannot be used, as they can be used (and have been used by Obama) under the 2002 AUMF. It furthermore contains an automatic three year expiration, which is not contained in the currently active AUMF.

In other words, this is not even fairly called an Authorization for the Use of Military Force. It's actually a Deauthorization for the Use of Military Force. Republicans in Congress should start referring to it as the DUMF (pronounced DUMB-f) so that people will be reminded what sort of person would be convinced that Obama takes confronting the threat of ISIS seriously."
In order to have a sound and constitutional approach to safeguarding the Republic, the first step is to be honest with ourselves. The preservation of the sole superpower mantra is far more dangerous than any suicide bomber. Yet, the internationalists will never be content until they manufacture or invent a new advocacy to keep the full spectrum dominance machine rolling along. Such a mind-set and way of thinking is psychotic.
For those who hope the Obama administration is actually operating on a more balanced level; don't believe that spin for a minute. The essential reality is that there are only two positions in gauging foreign policy. The first is the bipartisan establishment agreement that "Politics Stops at the Water's Edge". Even the Council on Foreign Relations admits in the essay, American Foreign Policy Is Already Post-Partisan the following.
"Yet how deep is the partisan divide over the place of multilateralism in U.S. foreign policy? To explore this question, in the past year we sent a survey to foreign policy professionals: 50 Republicans and 50 Democrats, who had served in a mid-level or higher foreign policy position in the Clinton, Bush, or Obama administrations, or on Capitol Hill. The respondents included 23 Democrats and 20 Republicans.

The results of our study reveal that the parties are not as divided about multilateralism as the conventional wisdom suggests. First, strong majorities of both Republican and Democratic respondents said they believed that working closely with other nations serves U.S. interests and makes the country's foreign policy more effective. Second, foreign policy leaders from both parties agreed that international economic institutions and free trade agreements are valuable, and that working with regional and global multilateral organizations such as NATO and the UN is important."
Such a response is expected from the echo chamber for the New World Order.
The second perspective accepts the wisdom of the historic and guarded non-interventionism approach to foreign affairs. Based upon power politics exponents, who are in control of government agencies and influence institutions, their defiance for a reason and true national security, attacks such advocates for halting the unending cycle as domestic terrorists. The recent BATR RealPolitik Newsletter, Israel Owns Congress, illustrates a significant factor behind the driving pressure that exports violence from the Nefarious Warrior Organism. Yes this fitting description for the New World Order characterizes the essence of the establishment.
Daniel Larison writes in the American Conservative, Paul and the Right's Ideological Enforcers.
"Michael Brendan Dougherty comments on the silly reaction of some "pro-Israel" hard-liners to Rand Paul's insufficiently zealous applause for Netanyahu:

"And I understand the suspicion. If I ever exerted myself so frantically on behalf of a cause, if lobbying for it required investing so many millions of dollars, and if maintaining party discipline on it required "brutal" ad drops on congressional obscurities, I would worry that some of the response I sought was perfunctory and insincere. The sonnets you receive don't sound as sweet. The applause seems forced. Almost like they are faking it."

Unfortunately, this ludicrous ideological policing seems to work only too well. Paul's response in the last two days has been to reaffirm how enthusiastically "pro-Israel" he really is. Even though the fixation on the intensity of his clapping at Tuesday's disgraceful spectacle ought to have made clear that he will never be able to do or say (or clap) enough to satisfy his party's hard-liners, he made sure to emphasize his "pro-Israel" bona fides by talking up his co-sponsorship of Corker's Iran bill and the number of times (50) he has joined in standing ovations for Netanyahu. We can already hear the hard-liners' response: "He gave only 50 standing ovations? He should have given at least 70."
This goes to the heart of the establishment's primacy principle, American adventurism benefits Israel First interests. The reason the United States is engulfed in perpetual war is to keep the power elites in control. The permanent war of terror has the domestic public as the target. Why is this so? Plainly speaking, the globalists who have completed their takeover of the apparatus of governance have eliminated even the semblance of the rule by law.
In the Ron Paul video from a GOP Presidential debate, Let Iran Have Nukes. No Sanctions, No War, you heard for the last time a common sense and prudent approach to counter the NeoCon and NewLib mantra of continual threat of war or actual combat.
Stopping the interventionism of the foreign policy establishment like in their Ukrainian coup d'état, would require a total repudiation of the entire power structure that perverts the body politic. The lawlessness, that is the staple of the Obama administration, just made a pivot in rhetoric from the "Mission Accomplished" absurdity under Bush.
All the time the same drum beat to a truly global conflict marches on because the fundamental axioms upon which, rest the internationalist system, is based has proven beyond any reasonable doubt, to be false and deadly.
We live under a reign of terror from our own illegitimate authorities. The domestic police state is a reflection of tactics used and perfected in Iraq. The creation of ISIL was achieved by western intelligence. The need for a new enemy becomes obvious when the old one turns out to be a phony menace.
If Obama would really sunset the Authorization for the Use of Military Force, it might be the only worthwhile initiative of his years in office. However, in order to judge the feasibility and sincerity of his intentions, one might need to access the private emails of the former Secretary of State. Fat chance!  Dragging out the goods from the heroine of culture concealment brings back all the memories of the former Klinton era.
That's the way the guardians of the establishment work. Brew up mind numbing scandals, while the existential global tragedies of designed world domination, are ignored. The ease upon whom the war of terror is sold to the public is dreadful.
Listing all the transgressions upon lawful restrains, imposed on the country since the 911 Wag the Dog scenarios, would take a book. How long will repeating the same strategy of failure continue to get favorable support? As long as confused conservatives accept that the bogyman is overseas and are not able to focus on the architects of treason at home, the NWO will just waltz its way to the symphony they compose.
The absence of the formerly vocal anti-war movement in the way the Viet Nam war galvanized is a great regret. Adopting a non-interventionist doctrine should not be a left-right dichotomy. It needs to become a unified and committed cause that each citizen will actively adopt.
The pathetic peer pressure used on a Rand Paul to become an Israel-First supporter needs to be condemned. If it was not for the internationalist and globalist lobby, our troops could and should be stationed on our own borders.
Perpetual war to justify a permanent war of terror will destroy all that was once unique about America. The fifth column and systemic treason that passes as "PC" policy, is the enemy. Waking up is not enough. The blowback coming must be against the establishment. In order for the nation to rise from the ashes of destruction, the public needs to defeat the reign of terror conducted in our name.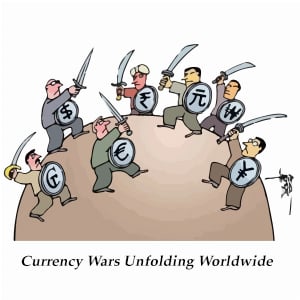 The first two months of 2015 have seen turmoil in the currency markets extend from Russia and Ukraine to the heart of Europe.
"Central Banks Now Open 24/7 Fighting Currency Wars and Deflation," blared a February 12th Bloomberg headline. Against this backdrop, precious metals have been on the rise in terms of all currencies except the Swiss franc and the U.S dollar.
In January, the Swiss National Bank shocked markets by announcing that it would de-link its currency from the euro. The move came one week ahead of the European Central Bank's $1.1 trillion Quantitative Easing announcement. Swiss officials decided it would be too costly to keep accumulating depreciating euros in order to maintain the currency peg. The Swiss franc surged by the most ever in a single day.
With the exception of Switzerland, all other countries in Europe (and many others around the world) are trying to depreciate their currencies.
Since January 1, the following central banks have announced interest rate cuts or other monetary easing measures: European Central Bank, Reserve Bank of Australia, Reserve Bank of New Zealand, Monetary Authority of Singapore, and the central banks of India, Canada, Denmark, and Sweden.
On February 12th, the Swedish Riksbank announced a surprise rate cut from 0% to below 0%. "To ensure that inflation rises towards the target, the Riksbank is prepared to quickly make monetary policy more expansionary, even between the ordinary monetary policy meetings," the world's oldest central bank said in a statement.
Sweden joins the European Central Bank and the central banks of a handful of other countries in pushing benchmark interest rates into negative territory. These central bankers are all aiming to revive inflation. "Investors" who are buying bonds yielding less than nothing (a negative rate) are apparently convinced that central bankers won't succeed in depreciating their currencies.
Insanity! Investors Now Paying for the "Privilege" of Lending to Broke Governments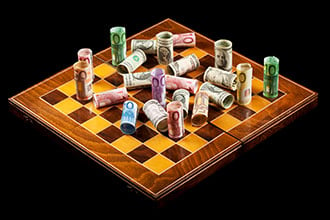 This could go down as one of the oddest, most irrational asset bubbles in history. Trillions of dollars are now tied up in debt instruments that promise to return less than the invested principal. According to a report issued by J.P. Morgan, $3.6 trillion in government bonds around the world now carry negative yields.
It raises the obvious question; why would so many people be willing to accept a negative rate of return?
You'd think that institutional investors would start getting wise to holding gold as a hard-currency alternative to cash instruments that yield less than zero. The fact that gold has no interest rate is actually an advantage in an environment where competing rates are negative! Plus, unlike most of the bonds issued in this upside-down interest rate market, gold has significant appreciation potential.
If inflation rises even modestly to the 2% target of European and U.S. central bankers, then bonds issued at rates of below 2% will all be losers. The two-year Treasury note yields only 0.63%. Even the recent 10-year yield of 1.98% fails to match the Federal Reserve's inflation ambitions.
The fact that gold has no interest rate is actually an advantage in an environment where competing rates are negative!
In this environment of ultra-low nominal yields or even negative real yields, precious metals as a reserve asset look very attractive. Many central bankers around the world agree and are busily accumulating gold. According to a report issued by the World Gold Council in February, governments around the world added 477.2 metric tons of gold to their reserves in 2014. That haul was the second biggest in 50 years.
When inflation fears return to the market, as they eventually will, precious metals will become one of the premier asset classes to hold. Even now, they are performing better than virtually all other world currencies.
The end game of these ongoing currency wars is that all fiat currencies will be debased. And a true flight to quality will accelerate – with assets fleeing depreciating currencies (and debt instruments denominated in them) and piling into gold and silver.
Will the Fed Chicken Out on Rate Hikes?
Of course, right now it's deflation fears that are dominating headlines. But the inflationary policy responses from the European Central Bank and others that have followed the ECB's lead have lifted gold and silver prices markedly in terms of euros and other currencies.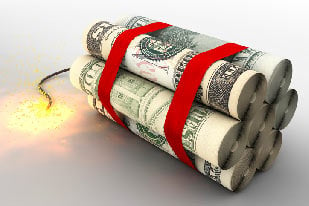 As confidence in European currencies plunges, there's only so much corresponding dollar strength the Federal Reserve is willing to tolerate. There's been much talk of rate hikes coming later this year, and that widespread expectation has been priced into the market. Any rhetorical or policy disappointments from the Fed in the months ahead could cause traders to sell the dollar.
Whether later this year or further down the road, it's only a matter of time before currency turmoil spreads to the United States.
The U.S. has a higher debt-to-GDP ratio than some troubled European countries. It has higher levels of unfunded liabilities (estimated to be in excess of $100 trillion) than any other country. The dollar's status as world reserve currency has allowed the U.S. to become financially overextended. But that vaunted status is slowly deteriorating as Russia, China, and other countries form economic alliances that bypass the dollar.
When these chickens come home to roost, you don't want to be wholly dependent on the U.S. government's promises or its currency. Sizeable holdings in physical precious metals will help make you financially resilient in the face of the spreading global currency crisis.
The concept of banning lead was floated before, but this latest effort to impose back door gun control has all the marking of a tin horn dictator stripping the peasants of any means of resistance. Drop the pretense. All you need to know is WHY IS GOVERNMENT STOCKPILING GUNS, AMMO?, while you are being told you are not allowed to have your own horde.  How you answer this question, reveals much about your attitude towards government, and level of concern for protecting yourself from tyrannical edits. It is startling just how much of the population will accept de facto gun control for any trumped up scheme to impose further governmental mastery.
SCOPE reports on the recent announcement on M855 ammunition.
On 13 February 2015, the Bureau of Alcohol, Tobacco, Firearms and Explosives (BATF) released a document [PDF ] that proposed the reclassification of "5.56mm constituent projectiles of SS109 and M855 cartridges" from the category of "primarily used for sporting purposes" to that of "armor piercing ammunition." The 17-page document was titled

"ATF FRAMEWORK FOR DETERMINING WHETHER CERTAIN PROJECTILES ARE 'PRIMARILY INTENDED FOR SPORTING PURPOSES' WITHIN THE MEANING OF 18 U.S.C. 921(a)(17)(C)" and uploaded to ATF.gov , in part to enable interested parties to review it and submit comments before 16 March 2015.

The proposal cited the Law Enforcement Officers Protection Act of 1986 (P.L. 99-408, known as "LEOPA") and referenced discussions with law enforcement agencies across the country about whether "green tip" ammunition could reasonably be construed an exempt form of sporting ammo under the 1986 guidelines. The publicly available document noted that handguns made to employ the potentially affected ammunition were not available to civilians at the time the exemption was initially granted, and that the ammo type in question did not appear to meet the standard for a sporting purpose exemption:

Applying the sporting purposes framework set-forth above, the 5.56mm projectile that ATF exempted in 1986 does not qualify for an exemption because that projectile when loaded into SS109 and M855 cartridges may be used in a handgun other than a single-shot handgun. Specifically, 5.56mm projectiles loaded into the SS109 and M855 cartridges are commonly used Framework for Deciding Sporting Purpose Ammunition pursuant to 18 USC 921(a) in both "AR-type" rifles and "AR-type" handguns.

The AR platform is the semi-automatic version of the M16 machinegun originally designed for and used by the military. The AR-based handguns and rifles utilize the same magazines and share identical receivers. These AR-type handguns were not commercially available when the armor piercing ammunition exemption was granted in 1986. To ensure consistency, upon final implementation of the sporting purpose framework outlined above, ATF must withdraw the exemptions for 5.56 mm "green tip" ammunition, including both the SS109 and M855 cartridges.
The  video BATF Ammo Ban Violates Federal Law As Well As The Constitution and Infowars article provides the legal definition: AR-15 AMMO NOT "ARMOR PIERCING" ACCORDING TO LAW, BUT ATF BANNING IT ANYWAY, both explains the dubious methods being used to circumvent the 2nd Amendment.
To be considered "armor piercing" under 18 U.S.C. 921 (a)(17)(B) , a bullet must have an entirely metal core or have a jacket weighting more than 25% of its weight, which wouldn't include M855 rounds because their bullets are partly lead .

The definition in full:

(17)

(A) The term "ammunition" means ammunition or cartridge cases, primers, bullets, or propellent powder designed for use in any firearm.

(B) The term "armor piercing ammunition" means- (i) a projectile or projectile core which may be used in a handgun and which is constructed entirely (excluding the presence of traces of other substances) from one or a combination of tungsten alloys, steel, iron, brass, bronze, beryllium copper, or depleted uranium; or (ii) a full jacketed projectile larger than .22 caliber designed and intended for use in a handgun and whose jacket has a weight of more than 25 percent of the total weight of the projectile.

(C) The term "armor piercing ammunition" does not include shotgun shot required by Federal or State environmental or game regulations for hunting purposes, a frangible projectile designed for target shooting, a projectile which the Attorney General finds is primarily intended to be used for sporting purposes, or any other projectile or projectile core which the Attorney General finds is intended to be used for industrial purposes, including a charge used in an oil and gas well perforating device.
Now all this legal mumbo jumbo may seem archaic to anyone other than gun enthusiasts, but in fact allowing the government to banish the business end of shells, because the government fears such bullets might be pointed at them, is an admission of despotic panic.
Governments have little need to feel apprehension from citizens, when their conduct is measured by legal and ethical standards. Just ask, what in the world is this contrived necessity to undertake punitive and restrictive measures to strip the public of their legitimate right for self-defense, really all about?
If there is any doubt how the people are responding, just examine the trend in gun and especially further ammo sales.
Gun sales hit new record, ammo boom to follow
"If ammunition does become the focus for gun owners, that could become another hot-button topic.

Last year, the Homeland Security Department had to explain to Congress its contracts to buy up to 1.6 billion rounds of ammunition.

Some gun owners believed the department was trying to crowd out private consumers in the ammunition market, but federal officials said their purchases amounted to a tiny fraction of the ammunition produced every year."
Obviously, buying up the market is too slow a way to crowd out the public. With no constrains in the last two years of the Obama administration, what is one more show of contempt for the rule of law? Yet, proponents of an ammunition free zone cheer last year's UN Arms Trade Treaty ATT as another component in the efforts to "piecemeal enactment of costly and increasingly restrictive controls on ammunition, private sales and transfers, firearms parts, registration, etc."
Yes, Obama's bureaucrats are walking lock step in line with the global objective of having non elites stripped of their armor. If .223 ammo is slated for a meltdown, what will be next?
The Global Gulag essay, Guns, Guts and Goons foretells the dilemma.
"Gun ownership in America is the primary reason why the internationalists fear the wrath of an armed citizenry. The destruction of the Bill of Rights is a prime objective of the beltway statists. Conversely, the elimination of the remnants of an American federalist constitutional republic is the key eliminate required for imposition of the global Illuminati matrix. The primal reason to foster a society that bears weapons is to maintain the means to fight tyranny on your native soil. The United Nations is a subversive and diabolical appendage of world despotism. The choice has never been clearer. Lock and load or kneel and grovel. Guns are mere instruments of force or defense, while government oppression is the reason why the public must possess the means of accountability."
In the brave new world that is being engineered, going back to archery using rubber tips might be the only option, assuming that stringing for the bow would be allowed.
The list of government warfare against citizen's right to bear arms just grows. Obama's feds hid key data to get Calif. lead ammo ban passed in backdoor gun control move comes as no surprise. "Other states have also wrestled with the lead ammunition issue, but California is the first and only state to ban it altogether."
From that other bastion of individual rights, the New York Times cannot conceal their joy in the item, Move to Ban a Bullet Adds to Its Appeal. However, in the spirit of balance the NYT quotes:
"Representative Robert W. Goodlatte, Republican of Virginia and the chairman of the House Judiciary Committee, urged the agency to reconsider the rule.

"Millions upon millions of M855 rounds have been sold and used in the U.S., yet A.T.F. has not even alleged, much less offered evidence, that even one such round has ever been fired from a handgun at a police officer," Mr. Goodlatte writes in a letter to the agency's director, B. Todd Jones, to be sent this week."
Surely there must be some compelling argument missing that proposes to criminalize the magic tip projectile.
This is a laughable proposal if the underlying intentions for disarming the citizenry was not the ultimate motive were not so draconian.
Do you have the guts to stand up to the goons? You don't need to have guns to resist if they have their way. What good is a gun without bullets? What is needed is a concerted effort to support organizations and representatives that will fight against this tyranny now, before we all bleed because Americans allowed their disarmament.
The charade of false flag gun crimes used to enact more restrictive laws and regulations needs to be exposed as absolute folly and soul-destroying despotism.
"The collapse of the Soviet Union removed the only constraint on Washington's power to act unilaterally abroad…. Suddenly the United States found itself to be the Uni-power, the 'world's only superpower.'  Neoconservatives proclaimed 'the end of history.'"
—  Paul Craig Roberts,  former Assistant Secretary of the US Treasury
"Don't blame the mirror if your face is crooked."
— Russian proverb
Vladimir Putin delivered a speech at the 43rd Munich Security Conference that created a rift between Washington and Moscow that has only deepened over time.  The Russian President's blistering hour-long critique of US foreign policy provided a rational, point-by-point indictment of US interventions around the world and their devastating effect on global security.   Putin probably didn't realize the impact his candid observations would have on the assembly in Munich or the reaction of  powerbrokers in the US who saw the presentation as a turning point in US-Russian relations. But, the fact is, Washington's hostility towards Russia can be traced back to this particular incident, a speech in which Putin publicly committed himself to a multipolar global system, thus, repudiating the NWO pretensions of US elites. Here's what he said:
"I am convinced that we have reached that decisive moment when we must seriously think about the architecture of global security. And we must proceed by searching for a reasonable balance between the interests of all participants in the international dialogue."
With that one formulation, Putin rejected the United States assumed role as the world's only superpower and steward of global security, a privileged position which Washington feels it earned by prevailing in the Cold War and which entitles the US to unilaterally intervene whenever it sees fit. Putin's announcement ended years of bickering and deliberation among think tank analysts as to whether Russia could be integrated into the US-led system or not.  Now they knew that Putin would never dance to Washington's tune.
In the early years of his presidency, it was believed that Putin would learn to comply with western demands and accept a subordinate role in the Washington-centric system. But it hasn't worked out that way. The speech in Munich merely underscored what many US hawks and Cold Warriors had been saying from the beginning, that Putin would not relinquish Russian sovereignty without a fight.  The declaration challenging US aspirations to rule the world, left no doubt that  Putin was going to be a problem that had to be dealt with by any means necessary including harsh economic sanctions, a State Department-led coup in neighboring Ukraine, a conspiracy to crash oil prices, a speculative attack of the ruble, a proxy war in the Donbass using neo-Nazis as the empire's shock troops, and myriad false flag operations used to discredit Putin personally while driving a wedge between Moscow and its primary business partners in Europe. Now the Pentagon is planning to send 600 paratroopers to Ukraine ostensibly to "train the Ukrainian National Guard", a serious escalation that violates the spirit of Minsk 2 and which calls for a proportionate response from the Kremlin. Bottom line: The US is using all the weapons in its arsenal to prosecute its war on Putin.
Last week's gangland-style murder of Russian opposition leader, Boris Nemtsov, has to be considered in terms of the larger geopolitical game that is currently underway. While we may never know who perpetrated the crime, we can say with certainly that the lack of evidence hasn't deterred the media or US politicians from using the tragedy to advance an anti-Putin agenda aimed at destabilizing the government and triggering regime change in Moscow.  Putin himself suggested that the killing may have been a set-up designed to put more pressure on the Kremlin. The World Socialist Web Site summed up the political implications like this:
"The assassination of Russian opposition politician Boris Nemtsov is a significant political event that arises out of the US-Russia confrontation and the intense struggle that is now underway within the highest levels of the Russian state. The Obama administration and the CIA are playing a major role in the escalation of this conflict, with the aim of producing an outcome that serves the global geo-political and financial interests of US imperialism….
It is all but obvious that the Obama administration is hoping a faction will emerge within the Russian elite, backed by elements in the military and secret police, capable of staging a "palace coup" and getting rid of Putin….
The United States is not seeking to trigger a widespread popular revolt. (But) are directed entirely at convincing a section of the oligarchy and emerging capitalist class that their business interests and personal wealth depend upon US support. That is why the Obama administration has used economic sanctions targeting individuals as a means of exerting pressure on the oligarchs as well as broader sections of the entrepreneurial elite….
It is in the context of this international power struggle that one must evaluate Nemtsov's murder. Of course, it is possible that his death was the outcome of his private dealings. But it is more likely that he was killed for political reasons. Certainly, the timing of the killing—on the eve of the opposition's anti-Putin demonstration in Moscow—strongly indicates that the killing was a political assassination, not a private settling of accounts."  ("Murder in Moscow: Why was Boris Nemtsov assassinated?", David North, World Socialist Web Site)
Just hours after Nemtsov was gunned down in Moscow, the western media swung into action releasing a barrage of articles suggesting Kremlin involvement without a shred of  evidence to support their claims. The campaign of innuendo has steadily gained momentum as more Russia "experts" and politicians offer their opinions about who might be responsible. Naturally, none of the interviewees veer from the official storyline that someone in Putin's charge must have carried out the attack.  An article in the Washington Post is a good example of the tactics used in the latest PR campaign to discredit Putin.  According to Vladimir Gel'man, Political Scientists European University at St. Petersburg and the University of Helsinki:
"Boris Nemtsov, one of the leaders of political opposition, was shot dead nearby the Kremlin. In my opinion, it has all the hallmarks of a political assassination provoked by an aggressive Kremlin-induced campaign against the "fifth column of national traitors", who opposed the annexation of Crimea, war with the West over Ukraine, and further decline of political and civil freedoms in the country. We may never know whether the Kremlin ordered this killing, but given the fact that Nemtsov was one of the most consistent critics not only of the Russian regime as such but also of Putin in person, his dissenting voice will never upset Putin and his inner circle anymore."  ("What does Boris Nemtsov's murder mean for Russia?", Washington Post)
The article in the Washington Post is fairly typical of others published in the MSM. The coverage is invariably long on finger-pointing and insinuation and short on facts. Traditional journalistic standards of objectivity and fact-gathering have been jettisoned to advance a political agenda that reflects the objectives of ownership. The Nemtsov assassination is just the latest illustration of the abysmal state of western media.
The idea that Putin's agents would "whack" an opposition candidate just a stone's throw from the Kremlin is far fetched to say the least.  As one commenter at the Moon of Alabama blog noted:
"Isn't the image of a dead political opponent lying on a bridge overlooked by the Kremlin a bit rich? I mean, short of a dagger lodged between his shoulder blades with the inscription "if found, please return to Mr Putin", I can't think of a more over-egged attempt at trying to implicate the Government. And on the night before an opposition rally Nemtsov hoped to lead. I mean, come on."
While there's no denying that Moscow could be involved, it seems unlikely. The more probable explanation is that the incident is part of a larger regime change scheme to ignite social unrest and destabilize the government. The US has used these tactics so many times before in various color-coded revolutions, that we won't reiterate the details here. Even so, it's worth noting that the US has no red lines when it comes to achieving its strategic goals.  It will do whatever it feels is necessary to prevail in its clash with Putin.
The question is why? Why is Washington so determined to remove Putin?
Putin answered this question himself recently at a celebration of Russia's diplomatic workers' day. He said Russia would pursue an independent foreign policy despite pressure in what he called "today's challenging international environment."
"No matter how much pressure is put on us, the Russian Federation will continue to pursue an independent foreign policy, to support the fundamental interests of our people and in line with global security and stability." (Reuters)
This is Putin's unforgivable crime, the same crime as Venezuela, Cuba, Iran, Syria and countless other nations that refuse to march in lockstep to Washington's directives.
Putin has also resisted NATO encirclement and attempts by the US to loot Russia's vast natural resources. And while Putin has made every effort to avoid a direct confrontation with the US, he has not backed down on issues that are vital to Russia's national security, in fact, he  has pointed out numerous times not only the threat that encroaching NATO poses to Moscow, but also the lies that preceded its eastward expansion. Here's Putin at Munich again:
"I would like to quote the speech of NATO General Secretary Mr. Woerner in Brussels on 17 May 1990. He said at the time that: "the fact that we are ready not to place a NATO army outside of German territory gives the Soviet Union a firm security guarantee….

Where are these guarantees?"
Where, indeed. Apparently, they were all lies.  As political analyst Pat Buchanan said in his article "Doesn't Putin Have a Point?":
"Though the Red Army had picked up and gone home from Eastern Europe voluntarily, and Moscow felt it had an understanding we would not move NATO eastward, we exploited our moment. Not only did we bring Poland into NATO, we brought in Latvia, Lithuania, and Estonia, and virtually the whole Warsaw Pact, planting NATO right on Mother Russia's front porch. Now, there is a scheme afoot to bring in Ukraine and Georgia in the Caucasus, the birthplace of Stalin….

… though Putin gave us a green light to use bases in the old Soviet republics for the liberation of Afghanistan, we now seem hell-bent on making those bases in Central Asia permanent.

… through the National Endowment for Democracy, its GOP and Democratic auxiliaries, and tax-exempt think tanks, foundations, and "human rights" institutes such as Freedom House,… we have been fomenting regime change in Eastern Europe, the former Soviet republics, and Russia herself….

These are Putin's grievances. Does he not have a small point?" "(Doesn't Putin Have a Point?", Pat Buchanan, antiwar.com)
Now the US wants to deploy its missile defense system to Eastern Europe, a system which–according to Putin "will work automatically with and be an integral part of the US nuclear capability. For the first time in history, and I want to emphasize this, there are elements of the US nuclear capability on the European continent. It simply changes the whole configuration of international security…..Of course, we have to respond to that."
How can Putin allow this to happen?  How can he allow the US to situate nuclear weapons in a location that would increase its first-strike capability and undermine the balance of deterrents allowing the US to force Russia to follow its orders or face certain annihilation. Putin has no choice but to resist this outcome, just as has no choice but to oppose the principle upon which US expansion is based, the notion that the Cold War was won by the US, therefore the US has the right to reshape the world in a way that best suits its own economic and geopolitical interests. Here's Putin again:
"What is a unipolar world? However one might embellish this term,  it refers to a type of situation where there is one center of authority, one center of force, one center of decision-making.   It is world in which there is one master, one sovereign. At the end of the day, this is pernicious not only for all those within this system, but also for the sovereign itself because it destroys itself from within…..

I consider that the unipolar model is not only unacceptable but also impossible in today's world…. the model itself is flawed because at its basis there is and can be no moral foundations for modern civilization…." (Munich, 2007)
What sort of man talks like this? What sort of man talks about "the moral foundations for modern civilization" or invokes FDR in his address?
Putin:  "'Security for one is security for all'. As Franklin D. Roosevelt said during the first few days that the Second World War was breaking out: 'When peace has been broken anywhere, the peace of all countries everywhere is in danger.' These words remain topical today."
I urge everyone to watch at least the first 10 minutes of Putin's speech and decide for themselves whether they think the characterization (and demonization) of Putin in the media is fair or not. And pay special attention to Minute 6 where Putin says this:
"We are seeing a greater and greater disdain for the basic principles of international law. And independent legal norms are, as a matter of fact, coming increasingly closer to one state's legal system. One state and, of course, first and foremost the United States, has overstepped its national borders in every way. This is visible in the economic, political, cultural and educational policies it imposes on other nations. Well, who likes this? Who is happy about this?" ("Vladimir Putin's legendary speech at Munich Security Conference")
While Putin is making this statement, the camera pans to John McCain and Joe Lieberman who are sitting stone-faced in the front row seething at every word uttered by the Russian president. If you look close enough, you can see the steam emerging from McCain's ears.
This is why Washington wants regime change in Moscow. It's because Putin refuses to be pushed around by the United States. It's because he wants a world that is governed by international laws that are impartially administered by the United Nations. It's because he rejects a "unipolar" world order where one nation dictates policy to everyone else and where military confrontation becomes the preferred way for the powerful to impose their will on the weak.
Putin:  "Today we are witnessing an almost uncontained hyper use of force that is plunging the world into an abyss of permanent conflicts…The United States, has overstepped its national borders in every way….And of course this is extremely dangerous. It results in the fact that no one feels safe. I want to emphasize this — no one feels safe."  Vladimir Putin, Munich 2007
Putin isn't a perfect man. He has his shortcomings and flaws like everyone else. But he appears to be a decent person who has made great strides in restoring Russia's economy after it was looted by agents of the US following the dissolution of the Soviet Union. He has lifted living standards,  increased pensions,  reduced poverty, and improved education and health care which is why his public approval ratings are currently hovering at an eye-watering 86 percent.  Even so, Putin is most admired for standing up to the United States and blocking its strategy to pivot to Asia. The proxy war in Ukraine is actually a struggle to thwart Washington's plan to break up the Russian Federation, encircle China, control the flow of resources from Asia to Europe,  and rule the world.   Vladimir Putin is at the forefront of that conflagration which is why he has gained the respect and admiration of people around the world.
As for "democracy", Putin said it best himself:
"Am I a 'pure democrat'? (laughs) Of course I am. Absolutely. The problem is that I'm all alone, the only one of my kind in the whole world. Just look at what's happening in    America, it's terrible—torture, homeless people, Guantanamo, people detained without trial or investigation.     And look at  Europe—harsh treatment of demonstrators, rubber bullets and tear gas used in one capital after another, demonstrators killed on the streets….. I have no one to talk to since Gandhi died."
Well said, Vladimir.
Varoufakis vs. The Troika…
"Will the United States, Germany, the rest of the European Union, the European Central Bank, and the International Monetary Fund – collectively constituting the International Mafia – allow the new Greek leaders of the Syriza party to dictate the conditions of Greece's rescue and salvation? The answer at the moment is a decided "No".

— William Blum, The Greek Tragedy, Veracity Voice

"The Greek economy is finished…. There is no power, no force within the Greek economy, within Greek society that can avert – it's like – imagine if we were in Ohio in 1931 and we were to ask: What can Ohio politicians do to get Ohio out of the Great Depression? The answer is nothing."

— Yanis Varoufakis, Greek Finance Minister
A disagreement over the terms of a deal to provide a bailout extension for Greece, has set the stage for a final clash between the Eurogroup and members of the Greek ruling party, Syriza.  Although the agreement was approved on Tuesday when a list of reforms were submitted by Greek finance minister Yanis Varoufakis to the Eurogroup, Varoufakis believes that changes to the original program give him greater flexibility to implement policies that will end austerity, reduce the ailing country's primary budget surplus, and ease the humanitarian crisis that has persisted for 6 years.  Regrettably,  no one at the ECB, the European Commission or the IMF shares Varoufakis's views on the subject. The so called "troika" thinks that Greece has signed on to essentially the same program that was in place before the negotiations, give or take a few cosmetic changes in the language. And because the program is the same, they think Varoufakis should stick with the same policies as his predecessor and ignore mounting public opposition to austerity. Given the irreconcilable differences between the two parties, there's bound to be a violent confrontation in the near future that will lead to heated recriminations and, eventually, a Grexit.
To illustrate the widening chasm between Varoufakis and the members of the Eurogroup, consider the fact that, going into the negotiations, Varoufakis was determined to end the bailouts and secure a "bridge" loan that would shield Greece from default for a six month period of adjustment after which basic changes to the current austerity regime would be re-negotiated. While the Eurogroup agreed to change the term "program" to "agreement" and "troika" to "institutions", in the minds of the EU finance minsters, the substance of the original deal, which was laid out in the hated Memorandum of Understanding, remained the same. Take a look at this excerpt from a letter from ECB president Mario Draghi and Eurogroup president Jeroen Dijsselbloem and you'll see how this is playing out:
"I assume that it is clear, that the basis of concluding the current review, and also any future arrangements, will be the existing commitments in the current Memorandum of Understanding and The Memorandum of Economic and Financial Policies  (MEFP). In this context we note that the commitments outlined by the authorities differ from existing programme commitments in a number of areas. In such cases, we will have to assess during the review whether measures which are not accepted by the authorities are replaced with measures of equal or better quality in terms of achieving the objectives of the programme." (Naked Capitalism)
What Draghi is saying is that Varoufakis's changes will be put under a microscope to see if they conform with the memorandum which Varoufakis believes no longer applies. The way this will work on a practical basis, is that additional money will only be meted out incrementally depending on compliance with, you guessed it, the old agreement. In other words, Varoufakis will not have a 4 month grace period to experiment with his pro-growth, anti-austerity economic policies. He'll be expected to toe the line from Day 1.
Varoufakis either doesn't understand what he signed or thinks he can implement his own plan without too much interference from the Eurogroup. Either way, there's probably going to be a confrontation given the vast disparity in the way the agreement is being interpreted. In a Tuesday interview with CNBC, Varoufakis said that the new deal is fundamentally different than the previous agreement. He said:
"Some people have been insisting that the program that we've been under must surely be the program that we shall remain under simply refuse to understand that this has changed. So they keep insisting that that program is still on-going. Let me give you a very simple number. The program that we challenged compelled to the Greek government to extract 4.5% of the primary surplus every year in a depressed economy. We've changed that. Now surely that is not dismissed as simply a non-event and it's business as usual, so it's not business as usual we have a fresh start and now what matters is to use the opportunity of that fresh start in order to build something good on top of it. And we will endeavor to do this." ("CNBC Exclusive Interview: Greek Finance Minister, Yanis Varoufakis", CNBC)
See? He sincerely believes that the old deal is history. But the troika, the Eurogroup, and the majority of people who have analyzed the new arrangement, disagree. They think everything is the same (which explains why critics on the right and left have repudiated the deal as a "climb-down, a capitulation and a sellout.)
In an interview with Nikos Hatzinikolaou on REAL FM, Greece, Varoufakis rejected the Memorandum while claiming that the new agreement represents "a huge success' in ending the "recessionary measures" that are needlessly prolonging Greece's Great Depression. Here's what he said:
Varoufakis: "The current  government (Syriza) wants to say things with their name. I will explain it to you in very simple terms, Mr. Hatzinikolaou. As long as our debt is what it is, as long as Greece was bounded within this iron cage of primary surpluses that were impossible to achieve without killing whatever is left in the private sector, and as long we have a negative sign in investments (essentially, real investments), it was impossible to achieve this exit.
What we are trying to do – and have succeeded in doing so; it was a huge success, I'd say – is to create a four-month bridge during which we achieve the following:

First, the cancelation of the recessionary measures and the implementation of a transitional program we ourselves have made, one the Greek society will be able to withstand. This will help us negotiate during this four-month period a new contract between us and our partners with the goal of solving this system of three equations with three unknowns.

Hatzinikolaou: Thus, we are talking about a new Memorandum? ….

Varoufakis: OK. Let us be careful with the words. What does the Memorandum mean? … Let me remind you of what it comprises. It comprises the logic of continuous domestic [or internal] devaluation, of  huge primary surpluses in an economy that does not have a real credit system, where investments are negative, and at the same time where we have a series of measures that empower this recession.  This is the MoU. It is the automation, the a-politicization, and the subjection to the crisis." ("The juicy interview of Greek Finance Minister, Yanis Varoufakis", Greek Analyst)
Varoufakis  appears to be saying that, in his view, the new agreement constitutes a rejection of the memorandum and, thus, is a de facto repudiation of austerity.  The question is whether Varoufakis is stretching the facts to give himself greater latitude to relieve Greece's humanitarian crisis and to put Greece back on a sound path to growth.  While those are worthy goals, they are not likely to win the Eurogroup's support. Check out this excerpt from a letter from the IMF to Dijsselbloem concerning the vagueness of Varoufakis's reform package:
"In quite a few areas, however, including perhaps the most important ones, the letter is not conveying clear assurances that the Government intends to undertake the reforms envisaged in the Memorandum on Economic and Financial Policies. We note in particular that there are neither clear commitments to design the envisaged comprehensive pension and VAT policy reforms, nor unequivocal undertakings to continue already-agreed policies for opening up closed sectors, for administrative reforms, for privatization, and for labor market reforms. As you know, we consider such commitments and undertakings to be critical for Greece's ability to meet the basic objectives of its Fund-supported program, which is why these are the areas subject to most of the structural benchmarks agreed with the Fund." (Excerpt IMF letter posted at Naked capitalism)
Repeat: "We consider such commitments and undertakings to be critical for Greece's ability to meet the basic objectives of its Fund-supported program."  In other words, Greece should not expect to get its loan extension unless it follows the troika's explicit orders on pensions, VAT (sales taxes), government cutbacks, privatization and labor market reforms.
So, what is Varoufakis's approach to these benchmarks?
Let's take a look at pension reform. In an interview with CNBC's Julia Chatterley on Tuesday, Chatterley asked Varoufakis point blank, "So you're ruling out pension cuts?"
Varoufakis: "Of course over the next four months there will be no such thing." (CNBC)
How about raising the VAT tax?
Same thing. And in the interview on REAL FM Varoufakis covered the other policies that the troika sees as "critical". Listen to this exchange:
Hatzinikolaou: My fundamental question about the e-mail is whether or not it entails layoffs in the public sector …, if it entails pension reductions … if it entails wage reductions?

Varoufakis: I will answer to all these questions, since these are very specific questions, and it is best that we speak forthrightly. My answer to all of these questions is NO, in NO WAY."
Let's summarize: No pension cuts, no higher VAT taxes, no lower wages for public workers, and no layoffs. While I admire what Varoufakis is suggesting, I can't figure out how he's going to convince the troika to give him more money.  Apparently, he thinks that streamlining the government and aggressively pursuing tax cheats will do the trick. Or maybe he has something else up his sleeve, like ignoring the terms of the agreement long enough to generate growth in the economy, lower unemployment, and create an improved environment for foreign investment. He might think that that will force the troika to acknowledge that austerity has failed and that pro-growth Keynesian strategies actually produce positive results. Of course, that's just a guess on my part. It's impossible to know for sure.
Here's more of the interview with CNBC:
Varoufakis:   "The reason why we have this 4 month period is to re-establish bonds of trust between us and our European partners as well as the IMF in order to build a new, we call it, contract between us and our partners so as to put an end to this spiral, the debt inflationary spiral; reform Greece; and make sure that CNBC doesn't care about Greece anymore, because we don't want to be in the headlines for all the wrong reasons." ("CNBC Exclusive Interview: Greek Finance Minister, Yanis Varoufakis", CNBC)
The "bonds of trust" are going to  put to the test if Varoufakis doesn't comply with the troika's diktats, that's for sure.
Varoufakis assumes that the troika doesn't understand the impact of its belt-tightening policies. He seems to think that the punishment that's being inflicted on Greece is just the unfortunate byproduct of debt reduction policy and not a deliberate attempt to crush the unions, roll back progressive reforms, decimate the welfare state, and reduce the country to a condition of "permanent colonial dependency."    But that viewpoint is shockingly naïve, after all, the IMF has been in the looting biz for a long time and has a pretty good grasp of the effects its toxic policies.  They know what they're doing, just like know that austerity is just a refinement of the "shock doctrine" which is the traditional way the elites exploit crises by imposing harsh, economy-demolishing reforms that only benefit themselves and their class. The men who conjure up these thieving schemes aren't likely to be hoodwinked by Varoufakis's vague reforms. They're going to force Varoufakis to jump through all their respective hoops before he gets one dime of their precious money. Here's Varoufakis again:
"There is going to be a great deal of toing and froing between us and the institutions and our partners but what we have established through stubborn refusal to succumb to the notion that elections change nothing over the past couple of months or weeks I should say is the notion that this government deserves to have a degree of room for policy-making that allows us to reform Greece and to carry the great multitude out there with us. This is the government for the first time in Greece that has the people behind it and it would be a terrible waste not just for us but for our partners to allow this wave of support to dissipate through non-action." (CNBC)
Does Varoufakis really think he can pull this off?  Does he really think he can out-fox the slimy, authoritarian brigands and leg-breakers who run these extortionist institutions and who will use every means possible to extract the last drop of blood from their victim be he an aspiring, but penniless student at the university or a destitute pensioner huddling homeless and frozen in an abandoned doorway in downtown Athens?
This isn't going to end well. Varoufakis had one card to play–the threat of leaving the Euro–and he failed to play it. Now his leverage is gone and the roof is about to cave in. Just wait and see.
The troika isn't going to convene another dreary round of negotiations to rehash the same old nonsense. Those days are over.  They're simply going to withhold the money, curtail liquidity assistance, and torpedo the Greek banking system. Kaboom! That's the way this thing is going to go down. The mood among the EZ finance ministers has soured considerably since the last meeting. They want to put this whole thing behind them. They're sick of it.  They want closure. They're not going to quibble over issues they've already gone over and clarified a million times.  Varoufakis will either have to get with the program or face the consequences. That's the way it works in Mafia-land; you either pay the piper or you find yourself in the East River in cement booties.
Who knows: maybe this is what Varoufakis wanted from the beginning, a ferocious clash ending in banishment, a Grexit.  Well, he won't have to wait long now.
During the Oscars last Sunday night, winner Patricia Arquette, Boyhood, admonished America to work for women's equal pay. J.K. Simmons, Whiplash, invited Americans to phone their parents and thank them. Michael Keaton, Birdman, told the audience how thankful he felt for his life and his son.
All of the winners and losers spoke eloquently about their fortunes and misfortunes in the American film making business. Ironically, legendary Clint Eastwood's epic film, American Sniper, out-grossed all the other top Oscar winning films combined. The academy ignored his movie.
The movie, Selma, produced by Oprah Winfrey, didn't fare very well. If you remember, back in the era of Dr. Martin Luther King, African-Americans marched from Selma to Montgomery, Alabama to force this nation toward voter rights and Black rights in the American pantheon.
Since that time, America evolved to see African-Americans like Colin Powell become Secretary of State; Clarence Thomas and Thurgood Marshall served on the Supreme Court; Condoleezza Rice became Secretary of State; Barack Obama became president and much more as US Senators, governors, mayors and House of Representatives feature African-Americans from every walk of life.
African-Americans dominate the NBA, NFL and major television shows such as "Scandal" and "How to get away with murder." American Blacks head up Fortune 500 companies.
With all of their success, a black dance group pranced on the stage at the Oscars with a highly racially charged routine depicting their struggles against White America. At one point, they all raised their hands, shouting, "Hands up! Don't shoot!" They referred to 18-year-old Michael Brown in Ferguson, Missouri who lost his life after he robbed a convenience store and charged a police officer.
Six African-American witnesses testified that Brown wrestled the police officer for his gun in the police squad car and they testified that Brown charged the police officer with intent to overpower him. Riots and carnage resulted in burning down a good portion of the city while Al Sharpton and Jesse Jackson charged racism and ruthless police tactics.
In reality, Michael Brown showed up in several videos where he viciously beat an old man senseless and his crime sheet showed a budding criminal who would reach jail or death, whichever came first.
Somehow, major Black leaders lay the blame on White America for all of Black America's problems. Even Barack Obama said that Trayvon Martin, a budding criminal in his own right, could be Obama's son.
Black Americans omit or ignore numerous aspects of Black crime, poverty, illiteracy and prison sentences.
First of all, the latest statistics show that 6,000 Black on Black killings occur annually in the USA via strangling, guns, knifes and beatings. No Black leaders whisper a word about how to solve such horrible numbers. They don't condemn their own actions, but they always condemn Whites.
Second, 73 percent of African-American children arrive out of wedlock and into welfare with a single mother annually. None of the Black community that screams at the Brown and Garner killings, breathes a word about the irresponsible actions of Black teen girls and their boyfriends. They live on welfare provided by the American taxpayer. Is it any wonder that the African-American family devolves into fatherless families, rogue children, violence, illiteracy, shoplifting and cyclical dependency on taxpayers?
Third, figures show that Black American teens quit high school by 50 to 60 percent in our major cities. Millions of African-Americans guarantee their poverty, homelessness, joblessness and fatherless families. They choose their conditions.
Fourth, millions of Black Americans fill our prisons in a response to their choices to deal, consume and transport drugs. Each African-American chooses prison when they choose to break the law.
Fifth, a whopping 48 million Americans failed themselves as to education, personal responsibility and personal accountability as they subsist on food stamps provided by American taxpayers. Millions of Blacks stand in the ranks of those who gain EBT cards (Electronic Benefits Transfers) for food stamps and free housing.
Each person, Black or White, suffering lack of an education and making poor choices, brings a personal tragedy into the fabric of American life. Our inner city projects like Chicago, Detroit, New York City, Atlanta, Houston, Denver and Los Angeles—bear witness that we must change our national priorities.
Instead of massive financial disasters of 13-year wars created and maintained by bankers and the Military Industrial Complex, we need to fund national educational systems that work for our youth. We need all male and all female schools with dress codes to take the sexual intrigues out of the classrooms. We need to teach parents how to parent their children by mandatory classes before marriage. We need to pay teachers and mentors ample money to create discipline and respect for education.
We need to stop endless and massive legal immigration, that injects 1.2 million people annually, who take jobs from our working poor. We need to reduce all immigration to less than 100,000 annually instead of the current 100,000 every 30 days. We must elect Congressional leaders who garrison troops on our Mexican border to stop in excess of 500,000 illegal aliens jumping our borders and into our workforce annually. If not, we cannot and will not solve mass unemployment of Black America. The past five presidents and Congresses did nothing to help Black or White Americans as to jobs. In fact, Congress forces our poorest into more poverty by mass immigration.
We need Black national leaders to lead, guide and inspire African-American youth to participate in the American Way of Life. Whether Black America likes its past or not, it now must deal with living in a highly educated, highly industrialized 21st century country.
We need all the angry Al Sharpton's, all Black entertainers, all sports heroes and political leaders to stand in front of Black audiences and thank their lucky stars for living in America. If Black Americans lived in the unending violence of Africa for a few months, examples—mass murderer Boko Haram, Somalia, Sudan, Congo, millions dying of AIDS, etc., they would change their mantra of "Hands up! Don't Shoot!" to "How lucky I am! Praise the Lord!"
Have Black Americans wondered why all those millions of starving African immigrants clamor to come to America? They die by the millions in Africa from starvation, AIDS, cholera, Malaria, genocide wars and worse.
If we hope to maintain a viable civilization, we all need to buckle down to education, jobs, lawful communities and civil participation. If not, we all face Ferguson, Missouri's in our own towns across the nation, especially in our cities where the cauldrons boil with contempt for law and order. You heard the marches, "Kill cops now!"
Once our nation loses its respect for law and order, we all face what occurs in Africa, the Middle East, Mexico and Paris, France daily. It's not going to be pretty for anyone.
Kent Hovind is a creation-science evangelist and Baptist minister who has already served eight years of a ten-year prison sentence for alleged tax evasion. Kent has a master's degree in education. He founded and operated Creation Science Evangelism and has traveled extensively presenting creation-science lectures. He has debated evolutionists in over one hundred debates across the country. Kent also operated Dinosaur Adventure Land in Pensacola, Florida. This was a very popular creation-science museum/theme park. Kent also produced scores of videos on the subject of creation-science that have circled the globe and been translated in over thirty languages. Many people affectionately refer to Kent as "Dr. Dino." He and his wife have three children; and all three of their children (all grown) worked alongside of him in the ministry.
Kent and I were college classmates for one year in Michigan. I was a sophomore when Kent transferred to the school from Illinois. I transferred colleges after that year. Kent stayed and graduated from the college in Michigan. After graduation in 1975, my wife and I moved to Pensacola, Florida, to begin our ministerial work. Some years later, Kent and his family also moved to Pensacola. So, I've known Kent a long time.
Kent considered his ministry a church and the people who worked for him as missionaries. He did not incorporate under the 501c3 non-profit organization status. Of course, the Internal Revenue Code states that churches are not required to do so; that, as a church, they automatically have tax-exempt status. Accordingly, Kent believed his ministry was tax-exempt.
Nevertheless, in 2004, IRS agents raided Kent's home and ultimately brought multiple counts of tax-evasion-type charges, including "structuring," against him. "Structuring" means deliberately making cash deposits or withdrawals of just under the supposed reporting level of ten thousand dollars. (Egad! God forbid that the IRS not know the details of our banking transactions.) In 2006, Kent went to trial and was convicted on all counts and sentenced to ten years in federal prison. He has been there ever since.
But now the story gets bizarre. Federal prosecutors are currently bringing charges of mail fraud against Kent for using the mail system from inside prison to challenge the lien that the IRS placed upon his property. And, are you ready for this? They want Kent to serve an additional twenty to one hundred years in prison. Obviously, even if he received twenty years, this amounts to a life sentence.
See this report:
IRS vs. Kent Hovind: Imprisoned Evolutionary Foe Now Facing New Charges, Life Behind Bars
By contrast, the Rev. Al Sharpton is reported to owe nearly $1.5 million in overdue taxes and penalties from many years ago. But our federal government doesn't put Mr. Sharpton in the Big House; it invites him to the White House instead.
See the report here:
Sharpton Owes Nearly $1.5 Million In Back Taxes
Regardless of where one comes down on the whole tax-exempt status issue for churches and non-profit organizations, here is a very relevant fact: the average time spent behind bars for tax "crimes" is between two to five years. For instance, Pete Rose served five months; Chuck Berry served four months; Aldo Gucci served one year; Sun Myung Moon served eighteen months; and Leona Helmsley served four years. Kent has already served much more time than any of those people did.
To help put it in perspective even further, the infamous Chicago gangster, Al Capone, was released after eight years in prison. And, as everyone knows, the only reason the government put him prison for tax evasion was because they couldn't obtain the evidence they needed to convict him of murder, racketeering, bribery, etc. Yet, our federal government wants to keep a Christian minister–who never committed an act of violence against anyone–in prison for the rest of his natural life. In truth, there are thousands of people who have been convicted of some form of homicide who have not spent as many years in prison as Kent has already.
Back in 2001, restaurant owner, fisherman, and ship builder, Frank Patti (also of Pensacola, Florida) was indicted on 24 counts of tax evasion of more than $12 million. He was sentenced to 79 months in prison and released after serving but 39 months. Kent has already served almost 100 months.
After witnessing the Frank Patti case, I wrote this in 2002: "The prospect of local businessman Frank Patti spending 8 years in federal prison for tax evasion causes me to once again reflect upon the justness of throwing people in jail for nonviolent crimes.
"I believe it is past time for America to examine its practice of locking people up for nonviolent crimes. Even though the United States is far from being the most populous country in the world, we incarcerate more people than any other nation. According to recent reports, there are more than two million people behind bars in U.S. jails and prisons [now the number exceeds six million]. Many of these people are there for crimes in which no one was physically injured or killed and, therefore, pose little or no threat to society.
"Furthermore, it seems that this infatuation with locking people up serves more the interests of ever-burgeoning government bureaucracies than the interests of justice. A breadwinner behind bars means more welfare, more food stamps, and more dependence upon government, not to mention more government jobs, of course.
"With the federal government increasingly encroaching into the area of crime and punishment and with an exploding number of new laws continually being created, more and more people are losing their freedom over crimes that have more to do with offending the powers of government than injuring the lives of innocent people. Such a system hardly promotes justice."
These comments do not even take into account the question as to whether refusing to pay personal income taxes to Uncle Sam should even be regarded as a crime at all. The income tax was initially sold to the American people as being a "voluntary" tax, remember? Regardless, the federal government treats the income tax as obligatory and most jurors have the attitude, "If I have to pay taxes, so does this defendant," which is why most juries never acquit folks charged with tax evasion.
In Kent's case, the argument was that his ministry was a church and as such should have been automatically tax exempt.
What Kent's case does show is that the IRS can make its own decisions as to who and what owes taxes, the 501c3 non-profit organization status for churches notwithstanding. Charges of tax evasion are very subjective to the whims of the IRS–as Al Sharpton proves. And let's not forget the Lois Lerner version of selective tax enforcement that targeted conservative organizations. And there is nothing new about that. The federal government has been using the IRS to intimidate or silence individuals or groups it does not like for many, many years under both Republican and Democrat administrations.
While I will not elaborate on this issue here (I've done so many times already in this column), this is just another example of the danger of the 501c3 tax exempt status for churches. With the way the IRS can subjectively interpret and enforce the tax code with impunity, a church or so-called non-profit organization that accepts tax-exempt status, can literally be "damned if you do and damned if you don't." It's mostly to do with politics. Remember, it is the IRS–NOT THE CHURCH–that ultimately defines whether an organization is qualified to be tax-exempt. What the Internal Revenue Code stipulates about churches being automatically tax-exempt means NOTHING to the IRS. You must remember that!
In the case of Kent Hovind, one has to wonder if he is actually being treated as a political prisoner. A life sentence for tax evasion? Whoever heard of such a thing?
Then again, I am reminded of the way our government treated former Idaho Congressman George Hansen. His book "To Harass Our People" (about the IRS) should be regarded as a must-read for every lover of liberty. Then, after you read the book, find out how our federal government railroaded him into a prison sentence and how it mercilessly tortured him afterward. It will make your hair stand on end.
Then, after reading what our federal government did to one of its own congressmen, try to convince yourself that our federal government would NOT do almost anything to anyone. And if this is true for American citizens (and it is) imagine how our federal government (CIA, military Dark Ops, etc.) treats foreign governments–even those it once befriended. Come on, folks. Turn off FOX News long enough to start thinking for yourself a little bit.
If you would like to sound off regarding the obvious injustice being committed against Kent Hovind, there is a website set up for that purpose. See it here:
If enough people rally to Kent's defense, the IRS might rethink its attempt to keep him in prison for the rest of his life. Like most dark forces, the IRS loves darkness and hates light. Whether you think Kent is guilty or not, eight years is enough! Please help spread a little light for Kent Hovind.
When the Negotium essay, Long History of HSBC Money Laundering was written over two years ago, one might think that the Banksters would look to take a lower profile. Forget about it, when you are part of a made criminal syndicate you never have to serve time, just say you are sorry. Bloomberg reports, the "HSBC Holdings Plc Chief Executive Officer Stuart Gulliver offered "sincerest apologies" following fresh details of how the bank's Swiss unit helped customers evade taxes."
The Forbes column, 'Corporate Governance Is The Very Essence Of A Business' presents a half hearted public relations spin from the notorious bank for Drug, Inc.
"As part of its response to the revelations HSBC said: "We acknowledge that the compliance culture and standards of due diligence in HSBC's Swiss private bank, as well as the industry in general, were significantly lower than they are today. At the same time, HSBC was run in a more federated way than it is today and decisions were frequently taken at a country level."
The most chilling feature of the laborious research into the HSBC files is the documentation of the knowing wrong-doing perpetrated by managers at various levels throughout the bank – and the flippancy with which it was undertaken. From 'code names' for clients to widespread collusion, it is clear there is complete contempt for the law."
Arrogance in spades is how the world's number two bank operates. Another example provided by Tom Heneghan, who professes to be an International Intelligence Expert, cites the following.
"Alibaba previously was de-listed on the Hong Kong Exchange for dealing in fraud with the Hong Kong branch of noted bank HSBC.
Alibaba is then simultaneously operating a foreign currency money laundry and ponzi scheme tied once again to HSBC."
The bigger the money the greater the chance you have for just minor pin pricks and fines that are all part of the pay off cycle of international banking.
When it comes to inventing clandestine methods for money laundering, look to the masters in the City of London to perfect the art of double talk. The BBC account, HSBC whistleblower's email to HMRC uncovered, states:
"An email which the whistleblower at the centre of an HSBC tax scandal says he sent to HM Revenue and Customs in 2008 has been uncovered by a French newspaper.
The UK tax authority has been under fire from MPs on the Public Accounts Committee, who accused tax officials of failing to deal with the matter adequately and ignoring Mr Falciani's 2008 email."
No surprise that a years old complaint gets pushed under the rug. HSBC is too big to fail and pays for protections in all the right places.
Reuters adds more accelerants to the firestorm, but the odds that this scandal will suck up all the oxygen to build into an inferno are slim.
"Other countries are already taking action against HSBC based on data leaked by Falciani and previously obtained by tax authorities. In November Argentina charged the bank with helping more than 4,000 clients evade taxes. HSBC Argentina rejected the charge, saying it respected Argentine law."
Hey, the motive to avoid paying taxes is well understood. However, facilitating criminal enterprises under the banner of a fiduciary banking institution crosses the line. The Guardian provides the following in HSBC files: Swiss bank hid money for suspected criminals.
"HSBC also held assets for bankers accused of looting funds from former Soviet states, while alleged crimes by other account holders include bribery at Malta's state oil company, cocaine smuggling from the Dominican Republic and the doping of professional cyclists in Spain.
The Swiss bank also held accounts for "politically exposed people" – defined as senior political figures or their relatives at heightened risk of involvement in corruption, money laundering, or avoiding international sanctions – with little evidence of any extra scrutiny of their activities."
OK, what is the point of citing more horror stories, by now you get the drill that the Globalist interdependent financial extortion system needs a mechanism to keep all the pay offs and ill-gotten gains circulating. The history of HSBC is a case study of all that global corporatists has wrought on the planet.
Governments won't even investigate credible complaints, enact necessary structural oversight and accountability processes, and certainly will not jail the kingpins who flaunt their untouchable status.
Repeating this saga using different circumstances never gets down to the level of approaching solutions. Without a universal outcry against the transnational banking model and the creation of regional and local alternative banking, the big banks will just keep getting larger and more autonomous and above national sovereignty.
What governments these banking house monopolies do not control, matter little in the larger scheme of finance. HSBC along with Goldman Sachs and JP Morgan may be the posters boys of the Banksters cabal, but you will never see their executive faces on a most wanted poster.
Last year Hang the Bankers published 48 suspicious banking deaths asks.
"With the global financial system heading towards a major crash in the near future are these people buckling under the pressure of what they see coming or are they being silenced because of what they know?"
Attempting to answer this question will take insider information of scores of Falciani whistleblowers. Or more probably, those who are considering joining the ranks of informers may well become part of the growing list of the deceased.
For those who doubt the shadow history of debt created banking, watch the video The Rothschild Family – Puppet Masters – World's Only Trillionaires – Full Documentary on the BREAKING ALL THE RULES You Tube Channel, subscribe for future updates.
What people must come to understand is that banking is not really about making money. It uses the fractional reserve and current zero interest rates to further their political influence over nations to achieve global governance. They are the true outlaws, in Armani suits. HSBC just happens to have a longer experience with global thievery than most
A roundtable, held last week at the Institute of African Studies reports that the Nigerian government's "…campaigns have not addressed their plans for combating the growing insecurity that has left Nigerians living in fear, and paralyzed educational and economic activities in large swaths of Northeastern Nigeria." A string of terrorist attacks have occurred as Nigeria has struggled to build a functional and coherent response. Fortunately, there is a science-based approach to create societal coherence that can protect Nigeria from both internal and external threats. It is called Invincible Defense Technology (IDT) because it assures invincibility, peace, and even economic progress, to the nation and the military that employ it.
Invincible Defense Technology (IDT), a Proven, State-of-the-Art, Non-violent Military Solution
The IDT approach to defense has its basis in a radically new preventive model that has been thoroughly field-tested in numerous world battlegrounds. This approach results in rapid reduction of individual, societal and national collective stress. Its methods have been proven and adopted as part of the training of America's future commanders at Norwich University, a nationally respected and oldest military academy in the USA (see also the YouTube video "Meditation Improves Performance at Military University" and the Official Homepage of the US Army). IDT is further validated by 23 peer-reviewed studies carried out in both developed and developing nations. Its coherence-creating effect has also been documented on a global scale in a study published in the Journal of Offender Rehabilitation. When large assemblies of civilian IDT experts gathered during the years 1983 – 1985, international conflict decreased 32%, terrorism-related casualties decreased 72%, and overall violence was reduced in nations without intrusion by other governments.
IDT is totally unlike any other defense technology because it does not use violence in an attempt to quell violence. It is a more civilized approach, one especially worthy of nations that abhor violence as a means to power. IDT uniquely goes to the root cause of violence – the built-up stress in the individual and collective consciousness. Scientists have evidence that high levels of collective societal stress are the underlying cause of war, violence, crime and terrorism. When the IDT methodology is applied, stress levels throughout the population are rapidly reduced.
In an environment of lowered stress even staunch adversaries find ways to cooperate and overcome long-standing differences.
IDT Reduces Societal Stress
IDT uniquely neutralizes the underlying power base of contending groups, which is the stress, frustration and civil dissatisfaction prevailing in the general population. By eliminating the root cause of insurgency, violent outbreaks are pre-empted and prevented. IDT is effective because it gets to the heart of the matter. Terrorism often thrives in nations in which decades or even centuries of under-employment, poverty, and hunger have created a huge societal weight of stress, frustration and endemic unhappiness. This inevitably finds expression in acts of terrorism, civil unrest, social violence, and a downward spiral of economic degradation.
A specially trained military unit, an "IDT Prevention Wing of the Military," uses IDT to reduce stress in the national collective consciousness. IDT could also be introduced into other large groups such as the police forces, or militias. As the stress and frustration ease, the population is more capable of finding orderly and constructive solutions to their problems.
Experience with IDT in other war-torn nations demonstrated increases in economic incentive and growth. Entrepreneurship and individual creativity also increased. With increased civic calm, people's aspirations are raised and a more productive and balanced society emerges. Such a society abhors violence as a means for change or as an expression of discontent. With this, the ground for terrorism is eliminated. What is more fascinating, this change takes place within a few days or weeks after IDT is introduced. The changes are measurable from such statistics as crime rates, accidents, hospital admissions, infant mortality, etc.
Rapid Transformation Through IDT
The daily routine for the IDT military personnel includes the nonreligious practice of the Transcendental Meditation® program along with its advanced form, the TM-Sidhi program. As a societal coherence-creating military unit, they practice these programs twice a day, seven days a week, preferably in a secure location near the targeted population.
Such coherence-creating groups have achieved positive benefits in society, shown statistically, in a short time. Modern statistical methods used in this research show a low probability of any explanation other than a causal influence of the technology. The IDT approach has been used during wartime resulting in the reduction of fighting, a decreased number of deaths and casualties, and an improvement in progress toward resolving the conflict peacefully. The war in Lebanon in 1983 was dramatically impacted in a peaceful way by an IDT Intervention Group. A thoroughly documented study of this phenomenon was published in the Journal of Conflict Resolution, and summaries of follow-up studies were published in the Journal of Social Behavior and Personalityand the Journal of Scientific Exploration.
Summary
IDT works by utilizing our natural human brain mechanics, the most powerful natural resource possessed by every nation on earth. The beneficial transformational effects of IDT have been statistically proven numerous times to decrease and prevent violence and terrorism, and boost the economy.
IDT defense technology supersedes all other known defense technologies (which are based on electronic, chemical, and/or nuclear forces). These old, fear-based modalities are ultimately self-destructive for any nation, and for the human race as a whole, and must be replaced with IDT. So far, IDT is the only known, proven constructive approach.
The military that deploys this powerful, human-resource-based technology disallows negative trends and prevents enemies from arising, and as a result, it has no enemies. No enemies means no war, terrorism and no insurgency.
The Time for Action is Now
IDT is the twenty-first century's leading-edge defense system. If Nigeria establishes IDT Prevention Wings of the Military, they will ease high tensions, reverse mistrust, crush hatred, create stability and permanently prevent war and terrorism. Extensive scientific research objectively says, "Yes, the system works." Why not use it in Nigeria? Time is running out. The best time to act is now, before Nigeria's perilous situation worsens.
References
1. Dr. David R. Leffler (Fall 2009). A New Role for the Military: Preventing Enemies from Arising-Reviving an Ancient Approach to Peace. Journal of Management & Social Science (JMSS), Vol. 5, No. 2., pp. 153-162. This peer-reviewed journal is published by the Institute of Business & Technology BIZTEK in Pakistan. The abstract was published in Session 6, p. 44 of the proceeding of the "International Sociological Association Research Committee 01 Seoul National University & Korea Military Academy International Conference on Armed Forces & Conflict Resolution in a Globalized World." July 14 – 17, 2008, Seoul, Korea. The paper was also presented at KIDA, the Korea Institute of Defense Analyses.
2. Col. (Retd) S. P. Bakshi, Gerald Geer, and Dr. David Leffler (Special Issue May, 2013). Defense Personnel Worldwide Find Transcendental Meditation To be an Effective Tool in Combating Stress. Defence and Security Alert. Vol. 4, Issue No. 8, pages 34-39. PDF available online at: http://davidleffler.com/2013/defence-security-alert-magazine
3. Dr. David R. Leffler (2008, February). An Overlooked, Proven Solution to Terrorism. In "55 Trends Now Shaping the Future of Terrorism." Edited by Dr. Marvin J. Cetron and Owen Davies: The Proteus Trends Series, Volume 1, Issue 2 (pp. 18, 79, 176, C-13 through C-16). Dr. Leffler served as an Associate of the Proteus Management Group at the Center for Strategic Leadership, US Army War College where he was published in this US government-sponsored report aimed at governmental and military leaders. Excerpts about Invincible Defense Technology taken from the 254 page report are available online at: http://www.DavidLeffler.com/terrorism-trends.html Note: The entire paper version of the report is available online at:http://www.amazon.com/Trends-Now-Shaping-Future-Terrorism/dp/1441451412
4. Maj. Gen. (Ret.) Kulwant Singh and Dr. David Leffler (July 2014). Preventing Future Boko Haram Attacks. CBRNE-Terrorism Newsletter (CBRNE is an acronym that stands for "Chemical, Biological, Radiological, Nuclear, and Explosive"). PDF available online at:
http://www.cbrne-terrorism-newsletter.com/resources/JULY_2014_Part_C.pdf
5. Lieutenant General Jose Villamil (Ret.) with Dr. David Leffler (2003, January 29). Project: Coherence. India Defence Consultants. Available online at:http://www.indiadefence.com/proj_cohere.htm
"I want to appeal to the Ukrainian people, to the mothers, the fathers, the sisters and the grandparents. Stop sending your sons and brothers to this pointless, merciless slaughter. The interests of the Ukrainian government are not your interests. I beg of you: Come to your senses. You do not have to water Donbass fields with Ukrainian blood. It's not worth it."

— Alexander Zakharchenko,  Prime Minister of the Donetsk People's Republic
Washington needs a war in Ukraine to achieve its strategic objectives. This point cannot be overstated.
The US wants to push NATO to Russia's western border. It wants a land-bridge to Asia to spread US military bases across the continent.  It wants to control the pipeline corridors from Russia to Europe to monitor Moscow's revenues and to  ensure that gas continues to be denominated in dollars. And it wants a weaker, unstable Russia that is more prone to regime change, fragmentation and, ultimately, foreign control. These objectives cannot be achieved peacefully, indeed, if the fighting stopped tomorrow,  the sanctions would be lifted shortly after, and the Russian economy would begin to recover. How would that benefit Washington?
It wouldn't. It would undermine Washington's broader plan to integrate China and Russia into the prevailing economic system, the dollar system. Powerbrokers in the US realize that the present system must either expand or collapse. Either China and Russia are brought to heel and persuaded to accept a subordinate role in the US-led global order or Washington's tenure as global hegemon will come to an end.
This is why hostilities in East Ukraine have escalated and will continue to escalate. This is why the U.S. Congress  approved a bill for tougher sanctions on Russia's energy sector and lethal aid for Ukraine's military. This is why Washington has sent military trainers to Ukraine and is preparing to provide  $3 billion in  "anti-armor missiles, reconnaissance drones, armored Humvees, and radars that can determine the location of enemy rocket and artillery fire." All of Washington's actions are designed with one purpose in mind, to intensify the fighting and escalate the conflict. The heavy losses sustained by Ukraine's inexperienced army and the terrible suffering of the civilians in Lugansk and Donetsk  are of no interest to US war-planners. Their job is to make sure that peace is avoided at all cost because peace would derail US plans to pivot to Asia and remain the world's only superpower. Here's an except from an article in the WSWS:
"The ultimate aim of the US and its allies is to reduce Russia to an impoverished and semi-colonial status. Such a strategy, historically associated with Carter administration National Security Advisor Zbigniew Brzezinski, is again being openly promoted.

In a speech last year at the Wilson Center, Brzezinski called on Washington to provide Kiev with "weapons designed particularly to permit the Ukrainians to engage in effective urban warfare of resistance." In line with the policies now recommended in the report by the Brookings Institution and other think tanks calling for US arms to the Kiev regime, Brzezinski called for providing "anti-tank weapons…weapons capable for use in urban short-range fighting."

While the strategy outlined by Brzezinski is politically criminal—trapping Russia in an ethnic urban war in Ukraine that would threaten the deaths of millions, if not billions of people—it is fully aligned with the policies he has promoted against Russia for decades." ("The US arming of Ukraine and the danger of World War III", World Socialist Web Site)
Non-lethal military aid will inevitably lead to lethal military aid, sophisticated weaponry, no-fly zones, covert assistance, foreign contractors, Special ops, and boots on the ground. We've seen it all before. There is no popular opposition to the war in the US, no thriving antiwar movement that can shut down cities, order a general strike or disrupt the status quo. So there's no way to stop the persistent drive to war. The media and the political class have given Obama carte blanche, the authority to prosecute the conflict as he sees fit. That increases the probability of a broader war by this summer following the spring thaw.
While the possibility of a nuclear conflagration cannot be excluded, it won't effect US plans for the near future. No one thinks that Putin will launch a nuclear war to protect the Donbass, so the deterrent value of the weapons is lost.
And Washington isn't worried about the costs either.   Despite botched military interventions in Afghanistan, Iraq, Libya and half a dozen other countries around the world; US stocks are still soaring, foreign investment in US Treasuries is at record levels,, the US economy is growing at a faster pace than any of its global competitors, and the dollar has risen an eye-watering 13 percent against a basket of foreign currencies since last June. America has paid nothing for decimating vast swathes of the planet and killing more than a million people. Why would they stop now?
They won't, which is why the fighting in Ukraine is going to escalate. Check this out from the WSWS:
"On Monday, the New York Times announced that the Obama administration is moving to directly arm the Ukrainian army and the fascistic militias supporting the NATO-backed regime in Kiev, after its recent setbacks in the offensive against pro-Russian separatist forces in east Ukraine.

The article cites a joint report issued Monday by the Brookings Institution, the Atlantic Council, and the Chicago Council on Global Affairs and delivered to President Obama, advising the White House and NATO on the best way to escalate the war in Ukraine….

According to the Times, US officials are rapidly shifting to support the report's proposals. NATO military commander in Europe General Philip M. Breedlove, Defense Secretary Chuck Hagel, US Secretary of State John Kerry, and Chairman of the Joint Chiefs of Staff General Martin Dempsey all supported discussions on directly arming Kiev. National Security Advisor Susan Rice is reconsidering her opposition to arming Kiev, paving the way for Obama's approval." ("Washington moves toward arming Ukrainian regime", World Socialist Web Site)
See what's going on? The die is already cast. There will be a war with Russia because that's what the political establishment wants. It's that simple. And while previous provocations failed to lure Putin into the Ukrainian cauldron, this new surge of violence–a spring offensive– is bound to do the trick. Putin is not going to sit on his hands while proxies armed with US weapons and US logistical support pound the Donbass to Fallujah-type rubble.  He'll do what any responsible leader would do. He'll protect his people. That means war. (See the vast damage that Obama's proxy war has done to E. Ukraine here: "An overview of the socio – humanitarian situation on the territory of Donetsk People's Republic as a consequence of military action from 17 to 23 January 2015")
Asymmetrical Warfare: Falling Oil Prices
Keep in mind, that the Russian economy has already been battered by economic sanctions, oil price manipulation, and a vicious attack of the ruble. Until this week, the mainstream media dismissed the idea that the Saudis were deliberately pushing down oil prices to hurt Russia. They said the Saudis were merely trying to retain "market share" by maintaining current production levels and letting prices fall naturally. But it was all bunkum as the New York Times finally admitted on Tuesday in an article titled: "Saudi Oil Is Seen as Lever to Pry Russian Support From Syria's Assad". Here's a clip from the article:
"Saudi Arabia has been trying to pressure President Vladimir V. Putin of Russia to abandon his support for President Bashar al-Assad of Syria, using its dominance of the global oil markets at a time when the Russian government is reeling from the effects of plummeting oil prices…

Saudi officials say — and they have told the United States — that they think they have some leverage over Mr. Putin because of their ability to reduce the supply of oil and possibly drive up prices….Any weakening of Russian support for Mr. Assad could be one of the first signs that the recent tumult in the oil market is having an impact on global statecraft…..

Saudi Arabia's leverage depends on how seriously Moscow views its declining oil revenue. "If they are hurting so bad that they need the oil deal right away, the Saudis are in a good position to make them pay a geopolitical price as well," said F. Gregory Gause III, a Middle East specialist at Texas A&M's Bush School of Government and Public Service ("Saudi Oil Is Seen as Lever to Pry Russian Support From Syria's Assad", New York Times)
The Saudis "think they have some leverage over Mr. Putin because of their ability" to manipulate prices?
That says it all, doesn't it?
What's interesting about this article is the way it conflicts with previous pieces in the Times. For example, just two weeks ago, in an article titled "Who Will Rule the Oil Market?"  the author failed to see any political motive behind the Saudi's action.  According to the narrative, the Saudis were just afraid that "they would lose market share permanently" if they cut production and kept prices high. Now the Times has done a 180 and joined the so called conspiracy nuts who said that prices were manipulated for political reasons.  In fact, the  sudden price plunge had nothing to do with deflationary pressures, supply-demand dynamics, or any other mumbo-jumbo market forces. It was 100 percent politics.
The attack on the ruble was also politically motivated, although the details are much more sketchy. There's an interesting interview with Alistair Crooke that's worth a read for those who are curious about how the Pentagon's "full spectrum dominance" applies to financial warfare. According to Crooke:
"…with Ukraine, we have entered a new era: We have a substantial, geostrategic conflict taking place, but it's effectively a geo-financial war between the US and Russia. We have the collapse in the oil prices; we have the currency wars; we have the contrived "shorting" — selling short — of the ruble. We have a geo-financial war, and what we are seeing as a consequence of this geo-financial war is that first of all, it has brought about a close alliance between Russia and China.

China understands that Russia constitutes the first domino; if Russia is to fall, China will be next. These two states are together moving to create a parallel financial system, disentangled from the Western financial system. ……

For some time, the international order was structured around the United Nations and the corpus of international law, but more and more the West has tended to bypass the UN as an institution designed to maintain the international order, and instead relies on economic sanctions to pressure some countries. We have a dollar-based financial system, and through instrumentalizing America's position as controller of all dollar transactions, the US has been able to bypass the old tools of diplomacy and the UN — in order to further its aims.

But increasingly, this monopoly over the reserve currency has become the unilateral tool of the United States — displacing multilateral action at the UN. The US claims jurisdiction over any dollar-denominated transaction that takes place anywhere in the world. And most business and trading transactions in the world are denominated in dollars. This essentially constitutes the financialization of the global order: The International Order depends more on control by the US Treasury and Federal Reserve than on the UN as before." ("Turkey might become hostage to ISIL just like Pakistan did",  Today's Zaman)
Financial warfare, asymmetrical warfare, Forth Generation warfare, space warfare, information warfare, nuclear warfare, laser, chemical, and biological warfare. The US has expanded its arsenal well beyond the  traditional range of conventional weaponry. The goal, of course, is to preserve the post-1991 world order (The dissolution up of the Soviet Union) and maintain full spectrum dominance. The emergence of a multi-polar world order spearheaded by Moscow poses the greatest single threat to Washington's plans for continued domination.  The first significant clash between these two competing world views will likely take place sometime this summer in East Ukraine. God help us.
NOTE:  The Novorussia Armed Forces (NAF) currently have 8,000 Ukrainian regulars surrounded in Debaltsevo, East Ukraine.  This is a very big deal although the media has been (predictably) keeping the story out of the headlines.
Evacuation corridors have been opened to allow civilians to leave the area.  Fighting could break out at anytime.  At present, it looks like a good part of the Kiev's Nazi army could be destroyed in one fell swoop.  This is why Merkel and Hollande have taken an emergency flight to Moscow to talk with Putin.  They are not interested in peace. They merely want to save their proxy army from annihilation.
I expect Putin may intervene on behalf of the Ukrainian soldiers, but I think commander Zakharchenko will resist.   If he lets these troops go now, what assurance does he have that they won't be back in a month or so with high-powered weaponry provided by our war-mongering congress and White House?
Tell me; what choice does Zakharchenko really have? If his comrades are killed in future combat because he let Kiev's army escape, who can he blame but himself?
There are no good choices.
Check here for updates:  Ukraine SITREP: *Extremely* dangerous situation in Debaltsevo
Centralization is dehumanizing the world!  As the frightening specter of global governance looms like a dark cloud over the scant freedom our world has enjoyed the status of the individual and his options are under siege.
Recent decades have seen giant corporations gobble each other up reducing competition and eroding the diversity consumers formerly enjoyed.  Decision makers are remote from the public making any kind of complaint extremely difficult.  Retail business no longer considers the individual important.  Their markets are vast and their concern is for segments.
Ten massive corporations now control the world food supply: Nestle, Pepsico, General Mills, Kelloggs, Associated British Foods, Mondelez (Formerly Kraft Foods), Mars, Danone, Unilever, and Coca Cola.  See the Chart here. http://theeconomiccollapseblog.com/wp-content/uploads/2014/07/10-Corporations-Control-What-We-Eat.png
The concentration of power is frightening.   Over 80 percent of Beef is controlled by four companies http://www.hcn.org/issues/43.5/cattlemen-struggle-against-giant-meatpackers-and-economic-squeezes/the-big-four-meatpackers-1 , four companies control over 60 percent of the Pork market, and chicken producers are similarly concentrated.  Half of seed production is owned by four companies and Monsanto with over 85 percent has a lock on corn and soybeans. Read more here. http://www.chaionline.org/en/compassion/reality/reality_food_controls.htm
Trade Agreements have opened world food markets allowing producers to ship food around the world.  The volume is so large and the types so diverse that proper inspection is almost impossible.
Bramble men of the new world order are not concerned with people.  Their interest is in a Babelian Tower of power.  As this power structure is being formed they control people with propaganda that includes lies, distortions, false flag attacks, sexual deviations, and ubiquitous competitive sports.
New enemies and new terrors are constantly being invented and as these new bogeymen are trotted out new incursions on individual freedoms are astride.
We are regaled with the idea that the world has shrunk and that world government is a necessity to control the world's corporate behemoths.  Transportation and communications have become faster and more efficient but the world's nations are still distant from each other.  World trade and world government has been planned and is being imposed on the world over the heads of the people.
The Bramble men are remote and mysterious.  Like the tiny airplanes that spray unknown substances in our skies they are so far above the results of their decisions that they are never confronted.
When the traditional family is designated as the primary form of government wide spread tyranny is impossible.  The preservation of freedom is a simple matter:  De-centralize power by vesting it in fathers as heads of families and require obedience to God's Law.  Close all of the Socialistic government agencies rescind the volumes of federal law and begin anew. The solution is simple but it requires the hand of God in the affairs of men.
We need to produce powerful resistance to business mergers and buyouts with particular emphasis on the giant corporations. Multinational corporations that own numerous independent companies should be required to return them to independent status and future mergers and buyouts should be contested.  De-centralization is a bitter enemy to tyranny.
Government power must be returned to states and towns with federal responsibilities restricted to the defense of the nation.  International meddling should be stopped and our Founders recommendation to avoid such involvement obeyed.
Libertarians have produced some excellent rhetoric but they have failed to unite under a workable plan.  Criticizing the progress of the Babelian state is only useful for educational purposes; it does nothing to stop its progress.
Decisions that affect local communities should be adjudicated by the heads of individual families. This is the ultimate de-centralization.  Voting should be restricted to fathers.  We must take back our cities and towns.
The family is now in shambles with arrogant humanists showcasing their inability to conduct their lives in a rational manner by supporting the cognitive dissonance of multi-culturalism, abortion and homosexual marriage.  When anarchy is allowed to reign in our most brilliant minds insanity quickly overtakes the nation.
The Libertarian call for strictly limited government and maximum freedom is on target but libertarians have too much faith in human intellect and lack the righteous, immutable yardstick that sustains a free society.  If the distorted intellects of human beings are the source of a new legal structure tyranny will again progress.  God and His Law must be paramount.  Men will always resort to tyrannical policies if left to their own devices.
The long standing premise that humanity must be ruled by an elite group of superior individuals is a fallacy that contains a molecule of truth.  Humanity cannot rule itself.  Democracy is a failed form of government.  However, failed as it is, it cannot be corrected by imposing the will of gentry that is no better at ruling than the mob they intend to rule.  Man was not created to govern himself and the ONLY way to enjoy maximum freedom is to live under the merciful rule of the God of Abraham, Isaac, and Jacob.
John Lennon's song "Power to the People" is truer than its author realized.  Power must be returned to the people but only when the people are restrained by the perfect commandments of the One True God; those that are not are as dangerous as our current tormentors
The Bramble men hate Christianity because Christianity encodes freedom for the individual. Their objective is control while God's objective is individual freedom. Christianity de-centralizes while despots centralize.  This is the core of the battle.
The God of Abraham, Isaac, and Jacob is unchanging.  He did not alter His intentions when He sent His Son to die for the sins of His chosen people.  He is a merciful God whose intention was to save His people in spite of their disobedience.  When His mercy was rejected the original covenant was broken and a new covenant was made with Christians.  Henceforth the ONLY path to God is through His son, our Savior, Jesus.
Christians, God's saved and chosen people, are now vested with a responsibility to obey God's Law and work to bring His creation under His dominion by obedience. When we point to sin we must provide God's remedy.  Sin is disobedience.  The remedy is always obedience to His commandments.
Humans cannot create freedom on their own.  Man's proclivity to sin distorts his ability to find righteousness and truth.  His redemption is in the Word of God which contains a description of the actions that will turn away His judgment and bring His blessing.
Work against centralization.  Support de-centralization
Dr. Mehmet Oz, who is a renowned cardiothoracic surgeon, author and host of a successful TV show, has involved himself in some, um, questionable cures for what ails you.  According to a Fox News report, a recent study showed that "Half of Dr. Oz's health advice is bad."  Die-hard Oz fans will more than likely ignore the study results and continue tuning into his TV show for advice from him and the panel of doctors that appear regularly, even knowing that Oz and the other doctors often recommend products straight out of Quacksville.
Our idols would never steer us wrong, would they?  I mean, Oz wouldn't allow his fans to purchase remedies that have little basis in fact or that many in the scientific community agree are bogus. Test the "cures" and you will find that, in some cases, what they recommended is on par with the sort of thing you'll find in a witches brew – bat wings, spider legs and crow bones.
From the Fox News report:
The researchers found that about half of the suggestions offered by these shows either contradicted what other scientific studies had found or had no verifiable evidence at all to stand behind them, and that potential conflicts of interest were seldom mentioned.
 
The study looked at 40 random episodes from each show—instead of simply, as Belluz points out, "cherrypicking the worst offenders"—to get the fairest assessment. In general, each episode offered up about a dozen health recommendations, so the researchers were able to cull 479 health tidbits from Dr.
Oz's show and 445 from The Doctors. Most of the shows' suggestions involved dispensing general medical advice, followed by non-weight-loss dietary tips; the Doctors professionals tended to repeat the mantra of seeking out a health care provider.
 
But while the benefits of many of the claims were talked about in a general way, specific benefits and magnitude of those benefits, possible drawbacks, and costs were virtually ignored, the study found.
 
The researchers' conclusion? "Consumers should be skeptical," and we should ask ourselves "whether we should expect medical talk shows to provide more than entertainment." (Dr. Oz's "magic bean" recently lost the study that supported it.) (Fox News' link.  Emphasis added.)
Meet Mehmet
This is not the first time I've reported on Dr. Oz.  In early 2011, I wrote a piece to alert the Church that  SBC pastor and best-selling author Rick Warren had elicited the help of three doctors to write a plan (Warren is all about plans) to promote health and fitness for his church located in Lake Forest CA.  What struck me was that all three doctors hold New Age/New Thought beliefs. Moreover, the trio is involved in what some deem questionable medical practices.  One of the docs Warren asked to help with his endeavor to lose much needed weight and start his journey to better health was Dr. Mehmet Oz.  The end result was The Daniel Plan.
I noted back in 2011 in my piece titled "Rick Warren Introduces the 'Devil Plan'" that:
 
Oprah Winfrey's "favorite doctor" is a Muslim and has been influenced by the mysticism of Sufi Muslims.  Moreover, he is keen on the ideas of cultist mystic Emanuel Swedenborg: 
 
"As I came into contact with Swedenborg's many writing I began to understand Swedenborg's profound insights and how they applied directly to my life." 
 
Swedenborg believed he could pass between the life to come and the present.  What is more he claimed he had conversations with spirits of the dearly departed as well as angelic beings:
 
"[T]he spirit world was comprised of a number of concentric spheres, each with its own density and inhabitants. There is no such thing as hell or eternal punishment. Those spirits who find themselves in a hellish place after death can evolve toward a higher spiritual plane.
 
"In spite of it being granted to him 'to be constantly and uninterruptedly in company with spirits and angels,' Swedenborg did issue a caution in regard to receiving counsel from just any spirit that might manifest with an alleged personal message. "When spirits begin to speak," he wrote in Miscellaneous Theological Works (1996), "care should be taken not to believe them, for nearly everything they say is made up by them.…They love to feign. Whatever be the topic spoken of, they think they know it, and if man listens and believes, they insist, and in various ways deceive and seduce." (Source)
 
Dr. Oz is a practitioner of Transcendental Meditation:
 
"When I meditate, I go to that place where truth lives. I can see what reality really is, and it is so much easier to form good relationships then." 
 
Do a Google search on Dr. Oz and you'll find posts from people complaining that he's irresponsible because he promotes things which have no scientific evidence to support them. Until something is proven, doctors should not promote it as it could endanger lives.  One example of an unscientific practice he promotes is Reiki, which New Agers believe to be a "guided Universal Life Force Energy."  Dr. Oz's wife is a Reiki Master.  "Reiki," he said, "is my favorite treatment that could change the future of medicine forever."  He also pontificated:
 
"I think [Reiki] may be ultimately the most important alternative medicine treatment of all. And we are embarking on this whole new vista of opportunities, it broadens dramatically the spectrum of where we might be able to go in our bodies, and this is the area of energy medicine."(Source)
 
It is rather curious that Rick Warren would team up with a man whose fame he owes in part to New Age High Priestess Oprah Winfrey.  Dr. Oz's worldview more closely aligns to New Age Spirituality than to historic orthodox Christianity.  (Source)
It is unlikely that those who are not Christians will recognize the danger in some of the beliefs held by Dr. Oz.  However, the serious Christian should find his fondness for the world of the occult deeply troubling.  Even though Paul makes it perfectly clear in 2 Corinthians 6:1 that believers must not be unevenly yoked with unbelievers, Pastor Warren wasn't the least bit concerned about partnering with a Sufi Muslim.   Without question Muslims reject the God of the Bible, thus they're unbelievers.  Yet he chose Dr. Oz and two other doctors, both of whom are steeped in Eastern mysticism, to collaborate on a "biblical" health and fitness plan.  Sadly, because of Warren's foolhardiness many undiscerning Christians think there's no problem purchasing the products and participating in the pagan practices pushed on the public by the three mystics.
In November 2014, adoring fans learned that their beloved Mehmet admitted to a congressional committee that the "Magic" diet bean that he promoted had no scientific backing. The reason he gave for defrauding the public?  "[H]e's in the business of hope "to get folks to … rethink their future…" (Source)
People, especially evangelicals, need to rethink taking any sort of advice from this man.  Likewise, folks should rethink taking advice from popular pastors who stray from preaching the true gospel of Christ from their pulpits and instead put all their energy into clever plans to make their congregations feel better, look better, and "be all that you can be."
Is it God's will for His people to live "Your Best Life Now"?  A growing number of professing Christians like to think so.  But nothing could be further from the truth.  Anyone who takes time to read/study the Bible will quickly learn that God's will for His people, as long as He allows us to remain here on Earth, is to…… suffer.  (Philippians 1:29;  2 Timothy 3:12;  1 Peter 4:15-19; Acts 14:22)  This could mean mental, physical, emotional, and spiritual.  (Corinthians 4:8)  But, "we know that for those who love God all things work together for good, for those who are called according to his purpose." (Romans 8:28)  And by the way, Christians are not meant to be alone in our suffering.  The Lord's intention is for the church to provide a safe harbor for those who are suffering, a place where we can go and have our needs met, where we can find comfort, peace and rest for our souls.
I'll close with one of many warnings the Apostle Paul passed on to the early Church, a warning that the man who has taken on the task of shepherding Saddleback Church's sheep has failed to take seriously.
Take no part in the unfruitful works of darkness, but instead expose them. (Ephesians 5:11)
Recommended:
Rick Warren and Dr. Oz on Fame and Fitness—video
Rick Warren Publically Called To Repentance For Statements About Uniting With Catholics—Amy Spreeman
The Low Information Evangelical Part 1  Part 2—By Marsha West
Links:
New Age/New Thought "Spirituality"—On Solid Rock Resources
The Occult—On Solid Rock Resources
In the ridiculous charade that passes for the foreign exchange currency markets, the ease upon which a 39% spike in the Swiss Franc to the EU has most financial journalist puzzled. A flagship of establishment journalism like the Washington Post provides a quaint explanation in Why Switzerland's currency is going historically crazy. The Swiss intend to keep their exchange rate at 1.2 Swiss francs per euro caused unsustainable negative competiveness in Swiss exports to EU customers. How many times have you heard that same old song? Corporatist media consistently spins a yarn that suppressing one's own currency is good for business.
Rely on viewpoints from reliable sources like The Economic Collapse. Their insight should be obvious to anyone with an ounce of common sense left. "The euro is falling apart, and the Swiss did not want to be married to it any longer.  Unfortunately, when any marriage ends the pain can be enormous."
Peter Schiff, who is a major precious metal dealer, is getting a boost in this latest development. The article Switzerland Surrenders the Currency War, but America Still Racing to the Bottom published in the Libertarian and Austrian Economic site, Lewrockwell.com provides an expected response.
"The Swiss are going to be able to get a better deal on all the products that they import from Europe and from other countries, so they won't have to export as much to pay for their imports. So that's positive for the Swiss. I would be worried about the Europeans who are now going to have to spend more money to buy Swiss products. They're the ones that hurt, as are Americans. Swiss products are now going to be more expensive for Americans, but American products… are going to be cheaper for the Swiss. So the Swiss win because they have a stronger currency, and Europeans and Americans lose because we have a weaker currency… "
These conclusions are so basic and correct that when mainline economists preach their financial orthodoxy, the idiocy of the "Free Trade" hoax screams out for a sense of monetary sanity.
Not to spoil the cheers for the Swiss, an important component must be factored in. When the Swiss Voters Reject Initiative on Central-Bank Gold, the hard money advocates expressed great disappointment.
"Swiss voters overwhelmingly rejected an initiative on Sunday that would have forced the country's central bank to hold one-fifth of its assets in gold, a move that would have eroded its ability to conduct monetary policy.
Critics of the initiative feared that the SNB's commitment to the cap would have been challenged because the central bank would have been forced to buy gold every time it intervened in the currency market."
This result seems to reinforce that the gnomes of central banking were once again in control of their gold hoards and refused to share any of its value with the holders of the Swiss Franc.
So how can one account, after rejecting the plebiscite on adopting making the Swiss Franc as a real hard money value currency that the exchange rates raise so sharply?
Fundamentals and measures that favor and protect the wealth of a national currency are not applied as standards, when central Banksters play the money float game. In order to understand why the Swiss Franc surged, one must examine the sickness within the EU and the extreme pressure on the EURO coming from desperate measures to keep the single European currency afloat.
The panic begins as the ECB Stimulation: The Trap Closes. Last week the EU Court of Justice advocate general ruled that the central bank could purchase sovereign debt.
"It referred to an existing ECB program called Outright Monetary Transactions — which isn't quite QE but which does involve purchases of government bonds. The court won't rule for another four to six months, but it's likely to follow the advocate general's guidance. That's good enough for Draghi to act now.
Many in Europe, especially in Germany, remain opposed. They see QE as a ruse by which the richer members of the currency bloc will end up paying for the fiscal misadventures of their neighbors."
Let the race begin and only the quickest will be left sitting tight, when the music stops playing. It seems that Steen Jakobsen writing in Endgame for central bankers agrees.
"Many central banks will envy the SNB (Swiss National Bank) for its move last week, as it at least tries to regain some control of its future, but the conclusion remains: central banks have as a group lost credibility and when the ECB starts QE this week the beginning of the end for central banks is completed. They are running out of time – that's the real real bottom line: the SNB ran out of time, the ECB runs out of time this week, and the Fed, Bank of Japan and the Bank of England ran out of time in 2014.
What comes now is a new reality – the SNB move was true paradigm shift – we can no longer look at central banks, the markets and extend-and-pretend in the same light as we did last Wednesday (the day before the SNB pounced)."
Now for the kicker . . . When a solid financial adviser acknowledges in their financial letter, like Chris Hunter, Editor-in-Chief, Bonner & Partners – Did the Swiss Just Burst the "Central Bank Bubble"?, that the crown prince of collectivist economics condemns the Swiss; you know they were correct in ditching their peg ratio to the EURO.
"We usually don't see eye to eye with economist Paul Krugman. But he's hit the nail on the head about the "Swiss shock." From his New York Times column: "The SNB's wimp-out will make life harder for monetary policy in other countries, because it will leave markets skeptical about whether other supposed commitments to keep up unconventional policy will similarly prove time-limited."
How evil those Swiss must be to actually defend their currency and their own wealth. As the EU implodes, the smart money will sit out the coming grand depression, provided by your friendly central banks, in the charm of the Swiss Alps.