Their precious young minds and our precious young minds…
She was a redheaded rebel, the singer in the family, a trash-talking, tattooed 21-year-old wrapped up in a hip-hop dream of becoming Holland's Eminem. Then Betsy found Allah. After her sudden conversion to Islam last summer, Betsy began dressing in full Muslim robes. By January, the once-agnostic Dutch woman, raised in a home where the only sign of religion was a dusty Bible on a shelf, began defending homegrown terrorists. … Denis Cuspert, a German hip-hop artist known as Deso Dogg who converted in 2010 and later joined The Islamic State [ISIS], delivers a rap-like chant portraying the path to jihad as a chance for empowerment, spiritual fulfillment, vengeance and adventure. … 'The door to jihad is standing there waiting for you,' says a Swedish convert to Islam in a video. 'It is the fastest way to paradise.' (1)
Tales told many times in recent years, all over Europe, at times in the United States. Parents and authorities are deeply distressed and perplexed. How can young people raised in the West – the freedom-obsessed, democratic, peace-loving, humanitarian, fun-filled West – join the Islamic State and support the public cutting off of the heads of breathing, living human beings? Each of us in our own way are lost souls searching for answers to the awful mysteries of life. But THIS? What life-quest does The Islamic State satisfy that our beloved West can't satisfy? ISIS is unique in the world in making US foreign policy look good. The Defense Department and the State Department have special task forces studying the new enemy; the latter regularly puts out videos to counteract the many Islamic State videos.
I hope those researching the question look inwardly as well as at ISIS. How do young people raised in the West – the same West we know and love – coldly machine-gun to death more than a dozen Iraqis, men, women, children, reporters, absolutely in cold blood, in the video made famous by Chelsea Manning; but this of course is nothing compared to Fallujah with its two-headed babies, even three-headed, an eye in the middle of the forehead. The Islamic State has done nothing compared to what the United States did to the people of Fallujah. Can anyone name a horror in all of history more gruesome? Yes, there are some, but not many; and much of Fallujah was personally executed by nice, clean-cut, freedom-obsessed, democratic, peace-loving, humanitarian, fun-filled made-in America young men.
Here's US Lieutenant General Ricardo Sanchez, in his memoir, April 6, 2004, the time of Fallujah, in video teleconference with President Bush, Secretary of State Colin Powell, and Secretary of Defense Donald Rumsfeld. "We've got to smash somebody's ass quickly," said Powell. "There has to be a total victory somewhere. We must have a brute demonstration of power." Then Bush spoke: "At the end of this campaign al-Sadr must be gone. At a minimum, he will be arrested. It is essential he be wiped out. Kick ass! If somebody tries to stop the march to democracy, we will seek them out and kill them! We must be tougher than hell! This Vietnam stuff, this is not even close. It is a mind-set. We can't send that message. It's an excuse to prepare us for withdrawal. … There is a series of moments and this is one of them. Our will is being tested, but we are resolute. We have a better way. Stay strong! Stay the course! Kill them! Be confident! Prevail! We are going to wipe them out! We are not blinking!" (2)
"Years from now when America looks out on a democratic Middle East, growing in freedom and prosperity, Americans will speak of the battles like Fallujah with the same awe and reverence that we now give to Guadalcanal and Iwo Jima" in World War II. – George W. Bush, 2006 (3)
Well, George, it's either that or Fallujah was one of the key reasons for the rise of ISIS.
My point here is not that United States foreign policy is as barbaric and depraved as The Islamic State. It's not. Most of the time. I simply hope to make it a bit easier to understand the enemy by seeing ourselves without the stars in our eyes. And I haven't even mentioned what the United States has led the world in for over a century – torture.
The ever-fascinating and ever-revealing subject of ideology

Jeb Bush has gotten himself into trouble because, like all politicians running for office, he is unable to give simple honest answers to simple straightforward questions, for fear of offending one or another segment of the population. How refreshing it would be to have a politician say only what s/he actually believes, even if it's as stupid as usual.
The brother of the previous president has been asked repeatedly: "Knowing what we know now, would you have authorized the invasion of Iraq?" At first his answer was "yes", then at times "I don't know", even "no" at least once, or he's refused to answer at all. Clearly he's been guessing about which reply would win him points with the most people, or which would lose him the least.
This caused a minor uproar, even among conservatives. Right-wing radio host Laura Ingraham was moved to make a rare rational remark: "You can't still think that going into Iraq, now, as a sane human being, was the right thing to. If you do, there has to be something wrong with you."
Such discussions always leave out a critical point. Why did millions of Americans, and even more millions abroad, march against the war in the fall of 2002 and early 2003, before it began? What did they know that the Bush brothers and countless other politicians didn't know? It was clear to the protesters that George W. Bush and Dick Cheney were habitual liars, that they couldn't care less about the people of Iraq, that the defenseless people of that ancient civilization were going to be bombed to hell; most of the protesters knew something about the bombings of Vietnam, Cambodia, Laos, Panama, Yugoslavia, or Afghanistan; and they knew about napalm, cluster bombs, depleted uranium, etc. Those who marched knew that the impending war was something a moral person could not support; and that it was totally illegal, a textbook case of a "war of aggression"; one didn't have to be an expert in international law to know this.
Didn't the Brothers Bush, Hillary Clinton (who voted for the war in the Senate), et al know about any of these things? Of course they did. They just didn't care enough; supporting the empire's domination and expansion was a given, and remains so; no US politician gets very far – certainly not to the White House – questioning the right of American Exceptionalism to impose itself upon humanity (for humanity's sake of course).
Consider the darlings du jour of the American Left, Senators Elizabeth Warren and Bernie Sanders. They very seldom speak out critically about US foreign policy or even the military budget. The anti-war/anti-imperialist segment of the American left need to put proper pressure on the two senators.
Mr. Sanders should also be asked why he routinely refers to himself as a "democratic socialist". Why not just "socialist"? It's likely a legacy of the Cold War. I think that he and other political figures who use the term are, consciously or unconsciously, trying to disassociate themselves from communism, the Soviet Union, Marxism, etc., all those things that are not good for you. (The word "socialist" once connoted furtive men with European accents, sinister facial hair, and bombs.)
It would be delightful to hear Sanders openly declare that he is simply a "socialist". Socialism can be democratic; indeed, a lot more so than capitalism, particularly concerning the distribution of wealth and all the ramifications of that. Presented here are some relevant thoughts on these issues, from myself and others:
It's only the socialists who maintain as a bedrock principle: People before Profit, which can serve as a very concise definition of socialism, an ideology anathema to the Right and libertarians, who fervently believe, against all evidence, in the rationality of a free market. I personally favor the idea of a centralized, planned economy. (Oh my God, a damn Commie!) Modern society is much too complex and technical to leave its operation in the hands of libertarians, communitarians, or anarchists seeking to return to a "community" or "village" level.
"Washington has always regarded democratic socialism as a greater challenge than totalitarian Communism, which was easy to vilify and made for a handy enemy. In the 1960s and '70s, the favored tactic for dealing with the inconvenient popularity of economic nationalism and democratic socialism was to try to equate them with Stalinism, deliberately blurring the clear differences between the world views." – Naomi Klein
"If it is true, as often said, that most socialist regimes turn out to be dictatorships, that is largely because a dictatorship is much harder to overthrow or subvert than a democracy." – Jean Bricmont, Belgian author of "Humanitarian Imperialism" (2006)
Without a proclaimed socialist vision, radical change becomes too many different things for too many different individuals and groups.
"Call it democracy, or call it democratic socialism, but there must be a better distribution of wealth within this country for all of God's children." – Martin Luther King
The United States is so fearful of the word "socialism" that it changed the "social sciences" to the "behavioral sciences".
If for no other reason than to save the environment, the world needs to abandon the capitalist system. Every day, in every spot on earth, in a multitude of ways, corporations are faced with a choice: to optimize profits or to do what's best for the planet.
The great majority of people in any society work for a salary. They don't need to be motivated by the profit motive. It's not in anyone's genes. Virtually everybody, if given the choice, would prefer to work at jobs where the main motivations are to help others, improve the quality of life of society, and provide themselves with meaningful and satisfying work. It's not natural to be primarily motivated by trying to win or steal "customers" from other people, no holds barred, survival of the fittest or the least honest.
And what about this thing called "democracy", or "majority rule"? Many millions marched against the invasion of Iraq before it began. I don't know of a single soul who marched in favor of it, although I'm sure there must have been someone somewhere. That lucky soul was the one they listened to.
Finally, the question being asked of Jeb Bush and others is not the best one. They're asked: "Knowing what we know now, would you have authorized the invasion of Iraq?" A more important question would be: "Knowing what we knew then, would you have authorized the invasion of Iraq?" And the answer should be "no", because we knew that Saddam Hussein had destroyed his weapons of mass destruction. This is very well documented, from diverse sources, international and Iraqi, including Saddam himself and his chief lieutenants.
The American Mainstream Media – A Classic Tale Of Propaganda
"When an American warplane accidentally struck the Chinese Embassy in Belgrade in 1999 during the Kosovo campaign …"
These words appeared in the Washington Post on April 24, 2015 as part of a story about US drone warfare and how an American drone attack in Pakistan in January had accidentally killed two Western aid workers. The Post felt no need to document the Belgrade incident, or explain it any further. Almost anyone who follows international news halfway seriously knows about this famous "accident" of May 7, 1999. The only problem is that the story is pure propaganda.
Three people inside the Chinese embassy were killed and Washington apologized profusely to Beijing, blaming outdated maps among other problems. However, two well-documented and very convincing reports in The Observer of London in October and November of that year, based on NATO and US military and intelligence sources, revealed that the embassy had been purposely targeted after NATO discovered that it was being used to transmit Yugoslav army communications. The Chinese were doing this after NATO planes had successfully silenced the Yugoslav government's own transmitters. (5) The story of how the US mainstream media covered up the real story behind the embassy bombing is absolutely embarrassing. (6)
Over and above the military need, there may have been a political purpose served. China, then as now, was clearly the principal barrier to US hegemony in Asia, if not elsewhere. The bombing of the embassy was perhaps Washington's charming way of telling Beijing that this is only a small sample of what can happen to you if you have any ideas of resisting or competing with the American juggernaut. Since an American bombing campaign over Belgrade was already being carried out, Washington was able to have a much better than usual "plausible denial" for the embassy bombing. The opportunity may have been irresistible to American leaders. The chance might never come again.
All of US/NATO's other bombing "mistakes" in Yugoslavia were typically followed by their spokesman telling the world: "We regret the loss of life." These same words were used by the IRA in Northern Ireland on a number of occasions over the years following one of their bombings which appeared to have struck the wrong target. But their actions were invariably called "terrorist".
Undoubtedly, the US media will be writing of the "accidental" American bombing of the Chinese embassy as long as the empire exists and China does not become a member of NATO.
Notes
1) Washington Post, May 7, 2015
2) Ricardo Sanchez, Wiser in Battle: A Soldier's Story (2008), pages 349-350
3) Associated Press, November 11, 2006
4) William Blum, America's Deadliest Export: Democracy, pp. 61-2
5) The Observer (London), October 17, 1999 ("Nato bombed Chinese deliberately"), and November 28, 1999 ("Truth behind America's raid on Belgrade")
6) Extra! Update (magazine of Fairness and Accuracy in Reporting [FAIR], New York), December 1999; appeared first as solitary article October 22, 1999 ("U.S. Media Overlook Expose on Chinese Embassy Bombing")
Hedge Fund schemers are the modern version of robber barons. At the top of the list of unscrupulous manipulators is the Nazi collaborator, George Soros. With reports like in Forbes that George Soros May Owe Billions In Taxes, an alarm should go off to all investors.
"By the early 2000s, hedge funds were considered de rigeur for sophisticated investors willing to take a risk in exchange for potential wealth. As that potential wealth grew, so did the potential tax bill, and managers began looking at other options. The solution? Investing in offshore hedge funds. Hedge fund managers are generally taxed on income in the country where the fund is located making relocating to the usual offshore suspects such as the Caymans, Bermuda and Ireland attractive. Tax was essentially deferred on fees from these funds until it landed in the hands of those in the U.S."
The 2008 financial meltdown had all the Wall Street elites scrambling to protect their investment, while avoiding the day of reckoning with the tax man. One such effort as Forbes cites allowed for another deferred work around.
The change was inserted into the Emergency Economic Stabilization Act of 2008 (Public Law 110-343) – and if that sounds familiar, you're not imagining it. That law was also instrumental in the administration of the Troubled Assets Relief Program, or TARP. The new law essentially banned the deferral of fees and compensation by these offshore hedge funds.
Moving the domicile for the Soros fund to Ireland was an attempt to circumvent the intent of an ill-written law.
The Street lays out the basis for the enormous tax bill coming due.
"At the end of 2013, Soros—through Soros Fund Management—had amassed $13.3 billion through the use of deferrals, according to Irish regulatory filings by Soros.

Congress closed the loophole in 2008 and ordered hedge fund managers who used it to pay the accumulated taxes by 2017. A New York-based money manager such as Soros would be subject to a federal rate of 39.6 percent, combined state and city levies totaling 12 percent, and an additional 3.8 percent tax on investment income to pay for Obamacare, according to Andrew Needham, a tax partner at Cravath, Swaine & Moore. Applying those rates to Soros's deferred income would create a tax bill of $6.7 billion."
Now this background provides the business analysis but far more important is the relevance of the political clout that Soros has wheeled for decades and how that influence will effect if he will actually pay his tax bill.
Review the long laundry list of Organizations Funded Directly by George Soros and his Open Society Institute that have received direct funding and assistance from George Soros.
Note that the deadline for payment is 2017, just after the next election. Image the next puppet taking office using an executive order to further delay or water down the actual collection of the Soros tax obligation.
It should be self-evident that the weight of Wall Street influence will be enormous in the 2016 Presidential coronation.
Dismiss the obvious hypocrisy of advocating for higher taxes while avoiding your own tax payment and focus on the actual results.
"A manager with Soros's track record who started with $12 million from investors, took 20 percent of the profits, and reinvested that money tax-free over 40 years, would end up with $15.9 billion. If that same manager paid federal, state, and local taxes on the fees and related investment gains before reinvesting them, the figure would shrink to $2.4 billion…"
This strategy is not unique but it is symbolic of the way the financial elites benefit from their extraordinary influence over the biased tax regulations that favors the politically well connected.
The difficulty for leftist supporters of the Soros mind numbing collectivist culture is that they are unable to separate between the rhetoric and the reality of actual actions.
Soros is a pied piper for the naïve and misguided. All the millions he spends on altering the political landscape have a financial component to protect his own fortune.
Restructuring tax law and regulations never reforms the system. This one example, how hedge funds circumvent taxes, should illustrate that inserting loopholes into statutes is the function of lobbying and providing campaign contributions.
George Soros has a long record of avoiding paying taxes, while undermining political regimes. But he is not alone in avoiding taxes. Bankers Anonymous outlines how the game is played.
"If you set up a traditional hedge fund, first things first: you'll want to charge the traditional "2/20."Embedded in this short-hand lingo of "2/20" for hedge fund fees are two types of income.

With the two types of income, you need the two entities to keep the income tracked separately.  Entity #1 collects the "2," which is taxed like regular business income, and Entity #2 collects the "20," which collects your totally awesome income at a lower tax rate.

The "2" refers to an annual management fee of 2% of assets under management.  On a small/medium-sized hedge fund of, for example, $500 million under management, you will collect $10 million in management fees per year."
Since the standard format for a hedge fund treats fees as different tax rates, the hidden deception is why such hedge funds go unregulated by the SEC? The sweet heart tax treatment deal that allows circumvention of normal rates is a profound offence. Moving the venture offshore just adds to the outrage. Targeting 2017 for final settle up will be forgotten as the next deferment exception is adopted.
Unless people admit the elite as the real power behind the political charade, there will never be equitable tax accountability. Soros plots to overthrow governments. Ignoring the tax bill should be a cake walk. A better solution is to institute serious and comprehensive oversight over the 2-20 tax dodge and apply the same rules to the financial privileged that ordinary citizens must observe. If you agree, keep the pressure on Soros and demand a long overdue resolution.
"We shall have world government, whether or not we like it. The question is only whether world government will be achieved by consent or by conquest"   Paul Warburg at U. S, Senate Committee on Foreign Relations, February 17, 1950.
"The tumultuous noise of the nations, their rejoicings and lamentation, the pleadings of their prayer, the groans of their despair, the cry of their imprecations, their wrath, their love, their hate!" Henry Wadsworth Longfellow, Introduction, "Christus: A  Mystery"
The world that is presented to every current inhabitant is a world of extensive diversity; a vast array of different languages, cultures, and values.  No living creature had anything to do with creating this tiny planet or with the vast universe that surrounds it.  All are temporary residents of space they do not and cannot entirely understand.
Amy Chua is a brilliant, American born, Chinese woman; educated at Harvard, employed for a time at Duke and now a Law Professor at Yale. Her husband, Jeff Rubenfeld, is also a Law Professor at the same institution..  She has authored four books: "World on Fire", "Day of Empire", "Battle Hymn of the Tiger Mother", and, "The Triple Package".
Her writing is legible and wears well.  Each book provides interesting, and extensive coverage.  The books are distinctly different but they have a strong common theme.
The subtitle of the 2002 book, "World on Fire", is "How exporting Free Market Democracy Breeds Ethnic hatred and Global Instability".  The book describes in detail nation after nation that is dominated by a small minority who live in luxury off the labor of poor, uneducated minions that have no hope of progress.  Invariably the massive poor minority hates the wealthy owners who are often not indigenous to the nation.
Chua contends that Democracy exacerbates the problem.  She writes, "—in the numerous countries around the world with a market dominated minority, the simultaneous pursuit of free markets and democracy has led not to widespread peace and prosperity, but to confiscation, autocracy, and mass slaughter.  Outside the industrialized West, these have been the wages of globalization."  (Pg. 125)
In 2007 "Day of Empire" used detailed descriptions of historic empires to promote the theory that tolerance was the glue that allowed empires to flourish and remain intact.  In 344 pages the book begins by delving into the Persian Empire, 559 – 330 BC, it continues through the Chinese Qin (212 BC) andTang (618-907 AD) dynasties and records the Great Mongol Empire during the 13th and 14th centuries AD, then  Rome, the Dutch, the British and finally the United States of America, a "hyperpower".  In each tyranny Chua carefully describes tolerance as the glue that held the empire together and intolerance as responsible for its demise..
In 2011 she published "Battle Hymn of the Tiger Mother", a description of her determination to produce exceptionalism in her two daughters.  Her methods reminded me of Vince Lombardi's quintessential coaching career at Green Bay.  She insisted on excellence and would not accept failure.  Her daughters hated her during the process but loved her for the result.  Reviews of the content in this book were often negative.
In 2013 came "The Triple Package" an attempt to define the components of success in the United States.  Chua and her husband came up with the following traits: a superiority complex, insecurity, and impulse control. They listed the following ethnic groups that have enjoyed success: Chinese, Jewish, Indian, Iranian, Lebanese, Nigerians, Cuban exiles, and Mormons.
Race and power flow through all of Chua's writing.  She assents to globalism but her books belie its implementation by describing racial, cultural, and social distinctions that run deep and are intransigent.  Over and over again they document the universal existence of predator classes that tyrannize the masses and exploit them for their own benefit.  The injustices that allow alien overlords to exploit an entire race often result in a resentment-filled overthrow that is brutal, anarchic and an affront to humanity itself.
In "World on Fire" Chua describes the Rwanda genocide.  The Tutsis though they were only 14 percent of the population were the ruling class.  Though the two races married, lived side by side and the Hutus were allowed to achieve Tutsi status there was resentment when a Tutsi become king. Then the Belgian colonists, as a method of control, declared the Tutsis superior to the Hutus and began providing Tutsis with better educations and promoting them to positions of authority over the Hutu.  Eventually the Hutus were forced into permanent servitude.
Buoyed by the rhetoric of political leaders in the spring and summer of 1994, the Hutus rose up and in just a hundred days used machetes to hack to death some eight hundred thousand Tutsi.  Chua quotes Philip Gourevitch, "Neighbors hacked neighbors to death in their homes, and colleagues hacked colleagues to death in their workplaces.  Doctors killed their patients, and schoolteachers killed their pupils.  Within days, the Tutsi population of many villages was all but eliminated…." (Pg. 169)
The Chinese in the Philippines, the Jews in Russia, the Indians and Lebanese in Africa, and so on, "World on Fire" documents the exploitation of nations and their citizens often by better educated foreigners who siphon off both labor and resources.  She believes that free market democracy, the medium of globalism, exacerbates this travesty.
In The Day of Empire the fascinating detailed description of past empires is used as a backdrop to assess the ability of the United States of America to create a world empire.  The book is critical of the Iraq War and dubious that USA will be able to find a "glue" that will allow large scale hegemony.
The collapse of the Soviet Union could have made the world ready for U. S. leadership but, "Instead, the ironic result of the United States "democratic world dominance" has been rampant, raging anti-Americanism.  Today, America faces billions of people around the world, most of them poor, who know that the American Dollar is the world's dominant currency, that English is the world's dominant language, that American corporations are the most powerful and visible in the world, and that American brands are the most pervasive and coveted.…  In short, large numbers of people all over the world feel dominated by – but no connection or allegiance to – the United States." (Pg. 328)
"The Triple Package" digs out the motivations that produce success in the United States.  Chua's husband, Jeb Rosenfeld, is Jewish and her two daughters are being raised in the religion of Judaism.  Although both the Chinese and Jewish races are dominant and both are adroit at becoming market dominant minorities in other nations Chua makes the Jews the standard by using them to describe other tyrannical races:  i.e. Indians as the "Jews of East Africa".  (Pg. 115)
Dominance is an underlying theme in all four of Chua's books.  She is conflicted by her excellent description of the intense resentment that results from the numerous market dominated minorities and her support for Globalization which takes the form of a critique of the U. S. go-it-alone policy and questions its decisions.  She seems to want dominance to succeed while her research shows that it is failing.  In the Acknowledgements at the beginning of "World on Fire" Chua cites Strobe Talbot as a contributor to the book.  In 1992, Talbot was quoted by Time Magazine, "In the next century, nations as we know it will be obsolete; all states will recognize a single, global authority. National sovereignty wasn't such a great idea after all."
In the "Battle Hymn of the Tiger Mother", Chua describes the stout discipline she used to produce top one percent children.  While she wants her girls to be cream her writing shows sympathy for the milk.
On Page 189 of "World on Fire" Chua writes, "Take the United States.  While some ethnic minorities have outperformed others, the United States economy is absolutely not controlled by any ethnic minority.  On the contrary, if any group can be said to dominate our economy, it is the White majority.
Jeb Rosenfeld's "genius and kindness" (cited in the Acknowledgements for "World on Fire") has over whelmed Chua's research.  Jews may not be the wealthiest Americans but they are by far the most powerful.  It is power, not wealth per se that allows minority market dominance and Jewish power in United States comes through almost total dominance of the press, media, and publishing.  Add total control of the Federal Reserve, the World Bank, Goldman Sachs, and other commercial banks; plus dominance over scores of major corporations and hegemony over many of our institutions of higher learning and you have market dominant minority of distinction.
Without Jewish backing no one can be elected to the U. S. Presidency or to the House or Senate.  From the book reviews aired on C-Span it seems that eighty percent of the books published in the United States are by Jewish authors. Now even C-Span's iconic Brian Lamb's guest interviews seem to favor Jewish authors.
There are two major factors that allow Jews to sustain a successful market dominate minority in the United States:  One, motion pictures and the media have allow them to create ample amounts of sympathy by dramatizing the Holocaust, and two, they enjoy the total support of hundreds of thousands of severely deluded Dispensational Christians.
It is ironic that Chua denies Jewish dominance in one book and acknowledges it in another ("The Triple Package").
Several years ago my wife and I had a very enjoyable min-vacation in San Francisco.  One of the highlight of our visit was riding the city bus through China Town.  This section of the city houses one of the largest and most authentic Chinese settlements in the nation…Our hotel was new, well appointed, and comfortable.  It was Chinese owned.  I remember saying to my wife that in another decade or so the Chinese will dominate the city – maybe they already do.
We have several market dominate minorities in the United States.  The Jews have been here longest and have accumulated major hegemony.  Indians have cornered the motel business, and the ubiquitous gasoline stations and convenience stores.  The Chinese are quietly successful and their wealth is seldom publicized.  Iranian Muslims are newcomers but they are already making waves in Michigan.  Mexicans have become the majority population in parts of the West and are talking annexation. Whites and Blacks who have lived here longest are destined to minority status.
Chua's extensive research provides ample evidence that Globalism is in trouble.  Various races around the Globe seek to maintain their own culture.  They want to live in their own unique ways and enjoy their possessions as they see fit.  They do not want to be dictated to or tyrannized.  They may accept foreigners but they quickly resent state tyranny and non-indigenous dominance.
Chua gropes for solutions and lists some possibilities:  Redistribution through tax and transfer programs, give the poor legally defendable property rights,         give or provide a way for the underprivileged to own stock in international corporations, and finally, government intervention with affirmative action programs.
She describes reality with extensive research to support her conclusions.  I concur with her summations but contend with her intent.  She is a globalist and her search for ways to bring the world's array of languages and cultures under the globalist tent is the same spirit that is creating the malevolent resentment her research describes.
Most of the world's cultures are made up of people that want to be left alone.  Many are satisfied with lives that sophisticated Westerners would consider deprived but, nevertheless, still want to solve their own problems.  United States is promoting globalism and democracy by force and Chua is on target when she describes the resentment it causes.
Missing in all of the books is the fact that Globalism is being foisted on the world by a global dominate minority which is creating a global resentment larger and more virulent than the national problem she describes. Chua writes, "If global free market democracy is to be peaceably sustainable, then the problem of market dominant minorities, however unsettling, must be confronted head on." (Pg. 164 "World on Fire") It is globalism itself that should be confronted head on.  Since Chua's research clearly shows the fervent desire of most of the world's population to live without outside interference, globalism will not come peacefully.  Many of the world's nations will fight foreign domination.
In "Systematic Theology" R. J. Rushdoony quotes George Orwell, "We know that no one ever seizes power with the intention of relinquishing it.  Power is not a means; it is an end.  One does not establish a dictatorship in order to safeguard a revolution; one makes the revolution in order to establish the dictatorship"….. (RJR writes) "Fallen men are bramble men; their expression of the will to power varies only in terms of the courage and opportunities. Fallen man thus becomes more unproductive as he becomes more powerful in his role over others."   Pg. 1032
If the Global Dominate Minority would begin to use their God-given grey matter to study the Law God gave to His sin ridden people they would understand that the problems of the world can be alleviated without force in any nation that freely accepts and enforces it.  Eugenics is a dirty word in most civilized society but there are rumors that the Global Dominate Minority thinks in that realm.
Humanistic eugenics is evil but the eugenics incorporated into God's Law is a righteous method of creating a peaceful society.  Freedom is impossible in anarchic societies.  Our Founders understood that the government they set up was designed for an obedient people; that wide spread disobedience would quickly destroy freedom.
We are not created equal and there will always be those that are smarter and stronger.  The Bible even contains instructions on how to periodically reset the playing field.  God's Law is wiser than man's law – peace in our world waits for men to realize it.
"False centers will not hold.  Things fly apart, confusion reigns, and only taxes hold the state together.  Powers now do lie within oppressor's hands, and men are cold toward virtue, prone to sin and treason." R. J. Rushdoony, "The Luxury of Words", Pg. 127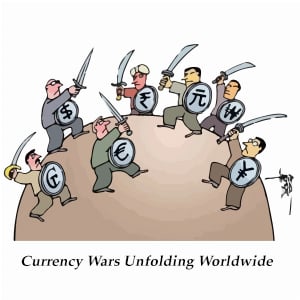 The first two months of 2015 have seen turmoil in the currency markets extend from Russia and Ukraine to the heart of Europe.
"Central Banks Now Open 24/7 Fighting Currency Wars and Deflation," blared a February 12th Bloomberg headline. Against this backdrop, precious metals have been on the rise in terms of all currencies except the Swiss franc and the U.S dollar.
In January, the Swiss National Bank shocked markets by announcing that it would de-link its currency from the euro. The move came one week ahead of the European Central Bank's $1.1 trillion Quantitative Easing announcement. Swiss officials decided it would be too costly to keep accumulating depreciating euros in order to maintain the currency peg. The Swiss franc surged by the most ever in a single day.
With the exception of Switzerland, all other countries in Europe (and many others around the world) are trying to depreciate their currencies.
Since January 1, the following central banks have announced interest rate cuts or other monetary easing measures: European Central Bank, Reserve Bank of Australia, Reserve Bank of New Zealand, Monetary Authority of Singapore, and the central banks of India, Canada, Denmark, and Sweden.
On February 12th, the Swedish Riksbank announced a surprise rate cut from 0% to below 0%. "To ensure that inflation rises towards the target, the Riksbank is prepared to quickly make monetary policy more expansionary, even between the ordinary monetary policy meetings," the world's oldest central bank said in a statement.
Sweden joins the European Central Bank and the central banks of a handful of other countries in pushing benchmark interest rates into negative territory. These central bankers are all aiming to revive inflation. "Investors" who are buying bonds yielding less than nothing (a negative rate) are apparently convinced that central bankers won't succeed in depreciating their currencies.
Insanity! Investors Now Paying for the "Privilege" of Lending to Broke Governments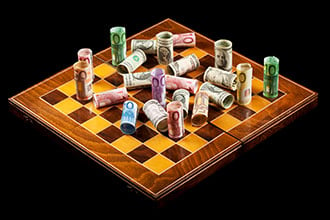 This could go down as one of the oddest, most irrational asset bubbles in history. Trillions of dollars are now tied up in debt instruments that promise to return less than the invested principal. According to a report issued by J.P. Morgan, $3.6 trillion in government bonds around the world now carry negative yields.
It raises the obvious question; why would so many people be willing to accept a negative rate of return?
You'd think that institutional investors would start getting wise to holding gold as a hard-currency alternative to cash instruments that yield less than zero. The fact that gold has no interest rate is actually an advantage in an environment where competing rates are negative! Plus, unlike most of the bonds issued in this upside-down interest rate market, gold has significant appreciation potential.
If inflation rises even modestly to the 2% target of European and U.S. central bankers, then bonds issued at rates of below 2% will all be losers. The two-year Treasury note yields only 0.63%. Even the recent 10-year yield of 1.98% fails to match the Federal Reserve's inflation ambitions.
The fact that gold has no interest rate is actually an advantage in an environment where competing rates are negative!
In this environment of ultra-low nominal yields or even negative real yields, precious metals as a reserve asset look very attractive. Many central bankers around the world agree and are busily accumulating gold. According to a report issued by the World Gold Council in February, governments around the world added 477.2 metric tons of gold to their reserves in 2014. That haul was the second biggest in 50 years.
When inflation fears return to the market, as they eventually will, precious metals will become one of the premier asset classes to hold. Even now, they are performing better than virtually all other world currencies.
The end game of these ongoing currency wars is that all fiat currencies will be debased. And a true flight to quality will accelerate – with assets fleeing depreciating currencies (and debt instruments denominated in them) and piling into gold and silver.
Will the Fed Chicken Out on Rate Hikes?
Of course, right now it's deflation fears that are dominating headlines. But the inflationary policy responses from the European Central Bank and others that have followed the ECB's lead have lifted gold and silver prices markedly in terms of euros and other currencies.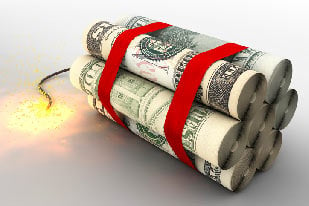 As confidence in European currencies plunges, there's only so much corresponding dollar strength the Federal Reserve is willing to tolerate. There's been much talk of rate hikes coming later this year, and that widespread expectation has been priced into the market. Any rhetorical or policy disappointments from the Fed in the months ahead could cause traders to sell the dollar.
Whether later this year or further down the road, it's only a matter of time before currency turmoil spreads to the United States.
The U.S. has a higher debt-to-GDP ratio than some troubled European countries. It has higher levels of unfunded liabilities (estimated to be in excess of $100 trillion) than any other country. The dollar's status as world reserve currency has allowed the U.S. to become financially overextended. But that vaunted status is slowly deteriorating as Russia, China, and other countries form economic alliances that bypass the dollar.
When these chickens come home to roost, you don't want to be wholly dependent on the U.S. government's promises or its currency. Sizeable holdings in physical precious metals will help make you financially resilient in the face of the spreading global currency crisis.
"Though it's happening to a stricken country, on the edge of Europe, the choices presented to Greece are being understood throughout Europe… Obey or leave."

— Paul Mason, Channel 4 News Blog
It's not easy to negotiate with a gun to your head.  Nevertheless, that's the situation Greek finance minister Yanis Varoufakis found himself in on Friday preceding a crucial meeting with the Eurogroup. According to one report, the objective of the last-ditch confab  "was to prepare a consensus text that would be the basis for the discussion" with the EU's finance ministers.  That might sound innocent enough, but it doesn't come close to explaining the real purpose of the meeting which was far more sinister.  Check out this blurb from Costas Efimeros at the Press Project:
"According to a Greek official who doesn't want to be named, the Greek delegation were yesterday subject to outright blackmail. Our 'partners' informed us that if Eurogroup doesn't result in an agreement, on Tuesday the Greek government will be forced to implement capital controls. It seemed that they had taken the decision to strangle the Greek economy by cutting off funding to the banks through the ELA system. Furthermore, it seemed that the big Greek banks already knew this. Leaks from the ECB, after all, had suggested that they were preparing for a GREXIT." ("Europe trashed democracy", Costas Efimeros, The Press Project)
It's nice to know that EU leaders ascribe to the same basic moral code as Don Corleone, isn't it?
The fact is, a slow motion bank run has been underway in Greece for more than a month draining roughly 40 billion euros from the Greek banking system. If a deal hadn't been struck on Friday, the ECB would have pulled the plug on its liquidity assistance program and blown the whole system to kingdom come. That's how the Eurocrats planned to say goodbye to their long-struggling member, Greece, by giving them a sharp jolt to the groin before razing their economy to the ground. That tells you everything you need to know about the Eurogroup.
If Greece got the boot on Friday, it's humanitarian crisis would have deepened overnight while the blow to the capital markets would have paved the way for another financial crisis.  Fortunately, the catastrophe was averted mainly because Varoufakis was able to cobble together a viable plan for meeting the Eurogroup's basic requirements while creating significant opportunities to ease conditions in Greece.  Don't get me wrong; this isn't a perfect deal by any stretch, but it is the best deal that could have been reached given the circumstances and the unbridled hostility from German finance minister Wolfgang Schaeuble who was eager to scuttle the whole project and throw Greece to the wolves.  Varoufakis managed to out maneuver the irascible Schaeuble and get some of what he wanted, but only through stiff-necked resolve and significant compromise.  As a result, Greece is still a member of the Eurozone,  but just barely. A rejection of its reform package today (Monday) could push the beleaguered country out of the 19-member Union for good.
Keep in mind, the Eurogroup made it perfectly clear from the beginning that they weren't going to restructure Greece's debts or end the austerity program. The issues weren't even on the table. So, those who think that Varoufakis should have given the Eurogroup an ultimatum ("Reduce our debts or we'll leave.") simply don't understand the nature of the negotiations.  Varoufakis was forced to operate  within very strict parameters. Given those limitations, he nabbed a very respectable deal. Even so, it's only natural for people to feel let-down, especially since Syriza had promised much more than they could deliver.  But that doesn't mean Varoufakis is a traitor or a sellout. Not at all. It merely means that Syriza's belief that it could end austerity but keep Greece in the Eurozone proved to be unfounded. In fact, German opposition has made it nearly impossible. The larger point is this: Syriza had no mandate to spearhead a Grexit.  That is not what the people voted for or what they want.  Varoufakis's was asked to do the impossible, square the circle. In that regard, he failed. But still, the deal he hammered out should mitigate Greece's slump to some extent, although one should not expect a full-blown economic recovery, not without a healthy dose of fiscal stimulus which is nowhere in sight.
Varoufakis managed to change the terms of the deal which is now referred to as the "existing arrangement" rather than a "program".  According to Norbert Haring, this new "arrangement"…"is not a "technical" extension of the "program" any more, but an extension of the funding arrangement, plus vague conditionality."  ("Was it worth it? Concessions to Greece relative to the rejected draft of 16 February", Nobert Haring)
It all sounds very tedious and legalistic, but the change is significant. You see, the real fight between Varoufakis and the Eurogroup was over this precise issue, that is, changing the inflexible, ironclad austerity "program" into a looser "arrangement" where polices can be altered via–what Varoufakis dubbed –"constructive ambiguity." Varoufakis objective is to create enough gray area for Greece to regain sovereign control over its own economic policies. Constructive ambiguity will help to achieve that, provided the reforms meet the Eurogroup's fiscal targets.
Here's more from Haring's post:  "There is no mention any more of "successful conclusion of the program", nor of "program" in the text. Instead a successful conclusion of the review of the "conditions in the current arrangement"  is the new condition. This allows the Greek government to continue to say that the old program cannot be successful. It also allows for changes in the program, as "conditions of the arrangement" is deliberately more vague."    ("Was it worth it? Concessions to Greece relative to the rejected draft of 16 February", Nobert Haring)
This isn't just legal claptrap. It's a critical change in the way the policy is implemented.  Once again, Varoufakis has loosened the financial straitjacket in which Greece finds itself, which can only be seen as progress.
The new deal also allows Greece to decide its own reform package rather than the troika dictating what government expenses to cut or which publicly owned assets to sell.  Here's another excerpt from Haring's post:   "Most important change of the whole document: Addition of "The institutions will, for the 2015 primary surplus target, take the economic circumstances in 2015 into account." Excessive, self-defeating austerity is off.  Only the target for 2015 is mentioned, because everything further out would have to be part of a new arrangement, still to be negotiated."
So Varoufakis has achieved his goal of reducing austerity. Not only is there greater flexibility operationally but, also, Greece will control the levers of decision-making  in the "field of tax policy, privatisation, labour market reforms, financial sector, and pensions". Naturally, the lower the primary surplus, the more fiscal stimulus is available for economic growth. (Running a surplus during a depression is absolute madness, but this is the lousy hand Varoufakis was dealt.)
Haring's final comments are a good summary of Varoufakis's achievement:
"Was it worth the hassle to reject the draft of 16 February, just to accept the statement four days later? For Athens it most certainly was. It got the promise that no self-defeating, excessive austerity would be asked of it any more, the assurance that it could devise its own economic and social policies, as long as they did not impact negatively on the interests of its partners, rather than having to execute and leaving in place all the measures accepted by the former government and strongly rejected by the people. These are huge improvements for Athens, with no significant counterbalancing downside compared to 16 February."  ("Was it worth it? Concessions to Greece relative to the rejected draft of 16 February", Nobert Haring)
Clearly, this is a good deal for Greece, but let's not go overboard; the basic situation still stinks to high heaven, mainly because the Eurogroup would rather lecture and punish than give a struggling member a helping hand.  Had the Eurozone evolved into a viable political union that distributed fiscal transfers to the weaker states on the periphery, Greece would have emerged from its recession years ago. Instead, the fiasco drags on endlessly punctuated by infrequent outbursts from EU leaders who vehemently defend belt-tightening measures that have only made matters worse.  If anything, this experience should help the Greek people decide whether there's a future for them and their children in the Eurozone or not.  Dealing with authoritarian boneheads (The Eurogroup) may eventually prove to be more trouble than its worth. (A Grexit looks better by the day!)
As for Varoufakis, well, he passed the finance minister's test with flying colors. He distinguished himself as a capable horse trader and managed to squeeze more concessions out of the EU's  austerity-obsessed representatives than anyone thought possible. The man proved that he's neither a "sell out" or a "traitor".(as some claim.) Quite the contrary, he kept his word and did exactly what the Greek people asked of him.
At the very least, he deserves credit for a valiant effort.
The resounding victory of Alexis Tsipras in the Greek election was certainly a referendum that rejected the austerity demands placed on Greece by the European Union. The Wall Street Journal says the following, in Syriza Win in Greek Election Sets Up New Europe Clash.
"A Syriza victory marks an astonishing upset of Europe's political order, which decades ago settled into an orthodox centrism while many in Syriza describe themselves as Marxists. It emboldens the challenges of other radical parties, from the right-wing National Front in France to the newly formed left-wing Podemos party in Spain, and it sets Greece on a collision course with Germany and its other eurozone rescuers."
What informed political onlooker did not see this coming? The EU acts as if it was a Holy Roman Empire using some very unholy demands and requirements. Since Greece has a laid back culture, the notion that imposing a rigorous German work ethic on the Mediterranean city-states is about as shortsighted as allowing a popular vote in the cradle of Democracy. If the EU wants to be the seat of the Banksters New World Order, rectifying this oversight needs to be part of any additional rollovers of the debt.
The NYT reports on the German reaction to this election, in Greece Chooses Anti-Austerity Party in Major Shift.
"While Greece sees itself as being punished by creditors' demands, Germany and a host of European officials have argued that Greece and other troubled nations in the eurozone must clean up the high debts and deficits at the root of Europe's crisis . They say Athens has failed to make enough progress on structural reforms seen as necessary to stabilize the economy, and they are pressing Greece to raise billions of euros through more budgetary cutbacks and taxes."
Sounds like NATO Panzer tanks may need to surround the Acropolis. At issue is the next round of payments and exactly how far Tsipras' new coalition government will push back.
From the socialist French press, Greek radical-left leader vows to end 'humiliation and pain', the precedent dispute provides a look at the agenda that will be fought over.
"Greece's bailout deal with the eurozone is due to end on February 28 and Tsipras's immediate challenge will be to settle doubts over the next installment of more than 7 billion euros in international aid. EU finance ministers are due to discuss the issue in Brussels on Monday.
Tsipras has promised to renegotiate agreements with the European Commission, European Central Bank and International Monetary Fund "troika" and write off much of Greece's 320-billion-euro debt, which at more than 175 percent of gross domestic product, is the world's second highest after Japan."
The imposed neocolonialism from Brussels technocrats on Greece after the 2008 financial bubble is A True Greek Tragedy – Odyssey of the EU, concluded that "This tragedy is an existential test. Appreciate the absurdity of compliance with the New World Order, and apply comic relief, to those who follow commends of the EU Poseidon ship of state."
At stake is the ability of the EU to continue their centralization dictates in the face of public resistance. The victory of SYRIZA provides encouragement for similar movements from Spain, Portugal to Italy. However, such self-government enthusiasm flies in the face of the institutional power of the blue-blood aristocracy of financial elites, who in the past have never hesitated waging, war to suppress independence sentiments.
The term Grexit is introduced to forewarn the op-out of the EU option. Further explanation is elaborated in Greece lightning: six things you need to know about Syriza's victory.
Background – the Greek economy
Yesterday's election – and why Syriza wants to stay in the EU
But Germany is more relaxed about a 'Grex
It's now a question of how far Germany will budge
   The Eurozone is (probably) strong enough to withstand Grexit
But still, Grexit would be a risk that no one actively wants to take
Hugo Dixon: Grexit still unlikely after Syriza win takes another viewpoint. His outlook is based on the assumption that "no head of government in the other euro countries wants Greece to leave", so some kind of accommodation will be offered to appease the factions that resist their inordinate debt burden.
"So there might be a way of cutting a deal. The snag is that doing so would involve a massive somersault – or what Greeks call a "kolotoumba". Many of Tsipras' backers would then accuse him of betraying their cause. It is still far from clear whether he is prepared to do that.
But if the Syriza leader is not prepared to compromise, Greece will default and will have to impose capital controls to stop the banks collapsing. If the people then forced the government to backtrack, there would be one final chance to stay in the euro. Otherwise, the drachma would beckon."
Oh the horror of a country leaving the European Union and chucking the EURO. The factual consequences of Greece exiting the EU should not be gauged solely in economic terms. The limits upon which the Bilderberg oligarchy will tolerate liberation dissent become the decisive price and test of brute power in this battle for autonomy.
The Greek version of socialism is surely no model for economic prosperity. Nonetheless, the systematic fleecing of Greek assets by the vultures preying on the misery from the 2008 crash has yet to be put back in balance.
The viability of EU Bonds Rollover Debt with a Chinese Bailout makes the case why the EU is vulnerable to the mountains of their own obligations. The most likely outcome from the election of Alexis Tsipras is that a rescheduling rather than a reduction in the amount of indebtedness will take place. The EU Rothschild band of thieves knows no forgiveness, when it comes to collecting on their phony debt created currency loans.
The brave Spartans saved civilization at Thermopylae. It is doubtful that type of campaign can be fought again by today's Greeks.
The edifice of world post-1991 order is collapsing right now before our eyes. President Putin's decision to give a miss to the Auschwitz pilgrimage, right after his absence in Paris at the Charlie festival, gave it the last shove. It was good clean fun to troll Russia, as long as it stayed the course. Not anymore. Russia broke the rules.
Until now, Russia, like a country bumpkin in Eton, tried to belong. It attended the gathering of the grandees where it was shunned, paid its dues to European bodies that condemned it, patiently suffered ceaseless hectoring of the great powers and irritating baiting of East European small-timers alike. But something broke down. The lad does not want to belong anymore; he picked up his stuff and went home – just when they needed him to knee in Auschwitz.
Auschwitz gathering is an annual Canossa of Western leaders where they bewail their historic failure to protect the Jews and swear their perennial obedience to them. This is a more important religious rite of our times, the One Ring to rule them all, established in 2001, when the Judeo-American empire had reached the pinnacle of its power. The Russian leader had duly attended the events. This year, they will have to do without him. Israeli ministers already have expressed their deep dissatisfaction for this was Russia's Red Army that saved the Jews in Auschwitz, after all. Russia's absence will turn the Holocaust memorial day into a parochial, West-only, event. Worse, Russia's place will be taken by Ukraine, ruled by unrepentant heirs to Hitler's Bandera.
This comes after the French 'Charlie' demo, also spurned by Russia. The West hinted that Russia's sins would be forgiven, up to a point, if she joined, first the demo, and later, the planned anti-terrorist coalition, but Russia did not take the bait. This was a visible change, for previously, Russian leaders eagerly participated in joint events and voted for West-sponsored resolutions. In 2001, Putin fully supported George Bush's War on Terrorism in the UN and on the ground. As recently as 2011, Russia agreed with sanctions against North Korea and Iran. As for coming for a demonstration, the Russians could always be relied upon. This time, the Russians did not come, except for the token presence of the foreign minister Mr. Lavrov. This indomitable successor of Mr. Nyet left the event almost immediately and went – to pray in the Russian church, in a counter-demonstration, of sorts, against Charlie. By going to the church, he declared that he is not Charlie.
For the Charlie Hebdo magazine was (and probably is) explicitly anti-Christian as well as anti-Muslim. One finds on its pages some very obnoxious cartoons offending the Virgin and Christ, as well as the pope and the Church. (They never offend Jews, somehow).
A Russian blogger who's been exposed to this magazine for the first time, wrote on his page: I am ashamed that the bastards were dealt with by Muslims, not by Christians. This was quite a common feeling in Moscow these days. The Russians could not believe that such smut could be published and defended as a right of free speech. People planned a demo against the Charlie, but City Hall forbade it.
Remember, a few years ago, the Pussy Riot have profaned the St Saviour of Moscow like Femen did in some great European cathedrals, from Notre Dame de Paris to Strasbourg. The Russian government did not wait for vigilante justice to be meted upon the viragos, but sent them for up to two years of prison. At the same time, the Russian criminal law has been changed to include 'sacrilege' among ordinary crimes, by general consent. The Russians do feel about their faith more strongly than the EC rulers prescribe.
In Charlie's France, Hollande's regime frogmarched the unwilling people into a quite unnecessary gay marriage law, notwithstanding one-million-strong protest demonstrations by Catholics. Femen despoiling the churches were never punished; but a church warden who tried to prevent that, was heavily fined. France has a long anti-Christian tradition, usually described as "laic", and its grand anti-Church coalition of Atheists, Huguenots and Jews coalesced in Dreyfus Affair days. Thus Lavrov's escape to the church was a counter-demonstration, saying: Russia is for Christ, and Russia is not against Muslims.
While the present western regime is anti-Christian and anti-Muslim, it is pro-Jewish to an extent that defies a rational explanation. France had sent thousands of soldiers and policemen to defend Jewish institutions, though this defence antagonises their neighbours. While Charlie are glorified for insulting Christians and Muslims, Dieudonné has been sent to jail (just for a day, but with great fanfare) for annoying Jews. Actually, Charlie Hebdo dismissed a journalist for one sentence allegedly disrespectful for Jews. This unfairness is a source of aggravation: Muslims were laughed out of court when they complained against particularly vile Charlie's cartoons, but Jews almost always win when they go to the court against their denigrators. (Full disclosure: I was also sued by LICRA, the French Jewish body, while my French publisher was devastated by their legal attacks).
The Russians don't comprehend the Western infatuation with Jews, for Russian Jews have been well assimilated and integrated in general society. The narrative of Holocaust is not popular in Russia for one simple reason: so many Russians from every ethnic background lost their lives in the war, that there is no reason to single out Jews as supreme victims. Millions died at the siege of Leningrad; Belarus lost a quarter of its population. More importantly, Russians feel no guilt regarding Jews: they treated them fairly and saved them from the Nazis. For them, the Holocaust is a Western narrative, as foreign as JeSuisCharlie. With drifting of Russia out of Western consensus, there is no reason to maintain it.
This does not mean the Jews are discriminated against. The Jews of Russia are doing very well, thank you, without Holocaust worship: they occupy the highest positions in the Forbes list of Russia's rich, with a combined capital of $122 billion, while all rich ethnic Russians own only $165 billion, according to the Jewish-owned source. Jews run the most celebrated media shows in prime time on the state TV; they publish newspapers; they have full and unlimited access to Putin and his ministers; they usually have their way when they want to get a plot of land for their communal purposes. And anti-Semitic propaganda is punishable by law – like anti-Christian or anti-Muslim abuse, but even more severely. Still, it is impossible to imagine a Russian journalist getting sack like CNN anchor Jim Clancy or BBC's Tim Willcox for upsetting a Jew or speaking against Israel.
Russia preserves its plurality, diversity and freedom of opinion. The pro-Western Russian media –Novaya Gazeta of oligarch Lebedev, the owner of the British newspaper Independent – carries the JeSuis slogan and speaks of the Holocaust, as well as demands to restore Crimea to the Ukraine. But the vast majority of Russians do support their President, and his civilizational choice. He expressed it when he went to midnight Christmas mass in a small village church in far-away province, together with orphans and refugees from the Ukraine. And he expressed it by refusing to go to Auschwitz.
Neither willingly nor easily did Russia break ranks. Putin tried to take Western baiting in his stride: be it Olympic games, Syria confrontation, gender politics, Georgian border, even Crimea-related sanctions. The open economic warfare was a game-changer. Russia felt attacked by falling oil prices, by rouble trouble, by credit downgrading. These developments are considered an act of hostility, rather than the result of "the hidden hand of the market".
Russians love conspiracia, as James Bond used to say. They do not believe in chance, coincidence nor natural occurrences, and are likely to consider a falling meteorite or an earthquake – a result of hostile American action, let alone a fall in the rouble/dollar exchange rate. They could be right, too, though it is hard to prove.
Regarding oil price fall, the jury is out. Some say this action by Saudis is aimed at American fracking companies, or alternatively it's a Saudi-American plot against Russia. However, the price of oil is not formed by supply-demand, but by financial instruments, futures and derivatives. This virtual demand-and-supply is much bigger than the real one. When hedge funds stopped to buy oil futures, price downturn became unavoidable, but were the funds directed by politicians, or did they act so as Quantitative Easing ended?
The steep fall of the rouble could be connected to oil price downturn, but not necessarily so. The rouble is not involved in oil price forming. It could be an action by a very big financial institution. Soros broke the back of British pound in 1991; Korean won, Thai bath and Malaysian ringgit suffered similar fate in 1998. In each case, the attacked country lost about 40% of its GDP. It is possible that Russia was attacked by financial weapons directed from New York.
The European punitive sanctions forbade long-term cheap credit to Russian companies. The Russian state does not need loans, but Russian companies do. Combination of these factors put a squeeze on Russian pockets. The rating agencies kept downgrading Russian rating to almost junk level, for political reasons, I was told. As they were deprived of credit, state companies began to hoard dollars to pay later their debts, and they refrained from converting their huge profits to roubles, as they did until now. The rouble fell drastically, probably much lower than it had to.
This is not pinpoint sanctions aimed at Putin's friends. This is a full-blown war. If the initiators expected Russians to be mad at Putin, they miscalculated. The Russian public is angry with the American organisers of the economical warfare, not with its own government. The pro-Western opposition tried to demonstrate against Putin, but very few people joined them.
Ordinary Russians kept a stiff upper lip. They did not notice the sanctions until the rouble staggered, and even then they shopped like mad rather than protested. In the face of shrinking money, they did not buy salt and sugar, as their grandparents would have. Their battle cry against hogging was "Do not take more than two Lexus cars per family, leave something for others!"
Perhaps, the invisible financiers went too far. Instead of being cowed, the Russians are preparing for a real long war, as they and their ancestors have historically fought – and won. It is not like they have a choice: though Americans insist Russia should join their War-on-Terrorism-II, they do not intend to relinquish sanctions.
The Russians do not know how to deal with a financial attack. Without capital restrictions, Russia will be cleaned out. Russian Central bank and Treasury people are strict monetarists, capital restrictions are anathema for them. Putin, being a liberal himself, apparently trusts them. Capital flight has taken huge proportions. Unless Russia uses the measures successfully tried by Mohammad Mahathir of Malaysia, it will continue. At present, however, we do not see sign of change.
This could be the incentive for Putin to advance in Ukraine. If the Russians do not know how to shuffle futures and derivatives, they are expert in armour movements and tank battles. Kiev regime is also spoiling for a fight, apparently pushed by the American neocons. It is possible that the US will get more than what it bargained for in the Ukraine.
One can be certain that Russians will not support the Middle Eastern crusade of NATO, as this military action was prepared at the Charlie demo in Paris. It is far from clear who killed the cartoonists, but Paris and Washington intend to use it for reigniting war in the Middle East. This time, Russia will be in opposition, and probably will use it as an opportunity to change the uncomfortable standoff in the Ukraine. Thus supporters of peace in the Middle East have a good reason to back Russia.
Putin's Next Move Is Crucial…
The plunge of the Russian currency this week is the drastic outcome of policies implemented by the major imperialist powers to force Russia to submit to American and European imperialism's neo-colonial restructuring of Eurasia. Punishing the Putin regime's interference with their plans for regime change in countries such as Ukraine and Syria, the NATO powers are financially strangling Russia." Alex Lantier, Imperialism and the ruble crisis, WSWS

"The struggle for world domination has assumed titanic proportions. The phases of this struggle are played out upon the bones of the weak and backward nations." Leon Trotsky, 1929
Russian President Vladimir Putin suffered a stunning defeat on Tuesday when a US-backed plan to push down oil prices sent the ruble into freefall. Russia's currency plunged 10 percent on Monday followed by an 11 percent drop on Tuesday reducing the ruble's value by more than half in less than a year. The jarring slide was assisted by western sympathizers at Russia's Central Bank who, earlier in the day, boosted interest rates from 10.5 percent to 17 percent to slow the decline. But the higher rates only intensified the outflow of capital which put the ruble into a tailspin forcing international banks to remove pricing and liquidity from the currency leading to the suspension of trade. According to Russia Today:
"Russian Federation Council Chair Valentina Matviyenko has ordered a vote on a parliamentary investigation into the recent activities of the Central Bank and its alleged role in the worst-ever plunge of the ruble rate…

"I suggest to start a parliamentary investigation into activities of the Central Bank that has allowed violations of the citizens' Constitutional rights, including the right for property," the RIA Novosti quoted Tarlo as saying on Wednesday.

The senator added that according to the law, protecting financial stability in the country is the main task of the Central Bank and its senior management. However, the bank's actions, in particular the recent raising of the key interest rate to 17 percent, have so far yielded the opposite results." (Upper House plans probe into Central Bank role in ruble crash, RT)
The prospect that there may be collaborators and fifth columnists at Russia's Central Bank should surprise no one. The RCB is an independent organization that serves the interests of global capital and regional oligarchs the same as central banks everywhere. This is a group that believes that humanity's greatest achievement is the free flow of privately-owned capital to markets around the world where it can extract maximum value off the sweat of working people. Why would Russia be any different in that regard?
It isn't. The actions of the Central Bank have cost the Russian people dearly, and yet, even now the main concern of RCB elites is their own survival and the preservation of the banking system. An article that appeared at Zero Hedge on Wednesday illustrates this point. After ruble trading was suspended, the RCB released a document with "7 new measures" all of which were aimed at protecting the banking system via moratoria on securities losses, breaks on interest rates, additional liquidity provisioning, easier credit and accounting standards, and this gem at the end:
"In order to maintain the stability of the banking sector in the face of increased interest rate and credit risks of a slowdown of the Russian economy the Bank of Russia and the Government of the Russian Federation prepare measures to recapitalize credit institutions in 2015." (Russian Central Bank Releases 7 Measures It Will Take To Stabilize The Financial Sector, Zero Hedge)
Sound familiar? It should. You see, the Russian Central Bank works a lot like the Fed. At the first sign of trouble they build a nice, big rowboat for themselves and their dodgy bank buddies and leave everyone else to drown. That's what these bullet points are all about. Save the banks, and to hell the people who suffer from their exploitative policies.
Here's more from RT:
"Earlier this week a group of State Duma MPs from the Communist Party sent an official address to Putin asking him to sack (Central Bank head, Elvira) Nabiullina, and all senior managers of the Central Bank as their current policies are causing the rapid devaluation of ruble and impoverishment of the majority of the Russian population.

In their letter, the Communists also recalled Putin's address to the Federal Assembly in which he said that control over inflation must not be in the way of the steady economic growth.

"They listen to your orders and then do the opposite," the lawmakers complained." (RT)
In other words, the RCB enforces its own "austerity" policy in Russia just as central bankers do everywhere. There's nothing conspiratorial about this. CBs are owned and controlled by the big money guys which is why their policies invariably serve the interests of the rich. They might not call it "trickle down" or "structural adjustment" (as they do in the US), but it amounts to the same thing, the inexorable shifting of wealth from working class people to the parasitic plutocrats who control the system and its political agents. Same old, same old.
Even so, the media has pinned the blame for Tuesday's ruble fiasco on Putin who, of course, has nothing to do with monetary policy. That said, the ruble rout helps to draw attention to the fact that Moscow is clearly losing its war with the US and needs to radically adjust its approach if it hopes to succeed. First of all, Putin might be a great chess player, but he's got a lot to learn about finance. He also needs a crash-course in asymmetrical warfare if he wants to defend the country from more of Washington's stealth attacks.
In the last 10 months, the United States has executed a near-perfect takedown of the Russian economy. Following a sloppy State Department-backed coup in Kiev, Washington has consolidated its power in the Capital, removed dissident elements in the government, deployed the CIA to oversee operations, launched a number of attacks on rebel forces in the east, transferred ownership of Ukraine's vital pipeline system to US puppets and foreign corporations, created a tollbooth separating Moscow from the lucrative EU market, foiled a Russian plan to build an alternate pipeline to southern Europe (South Stream), built up its military assets in the Balkans and Black Sea and, finally–the cherry on the cake–initiated a daring sneak attack on Russia's currency by employing its Saudi-proxy to flood the market with oil, push prices off a cliff, and trigger a run on the ruble which slashed its value by more than half forcing retail currency platforms to stop trading the battered ruble until prices stabilized.
Like we said, Putin might be a great chess player, but in his battle with the US, he's getting his clock cleaned. So far, he's been no match for the maniacal focus and relentless savagery of the Washington powerbrokers. Yes, he's formed critical alliances across Asia and the world. He's also created competing institutions (like the BRICS bank) that could break the imperial grip on global finance. And, he's also expounded a vision of a new world in which "one center of power" does not dictate the rules to everyone else. That's all great, but he's losing the war, and that's what counts. Washington doesn't care about peoples' dreams or aspirations. What they care about is ruling the world with an iron fist, which is precisely what they intend to do for the next century or so unless someone stops them. Putin's actions, however admirable, have not yet changed that basic dynamic. In fact, this latest debacle (authored by the RCB) is a severe setback for the country and could impact Russia's ability to defend itself against US-NATO aggression.
So what does Putin need to do to reverse the current trend?
The first order of business should be a fundamental change in approach followed by a quick switch from defense to offense. There should be no doubt by now, that Washington is going for the jugular. The attack on the ruble provides clear evidence that the US will not be satisfied until Russia has been decimated and reduced to "a permanent state of colonial dependency." (Chomsky) The United States has launched a full-blown economic war on Russia and yet the Kremlin is still acting like Washington's punching bag. You can't win a war like that. You have to take the initiative; take chances, be bold, think outside the box. That's what Washington is doing. The rout of the ruble is perhaps the most astonishingly-successful asymmetrical attack in recent memory. It involved tremendous risks and costs on the part of the perpetrators. For example, the lower oil prices have ravaged important domestic industries, created widespread financial instability, and sent markets across the planet into a nosedive. Even so, Washington persevered with its audacious strategy, undeterred by the vast collateral damage, never losing sight of its ultimate objective; to deprive Moscow of crucial oil revenues, to crash the ruble, and to open up Central Asia for imperial expansion and US military bases. (The pivot to Asia)
This is how the US plays the game, by keeping its "eyes on the prize" at all times, and by rolling roughshod over anyone or anything that gets in its way. That is why the US is the world's only superpower, because the voracious oligarchs who run the country will stop at nothing to get what they want.
Does Putin have the grit to match that kind of venomous determination? Has he even adjusted to the fact that WW3 will be unlike any conflict in the past, that jihadi-proxies and Neo Nazi-proxies will be employed as shock troops for the empire clearing the way for US special forces and foot soldiers who will hold ground and establish the new order? Does he even realize that Barbarossa 2 is already underway, but that the Panzer divisions and 2 million German regulars have been replaced with high-powered computers, covert ops, color-coded revolutions, currency crises, capital flight, cyber attacks and relentless propaganda. That's 4th Generation (4-G) warfare in a nutshell. And, guess what? The US attack on the ruble has shown that it is the undisputed master of this new kind of warfare. More important, Washington has just prevailed in a battle that could prove to be a critical turning point if Putin doesn't get his act together and retaliate.
Retaliate?!?
You mean nukes?
Heck no. But, by the same token, you can't expect to win a confrontation with the US by rerouting gas pipelines to Turkey or by forming stronger coalitions with other BRICS countries or by ditching the dollar. Because none of that stuff makes a damn bit of difference when your currency is in the toilet and the US is making every effort to grind your face into the pavement.
Capisce?
There's an expression is football that goes something like this: The best defense is a good offense. You can't win by sitting on the sidelines and hoping your team doesn't lose. You must engage your adversary at every opportunity never giving ground without a fight. And when an opening appears where you can take the advantage, you must act promptly and decisively never looking back and never checking your motives. That's how you win.
Washington only thinks in terms winning. It expects to win, and will do whatever is necessary to win. In fact, the whole system has been re-geared for one, sole purpose; to beat the holy hell out of anyone who gets out of line. That's what we do, and we've gotten pretty good at it. So, if you want to compete at that level, you've got to have "game". You're going to have to step up and prove that you can run with the big kids.
And that's what makes Putin's next move so important, crucial really. Because whatever he does will send a message to Washington that he's either up to the challenge or he's not. Which is why he needs to come out swinging and do something completely unexpected. The element of surprise, that's the ticket. And we're not talking about military action either. That just plays to Uncle Sam's strong hand. Putin doesn't need another Vietnam. He needs a coherent gameplan. He needs a winning strategy. He needs to takes risks, put it all on the line and roll the freaking dice. You can't lock horns with the US and play it safe. That's a losing strategy. This is smash-mouth, steelcage smackdown, a scorched-earth event where winner takes all. You have to be ready to rumble.
Putin needs to think asymmetrically. What would Obama do if he was in Putin's shoes?
You know what he'd do: He'd send military support to Assad. He'd arm rebel factions in Saudi Arabia, Somalia, Nigeria and elsewhere. He'd strengthen ties with Venezuela, Bolivia, Ecuador providing them with military, intelligence and logistical support. He'd deploy his NGOs and Think Tank cronies to foment revolution wherever leaders refused to follow Moscow's directives. He would work tirelessly to build the economic, political, media, and military institutions he needed to impose his own self-serving version of snatch-and-grab capitalism on every nation on every continent in the world. That's what Obama would do, because that's what his puppetmasters would demand of him.
But Putin must be more discreet, because his resources are more limited. But he still has options, like the markets, for example. Let's say Putin announces that creditors in the EU (particularly banks) won't be paid until the ruble recovers. How does that sound?
Putin: "We're really sorry about the inconvenience, but we won't be able to make those onerous principle payments for a while. Please accept our humble apologies." End of statement.
Moments later: Global stocks plunge 350 points on the prospect of a Russian default and its impact on the woefully-undercapitalized EU banking system.
Get the picture? That's what you call an asymmetrical attack. The idea was even hinted at in a piece on Bloomberg News. Here's an excerpt from the article:
"Sergei Markov, a pro-Putin academic, wrote in a column on Vzglyad.ru. "Since the reasons for the ruble's fall are political, the response should be political, too. For example, a law that would ban Russian companies from repaying debts to Western counterparties if the ruble has dropped more than 50 percent in the last year. That will immediately lower the pressure on the ruble, many countries have done this, Malaysia is one example. It's in great economic shape now." (Is Russia ready to impose capital controls? Chicago Tribune)
Here's more background from RT:
"Major banks across Europe, as well as the UK, US, and Japan, are at major risk should the Russian economy default, according to a new study by Capital Economics. The ING Group in the Netherlands, Raiffeisen Bank in Austria, Societe General in France, UniCredit in Italy, and Commerzbank in Germany, have all faced significant losses in the wake of the ruble crisis…

Overall Societe General, known as Rosbank in the Russian market, has the most exposure at US$31 billion, or €25 billion, according to Citigroup Inc. analysts. This is equivalent to 62 percent of the Paris-based bank's tangible equity, Bloomberg News reported.

Following the drop, Raiffeisen, which has €15 billion at risk in Russia, saw its stocks plummeted more than 10 percent. Raiffeisen also has significant exposure in Ukraine, which is facing a similar currency sell-off as Russia." (Russia crisis leaves banks around the world exposed by the billions, RT)
So Putin defaults which nudges the EU banking system down the stairwell. So what? What does that prove?
It proves that Russia has the tools to defend itself. It proves that Putin can disrupt the status quo and spread the pain a bit more equitably. "Spreading the pain" is a tool the US uses quite frequently in its dealings with other countries. Maybe Putin should take a bite of that same apple, eh?
Another option would be to implement capital controls to avoid ruble-dollar conversion and further capital flight. The beauty of capital controls is that they take power away from the big money guys who run the world and hand it back to elected officials. Leaders like Putin are then in a position to say, "Hey, we're going to take a little break from the dollar system for while until we get caught up. I hope you'll understand our situation."
Capital controls are an extremely effective of avoiding capital flight and minimizing the impact of a currency crisis. Here's a short summary of how these measures helped Malaysia muddle through in 1998:
"When the Asian financial crisis hit, Malaysia's position looked a lot like Russia's today: It had big foreign reserves and a low short-term debt level, but relatively high general indebtedness if households and corporations were factored in. At first, to bolster the ringgit, Deputy Prime Minister Anwar Ibrahim pushed through a market-based policy with a flexible exchange rate, rising interest rates and cuts in government spending. It didn't work: Consumption and investment went down, and pessimism prevailed, exerting downward pressure on the exchange rate.

So, in June 1998, Prime Minister Mahathir Mohammad… appointed a different economic point man, Daim Zainuddin. In September, on Daim's urging, Malaysia introduced capital controls. It banned offshore operations in ringgit and forbade foreign investors to repatriate profits for a year. Analysts at the time were sharply critical of the measures, and Malaysia's reputation in the global financial markets inevitably suffered.

According to Kaplan and Rodrik, however, the capital controls were ultimately effective. The government was able to lower interest rates, the economy recovered, the controls were relaxed ahead of time, and by May 1999 Malaysia was back on the international capital markets with a $1 billion bond issue." (Is Russia ready to impose capital controls, Chicago Tribune)
Sure they were effective, but they piss off the slacker class of oligarchs who think the whole system should be centered on their "inalienable right" to move capital from one spot to another so they can rake-off hefty profits at everyone else's expense. Capital controls push those creeps to the back of the line so the state can do what it needs to do to preserve the failing economy from the attack of speculators. Here's a clip from a speech Joseph Stiglitz gave in 2014 at the Atlanta Fed's 2014 Financial Markets Conference. He said:
"When countries do not impose capital controls and allow exchange rates to vary freely, this can give rise to high levels of exchange rate volatility. The consequence can be high levels of economic volatility, imposing great costs on workers and firms throughout the economy. Even if they can lay off some of the risk, there is a cost to doing so. The very existence of this volatility affects the structure of the economy and overall economic performance."
That sums it up pretty well. Without capital controls, the deep-pocket Wall Street banks and speculators can simply vacuum the money out of an economy leaving the country broken and penniless. This nihilistic decimation of emerging markets via capital flight is what the kleptocracy breezily refers to as "free markets", the unwavering plundering of civilization to fatten the coffers of the swinish few at the top of the foodchain. That's got to stop.
Putin needs to put his foot down now; stop the outflow of cash, stop the conversion of rubles to dollars, force investors to recycle their money into the domestic economy, indict the central bank governors and trundle them off to the hoosegow, and reassert the power of the people over the markets. If he doesn't, then the speculators will continue to peck away until Russia's reserves are drained-dry and the country is pushed back into another long-term slump. Who wants that?
And don't think that Putin's only problem is Washington either, because it isn't. He's got an even bigger headache in his own country with the morons who still buy the hogwash that "the market knows best." These are the fantasists, the corporate toadies, and the fifth columnists, some of whom hold very high office. Here's a clip I picked up at the Vineyard of the Saker under the heading "Medvedev declares: more of the same":
(Russian Prime Minister) "Medvedev has just called a government meeting with most of the directors of top Russian corporations and the director of the Russian Central Bank. He immediately announced that he will not introduce any harsh regulatory measures and that he will let the market forces correct the situation. As for the former Minister of Finance, the one so much beloved in the West, Alexei Kudrin, he expressed his full support for the latest increase in interest rates."
This is lunacy. The US has just turned Russia's currency into worthless fishwrap, and bonehead Medvedev wants to play nice and return to "business as usual"??
No thanks. Maybe Medvedev wants to be a slave to the market, but I'll bet Putin is smarter than that.
Putin's not going to roll over and play dead for these vipers. He's got to much on the ball for that. He's going to beat them at their own game, fair and square. He's going to implement capital controls, restructure the economy away from the west, and aggressively look for ways to deter Washington from spreading its heinous resource war to Central Asia and beyond.
He's not going to give an inch. You'll see.
US-Saudi Subterfuge Send Stocks and Credit Reeling…
U.S. powerbrokers have put the country at risk of another financial crisis to intensify their economic war on Moscow and to move ahead with their plan to "pivot to Asia".
Here's what's happening: Washington has persuaded the Saudis to flood the market with oil to push down prices, decimate Russia's economy, and reduce Moscow's resistance to further NATO encirclement and the spreading of US military bases across Central Asia. The US-Saudi scheme has slashed oil prices by nearly a half since they hit their peak in June. The sharp decline in prices has burst the bubble in high-yield debt which has increased the turbulence in the credit markets while pushing global equities into a tailspin. Even so, the roiled markets and spreading contagion have not deterred Washington from pursuing its reckless plan, a plan which uses Riyadh's stooge-regime to prosecute Washington's global resource war. Here's a brief summary from an article by F. William Engdahl titled "The Secret Stupid Saudi-US Deal on Syria":
"The details are emerging of a new secret and quite stupid Saudi-US deal on Syria and the so-called IS. It involves oil and gas control of the entire region and the weakening of Russia and Iran by Saudi Arabian flooding the world market with cheap oil. Details were concluded in the September meeting by US Secretary of State John Kerry and the Saudi King…

..the kingdom of Saudi Arabia, has been flooding the market with deep discounted oil, triggering a price war within OPEC… The Saudis are targeting sales to Asia for the discounts and in particular, its major Asian customer, China where it is reportedly offering its crude for a mere $50 to $60 a barrel rather than the earlier price of around $100. That Saudi financial discounting operation in turn is by all appearance being coordinated with a US Treasury financial warfare operation, via its Office of Terrorism and Financial Intelligence, in cooperation with a handful of inside players on Wall Street who control oil derivatives trading. The result is a market panic that is gaining momentum daily. China is quite happy to buy the cheap oil, but her close allies, Russia and Iran, are being hit severely…

According to Rashid Abanmy, President of the Riyadh-based Saudi Arabia Oil Policies and Strategic Expectations Center, the dramatic price collapse is being deliberately caused by the Saudis, OPEC's largest producer. The public reason claimed is to gain new markets in a global market of weakening oil demand. The real reason, according to Abanmy, is to put pressure on Iran on her nuclear program, and on Russia to end her support for Bashar al-Assad in Syria….More than 50% of Russian state revenue comes from its export sales of oil and gas. The US-Saudi oil price manipulation is aimed at destabilizing several strong opponents of US globalist policies. Targets include Iran and Syria, both allies of Russia in opposing a US sole Superpower. The principal target, however, is Putin's Russia, the single greatest threat today to that Superpower hegemony. (The Secret Stupid Saudi-US Deal on Syria, F. William Engdahl, BFP)
The US must achieve its objectives in Central Asia or forfeit its top-spot as the world's only superpower. This is why US policymakers have embarked on such a risky venture. There's simply no other way to sustain the status quo which allows the US to impose its own coercive dollar system on the world, a system in which the US exchanges paper currency produced-at-will by the Central Bank for valuable raw materials, manufactured products and hard labor. Washington is prepared to defend this extortionist petrodollar recycling system to the end, even if it means nuclear war.
How Flooding the Market Adds to Instability
The destructive and destabilizing knock-on effects of this lunatic plan are visible everywhere. Plummeting oil prices are making it harder for energy companies to get the funding they need to roll over their debt or maintain current operations. Companies borrow based on the size of their reserves, but when prices tumble by nearly 50 percent–as they have in the last six months– the value of those reserves falls sharply which cuts off access to the market leaving CEO's with the dismal prospect of either selling assets at firesale prices or facing default. If the problem could be contained within the sector, there'd be no reason for concern. But what worries Wall Street is that a surge in energy company failures could ripple through the financial system and wallop the banks. Despite six years of zero rates and monetary easing, the nation's biggest banks are still perilously undercapitalized, which means that a wave of unexpected bankruptcies could be all it takes to collapse the weaker institutions and tip the system back into crisis. Here's an excerpt from a post at Automatic Earth titled "Will Oil Kill the Zombies?":
"If prices fall any further, it would seem that most of the entire shale edifice must of necessity crumble to the ground. And that will cause an absolute earthquake in the financial world, because someone supplied the loans the whole thing leans on. An enormous amount of investors have been chasing high yield, including many institutional investors, and they're about to get burned something bad….. if oil keeps going the way it has lately, the Fed may instead have to think about bailing out the big Wall Street banks once again." (Will Oil Kill the Zombies?, Raúl Ilargi Meijer, Automatic Earth)
The problem with falling oil prices is not just mounting deflation or droopy profits; it's the fact that every part of the industry–exploration, development and production — is propped atop a mountain of red ink (junk bonds). When that debt can no longer be serviced or increased, then the primary lenders (counterparties and financial institutions) sustain heavy losses which domino through the entire system. Take a look at this from Marketwatch:
"There's 'no question' that for energy companies with a riskier debt profile the high-yield debt market "is essentially shut down at this stage," and there are signs that further pain could hit the sector, " senior fixed-income strategist at U.S. Bank Wealth Management, Dan Heckman told Marketwatch. "We are getting to the point that it is becoming very concerning." (Marketwatch)
When energy companies lose access to the market and are unable to borrow at low rates, it's only a matter of time before they trundle off to extinction.
On Friday, the International Energy Agency (IEA) renewed pressure on prices by lowering its estimate for global demand for oil in 2015. The announcement immediately sent stocks into a nosedive. The Dow Jones Industrial Average (DJIA) lost 315 points by the end of the day, while, according to Bloomberg, more than "$1 trillion was erased from the value of global equities in the week".
The world is awash in cheap petroleum which is wreaking havoc on domestic shale producers that need prices of roughly $70 per barrel to break-even. With West Texas Intermediate (WTI) presently headed south of 60 bucks–and no bottom in sight–these smaller producers are sure to get clobbered. Pension funds, private equity, banks, and other investors who gambled on these dodgy energy-related junk bonds are going to get their heads handed to them in the months ahead.
The troubles in the oil patch are mainly attributable to the Fed's easy money policies. By dropping rates to zero and flooding the markets with liquidity, the Fed made it possible for every Tom, Dick and Harry to borrow in the bond market regardless of the quality of the debt. No one figured that the bottom would drop out leaving an entire sector high and dry. Everyone thought the all-powerful Fed could print its way out of any mess. After last week's bloodbath, however, they're not nearly as confident. Here's how Bloomberg sums it up:
"The danger of stimulus-induced bubbles is starting to play out in the market for energy-company debt….Since early 2010, energy producers have raised $550 billion of new bonds and loans as the Federal Reserve held borrowing costs near zero, according to Deutsche Bank AG. With oil prices plunging, investors are questioning the ability of some issuers to meet their debt obligations…

The Fed's decision to keep benchmark interest rates at record lows for six years has encouraged investors to funnel cash into speculative-grade securities to generate returns, raising concern that risks were being overlooked. A report from Moody's Investors Service this week found that investor protections in corporate debt are at an all-time low, while average yields on junk bonds were recently lower than what investment-grade companies were paying before the credit crisis." (Fed Bubble Bursts in $550 Billion of Energy Debt: Credit Markets, Bloomberg)
The Fed's role in this debacle couldn't be clearer. Investors piled into these dodgy debt-instruments because they thought Bernanke had their back and would intervene at the first sign of trouble. Now that the bubble has burst and the losses are piling up, the Fed is nowhere to be seen.
In the last week, falling oil prices have started to impact the credit markets where investors are ditching debt on anything that looks at all shaky. The signs of contagion are already apparent and likely to get worse. Investors fear that if they don't hit the "sell" button now, they won't be able to find a buyer later. In other words, liquidity is drying up fast which is accelerating the rate of decline. Naturally, this has affected US Treasuries which are still seen as "risk free". As investors increasingly load up on USTs, long-term yields have been pounded into the ground like a tentpeg. As of Friday, the benchmark 10-year Treasury checked in at a miniscule 2.08 percent, the kind of reading one would expect in the middle of a Depression.
The Saudi-led insurgency has reversed the direction of the market, put global stocks into a nosedive and triggered a panic in the credit markets. And while the financial system edges closer to a full-blown crisis every day, policymakers in Washington have remained resolutely silent on the issue, never uttering as much as a peep of protest for a Saudi policy that can only be described as a deliberate act of financial terrorism.
Why is that? Why have Obama and Co. kept their mouths shut while oil prices have plunged, domestic industries have been demolished, and stocks have gone off a cliff? Could it be that they're actually in cahoots with the Saudis and that it's all a big game designed to annihilate enemies of the glorious New World Order?
It certainly looks that way.
Putin Gobsmacks Obama and Euro-Leaders with Surprise Gas Deal…
On Monday, Russian President Vladimir Putin clinched a groundbreaking deal with Turkish President Recep Tayyip Erdoğan that will strengthen economic ties between the two nations and make Turkey the major hub for Russian gas in the region. Under the terms of the agreement, Russia will pump additional natural gas to locations in central Turkey and to a "hub at the Turkish-Greek border" which will eventually provide Putin with backdoor access to the lucrative EU market, although Turkey will serve as the critical intermediary. The move creates a de facto Russo-Turkey alliance that could shift the regional balance of power decisively in Moscow's favor, thus creating another formidable hurtle for Washington's "pivot to Asia" strategy.  While the media is characterizing the change in plans (Putin has abandoned the South Stream pipeline project that would have transported gas to southern Europe) as a "diplomatic defeat" for Russia, the opposite appears to be the case.  Putin has once again outmaneuvered the US on both the energy and geopolitical fronts adding to his long list of policy triumphs. Here's a brief summary from Andrew Korybko at Sputnik News:
"Russia has abandoned the troubled South Stream project and will now be building its replacement with Turkey. This monumental decision signals that Ankara has made its choice to reject Euro-Atlanticsm and embrace Eurasian integration.

In what may possibly be the biggest move towards multipolarity thus far,..Turkey, has done away with its former Euro-Atlantic ambitions. A year ago, none of this would have been foreseeable, but the absolute failure of the US' Mideast policy and the EU's energy one made this stunning reversal possible in under a year. Turkey is still anticipated to have some privileged relations with the West, but the entire nature of the relationship has forever changed as the country officially engages in pragmatic multipolarity.

Turkey's leadership made a major move by sealing such a colossal deal with Russia in such a sensitive political environment, and the old friendship can never be restored…The reverberations are truly global."  ("Cold Turkey: Ankara Buckles Against Western Pressure, Turns to Russia", Sputnik News)
Korybko seems to be alone in grasping the magnitude of what happened in Ankara on Monday, although –judging by the Obama administration's silence on the topic–the gravity of the transaction is beginning to sink in.  Grandmaster Vlad's latest move has caught US powerbrokers flat-footed and left them speechless. This is a scenario that no one had anticipated and, if it's not handled correctly, could turn out to be a real nightmare. Here's more on Monday's press conference from Russia Today:
"Putin said that Russia is ready to build a new pipeline to meet Turkey's growing gas demand, which may include a special hub on the Turkish-Greek border for customers in southern Europe.

For now, the supply of Russian gas to Turkey will be raised by 3 billion cubic meters via the already operating Blue Stream pipeline…Moscow will also reduce the gas price for Turkish customers by 6 percent from January 1, 2015, Putin said.

"We are ready to further reduce gas prices along with the implementation of our joint large-scale projects," he added."  ("Putin: Russia forced to withdraw from S. Stream project due to EU stance", RT)
How can this happen? How can Putin waltz into Ankara, scribble his name on a few sheets of paper, and abscond with a key US ally right under Washington's nose?  Isn't there anyone at the White House who's smart enough to anticipate a scenario like this or have they all been replaced with warmongering ding-dongs like Susan Rice and Samantha Powers?
The Obama administration has been doing everything in its power to control the flow of gas from east to west and to undermine Russian-EU economic integration. Now it looks like the nimble Putin has found a way to avoid the economic sanctions, (Turkey rejected sanctions on Russia)  avoid US coercion and blackmail (which was used on Bulgaria, Hungary, and Serbia), and avoid Washington's endless belligerence and hostility, and achieve his objectives at the same time.   But– then again– isn't that what you'd expect from a level-headed martial arts pro like Putin?
"I won't beat you," says Bad Vlad.  "I'll let you to beat yourself."
And, so he has. Just ask the befuddled Obama who has yet to prevail in any of his encounters with Putin.
But why the silence? Why hasn't the White House issued a statement about the big Russian-Turkey gas deal that everyone's talking about?
I'll tell you why. It's because they don't know what the hell just hit them, that's why. They were completely blindsided by the announcement and can't quite figure out what it means for the issues that are on the very top of their foreign policy agenda, like the pivot to Asia, or the wars in Syria and Ukraine, or the much-ballyhooed gas pipeline from Qatar to the EU, that was supposed to transit– you guessed it– Turkey.  Is that plan still in the works or has the Putin-Erdogan alliance put the kibosh on that gem too?   Let's face it, Putin has really knocked it out of the park this time. Team Obama is clearly out of its league and has no idea of what's going on. If Turkey turns eastward and joins the growing Russian bloc, US policymakers are going to have to scrap the better part of their strategic plans for the coming century and go back to Square 1. What a headache.
There's a good article in Wednesday's New York Times that summarizes Washington's ambivalence towards South Stream perfectly. Here's an excerpt:
"Moscow has long presented the project, proposed in 2007, as making good business sense because it would provide a new route for Russian gas to reach Europe. Washington and Brussels have opposed the project on the grounds that it was a vehicle for cementing Russian influence over southern Europe and for bypassing Ukraine, whose price disputes with Gazprom twice interrupted supplies to Europe in recent years."

Putin's Surprise Call to Scrap South Stream Gas Pipeline Leaves Europe Reeling", New York Times)
This has been the argument from the get-go, that selling gas to people in the EU somehow strengthens Putin's maniacal grip on the continent. What a joke. Would you, dear reader, be willing turn off the heat, tear up your energy bill, and freeze to death in the dark to prove to your gas company that you're not willing to capitulate to their tyrannical rule?
Of course not, because the idea is ridiculous. Just like blocking South Stream is ridiculous. Putin is selling gas, not tyranny.  He doesn't want people clicking their heels and goosestepping to work. That's just propaganda from the people in the oil industry who lost the competition for supplying fuel to the EU. Call it sour grapes if you want, because that's what it is. Their pipeline failed, (Nabucco) and Putin's won. End of story. It's called capitalism. Deal with it.
And here's another thing: The countries that South Stream would have served, do not have a back-up supplier to meet their growing gas needs. So by following Washington's lead, they've basically shot themselves in the foot. Analysts figure that any replacement for Russian gas will probably be 30 percent more expensive then they would have paid Gazprom.
Hurrah for the US! Hurrah for stupidity!
The US has been determined to sabotage South Stream from the very beginning, mainly because Washington wants its corporations and banks to control the flow of gas to the EU market through privately-owned pipelines in Ukraine. That way they can rake in bigger profits for their moneybags shareholders. Without going into too much detail about the various methods the US has used to torpedo the project, there's one story that's worth a look. This is from Zero Hedge:
"…two months before the Ukraine government was overthrown the prime  minister of Bulgaria, Plamen Oresharski,  ordered a halt to work on the South Stream on the recommendation of the EU. The decision was announced after his talks with US senators.

"At this time there is a request from the European Commission, after which we've suspended the current works, I ordered it," Oresharski told journalists after meeting with John McCain, Chris Murphy and Ron Johnson during their visit to Bulgaria on Sunday. "Further proceedings will be decided after additional consultations with Brussels."

At the time McCain, commenting on the situation, said that "Bulgaria should solve the South Stream problems in collaboration with European colleagues," adding that in the current situation they would want "less Russian involvement" in the project.

"America has decided that it wants to put itself in a position where it excludes anybody it doesn't like from countries where it thinks it might have an interest, and there is no economic rationality in this at all," (said)Ben Aris, editor of Business New Europe told RT."  ("Europe Gives Bulgaria A Bank System Lifeline As Battle Over "South Stream" Pipeline Heats Up", Zero Hedge)
Let me get this straight: Madman McCain strolls into town and immediately starts ordering people around telling them he wants  "less Russian involvement", and that's enough to bring South Stream to a screeching halt? Is that what you're telling me?
Yep. Sure sounds like it.
Does that help you see what's really going here? This isn't about Putin. It's about gas, and who's going to profit from that gas, and in whose currency that gas will be denominated. That's what it's about. The rest of the nonsense about "Russian involvement" or terrorism or human rights or national sovereignty is just gibberish. The people who run this country (like McCain), don't care about that kind of stuff.  What they care about is money; money and power. That's it.
So what are they going to do now?  How are the big powerboys in Washington going to express their rage over this new threat created by Putin and Erdogan?
It doesn't take a genius to figure that one out, after all, we've seen it a million times before.
They're going to go after Erdogan hammer and tongs. That's what they always do, isn't it?
The only reason they haven't started in already is because they're getting their propaganda ducks in a row, which usually takes a day or two. But as soon as that's taken care of, they'll start dismantling old Recep one excruciating headline at a time. Erdogan is going to be the new Hitler and the greatest threat to humanity the world has ever seen.  You can bet on it.
Whistleblower Sibel Edmonds thinks that Washington has had-it-in for Erdogan a long time now, dating back to a  dust up he had with the CIA a few years back. In any event, she gives a pretty good account of what we can expect now that Erdogan is on Washington's enemies list.  Here's a clip from her post at Boiling Frogs:
"We all know what happens to those puppets when they end up in a rift with the CIA. Don't we? The rift always brings expiration. Once a puppet is considered expired, then lo and behold, all of a sudden, the reversal branding and marketing begins: All old skeletons are dug out of the deep closets and leaked to the media. His previously overlooked human rights violations are looked at and scrutinized under a microscope. The terrorist card is brought into the equation. And the list goes on…

… All Empire-installed puppets and regimes must commit to the Empire's commandments….Thou shall not violate the Imperial commandments. Because if you do, thou shall be disgraced, exposed, uninstalled, and may even be given death. All you have to do is look at the past century's history. See what happens when an installed puppet gets too confident and inflicted with hubris, and ignores one or more commandments. This is when they are reborn as dictators, despots, torturers, and yes, terrorists. This is when their backyards get dug up to find a few grams of weapons of mass destruction."…

No matter how we look at it Erdogan's days are numbered … Anyone who ever dares to be this reckless will be punished and made an example for all other installed-puppets…"  ("Turkish PM Erdogan: The Speedy Transformation of an Imperial Puppet", BFP)
So there it is. That's what you can expect by the end of the week when the media starts their full-throttle demonizing of Erdogan, the man who dared to act independently and put the interests of his own people above those of the Washington mob bosses.  As anyone who's followed US foreign policy for the last 60 years will tell you; that's a big no-no.
Anyone who follows the news regularly, knows that the media has done everything in its power to smear Vladimir Putin and to demonize him as a tyrant and a thug. Fortunately, most people aren't buying it.
Yes, I've seen the polls that say that Putin and Russia are viewed "less favorably" than they were prior to the crisis in Ukraine. In fact, here's a clip from a recent PEW survey which seems to prove that I'm wrong:
"Across the 44 countries surveyed, a median percentage of 43% have unfavorable opinions of Russia, compared with 34% who are positive.

Negative ratings of Russia have increased significantly since 2013 in 20 of the 36 countries surveyed…

Americans and Europeans in particular have soured on Russia over the past 12 months. More than six-in-ten in Poland, Germany, Italy, Spain, France, the U.S. and the UK have an unfavorable image of Russia. And in all but one of these countries negative reviews are up by double digits since last year, including by 29 percentage points in the U.S., 27 points in Poland, 24 points in the UK and 23 points in Spain." (Russia's Global Image Negative amid Crisis in Ukraine: Americans' and Europeans' Views Sour Dramatically, PEW Research)
These results strongly suggest that the public blames Moscow for the fighting in Ukraine and (presumably)agrees with the prevailing storyline that Putin is a vicious aggressor who seized Crimea in order to rebuild the Soviet Empire. The problem with the PEW survey is that the results are based random samples of nationwide face-to-face or telephone interviews.
Why is that a problem?
It's a problem because the man-on-the-street hasn't the foggiest idea of what's going on in Ukraine. All he knows is what he's heard on TV. So, naturally, when he's asked to offer his opinion on the matter, he's going to regurgitate some variation of the official version, which is that Putin is responsible.
But try asking someone who's actually been following events in Ukraine that same question, and you're going to get an entirely different answer. Among the people who follow the daily developments in Ukraine, roughly two out of three support the Russian position. This isn't something you're going to find in the survey data, but if you take the time to comb the comments lines in the international media, you'll see what I'm saying is true.
I hadn't figured this out until last week's G-20 Summit in Brisbane when Canada's PM Stephen Harper brusquely greeted Putin saying, "I guess I'll shake your hand, but I only have one thing to say to you: you need to get out of Ukraine."
The incident immediately became headline news around the world as journalists for all the major media heaped praise on Harper for courageously "shirt-fronting" the dastardly Putin. What was left out in the media's account of the exchange, was Putin's crisp retort, which was, "Unfortunately it is impossible, (for us to leave Ukraine) because we are not there."
Touché. As you might expect, Putin's response did not fit with the media's narrative, so it was scrubbed from the coverage altogether.
The Harper incident was a particularly big deal in Canada where all the newspapers ran gushing articles lauding the prime minister for his righteousness and fortitude. Oddly enough, however, only a small percentage of the people who commented on the dust-up, saw Harper as the hero. Here's a few samples of what ordinary people had to say. This is from BobsOpinion:
"Harper embarrasses Canadians again on the international stage. It will take years for Canadians to re-build our international relationships and to re-build our reputation."
This comment is from redondex:
"Harper made a childish and baseless remark to Putin and walked off with a grin of a proud five year old spoilt kid. All Harper achieved was to ridicule himself in front of the rest of the world. That is our leaders usual behavior."
This is from Makman1:
"I was under the impression that a proper democracy would first use negotiating as a way to understand the divergent groups involved in the Ukrainian revolution and then apply a political solution, if possible. The present Ukrainian government immediately used force. PERIOD! The Harper government, instead of using its "influence" to attempt to defuse a complex situation blindly followed the actions of the USA. If Harper really cared at all he would ask his foreign minister to get directly involved with Russian and Ukrainian counterparts and help reach a compromise…. Hopefully, Harper is not supporting Ukrainian right wing fascists?"
This is from Jörð:
"It's not wise for Harper to follow America's lead on every foreign policy. The USA government has a terrible track record when it comes to getting things right in foreign lands. Also Putin was correct when he responded to Harper's comment by saying "It's impossible, we are not there." Technically Russia is not "In" the Ukraine."
This is Time4Change:
"This is another example of Harper BLUSTERING backed with NO SUBSTANCE! Why are there NO SANCTIONS on the Russian Energy Giants Rosneft and Rostec? Could it be the hundreds of billions of $s the Russians have invested in the tar sands have caused Harper to be the SOFTEST on ACTIONS while shouting the loudest."
And this is from Mt Athabaska:
" …one day Harper will reach puberty on global affairs."
It's worth noting that these comments were lifted from article that was published by the Canadian Broadcasting Corporation. I was shocked at how harshly Harper was criticized by his own countrymen. I was also surprised that the author's obvious anti-Putin bias had virtually no impact on the opinions of the people who commented on the incident. In fact, it appeared to make many of them mad.
I should also mention that I omitted all of the comments that lambasted Harper for hiding in a broom closet "while a gun battle ensued in a nearby hallway of the Parliament building in Ottawa" in early October. (See here: Needless to say, Harper's comical performance at the G-20 hasn't convinced anyone that he's the courageous leader he imagines himself to be.)
The media is increasingly worried that it's losing its ability to persuade people to support policies that only serve the interests of elites. The media has rolled out all the heavy artillery in its campaign to demonize Putin, but the strategy hasn't worked. In fact, it's backfired quite badly leading some publications to cancel their comments section altogether.
And the response from readers has been huge too, mainly because the standoff between two nuclear-armed adversaries has galvanized the publics' attention. For example, in the CBC article I cited above, more than 2,500 comments have been posted already, while many of the other articles on Ukraine or Putin have exceeded 6,000 comments. This just shows how closely people are following events and how passionate they feel about the policy.
And, as we said earlier, this isn't just a Canadian phenom either. For example, here are a few of the comments I picked up from an article in the conservative UK Telegraph in an article titled Global economy to suffer as Putin quits G20 early.
Zeug Gezeugt:
"The US supports the neo-Nazi ethnic cleansing campaign in east Ukraine, Russia supports the Russian speaking Ukrainian majority in the east against it. Pretty simple really, and the US enforced sanctions can only harm EU Russian relations, a win-win all round for the neoconservative hawks."
Pamela Cohen:
"So, the media tells us in the Title that Putin is to blame when the Global economy suffers, because he left the G20 early. What stupidity. And what a statement in bringing warships as their targeted President attends yet another meeting. Good for Putin. Blame the US-backed coup and looting and 4000 deaths on Putin, and blame the Ukrainian plane that shot down a passenger flight on him, too. Then shun him at a world meeting, as if he doesn't have the right and responsibility to defend his country's borders, Naval base, pipeline and brothers in the Ukraine as they are shelled and killed by US manipulation.
Instead of shock and awe and intruding where they didn't belong like the US in all the Mid-Eastern countries according to long-ago made plans, Putin sends humanitarian aid and the people vote in Donetsk and Luhansk.
Putin-not all Americans are stupid sheep. My apologies for the onslaught of ignorance and imperialism. You are standing up to bullies of the worst kind. The world needs peaceful solutions to restore the harm of NWO fanaticism and corrupt bankers. Hold the line."
MP Jones: "The US never ended the cold war and the 'useful idiots' in this context are us in Europe and the UK."
Richard N:
"Most British people are deeply unconvinced by the flood of US and EU propaganda over Ukraine, trying to cast Russia as the villain – when the civil war there was caused directly by the US and their EU side kicks backing a coup to overthrow the elected government of a sovereign country, Ukraine."
timepass:
"With due respect to the author, you say that his (Putin's) popularity will rise at home as a consequence of this. Please read the message boards North American and European, you will find his popularity seems to have increased everywhere.
Guess the Brains behind 5 eyes and snooping will now have to move into the new reality of the power of the internet to provide information which they would not like others to get. Just a question of time before they make their next move – Censorship!"
Busufi:
"If, the 'Seven Dwarfs' (US, UK, EU, Japan, Australia, Canada, and South Africa) like bullies, weren't so obsessed with beating Russia or China into a corner, rather than bringing Russia or China into their corner; the world would be a better place. Co-operation works better than devastation."
John Derbyshire :
"Why all this Anti Russian propaganda. The fools who run the West keep creating bogeymen Bin Laden, ISIS, oddly both had connections to Western Powers. So as we face an economic down in the world economy we need another bogeyman, and up pops Putin in the Capitalist controlled media!
People seem to have short memories of pre Putin era, when Yeltsin backed by the West led the country to economic meltdown. Maybe he has scant regard for democratic institutions, but do Western governments support the views of the people!
All of this came about when the United States pushed Nato's borders eastward and involved themselves in the Ukraine, particularly Mr Kerry. Russia felt itself threatened not by demands of democracy a device used by the worlds superpower, but the growing influence of the United States in the region. The fact that the USA exploited ethnic tensions only shows what was their intention in the region."
petergardener:
"If the objective is to make Mr Putin appear isolated on the world stage in order to make him less popular at home, it isn't working and also shows a profound misunderstanding of the Russian mind-set. '
Our Western political leaders also have a profound misunderstanding of strategy. Just about everything they do in relation to Russia is wrong and gains the West nothing. But they do like willy waving. Just a pity they do so much damage while they are at it."
RedBaron9495: "With the public, the effect is rebounding and probably starting to gain Putin more support and worldwide sympathy. This British news forum is good example of that. They made the mistake of going into overkill…..and the public are wising up to the propaganda. They seen this all before prior to Iraq 2003 invasion…and again with Gaddafi."
Circle of DNA :
"Well, the lives of average folks in Russia has been drastically improved since Putin took the reins of power. He defends Russian interests, fights the empire of chaos, and is massively supported by his people. He is also well educated and a first class statesmen. What is there not to like about him?"
Alltaxationistheft: "The Russian people appreciate how lucky they've been for Vladimir Putin to be around at the right time to resist the Neocon supremacist Wolfowitz doctrine…
Since the 1990s , the war mongering maniacs in the West have been planning to asset strip, and plunder Russia via "liberal democracy", claiming its natural resources while funding serial inter-ethnic tribal wars via US allies Qatar and Saudi Arabia…
In the 1990s, Russian people were driven into starvation ,prostitution and suicide under pro American "Liberal" US corporate puppet Yeltsin… but Putin kicked the CIA EU Mossad lunatics out and has been re-building a Russia into a world power ever since."
anonymous:
"The classless western free (loading) world that produces very little except paper currency, lies and bullshit. I am surprised Mr. Putin came and surrounded himself with such low life scum.
When all the western oligarchs hate someone as much as they hate President Putin, you know he has to be doing something right."
There's no need to be selective. Curious readers should go to any editorial platform that covers the crisis in Ukraine and judge for themselves if what I'm saying is true or not. The comments above are in no way extraordinary. What they do show, however, is that the media is losing the propaganda war in pretty stunning fashion, and that's a huge victory for ordinary people. It's very difficult for elites to prosecute their criminal wars or implement their rip-off economic policies when people can clearly see what they're up to.
Now check out this article in the German paper Zeit Online where the author bemoans the media's loss of influence. The article is titled "How Putin Divides":
"Why do so many German citizens judge the crisis in Crimea in a completely different way than politicians and the media?
In my 30 years of experience with debates, I have never seen anything like what is now happening in Germany in the dispute over Russia and Crimea….
Unless surveys are misleading, two-thirds of German citizens, voters and readers stand opposed to four-fifths of the political class – in other words, to the government, to the overwhelming majority of members of parliament and to most newspapers and broadcasters. But what does "stand" mean? Many are downright up in arms. And from what one can gauge from letters to the editor, the share of critics seems significantly higher now than what was triggered by Sarrazin's inflammatory book back then." (Zeit Online)
Did you catch that part about the "two-thirds of German citizens.. stand opposed to four-fifths of the political class…and to most newspapers and broadcasters"?
That's a triumph in itself, isn't it? And what is the issue they disagree about?
They disagree "about the conflict between an aggressive autocrat (Bad Vlad) and Western democracies."(the Washington-led troublemakers)
Here's more from the same article:
"…the legitimacy of international law is being questioned in an offensive manner, while the legitimacy of Putin's nationalist-imperialist ideology is being seriously considered….. It doesn't do any good to accuse the majority of sheepishness or base economic selfishness, even if that seems to be the driving motive of some business leaders… The issue goes deeper, much deeper." (How Putin Divides, Von Bernd Ulrich, Zeit Online)
"The legitimacy of international law is being questioned"?!?
Have you ever read such crybaby gibberish in your life?
Why is "the legitimacy of international law is being questioned"? Because people don't accept blindly what they read the papers and hear on the news anymore? Because corporate editors no longer control how people think about issues? Because people are using their critical thinking skills to see through the lies and bullshit that idiots like the author ladle out in heaping doses every day? Is that why?
It seems to me that that's a positive development, that people should question whatever they read in the papers and look for other sources of information before they form an opinion.
The bottom line is that no one believes the goofy propaganda the western media is trying to ram down the everyone's throat anymore.
As kyle555 at Zero Hedge says: "India, China, Brazil and a host of other countries, representing more than half the world's population, aren't buying the western imperialist narrative on Ukraine. Nor are major segments of the domestic populations of the countries that are warmongering against Russia."
Nor do they believe that US wars are a force for good in the world. Here's strannick at Zero Hedge:
"Russia has seen firsthand the American dream for other nations, as American backed Oligarchs pillaged Russia while it's people starved and were impoverished. Putin loves his country, and won't sit on his thumbs while America attempts to encircle it through proxies while rationalizing its actions through corrupt MSMedia propaganda."
Nor are they buying the "Putin is Hitler" crappola.
This is from smacker:
"People see in Putin a proud national leader who has the guts to stand up to our own criminals and who has over 80% support from his own population. That is enough to admire the guy, whatever else he might be."
This is from Gaius frakkin':
"A lot of the hatred from the political puppets in the West is due to Putin's popularity. They're jealous sociopaths who yearn to be respected and admired as much as him. The fact that Putin's popularity is never mentioned is the key tell."
And this from Joe Tierney:
"Vladdy-Poot is hammering home the point that the euros need to stop being America's bitches, think for themselves, consider the terrible "costs" accruing to them for "wearing the blue dress" for America.
…America's "global chaos ploy" is failing. Its cynical, "throw everyone under the bus" strategy just to cut across the rise of Russia-China is exposed for what it is – America cares nothing about the euros or anyone else. All it cares about is its own global dominance in perpetuity, no matter the "costs" to the rest of the world, including its friends and allies.
Putin has balls the size of the moon, and you can damn well bet that right now Russia and Putin are secretly being cheered on a grand scale around the globe."
There's a reason why, according to Gallup, Trust in Media (is at an) All-Time Low. It's because the corporate media is the most perfidious, double-dealing, hypocritical institution in the country today. That's why the anti-Putin propaganda has fallen on deaf ears. It's because most people know you can't believe anything you read in the news.
"Russia reinforced what Western and Ukrainian officials described as a stealth invasion on Wednesday [August 27], sending armored troops across the border as it expanded the conflict to a new section of Ukrainian territory. The latest incursion, which Ukraine's military said included five armored personnel carriers, was at least the third movement of troops and weapons from Russia across the southeast part of the border this week."
None of the photos accompanying this New York Times story online showed any of these Russian troops or armored vehicles.
"The Obama administration," the story continued, "has asserted over the past week that the Russians had moved artillery, air-defense systems and armor to help the separatists in Donetsk and Luhansk. 'These incursions indicate a Russian-directed counteroffensive is likely underway', Jen Psaki, the State Department spokeswoman, said. At the department's daily briefing in Washington, Ms. Psaki also criticized what she called the Russian government's 'unwillingness to tell the truth' that its military had sent soldiers as deep as 30 miles inside Ukraine territory."
Thirty miles inside Ukraine territory and not a single satellite photo, not a camera anywhere around, not even a one-minute video to show for it. "Ms. Psaki apparently [sic] was referring to videos of captured Russian soldiers, distributed by the Ukrainian government." The Times apparently forgot to inform its readers where they could see these videos.
"The Russian aim, one Western official said, may possibly be to seize an outlet to the sea in the event that Russia tries to establish a separatist enclave in eastern Ukraine."
This of course hasn't taken place. So what happened to all these Russian soldiers 30 miles inside Ukraine? What happened to all the armored vehicles, weapons, and equipment?
"The United States has photographs that show the Russian artillery moved into Ukraine, American officials say. One photo dated last Thursday, shown to a New York Times reporter, shows Russian military units moving self-propelled artillery into Ukraine. Another photo, dated Saturday, shows the artillery in firing positions in Ukraine."
Where are these photographs? And how will we know that these are Russian soldiers? And how will we know that the photos were taken in Ukraine? But most importantly, where are the fucking photographs?
Why am I so cynical? Because the Ukrainian and US governments have been feeding us these scare stories for eight months now, without clear visual or other evidence, often without even common sense. Here are a few of the many other examples, before and after the one above:
The Wall Street Journal (March 28) reported: "Russian troops massing near Ukraine are actively concealing their positions and establishing supply lines that could be used in a prolonged deployment, ratcheting up concerns that Moscow is preparing for another [sic] major incursion and not conducting exercises as it claims, US officials said."
"The Ukrainian government charged that the Russian military was not only approaching but had actually crossed the border into rebel-held regions." (Washington Post, November 7)
"U.S. Air Force Gen. Philip M. Breedlove told reporters in Bulgaria that NATO had observed Russian tanks, Russian artillery, Russian air defense systems and Russian combat troops enter Ukraine across a completely wide-open border with Russia in the previous two days." (Washington Post, November 13)
"Ukraine accuses Russia of sending more soldiers and weapons to help rebels prepare for a new offensive. The Kremlin has repeatedly denied aiding the separatists." (Reuters, November 16)
Since the February US-backed coup in Ukraine, the State Department has made one accusation after another about Russian military actions in Eastern Ukraine without presenting any kind of satellite imagery or other visual or documentary evidence; or they present something that's very unclear and wholly inconclusive, such as unmarked vehicles, or unsourced reports, or citing "social media"; what we're left with is often no more than just an accusation. The Ukrainian government has matched them.
On top of all this we should keep in mind that if Moscow decided to invade Ukraine they'd certainly provide air cover for their ground forces. There has been no mention of air cover.
This is all reminiscent of the numerous stories in the past three years of "Syrian planes bombing defenseless citizens". Have you ever seen a photo or video of a Syrian government plane dropping bombs? Or of the bombs exploding? When the source of the story is mentioned, it's almost invariably the rebels who are fighting against the Syrian government. Then there's the "chemical weapon" attacks by the same evil Assad government. When a photo or video has accompanied the story I've never once seen grieving loved ones or media present; not one person can be seen wearing a gas mask. Is it only children killed or suffering? No rebels?
And then there's the July 17 shootdown of Malaysia Flight MH17, over eastern Ukraine, taking 298 lives, which Washington would love to pin on Russia or the pro-Russian rebels. The US government – and therefore the US media, the EU, and NATO – want us all to believe it was the rebels and/or Russia behind it. The world is still waiting for any evidence. Or even a motivation. Anything at all. President Obama is not waiting. In a talk on November 15 in Australia, he spoke of "opposing Russia's aggression against Ukraine – which is a threat to the world, as we saw in the appalling shoot-down of MH17". Based on my reading, I'd guess that it was the Ukranian government behind the shootdown, mistaking it for Putin's plane that reportedly was in the area.
Can it be said with certainty that all the above accusations were lies? No, but the burden of proof is on the accusers, and the world is still waiting. The accusers would like to create the impression that there are two sides to each question without actually having to supply one of them.
The United States punishing Cuba
For years American political leaders and media were fond of labeling Cuba an "international pariah". We haven't heard that for a very long time. Perhaps one reason is the annual vote in the United Nations General Assembly on the resolution which reads: "Necessity of ending the economic, commercial and financial embargo imposed by the United States of America against Cuba". This is how the vote has gone (not including abstentions):

This year Washington's policy may be subject to even more criticism than usual due to the widespread recognition of Cuba's response to the Ebola outbreak in Africa.
Each fall the UN vote is a welcome reminder that the world has not completely lost its senses and that the American empire does not completely control the opinion of other governments.
Speaking before the General Assembly before last year's vote, Cuban Foreign Minister Bruno Rodriguez declared: "The economic damages accumulated after half a century as a result of the implementation of the blockade amount to $1.126 trillion." He added that the blockade "has been further tightened under President Obama's administration", some 30 US and foreign entities being hit with $2.446 billion in fines due to their interaction with Cuba.
However, the American envoy, Ronald Godard, in an appeal to other countries to oppose the resolution, said:
The international community … cannot in good conscience ignore the ease and frequency with which the Cuban regime silences critics, disrupts peaceful assembly, impedes independent journalism and, despite positive reforms, continues to prevent some Cubans from leaving or returning to the island. The Cuban government continues its tactics of politically motivated detentions, harassment and police violence against Cuban citizens.
So there you have it. That is why Cuba must be punished. One can only guess what Mr. Godard would respond if told that more than 7,000 people were arrested in the United States during the Occupy Movement's first 8 months of protest in 2011-12 ; that many of them were physically abused by the police; and that their encampments were violently destroyed.
Does Mr. Godard have access to any news media? Hardly a day passes in America without a police officer shooting to death an unarmed person.
As to "independent journalism" – What would happen if Cuba announced that from now on anyone in the country could own any kind of media? How long would it be before CIA money – secret and unlimited CIA money financing all kinds of fronts in Cuba – would own or control most of the media worth owning or controlling?
The real reason for Washington's eternal hostility toward Cuba has not changed since the revolution in 1959 – The fear of a good example of an alternative to the capitalist model; a fear that has been validated repeatedly over the years as many Third World countries have expressed their adulation of Cuba.
How the embargo began: On April 6, 1960, Lester D. Mallory, US Deputy Assistant Secretary of State for Inter-American Affairs, wrote in an internal memorandum: "The majority of Cubans support Castro … The only foreseeable means of alienating internal support is through disenchantment and disaffection based on economic dissatisfaction and hardship. … every possible means should be undertaken promptly to weaken the economic life of Cuba." Mallory proposed "a line of action which … makes the greatest inroads in denying money and supplies to Cuba, to decrease monetary and real wages, to bring about hunger, desperation and overthrow of government."
Later that year, the Eisenhower administration instituted its suffocating embargo against its everlasting enemy.
The United States judging and punishing the rest of the world
In addition to Cuba, Washington currently is imposing economic and other sanctions against Burma, Democratic Republic of the Congo, Iran, China, North Korea, South Korea, United Arab Emirates, Pakistan, Sri Lanka, Switzerland, Turkey, Germany, Malaysia, South Africa, Mexico, South Sudan, Sudan, Russia, Syria, Venezuela, India, and Zimbabwe. These are sanctions mainly against governments, but also against some private enterprises; there are also many other sanctions against individuals not included here.
Imbued with a sense of America's moral superiority and "exceptionalism", each year the State Department judges the world, issuing reports evaluating the behavior of all other nations, often accompanied by sanctions of one kind or another. There are different reports rating how each lesser nation has performed in the previous year in areas such as religious freedom, human rights, the war on drugs, trafficking in persons, and sponsors of terrorism. The criteria used in these reports are often political. Cuba, for example, is always listed as a sponsor of terrorism whereas anti-Castro exile groups in Florida, which have committed literally hundreds of terrorist acts over the years, are not listed as terrorist groups or supporters of such.
Cuba, which has been on the sponsor-of-terrorism list longer (since 1982) than any other country, is one of the most glaring anomalies. The most recent State Department report on this matter, in 2012, states that there is "no indication that the Cuban government provided weapons or paramilitary training to terrorist groups." There are, however, some retirees of Spain's Basque terrorist group ETA (which appears on the verge of disbanding) in Cuba, but the report notes that the Cuban government evidently is trying to distance itself from them by denying them services such as travel documents. Some members of the Revolutionary Armed Forces of Colombia (FARC) have been allowed into Cuba, but that was because Cuba was hosting peace talks between the FARC and the Colombian government, which the report notes.
The US sanctions mechanism is so effective and formidable that it strikes fear (of huge fines) into the hearts of banks and other private-sector organizations that might otherwise consider dealing with a listed state.
Some selected thoughts on American elections and democracy
In politics, as on the sickbed, people toss from one side to the other, thinking they will be more comfortable.
– Johann Wolfgang von Goethe (1749-1832)
2012 presidential election:
223,389,800 eligible to vote
128,449,140 actually voted
Obama got 65,443,674 votes
Obama was thus supported by 29.3% of eligible voters
There are 100 million adults in the United States who do not vote. This is a very large base from which an independent party can draw millions of new votes.
If God had wanted more of us to vote in elections, he would give us better candidates.
"The people can have anything they want. The trouble is, they do not want anything. At least they vote that way on election day." – Eugene Debs, American socialist leader (1855-1926)
"If persons over 60 are the only American age group voting at rates that begin to approximate European voting, it's because they're the only Americans who live in a welfare state – Medicare, Social Security, and earlier, GI loans, FHA loans." – John Powers
"The American political system is essentially a contract between the Republican and Democratic parties, enforced by federal and state two-party laws, all designed to guarantee the survival of both no matter how many people despise or ignore them." – Richard Reeves (1936- )
The American electoral system, once the object of much national and international pride, has slid inexorably from "one person, one vote", to "one dollar, one vote".
Noam Chomsky: "It is important to bear in mind that political campaigns are designed by the same people who sell toothpaste and cars. Their professional concern in their regular vocation is not to provide information. Their goal, rather, is deceit."
If the Electoral College is such a good system, why don't we have it for local and state elections?
"All the props of a democracy remain intact – elections, legislatures, media – but they predominantly function at the service of the oligarchy." – Richard Wolff
The RepDem Party holds elections as if they were auctions; indeed, an outright auction for the presidency would be more efficient. To make the auction more interesting we need a second party, which must at a minimum be granted two privileges: getting on the ballot in all 50 states and taking part in television debates.
The US does in fact have two parties: the Ins and the Outs … the evil of two lessers.
Alexander Cockburn: "There was a time once when 'lesser of two evils' actually meant something momentous, like the choice between starving to death on a lifeboat, or eating the first mate."
Cornel West has suggested that it's become difficult to even imagine what a free and democratic society, without great concentrations of corporate power, would look like, or how it would operate.
The United States now resembles a police state punctuated by elections.
How many voters does it take to change a light bulb? None. Because voters can't change anything.
H.L. Mencken (1880-1956): "As democracy is perfected, the office represents, more and more closely, the inner soul of the people. We move toward a lofty ideal. On some great and glorious day the plain folks of the land will reach their heart's desire at last, and the White House will be adorned by a downright moron."
"All elections are distractions. Nothing conceals tyranny better than elections." – Joel Hirschhorn
In 1941, one of the country's more acerbic editors, a priest named Edward Dowling, commented: "The two greatest obstacles to democracy in the United States are, first, the widespread delusion among the poor that we have a democracy, and second, the chronic terror among the rich, lest we get it."
"Elections are a necessary, but certainly not a sufficient, condition for democracy. Political participation is not just a casting of votes. It is a way of life." – UN Human Development Report, 1993
"If you don't vote, you can't complain!" I reply, "You have it backwards. If you DO vote, you can't complain. You asked for it, and they're going to give it to you, good and hard."
"How to get people to vote against their interests and to really think against their interests is very clever. It's the cleverest ruling class that I have ever come across in history. It's been 200 years at it. It's superb." – Gore Vidal
We can't use our democracy/our vote to change the way the economy functions. This is very anti-democratic.
What does a majority vote mean other than that the sales campaign was successful?
Roman Emperor Marcus Aurelius: "The opinion of 10,000 men is of no value if none of them know anything about the subject."
We do have representative government. The question is: Who does our government represent?
"On the day after the 2002 election I watched a crawl on the bottom of the CNN news screen. It said, 'Proprietary software may make inspection of electronic voting systems impossible.' It was the final and absolute coronation of corporate rights over democracy; of money over truth." – Mike Ruppert, RIP
"It's not that voting is useless or stupid; rather, it's the exaggeration of the power of voting that has drained the meaning from American politics." – Michael Ventura
After going through the recent national, state and local elections, I am now convinced that taxation without representation would have been a much better system.
"Ever since the Constitution was illegally foisted on the American people we have lived in a blatant plutocracy. The Constitution was drafted in secret by a self-appointed elite committee, and it was designed to bring three kinds of power under control: Royalty, the Church, and the People. All were to be subjugated to the interests of a wealthy elite. That's what republics were all about. And that's how they have functioned ever since." – Richard K. Moore
"As demonstrated in Russia and numerous other countries, when faced with a choice between democracy without capitalism or capitalism without democracy, Western elites unhesitatingly embrace the latter." – Michael Parenti
"The fact that a supposedly sophisticated electorate had been stampeded by the cynical propaganda of the day threw serious doubt on the validity of the assumptions underlying parliamentary democracy as a whole." – British Superspy for the Soviets Kim Philby (1912-1988), explaining his reasons for becoming a Communist instead of turning to the Labour Party
US Supreme Court Justice Louis Brandeis (1856-1941): "We may have democracy in this country, or we may have wealth concentrated in the hands of a few, but we cannot have both."
"We don't need to run America like a business or like the military. We need to run America like a democracy." – Jill Stein, Green Party presidential candidate 2012
Notes
Democracy Now!, October 30, 2013
Huffingfton Post, May 3, 2012
Department of State, Foreign Relations of the United States, 1958-1960, Volume VI, Cuba(1991), p.885 (online here)
For the complete detailed list, see U.S. Department of State, Nonproliferation Sanctions
U.S. Department of State, "Country Reports on Terrorism 2012, Chapter 3: State Sponsors of Terrorism," May 20, 2013
The University of Al-Qaeda?
"Since 2003, Anglo-American power has secretly and openly coordinated direct and indirect support for Islamist terrorist groups linked to al-Qaeda across the Middle East and North Africa. This ill-conceived patchwork geostrategy is a legacy of the persistent influence of neoconservative ideology, motivated by longstanding but often contradictory ambitions to dominate regional oil resources, defend an expansionist Israel, and in pursuit of these, re-draw the map of the Middle East." Nafeez Ahmed, "How the West Created the Islamic State", CounterPunch
"The US created these terrorist organizations. America does not have the moral authority to lead a coalition against terrorism." Hassan Nasralla, Secretary General of Hezbollah
October 06, 2014 "ICH" – "Counterpunch" –  The Obama administration's determination to topple Syrian President Bashar al-Assad is pushing the Middle East towards a regional war that could lead to a confrontation between the two nuclear-armed rivals, Russia and the United States.
Last week, Turkey joined the US-led coalition following a vote in parliament approving a measure to give the government the authority to launch military action against Isis in Syria. Turkish President Recep Tayyip Erdogan made it clear that Turkish involvement would come at a price, and that price would be the removal of al Assad. According to Turkey's Hurriyet Daily News:
"Turkey will not allow coalition members to use its military bases or its territory in the fight against the Islamic State of Iraq and the Levant (ISIL) if the objective does not also include ousting the Bashar al-Assad regime, President Recep Tayyip Erdoğan hinted on Oct. 1…

"We are open and ready for any cooperation in the fight against terrorism. However, it should be understood by everybody that Turkey is not a country in pursuit of temporary solutions, nor will Turkey allow others to take advantage of it," Erdoğan said in his lengthy address to Parliament."..

"Turkey cannot be content with the current situation and cannot be a by-stander and spectator in the face of such developments." ("Turkey will fight terror but not for temporary solutions: Erdoğan", Hurriyet)
Officials in the Obama administration applauded Turkey's decision to join the makeshift coalition. U.S. Secretary of Defense Chuck Hagel hailed the vote as a "very positive development" while State Department spokeswoman Jen Psaki said, "We welcome the Turkish Parliament's vote to authorize Turkish military action…We've had numerous high-level discussions with Turkish officials to discuss how to advance our cooperation in countering the threat posed by ISIL in Iraq and Syria."
In the last week, "Turkish tanks and other military units have taken position on the Syrian border." Did the Obama administration strike a deal with Turkey to spearhead an attack on Syria pushing south towards Damascus while a small army of so called "moderate" jihadis– who are presently on the Israeli border– move north towards the Capital? If that is the case, then the US would probably deploy some or all of its 15,000 troops currently stationed in Kuwait "including an entire armored brigade" to assist in the invasion or to provide backup if Turkish forces get bogged down. The timeline for such an invasion is uncertain, but it does appear that the decision to go to war has already been made.
Turkish involvement greatly increases the chances of a broader regional war. It's unlikely that Syria's allies, Russia and Iran, will remain on the sidelines while Turkish tanks stream across the country on their way to Damascus. And while the response from Tehran and Moscow may be measured at first, it is bound to escalate as the fighting intensifies and tempers flare. The struggle for Syria will be a long, hard slog that will probably produce no clear winner. If Damascus falls, the conflict will morph into a protracted guerilla war that could spill over borders engulfing both Lebanon and Jordan. Apparently, the Obama administration feels the potential rewards from such a reckless and homicidal gambit are worth the risks.
No-Fly Zone Fakery
The Obama administration has made little effort to conceal its real objectives in Syria. The fight against Isis is merely a pretext for regime change. The fact that Major General Martin Dempsey, chairman of the Joint Chiefs of Staff, and Chuck Hagel are angling for a no-fly zone over Syria exposes the "war against Isis" as a fraud. Why does the US need a no-fly zone against a group of Sunni militants who have no air force? The idea is ridiculous. The obvious purpose of the no-fly zone is to put Assad on notice that the US is planning to take control of Syrian airspace on its way to toppling the regime. Clearly, Congress could have figured this out before rubber stamping Obama's request for $500 million dollars to arm and train "moderate" militants. Instead, they decided to add more fuel to the fire. If Congress seriously believes that Assad is a threat to US national security and "must go", then they should have the courage to vote for sending US troops to Syria to do the heavy lifting. The idea of funding shadowy terrorist groups that pretend to be moderate rebels is lunacy in the extreme. It merely compounds the problem and increases the prospects of another Iraq-type bloodbath. Is it any wonder why Congress's public approval rating is stuck in single digits?
TURKEY: A Major Player
According to many sources, Turkey has played a pivotal role in the present crisis, perhaps more than Saudi Arabia or Qatar. Consider the comments made by Vice President Joe Biden in an exchange with students at the John F. Kennedy Jr. Forum at the Institute of Politics at Harvard University last week. Biden was asked: "In retrospect do you believe the United States should have acted earlier in Syria, and if not why is now the right moment?" Here's part of what he said:
"…my constant cry was that our biggest problem is our allies – our allies in the region were our largest problem in Syria. The Turks were great friends – and I have the greatest relationship with Erdogan, which I just spent a lot of time with – the Saudis, the Emiratis, etc. What were they doing? They were so determined to take down Assad and essentially have a proxy Sunni-Shia war, what did they do? They poured hundreds of millions of dollars and tens, thousands of tons of weapons into anyone who would fight against Assad except that the people who were being supplied were Al Nusra and Al Qaeda and the extremist elements of jihadis coming from other parts of the world…

So now what's happening? All of a sudden everybody's awakened because this outfit called ISIL which was Al Qaeda in Iraq, which when they were essentially thrown out of Iraq, found open space in territory in eastern Syria, work with Al Nusra who we declared a terrorist group early on and we could not convince our colleagues to stop supplying them. So what happened? Now all of a sudden – I don't want to be too facetious – but they had seen the Lord. Now we have – the President's been able to put together a coalition of our Sunni neighbors, because America can't once again go into a Muslim nation and be seen as the aggressor – it has to be led by Sunnis to go and attack a Sunni organization."
Biden apologized for his remarks on Sunday, but he basically let the cat out of the bag. Actually, what he said wasn't new at all, but it did lend credibility to what many of the critics have been saying since the very beginning, that Washington's allies in the region have been arming and funding this terrorist Frankenstein from the onset without seriously weighing the risks involved. Here's more background on Turkey's role in the current troubles from author Nafeez Ahmed:
"With their command and control centre based in Istanbul, Turkey, military supplies from Saudi Arabia and Qatar in particular were transported by Turkish intelligence to the border for rebel acquisition. CIA operatives along with Israeli and Jordanian commandos were also training FSA rebels on the Jordanian-Syrian border with anti-tank and anti-aircraft weapons. In addition, other reports show that British and French military were also involved in these secret training programmes. It appears that the same FSA rebels receiving this elite training went straight into ISIS – last month one ISIS commander, Abu Yusaf, said, "Many of the FSA people who the west has trained are actually joining us." ("How the West Created the Islamic State", Nafeez Ahmed, CounterPunch
Notice how the author points out the involvement of "CIA operatives". While Biden's comments were an obvious attempt to absolve the administration from blame, it's clear US Intel agencies knew what was going on and were at least tangentially involved. Here's more from the same article:
"Classified assessments of the military assistance supplied by US allies Saudi Arabia and Qatar obtained by the New York Times showed that "most of the arms shipped at the behest of Saudi Arabia and Qatar to supply Syrian rebel groups… are going to hardline Islamic jihadists, and not the more secular opposition groups that the West wants to bolster."
Once again, classified documents prove that the US officialdom knew what was going on and simply looked the other way. All the while, the hardcore takfiri troublemakers were loading up on weapons and munitions preparing for their own crusade. Here's a clip that Congress should have read before approving $500 million more for this fiasco:
" … Mother Jones found that the US government has "little oversight over whether US supplies are falling prey to corruption – or into the hands of extremists," and relies "on too much good faith." The US government keeps track of rebels receiving assistance purely through "handwritten receipts provided by rebel commanders in the field," and the judgment of its allies. Countries supporting the rebels – the very same which have empowered al-Qaeda affiliated Islamists – "are doing audits of the delivery of lethal and nonlethal supplies."…

the government's vetting procedures to block Islamist extremists from receiving US weapons have never worked." ("How the West Created the Islamic State", Nafeez Ahmed, CounterPunch)
These few excerpts should help to connect the dots in what is really a very hard-to-grasp situation presently unfolding in Syria. Yes, the US is ultimately responsible for Isis because it knew what was going on and played a significant part in arming and training jihadi recruits. And, no, Isis does not take its orders directly from Washington (or Langley) although its actions have conveniently coincided with US strategic goals in the region. (Many readers will undoubtedly disagree with my views on this.) Here's one last clip on Turkey from an article in the Telegraph. The story ran a full year ago in October 2013:
"Hundreds of al-Qaeda recruits are being kept in safe houses in southern Turkey, before being smuggled over the border to wage "jihad" in Syria, The Daily Telegraph has learned.

The network of hideouts is enabling a steady flow of foreign fighters – including Britons – to join the country's civil war, according to some of the volunteers involved.

These foreign jihadists have now largely eclipsed the "moderate" wing of the rebel Free Syrian Army, which is supported by the West. Al-Qaeda's ability to use Turkish territory will raise questions about the role the Nato member is playing in Syria's civil war.

Turkey has backed the rebels from the beginning – and its government has been assumed to share the West's concerns about al-Qaeda. But experts say there are growing fears over whether the Turkish authorities may have lost control of the movement of new al-Qaeda recruits – or may even be turning a blind eye." ("Al-Qaeda recruits entering Syria from Turkey safehouses", Telegraph)
Get the picture? This is a major region-shaping operation that the Turks, the Saudis, the Qataris, the Americans etc are in on. Sure, maybe some of the jihadis went off the reservation and started doing their own thing, but even that's not certain. After all, Isis has already achieved many of Washington's implicit objectives: Dump Nuri al Maliki and replace him with a US stooge who will amend the Status of Forces Agreement. (SOFA), allow Sunni militants and Kurds to create their own de facto mini-states within Iraq (thus, eliminating the threat of a strong, unified Iraq that will challenge Israeli hegemony), and create a tangible threat to regional security (Isis) thereby justifying US meddling and occupation for the foreseeable future. So far, arming terrorists has been a winning strategy for Obama and Co. Unfortunately for the president, we are still in the early rounds of the emerging crisis. Things could backfire quite badly, and probably will.
(NOTE: According to Iran's Press TV: "The ISIL terrorists have purportedly opened a consulate in Ankara, Turkey and use it to issue visas for those who want to join the fight against the Syrian and Iraqi governments….The militants are said to be operating freely inside the country without much problem." I have my doubts about this report which is why I have put parentheses around it, but it is interesting all the same.)
CAMP BUCCA: University of Al-Qaeda
So where do the Sunni extremists in Isis come from?
There are varying theories on this, the least likely of which is that they responded to promotional videos and propaganda on social media. The whole "Isis advertising campaign" nonsense strikes me as a clever disinformation ploy to conceal what's really going on, which is, that the various western Intel agencies have been recruiting these jokers from other (former) hotspots like Afghanistan, Libya, Chechnya, Kosovo, Somalia and prisons in Iraq. Isis not a spontaneous amalgam of Caliphate-aspiring revolutionaries who spend their off-hours trolling the Internet, but a collection of ex Baathists and religious zealots who have been painstakingly gathered to perform the task at hand, which is to lob off heads, spread mayhem, and create the pretext for US-proxy war. Check out this illuminating article on Alakhbar English titled "The mysterious link between the US military prison Camp Bucca and ISIS leaders". It helps explain what's really been going on behind the scenes:
"We have to ask why the majority of the leaders of the Islamic State (IS), formerly the Islamic State in Iraq and Syria (ISIS), had all been incarcerated in the same prison at Camp Bucca, which was run by the US occupation forces near Omm Qasr in southeastern Iraq….. First of all, most IS leaders had passed through the former U.S. detention facility at Camp Bucca in Iraq. So who were the most prominent of these detainees?

The leader of IS, Abu Bakr al-Baghdadi, tops the list. He was detained from 2004 until mid-2006. After he was released, he formed the Army of Sunnis, which later merged with the so-called Mujahideen Shura Council…

Another prominent IS leader today is Abu Ayman al-Iraqi, who was a former officer in the Iraqi army under Saddam Hussein. This man also "graduated" from Camp Bucca, and currently serves as a member on IS' military council.

Another member of the military council who was in Bucca is Adnan Ismail Najm. … He was detained on January 2005 in Bucca, and was also a former officer in Saddam's army. He was the head of a shura council in IS, before he was killed by the Iraqi army near Mosul on June 4, 2014.

Camp Bucca was also home to Haji Samir, aka Haji Bakr, whose real name is Samir Abed Hamad al-Obeidi al-Dulaimi. He was a colonel in the army of the former Iraqi regime. He was detained in Bucca, and after his release, he joined al-Qaeda. He was the top man in ISIS in Syria…

According to the testimonies of US officers who worked in the prison, the administration of Camp Bucca had taken measures including the segregation of prisoners on the basis of their ideology. This, according to experts, made it possible to recruit people directly and indirectly.

Former detainees had said in documented television interviews that Bucca…was akin to an "al-Qaeda school," where senior extremist gave lessons on explosives and suicide attacks to younger prisoners. A former prisoner named Adel Jassem Mohammed said that one of the extremists remained in the prison for two weeks only, but even so was able to recruit 25 out of 34 inmates who were there. Mohammed also said that U.S. military officials did nothing to stop the extremists from mentoring the other detainees…

No doubt, we will one day discover that many more leaders in the group had been detained in Bucca as well, which seems to have been more of a "terrorist academy" than a prison." ("The mysterious link between the US military prison Camp Bucca and ISIS leaders", Alakhbar English)
US foreign policy is tailored to meet US strategic objectives, which in this case are regime change, installing a US puppet in Damascus, erasing the existing borders, establishing forward-operating bases across the country, opening up vital pipeline corridors between Qatar and the Mediterranean so the western energy giants can rake in bigger profits off gas sales to the EU market, and reducing Syria to a condition of "permanent colonial dependency." (Chomsky)
Would the United States oversee what-amounts-to a "terrorist academy" if they thought their jihadi graduates would act in a way that served US interests?
Indeed, they would. In fact, they'd probably pat themselves on the back for coming up with such a clever idea.
Why the Real Target is Assad Not ISIS…
Invoking the same ominous language as his predecessor, Barack Obama used a prime time presidential address on Wednesday to announce the beginning of a war on Syria. And while there's no doubt that many Americans will be confused by Obama's misleading focus on the terrorist organization named ISIL, the real purpose of the speech was to garner support for another decade of homicidal conflicts in the Middle East. The administration is as determined as ever to plunge the region into chaos, erase existing borders, and install its puppets wherever it can.  ISIL–which is mainly an invention of western Intel agencies and their treacherous counterparts in the Gulf– conveniently creates the justification for another bloody invasion followed by years of occupation, subjugation, and revolt.
Barack Obama:
My fellow Americans — tonight, I want to speak to you about what the United States will do with our friends and allies to degrade and ultimately destroy the terrorist group known as ISIL. As commander-in-chief, my highest priority is the security of the American people…..

Thanks to our military and counterterrorism professionals, America is safer.

Still, we continue to face a terrorist threat. We cannot erase every trace of evil from the world, and small groups of killers have the capacity to do great harm. That was the case before 9/11, and that remains true today. That's why we must remain vigilant as threats emerge.
Get it? We are all in great peril and only our loving father, Obama, can save us. Where have we heard that before?
Obama: "In a region that has known so much bloodshed, these terrorists are unique in their brutality. They execute prisoners. They kill children. They enslave, rape, and force women into marriage…..If left unchecked, these terrorists could pose a growing threat beyond that region — including to the United States."
This is pure demagoguery, the likes of which we haven't heard since Bush's "The Axis of Evil" speech.  The truth is, ISIL poses NO threat to US national security at all. It's a joke.  Readers should mull that over before they throw their support behind Obama's proposed crusade in Syria..
More Obama:  "First, we will conduct a systematic campaign of airstrikes against these terrorists…..I will not hesitate to take action against ISIL in Syria, as well as Iraq. This is a core principle of my presidency: if you threaten America, you will find no safe haven….."
Okay, so borders don't matter, international law doesn't matter, national sovereignty doesn't matter. What matters is oil, money and power. Isn't that what he's saying? He's asking the American people to support another millennia of killing so he can pad the bank accounts of corrupt US oil magnates while strengthening America's tenuous grip on global power.  Would you be willing to sacrifice your son's life for such a cause?
Obama: "Across the border, in Syria, we have ramped up our military assistance to the Syrian opposition. Tonight, I again call on Congress to give us additional authorities and resources to train and equip these fighters."
So, now Obama wants to arm and train the same terrorists which the CIA and our enlightened friends in the Gulf States recruited from around the world. Sounds like a good plan, doesn't it? What could go wrong?
Obama:  "This is our strategy….. Secretary Kerry was in Iraq today meeting with the new government and supporting their efforts to promote unity, and in the coming days he will travel across the Middle East and Europe to enlist more partners in this fight."
So, Senator Botox and his gaggle of neocons are going to fix everything, just like they did in Kiev.  Now I am worried.
Obama: "But I want the American people to understand how this effort will be different from the wars in Iraq and Afghanistan. It will not involve American combat troops fighting on foreign soil. This counter-terrorism campaign will be waged through a steady, relentless effort to take out ISIL wherever they exist, using our air power and our support for partner forces on the ground."
No American "boots on the ground"?? Is that what he said? What he meant to say was no boots on the ground until after the midterms. After that, the sky's the limit!
Don't kid yourself, the Obama claque is as determined to topple Assad as Bush was determined to remove Saddam. That's why Obama's public relations team decided to use the prestige of a primetime presidential speech –with all the pompous trappings of high-office–to make their case. It's because their real target is the American people who are being led by the nose into another hellish bloodbath.
Obama: "American leadership is the one constant in an uncertain world. It is America that has the capacity and the will to mobilize the world against terrorists."
Oh boy. American troublemaking is the "one constant" in this world, even death and taxes take a back seat to that.  America started the war on terror. (Blowback) America perpetuated the war on terror. (check the globe. The US is fighting wars everywhere.) And America is entirely responsible for the war on terror. (Afghanistan, Mujahedin) And now–after 13 years of unlawful detentions, black sites, Abu Ghraib, Gitmo, death squads, waterboarding, illegal surveillance, drone attacks, and a mountain of carnage that stretches halfway to the moon– Obama is re-launching the  War on Terror under the opaque sobriquet "ISIL".  Haven't we had enough of this garbage yet?
As always, the media seems entirely mystified as to the administration's real intentions. In contrast, analyst Patrick Martin at the World Socialist Web Site sees through the hoax and sums it up like this in an article  titled "Obama announces open-ended war in Iraq and Syria". Here's an excerpt:
"It was only 12 months ago that Obama tried and failed to create the political conditions for US air strikes against the Assad regime, making allegations of the use of nerve gas weapons that were later discredited. Now Obama is seeking to achieve the same goal by a different route, using ISIS as a pretext to get American military forces into Syria, where they will become the spearhead of the campaign to oust Assad and install a pro-US stooge regime in Damascus."
Bingo. The ISIL canard is nothing but a pretext for war.
Write to your Senators and Congressmen: NO WAR IN SYRIA.
The New World Order has been in place for centuries. Is it not time to start calling the NWO by another name? A descriptive term that encapsulates the essence of the beast would be a Nefarious Warrior Organism. Such a phrase strips away the ridiculous notion that there is any order in the malevolent organization of the parasitic global structure, based upon perpetual and permanent warfare. This depiction more closely resembles reality, even if the master mass media refuses to acknowledge How the World Really Works. Discard any condemnation that criticism of the established order rests upon conspiratorial fantasy or pre-medieval prejudices. Explaining away or ignoring basic human nature in a "PC" culture ultimately requires the adoption of a depraved Totalitarian Collectivism system.
Students of world affairs are not strangers to the practice of lies and deception. One of the grand daddies of the Nefarious Warrior Organism, and infamous war criminal, Henry Kissinger has a new book, World Order. An excerpt published in the Wall Street Journal, Henry Kissinger on the Assembly of a New World Order, spews the same poppycock that underpins the destructive policies and practices that has the world ripe for an apocalyptic conflict, needed to rescue the banksters of international finance from their derivative Ponzi scheme.
"Libya is in civil war, fundamentalist armies are building a self-declared caliphate across Syria and Iraq and Afghanistan's young democracy is on the verge of paralysis. To these troubles are added a resurgence of tensions with Russia and a relationship with China divided between pledges of cooperation and public recrimination. The concept of order that has underpinned the modern era is in crisis.

The international order thus faces a paradox: Its prosperity is dependent on the success of globalization, but the process produces a political reaction that often works counter to its aspirations."
Memorial Day is when we commemorate our war dead. Like the Fourth of July, Memorial Day is being turned into a celebration of war.
Those who lose family members and dear friends to war don't want the deaths to have been in vain. Consequently, wars become glorious deeds performed by noble soldiers fighting for truth, justice, and the American way. Patriotic speeches tell us how much we owe to those who gave their lives so that America could remain free.
The speeches are well-intentioned, but the speeches create a false reality that supports ever more wars. None of America's wars had anything to do with keeping America free. To the contrary, the wars swept away our civil liberties, making us unfree.
President Lincoln issued an executive order for the arrest and imprisonment of northern newspaper reporters and editors. He shut down 300 northern newspapers and held 14,000 political prisoners. Lincoln arrested war critic US Representative Clement Vallandigham from Ohio and exiled him to the Confederacy. President Woodrow Wilson used WWI to suppress free speech, and President Franklin D. Roosevelt used WWII to intern 120,000 US citizens of Japanese descent on the grounds that race made them suspect. Professor Samuel Walker concluded that President George W. Bush used the "war on terror" for an across the board assault on US civil liberty, making the Bush regime the greatest danger American liberty has ever faced.
Lincoln forever destroyed states' rights, but the suspension of habeas corpus and free speech that went hand in hand with America's three largest wars was lifted at war's end. However, President George W. Bush's repeal of the Constitution has been expanded by President Obama and codified by Congress and executive orders into law. Far from defending our liberties, our soldiers who died in "the war on terror" died so that the president can indefinitely detain US citizens without due process of law and murder US citizens on suspicion alone without any accountability to law or the Constitution.
The conclusion is unavoidable that America's wars have not protected our liberty but, instead, destroyed liberty. As Alexander Solzhenitsyn said, "A state of war only serves as an excuse for domestic tyranny."
Southern secession did pose a threat to Washington's empire, but not to the American people.Neither the Germans of WWI vintage nor the Germans and Japanese of WWII vintage posed any threat to the US. As historians have made completely clear, Germany did not start WWI and did not go to war for the purpose of territorial expansion. Japan's ambitions were in Asia. Hitler did not want war with England and France. Hitler's territorial ambitions were mainly to restore German provinces stripped from Germany as WWI booty in violation of President Wilson's guarantees. Any other German ambitions were to the East. Neither country had any plans to invade the US. Japan attacked the US fleet at Pearl Harbor hoping to remove an obstacle to its activities in Asia, not as a precursor to an invasion of America.
Certainly the countries ravaged by Bush and Obama in the 21st century–Iraq, Afghanistan, Libya, Somalia, Syria, Pakistan, and Yemen posed no military threat to the US. Indeed, these were wars used by a tyrannical executive branch to establish the basis of the Stasi State that now exists in the US.
The truth is hard to bear, but the facts are clear. America's wars have been fought in order to advance Washington's power, the profits of bankers and armaments industries, and the fortunes of US companies. Marine General Smedley Butler said, " I served in all commissioned ranks from a second Lieutenant to a Major General. And during that time, I spent most of my time being a high-class muscle man for Big Business, for Wall Street, and for the bankers. In short, I was a racketeer for capitalism."
It is more or less impossible to commemorate the war dead without glorifying them, and it is impossible to glorify them without glorifying their wars.
For the entirety of the 21st century the US has been at war, not war against massed armies or threats to American freedom, but wars against civilians, against women, children, and village elders, and wars against our own liberty. Elites with a vested interest in these wars tell us that the wars will have to go on for another 20 to 30 years before we defeat "the terrorist threat."
This, of course, is nonsense. There was no terrorist threat until Washington began trying to create terrorists by military attacks, justified by lies, on Muslim populations.
Washington succeeded with its war lies to the point that Washington's audacity and hubris have outgrown Washington's judgment.
By overthrowing the democratically elected government in Ukraine, Washington has brought the United States into confrontation with Russia. This is a confrontation that could end badly, perhaps for Washington and perhaps for the entire world.
If Gaddafi and Assad would not roll over for Washington, why does Washington think Russia will? Russia is not Libya or Syria. Washington is the bully who having beat up the kindergarden kid, now thinks he can take on the college linebacker.
The Bush and Obama regimes have destroyed America's reputation with their incessant lies and violence against other peoples. The world sees Washington as the prime threat.
Worldwide polls consistently show that people around the world regard the US and Israel as the two countries that pose the greatest threat to peace. http://www.ibtimes.com/gallup-poll-biggest-threat-world-peace-america-1525008 and
http://www.jewishfederations.org/european-poll-israel-biggest-threat-to-world-peace.aspx
The countries that Washington's propaganda declares to be "rogue states" and the "axis of evil," such as Iran and North Korea, are far down the list when the peoples in the world are consulted. It could not be more clear that the world does not believe Washington's self-serving propaganda. The world sees the US and Israel as the rogue states.
The US and Israel are the only two countries in the world that are in the grip of ideologies. The US is in the grip of the Neoconservative ideology which has declared the US to be the "exceptional, indispensable country" chosen by history to exercise hegemony over all others. This ideology is buttressed by the Brzezinski and Wolfowitz doctrines that are the basis of US foreign policy.
The Israeli government is in the grip of the Zionist ideology that declares a "greater Israel" from the Nile to the Euphrates. Many Israelis themselves do not accept this ideology, but it is the ideology of the "settlers" and those who control the Israeli government.
Ideologies are important causes of war. Just as the Hitlerian ideology of German superiority is mirrored in the Neoconservative ideology of US superiority, the Communist ideology that the working class is superior to the capitalist class is mirrored in the Zionist ideology that Israelis are superior to Palestinians. Zionists have never heard of squatters' rights and claim that recent Jewish immigrants into Palestine–invaders really–have the right to land occupied by others for millenniums.
Washington's and Israel's doctrines of superiority over others do not sit very well with the "others." When Obama declared in a speech that Americans are the exceptional people, Russia's President Putin responded, "God created us all equal."
To the detriment of its population, the Israeli government has made endless enemies. Israel has effectively isolated itself in the world. Israel's continued existence depends entirely on the willingness and ability of Washington to protect Israel. This means that Israel's power is derivative of Washington's power.
Washington's power is a different story. As the only economy standing after WWII, the US dollar became the world money. This role for the dollar has given Washington financial hegemony over the world, the main source of Washington's power. As other countries rise, Washington's hegemony is imperiled.
To prevent other countries from rising, Washington invokes the Brzezinski and Wolfowitz doctrines. To be brief, the Brzezinski doctrine says that in order to remain the only superpower, Washington must control the Eurasian land mass. Brzezinski is willing for this to occur peacefully by suborning the Russian government into Washington's empire. "A loosely confederated Russia . . . a decentralized Russia would be less susceptible to imperial mobilization." In other words, break up Russia into associations of semi-autonomous states whose politicians can be suborned by Washington's money.
Brzezinski propounded "a geo-strategy for Eurasia." In Brzezinski's strategy, China and "a confederated Russia" are part of a "transcontinental security framework," managed by Washington in order to perpetuate the role of the US as the world's only superpower.
I once asked my colleague, Brzezinski, that if everyone was allied with us, who were we organized against? My question surprised him, because I think that Brzezinski remains caught up in Cold War strategy even after the demise of the Soviet Union. In Cold War thinking it was important to have the upper hand or else be at risk of being eliminated as a player. The importance of prevailing became all consuming, and this consuming drive survived the Soviet collapse. Prevailing over others is the only foreign policy that Washington knows.
The mindset that America must prevail set the stage for the Neoconservatives and their 21st century wars, which, with Washington's overthrow of the democratically elected government of Ukraine, has resulted in a crisis that has brought Washington into direct conflict with Russia.
I know the strategic institutes that serve Washington. I was the occupant of the William E.Simon Chair in Political Economy, Center for Strategic and International Studies, for a dozen years. The idea is prevalent that Washington must prevail over Russia in Ukraine or Washington will lose prestige and its superpower status.
The idea of prevailing always leads to war once one power thinks it has prevailed.
The path to war is reinforced by the Wolfowitz Doctrine. Paul Wolfowitz, the neoconservative intellectual who formulated US military and foreign policy doctrine, wrote among many similar passages:
"Our first objective is to prevent the re-emergence of a new rival, either on the territory of the former Soviet Union or elsewhere [China], that poses a threat on the order of that posed formerly by the Soviet Union. This is a dominant consideration underlying the new regional defense strategy and requires that we endeavor to prevent any hostile power from dominating a region whose resources would, under consolidated control, be sufficient to generate global power."
In the Wolfowitz Doctrine, any other strong country is defined as a threat and a power hostile to the US regardless of how willing that country is to get along with the US for mutual benefit.
The difference between Brzezinski and the Neoconservatives is that Brzezinski wants to suborn Russia and China by including them in the empire as important elements whose voices would be heard, If only for diplomatic reasons, whereas the Neoconservatives are prepared to rely on military force combined with internal subversion orchestrated with US financed NGOs and even terrorist organizations.
Neither the US nor Israel is embarrassed by their worldwide reputations as the two countries that pose the greatest threat. In fact, both countries are proud to be recognized as the greatest threats. The foreign policy of both countries is devoid of any diplomacy. US and Israeli foreign policy rests on violence alone. Washington tells countries to do as Washington says or be "bombed into the stone age." Israel declares all Palestinians, even women and children, to be "terrorists," and proceeds to shoot them down in the streets, claiming that Israel is merely protecting itself against terrorists. Israel, which does not recognize the existence of Palestine as a country, covers up its crimes with the claim that Palestinians do not accept the existence of Israel.
"We don't need no stinking diplomacy. We got power."
This is the attitude that guarantees war, and that is where the US is taking the world. The prime minister of Britain, the chancellor of Germany, and the president of France are Washington's enablers. They provide the cover for Washington. Instead of war crimes, Washington has "coalitions of the willing" and military invasions that bring "democracy and women's rights" to non-compliant countries.
China gets much the same treatment. A country with four times the US population but a smaller prison population, China is constantly criticized by Washington as an "authoritarian state." China is accused of human rights abuses while US police brutalize the US population.
The problem for humanity is that Russia and China are not Libya and Iraq. These two countries possess strategic nuclear weapons. Their land mass greatly exceeds that of the US. The US, which was unable to successfully occupy Baghdad or Afghanistan, has no prospect of prevailing against Russia and China in conventional warfare. Washington will push the nuclear button. What else can we expect from a government devoid of morality?
The world has never experienced rogue states comparable to Washington and Israel. Both governments are prepared to murder anyone and everyone. Look at the crisis that Washington has created in Ukraine and the dangers thereof. On May 23, 2014, Russia's President Putin spoke to the St. Petersburg International Economic Forum, a three-day gathering of delegations from 62 countries and CEOs from 146 of the largest Western corporations.
Putin did not speak of the billions of dollars in trade deals that were being formalized. Instead Putin spoke of the crisis that Washington had brought to Russia, and he criticized Europe for being Washington's vassals for supporting Washington's propaganda against Russia and Washington's interference in vital Russian interests.
Putin was diplomatic in his language, but the message that powerful economic interests from the US and Europe received is that it will lead to trouble if Washington and European governments continue to ignore Russia's concerns and continue to act as if they can interfere in Russia's vital interests as if Russia did not exist.
The heads of these large corporations will carry this message back to Washington and European capitals. Putin made it clear that the lack of dialogue with Russia could lead to the West making the mistake of putting Ukraine in NATO and establishing missile bases on Russia's border with Ukraine. Putin has learned that Russia cannot rely on good will from the West, and Putin made it clear, short of issuing a threat, that Western military bases in Ukraine are unacceptable.
Washington will continue to ignore Russia. However, European capitals will have to decide whether Washington is pushing them into conflict with Russia that is against European interests. Thus, Putin is testing European politicians to determine if there is sufficient intelligence and independence in Europe for a rapprochement.
If Washington in its overbearing arrogance and hubris forces Putin to write off the West, the Russian/Chinese strategic alliance, which is forming to counteract Washington's hostile policy of surrounding both countries with military bases, will harden into preparation for the inevitable war.
The survivors, if any, can thank the Neoconservatives, the Wolfowitz doctrine, and the Brzezinski strategy for the destruction of life on earth.
The American public contains a large number of misinformed people who think they know everything. These people have been programmed by US and Israeli propaganda to equate Islam with political ideology. They believe that Islam, a religion, is instead a militarist doctrine that calls for the overthrow of Western civilization, as if anything remains of Western civilization.
Many believe this propaganda even in the face of complete proof that the Sunnis and Shi'ites hate one another far more than they hate their Western oppressors and occupiers. The US has departed Iraq, but the carnage today is as high or higher than during the US invasion and occupation. The daily death tolls from the Sunni/Shi'ite conflict are extraordinary. A religion this disunited poses no threat to anyone except Islamists themselves. Washington successfully used Islamist disunity to overthrow Gaddafi, and is currently using Islamist disunity in an effort to overthrow the government of Syria. Islamists cannot even unite to defend themselves against Western aggression. There is no prospect of Islamists uniting in order to overthrow the West.
Even if Islam could do so, it would be pointless for Islam to overthrow the West. The West has overthrown itself. In the US the Constitution has been murdered by the Bush and Obama regimes. Nothing remains. As the US is the Constitution, what was once the United States no longer exists. A different entity has taken its place.
Europe died with the European Union, which requires the termination of sovereignty of all member countries. A few unaccountable bureaucrats in Brussels have become superior to the wills of the French, German, British, Italian, Dutch, Spanish, Greek, and Portuguese peoples.
Western civilization is a skeleton. It still stands, barely, but there is no life in it. The blood of liberty has departed. Western peoples look at their governments and see nothing but enemies. Why else has Washington militarized local police forces, equipping them as if they were occupying armies? Why else has Homeland Security, the Department of Agriculture, and even the Postal Service and Social Security Administration ordered billions of rounds of ammunition and even submachine guns? What is this taxpayer-paid-for arsenal for if not to suppress US citizens?
As the prominent trends forecaster Gerald Celente spells out in the current Trends Journal, "uprisings span four corners of the globe." Throughout Europe angry, desperate and outraged peoples march against EU financial policies that are driving the peoples into the ground. Despite all of Washington's efforts with its well funded fifth columns known as NGOs to destabilize Russia and China, both the Russian and Chinese governments have far more support from their people than do the US and Europe.
In the 20th century Russia and China learned what tyranny is, and they have rejected it.
In the US tyranny has entered under the guise of the "war on terror," a hoax used to scare the sheeple into abandoning their civil liberties, thus freeing Washington from accountability to law and permitting Washington to erect a militarist police state. Ever since WWII Washington has used its financial hegemony and the "Soviet threat," now converted into the "Russian threat," to absorb Europe into Washington's empire.
Putin is hoping that the interests of European countries will prevail over subservience to Washington. This is Putin's current bet. This is the reason Putin remains unprovoked by Washington's provocations in Ukraine.
If Europe fails Russia, Putin and China will prepare for the war that Washington's drive for hegemony makes inevitable.
Paul Craig Roberts was Assistant Secretary of the Treasury for Economic Policy and associate editor of the Wall Street Journal. He was columnist for Business Week, Scripps Howard News Service, and Creators Syndicate. He has had many university appointments. His internet columns have attracted a worldwide following. His latest books are, The Failure of Laissez Faire Capitalism and How America Was Lost. http://www.paulcraigroberts.org/