"We are witnessing a huge geopolitical game in which the aim is the destruction of Russia as a geopolitical opponent of the US or of the global financial oligarchy…..The realization of this project is in line with the concept of global domination that is being carried out by the US."

- Vladimir Yakunin, former Russian senior diplomat

"History shows that wherever the U.S. meddles; chaos and misery are soon to follow."

- Kalithea, comments line, Moon of Alabama
Following a 13 year rampage that has reduced large swathes of Central Asia and the Middle East to anarchy and ruin, the US military juggernaut has finally met its match on a small peninsula in southeastern Ukraine that serves as the primary operating base for Russia's Black Sea Fleet. Crimea is the door through which Washington must pass if it intends to extend its forward-operating bases throughout Eurasia, seize control of vital pipeline corridors and resources, and establish itself as the dominant military/economic power-player in the new century. Unfortunately, for Washington, Moscow has no intention of withdrawing from the Crimea or relinquishing control of its critical military outpost in Sevastopol. That means that the Crimea–which has been invaded by the Cimmerians, Bulgars, Greeks, Scythians, Goths, Huns, Khazars, Ottomans, Turks, Mongols, and Germans–could see another conflagration in the months ahead, perhaps, triggering a Third World War, the collapse of the existing global security structure, and a new world order, albeit quite different from the one imagined by the fantasists at the Council on Foreign Relations and the other far-right think tanks that guide US foreign policy and who are responsible for the present crisis.
How Washington conducts itself in this new conflict will tell us whether the authors of the War on Terror–that public relations hoax that concealed the goals of eviscerated civil liberties and one world government–were really serious about actualizing their NWO vision or if it was merely the collective pipedream of corporate CEOs and bored bankers with too much time on their hands. In the Crimea, the empire faces a real adversary, not a disparate group of Kalashinov-waving jihadis in flip-flops. This is the Russian Army; they know how to defend themselves and they are prepared to do so. That puts the ball in Obama's court. It's up to him and his crackpot "Grand Chessboard" advisors to decide how far they want to push this. Do they want to intensify the rhetoric and ratchet up the sanctions until blows are exchanged, or pick up their chips and walk away before things get out of hand? Do they want to risk it all on one daredevil roll of the dice or move on to Plan B? That's the question. Whatever US policymakers decide, one thing is certain, Moscow is not going to budge. Their back is already against the wall. Besides, they know that a lunatic with a knife is on the loose, and they're ready to do whatever is required to protect their people. If Washington decides to cross that line and provoke a fight, then there's going to trouble. It's as simple as that.
Perma-hawk, John McCain thinks that Obama should take off the gloves and show Putin who's boss. In an interview with TIME magazine McCain said "This is a chess match reminiscent of the Cold War and we need to realize that and act accordingly…We need to take certain measures that would convince Putin that there is a very high cost to actions that he is taking now."
"High cost" says McCain, but high cost for who?
What McCain fails to realize is that this is not Afghanistan and Obama is not in a spitting match with puppet Karzai. Leveling sanctions against Moscow will have significant consequences, the likes of which could cause real harm to US interests. Did we mention that "ExxonMobil's biggest non-US oil project is a collaboration with Russia's Rosneft in the Arctic, where it has billions of dollars of investments at stake." What if Putin decides that it's no longer in Moscow's interest to honor contracts that were made with US corporations? What do you think the reaction of shareholders will be to that news? And that's just one example. There are many more.
Any confrontation with Russia will result in asymmetrical attacks on the dollar, the bond market, and oil supplies. Maybe the US could defeat Russian forces in the Crimea. Maybe they could sink the fleet and rout the troops, but there'll be a heavy price to pay and no one will be happy with the outcome. Here's a clip from an article at Testosterone Pit that sums it up nicely:
"Sergei Glazyev, the most hardline of Putin's advisors, sketched the retaliation strategy: Drop the dollar, sell US Treasuries, encourage Russian companies to default on their dollar-denominated debts, and create an alternative currency system with the BRICS and hydrocarbon producers like Venezuela and Iran…

Putin's ally and trusted friend, Rosneft president Igor Sechin…suggested that it was "advisable to create an international stock-exchange for the participating countries, where transactions could be registered with the use of regional currencies." (From Now On, No Compromises Are Possible For Russia, Testosterone Pit)
As the US continues to abuse its power, these changes become more and more necessary. Foreign governments must form new alliances in order to abandon the present system–the "dollar system"–and establish greater parity between nation-states, the very nation-states that Washington is destroying one-by-one to establish its ghoulish vision of global corporate utopia. The only way to derail that project is by exposing the glaring weakness in the system itself, which is the use of an international currency that is backed by $15 trillion in government debt, $4 trillion in Federal Reserve debt, and trillions more in unpaid and unpayable federal obligations. Whatever steps Moscow takes to abort the current system and replace the world's reserve currency with money that represents a fair store of value, should be applauded. Washington's reckless and homicidal behavior around the world make it particularly unsuitable as the de facto steward of the global financial system or to enjoy seigniorage, which allows the US to play banker to the rest of the world. The dollar is the foundation upon which rests the three pillars of imperial strength; political, economic and military. Remove that foundation and the entire edifice comes crashing to earth. Having abused that power, by killing and maiming millions of people across the planet; the world needs to transition to another, more benign way of consummating its business transactions, preferably a currency that is not backed by the blood and misery of innocent victims. Paul Volcker summed up the feelings of many dollar-critics in 2010 when he had this to say:
"The growing sense around much of the world is that we have lost both relative economic strength and more important, we have lost a coherent successful governing model to be emulated by the rest of the world. Instead, we're faced with broken financial markets, underperformance of our economy and a fractious political climate."
America is irreparably broken and Washington is a moral swamp. The world needs regime change; new leaders, new direction and a different system.
In our last article, we tried to draw attention to the role of big oil in the present crisis. Author Nafeez Ahmed expands on that theme in a "must read" article in Monday's Guardian. Check out this brief excerpt from Ahmed's piece titled "Ukraine crisis is about Great Power oil, gas pipeline rivalry":
"Ukraine is increasingly perceived to be critically situated in the emerging battle to dominate energy transport corridors linking the oil and natural gas reserves of the Caspian basin to European markets… Considerable competition has already emerged over the construction of pipelines. Whether Ukraine will provide alternative routes helping to diversify access, as the West would prefer, or 'find itself forced to play the role of a Russian subsidiary,' remains to be seen." (Guardian)
The western oil giants have been playing "catch up" for more than a decade with Putin checkmating them at every turn. As it happens, the wily KGB alum has turned out to be a better businessman than any of his competitors, essentially whooping them at their own game, using the free market to extend his network of pipelines across Central Asia and into Europe. That's what the current crisis is all about. Big Oil came up "losers" in the resource war so now they want Uncle Sam to apply some muscle to put them back in the game. It's called "sour grapes", which refers to the whining that people do when they got beat fair and square. Here's more from Ahmed:
"To be sure, the violent rioting was triggered by frustration with (Ukrainian President) Yanukovych's rejection of the EU deal, (in favor of Putin's sudden offer of a 30% cheaper gas bill and a $15 billion aid package) along with rocketing energy, food and other consumer bills, linked to Ukraine's domestic gas woes ….. Police brutality to suppress what began as peaceful demonstrations was the last straw…" (Ukraine crisis is about Great Power oil, gas pipeline rivalry, Guardian)
In other words, Yanukovych rejected an offer from Chevron that the EU and Washington were pushing, and went with the sweeter deal from Russia. According to Ahmed, that pissed off the bigwigs who decided to incite the rioting. ("Putin's sudden offer of a 30% cheaper gas bill and a $15 billion aid package provoked the protests…")
Like we said before; it's just a case of sour grapes.
So, tell me, dear reader: Is this the first time you've heard a respected analyst say that oil was behind the rioting, the coup, and the confrontation with Moscow?
I'll bet it is. Whatever tentacles Wall Street may have wrapped around the White House, Capital Hill, and the US judiciary; Big Oil still rules the roost. The Apostles of the Fossil are the oldest and most powerful club in Washington, and "What they say, goes". As Ahmed so articulately points out:
"Resource scarcity, competition to dominate Eurasian energy corridors, are behind Russian militarism and US interference…Ukraine is caught hapless in the midst of this accelerating struggle to dominate Eurasia's energy corridors in the last decades of the age of fossil fuels." ("Ukraine crisis is about Great Power oil, gas pipeline rivalry", Guardian)
Did I hear someone say "Resource War"?
As we noted in an earlier article, NWO mastermind Zbigniew Brzezinski characterized the conflict with Russia in terms of cutting off "Western access to the Caspian Sea and Central Asia". For some unknown reason, America's behemoth oil corporations think the resources that lie beneath Russian soil belong to them. The question is whether their agents will push Obama to put American troops at risk to assert that claim. If they do, there's going to be a war.
"From the moment the Soviet Union collapsed in 1991, the United States has relentlessly pursued a strategy of encircling Russia, just as it has with other perceived enemies like China and Iran. It has brought 12 countries in central Europe, all of them formerly allied with Moscow, into the NATO alliance. US military power is now directly on Russia's borders…This crisis is in part the result of a zero-sum calculation that has shaped US policy toward Moscow since the Cold War: Any loss for Russia is an American victory, and anything positive that happens to, for, or in Russia is bad for the United States. This is an approach that intensifies confrontation, rather than soothing it."

- Stephen Kinzer, "US a full partner in Ukraine debacle", Boston Globe

"We have removed all of our heavy weapons from the European part of Russia and put them behind the Urals" and "reduced our Armed Forces by 300,000. We have taken several other steps required by the Adapted Conventional Armed Forces Treaty in Europe (ACAF). But what have we seen in response? Eastern Europe is receiving new weapons, two new military bases are being set up in Romania and in Bulgaria, and there are two new missile launch areas — a radar in Czech republic and missile systems in Poland. And we are asking ourselves the question: what is going on? Russia is disarming unilaterally. But if we disarm unilaterally then we would like to see our partners be willing to do the same thing in Europe. On the contrary, Europe is being pumped full of new weapons systems. And of course we cannot help but be concerned."

- Russian President Vladimir Putin, Munich Conference on Security Policy, February 2007
The Obama administration's rationale for supporting the fascist-led coup in Ukraine collapsed on Wednesday when a "hacked" phone call between EU foreign affairs chief Catherine Ashton and Estonian foreign minister Urmas Paet revealed that the snipers who fired on protestors in Maidan Square in Kiev were not aligned with President Viktor Yanukovych, but with the protest leaders themselves. The significance of the discovery cannot be overstated since the Obama team has used the killing of protestors to justify its support for the new imposter government. Now it appears that members of the new government may be implicated in the killing of innocent civilians. This new information could force Obama to withdraw his support for the coup plotters in Kiev, which would derail the administration's plan to remove Russia from the Crimea and expand NATO into Ukraine. Here's a short recap of the details from an article in Russia Today:
"Estonian foreign ministry has confirmed the recording of his conversation with EU foreign policy chief is authentic. Urmas Paet said that snipers who shot at protesters and police in Kiev were hired by Maidan leaders.

During the conversation, Paet stressed that "there is now stronger and stronger understanding that behind the snipers, it was not Yanukovich, but it was somebody from the new coalition."….

The Estonian Ministry of Foreign Affairs also issued a statement on its website, saying that the recording of the leaked telephone conversation between Paet and Ashton is "authentic." ("Estonian Foreign Ministry confirms authenticity of leaked call on Kiev snipers", Russia Today)
To its credit, the UK Guardian published an article reporting the basic facts, but there's been no coverage by the New York Times, the Washington Post or any of the major TV News networks. America's elite media are engaged in a coordinated news blackout to keep people from seeing that the Obama administration and their EU collaborators are supporting a group of far-right extremists who were directly involved in the killing of civilians in order to topple a democratically-elected government. Here's more from the same article:
"…there is a stronger and stronger understanding that behind snipers it was not Yanukovych, it was somebody from the new coalition," Paet says…the same handwriting, the same type of bullets, and it's really disturbing that now the new coalition, that they don't want to investigate what exactly happened." ("Ukraine crisis: bugged call reveals conspiracy theory about Kiev snipers", Guardian)
There won't be an investigation because an investigation would reveal the truth, and the truth would undermine Obama's plan to install a puppet regime in Kiev. The new government has already shown that it is more than willing to do Washington's bidding, that is, to impose austerity measures on the working people of Ukraine, to pay off fatcat bondholders in Berlin and Brussels via more extortionist IMF loans, to extend NATO to Russia's border in contravention of agreements made with Bush the Elder following the fall of the Berlin Wall, and to pursue the crackpot dreams of global hegemony laid out in "The Grand Chessboard" by New World Order fantasist Zbigniew Brzezinski. These are the primary objectives of the present policy which could be upended by the allegations of foul play.
The smoking gun revelations of the hacked phone call came just hours before US officials indicated they were planning to increase their military footprint in Eastern Europe. According to the World Socialist Web Site:
"Defense Secretary Chuck Hagel said the Pentagon will boost joint training of NATO forces in Poland and step up NATO air patrols in the Baltics…US military officials said they were deploying six F-15 fighter jets and KC-135 transport planes. ….One guided-missile frigate, the USS Taylor, is still in a Black Sea port in Turkey after patrolling the region during the Sochi Olympics…

Turkish officials confirmed that they had given a US Navy warship permission to pass through the Bosphorus straits into the Black Sea, which borders Ukraine." ("Amid Ukraine crisis, US launches military escalation in Eastern Europe", World Socialist Web Site)
Also Russia Today reports that: "The guided missile destroyer, the USS Truxton, is heading to the Black Sea, for what the US military said is a "routine" deployment…The ship has a crew of about 300 and is part of an aircraft carrier strike group that left the US in mid-February." ("US navy confirms missile destroyer USS Truxton approaching the Black Sea", RT)
"Routine deployment"? So provoking a war with Russia is "routine"? Talk about understatement.
The military escalation occurs in an atmosphere of heightened tension between the two nuclear-armed powers and will certainly add to their mutual distrust. Hagel's deployment is consistent with a plan for antagonizing Moscow that was proposed just days earlier in the Washington Post by the Obama administration's ideological godfather, Zbigniew Brzezinski. Here's a bit of what Brzezinski had to say in the article titled "What is to be done? Putin's aggression in Ukraine needs a response":
"…the West should promptly recognize the current government of Ukraine as legitimate. Uncertainty regarding its legal status could tempt Putin to repeat his Crimean charade…

"…the West should convey.. that the Ukrainian army can count on immediate and direct Western aid so as to enhance its defensive capabilities. There should be no doubt left in Putin's mind that an attack on Ukraine would precipitate a prolonged and costly engagement, and Ukrainians should not fear that they would be left in the lurch.

Meanwhile, NATO forces, consistent with the organization's contingency planning, should be put on alert. High readiness for some immediate airlift to Europe of U.S. airborne units would be politically and militarily meaningful. If the West wants to avoid a conflict, there should be no ambiguity in the Kremlin as to what might be precipitated by further adventurist use of force in the middle of Europe." ("What is to be done? Putin's aggression in Ukraine needs a response", Washington Post)
"Adventurist"? Dr. Strangelove is calling the Kremlin adventurist when his recommendations would put NATO, the US and Moscow on hairtrigger alert increasing the chances of an error in judgment that could lead to thermonuclear war. Isn't that the pot calling the kettle black?
But listen to the tone of Brzezinski's op-ed. In just a few short paragraphs, the author–who many respect as a restrained and brilliant global strategist–refers to Putin as a thug, a Mafia gangster, Mussolini, and Hitler. I imagine if he had another paragraph to work with, he would have added Beelzebub Satan to the list.
This isn't politics; it's hysterics. It's incendiary, jingoistic mumbo-jumbo intended to rouse the public and fan the flames of nationalism. It's the same kind of self-righteous raving that precipitated the invasion of Iraq.
And what is Brzezinski saying?
Is he saying that events in the Crimea are a threat to US national security? Is he saying that the US should now feel free to apply the Monroe Doctrine everywhere across the planet, sticking our big nose wherever the president sees fit?
The trouble in the Crimea has nothing to do with the United States. We have no dog in this fight. This is about military expansion into Eurasia, this is about pipeline corridors and oil fields, this is about dismantling the Russian Federation and positioning multinational corporations and Wall Street investment banks in Asia for the new century. And, finally, this is an ego-driven crusade by an old man who wants to see his looneybin NWO global hegemony vision enacted before they cart him off on a marble slab. That's what this is really about; the glorious new world disorder, the dystopian wetdream of thinktank patricians everywhere whose only purpose in life is to initiate wars that other-peoples-sons will have to fight.
Entering Ukraine into the corporate-western alliance is a critical part of Brzezinski's masterplan. The basic strategy has been underway since the fall of the Berlin Wall when neoliberal carpetbaggers from the US assisted in the looting of the former Soviet state leaving Russia politically broken and economically destitute. Since then, US policy towards Russia has been overtly hostile, making every effort to encircle the oil-rich nation while positioning nuclear missile installations on its perimeter. Now Washington is using its fascist-backed coup in Ukraine to force Moscow to relinquish its grip on a region that is vital to its national security.
Here's a brief excerpt from an interview with Stephen Cohen, professor of Russian studies and history emeritus at New York University on Monday on PBS Newshour. Cohen helps to clarify what is really going on viv a vis the US and Russia:
"What we're watching today is the worst kind of history being made, the descent of a new Cold War divide between West and East in Europe, this time not in faraway Berlin, but right on Russia's borders through Ukraine. That will be instability and the prospect of war for decades to come for our kids and our grandchildren. The official version is that Putin is to blame; he did this. But it simply isn't true. This began 20 years ago when Clinton began the movement of NATO toward Russia, a movement that's continued.

…the fundamental issue here is that, three or four years ago, Putin made absolutely clear he had two red lines…One was in the former Soviet republic of Georgia. (Putin would not allow NATO in Georgia) The other was in Ukraine. We crossed both. You got a war in Georgia in 2008, and you have got today in Ukraine because we, the United States and Europe, crossed Putin's red line." (PBS News Hour)
There's no doubt who is to blame for the present conflict in Cohen's mind. It's Washington.
So, here we are, between a rock and a hard place: Putin cannot back down on an issue that's crucial to national security, and Washington is more determined than ever to pull Ukraine into –what Henry Kissinger calls–"a cooperative international system." (aka–global capitalist rule) That means there's going to be a war.
On Thursday, Crimea MPs voted unanimously to hold a referendum on whether the region should become a part of Russia or not. The balloting will take place in 10 days although Obama has already said that he will not honor the results. Apparently, other countries need to get the green-light from Washington before they conduct their elections now. This is how ridiculous things have gotten.
In 2008, Brzezinski revealed the real motives behind US aggression in Central Asia in an article that appeared in the Huffington Post that dealt primarily with the dust up in Georgia. (where Putin deployed Russian troops to defend Russian speaking civilians in South Ossetia.) Here's what Brzezinski had to say:
"The question the international community now confronts is how to respond to a Russia that engages in the blatant use of force with larger imperial designs in mind: to reintegrate the former Soviet space under the Kremlin's control and to cut Western access to the Caspian Sea and Central Asia by gaining control over the Baku/Ceyhan pipeline that runs through Georgia.

In brief, the stakes are very significant. At stake is access to oil as that resource grows ever more scarce and expensive and how a major power conducts itself in our newly interdependent world, conduct that should be based on accommodation and consensus, not on brute force.

If Georgia is subverted, not only will the West be cut off from the Caspian Sea and Central Asia. We can logically anticipate that Putin, if not resisted, will use the same tactics toward the Ukraine. Putin has already made public threats against Ukraine." ("Brzezinski: Russia's invasion of Georgia is Reminiscent of Stalin's attack on Finland"; Huffington Post)
Huh? It sounds a lot like Brzezinski thinks that oil should be his. Or maybe he thinks it belongs to the western oil giants; is that it?
So we're not dealing with national security, sovereignty or spheres of influence here. What we're really talking about is "access to oil." Not only that, but Brzezinski is being quite blunt in his assertion that "the West" –as he calls it–has a legitimate claim to the resources on other people's land. Where'd he come up with that one?
In another interview on Kavkacenter.com, in 2008, Brzezinski sounded the same alarm with a slightly different twist. Here's an excerpt from the article titled "Russia tends to destabilize Georgia":
"Brzezinski said the United States witnessed "cases of possible threats by Russia… motivated not by some territorial disputes….but caused by intention to take control over the Baku-Ceyhan pipeline".

"If Georgia government is destabilized, western access to Baku, Caspian Sea and further will be limited", said Brzezinski …. he stated that Russia will try to consolidate its monopoly on these markets and will use all existing political and economic levers, including "politically motivated cessation of energy supplies" in Europe and Baltic states.

"Russia actively tends to isolate the Central Asian region from direct access to world economy, especially to energy supplies", considers the political scientist." ("Zbigniew Brzezinski: "Russia tends to destabilize Georgia" kavkacenter.com)
Putin is not isolating anyone and he's certainly not taking over anyone's damned pipeline. He's the president of Russia. He sells oil and makes money, that's how the system works. It's called capitalism. But the oil is theirs. The natural gas is theirs. The pipelines are theirs. Not ours. Get over it!
Don't kid yourself, it's all about oil. Oil and power. The United States imperial ambitions are thoroughly marinated in oil, access to oil, and control of oil. Without oil, there's no empire, no dollar hegemony, no overbloated, bullyboy military throwing weaker countries against the wall and extorting tribute. Oil is the coin of the realm, the path to global domination.
Putin has audacity to think that the oil beneath Russian soil belongs to Russia. Washington wants to change his mind about that. And that's why the situation in Ukraine is so dangerous, because the voracious thirst for oil is pushing us all towards another world war.
Their al Qaeda terrorists soundly defeated by Hezbollah forces in Syria, the City of London Illuminati banksters have turned their sights on resource-rich Ukraine. They knew Russian President Vladimir Putin would be distracted by the Sochi Olympics, along with the barrage of threats and propaganda being hurled his way by these demonic Zio-fascists and their Western media lapdogs.
With unlimited time and money at their disposal, this is the bankster modus operandi. They attack where they see opportunity, retreat when defeated, then attack another sector of the planet within days based on vulnerability and resources.
Ukraine declared independence from the old Soviet Union in 1990. In 2004-2005 Western NGOs worked with CIA/Mossad/MI6 assets to stage the phony Orange Revolution. Victor Yuschenko became Prime Minister but was poisoned during the campaign. Western media blamed it on the Russians, but it was likely a Mossad operation since he was succeeded by more bankster-friendly right-wing billionaire Yulia Tymoshenko.
Tymoshenko had co-led the Orange Revolution and is one of Ukraine's richest people. In 2005 Forbes named her the third most powerful woman in the world. In 2007 she traveled to the US to meet with Vice-President Dick Cheney and National Security Advisor Condaleeza Rice to talk energy. Tymoshenko became rich as an executive at a natural gas company.
Ukraine was being plugged into Cheney's crooked Energy Policy Task Force, which opened the planet to unregulated oil & gas exploration, including fracking. Tymoshenko privatized over 300 state industries during her reign,
But the Ukrainian people smelled a rat.
In 2010 they voted in Prime Minister Viktor Yanukovych with 48% of the vote. His Party of Regions again defeated Tymoshenko's Fatherland Party in parliamentary elections of 2012.
Tymoshenko was convicted of embezzlement of state funds and abuse of power. She was given a seven year prison sentence and fined $188 million. The crimes occurred in the natural gas sector.
Two weeks ago Tymoshenko was released from prison as part of a deal hatched at a secret meeting between Yanukovych, EU, NATO and Russian officials first reported by William Engdahl in an article for Veterans Today. Soon after her release all hell broke loose.
Mossad's Fascist Friends
On February 22nd snipers opened fire from rooftops on Kiev's square. Engdahl says these snipers were members of a far-right fascist terror cell known as Ukrainian National Assembly – Ukrainian People's Self Defense (UNA-UNSO).
Led by Andriy Shkil, the group has ties to the neo-Nazi German National Democratic Party. According the Engdahl's intelligence sources UNA-UNSO is part of a secret NATO Gladio cell and was involved in conflicts ranging from Georgia to Kosovo to Chechnya as part of a strategy of tension aimed at Russia.
Shkil also has direct ties to Tymoshenko, as does newly installed Prime Minster Oleksandr Turchynov, a Baptist preacher and former Tymoshenko advisor who took over after Yanukovych fled under threat to his life to Russia.
In 2006 state prosecutors opened a criminal case against Turchynov, who was accused of destroying files which showed Tymoshenko's ties to organized crime boss Semion Mogilevich. With Turchynov as Prime Minister Ukraine is now under the thumb of fascist organized criminals known collectively as Right Sector.
It came as no surprise then, when Press TV reported that both Haaretz and the Times of Israel openly bragged of how a group of "former" Israeli soldiers known as the Blue Helmets of the Maidan had led the "protesters" in Kiev's square under the leadership of a man code-named Delta. According to Paul Craig Roberts, these "protestors" were also being paid by the EU and US.
A Mossad coup brought Right Sector to power, pushing aside more moderate voices being funded and backed by the US, as revealed in the now-infamous YouTube video showing Assistant Secretary of State Victoria Nuland discussing with US Ambassador to Ukraine Geoffrey Pyatt (both Israeli assets within the State Department) who they would want to install as Ukrainian Prime Minster once they got rid of Yanukovych.
A Resource Grab
As usual this Rothschild-led bankster putsch is all about resources. Ukraine lies in a highly strategic geographic location, fronting both the Black Sea and the Sea of Azov. Ukraine is the bread basket of the Eastern Hemisphere. In 2011 it was the world's 3rd largest grain exporter. It ranks in the top 10 countries in the world for sought-after farmland.
Ukraine has the 2nd largest military in Europe after Russia and the NATO Rothschild tool would love nothing better than to run out theRussian Black Sea Fleet at Sevastopol – a symbol of Russian naval power since the 18th century.
Ukraine has vast natural gas deposits, an advanced industrial base and is a highly strategic crossroads for oil & gas pipelines connecting Four Horsemen Caspian Sea energy fields with European consumers. In 2009 a dispute between Putin and Tymoshenko over Russia's trans-Ukrainian gas supplies caused a huge spike in gas prices in Europe.
In October 2013 the IMF met with Ukrainian officials to discuss the country's alleged "budget crisis". The bankster enforcer arm demanded that Ukraine double consumer prices for natural gas and electricity, devalue its currency, slash state funding for schools and the elderly, and lift a ban on the sale of its rich farmland to foreigners. In return for this Ukraine was promised a measly $4 billion.
Yanukovych told the IMF to take a hike and Russia soon stepped in promising cheaper energy and stating it would buy $15 billion in Ukrainian bonds. Yanukovych was now on the bankster hit list, and the rest is history.
Russia has responded to the Ukrainian coup by sending troops into the Crimea to protect its mostly Russian-speaking population and the Black Sea Fleet. It was here 160 years ago where Catherine the Great launched a major campaign to seize the Crimea from Ottoman sultans.
During WWII ethnic Tatars in Crimea collaborated with Hitler in seizing the region briefly, before Stalin routed them and expelled the Tatar separatists. Many have since returned.
As this drama unfolds, look for the banksters' Western media tool to make up some "humanitarian crisis" involving the Tatars. There will be more trouble in Crimea.
But the Russians have responded swiftly, as has the alternative media. It ain't like the good old days, where bankster coups went unquestioned and unnoticed. The Ukrainian people will not stand for these fascists for long either. They saw the empty promises brought forth by the last bankster "event"- the Orange Revolution. They have experience in the field.
The demonic City of London Illuminati banksters may have unlimited time and money. But the people are awakening. The human spirit has unlimited potential. We are much closer to the beginning of this story than to the end.
Dean Henderson is the author of four books: Big Oil & Their Bankers in the Persian Gulf: Four Horsemen, Eight Families & Their Global Intelligence, Narcotics & Terror Network, The Grateful Unrich: Revolution in 50 Countries, Stickin' it to the Matrix, Das Kartell der Federal Reserve and The Federal Reserve Cartel.
Source: Dean Henderson
"Bias in favor of the orthodox is frequently mistaken for 'objectivity'. Departures from this ideological orthodoxy are themselves dismissed as ideological." – Michael Parenti
An exchange in January with Paul Farhi, Washington Post columnist, about coverage of US foreign policy:
Dear Mr. Farhi,

Now that you've done a study of al-Jazeera's political bias in supporting Mohamed Morsi in Egypt, is it perhaps now time for a study of the US mass media's bias on US foreign policy? And if you doubt the extent and depth of this bias, consider this:

There are more than 1,400 daily newspapers in the United States. Can you name a single paper, or a single TV network, that was unequivocally opposed to the American wars carried out against Libya, Iraq, Afghanistan, Yugoslavia, Panama, Grenada, and Vietnam? Or even opposed to any two of these wars? How about one? In 1968, six years into the Vietnam war, the Boston Globe  surveyed the editorial positions of 39 leading US papers concerning the war and found that "none advocated a pull-out".

Now, can you name an American daily newspaper or TV network that more or less gives any support to any US government ODE (Officially Designated Enemy)? Like Hugo Chávez of Venezuela or his successor, Nicolás Maduro; Fidel or Raúl Castro of Cuba; Bashar al-Assad of Syria; Mahmoud Ahmadinejad of Iran; Rafael Correa of Ecuador; or Evo Morales of Bolivia? I mean that presents the ODE's point of view in a reasonably fair manner most of the time? Or any ODE of the recent past like Slobodan Milosevic of Serbia, Moammar Gaddafi of Libya, Robert Mugabe of Zimbabwe, or Jean-Bertrand Aristide of Haiti?

Who in the mainstream media supports Hamas of Gaza? Or Hezbollah of Lebanon? Who in the mainstream media is outspokenly critical of Israel's treatment of the Palestinians? And keeps his or her job?

Who in the mainstream media treats Julian Assange or Chelsea Manning as the heroes they are?

And this same mainstream media tell us that Cuba, Venezuela, Ecuador, et al. do not have a real opposition media.

The ideology of the American mainstream media is the belief that they don't have any ideology; that they are instead what they call "objective". I submit that there is something more important in journalism than objectivity. It is capturing the essence, or the truth, if you will, with the proper context and history. This can, as well, serve as "enlightenment".

It's been said that the political spectrum concerning US foreign policy in the America mainstream media "runs the gamut from A to B".

Sincerely, William Blum, Washington, DC
(followed by some of my writing credentials)
–
Reply from Paul Farhi:
I think you're conflating news coverage with editorial policy. They are not the same. What a newspaper advocates on its editorial page (the Vietnam example you cite) isn't the same as what or how the story is covered in the news columns. News MAY have some advocacy in it, but it's not supposed to, and not nearly as overt or blatant as an editorial or opinion column. Go back over all of your ODE examples and ask yourself if the news coverage was the same as the opinions about those ODEs. In most cases. I doubt it was.
–
Dear Mr. Farhi,

Thank you for your remarkably prompt answer.

Your point about the difference between news coverage and editorial policy is important, but the fact is, as a daily, and careful, reader of the Post for the past 20 years I can attest to the extensive bias in its foreign policy coverage in the areas I listed. Juan Ferrero in Latin America and Kathy Lally in the Mideast are but two prime examples. The bias, most commonly, is one of omission more than commission; which is to say it's what they leave out that distorts the news more than any factual errors or out-and-out lies. My Anti-Empire Report contains many examples of these omissions, as well as some errors of commission.

Incidentally, since 1995 I have written dozens of letters to the Post pointing out errors in foreign-policy coverage. Not one has been printed.

Happy New Year
–
I present here an extreme example of bias by omission, in the entire American mainstream media: In my last report I wrote of the committee appointed by the president to study NSA abuses – Review Group on Intelligence and Communications Technologies – which actually came up with a few unexpected recommendations in its report presented December 13, the most interesting of which perhaps are these two:
"Governments should not use surveillance to steal industry secrets to advantage their domestic industry."
"Governments should not use their offensive cyber capabilities to change the amounts held in financial accounts or otherwise manipulate the financial systems."
So what do we have here? The NSA being used to steal industrial secrets; nothing to do with fighting terrorism. And the NSA stealing money and otherwise sabotaging unnamed financial systems, which may also represent gaining industrial advantage for the United States.
Long-time readers of this report may have come to the realization that I'm not an ecstatic admirer of US foreign policy. But this stuff shocks even me. It's the gross pettiness of "The World's Only Superpower".
A careful search of the extensive Lexis-Nexis database failed to turn up a single American mainstream media source, print or broadcast, that mentioned this revelation. I found it only on those websites which carried my report, plus three other sites: Techdirt, Lawfare, and Crikey (First Digital Media).
For another very interesting and extreme example of bias by omission, as well as commission, very typical of US foreign policy coverage in the mainstream media: First read the January 31, page one, Washington Post article making fun of socialism in Venezuela and Cuba.
Then read the response from two Americans who have spent a lot of time in Venezuela, are fluent in Spanish, and whose opinions about the article I solicited.
I lived in Chile during the 1972-73 period under Salvadore Allende and his Socialist Party. The conservative Chilean media's sarcastic claims at the time about shortages and socialist incompetence were identical to what we've been seeing for years in the United States concerning Venezuela and Cuba. The Washington Post article on Venezuela referred to above could have been lifted out of Chile's El Mercurio, 1973.
[Note to readers: Please do not send me the usual complaints about my using the name "America(n)" to refer to "The United States". I find it to be a meaningless issue, if not plain silly.]
JFK, RFK, and some myths about US foreign policy
On April 30, 1964, five months after the assassination of President John F. Kennedy, his brother, Attorney General Robert F. Kennedy, was interviewed by John B. Martin in one of a series of oral history sessions with RFK. Part of the interview appears in the book "JFK Conservative" by Ira Stoll, published three months ago. (pages 192-3)
RFK: The president … had a strong, overwhelming reason for being in Vietnam and that we should win the war in Vietnam.

MARTIN: What was the overwhelming reason?

RFK: Just the loss of all of Southeast Asia if you lost Vietnam. I think everybody was quite clear that the rest of Southeast Asia would fall.

MARTIN: What if it did?

RFK: Just have profound effects as far as our position throughout the world, and our position in a rather vital part of the world. Also it would affect what happened in India, of course, which in turn has an effect on the Middle East. Just as it would have, everybody felt, a very adverse effect. It would have an effect on Indonesia, hundred million population. All of those countries would be affected by the fall of Vietnam to the Communists.

MARTIN: There was never any consideration given to pulling out?

RFK: No.

MARTIN: … The president was convinced that we had to keep, had to stay in there …

RFK: Yes.

MARTIN: … And couldn't lose it.

RFK: Yes.
These remarks are rather instructive from several points of view:
Robert Kennedy contradicts the many people who are convinced that, had he lived, JFK would have brought the US involvement in Vietnam to a fairly prompt end, instead of it continuing for ten more terrible years. The author, Stoll, quotes a few of these people. And these other statements are just as convincing as RFK's statements presented here. And if that is not confusing enough, Stoll then quotes RFK himself in 1967 speaking unmistakably in support of the war.

It appears that we'll never know with any kind of certainty what would have happened if JFK had not been assassinated, but I still go by his Cold War record in concluding that US foreign policy would have continued along its imperial, anti-communist path. In Kennedy's short time in office the United States unleashed many different types of hostility, from attempts to overthrow governments and suppress political movements to assassination attempts against leaders and actual military combat; with one or more of these occurring in Vietnam, Cambodia, Laos, British Guiana, Iraq, Haiti, Dominican Republic, Cuba and Brazil.

"Just have profound effects as far as our position throughout the world, and our position in a rather vital part of the world."

Ah yes, a vital part of the world. Has there ever been any part of the world, or any country, that the US has intervened in that was not vital? Vital to American interests? Vital to our national security? Of great strategic importance? Here's President Carter in his 1980 State of the Union Address: "An attempt by any outside force to gain control of the Persian Gulf region will be regarded as an assault on the vital interests of the United States of America".

"What a country calls its vital economic interests are not the things which enable its citizens to live, but the things which enable it to make war." – Simone Weil (1909-1943), French philosopher

If the US lost Vietnam "everybody was quite clear that the rest of Southeast Asia would fall."

As I once wrote:

Thus it was that the worst of Washington's fears had come to pass: All of Indochina – Vietnam, Cambodia and Laos – had fallen to the Communists. During the initial period of US involvement in Indochina in the 1950s, John Foster Dulles, Dwight Eisenhower and other American officials regularly issued doomsday pronouncements of the type known as the "Domino Theory", warning that if Indochina should fall, other nations in Asia would topple over as well. In one instance, President Eisenhower listed no less than Taiwan, Australia, New Zealand, the Philippines and Indonesia amongst the anticipated "falling dominos".

Such warnings were repeated periodically over the next decade by succeeding administrations and other supporters of US policy in Indochina as a key argument in defense of such policy. The fact that these ominous predictions turned out to have no basis in reality did not deter Washington officialdom from promulgating the same dogma up until the 1990s about almost each new world "trouble-spot", testimony to their unshakable faith in the existence and inter-workings of the International Communist Conspiracy.
Killing suicide
Suicide bombers have become an international tragedy. One can not sit in a restaurant or wait for a bus or go for a walk downtown, in Afghanistan or Pakistan or Iraq or Russia or Syria and elsewhere without fearing for one's life from a person walking innocently by or a car that just quietly parked nearby. The Pentagon has been working for years to devise a means of countering this powerful weapon.
As far as we know, they haven't come up with anything. So I'd like to suggest a possible solution. Go to the very source. Flood selected Islamic societies with this message: "There is no heavenly reward for dying a martyr. There are no 72 beautiful virgins waiting to reward you for giving your life for jihad. No virgins at all. No sex at all."
Using every means of communication, from Facebook to skywriting, from billboards to television, plant the seed of doubt, perhaps the very first such seed the young men have ever experienced. As some wise anonymous soul once wrote:
A person is unambivalent only with regard to those few beliefs, attitudes and characteristics which are truly universal in his experience. Thus a man might believe that the world is flat without really being aware that he did so – if everyone in his society shared the assumption. The flatness of the world would be simply a "self-evident" fact. But if he once became conscious of thinking that the world is flat, he would be capable of conceiving that it might be otherwise. He might then be spurred to invent elaborate proofs of its flatness, but he would have lost the innocence of absolute and unambivalent belief.
We have to capture the minds of these suicide bombers. At the same time we can work on our own soldiers. Making them fully conscious of their belief, their precious belief, that their government means well, that they're fighting for freedom and democracy, and for that thing called "American exceptionalism". It could save them from committing their own form of suicide.
The name 'Rothschild' first appeared in the 18th century when Mayer Amschel Bauer established his banking empire in Frankfurt, Germany, and changed the family name. The Bauers were a notorious satanic family in Middle Ages Germany and the major Rothschilds remain master black magicians to this day. Mayer Amschel's father, Moses Amschel Bauer, was a moneylender and proprietor of a counting house.
The Rothschild dynasty is controlled by the family's satanic black magicians who know how reality works and how they can manipulate energy and human perception. They know that money, like everything else, is energy and they have set up the financial system to exploit this knowledge. People talk about 'flows of money', but it is really flows of energy and they have created an energetic construct that ensures that the energy of money flows to them. We call this construct the 'economic system' or 'the economy' and it appears to consist of banks, financial houses, stock markets and other forms of trading; but all of these entities are just acupuncture points on the meridians of money to ensure that the wealth of the world flows to the bloodline families. It is because of this that the Rothschilds count their wealth in multiples of trillions and more.
The Rothschilds control the global financial system and have accumulated their power by theft and exploitation. Their whole system is based on a gigantic fraud because there is no money, as we perceive it. The paper money and coins are backed by nothing. Their value is only the value that we can be persuaded they have. They are just worthless pieces of paper (a promise-to-pay or promissory note) and pieces of metal that we are tricked into taking seriously. Most 'money' is not even something you can hold today; it is only figures on a computer screen. 'Money' is brought into circulation through what is called 'credit', but this 'credit' is a belief-system, that's all, a belief that it exists. The banks are not lending us anything and people are paying them a fortune to do so.
The bloodline families, particularly the Rothschilds, have controlled governments and banking for centuries and they have been able to dictate the laws of the financial system and introduce what is called 'fractional reserve lending'. This allows banks to lend at least ten times what they have on deposit. In other words, they are lending 'money' they don't have and that doesn't exist – called 'credit' – and are charging interest on it. When you go to a bank to borrow, say £50,000, you have to provide 'collateral' by signing over your house, land, car or business, and this will go to the bank if you don't meet the repayments. The bank is giving you nothing in return for all this. It types into your account £50,000 and that's it. The £50,000 doesn't really exist – it is a line of non-existent 'credit'. Say you give someone a cheque for £20,000 from the original £50,000 and the recipient deposits the money into another bank. Now this second bank can lend ten times the £20,000 to other people, quite legally, and charge them interest. When you follow the original £50,000 from bank to bank, the amount of 'credit' that is created as it circulates the banking system is absolutely fantastic. We are talking here about a single loan that was created out of thin air in the first place.
This is how the Rothschilds have come to own governments and most of the world. Interest on money is the key here. If money was put into circulation interest-free, and there was no interest on money in any form, it would return to its rightful role as a unit of energy exchange that overcomes the limitations of barter. It is when you introduce interest that the trouble starts because then you are making money from money and it no longer serves the people – it enslaves them. The bank credit / interest system means that the unit of exchange for human activity comes into circulation right from the start as a debt.
Governments could create their own money interest-free to pay for public services, but instead they borrow it from the banking system and the population has to pay it back, plus interest. It is the same with individuals and businesses. Governments don't create their own interest-free money because they are controlled by the families who also control the banks, most notably the Rothschilds. Abraham Lincoln was assassinated by the Rothschilds when he began to print interest-free money called 'greenbacks' to fund the North in the American Civil War. The Rothschilds were funding both sides in the Civil War, as they do in all the wars they engineer, but Lincoln eventually refused to pay their phenomenal levels of interest. The greenback system worked so well that Lincoln was considering making it the permanent means of government finance. This was the worst nightmare for the Rothschilds. The Rothschilds had Lincoln assassinated by John Wilkes Booth in 1865 and the greenback policy went with him.
There is another vital aspect to understand about interest on money: when you take out a loan, the bank 'creates', in the form of 'credit', the amount of the 'loan'. This sounds obvious and straightforward, except for one thing. You are not paying back only the loan; you are paying back the loan, plus interest, and the interest is not created, only the principle figure. This means that there is never even nearly enough 'money' in circulation to pay back all the outstanding loans and interest. It is a fatal flaw with regard to human freedom and it has been done purposely to ensure that bankruptcy and loss of property and possessions to the banks is built into the system. It is all part of the Rothschild energy-construct that flows the wealth and energy of the people in their direction. A fantastic amount of the money that people pay in taxes goes straight to the private banks to pay back interest on 'money' that the government could create itself, interest free. 'Privatisation' is the selling of state assets in response to bank-created debt.
The world's poorest countries are handing over control of their land and resources to the Rothschild banks when they can't pay back the loans made specifically to ensnare them in this very situation. 'Third World Debt' was manufactured to replace physical occupation of resource-rich or strategically-situated countries with today's financial occupation. Once a country is indebted to the Rothschild bankers with non-existent credit, it is forced to hand over control of its affairs to the banks, the World Bank and the International Monetary Fund (IMF). These then dictate economic and social policy at every level. The World Bank and IMF are wholly-owned subsidiaries of the Rothschilds and always have their place-men at the helm. Poor countries with debt they are struggling to repay are forced to cut spending on social programmes, health, education and humanitarian projects to pay the banks the 'debt' they owe. The world does not have to be in poverty and conflict. It is manipulated to be that way to serve the bloodline agenda for global dictatorship.
Julian Websdale is an independent researcher in the fields of esoteric science and metaphysics, and a self-initiate of the Western Esoteric Tradition. His interest in these subjects began in 1988. Julian was born in England, received his education as an electronic and computer engineer from the University of Bolton, served in a Vaishnava monastery during 2010, and has travelled to over 21 countries. Julian is also a member of the Palestinian Solidarity Campaign. Blog: julianwebsdale.tumblr.com
Source: Julian Websdale  |  Waking Times
The Fed's easy money policies have pushed margin debt on the New York Stock Exchange (NYSE) to record levels laying the groundwork for a severe correction or another violent market crash.
In December, margin debt rose by $21 billion to an all-time high of $445 billion.
Buying equities on margin, that is, with loads of borrowed cash, is a sign of excessive risk taking the likes of which invariably takes place whenever the Central Bank creates subsidies for speculation by keeping interest rates pegged below the rate of inflation or by pumping trillions of dollars into the bloated financial system through misguided liquidity programs like QE.
Investors have shrugged off dismal earnings reports, abnormally-high unemployment, flagging demand, droopy incomes, stagnant wages and swollen P/E ratios and loaded up on stocks confident that the Fed's infusions of liquidity will keep prices going higher. It's only a matter of time before they see the mistake they've made.
The chart below illustrates how zero rates and QE lead to excessive risk taking. The correlation between the stratospheric rise of margin debt and the Fed's destabilizing monetary policy is hard to avoid. This is what bubblemaking looks like in real time.
Chart: Seeking Alpha.
In the minutes of the FOMC's December meeting, FOMC officials acknowledge the froth they've created in financial assets which is why they've begun to scale back their asset purchases. The Fed hopes that by gradually winding down QE they'll be able to stage a soft landing rather than a full-blown crash. Here's an excerpt from the FOMC's minutes:
"In their discussion of potential risks, several participants commented on the rise in forward price-to-earnings ratios for some smallcap stocks, the increased level of equity repurchases, or the rise in margin credit. One pointed to the increase in issuance of leveraged loans this year and the apparent decline in the average quality of such loans."
There you have it, the Fed sees the results of its work; the distortions in P/E ratios, the exuberant stock buybacks ("equity repurchases"), the deterioration in the quality of leveraged loans, and the steady rise in margin debt. They see it all, all the bubbles they've created with their gargantuan $3 trillion surge of liquidity. Now they have started to reverse the policy by reducing their asset purchase from $85 bil to $65 bil per month, the effects of which can already be seen in the Emerging Markets.
The bubble in Emerging Markets has burst sending foreign currencies plunging and triggering a sharp reversal in capital flows. The hot money that flooded the EMs,–(which lowered the cost of borrowing for businesses and consumers)–is entirely attributable to the Fed's policy. QE pushes down long-term interest rates forcing investors to search for higher yield in other markets. Thus, the cost of money drops in EMs creating a boom that abruptly ends when the policy changes (as it has).
Capital is fleeing EMs at an unprecedented pace precipitating a dramatic slowdown in economic activity, higher consumer prices and widespread public distress. The Fed is 100% responsible for the turmoil in emerging markets, a fact which even mainstream news outlets blandly admit. Here's an excerpt from an article in Bloomberg just this week:
"Investors are pulling money from exchange-traded funds that track emerging markets at the fastest rate on record…More than $7 billion flowed from ETFs investing in developing-nation assets in January, the most since the securities were created, data compiled by Bloomberg show…

Emerging economies have benefited from cheap money as three rounds of Fed bond buying pushed capital into their borders in search of higher returns…

The Fed's asset purchases had helped fuel a credit boom in developing nations from Turkey to Brazil. Accumulated capital inflows to developing-country's debt markets since 2008 reached $1.1 trillion, or $470 billion more than their long-term trend, according to a study by the International Monetary Fund in October." ("Record Cash Leaves Emerging Market ETFs on Lira Drop", Bloomberg)
The Fed doesn't care if other countries are hurt by its policies. What the Fed worries about is how the taper is going to effect Wall Street. If the slightest reduction in asset purchases causes this much turbulence abroad, then what's it going to do to US stock and bond markets?
The answer, of course, is that stocks are going to fall…hard. It can't be avoided. And while the amount of margin debt is not a reliable tool for calling a top; it's safe to say that the recent spike in investor leverage has moved the arrow well into the red zone. Investors are going to cash out long before the Fed ends QE altogether, which means the selloff could persist for some time to come much like after the dot.com bubble popped and stocks drifted lower for a full year. Now check out this clip from Alhambra Investment Partners newsletter titled "The Year of Leverage":
"For the year, total margin debt usage jumped by an almost incomprehensible $123 billion, while cash balances declined by $19 billion. That $142 billion leveraged bet on stocks far surpasses any twelve month period in history. The only times that were even close to as leveraged were the year leading up to June 2007 (-$89 billion) and the twelve months preceding February and March 2000 (-$77 billion). Both of those marked significant tops in the market." ( Alhambra Investment Partners newsletter titled "The Year of Leverage")
Repeat: "The $142 billion leveraged bet on stocks far surpasses any twelve month period in history."
Investors are "all-in" because they think that the Fed has their back. They think that Bernanke (or Yellen) will not allow stocks to fall too far without intervening. (This is called the "Bernanke Put") So far, that's been a winning strategy, but that might be changing. The Fed's determination to taper suggests that it wants to withdraw its stimulus to avoid being blamed for the bursting bubble. ("Plausible deniability"?) That's what's driving the current policy. Here's more on margin debt from Wolf Richter at Testosterone Pit:
"On the New York Stock Exchange, margin credit has been hitting new records for months. All three mega-crashes in my investing lifetime have been accompanied by record-setting peaks in margin debt. In September 1987, a month before the crash, margin credit peaked at 0.88% of GDP. In March 2000, when the crash began, margin credit peaked at 2.7% of GDP. In July 2007, three months before the downdraft started, margin credit peaked at 2.6% of GDP. Now, margin credit has already reached 2.5% of GDP." ("Plagued By Indigestion, Fed Issues Asset-Bubble Warning", Testosterone Pit)
Stock market crashes are always connected to massive leverage, loosey-goosey monetary policy and irrational exuberance ("excessive risk taking"), the toxic combo that presently rules the markets. The Federal Reserve is invariably the source of all bubblemaking and financial instability.
As we noted earlier, equity repurchases or stock buybacks are another sign of froth. Here's an excellent summary on the topic by Alhambra Investment Partners:
"In the third quarter of 2013, share repurchases totaled $128.2 billion, the highest level since Q4 2007. For the twelve months ended in September 2013, aggregate share repurchases were an astounding $445.3 billion; the only twelve-month period greater than that total was the calendar year of 2007 and its $589 billion.

The common argument advanced in favor of such share repurchases is that companies are using cash to recognize undervalued stocks, but that is total hogwash…

…corporate managers are no different than the reviled stereotypical retail investor. Both leverage themselves further and further as the market goes higher, not in recognizing undervalued stocks or companies but in full froth of chasing obscene values via rationalizations." ( Alhambra Investment Partners newsletter titled "The Year of Leverage")
In other words, corporate managers are doing the same thing as your average margin investor. They are loading up on financial assets–not because they think they are a good value or because they expect higher earnings –but because Fed policy supports artificially-high prices. That's what's driving the bull market, the Fed's thumb on the scale. Remove the thumb, and you have a whole new ballgame (as we see in the EMs). There's also a bubble in high yield "junk" bonds which just had their second biggest year on record (Total issuance $324 billion) Investors are only too happy to dump their money into high-risk debt believing that companies never default or that the Fed will save the day again credit tightens and the dominoes start tumbling through the debt markets. According to Testosterone Pit:
"The cost of a high-yield bond on an absolute coupon basis is as low as it's ever been," explained Baratta, king of Blackstone's $53 billion in private equity assets. Even the riskiest companies are selling the riskiest bonds at low yields… Why would anyone buy this crap?" ("Bubble Trouble: Record Junk Bond Issuance, A Barrage Of IPOs, "Out Of Whack" Valuations, And Grim Earnings Growth", Testosterone Pit)
Why, indeed? Of course, the author is just being rhetorical, after all, he knows why people are piling into junk. It's because the Fed has kept a gun to their heads for 5 years, forcing them to grab higher yield wherever they can find it. That's how Bernanke's dogwhistle monetary policy works. By slashing rates to zero, the Fed coerces investors to speculate on any type of garbage that's available. That why junk "just had its second biggest year on record." You can thank Bernanke.
Housing is also in a bubble due to the Fed's zero rates, withheld inventory, government modification programs, and an unprecedented uptick in all-cash investors. Clearly, there's never been a market more manipulated than housing. It's a joke.
The surge of Wall Street liquidity has spilled over into housing distorting prices and reducing the number of first time homebuyers to an all-time low. The homeownership rate is actually falling even while prices climb higher, which is just one of many anomalies created by the Fed's policy. (Who's ever heard of a housing boom, where the number of firsttime homebuyers is dropping?)
Also, the Central Bank has purchased more than $1 trillion in mortgage-backed securities (MBS) via QE, which begs the question: How can housing prices NOT be in a bubble?
As we noted earlier, the Fed understands the impact its policies have had. They know the markets are overheated and they're determined to do something about it. A recent article in Bloomberg explains the Fed's plan for winding down QE "without doing damage to the economy". Here's a short excerpt from the piece:
"Janet Yellen probably will confront a test during her tenure as Federal Reserve chairman that both of her predecessors flunked: defusing asset bubbles without doing damage to the economy…

Yellen is 'going to be trying to do something that no one has ever done,' said Stephen Cecchetti, former economic adviser for the Bank for International Settlements, the Basel, Switzerland-based central bank for monetary authorities. She needs 'to ensure that accommodative monetary policy doesn't create significant financial stability risks,' he said in an interview…

The Fed's 'first, second and third lines of defense" for dealing with such imbalances is to rely on supervision, regulation and so-called macro-prudential policies, such as mortgage loan-to-value restrictions, Bernanke told the Brookings Institution in Washington on Jan. 16. ….Only as a last resort would it consider raising interest rates.' ("Yellen Faces Test Bernanke Failed: Ease Bubbles", Bloomberg)
You got that?
So the Fed is going into the "bubble-deflating" biz.
Check.
And uber-dove Yellen is going to put things right. She's going to eliminate the price distortions and gradually return the markets to normalcy.
Right, again.
She's going to wind down QE and start to reduce the Fed's $4 trillion balance sheet.
Oakie dokie.
And she's going to do all of this without raising interest rates or sending stocks into freefall?
Right. It's a pipedream. The first sign of trouble and old Yellen will be scuttling across the floor of the New York Stock Exchange with a punch bowl the size of Yankee Stadium.
You can bet on it.
The New Wave of Financial Instability…
Global stocks were hammered on Friday for a second straight day on news of a slowdown in China and turbulence in emerging markets. The Dow Jones Industrials suffered its worse drubbing in more than two years, tumbling 318 points on Friday to end a 490 point two-day rout. Emerging markets currencies were whipsawed by capital flight as foreign investors fled to the safety of U.S. Treasuries. Turkey's lira and the Argentine peso were particularly hard hit setting record lows in the 48 hour period. The scaling back of the Fed's $85 billion per month asset purchase program, called QE, has altered the dynamic that made emerging markets the "engines for global growth". The policy reversal has triggered a selloff in risk assets and sent EM currencies plunging. Here's a summary from Bloomberg:
"The worst selloff in emerging-market currencies in five years is beginning to reveal the extent of the fallout from the Federal Reserve's tapering of monetary stimulus, compounded by political and financial instability.

Investors are losing confidence in some of the biggest developing nations, extending the currency-market rout triggered last year when the Fed first signaled it would scale back stimulus. While Brazil, Russia, India, China and South Africa were the engines of global growth following the financial crisis in 2008, emerging markets now pose a threat to world financial stability." ("Contagion Spreads in Emerging Markets as Crises Grow," Bloomberg)
Paradoxically, Bloomberg editors blame the victims of the Fed's failed policy for the current ructions in the markets. In an article titled, "What's Behind the Emerging-Market Meltdown" the editors say,"emerging-market governments … should recognize that this week's financial-market turmoil was, to varying degrees, their own fault." … "the best way for emerging-market governments to restore confidence would be to improve their policies."
Logically, one would assume that the editors would throw their support behind capital controls or other means of stemming the destructive flow of speculative capital into domestic markets. But that's not the case. What the editors really want, is policies that trim deficits, slash public spending, and allow foreign investors to continue to wreak havoc on vulnerable economies that follow their free market diktats. The article is a defense of the status quo, of maintaining the same ruinous policies so that profit-taking can continue apace.
The Fed was warned early on that its uber-accommodative monetary policy was spilling over into emerging markets and creating conditions for another financial crisis. Take a look at this excerpt from an article in Bloomberg back in 2010 where Nobel prize winning economist, Joseph Stiglitz, explicitly warns the Fed of the dangers of QE.
Bloomberg:
"The U.S. Federal Reserve's plan to boost purchases of bonds poses "considerable" risks by increasing capital inflows to emerging markets, Nobel Prize- winning economist Joseph Stiglitz said in Santiago today.

"All this liquidity that they're creating is not going back to grow the American economy and is going to Asia and other emerging markets where it's not wanted," Stiglitz said…..Increased capital inflows could cause emerging market currencies to appreciate and could create asset bubbles, he said." ("Stiglitz Says Fed Stimulus Poses `Considerable' Risks for Emerging Markets," Bloomberg, Dec 2010)
Events have unfolded exactly as Stiglitz predicted they would, which means the Fed is 100% responsible the carnage in the stock and currencies markets.
The policy has pumped nearly "$7 trillion of foreign funds" into EMs since QE was first launched in 2009. According to the Telegraph's Ambrose Evans-Pritchard, "much of it "hot money" going into bonds, equities and liquid instruments that can be sold quickly….Officials are concerned that this footloose capital could leave fast in a crisis, setting off a cascade effect," Pritchard adds ominously.
Whether last week's bloodbath was just a prelude to a bigger crash is impossible to say, but it is worth noting that the Fed has only reduced its purchases by a mere $10 billion per month while still providing $75 billion every 30 days. That suggests that markets will probably face greater turmoil in the months ahead. Check out this clip from USA Today:
"Emerging markets need the hot money but capital is exiting now," says (Blackrock's Russ) Koesterich. "What you have is people saying, 'I don't want to own emerging markets.'…

The bigger fear is if the current crisis in currency markets morphs into a full-blown economic crisis and leads to financial contagion, says Matthias Kuhlmey, managing director of HighTower's Global Investment Solutions.

"The currency story is fascinating and can be a slippery slope – be cautious," says Kuhlmey, adding that the Asian crisis in the summer of 1997 that started with a sharp drop in the value of Thailand's baht, turned into a broader economic crisis that engulfed Indonesian, South Korea and a handful of other countries. It also rocked financial markets." ("Why emerging markets worry Wall Street," USA Today)
So, is this the Big One, the beginning of the next financial crisis?
It's too early to say, but investors and analysts are worried. Fed tightening (via "taper") will be felt in markets around the world. The trouble in emerging markets will intensify deflationary pressures in the Eurozone and put a damper on China's growth. Slower global growth, in turn, will create balance sheets problems for undercapitalized and over-leveraged banks and other financial institutions which will increase the probability of another Lehman Brothers-type default.
According to Reuters, a normalizing of interest rates in the US, (which most analysts expect) "could cut financial inflows to developing countries by as much as 80 percent for several months. In such a case, nearly a quarter of developing countries could experience sudden stops in their access to global capital, throwing some economies into a balance of payments or financial crisis, the Bank said." ("Rout in emerging markets may only be in Phase One," Reuters)
Clearly, the potential for another financial meltdown is quite real.
For more than four years, the Fed has buoyed stock prices and increased corporate margins through massive injections of free cash into the financial markets. Now the Central Bank wants to change the policy and ease its foot off the gas pedal. That's causing investors to rethink their positions and take more money off the table. What started as a selloff in emerging markets could snowball into a broader panic that could wipe out the gains of the last four years.
The Federal Reserve is entirely responsible for this new wave of financial instability.
What really happened in the Ukrainian crisis?
It is freezing cold in Kiev, legendary city of golden domes on the banks of Dnieper River – cradle of ancient Russian civilisation and the most charming of East European capitals. It is a comfortable and rather prosperous place, with hundreds of small and cosy restaurants, neat streets, sundry parks and that magnificent river. The girls are pretty and the men are sturdy. Kiev is more relaxed than Moscow, and easier on the wallet. Though statistics say the Ukraine is broke and its people should be as poor as Africans, in reality they aren't doing too badly, thanks to their fiscal imprudence. The government borrowed and spent freely, heavily subsidised housing and heating, and they brazenly avoided devaluation of the national currency and the austerity program prescribed by the IMF. This living on credit can go only so far: the Ukraine was doomed to default on its debts next month or sooner, and this is one of the reasons for the present commotion.
A tug-of-war between the East and the West for the future of Ukraine lasted over a month, and has ended for all practical purposes in a resounding victory for Vladimir Putin, adding to his previous successes in Syria and Iran. The trouble began when the administration of President Yanukovich went looking for credits to reschedule its loans and avoid default. There were no offers. They turned to the EC for help; the EC, chiefly Poland and Germany, seeing that the Ukrainian administration was desperate, prepared an association agreement of unusual severity.
The EC is quite hard on its new East European members, Latvia, Romania, Bulgaria et al.: these countries had their industry and agriculture decimated, their young people working menial jobs in Western Europe, their population drop exceeded that of the WWII.
But the association agreement offered to the Ukraine was even worse. It would turn the Ukraine into an impoverished colony of the EC without giving it even the dubious advantages of membership (such as freedom of work and travel in the EC). In desperation, Yanukovich agreed to sign on the dotted line, in vain hopes of getting a large enough loan to avoid collapse. But the EC has no money to spare – it has to provide for Greece, Italy, Spain. Now Russia entered the picture. At the time, relations of the Ukraine and Russia were far from good. Russians had become snotty with their oil money, the Ukrainians blamed their troubles on Russians, but Russia was still the biggest market for Ukrainian products.
For Russia, the EC agreement meant trouble: currently the Ukraine sells its output in Russia with very little customs protection; the borders are porous; people move freely across the border, without even a passport. If the EC association agreement were signed, the EC products would flood Russia through the Ukrainian window of opportunity. So Putin spelled out the rules to Yanukovich: if you sign with the EC, Russian tariffs will rise. This would put some 400,000 Ukrainians out of work right away. Yanukovich balked and refused to sign the EC agreement at the last minute. (I predicted this in my report from Kiev full three weeks before it happened, when nobody believed it – a source of pride).
The EC, and the US standing behind it, were quite upset. Besides the loss of potential economic profit, they had another important reason: they wanted to keep Russia farther away from Europe, and they wanted to keep Russia weak. Russia is not the Soviet Union, but some of the Soviet disobedience to Western imperial designs still lingers in Moscow: be it in Syria, Egypt, Vietnam, Cuba, Angola, Venezuela or Zimbabwe, the Empire can't have its way while the Russian bear is relatively strong. Russia without the Ukraine can't be really powerful: it would be like the US with its Mid-western and Pacific states chopped away. The West does not want the Ukraine to prosper, or to become a stable and strong state either, so it cannot join Russia and make it stronger. A weak, poor and destabilised Ukraine in semi-colonial dependence to the West with some NATO bases is the best future for the country, as perceived by Washington or Brussels.
Angered by this last-moment-escape of Yanukovich, the West activated its supporters. For over a month, Kiev has been besieged by huge crowds bussed from all over the Ukraine, bearing a local strain of the Arab Spring in the far north. Less violent than Tahrir, their Maidan Square became a symbol of struggle for the European strategic future of the country. The Ukraine was turned into the latest battle ground between the US-led alliance and a rising Russia. Would it be a revanche for Obama's Syria debacle, or another heavy strike at fading American hegemony?
The simple division into "pro-East" and "pro-West" has been complicated by the heterogeneity of the Ukraine. The loosely knit country of differing regions is quite similar in its makeup to the Yugoslavia of old. It is another post-Versailles hotchpotch of a country made up after the First World War of bits and pieces, and made independent after the Soviet collapse in 1991. Some parts of this "Ukraine" were incorporated by Russia 500 years ago, the Ukraine proper (a much smaller parcel of land, bearing this name) joined Russia 350 years ago, whilst the Western Ukraine (called the "Eastern Regions") was acquired by Stalin in 1939, and the Crimea was incorporated in the Ukrainian Soviet Republic by Khrushchev in 1954.
The Ukraine is as Russian as the South-of-France is French and as Texas and California are American. Yes, some hundreds years ago, Provence was independent from Paris, – it had its own language and art; while Nice and Savoy became French rather recently. Yes, California and Texas joined the Union rather late too. Still, we understand that they are – by now – parts of those larger countries, ifs and buts notwithstanding. But if they were forced to secede, they would probably evolve a new historic narrative stressing the French ill treatment of the South in the Cathar Crusade, or dispossession of Spanish and Russian residents of California.
Accordingly, since the Ukraine's independence, the authorities have been busy nation-building, enforcing a single official language and creating a new national myth for its 45 million inhabitants. The crowds milling about the Maidan were predominantly (though not exclusively) arrivals from Galicia, a mountainous county bordering with Poland and Hungary, 500 km (300 miles) away from Kiev, and natives of the capital refer to the Maidan gathering as a "Galician occupation".
Like the fiery Bretons, the Galicians are fierce nationalists, bearers of a true Ukrainian spirit (whatever that means). Under Polish and Austrian rule for centuries, whilst the Jews were economically powerful, they are a strongly anti-Jewish and anti-Polish lot, and their modern identity centred around their support for Hitler during the WWII, accompanied by the ethnic cleansing of their Polish and Jewish neighbours. After the WWII, the remainder of pro-Hitler Galician SS fighters were adopted by US Intelligence, re-armed and turned into a guerrilla force against the Soviets. They added an anti-Russian line to their two ancient hatreds and kept fighting the "forest war" until 1956, and these ties between the Cold Warriors have survived the thaw.
After 1991, when the independent Ukraine was created, in the void of state-building traditions, the Galicians were lauded as 'true Ukrainians', as they were the only Ukrainians who ever wanted independence. Their language was used as the basis of a new national state language, their traditions became enshrined on the state level. Memorials of Galician Nazi collaborators and mass murderers Stepan Bandera and Roman Shukhevych peppered the land, often provoking the indignation of other Ukrainians. The Galicians played an important part in the 2004 Orange Revolution as well, when the results of presidential elections were declared void and the pro-Western candidate Mr Yuschenko got the upper hand in the re-run.
However, in 2004, many Kievans also supported Yuschenko, hoping for the Western alliance and a bright new future. Now, in 2013, the city's support for the Maidan was quite low, and the people of Kiev complained loudly about the mess created by the invading throngs: felled trees, burned benches, despoiled buildings and a lot of biological waste. Still, Kiev is home to many NGOs; city intellectuals receive generous help from the US and EC. The old comprador spirit is always strongest in the capitals.
For the East and Southeast of the Ukraine, the populous and heavily industrialised regions, the proposal of association with the EC is a no-go, with no ifs, ands or buts. They produce coal, steel, machinery, cars, missiles, tanks and aircraft. Western imports would erase Ukrainian industry right off the map, as the EC officials freely admit. Even the Poles, hardly a paragon of industrial development, had the audacity to say to the Ukraine: we'll do the technical stuff, you'd better invest in agriculture. This is easier to say than to do: the EC has a lot of regulations that make Ukrainian products unfit for sale and consumption in Europe. Ukrainian experts estimated their expected losses for entering into association with the EC at anything from 20 to 150 billion euros.
For Galicians, the association would work fine. Their speaker at the Maidan called on the youth to 'go where you can get money' and do not give a damn for industry. They make their income in two ways: providing bed-and breakfast rooms for Western tourists and working in Poland and Germany as maids and menials. They hoped they would get visa-free access to Europe and make a decent income for themselves. Meanwhile, nobody offered them a visa-waiver arrangement. The Brits mull over leaving the EC, because of the Poles who flooded their country; the Ukrainians would be too much for London. Only the Americans, always generous at somebody's else expense, demanded the EC drop its visa requirement for them.
While the Maidan was boiling, the West sent its emissaries, ministers and members of parliament to cheer the Maidan crowd, to call for President Yanukovich to resign and for a revolution to install pro-Western rule. Senator McCain went there and made a few firebrand speeches. The EC declared Yanukovich "illegitimate" because so many of his citizens demonstrated against him. But when millions of French citizens demonstrated against their president, when Occupy Wall Street was violently dispersed, nobody thought the government of France or the US president had lost legitimacy…
Victoria Nuland, the Assistant Secretary of State, shared her biscuits with the demonstrators, and demanded from the oligarchs support for the "European cause" or their businesses would suffer. The Ukrainian oligarchs are very wealthy, and they prefer the Ukraine as it is, sitting on the fence between the East and the West. They are afraid that the Russian companies will strip their assets should the Ukraine join the Customs Union, and they know that they are not competitive enough to compete with the EC. Pushed now by Nuland, they were close to falling on the EC side.
Yanukovich was in big trouble. The default was rapidly approaching. He annoyed the pro-Western populace, and he irritated his own supporters, the people of the East and Southeast. The Ukraine had a real chance of collapsing into anarchy. A far-right nationalist party, Svoboda (Liberty), probably the nearest thing to the Nazi party to arise in Europe since 1945, made a bid for power. The EC politicians accused Russia of pressurising the Ukraine; Russian missiles suddenly emerged in the western-most tip of Russia, a few minutes flight from Berlin. The Russian armed forces discussed the US strategy of a "disarming first strike". The tension was very high.
Edward Lucas, the Economist's international editor and author of The New Cold War, is a hawk of the Churchill and Reagan variety. For him, Russia is an enemy, whether ruled by Tsar, by Stalin or by Putin. He wrote: "It is no exaggeration to say that the [Ukraine] determines the long-term future of the entire former Soviet Union. If Ukraine adopts a Euro-Atlantic orientation, then the Putin regime and its satrapies are finished… But if Ukraine falls into Russia's grip, then the outlook is bleak and dangerous… Europe's own security will also be endangered. NATO is already struggling to protect the Baltic states and Poland from the integrated and increasingly impressive military forces of Russia and Belarus. Add Ukraine to that alliance, and a headache turns into a nightmare."
In this cliff-hanging situation, Putin made his pre-emptive strike. At a meeting in the Kremlin, he agreed to buy fifteen billion euros worth of Ukrainian Eurobonds and cut the natural gas price by a third. This meant there would be no default; no massive unemployment; no happy hunting ground for the neo-Nazi thugs of Svoboda; no cheap and plentiful Ukrainian prostitutes and menials for the Germans and Poles; and Ukrainian homes will be warm this Christmas. Better yet, the presidents agreed to reforge their industrial cooperation. When Russia and Ukraine formed a single country, they built spaceships; apart, they can hardly launch a naval ship. Though unification isn't on the map yet, it would make sense for both partners. This artificially divided country can be united, and it would do a lot of good for both of their populaces, and for all people seeking freedom from US hegemony.
There are a lot of difficulties ahead: Putin and Yanukovich are not friends, Ukrainian leaders are prone to renege, the US and the EC have a lot of resources. But meanwhile, it is a victory to celebrate this Christmas tide. Such victories keep Iran safe from US bombardment, inspire the Japanese to demand removal of Okinawa base, encourage those seeking closure of Guantanamo jail, cheer up Palestinian prisoners in Israeli prisons, frighten the NSA and CIA and allow French Catholics to march against Hollande's child-trade laws.
***
What is the secret of Putin's success? Edward Lucas said, in an interview to the pro-Western Ekho Moskvy radio: "Putin had a great year – Snowden, Syria, Ukraine. He checkmated Europe. He is a great player: he notices our weaknesses and turns them into his victories. He is good in diplomatic bluff, and in the game of Divide and Rule. He makes the Europeans think that the US is weak, and he convinced the US that Europeans are useless".
I would offer an alternative explanation. The winds and hidden currents of history respond to those who feel their way. Putin is no less likely a roguish leader of global resistance than Princess Leia or Captain Solo were in Star Wars. Just the time for such a man is ripe.
Unlike Solo, he is not an adventurer. He is a prudent man. He does not try his luck, he waits, even procrastinates. He did not try to change regime in Tbilisi in 2008, when his troops were already on the outskirts of the city. He did not try his luck in Kiev, either. He has spent many hours in many meetings with Yanukovich whom he supposedly personally dislikes.
Like Captain Solo, Putin is a man who is ready to pay his way, full price, and such politicians are rare. "Do you know what is the proudest word you will ever hear from an Englishman's mouth?", asked a James Joyce character, and answered: "His proudest boast is I paid my way." Those were Englishmen of another era, long before the likes of Blair, et al.
While McCain and Nuland, Merkel and Bildt speak of the European choice for the Ukraine, none of them is ready to pay for it. Only Russia is ready to pay her way, in the Joycean sense, whether in cash, as now, or in blood, as in WWII.
Putin is also a magnanimous man. He celebrated his Ukrainian victory and forthcoming Christmas by forgiving his personal and political enemies and setting them free: the Pussy Riot punks, Khodorkovsky the murderous oligarch, rioters… And his last press conference he carried out in Captain Solo self-deprecating mode, and this, for a man in his position, is a very good sign.
In 33 years of forecasting trends, the Trends Research Institute has never seen a new year that will witness severe economic hardship and social unrest on one hand, and deep philosophic enlightenment and personal enrichment on the other. A series of dynamic socioeconomic and transformative geopolitical trend points are aligning in 2014 to ring in the worst and best of times.
Ready or not, here they come.
March Economic Madness: One of the most difficult aspects of trend forecasting is getting the timing right. And when it comes to economics, there are many wildcards that can stall or detour any on-rushing trend. We called the Crash of '87, the 1997 Asian Currency Crisis and the Panic of '08 (we even established the domain name in 2007) right on the button. But we missed the mark with our Crash of 2010 prediction.
Why? The Federal Reserve and central banks around the world were secretly pumping tens of trillions of dollars into a failing financial system. These were, at the time, unimagined schemes for nations that pride themselves on capitalism. And while we are not naïve to the dirty dealings of the financial industry, rigging the daily multi-trillion dollar LIBOR and FOREX markets was not on our radar. Thus, what we believed to be economic truths and hard facts were, in fact, cover-ups and lies….
Such unforeseeable factors aside, we forecast that around March, or by the end of the second quarter of 2014, an economic shock wave will rattle the world equity markets. What will cause this econo-shock? How can you prepare for it? It's a Top Trend of 2014. Read about it in the Winter Trends Journal.
Global Chinatowns: Name the continent or pick a country, every one contains its own brand of Chinatown. The Chinese global buying binge, now in its early growth stage, will noticeably accelerate in 2014. From coal mines in Zambia, to Borscht Belt resorts in New York, to factories in Italy, and to farmlands in Ukraine, a seemingly endless variety of Chinese development projects are being incubated around the world. If there is a deal to be had and a need to be filled, Chinese players are increasingly at the front of the line.
Wealthy investors, college graduates without jobs, skilled and unskilled laborers will be migrating out of their overpopulated, congested and highly polluted nation to foreign shores. Where are the new growth areas? What actions will be taken to stop or control the trend? Who will benefit? Who will lose? And what are the dangers and opportunities? You'll find the answers in the Winter Trends Journal.
Wake Up Call: Last year we forecast the Great Awakening 2.0, a period reminiscent of the first Great Awakening that provided the intellectual, philosophical and spiritual ammunition that ignited the American Revolution. The "Awakening" has begun. Throughout 2014, and beyond, you will hear the Wake Up Call. It will be loud and distinct.
In 2013, the White House and Congress proved their extreme incompetence with a series of public failures. From closing down the government, to the debt ceiling debacle, to the aborted attack on Syria and, ultimately, to the disastrous launch of Obamacare, the ineptness of our political leaders was overwhelming. As polls show, a majority of citizens registered levels of scorn and ridicule unparalleled in modern America.
But this phenomenon is not limited to America. Around the world, citizen distrust has turned into universal disdain for entrenched political parties whose draconian austerity measures and punishing economic policies have thrown millions into poverty and pushed millions of protesters into the streets. Civil wars, civil unrest, revolts and revolutions will be just some of the cards dealt by an angry public that has lost everything and has nothing left to lose.
Will those in power hear the Wake Up Call? Or will they attempt to stamp it down and drown it out? Hear it or not, the movement is unstoppable. It will be a battle of the classes. What will it mean? Where will it take the biggest toll? Can the protests and disturbances of tomorrow bring peace and enlightenment that will lead to the Great Awakening 2.0? It's all in the Top Trends 2014 Winter Trends Journal.
Seniors Own Social Media: Seniors now comprise the fastest-growing user segment of the social media world, and the year ahead will see the retail, business, political, health and entertainment industries evolve aggressive strategies to realize the robust economic potential in engaging seniors.
The gamut of possibilities is so grand that we forecast technological and product advances that impact everything from nursing home life to political campaigns and causes. Read the Winter Trends Journal to pinpoint how this trend will unfold and affect you and your interests.
Populism: Regardless of how professional politicians deride it or how the traditional media describe it, "populism" is a megatrend sweeping Europe, and it will soon spread across the globe. Mired in prolonged recession, disgusted with corrupt political parties, and forced to follow EU, ECB and IMF austerity dictates, populist movements are seeking to regain national identity and break free from the euro and Brussels domination. These movements are positioned to bring down ruling parties and build up new ones.
The discontent of the one-size-fits-all Euro Union formula is so deep that populists are expected to gain some 25 percent of the European Parliament seats in next year's elections. "We have the big risk to have the most 'anti-European' European Parliament ever," cried Italian Prime Minister Enrico Letta. "The rise of populism is today the main European social and political issue," Mr. Letta added. "To fight against populism, in my view, is a mission today – in Italy and in the other countries."
Already, some nations, such as Spain, have passed new laws restricting public demonstrations while imposing police-state measures to stamp out dissent. What is the future of populism? How far will it spread? Will it lead to the formation of new parties, or lead to civil wars? Read about it in the Trends Journal's Top Trends 2014 edition.
Trouble in Slavelandia: Even as total US personal wealth soars above a record high of $77 trillion, fueled by the stock market's own record highs, life for the growing number of have-nots in Slavelandia has become more desperate. In today's Plantation Economy – driven by the bottom line needs of multinationals and flailing austerity-prone governments – low-paying service jobs and reduced hours engineered to evade corporate responsibility to provide benefits, are making it tough for the working poor, a group that now includes debt-burdened and underemployed college graduates and seniors as well as the traditional underclass.
Nearly half of the requests for emergency assistance to stave off hunger or homelessness comes from people with full-time jobs. As government safety nets are pulled out from under them – as they will continue to be for the foreseeable future – the citizens of Slavelandia will have no recourse but action. The fast-food worker strikes of 2013, seeking a higher minimum wage, were just a mild taste of what is to come. Learn more in the WinterTrends Journal.
The New Altruism: Several burgeoning trends identified for 2014 will coalesce in a welcome trend toward selfless concern for the wellbeing of others and an interest in the common good. Across the age divide, from people in their youth to those of advanced years, the search for meaning will intensify and become more widespread in response to waning resources, want, and an over-commodified culture. As despair quietly takes more prisoners, Doing Good will be recognized as the key to escape.
Ironically, the Internet that has been much maligned for currying narcissism will make the donation of money, time and talents so easy that people will be able to enact their better natures without resistance. Be they Boomers in renaissance or populists in revolt, people will discover and expand the humanist side of globalism and act accordingly. See why in the Top Trends of 2014 Winter edition of the Trends Journal.
Private Health Goes Public: While the world focused on the blockbuster NSA surveillance revelations and other cyber-snooping episodes of 2013, another powerful trend line was firmly planted: Your health data has been progressively mined, assembled and made accessible to a widening group of interested parties.
While signing up for the Affordable Care Act brought some attention to this developing trend, around the globe, data on individuals' health status, behaviors, prescriptions and even their genetic indicators have been funneled to a wide range of databases. Those databases have many purposes and a growing number of hands on them.
The positive and negative implications of this trend are equally powerful. Individuals and their health care providers can more easily tie vital physical data with worldwide medical databases to anticipate and potentially prevent disease. But, in the wrong hands, the data can be used to exploit, damage and take advantage of individuals and their families. Security concerns will rise in equal importance with the potential benefits of this critical trend line.
What does this mean for you, your family, or your business? The Winter Trends Journal will provide the answers.
Boomer Renaissance Arrives: Distinct and strengthening economic, lifestyle and societal determinants are building a creative foundation for the older population as it discovers new approaches to work and finds long-elusive contentment in the process.
You already know that older workers, seeing their retirement plans shattered, have to work beyond traditional retirement years. You also know that those same economic dynamics are forcing aging Boomers to entirely rethink retirement. And, of course, you know that as Boomers are living longer, traditional thinking about retirement has been stood on its head. What you might not realize is how these factors are compelling Boomers to unearth potent creative energies not only to survive, but to realize potential that evaded them in traditional work roles.
In 2014, we will see growing evidence of this Boomer Renaissance, accentuated by waves of self-guided entrepreneurism that alchemizes commerce, survival and self-actualization into a new world and self view. The Winter Trends Journal will explore this compelling 2014 trend in depth.
Digital Learning Explodes: Fears that online educational platforms fall short of providing depth and effectiveness in the learning experience will all but disappear. Across the entire educational spectrum, online learning will expand to include not only course instruction, but also a wealth of real-life learning experience, with considerable participation by the skills-hungry business community.
For individuals, educational institutions, industries, small businesses and up-and-coming entrepreneurs, the implications are enormous. From traditional degree-based education to very specific micro skills-based learning, this trend line explodes. The Trends Research Institute will break down the implications for individuals, business professionals and a range of industries in its Winter Trends Journal.
Source: Gerald Celente  |  The Trends Journal via LewRockwell.com
No doubt you have heard about the War on Drugs, the War on Terror and the War on Happiness. However, you may not be familiar with the War on God, possibly because it would be an unpopular war to discuss publicly. By the "War on God" (definition) we mean the collection of strategies, methods and techniques which have the combined effect of preventing or seriously hampering the efforts of individuals to seek or achieve legitimate Spiritual enlightenment and the Soul's eventual return to God.
The War on God is an ancient war. While the United States and other countries play an active role in this war today, they definitely did not initiate the war. If you want to use the Christian bible as a reference, you could argue that the War on God began shortly after man was created and rejected God in favor of Satan. Clearly, in some form, the War on God has existed throughout human history.
Today, the United States has effectively broken off diplomatic relations with God. The oligarchs who run the country never physically die and so their souls stay on Earth. Apparently, the United States actually believes that its technology, occult knowledge and black magic skills place it in a position which is superior to God.
We know from whistleblowers like David Morehouse that the United States sponsors and trains a cult of psychics to carry out psychic espionage (remote viewing) and also assassinations using psychic black magic techniques. According to clips of his various interviews on YouTube, it was the training in psychic assassinations which caused Morehouse to become disillusioned, quit the secret program and blow the whistle on the operation. Other countries may well operate similar programs but the details will remain unknown until someone defects and exposes them.
The leaders of the United States have always worshiped Satan. The United States was founded by a cult of Satanists known as the Masons and remains under control of that cult today. By rebranding their cult as a nation state, the cult created the appearance of legitimacy. Cult secrets simply transitioned to state secrets. Cult threats to kill anyone telling their secrets transitioned to the crimes of treason and espionage.
Nothing really changed except for the rebranding from a cult to a government. Today, essentially all members of the CIA, NSA and NASA are Masons. All US presidents have been Masons with the two exceptions of Abraham Lincoln and John Kennedy who were both assassinated.
The term "national security" refers to the security of the cult and not to the security of the general population. The Masonic motto is "If you are not one of us, you are nothing". The cult exists only to enrich itself.
The Masons study and practice the occult. Serious study begins after they take a formal oath of allegiance to Satan at the 30th degree initiation. Basic occult knowledge is neutral and everyone who advances Spiritually learns it. However, Masons seek this knowledge to gain power and control over others as opposed to knowledge for personal advancement. This choice, commonly called the Left Hand Path, places them in opposition to the will of God.
If the Satanists simply wanted to sell their Souls to Satan and mind their own business, one could argue that they had that right because they had free choice. However, the situation is not that simple. The Satanic oligarchs did freely choose to worship Satan. However, they also desire a comfortable life. They don't want to do any "grunt" work. Therefore, they have enslaved the remainder of humanity and are holding their Souls prisoner on this planet to service their needs. Therefore, if you, as an innocent Soul, ever plan to escape from this place and return to God, it is in your interest to investigate and gain an understanding of this war so that you will have an opportunity to Spiritually evolve. Otherwise, your Soul will remain a prisoner here — lifetime after lifetime — serving the Satanic overlords essentially forever.
Earth Based Religions
The phrase Earth Based Religions (definition) refers to religious schools which seek and use knowledge, including occult knowledge, to enhance their experiences during their human lifetimes as opposed to using the same knowledge to foster Spiritual development with the ultimate goal of achieving a stable non-physical Spiritual existence.
Although Pagan religions are usually grouped into this category, a more careful examination would reveal that essentially all mainstream religions are Earth based religions. Mainstream religions make constant references to God and Heaven but never explain exactly what they are talking about. Their books concentrate on historical narratives concerning how people in the past lived and coped with the basic problems of human physical existence. They never give details of any level of Spiritual existence or even any specific hints about what life beyond death will be.
Let's try an example. Suppose you have never seen a motor vehicle. You have heard vague stories that they exist, but that is all. Then, suddenly, you find yourself behind the wheel of a car on a high speed road like the US interstate system or the A roads in Britain. What would you guess would be your chance of survival? Try less than zero.
Now suppose you physically die. Suddenly, you find yourself in your Astral body. However, no one ever told you that you have an Astral body. It does not operate under the same rules as a physical body does. It is a very pliant and nimble body. It can travel in time to the past or future, access any plane and subplane in the Astral universe and research the absolute accurate and incorruptible records system known as the Akashic Records to name just a few. But, as in the previous example, you never learned how to "drive" it.
You would have done fine on the highway if you had gradually learned to drive a motor vehicle. You would do fine after death if you had some experience and training with your Astral body. However, no one ever taught you. What practical use is any religion that constantly rants about Heaven but offers no practical advice about your life after this life?
This information may have been a guarded secret in the past, but those days are gone. You can research this information to your heart's content on the internet, locate legitimate Spiritual groups and learn from those who can leave their physical body and explore the non-physical dimensions. But, don't expect any help from a mainstream church.
You might do well to recall the famous quote attributed to Jesus, "The truth will set you free". Mainstream churches are large, rich institutions. They did not get that way by "setting people free". They got that way by terrifying their followers with ridiculous horror stories of what will happen to them if they do not obey their crazy doctrines, stay with them and give them all their money.
Gnostic and other "non-traditional" religions may be Spiritual based as opposed to Earth based. Jesus always reminded everyone that he represented a kingdom "not of this world". If we had accurate records of his true lectures we would no doubt find practical instructions and information about this "other world". We don't have this information because any practical Spiritual teachings he might have given were censored out to create the simplified — but Spiritually sterile — mainstream religions we have today. They are simple to comprehend and follow but will not lead you anywhere except another physical lifetime somewhere on Earth.
Life Before Technology
Before technology life was simple. Although existence was hard, the opportunity for Spiritual experiences was greater than today. Consider, for example, all the empty time you would have as, say, a sheep herder. Nothing to do except make sure the sheep kept moving. In this situation, there was ample opportunity for the mind to wander and perhaps contemplate and glimpse other realities.
Also, and perhaps most important, no electric grid existed on the planet. Electric fields appear as solid "matter" in the Astral dimension and so can affect Astral experiences — generally in a negative way. Artificially created electromagnetic waves which blanket the planet today also have subtle and generally negative effects on living creatures.
Pagan groups generally conduct occult rituals outdoors and away from high population areas. When buildings are used, it is desirable that they be made only of wood and assembled without any metal (nails) and, of course, have no electrical wires.
Both good and evil existed before technology as they always have. It was possible to use psychological propaganda to influence and control susceptible masses of people. However, the positive and negative forces were more in balance. It was not possible for a single group to successfully dominate the planet.
Drugs existed in the form of various plants. Adepts learned how to use them to help or harm others. People with developed psychic abilities existed as they always have and white and black occult schools existed. Legitimate Spiritual masters existed.
Some techniques that thrived have essentially become extinct because the population of the planet has devolved. It is next to impossible to successfully teach Tantra (sex yoga), because today's generation is incapable of the required level of self control. Classic Tibetan yoga techniques are still taught in isolated areas, but the masters — for good reason — will no longer consider trusting outsiders.
Information Control Techniques
Information control is essential for protecting the integrity of a compartment. People are held as slaves by constructing an information box which holds the slaves in an information prison. As long as the "walls" of the compartment remain impenetrable, the compartment — or belief system — will be stable and no slave will escape.
Considerable energy is required to achieve this. Those assigned to protect the walls obviously know that the compartment is an intellectual illusion. Therefore, they must be sworn to secrecy and intimidated in such a way that they will not compromise the integrity of the compartment. It only takes one "leak" to initiate a chain of events which could collapse the compartment and so allow the slaves to escape.
Consider, for example, the Snowden leaks. One person sharing knowledge has totally destroyed the illusion of privacy that most people had accepted as fact. It will not be possible to reconstruct this illusion. The compartment has collapsed.
Similar principles apply in the Spiritual spectrum. Because of the characteristics of the human bodies in use on this planet, most people do not retain any conscious memory of events before they were born. This is not universally true. Life forms on many other planets retain the memories of previous existences. Because humans generally do not have this recall, they are easily enslaved and can be conditioned to believe most anything.
To maintain a state of Spiritual ignorance it is important to institute methods which will prevent people from realizing that they are actually Souls experiencing a constructed illusion. People somehow reaching this state, sometimes referred to as "self realization", will no longer respond to establishment propaganda and are generally considered a threat to the current social order.
The easiest and most direct method to achieve a stable slave population is simply not to talk about anything even vaguely esoteric. For example, how often have you heard the words astral, chakra or aura mentioned on a mainstream TV channel?
Most people will then likely "remain asleep" throughout their entire lifetime and will be no problem. Unfortunately, people have a natural desire — even though it may be an unconscious desire — to Spiritually evolve. It is, after all, the true purpose of human existence.
When someone tries to break away from the contrived illusions more direct methods are needed to return the slave to a state of ignorance. Today, various methods which cause brain damage — generally performed by psychiatrists — are used to negate any success in Spiritual evolution and return the slave to a state of vacant contentment.
Diversions and Techniques Promoting Inaction
The simplest and most effective diversionary technique is to promote scientific atheismand darwinian evolutionary philosophy as established fact. If you can get someone to buy into this philosophy, their fate is sealed. Even if they experience some contact with another dimension, such as an out-of-body experience, they will follow their programming, dismiss the experience as a delusion and refuse to investigate further. When they die, they will be totally lost and confused, flounder around on some lower Astral plane and eventually reincarnate just as Spiritually ignorant as before.
A side effect of accepting scientific atheism, which totally cripples Spiritual progress, is the acceptance of suicide as a way out of life's problems. Suicide becomes a learned reaction. Consequently, when the Soul is sent back into another physical lifetime, it is likely to commit suicide again when faced with some unpleasant event. It never learns, and this cycle can repeat essentially indefinitely. Dealing with this is one of the most difficult problems faced by the administrators who work on the Astral planes.
For those who want more than scientific atheism, there is mainstream garden variety religion. Mainstream Christianity has developed a clever stonewalling technique that has worked to promote inaction for thousands of years. This technique is centered upon the argument that no one can make any progress until Jesus returns to show the way. In the meantime, people should just do nothing and wait. The effect of this is essentially the same as scientific atheism. No Spiritual progress is made.
Schemes designed to waste time are common. One really off the wall example is the decision in Syria to prohibit vacuum cleaners and standard flat brooms in homes. "Witch type" brooms consisting of a circular straw bundle are allowed. Surely there must be a good reason to keep these terrorist weapons out of the reach of the typical Syrian housewife. The official reason is to make basic housework as difficult and time consuming as possible so as to prevent the woman from having any free idle time which, if allowed, could lead to the emergence of "immoral thoughts". Perfectly logical!
In the western world, complex bureaucracies seem to be deliberately designed to make the path to whatever you want as difficult as possible. Here the apparent motive is to prevent the acquisition of enough free time for any independent thought process. There are just not enough hours in a day to allow for any quiet contemplation of anything.
"Blank time" is always reported as a factor in the development of Spiritual figures. Time alone in the wilderness, time spent meditating alone in some isolated cave or at least periods of dedicated quiet time somewhere figure prominently in historical accounts of these people.
You may know or have heard of kids who spend all their waking hours playing interactive role model video games with other kids on the internet. They eat meals by the computer and never leave except to briefly sleep before returning to the all important game. Their entire life is spent in an imaginary reality. You may want to consider that your "real" life may not be all that different. You play a role. Your attributes are fixed by what society expects based upon that role. You can't change, because others would notice. Your concept of the world beyond your little world is determined by what you see on TV. Daily, you receive your "fix" of carefully choreographed "programming" which appears unusually coherent because, as you may not know or fully comprehend, everything on TV is controlled by a few corporations and all of them are loyal to the official government party line. If you somehow had the opportunity to break from this structured "game" you play from day to day — say, the opportunity to visit other countries and see other cultures — you would likely realize that your existence has not been that much different from the kid addicted to a computer game. You would find that the actual "real" world had very little relationship to the world you had been conditioned to believe existed.
Chemical Control Techniques
"With the use of chemical brain-control agents it may be possible to control the individual and the masses and to do this unobtrusively and without the active cooperation of the victims — not a question for the future — it is here".
This is a quote from the book by Edgar Cayce titled Edgar Cayce on Atlantis. There are references to Dr. Robert Galbraith Heath, and this book bears a copyright date of 1968. The book cites an interview that Heath gave to a newspaper called The Virginia Lighthouse and cites the above statement made by him on November 20, 1966. Heath founded the Department of Psychiatry and Neurology at Tulane University, New Orleans, in 1949 and remained its Chairman until 1980.
During this period, Tulane University actively participated in the CIA mind control project known as MK Ultra [1]. Also, during this period, Tulane became an active member of the secret Institute for Defense Analyses, or IDA, a corporation whose only client is the US government. Heath reportedly performed many experiments there involving electrical stimulation of the brain via surgically implanted electrodes. This work was reportedly partially financed by the CIA and the US military. Heath is now "officially" [11] deceased.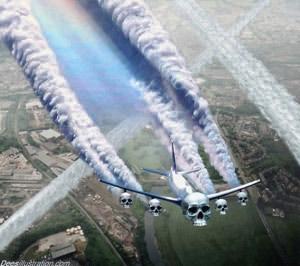 You have been drugged since you were conceived — before you were even born. Your mother was drugged. Soon after birth, you were injected with mercury containing vaccines. And the systematic process of poisoning you never stopped.
By some estimates at least eighty percent of the food in the average supermarket is poison either because it is genetically modified or laced with pesticides and other additives. Even the air is poison now because of geoengineering chemicals sprayed into the upper atmosphere.
It should be noted that things are different in the separate but parallel world of the elite. The Max Keiser show [12] discussed the secret gardens in Japan. These gardens are surrounded by high walls and guarded by the military. They produce the food for the ruling elite. Every plant in the garden has its own health certificate certifying that is pure, healthy and not genetically modified. Obviously, every developed country must have a similar secret supply chain of legitimate food for its ruling class. Certainly the elite know better than anyone that the food supply for the ordinary people is poison. They're not fools. They wouldn't touch the stuff.
Vaccines used for the elite are prepared without the mercury and other toxic additives found in vaccines given to the ordinary people.
Various agents — mainly from plants — have always existed which could be used by those aware of them to harm others or control people by altering their state of consciousness. However, only recently has it become practical to wreck the health of essentially everyone on the planet at the same time. Genetic modification of plants and other life forms used for food has made this possible. Now, quietly, people throughout the world can be sterilized, crippled with serious health problems or even killed by altering the genetic makeup of the food supply. Ordinary people remain generally ignorant of the fact that this awesome power exists and is presently being used against them.
Mind control has become a science. You can't major in it in college because this science is essentially entirely secret. The United States and other countries have spent the equivalent of billions of US dollars investigating and perfecting mind control.
Many secret research projects using unsuspecting or perhaps kidnapped people — some of whom were killed — have been conducted in the past and continue today. We only know about a very few of these projects such as MK Ultra, MK Naomi and Project Other. Even in these projects, specific details are sketchy. From these experiments, practical techniques for creating manchurian candidates and implanting created false personalities and identities have been developed and are in common use today within the secret communities.
Everyone has likely been the victim of some degree of mind control to some extent. Chemical weapons designed to mentally cripple people and render them drooling idiots are freely sold as prescription drugs in drugstores and are available to doctors to use as they please.
The lives of many kids are destroyed by these "drugs" because they have no ability to resist and their parents are ignorant and believe doctors can "do no harm". Actually, today's doctors are agents of the state. Many have top secret clearances and embrace classic Nazi philosophies such as eugenics. Their function is to watch you and make sure you "die appropriately" so as not to burden society. Anything they learn about you and anything you tell them is freely available to anyone in the intelligence community who is curious about you.
Only members of the super elite who are entitled to access top secret medicine will receive legitimate supportive medical care. Ordinary people will be deliberately allowed to die even though doctors with top secret clearances know of effective treatments which would cure them but which are classified and reserved for the chosen elite.
There is no such thing as an incurable disease any more. All the cures have been discovered. If you die, it is because you are not considered important enough to live and not because the cure does not exist.
Common sense should suggest to you that the lives of the elite have statistically different characteristics. For example, members of congress do not live sheltered lives. They work in close quarters and travel extensively both locally and internationally. They are always hanging out with prostitutes as well as playing with the young congressional pages.
Washington D.C. is reported to have more brothels than fast food joints. Strangely, however, these people do not get sick. Have you ever heard that congress had to shut down because everyone was coming down with some infection. It happens in other close populations, so what would make them exempt?
Understanding Astral Damage
Living things have an Astral component. For example, when you cut a leaf and then see the complete leaf on a Kirlian photo you are viewing the Astral component which was unaffected by cutting the physical component because it does not exist in the physical dimension.
Over one hundred years ago, practical techniques for viewing the human Aura were developed by Walter J. Kilner [4]. The original technique used dicyanin dye and a later technique used special glasses. You can't find either one today. In his research, Kilner was able to demonstrate that defects in the human Aura appeared before some corresponding disease manifested in the physical body.
Therefore, he was able to detect and prevent an adverse physical condition before it ever physically materialized. So, you ask, why don't we have this marvelous medical technique available today? Well, we do. It is in use in top secret medicine. However, only the approved elite now have access to it. The information has been removed from public knowledge and classified.
In conventional allopathic medicine, which is based upon scientific atheism and sold to the general public, there is officially no such thing as an Astral body. Conventional medicine denies the existence of anything beyond the physical dimension. Since the Astral body officially does not exist, it is not recognized as a crime to deliberately harm it.
Damage to the Astral body can be compared to damage to the physical body. If you punch holes in the physical body by cutting it, shooting bullets at it or whatever, blood runs out and germs get in. If you cause enough damage, the body dies. Astral bodies do not die, but can suffer critical energy losses. Similar to physical bodies, punching holes in the Astral body allows essential energy to escape and harmful energies to enter.
There are many events which can harm your Astral body. It is in your interest to understand these events because your Astral body will be your primary body when your physical body dies. If it has been damaged, you will be at a severe disadvantage. The chosen elite have perfect Auras because they can use the Aura balancing machines available to them at any top secret medicine provider. However, you cannot.
Also, the ruling elite seem to take some delight in causing harm to the "ordinary" people. Consequently, many drugs, food additives, GMO foods and industrial chemicals found in the environment cause Astral damage. Chemicals recognized as poisons and banned in other countries can be freely added to foods given to ordinary people in the US.
Obviously, there must exist a secret supply chain of safe food and water which is available to the chosen since they know of the contamination and certainly would not want to harm themselves or their friends.
There are ways to closely duplicate the secret techniques available only to the elite. If you can see auras or can find a reputable psychic who can, you can approximate the techniques developed by Kilner and available to everyone over a hundred years ago. Although the secret aura balancing machines are more accurate, a competent psychic healer can do the same thing. Actually, since psychics have always existed, similar techniques have been available throughout the ages to those who were aware.
Fluoride
The concept of adding fluoride to drinking water for the purpose of mind control is said to have originated in the 1930′s as a result of collaboration between German and Russian scientists [2]. Sodium fluoride was originally used and was found to cause a "mild lobotomy" in people who consumed small quantities. The effects were considered to be non reversible after one year of continuous use of the tainted water. Hitler added sodium fluoride to the water in his concentration camps to make the prisoners docile and cooperative as they waited for death.
Sodium fluoride (NaF) is used today in personal products like toothpaste. To poison the water supply of an entire country with sodium fluoride would be expensive. However, it just so happens that there is a waste product created during the manufacture of phosphate fertilizers, Fluorosilicic acid (H2SiF6), which is classified as hazardous waste and would be expensive to dispose of under EPA guidelines.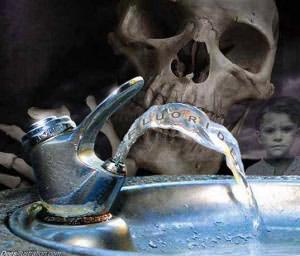 There is lots of this stuff available. This is the poison added to the public water supply in the US and some other countries. It is actually economical for industry because they don't have to pay for hazardous waste disposal. They just pump it into the public water supply.
In the human body, fluoride has an affinity for the pineal gland in the brain. The pineal gland is associated with the "third eye". Everyone has this third eye, but few are aware of it or know how to activate and use it.
Although the pineal gland is part of the physical body, the associated third eye is part of the Astral body and so is invisible in the physical dimension. The third eye allows you to see and communicate with the non-physical dimensions while fully awake and functioning in the physical dimension. So, you could see and carry on a conversation with someone in the physical dimension while invisibly also viewing and communicating with some entity on another plane of existence.
The standard Christian bible refers to the third eye with the phrase, "If thy eye be single thy whole body will be filled with light". However, only students of mysticism would recognize the true meaning of this quote.
Obviously, having this ability would be a threat to the security of any totalitarian society. Poisoning with fluoride destroys this ability and so solves that problem. Literature is available if you wish more detailed information. Simply search using the phrase "fluoride third eye".
On the chance that fluoride in the water is not sufficient to destroy any psychic abilities you may have, there are more aggressive ways to get fluoride into your brain. Here are some structural models of popular psychiatric drugs:
Notice that the element Fluorine (symbolized by its standard chemical symbol "F") figures prominently in all these compounds.
These drugs are used to cause "chemical lobotomy". By blocking communication channels with the higher levels of the human brain, they effectively convert the victim into a lower form of animal. Lower animals do not have the frontal lobes possessed by humans. That is what makes humans special. Disabling the frontal lobes effectively transforms a natural human being into, basically, a docile and obedient house pet which can be trained like a dog.
Incidentally, Fluorine also figures prominently in Sarin nerve gas.
For a more in depth study search YouTube for the free documentary Flouridegate — An American Tragedy by David Kennedy.
They All Drink From the Same Trough
If you casually look out upon the institutions of the world, it may appear to you that they are independent, discrete entities. However, they are not. They are all components of a collective which has successfully hidden its existence and true nature from the general population for generations.
Let's begin with the media in the US. Although it may appear to you that there are thousands of independent sources reporting "news", 90% of all media is controlled by six corporations. They are General Electric, News-Corp, Disney, Viacom, Time-Warner and CBS.
In the US, people believe they are protected from tyranny by the concept of "separation of powers" — that the executive, legislative and judicial branches of government are staffed by independent thinkers who "check and balance" each other. This is also a deception.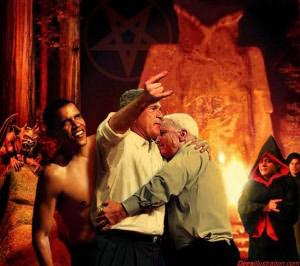 Once a year, at the end of July, there is a secret gathering on private property in the redwood forest of California called the Bohemian Grove. Although this annual meeting has been going on for over one hundred years, it is only during the last several years that outsiders have begun to learn of its existence. The only reason they have is because of the internet and independent journalism. Leaders from the mainstream media are all members of this secret club and so never even report its existence.
Who else goes to this annual secret "party"? Well, for want of a better name, we will call them the "Trusted Satanists". They are the leaders of all the major corporations, banks and representatives from all the major branches of the US government as well as foreign governments.
Although these men outwardly support the concept of capitalism for the masses, this elite group, among themselves, are perhaps best described as "rich socialists". Only men are allowed. For recreation, a stable of prostitutes — both male and female — are kept nearby off-site. The male prostitutes could theoretically enter the Grove.
The "party" begins with a Satanic ritual called "Cremation of Care" (i.e., "we don't care") which features the burning of a coffin at the base of a huge statue of an owl. Walter Cronkite reportedly was the official announcer at the grove until his death.
A secretly filmed video of this event is available on YouTube. It is supposed to be a "simulated" child sacrifice. However, since the CIA, FBI and NSA attend the ritual, who is going to complain on the chance it is a real sacrifice of a human child? After all, they are all trusted Satanists.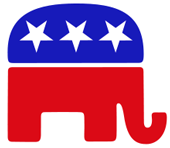 Most attendees from the United States are members of the Republican party. This is completely predictable in view of the fact that the US Republican party flaunts its affiliation with the "dark side" by prominently using the inverted star symbol on its official logo.
During the two week period, corporate leaders, the "independent" government regulators who supposedly keep corporations honest, the leaders from the executive, legislative and judicial branches of US government who are supposed to be "checking and balancing" each other, as well as the media moguls who we "trust" to report the truth, are all running around naked in the woods — pissing on the trees, playing with each other, and the male prostitutes as well as the off-site female prostitutes, and "having discussions".
Well, what are they "having discussions" about? They are discussing what they plan to do with "their world". The Manhattan Project to develop the first atomic bomb was reportedly planned at one of these discussions years ago. What about you? What about your future? What about any expectation of happiness you may have? Well, you see, you "don't need to know". Remember, "If you are not one of us, you are nothing".
Blueprints For the New World
Overview
If this link [7] is still active, it would be in your interest to read through it. This document is a transcript of a speech given by one of the insiders in the year 1969. He boldly states,"Everything is in place and no one can stop us now".
The article details how people ("people" means the slave class who are "nothing"; recall: "If you are not one of us, you are nothing") will just have to get used to changes such needing permission to have children, accepting mandated euthanasia as the law and total surveillance. Essentially all goals are now achieved, although some still remain guarded secrets.
The 1960′s was the period when physical death was eliminated. Of course, this "privilege" is only available to the select Satanic oligarchs. Effective cures for all diseases were also developed. The speaker [7] states that the cures are on file in the Rockefeller Institute. Of course, most are classified and only available to the chosen elite.
Infrastructure
The PBS documentary, Top Secret America [8], presents a good overview of the secret world of the elite. You may think no one is paying attention to the infrastructure in America because streets are in disrepair and bridges are falling down. However, you would be wrong. A tremendous amount of money is being spent on infrastructure in America — for the chosen elite. You will never see it and you will have no need for the decaying bridges and streets because you won't be around to use them. You, as well as 90+ percent of the current population, will be killed in the "Great Culling".
The new infrastructure is quite elaborate as the documentary explains. It consists of thousands of buildings which have a few stories visible above ground but which then extend for 90+ stories underground. All amenities are available within these secret structures which are basically self-sufficient.
It is important for the buildings to reach deep underground so that the lower levels can connect to the secret underground transport network. This network is global and provides safe high speed transport for the elite. Whenever the network crosses a tectonic plate, massive amounts of silicone are used to allow the transport tunnel to flex as needed. The network has access points in all countries. However, these points remain secret in countries which have yet to be subdued and co-opted into the new world order.
NWO Enabling Documents
The treaty known as the Trans-Pacific Partnership appears to be the formal enabling document for the new world. The actual document is secret and only high level corporate executives and politicians are allowed to see it.
Even after the treaty goes into force, its contents will remain secret. Because, in the United States, treaties must be openly debated in congress, the treaty is being called an "agreement" to circumvent the law and keep its contents secret. However, some details have become known.
Although the planet is officially divided into "sovereign" countries, it is overlaid with a network of transnational corporations. This network basically forms a parallel government which encircles the globe. The Trans-Pacific Partnership is designed to cause any country which signs on to surrender its national sovereignty to a secret committee composed of corporate executives. This committee can then alter the constitution and laws of any country which has accepted the treaty as suits their whim. There will be no appeal against this.
Under the treaty, there will be only one purpose to human life. That purpose will be to maximize the profits of the cabal of transnational corporations which will now be essentially a single global corporation in absolute control of the world. This effectively institutionalizes the new world order.
What does this mean for you? Well, to begin with, there can be no retirement. Paying for retirement would negatively impact corporate profits. So, if you can't work, you will be killed. Taking care of sick people would also drain corporate profits. It would be more profitable just to kill the sick and replace them with young, healthy slaves. Disabilities — forget it — disabled kids will never make it out of the womb alive.
Reeducation
To come into compliance with the philosophy of the new world, people will need to be reeducated. Military instruction documents [6] are already teaching that the Founding Fathers of the United States were extremists and anyone who thinks like them would not be suited for today's military.
Well, what did these radical extremists think?
"We hold these truths to be self-evident, that all men are created equal, that they are endowed by their Creator with certain unalienable Rights, that among these are Life, Liberty and the pursuit of Happiness."
Obviously, these principles are not compatible with the new world. The idea of a "Creator" conflicts with the official doctrine of Evolution. We can't have that. People must accept that they and the universe they live in is simply an "accident".
People are already realizing that Liberty and Happiness are gone. They know now that they live under constant surveillance and their lives get worse year after year. How about the right to Life? Can't have that. People need to be reeducated to believe that it is their "duty to die" when they are no longer useful to the state (which is now the global corporation).
Of course, the global elite will live physically forever but ordinary people will not know this.
If a world where people are conditioned to want to die and do not want kids but just sleep around for fun sounds vaguely familiar to you, you might recall that this is the future society described in Huxley's classic novel, Brave New World.
Population Modification
Please refer to [9] as a reference source. Today's "great thinkers" seem to be coming into agreement that most people are unnecessary and need to be exterminated for the convenience of the elite. Bill Gates, who has now been accepted into the super exclusive Bilderberg group, has reportedly taken the task of exterminating the third world population by giving them "free" vaccinations which will render them sterile.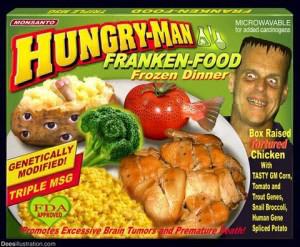 Lots of groups are working on secret sterilization methods. European tests of Monsanto's GM soybeans on hamsters showed the animals became sterile by the third generation [12]. A new gene known as Epicyte [9] is planned to be added to GM corn which will cause immediate sterilization.
Additionally, people are being "eased into" accepting the concept of "after birth abortion". Intellectuals are trying to get people to accept the argument that living human children under three or perhaps even five years old are really "not people but advanced feotuses". Since abortion is already legal, a simple change in the definition of "feotus" would allow young kids to be killed at will for any reason.
Another "new thought" gradually being programmed into the young is the pleasure of the "childless lifestyle". This propaganda seeks to convince people that having kids is too much trouble and they will be happier if they just get sterilized and then run around having lots of sex purely for fun.
These "evolutionary" population control techniques are already in effect. However, the elite likely are not willing to wait several generations to get rid of those they do not need. This brings us to the more direct method commonly called "The Great Culling" which will allow the elite to kill off most of the world's population quickly.
The most likely method will be the release of new designer viruses for which no one will have any natural immunity. Of course, the elite will all get the classified antidote. Preparations for the disposal of the bodies is already complete and stockpiles of plastic coffins — each designed to hold three bodies and manufactured under government contract by Halliburton — have been photographed and documented. Everything is now in place awaiting the "go" command.
Designer Children
Some types of designer children have already been approved for "production". Britain has approved three parent babies [10] and China has proposed a process to artificially fertilize most of a woman's eggs and then examine them to determine which is likely to produce a child with the highest IQ. This will be the only selected egg because Chinese women are only allowed to have one child and must then be sterilized.
In the new world where the only purpose of people will be to do slave labor to serve the elite corporate masters, the concept of allowing the existence of children conceived naturally clearly cannot be allowed. There would be an unexceptable chance for some kind of error that could result, for example, in the creation of a being capable of independent thought who might challenge the establishment.
A man's true worth is measured by the amount of other people's happiness that he can possess and destroy
This is a quote from the docudrama The American Ruling Class [5]. It is worthy of discussion because it is so prophetic.
The Satanic oligarchs who run this world basically exist and thrive on the misery of others. It is not enough just to use and abuse you — they want to consume your Soul. Your misery and suffering is, essentially, their "food". It is the source of their energy.
Ordinary innocent Souls are sustained by the life energy which flows from the Creator. However, since the oligarchs hate God, this energy flow is not available to them. So, they essentially survive by consuming the life energy of the innocent Souls they have captured and enslaved.
Ordinary people do not naturally choose to spend their lives in a state of constant war. They have to be somehow coerced into this behavior. Otherwise, they would likely seek a quiet, peaceful life. The atrocities the US and other warmonger nations force their citizens to commit are so contrary to basic human nature that the US loses more soldiers to suicide than it does to the enemy. The once innocent soldiers find that they simply cannot continue to live with what they have become and the memories of the horrors they have caused to others. The Satanic rulers who create wars, of course, have no problem with this.
Promotions within the inner circles of power are based upon how much evil one has done. The more harm you cause to others the greater your respect. You may have noticed that the stock market, which is a measure of the success of the elite, shows gains during periods when the average person is suffering and losses during periods when, somehow, life for the ordinary person seems to improve. The stock market set a new all time high, for example, during the Vietnam War when innocent young kids were being drafted and slaughtered in Vietnam while peaceful protesters at Penn State were executed by government forces for daring to dissent.
Why You Should Care
On the low Astral planes you will find people — Souls — who are totally lost and confused and seem to move in slow motion. They do not realize they have died. These "people" are not there because they tore up the Bible or burned the Koran or some other offensive act. They are there simply because it is the best they can do. They are using all of the Spiritual energy they have just to maintain this miserable existence. Whatever activities they engaged in while alive had no Spiritual merit and had no effect on developing or increasing their Spiritual energy level. Since the opportunity to do this ended when they died, they will remain strung out in this condition until they reincarnate again at which point they will have another chance to choose activities which enhance Spiritual energies.
You should care because the things you do and the things you fail to do during your brief life here will affect your existence for millions of years in the future.
The other dimensions operate under exact scientific rules just like this dimension. However, the rules are not the same. Because alternate sources of information are available today — mainly because of the internet — it is in your interest to at least investigate the available literature on Spirituality, energy raising techniques and various first-hand reports from people who have successfully visited the neighboring dimensions.
Source:  Walter C. Vetsch   |   3108.info  |  War Is Crime
A talk at Rhodes Forum, October 5, 2013…
First, the good news. American hegemony is over. The bully has been subdued. We cleared the Cape of Good Hope, symbolically speaking, in September 2013. With the Syrian crisis, the world has passed a key forking of modern history. It was touch and go, just as risky as the Cuban missile crisis of 1962. The chances for total war were high, as the steely wills of America and Eurasia had crossed in the Eastern Mediterranean. It will take some time until the realisation of what we've gone through seeps in: it is normal for events of such magnitude. The turmoil in the US, from the mad car chase in the DC to the shutdown of federal government and possible debt default, are the direct consequences of this event.
Remember the Berlin Wall? When it went down, I was in Moscow, writing for Haaretz. I went to a press-conference with Politburo members in the President Hotel, and asked them whether they concurred that the end of the USSR and world socialist system was nigh. I was laughed at; it was an embarrassing occasion. Oh no, they said. Socialism will blossom, as the result of the Wall's fall. The USSR went down two years later. Now our memory has compacted those years into a brief sequence, but in reality, it took some time.
The most dramatic event of September 2013 was the high-noon stand-off near the Levantine shore, with five US destroyers pointing their Tomahawks towards Damascus and facing them – the Russian flotilla of eleven ships led by the carrier-killer Missile Cruiser Moskva and supported by Chinese warships. Apparently, two missiles were launched towards the Syrian coast, and both failed to reach their destination.
It was claimed by a Lebanese newspaper quoting diplomatic sources that the missiles were launched from a NATO air base in Spain and they were shot down by the Russian ship-based sea-to-air defence system. Another explanation proposed by the Asia Times says the Russians employed their cheap and powerful GPS jammers to render the expensive Tomahawks helpless, by disorienting them and causing them to fail. Yet another version attributed the launch to the Israelis, whether they were trying to jump-start the shoot-out or just observed the clouds, as they claim.
Whatever the reason, after this strange incident, the pending shoot-out did not commence, as President Obama stood down and holstered his guns. This was preceded by an unexpected vote in the British Parliament. This venerable body declined the honour of joining the attack proposed by the US. This was the first time in two hundred years that the British parliament voted down a sensible proposition to start a war; usually the Brits can't resist the temptation.
After that, President Obama decided to pass the hot potato to the Congress. He was unwilling to unleash Armageddon on his own. Thus the name of action was lost. Congress did not want to go to war with unpredictable consequences. Obama tried to browbeat Putin at the 20G meeting in St Petersburg, and failed. The Russian proposal to remove Syrian chemical weaponry allowed President Obama to save face. This misadventure put paid to American hegemony , supremacy and exceptionalism. Manifest Destiny was over. We all learned that from Hollywood flics: the hero never stands down; he draws and shoots! If he holsters his guns, he is not a hero: he's chickened out.
Afterwards, things began to unravel fast. The US President had a chat with the new president of Iran, to the chagrin of Tel Aviv. The Free Syrian Army rebels decided to talk to Assad after two years of fighting him, and their delegation arrived in Damascus, leaving the Islamic extremists high and dry. Their supporter Qatar is collapsing overextended. The shutdown of their government and possible debt default gave the Americans something real to worry about. With the end of US hegemony, the days of the dollar as the world reserve currency are numbered.
World War III almost occurred as the banksters wished it. They have too many debts, including the unsustainable foreign debt of the US. If those Tomahawks had flown, the banksters could have claimed Force Majeure and disavow the debt. Millions of people would die, but billions of dollars would be safe in the vaults of JP Morgan and Goldman Sachs. In September, the world crossed this bifurcation point safely, as President Obama refused to take the fall for the banksters. Perhaps he deserved his Nobel peace prize, after all.
The near future is full of troubles but none are fatal. The US will lose its emission rights as a source of income. The US dollar will cease to serve as the world reserve currency though it will remain the North American currency. Other parts of the world will resort to their euro, yuan, rouble, bolivar, or dinar. The US military expenditure will have to be slashed to normal, and this elimination of overseas bases and weaponry will allow the US population to make the transition rather painlessly. Nobody wants to go after America; the world just got tired of them riding shotgun all over the place. The US will have to find new employment for so many bankers, jailers, soldiers, even politicians.
As I stayed in Moscow during the crisis, I observed these developments as they were seen by Russians. Putin and Russia have been relentlessly hard-pressed for quite a while.
The US supported and subsidised Russia's liberal and nationalist opposition; the national elections in Russia were presented as one big fraud. The Russian government was delegitimised to some extent.
The Magnitsky Act of the US Congress authorised the US authorities to arrest and seize the assets of any Russian they deem is up to no good, without a recourse to a court.
Some Russian state assets were seized in Cyprus where the banks were in trouble.
The US encouraged Pussy Riot, gay parades etc. in Moscow, in order to promote an image of Putin the dictator, enemy of freedom and gay-hater in the Western and Russian oligarch-owned media.
Russian support for Syria was criticised, ridiculed and presented as a brutal act devoid of humanity. At the same time, Western media pundits expressed certainty that Russia would give up on Syria.
As I wrote previously, Russia had no intention to surrender Syria, for a number of good reasons: it was an ally; the Syrian Orthodox Christians trusted Russia; geopolitically the war was getting too close to Russian borders. But the main reason was Russia's annoyance with American high-handedness. The Russians felt that such important decisions should be taken by the international community, meaning the UN Security Council. They did not appreciate the US assuming the role of world arbiter.
In the 1990s, Russia was very weak, and could not effectively object, but they felt bitter when Yugoslavia was bombed and NATO troops moved eastwards breaking the US promise to Gorbachev. The Libyan tragedy was another crucial point. That unhappy country was bombed by NATO, and eventually disintegrated. From the most prosperous African state it was converted into most miserable. Russian presence in Libya was rather limited, but still, Russia lost some investment there. Russia abstained in the vote on Libya as this was the position of the then Russian president Dmitry Medvedev who believed in playing ball with the West. In no way was Putin ready to abandon Syria to the same fate.
The Russian rebellion against the US hegemony began in June, when the Aeroflot flight from Beijing carrying Ed Snowden landed in Moscow. Americans pushed every button they could think of to get him back. They activated the full spectre of their agents in Russia. Only a few voices, including that of your truly, called on Russia to provide Snowden with safe refuge, but our voices prevailed. Despite the US pressure, Snowden was granted asylum.
The next step was the Syrian escalation. I do not want to go into the details of the alleged chemical attack. In the Russian view, there was not and could not be any reason for the US to act unilaterally in Syria or anywhere else. In a way, the Russians have restored the Law of Nations to its old revered place. The world has become a better and safer place.
None of this could've been achieved without the support of China. The Asian giant considers Russia its "elder sister" and relies upon her ability to deal with the round-eyes. The Chinese, in their quiet and unassuming way, played along with Putin. They passed Snowden to Moscow. They vetoed anti-Syrian drafts in the UNSC, and sent their warships to the Med. That is why Putin stood the ground not only for Russia, but for the whole mass of Eurasia.
There were many exciting and thrilling moments in the Syrian saga, enough to fill volumes. An early attempt to subdue Putin at G8 meeting in Ireland was one of them. Putin was about to meet with the united front of the West, but he managed to turn some of them to his side, and he sowed the seeds of doubt in others' hearts by reminding them of the Syrian rebel manflesh-eating chieftains.
The proposal to eliminate Syrian chemical weapons was deftly introduced; the UNSC resolution blocked the possibility of attacking Syria under cover of Chapter Seven. Miraculously, the Russians won in this mighty tug-of-war. The alternative was dire: Syria would be destroyed as Libya was; a subsequent Israeli-American attack on Iran was unavoidable; Oriental Christianity would lose its cradle; Europe would be flooded by millions of refugees; Russia would be proven irrelevant, all talk and no action, as important as Bolivia, whose President's plane can be grounded and searched at will. Unable to defend its allies, unable to stand its ground, Russia would've been left with a 'moral victory', a euphemism for defeat. Everything Putin has worked for in 13 years at the helm would've been lost; Russia would be back to where it was in 1999, when Belgrade was bombed by Clinton.
The acme of this confrontation was reached in the Obama-Putin exchange on exceptionalism. The two men were not buddies to start with. Putin was annoyed by what he perceived as Obama's insincerity and hypocrisy. A man who climbed from the gutter to the very top, Putin cherishes his ability to talk frankly with people of all walks of life. His frank talk can be shockingly brutal. When he was heckled by a French journalist regarding treatment of Chechen separatists, he replied:
"the Muslim extremists (takfiris) are enemies of Christians, of atheists, and even of Muslims because they believe that traditional Islam is hostile to the goals that they set themselves. And if you want to become an Islamic radical and are ready to be circumcised, I invite you to Moscow. We are a multi-faith country and we have experts who can do it. And I would advise them to carry out that operation in such a way that nothing would grow in that place again".
Another example of his shockingly candid talk was given at Valdai as he replied to BBC's Bridget Kendall. She asked: did the threat of US military strikes actually play a rather useful role in Syria's agreeing to have its weapons placed under control?
Putin replied: Syria got itself chemical weapons as an alternative to Israel's nuclear arsenal. He called for the disarmament of Israel and invoked the name of Mordecai Vanunu as an example of an Israeli scientist who opposes nuclear weapons. (My interview with Vanunu had been recently published in the largest Russian daily paper, and it gained some notice).
Putin tried to talk frankly to Obama. We know of their exchange from a leaked record of the Putin-Netanyahu confidential conversation. Putin called the American and asked him: what's your point in Syria? Obama replied: I am worried that Assad's regime does not observe human rights. Putin almost puked from the sheer hypocrisy of this answer. He understood it as Obama's refusal to talk with him "on eye level".
In the aftermath of the Syrian stand-off, Obama appealed to the people of the world in the name of American exceptionalism. The United States' policy is "what makes America different. It's what makes us exceptional", he said. Putin responded: "It is extremely dangerous to encourage people to see themselves as exceptional. We are all different, but when we ask for the Lord's blessings, we must not forget that God created us equal." This was not only an ideological, but theological contradistinction.
As I expounded at length elsewhere, the US is built on the Judaic theology of exceptionalism, of being Chosen. It is the country of Old Testament. This is the deeper reason for the US and Israel's special relationship. Europe is going through a stage of apostasy and rejection of Christ, while Russia is deeply Christian. Its churches are full, they bless one other with Christmas and Easter blessings, instead of neutral "seasons". Russia is a New Testament country. And rejection of exceptionalism, of chosenness is the underlying tenet of Christianity.
For this reason, while organised US Jewry supported the war, condemned Assad and called for US intervention, the Jewish community of Russia, quite numerous, wealthy and influential one, did not support the Syrian rebels but rather stood by Putin's effort to preserve peace in Syria. Ditto Iran, where the wealthy Jewish community supported the legitimate government in Syria. It appears that countries guided by a strong established church are immune from disruptive influence of lobbies; while countries without such a church ­ the US and/or France ­ give in to such influences and adopt illegal interventionism as a norm.
As US hegemony declines, we look to an uncertain future. The behemoth might of the US military can still wreck havoc; a wounded beast is the most dangerous one. Americans may listen to Senator Ron Paul who called to give up overseas bases and cut military expenditure. Norms of international law and sovereignty of all states should be observed. People of the world will like America again when it will cease snooping and bullying. It isn't easy, but we've already negotiated the Cape and gained Good Hope.
(Language edited by Ken Freeland)
You know, in spite of the visit from The Bone Lady when I was just three years old, and all the grim foreshadowing that she downloaded to me via direct intuition, I always held out hope that humanity could or would somehow turn things around on this planet, and snatch victory from the jaws of defeat.
As long as there is breath there is always hope, that was my thinking for a long time, but I am no longer so sanguine.
As one of my friends recently remarked to me, there is, indeed, real evil abroad in this world. I don't know how else to explain the wickedness of what is happening at Fukushima, in Japan, where the situation with the exploded and/or melted down nuclear reactors just goes from frightfully dire to unimaginably worse.
I frequently check the developments there at www.enenews.com and the latest news is very disturbing. I said from the outset, in the spring of 2011, that Tokyo would be evacuated. I still believe that to be inevitable. It is possible that much of Japan will be evacuated to elsewhere. The apocalyptic dimensions of the crisis are being covered up by TEPCO, the Japanese government, General Electric, and the USSA government. The reality is that there was at least one, and maybe more, really dirty nuclear blasts there in March of 2011, that wrecked the reactors and created a radioactive hell that no one knows how to remedy or bring under control. At the least we are probably looking at the failure and collapse of Japanese society with likely evacuation of tens of millions of people or more, and the fairly rapid death of vast portions of the Pacific Ocean, as deadly radioactive waste water continues to flow into the sea by the hundreds of tons, every day.
And when the cooling pool at reactor four collapses, the many tons of highly radioactive, spent, fuel rods that it contains will overheat and burn and or catastrophically fission, i.e., cause a runaway, nuclear reaction, or, in lay man's terms, there will be another atomic explosion, along with a mushroom cloud, and tons of highly poisonous nuclear isotopes will be spread aloft into the atmosphere and/or will drain or be blown into the sea, to poison the Pacific Ocean even further.
This is worse than bad news. This is planetary chaos news. This is civilization ending news. This is species extinction level news, as in extinction of the human species on this planet. If you do not think so, all I can say is: wait. It won't be long. Probably not ten years, not five, maybe even by Christmas this year, and you will begin to see what i mean, if you haven't already.
And even if the cooling pool at reactor four doesn't fail or collapse of its own accord in the near future, though that is very highly probable, TEPCO's plan to manually remove the many tons of bent, mangled, fused, welded together, very highly radioactive fuel rods that remain in the pool, beginning in November of this year, is so fraught with peril that it is likely to spectacularly fail, with unimaginably negative consequences. Any slight mistake, miscue or dropped fuel rod could result in a fission criticality, a runaway nuclear chain reaction, to wit, an atomic explosion that will shower the northern hemisphere and the Pacific Basin with a fatal radioactive sleet that will persist for hundreds of thousands of years.
As I said, the situation is somewhere far south of dire, with a headlong, hellward trajectory.
The Nuclear Chain Reaction
Because what is inevitable, the longer the situation at Fukushima festers, is that the whole site will have to be abandoned. Due to the high radiation levels, no one will be able to work there without dying. So the workers will pull back, and the cooling pools and storage pools that contain thousands of tons of extremely radioactive, spent fuel rods will fail or collapse and there will be more explosions and radioactive fires. As the radioactively contaminated NO GO ZONE expands, as the population flees, the day will come when nuclear reactors at other, nearby power generating plants will also fail, melt down and/or explode, because the nuclear engineers and maintenance workers no longer come to work and operate them — BECAUSE THEY ARE DEAD.
And then there will be three or four more, and the radioactive No Go Zone will expand, widen, grow. And other nuclear power plants will then fail, melt down and/or explode, because their operators are also DEAD, and so do not come to work, do not maintain them.
There are over 50 nuclear power reactors in Japan, and they all have their spent fuel rod cooling pools. It doesn't matter if the reactors themselves are shut down, because there are thousands and thousands of tons of highly radioactive, spent, nuclear fuel rods stored in the cooling pools all over Japan. So, given time, the crisis will continue to fester and worsen, and then it will begin to cascade, like a row of toppling dominoes, only it will be a series of failing nuclear power reactors, one after the other, heralding the end of the nuclear age, and quite possible the end of humanity.
It's just that serious.
All of that will send a killing wave of radioactivity across the Pacific to North America. So what happens when the population on the west coast of the USSA flees in panic from the approaching killer wave of radioactivity? Well, there will be no one left to operate the nuclear power reactors in California, for example. or at Palo Verde, the massive nuclear power plant just to the west of Phoenix. So when those nuclear reactors and their spent fuel cooling pools fail, melt down, and/or blow up, the civilization-ending, planet-killing, Fukushima Syndrome will come home to America with a wicked vengeance.
All courtesy of General Electric. General Electric designed five out of the six reactors at Fukushima and built three of them, so what we see here is genocidal, planet-killing failure of American (alleged) "high technology" on a spectacular scale.
General Electric — busy exterminating a planet near you of its resident, biological life forms.
At the end of the day, all the differential calculus, the nuclear physics, the nuclear chemistry, the nuclear engineering, the corporate profits, the Madison Avenue advertising slogans, the multinational wheeling and dealing, all has conspired to assassinate the planet on which we, and they, all live. Make no mistake, the planet is now dying. The global poisoning process is so very far advanced that it probably cannot be stopped. Certainly, there is not now any serious, international effort to do so, not anything remotely commensurate with the level of danger that we are facing.
No doubt we are dealing with profound iniquity, a betrayal so complete of all that is human that no words exist to describe its foul dimension. The ones who have done this thing walk among us, though for how long? – understanding that they, too, will certainly drop dead along with countless millions of others, as a direct result of their abjectly arrogant ignorance.
Arrogant Ignorance
All of their super-computers, the advanced mathematics, their (so-called) "hi-tech" industrial base, all of their billions of dollars of (so-called) "high finance" — and they kill the planet? And themselves and their posterity in the process? That's the best they can do? They get a PhD in nuclear chemistry and use their (so-called) "knowledge" and (so-called) technical "expertise" to kill the planet? The planet that they also live on?
Geniuses. All of them.
Central Banking Middle East Madness
Then there is the very real prospect of a shooting, nuclear war, beginning in the Middle East. The USSA has a powerful fleet in the region. So do the Russians, as a counterpoint. Sadly for all humanity, the Washington, DC — City of London — Lower Manhattan — Tel Aviv — NATO cabal seems hell bent on war, and so we are on the slippery slope to war. Unfortunately, this psychopathic cabal is very heavily nuclear armed.
I saw all of this coming from waaaaaaay back, from way back in my infancy, since the age of three years, when The Bone Lady visited me and clued me in to realities that I still don't want to think about, given their ghastly, hideous savagery. But I'll tell you what, it's enough to give a man insomnia, it's enough to drive him out onto the nuclear missile silos, again and again, in a personal effort to inject a note of sanity and warning into a positively insane political and military climate, in an attempt to wake up anyone who may be susceptible to awakening.
ANYONE.
My latest sally was 15 April 2010 in North Dakota, USA. I went over the security fence onto the H-8 Minuteman III nuclear missile silo in the Minot Air Force Base nuclear missile field, near Parshall, North Dakota, at the intersection of 33rd Street and 76th Avenue. I conducted a nonviolent, peace demonstration on the silo and was arrested by the USSA military and imprisoned for 100 days, almost all of the time served in the Heart of America Correctional and Treatment Center in Rugby, North Dakota.
My Minot Manifesto explains my motivations, reasons and spiritual and political philosophy. It is one of the most important documents I have written in my entire life.
A Serious Message From The Heart of America was my personal statement that I mailed to the news media from jail in Rugby, North Dakota, on 14 July 2010, prior to being criminally tried and convicted in USSA federal court in Minot, North Dakota.
I explain the symbolism in my dress and accoutrements in the photo below, in the text of my lengthy Minot Manifesto. It's thirteen pages, but worth the time and effort to read. It is a major life statement on my part, that reflects literal decades of deep thought, a very large quantum of concentrated life energy and hours, weeks, months and years of preparation, a statement that distills an important fraction of my life essence into human language. I invite you to partake of my gift by taking the time to read and reflect on what I have written, and then to take meaningful, principled, creative, nonviolent action yourself.
I don't quite know what more to say, what more to do. In fact, were I to do more than I already have, and I have been out on the nuclear missile silos three times (and been jailed for my trouble all three times, in Arkansas, Missouri and North Dakota), I would run the very real risk of infringing on your right and your very real, personal RESPONSIBILITY to also courageously act. So what are you waiting for? Why are you here on this planet, at this time, reading this blog post, and articles like it?
Because make no mistake about it, the time to act, if you are going to act, is here. The time has arrived. The planet is on the brink. We face the very real prospect of a shooting nuclear war. Additionally, the Fukushima crisis, and the threat from nuclear power plants in general, ALL OF THEM, could not be more serious.
In recent days, I find myself musing about the closing scene from "Dr. Stramgelove," with the haunting song by Vera Lynn, "We'll Meet Again, Don't Know Where, Don't Know When," that was such a huge hit in World War II, for obvious reasons.
And it fills me with such melancholy and sorrow. Because if it starts, this ugly thing called nuclear war, and we are headed that way, can all unravel very rapidly. The machines will take over, and automated, pre-programmed orders of battle will be carried out, without human control, as machines battle machines with nuclear fire. Waves of missiles will come in, again and again, to batter the underground bases. I have read the declassified documents. Warhead after warhead will come in at 10 minute intervals. You cannot imagine the depths of the hell that is already programmed and waiting to be unleashed.
Back in the 1960s, the USSA military was counting on 140 million casualties in the mainland USSA alone. I know this because I have read the documents. I have done the research. The USSA population is much larger now, and much more urban, so the casualty rate would be even higher. Maybe 200 million? 250 million casualties in the USSA alone?
Do you think you will just watch that on CNN?
Refuge in the Southern Hemisphere
If you have read my previous writings you will know that I have said that IF humanity has a future, it is likely to be in the southern hemisphere, if only because the lion's share of the nuclear weapons and nuclear power reactors are in the northern hemisphere. As the nuclear power plants fail, melt down, and/or explode most of them will be in the northern hemisphere. This is not an intellectual exercise — already we have had catastrophic failure of nuclear power plants at Chernobyl, Ukraine and Fukushima, Japan. They are just the first. There will be more.
Likewise, any shooting nuclear war is logically likely to be concentrated in the northern hemisphere, since all of the known, nuclear armed, military powers are in the northern hemisphere
But even then, there are enormous problems in the southern hemisphere. The vegetation in the Amazon region of South America produces something like 20 to 30% of the oxygen in the Earth's atmosphere. As the Amazon dies, and it is being destroyed right now, so too, is the Earth's breathable oxygen supply being destroyed. I don't know about you, but I breathe oxygen all day and all night, every day and every night of my life.
So even if we resolve the nuclear issue, and there is ZERO progress on that front right now, only to lose the Amazon, we all will still die, because none of us can survive with 20 to 30% less oxygen. Just cannot.
Right now, we, humanity, every last one of us, are in a life and death struggle for the life of our species, and the life of our planet.
If we win, we live. If we lose, we die. ALL OF US.
End of the story. End of our species' genetic line. For ever and ever.
Done. Finished.
So maybe moving to Bolivia or Uruguay or Namibia or Madagascar or New Zealand will buy you a little time, a year or ten. However, if we fail to rein in and ABOLISH nuclear reactors and nuclear weapons, if we fail to reforest the Earth and cleanse it of radioactive contamination, then we are through. It's the end for us.
This is our group decision. Right now we are on a self-destructive path to global extinction.
So Here Is My View
If you will act decisively, now is the time. Pick your issue and your spot and act creatively, courageously and nonviolently.
It's your world and your life. Act like they both count for something.
And here's the other thing. If you cannot, or will not act, then how about supporting those of us who have acted, and who continue to act?
In my case, I have paid a very heavy price, in earnings forever foregone, by putting my life on the line, repeatedly, for you, whom I do not even know. But because you are my human kin, I went out on the missile silos, again and again, and I went to jail. I lost more than a year and a half of productive labor. I lost, as well, the opportunity to have a whole wide range of well paying jobs, due to my arrest and prison record, even though I have multiple advanced university degrees, up to the doctorate level.
Subsequent to my arrival in South America, I immersed myself in Amazonian shamanic culture, the better to understand the Amazonian region, the jungle itself, and the shamanic human ecology of the region that interfaces with the hyper-conscious plants in the jungle, only to be very gravely assaulted by one of the said Amazonian shamans and hospitalized for more than four months with massive trauma to both my body and emotions. I am now pursing a criminal case against the shaman and that also costs heavily, several thousands of dollars in attorneys' fees, at the very time when so much of my time and energy is taken up with therapy and the sheer physical effort of getting around with impaired mobility. Nine months after the assault I still have physical nerve trauma in my lower extremities, a good deal of numbness and what is called drop foot. I walk with crutches. My electro-therapy also costs. At the moment I cannot go to electro-therapy, although I badly need it, because I only have $35 to my name.
I have run completely through my meager life savings and there is no more.
Additionally, I have this week begun the formal petition process to the government of Ecuador to request political asylum. My years-long record of anti-nuclear activism and repeated jailing by the USSA government is one factor in my decision, coupled with other factors such as recent revelations of universal NSA surveillance and espionage, the secret arrest and indefinite military detention provisions of the NDAA of 2012 and 2013, the recently revealed, previously secret 2011 FBI documents that blatantly discuss plans to murder Occupy Movement activists by sniper fire, including in San Antonio, Texas, where I lived and worked as a window washer from 2000 to 2009, and all of this in the context of an all encompassing pattern of unbridled lawlessness and pervasive lying with regard to EVERYTHING by the American government. All of this and more, has brought home to me the seriousness of this moment that we are living now.
I have the obligation to safeguard my own liberty and safety. It is clear to me that politically I am freer and safer in Ecuador than in the USSA. The American government has taken a hard, dictatorial turn towards neo-fascism. That is the plain truth. The harsh, repressive treatment of Edward Snowden and Chelsea (formerly Bradley) Manning makes that clear enough. We are in altogether different territory now. And so I have petitioned for political refuge in Ecuador.
This also entails paying an attorney, to assist me in my interactions with the administrative, legal and political system in Ecuador. It is my life on the line and I am proceeding very carefully, every step of the way.
But it is also your life on the line, in that my anti-nuclear activism, my immersion in the Amazonian culture, and my pursuit of political refuge in Ecuador all have profound implications far beyond just me. What happens to me also has broad implications for you. The consequences of nuclear war are too horrific to contemplate, and if it is to be avoided, it is because of actions such as mine. Similarly, we simply cannot afford to lose the Amazon, and yet we are losing it right now. If we are to save it, a big part of that will be due to the personal efforts of those who come to the region and get personally involved in the nitty-gritty, even life-threatening struggle for the soul of the Amazon, because more than anything, we are involved in a pitched battle for the very spirit and soul of the Amazon and of the rest of this planet.
Similarly, if I, with my history of activism, book writing, researching, blogging, public speaking, interviews, and repeated nonviolent civil disobedience and consequent jail record, cannot obtain political refuge abroad, then what hope do you have? You're boxed in, that's what. You're in a cage with no exit.
And so, if you cannot or have not done the things that I and others like myself have done and are doing, then can you please, will you at least please support us?
I desperately need your support now. My legal fees run to thousands of dollars, and my therapy is ongoing. I appreciate and really need your generosity. Please communicate with me at: dr.samizdat1618@gmail.com or via Skype at richard.sauder333 as to how to donate.
Come Ye That Love The Lord
I am a native Virginian, and have lived, worked, traveled, studied and gone to jail all over the American South, from the Virginias and Maryland, all the way across to South Texas, and numerous points in between. A very large block of my life has been spent down South. Although I am not now a church attending man, I have in the past been in all kinds of Christian churches, both Black and White, in big cities and small country towns.
Some of the most memorable sermons I have ever heard have been by Black pastors in rural areas of the deep South. One of the things I like about the traditional Black style of hymn singing down South is the way that the head deacon or pastor will frequently line out a hymn, especially the first line or two of a verse, and then the other deacons or members of the choir will join in, accompanied by riffs on the organ, if there is an organist, and there are some really gifted organists playing in southern Black churches.
I well remember a sermon that I once chanced to hear, decades ago, by a Black lay preacher, one sultry, Sunday night, in a tiny little town way down South, about as far south as you can go, and still be in the South and not somewhere else. The ceiling fans lazily stirred the muggy summer air, as the moths flitted vainly around the naked incandescent light bulbs hanging from the ceiling overhead. The windows were flung wide open and the pale light from the sanctuary washed feebly out through the rusted screens and flooded onto the close cropped lawn that surrounded the church. It was one of the most extraordinary public speaking performances I ever witnessed. The preacher used as his text Ezekiel 37, the theme being dry bones and systematically connecting them one to the other, the purpose being to reassemble and restore "them dry bones" to life. As he spoke, I saw that he fell into a trance, that he entered another state of consciousness, that he was self-hypnotized and that the sermon itself had a sort of existence independent of him, that the message took on a life of its own and was using his mind, his mouth, his body, to project itself into the ears, hearts and minds of the sparse assemblage present that evening. As he finished, he collapsed exhausted backwards into his armchair and lined out the first words of the hymn that he wanted the choir to sing. I don't anymore remember exactly what song he called for, but it could well have been this: Come Ye That Love The Lord
If there is to truly be a new world order, as distinct from the obscene power that currently holds sway on this planet today, then we will need to see a completely new order of human being on this world, a species of human being motivated by love for the Creator and by devotion to inward and outward service to the sacred life impulse. We don't see that now, and the human species may go extinct on this planet for its want.
I do believe in God and have been profoundly privileged to see some of His servants face to face. I find their company congenial.
Come, ye that love the Lord,
And let your joys be known;
Join in a song with sweet accord,
And thus surround the throne.

Let those refuse to sing
That never knew our God,
But children of the heavenly King
May speak their joys abroad.

The God of heaven is ours,
Our Father and our love ;
His care shall guard life's fleeting hours,
Then waft our souls above.

There shall we see his face,
And never, never sin;
There, from the rivers of his grace,
Drink endless pleasures in.

Yes, and before we rise
To that immortal state.
The thoughts of such amazing bliss
Should constant joys create.

Children of grace have found
Glory begun below:
Celestial fruits on earthly ground,
From faith and hope may grow.

The hill of Sion yields
A thousand sacred sweets,
Before we reach the heavenly fields,
Or walk the golden streets.

Then let our songs abound,
And ev'ry tear be dry;
We're trav'lling through Immanuel's ground,
To fairer worlds on high.

(John Wesley, ca. 1703- 1791)
Source: Richard Sauder  |  Event Horizon Chronicle
Derivatives turn the financial system into a casino. And the House always wins.
Cyprus-style confiscation of depositor funds has been called the "new normal."  Bail-in policies are appearing in multiple countries directing failing TBTF banks to convert the funds of "unsecured creditors" into capital; and those creditors, it turns out, include ordinary depositors. Even "secured" creditors, including state and local governments, may be at risk.  Derivatives have "super-priority" status in bankruptcy, and Dodd Frank precludes further taxpayer bailouts. In a big derivatives bust, there may be no collateral left for the creditors who are next in line.  
Shock waves went around the world when the IMF, the EU, and the ECB not only approved but mandated the confiscation of depositor funds to "bail in" two bankrupt banks in Cyprus. A "bail in" is a quantum leap beyond a "bail out." When governments are no longer willing to use taxpayer money to bail out banks that have gambled away their capital, the banks are now being instructed to "recapitalize" themselves by confiscating the funds of their creditors, turning debt into equity, or stock; and the "creditors" include the depositors who put their money in the bank thinking it was a secure place to store their savings.
The Cyprus bail-in was not a one-off emergency measure but was consistent with similar policies already in the works for the US, UK, EU, Canada, New Zealand, and Australia, as detailed in my earlier articles here and here.  "Too big to fail" now trumps all.  Rather than banks being put into bankruptcy to salvage the deposits of their customers, the customers will be put into bankruptcy to save the banks.
Why Derivatives Threaten Your Bank Account
The big risk behind all this is the massive $230 trillion derivatives boondoggle managed by US banks. Derivatives are sold as a kind of insurance for managing profits and risk; but as Satyajit Das points out in Extreme Money, they actually increase risk to the system as a whole.
In the US after the Glass-Steagall Act was implemented in 1933, a bank could not gamble with depositor funds for its own account; but in 1999, that barrier was removed. Recent congressional investigations have revealed that in the biggest derivative banks, JPMorgan and Bank of America, massive commingling has occurred between their depository arms and their unregulated and highly vulnerable derivatives arms. Under both the Dodd Frank Act and the 2005 Bankruptcy Act, derivative claims have super-priority over all other claims, secured and unsecured, insured and uninsured. In a major derivatives fiasco, derivative claimants could well grab all the collateral, leaving other claimants, public and private, holding the bag.
The tab for the 2008 bailout was $700 billion in taxpayer funds, and that was just to start. Another $700 billion disaster could easily wipe out all the money in the FDIC insurance fund, which has only about $25 billion in it.  Both JPMorgan and Bank of America have over $1 trillion in deposits, and total deposits covered by FDIC insurance are about $9 trillion. According to an article on Bloomberg in November 2011, Bank of America's holding company then had almost $75 trillion in derivatives, and 71% were held in its depository arm; while J.P. Morgan had $79 trillion in derivatives, and 99% were in its depository arm. Those whole mega-sums are not actually at risk, but the cash calculated to be at risk from derivatives from all sources is at least $12 trillion; and JPM is the biggest player, with 30% of the market.
It used to be that the government would backstop the FDIC if it ran out of money. But section 716 of the Dodd Frank Act now precludes the payment of further taxpayer funds to bail out a bank from a bad derivatives gamble. As summarized in a letter from Americans for Financial Reform quoted by Yves Smith:
Section 716 bans taxpayer bailouts of a broad range of derivatives dealing and speculative derivatives activities. Section 716 does not in any way limit the swaps activities which banks or other financial institutions may engage in. It simply prohibits public support for such activities.
There will be no more $700 billion taxpayer bailouts. So where will the banks get the money in the next crisis? It seems the plan has just been revealed in the new bail-in policies.
All Depositors, Secured and Unsecured, May Be at Risk
The bail-in policy for the US and UK is set forth in a document put out jointly by the Federal Deposit Insurance Corporation (FDIC) and the Bank of England (BOE) in December 2012, titled Resolving Globally Active, Systemically Important, Financial Institutions.
In an April 4th article in Financial Sense, John Butler points out that the directive does not explicitly refer to "depositors."  It refers only to "unsecured creditors."  But the effective meaning of the term, says Butler, is belied by the fact that the FDIC has been put on the job. The FDIC has direct responsibility only for depositors, not for the bondholders who are wholesale non-depositor sources of bank credit. Butler comments:
Do you see the sleight-of-hand at work here? Under the guise of protecting taxpayers, depositors of failing institutions are to be arbitrarily, de-facto subordinated to interbank claims, when in fact they are legally senior to those claims!
. . . [C]onsider the brutal, unjust irony of the entire proposal. Remember, its stated purpose is to solve the problem revealed in 2008, namely the existence of insolvent TBTF institutions that were "highly leveraged and complex, with numerous and dispersed financial operations, extensive off-balance-sheet activities, and opaque financial statements." Yet what is being proposed is a framework sacrificing depositors in order to maintain precisely this complex, opaque, leverage-laden financial edifice!

If you believe that what has happened recently in Cyprus is unlikely to happen elsewhere, think again. Economic policy officials in the US, UK and other countries are preparing for it. Remember, someone has to pay. Will it be you? If you are a depositor, the answer is yes.
The FDIC was set up to ensure the safety of deposits. Now it, it seems, its function will be the confiscation of deposits to save Wall Street. In the only mention of "depositors" in the FDIC-BOE directive as it pertains to US policy, paragraph 47 says that "the authorities recognize the need for effective communication to depositors, making it clear that their deposits will be protected." But protected with what? As with MF Global, the pot will already have been gambled away. From whom will the bank get it back? Not the derivatives claimants, who are first in line to be paid; not the taxpayers, since Congress has sealed the vault; not the FDIC insurance fund, which has a paltry $25 billion in it. As long as the derivatives counterparties have super-priority status, the claims of all other parties are in jeopardy.
That could mean not just the "unsecured creditors" but the "secured creditors," including state and local governments. Local governments keep a significant portion of their revenues in Wall Street banks because smaller local banks lack the capacity to handle their complex business. In the US, banks taking deposits of public funds are required to pledge collateral against any funds exceeding the deposit insurance limit of $250,000. But derivative claims are also secured with collateral, and they have super-priority over all other claimants, including other secured creditors. The vault may be empty by the time local government officials get to the teller's window. Main Street will again have been plundered by Wall Street.
Super-priority Status for Derivatives Increases Rather Than Decreases Risk
Harvard Law Professor Mark Row maintains that the super-priority status of derivatives needs to be repealed. He writes:
. . . [D]erivatives counterparties, . . . unlike most other secured creditors, can seize and immediately liquidate collateral, readily net out gains and losses in their dealings with the bankrupt, terminate their contracts with the bankrupt, and keep both preferential eve-of-bankruptcy payments and fraudulent conveyances they obtained from the debtor, all in ways that favor them over the bankrupt's other creditors.
. . . [W]hen we subsidize derivatives and similar financial activity via bankruptcy benefits unavailable to other creditors, we get more of the activity than we otherwise would. Repeal would induce these burgeoning financial markets to better recognize the risks of counterparty financial failure, which in turn should dampen the possibility of another AIG-, Bear Stearns-, or Lehman Brothers-style financial meltdown, thereby helping to maintain systemic financial stability.
In The New Financial Deal: Understanding the Dodd-Frank Act and Its (Unintended) Consequences, David Skeel agrees. He calls the Dodd-Frank policy approach "corporatism" – a partnership between government and corporations. Congress has made no attempt in the legislation to reduce the size of the big banks or to undermine the implicit subsidy provided by the knowledge that they will be bailed out in the event of trouble.
Undergirding this approach is what Skeel calls "the Lehman myth," which blames the 2008 banking collapse on the decision to allow Lehman Brothers to fail. Skeel counters that the Lehman bankruptcy was actually orderly, and the derivatives were unwound relatively quickly. Rather than preventing the Lehman collapse, the bankruptcy exemption for derivatives may have helped precipitate it.  When the bank appeared to be on shaky ground, the derivatives players all rushed to put in their claims, in a run on the collateral before it ran out. Skeel says the problem could be resolved by eliminating the derivatives exemption from the stay of proceedings that a bankruptcy court applies to other contracts to prevent this sort of run.
Putting the Brakes on the Wall Street End Game
Besides eliminating the super-priority of derivatives, here are some other ways to block the Wall Street asset grab:
(1) Restore the Glass-Steagall Act separating depository bankingfrom investment banking. Support Marcy Kaptur's H.R. 129.
(2) Break up the giant derivatives banks.  Support Bernie Sanders' "too big to jail" legislation.
(3) Alternatively, nationalize the TBTFs, as advised in the New York Times by Gar Alperovitz.  If taxpayer bailouts to save the TBTFs are unacceptable, depositor bailouts are even more unacceptable.
(4) Make derivatives illegal, as they were between 1936 and 1982 under the Commodities Exchange Act. They can be unwound by simply netting them out, declaring them null and void.  As noted by Paul Craig Roberts, "the only major effect of closing out or netting all the swaps (mostly over-the-counter contracts between counter-parties) would be to take $230 trillion of leveraged risk out of the financial system."
(5) Support the Harkin-Whitehouse bill to impose a financial transactions tax on Wall Street trading.  Among other uses, a tax on all trades might supplement the FDIC insurance fund to cover another derivatives disaster.
(5) Establish postal savings banks as government-guaranteed depositories for individual savings. Many countries have public savings banks, which became particularly popular after savings in private banks were wiped out in the banking crisis of the late 1990s.
(6) Establish publicly-owned banks to be depositories of public monies, following the lead of North Dakota, the only state to completely escape the 2008 banking crisis. North Dakota does not keep its revenues in Wall Street banks but deposits them in the state-owned Bank of North Dakota by law.  The bank has a mandate to serve the public, and it does not gamble in derivatives.
A motivated state legislature could set up a publicly-owned bank very quickly. Having its own bank would allow the state to protect both its own revenues and those of its citizens while generating the credit needed to support local business and restore prosperity to Main Street.
For more information on the public bank option, see here. Learn more at thePublic Banking Institute conference June 2-4 in San Rafael, California, featuring Matt Taibbi, Birgitta Jonsdottir,Gar Alperovitz and others.
Source: Ellen Brown | Alternet
Don't be surprised when the global elite confiscate money from your bank account one day.  They are already very clearly telling you that they are going to do it.  Dutch Finance Minister Jeroen Dijsselbloem is the president of the Eurogroup – an organization of eurozone finance ministers that was instrumental in putting together the Cyprus "deal" – and he has said publicly that what has just happened in Cyprus will serve as a blueprint for future bank bailouts.  What that means is that when the chips are down, they are going to come after YOUR money.  So why should anyone put a large amount of money in the bank at this point?  Perhaps you can make one or two percent on your money if you shop around for a really good deal, but there is also a chance that 40 percent (or more) of your money will be confiscated if the bank fails.  And considering the fact that there are vast numbers of banks all over the United States and Europe that are teetering on the verge of insolvency, why would anyone want to take such a risk?  What the global elite have done is that they have messed around with the fundamental trust that people have in the banking system.  In order for any financial system to work, people must have faith in the safety and security of that financial system.  People put their money in the bank because they think that it will be safe there.  If you take away that feeling of safety, you jeopardize the entire system.
So exactly how did the big banks in Cyprus get into so much trouble?  Well, they have been doing exactly what hundreds of other large banks all over the U.S. and Europe have been doing.  They have been gambling with our money.  In particular, the big banks in Cyprus made huge bets on Greek sovereign debt which ended up failing.
But what happened in Cyprus is just the tip of the iceberg.  All over the planet major financial institutions are being incredibly reckless with client money.  They are leveraged to the hilt and they have transformed the global financial system into a gigantic casino.
If they win on their bets, they become fabulously wealthy.
If they lose on their bets, they know that the politicians won't let the banks fail.  They know that they will get bailed out one way or another.
And who pays?
We do.
Either our tax dollars are used to fund a government-sponsored bailout, or as we have just witnessed in Cyprus, money is directly confiscated from our bank accounts.
And then the game begins again.
People need to understand that the precedent that has just been set in Cyprus is a game changer.
The next time that a major bank fails in Greece or Italy or Spain (or in the United States for that matter), the precedent that has been set in Cyprus will be looked to as a "template" for how to handle the situation.
Eurogroup president Jeroen Dijsselbloem has even publicly admitted that what just happened in Cyprus will serve as a model for future bank bailouts.  Just check out what he said a few days ago…
"If there is a risk in a bank, our first question should be 'Okay, what are you in the bank going to do about that? What can you do to recapitalise yourself?'. If the bank can't do it, then we'll talk to the shareholders and the bondholders, we'll ask them to contribute in recapitalising the bank, and if necessary the uninsured deposit holders"
Dijsselbloem insists that this will cause people "to think about the risks" before they put their money somewhere…
"It will force all financial institutions, as well as investors, to think about the risks they are taking on because they will now have to realise that it may also hurt them. The risks might come towards them."
Well, as depositors in Cyprus just found out, there is a risk that you could lose 40 percent (and that is the best case scenario) of your money if you put it in the bank.
Why would anyone want to take that risk – especially in a nation that is already experiencing very serious financial troubles such as Greece, Italy or Spain?
As if that was not enough, Dijsselbloem later went in front of the Dutch parliament and publicly defended a wealth tax like the one that was just imposed in Cyprus.
Dijsselbloem is being widely criticized, and rightfully so.  But at least he is being more honest that many other politicians.  His predecessor as the head of the Eurogroup, Jean-Claude Juncker, once said that "you have to lie" to the people in order to keep the financial markets calm…
Mr. Dijsselbloem's style contrasts with that of his predecessor, Jean-Claude Juncker, Luxembourg's prime minister, who spoke in a low mumble at news conferences and was expert at sidestepping questions. Mr. Juncker once even advocated lying as a way to prevent financial markets from panicking—as they did Monday after Mr. Dijsselbloem's comments.

"When it becomes serious, you have to lie," Mr. Juncker said in April 2011. "If you have pre-indicated possible decisions, you are feeding speculation in the financial markets."
But Dijsselbloem is certainly not the only one among the global elite that is admitting what is coming next.  Just check out what Joerg Kraemer, the chief economist at Commerzbank, recently told Handelsblatt about what he believes should be done in Italy…
"A tax rate of 15 percent on financial assets would probably be enough to push the Italian government debt to below the critical level of 100 percent of gross domestic product"
Yikes!
And as I wrote about the other day, the Finance Minister of New Zealand is proposing that bank account holders in his nation should be required to "take a haircut" if any banks in his nation fail.
They are telling us what they plan to do.
They are telling us that they plan to raid all of our bank accounts when the global financial system fails.
And calling it a "haircut" does not change the fact of what it really is.  The truth is that when they confiscate money from our bank accounts it is outright theft.  Just check out what the Daily Mail had to say about the situation in Cyprus…
People who rob old ladies in the street, or hold up security vans, are branded as thieves. Yet when Germany presides over a heist of billions of pounds from private savers' Cyprus bank accounts, to 'save the euro' for the hundredth time, this is claimed as high statesmanship.

It is nothing of the sort. The deal to secure a €10 billion German bailout of the bankrupt Mediterranean island is one of the nastiest and most immoral political acts of modern times.

It has struck fear into the hearts of hundreds of millions of European citizens, because it establishes a dire precedent.
And when you cause paralysis in the banking system, a once thriving economy can freeze up almost overnight.  The following is an excerpt from a report from someone that is actually living over in Cyprus…
As it stands now, nowhere in Cyprus accepts credit or debit cards anymore for fear of not being paid, it is CASH ONLY. Businesses have stopped functioning because they cannot pay employees OR pay for the stock they receive because the banks are closed. If the banks remain closed, the economy will be destroyed and STOP COMPLETELY. Looting, robberies and theft are already on the rise. If the banks open now, there will be a massive run on the bank, and the banks will FAIL loosing all of its deposits, also causing an economic crash. TONIGHT there are demonstrations at most street corners and especially at the parliament building (just 2 miles from me).

Many are thinking that the ECB and EU are allowing Cyprus to fail as a test ground for new financial standards.

Just wanted all you guys to know the real story of whats going on here. Prayers are appreciated (although this is very interesting to watch) many of my local friends have lots of money in the banks.
Would similar things happen in the United States if there was a major banking crisis someday?
That is something to think about.
In any event, the problems in the rest of Europe continue to get even worse…
-The stock market in Greece is crashing.  It is down by more than 10 percent over the past two days.
-The stock markets in Italy and Spain are experiencing huge declines as well.  Banking stocks are being hit particularly hard.
-The Bank of Spain says that the Spanish economy will sink even deeper into recession this year.
-The latest numbers from the Spanish government show that Spain's debt problem is rapidly getting worse…
"The central government's interest bill surged 15 percent last year to 26 billion euros, while tax receipts slumped 21 percent. The cost of servicing debt represented 30 percent of the taxes collected at the end of December, up from 20 percent a year earlier."
-The euro took quite a tumble on Thursday and the euro will likely continue to decline steadily in the weeks and months to come.
For a very long time I have been warning that the next major wave of the economic collapse is going to originate in Europe.
Hopefully people are starting to see what I am talking about.
As this point, the major banks in Europe are leveraged about 26 to 1, and that is close to the kind of leverage that Lehman Brothers had when it finally collapsed.  As a whole, European banks are drowning in debt, they are taking risks that are almost incomprehensible and now faith in those banks has been greatly undermined by what has happened in Cyprus.
Anyone that cannot see a crisis coming in Europe simply does not understand the financial world.  A moment of reckoning is rapidly approaching for Europe.  The following is from a recent article by Graham Summers…
At the end of the day, the reason Europe hasn't been fixed is because CAPITAL SIMPLY ISN'T THERE. Europe and its alleged backstops are out of money. This includes Germany, the ECB and the mega-bailout funds such as the ESM.

Germany has already committed to bailouts that equal 5% of its GDP. The single largest transfer payment ever made by one country to another was the Marshall Plan in which the US transferred an amount equal to 5% of its GDP. Germany WILL NOT exceed this. So don't count on more money from Germany.

The ECB is chock full of garbage debts which have been pledged as collateral for loans. If anyone of significance defaults in Europe, the ECB is insolvent. Sure it can print more money, but once the BIG collateral call hits, money printing is useless because the amount of money the ECB would have to print would implode the system.

And then of course there are the mega bailout funds such as the ESM. The only problem here is that Spain and Italy make up 30% of the ESM's supposed "funding." That's right, nearly one third of the mega-bailout fund's capital will come from countries that are bankrupt themselves.

What could go wrong?
Right now, close to half of all money that is on deposit at banks in Europe is uninsured.  As people move that uninsured money out of the banks, the amount of money that will be required to "fix the banks" will go up even higher.
It would be wise to try to avoid the big banks at this point – especially those with very large exposure to derivatives.  Any financial institution that uses customer money to make reckless bets is not to be trusted.
If you can find a small local bank or credit union to do business with you will probably be better off.
And don't think that this kind of thing can never happen in the United States.
One of the key players that was pushing the idea of a "wealth tax" in Cyprus was the IMF.  And everyone knows that the IMF is heavily dominated by the United States.  In fact, the headquarters of the IMF is located right in the heart of Washington D.C. not too far from the White House.  When I worked in D.C. I would walk by the IMF headquarters quite a bit.
So if the United States thought that confiscating money from bank accounts was a great idea in Cyprus, why wouldn't they implement such a thing here under similar circumstances?
The global elite are telling us what they plan to do, and the game has dramatically changed.
Move your money while you still can.
Unfortunately, it is already too late for the people of Cyprus.
Source: The Economic Collapse
Why is the global economy in so much trouble?  How can so many people be so absolutely certain that the world financial system is going to crash?  Well, the truth is that when you take a look at the cold, hard numbers it is not difficult to see why the global financial pyramid scheme is destined to fail.  In the United States today, there is approximately 56 trillion dollars of total debt in our financial system, but there is only about 9 trillion dollars in our bank accounts.  So you could take every single penny out of the banks, multiply it by six, and you still would not have enough money to pay off all of our debts.  Overall, there is about 190 trillion dollars of total debt on the planet.  But global GDP is only about 70 trillion dollars.  And the total notional value of all derivatives around the globe is somewhere between 600 trillion and 1500 trillion dollars.  So we have a gigantic problem on our hands.  The global financial system is a very shaky house of cards that has been constructed on a foundation of debt, leverage and incredibly risky derivatives.  We are living in the greatest financial bubble in world history, and it isn't going to take much to topple the entire thing.  And when it falls, it is going to be the largest financial disaster in the history of the planet.
The global financial system is more interconnected today than ever before, and a crisis at one major bank or in one area of the world can spread at lightning speed.  As I wrote about yesterday, the entire European banking system is leveraged 26 to 1 at this point.  A decline in asset values of just 4 percent would totally wipe out the equity of many of those banks, and once a financial panic begins we could potentially see major financial institutions start to go down like dominoes.
We got a small taste of what that is like back in 2008, and it is inevitable that it will happen again.
Anyone that would tell you that the current global financial system is sustainable does not know what they are talking about.  Just look at the numbers that I have posted below.
The following is the global financial pyramid scheme by the numbers…
-$9,283,000,000,000 - The total amount of all bank deposits in the United States.  The FDIC has just 25 billion dollars in the deposit insurance fund that is supposed to "guarantee" those deposits.  In other words, the ratio of total bank deposits to insurance fund money is more than 371 to 1.
-$10,012,800,000,000 - The total amount of mortgage debt in the United States.  As you can see, you could take every penny out of every bank account in America and it still would not cover it.
-$10,409,500,000,000 - The M2 money supply in the United States.  This is probably the most commonly used measure of the total amount of money in the U.S. economy.
-$15,094,000,000,000 - U.S. GDP.  It is a measure of all economic activity in the United States for a single year.
-$16,749,269,587,407.53 - The size of the U.S. national debt.  It has grown by more than 10 trillion dollars over the past ten years.
-$32,000,000,000,000 - The total amount of money that the global elite have stashed in offshore banks (that we know about).
-$50,230,844,000,000 - The total amount of government debt in the world.
-$56,280,790,000,000 - The total amount of debt (government, corporate, consumer, etc.) in the U.S. financial system.
-$61,000,000,000,000 - The combined total assets of the 50 largest banks in the world.
-$70,000,000,000,000 - The approximate size of total world GDP.
-$190,000,000,000,000 - The approximate size of the total amount of debt in the entire world.  It has nearly doubled in size over the past decade.
-$212,525,587,000,000 - According to the U.S. government, this is the notional value of the derivatives that are being held by the top 25 banks in the United States.  But those banks only have total assets of about 8.9 trillion dollars combined.  In other words, the exposure of our largest banks to derivatives outweighs their total assets by a ratio of about 24 to 1.
-$600,000,000,000,000 to $1,500,000,000,000,000 - The estimates of the total notional value of all global derivatives generally fall within this range.  At the high end of the range, the ratio of derivatives to global GDP is more than 21 to 1.
Are you starting to get the picture?
Every single day, the total amount of debt will continue to grow faster than the total amount of money until the day that this bubble bursts.
What we witnessed back in 2008 was just a little "hiccup" in the system.  It caused the worst economic downturn since the Great Depression, but global financial authorities were able to get things stabilized.
Next time it won't be so easy.
The next wave of the economic collapse is quickly approaching.  A full-blown economic depression has already started in southern Europe.  Unemployment is at record highs and economic activity is contracting rapidly.
The major offshore banking centers in Cyprus are on the verge of collapsing.  It was just announced that they will now be closed until Tuesday, but nobody really knows for sure when they will be allowed to reopen.  And there is already talk that when they do reopen that there will be strict limits on how much money people can take out.
And now the IMF is warning that the three biggest banks in Slovenia are failing and that a billion euros will be needed to bail them out.
The dominoes are starting to tumble, and the United States won't be immune.  In fact, the greatest financial problems that the United States has ever seen are on the horizon.
But you can just have faith that Ben Bernanke, Barack Obama and the U.S. Congress know exactly what they are doing and will be able to save us from the coming financial collapse if you want.
The mainstream media will provide you with all of the positive economic news that you could possibly want.  They are giddy about the fact that the Dow keeps hitting all-time highs and they would have us all believe that we are in the midst of a robust economic recovery.  You can listen to them if you want to.
But when you are tempted to believe that everything is going to be "okay" somehow, just go back and look at the numbers there were posted above one more time.
There is no way that the global financial pyramid scheme is going to be able to hold up for too much longer.  At some point it is going to totally collapse.  When that happens, will you be ready?
Source: The Economic Collapse
Are you ready for a good laugh?
The head of the New York Fed wants Congress to grant the Central Bank extraordinary new powers to deal with future financial system emergencies like the bank run that followed Lehman Brothers collapse in September 2008. Here's the story from the New York Times:
"[William] Dudley's concern is about a little-noticed piece of the 2010 Dodd-Frank Act that actually reduced the central bank's authority in one crucial area: its ability to provide emergency funding to strapped financial firms.
The Fed arrested the 2008 financial crisis by using this authority to create a series of unprecedented programs that offered emergency financing not just to American banks – its traditional flock – but also to foreign banks, and not just to banks but to other kinds of financial companies as well, and indeed to other kinds of companies entirely." ("Equipping the Fed for a Future Crisis", New York Times)
It's true, congress did clip the Fed's wings after the last great debacle by putting limits on the Fed's authority to hose down the entire system, regulated or not, with trillions of dollars of taxpayer-funded bailouts. And congress should be applauded for that action, after all, why should the US government underwrite the high-risk trading activities of financial institutions which operate on mere slivers of capital? That's crazy! If they go bust, tough luck. Here's more from the Times:
"Congress responded to this performance by making it difficult to repeat. Dodd-Frank imposed new restrictions on the Fed's ability to make emergency loans, or to keep money flowing, outside the banking industry. One basic reason was that Congress had never really intended to give the Fed such broad power in the first place." (NYT)
Uh, huh. Is that hard to grasp? TARP was unpopular. The bailouts were unpopular. People don't like the idea of handing over free money to crooked bankers every time they get themselves into trouble.
The author seems genuinely puzzled by the fact that our democratic system is not supposed to proffer unlimited "power of the purse" to the swinish agents of the robber class at the central bank. The system has gotten so convoluted that journalists cannot even recall earlier times when policy was set by the elected representatives of the people and the banks played a subordinate role. Today, that all sounds like sentimental gibberish about "America's idyllic past". Here's more from the Times:
"Many – myself included – have drawn from the financial crisis the conclusion that government safety nets should be drawn tightly so that only a very few, very tightly regulated firms get as little liquidity support as possible," Karen Shaw Petrou, a close watcher of financial regulation who drew my attention to Mr. Dudley's speech, wrote to clients of her firm, Federal Financial Analytics.
A more inclusive policy, she continued, "will open the safety net, wide, wide open to all sorts of actors who, smiling sweetly, will rob us blind." (NYT)
Ms. Petrou is a dreamer. The Fed does what it wants, when it wants". It answers to no one, which is why their books still remain closed to public inspection despite the myriad legal challenges to pry them open.
Sure, the Fed will "rob us blind"; that's their job, isn't it? Let me jog your memory a bit: Do you remember the Repo 105 scandal? Think back to April 2010 when the New York Fed (which Dudley now heads) was directly involved in a cover up by the nation's largest banks that were engaged in shady accounting activities to conceal the amount of debt on their balance sheets. According to the Wall Street Journal:
"Major banks have masked their risk levels in the past five quarters by temporarily lowering their debt just before reporting it to the public, according to data from the Federal Reserve Bank of New York. A group of 18 banks….understated the debt levels used to fund securities trades by lowering them an average of 42 per cent at the end of each of the past five quarterly periods, the data show. The banks, which publicly release debt data each quarter, then boosted the debt levels in the middle of successive quarters." ("Big Banks Mask Risk Levels", Kate Kelly, Tom McGinty, Dan Fitzpatrick, Wall Street Journal)
The "repo 105″ flap was further complicated by suspicions that Lehman was assisted in its effort by the Federal Reserve Bank of New York which, at the time, was headed by former Secretary of the Treasury, Timothy Geithner. Here is a short recap of what transpired between the Geithner's NY Fed and Lehman according to ex-regulator William Black and former NY governor Eliot Spitzer from an article on Huffington Post:
"The FRBNY [i.e., New York Fed] knew that Lehman was engaged in smoke and mirrors designed to overstate its liquidity and, therefore, was unwilling to lend as much money to Lehman…
The Fed's behavior made it clear that officials didn't believe they needed to do more with this information. The FRBNY remained willing to lend to an institution with misleading accounting and neither remedied the accounting nor notified other regulators who may have had the opportunity to do so…… We now know from Valukas and from former Treasury Secretary Paulson that the Treasury and the Fed knew that Lehman was massively overstating its on-book asset values." (Time for the Truth" William Black and Eliot Spitzer, Huffington Post)
Yves Smith over at Naked Capitalism summed it up perfectly at the time:
"The NY Fed, and thus Timothy Geithner, were at a minimum massively derelict in the performance of their duties, and may well be culpable in aiding and abetting Lehman in accounting fraud and Sarbox violations…at a minimum, the NY Fed helped perpetuate a fraud on investors and counterparties. This pattern further suggests the Fed, which by its charter is tasked to promote the safety and soundness of the banking system, instead, via its collusion with Lehman management, operated to protect particular actors to the detriment of the public at large. And most important, it says that the NY Fed, and likely Geithner himself, undermined, perhaps even violated, laws designed to protect investors and markets." (Naked Capitalism)
Repeat: "Culpable", "collusion", "aiding and abetting Lehman in accounting fraud and Sarbox violations." And these are the guys who want unlimited power to bailout anyone at anytime regardless of the cost?
Don't make me laugh!
What Dudley really wants is the power to put out the fires which the serial arsonists at the Fed have started with their shabby, easy money policies and "light touch" regulation. They need to get their own house in order before they go asking congress for more favors.
Here's a novel idea: Why not just fix the system? Why not create regulations that actually work, that increase stability and make the system safer?
Nah, that would cut into profits, so it's a non-starter. Isn't that what's going on here; Dudley's trying to shrug the costs onto taxpayers so he doesn't ruffle feathers on Wall Street. It's all about the bottom line. Here's more from the Times:
"[Dudley] argued in his recent speech that it would make no sense to draw a line between banks and other kinds of financial firms if both were playing essentially the same role in the broader economy.
Both should be regulated, and both should be backstopped.
"If we believe that these activities provide essential credit intermediation services to the real economy that could not be easily replaced by other forms of intermediation, then the same logic that leads us to backstop commercial banking with a lender of last resort might lead us to backstop the banking activity taking place in the markets in a similar way," he told the New York Bankers Association." (NYT)
Hold on there, Dudley; "essential credit intermediation" can mean anything from issuing short-term loans to productive businesses to off-loading dodgy Collateral Debt Obligations (CDOs) to gullible investor groups. Are we going to throw a lifeline to every snakeoil salesman and scamster in the industry?
Yep. That's the Dudley method. Bail 'em all out and start over! What's a few trillion among friends? It's all funny money anyway, isn't it? More from the Times:
"Banks and other financial companies increasingly draw money from sources that do not have similar backstops, including the sale of commercial paper to money market funds and complicated arrangements called "triparty repos" that basically allow financial firms to borrow money by pledging assets as collateral.
These are short-term loans that must be renewed regularly, often daily. As a result, panic among investors can almost instantly undermine financial stability, which is exactly what began to happen in 2007: Panic spread, financing disappeared, and the global financial system came perilously close to complete collapse.
There is broad agreement that something should be done to improve the stability of money-market funds and the triparty repo market. So far, nothing much has happened." (NYT)
This is really rich. The author of this story knows exactly why "nothing much has happened" to make money markets safer. It's because the big Wall Street banks–who are the Fed's primary constituents–have fought any changes to the existing system tooth and nail. They don't give a ratsass whether the markets crash or not. What they care about is boosting quarterly profits so they can add a few zeros onto the Xmas bonus check. Here's the story from Bloomberg:
"Money-market fund companies have doubled lobbying efforts to convince regulators and lawmakers that they aren't a threat to the financial system. The money may have been well-spent…
The companies are seeking to block new rules championed by Securities and Exchange Commission Chairman Mary Schapiro that are headed for a vote before a divided commission as soon as this month…
"If the industry blocks this plan and something else bad happens and people on Main Street lose money, they'll be kicking themselves for not fixing this," Douglas W. Diamond, a finance professor at the University of Chicago Booth School of Business, said in a telephone interview. "The current structure does potentially have systemic risk, and it's the kind of thing that could happen very quickly given the situation in Europe." ("Doubling Down to Block Money Market Reform", Bloomberg)
And these are the guys that Dudley wants to save, these self-serving miscreants who're doing everything in their power to make the system more less safe, more unstable, and more crisis-prone?
The reason the money markets are so vulnerable is NOT because there's no fix, but because the big money is blocking even modest changes to the existing system. Wall Street would rather put the whole system at risk, then lose even one-thin dime in profits.
More from Dudley: "The sheer size of banking functions undertaken outside commercial banking entities – even now, after the crisis – suggests that this issue must not be ignored. Pretending the problem doesn't exist, or dealing with it only ex post through emergency facilities, cannot be consistent with our financial stability objectives."
In other words, the Fed has no idea of how leveraged this gigantic, unregulated shadow banking system really is. All they know is that it poses unseen risks that WILL lead to another disaster. So, rather than implement rules that could improve stability–as one might expect from the nation's chief regulator–Dudley wants a blank check to spend whatever-it-takes to prop up this ghastly system.
Unbelievable.