Greece is the pearl of Mediterranean, the place generations of foreigners from Lord Byron to Graves to Fowles have fallen in love with. From philosophy to feta, from history to yoghurt, from poetry to honey they provided the example to follow. Their priests preserve the pristine faith; their fighters defeated Mussolini; their Helen is the epitome of female beauty. They also make lousy wine called retsina and listen to loud dreadful music called bouzouki so we would temper our Hellenophilia.
Now they have given us another example to follow: how to beat banksters at their own game. The spectacular victory of the Syriza government in Greece at the national referendum was quite unexpected: the polls wavered between an indecisive result and straightforward support of the EU plans around 51:49. However, the Greeks strongly confirmed the mandate of the government. The main problem was and remains the Syriza's resolve and determination.
The ruling party took an unnecessary risk while calling for referendum, for they had already won the elections under their own slogans just a few months ago. This implied their wobbliness, as if they would prefer to lose and pass the hot potato to somebody else. Moreover, they did not try to win the referendum: no campaign for NO, no media coverage of demos for NO. Did they wish to lose or to win with a slightest possible margin? Possibly. The Greek people rejected the stratagem and called upon them to proceed.
Now it is the business of the government to organise a smooth and fast Grexit from the Eurozone and switch to the new Drachma. A really decisive government would leave the EU and NATO, turning the tables completely. Refusing the bailout is good but not enough.
The Greeks were right to reject paying the debts, for these debts were forced upon them by the giant vampire squid, Goldman Sachs, in words of Matt Taibbi. "The first thing you need to know about Goldman Sachs is that it's everywhere. The world's most powerful investment bank is a great vampire squid wrapped around the face of humanity, relentlessly jamming its blood funnel into anything that smells like money". As we now know, Goldman Sachs (you do not have to be an anti-Semite to hate them) cooked the book,s falsely pretending Greece had a high credit rating though they knew of its huge debts. When the debts snowballed, they pulled the rug and collapsed Greece's rating, bailing out banks at the expense of the European taxpayer.
Out of €320 billion, Greece received and used about €20 billion, while the principal sum went to the banksters. Greece could not pay it off: after five years of trying, the country is in worse shape and in deeper debt than it ever was. Austerity has destroyed lives and infrastructure. The bankers planned to sell all Greek assets: harbours, railways, lands; and you can envisage yourself who would buy it. The negotiations between the EU, IMF and Greece were dishonest, explains Ashoka Modyin widely read and technical essay. That's why the Greeks elected the far-left party Syriza and its far-right counterpart INIL to break the rules of the rigged game.
Greece is a small country and it could not take on the whole EU banking and political establishment on its own. Fortunately, there is a country able and willing to help. That is its sister in faith, Russia. Greece for Russia is like Italy for Catholics, like England for the US: the source of culture and religion. The Greek priests had brought their faith to what was to become Russia. Greece and Russia share the same Byzantine legacy. Arnold Toynbee, the British scholar of history, spoke of few European civilisations, some abortive (Far Western and Scandinavian), and two fully developed: Western European, based on the Church of Rome, and Orthodox Christian, based on the Church of Constantinople. Russia and Greece belong to the last one.
The EU is a reincarnation of the Roman Empire and that of Charlemagne. It is at home in France and Germany, but completely foreign for Swedes and Greeks, for Letts and Bulgars, for Ukrainians and Russians. It has over-extended itself and brought huge calamities upon its people and on their neighbours.
Mind you, this is not the first time the people of the West have colonised the Orthodox Christian East: in 1204, they smashed the Byzantine Empire and established their kingdoms and duchies, eventually erased by the Turks. After Greece was restored in 1821, it went back under the Western tutelage, and remained there. In 1945, the Greeks made a heroic effort to liaise with Russia, but Churchill employed the defeated German troops to smash the Greek independence movement and installed his agents in Athens. Soviet Russia did not object much, as under the Yalta agreement Greece was going to the West, while Poland was going to the East. Now the West has both Poland and Greece. The Greeks were frog-marched to NATO and to EU, and they would have remained forever captive but for the bankers' greed.
Russia is the only part of the Byzantine world that remained independent and adhered to its faith. Russia is a natural partner for Greece and its Balkan neighbours. Now Russia can help Greece: by buying its wine, cheese and olives that do not sell well in the West, by sending pilgrims to venerate shrines under its cruel blue sky, by encouraging its industries, by giving its youth a meaning of life beyond caring for German tourists. And the Greeks are fond of Russians, so their sympathies are mutual.
The Syriza party, and its partner ANEL were famous (some would correct it to 'notorious') for their pro-Russian sympathies. However, since they were elected, they began a game of playing Brussels against Moscow, like a young tease who encourages two suitors to keep both in her thrall. The Greek expert and London Lawyer Alexander Merkoulis listed the Russian attempts to help Greece. They offered five billion euros to build a gas pipeline to Greece, and Greece would be able to sell gas to Europe. Miller of Gazprom went to Athens with prepared documents, and came back empty-handed.
Tsipras promised to come to Moscow for the May 9 celebrations, and failed to show up at the last moment. He agreed to extend anti-Russia sanctions while sitting at the St Petersburg forum. This undermined Russian trust. "The Russians must be getting increasingly fed up with someone who repeatedly takes them to the Church door – and then at the last moment runs away", said Merkoulis.
It appears that the Ukraine story has repeated itself. Russia offered huge credits to the Ukraine in 2013, it could buy its industrial output, invigorate its industry and agriculture, but the then President Yanukovych did not dare. He ended in exile, his country ruined; it will take them 20 years to regain the positions they had in 2013, say the EU experts.
Greece is not likely to go for a civil war: they had it in 1945, but the old wounds may reopen. The most pro-Russian area of 1945 insurgency – the Isle of Crete – heavily (75%) voted against the EU in the recent referendum. The Syriza government will try to renegotiate with the IMF and the EU by bluffing them with the Russian alternative. Even if they will get relief, their economy is not likely to come back to normal.
The problem is not Greece, the problem is the EU. This body has a triple purpose. It is (1) a union of bankers against people, (2) a harness with which the US can drive colonised Europe, and (3) a tool for de-industrialisation and de-education of this most developed continent. Under the EU, masses of beggars from Romania and African refugees descend on the North. Under the EU, once-industrial Latvia and Hungary became basket-cases, their high tech moved elsewhere. Under the EU, the social welfare system has been dismantled, while sexual education of children and gender games have gone into a high drive. That is why nations – from Sweden to Italy, from England to Spain – call to break up the union.
Greece would be better off out of the EU. Everybody would. Distressingly, its Minister of Finance Yanis Varoufakis, a stubborn negotiator, a son of 1945 fighter, who could lead his country to freedom, has been dismissed following the referendum. Alexis Tsipras will try to negotiate himself, and he is a smooth operator, say the Greeks.
There is just one problem, that of guts and their lack thereof. Too many leaders hesitate and contemplate instead of acting. We mentioned Yanukovych, but this is a long list of names, beginning with Allende, a man of peace killed in a coup. The leaders that stood up to the vampire squids – from Nasser to Putin – were branded "a new Hitler", but actually managed better. The US always dares: to conquer Panama and Granada, to attack Afghanistan and Iraq, and this daring is a secret of its success.
Still it is too early for despair. The referendum was a victory, and a victory can do wonders even to wet and wobbling leaders. It would be a shame to cast the pearl of Greece to the banker swine.
Volatility in the currency markets, bond markets, and stock markets likely has a lot of people on Wall Street feeling a bit worn out. Taking a summer vacation in the Hamptons might just be their best idea.
The coming months promise to be anything but quiet and predictable. Here are a couple of items that may yield profound implications for stock, bond and currency investors before summer ends…
The Threat of an Official Recession Is Looming
The next few months are critical for the U.S. economy. The official definition of recession calls for two successive quarters of negative GDP. First quarter GDP came in barely positive, initially estimated at 0.2%, but it will be revised twice before July. Some experts expect it will wind up in negative territory.
The U.S. trade deficit recently came in much larger than expected. The higher deficit will, setting other factors aside, translate to lower GDP. Investors will get a look at 2nd quarter GDP in late July and pessimism among forecasters is growing.
So far U.S. equity investors are hoping for the best, or at least hoping the Fed will reverse course on tightening. Stocks are shrugging off bad news and powering higher with price-to-earnings valuations climbing into the nosebleed section.
It is hard to imagine valuations at these levels holding if investors and high frequency trading algorithms must grapple with an official recession. Of course, should the Fed announce some new form of stimulus in response to bad news then all bets are off.
The End Is Nigh for Greece
The Greek government is running out of tricks to avoid a default. Last week, officials there paid €750 million Greece owed to the IMF by borrowing €650 from the IMF; a last resort gimmick they won't be able to repeat.
Absent finding an agreement with lenders to modify loans and dramatically reduce what is owed, the Greeks will be in outright default as early as next month. This summer should tell the tale on Greece's future within the European Union.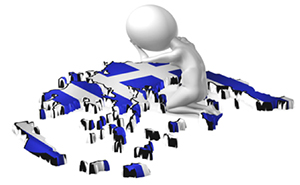 Should Greece default and exit the EU, it will be the first event of its kind, and it has the potential to open a Pandora's Box. There will be bank failures within Greece and pain for anyone holding Greek debt. It could pave the way for bankruptcy and an exit in a number of other nations where finances are also in shambles. And no one can confidently predict the outcome in derivatives markets where banks and hedge funds have been making highly leveraged bets.
Should the Greeks manage to reach an accord with lenders, markets will have to contend with a different set of challenges. You can bet other overly indebted nations including Ireland, Spain, Portugal, and Italy will aggressively pursue similar deals. The pain for bond holders isn't likely to end with Greece.
The EU has a flood of bad debt swirling around its knees, but officials there continue to pretend they stand on solid ground. Regardless of whether Greece defaults outright or manages to cut a deal, it looks like the pretending will have to stop – and soon.
The shadow cabal that exerts raw power over the public controls and dictates the mindset that passes as the popular culture. Keeping people in fear, real or manufactured is essential to keep the police state omnipresent. Both foreign and domestic operations are conducted to divide and rule, not only other nations, but the indigenous populations that are targets of the next clandestine mission. Since the end of WWII, the intelligence community has lead the way to overturn our constitutional republic and put into place a controlled social environment that is docile and obedient to the masters of the Amerika Empire.
In order to accomplish this fundamental transition from a free society into a despotic police state, threats must be fashioned, real or imaginary. Bona fide menaces that imperil our legitimate national security require intelligent and defensive action. However, such situations are rare, when compared to the entire mix of manufactured crisis that are designed to increase the range and scope of the power establishment.
The sordid and soiled history of the Central Intelligence Agency is a prime example of furthering international conflict and tension so that the national subjects will accept a trepidation culture. But the CIA is not alone in this coordinated effort to create undeviating terror. In the 50's the FBI looked for a commie under any bed. Just consider how far we have sunk since Hoover did his illegal wire taps to a society that routinely accept the NSA collection of all electronic communications.
With the collapse of the Soviet International and the intellectual disrepute of Marxist ideology, one might think that the efforts of the intelligence communities might have earned their keep. With the recent disclosure of the CIA cooperated with Chinese intelligence to target Russia, the book "The Hundred Year Marathon" by former Pentagon official Michael Pillsbury reveals the following:
"Covert CIA-China cooperation was part of successive administrations' programs to undermine the Soviet Union, which China turned on after realizing Moscow's Marxist-Leninist economic model was doomed. China instead began courting the United States for economic benefit while creating a revised communist economic system.

The disclosures of clandestine U.S.-China intelligence cooperation dating to the 1970s are likely to embarrass Beijing. China frequently attacks the CIA for allegedly fomenting democratic revolution in China and for supporting the exiled Tibetan leader the Dalai Lama, whom China designated as a major enemy. Beijing also accused the CIA of organizing the recent large-scale pro-democracy demonstrations in Hong Kong. The U.S. government has denied any role in the public outcry over creeping Chinese control over the former British colony."
The significance of the "Agency" working with an advocacy to destabilize a different foe should not shock seasoned observers of international intrigue. What is even less surprising is that the defeat of the Soviet Communist regime brought a new era of openness to Russia, while the neo-commies in Beijing China perfected their totalitarian model for the NWO globalism elites.
Now that the Putin administration is exerting its own national interest and pushes back against the American expansion to surround the "Motherland", the pro Zionists over at the State Department ratchet up pressure on the new Russia. The U.S. inspired coup in Ukraine has always been about neutering the Christian revival in Russia.
As currency wars develop and the Russia Rubble was recently undermined, the attack on any intended opposition to the "world community" is set to expand. Conversely, speculation that the IMF will soon add the Chinese Yuan as a reserve currency indicates that it is vital to craft essential enemies when needed and elevate opportunist when useful.
The common theme throughout the last century has been the planned technocratic human bondage of the world population. The calls for democratic self determination and economic uplifting for subsistent level peasants may seem to have improved the human condition. Even so, the upgrading in material minimalism has not been accompanied with respect for individual human rights.
The State, no matter what nationality or ideological orientation all share a consistent flaw; namely, a false authority of supremacy that imposes the dictates of committed globalists.
Failure to recognize that intelligence and security agencies are nothing more than police state enforcers is a prime reason why a universal populist movement does not gain traction.
Different cultures perceive the world within their own ethnic eyes. Expecting varied outlooks should be accepted as normal. However, the overriding message that comes out of the mass media, both foreign and domestic, share a common commercial content. The powers that be must be obeyed. This social indoctrination is intended to protect the interdependency of a unified global matrix.
In order to achieve this objective, perceived threats are useful. Distinguishing between tangible and phony dangers, contrary to popular wisdom, is not a function, preformed by the security apparatus, one can have confidence in. Their literal agenda is to serve the shifting global instability template, so that the elite's can continue to have free reign on adding more layers of servitude.
Today's serfs often wear designer duds. But more important, perception is altered when history is perverted. How the CIA Turned Doctor Zhivago into a Propaganda Weapon Against the Soviet Union provided a valuable lesson.
"The CIA's recently revealed use of Boris Pasternak's novel Doctor Zhivago as a propaganda weapon. Repressed in Pasternak's native Russia, the book first appeared in Italy in 1957. The following year, the British suggested to America's Central Intelligence Agency that the book stood a decent chance of winning hearts and minds behind the Iron Curtain — if, of course, they could get a few copies in there. A CIA memo sent across its own Soviet Russia Division subsequently pronounced Doctor Zhivago as possessed of "great propaganda value, not only for its intrinsic message and thought-provoking nature, but also for the circumstances of its publication. We have the opportunity to make Soviet citizens wonder what is wrong with their government, when a fine literary work by the man acknowledged to be the greatest living Russian writer is not even available in his own country in his own language for his own people to read."
That evaluation comes from one of the over 130 declassified documents used by Peter Finn and Petra Couvée in their brand new history of this act of real-life literary espionage, The Zhivago Affair: The Kremlin, the CIA and the Battle Over a Forbidden Book."
The message behind this outstanding treasure of literature is undeniable. Hopeful, uplifting of the human spirit, while describing the grim circumstances of the commissar system, is memorable. Comrades beware; bringing down an evil empire to have it replaced with a kinder and gentler Western version of globalization is not exactly the definition of success.
Who among the defenders of Western Civilization will write the next masterpiece about the sinister motives and dire effects of the true global hegemony that seeks to subjugate all of humanity under the banner of world unity?
The imposition of State terror initiates its next operation with the full blessing of the financial controllers. Keeping and expanding the danger level of false flag terrorism, provides the excuse to impose the Jade Helm gulag.
"JADE-HELM – stands for: "Joint Assistance For Deployment and Execution – Homeland Eradication of Local Militants." In other words, the Government is getting nervous about the fact that more Americans are now aware of the corruption, criminality and destruction of civil rights. Jade Helm is specifically intended for the purpose of eliminating fomenting Government insurrection groups. The States in which Jade Helm exercises are being conducted are "hot beds" for anti-Government militia groups (the latter are your allies)."
The faint-hearted vassals, who would never dare to jeopardize their own tranquility, if not meaningless subsistence, or oppose their countries deep sleep into oblivion, are real bondage serfs.
Keeping or amplifying the CIA sub-rosa agenda of warfare missions to include domestic operations should be opposed by any loyal citizen. Since apathy, confusion and denial of what actually constitutes a "Good and Open Society" is in such short supply, few will act upon resisting the forces of global tyranny.
When genuine national security is sacrificed to further a climate of prefab fear, we lose the battle for true safety. If enduring under a Reign of Terror is the price we all must pay to complete the global New World Order, we must be collectively insane to allow this transition to be accepted without a fight to the death.
Many will conclude that this conversion is inevitable. Doctor Zhivago was a heroic figure and fought the autocrats. His example provides motivation to apply the same principles of opposition to the established order of a demonic organized criminal syndicate.
Having the courage to combat despotism in favor of individual liberation, is fundamentally our duty and purpose as true Americans. Reject phony intelligence community terrorist threats. In order to restore the essence of our nation, every citizen needs to oppose any and all   components of the New World Order. Reform will not work. Only total rebellion is left.
On a recent trip to Germany I took a day off to visit Sigmaringen, on the upper Danube some 20 miles north of Lake Constance. This town of ten thousand with a massive castle towering over it – or, more precisely, this castle with a town attached – interested me as the site of a little known, eight-month long melodrama at the end of Second World War.
It was here that Marshal Philippe Pétain, Chef de l'État Français, and several hundred Vichy government officials and prominent German sympathizers and collaborators of different hues, were brought by the Wehrmacht on 8 September 1944, as the Allies advanced across France. The leaders were installed in the castle, other ranks in the town below. They were followed by their wives, hangers-on, and mistresses. By the end of September a veritable French enclave was in place, some two thousand strong, which survived until the long-dreaded arrival of de Gaulle's First French Army on 24 April 1945.
The initial impression is operetic: pure Leharian pastiche, an unreal world in which France's prominent collabos are but a parody of their former selves. There is also a more sinister image, however: Sigmaringen as a trap, an open prison in which the principals go on with their performance, but at the same time watch helplessly as the end of the show – and for many the end of their lives – is approaching steadily, relentlessly.
This town and those bizarre eight months are erased from France's collective memory. They belong to the past which many older Frenchmen would rather forget, while the young neither know that past nor care for it. "Fench Sigmaringen" is relegated to the margins of memory. The Hohenzollern-Sigmaringen family are back home. The castle's magnificent halls and about a tenth of its 300 rooms are open to guided tours, but there are no Petainist mementos of any kind. A richly appointed color book about the castle disposes of the French episode matter-of-factly in a single sentence.
That episode started on the night of 17-18 August 1944, when the Germans evacuated Vichy. The first stop was Belfort, in French Alsace, but after only two weeks the Allies' rapid advance made the move to Germany necessary. The 88-year-old "Lion of Verdun," Marshal Pétain, did not want to go. He claimed he'd rather stay on France's soil and defend his record, come what may; but the Germans decided otherwise. From that moment he declared that he regarded himself as a German prisoner, and cut off all formal contacts with German officials. He communicated with the outside world through Dr. Bernard Ménétrel, his personal physician and confidant, the widely detested "Cerberus of the Seventh Floor."
Sigmaringen was a far cry from the summer of 1940, when Pétain offered France "the gift of his person" in the aftermath of the military collapse of the French army – and the political and moral collapse of the Third Republic. The old soldier embarked on a "national revolution," a belated attempt to purge the defeated country not only of its party-political intrigues, leftist radicalism, masonry and corruption, but also – more ambitiously – of the legacy of 1789 and the subsequent "anti-France" (in the memorable phrase of Charles Maurras). He became part-monrach, part-father of the nation. His image was everywhere. Maréchal, nous voilà! became the de facto anthem of the French State (no longer la République). Liberté, égalité, fraternité were replaced by the distinctly anti-Jacobin sloganTravail, Famille, Patrie. Marianne was gone, replaced (informally) by the saintly image of the Maid of Orleans. The countryside was celebrated as the source of national strength, and the Catholic Church was brought back into public life. The ancient Francisca became the official coat of arms.
Pétain's problem was that the proponents of outright collaboration with Germany had no time for such romantic pursuits. They accused Pétain of attentisme which could deny France her rightful place in the New European Order. They were divided into two camps: the more moderate collaborateurs – embodied in the opportunistic figure of Pierre Laval, who was appointed prime minister in early 1942 – and an array of fanatical collaborationistes, based in Paris, who wanted a clean break with Pétain's "reactionary paternalism" and an outright alliance with Hitler. With the Wehrmacht occupying France'szone libre in November 1942 they became more powerful. The Germans – ever mistrustful of the French – were nevertheless careful to keep all three groups evenly balanced in an elaborate cadrille, conducted by the Reich's ambassador in Paris (and self-avowed Francophile) Leo Abetz.
The members of these three factions, Pétainists, collaborateurs and collaborationistes, hated each others' guts. Suddenly, at Sigmaringen, they found themselves sharing the same quarters and facing a similar, unpleasant future. The maréchal, occupying the palatial seventh floor of the castle, would pretend not to see Laval (the sixth floor occupant) if he passed him in the courtyard on the way to his car which was taking him out of town, every day after lunch, for walks in the countryside.
Those walks were elaborate affairs. Alone among the exiles Pétain had a Citroen and a driver, but he was not allowed far from town. Followed by his Gestapo detail in two black Opels, he would stop 5-6 miles outside Sigmaringen and start a brisk walk through the woods accompanied by one of his military orderlies. The Germans would follow at a respectful distance. After an hour and a half he'd be back, in time to return to the castle for the afternoon radio news.
Laval, "L'Auvergnat," suddenly forced into inactivity, busied himself preparing his defense for the trial in Paris which he knew awaited him sooner or later. The former Socialist practiced speeches to the imaginary jury in front of his wife Jeanne and a young private secretary. (All his documents and notes were taken away when he was eventually arrested, as he repeatedly complained at the trial.) He had created too many enemies during his long political career, and especially during the 28 months as prime minister at Vichy. Hardly anyone talked to him.
On the third floor are the quarters of the Government Commission, the five-member cabinet in exile formally known as the Commission gouvernementale française pour la défense des intérêts nationaux. It can do little and does even less, but its members are jealous of their theoretical turfs and prerogatives. Like in earlier years back home they continue to denounce their political and personal enemies to the Germans, less to score some points, more out of pure spite.
The Commission's chairman, the devious Marquis de Brinon, succeeds in having Dr. Ménétrel arrested by the Gestapo in November 1944 on the false accusation of contact with the Allied intelligence services. (Ménétrel survived the war, but was promptly arrested on his return to France in May 1945.) Brinon cracks jokes about Pétain, refers to him as "notre poster girl" (in English). "France is a country of disasters and lunches," he quips one day after a less than satisfactory meal ofKartofels. "There are no more lunches now, only the disasters remain…"
Joseph Darnand, an ultracollabo, is the Commission's Secretary of Interior Affairs ("except there's no interior and no affairs," Brinon comments). Decorated World War I hero, far right activist in the 1930's (Action Française, then Croix-de-feu, and a Cagoulard to boot), and an SS Sturmbannführer, in 1942 he founded the volunteer Service d'ordre légionnaire (SOL). It became the dreaded Milice française– directly subordinated to him – in January 1943. He has brought some 10,000 faithful Milice members to the barracks in nearby Ulm, and plans to use them for a last stand. "Brave but obtuse," according to Brinon.
Marcel Déat, the "minister of labor," is for some reason the only member of the Commission with the rank of ministre. A Great War veteran and officer of the Légion d'honneur, a socialist until 1933 and a far right activist thereafter, he founded the pro-Nazi Rassemblement national populaire (RNP) in occupied Paris in 1941, and the French Legion of Volunteers (Légion des volontaires français, LVF) a year later. In 1944 it was incorporated into the French SS division Charlemagne.
Journalist Jean Luchaire, commissar for propaganda and information, is more polished than these two gentlemen but ideologically close to them. He starts a local radio station (somewhat ironically called Ici la France!), and a daily newspaper, predictably called La France, which was published until April 1945.
Freiherr Cécil von Renthe-Fink, Ribbentrop's envoy to Vichy, was also there, with little to do. The Ambassador is no longer welcome at Pétain's table. M-me Laval, an open Germanophobe, does not allow him to the sixth floor either. He nevertheless soldiers on, busying himself with the procurement of provisions for the enclave amidst the looming collapse of the Reich.
In the town below there are several well known names from the world of French arts and letters. Actor Robert Le Vigan, openly homosexual and a drug addict, is the chief announcer for Ici la France. Poet Abel Bonnard, with similar proclivities (hence his nickname, "la Gestapette") and the only member of the Academie to be expelled from its ranks, is a famous wit. On the account of frequent moves, he calls the Germans "notre agence Thomas Cook." Laval is for him l'Auvergnat de Danube, Pétain "our dethroned monarch."
Famous writer and virulent antisemite Louis-Ferdinand Céline is also there. After the war he wrote a hallucinatory novel about Sigmaringen, Castle to Castle (D'un château l'autre). Céline's Sigmaringen is a dramatic stage and a paranoid anteroom for De Gaulle's épuration légale trials which are already under way. The atmosphere of quiet desperation was briefly interrupted by a week of hope at Christmas 1944, during the initial stage of the German offensive in the Ardennes. Only Pétain maintains calm dignity in his self-imposed isolation, eating well and sleeping soundly. For Céline, Sigmaringen was the perfect backdrop for a romantic German tragedy or a Wagnerian musical drama, with a touch of Hollywood.
Commission officials and their wives eat together in the sumptuous dining hall. The fare is mediocre, even though they have menus based on four ration cards each. The atmosphere is morbid. In the evening they gather at the salon des dammes, not because they cherish each other's company (quite the contrary) but because it is warm. Their cavernous rooms are not. Déat obsessively plays the lexicon, a version of scrabble, for hours on end. Darnand smokes his pipe in silence and reads papers. The ladies play cards. In the evening they listen to Radio Paris, and the news is grim. On 9 November they learn that journalist and Pétain's biographer Georges Suarez was executed. On 6 February it was the turn of Robert Brasillach, whose last, sarcastic words were "Long live France, anyway!" (Vive la France, quand meme!) They had no command responsibility and no official functions. If they were shot on the account of their writing, the denizens of the castle could expect no mercy.
And so their lives went on, for eight long months, until a few days before the arrival of de Gaulle's First Army on 24 April 1945. Only Pétain returns to France voluntarily, where a trial and a death sentence await him, commuted to life in view of his extreme old age and Great War record. Céline, his wife and cat manage to reach Denmark, where he lays low for some years after the war. No such luck for Brinon, who fails to get a Swiss visa and ends up before a firing squad in 1947. Laval managed to reach Spain on the very last German plane out, but Franco – pressured by de Gaulle – sends him back for a quick, brutal trial and execution on 7 October 1945. Darnand is captured in northern Italy in June, tried, and executed three days after Laval. Luchaire is recognized quite by accident in Innsbruck on 18 May 1945 by a French officer who had been a Gestapo agent in Paris until July 1944. "Haven't you been shot?" asks Luchaire. "No, but you will be!" is the answer. Of the leading castle denizens only Déat and Bonnard, both sentenced to death in absentia, evade the firing squad. The former lived under an assumed name in Italy, the latter under his own in Spain.
Schloss Sigmaringen, like the Alcazar of Toledo, is one of those places which have a physical presence and a metaphysical quality. The French enclave of Sigmaringen was no longer life, not yet death. As such it is an apt metaphor for all of us, here, today.
That the American Church has problems is no surprise. Critics of the Church, many of whom have never actually taken an active part, have hurled pot shots at the Church since its inception. Churches are led and comprised of sinful, fallen people. Accordingly, there will be imperfections, shortcomings, failures, etc. Name an institution managed by people that does not have the same pitfalls.
That said, the current Church in America not only has problems, it has BIG problems. I'm talking about problems that are so huge they threaten the very survival of not only the Church itself, but of our nation, as well.
During the Twentieth Century, liberalism pretty much killed America's mainstream denominational churches; and legalism did the same thing to America's fundamentalist conservative churches.
In mainstream denominational churches, the rejection of the veracity of the Scriptures, the repudiation of essential Biblical doctrines, and the reception of liberal social agendas sent people by the millions fleeing these fellowships. Virtually every mainline denomination has been losing membership for decades.
For example, it is one thing for the state to grovel before politically correct ideology and embrace such moral deviances as homosexual marriage. To begin with, the state has no rightful place in sanctioning, defining, or legislating marriage at all. Marriage was never a state matter. It is a sacred matter. Our Creator has already sanctioned and defined marriage. What the state does or doesn't do is irrelevant. As with most issues involving faith, the best thing civil government can do is butt out. But for the Church to embrace homosexual marriage is another matter altogether. No Christian who has even a rudimentary understanding of the Biblical and Natural laws regarding marriage could maintain fellowship with a church or denomination that would surrender to the amoral machinations of a degraded society. And that is just one issue that has caused millions of believers to flee America's mainline churches and denominations.
For fundamentalist conservative churches, legalism has had the same effect as liberalism among mainline churches: it has pretty much killed them. During the last half of the Twentieth Century, fundamentalist conservative churches exploded in growth. A few decades ago, the largest churches and Sunday Schools in America were fundamentalist. But, just as mainstream churches succumbed to liberalism, fundamentalist churches succumbed to legalism. As the Scripture notes, "the letter killeth," and, indeed, it has pretty much destroyed America's fundamentalist churches. In fact, as a movement, it HAS destroyed them.
Accordingly, going into the Twenty First Century, these two cancers were already major problems within the American Church. But the problems that have wormed their way into the Church during the first decade and a half of the Twenty First Century have grown in both intensity and pervasiveness to the point that only a miracle from Heaven can avert impending disaster.
Here are the major problems that are destroying the American Church:
*Success Orientation
America's churches went from a "church growth" ideology in the latter half of the Twentieth Century to a "success" orientation in the formative years of the twenty-first century. "Success" is now the driving motivation of the vast majority of America's churches. But "success" is not defined in Scriptural terms; it is defined in secular terms.
A major study released by George Barna a few months ago clearly showed that "success" is the predominant philosophy of America's churches. And Barna's research listed the five-fold criteria that determined "success" in the minds of most pastors and churches: 1) Attendance, 2) Offerings, 3) Number of programs, 4) Size of staff, and, 5) Square footage of facilities. In fact, Barna's research showed that the vast majority of pastors will purposely NOT preach what they know is Biblical truth in order to accommodate the five-fold "success" goals listed. This has led to popularity-preaching; entertainment-oriented programs; soft, non-confrontational teaching; and an overall weak and compromising pulpit.
The "success" orientation of the modern church is a major problem.
*The Egregious Misinterpretation of Romans 13, the 501c3 IRS non-profit organization status for churches, and Statism
Though these three issues each have an independent nature, I put them together as they are intricately connected.
Though many pastors and church leaders would probably not be willing to admit it, for all intents and purposes, our churches are mostly more concerned with being the compliant servant of the state than they are the obedient servant of God. The way most pastors teach Romans 13 is nothing more than the promotion of idolatry. Christians are taught to obey civil government almost without question. As was the case in Nazi Germany, America's churches are taught that obedience to the state is obedience to God.
Have you been to a modern church wedding recently? If you have, as the pastor pronounced the bride and groom as husband and wife, you probably heard him say, "As an officer of the laws of the State of (your State) and in the presence of God…I now pronounce you man (or husband) and wife."
The IRS 501c3 non-profit organization status for churches (instituted in 1954) has turned pastors and church officers into corporate officers of the state–and most pastors and church leaders KNOW it–even if they are unwilling to admit it.
It's all about preserving the church's non-profit status so contributors can deduct their offerings on income tax forms and so that the church doesn't have to pay sales taxes on what they purchase or property taxes on what they own. And whatever pastors and church officers are required by the state to do in order to preserve that non-profit status, they will comply.
This doesn't require a knock at the door by an IRS agent; it doesn't require threatening letters or phone calls; it doesn't require any direct show of force by any government agency against the church. Pastors and church officers INSTINCTIVELY know where the "third rail" is and will avoid it at all costs in order to not jeopardize their non-profit status.
The desire to comply with the IRC (Internal Revenue Code) for churches makes it easy for pastors to teach the Hitlerian version of total submission to civil government.
Statism is NOT patriotism. Neither is it Christian. The Bible is chock-full of examples of resistance to unlawful government. I'm sure many of our pastors and church leaders have never personally studied the issue and are simply regurgitating what they have been taught. I am confident that many of them are truly ignorant of what they are doing, but that doesn't change what they are doing. Wittingly or unwittingly, they have allowed themselves to become statists: the sheepish servants of the state.
The condition of the American Church today is EXACTLY the same as was the condition of the German and Russian Church during the rise of Adolph Hitler and Joe Stalin. This is why the Church seems totally unconcerned and indifferent to the growing Police State in America today.
*Ignorance of Natural Law and the Law of Nations
God-ordained Natural Law has not been taught from America's pulpits since the Nineteenth Century. The vast majority of pastors and church leaders in America are totally ignorant of these immutable laws.
The lack of understanding regarding Natural Law has made it virtually impossible for the American Church to truly understand the fundamental principles of good government and liberty. All most Christians know about government is what they hear on FOX News or from Rush Limbaugh. Their pastors almost never broach the subject. And for good reason: most pastors are themselves ignorant on the subject. Therefore, about all they can talk about is "liberal" vs. "conservative," or Democrat vs. Republican. The divine principles of Natural Law that are supposed to govern nations and man-to-man relationships are foreign to the thinking and understanding of the vast majority of pastors and churches.
The ignorance and misunderstanding of Natural Law by the Church has created the societal and political conditions that now exist in this country.
But there is one more major problem in the American Church. And I believe this problem is the GREATEST problem of all. And, to be honest, it had not dawned on me how pervasive and deep this problem was until last week.
*The Church is Filled With Hate
In my column last week, I used the movie, American Sniper, as a catalyst to point out that the United States has been waging unjust war on countries such as Iraq–and meddling in the internal affairs of countries such as Iraq–for decades. I also pointed out that not all Muslims are terrorists and to condemn all Muslims on the basis of Muslim Jihadists is wrong.
Folks, you can't believe the firestorm of anger that deluged me. My Facebook page registered over 100,000 views of my comments and precipitated a flood of hate-filled responses. Here is a sample of the more-mild reactions:
"All Christians should be standing against Islam and proclaiming America for the kingdom of Christ. I am not a Muslim sympathizer and I have lost respect for you, Mr. Baldwin. Islam is anti-Christianity. You cannot serve 2 masters."
By standing against Islam, Cathy means it is right and righteous to go to war against Muslim nations, because they are "anti-Christianity." So, Cathy, since when is it America's responsibility to export Christianity over the barrel of a gun? I suppose we should then invade and destroy every Muslim nation in existence, including Saudi Arabia.
Speaking of Saudi Arabia, if we can believe the official story of 9/11 (which I don't), the Muslim terrorists that perpetrated those attacks were all from Saudi Arabia, NOT Iraq. Why didn't we invade Saudi Arabia? Iraq had NOTHING to do with 9/11 and everyone on the planet knows it. In truth, Saudi Arabia has done more to fund Islamist terrorists than any other nation in the region. Yet, official American foreign policy regards Saudi Arabia as our friend and ally.
But Saudi Arabia is a Muslim nation, which means they are "anti-Christianity," so Cathy (and many like her) believes we should go to war with these nations to advance "the kingdom of Christ." But what about Judaism, Cathy? Judaism is as "anti-Christianity" as Islam. What about Hinduism? What about Buddhism? What about Atheism? Is America supposed to go to war with every nation of the world that has a population of people who are "anti-Christianity"? If so, we should be attacking most of the nations of the world.
And since when can we evangelize the pagan peoples of the world via brute force? When has that ever worked? And what Scripture do you base that theory on? People are won to Christ with the message of God's amazing grace and love through Christ's death on the cross. What? Did God commission us to kill and destroy all of the heathen of the world? I thought our commission was to love and win them, not attack and kill them.
But a host of attacks against my comments last week were much more caustic. Here is an example:
"Imam Mohammed Judas Baldwin; My wife and I were listening on line to your 1-25-15 program, I shut the program off when I heard your rant against your Christian brother and sister Pastors. My wife astutely said: 'Muslim Lover?' I believe I have figured out your love of all things Islam, and your betrayal of God, Jesus Christ, and Christians. Your God Allah, Your savior Mohammad, and your fellow Muslims. Allah offered you a better deal. Paradise and 72 Virgins. The Virgins, in your case, 50/50 prepubescent boys and girls. Judas Iscariot had the decency to hang himself for his betrayal of my savior Jesus Christ. How about you? You can get Allah and the virgins, sooner, if you do it to day…Shame on you, you Fool."
The message I delivered last Sunday, and to which Michael was reacting to, was taken from Matthew 5:44, "Love your enemies," and from Matthew 7:12, "Therefore all things whatsoever ye would that men should do to you, do ye even so to them: for this is the law and the prophets."
And, yes, Michael, I do love Muslims, Jews, Hindus, Buddhists, Atheists, etc. They are all souls for whom Christ died.
If unbelievers and pagans want to be filled with hate, so be it; but hatred has NO PLACE WHATSOEVER in the heart of a Christian. And after receiving tens of thousands of hate-filled responses regarding my comments last week, it dawned on me that the American Church is largely filled with hate–hatred against the Muslim people.
Ever since 9/11, Christians and conservatives have developed a hatred and animus, not just against Jihadist-Muslims (which, even that is TOTALLY UNACCEPTABLE for a Christian), but against Muslim people everywhere. All Muslims are commonly castigated and vilified just because they are Muslims.
Ladies and gentlemen, it is absolutely NOT TRUE that all Muslims are anti-American, anti-Christian murderers and terrorists. It is NOT TRUE that all Muslims want to enact Sharia Law in the United States. It is NOT TRUE that all Muslims are our enemies.
I wonder how many of these Muslim haters have ever met a Muslim in person. I have. I have met many–both in the United States and in the Middle East. They are NOT all America-haters. They are NOT all trying to kill us. America has had Christian missionaries ministering among Muslim nations for as long as our country has been in existence. And many Christians would be shocked to know that overall the Gospel has received greater acceptance by the Muslim population than by other religions of the region–much more, in fact, than by the Jewish population.
Here is a letter I received from a Christian missionary named Jeff:
"Hi, Chuck! We…want to tell you that we stand 100% with what you said in both your column and to your congregation. We have been missionaries for 40 years, a good ten of those in Muslim countries (Tunisia, Libya, Jordan, Bangladesh, Pakistan, India, Bosnia, and Albania). We have not just met or talked to a Muslim, we have witnessed to them in depth for years. It is SO RARE to hear anyone nowadays saying anything conciliatory towards Muslims, much less positive. I thank you for the things you have said, and am so very sorry for the hateful responses you received in the comments to your column that reveal the dark heart of many Christians in the U.S."
To be honest, most of the Muslims I have met in the U.S. and in the Middle East demonstrate more kindness, common courtesy, and genuine compassion than many of the so-called Christians I have known.
Let's be honest: some Muslims are Muslims in name only, much like many Baptists are Baptists in name only, or Catholics are Catholics in name only, or Mormons are Mormons in name only, or Jews are Jews in name only, etc. There are millions of Christians in America's churches that couldn't tell you what's in the Bible to save their lives. They couldn't quote the Ten Commandments; they couldn't quote the Golden Rule; they couldn't name Christ's apostles; they couldn't quote five verses of Scripture from memory if their lives depended on it. There are many Muslims in the exact same condition.
Furthermore, not all Muslims, who are devout, take the verses of the Koran that speak of Jihad and killing infidels, etc., to literally mean killing all non-Muslims today. No, not all of them do!
Think of this: how many of us Christians believe that the civil laws and military commands that God gave to the children of Israel through Moses should be literally incorporated into the Church and into the civil laws of America today? Do you believe we should be stoning people to death for adultery, or breaking the Sabbath (So, any Christian nurse or policeman or physician or fireman, etc., who works on Saturday should be stoned to death?), or blasphemy, or for children who curse their parents? Do you? Should we literally destroy entire nations–including men, women, and children today? These things were literally commanded by Jehovah God for the children of Israel under Moses. And, yes, God is God and is righteous and just as much when he condemns as when he forgives. No man sits in judgment of God. His ways are always right and holy. But God is NOT giving direct audible commands to anyone in the U.S. government today–or to anyone in our church pulpits, for that matter.
Many Muslims I've met interpret those passages in the Koran like we do those Old Testament Scriptures. Why can Christians interpret our Bible in this manner but Muslims cannot interpret their bible in a similar fashion?
In fact, I know of several Christian pastors and preachers in America who mimic Muslim Jihadists and believe that we SHOULD be implementing the Mosaic Law in our country today. If they had their way, we would be stoning people to death for the sins mentioned above just as they did under Moses. Have you ever witnessed a stoning? It is as equally torturous as beheading–maybe even more so.
Beyond that, these Muslim haters seem to be completely ignorant of the fact that every day there are tens of thousands of Muslims who risk their lives resisting Muslim Jihadists. It was a Muslim village that risked their lives against the Taliban to save the American fighting man that was depicted in the movie, Lone Survivor. Why don't we recognize this reality? It's because hatred and bigotry against the Muslim people have blinded us.
Plus, the dirty truth that most Americans, including most Christians, seem unwilling to accept is that most of the conflict between the United States and the Muslim nations of the Middle East has been created by our own federal government.
I speak regularly with retired Special Forces military personnel who share with me the way our own CIA and State Department have bullied, lied to, intimidated, and betrayed our Muslim friends in the Middle East. They have seen it up close and personal. This has been going on for decades. In fact, our federal government has tortured hundreds of people in the Middle East in some of the most vile ways possible. The only difference is, they don't broadcast it over television.
I recently asked a retired Green Beret, "How much of the conflict between the U.S. and Middle Eastern states would stop if Washington, D.C., would simply stop meddling in the internal affairs of those countries?" This Green Beret served in the the Middle East for years; he was a Special Ops soldier. He saw the surreptitious and covert things that our government routinely does–things the public doesn't see. His answer to me was, "100%."
Our own federal government put the Taliban in power, put Al Qaeda in power, and put ISIS in power. Our federal government often uses war and conflict to cover up its own murderous activity or to kill the very people that they formerly gave arms to, supported, befriended, etc. Whether one wants to believe it or not, most of the conflict in the Middle East has been caused by our own government. We are our own worst enemy. How convenient that we make Muslim people everywhere the straw man to divert attention away from the real criminals.
Yes, the American Church has a BIG problem: much of it is filled with HATE. To be sure, Christians are instructed to hate "evil," but nowhere are we instructed to hate people–any people. Yet, the hatred of Muslims by Christians in America appears to be epidemic.
Hatred is a cancer. Hatred, bitterness, resentment, bigotry, etc., kill the soul. When Jesus instructed us to love our enemies, it was NOT for our enemies' sake; it was for OUR sake. How can God bless a hate-filled Church when He commands us to love our enemies? How can He bless warmongers when he tells us that it is peacemakers who are blessed?
When America MUST defend itself against any enemy, regardless of nationality, race, ethnicity, religion, etc., we are obligated to do so. In the Twentieth Century, we fought hot wars against Christians from Germany and Italy, against Shintoists from Japan, against atheists from North Korea, and against Buddhists, Taoists, and Confucianists from Vietnam. But there is a huge difference between defending oneself against an enemy that poses and imminent threat and fomenting hatred against an entire people for the crimes of a few.
How can Christians claim to love God and believe in winning lost souls to Christ be so consumed with hatred against an entire people–most of whom have done NOTHING to harm them? Yes, I realize there are some who call themselves Christians who hate other people besides Muslims. Some hate everyone who is a Jew; some hate everyone who is a minority; some hate everyone who is victimized by an aberrant sexual lifestyle, etc. Hatred has been with us since the dawn of human history. But in my entire lifetime, I have never witnessed anything like I am witnessing now: the pervasive, widespread, almost universal hatred of the Muslim people–by Christians.
As I said, hatred destroys the soul. And I fear that hatred is destroying the soul of the Church.
Whose fault is it that mosques are being built in America? Many of the buildings being used for these new mosques are abandoned CHURCH buildings. The darkness of false religion will always fill the vacuum that is left when truth departs. And the fact is, Christianity is dying in the United States. No, it's not dead; but it's dying. There are tens of thousands of empty abandoned churches all over America. More and more Americans are turning their backs on the Church. What difference does it make which form of darkness invades the land? The problem is that the true light (the Church) is failing. What do you expect will happen?
What difference does it make whether the darkness takes the form of Islam, or Buddhism, or Shintoism, or Judaism, or Atheism, or Communism, or any other "ism?" The problem is not the presence of darkness; the problem is the absence of light.
The Church has lost its light and its love. Christ is doing what He said He would do to those who lose their love: He is removing the candlestick.
The American Church has focused on being "successful" instead of being righteous; it has capitulated to the lordship of the state; it fears the IRS more than it fears God; it has stopped preaching the "hard" messages of the Bible; it is popularity-driven, entertainment-driven, and comfort-driven; it has abandoned the fundamental principles of Natural Law and liberty; it has replaced genuine patriotism with statism; and it has used Romans 13 as justification for idolatry.
A quote from Charles Caleb Colton (1820) is in order here: "Men will wrangle for religion; write for it; fight for it; die for it; anything but–live for it."
The Muslim people are NOT our problem; the problem is the American Church. It needs to start living its religion.
The resounding victory of Alexis Tsipras in the Greek election was certainly a referendum that rejected the austerity demands placed on Greece by the European Union. The Wall Street Journal says the following, in Syriza Win in Greek Election Sets Up New Europe Clash.
"A Syriza victory marks an astonishing upset of Europe's political order, which decades ago settled into an orthodox centrism while many in Syriza describe themselves as Marxists. It emboldens the challenges of other radical parties, from the right-wing National Front in France to the newly formed left-wing Podemos party in Spain, and it sets Greece on a collision course with Germany and its other eurozone rescuers."
What informed political onlooker did not see this coming? The EU acts as if it was a Holy Roman Empire using some very unholy demands and requirements. Since Greece has a laid back culture, the notion that imposing a rigorous German work ethic on the Mediterranean city-states is about as shortsighted as allowing a popular vote in the cradle of Democracy. If the EU wants to be the seat of the Banksters New World Order, rectifying this oversight needs to be part of any additional rollovers of the debt.
The NYT reports on the German reaction to this election, in Greece Chooses Anti-Austerity Party in Major Shift.
"While Greece sees itself as being punished by creditors' demands, Germany and a host of European officials have argued that Greece and other troubled nations in the eurozone must clean up the high debts and deficits at the root of Europe's crisis . They say Athens has failed to make enough progress on structural reforms seen as necessary to stabilize the economy, and they are pressing Greece to raise billions of euros through more budgetary cutbacks and taxes."
Sounds like NATO Panzer tanks may need to surround the Acropolis. At issue is the next round of payments and exactly how far Tsipras' new coalition government will push back.
From the socialist French press, Greek radical-left leader vows to end 'humiliation and pain', the precedent dispute provides a look at the agenda that will be fought over.
"Greece's bailout deal with the eurozone is due to end on February 28 and Tsipras's immediate challenge will be to settle doubts over the next installment of more than 7 billion euros in international aid. EU finance ministers are due to discuss the issue in Brussels on Monday.
Tsipras has promised to renegotiate agreements with the European Commission, European Central Bank and International Monetary Fund "troika" and write off much of Greece's 320-billion-euro debt, which at more than 175 percent of gross domestic product, is the world's second highest after Japan."
The imposed neocolonialism from Brussels technocrats on Greece after the 2008 financial bubble is A True Greek Tragedy – Odyssey of the EU, concluded that "This tragedy is an existential test. Appreciate the absurdity of compliance with the New World Order, and apply comic relief, to those who follow commends of the EU Poseidon ship of state."
At stake is the ability of the EU to continue their centralization dictates in the face of public resistance. The victory of SYRIZA provides encouragement for similar movements from Spain, Portugal to Italy. However, such self-government enthusiasm flies in the face of the institutional power of the blue-blood aristocracy of financial elites, who in the past have never hesitated waging, war to suppress independence sentiments.
The term Grexit is introduced to forewarn the op-out of the EU option. Further explanation is elaborated in Greece lightning: six things you need to know about Syriza's victory.
Background – the Greek economy
Yesterday's election – and why Syriza wants to stay in the EU
But Germany is more relaxed about a 'Grex
It's now a question of how far Germany will budge
   The Eurozone is (probably) strong enough to withstand Grexit
But still, Grexit would be a risk that no one actively wants to take
Hugo Dixon: Grexit still unlikely after Syriza win takes another viewpoint. His outlook is based on the assumption that "no head of government in the other euro countries wants Greece to leave", so some kind of accommodation will be offered to appease the factions that resist their inordinate debt burden.
"So there might be a way of cutting a deal. The snag is that doing so would involve a massive somersault – or what Greeks call a "kolotoumba". Many of Tsipras' backers would then accuse him of betraying their cause. It is still far from clear whether he is prepared to do that.
But if the Syriza leader is not prepared to compromise, Greece will default and will have to impose capital controls to stop the banks collapsing. If the people then forced the government to backtrack, there would be one final chance to stay in the euro. Otherwise, the drachma would beckon."
Oh the horror of a country leaving the European Union and chucking the EURO. The factual consequences of Greece exiting the EU should not be gauged solely in economic terms. The limits upon which the Bilderberg oligarchy will tolerate liberation dissent become the decisive price and test of brute power in this battle for autonomy.
The Greek version of socialism is surely no model for economic prosperity. Nonetheless, the systematic fleecing of Greek assets by the vultures preying on the misery from the 2008 crash has yet to be put back in balance.
The viability of EU Bonds Rollover Debt with a Chinese Bailout makes the case why the EU is vulnerable to the mountains of their own obligations. The most likely outcome from the election of Alexis Tsipras is that a rescheduling rather than a reduction in the amount of indebtedness will take place. The EU Rothschild band of thieves knows no forgiveness, when it comes to collecting on their phony debt created currency loans.
The brave Spartans saved civilization at Thermopylae. It is doubtful that type of campaign can be fought again by today's Greeks.
Putin's Next Move Is Crucial…
The plunge of the Russian currency this week is the drastic outcome of policies implemented by the major imperialist powers to force Russia to submit to American and European imperialism's neo-colonial restructuring of Eurasia. Punishing the Putin regime's interference with their plans for regime change in countries such as Ukraine and Syria, the NATO powers are financially strangling Russia." Alex Lantier, Imperialism and the ruble crisis, WSWS

"The struggle for world domination has assumed titanic proportions. The phases of this struggle are played out upon the bones of the weak and backward nations." Leon Trotsky, 1929
Russian President Vladimir Putin suffered a stunning defeat on Tuesday when a US-backed plan to push down oil prices sent the ruble into freefall. Russia's currency plunged 10 percent on Monday followed by an 11 percent drop on Tuesday reducing the ruble's value by more than half in less than a year. The jarring slide was assisted by western sympathizers at Russia's Central Bank who, earlier in the day, boosted interest rates from 10.5 percent to 17 percent to slow the decline. But the higher rates only intensified the outflow of capital which put the ruble into a tailspin forcing international banks to remove pricing and liquidity from the currency leading to the suspension of trade. According to Russia Today:
"Russian Federation Council Chair Valentina Matviyenko has ordered a vote on a parliamentary investigation into the recent activities of the Central Bank and its alleged role in the worst-ever plunge of the ruble rate…

"I suggest to start a parliamentary investigation into activities of the Central Bank that has allowed violations of the citizens' Constitutional rights, including the right for property," the RIA Novosti quoted Tarlo as saying on Wednesday.

The senator added that according to the law, protecting financial stability in the country is the main task of the Central Bank and its senior management. However, the bank's actions, in particular the recent raising of the key interest rate to 17 percent, have so far yielded the opposite results." (Upper House plans probe into Central Bank role in ruble crash, RT)
The prospect that there may be collaborators and fifth columnists at Russia's Central Bank should surprise no one. The RCB is an independent organization that serves the interests of global capital and regional oligarchs the same as central banks everywhere. This is a group that believes that humanity's greatest achievement is the free flow of privately-owned capital to markets around the world where it can extract maximum value off the sweat of working people. Why would Russia be any different in that regard?
It isn't. The actions of the Central Bank have cost the Russian people dearly, and yet, even now the main concern of RCB elites is their own survival and the preservation of the banking system. An article that appeared at Zero Hedge on Wednesday illustrates this point. After ruble trading was suspended, the RCB released a document with "7 new measures" all of which were aimed at protecting the banking system via moratoria on securities losses, breaks on interest rates, additional liquidity provisioning, easier credit and accounting standards, and this gem at the end:
"In order to maintain the stability of the banking sector in the face of increased interest rate and credit risks of a slowdown of the Russian economy the Bank of Russia and the Government of the Russian Federation prepare measures to recapitalize credit institutions in 2015." (Russian Central Bank Releases 7 Measures It Will Take To Stabilize The Financial Sector, Zero Hedge)
Sound familiar? It should. You see, the Russian Central Bank works a lot like the Fed. At the first sign of trouble they build a nice, big rowboat for themselves and their dodgy bank buddies and leave everyone else to drown. That's what these bullet points are all about. Save the banks, and to hell the people who suffer from their exploitative policies.
Here's more from RT:
"Earlier this week a group of State Duma MPs from the Communist Party sent an official address to Putin asking him to sack (Central Bank head, Elvira) Nabiullina, and all senior managers of the Central Bank as their current policies are causing the rapid devaluation of ruble and impoverishment of the majority of the Russian population.

In their letter, the Communists also recalled Putin's address to the Federal Assembly in which he said that control over inflation must not be in the way of the steady economic growth.

"They listen to your orders and then do the opposite," the lawmakers complained." (RT)
In other words, the RCB enforces its own "austerity" policy in Russia just as central bankers do everywhere. There's nothing conspiratorial about this. CBs are owned and controlled by the big money guys which is why their policies invariably serve the interests of the rich. They might not call it "trickle down" or "structural adjustment" (as they do in the US), but it amounts to the same thing, the inexorable shifting of wealth from working class people to the parasitic plutocrats who control the system and its political agents. Same old, same old.
Even so, the media has pinned the blame for Tuesday's ruble fiasco on Putin who, of course, has nothing to do with monetary policy. That said, the ruble rout helps to draw attention to the fact that Moscow is clearly losing its war with the US and needs to radically adjust its approach if it hopes to succeed. First of all, Putin might be a great chess player, but he's got a lot to learn about finance. He also needs a crash-course in asymmetrical warfare if he wants to defend the country from more of Washington's stealth attacks.
In the last 10 months, the United States has executed a near-perfect takedown of the Russian economy. Following a sloppy State Department-backed coup in Kiev, Washington has consolidated its power in the Capital, removed dissident elements in the government, deployed the CIA to oversee operations, launched a number of attacks on rebel forces in the east, transferred ownership of Ukraine's vital pipeline system to US puppets and foreign corporations, created a tollbooth separating Moscow from the lucrative EU market, foiled a Russian plan to build an alternate pipeline to southern Europe (South Stream), built up its military assets in the Balkans and Black Sea and, finally–the cherry on the cake–initiated a daring sneak attack on Russia's currency by employing its Saudi-proxy to flood the market with oil, push prices off a cliff, and trigger a run on the ruble which slashed its value by more than half forcing retail currency platforms to stop trading the battered ruble until prices stabilized.
Like we said, Putin might be a great chess player, but in his battle with the US, he's getting his clock cleaned. So far, he's been no match for the maniacal focus and relentless savagery of the Washington powerbrokers. Yes, he's formed critical alliances across Asia and the world. He's also created competing institutions (like the BRICS bank) that could break the imperial grip on global finance. And, he's also expounded a vision of a new world in which "one center of power" does not dictate the rules to everyone else. That's all great, but he's losing the war, and that's what counts. Washington doesn't care about peoples' dreams or aspirations. What they care about is ruling the world with an iron fist, which is precisely what they intend to do for the next century or so unless someone stops them. Putin's actions, however admirable, have not yet changed that basic dynamic. In fact, this latest debacle (authored by the RCB) is a severe setback for the country and could impact Russia's ability to defend itself against US-NATO aggression.
So what does Putin need to do to reverse the current trend?
The first order of business should be a fundamental change in approach followed by a quick switch from defense to offense. There should be no doubt by now, that Washington is going for the jugular. The attack on the ruble provides clear evidence that the US will not be satisfied until Russia has been decimated and reduced to "a permanent state of colonial dependency." (Chomsky) The United States has launched a full-blown economic war on Russia and yet the Kremlin is still acting like Washington's punching bag. You can't win a war like that. You have to take the initiative; take chances, be bold, think outside the box. That's what Washington is doing. The rout of the ruble is perhaps the most astonishingly-successful asymmetrical attack in recent memory. It involved tremendous risks and costs on the part of the perpetrators. For example, the lower oil prices have ravaged important domestic industries, created widespread financial instability, and sent markets across the planet into a nosedive. Even so, Washington persevered with its audacious strategy, undeterred by the vast collateral damage, never losing sight of its ultimate objective; to deprive Moscow of crucial oil revenues, to crash the ruble, and to open up Central Asia for imperial expansion and US military bases. (The pivot to Asia)
This is how the US plays the game, by keeping its "eyes on the prize" at all times, and by rolling roughshod over anyone or anything that gets in its way. That is why the US is the world's only superpower, because the voracious oligarchs who run the country will stop at nothing to get what they want.
Does Putin have the grit to match that kind of venomous determination? Has he even adjusted to the fact that WW3 will be unlike any conflict in the past, that jihadi-proxies and Neo Nazi-proxies will be employed as shock troops for the empire clearing the way for US special forces and foot soldiers who will hold ground and establish the new order? Does he even realize that Barbarossa 2 is already underway, but that the Panzer divisions and 2 million German regulars have been replaced with high-powered computers, covert ops, color-coded revolutions, currency crises, capital flight, cyber attacks and relentless propaganda. That's 4th Generation (4-G) warfare in a nutshell. And, guess what? The US attack on the ruble has shown that it is the undisputed master of this new kind of warfare. More important, Washington has just prevailed in a battle that could prove to be a critical turning point if Putin doesn't get his act together and retaliate.
Retaliate?!?
You mean nukes?
Heck no. But, by the same token, you can't expect to win a confrontation with the US by rerouting gas pipelines to Turkey or by forming stronger coalitions with other BRICS countries or by ditching the dollar. Because none of that stuff makes a damn bit of difference when your currency is in the toilet and the US is making every effort to grind your face into the pavement.
Capisce?
There's an expression is football that goes something like this: The best defense is a good offense. You can't win by sitting on the sidelines and hoping your team doesn't lose. You must engage your adversary at every opportunity never giving ground without a fight. And when an opening appears where you can take the advantage, you must act promptly and decisively never looking back and never checking your motives. That's how you win.
Washington only thinks in terms winning. It expects to win, and will do whatever is necessary to win. In fact, the whole system has been re-geared for one, sole purpose; to beat the holy hell out of anyone who gets out of line. That's what we do, and we've gotten pretty good at it. So, if you want to compete at that level, you've got to have "game". You're going to have to step up and prove that you can run with the big kids.
And that's what makes Putin's next move so important, crucial really. Because whatever he does will send a message to Washington that he's either up to the challenge or he's not. Which is why he needs to come out swinging and do something completely unexpected. The element of surprise, that's the ticket. And we're not talking about military action either. That just plays to Uncle Sam's strong hand. Putin doesn't need another Vietnam. He needs a coherent gameplan. He needs a winning strategy. He needs to takes risks, put it all on the line and roll the freaking dice. You can't lock horns with the US and play it safe. That's a losing strategy. This is smash-mouth, steelcage smackdown, a scorched-earth event where winner takes all. You have to be ready to rumble.
Putin needs to think asymmetrically. What would Obama do if he was in Putin's shoes?
You know what he'd do: He'd send military support to Assad. He'd arm rebel factions in Saudi Arabia, Somalia, Nigeria and elsewhere. He'd strengthen ties with Venezuela, Bolivia, Ecuador providing them with military, intelligence and logistical support. He'd deploy his NGOs and Think Tank cronies to foment revolution wherever leaders refused to follow Moscow's directives. He would work tirelessly to build the economic, political, media, and military institutions he needed to impose his own self-serving version of snatch-and-grab capitalism on every nation on every continent in the world. That's what Obama would do, because that's what his puppetmasters would demand of him.
But Putin must be more discreet, because his resources are more limited. But he still has options, like the markets, for example. Let's say Putin announces that creditors in the EU (particularly banks) won't be paid until the ruble recovers. How does that sound?
Putin: "We're really sorry about the inconvenience, but we won't be able to make those onerous principle payments for a while. Please accept our humble apologies." End of statement.
Moments later: Global stocks plunge 350 points on the prospect of a Russian default and its impact on the woefully-undercapitalized EU banking system.
Get the picture? That's what you call an asymmetrical attack. The idea was even hinted at in a piece on Bloomberg News. Here's an excerpt from the article:
"Sergei Markov, a pro-Putin academic, wrote in a column on Vzglyad.ru. "Since the reasons for the ruble's fall are political, the response should be political, too. For example, a law that would ban Russian companies from repaying debts to Western counterparties if the ruble has dropped more than 50 percent in the last year. That will immediately lower the pressure on the ruble, many countries have done this, Malaysia is one example. It's in great economic shape now." (Is Russia ready to impose capital controls? Chicago Tribune)
Here's more background from RT:
"Major banks across Europe, as well as the UK, US, and Japan, are at major risk should the Russian economy default, according to a new study by Capital Economics. The ING Group in the Netherlands, Raiffeisen Bank in Austria, Societe General in France, UniCredit in Italy, and Commerzbank in Germany, have all faced significant losses in the wake of the ruble crisis…

Overall Societe General, known as Rosbank in the Russian market, has the most exposure at US$31 billion, or €25 billion, according to Citigroup Inc. analysts. This is equivalent to 62 percent of the Paris-based bank's tangible equity, Bloomberg News reported.

Following the drop, Raiffeisen, which has €15 billion at risk in Russia, saw its stocks plummeted more than 10 percent. Raiffeisen also has significant exposure in Ukraine, which is facing a similar currency sell-off as Russia." (Russia crisis leaves banks around the world exposed by the billions, RT)
So Putin defaults which nudges the EU banking system down the stairwell. So what? What does that prove?
It proves that Russia has the tools to defend itself. It proves that Putin can disrupt the status quo and spread the pain a bit more equitably. "Spreading the pain" is a tool the US uses quite frequently in its dealings with other countries. Maybe Putin should take a bite of that same apple, eh?
Another option would be to implement capital controls to avoid ruble-dollar conversion and further capital flight. The beauty of capital controls is that they take power away from the big money guys who run the world and hand it back to elected officials. Leaders like Putin are then in a position to say, "Hey, we're going to take a little break from the dollar system for while until we get caught up. I hope you'll understand our situation."
Capital controls are an extremely effective of avoiding capital flight and minimizing the impact of a currency crisis. Here's a short summary of how these measures helped Malaysia muddle through in 1998:
"When the Asian financial crisis hit, Malaysia's position looked a lot like Russia's today: It had big foreign reserves and a low short-term debt level, but relatively high general indebtedness if households and corporations were factored in. At first, to bolster the ringgit, Deputy Prime Minister Anwar Ibrahim pushed through a market-based policy with a flexible exchange rate, rising interest rates and cuts in government spending. It didn't work: Consumption and investment went down, and pessimism prevailed, exerting downward pressure on the exchange rate.

So, in June 1998, Prime Minister Mahathir Mohammad… appointed a different economic point man, Daim Zainuddin. In September, on Daim's urging, Malaysia introduced capital controls. It banned offshore operations in ringgit and forbade foreign investors to repatriate profits for a year. Analysts at the time were sharply critical of the measures, and Malaysia's reputation in the global financial markets inevitably suffered.

According to Kaplan and Rodrik, however, the capital controls were ultimately effective. The government was able to lower interest rates, the economy recovered, the controls were relaxed ahead of time, and by May 1999 Malaysia was back on the international capital markets with a $1 billion bond issue." (Is Russia ready to impose capital controls, Chicago Tribune)
Sure they were effective, but they piss off the slacker class of oligarchs who think the whole system should be centered on their "inalienable right" to move capital from one spot to another so they can rake-off hefty profits at everyone else's expense. Capital controls push those creeps to the back of the line so the state can do what it needs to do to preserve the failing economy from the attack of speculators. Here's a clip from a speech Joseph Stiglitz gave in 2014 at the Atlanta Fed's 2014 Financial Markets Conference. He said:
"When countries do not impose capital controls and allow exchange rates to vary freely, this can give rise to high levels of exchange rate volatility. The consequence can be high levels of economic volatility, imposing great costs on workers and firms throughout the economy. Even if they can lay off some of the risk, there is a cost to doing so. The very existence of this volatility affects the structure of the economy and overall economic performance."
That sums it up pretty well. Without capital controls, the deep-pocket Wall Street banks and speculators can simply vacuum the money out of an economy leaving the country broken and penniless. This nihilistic decimation of emerging markets via capital flight is what the kleptocracy breezily refers to as "free markets", the unwavering plundering of civilization to fatten the coffers of the swinish few at the top of the foodchain. That's got to stop.
Putin needs to put his foot down now; stop the outflow of cash, stop the conversion of rubles to dollars, force investors to recycle their money into the domestic economy, indict the central bank governors and trundle them off to the hoosegow, and reassert the power of the people over the markets. If he doesn't, then the speculators will continue to peck away until Russia's reserves are drained-dry and the country is pushed back into another long-term slump. Who wants that?
And don't think that Putin's only problem is Washington either, because it isn't. He's got an even bigger headache in his own country with the morons who still buy the hogwash that "the market knows best." These are the fantasists, the corporate toadies, and the fifth columnists, some of whom hold very high office. Here's a clip I picked up at the Vineyard of the Saker under the heading "Medvedev declares: more of the same":
(Russian Prime Minister) "Medvedev has just called a government meeting with most of the directors of top Russian corporations and the director of the Russian Central Bank. He immediately announced that he will not introduce any harsh regulatory measures and that he will let the market forces correct the situation. As for the former Minister of Finance, the one so much beloved in the West, Alexei Kudrin, he expressed his full support for the latest increase in interest rates."
This is lunacy. The US has just turned Russia's currency into worthless fishwrap, and bonehead Medvedev wants to play nice and return to "business as usual"??
No thanks. Maybe Medvedev wants to be a slave to the market, but I'll bet Putin is smarter than that.
Putin's not going to roll over and play dead for these vipers. He's got to much on the ball for that. He's going to beat them at their own game, fair and square. He's going to implement capital controls, restructure the economy away from the west, and aggressively look for ways to deter Washington from spreading its heinous resource war to Central Asia and beyond.
He's not going to give an inch. You'll see.
Anyone who follows the news regularly, knows that the media has done everything in its power to smear Vladimir Putin and to demonize him as a tyrant and a thug. Fortunately, most people aren't buying it.
Yes, I've seen the polls that say that Putin and Russia are viewed "less favorably" than they were prior to the crisis in Ukraine. In fact, here's a clip from a recent PEW survey which seems to prove that I'm wrong:
"Across the 44 countries surveyed, a median percentage of 43% have unfavorable opinions of Russia, compared with 34% who are positive.

Negative ratings of Russia have increased significantly since 2013 in 20 of the 36 countries surveyed…

Americans and Europeans in particular have soured on Russia over the past 12 months. More than six-in-ten in Poland, Germany, Italy, Spain, France, the U.S. and the UK have an unfavorable image of Russia. And in all but one of these countries negative reviews are up by double digits since last year, including by 29 percentage points in the U.S., 27 points in Poland, 24 points in the UK and 23 points in Spain." (Russia's Global Image Negative amid Crisis in Ukraine: Americans' and Europeans' Views Sour Dramatically, PEW Research)
These results strongly suggest that the public blames Moscow for the fighting in Ukraine and (presumably)agrees with the prevailing storyline that Putin is a vicious aggressor who seized Crimea in order to rebuild the Soviet Empire. The problem with the PEW survey is that the results are based random samples of nationwide face-to-face or telephone interviews.
Why is that a problem?
It's a problem because the man-on-the-street hasn't the foggiest idea of what's going on in Ukraine. All he knows is what he's heard on TV. So, naturally, when he's asked to offer his opinion on the matter, he's going to regurgitate some variation of the official version, which is that Putin is responsible.
But try asking someone who's actually been following events in Ukraine that same question, and you're going to get an entirely different answer. Among the people who follow the daily developments in Ukraine, roughly two out of three support the Russian position. This isn't something you're going to find in the survey data, but if you take the time to comb the comments lines in the international media, you'll see what I'm saying is true.
I hadn't figured this out until last week's G-20 Summit in Brisbane when Canada's PM Stephen Harper brusquely greeted Putin saying, "I guess I'll shake your hand, but I only have one thing to say to you: you need to get out of Ukraine."
The incident immediately became headline news around the world as journalists for all the major media heaped praise on Harper for courageously "shirt-fronting" the dastardly Putin. What was left out in the media's account of the exchange, was Putin's crisp retort, which was, "Unfortunately it is impossible, (for us to leave Ukraine) because we are not there."
Touché. As you might expect, Putin's response did not fit with the media's narrative, so it was scrubbed from the coverage altogether.
The Harper incident was a particularly big deal in Canada where all the newspapers ran gushing articles lauding the prime minister for his righteousness and fortitude. Oddly enough, however, only a small percentage of the people who commented on the dust-up, saw Harper as the hero. Here's a few samples of what ordinary people had to say. This is from BobsOpinion:
"Harper embarrasses Canadians again on the international stage. It will take years for Canadians to re-build our international relationships and to re-build our reputation."
This comment is from redondex:
"Harper made a childish and baseless remark to Putin and walked off with a grin of a proud five year old spoilt kid. All Harper achieved was to ridicule himself in front of the rest of the world. That is our leaders usual behavior."
This is from Makman1:
"I was under the impression that a proper democracy would first use negotiating as a way to understand the divergent groups involved in the Ukrainian revolution and then apply a political solution, if possible. The present Ukrainian government immediately used force. PERIOD! The Harper government, instead of using its "influence" to attempt to defuse a complex situation blindly followed the actions of the USA. If Harper really cared at all he would ask his foreign minister to get directly involved with Russian and Ukrainian counterparts and help reach a compromise…. Hopefully, Harper is not supporting Ukrainian right wing fascists?"
This is from Jörð:
"It's not wise for Harper to follow America's lead on every foreign policy. The USA government has a terrible track record when it comes to getting things right in foreign lands. Also Putin was correct when he responded to Harper's comment by saying "It's impossible, we are not there." Technically Russia is not "In" the Ukraine."
This is Time4Change:
"This is another example of Harper BLUSTERING backed with NO SUBSTANCE! Why are there NO SANCTIONS on the Russian Energy Giants Rosneft and Rostec? Could it be the hundreds of billions of $s the Russians have invested in the tar sands have caused Harper to be the SOFTEST on ACTIONS while shouting the loudest."
And this is from Mt Athabaska:
" …one day Harper will reach puberty on global affairs."
It's worth noting that these comments were lifted from article that was published by the Canadian Broadcasting Corporation. I was shocked at how harshly Harper was criticized by his own countrymen. I was also surprised that the author's obvious anti-Putin bias had virtually no impact on the opinions of the people who commented on the incident. In fact, it appeared to make many of them mad.
I should also mention that I omitted all of the comments that lambasted Harper for hiding in a broom closet "while a gun battle ensued in a nearby hallway of the Parliament building in Ottawa" in early October. (See here: Needless to say, Harper's comical performance at the G-20 hasn't convinced anyone that he's the courageous leader he imagines himself to be.)
The media is increasingly worried that it's losing its ability to persuade people to support policies that only serve the interests of elites. The media has rolled out all the heavy artillery in its campaign to demonize Putin, but the strategy hasn't worked. In fact, it's backfired quite badly leading some publications to cancel their comments section altogether.
And the response from readers has been huge too, mainly because the standoff between two nuclear-armed adversaries has galvanized the publics' attention. For example, in the CBC article I cited above, more than 2,500 comments have been posted already, while many of the other articles on Ukraine or Putin have exceeded 6,000 comments. This just shows how closely people are following events and how passionate they feel about the policy.
And, as we said earlier, this isn't just a Canadian phenom either. For example, here are a few of the comments I picked up from an article in the conservative UK Telegraph in an article titled Global economy to suffer as Putin quits G20 early.
Zeug Gezeugt:
"The US supports the neo-Nazi ethnic cleansing campaign in east Ukraine, Russia supports the Russian speaking Ukrainian majority in the east against it. Pretty simple really, and the US enforced sanctions can only harm EU Russian relations, a win-win all round for the neoconservative hawks."
Pamela Cohen:
"So, the media tells us in the Title that Putin is to blame when the Global economy suffers, because he left the G20 early. What stupidity. And what a statement in bringing warships as their targeted President attends yet another meeting. Good for Putin. Blame the US-backed coup and looting and 4000 deaths on Putin, and blame the Ukrainian plane that shot down a passenger flight on him, too. Then shun him at a world meeting, as if he doesn't have the right and responsibility to defend his country's borders, Naval base, pipeline and brothers in the Ukraine as they are shelled and killed by US manipulation.
Instead of shock and awe and intruding where they didn't belong like the US in all the Mid-Eastern countries according to long-ago made plans, Putin sends humanitarian aid and the people vote in Donetsk and Luhansk.
Putin-not all Americans are stupid sheep. My apologies for the onslaught of ignorance and imperialism. You are standing up to bullies of the worst kind. The world needs peaceful solutions to restore the harm of NWO fanaticism and corrupt bankers. Hold the line."
MP Jones: "The US never ended the cold war and the 'useful idiots' in this context are us in Europe and the UK."
Richard N:
"Most British people are deeply unconvinced by the flood of US and EU propaganda over Ukraine, trying to cast Russia as the villain – when the civil war there was caused directly by the US and their EU side kicks backing a coup to overthrow the elected government of a sovereign country, Ukraine."
timepass:
"With due respect to the author, you say that his (Putin's) popularity will rise at home as a consequence of this. Please read the message boards North American and European, you will find his popularity seems to have increased everywhere.
Guess the Brains behind 5 eyes and snooping will now have to move into the new reality of the power of the internet to provide information which they would not like others to get. Just a question of time before they make their next move – Censorship!"
Busufi:
"If, the 'Seven Dwarfs' (US, UK, EU, Japan, Australia, Canada, and South Africa) like bullies, weren't so obsessed with beating Russia or China into a corner, rather than bringing Russia or China into their corner; the world would be a better place. Co-operation works better than devastation."
John Derbyshire :
"Why all this Anti Russian propaganda. The fools who run the West keep creating bogeymen Bin Laden, ISIS, oddly both had connections to Western Powers. So as we face an economic down in the world economy we need another bogeyman, and up pops Putin in the Capitalist controlled media!
People seem to have short memories of pre Putin era, when Yeltsin backed by the West led the country to economic meltdown. Maybe he has scant regard for democratic institutions, but do Western governments support the views of the people!
All of this came about when the United States pushed Nato's borders eastward and involved themselves in the Ukraine, particularly Mr Kerry. Russia felt itself threatened not by demands of democracy a device used by the worlds superpower, but the growing influence of the United States in the region. The fact that the USA exploited ethnic tensions only shows what was their intention in the region."
petergardener:
"If the objective is to make Mr Putin appear isolated on the world stage in order to make him less popular at home, it isn't working and also shows a profound misunderstanding of the Russian mind-set. '
Our Western political leaders also have a profound misunderstanding of strategy. Just about everything they do in relation to Russia is wrong and gains the West nothing. But they do like willy waving. Just a pity they do so much damage while they are at it."
RedBaron9495: "With the public, the effect is rebounding and probably starting to gain Putin more support and worldwide sympathy. This British news forum is good example of that. They made the mistake of going into overkill…..and the public are wising up to the propaganda. They seen this all before prior to Iraq 2003 invasion…and again with Gaddafi."
Circle of DNA :
"Well, the lives of average folks in Russia has been drastically improved since Putin took the reins of power. He defends Russian interests, fights the empire of chaos, and is massively supported by his people. He is also well educated and a first class statesmen. What is there not to like about him?"
Alltaxationistheft: "The Russian people appreciate how lucky they've been for Vladimir Putin to be around at the right time to resist the Neocon supremacist Wolfowitz doctrine…
Since the 1990s , the war mongering maniacs in the West have been planning to asset strip, and plunder Russia via "liberal democracy", claiming its natural resources while funding serial inter-ethnic tribal wars via US allies Qatar and Saudi Arabia…
In the 1990s, Russian people were driven into starvation ,prostitution and suicide under pro American "Liberal" US corporate puppet Yeltsin… but Putin kicked the CIA EU Mossad lunatics out and has been re-building a Russia into a world power ever since."
anonymous:
"The classless western free (loading) world that produces very little except paper currency, lies and bullshit. I am surprised Mr. Putin came and surrounded himself with such low life scum.
When all the western oligarchs hate someone as much as they hate President Putin, you know he has to be doing something right."
There's no need to be selective. Curious readers should go to any editorial platform that covers the crisis in Ukraine and judge for themselves if what I'm saying is true or not. The comments above are in no way extraordinary. What they do show, however, is that the media is losing the propaganda war in pretty stunning fashion, and that's a huge victory for ordinary people. It's very difficult for elites to prosecute their criminal wars or implement their rip-off economic policies when people can clearly see what they're up to.
Now check out this article in the German paper Zeit Online where the author bemoans the media's loss of influence. The article is titled "How Putin Divides":
"Why do so many German citizens judge the crisis in Crimea in a completely different way than politicians and the media?
In my 30 years of experience with debates, I have never seen anything like what is now happening in Germany in the dispute over Russia and Crimea….
Unless surveys are misleading, two-thirds of German citizens, voters and readers stand opposed to four-fifths of the political class – in other words, to the government, to the overwhelming majority of members of parliament and to most newspapers and broadcasters. But what does "stand" mean? Many are downright up in arms. And from what one can gauge from letters to the editor, the share of critics seems significantly higher now than what was triggered by Sarrazin's inflammatory book back then." (Zeit Online)
Did you catch that part about the "two-thirds of German citizens.. stand opposed to four-fifths of the political class…and to most newspapers and broadcasters"?
That's a triumph in itself, isn't it? And what is the issue they disagree about?
They disagree "about the conflict between an aggressive autocrat (Bad Vlad) and Western democracies."(the Washington-led troublemakers)
Here's more from the same article:
"…the legitimacy of international law is being questioned in an offensive manner, while the legitimacy of Putin's nationalist-imperialist ideology is being seriously considered….. It doesn't do any good to accuse the majority of sheepishness or base economic selfishness, even if that seems to be the driving motive of some business leaders… The issue goes deeper, much deeper." (How Putin Divides, Von Bernd Ulrich, Zeit Online)
"The legitimacy of international law is being questioned"?!?
Have you ever read such crybaby gibberish in your life?
Why is "the legitimacy of international law is being questioned"? Because people don't accept blindly what they read the papers and hear on the news anymore? Because corporate editors no longer control how people think about issues? Because people are using their critical thinking skills to see through the lies and bullshit that idiots like the author ladle out in heaping doses every day? Is that why?
It seems to me that that's a positive development, that people should question whatever they read in the papers and look for other sources of information before they form an opinion.
The bottom line is that no one believes the goofy propaganda the western media is trying to ram down the everyone's throat anymore.
As kyle555 at Zero Hedge says: "India, China, Brazil and a host of other countries, representing more than half the world's population, aren't buying the western imperialist narrative on Ukraine. Nor are major segments of the domestic populations of the countries that are warmongering against Russia."
Nor do they believe that US wars are a force for good in the world. Here's strannick at Zero Hedge:
"Russia has seen firsthand the American dream for other nations, as American backed Oligarchs pillaged Russia while it's people starved and were impoverished. Putin loves his country, and won't sit on his thumbs while America attempts to encircle it through proxies while rationalizing its actions through corrupt MSMedia propaganda."
Nor are they buying the "Putin is Hitler" crappola.
This is from smacker:
"People see in Putin a proud national leader who has the guts to stand up to our own criminals and who has over 80% support from his own population. That is enough to admire the guy, whatever else he might be."
This is from Gaius frakkin':
"A lot of the hatred from the political puppets in the West is due to Putin's popularity. They're jealous sociopaths who yearn to be respected and admired as much as him. The fact that Putin's popularity is never mentioned is the key tell."
And this from Joe Tierney:
"Vladdy-Poot is hammering home the point that the euros need to stop being America's bitches, think for themselves, consider the terrible "costs" accruing to them for "wearing the blue dress" for America.
…America's "global chaos ploy" is failing. Its cynical, "throw everyone under the bus" strategy just to cut across the rise of Russia-China is exposed for what it is – America cares nothing about the euros or anyone else. All it cares about is its own global dominance in perpetuity, no matter the "costs" to the rest of the world, including its friends and allies.
Putin has balls the size of the moon, and you can damn well bet that right now Russia and Putin are secretly being cheered on a grand scale around the globe."
There's a reason why, according to Gallup, Trust in Media (is at an) All-Time Low. It's because the corporate media is the most perfidious, double-dealing, hypocritical institution in the country today. That's why the anti-Putin propaganda has fallen on deaf ears. It's because most people know you can't believe anything you read in the news.
Remember the days when an entrepreneur would perfect their whiz kid ideas in a garage and bring them to market? Did Steve Wozniak ever envision the behemoth that Apple would become and the cult camp that worships every new product that flows from their robotic coolie assembly lines? Riots Over Rotten Apple Mania describes an example of the forbidding underbelly of corporatist business model that Apple exemplifies so dramatically. Notwithstanding this record of 21th century sweat factories, do the venture vulture capitalists of Silicon Valley interject added value in the products and services they fund or do this culture of touting IPO offerings simply game a system to print money based upon imaginary dreams?
The Economic Policy Journal article, Silicon Valley Investor Joins The Corporatism March, cites Ron Conway, a Silicon Valley angel investor, who has backed many of the tech companies that we know and love."
"Conway wrote a piece for Techcrunch where he's calling for the other Fascism. Remember the Fascist Mussolini from Italy. It was he who said, "Fascism should more appropriately be called Corporatism because it is a merger of state and corporate power."
"Gone are the days when the tech community can innovate and run their businesses in spite of government. As we saw with the SOPA/PIPA debate, public policy has a direct and significant impact on startups and the investors who support them.
Whether it is regulations that stifle innovation or tax policies that hinder job creation, government has a major role in the success or failure of a startup. It is critically important for the tech community to engage in public policy."
Silicon Valley companies are not limited to IT development, just as much as investment funding is not wholly occupied from Wall Street firms. The principle is the same wherever the money comes from, as the Rise of the "venture corporatists" explores in an account about John Doerr of Kleiner Perkins Caufield & Byers.
"None of the alternative energy sources being developed today – solar, wind, geothermal, or biomass–is close to financial sustainability, which means that the supersize returns V.C. funds depend on will require massive government subsidies, regulations, and mandates… So Doerr has launched an audacious campaign to invest millions in handpicked political candidates and influential political action committees, to push for subsidies and pro-greentech policies and require the government to purchase the kinds of fuels and technologies his startups will be marketing. Since 2000, Doerr and his wife, Ann, have contributed more than $31 million to political candidates and causes.
In essence, Doerr is helping to create the biggest new market the world has seen since the dawn of the oil industry–and asking for taxpayer dollars to do it."
"Green" alternative energy has more to do with replicating money than producing sustainable energy. Instead of writing code for computer-generated speech, the paradigm at play buys the ambassadors of government policy, circuitously as part of the business plan.
Lachlan Markay sums up the paradox for investors and the public in The Venture Corporatists. "As long as green technology remains not simply an economic venture but a moral one, taxpayers will continue to nobly lose money as politically connected "social entrepreneurs" reap a windfall."
Here lies the rub. What exactly is the moral imperative? The lament of Alex Shud Bayley in No, I still don't want to work for Google makes a universal point.
"Since I've been out of the Silicon-Valley-centred tech industry, I've become increasingly convinced that it's morally bankrupt and essentially toxic to our society. Companies like Google and Facebook — in common with most public companies — have interests that are frequently in conflict with the wellbeing of — I was going to say their customers or their users, but I'll say "people" in general, since it's wider than that. People who use their systems directly, people who don't — we're all affected by it, and although some of the outcomes are positive a disturbingly high number of them are negative: the erosion of privacy, of consumer rights, of the public domain and fair use, of meaningful connections between people and a sense of true community, of beauty and care taken in craftsmanship, of our very physical wellbeing. No amount of employee benefits or underfunded Google.org projects can counteract that."
The notion that Silicon Valley business enterprises automatically advance civilization and improve the human condition is one of the most disturbing viewpoints that have infected the smart phone sect. Placing the blame solely on tech executives avoids the reprehensible relationship that Ron Conway is so eager to exploit.
The article, Why DC And Silicon Valley Don't Mix Well seems to agree.
"The thing that DC should be most focused on is "fixes to previous government efforts that tried but failed to fix a problem that turned out not to need a regulatory solution." Other industries seem to want handouts and investments and the like, but you don't see that much in Silicon Valley."
REALLY ???
However, some executives excel in screwing up a once reliable service.  Silicon Valley corporatist companies often fail. The next likely candidate for a downfall is Yahoo.  Marissa Mayer's tenure as CEO may be numbered according to Eric Jackson, founder and managing partner of hedge fund Ironfire Capital.
"Jackson says that since Mayer took over she has spent $2 billion buying companies and that most of those acquisitions have been for naught.
"Can you name any other acquisition Yahoo has made besides Tumblr? If not, what does that say about them?" Jackson writes at Forbes. "If these small acquisitions were mostly talent-driven as characterized by management, why was it necessary to spend, say, $30 million to hire 3 people from a dying company? Was this really the best use of shareholder capital? Yahoo should not [be] responsible for bailing out VCs from their failed investments. This isn't TARP."
Deplorably, many tech corporatists are mismanaged like Yahoo. Divesting a significant portion of Yahoo's stake at the Alibaba IPO, raises a much needed current valuation, but what does this transaction do to improve the service? The Corporatists only care about tapping the rigged markets for immediate gain.
In the bizarro world which is the Middle East these days, nothing is more bizarre than the repeated bombing of Libya by parties unknown. There were off-and-on aerial attacks in the eastern part of the country – Benghazi, Derna, Ajdabiyah – last spring which were believed to have been carried out by one of the contending parties in the civil war raging in Libya, but lately there have been a number of attacks in the west, around Tripoli, which no one has taken the credit – or blame – for.
The attacks in the east are attributed to remnants of the Libyan air force under the command of a dissident general from the Qaddafi era, Khalifa Haftar. Haftar spent the last couple of decades prior to NATO's aggression against Libya ensconced in McLean, Virginia, where he would take his kids trick-or-treating down the street at his neighbor's place: CIA Headquarters (got some treats for himself there as well no doubt). He now leads one of the umpteen militias competing for power in Libya. He calls his campaign "Operation Dignity" and has won the support of the more secular, Western-oriented players in Libyan politics.       
The Operation Dignity supporters are embodied in a House of Representatives elected last June. It presently rules the country from Tobruk, a town east of Benghazi almost on the border with Egypt (yes, WW II buffs, that Tobruk),. Funny place for what bills itself as the government of the nation and is recognized as such by those countries which believe Libya has a government to reside; but they had no choice, having been driven out of the real capital, Tripoli, by an amalgam of Islamist militias calling themselves "Operation Libyan Dawn". The Dawnists enjoy the support of the Grand Mufti of Libya and have succeeded in securing control of Tripoli and most of Benghazi.
(Funny sidelight: Tobruk, being a fairly small place, doesn't have sufficient accommodations for all the HoR legislators and bureaucrats, so they leased a Greek car ferry, the Elyros, to live on. Now the ship's owner wants his ship back and has demanded that they leave. As of this date, they have refused to disembark.)
No one believes Haftar's forces have the capability to have carried out the bombings in the west of the country. The first, on August 17th and 18th, occurred in Tripoli. This was followed by an attack on an ammo dump in the town of Ghariyan on September 15th. Then, just today (9/24), Tripoli was bombed again. All the air attacks have been against positions held by Islamist forces.
No one has claimed responsibility for these attacks. We attributed the August bombings to the United Arab Emirates acting in collaboration with Egypt, but those two countries denied it was them and we rescinded our attribution. The head of the government in domestic exile, Prime Minister Abdullah al-Thinni, does not hold the UAE or Egypt responsible. Nor does Libya's UN ambassador. So who's bombing Libya? 
Interestingly, the most recent attack came two days after 15 countries released a communique at the United Nations calling for non-interference in Libya. The countries are Algeria, Egypt, France, Germany, Italy, Qatar, Saudi Arabia, Spain, Tunisia, Turkey, the UAE, UK, US. If we take these signatories at their word (which I am not suggesting is appropriate as they have been the prime meddlers in Libyan affairs), who does that leave who could be conducting the raids?
Everyone's, well, almost everyone's, favorite bete noire in the area comes to mind: Israel. In fact, the Israelis pretty much win by default. Some might like to blame that other Middle Eastern bete noire,Iran, but that hardly seems likely or feasible. Why would they intervene in support of Our Man from Langley and how could they, lacking appropriate bases on land or sea. Russia? China? Burkina Fasso? No one other than the Israelis makes much sense. Now if you assume someone had their fingers crossed when they signed that communique, then a whole host of suspects arises, in fact the entire list!
If we ever do find out who is bombing Libya, it might shed some light on developments elsewhere in the turbulently jumbled Middle East. On the other hand, it might prove to be an inconsequential sideshow, a mere addendum to Libya's existing entry in world trivia: the country in which the first aerial bombardment took place (by the Italians in 1911). Who bombed Libya in 2014? If you know the answer, you must be clairvoyant!
The belief that calling for and instituting sanctions against Russia is a sound policy, illustrates the economic disconnect of the Obama administration. With the fervor for starting a new cold war, the propaganda machine is working overtime to paint a picture that ignores real economic synergism. Note the conflicting reports regarding the EU. Nine EU countries ready to block economic sanctions against Russia, quotes a diplomatic source to ITAR-TASS:
"France, Germany, Luxembourg, Austria, Bulgaria, Greece, Cyprus, Slovenia, and EU President Italy see no reason in the current environment for the introduction of sectorial trade and economic sanctions against Russia and at the summit, will block the measure."

"According to the source, the US sees slapping Russia with sanctions as a way to promote its own trade agenda with Europe, a side rarely explored in mainstream media. The Transatlantic Trade and Investment Partnership (TTIP) between the US and Europe would create the world's largest free trade zone, but some worry it could balloon into an "economic NATO" or could end up putting corporation interest above national."
An article, EU and the USA have adopted new sanctions against Russia reports that the European Council has agreed to extend the restrictive measures for the entities in the Russian Federation. Romanian president Traian Basescu believes the EU needs to adopt tougher sanctions against Russia.
"My point of view was that unless the European Union takes tougher actions and moves on to the third stage of these sanctions, Ukraine might no longer be ready to move towards the European Union and would end up in a situation like that in the Republic of Moldova, currently facing the breakaway tendencies of the region of Transdniester, only with a greater impact for the EU, because Ukraine is a bigger country."
This contradiction between individual national economic interests and the quest for a technocrat administered system of trade that fosters and facilitates an internationalist foreign policy under NATO and EU rule, is the actual objective of Washington and Brussels interventionism. This arrogance and self-delusion treats economic commerce as conducted in a vacuum. As The Hill article cites Putin. "Sanctions are "driving into a corner" relations between the two countries and will damage the interests of U.S. companies and "the long-term national interests of the U.S. government and people."
Russian warns that the US campaign will have consequences as the Alliance News writes, that Moscow Blasts US Sanctions As "Primitive," Promises Retaliation.
"Sergei Ryabkov, a deputy Foreign Minister, told the Interfax news agency that Moscow will hit back with measures that "will be felt in Washington painfully and sharply."

The Russian Foreign Ministry said US measures against a number of state corporations are "a primitive attempt at revenge because events in Ukraine are not developing according to Washington's scenario," and added that it reserves the right to retaliate."
The preposterous strategy that international finance can force a country like Russia, with the world's largest energy resources, into a capitulation dependent status is absurd. The minimal effect according to Russia's Finance Ministry, Says Harsher Sanctions Would Cost Russia 0.3% of GDP, does not sound like much of a threat. Then consider the counter response of Russian Sanctions Retaliation Escalates: Dumps Intel/AMD And Now Foreign Cars.
The cavalier and condescending manner by which the Western central banks assist the New World Order's goal of global dominance has fortified opposition with the emergence of theBRICS Development Bank. Use your common sense, when Putin Wants Measures to Protect BRICS Nations From U.S. Sanctions, much of the rest of the world is listening.
"In an interview published as a two-day BRICS summit got under way in Brazil on Tuesday, Putin said he would urge Brazil, China, India and South Africa to draw "substantive conclusions" from sanctions imposed on Russia over its actions in the Ukraine crisis, and said it was time to dilute the dominance of the U.S.-led West and the U.S. dollar by boosting the role of the BRICS on the global stage."
The American press and media, especially is fueling the fires to demonize Putin's Russia as a resurrected Stalinist Soviet belligerent. Absent in this narrative is an honest chronicle of NATO's expansion to encircle the Russian Federation. At what point will Western journalists and academic scholars admit that the convergence of EU authoritarianism and American hegemony propagates an internationalist foreign policy, designed to isolate and destroy any opposition to this New World Order.
The lesson of these failed attempts for economic bullying a country, with real weapons of mass destruction, has the potential of starting a hot war. The essay, IMF and EU Capture of Ukraine, explains the circumstances and false justification of initiating "regime change". This Ukraine flashpoint may well commence a tangible economic union among countries, who recognize that American sanctions are nothing more than a desperate attempt to prop up a decaying globalist economic structure.
EU antagonism towards the citizens of their member countries is growing expediently. Within this context, US sanctions hurt Europe more than America.
"The Association of European Businesses (AEB), a Moscow-based business lobby, said that new US sanctions against Russia have a more severe effect on European than on American business.

The AEB says it "regrets" the US sanctions, and warns that they will stunt economic growth "not only in Russia".

"These sanctions are more focused on the partners of European businesses than on the partners of American companies," the group said in a statement on Thursday."
Obama's State Department bears a heavy responsibility for promoting a civil war in Ukraine. Using sanctions to push Russia into accelerating a BRICS economic block will have far more adverse effects than can be envisioned by the lunatic proponents of "selective" Free Trade. The moneychanger's financial system is imploding and their rescue plan requires a massive global crisis to bail out their "To Big to Fail" model. Mutually productive commerce will be among the first causalities of the prelude to World War III. Soon clamors for sanctions against American companies will begin, as the blame game diverts the real cause of this fabricated debacle.
First used in the Fifteen Century the word "Levant" has evolved over the centuries. It was originally used to refer to land east of Italy but today it has several different definitions but often refers to the countries of Cyprus, Israel, Jordan, Lebanon, Syria, Palestine, and part of southern Turkey. It has been used as a surname, and as a reference to particular countries. Its popularity has been enhanced by the immense publicity given to the tiny state of Israel which in spite of its diminutive size dominates the region and has tentacles throughout the world. See a map of the ancient Levant here.
Islamic jihadist forces have now conquered vast parts of Iraq and are calling the territory ISIS (Islamic State of Iraq and the Levant). It appears to be a victory for the forces the United States was attempting to destroy but consolidating power could be a victory cloaked in defeat. Consolidation decreases the blocks that must controlled and makes total control easier, it could be a victory for world government. Centralized power creates tyranny; dispersed power contributes to freedom.
From antiquity war and murder have been major problems for humanity. In a jealous rage Cain murdered his brother Abel. War has been the plight of mankind throughout history.
Though the intent was lasting peace, war was the vehicle that allowed God's Chosen People to conquer the Promised Land. Disobedience caused wars to continue and finally wrested the land from its conquerors scattering those who refused the mercy of the New Covenant. The Temple was destroyed and the Jews of the First Covenant were scattered – by war.
The battle between obedience and disobedience (righteousness and sin) is an everlasting battle that will continue until Jesus comes again.
Sound theology is scarce in America. Arminianism and antinomianism have created a useless pietism that has resulted in the rise of a totalitarian government making the United States an enemy to the world and to its own people. Instead of confronted evil with personal rebukes we have evaded our responsibility transferring it to an increasingly totalitarian government.
Man was not created to govern himself. The anarchy of human opinion always ends in evil humanistic tyranny. We were created to obey God's Law and when obedience is common conflict is minimized.
The emotional resistance to governmental tyranny that is evident throughout the world is worthless against the obdurate pressure from greedy power centers that consistently win the battle for hegemony. Democracy; government of the people, by the people, and for the people, has not and will not result in lasting freedom for the proletariat.
Manipulation by a controlled press and media keeps the people stuck in a dead end two party system. We have been successfully duped into centering our hope in politics (democracy, republic, monarchy, autocracy, autarky, etc.) believing that we can elect a leader who will bring us righteous government. This, of course, never happens because the leaders are pre-selected to obey the powerful hidden cabal.
Comic Stephen Colbert has coined a new word," truthiness – truth that comes from the gut, and not from books". A Washington Post article by cognitive psychologist Eryn Newman reports on the various ways people can "believe things are true when they are not". Color and contrast affect our beliefs. Photographs bolster our certainties. Newman writes that "people are often unaware of their biases and how biased information influences their judgments". The article infers that we should seek truth from books and not from the gut. While correct that the gut is often wrong, books are equally erroneous – truth is a product of God's Word.
In my early Christian walk I was certain that the "Baptism of the Holy Spirit" was the ultimate goal of Christianity. I was adamant against any question concerning its manifestations. In spite of Charismania's serious heresies, I defended it enthusiastically. .
Human beings are often wrong while adamant about being right. It is a fault common to the brilliant and the mundane; both need the immutable righteousness of God's Law to exist in equanimity. We were not created to govern ourselves and when leaders bring error to bear on an entire population the results are disastrous.
Though I am an opponent of Christian Libertarianism, Christianity does have a common interest; both seek maximum freedom and minimum government. The Christian model is dependent on a population that is obedient to God's perfect legal system while the Libertarian model is utopian and humanistic, equally as dangerous as any of the other human systems.
We have a serious problem with any attempt to rectify our current plunge into chaos. Most of our population, Christians included, act as if human beings control the world. The world was created by the God of the Bible and He controls it. What is happening in the United States is a result of the behavior of its citizens and what is required to stop it is a change in behavior.
"Scripture is very clear that the oppression of man follows apostasy from God. It is impossible to read scripture and come to any other conclusion: certainly, Leviticus 26 and Deuteronomy 28 are emphatic on this point. The Lord therefore regards it as further evidence of apostasy if we resist evil for personal reasons while continuing in apostasy. The root to eliminating the wicked ones who rule over us begins with ordering our lives, churches, families, communities, and civil governments in terms of God's word. When the people are apostate or disobedient they will suffer as God declared through Samuel. Oppression will come upon them. They will cry out against their oppressors, and they will pray to God, but 'the Lord will not hear you in that day' (1Sam. 8:10-18). They were crying out against their oppressors, not against their sins and themselves. They were manifesting both sin and blindness." R. J. Rushdoony, "The Sermon on the Mount", Pg. 64
Neo-Israel and the Zionists are in the process of gaining control over the Levant. The United States of America is their weapon of choice. It is American soldiers that die supporting the neo-con agenda but it is Israel and the Zionist quest for power that benefits. As Iraq erupts in war and ISIS takes control rumor has it that the CIA controls ISIS. If ISIS can be controlled Iraq will be conquered.
As neo-Israel again bombards and invades Gaza, M. J. Rosenberg writes, "In short, America is a pathetic helpless giant in the Israeli-Palestinian arena. The donors have shut us down. They own our policy." We are a conquered nation and the church of Jesus Christ and the people that claim the Name of Christ are substantially responsible.
After two mystical encounters with the evil spirit Zarathustra, the dark prophet Nietzsche announced the "death of the Christian God." Dubbing himself the Antichrist, Nietzsche proclaimed:
"The greatest recent event — that 'God is dead,' that the belief in the Christian God has ceased to be believable — is even now beginning to cast its first shadows over Europe; however, few really understood " what has really happened here, "and what must collapse now that this belief has been undermined — all that was built upon it, leaned on it, grew into it; for example, our whole European morality." (False Dawn, Lee Penn, p. 433)
From the beginning of Christ's earthly ministry, there were those who received Him but many more, like Nietzsche, who would not, and so it will be until the end.   The former are those who admit and humbly confess their sinful condition while the latter, being full of stubborn pride, covetousness, and envy will not.
Not even the mighty miracle of creation ex nihilo as described in John's Gospel and Christ's own bodily resurrection (Luke 16:31) can persuade those who choose not to believe.
This willful unbelief in Christ had been prophesied long before.  In support of this John cites Isaiah 53:1-3,
"He was despised and rejected by mankind, a man of suffering, and familiar with pain. Like one from whom people hide their faces he was despised, and we held him in low esteem."
In order to be received, one must be acceptable.  Christ is rejected by proud, rebellious, sinless men along with His offer of salvation because He is not acceptable to them.  Thus their final word to Him is the cross.
At the root of the rejection of Jesus Christ God incarnate is the rebellious assertion that man has not been created by Him.  He is a free spirit neither dependent upon Him for his life nor created in His spiritual image but rather a conscious product of evolution.  He is a man-god who can choose either to murder God or to invent sock-puppet deities to do his bidding, for he is the master of science, evolution, matter, energy, time, and being who through his own knowledge and powers will save himself, or so he foolishly believes.  In reality, an inner blinding prevents him from 'seeing' that his liberty does not lead to greater freedom but to slavery because willful rejection of his Creator means he becomes Satan's infernal tool.
"I am become a monstrous machine of annihilation…"  Ritual of Destruction, the Satanic Bible, Anton LeVey
The ritual 'murder' of the Christian God led to the collapse of far more than just European morality.  Consider the following:
In Christian thought, a person is a spirit and personality is the total individuality of the spirit. Without spirit there is no person.  The term 'person' originated in Christian theologies developmental struggle to comprehend the nature and experience of the Christian God, the transcendent, personal Triune God:
"The derivative concept of human personhood is a gift of the Christian faith to culture…" (Stephen P. Stratton, Chapter 14, p. 247, The Self, Paul Vitz & Susan M. Felch, Editors)
Whether the Founders were individually Christian or not, there was among them a strong Christian consensus that finds some of its greatest spiritual and moral expression in the scholarly works of Samuel Rutherford in "Lex Rex" (1644) and in the writings of the 18th century jurist William Blackstone.
Rutherford reasoned that since all people are sinners, then no sinner—whether President, Att. General, Senator, 'gay,' pastor, cop, jurist, perverse sex-educator, abortionist, evolutionary biologist, or Supreme Court Justice for example—is superior to any other sinner. No sinner is above the law but rather subject to the law without exception.  All must recognize that they are sinners under the unchanging transcendent Law of God.
Blackstone greatly influenced early American understanding of the Christian God, the Bible, Law and nature. He taught that since the eternally unchanging Triune God is the omnipotent Creator who works and governs the affairs of men then all law should be consistent with His Revelation in the Bible. No law should be passed that is contrary to the higher law of God.
Furthermore, as all men are created spiritual equals in the eyes of God, then life, property, worth, dignity and other unalienable rights are conferred upon each human person at conception.   For example, the unalienable right to life is because all people are God's spiritual image bearers while freedom of religion and speech are the temporal property of a person's God-given spiritual property of conscience and reason.
In "Property," published in The National Gazette on March 29, 1792, James Madison outlines the meaning of a person's God-given spiritual property, some of its' temporal rights and the meaning and intent of just government as opposed to unjust government:
"He has a property….in his religious opinions, and in the profession and practice dictated by them."  "He has a property…in his opinions and the free communication of them."  "He has an equal property in the free use of his faculties and free choice of the objects on which to employ them." "He has property very dear to him in the safety and liberty of his person."  (The Heritage Foundation)
Property is,
"….a man's land, or merchandize, or money (and) as a man is said to have a right to his property, he may be equally said to have a property in his rights. Where an excess of power prevails, property of no sort is duly respected. No man is safe in his opinions, his person, his faculties or his possessions." 
Just government is instituted to protect property of every sort:
"This being the end of government, that alone is a just government, which impartially secures to every man, whatever is his own." (Samuel Rutherford, lexrex.com)
The Constitution therefore, recognizes the divine nature of man's creation, that man is a person endowed by his personal Creator with spiritual property, a divine right to life and liberty, and the means of acquiring and possessing property. Hence our Republic recognizes Law is unchangeable because the Creator (John 1:1) is the unchanging Lawgiver Who is the same today as yesterday and for all eternity:
"It is sufficiently obvious, that persons and property are the two great subjects on which Governments are to act; and that the rights of persons, and the rights of property, are the objects, for the protection of which Government was instituted. These rights cannot well be separated." (James Madison, Speech at the Virginia Convention, December 2, 1829)
Vishal Mangalwadi, India's foremost Christian scholar affirms that the Christian gift of personhood gave birth to the "belief in the unique dignity of human beings," and this is,
"…the force that created Western civilization, where citizens do not exist for the state but the state exists for the individuals. Even kings, presidents, prime ministers, and army generals cannot be allowed to trample upon an individual and his or her rights." (Truth and Transformation: A Manifesto for Ailing Nations, pp. 12-13)
 Death of the Christian God: Catastrophic Consequences
"And this is the condemnation, that light is come into the world, and men loved darkness rather than light, because their deeds were evil." John 3:19
Once the citadel of the Light that came into the world, modern Western Europe and America are roiling seas of darkness punctuated here and there by shrinking islands of light because evil-minded men love darkness rather than Light. Thus the perversely twisted, upside-down, lawless atmosphere of our age is the "death of the Christian God" made tangible.
When people fall away from the knowledge of God and transgress against His commandments, these actions effectively turn them back to their natural state. This means that in forsaking God, the fount of living waters, they have become cracked cisterns that hold no water. (Jer. 2:13) In other words, the death of the Christian God logically means the death of spirit (person), hence also spiritual and temporal property, and by extension the collapse of Western civilization and America's Constitutional Republic— "if the foundations be destroyed, what can the righteous do?"  Psalm 11:3
The methodology of the 'murder' of Christ the Creator (John 1:1) requires that the miracle of six day creation (Genesis account) together with Adam and Eve and their fall be de-historicized and reduced to myth and fable (annihilated), a project already underway by the time of Descartes and fulfilled with infernal 'higher criticism.'
In her book "Total Truth," Nancy Pearcy, a senior fellow at the Discovery Institute, writes that one of the great ironies of history is that the enduring impact of Descartes philosophy has been precisely the opposite of what he had intended. Descartes had intended the defense of the human soul/spirit over and against the dehumanizing mechanistic and materialistic conception of the universe. Instead, soul/spirit was reduced to a shadowy substance totally irrelevant to the material realm known by natural science. The immortal soul/spirit became a kind of ghost only tenuously connected to the physical body.
After the success of Newtonian physics natural science began to take on the trappings of religion. Epistemologically, science began to be viewed as the way to true understanding, and by extension, true progress. Nature itself took on the guise of an impersonal, mystical entity described as a cosmic machine governed by deterministic energies working through natural laws as strictly as the gears of a clock. Though soul/ spirit are crucial for reason, conscience, morality, belief, faith, prayer, theorizing, science, math and religion, there was no room for them in the cosmic machine.
The mechanistic conception gave rise to evil 'isms'–rationalism, positivism, skepticism, relativism, and scientific materialism (atheism), which granted the sovereign reason of sinful man and naturalistic science an epistemological monopoly on so-called "real" knowledge, facts and truth while trivializing everything else to faith, personal belief and social constructs.  The devilish consequences of this have been horrendous, for whereas the creation of universal moral law was traditionally the function of the Triune God, now this function is arrogated to the individual human will, making the "reason" of sinners into God and science into a dictatorship of the knowable.
"…men loved darkness rather than light, because their deeds were evil." John 3:19
With "reason" sitting on the throne of the Christian God, heaven was shut-down and the physical world of the senses elevated to the supreme reality. The six day Genesis account was de-historicized and replaced with imaginative evolutionary cosmologies claiming vast ages of time.  As supernatural Christian theism declined, immutable truth, moral law and sin disappeared under the onslaught of evil "isms" and apostate Protestant Liberalism (pantheism) in tandem with reductionist evolutionary biology, which became the most prestigious way to study the depersonalized human organism. With knowledge limited to the sensory realm, Jesus Christ the Word Incarnate was "murdered," meaning reduced by evil men to an immanent mystical evolutionary force (Christ consciousness) while man's soul/spirit was lost in an endless cycle of reductionism and determinism. Man, the person created in the spiritual likeness of the One God in three Persons would be lost.  In his place would stand the subhuman hominid, a conscious product of evolution, the god of forces.
Today, the 'god' evolution has so thoroughly replaced the living Word (John 1:1) and Special Creation in the consciousness of vast numbers of scientifically endarkened men and women within and without the whole body of the Christian Church that one of the leading evolution-worshippers of our day, Professor S.J. Gould, describes scientism and evolution as the story of mankind that tells us,
"….where we came from, how we got here, and perhaps where we are going. Quite simply, it is science's version of Roots, except it is the story of us all."   (The Religious Nature of Evolution Theory and its Attack on Christianity, John G. Leslie and Charles K. Pallaghy, Ph.D, creation.com)
In glowing affirmation, Theodosius Dobzhansky (1900-1975) , a prominent evolutionary biologist and progressive creationist sees the 'god' evolution as a light that illuminates all facts, a trajectory which all lines of thought must follow, for if man,
"…has arrived at his present state as a result of natural processes rather than a supernatural will, he can learn to control these processes…The concept of evolution, which is now basic to the life sciences, has provided new and in some ways revolutionary answers to questions men have been asking for centuries. The two most important of these are, 'Why am I here, what is the purpose of human existence, and what is the nature of the world of life that surrounds us?"   (Dobzhansky, T., Ayala, F.J., Stebbins, G.L. and Valentine, J.W., Evolution, W.H. Freeman and Co., San Francisco, 1977)
Triumph of Scientism and the 'god' Evolution
At its founding and for about 150 years after America was the world's beacon of freedom and hope because it was founded on the true Light of unchanging truths such as,
"all men are created equal, that they are endowed by their Creator with certain unalienable Rights, that among these are Life, Liberty and the pursuit of Happiness.–That to secure these rights, Governments are instituted among Men, deriving their just powers from the consent of the governed. . ."
Now however, an endarkened generation of law makers, politicians, entertainers, professors, seminarians and high school graduates no longer believe that anyone knows 'the' truth or even if whether males are meant to be males or females too. For them, anyone who claims to know the truth is a bigoted fundamentalist because they know there was never a fall from God's good creation but rather an evolutionary ascent moving from primordial matter to creeping things, crawling things, knuckle-dragging things to man. They know with certainty that human beings were never created but evolved. And as the 'god' evolution endows nothing—not soul/spirit, personhood, unalienable rights and the freedom to exercise them—then our Constitution is as meaningless as Xmas and Special Creation.
The real source of this evil and madness is a godless left-right confederacy of nihilists described by Professor Angelo Codevilla as America's Ruling Class.  In "The Ruling Class: How They Corrupted America and What We Can Do About It,"  Codevilla, emeritus professor of international relations at Boston University, argues that America's real war is between Americans who still worship the supernatural Triune God and a class of evolutionary humanists who dominate both political parties, academe, Hollywood, science and media.  They preach from pulpits, run big business, our economy and the country's major institutions and imagine themselves entitled to reshape an America that they regard as composed of un-evolved subhuman hominids.
The Ruling Class affirm that scientism and evolution trump the Revelation of God, and as they are the evolved products of the 'god' evolution they are science's authoritative enlightened priests and god-men who pray to themselves,
"… as saviors of the planet and as shapers of mankind in their own image.." (The Ruling Class: How They Corrupted America and What We Can Do About It, p. xix)
After more than eighty years of nearly unopposed evolutionary evangelization in the schools, media, seminaries, academia and elsewhere the Ruling Class is finally at liberty to declare that evolution is "mind,"
"….enlarging its domain up the chain of species."  The god evolution is the "universe…a mind that oversees, orchestrates, and gives order and structure to all things."   (Algeny, Jeremy Rifkin, 1983, p. 188)
Now that scientism and evolution reign supreme, Satan's infernal machines, such as the demonized Rifkin,  no longer feel like guests,
"….. in someone else's home and therefore obliged to make our behavior conform with a set of pre-existing cosmic rules. It is our creation now. We make the rules. We establish the parameters of reality. We create the world, and because we do, we no longer feel beholden to outside forces. We no longer have to justify our behavior, for we are now the architects of the universe. We are responsible to nothing outside ourselves for we are the kingdom, the power, and the glory forever and ever." (ibid)
According to Robert Muller, the father of World Core Curriculum, now that evolution is "mind" highly evolved men are free to spiritually evolve into higher and higher forms, to become one with the 'divine:'
"Once again, but this time on a universal scale, humankind is seeking no less than its reunion with the 'divine,' its transcendence into ever higher forms of life.  Hindus call our earth Brahma, or God, for they rightly see no difference between our earth and the divine.  This ancient simple truth is slowly dawning again upon humanity.  Its full flowering will be the real, great new story of humanity as we are about to enter our cosmic age…" (New Genesis: Shaping a Global Spirituality, Robert Muller, father of Core Curriculum, 1984, p. 84)
"…..the whole world lies under the sway of the wicked one."  1 John 5:19    "Therefore take heed that the light which is in you is not darkness."  Luke 11:35
From the post-flood world of ancient Babylon to our own, the majority of the world's people have lived under the tyranny of powers, principalities and various determinisms—karma, reincarnation, evolution, fates, furies, chance, cause, doom, natural selection, and genes. They believed that all events in the real world were predestined and controlled by unseen forces of the cosmos that the apostle Paul described as the elemental spirits of the universe.
When Jesus Christ God incarnate demonstrated His absolute control over the elements (Luke 8:24) the tyranny of determinism was cast down and utterly broken.  In the fourth century Gregory of Nazianzen suggested that at the very moment when the Magi came to worship the child of Mary and Joseph, it was then that the tyranny of determinism was broken:
"From that moment onward, the cosmos has orbited around the newborn king…Christ is the logos—the word and the reason by whom all exists and to whom all is ordered." (American Babylon, Neuhaus, p. 226)
Determinism crept into the West when evil spirits entered into the heart of Christendom during the Renaissance.   They came quietly, first to certain theologians who rejected Jesus Christ in favor of Hermetic magic, Babylonian Kabala, Eastern mysticism, reincarnation, evolution, karma and other occult traditions and determinisms, and then openly with the brazen claim that laws of matter and evolution ultimately govern the world and man.
With penetrating insight, Father Richard John Neuhaus connects modern evolutionary scientism to its' ancient spiritual foundations in astrology. In his book, "American Babylon," Neuhaus argues that astrological elemental spirits have been recast as,
"…evolutionary dynamics, life forces, or laws of nature."  Though described as laws rather than spirits, these elemental "forces"…. work their inexorable ways in cold indifference to reason, to will, to love, and to hope. In short, it is suggested that the elemental spirits are in charge and that human freedom is a delusion."(p. 226)
"Beware lest any man spoil you through philosophy and vain deceit, after the tradition of men, after the rudiments of the world, and not after Christ."  Colossians 2:8
According to Pastor Larry DeBruyn, the word "rudiments" (Greek, stoicheion) relates to the universe of matter and energy and is variously,
"…. translated "elemental powers" (NAB), "elementary principles" (NASB), "basic principles" (NIV, NKJV), "evil powers" (NLT), and "elemental spirits" (ESV, NRSV). Translations indicate that stoicheion's meaning diverges between "principles" and "powers," between the "physical elements" constitutive of the cosmos or universe, or the "spiritual powers" that inhabit it. In 2 Peter 3:10, the first sense—that is, the "elements" which "shall melt with fervent heat"—is evident, while in Galatians 4:3 and 9, the other sense—that is, "world forces" which once "held in bondage" the Galatian believers—is evident." (The Supreme Supremacy of the Lord Jesus Christ,guardinghisflock.com)
The Worldview of Evil Spirits
"….we wrestle not against flesh and blood, but against principalities, against powers, against the rulers of the darkness of this world, against spiritual wickedness in high places."  Eph. 6:12
During the 1970s Satanism and possession became front page news in America.  It was during this time that the eminent theologian Malachi Martin, a former Jesuit professor at the Pontifical Biblical Institute in Rome published his shattering book on demon oppression and possession.
Martin's "Hostage to the Devil: the Possession and Exorcism of Five Contemporary Americans," presents five cases of actual possession that express important aspects of the worldview of evil spirits which allow us to not only identify these elements but discern their devastating effects within the whole body of the Christian church, the minds of millions of Americans and by extension, our nation.
The worldview of evil powers always takes the form of nature worship, or celebration of created things such as matter and energy as opposed to worship of the living, personal Creator Who created everything. Thus in support of the idea that living beings created themselves it is virulently anti-supernatural and Genesis account creation ex nihilo in favor of one dimensional naturalism and evolutionary cosmologies.
In one case, an evil spirit's evolutionary cosmology teaching the self-created "universe of matter" and human life was disclosed wherein,
"…men, women, animals, plants, cities, oceans (are) interconnected.  There is really no difference between one thing and anything else….land, ocean, animals, humans, plants are one living organism clad in the shell of breathable atmosphere.  Psychic forces bind it all together….It is a self-creating, self-protecting, self-developing thing…..Earth as mother, as womb, as god, as tomb, as a whole unity protected by its own shell and its own strength (is) all there is." (p. 395)
From the Big Bang (exploding cosmic egg) which supposedly created matter and energy in the demon's description of the universe as "self-creating" to inflationary in the description of the universe as a "self-developing thing" to Gaia as "Earth as self-protecting mother" the possessing demon's evolutionary cosmology is very similar to occult New Age spirituality.
Another important case involved David, a Catholic priest who became obsessed with the evolutionary scientism of Pierre Teilhard de Chardin.  Teilhard's destructive influence is widespread today within transnational Trans-humanist circles, the U.N., the Catholic Church, and increasingly within the Protestant Church.
In "Teilhard de Chardin: Trojan Horse of Vatican II/Heretic Extraordinaire," Dr. J. P. Hubert wonders whether based on Teilhard's admission of a mystical encounter if his evolutionary science was satanically inspired.  Teilhard describes his strange encounter:
"The man was walking in the desert…when the Thing swooped down on him.  Then, suddenly, a breath of scorching air passed across his forehead, broke through the barrier of his closed eyelids; an irresistible rapture took possession of him….mightily refashioning the enfeebled fibres of his being.  And at the same time the anguish of some superhuman peril oppressed him, a confused feeling that the force which had swept down upon him was equivocal, turbid, the combined essence of all evil and goodness.  You called me: here I am grown weary of abstractions, of attenuations, of the wordiness of social life, you wanted to pit yourself against Reality entire and untamed.  I was waiting for you in order to be made holy.  And now I am established on you for life, or for death….He who has once seen me can never forget me: he must either damn himself with me or save me with himself.  O you who are divine and mighty, what is your name? Speak."
Hubert concludes that Teilhardism is,
"…no doubt of Satanic origin—a true "religion of man," if ever there was one."
America's Unfolding Spiritual Catastrophe
For over eighty-five years, America has been incrementally conquered by the same madness-inducing demon of hatred and violence that earlier took over Russia, China, Germany, and Italy.
This demon is mainly embodied within America's "scientifically endarkened" Ruling Class which is deeply oppressed and possessed by elemental spirits and the delusion that the true enemy of America is always on the Right.  Having rejected the biblical God and the religious heritage of our civilization, they embrace instead an ancient order of beliefs of which Communism and Socialism are logical expressions.  A new world order is what they seek, but in order that it can emerge, the still remaining remnants of America's Christian-based culture must be completely destroyed.
What this means is that the spiritual catastrophe that unfolded in the Soviet Union and Nazi Germany is unfolding on America's stage.
Can this catastrophe be averted?
Repentance: The Only Way Back
Returning to David, prior to his obsession with Teilhardism he was destined to become a professor of anthropology at a Catholic university.  But under the influence of Teilhardism, he came to see that the Genesis account of creation ex nihilo, Adam and Eve as the first man and woman and parents of all mankind who fell and passed on Original Sin to all human beings were utterly contrary to modern scientific thinking and evolution.
Therefore David taught anthropology from a modern "evolutionary science" perspective, even going so far as to exclude traditional presentations of doctrines about creation ex nihilo and Original Sin.  But after introducing Teilhardism to his students, doubts arose when he observed the breathtaking transformative effects of this teaching upon Jonathan, one of his students, a priest who now insisted that all the sacraments are "…no more than expressions of man's natural unity with the world around him." 
David's eyes were suddenly opened and he saw clearly for the first time that Teilhardism exalted man as an animal and pictured,
"God as no more than the very bowels of earth and sky and the spatial distances of the universe with all its expanding galaxies." (Martin, p. 107)
Meanwhile, Jonathan left the church and quickly founded his own cult among wealthy Manhattan families.  He preached that the universe and all people were evolving as 'one' in a naturally occurring mystical union which he called "Abba Father." (p. 127)
Martin writes that Jonathan had come under the dominion of an evil spirit and David was called in to exorcise him.  However, the demon possessing Jonathan ridiculed David, saying they both believed the same things, therefore if Jonathan needed exorcism David needed it more.
Reeling in shock, David was led to an agony of soul-searching over the course of many weeks during which he re-examined and finally repented of the intellectual arrogance that led him to embrace Teilhardism and the "higher criticism" of Scriptures that reduced the Revealed Word to myth, allegory and delusion and the death of Jesus to an insignificant event of the evolutionary past rather than,
"…an ever present source of personal forgiveness and unshakable hope for any future." (p. 149)
According to Martin, the evil spirit who had nearly succeeded in killing David's faith now taunted him that to return to faith would entail slavery of mind and will.   But when a repentant David deliberately rejected the demon's taunts,
"…a great and breathtaking dimension full of relief….flooded his mind and will and imagination….And when he now looked at the world of nature around him…and heard the song of a mockingbird nearby, he received it no longer as he had while a Teilhardian evolutionist, as 'intimations of molecules endlessly regrouping,' but rather 'of endless life for each person, and of love without a shadow." (pp. 163, 165)
Speaking through Nietzsche, Zarathustra had declared the death of the Christian God on behalf of all willful unbelievers, but now for David, "He's alive and I'm forgiven!"   His faith in God, Christ, the Holy Spirit and Scripture restored, David was ready to exorcise the evil spirit who possessed Jonathan.  He did so,
"…in the name of God who created him (Jonathan) and you (evil spirit), and of Jesus of Nazareth who saved him!  You will depart and get back to the uncleanness and agony you chose." (p. 169)
One Archeological Site At A Time…
Krac des Chevaliers, Between Homs and the Lebanese border.
Visiting archeological sites in Syria can arouse within one a rather sharp and distinct feeling of trekking along the same paths traveled a century ago by the field archaeologist, and later colonel in the British Army, T.E. Lawrence. Indeed there are a number of still-visible "Lawrence of Arabia" footprints to be found here—both in Damascus as well as deep in the Syrian countryside.
In Damascus, for instance, one may marvel at the Khan As'ad Pasha, the majestic 18th century residence of the Ottoman governor of Damascus—As'ad Pasha al-Azem—whose palatial domicile today houses the Museum of Arts and Popular Traditions. Most foreigners like to spend time at Azem, and Lawrence was frequently there as a guest of Emir Faisal, a son of Sharif Hussein, of Mecca. It was Faisal's irregular troops that Lawrence fought alongside while sabotaging the railway lines of the overstretched Ottoman forces and significantly contributing to their defeat.
As Ottoman domination crumbled, in no small measure due to the Arab revolt around Damascus, Lawrence tried in vain to salvage something for the Arabs, whom he loved and admired even if he sometimes expressed his affection for them in an elitist English orientalist turn of phrase. By the summer of 1917, it had become clear to both Lawrence and Faisal that the four-century rule over Arabia by the Ottoman Turks was about to collapse, thanks in no small part to the revolt and the bravery and sacrifices of those who joined it. Also clear to Lawrence, if not to his friend Faisal, who was a bit naïve on the subject of Western history, was that his country, England, a pillar of the "Big Four" at the Versailles Peace Conference, conference which included the President Woodrow Wilson, British Prime Minister David Lloyd George, France's Georges Clemenceau and the Prime Minister of Italy, Vittorio Orlando was planning once again, and not for the last time, to stab the Arabs in the back and renege on the very promises that Lawrence had been commanded to deliver.
Photos of Lawrence and Faisal hang today on the walls of what was Lawrence's bedroom and office at the Azem Palace—and it is clear from his facial expressions that Lawrence sensed what was coming to Syria and Palestine. Before he died, in a motorcycle accident shortly after his return to England at the age of 46, Lawrence increasingly discussed what he regarded as his personal failure, during the closing years of the war, when he told friends and family that he had failed to convince his superiors in the British government that Arab independence was in their interests. The secret Sykes-Picot Agreement between France and Britain, according to Lawrence, was an abject betrayal of the promises of independence he had made to the Arabs and for which he felt personally responsible.
This observer crossed paths with Lawrence, in a manner of speaking, once again a few weeks ago, at Palmyra, the archeological and UNESCO World Heritage site which lies across the Syrian desert to the northeast of Damascus. The area was recently liberated from Islamist jihadists, and it was here I came across the words of Lawrence himself, inscribed on a plaque: "Nothing in this scorching, desolate land could look so refreshing…Moslem story-tellers ascribe the building of Palmyra to the Jinn commandeered by Soloman…"
Frankly, this observer is reluctant to demure from Lawrence's description, but in the many years since he spoke those words, it has become clear that the "Tadmor" (Arabic and Hebrew name for Palmyra) referred to in the Torah is not the Tadmor of Syria, but rather refers to a different site, one now lost to the sands of Palestine, if it ever existed at all. Lawrence in fact would probably be sorely vexed to learn that his words linking Palmyra to Soloman are today being misused by cheap, tawdry, Zionist land seekers prowling to assert a bogus claim over Palmyra in Syria as part of God's putative philanthropy, with the expectation, undoubtedly, of swallowing more Arab land for the ever-expanding Eretz Israel. But the misuse of Lawrence's quote at Palmyra for political purposes is a subject for another Syrian update.
Lawrence and Lamb also crossed paths (again in a manner of speaking that is) on 5/15/14 in the course of this observer's six-hour excursion up and around the medieval fortress known as Krak des Chevaliers (Castle of the Kurds—who reportedly first inhabited the area in the 11th century). The Syrian Arab Army recaptured the castle and the nearby village of al-Hosn from rebel forces on March 20, 2014. Both the castle as well as the village of 10,000 had been seized by rebels (aka 'takfiri terrorists'), with the "Krak" sustaining extensive damage from especially violent clashes in 2012 and again in July and August of 2013. My excellent companion and government guide during my day at the Krak was "Mohammad," a Syrian army security commander with 40 troops under his command. The detachment has been stationed inside the fortress, this so as to keep anyone from attempting to retake it "by a nighttime sneak attack," I was told.
Apparently a history buff, Mohammad's first comment, as we began to ascend the steep three floors of medieval steps, was to quote—who else?—T.E. Lawrence.
"We are walking in the footsteps of Lawrence," he informed me as we made our way, gazing from time to time at the marvelous, gothic ceilings. "He called this fortress—" then, to my surprise, reciting from memory: 'perhaps the best preserved and most wholly admirable castle in the world, and a castle which forms a fitting commentary on any account of the Crusading buildings of Syria."
Many historians have agreed with that assessment by Lawrence, including Hugh Kennedy, who wrote that "the defenses of the outer wall were the most elaborate and developed anywhere in the Latin east…the whole structure is a brilliantly-designed and superbly-built fighting machine."
Indeed, Krak des Chevaliers is considered one of the greatest and best preserved castles in the world due to its unique architecture in terms of its defense facilities, building materials and decorations. In 2006, the castle was inscribed on the UNESCO List of World Heritage sites along with its "sister fort," the Citadel of Saladin, further north in Lattakia.
Among the approximately 400 damaged or destroyed antiquity sites that are now back under government control, Krak des Chevaliers is viewed by locals as a sort of "success story" because, for sure, it is still standing! A major restoration project was begun in April, and is now well underway, with the effort being directed by fifteen fulltime restoration specialists, who in turn are assisted by volunteers. Government officials, including the Ministers of Culture and of Tourism, drop by from time to time and praise their work, and a "Krak des Chevaliers reopens to the public" event is scheduled for 6/1/14. Whether many foreign tourists (or any at all) will be able to attend the gala happening is dubitable.
But hopefully conditions will allow for the return of tourists to the country at some point soon. One of my traveling companions the day I feasted my eyes on the Krak was a Syrian tour operator who pronounces himself more than willing to pitch in and help rebuild the tourist industry, Syria's second largest foreign-exchange earner, which in 2010, prior to the outbreak of the conflict, brought in more than $1.5 billion.
Less fortunate than the castle is the formerly picturesque village of al-Hosn, which too was packed with rebels, and where current conditions now rival those in some parts of the cities of Aleppo and Homs for complete and total destruction. This observer did not see one bird, one feral cat, or even a fly in what locals call "the village of death." Two weeks ago, a four man unit from Mohammed's battalion at Krak did discover two hold-over rebels hiding out in the rubble. They killed them on the spot.
After 12 centuries of invaders trying to conquer this land, and a number succeeding—such as when the Muslims took it from the Christians in the seventh century employing the time tested 'surrender or starve' tactic—things have a way of getting rebuilt and repaired. And this time will likely be no different.
This observer's purpose in visiting Krak was to detail the damage caused by 18 months of fighting over the fortress. The notes I made on my trip on 5/15/14 include the following:
Complete destruction of the staircase and halls in front of the internal building of the fort.
Partial damage in the façade of the Hall of the Knights, including some damage to the decorations and arches inside the Hall.
Traces of fire behind the church and damage to the library hall, opposite the leader's tower, and a part of the staircase leading to the roof of the library hall.
Damage in the façade of the King's Daughter's Tower and partial destruction in the wall between the tower and the roof of the church.
Partial destruction in the entrance to the stairs in front of Qalawun Tower; damage and destruction in some parts of the tower itself.
Damage to one wall of the warehouse adjacent to the main offices of the castles overlooking the courtyard.
Destruction of a part of the pillar supporting the ceiling of the library tower opposite the tower of the knights.
Severe damage in the office of the Ottoman House, as well as the administration offices.
Partial damage and destruction of some walls in several places of the castle, including minor damage in the outer wall of the castle.
Surface damage caused by domestic fires built by rebels for heating and cooking, this by the dozens of rebel families that occupied different areas of the vast fortress.
​
To this observer it is clear that the Syrian public and their officials, in all 14 of the country's governorates, are committed to the complete restoration of their nation's peerless and incomparable archeological heritage sites as soon as security conditions permit.
Origin of the Master Model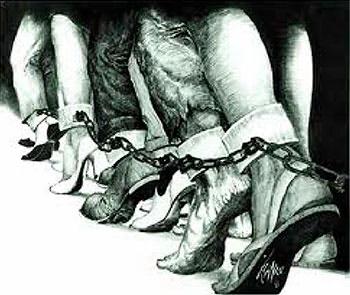 The master plan for world domination we see playing out today was first proposed to the US at the end of World War I. However, there were no takers. People were too war weary. However, when the plan was again proposed at the end of World War II, it was accepted. Consequently, World War II quietly transitioned into the secret "war" to set up what has become known as the "new world order" — an absolute dictatorship over the entire planet.
The United States set up the School of the Americas to train future dictators and terrorists who would be sent out into the world to destroy sovereign nations and place them under US domination by installing puppet governments obedient to the United States. Many conquests were made quietly using clever economic tricks [2]. However, leaders who refused to submit quietly would see their entire country reduced to rubble and the land rendered unlivable by uranium dust scattered by US bombs. The message was clear: Submit to the United States or face total destruction.
A social model based upon the assumption that cleverness and power automatically convey the right to take anything desired from those who are less adept and unable to resist is not a sustainable model for harmonious social interactions. However, this is the chosen model. The mantra for this model, "A man's true worth is measured by the amount of other peoples' happiness that he can possess and destroy" [1], is essentially a call for a class war between the greedy elite and the innocent masses of the world who simply desire a peaceful existence.
Acquisitions
The United States looks at the rest of the world as a "resource". If a country has something — oil, gold, minerals, etc. — that the US covets, it believes it has the right to take those things by whatever means necessary. In many cases the coveted resource is human slave labor. Let's look at some representative examples:
With the cooperation of the dictator, United Fruit Company (US) owned almost half of the country and used the locals as slaves to harvest its Chiquita brand bananas. However, during the period from 1945-1954 new leaders made changes. They helped the poor and set up social security and health care. Then they took land away from United Fruit and gave it to the local people. United fruit complained to the CIA that its business interests were being interfered with by the "communist" government. Any government which shows kindness to the poor and weak is called communist by the US. The US attacked Guatemala — killed the elected leaders and many thousands of citizens — and established a puppet dictatorship which would obey the will of United Fruit. The people were returned to a state of slavery. The CIA trained death squads to make sure the people were crushed into submission.
Strip Mining in Africa [4]
In Africa, the International Monetary Fund — a puppet of the US — destroys a country with strip mining. The original country was self sustaining. People were able to grow lots of food and hunt animals. However, once the land was ruined by US corporations, it was unusable to plant crops and the native animals died. The people had to buy food from other countries with money loaned to them by the IMF which they could never hope to repay. Therefore, a once free and self supporting people were made debt slaves of the IMF. Once all the natural resources have been stolen, the corporations will simply pack up and leave the indigenous people to starve and die.
Countries Used as Trash Dumps [5]
Used computers and associated items are dumped in poor countries where starving barefoot children sift through the mess of hazardous waste and broken obsolete glass computer monitors hoping to find something they can sell to get enough money to stay alive another day. Property stickers show the waste is mainly from the US government and various US state governments.
Corruption of Trusted Sources
Reporters and News Organizations
The masses are conditioned to believe news they receive from establishment sources. In the earlier times, this assumption was often correct. It was considered so important by the founding fathers that freedom of the press was enshrined in the US constitution. However, times have changed.
Walter Cronkite was known as the "trusted voice". No one knew he was also the official announcer at the secret Bohemian Grove meetings. The leaders of the world's news organizations also attend this event. That is why, even though the meetings began over one hundred years ago, until recently no one knew this group even existed. President George W. Bush may have set a new record for bribing journalists to allow their trusted name to be used as the author of material actually written by government propaganda experts. Apparently, everyone has a price and the government, of course, has no problem when it comes to money.
When Ronald Reagan reportedly ordered the death of investigative reporter Jessica Savitch [6], the message to independent journalists was clear: Go against the official party line an you're done!
Today, dedicated journalists face mysterious deaths and strange single car accidents but a few survive long enough to give us a glimpse of truths we would otherwise never know. They are true heroes.
Churches
Churches are everywhere. Unfortunately, legitimate Spiritual teachers are not. People look at churches either as harmless or with some sort of conditioned hypnotic respect. Churches send out "missionaries". However, the "mission" of these missionaries may not be so clear. If you wanted to infiltrate a foreign country, these people would be an ideal asset.
Churches are not Spiritual centers. At best, all they want is your money. At worst, they are Satanic and you are in severe Spiritual danger if you come under their influence and control.
The Catholic Church has been a trusted asset of the US intelligence community for quite some time. Significant information obtained by priests during confessions is routinely passed on to the government.
This agreement predates the internet by many years. Because the church has branches in almost every country, it has great potential for covert activities. For example, if you need to get an operative who is in danger out of a country, they can go to a Catholic church for "confession". Once the door is closed, they can exit through a secret passage, be disguised in robes and spirited safely out of the country. Church secrecy is at least on a par with US secrecy. Also, the Catholic church and the US shadow government share the same Satanic value system and engage in child rape and ritual killings.
Doctors and the Medical Industry
Medicine in the United States is an industry. It is no longer a profession. Its corporate model puts profit above all else. If some patients accidentally benefit they are the lucky ones.
The medical community has a rigid hierarchical structure and effective mechanisms for enforcing secrecy. Essentially, its model closely resembles the military chain of command structure. This makes it a perfect partner for the government in the area of secret human experiments.
For example, when the government was doing radiation experiments on humans, a doctor or someone dressed as a doctor would just walk up to unsuspecting patients and inject them with radioactive material. They were then secretly followed for years to see what would happen. Eventually, some of those who survived were told the truth. Most people used in the MK Ultra and subsequent secret projects were never notified.
Hospitals are set up to protect themselves. Staff may appear to be dedicated, smiling people who truly care about you. However, they are basically prostitutes who are being nice because you are worth money to them. When they make mistakes they have a "loss prevention" department staffed by clever lawyers who are trained to protect the financial interests of the hospital by denying everything and fabricating believable coverups. They are trained to do whatever is necessary. The staff will all agree to support whatever lies are needed. They know their job and their financial future depends upon maintaining strict secrecy.
The only people who receive legitimate medical care are the select elite cleared to accesstop secret medicine. These people always get excellent care because the doctors work for the shadow government and mistakes on their part are simply not tolerated.
Infiltrations
Countries which have the resources to sustain an intelligence community generally try to get operatives (spies) into other countries so they can directly observe activities. When real people gather intelligence, this is called human intelligence or HUMINT. The US, of course, does this too. However, you may not be aware of the extent to which the US also infiltrates itself. The central government really does not trust anyone.
Essentially all local police departments, state offices and state governors have a covert federal agent working close by pretending to be just another employee. Also, every US neighborhood has an informer who reports to the federal government. Large corporations, which tend to behave like "mini governments", need to be infiltrated and kept under observation. Colleges and universities are also monitored.
Here is how this spy network operates: The NSA likes to recruit young kids right out of college. When they are hired and sworn to secrecy they still do not know what their assignment will be. They must agree to do this assignment without first being told what it is.
Some agents, like John Perkins [2], are assigned to work in other countries. However, others are assigned to work inside the US. Their assignment could be to go to some state and apply to join the local police department. They would pretend to be just a regular person looking for a job. They would take the necessary training and spend their life as a local policeman so they could directly observe other local police from the inside and report to the NSA. Since they are actually an employee of the NSA, presumably they get to keep both salaries and, eventually, both retirements. All significant local police forces in the US are infiltrated this way.
Additionally, some agents will be assigned to get a job on the state governor's staff as well as in major local state agencies. A CIA or NSA agent is always on the staff at major colleges and universities. The same goes for major corporations.
Senior level agents are allowed to have special TV receivers in their homes linked to the secret government TV network. This way everyone stays on the same page. The channels on this network actually broadcast the truth. TV channels available to ordinary people contain only government approved propaganda mixed with "bread and circuses" presentations to make sure the sheeple stay asleep and content.
Fronts
The US government is involved in illegal activities internationally and domestically. If it performed these activities overtly in the name of the United States, there would be serious consequences under both international and local laws. To avoid this situation, the US government operates thousands of "front organizations" which appear to be private but are actually shadow operatives of the US.
For example, John Perkins [2] explained that he was recruited, hired and trained by the NSA. He was an NSA agent. However, for his cover as an economic hit man, he "officially" worked for a "private" company called Charles T. Main. This company was a government front to shield the US because the activities the NSA trained Perkins to do were illegal.
This is standard operating procedure for the US as well as other countries and many corporations. It shields them from legal recourse by providing deniability for the crimes they actually direct and commit.
Generally, when the US wants to influence other sovereign countries, it creates harmless looking NGO's which appear to be independent but are actually fronts for covert activities.
Domestically, colleges and universities — especially those with associated medical schools and hospitals — are great places to conceal a variety of covert projects such as the MK Ultra series of human experiments which, reportedly, continue today using new cover names. The US also likes to create non-profit corporations which exist only to provide classified services to the United States. A good example would be the Institutes for Defense Analysis (IDA). The US, reportedly, is its only client.
Programming
Mass media "programming" is actually programming you. It has developed into a subtle form of mind control. Before radio and television, special interests recognized that motion pictures could be used to alter public opinion in their favor. Perhaps, for example, you wanted to attack labor unions. When radio and later television came along providing access to national and international audiences, the temptation to exploit these technologies became irresistible. Originally, the US government recognized this and set up fairness rules to prevent monopolies from taking over the broadcast media and blocking opposing viewpoints. All this ended, unfortunately, when Ronald Regan canceled all the fairness regulations. Today, a handful of powerful corporations own and control essentially all content delivered by radio and television.
Television is the main vehicle for mass indoctrination. It is said that people watching TV actually fall into a light hypnotic trance. The "entertainment" you see on TV does not "just happen to be there". It is very carefully planned and timed to attract and influence targeted audiences. It is said that if some event were to somehow shut down all television broadcasts the government would experience a severe crisis because it would lose control over the minds of the masses.
TV creates sort of a "hive mind" among the masses and keeps everyone coordinated and tuned into the official party line. Without this, people would have no choice but to start thinking for themselves and forming independent opinions. Clearly, this would be a disaster.
The radio broadcast of "War of the Worlds" and the later movie "The Day the Earth Stood Still" are said to be CIA psychological experiments to judge how the general public would react to some type of ET contact.
Today, broadcasting is not just a one way event. Because people react to events and use social media to express these reactions, the effect of specific propaganda can be analyzed in real time. Since the government now intercepts all electronic communications, it is able to see general opinions and then tweak algorithms to maximize the desired effect of propaganda. This ability makes TV a two-way communications system although most people, of course, do not realize this and have no concept of the level of sophistication these technologies have reached.
Information Theory
Information Theory is the name of a relatively new branch of science which became popular in the 1960′s. It covers a broad range of technologies. Basically, it is the science of the flow of information and how that flow can be selectively controlled so that information flows only in desired pathways. As you may have already guessed, governments love this sort of stuff.
ECM
ECM stands for Electronic Counter Measures. In general, these are techniques to disable other electronic devices. Basically, it is electronic warfare. When the secret service is active in an area, for example, they will selectively jam all radio frequencies except for the specific frequencies they are using so that no one else can communicate.
World leaders, who are generally terrified of "threats" materializing from practically anywhere, like to travel with ECM generators running just in case "someone" from "somewhere" was trying to target them for "some reason". Basically, they are paranoid whack jobs.
People familiar with aviation tell the story of how Tony Blair, while traveling to or near a commercial airport, reportedly caused a commercial jet to crash because all the ECM garbage he was transmitting jammed the plane's navigation system. Of course, the British government would never admit this.
Secure Communication With Submarines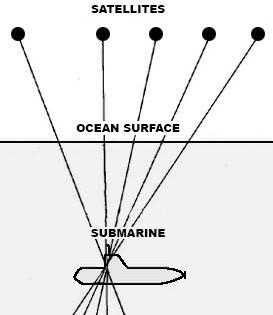 Since submarines were invented, communicating with them has been a problem because conventional radio waves will not travel underwater. Therefore, early submarines had to get close enough to the surface to put up some kind of antenna in the air to send or receive radio messages. Obviously, this could pose a problem if you did not wish to be discovered and located. After all, the motivation to create submarines in the first place was the feeling that they would be able to move about the planet secretly. However, newer technologies now make this impossible.
To solve the problem of reliable secure communication without the need to surface, scientists learned that sea water was essentially transparent to a special type of Argon laser. To set up the current communications network, it was decided to use several satellites with each satellite sending only part of an encrypted communication signal. The complete signal could only be received at a specific point underwater where all the laser beams intersected. Intercepting only one or two beams would prove useless. This communications system is considered to be impossible to intercept.
Quantum Entanglement
Returning to the submarine issue for a moment, before modern communications were perfected, there was a search for some reliable method to send a signal to a submerged submarine that could not be detected. This was considered necessary in a war situation to secretly transmit an attack command. What they originally did was to locate a couple of people who could communicate telepathically. One would be at the command base and the other on the submarine. Doing a bit more research, it was determined that this type of communication is instantaneous and somehow operated outside of time. Radio waves travel at the speed of light.
Quantum entanglement is a process which uses technology to send and receive signals outside of space-time. Now, why would you possibly want to do this? Well, if you had a base or a colony on a planet in some other solar system light years away, you would not want to wait years for messages to be received. Following this thread — and adding some basic common sense — why would you want to dedicate resources to search for habitable planets in distant solar systems when you had already "proven" it would be impossible to ever get there? Could it just be that someone is not coming clean with whole story?
The Separation Barrier
This is a model of the separation barrier which insulates the ruling class from the slave class. It is essentially "intellectual apartheid". The question is, why is it there. It takes considerable effort, money and manpower to maintain this artificial barrier. What is the reasoning behind not having a level playing field for everyone? Why does this idea absolutely terrify the elite? What are they afraid of?
The Pirate Story
This is a summary of a story told years ago on a radio broadcast most likely by Paul Harvey:
Ordinary people were afraid. The Earth was flat so they dare not venture far from home. Periodically, a pirate ship would come. They did not know how it got there or from where it came. It brought treasures they had never seen. The Chief Pirate would encourage the young men to study and specialize in specific skills. He wanted them to become educated but only in one narrow area. The Chief Pirate knew the world was not flat and how to navigate to other lands. However, this knowledge was never discussed. This "top secret" knowledge or the "big picture of the known world" would only be given to the Chief Pirate's son who would inherit his title and someday become the Chief Pirate.
This story is about the origin of the concept we call compartmentalization — the process of controlling the slave masses by only allowing them to know specific bits of the truth while the leaders are allowed to know total truth.
ELITE RULING CLASS
SECURITY CLEARANCES
SECRET POLICE
ASSASSINS
SURVEILLANCE — SIGINT HUMINT COMINT
SPY SATELLITES
SPY DRONES
SMART ELECTRIC METERS
INTERNET SURVEILLANCE
NEIGHBORHOOD SPIES
PLENTIFUL STREET DRUGS
PSYCHIATRIC FORCED DRUGGING
GENETICALLY MODIFIED FOOD
FLUORIDATED WATER
COORDINATED TELEVISION PROPAGANDA
DEGRADED PUBLIC EDUCATION
LOCAL MILITARIZED POLICE
---
SLAVE CLASS
Leaders can only maintain their status if there are slaves. Otherwise, everyone would be equal and operate on a level playing field. This means "leaders" would have to pull their own weight like everyone else. Clearly, this would be intolerable. Leaders love beautiful and exotic things but don't want to do the work needed to create these things. They probably could not even plant a garden much less build the various "ivory towers" where they like to live surrounded by servants. If left on their own they would very likely starve. This is why it is so important to create and maintain the complex separation barrier.
Why don't people who live above the separation barrier ever "come down" and talk to the people below the barrier? Well, other than the obvious fact that they would likely be killed or jailed for espionage or treason, there is another, simpler, reason.
Would you like to spend your days sitting in an open field with kindergarten kids looking for four leaf clovers? Probably not. You have progressed beyond that. The slaves below the separation barrier cannot even imagine the world of those who live above the barrier. In fact, the elite do not even consider the slaves human. They call them "disposable biological units". The United Nations prefers the slang term "the herd". Slaves can be easily bred in quantities needed and programmed to do desired tasks. Then, they can be easily disposed of when no longer useful. That's how they look at you. So, why would they want to make friends with you?
The Mars Example
There is an interesting event playing out today that you may have noticed. This concerns the recruitment and selection of people to be sent to Mars. There are simulation projects where volunteers are locked away to imitate the long voyage to Mars. They are being told that this is a one way trip and they can never hope to return to Earth.
What you are witnessing is the selection process for the "seed people" who will be used to breed the future slave class on Mars. In a situation similar to the period when most believed the Earth was flat and you would fall off if you tried to go to sea, these people are convinced that the only way to get to mars is to ride a rocket on a perilous journey taking years. Because they truly believe this, when they get to Mars, they will teach this crap to their kids along with other misconceptions like it is impossible to go faster than the speed of light and other associated obsolete scientific principles. They will have no
desire to ever return to Earth or go anywhere else because they truly believe it is not possible. They will be contented slaves.
Of course the truth is that there are already secret colonies on Mars. It is not that hard to get there using antigravity and other secret propulsion methods and it is quite likely possible to simply walk through some kind of wormhole device and come out on Mars.
However, the slaves will never know this. Just as it is done on Earth, there will be an artificial separation barrier. The insiders will know the truth and will be physically hidden from the slaves. There will be secret police and other methods — the same as are used on Earth — to make sure no slave ever escapes from the "information prison". Business as usual will continue.
Reinforcement of Ignorance
Governments and their oligarchs love to keep their subjects in a cloud of ignorance. Back in the days when people believed the Earth was flat, the inner circle ruling class knew it was round. Maintaining the deception was convenient because it kept the slaves from developing any desire to travel far from home.
Nothing has changed all that much today. Consider, for example, all the fuss over the missing MH370 plane. You are being played for a sucker. It is impossible for that plane to have "disappeared".
The US DoD spy satellite system reportedly consists of ten constellations of satellites. Each constellation has over seven thousand satellites. They see and record everything that happens on this planet. The floor of the oceans can be seen just as clearly as the land areas. The resolution of the system is better than one square millimeter. Also, everything is recorded so you can go back in time and play past images.

This is a picture of a common electric lamp. Take this lamp and throw it in the ocean — any ocean anywhere on this planet. The spy satellite system will locate it, give you the coordinates and give you a photo at least as good as the one above. That is the capability of the system. So, clearly, it is impossible not to know the location of something as large as a Boeing 777 plane. All the TV publicity is a choreographed play. You are being scammed and you need to wake up and realize this fact.
Murders and Assassinations
To ensure a strong empire, dissent must be crushed. The United States trains assassins and carries out both domestic and foreign murders and assassinations on a regular basis. You may be familiar with the classic movie scenes where a black limousine with tinted windows drives by a target with thugs shooting machine guns. Although this would accomplish the task, it is a bit too obvious in a country that advertises itself to be a free, civilized democracy. Someone might catch on and begin to doubt the party line. Consequently, these things must be done quietly.
Inside the US, murders are reportedly carried out by a group known as "FBI Division Five". Other agencies likely have the responsibility for foreign assassinations. However, the basic techniques used would be similar.
Typically, an agent would wake up every day and connect to the top secret internet to see who he was assigned to kill that day. There would be several options. If it was important to eliminate the target immediately, a fast acting chemical agent would be selected which, for example, would cause the target to die within a few hours of a "natural" heart attack.
However, if time was not critical and the government just wanted the target out of the way, you might want to select one of the cancer causing agents such as those likely used to eliminate Hugo Chavez and Senator Ted Kennedy.
There is also a third possibility. This involves character assassination instead of actual murder. Consider, for example, a person who has gained a lot of public recognition talking about, say, free energy. If you simply kill the person, there could be blowback and talk that he was silenced by the government. In such cases, it is easier to use a chemical agent designed not to kill but, rather, to cause states of mental confusion resulting in obviously strange behavior. This would be coordinated with the government controlled mainstream press to make sure everyone became convinced the person was a nut and would therefore ignore anything said without regard to the truth or validity of the message.
Once the appropriate chemical has been selected, you need to load it into the secret delivery system and locate your target. To find your target you will connect to the top secret internet and pinpoint the location of the target through their cell phone. You can also activate all the cameras and microphones in electronic gadgets connected to the internet associated with the target in case you wish to look around the target's home and hear in real time what is taking place.
Of course, this will not help you locate the target when it is time to actually do the hit. So, you need to get the top secret profile data which will show any predictable habits of the target. Everyone is constantly tracked through their cell phones and profiles are logged and stored. In this case, the profile shows that the target has a favorite restaurant and goes there for lunch every day around 11:30. Now, you know exactly what to do. You go to the restaurant, hang out until you see your target, and get in line behind the target. Now, all you need to do is slightly bump into the target to deliver the chemical. Generally, the targets never even notice.
This mission is now complete. If it is early enough, you can check back in to the top secret system to see who you are supposed to kill next. Just another day. Just a routine job.
Money
Money is an imaginary force. It is used to motivate and control slaves. Real forces effect all life forms. However, only people respond to money. The only reason they do is because they have been artificially programmed to do so.
Money can be created in unlimited quantities by those adept in the use of this force. The physical world is finite, however the world of imagination is not. There is no limit to the quantity of money that can be imagined into existence. Money can also be imagined out of existence.
Let's assume that one day the entire financial system simply disappeared. If you lived in a rural area and had a nice veggie garden, some friendly chickens, collection facilities for rain water and a few photocells for electricity, you would not notice this. The veggies would continue to grow. Rain would periodically fall. The chickens would lay eggs as usual. The sun would continue to shine. However, if you lived in a city environment, you would be devastated.
Before money, people lived in small hunter-gatherer groups. The concept of ownership did not exist. People worked and survived as a group. Men and women were equal. Everyone contributed to the community. Resources were shared equally. The concept of "mine" and "yours" did not exist. Women generally became pregnant only once about every three years although there was no birth control. Later, when the concept of money entered the consciousness, women were seen as having less value because men were paid for work but women were not paid to raise and care for kids. Society has changed, however, the downgraded status of women has not.
Money systems have always been manipulated by clever people. When gold was used as money, people learned they could dilute pure gold with silver or maybe even lead to come up with something that looked like pure gold and had the correct weight but was a fraud. A king suspected he was being scammed but had no way to prove it. He called on the great minds of the time for help. This led to what is known as the Archimedes' principle which is better known today as "specific gravity". This principle made it possible to compare a sample known to be pure gold to a questionable sample and prove the unknown sample was not pure gold. Likely, some clever crook lost his head once this test became known.
There is a general belief that gold is the ultimate reference for all money. However, secrets concerning the exact quantity of gold make this a perilous assumption. Reportedly, the United States stole a tremendous quantity of physical gold from Japan towards the end of World War II. This gold exists off the books. To make matters worse, Japan was not all that concerned. Japan had been using gold bars as ballast on its ships because they were compact and heavy. They thought nothing of throwing the bars overboard as necessary. Japan used platinum as a money reference and the US never got that. This should make one rethink all the hype about the value of gold. It may be a lot more plentiful than we have been led to believe. Also, the secret off the books stashes of gold would allow its relative value to be manipulated at will just like other commodity markets.
The Financial Axis of Evil [3]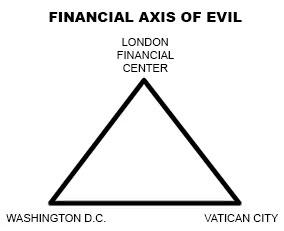 This is the model of the financial axis of evil which rules this planet. It consists of three main branches as shown above. Collectively, they are known as "The Empire of the City". Briefly, here is how this system operates:
The London financial district is in London, Washington D.C. is in the United States and the Vatican is in Italy. However, these three places are not part of the countries where they exist. They are independent "city states" and have their own laws and constitution. They are, effectively, "mini countries" inside of other countries and fly their own flags. The city state of London is a private corporation and pays no taxes to actual London or to Britain. The city state of London is the master power center and is controlled by the Rothschild family which considers itself to be the legal owner of this planet. The Vatican is the largest private land owner in the world and the first true multinational corporation with installations (churches) and secret agents (The Knights of Malta) everywhere. They control through the power of fear of the unknown and practice black magic. Washington D.C. relies upon brute military force. All three closely cooperate combining their specialties of financial trickery, witchcraft and military might. Of course, all three worship Satan as their Master.
Slavery
Slavery is alive and well throughout the world. The US constitution prohibits slavery, however, most americans live in slave-like conditions.
It is said that it will take the average college student until age fifty to pay back their student loan.
The constitutional amendment prohibiting slavery addressed the concept of physically owning another person. However, it did not address the issue of holding another person in bondage as a debt slave. It also did not consider the concept of private for profit prisons who force inmates to work as slaves. These systems exist today and are perfectly legal.
Actually, a recent report from prestigious Princeton University has reclassified the US government as an oligarchy — a country run by and for the rich elite. Former US President Carter has stated that the United States "no longer has a functioning democracy". So much for the Founding Father's dream. Speaking of dreams, check out the free you tube video titled "The American Dream".
Other forms of slavery are illegal but still flourish. Sex slaves are always in demand. Traffickers are sometimes caught but you need to realize that your leaders use sex slaves and also routinely abuse young girls and boys. Sometimes they are also killed during occult rituals. No one ever talks about this and these people are never punished. This has been the normal way of life for Satan worshipers for many years and nothing has changed or is likely to ever change in the future. Stanley Kubrick's last movie, Eyes Wide Shut, covers this subject. Some believe this intense dramatization of how the elite really live may have cost him his life.
People still have some rights left in the United States but other countries are a different story. Qatar is doing construction for the World Cup. The event is not scheduled until the year 2022, however they have already killed 1200 slaves [7] by working them to death. People are lured from poor countries with the promise of jobs and money. When they arrive, their passports are confiscated and they are forced to work until they literally drop dead. If the World Cup is actually held in Qatar in 2022, there will be glamorous TV coverage and no one will remember or care about all the dead slaves. The show must go on.
Qatar, incidentally, sponsors Al Jazeera TV network.
Adaptation Techniques
The status quo of today will never change because the people who created it will never die. Because of top secret medicine, when men like Henry Kissinger, who heads the Bilderberg Group's steering committee, get too feeble to function, they will simply go to one of the secret locations and use the temporal reversal device to regress back to about twenty years old. Their memories will be unaffected. Then they will get new identities and continue on. This process can be repeated indefinitely.
Because you can never change the status quo, your best hope for a lifetime of reasonable quality is to find clever ways to live in this world with as much independence as possible.
One method of adaptation is autonomous and semi-autonomous communities. If the community is registered as a religious institution it is automatically shielded from most government interference by the US constitution. It pays no taxes and can pretty much write its own rules by simply calling whatever it wants to do "religious doctrine". Many small semi-autonomous groups exist where people who share a common set of values find ways to quietly live out their lives pretty much on their own terms. The government does not seem interested in bothering these smaller groups as long as they live peacefully and are not doing anything that the government perceives to be a threat.
The Amish people are a good example of an autonomous group. You would probably not want to live as they do, however, before you completely dismiss them, you may want to look at some definite advantages in their chosen lifestyle.
Remember, these are the people who reject technology. They just might have made the correct choice. Technology, at first, seemed like a good idea. However, now that people are addicted to technology they are also enslaved by technology. Everything they do is monitored and recorded by the government. Privacy no longer exists. It did not have to be this way.
Technology, in itself, is not evil. However, it can be quite evil if you live under a government run by sociopathic control freaks which, unfortunately, you do. In the Amish world, electronic surveillance does not exist because electronic devices do not exist. The constant propaganda from TV has no effect on people who do not have TV. A horse does not report its position to a GPS satellite and is not controlled by a computer.
Also, the people are generally healthy and do not suffer from many diseases common to the mainstream population. They are not being poisoned by fluorinated water or additives found in processed food because they don't use these things. Also, they get lots of physical exercise.
Without totally withdrawing from the world, there are some positive steps you can take. By now you know never to drink fluorinated water or use any personal product containing fluoride such as many brands of toothpaste. To minimize harmful food additives, look for Kosher food which is marked with either the encircled "K" or "U" (Ultra Kosher). These foods have less or no harmful additives. The Jewish community is very protective of its people and the Mossad is widely considered to be the best intelligence service in the world. Therefore, they would have the inside scoop on everything including food and do not want to see their people harmed.
Whatever you decide to do, you definitely do not want to be part of so called mainstream society. These people are doomed. They are sheep (sheeple) slowly walking to the slaughter house. Don't go there!
---
references and credits
[1] DVD "The American Ruling Class". ASIN: B001HM2CE2.
[2] John Perkins. Book: Confessions of an Econemic Hit Man; DVD (free on you tube): "Apology of an Economic Hit Man"; RT interviews.
[3] See the free you tube videos titled "The Red Shield".
[4] DVD: "The Wages of Debt", RT Intl. Also available for purchase.
[5] DVD "Terra Blight", RT Intl. Also available for purchase.
[6] Interview with John Judge of Veterans Against Military Psychiatry.
[7] Also search using the phrase "qatar slaves world cup".
© 2014 W C Vetsch. All rights reserved.
Source: Walter C. Vetsch  |  3108.info | War Is Crime
President Assad and Ayatollah Khomeini are keeping their word. Will President Obama keep his?
Recent reports from the Organization for the Prohibition of Chemical Weapons (OPCW), the accuracy of which have been conceded by the White House, but denied in Tel Aviv, have it that slightly less than half of Syria's chemical weapons have already left the country and 100% of the country's stockpiles are believed to have been neutralized. Well along the path to meet the June 30 agreed discard date.
Both Iran and Russia have been credited with helping persuade the Syrian government that it is very much in the interest of Syria as well as the global community to discard its chemical weapons stockpiles which date back to the 1970s. A total of 11 consignments have been recently shipped out of Syria for decontamination and disposal, the latest from Latakia. Included is all of Syria's sulphur mustard gas, a blister agent that was first widely used in WWI.
Captain Clyde Chester Lamb, the father of this observer, was a one of hundreds of victims of the deadly gas while fighting the Germans in front-line trenches in eastern France. Capt. Lamb survived, but never fully recovered, and when he did later speak about his experiences in the war, which was not often, he once told his horrified children at story time that he and his comrades had no gas masks so they used to improvise by urinating on scraps of uniforms which he would distribute to his men with instructions to hold it tightly over their nose and mouth. Somehow their pee seemed to reduce the effects of the poisonous gas.
Despite some delays due to security and logistical issues, few besides the Zionist lobby in the US Congress doubt that Syria's work will be completed. Across Syria, according to information made available to this observer, specialists have accelerated the packing and transporting of the chemical weapons, sometimes even moving them through rebel territory to the Mediterranean port of Latakia.
In cooperation with Iran, Russia has supplied large-capacity containers and armored vehicles for the Latakia loading operation while China has sent 10 ambulances and surveillance cameras and Finland dispatched an emergency response team in case of accidents. Denmark and Norway are providing cargo ships and military escorts to take the chemicals to the container port of Gioia Tauro in Italy and the American government, among others, is also helping.
Despite Iranian cooperation with this major humanitarian project and, according to IAEA spokesmen, "solid progress has been made with the Iranian nuclear file", the White House to date is still waffling on its pledged meager lifting of sanctions which continue to target the people of Iran. US sanctions also continue to compound and increase the nearly unfathomable suffering of the Syrian people all of whom have been targeted by Barack Obama Executive Orders ever tightening their noose of economic sanctions.
The White House has yet to explain its dilatoriness, but Congressional sources report that President Obama is still being targeted by Israel and its Congressional agents and that Obama does not yet want to lift sanctions "for now", more than cosmetically. This applies to medicine and medical equipment. The same source claims that the White House is also signaling Tehran that it should continue to be patient while a sanctions review is getting started in Washington.Meanwhile, US Secretary of State Kerry has just assured Iran's leadership that the White House appreciates the fatwa (religious decree) issued by Supreme Leader Ayatollah Ali Khamenei last month forbidding the production and use of nuclear weapons. Kerry agreed that Iran is entitled to a peaceful nuclear program and he also credited the earlier statement by Iran's Foreign Ministry Spokes Ramin Mehman-Parast that Ayatollah Khamenei's fatwa is binding for Iran, and that "There is nothing more important in defining the framework for our nuclear activities than the Leader's fatwa."
A recent Office of Financial Assets Control (OFAC) prosecution of an American citizen seeking to ship potentially life-saving MRI medical equipment to Iran illustrates the weak knees of the Obama White House by allowing that Zionist dominated Federal agency to ramp up its targeting of the people of Iran.
There are dozens of cases like the one noted below and President Obama is presumably aware of them. The shameful case under review involves a University Medical Researcher who is being targeting with jail time for sending a medical device to Iran which his lawyers argued was completely innocent and clearly legal because medical equipment such as MRI's are exempted by the ' humanitarian exceptions' stated in Obama's relevant Executive Orders imposing US sanctions against Iran.
Mr. Cliff Burns, a lawyer and law professor in Washington DC explained the case of Mr.Mohamad Nazemzadeh, who was a Research Fellow in the Neurology Department of the University of Michigan at the time of his arrest, and who is being federally prosecuted for sending a medical device to the Netherlands. At issue is a coil for a magnetic resonance imaging (MRI) machine. The coil is the assembly of wires that generates the necessary radio signals when electricity flows through them to permit imaging the part of the body within the coil. Mr. Nazemzadeh is currently doing research at the Henry Ford hospital in Detroit and his area of specialty is, not surprisingly, magnetic resonance imaging.
As explained by Mr. Burns, "A part for an MRI machine would, under the Trade Sanctions Reform and Export Enhancement Act of 2000, be eligible for an export license notwithstanding the embargo on Iran. Nazemzadeh's failure to obtain a license would, of course, be a violation of the embargo." Even assuming that it was a technical criminal violation in his case, one has to wonder why, as Burns does, Obama Administration prosecutorial resources are being consumed to prosecute a researcher for trying to send life-saving medical equipment to Iran. As one of the researchers lawyers noted: "Aren't there dangerous people out there with guns and bombs who might warrant the attention instead?"
An affidavit in support of a search warrant for Nazemzadeh's mobile phone casts doubt on whether Nazemzadeh actually had the criminal intent necessary to support an OFAC pushed criminal prosecution in the first place for the attempted export of the MRI part. According to the affidavit, Nazemzadeh was negotiating with the undercover federal agent sent in by OFAC to ship the MRI coil to Iran through a company in the Netherlands. It is not uncommon for people to believe, even if they study the vague wording of the Iranian sanction minutia, that if it is legal to ship an item to a particular country, no laws are broken if the item is then re-exported, without any involvement on their part, to a prohibited destination. Here, according to the affidavit, Mr. Nazemzadeh continued to say to the undercover agent that he believed the transaction was legal and says this is true because the export from the United States is to the Netherlands, not Iran. Mr. Nazemzadeh's good faith legal mistake is not a criminal act. Instead, this is precisely the sort of case that ought to be evaluated, if at all, as an administrative matter by OFAC, were that Muslim targeting agency anywhere near fair-minded and objective. OFAC should have at the maximum issued a fine in this case notwithstanding Mr. Nazemzadeh's mistaken belief that the transaction did not violate U.S. law.
If the White House truly wants to normalize relations with Iran and with Syria as it claims, it needs to do a lot better. A good start would be by calling off OFACs attack dogs who service other than the American people. Also it should honor its oft touted "Humanitarian sanctions against Iran and Syria that exempts medicines and medical equipment". This language has not been implemented and it misleads the global community about the brutal and illegal nature of the White House promulgated civilian targeting, for political purposes, sanctions.
This weekend's White House greetings to the people of the Islamic Republic for Nowruz the Iranian New Year in the Solar Hijri calendar are no doubt sincere and appreciated. But now it's time to give substance to America's New Year's greetings that her citizens can be proud of and, that is accordant and consistent with their values.