"The interventions of US imperialism, with the direct collaboration of the Saudi monarchy, have plunged the entire Middle East into chaos and bloodshed—from the destruction of Iraq, to the transformation of Libya into a militia-ravaged "failed state," to the ongoing carnage inflicted upon Syria … This predatory imperialist offensive threatens to ignite a region-wide conflagration, even as Washington deliberately ratchets up military tensions with both Russia and China. The threat of these separate conflicts coalescing into a third world war grows by the day."
— Bill Van Auken, Obama's criminal war against Yemen, WSWS

"Will the reactionary rulers of Saudi Arabia manage to break the legitimate hopes and enthusiastic dreams burning in the hearts of thousands of young people of the Arabian Peninsula? Never!"
— Gamal Abd al-Nasser, President of Egypt 1956 to 1970
In its ongoing effort to prevent the rise of "any popularly supported government in the region", the US has joined Saudi Arabia's savage war of annihilation against Yemen's northern tribal rebels, the Houthis. The Pentagon has expedited the delivery of bombs, ammunition and guidance systems to assist the Saudi-led campaign and is providing logistical support to maximize the impact of its bombing raids. The US has also set up a "joint fusion center", provided "aerial re-fueling platforms" and "advanced US-made weaponry" with the explicit intention of suppressing a militant group that overthrew the US-backed puppet government in the capital of Sanaa in the fall of 2014. The level of coordination between the makeshift Arab coalition (The Gulf Cooperation Council or GCC) and the US suggests that Washington is not only fully aware that food depots, water facilities, refugee camps and critical civilian infrastructure are being deliberately targeted and destroyed, but that the White House has given the green light to actions that will inevitably lead to widespread famine and social collapse. Here's a little background from an article in The National:
"Yemen Economic Corporation, one of Yemen's largest food storage centres, was destroyed by three coalition missile strikes in Hodeidah last Tuesday, according to the Houthi-controlled defence ministry. The corporation had enough food for the entire country. The government's military food storage centre in Hodeidah was also targeted and destroyed on Tuesday, according to the defence ministry.

Also in Hodeidah, country's second largest dairy plant was hit by five Saudi missiles on Wednesday, killing at least 29 people, mostly employees, and injuring dozens of others." (Yemeni civilians struggle to get by amid conflict, The National)
This is from Channel News Asia:
DUBAI: Warships from the Saudi-led coalition have blocked a vessel carrying more than 47,000 tonnes of wheat from entering a Yemeni port, demanding United Nations guarantees that the cargo would not go to military personnel, shipping sources said on Thursday." (Saudi-led coalition bars wheat ship from entering Yemen port – sources, Channel News Asia)
This is from WSWS:
"Airstrikes as well as fighting on the ground has knocked out electrical infrastructure, cutting off power in many urban areas and stopping the operation of crucial pumps that supply Yemen's cities with drinking water. "We're worried that this system will break down shortly; Aden is a dry, hot place, and without water people will really suffer," UNICEF representative Harneis told reporters…

The no-fly zone and blockade enforced by Saudi Arabia and its coalition partners has effectively blocked the delivery of medical aid and supplies for the last two weeks, exacerbating the developing crisis." WSWS
Live reports on the ground confirm that food depots have been bombed across the country; " in Asr (west) hit as well as Urdhi complex (center) & Noqum (east).
This is how America fights its wars, by precipitating massive humanitarian crises that help it to achieve its political objectives. If that isn't terrorism, then what is?
Here's more from the Washington Post:
"As tons of desperately needed medical supplies await clearance to be flown into Yemen, aid workers warned Tuesday of an unfolding humanitarian crisis, saying at least 560 people, including dozens of children, have been killed, mostly in a Saudi-led air campaign and battles between Shiite rebels and forces loyal to the embattled president. More than 1,700 people have been wounded and another 100,000 have fled their homes as fighting intensified over the past three weeks, the World Health Organization said." (560 dead amid fears of humanitarian collapse in Yemen, Washington Post)
The Saudis launched this latest aggression invoking the thinnest of pretexts, that it wanted to "restore the legitimate government" and protect the "Yemeni constitution and elections." As CNN's Ali Alahmed sardonically quipped:
"The need to protect constitutions and elections is a rather strange message from the representative of an absolute monarchy … The kingdom's real motives seem clear if one looks at Saudi monarchy's history of not allowing regional competition of any kind, while consistently combating efforts to build democratic governments that empower the people…

The Saudi goal is simple: Prevent the rise of any popularly supported government in the region that seeks self-determination. And the excuse of "resisting Iran's influence," meanwhile, appears to be nothing but sectarian bluster." (What Saudi Arabia wants in Yemen, CNN)
While we agree with Alahmed's basic thesis, we think the rule applies more to the United States than Saudi Arabia. After all, it's the US that has gone from one country to the next, toppling governments, installing puppets, and spreading anarchy wherever it goes. Whatever role the Saudis might have played in Washington's grand plan to redraw the map of the Middle East and project US tentacles into Eurasia, it is quite small by comparison. It's the US that refuses to allow an independent government to emerge in a region that it's committed to control. And it's the US that is facilitating the attacks on innocent Yemenis by providing the bombs, weaponry and logistical support to the reactionary Saudi leadership. Check this out from Gregory Johnson at Buzzfeed:
"A consensus appears to be building in Riyadh, Cairo, and Islamabad toward inserting ground troops into the conflict in Yemen. One Egyptian military official told BuzzFeed News the decision had already been made. "Ground forces will enter the war," the official said on condition of anonymity in order to discuss classified military operations.

The timing of such a move, which would be a significant escalation in the Saudi-led air campaign in Yemen, is still being discussed. But the Egyptian military source said it could happen as soon as "two or three days." (Ground Forces Seen Joining Bloody War In Yemen, Buzzfeed)
So after two weeks of nonstop bombing, the coalition is now planning to intensify the conflict by putting boots on the ground. But that will only prolong the hostilities and plunge the country deeper into crisis. It will also increase the risk of Houthi retaliation, which appears to already be taking place. According to Al Arabiya English, fighting broke out in the Southern Saudi city of Narjan on April 11. (#BREAKING Asiri: Houthi militias are amassing close to the Saudi-Yemeni border… #BREAKING: Asiri: clashes reported near the Saudi city of Najran)
While no one expects the Houthis to invade their northern neighbor, there are some analysts who think the monarchy has taken on more than it can chew and will eventually suffer blowback from its incursion. One such critic is Sayed Hassan Nasrallah, Secretary General of the Lebanese paramilitary organization Hezbollah. In a recent interview, Nasrallah suggested that the Houthis have the means to curtail vital energy supplies, strike a blow against Saudi Arabia, and send financial markets tumbling at the same time. Here's an excerpt from the interview:
"There is now a demand on the Yemeni leaders… who have not taken the decision to close (the strategic Strait) of Bab al-Mandeb, which they could do at any time. (It is only 20 kilometres-large, they are quite capable of it.) And they could also hit targets inside Saudi Arabia with missiles, or even enter the interior of Saudi Arabia, although they have not yet made this decision, so far … There is currently a Yemeni popular demand: "Let us go to Saudi Arabia." Leadership thus far has not taken such a decision. I wanted to indicate this."…

Nasrallah again: "I am absolutely certain that Saudi Arabia will undergo a major defeat. And its defeat will impact its internal situation, the royal family … and the entire region." ("Hassan Nasrallah: The war in Yemen announces the end of the House of Saud", The Vineyard of the Saker)

So the Houthis could close the Bab Al Mandeb straits and prevent millions of barrels of oil from getting to market? That changes the calculus entirely. How would that effect Washington's plan to crash Russia's economy with plunging oil prices? How would it impact global stock markets which are already jittery over the Fed's projected rate hikes? What effect would it have on al Nusra, ISIS and other Al Qaeda-linked groups that would then seek to launch similar attacks against critical energy infrastructure as the best way to achieve their aims?

There are things the Houthis can do to discourage Saudi aggression. They can take matters into their own hands and strike where it hurts most. Washington is so convinced of its own invincibility, that no one has even thought of this. Without the slightest hesitation, the Obama troupe has embroiled a key ally in bloody conflagration that could backfire and seriously undermine US interests in the region. Saudi Arabia is the cornerstone of US power in the Middle East, but it is also its Achilles heel. By supporting the attack on the Houthis instead of seeking a political solution, Washington has strengthened Al Qaeda on the Arabian Peninsula (AQAP) which poses the greatest single threat to the monarchy. As Nasrallah notes: "they (the US and SA) protect Al Qaeda and Daesh in Yemen, and more, they drop them weapons by air. This is an achievement? This goes against the interests of Saudi Arabia."
Indeed, it does. Al Qaeda has much greater ability to infiltrate Saudi Arabia and either launch terrorist attacks or foment popular revolution. The Houthis present no such security threat, they're only interest is to maintain their own sovereignty, borders, and independent foreign policy. A 2003 article in the Atlantic by CIA Bureau Chief Robert Baer titled "The Fall of the House of Saud" provides a window into Riyadh's vulnerabilities and draws the ominous conclusion that the kingdom's days are numbered. Here's a clip from the article:
"Saudi oil is controlled by an increasingly bankrupt, criminal, dysfunctional, and out-of-touch royal family that is hated by the people it rules and by the nations that surround its kingdom…

Signs of impending disaster are everywhere, but the House of Saud has chosen to pray that the moment of reckoning will not come soon—and the United States has chosen to look away. So nothing changes: the royal family continues to exhaust the Saudi treasury, buying more and more arms and funneling more and more "charity" money to the jihadists, all in a desperate and self-destructive effort to protect itself.

The most vulnerable point and the most spectacular target in the Saudi oil system is the Abqaiq complex—the world's largest oil-processing facility, which sits about twenty-four miles inland from the northern end of the Gulf of Bahrain. All petroleum originating in the south is pumped to Abqaiq for processing. For the first two months after a moderate to severe attack on Abqaiq, production there would slow from an average of 6.8 million barrels a day to one million barrels, a loss equivalent to one third of America's daily consumption of crude oil. For seven months following the attack, daily production would remain as much as four million barrels below normal—a reduction roughly equal to what all of the opec partners were able to effect during their 1973 embargo…

I served for twenty-one years with the CIA's Directorate of Operations in the Middle East, and during all my years there I accepted on faith my government's easy assumption that the money the House of Saud was dumping into weaponry and national security meant that the family's armed forces and bodyguards could keep its members—and their oil—safe … I no longer believe this … sometime soon, one way or another, the House of Saud is coming down." (The Fall of the House of Saud, Robert Baer, The Atlantic)
Neither the United States nor Saudi Arabia have any right to interfere in Yemen's internal affairs or to install their own political puppets to head the government. That is the right of the Yemeni people. And while the current process of regime change might be messy and violent, the Houthi rebels better represent the interests of the indigenous population than anyone in Riyadh or Washington. The Saudi-US war is merely aimed at controlling the outcome so Yemen remains within the imperial grip. As Nasrallah says, "The real goal of the war is to retain control and domination of Yemen (but) the Yemeni people will not put up with this aggression and humiliation. They will fight to defend their dignity, their existence, their families, and their territory. And they will be victorious."
"We shall have world government, whether or not we like it. The question is only whether world government will be achieved by consent or by conquest"   Paul Warburg at U. S, Senate Committee on Foreign Relations, February 17, 1950.
"The tumultuous noise of the nations, their rejoicings and lamentation, the pleadings of their prayer, the groans of their despair, the cry of their imprecations, their wrath, their love, their hate!" Henry Wadsworth Longfellow, Introduction, "Christus: A  Mystery"
The world that is presented to every current inhabitant is a world of extensive diversity; a vast array of different languages, cultures, and values.  No living creature had anything to do with creating this tiny planet or with the vast universe that surrounds it.  All are temporary residents of space they do not and cannot entirely understand.
Amy Chua is a brilliant, American born, Chinese woman; educated at Harvard, employed for a time at Duke and now a Law Professor at Yale. Her husband, Jeff Rubenfeld, is also a Law Professor at the same institution..  She has authored four books: "World on Fire", "Day of Empire", "Battle Hymn of the Tiger Mother", and, "The Triple Package".
Her writing is legible and wears well.  Each book provides interesting, and extensive coverage.  The books are distinctly different but they have a strong common theme.
The subtitle of the 2002 book, "World on Fire", is "How exporting Free Market Democracy Breeds Ethnic hatred and Global Instability".  The book describes in detail nation after nation that is dominated by a small minority who live in luxury off the labor of poor, uneducated minions that have no hope of progress.  Invariably the massive poor minority hates the wealthy owners who are often not indigenous to the nation.
Chua contends that Democracy exacerbates the problem.  She writes, "—in the numerous countries around the world with a market dominated minority, the simultaneous pursuit of free markets and democracy has led not to widespread peace and prosperity, but to confiscation, autocracy, and mass slaughter.  Outside the industrialized West, these have been the wages of globalization."  (Pg. 125)
In 2007 "Day of Empire" used detailed descriptions of historic empires to promote the theory that tolerance was the glue that allowed empires to flourish and remain intact.  In 344 pages the book begins by delving into the Persian Empire, 559 – 330 BC, it continues through the Chinese Qin (212 BC) andTang (618-907 AD) dynasties and records the Great Mongol Empire during the 13th and 14th centuries AD, then  Rome, the Dutch, the British and finally the United States of America, a "hyperpower".  In each tyranny Chua carefully describes tolerance as the glue that held the empire together and intolerance as responsible for its demise..
In 2011 she published "Battle Hymn of the Tiger Mother", a description of her determination to produce exceptionalism in her two daughters.  Her methods reminded me of Vince Lombardi's quintessential coaching career at Green Bay.  She insisted on excellence and would not accept failure.  Her daughters hated her during the process but loved her for the result.  Reviews of the content in this book were often negative.
In 2013 came "The Triple Package" an attempt to define the components of success in the United States.  Chua and her husband came up with the following traits: a superiority complex, insecurity, and impulse control. They listed the following ethnic groups that have enjoyed success: Chinese, Jewish, Indian, Iranian, Lebanese, Nigerians, Cuban exiles, and Mormons.
Race and power flow through all of Chua's writing.  She assents to globalism but her books belie its implementation by describing racial, cultural, and social distinctions that run deep and are intransigent.  Over and over again they document the universal existence of predator classes that tyrannize the masses and exploit them for their own benefit.  The injustices that allow alien overlords to exploit an entire race often result in a resentment-filled overthrow that is brutal, anarchic and an affront to humanity itself.
In "World on Fire" Chua describes the Rwanda genocide.  The Tutsis though they were only 14 percent of the population were the ruling class.  Though the two races married, lived side by side and the Hutus were allowed to achieve Tutsi status there was resentment when a Tutsi become king. Then the Belgian colonists, as a method of control, declared the Tutsis superior to the Hutus and began providing Tutsis with better educations and promoting them to positions of authority over the Hutu.  Eventually the Hutus were forced into permanent servitude.
Buoyed by the rhetoric of political leaders in the spring and summer of 1994, the Hutus rose up and in just a hundred days used machetes to hack to death some eight hundred thousand Tutsi.  Chua quotes Philip Gourevitch, "Neighbors hacked neighbors to death in their homes, and colleagues hacked colleagues to death in their workplaces.  Doctors killed their patients, and schoolteachers killed their pupils.  Within days, the Tutsi population of many villages was all but eliminated…." (Pg. 169)
The Chinese in the Philippines, the Jews in Russia, the Indians and Lebanese in Africa, and so on, "World on Fire" documents the exploitation of nations and their citizens often by better educated foreigners who siphon off both labor and resources.  She believes that free market democracy, the medium of globalism, exacerbates this travesty.
In The Day of Empire the fascinating detailed description of past empires is used as a backdrop to assess the ability of the United States of America to create a world empire.  The book is critical of the Iraq War and dubious that USA will be able to find a "glue" that will allow large scale hegemony.
The collapse of the Soviet Union could have made the world ready for U. S. leadership but, "Instead, the ironic result of the United States "democratic world dominance" has been rampant, raging anti-Americanism.  Today, America faces billions of people around the world, most of them poor, who know that the American Dollar is the world's dominant currency, that English is the world's dominant language, that American corporations are the most powerful and visible in the world, and that American brands are the most pervasive and coveted.…  In short, large numbers of people all over the world feel dominated by – but no connection or allegiance to – the United States." (Pg. 328)
"The Triple Package" digs out the motivations that produce success in the United States.  Chua's husband, Jeb Rosenfeld, is Jewish and her two daughters are being raised in the religion of Judaism.  Although both the Chinese and Jewish races are dominant and both are adroit at becoming market dominant minorities in other nations Chua makes the Jews the standard by using them to describe other tyrannical races:  i.e. Indians as the "Jews of East Africa".  (Pg. 115)
Dominance is an underlying theme in all four of Chua's books.  She is conflicted by her excellent description of the intense resentment that results from the numerous market dominated minorities and her support for Globalization which takes the form of a critique of the U. S. go-it-alone policy and questions its decisions.  She seems to want dominance to succeed while her research shows that it is failing.  In the Acknowledgements at the beginning of "World on Fire" Chua cites Strobe Talbot as a contributor to the book.  In 1992, Talbot was quoted by Time Magazine, "In the next century, nations as we know it will be obsolete; all states will recognize a single, global authority. National sovereignty wasn't such a great idea after all."
In the "Battle Hymn of the Tiger Mother", Chua describes the stout discipline she used to produce top one percent children.  While she wants her girls to be cream her writing shows sympathy for the milk.
On Page 189 of "World on Fire" Chua writes, "Take the United States.  While some ethnic minorities have outperformed others, the United States economy is absolutely not controlled by any ethnic minority.  On the contrary, if any group can be said to dominate our economy, it is the White majority.
Jeb Rosenfeld's "genius and kindness" (cited in the Acknowledgements for "World on Fire") has over whelmed Chua's research.  Jews may not be the wealthiest Americans but they are by far the most powerful.  It is power, not wealth per se that allows minority market dominance and Jewish power in United States comes through almost total dominance of the press, media, and publishing.  Add total control of the Federal Reserve, the World Bank, Goldman Sachs, and other commercial banks; plus dominance over scores of major corporations and hegemony over many of our institutions of higher learning and you have market dominant minority of distinction.
Without Jewish backing no one can be elected to the U. S. Presidency or to the House or Senate.  From the book reviews aired on C-Span it seems that eighty percent of the books published in the United States are by Jewish authors. Now even C-Span's iconic Brian Lamb's guest interviews seem to favor Jewish authors.
There are two major factors that allow Jews to sustain a successful market dominate minority in the United States:  One, motion pictures and the media have allow them to create ample amounts of sympathy by dramatizing the Holocaust, and two, they enjoy the total support of hundreds of thousands of severely deluded Dispensational Christians.
It is ironic that Chua denies Jewish dominance in one book and acknowledges it in another ("The Triple Package").
Several years ago my wife and I had a very enjoyable min-vacation in San Francisco.  One of the highlight of our visit was riding the city bus through China Town.  This section of the city houses one of the largest and most authentic Chinese settlements in the nation…Our hotel was new, well appointed, and comfortable.  It was Chinese owned.  I remember saying to my wife that in another decade or so the Chinese will dominate the city – maybe they already do.
We have several market dominate minorities in the United States.  The Jews have been here longest and have accumulated major hegemony.  Indians have cornered the motel business, and the ubiquitous gasoline stations and convenience stores.  The Chinese are quietly successful and their wealth is seldom publicized.  Iranian Muslims are newcomers but they are already making waves in Michigan.  Mexicans have become the majority population in parts of the West and are talking annexation. Whites and Blacks who have lived here longest are destined to minority status.
Chua's extensive research provides ample evidence that Globalism is in trouble.  Various races around the Globe seek to maintain their own culture.  They want to live in their own unique ways and enjoy their possessions as they see fit.  They do not want to be dictated to or tyrannized.  They may accept foreigners but they quickly resent state tyranny and non-indigenous dominance.
Chua gropes for solutions and lists some possibilities:  Redistribution through tax and transfer programs, give the poor legally defendable property rights,         give or provide a way for the underprivileged to own stock in international corporations, and finally, government intervention with affirmative action programs.
She describes reality with extensive research to support her conclusions.  I concur with her summations but contend with her intent.  She is a globalist and her search for ways to bring the world's array of languages and cultures under the globalist tent is the same spirit that is creating the malevolent resentment her research describes.
Most of the world's cultures are made up of people that want to be left alone.  Many are satisfied with lives that sophisticated Westerners would consider deprived but, nevertheless, still want to solve their own problems.  United States is promoting globalism and democracy by force and Chua is on target when she describes the resentment it causes.
Missing in all of the books is the fact that Globalism is being foisted on the world by a global dominate minority which is creating a global resentment larger and more virulent than the national problem she describes. Chua writes, "If global free market democracy is to be peaceably sustainable, then the problem of market dominant minorities, however unsettling, must be confronted head on." (Pg. 164 "World on Fire") It is globalism itself that should be confronted head on.  Since Chua's research clearly shows the fervent desire of most of the world's population to live without outside interference, globalism will not come peacefully.  Many of the world's nations will fight foreign domination.
In "Systematic Theology" R. J. Rushdoony quotes George Orwell, "We know that no one ever seizes power with the intention of relinquishing it.  Power is not a means; it is an end.  One does not establish a dictatorship in order to safeguard a revolution; one makes the revolution in order to establish the dictatorship"….. (RJR writes) "Fallen men are bramble men; their expression of the will to power varies only in terms of the courage and opportunities. Fallen man thus becomes more unproductive as he becomes more powerful in his role over others."   Pg. 1032
If the Global Dominate Minority would begin to use their God-given grey matter to study the Law God gave to His sin ridden people they would understand that the problems of the world can be alleviated without force in any nation that freely accepts and enforces it.  Eugenics is a dirty word in most civilized society but there are rumors that the Global Dominate Minority thinks in that realm.
Humanistic eugenics is evil but the eugenics incorporated into God's Law is a righteous method of creating a peaceful society.  Freedom is impossible in anarchic societies.  Our Founders understood that the government they set up was designed for an obedient people; that wide spread disobedience would quickly destroy freedom.
We are not created equal and there will always be those that are smarter and stronger.  The Bible even contains instructions on how to periodically reset the playing field.  God's Law is wiser than man's law – peace in our world waits for men to realize it.
"False centers will not hold.  Things fly apart, confusion reigns, and only taxes hold the state together.  Powers now do lie within oppressor's hands, and men are cold toward virtue, prone to sin and treason." R. J. Rushdoony, "The Luxury of Words", Pg. 127
The misplaced reverence to the ill formulated U.S Constitution and hidden subjugation back to the City of London is one aspect of history that is not taught in government schools or discussed in institutes of higher education. This subject is probably new to most observers of the legacy from the Founding Father's biggest mistake. Regular readers of BREAKING ALL THE RULES are familiar with the arguments made in the essays, In the beginning: Let there be the Articles of Confederation and Articles of Confederation was Preferable. Now the case for the betrayal of the purpose of the American Revolution needs to be explored.
Cited on the US Constitution Gave Legal Ownership and Control of the United States to London site is an assessment by Michael Edward.
"Neither the American people nor the Queen of Britain own America. The Crown Temple owns America through the deception of those who have worn their allegiance by oath to the Middle Templar Bar. The Crown Bankers and their Middle Templar Attorneys rule America through unlawful contracts, unlawful taxes, and, contract documents of false equity through debt deceit, all strictly enforced by their completely unlawful, but 'legal,' Orders, Rules and Codes of the Crown Temple Courts Our so-called 'judiciary' in America. This is because the Crown Temple holds the land titles and estate deeds to all of North America."
An examination of The Templars of the Crown provides elaboration on this appraisal. For an even more in-depth analysis, review the material that probes AMERICAN LAND OWNERSHIP, A TRUE OXYMORON, which deals with the work of James Montgomery.
"Many of you are aware that the laws of this nation and it's states, were made to be in compliance and submission to the laws of England, only modified by state and federal law. You will see in this last Chapter state statutes from just a few of the original colonies, that this is the case. Are these what are called ancient statutes? Yes. However, since the king's Corporation is alive and well as are his heirs, so is his Trust and the law used to create and govern it. The law that governs his Trust can only be amended, no law could be enacted contrary to the king's will and cestui que trust, the main corporate sole where office is always found, the Crown. The king's practice of granting lands in this country to those loyal to him continues, along with their land grants being protected by state ancient statutes which are still on the books. We are governed by the king's nobles just as in times of old England, self proclaimed nobles, and corporate trusts. They rule this country and the world. The huge corporations have been granted power and liberty not known by the common man. The nobles, real and the created, occupy their possessions as fiduciaries and trustees of the king's grants; only if they remain loyal to the system, their privilege and life style are their reward."
Invest the time in discovering all the historic accounts, legal rulings and linkages that go back to the Crown, AKA, the City of London.
If you are unfamiliar with The (British) Crown Empire and the City of London Corporation take a quick refresher course on the actual nature of the financial foundation and codified sanction that purports to be lawful. Jurisprudence may be legal by the definition and formulations of the judicious barrister class, but it certainly is not founded on the basic principles of natural law.
Julian Websdale concludes: "The whole Earth is governed by The Crown, through Crown Colonies which belong to The City – The Crown Empire. It governs Africa and still governs China and India. The colonies of the Earth are really just Crown Colonies – The United States of America are states of The Crown."
Now this interpretation may seem bizarre to most and the plot thickens in the The construe Powers – Behind the Global Empire piecing together a long account of legalized equity mandates.
"The signed treaties and charters between Britain and the United States reveals that King James the 1st was not only famous for translating the Bible, but for signing the first charter of Virginia in 1606. That charter granted America's British forefathers a license to settle and colonize America and guaranteed future kings and queens of England to have sovereign authority over citizens and colonized land in America. The treaty of 1783 identifies the king of England as the prince of the United States. King George the 3rd gave up most of his claims over American colonies, but he kept his right to continue receiving payment for his business venture of colonizing America."
The next element to consider has The Top of the Pyramid: The Rothschilds, the British Crown and the Vatican Rule the World. Read this account and trace back the historic lineage of  some of the Englishmen who founded America.
"To have the Declaration of Independence recognized internationally, Middle Templar King George III agreed in the Treaty of Paris of 1783 to establish the legal Crown entity of the incorporated United States, referred to internally as the Crown Temple States (Colonies). States spelled with a capital letter 'S,' denotes a legal entity of the Crown.
At least five Templar Bar Attorneys under solemn oath to the Crown, signed the American Declaration of Independence. This means that both parties were agents of the Crown."
As time proceeds, the sell out of the "shot heard around the world" revolution deepens.Two Constitutions in the United States. 1st was illegally suspended in favor of a Vatican "Crown" corporation in 1871. This approving assessment of the Federal Constitution views a Shadow Government in place since 1871.
"Since 1871 the United States president and the United States Congress has been playing politics under a different set of rules and policies.  The American people do not know that there are two Constitutions in the United States.  The first penned by the leaders of the newly independent states of the United States in 1776.  On July 4, 1776, the people claimed their independence from the Crown (temporal authority of the Roman Catholic Pope) and Democracy was born.  And for 95 years the United States people were free and independent.  That freedom ended in 1871 when the original "Constitution for the United States for America" was changed to the "THE CONSTITUTION OF THE UNITED STATES OF AMERICA".
The Congress realized that the country was in dire financial straits, so they made  a financial deal with the devil –  the Crown (a.k.a. City of London Corporation – est. by the Catholic Church on Jan 1, 1855 ) thereby incurring a DEBT to the Pope.  The conniving Pope and his bankers were not about to lend the floundering nation any money without some serious stipulations. So, they devised a way of taking back control of the United States and thus, the Act of 1871 was passed.  With no constitutional authority to do so, Congress created a separate form of government for the District of Columbia.
With the passage of  "the Act of 1871" a city state (a state within a state) called the District of Columbia located on 10 sq miles of land in the heart of Washington was formed with its own flag and its own independent constitution – the United States' secret second constitution."
Lastly, Three Corporations run the world: City of London, Washington DC and Vatican City list the City of London houses as including:
Rothschild controlled 'Bank of England'
Lloyds of London
The London Stock Exchange
All British Banks
The Branch offices of 384 Foreign Banks
70 USA Banks
Fleet Streets Newspaper and Publishing Monopolies
Headquarters for Worldwide Freemasonry
Headquarters for the worldwide money cartel known as 'THE CROWN'
Conclusion: "City of London directly and indirectly controls all mayors, councils, regional councils, multi-national and trans-national banks, corporations, judicial systems (through Old Bailey, Temple Bar and the Royal Courts of Justice in London), the IMF, World Bank, Vatican Bank (through N. M. Rothschild & Sons London Italian subsidiary Torlonia), European Central Bank, United States Federal Reserve (which is privately owned and secretly controlled by eight British-controlled shareholding banks), the Bank for International Settlements in Switzerland (which is also British-controlled and oversees all of the Reserve Banks around the world including our own) and the European Union and the United Nations Organization."
This introduction to the actual influence and pompous legal authority that underpins the financial hierarchy is based upon a historic explanation that is foreign to most Americans. The implications are staggering and for this reason alone, most are not willing to do their own research. Do not get caught up in the uncanny departure from the usual rendering of reality. Remember that the City of London's coat-of-arms reads in Latin – Domine Dirige Nos – which translates, Lord, direct us. The true question, asks just which deity do the soldiers of the Crown adore?
"In order to survive and preserve its leading role on the international stage, the US desperately needs to plunge Eurasia into chaos, (and) to cut economic ties between Europe and Asia-Pacific Region … Russia is the only (country) within this potential zone of instability that is capable of resistance. It is the only state that is ready to confront the Americans. Undermining Russia's political will for resistance… is a vitally important task for America."

-Nikolai Starikov, Western Financial System Is Driving It to War, Russia Insider

"Our first objective is to prevent the re-emergence of a new rival, either on the territory of the former Soviet Union or elsewhere, that poses a threat on the order of that posed formerly by the Soviet Union. This is a dominant consideration underlying the new regional defense strategy and requires that we endeavor to prevent any hostile power from dominating a region whose resources would, under consolidated control, be sufficient to generate global power."

-The Wolfowitz Doctrine, the original version of the Defense Planning Guidance, authored by Under Secretary of Defense Paul Wolfowitz, leaked to the New York Times on March 7, 1992
The United States does not want a war with Russia, it simply feels that it has no choice. If the State Department hadn't initiated a coup in Ukraine to topple the elected president, Viktor Yanukovych, then the US could not have inserted itself between Russia and the EU, thus, disrupting vital trade routes which were strengthening nations on both continents. The economic integration of Asia and Europe–including plans for high-speed rail from China ("The New Silk Road") to the EU–poses a clear and present danger for the US whose share of global GDP continues to shrink and whose significance in the world economy continues to decline. For the United States to ignore this new rival (EU-Russia) would be the equivalent of throwing in the towel and accepting a future in which the US would face a gradual but persistent erosion of its power and influence in world affairs. No one in Washington is prepared to let that happen, which is why the US launched its proxy-war in Ukraine.
The US wants to separate the continents, "prevent the emergence of a new rival", install a tollbooth between Europe and Asia, and establish itself as the guarantor of regional security. To that end, the US is rebuilding the Iron Curtain along a thousand mile stretch from the Baltic Sea to the Black Sea. Tanks, armored vehicles and artillery are being sent to the region to reinforce a buffer zone around Europe in order to isolate Russia and to create a staging ground for future US aggression. Reports of heavy equipment and weapons deployment appear in the media on nearly a daily basis although the news is typically omitted in the US press. A quick review of some of the recent headlines will help readers to grasp the scale of the conflict that is cropping up below the radar:
"US, Bulgaria to hold Balkans military drills", "NATO Begins Exercises In Black Sea", "Army to send even more troops, tanks to Europe", "Poland requests greater US military presence", "U.S. Army sending armored convoy 1,100 miles through Europe", "Over 120 US tanks, armored vehicles arrive in Latvia", "US, Poland to Conduct Missile Exercise in March – Pentagon"
Get the picture? There's a war going on, a war between the United States and Russia.
Notice how most of the headlines emphasize US involvement, not NATO. In other words, the provocations against Russia originate from Washington not Europe. This is an important point. The EU has supported US-led economic sanctions, but it's not nearly as supportive of the military build up along the perimeter. That's Washington's idea and the cost is borne by the US alone. Naturally, moving tanks, armored vehicles and artillery around the world is an expensive project, but the US is more than willing to make the sacrifice if it helps to achieve its objectives.
And what are Washington's objectives?
Interestingly, even political analysts on the far right seem to agree about that point. For example, check out this quote from STRATFOR CEO George Friedman who summed it up in a recent presentation he delivered at The Chicago Council on Foreign Affairs. He said:
"The primordial interest of the United States, over which for centuries we have fought wars–the First, the Second and Cold Wars–has been the relationship between Germany and Russia, because united there, they're the only force that could threaten us. And to make sure that that doesn't happen." … George Friedman at The Chicago Council on Foreign Affairs, Time 1:40 to 1:57)
Bingo. Ukraine has nothing to do with sovereignty, democracy or (alleged) Russian aggression. That's all propaganda. It's about power. It's about imperial expansion. It's about spheres of influence. It's about staving off irreversible economic decline. It's all part of the smash-mouth, scorched earth, take-no-prisoners geopolitical world in which we live, not the fake Disneyworld created by the western media. The US State Department and CIA toppled the elected-government in Ukraine and ordered the new junta regime to launch a desperate war of annihilation against its own people in the East, because, well, because they felt they had no other option. Had Putin's ambitious plan to create a free trade zone between Lisbon to Vladivostok gone forward, then where would that leave the United States? Out in the cold, that's where. The US would become an isolated island of dwindling significance whose massive account deficits and ballooning national debt would pave the way for years of brutal restructuring, declining standards of living, runaway inflation and burgeoning social unrest. Does anyone really believe that Washington would let that to happen when it has a "brand-spanking" trillion dollar war machine at its disposal?
Heck, no. Besides, Washington believes it has a historic right to rule the world, which is what one would expect when the sense of entitlement and hubris reach their terminal phase. Now check out this clip from an article by economist Jack Rasmus at CounterPunch:
"Behind the sanctions is the USA objective of driving Russia out of the European economy. Europe was becoming too integrated and dependent on Russia. Not only its gas and raw materials, but trade relations and money capital flows were deepening on many fronts between Russia and Europe in general prior to the Ukraine crisis that has provided the cover for the introduction of the sanctions. Russia's growing economic integration with Europe threatened the long term economic interests of US capitalists. Strategically, the US precipitated coup in the Ukraine can be viewed, therefore as a means by which to provoke Russian military intervention, i.e. a necessary event in order to deepen and expand economic sanctions that would ultimately sever the growing economic ties between Europe and Russia long term. That severance in turn would not only ensure US economic interests remain dominant in Europe, but would also open up new opportunities for profit making for US interests in Europe and Ukraine as well…

When the rules of the competition game between capitalists break down altogether, the result is war—i.e. the ultimate form of inter-capitalist competition." (The Global Currency Wars, Jack Rasmus, CounterPunch)
See? Analysts on the right and left agree. Ukraine has nothing to do with sovereignty, democracy or Russian aggression. It's plain-old cutthroat geopolitics, where the last man left standing, wins.
The United States cannot allow Russia reap the benefits of its own vast resources. Oh, no. It has to be chastised, it has to be bullied, it has to be sanctioned, isolated, threatened and intimidated. That's how the system really works. The free market stuff is just horsecrap for the sheeple.
Russia is going to have to deal with chaotic, fratricidal wars on its borders and color-coded regime change turbulence in its capital. It will have to withstand reprisals from its trading partners, attacks on its currency and plots to eviscerate its (oil) revenues. The US will do everything in its power to poison the well, to demonize Putin, to turn Brussels against Moscow, and to sabotage the Russian economy.
Divide and conquer, that's the ticket. Keep them at each others throats at all times. Sunni vs Shia, one ethnic Ukrainian vs the other, Russians vs Europeans. That's Washington's plan, and it's a plan that never fails.
US powerbrokers are convinced that America's economic slide can only be arrested by staking a claim in Central Asia, dismembering Russia, encircling China, and quashing all plans for an economically-integrated EU-Asia. Washington is determined to prevail in this existential conflict, to assert its hegemonic control over the two continents, and to preserve its position as the world's only superpower.
Only Russia can stop the United States and we believe it will.
I just had a talk with a friend of mine who was all pissed off because he had purchased a Series EE savings bond for his little kid way back in 1998.  "I paid $500 for it at the time and, at that time, the bank promised me that the bond would mature in ten years and then be worth $1,000."  So?  Well?  Did it?  Is it?
"Eh — no," sighed my friend.   "When my kid cashed it in last month, she only got $850 back."  What?  You mean after accumulating over 16 years of interest, the bond had only gained $250 in value?  Even after all those promises of doubling its worth after just ten years?  That's whacked.
But, according to the Treasury Direct website, it is also legal.  "Series EE bonds issued from May 1997 through April 2005 continue to earn market-based interest rates set at 90% of the average 5-year Treasury securities yields for the preceding six months.  The new interest rate for these bonds, effective as the bonds enter semiannual interest periods from November 2014 through April 2015 is 1.49%.  Market-based rates are updated each May 1 and November 1."
What the freak does that mean?
It means that Series EE savings-bond-holders have been (and can continue to be) legally ripped off.  Government agencies now under the happy control of the top 1% can legally make the rest of us little guys any promises they want — and then just take them back.
"Buying government savings bonds is practically like loaning the government interest-free money," I told my friend.  "But on the other hand, if you had bought $500 worth of gold back in 1998 instead of that bond, it would have cost you $296 an ounce — and an ounce and a half of gold would now be worth $1,808, a net gain of one thousand three hundred and seven dollars."
However, if you had spent that $500 on baseball cards, you might be pretty much out of luck.
But what if, instead, you had purchased $500 worth of stock for your kid?  If you had bought stock in mortgage companies like Countrywide, for instance, you would have kissed your $500 goodbye.
But if you had bought stock in pharmaceutical companies that produce products like mercury-laden vaccines, psychotropic drugs and male sex-enhancers, or bought stocks in weapons factories or bought stocks in oil companies or WalMart, you could have practically put your rugrat through college with your capital gains by now!
Or suppose you had invested that $500 in buying part-ownership in a Congressman — like the big boys on Wall Street, War Street and K Street do?  Apparently you would have gotten an average of a 5000% return on your investment.
Or if, like your government in cahoots with its sleazy bankster friends, you had invested your $500 in loaning money to college students instead?  Then you would have been able to collect 6% interest from said college students' loans for decades to come — and owned their souls for the rest of their lives too!
But, no.  You had faith in your government and bought savings bonds instead — never dreaming that your government would invest its resources in war and corporate welfare instead of in you.
However if it's any consolation, you and your kid are not alone.  China made that same mistake too.
Remember back when our founding fathers wisely designed our Constitution to include having three different branches of government?  Legislative, executive and judicial?  Well, just over 225 years later, America's government still has three different branches — except now those three branches are Wall Street, War Street and K Street.
A Manhattan jury just awarded a $218.5 million verdict against the Palestinian Authority for damages done to Israelis with American citizenship by Palestinian suicide bombers.  Do you know what this means?  A new precedence has just been set.  A new Pandora's box has just been opened.
Now everyone affected by anything like this can now also use American courts to get recompense for damages done by acts of "terrorism" on American citizens abroad!
For instance, were any Chilean-Americans killed in the CIA coup against Allende in Chile?  Their relatives can now sue Henry Kissinger — but of course they will have to stand in line behind the Cambodian-Americans killed by him.
And what about the bunches and groups of Palestinian-Americans, Yemeni-Americans, Iraqi-Americans, Syrian-Americans, Ukrainian-Americans, African-Americans, Grenada-Americans, Guatemalan-Americans, Haitian-Americans, etc. who have been either killed out in public for all to see by America's overtly-evil war machine — or else killed on the sly by those covertly-evil CIA troublemakers at Langley?
Or, hell, what about all those dead American-Americans too for that matter?  Does this mean that American soldiers killed or wounded in Vietnam, Iraq, Lebanon, Kuwait, Afghanistan, etc. can now sue the Department of Defense in American courts for "terrorism" too — as well as for fraud, creating dangerous conditions, willful negligence, breach of promise and entrapment as well?
Hey, Uncle War Street!  See ya in court!
Common wisdom has China as the future model for the Globalist economy. Also, conventional thinking has the Western financial debt created money system as the backbone of the New World Order. The big question is, are both components of the same intentional plan? When China Has Announced Plans For A 'World Currency', the world is put on notice that a fundamental shift is about to take place.
"What you are about to see is rather startling, but it shouldn't be a surprise.  When it comes to economics and finance, the Chinese have always been playing chess while the western world has been playing checkers.  Sadly, we have gotten to the point where checkmate is on the horizon.
The following comes from CNBC …
The tightly controlled Chinese yuan will eventually supersede the dollar as the top international reserve currency, according to a new poll of institutional investors.
The survey of 200 institutional investors – 100 headquartered in mainland China and 100 outside of it – published by State Street and the Economist Intelligence Unit on Thursday found 53 percent of investors think the renminbi will surpass the U.S. dollar as the world's major reserve currency.
Optimism was higher within China, where 62 percent said they saw a redback world on the horizon, compared with 43 percent outside China."
Before the celebration begins that the game is up for the Federal Reserve mastery from the days of the Bretton Woods Conference, look a little closer. While gold and its fixed price were instrumental to that monitory standard, the freeing from fixed rates has generated the madness of floating currency speculation that now dominates the financial markets.
The cunning and patient Chinese built their export economy on cheap priced goods into their importing customer economies. Saving is a noble objective in the East, while going into debt is the hallmark of Western practices. The Chinese have applied their huge balance of trade surpluses to buying up commodities. Most notable is gold.
The article, Could China actually have 30,000 tonnes of gold in reserves? Makes the strongest argument that China is poised to become the new superior currency is based upon the potential of establishing a convertible relationship between the renminbi and bullion.
"China has much more gold than it is allowing the world to see. As Alasdair Macleod, probably the world's number one analyst of the gold market, wrote that between 1983 and 2002 China probably accumulated 25,000 tons of gold. Thus, its current gold holdings are probably north of 30,000 tons in contrast to the USA which has either sold or leased most of its gold."  Now this statement coming from one of the usual gold megabulls might be ignorable, but Hunt does not fall into this category and has a good track record of insights into China's strategic initiatives as far as metals and minerals are concerned."
Before the rush to the door to dump your U.S. Dollars for whatever store of wealth one believes will maintain its purchasing value, consider what the voice of the global financial establishment, the IMF says. Stating the outlook from the central Bankster's perspective in, Will the Renminbi Rule?, the message is that paper money, burdened by debt, is still firmly in place.
"Given China's size and growth prospects, it is widely seen as inevitable that the renminbi will eventually become a reserve currency. To gauge the likelihood and timing, it is necessary to consider the typical attributes of a reserve currency and evaluate China's progress in each of these dimensions. The factors that generally affect a currency's reserve status includes:
Economic size
Macroeconomic policies
Flexible exchange rate
Open capital account
Financial market development
The IMF concludes:
"The renminbi is unlikely to become a prominent reserve currency—let alone challenge the dollar's dominance—unless it can be freely converted and China adopts an open capital account."
Now for anyone even remotely schooled in the manners and maturations of the financial elites, turning the other cheek to a pretender, is not in the lesson book.
Investment manager, Richard Harris offers in a report, Time to create new Chinese-Hong Kong dollar, an interesting possibility.
"The HK dollar itself is a dead unit having been pegged first to the pound and later to the US dollar, with the current rate fixed in 1983. The prevailing view about depegging is that it would be too dangerous. The unit only floated for a relatively short period from 1974-1983 and, I recall, without much confidence in its success.
The obvious answer is to combine the dead HK dollar with the embryonic CNH. This would be a completely independent, floating currency. The CNY would be used for current account transactions such as exports and imports, whilst the new "Chinese Dollar" (HKD/CNH combined) would cater for capital account financial transactions."
Keeping paper money in place as the international medium of exchange is fundamental to the New World Order. While China may never implement an actual redemption of gold for their renminbi, there is a real possibility that some gold weighted backing for Chinese paper instruments could be introduced.
The U.S. Dollar maintains illusionary worth, only because the central bankers are all in with their dollar dominated derivatives. Moreover, the Chinese are very much dependent upon their exports to keep their economy going. Settlement in Federal Reserve notes is crucial for the American system to keep buying from overseas.
Just the mere threat of payment in the renminbi for all the Chinese goods that Walmart imports     could be devastating. Allowing for a gradual transition into a semi-reserve renminbi status keeps the Bankster's game going.
The prudent analysis suggests that the NWO created China's emergence into an economic power through off-shoring domestic industries in their subject countries. Nonetheless, the international cabal is not about to starve their interest paying indebted nations by letting the Chinese accumulate even greater cash reserves.
Expect a downturn in China's prospects, as soon as any ascendency for their currency begins gaining a reserve acceptance.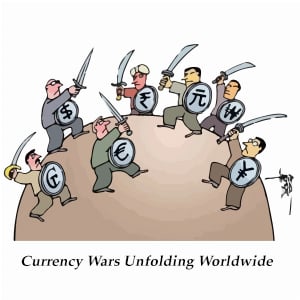 The first two months of 2015 have seen turmoil in the currency markets extend from Russia and Ukraine to the heart of Europe.
"Central Banks Now Open 24/7 Fighting Currency Wars and Deflation," blared a February 12th Bloomberg headline. Against this backdrop, precious metals have been on the rise in terms of all currencies except the Swiss franc and the U.S dollar.
In January, the Swiss National Bank shocked markets by announcing that it would de-link its currency from the euro. The move came one week ahead of the European Central Bank's $1.1 trillion Quantitative Easing announcement. Swiss officials decided it would be too costly to keep accumulating depreciating euros in order to maintain the currency peg. The Swiss franc surged by the most ever in a single day.
With the exception of Switzerland, all other countries in Europe (and many others around the world) are trying to depreciate their currencies.
Since January 1, the following central banks have announced interest rate cuts or other monetary easing measures: European Central Bank, Reserve Bank of Australia, Reserve Bank of New Zealand, Monetary Authority of Singapore, and the central banks of India, Canada, Denmark, and Sweden.
On February 12th, the Swedish Riksbank announced a surprise rate cut from 0% to below 0%. "To ensure that inflation rises towards the target, the Riksbank is prepared to quickly make monetary policy more expansionary, even between the ordinary monetary policy meetings," the world's oldest central bank said in a statement.
Sweden joins the European Central Bank and the central banks of a handful of other countries in pushing benchmark interest rates into negative territory. These central bankers are all aiming to revive inflation. "Investors" who are buying bonds yielding less than nothing (a negative rate) are apparently convinced that central bankers won't succeed in depreciating their currencies.
Insanity! Investors Now Paying for the "Privilege" of Lending to Broke Governments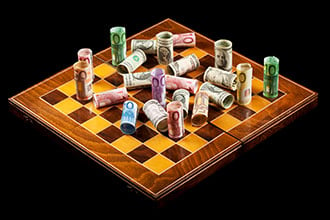 This could go down as one of the oddest, most irrational asset bubbles in history. Trillions of dollars are now tied up in debt instruments that promise to return less than the invested principal. According to a report issued by J.P. Morgan, $3.6 trillion in government bonds around the world now carry negative yields.
It raises the obvious question; why would so many people be willing to accept a negative rate of return?
You'd think that institutional investors would start getting wise to holding gold as a hard-currency alternative to cash instruments that yield less than zero. The fact that gold has no interest rate is actually an advantage in an environment where competing rates are negative! Plus, unlike most of the bonds issued in this upside-down interest rate market, gold has significant appreciation potential.
If inflation rises even modestly to the 2% target of European and U.S. central bankers, then bonds issued at rates of below 2% will all be losers. The two-year Treasury note yields only 0.63%. Even the recent 10-year yield of 1.98% fails to match the Federal Reserve's inflation ambitions.
The fact that gold has no interest rate is actually an advantage in an environment where competing rates are negative!
In this environment of ultra-low nominal yields or even negative real yields, precious metals as a reserve asset look very attractive. Many central bankers around the world agree and are busily accumulating gold. According to a report issued by the World Gold Council in February, governments around the world added 477.2 metric tons of gold to their reserves in 2014. That haul was the second biggest in 50 years.
When inflation fears return to the market, as they eventually will, precious metals will become one of the premier asset classes to hold. Even now, they are performing better than virtually all other world currencies.
The end game of these ongoing currency wars is that all fiat currencies will be debased. And a true flight to quality will accelerate – with assets fleeing depreciating currencies (and debt instruments denominated in them) and piling into gold and silver.
Will the Fed Chicken Out on Rate Hikes?
Of course, right now it's deflation fears that are dominating headlines. But the inflationary policy responses from the European Central Bank and others that have followed the ECB's lead have lifted gold and silver prices markedly in terms of euros and other currencies.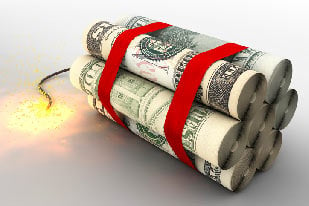 As confidence in European currencies plunges, there's only so much corresponding dollar strength the Federal Reserve is willing to tolerate. There's been much talk of rate hikes coming later this year, and that widespread expectation has been priced into the market. Any rhetorical or policy disappointments from the Fed in the months ahead could cause traders to sell the dollar.
Whether later this year or further down the road, it's only a matter of time before currency turmoil spreads to the United States.
The U.S. has a higher debt-to-GDP ratio than some troubled European countries. It has higher levels of unfunded liabilities (estimated to be in excess of $100 trillion) than any other country. The dollar's status as world reserve currency has allowed the U.S. to become financially overextended. But that vaunted status is slowly deteriorating as Russia, China, and other countries form economic alliances that bypass the dollar.
When these chickens come home to roost, you don't want to be wholly dependent on the U.S. government's promises or its currency. Sizeable holdings in physical precious metals will help make you financially resilient in the face of the spreading global currency crisis.
NATO Lies and Provocations…
"The war has been provoked to destroy the Russian World, to draw Europe into it, and to surround Russia with hostile countries. Unleashing this world war, America is trying to deal with its own internal problems."

– Sergei Glazyev, Advisor to Russian President Vladimir Putin
The fabrications of NATO's top commander in Europe, General Philip Breedlove, have driven a wedge between Germany and the United States that could lead to a collapse of the Atlantic Alliance. According to the German news magazine, Der Spiegel, Breedlove has repeatedly sabotaged Chancellor Angela Merkel's attempts to find a diplomatic solution to the war in Ukraine by spreading "dangerous propaganda" that is misleading the public about Russian "troop advances on the border, (and) the amassing of munitions and alleged columns of Russian tanks." But while the unusually critical article singles out Breedlove for his hyperbolic exaggerations of so-called Russian aggression, the real purpose of the Spiegel piece is to warn Washington that EU leaders will not support a policy of military confrontation with Moscow.
Before we explain what's going on, we need to look at an excerpt from the article. According to Spiegel:
"…for months now, many in the Chancellery simply shake their heads each time NATO, under Breedlove's leadership, goes public with striking announcements about Russian troop or tank movements … it is the tone of Breedlove's announcements that makes Berlin uneasy. False claims and exaggerated accounts, warned a top German official during a recent meeting on Ukraine, have put NATO — and by extension, the entire West — in danger of losing its credibility.

There are plenty of examples….At the beginning of the crisis, General Breedlove announced that the Russians had assembled 40,000 troops on the Ukrainian border and warned that an invasion could take place at any moment. The situation, he said, was "incredibly concerning." But intelligence officials from NATO member states had already excluded the possibility of a Russian invasion. They believed that neither the composition nor the equipment of the troops was consistent with an imminent invasion.

The experts contradicted Breedlove's view in almost every respect. There weren't 40,000 soldiers on the border, they believed, rather there were much less than 30,000 and perhaps even fewer than 20,000. Furthermore, most of the military equipment had not been brought to the border for a possible invasion, but had already been there prior to the beginning of the conflict. Furthermore, there was no evidence of logistical preparation for an invasion, such as a field headquarters.
Breedlove, though, repeatedly made inexact, contradictory or even flat-out inaccurate statements."…

On Nov. 12, during a visit to Sofia, Bulgaria, Breedlove reported that "we have seen columns of Russian equipment — primarily Russian tanks, Russian artillery, Russian air defense systems and Russian combat troops — entering into Ukraine." It was, he noted, "the same thing that OSCE is reporting." But the OSCE had only observed military convoys within eastern Ukraine. OSCE observers had said nothing about troops marching in from Russia.

Breedlove sees no reason to revise his approach. "I stand by all the public statements I have made during the Ukraine crisis," he wrote to SPIEGEL in response to a request for a statement accompanied by a list of his controversial claims."
(Breedlove's Bellicosity: Berlin Alarmed by Aggressive NATO Stance on Ukraine, Der Spiegel)
While it's easy to get swept up in the Spiegel's narrative of a rabid militarist dragging Europe closer to World War 3, the storyline is intentionally misleading. As anyone who's been following the Ukraine fiasco for the last year knows, there's nothing particularly unusual about Breedlove's distortions. Secretary of State John Kerry has made similar claims numerous times as have many others in the major media. The lies about "Russian aggression" are the rule, not the exception. So why has the Spiegel decided to selectively target Breedlove who is no more deceitful than anyone else? What's really going on here?
Clearly, the Spiegel is doing Merkel's work, that is, undermining the credibility of Washington's chief commander in Europe in order to discourage further escalation of the conflict in Ukraine. But while Merkel wants to humiliate Breedlove to show that Germany will not sit on its hands while Washington plunges the region into the abyss; she has also shown considerable restraint in limiting her attack to the General while sparing Kerry and Obama any embarrassment. This is quite an accomplishment given that –as we said earlier–virtually everyone in the political establishment and the media have been lying nonstop about every aspect of the conflict. Merkel doesn't want to discredit these others just yet, although the Spiegel piece infers that she has the power to do so if the "bad behavior" persists.
The Spiegel article is part of a one-two punch designed to force Washington to change its confrontational approach. The second jab appeared late Sunday afternoon when EU Commission President Jean-Claude Juncker announced that Europe needed to field its own army. Here's the story from Reuters:
"The European Union needs its own army to face up to Russia and other threats as well as restore the bloc's foreign policy standing around the world, EU Commission President Jean-Claude Juncker told a German newspaper on Sunday…

"With its own army, Europe could react more credibly to the threat to peace in a member state or in a neighboring state.

"One wouldn't have a European army to deploy it immediately. But a common European army would convey a clear message to Russia that we are serious about defending our European values." (Juncker calls for EU army, says would deter Russia, Reuters)
Can you see what's going on? On the one hand, the Spiegel delivers a hammer-blow to the credibility of NATO's top officer and on the other, the President of the EU Commission blindsides US powerbrokers by announcing a plan to create an independent EU fighting force that will render NATO redundant. These are big developments that have undoubtedly left the Obama troupe reeling. This is a full-blown assault on NATO's role as the primary guarantor of EU regional security. Maybe the European people are gullible enough to accept Junker's absurd claim that an EU army will "send an important message to the world", but you can be damn sure that no one at 1600 Pennsylvania Avenue believes that nonsense. The move is clearly designed to send a message to Washington that Europe is fed up with NATO and wants a change. That means it's "shape up or ship out time" for Breedlove and his ilk.
Ironically, these developments align Merkel with Putin's view of things as stated in his famous Munich speech in 2007 when he said:
"I am convinced that we have reached that decisive moment when we must seriously think about the architecture of global security. And we must proceed by searching for a reasonable balance between the interests of all participants in the international dialogue … The United States, has overstepped its national borders in every way … And of course this is extremely dangerous. It results in the fact that no one feels safe. I want to emphasize this — no one feels safe." (Russian President Vladimir Putin, 43rd Munich Security Conference, 2007)
How can the US possibly cast itself as "steward of the global security system", when its interventions have left a trail of decimated failed states from the southernmost border of Somalia to the northern tip of Ukraine, a chaotic swathe of smoldering ruin and agonizing human suffering that rivals the depredations of the Third Reich.
Europe's security requirements cannot be met by a belligerent, warmongering US-controlled entity that acts solely in Washington's interests. At present, NATO gets 75% of its funding from the US, which is why the alliance is less interested in peacemaking and security than it is in internationalizing its imperial war of aggression across the planet. Prior to the crisis in Ukraine, European leaders didn't see the danger of this idiotic arrangement (even though interventions in Serbia, Libya and Afghanistan should have brought them to their senses) But now that NATO's recklessness could vaporize Europe in a nuclear firestorm, leaders like Merkel and Hollande are starting to change their tune. Keep in mind, the ideal scenario for the US would be a limited war that levels large parts of the European and Asian continents, thus restoring the US to its post WW2 heyday when the "rubblized" world was Washington's oyster. That would be just fine for genocidal maniacs and armchair warriors who rule the globe from the safety of their well-stocked DC bunkers. But for Europe, this is definitely not a winning strategy. Europe doesn't want a war, and it certainly doesn't want to be used as cannon fodder for the greater glory of the dystopian NWO.
Putin advisor, Sergei Glazyev, figured out what Washington was up to long before Kiev launched its wretched "anti terrorism" campaign against federalist rebels in the East. Here's how he summed it up:
"The main task the American puppet masters have set for the (Kiev) junta is to draw Russia into a full-scale war with Ukraine. It is for this purpose that all of these heinous crimes are committed – to force Russia to send troops to Ukraine to protect the civilian population…

The bankruptcy of the US financial system, which is unable to service its foreign debt, the lack of investments to finance a breakthrough to a new technological order and to maintain America's competitiveness, and the potential defeat in the geopolitical competition with China. To resolve these problems, Americans need a new world war." (Sergei Glazyev)
Bingo. The steadily-declining empire, whose share of global GDP continues to shrivel with every passing year, has wanted a war from the get go. That's the only way that the US can reverse its precipitous economic slide and preserve its lofty spot as the world's only superpower. Fortunately, EU leaders are beginning to pull their heads out of the sand long enough to grasp what's going on and change their behavior accordingly.
It's worth noting, that no one in the Merkel administration or anyone else for that matter, has publicly challenged the allegations in the Spiegel article. Why is that, do you think?
Doesn't their silence suggest that they knew all along that all the anti-Putin propaganda hullabaloo was pure bunkum; that "evil" Putin didn't send tanks and soldiers across the border into Ukraine, that Putin didn't shoot down Malaysian Airline 17, that Putin didn't have a political opponent gunned down gangland style just a few hundred yards from the Kremlin? Isn't that what their silence really says?
Of course, it does. The reason no one in power has spoken out is because –as the Spiegel cynically admits–"A mixture of political argumentation and military propaganda is necessary."
"Propaganda is necessary"?
Whoa. Now there's an admission you're not going to see in the media too often. But it's the truth, isn't it? The Euro-leaders have been going along with the lies to keep the public in line. In other words, it's a healthy dose of perception management for the sheeple, but the unvarnished truth for our revered overlords. Sounds about right. Only now these ame elites have decided to share the facts with the lumpen masses. But, why? Why this sudden willingness to share the truth?
It's because they no longer support Washington's policy, that's why. No one in Europe wants the US to arm and train the Ukrainian army. No one wants them to deploy 600 paratroopers to Kiev and increase US logistical support. No one wants further escalation, because no one wants a war with Russia. It's that simple.
For the first time, EU leaders, particularly Merkel, understand that the United States' strategic objectives (the pivot to Asia) do not align with those of the EU, in fact, Washington's geopolitical ambitions pose a serious threat to Europe's security. Regrettably, it's not enough for Merkel to simply understand what is going on. She needs to huddle with her EU colleagues and take positive steps to derail Washington's plan now, otherwise the US will continue its incitements and false flags until Putin is forced to respond. Once that happens, a broader and, perhaps, catastrophic conflagration will be unavoidable.
It was supposed to be a phone call for Obama administration ears only. But hear it the radio host did, she says. And what she heard should make your blood run cold — and perhaps your rage hot. Obama's amnesty plan is to use illegal aliens as "seedlings," said the federal officials. They will "navigate, not assimilate," as they "take over the host," create a "country within a country" and start "pushing the citizens into the shadows."
Welcome to the "fundamental transformation" of America.
The above was alleged by WCBM radio co-host Sue Payne in an interview with talk giant Mark Levin last Thursday. Payne says that while at an immigration rally, she became privy to three conference calls in which 16 Obama administration officials — including Cecilia Muñoz, director of Obama's White House Domestic Policy Council — discussed plans for what could only be called the final destruction of traditional America and the cementing of leftist hegemony. Muñoz, by the way, is perfectly suited to this task; she was once a senior vice president for the anti-American Hispanic lobbying organization the National Council of La Raza.
Oh, la raza means "the race" (I guess the whole "'Hispanic' is an ethnicity" thing doesn't cut much ice with them).
Payne opened the interview by explaining that what Obama actually did on November 21 — the day he signed his supposed executive amnesty — was create the "Task Force on New Americans" (TFNA) for the purposes of implementing his legalization scheme. And it won't be applied to just 5 million illegals, but "13 to 15 million to give protection [to] and move…on to citizenship," reports Payne.
Payne then said that the illegals, labeled "seedlings," would eventually "take over the host." She continued, "And the immigrants will come out of the shadows, and what I got from the meetings was that they would be pushing the citizens into the shadows. They would be taking over the country; in fact, one of the members of the task force actually said that we would be developing a country within a country."
To this nefarious end, the goal of the TFNA is to create a "welcoming feeling" in illegal-seeded localities, which would be redesignated "receiving communities." They'd subsequently be transformed (fundamentally, I suppose) into what are labeled "emerging immigrant communities" — or as some would say, México Norte.
The officials also said, reports Payne, that for the seedlings to "grow" they needed "fertile soil" (a.k.a. your tax money). The officials stated that the legalized aliens needed to be redesignated as "refugees" and be given cash, medical care, credit cards for purchasing documents and — since many illegals will be older — Social Security so they can "age successfully within their country within a country," to quote Payne. As she then put it, it's "as if we were funding our own destruction here."
Some may point out that Payne has no smoking gun (that we know of) in the form of, let's say, a recording of the calls. But Levin vetted her and found her credible, calling the scheme "stunning" and reflective of "Mao's China." I believe her as well, but it doesn't even matter. She simply confirms what I've been warning of for years and years over and over again: The Left is importing their voters, engaging indemographic warfare and authoring the death of the republic.
Mind you, legal immigration itself is a sufficient vehicle for this. Ever since the Immigration Reform and Nationality Act of 1965, 85 percent of our immigrants have hailed from the Third World and Asia, thus growing leftist constituencies that vote for socialistic Democrats by approximately a four-to-one margin; in contrast and as Pat Buchanan pointed out, "[N]early 90 percent of all Republican votes in presidential elections are provided by Americans of European descent." This, along with hatred and bigotry, is a major reason why Obama and his ilk want to destroy white America.
But liberals crave immediate gratification, and amnesty greatly accelerates this process. Legalize 15 million socialist voters clamoring for handouts, have them bring in relatives via chain migration — give them Social Security numbers which they can use to vote (as is Obama's plan) — and tomorrow's leftist dystopia is today. I predicted this in 2008, by the way, writing:
The coup de grace Obama will use against rightist opposition is mostly embodied in one word: amnesty. This, along with some other measures, will both grow the Hispanic voting block and ingratiate Obama to it. This will enable him to create a powerful coalition of blacks, young voters and Hispanics that, along with the older whites he will be able to retain, will constitute an insurmountable electoral force. And this is why amnesty has long been a dream of the Democrats. Even easier than brainwashing new voters (which the media and academia specialize in) is importing them.
Admittedly, I can be criticized since the above article is titled "How Obama Will Ensure His Victory in 2012." But titles are hooks as much as anything else. And since I don't have a crystal ball, just a not yet crystallized brain, I'd never claim to be able to perfectly predict timing. It also turned out that Obama and the 2009 to 2011Democrat House and Senate were preoccupied with instituting ObamaCare, and that the liberal legislators were perhaps too cowardly to face re-election having passed amnesty. Regardless, I have another prediction, one I hope you'll take seriously:
The chances are slim to nil that Obama's amnesty will be stopped legislatively.
Obama against John Boehner is the Beltway Brawler vs. the Beltway Bawler. Moreover, I suspect establishment Republicans — who just refused to defund Obama's scheme — want executive amnesty. Why? Because the issue has been an albatross around their necks. And while they don't have the guts or desire to really stand against Invasion USA, they also know voting for amnesty would mean electoral disaster. So, let Obama act unilaterally, huff and puff a bit with a wink and a nod while doing nothing of substance, and "Voila!" The issue is off the table with plausible deniability of complicity.
And the courts? They may uphold the recent injunction against Obamnesty, but there's no saying Obama won't ignore the courts (he assuredly understands that judicial review is a jurist invention). And, anyway, amnesty was always only a matter of time with today's cultural trajectory. Yet this cloud does have a silver lining.
The Left was very successful boiling the frog slowly with the legal importation of socialist voters and the gradual transformation of our culture via entertainment, the media and academia. But liberals' childish haste may have led to a tactical error. By going all in on executive orders and amnesty — by transitioning from evolutionary to revolutionary change and turning the burner up high — the Left risks rousing that frog from his pan. And how should it jump?
Obama said after the November Republican victory that it was his "profound preference and interest to see Congress act on a comprehensive immigration reform bill" (emphasis added), but otherwise he'll work via executive orders. He also offered the GOP a deal: "You send me a bill that I can sign, and those executive actions go away."
Translation: My preference is to follow the Constitution.
But my will be done — one way or the other.
How to respond? Question: what do you do when someone says "My preference is to follow the game's rules, but if I can't win that way, I'll have to cheat"? You can:
Continue losing; be a Charlie Brown sucker who keeps thinking that this time Lucy won't pull the football away.
Cheat right back (hard to do without judges in your pocket).
Stop playing the game.
Now, conservatives, consummate ladies and gentlemen that they are, consistently choose option one. Far be it from them to violate the "law" even when it's unconstitutional and therefore lawless. But I prefer option three.
This means nullification. Note that the Constitution is the contract Americans have with each other. And what happens when one party subject to a contract continually violates it in order to advantage itself, aided and abetted by corrupt judges?
The contract is rendered null and void.
Remember, cheaters don't stop cheating until forced to. Governors and their legislatures need to man-up and tell the feds, "You like acting unilaterally and unconstitutionally? Two can play that game." And this means not just ignoring Obama's amnesty dictates, but nullifying a multitude of other things as well.
The other option is demographic and cultural genocide and the politics attending that. The Left knows this, too. Obama noted that growing "diversity hinders conservative priorities," wrote the DC last month. Congressman Kurt Schrader (D-OR) said recently that amnesty "will decide who is in charge of this country for the next 20 or 30 years." And an ex-advisor to former Prime Minister Tony Blair confessed in 2009 that the goal of the British Labour Party's massive culture-rending immigration was to "rub the Right's nose in diversity and render their arguments out of date."
Do you get it yet?
Defy and Nullify.
The alternative is to walk legally and quietly into that good night, going out not with a bang but a whimper, muttering something about 2016, the Supreme Court and pixie dust.
"The collapse of the Soviet Union removed the only constraint on Washington's power to act unilaterally abroad…. Suddenly the United States found itself to be the Uni-power, the 'world's only superpower.'  Neoconservatives proclaimed 'the end of history.'"
—  Paul Craig Roberts,  former Assistant Secretary of the US Treasury
"Don't blame the mirror if your face is crooked."
— Russian proverb
Vladimir Putin delivered a speech at the 43rd Munich Security Conference that created a rift between Washington and Moscow that has only deepened over time.  The Russian President's blistering hour-long critique of US foreign policy provided a rational, point-by-point indictment of US interventions around the world and their devastating effect on global security.   Putin probably didn't realize the impact his candid observations would have on the assembly in Munich or the reaction of  powerbrokers in the US who saw the presentation as a turning point in US-Russian relations. But, the fact is, Washington's hostility towards Russia can be traced back to this particular incident, a speech in which Putin publicly committed himself to a multipolar global system, thus, repudiating the NWO pretensions of US elites. Here's what he said:
"I am convinced that we have reached that decisive moment when we must seriously think about the architecture of global security. And we must proceed by searching for a reasonable balance between the interests of all participants in the international dialogue."
With that one formulation, Putin rejected the United States assumed role as the world's only superpower and steward of global security, a privileged position which Washington feels it earned by prevailing in the Cold War and which entitles the US to unilaterally intervene whenever it sees fit. Putin's announcement ended years of bickering and deliberation among think tank analysts as to whether Russia could be integrated into the US-led system or not.  Now they knew that Putin would never dance to Washington's tune.
In the early years of his presidency, it was believed that Putin would learn to comply with western demands and accept a subordinate role in the Washington-centric system. But it hasn't worked out that way. The speech in Munich merely underscored what many US hawks and Cold Warriors had been saying from the beginning, that Putin would not relinquish Russian sovereignty without a fight.  The declaration challenging US aspirations to rule the world, left no doubt that  Putin was going to be a problem that had to be dealt with by any means necessary including harsh economic sanctions, a State Department-led coup in neighboring Ukraine, a conspiracy to crash oil prices, a speculative attack of the ruble, a proxy war in the Donbass using neo-Nazis as the empire's shock troops, and myriad false flag operations used to discredit Putin personally while driving a wedge between Moscow and its primary business partners in Europe. Now the Pentagon is planning to send 600 paratroopers to Ukraine ostensibly to "train the Ukrainian National Guard", a serious escalation that violates the spirit of Minsk 2 and which calls for a proportionate response from the Kremlin. Bottom line: The US is using all the weapons in its arsenal to prosecute its war on Putin.
Last week's gangland-style murder of Russian opposition leader, Boris Nemtsov, has to be considered in terms of the larger geopolitical game that is currently underway. While we may never know who perpetrated the crime, we can say with certainly that the lack of evidence hasn't deterred the media or US politicians from using the tragedy to advance an anti-Putin agenda aimed at destabilizing the government and triggering regime change in Moscow.  Putin himself suggested that the killing may have been a set-up designed to put more pressure on the Kremlin. The World Socialist Web Site summed up the political implications like this:
"The assassination of Russian opposition politician Boris Nemtsov is a significant political event that arises out of the US-Russia confrontation and the intense struggle that is now underway within the highest levels of the Russian state. The Obama administration and the CIA are playing a major role in the escalation of this conflict, with the aim of producing an outcome that serves the global geo-political and financial interests of US imperialism….
It is all but obvious that the Obama administration is hoping a faction will emerge within the Russian elite, backed by elements in the military and secret police, capable of staging a "palace coup" and getting rid of Putin….
The United States is not seeking to trigger a widespread popular revolt. (But) are directed entirely at convincing a section of the oligarchy and emerging capitalist class that their business interests and personal wealth depend upon US support. That is why the Obama administration has used economic sanctions targeting individuals as a means of exerting pressure on the oligarchs as well as broader sections of the entrepreneurial elite….
It is in the context of this international power struggle that one must evaluate Nemtsov's murder. Of course, it is possible that his death was the outcome of his private dealings. But it is more likely that he was killed for political reasons. Certainly, the timing of the killing—on the eve of the opposition's anti-Putin demonstration in Moscow—strongly indicates that the killing was a political assassination, not a private settling of accounts."  ("Murder in Moscow: Why was Boris Nemtsov assassinated?", David North, World Socialist Web Site)
Just hours after Nemtsov was gunned down in Moscow, the western media swung into action releasing a barrage of articles suggesting Kremlin involvement without a shred of  evidence to support their claims. The campaign of innuendo has steadily gained momentum as more Russia "experts" and politicians offer their opinions about who might be responsible. Naturally, none of the interviewees veer from the official storyline that someone in Putin's charge must have carried out the attack.  An article in the Washington Post is a good example of the tactics used in the latest PR campaign to discredit Putin.  According to Vladimir Gel'man, Political Scientists European University at St. Petersburg and the University of Helsinki:
"Boris Nemtsov, one of the leaders of political opposition, was shot dead nearby the Kremlin. In my opinion, it has all the hallmarks of a political assassination provoked by an aggressive Kremlin-induced campaign against the "fifth column of national traitors", who opposed the annexation of Crimea, war with the West over Ukraine, and further decline of political and civil freedoms in the country. We may never know whether the Kremlin ordered this killing, but given the fact that Nemtsov was one of the most consistent critics not only of the Russian regime as such but also of Putin in person, his dissenting voice will never upset Putin and his inner circle anymore."  ("What does Boris Nemtsov's murder mean for Russia?", Washington Post)
The article in the Washington Post is fairly typical of others published in the MSM. The coverage is invariably long on finger-pointing and insinuation and short on facts. Traditional journalistic standards of objectivity and fact-gathering have been jettisoned to advance a political agenda that reflects the objectives of ownership. The Nemtsov assassination is just the latest illustration of the abysmal state of western media.
The idea that Putin's agents would "whack" an opposition candidate just a stone's throw from the Kremlin is far fetched to say the least.  As one commenter at the Moon of Alabama blog noted:
"Isn't the image of a dead political opponent lying on a bridge overlooked by the Kremlin a bit rich? I mean, short of a dagger lodged between his shoulder blades with the inscription "if found, please return to Mr Putin", I can't think of a more over-egged attempt at trying to implicate the Government. And on the night before an opposition rally Nemtsov hoped to lead. I mean, come on."
While there's no denying that Moscow could be involved, it seems unlikely. The more probable explanation is that the incident is part of a larger regime change scheme to ignite social unrest and destabilize the government. The US has used these tactics so many times before in various color-coded revolutions, that we won't reiterate the details here. Even so, it's worth noting that the US has no red lines when it comes to achieving its strategic goals.  It will do whatever it feels is necessary to prevail in its clash with Putin.
The question is why? Why is Washington so determined to remove Putin?
Putin answered this question himself recently at a celebration of Russia's diplomatic workers' day. He said Russia would pursue an independent foreign policy despite pressure in what he called "today's challenging international environment."
"No matter how much pressure is put on us, the Russian Federation will continue to pursue an independent foreign policy, to support the fundamental interests of our people and in line with global security and stability." (Reuters)
This is Putin's unforgivable crime, the same crime as Venezuela, Cuba, Iran, Syria and countless other nations that refuse to march in lockstep to Washington's directives.
Putin has also resisted NATO encirclement and attempts by the US to loot Russia's vast natural resources. And while Putin has made every effort to avoid a direct confrontation with the US, he has not backed down on issues that are vital to Russia's national security, in fact, he  has pointed out numerous times not only the threat that encroaching NATO poses to Moscow, but also the lies that preceded its eastward expansion. Here's Putin at Munich again:
"I would like to quote the speech of NATO General Secretary Mr. Woerner in Brussels on 17 May 1990. He said at the time that: "the fact that we are ready not to place a NATO army outside of German territory gives the Soviet Union a firm security guarantee….

Where are these guarantees?"
Where, indeed. Apparently, they were all lies.  As political analyst Pat Buchanan said in his article "Doesn't Putin Have a Point?":
"Though the Red Army had picked up and gone home from Eastern Europe voluntarily, and Moscow felt it had an understanding we would not move NATO eastward, we exploited our moment. Not only did we bring Poland into NATO, we brought in Latvia, Lithuania, and Estonia, and virtually the whole Warsaw Pact, planting NATO right on Mother Russia's front porch. Now, there is a scheme afoot to bring in Ukraine and Georgia in the Caucasus, the birthplace of Stalin….

… though Putin gave us a green light to use bases in the old Soviet republics for the liberation of Afghanistan, we now seem hell-bent on making those bases in Central Asia permanent.

… through the National Endowment for Democracy, its GOP and Democratic auxiliaries, and tax-exempt think tanks, foundations, and "human rights" institutes such as Freedom House,… we have been fomenting regime change in Eastern Europe, the former Soviet republics, and Russia herself….

These are Putin's grievances. Does he not have a small point?" "(Doesn't Putin Have a Point?", Pat Buchanan, antiwar.com)
Now the US wants to deploy its missile defense system to Eastern Europe, a system which–according to Putin "will work automatically with and be an integral part of the US nuclear capability. For the first time in history, and I want to emphasize this, there are elements of the US nuclear capability on the European continent. It simply changes the whole configuration of international security…..Of course, we have to respond to that."
How can Putin allow this to happen?  How can he allow the US to situate nuclear weapons in a location that would increase its first-strike capability and undermine the balance of deterrents allowing the US to force Russia to follow its orders or face certain annihilation. Putin has no choice but to resist this outcome, just as has no choice but to oppose the principle upon which US expansion is based, the notion that the Cold War was won by the US, therefore the US has the right to reshape the world in a way that best suits its own economic and geopolitical interests. Here's Putin again:
"What is a unipolar world? However one might embellish this term,  it refers to a type of situation where there is one center of authority, one center of force, one center of decision-making.   It is world in which there is one master, one sovereign. At the end of the day, this is pernicious not only for all those within this system, but also for the sovereign itself because it destroys itself from within…..

I consider that the unipolar model is not only unacceptable but also impossible in today's world…. the model itself is flawed because at its basis there is and can be no moral foundations for modern civilization…." (Munich, 2007)
What sort of man talks like this? What sort of man talks about "the moral foundations for modern civilization" or invokes FDR in his address?
Putin:  "'Security for one is security for all'. As Franklin D. Roosevelt said during the first few days that the Second World War was breaking out: 'When peace has been broken anywhere, the peace of all countries everywhere is in danger.' These words remain topical today."
I urge everyone to watch at least the first 10 minutes of Putin's speech and decide for themselves whether they think the characterization (and demonization) of Putin in the media is fair or not. And pay special attention to Minute 6 where Putin says this:
"We are seeing a greater and greater disdain for the basic principles of international law. And independent legal norms are, as a matter of fact, coming increasingly closer to one state's legal system. One state and, of course, first and foremost the United States, has overstepped its national borders in every way. This is visible in the economic, political, cultural and educational policies it imposes on other nations. Well, who likes this? Who is happy about this?" ("Vladimir Putin's legendary speech at Munich Security Conference")
While Putin is making this statement, the camera pans to John McCain and Joe Lieberman who are sitting stone-faced in the front row seething at every word uttered by the Russian president. If you look close enough, you can see the steam emerging from McCain's ears.
This is why Washington wants regime change in Moscow. It's because Putin refuses to be pushed around by the United States. It's because he wants a world that is governed by international laws that are impartially administered by the United Nations. It's because he rejects a "unipolar" world order where one nation dictates policy to everyone else and where military confrontation becomes the preferred way for the powerful to impose their will on the weak.
Putin:  "Today we are witnessing an almost uncontained hyper use of force that is plunging the world into an abyss of permanent conflicts…The United States, has overstepped its national borders in every way….And of course this is extremely dangerous. It results in the fact that no one feels safe. I want to emphasize this — no one feels safe."  Vladimir Putin, Munich 2007
Putin isn't a perfect man. He has his shortcomings and flaws like everyone else. But he appears to be a decent person who has made great strides in restoring Russia's economy after it was looted by agents of the US following the dissolution of the Soviet Union. He has lifted living standards,  increased pensions,  reduced poverty, and improved education and health care which is why his public approval ratings are currently hovering at an eye-watering 86 percent.  Even so, Putin is most admired for standing up to the United States and blocking its strategy to pivot to Asia. The proxy war in Ukraine is actually a struggle to thwart Washington's plan to break up the Russian Federation, encircle China, control the flow of resources from Asia to Europe,  and rule the world.   Vladimir Putin is at the forefront of that conflagration which is why he has gained the respect and admiration of people around the world.
As for "democracy", Putin said it best himself:
"Am I a 'pure democrat'? (laughs) Of course I am. Absolutely. The problem is that I'm all alone, the only one of my kind in the whole world. Just look at what's happening in    America, it's terrible—torture, homeless people, Guantanamo, people detained without trial or investigation.     And look at  Europe—harsh treatment of demonstrators, rubber bullets and tear gas used in one capital after another, demonstrators killed on the streets….. I have no one to talk to since Gandhi died."
Well said, Vladimir.
As much as we liberty-loving, Constitution-loving, America-loving patriots hate to admit it, the government in Washington, D.C., is NOT fixable. The elitist power structure in D.C. is too ensconced and too powerful. They will never cede power to folks, such as Justin Amash, Thomas Massie, etc., who truly believe in limited government. Nor will they permit the states to reclaim ANY of their constitutionally recognized powers. And neither party in D.C. has enough Ron Paul-types to thwart the evil machinations of the power-drunk leviathan that is Washington, D.C.
Furthermore, the same forces of darkness that control the political establishment in Washington, D.C., also control the media and financial establishments in New York City. The voters of America have too often rejected the presidential and congressional candidates who had the potential to help lead our ship of state to safer waters (if we even have untainted elections). The warnings of the prophets and porters have fallen on deaf ears. For the most part, Americans refuse to dislodge themselves from their addiction to government handouts. In addition, America's pastors have largely abandoned their calling to be watchmen on the wall, which has left our ship of state without a moral compass or a spiritual rudder.
As much as I hate to say it, it is becoming more and more clear that Washington, D.C., may not be fixable. If that's the case, it is only a matter of time before freedomists will be forced to do what freedomists have always been forced to do when facing a tyrannical juggernaut: declare independence.
The closest thing America has had in modern times to Patrick Henry or Thomas Jefferson is former Congressman Ron Paul. In late January, Dr. Paul brought a speech before the Mises Institute. The theme of the event was "Breaking Away: The Case For Secession."
In his address, Ron said, "'And it's [secession] not gonna be because there will be enough people in the U.S. Congress to legislate it. It won't happen. It will be de facto. You know, you'll have a gold standard when the paper standard fails, and we're getting awfully close to that. And people will have to resort to taking care of themselves. So when conditions break down, you know, there's gonna be an alternative. And I think that's what we're witnessing.'
"Later, Paul said the Federal Reserve would end and the states would stop listening to federal laws they didn't agree with.
"'The Fed is gonna end. There is going to be a de facto secession movement going on. The states are going to refuse to listen to some of the laws. We've seen tremendous success already with states saying to the federal government, "We're not gonna listen to you anymore about the drug laws." And they're getting out of it, and I think the American people are waking up to that, and as far as I'm concerned, the more the merrier.'"
See the report here:
Ron Paul: "Good News" That Secession Is Happening
I believe Dr. Paul is right. Secession ("de facto" or otherwise) is inevitable. How it will come and when it will come is debatable. That it will come is not. The only question is, do we wait for a national or international crisis of apocalyptical proportions or do we begin the debate now in the relative tranquility of peace and order? I say we should begin the debate NOW.
The assaults against our liberties are rooted and grounded inside The Beltway. The federal government in Washington, D.C., has been attacking our Natural rights for decades, to the point that it is almost insufferable. It is fomenting war and aggression all over the world; it is turning people around the globe into the enemies of the American people; it is training its own officers to enslave the American citizenry; it has set up a domestic military command that is nothing less than an occupation force; it has passed laws and policies stripping the American people of virtually every freedom protected in our Bill of Rights; it has set the world's most sophisticated spy system against its own citizens; it has freely allowed violent criminals and gang members from foreign nations to have unfettered access to America's heartland; it has dictated policies to the sovereign states to the point that our states more resemble national provinces; it has taken liberty to the precipice of destruction.
The powers of darkness manipulating the politicians in Washington, D.C., are leading us to financial collapse and global war. They are manipulating the east and west against each other; they are facilitating the military build-up of China; they are goading Russia into war; they are manipulating the collapse of the U.S. dollar; and they are declaring patriotic, God-fearing Americans as "homegrown terrorists," while creating real terrorists abroad.
I propose that the People of the several states begin calling for The Third Continental Congress to the intent that this Congress proposes, debates, and eventually votes on the decision to declare independence from the government in Washington, D.C.
Delegates to such a Congress would by necessity be sent by the People of the states, not by the State legislatures. The focus of the Congress would be singular in purpose: to debate and eventually vote on a resolution of independence. I think the resolution of The Third Continental Congress should mirror Richard Henry Lee's resolution during The Second Continental Congress in 1776:
"Resolved, that these United Colonies are, and of right ought to be, free and independent States, that they are absolved from all allegiance to the British Crown, and that all political connection between them and the State of Great Britain is, and ought to be, totally dissolved."
I am fully aware that this is a bitter thought to contemplate. It is for me, too. But, ladies and gentlemen, there may be no other way to preserve liberty in our land.
Granted, if Ron Paul (or perhaps his son, Rand) could obtain the White House–and providing he could stay alive–substantial victories could probably be wrought over the Beast. We should NOT stop fighting for the principles of liberty. No one is more engaged in the liberty fight than I. And I will continue to be engaged.
Furthermore, I continue to believe if America's pastors and churches would collectively awaken to the principles of liberty, see "the man behind the curtain," and aggressively preach and teach the principles of Natural Law regarding government, a certain amount of time might be able to be purchased. That's what I'm trying to accomplish with my Liberty Church Project. It's yet to be seen how quickly we will be able to restore patriot pulpits to America.
Yet, many patriotic folks mistakenly believe that we must preserve the Union at all costs. This is NOT the case. We must preserve LIBERTY at all costs. Our loyalty to the Union should only be up and unto the point that it "becomes destructive" to the security of our liberties. Our original Declaration says it plainly:
"That to secure these rights, Governments are instituted among Men, deriving their just powers from the consent of the governed, –That whenever any Form of Government becomes destructive of these ends, it is the Right of the People to alter or to abolish it, and to institute new Government, laying its foundation on such principles and organizing its powers in such form, as to them shall seem most likely to effect their Safety and Happiness."
The mood for such a declaration is already growing. I believe if such a Congress were convened, several of our sovereign states would vote in the affirmative. I think states such as Texas, Arizona, Oklahoma, Missouri, Idaho, Montana, Wyoming, New Hampshire, Michigan, Indiana, Kentucky, Tennessee, Alabama, Mississippi, Louisiana, Arkansas, West Virginia, Virginia, Alaska, and even Hawaii, would seriously entertain such a resolution. The actual number of states who might be inclined to vote in the affirmative could potentially number at least half (or more) of the total states in the Union.
The idea that we will be able to maintain the Union under the growing tentacles of Washington, D.C., while maintaining liberty at the same time is now an utterly irreconcilable notion. As did our Founding Fathers before us, we have made–and continue to make–repeated redresses, we have convened conferences, we have repeatedly petitioned, and we have "voted the bums out" over and over again. No matter! The Beast in Washington, D.C., only gets more and more insatiable in its hunger to eat away our liberties. At some point, the American people must take their principles of liberty to The Third Continental Congress and vote on a Twenty-First Century declaration of independence.
And, no, a modern declaration of independence does not have to be bloody. Had Scotland voted for independence a few months ago, would London have sent troops to stop them? Absolutely not. World opinion would not tolerate it. Plus, the need for peaceful trade, commerce, and mutual self-defense would demand cooperation between neighboring governments. This would equally apply in North America.
What separation would likely accomplish is to take the teeth out of a ravenous Beast. It would accomplish what our separation from Great Britain accomplished two hundred years ago. The Beast would not be able to subjugate the free people of a new nation. No longer would it be able to play the world's policeman. No longer would it be able to freely foment hatred and war between nations. Plus, it would give the new republic that would likely form the opportunity to export the ideas of liberty, free enterprise, peaceful trade and diplomacy, etc., around the world. You know, the ideas and principles that the United States USED to export. Separation might actually save, not just the liberties of the American people, but the lives of people around the world from a global catastrophe.
The worst scenario is that the American people wait until the powers of darkness controlling Washington, D.C., bring about a global apocalypse before they realize what they must inevitably do. That is the scenario that Dr. Paul alluded to in his remarks referenced above. The better scenario is that the American people have the sagacity and foresight to see the storm clouds on the horizon and put in motion NOW the remedy for their–and their children's–survival.
Unfortunately, the established track record of the American electorate seems to favor Ron Paul's scenario. I much prefer that liberty-loving patriots begin broaching this subject NOW, before times are desperate.
Either way, sooner or later, in my lifetime or not, in a time of relative peace or extreme chaos, separation is inevitable, because unless the patriot pulpit quickly returns to America, or a Ron Paul-type leader be elected President, the government in Washington, D.C., is not fixable. And as such, we desperately need The Third Continental Congress. It just might be liberty's last chance.
What can be written about Hillary Clinton that has not already been said? HilLIARy fatigue is natural, but ignoring all the lies and sleaze becomes the first goal of her 2016 presidential campaign. What is clear during the preliminary posturing is that hubby "Big Dog" Bill's practice of trolling for bitches in heat will dominate the coverage. Poor old Hillary, a pureblood victim among mix breeds. The pretense that she continues in a loving marriage is about as insulting to the voters as the perverse behavior of either of the Clintons.
OK, forget the sex allegations no one cares, right? But what about continuing in a relationship with a certified criminal? Oh yes, that is the easy part, since being married to a crook is the part that Bill loves, and "Big Mama" takes no back seat to her partner outlaw in political offense.
From the ancient history files, the article Proof Hillary isn't fit to be president by Larry Klayman reminds such past hits.
Whitewater scandal
Travelgate
Filegate
Chinagate
You can hear the cat calls now, "that's old news, "we need to move forward", but the best one comes from Hillary herself", what difference at this point does it make"?
Well, maybe the monarch of deceit is correct. Who even remembers the scandal years under the "get two for the price of one" regime? Bygone days need to let sleeping dogs lie, but the past is screaming out as a warning for exactly what citizens should fairly expect if she was coroneted as Mister President.
Yet in the instant social media climate that will dominate the next Presidential campaign, both in the primaries and in the general election, 2016 will be all hyped up to report on the next Bill's libido threatens to derail Hillary — again. A sample like this only forecasts the disclosures that will come out of the secretive cabinet recordings.
"And that is to say nothing of Bill's solicitation of mystery donors, the concerns about financial malfeasance at the Bill, Hillary & Chelsea Clinton Foundation, Bill's racially charged verbal gaffes during Hillary's 2008 bid and the alleged longtime, serious mistress who diverted Hillary's presidential campaign from larger problems."
Further background from Hillary Clinton's Skeleton Closet claims that "she has some significant and troubling scandals that get overlooked with all the foo-farah over crazy conspiracy theories."
Now that this ugly aspect is out of the way, what "exactly are the compelling reasons for Hillary to become President? The answer is reducible to one simple motive; she wants to be the Big Kahuna.
Eric Golub on Communities Digital News responds accordingly. "Can anyone name a single significant thing she has ever done that qualifies her to be president? The presidency is too important to be given to another celebrity heavy on cultish devotees but light on substantive successful accomplishments."
Her qualifications as a superstar luminary and passed over by the Democratic power brokers in favor of Barack Obama in 2008, seems to be the basic argument why 2016 is now her turn. Such inevitability out of the GOP playbook just does not play well with the most fanatical of the loony left.
The NYT reveals that Hillary Clinton, Privately, Seeks the Favor of Elizabeth Warren. Their description of some lesson learned from the 2008 campaign seems to point that defusing the competition is her primary platform concern.
"Some of Mrs. Clinton's supporters, frustrated by the attention and adulation generated by Ms. Warren, noted Tuesday that the two actually hold similar positions on a range of economic issues, though Ms. Warren's rhetoric has been more fiery. Mrs. Clinton, hoping to delay formally starting her candidacy for as long as possible, has refrained from detailed discussions of economic policy. In recent weeks, though, she has become more vocal, using Twitter to offer support for the Dodd-Frank financial overhaul, for instance."
Hit the ground running with a splash. ARE YOU READY? So asks to take the Pledge to Support Hillary for President Site. Before you register, a little investigation is in order.
3 Problems Standing in the Way of a Hillary Clinton Presidency starts with the following:
Politics and Experience
Hillary definitely has a legacy problem to overcome. More importantly, she has to talk up her record as Secretary of State. A sizable share of Democrats polled by YouGov, 79%, said earlier this year that they approved of her performance, but only 21% of Republicans and 45% of independents shared that assessment. And public opinion split along the same ideological lines when respondents were asked about her qualifications for office. More to the point, most Republicans are not as concerned with her experience as they are with her politics; although Republicans and independent voters cite her role in the Benghazi terrorist attack as one of her major errors in the State Department.
The Competition
Hillary Clinton could be too establishment. Of course, possible contenders who would fit this progressive and insurgent role do not have the same weight as the former Secretary of State. But they are worth examining, if for nothing else than the fresh perspective and debate they will bring to the presidential primaries.
Money
According to the Wall Street Journal, Wall Street has provided the largest source of campaign funds for the Clintons since 1992, with Goldman Sachs as the largest single contributor, giving close to $5 million. "Clinton Inc. is going to be the most formidable fundraising operation for the Democrats in the history of the country. Period. Exclamation point," Rick Hohlt, a lobbyist and fundraiser for Republican Party presidential candidates, told the Journal, "It sure causes concern." Plus, both Clintons earn massive speaking fees.
How does the public react with something positive about a Hillary Presidency? A Gallop poll reveals that 49% answers nothing or has no opinion.
So much for grassroots popular enthusiasm . . .
With any run-up to the primary season and supporting media barrage of electing the first woman President, a viewpoint that Hillary Clinton Shouldn't Be President: A Feminist Perspective is insightful. "Any woman can become president. It feels like a slap to the face of America that so many of our politicians stem from the same family, or that our first female president appears to require a husband who came before her. It reminds us just how limited access is."
Hillary's retort to such an argument reeks of elitist privilege. Politico reports that Hillary Clinton: Other women qualified for White House.
"A lot of the women senators, we have a couple of women governors — I'm talking on the Democratic side — we have a good bench, so to speak," Clinton says in a video clip posted Monday. "But they haven't gone through the fire. Part of the reason why there's a big drumbeat for me to run is because I've done it."
And in 2008 the Wall Street king makers decided on Obama. In the flip flop composition of Tweedledum and Tweedledee politics, a Republican establishment candidate may well get the nod as the safer capitalist tool.
The real wall that Hillary faces is to massage the Occupy Wall Street wing of the progressive primary activities, while keeping and confirming her true symbiotic identification to the money wing of influence Banksters, who actually decide the direction of the government.
For in the end, the only qualifications that Hillary Clinton has for holding the office of the Presidency is that her hubby will occupy the distractions of a Clinton II kingdom. What a great country that elevates a Hill Billy couple to the highest pinnacle of the scandal sheets, while conducting diplomatic relations with the Davos set.
Can Hillary win in 2016? Hermene Hartman in the Huffington Post thinks so in the article, 10 Reasons Why Hillary Clinton Will Be the Next President. Read her list and consider just how far this nation has fallen.
1)    The Republicans don't have a viable candidate and probably won't.

2)    The Hillary Papers have been released.

3)    Hillary should not and cannot take blame for Bill's poor judgments.

4)    The Clintons are the ultimate Power Couple.

5)    Hillary is ruthless.

6)    Hillary learned valuable lessons from the 2008 election.

7)    She is not a quitter or a loser.

8)    The health bill has passed.

9)    Hillary is a smart politician.

10)   America is ready for the leadership of a Hillary Clinton.
If this list of excited imbecility does not give you pause, you must be part of the Hildebeest groupie crowd and better sign-up for, ARE YOU READY? alerts.
Hillary Klinton has all the worst attributes and moral depravity of her more infamous partner in corruption. Moreover, she lacks the political skills and rogue charm of her flimflam significant other. The brick wall in front of the electorate is that a vote for Hillary is a ballot cast for continuation of the decent into enslavement of the last 25 + years. Knowing the way the selection system for Presidents works, the next guests in the Lincoln bedroom may well be friends of the late Marc Rich.
The "Exceptional" U.S. Suffers Crushing Defeat in Debaltsevo…
"There's no city left. It's destroyed."

— Anonymous Ukrainian soldier following the battle of Debaltsevo
In less than a year, the United States has toppled the democratically-elected government of Ukraine, installed a Washington-backed stooge in Kiev, launched a bloody and costly war of annihilation on Russian-speaking people in the East, thrust the economy into a downward death spiral, and reduced the nation to an anarchic, failed state destined to endure a vicious fratricidal civil war for as far as the eye can see.
Last week, Washington suffered its greatest military defeat in more than a decade when Ukraine's US-backed army was soundly routed in the major railway hub of Debaltsevo. Roughly, 8,000 Ukrainian regulars along with untold numbers of tanks and armored units were surrounded in what-came-to-be-known-as "the cauldron."  The army of the Donetsk Peoples Republic led by DPR commander  Alexander Zakharchenko, encircled the invading army and gradually tightened the cordon, eventually killing or capturing most of the troops within the pocket. The Ukrainian Armed Forces suffered major casualties ranging between  3,000 to 3,500 while a vast amount of lethal military hardware was left behind.
According to Zakharchenko, "The amount of equipment Ukrainian units have lost here is beyond description."
Additionally, the US-backed proxy-army saw many of its crack troops and top-notch units destroyed in the fighting leaving Kiev unable to continue the war without assistance from allies in the US or Europe.  The full impact of the defeat will not be known until angry troops returning from the front amass on the streets of the Capital and demand Petro Poroshenko's resignation. The Ukrainian President is responsible for the massacre at Debaltsevo.  He was fully aware that his army faced encirclement but ordered them to remain in order to satisfy powerful right-wing elements in his government. The disaster is even more terrible due to the fact that it was entirely avoidable and achieved no strategic purpose at all. Extreme hubris frequently impacts outcomes on the battlefield. This was the case at Debaltsevo.
The debacle ensures that the bumbling president's days are numbered. It's nearly certain that he will either be replaced or hanged sometime in weeks ahead. He has already flown his family to safety out of the country, and there's growing speculation that both Washington and the far-right nationalists who occupy the Security Services will insist on his removal. That paves the way for a second Ukrainian coup in less than a year, a grim reminder of the tragic failings of US policy in Ukraine. Check out this blurb from a post at the Vineyard of the Saker:
"Looks like the Nazi death squads are on the march again, this time they are looking at Kiev.  Thirteen death-squad (aka "volunteer battalion") leaders have now declared that they are forming their own military command under the command of the notorious Semen Semenchenko. Officially, they are not in any way opposed to the current regime, so said Semenchenko, but in reality their rank and file members are pretty clear about what they want to do: organize a third Maidan and toss out Poroshenko.
What makes these 21st century version of the SA so dangerous for Poroshenko it that he, unlike Hitler, does not have a 21st century version of the SS to eliminate them all overnight.  In fact, according to many reports the entire southern part of the rump-Ukraine is now "Kolomoiski-land" fully under the control of the oligarch who finances these death-squads.  Add to this the fact that most of the Rada is composed of the very same battalion commanders and assorted Nazi freaks, and you will why Poroshenko is now very much in danger……

The sad reality is that there is simply nobody in the Ukraine capable of disarming these so-called "volunteer battalions".  There are now thousands of uniformed Nazi freaks roaming around with guns who can now impose their law of the jungle on everybody.  It sure looks like the future of Banderastan will be something like a mix of Somalia and Mad Max – a failed state, a comprehensively destroyed economy, a collapsed social order and the law of armed gangs of thugs." (The Vineyard of the Saker)
If Poroshenko is doomed to be the scapegoat in the Debaltsevo cock-up, it's only because he followed the foolhardy advice of his Washington paymasters. Had he listened to his military advisors instead, he probably would have withdrawn his troops earlier and spared himself a Gadhafi-like demise.  Now, that's probably no longer possible.
Poroshenko's desperation has led to an appeal to western allies and the United Nations for the deployment of a peacekeeping mission in Ukraine.  The request is an admission of defeat and has no chance of being implemented, mainly because it  violates the terms of the recent peace agreement (Minsk 2.0), but, also, because voting members on the Security Council (Russia and China) are certain to veto the idea. Clearly, Poroshenko, who is increasingly embattled and reviled, is grasping at straws hoping to avoid the same violent end he ruthlessly inflicted on so many of his countrymen. Here is a brief summary of recent events from the World Socialist Web Site:
"The debacle suffered by the Kiev regime exposes the utterly reckless and frankly stupid character of the policy pursued by Washington and its EU allies in Ukraine….

The initial attempts of the Kiev regime and its CIA backers to subjugate east Ukraine by sheer military terror, relying on fascist militias and select units of the Ukraine army that it considered to be reliable, have failed….

Nevertheless, Washington is pressing Kiev to prepare for a renewed offensive and is still discussing directly arming the Ukrainian army against Russia with US weapons….

In west Ukraine, the population is evading or resisting draft orders to obtain more cannon fodder for the east Ukraine war. At the same time, Ukraine's economy, cut off from its main industrial base in east Ukraine and its export markets in Russia, is collapsing.

"The country is at war that they cannot afford to fight. There is no economy any longer….Gerald Celente of Trends Journal told Russia Today. "That $160 billion loss of trade with Russia has destroyed the economy, when it was already in a severe recession. It went from very bad to worse than depression levels."

("US-backed Kiev regime faces military debacle in east Ukraine war", Alex Lantier, World Socialist Web Site
Washington has largely won the information war, having persuaded Congress and the American people that US policy in Ukraine is "just", but on the ground, where it counts, Washington has encountered one catastrophic failure after another. This process will undoubtedly persist until the costs are too exorbitant to bear.
The United States of America is no longer the land of the free and the home of the brave. It was never a Christian nation but it was infused with the burning coals of what had once been a raging fire – the coals have gone out.
First it was Japan; they made huge dents in the electronics and automobile industries and helped destroy the unions that were responsible for the vast middle class. Japanese manufacturers became wealthy by producing products cheaper and pegging the price just below domestic prices but at huge margins for themselves.
Then it was the Chinese; they slowly closed down American manufacturing by producing and shipping merchandise at a fraction of the cost of domestic goods. They destroyed American assembly workers with cheap Chinese labor and wrecked the manufacturing industry with price differentials. As the American standard of living plummets China is beginning to create a middle class.
As international competition was forced on the world's wealthiest nation its industry began to move to lower wage nations. Countless manufacturing operations moved their entire operations to foreign soil leaving their entire American workforce jobless. A massive loss of middle class employment was a result.
As this robbery was In progress world social engineers pried open our borders and allowed our nation to be overrun by foreigners. The Mexican population in California threatens the sovereignty of the state. Many Americans are visiting doctors whose accented English is difficult to understand. Every city has wealthy Far East and Middle East immigrants driving Mercedes, Lexus, and Infinity cars. Immigrants from around the world have moved to the United States to rape the wealth that still remains.
As the standard of living deteriorates perpetual war is being used to pass oppressive laws that will make organized resistance impossible. At a cost of trillions of dollars we have been killing, maiming, and destroying property in Iraq, Afghanistan, Syria, and Pakistan. This war has gone on for over ten years. It is about power – tyranny over the nations involved.
The character of the United States of America has been irreversibly changed. It was the wealthiest and freest nation in the world. The wealth has been siphoned off to China and other third world nations and the remaining wealth is being exploited by hordes of foreign immigrants who are raping markets that were founded and developed by citizens whose ancestors lived and worked here for generations.
This massive affront to the wealth and social structure of the nation has been accompanied by a propaganda campaign that distorts and edits the news keeping the minds of our citizens filled with lies. Fraudulent dangers presented to the people have been used to pass laws that destroy their legal protection making way for the government to tyrannize, incarcerate, and annihilate at will.
Americans have forgotten that safety often results in a loss of freedom. A peaceful society needs strong deterrents to theft and violent crimes. Our jails are full because we expect our government to do what citizens themselves should do. Drug addiction and possession of drugs should be decriminalized and the frightening specter of sexual predators should be handled by local authorities. We need to clean out our jails and release prisoners who do not endanger others.
Colonial America was somewhat similar to the Wild West. Riots were frequent and ruffians were numerous. Policing was peripheral while freedom was expansive. As the nation has aged laws that seemed good for the social order have multiplied. Our people have (maybe inadvertently) allowed a desire for safety to push too far against freedom. This willingness to trade freedom for safety is to a great extent a result of a lack of religious faith. Government has used our aversion to danger and reluctance to personally confront evil to extend power over us allowing the peaceful birth of a police state.
When the government is allowed with impunity to murder its citizens as the Clinton/Reno cabal did at Waco, citizens can no longer expect to be free. Freedom cannot be sustained in a nation where men, women, and children that have not been convicted of any crime can be incinerated by their own government without massive protests from citizens.
The neocon cadre that exerts great power in America and around the world has subtlety created special classes. Blacks became a franchised race, then Jews, now, homosexuals are being crowned with special rights and a dagger is being thrust into the heart of Christianity. The Bramble men are exerting their will on people that are better and more productive than they.
R. J. Rushdoony coined the term "Bramble men" using the parable of the trees from Judges 9:15. Bramble men are power seekers. They do no productive work. They are leaches who exert their power over others who are productive. They are inferior people who cannot be trusted in word or deed. Bramble men have infiltrated the government, they manipulate the money, they seek positions of power where they can influence and control their fellow citizens. Powerful, ambitious Bramble men seek to control the world. They have no altruistic zeal; they are not interested in bettering the plight of their fellows, they seek only power. They are the Hitlers, Stalins, and Moes with expanded ambitions.
Bramble men rise to powerful positions when God's legal structure is forsaken and replaced with the sentimental leniency of humanism. What seems right to men is often disastrous to their ultimate well-being. Justice comes from God and His word. Social confusion is directly proportional to injustice; as a society forsakes the immutable mandates of God and cleaves to the anarchic opinions of men chaos increases. The United States of America is a powerful, confused, chaotic nation that will soon encode laws on marriage that defy the created order and challenge the logic of mankind. A powerful, confused nation is a danger to the world; it cannot long endure.
Bramble men are in control of America; they control our government, press, and media. We elect some good men. They often start with good intentions. When they arrive in Washington they find the government is controlled by Bramble men who live outside its structure. Its leaders are puppets to Bramble men causing the entire organization to join the Bramble club. The United States Government no longer seeks the welfare of the nation and its citizens; instead it manipulates citizens to conform to the will of the Bramble power seekers.
Wake up America. Return to the righteousness of the One and Only God, seek His dominion and find the peace and freedom He intends for you!
That the American Church has problems is no surprise. Critics of the Church, many of whom have never actually taken an active part, have hurled pot shots at the Church since its inception. Churches are led and comprised of sinful, fallen people. Accordingly, there will be imperfections, shortcomings, failures, etc. Name an institution managed by people that does not have the same pitfalls.
That said, the current Church in America not only has problems, it has BIG problems. I'm talking about problems that are so huge they threaten the very survival of not only the Church itself, but of our nation, as well.
During the Twentieth Century, liberalism pretty much killed America's mainstream denominational churches; and legalism did the same thing to America's fundamentalist conservative churches.
In mainstream denominational churches, the rejection of the veracity of the Scriptures, the repudiation of essential Biblical doctrines, and the reception of liberal social agendas sent people by the millions fleeing these fellowships. Virtually every mainline denomination has been losing membership for decades.
For example, it is one thing for the state to grovel before politically correct ideology and embrace such moral deviances as homosexual marriage. To begin with, the state has no rightful place in sanctioning, defining, or legislating marriage at all. Marriage was never a state matter. It is a sacred matter. Our Creator has already sanctioned and defined marriage. What the state does or doesn't do is irrelevant. As with most issues involving faith, the best thing civil government can do is butt out. But for the Church to embrace homosexual marriage is another matter altogether. No Christian who has even a rudimentary understanding of the Biblical and Natural laws regarding marriage could maintain fellowship with a church or denomination that would surrender to the amoral machinations of a degraded society. And that is just one issue that has caused millions of believers to flee America's mainline churches and denominations.
For fundamentalist conservative churches, legalism has had the same effect as liberalism among mainline churches: it has pretty much killed them. During the last half of the Twentieth Century, fundamentalist conservative churches exploded in growth. A few decades ago, the largest churches and Sunday Schools in America were fundamentalist. But, just as mainstream churches succumbed to liberalism, fundamentalist churches succumbed to legalism. As the Scripture notes, "the letter killeth," and, indeed, it has pretty much destroyed America's fundamentalist churches. In fact, as a movement, it HAS destroyed them.
Accordingly, going into the Twenty First Century, these two cancers were already major problems within the American Church. But the problems that have wormed their way into the Church during the first decade and a half of the Twenty First Century have grown in both intensity and pervasiveness to the point that only a miracle from Heaven can avert impending disaster.
Here are the major problems that are destroying the American Church:
*Success Orientation
America's churches went from a "church growth" ideology in the latter half of the Twentieth Century to a "success" orientation in the formative years of the twenty-first century. "Success" is now the driving motivation of the vast majority of America's churches. But "success" is not defined in Scriptural terms; it is defined in secular terms.
A major study released by George Barna a few months ago clearly showed that "success" is the predominant philosophy of America's churches. And Barna's research listed the five-fold criteria that determined "success" in the minds of most pastors and churches: 1) Attendance, 2) Offerings, 3) Number of programs, 4) Size of staff, and, 5) Square footage of facilities. In fact, Barna's research showed that the vast majority of pastors will purposely NOT preach what they know is Biblical truth in order to accommodate the five-fold "success" goals listed. This has led to popularity-preaching; entertainment-oriented programs; soft, non-confrontational teaching; and an overall weak and compromising pulpit.
The "success" orientation of the modern church is a major problem.
*The Egregious Misinterpretation of Romans 13, the 501c3 IRS non-profit organization status for churches, and Statism
Though these three issues each have an independent nature, I put them together as they are intricately connected.
Though many pastors and church leaders would probably not be willing to admit it, for all intents and purposes, our churches are mostly more concerned with being the compliant servant of the state than they are the obedient servant of God. The way most pastors teach Romans 13 is nothing more than the promotion of idolatry. Christians are taught to obey civil government almost without question. As was the case in Nazi Germany, America's churches are taught that obedience to the state is obedience to God.
Have you been to a modern church wedding recently? If you have, as the pastor pronounced the bride and groom as husband and wife, you probably heard him say, "As an officer of the laws of the State of (your State) and in the presence of God…I now pronounce you man (or husband) and wife."
The IRS 501c3 non-profit organization status for churches (instituted in 1954) has turned pastors and church officers into corporate officers of the state–and most pastors and church leaders KNOW it–even if they are unwilling to admit it.
It's all about preserving the church's non-profit status so contributors can deduct their offerings on income tax forms and so that the church doesn't have to pay sales taxes on what they purchase or property taxes on what they own. And whatever pastors and church officers are required by the state to do in order to preserve that non-profit status, they will comply.
This doesn't require a knock at the door by an IRS agent; it doesn't require threatening letters or phone calls; it doesn't require any direct show of force by any government agency against the church. Pastors and church officers INSTINCTIVELY know where the "third rail" is and will avoid it at all costs in order to not jeopardize their non-profit status.
The desire to comply with the IRC (Internal Revenue Code) for churches makes it easy for pastors to teach the Hitlerian version of total submission to civil government.
Statism is NOT patriotism. Neither is it Christian. The Bible is chock-full of examples of resistance to unlawful government. I'm sure many of our pastors and church leaders have never personally studied the issue and are simply regurgitating what they have been taught. I am confident that many of them are truly ignorant of what they are doing, but that doesn't change what they are doing. Wittingly or unwittingly, they have allowed themselves to become statists: the sheepish servants of the state.
The condition of the American Church today is EXACTLY the same as was the condition of the German and Russian Church during the rise of Adolph Hitler and Joe Stalin. This is why the Church seems totally unconcerned and indifferent to the growing Police State in America today.
*Ignorance of Natural Law and the Law of Nations
God-ordained Natural Law has not been taught from America's pulpits since the Nineteenth Century. The vast majority of pastors and church leaders in America are totally ignorant of these immutable laws.
The lack of understanding regarding Natural Law has made it virtually impossible for the American Church to truly understand the fundamental principles of good government and liberty. All most Christians know about government is what they hear on FOX News or from Rush Limbaugh. Their pastors almost never broach the subject. And for good reason: most pastors are themselves ignorant on the subject. Therefore, about all they can talk about is "liberal" vs. "conservative," or Democrat vs. Republican. The divine principles of Natural Law that are supposed to govern nations and man-to-man relationships are foreign to the thinking and understanding of the vast majority of pastors and churches.
The ignorance and misunderstanding of Natural Law by the Church has created the societal and political conditions that now exist in this country.
But there is one more major problem in the American Church. And I believe this problem is the GREATEST problem of all. And, to be honest, it had not dawned on me how pervasive and deep this problem was until last week.
*The Church is Filled With Hate
In my column last week, I used the movie, American Sniper, as a catalyst to point out that the United States has been waging unjust war on countries such as Iraq–and meddling in the internal affairs of countries such as Iraq–for decades. I also pointed out that not all Muslims are terrorists and to condemn all Muslims on the basis of Muslim Jihadists is wrong.
Folks, you can't believe the firestorm of anger that deluged me. My Facebook page registered over 100,000 views of my comments and precipitated a flood of hate-filled responses. Here is a sample of the more-mild reactions:
"All Christians should be standing against Islam and proclaiming America for the kingdom of Christ. I am not a Muslim sympathizer and I have lost respect for you, Mr. Baldwin. Islam is anti-Christianity. You cannot serve 2 masters."
By standing against Islam, Cathy means it is right and righteous to go to war against Muslim nations, because they are "anti-Christianity." So, Cathy, since when is it America's responsibility to export Christianity over the barrel of a gun? I suppose we should then invade and destroy every Muslim nation in existence, including Saudi Arabia.
Speaking of Saudi Arabia, if we can believe the official story of 9/11 (which I don't), the Muslim terrorists that perpetrated those attacks were all from Saudi Arabia, NOT Iraq. Why didn't we invade Saudi Arabia? Iraq had NOTHING to do with 9/11 and everyone on the planet knows it. In truth, Saudi Arabia has done more to fund Islamist terrorists than any other nation in the region. Yet, official American foreign policy regards Saudi Arabia as our friend and ally.
But Saudi Arabia is a Muslim nation, which means they are "anti-Christianity," so Cathy (and many like her) believes we should go to war with these nations to advance "the kingdom of Christ." But what about Judaism, Cathy? Judaism is as "anti-Christianity" as Islam. What about Hinduism? What about Buddhism? What about Atheism? Is America supposed to go to war with every nation of the world that has a population of people who are "anti-Christianity"? If so, we should be attacking most of the nations of the world.
And since when can we evangelize the pagan peoples of the world via brute force? When has that ever worked? And what Scripture do you base that theory on? People are won to Christ with the message of God's amazing grace and love through Christ's death on the cross. What? Did God commission us to kill and destroy all of the heathen of the world? I thought our commission was to love and win them, not attack and kill them.
But a host of attacks against my comments last week were much more caustic. Here is an example:
"Imam Mohammed Judas Baldwin; My wife and I were listening on line to your 1-25-15 program, I shut the program off when I heard your rant against your Christian brother and sister Pastors. My wife astutely said: 'Muslim Lover?' I believe I have figured out your love of all things Islam, and your betrayal of God, Jesus Christ, and Christians. Your God Allah, Your savior Mohammad, and your fellow Muslims. Allah offered you a better deal. Paradise and 72 Virgins. The Virgins, in your case, 50/50 prepubescent boys and girls. Judas Iscariot had the decency to hang himself for his betrayal of my savior Jesus Christ. How about you? You can get Allah and the virgins, sooner, if you do it to day…Shame on you, you Fool."
The message I delivered last Sunday, and to which Michael was reacting to, was taken from Matthew 5:44, "Love your enemies," and from Matthew 7:12, "Therefore all things whatsoever ye would that men should do to you, do ye even so to them: for this is the law and the prophets."
And, yes, Michael, I do love Muslims, Jews, Hindus, Buddhists, Atheists, etc. They are all souls for whom Christ died.
If unbelievers and pagans want to be filled with hate, so be it; but hatred has NO PLACE WHATSOEVER in the heart of a Christian. And after receiving tens of thousands of hate-filled responses regarding my comments last week, it dawned on me that the American Church is largely filled with hate–hatred against the Muslim people.
Ever since 9/11, Christians and conservatives have developed a hatred and animus, not just against Jihadist-Muslims (which, even that is TOTALLY UNACCEPTABLE for a Christian), but against Muslim people everywhere. All Muslims are commonly castigated and vilified just because they are Muslims.
Ladies and gentlemen, it is absolutely NOT TRUE that all Muslims are anti-American, anti-Christian murderers and terrorists. It is NOT TRUE that all Muslims want to enact Sharia Law in the United States. It is NOT TRUE that all Muslims are our enemies.
I wonder how many of these Muslim haters have ever met a Muslim in person. I have. I have met many–both in the United States and in the Middle East. They are NOT all America-haters. They are NOT all trying to kill us. America has had Christian missionaries ministering among Muslim nations for as long as our country has been in existence. And many Christians would be shocked to know that overall the Gospel has received greater acceptance by the Muslim population than by other religions of the region–much more, in fact, than by the Jewish population.
Here is a letter I received from a Christian missionary named Jeff:
"Hi, Chuck! We…want to tell you that we stand 100% with what you said in both your column and to your congregation. We have been missionaries for 40 years, a good ten of those in Muslim countries (Tunisia, Libya, Jordan, Bangladesh, Pakistan, India, Bosnia, and Albania). We have not just met or talked to a Muslim, we have witnessed to them in depth for years. It is SO RARE to hear anyone nowadays saying anything conciliatory towards Muslims, much less positive. I thank you for the things you have said, and am so very sorry for the hateful responses you received in the comments to your column that reveal the dark heart of many Christians in the U.S."
To be honest, most of the Muslims I have met in the U.S. and in the Middle East demonstrate more kindness, common courtesy, and genuine compassion than many of the so-called Christians I have known.
Let's be honest: some Muslims are Muslims in name only, much like many Baptists are Baptists in name only, or Catholics are Catholics in name only, or Mormons are Mormons in name only, or Jews are Jews in name only, etc. There are millions of Christians in America's churches that couldn't tell you what's in the Bible to save their lives. They couldn't quote the Ten Commandments; they couldn't quote the Golden Rule; they couldn't name Christ's apostles; they couldn't quote five verses of Scripture from memory if their lives depended on it. There are many Muslims in the exact same condition.
Furthermore, not all Muslims, who are devout, take the verses of the Koran that speak of Jihad and killing infidels, etc., to literally mean killing all non-Muslims today. No, not all of them do!
Think of this: how many of us Christians believe that the civil laws and military commands that God gave to the children of Israel through Moses should be literally incorporated into the Church and into the civil laws of America today? Do you believe we should be stoning people to death for adultery, or breaking the Sabbath (So, any Christian nurse or policeman or physician or fireman, etc., who works on Saturday should be stoned to death?), or blasphemy, or for children who curse their parents? Do you? Should we literally destroy entire nations–including men, women, and children today? These things were literally commanded by Jehovah God for the children of Israel under Moses. And, yes, God is God and is righteous and just as much when he condemns as when he forgives. No man sits in judgment of God. His ways are always right and holy. But God is NOT giving direct audible commands to anyone in the U.S. government today–or to anyone in our church pulpits, for that matter.
Many Muslims I've met interpret those passages in the Koran like we do those Old Testament Scriptures. Why can Christians interpret our Bible in this manner but Muslims cannot interpret their bible in a similar fashion?
In fact, I know of several Christian pastors and preachers in America who mimic Muslim Jihadists and believe that we SHOULD be implementing the Mosaic Law in our country today. If they had their way, we would be stoning people to death for the sins mentioned above just as they did under Moses. Have you ever witnessed a stoning? It is as equally torturous as beheading–maybe even more so.
Beyond that, these Muslim haters seem to be completely ignorant of the fact that every day there are tens of thousands of Muslims who risk their lives resisting Muslim Jihadists. It was a Muslim village that risked their lives against the Taliban to save the American fighting man that was depicted in the movie, Lone Survivor. Why don't we recognize this reality? It's because hatred and bigotry against the Muslim people have blinded us.
Plus, the dirty truth that most Americans, including most Christians, seem unwilling to accept is that most of the conflict between the United States and the Muslim nations of the Middle East has been created by our own federal government.
I speak regularly with retired Special Forces military personnel who share with me the way our own CIA and State Department have bullied, lied to, intimidated, and betrayed our Muslim friends in the Middle East. They have seen it up close and personal. This has been going on for decades. In fact, our federal government has tortured hundreds of people in the Middle East in some of the most vile ways possible. The only difference is, they don't broadcast it over television.
I recently asked a retired Green Beret, "How much of the conflict between the U.S. and Middle Eastern states would stop if Washington, D.C., would simply stop meddling in the internal affairs of those countries?" This Green Beret served in the the Middle East for years; he was a Special Ops soldier. He saw the surreptitious and covert things that our government routinely does–things the public doesn't see. His answer to me was, "100%."
Our own federal government put the Taliban in power, put Al Qaeda in power, and put ISIS in power. Our federal government often uses war and conflict to cover up its own murderous activity or to kill the very people that they formerly gave arms to, supported, befriended, etc. Whether one wants to believe it or not, most of the conflict in the Middle East has been caused by our own government. We are our own worst enemy. How convenient that we make Muslim people everywhere the straw man to divert attention away from the real criminals.
Yes, the American Church has a BIG problem: much of it is filled with HATE. To be sure, Christians are instructed to hate "evil," but nowhere are we instructed to hate people–any people. Yet, the hatred of Muslims by Christians in America appears to be epidemic.
Hatred is a cancer. Hatred, bitterness, resentment, bigotry, etc., kill the soul. When Jesus instructed us to love our enemies, it was NOT for our enemies' sake; it was for OUR sake. How can God bless a hate-filled Church when He commands us to love our enemies? How can He bless warmongers when he tells us that it is peacemakers who are blessed?
When America MUST defend itself against any enemy, regardless of nationality, race, ethnicity, religion, etc., we are obligated to do so. In the Twentieth Century, we fought hot wars against Christians from Germany and Italy, against Shintoists from Japan, against atheists from North Korea, and against Buddhists, Taoists, and Confucianists from Vietnam. But there is a huge difference between defending oneself against an enemy that poses and imminent threat and fomenting hatred against an entire people for the crimes of a few.
How can Christians claim to love God and believe in winning lost souls to Christ be so consumed with hatred against an entire people–most of whom have done NOTHING to harm them? Yes, I realize there are some who call themselves Christians who hate other people besides Muslims. Some hate everyone who is a Jew; some hate everyone who is a minority; some hate everyone who is victimized by an aberrant sexual lifestyle, etc. Hatred has been with us since the dawn of human history. But in my entire lifetime, I have never witnessed anything like I am witnessing now: the pervasive, widespread, almost universal hatred of the Muslim people–by Christians.
As I said, hatred destroys the soul. And I fear that hatred is destroying the soul of the Church.
Whose fault is it that mosques are being built in America? Many of the buildings being used for these new mosques are abandoned CHURCH buildings. The darkness of false religion will always fill the vacuum that is left when truth departs. And the fact is, Christianity is dying in the United States. No, it's not dead; but it's dying. There are tens of thousands of empty abandoned churches all over America. More and more Americans are turning their backs on the Church. What difference does it make which form of darkness invades the land? The problem is that the true light (the Church) is failing. What do you expect will happen?
What difference does it make whether the darkness takes the form of Islam, or Buddhism, or Shintoism, or Judaism, or Atheism, or Communism, or any other "ism?" The problem is not the presence of darkness; the problem is the absence of light.
The Church has lost its light and its love. Christ is doing what He said He would do to those who lose their love: He is removing the candlestick.
The American Church has focused on being "successful" instead of being righteous; it has capitulated to the lordship of the state; it fears the IRS more than it fears God; it has stopped preaching the "hard" messages of the Bible; it is popularity-driven, entertainment-driven, and comfort-driven; it has abandoned the fundamental principles of Natural Law and liberty; it has replaced genuine patriotism with statism; and it has used Romans 13 as justification for idolatry.
A quote from Charles Caleb Colton (1820) is in order here: "Men will wrangle for religion; write for it; fight for it; die for it; anything but–live for it."
The Muslim people are NOT our problem; the problem is the American Church. It needs to start living its religion.
"I want to appeal to the Ukrainian people, to the mothers, the fathers, the sisters and the grandparents. Stop sending your sons and brothers to this pointless, merciless slaughter. The interests of the Ukrainian government are not your interests. I beg of you: Come to your senses. You do not have to water Donbass fields with Ukrainian blood. It's not worth it."

— Alexander Zakharchenko,  Prime Minister of the Donetsk People's Republic
Washington needs a war in Ukraine to achieve its strategic objectives. This point cannot be overstated.
The US wants to push NATO to Russia's western border. It wants a land-bridge to Asia to spread US military bases across the continent.  It wants to control the pipeline corridors from Russia to Europe to monitor Moscow's revenues and to  ensure that gas continues to be denominated in dollars. And it wants a weaker, unstable Russia that is more prone to regime change, fragmentation and, ultimately, foreign control. These objectives cannot be achieved peacefully, indeed, if the fighting stopped tomorrow,  the sanctions would be lifted shortly after, and the Russian economy would begin to recover. How would that benefit Washington?
It wouldn't. It would undermine Washington's broader plan to integrate China and Russia into the prevailing economic system, the dollar system. Powerbrokers in the US realize that the present system must either expand or collapse. Either China and Russia are brought to heel and persuaded to accept a subordinate role in the US-led global order or Washington's tenure as global hegemon will come to an end.
This is why hostilities in East Ukraine have escalated and will continue to escalate. This is why the U.S. Congress  approved a bill for tougher sanctions on Russia's energy sector and lethal aid for Ukraine's military. This is why Washington has sent military trainers to Ukraine and is preparing to provide  $3 billion in  "anti-armor missiles, reconnaissance drones, armored Humvees, and radars that can determine the location of enemy rocket and artillery fire." All of Washington's actions are designed with one purpose in mind, to intensify the fighting and escalate the conflict. The heavy losses sustained by Ukraine's inexperienced army and the terrible suffering of the civilians in Lugansk and Donetsk  are of no interest to US war-planners. Their job is to make sure that peace is avoided at all cost because peace would derail US plans to pivot to Asia and remain the world's only superpower. Here's an except from an article in the WSWS:
"The ultimate aim of the US and its allies is to reduce Russia to an impoverished and semi-colonial status. Such a strategy, historically associated with Carter administration National Security Advisor Zbigniew Brzezinski, is again being openly promoted.

In a speech last year at the Wilson Center, Brzezinski called on Washington to provide Kiev with "weapons designed particularly to permit the Ukrainians to engage in effective urban warfare of resistance." In line with the policies now recommended in the report by the Brookings Institution and other think tanks calling for US arms to the Kiev regime, Brzezinski called for providing "anti-tank weapons…weapons capable for use in urban short-range fighting."

While the strategy outlined by Brzezinski is politically criminal—trapping Russia in an ethnic urban war in Ukraine that would threaten the deaths of millions, if not billions of people—it is fully aligned with the policies he has promoted against Russia for decades." ("The US arming of Ukraine and the danger of World War III", World Socialist Web Site)
Non-lethal military aid will inevitably lead to lethal military aid, sophisticated weaponry, no-fly zones, covert assistance, foreign contractors, Special ops, and boots on the ground. We've seen it all before. There is no popular opposition to the war in the US, no thriving antiwar movement that can shut down cities, order a general strike or disrupt the status quo. So there's no way to stop the persistent drive to war. The media and the political class have given Obama carte blanche, the authority to prosecute the conflict as he sees fit. That increases the probability of a broader war by this summer following the spring thaw.
While the possibility of a nuclear conflagration cannot be excluded, it won't effect US plans for the near future. No one thinks that Putin will launch a nuclear war to protect the Donbass, so the deterrent value of the weapons is lost.
And Washington isn't worried about the costs either.   Despite botched military interventions in Afghanistan, Iraq, Libya and half a dozen other countries around the world; US stocks are still soaring, foreign investment in US Treasuries is at record levels,, the US economy is growing at a faster pace than any of its global competitors, and the dollar has risen an eye-watering 13 percent against a basket of foreign currencies since last June. America has paid nothing for decimating vast swathes of the planet and killing more than a million people. Why would they stop now?
They won't, which is why the fighting in Ukraine is going to escalate. Check this out from the WSWS:
"On Monday, the New York Times announced that the Obama administration is moving to directly arm the Ukrainian army and the fascistic militias supporting the NATO-backed regime in Kiev, after its recent setbacks in the offensive against pro-Russian separatist forces in east Ukraine.

The article cites a joint report issued Monday by the Brookings Institution, the Atlantic Council, and the Chicago Council on Global Affairs and delivered to President Obama, advising the White House and NATO on the best way to escalate the war in Ukraine….

According to the Times, US officials are rapidly shifting to support the report's proposals. NATO military commander in Europe General Philip M. Breedlove, Defense Secretary Chuck Hagel, US Secretary of State John Kerry, and Chairman of the Joint Chiefs of Staff General Martin Dempsey all supported discussions on directly arming Kiev. National Security Advisor Susan Rice is reconsidering her opposition to arming Kiev, paving the way for Obama's approval." ("Washington moves toward arming Ukrainian regime", World Socialist Web Site)
See what's going on? The die is already cast. There will be a war with Russia because that's what the political establishment wants. It's that simple. And while previous provocations failed to lure Putin into the Ukrainian cauldron, this new surge of violence–a spring offensive– is bound to do the trick. Putin is not going to sit on his hands while proxies armed with US weapons and US logistical support pound the Donbass to Fallujah-type rubble.  He'll do what any responsible leader would do. He'll protect his people. That means war. (See the vast damage that Obama's proxy war has done to E. Ukraine here: "An overview of the socio – humanitarian situation on the territory of Donetsk People's Republic as a consequence of military action from 17 to 23 January 2015")
Asymmetrical Warfare: Falling Oil Prices
Keep in mind, that the Russian economy has already been battered by economic sanctions, oil price manipulation, and a vicious attack of the ruble. Until this week, the mainstream media dismissed the idea that the Saudis were deliberately pushing down oil prices to hurt Russia. They said the Saudis were merely trying to retain "market share" by maintaining current production levels and letting prices fall naturally. But it was all bunkum as the New York Times finally admitted on Tuesday in an article titled: "Saudi Oil Is Seen as Lever to Pry Russian Support From Syria's Assad". Here's a clip from the article:
"Saudi Arabia has been trying to pressure President Vladimir V. Putin of Russia to abandon his support for President Bashar al-Assad of Syria, using its dominance of the global oil markets at a time when the Russian government is reeling from the effects of plummeting oil prices…

Saudi officials say — and they have told the United States — that they think they have some leverage over Mr. Putin because of their ability to reduce the supply of oil and possibly drive up prices….Any weakening of Russian support for Mr. Assad could be one of the first signs that the recent tumult in the oil market is having an impact on global statecraft…..

Saudi Arabia's leverage depends on how seriously Moscow views its declining oil revenue. "If they are hurting so bad that they need the oil deal right away, the Saudis are in a good position to make them pay a geopolitical price as well," said F. Gregory Gause III, a Middle East specialist at Texas A&M's Bush School of Government and Public Service ("Saudi Oil Is Seen as Lever to Pry Russian Support From Syria's Assad", New York Times)
The Saudis "think they have some leverage over Mr. Putin because of their ability" to manipulate prices?
That says it all, doesn't it?
What's interesting about this article is the way it conflicts with previous pieces in the Times. For example, just two weeks ago, in an article titled "Who Will Rule the Oil Market?"  the author failed to see any political motive behind the Saudi's action.  According to the narrative, the Saudis were just afraid that "they would lose market share permanently" if they cut production and kept prices high. Now the Times has done a 180 and joined the so called conspiracy nuts who said that prices were manipulated for political reasons.  In fact, the  sudden price plunge had nothing to do with deflationary pressures, supply-demand dynamics, or any other mumbo-jumbo market forces. It was 100 percent politics.
The attack on the ruble was also politically motivated, although the details are much more sketchy. There's an interesting interview with Alistair Crooke that's worth a read for those who are curious about how the Pentagon's "full spectrum dominance" applies to financial warfare. According to Crooke:
"…with Ukraine, we have entered a new era: We have a substantial, geostrategic conflict taking place, but it's effectively a geo-financial war between the US and Russia. We have the collapse in the oil prices; we have the currency wars; we have the contrived "shorting" — selling short — of the ruble. We have a geo-financial war, and what we are seeing as a consequence of this geo-financial war is that first of all, it has brought about a close alliance between Russia and China.

China understands that Russia constitutes the first domino; if Russia is to fall, China will be next. These two states are together moving to create a parallel financial system, disentangled from the Western financial system. ……

For some time, the international order was structured around the United Nations and the corpus of international law, but more and more the West has tended to bypass the UN as an institution designed to maintain the international order, and instead relies on economic sanctions to pressure some countries. We have a dollar-based financial system, and through instrumentalizing America's position as controller of all dollar transactions, the US has been able to bypass the old tools of diplomacy and the UN — in order to further its aims.

But increasingly, this monopoly over the reserve currency has become the unilateral tool of the United States — displacing multilateral action at the UN. The US claims jurisdiction over any dollar-denominated transaction that takes place anywhere in the world. And most business and trading transactions in the world are denominated in dollars. This essentially constitutes the financialization of the global order: The International Order depends more on control by the US Treasury and Federal Reserve than on the UN as before." ("Turkey might become hostage to ISIL just like Pakistan did",  Today's Zaman)
Financial warfare, asymmetrical warfare, Forth Generation warfare, space warfare, information warfare, nuclear warfare, laser, chemical, and biological warfare. The US has expanded its arsenal well beyond the  traditional range of conventional weaponry. The goal, of course, is to preserve the post-1991 world order (The dissolution up of the Soviet Union) and maintain full spectrum dominance. The emergence of a multi-polar world order spearheaded by Moscow poses the greatest single threat to Washington's plans for continued domination.  The first significant clash between these two competing world views will likely take place sometime this summer in East Ukraine. God help us.
NOTE:  The Novorussia Armed Forces (NAF) currently have 8,000 Ukrainian regulars surrounded in Debaltsevo, East Ukraine.  This is a very big deal although the media has been (predictably) keeping the story out of the headlines.
Evacuation corridors have been opened to allow civilians to leave the area.  Fighting could break out at anytime.  At present, it looks like a good part of the Kiev's Nazi army could be destroyed in one fell swoop.  This is why Merkel and Hollande have taken an emergency flight to Moscow to talk with Putin.  They are not interested in peace. They merely want to save their proxy army from annihilation.
I expect Putin may intervene on behalf of the Ukrainian soldiers, but I think commander Zakharchenko will resist.   If he lets these troops go now, what assurance does he have that they won't be back in a month or so with high-powered weaponry provided by our war-mongering congress and White House?
Tell me; what choice does Zakharchenko really have? If his comrades are killed in future combat because he let Kiev's army escape, who can he blame but himself?
There are no good choices.
Check here for updates:  Ukraine SITREP: *Extremely* dangerous situation in Debaltsevo