Humanity needs sleep and we quickly realize how much we need it after a night of no sleep. Sleep is vital for health, mood, memory, better thinking, stronger immunity, weight, sex and stress.
Dreams are also important to allow our subconscious to express. Science is now uncovering that dreams play a central role in our emotional health, psychological health, our memory, our learning and as a way to help us to find solutions to our problems. If we are seriously sleep deprived, we actually start to dream while awake.
Sleep also may help the human brain get better organized by filing away important memories and discarding unwanted information.
Scientists at the University of Rochester have found one of the reasons our brain needs sleep to survive. Turns out, when we sleep, our brain takes that time to clean out the build-up of brain junk we accumulate during our waking hours. When cells do their daily cell-type work, they produce waste product. The brain has its own garbage men, carried on the waves of cerebrospinal fluid, who surf the leftovers straight down to your liver for elimination. As it turns out, the brain's garbage men move twice as fast when you're sleeping, because your neurons shrink by half, making the fluid channels wider.
You spend 1/3 of your life on a mattress. You are drooling, sweating, having sex, lounging around and holding children on a mattress. You are making direct contact with a mattress and if you didn't know this already, the vast majority of today's mattresses are made from highly toxic volatile chemicals compounds that are linked to serious health problems. You breathe in these chemicals while you sleep and you absorb them when you sweat through a process of osmosis.
Sleeping disorders in the U.S. are growing at an alarming rate, and have been labeled as epidemic. Is the problem literally staring them in the face at night?
Most people aren't sleeping well and research shows that 95% will go undiagnosed, and 70 million people in the U.S. report that they suffer from sleep-related pain (Time Magazine). And recent studies have linked poor sleep with the growth of many disease states, specifically: diabetes, obesity, stroke, heart disease, allergies, and fibromyalgia.
Since the mid- to late '60s, most mattresses have been made of polyurethane foam, a petroleum-based material that emits volatile organic compounds. Most mattresses sold today contain some polyurethane foam and many contain specialty foams such as latex or memory foam, which consistently break down and release chemicals. The most common toxic materials used in making a mattress include petrochemicals, polyurethane, polyvinyl chloride (PVC), formaldehyde, antimony trioxide, phthalates, and boric acid. These chemicals are used for the foam fillers, material adhesives, and for water-resistance. Most are used to make the mattress flame retardant, per federal law, causing mattress toxicity to increase. All these chemicals individually give off their own noxious fumes, commonly referred to as off-gassing.
Sleepers may report smelling the fumes when the mattress is first bought, which eventually ceases; however, although the off-gas smell no longer is detectable, toxins are still continuously being released and inhaled by the sleeper. Studies show that when a person is sleeping on a mattress with such chemicals, the toxins can seep into the body through the skin. This is supported through scientific research that has shown PCDE's to be found in women's breast milk in the U.S., a fact that has led many to fear that children are more likely to suffer greater than adults from mattress toxicity.
In 2005, Walter Bader, author of the book Toxic Bedrooms, sent several mattresses to an Atlanta-based lab. A memory-foam model was found to emit 61 chemicals, including the carcinogens benzene and naphthalene. But hey, it's ok because its government approved? Right.
But there is another troublemaker in your mattress that you should be aware of and that is pesticide residue lurking in the cotton components of your mattress. Non-organic cotton is grown with pesticides, which are neurotoxins and endocrine disruptors that can cancer and nervous-system disorders. There are 107 active ingredients in pesticides still used in the U.S. that are carcinogenic, and 14 are known to cause reproductive problems in animals, according to the U.S. Environmental Protection Agency. Not "in the mood?" Your mattress may be contributing.
Also, most mattress covers are made with synthetic fabrics that pose more health risks. Man made synthetic fabrics are made of toxic petrochemicals and then sprayed with flame retardants and other dangerous chemical finishes. Using synthetic, non-organic bedding and blankets also contributes to toxicity.
Researchers are questioning the origin of the increased incidences in pediatric respiratory issues, such as asthma, learning disabilities (specifically Attention Deficit Hyperactivity Disorder), and lower IQ levels. Some have speculated there is a strong correlation between these issues and the materials used in children's mattress and bedding items. Infants, children and pregnant women require more sleep per day in order to develop and function properly, resulting in an increased amount of exposure time.
Another study, utilizing mice, was conducted to measure the effect of breathing the emission (off-gassing) of four types of mattresses on the respiratory system. This study revealed that all mattresses containing synthetic materials caused upper airways irritation in up to 57% of the breaths measured, and saw decreased air flow by 17-23%.
Taking this information into account, it is then no surprise for many who wake up feeling, sick, tired and stuffy. Chemicals in your mattress and bedding are the culprit and they are also interfering with your much needed rest.
Compound mattress toxicity, with environmental toxins, household toxins, toiletry toxins, synthetic fabric toxins and pesticide ridden foods, it is no wonder people are getting cancer at alarming rates! We are drowning in a toxic soup and a "safe amount" every day soon becomes a heavy burden taking its toll.
But organic mattresses and organic mattress pads do exist! They are made with organic cotton, organic wool, organic latex (comes from rubber trees), with no chemicals of any kind. There are companies that sell mattresses that are completely natural and toxin-free, not just a little bit organic. The best companies will provide you with transparency from harvest to factory to showroom.
A sleep study conducted by Peter R. Dickson (1984) examined sleep quality of participants when sleeping on natural wool (participants slept on a wool pad that was placed under their sheet). He found that participants moved (tossed and turned) significantly less in the night. Additionally, participants in the study reported that they had slept better and that they felt better the next day when sleeping on the wool. Wool is hypothesized to increase sleep quality and reduce tossing and turning because 1) it reduces pressure points; and 2) it regulates body temperature.
Wool has an abundance of air spaces between the fibers that cushion the body and alleviate pressure points. This helps to support the spine and eventually distribute pressure to allow for a night free of tension and full of REM sleep. You will feel the difference.
Wools natural ability to wick away moisture and regulate temperature results in calmer heart rates due to lower humidity next to the skin. This provides for an optimal skin temperature that allows for a great nights' rest.
Wool is the only fiber that is naturally flame resistant. Its main component, a protein called keratin, coupled with the moisture collected in its fibers, make it difficult to ignite.
The benefits of an organic, natural fiber mattress include: chemical free, hypoallergenic, provides ventilation, sustainable, biodegradable, durable, safe for children and adults, alleviates pressure, itch free, non toxic, absolute comfort, long lasting and coil free. Coils act as cancer-causing radiation antenna.
Don't trust your government to protect your health. Take control of your own health. Research. Buy wisely.
Source:  Lana Lokteff | Red Ice Creations
There comes a time when a coming convergence becomes apparent. But when it spells a very probable major cataclysm people are not too eager to see it.
But see it we must. And sound the alarm we must…as well as prepare.
Funny how that's another thing "they" minimize and belittle. "Conspiracy freak" leads into "gloom and doomer", "fear and hate monger" etc., all being cleverly wrapped into the "terrorist" catch-all these fascist, police state days.
They are the authors and manufacturers of terror, always accusing the very ones they're murdering and manipulating. Sadly, the snooze button has been hit seemingly permanently for some. Nothing rattles them anymore – until the food runs out.
The wake up will hit, one way or another. It's already happened for very many. The key is to be awake, aware and ready.
Our Surreal News
With multiple extremely serious realities striking home from a possible banking shutdown to Fukushima to martial law and beyond there are more and more people who are catching on. But the hour is late.
That's not to mention concurrent massive geo-engineering and weather manipulation.
Shrimping was finally banned off the Gulf of Mexico due to horrific deformities and lesions in specimens being found; the arrival of radioactive Japan tsunami debris and massive radiated levels in the Pacific showing high readings in fish and algae and other samples and now even beach conditions on the US west coast; growing concerns about "fracking" causing earthquakes and severe water pollution around the world; GMO toxins and vaccines now known to not only maim humanity but drastically reduce fertility – are all major ongoing concerns that are adding up and causing people to boil over.
And that doesn't touch on the economic and corporate manipulations, the police state crackdowns, and the massive war machine that's gobbling up the world with hardly a peep of resistance or protest.
Something's seriously amiss. And that's just a sampling.
All of these man made anomalies are outrageous. And of course under or non-reported. And the Fukushima mutation weirdness has hardly begun with the millions of tons of nuclear contaminated water being continually, and dutifully I might add, dumped off of Japan.
The mutations and die-offs have started, but just barely. And as our forests and crops fail from aluminum and barium poisoning from our chemtrail poisoned skies you can be sure it will get very distressing as the days and weeks progress, as evidenced by California's severe drought that will have devastating repercussions.
The World's Been Thoroughly Conned…and Set Up
You'd think everyone would start to realize something serious is actually going down. But most can't begin to fathom the degree to which we're being attacked. It's way too horrific to grasp, never mind fully realize and integrate into their lives.
If just one spent fuel rod pool at Fukushima collapses, there will be so much plutonium-based radiation released it would be called a potential Extinction Level Event (ELE). Just that. And if that doesn't "bake your noodle", do you know how many hundreds of these types of old dangerous fuel rod pool stocked reactors there are around the world?
Over 800! And all those, built in the 60′s and 70′s, are now due for "expiration"! Never mind the plethora of nuclear bomb manufacturing facilities in the US and around the world. We're talking insane, people. And most of us had nothing to do with any of this. At least not consciously.
This planet is one large deliberately bomb-ridden Murrah Building or explosive-laden Twin Tower. Earth has been and is being engineered for demolition, whether a man-made or natural disaster triggers it, the charges have been thoroughly and deliberately set in place.
Waiting around and living "business as usual" are no longer options.
The Virtue of Knowledge
This doesn't have to spell the end of everything, as awful as that sounds. People who love you tell you the Truth.
I'm fully convinced that our number one job here is to wake up, first and foremost, individually, and then wake up everyone around us. It's imperative people see the vast extent of the perfidy of this parasitic force destroying our planet. And that's not an easy task…UNTIL someone wakes up! Once the light gets in all will follow to the True in Heart.
The coming cataclysms, in whatever form they take, will work in Truth's favor. Universe doesn't fail in anything within any of its realms. How it plays out here is only perceived from our small, limited viewpoint. We will learn, come what may.
But the viewpoint from the heart?!….that's where the answers reside. All we have to do is listen. And learn. And do.
False Flag Earth and the Plan of the War gods
Anyone reading this knows false flags have been perpetrated by rulers since time immemorial. It's virtually primordial evil to secretly do some evil deed yourself or have someone do it for you and blame someone else, all for a desired effect.
This huge scam is admittedly off the charts wrong and engineered by the dark side, however you perceive it. The loving and kind-hearted would never consider such acts, which is why many can't conceive them, yet the controllers use these tactics with abandon.
Earth will survive their puny efforts in some form, if need be. Humanity may not, at least here, until the earth recovers or we take off for new horizons. I don't know. But to deliberately bring on such catastrophic conditions is not an easy one for the lay unaware earth man to wrap his head around. Very strange indeed, but that's how they've gotten away with it.
They say mega catastrophes, natural and perhaps otherwise, have wiped out previous civilizations and thousands of animal species on earth. They've even found evidence of a nuclear conflagration in ancient India, and it's theorized Atlantis and Lemuria had it out in some sort of nuclear war and that's how they came to an end.
It seems these warlike "gods" through the ages have a propensity for this type of wanton death-dealing and destruction. They really should find their own already decimated rock somewhere out there and fight it out between themselves and leave us the hell alone.
Wouldn't you say?
Non Cooperation and Resistance is Essential
Our job is to first wake up to the horrific reality that we're being deliberately killed off, and then wake up as many others as possible. I don't know about any cavalry coming to save us but I do know it's a time of energetic change that will help more and more see what's going on and hopefully wake up out of slumber.
And when we activate, Universe activates. And I don't doubt there aren't "agents of good" who help us from other realms. When we put feet to our new found knowledge things on every level activate. But the responsibility is ours. It will always remain ours. That's the cycle we're on. If you don't get it and respond you're doomed to repeat it till you do..in one form or another. To me that makes total sense. But then again, I'm just wondering…
The Universe is intrinsically right and just. If we didn't have free will life would be a drag. And with free will comes a lot of messiness. And responsibility. It's ours to handle responsibly. Our hearts tell us so.
So let's enjoy this anyway! But let's get Love and Truth back in charge here, shall we?
Perspective – They Can't Win Over Truth and Love
You really wonder how these anti-natural freaks can take themselves seriously. Just look at the magnificence of our Universe. It's beyond description. Clearly forces play out that we're only slightly aware of. But one thing we can be sure of…puny man or any other power-crazed entity is nothing to be feared. We're inter connected with Something so much greater and profound we can rest assured all will come out for the better no matter what happens in the short term.
The current awakening is changing the entire dynamic on our planet by the hour. The matrix is coming down, which is why they're so frantically trying to slap up structural supports for it everywhere with more laws and draconian regulations. There's a vibrational change that is exposing the Truth and accelerating drastic life changes all around us. This will no doubt change the course of all of their plans as everyone's perceptions will be changing as well.
Eternity Rules
If we're on to their scam, we should identify it, non-comply and rise up in defiance of it and overcome it. Whatever form we take. Even if the whole place blows, you think that's the end?
Fear of death is possibly the biggest con going. How many parallel dimensional worlds are right now spinning, slipping and sliding around us? Even our so called big brained physicists say at least 11. You think that's all? (And btw, notice no one's calling themconspiracy freaks! Ha!)
The biggest lesson we can all learn: Heart trumps brain trumps programming.
Stick to your convictions, come what may.
And go with the flow – synchronicity leads and confirms and encourages.
A final thought from Lao Tzu…
"A good traveler has no fixed plan, and is not intent on arriving."
Keep wondering.
Love, Zen
Source:  Zen Gardner  |  ZenGardner.com
Iraq today is a grim reflection of America's ruthless imperial agenda. It includes mass slaughter, destruction, devastation, deprivation, human misery and unending violence.
On August 31, 2010, Obama displayed criminal contempt. He's done it many times. He declared an end to America's combat mission in Iraq, saying:
"Through this remarkable chapter in the history of the United States and Iraq, we have met our responsibility."
Ignored was America's genocidal legacy. Iraq was ravaged and destroyed. Pre-1990 Iraq no longer exists. Charnel house conditions replaced it.
So did plunder on the grandest of grand scales, millions of internal and external refugees, ongoing violence, dozens of daily deaths, a plague of preventable diseases, ecocide, and overall conditions too horrific to ignore.
Remember Fallujah. In September 2004, the UN Human Rights Council issued a report titled"Testimonies of Crimes Against Humanity in Fallujah: Towards a Fair International Criminal Trial."
It discussed horrific conditions, saying:
"From the (2003) outset and at the start of the indiscriminate and merciless campaign of collective punishment and willful destruction, undertaken by the occupational troops of the United States of America," innocent civilians endured an "inhumane siege and indiscriminate killing" during April and May 2004.
"(G)enocidal massacres" included "sustained and targeted bombing(s), aimed directly at the homes of defenseless civilians."
A November/December massacre followed. Thousands more Iraqis were slaughtered, wounded and maimed.
Depleted and enriched uranium, cluster bombs, white phosphorous and other terror weapons were used.
Chris Busby is a radiation expert. "We went to Fallujah, and we found the levels of cancer high," he said.
"We looked at the parents of children with congenital malformation, and we did analysis of their hair to see what was inside their hair that might be genotoxic, that might be the sort of thing that can cause congenital malformation."
"The only thing that we found was uranium. We found uranium in the mothers of the children with congenital malformations."
"We know that uranium is genotoxic, that it causes these levels of genetic damage, and because of that it also causes cancer."
"The only source of uranium was the use by the American-led forces of uranium weapons."
"Not only depleted uranium weapons, but as we later found out slightly enriched uranium weapons, which we believe they were using in order to cover their tracks."
Fallujah was besieged. Food, medicines and other vital supplies were kept out. US soldiers were ordered to kill anything that moved.
Young and old were targeted. Men, women, boys and girls were indiscriminately attacked.
Between both Fallujah battles, US warplanes kept bombing residential and industrial areas.
Negotiations to halt fighting failed. Washington blocked them. It did so to continue mass killing and destruction.
Hundreds were arrested. Imprisonments followed. So did horrific torture and ill-treatment.
Fallujah witnesses confirmed wholesale slaughter of unarmed civilians. They were killed inside their houses and mosques.
Some were shot after being arrested. Others were blown up inside their homes.
Children saw their parents shot. Adults witnessed their spouses and children killed. US and complicit Iraqi forces looted homes and stores.
Thousands of others were destroyed. A Commission for the Compensation of Fallujah Citizens said 7,000 houses were demolished.
So were 8,400 stores, workshops, clinics, warehouses and other structures. Sixty-five mosques were totally destroyed. So were five dozen primary, secondary and higher education schools.
Thirteen government buildings were leveled. Water and sewer systems were destroyed. So were two electrical power substations. Other infrastructure targets were demolished.
Around 100,000 domestic and wild animals died from toxic exposure. Four libraries containing valued Islamic manuscripts and books were burned.
Virtually everything in Fallujah was fair game. It remains symbolic of imperial US viciousness.
Subsequent Fallujah health statistics showed:
around 6,000 previously unknown or rarely seen diseases; and
sharp increases in leukemia, other cancers, infant mortality, birth defects, miscarriages, abnormal deliveries, and other health problems similar to what Hiroshima and Nagasaki survivors experienced.
Will the third battle of Fallujah repeat what happened earlier? US forces aren't directly involved. Iraqi government troops are battling Anbar Province Al Qaeda affiliated Sunni militants.
In December, Washington began supplying Nuri al-Maliki's government with dozens of Hellfire missiles, other weapons and drones.  
It's unclear whether US operators will wage drone warfare like what's ongoing in Afghanistan, Pakistan, Yemen and elsewhere. If al-Maliki's forces can't contain things on their own, bet on US involvement.
On Sunday, State Department spokeswoman Jen Psaki said Al Qaeda affiliated elements are "seeking to gain control of territory inside the borders of Iraq."
"(They represent a) common enemy of the United States and the Republic of Iraq, and a threat to the greater Middle East."
Al Qaeda is a US creation. It's used strategically as both ally and enemy. John Kerry issued a statement saying:
"We will stand with the government of Iraq and with others who will push back against their efforts to destabilize. We are not contemplating putting boots on the ground."
Vice President Biden spoke with al-Maliki. His office issued a statement saying "the United States stands with Iraq in its fight against the Islamic State of Iraq and the Levant."
Iraq is a failed state. It's a dysfunctional wasteland. Nightmarish conditions exist. Multiple car bombings occur almost daily.
So does other nationwide violence. Iraq is a virtual war zone. Dozens die daily. Fighting never ended. Al-Maliki is a convenient US stooge.
Al Qaeda affiliated elements largely gained control of Ramadi and Fallujah. Al-Maliki reinforced nearby Iraqi forces. Air strikes and artillery shelling followed.
Perhaps laying siege to both towns is planned. Will mass destruction and massacres follow?
On Tuesday, fierce clashes occurred between so-called Islamic State of Iraq and the Levant (ISIL) fighters and government forces.
ISIL elements are Sunni militants. They're linked to Al Qaeda. They're heavily involved in Syria.
Both countries share a common border. It's porous. Militants fighting Assad's forces cross it easily to fight in Iraq.
Sectarian tensions are high. Violence increased after Iraqi forces attacked Hawija Sunni protesters last April. Dozens were killed.
Deadly car bombings continue nationwide. In 2013, Iraq's death toll was the highest since 2007. In Anbar Province, Iraqi forces, local tribes and ISIL fighters are waging three-way war.
Before 2003, Iraq had no Al Qaeda elements. No threat existed. Washington's war changed things.
Iraq is a cauldron of violence. Fighting shows no signs of ending. Expect things to get much worse before it ebbs.
If US drone warfare complements Iraqi forces on the ground, mass killing and destruction may follow. It may happen with or without US involvement.
The third battle for Fallujah may replicate the first two. Expect Ramadi and other parts of Anbar Province to be affected.
Civilians will suffer most. Millions died since GHW Bush's Gulf War. Clinton's sanctions alone claimed around 1.5 million lives.
GW Bush's war, Obama continuing where he left off, and subsequent violence, disease, and deprivation took millions more.
On October 7, 2001, America's new millennium wars began. They continue out-of-control. Afghanistan, Iraq and Libya are war zones.
Fighting rages daily. Iraqi government forces are preparing to storm Fallujah. Expect another bloodbath to follow.
Washington bears full responsibility. Bush I and II, Clinton and Obama are unindicted war criminals.
Millions of regional deaths bear witness to their high crimes. They continue daily with no end.
They do so when polls show Afghanistan is Washington's most unpopular war in history. Over 80% of Americans oppose it. Less than 20% support it.
It rages out-of-control. It shows no signs of ending. With or without most US forces remaining, it could continue for another decade or longer.
It reflects America's addiction to war. It reveals state terror as official US policy. It shows contempt for rule of law principles. It suggests conflicts without end will continue.
Stephen Lendman lives in Chicago. He can be reached at lendmanstephen@sbcglobal.net.
His new book is titled "Banker Occupation: Waging Financial War on Humanity."
http://www.claritypress.com/LendmanII.html
Visit his blog site at sjlendman.blogspot.com.
Does anyone in authority anywhere tell the truth about Fukushima? If there is any government or non-government authority in the world that is addressing the disaster at Fukushima openly, directly, honestly, and effectively, it's not apparent to the outside observer what entity that might be.
There is instead an apparent global conspiracy of authorities of all sorts to deny to the public reliably accurate, comprehensible, independently verifiable (where possible), and comprehensive information about not only the condition of the Fukushima power plant itself and its surrounding communities, but about the unceasing, uncontrolled release of radioactive debris into the air and water, creating a constantly increasing risk of growing harm to the global community.
While the risk may still be miniscule in most places, the range of risk rises to lethal in Fukushima itself. With the radioactive waste of four nuclear reactors (three of them in meltdown) under uncertain control for almost three years now, the risk of lethal exposure is very real for plant workers, and may decrease with distance from the plant, but may be calculable for anyone on the planet. No one seems to know. No one seems to have done the calculation. No one with access to the necessary information (assuming it exists) seems to want to do the calculation.
There is no moral excuse for this international collusion. The excuses are political or economic or social, but none of them excuses any authority for withholding or lying about information that has potentially universal and destructive impact on everyone alive today and everyone to be born for some unknown generations.
Japanese authorities may be the worst current offenders against the truth, as well as the health and safety of their people. Now the Japanese government has passed a harsh state secrets law that threatens to reduce or eliminate reliable information about Fukushima. The U.S. government officially applauded this heightened secrecy, while continuing its own tight control on nuclear information. Japanese authorities are already attacking their own people in defense of nuclear power: not only under-measuring and ignoring varieties of radioactive threat, but even withholding the iodine pills in 2011 that might have mitigated the growing epidemic of thyroid issues today. Failing to confront Fukushima honestly, the Japanese are laying the basis for what could amount to a radiological sneak attack on the rest of the world.
Just because no one seems to know what to do about Fukushima is no excuse to go on lying about and/or denying the dimensions of reality, whatever they might be.
There are hundreds, probably thousands of people with little or no authority who have long struggled to create a realistic, rational perspective on nuclear threats. The fundamental barrier to knowing the scale of the Fukushima disaster is just that: the scale of the Fukushima disaster.
Chernobyl 1986 and Fukushima 2011 are Not Really Comparable
Chernobyl is the closest precedent to Fukushima, and it's not very close. Chernobyl at the time of the 1986 electric failure and explosion had four operating reactors and two more under construction. The Chernobyl accident involved one reactor meltdown. Other reactors kept operating for some time after the accident. The rector meltdown was eventually entombed, containing the meltdown and reducing the risk. Until Fukushima, Chernobyl was considered the worst nuclear power accident in history, and it is still far from over (albeit largely contained for the time being). The Chernobyl Exclusion Zone of roughly 1,000 square miles remains one of the most radioactive areas in the world and the clean-up is not even expected to be complete before 2065.
At the time of the March 11, 2011, earthquake and tsunami, the Fukushima plant had six operating reactors. Three of them went into meltdown and a fourth was left with a heavily laden fuel pool teetering a hundred feet above the ground. Two other reactors were undamaged and have been shut down. Radiation levels remain lethal in each of the melted-down reactors, where the meltdowns appear to be held in check by water that is pumped into the reactors to keep them cool. In the process, the water gets irradiated and that which is not collected on site in leaking tanks flows steadily into the Pacific Ocean. Within the first two weeks, Fukushima radiation was comparable to Chernobyl's and while the levels have gone down, they remain elevated.
The plant's corporate owner, Tokyo Electric Power Company (TEPCO), in turn effectively owned by the Japanese government after a 2012 nationalization, began removing more than 1,500 fuel rod assemblies from the teetering fuel pool in November, a delicate process expected to take a year or more. There are additional fuel pools attached to each of the melted down reactors and a much larger general fuel pool, all of which contain nuclear fuel rod assemblies that are secure only as long as TEPCO continues to cool them. The Fukushima Exclusion Zone, a 12-mile radius around the nuclear plant, is about 500 square miles (much of it ocean); little specific information about the exclusion zone is easily available, but media coverage in the form of disaster tourism is plentiful, including aGoogle Street View interactive display.
Despite their significant differences as disasters, Chernobyl and Fukushima are both rated at 7 — a "major accident" on the International Nuclear Event Scale designed in 1990 by the International Atomic Energy Agency (IAEA). That is the highest rating on the scale, a reflection of the inherent denial that colors most official nuclear thinking. Designed by nuclear "experts" after Chernobyl, the scale can't imagine a worse accident than Chernobyl which, for all its intensity, was effectively over as an accident in a relatively short period of time. At Fukushima, by contrast, the initial set of events was less acute than Chernobyl, but almost three years later they continue without any resolution likely soon. Additionally Fukushima has three reactor meltdowns and thousands of precarious fuel rod assemblies in uncertain pools, any of which could produce a new crisis that would put Fukushima clearly off the scale.
And then there's groundwater. Groundwater was not a problem at Chernobyl. Groundwater is a huge problem at the Fukushima plant that was built at the seashore, on a former riverbed, over an active aquifer. In a short video, nuclear engineer Arnie Gunderson makes clear why groundwater makes Fukushima so hard to clean up, and why radiation levels there will likely remain dangerous for another hundred years.
Fukushima Unit #3 Activity Led to Some Panic-Driven Reporting in 2013
The Japanese government and nuclear power industry have a history of not telling the truth about nuclear accidents dating back at least to 1995, as reported by New Scientistand Rachel Maddow, among others. Despite Japan's history of nuclear dishonesty, Japanese authorities remain in total control of the Fukushima site and most of the information about it, without significant objection from most of the world's governments, media, and other power brokers, whose reputation for honesty in nuclear matters is almost as bad as Japan's. In such a context of no context, the public is vulnerable to reports like this from the Turner Radio Network (TRN) on December 28:
** NEWS FLASH — URGENT ** STEAM SUDDENLY EMANATING FROM FUKUSHIMA REACTOR # 3 — WEST COAST OF NORTH AMERICA SHOULD BEGIN PREPARATIONS FOR POSSIBLE RADIATION CLOUD WITHIN 3 TO 5 DAYS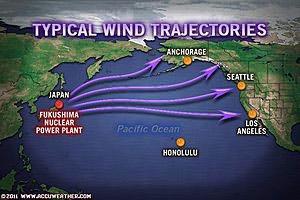 Five days after this story was posted, the "radiation cloud" had not developed despite the story's assertion that: "Experts say this could be the beginning of a spent fuel pool criticality (meltdown)'involving up to 89 TONS of nuclear fuel burning up into the atmosphere and heading to North America." The story named no "experts" and provided links only to TEPCO announcements in Japanese. The bulk of the story reads like an infomercial for "protective" gear of various sorts that TRN makes a point of saying it does NOT sell. Despite such obvious warning signs, others — such as The Ecologist and Gizmodo — reported the threat of "another meltdown" at Fukushima Unit #3 as imminent.
Clarification and reassurance quickly started chasing the "new meltdown" rumor around the Internet. ENENEWS (Energy News) promptly posted the TEPCO reports in English, demonstrating that there was nothing "sudden" about the steam releases, they've been happening more or less daily since 2011, but condensation caused by cold weather makes them visible. At FAIREWINDS (Energy Education), Arnie Gunderson posted on January 1:
"… the Internet has been flooded with conjecture claiming that Fukushima Daiichi Unit 3 is ready to explode… Our research, and discussions with other scientists, confirms that what we are seeing is a phenomenon that has been occurring at the Daiichi site since the March 2011 accident… While the plants are shutdown in nuke speak, there is no method of achieving cold shut down in any nuclear reactor. While the reactor can stop generating the actual nuclear chain reaction, the atoms left over from the original nuclear chain reaction continue to give off heat that is called the decay of the radioactive rubble (fission products)… constantly releasing moisture (steam) and radioactive products into the environment." [emphasis added]
In other words, Fukushima Unit #3 continues to leak radioactivity into both air and water, as Units #1 and #2 presumably do as well. But as Gunderson explains, the level of radioactivity has declined sharply without becoming benign:
"When Unit 3 was operating, it was producing more than 2,000 megawatts of heat from the nuclear fission process (chain reaction in the reactor). Immediately after the earthquake and tsunami, it shut down and the chain reaction stopped, but Unit 3 was still producing about 160 megawatts of decay heat. Now, 30 months later, it is still producing slightly less than 1 megawatt (one million watts) of decay heat… 1 megawatt of decay heat is a lot of heat even today, and it is creating radioactive steam, but it is not a new phenomenon."
Reassurances About Fukushima are As Misleading As Scare Stories
The reassuring aspects of the condition of Unit #3 — radioactive releases are not new, they're less intense than they once were, the nuclear waste is cooling — while true enough, provide only a false sense of comfort. Also true: radiation is released almost continuously, the releases are uncontrolled, no one seems to be measuring the releases, no one seems to be tracking the releases, no one is assessing accumulation of the releases. And while it's true that the waste is cooling and decaying, it's also true that a loss of coolant could lead to another uncontrolled chain reaction. ("Fukushima Daiichi Unit 3 is not going to explode," says Gunderson in a headline, but he can't know that with certainty.)
For the near future, what all that means, in effect, is that the world has to accept chronic radiation releases from Fukushima as the price for avoiding another catastrophic release. And even then, it's not a sure thing.
But there's another aspect of Fukushima Unit #3 that's even less reassuring. Unit #3 is the one Fukushima reactor that was running on Mixed oxide fuel, or MOX fuel, in its fuel rods.MOX fuel typically uses Plutonium mixed with one or more forms of Uranium. UsingPlutonium in fuel rods adds to their toxicity in the event of a meltdown. In part because Plutonium-239 has a half-life of 240,000 years and can be used to make nuclear weapons of "dirty bombs," its use in commercial reactors remains both limited and controversial. Because it contains Plutonium, MOX fuel is more toxic than other nuclear fuel and will burn at lower temperatures. As Natural Resources News reported in 2011:
"The mixed oxide fuel rods used in the compromised number three reactor at the Fukushima Daiichi complex contain enough plutonium to threaten public health with the possibility of inhalation of airborne plutonium particles…. Plutonium is at its most dangerous when it is inhaled and gets into the lungs. The effect on the human body is to vastly increase the chance of developing fatal cancers."
Reportedly, TEPCO plans don't call for the removal of the MOX fuel in Unit #3 for another decade or more. Fuel removal from Units #1, #2, and #3 is complicated by lethal radiation levels at all three reactors, as well as TEPCO's inability so far to locate the three melted cores with any precision.
There is ample reason to hope that Fukushima, despite the complex of uncontrollable and deteriorating factors, will not get worse, because even the Japanese don't want that. But there is little reason to expect anything but worsening conditions, slowly or suddenly, for years and years to come. And there is even less reason to expect anyone in authority anywhere to be more than minimally and belatedly truthful about an industry they continue to protect, no matter how many people it damages or kills.
The perfect paradigm of that ruthlessly cynical nuclear mentality is the current Japanese practice of recruiting homeless people to work at Fukushima in high level radiation areas where someone with something to lose might not be willing to go for minimum wage.
Source: William Boardman  |  Global Research
Something is far beyond contaminated and glow-fishy about the Fukushima meltdown. For two years it has been discussed and swarming with expertise, but with no limiting or actual efforts to stop the radiological contaminants from being released into the Pacific and all other connected oceans, the largest food and oxygen sources on the planet. Yet, surfers are surfing, swimmers are swimming, children are playing on beaches, and restaurants all over the earth are eating Pacific fish and also contaminated Atlantic fish according to multiple reports.
Also never actually disclosed or addressed is that perhaps as many as 1500 nukes have been tested in the world's oceans, which also might have produced "contamination" since nuclear pollution doesn't ever really go away. So, at this juncture I ask myself, where is the left hand and what might it be doing? Politics, as we know, has new meaning in the global world of corporate-political elites. Their political intentions were always based in deceptions from the earliest planning stages to today, for one hundred if not two hundred years. The UN Agenda 21 blueprint has never been fully disclosed in truth or in the open.
The 47 U.S. Biosphere Reserves are still completely under the veil for 90% of American people who have still never heard of them; same with the World Heritage Sites, and they are totally in the dark regarding the 620+ global reserves. Stratospheric Aerial Geoengineering and Solar Radiation Management (chemtrailing) are only just now kind of/sort of acknowledged as "possibly" damaging the planet for 35 years or more as well as the super-secret global HAARP facilities, which happen to super-heat the atmosphere, while aerial spraying traps the "warming" on the ground beneath the artificial, metallized, and very noxious and debilitating clouds and haze that laid across the skies, globally. And suddenly, we have another global crisis, publicized, with people sick, dying badly, and with sea life really, really sick and dying, and with worsening news and contamination pouring into the Pacific every day. Instead, a handful of "experts" are studying, having meetings and press conferences, pondering, coordinating thoughts and ideas, kicking the dirt, etc., etc. What we are witnessing is political theater.
The problem is we, too, are getting sicker and sicker. Fukushima is, after all, not just an oceanic problem. Radioactive ocean water evaporates and rains down…on everything…over the entire planet, and it just so happens that the nano-particulates of aluminum, barium, strontium and other concoctions sprayed from jets and commercial planes, globally, also rain down, blow in the wind…nano-sized mind you…which means their ingredients are wholly and completely unavoidable. Even your N95 masks, coats, gloves, hats and safety glasses cannot protect you, and these nano-particles are in your homes, your cars, all over your children, stores, pets, possessions, lawns, trees, forests, in all watershed systems, and all over the nation and world's crop fields (think Monsanto "aluminum resistant" seeds). Consider well the over 1400 global seed vaults.
I fear we are experiencing a double-whammy. I am also thinking that a "global" crisis or crises are forthcoming, which will put "global" power centers front and center and in full-force all over the entire world. I equally think that global health may be collapsing as we speak, as global nature is demonstrating. Billions of fish and sea creatures dying, billions of birds, hundreds of trillions of insects and amphibians, and even large sea and forest mammals, far larger than human beings, are dying all around the world…and badly.
Hundreds of millions of forested acres are burning, annually and globally, while global aquifers are being privatized and locked down from most of humanity. Depopulation was always part and parcel of the original plan by globalism's authors, and certainly a mass die-off of humanity cannot appear as genocide or democide in a mass-media whistleblowing world, not when the orchestrators are so terribly few, but a left-right punch from global catastrophic "events", especially ones we choose to ignore with our best ignorance, could be our undoing. When we choose to ignore Fukushima and allow governments to ignore mass-extinction "events", and when we steadfastly refuse to acknowledge that we are sprayed like insects for 35+ years, seeing it above our heads for days and weeks on end, because we "don't want to think about it," well…maybe we prove what elites have always believed, that we are "useless", "ignorant", "costly", and "too common" for their many bottom lines. As history has demonstrated century after century after century, when there are too many poor people, human culling occurs, which means they are murdered.
I fear history, once again, is upon us. When whales, dolphins, deer and trillions of other animals and mammals and plants are biting the dust and all at the same time, we're next…especially because we eat these plants and animals, actually resulting in a third-whammy to humankind. Truth is, folks, we are being in-toxic-acted from every direction humanly possible. What is happening to the world is not an accident. We are getting hit from all angles.
Source: Nancy Levant
By our apathy, our unawareness and our complete disregard as to what our U.S. Congress thrusts upon our country—we face enormous obstacles to our continued existence as a country let alone an intact civilization.
Within 37 years, at current immigration rates, we face adding 100 million more people—enough to add another 20 of our most populated cities.  The enormity of the water, food, energy, housing, education and sustainability of that many people boggles the mind.  Simple fact: none of us will be able to live at the level of wealth, waste and pollution we currently enjoy, or should I say destroy!
Hear this: it's not if we add 100 million people, but a definite fact of an added 100 million people—if we don't rescind the 1965 Immigration Reform Act and the 1986 Immigration Amnesty and if we don't stop the final passage of the S744 Amnesty Bill that will return to Congress in 2014.
This 100 million immigrant-number constitutes something SO ominous, SO egregious and SO monumental that it will spiral our nation into its death throes as described in this series.
Do you care about your children's future?  Do you care about the environment in which they will live?  Do you care about the quality of life and standard of living that you bequeath to future generations?  Here's what it will look like if you fail to tack action:
"Immigration by the numbers—off the chart" by Roy Beck
This 10 minute demonstration shows Americans the results of unending mass immigration on the quality of life and sustainability for future generations: in a few words, "Mind boggling!"  www.NumbersUSA.org
http://www.youtube.com/watch?v=muw22wTePqQ
Have you written emails and made phone calls to the 20 contacts I have offered in preceding parts to this series?  If not, why not?  If not now, when?  The fact remains that the current immigration laws from 1965 and 1986 continue the onslaught of 1 million legal immigrants annually, their children and chain-migrated relatives without pause.
In a Constitutional Republic, only YOU can force change.  Only your participation creates discussion and debate. Only your actions change the future.
I am not researching and writing this series to be read and forgotten. I write it in order to give you the power to take collective action.
President Teddy Roosevelt said, "In any moment of decision, the best thing you can do is the right thing. The worst thing you can do is nothing."
Poisoning our world
With 316 million Americans along with 20 million illegal alien migrants, our country faces enormous consequences on multiple fronts as described by this series.
But they may all pale in comparison to the poisoning of our world.  If we continue adding people and hit the projected 438 million by 2050—a scant 37 years from now—that encompasses another 138 million people—all using poisons and chemicals.
At 80,000 chemicals now being injected into the air, land and water 24/7—-just imagine the cancer rates by mid century.  Every family, every person in America will be affected by cancer, Parkinson's Disease, Lupus, Autism and other diseases caused by chemicals wrecking our nervous systems.
The Fukushima radioactive injection of billions possibly trillions of gallons of contaminated water circulates to all oceans around our planet.  It poisons all marine life and affects all oceanic eco-systems.  You might call it "Planetary genocide" when the final story surfaces in the coming decades.
"Planetary Genocide": Fukushima One Year Later: The Poisoning of Planet Earth By Dr. Ilya Sandra Perlingieri
Perlingieri said, "With various half-lives –some eons-long– of numerous radioactive components, the human race and every other living creature on our planet is on its way to extinction, due to the known sterilization effects of radiation. Here is a short list of the half-life of five of the radioactive isotopes that are and will continue to poison all of our children, and us, ad infinitum, in the air we breathe, the food we eat, and the water we drink and in which we bathe:
Cesium 137: 30 years
Plutonium 239: 24,000 years
Strontium 90: 29 years [mimics calcium in the body]
Uranium 235: 700-million years
Iodine 131: 8 days [absorbed into the thyroid and gives heavy radiation dose. Also goes into the soil, passed onto us through cow's milk.]
"In a report released just a few week's ago, the milk tested in the San Francisco area still had radioactive levels of Cesium 134 and Cesium 137. According to even a compromised EPA, these are now at "150 percent of their maximum contaminant level."
Think about another 100 million people added to the USA spraying, injecting and disbursing Round-up, Weed-be-Gone, Tilex, crop pesticides, herbicides, fungicides and thousands of other chemicals that pile-up ultimately within our bodies.
Monsanto poisoning our world
Genetically modified organisms are made by manipulation of extremely deadly viruses & bacteria (such as E. coli) that have been engineered to be immune to antibiotics. Monsanto spends millions of dollars each year in order to "sugar" coat the facts of what GMOs actually are and more importantly, how they are made. This video explains the scientific facts on how Monsanto manufactures their GMOs (Genetically Modified Organisms) by simply removing all the corporate propaganda, the "smoke & mirrors" if you will. This video will educate you:
https://www.youtube.com/watch?v=FAVzcxc5cjU
Aspartame created and sold by Monsanto, a synthetic sugar used in every "diet soda" and "sugar-free" food, has been implicated in lupus, fibromyalgia and brain cancers.  Yet, the American public buys "diet soda" like milk with no clue as to the diseases it causes.  The enclosed video gives you an idea of Aspartame's deadly consequences.
https://www.youtube.com/watch?v=8dmAV4JjV0A
When you tally the 80,000 chemicals injected into our air, land, water, food and homes—no wonder one in three of us will be affected by cancers in our lifetimes.
Multiply another 100 million immigrants added to the USA in 37 years, and what do we as a country face?  Answer: a multiplication of all those problems by 100 million more people.
Whether you add up the medical costs, the crowding, the contaminated water supplies, the acid rain contaminating our soils and dozens of other consequences—we face a growing poisoned civilization and all the people living in it.
Do you sit by and watch it happen to your kids or do you take action?  Answer: take action! Force the immigration issue to the highest media sources by writing them.
Radioactive Warfare in Iraq and the Balkans…
At the close of the first Gulf War, Saddam Hussein was denounced as a ferocious villain for ordering his retreating troops to destroy Kuwaiti oil fields, clotting the air with poisonous clouds of black smoke and saturating the ground with swamps of crude. It was justly called an environmental war crime.
But months of bombing of Iraq by US and British planes and cruise missiles has left behind an even more deadly and insidious legacy: tons of shell casings, bullets and bomb fragments laced with depleted uranium. In all, the US hit Iraqi targets with more than 970 radioactive bombs and missiles.
It took less than a decade for the health consequences from this radioactive bombing campaign to begin to coming into focus. And they are dire, indeed. Iraqi physicians call it "the white death" — leukemia. Since 1990, the incident rate of leukemia in Iraq has grown by more than 600 percent. The situation is compounded by Iraq's forced isolations and the sadistic sanctions regime, recently described by UN secretary general Kofi Annan as "a humanitarian crisis", that makes detection and treatment of the cancers all the more difficult.
"We have proof of traces of DU in samples taken for analysis and that is really bad for those who assert that cancer cases have grown for other reasons," said Dr. Umid Mubarak, Iraq's health minister.
Mubarak contends that the US's fear of facing the health and environmental consequences of its DU bombing campaign is partly behind its failure to follow through on its commitments under a deal allowing Iraq to sell some of its vast oil reserves in return for food and medical supplies.
"The desert dust carries death," said Dr. Jawad Al-Ali, an oncologist and member England's Royal Society of Physicians. "Our studies indicate that more than forty percent of the population around Basra will get cancer. We are living through another Hiroshima."
Most of the leukemia and cancer victims aren't soldiers. They are civilians. And many of them are children. The US-dominated Iraqi Sanctions Committee in New York has denied Iraq's repeated requests for cancer treatment equipment and drugs, even painkillers such as morphine. As a result, the overflowing hospitals in towns such as Basra are left to treat the cancer-stricken with aspirin.
This is part of a larger horror inflicted on Iraq that sees as many as 180 children dying every day, according to mortality figures compiled by UNICEF, from a catalogue of diseases from the 19th century: cholera, dysentery, tuberculosis, e. coli, mumps, measles, influenza.
Iraqis and Kuwaitis aren't the only ones showing signs of uranium contamination and sickness. Gulf War veterans, plagued by a variety of illnesses, have been found to have traces of uranium in their blood, feces, urine and semen.
Depleted uranium is a rather benign sounding name for uranium-238, the trace elements left behind when the fissionable material is extracted from uranium-235 for use in nuclear reactors and weapons. For decades, this waste was a radioactive nuisance, piling up at plutonium processing plants across the country. By the late 1980s there was nearly a billion tons of the material.
Then weapons designers at the Pentagon came up with a use for the tailings: they could be molded into bullets and bombs. The material was free and there was plenty at hand. Also uranium is a heavy metal, denser than lead. This makes it perfect for use in armor-penetrating weapons, designed to destroy tanks, armored-personnel carriers and bunkers.
When the tank-busting bombs explode, the depleted uranium oxidizes into microscopic fragments that float through the air like carcinogenic dust, carried on the desert windsfor decades. The lethal dust is inhaled, sticks to the fibers of the lungs, and eventually begins to wreck havoc on the body: tumors, hemorrhages, ravaged immune systems, leukemias.
In 1943, the doomsday men associated with the Manhattan Project speculated that uranium and other radioactive materials could be spread across wide swaths of land to contain opposing armies. Gen. Leslie Grove, head of the project, asserted that uranium weapons could be expected to cause "permanent lung damage." In the late, 1950s Al Gore's father, the senator from Tennessee, proposed dousing the demilitarized zone in Korea with uranium as a cheap failsafe against an attack from the North Koreans.
After the Gulf War, Pentagon war planners were so delighted with the performance of their radioactive weapons that ordered a new arsenal and under Bill Clinton's orders fired them at Serb positions in Bosnia, Kosovo and Serbia. More than a 100 of the DU bombs have been used in the Balkans over the last six years.
Already medical teams in the region have detected cancer clusters near the bomb sites. The leukemia rate in Sarajevo, pummeled by American bombs in 1996, has tripled in the last five years. But it's not just the Serbs who are ill and dying. NATO and UN peacekeepers in the region are also coming down with cancer. As of January 23, eight Italian soldiers who served in the region have died of leukemia.
The Pentagon has shuffled through a variety of rationales and excuses. First, the Defense Department shrugged off concerns about Depleted Uranium as wild conspiracy theories by peace activists, environmentalists and Iraqi propagandists. When the US's NATO allies demanded that the US disclose the chemical and metallic properties of its munitions, the Pentagon refused. It has also refused to order testing of US soldiers stationed in the Gulf and the Balkans.
If the US has kept silent, the Brits haven't. A 1991 study by the UK Atomic Energy Authority predicted that if less than 10 percent of the particles released by depleted uranium weapons used in Iraq and Kuwait were inhaled it could result in as many as "300,000 probable deaths."
The British estimate assumed that the only radioactive ingredient in the bombs dropped on Iraq was depleted uranium. It wasn't. A new study of the materials inside these weapons describes them as a "nuclear cocktail," containing a mix of radioactive elements, including plutonium and the highly radioactive isotope uranium-236. These elements are 100,000 times more dangerous than depleted uranium.
Typically, the Pentagon has tried to dump the blame on the Department of Energy's sloppy handling of its weapons production plants. This is how Pentagon spokesman Craig Quigley described the situation in chop-logic worthy of the pen of Joseph Heller:
"The source of the contamination as best we can understand it now was the plants themselves that produced the Depleted uranium during the 20 some year time frame when the DU was produced."
Indeed, the problems at DoE nuclear sites and the contamination of its workers and contractors have been well-known since the 1980s. A 1991 Energy Department memo reports:
"during the process of making fuel for nuclear reactors and elements for nuclear weapons, the Paducah gaseous diffusion plant… created depleted uranium potentially containing neptunium and plutonium"
But such excuses in the absence of any action to address the situation are growing very thin indeed. Doug Rokke, the health physicist for the US Army who oversaw the partial clean up of depleted uranium bomb fragments in Kuwait, is now sick. His body registers 5,000 times the level of radiation considered "safe". He knows where to place the blame.
"There can be no reasonable doubt about this," Rokke told Australian journalist John Pilger. "As a result of heavy metal and radiological poison of DU, people in southern Iraq are experiencing respiratory problems, kidney problems, cancers. Members of my own team have died or are dying from cancer."
Depleted uranium has a half-life of more than 4 billion years, approximately the age of the Earth. Thousand of acres of land in the Balkans, Kuwait and southern Iraq have been contaminated forever. If George Bush Sr., Dick Cheney, Colin Powell and Bill Clinton are still casting about for a legacy, there's a grim one that will stay around for an eternity.
Jeffrey St. Clair is the editor of CounterPunch and the author of Been Brown So Long It Looked Like Green to Me: the Politics of Nature, Grand Theft Pentagon and Born Under a Bad Sky. This essay is adapted from a chapter in his latest book, Hopeless: Barack Obama and the Politics of Illusion. He can be reached at: sitka@comcast.net.
Source: Jeffrey St. Clair  |  CounterPunch
It was the silence that made this voyage different from all of those before it.
Not the absence of sound, exactly.
The wind still whipped the sails and whistled in the rigging. The waves still sloshed against the fibreglass hull.
And there were plenty of other noises: muffled thuds and bumps and scrapes as the boat knocked against pieces of debris.
What was missing was the cries of the seabirds which, on all previous similar voyages, had surrounded the boat.
The birds were missing because the fish were missing.
Exactly 10 years before, when Newcastle yachtsman Ivan Macfadyen had sailed exactly the same course from Melbourne to Osaka, all he'd had to do to catch a fish from the ocean between Brisbane and Japan was throw out a baited line.
"There was not one of the 28 days on that portion of the trip when we didn't catch a good-sized fish to cook up and eat with some rice," Macfadyen recalled.
But this time, on that whole long leg of sea journey, the total catch was two.
No fish. No birds. Hardly a sign of life at all.
"In years gone by I'd gotten used to all the birds and their noises," he said.
"They'd be following the boat, sometimes resting on the mast before taking off again. You'd see flocks of them wheeling over the surface of the sea in the distance, feeding on pilchards."
But in March and April this year, only silence and desolation surrounded his boat, Funnel Web, as it sped across the surface of a haunted ocean.
North of the equator, up above New Guinea, the ocean-racers saw a big fishing boat working a reef in the distance.
"All day it was there, trawling back and forth. It was a big ship, like a mother-ship,"he said.
And all night it worked too, under bright floodlights. And in the morning Macfadyen was awoken by his crewman calling out, urgently, that the ship had launched a speedboat.
"Obviously I was worried. We were unarmed and pirates are a real worry in those waters. I thought, if these guys had weapons then we were in deep trouble."
But they weren't pirates, not in the conventional sense, at least. The speedboat came alongside and the Melanesian men aboard offered gifts of fruit and jars of jam and preserves.
"And they gave us five big sugar-bags full of fish," he said.
"They were good, big fish, of all kinds. Some were fresh, but others had obviously been in the sun for a while.
"We told them there was no way we could possibly use all those fish. There were just two of us, with no real place to store or keep them. They just shrugged and told us to tip them overboard. That's what they would have done with them anyway, they said.
"They told us that his was just a small fraction of one day's by-catch. That they were only interested in tuna and to them, everything else was rubbish. It was all killed, all dumped. They just trawled that reef day and night and stripped it of every living thing."
Macfadyen felt sick to his heart. That was one fishing boat among countless more working unseen beyond the horizon, many of them doing exactly the same thing.
No wonder the sea was dead. No wonder his baited lines caught nothing. There was nothing to catch.
If that sounds depressing, it only got worse.
The next leg of the long voyage was from Osaka to San Francisco and for most of that trip the desolation was tinged with nauseous horror and a degree of fear.
"After we left Japan, it felt as if the ocean itself was dead," Macfadyen said.
"We hardly saw any living things. We saw one whale, sort of rolling helplessly on the surface with what looked like a big tumour on its head. It was pretty sickening.
"I've done a lot of miles on the ocean in my life and I'm used to seeing turtles, dolphins, sharks and big flurries of feeding birds. But this time, for 3000 nautical miles there was nothing alive to be seen."
In place of the missing life was garbage in astounding volumes.
"Part of it was the aftermath of the tsunami that hit Japan a couple of years ago. The wave came in over the land, picked up an unbelievable load of stuff and carried it out to sea. And it's still out there, everywhere you look."
Ivan's brother, Glenn, who boarded at Hawaii for the run into the United States, marvelled at the "thousands on thousands" of yellow plastic buoys. The huge tangles of synthetic rope, fishing lines and nets. Pieces of polystyrene foam by the million. And slicks of oil and petrol, everywhere.
Countless hundreds of wooden power poles are out there, snapped off by the killer wave and still trailing their wires in the middle of the sea.
"In years gone by, when you were becalmed by lack of wind, you'd just start your engine and motor on," Ivan said.
Not this time.
"In a lot of places we couldn't start our motor for fear of entangling the propeller in the mass of pieces of rope and cable. That's an unheard of situation, out in the ocean.
"If we did decide to motor we couldn't do it at night, only in the daytime with a lookout on the bow, watching for rubbish.
"On the bow, in the waters above Hawaii, you could see right down into the depths. I could see that the debris isn't just on the surface, it's all the way down. And it's all sizes, from a soft-drink bottle to pieces the size of a big car or truck.
"We saw a factory chimney sticking out of the water, with some kind of boiler thing still attached below the surface. We saw a big container-type thing, just rolling over and over on the waves.
"We were weaving around these pieces of debris. It was like sailing through a garbage tip.
"Below decks you were constantly hearing things hitting against the hull, and you were constantly afraid of hitting something really big. As it was, the hull was scratched and dented all over the place from bits and pieces we never saw."
Plastic was ubiquitous. Bottles, bags and every kind of throwaway domestic item you can imagine, from broken chairs to dustpans, toys and utensils.
And something else. The boat's vivid yellow paint job, never faded by sun or sea in years gone past, reacted with something in the water off Japan, losing its sheen in a strange and unprecedented way.
Back in Newcastle, Ivan Macfadyen is still coming to terms with the shock and horror of the voyage.
"The ocean is broken," he said, shaking his head in stunned disbelief.
Recognising the problem is vast, and that no organisations or governments appear to have a particular interest in doing anything about it, Macfadyen is looking for ideas.
He plans to lobby government ministers, hoping they might help.
More immediately, he will approach the organisers of Australia's major ocean races, trying to enlist yachties into an international scheme that uses volunteer yachtsmen to monitor debris and marine life.
Macfadyen signed up to this scheme while he was in the US, responding to an approach by US academics who asked yachties to fill in daily survey forms and collect samples for radiation testing – a significant concern in the wake of the tsunami and consequent nuclear power station failure in Japan.
"I asked them why don't we push for a fleet to go and clean up the mess," he said.
"But they said they'd calculated that the environmental damage from burning the fuel to do that job would be worse than just leaving the debris there."
Source: Greg Ray  |  Newcastle Herald
You know, in spite of the visit from The Bone Lady when I was just three years old, and all the grim foreshadowing that she downloaded to me via direct intuition, I always held out hope that humanity could or would somehow turn things around on this planet, and snatch victory from the jaws of defeat.
As long as there is breath there is always hope, that was my thinking for a long time, but I am no longer so sanguine.
As one of my friends recently remarked to me, there is, indeed, real evil abroad in this world. I don't know how else to explain the wickedness of what is happening at Fukushima, in Japan, where the situation with the exploded and/or melted down nuclear reactors just goes from frightfully dire to unimaginably worse.
I frequently check the developments there at www.enenews.com and the latest news is very disturbing. I said from the outset, in the spring of 2011, that Tokyo would be evacuated. I still believe that to be inevitable. It is possible that much of Japan will be evacuated to elsewhere. The apocalyptic dimensions of the crisis are being covered up by TEPCO, the Japanese government, General Electric, and the USSA government. The reality is that there was at least one, and maybe more, really dirty nuclear blasts there in March of 2011, that wrecked the reactors and created a radioactive hell that no one knows how to remedy or bring under control. At the least we are probably looking at the failure and collapse of Japanese society with likely evacuation of tens of millions of people or more, and the fairly rapid death of vast portions of the Pacific Ocean, as deadly radioactive waste water continues to flow into the sea by the hundreds of tons, every day.
And when the cooling pool at reactor four collapses, the many tons of highly radioactive, spent, fuel rods that it contains will overheat and burn and or catastrophically fission, i.e., cause a runaway, nuclear reaction, or, in lay man's terms, there will be another atomic explosion, along with a mushroom cloud, and tons of highly poisonous nuclear isotopes will be spread aloft into the atmosphere and/or will drain or be blown into the sea, to poison the Pacific Ocean even further.
This is worse than bad news. This is planetary chaos news. This is civilization ending news. This is species extinction level news, as in extinction of the human species on this planet. If you do not think so, all I can say is: wait. It won't be long. Probably not ten years, not five, maybe even by Christmas this year, and you will begin to see what i mean, if you haven't already.
And even if the cooling pool at reactor four doesn't fail or collapse of its own accord in the near future, though that is very highly probable, TEPCO's plan to manually remove the many tons of bent, mangled, fused, welded together, very highly radioactive fuel rods that remain in the pool, beginning in November of this year, is so fraught with peril that it is likely to spectacularly fail, with unimaginably negative consequences. Any slight mistake, miscue or dropped fuel rod could result in a fission criticality, a runaway nuclear chain reaction, to wit, an atomic explosion that will shower the northern hemisphere and the Pacific Basin with a fatal radioactive sleet that will persist for hundreds of thousands of years.
As I said, the situation is somewhere far south of dire, with a headlong, hellward trajectory.
The Nuclear Chain Reaction
Because what is inevitable, the longer the situation at Fukushima festers, is that the whole site will have to be abandoned. Due to the high radiation levels, no one will be able to work there without dying. So the workers will pull back, and the cooling pools and storage pools that contain thousands of tons of extremely radioactive, spent fuel rods will fail or collapse and there will be more explosions and radioactive fires. As the radioactively contaminated NO GO ZONE expands, as the population flees, the day will come when nuclear reactors at other, nearby power generating plants will also fail, melt down and/or explode, because the nuclear engineers and maintenance workers no longer come to work and operate them — BECAUSE THEY ARE DEAD.
And then there will be three or four more, and the radioactive No Go Zone will expand, widen, grow. And other nuclear power plants will then fail, melt down and/or explode, because their operators are also DEAD, and so do not come to work, do not maintain them.
There are over 50 nuclear power reactors in Japan, and they all have their spent fuel rod cooling pools. It doesn't matter if the reactors themselves are shut down, because there are thousands and thousands of tons of highly radioactive, spent, nuclear fuel rods stored in the cooling pools all over Japan. So, given time, the crisis will continue to fester and worsen, and then it will begin to cascade, like a row of toppling dominoes, only it will be a series of failing nuclear power reactors, one after the other, heralding the end of the nuclear age, and quite possible the end of humanity.
It's just that serious.
All of that will send a killing wave of radioactivity across the Pacific to North America. So what happens when the population on the west coast of the USSA flees in panic from the approaching killer wave of radioactivity? Well, there will be no one left to operate the nuclear power reactors in California, for example. or at Palo Verde, the massive nuclear power plant just to the west of Phoenix. So when those nuclear reactors and their spent fuel cooling pools fail, melt down, and/or blow up, the civilization-ending, planet-killing, Fukushima Syndrome will come home to America with a wicked vengeance.
All courtesy of General Electric. General Electric designed five out of the six reactors at Fukushima and built three of them, so what we see here is genocidal, planet-killing failure of American (alleged) "high technology" on a spectacular scale.
General Electric — busy exterminating a planet near you of its resident, biological life forms.
At the end of the day, all the differential calculus, the nuclear physics, the nuclear chemistry, the nuclear engineering, the corporate profits, the Madison Avenue advertising slogans, the multinational wheeling and dealing, all has conspired to assassinate the planet on which we, and they, all live. Make no mistake, the planet is now dying. The global poisoning process is so very far advanced that it probably cannot be stopped. Certainly, there is not now any serious, international effort to do so, not anything remotely commensurate with the level of danger that we are facing.
No doubt we are dealing with profound iniquity, a betrayal so complete of all that is human that no words exist to describe its foul dimension. The ones who have done this thing walk among us, though for how long? – understanding that they, too, will certainly drop dead along with countless millions of others, as a direct result of their abjectly arrogant ignorance.
Arrogant Ignorance
All of their super-computers, the advanced mathematics, their (so-called) "hi-tech" industrial base, all of their billions of dollars of (so-called) "high finance" — and they kill the planet? And themselves and their posterity in the process? That's the best they can do? They get a PhD in nuclear chemistry and use their (so-called) "knowledge" and (so-called) technical "expertise" to kill the planet? The planet that they also live on?
Geniuses. All of them.
Central Banking Middle East Madness
Then there is the very real prospect of a shooting, nuclear war, beginning in the Middle East. The USSA has a powerful fleet in the region. So do the Russians, as a counterpoint. Sadly for all humanity, the Washington, DC — City of London — Lower Manhattan — Tel Aviv — NATO cabal seems hell bent on war, and so we are on the slippery slope to war. Unfortunately, this psychopathic cabal is very heavily nuclear armed.
I saw all of this coming from waaaaaaay back, from way back in my infancy, since the age of three years, when The Bone Lady visited me and clued me in to realities that I still don't want to think about, given their ghastly, hideous savagery. But I'll tell you what, it's enough to give a man insomnia, it's enough to drive him out onto the nuclear missile silos, again and again, in a personal effort to inject a note of sanity and warning into a positively insane political and military climate, in an attempt to wake up anyone who may be susceptible to awakening.
ANYONE.
My latest sally was 15 April 2010 in North Dakota, USA. I went over the security fence onto the H-8 Minuteman III nuclear missile silo in the Minot Air Force Base nuclear missile field, near Parshall, North Dakota, at the intersection of 33rd Street and 76th Avenue. I conducted a nonviolent, peace demonstration on the silo and was arrested by the USSA military and imprisoned for 100 days, almost all of the time served in the Heart of America Correctional and Treatment Center in Rugby, North Dakota.
My Minot Manifesto explains my motivations, reasons and spiritual and political philosophy. It is one of the most important documents I have written in my entire life.
A Serious Message From The Heart of America was my personal statement that I mailed to the news media from jail in Rugby, North Dakota, on 14 July 2010, prior to being criminally tried and convicted in USSA federal court in Minot, North Dakota.
I explain the symbolism in my dress and accoutrements in the photo below, in the text of my lengthy Minot Manifesto. It's thirteen pages, but worth the time and effort to read. It is a major life statement on my part, that reflects literal decades of deep thought, a very large quantum of concentrated life energy and hours, weeks, months and years of preparation, a statement that distills an important fraction of my life essence into human language. I invite you to partake of my gift by taking the time to read and reflect on what I have written, and then to take meaningful, principled, creative, nonviolent action yourself.
I don't quite know what more to say, what more to do. In fact, were I to do more than I already have, and I have been out on the nuclear missile silos three times (and been jailed for my trouble all three times, in Arkansas, Missouri and North Dakota), I would run the very real risk of infringing on your right and your very real, personal RESPONSIBILITY to also courageously act. So what are you waiting for? Why are you here on this planet, at this time, reading this blog post, and articles like it?
Because make no mistake about it, the time to act, if you are going to act, is here. The time has arrived. The planet is on the brink. We face the very real prospect of a shooting nuclear war. Additionally, the Fukushima crisis, and the threat from nuclear power plants in general, ALL OF THEM, could not be more serious.
In recent days, I find myself musing about the closing scene from "Dr. Stramgelove," with the haunting song by Vera Lynn, "We'll Meet Again, Don't Know Where, Don't Know When," that was such a huge hit in World War II, for obvious reasons.
And it fills me with such melancholy and sorrow. Because if it starts, this ugly thing called nuclear war, and we are headed that way, can all unravel very rapidly. The machines will take over, and automated, pre-programmed orders of battle will be carried out, without human control, as machines battle machines with nuclear fire. Waves of missiles will come in, again and again, to batter the underground bases. I have read the declassified documents. Warhead after warhead will come in at 10 minute intervals. You cannot imagine the depths of the hell that is already programmed and waiting to be unleashed.
Back in the 1960s, the USSA military was counting on 140 million casualties in the mainland USSA alone. I know this because I have read the documents. I have done the research. The USSA population is much larger now, and much more urban, so the casualty rate would be even higher. Maybe 200 million? 250 million casualties in the USSA alone?
Do you think you will just watch that on CNN?
Refuge in the Southern Hemisphere
If you have read my previous writings you will know that I have said that IF humanity has a future, it is likely to be in the southern hemisphere, if only because the lion's share of the nuclear weapons and nuclear power reactors are in the northern hemisphere. As the nuclear power plants fail, melt down, and/or explode most of them will be in the northern hemisphere. This is not an intellectual exercise — already we have had catastrophic failure of nuclear power plants at Chernobyl, Ukraine and Fukushima, Japan. They are just the first. There will be more.
Likewise, any shooting nuclear war is logically likely to be concentrated in the northern hemisphere, since all of the known, nuclear armed, military powers are in the northern hemisphere
But even then, there are enormous problems in the southern hemisphere. The vegetation in the Amazon region of South America produces something like 20 to 30% of the oxygen in the Earth's atmosphere. As the Amazon dies, and it is being destroyed right now, so too, is the Earth's breathable oxygen supply being destroyed. I don't know about you, but I breathe oxygen all day and all night, every day and every night of my life.
So even if we resolve the nuclear issue, and there is ZERO progress on that front right now, only to lose the Amazon, we all will still die, because none of us can survive with 20 to 30% less oxygen. Just cannot.
Right now, we, humanity, every last one of us, are in a life and death struggle for the life of our species, and the life of our planet.
If we win, we live. If we lose, we die. ALL OF US.
End of the story. End of our species' genetic line. For ever and ever.
Done. Finished.
So maybe moving to Bolivia or Uruguay or Namibia or Madagascar or New Zealand will buy you a little time, a year or ten. However, if we fail to rein in and ABOLISH nuclear reactors and nuclear weapons, if we fail to reforest the Earth and cleanse it of radioactive contamination, then we are through. It's the end for us.
This is our group decision. Right now we are on a self-destructive path to global extinction.
So Here Is My View
If you will act decisively, now is the time. Pick your issue and your spot and act creatively, courageously and nonviolently.
It's your world and your life. Act like they both count for something.
And here's the other thing. If you cannot, or will not act, then how about supporting those of us who have acted, and who continue to act?
In my case, I have paid a very heavy price, in earnings forever foregone, by putting my life on the line, repeatedly, for you, whom I do not even know. But because you are my human kin, I went out on the missile silos, again and again, and I went to jail. I lost more than a year and a half of productive labor. I lost, as well, the opportunity to have a whole wide range of well paying jobs, due to my arrest and prison record, even though I have multiple advanced university degrees, up to the doctorate level.
Subsequent to my arrival in South America, I immersed myself in Amazonian shamanic culture, the better to understand the Amazonian region, the jungle itself, and the shamanic human ecology of the region that interfaces with the hyper-conscious plants in the jungle, only to be very gravely assaulted by one of the said Amazonian shamans and hospitalized for more than four months with massive trauma to both my body and emotions. I am now pursing a criminal case against the shaman and that also costs heavily, several thousands of dollars in attorneys' fees, at the very time when so much of my time and energy is taken up with therapy and the sheer physical effort of getting around with impaired mobility. Nine months after the assault I still have physical nerve trauma in my lower extremities, a good deal of numbness and what is called drop foot. I walk with crutches. My electro-therapy also costs. At the moment I cannot go to electro-therapy, although I badly need it, because I only have $35 to my name.
I have run completely through my meager life savings and there is no more.
Additionally, I have this week begun the formal petition process to the government of Ecuador to request political asylum. My years-long record of anti-nuclear activism and repeated jailing by the USSA government is one factor in my decision, coupled with other factors such as recent revelations of universal NSA surveillance and espionage, the secret arrest and indefinite military detention provisions of the NDAA of 2012 and 2013, the recently revealed, previously secret 2011 FBI documents that blatantly discuss plans to murder Occupy Movement activists by sniper fire, including in San Antonio, Texas, where I lived and worked as a window washer from 2000 to 2009, and all of this in the context of an all encompassing pattern of unbridled lawlessness and pervasive lying with regard to EVERYTHING by the American government. All of this and more, has brought home to me the seriousness of this moment that we are living now.
I have the obligation to safeguard my own liberty and safety. It is clear to me that politically I am freer and safer in Ecuador than in the USSA. The American government has taken a hard, dictatorial turn towards neo-fascism. That is the plain truth. The harsh, repressive treatment of Edward Snowden and Chelsea (formerly Bradley) Manning makes that clear enough. We are in altogether different territory now. And so I have petitioned for political refuge in Ecuador.
This also entails paying an attorney, to assist me in my interactions with the administrative, legal and political system in Ecuador. It is my life on the line and I am proceeding very carefully, every step of the way.
But it is also your life on the line, in that my anti-nuclear activism, my immersion in the Amazonian culture, and my pursuit of political refuge in Ecuador all have profound implications far beyond just me. What happens to me also has broad implications for you. The consequences of nuclear war are too horrific to contemplate, and if it is to be avoided, it is because of actions such as mine. Similarly, we simply cannot afford to lose the Amazon, and yet we are losing it right now. If we are to save it, a big part of that will be due to the personal efforts of those who come to the region and get personally involved in the nitty-gritty, even life-threatening struggle for the soul of the Amazon, because more than anything, we are involved in a pitched battle for the very spirit and soul of the Amazon and of the rest of this planet.
Similarly, if I, with my history of activism, book writing, researching, blogging, public speaking, interviews, and repeated nonviolent civil disobedience and consequent jail record, cannot obtain political refuge abroad, then what hope do you have? You're boxed in, that's what. You're in a cage with no exit.
And so, if you cannot or have not done the things that I and others like myself have done and are doing, then can you please, will you at least please support us?
I desperately need your support now. My legal fees run to thousands of dollars, and my therapy is ongoing. I appreciate and really need your generosity. Please communicate with me at: dr.samizdat1618@gmail.com or via Skype at richard.sauder333 as to how to donate.
Come Ye That Love The Lord
I am a native Virginian, and have lived, worked, traveled, studied and gone to jail all over the American South, from the Virginias and Maryland, all the way across to South Texas, and numerous points in between. A very large block of my life has been spent down South. Although I am not now a church attending man, I have in the past been in all kinds of Christian churches, both Black and White, in big cities and small country towns.
Some of the most memorable sermons I have ever heard have been by Black pastors in rural areas of the deep South. One of the things I like about the traditional Black style of hymn singing down South is the way that the head deacon or pastor will frequently line out a hymn, especially the first line or two of a verse, and then the other deacons or members of the choir will join in, accompanied by riffs on the organ, if there is an organist, and there are some really gifted organists playing in southern Black churches.
I well remember a sermon that I once chanced to hear, decades ago, by a Black lay preacher, one sultry, Sunday night, in a tiny little town way down South, about as far south as you can go, and still be in the South and not somewhere else. The ceiling fans lazily stirred the muggy summer air, as the moths flitted vainly around the naked incandescent light bulbs hanging from the ceiling overhead. The windows were flung wide open and the pale light from the sanctuary washed feebly out through the rusted screens and flooded onto the close cropped lawn that surrounded the church. It was one of the most extraordinary public speaking performances I ever witnessed. The preacher used as his text Ezekiel 37, the theme being dry bones and systematically connecting them one to the other, the purpose being to reassemble and restore "them dry bones" to life. As he spoke, I saw that he fell into a trance, that he entered another state of consciousness, that he was self-hypnotized and that the sermon itself had a sort of existence independent of him, that the message took on a life of its own and was using his mind, his mouth, his body, to project itself into the ears, hearts and minds of the sparse assemblage present that evening. As he finished, he collapsed exhausted backwards into his armchair and lined out the first words of the hymn that he wanted the choir to sing. I don't anymore remember exactly what song he called for, but it could well have been this: Come Ye That Love The Lord
If there is to truly be a new world order, as distinct from the obscene power that currently holds sway on this planet today, then we will need to see a completely new order of human being on this world, a species of human being motivated by love for the Creator and by devotion to inward and outward service to the sacred life impulse. We don't see that now, and the human species may go extinct on this planet for its want.
I do believe in God and have been profoundly privileged to see some of His servants face to face. I find their company congenial.
Come, ye that love the Lord,
And let your joys be known;
Join in a song with sweet accord,
And thus surround the throne.

Let those refuse to sing
That never knew our God,
But children of the heavenly King
May speak their joys abroad.

The God of heaven is ours,
Our Father and our love ;
His care shall guard life's fleeting hours,
Then waft our souls above.

There shall we see his face,
And never, never sin;
There, from the rivers of his grace,
Drink endless pleasures in.

Yes, and before we rise
To that immortal state.
The thoughts of such amazing bliss
Should constant joys create.

Children of grace have found
Glory begun below:
Celestial fruits on earthly ground,
From faith and hope may grow.

The hill of Sion yields
A thousand sacred sweets,
Before we reach the heavenly fields,
Or walk the golden streets.

Then let our songs abound,
And ev'ry tear be dry;
We're trav'lling through Immanuel's ground,
To fairer worlds on high.

(John Wesley, ca. 1703- 1791)
Source: Richard Sauder  |  Event Horizon Chronicle
On 28 November 1953, at 2 am, a man crashed through a closed window and fell to his death from the 10th floor of the Statler Hotel in New York City. He was identified as Frank Olson, a bacteriologist with the US Army Research Center at Fort Detrick, Maryland. He had fallen from a room he shared with another scientist, Robert Lashbrook. It was ruled a suicide.
Twenty-two years later, in 1975, William Colby, then CIA director, declassified documents that changed the complexion of the case. It was revealed that Olson had actually been an undercover CIA operative at Fort Detrick, and that one week prior to his death, he had been drinking Cointreau at a high-level meeting with scientists at Deep Creek Lodge in rural Maryland. The Cointreau was laced with a large dose of LSD administered by his CIA boss, Sidney Gottlieb. He was then sent to New York with Lashbrook, also with the CIA, to see a psychiatrist because the LSD had induced a psychosis.
It was also revealed that Olson had been part of the top secret CIA program that was known as Project MK-ULTRA, exploring the use of chemicals and drugs for purposes of mind control, and bacteriological agents for covert assassination. Olson had been working on ways to deliver anthrax in aerosol form, for use as a weapon. New evidence that came to light, through the persistent efforts of Olson's son Eric, made the suicide ruling highly suspect.
It turned out that Olson had been labelled a security risk by British intelligence after getting upset witnessing human experimentation on a trip to Frankfurt, Germany the previous summer. Eric Olson now believes that his father was drugged and then murdered to make sure that he didn't reveal the secrets of the MK-ULTRA project. Following the 1975 revelations, the government must have felt more than a little guilt about the affair because Olson's family was given a 17 minute audience with US President Ford, who apologised to them, and they were awarded damages in the amount of $750,000.
Controlling Human Behaviour
The MK-ULTRA program was instituted on 13 April 1953 by CIA Director Allen Dulles, ostensibly to counter the brainwashing techniques of American prisoners being held by the North Koreans during the Korean War, and to duplicate those techniques on enemy prisoners, i.e. the creation of "Manchurian Candidates." This was the claim used to obtain funding for the project. However, the Prisoner of War brainwashing program was just the tip of the iceberg, and the CIA-sponsored experiments ventured far and wide into areas of Mind Control under the aegis of MK-ULTRA that had little or nothing to do with methods of interrogation.
The Colby revelations were part of a sweeping investigation of the CIA in January 1975 by the "Commission on CIA Activities Within the United States," chaired by Vice-President Nelson Rockefeller. The subsequent June 1975 Report to the President said: "The drug program was part of a much larger CIA program to study possible means for controlling human behaviour. Other studies explored the effects of radiation, electric-shock, psychology, psychiatry, sociology and harassment substances."
Even though the program got off to a rocky start with the Olson affair, it recovered quickly and became an umbrella project with 149 sub-projects. The overall guiding principal was succinctly stated in an internal CIA memo dated January 1952: "Can we get control of an individual to the point where he will do our bidding against his will and even against fundamental laws of nature such as self-preservation?" 
The drug program came under the aegis of the Chemical Division of the Technical Services Staff headed up by Sidney Gottlieb from 1951 to 1956. Gottlieb was a highly intelligent eccentric who drank goat's milk, enjoyed folk-dancing, and raised Christmas trees on his farm outside Washington.
The Agency funded LSD research programs at major medical centres and universities including Boston Psychopathic, Mt. Sinai Hospital at Columbia University, University of Illinois Medical School, University of Oklahoma and others. The funding was carried out secretly through the Josiah Macy Foundation, and the Geschickter Fund for Medical Research in Washington, D.C. The CIA claimed the secrecy was necessary to keep it from the Russians, but we have already seen that it was part of much larger project to learn how to control human behaviour in general, so this is not credible.
Gottlieb told Dr. Harold Abramson at Mt. Sinai (who just happened to be the psychiatrist that Olson was supposed to see!) that he wanted "operationally pertinent materials [about]: a. Disturbance of Memory; b. Discrediting by Aberrant Behaviour; c. Alteration of Sex Patterns; d. Eliciting of Information; e. Suggestibility; f. Creation of Dependence." That sounds like pretty deep stuff for the spy game. They were really afraid of public reaction and congressional condemnation, especially since the CIA charter did not allow domestic operations, and certainly prohibited experimentation on US citizens.
The callousness of the research is best exemplified by the CIA-funded work of Dr. Harris Isbell, the Director of the Addiction Research Center in Lexington, Kentucky. The drug addict hospital inmates, who were mostly black, were encouraged to volunteer for LSD research in return for hard drugs of their choice or time off their sentences. In most cases, they were given pure morphine or heroin. At one point Isbell kept seven men on LSD for 77 straight days. Many others were on it for up to 42 days.
Concerning extended LSD usage, John Marks in his landmark book The Search for the Manchurian Candidate: The CIA and Mind Control says about writer Hunter S. Thompson (recently deceased) that he "frightened his readers with accounts of drug (LSD) binges lasting a few days, during which Thompson felt his brain boiling away in the sun, his nerves wrapping around enormous barbed wire forts, and his remaining faculties reduced to their reptilian antecedents." The recent movie The Rum Diary, starring Johnny Depp, based on the autobiographical book by Hunter S. Thompson, presents an imaginative re-enactment of his LSD adventures.
The CIA Turns On the Counter-Culture
Not satisfied with university research, Gottlieb recruited New York narcotics agent George White to distribute LSD surreptitiously to the "borderline underworld." Operating through safe houses in Greenwich Village, Haight-Ashbury and Marin County, White gave doses to prostitutes, pimps, drug addicts and other "marginal people" and then observed the results and reported to Gottlieb.
John Marks says they were people "who would be powerless to seek any sort of revenge if they ever found out what the CIA had done to them. In addition to their being unlikely whistle-blowers, such people lived in a world where an unwitting dose of some drug… was an occupational hazard anyway."
Eventually, White started using it randomly all over New York and San Francisco. Regarding the results, Marks says, "The MKULTRA scientists reaped little but disaster, mischief, and disappointment from their efforts to use LSD as a miracle weapon against the minds of their opponents." Yet, they continued this program for 10 years until 1963.
Ironically, since the CIA had pretty much cornered the market on LSD internationally, buying up all the product of Sandoz and Eli Lilly, the spread of the drug to the counter-culture was through the Agency.Timothy Leary, Ken Kesey, Allen Ginsburg and Tom Wolfe were first "turned on" thanks to the CIA, and that's how the "flower children" became psychedelic.
But, the LSD experiments may have been more successful than Marks realised. They were carefully noting the precise effects on brain chemistry, and in the six areas that Gottlieb was concerned with: memory disturbance, aberrant behaviour, altered sexual patterns, eliciting information, suggestibility and creation of dependence. This became evident when they started using LSD as an adjunct in hypnotic and electronic experiments.
Re-Patterning the Brain
Perhaps the most notorious and nefarious MK-ULTRA sub-project was carried out at the Allan Memorial Institute in Montreal, Canada under the directorship of Dr. Donald Ewen Cameron, an American from Albany, New York. Cameron had trained at the Royal Mental Hospital in Glasgow, Scotland, under eugenicist Sir David Henderson, and founded the Canadian branch of the World Federation for Mental Health. At various times, he was elected president of the Canadian, American, and World psychiatric associations. In other words, Cameron was no renegade but had the full faith and endorsement of the world psychiatric establishment.
The CIA wanted Cameron to "depattern" the contents of the brain to make it receptive to new patterning. David Remnick in a Washington Post article on 28 July 1985 said:
"The…. heart of the laboratory was the Grid Room…. The subject was strapped into a chair involuntarily, by force, his head bristling with electrodes and transducers. Any resistance was met with a paralysing dose of curare. The subject's brainwaves were beamed to a nearby reception room crammed with voice analysers, a wire recorder and radio receivers cobbled together… The systematic annihilation or 'depatterning' of a subject's mind and memory was accomplished with overdoses of LSD, barbiturate sleep for 65 days at a stretch and ECT shocks at 75 times the recommended dosage. Psychic driving, the repetition of a recorded message for 16 hours a day, programmed the empty mind. Fragile patients referred to Allan Memorial for help were thus turned into carbuncular jellyfish."
Anton Chaitkin in his essay, 'British Psychiatry: From Eugenics to Assassination', says:
"Patients lost all or part of their memories, and some lost the ability to control their bodily functions and to speak. At least one patient was reduced almost to a vegetable; then Cameron had the cognitive centres of her brain surgically cut apart, while keeping her alive. Some subjects were deposited permanently in institutions for the hopelessly insane."
The CIA funded these horrors through a front called "The Society for the Investigation of Human Ecology." Other supporters of the Allan Institute were the Rockefeller Foundation, the Geschickter Foundation, and the Canadian government.
About Cameron's work, Wikipedia says: "Naomi Klein states, in her book The Shock Doctrine, that Cameron's research and his contribution to the MKUltra project was actually not about mind control and brainwashing, but 'to design a scientifically based system for extracting information from "resistant sources." In other words, torture'. And citing a book from Alfred W. McCoy it further says that 'Stripped of its bizarre excesses, Cameron's experiments, building upon Donald O. Hebb's earlier breakthrough, laid the scientific foundation for the CIA's two-stage psychological torture method'." This method was codified in the infamous "KUBARK Counterintelligence Interrogation Manual" published by the CIA in July 1963, and in the Human Resources Exploitation Training Manual – 1983 that was used in CIA training courses in Latin American countries up until 1987. These manuals describe methods of psychological torture, far more potent than physical torture, to elicit information from "resistant sources."
An Orwellian Nightmare
As one would expect, the technologies now available to the mind-controllers have zoomed off the chart to the point where George Orwell's world of omni-surveillance now seems almost quaint. Of course, it is true that 1984 was 28 years ago. But even as far back as 1970, US congressman James Scheur was able to say:
"As a result of spinoffs from medical, military aerospace and industrial research, we are now in the process of developing devices and products capable of controlling violent mobs without injury. We can tranquillise, impede, immobilise, harass, shock, upset, stupefy, nauseate, chill, temporarily blind, deafen or just plain scare the wits out of anyone the police have a proper need to control and restrain."
A brief survey of some of the scariest products known to be in the arsenal of the secretive alphabet agencies arrayed against John Q. Public are such devices as the Neurophone, patented by Dr. Patrick Flanagan in 1968. It converts sound to electrical impulses which can be delivered from satellites. When aimed at individuals, the impulses travel directly to the brain where the sounds are re-assembled and appear to be voices inside the head, which can be perceived as coming from God, or telepathic aliens, or whatever. Or the sounds can come out of a turned-off TV or radio. Through software, the device can mimic anyone's voice and translate into any language.
It is believed that the CIA, DIA, NSA et al use the Neurophone to deliver threats and propaganda to selected targets, or just to torment someone they don't like. One can imagine the possibilities. Could this explain some of the killings by "psychopaths" who say they were instructed by God, such as Mark David Chapman, David Berkowitz, or Sirhan Sirhan? If they had been previously evaluated through sophisticated personality assessments and groomed by LSD or hypnosis, such voices could easily tip the balance and convince them to kill.
We've all heard about the "Thought Police" and laughed because it seemed so implausible. Well, the joke is on us. Brain scanning technology is now well-advanced. In 1974, Lawrence Pinneo, a neurophysiologist and electronic engineer with the Stanford Research Institute succeeded in correlating brain wave patterns from EEGs with specific words. In 1994, the brain wave patterns of 40 subjects were officially correlated with both spoken words and silent thought at the University of Missouri. It is believed that US intelligence agencies now have a brain wave vocabulary of over 60,000 words in most common languages.
Brain waves constitute a magnetic field around the head (the aura), each person having a unique, identifiable electromagnetic signature which becomes visible through Kirlian photography, and these fields can be monitored by satellites. The translated results are then fed back to ground-side super computers at speeds of up to 20 gigabytes/second. Neurophone messages can then be beamed to selected individuals based on their thoughts. It is believed that about one million people around the globe are now monitored on a regular basis. As these numbers increase, as they certainly will, to include most educated and important people in the world, the New World Order will definitely have arrived.
As Australian writer Paul Baird has observed, "no-one will ever be able to even think about expressing an opinion contrary to those forced on us by the New World Order. There will literally be no intellectual property that cannot be stolen, no writing that cannot be censored, no thought that cannot be suppressed (by the most oppressive/invasive means)." Baird also claims that ex-military/intelligence whistle-blowers have reported that experiments in controlling voters with these techniques have been tried in several foreign countries. So much for democracy.
Other technologies, such as microwave bombardment to confuse and disorient field personnel, microchip implantation, silently delivered acoustical subliminal messages, widespread population control through psychiatric drugs, and extreme close-up satellite-based viewing able to read documents indoors, are all well-developed and in use by military and intelligence agencies. This doesn't even address the monitoring of overt spoken and written material. Under Project ECHELON, the NSA monitors every call, fax, e-mail and computer data message in and out of the US, Canada and several other countries. Their computers then search for key words and phrases. Anything or anyone of interest draws the attention of agency operatives, who can then commence surveillance operations by the NSA or other intelligence agencies.
Novel Capabilities
We conclude with a chilling vision of the future from the US Air Force Scientific Advisory Board. It is from New World Vistas of Air and Space Power for the 21st Century.
"Prior to the mid-21st century, there will be a virtual explosion of knowledge in the field of neuroscience. We will have achieved a clear understanding of how the human brain works, how it really controls the various functions of the body, and how it can be manipulated (both positively and negatively). One can envision the development of electromagnetic energy sources, the output of which can be pulsed, shaped, and focused, that can couple with the human body in a fashion that will allow one to prevent voluntary muscular movements, control emotions (and thus actions), produce sleep, transmit suggestions, interfere with both short-term and long-term memory, produce an experience set, and delete an experience set. This will open the door for the development of some novel capabilities that can be used in armed conflict, in terrorist/hostage situations, and in training…"
And based on the past clandestine abuses of MK-ULTRA reviewed above, one can predict with relative certainty that these capabilities will be used on civilians, with or without their knowledge or acquiescence, in the service of the New World Order.
If you appreciated this article, please consider a digital subscription to New Dawn.
About the Author
LEN KASTEN has been involved in metaphysical and UFO/ET studies, research and writing for over thirty years. A graduate of Cornell University, he is a former member of NICAP and MUFON. He has written over fifty published articles for Atlantis Rising magazine. His book,The Secret History of Extraterrestrials, published by Inner Traditions, went to number sixteen on the publisher's Top Fifty list, in four months.
The above article appeared in New Dawn Special Issue Vol 6 No 3.
© New Dawn Magazine and the respective author.
© Copyright New Dawn Magazine, http://www.newdawnmagazine.com. Permission granted to freely distribute this article for non-commercial purposes if unedited and copied in full, including this notice.
© Copyright New Dawn Magazine, http://www.newdawnmagazine.com. Permission to re-send, post and place on web sites for non-commercial purposes, and if shown only in its entirety with no changes or additions. This notice must accompany all re-posting.
"The European race's last three hundred years of evolutionary progress have all come down to nothing but four words: selfishness, slaughter, shamelessness and corruption."
Yan Fu
It only took the rest of the world 300 years to catch on to the evil that masquerades as "western civilization," or perhaps it only took the rise of new powers with the confidence to state the obvious. Anyone doubtful of America's responsibility for the evil needs to read The Untold History of the United States by Oliver Stone and Peter Kuznick.
The "New American Century" proclaimed by the neoconservatives came to an abrupt end on September 6 at the G20 meeting in Russia. The leaders of most of the world's peoples told Obama that they do not believe him and that it is a violation of international law if the US government attacks Syria without UN authorization.
Putin told the assembled world leaders that the chemical weapons attack was "a provocation on behalf of the armed insurgents in hope of the help from the outside, from the countries which supported them from day one." In other words, Israel, Saudi Arabia, and Washington–the axis of evil.
China, India, South Africa, Brazil, Indonesia, and Argentina joined Putin in affirming that a leader who commits military aggression without the approval of the UN Security Council puts himself "outside of law."
In other words, if you defy the world, obama, you are a war criminal.
The entire world is waiting to see if the Israel Lobby can push obama into the role of war criminal. Many are betting that Israel will prevail over the weak american president, a cipher devoid of all principle. A couple of decades ago before the advent of the american sheeple, one of the last tough Americans, Admiral Tom Moorer, Chief of Naval Operations and Chairman of the Joint Chiefs of Staff, publicly declared that "no US president can stand up to Israel." America's highest ranking military officer could not get an honest investigation of the Israeli attack on the USS Liberty.
We are yet to see an american president who can stand up to Israel. Or, for that matter, a Congress that can. Or a media.
The obama regime tried to counter its smashing defeat at the G20 Summit by forcing its puppet states to sign a joint statement condemning Syria. However the puppet states qualified their position by stating that they opposed military action and awaited the UN report.
Most of obama's bought-and-paid-for "supporters" are impotent, powerless. For example obama counts the UK as a supporting country because of the personal support of the discredited UK prime minister, david cameron, despite the fact that cameron was repudiated by the British Parliament in a vote that prohibits British participation in another of Washington's war crimes. So, although cameron cannot bring the British people and the British government with him, obama counts the UK as a supporter of obama's attack on Syria. Clearly, this is a desperate count of "supporting countries."
The Turkish puppet government, which has been shooting its peacefully demonstrating citizens down in the streets, with no protest from obama or the Israel Lobby, supports "holding Syria accountable," but not itself, of course, or Washington.
The puppet states of Canada and Australia, powerless countries, neither of which carry one ounce of world influence, have lined up to do the bidding of their Washington master. The entire point of having the top government job in Canada and Australia is the payoff from Washington.
The obama cipher also claims the support of Japan and the Republic of Korea, another two countries devoid of all diplomatic influence and power of any kind. Helpless Japan is on the verge of being destroyed by the Fukushima nuclear disaster, for which it has no solution. As the radiation leaks spread into the aquifer upon which Tokyo and surrounding areas rely, Japan is faced with the possibility of having to relocate 40 million people.
Saudi Arabia, implicated in the transfer to al-Nusra rebels of the chemical weapons used in the attack, supports Washington, knowing that otherwise its tyranny is toast. Even the neoconservatives headed by obama's shrill National Security Advisor, Susan Rice, want to overthrow the Saudis.
Obama claims also to have support from France and Germany. However both Hollande and Merkel have stated clearly that a diplomatic solution, not war, is their first choice and that the outcome rests on the UN.
As for Italy and Spain's support, both governments are hoping to be rewarded with the Federal Reserve printing enough dollars to bail out their indebted economies so that both governments are not overthrown in the streets for their acquiescence to the looting of their countries by international banksters. Like so many Western governments, those of Italy and Spain, and, of course, Greece, support the international banksters, not their own citizens.
The president of the European Commission has declared that the European Union, the central overlord over Britain, France, Germany, Italy, and Spain, does not support a military solution to the Syrian Crisis. "The European Union is certain that the efforts should be aimed at a political settlement," Jose Manuel Barroso told reporters at the G20 meeting. The EU has the power to issue arrest warrants for the heads of EU governments that participate in war crimes.
What this reveals is that the support behind the liar obama is feeble and limited. The ability of the Western countries to dominate international politics came to an end at the G20 meeting. The moral authority of the West is completely gone, shattered and eroded by countless lies and shameless acts of aggression based on nothing but lies and self-interests. Nothing remains of the West's "moral authority," which was never anything but a cover for self-interest, murder, and genocide.
The West has been destroyed by its own governments, who have told too many self-serving lies, and by its capitalist corporations, who offshored the West's jobs and technology to China, India, Indonesia, and Brazil, depriving the Western governments of a tax base and the support of its citizens.
It is difficult to know whether citizens in the West hate their corrupt governments any less than do Muslims, whose lives and countries have been devastated by Western aggression, or than do citizens of third world countries who have been impoverished by being looted by predatory First World financial organizations.
The idiot Western governments have pissed away their clout. There is no prospect whatsoever of the neoconservative fantasy of US hegemony being exercised over Russia, China, India, Brazil, South Africa, South America, Iran. These countries can establish their own system of international payments and finance and leave the dollar standard whenever they wish. One wonders why they wait. The US dollar is being printed in unbelievable quantities and is no longer qualified to be the world reserve currency. The US dollar is on the verge of total worthlessness.
The G20 Summit made it clear that the world is no longer willing to go along with the West's lies and murderous ways. The world has caught on to the West. Every country now understands that the bailouts offered by the West are merely mechanisms for looting the bailed-out countries and impoverishing the people.
In the 21st century Washington has treated its own citizens the way it treats citizens of third world countries. Untold trillions of dollars have been lavished on a handful of banks, while the banks threw millions of Americans out of their homes and seized any remaining assets of the broken families.
US corporations had their taxes cut to practically nothing, with few paying any taxes at all, while the corporations gave the jobs and careers of millions of Americans to the Chinese and Indians. With those jobs went US GDP, tax base, and economic power, leaving Americans with massive budget deficits, a debased currency, and bankrupt cities, such as Detroit, which once was the manufacturing powerhouse of the world.
How long before Washington shoots down its own homeless, hungry, and protesting citizens in the streets?
Washington represents Israel and a handful of powerful organized private interests. Washington represents no one else. Washington is a plague upon the American people and a plague upon the world.
Source: Paul Craig Roberts
You are capable of critical thinking.
You distrust mainstream media.
You like nature.
You think it's a good idea to spend the Friday after Thanksgiving with your family rather than camping outside Best Buy to get a cheap plasma television made in China.
You think it's a little strange that WTC building 7 came down at free fall speed on 9/11 yet it was never hit by a plane.
You think that drones in America might not be for Al Qaeda.
You would like to be able to get on a plane without having to engage in a mandatory radiation bath and digital strip search.
You have read a book in the past year.
You think you have the right to protest.
You think the War on Terror is a scam.
You think the War on Drugs is a scam.
You think the anger directed at America from the Middle East could possibly be related to our foreign policy rather than hating how amazingly free we are.
You think the Republicans and Democrats are exactly the same on the important issues affecting our country.
You think believing in The Constitution does not constitute a terrorist act.
You have heard of the Bill of Rights and can even name what some of them are.
You question whether the government loves you.
You think the right to bear arms is not for hunting, rather so citizens can fight back should the government become a bunch of tyrannical thugs.
You don't own a television, and if you do, all you watch is RT, especially the Keiser Report and Capital Account.
You don't think the NDAA is the name of Kesha's latest single.
You think rich, powerful and connected people should be subject to the rule of law and go to jail if they commit crimes. Even if they are bankers and work at JP Morgan or Goldman Sachs.
You think corporations aren't people.
You think Warren Buffet is a phony and a crony capitalist.
You don't care that Warren Buffet likes cherry coke, hamburgers and ice cream.  He's still a bad guy.
You know that gold was made illegal by FDR in 1933 and confiscated from the American people.  You know that gold bullion remained illegal for Americans to own until 1975.
You think politicians that push for war should be sent to fight on the front lines.  If they are unable, their children should go.
You want your food to be labeled GMO so that you can make your own decisions on what you are consuming.
You grow your own food.
You buy raw milk.
You think food and energy should be included in inflation calculations.
You are aware that the Department of Homeland Security has purchased 1.2 billion rounds of ammo in the past year.
You question whether said ammo purchases are in anticipation of a Normandy beach style landing by Al Qaeda.
You think allowing a small group of unelected people (The Federal Reserve) to print unlimited amounts of money and distribute it as they please might not be a good idea.
If you answered yes to more than five of the above, you might be a conspiracy theorist.  You also may be on the government's terror watch list.  Be very alarmed and report it to the authorities immediately should you discover your neighbors engaged in such uncivilized thought. 
Source: Liberty Blitzkrieg
Editors Update:
You are a conspiracy nutjob if you think that the US government runs al-Qaeda since the 80s.
You think that al-Qaeda and the FSA are the combatants using chemical weapons in Syria, not the Syrian government.
You think all the FEMA camps across the United States is for undesirable Americans after the collapse.
You think that the unrestrained spying on all Americans by the NSA is illegal.
You think that whisleblowers are the real patriots.
You think that the push for war in Syria is not about WMD's but a globalist/zionist agenda to destabilize the Middle East.
You believe that vaccines pushed by the government are dangerous and not good for you.
If any of you have any more reasons to think that you are a conspiracy theorist, feel free to key it down in the comment section…
It's been that way from inception. America's history reflects violence. It's blood-drenched. It glorifies war. It does so in the name of peace.
America believes war is peace. It's part of the national culture. Eventually it's self-destructive. Today's super-weapons make the unthinkable possible.
Hyman Rickover knew. He knew decades ago. He founded America's nuclear navy. In 1982, he told Congress:
"I do not believe that nuclear power is worth it if it creates radiation. Then you might ask me why do I have nuclear powered ships?"
"That is a necessary evil. I would sink them all. I am not proud of the part I played in it. I did it because it was necessary for the safety of this country."
That's why I am such a great exponent of stopping this whole nonsense of war. Unfortunately limits – attempts to limit war have always failed."
"The lesson of history is when a war starts every nation will ultimately use whatever weapon it has available."
"Every time you produce radiation, you produce something that has a certain half-life, in some cases for billions of years."
"I think the human race is going to wreck itself, and it is important that we get control of this horrible force and try to eliminate it."
In his Der Ring des Nibelungen operas (The Ring of the Nibelungen), Richard Wagner portrayed his apocalyptic version. He did so musically. Gotterdammerung (Twilight of the Gods) prophesied the end of the world.
Einstein feared it. He didn't know what WW III weapons would be used. He said "World War IV will be fought with sticks and stones."
Bertrand Russell was an Einstein contemporary. He knew. He warned. No one listened. He asked:
"Shall we put an end to the human race, or shall mankind renounce war." It's the only way to live in peace. The alternative is annihilation.
The choice is clear. The wrong one assures disaster. America's heading humanity toward it. A slow-motion train wreck looms. The big one. There's no second chance. There's no coming back.
Historian Harry Elmer Barnes (1889 – 1968) once said:
"If trends continue as they have during the last fifteen years, we shall soon reach this point of no return, and can only anticipate interminable wars, disguised as noble gestures for peace."
Historian Arnold Toynbee worried about WW III. Only pigmies in remote jungles, apes and ants might be left to carry on "the cultural traditions of mankind," he said.
According to HG Wells:
"If we don't end war, war will end us."
Mushroom shaped cloud finality threatens humanity. Enough of them cause nuclear winter. They block out sun for years. Doing so ends life on Earth. It's possible. It's chilling. It's not science fiction. It's real. It bears repeating. There's no coming back.
America wages permanent wars. It does so against enemies it creates. During the Cold War, Active Defense and AirLand Battle prepared strategies for how America would fight.
Soviet Russia was targeted. Today's it's modern day Russia. It's China. AirSea Battle targets both countries. More on that below.
In 1998, US Space Command: Vision for 2020 discussed America's grand strategy.
In 2000, DOD Joint Vision 2020 called for "full spectrum dominance" over all land, surface and sub-surface sea, air, space, electromagnetic spectrum and information systems.
It did so with enough overwhelming power to fight and win global wars against any adversary. Nuclear and other mass destruction weapons would be used preemptively.
In 1961, General Curtis LeMay believed nuclear war with Soviet Russia was inevitable. He wanted thousands of missiles launched preemptively.
He called retaliation against major US cities a small price to pay.
At the same time, General Lyman Lemnitzer urged a surprise nuclear attack strategy.
Jack Kennedy expressed disgust. He walked out of a National Security Council meeting. He wanted none of it. He told Secretary of State Dean Rusk: "And we call ourselves the human race."
Secretary of Defense McNamara categorically rejected LeMay and Lemnitzer. He should have fired them on the spot. Other extremists then and later urged the same lunacy.
Crazies have great influence today. Today's weapons make earlier ones look like toys. Armageddon could happen.
Life on Earth could end in a day. It's possible. It's frightening. Rogue states can't be trusted. America most of all.
Eisenhower warned "against the acquisition of unwarranted influence." He named the military-industrial complex. "The potential for the disastrous rise of misplaced power exists and will persist," he stressed.
Militarism writ large is the national pastime. It's a national addiction. The business of America is war. It's multiple wars. It's permanent ones. It's ravaging one nation after another.
It's doing so for wealth, power, resource control, and unchallenged global dominance.
America never was the "land of the free and home of the brave." It's a war on humanity society. It's a "let 'em eat cake" one.
It's an out-of-control rogue state. It's ideologically over-the-top. It spends more on militarism and wars than the rest of the world combined.
Doing so lets war profiteers gorge themselves at the public trough. Doing so makes peace impossible. Warrior nations eventually self-destruct. Nations that live by the sword die by it. America's no exception.
According too Navy Live, Air-Sea Battle (ABS) "is designed to develop force over the long-term. (It) seeks to provide decision makers with a wide range of options to counter aggression from hostile actors."
It targets China and Russia. It "reflects the US commitment to maintaining escalation advantage during conflict and sustaining security and prosperity in the global commons."
It's "interoperable air and naval forces that can execute networked, integrated attacks-in-depth to disrupt, destroy, and defeat enemy anti-access area denial capabilities."
Paul Craig Roberts quoted Amitai Etzioni. He asked, "Who Authorized Preparations for War with China?"
"The Pentagon has concluded that the time has come to prepare for with China, and in a manner well beyond crafting the sort of contingency plans that are expected for with a wide range of possible confrontations," he said.
It's a "momentous decision." It hasn't received proper attention. America's posture is largely Pentagon driven.
It "stands out even more prominently because (a) the change in military posture may well lead to an arms race with China, which could culminate in a nuclear war; and (b) the economic condition of the United States requires a reduction in military spending, not a new arms race."
"The start of a new term, and with it the appointment of new secretaries of State and Defense, provides an opportunity to review the United States' China strategy and the military's role in it."
"This review is particularly important before the new preparations for war move from an operational concept to a militarization program that includes ordering high-cost weapons systems and forced restructuring."
"History shows that once these thresholds are crossed, it is exceedingly difficult to change course."
In September 2001, Congress approved the Authorization for Use of Military Force (AUMF). It did so for "the use of United States Armed Forces against those responsible for the recent attacks launched against the United States."
Carte blanche war-making authority was granted. America's war on terror began. It's waged on humanity. It does so out of control. It targets manufactured enemies at home and abroad.
It calls independent nations existential threats. Russia and China are targeted. They represent America's final battleground. Challenging them risks WW III.
Obama's no peacemaker. He's a cold-blooded warrior. He threatens humanity's survival. His 2010 Nuclear Posture Review (NPR) reflects Bush-era strategy.
It's old wine in new bottles. It "reserves the right" to use nuclear weapons preemptively. America's only enemies are ones it invents. Peace is verboten. So is disarmament. They're both non-starters.
Washington targets more nations to destroy. It invents reasons for doing so. It threatens humanity in the process. Preemptive nuclear war assures it.
America's lunatic fringe may launch what cooler heads deplore. Elements in it have mushroom-shaped cloud delusions.
Nuclear war assures turning planet Earth into an uninhabited wasteland. Toxic proliferation already is destroying life slowly. In a generation or decade perhaps only beetles, bacteria, fungi, and other microoganisms will remain.
Ernst Mayr (1904 – 2005) was a noted evolutionary biologist. He called human intelligence no guarantee of survival. No species ever destroyed itself. Humans may be the first. Planet Earth's increasingly contaminated.
Eventually a threshold of no return is crossed. It may be closer than most believe. Mushroom shaped finality may arrive sooner.
Higher intelligence does more harm than good. Imagine ending life on Earth for wealth, power and dominance. Imagine what no one should risk.
Imagine the unthinkable. Imagine ending life on Earth. America's rage for war makes it possible. It's as simple as ready, aim, bombs away.
Source:  Stephen Lendman | SteveLendmanBlog
Last week marked the 68th anniversary of the WWII destruction of the Japanese cities of Hiroshima (Aug. 6) and Nagasaki (Aug. 9) — the first and only deployment of nuclear weapons in human history. Within moments of the nuclear explosions that destroyed these cities, at least  200,000 people lost their lives. Tens of thousands subsequently died from radiation poisoning within the next two weeks. The effects linger to this day.
Israeli Prime Minister Benjamin Netanyahu has implied that this would the be fate of Israel if Iran was allowed to obtain nuclear weapon-making capabilities, including the ability to enrich high-grade uranium. To prevent this from happening, the economy of Iran must be crippled by sanctions and the fourth largest oil reserves in the world must be barred from global markets, as the oil fields in which they are situated deteriorate. Israel — the only state in the region that actually possesses nuclear weapons and has blocked all efforts to create a Middle East Nuclear Weapon Free Zone – should thus be armed with cutting-edge American weaponry. Finally, the US must not only stand behind its sole reliable Middle East ally, which could strike Iran at will, it should ideally also lead — not merely condone — a military assault against Iranian nuclear facilities.
Netanyahu invariably frames the threat posed by Iranian nuclear capability (a term that blurs distinctions between civilian and potential military applications of nuclear technology) as "Auschwitz" rather than "Hiroshima and Nagasaki", even though the latter might be a more apt analogy. The potential for another Auschwitz is predicated on the image of an Israel that is unable — or unwilling to — defend itself, resulting in six million Jews going "like sheep to the slaughter." But if Israel and/or the US were to attack Iran instead of the other way around, "Hiroshima and Nagasaki" would be the analogy to apply to Iran.
A country dropping bombs on any country that has not attacked first is an act of war, as the US was quick to point out when the Japanese bombed Pearl Harbor — and this includes so-called "surgical strikes". In a July 19 letter about US options in Syria, Gen. Martin Dempsey, the Chairman of the Joint Chiefs of Staff, reminded the Senate Armed Services Committee that "…the decision to use force is not one that any of us takes lightly. It is no less than an act of war" [emphasis added].
If the use of atomic weapons on Hiroshima and Nagasaki during wartime remains morally and militarily questionable, one might think that there would be even less justification for a military strike on Iran, with whom neither Israel nor the US is at war. Of course, there are those who disagree: the US is engaged in a war on terror, Iran has been designated by the US as the chief state sponsor of terrorism since 1984 and so on. Therefore, the US  is, or should be, at war with Iran.
"All options are on the table" is the operative mantra with regard to the US halting Iran's acquisition of a nuclear weapon. But if bombs start dropping on Iran, what kind will they be? In fact, the 30,000 lb. Massive Ordnance Penetrators (MOPs) that could be employed against Iranian nuclear facilities are nuclear weapons, since they derive their capability of penetrating 200 feet of concrete in the earth from depleted uranium. Furthermore, some Israelis have darkly hinted that, were Israel to confront Iran alone, it would be more likely to reach into its unacknowledged nuclear armoury if that meant the difference between victory and defeat.
Given all this, comparing the damage that would be done by bombing Iran with the destruction of  Hiroshima and Nagasaki is not farfetched. It also reveals some troubling parallels. In the years prior to the Japanese bombing of Pearl Harbor in 1941, President Franklin D. Roosevelt, in response to what the US regarded as Japanese expansionism, imposed economic sanctions on Japan in 1937. Just before the US entered the war, an embargo was placed on US exports of oil to Japan, upon which Japan was utterly dependent.
In 1945, it was already clear that Japan was preparing to surrender and that the outstanding issue at hand was the status of its emperor. There was neither a military nor political need to use atomic weapons to bring an end to the war. Numerous justifications for dropping atomic bombs on Japan were invoked, but nearly all of them were challenged or discredited within a few years after the war ended. Three are particularly noteworthy today, as we continue to face the prospect of war with Iran.
Saving lives: US Secretary of War Henry Stimson justified the decision to use atomic weapons as "the least abhorrent choice" since it would not only would save the lives of up to a million American soldiers who might perish in a ground assault on Japan, it would also spare the lives of hundreds of thousands of Japanese civilians who were being killed in fire bombings. President Harry Truman also claimed that "thousands of lives would be saved" and "a quarter of a million of the flower of our young manhood was worth a couple of Japanese cities." But as Andrew Dilks points out, "None of these statements were based on any evidence."
Speaking in Warsaw, Poland on June 12 — two days before the Iranian election that he declared would "change nothing" with regard to Iran's alleged quest to develop nuclear weaponry — Netanyahu used the opening of an Auschwitz memorial to make his case. "This is a regime that is building nuclear weapons with the expressed purpose to annihilate Israel's six million Jews," he said. "We will not allow this to happen. We will never allow another Holocaust." About the Iranians who would perish after an Israeli attack, Netanyahu said nothing.
Justifying expenditures: The total estimated cost of the Manhattan Project, which developed the bombs dropped on Japan, was nearly $2 billion in 1945, the equivalent of slightly more than $30 billion today. Secretary of State James Byrnes pointed out to President Harry Truman, who was up for re-election in 1948, that he could expect to be berated by Republicans for spending such a large amount on weapons that were never used, according to MIT's John Dower.
A recent report by the Congressional Research Service shows that Israel is the single largest recipient of US aid, receiving a cumulative $118 billion, most of it military aid. The Bush administration and the Israeli government had agreed to a 10-year, $30 billion military aid package in 2007, which assured Israel of funding through 2018. During his March 2013 visit to Israel, President Barack Obama, who had been criticized by the US pro-Israel lobby for being less concerned than previous American presidents about Israel's well being and survival, pledged that the United States would continue to provide Israel with multi-year commitments of military aid subject to the approval of Congress. Not to be outdone, the otherwise tightfisted Congress not only approved the added assistance Obama had promised, it also increased it. An Iran that is not depicted as dangerous would jeopardize the generous military assistance Israel receives. What better way to demonstrate how badly needed those US taxpayer dollars are than to show them in action?
Technological research and development: One of the most puzzling questions about the decision to use nuclear weaponry against Japan is why, three days after the utter devastation wreaked on Hiroshima, a second atomic bomb was dropped on Nagasaki. It was unnecessary from a militarily perspective. Perhaps the answer exists in the fact that the Manhattan Project had produced different types of atomic bombs: the destructive power of the "Little Boy", which fell on Hiroshima, came from uranium; the power of "Fat Man", which exploded over Nagasaki, came from plutonium. What better way to "scientifically" compare their effectiveness at annihilation than by using both?
The award winning Israeli documentary, The Lab, which opens in the US this month, reveals that Israel has used Lebanon and Gaza as a testing ground for advances in weaponry. Jonathan Cook writes, "Attacks such as Operation Cast Lead of winter 2008-09 or last year's Operation Pillar of Defence, the film argues, serve as little more than laboratory-style experiments to evaluate and refine the effectiveness of new military approaches, both strategies and weaponry." Israeli military leaders have strongly hinted that in conducting air strikes against Syria, the Israeli Air Force is rehearsing for an attack on Iran, including the use of bunker-buster bombs.
The Pentagon, which reportedly has invested $500 million in developing and revamping  MOP "bunker busters", recently spent millions building a replica of Iran's Fordow nuclear research facility in order to demonstrate to the Israelis that Iranian nuclear facilities can be destroyed when the time is right.
Gen. Dempsey arrived in Israel on Monday to meet with Israel's Chief of Staff Benny Gantz and Israel's political leaders. Members of Congress from both political parties are also visiting — Democrats last week, Republicans this week — on an AIPAC-sponsored"fact-finding" mission. No doubt they will hear yet again from Israeli leaders that the world cannot allow another Auschwitz.
The world cannot allow another Hiroshima and Nagasaki either.
Source: Marsha Cohen
Japan's apocalypse continues. Emergency conditions persist. No end in sight looms. Fukushima's radioactive discharges can't be stopped. They continue. They're uncontainable.
At issue is by far the worst environmental disaster in history. It's multiples worse than Chernobyl. It's an unprecedented catastrophe. It's reason enough to abolish nuclear power.
According to Japan's Ministry of Economy, Trade and Industry, about 300 tons of radioactive groundwater flow into the Pacific daily.
It's done so since Japan's March earthquake and tsunami triggered Fukushima's meltdown.
Tokyo Electric (TEPCO) says water's getting over and around "chemical walls." It can't be stopped. Three Fukushima reactors suffered meltdowns. A fourth was badly damaged.
The worst fear remains. Unit Four's structural integrity was seriously undermined. It contains hundreds of tons of highly radioactive water.
If an earthquake or other natural disaster occurs, its fuel rods almost certainly will catch fire. Radioactive emissions will follow. They'll compound what's already disastrous.
Emissions will continue longterm. They'll circle the planet. They cause catastrophic harm.
Since March 2011, Tepco estimates around 20 to 40 trillion radioactive tritium becquerels leaked into the Pacific. So have large cesium and strontium discharges. They continue. They're much more dangerous.
According to nuclear expert Arnie Gunderson, "(t)he horse is already out of the barn." Leakage continues since earthquake and tsunami struck.
Radioactive water contaminates the Pacific. Gunderson's "experience with underground water is that – if it is serious at the ocean, it is more serious" on land.
Japanese officials proposed erecting a barrier. At issue is preventing water from reaching the Pacific. Whatever's done "is two years too late and will be too late by the time" construction's finished, said Gunderson.
A barrier's not the solution. It causes another problem. "If the water can't go anywhere into the Pacific Ocean, it is going to build up onsite, which means that the nuclear reactors themselves will become unstable."
"The water can pull underneath the nuclear buildings and if there is an earthquake, in fact the nuclear buildings could topple. So, by solving one problem, they are creating another problem."
Gunderson believes contaminated water will keep discharging for at least 20 to 30 years. It's the most radioactive water he ever experienced.
Cost is another issue. Cleanup involves around half a trillion dollars, says Gunderson. Most important is human health.
Epidemic cancer levels are certain. And not just in Japan. In early July, Fukushima's former chief operator, Masao Yoshida, died of esophogeal cancer.
He was 58. Tepco lied saying his death was unrelated to radiation exposure. Japanese children are experiencing a shocking 40% rise in thyroid irregularities.
Experts expect much higher numbers ahead. Fukushima's an ongoing disaster. It persists. It's not ending. It'll continue for decades.
According to Institute for Energy and Environmental Research (IEER) president Arjun Makhijani:
"Fukushima continues to be an emergency without end – vast amounts of radioactivity, including strontium-90 in the groundwater, evidence of leaks into the sea, the prospect of contaminated seafood."
"Strontium-90, being a calcium analog, bioaccumulates in the food chain. It is likely to be a seaside nightmare for decades."
It's much more dangerous than cesium 137 and 134. It's at levels 30 times higher.
"So to give you an idea of the level of contamination, if somebody drank that water for a year, they would almost certainly get cancer."
"So that's one problem. The other is the defenses to hold back this water from the sea seem to be overcome."
"So now the contaminated waters, 70,000, 80,000 gallons, are flowing into the sea every day."
"(S)ome of it will disperse and dilute. Some of it goes into the sediment, and some of it is taken up by the life in the sea."
"And the unfortunate thing about strontium especially is that it bioaccumulates in algae. It bioaccumulates in fish."
"It targets the bone, because it's like calcium. And so this is a problem. We don't have measurements far out to sea."
"The Woods Hole Institute has done some surveys. And they were surprised by how much continuing radioactivity they found, but no clear explanation yet."
The effect on human health's expected to be devastating. It's already bad. It's getting progressively worse. The genie's out of the bottle. No end in sight looms.
Strontium-90 and cesium are both perilous. "(S)ince strontium-90 is more mobile and also more dangerous biologically, (it) behaves like calcium, so it goes to the bone."
"It also bioaccumulates in the base of the food chain and algae. Ultimately because it does bioaccumulate and there is quite a lot of strontium, you could have a large part of the food chain near Fukushima being contaminated."
If pregnant women ingest contaminated water, fish or other food, "the outcomes could be worse than cancer because then you're talking about a much more compromised child in the sense of having a compromised immune system – it makes you more vulnerable to all kinds of diseases."
Makhijani doesn't know how Tepco can handle the problem. It's uncontrollable.
"It's very, very unclear to me how they are going to be able to get at this molten fuel, extract it from the bottoms of these highly damaged buildings and package it for safer or less dangerous storage or disposal."
"This is an accident that's shockingly not stopping." It's certain to worsen. It's unchartered territory.
It affects the region. It's humanity's worst environmental nightmare. Nuclear rain affects North America and Europe. Obama's an unabashed nuclear power promoter.
He wants more reactors built. He wants licenses for aging poorly maintained plants with poor safety records extended. He wants them operating unregulated.
He's recklessly endangering Americans. He talks clean energy alternatives. Policy measures spurn them. He fronts for corporate favorites.
He's captive to a destructive industry. He risks a Fukushima-type disaster on US soil. He risks millions of American lives. He's mindless of potential dangers.
Nuclear power's inherently unsafe. Einstein called it a hellova way to boil water. It does so through massive heat. It turns it into steam. It powers an electricity generating turbine.
According to anti-nuclear activist Karl Grossman:
Avoiding potentially catastrophic accidents "requires perfection and no acts of God." Humans and technology aren't perfect. Natural and other disasters happen.
"We can't eliminate them. But we can – and must – eliminate atomic energy." Otherwise it'll eliminate us.
Nuclear expert Helen Caldicott's clear and unequivocal, saying:
"As a physician, I contend that nuclear technology threatens life on our planet with extinction."
"If present trends continue, the air we breathe, the food we eat, and the water we drink will soon be contaminated with enough radioactive pollutants to pose a potential health hazard far greater than any plague humanity has ever experienced."
It doesn't get any clearer than that.
A Final Comment
Coverup and denial followed Chernobyl's disaster. Helen Caldicott called doing so "the most monstrous coverup in the history of medicine."
The death toll was many multiples greater than reported. Estimates range up to a million or more.
The New York Academy of Sciences (NYAS) translated thousands of Russian articles and papers. It added "revised and updated contributions."
"Written by leading authorities from Eastern Europe, the volume outlines the history of the health and environmental consequences of the Chernobyl disaster," NYAS said.
"According to the authors, official discussions from the (IAEA) and associated (UN) agencies (e.g. the Chernobyl reports) have largely downplayed or ignored many of the findings reported in the Eastern European scientific literature and consequently have erred by not including these assessments."
Fukushima far exceeds Chernobyl. Millions of lives are threatened. Perhaps future independent studies will explain. They'll be too little to late to help victims.
Stephen Lendman lives in Chicago. He can be reached at lendmanstephen@sbcglobal.net.
His new book is titled "Banker Occupation: Waging Financial War on Humanity."
http://www.claritypress.com/LendmanII.html
Visit his blog site at sjlendman.blogspot.com.