"No power on earth has a right to take our property from us without our consent."—John Jay, first Chief Justice of the United States

"How 'secure' do our homes remain if police, armed with no warrant, can pound on doors at will and … forcibly enter?"—Supreme Court Justice Ruth Bader Ginsburg, the lone dissenter in Kentucky v. King
If the government can tell you what you can and cannot do within the privacy of your home, whether it relates to what you eat, what you smoke or whom you love, you no longer have any rights whatsoever within your home.
If government officials can fine and arrest you for growing vegetables in your front yard, praying with friends in your living room, installing solar panels on your roof, and raising chickens in your backyard, you're no longer the owner of your property. If school officials can punish your children for what they do or say while at home or in your care, your children are not your own—they are the property of the state.
If government agents can invade your home, break down your doors, kill your dog, damage your furnishings and terrorize your family, your property is no longer private and secure—it belongs to the government. Likewise, if police can forcefully draw your blood, strip search you, and probe you intimately, your body is no longer your own, either.
This is what a world without the Fourth Amendment looks like, where the lines between private and public property have been so blurred that private property is reduced to little more than something the government can use to control, manipulate and harass you to suit its own purposes, and you the homeowner and citizen have been reduced to little more than a tenant or serf in bondage to an inflexible landlord.
Examples of this disregard for the sanctity of private property—whether in the form of one's home, one's possessions, or one's person—abound. Here are just a few.
In San Rafael, California, it is now illegal to smoke a cigarette or other tobacco product inside "apartments, condos, duplexes, and multi-family houses." Although lawmakers hope the ordinance will be "self-enforcing," they're encouraging landlords to threaten tenants with eviction should they run afoul of the law.
In Ohio, it's illegal to alter one's car with a hidden compartment if the "intent" is to conceal illegal drugs. Although Norman Gurley had no drugs on his person, nor in his car, nor could it be proven that he intended to conceal drugs, he was still arrested for the "crime" of having a hidden compartment in the trunk of his car.
In Florida and elsewhere throughout the country, home vegetable gardens are being targeted as illegal. For 17 years, Hermine Ricketts and Tom Carroll have tended the vegetable garden in their front yard, relying on it for 80 percent of their food intake, only to be told by city officials that they must get rid of it or face $50 a day in fines. The reason? The vegetable garden is "inconsistent with the city's aesthetic character."
In Iowa, a war veteran attempting to wean his family off expensive corporate farm products, GMOs and pesticides has been charged with violating a city ordinance and now faces up to 30 days in jail and a $600 fine for daring to raise chickens in his backyard for his personal use, despite statements of support from his neighbors.
In Virginia, school officials suspended two boys for the remainder of the school year and charged them with possession of a firearm after they were reported to the police for playing with toy airsoft guns in their front yard, while waiting for the morning school bus. At no time did the boys attempt to take the toy guns on the bus or to school.
The most obvious disrespect for property rights comes in the form of the tens of thousands of SWAT team raids that occur across the country on a yearly basis. Usually undertaken under the pretense of serving a drug warrant, these raids involve police arriving at a private residence in SWAT gear, armed to the hilt, kicking down doors, apprehending all persons inside the home, then determining if a crime has been committed. That was Judy Sanchez's experience when FBI agents investigating gang activity used a chainsaw to cut through her door, then forced Sanchez and her child to the ground. It was only after invading Sanchez's home and terrorizing her family that agents realized they had targeted the wrong address.
Unfortunately, we in America get so focused on the Fourth Amendment's requirement of a warrant before government agents can invade our property (a requirement that means little in an age of kangaroo courts and rubberstamped warrant requests) that we fail to properly appreciate the first part of the statement declaring that we have a right to be secure in our "persons, houses, papers, and effects." What this means is that the Fourth Amendment's protections were intended to not only follow us wherever we go but also apply to all that is ours—whether you're talking about our physical bodies, our biometric data, our possessions, our families, or our way of life. However, in an 8-1 ruling in Kentucky v. King (2011), the U.S. Supreme Court sanctioned SWAT teams smashing down doors of homes or apartments without a warrant if they happen to "suspect" you might be doing something illegal in your home.
At a time when the government routinely cites national security as the justification for its endless violations of the Constitution, the idea that a citizen can actually be "secure" or protected against such government overreach seems increasingly implausible, while suggesting that a person take steps to secure his person and property against the government could have one accused of fomenting anti-government sentiment.
Nevertheless, the reality of our age is this: if the government chooses to crash through our doors, listen to our phone calls, read our emails and text messages, fine us for growing vegetables in our front yard, jail us for raising chickens in our backyard, forcibly take our blood and saliva, and probe our vaginas and rectums, there's little we can do to stop them. At least, not at that particular moment. When you're face to face with a government agent who is not only armed to the hilt and inclined to shoot first and ask questions later but also woefully ignorant of the fact that he works for you, if you value your life, you don't talk back.
This sad reality came about as a result of our being asleep at the wheel. We failed to ask questions and hold our representatives accountable to abiding by the Constitution, while the government amassed an amazing amount of power over us, and backed up that power-grab with a terrifying amount of military might and weaponry, and got the courts to sanction their actions every step of the way.
However, once the dust settles and you've had a chance to catch your breath, I hope you'll remember that the Constitution begins with those three beautiful words, "We the people." In other words, there is no government without us—our sheer numbers, our muscle, our economy, our physical presence in this land. There can also be no police state—no tyranny—no routine violations of our rights without our complicity and collusion—without our turning a blind eye, shrugging our shoulders, allowing ourselves to be distracted and our civic awareness diluted.
So where do we begin? How do we go about wresting back control over our freedoms and our lives in the face of such seemingly insurmountable odds?
There's an old adage, albeit not a very palatable one, that says "when eating an elephant take one bite at a time." The point is this: when facing a monumental task, take it one step at a time. In other words, we're going to have to wage these battles house by house, car by car, and body by body. Most importantly, as I point out in my book A Government of Wolves: The Emerging American Police State, we're going to have to stop the partisan bickering—you can leave that to the yokels in Congress—and recognize that the suffering brought about by a police state will be the great equalizer, applying to all Americans, regardless of their political leanings (the fact that we are all now being targeted for government surveillance is but a foretaste of things to come).
As John Adams rightly noted, "The Revolution was effected before the war commenced. The Revolution was in the minds and hearts of the people. This radical change in the principles, opinions, sentiments and affections of the people was the real American Revolution."
It's time for a second American Revolution. Not a revolution designed to kill people or tear down and physically destroy society, but a revolution of the minds and souls of human beings—a revolution promulgated to restore the freedoms for which our founders sacrificed their fortunes and their lives.
Source: John W. Whitehead | The Rutherford Institute
"There exists in this country a plot to enslave every man, woman, and child. Before I leave this high and noble office I intend to expose this plot." John F Kennedy, just before his Assassination…
For those who were of age and alive at the time of the Dallas killing, a fresh memory of the times and era are integral to their assessment. Those who were born later, have no firsthand experience of the actual change that took place to the body politics. Comparing before and after is mostly forgotten by the history accounts. For those who remember, the country started on a downward spiral that continues to the present. The assassination of John F. Kennedy was a political coup d'état and has been described as an enigma with many layers of disinformation. However, peeling back this onion exposes a rot that very much explains the current condition of our country.
When raising the subject of a conspiracy, it is both amusing and tragic that establishment defenders are quick to discredit the investigator, while avoiding facts, evidence and common sense. Solving the mystery to the satisfaction of competing and often conflicting factions is not necessary. However, understanding the course of events that took hold after the Camelot myth was buried is intensely valuable. The end of innocence became an existential awakening to the perceptive, while believing the conclusions of the Warren commission provided reassurance for not facing reality.
Why did powerful elites fear Kennedy? The Entire John F. Kennedy Secret Society Speech provides the motive behind the mask of the media filter.
From this "President and the Press" Speech (April 27, 1961)
"The very word "secrecy" is repugnant in a free and open society; and we are as a people inherently and historically opposed to secret societies, to secret oaths and to secret proceedings. We decided long ago that the dangers of excessive and unwarranted concealment of pertinent facts far outweighed the dangers which are cited to justify it. Even today, there is little value in opposing the threat of a closed society by imitating its arbitrary restrictions. Even today, there is little value in insuring the survival of our nation if our traditions do not survive with it. And there is very grave danger that an announced need for increased security will be seized upon by those anxious to expand its meaning to the very limits of official censorship and concealment. That I do not intend to permit to the extent that it is in my control. And no official of my Administration, whether his rank is high or low, civilian or military, should interpret my words here tonight as an excuse to censor the news, to stifle dissent, to cover up our mistakes or to withhold from the press and the public the facts they deserve to know."
Remember that most famous of all winks at the LBJ swearing in? Look to None Dare Call It Conspiracy!, and put the pieces of the puzzle in place.
"The significance of the Stone film, JFK, is demonstrated by the assault that the established order heaped upon his portrayal. Believe it or reject it, but investigate the questions that have never been answered. If logic has meaning, have Arlene Spector explain that magic bullet again. That 'Man X' was real – his name, colonel Fletcher Prouty, a true 'black bag' magician."
Lyndon B. Johnson initiated the Reign on Terror that continues to this day. His involvement into the plot is supported in the new book, The Man Who Killed Kennedy: The Case Against LBJ by Roger Stone with Mike Colapietro.
"The notable individuals that knew and said Johnson was involved in murderous acts is also well-documented… they include Oswald murderer Jack Ruby, Dexter Scott King, son of Dr. Martin Luther King, as well as LBJ associate Billy Sol Estes, LBJ mistress Madeleine Brown, Texas Governor Allan Shivers, renowned Texas Ranger Clint Peoples, CIA asset E. Howard Hunt and US Senator and 1964 Republican nominee for President Barry Goldwater. The KGB, fearing that they or their puppet state Cuba would be falsely blamed conducted their own investigation and concluded LBJ killed JFK at the same to time French Intelligence would tell Jackie Kennedy LBJ murdered her husband."
If this is just too much to accept, look at the "Skull and Bones" operative, who just happened to be a Texas Oilman. Similarly, he was Vice President at the time of an assassination attempt that almost was successful. Sure, such a coincidence should be fodder for an Oliver Stone sequel – Reagan.
Now consider the CIA component in the "Big Event". Did George H.W. Bush Coordinate a JFK Hit Team?
"Next, George Bush can be seen in photos of Dealey Plaza, next to the TSBD doorway and Ed Lansdale, shortly following the assassination (see below). These photos, unmistakably George Bush, tell us where he went after he left the Dallas Sheriff's Office: back to the crime scene to get an update on all that he had missed. He must have made his call to the FBI reporting James Parrot from the Dallas Sheriff's Office, at 1:45 PM, because Bush is seen in Dealey Plaza with Lansdale, who would leave the plaza at about 2 PM and walk past "the three tramps" toward the parking lot. Bush obviously had to go straight back to Dealey Plaza for him to be photographed with Lansdale, who remained around Dealey Plaza until Oswald was arrested at the Texas Theater at 1:50 PM."
J. Edgar Hoover's FBI was up to his ears in the investigation. He certainly was no friend of the Kennedy's. Therefore, when eyewitness testimony from scores of witnesses was ignored or discarded by the Bureau, no one should be surprised that the final report will be suspect. The Mary Ferrell Foundation site furnishes the following:
"The Church Committee in the 1970s analyzed the CIA's role in supporting the Warren Commission, and found it lacking. The Committee "developed evidence which impeaches the process by which the intelligence agencies [CIA and FBI] arrived at their own conclusions about the assassination, and by which they provided information to the Warren Commission."
Now watch the video from Jim Marrs & St. John Hunt - E. Howard Hunt Deathbed Confession JFK Assassination. A dying admission once held legal merit. But in this disinformation world of government scripted deflection, the public needs to be kept in tranquil ignorance. The Daily Paul site provided additional information.
"One of most explosive under-reported stories of the last 50 years is the deathbed confession of E. Howard Hunt, who was personal assistant to Allen Dulles, head of the CIA at the time, to knowledge that Lee Harvey Oswald did not act alone and that he, Hunt, had been personally involved in the assassination. Hunt said in his written confession that the assassination was code-named "the Big Event."
Whatever determination you maintain on the actual circumstances, the results from JFK's elimination are dramatic. Five Fiendish Ways the Kennedy Assassination Warped Our World list is an effective analysis.
1. LBJ Unleashed – Johnson's profligate Great Society spending strategies, which took the New Deal and accelerated it into hyper-drive.

2. Vietnam – in October of 1963, Kennedy issued National Security Action Memorandum (NSAM) 263, which detailed his plan to withdraw U.S. advisers from Vietnam while gradually scaling back our involvement in Southeast Asia. But within four days of the assassination, Lyndon Johnson had already signed and submitted NSAM 273, which reversed course and basically pledged to stand by the government in South Vietnam come hell or high water.

3. The Federal Reserve Survives – In June of 1963, Kennedy signed Executive Order 11110, which authorized the U.S. Treasury to issue certificates backed by silver as an alternative form of money to Federal Reserve notes. But when President Kennedy was killed, LBJ suspended this program immediately, and the Federal Reserve's control over the U.S. economy has never once been challenged since.

4. The CIA and Our Culture of Secrecy – Kennedy's statement to "splinter the CIA into a thousand pieces and scatter it to the wind", his death allowed the CIA to continue and preserve its culture of secrecy.

5. Mainstream Nonsense and the Mainstream Media – The vast majority of the Fourth Estate took the path of least resistance, and the idea of an independent media that would fearlessly search for the truth no matter where it led died a painful and difficult death.
So what is the significance of the JFK Assassination? In an interview, Roger Stone answers the question: How did JFK's death affect society, people's minds? Is the impact still present in your opinion?
"I think it certainly changed our policy very dramatically – I think we moved it back into the Cold War. After the death of John F. Kennedy the important conversations between the Russian State and the United States were damaged. We know, because it was historically recorded that Nikita Khrushchev wept, when he heard of the death of Kennedy. There was an American journalist who was with Fidel Castro, when he was distraught what he learned: he said over and over again "this is very bad, this is very bad"… I think we were engaged – we were beginning to engage in some fruitful conversations in terms of easing the tensions between our countries and I think there were those in the Pentagon, those in the US military, those in our US-based intelligent services who were very unhappy about that direction. I think it is a major factor – not the factor, – but a major factor in getting John F. Kennedy killed."
It is the contention of this "Reign of Terror" series to provide accounts and evidence that the nation has endured under a shadow government of ruling elites; especially, since the elimination of a President, who dared challenge the interests of the true masters of the establishment.
The deplorable circumstance of a society, so ignorant to make distinctions, of real history from invented official fairy tales, explains largely why Americans are in serial denial. The article JFK retrospectives adnauseam, makes this point.
"People never learn. After the sanctioned assassination, healing the country provided the necessary cover to implement the goals of the coup. Most of the evidence that explains the background that led up to the removal of Kennedy fails to address the breakdown of the entire historic underpinning of the nation, since WWII. The seeds of the Great Society were sown in the idiocy of being dragged into that global contrived conflict. Those who should know best, since they lived during that era, often deny their own blind faith in a misguided allegiance to a central government."
As for the population that never knew or heard actual accounts of this age, "so called" news reporting usually sugar coats or distorts the facts, ignorance really is not bliss. Today's electronic media is a hodgepodge of government talking points or press releases.
The constant drumbeat to blame Lee Harvey Oswald solely for the Kennedy assassination intends to make patsies of the American people. The greater fool theory works in elections. In a New poll finds that belief in JFK assassination conspiracy still strong, but slipping slightly may be a trend worth noting. Reflecting the goals of the "Great Society" means, that acceptance of government authoritarianism became easier.
Deconstructing the JFK Myth offers this distinction. "Ask not what your country can do for you — ask what you can do for your country." The invocation needed to read: "Ask not what you can do for your country — Ask what we can do together to insure individual Liberty"
Propagandists of the ilk of Sargeant Shriver and Arthur Schlesinger Jr., designed a legend that defied factual references", but the martyrdom of a slain President misses the point. John Kennedy was not a saint, but was an obstacle. What better message to future aspirant reformers that a magic bullet awaits their demise.
Few institutional government critics were known for rocking the boat, especially when Kennedy's "a rising tide lifts all boats" might upset his elitist executioners. The system is much bigger than any individual. Bucking the sub-rosa interests that seek greater concentrated control can be deadly. America was condemned to a Reign of Terror on November 22, 1963.
New York – Jeremy Hammond sat in New York's Metropolitan Correctional Center last week in a small room reserved for visits from attorneys. He was wearing an oversized prison jumpsuit. The brown hair of the lanky 6-footer fell over his ears, and he had a wispy beard. He spoke with the intensity and clarity one would expect from one of the nation's most important political prisoners.
On Friday the 28-year-old activist will appear for sentencing in the Southern District Court of New York in Manhattan. After having made a plea agreement, he faces the possibility of a 10-year sentence for hacking into the Texas-based private security firm Strategic Forecasting Inc., or Stratfor, which does work for the Homeland Security Department, the Marine Corps, the Defense Intelligence Agency and numerous corporations including Dow Chemical and Raytheon.
Four others involved in the hacking have been convicted in Britain, and they were sentenced to less time combined—the longest sentence was 32 months—than the potential 120-month sentence that lies before Hammond.
Hammond turned the pilfered information over to the website WikiLeaks and Rolling Stone and other publications. The 3 million email exchanges, once
made public, exposed the private security firm's infiltration, monitoring and surveillance of protesters and dissidents, especially in the Occupy movement, on behalf of corporations and the national security state. And, perhaps most important, the information provided chilling evidence that anti-terrorism laws are being routinely used by the federal government to criminalize nonviolent, democratic dissent and falsely link dissidents to international terrorist organizations. Hammond sought no financial gain. He got none.The email exchanges Hammond made public were entered as evidence in my lawsuitagainst President Barack Obama over Section 1021 of the National Defense Authorization Act (NDAA). Section 1021 permits the military to seize citizens who are deemed by the state to be terrorists, strip them of due process and hold them indefinitely in military facilities. Alexa O'Brien, a content strategist and journalist who co-founded US Day of Rage, an organization created to reform the election process, was one of my co-plaintiffs. Stratfor officials attempted, we know because of the Hammond leaks, to falsely link her and her organization to Islamic radicals and websites as well as to jihadist ideology, putting her at risk of detention under the new law. Judge Katherine B. Forrest ruled, in part because of the leak, that we plaintiffs had a credible fear, and she nullified the law, a decision that an appellate court overturned when the Obama administration appealed it.
Freedom of the press and legal protection for those who expose government abuses and lies have been obliterated by the corporate state. The resulting self-exile of investigative journalists such as Glenn Greenwald, Jacob Appelbaum and Laura Poitras, along with the indictment of Barret Brown, illustrate this. All acts of resistance—including nonviolent protest—have been conflated by the corporate state with terrorism. The mainstream, commercial press has been emasculated through the Obama administration's repeated use of the Espionage Act to charge and sentence traditional whistle-blowers. Governmental officials with a conscience are too frightened to reach out to mainstream reporters, knowing that the authorities' wholesale capturing and storing of electronic forms of communication make them easily identifiable.
Elected officials and the courts no longer impose restraint or practice oversight. The last line of defense lies with those such as Hammond, Julian Assange, Edward Snowden and Chelsea Manning who are capable of burrowing into the records of the security and surveillance state and have the courage to pass them on to the public. But the price of resistance is high.
"In these times of secrecy and abuse of power there is only one solution—transparency," wrote Sarah Harrison, the British journalist who accompanied Snowden to Russia and who also has gone into exile, in Berlin. "If our governments are so compromised that they will not tell us the truth, then we must step forward to grasp it. Provided with the unequivocal proof of primary source documents people can fight back. If our governments will not give this information to us, then we must take it for ourselves."
"When whistleblowers come forward we need to fight for them, so others will be encouraged," she went on. "When they are gagged, we must be their voice. When they are hunted, we must be their shield. When they are locked away, we must free them. Giving us the truth is not a crime. This is our data, our information, our history. We must fight to own it. Courage is contagious."
Hammond knows this contagion. He was living at home in Chicago in 2010 under a 7-a.m.-to-7-p.m. curfew for a variety of acts of civil disobedience when Chelsea (formerly Bradley) Manning was arrested for giving WikiLeaks secret information about military war crimes and government lies. Hammond at the time was running social aid programs to feed the hungry and send books to prisoners. He had, like Manning, displayed a remarkable aptitude for science, math and computer languages at a young age. He hacked into the computers at a local Apple store at 16. He hacked into the computer science department's website at the University of Illinois-Chicago as a freshman, a prank that saw the university refuse to allow him to return for his sophomore year. He was an early backer of "cyber-liberation" and in 2004 started an "electronic-disobedience journal" he named Hack This Zine. He called on hackers in a speech at the 2004 DefCon convention in Las Vegas to use their skills to disrupt that year's Republican National Convention. He was, by the time of his 2012 arrest, one of the shadowy stars of the hacktivist underground, dominated by groups such as Anonymous and WikiLeaks in which anonymity, stringent security and frequent changes of aliases alone ensured success and survival. Manning's courage prompted Hammond to his own act of cyber civil disobedience, although he knew his chances of being caught were high.
"I saw what Chelsea Manning did," Hammond said when we spoke last Wednesday, seated at a metal table. "Through her hacking she became a contender, a world changer. She took tremendous risks to show the ugly truth about war. I asked myself, if she could make that risk shouldn't I make that risk? Wasn't it wrong to sit comfortably by, working on the websites of Food Not Bombs, while I had the skills to do something similar? I too could make a difference. It was her courage that prompted me to act."
Hammond—who has black-inked tattoos on each forearm, one the open-source movement's symbol known as the "glider" and the other the shi hexagram from the I Ching—is steeped in radical thought. As a teenager, he swiftly migrated politically from the liberal wing of the Democratic Party to the militancy of the Black Bloc anarchists. He was an avid reader in high school of material put out by CrimethInc, an anarchist collective that publishes anarchist literature and manifestos. He has molded himself after old radicals such as Alexander Berkman and Emma Goldman and black revolutionaries such as George Jackson, Elaine Brown and Assata Shakur, as well as members of the Weather Underground. He said that while he was in Chicago he made numerous trips to Waldheim Cemetery to visit the Haymarket Martyrs Monument, which honors four anarchists who were hanged in 1887 and others who took part in the labor wars. On the 16-foot-high granite monument are the final words of one of the condemned men, August Spies. It reads: "The day will come when our silence will be more powerful than the voice you are throttling today." Emma Goldman is buried nearby.
Hammond became well known to the government for a variety of acts of civil disobedience over the last decade. These ranged from painting anti-war graffiti on Chicago walls to protesting at the 2004 Republican National Convention in New York to hacking into the right-wing website Protest Warrior, for which he was sentenced to two years in the Federal Correctional Institute at Greenville, Ill.
He said he is fighting as "an anarchist communist" against "centralized state authority" and "exploitative corporations." His goal is to build "leaderless collectives based on free association, consensus, mutual aid, self-sufficiency and harmony with the environment." It is essential, he said, that all of us work to cut our personal ties with capitalism and engage in "mass organizing of protests, strikes and boycotts." Hacking and leaking, he said, are part of this resistance—"effective tools to reveal ugly truths of the system."
Hammond spent months within the Occupy movement in Chicago. He embraced its "leaderless, non-hierarchical structures such as general assemblies and consensus, and occupying public spaces." But he was highly critical of what he said were the "vague politics" in Occupy that allowed it to include followers of the libertarian Ron Paul, some in the tea party, as well as "reformist liberals and Democrats." Hammond said he was not interested in any movement that "only wanted a 'nicer' form of capitalism and favored legal reforms, not revolution." He remains rooted in the ethos of the Black Bloc.
"Being incarcerated has really opened my eyes to the reality of the criminal justice system," he said, "that it is not a criminal justice system about public safety or rehabilitation, but reaping profits through mass incarceration. There are two kinds of justice—one for the rich and the powerful who get away with the big crimes, then for everyone else, especially people of color and the impoverished. There is no such thing as a fair trial. In over 80 percent of the cases people are pressured to plea out instead of exercising their right to trial, under the threat of lengthier sentences. I believe no satisfactory reforms are possible. We need to close all prisons and release everybody unconditionally."
He said he hoped his act of resistance would encourage others, just as Manning's courage had inspired him. He said activists should "know and accept the worst possible repercussion" before carrying out an action and should be "aware of mass counterintelligence/surveillance operations targeting our movements." An informant posing as a comrade, Hector Xavier Monsegur, known online as "Sabu," turned Hammond and his co-defendants in to the FBI. Monsegur stored data retrieved by Hammond on an external server in New York. This tenuous New York connection allowed the government to try Hammond in New York for hacking from his home in Chicago into a private security firm based in Texas. New York is the center of the government's probes into cyber-warfare; it is where federal authorities apparently wanted Hammond to be investigated and charged.
Hammond said he will continue to resist from within prison. A series of minor infractions, as well as testing positive with other prisoners on his tier for marijuana that had been smuggled into the facility, has resulted in his losing social visits for the next two years and spending "time in the box [solitary confinement]." He is allowed to see journalists, but my request to interview him took two months to be approved. He said prison involves "a lot of boredom." He plays chess, teaches guitar and helps other prisoners study for their GED. When I saw him, he was working on the statement, a personal manifesto, that he will read in court this week.
He insisted he did not see himself as different from prisoners, especially poor prisoners of color, who are in for common crimes, especially drug-related crimes. He said most inmates are political prisoners, caged unjustly by a system of totalitarian capitalism that has snuffed out basic opportunities for democratic dissent and economic survival.
"The majority of people in prison did what they had to do to survive," he said. "Most were poor. They got caught up in the war on drugs, which is how you make money if you are poor. The real reason they get locked in prison for so long is so corporations can continue to make big profits. It is not about justice. I do not draw distinctions between us."
"Jail is essentially enduring harassment and dehumanizing conditions with frequent lockdowns and shakedowns," he said. "You have to constantly fight for respect from the guards, sometimes getting yourself thrown in the box. However, I will not change the way I live because I am locked up. I will continue to be defiant, agitating and organizing whenever possible."
He said resistance must be a way of life. He intends to return to community organizing when he is released, although he said he will work to stay out of prison. "The truth," he said, "will always come out." He cautioned activists to be hyper-vigilant and aware that "one mistake can be permanent." But he added, "Don't let paranoia or fear deter you from activism. Do the down thing!"
Chris Hedges, whose column is published Mondays on Truthdig, has previously spent nearly two decades as a foreign correspondent in Central America, the Middle East, Africa and the Balkans. He has reported from more than 50 countries and has worked for The Christian Science Monitor, National Public Radio, The Dallas Morning News and The New York Times, for which he was a foreign correspondent for 15 years.
Source: Truthdig
When Edward Snowden met with Guardian reporter Glenn Greenwald to turn over documents revealing the extent of the NSA spying program, he did more than provide an education to the entire world concerning the reach of the American Empire. He also very likely protected himself from far flung and highly illegal machinations to silence him. Safely ensconced in Russia, Snowden is now reportedly working for a Russian website. His revelations continue to impact the public persona of the US, worldwide.
Other whistleblowers and journalists have not been so fortunate.
Enter Jeffrey Silverman…
Silverman, who was born in Washington DC and served in the US Army prior to receiving an MS in Agricultural Development/International Development, had been living in the Republic of Georgia since 1991. He has done in-depth investigative reporting on chemical and biological weapons, the alleged murder of the former Georgian Prime Minister Zurab Zhvania and on black torture sites in the former Soviet Union.
Silverman, who also writes under the name Joni Simonishvili, had been working on articles concerning covert US support for the Chechen rebels when he made a trip back to the US in 2004 to visit family. To his amazement, he was charged with failure to pay child support in Kentucky. Silverman states that he had been paying support for years without a court order. After a Kentucky judge ordered his passport seized and turned over to authorities due to the alleged non-payment of support, a Virginia judge subsequently reversed the order and gave Silverman back his travel documents.
Silverman had flown back to Georgia and was on a working trip to Azerbaijan to submit an article in Baku when he was picked up on orders of the US Embassy, beaten badly and his passport again seized. The US Embassy then issued a document to Silverman stating that he is an alien. He was offered a trip back to the US under alien status but instead of accepting a tainted offer, Silverman jumped the border from Azerbaijan into Georgia.
There are strict laws governing the revocation of an individual's citizenship. A US native born citizen cannot have his citizenship revoked unless he commits an expatriating act, such as serving in an army at war against the US. No such terms, however, apply to Jeffrey Silverman.
The FBI subsequently paid a visit to Silverman's son's mother, Donna Evans. She wrote:
I had two FBI agents visit me at my job in Kentucky. One was Detective Greg Wolf and the other was Mr. Steve Auvenshine. They came to my work site and told me they were investigating you but wouldn't tell me why. They asked numerous questions about you and what you did for a living. "They showed me a picture of you and asked if it was you. They asked me questions about how we met, where you have lived, where you were born, who your parents were and what did they do for a living, whether they were still alive or not, what countries you had visited, what languages you spoke, how long you had visited each country, what religion you practiced and if you had ever been in the military. I asked them why they were asking so many questions about you but they would not say. I think they already knew all the answers to all the questions they asked me; I think they just wanted to see if I would verify what they knew. They also wanted me to send all the e-mails that you had sent me to them. Bourbon County [the local authority] said that they were already sending all the e-mails they receive from you to the US State Department.
The State Department declined to comment on Silverman's citizenship, as did DHS and the DOJ.
Following the beating in 2004, Silverman was again detained in 2005. According to Silverman, "The police kidnapped me off the street in the middle of the day and took me to the Georgian Office of Counterintelligence and beat me….Embassy staff were waiting in the other room and when done, they came and asked if I needed any help in returning to the US. It so happens that the agent involved, Bryan Paarmann, is the same agent involved in the alleged murder cover up of the Georgian PM, Zurab Zhvania.
Someone else who was impacted by the mounting concerns about the nature of Jeffrey Silverman's journalism was Silverman's friend, Vahktang Maisaia, who served as counselor at the Georgian mission in NATO in 2004-2008. Maisaia writes of events that took place in May of 2009:
I was tortured and subjected to mock execution at the building two days later. I was accused in having relations initially with NATO special services, Slovak Republic military intelligence service and later on they extended the link with "Russian Federation Intelligence Service" (I quoted word-by-word the name of the Russian service – why because the service with such name does not exist at all even in accordance to the Russian Federation laws). It is long too history how well my case has been rigged but regarding Jeffrey I had to confess that in one of the night illegal interrogation session usually started at 6.00 PM till 6.00 AM by the Counter-Intelligence Department two teams almost every days since May 8th till June 23 of 2009 at Gldany prison #8), Otar Ordzhonikidze and his staff-member Data Datashvili and Valerian Zumbadze personally interested in Jeffrey Silverman's personality and background, they tortured me in order to gain his contact points and whereabouts at that time in order to seize him in abduction manner, like "death squadron" way and execute him in somewhere unknown place because of his foreign citizenship and his popularity abroad (how they claim to me).
Another assault on Jeffrey Silverman in 2011 made the evening news in Tbilisi. Silverman has plates in his head from one of his beatings.
Jeffrey Silverman is now essentially a stateless person. Silverman states he has sought assistance from Reporters without Borders as well as the Committee to Protect Journalists. CPJ did not respond to inquiries from this reporter as to that organization's refusal to address Silverman's plight. It is known in journalistic circles that the agencies pledged to protect press rights generally turn a blind eye to assaults on US journalists doing adversarial reporting.
Silverman is currently the Georgia Bureau Chief for Veterans Today and teaches in Tbilisi.
Bitcoin virtual currency might be more than just a passing fad. In fact, it could be a worthwhile investment, according to experts. The virtual currency was launched in 2008 by an anonymous developer known only as 'Satoshi Nakamoto'. The creator has since disappeared, leaving a trail of questions about his identity and motives.
Bitcoin is not issued by any government and is not controlled by a central bank or regulators. In contrast to conventional currencies, which offer a theoretically limitless volume, there can only be a specific number of Bitcoins generated worldwide. Critics say this limit is more representational of a commodity than any currency.
The total number of Bitcoins is limited to 21 million, however there are only 12 million Bitcoins in circulation today. The process of creating new Bitcoins is controlled by a mathematical algorithm that reduces the number of generated Bitcoins each year until the year 2040.
The value of a Bitcoin has nearly tripled since November 1st and today it hit an all time high of $358.00 on Mt. Gox, the world's largest Bitcoin exchange. In June of 2010, one Bitcoin was worth $0.004
Earlier this year. Bitcoin attracted the attention of Tyler and Cameron Winklevoss, the brothers best known for their battle with Mark Zuckerberg over the origins of Facebook. After investing $11m in the virtual currency, they filed paperwork with the SEC to start a fund that would invest in, and track the value of, Bitcoins.
In order to get your hands on this shiny new currency you will have to start by getting a digital Bitcoin wallet, software that allows you to store and trade your Bitcoins. Your digital wallet will give you access to the Bitcoin network and works much like a peer-to-peer file sharing service.
Once you have a digital wallet, you can move on to the next step to get your first Bitcoin. You can purchase coins, "mine'" coins, or sell something for payment in Bitcoin. In order to purchase a coin you will need to find an individual or a currency exchange willing to accept your payment method. If you aren't concerned with anonymity, reputable Bitcoin exchanges typically accept credit cards or PayPal payments. If you want to keep your transaction private, you can meet with a local Bitcoin dealer who is willing to trade Bitcoins for cash, or something else of value.
A coffee shop in Vancouver went live last week with an ATM machine that trades cash for Bitcoin. According Robocoin, the ATM manufacturer, the machine did over $100,000 worth of business and handled 348 transactions in its first eight days of operation. Jordan Kelley, CEO of Robocoin, said that an estimated 70 percent of the ATM users created new wallets — suggesting they were mostly first-time Bitcoin users.
- – -
About the author…
Chris Dougherty is a grey hat hacker and online security expert. Please visit his blog, www.VirtualThreat.com, for more excellent news and information about protecting yourself in cyberspace.
Source: Chris Dougherty | VirtualThreat
"Pro-Israel Policy groups such as AIPAC work with unlimited funding to divert US policy in the region ( Middle East )"  Jack Straw, Member of Parliament and former Foreign Secretary of the British Labor Party
"The United States should drop a nuclear bomb on Iran to spur the country to end its nuclear program"    Sheldon Adelson, biggest donor to the Republican Party and major fundraiser for pro-Israel political action committees,  speech at Yeshiva University, New York City, October 22, 2013.
Introduction
The question of war or peace with Iran rests with the policies adopted by the White House and the US Congress.  The peace overtures by newly elected Iranian President Rohani have resonated favorably around the world, except with Israel and its Zionist acolytes in North America and Europe .  The first negotiating session proceeded without recrimination and resulted in an optimistic assessment by both sides.  Precisely because of the initial favorable response among the participants, the Israeli government escalated its propaganda war against Iran .  Its agents in the US Congress, the mass media and in the Executive branch moved to undermine the peace process.  What is at stake is Israel's capacity to wage proxy wars using the US military and its NATO allies against any government challenging Israeli military supremacy in the Middle East, its violent annexation of Palestinian territory and its ability to attack any adversary with impunity.
To understand what is at stake in the current peace negotiations one must envision the consequences of failure:  Under Israeli pressure, the US announced that its 'military option' could be activated – resulting in missile strikes and a bombing campaign against 76 million Iranians in order to destroy their government and economy.  Teheran could retaliate against such aggression by targeting US military bases in the region and Gulf oil installations resulting in a global crisis.  This is what Israel wants.
We will begin by examining the context of Israel 's military supremacy in the Middle East .  We will then proceed to analyze Israel 's incredible power over the US political process and how it shapes the negotiation process today, with special emphasis on Zionist power in the US Congress.
The Context of Israeli Military Supremacy in the Middle East
Since the end of World War II , Israel has bombed, invaded and occupied more countries in the Middle East and Africa than previous colonial power, except the US .  The list of Israel 's victims includes:  Palestine , Syria , Lebanon , Egypt , Iraq , Jordan , Sudan and Yemen .  If we include countries where Israel has launched quasi-clandestine terrorist attacks and assassinations, the list would be greatly expanded to include a dozen countries in Europe and Asia – including the US through its Zionist terror network.
Israel 's projection of military power, its capacity for waging offensive wars at will, is matched by its near-total impunity.  Despite their repeated violations of international law, including war crimes, Israel has never been censored at an international tribunal or subjected to economic sanctions because the US government uses its position to veto UN Security Council resolutions and pressure its NATO-EU allies.
Israel's military supremacy has less to do with the native techno-industrial 'brilliance' of its war-mongers and more to do with the transfers and outright theft of nuclear, chemical and biological technology and weapons from the US (Grant Smith "Ten Explosive US Government Secrets of Israel" IRMEP).  Overseas Zionists in the US and France have played a strategic (and treasonous) role in stealing and illegally shipping nuclear technology and weapon components to Israel, according to an investigation by former CIA Director Richard Helms.
Israel maintains huge nuclear, chemical, and biological weapon stockpiles refusing any access to international arms inspectors and is not obliged to abide by the non-proliferation treaty, because of US diplomatic intervention.  Under pressure from the local 'Zionist power configuration' (ZPC), the US government has blocked any action which might constrain Israel 's production of weapons of mass destruction.  In fact the US continues to provide Israel with strategic weapons of mass destruction for use against its neighbors – in violation of international law.
US military aid and technology transfers to Israel exceed $100 billion dollars over the past half century.  US diplomatic and military intervention was crucial in rescuing Israel from defeat during the 1973 war.  US President Lyndon Johnson's refusal to defend the unarmed intelligence ship, the USS Liberty in 1967, after it had been bombed and napalmed by Israeli fighter planes and warships in international waters, constituted a tremendous victory for Israel thanks to Johnson's Zionist advisers.  Because of its impunity, even in killing American servicemen, Israel has been given a free hand to wage aggressive wars to dominate its neighbors, commit acts of terrorism and assassinate its adversaries throughout the world without fear of retaliation.
Israel 's uncontested military superiority  has converted several of its neighbors to quasi-client collaborators:  Egypt and Jordan have served as de facto allies, along with the Gulf monarchies, helping Israel repress the region's nationalist and pro-Palestinian movements.
The most decisive factor in the rise and consolidation of Israel 's power in the Middle East has not been its military prowess but its political reach and influence via its Zionist agents in the US .  Washington 's wars against   Iraq and Libya , and its current support of the mercenary assault against Syria , have destroyed three major secular nationalist opponents of Israel 's hegemonic ambitions.
As Israel accumulates more power in the region, expanding its colonization of Palestinian territory, it looks eastward toward destroying the last remaining obstacle to its colonial policies:  Iran .
For at least two decades, Israel has directed its overseas agents – (the ZPC) – to destroy the government of Iran by destabilizing its society, assassinating its scientists, bombing its military establishments and laboratories and strangling its economy.
After the ZPC successfully pushed the US into war against Iraq in 2003 – literally shredding its complex secular society and killing over a million Iraqis – it turned its sights on destroying Lebanon (Hezbollah) and the secular government of Syria as a way to isolate Iran and prepare for an attack.  While thousands of Lebanese civilians were slaughtered in 2006, Israel 's attack of Lebanon failed, despite the support of the US government and the ZPC's wild propaganda campaign.  Hysterical at its failure and to 'compensate' for its defeat at the hands of Hezbollah and to 'boost morale', Israel invaded and destroyed much of Gaza (2008/9) – the world's largest open air prison camp.
Lacking military capacity to attack Iran on its own, Israel directed its agents to manipulate the US government to start a war with Teheran.  The militarist leaders in Tel Aviv have unleashed their political assets (ZPC) throughout the US  to work to destroy Iran – the last formidable adversary to Israel supremacy in the Middle East .
The Israeli-ZPC strategy is designed to set the stage for a US confrontation with Iran , using its agents in the Executive branch as well as its ongoing corruption, bribery and control of the US Congress.  ZPC control over the mass media enhances its propaganda campaign:  Everyday the New York Times and the Washington Post publish articles and editorials promoting Israel 's war agenda.  The  ZPC uses the US State Department to force other NATO states to likewise confront Iran .
Israel's Proxy War with Iran:  US Political Pressure, Economic Sanctions and Military Threats
Alone, Israel's 'war' with Iran would not amount to much more than its cyber sabotage, the periodical assassinations of Iranian scientists using its paid agents among Iranian terrorist groups and non-stop brow-beating from Israeli politicians and their 'amen crowd'.  Outside of Israel , this campaign has had little impact on public opinion.  Israel's 'was' on Iran depends exclusively on its capacity to manipulate US policy using its local agents and groups who dominate the US Congress and through the appointments of officials in key positions in the Departments of Treasury, Commerce, and Justice , and as Middle East 'advisors'.  Israel cannot organize an effective sanction campaign against Iran ; nor could it influence any major power to abide by such a campaign.  Only the US has that power.  Israel 's dominance in the Middle East comes entirely from its capacity to mobilize its proxies in the United States who are assigned the task of securing total submission to   Israel 's interests from elected and appointed government officials – especially in regard to Israel 's regional adversaries.
Strategically placed, 'dual US-Israeli citizens' have used their US citizenship to secure high security positions in the Government directly involved in policies affecting Israel .  As Israelis, their activities are in line with the dictates of Tel Aviv.  In the Bush administration (2001-2008) high placed 'Israel Firsters' dominated the Pentagon (Paul Wolfowitz, Douglas Feith), Middle East Security (Martin Indyk, Dennis Ross), the Vice President's office ('Scooter' Libby), Treasury (Levey) and Homeland Security (Michael Chertoff).  In the Obama administration the 'Israel Firsters' include Dennis Ross, Rahm Emanuel, David Cohen, Secretary of Treasury Jack "Jake the Snake" Lew, Secretary of Commerce Penny Pritzker and Michael Froman as Trade Representative among others.
Israel 's Proxy Power within the Executive branch is matched by its dominance of the US Congress.    Contrary to some critics, Israel is neither an 'ally' or 'client' of the US .  Evidence of the gross asymmetry of the relation abounds over the past half century.  Because of these powerful proxies in Congress and the Executive branch, Israel has received over $100 billion dollar tribute from the US over the past 30 years, or $3 billion plus a year.  The US Pentagon has transferred the most up-to-date military technology and engaged in several wars on Israel 's behalf.  The US Treasury has imposed sanctions against potentially lucrative trading and investment partners in the Middle East ( Iran , Iraq and Syria ) depriving US agricultural and manufacturing exporters and oil companies of over $500 billion in revenues.  The White House sacrificed the lives of over 4,400 US soldiers in the Iraq War – a war promoted by Israel 's proxies at the behest of Israel 's leaders.  The State Department has rejected friendly and profitable relations with over 1.5 billion Muslims by backing the illegal settlement of over half million Jewish colonists on military-occupied Palestinian land in the West Bank and Jerusalem .
The strategic question is how and why this one-sided relation between the US and Israel persists for so long, even as it goes counter to so many strategic and elite US interests?  The more immediate and pressing question is how this historically lopsided relation effects contemporary US-Iran sanctions and nuclear negotiations?
Iran and the Peace Negotiations
Undoubtedly the newly elected Iranian President and his Foreign Minister are prepared to negotiate an end to hostilities with the US by making major concessions ensuring the peaceful use of nuclear energy.  They have stated they are open to reducing or even ending the production of highly enriched uranium; reducing the number of centrifuges and even allowing intrusive, unannounced inspections, among other promising proposals.  The Iranian government proposes a roadmap with end goals as part of the initial agreements.  The European Union's Foreign Secretary Lady Ashton has commented favorably on the initial meeting.
 The US Administration has given conflicting signals following the Iranian overtures and the opening meeting.  Some individual comments are guardedly positive; others are less encouraging and rigid.  Administration Zionists like Jack 'Jake' Lew, the Treasury Secretary, insists sanctions will remain until Iran meets all US (read 'Israeli') demands.  The US Congress, bought and controlled by the ZPC, rejects the promising Iranian overtures and flexibility, insisting on military 'options' or the total dismantling of Iran's legal and peaceful nuclear program – ZPC positions designed to sabotage the negotiations.  To that end, Congress has passed new, more extreme, economic sanctions to strangle the Iran 's oil economy.
  How Israel's Political Action Committees Control the US Congress and Prepare War with Iran
The Zionist Power Configuration uses its financial firepower to dictate Congressional policy on the Middle East and to ensure that the US Congress and Senate do not stray one iota from serving Israel 's interests.  The Zionist instrument used in the purchase of elected officials in the US is the political action committee (PAC).
Thanks to a 2010 US Supreme Court decision, Super PACs-linked to Israel spend enormous sums  to elect or destroy candidates – depending on the candidate's political work on behalf of Israel .  As long as these funds do not go directly to the candidate, these Super PACs do not have to reveal how much they spend or how it is spent.  Conservative estimates of ZPC- linked direct and indirect funds to US legislators run close to $100 million dollars over the past 30-year.  The ZPC channels these funds to legislative leaders and members of Congressional committees dealing with foreign policy, especially sub-committee  chairpersons dealing with the Middle East .  Unsurprisingly, the largest Congressional recipients of ZPC money are those who have aggressively promoted Israel 's hard-line policies.  Elsewhere around the world, such large scale payoffs for legislative votes would be considered blatant bribery and subject to felony prosecution­ and imprisonment for both parties.  In the US , the purchase and sale of a politician's vote is called 'lobbying' and is legal and open.  The legislative branch of the US government has come to resemble a high-price brothel or white slavers' auction – but with the lives of thousands at stake.
The ZPC has purchased the alliance of US Congress people and Senators on a massive scale:  Of 435 members of the US House of Representatives (sic), 219 have received payments from the ZPC in exchange for their votes on behalf of the state of Israel .  Corruption is even more rampant among the 100 US Senators, 94 of whom have accepted pro-Israel PAC and Super PAC money for their loyalty to Israel .  The ZPC showers money on both Republicans and Democrats, thus securing incredible (in this era of Congressional deadlock), near unanimous ('bipartisan') votes in favor of the 'Jewish State', including its war crimes, like the bombing of Gaza and Lebanon as well as the annual $3 billion dollar plus US tax-payer tribute to Tel Aviv.  At least 50 US Senators have each collected between $100 thousand and $1 million in ZPC money over the past decades .  In exchange, they have voted for over $100 billion in tribute payments to Israel … in addition to other 'services and payments'.  The members of the US Congress are cheaper:  25 legislators have received between $238,000 and $50,000, while the rest got peanuts.  Regardless of the amount, the net result is the same: Congressional member pick up their script from their Zionist mentors in the PACs, Super PACs and AIPAC and back all of Israel 's wars in the Middle East and promote US aggression on behalf of Israel .
The most outspoken and influential legislators get the biggest chunk of Zionist payola: Senator Mark Kirk (Bombs over Teheran!) tops the 'pigs at the trough' list with $925,000 in ZPC payoffs, followed by John McCain (Bombs over Damascus!) with $771,000, while Senators Mitch McConnell, Carl Levin, Robert Menendez, Richard Durban and other Zionophilic politicos are  not shy about holding out their little begging bowls when the pro-Israel PAC bagmen arrive!   Florida Congresswoman Ileana Ros-Lehtinen tops the 'House' list with $238,000 for her 100% pro-Israel record as well as for being more war-mongering than even Netanyahu!  Eric Cantor got $209,000 for championing 'wars for Israel ' with American lives while cutting Social Security payments to US seniors in order to increase military aid to Tel Aviv.  House Minority Whip Steny Hoyer, got $144,000 for 'whipping the few wobbly' Democrats back into Israel 's 'camp'.  House Majority Leader John Boehner was paid $130,000 to do the same among the Republicans.
 The ZPC has spent huge amounts to punish and destroy a dozen or so dissident legislators who had stood up to Israel 's wars and grotesque human rights record.  The ZPC has poured millions into individual campaigns, not only financing opposition candidates who pledged allegiance to the Israel but mounting scurrilous character assassinations of Israel's critics in office.  These campaigns have been mounted in the most obscure parts of the US , including in majority African-American districts, where local Zionist interests and influence are otherwise absolutely nil.
There are no comparable PACs, Super PACs, party leaders, or civic organization that can contest the power of Israel 's Fifth Column.  According to documents archived by the courageous researcher, Grant Smith of IRMEP, when it comes to Israel , the US Justice Department has adamantly refused to enforce its own federal laws requiring the prosecution of US citizens who fail to register as foreign agents while working for a foreign country – at least since 1963.  On the other hand, the ZPC, through the so-call 'Anti-Defamation League', has successfully pressured the Justice Department, the FBI and NSA to investigate and prosecute law-abiding, patriotic US citizens critical of Israel 's land grabs in Palestine and the Zionist corruptors of the US political system on behalf of their foreign master.
The corruption and degradation of US democracy is made possible by the equally compromised and corrupted 'respectable press'.  Media critic, Steve Lendman, has pointed out the direct link between Israel and the mass media in his investigation of the New York Times.  The leading ('fair and balanced') journalists reporting on Israel have strong family and political ties to that country and their articles have been little more than propaganda.  Times reporter Ethan Bronner, whose son served in the Israel Defense Forces, is a long-time apologist for the Zionist state.  Times reporter Isabel Kershner, whose 'writing' seem to come straight out of the Israeli Foreign Office, is married to Hirsh Goodman an adviser to the Netanyahu regime on 'security affairs'.  The Times bureau chief in Jerusalem, Jodi Rudoren, lives comfortably in the ancestral home of a Palestinian family dispossessed from that ancient city.
 The Times unflinching pro-Israel posture provides a political cover and justification for the corrupted US politicians as they beat the war drums for Israel .  It is no surprise that the New York Times, like the Washington Post, is deeply engaged in disparaging and denouncing the current US-Iran negotiations – and providing ample space for the one-sided rhetoric of Israeli politicians and their US mouthpieces, while studiously excluding the more rational, pro-rapprochement voices of experienced former US diplomats, war-weary military leaders and representatives of the US business and academic communities.
 To understand Congress' hostility to the nuclear negotiations with Iran and their efforts to scuttle them through the imposition of ridiculous new sanctions, it is important to get to the source of the problem, namely the statements of key Israeli politicians, who set the line of march for their US proxies.
In late October, 2013, Former Israeli Defense Intelligence Chief Amos Yadlin spoke of 'having to choose between 'the bomb' or the bombing' – a message which immediately resonated with the 52 Presidents of the Major American Jewish Organizations (Daily Alert, October 24, 2013).  On October 22, 2013, Israel 's Intelligence Minister Yuval Steinitz, called for harsh new sanctions on Iran and insisted that the US use them as leverage to demand that Iran agree to entirely abandon its peaceful nuclear energy and enrichment program.  Defense Minister Moshe Ya'alon affirmed that ' Israel will not accept any deal that allows Iran to enrich uranium'.  It is Israel 's position to threaten war (via the US ) if Iran does not submit to unconditional surrender of its nuclear program.  This defines the position of all the major pro-Israel PACs, Super PACs and AIPAC.  They in turn proceed to dictate policy to their 'lick-spittles' in the US Congress.  As a result, Congress passes even more extreme economic sanctions on Iran in order to sabotage the ongoing negotiations.
 Those who have received the biggest Zionist pay-offs from the pro-Israel PACs are the most vociferous:  Senator Mark Kirk ($925,379), author of a previous sanctions bill, demands that Iran end its entire nuclear and ballistic missile program (!) and declared that the US Senate "should immediately move forward with a new round of economic sanctions targeting all remaining Iranian government revenue and reserves" (Financial Times, 10/18/13, p. 6).  The US House of Representatives (sic) has already passed a bill sharply limiting Iran 's ability to sell its main export, oil.   Once again, the Israel- ZPC – Congressional axis seeks to impose Israel 's war agenda on the American people!  In late October 2013, Secretary of State Kerry was 'grilled' for 7 hours by Israeli Prime Minister Netanyahu with the craven Kerry promising to promote Israel 's agenda on dismantling Iran 's nuclear enrichment program.
To counter the campaign to strangle Iran 's oil economy, promoted by Israel 's flunkeys in the Congress, the Iranian government has offered generous contracts to the US and EU oil companies (Financial Times 10/29/2013, p 1).  Existing nationalist provisions are being removed.  Under the new terms, foreign companies book reserves or take equity stakes in Iranian projects.  Iran hopes to attract at least $100 billion dollars in investments over the next three years.  This stable country boasts the world's largest gas and the fourth largest oil reserves.  Because of the current US ( Israel )-imposed sanctions, production has fallen from 3.5 million barrels per day in 2011 to 2.58 million barrels per day in 2013.  The question is whether 'Big Oil', the giant US and EU companies have to power to challenge the ZPC-stranglehold over US-EU sanction policy.  So far, the ZPC has dominated this critical policy and marginalized 'Big Oil' using threats, blackmail and coercion against US policymakers.  This has effectively shut out US companies from the lucrative Iranian market.
Conclusion
As the US and the 5 other countries attempt to negotiate with Iran , they face enormous obstacles overcoming Israel 's power over the US Congress.  Over  past decades Israel 's agents have bought the loyalties of the vast majority of Congress people, training them to recognize and obey the whistles, signals and script from the war mongers in Tel Aviv.
This 'Axis of War', has inflicted enormous damage on the world resulting in the deaths of millions of victims of US wars in the Middle East, Southwest Asia and North Africa .  The gross corruption and widely recognized bankruptcy of the US legislative system is due to its slavish submission to a foreign power.  What remains in Washington is a debased vassal state despised by its own citizens.  If the ZPC controlled Congress succeeds once again in destroying the negotiations between the US and Iran via new war-like resolutions, we, the American people, will have to pay an enormous price in lives and treasure.
 The time to act is now.  It is time to stand up and expose the role played by the Israeli PACs, Super PACs and the 52 Major American Jewish Organization in corrupting Congress and turning "our" elected representatives into flunkeys for Israel's wars.  There has been a deafening silence from our noted critics –few alternative media critics have attacked Israel 's power over the US Congress.  The evidence is openly available, the crimes are undeniable.  The American people need real political leaders with the courage to root out the corrupted and corruptors and force their elected members in the House and Senate to represent the interest of the American people.
Source: Prof. James Petras  |  Global Research
No doubt you have heard about the War on Drugs, the War on Terror and the War on Happiness. However, you may not be familiar with the War on God, possibly because it would be an unpopular war to discuss publicly. By the "War on God" (definition) we mean the collection of strategies, methods and techniques which have the combined effect of preventing or seriously hampering the efforts of individuals to seek or achieve legitimate Spiritual enlightenment and the Soul's eventual return to God.
The War on God is an ancient war. While the United States and other countries play an active role in this war today, they definitely did not initiate the war. If you want to use the Christian bible as a reference, you could argue that the War on God began shortly after man was created and rejected God in favor of Satan. Clearly, in some form, the War on God has existed throughout human history.
Today, the United States has effectively broken off diplomatic relations with God. The oligarchs who run the country never physically die and so their souls stay on Earth. Apparently, the United States actually believes that its technology, occult knowledge and black magic skills place it in a position which is superior to God.
We know from whistleblowers like David Morehouse that the United States sponsors and trains a cult of psychics to carry out psychic espionage (remote viewing) and also assassinations using psychic black magic techniques. According to clips of his various interviews on YouTube, it was the training in psychic assassinations which caused Morehouse to become disillusioned, quit the secret program and blow the whistle on the operation. Other countries may well operate similar programs but the details will remain unknown until someone defects and exposes them.
The leaders of the United States have always worshiped Satan. The United States was founded by a cult of Satanists known as the Masons and remains under control of that cult today. By rebranding their cult as a nation state, the cult created the appearance of legitimacy. Cult secrets simply transitioned to state secrets. Cult threats to kill anyone telling their secrets transitioned to the crimes of treason and espionage.
Nothing really changed except for the rebranding from a cult to a government. Today, essentially all members of the CIA, NSA and NASA are Masons. All US presidents have been Masons with the two exceptions of Abraham Lincoln and John Kennedy who were both assassinated.
The term "national security" refers to the security of the cult and not to the security of the general population. The Masonic motto is "If you are not one of us, you are nothing". The cult exists only to enrich itself.
The Masons study and practice the occult. Serious study begins after they take a formal oath of allegiance to Satan at the 30th degree initiation. Basic occult knowledge is neutral and everyone who advances Spiritually learns it. However, Masons seek this knowledge to gain power and control over others as opposed to knowledge for personal advancement. This choice, commonly called the Left Hand Path, places them in opposition to the will of God.
If the Satanists simply wanted to sell their Souls to Satan and mind their own business, one could argue that they had that right because they had free choice. However, the situation is not that simple. The Satanic oligarchs did freely choose to worship Satan. However, they also desire a comfortable life. They don't want to do any "grunt" work. Therefore, they have enslaved the remainder of humanity and are holding their Souls prisoner on this planet to service their needs. Therefore, if you, as an innocent Soul, ever plan to escape from this place and return to God, it is in your interest to investigate and gain an understanding of this war so that you will have an opportunity to Spiritually evolve. Otherwise, your Soul will remain a prisoner here — lifetime after lifetime — serving the Satanic overlords essentially forever.
Earth Based Religions
The phrase Earth Based Religions (definition) refers to religious schools which seek and use knowledge, including occult knowledge, to enhance their experiences during their human lifetimes as opposed to using the same knowledge to foster Spiritual development with the ultimate goal of achieving a stable non-physical Spiritual existence.
Although Pagan religions are usually grouped into this category, a more careful examination would reveal that essentially all mainstream religions are Earth based religions. Mainstream religions make constant references to God and Heaven but never explain exactly what they are talking about. Their books concentrate on historical narratives concerning how people in the past lived and coped with the basic problems of human physical existence. They never give details of any level of Spiritual existence or even any specific hints about what life beyond death will be.
Let's try an example. Suppose you have never seen a motor vehicle. You have heard vague stories that they exist, but that is all. Then, suddenly, you find yourself behind the wheel of a car on a high speed road like the US interstate system or the A roads in Britain. What would you guess would be your chance of survival? Try less than zero.
Now suppose you physically die. Suddenly, you find yourself in your Astral body. However, no one ever told you that you have an Astral body. It does not operate under the same rules as a physical body does. It is a very pliant and nimble body. It can travel in time to the past or future, access any plane and subplane in the Astral universe and research the absolute accurate and incorruptible records system known as the Akashic Records to name just a few. But, as in the previous example, you never learned how to "drive" it.
You would have done fine on the highway if you had gradually learned to drive a motor vehicle. You would do fine after death if you had some experience and training with your Astral body. However, no one ever taught you. What practical use is any religion that constantly rants about Heaven but offers no practical advice about your life after this life?
This information may have been a guarded secret in the past, but those days are gone. You can research this information to your heart's content on the internet, locate legitimate Spiritual groups and learn from those who can leave their physical body and explore the non-physical dimensions. But, don't expect any help from a mainstream church.
You might do well to recall the famous quote attributed to Jesus, "The truth will set you free". Mainstream churches are large, rich institutions. They did not get that way by "setting people free". They got that way by terrifying their followers with ridiculous horror stories of what will happen to them if they do not obey their crazy doctrines, stay with them and give them all their money.
Gnostic and other "non-traditional" religions may be Spiritual based as opposed to Earth based. Jesus always reminded everyone that he represented a kingdom "not of this world". If we had accurate records of his true lectures we would no doubt find practical instructions and information about this "other world". We don't have this information because any practical Spiritual teachings he might have given were censored out to create the simplified — but Spiritually sterile — mainstream religions we have today. They are simple to comprehend and follow but will not lead you anywhere except another physical lifetime somewhere on Earth.
Life Before Technology
Before technology life was simple. Although existence was hard, the opportunity for Spiritual experiences was greater than today. Consider, for example, all the empty time you would have as, say, a sheep herder. Nothing to do except make sure the sheep kept moving. In this situation, there was ample opportunity for the mind to wander and perhaps contemplate and glimpse other realities.
Also, and perhaps most important, no electric grid existed on the planet. Electric fields appear as solid "matter" in the Astral dimension and so can affect Astral experiences — generally in a negative way. Artificially created electromagnetic waves which blanket the planet today also have subtle and generally negative effects on living creatures.
Pagan groups generally conduct occult rituals outdoors and away from high population areas. When buildings are used, it is desirable that they be made only of wood and assembled without any metal (nails) and, of course, have no electrical wires.
Both good and evil existed before technology as they always have. It was possible to use psychological propaganda to influence and control susceptible masses of people. However, the positive and negative forces were more in balance. It was not possible for a single group to successfully dominate the planet.
Drugs existed in the form of various plants. Adepts learned how to use them to help or harm others. People with developed psychic abilities existed as they always have and white and black occult schools existed. Legitimate Spiritual masters existed.
Some techniques that thrived have essentially become extinct because the population of the planet has devolved. It is next to impossible to successfully teach Tantra (sex yoga), because today's generation is incapable of the required level of self control. Classic Tibetan yoga techniques are still taught in isolated areas, but the masters — for good reason — will no longer consider trusting outsiders.
Information Control Techniques
Information control is essential for protecting the integrity of a compartment. People are held as slaves by constructing an information box which holds the slaves in an information prison. As long as the "walls" of the compartment remain impenetrable, the compartment — or belief system — will be stable and no slave will escape.
Considerable energy is required to achieve this. Those assigned to protect the walls obviously know that the compartment is an intellectual illusion. Therefore, they must be sworn to secrecy and intimidated in such a way that they will not compromise the integrity of the compartment. It only takes one "leak" to initiate a chain of events which could collapse the compartment and so allow the slaves to escape.
Consider, for example, the Snowden leaks. One person sharing knowledge has totally destroyed the illusion of privacy that most people had accepted as fact. It will not be possible to reconstruct this illusion. The compartment has collapsed.
Similar principles apply in the Spiritual spectrum. Because of the characteristics of the human bodies in use on this planet, most people do not retain any conscious memory of events before they were born. This is not universally true. Life forms on many other planets retain the memories of previous existences. Because humans generally do not have this recall, they are easily enslaved and can be conditioned to believe most anything.
To maintain a state of Spiritual ignorance it is important to institute methods which will prevent people from realizing that they are actually Souls experiencing a constructed illusion. People somehow reaching this state, sometimes referred to as "self realization", will no longer respond to establishment propaganda and are generally considered a threat to the current social order.
The easiest and most direct method to achieve a stable slave population is simply not to talk about anything even vaguely esoteric. For example, how often have you heard the words astral, chakra or aura mentioned on a mainstream TV channel?
Most people will then likely "remain asleep" throughout their entire lifetime and will be no problem. Unfortunately, people have a natural desire — even though it may be an unconscious desire — to Spiritually evolve. It is, after all, the true purpose of human existence.
When someone tries to break away from the contrived illusions more direct methods are needed to return the slave to a state of ignorance. Today, various methods which cause brain damage — generally performed by psychiatrists — are used to negate any success in Spiritual evolution and return the slave to a state of vacant contentment.
Diversions and Techniques Promoting Inaction
The simplest and most effective diversionary technique is to promote scientific atheismand darwinian evolutionary philosophy as established fact. If you can get someone to buy into this philosophy, their fate is sealed. Even if they experience some contact with another dimension, such as an out-of-body experience, they will follow their programming, dismiss the experience as a delusion and refuse to investigate further. When they die, they will be totally lost and confused, flounder around on some lower Astral plane and eventually reincarnate just as Spiritually ignorant as before.
A side effect of accepting scientific atheism, which totally cripples Spiritual progress, is the acceptance of suicide as a way out of life's problems. Suicide becomes a learned reaction. Consequently, when the Soul is sent back into another physical lifetime, it is likely to commit suicide again when faced with some unpleasant event. It never learns, and this cycle can repeat essentially indefinitely. Dealing with this is one of the most difficult problems faced by the administrators who work on the Astral planes.
For those who want more than scientific atheism, there is mainstream garden variety religion. Mainstream Christianity has developed a clever stonewalling technique that has worked to promote inaction for thousands of years. This technique is centered upon the argument that no one can make any progress until Jesus returns to show the way. In the meantime, people should just do nothing and wait. The effect of this is essentially the same as scientific atheism. No Spiritual progress is made.
Schemes designed to waste time are common. One really off the wall example is the decision in Syria to prohibit vacuum cleaners and standard flat brooms in homes. "Witch type" brooms consisting of a circular straw bundle are allowed. Surely there must be a good reason to keep these terrorist weapons out of the reach of the typical Syrian housewife. The official reason is to make basic housework as difficult and time consuming as possible so as to prevent the woman from having any free idle time which, if allowed, could lead to the emergence of "immoral thoughts". Perfectly logical!
In the western world, complex bureaucracies seem to be deliberately designed to make the path to whatever you want as difficult as possible. Here the apparent motive is to prevent the acquisition of enough free time for any independent thought process. There are just not enough hours in a day to allow for any quiet contemplation of anything.
"Blank time" is always reported as a factor in the development of Spiritual figures. Time alone in the wilderness, time spent meditating alone in some isolated cave or at least periods of dedicated quiet time somewhere figure prominently in historical accounts of these people.
You may know or have heard of kids who spend all their waking hours playing interactive role model video games with other kids on the internet. They eat meals by the computer and never leave except to briefly sleep before returning to the all important game. Their entire life is spent in an imaginary reality. You may want to consider that your "real" life may not be all that different. You play a role. Your attributes are fixed by what society expects based upon that role. You can't change, because others would notice. Your concept of the world beyond your little world is determined by what you see on TV. Daily, you receive your "fix" of carefully choreographed "programming" which appears unusually coherent because, as you may not know or fully comprehend, everything on TV is controlled by a few corporations and all of them are loyal to the official government party line. If you somehow had the opportunity to break from this structured "game" you play from day to day — say, the opportunity to visit other countries and see other cultures — you would likely realize that your existence has not been that much different from the kid addicted to a computer game. You would find that the actual "real" world had very little relationship to the world you had been conditioned to believe existed.
Chemical Control Techniques
"With the use of chemical brain-control agents it may be possible to control the individual and the masses and to do this unobtrusively and without the active cooperation of the victims — not a question for the future — it is here".
This is a quote from the book by Edgar Cayce titled Edgar Cayce on Atlantis. There are references to Dr. Robert Galbraith Heath, and this book bears a copyright date of 1968. The book cites an interview that Heath gave to a newspaper called The Virginia Lighthouse and cites the above statement made by him on November 20, 1966. Heath founded the Department of Psychiatry and Neurology at Tulane University, New Orleans, in 1949 and remained its Chairman until 1980.
During this period, Tulane University actively participated in the CIA mind control project known as MK Ultra [1]. Also, during this period, Tulane became an active member of the secret Institute for Defense Analyses, or IDA, a corporation whose only client is the US government. Heath reportedly performed many experiments there involving electrical stimulation of the brain via surgically implanted electrodes. This work was reportedly partially financed by the CIA and the US military. Heath is now "officially" [11] deceased.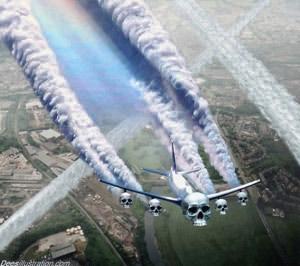 You have been drugged since you were conceived — before you were even born. Your mother was drugged. Soon after birth, you were injected with mercury containing vaccines. And the systematic process of poisoning you never stopped.
By some estimates at least eighty percent of the food in the average supermarket is poison either because it is genetically modified or laced with pesticides and other additives. Even the air is poison now because of geoengineering chemicals sprayed into the upper atmosphere.
It should be noted that things are different in the separate but parallel world of the elite. The Max Keiser show [12] discussed the secret gardens in Japan. These gardens are surrounded by high walls and guarded by the military. They produce the food for the ruling elite. Every plant in the garden has its own health certificate certifying that is pure, healthy and not genetically modified. Obviously, every developed country must have a similar secret supply chain of legitimate food for its ruling class. Certainly the elite know better than anyone that the food supply for the ordinary people is poison. They're not fools. They wouldn't touch the stuff.
Vaccines used for the elite are prepared without the mercury and other toxic additives found in vaccines given to the ordinary people.
Various agents — mainly from plants — have always existed which could be used by those aware of them to harm others or control people by altering their state of consciousness. However, only recently has it become practical to wreck the health of essentially everyone on the planet at the same time. Genetic modification of plants and other life forms used for food has made this possible. Now, quietly, people throughout the world can be sterilized, crippled with serious health problems or even killed by altering the genetic makeup of the food supply. Ordinary people remain generally ignorant of the fact that this awesome power exists and is presently being used against them.
Mind control has become a science. You can't major in it in college because this science is essentially entirely secret. The United States and other countries have spent the equivalent of billions of US dollars investigating and perfecting mind control.
Many secret research projects using unsuspecting or perhaps kidnapped people — some of whom were killed — have been conducted in the past and continue today. We only know about a very few of these projects such as MK Ultra, MK Naomi and Project Other. Even in these projects, specific details are sketchy. From these experiments, practical techniques for creating manchurian candidates and implanting created false personalities and identities have been developed and are in common use today within the secret communities.
Everyone has likely been the victim of some degree of mind control to some extent. Chemical weapons designed to mentally cripple people and render them drooling idiots are freely sold as prescription drugs in drugstores and are available to doctors to use as they please.
The lives of many kids are destroyed by these "drugs" because they have no ability to resist and their parents are ignorant and believe doctors can "do no harm". Actually, today's doctors are agents of the state. Many have top secret clearances and embrace classic Nazi philosophies such as eugenics. Their function is to watch you and make sure you "die appropriately" so as not to burden society. Anything they learn about you and anything you tell them is freely available to anyone in the intelligence community who is curious about you.
Only members of the super elite who are entitled to access top secret medicine will receive legitimate supportive medical care. Ordinary people will be deliberately allowed to die even though doctors with top secret clearances know of effective treatments which would cure them but which are classified and reserved for the chosen elite.
There is no such thing as an incurable disease any more. All the cures have been discovered. If you die, it is because you are not considered important enough to live and not because the cure does not exist.
Common sense should suggest to you that the lives of the elite have statistically different characteristics. For example, members of congress do not live sheltered lives. They work in close quarters and travel extensively both locally and internationally. They are always hanging out with prostitutes as well as playing with the young congressional pages.
Washington D.C. is reported to have more brothels than fast food joints. Strangely, however, these people do not get sick. Have you ever heard that congress had to shut down because everyone was coming down with some infection. It happens in other close populations, so what would make them exempt?
Understanding Astral Damage
Living things have an Astral component. For example, when you cut a leaf and then see the complete leaf on a Kirlian photo you are viewing the Astral component which was unaffected by cutting the physical component because it does not exist in the physical dimension.
Over one hundred years ago, practical techniques for viewing the human Aura were developed by Walter J. Kilner [4]. The original technique used dicyanin dye and a later technique used special glasses. You can't find either one today. In his research, Kilner was able to demonstrate that defects in the human Aura appeared before some corresponding disease manifested in the physical body.
Therefore, he was able to detect and prevent an adverse physical condition before it ever physically materialized. So, you ask, why don't we have this marvelous medical technique available today? Well, we do. It is in use in top secret medicine. However, only the approved elite now have access to it. The information has been removed from public knowledge and classified.
In conventional allopathic medicine, which is based upon scientific atheism and sold to the general public, there is officially no such thing as an Astral body. Conventional medicine denies the existence of anything beyond the physical dimension. Since the Astral body officially does not exist, it is not recognized as a crime to deliberately harm it.
Damage to the Astral body can be compared to damage to the physical body. If you punch holes in the physical body by cutting it, shooting bullets at it or whatever, blood runs out and germs get in. If you cause enough damage, the body dies. Astral bodies do not die, but can suffer critical energy losses. Similar to physical bodies, punching holes in the Astral body allows essential energy to escape and harmful energies to enter.
There are many events which can harm your Astral body. It is in your interest to understand these events because your Astral body will be your primary body when your physical body dies. If it has been damaged, you will be at a severe disadvantage. The chosen elite have perfect Auras because they can use the Aura balancing machines available to them at any top secret medicine provider. However, you cannot.
Also, the ruling elite seem to take some delight in causing harm to the "ordinary" people. Consequently, many drugs, food additives, GMO foods and industrial chemicals found in the environment cause Astral damage. Chemicals recognized as poisons and banned in other countries can be freely added to foods given to ordinary people in the US.
Obviously, there must exist a secret supply chain of safe food and water which is available to the chosen since they know of the contamination and certainly would not want to harm themselves or their friends.
There are ways to closely duplicate the secret techniques available only to the elite. If you can see auras or can find a reputable psychic who can, you can approximate the techniques developed by Kilner and available to everyone over a hundred years ago. Although the secret aura balancing machines are more accurate, a competent psychic healer can do the same thing. Actually, since psychics have always existed, similar techniques have been available throughout the ages to those who were aware.
Fluoride
The concept of adding fluoride to drinking water for the purpose of mind control is said to have originated in the 1930′s as a result of collaboration between German and Russian scientists [2]. Sodium fluoride was originally used and was found to cause a "mild lobotomy" in people who consumed small quantities. The effects were considered to be non reversible after one year of continuous use of the tainted water. Hitler added sodium fluoride to the water in his concentration camps to make the prisoners docile and cooperative as they waited for death.
Sodium fluoride (NaF) is used today in personal products like toothpaste. To poison the water supply of an entire country with sodium fluoride would be expensive. However, it just so happens that there is a waste product created during the manufacture of phosphate fertilizers, Fluorosilicic acid (H2SiF6), which is classified as hazardous waste and would be expensive to dispose of under EPA guidelines.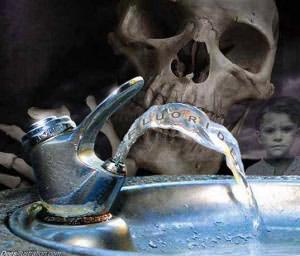 There is lots of this stuff available. This is the poison added to the public water supply in the US and some other countries. It is actually economical for industry because they don't have to pay for hazardous waste disposal. They just pump it into the public water supply.
In the human body, fluoride has an affinity for the pineal gland in the brain. The pineal gland is associated with the "third eye". Everyone has this third eye, but few are aware of it or know how to activate and use it.
Although the pineal gland is part of the physical body, the associated third eye is part of the Astral body and so is invisible in the physical dimension. The third eye allows you to see and communicate with the non-physical dimensions while fully awake and functioning in the physical dimension. So, you could see and carry on a conversation with someone in the physical dimension while invisibly also viewing and communicating with some entity on another plane of existence.
The standard Christian bible refers to the third eye with the phrase, "If thy eye be single thy whole body will be filled with light". However, only students of mysticism would recognize the true meaning of this quote.
Obviously, having this ability would be a threat to the security of any totalitarian society. Poisoning with fluoride destroys this ability and so solves that problem. Literature is available if you wish more detailed information. Simply search using the phrase "fluoride third eye".
On the chance that fluoride in the water is not sufficient to destroy any psychic abilities you may have, there are more aggressive ways to get fluoride into your brain. Here are some structural models of popular psychiatric drugs:
Notice that the element Fluorine (symbolized by its standard chemical symbol "F") figures prominently in all these compounds.
These drugs are used to cause "chemical lobotomy". By blocking communication channels with the higher levels of the human brain, they effectively convert the victim into a lower form of animal. Lower animals do not have the frontal lobes possessed by humans. That is what makes humans special. Disabling the frontal lobes effectively transforms a natural human being into, basically, a docile and obedient house pet which can be trained like a dog.
Incidentally, Fluorine also figures prominently in Sarin nerve gas.
For a more in depth study search YouTube for the free documentary Flouridegate — An American Tragedy by David Kennedy.
They All Drink From the Same Trough
If you casually look out upon the institutions of the world, it may appear to you that they are independent, discrete entities. However, they are not. They are all components of a collective which has successfully hidden its existence and true nature from the general population for generations.
Let's begin with the media in the US. Although it may appear to you that there are thousands of independent sources reporting "news", 90% of all media is controlled by six corporations. They are General Electric, News-Corp, Disney, Viacom, Time-Warner and CBS.
In the US, people believe they are protected from tyranny by the concept of "separation of powers" — that the executive, legislative and judicial branches of government are staffed by independent thinkers who "check and balance" each other. This is also a deception.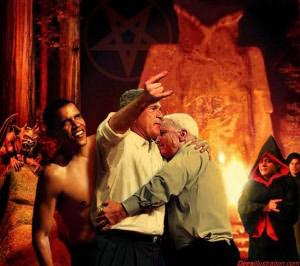 Once a year, at the end of July, there is a secret gathering on private property in the redwood forest of California called the Bohemian Grove. Although this annual meeting has been going on for over one hundred years, it is only during the last several years that outsiders have begun to learn of its existence. The only reason they have is because of the internet and independent journalism. Leaders from the mainstream media are all members of this secret club and so never even report its existence.
Who else goes to this annual secret "party"? Well, for want of a better name, we will call them the "Trusted Satanists". They are the leaders of all the major corporations, banks and representatives from all the major branches of the US government as well as foreign governments.
Although these men outwardly support the concept of capitalism for the masses, this elite group, among themselves, are perhaps best described as "rich socialists". Only men are allowed. For recreation, a stable of prostitutes — both male and female — are kept nearby off-site. The male prostitutes could theoretically enter the Grove.
The "party" begins with a Satanic ritual called "Cremation of Care" (i.e., "we don't care") which features the burning of a coffin at the base of a huge statue of an owl. Walter Cronkite reportedly was the official announcer at the grove until his death.
A secretly filmed video of this event is available on YouTube. It is supposed to be a "simulated" child sacrifice. However, since the CIA, FBI and NSA attend the ritual, who is going to complain on the chance it is a real sacrifice of a human child? After all, they are all trusted Satanists.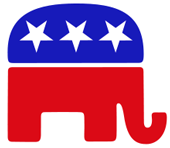 Most attendees from the United States are members of the Republican party. This is completely predictable in view of the fact that the US Republican party flaunts its affiliation with the "dark side" by prominently using the inverted star symbol on its official logo.
During the two week period, corporate leaders, the "independent" government regulators who supposedly keep corporations honest, the leaders from the executive, legislative and judicial branches of US government who are supposed to be "checking and balancing" each other, as well as the media moguls who we "trust" to report the truth, are all running around naked in the woods — pissing on the trees, playing with each other, and the male prostitutes as well as the off-site female prostitutes, and "having discussions".
Well, what are they "having discussions" about? They are discussing what they plan to do with "their world". The Manhattan Project to develop the first atomic bomb was reportedly planned at one of these discussions years ago. What about you? What about your future? What about any expectation of happiness you may have? Well, you see, you "don't need to know". Remember, "If you are not one of us, you are nothing".
Blueprints For the New World
Overview
If this link [7] is still active, it would be in your interest to read through it. This document is a transcript of a speech given by one of the insiders in the year 1969. He boldly states,"Everything is in place and no one can stop us now".
The article details how people ("people" means the slave class who are "nothing"; recall: "If you are not one of us, you are nothing") will just have to get used to changes such needing permission to have children, accepting mandated euthanasia as the law and total surveillance. Essentially all goals are now achieved, although some still remain guarded secrets.
The 1960′s was the period when physical death was eliminated. Of course, this "privilege" is only available to the select Satanic oligarchs. Effective cures for all diseases were also developed. The speaker [7] states that the cures are on file in the Rockefeller Institute. Of course, most are classified and only available to the chosen elite.
Infrastructure
The PBS documentary, Top Secret America [8], presents a good overview of the secret world of the elite. You may think no one is paying attention to the infrastructure in America because streets are in disrepair and bridges are falling down. However, you would be wrong. A tremendous amount of money is being spent on infrastructure in America — for the chosen elite. You will never see it and you will have no need for the decaying bridges and streets because you won't be around to use them. You, as well as 90+ percent of the current population, will be killed in the "Great Culling".
The new infrastructure is quite elaborate as the documentary explains. It consists of thousands of buildings which have a few stories visible above ground but which then extend for 90+ stories underground. All amenities are available within these secret structures which are basically self-sufficient.
It is important for the buildings to reach deep underground so that the lower levels can connect to the secret underground transport network. This network is global and provides safe high speed transport for the elite. Whenever the network crosses a tectonic plate, massive amounts of silicone are used to allow the transport tunnel to flex as needed. The network has access points in all countries. However, these points remain secret in countries which have yet to be subdued and co-opted into the new world order.
NWO Enabling Documents
The treaty known as the Trans-Pacific Partnership appears to be the formal enabling document for the new world. The actual document is secret and only high level corporate executives and politicians are allowed to see it.
Even after the treaty goes into force, its contents will remain secret. Because, in the United States, treaties must be openly debated in congress, the treaty is being called an "agreement" to circumvent the law and keep its contents secret. However, some details have become known.
Although the planet is officially divided into "sovereign" countries, it is overlaid with a network of transnational corporations. This network basically forms a parallel government which encircles the globe. The Trans-Pacific Partnership is designed to cause any country which signs on to surrender its national sovereignty to a secret committee composed of corporate executives. This committee can then alter the constitution and laws of any country which has accepted the treaty as suits their whim. There will be no appeal against this.
Under the treaty, there will be only one purpose to human life. That purpose will be to maximize the profits of the cabal of transnational corporations which will now be essentially a single global corporation in absolute control of the world. This effectively institutionalizes the new world order.
What does this mean for you? Well, to begin with, there can be no retirement. Paying for retirement would negatively impact corporate profits. So, if you can't work, you will be killed. Taking care of sick people would also drain corporate profits. It would be more profitable just to kill the sick and replace them with young, healthy slaves. Disabilities — forget it — disabled kids will never make it out of the womb alive.
Reeducation
To come into compliance with the philosophy of the new world, people will need to be reeducated. Military instruction documents [6] are already teaching that the Founding Fathers of the United States were extremists and anyone who thinks like them would not be suited for today's military.
Well, what did these radical extremists think?
"We hold these truths to be self-evident, that all men are created equal, that they are endowed by their Creator with certain unalienable Rights, that among these are Life, Liberty and the pursuit of Happiness."
Obviously, these principles are not compatible with the new world. The idea of a "Creator" conflicts with the official doctrine of Evolution. We can't have that. People must accept that they and the universe they live in is simply an "accident".
People are already realizing that Liberty and Happiness are gone. They know now that they live under constant surveillance and their lives get worse year after year. How about the right to Life? Can't have that. People need to be reeducated to believe that it is their "duty to die" when they are no longer useful to the state (which is now the global corporation).
Of course, the global elite will live physically forever but ordinary people will not know this.
If a world where people are conditioned to want to die and do not want kids but just sleep around for fun sounds vaguely familiar to you, you might recall that this is the future society described in Huxley's classic novel, Brave New World.
Population Modification
Please refer to [9] as a reference source. Today's "great thinkers" seem to be coming into agreement that most people are unnecessary and need to be exterminated for the convenience of the elite. Bill Gates, who has now been accepted into the super exclusive Bilderberg group, has reportedly taken the task of exterminating the third world population by giving them "free" vaccinations which will render them sterile.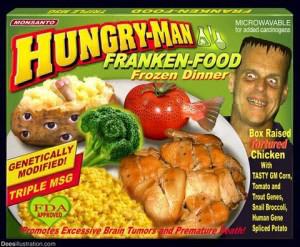 Lots of groups are working on secret sterilization methods. European tests of Monsanto's GM soybeans on hamsters showed the animals became sterile by the third generation [12]. A new gene known as Epicyte [9] is planned to be added to GM corn which will cause immediate sterilization.
Additionally, people are being "eased into" accepting the concept of "after birth abortion". Intellectuals are trying to get people to accept the argument that living human children under three or perhaps even five years old are really "not people but advanced feotuses". Since abortion is already legal, a simple change in the definition of "feotus" would allow young kids to be killed at will for any reason.
Another "new thought" gradually being programmed into the young is the pleasure of the "childless lifestyle". This propaganda seeks to convince people that having kids is too much trouble and they will be happier if they just get sterilized and then run around having lots of sex purely for fun.
These "evolutionary" population control techniques are already in effect. However, the elite likely are not willing to wait several generations to get rid of those they do not need. This brings us to the more direct method commonly called "The Great Culling" which will allow the elite to kill off most of the world's population quickly.
The most likely method will be the release of new designer viruses for which no one will have any natural immunity. Of course, the elite will all get the classified antidote. Preparations for the disposal of the bodies is already complete and stockpiles of plastic coffins — each designed to hold three bodies and manufactured under government contract by Halliburton — have been photographed and documented. Everything is now in place awaiting the "go" command.
Designer Children
Some types of designer children have already been approved for "production". Britain has approved three parent babies [10] and China has proposed a process to artificially fertilize most of a woman's eggs and then examine them to determine which is likely to produce a child with the highest IQ. This will be the only selected egg because Chinese women are only allowed to have one child and must then be sterilized.
In the new world where the only purpose of people will be to do slave labor to serve the elite corporate masters, the concept of allowing the existence of children conceived naturally clearly cannot be allowed. There would be an unexceptable chance for some kind of error that could result, for example, in the creation of a being capable of independent thought who might challenge the establishment.
A man's true worth is measured by the amount of other people's happiness that he can possess and destroy
This is a quote from the docudrama The American Ruling Class [5]. It is worthy of discussion because it is so prophetic.
The Satanic oligarchs who run this world basically exist and thrive on the misery of others. It is not enough just to use and abuse you — they want to consume your Soul. Your misery and suffering is, essentially, their "food". It is the source of their energy.
Ordinary innocent Souls are sustained by the life energy which flows from the Creator. However, since the oligarchs hate God, this energy flow is not available to them. So, they essentially survive by consuming the life energy of the innocent Souls they have captured and enslaved.
Ordinary people do not naturally choose to spend their lives in a state of constant war. They have to be somehow coerced into this behavior. Otherwise, they would likely seek a quiet, peaceful life. The atrocities the US and other warmonger nations force their citizens to commit are so contrary to basic human nature that the US loses more soldiers to suicide than it does to the enemy. The once innocent soldiers find that they simply cannot continue to live with what they have become and the memories of the horrors they have caused to others. The Satanic rulers who create wars, of course, have no problem with this.
Promotions within the inner circles of power are based upon how much evil one has done. The more harm you cause to others the greater your respect. You may have noticed that the stock market, which is a measure of the success of the elite, shows gains during periods when the average person is suffering and losses during periods when, somehow, life for the ordinary person seems to improve. The stock market set a new all time high, for example, during the Vietnam War when innocent young kids were being drafted and slaughtered in Vietnam while peaceful protesters at Penn State were executed by government forces for daring to dissent.
Why You Should Care
On the low Astral planes you will find people — Souls — who are totally lost and confused and seem to move in slow motion. They do not realize they have died. These "people" are not there because they tore up the Bible or burned the Koran or some other offensive act. They are there simply because it is the best they can do. They are using all of the Spiritual energy they have just to maintain this miserable existence. Whatever activities they engaged in while alive had no Spiritual merit and had no effect on developing or increasing their Spiritual energy level. Since the opportunity to do this ended when they died, they will remain strung out in this condition until they reincarnate again at which point they will have another chance to choose activities which enhance Spiritual energies.
You should care because the things you do and the things you fail to do during your brief life here will affect your existence for millions of years in the future.
The other dimensions operate under exact scientific rules just like this dimension. However, the rules are not the same. Because alternate sources of information are available today — mainly because of the internet — it is in your interest to at least investigate the available literature on Spirituality, energy raising techniques and various first-hand reports from people who have successfully visited the neighboring dimensions.
Source:  Walter C. Vetsch   |   3108.info  |  War Is Crime
A scandal is brewing in Chicago which threatens to make Operation Greylord look like a dress rehearsal for a cotillion. Starting with a seemingly innocuous question, tendered to press liaison Jim Grogan at the Attorney Registration and Disciplinary Commission (ARDC) in Illinois, a boil of corruption got inadvertently pricked, which threatens now to reveal a subterranean cancer in the legal system in Illinois.
For those who are unaware of Greylord, here is a bit of history: back in the eighties, a collaborative effort by the FBI, IRS and a couple of outraged judges and attorneys resulted in one of the biggest takedowns of public officials in the history of Illinois. At the end of the 3 1/2 year undercover operation, a total of 92 people were indicted, including 17 judges, 48 lawyers, ten deputy sheriffs, eight policemen, eight court officials, and state legislator James DeLeo.
The extent of the takedown might have mitigated further predatory acts by those in the legal system. Thirty years later, however, the corruption that was supposedly expunged by Greylord has simply become systemic.
Back to Jim Grogan. Grogan, who is an attorney as well as ARDC press liaison, declined to reply to questions from this reporter as to why no statements of economic interests could be found for the attorneys who work for the ARDC. The law governing economic interests reporting is in place to ensure that those working in government capacities are not being influenced by financial lures and temptations. These statements are mandated by 5 ILCS 420 to be filed every year for nearly everyone who works in a government capacity.
Here are relevant clauses from the law, with pivotal sections underlined:
When Grogan failed to respond to the query, Press Secretary Jim Tybor at the Illinois Supreme Court was contacted and astoundingly told this reporter that this law did not apply to the judicial branch. (See 6 and e, above).
Michelle Burton, a paralegal at the ARDC assured this reporter that the ARDC employees are not state employees. However, the website for the ARDC announces that the Commission is an arm of the Illinois Supreme Court.
The ARDC is in a particularly pivotal position. As the Commission responsible for disciplining attorneys, the ARDC functions as a gatekeeper. In that sense, the ARDC defines the legal climate in Illinois. Right now, the ARDC has taken upon its shoulders the regulation of an attorney's right to free speech. Attorney Ken Ditkowsky, who has been practicing law in Chicago area since 1961, is facing disciplinary proceedings for sending emails to federal authorities asking for an investigation of corrupt practices in Illinois courts.
Shades of Greylord . . . Except this time, the feds are turning a deaf ear to evidence of legal malfeasance in Illinois. And Ditkowsky may in fact lose his license to practice law, due to his incisive perceptions and requests for investigation.
Attorney Ken Ditkowsky's concerns about judicial and attorney misconduct began with the adult guardianship of Mary Sykes, an elderly woman who was placed under a guardianship without due process. Another Illinois attorney, JoAnne Denison, is also under disciplinary proceedings due to her maintaining a blog about the Sykes guardianship. (Source)
Ditkowsky soon realized that the phenomenon of what he is calling "elder cleansing" is going on nationwide. And for his act of speaking out against a pervasive assault on a vulnerable demographic group—the elderly and incapacitated—the ARDC has recommended a four year suspension of his license to practice law.
As it turns out, the ARDC attorneys appear to have quite a bit to hide in terms of their economic interests.
If you want to bribe someone, there are only a couple of ways to do this that would not trigger the red flags that are built into the banking infrastructure. One way would be to give someone a big envelope stuffed with cash. Brian Mulroney, a former Prime Minister of Canada, was caught red handed receiving such a bounty and a scandal ensued. (Source)
The other way is through a "loan." The mechanism is simply and virtually opaque—Mr. X takes out a loan, such as a mortgage and Mr. Y pays it back. There are no banking flags to trigger and no embarrassing wads of cash, a la Mulroney, to explain.
The use of such property loans to funnel payola to judges was exposed in a 2009 article, which first appeared in the San Bernardino County Sentinel. Now it seems that those in the Illinois legal system, specifically attorneys at the ARDC, have climbed onto the dinero express.
Jerome Larkin, the Administrator of the ARDC and the individual who has signed the complaint against Ken Ditkowsky, has funneled several million dollars through his property in the last ten years. For example, Larkin took out a loan for $450,000 in December of 2001 and paid it back in exactly five years. In the meantime, he had taken out another $450,000 loan—in October of 2006, which he paid back in just a tad over four years, in January of 2011. In the meantime, he had taken out yet another mortgage—this one for $101,000—in November of 2009, which he was miraculously able to repay in just about a year.
But his unusual loan behavior doesn't stop here. In January of 2011, Larkin took out a whopping $750,000 mortgage on the same piece of property. Larkin must have a direct line to lottery bucks, because he was able to repay this loan by January of 2013.
In the meantime . . . are you getting the picture yet? . . . he took out another $750,000 loan in December of 2012.
Neither Jerome Larkin nor his wife, psychologist Antoinette Krakowski responded to telephone inquiries concerning the amount of money being funneled through their home.
Larkin is the big cheese over at the ARDC. There are other attorneys in the employ of that powerful, shadowy, not-government, not private – commission whose loan history is also questionable, including attorneys Melissa Smart and Sharon Opryzcek.
Apparently, the word about the loan trough is getting out. A check was run on the loan history of attorneys and guardians ad litem, Adam Stern and Cynthia Farenga, whose actions first alerted Ken Ditkowsky to the predatory nature of probate guardianships. Lo and behold, Adam Stern's loan history looks like that of a hyperactive kid in a Ritalin store.
A review of the Cook County recorder's website reveals that Stern has run over a million dollars through his property loans in roughly the last ten years. A couple of examples of quickly repaid large loans taken out by Stern include a $272,000 mortgage taken out on 9/13/2004 and paid back on 2/17/05. Stern also took out a $51,000 mortgage on 9/13/04 and paid it back May of 2005. On October 4, 2004 Stern took out an $80,000 mortgage which he paid back less than three months later.
Adam Stern also has a federal tax lien on his home for $60,000. Stern, who is parenthetically serving as guardian ad litem in the Sykes guardianship and is thus in the responsible position of looking out for OPM—other people's money—can't even pay his own taxes.
Attorney and guardian ad litem Cynthia Farenga's loan history is similarly manic. Farenga is also a guardian ad litem in the Sykes case. For example, Farenga took out a $385,000 loan on 11/09/2006 and paid it off on 6/12/2007. A loan of over a half million dollars – $575,000 to be exact – was paid off by Farenga within five years, on 6/24/2013. Farenga took out a smaller, $244,000 mortgage on 10/16/2003 and paid it back within two years, on 9/28/05. In the meantime, she had taken out another mortgage, this time for an even $300,000 on 9/07/2005, which she quickly reconveyed in less than a year and a half, on 1/08/2007. All told, over two and a quarter million dollars have been funneled through Farenga's property in the last ten years.
The head of a private investigator's firm out in the Southern California area confided in me that judges were coming to him to inquire how to hide their property, so that public searches for these records would not result in transparency. Recently, Judge Ronald Christianson, formerly the Presiding Judge in San Bernardino County, changed the name on the records of his primary residence to "Property Owners." Such tactics will make determinations of suspicious activity increasingly more difficult.
Ditkowsky has filed a complaint with the ARDC referencing the impropriety of Adam Stern working as a GAL when he has failed to fulfill his own tax liabilities. At the time of going to press, other records detailing suspicious financial activity by ARDC attorneys and others are being turned over to a Grand Jury.
The Director of the Administrative Office of the Illinois Supreme Court, Michael Tardy, did not respond to queries from this reporter concerning the economic interests and reporting requirements of the ARDC, which is an arm of the Illinois Supreme Court.
The government has just shut down? What a wonderful opportunity to re-set, to start again.
Shut down the military? Save six trillion dollars in just a few years, balance the budget immediately, get weaponized tanks out of our cities and stop killing people abroad? Absolutely.
Shut down the nuclear killing fields? No more deformed babies born in Kosovo and Iraq and Libya and Gaza and Afghanistan? No more possible Chernobyls and Fukashimas here in America? No more deadly stockpiles of nuclear waste being generated daily that will last long after the human race is toast? I'm so there.
Shut down the CIA? We'd have world peace within the year! No more rendition and torture camps, no more destabilization of countries with oil? I want that. Badly.
Shut down the NSA? No more spying on our phones and computers? George Orwell would heave a sigh of relief from his grave — and I certainly would too.
Shut down all those perqs to RepubliDem Congressmen? Why not. They have never earned their keep anyway.
Shut down all those subsidies to agribusiness, Monsanto, the Koch brothers' lumber empire, etc.? Bring back the small farmer and the Lorax? Just imagine that. Wonderful.
Shut down the subsidies to Big Pharma? So we could once again afford to buy our medicine without going to Canada? I'm certainly willing to give that a try.
Shut down Homeland Security? Stop wasting money checking our junk and irradiating us at airports and making us paranoid and spending our money to run a police state? Whoopie!
Shut down the FBI and all those other agencies that didn't protect JFK and aren't protecting you and me but rather the corporate mega-state? And spend all their time putting citizen-protestors in jail for years and pursuing whistle-blowers but let Wall Street mega-criminals go? I have no problem with that.
Shut down MediCare? Just try it. You'll have an army of irate old folks in wheelchairs and walkers descending on Washington with canes in our hands and blood in our eye!
Shut down Social Security? That we earned over time with our bare hands? Do you really want hundreds of thousands of truly-pissed-off senior citizens morphing into full-rebellion mode? The Greatest Generation brought down the Third Reich. And it can bring down the Fourth Reich too.
Just as soon as we find our false teeth.
You know, in spite of the visit from The Bone Lady when I was just three years old, and all the grim foreshadowing that she downloaded to me via direct intuition, I always held out hope that humanity could or would somehow turn things around on this planet, and snatch victory from the jaws of defeat.
As long as there is breath there is always hope, that was my thinking for a long time, but I am no longer so sanguine.
As one of my friends recently remarked to me, there is, indeed, real evil abroad in this world. I don't know how else to explain the wickedness of what is happening at Fukushima, in Japan, where the situation with the exploded and/or melted down nuclear reactors just goes from frightfully dire to unimaginably worse.
I frequently check the developments there at www.enenews.com and the latest news is very disturbing. I said from the outset, in the spring of 2011, that Tokyo would be evacuated. I still believe that to be inevitable. It is possible that much of Japan will be evacuated to elsewhere. The apocalyptic dimensions of the crisis are being covered up by TEPCO, the Japanese government, General Electric, and the USSA government. The reality is that there was at least one, and maybe more, really dirty nuclear blasts there in March of 2011, that wrecked the reactors and created a radioactive hell that no one knows how to remedy or bring under control. At the least we are probably looking at the failure and collapse of Japanese society with likely evacuation of tens of millions of people or more, and the fairly rapid death of vast portions of the Pacific Ocean, as deadly radioactive waste water continues to flow into the sea by the hundreds of tons, every day.
And when the cooling pool at reactor four collapses, the many tons of highly radioactive, spent, fuel rods that it contains will overheat and burn and or catastrophically fission, i.e., cause a runaway, nuclear reaction, or, in lay man's terms, there will be another atomic explosion, along with a mushroom cloud, and tons of highly poisonous nuclear isotopes will be spread aloft into the atmosphere and/or will drain or be blown into the sea, to poison the Pacific Ocean even further.
This is worse than bad news. This is planetary chaos news. This is civilization ending news. This is species extinction level news, as in extinction of the human species on this planet. If you do not think so, all I can say is: wait. It won't be long. Probably not ten years, not five, maybe even by Christmas this year, and you will begin to see what i mean, if you haven't already.
And even if the cooling pool at reactor four doesn't fail or collapse of its own accord in the near future, though that is very highly probable, TEPCO's plan to manually remove the many tons of bent, mangled, fused, welded together, very highly radioactive fuel rods that remain in the pool, beginning in November of this year, is so fraught with peril that it is likely to spectacularly fail, with unimaginably negative consequences. Any slight mistake, miscue or dropped fuel rod could result in a fission criticality, a runaway nuclear chain reaction, to wit, an atomic explosion that will shower the northern hemisphere and the Pacific Basin with a fatal radioactive sleet that will persist for hundreds of thousands of years.
As I said, the situation is somewhere far south of dire, with a headlong, hellward trajectory.
The Nuclear Chain Reaction
Because what is inevitable, the longer the situation at Fukushima festers, is that the whole site will have to be abandoned. Due to the high radiation levels, no one will be able to work there without dying. So the workers will pull back, and the cooling pools and storage pools that contain thousands of tons of extremely radioactive, spent fuel rods will fail or collapse and there will be more explosions and radioactive fires. As the radioactively contaminated NO GO ZONE expands, as the population flees, the day will come when nuclear reactors at other, nearby power generating plants will also fail, melt down and/or explode, because the nuclear engineers and maintenance workers no longer come to work and operate them — BECAUSE THEY ARE DEAD.
And then there will be three or four more, and the radioactive No Go Zone will expand, widen, grow. And other nuclear power plants will then fail, melt down and/or explode, because their operators are also DEAD, and so do not come to work, do not maintain them.
There are over 50 nuclear power reactors in Japan, and they all have their spent fuel rod cooling pools. It doesn't matter if the reactors themselves are shut down, because there are thousands and thousands of tons of highly radioactive, spent, nuclear fuel rods stored in the cooling pools all over Japan. So, given time, the crisis will continue to fester and worsen, and then it will begin to cascade, like a row of toppling dominoes, only it will be a series of failing nuclear power reactors, one after the other, heralding the end of the nuclear age, and quite possible the end of humanity.
It's just that serious.
All of that will send a killing wave of radioactivity across the Pacific to North America. So what happens when the population on the west coast of the USSA flees in panic from the approaching killer wave of radioactivity? Well, there will be no one left to operate the nuclear power reactors in California, for example. or at Palo Verde, the massive nuclear power plant just to the west of Phoenix. So when those nuclear reactors and their spent fuel cooling pools fail, melt down, and/or blow up, the civilization-ending, planet-killing, Fukushima Syndrome will come home to America with a wicked vengeance.
All courtesy of General Electric. General Electric designed five out of the six reactors at Fukushima and built three of them, so what we see here is genocidal, planet-killing failure of American (alleged) "high technology" on a spectacular scale.
General Electric — busy exterminating a planet near you of its resident, biological life forms.
At the end of the day, all the differential calculus, the nuclear physics, the nuclear chemistry, the nuclear engineering, the corporate profits, the Madison Avenue advertising slogans, the multinational wheeling and dealing, all has conspired to assassinate the planet on which we, and they, all live. Make no mistake, the planet is now dying. The global poisoning process is so very far advanced that it probably cannot be stopped. Certainly, there is not now any serious, international effort to do so, not anything remotely commensurate with the level of danger that we are facing.
No doubt we are dealing with profound iniquity, a betrayal so complete of all that is human that no words exist to describe its foul dimension. The ones who have done this thing walk among us, though for how long? – understanding that they, too, will certainly drop dead along with countless millions of others, as a direct result of their abjectly arrogant ignorance.
Arrogant Ignorance
All of their super-computers, the advanced mathematics, their (so-called) "hi-tech" industrial base, all of their billions of dollars of (so-called) "high finance" — and they kill the planet? And themselves and their posterity in the process? That's the best they can do? They get a PhD in nuclear chemistry and use their (so-called) "knowledge" and (so-called) technical "expertise" to kill the planet? The planet that they also live on?
Geniuses. All of them.
Central Banking Middle East Madness
Then there is the very real prospect of a shooting, nuclear war, beginning in the Middle East. The USSA has a powerful fleet in the region. So do the Russians, as a counterpoint. Sadly for all humanity, the Washington, DC — City of London — Lower Manhattan — Tel Aviv — NATO cabal seems hell bent on war, and so we are on the slippery slope to war. Unfortunately, this psychopathic cabal is very heavily nuclear armed.
I saw all of this coming from waaaaaaay back, from way back in my infancy, since the age of three years, when The Bone Lady visited me and clued me in to realities that I still don't want to think about, given their ghastly, hideous savagery. But I'll tell you what, it's enough to give a man insomnia, it's enough to drive him out onto the nuclear missile silos, again and again, in a personal effort to inject a note of sanity and warning into a positively insane political and military climate, in an attempt to wake up anyone who may be susceptible to awakening.
ANYONE.
My latest sally was 15 April 2010 in North Dakota, USA. I went over the security fence onto the H-8 Minuteman III nuclear missile silo in the Minot Air Force Base nuclear missile field, near Parshall, North Dakota, at the intersection of 33rd Street and 76th Avenue. I conducted a nonviolent, peace demonstration on the silo and was arrested by the USSA military and imprisoned for 100 days, almost all of the time served in the Heart of America Correctional and Treatment Center in Rugby, North Dakota.
My Minot Manifesto explains my motivations, reasons and spiritual and political philosophy. It is one of the most important documents I have written in my entire life.
A Serious Message From The Heart of America was my personal statement that I mailed to the news media from jail in Rugby, North Dakota, on 14 July 2010, prior to being criminally tried and convicted in USSA federal court in Minot, North Dakota.
I explain the symbolism in my dress and accoutrements in the photo below, in the text of my lengthy Minot Manifesto. It's thirteen pages, but worth the time and effort to read. It is a major life statement on my part, that reflects literal decades of deep thought, a very large quantum of concentrated life energy and hours, weeks, months and years of preparation, a statement that distills an important fraction of my life essence into human language. I invite you to partake of my gift by taking the time to read and reflect on what I have written, and then to take meaningful, principled, creative, nonviolent action yourself.
I don't quite know what more to say, what more to do. In fact, were I to do more than I already have, and I have been out on the nuclear missile silos three times (and been jailed for my trouble all three times, in Arkansas, Missouri and North Dakota), I would run the very real risk of infringing on your right and your very real, personal RESPONSIBILITY to also courageously act. So what are you waiting for? Why are you here on this planet, at this time, reading this blog post, and articles like it?
Because make no mistake about it, the time to act, if you are going to act, is here. The time has arrived. The planet is on the brink. We face the very real prospect of a shooting nuclear war. Additionally, the Fukushima crisis, and the threat from nuclear power plants in general, ALL OF THEM, could not be more serious.
In recent days, I find myself musing about the closing scene from "Dr. Stramgelove," with the haunting song by Vera Lynn, "We'll Meet Again, Don't Know Where, Don't Know When," that was such a huge hit in World War II, for obvious reasons.
And it fills me with such melancholy and sorrow. Because if it starts, this ugly thing called nuclear war, and we are headed that way, can all unravel very rapidly. The machines will take over, and automated, pre-programmed orders of battle will be carried out, without human control, as machines battle machines with nuclear fire. Waves of missiles will come in, again and again, to batter the underground bases. I have read the declassified documents. Warhead after warhead will come in at 10 minute intervals. You cannot imagine the depths of the hell that is already programmed and waiting to be unleashed.
Back in the 1960s, the USSA military was counting on 140 million casualties in the mainland USSA alone. I know this because I have read the documents. I have done the research. The USSA population is much larger now, and much more urban, so the casualty rate would be even higher. Maybe 200 million? 250 million casualties in the USSA alone?
Do you think you will just watch that on CNN?
Refuge in the Southern Hemisphere
If you have read my previous writings you will know that I have said that IF humanity has a future, it is likely to be in the southern hemisphere, if only because the lion's share of the nuclear weapons and nuclear power reactors are in the northern hemisphere. As the nuclear power plants fail, melt down, and/or explode most of them will be in the northern hemisphere. This is not an intellectual exercise — already we have had catastrophic failure of nuclear power plants at Chernobyl, Ukraine and Fukushima, Japan. They are just the first. There will be more.
Likewise, any shooting nuclear war is logically likely to be concentrated in the northern hemisphere, since all of the known, nuclear armed, military powers are in the northern hemisphere
But even then, there are enormous problems in the southern hemisphere. The vegetation in the Amazon region of South America produces something like 20 to 30% of the oxygen in the Earth's atmosphere. As the Amazon dies, and it is being destroyed right now, so too, is the Earth's breathable oxygen supply being destroyed. I don't know about you, but I breathe oxygen all day and all night, every day and every night of my life.
So even if we resolve the nuclear issue, and there is ZERO progress on that front right now, only to lose the Amazon, we all will still die, because none of us can survive with 20 to 30% less oxygen. Just cannot.
Right now, we, humanity, every last one of us, are in a life and death struggle for the life of our species, and the life of our planet.
If we win, we live. If we lose, we die. ALL OF US.
End of the story. End of our species' genetic line. For ever and ever.
Done. Finished.
So maybe moving to Bolivia or Uruguay or Namibia or Madagascar or New Zealand will buy you a little time, a year or ten. However, if we fail to rein in and ABOLISH nuclear reactors and nuclear weapons, if we fail to reforest the Earth and cleanse it of radioactive contamination, then we are through. It's the end for us.
This is our group decision. Right now we are on a self-destructive path to global extinction.
So Here Is My View
If you will act decisively, now is the time. Pick your issue and your spot and act creatively, courageously and nonviolently.
It's your world and your life. Act like they both count for something.
And here's the other thing. If you cannot, or will not act, then how about supporting those of us who have acted, and who continue to act?
In my case, I have paid a very heavy price, in earnings forever foregone, by putting my life on the line, repeatedly, for you, whom I do not even know. But because you are my human kin, I went out on the missile silos, again and again, and I went to jail. I lost more than a year and a half of productive labor. I lost, as well, the opportunity to have a whole wide range of well paying jobs, due to my arrest and prison record, even though I have multiple advanced university degrees, up to the doctorate level.
Subsequent to my arrival in South America, I immersed myself in Amazonian shamanic culture, the better to understand the Amazonian region, the jungle itself, and the shamanic human ecology of the region that interfaces with the hyper-conscious plants in the jungle, only to be very gravely assaulted by one of the said Amazonian shamans and hospitalized for more than four months with massive trauma to both my body and emotions. I am now pursing a criminal case against the shaman and that also costs heavily, several thousands of dollars in attorneys' fees, at the very time when so much of my time and energy is taken up with therapy and the sheer physical effort of getting around with impaired mobility. Nine months after the assault I still have physical nerve trauma in my lower extremities, a good deal of numbness and what is called drop foot. I walk with crutches. My electro-therapy also costs. At the moment I cannot go to electro-therapy, although I badly need it, because I only have $35 to my name.
I have run completely through my meager life savings and there is no more.
Additionally, I have this week begun the formal petition process to the government of Ecuador to request political asylum. My years-long record of anti-nuclear activism and repeated jailing by the USSA government is one factor in my decision, coupled with other factors such as recent revelations of universal NSA surveillance and espionage, the secret arrest and indefinite military detention provisions of the NDAA of 2012 and 2013, the recently revealed, previously secret 2011 FBI documents that blatantly discuss plans to murder Occupy Movement activists by sniper fire, including in San Antonio, Texas, where I lived and worked as a window washer from 2000 to 2009, and all of this in the context of an all encompassing pattern of unbridled lawlessness and pervasive lying with regard to EVERYTHING by the American government. All of this and more, has brought home to me the seriousness of this moment that we are living now.
I have the obligation to safeguard my own liberty and safety. It is clear to me that politically I am freer and safer in Ecuador than in the USSA. The American government has taken a hard, dictatorial turn towards neo-fascism. That is the plain truth. The harsh, repressive treatment of Edward Snowden and Chelsea (formerly Bradley) Manning makes that clear enough. We are in altogether different territory now. And so I have petitioned for political refuge in Ecuador.
This also entails paying an attorney, to assist me in my interactions with the administrative, legal and political system in Ecuador. It is my life on the line and I am proceeding very carefully, every step of the way.
But it is also your life on the line, in that my anti-nuclear activism, my immersion in the Amazonian culture, and my pursuit of political refuge in Ecuador all have profound implications far beyond just me. What happens to me also has broad implications for you. The consequences of nuclear war are too horrific to contemplate, and if it is to be avoided, it is because of actions such as mine. Similarly, we simply cannot afford to lose the Amazon, and yet we are losing it right now. If we are to save it, a big part of that will be due to the personal efforts of those who come to the region and get personally involved in the nitty-gritty, even life-threatening struggle for the soul of the Amazon, because more than anything, we are involved in a pitched battle for the very spirit and soul of the Amazon and of the rest of this planet.
Similarly, if I, with my history of activism, book writing, researching, blogging, public speaking, interviews, and repeated nonviolent civil disobedience and consequent jail record, cannot obtain political refuge abroad, then what hope do you have? You're boxed in, that's what. You're in a cage with no exit.
And so, if you cannot or have not done the things that I and others like myself have done and are doing, then can you please, will you at least please support us?
I desperately need your support now. My legal fees run to thousands of dollars, and my therapy is ongoing. I appreciate and really need your generosity. Please communicate with me at: dr.samizdat1618@gmail.com or via Skype at richard.sauder333 as to how to donate.
Come Ye That Love The Lord
I am a native Virginian, and have lived, worked, traveled, studied and gone to jail all over the American South, from the Virginias and Maryland, all the way across to South Texas, and numerous points in between. A very large block of my life has been spent down South. Although I am not now a church attending man, I have in the past been in all kinds of Christian churches, both Black and White, in big cities and small country towns.
Some of the most memorable sermons I have ever heard have been by Black pastors in rural areas of the deep South. One of the things I like about the traditional Black style of hymn singing down South is the way that the head deacon or pastor will frequently line out a hymn, especially the first line or two of a verse, and then the other deacons or members of the choir will join in, accompanied by riffs on the organ, if there is an organist, and there are some really gifted organists playing in southern Black churches.
I well remember a sermon that I once chanced to hear, decades ago, by a Black lay preacher, one sultry, Sunday night, in a tiny little town way down South, about as far south as you can go, and still be in the South and not somewhere else. The ceiling fans lazily stirred the muggy summer air, as the moths flitted vainly around the naked incandescent light bulbs hanging from the ceiling overhead. The windows were flung wide open and the pale light from the sanctuary washed feebly out through the rusted screens and flooded onto the close cropped lawn that surrounded the church. It was one of the most extraordinary public speaking performances I ever witnessed. The preacher used as his text Ezekiel 37, the theme being dry bones and systematically connecting them one to the other, the purpose being to reassemble and restore "them dry bones" to life. As he spoke, I saw that he fell into a trance, that he entered another state of consciousness, that he was self-hypnotized and that the sermon itself had a sort of existence independent of him, that the message took on a life of its own and was using his mind, his mouth, his body, to project itself into the ears, hearts and minds of the sparse assemblage present that evening. As he finished, he collapsed exhausted backwards into his armchair and lined out the first words of the hymn that he wanted the choir to sing. I don't anymore remember exactly what song he called for, but it could well have been this: Come Ye That Love The Lord
If there is to truly be a new world order, as distinct from the obscene power that currently holds sway on this planet today, then we will need to see a completely new order of human being on this world, a species of human being motivated by love for the Creator and by devotion to inward and outward service to the sacred life impulse. We don't see that now, and the human species may go extinct on this planet for its want.
I do believe in God and have been profoundly privileged to see some of His servants face to face. I find their company congenial.
Come, ye that love the Lord,
And let your joys be known;
Join in a song with sweet accord,
And thus surround the throne.

Let those refuse to sing
That never knew our God,
But children of the heavenly King
May speak their joys abroad.

The God of heaven is ours,
Our Father and our love ;
His care shall guard life's fleeting hours,
Then waft our souls above.

There shall we see his face,
And never, never sin;
There, from the rivers of his grace,
Drink endless pleasures in.

Yes, and before we rise
To that immortal state.
The thoughts of such amazing bliss
Should constant joys create.

Children of grace have found
Glory begun below:
Celestial fruits on earthly ground,
From faith and hope may grow.

The hill of Sion yields
A thousand sacred sweets,
Before we reach the heavenly fields,
Or walk the golden streets.

Then let our songs abound,
And ev'ry tear be dry;
We're trav'lling through Immanuel's ground,
To fairer worlds on high.

(John Wesley, ca. 1703- 1791)
Source: Richard Sauder  |  Event Horizon Chronicle
The goon thug psychopaths no longer only brutalize minorities–it is open season on all of us –the latest victim is a petite young white mother of two small children.
The worse threat every American faces comes from his/her own government.
At the federal level the threat is a seventh war (Syria) in 12 years, leading on to the eighth and ninth (Iran and Lebanon) and then on to nuclear war with Russia and China.
The criminal psychopaths in Washington have squandered trillions of dollars on their wars, killing and dispossessing millions of Muslims while millions of American citizens have been dispossessed of their homes and careers. Now the entire social safety net is on the chopping bloc so that Washington can finance more wars.
At the state and local level every American faces brutal, armed psychopaths known as the police. The "law and order" conservatives and the "compassionate" liberals stand silent while police psychopaths brutalize children and grandmothers, murder double amputees in wheel chairs, break into the wrong homes, murder the family dogs, and terrify the occupants, pointing their automatic assault weapons in the faces of small children.
The American police perform no positive function. They pose a much larger threat to citizens than do the criminals who operate without a police badge. Americans would be safer if the police forces were abolished.
The police have been militarized and largely federalized by the Pentagon and the gestapo Homeland Security. The role of the federal government in equipping state and local police with military weapons, including tanks, and training in their use has essentially removed the police from state and local control. No matter how brutal any police officer, it is rare that any suffer more than a few months suspension, usually with full pay, while a report is concocted that clears them of any wrong doing.
In America today, police murder with impunity. All the psychopaths have to say is, "I thought his wallet was a gun," or "we had to taser the unconscious guy we found lying on the ground, because he wouldn't obey our commands to get up."
There are innumerable cases of 240 pound cop psychopaths beating a 115 pound woman black and blue. Or handcuffing and carting off to jail 6 and 7 year old boys for having a dispute on the school playground.
Many Americans take solace in their erroneous belief that this only happens to minorities who they believe deserve it, but psychopaths use their unaccountable power against everyone. The American police are a brutal criminal gang free of civilian control.
Unaccountable power, which the police have, always attracts psychopaths. You are lucky if you only get bullies, but mainly police forces attract people who enjoy hurting people and tyrannizing them. To inflict harm on the public is why psychopaths join police forces.
Calling the police is a risky thing to do. Often it is the person who calls for help or some innocent person who ends up brutalized or murdered by the police. For example, on September 15 CNN reported a case of a young man who wrecked his car and went to a nearby house for help. The woman, made paranoid by the "war on crime," imagined that she was in danger and called police. When the police arrived, the young man ran up to them, and the police shot him dead.http://www.cnn.com/2013/09/15/justice/north-carolina-police-shooting/
People who say the solution is better police training are unaware of how the police are trained. Police are trained to perceive the public as the enemy and to use maximum force. I have watched local police forces train. Two or three dozen officers will simultaneously empty their high-capacity magazines at the same target, a minimum of 300 bullets fired at one target. The purpose is to completely destroy whatever is on the receiving end of police fire.
US prosecutors seem to be the equal to police in terms of the psychopaths in their ranks. The United States, "the light unto the world," not only has the highest percentage of its population in prison of every other country in the world, but also has the largest absolute number of people in prison. The US prison population is much larger in absolute numbers that the prison populations of China and India, countries with four times the US population.
Just try to find a prosecutor who gives a hoot about the innocence or guilt of the accused who is in his clutches. All the prosecutor cares about is his conviction rate. The higher his conviction rate, the greater his success even if every person convicted is innocent. The higher his conviction rate, the more likely he can run for public office.
Many prosecutors, such as Rudy Giuliani, target well known people so that they can gain name recognition via the names of their victims.
The American justice (sic) system serves the political ambitions of prosecutors and the murderous lusts of police psychopaths. It serves the profit motives of the privatized prisons who need high occupancy rates for their balance sheets.
But you can bet your life that the American justice (sic) system does not serve justice.
While writing this article, I googled "police brutality," and google delivered 4,100,000 results. If a person googles "police brutality videos," he will discover that there are more videos than could be watched in a lifetime. And these are only those acts of police brutality that are witnessed and caught on camera.
It would take thousands of pages just to compile the information available.
The facts seem to support the case that police in the US commit more crimes and acts of violence against the public than do the criminals who do not wear badges. According to the FBI crime Statistics http://www.fbi.gov/about-us/cjis/ucr/crime-in-the-u.s/2010/crime-in-the-u.s.-2010/summaryin 2010 there were 1,246,248 violent crimes committed by people without police badges. Keep in mind that the definition of violent crime can be an expansive definition. For example, simply to push someone is considered assault. If two people come to blows in an argument, both have committed assault. However, even with this expansive definition of violent crimes, police assaults are both more numerous and more dangerous, as it is usually a half dozen overweight goon thugs beating and tasering one person.
Reports of police brutality are commonplace, but hardly anything is ever done about them. For example, on September 10, AlterNet reported that Houston, Texas, police routinely beat and murder local citizens. http://www.alternet.org/investigations/cops-are-beating-unarmed-suspect-nearly-every-day-houston?akid=10911.81835.yRJa7d&rd=1&src=newsletter894783&t=9&paging=off
The threat posed to the public by police psychopaths is growing rapidly. Last July 19 the Wall Street Journal reported: "Driven by martial rhetoric and the availability of military-style equipment–from bayonets and M-16 rifles to armored personnel carriers–American police forces have often adopted a mind-set previously reserved for the battlefield. The war on drugs and, more recently, post-9/11 antiterrorism efforts have created a new figure on the US scene: the warrior cop–armed to the teeth, ready to deal harshly with targeted wrongdoers, and a growing threat to familiar American liberties."
The Wall Street Journal, being an establishment newspaper, has to put it as nicely as possible. The bald fact is that today's cop in body armor with assault weapons, grenades, and tanks is not there to make arrests of suspected criminals. He is there in anticipation of protests to beat down the public for exercising constitutional rights.
To suppress public protests is also the purpose of the Department of Homeland Security Police, a federal para-military police force that is a new development for the United States. No one in their right mind could possibly think that the vast militarized police have been created because of "the terrorist threat." Terrorists are so rare that the FBI has to round up demented people and talk them into a plot so that the "terrorist threat" can be kept alive in the public's mind.
The American public is too brainwashed to be able to defend itself. Consider the factthat cops seldom face any consequence when they murder citizens. We never hear cops called "citizen killer." But if a citizen kills some overbearing cop bully, the media go ballistic: "Cop killer, cop killer." The screaming doesn't stop until the cop killer is executed.
As long as a brainwashed public continues to accept that cop lives are more precious than their own, citizens will continue to be brutalized and murdered by police psychopaths.
I can remember when the police were different. If there was a fight, the police broke it up. If it was a case of people coming to blows over a dispute, charges were not filed. If it was a clear case of assault, unless it was brutal or done with use of a weapon, the police usually left it up to the victim to file charges.
When I lived in England, the police walked their beats armed only with their billysticks.
When and why did it all go wrong? Among the collection of probable causes are the growth or urban populations, the onslaught of heavy immigration on formerly stable and predictable neighborhoods, the war on drugs, and management consultants called in to improve efficiency who focused police on quantitative results, such as the number of arrests, and away from such traditional goals as keeping the peace and investigating reported crimes.
Each step of the way accountability was removed in order to more easily apprehend criminals and drug dealers. The "war on terror" was another step, resulting in the militarization of the police.
The replacement of jury trials with plea bargains meant that police investigations ceased to be tested in court or even to support the plea, usually a fictitious crime reached by negotiation in order to obtain a guilty plea. Police learned that all prosecutors needed was a charge and that little depended on police investigations. Police work became sloppy. It was easier simply to pick up a suspect who had a record of having committed a similar crime.
As justice receded as the goal, the quality of people drawn into police work changed. Idealistic people found that their motivations were not compatible with the process, while bullies and psychopaths were attracted by largely unaccountable power.
Much of the blame can be attributed to "law and order" conservatives. Years ago when New York liberals began to observe the growing high-handed behavior of police, they called for civilian police review boards. Conservatives, such as National Review's William F. Buckley, went berserk, claiming that any oversight over the police would hamstring the police and cause crime to explode.
The conservatives could see no threat in the police, only in an effort to hold police accountable. As far as I can tell, this is still the mindset.
What we observed in the police response to the Boston Marathon bombing suggests that the situation is irretrievable. One of the country's largest cities and its suburbs–100 square miles–was tightly locked down with no one permitted to leave their homes, while 10,000 heavily armed police, essentially combat soldiers armed with tanks, forced their way into people's homes, ordering them out at gunpoint. The excuse given for this unprecedented gestapo police action was a search for one wounded 19-year old kid.
That such a completely unnecessary and unconstitutional event could occur in Boston without the responsible officials being removed from office indicates that "the land of the free" no longer exists. The American population of the past, suspicious of government and jealous of its liberty, has been replaced by a brainwashed and fearful people, who are increasingly referred to as "the sheeple."
Paul Craig Roberts was Assistant Secretary of the Treasury for Economic Policy and associate editor of the Wall Street Journal. He was columnist for Business Week, Scripps Howard News Service, and Creators Syndicate. He has had many university appointments. His internet columns have attracted a worldwide following. His latest book, The Failure of Laissez Faire Capitalism and Economic Dissolution of the West is now available. http://www.paulcraigroberts.org/
Source: Paul Craig Roberts
Washington has been at war for 12 years. According to experts such as Joseph Stiglitz and Linda Bilmes, these wars have cost Americans approximately $6 trillion, enough to keep Social Security and Medicare sound for years. All there is to show for 12 years of war is fat bank balances for the armament industries and a list of destroyed countries with millions of dead and dislocated people who never lifted a hand against the United States.
The cost paid by American troops and taxpayers is extreme. Secretary of Veteran Affairs Erik Shinseki reported in November 2009 that "more veterans have committed suicide since 2001 than we have lost on the battlefields of Iraq and Afghanistan." Many thousands of our troops have suffered amputations and traumatic brain injuries. At the Marine Corps War College Jim Lacey calculated that the annual cost of the Afghan war was $1.5 billion for each al-Qaeda member in Afghanistan. Many US and coalition troops paid with their lives for every one al-Qaeda member killed. On no basis has the war ever made sense.
Washington's wars have destroyed the favorable image of the United States created over the decades of the cold war. No longer the hope of mankind, the US today is viewed as a threat whose government cannot be trusted.
The wars that have left America's reputation in tatters are the consequence of 9/11. The neoconservatives who advocate America's hegemony over the world called for "a new Pearl Harbor" that would allow them to launch wars of conquest. Their plan for conquering the Middle East as their starting point was set out in the neoconservative "Project for the New American Century." It was stated clearly by Commentary editor Norman Podhoretz and also by many neoconservatives.
The neocon argument boils down to a claim that history has chosen "democratic capitalism" and not Karl Marx as the future. To comply with history's choice, the US must beef up its military and impose the American Way on the entire world.
In other words, as Claes Ryn wrote, the American neoconservatives are the "new Jacobins," a reference to the French Revolution of 1789 that intended to overthrow aristocratic Europe and replace it with "Liberty, equality, fraternity," but instead gave Europe a quarter century of war, death, and destruction.
Ideologies are dangerous, because they are immune to facts. Now that the United States is no longer governed by the US Constitution, but by a crazed ideology that has given rise to a domestic police state more complete than that of Communist East Germany and to a warfare state that attacks sovereign countries based on nothing but manufactured lies, we are left with the irony that Russia and China are viewed as constraints on Washington's ability to inflict evil, death, and destruction on the world.
The two pariah states of the 20th century have become the hope of mankind in the 21st century!
As Oliver Stone and Peter Kuznick prove in their book, The Untold History of the United States, the American government has never deserved its white hat reputation. Washington has been very successful in dressing up its crimes in moralistic language and hiding them in secrecy. It is only decades after events that the truth comes out.
For example, on August 19, 1953, the democratically elected government of Iran was overthrown by a coup instigated by the US government. Sixty years after the event declassified CIA documents detail how the secret CIA operation overthrew a democratic government and imposed Washington's puppet on the people of Iran.
The declassified documents could not have spelled it out any clearer: "The military coup that overthrew Mossadeq and his National Front cabinet was carried out under CIA direction as an act of U.S. foreign policy, conceived and approved at the highest levels of government."http://www.cnn.com/2013/08/19/politics/cia-iran-1953-coup 
In the 21st century Washington is attempting to repeat its 1953 feat of overthrowing the Iranian government, this time using the faux "green revolution" financed by Washington.
When that fails, Washington will rely on military action.
If 60 years is the time that must pass before Washington's crimes can be acknowledged, the US government will admit the truth about September 11, 2001 on September 11, 2061. In 2013, on this 12th anniversary of 9/11, we only have 48 years to go before Washington admits the truth. Alas, the members of the 9/11 truth movement will not still be alive to receive their vindication.
But just as it has been known for decades that Washington overthrew Mossadeq,
we already know that the official story of 9/11 is hogwash.
No evidence exists that supports the government's 9/11 story. The 9/11 Commission was a political gathering run by a neoconservative White House operative. The Commission members sat and listened to the government's story and wrote it down. No investigation of any kind was made. One member of the Commission resigned, saying that the fix was in. After the report was published, both co-chairmen of the Commission and the legal counsel wrote books disassociating themselves from the report. The 9/11 Commission was "set up to fail," they wrote.
NIST's account of the structural failure of the twin towers is a computer simulation based on assumptions chosen to produce the result. NIST refuses to release its make-believe explanation for expert scrutiny. The reason is obvious. NIST's explanation of the structural failure of the towers cannot survive scrutiny.
There are many 9/11 Truth organizations whose members are high-rise architects,
structural engineers, physicists, chemists and nano-chemists, military and civilian airline pilots, firemen and first responders, former prominent government officials, and 9/11 families. The evidence they have amassed overwhelms the feeble official account.
It has been proven conclusively that World Trade Center Building 7 fell at free fall which can only be achieved by controlled demolition that removes all resistance below to debris falling from above so that no time is lost in overcoming resistance from intact structures. NIST has acknowledged this fact, but has not changed its story.
In other words, still in America today official denial takes precedence over science and
known undisputed facts.
On this 12th anniversary of a false flag event, it is unnecessary for me to report the voluminous evidence that conclusively proves that the official story is a lie. You can read it for yourself. It is available online. You can read what the architects and engineers have to say. You can read the scientists' reports. You can hear from the first responders who were in the WTC towers. You can read the pilots who say that the maneuvers associated with the airliner that allegedly hit the Pentagon are beyond their skills and most certainly were not performed by inexperienced pilots.
You can read David Griffin's many books. You can watch the film produced by Richard Gage and Architects & Engineers for 9/11 truth. You can read the 9/11 Toronto Report, International Hearings on 9/11. http://www.amazon.com/9-11-Toronto-Report/dp/1478369205/ref=sr_1_1?s=books&ie=UTF8&qid=1376960447&sr=1-1&keywords=The+Toronto+Report You can read this book: http://www.international.to/index.php?option=com_content&view=article&id=9319:hijacking-americas-mind-on-911-counterfeiting-evidence&catid=66:oped&Itemid=151
Actually, you do not need any of the expert evidence to know that the US government's story is false. As I have previously pointed out, had a few young Saudi Arabians, the alleged 9/11 hijackers, been capable of outwitting, without support from any government and intelligence service, not only the CIA and FBI, but all sixteen US intelligence services, the intelligence services of Washington's NATO allies and Israel's Mossad, the National Security Council, NORAD, the Joint Chiefs of Staff, Air Traffic Control, and defeat Airport Security four times in one hour on the same morning, the White House, Congress, and the media would have been demanding an investigation of how the National Security State could so totally fail.
Instead, the President of the United States and every government office fiercely resisted any investigation. It was only after a year of demands and rising pressure from the 9/11 families that the 9/11 Commission was created to bury the issue.
No one in government was held accountable for the astonishing failure. The national security state was defeated by a few rag tag Muslims with box cutters and a sick old man dying from renal failure while holed up in a cave in Afghanistan, and no heads rolled.
The total absence from the government for demands for an investigation of an event that is the greatest embarrassment to a "superpower" in world history is a complete give-away that 9/11was a false flag event. The government did not want any investigation, because the government's cover story cannot stand investigation.
The government could rely on the mega-media corporations in whose hands the corrupt Clinton regime concentrated the US media. By supporting rather than investigating the government's cover story, the media left the majority of Americans, who are sensitive to peer pressure, without any support for their doubts. Effectively, the American Ministry of Propaganda validated the government's false story.
Common everyday experiences of Americans refute the government's story. Consider, for example, self-cleaning ovens. How many American homes have them? Thirty million? More? Do you have one?
Do you know what temperature self-cleaning ovens reach? The self-cleaning cycle runs for several hours at 900 degrees Fahrenheit or 482 degrees Celsius. Does your self-cleaning oven melt at 482 degrees Celsius. No, it doesn't. Does the very thin, one-eighth inch steel soften and your oven collapse? No, it doesn't.
Keep that in mind while you read this: According to tests performed by NIST (National Institute of Standards and Technology), only 2% of the WTC steel tested by NIST reached temperatures as high as 250 degrees Celsius, about half the temperature reached by your self-cleaning oven. Do you believe that such low temperatures on such small areas of the WTC towers caused the massive, thick, steel columns in the towers to soften and permit the collapse of the buildings? If you do, please explain why your self-cleaning oven doesn't weaken and collapse.
In Section E.5 of the Executive Summary in this NIST reporthttp://www.nist.gov/customcf/get_pdf.cfm?pub_id=101019 it says: "A method was developed using microscopic observations of paint cracking to determine whether steel members had experienced temperatures in excess of 250 degrees C. More than 170 areas were examined . . . Only three locations had a positive result indicating that the steel and paint may have reached temperatures in excess of 250 degrees C." Analysis of steel "microstructures show no evidence of exposure to temperatures above 600 degrees C for any significant time."
In section 3.6 of the NIST report http://www.nist.gov/customcf/get_pdf.cfm?pub_id=860495NIST states: "NIST believes that this collection of steel from the WTC towers is adequate for purposes of the investigation."
How did these truths get out? My explanation is that the NIST scientists, resentful of the threat to their jobs and future employment opportunities and chaffing under the order to produce a false report, revealed the coerced deception by including information that their political masters did not understand. By stating unequivocally the actual temperatures, NIST's scientists put the lie to the coerced report.
The melting point of steel is around 1,500 degrees C. or 2,600 degrees F. Steel can lose strength at lower temperatures, but the NIST scientists reported that only a small part of the steel was even subjected to moderate temperatures less than those obtained by the self-cleaning oven in your home.
If you need to think about this a bit more, obtain a copy of The Making of the Atomic Bomb by Richard Rhodes. Have a look at the streetcar in photo 108. The caption reads: "The Hiroshima fireball instantly raised surface temperatures within a mile of the hypocenter well above 1,000 degrees F." Is the streetcar a melted lump of steel? No, it is structurally intact, although blackened with burnt paint.
Washington would have you believe that steel that survived intact the atomic bomb would melt from low temperature, short lived, isolated office fires. What do you think of a government that believes that you are that stupid?
Who would support a government that lies every time it opens its mouth?
The three WTC buildings that were destroyed were massive heat sinks. I doubt that
the limited, short-lived, low temperature fires in the buildings even warmed the massive steel structures to the touch.
Moreover, not a single steel column melted or deformed from softening. The columns
were severed at specific lengths by extremely high temperature charges placed on the columns.
On this 12th anniversary of 9/11, ask yourself if you really want to believe that temperatures half those reached by your self-cleaning oven caused three massive steel structures to crumble into dust.
Then ask yourself why your government thinks you are so totally stupid as to believe such a fairy tale as your government has told you about 9/11.
Source: Paul Craig Roberts
"Art is the lie that enables us to realize the truth." — Pablo Picasso.
From George Orwell's 1984 and Aldous Huxley's Brave New World to the Wachowskis' The Matrix, Stephen Spielberg's Minority Report and most recently Neill Blomkamp's Elysium, writers and filmmakers have used science fiction to both forecast the future while also holding up a mirror to the present. The best among these transcend what is largely escapist entertainment and engage their audiences in a critical dialogue about what happens when power, technology and militaristic governance converge.
With its dystopian vision of a post-apocalyptic Earth in which the majority of humanity is relegated to an overpopulated, diseased, warring planet while the elite live a life of luxury and perfect health on an orbiting space station, Elysium fits in perfectly alongside the futuristic books and films featured in my new book, A Government of Wolves: The Emerging American Police State, which warn of a totalitarian future at our doorsteps.
However, while much has been said about Blomkamp's use of Elysium to raise concerns about immigration, access to healthcare, worker's rights, and socioeconomic stratification, what I found most striking and unnerving was its depiction of how the government will employ technologies such as drones, tasers and biometric scanners to track, target and control the populace, especially dissidents. Mind you, while these technologies are already in use today and being hailed for their potentially life-saving, cost-saving, time-saving benefits, it won't be long before the drawbacks to having a government equipped with technology that makes it all-seeing, all-knowing, and all-powerful far outdistance the benefits.
For those who insist that such things are celluloid fantasies with no connection to the present, I offer the following.
Robotic Police
Fiction: One of the most jarring scenes in Elysium occurs towards the beginning of the film, when the protagonist Max Da Costa waits to board a bus on his way to work. While standing in line, Max is approached by two large robotic police officers, who quickly scan Max's biometrics, cross-check his data against government files, and identify him as a former convict in need of close inspection. They demand to search his bag, a request which Max resists, insisting that there is nothing for them to see. The robotic cops respond by manhandling Max, throwing him to the ground, and breaking his arm with a police baton. After determining that Max poses no threat, they leave him on the ground and continue their patrol.
Reality: The United States government is presently developing robot technology that can mimic human behavior. Consider ATLAS, an android being developed by the Department of Defense. Standing at 6 feet tall and 330 pounds, the robot moves, walks, and runs like a human. While still in testing stages, it bears an eerie resemblance to the robotic cops featured in Elysium. It's not too far-fetched to imagine a time in the near future when artificial intelligence robots are responsible for policing citizens. Considering how difficult it is today to exercise one's constitutional rights when confronted by SWAT-team attired police with little regard for the Constitution, imagine trying to assert your rights when confronted with autonomous machines programmed to maintain order at all costs?
Drones
Fiction: In another scene ripped from the present, Max Da Costa is hunted by four drones while attempting to elude the authorities. The drones, equipped with x-ray cameras, biometric readers, scanners and weapons, are able to scan whole neighborhoods, identify individuals from a distance—even through buildings, report their findings back to police handlers, pursue a suspect, and target them with tasers and an array of lethal weapons. These drones, strikingly similar to currently existing Quadrotor drones, are depicted in A Government of Wolves.
Reality: Comprising an $82 billion industry, at least 30,000 drones are expected to occupy U.S. airspace by 2020. These drones, some of which will be deceptively small and capable of videotaping the facial expressions of people on the ground from hundreds of feet in the air, will usher in a new age of surveillance in American society. Not even those indoors, in the privacy of their homes, will be safe from these aerial spies, which can be equipped with technology capable of peering through walls. In addition to their surveillance capabilities, drone manufacturers have confirmed that drones can also be equipped with automatic weapons, grenade launchers, tear gas, and tasers. The FBI, DEA, and US Border Patrol are already using drone technology for surveillance operations.
Biometric scanners and national IDs
Fiction: Throughout Elysium, citizens are identified, sorted and dealt with by way of various scanning devices that read their biometrics—irises, DNA, etc.—as well as their national ID numbers, imprinted by a laser into their skin. In this way, citizens are tracked, counted, and classified. The end result is that there is nowhere to run and nowhere to hide to escape the government's all-seeing eyes.
Reality: Given the vast troves of data that the government in its many forms (NSA, FBI, DHS, etc.) is collecting on all Americans, we are not far from a future where there is nowhere to run and nowhere to hide. In fact, between the facial recognition technology being handed out to police across the country, license plate readers being installed on police cruisers, local police creating DNA databases by extracting DNA from non-criminals, including the victims of crimes, and police collecting more and more biometric data such as iris scans, we are approaching the end of anonymity in America today. It won't be long before police officers will be able to pull up a full biography on any given person instantaneously, including their family and medical history, bank accounts, and personal peccadilloes.
Behavior/Mood Sensors
Fiction: In a meeting with his robotic parole officer, Max finds his mood and emotions being scanned, analyzed and assessed by his android counterpart. Perceiving a heightened level of stress and frustration in Max, who is finding it difficult to reason with an automaton lacking in reason, the robot offers him mood-altering pills to counteract his perceived "aggression."
Reality: Advances in neuroscience indicate that future behavior can be predicted based upon activity in certain portions of the brain, potentially creating a nightmare scenario in which government officials select certain segments of the population for more invasive surveillance or quarantine based solely upon their brain chemistry. Most recently, researchers at the Mind Research Center scanned the brains of thousands of prison inmates in order to track their brain chemistry and their behavior after release. In one experiment, researchers determined that inmates with lower levels of activity in the area of the brain associated with error processing allegedly had a higher likelihood of committing a crime within four years of being released from prison. While researchers have cautioned against using the results of their research as a method of predicting future crime, soon it will undoubtedly become a focus of study for government officials.
Brain to Machine Interface
Fiction: In Blomkamp's world of Elysium, humans are not only able to store computer data in their brains and transfer this data by way of brain-computer interfaces, but they can also plug directly into computer systems that control every aspect of society and government. In such a world, a single key stroke can establish a dictatorship or unchain an enslaved population.
Reality: Although still in its infancy, there's no limit to what can be accomplished—for good or ill—using brain-computer interfaces. Scientists have already created machines that allow people to manipulate robotic arms using just their thoughts. In the near future, we may see scientists observing human thought using "smart dust"—nanomachines the size of dust—which can be placed in the brain to observe neural behavior. Furthermore, hackers have already been able to "steal" information from human brains using extant brain-computer interfaces which read brain waves and are commercially available for $200-300. Researchers at Duke University Medical Center have created a brain-to-brain interface between lab rats, which allows them to transfer information directly between brains. In one particular experiment, researchers trained a rat to perform a task where it would hit a lever when lit. The trained rat then had its brain connected to an untrained rat's brain via electrodes. The untrained rat was then able to learn the trained rat's behavior via electrical stimulation. This even worked over great distances using the internet, with a lab rat in North Carolina guiding the actions of a lab rat in Brazil.
Making the Leap from Fiction to Reality
When Aldous Huxley wrote Brave New World in 1931, he was convinced that there was "still plenty of time" before his dystopian vision became a nightmare reality. It wasn't long before he realized that his prophecies were coming true far sooner than he had imagined. The question that must be asked, writes Huxley in Brave New World Revisited, is what can be done about it?
Does a majority of the population think it worthwhile to take a good deal of trouble, in order to halt and, if possible, reverse the current drift toward totalitarian control of everything? … [R]ecent public opinion polls have revealed that an actual majority of young people in their teens, the voters of tomorrow, have no faith in democratic institutions, see no objection to the censorship of unpopular ideas, do not believe that government of the people by the people is possible and would be perfectly content, if they can continue to live in the style to which the boom has accustomed them, to be ruled, from above, by an oligarchy of assorted experts.

That so many of the well-fed young television-watchers in the world's most powerful democracy should be so completely indifferent to the idea of self-government, so blankly uninterested in freedom of thought and the right to dissent, is distressing, but not too surprising.

"Free as a bird," we say, and envy the winged creatures for their power of unrestricted movement in all the three dimensions. But, alas, we forget the dodo. Any bird that has learned how to grub up a good living without being compelled to use its wings will soon renounce the privilege of flight and remain forever grounded. Something analogous is true of human beings. If the bread is supplied regularly and copiously three times a day, many of them will be perfectly content to live by bread alone—or at least by bread and circuses alone.

"In the end," says the Grand Inquisitor in Dostoevsky's parable, "in the end they will lay their freedom at our feet and say to us, 'make us your slaves, but feed us.'" And when Alyosha Karamazov asks his brother, the teller of the story, if the Grand Inquisitor is speaking ironically, Ivan answers, "Not a bit of it! He claims it as a merit for himself and his Church that they have vanquished freedom and done so to make men happy." Yes, to make men happy; "for nothing," the Inquisitor insists, "has ever been more insupportable for a man or a human society than freedom."

Nothing, except the absence of freedom; for when things go badly, and the rations are reduced, the grounded dodos will clamor again for their wings—only to renounce them, yet once more, when times grow better and the dodo-farmers become more lenient and generous. The young people who now think so poorly of democracy may grow up to become fighters for freedom. The cry of "Give me television and hamburgers, but don't bother me with the responsibilities of liberty," may give place, under altered circumstances, to the cry of "Give me liberty or give me death."
Source: John W. Whitehead  |  The Rutherford Institute
A cornered rat has a deadly bite, or so says the lore from the 19th century, when rat baiting was common sport. The same is true of a cornered empire today. Every hour that goes by presents the evidence. It's getting absolutely dangerous out there for anyone who dares to stand up against the empire and for basic human rights, which is to say that it is dangerous to corner the rat.
Recall the NSA's Edward Snowden blockbuster revelations that the U.S. national security state has been data-mining all email, cell calls, chat and other communications and routinely investigates the results without any authority of law whatsoever. Seeing this all around him, Snowden came forward because he was disgusted by the practice, but also because the whole operation was taking place without any public knowledge, much less congressional approval.
Now, you might think that this information would be a terrible embarrassment to the agencies involved, and to the president who is supposed to be overseeing them. You might think there would be a scramble to find a fall guy, and maybe even a pullback on the part of the bureaucracies themselves. Under normal conditions — where the law matters and government was actually accountable to the governed — exposure on this level might cause the bad guys to do damage control.
But these are not normal conditions. The national security state is too well developed and too habituated to the perception of itself as the final ruler and the arbiter of all law. It believes itself to be above Congress, above any appointed official, and above the court system too, even the military court system. It is a government unto itself and it gets its way.
Snowden had only behaved as a patriot should, but he then found himself on the run from the law, trying to find safe haven somewhere in the world where the U.S. did not have control. The safe haven he found was the old Cold War enemy of Russia — a deeply embarrassing reality for those of us who cheered the U.S. victory in the Cold War.
But that was just the beginning. The national security state is out there right now trying to settle all family business, Godfather style, taking down anyone and everyone who might have assisted him in his deeds.
The fate of the email provider Lavabit is an example. This is the small company, run out of a Dallas apartment by one Web developer and a few friends, that has provided encrypted email. It is widely believed that this is the service that Snowden used to communicate with reporters.
Well, Lavabit was hit with an order from some agency within the state apparatus. It demanded access to all records and, most probably, a direct pipeline to the company's own servers. In the past, Lavabit had complied with specific requests for information whenever it seemed reasonable. But this one was different. It was a demand for sweeping access.
Lavabit took the principled stand and shut down its own thriving business rather than go along.
This was a real act of courage. When an order like this comes from Homeland Security, it comes with a demand that the recipient not speak to anyone about the demand, on penalty of law. What about business partners? The order says no one. What about spouses? No one. What about attorneys? Again, no exceptions. You are laid bare and totally captured. It's not different from jail. One wrong move and your life is over.
(Having been on the receiving end of one of these orders myself, I'm still reluctant to talk about it. I completely understand what it is like.)
"I could be arrested for this action," Ladar Levison told NBC News. Indeed. In interviews, he chooses his words very carefully, fully aware that one misplaced bit of information would lead him out of compliance with the order from Homeland Security and cause him to spend untold amounts of time in prison.
Just so we are clear here, this totally arbitrary attack occurred after the Snowden revelations, in seeming and shameless retribution. And it was not the only attack. An Internet service called Silent Circle, which specializes in private communications, saw the writing on the wall and pre-emptively shut down its email service. Now the company tells its customers that email is not and cannot be secure. It is focusing entirely on cell coverage and text messaging.
These are just the two attacks we know about. Many other services that advertise secure email have most likely been approached. It wouldn't be surprising if they failed to mention this to their subscribers. Again, this is the nature of the orders the government issues.
They say comply immediately and tell no one, or else. Maybe you think you would do the principled thing and refuse, but anyone who believes that has not been on the receiving end of such demands. There are few things more terrifying in this world than to have the imperial spotlight suddenly hit your face.
Continuing on with Homeland's family business, a remarkable thing happened to Glenn Greenwald, the reporter who revealed Snowden's NSA leaks. His domestic partner, who is not even a reporter, was arbitrarily detained at Britain's Heathrow Airport on route from Germany to Brazil. The authorities took his computer, files, and even his cellphone, so that he couldn't even communicate with those who were expecting to meet him at the airport.
He was detained without explanation for a full nine hours, which is the maximum that British law allows. The purpose of the law, of course, is to stop terrorism, but here we see how it is really used. It is used in an attempt to intimidate someone close to a journalist who leaked the Snowden stories — a clear aping of old mob tactics of going after loved ones.
It's all part of the great drama called "the empire strikes back."
The beauty here was that the secret of his detention came out super fast. Greenwald himself wrote a blog post for The Guardian, and within minutes, the story was all over the Internet and world press. Indeed, the next day, The New York Times featured a detail report about the detention. It was yet another black eye on the national security state, and more indication that it is on the fast track toward being enemy No. 1.
This kind of behavior seems counterproductive in every way. No private-sector business that was caught bilking its customers would respond by ramping up the rip-off. Not even politicians can get away with this sort of thing. But the FBI, the NSA, and Homeland Security believe that they are invulnerable and don't have to obey anything or anyone, and especially not public opinion. At the same time, they want to operate in secret.
What they do not understand is that in a world of freely flowing information, nothing they do is a secret anymore. There's no turning back: What the NSA and Homeland have done to citizens of the world, people are now doing to NSA and Homeland.
The rat is cornered. The empire is panicked and behaving exactly as we might expect, complete with nasty hissing and biting and victims all around. But this is not a sign of its strength. It is a sign of its desperation to preserve its power and privilege in world that is moving beyond these search-and-destroy tactics. The national security state has its data-mining centers, but the institution called the Internet is working daily to bring accountability to their egregious tactics.
Source: Jeffrey Tucker  |  Laissez Faire Today
Hey FANS, are you ready for more football? How much do you know about the business end of your favorite entertainment addiction, the NFL? The revenue stream from media contracts, ticket sales, official NFL products and products, government stadium subsidies and syndication rights has reached enormous levels. The pie has grown from a sandlot clubhouse hobby to a billionaire jet set club. Now that fantasy football is in full swing, the beleaguered but rabid buff, sticks with their voyeurism as they act out their heroism celebration. Devotees of the noble sport seek the thrill of victory, but experience the agony of defeat in their pocketbook.
The NFL (not for long) article, Fantasy is the Current Test of Reality, shows that escapism is preferable for most athletic enthusiasts.
"NFL Football is the national sport. It more closely resembles the evolving social trends than any other indicator. Our society is a mirror of a game that once encompassed the essence of the human struggle against the elements of nature and competing warriors. The symbol of this era was the spent sacrifice of an average quarterback who achieved miracles. The famous photo of an exhausted Y.A Tittle captures the meaning of the game that each fan treasured in their heart and desired to know for themselves. The America of this period was not that long ago, but now seems to be from a different century."
Now that the purity of a game is but a mere memory, the business is all about theBenjamins. Forbes notes in The Most Valuable NFL Teams, that the "NFL's 32 teams are worth, on average, $1.17 billion, 5% more than last year. The Cleveland Browns, a lousy team for years in a midsize market, sold for almost $1 billion last year."The last agreement with the players association produced a new contract that "included a provision that gives players between 46 percent and 48 percent of league revenues. That's down from the previous agreement's 50-50 split." Even the causal bystander must admit that the owners are wielding the hammer in free agency. If the marketing machine is geared to extract more revenue out of a hooked public, just what does the future hold?The vision from NFL commissioner, Roger Goodell in another Forbes article, reports:
How The National Football League Can Reach $25 Billion In Annual Revenues.
This year revenues for the National Football League will be somewhere just north of $9 billion, which means the league remains the most lucrative in the world.

He has stated that he wants to reach $25 billion in annual revenues for the league by the year 2027. Here's how the NFL can get there:

1) The first—and most significant step—will be the renegotiation of the league's television rights deals.

2) A new labor deal. The 2011 collective bargaining agreement ends in 2020.

3) The NFL has mastered the art of dividing up its rights. In other words when, say, CBS gets the TV rights deal, it does not get the live-streaming Internet rights.

4) The NFL is in initial discussions about forming its own mobile network.

5) The NFL's fantasy game, at 3 million players, is still well behind ESPN and Yahoo, which have an estimated 14 million and 12 million players, respectively.
This ambitious plan is looking to up the ante. Merchandising will not boost an additional 16 billion out of cash strapped fanatics. Maybe selling NFL uniforms to the military or running a bookmaking network with an anti-trust exemption might get permanent seating in skyboxes for elitist politicians, but it does nothing to bring relief to the lowly stadium season ticketholder. Soon with enhanced and intrusive security measures, many fans will just be content to be tailgaters.
Relying upon the referees to umpire a fair playing field might bring back the perception of an honesty game, but doubts linger that the point spread is often more important than the final score. The Drunk Never Knows When To Leave The Bar, might offer a better option than havingJimmy Haslam or Eddie John DeBartolo Jr. in change of public relations.
"Now you say, what is wrong with the fox guarding the hen house? Surely, you are not saying that this compares to the NFL Players Association passing judgment on all new referees, writing the rule book and picking only from their own ranks every new candidate for the job?"
Looking to the players for that wholesome image has its own pitfalls. Review the NFL Arrests Database.
"These are arrests and citations involving NFL players since 2000 that were more serious than speeding tickets. U-T San Diego reviewed hundreds of news reports and public records in compiling it. The list cannot be considered comprehensive in part because some incidents may not have been reported and some public records proved to be elusive. Increased media coverage of incidents also probably accounts for more incidents listed in recent years."
It seems that the poster boys are running a campaign to rename the NFL to the Aaron Hernandez league. Ownership flack, when Tim Tebow Says Football Comes After Faith and Family, illustrates that selling the NFL vision of Jerry Jones is the way to the $25 billion super bowl.At some point, the public will become played out. Their satisfaction with the NFL experience will never approach the dignity of Y.A Tittle. An aficionado of the sport likeHoward Cosell would tell it like it is. "Don't you remember the $28 million dollar judgment against the NFLPA and its affiliated marketing company (of which $21 million was punitive) for breaching their fiduciary duty to retired players?"
Players, players almost sounds like playoffs, playoffs . . . playoffs !
Soon the virtual reality of a smart phone app will provide the excitement of a two-minute drill without the cost of admission. The NFL marketing machine owes more toNFL films than to the collective wisdom of the players or the owners. The business of the end zone dance rests upon the good will of the fans.
Americans will soon be locked into an unaccountable police state unless US Representatives and Senators find the courage to ask questions and to sanction the executive branch officials who break the law, violate the Constitution, withhold information from Congress, and give false information about their crimes against law, the Constitution, the American people and those in Afghanistan, Pakistan, Yemen, Iraq, Libya, Syria, Somalia, Guantanamo, and elsewhere. Congress needs to use the impeachment power that the Constitution provides and cease being subservient to the lawless executive branch. The US faces no threat that justifies the lawlessness and abuse of police powers that characterize the executive branch in the 21st century.
Impeachment is the most important power of Congress. Impeachment is what protects the citizens, the Constitution, and the other branches of government from abuse by the executive branch. If the power to remove abusive executive branch officials is not used, the power ceases to exist. An unused power is like a dead letter law. Its authority disappears. By acquiescing to executive branch lawlessness, Congress has allowed the executive branch to place itself above law and to escape accountability for its violations of law and the Constitution.
National Intelligence Director James R. Clapper blatantly lied to Congress and remains in office. Keith B. Alexander, Director of the National Security Agency, has also misled Congress, and he remains in office. Attorney General Holder avoids telling Congress the truth on just about every subject, and he also remains in office. The same can be said for President Obama, one of the great deceivers of our time, who is so adverse to truth that truth seldom finds its way out of his mouth.
If an American citizen lies to a federal investigator, even if not under oath, the citizen can be arrested, prosecuted, and sent to prison. Yet, these same federal personnel can lie to Congress and to citizens with impunity. Whatever the American political system is, it has nothing whatsoever to do with accountable government. In Amerika no one is accountable but citizens, who are accountable not only to law but also to unaccountable charges for which no evidence is required.
Congress has the power to impeach any presidential appointee as well as the president. In the 1970s Congress was going to impeach President Richard Nixon simply because he lied about when he learned of the Watergate burglary. To avoid impeachment, Nixon resigned. In the 1990s, the House impeached President Bill Clinton for lying about his sexual affair with a White House intern. The Senate failed to convict, no doubt as many had sexual affairs of their own and didn't want to be held accountable themselves.
In the 1970s when I was on the Senate staff, corporate lobbyists would send attractive women to seduce Senators so that the interest groups could blackmail the Senators to do their bidding. Don't be surprised if the NSA has adopted this corporate practice.
The improprieties of Nixon and Clinton were minor, indeed of little consequence, when compared to the crimes of George W. Bush and Obama, their vice presidents, and the bulk of their presidential appointees. Yet, impeachment is "off the table," as Nancy Pelosi infamously declared. http://www.nytimes.com/cq/2006/11/08/cq_1916.html Why do Californian voters send a person to Congress who refuses to protect them from an unaccountable executive branch? Who does Nancy Pelosi serve? Certainly not the people of California. Most certainly not the US Constitution. Pelosi is in total violation of her oath of office. Will Californians re-elect her yet again? Little wonder America is failing.
The question demanding to be asked is: What is the purpose of the domestic surveillance of all Americans? This is surveillance out of all proportion to the alleged terrorist threat. The US Constitution is being ignored and domestic law violated. Why? Does the US government have an undeclared agenda for which the "terrorist threat" is a cover?
What is this agenda? Whose agenda is more important than the US Constitution and the accountability of government to law? No citizen is secure unless government is accountable to the Constitution and to law. It is an absurd idea that any American is more threatened by terrorism than by unaccountable government that can execute them, torture them, and throw them in prison for life without due process or any accountability whatsoever. Under Bush/Obama, the US has returned to the unaccountable power of caesars, czars, and autocrats.
In the famous play, "A Man For All Seasons," Sir Thomas More, Chancellor of England, asks: So, you would have me to cut down the law in order to chase after devils? And what will we do, with the law cut down, when the devil turns on us?
This is the most important legal question ever asked, and it is seldom asked today, not in our law schools, not by our bar associations, and most certainly not by the Justice (sic) Department or US Attorneys.
American conservatives regard civil liberties as mere excuses for liberal judges to coddle criminals and terrorists. Never expect a conservative Republican, or more than two or three of them, to defend your civil liberty. Republicans simply do not believe in civil liberty. Democrats cannot conceive that Obama–the first black president in office, a member of an oppressed minority–would not defend civil liberty. This combination of disinterest and denial is why the US has become a police state.
Civil liberty has few friends in government, the political parties, law schools, bar associations, or the federal judiciary. Consequently, no citizen is secure. Recently, a housewife researched online for pressure cookers looking for the best deal. Her husband was searching for a backpack. The result was that a fully armed SWAT team appeared at the door demanding to search the premises and to have questions answered. http://www.theatlanticwire.com/national/2013/08/government-knocking-doors-because-google-searches/67864/ 
I am always amazed when someone says: "I haven't done anything wrong. I have nothing to fear." If you have nothing to fear from the government, why did the Founding Fathers put the protections in the Constitution that Bush and Obama have stripped out? Unlike the Founding Fathers who designed our government to protect the citizens, the American sheeple trust the government to their own demise.
Glenn Greenwald recently explained how the mass of data that is being accumulated on every American is being mined for any signs of non-terrorist-related criminal behavior. As such warrantless searches are illegal evidence in a criminal trial, the authorities disguise the illegal way in which the evidence is obtained in order to secure conviction based on illegally obtained evidence.http://www.informationclearinghouse.info/article35773.htm
In other words, the use of the surveillance justified by the "war on terror" has already spread into prosecutions of ordinary criminals where it has corrupted legal safeguards and the integrity, if any, of the criminal court system, prosecutors and judges.
This is just one of the many ways in which you have much to fear, whether you think you are doing anything wrong or not. You can be framed for crimes based on inferences drawn from your Internet activity and jokes with friends on social media. Jurors made paranoid by the "terrorist threat" will convict you.
We should be very suspicious of the motive behind the universal spying on US citizens. The authorities are aware that the terrorist threat does not justify the unconstitutional and illegal spying. There have been hardly any real terrorist events in the US, which is why the FBI has to find clueless people around whom to organize an FBI orchestrated plot in order to keep the "terrorist threat" alive in the public's mind. At last count, there have been 150 "sting operations" in which the FBI recruits people, who are out of touch with reality, to engage in a well-paid FBI designed plot. Once the dupes agree, they are arrested as terrorists and the plot revealed, always with the accompanying statement that the public was never in any danger as the FBI was in control.
When 99 percent of all terrorism is organized by the FBI, why do we need NSA spying on every communication of every American and people in the rest of the world?
Terrorism seldom comes from outside. The source almost always is the government in power. The Czarist secret police set off bombs in order to blame and arrest labor agitators. The Nazis burned down the Reichstag in order to decimate the communists and assume unaccountable power in the name of "public safety." An alleged terrorist threat is a way of using fear to block popular objection to the exercise of arbitrary government power.
In order to be "safe from terrorists," the US population, with few objections, has accepted the demise of their civil liberties, such as habeas corpus, which reaches back centuries to Magna Carta as a constraint on government power. How, then, are they safe from their government? Americans today are in the same position as the English prior to the Great Charter of 1215. Americans are no longer protected by law and the Constitution from government tyranny.
The reason the Founding Fathers wrote the Constitution was to make citizens safe from their government. If citizens allow the government to take away the Constitution, they might be safe from foreign terrorists, but they are no longer safe from their government.
Who do you think has more power over you, foreign terrorists or "your" government?
Washington defines all resistance to its imperialism and tyranny as "terrorism." Thus, Americans who defend the environment, who defend wildlife, who defend civil liberties and human rights, who protest Washington's wars and robbery of the people in behalf of special interests, all become "domestic extremists," the term Homeland Security has substituted for "terrorist." Those who are out of step with Washington and the powerful private interests that exploit us, other peoples, and the earth for their profits and power fall into the wrong side of Bush's black and white division of the world: "you are for us or against us."
In the United States independent thought is on the verge of being criminalized as are constitutionally guaranteed protests and the freedom of the press. http://www.theguardian.com/commentisfree/2013/aug/10/james-risen-prison-journalism-criminalised The constitutional principle of freedom of speech is being redefined as treason, as aiding an undefined enemy, and as seeking to overthrow the government by casting aspersions on its motives and revealing its secret misdeeds. The power-mad inhabitants of Washington have brought the US so close to Gestapo Germany and Stalinist Russia that it is no longer funny. Indeed, it is sometimes difficult to see the difference.
The neoconservatives have declared that Americans are the "exceptional" and "indispensable people." Yet, the civil liberties of Americans have declined the more "exceptional" and "indispensable" that Americans become. We are now so exceptional and indispensable that we no longer have any rights.
And neither does the rest of the world. Neoconservatism has created a new dangerous American nationalism. Neoconservatives have given Washington a monopoly on right and endowed its military aggressions with a morality that supersedes the Geneva Conventions and human rights. Washington, justified by its "exceptionalism," has the right to attack populations in countries with which Washington is not at war, such as Pakistan and Yemen. Washington is using the cover of its "exceptionalism" to murder people in many countries. http://news.antiwar.com/2013/08/11/us-drones-pound-yemen-but-targets-arent-all-militants/print/ Hitler tried to market the exceptionalism of the German people, but he lacked Washington's Madison Avenue skills.
Washington is always morally right, whatever it does, and those who report its crimes are traitors who, stripped of their coddling by civil liberties, are locked away and abused until they confess to their crimes against the state. Anyone who tells the truth, such as Bradley Manning, Julian Assange, and Edward Snowden, are branded enemies of the state and are ruthlessly persecuted.
How does the "indispensable, exceptional nation" have a diplomatic policy? How can a neoconized State Department be based on anything except coercion? It can't. That is why Washington produces nothing but war and threats of war.
Wherever a person looks, whatever a person hears, it is Washington's threat–"we are going to bomb you into the stone age" if you don't do what we want and agree to what we require. We are going to impose "sanctions," Washington's euphemism for embargoes, and starve your women and children to death, permit no medical supplies, ban you from the international payments system unless you relent and consent to being Washington's puppet, and ban you from posting your news broadcasts on the Internet.
This is the face that Washington presents to the world: the hard, mean face of a tyrant.
Washington's power will survive a bit longer, because there are still politicians in Europe, the Middle East, Africa, Asia, Latin America and in Canada, Australia, New Zealand, and the NGOs in Russia, who are paid off by the almighty dollar. In exchange for Washington's money, they endorse Washington's immorality and murderous destruction of law and life.
But the dollar is being destroyed by Quantitative Easing, and the domestic US economy is being destroyed by jobs offshoring.http://www.manufacturingnews.com/news/TAA0731131.html 
Rome was powerful until the Germans ceased to believe it. Then the rotten edifice collapsed. Washington faces sooner or later the same fate. An inhumane, illegal, unconstitutional regime based on violence alone, devoid of all morality and all human compassion, is not acceptable to China, Russia, India, Iran, and Brazil, or to readers of this column.
The evil that is Washington cannot last forever. The criminals might destroy the world in nuclear war, but the lawlessness and lack of humanity in Washington, which murders more people as I write, is no longer acceptable to the rest of the world, not even to its European puppet states, despite the leaders being on Washington's payroll.
Gorbachev is correct. The collapse of the Soviet Union was a debacle for the entire world. It transformed the US from the "city upon the hill," the "beacon for humanity," into an aggressive militarist state. Consequently, Amerika has become despised by everyone who has a moral conscience and a sense of justice.
Paul Craig Roberts was Assistant Secretary of the Treasury for Economic Policy and associate editor of the Wall Street Journal. He was columnist for Business Week, Scripps Howard News Service, and Creators Syndicate. He has had many university appointments. His internet columns have attracted a worldwide following. His latest book, The Failure of Laissez Faire Capitalism and Economic Dissolution of the West is now available.
Source: Paul Craig Roberts