The debate over what actions actually constitute "terrorism," I believe, will become one of the defining ideological battles of our era. Terrorism is not a word often used by common people to describe aberrant behaviors or dastardly deeds; however, it is used by governments around the world to label and marginalize political enemies. That is to say, it is the government that normally decides who is a "terrorist" and who is a mere "criminal," the assertion being that one is clearly far worse than the other.
The terrorist label elicits emotional firestorms and fearful brain-quakes in the minds of the masses. It causes the ignorant and unaware to abandon principles they would normally apply to any other malicious enterprise. They begin to reason that a criminal should be afforded justice, while a terrorist should be afforded only vengeance, even though the act of branding a person a "terrorist" is often completely arbitrary. This vengeance is usually pursued by any means. Thus, the terrorist moniker becomes a rationalization for every vicious and inhuman policy of the establishment, as well as for the citizenry.
Dishonorable and foolish people claim the existence of terrorism essentially gives license for the rest of us to become criminal, willfully trampling on individuals' rights to privacy, property, free speech, due process, civic participation, etc. Mass criminality against the individual in the name of social safety is the glue that holds together all tyrannical systems, triggering a catastrophic cycle of moral relativism that eventually bleeds a culture dry.
Historically, the expanded use of the terrorist label by governments tends to coincide with the rising tides of despotism. A government that quietly seeks to dominate the people will inevitably begin to treat the people as if they are the enemy. Those citizens who present the greatest philosophical or physical threat to the centralization of power are usually the first to suffer. I do not think it is unfair to say that any system of authority that suddenly claims to see terrorists under every rock and behind every tree is probably about to rain full-on fascism down upon the population.
The National Defense Authorization Act (NDAA) is the legal extension of this process, with a vaporous gray language that allows the government to interpret it in any manner it deems useful, which conveniently allows it to interpret a wide range of "offenses" as acts of war against the state.
The Department of Homeland Security's "If You See Something Say Something" campaign is the social extension of the process, by which it creates the framework for a paranoid self-censored surveillance culture.
The fusion center network is the enforcement extension designed to surround local and State police with an atmosphere of indoctrination and federalized dogma, teaching common cops to profile according to a template that is so ambiguous that literally any activity could be considered suspicious or terroristic.
All that is left for the establishment is to force the vocabulary of fear into mainstream consciousness. This means constant propaganda. This means furious hype. This means an utterly shameless barrage of false associations, misdirections and fantastical fairyland lies. This means that we have reached a point in the grand totalitarian scheme in which the American populace is about to be bombarded with an endless drone of terrorism brainwashing — not demonizing a foreign enemy, but demonizing the hypothetical extremist next door. In fact, the Boston Marathon bombing seems to have been the signal for an escalation of such rhetoric. The high-speed conditioning has already begun.
In Middlefield, Ohio, James Gilkerson, an unemployed man taking care of his elderly mother, was pulled over during a routine traffic stop only to exit his vehicle firing an AK-47 at police officers. The action was obviously unprovoked; the police responded with deadly force, and rightly so. I would have done the same. Gilkerson's attack was crazy, yes. Criminal? Yes. But Middlefield Police Chief Arnold Stanko's remarks to the press bring a whole other dark side to this already tragic event. Stanko stated that: "He got out of the vehicle, intending to kill my officers. We don't know why he did it… He was a scumbag and a terrorist, and he's dead."
Stanko doesn't know why Gilkerson fired at police, but he is certain that the man was a "terrorist." What if Gilkerson was depressed or overmedicated or he just snapped that day? Terrorism denotes certain premeditation and planning. This attack was clearly not part of a malicious scheme, yet the label of "terrorist" is being thrown around nonchalantly, almost as if law enforcement has been trained to use such rhetoric whenever it suits them.
In Montevideo, Minn., the FBI recently raided the home of Buford Rogers, who was convicted of felony burglary in 2011. Authorities had received reports that Buford was in possession of a firearm, which is illegal for convicted felons. The raid did indeed produce firearms, as well as items the FBI dubbed "explosive devices." They did not specify what these "explosive devices" were or if they actually posed a significant threat to anyone. After the bust, headlines read "FBI Thwarts Terror Attack."
Again, there is absolutely no indication here of a planned attack. There's no indication that Rogers had any intent to hurt anyone or even any ideological motivations to hurt anyone. Yet the terrorism label is used again to describe a routine criminal arrest.
In Tempe, Ariz., 18-year-old Joshua Prater was arrested after a maid found an "explosive device" in his closet and turned it in to authorities. Prater claims he built the device, consisting of a carbon dioxide cartridge, a fireworks fuse, gunpowder, match heads and fireworks, eight years ago; and he claims he was not aware it was dangerous. Police did not call Prater a terrorist, but they did refer to his device as an "IED," which, as we all know, is the abbreviation used by U.S. soldiers to describe an "improvised explosive device," the favorite weapon of insurgents and "terrorists" in Iraq and Afghanistan. Such terminology is not coincidental. Make no mistake; this is a calculated effort to introduce the language of the battlefield to the streets of America.
Seattle police are now holding simulation drills of attacks on local schools in which law enforcement officials fight against gun-wielding proxy opponents posing as "angry parents."
These kinds of drills are a part of a larger DHS program implemented through fusion centers which, in my view, is designed to desensitize law enforcement to violence against common citizens. Said drills have simulated conflicts with constitutionalists, home-schoolers, patriots and so on. Let's be clear here; the "terrorists" that the police are now being trained to fight against are people like you and me. We are being painted as the future enemy.
Just to solidify this reality, I will also point out the recent exposure of a DHS training program series available on the Federal Emergency Management Agency Homeland Security Exercise and Evaluation Program website, which includes a media section designed to provide teaching aids to agency heads and law enforcement. The series includes a fabricated news broadcast that covers a hypothetical raid on a "militia headquarters." The video shows semi-automatic firearms, rifle scopes, night vision, flak jackets — all perfectly legal in the United States today — as illegal "contraband," while painting gun owners and militias as chemical weapon-wielding terrorists.
What started as an appeal to the average American's sense of Islamophobia after the 9/11 attacks has now evolved into the full-spectrum theater of random domestic terrorism that culminates in what the establishment calls "self-radicalization."
The concept of self-radicalization is a very interesting propaganda tactic. Rather than limiting the public's fear only to some outside foreign enemy like Al Qaeda or some domestic activist organization like the liberty movement, the establishment has now composed a narrative in which each and every one of us might one day catch the extremist virus of dissent, defiance or ideological violence and suddenly decide to kill, kill, kill.
The more naïve subsections of our society will accept unConstitutional methods against the "radicalized" out of fear and conditioning, without realizing that the machinations of bureaucracy being used against those they hate could just as easily be used against them in the future.
If the elites achieve the social endgame they desire, legal and political wordplay will become so broad that anyone could be targeted. If you are a citizen who defies the establishment power structure, then you are an extremist. If you are an extremist, then you are a terrorist. If you are a terrorist, then you are an enemy combatant. And, under the NDAA, if you are an enemy combatant, you are no longer a citizen and you no longer deserve Constitutional protection. The circular logic is maddening, not to mention outrageous. But it is also very useful when an abusive government needs a pretext to silence or destroy dissent. Under totalitarianism, all people become terrorists. It starts with the mistreatment of the worst of us, and it ends with the mistreatment of the best of us.
Source: Brandon Smith | Alt-Market
US democracy is illusory. America never was beautiful. It's not the land of the free and home of the brave. It wasn't created that way. More than ever, it's not now.
Freedom is a four-letter word. It's fast disappearing. It's an endangered species. Wealth, power and privilege alone matter. America's war on terror priorities advance them.
International, constitutional and US statute laws are spurned. Rogue state ruthlessness replaced them. Boston's unprecedented lockdown suggests what's coming. It covered a two hundred square mile area. An important threshold was crossed.
Martial law terrorized city residents. Constitutional rights were suspended. Perhaps it was prelude to what's coming. It can happen anywhere across America. It can show up nationwide.
Thousands of heavily armed militarized police, National Guard troops, FBI Swat teams, Bureau of Alcohol, Tobacco, Firearms and Explosives operatives, Drug Enforcement Administration agents, and perhaps other federal, state and local enforcers showed what full-blown tyranny looks like.
Defying public diktats risked arrest or getting shot. Helicopters hovered low over neighborhoods. House-to-house searches ordered pajama-clad families outside.
Without probable cause, some were handcuffed and/or placed face down on sidewalks. Others were publicly strip-searched. Imagine what's coming next time. Freedom in America's on the chopping block for elimination.
What's ongoing already includes:
• numerous police state laws;
• waging war on humanity;
• indefinite detentions without evidence, charges or trials;
• forced disappearances;
• targeted assassinations;
• torture and other forms of abuse;
• Big Brother surveillance;
• warrantless searches;
• other privacy invasions;
• false flag national security abuses;
• war on terror fear-mongering;
• military commission trials, including for US citizens;
• domestic military force deployments;
• secret FEMA concentration camps;
• racial profiling and persecution;
• militarized local police;
• criminalizing whistleblowers; and
• targeting non-believers for supporting right over wrong.
Tyranny isn't in the eye of the beholder. It's escalating in plane sight. It's just a matter of time until it's full-blown. Washington's bipartisan criminal class plans it.
It's hard-right, unbridled, reactionary, and pro-corporate. It's anti-democratic, anti-dissent, anti-freedom, anti-civil and human rights, anti-social justice, anti-environmental sanity, and anti-government of, by and for everyone.
It's dangerous living in America at the wrong time. Supporting right over wrong is threatened. Anyone can be targeted for any reason or none at all. Guilt by accusation is policy. Diktat authority has final say.
The National Coalition to Protect Civil Freedoms (NCPCF) includes national and local organizations. Its mission is:
"To educate the public about the erosion of civil and political freedoms in the society, and the abuses of prisoners within the US criminal justice system especially after 9/11, and to advocate for the preservation of those freedoms and to defend those rights according to the US Constitution, the Universal Declaration of Human Rights and its related UN Conventions, and the Geneva Conventions."
Civil liberties are threatened, it warns. Public safety at the expense of freedom assures neither.
Post-9/11, thought crime prosecutions followed. Individuals and groups were targeted for "their beliefs, thoughts, or associations."
Doing so violates constitutional protections. First Amendment freedoms are compromised. They're fundamental. Without them, all others are at risk.
They include free speech, a free press, free thought, culture and intellectual inquiry, assembly, freedom to practice the religion of one's choice, and to petition government for redress of grievances.
The Bill of Rights Defense Committee (BORDC) "defend(s) the rule of law and rights and liberties challenged by overbroad national security and counter-terrorism policies."
It "support(s) an ideologically, ethnically, geographically, and generationally diverse grassroots movement to protect and restore these principles by encouraging widespread civic participation; educating people about the significance of our rights; and cultivating grassroots networks to convert concern, outrage, and fear into debate and action."
Its "Campaign for the Constitution" headlines: "Building a Movement. Restoring Rights. Reclaiming Our Constitution." At issue is restoring lost rights. Bipartisan complicity compromised them en route to eliminating them altogether.
Rule of law protections "withered under warrantless surveillance, rampant racial and religious profiling, and torture – and even human experimentation – with impunity."
The ACLU highlights lost digital age civil liberties. New technologies compromised existing protections. Post-9/11, they've undergone serious erosion.
Web site visits are tracked. Cell phones log our movements. Emails and social network communications are monitored and stored. Warrantless spying is policy.
"Things we once thought could only happen in far-away enemy states or distant dystopias are suddenly happening here in America" said ACLU.
Privacy laws haven't kept up with technology. War on terror priorities matter most.
Protecting civil liberties in the digital age requires "ensur(ing) that expressive, associational, and privacy rights are strengthened rather than compromised by new technology."
It's also about "protect(ing) these core democratic rights against intrusive corporate and government practices that rely on new technology to invade these rights."
They're being systematically destroyed. According to the Center for Constitutional Rights (CCR), Washington "consistently (doesn't) recognize the protections afforded by the US Constitution and international law, and in doing so, it has failed in its responsibility to maintain a democratic society that is both open to, and accountable to, the people."
Government is shrouded in secrecy. Checks and balances no longer matter. Bill of Rights freedoms are fading. They're fundamental in democratic societies.
War on terror priorities breached First, Fourth, Fifth and Sixth Amendment freedoms. At issue are search and surveillance authority, indefinitely detaining citizens and non-citizens uncharged, and undermining free expression, due process, and equal protection.
Washington's criminal class is bipartisan. Ahead expect much worse. Old time radio listeners recall a memorable Jack Benny skit. "Your money or your life," a robber asked?
After a pause, he was asked again. He responded saying "I'm thinking it over."
Today no one's asked. It isn't either-or. It's both.
A Final Comment
Fixing America's dysfunctional system demands fundamental change. It starts by reforming the nation's sham electoral process. Throwing out bums assures new ones.
Both major parties are two sides of the same coin. Not a dime's worth of difference separates them. Secrecy and back room deals substitute for a free, fair and open process. Duopoly power rules.
Party bosses chose candidates. Big money owns them. Voters have no say. They get the best democracy money can buy. It happens every time.
The entire process was constitutionally flawed by design. Over time, things got worse. Bipartisan politics serves serves wealth, power, and privilege. Popular interests go begging.
Money power runs America. It games the system. It does so destructively. Controlling money, credit and debt for private enrichment assures speculation, booms, busts, inflation, deflation, instability, crisis, recessions and depressions.
It assures transferring enormous amounts of wealth from ordinary people to corporate giants and super-rich elites already with too much.
Washington is Wall Street occupied territory. What financial giants want, they get. They're waging financial war on humanity. They're more powerful than standing armies.
Economies are strip-mined for profit. Communities are laid waste. Ordinary people are impoverished and left out. Vital needs go begging.
Money power in private hands and democracy can't co-exist. Complicit politicians betray the public trust. They do so for benefits they derive.
Social injustice defines official policy. Class war rages more than ever. America's on a fast track toward tyranny. Stopping it requires free, fair and open elections. It's also about returning money to public hands where it belongs.
Stephen Lendman lives in Chicago. He can be reached at lendmanstephen@sbcglobal.net.
His new book is titled "Banker Occupation: Waging Financial War on Humanity."
http://www.claritypress.com/LendmanII.html
Visit his blog site at sjlendman.blogspot.com.
Listen to cutting-edge discussions with distinguished guests on the Progressive Radio News Hour on the Progressive Radio Network.
It airs Fridays at 10AM US Central time and Saturdays and Sundays at noon. All programs are archived for easy listening.
http://www.progressiveradionetwork.com/the-progressive-news-hour
Source: ICH
The title of today's column, "There Is A Conspiracy," is a direct quote from Ezekiel 22:25. In this passage, God instructed Ezekiel to blow the whistle on the conspiracy of Israel's prophets to deny people truth, to devour people's souls, to defraud people's substance, and to destroy people's lives. I dare say this conspiracy is still alive and well today. Many pastors and religious leaders in 2013 America are as guilty of Ezekiel's charges as were Israel's ancient prophets.
However, use the word "conspiracy" today and even most Christians will roll their eyes in disbelief. And, of course, the mainstream media is so paranoid of the word conspiracy that one has to speculate that the reason for this aversion to objectively dealing with the subject is simply due to the fact that they are among the co-conspirators.
But once in awhile, someone in the media has the guts to broach the subject of conspiracy. My friends at TruthAlliance.net recently covered a report written by Matt Taibbi of Rolling Stone Magazine. Taibbi begins his report saying, "Conspiracy theorists of the world, believers in the hidden hands of the Rothschilds and the Masons and the Illuminati, we skeptics owe you an apology. You were right. The players may be a little different, but your basic premise is correct: The world is a rigged game. We found this out in recent months, when a series of related corruption stories spilled out of the financial sector, suggesting the world's largest banks may be fixing the prices of, well, just about everything."
Speaking of the LIBOR and other Wall Street scandals, Taibbi goes on to write, "All of these stories collectively pointed to the same thing: These banks, which already possess enormous power just by virtue of their financial holdings–in the United States, the top six banks, many of them the same names you see on the Libor and ISDAfix panels, own assets equivalent to 60 percent of the nation's GDP–are beginning to realize the awesome possibilities for increased profit and political might that would come with colluding instead of competing. Moreover, it's increasingly clear that both the criminal justice system and the civil courts may be impotent to stop them, even when they do get caught working together to game the system.
"If true, that would leave us living in an era of undisguised, real-world conspiracy, in which the prices of currencies, commodities like gold and silver, even interest rates and the value of money itself, can be and may already have been dictated from above. And those who are doing it can get away with it. Forget the Illuminati–this is the real thing, and it's no secret. You can stare right at it, anytime you want."
See the report at:
Hallelujah! Just about everybody with an IQ over 80 knew it; so it's about time someone finally said it: gold and silver prices are "rigged." So is the Petro-Dollar. So is the ammo shortage. So are the headlines on ABC, CBS, NBC, CNN, and MSNBC. And so are many of our national catastrophes.
Back in 2011, Jacqueline Kennedy Onassis was added to the list of "conspiracy nuts" when tapes that were recorded within months of President John F. Kennedy's assassination, which had been sealed in a vault at the Kennedy Library in Boston, were released. In the tapes, former First Lady Jackie Kennedy revealed that she believed Vice President Lyndon Baines Johnson and other "influential individuals" orchestrated the Dallas shooting that killed her husband.
Wow! Jackie Kennedy didn't believe the official government story that her husband was killed by a "lone gunman." She believed there was a conspiracy of "influential individuals" who colluded in killing her husband.
I'm with Jackie! Even though I was only a little boy when President Kennedy was assassinated, I could never wrap my head around the "lone gunman" theory. And the older I got, and the more I studied that tragedy, the more I became convinced there was a giant conspiracy involved in both killing the President and covering it up after he had been killed. I still believe that today.
While we are talking about conspiracies, let's talk about a few more.
TWA Flight 800 "Explosion"
Do you really believe the official story of the crash of TWA flight 800 in 1996? What if an American missile accidentally shot down that jetliner? Do you really think the federal government would come clean about it?
Read this report from The Washington Weekly, if you are willing to be enlightened:
Oklahoma City Bombing
Do readers really believe the official story that Timothy McVeigh acted alone in igniting the explosion that took down the Murrah Federal Building in Oklahoma City, Oklahoma, and that there was no cover-up as to what actually happened? I don't.
Here is where you can get started on this one:
And here:
OK State Representative Charles Key States His Case
9/11 Twin Towers and Pentagon Attacks
There has been so much written on this subject, I will let readers fend for themselves as to personal research on the matter. Without wading too deeply into this discussion (and for the sake of column space), let me ask just one simple question. Pray tell, what took down Building 7? To this good hour, I have not heard one single plausible explanation proffered by any government or media representative that explains why Building 7 collapsed.
Do I know what really happened on 9/11? No. But do I believe that the government is purposefully keeping the American people in the dark as to what really happened on 9/11/01? You bet I do! Do I believe that there is a cover-up of crucial evidence related to 9/11 by both the federal government and the national news media? You bet I do!
Haiti Earthquake
Another event that the official version is just completely unbelievable to me is the earthquake in Haiti in January of 2010. I will always believe that there was so much to this story that we were not being told. It didn't "smell" right to me when it happened; it doesn't "smell" right to me now. If you're interested, try perusing through some of this information:
Iraq, Afghanistan, Libya, Syria Wars
Let me be so blunt as to say I don't believe the official story about any of the wars America is waging in the Middle East. I believe virtually every reason George W. Bush gave the American people for attacking and invading Iraq was a premeditated, bald-faced lie! And I believe every reason Barack Obama gives for staying at war in the Middle East is a premeditated bald-faced lie!
I believe the so-called "War on Terror" which justifies endless wars abroad and endless surveillance at home is completely manufactured by those in government and business for personal economic and political interests. In the name of fighting for freedom overseas, the central government in Washington, D.C., is turning America's homeland into a giant prison-camp. Pray tell, what good does it do to send American troops overseas to fight a war for freedom, then turn around and use the war for freedom overseas as an excuse to expunge the freedoms of the American people here at home? If that doesn't smell of conspiracy, nothing does!
Ron Paul was right! "Blowback" truly is a reality; and America's "War on Terror" is actually making the United States less safe, not more. In fact, if you really want to get sick to your stomach over what this so-called "War on Terror" is accomplishing and why so many people around the world are coming to hate us, take a look at this report:
The Pentagon's New Power Elite: A Secret War in 120 Countries
The Boston Bombings
Noted researcher and analyst, Joel Skousen, recently wrote a detailed and lengthy exposé on the Boston Bombings in his excellent World Affairs Brief (which I highly recommend). Here is just a short clip:
"It seems very suspicious that the FBI would release so many photos and video excerpts (including even partial and grainy shots as if they are presenting everything possible) showing the brothers [accused bombers] in the area, but then they fail to produce the most conclusive evidence that matches what the indictment says.
"This narrative is so specific that it would be very risky for a federal official to make such detailed reference to video evidence if they did not actually possess it–unless they already had a legal strategy worked out where the claimed evidence would be suppressed under the government's habitual use of the State Secrets doctrine or via a compliant judge who has agreed in advance to seal the evidence. The suppression of key evidence has been a central part of every major government cover-up including the JFK and Martin Luther King assassinations, Oklahoma City bombing and both WTC attacks."
To subscribe to Skousen's World Affairs Brief, go to:
Skousen is right to be suspicious. Agencies of the federal government have long-facilitated terrorist plots in this country. Even the New York Times carried an editorial outlining a long list of examples of how the FBI hatches and then "discovers" terrorist plots.
See the Times editorial at:
Terrorist Plots Helped Along By The FBI
Furthermore, writing for Infowars.com, Paul Joseph Watson chronicles the long-established pattern of central governments in creating national terror as a vehicle with which to blame other groups and set in motion whatever predetermined plan had been previously concocted.
See Watson's report at:
Why Government Should Be The First Suspect In Any Terror Attack
The Connecticut School Shootings, The Colorado Theater Shootings, etc.
There are so many inconsistencies, changed stories, and conflicting reports with virtually every official report regarding these mass shootings, so much so that it is difficult for any rationally thinking person to believe them. Unfortunately, the absence of true objective investigative reporting by the national news media means the vast majority of the American people will never have the information they need and, thus, they will never know the truth about any of these mass shootings. All the news media does today is simply regurgitate the official government story, without question. (That's why, if you truly want to be informed, you must abandon the controlled propaganda press corps and research independent sources. But even there, one must be careful. Not every independent source is reliable. Plus, government propagandists are at work planting bogus information on the Internet and elsewhere in an attempt to make government critics appear foolish.) But there is one constant that surrounds every mass shooting: the push for increased gun control by anti-freedom politicians. Yes, I realize we could put this under the "You never want a serious crisis to go to waste" (Rahm Emanuel) category. But I'm so cynical now that I'm seeing the potential for the dark side of government behind every mass shooting.
Speaking of defending the Second Amendment, there is a brand new film being produced entitled, MOLON LABE: How The Second Amendment Guarantees America's Freedom, based on the masterful research of attorney Edwin Vieira, Jr., in his book, The Sword and Sovereignty. The film features people such as Ron Paul, Pat Buchanan, Larry Pratt, G. Edward Griffin, Alex Jones, Stewart Rhodes, and yours truly. This film has the potential to be a "game-changer" in the attacks against the preservation of our right to keep and bear arms. Acclaimed producer James Jaeger is nearing final editing and could really use the support of thousands of freedomists around the country. Your contributions to this project could pay off mightily in helping to preserve the Second Amendment. I highly encourage readers to seriously consider donating to the completion of this terrific film. It is a film that Barack Obama and Dianne Feinstein hope will never be seen. Here is the trailer along with information on how you can contribute:
So, Matt Taibbi at Rolling Stone Magazine, the late Jackie Kennedy Onassis, and the Prophet Ezekiel all agree: "There is a conspiracy." I believe it.
The new president of Venezuela, Nicolas Maduro, is cast in Chavez's mold.
On May 4, he called US president Obama the "grand chief of devils."
Obama, who has betrayed democracy in America, unleashing execution on American citizens without due process of law and war without the consent of Congress, provoked Maduro's response by suggesting that Maduro's newly elected government might be fraudulent. Obviously, Obama is piqued that the millions of dollars his administration spent trying to elect an American puppet instead of Maduro failed to do the job.
If anyone has accurately summed up Washington, it is the Venezuelans.
Who can forget Chevez standing at the podium of the UN General Assembly in New York City speaking of George W. Bush? Quoting from memory: "Right here, yesterday, at this very podium stood Satan himself, speaking as if he owned the world. You can still smell the sulphur."
Hegemonic Washington threw countless amounts of money into the last Venezuelan election, doing its best to deliver the governance of that country to a Washington puppet called Henrique Capriles, in my opinion a traitor to Venezuela. Why isn't this American puppet arrested for treason? Why are not the Washington operatives against an independent country–the US ambassador, the counsels, the USAID/CIA personnel, the Washington funded NGOs–ordered to leave Venezuela immediately or arrested and tried for spying and high treason? Why allow any presence of Washington in Venezuela when it is clear that Washington's intention is to make Venezuela a puppet state like the UK, Germany, Canada, Australia, Turkey, Japan, and on and on.
There was a time, such as in the Allende-Pinochet era, when the American left-wing and a no longer extant liberal media would have been all over Washington for its illegal interference in the internal affairs of an independent country. But no more. As CounterPunch's Jeffrey St. Clair has recently made clear, the American left-wing remains "insensate to the moral and constitutional transgressions being committed by their champion"–the first black, or half-black, US president–leaving "Rand Paul to offer official denunciations against [Washington's] malignant operations" against independent countries.
Against the Obama regime's acts of international and domestic violence, "the professional Left, from the progressive caucus to the robotic minions of Moveon.org, lodge no objections and launch no protests." St. Clair has written a powerful article. Read it for yourself: http://www.counterpunch.org/2013/05/03/the-game-of-drones/print
I think the American left-wing lost its confidence when the Soviet Union collapsed and the Chinese communists and Indian socialists turned capitalist. Everyone misread the situation, especially the "end of history" idiots. The consequence is a world without strong protests of Washington's and its puppet states' war criminal military aggressions, murder, destruction of civil liberty and human rights, and transparent propaganda: "Last night Polish forces crossed the frontier and attacked Germany," or so declared Adolf Hitler. Washington's charges of "weapons of mass destruction" are even more transparent lies.
But hardly any care. The Western governments and Japan are all paid off and bought, and those that are not bought are begging to be bought because they want the money too. Truth, integrity, these are all dead-letter words. No one any longer knows what they mean.
The moronic George W. Bush said, in Orwellian double-speak, they hate us for our freedom and democracy. They don't hate us because we bomb them, invade them, kill them, destroy their way of life, culture, and infrastructure. They hate us because we are so good. How stupid does a person have to be to believe this BS?
Washington and Israel present the world with unmistakable evil. I don't need to stand at the UN podium after Bush or Obama. I can smell Washington's evil as far away as Florida. Jeffrey St. Clair can smell it in Oregon. Nicolas Maduro can smell it in Venezuela. Evo Morales can smell it in Bolivia from where he cast out CIA-infiltrated USAID. Putin can smell it in Russia, although he still permits the treasonous "Russian opposition" funded by US money to operate against Russia's government. The Iranians can smell it in the Persian Gulf. The Chinese can smell it as far away as Beijing.
Homeland Security, a gestapo institution, has "crisis actors" to help it deceive the public in its false flag operations.
http://www.governamerica.com/black-ops/boston-bombings/110-fema-hiring-actors-to-run-live-terror-drills 
The Obama regime has drones with which to silence American citizens without due process of law.
http://www.salem-news.com/articles/may042013/drones-boston-wh.php 
Homeland Security has more than a billion rounds of ammunition, tanks, a para-military force. Detention camps have been built.
Are Americans so completely stupid that they believe this is all for "terrorists" whose sparse numbers require the FBI to manufacture "terrorists" in so-called "sting operations" in order to justify the FBI's $3 billion special fund from Congress to combat domestic terrorism?
Congress has taxpayers paying the FBI to frame up innocents and send them to prison.
This is the kind of country American has become. This is the kind of "security" agencies it has, filling their pockets by destroying the lives of the innocent and downtrodden.
"In God we trust," reads the coinage. It should read: "In Satan we follow."
Paul Craig Roberts was Assistant Secretary of the Treasury for Economic Policy and associate editor of the Wall Street Journal. He was columnist for Business Week, Scripps Howard News Service, and Creators Syndicate. He has had many university appointments. His internet columns have attracted a worldwide following. His latest book, The Failure of Laissez Faire Capitalism and Economic Dissolution of the West is now available.
Source: Paul Craig Roberts
Were it not so serious and have such weighty repercussions, all this FBI activity would be plain silly. How often are they going to 'foil' non existent terror plans, or set up terror plots only to intercede at the last minute, saving the day?
On Monday FBI officials say they disrupted a 'terrorist attack' in Minnesota, but gave zero details about any targets, or motives — they simply have paraded around the accused man who is alleged to have possessed explosives.
These actions are becoming SO commonplace that even mainstream media is being forced to question the agency's behaviour. Read: The New York Times Suggests "Terrorist Plots are Hatched by the F.B.I." 
Are citizens really becoming radicalized in droves, or, as Red Ice Radio guest Patrick Henningsen suggests, are the security agencies 'addicted' to these manipulative operations and staged terror attacks to the benefit of governmental domestic policy and the security state?
Amy Forliti for the Associated Press reports on this newest security-theater production:
FBI officials said Monday they foiled a terrorist attack being planned in a small western Minnesota town, but they offered no details about the exact targets of the attack — or the motive of the man accused of having a cache of explosives and weapons in a mobile home.

The FBI said "the lives of several local residents were potentially saved" with the arrest of Buford Rogers, 24, who made his first appearance Monday in U.S. District Court in St. Paul on one count of being a felon in possession of a firearm.

Rogers, of Montevideo, was arrested Friday after authorities searched a mobile home he's associated with and found Molotov cocktails, suspected pipe bombs and firearms, according to a court affidavit.

"The FBI believed there was a terror attack in its planning stages, and we believe there would have been a localized terror attack, and that's why law enforcement moved quickly to execute the search warrant on Friday to arrest Mr. Rogers," FBI spokesman Kyle Loven said Monday.

He said the investigation is ongoing, and agents are looking at the case as one of domestic terrorism.

Loven said the investigation prohibits him from getting into details about Rogers' target, or his possible political or religious views, but he said the FBI is confident in calling this a "terror" situation. He also said the alleged target was believed to be in Montevideo, a city of about 5,000 people about 130 miles west of Minneapolis.

"We had information which indicated that Mr. Rogers was involved in a plot to conduct terror activities in and around the Montevideo area," he said. He declined to say whether Rogers was believed to be acting alone or as part of a group, or if other arrests were expected.

Dustin Rathbun, who lives next door, said he and other neighbors noticed a few months ago that the Rogers family was flying an upside-down flag from the side of their home. He said the owners of the park asked them to take it down.

Christopher, the Montevideo police chief, said officers were called to the Rogers' home about that flag.

"Residents were very upset by that. They felt it was really a disrespectful thing to the flag, but it's not illegal," Christopher said. He said the family told him the upside-down flag was a "sign of distress because the country is in distress."Source
Source: Elizabeth Leafloor | Red Ice Creations
Why Drones, foreign and domestic, became necessary to establishment politicians and corporations…
In the autumn of 2002 America was rushing toward the War in Iraq, orchestrated by the Bush Administration, especially Karl Rove and Dick Cheney. Though most people did not yet realize this, Bill Clinton already had a very cooperative relationship with the Bush family. He and Hillary were poised to become seriously monied working for the same folks who had taken over the Republican Party in the 1960s.
You don't need to be a Straussian to embrace the strategy.
NeoConservative is the term coined by Irving Kristol, a student of Leo Strauss. The philosophy Strauss originated justifies any act which achieves the desired goal in the pursuit of power. When you understand this is a philosophy which absolutely justifies deceit and abuse of power, and extending control, the corollary becomes clear. Those using Straussianism will, ultimately, take steps to make their control perpetual because, otherwise, they will suffer at the hands of their victims.
Those accepting Straussianism knew they needed to evade exposure.
This explains the enthusiasm of both Bush and Obama for Executive Orders. Although ordinary Americans think in terms of a divide between right and left, this is an illusion. The divide has been carefully created to stymie effective corrective action by the people.
Notice how many of the measures now being put into place were being planned years ago. Homeland Security, the NSA, the militarization of our police and introduction of drones and biometrics, and the CIA and FBI do nothing to increase the security of ordinary Americans – but they are useful for controlling us.
Controlling America, and Americans, was necessary to perpetuating their power and defending them from the consequences of their deceit, beginning before the War in Iraq.
The Highly Disordered in Power
If you watched the documentary on Dick Cheney, now playing broadly on television, titled, "The World According To Dick Cheney," you find a chilling insight into the mind of someone who is focused on centralizing and increasing the power of the presidency using all available means. Cheney has long been a self-proclaimed adherent of Leo Strauss, along with Don Rumsfeldt and most of the cadre of individuals who came in to power with the Bush Administration.
Cheney, appointed to find a vice-presidential candidate for Bush in 2000, conducted a carefully scripted process which disqualified everyone except himself. Cheney knew he could never be elected president because he lacks the social skills necessary and, if he ran, his questionable health and DUIs, among other issues, would have been exposed to the media and the public.
Always described as a 'take-charge' kind of man, Cheney's entire career is defined by treating politics as war.
Karl Rove had a different agenda. While the Bush family certainly wanted the War in Iraq and had been planning for it since W. was still governor of Texas, Rove wanted a permanent hegemony over politics in America. To accomplish this, he suborned the electoral system of the United States using several different techniques.
Beginning in the late 70′s, he displaced the growing power of women moving toward social justice within the GOP, displacing this with an artificially created presence of politicized Evangelicals, galvanized and trained for political action.
For this enterprise, he enlisted Ralph Reed and Pat Robertson, long time associates through Young Republicans.
Rove spread out a network of political operatives, both within the GOP and elsewhere, in think tanks and the media. John Fund, formerly on the Editorial Board of the Wall Street Journal, is an example of this, as is Matt Drudge. This allowed Rove to plant disinformation at will in any part of the country. Both Rove and Cheney's cell numbers are on Fund's speed dial.
Rove also centralized the state Republican Parties, displacing community-based candidates in the primaries with chosen and well funded Rove functionaries. This was taking place in California in the early 90s. Many of these targeted candidates were social justice-oriented women.
To lock down his control, Rove ensured the move to electronic voting, which he could control remotely. This worked for him fairly smoothly from 2000 until last year.
The next level of strategy was the media. The media has been controlled through the CIA since the time of the Kennedy assassination, according to Peter Janney, in his book Mary's Mosaic. In exhaustive detail, the book lays out how a free media was silenced through control of those who owned the media.
Planting operatives in the media, who supplied CIA approved spin and planted stories, became standard operating procedure. Continuing this practice, Rove assigned the job of deflecting questions on the visible problems with electoral fraud to John Fund, placed at the Wall Street Journal by Robert Novak in 1984.
John Fund was essential to deflecting attention from the issue of the ongoing electoral fraud because Fund wrote, "Stealing Elections," which muddied the water on this issue. While he was only one of many operatives, he was not easily replaced because of his position at the Wall Street Journal. Therefore, political capital was expended on his protection in 2002.
People forget scandals and willingly accept explanations, given a modicum of manufactured proof. Victims and witnesses can be silenced so they can no longer defend themselves. Major events distract public attention, which, properly managed, may never be renewed.
In early September, 2001 John Connolly of Vanity Fair published, "Sex, Lies, and the Tape." Included was ataped conversation, known as the WeaselSearch Tape, between Fund and His girl friend, Morgan Pillsbury.
As you listen to this tape, made in September, 1999, and read the accompanying article you realize both Fund and his girl friend, my disordered daughter, Morgan, lie, and are not to be trusted.
I am the individual the two are discussing. Later, in 2001 – early 2002, Fund battered and nearly killed Morgan.
All of the individuals discussed here were involved in the evolution of events surrounding this tape.
By winter 2002 Rove and associates probably believed they had managed to defuse the problem Fund's battery of Morgan had caused. But the situation devolved because of computer hacking, leaking Saddam's willingness to leave later the same year.
The Oncoming War in Iraq – Autumn 2002
Cheney and Rove, both Straussians, had common ground in the drive for perpetual war in 2001 – 2002, had both adopted the ideas of Strauss. Their joint commitment to a campaign of deceit was natural to each and relatively easy to carry out through 2004 since the full array of government tools were available to them and they were united.
The rush to war started with the lies you likely remember about weapons of mass destruction. In the autumn of 2002 a juggernaut for war was launched and moving.
Then, in November, an unanticipated problem raised its head.
In November of 2002 Saddam let it be known he would gladly leave, if he was paid. An email correspondence began. Max Blumenthal, for his father, Sidney Blumenthal, and through him to the Clintons, persuaded Saddam Bush was only blustering and would not invade. They did not know, at the time, someone else was reading their emails.
For me, this part of the story started when Morgan called me from the basement where she was hiding in Georgia and asked, "Mother, is Uday something like E-Bay?" Morgan did not pay much attention to things not directly effecting her.
The John Fund Scandal, briefly, was followed by some, then dropped in the wake of 9/11. But for myself, it was a continuing problem.
Fund, an old friend of mine, had begun a sexual relationship with my daughter, lied to her, tried to dump her, and suffered the consequences anyone in the family could have told him were in the cards.
Morgan is a psychopath.  So is Fund. The reason the Weaselsearch tape was made was because I had found, to my grief, her word was not to be trusted. She made it to persuade me she had told the truth and changed her ways. This last was a lie, but she hooked me into believing her for a while.
The previous spring, 2002, I was still renting an apartment for Morgan in NY, and she had not yet fled NY, which she was forced to do because of the attempt to kill her by John Fund, aided, she was told, by Rove and Cheney.
About that time, she had put a keylogger on Sidney Blumenthal's computer. Blumenthal was, if you remember, Clinton's assistant and senior adviser.
This, I told her, was illegal. But she said it was payback because Blumenthal had had her computer hacked and stolen information from her about John Fund and others, to be used in his book, "The Clinton Wars."
Someone with power had gotten to the court in New York. Ignoring the evidence, and witnesses, they had sidelined the case, though we were told Morgenthau personally held the file on his desk. If Robert Morgenthau, District Attorney in Manhattan, what could we do? Thwarted, Morgan returned the favor and put a keylogger on Blumenthal's computer.
Morgan is disordered.  Ten years ago the problem of sociopathy and psychopathy were not nearly as widely understood as today by any of us. The disordered create chaos. But earlier the chaos Morgan created was at least localized to her family and friends. When she broadened her associations to the NeoCons, who are  also disordered,  things got worse.
In 2012 I realized psychopaths never change. I also understood much more about what had been going on with attempts to bring about the War in Iraq and why Fund, Rove, and Cheney felt endangered by Morgan's hacking.The Bush Administration knew Morgan knew about their efforts to keep Saddam in Iraq so the war could go forward.
What Morgan Found in Sid's Email Box
Morgan had been getting emails between Sidney and his son, Max, which were forwards from someone named Uday. She read them to me and sent one on, with the identifying origin. This email went on to a friend who could tell us where the email to Max had originated. The word came back it had originated in the Saudi Arabian Emirates, and very well could have come from Baghdad.
The emails urged Saddam to stay in Iraq, saying Bush would not invade as Saddam expressed his willingness to be paid to leave.
Morgan kept reading these messages and the husband of the couple, with whom she was staying, also saw these emails. When Morgan decided to put a keylogger on Uday's computer this was accomplished by using the subject line, "Women without Veils," which was the husband, Eric's, idea. It worked. Reading the emails continued, and included emails directly from Uday. I did not ask for copies and none were sent to me.
I contacted a friend's husband who worked at the CIA and left the matter in Morgan's hands. She told me the FBI had gotten in touch with her and asked her to continue to monitor the correspondence, also following Uday with the new keylogger she had installed in the computer in Baghdad.
When the bunker-buster hit Saddam's headquarters Morgan reported seeing the 'ping' move from Baghdad to Virginia. She was not contacted again. But they knew we knew.
There had been no release of information regarding the activities of Blumenthal and the Clintons in holding Saddam in Iraq in the media. The War in Iraq was building. I had a horrible, sinking feeling in the pit of my stomach.
Now we know Saddam had no Weapons of Mass Destruction and that Saddam had nothing to do with 9/11. If Saddam had been paid off to leave there would have been no war. But, of course, trillions of dollars would have been lost to the war contractors and bankers.
As you dig, the lies only get worse. If you read John Perkins', "Confessions of an Economic Hitman," it is clear you see what people will do to other human beings for money. Not a pretty picture.
Drones, militarized police, along with biometrics for tracking individuals, and control through the GPS component, now standard in our cell phones, are each essential to suppressing the ability of Americans to resist and fight back. These are paid for by Americans, but produced by private contractors. Today, contractors have become an essential part of government.
The world of government contractors is murky and hard to follow. We know little enough about politicians, nothing about contractors, who are unelected and nearly invisible. We need to know, we need transparency. Along with knowing who they are, we need to hold them accountable. Each of us is liable for doing harm to others. This is also true of contractors.
For the purpose of understanding one drone contractor we have chosen Green Hills Software, Inc., a silver member of the Association for Unmanned Aerial Vehicle Systems International.
They have been involved in this story since, at least, 2002. Read my previous article, "How a Transparent World Protects us," for details on Green Hills and their Management Team.
The company provides encryption and guidance, without which drones would not work. Green Hills is the best possible example of an errant contractor. Their relationship with John Fund began in 1999. It is likely Green Hills knew Saddam Hussein had offered to leave Iraq.
Green Hills assisted in silencing myself and Morgan with curious haste, beginning with sending the uncertified deposition, given by Morgan in 2001, to John Fund. When this took place their profits were skyrocketed with government contracts. The War in Iraq was starting.
The world would be very different today if the FED had simply printed up a billion dollars and sent it to Saddam. He would have retired and troubled us no more. Better yet, we could have looked for the real perpetrators of 9/11 and held them accountable.
What did not happen is history. Now, we understand far more clearly what the problems are we face. Out of control contractors are only one of these, but one which must be solved.
Green Hills contact information, and evidence, has been provided to attorneys in England and Pakistan who are now filing law suits. Since Green Hills is international collecting should not be a problem.
A small step, but useful in setting a new direction for America.
Historically, what separated American society from most other countries was a healthy distrust of government and a tradition of civil liberties. The Bill of Rights is a unique safeguard embodied within the constitutional structure of a road map for governmental restraint. One of the most important restrictions placed upon the police powers of the central government is exemplified in Posse Comitias. The militarization of domestic law enforcement is fundamentally in conflict with individual rights and natural law.
The basic character of the American spirit envisioned narrow intrusion into the personal affairs of citizens. The federal government is burdened with thoughtful and precise limitations on its powers for the essential reason to inhibit the aggressive expansion of despotic tendencies. Once upon another era, the people of the Republic understood this vital social construct of control against the destruction of liberty, by the very government entrusted to preserve the essence of the union.
Fifty years ago, the nation entered into a morass of a foreign conflict that altered the very fabric and substance of the post World War II mentality. As the Viet Nam war expanded, the consciousness of a youthful generation exploded into a fundamental counter cultural resistance against the mindset that built the military-industrial-complex and perpetuated an interventionist global foreign policy.
The campuses and streets of America were filled with swarms of dissenters opposing the war and the repression of a burgeoning police state. The gambit of defiant speeches to civil disobedience saw the corridors of power crumple in the wake of a nation galvanized against the Sovietization of our authorities, when the war, was supposedly fought, to stop the spread of Communism.
Even with the incomplete success in ending the Viet Nam hostilities, the political loss of that war, did not prevent the uninterrupted march toward the Orwellian collectivist state, that we now live under and the oppressive compliance that Homeland Security so aptly represents.
Corrosive incrementalism of totalitarian policies developed in an environment of gradual apathy, over the last half century. Dissenting opposition movements, persistently confrontational against the establishment became less organized and vocal. As a result, institutions of influence descended into deeper depths of moral corruption, as the agencies of bureaucratic dominance expanded their reach and scope of tyranny.
The generations of the post Viet Nam period, developed a materialistic career oriented motivation, at the expense of abandoning the search for spiritual and social responsibility, toward their fellow neighbor and their country. The flower power experienced at the opposite end of a National Guard bayonet is now replaced with a corporatist stock option in a company that builds the drone surveillance society.
With the spread of "Politically Correct" urbanity, political debate has become restrictive, sterile and punitive. The primary ingredient out of the corporate news media is a filtered mush that leads to a permanent blockage in the excretion track. These gatekeepers protect careerist criminal politicians, while serving the global interests of their Wall Street masters. The seldom-interrupted path towards government worship homogenization is a main accomplishment of the systematic dismantling of the principles of inherent autonomy.
Woefully, the plastic patriots of Bean Town demonstrated their retardation, from drinking of the dirty water, offered by the storm troopers. Accepting an arbitrary and capricious "Judge Dredd" martial law decree for an area wide lockdown is repulsive and antithetical to the noble tradition of a community, who squared off against the red coats.
The phony war on terror is actually a contrived policy and false flag drill exercises, to strip away the last vestiges of constitutional inhibitions and restraints. The "so called" terrorism that the government would have you believe threatens the nation, is but an elaborate deception to justify the methodical enslavement of unsophisticated and easily fear induced denizens.
As the connection between the patties, blamed for the Boston Marathon panic, with intelligence communities operatives and fronts become known, the official FBI version of the investigation unravels. Deployment of battalions of military vehicles with SWAT assassins poses a far greater danger to the citizenry than a nineteen-year-old "so called" Jihadist recruited into the cause by the very government, who claims to be in charge of keeping us all safe.
With the surrender of our cherished civil liberties to a ruthless DHS internal police force, martial law is now the rule of the land. Many Bostonians deserve the shame of their forbearers. Where are protests with every knock at the door? This precedent does not bode well. It is doubtful that the populace will resist in mass, when it becomes their time for transfer to their designated FEMA concentration camp.
That day is coming, and with the lack of courage in the veins of the mediocre public, the state will face little resistance, when the financial collapse hits the households of all the government dependent. This reincarnated empire of a "King George" assault, is seizing the spirit of the Bunker Hill memorial. Homeland insecurity is designed to eliminate the Gadsden flag so that it has no place to fly.
The hard-learned lessons of Viet Nam are lost to the self-absorbed and dumbed down civil servants, who pledge their loyalty to an illegitimate government, as they sell their souls to an evil empire. The mere hint of reviving a counter-culture resistance against the globalist matrix labels one an enemy of the state. Just maybe, too many people are drinking Sam Adams beer and drunk with lethargy, to heed the call of Paul Revere.
The underground press was alive and vibrant in the 1960's. Now the internet is being groomed to be clipped with CISPA. During the confrontations with authority in a time long ago, the best within Americans emerged as defenders of core political values, while pushing the envelope of personal freedom discovery. Now the children of that generation are in seats of official authority. Lost in the education process; both in government schools and often in the family home, is a vigorous suspicion of the abuse of power and a duty to resist oppression.
Without a renaissance in traditional revolutionary commitment, the American experiment will end as every other botched and immoral imperium. The colonial civilization that rose up the original Tea Party rebels against the Crown has sunk into docile disciples of obedience to state fascist brutality.
The founding fathers were men of wisdom and courage. The survivors of the Viet Nam campaign grew in understanding over the decades in the knowledge that their battle for national survival just began with their return home. The enemy they fought in the rice paddies were fighting a civil war. Back on home soil, these veterans learned that their true foe became a tyrannical government, bent upon destroying the very civil liberties that every real American pledges upon their allegiance and sacred honor.
Until people develop the guts to face up to the 911, excuse for the terrorism fraud and the false security measures designed to destroy essential legal protections of individual rights, the organized government terror will continue.
The call goes out to rekindle the defiant spirit and resistance to the ever-growing police state. The sincere patriot opposes any bureaucratic and administrative edict that violates your natural rights. The next time belligerent and suspect authorities demand a lockdown on your neighborhood, hold a block party. The enforcement mercenaries have neither the moral mandate nor the practical efficiency to arrest and sequester the minuteman multitude with the willful daring to "just say no" to tyranny.
Where are the Thoreauvian moralists, willing to defend their local Walden Ponds in their own communities? The reason the herds of the timid are so unwilling to challenge the supermax prison that Amerika has become is due to the fact, that so few have the fortitude to join the-strike-the-root inspiration that speaks to the character of a corrupt society.
Soon the infamous disturbed Colonel Kurtz will look like a sane expedient of military violence as the entire nation is transformed into an Apocalypse Now before our eyes. The best way to combat the thugs that violate every universal decency and common law right is to practice civil disobedience at any opportunity. Resisting oppression is a necessary step in the liberation of society from subjugation.
First responders need to stand down, when they are commanded to follow illicit orders. Boston needs to repent from their authoritarian progressive state worship. As a center of creative cutting edge protest during the Viet Nam war, the Bostonian Bluebloods of globalist indoctrination have succeeded into transmuting independent thinkers into lock step zombies.
Liberation from trumped up jingoism has been a difficult task for well over a century. At stake now is the very fabric of our own country. Surrendering our precious heritage, for a delusive and faux sense of security, plays directly into the hands of the fascists. Protest the dictatorship of the establishment. Learn from the majesty of dissent, that when the emperor is exposed as wearing no cloths, he is naked for all to see. The essential issue is whether the American public has any eyesight left, and what actions will they undertake to restore their dignity.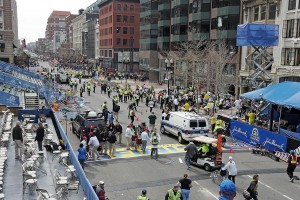 Will we ever learn the full truth about the Boston Marathon bombing?  Personally, I have been looking into this attack for days, and I just keep coming up with more questions than answers.  At this point, I honestly have no idea what really happened.  Why was a bomb drill being held on the day of the attack?  Why have authorities denied that a bomb drill was taking place?  Were Tamerlan and Dzhokhar Tsarnaev acting alone?  What was the nature of their previous contacts with the FBI and other federal agencies?  Why did the FBI at first deny that they had been in contact with the Tsarnaev brothers previously?  Why was the investigation of a mysterious Saudi national with familial links to al-Qaeda suddenly dropped shortly after the Saudi ambassador held an unscheduled meeting with Barack Obama?  Why did Michelle Obama subsequently visit that mysterious Saudi national in the hospital?  If you are looking for answers to these questions, I am afraid that I don't have them at this point.  But what alarms me is that the mainstream media seems to be afraid to ask any of the hard questions that they should be asking.  They just seem to swallow whatever the authorities tell them hook, line and sinker without following up on any of the things in this case that simply do not seem to make sense.
So what kinds of questions should they be asking?  The following are 17 unanswered questions about the Boston Marathon bombing that the media appears to be afraid to ask…
#1 Why were runners being told that a bomb squad drill was taking place during the Boston Marathon?  The following is from an article by Natural News…
Alastair Stevenson is a veteran marathon runner who has competed in dozens of marathons around the world, including the London Marathon. He's very familiar with the security typically found at marathons, and he immediately noticed something odd about the Boston marathon security.

"They kept making announcements on the loud speaker that it was just a drill and there was nothing to worry about. It seemed like there was some sort of threat, but they kept telling us it was just a drill," he was quoted as saying byLocal15TV.com.

In the interview, you'll hear Stevenson say:

"At the start at the event, at the Athlete's Village, there were people on the roof looking down onto the Village at the start. There were dogs with their handlers going around sniffing for explosives, and we were told on a loud announcement that we shouldn't be concerned and that it was just a drill. And maybe it was just a drill, but I've never seen anything like that — not at any marathon that I've ever been to. You know, that just concerned me that that's the only race that I've seen in my life where they had dogs sniffing for explosions, and that's the only place where there had been explosions."
#2 Why did authorities deny that a bomb squad drill was being held?
#3 According to The Mirror, the FBI is reportedly "hunting" a 12-strong terrorist "sleeper cell" that Tamerlan and Dzhokhar Tsarnaev were allegedly a part of…
A source close to the investigation said: "We have no doubt the brothers were not acting alone. The devices used to detonate the two bombs were highly sophisticated and not the kind of thing people learn from Google.

"They were too advanced. Someone gave the brothers the skills and it is now our job to find out just who they were. Agents think the sleeper cell has up to a dozen members and has been waiting several years for their day to come."
If that is the case, why are authorities in Boston adamantly insisting that the two brothers were acting alone?
#4 CBS News is reporting that the FBI interviewed Tamerlan Tsarnaev back in 2011.  The mother of the two Tsarnaev brothers insists that the FBI had been in contact with them for up to five years.  At first, the FBI denied any previous contact with the two suspects.  Will we ever learn the true scope of the previous relationship between the FBI and the Tsarnaev brothers?
#5 Debka is reporting that the Tsarnaev brothers were "double agents" which had been "hired by US and Saudi intelligence to penetrate the Wahhabi jihadist networks which, helped by Saudi financial institutions, had spread across the restive Russian Caucasian."  Could this possibly be true?  If so, will the American people be told the truth about these links?
#6 According to their uncle, there were "mentors" that "radicalized" the Tsarnaev brothers.  So precisely who were those "mentors"?
#7 What happened during Tamerlan Tsarnaev's trip to Dagestan and Chechnya last year?
#8 Were the Tsarnaev brothers in contact with a rebel leader named Doku Umarov who is known as "Russia's Bin Laden"?
#9 Did Tamerlan Tsarnaev post a video on YouTube last summer that expresses a belief that the 12th Imam, Mahdi, will soon come and that an Islamic army with black flags with arise out of a province in Iran known as Khorasan?
#10 Why aren't we being told that the "pressure cooker bombs" used in the Boston Marathon attacks are very similar to the kind of pressure cooker bombs that are commonly used in the Middle East?…
The Daily Beast has confirmed with U.S. counter-terrorism officials that the bombs placed Monday at the marathon were made from pressure cookers, a crude kind of explosive favored by insurgents in Pakistan and Afghanistan. A recipe for a bomb that uses the pressure cooker was part of the debut issue of Inspire, the English-language online magazine of al Qaeda in the Arabian Peninsula.
#11 Initially we were told that Saudi national Abdulrahman Ali Alharbi was a "person of interest" in the case.  But now he is scheduled to leave the countrywith the full blessing of the U.S. government.  Why is there such a rush to get him out of the United States?
#12 Why aren't we being told that Abdulrahman Ali Alharbi was photographedwith two other Saudis in the vicinity of the Boston marathon bombings?
#13 Why aren't we being told of the shocking familial links that Abdulrahman Ali Alharbi has to known members of al-Qaeda?  The following is from research complied by Walid Shoebat…
Many from Al-Harbi's clan are steeped in terrorism and are members of Al-Qaeda. Out of a list of 85 terrorists listed by the Saudi government shows several of Al-Harbi clan to have been active fighters in Al-Qaeda:

#15 Badr Saud Uwaid Al-Awufi Al-Harbi
#73 Muhammad Atiq Uwaid Al-Awufi Al-Harbi
#26 Khalid Salim Uwaid Al-Lahibi Al-Harbi
#29 Raed Abdullah Salem Al-Thahiri Al-Harbi
#43 Abdullah Abdul Rahman Muhammad Al-Harbi (leader)
#60 Fayez Ghuneim Humeid Al-Hijri Al-Harbi
Source: http://aalhameed1.net/vb/showthread.php?t=1565

Then you have Al-Harbi clan members in Gitmo:

Salim Salman Awadallah Al-Sai'di Al-Harbi
Majid Abdullah Hussein Al-Harbi
Muhammad Abdullah Saqr Al-Alawi Al-Harbi
Ghanem Abdul Rahman Ghanem Al-Harbi
Muhammad Atiq Uwaid Al-Awfi Al-Harbi
Source: http://www.muslm.net/vb/showthread.php?169019-أسماء-(90)-سعودياً-لا-زالوا-محتجزين-في-جوانتانامو

There are specific Saudi clans that are rife with members of Al-Qaeda, which makes it quite alarming as to why nearly a hundred thousand student visas are issued to these. Americans are clueless as to clan ties when it comes to terrorism.
#14 Why did U.S. Secretary of State John Kerry have a private meeting with a Saudi foreign minister shortly after Abdulrahman Ali Alharbi was identified as a potential suspect?
#15 Why did Barack Obama hold an unscheduled meeting with the ambassador from Saudi Arabia shortly after Abdulrahman Ali Alharbi was identified as a potential suspect?
#16 Why did Michelle Obama visit Abdulrahman Ali Alharbi in the hospital?
#17 Why did numerous mainstream media outlets openly suggest that "right-wing extremists" were behind the bombings in the immediate aftermath of the attack?
Source: End of the American Dream
Only a media masochist can stand watching network and cable TV news. The extent of self-immolation coming out of their broadcasts, have seldom been more vivid, with their bizarre reports on the Boston Marathon bombing. If one did not know better, the comparison with the Marx Brothers antics would have you believe that you have a ringside seat At the Circus. Silly behavior is the mainstay of the mainstream media. Real news investigation has long ago been relegated to the archives of a half century ago, when there was at least a small measure of a healthy distrust of government sources. Today the clowns that act as ventriloquist dummies have more in common with Karl Marx than Groucho.
The passion of lies flows from the lips of the talking heads, as they get their instructions from corporatist producers in their earpiece. The latest example of a Mossad agent and Zionist exponent is the infamous liar, CNN Wolf Blitzer. A Rush to Misjudgment, states, "CNN is coming under criticism after it falsely reported authorities had arrested a Boston Marathon bombing suspect, whom it had earlier described as a "dark-skinned male." Catching Blitzer tap dancing around the blowup of the designed script of placing culpability on the intended stooges, selected to advance the domestic war of terror, reminds of a skit played by Chico in a bad version of Monkey Business.
That other CNN and CIA plant, Anderson Cooper provides the complementary tag team effort to confuse and distract on a news production that even the global radical and former network owner Ted Turner has to hang his head. Cooper plays the role of Harpo as Pinky as he stirs the Duck Soup broth disinformation. The only way to watch "the government news hour" is with the volume on the Harpo setting - silent no verbal talk.
Not to be outdone the Fox News Network features another CNN alumnus, Bill Hemmer as their Zeppo, performing relatively straight (non-comedic) roles as an authoritive source for an authoritarian mindset of neoconservatives. Deceiving real liberty loving viewers with a pseudo patriotic flag waving is the hallmark of the fair and balanced news format now that Rupert Murdoch is the target of the globalists cabal to act friendly with their new world order scheme.
The next hack over at MSNBC, Chris "Gummo" Matthews on "Hardball" tonight, the host openly questioned whether at least a portion of the horror was an intentional attack against the Democratic Party. What class from this dedicated Marxist brother in media prevarications?
"Let me ask you about domestic terrorism as a category. Normally, domestic terrorists, people tend to be on the far right, well that's not a good category, just extremists, let's call them that. Do they advertise after they do something like this? Do they try to get credit as a group or do they just hate America so much or its politics or its government that they just want to do the damage, they don't care if they get public credit, if you will?"
In addition, the Weekly Standard, the quid essential NeoCon diatribe publication, lashes out at MSNBC as an adjunct enabler of the globalist agenda.
"MSNBC host Lawrence O'Donnell made the case this evening that the National Rifle Association is to blame for the slow investigation into the Boston bombings:
"There are new developments tonight in the bombing investigation here in Boston," said O'Donnell. "But that investigation could be moving faster were it not for the successful lobbying efforts of the National Rifle Association. The NRA's efforts to guarantee that American mass murderers are the best-equipped mass murders in the world is not limited to murderers who use assault weapons and high-capacity magazines. The NRA is also in the business of helping bombers get away with their crimes. Gunpowder could be traced by investigators to a buyer at the point of sale if gunpowder contained a taggant, an element that would enable tracing of the purchase of gunpowder. But thanks to the National Rifle Association, identification taggants are required by law only in plastic explosives. The NRA has successfully blocked any requirements for such taggants in gunpowder. So such supremely helpful evidence as taggants are not available to the FBI in this investigation."
The bombings took place at Monday's marathon."
For an even more revolting low in propaganda, the MSNBC: NRA 'in the Business of Helping Bombers Get Away With Their Crimes' You Tube, is typical of a state sponsored Pravda style media misinformation, that now passes as journalism. Now compare this garbage MSNBC government coordinated onslaught with the perceptive, daring and provocative coverage on Breaking the Set, with host Abby Martin that is aired on RT TV. The video broadcast of Corporate Media Disaster Porn | Weapons of Mass Distraction, raises the issue that the corporate media is reporting false information. The long record of government drill operations during "so called" terrorist events might well prove to apply to the Boston Marathon massacre.
At the forefront of this speculation, Yahoo News lays claim that Alex Jones raises 'false flag' conspiracy after Boston Marathon bombings.
"Jones suggested that the FBI orchestrated the bombings under the false flag of a terrorist organization in order to justify expanded security powers. The Boston attack, he theorized, was staged by the U.S. government to extend the reach of both the Dept. of Homeland Security and Transportation Security Administration."
With the FBI suspects, Tamerlan Tsarnaev dead and his brother Dzhokhar Tsarnaev at large and now captured, it will take some serious investigatory reporting in order to penetrate the layers of government secrecy that reasonably can be expected to conceal what actually transpired on April 15, 2013. Still, the lamestream media will never report any evidence that conflicts with the homeland security police. The presence of sensible alternative explanations are consistently dismissed when the war of terror needs another jolt of fear to keep the public on edge.
Believing any of the government press releases that pass as independent news reporting is more risky than taking your chances in a world of deranged psychopaths. Simply stated, no one in the "so called" know has the inside track on all the complexity of the official investigation, or the potential compartmental complicity in a sanctioned undercover mission.
Where are the brave correspondents that would dare shout from the rooftops, that the response from the Boston carnage is virtually a green light for lock down martial law on the public? Just look to the Faux resident pinhead, Bill O'Reilly for bold reporting, Bill O'Reilly Attacks Alex Jones and Infowars for Daring to Ask Questions About Boston Bomber Narrative.
"Fox resident blowhard Bill O'Reilly and correspondent Juliet Huddy have attacked Alex Jones and Infowars.com reporter Dan Bidondi. For the two Fox News talking heads it is apparently a serious crime to quiz Massachusetts Gov. Deval Patrick about the false flag attack in Boston on Monday. It is impermissible to call into question the validity of the official narrative now coagulating around the event. It is forbidden to deviate from the establishment's script.Huddy dismissed Jones and Bidondi as "idiots" and the accused sexual predator O'Reilly – who has strongly condemned the First Amendment in the past and has shilled for mass murder in Iraq and Afghanistan – made his disgust manifestly apparent, as usual. Both displayed contempt for the internet and alternative media, a quite natural reaction from two irrelevant teleprompter readers. Fox News in particular and the rest of the bloated script-reading dinosaur media in general are seriously threatened by free expression and news reportage on the web."
Viewers that still watch, let alone believe, the fabrications coming out of the bowls of the presstitutesneed a reality check. Just think of all the naive clones that pay their cable or satellite charges for the privilege of bonding with the establishment mouthpieces. What you get from the mind control media is a government version of indoctrination into a slave society. Denial of even the possibility of a false flag operation in the underlying exercise is the only reporting you are supposed to watch.
The FBI tells America: believe us and no one else, outlines the official dictates from the ranks of the G-man enforcers, "The implication is clear: there is official truth and then there is everything else."Since the fascination of following, another manhunt with live feeds is so compelling to the trained seals that are pinned to the screen, the significance of a tyrannical takedown of an entire region of law-abiding citizens, goes unreported by the whores that read from the government approved teleprompters. The autocue message is sanitized of any possibility that the crew of a covert operative drill might just provide cover for a despotic counterattack to the shot heard around the world.
Americans are so easily duped. The Marxist media feed Animal Crackers to a dumb downed public that swallows a systematic federalization of genuine peace keeping functions. The true race in Boston is to re-establish the rebirth of the American Revolution.
Mounting evidence suggests state-sponsored terrorism. Expect more later to confirm it. Cui bono matters most. Powerful interests benefit hugely. Ordinary people lose out.
War on terror 2.0 looms. Innocent people will suffer. Expect more repressive laws. Military spending will increase. Homeland security will be boosted. Fundamental freedoms will die. Full-blown tyranny may follow. It's already a hair's breath away.
Imperial wars on humanity will continue. New targets will be chosen. Independent governments will be attacked. New world order rules demand unchallenged global dominance. The worst of all possible outcomes may follow. State-sponsored terror facilitates it.
What's ongoing resembles post-9/11 events. Media scoundrels misreport. They do so round-the-clock. Readers and viewers are willfully misinformed.
Fear-mongering, lies and damn lies replace truth and full disclosure. Muslims became public enemy number one. Who'll suffer most with them this time?
Vital information is suppressed. Fingers point the wrong way. Innocent victims are blamed for state-sponsored terror. More on that below.
National emotions are aroused. At issue is enlisting public support. Post-9/11, Bush addressed an Episcopal National Cathedral prayer and remembrance ceremony.
"(O)ur country was attacked with deliberate and massive cruelty," he said. "We have seen the images of fire and ashes and bent steel."
He omitted what's most important. Washington bore full responsibility. The worst of all possible worlds followed.
On April 18, Obama addressed a Holy Cross Cathedral interfaith prayer service. "(I)n an instant, the day's beauty was shattered," he said. "A celebration became a tragedy. And so we come together to pray and mourn and measure our loss."
"We will find you," he added. "And yes, you will face justice. We will hold you accountable." Truth and full disclosure always loses out.
Early Friday, newly released FBI photos showed alleged bombing suspects. They're brothers. They were called "armed and extremely dangerous." Allegedly they had "explosives and guns." Official reports lack credibility.
One suspect was arrested. The other fled. He's now in hospitalized in serious condition. Police discovered his whereabouts and shot him. Officials later said the one taken into custody died. Allegedly he was killed in a "violent standoff." Cold-blooded murder is more likely.
A "massive manhunt" continues. Officials said suspects came from Chechnya or nearby. Doing so implies Islamofascists. MSNBC's Chris Matthews alleged they're Arabs. Perhaps from Yemen, he said. Media scoundrels feature this type misreporting ad nauseam.
Mossad-connected DEBKAfile called them "Chechen Wahhabi cell" members. Saudi Arabia funds it, it said. Older brother Tamerlan was 26. Police likely killed him in cold blood. He was a boxer and Bunker Hill Community College engineering student.
Younger brother Dzhokhar fled. He's 19 years old. He's a Cambridge Rindge and Latin School graduate. His father calls him a "true angel." He's a Greater Boston League all-star wrestler.
He won a city of Cambridge $2,500 scholarship. He's a second year medical student. His father said both brothers were "set up." They "killed my older son Tamerlan," he added.
Over 10 years ago, both brothers came to America with their family. They're not terrorists.
Officials said greater Boston public transportation shut down. The FAA ordered a no-fly zone over a 3.5 radius of the bombing site. Watertown, Cambridge, Newton, Brookline, Waltham, Belmont, and other suburban area residents were advised to stay home.
Colleges and universities closed for the day. Local businesses were told not to open. Thousands of officers made house-to-house searches. Swat teams are involved. Some areas were evacuated. Helicopters patrol overhead. Police cars are everywhere.
Greater Boston's never seen anything like this before. It's surreal. It resembles a bad film plot. It gets round-the-clock coverage. Managed news misinformation substitutes for cold hard facts.
Infowars headlined "Did Boston Bombing Suspect Try to Surrender?" An image showed him lying prone with his arms outstretched. He held no weapon. None appeared near him.
One suspect killed. Perhaps another to follow. What better way to bury truth. Dead men tell no tales. Exculpating evidence perhaps won't surface. Media scoundrels won't report what does.
Lots more went on. On marathon day, eyewitnesses reported bomb drills, training exercises and rooftop snipers. Authorities denied them.
University of Mobile cross country coach Alastair Stevenson contradicted them, saying:
"At the starting line this morning, they had bomb sniffing dogs and the bomb squad out there. They kept announcing to runners not to be alarmed, that they were running a training exercise."
On April 17, Anthony Gucciardi headlined "Craft International Private Military Forces at Boston Marathon?"
Images showed two men "with earpieces and military-esque gear….(T)hey may likely be employees of the Blackwater-style private military/security firm Craft International."
Their attire was later "revealed to be standard issue Craft International clothing." The skull logo on one man's cap identifies Craft.
Why were both men and others with them in Boston? Images show around 10 wearing similar attire. Nearly all had on black backpacks. They resembled those alleged to contain pressure cooker bombs.
Investigators said they contained explosives, nails and ball bearings. They detonated moments apart.
Four or more Craft operatives wore tan combat boots, tan BDUs (battle dress uniforms), black jackets, and had tactical communications gear. At least one had an "inspector radiation alert." It's used to detect dirty bomb or nuclear attack emissions.
Why were they near the marathon's finish line? Perhaps their mission was a black ops. They're experts in these type operations.
Why did FBI operatives join them? Images show them talking. An FBI truck was visible. Why were FBI agents searching for one bombing suspect before the incident took place?
Why have media scoundrels ignored this? These and related questions demand answers. Coverup and denial reflect official policy. Vital facts are suppressed. What's most important isn't reported. Misinformation substitutes.
Stephen Lendman lives in Chicago. He can be reached at lendmanstephen@sbcglobal.net.
His new book is titled "Banker Occupation: Waging Financial War on Humanity."
http://www.claritypress.com/LendmanII.html
Visit his blog site at sjlendman.blogspot.com.
Quarter-billion new rounds also slated for DHS…
WND recently reported that the U.S. Department of Homeland Security has purchased well over a billion rounds of ammunition over the past year.
The magnitude of the federal government's ammunition buildup has made headlines as members of the military, police departments and consumers find shelves bare.
But the full impact may yet to be seen, as WND has uncovered a plan by the FBI to spend up to $100 million over five years on millions of rounds for its machine guns and pistols.
According to a solicitation revised and released March 25 that WND discovered during routine database research, the FBI is gathering the ammunition "to be carried and fired [by FBI Special Agents] in defense of life" as well as for training purposes.
The ammunition includes a combination of field-ready Glock 9mm rounds as well as reduced-lead training ammo. Weapons listed in the Statement of Work, or SOW, are Glock Model 17, Glock Model 19, Glock Model 26, SIG Sauer P226, SIG Sauer P228, Heckler and Koch MP5 9mm submachine gun (K, A2, A3, SF and SD versions).
"The FBI is the federal government's principal agency responsible for investigating violations of more than 260 federal statutes," the SOW points out. "As the investigative arm of the U.S. Department of Justice, FBI Special Agents (SA), in the pursuit of duty, may be involved in high threat assignments where deadly force may be used in the face of violent confrontations."
Contractors are peppering the bureau with questions as they jockey for position to secure the lucrative contract, the amended solicitation indicates. Once the FBI decides on a provider, that contractor will deliver the ammunition within 60 days to FBI facilities and "other approved federal government locations" in the continental U.S. as well as Hawaii, Alaska and Puerto Rico.
Hundreds of millions of rounds likewise are being ordered by the Department of Homeland Security, with more than a quarter-billion of them slated specifically for Customs and Border Protection training over five years.
Although DHS has not yet awarded contracts in that proposed CBP acquisition, late last year it revealed its intention to buy 250 million rounds of Smith & Wesson .40 ammunition over the life of a five-year contract.
DHS yesterday separately issued a revised solicitation to buy a combination of 100,000 handgun and rifle rounds destined for the Federal Law Enforcement Training Center, or FLTC, in Artesia, N.M. It did not disclose the estimated cost.
The department today additionally released another amended procurement notice for 360,000 rounds of jacketed hollow-point .40 caliber training ammo also destined for the Artseia FLTC.
InfoWars.com reported on the initial release of that particular procurement earlier this week.
Although the estimated cost of the solicitation, likewise, has not been disclosed, DHS last month awarded a $49,000 contract to Grace Ammo LLC for a similar batch of ammo for the Artesia facility.
DHS in January purchased an additional 200,000 rounds of jacketed hollow-point .40 caliber rounds. It awarded a $46,000 contract to Evian Group Inc. in that instance.
Read more at http://www.wnd.com/2013/03/fbi-plans-to-spend-100-million-on-ammo/#KH38UIpkyBGbMXyi.99
Source: WND
A government whistleblower, disclosing classified secrets, risks criminal charges. Defining restricted material usually includes a broad scope of information that casts officials or agencies in a compromising embarrassment. The idea that public servants may be engaged in violating laws is no excuse for blowing the whistle on such abuses if it involves "National Security". This protect the state attitude at all cost argument, is the very definition of institutional cover-up. In war, truth is the first casualty, so said Aeschylus.
So throwing the book at Bradley Manning comes as no surprise. Why should anyone be concerned about the intentional dissemination of raw evidence about war crimes, committed in the name of the War of Terror? Most would fail to be moved by the motivations of a stoic prisoner, who uploaded secured computer files to WikiLeaks. Many would cheer his interminable incarceration for disclosing military records.
Yet, before you slam the jail shut, reflect upon the Secretly Recorded Audio Leaked of Bradley Manning's Court Statement. Listen to the Full Statement.
Also, view the YouTube video, Bradley Manning Tells Court Public Have the Right to Know About US War Crimes.A cogent reaction from another renowned whistleblower, Daniel Ellsberg of the Pentagon Papers fame, carries the weight of a brave man from another era.
"It's important to remember through all this that Manning has already pled guilty to ten charges of violating military regulations (few of which, if any would be civilian crimes) and faces twenty years in jail. Yet the prosecutors are still going ahead with the absurd charge of "aiding the enemy," a capital offense, of which the prosecutors are asking for life in prison.

Nixon could have brought that charge against me too. I was revealing wrongdoing by our government in a public way, and that information could have been read by our enemies in Vietnam. Of course, I never had that intent and Manning didn't either. We both leaked information to provoke a domestic debate about military force and government secrecy. And to say we did so to aid the enemy is absurd."
In any political trial, the spirit of the law is sacrificed for the expediency of protecting a debased regime. Balance in prosecution is a concept unknown to a government consumed with punishing any perceived enemy of the state.
Attorney Floyd Abrams and Professor Yochai Benkler provide a thoughtful perspective and legal opinion in The New York Times editorial - Death to Whistle-Blowers?
"Under the prosecution's theory, because Private Manning knew the materials would be published and that Al Qaeda could read them once published, he indirectly communicated with the enemy. But in this theory, whether publication is by WikiLeaks or The Times is entirely beside the point. Defendants are guilty of "aiding the enemy" for leaking to a publishing medium simply because that publication can be read by anyone with an Internet connection.

Private Manning's guilty plea gives the prosecution an opportunity to rethink its strategy. The extreme charges remaining in this case create a severe threat to future whistle-blowers, even when their revelations are crystal-clear instances of whistle-blowing. We cannot allow our concerns about terrorism to turn us into a country where communicating with the press can be prosecuted as a capital offense."
No such mercy from the imperial empire, Manning must suffer the supreme wrath for his transgressions. His admissions acknowledge expected official sanctions, but the sentiment of Daniel Ellsberg reflects the standpoint of many Manning supporters.
"…For the third straight year, Manning has been nominated for the Noble Peace Prize by, among others, Tunisian parliamentarians. Given the role the WikiLeaks cables played in the Arab Spring, and their role in speeding up the end of the Iraq War, I can think of no one more deserving who is deserving of the peace prize.

He's also deserving of the Congressional Medal of Honor. This medal, awarded by Congress-and not the executive branch-is given to military personnel, who during wartime, do what they should do for their country and their comrades, at the greatest risk to themselves."
Another target of recrimination, seen in the Sibel Edmonds dismissal is a classic example of punishing the whistleblower. Edmonds took a job as a translator at the FBI shortly after 9-11. Her story, stated in the YouTube interview, The Government Is Raping You: Sibel Edmonds, is compelling.
Sibel Edmonds Finally Wins, documents her observation in the book, "Classified Woman" and offers a disturbing assessment of her fellow workers.
"Edmonds found at the FBI translation unit almost entirely two types of people. The first group was corrupt sociopaths, foreign spies, cheats and schemers indifferent to or working against U.S. national security. The second group was fearful bureaucrats unwilling to make waves. The ordinary competent person with good intentions who risks their job to "say something if you see something" is the rarest commodity. Hence the elite category that Edmonds found herself almost alone in: whistleblowers."
This characterization of morally challenged federal employees is a direct consequence of a system that protects the cover-ups, while punishing disclosure of conflicting evidence of outright corruption. The silent culture of concealment or the worse incentive system of collusion runs the governing bureaucracies.
The presstitutes in the establishment media enable the warmongering protection racket as a condition of employment. Their lack of investigative reporting is only superseded by their ominous distortion of real patriotic loyalty. Whistleblowers function as detectives doing the job that reporters abdicate. Woefully, so few citizens of conscience are willing to jeopardize their individual circumstance for the courage of genuine national security.
The always insightful, William F. Jasper of the New American writes in Sibel Edmonds' "Classified Woman".
"Unfortunately, most of Edmonds' contributing editors at BoilingFrogs are decidedly left of center, and their anti-globalist, anti-war, anti-police-state arguments and analyses tend to range from the "progressive" to the Marxoid. However, when she went public and came under attack, it wasn't Sean Hannity and Rush Limbaugh who came to her defense; it was the anti-Bush Left that rallied to her aid. In fact, the faux conservatives at FOX, National Review, and the radio talk show universe alternately ignored and attacked her; they were busy cheerleading George W. Bush's unconstitutional wars abroad and his unconstitutional police-state measures at home. Sympathetic coverage for Edmonds from alternative media on the Right has been woefully lacking, with a few exceptions.
In April 2011, Sibel Edmonds submitted her manuscript for Classified Womanto the FBI for review, as required by terms of her employment agreement. Under that agreement, the FBI has 30 days to approve and/or require deletions and revisions. After waiting over 340 days with no response from the bureau, Edmonds took the path that few others have taken; she published anyway. However, with every publisher afraid to touch it, she was forced to publish it on her own. She knows that any day now the Obama administration, which has prosecuted more whistleblowers than all previous administrations combined, may come after her."
Forget about the false left-right paradigm. The "War of Terror" being waged by the imperium empire is designed to crush whistleblowers, and keep the brain dead in a zombie trance. Just consider the impact on the Afghanistan campaign if the FBI acted upon the evidence unclosed by Sibel Edmonds that cuts to the heart of the 911 myth assumptions.
The military-industrial-security-intelligence complex closes ranks to protect their "Splendid Little Wars". The whistleblowers that expose the lies out of the War Party establishment are only a minor distraction, as long as the public sleeps in their self-induced coma. The Army Times item, Hagel to order review of drone medal precedence, is one such interlude, while the control and command structure continues to aim their weapons at imaginary threats.
Who would doubt that the Bradley Mannings and Sibel Edmonds, squealers of state secrets, would be prime quarries for the hunt to eliminate enemies of the state? The only good government snitch is a Gitmo captive. So goes the claims of the governance prosecutors.
How many people have actually examined the information in the Manning WikiLeak disclosures or read the Edmonds account of 911-treason complicity? Oh no, the discomfort of confronting the fake reality of the official story of make believe is too disturbing for most people.
Loyalty of country is a very dangerous attitude, when your government sponsors state terrorism as a normal activity. The fear to face up to the horrors of administration deceit is the prime activity of the flag waving drones that cheer for more carnage.
When Edmonds describes the traitors within the national security structure, the fearful bureaucrats facilitate the ongoing treachery that passes for nationalism. When Manning exposes the documents that prove a genocide policy is in effect, the penalty demanded by the bellicose command is his execution.
An honorable whistleblower is a citizen hero. Disobeying dishonest laws is true patriotism. In the end, A Different Philosophy of Civil Disobedience, is needed. Complacency is the countrywide disease of choice. Real patriots oppose jingoistic orders. Stand down.
When a group or organization seeks to establish any social policy, it helps tremendously if that group remains honest in their endeavor. If its members are forced to lie, tell half-truths or use manipulative tactics in order to fool the masses into accepting its initiative, then the initiative at its very core is not worth consideration. Propaganda is not simply political rhetoric or editorial fervor; it is the art of deceiving people into adopting the ideology you want them to espouse. It is not about convincing people of the truth; it is about convincing people that fallacy is truth.
Nothing embodies this disturbing reality of cultural dialogue more than the ill-conceived movement toward gun control in America.
It isn't that gun control proponents are impossible to talk to in a rational manner; most gun control activists have an almost fanatical cult-like inability to listen to reason. It isn't that they are so desperate to paint themselves as "intellectually superior" to 2nd Amendment advocates; intellectual idiocy is a plague upon many ideological groups. What really strikes me as astonishing is the vast and embarrassing lengths to which gun grabbers in particular will go to in order to deny facts and obfuscate history.
I have seen jaw-dropping acts of journalistic debauchery and blatant disregard for reality since the gun debate exploded in the wake of Sandy Hook. I have seen past precedents rewritten in order to falsely diminish gun rights arguments. I have seen dishonest and volatile tactics used to misdirect discussion and attack the character, rather than the position, of those who defend the 2nd Amendment. I have seen gun grabbers use unbelievable acts of deception that border on clinically sociopathic in the face of overwhelming evidence to the contrary.
A perfect example has been the assertion by gun control proponents that despotic regimes do not disarm their populations before committing genocide. This primarily stems from the rationalization that the Third Reich did not exactly introduce gun control measures, rather it used measures that were already in existence. Gun grabbers are willing to cherry pick historical references in defense of Adolf Hitler in order to get their way. Sadly, they seem to forget that Hitler's gun control policies of 1938 disarmed the Jewish people as his "Final Solution" was being implemented. Apparently, gun grabbers do not count the Jews as German citizens victimized by disarmament.
http://dallasmorningviewsblog.dallasnews.com/2013/01/lets-stick-to-the-facts-when-discussing-gun-control.html/
The Nazis did deregulate some firearms as gun grabbers argue, but what they don't mention is that this deregulation was designed to benefit only those citizens who proved to be loyal to the Nazi Party. Hitler was happy to arm those who swore fealty to the Reich.
In one of the latest instances of gun grabber duplicity and disinformation, I came across an opinion piece by Henry Blodget, the CEO and editor-in-chief of Business Insider and a regular on Yahoo's "Daily Ticker," entitled "Finally A Gun Is Used To Stop A Crime Instead Of Killing Innocent People."
Blodget is primarily an economic analyst, as I am, and is not exactly an unintelligent louse. He is well aware of the proper methods of research and how to present a debate point with tangible evidence. He should know better than to publish a piece with so many inconsistencies and broken pretenses. However, it presents an important opportunity to examine the cognitive dissonance of media gun grabbers and their attempts to influence the populace.
Blodget is asserting that private firearms ownership is not a practical means of self-defense, that instances of self-defense are rare and that this view diminishes the "need" for 2ndAmendment protections. He goes on to proclaim:
"In practice, unfortunately, the guns that good guys own to protect themselves from bad guys too often end up killing the good guys' kids or wives or the good guys themselves (either via suicide, accident, or, in some cases, because they're grabbed by the bad guys and used against the good guys). Or, as in the case of Florida teen Trayvon Martin, the guns kill people who the good guys think are bad guys but who aren't actually bad guys…"
Blodget never actually qualifies any of the notions contained in this statement. He never provides any statistics on wives and children of good guys being shot. Also, I was not aware that the Trayvon Martin case had already been decided and that Trayvon was found not to be the aggressor. Does Blodget have a crystal ball?
Blodget starts off his anti-gun tirade very poorly with several unqualified statements that he never answers for. This is highly common among gun grabbers; they feel so righteous (overzealous) in their cause that they feel no regret in spouting baseless conclusions with the presumption that their audience will never question their logic.
Blodget then focuses on a single event as an example of the "rarity" of successful gun defense. This instance involved the death of a teen who held a gun on a reserve police officer and high school basketball coach. The coach pulled his own personal weapon and fired in defense. Blodget uses some strategic omissions in his description of the event. For instance, he fails to mention that the coach was 70 years old, and that perhaps owning a gun was indeed his only practical means of protecting himself and his players against two young thugs, one of whom obtained a firearm illegally (as most criminals do. According to the FBI, only 8 percent of guns used in a crime are purchased legally at a gun store).
Blodget also uses the smiling image of one of the attackers at the top of his article, as if we should feel sorry for him. Perhaps I'm just coldhearted, but the death of a violent offender at the hands of his intended victim does not bring a tear to my eye.
The fact that he uses this particular instance of gun defense was, of course, strategic. A teen died, and both the attacker and the defender were armed with guns. He means us to see the event as a tragedy caused by the very existence of civilian firearms ownership. Blodget somehow overlooks the thousands upon thousands of other self defense stories out there in which gun ownership saved lives…
What about the story of student Chris Boise, who used an AR-15 to ward off two armed assailants breaking into his apartment. The criminals ran at the sight of his weapon:
http://www.13wham.com/news/local/story/Homeowners-Scare-Off-Burglars/7yaLSXAvCUGBkwgAZpGO4g.cspx
What about an Atlanta mother of 9-year-old twins who shot and killed an assailant with a previous record of battery breaking into her home. A police officer on scene after the event noted that "she handled her first shooting better than he did…"
http://www.ajc.com/news/news/local/mother-of-two-surprises-burglar-with-five-gunshots/nTnGR/
How about the 1997 incident at a High School in Pearl, Mississippi, in which a 16 year old murdered his mother, then went to school with a rifle and opened fire (sound familiar), shooting several and killing two. The student was subdued by the Vice Principle, who had to run to his care to grab his .45 Colt (Note that when a staff member of a school is armed, the body count of these attacks goes way down):
http://www.time.com/time/magazine/article/0,9171,136736,00.html
And why not mention the man who entered a Golden Food Market in Richmond, Virginia opening fire at employees and customers, only to be shot down by a conceal carrying citizen:
http://www.collegiatetimes.com/stories/14664/statistics-show-concealed-carry-saves-many-lives-takes-few
These are just a few of the numerous instances of gun defense across the U.S. that the mainstream media likes to ignore. Blodget had all of these examples at his disposal. He could have written a fair and honest editorial, but he didn't.
After Blodget presents his carefully picked gun defense story, he then makes these three points:
"First, and most importantly, the gun used for protection in this case would be perfectly legal under the proposed new gun-control laws. The proposed laws ban military-grade assault weapons and massive ammo clips, not handguns. And assuming the coach did not have a criminal record, he would still be a legal gun owner.
The bottom line is that no mainstream politician in the current gun control debate is talking about banning the kind of gun used in this incident…"
To which proposed gun law is Blodget referring? Many gun grabbers are suggesting that theNew York SAFE Act model be applied nationwide. The SAFE Act makes any weapon that can hold magazines of more than seven rounds illegal. Some lawmakers, like Senator Diane Feinstein (D-Calif.), have openly suggested a total ban of all firearms that includes confiscation. So, depending on which laws are passed, the coach may not have survived the attack unless, like the criminal, he obtained a weapon illegally.
"…Second, the coach was a trained police officer. He knew very well how to carry, handle, and use his handgun. And the fact that he used it effectively under the extreme shock and pressure of being robbed at gunpoint shows how well trained he was."
The coach was a reserve police officer, but this is irrelevant to the incident. Aspiring police officers qualify in the firearms segment of their training using a mere 50 to 60 rounds during scenarios that are taught in even the most rudimentary civilian courses, which often use hundreds of rounds during qualifications. Police officers do not get magical training. In fact, many officers are forced to attend civilian-run training facilities in order to get more time and more complex experience. Civilian combat weapons enthusiasts are often far better prepared for a violent situation than the average law enforcement official.
The reason Blodget fixates on the police status of the victim is because, like most gun grabbers, he is a statist. In his mind, a designated state official is given credence by the government and is, therefore, somehow a superhero with amazing gun-wielding powers that us poor civilian mortals could never hope to master. This naïve sentiment is displayed by many a gun grabber who has never actually owned or fired a gun in his life.
"Third, this incident could easily have turned out differently–as many similar incidents do. If the coach had been a bit slower or clumsier in pulling his own gun, the attackers could have shot and killed all three of the victims before they had a chance to defend themselves. (In the wild west, when everyone carried guns, it wasn't always the bad guys that got shot.)"
Yes, and a comet could fall from the sky and roast the Earth. Hypothetically, anything could go wrong at any moment, yet, thousands of Americans defend themselves each year with a firearm without killing innocent bystanders or being too slow or clumsy on the draw. Why should gun owners abandon their rights just because some people cannot control their personal fears?
Finally, how much better are an unarmed victim's chances of survival? Is Blodget really trying to insinuate being armed does not increase a victim's ability to defend himself unless he happens to be a cop on a government salary? If faced with a gun- or knife-wielding attacker who threatened him or his family, would Blodget turn down the use of a firearm if available? Would he try to shoot the perpetrator, or would he fall to his knees and beg for mercy?
The only tangible evidence that Blodget uses to buttress his opinion that self-defense is not a viable argument for gun ownership is a single FBI statistic on justifiable homicides. Justifiable homicide is a gray area of law, and the number of instances recorded by the FBI in no way reflects the actual frequency in which guns are used in self-defense.
By exploiting this one statistic, Blodget knowingly disregards the fact that many gun defense situations do not end in the death of the attacker. He also disregards the number of criminals who run at the sight of an armed target, as well as the number of crimes that are prevented completely because the criminal is not certain whether his targets are armed.
Most police departments do not keep accurate records of attempted crimes which were thwarted by armed citizens. The only sources of such statistics are surveys held by various organizations and institutions. Blodget quickly dismisses the widely disseminated survey by criminology professor Gary Kleck, which shows that there are far more instances of guns used to thwart crime than guns used to perpetrate crime. Blodget claims that the study is "old and highly flawed because it used a small number of people as a test group", all common assertions by gun control fanatics. The study was held in 1994 (hardly ages ago), and surveyed 5000 households.
A recent Reuter/Ipsos poll used widely by gun grabbers claimed that 74% of Americans support an assault weapons ban, yet their survey only involved 559 people with far less oversight than Kleck's study.  The hypocritical nature of the anti-gun mindset is revealed again…
http://www.huffingtonpost.com/2013/01/17/gun-poll_n_2498840.html
Vehement gun control advocate and criminologist Marvin Wolfgang made this comment on Kleck's study:
"What troubles me is the article by Gary Kleck and Marc Gertz. The reason I am troubled is that they have provided an almost clear-cut case of methodologically sound research in support of something I have theoretically opposed for years, namely, the use of a gun in defense against a criminal perpetrator."
He went on to say that a conflicting National Crime Victimization Survey (also used widely by gun grabbers) did not contradict the Kleck study, and that the argument of "too few participants" was unfounded:
"I do not like their conclusions that having a gun can be useful, but I cannot fault their methodology. They have tried earnestly to meet all objections in advance and have done exceedingly well. … The usual criticisms of survey research, such as that done by Kleck and Gertz, also apply to their research. The problems of small numbers and extrapolating from relatively small samples to the universe are common criticisms of all survey research, including theirs. I did not mention this specifically in my printed comments because I thought that this was obvious; within the specific limitations of their research is what I meant by a lack of criticism methodologically."
According to survey data from a 2000 study published in the Journal of Quantitative Criminologyentitled 'Measuring Civilian Defensive Firearm Use: A Methodological Experiment', U.S. civilians use guns to defend themselves and others from crime at least 989,883 times per year. This is a conservative estimate compared to Kleck's 2.5 million, but it is still a far larger number than the amount of annual homicides by gun. The argument that gun murders outweigh gun defense is a defective one. Blodget knows it, which is why he dances his way around so many viable pieces of evidence. He is not interested in the facts, only promoting his own twisted worldview.
Violent crimes (assault, burglary, rape, etc.) have skyrocketed in countries like the U.K. and Australia where stringent gun control has been enacted, simply because criminals know that because of government controls the odds of running into an armed victim are slim. Gun grabbers like Blodget do not care about this, though. They are not actually interested in saving lives. What they are interested in is imposing their ideologies on the rest of us.
If the only drive of anti-gun advocates was a sincere concern for public safety, they would not feel the need to misrepresent the facts and lie outright in order to convince others. Those who use disinformation to their benefit are acting on much darker emotional impulses and biases, like fear and malevolence. Their goal is not to find the truth, but to "win". Their goal is not to encourage understanding, but to destroy their political enemies.
The most enticing motive for the average yuppie within the gun control society is not their hatred of guns per say, but their hatred of gun culture. Being worshipers of the establishment, they do not like our defiance of socialization, collectivism, and the corrupt state in general. They do not like our methodologies of decentralization and independence. They do not like that we have the ability to crush their skewed arguments with ease. And, they do not like that we have the physical capability of denying their pursuit of power. Gun control is not just a war on guns; it is a war on traditionally conservative Americans, our heritage, our beliefs, and our principles. It is a war the gun grabbers will lose.
Source: Brandon Smith | Alt-Market
And what are YOU doing about the vast new epidemic of homeless people flooding the streets of America right now?
America's wealthiest 1% are doing something about it — they're creating even more homeless men and women just as fast as they possibly can!
The Department of Defense is doing something about this problem too, creating vast brigades and armies of blind, paralyzed, traumatized and/or limbless disabled 20-somethings who should have been in their prime of life right now, the backbone of America's labor force — but are instead sleeping rough, out on the streets.
The CIA, DEA, FBI, local police forces, INS, Homeland Security, TSA, etc. are also doing their bit regarding homelessness here as well — they are housing Americans in jails just as fast as humanly possible, with or without being charged with a crime. How patriotic is that! And you can even get thrown in a jail cell for using legal medical marijuana or driving an unregistered car (or being homeless). The vast American prison-labor system is always here to help out.
The Department of Housing and Urban Development is also doing something about homelessness in America too — by actually supplying housing. Imagine that. And if HUD closed its doors tomorrow, America would immediately reveal its true self — as Great-Depression-style tent cities begin springing up like mushrooms and we start tripping over the dead bodies of homeless senior citizens left and right. Without HUD, America would look like background shots from the movie "Les Miserables".
Thank you, HUD. It's nice to know that somebody else besides just America's 1% is getting a safety net these days.
But what am I myself doing about homelessness in America today? Besides giving an occasional dollar to a street person shivering out in the cold? Obviously not enough. (But I did act in a docu-drama on the subject recently. Does that count? http://www.youtube.com/watch?v=O2cTACN-iNA)
Can you imagine what it is like to stay out all night, every night, in the rain and the cold, vulnerable to criminals and rapists, being humiliated, vilified and scorned by those lucky enough not to have been chewed up and spit out by Wall Street and War Street quite yet, shamefully begging for spare change and having no place to go? I can't.
If it was me out there on those mean streets, I'd be lucky to still be alive after only a week.
Few polarizing subjects are more hotly debated than gun control. Usually lost in the fray of emotional diatribes to ban guns, are the historic empirical foundations of our forefathers who fought a revolution to escape from imperial tyranny. The true reality in today's AmeriKa is that individual liberty is the most despised activity that any citizen can exert in their lives. Both the popular state worship culture and the authoritarian hoodlums that run the government are so fearful of armed independent citizens, that they are eager to burn the Bill of Rights. Face it, the government is committed to force you to be a ward of the state and will kill you if you resist.
Because of government school propaganda, those indoctrinated during the last several decades are woefully lacking in the knowledge of their own heritage. Phyllis Schlafly writes in, The Founding Fathers On Right To Bear Arms, and reminds of the essence in the Second Amendment.
James Madison: Americans have "the advantage of being armed" — unlike the citizens of other countries where "the governments are afraid to trust the people with arms."

Patrick Henry: "The great objective is that every man be armed. . . . Everyone who is able may have a gun."

George Mason: "To disarm the people [is] the best and most effectual way to enslave them."

Samuel Adams: "The Constitution shall never be construed . . . to prevent the people of the United States who are peaceable citizens from keeping their own arms."

Alexander Hamilton: "The best we can hope for concerning the people at large is that they be properly armed."

Richard Henry Lee: "To preserve liberty, it is essential that the whole body of the people always possess arms, and be taught alike, especially when young, how to use them."
"The chief reason America has remained a free country is the widespread private ownership of firearms. Individual ownership of guns made the American Revolution possible. The principal purpose of the Second Amendment was to maintain our freedom from government. It is an insult to our heritage to imply that the Founding Fathers wrote the Second Amendment just to protect deer hunters."
End of story, but the beginning of the gulag. Before bleeding hearts start their vicious attacks on the gun toting culture, a critical examination of your own national allegiance must be questioned. Do you freely give your loyalty to the principles upon which the nation was founded or do you simply pledge your obedience to an imperium empire?
Consider that public officials are terrified of an armed citizenry because they are well aware that their personal safety might someday be confronted. Their outlaw edicts and coercive submission is recognized as a dictatorship. However, an armed insurrection is so remote, based upon the overwhelming lack of character and courage of most populace denizens. Facing an enemy on a battlefield would be more an exercise of genuflection and public remorse for daring to oppose the institutional establishment.
The current state of the art of weaponry, as any viewer of the TV military channel knows, is so advanced that open conflict against the Federal Stasi would result is suicide by cop. Homeland Security is designed to be the domestic Gestapo. Any thinking and liberty-loving person must conclude that President Barack Obama acts as if he is a potentate.
Rule by executive orders is a formula for tyrannical governance. Gun registration builds the database for constabulary confiscation. An organized knock at the door means that abolition of banned munitions from the "Cold Dead Hands" will look more like a visit from an IRS tax auditor than an assault from the nearest SWAT team.
Too many people accept that subjects must be intimidated into compliance of surrender. The threat of armed defiance is less likely than meek regimentation for transport to a FEMA camp. All those body bags will be used more effectively, when people's opposition to being re-educated fails, than for dragging out your remains from your own house.
The practical prospects to use violence against a well funded and equipped force of government storm troopers is problematic at best. The solution to marital law thuggery is to repatriate the military legions stationed globally in the expansion of the empire. Somewhere within the ranks of the active military, the means to confront Emperor Obama exists. The military oath states:
"I, do solemnly swear (or affirm) that I will support and defend the Constitution of the United States against all enemies, foreign and domestic; that I will bear true faith and allegiance to the same; and that I will obey the orders of the President of the United States and the orders of the officers appointed over me, according to regulations and the Uniform Code of Military Justice. So help me God."
Careerist politicians, a tenured judiciary and an entrenched and escalating bureaucracy that consolidates the central government monster have systematically dismantled the Constitution. The repressive regime would have you believe that the Bradley Manning's in the military machine are traitors just as much as Benedict Arnold. Hitherto, the certainty that going it alone resistance allows for the enormous capacities of the Intelligence Community apparatus to target any lone individual.
Remember the predictive example of the American crypto-anarchist, James Dalton Bell. "He created the idea of arranging for anonymously sponsored assassination payments via the Internet, which he called "assassination politics". Since the publication of the "Assassination Politics" essay, Bell was targeted by the federal government of the United States. He was imprisoned on felony charges of tax evasion in 1997."

Folks, let's get real. Violent subversion just provides an excuse for even greater levels of repression. Likewise, gun confiscation has more to do with instilling universal fear in the minds of ordinary law abiding; translate – valid constitutional laws, than removing firepower out of your home.
Since the system dreads an armed citizenry, the criminal syndicates that divvy up their ruling fiefdoms, fear an informed population even more. Knowledge is required, but action must accompany an awakening that the totalitarian government thrives because civil society obeys the despotism of their feudal master.
Per the pernicious mass media, civil conduct is defined as surrendering your guns in order to repent out of a fictitious guilt or a bogus empathy for innocent victims. Insultingly, the pressitute media professes to be the purveyor of altruism. Never will you hear one utterance about the foundations of individual natural rights that underpins rightful authority for personal and community liberty.
The Second Amendment of the Constitution was written to protect society from the instinctual tendencies of a tyrannical government. Where is the outrage from a horror-struck public? The laundry list of dictatorial politicians from California to Illinois and in New York has identified themselves as enemies of the people.
The disgusting "Gabby Gifford's" executive order that is being engineered by the Biden comrades will prohibit the manufacture and sale of a comprehensive range and types of weapons and accessories. Administrative fiat out of the barrel of a government regulation is more dangerous than a Glock pistol pointed at your head from a FBI agent. Many civil servants still restrain their oppressive actions to the appearance of legal conduct. However, the tyrants that make policy are bent on destroying the will of the public to oppose the transformation of America into a total police state.
The system will implode when enough genuine patriotic resistors organize a modern day Committee of Correspondence. The Tree of Liberty requires heroes. Unfortunately, most compliant citizens are cowards.
The rush to purchase guns demonstrates that a groundswell of public awareness is growing. The hoops designed to make gun ownership burdensome or personal carry permits nearly impossible to obtain, need to be endured and applied for in greater numbers.
By sending a loud and clear message to the establishment elitists, the righteous citizen militia will undertake the legitimate role of the Minute Men. Treason against the people has been official policy for decades. Now is the time to revolt against the TSA mindset that is calculated to condition the acquiescent and the timid from exercising their basic rights.
A countrywide day of protest leading up to a national strike of civil disobedience is the inherent response to government tyranny. Engage in a public dialogue at your local assembly. Organize events that demonstrate the resolve and bravery of our ancestors. Stand up to oppressive authority and defy the illicit tactics of the goon squads.
The system is playing a bluff. Push back now will spare bloodshed later. Never initiate any action that can be construed as violent behavior. Public political speech is the most skillful weapon to use, when exposing the oppressors.
The "War on Liberty" needs to be fought for the minds and hearts of all judicious thinking citizens. Guns are not the issue, recapturing your heritage and exercising your God given rights is the struggle. The state of war is on. Fight it with fervor, while maintaining your dignity. Nothing less would dishonor your defiant forebearers.
I candidly confess that I am not very superstitious. I don't care how many cracks I step on on a sidewalk; I don't care how many cracked mirrors I look at; I've never thrown salt over my shoulder; I've never rubbed a red-headed boy's head for luck; I don't carry four-leaf clovers or rabbit's feet in my pocket; and the number 13 doesn't scare me a bit. All of that notwithstanding, however, I can't help but believe that 2013 is going to be a rough year.
One thing is certainly clear: the last year that ended in 13 was a horrific year for the people of the United States. In fact, 1913 was one of the worst years of the Twentieth Century. Consider the following:
February 3, 1913
This is the date when the 16th Amendment was ratified, and the direct income tax and IRS were instituted. This was a flagrant repudiation of freedom principles. What began as a temporary measure to support the War of Northern Aggression became a permanent income revenue stream for an unconstitutional–and ever-growing–central government.
April 8, 1913
This is the date when the 17th Amendment was ratified. This amendment overturned the power of the State legislatures to elect their own senators and replaced it with a direct, popular vote. This was another serious blow against State sovereignty. The framers of the Constitution desired that the influence and power in Washington, D.C., be kept as close to the people and states as possible. For example, the number of representatives in the House of Representatives was to be decided by a limited number of voters. In the original Constitution, the ratio of "people of the several States" deciding their House member could not exceed "one for every thirty thousand." (Article. I. Section. 2. Paragraph. 3.) And when it came to the US Senate, the framers also recognized the authority of each State legislature to select its own senators, thereby keeping power and influence from aggregating in Washington, D.C. The 17th Amendment seriously damaged the influence and power of the states by forcing them to elect their US senators by popular vote. The bigger the State, the less influence the State legislature has in determining its US senator. Senators who answered to State legislators, each answering to a limited number of voters, were much more accountable to the "citizens of the several States" than those who were elected by a large number (many times numbering into the millions) of people. For all intents and purposes (at least in the larger states), US Senators are more like "mini-Presidents" than they are representatives of sovereign states.
December 23, 1913
This is the date when the Federal Reserve Act was passed. This Act placed oversight of America's financial matters into the hands of a cabal of private international bankers, who have completely destroyed the constitutional principles of sound money and (for the most part) free enterprise. No longer would the marketplace (private consumption, thrift, growth, etc.) be the determinant of the US economy (which is what freedom is all about), but now a private, unaccountable international banking cartel would have total power and authority to micromanage (for their own private, parochial purposes) America's financial sector. Virtually every recession, depression, and downturn (including the one we are now experiencing) has been the direct result of the Fed's manipulation (again, for its own purposes and with Washington's cooperation) of the market.
Already, 2013 is shaping up to rival the monstrous year of 1913. Here are some of the reasons why:
Health Care
The elements of Obamacare will begin to be felt this year in earnest. The American people can expect the cost of everything associated with health care to quadruple or more. Physicians will begin leaving their practices or significantly scaling back their services. Hospitals will start dispensing assembly line-type care. The quality of health care will plummet. But, of course, welfare recipients (including illegal aliens) will see a dramatic increase in benefits.
Taxes
Don't expect the Republican-led House of Representatives to hold the line on taxes. John Boehner and the RINOs in the GOP will give Obama the vast majority of what he wants on taxes. The result is our taxes are going up. Big time! This also means that the cost of everything else is going up. Real inflation is on its way, folks.
Gun Control
This is the big issue! Barack Obama and his gun-control fanatics in the Democrat Party have already declared war on the Second Amendment. They are going to attempt to outlaw semi-automatic rifles, high capacity magazines in both rifles and handguns, and make the private sale of firearms illegal. It will be the biggest assault on the Second Amendment since 1968–and maybe in US history!
If gun owners, and freedom lovers of all types, expect to pass any freedom on to their posterity, they are going to have to fight, AND FIGHT HARD, to preserve their liberties. The same GOP-led House that is going to cave-in on taxes will also have a propensity to cave-in on more gun control. Only the biggest outcry of opposition that they have ever seen from their constituents will come close to helping them stay the line. Freedomists all over America had better take the gloves off come January and rally support against these assaults against the Second Amendment or our liberties will be gone FOREVER!
In addition, State legislators, governors, etc., must also rise up in massive opposition to this tyrannical assault against the Second Amendment by Washington, D.C. In short, states need to tell Washington to go to hell! That they are not going to comply with Washington's attempt to outlaw the most fundamental right in American history: the right to keep and bear arms.
Thomas Jefferson correctly stated, "The strongest reason for the people to retain the right to keep and bear arms is, as a last resort, to protect themselves against tyranny in government."
George Washington said, "Firearms stand next in importance to the Constitution itself. They are the American people's liberty teeth and keystone under independence… From the hour the Pilgrims landed, to the present day, events, occurrences, and tendencies prove that to ensure peace, security, and happiness, the rifle and pistol are equally indispensable… The very atmosphere of firearms everywhere restrains evil interference. When firearms go, all goes."
Remember, too, semi-automatic rifles are not "assault rifles," no matter what media propagandists say. Assault rifles are capable of fully automatic fire. These guns are already illegal without jumping through a myriad bureaucratic hoops in order to obtain a special permit to possess them. That assault rifles are illegal is bad enough. To take away the citizen's right to bear a semi-automatic rifle is to, in effect, completely disarm him. Such an act must be regarded as an act of war against the life and liberties of the American people!
The semi-automatic rifle is the backbone of freedom; it is the single most significant protection against tyranny and oppression in modern times. Is it mere coincidence that the Bloody Butchers of Beijing are calling for the American citizenry to surrender their semi-automatic rifles? US troops won World War II because of the semi-automatic rifle. Switzerland maintained its peaceful neutrality even when the entire continent was soaked in war because of the semi-automatic rifle. The only reason that would-be tyrants in the US government have been kept at bay is because of an American citizenry fully armed with semi-automatic rifles. Foreign enemy-states such as Communist China are more intimidated by an American nation filled with citizens who bear semi-automatic rifles than they are our nuclear arsenal–and that is a fact!
Furthermore, semi-automatic rifles have been around since before World War II, and they are used by millions of hunters every year. Predator hunters, especially, need a semi-automatic rifle. In 1990, one hundred thousand police officers delivered a report to Congress that only 2-3% of crimes were committed using semi-automatic rifles. In 1993, a Bureau of Justice report noted that, nationwide, "military-type" guns are only used in about 1% of crimes. These statistics would not vary much today.
In fact, a person is much more likely to be killed with a knife than with a gun. According to FBI reports, a person in Chicago (for example) is 67 times more likely to be knifed or beaten to death than killed with a so called "assault weapon," meaning a military-looking semi-automatic rifle.
To view a fully-documented gun control fact sheet containing these facts and much more, go to:
http://gunowners.org/fs0404.htm
Beyond that, high capacity magazines are essential to self-defense. Bad guys who commit violent crimes are normally "high" on chemicals, drugs, alcohol, etc. Such people are often impervious to pain. Throw in a high level of adrenaline, and many violent attackers cannot be stopped with one or two bullets. Plus, such miscreants often attack like wolves: in packs.
Police Captain Massad Ayoob: "The likelihood of multiple opponents who move fast, often wear body armor, know how to take cover, and tend to ingest chemicals that make them resistant to pain and shock, are all good reasons for carrying guns that throw a whole lot more bullets than six-shooters do."
Ladies and gentlemen, the semi-automatic rifle is the vanguard of our liberty; it is the surest and most trustworthy means of our self-defense; and it is the primary companion of any man who would both protect and feed his family.
Make no mistake about it: to take away an American's right to a semi-automatic rifle is to FULLY DISARM HIM. There is no Second Amendment; there is no right to keep and bear arms; there is no citizen militia; there is no liberty without the semi-automatic rifle! This is a line in the sand that is so important that no man or woman who believes in liberty should be willing to comply with any attempt by government to take away his or her semi-automatic rifle. There are some 50-75 million (a very conservative number) owners of semi-automatic rifles all across America. Each of us needs to make up our minds about this RIGHT NOW! What say you?
As with 1913, it looks like 2013 is shaping up to be a rough year. And it has nothing to do with bad luck and everything to do with bad government. But with God's help, the enemies of freedom will not prevail! With God's help, you and I will be free to pass down to our children and grandchildren both our freedom and our semi-automatic rifles come 2014 and beyond!