The tempo of events in Syria has accelerated in recent weeks. The government forces have scored significant battlefield victories over the rebels, and this has provoked a mixture of war provocations and peace offers from the U.S. and its anti-Assad allies.
With Obama's blessing Israel fighter jets recently attacked Syria on three occasions; in one massive air strike on a military installation in Damascus 42 Syrian soldiers were killed. Shortly thereafter Obama finally agreed to a peace conference with Russia, which had been asking for such talks for months.
Obama is entering these talks from a weakened position; the Syrian government is winning the war against the U.S.-backed rebels, and success on the ground is the trump card of any peace talks. Obama and the rebels are in no position to be demanding anything in Syria at the moment.
It's possible that Obama wants to avoid further humiliation in his Syria meddling by a last minute face-saving "peace" deal. It's equally likely, however, that these peace talks are a clever diplomatic ruse, with war being the real intention. It's not uncommon for peace talks to break down and be used as a justification for an intensification of war, since "peace was attempted but failed."
And Obama has plenty of reasons to pursue more war:  he would look incredibly weak and foolish if Syria's president were to stay in power after Obama's administration had already announced that Assad's regime was over and hand picked an alternative government of Syrian exiles that the U.S. — and other U.S. allies — were treating as the "legitimate government of Syria."
Here's how the BBC referred to Obama's Syrian puppet government:
"… the Syrian opposition's political leadership – which wanders around international capitals attending conferences and making grand speeches – is not leading anyone. It barely has control of the delegates in the room with it, let alone the fighters in the field."
If an unlikely peace deal is reached, these Syrian exiles — who only a tiny minority of the rebel fighters actually listen to — will be the ones to sign off on the deal.
Many politicians in the U.S. are still clamoring for war in Syria, based on the unproven accusation that the Syrian government used chemical weapons against the rebels. In actuality, however, the UN so far has only indicated that the exact opposite is true: there is significant evidence the U.S.-backed rebels used chemical weapons against the Syrian government.
Of course this fact only made the back pages of the U.S.media, if it appeared at all. Similarly bad news about the U.S.-backed rebels committing large scale ethnic/religious cleansing and numerous human rights violations  didn't manage to make it on to the front pages either. And the numerous terrorist bombings by the U.S.-backed rebels that have indiscriminately killed civilians have likewise been largely ignored by U.S. politicians and the media.
The U.S. position is weakened further by the fact that the majority of the rebel fighters are Islamic extremists, who are fighting for jihad and sharia law, not democracy. The Guardian reported recently:
"Syria's main armed opposition group, the Free Syrian Army (FSA), is losing fighters and capabilities to Jabhat al-Nusra, an Islamist organization with links to al-Qaida that is emerging as the best-equipped, financed and motivated force fighting Bashar al-Assad's [Syrian] regime."
The New York Times adds:
"Nowhere in rebel-controlled Syria is there a secular fighting force to speak of."
But even with all these barriers to the U.S. dictating its terms to the Syrian government, Obama has trump cards of his own: the U.S. and the Israeli military.
It's possible that the Israeli airstrikes on Syria were used as a bargaining chip with the proposed peace conference in Russia. If Obama threatened to bomb Syria into the Stone Age there is plenty of evidence —Afghanistan, Iraq, Libya — to back up this threat.Following through with this kind of threat is actually considered intelligent foreign policy to many politicians in the U.S., since a country not aligned with the U.S. will have been weakened and fragmented as an opposing force, lowering the final barrier to war with Iran.
U.S. foreign policy is now completely dependent on using the threat of annihilation. As U.S. economic power has declined in relation to China and other countries, the economic carrot has been tossed aside in favor of the military stick. Plenty of U.S. foreign policy "experts" are demanding that Obama unsheathe the stick again, lest this foundation of U.S. foreign policy be proven to be just talk and no action.
This is the essence of U.S. involvement in Syria, which is risking regional war that could include Lebanon, Turkey, Iraq, Israel, Iran, Jordan, and Saudi Arabia with the potential to drag in the bigger powers connected to these nations, the U.S. and Europe on one hand and Russia and China on the other.The fate of the already-suffering Middle East is hanging in the balance.
The United Nations Special Rapporteur for Palestine, Professor Richard Falk, came to Lebanon last week on an unofficial visit to survey opinion while fact finding the condition in Palestinian refugee's camps.
It was the Professors first visit to Lebanon since the fateful summer of 1982. Back then, en route by sea to Beirut, which was under Israeli siege and blockade, Falk was Vice-Chair of the Sean McBride Commission of Inquiry into Israeli crimes against Lebanon. Mid –way between Cyprus and Lebanon, the Zionist navy, in a blatant act of piracy on the high seas, intercepted, circled and demanded the passenger list from the vessel.
Eventually, under reported American pressure via US Envoy Morris Draper's telephoned profanity to Tel Aviv, the pirates allowed Falk's delegation to disembark at the port of Jounieh, just north of Beirut. Draper, who like so many US diplomats, claims he finally "saw the light after retiring", told this observer that "I never swore so much in my life as I did at those SOBS during that summer of 1982 and after I learned the details of Ariel Sharon's choreography of the Sabra-Shatila massacre!" Ambassador Draper added, "The world will never know the extent of Israeli crimes committed against Lebanon and its refugees until Washington threatens to cut off all aid until Tel Aviv opens up its archives on this period."
Professor Falk, as he mentioned during several events here, including a first-rate conference on the status of Palestinian refugees in Lebanon and their struggle for the most elementary civil rights to work and to own a home, organized by the Institute of Palestine Studies, came to Lebanon not to offer counsel to Lebanon's sects or even to the Palestinians. (The IPS, (http://www.palestine-studies.org) founded in 1969, is considered by this observer and many others, as the most reliable and authoritative source of information on Palestinian affairs and the Arab-Israel conflict.)
Falk came to listen and to learn. He did both. He listened intently to each speaker, scribing hurried notes regarding the current conditions of Palestinian refugee, including education and health status, in Lebanon's 12 camps and two dozen "gatherings," reports that were presented by several academics and NGO's based here.
Falk and others in attendance at the briefings found the findings sobering and alarming. They included but are not limited to, the following.
There are currently 42,000 Palestinian refugees from Syria who have been forced into Lebanon as a result of the crisis in Syria. The United Nations Relief and Works Agency for Palestine Refugees in the Near East – UNRWA -reported to the IPS workshop, that they expect 80,000 Palestinians by the end of the year. Others estimate the December 2013 number will exceed 100,000. According to figures, forwarded to Professor Falk by the Palestine Civil Rights Campaign, supplied by refugee camp committees, approximately 6,000 Palestinians who fled Syria remain in Lebanon's Bekaa |Valley, close to the Syrian borders, in two main gatherings, al-Jalil (4,216 refugees) and central Bekaa (2,352). In the North, Baddawi camp hosts 4,116 and Nahr al Bared 2,016. In Beirut, Burj al-Barajneh camp hosts 2,928 additional refugees from Syria, Shatila and the surrounding areas 2,800, and Mar Elias 862. In the South, 8,549 refugees arrived to Ain al-Hilweh and 2,400 are dispersed around Saida. Mieh Mieh camp hosts 1,512, with an additional 2,160 in Wadi al-Zaineh. Further south to Tyre, Palestinian refugees from Syria are distributed among Shabriha (184), Rashidieh (1,370), Al Bass (478), Burj al-Shemali (2,800), Qasimiyeh (372), and Jal al-Bahr (128).
Falk knew, before gracing Lebanon with his visit, that UNWRA is basically out of money and cannot continue to meet its mandate for aiding Lebanon's Palestinians even less those arriving from Syria at the rate of more than two dozen families per day. On 5/5/13, the popular committee representative at Jalil Camp near Baalbec reported that they receive on average 8 additional families per day, with dozens now living in the Jalil camp cemetery.
Palestinian children in Lebanon, Falk was advised, unfortunately provide textbook examples of the fact of life that it is difficult to concentrate on school when ones stomach is growling with hunger. And it's even harder to stay in school when there's even a remote chance to work odd jobs and earn money for food – something education doesn't immediately offer. One new local initiative is the Meals for Schools, whose organizers hope serve food to impoverished schoolchildren in Lebanese slum areas. One idea is to give coupons for meals to schools. Unfortunately the scope will not include Palestinian children "at this time due to limited funding", according to one AUB student hoping to help children stay in school by helping them to have breakfasts.
Palestinian refugee children have limited access to the public educational system in Lebanon. Only 11 per cent these "foreign" children can access free public education in Lebanon while most refugees can't afford the high tuition fees of private schools. Palestinian refugees who attend one of the 58 UNRWA begin at age seven since UNWRA cannot afford pre-school level education. Consequently, for Palestinians here, while the elementary sector comprises more than 60% of students, the number drops to 28% in intermediate and only 10% at the secondary level. While the attendance rate for 7 year olds is 98.6%, by the time they reach age 11 attendance falls to 93.4%. But from this level, the primary level school completion rate cascades to only 37%, due to astronomical dropout rates. The above figures reveal that Palestinian education levels have been indeed progressively dropping in recent years. This is further supported by the passing rate in the Brevet Official exams (official diploma qualifying entry into secondary) which was in some schools as low as 13.6% in some schools according to the UNRWA results of Brevet exams, despite the average passing rate in UNRWA schools being 43% for the 2009-10 academic year.
Professor Falk was briefed on myriad realities including the fact that Palestinians camps in Lebanon remain sites of control and surveillance by the Lebanese Army. People's mobility and access to construction materials have been restricted by the army check points at the entrance of camps. Palestinian refugees are forbidden by law – since 2001 – to own or inherit real estate in Lebanon; consequently when a Palestinian dies, even if she or he inherited property between 1948-2001, before a wave of revenge led to the 2001 racist law, the property goes to Sunni Muslim Dar al-Fatwa one of the richest real estate holding entities in Lebanon. Accused of deep corruption by some, their leadership has a history of opposing full civil rights for Palestinian refugees here remain opposed to home ownership.
The UN's humanitarian chief, Valerie Amos, reported this week that seven million people need humanitarian assistance in Syria. "The needs are growing rapidly and are most severe in the conflict and opposition-controlled areas" of the civil-war ravaged country, the global body's humanitarian chief Valerie Amos told the U.N. Security Council. Amos cited data showing there are 6.8 million people in need — out of a total population of 20.8 million — along with 4.25 million people internally displaced and an additional 1.3 million who have sought refuge in neighboring countries.
Falk was briefed on most recent household surveys of Palestinian refugees carried out by the American University of Beirut which show that two thirds of Palestine refugees are poor. The extreme poverty rate in camps (7.9%) is almost twice of that observed in gatherings (4.2%). The study also developed a Deprivation Index based on components of welfare which included components such as good health, food security, and adequate education, access to stable employment, decent housing, and ownership of essential household assets. The Deprivation Index showed that 40% of Palestine Refugees living in Lebanon are deprived. The study reported that 56% of refugees are jobless and only 37% of the working age population is employed (Hanafi et al. 2012). It is unsurprising that the poor socio-economic situation often encourages students to leave school to get a paid job.
Despite the importance of education fewer Palestinian refugee students are actually interested in continuing their higher education. Lack of motivation to learn, is believed to be one of the main reasons for the high dropout rates. Palestinian refugees' access to Lebanon's public university is limited by their status as foreigners, and their access to private universities is restricted by a lack of resources to pay tuition fees (Hroub, 2012).
The old cliché that stated that "The Palestinians are the most educated Arab nation", is just a myth today. This educational hemorrhage among young Palestinians has been attributed to a number of factors such as the deteriorating socio-economic conditions amongst Palestinian refugees and the growing disillusionment with schooling and the benefits it brings. Palestinian students also suffer from an education acculturation as they are forced to learn only the Lebanese curriculum without being able to access the country's system. The following section examines these three main challenges.
Statistics indicate that just under half of the classrooms in public schools have less than 15 students per class while 20 % are overcrowded with 26 to 35 students per class. However, in UNRWA schools, the average number of students per classroom is 30 making them the most crowded classrooms in Lebanon.
With respect to the UN refugee agency, (UNHCR) the current situation in both Syria and among the more than 450,000 Syrian in Lebanon is only marginally better than the conditions of arriving Palestinians. As Maeve Murphy, UNHCR's Senior Field Coordinator in Lebanon's Bekaa Valley, explained to this observer and others during a visit on 5/5/13, near the Nicolas Khoury Center in Zahle, Lebanon, amidst sea of hundreds of Syrians, some waiting for three months or longer just to get registered, the UN refugee agency is also unable to meet its mandate for the same reason as UNRWA and the World Food Program and others. Ms. Murphy reported that over 453,000 Syrians have either registered with the U.N. agency or are waiting to register. An additional several hundred thousand people are thought to be refugees but haven't approached the U.N.
Complicating the desperate situation of Palestinian and Syrian refugees seeking sanctuary in Lebanon is the fact that millions of Syrian refugees face food rationing and cutbacks to critical medical programs because oil-rich Gulf states have failed to deliver the funding they promised for emergency humanitarian aid, an investigation by James Cusick for The Independent on Sunday has found. Pledges for $ 650 minion in donations from various sources including Saudi Arabia, the United Arab Emirates, Qatar and Bahrain, made during the January 2013, Kuwait UN emergency conference, have yet to materialize.
The World Food Program (WFP), the food aid arm of the UN, says it is spending $19m a week to feed 2.5 million refugees inside Syria and a further 1.5 million who have fled to official camps in Jordan, Turkey, Lebanon and Iraq. By July, the WFP says, there is no guarantee that its work on the Syrian crisis can continue. A spokesman told the UK Independent, "We are already in a hand-to-mouth situation. Beyond mid-June – who knows?"
The emergency conference in Kuwait – hosted by the Emir of Kuwait and chaired by Mr Ban Ki Moon – promised to bring a "message of hope" to the four million Syrian refugees. Mr Ban proclaimed the outcome a shining example of "global solidarity in action". The reality has been markedly different. Oxfam recently issued an appeal: "The League of Arab States must urge all Arab countries that have pledged to the Syrian crisis, to be transparent and to share information about their commitments, and mechanisms for fulfilling their pledges."
Mousab Kerwat, Islamic Relief's Middle East institutional funding manager, said: "It's better for countries to stay away from donor conferences than to attend and make pledges they don't intent to keep. As a minimum, they should communicate where their pledges have gone in a transparent process.
If Professor Falk was weary as he left Lebanon from all the data, visits, and wrenching experiences he was presented with, it would be understandable. But the humanitarian and scholar he showed no signs of fatigue but rather appeared to be energized by the experience. Given his history as a supporter of resistance to occupation and oppression, Richard Falk's assurances that he will continue his work armed with the above sampling of data offers new hope for Palestinian and Syrian refugees from Syria and to those who support their Right and Responsibility to Return to Palestine.
What is it that makes young men, reasonably well educated, in good health and nice looking, with long lives ahead of them, use powerful explosives to murder complete strangers because of political beliefs?
I'm speaking about American military personnel of course, on the ground, in the air, or directing drones from an office in Nevada.
Do not the survivors of US attacks in Iraq, Afghanistan, Yemen, Pakistan, Somalia, Libya and elsewhere, and their loved ones, ask such a question?
The survivors and loved ones in Boston have their answer – America's wars in Iraq and Afghanistan.
That's what Dzhokhar Tsarnaev, the surviving Boston bomber has said in custody, and there's no reason to doubt that he means it, nor the dozens of others in the past two decades who have carried out terrorist attacks against American targets and expressed anger toward US foreign policy. 1 Both Tsarnaev brothers had expressed such opinions before the attack as well.  2 The Marathon bombing took place just days after a deadly US attack in Afghanistan killed 17 civilians, including 12 children, as but one example of countless similar horrors from recent years. "Oh", an American says, "but those are accidents. What terrorists do is on purpose. It's cold-blooded murder."
But if the American military sends out a bombing mission on Monday which kills multiple innocent civilians, and then the military announces: "Sorry, that was an accident." And then on Tuesday the American military sends out a bombing mission which kills multiple innocent civilians, and then the military announces: "Sorry, that was an accident." And then on Wednesday the American military sends out a bombing mission which kills multiple innocent civilians, and the military then announces: "Sorry, that was an accident." … Thursday … Friday … How long before the American military loses the right to say it was an accident?
Terrorism is essentially an act of propaganda, to draw attention to a cause. The 9-11 perpetrators attacked famous symbols of American military and economic power. Traditionally, perpetrators would phone in their message to a local media outlet beforehand, but today, in this highly-surveilled society, with cameras and electronic monitoring at a science-fiction level, that's much more difficult to do without being detected; even finding a public payphone can be near impossible.
From what has been reported, the older brother, Tamerlan, regarded US foreign policy also as being anti-Islam, as do many other Muslims. I think this misreads Washington's intentions. The American Empire is not anti-Islam. It's anti-only those who present serious barriers to the Empire's plan for world domination.
The United States has had close relations with Saudi Arabia, Jordan and Qatar, amongst other Islamic states. And in recent years the US has gone to great lengths to overthrow the leading secular states of the Mideast – Iraq, Libya and Syria.
Moreover, it's questionable that Washington is even against terrorism per se, but rather only those terrorists who are not allies of the empire. There has been, for example, a lengthy and infamous history of tolerance, and often outright support, for numerous anti-Castro terrorists, even when their terrorist acts were committed in the United States. Hundreds of anti-Castro and other Latin American terrorists have been given haven in the US over the years. The United States has also provided support to terrorists in Afghanistan, Nicaragua, Kosovo, Bosnia, Iran, Libya, and Syria, including those with known connections to al Qaeda, to further foreign policy goals more important than fighting terrorism.
Under one or more of the harsh anti-terrorist laws enacted in the United States in recent years, President Obama could be charged with serious crimes for allowing the United States to fight on the same side as al Qaeda-linked terrorists in Libya and Syria and for funding and supplying these groups. Others in the United States have been imprisoned for a lot less.
As a striking example of how Washington has put its imperialist agenda before anything else, we can consider the case of Gulbuddin Hekmatyar, an Afghan warlord whose followers first gained attention in the 1980s by throwing acid in the faces of women who refused to wear the veil. This is how these horrible men spent their time when they were not screaming "Death to America". CIA and State Department officials called Hekmatyar "scary," "vicious," "a fascist," "definite dictatorship material". 3 This did not prevent the United States government from showering the man with large amounts of aid to fight against the Soviet-supported government of Afghanistan. 4 Hekmatyar is still a prominent warlord in Afghanistan.
A similar example is that of Luis Posada who masterminded the bombing of a Cuban airline in 1976, killing 73 civilians. He has lived a free man in Florida for many years.
USA Today reported a few months ago about a rebel fighter in Syria who told the newspaper in an interview: "The afterlife is the only thing that matters to me, and I can only reach it by waging jihad." 5 Tamerlan Tsarnaev may have chosen to have a shootout with the Boston police as an act of suicide; to die waging jihad, although questions remain about exactly how he died. In any event, I think it's safe to say that the authorities wanted to capture the brothers alive to be able to question them.
It would be most interesting to be present the moment after a jihadist dies and discovers, with great shock, that there's no afterlife. Of course, by definition, there would have to be an afterlife for him to discover that there's no afterlife. On the other hand, a non-believer would likely be thrilled to find out that he was wrong.
Let us hope that the distinguished statesmen, military officers, and corporate leaders who own and rule America find out in this life that to put an end to anti-American terrorism they're going to have to learn to live without unending war against the world. There's no other defense against a couple of fanatic young men with backpacks. Just calling them insane or evil doesn't tell you enough; it may tell you nothing.
But this change in consciousness in the elite is going to be extremely difficult, as difficult as it appears to be for the parents of the two boys to accept their sons' guilt. Richard Falk, UN special rapporteur on human rights in the Palestinian territories, stated after the Boston attack: "The American global domination project is bound to generate all kinds of resistance in the post-colonial world. In some respects, the United States has been fortunate not to experience worse blowbacks … We should be asking ourselves at this moment, 'How many canaries will have to die before we awaken from our geopolitical fantasy of global domination?'" 6
Officials in Canada and Britain as well as US Ambassador to the United Nations Susan Rice have called for Falk to be fired. 7
President Kennedy's speech, half a century ago
I don't know how many times in the 50 years since President John F. Kennedy made his much celebrated 1963 speech at American University in Washington, DC. 8  I've heard or read that if only he had lived he would have put a quick end to the war in Vietnam instead of it continuing for ten more terrible years, and that the Cold War might have ended 25 years sooner than it did. With the 50th anniversary coming up June 13 we can expect to hear a lot more of the same, so I'd like to jump the gun and offer a counter-view.
Kennedy declared:
Let us re-examine our attitude toward the Soviet Union. It is discouraging to think that their leaders may actually believe what their propagandists write. It is discouraging to read a recent authoritative Soviet text on Military Strategy and find, on page after page, wholly baseless and incredible claims such as the allegation that "American imperialist circles are preparing to unleash different types of war … that there is a very real threat of a preventative war being unleashed by American imperialists against the Soviet Union" … [and that] the political aims – and I quote – "of the American imperialists are to enslave economically and politically the European and other capitalist countries … [and] to achieve world domination … by means of aggressive war."
It is indeed refreshing that an American president would utter a thought such as: "It is discouraging to think that their leaders may actually believe what their propagandists write." This is what radicals in every country wonder about their leaders, not least in the United States. For example, "incredible claims such as the allegation that 'American imperialist circles are preparing to unleash different types of war'."
In Kennedy's short time in office the United States had unleashed many different types of war, from attempts to overthrow governments and suppress political movements to assassination attempts against leaders and actual military combat – one or more of these in Vietnam, Cambodia, Laos, British Guiana, Iraq, Congo, Haiti, Brazil, Dominican Republic, Cuba and Brazil. This is all in addition to the normal and routine CIA subversion of countries all over the world map. Did Kennedy really believe that the Soviet claims were "incredible"?
And did he really doubt that that the driving force behind US foreign policy was "world domination"? How else did he explain all the above interventions (which have continued non-stop into the 21st century)? If the president thought that the Russians were talking nonsense when they accused the US of seeking world domination, why didn't he then disavow the incessant US government and media warnings about the "International Communist Conspiracy"? Or at least provide a rigorous definition of the term and present good evidence of its veracity.
Quoting further: "Our military forces are committed to peace and disciplined in self-restraint." No comment.
"We are unwilling to impose our system on any unwilling people." Unless of course the people foolishly insist on some form of socialist alternative. Ask the people of Vietnam, Laos, Cambodia, British Guiana and Cuba, just to name some of those in Kennedy's time.
"At the same time we seek to keep peace inside the non-Communist world, where many nations, all of them our friends …" American presidents have been speaking of "our friends" for many years. What they all mean, but never say, is that "our friends" are government and corporate leaders whom we keep in power through any means necessary – the dictators, the kings, the oligarchs, the torturers – not the masses of the population, particularly those with a measure of education.
"Our efforts in West New Guinea, in the Congo, in the Middle East, and the Indian subcontinent, have been persistent and patient despite criticism from both sides."
Persistent, yes. Patient, often. But moral, fostering human rights, democracy, civil liberties, self-determination, not fawning over Israel … ? As but one glaring example, the assassination of Patrice Lumumba of the Congo, perhaps the last chance for a decent life for the people of that painfully downtrodden land; planned by the CIA under Eisenhower, but executed under Kennedy.
"The Communist drive to impose their political and economic system on others is the primary cause of world tension today. For there can be no doubt that, if all nations could refrain from interfering in the self-determination of others, the peace would be much more assured."
See all of the above for this piece of hypocrisy. And so, if no nation interfered in the affairs of any other nation, there would be no wars. Brilliant. If everybody became rich there would be no poverty. If everybody learned to read there would be no illiteracy.
"The United States, as the world knows, will never start a war."
So … Vietnam, Laos, Cambodia, Cuba, and literally dozens of other countries then, later, and now, all the way up to Libya in 2012 … they all invaded the United States first? Remarkable.
And this was the man who was going to end the war in Vietnam very soon after being re-elected the following year? Lord help us.
Bush's legacy
This is not to put George W. Bush down. That's too easy, and I've done it many times. No, this is to counter the current trend to rehabilitate the man and his Iraqi horror show, which partly coincides with the opening of his presidential library in Texas. At the dedication ceremony, President Obama spoke of Bush's "compassion and generosity" and declared that: "He is a good man." The word "Iraq" did not pass his lips. The closest he came at all was saying "So even as we Americans may at times disagree on matters of foreign policy, we share a profound respect and reverence for the men and women of our military and their families." 9 Should morality be that flexible? Even for a politician? Obama could have just called in sick.
At the January 31 congressional hearing on the nomination of Chuck Hagel to be Secretary of Defense, Senator John McCain ripped into him for his critique of the Iraq war:
"The question is, were you right or were you wrong?" McCain demanded, pressing Hagel on why he opposed Bush's decision to send 20,000 additional troops to Iraq in the so-called 'surge'.
"I'm not going to give you a yes-or-no answer. I think it's far more complicated than that," Hagel responded. He said he would await the "judgment of history."
Glaring at Hagel, McCain ended the exchange with a bitter rejoinder: "I think history has already made a judgment about the surge, sir, and you are on the wrong side of it." 10
Before the revisionist history of the surge gets chiseled into marble, let me repeat part of what I wrote in this report at the time, December 2007:
The American progress is measured by a decrease in violence, the White House has decided – a daily holocaust has been cut back to a daily multiple catastrophe. And who's keeping the count? Why, the same good people who have been regularly feeding us a lie for the past five years about the number of Iraqi deaths, completely ignoring the epidemiological studies. A recent analysis by the Washington Post left the administration's claim pretty much in tatters. The article opened with: "The U.S. military's claim that violence has decreased sharply in Iraq in recent months has come under scrutiny from many experts within and outside the government, who contend that some of the underlying statistics are questionable and selectively ignore negative trends."

To the extent that there may have been a reduction in violence, we must also keep in mind that, thanks to this lovely little war, there are several million Iraqis either dead, wounded, in exile abroad, or in bursting American and Iraqi prisons. So the number of potential victims and killers has been greatly reduced. Moreover, extensive ethnic cleansing has taken place in Iraq (another good indication of progress, n'est-ce pas? nicht wahr?) – Sunnis and Shiites are now living more in their own special enclaves than before, none of those stinking mixed communities with their unholy mixed marriages, so violence of the sectarian type has also gone down. On top of all this, US soldiers have been venturing out a lot less (for fear of things like … well, dying), so the violence against our noble lads is also down.

One of the signs of the reduction in violence in Iraq, the administration would like us to believe, is that many Iraqi families are returning from Syria, where they had fled because of the violence. The New York Times, however, reported that "Under intense pressure to show results after months of political stalemate, the [Iraqi] government has continued to publicize figures that exaggerate the movement back to Iraq"; as well as exaggerating "Iraqis' confidence that the current lull in violence can be sustained." The count, it turns out, included all Iraqis crossing the border, for whatever reason. A United Nations survey found that 46 percent were leaving Syria because they could not afford to stay; 25 percent said they fell victim to a stricter Syrian visa policy; and only 14 percent said they were returning because they had heard about improved security.

How long can it be before vacation trips to "Exotic Iraq" are flashed across our TVs? "Baghdad's Beautiful Beaches Beckon". Just step over the bodies. Indeed, the State Department has recently advertised for a "business development/tourism" expert to work in Baghdad, "with a particular focus on tourism and related services." 11
Another argument raised again recently to preserve George W.'s legacy is that "He kept us safe". Hmm … I could swear that he was in the White House around the time of September 11 … What his supporters mean is that Bush's War on Terrorism was a success because there wasn't another terrorist attack in the United States after September 11, 2001 while he was in office; as if terrorists killing Americans is acceptable if it's done abroad. Following the American/Bush strike on Afghanistan in October 2001 there were literally scores of terrorist attacks – including some major ones – against American institutions in the Middle East, South Asia and the Pacific: military, civilian, Christian, and other targets associated with the United States.
Even the claim that the War on Terrorism kept Americans safe at home is questionable. There was no terrorist attack in the United States during the 6 1/2 years prior to the one in September 2001; not since the April 1995 bombing of the federal building in Oklahoma City. It would thus appear that the absence of terrorist attacks in the United States is the norm.
William Blum speaking in Wisconsin, near Minnesota
Saturday, July 13th, the 11th Annual Peacestock: A Gathering for Peace will take place at Windbeam Farm in Hager City, WI. Peacestock is a mixture of music, speakers, and community for peace in an idyllic location near the Mississippi, just one hour's drive from the Twin Cities of Minnesota. Peacestock is sponsored by Veterans for Peace, Chapter 115, and has a peace-themed agenda. Kathy Kelly, peace activist extraordinaire, will also speak.
You can camp there and be fed well, meat or vegetarian. Full information at:http://www.peacestockvfp.org 11
Notes
William Blum, Rogue State: A Guide to the World's Only Superpower, chapters 1 and 2, for cases up to about 2003; later similar cases are numerous; e.g., Glenn Greenwald, "They Hate US for our Occupations", Salon, October 12, 2010 ↩
Huffington Post, April 20, 2013; Washington Post, April 21 ↩
Tim Weiner, Blank Check: The Pentagon's Black Budget (1990), p.149-50. ↩
William Blum, Killing Hope: U.S. Military and CIA Interventions Since World War II ↩
USA Today, December 3, 2012 ↩
ForeignPolicyJournal.com, April 21, 2013 ↩
The Telegraph (London), April 25, 2013; Politico.com, April 24 ↩
Los Angeles Times, February 1, 2013 ↩
This eminently Bushist Obama "red line" business, applied to Syria, Iran or both, is becoming a tad ridiculous.
Take Pentagon head Chuck Hagel's tour of Israel and the "friendly" GCC (the de facto Gulf Counter-revolution Club) last week. US defense contractors had the Moet flowing as Hagel merrily congregated with that prodigy of democracy – United Arab Emirates (UAE) Crown Prince Mohammed bin Zayed – to celebrate the sale of 25 F-16 fighter jets.
There's more on the way; 48 Terminal High Altitude Area Defense, or THAAD missile interceptors, at a cool US$1 billion. The Pentagon is sending one of its only two of such systems to Guam this month to counter that other threat – missiles from North Korea.
The weaponizing free fest to Israel and the Gulf petro-monarchies – missile defense, fighter jets, mega-bombs – could not but be duly hailed as the proverbial "message" to "counter Iran's nuclear ambitions", or "the air and missile threat posed by Iran", or the general "worry about Iran's pursuit of a nuclear weapon" or "Washington's determination to stop Iran from acquiring nuclear weapons."
There's no "red line" here; just hardcore weaponizing of Israel and the GCC. Any doubts, blame it on Iran. And this while Saudi-controlled media in the Middle East – roughly everything except al-Jazeera – was breathlessly spinning that Tel Aviv is pursuing a deal to use Turkish soil for an attack on Iran.
Wait; there's more weaponizing on the way – bound to neighboring latitudes. Kraus-Maffei Wegmann (KMW) from Germany closed another $2.48 billion deal with Qatar – five years in the making – to deliver 62 Leopard 2 tanks and 24 self-propelled howitzers. Qatar is not exactly using them for the 2022 FIFA World Cup; they are bound to "friendly groups in other countries" – as in Syria's "rebels", via Turkey.
Ask the Nenets 
Now take the Syria chemical weapons charade. The White House now seems to be convinced that the CIA believes, with "varying degrees of confidence", that the Syrian government has used chemical weapons. Secretary of State John Kerry – an "intervention" cheerleader posing as a dove – was already convinced.
But then Hagel said, "Suspicions are one thing; evidence is another." Just to flip-flop a little while later, during his visit to Israel, he became convinced Bashar al-Assad was using sarin gas. Of course; after all, Hagel finally had unimpeded access to Israeli – not US – intel.
And now for the beauty of Hagel's marketing; what about embarking as a traveling salesman to "our bastards" with a sales pitch of " Look, Iran and Syria are both crazy, you might consider stacking up on this, this and this."
The Nenets of Siberia – crossing the Ob river to enter the Arctic Circle – could teach a thing or two about real strategy to those limping armchair warriors in US Think Tankland. Even the Nenets would know that the current chemical weapons hysteria is a total fabrication by the CIA, MI6 and Israeli intelligence – corroborated by zero evidence. Still, the prevailing Washington "wisdom" is that a "red line" must be enforced over Syria so a "red line" must be enforced on Iran.
The fact is that the al-Assad government initially accused the "rebels" of using chemical weapons – and asked the United Nations for an official investigation.
Even the New York Times was forced, grudgingly, to admit the "rebels" acknowledged an attack happened in territory controlled by the government, with 16 Syrian Army dead, plus 10 civilians and over a hundred injured. But then the "rebels" changed the narrative, blaming Damascus of bombing their own soldiers. It was Moscow that introduced a measure of reality, detailing how Washington was stalling the UN investigation.
Our Nenets of Siberia would also know there's hardly anything secular leading the "rebels" in Syria; it's a motley crew of varying degrees of fanaticism. Once again, the Nenets would not need to freeze to death reading the New York Times to find out that the CIA is "secretly" funneling a free for all weaponizing to the "rebels" via Saudi Arabia and Qatar. Still the Obama administration peddles the fiction that Washington only supplies "non lethal" aid as Capitol Hill nutters keep insisting that Obama install a "no fly zone" over Syria – as in Libya-style NATO war remix.
Follow-on strike package, anyone? 
US Think Tankland nonetheless is ecstatic that the GCC petro-monarchies now have access to precision-guided munitions to "strike Iranian targets".
But nothing compares to the cheerleading of Israel's new access to KC-135 aerial refueling tankers – or Stratotankers. Then there's the imminent transfer of anti-radiation missiles as well – advanced versions of the AGM-88 HARM missiles. These toys will "reduce the threat to Israel's follow-on strike package."
No, this is not exactly about "US circumspection", or "US resolve in the campaign against Iranian nuclear weapons"; it's unqualified Dog of War barking.
Meanwhile, that police state run by King Playstation, also known as Jordan, has opened its airspace to Israeli drones now engaged in "monitoring" Syria.
As Asia Times Online has repeatedly warned, Obama in Syria is fast becoming a remix of Reagan in 1980s Afghanistan. We all know what came out of those "freedom fighters" afterwards. In this context, Robert Ford, Obama's alleged Syria expert, telling the Senate Foreign Relations Committee that it's important for Washington to "weigh in" to affect "the internal balance of power in Syria" qualifies as a joke line, not a red line.
There's wild speculation that after the Boston bombing Obama and Russia's Vladimir Putin made a deal; Washington lets Moscow do whatever it wants in Chechnya like, forever, but gets a nod to install a "no-fly zone" and further mayhem in Syria. There's no evidence to that. What a geopolitically savvy Putin wants to know is what does he get out of Syria in practical terms (and Obama does not have a clue). Crumbs from a NATO banquet don't apply.
As for allowing Syria to become a "Western-friendly" Wahhabi emirate or yet another failed Muslim Brotherhood fiefdom, one needs to go no further than Hezbollah's Sheikh Nasrallah … "the goal of anyone standing behind the war in Syria, is destroying Syria so that a strong, centralized state would not be established in it, and so that it would become too weak to take decisions related to its oil, sea, or borders."
Now that's what a red line is all about.
Pepe Escobar is the author of Globalistan: How the Globalized World is Dissolving into Liquid War (Nimble Books, 2007) and Red Zone Blues: a snapshot of Baghdad during the surge. His new book, just out, is Obama does Globalistan (Nimble Books, 2009).
He may be reached at pepeasia@yahoo.com.
Source: Asia Times
Why Drones, foreign and domestic, became necessary to establishment politicians and corporations…
In the autumn of 2002 America was rushing toward the War in Iraq, orchestrated by the Bush Administration, especially Karl Rove and Dick Cheney. Though most people did not yet realize this, Bill Clinton already had a very cooperative relationship with the Bush family. He and Hillary were poised to become seriously monied working for the same folks who had taken over the Republican Party in the 1960s.
You don't need to be a Straussian to embrace the strategy.
NeoConservative is the term coined by Irving Kristol, a student of Leo Strauss. The philosophy Strauss originated justifies any act which achieves the desired goal in the pursuit of power. When you understand this is a philosophy which absolutely justifies deceit and abuse of power, and extending control, the corollary becomes clear. Those using Straussianism will, ultimately, take steps to make their control perpetual because, otherwise, they will suffer at the hands of their victims.
Those accepting Straussianism knew they needed to evade exposure.
This explains the enthusiasm of both Bush and Obama for Executive Orders. Although ordinary Americans think in terms of a divide between right and left, this is an illusion. The divide has been carefully created to stymie effective corrective action by the people.
Notice how many of the measures now being put into place were being planned years ago. Homeland Security, the NSA, the militarization of our police and introduction of drones and biometrics, and the CIA and FBI do nothing to increase the security of ordinary Americans – but they are useful for controlling us.
Controlling America, and Americans, was necessary to perpetuating their power and defending them from the consequences of their deceit, beginning before the War in Iraq.
The Highly Disordered in Power
If you watched the documentary on Dick Cheney, now playing broadly on television, titled, "The World According To Dick Cheney," you find a chilling insight into the mind of someone who is focused on centralizing and increasing the power of the presidency using all available means. Cheney has long been a self-proclaimed adherent of Leo Strauss, along with Don Rumsfeldt and most of the cadre of individuals who came in to power with the Bush Administration.
Cheney, appointed to find a vice-presidential candidate for Bush in 2000, conducted a carefully scripted process which disqualified everyone except himself. Cheney knew he could never be elected president because he lacks the social skills necessary and, if he ran, his questionable health and DUIs, among other issues, would have been exposed to the media and the public.
Always described as a 'take-charge' kind of man, Cheney's entire career is defined by treating politics as war.
Karl Rove had a different agenda. While the Bush family certainly wanted the War in Iraq and had been planning for it since W. was still governor of Texas, Rove wanted a permanent hegemony over politics in America. To accomplish this, he suborned the electoral system of the United States using several different techniques.
Beginning in the late 70′s, he displaced the growing power of women moving toward social justice within the GOP, displacing this with an artificially created presence of politicized Evangelicals, galvanized and trained for political action.
For this enterprise, he enlisted Ralph Reed and Pat Robertson, long time associates through Young Republicans.
Rove spread out a network of political operatives, both within the GOP and elsewhere, in think tanks and the media. John Fund, formerly on the Editorial Board of the Wall Street Journal, is an example of this, as is Matt Drudge. This allowed Rove to plant disinformation at will in any part of the country. Both Rove and Cheney's cell numbers are on Fund's speed dial.
Rove also centralized the state Republican Parties, displacing community-based candidates in the primaries with chosen and well funded Rove functionaries. This was taking place in California in the early 90s. Many of these targeted candidates were social justice-oriented women.
To lock down his control, Rove ensured the move to electronic voting, which he could control remotely. This worked for him fairly smoothly from 2000 until last year.
The next level of strategy was the media. The media has been controlled through the CIA since the time of the Kennedy assassination, according to Peter Janney, in his book Mary's Mosaic. In exhaustive detail, the book lays out how a free media was silenced through control of those who owned the media.
Planting operatives in the media, who supplied CIA approved spin and planted stories, became standard operating procedure. Continuing this practice, Rove assigned the job of deflecting questions on the visible problems with electoral fraud to John Fund, placed at the Wall Street Journal by Robert Novak in 1984.
John Fund was essential to deflecting attention from the issue of the ongoing electoral fraud because Fund wrote, "Stealing Elections," which muddied the water on this issue. While he was only one of many operatives, he was not easily replaced because of his position at the Wall Street Journal. Therefore, political capital was expended on his protection in 2002.
People forget scandals and willingly accept explanations, given a modicum of manufactured proof. Victims and witnesses can be silenced so they can no longer defend themselves. Major events distract public attention, which, properly managed, may never be renewed.
In early September, 2001 John Connolly of Vanity Fair published, "Sex, Lies, and the Tape." Included was ataped conversation, known as the WeaselSearch Tape, between Fund and His girl friend, Morgan Pillsbury.
As you listen to this tape, made in September, 1999, and read the accompanying article you realize both Fund and his girl friend, my disordered daughter, Morgan, lie, and are not to be trusted.
I am the individual the two are discussing. Later, in 2001 – early 2002, Fund battered and nearly killed Morgan.
All of the individuals discussed here were involved in the evolution of events surrounding this tape.
By winter 2002 Rove and associates probably believed they had managed to defuse the problem Fund's battery of Morgan had caused. But the situation devolved because of computer hacking, leaking Saddam's willingness to leave later the same year.
The Oncoming War in Iraq – Autumn 2002
Cheney and Rove, both Straussians, had common ground in the drive for perpetual war in 2001 – 2002, had both adopted the ideas of Strauss. Their joint commitment to a campaign of deceit was natural to each and relatively easy to carry out through 2004 since the full array of government tools were available to them and they were united.
The rush to war started with the lies you likely remember about weapons of mass destruction. In the autumn of 2002 a juggernaut for war was launched and moving.
Then, in November, an unanticipated problem raised its head.
In November of 2002 Saddam let it be known he would gladly leave, if he was paid. An email correspondence began. Max Blumenthal, for his father, Sidney Blumenthal, and through him to the Clintons, persuaded Saddam Bush was only blustering and would not invade. They did not know, at the time, someone else was reading their emails.
For me, this part of the story started when Morgan called me from the basement where she was hiding in Georgia and asked, "Mother, is Uday something like E-Bay?" Morgan did not pay much attention to things not directly effecting her.
The John Fund Scandal, briefly, was followed by some, then dropped in the wake of 9/11. But for myself, it was a continuing problem.
Fund, an old friend of mine, had begun a sexual relationship with my daughter, lied to her, tried to dump her, and suffered the consequences anyone in the family could have told him were in the cards.
Morgan is a psychopath.  So is Fund. The reason the Weaselsearch tape was made was because I had found, to my grief, her word was not to be trusted. She made it to persuade me she had told the truth and changed her ways. This last was a lie, but she hooked me into believing her for a while.
The previous spring, 2002, I was still renting an apartment for Morgan in NY, and she had not yet fled NY, which she was forced to do because of the attempt to kill her by John Fund, aided, she was told, by Rove and Cheney.
About that time, she had put a keylogger on Sidney Blumenthal's computer. Blumenthal was, if you remember, Clinton's assistant and senior adviser.
This, I told her, was illegal. But she said it was payback because Blumenthal had had her computer hacked and stolen information from her about John Fund and others, to be used in his book, "The Clinton Wars."
Someone with power had gotten to the court in New York. Ignoring the evidence, and witnesses, they had sidelined the case, though we were told Morgenthau personally held the file on his desk. If Robert Morgenthau, District Attorney in Manhattan, what could we do? Thwarted, Morgan returned the favor and put a keylogger on Blumenthal's computer.
Morgan is disordered.  Ten years ago the problem of sociopathy and psychopathy were not nearly as widely understood as today by any of us. The disordered create chaos. But earlier the chaos Morgan created was at least localized to her family and friends. When she broadened her associations to the NeoCons, who are  also disordered,  things got worse.
In 2012 I realized psychopaths never change. I also understood much more about what had been going on with attempts to bring about the War in Iraq and why Fund, Rove, and Cheney felt endangered by Morgan's hacking.The Bush Administration knew Morgan knew about their efforts to keep Saddam in Iraq so the war could go forward.
What Morgan Found in Sid's Email Box
Morgan had been getting emails between Sidney and his son, Max, which were forwards from someone named Uday. She read them to me and sent one on, with the identifying origin. This email went on to a friend who could tell us where the email to Max had originated. The word came back it had originated in the Saudi Arabian Emirates, and very well could have come from Baghdad.
The emails urged Saddam to stay in Iraq, saying Bush would not invade as Saddam expressed his willingness to be paid to leave.
Morgan kept reading these messages and the husband of the couple, with whom she was staying, also saw these emails. When Morgan decided to put a keylogger on Uday's computer this was accomplished by using the subject line, "Women without Veils," which was the husband, Eric's, idea. It worked. Reading the emails continued, and included emails directly from Uday. I did not ask for copies and none were sent to me.
I contacted a friend's husband who worked at the CIA and left the matter in Morgan's hands. She told me the FBI had gotten in touch with her and asked her to continue to monitor the correspondence, also following Uday with the new keylogger she had installed in the computer in Baghdad.
When the bunker-buster hit Saddam's headquarters Morgan reported seeing the 'ping' move from Baghdad to Virginia. She was not contacted again. But they knew we knew.
There had been no release of information regarding the activities of Blumenthal and the Clintons in holding Saddam in Iraq in the media. The War in Iraq was building. I had a horrible, sinking feeling in the pit of my stomach.
Now we know Saddam had no Weapons of Mass Destruction and that Saddam had nothing to do with 9/11. If Saddam had been paid off to leave there would have been no war. But, of course, trillions of dollars would have been lost to the war contractors and bankers.
As you dig, the lies only get worse. If you read John Perkins', "Confessions of an Economic Hitman," it is clear you see what people will do to other human beings for money. Not a pretty picture.
Drones, militarized police, along with biometrics for tracking individuals, and control through the GPS component, now standard in our cell phones, are each essential to suppressing the ability of Americans to resist and fight back. These are paid for by Americans, but produced by private contractors. Today, contractors have become an essential part of government.
The world of government contractors is murky and hard to follow. We know little enough about politicians, nothing about contractors, who are unelected and nearly invisible. We need to know, we need transparency. Along with knowing who they are, we need to hold them accountable. Each of us is liable for doing harm to others. This is also true of contractors.
For the purpose of understanding one drone contractor we have chosen Green Hills Software, Inc., a silver member of the Association for Unmanned Aerial Vehicle Systems International.
They have been involved in this story since, at least, 2002. Read my previous article, "How a Transparent World Protects us," for details on Green Hills and their Management Team.
The company provides encryption and guidance, without which drones would not work. Green Hills is the best possible example of an errant contractor. Their relationship with John Fund began in 1999. It is likely Green Hills knew Saddam Hussein had offered to leave Iraq.
Green Hills assisted in silencing myself and Morgan with curious haste, beginning with sending the uncertified deposition, given by Morgan in 2001, to John Fund. When this took place their profits were skyrocketed with government contracts. The War in Iraq was starting.
The world would be very different today if the FED had simply printed up a billion dollars and sent it to Saddam. He would have retired and troubled us no more. Better yet, we could have looked for the real perpetrators of 9/11 and held them accountable.
What did not happen is history. Now, we understand far more clearly what the problems are we face. Out of control contractors are only one of these, but one which must be solved.
Green Hills contact information, and evidence, has been provided to attorneys in England and Pakistan who are now filing law suits. Since Green Hills is international collecting should not be a problem.
A small step, but useful in setting a new direction for America.
Has Syria crossed the "red line" that warrants a U.S. military invasion? Has it not? The political establishment in the United States seems at odds over itself. Obama's government cannot speak with one voice on the issue, and the U.S. media is likewise spewing from both sides of its mouth in an attempt to reconcile U.S. foreign policy with that most stubborn of annoyances, truth.
"The White House said on Thursday that American intelligence agencies now believed, with "varying degrees of confidence," that the Syrian government had used chemical weapons…"
Immediately afterwards, Obama's Secretary of Defense, Chuck Hagel, gave a blunt rebuke: "Suspicions are one thing; evidence is another."
This disunity mirrored the recent disagreement that Chuck Hagel had with Obama's Secretary of State, John Kerry, when both testified in front of Congress with nearly opposite versions of what was happening in Syria and how the U.S. should respond. Kerry was a cheerleader for intervention while Hagel — the military's mouthpiece — advised caution.
The U.S. government's internal squabbling over whether the Syrian government used chemical weapons is really an argument on whether the U.S. should invade Syria, since Obama claimed that any use of chemical weapons was a "red line" that, if crossed, would invoke an American military response. Never mind that Obama's "red line" rhetoric was stolen from the mouth of Bush Jr., who enjoyed saying all kinds of similarly stupid things to sound tough.
But now Obama's Bushism must be enforced, say the politicians, less the U.S. look weak by inaction. This seemingly childish argument is in fact very compelling among the U.S. political establishment, who view foreign policy only in terms of military power. If Syria is not frightened into submission by U.S. military threats, then Iran and other countries might follow suit and do as they please and U.S. "influence" would wane. Only a "firm response" can stop this domino effect from starting.This type of logic is the basis for the recent Syria chemical weapons accusations, which was conjured up by the U.S. "Intelligence" service (CIA) and its British and Israeli counterparts (the same people who "proved" that Iraq had Weapons of Mass Destruction, which later proved to be a fabricated lie). All three of these countries' intelligence agencies simply announced that the Syrian government has used chemical weapons, provided zero evidence, and then let their respective nations' media run with the story, which referred to the baseless accusations as "mounting evidence."
In the real world it appears that the U.S.-backed Syrian rebels are the ones responsible for having used chemical weapons against the Syrian government. It was the Syrian government who initially accused the U.S.-backed rebels of using chemical weapons, and asked the UN to investigate the attack. This triggered the Syrian rebels and later the Obama administration to accuse the Syrian government of the attack.
A very revealing New York Times article quoted U.S.-backed Syrian rebels admitting that the chemical weapons attack took place in a Syrian government controlled territory and that 16 Syrian government soldiers died as a result of the attack, along with 10 civilians plus a hundred more injured. But the rebels later made the absurd claim that the Syrian government accidentally bombed its own military with the chemical weapons.
Interestingly, the Russian government later accused the United States of trying to stall the UN investigation requested by the Syrian government, by insisting that the parameters of the investigation be expanded to such a degree that a never-ending discussion over jurisdiction and rules would eventually abort the investigation.
Complicating the U.S.' stumbling march to war against Syria is the fact that the only effective U.S.-backed rebel forces are Islamist extremists, the best fighters of which have sworn allegiance to Al-Qaeda. The same week that the U.S. media was screaming about chemical weapons, The NewYork Times actually published a realistic picture of the U.S.-backed Syrian rebels, which warrants extended quotes:
"Across Syria, rebel-held areas are dotted with Islamic courts staffed by lawyers and clerics, and by fighting brigades led by extremists. Even the Supreme Military Council, the umbrella rebel organization whose formation the West had hoped would sideline radical groups, is stocked with commanders who want to infuse Islamic law into a future Syrian government."
"Nowhere in rebel-controlled Syria is there a secular fighting force to speak of."

"The Islamist character of the [rebel] opposition reflects the main constituency of the rebellion…The religious agenda of the combatants sets them apart from many civilian activists, protesters and aid workers who had hoped the uprising would create a civil, democratic Syria."
Thus, yet another secular Middle Eastern government — after Iraq and Libya — is being pushed into the abyss of Islamist extremism, and the shoving is being done by the United States, which The NewYork Times discovered was funneling thousands of tons of weapons into Syria through U.S. allies in the region, Saudi Arabia and Qatar. We now know that these weapons were given to the Islamist extremists; directly or indirectly, it doesn't matter.
Even after this U.S.-organized weapons trafficking was uncovered, the Obama administration still has the nerve to say that the U.S. is only supplying "non lethal" aid to the Syrian rebels. Never mind that many of the guns that the U.S. is transporting into Syria from its allies were sold to the allies by the United States, where the weapons were manufactured.Now, many politicians are demanding that Obama institute a "no fly zone" in Syria, a euphemism for military invasion — one country cannot enforce a no fly zone inside another country without first destroying the enemy Air Force, not to mention its surface to air missiles, etc. We saw in Libya that a no fly zone quickly evolved into a full scale invasion, which would happen again in Syria, with the difference being that Syria has a more powerful army with more sophisticated weaponry, not to mention powerful allies — Iran and Russia.
This is the real reason that the U.S. military is not aligned with the Obama administration over Syria. Such a war would be incredibly risky, and inevitably lead to a wider conflict that would engulf an already war-drenched region, creating yet more "terrorists" who would like to attack the United States.
The U.S. public has learned the lessons of Iraq's WMD's, and that lesson is not lost on U.S. soldiers, few of whom want to fight another war for oil against a country which is a zero-threat to the United States.
Zionists and Gulf Monarchs Ponder…
Beirut – "This is one damn fine idea, what took us so long to see a simple solution that was right in front of our eyes for Christ's sake", Senator John McCain of "Bomb, bomb, bomb Iran" and "no-fly zones for Syria" notoriety, reportedly demanded to know from Dennis Ross during a recent Washington Institute for Near East Policy (WINEP) brain storming session in Washington DC.
 Ross, a founder of WINEP with Israeli government start up cash (presumably reimbursed unknowingly by American taxpayers) and currently WINEP's "Counselor", reportedly responded to the idea of facilitating Al Qeada to wage jihad against Hezbollah with the comment: "Shiites aren't the only ones seeking death to demonstrate their 'resistance' to whatever. Plenty of other Muslims also want to die as we saw last week in Boston. Let 'em all go at it and Israel can sweep out their s— when it's over."
One Congressional staffer attending the WINEP event emailed me, "Dennis spoke in jest — well I assumed he did — but who knows anymore? Things are getting ever crazier inside some of these pro-Israel think-tanks around here."
Featured on the front page of its April 25 edition, the Zionist-compliant New York Times writes that the Assad regime is apparently recovering but, "it must be understood that for all of the justified worries about the (al Qaeda affiliated) rebels "Assad remains an ally of Iran and Hezbollah. "
The Times adopts the views of Islamophobe, Daniel Pipes, who recommends that the US try to keep the two sides in Syria fighting as long as possible until they destroy each other.  Pipes, now serving as an advisor to John McClain, wrote in the Washington Times on April 11, "Evil forces pose less danger to us when they make war on each other. This keeps them focused locally, and it prevents either one from emerging victorious and thereby posing a greater danger. Western powers should guide enemies to a stalemate by helping whichever side is losing, so as to prolong their debilitating conflict."
Both Jeffrey Feltman, U.N. Under-Secretary General for Political Affairs and Susan Rice, U.S. Permanent Representative to the U.N, have at a minimum impliedly joined in the intriguing idea of siccing Jabhat al Nusra on the Party of God. This scheme, if launched, would be Feltman's 14th attempt to topple Hezbollah and defeat the Lebanese National Resistance to the occupation of Palestine since he first arrived in Beirut from Tel Aviv in 2005 to become US Ambassador to Lebanon.  This observer, among others in this region sense that given the aura still enveloping the American Embassy here,  that Jeffrey never really left his Lebanese ambassadorial post and continues to occupy this position from his new UN office.
This week Feltman warned that the spillover of Syria's war continues to be felt in Lebanon as Susan Rice, echoed him and condemned Hezbollah for "undermining the country's "dissociation policy." The latter being a bit obscure in meaning but connoting something like sitting around doing nothing while this country is being shelled by jihadists from among the 23 countries currently fighting in Syria.  Feltman informed the media on 4/22/13 that "The Secretary-General is concerned by reports that Lebanese are fighting in Syria both on the side of the regime and on the side of the opposition, hopes that the new government will find ways to promote better compliance by all sides in Lebanon with the "disassociation policy."
Given current divisions in Lebanon that will not happen anymore than Lebanon's June 9th Parliamentary elections will be held on time.
For her part, Susan lectured the UN Security Council that "Hezbollah actively enables Assad to wage war on the Syrian people by providing money, weapons, and expertise to the regime in close coordination with Iran." This position was expressed also through a statement by US. State Department spokesman , Patrick Ventrell, who said that Washington "has always been clear concerning Hezbollah's shameful role and the support it is providing for the Syrian regime and the violence it is inducing in Syria." Ventrell added: "We were clear from the start concerning the destructive role played by Iran as well as the Iranian role."
Several Israeli agents in Congress are today promoting a Jabhat el Nusra-Hezbollah war even as the Obama administration terror-lists the jihadist group. Meanwhile, Senator Lindsay Graham (R-S.C.), McCain's neocon Islamaphobe acolyte, goes a bit further and explains to Fox News, once Assad falls and Hezbollah is out of the picture "We can deal with these (jihadist) fellas."
Recent history in Libya instructs otherwise. As Turkish commentator Cihan Celik recently noted: "A divorce with al-Nusra will not be easy in Syria"
The past two years in Libya, that shadow of a country, reveals countless examples, three witnessed firsthand by this observer, during the long hot summer of 2011. What we saw was Gulf sponsors and funders offering young men, often unemployed, $ 100 per month, free cigarettes, and a Kalashnikov to do jihad.  Plenty down and out lads still accept these offers in Libya, as they do in Syria. One reason why the militias proliferated so quickly in Libya and never melted away was the phenomenon of a wannabe jihadists deciding to be a leader and recruiting perhaps a brother or two, maybe a few cousins or tribe members, and presto, they have created a militia with power they never dreamed of.
Their new life can offer many perceived benefits  from running rough shod over the civilian populations and setting up myriad mini but potent criminal enterprises specializing in kidnappings, robberies, drugs, trafficking in women, and assassinations for cash.  How many of these young men have turned in their weapons in Libya and returned to their former lives?   Or will do so when instructed by the likes of McCain or Graham?
On 4/24/13 Jabhat Al-Nusra Front intensified its threats to officials here including the Lebanese president by releasing a challenge from its media office: "…we inform you – and you may think of that as a warning or an ultimatum – that you must take immediate measures to restrain Hezbollah, otherwise, the fire will reach Beirut. If you do not abide by this within 24 hours, we will consider that you are taking part in the massacres committed by the Hezbollah members and we will unfortunately have to burn everything in Beirut." In addition they are calling for Jihad and the establishment of the "Resistance Factions for Jihad against the Regime in Syria" and also in Saida and Tripoli, Lebanon.
Israeli officials appear to be in agreement with the Ross/Pipes proposal to arrange for Al Qeada to launch a war against Hezbollah.  The Director for External Affairs at "The Moshe Dayan Center for Middle Eastern and African Studies, repeatedly claimed that the Shia are the real threat to Israel, not the Sunni and with the least threat coming from the Gulf monarchs.  He offered the view recently that "Israel is now a partner of the Sunni Arab states."  Indeed, Israel hopes that Hezbollah will forget Israel when tasked with trying repel Al Nusra and other al Qaeda affiliate attacks.
According to various Israel officials who have issued statements on the subject, Saudi Arabia, Egypt and Jordan and several other members of the Arab League constitute an "alliance of anxiety for Israel" because they claim that "Sunni Arabs are not as competent as the Shia and Iran and as a result they express doubts that Israel can rely on the Sunni states in the same way that the Sunni states can rely on Israel."
In a documentary about the Iraq war, an American soldier explains:  "Actually, we don't really have much of a problem with the Sunnis.  It's the Shias who we are afraid of.  The problem has something to do with their leader who was killed centuries ago and these fellas are willing to lay their life down for the guy.  Anyhow, that is what they told us in Special Ops class."
Al Nusra fighters currently occupying parts the south west areas of Yarmouk Palestinian refugee camp in south Damascus, recently expressed eagerness to fight Hezbollah which they claim would give them credibility with Sunni Muslims and, oddly, in this observers view, "credibility with western countries", who supposedly are al Qaeda's sworn enemies. It's sometimes hard to know who precisely is whose enemy these days in Syria as the rebels continue using areas east and southwest of Damascus as rear bases and as gateways into the capital.
Despite boasts to the contrary from Jihadist types in Syria and Lebanon, it is not clear to this observer if Jihadist and al Qaeda-affiliated groups living among Hezbollah communities in Lebanon like Fatah al Islam, Jund al Sham or Osbat al Ansar which have been here for years would actually join the Zionist promoted anti-Hezbollah jihad.
But it is evident that some Lebanese Islamists and jihadists directly connected to al Qaeda do have the ability to target Hezbollah.   Elements from each of these groups are startling to associate and identify with Jabhat al Nusra, inspired partly by their successful military operations in Syria.
Again, we saw the same thing in Libya.  Enthusiastic, ambitious young men who want to improve their lot in life try to go with a winner.  According to sources in the Ain al Hilweh Palestinian refugee camp, jihadist leaders such as Haytham and Mohammed al Saadi, Tawfic Taha, Oussama al Shehabi and Majed al Majed are recruiting followers and fighters in Lebanon and offer a ticket out the the squalid army-surrounded, Syrian-refugee-inflated camp.
Homs-based media activist Mohammad Radwan Raad claims that "the embattled residents of the rebel-controlled Homs province town of Al-Qusayr welcome Saida, Lebanon-based Sunni Sheikh Ahmad al-Assir's call for Jihad in Syria. Claims Raad, "Al-Qusayr residents welcome Assir's call and hope the Lebanese people help kick out Hezbollah members in the area…We need anyone who can get rid of them." This week Assir urged his followers to join Syrian rebels fighting troops loyal to President Bashar al-Assad and Lebanese Shiite movement Hezbollah. Al-Qusayr has been under rebel control for more than a year and on the scene reports indicate that it is about to be returned to central government control.
In response, two Salafist Sunni Lebanese sheikhs urged their followers to go to Syria to fight a jihad (religious war) in defense of Qusayr's Sunni residents. "There is a religious duty on every Muslim who is able to do so… to enter into Syria in order to defend its people, its mosques and religious shrines, especially in Qusayr and Homs," Sheikh Ahmed al-Assir told his followers. For now, experts say, such calls on the part of Lebanon's Salafists are largely bluster because the movement is far from able to wield either the arsenal or the fighting forces of Hezbollah.
Local analysts like Qassem Kassir argue that Jabhat al Nusra and friends are not organized enough to fight against Hezbollah in a conventional war, but they could cause great damage by organizing bomb attacks against the Party of God's bases and militants. The latter would be enough initially for Ross and WINEP and their Zionist handlers. Creating chaos in Lebanon being one of their goals but more importantly weakening the National Lebanese Resistance led by Hezbollah and also challenging Syria and Iran.
In a recent speech, Hezbollah Secretary-General Hassan Nasrallah offered his party's view about a Western-promoted Sunni-Shia clash, with Al-Nusra, AlQaida and all the groups which flocked to Syria, saying that what was wanted of them was to kill and get killed in Syria, in a massacre which will only serve the enemies of the Arabs and Muslims.
The coming months will reveal to us if  the several pro-Zionist Arab regimes as well as Islamophobes, including those at WINEP and other Israel-first think-tanks, are delusional in believing that John McCain's "simple solution" to those resisting the Zionist occupation of Palestine, would be to assist  Jabhat el Nusra type jihadists to make war against Hezbollah.
Whether they could defeat Hezbollah is uncertain but whether Jabhat al Nusra and friends are capable of igniting yet another catastrophe in this region is the looming question.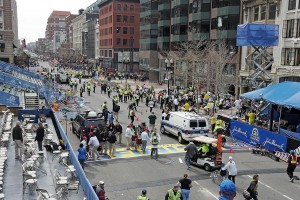 Will we ever learn the full truth about the Boston Marathon bombing?  Personally, I have been looking into this attack for days, and I just keep coming up with more questions than answers.  At this point, I honestly have no idea what really happened.  Why was a bomb drill being held on the day of the attack?  Why have authorities denied that a bomb drill was taking place?  Were Tamerlan and Dzhokhar Tsarnaev acting alone?  What was the nature of their previous contacts with the FBI and other federal agencies?  Why did the FBI at first deny that they had been in contact with the Tsarnaev brothers previously?  Why was the investigation of a mysterious Saudi national with familial links to al-Qaeda suddenly dropped shortly after the Saudi ambassador held an unscheduled meeting with Barack Obama?  Why did Michelle Obama subsequently visit that mysterious Saudi national in the hospital?  If you are looking for answers to these questions, I am afraid that I don't have them at this point.  But what alarms me is that the mainstream media seems to be afraid to ask any of the hard questions that they should be asking.  They just seem to swallow whatever the authorities tell them hook, line and sinker without following up on any of the things in this case that simply do not seem to make sense.
So what kinds of questions should they be asking?  The following are 17 unanswered questions about the Boston Marathon bombing that the media appears to be afraid to ask…
#1 Why were runners being told that a bomb squad drill was taking place during the Boston Marathon?  The following is from an article by Natural News…
Alastair Stevenson is a veteran marathon runner who has competed in dozens of marathons around the world, including the London Marathon. He's very familiar with the security typically found at marathons, and he immediately noticed something odd about the Boston marathon security.

"They kept making announcements on the loud speaker that it was just a drill and there was nothing to worry about. It seemed like there was some sort of threat, but they kept telling us it was just a drill," he was quoted as saying byLocal15TV.com.

In the interview, you'll hear Stevenson say:

"At the start at the event, at the Athlete's Village, there were people on the roof looking down onto the Village at the start. There were dogs with their handlers going around sniffing for explosives, and we were told on a loud announcement that we shouldn't be concerned and that it was just a drill. And maybe it was just a drill, but I've never seen anything like that — not at any marathon that I've ever been to. You know, that just concerned me that that's the only race that I've seen in my life where they had dogs sniffing for explosions, and that's the only place where there had been explosions."
#2 Why did authorities deny that a bomb squad drill was being held?
#3 According to The Mirror, the FBI is reportedly "hunting" a 12-strong terrorist "sleeper cell" that Tamerlan and Dzhokhar Tsarnaev were allegedly a part of…
A source close to the investigation said: "We have no doubt the brothers were not acting alone. The devices used to detonate the two bombs were highly sophisticated and not the kind of thing people learn from Google.

"They were too advanced. Someone gave the brothers the skills and it is now our job to find out just who they were. Agents think the sleeper cell has up to a dozen members and has been waiting several years for their day to come."
If that is the case, why are authorities in Boston adamantly insisting that the two brothers were acting alone?
#4 CBS News is reporting that the FBI interviewed Tamerlan Tsarnaev back in 2011.  The mother of the two Tsarnaev brothers insists that the FBI had been in contact with them for up to five years.  At first, the FBI denied any previous contact with the two suspects.  Will we ever learn the true scope of the previous relationship between the FBI and the Tsarnaev brothers?
#5 Debka is reporting that the Tsarnaev brothers were "double agents" which had been "hired by US and Saudi intelligence to penetrate the Wahhabi jihadist networks which, helped by Saudi financial institutions, had spread across the restive Russian Caucasian."  Could this possibly be true?  If so, will the American people be told the truth about these links?
#6 According to their uncle, there were "mentors" that "radicalized" the Tsarnaev brothers.  So precisely who were those "mentors"?
#7 What happened during Tamerlan Tsarnaev's trip to Dagestan and Chechnya last year?
#8 Were the Tsarnaev brothers in contact with a rebel leader named Doku Umarov who is known as "Russia's Bin Laden"?
#9 Did Tamerlan Tsarnaev post a video on YouTube last summer that expresses a belief that the 12th Imam, Mahdi, will soon come and that an Islamic army with black flags with arise out of a province in Iran known as Khorasan?
#10 Why aren't we being told that the "pressure cooker bombs" used in the Boston Marathon attacks are very similar to the kind of pressure cooker bombs that are commonly used in the Middle East?…
The Daily Beast has confirmed with U.S. counter-terrorism officials that the bombs placed Monday at the marathon were made from pressure cookers, a crude kind of explosive favored by insurgents in Pakistan and Afghanistan. A recipe for a bomb that uses the pressure cooker was part of the debut issue of Inspire, the English-language online magazine of al Qaeda in the Arabian Peninsula.
#11 Initially we were told that Saudi national Abdulrahman Ali Alharbi was a "person of interest" in the case.  But now he is scheduled to leave the countrywith the full blessing of the U.S. government.  Why is there such a rush to get him out of the United States?
#12 Why aren't we being told that Abdulrahman Ali Alharbi was photographedwith two other Saudis in the vicinity of the Boston marathon bombings?
#13 Why aren't we being told of the shocking familial links that Abdulrahman Ali Alharbi has to known members of al-Qaeda?  The following is from research complied by Walid Shoebat…
Many from Al-Harbi's clan are steeped in terrorism and are members of Al-Qaeda. Out of a list of 85 terrorists listed by the Saudi government shows several of Al-Harbi clan to have been active fighters in Al-Qaeda:

#15 Badr Saud Uwaid Al-Awufi Al-Harbi
#73 Muhammad Atiq Uwaid Al-Awufi Al-Harbi
#26 Khalid Salim Uwaid Al-Lahibi Al-Harbi
#29 Raed Abdullah Salem Al-Thahiri Al-Harbi
#43 Abdullah Abdul Rahman Muhammad Al-Harbi (leader)
#60 Fayez Ghuneim Humeid Al-Hijri Al-Harbi
Source: http://aalhameed1.net/vb/showthread.php?t=1565

Then you have Al-Harbi clan members in Gitmo:

Salim Salman Awadallah Al-Sai'di Al-Harbi
Majid Abdullah Hussein Al-Harbi
Muhammad Abdullah Saqr Al-Alawi Al-Harbi
Ghanem Abdul Rahman Ghanem Al-Harbi
Muhammad Atiq Uwaid Al-Awfi Al-Harbi
Source: http://www.muslm.net/vb/showthread.php?169019-أسماء-(90)-سعودياً-لا-زالوا-محتجزين-في-جوانتانامو

There are specific Saudi clans that are rife with members of Al-Qaeda, which makes it quite alarming as to why nearly a hundred thousand student visas are issued to these. Americans are clueless as to clan ties when it comes to terrorism.
#14 Why did U.S. Secretary of State John Kerry have a private meeting with a Saudi foreign minister shortly after Abdulrahman Ali Alharbi was identified as a potential suspect?
#15 Why did Barack Obama hold an unscheduled meeting with the ambassador from Saudi Arabia shortly after Abdulrahman Ali Alharbi was identified as a potential suspect?
#16 Why did Michelle Obama visit Abdulrahman Ali Alharbi in the hospital?
#17 Why did numerous mainstream media outlets openly suggest that "right-wing extremists" were behind the bombings in the immediate aftermath of the attack?
Source: End of the American Dream
Mounting evidence suggests state-sponsored terrorism. Expect more later to confirm it. Cui bono matters most. Powerful interests benefit hugely. Ordinary people lose out.
War on terror 2.0 looms. Innocent people will suffer. Expect more repressive laws. Military spending will increase. Homeland security will be boosted. Fundamental freedoms will die. Full-blown tyranny may follow. It's already a hair's breath away.
Imperial wars on humanity will continue. New targets will be chosen. Independent governments will be attacked. New world order rules demand unchallenged global dominance. The worst of all possible outcomes may follow. State-sponsored terror facilitates it.
What's ongoing resembles post-9/11 events. Media scoundrels misreport. They do so round-the-clock. Readers and viewers are willfully misinformed.
Fear-mongering, lies and damn lies replace truth and full disclosure. Muslims became public enemy number one. Who'll suffer most with them this time?
Vital information is suppressed. Fingers point the wrong way. Innocent victims are blamed for state-sponsored terror. More on that below.
National emotions are aroused. At issue is enlisting public support. Post-9/11, Bush addressed an Episcopal National Cathedral prayer and remembrance ceremony.
"(O)ur country was attacked with deliberate and massive cruelty," he said. "We have seen the images of fire and ashes and bent steel."
He omitted what's most important. Washington bore full responsibility. The worst of all possible worlds followed.
On April 18, Obama addressed a Holy Cross Cathedral interfaith prayer service. "(I)n an instant, the day's beauty was shattered," he said. "A celebration became a tragedy. And so we come together to pray and mourn and measure our loss."
"We will find you," he added. "And yes, you will face justice. We will hold you accountable." Truth and full disclosure always loses out.
Early Friday, newly released FBI photos showed alleged bombing suspects. They're brothers. They were called "armed and extremely dangerous." Allegedly they had "explosives and guns." Official reports lack credibility.
One suspect was arrested. The other fled. He's now in hospitalized in serious condition. Police discovered his whereabouts and shot him. Officials later said the one taken into custody died. Allegedly he was killed in a "violent standoff." Cold-blooded murder is more likely.
A "massive manhunt" continues. Officials said suspects came from Chechnya or nearby. Doing so implies Islamofascists. MSNBC's Chris Matthews alleged they're Arabs. Perhaps from Yemen, he said. Media scoundrels feature this type misreporting ad nauseam.
Mossad-connected DEBKAfile called them "Chechen Wahhabi cell" members. Saudi Arabia funds it, it said. Older brother Tamerlan was 26. Police likely killed him in cold blood. He was a boxer and Bunker Hill Community College engineering student.
Younger brother Dzhokhar fled. He's 19 years old. He's a Cambridge Rindge and Latin School graduate. His father calls him a "true angel." He's a Greater Boston League all-star wrestler.
He won a city of Cambridge $2,500 scholarship. He's a second year medical student. His father said both brothers were "set up." They "killed my older son Tamerlan," he added.
Over 10 years ago, both brothers came to America with their family. They're not terrorists.
Officials said greater Boston public transportation shut down. The FAA ordered a no-fly zone over a 3.5 radius of the bombing site. Watertown, Cambridge, Newton, Brookline, Waltham, Belmont, and other suburban area residents were advised to stay home.
Colleges and universities closed for the day. Local businesses were told not to open. Thousands of officers made house-to-house searches. Swat teams are involved. Some areas were evacuated. Helicopters patrol overhead. Police cars are everywhere.
Greater Boston's never seen anything like this before. It's surreal. It resembles a bad film plot. It gets round-the-clock coverage. Managed news misinformation substitutes for cold hard facts.
Infowars headlined "Did Boston Bombing Suspect Try to Surrender?" An image showed him lying prone with his arms outstretched. He held no weapon. None appeared near him.
One suspect killed. Perhaps another to follow. What better way to bury truth. Dead men tell no tales. Exculpating evidence perhaps won't surface. Media scoundrels won't report what does.
Lots more went on. On marathon day, eyewitnesses reported bomb drills, training exercises and rooftop snipers. Authorities denied them.
University of Mobile cross country coach Alastair Stevenson contradicted them, saying:
"At the starting line this morning, they had bomb sniffing dogs and the bomb squad out there. They kept announcing to runners not to be alarmed, that they were running a training exercise."
On April 17, Anthony Gucciardi headlined "Craft International Private Military Forces at Boston Marathon?"
Images showed two men "with earpieces and military-esque gear….(T)hey may likely be employees of the Blackwater-style private military/security firm Craft International."
Their attire was later "revealed to be standard issue Craft International clothing." The skull logo on one man's cap identifies Craft.
Why were both men and others with them in Boston? Images show around 10 wearing similar attire. Nearly all had on black backpacks. They resembled those alleged to contain pressure cooker bombs.
Investigators said they contained explosives, nails and ball bearings. They detonated moments apart.
Four or more Craft operatives wore tan combat boots, tan BDUs (battle dress uniforms), black jackets, and had tactical communications gear. At least one had an "inspector radiation alert." It's used to detect dirty bomb or nuclear attack emissions.
Why were they near the marathon's finish line? Perhaps their mission was a black ops. They're experts in these type operations.
Why did FBI operatives join them? Images show them talking. An FBI truck was visible. Why were FBI agents searching for one bombing suspect before the incident took place?
Why have media scoundrels ignored this? These and related questions demand answers. Coverup and denial reflect official policy. Vital facts are suppressed. What's most important isn't reported. Misinformation substitutes.
Stephen Lendman lives in Chicago. He can be reached at lendmanstephen@sbcglobal.net.
His new book is titled "Banker Occupation: Waging Financial War on Humanity."
http://www.claritypress.com/LendmanII.html
Visit his blog site at sjlendman.blogspot.com.
With Syria on the brink of national genocide, outside nations have only two options: help reverse the catastrophe or plunge this torn nation deeper into the abyss. Countries can either work towards a peaceful political solution or they can continue to pour money, guns, and fighters into the country to ensure a steady gushing into the bloodbath.
President Obama will have no talk of peace. He has chosen war since the very start and he's sticking to it. A recent New York Times article revealed that President Obama has been lying through his teeth about the level of U.S. involvement in the Syrian conflict since the beginning.
The President recently said that the U.S. government continues to give only "non-lethal" military aid to the rebels, but The New York Times revealed that the CIA has been actively funneling and distributing massive shipments of weapons to the rebels over the borders of Jordan and Turkey.
This "arms pipeline" of illegal gun trafficking has been overseen by the U.S. government since January 2012. It has literally been the lifeblood of the Syrian "rebels," and thus the cause of the immense bloodshed in Syria.
The New York Times reports:
"The C.I.A. role in facilitating the [weapons] shipments… gave the United States a degree of influence over the process [of weapon distribution]…American officials have confirmed that senior White House officials were regularly briefed on the [weapons] shipments."
The article also explains that a "conservative estimate" of the weapons shipment to date is "3,500 tons."
So while Obama has repeatedly lied about "non-lethal" military aid, he has been personally involved in overseeing a multi-country flood of weapons into Syria, many of which are given to terrorist organizations. The only effective fighting force for the Syrian rebels has been the terrorist grouping the Al Nusra Front, and now we know exactly where they got their guns.
If not for this U.S.-sponsored flood of guns, the Syrian rebels — many of them from Saudi Arabia and other countries — would have been militarily defeated long ago. Tens of thousands of lives would thus have been spared and a million refugees could have remained in their homes in Syria. The large scale ethnic-religious cleansing initiated by the rebels would have been preventable.
But Obama is so intent on war that he will not even discuss peace with the Syrian government. He has repeatedly stated that there are "preconditions" for peace negotiations, the most important one being the downfall of the Syrian government, i.e., regime change. If a toppling of a nation's government is Obama's precondition for peace, then Obama is by definition choosing war.
Never mind that Syria is a sovereign nation that should not have to worry about a foreign country making demands as to who is in power. Obama doesn't seem to think this relevant. In fact, his administration has been very busy determining who the "legitimate" government of Syria is, by hand picking the "National Coalition of Syrian Revolution," the prime minister of which is a U.S. citizen.
One of the preconditions for being on Obama's National Coalition of Syrian Revolution is that there be no peace negotiations with the Syrian government. Of course most Syrians want to immediately end the conflict in Syria, since it threatens an Iraq-like destruction of the country.
The most popular leader of the National Coalition of Syrian Revolution, Moaz al-Khatib, recently quit in protest because he was prohibited from pursuing peace negotiations by the U.S.-appointed opposition Prime Minister, Ghassan Hitto, a U.S. citizen who had lived in the U.S. for the previous 30 years.
The Guardian reports:
"Immediately after his nomination as interim [Prime Minister], Ghassan Hitto [U.S. citizen], had distanced himself from Al-Khatib's willingness to negotiate with elements of the Assad regime in a bid to bring an end to the civil war.
By appointing Hitto as the leader of the opposition, Obama has splintered the already-splintered opposition while making "no peace negotiations" the official policy of the U.S.-backed opposition, the so-called "legitimate" government of Syria.
Obama also recently pressured the Arab League — composed of regimes loyal to the United States — to install as a member the hand-picked National Coalition of Syrian Revolution as the official government of Syria. The appointment didn't give as much credibility to the opposition as much as it degraded the Arab League's legitimacy.
The rebel's seat in the Arab league implies, again, that the U.S. and its allies are fully intent on "regime change," no matter how many people die, no matter the existing political alternatives. They will not reverse course.
The Russian government called the Arab League membership decision "… an open encouragement of the [rebel] forces which, unfortunately, continue to bet on a military solution in Syria, not looking at multiplying day by day the pain and suffering of the Syrians…. Moscow is convinced that only a political settlement and not encouraging destructive military scenarios, can stop the bloodshed and bring peace and security to all Syrians in their country."
Obama has rejected both Russian and Syrian calls for peace negotiations in recent months, as he has greatly increased the frequency of the weapons trafficking plan. Reuters reports on the Obama Administration's reaction to peace proposals from Russia and Syria:
"…[Syria's Foreign Minister's] offer of [peace] talks drew a dismissive response from U.S. Secretary of State John Kerry, who was starting a nine-nation tour of European and Arab capitals in London [to help organize support for the Syrian rebels]."
Obama rejects peace because he cannot dictate its outcomes. When it comes to war the more powerful party decides what the peace looks like, and Obama's rebels are — after two years — still in a poor position to bargain a favorable peace to the United States, no matter how many tons of guns the U.S. has dumped into Syria. This is because the Syrian government still enjoys a large social base of support, something you'll seldom read about in the U.S. media.
Another sign of war lust from the Obama administration came after the Syrian government accused the rebels of a chemical weapons attack. The U.S. government initially dismissed the accusation, until the rebels later accused the Syrian government of the attack.
But even Syria's rebels have admitted that the chemical weapons attack took place in a government controlled territory, and that 16 Syrian government solders died in the attack along with 10 civilians plus a hundred more injured. But the rebels make the absurd claim that the government accidentally bombed themselves with the chemical weapons.
No matter who is responsible, the Obama administration plans to hold the Syrian Government responsible for crossing the "red line" of a chemical weapons attack (Obama's version of Bush's infamous "weapons of mass destruction"). The red line refers to a direct military invasion, versus the prolonged blood-letting that has been U.S. policy so far.
Obama's envoy for the United Nations, Susan Rice, issued a statement about the chemical weapons attack that, according to The New York Times, "… repeated previous American warnings that there would be "consequences" if the Assad government used or failed to secure chemical weapons."
So, if the Syrian rebels get hold of chemical weapons and use them on the Syrian government — as seems to be the case — the Syrian government should be held responsible, according to the Obama Administration, "for not securing chemical weapons."
There is zero room for truth with logic like this. But the perverse logic serves to protect Obama's prized rebels, who've committed a slew of atrocities against the Syrian population, and who gain key political and media protection from the U.S.
Ultimately, the entire Syrian war was born amid the big lie that the battle began — and continues — as a popular armed struggle. But the real revolutionaries in Syria like the National Coordination Committee, have long ago declared that they want a peaceful end to this conflict.
Obama's Bush-like determination to overthrow the Syrian government has led him down the same path as his predecessor, though Obama is fighting a "smarter" war, i.e., he's employing more deceptive means to achieve the same ends, at the exact same cost of incredible human suffering.
Notes
http://www.nytimes.com/2013/03/25/world/middleeast/arms-airlift-to-syrian-rebels-expands-with-cia-aid.html?hp&_r=0
http://www.nytimes.com/2012/08/04/opinion/syrias-crumbling-pluralism.html
http://www.guardian.co.uk/world/2013/mar/24/moaz-al-khatib-resignation-syrian-opposition
http://www.mid.ru/brp_4.nsf/newsline/716995BF2773B52544257B3B00400371
http://www.reuters.com/article/2013/02/25/us-syria-crisis-dialogue-idUSBRE91O0BD20130225
http://www.nytimes.com/2013/03/20/world/middleeast/syria-developments.html?pagewanted=all&_r=0
http://www.nytimes.com/2013/03/22/world/middleeast/un-to-investigate-chemical-weapons-accusations-in-syria.html
http://presstv.com/detail/2012/11/30/275318/national-coordination-committee-of-syria-visits-moscow/
Well, Barak Obama got his wish on the second try. With the confirmation of John Owen Brennan by the Senate, the CIA has a new director from their own ranks. "Brennan's 25 years with the CIA included work as a Near East and South Asia analyst, as station chief in Saudi Arabia, and as director of the National Counterterrorism Center." He proudly attests, "I'm neither Republican nor Democrat. I've worked for the past five administrations." Imagine a non-partisan spook as D/CIA. If this development is intended to restore confidence in the agency, just what kind of organization will emerge from a careerist covert agent at the helm?
The role of a spy network is to obtain intelligence and analyze the significance of information on advocacies bent on causing harm to our national security. Notwithstanding, its long history, the CIA has departed from the art of spying and often substituted the belligerent waging of combat outside the international general rules of war. The aftermaths of condoning a sub rosa intervention, in place of a declared military action, has transformed and prevented the meaning and legitimacy of a valid national security function.
The net result of sanctioning surreptitious operations outside the command of the military branches, has allowed the CIA to evolve into a free-lance warfare entity that often betrays the constitutional republic. Loyalty to the "Agency" often supersedes a pledge of allegiance to the nation. Within this context, the Brennan appointment signals a dangerous escalation of black op missions, using mercenary contactors, which conceal political fallout and provide the cover of plausible deniability.
The use of CIA drones to assassinate expected terrorists with impunity is a major technological departure from intelligence gathering. The indiscriminate elimination of suspected targets with drone bombing that knowingly causes collateral damage is a war crime. The institutional operatives of the agency discard the fact that America is less secure from the inevitable blowback that such killing produces.
The recent Drone Strikes Protest provides some of the real inconvenient truths about the reign of terror from Hellfire missiles.
"Brennan has continuously denied that drones cause collateral damage, claiming in a July 2011 speech that not a single "collateral" death had taken place as a result of drone strikes in Pakistan, a view he continued to uphold during his Senate hearings. However, this was proven false by the Bureau of Investigative Journalism, which found that out of a total of 311 drone strikes ordered by the Obama administration, between 473-893civilians were killed, many of them reportedly children."
Whatever public embarrassment that Brennan suffers is neatly deferred in the video report that CIA's covert drone program may shift further onto Pentagon. The inference to believe that the architect of the drone strategy wants to shift the robot mission under military command is suspect.
A far more plausible assessment from The Guardian item, CIA veteran who became Obama's drone champion, warns of even bigger roles in the future, under the Brennan guidance.
"John O Brennan is a key architect of that change by stealth of the nature of the CIA," said Scott Horton, a contributing editor on national security to Harper's magazine and a lecturer at Columbia Law School. "I think there's no question in which direction he would push the CIA. It would be towards a greater militarization, and a more prominent role being played in these drone-type operations.

"And the drones are just the beginning of it. The CIA has its toe there, but we're going to see the CIA probably take a very prominent role in robotic warfare."
The fundamental argument that Brennan seeks to expand the role of CIA "private army" aggression should give pause to any patriot. However, the NeoCons are working double time to discredit Brennan on an entirely different level. World Net Daily publishes the article, Shock claim: Obama picks Muslim for CIA chief.
"As WND has reported, former FBI Islam expert John Guandolo has long warned that the federal government is being infiltrated by members of the radical Muslim Brotherhood. But Guandolo now warns that by appointing Brennan to CIA director, Obama has not only chosen a man "naïve" to these infiltrations, but also picked a candidate who is himself a Muslim."

"Mr. Brennan did convert to Islam when he served in an official capacity on the behalf of the United States in Saudi Arabia," Guandolo told interviewer and radio host Tom Trento.

"That fact alone is not what is most disturbing," Guandolo continued. "His conversion to Islam was the culmination of a counterintelligence operation against him to recruit him. The fact that foreign intelligence service operatives recruited Mr. Brennan when he was in a very sensitive and senior U.S. government position in a foreign country means that he either a traitor … [or] he has the inability to discern and understand how to walk in those kinds of environments, which makes him completely unfit to be the director of Central Intelligence."
Now watch the YouTube video, Beck It Is Plausible That CIA Nominee John Brennan Is An Islamic Convert, from the renown Zionist proponent that will go to any length to keep the faux, War on Terror, hysteria going. While the determination that Brennan is "unfit to be the director of Central Intelligence" is correct, the basis upon which he is unqualified should not be based upon his alleged Islam conversion.
The emphasis and need for verifiable intelligence to protect against existential threats must account for dangers that far exceed what is coming out of the backwaters of Afghanistan. Where is the acknowledgement that China is engaged in significant and pervasive acts of war against our economic and cyber security networks?
For students of the clandestine paramilitary record, the information from the Church Committee Hearings regarding a Timeline of CIA Operations is revealing. The prospects of another venture into the deep secret failures during the era that Brennan and his cohorts conducted their trade are remote. Just consider the refinement in the use of plausible deniability, when the technocrats are in charge of the stealthy termination machine.
"The doctrine of plausible deniability led to many of the widespread abuses of power that occurred in the CIA before the Intelligence Reform Era in the mid-1970s. It led the agency to believe that CIA officers had a green light to conduct almost any actions they saw fit to reach their goals."

"One of the major reasons that the CIA has gone astray over the last forty years is the veritable freedom from any type of control or restriction that it has enjoyed. Though Congress investigated the activities of the Agency in 1975 and subsequently instituted more stringent oversight procedures, the CIA of today is once again an agency that is able to do almost as it pleases."
Former CIA intelligence officer, Michael F. Scheuer in his essay, John Brennan as CIA chief would serve his own interests, not America's, cites examples from his sycophant career. Read the Scheuer comments for each illustration and his conclusion: "The foregoing four points, I think, provide firm substantive ground on which to evaluate Mr. Brennan's fitness to be chief of the CIA, and will allow his reputation for servile toadyism and deception to be left aside."
Another retired CIA authority, Philip Giraldi makes a significant point in the American Conservative article, CIA After the War on Terror.
"Brennan was not questioned at all about the conflict of interest or ethical issues raised by the revolving door that he benefited from when he left CIA as deputy executive director in 2005 and joined a British-owned company, The Analysis Corporation (TAC), where he was named CEO. He almost certainly made millions when CIA and other federal agencies awarded TAC contracts to develop biometrics and set up systems to manage the government's various watch lists."
The essential question about Brennan is whether he is an independent thinking professional or just another political hack, gaming the intelligence community culture. So how much solace can one take from the White House, Holder respond to Rand Paul: 'The answer is no', response?
"Attorney General Eric Holder wrote Sen. Rand Paul,R-Ky., to confirm that President Obama does not have the authority to kill an American on U.S. soil in a non-combat situation, Obama's spokesman announced today."
Does anyone really believe that the CIA adheres to the Congressional restriction on operating inside country? What might be expected from a new Director that takes his oath of office on a draft of the Constitution that did not include the Bill of Rights?
The Jihad that Americans should be concerned about is the one waged by the intelligence community against the principles of our nation. John Brennan's selection as CIA Drone Director has the sign of payback. He would reliably keep the American people in the dark. The David Petraeus forced resignation was more about silencing disclosure about Benghazi gunrunning to supply Syrian CIA backed factions, than a sex scandal. Brennan is a poor choice to defend liberty.
Two years after the beginning of the Syrian insurgency, three facts are clear: The rebels are unable to bring down the government of President Bashar al-Assad, foreign political support and military supplies notwithstanding; Bashar's forces are unable to defeat the rebels and reestablish control over the entire country; and continued third-party advocacy of either one of those two unattainable objectives can only prolong Syria's agony.
The U.S.-sponsored influx of arms and jihadi volunteers, irresponsible in design and self-defeating in consequences, has greatly aggravated the situation. If the term "international community" has any meaning at all, other than the arbitrary will of the hegemon, it is to serve the goals of all social life: to limit violence resulting in death and bodily harm. U.S. Syrian policy has done the opposite thus far. It is up to the new national security team to change the course. A new policy is needed, not only to stop the bloodshed and preserve a modicum of regional stability, but also—primarily, in fact—to serve the American interest in a turbulent part of the world from which this country should finally start disengaging.
Secretary of State John Kerry, on his first overseas trip since taking office, outlined what appeared to be a potentially more nuanced Syria policy in his remarks in Paris last week. Non-lethal supplies to the rebels would be stepped up, he announced, but the customary Hillary Clinton-era demand for Bashar al-Assad's speedy departure was absent. He "has to go," but we are not told when. According to one usually well-informed Israeli source, the Obama Administration has finally realized that the only way to contain Jihadist forces and retain a degree of American control over the rebels was to catch a ride on Russian President Vladimir Putin plans for Syria—even through they envisage Bashar staying in power at least until next year:
Those plans hinge primarily on establishing armistice lines dividing the country into separate sectors and determining in advance which will be controlled by rebel factions and which by Assad loyalists. This is the first practical basis to be put forward for an accord to end the two-year old civil war between Assad and the Syrian opposition and it is designed to go forward under joint Russian-American oversight.
The teamwork between Washington and Moscow in pursuit of this plan is supposedly "close and detailed." The new American policy for Syria is said to be based on Washington's recognition of the reality on the ground and the necessity of working with Moscow—which entails acceptance of Assad's rule—in order to retain some influence within the Syrian rebel camp. Kerry seems to understand that a political solution supported by all five UNSC permanent members is the only way forward. Of course he is well aware that there will be no Security Council resolution that can be misused as a quasi-mandate for NATO or some ad-hoc "coalition of the willing" to stage an outright military intervention in Syria—pace Libya in 2011—and that a realistic scenario demands retreat from Clinton's preordained outcomes.
Similar signals are coming from other well connected sources. "Those looking for positive statements on the negotiated outcome Kerry prefers have not been disappointed," according to Al-Monitor: "Encouraging comments on diplomatic engagement have been heard from the protagonists themselves." On the Syrian side, they include Foreign Minister Walid Muallem and notably the head of the 'legitimate' opposition Moaz al-Khatib:
The differences separating former top members of the ruling elite, now re-branded as opposition men like Khatib, Manaf Tlas and former prime minister Riyad Habib, and from those still in their chairs — Muallem and Foreign Minister Farouk as-Shar'a—seem bridgeable. Assad himself even spoke of returning to his medical practice after (losing) an election in 2014.
Key persons on both sides of the divide apparently agree that the Syrian state and its institutions must be preserved, and that a ceasefire and dialogue on a managed transition to democratic elections provide the path to peace. If the United States is to have a role, however, "Kerry must convince the opposition and their allies in Turkey and the Gulf that dialogue is the key to regime change, while Russian Foreign Minister Sergey Lavrov must convince Assad that it is not."
This is a tall order that requires skill and flexibility that Hillary Clinton so patently lacked.
"In the face of such murder and threat of instability," Kerry said on the eve of the opposition meeting in Rome last week, "our policy cannot stay static as the weeks go by." Interesting, and potentially promising. American efforts will be calibrated in order to "change the calculation on the ground for President Assad" in favor of a political solution. The non-lethal aid package for the opposition, in this context, becomes a stop-gap measure that may have been designed to fend off neoconservative and liberal-interventionist accusations of yet another "sellout."
On the other hand, rather than encourage a negotiated outcome—which Kerry seems to support—the latest aid package for the rebels (likely intended as his diplomatic fig-leaf for the interim period) may encourage the hopes of a military victory among radical Islamists who provide the fighting backbone of the rebellion. It is a grim fact that the influx of supplies from abroad into Syria has escalated the conflict to its disastrous current point. As we now know, Western capitals have provided logistics, coordination, political support, and non-lethal aid to the rebels, Saudi Arabia and Qatar have delivered them weapons and money, while Turkey has offered facilities for NATO training as well as safe havens for rebel attacks inside Syria. This is not a civil war between pro-democracy forces and a brutal regime fighting its own people, this is yet another pro-jihadist intervention paid in large part by the American taxpayer.
If Kerry is serious about looking for a solution, he should disregard neoconservative attacks that are certain to follow. That camp's convoluted thinking is explicitly displayed in "Two Cheers for Syrian Islamists," published byForeign Policy magazine last August: "So the rebels aren't secular Jeffersonians. As far as America is concerned, it doesn't much matter… Islamists—many of them hardened by years of fighting U.S. forces in Iraq—are simply more effective fighters than their secular counterparts."
"It doesn't much matter…" Cheering seasoned killers of American soldiers in Iraq as American allies in Syria is sick, outrageous, and treasonous—but that has always been the nature of the unpatriotic interventionist beast.
The recent announcement that the United States would increase its "non lethal" military aid to Syria's rebels shouldn't be a surprise to anyone. Some speculated that Obama — having been repeatedly proved wrong about the Syria government's stability — would leave Syria in silent humiliation.
Not so. The destruction of Syrian society will continue, indeed, increase. Although there are plenty of non-military options the Obama administration could pursue, he's instead choosing the bloodiest course possible. Millions of Syrians have had their lives destroyed, and now millions more can look forward to a similar fate.
U.S. media outlets have reported that all of the hundreds of millions of dollars of U.S. aid to Syria's rebels has been "non-lethal," but the New York Times admitted recently:
"American [government] officials declined to discuss an ongoing covert program to train rebel fighters or the extent to which it has made a difference on the battlefield."
It's no exaggeration to say that Obama is helping to orchestrate the largest state-sponsored terror campaign since the still-simmering genocides of the Congo and Yugoslav wars. This fact has been completely hidden from the view of the U.S. public, but it's a fact nonetheless.
For example, the only effective fighting force of the Syrian rebels, the Al Nusra Front, has been labeled a terrorist organization, even by the United States. Its frequent terrorist bombings have helped shred the fabric of Syrian society; its most recent massive car bombings killed 100 mostly-innocent people in central Damascus, including dozens of children and wounding hundreds more.
U.N.-Arab League envoy Lakhdar Brahimi denounced the latest terrorist attack as a "war crime." But such labels do not get attached to allies of the United States. Obama is ignoring the countless similar attacks by Syria's terrorist rebels, ensuring that such attacks will increase.
In fact, U.S. officials blocked a Russian-sponsored resolution at the United Nations Security Council condemning the recent terror bombings. Actions like these both minimize and encourage indiscriminate terrorist bombings.
U.S. Secretary of State John Kerry's most recent announcement of U.S. aid to Syrian rebels made sure to mention that the aid will not go to "terrorists" — an absurd statement considering that the terrorists in Syria are the ones in power on the ground for the opposition. Of course most of the crucial aid will be funneled to them, no matter who initially receives it.
The Obama administration has been on a relentless search for a non-terrorist dominated Syrian opposition, only to fail and then re-start his quest. Initially the 'Syrian National Council' play-acted as the non-terrorist "revolutionary" opposition.
But Hillary Clinton later confronted reality and dumped the group, correctly labeling them as "… a bunch of out-of-touch exiles who should be replaced with a group more representative of the fighters on the ground."
The same article referred to the Syrian National Council as "too accommodating to terrorists."
Obama then sent Clinton on an international tour to discover and organize a brand new non-terrorist "legitimate" Syrian opposition. On her journey Clinton unearthed yet another group of handpicked rich Syrian exiles who hadn't been in the country in decades, with no connections on the ground and, more importantly, zero military presence of any significance. Clinton re-named the group the National Coalition of Syrian Revolution, and unveiled her new offspring to glowing U.S. media acclaim. But Hillary's latest baby was again born from smoke and mirrors. The New York Times reported:
"…the coalition has struggled to agree on a slate of governing leaders that would unite what is still a loosely allied organization, trying to weave together local councils, splinter organizations, disparate opposition groups and the loyalties of the armed units fighting the forces of President Bashar al-Assad."
Obama now intends to buy the legitimacy of his new Syrian opposition, as part of the newly announced aid package. The New York Times shamelessly reports:
"one aim of the $60 million in [new] assistance is to help the National Coalition of Syrian Revolution and Opposition Forces build up its credibility within the country…"
Obama's new "friends of Syria" would like the United States to destroy Syria. Many within the rag tag grouping are demanding a direct U.S. military intervention to topple the existing government.
Anyone who has paid attention to the Iraq, Afghanistan, and Libyan wars understands that U.S.-style regime change equals the destruction of a nation. The above three countries were all once independently functioning civilizations, but are now socially and economically destroyed and regionally fragmented, ruled by whomever in the region happens to have the most guns.
As millions of Syrians become internally and externally displaced refugees and the country obliterated, the Obama administration is purposely choosing not to settle the situation with diplomacy. Both Russia and Syria have made recent offers for negotiations. By rebuking these offers and aiding the rebels instead, Obama is choosing more mass slaughter.
"Syria is ready for talks with its armed opponents, Foreign Minister Walid al-Moualem said on Monday, in the clearest offer yet to negotiate with rebels fighting President Bashar al-Assad."
The Obama Administration responds to the peace negotiations:
"…[Syria's Foreign Minister's] offer of talks drew a dismissive response from U.S. Secretary of State John Kerry, who was starting a nine-nation tour of European and Arab capitals in London [to help organize the Syrian rebels yet again]."
Why does Obama choose war instead of peace? Because presently Obama cannot dictate his terms; the majority of Syria is still controlled by the Syrian government, which remains in a much more powerful bargaining position, a painfully stubborn fact.
Obama will thus continue to sponsor large-scale mass murder and ethnic-religious cleansing until his handpicked rebels gain enough power on the ground to negotiate a peace favorable to U.S. interests.
The Obama administration's hands are awash with the blood of countless innocent Syrians, blood that promises to spill into Lebanon and other neighboring states as the region becomes destabilized along ethnic-religious lines. The "popular revolution" in Syria has long ago been replaced by foreign mercenary terrorists financed by Saudi Arabia and Qatar. The Obama administration has overseen this entire process, while actively trying to organize a respectable "public face" for the rebels.
Obama's recent strides in Syria end with a logical conclusion: U.S. direct military intervention. The stage is still being set, waiting until optimal conditions are met for a Libyan style U.S./NATO mass-bombing mission to finish off the Syrian government. In the eyes of Obama the resulting disaster will be worth the mess, since a non-compliant regime to the U.S. will have been toppled, thus clearing the path for the long term plan of crushing Iran.
Damascus – Iran is expected to meet with other world powers in Astana, Kazakhstan to discuss its nuclear program. Discussions that the occupiers of Palestine fervently hope will not be successful. It is toward this end that their key demand this week to the US Congress, the White House and the European Union is "to cast responsibility on the Iranians by blaming them for the talks' failure in the clearest terms possible."
According to the Al-Monitor of 3/19/13, Israel also demands that the countries meeting in Kazakhstan "make it perfectly clear that slogans such as 'negotiations can't go on forever' are their marching orders to the White House, and they want the Kazakhstan attendees to act "so severely that the Iranians realize that they face a greater threat than just Israeli military action."  "The message must be that this time the entire west, behind Israel's leadership, is contemplating the launch of a massive military action."   Unsaid is that "the entire West" is expected to confront Iran militarily while Tel Aviv's forces will mop up Hezbollah, Hamas, Islamic Jihad and Syria if necessary.
Pending the above arrangements, Israel this week is further demanding that the Obama White House issue another Executive Order dramatically ratcheting up the US-led Sanctions against Iran and Syria while it prepares for a hoped for " game changing international economic blockade, including no-fly zones enforced by NATO.
To achieve yet another lawyer of severe sanctions, and at the behest of AIPAC, a "legislative planning" meeting was called by Congressman Eliot Engel, who represents New Yorks 17th District (the Bronx) and who is the Ranking Member of the House Foreign Affairs Committee, and Rep. Ros-Lehtinen (Florida's 27th District), Chair of the House Subcommittee on the Middle East and North Africa. The session was held in a posh Georgetown restaurant and participant's included representatives from AIPAC, Israel, and Saudi Arabia, Bahrain plus half a dozen Congressional staffers.
Congressman Engel has co-sponsored virtually every anti-Arab, anti-Islam, anti-Palestinian, anti-Iran, and anti-Syrian Congressional broadside since he entered Congress a quarter-century ago. His campaign literature last fall stated: "I am a strong supporter of sanctions against those who repeatedly reject calls to behave as responsible nations. (Israel excepted-ed).  I have authored or helped author numerous bills which have been signed into law to impose sanctions against rogue states including Iran and Syria." Ros-Lehtinen and Engel led all members with AIPAC donations on the House side in last fall's Congressional elections. They are ranked number one and two respectively as still serving career recipients of Israel-AIPAC's "indirect" campaign donations.
Some Congressional operatives accuse Rep. Ros-Lehtinen of being a bit lazy and neglecting the bread and butter needs of her Florida constituents. But others argue that it depends on which constituents one has in mind. Her election mailings and her Congressional website claim that the Congresswoman  "led all Congressional efforts tirelessly to generate votes to block what she views as anti-Israel resolutions offered at the former UN Commission on Human Rights."
A big fan of US-led sanctions against Iran and Syria, Rep. Ros-Lehtinen introduced the Iran Freedom Support Act on January 6, 2005, which increased sanctions and expanded punitive measures against the Iranian people until the Iranian regime has dismantled its nuclear plants. Rep. Ros-Lehtinen also introduced H.R. 957, the Iran Sanctions Amendments Act, which she claims "will close loopholes in current law by holding export credit agencies, insurers, and other financial institutions accountable for their facilitation of investments in Iran and sanction them as well."  In addition, H.R. 957 seeks to impose liability on parent companies for violations of sanctions by their foreign entities.  She also co-sponsored H.R 1357 which requires "U.S. government pension funds to divest from companies that do any business with any country that does business with Iran."  Her campaign literature states that, "She was proud to be the leading Republican sponsor of H.R. 1400, the Iran Counter-Proliferation Act. This bill applies and enhances a wide range of additional sanctions."
In addition, last year Illeana introduced H.R. 394, which enlarges US Federal Court Jurisdiction regarding claims by American citizens their claims in U.S. courts. Unclear is whether she realizes that one consequence of her initiative would be to open even wider US courtroom doors to Iranian-Americans and Syria-Americans who today are being targeted and damaged by the lady's ravenous insatiable craving for civilian targeting economic sanctions.
But Ileana and Elliot appear to be fretting.
So is Israel.
The reasons are several and they include the fact that the US-led sanctions have failed to date to achieve the accomplishments they were designed to produce. These being to cripple the Iranian economy, provoke a popular protest among the Iranian people over inflation and scarcity of food and medicines,  weaken Iran as much as possible before adopting military measures against it, and, most essentially, achieving regime change to turn the clock back to those comfortable days of our submissive, compliant Shah.
Zionist prospects for Syria aren't any better at the moment.  Tel Aviv's to intimidate the White House into invading Syria have not worked. Plan A has failed miserably according to the Israeli embassy people attending the Engel-Ros Litinen's informal conflab.  Neither did the "how about we just arm the opposition" plan that originated last year with David H. Petraeus and was supported by Hillary Clinton while being pushed by AIPAC. The goal was to create allies in Syria that the US and Israel could control if Mr. Assad was removed from power. Moreover, the White House believes that there are no good options for Obama. It has vetoed 4 recent Israeli proposals including arming the rebels and is said to believe that Syria is already dangerously awash with "unreliable arms."
The recent shriveling of Israeli prospects for a dramatic Pentagon intervention  in Syria reflect White House war weariness.  And also Israel's predilection to bomb targets itself in Syria, as it did recently to assassinate a senior Iranian officer in the Quds force of the Revolutionary Guards, Gen. Hassan Shateri. Contrary to the false story that Israel attacked a missiles convoy, some unassembled equipment was damaged but that was not the primary target according to Fred Hof, a former U.S. State Department official. Gen. Shateri was.
Making matters worse for Tel Aviv, the Israeli military is reportedly becoming skittish due to its deteriorating political and military status in the region and its troops have recently completed subterranean warfare drills to prepare them for a potential clash with Hezbollah in southern Lebanon, the Jerusalem Post reported on 2/20/13. "Today during training, we simulated a northern terrain, that included what we might encounter," Israeli Lt. Sagiv Shoker, commander of a military Reconnaissance Unit of the Engineering Corps, based at the Elikim base in northern Israel near the border with Lebanon explained. Shoker added that his units spent a week focused on how to approach Hezbollah's alleged underground bunkers and tunnels  in South Lebanon and the Bekaa Valley quietly and quickly.  Israeli forces commander Gantz has been complaining recently to the Israeli cabinet that Hezbollah Special Forces are gaining much valuable experience in Syria fighting highly skilled and motivated al Nusra jihadists and his troops may not be prepared to face them on the battlefield if a conflict erupts. It has been known since 2006 that Israeli soldiers "are having motivation deficits" as Gantz and others have complained.
Ordinary citizens in Iran and Syria with whom this observer met recently, including some with whom he has shared lengthy conversations while posing many questions, cannot ignore the burden of the US-led sanctions in various aspects of their lives.  Nor can the Iranian or Syrian governments or their economic institutions. At the beginning of the summer of 2010, and even more so since the summer of 2012, the US-led civilian targeting sanctions imposed were significantly tightened by the Obama administration and its allies. The administration realized that the sanctions imposed on Iran until then were ineffective and understood that Iran's steady progress toward nuclear power capability would quickly leave the US with no alternative than the acceptance of a nuclear Iran. But the administration, according to former State Department official Hof, believed that unless it took more drastic measures against Iran, Israel would launch a military strike against Iran which would likely destroy Zionist Israel- a prospect not every US official and Congressional staffer privately laments. Congressional sources report that the White House now feels that Iran has achieved deterrence and that Israel would be dangerously foolhardy to attack the country.
While Israel advocates an economic blockade of Iran and Syria, under binding rules of international and US law, economic blockades are acts of war. They are variously defined as surrounding a nation with hostile forces, economic besieging, preventing the passage in or out of a country of civilian supplies or aid. It is an act of naval warfare to block access to a country's coastline and deny entry to all vessels and aircraft, absent a formal declaration of war and approval of the UN Security Council.
All treaties to which America is a signatory, including the UN Charter, are binding US law. Chapter VII authorizes only the Security Council to "determine the existence of any threat to the peace, or act of aggression (and, if necessary, take military or other actions to) restore international peace and stability." It permits a nation to use force (including a blockades) only under two conditions: when authorized by the Security Council or under Article 51 allowing the "right of individual or collective self-defense if an armed attack occurs against a Member….until the Security Council has taken measures to maintain international peace and security."
As International law Professor Francis Boyle reminds us, Customary International Law recognizes economic blockades as an act of war because of the implied use of force even against third party nations in enforcing the blockade. Writes Boyle, "Blockades as acts of war have been recognized as such in the Declaration of Paris of 1856 and the Declaration of London of 1909 that delineate the international rules of warfare." America approved these Declarations, thereby are became binding US law as well "as part of general international law and customary international law."  US presidents Dwight Eisenhower and Jack Kennedy, called economic blockades acts of war.
So has the US Supreme Court.
In Bas v. Tingy (1800), the US Supreme Court addressed the constitutionality of fighting an "undeclared war" (read extreme economic sanctions). It ruled the seizure of a French vessel (is) an act of hostility or reprisal. The Court cited Talbot v. Seaman (1801) in ruling that "specific legislative authority was required in the seizure. In Little v. Barreme (1804), the Court held that "even an order from the President could not justify or excuse an act that violated the laws and customs of warfare. Chief Justice John Marshall wrote that a captain of a United States warship could be held personally liable in trespass for wrongfully seizing a neutral Danish ship, even though" presidential authority ordered it.
"The Prize Cases" (1863) is perhaps the most definitive US Supreme Court ruling on economic blockades requiring congressional authorization. The case involved President Lincoln's ordering "a blockade of coastal states that had joined the Confederacy at the outset of the Civil War. The Court….explicitly (ruled) that an economic blockade is an act of war and is legal only if properly authorized under the Constitution."
Iran and Syria pose no threat to the US or any peaceful law abiding nation. Imposing a blockade against either violates the UN Charter and settled international humanitarian laws as well as US law. It would constitute an illegal act of aggression that under the Nuremberg Charter is the designated a "supreme international crime" above all others. It would render the Obama administration and every government of other participating nations criminally liable.
Contrary to what the occupiers of Palestine may fantasize, if the White House wants an economic blockade of Iran or Syria it must declare war, letting the American people be heard on the subject and convince the UN Security Council to pass a UNSCR under Chapter 7.
The White House cannot legally, morally or consistently with claimed American humanitarian values continue to target civilian populations with economic sanctions on the cheap.
The current mass legalization of 20 million illegal aliens portends the onward march of displacing American citizens from their own language, their own culture and most certainly, their way of life.
A reader told me that we face "cosmic payback" or "cosmic karma" for doing the same thing to the aborigines of America when we slaughtered them by the hundreds of thousands.  We moved them into permanent internment camps called "Reservations."  We introduced them to alcohol which addled their brains to this day as hundreds of thousands of them suffer permanent alcoholism.   Instead of teepees, they now live in broken down trailers or track housing and watch American TV, which diametrically opposes everything in their ancient cultures.
We subverted their religion.  We stomped out their "Great Spirit" and forced the Bible upon them and our God-fearing ideas of the Creator.  We forced their kids into our schools and we obliterated their languages and cultures.  While savaging some 522 tribes in North America, we called them "savages."
Read Bury My Heart at Wounded Knee, Sand Creek Massacre and Trail of Tears for a gut wrenching history of the white man's slaughter of Indians on his march across America and Manifest Destiny.
However, as we Americans race into the 21st century, we see the march other tribes invading not from Europe, but from Mexico, Brazil, Honduras, Saudi Arabia, Iraq, Pakistan, Russia, China, India, Africa and other disparate locations across the planet.   They vacate their failed societies to come to America for a "better life."  They flee starvation, misery, conflict and suffering.
But they bring everything they fled into America.  We see our English language changing to fit their needs such as, "Push 1 for Arabic" in Detroit, Michigan.  Push "2" for Spanish in most cities in America.  Push "3" for English.  Menus run in Spanish/English.  All Home Depot and Lowe's stores feature everything in Spanish and English.  Banks serve in Spanish and  English.  Soon, Arabic.
We now suffer "Black flash mobs" beating up on American citizens.  We see Mexicans gangs killing Blacks in Los Angeles.  We see honor killings, arranged marriages and female genital mutilation growing in America via our Muslim immigrants.
Yet, no one lifts a finger to stand up and speak out about English being our national language.  No one defends the American way of life, our culture or language.    Exactly the same displacement steamrolls over us as we steamrolled over the Indians. (Same as Canada, Europe and Australia.)
Americans do not realize their fate because they remain asleep at the wheel.  They remain mesmerized by the indolent television and its mindless presentations 24/7.
Reader Mary Boyle wrote, "Again we have our leader(s) destroying our nation and the people are too stupid to realize it.  I will enjoy seeing what happens in the end of this unread-written novel as things are moving so fast.  We are being dismantled so quickly and the people are too stupid to realize what is happening to them."
As the Mexicans become legalized and their numbers become the dominate tribe in 2040, they will change most television and radio into Spanish, just like we forced the Indians out of their own languages and religions.  Immigrants of every stripe grow their power to force their languages and cultures upon us.
Amazingly, whether legal or illegal migrants into  America, they stick one foot into The United States and keep one foot via cell phone, glued to their mother country.  In other words, they never become "Americans."  Hyphenated-Americans, yes! Americans, no!
Does anyone possess any clue as to what will happen when seven million Muslims in America become 20, 30 even 40 million Muslims?    They will use our U.S. Constitution to institute Sharia Law into the foundation of America.  I can see it coming as surely as the dawn.
Yet, our U.S. Congress and our citizens stagger on the side of stupid-street.  We ignore our fate.  We blithely continue in blissful ignorance.  Once Sharia Law takes hold, watch what happens to women's, children's and gay rights.  Watch what happens to free speech. Watch what happens to the foundation of our culture and language.
If I am the only American who sees this "thing" coming, I can say that I spoke up, I wrote up and I yelled loud and clear.  I think very few Americans understand the enormity of  adding 100 million, that's 100,000,000 people to this country from hundreds of cultures and languages from around the world.  That's like creating three more California's  or fifty cities the size of Denver, Colorado.  We face total cultural, sociological and linguistic breakdown of America.  As to quality of life and standard of living, shot to hell!  As to environment: water, energy, resources—exhausted beyond solving.
These two quotes may be the most important of my career:
"Many people, especially ignorant people, want to punish you for speaking the truth, for being correct.  Never apologize for being correct, or for being years ahead of your time. If you're right and you know it, speak your mind.  Even if you are a minority of one, the truth is still the truth."  Gandhi
And the most important quote:
"Most Western elites continue urging the wealthy West not to stem the migrant tide [that adds 80 million net gain annually to the planet], but to absorb our global brothers and sisters until their horrid ordeal has been endured and shared by all—ten billion humans packed onto an ecologically devastated planet." Dr. Otis Graham, Unguarded Gates
Dear reader, within the next 37 years, our Congress will import 100 million immigrants from the third world into America.  Do you think we stand a chance of maintain what it means to be an American?
If you want to stop it, you may join these organizations to create collective power to stop the forthcoming amnesty:  www.CapsWeb.org ; www.NumbersUSA.org ; www.TheSocialContract.com  ; www.Fairus.org
DAMASCUS — One powerful image from Damascus that has become seared into this observers mind these days is when I walk by a Western Union office. Most of them remain open despite the brutal US-led sanctions which in their pervasive effects target almost entirely the civilian population. But all Western Union offices were closed last Thursday and Friday due to heavy snowfall, which some say is the deepest here for more than a quarter century. Still, some Syrians braved the extreme cold and could be seen huddled outside some branches, evidently in vain hope that they might open and their families might eat.
One of the few economic lifelines not yet cut by the ever strangling, profoundly immoral and illegal US-led sanctions, with their throat-hold tightening around the civilian population in Syria in order to achieve regime change, "WU" as it's known, has become, for some, literally a lifesaver. This is because its money transfer service is still allowing family and friends from abroad to send in assistance to Syria for their desperate families caught up in this regional contest between Resistance and a return to Western hegemony.
Peering in the window or stepping inside a Western Union outlet in Damascus reminds this observer of scenes from the floor of the New York Stock Exchange or a European bourse wherein traders wave pieces of paper or other objects trying to get the attention of someone. But in Syria, those trying to submit their ten digit Money Control Transfer Number (MTCN) numbers and ID's in order to collect cash, are not wearing clothes from the fashion houses. Rather, given the frigid temperatures and lack of mazot (heating oil that 90% of the population here relies on for heat) they are tightly bundled. Women and kids generally wrapped tight in thick head scarves.
Last week, this observer went into the Western Union office in central Damascus to collect some cash sent from Canada for a family that had managed to escape from Aleppo. The place was packed but orderly. I smiled to myself as I thought about my own country when sometimes during a Black Friday type sale, the scene of waiting in queue collapses into yelling, insults, fights, throwing objects, threats, all to save a few dollars or get one's hands on the soon to be trashed "must have" sale item.
The stressed but committed staff behind the WU counter could not give assurance how long I would have to wait, but graciously did agree to take my passport and I could return later. On arriving after about three hours, my MCTN # had just been processed and I was in and out fast. I can't imagine that I will see a yellow and black Western Union sign ever again without thinking about US sanctions targeting the Syrian civilian population.
An historical irony is that it was a Syrian gentlemen, Mr. Hiram Sibley, one of the thousands of Syrians who emigrated to the United States in the mid-19th Century (the first and largest Arab migration then and since came from Syria) who in 1851 established the New York and Mississippi Valley Printing Telegraph Company with the goal of creating one great telegraph system with unified and efficient operations. Four years later, Western Union was born and became an American icon, and thirty three years on it was one of the top ten companies listed on the New York Stock Exchange the day it opened in 1888.
The reason Western Union is able to avoid the US-led sanctions that include medicines and food (White House claims to the contrary notwithstanding), is quite simply that the US Treasury Department cannot easily face the domestic American political fallout from curtailing Western Union anywhere.
According to a July 2012 US Senate Banking Committee memo, were Treasury to be seen as tampering with Western Union's $7 billion annual revenues, there would be a significant problem. Already there are growing complaints from US businesses flooding the White House & Congress claiming that sanctions imposed on Syria are costing American businesses hundreds of millions of dollars in lost profits—even more regarding US sanctions on Iran. So to date, the Office of Financial Assets Control (OFAC) at Treasury has kept its hands off Western Union and this is good for Syrian civilians.
For these reasons a thin lifeline—a reed really—exists for many in Syria with families and friends abroad able to use WU's "Money in Minutes" to help them. It's a relatively small factor in the larger Syrian crisis but it does help many.
Much more significant than Western Union remaining open, and the subject of much current criticism here, is the lack of assistance to Syria's severely sanctioned civilian population from the Arab League and the Organization of Islamic Cooperation, neither of which lack officials who are wringing their hands in public these days, in mock anguish it is claimed, over their brothers and co-religionists "victimization."
Claiming solidarity with the Syrian people, on November 12, 2011 the Arab League suspended the membership of Syria (Lebanon and Yemen voted no and Iraq abstained) and cancelled its monitoring mission in Syria on January 28, 2012. The Organization of Islamic Cooperation suspended Syria's membership on May 15, 2012 at a summit of Muslim leaders in Mecca. Saudi Arabia, the summit's host, has led all Arab League and OIC calls for the Syrian rebel opposition to be armed, which Foreign Minister Saud al-Fasial described in February and since as "an excellent idea."
By their actions, the OIC and the Arab League are themselves sanctioning the Syrian people in brutal forms and doing nothing to object to the immoral and illegal aspects of the American sanctions. Both organizations stand accused of abandoning their charters in order to maintain profitable relations with NATO countries as they funnel large sums of money and weapons to various militias inside Syria. It is their "agents," the jihadist groups, who have turned on the Syrian civilian population increasingly resorting to theft, kidnapping for ransom, rape, sale of children, and killing hundreds according to UN agencies.
In one poignant interview near Omayyad Square the other day, a solemn, long bearded Sunni Sheik told this observer that the American sanctions are also directly targeting Islam because the sanctions constitute an attack on Islamic values. When pressed for specifics, he reluctantly replied, "Because your countries sanctions are impoverishing our people and forcing our Muslim women into prostitution. These sanctions are also flooding the streets with Muslim beggars, both adults and children. I am sure you have seen them, here in Damascus, across Syria and in bordering countries. But the claimed protectors of our holy sites are silent and shed only insincere tears in public. But if they resisted these sanctions they could defeat them. What is required in a 1970's type Arab boycott of American and western companies until these anti-Muslim sanctions are lifted."
The honorable gentleman has a point.
The Arab League's recent ministerial-level meeting held in Cairo was called to focus on the Syrian refugees file. But the rather pathetic quick one day deliberations ignored the causes of the suffering of the civilian population as well as the fact that most of the 22 countries comprising the Arab League have been a main cause behind the displacement of the Syrian civilian population. Both the AL and the OIC stand accused here in Syria of participation in the sanctions which are decimating the Syrian people's livelihood. Some AL and OIC officials are shedding crocodile tears about the miserable living conditions of the Syrian refugees "in spite of spending millions on recruiting mercenaries and salifi-takfiries, training them and purchasing weapons for the terrorists," the Sheik explained.
One frustrated American NGO director, affiliated loosely with the World Food Program, expressed her frustration: "If these organizations (AL and OIC) wanted to aid Syrian refugees they should stop supplying the gunmen with weapons and money and stop inciting sedition in Syria."
The Arab League Secretary General, Nabil al-Arabi, still does not get it.
He used last week's Arab League session to insist on foreign intervention and regime change, renewing the AL demand that the UN Security Council deploy international forces in Syria.
The Lebanese Foreign Minister, Adnan Mansour, offered his views of the Syrian refugee's displacement. Notable causations, he claimed, are the flow of weapons and money into Syria, the entry of foreign gunmen and not joining a political dialogue. To his credit, Mansour called on the AL and OIC to "shoulder their responsibilities towards the refugees through ensuring their humanitarian, medical, livelihood, educational and services requirements in order to ease their daily suffering."
As for the Kuwaiti Minister, he considered that the US-led sanctions were not a problem but rather that the suffering of the Syrian people was caused by the failure of the UN Security Council to meet the demands of the AL for immediate military intervention in Syria. He also insisted that Kuwait has mobilized all its resources to ensure that financial and relief resources alleviated the suffering of the Syrian refugees.
To date, the Syrian refugees, victims of US led and AL-OIC complicity, have not received any of the assistance Kuwait, the Arab League or the Organization of the Islamic Conference has promised. Rather, these organizations appear to be propping up the US-led sanctions.
Meanwhile, according to officials, Syria's government has just authorized the UN World Food Program to extend its reach in the country where 2.5 million people are suffering from hunger. Ertharin Cousin, spokeswoman of the WFP, announced on Tuesday that Syria is allowing the organization to work with local aid groups to reach more of those in need. To boost the number of people receiving emergency assistance, the Syrian government last week drew up a list of 110 local NGOs authorized to participate in the aid effort.
WFP is working closely with the Syrian Arab Republic Red Crescent Society (SARCS) which, thanks to more than 9000 volunteers, are operating the following facilities to serve every Syrian and Palestinian without consideration of sect or political views: Damascus 15, Damascus countryside 68, Suwayda 2, Homs 71, Idelb 2, Aleppo 185, al-Raqqah 52, al-Hasakah 52, Dayr al-Zawr 4, and Quneitra 12.
Unlike the Arab League and the Organization of the Islamic Conference, SARCS, the World Food Program, and more than 40 other NGO's can be observed any day of the week confronting and attempting to ameliorate the profoundly immoral and illegal US-led sanctions — manifold actions, not crocodile tears — in aid of the civilian population of Syria.