It's not hard to find critics of the Assad government in the Governorate (Muhafazat) of Homs or for that matter, to varying degrees in Syria's other thirteen Governorates according to Syrian analysts interviewed by this observer and reports from human rights groups including lawyers representing dissidents in Syria. However, after nearly 27 months of turmoil, the public opinion pendulum is markedly shifting back in support of the current regime.
One international political result was registered at the United Nations this past week when a US-Qatari-Saudi drafted General Assembly Resolution that was designed to increase pressure on the Assad government stumbled badly and fell far short of what the Saudi Ambassador to the UN and other US allies predicted would be an overwhelming vote in favor.
Effect of shift in popular opinion in Syria
Over the past four or five months it has become increasingly clear that public opinion in Syria is shifting for reasons that include, but are not limited to the following:
While inflation at the grocery stores in probably the most common complaint heard from a cross-section of society here, the population is adapting somewhat to higher prices and it appears to credit the government for efforts, some successful, to soften the impact of the illegal US-led sanctions that target this same Syrian population for purely political reasons to achieve regime change.
While Syrians demand dignity and freedom from oppressive security forces and an end to corruption, as all people do in this region and beyond, they are witnessing a return to near normalcy with respect to supplies of electricity, benzene, mazout fuel oil, bus schedules, schools, and a host of public services such as garbage collection, street sweeping, park maintenance, and sympathetic traffic cops who are rather understanding of short-cuts taken by drivers and pedestrians due to "the situation".
In addition, public service announcement and even text messages demonstrate that the government is aware of the degree of suffering among the population, accept partial blame, and are focusing on remedial measure and crucially, ending the crisis with its horrific bloodshed. One observes here a definite trend of the pulling together of a high percentage of Syrians who share a very unique history and culture and who are deeply connected to their country and who are increasingly repelled by the continuing killing from all sides including the recent barbarisms of body mutilations and summary executions videotaped and broadcast on utube by jihadist elements. The latter who these days come from nearly three dozen countries, paid for and indoctrinated by enemies of Syria's Arab nationalism and deep rooted pillar of resistance to the occupation of Palestine.
In addition, many among Syria's 23 million citizens, who initially supported the uprising following government reaction to event in Deraa in March 2011, now have serious second thoughts about who exactly would replace the current government. Events in Syria are also making plain that the army is still loyal to the Assad government, and according to Jane's Defense Weekly, is actually gaining experience and strength as well as the well-known fact that as western diplomats are admitting, the "opposition militias" are hopelessly fractured, turning one another, many essential mafia outfits, and beginning to resemble their fellow jihadists from Libya, Chechnya and in between.
Opinion in Damascus and surrounding areas visited this past week, confirms this observers experience the past five months of a sharp and fairly rapid shift in opinion that now strongly favors letting the Syrian people themselves decide, without outside interference, whether the Assad regime will stay, and indeed, whether, the Baathist party will continue to represent majority opinion, not through wanton violence but rather via next June's election. Many express confidence in the run up to this critical vote, noting that the election will be closely monitored by the international community to assure fairness.
Perhaps aided by the current glorious May weather, a certain optimism, that was more scarce in the past, pervades many neighborhoods.
For different reasons, foreign powers, including the USA, Turkey, European Union, the UK Jordan and even the majority population of the six Gulf Cooperation Council family run countries, according to Pew Research, are shifting their earlier positions which were based in part of the US administration, NATO, and Israeli assurances that the Assad government would surely fall quickly, "A matter of days, not weeks" US President Obama promised. That was two years ago.
As noted above, this trend has accelerated since the UN General Assembly vote with last weeks which did not go as planned on the biased and politicized non-binding draft resolution on Syria.
The public reaction in Syria and across the Middle East is substantially that the "Friends of Syria" non-binding GA resolution contradicts the reality on the ground, backs terrorism in Syria and hinders the international efforts to help achieve a political solution to the crisis in this country. Only 107 states voted in favor of the resolution, 12 against while 59 countries, mostly from Africa and Latin America, abstained from voting.
One reason the vote fell short of the 130 favorable votes that the basically same resolution garnered the past two times is that it is widely viewed as ignoring the crimes and atrocities committed by the armed jihadist groups in Syria and the flow of thousands of international terrorists backed by the West, the Gulf states and Turkey who provide them with weapons and money. According to the Russian delegate, backed by several other speakers, "the resolutions ignores all the terrorists' heinous crimes and denounces what it called the escalation of the attacks by the Syrian government". Afterward one Latin American Permanent Representative told Inner City Press that the count would have been below 100 if not for some "last minute arm-twisting." As it turned out, 15 countries didn't vote at all, opting to "get coffee," as one African Permanent Representative put it before the vote.
Syria's Ambassador al-Jaafari exposes a hoax in the Gulf
Syria's permanent Envoy to the UN Bashar al-Jaafari said his country regretted the adoption of a biased and unbalanced UN resolution, thanking the countries that rejected the resolution "for their responsible positions which support the UN principles and the international law articles". He noted that the decrease in the number of countries that voted in favor and the increase of numbers of those who abstained from voting indicates the growing international understanding of the reality of what is happening in Syria due to the foreign interference, support of terrorism, the spread of extremism and incitement besides the refusal of dialogue.
"We rely on the UN and its member states to support Syria and its people against the culture of extremism and terrorism, and to encourage the comprehensive national dialogue to peacefully resolve the Syrian crisis." he said. In a statement released after the vote on the UN draft resolution on Syria, al-Jaafari He said that the French delegation had foiled the issuance of a number of UN press releases to condemn the terrorist acts committed by al-Qaeda-linked armed groups in Syria which claimed the lives of thousands of Syrians as it foiled a UN release to condemn the attempt of assassination of the Syrian Premier.
After Qatar's ambassador spoke in favor of the resolution his country drafted (and re-drafted several time), Ja'afari revealed that there existed an e-mail, from the representative of the Syrian opposition given to Syria's embassy in Qatar, showing Qatar's involvement in the kidnapping of UN peacekeepers by the Yarmouk Martyrs Brigade. He read out a phone number from the e-mail as several Gulf diplomats grimaced or scowled, and three left the Chamber.
Visibly stunned, the UK Permanent Representative Lyall Grant called the whole matter "deeply confusing". Another Permanent Representative, from a militia contributing country, said that if true, it's "very problematic." The reasons include the fact that UN Secretary General Ban Ki-moon had just thanked Qatar for its roles in the release of the UN Peacekeepers the earlier kidnapping of whom the Qatari government may have planned, paid for and executed.
Meanwhile, Ban Ki-moon's spokesperson Martin Nesirky said he would not disclose any more about the "negotiations to free the peacekeepers or who was behind the crime."
Score a major diplomatic victory for Syria's UN Ambassador as public opinion shifts in favor of the Assad government and pressure as well as certain optimism builds in the run-up to the Geneva II conference being organized by the White House and the Kremlin.
Take off your partisan hat and open your minds to the actual uninterrupted high treason that is part of the foreign policy establishment. Party politics is often just a show that plays to their respective bases. However, the tract and direction of extending the transnational empire just continues on a global scale. The full-blown treason committed by every administration that practices the internationalist vision of democracy domination is really a masquerade for worldwide dominion. Presidents are mere temporary talking heads for the oligarchy that actually rules. Murdering their own diplomats and hired help is incidental, when 1,455,590 Iraqi deaths since the U.S. invasion are ignored and dismissed.
Just how well is the consistent and bipartisan aggressive interventionist foreign policy doing? Go over the list of The Arab Spring country by country.
The Wall Street Journal provides a timeline on U.S. Government Reaction to the Benghazi Attack. "For days after the Sept. 11 attack in Benghazi, Libya, intelligence officials and the Obama administration said it was likely the outgrowth of protests sparked by an anti-Islamic video made in the U.S. Follow some of the administration statements on the Libya attack."The infamous propaganda voice for the Obamaistas, Media Matters puts forth their partisan spin in, What Dick Cheney's Benghazi Criticism Misses.
"David Martosko of the Daily Mail Online provided former Vice President Dick Cheney a platform to criticize the Obama administration's failure to anticipate the September 11, 2012 attacks on U.S. diplomatic facilities in Benghazi, Libya, without noting that seven attacks on U.S. diplomatic facilities occurred during the Bush administration."
Such diversion seeks to limit focus on the literal events that caused the Benghazi attack and the real reasons why Ambassador Christopher Stevens was left to perish by the Obama/Clinton foreign policy team of betrayers.
The shameful chronicle of the intentional and politically motivated stand down that doomed Stevens and his defenders was sensitively told during Gregory Hicks' 30 Minute Recount of Benghazi Attack. While the Congressional hearings were praised for the attempt to restrain partisan grandstanding, the Washington press corps avoids placing blame on the administration as a tenant of their loyalty test. A government cover-up is made easy when the imperium friendly media is reporting on a proclaimed progressive administration.
The facts necessitate that even the venerable CBS mainstream media machine reluctantly admits that the Thousands of Libyan missiles from Qaddafi era missing in action, are a central concern with the overthrow of the Libyan regime.
"In the case of Libya's missing MANPADS, there was also concern they would get into the Syrian conflict. "Once they start getting sold on the black market, we can't control them," says one source.

The source added he's unaware of any U.S. attempt to send recovered Libyan MANPADS to arm Syrian rebels seeking to depose President Bashar al-Assad."
According to the Business Insider, the veracity of this CBS source is questionable. Connect the dots and go back to the reason why a cover-up of the Benghazi murders becomes crucial to the long-term goals to destabilize the Middle East. The US Is Openly Sending Heavy Weapons From Libya To Syrian Rebels cites the following:
"The Obama administration has decided to launch a covert operation to send heavy weapons to Syrian rebels, Christina Lamb of The Sunday Times of London reports.Diplomatic sources told the Sunday Times that the U.S. "bought weapons from the stockpiles of Libya's former dictator Muammar Gaddafi."

The heavy arms include mortars, rocket propelled grenades, anti-tank missiles and the controversial anti-aircraft heat-seeking SA-7 missiles, which are integral to countering Bashar Al-Assad's bombing campaign."
Now compute the decades old design for the territory as stated by Wes Clark and the neocon dream. Glenn Greenwald provides further documentation in Salon that the various Middle Eastern and North African wars were planned before 9/11:
"General Wesley Clark … said the aim of this plot [to "destroy the governments in ... Iraq, ... Syria, Lebanon, Libya, Somalia, Sudan and Iran"] was this: "They wanted us to destabilize the Middle East, turn it upside down, make it under our control." He then recounted a conversation he had had ten years earlier with Paul Wolfowitz — back in 1991 — in which the then-number-3-Pentagon-official, after criticizing Bush 41 for not toppling Saddam, told Clark: "But one thing we did learn [from the Persian Gulf War] is that we can use our military in the region – in the Middle East – and the Soviets won't stop us. And we've got about 5 or 10 years to clean up those old Soviet regimes – Syria, Iran [sic], Iraq – before the next great superpower comes on to challenge us." Clark said he was shocked by Wolfowitz's desires because, as Clark put it: "the purpose of the military is to start wars and change governments? It's not to deter conflicts?"
The diabolic union between Neoconservatives and Neoliberals produces a litter of demonic adventures that build up the body count and push the region into a globalist cesspit of satanic dimensions. In order to comprehend the interconnection of conflicts it is important to understand the deceptive war on terror and the assembled alliance with the Al Qaeda bogyman.
The message in the essay, It's Dishonest to Talk about Benghazi Without Talking About the Syrian War, is a reality that many cowardly Americans are unwilling to deal with, much less act upon.
"Both parties are avoiding the bigger picture … The fact that Democrats and Republicans alike have been using Benghazi as the center of U.S. efforts to arm the Al Qaeda-affiliated Syrian rebels.

Specifically, the U.S. supported opposition which overthrew Libya's Gadaffi was largely comprised of Al Qaeda terrorists.According to a 2007 report by West Point's Combating Terrorism Center's center, the Libyan city of Benghazi was one of Al Qaeda's main headquarters – and bases for sending Al Qaeda fighters into Iraq – prior to the overthrow of Gaddafi:"
What possible justification is there to intervene in Syria? The presupposed civil war is really a designed coup d'état overthrow that only benefits a greater Israel regional expansion. Note how the policy wonks work in their nefarious planning for destabilization. The flagship establishment mouthpiece Foreign Policy has the mission to signal the intentions of government stratagem as the master plans are implemented, in the article How to destabilize the Assad regime.
"In order to re-up its strategy, the administration should employ a cross-governmental approach that enlists the Treasury, Commerce, and Defense Departments. The Treasury Department should use sanctions to limit Assad's ability to repatriate funds from oil exports and more properly enforce the 2012 GRAHVITY sanctions prohibiting the transfer of internet, communications, or surveillance technology to Syria. The Treasury Department should also prohibit U.S. companies from doing business with Assad's enablers by designating those entities that continue to supply him with resources. Congress could bolster the latter measure by requiring federal contractors to certify that they are not in business with Assad's enablers. Congress should also prohibit foreign financial institutions enabling Assad from doing business with U.S. banks. Meanwhile the Commerce Department should secure tighter control over the delivery of information and communications technology to Syria especially through authorized foreign distributors. Finally, as mandated by an amendment to the National Defense Authorization Act of 2013, the Pentagon should cease its business with Rosoboronexport, one of Assad's chief enablers, instead of entering into new contracts as it has expressed the intention to do."
What do you call the treachery, when your own government is committing the subversiveness?
The cryptic psychopolitical spook Dr. Steve Pieczenik presents an astounding analysis that answers this question in the You Tube, Benghazi Truth: Obama Was Running Secret Army. His call to action is a rare and daring challenge to the military that is worth a sober assessment if for no other reason than observing the anxious and flabbergasted reaction from Alex Jones. The treason committed, depends upon the nationalist loyalties of the government agents. In this case, the evidence seems well placed that the security apparatus is serving the wrong master.The substance of the Benghazi duplicity and scandalous evasion of accountability is an entrenched practice that permeates every level of command and control. The courage of Gregory Hicks, Mark Thompson and Eric Nordstrom is an act of legitimate patriotism seldom seen out of Foggy Bottom.
If professional State Department public servants can speak truth to power, where are the guts of the General Military Officers? If the Joint Chiefs of Staff is a brood of poodle puppies and lap dogs, God Save the Republic. Dr. Pieczenik is In Search of James Mattoon Scott. Most subservient subjects are oblivious to the Seven Days in May scenario. Perpetuating the myth, that civilian command preserves the constitutional liberties of citizens, does not conform to the record of presidential dictatorship. When state treason is codified normality, the mere murder of four more Americans is hardly an afterthought to the executioners of the country. Respecting commander in chief traitors is an absurd national death wish.
Has Syria crossed the "red line" that warrants a U.S. military invasion? Has it not? The political establishment in the United States seems at odds over itself. Obama's government cannot speak with one voice on the issue, and the U.S. media is likewise spewing from both sides of its mouth in an attempt to reconcile U.S. foreign policy with that most stubborn of annoyances, truth.
"The White House said on Thursday that American intelligence agencies now believed, with "varying degrees of confidence," that the Syrian government had used chemical weapons…"
Immediately afterwards, Obama's Secretary of Defense, Chuck Hagel, gave a blunt rebuke: "Suspicions are one thing; evidence is another."
This disunity mirrored the recent disagreement that Chuck Hagel had with Obama's Secretary of State, John Kerry, when both testified in front of Congress with nearly opposite versions of what was happening in Syria and how the U.S. should respond. Kerry was a cheerleader for intervention while Hagel — the military's mouthpiece — advised caution.
The U.S. government's internal squabbling over whether the Syrian government used chemical weapons is really an argument on whether the U.S. should invade Syria, since Obama claimed that any use of chemical weapons was a "red line" that, if crossed, would invoke an American military response. Never mind that Obama's "red line" rhetoric was stolen from the mouth of Bush Jr., who enjoyed saying all kinds of similarly stupid things to sound tough.
But now Obama's Bushism must be enforced, say the politicians, less the U.S. look weak by inaction. This seemingly childish argument is in fact very compelling among the U.S. political establishment, who view foreign policy only in terms of military power. If Syria is not frightened into submission by U.S. military threats, then Iran and other countries might follow suit and do as they please and U.S. "influence" would wane. Only a "firm response" can stop this domino effect from starting.This type of logic is the basis for the recent Syria chemical weapons accusations, which was conjured up by the U.S. "Intelligence" service (CIA) and its British and Israeli counterparts (the same people who "proved" that Iraq had Weapons of Mass Destruction, which later proved to be a fabricated lie). All three of these countries' intelligence agencies simply announced that the Syrian government has used chemical weapons, provided zero evidence, and then let their respective nations' media run with the story, which referred to the baseless accusations as "mounting evidence."
In the real world it appears that the U.S.-backed Syrian rebels are the ones responsible for having used chemical weapons against the Syrian government. It was the Syrian government who initially accused the U.S.-backed rebels of using chemical weapons, and asked the UN to investigate the attack. This triggered the Syrian rebels and later the Obama administration to accuse the Syrian government of the attack.
A very revealing New York Times article quoted U.S.-backed Syrian rebels admitting that the chemical weapons attack took place in a Syrian government controlled territory and that 16 Syrian government soldiers died as a result of the attack, along with 10 civilians plus a hundred more injured. But the rebels later made the absurd claim that the Syrian government accidentally bombed its own military with the chemical weapons.
Interestingly, the Russian government later accused the United States of trying to stall the UN investigation requested by the Syrian government, by insisting that the parameters of the investigation be expanded to such a degree that a never-ending discussion over jurisdiction and rules would eventually abort the investigation.
Complicating the U.S.' stumbling march to war against Syria is the fact that the only effective U.S.-backed rebel forces are Islamist extremists, the best fighters of which have sworn allegiance to Al-Qaeda. The same week that the U.S. media was screaming about chemical weapons, The NewYork Times actually published a realistic picture of the U.S.-backed Syrian rebels, which warrants extended quotes:
"Across Syria, rebel-held areas are dotted with Islamic courts staffed by lawyers and clerics, and by fighting brigades led by extremists. Even the Supreme Military Council, the umbrella rebel organization whose formation the West had hoped would sideline radical groups, is stocked with commanders who want to infuse Islamic law into a future Syrian government."
"Nowhere in rebel-controlled Syria is there a secular fighting force to speak of."

"The Islamist character of the [rebel] opposition reflects the main constituency of the rebellion…The religious agenda of the combatants sets them apart from many civilian activists, protesters and aid workers who had hoped the uprising would create a civil, democratic Syria."
Thus, yet another secular Middle Eastern government — after Iraq and Libya — is being pushed into the abyss of Islamist extremism, and the shoving is being done by the United States, which The NewYork Times discovered was funneling thousands of tons of weapons into Syria through U.S. allies in the region, Saudi Arabia and Qatar. We now know that these weapons were given to the Islamist extremists; directly or indirectly, it doesn't matter.
Even after this U.S.-organized weapons trafficking was uncovered, the Obama administration still has the nerve to say that the U.S. is only supplying "non lethal" aid to the Syrian rebels. Never mind that many of the guns that the U.S. is transporting into Syria from its allies were sold to the allies by the United States, where the weapons were manufactured.Now, many politicians are demanding that Obama institute a "no fly zone" in Syria, a euphemism for military invasion — one country cannot enforce a no fly zone inside another country without first destroying the enemy Air Force, not to mention its surface to air missiles, etc. We saw in Libya that a no fly zone quickly evolved into a full scale invasion, which would happen again in Syria, with the difference being that Syria has a more powerful army with more sophisticated weaponry, not to mention powerful allies — Iran and Russia.
This is the real reason that the U.S. military is not aligned with the Obama administration over Syria. Such a war would be incredibly risky, and inevitably lead to a wider conflict that would engulf an already war-drenched region, creating yet more "terrorists" who would like to attack the United States.
The U.S. public has learned the lessons of Iraq's WMD's, and that lesson is not lost on U.S. soldiers, few of whom want to fight another war for oil against a country which is a zero-threat to the United States.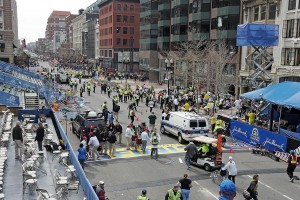 Will we ever learn the full truth about the Boston Marathon bombing?  Personally, I have been looking into this attack for days, and I just keep coming up with more questions than answers.  At this point, I honestly have no idea what really happened.  Why was a bomb drill being held on the day of the attack?  Why have authorities denied that a bomb drill was taking place?  Were Tamerlan and Dzhokhar Tsarnaev acting alone?  What was the nature of their previous contacts with the FBI and other federal agencies?  Why did the FBI at first deny that they had been in contact with the Tsarnaev brothers previously?  Why was the investigation of a mysterious Saudi national with familial links to al-Qaeda suddenly dropped shortly after the Saudi ambassador held an unscheduled meeting with Barack Obama?  Why did Michelle Obama subsequently visit that mysterious Saudi national in the hospital?  If you are looking for answers to these questions, I am afraid that I don't have them at this point.  But what alarms me is that the mainstream media seems to be afraid to ask any of the hard questions that they should be asking.  They just seem to swallow whatever the authorities tell them hook, line and sinker without following up on any of the things in this case that simply do not seem to make sense.
So what kinds of questions should they be asking?  The following are 17 unanswered questions about the Boston Marathon bombing that the media appears to be afraid to ask…
#1 Why were runners being told that a bomb squad drill was taking place during the Boston Marathon?  The following is from an article by Natural News…
Alastair Stevenson is a veteran marathon runner who has competed in dozens of marathons around the world, including the London Marathon. He's very familiar with the security typically found at marathons, and he immediately noticed something odd about the Boston marathon security.

"They kept making announcements on the loud speaker that it was just a drill and there was nothing to worry about. It seemed like there was some sort of threat, but they kept telling us it was just a drill," he was quoted as saying byLocal15TV.com.

In the interview, you'll hear Stevenson say:

"At the start at the event, at the Athlete's Village, there were people on the roof looking down onto the Village at the start. There were dogs with their handlers going around sniffing for explosives, and we were told on a loud announcement that we shouldn't be concerned and that it was just a drill. And maybe it was just a drill, but I've never seen anything like that — not at any marathon that I've ever been to. You know, that just concerned me that that's the only race that I've seen in my life where they had dogs sniffing for explosions, and that's the only place where there had been explosions."
#2 Why did authorities deny that a bomb squad drill was being held?
#3 According to The Mirror, the FBI is reportedly "hunting" a 12-strong terrorist "sleeper cell" that Tamerlan and Dzhokhar Tsarnaev were allegedly a part of…
A source close to the investigation said: "We have no doubt the brothers were not acting alone. The devices used to detonate the two bombs were highly sophisticated and not the kind of thing people learn from Google.

"They were too advanced. Someone gave the brothers the skills and it is now our job to find out just who they were. Agents think the sleeper cell has up to a dozen members and has been waiting several years for their day to come."
If that is the case, why are authorities in Boston adamantly insisting that the two brothers were acting alone?
#4 CBS News is reporting that the FBI interviewed Tamerlan Tsarnaev back in 2011.  The mother of the two Tsarnaev brothers insists that the FBI had been in contact with them for up to five years.  At first, the FBI denied any previous contact with the two suspects.  Will we ever learn the true scope of the previous relationship between the FBI and the Tsarnaev brothers?
#5 Debka is reporting that the Tsarnaev brothers were "double agents" which had been "hired by US and Saudi intelligence to penetrate the Wahhabi jihadist networks which, helped by Saudi financial institutions, had spread across the restive Russian Caucasian."  Could this possibly be true?  If so, will the American people be told the truth about these links?
#6 According to their uncle, there were "mentors" that "radicalized" the Tsarnaev brothers.  So precisely who were those "mentors"?
#7 What happened during Tamerlan Tsarnaev's trip to Dagestan and Chechnya last year?
#8 Were the Tsarnaev brothers in contact with a rebel leader named Doku Umarov who is known as "Russia's Bin Laden"?
#9 Did Tamerlan Tsarnaev post a video on YouTube last summer that expresses a belief that the 12th Imam, Mahdi, will soon come and that an Islamic army with black flags with arise out of a province in Iran known as Khorasan?
#10 Why aren't we being told that the "pressure cooker bombs" used in the Boston Marathon attacks are very similar to the kind of pressure cooker bombs that are commonly used in the Middle East?…
The Daily Beast has confirmed with U.S. counter-terrorism officials that the bombs placed Monday at the marathon were made from pressure cookers, a crude kind of explosive favored by insurgents in Pakistan and Afghanistan. A recipe for a bomb that uses the pressure cooker was part of the debut issue of Inspire, the English-language online magazine of al Qaeda in the Arabian Peninsula.
#11 Initially we were told that Saudi national Abdulrahman Ali Alharbi was a "person of interest" in the case.  But now he is scheduled to leave the countrywith the full blessing of the U.S. government.  Why is there such a rush to get him out of the United States?
#12 Why aren't we being told that Abdulrahman Ali Alharbi was photographedwith two other Saudis in the vicinity of the Boston marathon bombings?
#13 Why aren't we being told of the shocking familial links that Abdulrahman Ali Alharbi has to known members of al-Qaeda?  The following is from research complied by Walid Shoebat…
Many from Al-Harbi's clan are steeped in terrorism and are members of Al-Qaeda. Out of a list of 85 terrorists listed by the Saudi government shows several of Al-Harbi clan to have been active fighters in Al-Qaeda:

#15 Badr Saud Uwaid Al-Awufi Al-Harbi
#73 Muhammad Atiq Uwaid Al-Awufi Al-Harbi
#26 Khalid Salim Uwaid Al-Lahibi Al-Harbi
#29 Raed Abdullah Salem Al-Thahiri Al-Harbi
#43 Abdullah Abdul Rahman Muhammad Al-Harbi (leader)
#60 Fayez Ghuneim Humeid Al-Hijri Al-Harbi
Source: http://aalhameed1.net/vb/showthread.php?t=1565

Then you have Al-Harbi clan members in Gitmo:

Salim Salman Awadallah Al-Sai'di Al-Harbi
Majid Abdullah Hussein Al-Harbi
Muhammad Abdullah Saqr Al-Alawi Al-Harbi
Ghanem Abdul Rahman Ghanem Al-Harbi
Muhammad Atiq Uwaid Al-Awfi Al-Harbi
Source: http://www.muslm.net/vb/showthread.php?169019-أسماء-(90)-سعودياً-لا-زالوا-محتجزين-في-جوانتانامو

There are specific Saudi clans that are rife with members of Al-Qaeda, which makes it quite alarming as to why nearly a hundred thousand student visas are issued to these. Americans are clueless as to clan ties when it comes to terrorism.
#14 Why did U.S. Secretary of State John Kerry have a private meeting with a Saudi foreign minister shortly after Abdulrahman Ali Alharbi was identified as a potential suspect?
#15 Why did Barack Obama hold an unscheduled meeting with the ambassador from Saudi Arabia shortly after Abdulrahman Ali Alharbi was identified as a potential suspect?
#16 Why did Michelle Obama visit Abdulrahman Ali Alharbi in the hospital?
#17 Why did numerous mainstream media outlets openly suggest that "right-wing extremists" were behind the bombings in the immediate aftermath of the attack?
Source: End of the American Dream
An Associated Press photograph brought the horror of little children lying dead outside of their home to an American Audience. At least 10 Afghan children and some of their mothers were struck down by an airstrike on their extended family household by order of President Barack Obama. He probably decided on what his aides describe as the routine weekly "Terror Tuesday" at the White House. On that day, Mr. Obama typically receives the advice about which "militants" should live or die thousands of miles away from drones or aircraft. Even if households far from war zones are often destroyed in clear violation of the laws of war, the president is not deterred.
These Obama airstrikes are launched knowing that very often there is "collateral damage," that is a form of "so sorry terrorism." How can the president explain the vaporization of a dozen pre-teen Afghan boys collecting firewood for their families on a hillside? The local spotter-informants must have been disoriented by all those $100 bills in rewards. Imagine a direct strike killing and injuring scores of people in a funeral procession following a previous fatal strike that was the occasion of this processional mourning. Remember the December 2009 Obama strike on an alleged al-Qaida training camp in Yemen, using tomahawk missiles and – get this – cluster bombs, that killed 14 women and 21 children. Again and again "so sorry terrorism" ravages family households far from the battlefields.
If this is a war, why hasn't Congress declared war under Article 1, Sec. 8 of the U.S. Constitution? The 2001 Congressional Authorization to Use Military Force is not an open-ended authorization for the president. It was restricted to targeting only nations, organizations or persons that are determined to have been implicated in the 9/11 massacres, or harbored complicit organizations or persons.
For several years, White House officials, including ret. General James Jones, have declared that there is no real operational al-Qaeda left in Afghanistan to harbor anyone. The Pakistani Taliban is in conflict with the Pakistani government. The Afghan Taliban is in brutal conflict with the Afghanistan government and wants to expel U.S. forces as their members view occupying-invaders, just as their predecessors did when they expelled the Soviet invaders. The Taliban represent no imminent threat to the U.S.
President Obama's ambassador to Pakistan, Cameron P. Munter, used to complain to his colleagues about the CIA's drone attacks saying "he didn't realize his main job was to kill people." He knew how such attacks by whining drones, hovering 24/7 over millions of frightened people and their terrified children produce serious backlashes that fester for years.
Even a loyalist such as William M. Daley, Mr. Obama's chief of staff in 2011, observed that the Obama kill list presents less and less significant pursuits. "One guy gets knocked off, and the guy's driver, who's No. 21, becomes 20?" Daley said, describing the internal discussion. "At what point are you just filling the bucket with numbers?"
Yet this unlawful killing by a seemingly obsessed Obama, continues and includes anyone in the vicinity of a "suspect" whose name isn't even known ( that are called "signature strikes"), or mistakes, like the recent aerial killings of numerous Pakistani soldiers and four Afghan policemen – considered our allies. The drone kill list goes on and on – over 3000 is the official fatality count, not counting injuries.
In a few weeks, The Nation magazine will issue a major report on U.S.-caused civilian casualties in Afghanistan that should add new information.
Now switch the scene. The president, filled with memories of what his secret drone directives as prosecutor, judge, jury, and executioner have done to so many children, in so many places, traveled on Monday to Newtown, Connecticut for the second time. He commiserated with the parents and relatives of the 20 children and six adults slain by a lone gunman. Here he became the compassionate president, with words and hugs.
What must be going through his mind as he sees the rows of 10 Afghan little children and their parents blown apart in that day's New York Times? How can the president justify this continued military occupation for what is a civil war? No wonder a majority of the American people want out of Afghanistan, even without a close knowledge of the grisly and ugly things going on there in our name that are feeding the seething hatred of Obama's war.
Sometime after 2016 when Barack Obama starts writing his lucrative autobiographical recollections, there may be a few pages where he explains how he endured this double life ordering so-called precision attacks that kill many innocent children and their mothers and fathers while mourning domestic mass killings in the U.S. and advocating gun controls. As a constitutional law teacher, he may wonder why there have been no "gun controls" on his lawless, out-of-control presidency and his reckless attacks that only expanded the number of al-Qaeda affiliates wreaking havoc in Iraq, Yemen, Somalia, Mali, North Africa and elsewhere.
Al-Qaeda of Iraq is now merging with an affiliate called "al-Nusra" in Syria that will give Obama more futile exercises on Terror Tuesdays. The CIA
calls the reaction to such operations "blowback" because the unintended consequences undermine our long-term national security.
Obama is not like the official criminal recidivist, ex-Vice President Dick Cheney, who misses no chance to say he has no regrets. Obama worries even as he greatly escalates the aerial attacks started by George W. Bush. In his State of the Union speech he called for a "legal and policy framework" to guide "our counterterrorism operations," so that "no one should just take my word that we're doing things the right way." Granted, this is a good cover for his derelictions, but it probably reflects that he also needs some restraint. Last year he told CNN it was "something you have to struggle with."
Not that our abdicatory Congress would ever take him up on his offer for such legal guidance should he ever submit a proposed framework. Nor would Congress move to put an end to secret laws, secret criteria for targeting, indefinite imprisonment, no due process, even for American citizens, secret cover-ups of illegal outsourcing to contracting corporations and enact other preventive reforms.
Mr. Obama recognized in his CNN interview that "it's very easy to slip into a situation in which you end up bending rules thinking that the ends always justify the means. That's not who we are as a country."
Unfortunately, however, that's what he has done as a president.
Unless the American people come to realize that a president must be subject to the rule of law and our Constitution, our statutes and treaties, every succeeding president will push the deficit-financed lawlessness further until the inevitable blowback day of reckoning. That is the fate of all empires.
Source: Ralph Nader | ICH
Whenever discussion over North Korea arises in Western circles, it always seems to be accompanied by a strange mixture of sensationalism and indifference. The mainstream media consistently presents the communist nation as an immediate threat to U.S. national security, conjuring an endless number of hypothetical scenarios as to how they could join forces with Al-Qaeda and attack with a terroristic strategy. At the same time, the chest puffing of the late Kim Jong-iL and the standard fare of hyper-militant rhetoric on the part of the North Korean government in general seem to have lulled the American public into a trance of non-concern.
In the midst of the latest tensions with the North Koreans, I have found that most people are barely tracking developments and that, when confronted by the idea of war, they shrug it off as if it is a laughable concept. "Surely" they claim, "The North is just posturing as they always have."
The high-focus propaganda attacking North Korea on our side and the puffer fish methodology on their side have created a social and political atmosphere surrounding our relations with the Asian nation that I believe places both sides of the Pacific in great danger. North Korea has the potential to become a trigger point for multiple economic catastrophes, and there are people in this world who would be happy to use such crises to serve their own interests.
The mainstream view being espoused by globalist-minded politicians and corporate oligarchs with an agenda is that North Korea is a nuclear armed monstrosity ready to use any subversive means necessary to strike the United States. The idea that the North is working closely with Al-Qaeda has been suggested in everything from White House briefings to cable news to movies and television. The concept of pan-global terrorist collusion and the cartoon-land "axis of evil" has been prominent in our culture since the Administration of George W. Bush. It has even been making a resurgence lately in the MSM, which presented countries like Iran, Syria And North Korea as the primary culprits interfering with the success of the U.N. Small Arms Treaty.
Of course, what remains less talked about in the mainstream is the fact that these nations refuse to adhere to the treaty because carefully placed loopholes still allow major powers like the United States to feed arms into engineered insurgencies. Why would Syria or any other targeted nation sign a treaty that restricts its own sovereign ability to trade while giving teeth to internal enemies trained and funded by foreign intelligence agencies?
The establishment brushes aside such facts and consistently admonishes these countries as the last holdouts standing in the way of a new world order, a worldwide socioeconomic cooperative and pseudo-Utopia. The path to this wonderful global village is always presented as a battle against stubborn isolationists, non-progressives who lack vision and cling desperately to the archaic past. The values of personal and national sovereignty are painted as outdated, decrepit and even threatening to the newly born world structure. The image of North Korea is used by globalists as a kind of straw man argument against sovereignty. North Koreans' vices and imbalances as a culture are many; but this is due in far larger part to their communist insanity, rather than any values of national independence. It is their domestic hive-mind collectivism we should disdain, not their wish to maintain a comfortable distance as a society from the global game.
As far as being an imminent physical threat to the United States, it really depends on the scenario. The North Koreans have almost no logistical capability to support an invasion of any kind. The nation has been suffering from epidemic famine for well more than a decade.
To initiate a war outright has never been in the best interests of the North Koreans, simply because their domestic infrastructure would not be able to handle the strain. However, there is indeed a scenario in which North Korea could be influenced to use military force despite apprehension.
With the ever looming threat of famine comes the ever looming threat of citizen revolution.  When any government is faced with the possibility of being supplanted, it will almost always lash out viciously in order to maintain power and control, no matter the cost. Sanctions like those being implemented by the West against North Korea today, at the very edge of national famine, could destabilize the country entirely. I believe the North would do anything to avoid an internal insurgency scenario, including attacking South Korea to acquire food stores and energy reserves, as well as other tangible modes of wealth.
North Korea's standing army, obtained through mandatory two year conscription, is estimated at about 1.1 million active personnel; very close to the numbers active in the U.S. armed forces. But North Korean reserves are estimated at more than 8 million, compared to only 800,000 in the United States. If made desperate by economic sanctions, the North Koreans could field a massive army that would wreak havoc in the South and be very difficult to root out on their home turf. Asian cultures have centuries of experience using asymmetric warfare (the kryptonite of the U.S. military), and I do not believe it is wise to take such a possible conflict lightly, as many Americans seem to do. It is easy to forget that the last Korean War did not work out so well for us. At best, we would be mired in on-ground operations for years (just like Iraq and Afghanistan) or perhaps even decades. Like North Korea, we also do not have the logistical economic means to enter into another such war.
The skeptics argue that we will never get to this point, though, because North Korea has brandished and blustered many times before, all resulting in nothing. I see recent events being far different and more urgent than in the past, and here's why:
1) The West needs to realize that North Korea is under new leadership. The blowhard days of Kim Jung Il are over, and little is known about his son, Kim Jong Un. So far, the young dictator has followed through on everything he said he would do, including the multiple nuclear tests that the West is using as an excuse to exert sanctions. To assume that the son will be exactly like the father is folly.
2) Many people claimed that North Korean threats to abandon the Armistice in place since 1953 were empty, yet they dropped it exactly as they said they would at the beginning of March.
3) The North has begun cutting off direct communication channels to the South, including a cross-border hotline meant to help alleviate tensions through diplomatic means.
4) The North has officially declared a state of war against the South. This has been called mere "tough talk" by the U.S. government, but the speed at which these multiple developments have occurred should be taken into consideration.
5) North Korea has just announced the reopening of a shuttered nuclear reactor used to render weapons grade materials.
6) The DPRK has suddenly locked down the Kaesong Industrial Zone; a region which holds manufacturing centers for both North and South Korea. Southern manufacturers operating there employ nearly 50,000 Northern workers. Nearly 1000 Southerners also work there. The arrangement generates approximately $2 billion a year for the North. The joint industrial zone has existed since 2000, and the North has never locked down access until this past week.  The fact that the DPRK is willing to restrict this area and possibly lose a sizable income signals that the situation is not as "mild" as some would like to believe.
7) At the beginning of this year, silver purchases by the North from China surged. For the entire year of 2012, the government purchased $77,000 worth of precious metals. In the first few months of 2013, North Korea has already purchased $600,000 in silver. The exact size of the North's precious metals stockpile is unknown. Though seemingly small in comparison to many purported metal holdings by major powers, this sudden investment expansion would indicate a government move to protect internal finances from an exceedingly frail economic environment.  Metals are also historically accumulated at a high rate by nations preparing for war or invasionin the near term.
Again, all that is needed to instigate an event on the Korean Peninsula are tightened sanctions. The establishment knows this, though another Gulf of Tonkin incident (an openly admitted false flag event) may be on the menu as well.
Given that the chances of a shooting war are high if sanctions continue, it might be wise to consider the consequences of conflagration in Korea.
Dealing with a large army steeped in asymmetric and mountain warfare will be difficult enough.  In fact, an invasion of North Korea would be far more deadly than Afghanistan, if only because of the sheer number of maneuver elements (guerilla-style units) on the ground. But let's set aside North Korea for a moment and consider the greatest threat of all: dollar collapse.
As I have discussed in numerous articles, China, the largest foreign holder of U.S. debt, has positioned itself to decouple from the American consumer and the dollar. This is no longer a theoretical process as it was in 2008, but a very real and nearly completed one. Mainstream analysts often claim China would never break from the dollar because it would damage their export markets and their investment holdings. The problem is, China is already dumping the dollar using bilateral trade agreements with numerous developing nations, Australia being the latest to abandon the greenback.
China isn't just talking about it; China is doing it.
The development of a decoupled China is part of a larger push by international banks to remove the dollar as the world reserve currency and replace it with a new global currency. This currency already exists. The International Monetary Fund's Special Drawing Rights (SDR) is a mechanism backed by a basket of currencies as well as gold. The introduction of the SDR on a wide scale is dependent on only two things:
First, China has been designated the replacement consumer engine in the wake of a U.S. collapse. They have already surpassed the United States as the No. 1 trading power in the world. However, they must spread their own currency, the Yuan, throughout global markets in order to aid the IMF in removing the dollar. China has recently announced a program to sell more than $6 trillion in Yuan denominated bonds to foreign investors, easily fulfilling this need.
Second, China and the IMF need a scapegoat event, a rationale for dumping the dollar that the masses would accept as logical. A U.S. invasion of North Korea could easily offer that rationale.
While China has been playing the good Samaritan in relations with the United States in dealing with North Korea and has supported (at least on paper) certain measures including sanctions, China will never be in support of Western combat actions in the Pacific so close to their territory. The kind of U.S. or NATO presence a war with North Korea would generate would be entirely unacceptable to the Chinese, who do not need to respond using arms. Rather, all they have to do to get rid of us would be to fully dump the dollar and threaten to cut off trade relations with any other country that won't do the same. The domino effect would be devastating, causing U.S. costs to skyrocket and forcing us to pull troops out of the region. At the same time, the dollar would be labeled a "casualty of war" rather than a casualty of conspiratorial global banking designs, and the financial elites would be removed from blame.
Ultimately, we should take the North Korean situation seriously not because of the wild-eyed propaganda of the mainstream media and not because they are "doing business with terrorists" or because they are a "violent and barbaric relic of nationalism," but because a war in North Korea serves the more malicious interests of globalization. No matter what happens in the near future, it is important for Americans to always question the true motives behind any event and ask ourselves who, in the end, truly benefited.
Source: Brandon Smith | Alt-Market
After a 10 year war/occupation in Iraq, the death of over a million people including thousands of US soldiers, all based on patently false claims of the nation possessing "weapons of mass destruction," (WMDs), it is outrageous hypocrisy to see the West arming, funding, and politically backing terrorists in Syria who in fact both possess, and are now using such weapons against the Syrian people.
At least 25 are reported dead after a chemical weapons attack targeting Syrian soldiers was carried out by NATO-backed terrorists in the northern city of Aleppo.
Aleppo is located near the Syrian-Turkish border. Had Libya's looted stockpiles of chemical weapons been shipped to Syria, they would have passed through Turkey along with weapons sent from Libya by the US and thousands of Libyan terrorists who are admittedly operating inside Syria, and would most likely be used to target cities like Aleppo.
Worse yet, any chemical weapons imported into the country would implicate NATO either directly or through gross negligence, as the weapons would have passed through NATO-member Turkey, past US CIA agents admittedly operating along the border and along side Western-backed terrorists inside Syria.
Libya's WMD's are in Terrorist Hands
Libya's arsenal had fallen into the hands of sectarian extremists with NATO assistance in 2011 during the culmination of efforts to overthrow the North African nation . Since then, Libya's militants led by commanders of Al Qaeda's Libyan Islamic Fighting Group (LIFG) have armed sectarian extremists across the Arab World, from as far West as Mali, to as far East as Syria.
In addition to small arms, heavier weapons are also making their way through this extensive network. The Washington Post in their article, "Libyan missiles on the loose," reported:
"Two former CIA counterterrorism officers told me last week that technicians recently refurbished 800 of these man-portable air-defense systems (known as MANPADS) — some for an African jihadist group called Boko Haram that is often seen as an ally of al-Qaeda — for possible use against commercial jets flying into Niger, Chad and perhaps Nigeria."
While undoubtedly these weapons are also headed to Niger, Chad, and perhaps Nigeria, they are veritably headed to Syria. Libyan LIFG terrorists are confirmed to be flooding into Syria from Libya. In November 2011, the Telegraph in their article, "Leading Libyan Islamist met Free Syrian Army opposition group," would report:
Abdulhakim Belhadj, head of the Tripoli Military Council and the former leader of the Libyan Islamic Fighting Group, "met with Free Syrian Army leaders in Istanbul and on the border with Turkey," said a military official working with Mr Belhadj. "Mustafa Abdul Jalil (the interim Libyan president) sent him there."
Another Telegraph article, "Libya's new rulers offer weapons to Syrian rebels," would admit
Syrian rebels held secret talks with Libya's new authorities on Friday, aiming to secure weapons and money for their insurgency against President Bashar al-Assad's regime, The Daily Telegraph has learned.

At the meeting, which was held in Istanbul and included Turkish officials, the Syrians requested "assistance" from the Libyan representatives and were offered arms, and potentially volunteers.
"There is something being planned to send weapons and even Libyan fighters to Syria," said a Libyan source, speaking on condition of anonymity. "There is a military intervention on the way. Within a few weeks you will see."
Later that month, some 600 Libyan terrorists would be reported to have entered Syria to begin combat operations and have been flooding into the country ever since.
Image: Libyan Mahdi al-Harati of the US State Department, United Nations, and the UK Home Office (page 5, .pdf)-listed terrorist organization, the Libyan Islamic Fighting Group (LIFG), addressing fellow terrorists in Syria. Harati is now commanding a Libyan brigade operating inside of Syria attempting to destroy the Syrian government and subjugate the Syrian population. Traditionally, this is known as "foreign invasion."
Washington Post's reported "loose missiles" in Libya are now turning up on the battlefield in Syria. While outfits like the Guardian, in their article "Arms and the Manpads: Syrian rebels get anti-aircraft missiles," are reporting the missiles as being deployed across Syria, they have attempted to downplay any connection to Libya's looted arsenal and the Al Qaeda terrorists that have imported them. In contrast, Times has published open admissions from terrorists themselves admitting they are receiving heavy weapons including surface-to-air missiles from Libya.
In Time's article, "Libya's Fighters Export Their Revolution to Syria," it is reported:
Some Syrians are more frank about the assistance the Libyans are providing. "They have heavier weapons than we do," notes Firas Tamim, who has traveled in rebel-controlled areas to keep tabs on foreign fighters. "They brought these weapons to Syria, and they are being used on the front lines." Among the arms Tamim has seen are Russian-made surface-to-air missiles, known as the SAM 7.

Libyan fighters largely brush off questions about weapon transfers, but in December they claimed they were doing just that. "We are in the process of collecting arms in Libya," a Libyan fighter in Syria told the French daily Le Figaro. "Once this is done, we will have to find a way to bring them here."
Clearly NATO's intervention in Libya has left a vast, devastating arsenal in the hands of sectarian extremists, led by US State Department, United Nations, and the UK Home Office (page 5, .pdf)-listed terrorist organization LIFG, that is now exporting these weapons and militants to NATO's other front in Syria. It is confirmed that both Libyan terrorists and weapons are crossing the Turkish-Syrian border, with NATO assistance, and it is now clear that heavy weapons, including anti-aircraft weapons have crossed the border too.
The Guardian reported in their November 2011 article, "Libyan chemical weapons stockpiles intact, say inspectors," that:
Libya's stockpiles of mustard gas and chemicals used to make weapons are intact and were not stolen during the uprising that toppled Muammar Gaddafi, weapons inspectors have said.
But also reported that:
The abandonment or disappearance of some Gaddafi-era weapons has prompted concerns that such firepower could erode regional security if it falls into the hands of Islamist militants or rebels active in north Africa. Some fear they could be used by Gaddafi loyalists to spread instability in Libya.
Last month Human Rights Watch urged Libya's ruling national transitional council to take action over large numbers of heavy weapons, including surface-to-air missiles, it said were lying unguarded more than two months after Gaddafi was overthrown.

On Wednesday the UN secretary general, Ban Ki-moon, said the UN would send experts to Libya to help ensure nuclear material and chemical weapons did not fall into the wrong hands.
And while inspectors claim that Libya's chemical weapons are in the "government's" hands and not "extremists'," it is clear by the Libyan government's own admission, that they themselves are involved in sending fighters and weapons into Syria.
It remains to be seen where these chemical weapons came from. Should they appear to be from Libya's arsenal, NATO, especially the US and Turkey, would be implicated in supplying Al Qaeda terrorists with WMDs, the very scenario the West has been paralyzed in fear over for the past 10 years, has given up its liberties, and spilled the blood of thousands of its soldiers to prevent.
The implications of Western-backed terrorists using chemical weapons, regardless of their origin, has cost the West its already floundering legitimacy, jeopardized its institutions, and has further shook the confidence of the many shareholders invested in them – politically, financially, industrially, and strategically. Such shareholders would be wise to begin looking for exits and cultivating alternatives outside the Wall Street-London international order.
Source: Land Destroyer
Because the administration is backing terrorists in Syria…
Since the Obama administration seems so keen to entrench its authority to kill Americans deemed "terrorists" on foreign soil, why has it failed to drone strike former US Army soldier Eric Harroun, who is now fighting with the Al-Qaeda affiliated terrorist group Jabhat al-Nusra in Syria?
The question is rhetorical because the answer is already known. Harroun will not be targeted because he is fighting on the same side as the terrorist-led FSA insurgents which the Obama administration has backed to the tune of hundreds of millions of dollars.
"He's a U.S.-trained soldier turned Muslim warrior who moves between America and countries where the winds of the Arab spring blow, fighting alongside jihadists and America-hating terrorists while celebrating his bloody exploits on YouTube videos," reports Fox News.
When questioned as to how he feels about fighting alongside Al-Qaeda terrorists, Harroun responded, "the U.S. plays both sides, too."
30-year-old Phoenix-born Harroun aided in the toppling of Egyptian President Hosni Mubarak before traveling to Syria to join an organization – Jabhat al-Nusra – that has been listed by the State Department as a terrorist group as a result of its involvement in numerous bloody attacks that have killed civilians.
Back in December, 29 different US-backed Syrian opposition groups pledged their allegiance to Al Nusra, an Al-Qaeda-affiliated group which, as the New York Times reported, "killed numerous American troops in Iraq."
Numerous reports confirm that Al Nusra is the leading front line fighting force in Syria and is commanding other rebel groups. Al Nusra is also closely tied with Al Qaeda in Iraq, recently responsible for the slaughter of US-trained troops in Iraq.
If the Obama administration really believes in the necessity of killing Americans who are working alongside America's enemies abroad, then why has there been no discussion whatsoever of targeting Harroun with a drone strike? Why is the US Army still providing a known terrorist with disability payments?
Another American who fought alongside Al-Qaeda terrorists in both Libya and Syria, Matthew VanDyke, recently returned to the United States and is set to give lectures in Washington DC this weekend. VanDyke admitted that he originally wanted to join the CIA but later became a self-described "freedom fighter".
VanDyke fought with Libyan militants under the banner of the LIFG, a terrorist group which killed US troops in Iraq, yet he will not even be questioned by authorities when he visits the nation's capital. On the other hand, the federal government is on the lookout for potential American terrorists who buy food in bulk or pay for a cup of coffee with cash.
American citizen Anwar Al-Awlaki was killed by a drone strike simply for producing propaganda videos and communicating with accused terrorists. His 16-year-old son was similarly slaughtered for merely sharing his father's surname. Other American citizens like John Walker Lindh were imprisoned and tortured in Guantanamo Bay for fighting with the Taliban.
Meanwhile, Harroun and VanDyke are free to fly around the world and re-enter the United States as and when they please despite committing the exact same crimes as the likes of fellow US citizens Lindh and Al-Awlaki.
Eric Harroun's presence in Syria serves as yet another reminder that US taxpayer dollars are being used to fund an insurrection led by Al-Qaeda terrorists who openly espouse their hatred for America as they ransack Christian churches, burn US flags, chant anti-American slogans and sing the praises of Osama Bin Laden while glorifying the 9/11 attacks.
While Obama's drone strikes will continue to kill 98% innocent people not even suspected of being "terrorists," including hundreds of children, real terrorists like Harroun and his ilk will continue to be given free reign because their motive is directly in line with the west's ongoing neo-colonial campaign to replace non-cooperative Middle Eastern leaders like Bashar Al-Assad with easy to manipulate extremist sock puppets.
Source: Prison Planet
The military has transformed warfare into a deadly computer game with drone weapons. Media programs like Weaponology or Future Weapons on the Military Channel provide detailed examples of the lethalness of autonomous technology. The use of drones as the preferred method of carnage is well established. Seldom do moral questions come into the discussions of eliminating enemies of the state. The rules of engagement vested in international law and the Geneva Convention, either ignored or rewritten for high-tech 21st Century combat, becomes the foundational tactic to maintain the killing force of the grand empire.
The video, Remote Control War, is an informative summary of the capabilities and uses of a drone air force. After viewing the range of aftermaths from GPS targeting, ponder the role of perpetual DARPA conflict. The distress from invented terrorism is used against the American public as a tool to incrementally relinquish basic rights and individual liberties. Matt K. Lewis offers up this assessment in an item published by This Week, Obama, drones, and the blissful ignorance of Americans.
"And here's the ugly truth: Obama is giving us what we want . . .

Americans, it turns out, don't really have the stomach for the unseemly business of taking prisoners, extracting information from prisoners, and then (maybe) going through the emotional, time consuming, and costly business of a trial.

American citizens want someone who will make the big, bad world disappear. Problems only exist if we have to confront them. Obama has made warfare more convenient for us — and less emotionally taxing."
Beware of the unseen predators over foreign lands for the blowback is the real source of the instability and a root cause of hatred for American hegemony. What you are witnessing is the imbalance between Legislature and the Presidency. The war powers responsibility of Congress, long surrendered to the imperial commander and chief of killing incorporated is a national tragedy.
In another TW article, Peter Weber raises an essential question, Will Congress curb Obama's drone strikes?, provides a mainstream assessment that seems lacking within the federal government.
"Since at least the 9/11 attacks, Congress has been less than confrontational with the White House over presidential powers to conduct war and anti-terrorism operations, to the dismay of civil libertarians. So we had President George W. Bush's warrantless domestic wiretaps retroactively green-lighted by Congress, torture only officially nixed by a change in presidents, and a big ramping-up of lethal drones being used to kill terrorism suspects under President Obama. But Obama's decision to kill at least two Americans working for al Qaeda in Yemen in 2011, and the legal justification that emerged in a leaked white paper (read below) this week, has caused a big, unusual outcry from both the Left and Right."
The esteemed New York Times, part of the Obama fawning media, continues to carry water for the administration in Congress to See Memo Backing Drone Attacks on Americans.
"This week, NBC News obtained an unclassified, shorter "white paper"that detailed some of the legal analysis about killing a citizen and was apparently derived from the classified Awlaki memorandum. The paper said the United States could target a citizen if he was a senior operational leader of Al Qaeda involved in plots against the country and if his capture was not feasible."
One might be accused of NYT bashing if you dare point out that their reporting resembles a briefing session from White House press secretary, Jay Carney. The use of warbots on home soil is a short step from spreading terminal sanctions of homeland security.
Reason.com warns of the threat from a robotic police state and the common ground to oppose this misuse of surveillance in the essay, The Bipartisan Opposition to Domestic Drones.
"Both the progressive American Civil Liberties Union and the libertarian Rutherford Institute cheer legislative efforts to place strict limits on unmanned aerial vehicles, or UAVs. And, prodded by privacy groups, state lawmakers nationwide-Republicans and Democrats alike-have launched an all-out offensive against the unmanned aerial vehicles.

The prospect of cheap, small, portable flying video surveillance machines threatens to eradicate existing practical limits on aerial monitoring and allow for pervasive surveillance, police fishing expeditions and abusive use of these tools in way that could eliminate the privacy Americans have traditionally enjoyed in their movements and activities," the bill's author, Sen. Robyn Driscoll, a Democrat from Billings, testified."
The ACLU presents a list of provisions that the Civil Liberties organization advocates. Also Read the ACLU's full report on domestic drones. "Congress has ordered the Federal Aviation Administration to change airspace rules to make it much easier for police nationwide to use domestic drones, but the law does not include badly needed privacy protections. The ACLU recommends the following safeguards:
USAGE LIMITS: Drones should be deployed by law enforcement only with a warrant, in an emergency, or when there are specific and articulable grounds to believe that the drone will collect evidence relating to a specific criminal act.

DATA RETENTION: Images should be retained only when there is reasonable suspicion that they contain evidence of a crime or are relevant to an ongoing investigation or trial.

POLICY: Usage policy on domestic drones should be decided by the public's representatives, not by police departments, and the policies should be clear, written, and open to the public.

ABUSE PREVENTION & ACCOUNTABILITY: Use of domestic drones should be subject to open audits and proper oversight to prevent misuse.

WEAPONS: Domestic drones should not be equipped with lethal or non-lethal weapons."
Relying on Rutherford Institute Model Resolution, Charlottesville Becomes First U.S. City to Limit Police Drones; TRI Calls on Rest of Country to Follow Suit.
"In a 3-2 vote, members of the Charlottesville City Council adopted a resolution drafted by The Rutherford Institute which urges the Virginia General Assembly to prevent police agencies from utilizing drones outfitted with anti-personnel devices such as tasers and tear gas and prohibit the government from using data recorded via police spy drones in criminal prosecutions. In so doing, Charlottesville has become the first city in the country to limit the use of police spy drones, providing momentum and inspiration for other cities across the country to follow suit.

The passage of the resolution, which also places a two-year moratorium on the use of drones within city limits, coincides with a Department of Justice memo leaked to the media which outlines the Obama administration's rationale for assassinating U.S. citizens via drone strike. With at least 30,000 drones expected to occupy U.S. airspace by 2020, John W. Whitehead, president of The Rutherford Institute, has called on government officials at the local, state, and federal level to do their part to safeguard Americans against the use of drones by police. Rutherford Institute attorneys have drafted and made available to the public language that can be adopted at all levels of government in order to address concerns being raised about the threats posed by drones to citizens' privacy."
When was the last time that a civil liberty issue developed an alliance of purpose to oppose the despotism of the totalitarian murder regime?
The Judge Napolitano YouTube: Killing Americans with Drones is Nowhere Justifiable Under The Constitution, goes unheeded as the country sinks into a zombie trance of public acquiescence. The compliant society is rooted in denial and disbelief.Even so, some of the more perceptive state legislatures are waking up to the danger of domestic drone operations. Texas "Anti Drone" Laws Would be Toughest in USA, and "prohibit federal law enforcement or federal officials from flying drones over Texas to spy on random citizens. Only individuals who are suspected with reasonable cause could be the target of drone surveillance, and only with a warrant issued by a judge of an open and public court."
Politico details, "Virginia Gov. Bob McDonnell has not decided whether he will sign a bill barring state and local agencies from using drones for two years — the first legislation of its kind in the country that passed through the state's General Assembly Tuesday with bipartisan support."
The National Defense Authorization Act is the latest unconstitutional measure that targets domestic citizens for punitive punishment. Due process, now reduced to "Due or Die" is the harbinger of the use of domestic drone capitulation. What will it take to awaken submissive citizens that the capability of foreign deployed drones easily can be weaponized for local operations?
The Obama administration has demonstrated an eagerness to trump up a bogus domestic terrorist threat that requires a surrender of our Bill of Rights. Reaper drones are a much greater peril than just a violation of privacy. A technology that is rapidly expanding and designed to militarize the police state into a killing field of reputed rebellious Americans – violates true national security.
"Making warfare more convenient and less emotionally taxing" is the direct opposite of the horror of battle. When a false flag surgical strike targets your location and your person, it will not be an episode in a computer simulation.
The president's partisan lawyers purport to vest him with the most extreme power a political leader can seize
The most extremist power any political leader can assert is the power to target his own citizens for execution without any charges or due process, far from any battlefield. The Obama administration has not only asserted exactly that power in theory, but has exercised it in practice. In September 2011, it killed US citizen Anwar Awlaki in a drone strike in Yemen, along with US citizen Samir Khan, and then, in circumstances that are still unexplained, two weeks later killed Awlaki's 16-year-old American son Abdulrahman with a separate drone strike in Yemen.
Since then, senior Obama officials including Attorney General Eric Holder and John Brennan, Obama's top terrorism adviser and his current nominee to lead the CIA, have explicitly argued that the president is and should be vested with this power. Meanwhile, a Washington Post article from October reported that the administration is formally institutionalizing this president's power to decide who dies under the Orwellian title "disposition matrix".
[Lawfulness of a Lethal Operation Directed Against a U.S. Citizen who is a Senior Operational Leader of Al Qa'ida or An Associated Force - MEMO ]
When the New York Times back in April, 2010 first confirmed the existence of Obama's hit list, it made clear just what an extremist power this is, noting: "It is extremely rare, if not unprecedented, for an American to be approved for targeted killing." The NYT quoted a Bush intelligence official as saying "he did not know of any American who was approved for targeted killing under the former president". When the existence of Obama's hit list was first reported several months earlier by the Washington Post's Dana Priest, she wrote that the "list includes three Americans".
What has made these actions all the more radical is the absolute secrecy with which Obama has draped all of this. Not only is the entire process carried out solely within the Executive branch – with no checks or oversight of any kind – but there is zero transparency and zero accountability. The president's underlings compile their proposed lists of who should be executed, and the president – at a charming weekly event dubbed by White House aides as "Terror Tuesday" – then chooses from "baseball cards" and decrees in total secrecy who should die. The power of accuser, prosecutor, judge, jury, and executioner are all consolidated in this one man, and those powers are exercised in the dark.
In fact, The Most Transparent Administration Ever™ has been so fixated on secrecy that they have refused even to disclose the legal memoranda prepared by Obama lawyers setting forth their legal rationale for why the president has this power. During the Bush years, when Bush refused to disclose the memoranda from his Office of Legal Counsel (OLC) that legally authorized torture, rendition, warrantless eavesdropping and the like, leading Democratic lawyers such as Dawn Johnsen (Obama's first choice to lead the OLC) vehemently denounced this practice as a grave threat, warning that "the Bush Administration's excessive reliance on 'secret law' threatens the effective functioning of American democracy" and "the withholding from Congress and the public of legal interpretations by the [OLC] upsets the system of checks and balances between the executive and legislative branches of government."
But when it comes to Obama's assassination power, this is exactly what his administration has done. It has repeatedly refused to disclose the principal legal memoranda prepared by Obama OLC lawyers that justified his kill list. It is, right now, vigorously resisting lawsuits from the New York Times and the ACLU to obtain that OLC memorandum. In sum, Obama not only claims he has the power to order US citizens killed with no transparency, but that even the documents explaining the legal rationale for this power are to be concealed. He's maintaining secret law on the most extremist power he can assert.
Last night, NBC News' Michael Isikoff released a 16-page "white paper" prepared by the Obama DOJ that purports to justify Obama's power to target even Americans for assassination without due process (the memo is embedded in full below). This is not the primary OLC memo justifying Obama's kill list – that is still concealed – but it appears to track the reasoning of that memo as anonymously described to the New York Times in October 2011.
This new memo is entitled: "Lawfulness of a Lethal Operation Directed Against a US Citizen Who is a Senior Operational Leader of Al-Qa'ida or An Associated Force". It claims its conclusion is "reached with recognition of the extraordinary seriousness of a lethal operation by the United States against a US citizen". Yet it is every bit as chilling as the Bush OLC torture memos in how its clinical, legalistic tone completely sanitizes the radical and dangerous power it purports to authorize.
I've written many times at length about why the Obama assassination program is such an extreme and radical threat – see here for one of the most comprehensive discussions, with documentation of how completely all of this violates Obama and Holder's statements before obtaining power – and won't repeat those arguments here. Instead, there are numerous points that should be emphasized about the fundamentally misleading nature of this new memo:
1. Equating government accusations with guilt
The core distortion of the War on Terror under both Bush and Obama is the Orwellian practice of equating government accusations of terrorism with proof of guilt. One constantly hears US government defenders referring to "terrorists" when what they actually mean is: those accused by the government of terrorism. This entire memo is grounded in this deceit.
Time and again, it emphasizes that the authorized assassinations are carried out "against a senior operational leader of al-Qaida or its associated forces who poses an imminent threat of violent attack against the United States." Undoubtedly fearing that this document would one day be public, Obama lawyers made certain to incorporate this deceit into the title itself: "Lawfulness of a Lethal Operation Directed Against a US Citizen Who is a Senior Operational Leader of al-Qaida or An Associated Force."
This ensures that huge numbers of citizens – those who spend little time thinking about such things and/or authoritarians who assume all government claims are true – will instinctively justify what is being done here on the ground that we must kill the Terrorists or joining al-Qaida means you should be killed. That's the "reasoning" process that has driven the War on Terror since it commenced: if the US government simply asserts without evidence or trial that someone is a terrorist, then they are assumed to be, and they can then be punished as such – with indefinite imprisonment or death.
But of course, when this memo refers to "a Senior Operational Leader of al-Qaida", what it actually means is this: someone whom the President – in total secrecy and with no due process – has accused of being that. Indeed, the memo itself makes this clear, as it baldly states that presidential assassinations are justified when "an informed, high-level official of the US government has determined that the targeted individual poses an imminent threat of violent attack against the US".
This is the crucial point: the memo isn't justifying the due-process-free execution of senior al-Qaida leaders who pose an imminent threat to the US. It is justifying the due-process-free execution of people secretly accused by the president and his underlings, with no due process, of being that. The distinction between (a) government accusations and (b) proof of guilt is central to every free society, by definition, yet this memo – and those who defend Obama's assassination power – willfully ignore it.
Those who justify all of this by arguing that Obama can and should kill al-Qaida leaders who are trying to kill Americans are engaged in supreme question-begging. Without any due process, transparency or oversight, there is no way to know who is a "senior al-Qaida leader" and who is posing an "imminent threat" to Americans. All that can be known is who Obama, in total secrecy, accuses of this.
(Indeed, membership in al-Qaida is not even required to be assassinated, as one can be a member of a group deemed to be an "associated force" of al-Qaida, whatever that might mean: a formulation so broad and ill-defined that, as Law Professor Kevin Jon Heller argues, it means the memo "authorizes the use of lethal force against individuals whose targeting is, without more, prohibited by international law".)
The definition of an extreme authoritarian is one who is willing blindly to assume that government accusations are true without any evidence presented or opportunity to contest those accusations. This memo – and the entire theory justifying Obama's kill list – centrally relies on this authoritarian conflation of government accusations and valid proof of guilt.
They are not the same and never have been. Political leaders who decree guilt in secret and with no oversight inevitably succumb to error and/or abuse of power. Such unchecked accusatory decrees are inherently untrustworthy (indeed, Yemen experts have vehemently contested the claim that Awlaki himself was a senior al-Qaida leader posing an imminent threat to the US). That's why due process is guaranteed in the Constitution and why judicial review of government accusations has been a staple of western justice since the Magna Carta: because leaders can't be trusted to decree guilt and punish citizens without evidence and an adversarial process. That is the age-old basic right on which this memo, and the Obama presidency, is waging war.
2. Creating a ceiling, not a floor
The most vital fact to note about this memorandum is that it is not purporting to impose requirements on the president's power to assassinate US citizens. When it concludes that the president has the authority to assassinate "a Senior Operational Leader of al-Qaida" who "poses an imminent threat of violent attack against the US" where capture is "infeasible", it is not concluding that assassinations are permissible only in those circumstances.
To the contrary, the memo expressly makes clear that presidential assassinations may be permitted even when none of those circumstances prevail: "This paper does not attempt to determine the minimum requirements necessary to render such an operation lawful." Instead, as the last line of the memo states: "it concludes only that the stated conditions would be sufficient to make lawful a lethal operation" – not that such conditions are necessary to find these assassinations legal. The memo explicitly leaves open the possibility that presidential assassinations of US citizens may be permissible even when the target is not a senior al-Qaida leader posing an imminent threat and/or when capture is feasible.
Critically, the rationale of the memo – that the US is engaged in a global war against al-Qaida and "associated forces" – can be easily used to justify presidential assassinations of US citizens in circumstances far beyond the ones described in this memo. If you believe the president has the power to execute US citizens based on the accusation that the citizen has joined al-Qaida, what possible limiting principle can you cite as to why that shouldn't apply to a low-level al-Qaida member, including ones found in places where capture may be feasible (including US soil)? The purported limitations on this power set forth in this memo, aside from being incredibly vague, can be easily discarded once the central theory of presidential power is embraced.
3. Relies on the core Bush/Cheney theory of a global battlefield
The primary theory embraced by the Bush administration to justify its War on Terror policies was that the "battlefield" is no longer confined to identifiable geographical areas, but instead, the entire globe is now one big, unlimited "battlefield". That theory is both radical and dangerous because a president's powers are basically omnipotent on a "battlefield". There, state power is shielded from law, from courts, from constitutional guarantees, from all forms of accountability: anyone on a battlefield can be killed or imprisoned without charges. Thus, to posit the world as a battlefield is, by definition, to create an imperial, omnipotent presidency. That is the radical theory that unleashed all the rest of the controversial and lawless Bush/Cheney policies.
This "world-is-a-battlefield" theory was once highly controversial among Democrats. John Kerry famously denounced it when running for president, arguing instead that the effort against terrorism is "primarily an intelligence and law enforcement operation that requires cooperation around the world".
But this global-war theory is exactly what lies at heart of the Obama approach to Terrorism generally and this memo specifically. It is impossible to defend Obama's assassination powers without embracing it (which is why key Obama officials have consistently done so). That's because these assassinations are taking place in countries far from any war zone, such as Yemen and Somalia. You can't defend the application of "war powers" in these countries without embracing the once-very-controversial Bush/Cheney view that the whole is now a "battlefield" and the president's war powers thus exist without geographic limits.
This new memo makes clear that this Bush/Cheney worldview is at the heart of the Obama presidency. The president, it claims, "retains authority to use force against al-Qaida and associated forces outside the area of active hostilities". In other words: there are, subject to the entirely optional "feasibility of capture" element, no geographic limits to the president's authority to kill anyone he wants. This power applies not only to war zones, but everywhere in the world that he claims a member of al-Qaida is found. This memo embraces and institutionalizes the core Bush/Cheney theory that justified the entire panoply of policies Democrats back then pretended to find so objectionable.
4. Expanding the concept of "imminence" beyond recognition
The memo claims that the president's assassination power applies to a senior al-Qaida member who "poses an imminent threat of violent attack against the United States". That is designed to convince citizens to accept this power by leading them to believe it's similar to common and familiar domestic uses of lethal force on US soil: if, for instance, an armed criminal is in the process of robbing a bank or is about to shoot hostages, then the "imminence" of the threat he poses justifies the use of lethal force against him by the police.
But this rhetorical tactic is totally misleading. The memo is authorizing assassinations against citizens in circumstances far beyond this understanding of "imminence". Indeed, the memo expressly states that it is inventing "a broader concept of imminence" than is typically used in domestic law. Specifically, the president's assassination power "does not require that the US have clear evidence that a specific attack . . . will take place in the immediate future". The US routinely assassinates its targets not when they are engaged in or plotting attacks but when they are at home, with family members, riding in a car, at work, at funerals, rescuing other drone victims, etc.
Many of the early objections to this new memo have focused on this warped and incredibly broad definition of "imminence". The ACLU's Jameel Jaffer told Isikoff that the memo "redefines the word imminence in a way that deprives the word of its ordinary meaning". Law Professor Kevin Jon Heller called Jaffer's objection "an understatement", noting that the memo's understanding of "imminence" is "wildly overbroad" under international law.
Crucially, Heller points out what I noted above: once you accept the memo's reasoning – that the US is engaged in a global war, that the world is a battlefield, and the president has the power to assassinate any member of al-Qaida or associated forces – then there is no way coherent way to limit this power to places where capture is infeasible or to persons posing an "imminent" threat. The legal framework adopted by the memo means the president can kill anyone he claims is a member of al-Qaida regardless of where they are found or what they are doing.
The only reason to add these limitations of "imminence" and "feasibility of capture" is, as Heller said, purely political: to make the theories more politically palatable. But the definitions for these terms are so vague and broad that they provide no real limits on the president's assassination power. As the ACLU's Jaffer says: "This is a chilling document" because "it argues that the government has the right to carry out the extrajudicial killing of an American citizen" and the purported limits "are elastic and vaguely defined, and it's easy to see how they could be manipulated."
5. Converting Obama underlings into objective courts
This memo is not a judicial opinion. It was not written by anyone independent of the president. To the contrary, it was written by life-long partisan lackeys: lawyers whose careerist interests depend upon staying in the good graces of Obama and the Democrats, almost certainly Marty Lederman and David Barron. Treating this document as though it confers any authority on Obama is like treating the statements of one's lawyer as a judicial finding or jury verdict.
Indeed, recall the primary excuse used to shield Bush officials from prosecution for their crimes of torture and illegal eavesdropping: namely, they got Bush-appointed lawyers in the DOJ to say that their conduct was legal, and therefore, it should be treated as such. This tactic – getting partisan lawyers and underlings of the president to say that the president's conduct is legal – was appropriately treated with scorn when invoked by Bush officials to justify their radical programs. As Digby wroteabout Bush officials who pointed to the OLC memos it got its lawyers to issue about torture and eavesdropping, such a practice amounts to:
"validating the idea that obscure Justice Department officials can be granted the authority to essentially immunize officials at all levels of the government, from the president down to the lowest field officer, by issuing a secret memo. This is a very important new development in western jurisprudence and one that surely requires more study and consideration. If Richard Nixon and Ronald Reagan had known about this, they could have saved themselves a lot of trouble."
Life-long Democratic Party lawyers are not going to oppose the terrorism policies of the president who appointed them. A president can always find underlings and political appointees to endorse whatever he wants to do. That's all this memo is: the by-product of obsequious lawyers telling their Party's leader that he is (of course) free to do exactly that which he wants to do, in exactly the same way that Bush got John Yoo to tell him that torture was not torture, and that even it if were, it was legal.
That's why courts, not the president's partisan lawyers, should be making these determinations. But when the ACLU tried to obtain a judicial determination as to whether Obama is actually authorized to assassinate US citizens, the Obama DOJ went to extreme lengths to block the court from ruling on that question. They didn't want independent judges to determine the law. They wanted their own lawyers to do so.
That's all this memo is: Obama-loyal appointees telling their leader that he has the authority to do what he wants. But in the warped world of US politics, this – secret memos from partisan lackeys – has replaced judicial review as the means to determine the legality of the president's conduct.
6. Making a mockery of "due process"
The core freedom most under attack by the War on Terror is the Fifth Amendment's guarantee of due process. It provides that "no person shall be . . . deprived of life . . . without due process of law". Like putting people in cages for life on island prisons with no trial, claiming that the president has the right to assassinate US citizens far from any battlefield without any charges or trial is the supreme evisceration of this right.
The memo pays lip service to the right it is destroying: "Under the traditional due process balancing analysis . . . . we recognize that there is no private interest more weighty than a person's interest in his life." But it nonetheless argues that a "balancing test" is necessary to determine the extent of the process that is due before the president can deprive someone of their life, and further argues that, as the New York Times put it when this theory was first unveiled: "while the Fifth Amendment's guarantee of due process applied, it could be satisfied by internal deliberations in the executive branch."
Stephen Colbert perfectly mocked this theory when Eric Holder first unveiled it to defend the president's assassination program. At the time, Holder actually said: "due process and judicial process are not one and the same." Colbert interpreted that claim as follows:
"Trial by jury, trial by fire, rock, paper scissors, who cares? Due process just means that there is a process that you do. The current process is apparently, first the president meets with his advisers and decides who he can kill. Then he kills them."
It is fitting indeed that the memo expressly embraces two core Bush/Cheney theories to justify this view of what "due process" requires. First, it cites the Bush DOJ's core view, as enunciated by John Yoo, that courts have no role to play in what the president does in the War on Terror because judicial review constitutes "judicial encroachment" on the "judgments by the President and his national security advisers as to when and how to use force". And then it cites the Bush DOJ's mostly successful arguments in the 2004 Hamdi case that the president has the authority even to imprison US citizens without trial provided that he accuses them of being a terrorist.
The reason this is so fitting is because, as I've detailed many times, it was these same early Bush/Cheney theories that made me want to begin writing about politics, all driven by my perception that the US government was becoming extremist and dangerous. During the early Bush years, the very idea that the US government asserted the power to imprison US citizens without charges and due process (or to eavesdrop on them) was so radical that, at the time, I could hardly believe they were being asserted out in the open.
Yet here we are almost a full decade later. And we have the current president asserting the power not merely to imprison or eavesdrop on US citizens without charges or trial, but to order them executed – and to do so in total secrecy, with no checks or oversight. If you believe the president has the power to order US citizens executed far from any battlefield with no charges or trial, then it's truly hard to conceive of any asserted power you would find objectionable.
DOJ white paper
Lawfulness of a Lethal Operation Directed Against a U.S. Citizen who is a Senior Operational Leader of Al Q… by Mike Riggs
Source: Glenn Greenwald | Guardian.co.uk
On January 16 Islamic militants staged an audacious attack on a major natural gas complex in southeastern Algeria, 800 miles southeast from the capital. A jihadist group calling itself the Masked Brigade—led by Moktar Belmoktar, the fierce one-eyed veteran of the Afghan war and a senior commander of al-Qaeda in the Islamic Maghreb (AQIM)—claimed responsibility for the raid on the In Amenas gas facility near the Libyan border. Dozens of foreign hostages were taken, including at least seven Americans, as well as workers from Britain, Ireland, Norway, Japan, and other countries.
On January 17 government forces launched an operation to retake the facility. On January 18 the crisis was still continuing. Some hostages have been freed but an unknown number of others were reported killed, either by their captors or by the Algerian army fire. There has been some dismay in Western capitals over the speed and ferocity of the authorities' response. The Algerian government strongly defended its action. "Those who think we will negotiate with terrorists are delusional," said Mohamed Said Belaid, Algeria's communications minister. "Those who think we will surrender to their blackmail are delusional." The assessment seems right: allowing the attackers to escape to Libya with the hostages, or settling in for a long siege, was exactly what the Masked Brigade leaders would have hoped for.
The raid on In Amenas is the most significant military event in North Africa since the end of operations in Libya in October 2011. It was more sophisticated than the attack which killed Ambassador Christopher Stevens and three other Americans in Benghazi last September 11. Its implications are far more momentous than the escalating jihadist insurgency in the landlocked and dirt-poor Mali, bordering Algeria to the south.
Western media reports have taken scant notice of the proximity of the Libyan border to In Amenas, which is a significant omission. It now seems certain that the attackers came from a stronghold in Libya, across the unguarded desert. If this is confirmed, the attack would provide further evidence that the NATO-led war—in addition to plunging Libya into chaos—has given a boost to jihadist activity in the region. It has also enabled the militants to amass a substantial arsenal of modern weaponry: Belmokhtar's faction is known to have commandeered vast quantities of weapons from Libyan military stockpiles at the end of the war. AQIM fighters are well poised to try destabilizing Algeria again, now that they have established a cross-border sanctuary which was denied them by Qaddafy.
AQIM was formed in 2007 by veterans of two Algerian groups that fought the government during the fierce civil war in the 1990's, the Salafist Group for Preaching and Combat and the Armed Islamic Group. It is one of the jihadist network's biggest, richest and most heavily armed subsidiaries. Its "Masked Brigade" is said to have carried out the attack in retaliation for Algeria's agreement to let France use its air space to supply French forcesbattling Islamic militants in Mali, but the assumption is too optimistic. It would have been impossible to plan such a complex operation barely a week since the beginning of the French operation in Mali. The attack must have been planned well in advance of the French military involvement, with the air space issue providing a misleading pretext which the Western media have been all to willing to accept at face value.
The Algerian extremists have bigger fish to fry. Their wider objective is to reignite the Islamic insurgency in Algeria, which the secularist government successfully suppressed over a decade ago. The authorities officially lifted the 19-year-old state of emergency in February 2011, just before the "Arab Spring" spread to Libya.
The jihadists' new strategy may be gleaned from the fact that the assault on In Amenas is their first major attack ever on an Algerian hydrocarbon installation. Algeria is the third-largest gas supplier to Europe and one of the world's biggest producers of liquefied natural gas. Well aware of the importance of energy revenues the rebels refrained from attacking production facilities in the 1990's, hoping to reap the benefits after an eventual regime change. Targeting such facilities now indicates that they are smarting for a new, long fight. They are initially aiming to destroy Algeria's image as a safe location for foreign oil and gas companies to invest and operate. In the long run they are hoping to make Algeria the next domino.
The effects of the attack were felt immediately. Snam Rete, which operates the Italian gas network, announced on January 17 that volumes of gas pumped into Italy from Algeria through a vital trans-Mediterranean pipeline had fallen from over 70 million cubic meters a day (mcm/d) to just over 60 million—a drop of 15% at a time of peak consumption.
The implications of a renewed conflict in Algeria for European energy security are immense. If similar attacks spread to the scantily protected oil and gas fields in southwest Libya, which has no effective military force controlled by the government in Tripoli, the consequences would be potentially disastrous for the consumers in Italy, France, and points further north. Algeria is the third-largest supplier of gas into the European Union (after Russia and Norway), and In Amenas' output alone covers two per cent of total European demand, accounting for 18 per cent of Algeria's gas exports and earning $4 billion a year in export revenues.
Russia's Gazprom may step in to make up the shortfall, as it did in 2011 when the war in Libya brought its gas exports to an abrupt halt, but an important consequence may be to draw Europe and the United States apart on the key issue of energy politics. An ever-greater reliance on Russia's gas runs counter to the U.S. strategy of nudging Europeans to diversify their supplies by increasing deliveries from majority-Muslim countries. Most Europeans are lukewarm about the stalled Nabucco pipeline, which has been strongly favored by the U.S., and their misgivings are bound to be reinforced by the latest developments across the Mediterranean.
The latest crisis is the direct consequence of the ill-advised, unnecessary, and self-defeating NATO intervention in Libya. It is but another reminder that Western interventionism in the Muslim world is a form of psychosis which harms the interests of the intervening powers, brings nothing but misery to the targeted lands and peoples, and benefits only the darkest enemies of civilization in today's world.
LONDON – One's got to love the sound of a Frenchman's Mirage 2000 fighter jet in the morning. Smells like… a delicious neo-colonial breakfast in Hollandaise sauce. Make it quagmire sauce.
Apparently, it's a no-brainer. Mali holds 15.8 million people – with a per capita gross domestic product of only around US$1,000 a year and average life expectancy of only 51 years – in a territory twice the size of France (per capital GDP $35,000 and upwards). Now almost two-thirds of this territory is occupied by heavily weaponized Islamist outfits. What next? Bomb, baby, bomb.
So welcome to the latest African war; Chad-based French Mirages and Gazelle helicopters, plus a smatter of France-based
Rafales bombing evil Islamist jihadis in northern Mali. Business is good; French president Francois Hollande spent this past Tuesday in Abu Dhabi clinching the sale of up to 60 Rafales to that Gulf paragon of democracy, the United Arab Emirates (UAE).
The formerly wimpy Hollande – now enjoying his "resolute", "determined", tough guy image reconversion – has cleverly sold all this as incinerating Islamists in the savannah before they take a one-way Bamako-Paris flight to bomb the Eiffel Tower.
French Special Forces have been on the ground in Mali since early 2012.
The Tuareg-led NMLA (National Movement for the Liberation of Azawad), via one of its leaders, now says it's "ready to help" the former colonial power, billing itself as more knowledgeable about the culture and the terrain than future intervening forces from the CEDEAO (the acronym in French for the Economic Community of Western African States).
Salafi-jihadis in Mali have got a huge problem: they chose the wrong battlefield. If this was Syria, they would have been showered by now with weapons, logistical bases, a London-based "observatory", hours of YouTube videos and all-out diplomatic support by the usual suspects of US, Britain, Turkey, the Gulf petromonarchies and – oui, monsieur – France itself.
Instead, they were slammed by the UN Security Council – faster than a collection of Marvel heroes – duly authorizing a war against them. Their West African neighbors – part of the ECOWAS regional bloc – were given a deadline (late November) to come up with a war plan. This being Africa, nothing happened – and the Islamists kept advancing until a week ago Paris decided to apply some Hollandaise sauce.
Not even a football stadium filled with the best West African shamans can conjure a bunch of disparate – and impoverished – countries to organize an intervening army in short notice, even if the adventure will be fully paid by the West just like the Uganda-led army fighting al-Shabaab in Somalia.
To top it all, this is no cakewalk. The Salafi-jihadis are flush, courtesy of booming cocaine smuggling from South America to Europe via Mali, plus human trafficking. According to the UN Office of Drugs Control, 60% of Europe's cocaine transits Mali. At Paris street prices, that is worth over $11 billion.
Turbulence ahead 
General Carter Ham, the commander of the Pentagon's AFRICOM, has been warning about a major crisis for months. Talk about a self-fulfilling prophecy. But what's really going on in what the New York Times quaintly describes as those "vast and turbulent stretches of the Sahara"?
It all started with a military coup in March 2012, only one month before Mali would hold a presidential election, ousting then president Amadou Toumani Toure. The coup plotters justified it as a response to the government's incompetence in fighting the Tuareg.
The coup leader was one Captain Amadou Haya Sanogo, who happened to have been very cozy with the Pentagon; that included his four-month infantry officer basic training course in Fort Benning, Georgia, in 2010. Essentially, Sanogo was also groomed by AFRICOM, under a regional scheme mixing the State Department's Trans Sahara Counter Terrorism Partnership program and the Pentagon's Operation Enduring Freedom. It goes without saying that in all this "freedom" business Mali has been the proverbial "steady ally" – as in counterterrorism partner – fighting (at least in thesis) al-Qaeda in the Islamic Maghreb (AQIM).
Over the last few years, Washington's game has elevated flip-flopping to high art. During the second George W Bush administration, Special Forces were very active side by side with the Tuaregs and the Algerians. During the first Obama administration, they started backing the Mali government against the Tuareg.
An unsuspecting public may pore over Rupert Murdoch's papers – for instance, The Times of London – and its so-called defense correspondent will be pontificating at will on Mali without ever talking about blowback from the Libya war.
Muammar Gaddafi always supported the Tuaregs' independence drive; since the 1960s the NMLA agenda has been to liberate Azawad (North Mali) from the central government in Bamako.
After the March 2012 coup, the NMLA seemed to be on top. They planted their own flag on quite a few government buildings, and on April 5 announced the creation of a new, independent Tuareg country. The "international community" spurned them, only for a few months later to have the NMLA for all practical purposes marginalized, even in their own region, by three other – Islamist – groups; Ansar ed-Dine ("Defenders of the Faith"); the Movement for Unity and Jihad in West Africa (MUJAO); and al-Qaeda in the Islamic Maghreb (AQIM).
Meet the players
The NMLA is a secular Tuareg movement, created in October 2011. It claims that the liberation of Azawad will allow better integration – and development – for all the peoples in the region. Its hardcore fighters are Tuaregs who were former members of Gaddafi's army. But there are also rebels who had not laid down their arms after the 2007-2008 Tuareg rebellion, and some that defected from the Malian army. Those who came back to Mali after Gaddafi was executed by the NATO rebels in Libya carried plenty of weapons. Yet most heavy weapons actually ended up with the NATO rebels themselves, the Islamists supported by the West.
AQIM is the Northern African branch of al-Qaeda, pledging allegiance to "The Doctor", Ayman al-Zawahiri. Its two crucial characters are Abu Zaid and Mokhtar Belmokhtar, former members of the ultra-hardcore Algerian Islamist outfit Salafist Group for Predication and Combat (SGPC). Belmokhtar was already a jihadi in 1980s Afghanistan.
Abu Zaid poses as a sort of North African "Geronimo", aka Osama bin Laden, with the requisite black flag and a strategically positioned Kalashnikov featuring prominently in his videos. The historical leader, though, is Belmokhtar. The problem is that Belmokhtar, known by French intelligence as "The Uncatchable", has recently joined MUJAO.
MUJAO fighters are all former AQIM. In June 2012, MUJAO expelled the NMLA and took over the city of Gao, when it immediately applied the worst aspects of Sharia law. It's the MUJAO base that has been bombed by the French Rafales this week. One of its spokesmen has duly threatened, "in the name of Allah", to respond by attacking "the heart of France".
Finally, Ansar ed-Dine is an Islamist Tuareg outfit, set up last year and directed by Iyad ag Ghali, a former leader of the NMLA who exiled himself in Libya. He turned to Salafism because of – inevitably – Pakistani proselytizers let loose in Northern Africa, then engaged in valuable face time with plenty of AQIM emirs. It's interesting to note in 2007 Mali President Toure appointed Ghali as consul in Jeddah, in Saudi Arabia. He was then duly expelled in 2010 because he got too close to radical Islamists.
Gimme 'a little more terrorism' 
No one in the West is asking why the Pentagon-friendly Sanogo's military coup in the capital ended up with almost two-thirds of Mali in the hands of Islamists who imposed hardcore Sharia law in Azawad – especially in Gao, Timbuktu and Kidal, a gruesome catalogue of summary executions, amputations, stonings and the destruction of holy shrines in Timbuktu. How come the latest Tuareg rebellion ended up hijacked by a few hundred hardcore Islamists? It's useless to ask the question to US drones.
The official "leading from behind" Obama 2.0 administration rhetoric is, in a sense, futuristic; the French bombing "could rally jihadis" around the world and lead to – what else – attacks on the West. Once again the good ol' Global War on Terror (GWOT) remains the serpent biting its own tail.
There's no way to understand Mali without examining what Algeria has been up to. The Algerian newspaper El Khabar only scratched the surface, noting that "from categorically refusing an intervention – saying to the people in the region it would be dangerous", Algiers went to "open Algerian skies to the French Mirages".
Secretary of State Hillary Clinton was in Algeria last October, trying to organize some semblance of an intervening West African army. Hollande was there in December. Oh yes, this gets juicier by the month.
So let's turn to Professor Jeremy Keenan, from the School of Oriental and African Studies (SOAS) at London University, and author of The Dark Sahara (Pluto Press, 2009) and the upcomingThe Dying Sahara (Pluto Press, 2013).
Writing in the January edition of New African, Keenan stresses, "Libya was the catalyst of the Azawad rebellion, not its underlying cause. Rather, the catastrophe now being played out in Mali is the inevitable outcome of the way in which the 'Global War on Terror' has been inserted into the Sahara-Sahel by the US, in concert with Algerian intelligence operatives, since 2002."
In a nutshell, Bush and the regime in Algiers both needed, as Keenan points out, "a little more terrorism" in the region. Algiers wanted it as the means to get more high-tech weapons. And Bush – or the neo-cons behind him – wanted it to launch the Saharan front of the GWOT, as in the militarization of Africa as the top strategy to control more energy resources, especially oil, thus wining the competition against massive Chinese investment. This is the underlying logic that led to the creation of AFRICOM in 2008.
Algerian intelligence, Washington and the Europeans duly used AQIM, infiltrating its leadership to extract that "little more terrorism". Meanwhile, Algerian intelligence effectively configured the Tuaregs as "terrorists"; the perfect pretext for Bush's Trans-Saharan Counter-Terrorism Initiative, as well as the Pentagon's Operation Flintlock – a trans-Sahara military exercise.
The Tuaregs always scared the hell out of Algerians, who could not even imagine the success of a Tuareg nationalist movement in northern Mali. After all, Algeria always viewed the whole region as its own backyard.
The Tuaregs – the indigenous population of the central Sahara and the Sahel – number up to 3 million. Over 800,000 live in Mali, followed by Niger, with smaller concentrations in Algeria, Burkina Faso and Libya. There have been no less than five Tuareg rebellions in Mali since independence in 1960, plus three others in Niger, and a lot of turbulence in Algeria.
Keenan's analysis is absolutely correct in identifying what happened all along 2012 as the Algerians meticulously destroying the credibility and the political drive of the NMLA. Follow the money: both Ansar ed-Dine's Iyad ag Ghaly and MUJAO's Sultan Ould Badi are very cozy with the DRS, the Algerian intelligence agency. Both groups in the beginning had only a few members.
Then came a tsunami of AQIM fighters. That's the only explanation for why the NMLA was, after only a few months, neutralized both politically and militarily in their own backyard.
Round up the usual freedom fighters
Washington's "leading from behind" position is illustrated by this State Department press conference. Essentially, the government in Bamako asked for the French to get down and dirty.
And that's it.
Not really. Anyone who thinks "bomb al-Qaeda" is all there is to Mali must be living in Oz. To start with, using hardcore Islamists to suffocate an indigenous independence movement comes straight from the historic CIA/Pentagon playbook.
Moreover, Mali is crucial to AFRICOM and to the Pentagon's overall MENA (Middle East-Northern Africa) outlook. Months before 9/11 I had the privilege to crisscross Mali on the road – and by the (Niger) river – and hang out, especially in Mopti and Timbuktu, with the awesome Tuaregs, who gave me a crash course in Northwest Africa. I saw Wahhabi and Pakistani preachers all over the place. I saw the Tuaregs progressively squeezed out. I saw an Afghanistan in the making. And it was not very hard to follow the money sipping tea in the Sahara. Mali borders Algeria, Mauritania, Burkina Faso, Senegal, the Ivory Coast and Guinea. The spectacular Inner Niger delta is in central Mali – just south of the Sahara. Mali overflows with gold, uranium, bauxite, iron, manganese, tin and copper. And – Pipelineistan beckons! – there's plenty of unexplored oil in northern Mali.
As early as February 2008, Vice Admiral Robert T Moeller wassaying that AFRICOM's mission was to protect "the free flow of natural resources from Africa to the global market"; yes, he did make the crucial connection to China, pronounced guilty of " challenging US interests".
AFRICOM's spy planes have been "observing" Mali, Mauritania and the Sahara for months, in thesis looking for AQIM fighters; the whole thing is overseen by US Special Forces, part of the classified, code-named Creek Sand operation, based in next-door Burkina Faso. Forget about spotting any Americans; these are – what else – contractors who do not wear military uniforms.
Last month, at Brown University, General Carter Ham, AFRICOM's commander, once more gave a big push to the "mission to advance US security interests across Africa". Now it's all about the – updated – US National Security Strategy in Africa, signed by Obama in June 2012. The (conveniently vague) objectives of this strategy are to "strengthen democratic institutions"; encourage "economic growth, trade and investment"; "advance peace and security"; and "promote opportunity and development."
In practice, it's Western militarization (with Washington "leading from behind") versus the ongoing Chinese seduction/investment drive in Africa. In Mali, the ideal Washington scenario would be a Sudan remix; just like the recent partition of North and South Sudan, which created an extra logistical headache for Beijing, why not a partition of Mali to better exploit its natural wealth? By the way, Mali was known as Western Sudan until independence in 1960.
Already in early December a "multinational" war in Mali was on the Pentagon cards.
The beauty of it is that even with a Western-financed, Pentagon-supported, "multinational" proxy army about to get into the action, it's the French who are pouring the lethal Hollandaise sauce (nothing like an ex-colony "in trouble" to whet the appetite of its former masters). The Pentagon can always keep using its discreet P-3 spy planes and Global Hawk drones based in Europe, and later on transport West African troops and give them aerial cover. But all secret, and very hush hush.
Mr Quagmire has already reared its ugly head in record time, even before the 1,400 (and counting) French boots on the ground went into offense.
A MUJAO commando team (and not AQIM, as it's been reported), led by who else but the "uncatchable" Belmokhtar, hit a gas field in the middle of the Algerian Sahara desert, over 1,000 km south of Algiers but only 100 km from the Libyan border, where they captured a bunch of Western (and some Japanese) hostages; a rescue operation launched on Wednesday by Algerian Special Forces was, to put it mildly, a giant mess, with at least seven foreign hostages and 23 Algerians so far confirmed killed.
The gas field is being exploited by BP, Statoil and Sonatrach. MUJAO has denounced – what else – the new French "crusade" and the fact that French fighter jets now own Algerian airspace.
As blowback goes, this is just the hors d'oeuvres. And it won't be confined to Mali. It will convulse Algeria and soon Niger, the source of over a third of the uranium in French nuclear power plants, and the whole Sahara-Sahel.
So this new, brewing mega-Afghanistan in Africa will be good for French neoloconial interests (even though Hollande insists this is all about "peace"); good for AFRICOM; a boost for those Jihadis Formerly Known as NATO Rebels; and certainly good for the never-ending Global War on Terror (GWOT), duly renamed "kinetic military operations".
Django, unchained, would be totally at home. As for the Oscar for Best Song, it goes to the Bush-Obama continuum: There's no business like terror business. With French subtitles, bien sur.
Pepe Escobar is the author of Globalistan: How the Globalized World is Dissolving into Liquid War (Nimble Books, 2007) and Red Zone Blues: a snapshot of Baghdad during the surge. His most recent book is Obama does Globalistan (Nimble Books, 2009). He may be reached at pepeasia@yahoo.com
Source: Asia Times Online
So Bashar al-Assad hath martially spoken – for the first time in seven months – predictably blaming the Syrian civil war on "terrorists" and "Western puppets".
Turkish Foreign Minister Ahmet Davutoglu, he of the former "zero problems with our neighbors" policy, commented that Assad only reads the reports of his secret services. C'mon, Ahmet; Bashar may be no Stephen Hawking, but he's certainly getting his black holes right.
Assad, moreover, has a plan: a national dialogue leading to a national charter – to be submitted to a referendum – and then an enlarged government and a general amnesty. The problem is who is going to share all this bottled happiness because Assad totally dismisses the new Syria opposition coalition as well as the Free Syrian Army (FSA), describing them as foreign-recruited gangs taking orders from foreign powers to implement one supreme agenda: the partition of Syria.
Still, Assad's got a plan. First stage: all foreign powers financing the "terrorists" – as in the North Atlantic Treaty Organization-Gulf Cooperation Council compound – must stop doing so. That's already a major no-no. Only in a second stage would the Syrian Army cease all its operations, but still reserve the right to respond to any – inevitable – "provocation".
Assad's plan does not mention what happens to Assad himself. The only thing the multiple strands of the opposition agree on is that "the dictator must go" before any negotiations take place. Yet he wants to be a candidate to his own succession in 2014.
As if this was not a humongous "detail" torpedoing the whole construct of current UN mediator Lakhdar Brahimi, there's still the crucial nagging point of Brahimi insisting on including the Muslim Brotherhood (MB) in a Syrian transitional government. Brahimi should know better. It's as if the UN was praying for a Hail Mary pass – that is, Assad's voluntary abdication.
This ain't Tora Bora
If you want to know what's really going in Syria, look no further than Hezbollah secretary-general Sheikh Nasrallah. He does tell it like it is.
Then there's what Ammar al-Musawi, Hezbollah's number 3 – as in their de facto foreign minister – told my Italian colleaguem Ugo Tramballi. The most probable post-Assad scenario, if there is one, will be "not a unitary state, but a series of emirates near the Turkish border, and somebody proclaiming an Islamic state". Hezbollah's intelligence – the best available on Syria – is adamant: "one third of the combatants in the opposition are religious extremists, and two-thirds of the weapons are under their control." The bottom line – this is a Western proxy war, with the Gulf Cooperation Council (GCC) acting as a "vanguard" for the North Atlantic Treaty Organization.
Asia Times Online readers have already known this for eons, as much as they know about the tectonic-plates-on-the-move fallacy of GCC autocracies promoting "democracy" in Syria. While the geologically blessed House of Saud has bribed every grain of sand in sight to be immunized against any whiff of Arab Spring, at least in Kuwait the winds of change are forcing the Al-Sabah family to accept a prime minister who is not an emir's puppet. Yes, petromonarchs; sooner or later you're all going down.
As for those who ignore Musawi, they do it at their own peril; blowback is and will remain inevitable, "like in Afghanistan". Musawi adds, "Syria is not Tora Bora; it's on the Mediterranean coast, close to Europe". Syria in the 2010s is the 1980s Afghan remix – with exponential inbuilt blowback.
And for those who blindly follow the blind in repeating that Hezbollah is a "terrorist" organization, Hezbollah is closely cooperating with the UN – on the ground with over 10,000 blue helmets, under the command of Italian General Paolo Serra – to keep southern Lebanon free from Syrian civil war contamination.
The dictator has fallen – again
Not surprisingly, that motley crew branded as the "Syrian opposition" rejected Assad en bloc. For the Muslim Brotherhood – the self-styled power in waiting – he is a "war criminal" who should go on trial. For Georges Sabra, the vice-president of that American-Qatari concoction, the National Coalition, Assad's words were a "declaration of war against the Syrian people".
Predictably, the US State Department – not yet under John Kerry – said Assad was "detached from reality". London said it was all hypocrisy and immediately launched yet another "secret" two-day conference this week at Wilton Park in West Sussex mingling coalition members with the usual gaggle of "experts", academics, GCC officials and "multilateral agencies". The spectacularly pathetic UK Foreign Secretary William Hague twitted – for the umpteenth time – that "Assad's departure from power is inevitable".
Facts on the ground though spell that Assad is not going anywhere anytime soon.
As for British claims that "the international community can provide support to a future transitional authority", that doesn't cut much slack among war-weary informed Syrians – who know this civil war has been funded, supplied and amply coordinated by the West, as in the NATO component of the NATOGCC compound.
They smell a – Western – rat in the obsessive characterization of everything in Syria as a sectarian war, as they see how loads of influent Sunnis have remained loyal to the government.
They smell a – Western – rat when they look back and see this whole thing started just as the US$10 billion Iran-Iraq-Syria gas pipeline (crucially bypassing NATO member Turkey) had a chance to be implemented. This would represent a major economic boost to an independent Syria, an absolute no-no as far as Western interests are concerned.
The Obama 2.0 administration – and Israel – would be more than comfortable with the MB in power in Syria, following the Egyptianmodus operandi. The Brotherhood promotes the idea of a "civil state"; one just has to check the few "liberated areas" across Syria to detect rebel civility inbuilt in hardcore Sharia law and assorted beheadings.
Yet what the NATOGCC compound and Israel really want is a Yemeni model for Syria; a military dictatorship without the dictator. What they're getting instead, for the foreseeable future, is Jihadi Paradise.
Off with their heads
Almost a year ago, al-Qaeda number one Ayman al-Zawahiri called on every Sunni hardcore faithful from Iraq and Jordan to Lebanon, Turkey and beyond to take a trip to Syria and merrily crush Assad.
So they've kept coming, including – just like in Afghanistan – Chechens and Uyghurs and Southeast Asians, joining everything from the FSA to Jabhat al-Nusra, the number one killing militia, now with over 5,000 jihadis.
A report published this week by the London-based counterterrorism outfit Quilliam Foundation confirms Al-Nusra's role. The lead author of the report, Noman Benotman, happens to be a former Libyan jihadi very cosy with al-Zawahiri and the late "Geronimo", aka Osama bin Laden.
Al-Nusra is in fact the Syrian branch of al-Qaeda in Iraq (AQI), the terrorist brand of late Abu Musab al-Zarqawi, also known as Islamic State of Iraq after Zarqawi was incinerated by a US missile in 2006. Even the State Department knows that AQI emir Abu Du'a runs both AQI and al-Nusra, whose own emir is Abu Muhammad al-Jawlani.
It's AQI that facilitates the back-and-forth of Iraqi commanders – with plenty of fighting experience on the ground against the Americans – to sensitive areas in Syria, while the Syrians, Iraqis and Jordanians at al-Nusra also work the phones to extract funding from Gulf sources. Al-Nusra wants – what else – an Islamic State not only in Syria but all over the Levant. Favorite tactic: car and truck suicide bombings as well as remote-controlled car bombs. For the moment, they keep a tense collaboration/competition regime with the FSA.
What happens next? The new Syrian National Coalition is a joke. Those GCC bastions of democracy are now totally spooked by the jihadi tsunami. Russia drew the red line and NATO won't dare to bomb; Russians and Americans are now discussing details. And sooner or later Ankara will see the writing on the wall – and revert to a policy of at least minimizing trouble with the neighbors.
Assad saw The Big Picture – clearly, thus his "confident" speech. It's now Assad against the jihadis. Unless, or until, the new CIA under Terminator John Brennan drones itself into the (shadow war) picture with a vengeance.
Pepe Escobar is the author of Globalistan: How the Globalized World is Dissolving into Liquid War (Nimble Books, 2007) and Red Zone Blues: a snapshot of Baghdad during the surge. His most recent book is Obama does Globalistan (Nimble Books, 2009). He may be reached at pepeasia@yahoo.com
Source: Asia Times Online
Neo: "What truth?", Morpheus: "That you are a slave, Neo. That you, like everyone else, was born into bondage… kept inside a prison that you cannot smell, taste, or touch – a prison for your mind."
~The Matrix 
In the movie the Matrix, Morpheus and Trinity knew that something in reality had suddenly changed when Neo experienced a deja-vu. The deja-vu resulted as a bit of the virtual world reformatted changing reality enough so a new 'reality' presented with an advantage to the controllers.
It is interesting to pay attention to the Matrix of 'real' life because there are many similarities to the inspired ideas communicated in the movie of the same name. If you pay attention long enough you'll notice some deja-vu. This 'real' life appears to have scripted components that when noticed change reality right before our eyes.
Right now the global controllers are modifying the script so as to bring about some kind of change that facilitates their plan of global domination and enslavement they'll call global government.
The stage is being populated with new props and I sense a deja-vu.
WHO CONTROLS THE WORLD
I think the sociopolitical framework of the united States and the world are scripted plays created by powers-that-be having critical knowledge of human psychology and control of the worlds media, education, money, military, religions, and energy (including food, water and medicine). And because it is important later, I will note the world's-a-stage script writers are obsessively interested in esoteric occulted symbols, numerology, astrology and religious ritual.
As many of you already know, the united States of America's over government (by agreement made called the Constitution), commonly known as the United States Federal Government (USG), was infiltrated and usurped many years ago; the final purge was nearly complete with the bankruptcy and subsequent relaunch of the USG in 1933. One way to help your mind work better when thinking about this is to mentally rename the USG. Renaming results in clearer thinking because it makes allegiances transparent. I like to think of the USG as Federists (rhymes with terrorists), which helps me remember I'm talking about an foreign occupational, hostile, well funded, highly intelligent, malevolent gang of usurpers. Federists occupy the highest offices and control the primary enforcing agencies of the former USG.
Federists control of America is maintained first by deception, then bribery and blackmail and finally, as needed, murder.
In other words, the control system that has been pulled over our eyes to blind us from the truth, is now in control of the world's wealthiest and militarily powerful nation on earth.
The world, then, is controlled by an unnamed, focused group of powerful, malevolent, super-staters, which, by proxy, occupy and control the highest offices, enforcing agencies and military of the wealthiest and most powerful nation on earth.
The world is controlled by the globalists.
GLOBALIST'S RESOURCES
The globalist maintain their control over the world through control of the worlds media, education, money, military, religions, and energy (including food, water and medicine).
The primary source of globalist power comes from pretended money in the form of currency and energy monopolies. All the other controls are derived from these two sources. And, for future reference, these two main sources of power are the globalist's Achilles heel.
Counterfeit currency is a system of pretended money loaned by imitation banks to governments at interest. The interest represents real wealth streamed back to the imitation banks in payment for the counterfeit currency (nothing).
The crux of the crime is that nothing of value is loaned in return for interest payments. Using the borrower's promise to pay as currency, the imitation banks return debt as money. In other words, nothing of value was loaned by the bank in return for interest payments. Hence a system was devised so globalists can issue currency in nearly unlimited quantities, at no cost to the globalist, in return for an ever growing stream of interest payments siphoning off the wealth of the borrowers.
The globalists using middle men like the Federists can then 'loan' unlimited ( at least in the short term because this banking scam eventually self destructs) currency to the Federists, who use the currency to further the globalists agenda, while the globalist still retain the interest stream now passed off as income tax to the working class of the united States of America.
The actual currency (dollar) is worthless, but derives a phony value because people accept the dollar in trade for real goods. Since the currency grows on trees, the quantity can always increase (and of course it does), thereby reducing the supply of goods available causing prices to rise in proportion to the quantity of pretend money in existence. The rising prices are a second form of tax since it now takes more dollars to purchase the same good. (Your loss of purchasing power has been transferred to the Federists to be used in service of the globalist.)
Using this currency, the globalist can then fund legislation in the affected country to erect monopolies on energy, buy and control the media, fund education trusts and university grants, bribe and control religions and the military.
HOW THE GLOBALISTS WRITE THE SCRIPT
For the record it is easy to write the script when you own the media, schools, churches, energy, money and military.
The globalists write the script through careful control of images, themes and thought. Deception is the operative concept, even if the details are complex and complicated. In essence, the globalists frame the problems of the world and then provide the solutions. Many people have reported this idea, David Icke calls it 'problem, reaction, solution'. Using fear as a means of gaining and keeping attention, globalists, behaving like the best magicians, maintain your attention on fear while they move the props around the stage. Then when horrific problems do emerge (usually staged) , the globalists through their operatives are standing by with solutions, solutions that require the transfer of more power, wealth, resources, liberty and subjugation to the globalists.
Strictly controlling the media and churches with propaganda and topic restrictions , while limiting your energy, issuing your currency and directing the military, the globalist have near total control of an individual's mind, wealth, health and spirituality. This control is used to create a pseudo world, not a complete Matrix (I hope) , but a mixture of scripted and directed macro story and permitting a limited personal directed micro story. You do have control of parts of the play, but the point is, "All the world's a stage, And all the men and women merely players"
DEJA VU
Mind control of Americans is of pivotal importance to the globalist because America has been captured and occupied by the Federists, their primary tool of action and it is American's that have the best chance of switching off the Matrix and welcoming everyone to the real world.
The American media, with the exception of some uncontrolled, unaffiliated, non denominational, unregulated, alternative media is busy supporting normalcy biases or fear (as needed) via images and symbols. Images and symbols are necessary to maintain control of the mind while transmitting massive, encrypted data through the short hand of symbols.
The events of Nine-Eleven (leaving the numerology in the background) permitted a glitch in the Matrix, a deja-vu was noticed by the very sensitive, the Matrix was updating the stage to facilitate the globalists. Unlike other false flag events throughout history however, Nine-One-One happened in a time of technology benefiting the global media. The global media, being controlled by the same people that perpetrated the crimes, provided the globalist with an unprecedented opportunity to reach the minds of Americans and the world in a realtime televised ritualistic mass murder. Murder, being one of the ways the globalist maintain control over Americans (as needed), the globalists were signaling a change in the Matrix to include tighter control of Americans (the new security, police state.) Tighter control that would require cooperation from Americans to achieve. American cooperation was secured using hypnosis and trauma based mind control. The events of Nine-One-One were orchestrated to move the globalists to the next level of their long term plan.
ONE WORLD, ONE STAGE
For decades awake Americans and others have put together the pieces forming a story that told of the controllers, the globalists, destroying the world's social structures, reducing populations and reforming a unified global society taking the form of communism or some similar socio-political-economic top loaded tyranny. Communism and its collective cousins are pseudo economic and socio-political systems invented by the globalist as tools to manipulate minds into cooperating with their own enslavement.
The globalists, it seems, are not happy controlling nations while raping and robbing the people through deception. The globalists have a higher goal, the goal of ruling the world outright, not through deception but through outright tyranny. Perhaps the globalists tire of ruling by deception, only able to tell their story through predictive programming and the works of obscure minions given tidbits of inside information.
Regardless of the reasons, the globalists are moving quickly now to complete their prison planet. In fact it is critical to finish their handy work now because many people are waking up, unplugging and noticing the real world. It's also critical to finish now because the universe is waking up and the sun and the earth are responding with changes of their own.
You see the globalists know Americans, armed with the vestiges of a philosophy supporting right to life, a philosophy that supports individuals living their own life as a means to their own ends, still have an opportunity to change the script.
Americans are also armed with the necessary weapons to take back control of the nation by throwing out the Federists and arresting globalists where ever they may be.
But the clock is running, tick tock, the next change in the Matrix is coming and this time Americans will be traumatized into cooperating with their own disarming.
Nine-Eleven AS A STAGED MEGA RITUAL AND THE FINAL AMERICAN STAGED EVENT 
I mentioned above that our controllers have an obsessive interest in esoteric occulted symbols, numerology, astrology and religious ritual.
Take a stroll around Washington DC looking for occult and ancient religious symbols. See if you can spot Egyptian or Roman gods. Have a good look at the Statue of Liberty, see if you can identify lady Liberty as someone else from ancient occult history. Investigations into the world of Freemasonry and Babylonian cults will expose many overlaps. For fun explore the beginnings of the Mormon religion or the church of Scientology. The world of religion is comprised of symbols and secrets and is an ancient system of mind control. And, as I have said, mind control is even easier when you own the media, schools, churches, energy, money and military.
I have recently read a book by S.K. Bain entitled "The Most Dangerous Book on Earth: 9/11 as a mass ritual"
This is one of the best resources for understanding the occult and esoteric meanings and rituals associated with Nine-One-One. According to the author the entire hideous event was scripted with great attention to detail using ancient religions and occult symbols, numerology, deity worship and incantation.
In this well researched analysis of the scripting of Nine-Eleven, Bain describes the event as having an opening ceremony followed by a declaration asserting the ritual was to worship a deity, followed by incantation identifying the deity and then worship including sacrifices, and finally closing ceremonies. A modern MEGA occult ritual played out, including mocking those that could not see or recognize the event, while doing a hat tip to Aleister Crowley – all done in plain view and transmitted via television around the world.
The point of bringing this to your attention is that Bain makes a good argument, and so do many others in his documented research and elsewhere, that Nine-One-One was planned many decades, if not centuries in advance. Information detailing the extent to which the controllers scripted Nine-Eleven is startling even to those of us that have been awake for some time. For many readers this may be hard to accept, but I recommend you clear your mind of accepted beliefs and begin your research.
The second part of the book is what Bain calls 'Predictive Fiction' wherein, using information learned by decoding the events of Nine-One-One and noting the props placed on the stage of life in advance to be ready for use in the MEGA ritual (recent ritualistic mass murders), he makes a prediction that the MEGA ritual which had its origins long before Nine-One-One, and included the deaths of over 3000 people on September 11, 2001, has not ended.
Using the literary tool of telling a story after the events of the story happened (in advance of the actual events in reality) , Bain follows his line reasoning from investigating Nine-One-One and leads us to the conclusion the next step and the conclusion of the events witnessed on September 11, 2001 will culminate in the nuclear destruction of downtown Phoenix, Arizona on the religiously and astrologically significant date of December 25, 2012. The MEGA ritual concluding as the beginning of the NEW GREAT AGE begins with the start of the next 26,000 year solar cycle around the milky way.
Conclusions and implications drawn in the book are shocking and follow the facts, as they are known to date, including information on recent and related ritualist public sacrifices in Arizona, allegedly by lone gunman Jared Lee Loughner, and Colorado, the 'Batman' shooting, allegedly done by lone gunman James Holmes; sacrifices that foreshadow the Christmas day event.
KNOCK KNOCK
Events in the world and especially in America are telegraphing something big is coming soon. This all leading up to something and If I'm correct, the clues are already in place, props and propaganda are taking shape in the Matrix.
For Americans, like Neo in the Matrix, it means waking up and reading the writing on the screen. We have an exponentially rising police state growing before our eyes. Men, machines and assets are being deployed at rate greater than population growth. Military is actively participating in police duties, cities are seeing full scale military drills including jets and helicopters. The Federists are buying hollow point ammunition in quantities not required except for all out war; ammunition that has no other purpose than killing. The Federists are purchasing MREs, coffins, death certificates, building prison camps and announcing kill lists. The Federists by decree have announced they can do roundups of Americans for detention and disappearing with no due process. The Federists are arming drug gangs in Mexico and America and have opened the border with Mexico for entry by hoards of non American Citizens for purposes of causing stress, chaos and racial strife.
Further indications that something big is planned is the outrageous growth of the TSA. The Transportation Safety Agency was originally part of the department of Transportation, but it did not stay there long. In 2003 the TSA was assimilated by the Soviet sounding (legitimizing and acknowledging the communist system the globalists installed in Russian after 1917) Department of Homeland Security. The TSA originally were badge-less bag checking public servants assigned as ancillary security helpers in airport baggage areas. But after 2003, the agency took on its primary role which has nothing to do with the safety of transportation. The TSA is clearly only a Tyranny Support Asset and is part of security theatre creating false fear in the minds of travelers and traumatizing travelers by groping, sexual assault, theft and verbal abuse. Clearly we are being conditioned to associate fear and pain with travel, and unqualified thugs in blue shirts and tin badges.
As far as security is concerned, the TSA obviously is not charged with or concerned about traveling security. The TSA has no skin in the game of transportation (unlike the airlines or airports) and deliberately employes some of the poorest personality types from the lowest walks of life. Theft, sexual assault and more by TSA agents is rampant, begging the question, how could you trust a TSA agent to protect you from outside criminals when crime is rampant on the inside.
The TSA is a cancer on commercial air travel ( and now moving into the train stations, bus stations, malls and highways) and using them for security is akin to Rolling Stones management hiring the Hells Angels to provide security for the concert in Altamont Park in the winter of 1969. According to Wikipedia "Although peaceful at first, over the course of the day, the mood of both the crowd and the Angels became progressively agitated, intoxicated and violent."
The point is there have been no terrorists, except those admittedly created and deployed by the FBI and intelligence agencies but yet the number of TSA employees has tripled since 2003, from over 16000 to now over 50000.
This agency has never thwarted a single terror plot, never captured a single terrorist and the very best you can say is the airline industry is still surviving despite the TSA. Therefore one might ask is there more to the TSA story than transportation security theatre. Perhaps the TSA is being grown to fill the responsibility of supporting a full on tyranny, where the real function will be to support the tyranny via arrests, documents processing, impeding travel, searching for valuables (under currency controls) and disappearing marked targets.
Perhaps the TSA is being grown for some new event, forming on the stage now, but out of site. After all, at this growth rate the TSA will soon be the size of a small army – yet with nothing productive to do.
What is it going to take to get past the trauma based mind control of Nine-One-One so that Americans can start resisting now. When the weapons are confiscated, America's chances of stopping the tyranny will have been confiscated as well. 
WHAT CAN BE DONE
If we had been able to read something like "The Most Dangerous Book in the World" sometime prior to Nine-One-One, we could have started watching and looking for signs the script writers were placing props and propaganda into the 'Matrix' and, possibly, in pointing out the props and propaganda, we may have been able to stop the event. We might have seen the World Trade centers being prepared for destruction. We may have noticed the outrageous number of financial bets placed against business and airlines involved with the event (insider trading). Flight control center operators and military strategists may have notice the unusual number of exact scenario 'drills' planned for that particular day.
Fortunately we can read the book now, and, even if nothing happens on Christmas day (hopefully), we can all start watching and paying more attention to the stage and the changes in the Matrix.
For example, remembering who the Federists are and globalists control the media, then everything presented in the media must be constantly analyzed for propaganda.
For example the religious media is telling Americans that Iran is a boogie man and Israel must be protected at all costs. This mantra is in support of a propaganda campaign to attack Iran going back more than 10 years. But now a ripple has hit the pond in support of this narrative from a slightly different angle, now we are beginning to hear about possible 'sleeper cells' of Iranians or Hezbollah or other Iran related groups hiding out in America. We are also being told by some alternative media that Iranian or Hezbollah troops may be massing in Mexico or Belize preparing to infiltrate the country via the unprotected borders.
This narrative could be used as a tool for assigning blame after a nuclear attack on an American city via some technology, which by the way could only be created and built by the Federists or globalists, such as a portable nuclear bombs. For the record Iran/Persia has a history of self reliance and non aggression; a nation, ironically, being encircled by warring, aggressive nations claiming Iran is destabilizing the peace in the region. See my article "Iranian Hostage Crisis: Reloaded" for more information regarding Iran.
Globalist misinformation and disinformation usually carries a signature of being opposite of the truth. Remember the Federists tell Americans that al-Qaeda is responsible for Nine-One-One, but Federists in league with NATO and United Nations fund and deploy al-Qaeda to destabilize Middle Eastern and Arab nations.
If an American city is being targeted for a nuclear bomb, there may be other props noticeable by Americans. Now is the time to start looking and reporting.
I recommend buying and reading "The Most Dangerous Book in the World" and do so before Christmas. The in-your-face mockery of the globalists is over the top and the time has come to wake up and route them out.
Bain wonders how the names of Obama and Osama and Saddam Hussein and Barack Hussein can all be so similar. In the name Osama Bin Laden is the name Obama or the name Biden. Inside the name Barack Hussein Obama is the sentence "Amen Ra is Back BHO USA" Is this just an accident ? I firmly believe that accidents are very unlikely in this highly controlled Matrix.
As individuals we do not have to consent to tyranny and rule by occult loving psychopaths. Passive aggression and deliberate peaceful non compliance is possible by anyone ready and willing to work for the end of this madness. The time is now:
Tell People,
• Get vocal at local and state government events and meetings,
• Get your money out of the globalists banks and keep your savings in physical silver and gold and long term food and guns and ammo,
• Move to states that seem to be organizing against this tyranny,
• Withhold consent and support for the system by getting off the grid,
• Support the second amendment, learn to shoot, talk about guns, support second amendment organizations,
• Turn off the TV,
• Stop buying products from globalists companies when possible,
• Grow a garden,
• Oppose agenda 21 any chance you get,
• Create new products and service in the privacy protection market,
• Create new products and services in the home off the grid market,
• If you are teacher, reverse indoctrinate your students, help wake them up,
• If you work for the "defense" industry, find other work,
• If you are a cop or in the military check out Oath Keepers,
• Stop supporting the war on drugs,
• Oppose the militarization of your Sheriff and Police departments,
• Film and post to youtube signs of tyranny,
• Stop answering questions, when silence will do,
• Learn about the law and your rights,
• Exercise and eat right,
• Learn a martial art,
• Stop supporting the system, do not seek help from the state or government, learn to solve your own problems, including domestic problems,
• Get off prescription medicine, alternative medicine has remedy for nearly everything,
• Support food markets selling organic,
• Ask your local food stores to stock organic,
• Oppose Fluoride in your water, even if no one listens,
• Learn more about yourself and your own power.
Stand up now before gun confiscation leads to a false flag civil war.
Source:  Jack Mullen | RedIceCreations.com
Most peoples that resist the power politics of Zionism condemn aggressive actions of the outlaw Israeli state regularly. Yet most of the western democracies that are under the control of Talmud media and Khazar finance continue to defend the apartheid policies that are designed to purge any prospect of Palestinian, right to return, to the land of their forced removal. No matter what your politics are regarding the Middle East, the indisputable fact exists that the Greater Israel design for expanded territory is a core impediment of this interminable conflict.
From the beginning, Zionists advocated a "Jewish State" not just in Palestine, but also in Jordan, southern Lebanon, and the Golan Heights as well. In 1918 Ben-Gurion described the future "Jewish state's" frontiers in details as follows:
"to the north, the Litani river [in southern Lebanon], to the northeast, the Wadi 'Owja, twenty miles south of Damascus; the southern border will be mobile and pushed into Sinai at least up to Wadi al-'Arish; and to the east, the Syrian Desert, including the furthest edge of Transjordan" (Expulsion Of The Palestinians, p. 87) Click here to view the "Greater Israel" map that was submitted by the Zionists to the peace conference after WWI.
The self-justification by Zionists for enhancing strategic security enlargement of territory never deals with the central issues. The entire concept of a homogeneous "Jewish State" under a secular Zionist regime, mocks the notion of religious faithfulness to the teaching in the Torah. The meaning of a "Greater Israel" has little to do with devotion of Jehovah.
In order to comprehend this distinction read the essay Zionism, Racism and anti-Semitism.
"Zionism is a political movement. To equate motives of politics with a religious belief is specious. Judaism is NOT equivalent to Zionism. The distinction is imperative if a correct understanding of relationships and actions, in the Middle East, are to be appreciated. A Zionist often professes their acceptance of the tenants of the Jewish faith, but a 'true believer' in the supremacy and survivability of a political state, can and frequently are non-believers to Judaism and the Torah. This is crucial, because it is not a condition of political allegiance to share faith in Yahweh."
Review the deplorable history of Israeli territorial designs. The Maps Tell The Story account that displays the chart of expansionist settlements.
"Starting with the United Nations Partition Plan, 1947, the original borders for the state of Israel are quite limited. This index illustrates the significant border changes after the 1949 War of Independence, after the six day war of 1967, than after the 1982 return of Sinai and the invasion of Lebanon, and finally after Palestinian autonomy and Lebanon withdrawal in 2000.

But the most notable map is the one that identifies the Israeli settlements on the West Bank. A careful analysis of the locations and the areas that are an effective no man's land, demonstrates the consequences of the expanded settlements. It is hard to believe that Israel will ever agree to remove their own population from these areas."
Most discussions about Israel originate under the premise that the government in Tel Aviv has an immutable right to defend itself. Thus far, the plight of the displaced Palestinians is almost exclusively relegated to condemnation for inflicting savage terrorism. At the same time the enormous military technological offensive strike capabilities of the Israeli Defend Force undertakes carnage with a disproportionate vengeance that unmasks the true vicious hatred of non-Zionists. Conferring moral authority for IDF airstrikes equates to the same erroneous rationale and hypocrisy that NeoCon proponents shower over the U.S. bombing of al-Qaeda enclaves.
The tentative cease-fire in the latest rupture of mutual hostilities just plays into the hands of the incremental Zionist expansionists. The overriding concern in Israel is not that their Iron Dome missile system can destroy incoming Hamas Fajr-5 projectiles. Their goal is to seek cover for their intended preemptive strike on Iranian nuclear facilities.
RT quotes from the account; Iran confirms military aid to Hamas, sending long-range missile technology.
"Iranian lawmaker Ali Larijani said on Wednesday his country was "proud" to defend the people of Palestine and Hamas according to remarks published on the Islamic Republic's parliamentary website.

Larijani stressed the assistance had been both "financial and military." On Tuesday, Larijani lauded the Palestinian missile capability, saying it had given them a "strategic [source] of power."
Now the world press will decry Iran for their acknowledged support of Hamas. However, the Washington Post article back in 2006, Hamas Sweeps Palestinian Elections, Complicating Peace Efforts in Mideast, grudgingly reports:
"The radical Islamic movement Hamas won a large majority in the new Palestinian parliament, according to official election results announced Thursday, trouncing the governing Fatah party in a contest that could dramatically reshape the Palestinians' relations with Israel and the rest of the world.

In Wednesday's voting, Hamas claimed 76 of the 132 parliamentary seats, giving the party at war with Israel the right to form the next cabinet under the Palestinian Authority's president, Mahmoud Abbas, the leader of Fatah."
When did you last read that the radical IDF using American aircraft and smart bombs struck a sovereign country's industrial facilities and slaughtered civilians as collateral damage? Full Spectrum Dominance, in the pursuit of eliminating any resistance to the New World Order is justified in the Zionist press. Simply put, the NWO is composed of many rabid Zionists that give a new meaning to the term extremist. However, in the bigger scheme of things it is No Surprise – Terrorism Is Winning.
"The reason that Terrorism is seen as the ultimate foe of governments is the nature of the warfare. Let no one mistake the stakes. Those who are willing to die to deliver chaos and turmoil are dangerous. But, more than that, they are unstoppable. Such an assessment may be unpopular but consider the facts. Regimes and prosperous societies have much to lose. Alienated and hostile adversaries that place little value on life, are no match for standing armed forces. By denying the temperament of the attacker and responding with overwhelming force, the inevitable futility of the end result; is guaranteed. Even tactics of aggressive proactive search and destroy strategy, fails to address or eradicate the underlying conflict. The battle may be won short term, but the war just continues."
In spite of using the term terrorism, the reaction to systemic aggression often takes a violent response. This is the ultimate break with faith, principles and teachings of all the three eminent monotheistic religions. Warfare over territory is as old as history. Destabilizing Egypt, Libya and now Syria is part of a larger master tactic to isolate Iran as the only remaining obstacle to the greater State of Israel.
U.S. forces under the discredited pretext of weapons of mass destruction falsehoods dismantled Iraq. Co-opting Gaza so that Iran can be leveled from the air means that the jointly developed Israeli/American Iron Dome batteries can be deployed for incoming Iranian missiles after a sneak attack strike.
The article Hamas, Israel and the United States sums up the dangers of American involvement into a blood feud. Dominance of the region and impoverishment of the oil poor inhabitants drive the displacement of Palestinians into ghettos of expedient smart weapon annihilation.
"A regional dispute over land that was stolen with the blessing of Western Democracies is and always has been the nucleus of the eventual holocaust. What Americans are so unwilling to accept is that our own country has no duty or moral imperative to arbitrate between eternal enemies. It is a local conflict that can only destroy our own land by intervening. Making matters much worse are foreign policies that the United States acts as a neutral broker for peace."
Just who is the rogue state in the Middle East? Israel is no ally. The political reality of domestic politics is hard pressed to poke the Jewish lobby in the eye. Nonetheless, attacking Iran in a joint operation with the IDF is pure madness. The old axis of evil rhetoric has deplorable consequences, when applied with JDAM-equipped bombs guided by a global positioning satellite system.
Hamas does not have clean hands, but when will the American public come to grips with the real reasons for the destruction of our own nation? The Western Democracies capitulated to the Zionists in the theft of Palestinian land. Khazar imposters are not Semite descendants of Abraham. Their own ruling class dupes sincere tribal Jews. Zionism puts them at risk. The "Greater Israel" expansionism is an impediment to any negotiated peace with justice.How much more blood needs to be shed to admit the obvious? Christian-Zionists bear a heavy responsibility in fostering the Likudnik mindset. Without a moral treatment of all peoples, not all the military weapons on the planet will ever impose peace. The Arab dynasties hardly champion the Palestinian cause. When desperation becomes genetically acceptable, the entire world loses its humanity. In order to eradicate unremitting bombing, the globe needs to face up to real rogue terrorism.
The heavy loaded cargo boats, passenger liners, cruise ships and plentiful ferries packed with tourists steam by the Maiden Tower rising from the black rock amid lucid waters; they gingerly make their way past the mountain-like mosques on the mainland into the Bosporus, this huge God-made river running between the Med and the Black Sea. The City, one of the greatest Capitals of Man of all time, has straddled Europe and Asia since the days of the Roman Emperor Constantine, who established this New Rome. It was the biggest city on earth a millennium ago, and it is still vast. Fifteen million people live in the City, twenty million visit it annually. Its greatness explains a strange vision of the heretic Russian historian Anatol Fomenko who claimed that Jerusalem, Rome, Babylon, Moscow and London are but misplaced images of this city, the original Empire.
Despite its size and history, the city is alert and vibrant in a peaceful, even demure way. It does not feel crowded – apart from the hotspots. The streets are clean, the greenery is neatly trimmed, the ugly street flea markets of recent years are gone; old buildings have been given a facelift, crumbling palaces have been repaired at no cost spared. The Bosporus has been cleaned up too, and sewage no longer flows into it – for the first time ever. Modern freeways encircle and cross its suburbs but do not intrude into the historical precincts.
The former seat of the Caliphate and home to an Islamist government, the City found a good balance between faith and modernity. Sufi schools are plentiful and learned men discuss theology, comparing Aquinas and Palamas with Ibn Arabi and Ibn Tufail. Muezzins' harmonious calls to prayer do not disturb café customers sipping their drinks. Girls are free to wear headscarves or miniskirts and they do exercise both options.
More importantly, the government does not subscribe to unrestricted market economics and has thereby avoided the neoliberal excesses of its neighbours. There are many municipally-owned cafés, especially in the parks, where prices are quite affordable, even in the luxurious old imperial palaces, where no entrance fees are charged. They do not serve alcohol, and attract families with children. Downtown, the rents are kept low to allow bookshops to survive and flourish. The global squeeze is as apparent in Turkey as everywhere else, but here poor people receive tangible subsidies in kind, while the salaried classes are given generous loans to tide them over. Prices are kept under control, avoiding rapid increases; conspicuous consumption is discouraged. The rich are rich, and the poor are poor, but rich are not ostentatious and the poor are not desperate.
People are modest, helpful and inoffensive;- a far cry from the Turkey of theMidnight Express. They are rather honest and straightforward, and do not make a show of themselves. They are not very artistic, and their cuisine is comparable to the British one. If it is not a great compliment, it was not meant to be: they were Empire builders, and such nations usually are no great gourmands. The French ate too well, and their women were too appealing for their empire to last.
Istanbul is not the only oasis of prosperity in the country, as is often the case with capital cities outside of Europe. Now I have travelled the breadth of Turkey and all over I've witnessed the modernisation of the last ten years. Roads are smooth, houses are in good repair, markets are full, people are well-dressed, the cities are neither drab nor garish but quite up-to-date. This is a great achievement of the moderate Islamist government led by Prime Minister Erdogan.
Turkey is no longer the basket case it was in 1960s and 1970s. I've met a few Turkish immigrants in Germany, who said that their fathers made a hasty decision when they left home for Europe forty years ago. They would like to go back to Turkey, though it would not be easy to find work and to reconnect to a new environment, for they were reared in Western Europe. Anyway, there is no mass emigration out of Turkey; the nightmare of millions of Turks moving to Europe has dissipated. They would rather stay at home, for the Turks are very proud of their own country.
Erdogan is popular with the people. He is a real charismatic, people tell me. He defeated his adversaries, and his position at the helm is undisputed. And for good reasons: Turkey is doing nicely, thank you. The country prospers, incomes have doubled, and the GNP tripled (a very remarkable one trillion euro GNP is within reach). The Erdogan government can really congratulate itself on the fine job they've done in Turkey.
II
The Turks have overcome the huge trauma of the Transfer, as the mass deportations and expulsions of 1920s are called. Though the Greeks of the City weren't expelled, almost all other Christian communities of Turkey were sent to Greece, while the Muslims of Greece were deported to Turkey: a violent and painful divorce of two closely knit communities. As in many a divorce, the separated partners – the clever wife and the strong husband – spent years adjusting to their new position.
The Greeks suffered the most. They were spread all over the Empire and occupied central positions. Some Turkish historians prefer to call the Ottoman rule "The Turko-Greek Empire". The Greeks were Great Viziers of the Empire; they ruled and managed the Med from Alexandria to Damascus to Istanbul; they traded and wrote poems in the days of the Second Rome just as they did under the sceptre of First Rome. Suddenly, they were corralled into a small and parochial Greece where they hardly could find their place. The Alexandrian poet Kavafy strongly felt that little Athens could never substitute for the loss of the great seaboard cities. Today's Greek crisis can't be understood without this bit of history.
The Turks suffered as well. Traditionally, they had served in the military and worked the soil; without the Greeks, trades and crafts declined, militarisation went unchecked, food shortages were common, life was drab and brutish, as if their culture had sailed overseas with the Greeks. Only now, many years later, the Turks have managed to recover, and recover they did.
Erdogan's government is good to the Christian communities. The previous Kemalist governments of the Turkish Republic were viciously anti-Christian, even more than they were nationalistic and anti-Islamic. They deported even Caramanli Turks, for they were Christians. They forbade the remaining churches to be repaired; the priests could not be brought from abroad. Now, church properties are being restored, funds returned, priests are allowed to come, stay and acquire Turkish citizenship.
The Islamist government allowed the Greeks and Armenians who had left the country after the riots and pogroms of 1950s to come back, reclaim their property and settle again in Turkey. Previously unimaginable, an idea of a union with Greece began to be pondered again.
The Turks are not the only suitors of the beautiful Hellas: the Russians also would like to take her, their sister-in-Christ, ditched by the West, into the embrace of their Eurasian Union. So declared Sergey Glaziev, the coordinator of the union (including now Belarus, Russia and Kazakhstan) at the recent Rhodes Forum, a top-crème gathering of Russians, Asians and dissident Westerners. The offers are not mutually exclusive: one can imagine their ménage-a-trois, a new Byzantine Empire Resurrected. The moderately Muslim and Turkic Kazakhstan is an old friend to Turkey, so such an alliance is plausible. Another turn of the screw by Frau Merkel, and it is may happen.
In Greece, re-evaluation of the Empire is also going on. There are voices calling for the reassessment of the past, for recognition of the advantages to both sides, and for proceeding cautiously. Dimitri Kitsikis is one such voice, and I've heard more of them while visiting Athens. The interaction is not limited to practicalities, either. Last Sunday, I went to a modest Greek Church in a suburb of Istanbul, and there I met a young Greek priest, a recent arrival from Greece who had already mastered Turkish, and even more surprisingly, I met a few ethnic Turks who had embraced Orthodox Christianity and were attending the service. The participants benevolently and indulgently smiled while they recited the Lord's Prayer in Turkish.
III
And all these wonderful achievements they intend to destroy, squander and let go down the drain. I refer to the Turkish government's plotting against Syria. It would be bad enough if they were to send their legions to Damascus. It would be wrong but comprehensible, for Damascus and Aleppo are as much parts of their past for Turks, as Kiev and Riga are for Russians, or Vienna and Tirol are for Germans. But what they are doing instead is much worse.
The Turks are about to replay the Afghan scenario as it was played by Pakistan: they bring together from all over the Muslim world the most fanatical militants, supply them with arms, and infiltrate them over the Syrian border under their artillery cover.
There are reports that the jihadists of Al-Qaeda and the Taliban were flownfrom North Waziristan in Pakistan to the Turkish border with Syria, for instance on a Turkish Air Airbus flight No. 709 on September 10, under auspices of the Turkish intelligence agency, via the Karachi-Istanbul flight route. The
93 militants were originally from Saudi Arabia, Kuwait, Yemen, Pakistan, Afghanistan and included a group of Arabs residing in Waziristan. This report could not be independently checked, but there are many reports of foreign jihadists who made their way to Syria via Turkey.
This is exactly what Pakistan did under the US guidance in 1980s. Then, Afghanistan had a secular government, women worked as teachers, universities were full, factories were being built, and opium was unheard of; Pakistan was in a good shape, too. A few years later, Afghanistan imploded in civil war (under the guise of "fighting the godless communists"), and Pakistan followed it to perdition. After undoing Afghanistan, the warriors began to terrorise their Pakistani host. Now Pakistan is one of the most miserable countries in the world. It was eaten up by the disease they nourished and exported, by mindless jihadism.
This ideological disease is akin to biological warfare. You may hope your neighbours will be infected with the pest you have delivered, but you may be sure your population will eventually get it, too. For this reason nobody has tried biological warfare on a large scale. It is suicidal. And that is the equivalent of what the Turkish government is doing now. They bring jihadists to Syria, but it is only a question of time when the jihadists will turn on Turkey.
I respect the Islamic feelings of the Turks. I see them in the mosques; I know their Sufi orders and their mass appeal. So many Turks gather in Konya, where they venerate the memory of the great Sufi poet Rumi, who is loved from California to Teheran. The Islamic government was a real success in Turkey. So why do they now want to follow Pakistan's way to perdition?
An essay written by Ahmet Davutoglu, Foreign Minister and chief promoter of Turkish intervention in Syria, answers this question. He wrote it as a university student, over 20 years ago, and an acquaintance who studied with him, remembers it well. We can and we should make a deal with Satan if necessary, the young Davutoglu had written.
In his view, Sunni Islam of the type  practiced in the Empire under Sultan Selim the Grim and his successors (that postulates an unbridgeable schism between the Creator and Creation) is not just the only true faith; it is an iron-clad guarantee of good results. A state guided by it can't do wrong. Even evil deeds by such a state will be turned by the Almighty into good results. For this reason, he wrote, the Empire managed to survive and rule for 600 years.
That's why, wrote the young Davutoglu, Islamist Turkey may build alliances with powerful partners, and it is irrelevant whether these powers are bad or good. This means, that we may even make a Faustian pact with the devil himself, for we shall triumph by our beliefs and with the Almighty's help. America is a Satan for Davutoglu, as it is for many Muslims, but armed with his dubious philosophy, he is prepared to join with Satan for the further glory of Turkey.
Could this very unorthodox reading of Islam be influenced by his contacts with Yezidis, whose attitude to Devil is at best ambiguous, or, more probably, with the Dönmeh, followers of Sabbatai Zevi who believed that everything is permitted, and a sin is the best way to salvation? People of more orthodox beliefs know that whoever deals with Satan will eventually come to grief, for no spoon is long enough to sup with him.
Then came the moment when his dubious theology was transformed into dubious policy. The US asked him to bring militants to Syria, and so he did.
My Turkish friends stressed that Erdogan personally does not subscribe to these theological beliefs, but is guided by practical considerations. The question of an alliance with the US and NATO caused a rift between Erdogan and his erstwhile teacher Necmettin Erbakan. Erbakan was against it; Erdogan considered it as a given. Erdogan carried a day; a majority of Erbakan's followers went with Erdogan, formed the reformist AK Party, came to power ten years ago and have been generally successful. The minority formed the hardline (or even 'revolutionary Islamist') Saadet Party, which was not successful at the polls, though it retains a certain influence.
Unexpectedly for an outsider, it is the hardline Saadet Party that strongly objects to the Syrian adventure of Erdogan and Davutoglu. Though the intervention in Syria is often described as "Islamic help to slaughtered Muslims", the Saadet leaders perceive it as an American plot against Syria and Turkey. The Saadet led strong demonstrations against the intervention.
Perhaps this is the right time for Prime Minister Erdogan to listen to his old comrades, disavow the devil-supping policy regarding Syria, and to stop the war machine before it destroys all of the achievements he can so rightly be proud of. The dream of bringing Syria into a closer union with Turkey still can be realised, but not through unleashing the dogs of war.