Maverick Republican, Donald Trump, has been under intense pressure from the GOP establishment for his off-the-cuff remark about Senator John McCain (R-Arizona). In a televised interview, Trump said, "[John McCain] is a hero because he was captured. I like people who weren't captured."
Predictably, establishment Republicans immediately called Trump just about every dirty name in the book. Lindsey Graham called him a "jackass." Rick Perry said the comment made him "unfit" to be President. Mitt Romney said Trump "shot himself down." (Not hardly! Trump is the clear front runner of all the GOP presidential candidates in most polls.) But, clearly, the Republican establishment is frustrated with Trump's popularity–and for good reason.
Donald Trump is scorching the GOP for its support of illegal immigration, and he is scorching it for its support of incessant foreign wars. Trump said, "We spent $2 trillion in Iraq, $2 trillion. We lost thousands of lives, thousands in Iraq. We have wounded soldiers all over the place, thousands and thousands of wounded soldiers. And we have nothing. We can't even go there. We have nothing. And every time we give Iraq equipment, the first time a bullet goes off in the air, they leave it." Amen!
See the report here:
http://www.ontheissues.org/2016/Donald_Trump_War_+_Peace.htm
And he is scorching them BIG TIME by calling into question the GOP's 2008 standard bearer. Specifically, he has dared to tell the truth about the miserable record of John McCain's treatment of America's veterans.
See this report:
http://www.miaminewtimes.com/news/john-mccain-vets-worst-enemy-6331635
In refusing to apologize for his remarks about Senator McCain, Trump rightly said, "The reality is that John McCain the politician has made America less safe, sent our brave soldiers into wrong-headed foreign adventures, covered up for President Obama with the VA scandal and has spent most of his time in the Senate pushing amnesty. He would rather protect the Iraqi border than Arizona's."
See the report here:
http://www.prisonplanet.com/trump-fights-back-i-dont-need-to-be-lectured-i-said-nothing-wrong.html
While most everyone has criticized the second part of Trump's statement ("I like people who weren't captured"), hardly anyone has dared to broach the first part of the statement: "[John McCain] is a hero because he was captured." That statement is an absolute fact.
John McCain rose to become one of America's most powerful senators and became the Republican Party's nominee for President in 2008 mostly on his Prisoner of War (POW) status. Absent his POW history, McCain would no doubt have lived his entire life in relative obscurity. It usually takes more than simply being a veteran or being the son of a Navy admiral or even being a POW to make one obtain famous hero status. How many other POWs do you know that have achieved McCain's political power and influence?
Alabama's Jeremiah Denton was a POW who truly endured intense torture at the hands of the enemy and who became one of our finest U.S. senators. And there was never the first hint of dishonorable conduct or scandal or accusations that Denton used his war record for personal profit. I had the privilege of meeting Senator Denton a couple of times, and the thing that struck me most about the man was his deep and genuine humility. The same cannot be said of John McCain.
John McCain's POW record has been shrouded in controversy from the very beginning. Many independent journalists and military veterans have accused McCain of being America's version of "Tokyo Rose." They offer convincing evidence (or at least credible postulations) that McCain was NEVER tortured, that he received special treatment by his captors, and that he actually willingly participated in anti-America propaganda, in much the same way that Tokyo Rose did in the Pacific during World War II.
One Vietnam veteran who was publicly critical of John McCain was my friend Jack McLamb. McLamb served nine years in secret operations in Cambodia and other nations before going on to become one of the most highly decorated police officers in Phoenix, Arizona history, winning Police Officer of the Year twice before taking a role as a hostage negotiator for the FBI.
McLamb said of McCain, "I know a lot of Vietnam veterans and a few POW's and all the POW's that I've talked to over the years say that John McCain is a lying skunk.
"He never was tortured–they were there in the camp with him and then when he came in….he immediately started spilling his guts about everything because he didn't want to get tortured," said McLamb, contradicting the official story that McCain only offered his name, rank, serial number, and date of birth.
"The Vietnamese Communists called him the Songbird, that's his code name, Songbird McCain, because he just came into the camp singing and telling them everything they wanted to know."
McLamb also said, "The POW's said that McCain made 32 propaganda videos for the communist North Vietnamese in which he denounced America for what they were doing in Vietnam.
"They have these sealed now, our government has these sealed, we can't get to it, they have it classified. In truth the POW's hate John McCain."
See the report here:
http://www.prisonplanet.com/articles/february2008/020708_never_tortured.htm
There are many similar reports about John McCain. I suspect that Donald Trump is familiar with these reports. Here are a few of them:
https://www.lewrockwell.com/2015/07/no_author/sen-tokyo-rose-r-az/
http://www.counterpunch.org/2008/06/13/mcnasty/
http://www.unz.com/article/mccain-and-the-pow-cover-up/
Reports note that former American POWs such as Col. Ted Guy and Gordon "Swede" Larson, who were held in the same communist prison as McCain, have gone on record saying that they are very skeptical about McCain's claims of torture.
See this report:
https://hope2012.wordpress.com/2008/07/26/songbird-mccain-the-evidence-in-his-own-words-his-fellow-veterans-and-his-captors/
Another former POW, Philip Butler, a man who was also imprisoned with McCain, is more sympathetic to the man, saying that he had probably been tortured early on in his captivity and made no reference to McCain's alleged anti-America propaganda charges–but was emphatic that McCain was unqualified to be President. Butler firmly said that he would NOT vote for McCain because McCain was a hot-tempered man who had become a Bush-like warmonger and who had used his POW status for personal and political gain. Remember, this is from a fellow POW who actually likes McCain.
See the report here:
http://www.alternet.org/story/95825/i_spent_years_as_a_pow_with_john_mccain%2C_and_his_finger_should_not_be_near_the_red_button
Regardless of McCain's real war record (the U.S. government has sealed the record, so we will likely never know the truth about the matter), it is a fact that, as one of the most powerful senators in Washington, D.C., John McCain has done little to assist America's veterans. In fact, McCain is commonly regarded as being one of the strongest opponents to the investigation and rescue of POWs left behind in Indochina following the Vietnam War.
While a member of the Senate Select Committee on POW/MIA Affairs (1991-1993), McCain referred to POW/MIA family members and activists as "whiners," "vultures," and "the lunatic fringe." Although the committee concluded that there were indeed American POWs left behind in Indochina, McCain voted to normalize relations with Vietnam without any accountability for America's missing servicemen. In so doing, McCain ignored a letter written by fellow POW Captain Eugene "Red" McDaniel and co-signed by 50 former POWs which asked him to not support normalized relations with Vietnam until the POW issue had been resolved.
In 1996, McCain opposed the Missing Service Personnel Act (MSPA) as being "unnecessary" and "burdensome." He also helped to amend the MSPA to remove criminal liability, which POW/MIA families knew was a serious blow to obtaining meaningful accountability on behalf their loved ones still languishing in Southeast Asia.
See the report here:
http://www.renewamerica.com/bb/viewtopic.php?f=5&t=7839
And this report:
http://www.vvof.org/mccain_hides.htm
John McCain has spent most of his senatorial career promoting an open border with Mexico, a path to citizenship for illegal aliens, and incessant foreign wars; facilitating the miserable performance of the Department of Veteran's Affairs (VA); and covering up evidence of Americans left behind in Indochina. No wonder so many people have referred to McCain as "The Manchurian Candidate."
Read this report:
http://downwithtyranny.blogspot.com/2014/11/john-mccain-always-and-forever.html
By telling the truth about John McCain, Donald Trump has hit the rawest of nerves within the Washington establishment (and New World Order globalist elite). Without a doubt, John McCain is one of the globalist elite's political darlings. A favored son of globalist puppet-masters such as Henry Kissinger, John McCain has been a water boy for the New World Order from the time he entered politics. Guilty of corruption as one of the infamous "Keating Five," John McCain was given a mere "slap-on-the-wrist" and allowed to continue his pernicious ways.
See the report here:
http://topics.nytimes.com/top/reference/timestopics/subjects/k/keating_five/index.html
And McCain's "war hero" status has made him virtually untouchable–until now.
My mind is far from made up in regards to supporting Donald Trump's presidential candidacy. But, so far, Donald Trump has been willing to courageously confront the Washington establishment in an in-your-face, no-holds-barred manner that we have not seen in a long, long time. And if Trump accomplishes nothing else in his presidential bid except exposing establishment sycophants like John McCain, I, for one, am excited that he has entered the race.
I love Russia's vetoes. Sparse, strong, hard hits, they mark the limits of the Empire's power. They said "No", and Zimbabwe remained at peace, its old maverick Robert Mugabe still alive and kicking and proposing Obama his hand in marriage. They said "No", and Burma could grow at its own pace. They said "No", and Syria… well, Syria still suffers immensely, but it was not destroyed by the Sixth Fleet. All US vetoes are similar, – usually for Israel; Russia's vetoes are fewer and evenly spread. The recent Russian veto (last week) stopped misuse of this terrible cliché "genocide", and this is a good thing. It would be good to ban this word altogether.
'Genocide' is a nasty invention. Just think of it: mankind lived for thousands of years, through raids of Genghis Khan and Crusades, through extermination of Native Americans, slave trade and WWI, happily butchering each other in millions, without being encumbered by the G word. This term was invented (or updated from Jewish traditional thought) by a Raphael Lemkin, a Polish Jewish lawyer, in the wake of Holocaust, in order to stress the difference between murdering Jews and killing lesser breeds. The word is quite meaningless
otherwise.
The best flower of Europe, a million of the youngest and brightest were killed at Verdun – sad, but that's not G. Young and old, women and men were incinerated in millions in the fiery furnaces of Dresden, Hamburg, Tokyo, Hiroshima – sorry, old chum, that's not G. Millions starved to death in the brutal siege of Leningrad – well, you understand by now, that's not G. It goes without saying that killing of five million Vietnamese or a million Iraqis were just "war is hell" business as usual.
In Israel, killing of five Jews by Palestinians has been qualified as G: the poor soldiers were murdered just because they were Jews. But killing of Palestinians by Jews is collateral damage. They were in the wrong place, in the wrong time, bad luck!
If so, why should one bother with G? This term was, and is a chosen weapon of war propaganda. Not surprisingly, Lemkin was a Cold War warrior, and he accused the USSR of multiple genocides: by providing Russian language education to natives of the Baltic states or by serving alcohol in a Muslim republic. No American misdeed would amount to G according to Lemkin, and according to the US reading of the G Convention, unless in an unlikely case of the US agreeing that it is guilty. European states say the US is not a participant to the G convention, for its many caveats amount to non-participation. However, the US speaks of G more often than most participants, usually in order to justify its intervention. The Big G became a mighty stick to unseat rulers and undermine regimes.
The G word is likely to cause more bloodshed, for a sad, rarely stated reason. If a victim of the crime is a nation, a tribe or an ethnic group, so is the criminal. Germans killed Jews, Turks killed Armenians, Hutu killed Tutsi etc. The moment you recognise G, you encourage the G of revenge. As the Jews considered themselves being the victims of G (this is an idea deeply ingrained in the Jewish tradition, though quite foreign to Christian thought) they tried to take revenge by poisoningmillions of Germans. (They failed but never apologised).
Armenians provide another example of people seriously disturbed by G politics. Lemkin used the 1915 atrocities to dissimulate the purely Jewish idea of G, and the Armenians eventually embraced it. As the idea of G took its place in the law of the nations, the Armenian fighters began to seek and extract revenge from Turks – after fifty years at peace. G propaganda produced a terrible fruit in 1990-1992, when tens of thousands of Azeri (deemed "Turks" by their Armenian neighbours) were massacred and exiled "in revenge for the 1915 G". A new generation of Armenians was poisoned by victimhood and revenge feelings, thanks to Lemkin and his followers.
A Genocide is not about past. It is about future. Innocent people will die, and die, and die, whenever this term is applied. Without the term, the Lethe will cover all. A good example is provided by Greeks. They suffered probably more than Armenians during the WWI, but as nobody applied the term G to "their" atrocities, they are not obsessed with revenge and live rather peaceably with their Turkish neighbours.
In Africa the concept of G was applied most vigorously by the Western neo-colonisers. You will not be surprised that no Westerner has ever been tried for G despite impressive results. Millions of chopped off hands and heads, but like in Raymond Chandler's LA, "only darkies are tried." Now Africa prepares to leave the ICC, the main dealer of the G politics. "Despite having received almost 9,000 formal complaints about alleged war crimes in at least 139 countries, the ICC has chosen to indict 36 black Africans in eight African countries." – wrote David Hoille, a leading international lawyer.
No less authority than Christopher Black, the eminent international lawyer, proved beyond a shade of doubt that the familiar story of Ruanda genocide of Tutsi by Hutu was not only false, but had led to terrible revenge massacres of Hutu by Tutsi. And this story was utilised by Samantha Power and the interventionists of her ilk to bomb all over the world.
It is good that the nasty concept of genocide took a hit from the Russian veto. And now we can consider the particular case of Srebrenica.
The last thing I want and shall do it to tire you, my reader, with tedious Balkan stories of who slaughtered whom and where. If you want to know the gruesome details, read Diana Johnstone. I am sure they all tried their beastly best.
There is no reason to single out one party – that is, no good reason. The Yugoslav war, the war fought by Clinton against the Serbs, was a large social experiment: how do you sow discord among brothers (Proverbs, 6) and turn a multi-ethnic state into a warren of quarrelling communities. The result was satisfactory, for Clintons. The biggest US military base in Europe came into existence. A wealthy independent socialist state was broken into many miserable statelets; all of them applied for a place in the EU; Russia has lost its potential foothold on the Balkans.
The politics of genocide were played to its utmost extent in the Balkans, deligitimising one of the sides in the internal conflict. The Slavs were subjected to an international tribunal of total dishonesty and bias. Their leaders died in jail. No accusation of real genocide has ever been proven, but the West's right to judge and decide has been affirmed.
There was a nice extra profit. The West asserted that its will for justice is stronger than its religious solidarity with Christians, right? Now every Muslim should remember that the West will side with Muslims, if they are persecuted, right? Wrong. The Eastern Orthodox Christians (such as Serbs, Russians, Bulgarians, Greeks) do not belong to the Western civilisation. They are as foreign to the Westerners as the Muslims are. Indeed, when the Crusaders fought for the Holy Land, they killed the local Christians, too, saying: "Kill them all and let God sort them out." So there was no hindrance to side with Muslims against Christians as long as they are Eastern Christians, but by sleigh of hand, the Muslims could be tricked into believing in the Western objectivity.
This feature has been used now. The vetoed draft was a clever and mischievous trap. Such drafts rarely get to the stage of a vote, as the powers (P5, the Big Five, or Permanent Members of the UN Security Council, choose the name) usually do not use the unique power of UNSC resolutions for propaganda purposes. Otherwise, they could vex the US with drafts calling for Gaza freedom. Being prudent, P5 avoid such brownie points. Now they did it, anyway. The result was predictable: Russia could not let the Christian Serbs being singled out in the "You are the Villain" competition. This Russian veto has been presented as "Russia is the enemy of Islam", with the explicit intention to send the Daesh beasts down the Russian trail and undermine internal Russian cohesiveness.
Russia is not an enemy of Islam. Muslim steppe riders were the co-founders of Russia, together with Viking warriors, Slav ploughmen, Finn forest dwellers. The Muslim Kazan gave its title to the Russian crown. Tatars and Kazakhs are the mainstay of Russia. Russians proved themselves as benevolent rulers, good advisers, reliable friends to Muslims of Central Asia and Caucasus. They had build schools, educated native engineers, modernised these countries.
However, Russia considers its duty to protect the Eastern Christians. In a way, they inherited this responsibility from the Byzantines. For this reason Russia heavily invested in the Holy Land and in Greece, liberated Bulgaria, Romania, Serbia, Moldova, Armenia, Georgia from the Turkish yoke.
In the terms of realpolitik, this policy has been extremely disappointing. Almost all the "liberated Eastern Christian" states eventually sided with Russia's enemies, while the once-conquered Muslim states remained loyal to Moscow. Muslim Azerbaijan, Tajikistan, Kazakhstan, Kyrgyzstan and once-rebellious Chechnya are friends of Russians; so are Turkey and Iran.
The veto in the UNSC was supposed to protect Serbia from Western pressure, not to poke the Muslims. Remember that during the war, Russia was too weak to interfere and save Yugoslavia. Now Russia made its amends for 1999.
Hopefully, the Muslims will understand the Russian point. After all, the Turks and Azeris understood the Russian position on Armenia. In the recent commemoration of 1915 in Yerevan, Armenia, Putin was the only important guest – his French counterpart M Hollande made a brief appearance and flew away to Baku (to "Azeri Turks", in Armenian parlance). Putin went there soon after an important and fruitful visit to Turkey, after an agreement with Erdogan. Visit to Armenia jeopardised this achievement, but Putin still did not shrink from the trip. Armenia for Russia is like Israel for the US. There is a very important Armenian diaspora in Russia, and the neighbours accept this reality like Israeli Arab neighbours accept the reality and inevitability of American support for Israel.
The Armenians and the Azeri soldiers marched together, one after another, on the Red Square on May 9 this year, approving the Russian position of the mediator and protector in the area. Perhaps it is a liability for Russia, but nobody promised them a rose garden.
ative of Novosibirsk, Siberia, a grandson of a professor of mathematics and a descendant of a Rabbi from Tiberias, Palestine, he studied at the prestigious School of the Academy of Sciences, and read Math and Law at Novosibirsk University. In 1969, he moved to Israel, served as paratrooper in the army and fought in the 1973 war.
After his military service he resumed his study of Law at the Hebrew University of Jerusalem, but abandoned the legal profession in pursuit of a career as a journalist and writer. He got his first taste of journalism with Israel Radio, and later went freelance. His varied assignments included covering Vietnam, Laos and Cambodia in the last stages of the war in South East Asia.
In 1975, Shamir joined the BBC and moved to London. In 1977-79 he wrote for the Israeli daily Maariv and other papers from Japan. While in Tokyo, he wrote Travels with My Son, his first book, and translated a number of Japanese classics.
Email at: info@israelshamir.net
Israel Shamir is a regular columnist for Veracity Voice
As the world explodes in violence, war, riots, and uprisings, it is challenging to step back and examine the bigger picture. With airliners being shot down over the Ukraine, missiles flying between Israel and Gaza, ongoing civil war in Syria, Iraq falling apart as ISIS gains ground, dictatorship crackdown in Egypt, Turkey on the verge of revolution, Iran gaining control of Iraq, Saudi Arabia fomenting violence, Africa dissolving into chaos, South America imploding and sending their children across our purposely porous southern border, Mexico under the control of drug lords, China experiencing a slow motion real estate collapse, Japan experiencing their third decade of Keynesian failure, facing a demographic nightmare scenario while being slowly poisoned by radiation, and Chinese-Japanese relations moving towards World War II levels, it is easy to get lost in the day to day minutia of history in the making.
Why is this happening at this point in history? Why is the average American economically worse off today than they were at the height of the economic crisis in 2009? Why is the Cold War returning with a vengeance? Why is the Federal Reserve still employing emergency monetary policies when we are supposedly five years into a recovery and the stock market has attained record highs? Why do the ECB and European politicians continue to paper over the insolvency of their banks and governments? Why did the U.S. support the ouster of a dictator we supported for decades in Egypt and then support the elevation of a new dictator after we didn't like the policies of the democratically elected president? Why did the U.S. eliminate the leader of Libya and allow the country to descend into anarchy and civil war? Why did the U.S. fund and provoke a revolutionary overthrow of a democratically elected leader in the Ukraine? Why did the U.S. fund and arm Al Qaeda associated rebels in Syria who are now fighting our supposed allies in Iraq? Why has the U.S. been occupying Afghanistan for the last thirteen years with the result being a Taliban that is stronger than ever? Why are the BRIC countries forming a monetary union to challenge USD domination? Why is the U.S. attempting to provoke Russia into a conflict with NATO?
Why is the U.S. government collecting every electronic communication made by every American? Why is the U.S. government spying on world leader allies? Why is the U.S. government providing military equipment to local police forces? Why is the U.S. military conducting training exercises within U.S. cities? Why is the U.S. government attempting to restrict Second Amendment rights? Why is the U.S. government attempting to control and lockdown the internet? Why has the U.S. government chosen to treat the Fourth Amendment as if it is obsolete? Why is the national debt still rising by $750 billion per year ($2 billion per day) if the economy is back to normal? Why have 12 million working age Americans left the workforce since the economic recovery began? How could the unemployment rate be back at 2008 levels when there are 14 million more working age Americans and the same number employed as in 2008? Why are there 13 million more people on food stamps today than there were at the start of the economic recovery in 2009? Why have home prices risen by 25% since 2012 when mortgage applications have been at fourteen year lows? Why are Wall Street profits and bonuses at record highs while the real median household income stagnates at 1998 levels?
Why do 98% of incumbent politicians get re-elected when congressional approval levels are lower than whale shit? Why are oil prices four times higher than they were in 2003 if the U.S. is supposedly on the verge of energy independence? Why do the corporate controlled mainstream media choose to entertain and regurgitate government propaganda rather than inform, investigate and seek the truth? Why do corporations and shadowy billionaires control the politicians, media, judges, and financial system in their ravenous quest for more riches? Why has the public allowed a privately owned bank to control our currency and inflate away 96% of its value in 100 years? Why have American parents allowed their children to be programmed and dumbed down by government run public schools? Why have Americans allowed themselves to be lured into debt in an effort to appear wealthy and successful? Why have Americans permitted their brains to atrophy through massive doses of social media, reality TV, iGadget addiction, and a cultural environment of techno-narcissism? Why have Americans lost their desire to read, think critically, question authority, act responsibly, defer gratification, and care about future generations? Why have Americans sacrificed their freedoms, liberties and rights for the false expectation of safety and security? Why will we pay dearly for our delusional, materialistic, debt financed idiocy? – Because we never learn the lessons of history.
There are so many questions and no truthful answers forthcoming from those who pass for leaders in this increasingly totalitarian world. Our willful ignorance, apathy, hubris and arrogance will have consequences. Just because it hasn't happened yet, doesn't mean it's not going to happen. The cyclicality of history guarantees a further deepening of this Crisis. The world has evolved from totalitarian hegemony to republican liberty and regressed back to totalitarianism throughout the centuries. Anyone honestly assessing the current state of the world and our country would unequivocally conclude we have regressed back towards a totalitarian regime where a small cabal of powerful oligarchs believes they can control and manipulate the masses in their gluttonous desire for treasure. Aldous Huxley foretold all the indicators of a world descending into totalitarianism due to overpopulation, propaganda, brainwashing, consumerism, and dumbing down of a distracted populace in his 1958 reassessment of his 1931 novel Brave New World.
Is There a Limit?
"At the rate of increase prevailing between the birth of Christ and the death of Queen Elizabeth I, it took sixteen centuries for the population of the earth to double. At the present rate it will double in less than half a century. And this fantastically rapid doubling of our numbers will be taking place on a planet whose most desirable and pro­ductive areas are already densely populated, whose soils are being eroded by the frantic efforts of bad farmers to raise more food, and whose easily available mineral capital is being squandered with the reckless extravagance of a drunken sailor getting rid of his accumulated pay." –Aldous Huxley – Brave New World Revisited – 1958
Demographics are easy to extrapolate and arrive at an accurate prediction, as long as the existing conditions and trends remain relatively constant. Huxley was accurate in his doubling prediction. The world population was 2.9 billion in 1958. It only took 39 years to double again to 5.8 billion in 1997. It has grown by 24% in the last 17 years to the current level of 7.2 billion. According to United Nations projections, world population is projected to reach 9.6 billion in 2050. The fact that it would take approximately 70 years for the world's population to double from the 1997 level reveals a slowing growth rate, as the death rate in many developed countries surpasses their birth rate. The population of the U.S. grew from 175 million in 1958 to 320 million today, an 83% increase in 56 years.
The rapid population growth over the last century from approximately 1.8 billion in 1914, despite two horrific world wars, is attributable to cheap, easy to access oil and advances in medical technology made possible by access to cheap oil. The projection of 9.6 billion in 2050 is based upon an assumption the world's energy, food and water resources can sustain that many people, no world wars kill a few hundred million people, no incurable diseases spread across the globe and there is no catastrophic geologic, climate, or planetary events. I'll take the under on the 9.6 billion.
Anyone viewing the increasingly violent world situation without bias can already see the strain that overpopulation has created. Today, six countries contain half the world's population.
A cursory examination of population trends around the world provides a frightening glimpse into a totalitarian future marked by vicious resource wars, violent upheaval and starvation for millions. India, a country one third the size of the United States, has four times the population of the United States. A vast swath of the population lives in poverty and squalor. India contains the largest concentration (25%) of people living below the World Bank's international poverty line of $1.25 per day. According to the U.N. India is expected to add 400 million people to its cities by 2050. Its capital city Delhi already ranks as the second largest in the world, with 25 million inhabitants. The city has more than doubled in size since 1990. The assumptions in these U.N. projections are flawed. Without rapidly expanding economic growth, capital formation and energy resources, the ability to employ, house, feed, clothe, transport, and sustain 400 million more people will be impossible. Disease, starvation, civil unrest, war and a totalitarian government would be the result. With its mortal enemy Pakistan, already the sixth most populated country in the world, jamming 182 million people into an area one quarter the size of India and one twelfth the size of the U.S. and growing faster than India, war over resources and space will be inevitable. And both countries have nuclear arms.
More than half the globe's inhabitants now live in urban areas, with China, India and Nigeria forecast to see the most urban growth over the next 30 years. Twenty-four years ago, there were 10 megacities with populations pushing above the 10 million mark. Today, there are 28 megacities with areas of developing nations seeing faster growth: 16 in Asia, 4 in Latin America, 3 in Africa, 3 in Europe and 2 in North America. The world is expected to have 41 sprawling megacities over the next few decades with developing nations representing the majority of that growth. Today, Tokyo, with 38 million people, is the largest in the world, followed by New Delhi, Jakarta, Seoul, Shanghai, Beijing, Manila, and Karachi – all exceeding 20 million people.
To highlight the rapid population growth of the developing world, the New York metropolitan area containing 18 million people was ranked as the third largest urban area in the world in 1990. Today it is ranked ninth and is expected to be ranked fourteenth by 2030. The U.S. had the fewest births since 1998 last year at 3.95 million. We also had the highest recorded deaths in history at 2.54 million.  The fertility rate for 20- to 24-year-olds is now 83.1 births per 1,000 women, a record low. That combination created a gap in births over deaths that is the lowest it has been in 35 years.
This is the plight of the developed world (U.S., Europe, Japan) and even China (due to one child policy). According to the U.N. report, the population of developed regions will remain largely unchanged at around 1.3 billion from now until 2050. In contrast, the 49 least developed countries are projected to double in size from around 900 million people in 2013 to 1.8 billion in 2050. The rapid growth of desperately poor third world countries like Nigeria, Afghanistan, Niger, Congo, Ethiopia, and Uganda will create tremendous strain on their economic, political, social, and infrastructural systems. Nigeria's population is projected to surpass the U.S. by 2050. Japan, Europe and Russia are in demographic death spirals. China is neutral, and the U.S. is expected to grow by another 89 million people. I wonder how many of them the BLS will classify as not in the labor force.
What are the implications to mankind of the world adding another billion people in the next twelve years, primarily in the poorest countries of Asia, Africa and South America? What does the world think of the U.S., which constitutes 4.4% of the world's population, but consumes 20% of the world's oil production and 24% of the world's food? Will there be consequences to having the 85 richest people on earth accumulating as much wealth as the poorest 3.5 billion, with 1.2 billion surviving on less than $1.25 per day? Can a planet with finite amount of easily accessible financially viable extractable resources support an ever increasing number of people? Is there a limit to growth? I believe these questions will be answered in the next fifteen years as the dire consequences play out in civil strife, resource wars, totalitarian regimes, and societal collapse. Fourth Turning Crisis cycles always sweep away the existing social order and replace it with something new. It could be better or far worse.
Impact of Over-Population
"The problem of rapidly increasing numbers in relation to natural resources, to social stability and to the well-being of individuals — this is now the central problem of mankind; and it will remain the central problem certainly for another century, and perhaps for several centuries thereafter. Unsolved, that problem will render insoluble all our other problems. Worse still, it will create conditions in which individual free­dom and the social decencies of the democratic way of life will become impossible, almost unthinkable. Not all dictatorships arise in the same way. There are many roads to Brave New World; but perhaps the straightest and the broadest of them is the road we are travel­ing today, the road that leads through gigantic num­bers and accelerating increases." – Aldous Huxley – Brave New World Revisited – 1958
The turmoil roiling the world today is a function of Huxley's supposition that over-population pushes societies towards centralization and ultimately totalitarianism. The relentless growth in the world's population, not matched by growth in energy resources, water, food, and living space, results in increasing tension, anger, economic decline, government dependency, war and ultimately totalitarianism. Huxley believed politicians and governments would increasingly resort to propaganda and misinformation to mislead citizens as the problems worsened and freedoms were revoked. Could this recent statement by our commander and chief of propaganda have made Edward Bernays and Joseph Goebbels any prouder?
"The world is less violent than it has ever been. It is healthier than it has ever been. It is more tolerant than it has ever been. It is better fed then it's ever been. It is more educated than it's ever been."
I'm sure the people living in Gaza, the Ukraine, Libya, Syria, Iraq, Afghanistan, Thailand, Turkey, Africa and American urban ghettos would concur with Obama's less violent than ever mantra. Disease (Cholera, Malaria, Hepatitis, Aids, Tuberculosis, Ebola, Plague, SARS) and malnutrition beset third world countries, while the U.S. obesity epidemic caused by consumption of corporate processed food peddled to the masses through diabolical marketing methods enriches the mega-corporate food companies, as well as the corporate sick care complex. Religious wars and culture wars rage across the world as intolerance for others beliefs reaches all-time highs. After three decades of government controlled public education they have succeeded in dumbing down the masses through social engineering, propaganda, and promoting equality over excellence. Obama should stop trying to think and stick to what he does best – golf and fundraising. After reading his drivel, I'm reminded of a far more pertinent quote from Huxley:
"Facts do not cease to exist because they are ignored."
The chart below details the fact that 12% of the world's population in countries producing 9% of the world's oil are currently in a state of war. The violence, war, and civil unrest roiling the Ukraine, Syria, Egypt, Libya, Iraq, and Afghanistan are a direct result of U.S. meddling, instigation, and provocation. The U.S. government funds dictators (Hussein, Mubarak, Assad, Gaddafi) until they no longer serve their interests, engineer the overthrow of democratically elected leaders in countries (Iran, Egypt, Ukraine) that don't toe the line, and dole out billions in military aid and arms to countries around the world in an effort to make them do our dirty work and enrich the military industrial complex. The true motivation behind most of the violence, intrigue and war is the U.S. need to maintain the U.S. petro-dollar hegemony and to control the flow of oil and natural gas throughout the world. The ruling oligarchy's power, influence, and wealth are dependent upon dictating currency valuations and flow of oil and gas from foreign fiefdoms.
In Huxley's 1931 Brave New World fable the world's population is maintained at an optimum level (just under 2 billion) calculated by those in control. This is done through technology and biological manipulation. Procreation through sexual intercourse is prohibited. Creation of the desired number of people in each class is scientifically determined and the classes are conditioned from birth to fulfill their roles in society. When Huxley reassessed his novel in 1958's Brave New World Revisited he didn't argue for an optimum level of population. He simply hypothesized a close correlation between too many people, multiplying too rapidly, and the formulation of authoritarian philosophies and rise of totalitarian sys­tems of government.
The introduction of penicillin, DDT, and clean water into even the poorest countries on the planet had the effect of rapidly decreasing death rates around the globe. Meanwhile, birth rates continued to increase due to religious, social and cultural taboos surrounding birth control and the illiteracy and ignorance of those in the poorest regions of the world. The ultimate result has been an explosion in population growth in the developing world, least able to sustain that growth. Huxley just uses common sense in concluding that as an ever growing population presses more heavily upon accessible resources, the economic position of the society undergoing this ordeal becomes ever more precarious.
It essentially comes down to the laws of economics. Most of the developing world is economic basket cases. They cannot produce food, consumer goods, housing, schools, infrastructure, teachers, managers, scientists or educated workers at the same rate as their population growth. Therefore, it is impossible to improve the wretched conditions of the vast majority, as they wallow in squalor. Unless a country can produce more than it consumes, it cannot generate the surplus capital needed to invest in machinery, agricultural production, manufacturing facilities, and education. The rapidly growing population sinks further into poverty and despair. Huxley grasps the nefarious implications for freedom and liberty as over-population wreaks havoc around the globe:
"Whenever the economic life of a nation becomes pre­carious, the central government is forced to assume additional responsibilities for the general welfare. It must work out elaborate plans for dealing with a criti­cal situation; it must impose ever greater restrictions upon the activities of its subjects; and if, as is very likely, worsening economic conditions result in polit­ical unrest, or open rebellion, the central government must intervene to preserve public order and its own authority. More and more power is thus concentrated in the hands of the executives and their bureaucratic managers."– Aldous Huxley – Brave New World Revisited – 1958
Despots, dictators, and power hungry presidents arise in an atmosphere of fear, scarce resources, hopelessness, and misery. As the power of the central government grows the freedoms, liberties and rights of the people are diminished and ultimately relinquished.
Source: The Millennium Report
What would a psychiatrist call this? Delusions of grandeur?
US Secretary of State John Kerry, July 8, 2014:
"In my travels as secretary of state, I have seen as never before the thirst for American leadership in the world."
President Barack Obama, May 28, 2014:
"Here's my bottom line, America must always lead on the world stage. If we don't, no one else will."
Nicholas Burns, former US Under Secretary of State for Political Affairs, May 8, 2014:
"Where is American power and leadership when the world needs it most?"
Mitt Romney, Republican Party candidate for President, September 13, 2012:
"The world needs American leadership. The Middle East needs American leadership and I intend to be a president that provides the leadership that America respects and keep us admired throughout the world."
Paul Ryan, Congressman, Republican Party candidate for Vice President, September 12, 2012:
"We need to be reminded that the world needs American leadership."
John McCain, Senator, September 9, 2012:
"The situation in Syria and elsewhere 'cries out for American leadership'."
Hillary Clinton, September 8, 2010:
"Let me say it clearly: The United States can, must, and will lead in this new century. Indeed, the complexities and connections of today's world have yielded a new American Moment — a moment when our global leadership is essential, even if we must often lead in new ways."
Senator Barack Obama, April 23, 2007:
"In the words of President Franklin Roosevelt, we lead the world in battling immediate evils and promoting the ultimate good. I still believe that America is the last, best hope of Earth."
Gallup poll, 2013:
Question asked: "Which country do you think is the greatest threat to peace in the world today?"
Replies:
United States 24%
Pakistan 8%
China 6%
Afghanistan, Iran, Israel, North Korea, each 5%
India, Iraq, Japan, each 4%
Syria 3%
Russia 2%
Australia, Germany, Palestinian territories, Saudi Arabia, Somalia, South Korea, UK, each 1%
The question is not what pacifism has achieved throughout history, but what has war achieved?
Remark made to a pacifist: "If only everyone else would live in the way you recommend, I would gladly live that way as well – but not until everyone else does."
The Pacifist's reply: "Why then, sir, you would be the last man on earth to do good. I would rather be one of the first."
Article 9 of the Japanese Constitution, 1947, words long cherished by a large majority of the Japanese people:
"Aspiring sincerely to an international peace based on justice and order, the Japanese people forever renounce war as a sovereign right of the nation and the threat or use of force as means of settling international disputes.

"In order to accomplish the aim of the preceding paragraph, land, sea, and air forces, as well as other war potential, will never be maintained. The right of belligerency of the state will not be recognized."
This statement is probably unique amongst the world's constitutions.
But on July 1, 2014 the government of Japanese Prime Minister Shinzo Abe, without changing a word of Article 9, announced a "reinterpretation" of it to allow for military action in conjunction with allies. This decision can be seen as the culmination of a decades-long effort by the United States to wean Japan away from its post-WW2 pacifist constitution and foreign policy and set it back on the righteous path of being a military power once again, only this time acting in coordination with US foreign policy needs.
In the triumphalism of the end of the Second World War, the American occupation of Japan, in the person of General Douglas MacArthur, played a major role in the creation of this constitution. But after the communists came to power in China in 1949, the United States opted for a strong Japan safely ensconced in the anti-communist camp. For pacifism, it's been downhill ever since … step by step … MacArthur himself ordered the creation of a "national police reserve", which became the embryo of the future Japanese military … visiting Tokyo in 1956, US Secretary of State John Foster Dulles told Japanese officials: "In the past, Japan had demonstrated her superiority over the Russians and over China. It was time for Japan to think again of being and acting like a Great Power."  … various US-Japanese security and defense cooperation treaties, which called on Japan to integrate its military technology with that of the US and NATO … the US supplying new sophisticated military aircraft and destroyers … all manner of Japanese logistical assistance to the US in Washington's frequent military operations in Asia … repeated US pressure on Japan to increase its military budget and the size of its armed forces … more than a hundred US military bases in Japan, protected by the Japanese military … US-Japanese joint military exercises and joint research on a missile defense system … the US Ambassador to Japan, 2001: "I think the reality of circumstances in the world is going to suggest to the Japanese that they reinterpret or redefine Article 9."  … Under pressure from Washington, Japan sent several naval vessels to the Indian Ocean to refuel US and British warships as part of the Afghanistan campaign in 2002, then sent non-combat forces to Iraq to assist the American war as well as to East Timor, another made-in-America war scenario … US Secretary of State Colin Powell, 2004: "If Japan is going to play a full role on the world stage and become a full active participating member of the Security Council, and have the kind of obligations that it would pick up as a member of the Security Council, Article Nine would have to be examined in that light."  …
In 2012 Japan was induced to take part in a military exercise with 21 other countries, converging on Hawaii for the largest-ever Rim of the Pacific naval exercises and war games, with a Japanese admiral serving as vice commander of the combined task force.  And so it went … until, finally, on July 1 of this year, the Abe administration announced their historic decision. Abe, it should be noted, is a member of the Liberal Democratic Party, with which the CIA has had a long and intimate connection, even when party leaders were convicted World War 2 war criminals.
If and when the American empire engages in combat with China or Russia, it appears that Washington will be able to count on their Japanese brothers-in-arms. In the meantime, the many US bases in Japan serve as part of the encirclement of China, and during the Vietnam War the United States used their Japanese bases as launching pads to bomb Vietnam.
The US policies and propaganda not only got rid of the annoying Article 9, but along the way it gave rise to a Japanese version of McCarthyism. A prime example of this is the case of Kimiko Nezu, a 54-year-old Japanese teacher, who was punished by being transferred from school to school, by suspensions, salary cuts, and threats of dismissal because of her refusal to stand during the playing of the national anthem, a World War II song chosen as the anthem in 1999. She opposed the song because it was the same one sung as the Imperial Army set forth from Japan calling for an "eternal reign" of the emperor. At graduation ceremonies in 2004, 198 teachers refused to stand for the song. After a series of fines and disciplinary actions, Nezu and nine other teachers were the only protesters the following year. Nezu was then allowed to teach only when another teacher was present.
Yankee Blowback
The number of children attempting to cross the Mexican border into the United States has risen dramatically in the last five years: In fiscal year 2009 (October 1, 2009 – September 30, 2010) about 6,000 unaccompanied minors were detained near the border. The US Department of Homeland Security estimates for the fiscal year 2014 the detention of as many as 74,000 unaccompanied minors. Approximately 28% of the children detained this year are from Honduras, 24% from Guatemala, and 21% from El Salvador. The particularly severe increases in Honduran migration are a direct result of the June 28, 2009 military coup that overthrew the democratically-elected president, Manuel Zelaya, after he did things like raising the minimum wage, giving subsidies to small farmers, and instituting free education. The coup – like so many others in Latin America – was led by a graduate of Washington's infamous School of the Americas.
As per the standard Western Hemisphere script, the Honduran coup was followed by the abusive policies of the new regime, loyally supported by the United States. The State Department was virtually alone in the Western Hemisphere in not unequivocally condemning the Honduran coup. Indeed, the Obama administration has refused to call it a coup, which, under American law, would tie Washington's hands as to the amount of support it could give the coup government. This denial of reality still persists even though a US embassy cable released by Wikileaks in 2010 declared: "There is no doubt that the military, Supreme Court and National Congress conspired on June 28 [2009] in what constituted an illegal and unconstitutional coup against the Executive Branch". Washington's support of the far-right Honduran government has been unwavering ever since.
The questions concerning immigration into the United States from south of the border go on year after year, with the same issues argued back and forth: What's the best way to block the flow into the country? How shall we punish those caught here illegally? Should we separate families, which happens when parents are deported but their American-born children remain? Should the police and various other institutions have the right to ask for proof of legal residence from anyone they suspect of being here illegally? Should we punish employers who hire illegal immigrants? Should we grant amnesty to at least some of the immigrants already here for years? … on and on, round and round it goes, decade after decade. Those in the US generally opposed to immigration make it a point to declare that the United States does not have any moral obligation to take in these Latino immigrants.
But the counter-argument to this last point is almost never mentioned: Yes, the United States does indeed have a moral obligation because so many of the immigrants are escaping a situation in their homeland made hopeless by American intervention and policy. In addition to Honduras, Washington overthrew progressive governments which were sincerely committed to fighting poverty in Guatemala and Nicaragua; while in El Salvador the US played a major role in suppressing a movement striving to install such a government. And in Mexico, though Washington has not intervened militarily since 1919, over the years the US has been providing training, arms, and surveillance technology to Mexico's police and armed forces to better their ability to suppress their own people's aspirations, as in Chiapas, and this has added to the influx of the oppressed to the United States, irony notwithstanding.
Moreover, Washington's North American Free Trade Agreement (NAFTA), has brought a flood of cheap, subsidized US agricultural products into Mexico, ravaging campesino communities and driving many Mexican farmers off the land when they couldn't compete with the giant from the north. The subsequent Central American Free Trade Agreement (CAFTA) has brought the same joys to the people of that area.
These "free trade" agreements – as they do all over the world – also result in government enterprises being privatized, the regulation of corporations being reduced, and cuts to the social budget. Add to this the displacement of communities by foreign mining projects and the drastic US-led militarization of the War on Drugs with accompanying violence and you have the perfect storm of suffering followed by the attempt to escape from suffering.
It's not that all these people prefer to live in the United States. They'd much rather remain with their families and friends, be able to speak their native language at all times, and avoid the hardships imposed on them by American police and other right-wingers.
M'lady Hillary
Madame Clinton, in her new memoir, referring to her 2002 Senate vote supporting military action in Iraq, says: "I thought I had acted in good faith and made the best decision I could with the information I had. And I wasn't alone in getting it wrong. But I still got it wrong. Plain and simple."
In a 2006 TV interview, Clinton said: "Obviously, if we knew then what we know now, there wouldn't have been a vote. And I certainly wouldn't have voted that way."
On October 16, 2002 the US Congress adopted a joint resolution titled "Authorization for Use of Military Force Against Iraq". This was done in the face of numerous protests and other political events against an American invasion.
On February 15, 2003, a month before the actual invasion, there was a coordinated protest around the world in which people in some 60 countries marched in a last desperate attempt to stop the war from happening. It has been described as "the largest protest event in human history." Estimations of the total number of participants involved reach 30 million. The protest in Rome involved around three million people, and is listed in the 2004 Guinness Book of World Records as the largest anti-war rally in history. Madrid hosted the second largest rally with more than 1½ million protesters. About half a million marched in the United States. How many demonstrations in support of the war can be cited? It can be said that the day was one of humanity's finest moments.
So what did all these people know that Hillary Clinton didn't know? What information did they have access to that she as a member of Congress did not have?
The answer to both questions is of course "Nothing". She voted the way she did because she was, as she remains today, a wholly committed supporter of the Empire and its unending wars.
And what did the actual war teach her? Here she is in 2007, after four years of horrible death, destruction and torture:
"The American military has done its job. Look what they accomplished. They got rid of Saddam Hussein. They gave the Iraqis a chance for free and fair elections. They gave the Iraqi government the chance to begin to demonstrate that it understood its responsibilities to make the hard political decisions necessary to give the people of Iraq a better future. So the American military has succeeded."
And she spoke the above words at a conference of liberals, committed liberal Democrats and others further left. She didn't have to cater to them with any flag-waving pro-war rhetoric; they wanted to hear anti-war rhetoric (and she of course gave them a tiny bit of that as well out of the other side of her mouth), so we can assume that this is how she really feels, if indeed the woman feels anything. The audience, it should be noted, booed her, for the second year in a row.
"We came, we saw, he died." – Hillary Clinton as US Secretary of State, giggling, as she referred to the uncivilized and utterly depraved murder of Moammar Gaddafi in 2011.
Imagine Osama bin Laden or some other Islamic leader speaking of September 11, 2001: "We came, we saw, 3,000 died, ha-ha."
Notes
Los Angeles Times, September 23, 1994
Washington Post, July 18, 2001
BBC, August 14, 2004
Honolulu Star-Advertiser, June 23 and July 2, 2012
Tim Weiner, "Legacy of Ashes: The History of the CIA" (2007), p.116-21
Washington Post, August 30, 2005
Washington Post, June 6, 2014
Speaking at the "Take Back America" conference, organized by the Campaign for America's Future, June 20, 2007, Washington, DC; this excerpt can be heard on the June 21, 2007 edition of Democracy Now!
By every objective standard, Abenomics has been a complete flop. Household spending has plunged, wages have dropped for 23 months in a row, inflation is on the rise, the number of workers who can only find part-time jobs has ballooned to 38 percent, and most economists now expect 2nd quarter GDP to shrink to minus 4 percent or worse. So where's the silver lining?
There isn't one. It's all hype. In fact, the only part of Prime Minister's Shinzo Abe's economic strategy that has succeeded has been the public relations campaign, which has bamboozled the Japanese people into believing that pumping trillions of yen into financial assets will lead to widespread prosperity. Good luck with that. We can see how well that worked in the US where stock prices have nearly tripled in the last five years, but the real economy is still flat on its back. So why would quantitative easing (QE) work in Japan when it hasn't worked in the US?
It hasn't, and it won't. The whole thing is a farce. But political leaders like Prime Minister Shinzo Abe and their central bank lackeys continue to promote this absurd flimflam because it boosts profits for their constituents. That's what this nonsense is all about; trying to find new ways to enrich the parasite class during a "self induced" long-term slump. The only problem is that everyone else is worse off than before, mainly because the silver spoon slackers at the top of the heap are getting a bigger and bigger share of the pie. That just leaves a few crumbs for everyone else, which is why economic activity has slowed to a crawl. It's because the people who typically spend money and rev up the economy, have no money to spend. It's that simple. Check out this blurb from the Testosterone Pit:
"The Abe administration is doing everything in the book to bolster the fortunes of Japan Inc.: offering tax cuts, more public works, and stimulus packages, snatching the Olympics by hook or crook, and cranking up inflation. In April, prices for all items soared 3.4% from a year earlier, and goods prices a confiscatory 5.2%. Yet wages were stuck in the mire, and adjusted for inflation, they plunged…

Then came the consumption tax hike, a broad-based tax that impacts consumers and businesses across the economy. The months before the effective date of April 1, consumers and businesses binged to save that extra 3% in taxes on big-ticket items, and businesses rang up sales faster than they could count." Japan Inc.'s Worst Quarterly Outlook Since The 2011 Earthquake, Testosterone Pit
How do you like that? So, with the economy already on the ropes, class warrior Abe decided to squeeze working people even more by pushing through a regressive sales tax that put household spending into a nosedive. (Get a load of this ski-jump chart of household spending)
But while Abe has been raising taxes on the workerbees, he's cutting them for his crooked corporate buddies. As part of his dubious "growth strategy" the Japanese PM has promised to slash corporate taxes from 35 percent to 29 percent, a move that will reduce revenues and increase Japan's humongous public debt even more. (Japan's debt is already a gargantuan 240 percent of GDP.) Many analysts think that Abe's move could trigger a panic in the bond market if investors start to think he's not serious about addressing the debt. Even so, that's a risk that Abe's willing to take as long as it saves his cheesy corporate friends a few shekels.
Of course the best way to pay down the debt, is through economic growth. But that can't be done when wages are either stagnant or dropping as they are in Japan. Check this out from mni market news:
"Base wages, the key to a recovery in cash earnings, fell 0.2% on year, marking the 23rd consecutive decrease…. In real terms, total wages slumped 3.1% in April, showing the annual inflation rate above 1% is hurting household income in the absence of substantial wage growth and in light of the sales tax hike to 8% from 5% on April 1″. (Japan Apr Total Wages Post 2nd Straight Rise; Base Wages Down, MNI Market News)
The economy can't grow when demand is weak, and demand is perennially weak in Japan because wages and incomes are shriveling. That means less personal consumption, less economic activity, and smaller GDP. Recently, the situation has gotten worse due to the Bank of Japan's money printing operations which have increased inflation which has reduced worker's buying power. Check this out form the Japan Times:
"Consumer prices climbed in May at their fastest pace in 32 years, swelled by the hike in the consumption tax and higher utility charges that are squeezing Japanese budgets as wage gains remain limited.

Consumer prices excluding fresh food but not energy, rose 3.4 percent from a year earlier, the Statistics Bureau said Friday…Household spending subsequently sank 8 percent, more than the forecast fall of 2.3 percent, separate data showed…

All 14 major gas and electricity companies raised prices from May to the highest level since the current pricing system began in May 2009, according to the Asahi Shimbun. Tokyo Electric Power Co. announced a price hike of 5.3 percent in May for households, reflecting the higher tax, rising energy costs and other factors." (Prices climb most in 32 years as wages limp along, Japan Times)
So, with prices rising and wages stagnant, Japan is experiencing what most analysts anticipated when Abe first announced his plan to hike the sales tax, that is, household spending has dropped precipitously increasing the likelihood of another recession. Abe decided that pushing more of the government's operating costs onto working people was more important than the health of the economy.
Naturally, Abe's policies have had a catastrophic effect on the working poor. As we noted earlier, the number of part-time workers in Japan has grown dramatically over the last few years. According to Reuters,
"part-time, temporary and other non-regular workers who typically make less than half the average pay has jumped 70 percent from 1997 to 19.7 million today — 38 percent of the labor force."

Abenomics has made life considerably harder for these people due to the higher taxes, soaring prices, and reduced welfare benefits. The data show that Japan's poverty rate is "the sixth-worst among the 34 OECD countries" while "child poverty in working, single-parent households is by far the worst at over 50 percent, making Japan the only country where having a job does not reduce the poverty rate for that group." (Japan's working poor left behind by Abenomics, Reuters)
Abe's attack on working people has intensified in the last few weeks as he's unveiled parts of his "third arrow" of structural reforms. Along with cutting corporate taxes, Abe wants to take the Government Pension Investment Fund (GPIF), "the world's deepest pot of savings", and shove it in the stock market. George W. Bush wanted to do the same thing with Social Security but abandoned the idea after Lehman Brothers collapsed and the economy tanked. Now Abe is pushing the same loony plan which will put the long-term security of Japan's elderly at risk just to boost profits for his voracious plutocrat friends.
Abe also wants to eliminate overtime pay, make it easier for corporate bosses to fire workers, and allow foreign workers to care for children and the elderly in a series of "special economic zones". All of the so called "reforms" are just ways of extracting more wealth from labor by loosening regulations. None of them have anything to do with increasing productivity, boosting capital investment or sparking more innovation. They're all about wringing every last dime out of the people who are already so broke they can barley keep their heads above water.
On top of it all, Abe's easy money policies have ignited the same flurry of "irrational exuberance" they have in the US. As Marketwatch notes, "A greater number of investors are demanding increased dividends and share buybacks than (ever) before."
Stock buybacks are a particularly execrable activity that pumps up stock prices without adding anything to productivity. It's pure-unalloyed asset inflation prompted by insanely loose monetary policies. Here's more from Marketwatch:
"Japanese companies … are sitting on a record amount of cash: about $3 trillion at the end of March …

A number of large Japanese companies, including Toyota, NTT Docomo and Mitsubishi Corp., have announced plans for big stock buybacks, which improve shareholder returns by increasing the value of the remaining shares outstanding." (In Japan, dividends, buybacks take the stage, Marketwatch)
Yipee! Shareholders are getting richer on Abe's idiot programs. Too bad they'll be gone when the bubble bursts and the system plunges back into crisis.
What a screwball system.
Abenomics has nothing to do with prosperity, growth or even deflation. That's all BS. The policy is designed to do exactly what it does, generate hefty profits for slacker speculators and corporate muck-a-mucks while everyone else faces higher prices, lower wages and a dimmer future.
If that's not class warfare, then what is it?
The rancour between Japan and China was on public display at the World Economic Forum in Davos, Switzerland when Japanese Prime Minister Shinzo Abe gave his keynote speech to the gathering of billionaires, bankers, CEOs, and political leaders on Wednesday.
After expounding on his "Abenomics" pro-market restructuring agenda, Abe spent the second half of his speech making barely-veiled jabs at China that were calculated to further inflame tensions.
Abe began by declaring that "freedom of movement" was of particular importance—a reference to the dangerous dispute that emerged last month over China's declaration of an Air Defence Identification Zone in the East China Sea, including the disputed islets known as Senkaku in Japan and Diaoyu in China.
The US, followed by Japan, immediately flew war planes into the zone unannounced, challenging Chinese authority and sharply escalating tensions. As China scrambled its own fighters in response, the danger emerged of a clash precipitated by a mistake or miscalculation on either side.
Referring to the Senkaku/Diaoyu islands, Abe repeated his adage that disputes should be resolved through dialogue and the rule of law, not through force and coercion. In fact, his government refuses to even recognise that there is a dispute over the rocky outcrops and has stepped up military measures in the area, raising the risk of a military clash.
Again pointing to China, Abe proclaimed the need to "restrain military expansion in Asia, which could otherwise go unchecked." He called for military budgets to be made "completely transparent"—a criticism repeatedly made by the US and its allies over China's military spending.
While repeatedly declaring his commitment to peace, Abe last year announced the first increase in the Japanese military budget in a decade. His government continued to shift the strategic focus of the Japanese military to "island defence" and Japan's southern island chain adjacent to the Chinese mainland.
Japan's defence expansion has been encouraged and backed by the Obama administration, as part of its "pivot to Asia" that includes strengthening of alliances and partnerships throughout the region aimed against China.
Making clear the dangers of war were real, Abe warned his audience: "If peace and stability were shaken in Asia, the knock-on effect for the entire world would be enormous."
Asked by the chair of the session, Abe defended his visit in December to the notorious Yasukuni war shrine—a hated symbol of Japanese militarism in the 1930s and 1940s, where many "Class A" Japanese war criminals are buried. Abe claimed he was simply "praying for the souls of the departed," which should be "something quite natural for a leader of any country in the world."
While Abe did not name China in the course of his speech, the target of his remarks was unmistakable.
In another Davos session, Chinese academic Wu Xinbo responded by calling Abe a "troublemaker", likening him to North Korean leader Kim Jong-un. "Political relations between our two countries will remain very cool, even frozen for the remaining years of Abe in Japan," he warned.
In a less public forum at Davos with international journalists, Abe was more explicit. Asked by Financial Times journalist Gideon Rachman if war with China was "conceivable", the Japanese prime minister did not rule it out. Instead, he compared the current tensions between China and Japan to the rivalry between Britain and Germany in the years before the World War I, saying that it was a "similar situation".
While various commentators have made the same comparison, such remarks carry added significance coming from Japan's prime minister. Abe reinforced the point by declaring that China's increase in military spending was a major source of instability in the region.
As reported in Rachman's blog, Abe noted that, "Britain and Germany—like China and Japan—had a strong trading relationship. But in 1914, this had not prevented strategic tensions leading to the outbreak of conflict." He warned of the danger of "some conflict or dispute arising out the blue, on an ad hoc level… or inadvertently"—a reference to the killing of the Austrian archduke in 1914 that sparked war.
Abe offered no suggestion as to how conflict could be avoided, other than a half-hearted proposal for a "military-force level communications channel" between Beijing and Tokyo. "Unfortunately we don't have a clear and explicit roadmap," he said, adding later than Japan would "very much like to strengthen our military relationship with the US."
This last remark highlights the role of the Obama administration is stoking up tensions throughout the region. Its "pivot to Asia" has encouraged allies as Japan and the Philippines to take a far more aggressive stance in their maritime quarrels with China. Four years ago, the dispute over the Senkaku/Diaoyu islands barely registered in international politics. Today it has become a dangerous flashpoint for war in Asia.
Abe's speech is part of an escalating propaganda war between Japan and China. Following Abe's visit to the Yasukuni Shrine on December 26, Chinese and Japanese ambassadors have engaged in embittered exchanges in the newspapers in at least a dozen countries, including the United States, Britain, Australia and New Zealand.
In Britain, the exchange took the bizarre form of likening the other country to Lord Voldemort—the ultimate incarnation of evil the Harry Potter children's novels—and accusing it of militarism and aggression.
Like the Abe government, the Chinese regime has seized on the dispute to whip up reactionary patriotic sentiment, seeking to divert attention from the social crisis at home and manoeuvre diplomatically abroad. Chinese ambassador Liu Xiaoming concluded his diatribe against Japan with an appeal for Britain and China to renew the World War II alliance—that is, against Japan—in order "to safeguard regional stability and world peace."
The tensions between Japan and China at Davos, where business and political leaders are supposedly gathered to iron out the problems of global capitalism, underlines the bankruptcy of the social order that they all defend. Five years after the global financial crisis, the economic breakdown continues unabated, fuelling geo-political rivalries that are driving towards a catastrophic war.
Source: wsws
Deregulation, Privatization, and Cheap Labor…
The man who promised to restore hope and bring change to America, has announced a plan to open five corporate plantations in the United States. On Thursday, President Barack Obama, whose policies have resulted in the greatest number of public sector job losses in US History (Public sector jobs have declined by 718,000 jobs since Obama took office.) announced the opening of five "Promise Zones" located in San Antonio, Philadelphia, Los Angeles, southeastern Kentucky, and the Choctaw Nation of Oklahoma. According to an article in USA Today:
"Under the proposed Promise Zones, the federal government plans to partner with local governments and businesses to provide tax incentives and grants to help combat poverty." ("Obama to name 5 'Promise Zones' for assistance", USA Today)
Combatting poverty' has nothing to do with it. Obama plans to shower the nation's biggest corporations–which recorded record profits in the last year and are presently sitting on more than $1.3 trillion in cash–with more lavish subsidies and tax breaks while providing an endless source of cheap slave labor to boost future earnings. The president believes that the wealth generated in these profit zones, er, promise zones will trickle down to the area's residents, even though–as the Christian Science Monitor notes–"it can be hard to tell whether a program's benefits reach the poorest people, rather than flowing largely into the hands of the business owners who get the tax credits."
Here's more from USA Today:
"Obama said his administration plans "to partner with 20 of the hardest-hit towns in America to get these communities back on their feet. We'll work with local leaders to target resources at public safety, and education, and housing." (USA Today)
Translation: The Obama administration is committed to assisting the corporate oligarchy whenever possible even if it means further eviscerating the rapidly-diminishing US middle class and reducing millions of hard-working Americans to grinding third world poverty. Deregulation will allow corporations to privatize policing, education and any other lucrative public resource or service. According to the New York Times: "White House officials said the Promise Zones initiative would not provide new money, rather it would be aimed at providing the local governments and agencies "aid in cutting through red tape to get access to existing resources."
No new money??
How do you like that? So, the man that helped push through the multi-trillion dollar Wall Street bailouts is not going to give one red cent to the nation's poorest and most needy people. Instead, he is going to do whatever he can to eliminate the rules that keep voracious corporations from feeding at the public trough.
Conservative Senate Minority Leader Mitch McConnell of Kentucky — "praised the proposed Promise Zone for Eastern Kentucky saying:
"I wrote a letter last year supporting this designation because this region has suffered enormous economic hardship over the last several years," McConnell said in a statement."
Mitch McConnell likes Obama's plan. That says it all, doesn't it?
Plantations were a familiar feature of the antebellum South, but were abandoned following the Civil War. Now a new generation of corporate kleptocrats want to revive the tradition. They think that weakening consumer demand and persistent stagnation can only be overcome by skirting vital labor protections and shifting more of the cost of production onto workers. Obama's promise zones provide a way for big business to slip the chains of "onerous" regulations and restore, what many CEO's believe to be, the Natural Order, that is, a Darwinian, dog-eat-dog world where only the strongest and most cunning survive. This is a world in which Obama has done quite well, although he's had to distance himself from his political base and throw friends under the bus (Jeremiah Wright) in his relentless climb to the top. Even so, selling out has never been an issue for Obama.
Special economic zones are not a new idea, in fact, they've been tried in the UK, Australia and other places where the global bank cartel exerts its grip. In Tokyo, last month, right-wing PM, Shinzo Abe announced the launching of his own "Special Economic Zones". Here's a short summary of Abe's plan from an article in the Japan Times:
"Special zones aimed at spurring corporate investment through deregulation and tax incentives are to be created in Tokyo as well as Osaka and central Aichi Prefecture….Other deregulation steps to debut in such zones will let private firms operate public schools, let experts without teaching licenses teach classes, expand the scope of treatment that can be administered by non-Japanese doctors and nurses, facilitate the use of foreign drugs and increase the number of hospital beds." (Japan Times)
Sound familiar? Deregulation, privatization, and cheap labor; the toxic coctail that has vaporized the US middle class and wiped out a good portion of the developing world.
Obama calls these promise zones. We think corporate plantations is a more fitting moniker.
Does anyone in authority anywhere tell the truth about Fukushima? If there is any government or non-government authority in the world that is addressing the disaster at Fukushima openly, directly, honestly, and effectively, it's not apparent to the outside observer what entity that might be.
There is instead an apparent global conspiracy of authorities of all sorts to deny to the public reliably accurate, comprehensible, independently verifiable (where possible), and comprehensive information about not only the condition of the Fukushima power plant itself and its surrounding communities, but about the unceasing, uncontrolled release of radioactive debris into the air and water, creating a constantly increasing risk of growing harm to the global community.
While the risk may still be miniscule in most places, the range of risk rises to lethal in Fukushima itself. With the radioactive waste of four nuclear reactors (three of them in meltdown) under uncertain control for almost three years now, the risk of lethal exposure is very real for plant workers, and may decrease with distance from the plant, but may be calculable for anyone on the planet. No one seems to know. No one seems to have done the calculation. No one with access to the necessary information (assuming it exists) seems to want to do the calculation.
There is no moral excuse for this international collusion. The excuses are political or economic or social, but none of them excuses any authority for withholding or lying about information that has potentially universal and destructive impact on everyone alive today and everyone to be born for some unknown generations.
Japanese authorities may be the worst current offenders against the truth, as well as the health and safety of their people. Now the Japanese government has passed a harsh state secrets law that threatens to reduce or eliminate reliable information about Fukushima. The U.S. government officially applauded this heightened secrecy, while continuing its own tight control on nuclear information. Japanese authorities are already attacking their own people in defense of nuclear power: not only under-measuring and ignoring varieties of radioactive threat, but even withholding the iodine pills in 2011 that might have mitigated the growing epidemic of thyroid issues today. Failing to confront Fukushima honestly, the Japanese are laying the basis for what could amount to a radiological sneak attack on the rest of the world.
Just because no one seems to know what to do about Fukushima is no excuse to go on lying about and/or denying the dimensions of reality, whatever they might be.
There are hundreds, probably thousands of people with little or no authority who have long struggled to create a realistic, rational perspective on nuclear threats. The fundamental barrier to knowing the scale of the Fukushima disaster is just that: the scale of the Fukushima disaster.
Chernobyl 1986 and Fukushima 2011 are Not Really Comparable
Chernobyl is the closest precedent to Fukushima, and it's not very close. Chernobyl at the time of the 1986 electric failure and explosion had four operating reactors and two more under construction. The Chernobyl accident involved one reactor meltdown. Other reactors kept operating for some time after the accident. The rector meltdown was eventually entombed, containing the meltdown and reducing the risk. Until Fukushima, Chernobyl was considered the worst nuclear power accident in history, and it is still far from over (albeit largely contained for the time being). The Chernobyl Exclusion Zone of roughly 1,000 square miles remains one of the most radioactive areas in the world and the clean-up is not even expected to be complete before 2065.
At the time of the March 11, 2011, earthquake and tsunami, the Fukushima plant had six operating reactors. Three of them went into meltdown and a fourth was left with a heavily laden fuel pool teetering a hundred feet above the ground. Two other reactors were undamaged and have been shut down. Radiation levels remain lethal in each of the melted-down reactors, where the meltdowns appear to be held in check by water that is pumped into the reactors to keep them cool. In the process, the water gets irradiated and that which is not collected on site in leaking tanks flows steadily into the Pacific Ocean. Within the first two weeks, Fukushima radiation was comparable to Chernobyl's and while the levels have gone down, they remain elevated.
The plant's corporate owner, Tokyo Electric Power Company (TEPCO), in turn effectively owned by the Japanese government after a 2012 nationalization, began removing more than 1,500 fuel rod assemblies from the teetering fuel pool in November, a delicate process expected to take a year or more. There are additional fuel pools attached to each of the melted down reactors and a much larger general fuel pool, all of which contain nuclear fuel rod assemblies that are secure only as long as TEPCO continues to cool them. The Fukushima Exclusion Zone, a 12-mile radius around the nuclear plant, is about 500 square miles (much of it ocean); little specific information about the exclusion zone is easily available, but media coverage in the form of disaster tourism is plentiful, including aGoogle Street View interactive display.
Despite their significant differences as disasters, Chernobyl and Fukushima are both rated at 7 — a "major accident" on the International Nuclear Event Scale designed in 1990 by the International Atomic Energy Agency (IAEA). That is the highest rating on the scale, a reflection of the inherent denial that colors most official nuclear thinking. Designed by nuclear "experts" after Chernobyl, the scale can't imagine a worse accident than Chernobyl which, for all its intensity, was effectively over as an accident in a relatively short period of time. At Fukushima, by contrast, the initial set of events was less acute than Chernobyl, but almost three years later they continue without any resolution likely soon. Additionally Fukushima has three reactor meltdowns and thousands of precarious fuel rod assemblies in uncertain pools, any of which could produce a new crisis that would put Fukushima clearly off the scale.
And then there's groundwater. Groundwater was not a problem at Chernobyl. Groundwater is a huge problem at the Fukushima plant that was built at the seashore, on a former riverbed, over an active aquifer. In a short video, nuclear engineer Arnie Gunderson makes clear why groundwater makes Fukushima so hard to clean up, and why radiation levels there will likely remain dangerous for another hundred years.
Fukushima Unit #3 Activity Led to Some Panic-Driven Reporting in 2013
The Japanese government and nuclear power industry have a history of not telling the truth about nuclear accidents dating back at least to 1995, as reported by New Scientistand Rachel Maddow, among others. Despite Japan's history of nuclear dishonesty, Japanese authorities remain in total control of the Fukushima site and most of the information about it, without significant objection from most of the world's governments, media, and other power brokers, whose reputation for honesty in nuclear matters is almost as bad as Japan's. In such a context of no context, the public is vulnerable to reports like this from the Turner Radio Network (TRN) on December 28:
** NEWS FLASH — URGENT ** STEAM SUDDENLY EMANATING FROM FUKUSHIMA REACTOR # 3 — WEST COAST OF NORTH AMERICA SHOULD BEGIN PREPARATIONS FOR POSSIBLE RADIATION CLOUD WITHIN 3 TO 5 DAYS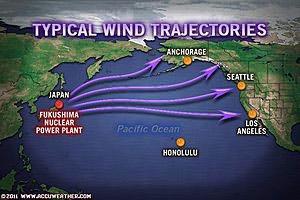 Five days after this story was posted, the "radiation cloud" had not developed despite the story's assertion that: "Experts say this could be the beginning of a spent fuel pool criticality (meltdown)'involving up to 89 TONS of nuclear fuel burning up into the atmosphere and heading to North America." The story named no "experts" and provided links only to TEPCO announcements in Japanese. The bulk of the story reads like an infomercial for "protective" gear of various sorts that TRN makes a point of saying it does NOT sell. Despite such obvious warning signs, others — such as The Ecologist and Gizmodo — reported the threat of "another meltdown" at Fukushima Unit #3 as imminent.
Clarification and reassurance quickly started chasing the "new meltdown" rumor around the Internet. ENENEWS (Energy News) promptly posted the TEPCO reports in English, demonstrating that there was nothing "sudden" about the steam releases, they've been happening more or less daily since 2011, but condensation caused by cold weather makes them visible. At FAIREWINDS (Energy Education), Arnie Gunderson posted on January 1:
"… the Internet has been flooded with conjecture claiming that Fukushima Daiichi Unit 3 is ready to explode… Our research, and discussions with other scientists, confirms that what we are seeing is a phenomenon that has been occurring at the Daiichi site since the March 2011 accident… While the plants are shutdown in nuke speak, there is no method of achieving cold shut down in any nuclear reactor. While the reactor can stop generating the actual nuclear chain reaction, the atoms left over from the original nuclear chain reaction continue to give off heat that is called the decay of the radioactive rubble (fission products)… constantly releasing moisture (steam) and radioactive products into the environment." [emphasis added]
In other words, Fukushima Unit #3 continues to leak radioactivity into both air and water, as Units #1 and #2 presumably do as well. But as Gunderson explains, the level of radioactivity has declined sharply without becoming benign:
"When Unit 3 was operating, it was producing more than 2,000 megawatts of heat from the nuclear fission process (chain reaction in the reactor). Immediately after the earthquake and tsunami, it shut down and the chain reaction stopped, but Unit 3 was still producing about 160 megawatts of decay heat. Now, 30 months later, it is still producing slightly less than 1 megawatt (one million watts) of decay heat… 1 megawatt of decay heat is a lot of heat even today, and it is creating radioactive steam, but it is not a new phenomenon."
Reassurances About Fukushima are As Misleading As Scare Stories
The reassuring aspects of the condition of Unit #3 — radioactive releases are not new, they're less intense than they once were, the nuclear waste is cooling — while true enough, provide only a false sense of comfort. Also true: radiation is released almost continuously, the releases are uncontrolled, no one seems to be measuring the releases, no one seems to be tracking the releases, no one is assessing accumulation of the releases. And while it's true that the waste is cooling and decaying, it's also true that a loss of coolant could lead to another uncontrolled chain reaction. ("Fukushima Daiichi Unit 3 is not going to explode," says Gunderson in a headline, but he can't know that with certainty.)
For the near future, what all that means, in effect, is that the world has to accept chronic radiation releases from Fukushima as the price for avoiding another catastrophic release. And even then, it's not a sure thing.
But there's another aspect of Fukushima Unit #3 that's even less reassuring. Unit #3 is the one Fukushima reactor that was running on Mixed oxide fuel, or MOX fuel, in its fuel rods.MOX fuel typically uses Plutonium mixed with one or more forms of Uranium. UsingPlutonium in fuel rods adds to their toxicity in the event of a meltdown. In part because Plutonium-239 has a half-life of 240,000 years and can be used to make nuclear weapons of "dirty bombs," its use in commercial reactors remains both limited and controversial. Because it contains Plutonium, MOX fuel is more toxic than other nuclear fuel and will burn at lower temperatures. As Natural Resources News reported in 2011:
"The mixed oxide fuel rods used in the compromised number three reactor at the Fukushima Daiichi complex contain enough plutonium to threaten public health with the possibility of inhalation of airborne plutonium particles…. Plutonium is at its most dangerous when it is inhaled and gets into the lungs. The effect on the human body is to vastly increase the chance of developing fatal cancers."
Reportedly, TEPCO plans don't call for the removal of the MOX fuel in Unit #3 for another decade or more. Fuel removal from Units #1, #2, and #3 is complicated by lethal radiation levels at all three reactors, as well as TEPCO's inability so far to locate the three melted cores with any precision.
There is ample reason to hope that Fukushima, despite the complex of uncontrollable and deteriorating factors, will not get worse, because even the Japanese don't want that. But there is little reason to expect anything but worsening conditions, slowly or suddenly, for years and years to come. And there is even less reason to expect anyone in authority anywhere to be more than minimally and belatedly truthful about an industry they continue to protect, no matter how many people it damages or kills.
The perfect paradigm of that ruthlessly cynical nuclear mentality is the current Japanese practice of recruiting homeless people to work at Fukushima in high level radiation areas where someone with something to lose might not be willing to go for minimum wage.
Source: William Boardman  |  Global Research
Does anyone in the United States understand or comprehend what America will look like in 2050 "IF" we continue endless immigration into our country? Does any leader possess an inkling of the ramifications of adding the projected 100 million immigrants, their kids and chain-migrated relatives?
That's correct, at the current rate of immigration legalized by the 1986 Reagan amnesty, we continue on course to add 100 million immigrants from all over the world. They arrive legally at 1.0 million annually. They birth 900,000 babies among their numbers annually. (Source: Dr. Steven Camorata, www.cis.org) With chain migration, that means each "new" American may invite 10 of his or her relatives to join them with "family-reunification." If the current S744 amnesty bill passes, your US Congress jumped that 1.0 million to 2.0 million legal immigrants annually.
Do the math! Any way you cut it, that means America will experience an avalanche, a human tsunami, or simply the biggest wave of humanity ever to hit our country or any country, ever. We will grow from our current 316 million to well over 438 million people within 37 years. The extra 38 million will come from our own "population momentum." These figures stem from our country reaching 300 million in October of 2007. We grow by 3.1 million annually.
What's it going to look like? Answer: it will become ugly on multiple levels—environmentally, sociologically, linguistically, culturally, quality of life and downgraded standard of living—for starters. Parts 1 through 5 will cover what we face.
First of all, 100 million immigrants will equal our adding 20 of our most populated cities. Think of it: we will add another New York City, Detroit, Atlanta, Miami, Chicago, Denver, Houston, Dallas, Phoenix, Los Angeles, San Francisco, Seattle and eight other American cities.
We face watering 100 million more people, housing them, transporting them, warming them, feeding them and finding jobs for them.
Today in 2013, seven states face shortages: Georgia, Florida, Texas, New Mexico, Arizona, Nevada and California. But Georgia will grow from 8.2 million to 16.4 million. Florida expects to grow from 18 million to 36 million. For the whopper fact of all, California expects to jump from 38 million to 58 million.
Our cities face resembling present-day Mumbai, India; or Tokyo, Japan; or Paris, France; or Shanghai, China—bursting at the seams with 50 to100 mile traffic jams, people smooched into 200 square foot apartments rising out of the ground like mindless stalactites.
Our rivers will run with endless chemicals from industrial, farm, human and acid rain pollution. Our National Parks will become so crowded that you will be forced to draw a lottery number in order to visit them.
Every last bit of arable land and wildreness will be destroyed by what scientists call "ecological footprint." In Ethiopia, it takes .4 (4/10ths) of an acre of land to feed, water and house a person. In the USA, it takes 25.4 acres of land to support one person. (Source:www.allspecis.org)
With those 100 million immigrants, we must destroy 2.54 BILLION acres of land. That, in turn, guarantees accelerating our current 250 species suffering extinction annually in the lower 48 to double that number which will mean 5,000 species a year suffering extinction at the hands of our encroachment on the natural world.
As those enormous human numbers impact the carbon footprint and impact the "water footprint", we face water predicament that will become unsolvable and irreversible. We face water wars, water confrontations, water irrigation problems heretofore never imagined.
Our giant aquifers like the Ogallala will dry up leaving us with no irrigation of our corn, wheat and hay fields.
We incorporate a Faustian Bargain in 2013 to reap a Hobson's Choice in 2050—a scant 37 years from now.
Our quality of life cannot help but degrade into severe limitations as to hunting, fishing, wildlife extermination, energy exhaustion and resource depletion.
Let's talk about energy: we hit Peak Oil in 2011. We face the last 50 percent of all oil remaining on the planet. It takes more energy units to pump it and less energy units out of the ground. Finally, at some point, we will be left with little oil at staggering prices—but a 438 million population to feed. Of sobering note, the world will have added 3.1 billion humans to feed, to this nightmare extends beyond our borders.
How about the environment? Anybody want to guess how much damage our carbon footprint will wreak havoc on our oceans with acidification and warming of the waters? My guess: we face annual Hurricane Sandy's and Katrina's. More tornadoes will mow humans down at an outstanding rate.
Additionally: I've only covered the tip of the iceberg of what we bequeath to our children.
As I sit here with the scientific facts, my own world travels having seen the 12 largest cities on the planet and my own scientific experiences in Antarctica—I am appalled that the American people and our leaders gallop into this added 100 million more immigrants without so much as a shout, whimper or cry.
Our kids will curse our stupidity, arrogance and outright disregard for their futures. My own two U.S. Senators understand what we face because I spent 45 minutes explaining the facts to their staffs, but they voted to add 2.0 million legal immigrants annually to make our fate arrive even faster than 37 years.
My guess: our leaders resemble intellectual lunatics. Our people resemble the dumbest sheep on the planet.
Finally, why am I one of the few Americans who "sees" this so clearly? Why aren't there tens of millions of Americans who "see" and take it to "60 Minutes" ; "Charlie Rose" ; "Today Show" ; "DateLine" ; "Good Morning America" ; Scott Pelley, Diane Sawyer, Brian Williams, Wolf Blitzer, Kelly Mygen, Shepard Smith and every other media leader? Why don't we demand a national discussion?
If we refuse to act, remain too apathetic to act, or don't act—the S744 Amnesty Bill will pass and add that 100 million immigrants to this country in a blink of time. God help our children when they inherit our legacy of 100 million immigrants.
Trying to rebound off the ropes, where it has been pummeled for the past several decades, The United Auto Workers (UAW) has launched an aggressive organizing campaign in the South, in line with an AFL-CIO resolution emphasizing organizing there, where unionization rates are weak across the board.
As reported in The New York Times, the UAW has taken an international approach where union members in Brazil are picketing Nissan dealerships, a U.S. UAW contingent is traveling to South Africa to embarrass Nissan over its antiunion policies, and a similar campaign is underway in Tokyo and Paris.
Actor Danny Glover, has been persuaded to visit college campuses to recruit students to help in the union drive, and community groups are being organized, which include the NAACP, to help as well.
All of these measures are positive steps. Because of globalization and the ease in which industries can escape to anti-worker environments, private sector unions have suffered serious setbacks since the early 1980s. But globalization can be countered.
For example and most importantly, because it is leaning on international support, the UAW has rightly felt obligated to return the favor. In 2010 the UAW demonstrated outside a Hyundai center near Detroit to support the striking workers in Korea. By helping the Korean workers win higher wages, the UAW reduces the incentive for auto industries to flee to Korea.
By repeating this strategy in all other countries with auto manufacturing, globalization in the auto sector could be forced to a standstill. Instead of workers from different countries competing against one another in a race to the bottom – where the goal is to accept lower wages in order to attract business – by adopting the principle of solidarity, workers around the world can begin to raise their standard of living and all rise together.
In this way we could begin to reverse the steady transfer of income from working people to corporations. As The New York Times reported (U.S. Companies Thrive As Workers Fall Behind, 2013): "…wages and salary income in 2012 amounted to 44 percent of G.D.P., the lowest at any time since 1929, which is as far back as the data goes…The flip side of that is that corporate profits after taxes amounted to a record 9.7 percent of G.D.P. Each of the last three years has been higher than the earlier record high, of 9.1 percent, which was set in 1929."
The UAW's effort to connect to students and community organizations has the potential to change the balance of forces. Corporations want good public relations. They invest in huge amounts of money to run one-page ads to tout how much money they contribute to local schools or how much they care for the environment. They know more than most of us that public opinion can be a powerful weapon because it serves as the foundation for culture, and a culture conducive to business interests is a huge money-saver for them.
By turning to the community in order to conduct a campaign of shame, the UAW can begin to change culture in a pro-worker direction, which, of course, would benefit most people. But this turn will have to embrace more than a cultural dimension in order to take hold; the union will have to actually champion causes that will benefit the community, for example, by demanding that corporations pay their fair share of taxes so that schools and social services can be properly funded. Those kinds of gains would amount to what are called, "game changers."
But the UAW will have to overcome some of its missteps if it wants to succeed. In 2007 they accepted a contract that included a $14 per hour salary for new hires, thereby creating a yawning chasm between their pay and that of the current workforce. What this means is that the workers at that time voted in favor of reduced wages for other workers, not for themselves, which inevitably produces animosity between the two groups. But only solidarity can save the union at this point, so in the next contract the union must champion the wages of the newcomers over their more senior coworkers in order to reduce the wage-gap between them.
Secondly, UAW President Bob King has adopted a somewhat contradictory theoretical and strategic framework that needs adjusting. Labor Notes quotes him as saying: "We have completely discarded the 'us versus them' mentality." But Labor Notes went on to note that Gary Walkowicz, who ran against King in the last election for president, doesn't think that will work and quoted him as saying: "If we want to convince the people in the non-union plants, we have to fight," he said. "Turn back the concessions and give people a reason to want to join the UAW." Of course he is right.
In his interview with Labor Notes, King offered this justification: "If workers have a larger voice they produce a better product," In this way he hopes to promote employers' success while rejecting "an adversarial work environment."
There is usually a grain of truth in what people say, and King can boast of his grain, but he fails to capture the larger picture. His partnership philosophy is taking place within the context of capitalism, which radiates in all directions a culture of competition, self-interest and greed. In such a climate corporations are unable to distinguish between the highest good and the highest profit. Their number one concern is always their rate of profit. King's philosophy will work only under limited conditions that have on the whole disappeared: if the company cannot move to a non-union location elsewhere and make a higher profit, then it will accept the partnership. But just as foxes are programmed to eat chickens, corporations are programmed to maximize profits, and genteel gestures will have little impact on this instinctive reaction. Unless globalization is brought to an abrupt halt, at least as it is currently practiced, King's auto companies will move to greener pastures.
The "partnership" philosophy, which was trumpeted by John Sweeney, former head of the AFL-CIO, had disastrous consequences. Labor suffered some of its greatest defeats and watched its membership plummet.
Instead of turning to the corporations for partners, the UAW will need to redouble their efforts to build partnerships both domestically and internationally in order to organize a powerful movement of all those who are the victims of corporate policies. When the world's population, that is overwhelmingly against corporate policies that impoverish workers and trash the environment, is organized, the balance of forces will shift and real change will be possible.
You know, in spite of the visit from The Bone Lady when I was just three years old, and all the grim foreshadowing that she downloaded to me via direct intuition, I always held out hope that humanity could or would somehow turn things around on this planet, and snatch victory from the jaws of defeat.
As long as there is breath there is always hope, that was my thinking for a long time, but I am no longer so sanguine.
As one of my friends recently remarked to me, there is, indeed, real evil abroad in this world. I don't know how else to explain the wickedness of what is happening at Fukushima, in Japan, where the situation with the exploded and/or melted down nuclear reactors just goes from frightfully dire to unimaginably worse.
I frequently check the developments there at www.enenews.com and the latest news is very disturbing. I said from the outset, in the spring of 2011, that Tokyo would be evacuated. I still believe that to be inevitable. It is possible that much of Japan will be evacuated to elsewhere. The apocalyptic dimensions of the crisis are being covered up by TEPCO, the Japanese government, General Electric, and the USSA government. The reality is that there was at least one, and maybe more, really dirty nuclear blasts there in March of 2011, that wrecked the reactors and created a radioactive hell that no one knows how to remedy or bring under control. At the least we are probably looking at the failure and collapse of Japanese society with likely evacuation of tens of millions of people or more, and the fairly rapid death of vast portions of the Pacific Ocean, as deadly radioactive waste water continues to flow into the sea by the hundreds of tons, every day.
And when the cooling pool at reactor four collapses, the many tons of highly radioactive, spent, fuel rods that it contains will overheat and burn and or catastrophically fission, i.e., cause a runaway, nuclear reaction, or, in lay man's terms, there will be another atomic explosion, along with a mushroom cloud, and tons of highly poisonous nuclear isotopes will be spread aloft into the atmosphere and/or will drain or be blown into the sea, to poison the Pacific Ocean even further.
This is worse than bad news. This is planetary chaos news. This is civilization ending news. This is species extinction level news, as in extinction of the human species on this planet. If you do not think so, all I can say is: wait. It won't be long. Probably not ten years, not five, maybe even by Christmas this year, and you will begin to see what i mean, if you haven't already.
And even if the cooling pool at reactor four doesn't fail or collapse of its own accord in the near future, though that is very highly probable, TEPCO's plan to manually remove the many tons of bent, mangled, fused, welded together, very highly radioactive fuel rods that remain in the pool, beginning in November of this year, is so fraught with peril that it is likely to spectacularly fail, with unimaginably negative consequences. Any slight mistake, miscue or dropped fuel rod could result in a fission criticality, a runaway nuclear chain reaction, to wit, an atomic explosion that will shower the northern hemisphere and the Pacific Basin with a fatal radioactive sleet that will persist for hundreds of thousands of years.
As I said, the situation is somewhere far south of dire, with a headlong, hellward trajectory.
The Nuclear Chain Reaction
Because what is inevitable, the longer the situation at Fukushima festers, is that the whole site will have to be abandoned. Due to the high radiation levels, no one will be able to work there without dying. So the workers will pull back, and the cooling pools and storage pools that contain thousands of tons of extremely radioactive, spent fuel rods will fail or collapse and there will be more explosions and radioactive fires. As the radioactively contaminated NO GO ZONE expands, as the population flees, the day will come when nuclear reactors at other, nearby power generating plants will also fail, melt down and/or explode, because the nuclear engineers and maintenance workers no longer come to work and operate them — BECAUSE THEY ARE DEAD.
And then there will be three or four more, and the radioactive No Go Zone will expand, widen, grow. And other nuclear power plants will then fail, melt down and/or explode, because their operators are also DEAD, and so do not come to work, do not maintain them.
There are over 50 nuclear power reactors in Japan, and they all have their spent fuel rod cooling pools. It doesn't matter if the reactors themselves are shut down, because there are thousands and thousands of tons of highly radioactive, spent, nuclear fuel rods stored in the cooling pools all over Japan. So, given time, the crisis will continue to fester and worsen, and then it will begin to cascade, like a row of toppling dominoes, only it will be a series of failing nuclear power reactors, one after the other, heralding the end of the nuclear age, and quite possible the end of humanity.
It's just that serious.
All of that will send a killing wave of radioactivity across the Pacific to North America. So what happens when the population on the west coast of the USSA flees in panic from the approaching killer wave of radioactivity? Well, there will be no one left to operate the nuclear power reactors in California, for example. or at Palo Verde, the massive nuclear power plant just to the west of Phoenix. So when those nuclear reactors and their spent fuel cooling pools fail, melt down, and/or blow up, the civilization-ending, planet-killing, Fukushima Syndrome will come home to America with a wicked vengeance.
All courtesy of General Electric. General Electric designed five out of the six reactors at Fukushima and built three of them, so what we see here is genocidal, planet-killing failure of American (alleged) "high technology" on a spectacular scale.
General Electric — busy exterminating a planet near you of its resident, biological life forms.
At the end of the day, all the differential calculus, the nuclear physics, the nuclear chemistry, the nuclear engineering, the corporate profits, the Madison Avenue advertising slogans, the multinational wheeling and dealing, all has conspired to assassinate the planet on which we, and they, all live. Make no mistake, the planet is now dying. The global poisoning process is so very far advanced that it probably cannot be stopped. Certainly, there is not now any serious, international effort to do so, not anything remotely commensurate with the level of danger that we are facing.
No doubt we are dealing with profound iniquity, a betrayal so complete of all that is human that no words exist to describe its foul dimension. The ones who have done this thing walk among us, though for how long? – understanding that they, too, will certainly drop dead along with countless millions of others, as a direct result of their abjectly arrogant ignorance.
Arrogant Ignorance
All of their super-computers, the advanced mathematics, their (so-called) "hi-tech" industrial base, all of their billions of dollars of (so-called) "high finance" — and they kill the planet? And themselves and their posterity in the process? That's the best they can do? They get a PhD in nuclear chemistry and use their (so-called) "knowledge" and (so-called) technical "expertise" to kill the planet? The planet that they also live on?
Geniuses. All of them.
Central Banking Middle East Madness
Then there is the very real prospect of a shooting, nuclear war, beginning in the Middle East. The USSA has a powerful fleet in the region. So do the Russians, as a counterpoint. Sadly for all humanity, the Washington, DC — City of London — Lower Manhattan — Tel Aviv — NATO cabal seems hell bent on war, and so we are on the slippery slope to war. Unfortunately, this psychopathic cabal is very heavily nuclear armed.
I saw all of this coming from waaaaaaay back, from way back in my infancy, since the age of three years, when The Bone Lady visited me and clued me in to realities that I still don't want to think about, given their ghastly, hideous savagery. But I'll tell you what, it's enough to give a man insomnia, it's enough to drive him out onto the nuclear missile silos, again and again, in a personal effort to inject a note of sanity and warning into a positively insane political and military climate, in an attempt to wake up anyone who may be susceptible to awakening.
ANYONE.
My latest sally was 15 April 2010 in North Dakota, USA. I went over the security fence onto the H-8 Minuteman III nuclear missile silo in the Minot Air Force Base nuclear missile field, near Parshall, North Dakota, at the intersection of 33rd Street and 76th Avenue. I conducted a nonviolent, peace demonstration on the silo and was arrested by the USSA military and imprisoned for 100 days, almost all of the time served in the Heart of America Correctional and Treatment Center in Rugby, North Dakota.
My Minot Manifesto explains my motivations, reasons and spiritual and political philosophy. It is one of the most important documents I have written in my entire life.
A Serious Message From The Heart of America was my personal statement that I mailed to the news media from jail in Rugby, North Dakota, on 14 July 2010, prior to being criminally tried and convicted in USSA federal court in Minot, North Dakota.
I explain the symbolism in my dress and accoutrements in the photo below, in the text of my lengthy Minot Manifesto. It's thirteen pages, but worth the time and effort to read. It is a major life statement on my part, that reflects literal decades of deep thought, a very large quantum of concentrated life energy and hours, weeks, months and years of preparation, a statement that distills an important fraction of my life essence into human language. I invite you to partake of my gift by taking the time to read and reflect on what I have written, and then to take meaningful, principled, creative, nonviolent action yourself.
I don't quite know what more to say, what more to do. In fact, were I to do more than I already have, and I have been out on the nuclear missile silos three times (and been jailed for my trouble all three times, in Arkansas, Missouri and North Dakota), I would run the very real risk of infringing on your right and your very real, personal RESPONSIBILITY to also courageously act. So what are you waiting for? Why are you here on this planet, at this time, reading this blog post, and articles like it?
Because make no mistake about it, the time to act, if you are going to act, is here. The time has arrived. The planet is on the brink. We face the very real prospect of a shooting nuclear war. Additionally, the Fukushima crisis, and the threat from nuclear power plants in general, ALL OF THEM, could not be more serious.
In recent days, I find myself musing about the closing scene from "Dr. Stramgelove," with the haunting song by Vera Lynn, "We'll Meet Again, Don't Know Where, Don't Know When," that was such a huge hit in World War II, for obvious reasons.
And it fills me with such melancholy and sorrow. Because if it starts, this ugly thing called nuclear war, and we are headed that way, can all unravel very rapidly. The machines will take over, and automated, pre-programmed orders of battle will be carried out, without human control, as machines battle machines with nuclear fire. Waves of missiles will come in, again and again, to batter the underground bases. I have read the declassified documents. Warhead after warhead will come in at 10 minute intervals. You cannot imagine the depths of the hell that is already programmed and waiting to be unleashed.
Back in the 1960s, the USSA military was counting on 140 million casualties in the mainland USSA alone. I know this because I have read the documents. I have done the research. The USSA population is much larger now, and much more urban, so the casualty rate would be even higher. Maybe 200 million? 250 million casualties in the USSA alone?
Do you think you will just watch that on CNN?
Refuge in the Southern Hemisphere
If you have read my previous writings you will know that I have said that IF humanity has a future, it is likely to be in the southern hemisphere, if only because the lion's share of the nuclear weapons and nuclear power reactors are in the northern hemisphere. As the nuclear power plants fail, melt down, and/or explode most of them will be in the northern hemisphere. This is not an intellectual exercise — already we have had catastrophic failure of nuclear power plants at Chernobyl, Ukraine and Fukushima, Japan. They are just the first. There will be more.
Likewise, any shooting nuclear war is logically likely to be concentrated in the northern hemisphere, since all of the known, nuclear armed, military powers are in the northern hemisphere
But even then, there are enormous problems in the southern hemisphere. The vegetation in the Amazon region of South America produces something like 20 to 30% of the oxygen in the Earth's atmosphere. As the Amazon dies, and it is being destroyed right now, so too, is the Earth's breathable oxygen supply being destroyed. I don't know about you, but I breathe oxygen all day and all night, every day and every night of my life.
So even if we resolve the nuclear issue, and there is ZERO progress on that front right now, only to lose the Amazon, we all will still die, because none of us can survive with 20 to 30% less oxygen. Just cannot.
Right now, we, humanity, every last one of us, are in a life and death struggle for the life of our species, and the life of our planet.
If we win, we live. If we lose, we die. ALL OF US.
End of the story. End of our species' genetic line. For ever and ever.
Done. Finished.
So maybe moving to Bolivia or Uruguay or Namibia or Madagascar or New Zealand will buy you a little time, a year or ten. However, if we fail to rein in and ABOLISH nuclear reactors and nuclear weapons, if we fail to reforest the Earth and cleanse it of radioactive contamination, then we are through. It's the end for us.
This is our group decision. Right now we are on a self-destructive path to global extinction.
So Here Is My View
If you will act decisively, now is the time. Pick your issue and your spot and act creatively, courageously and nonviolently.
It's your world and your life. Act like they both count for something.
And here's the other thing. If you cannot, or will not act, then how about supporting those of us who have acted, and who continue to act?
In my case, I have paid a very heavy price, in earnings forever foregone, by putting my life on the line, repeatedly, for you, whom I do not even know. But because you are my human kin, I went out on the missile silos, again and again, and I went to jail. I lost more than a year and a half of productive labor. I lost, as well, the opportunity to have a whole wide range of well paying jobs, due to my arrest and prison record, even though I have multiple advanced university degrees, up to the doctorate level.
Subsequent to my arrival in South America, I immersed myself in Amazonian shamanic culture, the better to understand the Amazonian region, the jungle itself, and the shamanic human ecology of the region that interfaces with the hyper-conscious plants in the jungle, only to be very gravely assaulted by one of the said Amazonian shamans and hospitalized for more than four months with massive trauma to both my body and emotions. I am now pursing a criminal case against the shaman and that also costs heavily, several thousands of dollars in attorneys' fees, at the very time when so much of my time and energy is taken up with therapy and the sheer physical effort of getting around with impaired mobility. Nine months after the assault I still have physical nerve trauma in my lower extremities, a good deal of numbness and what is called drop foot. I walk with crutches. My electro-therapy also costs. At the moment I cannot go to electro-therapy, although I badly need it, because I only have $35 to my name.
I have run completely through my meager life savings and there is no more.
Additionally, I have this week begun the formal petition process to the government of Ecuador to request political asylum. My years-long record of anti-nuclear activism and repeated jailing by the USSA government is one factor in my decision, coupled with other factors such as recent revelations of universal NSA surveillance and espionage, the secret arrest and indefinite military detention provisions of the NDAA of 2012 and 2013, the recently revealed, previously secret 2011 FBI documents that blatantly discuss plans to murder Occupy Movement activists by sniper fire, including in San Antonio, Texas, where I lived and worked as a window washer from 2000 to 2009, and all of this in the context of an all encompassing pattern of unbridled lawlessness and pervasive lying with regard to EVERYTHING by the American government. All of this and more, has brought home to me the seriousness of this moment that we are living now.
I have the obligation to safeguard my own liberty and safety. It is clear to me that politically I am freer and safer in Ecuador than in the USSA. The American government has taken a hard, dictatorial turn towards neo-fascism. That is the plain truth. The harsh, repressive treatment of Edward Snowden and Chelsea (formerly Bradley) Manning makes that clear enough. We are in altogether different territory now. And so I have petitioned for political refuge in Ecuador.
This also entails paying an attorney, to assist me in my interactions with the administrative, legal and political system in Ecuador. It is my life on the line and I am proceeding very carefully, every step of the way.
But it is also your life on the line, in that my anti-nuclear activism, my immersion in the Amazonian culture, and my pursuit of political refuge in Ecuador all have profound implications far beyond just me. What happens to me also has broad implications for you. The consequences of nuclear war are too horrific to contemplate, and if it is to be avoided, it is because of actions such as mine. Similarly, we simply cannot afford to lose the Amazon, and yet we are losing it right now. If we are to save it, a big part of that will be due to the personal efforts of those who come to the region and get personally involved in the nitty-gritty, even life-threatening struggle for the soul of the Amazon, because more than anything, we are involved in a pitched battle for the very spirit and soul of the Amazon and of the rest of this planet.
Similarly, if I, with my history of activism, book writing, researching, blogging, public speaking, interviews, and repeated nonviolent civil disobedience and consequent jail record, cannot obtain political refuge abroad, then what hope do you have? You're boxed in, that's what. You're in a cage with no exit.
And so, if you cannot or have not done the things that I and others like myself have done and are doing, then can you please, will you at least please support us?
I desperately need your support now. My legal fees run to thousands of dollars, and my therapy is ongoing. I appreciate and really need your generosity. Please communicate with me at: dr.samizdat1618@gmail.com or via Skype at richard.sauder333 as to how to donate.
Come Ye That Love The Lord
I am a native Virginian, and have lived, worked, traveled, studied and gone to jail all over the American South, from the Virginias and Maryland, all the way across to South Texas, and numerous points in between. A very large block of my life has been spent down South. Although I am not now a church attending man, I have in the past been in all kinds of Christian churches, both Black and White, in big cities and small country towns.
Some of the most memorable sermons I have ever heard have been by Black pastors in rural areas of the deep South. One of the things I like about the traditional Black style of hymn singing down South is the way that the head deacon or pastor will frequently line out a hymn, especially the first line or two of a verse, and then the other deacons or members of the choir will join in, accompanied by riffs on the organ, if there is an organist, and there are some really gifted organists playing in southern Black churches.
I well remember a sermon that I once chanced to hear, decades ago, by a Black lay preacher, one sultry, Sunday night, in a tiny little town way down South, about as far south as you can go, and still be in the South and not somewhere else. The ceiling fans lazily stirred the muggy summer air, as the moths flitted vainly around the naked incandescent light bulbs hanging from the ceiling overhead. The windows were flung wide open and the pale light from the sanctuary washed feebly out through the rusted screens and flooded onto the close cropped lawn that surrounded the church. It was one of the most extraordinary public speaking performances I ever witnessed. The preacher used as his text Ezekiel 37, the theme being dry bones and systematically connecting them one to the other, the purpose being to reassemble and restore "them dry bones" to life. As he spoke, I saw that he fell into a trance, that he entered another state of consciousness, that he was self-hypnotized and that the sermon itself had a sort of existence independent of him, that the message took on a life of its own and was using his mind, his mouth, his body, to project itself into the ears, hearts and minds of the sparse assemblage present that evening. As he finished, he collapsed exhausted backwards into his armchair and lined out the first words of the hymn that he wanted the choir to sing. I don't anymore remember exactly what song he called for, but it could well have been this: Come Ye That Love The Lord
If there is to truly be a new world order, as distinct from the obscene power that currently holds sway on this planet today, then we will need to see a completely new order of human being on this world, a species of human being motivated by love for the Creator and by devotion to inward and outward service to the sacred life impulse. We don't see that now, and the human species may go extinct on this planet for its want.
I do believe in God and have been profoundly privileged to see some of His servants face to face. I find their company congenial.
Come, ye that love the Lord,
And let your joys be known;
Join in a song with sweet accord,
And thus surround the throne.

Let those refuse to sing
That never knew our God,
But children of the heavenly King
May speak their joys abroad.

The God of heaven is ours,
Our Father and our love ;
His care shall guard life's fleeting hours,
Then waft our souls above.

There shall we see his face,
And never, never sin;
There, from the rivers of his grace,
Drink endless pleasures in.

Yes, and before we rise
To that immortal state.
The thoughts of such amazing bliss
Should constant joys create.

Children of grace have found
Glory begun below:
Celestial fruits on earthly ground,
From faith and hope may grow.

The hill of Sion yields
A thousand sacred sweets,
Before we reach the heavenly fields,
Or walk the golden streets.

Then let our songs abound,
And ev'ry tear be dry;
We're trav'lling through Immanuel's ground,
To fairer worlds on high.

(John Wesley, ca. 1703- 1791)
Source: Richard Sauder  |  Event Horizon Chronicle
"The European race's last three hundred years of evolutionary progress have all come down to nothing but four words: selfishness, slaughter, shamelessness and corruption."
Yan Fu
It only took the rest of the world 300 years to catch on to the evil that masquerades as "western civilization," or perhaps it only took the rise of new powers with the confidence to state the obvious. Anyone doubtful of America's responsibility for the evil needs to read The Untold History of the United States by Oliver Stone and Peter Kuznick.
The "New American Century" proclaimed by the neoconservatives came to an abrupt end on September 6 at the G20 meeting in Russia. The leaders of most of the world's peoples told Obama that they do not believe him and that it is a violation of international law if the US government attacks Syria without UN authorization.
Putin told the assembled world leaders that the chemical weapons attack was "a provocation on behalf of the armed insurgents in hope of the help from the outside, from the countries which supported them from day one." In other words, Israel, Saudi Arabia, and Washington–the axis of evil.
China, India, South Africa, Brazil, Indonesia, and Argentina joined Putin in affirming that a leader who commits military aggression without the approval of the UN Security Council puts himself "outside of law."
In other words, if you defy the world, obama, you are a war criminal.
The entire world is waiting to see if the Israel Lobby can push obama into the role of war criminal. Many are betting that Israel will prevail over the weak american president, a cipher devoid of all principle. A couple of decades ago before the advent of the american sheeple, one of the last tough Americans, Admiral Tom Moorer, Chief of Naval Operations and Chairman of the Joint Chiefs of Staff, publicly declared that "no US president can stand up to Israel." America's highest ranking military officer could not get an honest investigation of the Israeli attack on the USS Liberty.
We are yet to see an american president who can stand up to Israel. Or, for that matter, a Congress that can. Or a media.
The obama regime tried to counter its smashing defeat at the G20 Summit by forcing its puppet states to sign a joint statement condemning Syria. However the puppet states qualified their position by stating that they opposed military action and awaited the UN report.
Most of obama's bought-and-paid-for "supporters" are impotent, powerless. For example obama counts the UK as a supporting country because of the personal support of the discredited UK prime minister, david cameron, despite the fact that cameron was repudiated by the British Parliament in a vote that prohibits British participation in another of Washington's war crimes. So, although cameron cannot bring the British people and the British government with him, obama counts the UK as a supporter of obama's attack on Syria. Clearly, this is a desperate count of "supporting countries."
The Turkish puppet government, which has been shooting its peacefully demonstrating citizens down in the streets, with no protest from obama or the Israel Lobby, supports "holding Syria accountable," but not itself, of course, or Washington.
The puppet states of Canada and Australia, powerless countries, neither of which carry one ounce of world influence, have lined up to do the bidding of their Washington master. The entire point of having the top government job in Canada and Australia is the payoff from Washington.
The obama cipher also claims the support of Japan and the Republic of Korea, another two countries devoid of all diplomatic influence and power of any kind. Helpless Japan is on the verge of being destroyed by the Fukushima nuclear disaster, for which it has no solution. As the radiation leaks spread into the aquifer upon which Tokyo and surrounding areas rely, Japan is faced with the possibility of having to relocate 40 million people.
Saudi Arabia, implicated in the transfer to al-Nusra rebels of the chemical weapons used in the attack, supports Washington, knowing that otherwise its tyranny is toast. Even the neoconservatives headed by obama's shrill National Security Advisor, Susan Rice, want to overthrow the Saudis.
Obama claims also to have support from France and Germany. However both Hollande and Merkel have stated clearly that a diplomatic solution, not war, is their first choice and that the outcome rests on the UN.
As for Italy and Spain's support, both governments are hoping to be rewarded with the Federal Reserve printing enough dollars to bail out their indebted economies so that both governments are not overthrown in the streets for their acquiescence to the looting of their countries by international banksters. Like so many Western governments, those of Italy and Spain, and, of course, Greece, support the international banksters, not their own citizens.
The president of the European Commission has declared that the European Union, the central overlord over Britain, France, Germany, Italy, and Spain, does not support a military solution to the Syrian Crisis. "The European Union is certain that the efforts should be aimed at a political settlement," Jose Manuel Barroso told reporters at the G20 meeting. The EU has the power to issue arrest warrants for the heads of EU governments that participate in war crimes.
What this reveals is that the support behind the liar obama is feeble and limited. The ability of the Western countries to dominate international politics came to an end at the G20 meeting. The moral authority of the West is completely gone, shattered and eroded by countless lies and shameless acts of aggression based on nothing but lies and self-interests. Nothing remains of the West's "moral authority," which was never anything but a cover for self-interest, murder, and genocide.
The West has been destroyed by its own governments, who have told too many self-serving lies, and by its capitalist corporations, who offshored the West's jobs and technology to China, India, Indonesia, and Brazil, depriving the Western governments of a tax base and the support of its citizens.
It is difficult to know whether citizens in the West hate their corrupt governments any less than do Muslims, whose lives and countries have been devastated by Western aggression, or than do citizens of third world countries who have been impoverished by being looted by predatory First World financial organizations.
The idiot Western governments have pissed away their clout. There is no prospect whatsoever of the neoconservative fantasy of US hegemony being exercised over Russia, China, India, Brazil, South Africa, South America, Iran. These countries can establish their own system of international payments and finance and leave the dollar standard whenever they wish. One wonders why they wait. The US dollar is being printed in unbelievable quantities and is no longer qualified to be the world reserve currency. The US dollar is on the verge of total worthlessness.
The G20 Summit made it clear that the world is no longer willing to go along with the West's lies and murderous ways. The world has caught on to the West. Every country now understands that the bailouts offered by the West are merely mechanisms for looting the bailed-out countries and impoverishing the people.
In the 21st century Washington has treated its own citizens the way it treats citizens of third world countries. Untold trillions of dollars have been lavished on a handful of banks, while the banks threw millions of Americans out of their homes and seized any remaining assets of the broken families.
US corporations had their taxes cut to practically nothing, with few paying any taxes at all, while the corporations gave the jobs and careers of millions of Americans to the Chinese and Indians. With those jobs went US GDP, tax base, and economic power, leaving Americans with massive budget deficits, a debased currency, and bankrupt cities, such as Detroit, which once was the manufacturing powerhouse of the world.
How long before Washington shoots down its own homeless, hungry, and protesting citizens in the streets?
Washington represents Israel and a handful of powerful organized private interests. Washington represents no one else. Washington is a plague upon the American people and a plague upon the world.
Source: Paul Craig Roberts
Fukushima shows us how a nuclear disaster can continue forever.
More than two years after the catastrophe, Japanese officialdom has raised the severity of the calamity from one to three (on a scale of seven). The threat elevation is due to massive amounts of radioactive water leaking out of the site.
"The quantities of water they are dealing with are absolutely gigantic," nuclear consultant Mycle Schneider told the BBC. "It is much worse than we have been led to believe, much worse."
This is having an impact on everything from the water supply to the surrounding oceans.
"Our biggest concern right now is if some of the other isotopes such as Strontium-90, which tend to be more mobile, get through these sediments in the groundwater," scientist Ken Buesseler said. "They are entering the oceans at levels that then will accumulate in seafood and will cause new health concerns."
The horror stories just keep on accumulating, as Harvey Wasserman documents for The Progressive.
"A plague of damaged thyroids has already been reported among as many as 40 percent of the children in the Fukushima area," he writes. "Cesium-137 from Fukushima has been found in fish caught as far away as California."
It's not shocking, then, that Fukushima is causing the world to take a long, hard look at nuclear energy.
"It has profoundly shaken confidence in the future of nuclear power, from Taiwan—where earlier this month MPs resorted to fisticuffs as they debated a referendum on a new nuclear power station—to Berlin," The Guardian notes.
"The kind of cascade of devastating events that hit Fukushima hadn't previously been factored into risk probability assessments," the paper says. "Now regulatory authorities all over the world have been forced to consider whether, however unlikely, more than one accident could happen in quick succession, and what the consequences would be."
The continuing calamity has put a crimp in Japanese Prime Minister Shinzo Abe's grandiose plans to go in for a full-scale nuclear revival.
"Even before news of the new leak, a majority of the public was against restarts, according to a Kyodo News poll taken July 13-14, with 51 percent opposing and 40 percent in favor of reviving Japan's nuclear program," Bloomberg News reports. "The latest revelation could further sway sentiment against nuclear power, according to Koichi Nakano, professor of politics at Sophia University in Tokyo."
However, for something that has such ongoing significance, there's comparatively little current coverage of Fukushima in the American media.
"Unlike other environmental catastrophes like BP's Deepwater Horizon oil spill in the Gulf of Mexico, the Fukushima crisis offers little to film," Eric Ozawa writes for The Nation. "And so the story, when it gets reported, rarely gets the attention it deserves."
Don't let that fool you, though. Fukushima is one of the most consequential events of recent years and has huge implications for the types of energy sources we choose—and the type of world we'd like to live in.
Source: Amitabh Pal  |  The Progressive
Japan's apocalypse continues. Emergency conditions persist. No end in sight looms. Fukushima's radioactive discharges can't be stopped. They continue. They're uncontainable.
At issue is by far the worst environmental disaster in history. It's multiples worse than Chernobyl. It's an unprecedented catastrophe. It's reason enough to abolish nuclear power.
According to Japan's Ministry of Economy, Trade and Industry, about 300 tons of radioactive groundwater flow into the Pacific daily.
It's done so since Japan's March earthquake and tsunami triggered Fukushima's meltdown.
Tokyo Electric (TEPCO) says water's getting over and around "chemical walls." It can't be stopped. Three Fukushima reactors suffered meltdowns. A fourth was badly damaged.
The worst fear remains. Unit Four's structural integrity was seriously undermined. It contains hundreds of tons of highly radioactive water.
If an earthquake or other natural disaster occurs, its fuel rods almost certainly will catch fire. Radioactive emissions will follow. They'll compound what's already disastrous.
Emissions will continue longterm. They'll circle the planet. They cause catastrophic harm.
Since March 2011, Tepco estimates around 20 to 40 trillion radioactive tritium becquerels leaked into the Pacific. So have large cesium and strontium discharges. They continue. They're much more dangerous.
According to nuclear expert Arnie Gunderson, "(t)he horse is already out of the barn." Leakage continues since earthquake and tsunami struck.
Radioactive water contaminates the Pacific. Gunderson's "experience with underground water is that – if it is serious at the ocean, it is more serious" on land.
Japanese officials proposed erecting a barrier. At issue is preventing water from reaching the Pacific. Whatever's done "is two years too late and will be too late by the time" construction's finished, said Gunderson.
A barrier's not the solution. It causes another problem. "If the water can't go anywhere into the Pacific Ocean, it is going to build up onsite, which means that the nuclear reactors themselves will become unstable."
"The water can pull underneath the nuclear buildings and if there is an earthquake, in fact the nuclear buildings could topple. So, by solving one problem, they are creating another problem."
Gunderson believes contaminated water will keep discharging for at least 20 to 30 years. It's the most radioactive water he ever experienced.
Cost is another issue. Cleanup involves around half a trillion dollars, says Gunderson. Most important is human health.
Epidemic cancer levels are certain. And not just in Japan. In early July, Fukushima's former chief operator, Masao Yoshida, died of esophogeal cancer.
He was 58. Tepco lied saying his death was unrelated to radiation exposure. Japanese children are experiencing a shocking 40% rise in thyroid irregularities.
Experts expect much higher numbers ahead. Fukushima's an ongoing disaster. It persists. It's not ending. It'll continue for decades.
According to Institute for Energy and Environmental Research (IEER) president Arjun Makhijani:
"Fukushima continues to be an emergency without end – vast amounts of radioactivity, including strontium-90 in the groundwater, evidence of leaks into the sea, the prospect of contaminated seafood."
"Strontium-90, being a calcium analog, bioaccumulates in the food chain. It is likely to be a seaside nightmare for decades."
It's much more dangerous than cesium 137 and 134. It's at levels 30 times higher.
"So to give you an idea of the level of contamination, if somebody drank that water for a year, they would almost certainly get cancer."
"So that's one problem. The other is the defenses to hold back this water from the sea seem to be overcome."
"So now the contaminated waters, 70,000, 80,000 gallons, are flowing into the sea every day."
"(S)ome of it will disperse and dilute. Some of it goes into the sediment, and some of it is taken up by the life in the sea."
"And the unfortunate thing about strontium especially is that it bioaccumulates in algae. It bioaccumulates in fish."
"It targets the bone, because it's like calcium. And so this is a problem. We don't have measurements far out to sea."
"The Woods Hole Institute has done some surveys. And they were surprised by how much continuing radioactivity they found, but no clear explanation yet."
The effect on human health's expected to be devastating. It's already bad. It's getting progressively worse. The genie's out of the bottle. No end in sight looms.
Strontium-90 and cesium are both perilous. "(S)ince strontium-90 is more mobile and also more dangerous biologically, (it) behaves like calcium, so it goes to the bone."
"It also bioaccumulates in the base of the food chain and algae. Ultimately because it does bioaccumulate and there is quite a lot of strontium, you could have a large part of the food chain near Fukushima being contaminated."
If pregnant women ingest contaminated water, fish or other food, "the outcomes could be worse than cancer because then you're talking about a much more compromised child in the sense of having a compromised immune system – it makes you more vulnerable to all kinds of diseases."
Makhijani doesn't know how Tepco can handle the problem. It's uncontrollable.
"It's very, very unclear to me how they are going to be able to get at this molten fuel, extract it from the bottoms of these highly damaged buildings and package it for safer or less dangerous storage or disposal."
"This is an accident that's shockingly not stopping." It's certain to worsen. It's unchartered territory.
It affects the region. It's humanity's worst environmental nightmare. Nuclear rain affects North America and Europe. Obama's an unabashed nuclear power promoter.
He wants more reactors built. He wants licenses for aging poorly maintained plants with poor safety records extended. He wants them operating unregulated.
He's recklessly endangering Americans. He talks clean energy alternatives. Policy measures spurn them. He fronts for corporate favorites.
He's captive to a destructive industry. He risks a Fukushima-type disaster on US soil. He risks millions of American lives. He's mindless of potential dangers.
Nuclear power's inherently unsafe. Einstein called it a hellova way to boil water. It does so through massive heat. It turns it into steam. It powers an electricity generating turbine.
According to anti-nuclear activist Karl Grossman:
Avoiding potentially catastrophic accidents "requires perfection and no acts of God." Humans and technology aren't perfect. Natural and other disasters happen.
"We can't eliminate them. But we can – and must – eliminate atomic energy." Otherwise it'll eliminate us.
Nuclear expert Helen Caldicott's clear and unequivocal, saying:
"As a physician, I contend that nuclear technology threatens life on our planet with extinction."
"If present trends continue, the air we breathe, the food we eat, and the water we drink will soon be contaminated with enough radioactive pollutants to pose a potential health hazard far greater than any plague humanity has ever experienced."
It doesn't get any clearer than that.
A Final Comment
Coverup and denial followed Chernobyl's disaster. Helen Caldicott called doing so "the most monstrous coverup in the history of medicine."
The death toll was many multiples greater than reported. Estimates range up to a million or more.
The New York Academy of Sciences (NYAS) translated thousands of Russian articles and papers. It added "revised and updated contributions."
"Written by leading authorities from Eastern Europe, the volume outlines the history of the health and environmental consequences of the Chernobyl disaster," NYAS said.
"According to the authors, official discussions from the (IAEA) and associated (UN) agencies (e.g. the Chernobyl reports) have largely downplayed or ignored many of the findings reported in the Eastern European scientific literature and consequently have erred by not including these assessments."
Fukushima far exceeds Chernobyl. Millions of lives are threatened. Perhaps future independent studies will explain. They'll be too little to late to help victims.
Stephen Lendman lives in Chicago. He can be reached at lendmanstephen@sbcglobal.net.
His new book is titled "Banker Occupation: Waging Financial War on Humanity."
http://www.claritypress.com/LendmanII.html
Visit his blog site at sjlendman.blogspot.com.
Radiation leaks, steam releases, disease and death continue to spew from Fukushima and a disaster which is far from over. Its most profound threat to the global ecology—a spent fuel fire—is still very much with us.
The latest steam leak has raised fears around the planet. A worst-case scenario of an on-going out-of-control fission reaction was dismissed by the owners, Tokyo Electric, because they didn't find xenon in the plume. The company says the steam likely came from rain water being vaporized by residual heat in one of the plant's stricken reactors.
But independent experts tend to disbelieve anything Tepco says, for good reason. Reactor Units One, Two and Three have exploded at Fukushima despite decades of official assurances that commercial atomic power plants could not explode at all. The company has been unable to clear out enough radioactive debris to allow it to put a cover over the site that might contain further airborne emissions.
Tepco has also been forced to admit that it has been leaking radioactive water into the ocean ever since the disaster began on March 11, 2011. In one instance it admitted to a 90-fold increase of Cesium in a nearby test well over a period of just 3 days.
Earlier this year a rat ate through critical electrical cables, shorting out a critical cooling system. When Tepco workers were dispatched to install metal guards to protect the cabling, they managed to short out the system yet again.
Early this month, Fukushima's former chief operator, Masao Yoshida, died of esophogeal cancer at the age of 58. Masao became a hero during the worst of the disaster by standing firm at his on-site command post as multiple explosions rocked the reactor complex. Tepco claimed his ensuing cancer and death were "unlikely" to have been caused by Fukushima's radiation.
The impact of work in and near the reactors has become a rising concern. Critics have warned that there are not enough skilled technicians willing to sacrifice themselves at the plant. Tepco has worsened the situation by applying to open a number of its shut reactors elsewhere in Japan, straining its already depleted skilled workforce even further.
Meanwhile, a staggering 40% rise in thyroid irregularities among young children in the area has caused a deepening concern about widespread health impacts from Fukushima's fallout within the general public. Because these numbers have come in just two years after the disaster, the percentage of affected children is expected to continue to rise.
And the worst fear of all remains unabated. At Unit Four, which apparently did not actually explode, the building's structural integrity has been seriously undermined. Debate continues to rage over exactly how this happened.
But there's no doubt that a pool containing many tons of highly radioactive used fuel is suspended 100 feet in the air, with little left to support the structure. Should an earthquake or other trauma knock the pool to the ground, there's a high likelihood the fuel rods could catch fire.
In such an event, the radioactive emissions could be catastrophic. Intensely lethal emissions could spew for a very long time, eventually circling the globe many times, wrecking untold havoc.
The Japanese have removed two apparently unused rods from the fuel pool so far. But intense international pressure to clear out the rest of them has thus far been unsuccessful.
So while a depleted, discredited and disorganized nuclear utility moves to restart its other reactors, its stricken units at Fukushima continue to hold the rest of us at the brink of apocalyptic terror.
Harvey Wasserman edits www.nukefree.org and is author of SOLARTOPIA! Our Green-Powered Earth. His SOLARTOPIA GREEN POWER & WELLNESS SHOW is at www.prn.fm. This article was first published at www.progressivemagazine.com.
What makes Goldman Sachs alumni at the center of international finance? Is it pure talent and business acumen, or is there more to the equation, then grooming the best and the brightest? The answer lies in the indisputable perquisite that places Goldman Sachs Above the Law. How did this banking concern become the most powerful political influence in government policies? Well, central banking certainly is at the core of their economic clout. The 'TC' essay Federal Reserve is a Cache of Stolen Assetsgoes into methods that results in the financial slavery. But what makes Goldman Sachs central to their dominance of nations and so many governments?
A pursuit for answers and an explanation needs to investigate internal workings and crucial critiques that demonstrate patterns of global dominance. Former GS operative Greg Smith wrote in the New York Times, Why I Am Leaving Goldman Sachs:
"It might sound surprising to a skeptical public, but culture was always a vital part of Goldman Sachs's success. It revolved around teamwork, integrity, a spirit of humility, and always doing right by our clients. The culture was the secret sauce that made this place great and allowed us to earn our clients' trust for 143 years. It wasn't just about making money; this alone will not sustain a firm for so long. It had something to do with pride and belief in the organization. I am sad to say that I look around today and see virtually no trace of the culture that made me love working for this firm for many years. I no longer have the pride, or the belief."
Goldman Sachs reached the pinnacle of investment banking because it served the fiscal needs of its clients. When businesses profited from the relationship, all was well for the masters of the universe. The focus upon providing value to substantial businesses, that actually provided constructive products and services, was a formula that has merit and meaningful purpose. Now, essential ethic standards, has become subordinated to the practice of exerting primary political control. Designing exotic deceptive products intent upon usurious returns, betrays the very foundations of raising capital to finance legitimate business development.
The excellent analysis from The Economic Collapse site provides a list of compelling arguments in 11 Reasons Why America Would Be A Better Place Without Goldman Sachs. #9 illustrates the real aim behind the curtain. The Wizard of Oz has a Goldman address.
"Goldman Sachs has way too much influence over the federal government. There is a reason why it is commonly referred to as "Government Sachs". No matter who is the White House, people that used to work for Goldman and other big Wall Street banks always seem to be crawling around."
Moreover, the tentacles of international reach have extended well beyond the former bastion of American capitalism. Goldman Sachs takes over America and now Europeis all part of "gods work" . . . Since this year old arrangement was adopted the faltering EU economy intensifies, while the consolidation of political union under the GS model of financial servitude expands.
"Now, the EU has given Goldman Sachs and Co. an unlimited free hand to fleece taxpayers – through the European Stability Mechanism (ESM). It is a permanent facility to replace the temporary Financial Stability Facility and the European Financial Stabilisation Mechanism once Member States, representing 90% of capital commitments have ratified, probably in July 2012.

The ESM is a contract of debt. . . . The authorized share capital must be 700bn €. (to be increased)

[Article 9]: "… ESM members commit themselves irrevocably and unconditionally to pay on demand any capital that is demanded of them … within 7 days of receipt of the request.".

[Article 10]: "The Council of Governors may decide to change the authorized capital and Article 8.

[Article 27, lines 2-3]: "[Article 27, line 4]: "The property, funding and assets of the ESM shall . . . be immune from every form of legal proceedings – as shall ESM property and assets, governors, deputy governors, directors and officials.

The ESM is an intergovernmental organization, not subject to laws – and not subject to reviewers."
If you think, the UK escaped this round of exploitation, ready yourself for Mark Carney: Bank governor's journey from wilderness to heart of the City. "The earning years were – naturally – at Goldman Sachs, where he was marked out as one of the very highest flyers while working in London, Tokyo and New York. The switch to public service – and the public profile that brings – came with a move into central banking, first as deputy and then as governor of the Bank of Canada, in a spell that included the global financial collapse."Scott Brison, economic spokesman for the Canadian Liberal party – known as "finance critic" – and, a personal friend of Carney's, provides this assessment.
"Mark has the economic background; but also he has personal understanding of the industry. He has peer-to-peer credibility with some of the top bankers in the world. There's a language; there's a cadence."
In his international role, as chairman of the G20's Financial Stability Board, he has not only been a strong advocate of tighter regulation, but notched up a furious shouting match with JP Morgan boss Jamie Dimon. Perhaps not surprisingly, given how fast he has risen, Carney has a steely side: several people remembered being warned off disagreeing with him. And he had that life-plan from a relatively early age. "I have heard him say 'learn, earn, serve,'" says Brison. "He is someone who chooses public service: he is not a materialistic guy."
First learn, then earn and serve translates into protecting the domination goals of Goldman Sachs. The new code, The Goldman Sachs Business Principles, "Our clients' interests always come first.", actually means that the ultimate patrons of Goldman Sachs are the owners of the international central banking system. The public show of faction dissent among banksters is simply posturing. GS only services one nefarious master.