The rancour between Japan and China was on public display at the World Economic Forum in Davos, Switzerland when Japanese Prime Minister Shinzo Abe gave his keynote speech to the gathering of billionaires, bankers, CEOs, and political leaders on Wednesday.
After expounding on his "Abenomics" pro-market restructuring agenda, Abe spent the second half of his speech making barely-veiled jabs at China that were calculated to further inflame tensions.
Abe began by declaring that "freedom of movement" was of particular importance—a reference to the dangerous dispute that emerged last month over China's declaration of an Air Defence Identification Zone in the East China Sea, including the disputed islets known as Senkaku in Japan and Diaoyu in China.
The US, followed by Japan, immediately flew war planes into the zone unannounced, challenging Chinese authority and sharply escalating tensions. As China scrambled its own fighters in response, the danger emerged of a clash precipitated by a mistake or miscalculation on either side.
Referring to the Senkaku/Diaoyu islands, Abe repeated his adage that disputes should be resolved through dialogue and the rule of law, not through force and coercion. In fact, his government refuses to even recognise that there is a dispute over the rocky outcrops and has stepped up military measures in the area, raising the risk of a military clash.
Again pointing to China, Abe proclaimed the need to "restrain military expansion in Asia, which could otherwise go unchecked." He called for military budgets to be made "completely transparent"—a criticism repeatedly made by the US and its allies over China's military spending.
While repeatedly declaring his commitment to peace, Abe last year announced the first increase in the Japanese military budget in a decade. His government continued to shift the strategic focus of the Japanese military to "island defence" and Japan's southern island chain adjacent to the Chinese mainland.
Japan's defence expansion has been encouraged and backed by the Obama administration, as part of its "pivot to Asia" that includes strengthening of alliances and partnerships throughout the region aimed against China.
Making clear the dangers of war were real, Abe warned his audience: "If peace and stability were shaken in Asia, the knock-on effect for the entire world would be enormous."
Asked by the chair of the session, Abe defended his visit in December to the notorious Yasukuni war shrine—a hated symbol of Japanese militarism in the 1930s and 1940s, where many "Class A" Japanese war criminals are buried. Abe claimed he was simply "praying for the souls of the departed," which should be "something quite natural for a leader of any country in the world."
While Abe did not name China in the course of his speech, the target of his remarks was unmistakable.
In another Davos session, Chinese academic Wu Xinbo responded by calling Abe a "troublemaker", likening him to North Korean leader Kim Jong-un. "Political relations between our two countries will remain very cool, even frozen for the remaining years of Abe in Japan," he warned.
In a less public forum at Davos with international journalists, Abe was more explicit. Asked by Financial Times journalist Gideon Rachman if war with China was "conceivable", the Japanese prime minister did not rule it out. Instead, he compared the current tensions between China and Japan to the rivalry between Britain and Germany in the years before the World War I, saying that it was a "similar situation".
While various commentators have made the same comparison, such remarks carry added significance coming from Japan's prime minister. Abe reinforced the point by declaring that China's increase in military spending was a major source of instability in the region.
As reported in Rachman's blog, Abe noted that, "Britain and Germany—like China and Japan—had a strong trading relationship. But in 1914, this had not prevented strategic tensions leading to the outbreak of conflict." He warned of the danger of "some conflict or dispute arising out the blue, on an ad hoc level… or inadvertently"—a reference to the killing of the Austrian archduke in 1914 that sparked war.
Abe offered no suggestion as to how conflict could be avoided, other than a half-hearted proposal for a "military-force level communications channel" between Beijing and Tokyo. "Unfortunately we don't have a clear and explicit roadmap," he said, adding later than Japan would "very much like to strengthen our military relationship with the US."
This last remark highlights the role of the Obama administration is stoking up tensions throughout the region. Its "pivot to Asia" has encouraged allies as Japan and the Philippines to take a far more aggressive stance in their maritime quarrels with China. Four years ago, the dispute over the Senkaku/Diaoyu islands barely registered in international politics. Today it has become a dangerous flashpoint for war in Asia.
Abe's speech is part of an escalating propaganda war between Japan and China. Following Abe's visit to the Yasukuni Shrine on December 26, Chinese and Japanese ambassadors have engaged in embittered exchanges in the newspapers in at least a dozen countries, including the United States, Britain, Australia and New Zealand.
In Britain, the exchange took the bizarre form of likening the other country to Lord Voldemort—the ultimate incarnation of evil the Harry Potter children's novels—and accusing it of militarism and aggression.
Like the Abe government, the Chinese regime has seized on the dispute to whip up reactionary patriotic sentiment, seeking to divert attention from the social crisis at home and manoeuvre diplomatically abroad. Chinese ambassador Liu Xiaoming concluded his diatribe against Japan with an appeal for Britain and China to renew the World War II alliance—that is, against Japan—in order "to safeguard regional stability and world peace."
The tensions between Japan and China at Davos, where business and political leaders are supposedly gathered to iron out the problems of global capitalism, underlines the bankruptcy of the social order that they all defend. Five years after the global financial crisis, the economic breakdown continues unabated, fuelling geo-political rivalries that are driving towards a catastrophic war.
Source: wsws
Deregulation, Privatization, and Cheap Labor…
The man who promised to restore hope and bring change to America, has announced a plan to open five corporate plantations in the United States. On Thursday, President Barack Obama, whose policies have resulted in the greatest number of public sector job losses in US History (Public sector jobs have declined by 718,000 jobs since Obama took office.) announced the opening of five "Promise Zones" located in San Antonio, Philadelphia, Los Angeles, southeastern Kentucky, and the Choctaw Nation of Oklahoma. According to an article in USA Today:
"Under the proposed Promise Zones, the federal government plans to partner with local governments and businesses to provide tax incentives and grants to help combat poverty." ("Obama to name 5 'Promise Zones' for assistance", USA Today)
Combatting poverty' has nothing to do with it. Obama plans to shower the nation's biggest corporations–which recorded record profits in the last year and are presently sitting on more than $1.3 trillion in cash–with more lavish subsidies and tax breaks while providing an endless source of cheap slave labor to boost future earnings. The president believes that the wealth generated in these profit zones, er, promise zones will trickle down to the area's residents, even though–as the Christian Science Monitor notes–"it can be hard to tell whether a program's benefits reach the poorest people, rather than flowing largely into the hands of the business owners who get the tax credits."
Here's more from USA Today:
"Obama said his administration plans "to partner with 20 of the hardest-hit towns in America to get these communities back on their feet. We'll work with local leaders to target resources at public safety, and education, and housing." (USA Today)
Translation: The Obama administration is committed to assisting the corporate oligarchy whenever possible even if it means further eviscerating the rapidly-diminishing US middle class and reducing millions of hard-working Americans to grinding third world poverty. Deregulation will allow corporations to privatize policing, education and any other lucrative public resource or service. According to the New York Times: "White House officials said the Promise Zones initiative would not provide new money, rather it would be aimed at providing the local governments and agencies "aid in cutting through red tape to get access to existing resources."
No new money??
How do you like that? So, the man that helped push through the multi-trillion dollar Wall Street bailouts is not going to give one red cent to the nation's poorest and most needy people. Instead, he is going to do whatever he can to eliminate the rules that keep voracious corporations from feeding at the public trough.
Conservative Senate Minority Leader Mitch McConnell of Kentucky — "praised the proposed Promise Zone for Eastern Kentucky saying:
"I wrote a letter last year supporting this designation because this region has suffered enormous economic hardship over the last several years," McConnell said in a statement."
Mitch McConnell likes Obama's plan. That says it all, doesn't it?
Plantations were a familiar feature of the antebellum South, but were abandoned following the Civil War. Now a new generation of corporate kleptocrats want to revive the tradition. They think that weakening consumer demand and persistent stagnation can only be overcome by skirting vital labor protections and shifting more of the cost of production onto workers. Obama's promise zones provide a way for big business to slip the chains of "onerous" regulations and restore, what many CEO's believe to be, the Natural Order, that is, a Darwinian, dog-eat-dog world where only the strongest and most cunning survive. This is a world in which Obama has done quite well, although he's had to distance himself from his political base and throw friends under the bus (Jeremiah Wright) in his relentless climb to the top. Even so, selling out has never been an issue for Obama.
Special economic zones are not a new idea, in fact, they've been tried in the UK, Australia and other places where the global bank cartel exerts its grip. In Tokyo, last month, right-wing PM, Shinzo Abe announced the launching of his own "Special Economic Zones". Here's a short summary of Abe's plan from an article in the Japan Times:
"Special zones aimed at spurring corporate investment through deregulation and tax incentives are to be created in Tokyo as well as Osaka and central Aichi Prefecture….Other deregulation steps to debut in such zones will let private firms operate public schools, let experts without teaching licenses teach classes, expand the scope of treatment that can be administered by non-Japanese doctors and nurses, facilitate the use of foreign drugs and increase the number of hospital beds." (Japan Times)
Sound familiar? Deregulation, privatization, and cheap labor; the toxic coctail that has vaporized the US middle class and wiped out a good portion of the developing world.
Obama calls these promise zones. We think corporate plantations is a more fitting moniker.
Does anyone in authority anywhere tell the truth about Fukushima? If there is any government or non-government authority in the world that is addressing the disaster at Fukushima openly, directly, honestly, and effectively, it's not apparent to the outside observer what entity that might be.
There is instead an apparent global conspiracy of authorities of all sorts to deny to the public reliably accurate, comprehensible, independently verifiable (where possible), and comprehensive information about not only the condition of the Fukushima power plant itself and its surrounding communities, but about the unceasing, uncontrolled release of radioactive debris into the air and water, creating a constantly increasing risk of growing harm to the global community.
While the risk may still be miniscule in most places, the range of risk rises to lethal in Fukushima itself. With the radioactive waste of four nuclear reactors (three of them in meltdown) under uncertain control for almost three years now, the risk of lethal exposure is very real for plant workers, and may decrease with distance from the plant, but may be calculable for anyone on the planet. No one seems to know. No one seems to have done the calculation. No one with access to the necessary information (assuming it exists) seems to want to do the calculation.
There is no moral excuse for this international collusion. The excuses are political or economic or social, but none of them excuses any authority for withholding or lying about information that has potentially universal and destructive impact on everyone alive today and everyone to be born for some unknown generations.
Japanese authorities may be the worst current offenders against the truth, as well as the health and safety of their people. Now the Japanese government has passed a harsh state secrets law that threatens to reduce or eliminate reliable information about Fukushima. The U.S. government officially applauded this heightened secrecy, while continuing its own tight control on nuclear information. Japanese authorities are already attacking their own people in defense of nuclear power: not only under-measuring and ignoring varieties of radioactive threat, but even withholding the iodine pills in 2011 that might have mitigated the growing epidemic of thyroid issues today. Failing to confront Fukushima honestly, the Japanese are laying the basis for what could amount to a radiological sneak attack on the rest of the world.
Just because no one seems to know what to do about Fukushima is no excuse to go on lying about and/or denying the dimensions of reality, whatever they might be.
There are hundreds, probably thousands of people with little or no authority who have long struggled to create a realistic, rational perspective on nuclear threats. The fundamental barrier to knowing the scale of the Fukushima disaster is just that: the scale of the Fukushima disaster.
Chernobyl 1986 and Fukushima 2011 are Not Really Comparable
Chernobyl is the closest precedent to Fukushima, and it's not very close. Chernobyl at the time of the 1986 electric failure and explosion had four operating reactors and two more under construction. The Chernobyl accident involved one reactor meltdown. Other reactors kept operating for some time after the accident. The rector meltdown was eventually entombed, containing the meltdown and reducing the risk. Until Fukushima, Chernobyl was considered the worst nuclear power accident in history, and it is still far from over (albeit largely contained for the time being). The Chernobyl Exclusion Zone of roughly 1,000 square miles remains one of the most radioactive areas in the world and the clean-up is not even expected to be complete before 2065.
At the time of the March 11, 2011, earthquake and tsunami, the Fukushima plant had six operating reactors. Three of them went into meltdown and a fourth was left with a heavily laden fuel pool teetering a hundred feet above the ground. Two other reactors were undamaged and have been shut down. Radiation levels remain lethal in each of the melted-down reactors, where the meltdowns appear to be held in check by water that is pumped into the reactors to keep them cool. In the process, the water gets irradiated and that which is not collected on site in leaking tanks flows steadily into the Pacific Ocean. Within the first two weeks, Fukushima radiation was comparable to Chernobyl's and while the levels have gone down, they remain elevated.
The plant's corporate owner, Tokyo Electric Power Company (TEPCO), in turn effectively owned by the Japanese government after a 2012 nationalization, began removing more than 1,500 fuel rod assemblies from the teetering fuel pool in November, a delicate process expected to take a year or more. There are additional fuel pools attached to each of the melted down reactors and a much larger general fuel pool, all of which contain nuclear fuel rod assemblies that are secure only as long as TEPCO continues to cool them. The Fukushima Exclusion Zone, a 12-mile radius around the nuclear plant, is about 500 square miles (much of it ocean); little specific information about the exclusion zone is easily available, but media coverage in the form of disaster tourism is plentiful, including aGoogle Street View interactive display.
Despite their significant differences as disasters, Chernobyl and Fukushima are both rated at 7 — a "major accident" on the International Nuclear Event Scale designed in 1990 by the International Atomic Energy Agency (IAEA). That is the highest rating on the scale, a reflection of the inherent denial that colors most official nuclear thinking. Designed by nuclear "experts" after Chernobyl, the scale can't imagine a worse accident than Chernobyl which, for all its intensity, was effectively over as an accident in a relatively short period of time. At Fukushima, by contrast, the initial set of events was less acute than Chernobyl, but almost three years later they continue without any resolution likely soon. Additionally Fukushima has three reactor meltdowns and thousands of precarious fuel rod assemblies in uncertain pools, any of which could produce a new crisis that would put Fukushima clearly off the scale.
And then there's groundwater. Groundwater was not a problem at Chernobyl. Groundwater is a huge problem at the Fukushima plant that was built at the seashore, on a former riverbed, over an active aquifer. In a short video, nuclear engineer Arnie Gunderson makes clear why groundwater makes Fukushima so hard to clean up, and why radiation levels there will likely remain dangerous for another hundred years.
Fukushima Unit #3 Activity Led to Some Panic-Driven Reporting in 2013
The Japanese government and nuclear power industry have a history of not telling the truth about nuclear accidents dating back at least to 1995, as reported by New Scientistand Rachel Maddow, among others. Despite Japan's history of nuclear dishonesty, Japanese authorities remain in total control of the Fukushima site and most of the information about it, without significant objection from most of the world's governments, media, and other power brokers, whose reputation for honesty in nuclear matters is almost as bad as Japan's. In such a context of no context, the public is vulnerable to reports like this from the Turner Radio Network (TRN) on December 28:
** NEWS FLASH — URGENT ** STEAM SUDDENLY EMANATING FROM FUKUSHIMA REACTOR # 3 — WEST COAST OF NORTH AMERICA SHOULD BEGIN PREPARATIONS FOR POSSIBLE RADIATION CLOUD WITHIN 3 TO 5 DAYS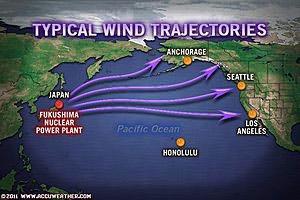 Five days after this story was posted, the "radiation cloud" had not developed despite the story's assertion that: "Experts say this could be the beginning of a spent fuel pool criticality (meltdown)'involving up to 89 TONS of nuclear fuel burning up into the atmosphere and heading to North America." The story named no "experts" and provided links only to TEPCO announcements in Japanese. The bulk of the story reads like an infomercial for "protective" gear of various sorts that TRN makes a point of saying it does NOT sell. Despite such obvious warning signs, others — such as The Ecologist and Gizmodo — reported the threat of "another meltdown" at Fukushima Unit #3 as imminent.
Clarification and reassurance quickly started chasing the "new meltdown" rumor around the Internet. ENENEWS (Energy News) promptly posted the TEPCO reports in English, demonstrating that there was nothing "sudden" about the steam releases, they've been happening more or less daily since 2011, but condensation caused by cold weather makes them visible. At FAIREWINDS (Energy Education), Arnie Gunderson posted on January 1:
"… the Internet has been flooded with conjecture claiming that Fukushima Daiichi Unit 3 is ready to explode… Our research, and discussions with other scientists, confirms that what we are seeing is a phenomenon that has been occurring at the Daiichi site since the March 2011 accident… While the plants are shutdown in nuke speak, there is no method of achieving cold shut down in any nuclear reactor. While the reactor can stop generating the actual nuclear chain reaction, the atoms left over from the original nuclear chain reaction continue to give off heat that is called the decay of the radioactive rubble (fission products)… constantly releasing moisture (steam) and radioactive products into the environment." [emphasis added]
In other words, Fukushima Unit #3 continues to leak radioactivity into both air and water, as Units #1 and #2 presumably do as well. But as Gunderson explains, the level of radioactivity has declined sharply without becoming benign:
"When Unit 3 was operating, it was producing more than 2,000 megawatts of heat from the nuclear fission process (chain reaction in the reactor). Immediately after the earthquake and tsunami, it shut down and the chain reaction stopped, but Unit 3 was still producing about 160 megawatts of decay heat. Now, 30 months later, it is still producing slightly less than 1 megawatt (one million watts) of decay heat… 1 megawatt of decay heat is a lot of heat even today, and it is creating radioactive steam, but it is not a new phenomenon."
Reassurances About Fukushima are As Misleading As Scare Stories
The reassuring aspects of the condition of Unit #3 — radioactive releases are not new, they're less intense than they once were, the nuclear waste is cooling — while true enough, provide only a false sense of comfort. Also true: radiation is released almost continuously, the releases are uncontrolled, no one seems to be measuring the releases, no one seems to be tracking the releases, no one is assessing accumulation of the releases. And while it's true that the waste is cooling and decaying, it's also true that a loss of coolant could lead to another uncontrolled chain reaction. ("Fukushima Daiichi Unit 3 is not going to explode," says Gunderson in a headline, but he can't know that with certainty.)
For the near future, what all that means, in effect, is that the world has to accept chronic radiation releases from Fukushima as the price for avoiding another catastrophic release. And even then, it's not a sure thing.
But there's another aspect of Fukushima Unit #3 that's even less reassuring. Unit #3 is the one Fukushima reactor that was running on Mixed oxide fuel, or MOX fuel, in its fuel rods.MOX fuel typically uses Plutonium mixed with one or more forms of Uranium. UsingPlutonium in fuel rods adds to their toxicity in the event of a meltdown. In part because Plutonium-239 has a half-life of 240,000 years and can be used to make nuclear weapons of "dirty bombs," its use in commercial reactors remains both limited and controversial. Because it contains Plutonium, MOX fuel is more toxic than other nuclear fuel and will burn at lower temperatures. As Natural Resources News reported in 2011:
"The mixed oxide fuel rods used in the compromised number three reactor at the Fukushima Daiichi complex contain enough plutonium to threaten public health with the possibility of inhalation of airborne plutonium particles…. Plutonium is at its most dangerous when it is inhaled and gets into the lungs. The effect on the human body is to vastly increase the chance of developing fatal cancers."
Reportedly, TEPCO plans don't call for the removal of the MOX fuel in Unit #3 for another decade or more. Fuel removal from Units #1, #2, and #3 is complicated by lethal radiation levels at all three reactors, as well as TEPCO's inability so far to locate the three melted cores with any precision.
There is ample reason to hope that Fukushima, despite the complex of uncontrollable and deteriorating factors, will not get worse, because even the Japanese don't want that. But there is little reason to expect anything but worsening conditions, slowly or suddenly, for years and years to come. And there is even less reason to expect anyone in authority anywhere to be more than minimally and belatedly truthful about an industry they continue to protect, no matter how many people it damages or kills.
The perfect paradigm of that ruthlessly cynical nuclear mentality is the current Japanese practice of recruiting homeless people to work at Fukushima in high level radiation areas where someone with something to lose might not be willing to go for minimum wage.
Source: William Boardman  |  Global Research
Does anyone in the United States understand or comprehend what America will look like in 2050 "IF" we continue endless immigration into our country? Does any leader possess an inkling of the ramifications of adding the projected 100 million immigrants, their kids and chain-migrated relatives?
That's correct, at the current rate of immigration legalized by the 1986 Reagan amnesty, we continue on course to add 100 million immigrants from all over the world. They arrive legally at 1.0 million annually. They birth 900,000 babies among their numbers annually. (Source: Dr. Steven Camorata, www.cis.org) With chain migration, that means each "new" American may invite 10 of his or her relatives to join them with "family-reunification." If the current S744 amnesty bill passes, your US Congress jumped that 1.0 million to 2.0 million legal immigrants annually.
Do the math! Any way you cut it, that means America will experience an avalanche, a human tsunami, or simply the biggest wave of humanity ever to hit our country or any country, ever. We will grow from our current 316 million to well over 438 million people within 37 years. The extra 38 million will come from our own "population momentum." These figures stem from our country reaching 300 million in October of 2007. We grow by 3.1 million annually.
What's it going to look like? Answer: it will become ugly on multiple levels—environmentally, sociologically, linguistically, culturally, quality of life and downgraded standard of living—for starters. Parts 1 through 5 will cover what we face.
First of all, 100 million immigrants will equal our adding 20 of our most populated cities. Think of it: we will add another New York City, Detroit, Atlanta, Miami, Chicago, Denver, Houston, Dallas, Phoenix, Los Angeles, San Francisco, Seattle and eight other American cities.
We face watering 100 million more people, housing them, transporting them, warming them, feeding them and finding jobs for them.
Today in 2013, seven states face shortages: Georgia, Florida, Texas, New Mexico, Arizona, Nevada and California. But Georgia will grow from 8.2 million to 16.4 million. Florida expects to grow from 18 million to 36 million. For the whopper fact of all, California expects to jump from 38 million to 58 million.
Our cities face resembling present-day Mumbai, India; or Tokyo, Japan; or Paris, France; or Shanghai, China—bursting at the seams with 50 to100 mile traffic jams, people smooched into 200 square foot apartments rising out of the ground like mindless stalactites.
Our rivers will run with endless chemicals from industrial, farm, human and acid rain pollution. Our National Parks will become so crowded that you will be forced to draw a lottery number in order to visit them.
Every last bit of arable land and wildreness will be destroyed by what scientists call "ecological footprint." In Ethiopia, it takes .4 (4/10ths) of an acre of land to feed, water and house a person. In the USA, it takes 25.4 acres of land to support one person. (Source:www.allspecis.org)
With those 100 million immigrants, we must destroy 2.54 BILLION acres of land. That, in turn, guarantees accelerating our current 250 species suffering extinction annually in the lower 48 to double that number which will mean 5,000 species a year suffering extinction at the hands of our encroachment on the natural world.
As those enormous human numbers impact the carbon footprint and impact the "water footprint", we face water predicament that will become unsolvable and irreversible. We face water wars, water confrontations, water irrigation problems heretofore never imagined.
Our giant aquifers like the Ogallala will dry up leaving us with no irrigation of our corn, wheat and hay fields.
We incorporate a Faustian Bargain in 2013 to reap a Hobson's Choice in 2050—a scant 37 years from now.
Our quality of life cannot help but degrade into severe limitations as to hunting, fishing, wildlife extermination, energy exhaustion and resource depletion.
Let's talk about energy: we hit Peak Oil in 2011. We face the last 50 percent of all oil remaining on the planet. It takes more energy units to pump it and less energy units out of the ground. Finally, at some point, we will be left with little oil at staggering prices—but a 438 million population to feed. Of sobering note, the world will have added 3.1 billion humans to feed, to this nightmare extends beyond our borders.
How about the environment? Anybody want to guess how much damage our carbon footprint will wreak havoc on our oceans with acidification and warming of the waters? My guess: we face annual Hurricane Sandy's and Katrina's. More tornadoes will mow humans down at an outstanding rate.
Additionally: I've only covered the tip of the iceberg of what we bequeath to our children.
As I sit here with the scientific facts, my own world travels having seen the 12 largest cities on the planet and my own scientific experiences in Antarctica—I am appalled that the American people and our leaders gallop into this added 100 million more immigrants without so much as a shout, whimper or cry.
Our kids will curse our stupidity, arrogance and outright disregard for their futures. My own two U.S. Senators understand what we face because I spent 45 minutes explaining the facts to their staffs, but they voted to add 2.0 million legal immigrants annually to make our fate arrive even faster than 37 years.
My guess: our leaders resemble intellectual lunatics. Our people resemble the dumbest sheep on the planet.
Finally, why am I one of the few Americans who "sees" this so clearly? Why aren't there tens of millions of Americans who "see" and take it to "60 Minutes" ; "Charlie Rose" ; "Today Show" ; "DateLine" ; "Good Morning America" ; Scott Pelley, Diane Sawyer, Brian Williams, Wolf Blitzer, Kelly Mygen, Shepard Smith and every other media leader? Why don't we demand a national discussion?
If we refuse to act, remain too apathetic to act, or don't act—the S744 Amnesty Bill will pass and add that 100 million immigrants to this country in a blink of time. God help our children when they inherit our legacy of 100 million immigrants.
Trying to rebound off the ropes, where it has been pummeled for the past several decades, The United Auto Workers (UAW) has launched an aggressive organizing campaign in the South, in line with an AFL-CIO resolution emphasizing organizing there, where unionization rates are weak across the board.
As reported in The New York Times, the UAW has taken an international approach where union members in Brazil are picketing Nissan dealerships, a U.S. UAW contingent is traveling to South Africa to embarrass Nissan over its antiunion policies, and a similar campaign is underway in Tokyo and Paris.
Actor Danny Glover, has been persuaded to visit college campuses to recruit students to help in the union drive, and community groups are being organized, which include the NAACP, to help as well.
All of these measures are positive steps. Because of globalization and the ease in which industries can escape to anti-worker environments, private sector unions have suffered serious setbacks since the early 1980s. But globalization can be countered.
For example and most importantly, because it is leaning on international support, the UAW has rightly felt obligated to return the favor. In 2010 the UAW demonstrated outside a Hyundai center near Detroit to support the striking workers in Korea. By helping the Korean workers win higher wages, the UAW reduces the incentive for auto industries to flee to Korea.
By repeating this strategy in all other countries with auto manufacturing, globalization in the auto sector could be forced to a standstill. Instead of workers from different countries competing against one another in a race to the bottom – where the goal is to accept lower wages in order to attract business – by adopting the principle of solidarity, workers around the world can begin to raise their standard of living and all rise together.
In this way we could begin to reverse the steady transfer of income from working people to corporations. As The New York Times reported (U.S. Companies Thrive As Workers Fall Behind, 2013): "…wages and salary income in 2012 amounted to 44 percent of G.D.P., the lowest at any time since 1929, which is as far back as the data goes…The flip side of that is that corporate profits after taxes amounted to a record 9.7 percent of G.D.P. Each of the last three years has been higher than the earlier record high, of 9.1 percent, which was set in 1929."
The UAW's effort to connect to students and community organizations has the potential to change the balance of forces. Corporations want good public relations. They invest in huge amounts of money to run one-page ads to tout how much money they contribute to local schools or how much they care for the environment. They know more than most of us that public opinion can be a powerful weapon because it serves as the foundation for culture, and a culture conducive to business interests is a huge money-saver for them.
By turning to the community in order to conduct a campaign of shame, the UAW can begin to change culture in a pro-worker direction, which, of course, would benefit most people. But this turn will have to embrace more than a cultural dimension in order to take hold; the union will have to actually champion causes that will benefit the community, for example, by demanding that corporations pay their fair share of taxes so that schools and social services can be properly funded. Those kinds of gains would amount to what are called, "game changers."
But the UAW will have to overcome some of its missteps if it wants to succeed. In 2007 they accepted a contract that included a $14 per hour salary for new hires, thereby creating a yawning chasm between their pay and that of the current workforce. What this means is that the workers at that time voted in favor of reduced wages for other workers, not for themselves, which inevitably produces animosity between the two groups. But only solidarity can save the union at this point, so in the next contract the union must champion the wages of the newcomers over their more senior coworkers in order to reduce the wage-gap between them.
Secondly, UAW President Bob King has adopted a somewhat contradictory theoretical and strategic framework that needs adjusting. Labor Notes quotes him as saying: "We have completely discarded the 'us versus them' mentality." But Labor Notes went on to note that Gary Walkowicz, who ran against King in the last election for president, doesn't think that will work and quoted him as saying: "If we want to convince the people in the non-union plants, we have to fight," he said. "Turn back the concessions and give people a reason to want to join the UAW." Of course he is right.
In his interview with Labor Notes, King offered this justification: "If workers have a larger voice they produce a better product," In this way he hopes to promote employers' success while rejecting "an adversarial work environment."
There is usually a grain of truth in what people say, and King can boast of his grain, but he fails to capture the larger picture. His partnership philosophy is taking place within the context of capitalism, which radiates in all directions a culture of competition, self-interest and greed. In such a climate corporations are unable to distinguish between the highest good and the highest profit. Their number one concern is always their rate of profit. King's philosophy will work only under limited conditions that have on the whole disappeared: if the company cannot move to a non-union location elsewhere and make a higher profit, then it will accept the partnership. But just as foxes are programmed to eat chickens, corporations are programmed to maximize profits, and genteel gestures will have little impact on this instinctive reaction. Unless globalization is brought to an abrupt halt, at least as it is currently practiced, King's auto companies will move to greener pastures.
The "partnership" philosophy, which was trumpeted by John Sweeney, former head of the AFL-CIO, had disastrous consequences. Labor suffered some of its greatest defeats and watched its membership plummet.
Instead of turning to the corporations for partners, the UAW will need to redouble their efforts to build partnerships both domestically and internationally in order to organize a powerful movement of all those who are the victims of corporate policies. When the world's population, that is overwhelmingly against corporate policies that impoverish workers and trash the environment, is organized, the balance of forces will shift and real change will be possible.
You know, in spite of the visit from The Bone Lady when I was just three years old, and all the grim foreshadowing that she downloaded to me via direct intuition, I always held out hope that humanity could or would somehow turn things around on this planet, and snatch victory from the jaws of defeat.
As long as there is breath there is always hope, that was my thinking for a long time, but I am no longer so sanguine.
As one of my friends recently remarked to me, there is, indeed, real evil abroad in this world. I don't know how else to explain the wickedness of what is happening at Fukushima, in Japan, where the situation with the exploded and/or melted down nuclear reactors just goes from frightfully dire to unimaginably worse.
I frequently check the developments there at www.enenews.com and the latest news is very disturbing. I said from the outset, in the spring of 2011, that Tokyo would be evacuated. I still believe that to be inevitable. It is possible that much of Japan will be evacuated to elsewhere. The apocalyptic dimensions of the crisis are being covered up by TEPCO, the Japanese government, General Electric, and the USSA government. The reality is that there was at least one, and maybe more, really dirty nuclear blasts there in March of 2011, that wrecked the reactors and created a radioactive hell that no one knows how to remedy or bring under control. At the least we are probably looking at the failure and collapse of Japanese society with likely evacuation of tens of millions of people or more, and the fairly rapid death of vast portions of the Pacific Ocean, as deadly radioactive waste water continues to flow into the sea by the hundreds of tons, every day.
And when the cooling pool at reactor four collapses, the many tons of highly radioactive, spent, fuel rods that it contains will overheat and burn and or catastrophically fission, i.e., cause a runaway, nuclear reaction, or, in lay man's terms, there will be another atomic explosion, along with a mushroom cloud, and tons of highly poisonous nuclear isotopes will be spread aloft into the atmosphere and/or will drain or be blown into the sea, to poison the Pacific Ocean even further.
This is worse than bad news. This is planetary chaos news. This is civilization ending news. This is species extinction level news, as in extinction of the human species on this planet. If you do not think so, all I can say is: wait. It won't be long. Probably not ten years, not five, maybe even by Christmas this year, and you will begin to see what i mean, if you haven't already.
And even if the cooling pool at reactor four doesn't fail or collapse of its own accord in the near future, though that is very highly probable, TEPCO's plan to manually remove the many tons of bent, mangled, fused, welded together, very highly radioactive fuel rods that remain in the pool, beginning in November of this year, is so fraught with peril that it is likely to spectacularly fail, with unimaginably negative consequences. Any slight mistake, miscue or dropped fuel rod could result in a fission criticality, a runaway nuclear chain reaction, to wit, an atomic explosion that will shower the northern hemisphere and the Pacific Basin with a fatal radioactive sleet that will persist for hundreds of thousands of years.
As I said, the situation is somewhere far south of dire, with a headlong, hellward trajectory.
The Nuclear Chain Reaction
Because what is inevitable, the longer the situation at Fukushima festers, is that the whole site will have to be abandoned. Due to the high radiation levels, no one will be able to work there without dying. So the workers will pull back, and the cooling pools and storage pools that contain thousands of tons of extremely radioactive, spent fuel rods will fail or collapse and there will be more explosions and radioactive fires. As the radioactively contaminated NO GO ZONE expands, as the population flees, the day will come when nuclear reactors at other, nearby power generating plants will also fail, melt down and/or explode, because the nuclear engineers and maintenance workers no longer come to work and operate them — BECAUSE THEY ARE DEAD.
And then there will be three or four more, and the radioactive No Go Zone will expand, widen, grow. And other nuclear power plants will then fail, melt down and/or explode, because their operators are also DEAD, and so do not come to work, do not maintain them.
There are over 50 nuclear power reactors in Japan, and they all have their spent fuel rod cooling pools. It doesn't matter if the reactors themselves are shut down, because there are thousands and thousands of tons of highly radioactive, spent, nuclear fuel rods stored in the cooling pools all over Japan. So, given time, the crisis will continue to fester and worsen, and then it will begin to cascade, like a row of toppling dominoes, only it will be a series of failing nuclear power reactors, one after the other, heralding the end of the nuclear age, and quite possible the end of humanity.
It's just that serious.
All of that will send a killing wave of radioactivity across the Pacific to North America. So what happens when the population on the west coast of the USSA flees in panic from the approaching killer wave of radioactivity? Well, there will be no one left to operate the nuclear power reactors in California, for example. or at Palo Verde, the massive nuclear power plant just to the west of Phoenix. So when those nuclear reactors and their spent fuel cooling pools fail, melt down, and/or blow up, the civilization-ending, planet-killing, Fukushima Syndrome will come home to America with a wicked vengeance.
All courtesy of General Electric. General Electric designed five out of the six reactors at Fukushima and built three of them, so what we see here is genocidal, planet-killing failure of American (alleged) "high technology" on a spectacular scale.
General Electric — busy exterminating a planet near you of its resident, biological life forms.
At the end of the day, all the differential calculus, the nuclear physics, the nuclear chemistry, the nuclear engineering, the corporate profits, the Madison Avenue advertising slogans, the multinational wheeling and dealing, all has conspired to assassinate the planet on which we, and they, all live. Make no mistake, the planet is now dying. The global poisoning process is so very far advanced that it probably cannot be stopped. Certainly, there is not now any serious, international effort to do so, not anything remotely commensurate with the level of danger that we are facing.
No doubt we are dealing with profound iniquity, a betrayal so complete of all that is human that no words exist to describe its foul dimension. The ones who have done this thing walk among us, though for how long? – understanding that they, too, will certainly drop dead along with countless millions of others, as a direct result of their abjectly arrogant ignorance.
Arrogant Ignorance
All of their super-computers, the advanced mathematics, their (so-called) "hi-tech" industrial base, all of their billions of dollars of (so-called) "high finance" — and they kill the planet? And themselves and their posterity in the process? That's the best they can do? They get a PhD in nuclear chemistry and use their (so-called) "knowledge" and (so-called) technical "expertise" to kill the planet? The planet that they also live on?
Geniuses. All of them.
Central Banking Middle East Madness
Then there is the very real prospect of a shooting, nuclear war, beginning in the Middle East. The USSA has a powerful fleet in the region. So do the Russians, as a counterpoint. Sadly for all humanity, the Washington, DC — City of London — Lower Manhattan — Tel Aviv — NATO cabal seems hell bent on war, and so we are on the slippery slope to war. Unfortunately, this psychopathic cabal is very heavily nuclear armed.
I saw all of this coming from waaaaaaay back, from way back in my infancy, since the age of three years, when The Bone Lady visited me and clued me in to realities that I still don't want to think about, given their ghastly, hideous savagery. But I'll tell you what, it's enough to give a man insomnia, it's enough to drive him out onto the nuclear missile silos, again and again, in a personal effort to inject a note of sanity and warning into a positively insane political and military climate, in an attempt to wake up anyone who may be susceptible to awakening.
ANYONE.
My latest sally was 15 April 2010 in North Dakota, USA. I went over the security fence onto the H-8 Minuteman III nuclear missile silo in the Minot Air Force Base nuclear missile field, near Parshall, North Dakota, at the intersection of 33rd Street and 76th Avenue. I conducted a nonviolent, peace demonstration on the silo and was arrested by the USSA military and imprisoned for 100 days, almost all of the time served in the Heart of America Correctional and Treatment Center in Rugby, North Dakota.
My Minot Manifesto explains my motivations, reasons and spiritual and political philosophy. It is one of the most important documents I have written in my entire life.
A Serious Message From The Heart of America was my personal statement that I mailed to the news media from jail in Rugby, North Dakota, on 14 July 2010, prior to being criminally tried and convicted in USSA federal court in Minot, North Dakota.
I explain the symbolism in my dress and accoutrements in the photo below, in the text of my lengthy Minot Manifesto. It's thirteen pages, but worth the time and effort to read. It is a major life statement on my part, that reflects literal decades of deep thought, a very large quantum of concentrated life energy and hours, weeks, months and years of preparation, a statement that distills an important fraction of my life essence into human language. I invite you to partake of my gift by taking the time to read and reflect on what I have written, and then to take meaningful, principled, creative, nonviolent action yourself.
I don't quite know what more to say, what more to do. In fact, were I to do more than I already have, and I have been out on the nuclear missile silos three times (and been jailed for my trouble all three times, in Arkansas, Missouri and North Dakota), I would run the very real risk of infringing on your right and your very real, personal RESPONSIBILITY to also courageously act. So what are you waiting for? Why are you here on this planet, at this time, reading this blog post, and articles like it?
Because make no mistake about it, the time to act, if you are going to act, is here. The time has arrived. The planet is on the brink. We face the very real prospect of a shooting nuclear war. Additionally, the Fukushima crisis, and the threat from nuclear power plants in general, ALL OF THEM, could not be more serious.
In recent days, I find myself musing about the closing scene from "Dr. Stramgelove," with the haunting song by Vera Lynn, "We'll Meet Again, Don't Know Where, Don't Know When," that was such a huge hit in World War II, for obvious reasons.
And it fills me with such melancholy and sorrow. Because if it starts, this ugly thing called nuclear war, and we are headed that way, can all unravel very rapidly. The machines will take over, and automated, pre-programmed orders of battle will be carried out, without human control, as machines battle machines with nuclear fire. Waves of missiles will come in, again and again, to batter the underground bases. I have read the declassified documents. Warhead after warhead will come in at 10 minute intervals. You cannot imagine the depths of the hell that is already programmed and waiting to be unleashed.
Back in the 1960s, the USSA military was counting on 140 million casualties in the mainland USSA alone. I know this because I have read the documents. I have done the research. The USSA population is much larger now, and much more urban, so the casualty rate would be even higher. Maybe 200 million? 250 million casualties in the USSA alone?
Do you think you will just watch that on CNN?
Refuge in the Southern Hemisphere
If you have read my previous writings you will know that I have said that IF humanity has a future, it is likely to be in the southern hemisphere, if only because the lion's share of the nuclear weapons and nuclear power reactors are in the northern hemisphere. As the nuclear power plants fail, melt down, and/or explode most of them will be in the northern hemisphere. This is not an intellectual exercise — already we have had catastrophic failure of nuclear power plants at Chernobyl, Ukraine and Fukushima, Japan. They are just the first. There will be more.
Likewise, any shooting nuclear war is logically likely to be concentrated in the northern hemisphere, since all of the known, nuclear armed, military powers are in the northern hemisphere
But even then, there are enormous problems in the southern hemisphere. The vegetation in the Amazon region of South America produces something like 20 to 30% of the oxygen in the Earth's atmosphere. As the Amazon dies, and it is being destroyed right now, so too, is the Earth's breathable oxygen supply being destroyed. I don't know about you, but I breathe oxygen all day and all night, every day and every night of my life.
So even if we resolve the nuclear issue, and there is ZERO progress on that front right now, only to lose the Amazon, we all will still die, because none of us can survive with 20 to 30% less oxygen. Just cannot.
Right now, we, humanity, every last one of us, are in a life and death struggle for the life of our species, and the life of our planet.
If we win, we live. If we lose, we die. ALL OF US.
End of the story. End of our species' genetic line. For ever and ever.
Done. Finished.
So maybe moving to Bolivia or Uruguay or Namibia or Madagascar or New Zealand will buy you a little time, a year or ten. However, if we fail to rein in and ABOLISH nuclear reactors and nuclear weapons, if we fail to reforest the Earth and cleanse it of radioactive contamination, then we are through. It's the end for us.
This is our group decision. Right now we are on a self-destructive path to global extinction.
So Here Is My View
If you will act decisively, now is the time. Pick your issue and your spot and act creatively, courageously and nonviolently.
It's your world and your life. Act like they both count for something.
And here's the other thing. If you cannot, or will not act, then how about supporting those of us who have acted, and who continue to act?
In my case, I have paid a very heavy price, in earnings forever foregone, by putting my life on the line, repeatedly, for you, whom I do not even know. But because you are my human kin, I went out on the missile silos, again and again, and I went to jail. I lost more than a year and a half of productive labor. I lost, as well, the opportunity to have a whole wide range of well paying jobs, due to my arrest and prison record, even though I have multiple advanced university degrees, up to the doctorate level.
Subsequent to my arrival in South America, I immersed myself in Amazonian shamanic culture, the better to understand the Amazonian region, the jungle itself, and the shamanic human ecology of the region that interfaces with the hyper-conscious plants in the jungle, only to be very gravely assaulted by one of the said Amazonian shamans and hospitalized for more than four months with massive trauma to both my body and emotions. I am now pursing a criminal case against the shaman and that also costs heavily, several thousands of dollars in attorneys' fees, at the very time when so much of my time and energy is taken up with therapy and the sheer physical effort of getting around with impaired mobility. Nine months after the assault I still have physical nerve trauma in my lower extremities, a good deal of numbness and what is called drop foot. I walk with crutches. My electro-therapy also costs. At the moment I cannot go to electro-therapy, although I badly need it, because I only have $35 to my name.
I have run completely through my meager life savings and there is no more.
Additionally, I have this week begun the formal petition process to the government of Ecuador to request political asylum. My years-long record of anti-nuclear activism and repeated jailing by the USSA government is one factor in my decision, coupled with other factors such as recent revelations of universal NSA surveillance and espionage, the secret arrest and indefinite military detention provisions of the NDAA of 2012 and 2013, the recently revealed, previously secret 2011 FBI documents that blatantly discuss plans to murder Occupy Movement activists by sniper fire, including in San Antonio, Texas, where I lived and worked as a window washer from 2000 to 2009, and all of this in the context of an all encompassing pattern of unbridled lawlessness and pervasive lying with regard to EVERYTHING by the American government. All of this and more, has brought home to me the seriousness of this moment that we are living now.
I have the obligation to safeguard my own liberty and safety. It is clear to me that politically I am freer and safer in Ecuador than in the USSA. The American government has taken a hard, dictatorial turn towards neo-fascism. That is the plain truth. The harsh, repressive treatment of Edward Snowden and Chelsea (formerly Bradley) Manning makes that clear enough. We are in altogether different territory now. And so I have petitioned for political refuge in Ecuador.
This also entails paying an attorney, to assist me in my interactions with the administrative, legal and political system in Ecuador. It is my life on the line and I am proceeding very carefully, every step of the way.
But it is also your life on the line, in that my anti-nuclear activism, my immersion in the Amazonian culture, and my pursuit of political refuge in Ecuador all have profound implications far beyond just me. What happens to me also has broad implications for you. The consequences of nuclear war are too horrific to contemplate, and if it is to be avoided, it is because of actions such as mine. Similarly, we simply cannot afford to lose the Amazon, and yet we are losing it right now. If we are to save it, a big part of that will be due to the personal efforts of those who come to the region and get personally involved in the nitty-gritty, even life-threatening struggle for the soul of the Amazon, because more than anything, we are involved in a pitched battle for the very spirit and soul of the Amazon and of the rest of this planet.
Similarly, if I, with my history of activism, book writing, researching, blogging, public speaking, interviews, and repeated nonviolent civil disobedience and consequent jail record, cannot obtain political refuge abroad, then what hope do you have? You're boxed in, that's what. You're in a cage with no exit.
And so, if you cannot or have not done the things that I and others like myself have done and are doing, then can you please, will you at least please support us?
I desperately need your support now. My legal fees run to thousands of dollars, and my therapy is ongoing. I appreciate and really need your generosity. Please communicate with me at: dr.samizdat1618@gmail.com or via Skype at richard.sauder333 as to how to donate.
Come Ye That Love The Lord
I am a native Virginian, and have lived, worked, traveled, studied and gone to jail all over the American South, from the Virginias and Maryland, all the way across to South Texas, and numerous points in between. A very large block of my life has been spent down South. Although I am not now a church attending man, I have in the past been in all kinds of Christian churches, both Black and White, in big cities and small country towns.
Some of the most memorable sermons I have ever heard have been by Black pastors in rural areas of the deep South. One of the things I like about the traditional Black style of hymn singing down South is the way that the head deacon or pastor will frequently line out a hymn, especially the first line or two of a verse, and then the other deacons or members of the choir will join in, accompanied by riffs on the organ, if there is an organist, and there are some really gifted organists playing in southern Black churches.
I well remember a sermon that I once chanced to hear, decades ago, by a Black lay preacher, one sultry, Sunday night, in a tiny little town way down South, about as far south as you can go, and still be in the South and not somewhere else. The ceiling fans lazily stirred the muggy summer air, as the moths flitted vainly around the naked incandescent light bulbs hanging from the ceiling overhead. The windows were flung wide open and the pale light from the sanctuary washed feebly out through the rusted screens and flooded onto the close cropped lawn that surrounded the church. It was one of the most extraordinary public speaking performances I ever witnessed. The preacher used as his text Ezekiel 37, the theme being dry bones and systematically connecting them one to the other, the purpose being to reassemble and restore "them dry bones" to life. As he spoke, I saw that he fell into a trance, that he entered another state of consciousness, that he was self-hypnotized and that the sermon itself had a sort of existence independent of him, that the message took on a life of its own and was using his mind, his mouth, his body, to project itself into the ears, hearts and minds of the sparse assemblage present that evening. As he finished, he collapsed exhausted backwards into his armchair and lined out the first words of the hymn that he wanted the choir to sing. I don't anymore remember exactly what song he called for, but it could well have been this: Come Ye That Love The Lord
If there is to truly be a new world order, as distinct from the obscene power that currently holds sway on this planet today, then we will need to see a completely new order of human being on this world, a species of human being motivated by love for the Creator and by devotion to inward and outward service to the sacred life impulse. We don't see that now, and the human species may go extinct on this planet for its want.
I do believe in God and have been profoundly privileged to see some of His servants face to face. I find their company congenial.
Come, ye that love the Lord,
And let your joys be known;
Join in a song with sweet accord,
And thus surround the throne.

Let those refuse to sing
That never knew our God,
But children of the heavenly King
May speak their joys abroad.

The God of heaven is ours,
Our Father and our love ;
His care shall guard life's fleeting hours,
Then waft our souls above.

There shall we see his face,
And never, never sin;
There, from the rivers of his grace,
Drink endless pleasures in.

Yes, and before we rise
To that immortal state.
The thoughts of such amazing bliss
Should constant joys create.

Children of grace have found
Glory begun below:
Celestial fruits on earthly ground,
From faith and hope may grow.

The hill of Sion yields
A thousand sacred sweets,
Before we reach the heavenly fields,
Or walk the golden streets.

Then let our songs abound,
And ev'ry tear be dry;
We're trav'lling through Immanuel's ground,
To fairer worlds on high.

(John Wesley, ca. 1703- 1791)
Source: Richard Sauder  |  Event Horizon Chronicle
"The European race's last three hundred years of evolutionary progress have all come down to nothing but four words: selfishness, slaughter, shamelessness and corruption."
Yan Fu
It only took the rest of the world 300 years to catch on to the evil that masquerades as "western civilization," or perhaps it only took the rise of new powers with the confidence to state the obvious. Anyone doubtful of America's responsibility for the evil needs to read The Untold History of the United States by Oliver Stone and Peter Kuznick.
The "New American Century" proclaimed by the neoconservatives came to an abrupt end on September 6 at the G20 meeting in Russia. The leaders of most of the world's peoples told Obama that they do not believe him and that it is a violation of international law if the US government attacks Syria without UN authorization.
Putin told the assembled world leaders that the chemical weapons attack was "a provocation on behalf of the armed insurgents in hope of the help from the outside, from the countries which supported them from day one." In other words, Israel, Saudi Arabia, and Washington–the axis of evil.
China, India, South Africa, Brazil, Indonesia, and Argentina joined Putin in affirming that a leader who commits military aggression without the approval of the UN Security Council puts himself "outside of law."
In other words, if you defy the world, obama, you are a war criminal.
The entire world is waiting to see if the Israel Lobby can push obama into the role of war criminal. Many are betting that Israel will prevail over the weak american president, a cipher devoid of all principle. A couple of decades ago before the advent of the american sheeple, one of the last tough Americans, Admiral Tom Moorer, Chief of Naval Operations and Chairman of the Joint Chiefs of Staff, publicly declared that "no US president can stand up to Israel." America's highest ranking military officer could not get an honest investigation of the Israeli attack on the USS Liberty.
We are yet to see an american president who can stand up to Israel. Or, for that matter, a Congress that can. Or a media.
The obama regime tried to counter its smashing defeat at the G20 Summit by forcing its puppet states to sign a joint statement condemning Syria. However the puppet states qualified their position by stating that they opposed military action and awaited the UN report.
Most of obama's bought-and-paid-for "supporters" are impotent, powerless. For example obama counts the UK as a supporting country because of the personal support of the discredited UK prime minister, david cameron, despite the fact that cameron was repudiated by the British Parliament in a vote that prohibits British participation in another of Washington's war crimes. So, although cameron cannot bring the British people and the British government with him, obama counts the UK as a supporter of obama's attack on Syria. Clearly, this is a desperate count of "supporting countries."
The Turkish puppet government, which has been shooting its peacefully demonstrating citizens down in the streets, with no protest from obama or the Israel Lobby, supports "holding Syria accountable," but not itself, of course, or Washington.
The puppet states of Canada and Australia, powerless countries, neither of which carry one ounce of world influence, have lined up to do the bidding of their Washington master. The entire point of having the top government job in Canada and Australia is the payoff from Washington.
The obama cipher also claims the support of Japan and the Republic of Korea, another two countries devoid of all diplomatic influence and power of any kind. Helpless Japan is on the verge of being destroyed by the Fukushima nuclear disaster, for which it has no solution. As the radiation leaks spread into the aquifer upon which Tokyo and surrounding areas rely, Japan is faced with the possibility of having to relocate 40 million people.
Saudi Arabia, implicated in the transfer to al-Nusra rebels of the chemical weapons used in the attack, supports Washington, knowing that otherwise its tyranny is toast. Even the neoconservatives headed by obama's shrill National Security Advisor, Susan Rice, want to overthrow the Saudis.
Obama claims also to have support from France and Germany. However both Hollande and Merkel have stated clearly that a diplomatic solution, not war, is their first choice and that the outcome rests on the UN.
As for Italy and Spain's support, both governments are hoping to be rewarded with the Federal Reserve printing enough dollars to bail out their indebted economies so that both governments are not overthrown in the streets for their acquiescence to the looting of their countries by international banksters. Like so many Western governments, those of Italy and Spain, and, of course, Greece, support the international banksters, not their own citizens.
The president of the European Commission has declared that the European Union, the central overlord over Britain, France, Germany, Italy, and Spain, does not support a military solution to the Syrian Crisis. "The European Union is certain that the efforts should be aimed at a political settlement," Jose Manuel Barroso told reporters at the G20 meeting. The EU has the power to issue arrest warrants for the heads of EU governments that participate in war crimes.
What this reveals is that the support behind the liar obama is feeble and limited. The ability of the Western countries to dominate international politics came to an end at the G20 meeting. The moral authority of the West is completely gone, shattered and eroded by countless lies and shameless acts of aggression based on nothing but lies and self-interests. Nothing remains of the West's "moral authority," which was never anything but a cover for self-interest, murder, and genocide.
The West has been destroyed by its own governments, who have told too many self-serving lies, and by its capitalist corporations, who offshored the West's jobs and technology to China, India, Indonesia, and Brazil, depriving the Western governments of a tax base and the support of its citizens.
It is difficult to know whether citizens in the West hate their corrupt governments any less than do Muslims, whose lives and countries have been devastated by Western aggression, or than do citizens of third world countries who have been impoverished by being looted by predatory First World financial organizations.
The idiot Western governments have pissed away their clout. There is no prospect whatsoever of the neoconservative fantasy of US hegemony being exercised over Russia, China, India, Brazil, South Africa, South America, Iran. These countries can establish their own system of international payments and finance and leave the dollar standard whenever they wish. One wonders why they wait. The US dollar is being printed in unbelievable quantities and is no longer qualified to be the world reserve currency. The US dollar is on the verge of total worthlessness.
The G20 Summit made it clear that the world is no longer willing to go along with the West's lies and murderous ways. The world has caught on to the West. Every country now understands that the bailouts offered by the West are merely mechanisms for looting the bailed-out countries and impoverishing the people.
In the 21st century Washington has treated its own citizens the way it treats citizens of third world countries. Untold trillions of dollars have been lavished on a handful of banks, while the banks threw millions of Americans out of their homes and seized any remaining assets of the broken families.
US corporations had their taxes cut to practically nothing, with few paying any taxes at all, while the corporations gave the jobs and careers of millions of Americans to the Chinese and Indians. With those jobs went US GDP, tax base, and economic power, leaving Americans with massive budget deficits, a debased currency, and bankrupt cities, such as Detroit, which once was the manufacturing powerhouse of the world.
How long before Washington shoots down its own homeless, hungry, and protesting citizens in the streets?
Washington represents Israel and a handful of powerful organized private interests. Washington represents no one else. Washington is a plague upon the American people and a plague upon the world.
Source: Paul Craig Roberts
Fukushima shows us how a nuclear disaster can continue forever.
More than two years after the catastrophe, Japanese officialdom has raised the severity of the calamity from one to three (on a scale of seven). The threat elevation is due to massive amounts of radioactive water leaking out of the site.
"The quantities of water they are dealing with are absolutely gigantic," nuclear consultant Mycle Schneider told the BBC. "It is much worse than we have been led to believe, much worse."
This is having an impact on everything from the water supply to the surrounding oceans.
"Our biggest concern right now is if some of the other isotopes such as Strontium-90, which tend to be more mobile, get through these sediments in the groundwater," scientist Ken Buesseler said. "They are entering the oceans at levels that then will accumulate in seafood and will cause new health concerns."
The horror stories just keep on accumulating, as Harvey Wasserman documents for The Progressive.
"A plague of damaged thyroids has already been reported among as many as 40 percent of the children in the Fukushima area," he writes. "Cesium-137 from Fukushima has been found in fish caught as far away as California."
It's not shocking, then, that Fukushima is causing the world to take a long, hard look at nuclear energy.
"It has profoundly shaken confidence in the future of nuclear power, from Taiwan—where earlier this month MPs resorted to fisticuffs as they debated a referendum on a new nuclear power station—to Berlin," The Guardian notes.
"The kind of cascade of devastating events that hit Fukushima hadn't previously been factored into risk probability assessments," the paper says. "Now regulatory authorities all over the world have been forced to consider whether, however unlikely, more than one accident could happen in quick succession, and what the consequences would be."
The continuing calamity has put a crimp in Japanese Prime Minister Shinzo Abe's grandiose plans to go in for a full-scale nuclear revival.
"Even before news of the new leak, a majority of the public was against restarts, according to a Kyodo News poll taken July 13-14, with 51 percent opposing and 40 percent in favor of reviving Japan's nuclear program," Bloomberg News reports. "The latest revelation could further sway sentiment against nuclear power, according to Koichi Nakano, professor of politics at Sophia University in Tokyo."
However, for something that has such ongoing significance, there's comparatively little current coverage of Fukushima in the American media.
"Unlike other environmental catastrophes like BP's Deepwater Horizon oil spill in the Gulf of Mexico, the Fukushima crisis offers little to film," Eric Ozawa writes for The Nation. "And so the story, when it gets reported, rarely gets the attention it deserves."
Don't let that fool you, though. Fukushima is one of the most consequential events of recent years and has huge implications for the types of energy sources we choose—and the type of world we'd like to live in.
Source: Amitabh Pal  |  The Progressive
Japan's apocalypse continues. Emergency conditions persist. No end in sight looms. Fukushima's radioactive discharges can't be stopped. They continue. They're uncontainable.
At issue is by far the worst environmental disaster in history. It's multiples worse than Chernobyl. It's an unprecedented catastrophe. It's reason enough to abolish nuclear power.
According to Japan's Ministry of Economy, Trade and Industry, about 300 tons of radioactive groundwater flow into the Pacific daily.
It's done so since Japan's March earthquake and tsunami triggered Fukushima's meltdown.
Tokyo Electric (TEPCO) says water's getting over and around "chemical walls." It can't be stopped. Three Fukushima reactors suffered meltdowns. A fourth was badly damaged.
The worst fear remains. Unit Four's structural integrity was seriously undermined. It contains hundreds of tons of highly radioactive water.
If an earthquake or other natural disaster occurs, its fuel rods almost certainly will catch fire. Radioactive emissions will follow. They'll compound what's already disastrous.
Emissions will continue longterm. They'll circle the planet. They cause catastrophic harm.
Since March 2011, Tepco estimates around 20 to 40 trillion radioactive tritium becquerels leaked into the Pacific. So have large cesium and strontium discharges. They continue. They're much more dangerous.
According to nuclear expert Arnie Gunderson, "(t)he horse is already out of the barn." Leakage continues since earthquake and tsunami struck.
Radioactive water contaminates the Pacific. Gunderson's "experience with underground water is that – if it is serious at the ocean, it is more serious" on land.
Japanese officials proposed erecting a barrier. At issue is preventing water from reaching the Pacific. Whatever's done "is two years too late and will be too late by the time" construction's finished, said Gunderson.
A barrier's not the solution. It causes another problem. "If the water can't go anywhere into the Pacific Ocean, it is going to build up onsite, which means that the nuclear reactors themselves will become unstable."
"The water can pull underneath the nuclear buildings and if there is an earthquake, in fact the nuclear buildings could topple. So, by solving one problem, they are creating another problem."
Gunderson believes contaminated water will keep discharging for at least 20 to 30 years. It's the most radioactive water he ever experienced.
Cost is another issue. Cleanup involves around half a trillion dollars, says Gunderson. Most important is human health.
Epidemic cancer levels are certain. And not just in Japan. In early July, Fukushima's former chief operator, Masao Yoshida, died of esophogeal cancer.
He was 58. Tepco lied saying his death was unrelated to radiation exposure. Japanese children are experiencing a shocking 40% rise in thyroid irregularities.
Experts expect much higher numbers ahead. Fukushima's an ongoing disaster. It persists. It's not ending. It'll continue for decades.
According to Institute for Energy and Environmental Research (IEER) president Arjun Makhijani:
"Fukushima continues to be an emergency without end – vast amounts of radioactivity, including strontium-90 in the groundwater, evidence of leaks into the sea, the prospect of contaminated seafood."
"Strontium-90, being a calcium analog, bioaccumulates in the food chain. It is likely to be a seaside nightmare for decades."
It's much more dangerous than cesium 137 and 134. It's at levels 30 times higher.
"So to give you an idea of the level of contamination, if somebody drank that water for a year, they would almost certainly get cancer."
"So that's one problem. The other is the defenses to hold back this water from the sea seem to be overcome."
"So now the contaminated waters, 70,000, 80,000 gallons, are flowing into the sea every day."
"(S)ome of it will disperse and dilute. Some of it goes into the sediment, and some of it is taken up by the life in the sea."
"And the unfortunate thing about strontium especially is that it bioaccumulates in algae. It bioaccumulates in fish."
"It targets the bone, because it's like calcium. And so this is a problem. We don't have measurements far out to sea."
"The Woods Hole Institute has done some surveys. And they were surprised by how much continuing radioactivity they found, but no clear explanation yet."
The effect on human health's expected to be devastating. It's already bad. It's getting progressively worse. The genie's out of the bottle. No end in sight looms.
Strontium-90 and cesium are both perilous. "(S)ince strontium-90 is more mobile and also more dangerous biologically, (it) behaves like calcium, so it goes to the bone."
"It also bioaccumulates in the base of the food chain and algae. Ultimately because it does bioaccumulate and there is quite a lot of strontium, you could have a large part of the food chain near Fukushima being contaminated."
If pregnant women ingest contaminated water, fish or other food, "the outcomes could be worse than cancer because then you're talking about a much more compromised child in the sense of having a compromised immune system – it makes you more vulnerable to all kinds of diseases."
Makhijani doesn't know how Tepco can handle the problem. It's uncontrollable.
"It's very, very unclear to me how they are going to be able to get at this molten fuel, extract it from the bottoms of these highly damaged buildings and package it for safer or less dangerous storage or disposal."
"This is an accident that's shockingly not stopping." It's certain to worsen. It's unchartered territory.
It affects the region. It's humanity's worst environmental nightmare. Nuclear rain affects North America and Europe. Obama's an unabashed nuclear power promoter.
He wants more reactors built. He wants licenses for aging poorly maintained plants with poor safety records extended. He wants them operating unregulated.
He's recklessly endangering Americans. He talks clean energy alternatives. Policy measures spurn them. He fronts for corporate favorites.
He's captive to a destructive industry. He risks a Fukushima-type disaster on US soil. He risks millions of American lives. He's mindless of potential dangers.
Nuclear power's inherently unsafe. Einstein called it a hellova way to boil water. It does so through massive heat. It turns it into steam. It powers an electricity generating turbine.
According to anti-nuclear activist Karl Grossman:
Avoiding potentially catastrophic accidents "requires perfection and no acts of God." Humans and technology aren't perfect. Natural and other disasters happen.
"We can't eliminate them. But we can – and must – eliminate atomic energy." Otherwise it'll eliminate us.
Nuclear expert Helen Caldicott's clear and unequivocal, saying:
"As a physician, I contend that nuclear technology threatens life on our planet with extinction."
"If present trends continue, the air we breathe, the food we eat, and the water we drink will soon be contaminated with enough radioactive pollutants to pose a potential health hazard far greater than any plague humanity has ever experienced."
It doesn't get any clearer than that.
A Final Comment
Coverup and denial followed Chernobyl's disaster. Helen Caldicott called doing so "the most monstrous coverup in the history of medicine."
The death toll was many multiples greater than reported. Estimates range up to a million or more.
The New York Academy of Sciences (NYAS) translated thousands of Russian articles and papers. It added "revised and updated contributions."
"Written by leading authorities from Eastern Europe, the volume outlines the history of the health and environmental consequences of the Chernobyl disaster," NYAS said.
"According to the authors, official discussions from the (IAEA) and associated (UN) agencies (e.g. the Chernobyl reports) have largely downplayed or ignored many of the findings reported in the Eastern European scientific literature and consequently have erred by not including these assessments."
Fukushima far exceeds Chernobyl. Millions of lives are threatened. Perhaps future independent studies will explain. They'll be too little to late to help victims.
Stephen Lendman lives in Chicago. He can be reached at lendmanstephen@sbcglobal.net.
His new book is titled "Banker Occupation: Waging Financial War on Humanity."
http://www.claritypress.com/LendmanII.html
Visit his blog site at sjlendman.blogspot.com.
Radiation leaks, steam releases, disease and death continue to spew from Fukushima and a disaster which is far from over. Its most profound threat to the global ecology—a spent fuel fire—is still very much with us.
The latest steam leak has raised fears around the planet. A worst-case scenario of an on-going out-of-control fission reaction was dismissed by the owners, Tokyo Electric, because they didn't find xenon in the plume. The company says the steam likely came from rain water being vaporized by residual heat in one of the plant's stricken reactors.
But independent experts tend to disbelieve anything Tepco says, for good reason. Reactor Units One, Two and Three have exploded at Fukushima despite decades of official assurances that commercial atomic power plants could not explode at all. The company has been unable to clear out enough radioactive debris to allow it to put a cover over the site that might contain further airborne emissions.
Tepco has also been forced to admit that it has been leaking radioactive water into the ocean ever since the disaster began on March 11, 2011. In one instance it admitted to a 90-fold increase of Cesium in a nearby test well over a period of just 3 days.
Earlier this year a rat ate through critical electrical cables, shorting out a critical cooling system. When Tepco workers were dispatched to install metal guards to protect the cabling, they managed to short out the system yet again.
Early this month, Fukushima's former chief operator, Masao Yoshida, died of esophogeal cancer at the age of 58. Masao became a hero during the worst of the disaster by standing firm at his on-site command post as multiple explosions rocked the reactor complex. Tepco claimed his ensuing cancer and death were "unlikely" to have been caused by Fukushima's radiation.
The impact of work in and near the reactors has become a rising concern. Critics have warned that there are not enough skilled technicians willing to sacrifice themselves at the plant. Tepco has worsened the situation by applying to open a number of its shut reactors elsewhere in Japan, straining its already depleted skilled workforce even further.
Meanwhile, a staggering 40% rise in thyroid irregularities among young children in the area has caused a deepening concern about widespread health impacts from Fukushima's fallout within the general public. Because these numbers have come in just two years after the disaster, the percentage of affected children is expected to continue to rise.
And the worst fear of all remains unabated. At Unit Four, which apparently did not actually explode, the building's structural integrity has been seriously undermined. Debate continues to rage over exactly how this happened.
But there's no doubt that a pool containing many tons of highly radioactive used fuel is suspended 100 feet in the air, with little left to support the structure. Should an earthquake or other trauma knock the pool to the ground, there's a high likelihood the fuel rods could catch fire.
In such an event, the radioactive emissions could be catastrophic. Intensely lethal emissions could spew for a very long time, eventually circling the globe many times, wrecking untold havoc.
The Japanese have removed two apparently unused rods from the fuel pool so far. But intense international pressure to clear out the rest of them has thus far been unsuccessful.
So while a depleted, discredited and disorganized nuclear utility moves to restart its other reactors, its stricken units at Fukushima continue to hold the rest of us at the brink of apocalyptic terror.
Harvey Wasserman edits www.nukefree.org and is author of SOLARTOPIA! Our Green-Powered Earth. His SOLARTOPIA GREEN POWER & WELLNESS SHOW is at www.prn.fm. This article was first published at www.progressivemagazine.com.
What makes Goldman Sachs alumni at the center of international finance? Is it pure talent and business acumen, or is there more to the equation, then grooming the best and the brightest? The answer lies in the indisputable perquisite that places Goldman Sachs Above the Law. How did this banking concern become the most powerful political influence in government policies? Well, central banking certainly is at the core of their economic clout. The 'TC' essay Federal Reserve is a Cache of Stolen Assetsgoes into methods that results in the financial slavery. But what makes Goldman Sachs central to their dominance of nations and so many governments?
A pursuit for answers and an explanation needs to investigate internal workings and crucial critiques that demonstrate patterns of global dominance. Former GS operative Greg Smith wrote in the New York Times, Why I Am Leaving Goldman Sachs:
"It might sound surprising to a skeptical public, but culture was always a vital part of Goldman Sachs's success. It revolved around teamwork, integrity, a spirit of humility, and always doing right by our clients. The culture was the secret sauce that made this place great and allowed us to earn our clients' trust for 143 years. It wasn't just about making money; this alone will not sustain a firm for so long. It had something to do with pride and belief in the organization. I am sad to say that I look around today and see virtually no trace of the culture that made me love working for this firm for many years. I no longer have the pride, or the belief."
Goldman Sachs reached the pinnacle of investment banking because it served the fiscal needs of its clients. When businesses profited from the relationship, all was well for the masters of the universe. The focus upon providing value to substantial businesses, that actually provided constructive products and services, was a formula that has merit and meaningful purpose. Now, essential ethic standards, has become subordinated to the practice of exerting primary political control. Designing exotic deceptive products intent upon usurious returns, betrays the very foundations of raising capital to finance legitimate business development.
The excellent analysis from The Economic Collapse site provides a list of compelling arguments in 11 Reasons Why America Would Be A Better Place Without Goldman Sachs. #9 illustrates the real aim behind the curtain. The Wizard of Oz has a Goldman address.
"Goldman Sachs has way too much influence over the federal government. There is a reason why it is commonly referred to as "Government Sachs". No matter who is the White House, people that used to work for Goldman and other big Wall Street banks always seem to be crawling around."
Moreover, the tentacles of international reach have extended well beyond the former bastion of American capitalism. Goldman Sachs takes over America and now Europeis all part of "gods work" . . . Since this year old arrangement was adopted the faltering EU economy intensifies, while the consolidation of political union under the GS model of financial servitude expands.
"Now, the EU has given Goldman Sachs and Co. an unlimited free hand to fleece taxpayers – through the European Stability Mechanism (ESM). It is a permanent facility to replace the temporary Financial Stability Facility and the European Financial Stabilisation Mechanism once Member States, representing 90% of capital commitments have ratified, probably in July 2012.

The ESM is a contract of debt. . . . The authorized share capital must be 700bn €. (to be increased)

[Article 9]: "… ESM members commit themselves irrevocably and unconditionally to pay on demand any capital that is demanded of them … within 7 days of receipt of the request.".

[Article 10]: "The Council of Governors may decide to change the authorized capital and Article 8.

[Article 27, lines 2-3]: "[Article 27, line 4]: "The property, funding and assets of the ESM shall . . . be immune from every form of legal proceedings – as shall ESM property and assets, governors, deputy governors, directors and officials.

The ESM is an intergovernmental organization, not subject to laws – and not subject to reviewers."
If you think, the UK escaped this round of exploitation, ready yourself for Mark Carney: Bank governor's journey from wilderness to heart of the City. "The earning years were – naturally – at Goldman Sachs, where he was marked out as one of the very highest flyers while working in London, Tokyo and New York. The switch to public service – and the public profile that brings – came with a move into central banking, first as deputy and then as governor of the Bank of Canada, in a spell that included the global financial collapse."Scott Brison, economic spokesman for the Canadian Liberal party – known as "finance critic" – and, a personal friend of Carney's, provides this assessment.
"Mark has the economic background; but also he has personal understanding of the industry. He has peer-to-peer credibility with some of the top bankers in the world. There's a language; there's a cadence."
In his international role, as chairman of the G20′s Financial Stability Board, he has not only been a strong advocate of tighter regulation, but notched up a furious shouting match with JP Morgan boss Jamie Dimon. Perhaps not surprisingly, given how fast he has risen, Carney has a steely side: several people remembered being warned off disagreeing with him. And he had that life-plan from a relatively early age. "I have heard him say 'learn, earn, serve,'" says Brison. "He is someone who chooses public service: he is not a materialistic guy."
First learn, then earn and serve translates into protecting the domination goals of Goldman Sachs. The new code, The Goldman Sachs Business Principles, "Our clients' interests always come first.", actually means that the ultimate patrons of Goldman Sachs are the owners of the international central banking system. The public show of faction dissent among banksters is simply posturing. GS only services one nefarious master.
Knowing the accuracy of historical reality is difficult, but accepting the truth in that chronicle is almost impossible for most people to accept. This reluctance to deal with the stark and calculated obliteration of societal freedom is the ultimate curse of the human condition. The denial of the authoritarian plan by elites like the Bilderberg cabal is the equivalent of Satan's greatest lie, convincing us he does not exist. Well, the days of casting the smear of conspiracy over any reporting on the secret and hidden conclave of global manipulators, is officially over.
At this year's Bilderberg conference, for the first time, there will be a Press Office - hosted by the Bilderberg Welcoming Committee – located on the hotel grounds. The aim of the Press Office will be to facilitate the mainstream and alternative media in their coverage of the meeting.There will be liaison officers from the Hertfordshire Constabulary present in the Reception Zone for the duration of the conference.

This is the first officially sanctioned Press Office for the Bilderberg conference, and is a considerable step forward in the relations between the conference and the press.
With the dramatic public reversal of deniability of their existence and the acknowledgement that the newly elected leader of the Swedish social-democratic party, Stefan Löfven, will be the guest of Jacob Wallenberg – a prominent member of the Bilderberg steering committee, Bilderberg confirmation of the decades of reporting by the late Jim Tucker is vindicated.
Additional background and a comparison of How the media covers Bilderberg meetings and Bilderberg Propaganda Rules the Planet is worth a review. For a persuasive critique of the investigations and research of Daniel Estulin into the underlying implication of these gatherings, read the entire summary by Stephen Lendman of "The True Story of the Bilderberg Group" and What They May Be Planning Now.
"Whatever its early mission, the Group is now "a shadow world government….threaten(ing) to take away our right to direct our own destinies (by creating) a disturbing reality" very much harming the public's welfare. In short, Bilderbergers want to supplant individual nation-state sovereignty with an all-powerful global government, corporate controlled, and check-mated by militarized enforcement."
Even more significant is the account of the age-old struggle for global control that can be traced to the Ancient Roots of Bilderberg Reveal Prusso-Teutonic Agenda for World Domination. Author Jurriaan Maessen provides a provocative analysis.
"As Paul Joseph Watson reported in his May 11 2009 article Top Nazis Planned EU-Style Fourth Reich, top Nazi industrialists were present at the cradle of the European Union and, through the creation of the Bilderberg group, guided her growth during all stages of development into the post-war era. German industrialists, it seems, have aligned themselves with the Anglo-American establishment after the war, teaming up to form what is better known as the New World Order. As reported in the article, a group of top ranking German industrialists planned for an economic super state founded upon a common market for the whole of Europe. It has also been confirmed that the Bilderberg group had their plans for a European Union and currency in place by at least 1955.The idea of uniting Europe in a closed trade bloc is no longer shocking if Germany assumes domination over such a bloc", wrote one of the founding Nazi-ideologues in the 19th century. The man who arranged for Hitler to become Chancellor of Germany, Von Papen, had also written about the possibility of a "European Federation" under strict German control of course, with Berlin as its glorious power center.

NATO has provided for the international army, while the European Central Bank does the same for international finance. All these activities have been developed under the careful direction of the Bilderberg Group and subsequently carried out by its designated subdivisions."
Authoritarianism is not new to the blue-blood lineage of continental nobility. Millenniums of succeeding empires shared the same ambition – rule the world.
The next citation provided the linkage that many "PC" armchair observers are afraid to deal with.
The David Icke Newsletter argues in the The Zionist Elephant In The Room:
"Today, Rothschild Illuminati fronts like the Council on Foreign Relations, Trilateral Commission, Bilderberg Group, Royal Institute of International Affairs, and others, still answer to the Round Table which string-pulls and coordinates from the shadows. This is why Zionists in government are invariably connected with these Rothschild-controlled organizations.

Let's get this straight. Zionism doesn't give a damn about Jewish people. To the Rothschilds and their Zionist gofers and thugs the Jewish people as a whole are merely cattle to be used and abused as necessary – just like the rest of the human population.

The networks of the House of Rothschild were behind Hitler and the rise of the Nazi Party in the Rothschild heartland of Germany where they had changed their name from Bauer in 18th century Frankfurt and launched the dynasty that was to control global finance."
Under this explanation of the forbidden knowledge that if kept from your scrutiny by the mainstream press, the Bilderberg summits were protected for decades from objective observation of their agenda and strategy for implementing their New World Order absolutism.
The iconoclastic Brother Nathanael - Street Evangelist rants, "One of the Bilderberg's deceptions is to invite insignificant leaders in the academic & scientific realms as a "decoy." Here Are The Real Players Attending the 2008 Bilderberg & They Are Jewish Bankers:
Ben Shalom Bernanke: Chairman of the privately held US Federal Reserve Bank.

James Wolfensohn: International Jewish financier. Chairman of Wolfensohn & Company Investments. A former World Bank President, this Jew has more than 140 employees and offices in London, Tokyo and Moscow. Wolfensohn also has a banking partnership with Fuji Bank of Japan and Jacob Rothschild of Britain.

Robert Zoellick: Chairman of the US World Bank Group a covert subsidiary of the Rothschild run International Monetary Fund.

Josef Ackermann: Chairman of the Executive Committee of Deutsche Bank AG of Zurich Switzerland. Ackermann is a Rothschild partner in white collar crime.

Kenneth Jacobs: Deputy Chairman Head of Lazard Bank North America. Lazard Bank, a Rothschild associate bank, operates in 39 cities throughout North America, Europe, Australia, Asia, and South America.

David Rockefeller: Owner of Chase Manhattan Bank. Former Chairman of the Council on Foreign Relations & Founder of the Trilateral Commission. Though not a Jew, Rockefeller is a Rothschild stooge.
Now the relevant viewpoint is that the Bilderberg assembly is by invitation from the highest echelon of committed agents of globalism. Their decisions become policy and governance turns into a continuous decent into slavery. The manifestation of the Bilderberg coalition is in keeping with the Round Table, a secret society started around the turn of the 20th century by Freemason and Rothschild agent, Lord Alfred Milner, who was entrusted the mission by Cecil Rhodes.The Anglo-American dominance of international intervention is rooted in Bilderberg discussions organized on the principle of reaching consensus for global hegemony. Pro Zionist financiers impose the objectives of the House of Rothschild upon America and England. The origins of totalitarian assimilation under the banner of the centralized authority oppression stems from the cult of the moneychangers.
Keeping informed on the latest schemes of Bilderberg 2013 In The UK with Press For Truth by watching the video is a must view. Also, follow the Bilderberg 2013 Stream page that has several links covering live feeds from the meetings. Finally, the Infowarscoverage of Bilderberg with Alex Jones and David Icke promises to be groundbreaking.Exhaustive arguments and proofs of the cataclysmic consequences coming out of every Bilderberg session encircle our globe with even incremental policy that fosters the New World Order. The names of the elites vary over time, but the globalist authoritarian culture only grows.
The fact that the exposure of the Bilderberg union is gaining traction gives solace to guardians of the human race. The sect of banksters devotion to the mischievous sprite and the dark side cannot force their tyranny on an awakened public dedicated to the defeat of the Illuminati empire.
The first step is to accept the truth that globalism is the engine of national destruction and a world governance substitute, under the control of an aristocratic bloodline, is the existential nihilist end of civilization. The Amschel Moses Rothschild – Cecil Rhodes vision of competing world dominance has merged into a technocratic intercellular substance of subjugation and extermination.
The days of allowing a massive media cover-up of the actual intentions of the Bilderberg clan are over. The alternative press has the credibility to speak truth to power. The public has the responsibility to mature emotionally and reject the delusional myths that protect the fabricated privileges of evil elites.
The secrecy of secret societies in a global telecommunication environment is doomed. Only with greater levels of planetary oppression, can the controllers of the Bilderberg fraternity maintain their cruel imperium. It is up to the citizens of the world to neuter this lineage of deranged plutocrats.
Today, we humans overrun and overwhelm this planet at 7.1 billion of us.  America, at a bloviated 315 million could not exist without importing 7 out of 10 barrels of oil daily from other parts of the world.  That oil will not last forever, but we will be left with a horrific population overload.  In other words, we cannot sustain our civilization in 2012 without raping some other countries around the world.  Just imagine what we face by adding 138 million people by 2050—a scant 38 years from now.
"The cheap oil age created an artificial bubble of plentitude for a period not much longer than a human lifetime….so I hazard to assert that as oil ceases to be cheap and the world reserves move toward depletion, we will be left with an enormous population…that the ecology of the earth will not support. The journey back toward non-oil population homeostasis will not be pretty.  We will discover the hard way that population hyper growth was simply a side-effect of the oil age.  It was a condition, not a problem with a solution. That is what happened and we are stuck with it."  James Howard Kunstler, The Long Emergency 
Not only that, we overrun our water supplies to such an extent that "water" will be our next sustainability predicament.  The greater our numbers, the greater our dilemma for water, irrigation and food.
Susan J. Marks' book, Aqua Shock: The Water Crisis in America, will give you a sobering reality check. The book presents facts, statistics, quotes, and data from sources such as the National Weather Service, United Nations, U.S. Geological Survey, and NOAA, among many other.  Marks makes a well documented case for the acute water crisis facing the world.  From Florida to Alaska, North to South Poles, South America to Africa, Iceland to Australia, and not leaving out the oceans, the author tells of the lost of drinking water and changes in precipitation patterns. Shortage and source depletion is already a major cause of border fights and legal disputes as countries, big cites, and farmland spar over water rights.
Because the USA expects to add 138 million people within 38 years, our water, energy, resources and arable land cannot keep up with our exploding numbers.  On top of our energy, water and resources depletion, Mother Nature continues warning us that we arrogantly explode our numbers to our own peril, i.e., Hurricanes Katrina, Sandy, droughts, species extinction, climate change and acidified oceans.
In the end, Mother Nature speaks with a bigger stick than anyone can imagine.  My Canadian friend Tim Murray speaks about the "Nature of Mankind" and our inability to listen to the signs being given us in 2012.
Mother Nature and Mankind: A Communication Breakdown
THE RELATIONSHIP THAT COUNTS
Tim Murray said about Mother Nature, "Perhaps you forgot about me. No wonder. Your history books seem to dwell on tyrants and dictators and megalomaniacs and the terrible things they do. Yet I can do terrible things too. Especially when I am taken for granted or abused. I know. I never commanded an army or ruled a nation.
"I never firebombed Hamburg, Dresden or Tokyo, nor dropped two atomic bombs. I never raped Nanking or slaughtered a third of Cambodia's population. I never conducted a war of ethnic cleansing nor destroyed a culture and enslaved the survivors. I never committed any of these atrocities. Yet I am the most merciless and indifferent mass murderer in history."
I am Mother Nature. And I really think we need to talk about our relationship.
"Not the relationship you have with other people," said Mother Nature. "Not about whether people treat each other with enough respect or fairness or empathy. Not about whether they distribute the wealth equitably. No, this is about our relationship, the relationship between you and me, nature and humankind.
"You speak of coercion. Of "coercive" birth control measures, forced abortions, punitive laws, of mass imprisonment and the violation of reproductive freedom. Of force, compulsion, duress, oppression, harassment, intimidation, threats, arm-twisting and pressure by people against people.
"But none of this matches my power of persuasion. I am talking about environmental coercion.
"You can be constrained by many things in life.  You can be constrained by arthritic pain, and prevented from training for a marathon. Or constrained by your budget from doing a lot of travelling or eating out.  Or constrained by your girth from fitting into the suit you wore to the prom."
Environmental coercion: the most brutal of all
"But environmental constraints brought on by overpopulation can be more confining than anything else," said Mother Nature. "They can confine you to a small urban apartment because overpopulation has driven up the cost of shelter. They can force you remain indoors because of smog alerts. They can restrict your movement and your options because overpopulation has created a labor glut and your wages have been driven down by competition. . They can reduce your per capita share of vital resources like clean water and affordable food. Environmental coercion can make your life miserable. More miserable than the most autocratic and unjust of governments.
"You may think that "austerity" is a hoax. A conspiracy of bankers and CEOs and neo-liberals to rob of us our rightful entitlements. But you obviously haven't heard the news. This is not the 1930s. This austerity is not contrived. This austerity is for real. This austerity is geologically, not ideologically rooted. There is not enough real wealth to go around.
"Go ahead and change the tax code, reform the monetary system and let the big banks fail. Make the rich pay their share. But do you think your Occupy movement can persuade me to yield more how-hanging fruit? Do you think that "justice", "fairness", and "equity" will suffice to make up for our non-renewable resource short falls?
"In just 13 years, Canadian governments will have to find $93 billion just to fund their unfunded liabilities—the promises they have made to Canadian citizens to pay out their pensions and satisfy their health care needs. All of this in addition to running other government programs and finding money to repair the infrastructure that is crumbling all around us. Newsflash: the money can't be found by "taxing the rich". Corporate taxes would need to double and even then, even if there was no capital flight to kinder tax climates, even if total tax revenue increased, it would be a temporary fix. In the United States, for example, if the income of every citizen making over $200,000 per year was confiscated, it would provide only enough revenue to run the federal government for just 193 days."
CONTINUING ECONOMIC GROWTH—NECESSARY, BUT NOT POSSIBLE
"The only way out is continued economic growth," said Mother Nature. "Growth at robust rates. It is only through continued economic growth that your social safety net can be maintained and your cities and bridges and physical assets can be replaced or repaired. One problem. I haven't got enough affordably accessible natural non-renewable resources to fuel this growth. Especially when emerging economies like China and India are demanding more and more from me. Something must give. Commodity prices will skyrocket. Economic recoveries will be killed in their tracks. Conflict will ensue. Please don't unleash a nuclear, chemical and/or biological war upon me. I have taken enough abuse already.
"Surely you can see this all coming. Surely you can see that the numbers don't add up. I can't continue to meet your growing demands. More efficient technology will not bail you out. Just ask Mr. Jevons. And be honest— renewable energy alternatives cannot be scaled up anywhere near the level you require. All you need is a calculator and an enema for your delusional optimism.
"But you won't do the math. And you think your agenda trumps mine. Sorry, but didn't you know, I own you. You are on a leash. You and your short-lived economic infidelities. Do you think I didn't know? Do you think I didn't notice that your mind was not on me and my needs?
I GAVE YOU SPACE AND NOW YOU NEED MORE?
"You tell me you need "space". But I gave you a world of space, and what did you do with it? You filled it up with 7 billion people—- 5 billion of whom are determined to live like the other two billion do!
'You tell me that universal and free access to health care, a decent pension and education is your right.
"But as Isaac Asimov observed, if you have 20 people sharing an apartment with two bathrooms, your "right" to guaranteed and timely access to a bathroom is necessarily limited. You can make all the speeches you want. You can run for the Democrats and make it a campaign platform if you like, or make "Freedom of the Bathroom" a Constitutional right, but without more bathrooms or fewer people in the apartment, that right is meaningless. As meaningless as the promise of sustainable Obamacare.
"I suggest that you seek counseling. Since I won't provide you with the means to add more bathrooms, I suggest that you try reducing the number of people who share the apartment. Things can't go on like this. I am calling a taxi and packing my bags. You just won't listen, and never have. I am tired of your roving eye, your insatiable appetite and lust for more, and your lack of attentiveness. I deserve better than this—and I know that I can go it alone. You need me, but I don't need you.
"I think you fundamentally misunderstand our relationship. You have the roles reversed. I am not your servant. I have only so much to give, and you've already blown half the dowry. So don't come crying to me for more. And frankly dear, I really don't give a damn about your "rights."
Sincerely, Mother Nature
For the past few weeks, word of the extent of the Fukushima disaster is spreading like the radiation slick moving across the Pacific Ocean thanks to social media and a lot of newly concerned citizens.
Independent researchers who have been trying to warn people for over a year are finally being heard. Much of that can be attributed to citizen journalists, who have realized mainstream media dropped the ball on this a long time ago.
To understand the dynamics of information and how it has been controlled, you would have to look at companies like General Electric and Westinghouse, who not only build nuclear reactors, but own major news outlets and, of course, are buddy-buddy with the Obama Administration.
Or, I can just tell you about it, since I have spent countless hours researching these connections and interviewing people about it. More on that at a later date. It deserves a nice big page in itself, with room for lots of details.
Not only do we have citizen journalists and the alternative media on top of this, but citizen scientists as well.
Have you met your new Fukushima expert, who just might live right next door? These are people who have taught themselves everything they possibly could about nuclear physics, radiation, Geiger counters, atomic power, nuclear plants, the effects of radiation on health, and radiation mitigation.
These citizen scientists have studied bombs, fallout, and weather and wind patterns. They have been monitoring radiation levels across the country, with their own equipment they purchased out of pocket and learned how to use.
They have read anything and everything they can get their hands on. They know the difference between alpha, beta, and gamma radiation, and how to avoid it.
They know that besides cancer, radiation can do all kinds of things to you, like severely compromise your immune system, intelligence, and thyroid, or make you aggressive, confused, and fatigued.
You might bruise or bleed in weird places and feel sick more than usual. They have learned all this out of their own instincts of survival.
Sometimes they even go 2 days without sleep, when bad stuff is happening, just to make sure they are keeping on top of the issues as much as possible.
It's amazing what you can do in a short period of time when your life depends on it. And the more that they learn, the greater their sense of urgency has become in bringing this info to the masses.
And what conclusion have these citizen journalists and citizen scientists reached throughout 14 months of study?
They have come to the inevitable conclusion that all of our lives changed on March 11, 2011, when Fukushima went out of control.
The glaring problem is that we that we weren't told about what actually happened.
Take, for instance, the fact that there were 3 meltdowns almost right away, and that the radioactive isotopes that blew all over Japan, Hawaii, Alaska, Canada and North America came in extraordinarily high quantities.
Or how various agencies that taxpayers have funded, such as the Environmental Protection Agency (EPA), did not do their job which is to protect the environment, and us.
In fact the EPA turned off their monitors for about a month, for the first time in their history. These are expensive and delicate pieces of equipment the taxpayers had already bought and paid for, for just such an emergency.
The Nuclear Regulatory Commission (NRC) knew, but they hid the information. The Obama Administration knew, but sent Hillary Clinton over to Japan to shake hands with the Prime Minister and show support.
Obama came out with a statement to the American people, saying, "We do not believe harmful levels of radiation will reach our shores," which we now know was a lie.
We had to figure all this out for ourselves, which was difficult because the information was purposely withheld from us.
Despite their best efforts, they can't stop the truth from leaking out of Fukushima. Freedom of Information Act (FOIA) requests have now proven this beyond a doubt.
Conspiracy theory is becoming conspiracy fact. And now we are going public with this information, and in a very big way.
It has been around 3 weeks since I wrote my first article for End the Lie, and still no real progress to report at the plant itself.
Tons of water continues to get poured into the reactors and flow subsequently into the Pacific Ocean, every second of every day.
Radiation continues to steam itself out of the ground, and thus up into the air, which then blows over us (i.e. resident of the northern hemisphere).
Earthquakes still happen daily around Japan. In fact there were 7 or 8 of them just in the past few days near Fukushima.
The spent fuel still sits in its shaky nest at the top of reactor number 4. Nothing has been done to further reinforce the structure.
The good news (if you can really call it that) is that it hasn't fallen yet. The United Nations and the United States are now in their most preliminary stages of addressing the complexity of problems there, in an attempt to see if they can help out.
But as you know, the wheels of bureaucracy turn very slowly. It took almost 14 months for them to start turning at all.
Besides the ongoing releases into the ocean and air and the precariousness of the pool, we have a debris field the size of Texas starting to hit the west coast and Alaska, which may or may not be radioactive.
Japan has been burning radioactive trash, and will continue to do so until at least 2014, and that blows over us as well.
We have a radioactive slick moving across the ocean, which by all estimates should have sunk to the bottom, but hasn't. And we have sick and dying mammals, fish, and birds all over the world, which may or may not be related, but should still be an enormous concern, since many of them are being found in the Pacific.
That is part of the problem when you are faced with the world's largest disaster. All of the models for how to deal with it can be thrown out the window.
All the assumptions about fallout and it working itself into the food chain have been wrong. It was much worse, and has happened much faster, than anyone expected, even for concerned citizens and independent researchers following this closely.
The government knew this would be the case from the early SPEEDI numbers, which were hand translated and delivered to the US government as they happened. But for the most part, Fukushima has exceeded everyone's expectations.
New ideas, new techniques, and new engineering has to be invented and implemented. New observations have to be made, and they are, as can be seen by searching "mutations" on YouTube and watching some videos.
We have citizen journalists and citizen scientists who are desperately trying to come up with solutions, and are doing it for free, while our government and agencies created to "protect us" continue to collect their paycheck, roll their eyes, shove their hands in their pockets and hum a tune like they're waiting for a taxi.
But out of crisis, comes opportunity. I'll use 9/11 again as an example.
Why do people get a warm fuzzy feeling when we see people rushing to aid those in the midst of disaster? Because we humans are hard-wired to care for others, and long to be part of a community.
Out of disaster, there is camaraderie, sympathy, and empathy. There are important lessons to be learned.
There are whole new industries that could be created out of this crisis, putting people to work. Aquaponics. Decontamination. Mitigation. Food testing.
And since we didn't seem to learn these lessons with Chernobyl, we need to learn them right now.
All nuclear power does is boil water and create steam, which turbines turn into electricity. But when something goes wrong, it has the ability to kill everything on the planet. That is where we are at now.
We need to adapt if we are to survive. And part of that adaptation means we need to eliminate the possibility of this ever happening again, starting with the 23 reactors the same style as Fukushima, in the United States, which is the Mark 1 Boiling Water Reactor, or BWR.
People in the industry jokingly refer to these as "double-decker beach-bombs," for the reason that the spent fuel is located in pools at the top of the reactor buildings, and they are usually located at a water source for emergency cooling purposes for when the fecal matter hits the fan at one of these plants.
In fact, several nuclear engineers who designed these reactors quit in protest before they went into production. They realized they had made a mistake. They realized this design would be extremely dangerous. GE went ahead and built them anyway.
When is the world going to realize the mistake of embracing nuclear energy as a power source, in spite of its danger?
And how long do we continue to ignore the brilliant scientists that warned about this, like Oppenheimer and Einstein? Or is it already too late?
There are no energy problems, in comparison. If you want to cut down on your electricity usage, turn off your TV.
We have natural gas deposits that could power everything we need. We have the power of the sun, water, wind and earth in the form of geothermal energy.
Nuclear power is a sham, just like the oil industry, and we have been duped into believing we need it to survive.
It generates billions and billions of dollars for these corporations. GE (who has the most ironic motto, "We Bring Good Things to Life") made 14 billion dollars last year, and paid no taxes.
In addition to producing electricity, nuclear reactors also generate 500 pounds of plutonium a year per reactor, as a byproduct of the fission process.
What happens to all that highly toxic plutonium? The government gets to collect this material to make bombs, so we can go utterly decimate other countries, now known as "spreading democracy" and poison their populations for future generations.
Let's not forget depleted uranium, or DU, which is now used in many military applications with horrific results.
Check out videos of children in Fallujah for some recent examples of this.
This is the one big secret that the nuke industry and our government will do anything to protect: besides being a billion dollar industry, nuke plants are basically bomb-making factories right under our noses.
Drawing attention to Fukushima would have drawn attention to this function of nuclear facilities.
An added side effect is that they also make people sick and help boost the health care industry, which in some states is now the number one private sector employer.
The plutonium and fission byproducts these plants produce help support our government's number-one priority: the almighty military-industrial complex.
And it's all in the name of money, power, and control. Energy companies hire top level advertisers and public relations people to promote and manipulate public opinion. Even during the Superbowl, ads were run showing how steam from nuclear power runs the turbines that make beer.
They want you to believe that we are dependent on this source of energy for our quality of life. The truth of the matter, on the other hand, is that nuclear power has ruined our lives.
Ask anyone who used to live in the ever-expanding evacuation zone in Japan, which may soon include the 35 million people in Tokyo.
Ask anyone who lives near a nuke plant and has a child with autism, gastroenteritis, or cancer. Just take a look at the statistics of cancer in the general population since we started embracing this technology.
The truth is: we have been nuked and are still getting nuked, every day, in a very big way.
I used to be a huge supporter of nuclear power, but 14 months of intensive study has changed my opinion significantly.
In addition to my studies, I have been influenced by some major health issues I developed after being outside the first 3 weeks after the reactors exploded. During that time I had a metallic-taste in my mouth, which I found out later was from tasting fission products. More on that later as well.
Nuclear cheerleaders like to complicate things in an attempt to make radiation something much harder to understand. That way it turns people off from the subject and they won't pay attention as much.
The truth is, you don't need to be a physicist, a scientist, or an expert in this field. You don't need to know the differences between decay rates and half-lives, or cesium and strontium.
You only need to understand one thing: All radiation is bad, and all of it will make you sick, no matter how much Ann Coulter claims that the Japanese should be thankful for Fukushima.
The more you are exposed to it, the sicker you will be. The more places you can cut down on your exposure, the better off your health will be.
Radiation is cumulative. It builds up in the body. It destroys cells. It causes mutations in cell growth which can thus create cancer or other illnesses.
There is plenty of this radiation leaking out of Fukushima for over a year now, blowing around in our air, building up in our soil, and contaminating our water supply.
What's worse, we have 104 of these plants in the United States, with special emphasis on the 23 previously mentioned, where this exact scenario is waiting to happen.
Radioactive steam comes out of these plants all the time, since as part of their normal operations. They vent to the atmosphere to keep things cool. Do some research into "rainshadow" in autism and brain cancer in children, and look where the numbers are the highest: around nuclear plants.
We can't afford to wait or delay. If you aren't already mitigating, you need to start now. You need to treat your health, and the health of your family, like you all have cancer already. That might sound like fear mongering to some, but this is one case where "better safe than sorry" truly applies.
This process involves eating healthy whole foods, filtering water, avoiding precipitation, taking supplements, and getting lots of sleep.
Stop eating fast food, and eat lower on the food chain, where bio-accumulation is less. Stop eating seafood, unless you know it is safe.
Include your children in these changes, because we will be dealing with this problem for at least the rest of our lives, and so will they.
We have to change our perspective. Quality of life becomes a much more important issue when your life expectancy has been shortened.
We have Fukushima to thank for this, and the nuclear industry, of course. As well as the various other individuals or agencies that tried to keep this information from us.
And then of course we have spent fuel pool doom lurking in the shadows. And for some unknown reason, Tepco seems to think their most immediate concern is building a huge underground wall, to contain something going on under the plant, the extent of which hasn't yet been shared with us.
So what do they know that we don't? Why is there a sense of urgency to contain something underground, when the spent fuel pool #4 is supposedly the weakest link in the Fukushima chain?
Where is all this technology we have to look for gas and oil, like ground-penetrating radar, optical coherence tomography, or even HAARP, to see what's going on under the plants? What else is being hidden from us?
Instead of calling it game over, let's play a new game called "No More Fukushimas."
Let's figure out ways to clean up this mess and not make more of them in the future. We can leave this for our children to deal with, that is if they are still here.
Or it is up to you, it is up to me, it is up to allof us to fix this situation, right now, as best as we possibly can.
Take care of your family first, have a plan for the worst-case scenario, then do what you can to help others.
Our lives all changed over a year ago, only you weren't told about it. As bad as things are, there is a huge opportunity here for something wonderful to come out of this mess. A cleaner, brighter, healthier future for our children and generations to come. A future, period.
As a close associate of Obama once said, "Never let a crisis go to waste". This might be the last crisis that we ever see, if we don't so something about it.
Courtesy of MayanManifestor
Please send mutation images to christinax4@yahoo.com. Shoot at the highest resolution possible, and include your name, location, and date the mutation was found, for proper credit if the images are published. If it is from store-bought produce, include the location where it was grown and purchased. The more information you provide, the better you will be helping the rest of us.
Please help Christina purchase a spectrometer in order to get the most accurate radiation readings and thus get you the most precise information possible by shopping through her Amazon link or donate directly via PayPal to fukushimafacts@gmail.com. Keep in mind, this is expensive equipment and it is the only way that specific isotope readings can be obtained from food items.
Edited by Madison Ruppert
Christina Consolo is a former clinical researcher supervisor with NIH credentialing; a former Member-at-Large for the Board of Directors, Ophthalmic Photographers' Society; A peer reviewer for the Journal of Ophthalmic Photography; She has written, published, and contributed to numerous scientific research in retinal imaging and ophthalmogy for the past 24 years; She is also an award-winning biomedical photographer and maintains several websites to teach people about radiation, mitigation, and other nuclear issues. She is also the host of "Nuked Radio" Tuesdays & Thursdays from 12-1:00 pm EST on theOrion Talk Radio Network.
For more info including mitigation for radiation exposure, please visit FukushimaFacts.com, where you can sign up to receive Fallout Forecasts on Facebook, YouTube, and Twitter.
Source: End the Lie
A new report circulating in the Kremlin today prepared by the Foreign Ministry on the planned re-opening of talks with Japan over the disputed Kuril Islands during the next fortnight states that Russian diplomats were "stunned" after being told by their Japanese counterparts that upwards of 40 million of their peoples were in "extreme danger" of life threatening radiation poisoning and could very well likely be faced with forced evacuations away from their countries eastern most located cities… including the world's largest one, Tokyo.
The Kuril Islands are located in Russia's Sakhalin Oblast region and stretch approximately 1,300 km (810 miles) northeast from Hokkaido-, Japan, to Kamchatka, Russia, separating the Sea of Okhotsk from the North Pacific Ocean. There are 56 islands and many more minor rocks. It consists of Greater Kuril Ridge and Lesser Kuril Ridge, all of which were captured by Soviet Forces in the closing days of World War II from the Japanese.
The "extreme danger" facing tens of millions of the Japanese peoples is the result of the Fukushima Daiichi Nuclear Disaster that was a series of equipment failures, nuclear meltdowns, and releases of radioactive materials at the Fukushima I Nuclear Power Plant, following the To-hoku earthquake and tsunamion 11 March 2011.
According to this report, Japanese diplomats have signaled to their Russian counterparts that the returning of the Kuril Islands to Japan is "critical" as they have no other place to resettle so many people that would, in essence, become the largest migration of human beings since the 1930's when Soviet leader Stalin forced tens of millions to resettle Russia's far eastern regions.
Important to note, this report continues, are that Japanese diplomats told their Russian counterparts that they were, also, "seriously considering" an offer by China to relocate tens of millions of their citizens to the Chinese mainland to inhabit what are called the "ghost cities," built for reasons still unknown and described, in part, by London's Daily Mail News Service in their 18 December 2010 article titled: "The Ghost Towns Of China: Amazing Satellite Images Show Cities Meant To Be Home To Millions Lying Deserted" that says:
"These amazing satellite images show sprawling cities built in remote parts of China that have been left completely abandoned, sometimes years after their construction. Elaborate public buildings and open spaces are completely unused, with the exception of a few government vehicles near communist authority offices. Some estimates put the number of empty homes at as many as 64 million, with up to 20 new cities being built every year in the country's vast swathes of free land."
Foreign Ministry experts in this report note that should Japan accept China's offer, the combined power of these two Asian peoples would make them the largest super-power in human history with an economy larger than that of the United States and European Union combined and able to field a combined military force of over 200 million.
To how dire the situation is in Japan was recently articulated by Japanese diplomat Akio Matsumurawho warned that the disaster at the Fukushima nuclear plant may ultimately turn into an event capable of extinguishing all life on Earth.
According to the Prison Planet News Service:
"Matsumura posted [this] startling entry on his blog following a statement made by Japan's former ambassador to Switzerland, Mitsuhei Murata, on the situation at Fukushima.

Speaking at a public hearing of the Budgetary Committee of the House of Councilors on 22 March 2012, Murata warned that "if the crippled building of reactor unit 4 – with 1,535 fuel rods in the spent fuel pool 100 feet (30 meters) above the ground – collapses, not only will it cause a shutdown of all six reactors but will also affect the common spent fuel pool containing 6,375 fuel rods, located some 50 meters from reactor 4," writes Matsumura.

In both cases the radioactive rods are not protected by a containment vessel; dangerously, they are open to the air. This would certainly cause a global catastrophe like we have never before experienced. He stressed that the responsibility of Japan to the rest of the world is immeasurable. Such a catastrophe would affect us all for centuries. Ambassador Murata informed us that the total numbers of the spent fuel rods at the Fukushima Daiichi site excluding the rods in the pressure vessel is 11,421."
Disturbingly, the desperate situation facing Japan is, also, facing the United States as Russian military observers overflying the US this week as part of the Open Skies Treaty are reporting "unprecedented" amounts of radiation in the Western regions of that country, a finding that was further confirmed by scientists with the Woods Hole Oceanographic Institute who have confirmed that a wave of highly radioactive waste is headed directly for the US west coast.
Important to note is that this new wave of Fukushima radiation headed towards the US is in addition to earlier radiation events that American scientists are now blaming for radioactive particles from Japan being detected in California kelp.
Though the news of this ongoing global catastrophe is still being heavily censored in the US, the same cannot be said about Japan, and as recently reported by the leading Japanese newspaper The Mainichi Daily News that reports:
"One of the biggest issues that we face is the possibility that the spent nuclear fuel pool of the No. 4 reactor at the stricken Fukushima No. 1 Nuclear Power Plant will collapse. This is something that experts from both within and outside Japan have pointed out since the massive quake struck. TEPCO, meanwhile, says that the situation is under control. However, not only independent experts, but also sources within the government say that it's a grave concern.

The storage pool in the No. 4 reactor building has a total of 1,535 fuel rods, or 460 tons of nuclear fuel, in it. The 7-story building itself has suffered great damage, with the storage pool barely intact on the building's third and fourth floors. The roof has been blown away. If the storage pool breaks and runs dry, the nuclear fuel inside will overheat and explode, causing a massive amount of radioactive substances to spread over a wide area. Both the U.S. Nuclear Regulatory Commission (NRC) and French nuclear energy company Areva have warned about this risk.

A report released in February by the Independent Investigation Commission on the Fukushima Daiichi Nuclear Accident stated that the storage pool of the plant's No. 4 reactor has clearly been shown to be "the weakest link" in the parallel, chain-reaction crises of the nuclear disaster. The worse-case scenario drawn up by the government includes not only the collapse of the No. 4 reactor pool, but the disintegration of spent fuel rods from all the plant's other reactors. If this were to happen, residents in the Tokyo metropolitan area would be forced to evacuate."
Even though this crisis in Japan has been described as "a nuclear war without a war" and the US Military is being reported is now stocking up on massive amounts of anti-radiation pills in preparation for nuclear fallout, there remains no evidence at all the ordinary peoples are being warned about this danger in any way whatsoever.
Source: RSN
Here in Moscow I recently received a dark-blue folder dated 1975. It contains one of the most well-buried secrets of Middle Eastern and of US diplomacy. The secret file, written by the Soviet Ambassador in Cairo, Vladimir M. Vinogradov, apparently a draft for a memorandum addressed to the Soviet politbureau, describes the 1973 October War as a collusive enterprise between US, Egyptian and Israeli leaders, orchestrated by Henry Kissinger. If you are an Egyptian reader this revelation is likely to upset you. I, an Israeli who fought the Egyptians in the 1973 war, was equally upset and distressed, – yet still excited by the discovery. For an American it is likely to come as a shock.
According to the Vinogradov memo (to be published by us in full in the Russian weekly Expert next Monday), Anwar al-Sadat, holder of the titles of President, Prime Minister, ASU Chairman, Chief Commander, Supreme Military Ruler, entered into conspiracy with the Israelis, betrayed his ally Syria, condemned the Syrian army to destruction and Damascus to bombardment, allowed General Sharon's tanks to cross without hindrance to the western bank of the Suez Canal, and actually planned a defeat of the Egyptian troops in the October War. Egyptian soldiers and officers bravely and successfully fought the Israeli enemy – too successfully for Sadat's liking as he began the war in order to allow for the US comeback to the Middle East.
He was not the only conspirator: according to Vinogradov, the grandmotherly Golda Meir knowingly sacrificed two thousand of Israel's best fighters – she possibly thought fewer would be killed — in order to give Sadat his moment of glory and to let the US  secure its positions in the Middle East. The memo allows for a completely new interpretation of the Camp David Treaty, as one achieved by deceit and treachery.
Vladimir Vinogradov was a prominent and brilliant Soviet diplomat; he served as  ambassador to Tokyo in the 1960s, to Cairo from 1970 to 1974, co-chairman of the Geneva Peace Conference,  ambassador to Teheran during the Islamic revolution, the USSR Deputy Minister of Foreign Affairs and the Minister of Foreign Affairs of the Russian Federation. He was a gifted painter and a prolific writer; his archive has hundreds of pages of unique observations and notes covering international affairs, but the place of honor goes to his Cairo diaries, and among others, descriptions of his hundreds of meetings with Sadat and the full sequence of the war as he observed it unfold at  Sadat's hq as the big decisions were made. When published, these notes will allow to re-evaluate the post-Nasser period of Egyptian history.
Vinogradov arrived to Cairo for Nasser's funeral and remained there as the Ambassador. He recorded the creeping coup of Sadat,  least bright of Nasser's men, who became Egypt's president by chance, as he was the vice-president at Nasser's death. Soon he dismissed, purged and imprisoned practically all important Egyptian politicians, the comrades-in-arms of Gamal Abd el Nasser, and dismantled the edifice of Nasser's socialism. Vinogradov was an astute observer; not a conspiracy cuckoo. Far from being headstrong and  doctrinaire, he was a friend of Arabs and a consistent supporter and promoter of a lasting and just peace between the Arabs and Israel, a peace that would meet  Palestinian needs and ensure Jewish prosperity.
The pearl of his archive is the file called The Middle Eastern Games. It contains some 20 typewritten pages edited by hand in blue ink, apparently a draft for a memo to the Politburo and to the government, dated January 1975, soon after his return from Cairo. The file contains the deadly secret of the collusion he observed. It is written in lively and highly readable Russian, not in the bureaucratese we'd expect. Two pages are added to the file in May 1975; they describe Vinogradov's visit to Amman and his informal talks with Abu Zeid Rifai, the Prime Minister, and his exchange of views with the Soviet Ambassador in Damascus. Vinogradov did not voice his opinions until 1998, and even then he did not speak as openly as in this draft. Actually, when the suggestion of collusion was presented to him by the Jordanian prime minister, being a prudent diplomat, he refused to discuss it.
The official version of the October war holds that on  October  6, 1973, in conjunction with Hafez al-Assad of Syria, Anwar as-Sadat launched a surprise attack against Israeli forces. They crossed the Canal and advanced a few miles into the occupied Sinai. As the war progressed, tanks of General Ariel Sharon  crossed the Suez Canal and encircled the Egyptian Third Army. The ceasefire negotiations eventually led to the handshake at the White House.
For me, the Yom Kippur War (as we called it) was an important part of my autobiography. A young paratrooper, I fought that war, crossed the canal, seized Gabal Ataka heights, survived shelling and face-to-face battles, buried my buddies, shot the man-eating red dogs of the desert and the enemy tanks. My unit was ferried by helicopters into the desert where we severed the main communication line between the Egyptian armies and its home base, the Suez-Cairo highway. Our location at 101 km to Cairo was used for the first cease fire talks; so I know that war not by  word of mouth, and it hurts to learn that I and my comrades-at-arms were just disposable tokens in the ruthless game we – ordinary people – lost. Obviously I did not know it then,  for me the war was a surprise, but then,  I was not a general.
Vinogradov dispels the idea of  surprise: in his view, both the canal crossing by the Egyptians and the inroads by Sharon were planned and agreed upon in advance by Kissinger, Sadat and Meir. The plan included the destruction of the Syrian army as well.
At first, he asks some questions: how the crossing could be a surprise if the Russians evacuated their families a few days before the war? The concentration of the forces was observable and could not escape Israeli attention. Why did the Egyptian forces  not proceed after the crossing but stood still? Why did they have no plans for advancing? Why there was a forty km-wide unguarded gap between the 2d and the 3d armies, the gap that invited Sharon's raid? How could Israeli tanks sneak to the western bank of the Canal? Why did Sadat refuse to stop them? Why were  there no reserve forces on the western bank of the Canal?
Vinogradov takes a leaf from Sherlock Holmes who said: when you have eliminated the impossible, whatever remains, however improbable, must be the truth. He writes: These questions can't be answered if Sadat is to be considered a true patriot of Egypt. But they can be answered in full, if we consider a possibility of collusion between Sadat, the US and Israeli leadership – a conspiracy in which each participant pursued his own goals. A conspiracy in which each participant did not know the full details of other participants' game.  A conspiracy in which each participant tried to gain more ground despite the overall agreement between them.
Sadat's Plans
Before the war Sadat was at the nadir of his power: in Egypt and abroad he had lost  prestige. The least educated and least charismatic of Nasser's followers, Sadat was isolated. He needed a war, a limited war with Israel that would not end with defeat. Such a war would release the pressure in the army and he would regain his authority. The US agreed to give him a green light for the war, something the Russians never did. The Russians protected Egypt's skies, but they were against wars. For that, Sadat had to rely upon the US and part with the USSR. He was ready to do so as he loathed socialism. He did not need victory, just no defeat; he wanted to explain his failure to win by deficient Soviet equipment. That is why the army was given the minimal task: crossing the Canal and hold the bridgehead until the Americans  entered the game.
Plans of the US
During decolonisation the US lost strategic ground in the Middle East with its oil, its Suez Canal, its vast population. Its ally Israel had to be supported, but the Arabs were growing stronger all the time. Israel had to be made more flexible, for its brutal policies interfered with the US plans. So the US had to keep Israel as its ally but at the same time Israel's arrogance had to be broken. The US needed a chance to "save" Israel after allowing the Arabs to beat the Israelis for a while. So the US allowed Sadat to begin a limited war.
Israel        
Israel's leaders had to help the US, its main provider and supporter. The US needed to improve its positions in the Middle East, as in 1973 they  had only one friend and ally, King Feisal. (Kissinger told Vinogradov that Feisal tried to educate him about the evilness of Jews and Communists.) If and when the US was to recover its position in the Middle East, the Israeli position would improve drastically. Egypt was a weak link, as Sadat disliked the USSR and the progressive forces in the country, so it could be turned. Syria could be dealt with militarily, and broken.
The Israelis and Americans decided to let Sadat take the Canal while holding the mountain passes of Mittla and Giddi, a better defensive line anyway. This was actually Rogers' plan of 1971, acceptable to Israel. But this should be done in fighting, not given up for free.
As for Syria, it was to be militarily defeated, thoroughly. That is why the Israeli Staff did sent all its available troops to the Syrian border, while denuding the Canal though the Egyptian army was much bigger than the Syrian one. Israeli troops at the Canal were to be sacrificed in this game; they were to die in order to bring the US back into the Middle East.
However, the plans of the three partners were somewhat derailed by the factors on the ground: it is the usual problem with conspiracies; nothing works as it should, Vinogradov writes in his memo to be published in full next week in Moscow's Expert.
Sadat's crooked game was spoiled to start with. His presumptions did not work out. Contrary to his expectations, the USSR supported the Arab side and began a massive airlift of its most modern military equipment right away. The USSR took the risk of confrontation with the US; Sadat had not  believed they would because the Soviets were adamant against the war, before it started. His second problem, according to Vinogradov, was the superior quality of Russian weapons in the hands of Egyptian soldiers  — better than the western weapons in the Israelis' hands.
As an Israeli soldier of the time I must confirm the Ambassador's words. The Egyptians had the legendary Kalashnikov AK-47 assault rifles, the best gun in the world, while we had FN battle rifles that hated sand and water. We dropped our FNs and picked up their AKs at the first opportunity. They used anti-tank Sagger missiles, light, portable, precise, carried by one soldier. Saggers killed between 800 and 1200 Israeli tanks. We had old 105 mm recoilless jeep-mounted rifles, four men at a rifle (actually, a small cannon) to fight tanks. Only new American weapons redressed the imbalance.
Sadat did not expect the Egyptian troops taught by the Soviet specialists to better their Israeli enemy – but they did. They crossed the Canal much faster than planned and with much smaller losses. Arabs beating the Israelis – it was bad news for Sadat. He overplayed his hand. That is why the Egyptian troops stood still, like the sun upon Gibeon, and did not move. They waited for the Israelis, but at that time the Israeli army was fighting the Syrians. The Israelis felt somewhat safe from Sadat's side and they sent all their army north. The Syrian army took the entire punch of Israeli forces and began its retreat. They asked Sadat to move forward, to take some of the heat off them, but Sadat refused. His army stood and did not move, though there were no Israelis between the Canal and the mountain passes. Syrian leader al Assad was convinced at that time that Sadat betrayed him, and he said so frankly to the Soviet ambassador in Damascus, Mr Muhitdinov, who passed this to Vinogradov. Vinogradov saw Sadat daily and asked him in real time why he was not advancing. He received no reasonable answer: Sadat muttered that he does not want to run all over Sinai looking for Israelis, that sooner or later they would come to him.
The Israeli leadership was worried: the war was not going as expected. There were big losses on the Syrian front, the Syrians retreated but each yard was hard fought; only Sadat's passivity saved the Israelis from a reverse. The plan for total Syrian defeat failed, but the Syrians could not effectively counterattack.
This was the time to punish Sadat: his army was too efficient, his advance too fast, and worse, his reliance upon the Soviets only grew due to the air bridge. The Israelis arrested their advance on Damascus and turned their troops southwards to Sinai. The Jordanians could at this time have cut off the North-to-South route and king Hussein proposed this to Sadat and Assad. Assad agreed immediately, but Sadat refused to accept the offer. He explained it to Vinogradov that he did not believe in the fighting abilities of the Jordanians. If they entered the war, Egypt would have to save them. At other times he said that it is better to lose the whole of Sinai than to lose a square yard on the Jordan: an insincere and foolish remark, in Vinogradov's view. So the Israeli troops rolled southwards without hindrance.
During the war, we (the Israelis) also knew that if Sadat  advanced, he would gain the whole of Sinai in no time; we entertained many hypotheses why he was standing still, none satisfactory. Vinogradov explains it well: Sadat ran off his script and was waited for  US involvement. What he got was the deep raid of Sharon.
This breakthrough of the Israeli troops to the western bank of the Canal was the murkiest part of the war, Vinogradov writes. He asked Sadat's military commanders at the beginning of the war why there is the forty km wide gap between the Second and the Third armies and was told that this was Sadat's directive. The gap was not even guarded; it was left wide open like a Trojan backdoor in a computer program.
Sadat paid no attention to Sharon's raid; he was indifferent to this dramatic development. Vinogradov asked him to deal with it when only the first five Israeli tanks crossed the Canal westwards; Sadat refused, saying it was of no military importance, just a "political move", whatever that meant. He repeated this to Vinogradov later, when the Israeli foothold on the Western bank of became a sizeable bridgehead. Sadat did not listen to advice from Moscow, he opened the door for the Israelis into Africa.
This allows for two explanations, says Vinogradov: an impossible one, of the Egyptians' total military ignorance and  an improbable one, of Sadat's intentions. The improbable wins, as Sherlock Holmes observed.
The Americans did not stop the Israeli advance right away, says Vinogradov, for they wanted to have a lever to push Sadat so he would not change his mind about the whole setup. Apparently the gap was build into the deployments for this purpose. So Vinogradov's idea of "conspiracy" is that of dynamic collusion, similar to the collusion on Jordan between the Jewish Yishuv and Transjordan as described by Avi Shlaim: there were some guidelines and agreements, but they were liable to change, depending on the strength of the sides.
Bottom line
The US "saved" Egypt by stopping the advancing Israeli troops. With the passive support of Sadat, the US allowed Israel to hit Syria really  hard.
The US-negotiated disengagement agreements with the UN troops in-between made Israel safe for years to come.
(In a different and important document, "Notes on Heikal's book Road to Ramadan", Vinogradov rejects the thesis of the unavoidability of Israeli-Arab wars: he says that as long as Egypt remains in the US thrall, such a war is unlikely. Indeed there have been no big wars since 1974, unless one counts Israeli "operations" in Lebanon and Gaza.)
The US "saved" Israel with military supplies.
Thanks to Sadat, the US came back to the Middle East and positioned itself as the only mediator and "honest broker" in the area.
Sadat began a violent anti-Soviet and antisocialist campaign, Vinogradov writes, trying to discredit the USSR. In the Notes, Vinogradov charges that Sadat spread many lies and disinformation to discredit the USSR in the Arab eyes. His main line was: the USSR could not and would not  liberate  Arab soil while the US could, would and did. Vinogradov explained elsewhere that the Soviet Union was and is against offensive wars, among other reasons because their end is never certain. However, the USSR was ready to go a long way to defend Arab states. As for liberation, the years since 1973 have proved that the US can't or won't deliver that, either – while the return of Sinai to Egypt in exchange for separate peace was always possible, without a war as well.
After the war, Sadat's positions improved drastically. He was hailed as hero, Egypt took a place of honor among the Arab states. But in a year, Sadat's reputation was in tatters again, and that of Egypt went to an all time low, Vinogradov writes.
The Syrians understood Sadat's game very early: on October 12, 1973 when the Egyptian troops stood still and ceased fighting, President Hafez el Assad said to the Soviet ambassador that he is certain Sadat was intentionally betraying Syria. Sadat deliberately allowed the Israeli breakthrough to the Western bank of Suez, in order to give Kissinger a chance to intervene and realise his disengagement plan, said Assad to Jordanian Prime Minister Abu Zeid Rifai who told it to Vinogradov during a private breakfast they had in his house in Amman. The Jordanians also suspect Sadat played a crooked game, Vinogradov writes. However, the prudent Vinogradov refused to be drawn into this discussion though he felt that the Jordanians "read his thoughts."
When Vinogradov was appointed  co-chairman of the Geneva Peace Conference, he encountered a united Egyptian-American position aiming to disrupt the conference, while Assad refused even to take part in it. Vinogradov delivered him a position paper for the conference and asked whether it is acceptable for Syria. Assad replied: yes but for one line. Which one line, asked  a hopeful Vinogradov, and Assad retorted: the line saying "Syria agrees to participate in the conference." Indeed the conference came to nought, as did all other conferences and arrangements.
Though the suspicions voiced by Vinogradov in his secret document have been made by various military experts and historians, never until now they were made by a participant in the events, a person of such exalted position, knowledge, presence at key moments. Vinogradov's notes allow us to decipher and trace the history of Egypt with its de-industrialisation, poverty, internal conflicts, military rule tightly connected with the phony war of 1973.
A few years after the war, Sadat was assassinated, and his hand-picked follower Hosni Mubarak began his long rule, followed by another participant of the October War, Gen Tantawi. Achieved by lies and treason, the Camp David Peace treaty still guards Israeli and American interests. Only now, as the post-Camp David regime in Egypt is on the verge of collapse, one may hope for change. Sadat's name in the pantheon of Egyptian heroes was safe until now. In  the end, all that is hidden will be made transparent.
Postscript. In 1975, Vinogradov could not predict that the 1973 war and subsequent treaties would change the world. They sealed the fate of the Soviet presence and eminence in the Arab world, though the last vestiges were destroyed by  American might much later: in Iraq in 2003 and in Syria they are being undermined now. They undermined the cause of socialism in the world,  which began its long fall. The USSR, the most successful state of 1972, an almost-winner of the Cold war, eventually lost it. Thanks to the American takeover of Egypt, petrodollar schemes were formed, and the dollar that began its decline in 1971 by losing its gold standard – recovered and became again a full-fledged world reserve currency. The oil of the Saudis and of sheikdoms being sold for dollars became the new lifeline for the American empire. Looking back, armed now  with  the Vinogradov Papers, we can confidently mark 1973-74 as a decisive turning point in our history.