Book Review…
"The white man wanted what we had, our land, but he didn't want us.  We wanted what the white man had his improvements, his guns, his modern conveniences – but we didn't want him.  And so we fought, each wanting what the other had but not wanting the other and trying to eliminate him; and we lost.  That's the story."    A mid-Twentieth Century account by an old Indian at the Owyhee reservation in Nevada.  From "The American Indian" R. J. Rushdoony
The late Rousas Rushdoony was born to immigrant parents and raised in an Armenian society on a farm in California.   He was a Christian truth-seeker with a brilliant mind, a photographic memory, and a work driven disposition.  His perspective on the American culture was not maligned by popular partisan descriptions and his accurate evaluations were often prophetic.
Though we never met his writing transformed my understanding of Christianity.
Truth steps on the toes of those who live and defend fantasy and Rushdoony had big feet.  Arminianism denuded Christianity.  It is a ubiquitous heresy and Rushdoony brought the full weight of his mighty intellect against it.  He exposed the sinful insanity of claiming to follow Christ while refusing to obey His legal standards.  As it always does his true pronouncements dragged him into controversy.
Ross House Books recently released "The American Indian" a paper-backed book of slightly over 100 pages. It chronicles Rushdoony's mission to the Shoshone and Paiute Indians at the Owyhee reservation in Nevada from 1944 to 1953.     
Rushdoony's portrays the Indian differently than the dream laden pictures presented in our movies and history books.  He found the older Indians to be astute, realistic, and pragmatic.  They were quick to notice that White American Christians did not actually believe in the religion they were trying to transmit; they did not practice it, their schools did not teach it, and their government did not follow its principles.  This sad reality resulted in the subtitle of the book, "A Standing Indictment Against Christianity and Statism in America.
Rushdoony liked and admired the Indian character.  They were realists and so was he.  Yes, they were savages capable of shocking cruelty but they were also open to technical advances and were more willing to offer others hospitality than most Christians.  An Indian was never without food and shelter since every family would unquestionably provide it whether to a stray adult or an orphaned child.
The book vividly portrays the devastation that results from dependence on government handouts. Tribal life centered on survival and since the government provided everything they needed the core of their life was destroyed. The result is wide spread debauchery, gambling, alcoholism, sexually immorality, and rape.
A tendency to addiction combined with the malignancy of government dependence contributed to the alcohol problem.  The old Indians called it "The Whiskey Religion".  They reasoned that what Christians look for in Christ, alcoholic Indians (Whites too) find in the bottle.  Alcohol was not the only problem: Peyote, a narcotic, was worshiped and used extensively with devastating results.    
Indian children were coddled; never disciplined.  Rushdoony reasoned that such leniency resulted in an inability to withstand frustration and this weakness contributed to widespread alcoholism.  When the doctrine of original sin is missing discipline is usually lacking.
Indians were trained to be valiant.  The old Indians remembered in past times young Indians entered manhood through a ritual that involved cutting open and exposing back muscles that were then thonged and tightened to keep the initiate on his tiptoes.  They were forbidden to acknowledge pain and urged to dance around a pole for three days and nights.  If they passed out they ruptured their back muscles and waited at least another year to enter manhood. 
Before the arrival of the White man survival was the primary objective of Indian culture.  The story of Jenny Owyhee showcases Indian spiritism, savagery, and intent to survive.  Jenny and Rushdoony arrived on the Reservation about the same time.  Jenny had worked for a family named Riddle.  Grant Riddle died at the age of eighty. He said Jenny had worked for his family before he was born and had grown children when he was a child.  She remembered the tribe being marched to the Reservation and would have been close to 120 year of age.  Rushdoony writes, "Jenny told me that her first four babies were girls.  At the birth of the fourth, her husband broke the power of the spirits by grabbing the new-born girl and braining her on a rock.  Jenny's next child was a boy.  She was a kind and thoughtful woman. For her, the killing of the girl was a sad necessity in order to insure a boy – for a boy meant survival in the wilderness."
Rushdoony had great respect for Indians warriors.  He believed Chief Joseph of the Nez Perce Indians was the "greatest military strategist the North American continent has ever produced.   He writes that Chief Joseph with a "handful" of warriors defeated the U. S. Army several times while transporting and protecting a large number of women and children.  Superior numbers and superior equipment were needed to defeat the resilient Indians who refused to give up.
Indians were never enslaved; they fought or they ran away.   They could not be converted to servant hood.  The older Indians viewed Negros as inferior because they allowed themselves to become slaves.
Both the writer and the Indians had great respect for realism.  Sentimentality is condemned and there is no reference to repentance. Rushdoony expresses disdain for recounting past offenses instead of concentrating on current behavior.  He recounted the indiscretions of both the Indians and the White settlers.  The White settlers bore additional guilt because they were supposedly Christians but there is nothing about the incursion of European civilization into what had previously been Indian occupied territory.
Important information about this period of Rushdoony's ministry is mysteriously missing.  His first wife, Arda, bore him four children (Rebecca, Joanna, Sharon, and Martha) and they adopted an Indian child (Ronald).  Arda is not mention in his writing nor is her image found in the several pictures taken at the Owyhee Reservation. Following a divorce she became a non-person.  Dorothy Rushdoony, his second wife, who after giving birth to a son (Thomas Kirkwood, Jr.), had also been divorced, took Arda's place as if she never existed.  I could find only one reference to Arda on the Internet.  Read it here.
There may be good reason for the dearth of information on Arda and Ronald Rushdoony; but since information is not available the mystery remains.  These events certainly influenced the family.
An appropriate ending to this essay comes from a story Rushdoony recounts about a Whisky religion renegade Indian who had been in the armed services and occupied various jails around the country.  In the midst of a session of bragging about his brawls he became serious and said, "Look at those people of mine.  They're no good.  They're like me, just no account.  All they are fit for is a reservation where someone puts a fence around them.  That's it.  They are not fit for anything else."
"But," he went on, "I've been across the country two or three times now in the last few years, and I've learned something: the white man isn't much better.  He has reservation fever now.  He wants someone to put a fence around the whole North American continent and take care of him.  He wants the government to give him a handout and look after him just like Uncle Sam looks after us. And he is going to get it. If some outfit doesn't come in and do it for him, some foreign country will turn the whole United States into a reservation: he'll to do it to himself.  You wait and see. 'Cause he's got reservation fever."
Control oil and you control nations," said US Secretary of State Henry Kissinger in the 1970s.  "Control food and you control the people."
Global food control has nearly been achieved, by reducing seed diversity with GMO (genetically modified) seeds that are distributed by only a few transnational corporations. But this agenda has been implemented at grave cost to our health; and if the Trans-Pacific Partnership (TPP) passes, control over not just our food but our health, our environment and our financial system will be in the hands of transnational corporations.
Profits Before Populations
Genetic engineering has made proprietary control possible over the seeds on which the world's food supply depends. According to an Acres USA interview of plant pathologist Don Huber, Professor Emeritus at Purdue University, two modified traits account for practically all of the genetically modified crops grown in the world today. One involves insect resistance. The other, more disturbing modification involves insensitivity to glyphosate-based herbicides (plant-killing chemicals). Often known as Roundup after the best-selling Monsanto product of that name, glyphosate poisons everything in its path except plants genetically modified to resist it.
Glyphosate-based herbicides are now the most commonly used herbicides in the world. Glyphosate is an essential partner to the GMOs that are the principal business of the burgeoning biotech industry. Glyphosate is a "broad-spectrum" herbicide that destroys indiscriminately, not by killing unwanted plants directly but by tying up access to critical nutrients.
Because of the insidious way in which it works, it has been sold as a relatively benign replacement for the devastating earlier dioxin-based herbicides. But a barrage of experimental data has now shown glyphosate and the GMO foods incorporating it to pose serious dangers to health. Compounding the risk is the toxicity of "inert" ingredients used to make glyphosate more potent. Researchers have found, for example, that the surfactant POEA can kill human cells, particularly embryonic, placental and umbilical cord cells. But these risks have been conveniently ignored.
The widespread use of GMO foods and glyphosate herbicides helps explain the anomaly that the US spends over twice as much per capita on healthcare as the average developed country, yet it is rated far down the scale of the world's healthiest populations. The World Health Organization has ranked the US LAST out of 17 developed nations for overall health.
Sixty to seventy percent of the foods in US supermarkets are now genetically modified. By contrast, in at least 26 other countries—including Switzerland, Australia, Austria, China, India, France, Germany, Hungary, Luxembourg, Greece, Bulgaria, Poland, Italy, Mexico and Russia—GMOs are totally or partially banned; and significant restrictions on GMOs exist in about sixty other countries.
A ban on GMO and glyphosate use might go far toward improving the health of Americans. But the Trans-Pacific Partnership, a global trade agreement for which the Obama Administration has sought Fast Track status, would block that sort of cause-focused approach to the healthcare crisis.
Roundup's Insidious Effects
Roundup-resistant crops escape being killed by glyphosate, but they do not avoid absorbing it into their tissues. Herbicide-tolerant crops have substantially higher levels of herbicide residues than other crops. In fact, many countries have had to increase their legally allowable levels—by up to 50 times—in order to accommodate the introduction of GM crops. In the European Union, residues in food are set to rise 100-150 times if a new proposal by Monsanto is approved. Meanwhile, herbicide-tolerant "super-weeds" have adapted to the chemical, requiring even more toxic doses and new toxic chemicals to kill the plant.
Human enzymes are affected by glyphosate just as plant enzymes are: the chemical blocks the uptake of manganese and other essential minerals. Without those minerals, we cannot properly metabolize our food. That helps explain the rampant epidemic of obesity in the United States. People eat and eat in an attempt to acquire the nutrients that are simply not available in their food.
According to researchers Samsell and Seneff in Biosemiotic Entropy: Disorder, Disease, and Mortality (April 2013):
Glyphosate's inhibition of cytochrome P450 (CYP) enzymes is an overlooked component of its toxicity to mammals. CYP enzymes play crucial roles in biology . . . . Negative impact on the body is insidious and manifests slowly over time as inflammation damages cellular systems throughout the body. Consequences are most of the diseases and conditions associated with a Western diet, which include gastrointestinal disorders, obesity, diabetes, heart disease, depression, autism, infertility, cancer and Alzheimer's disease.
More than 40 diseases have been linked to glyphosate use, and more keep appearing. In September 2013, the National University of Rio Cuarto, Argentina, published research finding that glyphosate enhances the growth of fungi that produce aflatoxin B1, one of the most carcinogenic of substances. A doctor from Chaco, Argentina, told Associated Press, "We've gone from a pretty healthy population to one with a high rate of cancer, birth defects and illnesses seldom seen before." Fungi growths have increased significantly in US corn crops.
Glyphosate has also done serious damage to the environment. According to an October 2012 report by the Institute of Science in Society:
Agribusiness claims that glyphosate and glyphosate-tolerant crops will improve crop yields, increase farmers' profits and benefit the environment by reducing pesticide use. Exactly the opposite is the case. . . . [T]he evidence indicates that glyphosate herbicides and glyphosate-tolerant crops have had wide-ranging detrimental effects, including glyphosate resistant super weeds, virulent plant (and new livestock) pathogens, reduced crop health and yield, harm to off-target species from insects to amphibians and livestock, as well as reduced soil fertility.
Politics Trumps Science
In light of these adverse findings, why have Washington and the European Commission continued to endorse glyphosate as safe? Critics point to lax regulations, heavy influence from corporate lobbyists, and a political agenda that has more to do with power and control than protecting the health of the people.
In the ground-breaking 2007 book Seeds of Destruction: The Hidden Agenda of Genetic Manipulation, William Engdahl states that global food control and depopulation became US strategic policy under Rockefeller protégé Henry Kissinger. Along with oil geopolitics, they were to be the new "solution" to the threats to US global power and continued US access to cheap raw materials from the developing world. In line with that agenda, the government has shown extreme partisanship in favor of the biotech agribusiness industry, opting for a system in which the industry "voluntarily" polices itself. Bio-engineered foods are treated as "natural food additives," not needing any special testing.
Jeffrey M. Smith, Executive Director of the Institute for Responsible Technology, confirms that US Food and Drug Administration policy allows biotech companies to determine if their own foods are safe. Submission of data is completely voluntary. He concludes:
In the critical arena of food safety research, the biotech industry is without accountability, standards, or peer-review. They've got bad science down to a science.
Whether or not depopulation is an intentional part of the agenda,widespread use of GMO and glyphosate is having that result. The endocrine-disrupting properties of glyphosate have been linked to infertility, miscarriage, birth defects and arrested sexual development. In Russian experiments, animals fed GM soy were sterile by the third generation. Vast amounts of farmland soil are also being systematically ruined by the killing of beneficial microorganisms that allow plant roots to uptake soil nutrients.
In Gary Null's eye-opening documentary Seeds of Death: Unveiling the Lies of GMOs, Dr. Bruce Lipton warns, "We are leading the world into the sixth mass extinction of life on this planet. . . . Human behavior is undermining the web of life."
The TPP and International Corporate Control
As the devastating conclusions of these and other researchers awaken people globally to the dangers of Roundup and GMO foods, transnational corporations are working feverishly with the Obama administration to fast-track the Trans-Pacific Partnership, a trade agreement that would strip governments of the power to regulate transnational corporate activities. Negotiations have been kept secret from Congress but not from corporate advisors, 600 of whom have been consulted and know the details. According to Barbara Chicherio in Nation of Change:
The Trans Pacific Partnership (TPP) has the potential to become the biggest regional Free Trade Agreement in history. . . .

The chief agricultural negotiator for the US is the former Monsanto lobbyist, Islam Siddique.  If ratified the TPP would impose punishing regulations that give multinational corporations unprecedented right to demand taxpayer compensation for policies that corporations deem a barrier to their profits.

. . . They are carefully crafting the TPP to insure that citizens of the involved countries have no control over food safety, what they will be eating, where it is grown, the conditions under which food is grown and the use of herbicides and pesticides.
Food safety is only one of many rights and protections liable to fall to this super-weapon of international corporate control. In an April 2013 interview on The Real News Network, Kevin Zeese called the TPP "NAFTA on steroids" and "a global corporate coup." He warned:
No matter what issue you care about—whether its wages, jobs, protecting the environment . . . this issue is going to adversely affect it . . . .

If a country takes a step to try to regulate the financial industry or set up a public bank to represent the public interest, it can be sued . . . .
Return to Nature: Not Too Late
There is a safer, saner, more earth-friendly way to feed nations. While Monsanto and US regulators are forcing GM crops on American families, Russian families are showing what can be done with permaculture methods on simple garden plots. In 2011, 40% of Russia's food was grown on dachas (cottage gardens or allotments). Dacha gardens produced over 80% of the country's fruit and berries, over 66% of the vegetables, almost 80% of the potatoes and nearly 50% of the nation's milk, much of it consumed raw. According to Vladimir Megre, author of the best-selling Ringing Cedars Series:
Essentially, what Russian gardeners do is demonstrate that gardeners can feed the world – and you do not need any GMOs, industrial farms, or any other technological gimmicks to guarantee everybody's got enough food to eat. Bear in mind that Russia only has 110 days of growing season per year – so in the US, for example, gardeners' output could be substantially greater. Today, however, the area taken up by lawns in the US is two times greater than that of Russia's gardens – and it produces nothing but a multi-billion-dollar lawn care industry.
In the US, only about 0.6 percent of the total agricultural area is devoted to organic farming. This area needs to be vastly expanded if we are to avoid "the sixth mass extinction." But first, we need to urge our representatives to stop Fast Track, vote no on the TPP, and pursue a global phase-out of glyphosate-based herbicides and GMO foods. Our health, our finances and our environment are at stake.
Ellen Brown is an attorney, president of the Public Banking Institute, and author of twelve books, including the best-selling Web of Debt. In The Public Bank Solution, her latest book, she explores successful public banking models historically and globally. Her blog articles are at EllenBrown.com.
Source: Ellen Brown | CounterPunch
With all that is being written about the national economic collapse, people seem to be waiting for some huge event.
However, for many North Americans, the collapse is here. This isn't relegated to only lower income neighborhoods. As an article from a Cincinnati new station stated, "Hunger doesn't know a zip code."
For many people who were formerly financially comfortable, the economic collapse has already happened in the form of a job loss, hours that have been cut back due to Obamacare requirements for employers, an exorbitant medical bill or other crushing debt, or simply an inflation rate that has outstripped your pay increases. Despite all of the warnings, many people are still going to be absolutely blindsided.
For many families, personal finances have reached a catastrophic level – they are left to make terrible choices:
Which utility can I live without?
Should I walk away from my mortgage?
Should I eat something so I can work harder or should I skip meals so my kids have food?
Should I use the grocery money to take my child to the doctor or should I wait and hope he/she improves without medical intervention?
Do I risk the IRS-enforced penalties by forgoing enrollment in Obamacare or should I skip that whole grocery shopping thing so I can pay the monthly premiums and enormous deductibles in order to stay in the government's good graces?
These are the kind of decisions that people across the nation are grappling with every day.
I'm talking about good people, hardworking men and women who have always been employed and paid their bills. A personal financial crisis does not just strike those stereotypical "welfare queens" with the long manicured nails, Gucci knock-off purse, and a grocery cart full of EBT-funded lobster.
I'm talking about the person next door, who seems to have it all together. I'm talking about that quiet family that sits two rows in front of you at church. I'm talking about that two-income family with two children and a car in the driveway that takes them to work and school 5 days a week. I'm talking about people just like you and me.
What is a personal economic collapse?
A personal economic collapse is a little different than the major crises you see all over Europe right now, where huge segments of the population can't feed their children or stay employed. It is a crisis that just hits your family due to a given set of circumstances. (In actuality North Americans are on the brink of the kind of collapse that is occurring in Europe, but because of easy access to credit and a buy-now, pay-later society, many of us still have the appearance of prosperity.)
Here are some signs that you may be in the midst of a personal economic collapse:
You can only afford to pay the minimum payment on most of your bills.
The same dollar amount you used to spend on groceries doesn't buy enough food to feed your family for the week.
You can't afford to go to the doctor when you're sick.
You are taking dangerous steps to "stretch" needed medications because you can't afford the prescriptions.
Your utility bills are past due and your power is in danger of being cut off.
You skip meals in order to save money or to have enough food for your kids.
You've lost your job or had your hours cut.
You have lost property due to foreclosure or repossession (such as your home or your vehicle).
Surviving the crisis
Times are tough but you can survive this.
1.) First you have to see exactly where you are.
It's time for a brutally honest assessment of your finances. If you use your debit card or credit card for most expenditures, you'll easily be able to see what you're spending and bringing in.
Print off your bank account statements for the past 2 months. On a piece of paper, track where your money is going. List the following
Rent/Mortgage
Utilities
Car payments
Vehicle operating expenses (fuel, repairs)
Insurances
Credit card and other debt payments
Telephone/Cell phone
Cable/Satellite
Internet
Extracurricular activities for the kids
Extracurricular activities for the adults
Dining out
Groceries
School expenses
Clothing
Recreational spending
Gifts
Miscellaneous (anything that doesn't fall into the above categories gets its own category or goes here)
Don't say to yourself, "Well, I usually don't spend $400 on clothing so that isn't realistic." If you spent it, then it's realistic. You are averaging together two months, which should account for those less common expenses. Brutal honesty isn't fun, but it's vital for this exercise.
So . . . what do you see when you look at your piece of paper with your average monthly expenditures for the past two months? Are there any surprises? Did you actually realize how much you've been spending? Most of us will immediately see places that we can trim the budget. Those $1-$5 purchases can really add up. Reining them in may just allow you to take care of an important need that you thought you could not meet.
It can't continue like this. The economy will not withstand it. Step one is to see where you can cut things out right now from the above expenditures. Can you reduce your grocery bill? Slash meals out? Budget more carefully for gift-giving and school clothes?
2.) Rethink necessities.
If your finances are out of control, the best possible reality check is a stark look at what necessities really are. It is not necessary to life to have an iPhone, a vehicle in both stalls of your two-car garage, or for your children to all have separate bedrooms. People in Southern and Eastern Europe right now will tell you, as they scramble for food, basic over-the-counter medications like aspirin, and shelter, that necessities are those things essential to life:
Water
Food (and the ability to cook it)
Medicine and medical supplies
Basic hygiene supplies
Shelter (including sanitation, lights, heat)
Simple tools
Seeds
Defense items
Absolutely everything above those basic necessities is a luxury.
So, by this definition, what luxuries do you have?
3.) Reduce your monthly output
Reduce your monthly payments by cutting frivolous expenses. Look at every single monthly payment that comes out of your bank account and slash relentlessly. Consider cutting the following:
Cable
Cell phones
Home phones
Gym memberships
Restaurant meals
Unnecessary driving
Entertainment such as trips to the movies, the skating rink, or the mall
4.) Waste not, want not.
We live in a disposable society. Food comes in throw-away containers. People replace things instead of repairing them. If you throw out more than a couple of bags of garbage each week, that's a very good sign that you may be wasting resources.
Before throwing anything away, pause and think about how it might be able to be reused.
Food: Many times small amounts of leftovers can be recycled into a brand new meal. Meat bones can be used to make broth or stock. Small amounts of veggies or grains can be frozen and added to a future soup or casserole. Leftovers can be frozen in meal-sized portions to take to work for a brown-bag lunch. (Learn more about repurposing leftovers HERE.)
Clothing: Clothing that is torn or damaged can often be repaired with only rudimentary sewing skills. If it has been outgrown or cannot be repaired, often the fabric or yarn can be reused for other purposes, from cleaning rags to fashionable accessories like scarves and headbands, or home items like throw pillows, potholders or rag rugs. When all else fails, the fabric can be used for cleaning rags or patches to repair other items. Keep jars full of buttons, elastic, and other notions that can easily be removed before you throw a clothing item away or relegate it to the rag bag.
Electronics: Obviously, initially you should attempt to repair (or have repaired) electronic items that are not working. If this is not feasible, are there components of the item that can be reused, either now or in the future? What about hardware such as screws or fasteners?
Containers: Most food comes in a container of some sort. Before throwing the container away, consider whether or not it might be useful. Glass jars, plastic tubs, and plastic bags can often be reused to store food in your refrigerator or to contain food in brown bag lunches. Clean aluminum cans can hold all manner of items, from hardware and tools in a workshop to sewing and craft supplies. Use your imagination.
5.) Take control of your food budget.
The price of food is skyrocketing. Who hasn't been to the grocery store recently and been shocked at the high price of that cart full of groceries or at the mysterious shrinking food packages that are the same price as yesterday's larger ones?
Stockpile: Create a stockpile of nutritious, healthy staples at today's prices to enjoy when the cost goes even higher tomorrow. (Learn how to create a frugal food stockpile HERE.)
Preserve: Learn to preserve food yourself when you come across a windfall. Pressure canning,waterbath canning, freezing, and dehydrating can allow you to take advantage of great sales or end-of-season scores.
Eat less: This suggestion isn't for everyone, but many of us could stand to shed a few pounds. Perhaps now would be a good time to cut back a little and shrink both your waistline and your weekly food bill. Lots of people eat for the sheer entertainment of it or out of habit. Next time you're watching TV, grab some mending or a crossword puzzle instead of a bag of potato chips. Dish out slightly smaller servings at dinnertime to leave enough to stretch the leftovers for a brown bag meal the next day.
Drink water: Skip the beverages and drink water instead. At less than $1 per gallon for purchased water you simply can't beat the price. It's better for you, also, than sugary drinks. If you are lucky enough to have well water or access to spring water, your drinks don't have to cost you a penny.
Focus on nutrition instead of convenience: Buy the best quality of food you can, and skip the processed, nutritionless convenience foods.
Grow your own. In the summer, grow the biggest garden you can. In the winter, or if you are an apartment dweller, put some sprouts and greens in a sunny windowsill to add some fresh produce for pennies.
6.) Reduce your dependence on utilities.
Energy rates are skyrocketing. As the prices begin to rise, more and more people will be unable to pay their bills and eventually their power will be shut off. Check your bill each month and as prices increase, use less power. Try some of these ideas to reduce your reliance and drop your bills.
Hand wash your clothing
Hang clothes to dry
Cook on a woodstove or outdoor grill
Can foods to preserve them instead of relying on a large chest freezer
Turn the heat down a few degrees and use non-grid methods to keep warm
Use rain barrels to collect water
Direct the gray water from your washing machines to reservoirs
Turn off the lights and open the blinds
Use solar lighting whenever possible
How do you intend to weather the storm?
There are bleak days ahead. Have you planned for this? What strategies do you intend to use to weather the financial crisis that is coming for all of us? What suggestions do you have for families who are undergoing their own economic collapses? Please post questions and ideas in the comments section below.
Source: The Organic Prepper
Wikipedia is a wonderful invention. But precisely because it's so trusted and convenient, people with their own agendas keep trying to take it over. Editing wars are common. According to researchers at Oxford University, the most controversial subjects worldwide include Israel and God.
This is not surprising. Everyone knows that there are opposing views on politics and religion, and many people recognise a biased account when they see it. But in the realm of science, things are different. Most people have no scientific expertise and believe that science is objective. Their trust is now being abused systematically by a highly motivated group of activists called Guerrilla Skepticism on Wikipedia.
Scepticism is a normal, healthy attitude of doubt. Unfortunately it can also be used as a weapon to attack opponents. In scientific and medical contexts, organized skepticism is a crusade to propagate scientific materialism. (In Britain, skeptical organizations use the American spelling, with a k.)
Most materialists believe that the mind is nothing more than the physical activity of the brain, psychic phenomena are illusory, and complementary and alternative medical systems are fraudulent, or at best produce placebo effects.
Most materialists are also atheists: if science can, in principle, explain everything, there is no need for God. Belief in God is a hangover from a pre-scientific age. God is nothing but an idea in human minds and hence in human brains.
Several advocacy organizations promote this materialist ideology in the media and in educational institutions. The largest and best funded is the Committee for Skeptical Inquiry (CSI), which publishes The Skeptical Inquirer magazine. The Guerrilla Skeptics have carried the crusading zeal of organized skepticism into the realm of Wikipedia, and use it as a soapbox to propagate their beliefs.
There is a conflict at the heart of science between the spirit of free enquiry and the materialist worldview. I gave a talk this subject at a TEDx event in London earlier this year, in which I discussed the ten dogmas of modern science. I showed that by turning the dogmas into questions they can be examined critically in the light of the findings of science itself. For example, the assumption that the total amount of matter and energy is always the same becomes "Is the total amount of matter and energy always the same?" Most physicists now think that the universe contains vast amount of dark matter and dark energy, whose nature is literally obscure, constituting 96 percent of the universe. Regular matter and energy are only about 4 percent of reality. Is the total amount of dark matter always the same? No one knows. Some physicists think that the total amount of dark energy increases as the universe expands. Proponents of a hypothetical form of dark energy called quintessence specifically suggest that it produces different amounts of energy over time.
My talk was removed from the TEDx web site after furious protests from militant skeptics, who accused me of propagating pseudoscience. This sparked off a controversy that went viral on the internet, documented here. Most participants in online discussions were very disappointed that TED had been frightened into submission, and TED themselvesretracted the accusations against me.
This summer, soon after the TED controversy, a commando squad of skeptics captured the Wikipedia page about me. They have occupied and controlled it ever since, rewriting my biography with as much negative bias as possible, to the point of defamation. At the beginning of the "Talk" page, on which editorial changes are discussed, they have posted a warning to editors who do not share their biases:
"A common objection made by new arrivals is that the article presents Sheldrake's work in an unsympathetic light and that criticism of it is too extensive or violates Wikipedia's Neutral Point of View policy."
Several new arrivals have indeed attempted to restore a more balanced picture, but have had a bewildering variety of rules thrown at them, and warned that they will be banned if they persist in opposing the skeptics. Craig Weiler gives some telling examples in his newly posted blog called "The Wikipedia battle for Rupert Sheldrake's biography". Fortunately, a few editors arguing for a more neutral point of view have not yet been bullied into silence. An editing war is raging as you read this.
The Guerrilla Skeptics are well trained, highly motivated, have an ideological agenda, and operate in teams, contrary to Wikipedia rules. The mastermind behind this organization is Susan Gerbik. She explains how her teams work in a training video. She now has over 90 guerrillas operating in 17 different languages. The teams are coordinated through secret Facebook pages. They check the credentials of new recruits to avoid infiltration. Their aim is to "control information", and Ms Gerbik glories in the power that she and her warriors wield. They have already seized control of many Wikipedia pages, deleted entries on subjects they disapprove of, and boosted the biographies of atheists.
As the Guerrilla Skeptics have demonstrated, Wikipedia can easily be subverted by determined groups of activists, despite its well-intentioned policies and mediation procedures. Perhaps one solution would be for experienced editors to visit the talk pages of sites where editing wars are taking place, rather like UN Peacekeeping Forces, and try to re-establish a neutral point of view. But this would not help in cases where there are no editors to oppose the Guerrilla Skeptics, or where they have been silenced.
If nothing is done, Wikipedia will lose its credibility, and its financial backers will withdraw their support. I hope the noble aims of Wikipedia will prevail.
Source: Rupert Sheldrake  |  Science Set Free
Chalk up another victory for the post-racial president's agenda. No, it's not Barack Obama falsely claiming that white society denied black Hurricane Katrina victims monetary assistance.
Or having a bigoted reverend ask at his inauguration when "white" will do "right."
Or having a DoJ that refuses to pursue voting-rights cases when the victims are white.
Or sitting in a black-power church, where our country was called the "US of KKK-A," for 20 years.
This time it's a black-supremacist Department of Homeland Security employee who, almost four months ago, was discovered to be running a website that advocated the mass murder of whites — and who is still in the employ of the DHS.
Ayo Kimathi's job was to purchase guns and ammunition for the government, until he was placed on leave in August after the Southern Poverty Law Center exposed him as the purveyor of the website "War on the Horizon." As to the site's content, Alex Seitz-Wald at National Journal writes:
Kimathi, using the online nom de guerre "the Irritated Genie," called for "ethnic cleansing" of "black-skinned Uncle Tom race traitors" on his website, which envisioned a massive race war on the horizon. "In order for Black people to survive the 21st century, we are going to have to kill a lot of whites — more than our Christian hearts can possibly count," he wrote.
In other postings, he warned that whites and their enablers like President Obama are trying to "homosexualize" black men in order to make them weaker, and suggested that a woman's primary role in life should be to "keep a strong Black man happy." He also seemed to hold anti-Semitic views, claiming in a Facebook post that his website was under attack from a conspiracy of "zionist smallhats, the Uncle Tom koons," and, naturally, "the haters."
By the way, Kimathi drew a salary of $115,731 in 2012 for his position, which, we can be sure, he attained solely due to merit.
While Kimathi obviously isn't too fond of Obama, there's no word on whether the president has said that the man "acted stupidly." We also have to wonder — and, yes, I know this joke has been done to ObamaCare death: if Obama had a bitter, angry, rebellious son, would he look like Kimathi?
Of course, we have a DoJ that dropped a voter-intimidation case against Black Panthers caught on video wielding nightsticks and intimidating white voters; and an attorney general who, a DoJ whistleblower tells us, carried a card in his wallet that essentially states, "Blackness is more important than anything, and the black US attorney has common cause with the black criminal." Given this, I'm not sure what's more surprising, that Kimathi hasn't been fired yet or that he hasn't been promoted. Other surprises in this story are that the Southern Poverty Law Center actually exposed a black bigot and that this black bigot doesn't even half-like The One.
Anyway, if Kimathi can't be fired, DHS should just assign him the task of negotiating the ObamaCare website. That ought to redirect his Internet endeavors for at least four or five years.

The end of last year was masked with sadness for Belgium parents Raphaël Sirjacobs & Béatrice Dupont, as their nine week old daughter Stacy Sirjacobs lost her fight for life. Stacy died just one week after her first vaccinations and left her twin sister Lesly behind. Devastated by their loss their parents are convinced that vaccines and hospital failures were the cause of their beautiful daughters death.
Stacy and Lesly were born one month premature by Caesarean section and spent the next four days in an incubator. Stacy needed resuscitation at birth.
Following medical advice parents Sirjacobs and Dupont decided to have the twins vaccinated. Stacy was slightly unwell with a cold on the day of her vaccinations but doctors assured her parents that it was safe to give her the vaccinations.
(It is worth noting that there is a history of Sudden Infant Death and allergies in the family. The twins were being prescribed a milk supplement due to a milk allergy at the time Stacy became ill)
The twins received Prevenar, a vaccine against meningitis and pneumonia, Infanrix Hexa, a six in one vaccination for diphtheria, tetanus, polio, pertussis, hepatitis B and Haemophilus type B, and finally the Rotarix, a preventive vaccine for gastroenteritis.
This means that these tiny vulnerable babies received a staggering nine vaccines in one day, vaccines that may have caused one of them to die.
A week after her vaccinations Stacy became unwell with a fever of 39.9 degrees C. Her parents decided to administer Perdolan to lower her fever. As their daughter was still very poorly they called the hospital who advised them to bring their daughter in.
The medical staff diagnosed Stacy with a slight chest infection and infection in her blood and told her parents not to worry as this was "not serious". Stacy was then given medication and put on a drip feed and kept in for observation.
Stacy's father informed me that all links to the vaccines were strongly denied.
Despite Stacy having a heartbeat of 200 to 230 beats per minute the pediatrician told her parents that she was fine and that she was probably suffering from gastroenteritis (an illness that this little girl had been vaccinated against!).
The worried couple decided not to leave their daughter and remained by her bedside. During the evening they informed the nurse that their daughter had diarrhea but to their astonishment, they were told that the baby had been changed and they were to let her get some sleep and change her when she woke up.
During the night, Stacy continued to suffer 'abnormal diarrhea', and despite frantic pleas from her parents the nurse refused to do anything, even though by this time Stacy was restless and in obvious distress. Stacy's father says that they reported to nursing staff that Stacy was covered in small red spots and had difficulty breathing.
According to Stacy's father, Stacy's medical records states that at 19.45 a doctor telephoned his brother to ask his permission to do a lumbar puncture and put Stacy on the antibiotic Ampire, while they were awaiting the results. Authorization was denied …
Stacy died a short time later.
Stacy's father says: (translated from French by Google translate)
"The nurse 23h phone to the pediatrician to inform him that the little Stacy is worse, this one happens to 11:45 p.m. ET begins to make attempts at resuscitation. He informed at the time the parents that the baby is not breathing on their own, and asks them to leave the room. Would follow three hours, during which everything is sought to revive the girl, who is declared dead at 3am. But in fact, the heart stopped beating Stacy at midnight.
The pediatrician then began to explain to parents that the little one died of sepsis and meningitis, while in order to make such a diagnosis, it would have had to do a lumbar puncture which was not performed, or that would have required at least one blood culture or stool, the results will not be known until 3 or 4 days".
Stacy's death was recorded as: Meningitis.
It is interesting and extremely sad that this little girl died of an illness that she was vaccinated against just one week before she died. It is obvious from the information that I have from the father that this tiny vulnerable baby was left to suffer in considerable pain, dirty and in distress, whilst the pleas of her parents were ignored.
Vaccinations are administered to a child based on the age of the child from the day that they are born. Due to the advances in medicine, babies are being saved at an earlier and earlier stage in their development. We know that Stacy was born at approx one month premature, which means that she was given her eight week old vaccinations at just a month old; she was also unwell at the time she was vaccinated. It is my opinion that her small immature immune system could not cope with the onslaught of deadly toxins and chemicals that are in our vaccines today.
Stacy's devastated parents are so outraged by what they have discovered since their baby's death, that they are now asking the world to join them in a worldwide protest. They want the world to hold a global event in memory of Stacy and the many hundreds of children that have been killed or injured by vaccinations worldwide. They feel that vaccine deaths are being covered up and ask the citizens of the world to stand united for one day against vaccine damage. They say:
We are the parents of Stacy, who died a week after HER first vaccines; we are organizing a global event in honor of Stacy, Nova and all other vaccine victims worldwide. We are summoning every citizen of every country to take to the streets in their own cities, towns and villages: things must now change!
Remember to invite local journalists, the media and any victims or parents of victims prepared to tell their story. Make placards, banners and signs: UNCENSORED VACCINE INFORMATION, FREEDOM OF CHOICE!
The event is to be held on the January 20th 2012. If it is not possible for you to attend one of the many protests that are being held, then perhaps you could go along to your local church and light a candle to register your protest at what is happening around the world.
Sirjacobs and Dupont are right; something radical does need to be done to make the authorities listen to parents
Vaccine deaths are being reported around the world at an alarming rate. In May 2010 The Times of India (2) reported that 128 deaths had occurred during the previous year and the figure appeared to be rising with each year. Their report suggested that the Indian government was covering up vaccine deaths. Arun Ram reporting for the Times wrote:
"The government tries to pass on every death as unrelated to vaccine. It sometimes merely does a culture of the vaccine in question. Just because a vaccine is not found to be contaminated, it doesn't mean the vaccine has not caused the death," says Dr Puliyel.
In March 2011 Neil Z miller (3) wrote that in the USA more than 2,000 babies died after receiving pneumococcal and Hib vaccines and yet nothing whatsoever was done. He reported that whilst these vaccines were suspended in Japan after just four deaths, the news of over 2000 deaths in the USA was barely even reported. According to Miller Paul Offit had called the Japanese authorities foolish, saying that the babies probably died of SIDS (Sudden Infant Death Syndrome). In fact he passed their deaths off as anything he could, except the vaccines that is. Miller wrote:
According to Paul Offit, media spokesperson for the vaccine industry, "the Japanese Ministry of Health was foolish to suspend the Hib and pneumococcal programs." Offit thinks the deaths were probably caused by SIDS, or underlying conditions, or another cause – anything except the vaccines. Often, children get sick and die by chance.
Actually, Paul Offit could be right, many of the vaccinated babies could be dying as a result of SIDS because in May 2011 an interesting article hit the internet by storm stating that a study published in the Journal of Human and Experimental Toxicology found that the countries that administered the highest number of vaccines during the first year of life experienced higher infant mortality rates. (4)
This is not new because studies have been stating that vaccines were causing children to die for many years.
The Pourcyrous study (5) was the first study to examine the impact of multi-vaccinations on the immature brain. It is clear from the results of this study that the more vaccines a child has, the larger impact the vaccines have on the child's brain.  Massroor Pourcyrous, MD,  Sheldon B. Korones, MD,  Kristopher L. Arheart PhD,  Henrietta S. Bada, MD studied 239 preterm infants who were given either a single vaccine or multiple vaccines, their results are as follows:
Abnormal elevation of CRP level occurred in 85% of infants administered multiple vaccines and up to 70% of those given a single vaccine. Overall, 16% of infants had vaccine-associated cardiorespiratory events within 48 hours postimmunization. In logistic regression analysis, abnormal CRP values were associated with multiple vaccines (OR, 15.77; 95% CI 5.10-48.77) and severe intraventricular hemorrhage (IVH) (OR, 2.28; 95% CI 1.02-5.13). Cardiorespiratory events were associated marginally with receipt of multiple injections (OR, 3.62; 95% CI 0.99-13.25) and significantly with gastroesophageal reflux (GER) (OR, 4.76; 95% CI 1.22-18.52).
This study has had so much impact that it has now being quoted in papers and books on adverse reactions to vaccines and SIDS worldwide.
As today saw the news that yet another vaccine is to be added to babies vaccine schedule, the Meningitis B vaccine (6), we to ask ourselves how many Stacy's will it take before action is taken?
This article has been written in memory of Stacy Sirjacobs and the many hundreds of babies who have lost their life after receiving what the governments tell us are 'safe vaccines'.
Sources:
1. Citizen Action for Uncensored Vaccine Information and Freedom of Vaccination Choice – 20th January 2012 http://sanevax.org/citizen-action-for-uncensored-vaccine-information-and-freedom-of-vaccination-choice-20th-january-2012/
2. Daily Paul reporting on The Times of India article written by Ron Paul http://www.dailypaul.com/166249/128-kids-died-after-vaccine-in-2010-govt-cant-say-why-the-times-of-india
3. Neil Z Miller http://ebookcashstreams.com/HotNewsBlog/2011/03/2000-babies-died-in-the-united-states-after-receiving-vaccines/
4. New Study: More Vaccines Increase Infant Mortality Rates http://het.sagepub.com/content/early/2011/05/04/0960327111407644
5. The Pourcyrous Study The Journal of Pediatrics http://www.jpeds.com/article/S0022-3476%2807%2900185-0/abstract
6. Daily Mail – New vaccine against deadly meningitis B 'will be available in the spring' by Jenny Hope http://www.dailymail.co.uk/health/article-2088176/New-vaccine-deadly-meningitis-B-available-spring.html#ixzz1jpErW3Ff
Source: Christina England | VacTruth.com
The demonization of free thinking individuals is about to begin. By branding Paul Ciancia a conspiracy theorist, all of us will come under scrutiny.
Anyone who does not believe wholeheartedly in the crap the government tries to feed them on a daily basis will become a danger to society.
It stands to reason that after a major public incidence of violence such as mass shootings or bombings, people want answers. It's right and proper that these cases are investigated and as many answers as possible are provided to the citizens of this country.
Having said that, an alarming pattern is emerging.
Some events are highlighted and get massive coverage on television, on the Internet and in the newspapers, but most incidents do not.
Those that can't be 'spun' by the government are given a couple of lines in the papers or a minute of airtime, and that's it. Done. Gone. Forgotten.
The events that can be used by the government, get acres of print space and constant news coverage. In addition they always have a reason behind them that benefits the government in some way.
Let me show you what I mean. In 2012 88 people were killed in mass shootings in the United States. Sixteen mass shootings with 88 deaths.(source) Here's the list:
February 22, 2012: Five people were killed in at a Korean health spa in Norcross, Georgia, when a man opened fire inside the facility in an act suspected to be related to domestic violence.
February 26, 2012: Multiple gunmen began firing into a nightclub in Jackson, Tennessee, killing one person and injuring 20 others.
February 27, 2012: Three students at Chardon High School in rural Ohio were killed when a classmate opened fire.
March 8, 2012: Two people were killed and seven wounded at a psychiatric hospital in Pittsburgh, Pennsylvania when a gunman entered the hospital with two semiautomatic handguns and began firing.
March 31, 2012: A gunman opened fire on a crowd of mourners at a North Miami, Florida funeral home, killing two people and injuring 12 others.
April 2, 2012: A 43-year-old former student at Oikos University in Oakland, California walked into his former school and killed seven people, "execution-style." Three people were wounded.
April 6, 2012: Two men went on a deadly shooting spree in Tulsa, Oklahoma shooting black men at random in an apparently racially motivated attack. Three men died, and two were wounded.
May 29, 2012: A man in Seattle, Washington opened fire in a coffee shop killing five people and then himself.
July 9, 2012: At a soccer tournament in Wilmington, Delaware, three people were killed, including a 16-year-old player and the event organizer when multiple gunmen began firing shots, apparently targeting the organizer.
July 20, 2012: James Holmes enters a midnight screening of The Dark Knight Rises and opens fire with a semi-automatic weapon; twelve people are killed, and fifty-eight are wounded.
August 5, 2012: A white supremacist and Army veteran shot six people to death inside a Sikh temple in suburban Milwaukee, Wisconsin before killing himself.
August 14, 2012: Three people were killed at Texas A&M University when a 35-year-old man went on a shooting rampage; one of the dead was a police officer.
September 27, 2012: A 36-year-old man who had just been laid off from Accent Signage Systems in Minneapolis, Minnesota entered his former workplace and shot five people to deathand wounded three others before killing himself.
October 21, 2012: 45-year-old Radcliffe Frankin Haughton shot three women to death, including his wife, Zina Haughton, and injured four others at a spa in Brookfield, Wisconsin before killing himself.
December 11, 2012: A 22-year-old began shooting at random at a mall near Portland, Oregonkilling two people and then himself.
December 14, 2012: One man, and possibly more, murders a reported twenty-six people at an elementary school in Newtown, Connecticut, including twenty children, before killing himself.
2013 is looking very similar, those cases that got/get airtime are the Christopher Dorner case back in February, the Boston Bombings in April, the Navy Yard shooting in September, and of course the incident at LAX. There are other cases that in total killed over 30 people (source) but they didn't have the required 'spin' factor so they have not stayed in the news.
All the cases that have made it big, news wise, have had a message from the government to us. These cases were chosen by the government to highlight the need for more gun control, more surveillance and tighter security. I believe that the 'evidence' for these events was tailored. Tailored to suit the government's needs at the time. To give the public a reason for the measures that will be imposed to 'solve' the problem. It was spun and nipped and tucked and most likely bears no resemblance to the original reasons behind the act.
With the LAX shooting they have gone a step further. In addition to once again raising the issue of privately owned assault rifles, they have put terms like 'New World Order' and 'fiat currency' into the wider public domain.
They are pre-conditioning the wider public in subjects usually confined to alternative media.The average Joe on the street is not familiar with these terms. But now the government itself has introduced them. They have publicly acknowledged them and linked them to the term 'conspiracy theorist'.
From Sky News US:
A note allegedly found in the suspect's bag said that he wanted to kill at least one transport officer with his AR-15 semi-automatic rifle and didn't care which one.
"Black, white, yellow, brown, I don't discriminate," the note read, according to a paraphrase by a law enforcement official briefed on the investigation.
The suspect's screed also mentioned "fiat currency" and "NWO," possible references to the New World Order, a conspiracy theory that foresees a one-world government. (emphasis added)
I will bet my last dollar that in the very near future alternative media will be mentioned. Alternative media sites will be accused of spreading these messages.
We, the alternative media, both writers and readers are next on the list to be demonized. We are the next 'issue' that the government needs to find a solution to. Like gun control et al, we have become a target.
The government knows that the alternative media is growing. That more and more people are looking for answers that the mainstream does not provide. This cannot be allowed. It is dangerous to a government that sees itself as omnipotent.
The 'revelations' that will come out over the next few days will most likely say that Paul Ciancia frequented alternative media websites and that these sites had a bearing on his actions.
Gone are the days when a man with a gun is just insane, vindictive or just plain bad and decides to shoot people. Now there always has to be a reason, and that reason always has to be one that will allow the government to ride in and rescue us.
It will always be a reason that gives them justification for exercising more control over our lives and this time the reason could well be us, the alternative media.
Source: The Daily Sheeple
Iran to Follow?
Damascus – Additional easing of Syrian sanctions is expected by mid-November according to staff at the US Treasury Department's Office of Financial Asset Control (OFAC).
Pressure on Obama from Putin is part of the 'price tag' for Russia's role in bailing out the American president, whose chemical weapons 'redline' became something of an albatross. But another reason for the relaxation is that the White House believes it needs to communicate to Damascus that prospects for better relations, and possibly even some cooperation, are not completely dead, despite the 32-month crisis still raging in the Syrian Arab Republic.
This second easing of sanctions will show more balance and neutrality than those of last June, which were perceived as supporting Saudi and Gulf aid to the rebels while weakening the Assad government just as the Syrian Army had begun gaining back ground from the rebels. At that time, licenses for exports of certain goods related to reconstruction of infrastructure were allowed in areas held by the rebels. Specifically, OFAC indicated that license applications would be accepted for commodities, technology and software related to water supply and sanitation, agricultural production and food processing, power generation, oil and gas production, construction and engineering, transportation, and educational infrastructure. Most benefited would be rebel-controlled areas.
No doubt it is with a deep patriotic spirit of wanting to help out their fellow Americans, that the US Treasury Departments heavily pro-Zionist OFAC asks US citizens to "consult our Frequently Asked Questions (FAQ) to find answers to your most commonly-asked questions about how Syrian and Iranian sanctions may affect your own families and your business."
That is unlikely to be easy given the obfuscatory legalize of the sanctions texts.
There are currently three types of sanctions that the U.S. government has imposed against Syria.  The most comprehensive sanction, called the Syria Accountability Act (SAA) of 2004, prohibits the export of most goods containing more than 10% U.S.-manufactured component parts to Syria.  Another sanction, resulting from the USA Patriot Act, was levied specifically against the Commercial Bank of Syria in 2006.  The third type of sanction contains many Executive Orders from the President that specifically deny certain Syrian citizens and entities access to the U.S. financial system due to their participation in proliferation of weapons of mass destruction, association with Al Qaida, the Taliban or Osama bin Laden; or destabilizing activities in Iraq and Lebanon.
Syria Accountability and Lebanese Sovereignty Restoration Act
In May 2004, the President signed E.O. 13338 implementing the Syria Accountability and Lebanese Sovereignty Restoration Act (SAA) which imposes a series of sanctions against Syria for its support for terrorism, involvement in Lebanon, weapons of mass destruction programs, and the destabilizing role it is playing in Iraq.
In addition, the Treasury Department's Statement of Policy indicated that OFAC would consider on a case-by-case basis applications to permit certain services in the agricultural sector, as well as in the Syrian telecommunication industry, enabling private citizens better access to the Internet, while certain petroleum transactions benefiting rebel forces were also authorized. OFAC also revised Syria General License 11 and replaced it with General License 11A authorizing NGOs to engage in activities to preserve the cultural heritage of the country, including museums, historic buildings and archaeological sites.
The new lifting of sanctions, tentatively scheduled to be announced next month, will help the Assad government because international banking and trade prohibitions are expected to be reduced. At the same time, US officials are discussing with their Russian "partners" a number of proposals that would acknowledge the right of the Syrian people to choose who to support in next year's Presidential elections without Washington insisting that Syrian President Bashar Assad step down as part of a "transition to democracy."
In addition, the White House is telling Congressional leaders, loudly enough for all to hear, that the president's recent waiving of restrictions on supplying arms to Syrian rebels was much more limited than depicted in mainstream media reports. In fact, the waiver—on certain portions of the Arms Export Control Act—authorizes only specific transfers to "vetted" members of the opposition and to NGOs in Syria. The defense items to be provided are described as those "necessary for the conduct of …operations inside or related to Syria, or to prevent the preparation, use, or proliferation of Syria's chemical weapons." Who was to be responsible for "vetting" the opposition members was not specified, nor were the particular articles detailed. But significantly the White House claims this is not a general waiver, but rather one with regard to a single specific contemplated transaction. Defense companies do not now have a blanket license to ship their wares to the Syrian opposition. This is because Section 40(g) of the Arms Export Control Act, 22 U.S.C. § 2780 (g), specifically gives the President authority to waive the provisions of the Act with respect to a specific transaction should he find that the waiver is "essential to the national security interests of the United States" and should he make the requisite report on the waiver to Congress. His determination on that finding directs the Secretary of State to make the required report to Congress.
The main opposition to White House plans to lessen the civilian targeting sanctions comes, as usual, from the US Congressional Zionist lobby. Israel's supporters in Congress seek to prevent any lessening of US sanctions—against Iran first, and Syria second. Two days of talks are about to begin in Vienna between experts from the P5+1 (the United States, Russia, China, Britain, France, and Germany) and their Iranian counterparts, who will discuss technical issues relating to Tehran's nuclear program and international sanctions. The meeting will help lay the groundwork for the next round of diplomatic negotiations, scheduled to take place in Geneva on November 7-8, and it is anticipated that the White House will accede to EU and Russian proposals to send a reciprocal good faith response to Tehran by lifting some of the sanctions targeting Iranian civilians. Although the P5+1 and Tehran have agreed to keep the contents of their negotiations secret, the general aim of the talks has been for Iran to reduce its capacity to enrich uranium and certain other nuclear activities in return for relief from the sanctions regime, which is strangling the nation's economy. The main hurdles include verification of any concessions Iran makes and the sequencing of any reduction in sanctions.
Signs of progress were visible earlier this week in comments made after separate talks between Iran and the International Atomic Energy Agency. In a rare joint statement, both sides called the talks "very productive"—a significant departure from eleven previous meetings in recent years, all of which failed to achieve progress in resolving what the IAEA has called the "possible military dimensions" of Iran's nuclear program. The new joint statement also indicates that a document discussed in past meetings has been set aside and a new approach taken.
Eager as it is for negotiations to succeed, the Obama administration has also echoed the Zionist lobby's contention that "no deal is better than a bad deal." Yet if the talks fail, international support for sanctions will likely begin to fall apart, reducing U.S. leverage even further.
The world is watching, particularly U.S. allies in Europe and Asia, as well as regional "friends" like Jordan, the United Arab Emirates, and Saudi Arabia. Though reportedly interested in lifting some of the sanctions on Syria and Iran, the White House is facing stiff opposition from Tel Aviv and Riyadh, with both governments criticizing the US for its lack of resolve in Syria and its presumed conciliatory attitude toward Iran.
Secretary of State John Kerry is reportedly slated to continue meetings with Saudi-Israeli officials in an attempt to tamp down their growing angst.
No doubt you have heard about the War on Drugs, the War on Terror and the War on Happiness. However, you may not be familiar with the War on God, possibly because it would be an unpopular war to discuss publicly. By the "War on God" (definition) we mean the collection of strategies, methods and techniques which have the combined effect of preventing or seriously hampering the efforts of individuals to seek or achieve legitimate Spiritual enlightenment and the Soul's eventual return to God.
The War on God is an ancient war. While the United States and other countries play an active role in this war today, they definitely did not initiate the war. If you want to use the Christian bible as a reference, you could argue that the War on God began shortly after man was created and rejected God in favor of Satan. Clearly, in some form, the War on God has existed throughout human history.
Today, the United States has effectively broken off diplomatic relations with God. The oligarchs who run the country never physically die and so their souls stay on Earth. Apparently, the United States actually believes that its technology, occult knowledge and black magic skills place it in a position which is superior to God.
We know from whistleblowers like David Morehouse that the United States sponsors and trains a cult of psychics to carry out psychic espionage (remote viewing) and also assassinations using psychic black magic techniques. According to clips of his various interviews on YouTube, it was the training in psychic assassinations which caused Morehouse to become disillusioned, quit the secret program and blow the whistle on the operation. Other countries may well operate similar programs but the details will remain unknown until someone defects and exposes them.
The leaders of the United States have always worshiped Satan. The United States was founded by a cult of Satanists known as the Masons and remains under control of that cult today. By rebranding their cult as a nation state, the cult created the appearance of legitimacy. Cult secrets simply transitioned to state secrets. Cult threats to kill anyone telling their secrets transitioned to the crimes of treason and espionage.
Nothing really changed except for the rebranding from a cult to a government. Today, essentially all members of the CIA, NSA and NASA are Masons. All US presidents have been Masons with the two exceptions of Abraham Lincoln and John Kennedy who were both assassinated.
The term "national security" refers to the security of the cult and not to the security of the general population. The Masonic motto is "If you are not one of us, you are nothing". The cult exists only to enrich itself.
The Masons study and practice the occult. Serious study begins after they take a formal oath of allegiance to Satan at the 30th degree initiation. Basic occult knowledge is neutral and everyone who advances Spiritually learns it. However, Masons seek this knowledge to gain power and control over others as opposed to knowledge for personal advancement. This choice, commonly called the Left Hand Path, places them in opposition to the will of God.
If the Satanists simply wanted to sell their Souls to Satan and mind their own business, one could argue that they had that right because they had free choice. However, the situation is not that simple. The Satanic oligarchs did freely choose to worship Satan. However, they also desire a comfortable life. They don't want to do any "grunt" work. Therefore, they have enslaved the remainder of humanity and are holding their Souls prisoner on this planet to service their needs. Therefore, if you, as an innocent Soul, ever plan to escape from this place and return to God, it is in your interest to investigate and gain an understanding of this war so that you will have an opportunity to Spiritually evolve. Otherwise, your Soul will remain a prisoner here — lifetime after lifetime — serving the Satanic overlords essentially forever.
Earth Based Religions
The phrase Earth Based Religions (definition) refers to religious schools which seek and use knowledge, including occult knowledge, to enhance their experiences during their human lifetimes as opposed to using the same knowledge to foster Spiritual development with the ultimate goal of achieving a stable non-physical Spiritual existence.
Although Pagan religions are usually grouped into this category, a more careful examination would reveal that essentially all mainstream religions are Earth based religions. Mainstream religions make constant references to God and Heaven but never explain exactly what they are talking about. Their books concentrate on historical narratives concerning how people in the past lived and coped with the basic problems of human physical existence. They never give details of any level of Spiritual existence or even any specific hints about what life beyond death will be.
Let's try an example. Suppose you have never seen a motor vehicle. You have heard vague stories that they exist, but that is all. Then, suddenly, you find yourself behind the wheel of a car on a high speed road like the US interstate system or the A roads in Britain. What would you guess would be your chance of survival? Try less than zero.
Now suppose you physically die. Suddenly, you find yourself in your Astral body. However, no one ever told you that you have an Astral body. It does not operate under the same rules as a physical body does. It is a very pliant and nimble body. It can travel in time to the past or future, access any plane and subplane in the Astral universe and research the absolute accurate and incorruptible records system known as the Akashic Records to name just a few. But, as in the previous example, you never learned how to "drive" it.
You would have done fine on the highway if you had gradually learned to drive a motor vehicle. You would do fine after death if you had some experience and training with your Astral body. However, no one ever taught you. What practical use is any religion that constantly rants about Heaven but offers no practical advice about your life after this life?
This information may have been a guarded secret in the past, but those days are gone. You can research this information to your heart's content on the internet, locate legitimate Spiritual groups and learn from those who can leave their physical body and explore the non-physical dimensions. But, don't expect any help from a mainstream church.
You might do well to recall the famous quote attributed to Jesus, "The truth will set you free". Mainstream churches are large, rich institutions. They did not get that way by "setting people free". They got that way by terrifying their followers with ridiculous horror stories of what will happen to them if they do not obey their crazy doctrines, stay with them and give them all their money.
Gnostic and other "non-traditional" religions may be Spiritual based as opposed to Earth based. Jesus always reminded everyone that he represented a kingdom "not of this world". If we had accurate records of his true lectures we would no doubt find practical instructions and information about this "other world". We don't have this information because any practical Spiritual teachings he might have given were censored out to create the simplified — but Spiritually sterile — mainstream religions we have today. They are simple to comprehend and follow but will not lead you anywhere except another physical lifetime somewhere on Earth.
Life Before Technology
Before technology life was simple. Although existence was hard, the opportunity for Spiritual experiences was greater than today. Consider, for example, all the empty time you would have as, say, a sheep herder. Nothing to do except make sure the sheep kept moving. In this situation, there was ample opportunity for the mind to wander and perhaps contemplate and glimpse other realities.
Also, and perhaps most important, no electric grid existed on the planet. Electric fields appear as solid "matter" in the Astral dimension and so can affect Astral experiences — generally in a negative way. Artificially created electromagnetic waves which blanket the planet today also have subtle and generally negative effects on living creatures.
Pagan groups generally conduct occult rituals outdoors and away from high population areas. When buildings are used, it is desirable that they be made only of wood and assembled without any metal (nails) and, of course, have no electrical wires.
Both good and evil existed before technology as they always have. It was possible to use psychological propaganda to influence and control susceptible masses of people. However, the positive and negative forces were more in balance. It was not possible for a single group to successfully dominate the planet.
Drugs existed in the form of various plants. Adepts learned how to use them to help or harm others. People with developed psychic abilities existed as they always have and white and black occult schools existed. Legitimate Spiritual masters existed.
Some techniques that thrived have essentially become extinct because the population of the planet has devolved. It is next to impossible to successfully teach Tantra (sex yoga), because today's generation is incapable of the required level of self control. Classic Tibetan yoga techniques are still taught in isolated areas, but the masters — for good reason — will no longer consider trusting outsiders.
Information Control Techniques
Information control is essential for protecting the integrity of a compartment. People are held as slaves by constructing an information box which holds the slaves in an information prison. As long as the "walls" of the compartment remain impenetrable, the compartment — or belief system — will be stable and no slave will escape.
Considerable energy is required to achieve this. Those assigned to protect the walls obviously know that the compartment is an intellectual illusion. Therefore, they must be sworn to secrecy and intimidated in such a way that they will not compromise the integrity of the compartment. It only takes one "leak" to initiate a chain of events which could collapse the compartment and so allow the slaves to escape.
Consider, for example, the Snowden leaks. One person sharing knowledge has totally destroyed the illusion of privacy that most people had accepted as fact. It will not be possible to reconstruct this illusion. The compartment has collapsed.
Similar principles apply in the Spiritual spectrum. Because of the characteristics of the human bodies in use on this planet, most people do not retain any conscious memory of events before they were born. This is not universally true. Life forms on many other planets retain the memories of previous existences. Because humans generally do not have this recall, they are easily enslaved and can be conditioned to believe most anything.
To maintain a state of Spiritual ignorance it is important to institute methods which will prevent people from realizing that they are actually Souls experiencing a constructed illusion. People somehow reaching this state, sometimes referred to as "self realization", will no longer respond to establishment propaganda and are generally considered a threat to the current social order.
The easiest and most direct method to achieve a stable slave population is simply not to talk about anything even vaguely esoteric. For example, how often have you heard the words astral, chakra or aura mentioned on a mainstream TV channel?
Most people will then likely "remain asleep" throughout their entire lifetime and will be no problem. Unfortunately, people have a natural desire — even though it may be an unconscious desire — to Spiritually evolve. It is, after all, the true purpose of human existence.
When someone tries to break away from the contrived illusions more direct methods are needed to return the slave to a state of ignorance. Today, various methods which cause brain damage — generally performed by psychiatrists — are used to negate any success in Spiritual evolution and return the slave to a state of vacant contentment.
Diversions and Techniques Promoting Inaction
The simplest and most effective diversionary technique is to promote scientific atheismand darwinian evolutionary philosophy as established fact. If you can get someone to buy into this philosophy, their fate is sealed. Even if they experience some contact with another dimension, such as an out-of-body experience, they will follow their programming, dismiss the experience as a delusion and refuse to investigate further. When they die, they will be totally lost and confused, flounder around on some lower Astral plane and eventually reincarnate just as Spiritually ignorant as before.
A side effect of accepting scientific atheism, which totally cripples Spiritual progress, is the acceptance of suicide as a way out of life's problems. Suicide becomes a learned reaction. Consequently, when the Soul is sent back into another physical lifetime, it is likely to commit suicide again when faced with some unpleasant event. It never learns, and this cycle can repeat essentially indefinitely. Dealing with this is one of the most difficult problems faced by the administrators who work on the Astral planes.
For those who want more than scientific atheism, there is mainstream garden variety religion. Mainstream Christianity has developed a clever stonewalling technique that has worked to promote inaction for thousands of years. This technique is centered upon the argument that no one can make any progress until Jesus returns to show the way. In the meantime, people should just do nothing and wait. The effect of this is essentially the same as scientific atheism. No Spiritual progress is made.
Schemes designed to waste time are common. One really off the wall example is the decision in Syria to prohibit vacuum cleaners and standard flat brooms in homes. "Witch type" brooms consisting of a circular straw bundle are allowed. Surely there must be a good reason to keep these terrorist weapons out of the reach of the typical Syrian housewife. The official reason is to make basic housework as difficult and time consuming as possible so as to prevent the woman from having any free idle time which, if allowed, could lead to the emergence of "immoral thoughts". Perfectly logical!
In the western world, complex bureaucracies seem to be deliberately designed to make the path to whatever you want as difficult as possible. Here the apparent motive is to prevent the acquisition of enough free time for any independent thought process. There are just not enough hours in a day to allow for any quiet contemplation of anything.
"Blank time" is always reported as a factor in the development of Spiritual figures. Time alone in the wilderness, time spent meditating alone in some isolated cave or at least periods of dedicated quiet time somewhere figure prominently in historical accounts of these people.
You may know or have heard of kids who spend all their waking hours playing interactive role model video games with other kids on the internet. They eat meals by the computer and never leave except to briefly sleep before returning to the all important game. Their entire life is spent in an imaginary reality. You may want to consider that your "real" life may not be all that different. You play a role. Your attributes are fixed by what society expects based upon that role. You can't change, because others would notice. Your concept of the world beyond your little world is determined by what you see on TV. Daily, you receive your "fix" of carefully choreographed "programming" which appears unusually coherent because, as you may not know or fully comprehend, everything on TV is controlled by a few corporations and all of them are loyal to the official government party line. If you somehow had the opportunity to break from this structured "game" you play from day to day — say, the opportunity to visit other countries and see other cultures — you would likely realize that your existence has not been that much different from the kid addicted to a computer game. You would find that the actual "real" world had very little relationship to the world you had been conditioned to believe existed.
Chemical Control Techniques
"With the use of chemical brain-control agents it may be possible to control the individual and the masses and to do this unobtrusively and without the active cooperation of the victims — not a question for the future — it is here".
This is a quote from the book by Edgar Cayce titled Edgar Cayce on Atlantis. There are references to Dr. Robert Galbraith Heath, and this book bears a copyright date of 1968. The book cites an interview that Heath gave to a newspaper called The Virginia Lighthouse and cites the above statement made by him on November 20, 1966. Heath founded the Department of Psychiatry and Neurology at Tulane University, New Orleans, in 1949 and remained its Chairman until 1980.
During this period, Tulane University actively participated in the CIA mind control project known as MK Ultra [1]. Also, during this period, Tulane became an active member of the secret Institute for Defense Analyses, or IDA, a corporation whose only client is the US government. Heath reportedly performed many experiments there involving electrical stimulation of the brain via surgically implanted electrodes. This work was reportedly partially financed by the CIA and the US military. Heath is now "officially" [11] deceased.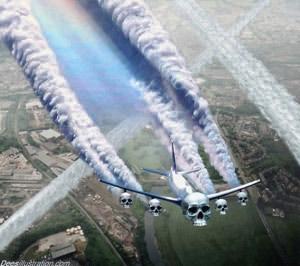 You have been drugged since you were conceived — before you were even born. Your mother was drugged. Soon after birth, you were injected with mercury containing vaccines. And the systematic process of poisoning you never stopped.
By some estimates at least eighty percent of the food in the average supermarket is poison either because it is genetically modified or laced with pesticides and other additives. Even the air is poison now because of geoengineering chemicals sprayed into the upper atmosphere.
It should be noted that things are different in the separate but parallel world of the elite. The Max Keiser show [12] discussed the secret gardens in Japan. These gardens are surrounded by high walls and guarded by the military. They produce the food for the ruling elite. Every plant in the garden has its own health certificate certifying that is pure, healthy and not genetically modified. Obviously, every developed country must have a similar secret supply chain of legitimate food for its ruling class. Certainly the elite know better than anyone that the food supply for the ordinary people is poison. They're not fools. They wouldn't touch the stuff.
Vaccines used for the elite are prepared without the mercury and other toxic additives found in vaccines given to the ordinary people.
Various agents — mainly from plants — have always existed which could be used by those aware of them to harm others or control people by altering their state of consciousness. However, only recently has it become practical to wreck the health of essentially everyone on the planet at the same time. Genetic modification of plants and other life forms used for food has made this possible. Now, quietly, people throughout the world can be sterilized, crippled with serious health problems or even killed by altering the genetic makeup of the food supply. Ordinary people remain generally ignorant of the fact that this awesome power exists and is presently being used against them.
Mind control has become a science. You can't major in it in college because this science is essentially entirely secret. The United States and other countries have spent the equivalent of billions of US dollars investigating and perfecting mind control.
Many secret research projects using unsuspecting or perhaps kidnapped people — some of whom were killed — have been conducted in the past and continue today. We only know about a very few of these projects such as MK Ultra, MK Naomi and Project Other. Even in these projects, specific details are sketchy. From these experiments, practical techniques for creating manchurian candidates and implanting created false personalities and identities have been developed and are in common use today within the secret communities.
Everyone has likely been the victim of some degree of mind control to some extent. Chemical weapons designed to mentally cripple people and render them drooling idiots are freely sold as prescription drugs in drugstores and are available to doctors to use as they please.
The lives of many kids are destroyed by these "drugs" because they have no ability to resist and their parents are ignorant and believe doctors can "do no harm". Actually, today's doctors are agents of the state. Many have top secret clearances and embrace classic Nazi philosophies such as eugenics. Their function is to watch you and make sure you "die appropriately" so as not to burden society. Anything they learn about you and anything you tell them is freely available to anyone in the intelligence community who is curious about you.
Only members of the super elite who are entitled to access top secret medicine will receive legitimate supportive medical care. Ordinary people will be deliberately allowed to die even though doctors with top secret clearances know of effective treatments which would cure them but which are classified and reserved for the chosen elite.
There is no such thing as an incurable disease any more. All the cures have been discovered. If you die, it is because you are not considered important enough to live and not because the cure does not exist.
Common sense should suggest to you that the lives of the elite have statistically different characteristics. For example, members of congress do not live sheltered lives. They work in close quarters and travel extensively both locally and internationally. They are always hanging out with prostitutes as well as playing with the young congressional pages.
Washington D.C. is reported to have more brothels than fast food joints. Strangely, however, these people do not get sick. Have you ever heard that congress had to shut down because everyone was coming down with some infection. It happens in other close populations, so what would make them exempt?
Understanding Astral Damage
Living things have an Astral component. For example, when you cut a leaf and then see the complete leaf on a Kirlian photo you are viewing the Astral component which was unaffected by cutting the physical component because it does not exist in the physical dimension.
Over one hundred years ago, practical techniques for viewing the human Aura were developed by Walter J. Kilner [4]. The original technique used dicyanin dye and a later technique used special glasses. You can't find either one today. In his research, Kilner was able to demonstrate that defects in the human Aura appeared before some corresponding disease manifested in the physical body.
Therefore, he was able to detect and prevent an adverse physical condition before it ever physically materialized. So, you ask, why don't we have this marvelous medical technique available today? Well, we do. It is in use in top secret medicine. However, only the approved elite now have access to it. The information has been removed from public knowledge and classified.
In conventional allopathic medicine, which is based upon scientific atheism and sold to the general public, there is officially no such thing as an Astral body. Conventional medicine denies the existence of anything beyond the physical dimension. Since the Astral body officially does not exist, it is not recognized as a crime to deliberately harm it.
Damage to the Astral body can be compared to damage to the physical body. If you punch holes in the physical body by cutting it, shooting bullets at it or whatever, blood runs out and germs get in. If you cause enough damage, the body dies. Astral bodies do not die, but can suffer critical energy losses. Similar to physical bodies, punching holes in the Astral body allows essential energy to escape and harmful energies to enter.
There are many events which can harm your Astral body. It is in your interest to understand these events because your Astral body will be your primary body when your physical body dies. If it has been damaged, you will be at a severe disadvantage. The chosen elite have perfect Auras because they can use the Aura balancing machines available to them at any top secret medicine provider. However, you cannot.
Also, the ruling elite seem to take some delight in causing harm to the "ordinary" people. Consequently, many drugs, food additives, GMO foods and industrial chemicals found in the environment cause Astral damage. Chemicals recognized as poisons and banned in other countries can be freely added to foods given to ordinary people in the US.
Obviously, there must exist a secret supply chain of safe food and water which is available to the chosen since they know of the contamination and certainly would not want to harm themselves or their friends.
There are ways to closely duplicate the secret techniques available only to the elite. If you can see auras or can find a reputable psychic who can, you can approximate the techniques developed by Kilner and available to everyone over a hundred years ago. Although the secret aura balancing machines are more accurate, a competent psychic healer can do the same thing. Actually, since psychics have always existed, similar techniques have been available throughout the ages to those who were aware.
Fluoride
The concept of adding fluoride to drinking water for the purpose of mind control is said to have originated in the 1930′s as a result of collaboration between German and Russian scientists [2]. Sodium fluoride was originally used and was found to cause a "mild lobotomy" in people who consumed small quantities. The effects were considered to be non reversible after one year of continuous use of the tainted water. Hitler added sodium fluoride to the water in his concentration camps to make the prisoners docile and cooperative as they waited for death.
Sodium fluoride (NaF) is used today in personal products like toothpaste. To poison the water supply of an entire country with sodium fluoride would be expensive. However, it just so happens that there is a waste product created during the manufacture of phosphate fertilizers, Fluorosilicic acid (H2SiF6), which is classified as hazardous waste and would be expensive to dispose of under EPA guidelines.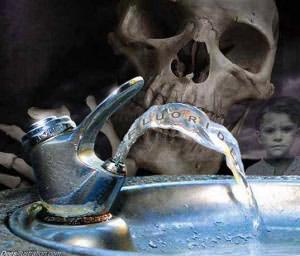 There is lots of this stuff available. This is the poison added to the public water supply in the US and some other countries. It is actually economical for industry because they don't have to pay for hazardous waste disposal. They just pump it into the public water supply.
In the human body, fluoride has an affinity for the pineal gland in the brain. The pineal gland is associated with the "third eye". Everyone has this third eye, but few are aware of it or know how to activate and use it.
Although the pineal gland is part of the physical body, the associated third eye is part of the Astral body and so is invisible in the physical dimension. The third eye allows you to see and communicate with the non-physical dimensions while fully awake and functioning in the physical dimension. So, you could see and carry on a conversation with someone in the physical dimension while invisibly also viewing and communicating with some entity on another plane of existence.
The standard Christian bible refers to the third eye with the phrase, "If thy eye be single thy whole body will be filled with light". However, only students of mysticism would recognize the true meaning of this quote.
Obviously, having this ability would be a threat to the security of any totalitarian society. Poisoning with fluoride destroys this ability and so solves that problem. Literature is available if you wish more detailed information. Simply search using the phrase "fluoride third eye".
On the chance that fluoride in the water is not sufficient to destroy any psychic abilities you may have, there are more aggressive ways to get fluoride into your brain. Here are some structural models of popular psychiatric drugs:
Notice that the element Fluorine (symbolized by its standard chemical symbol "F") figures prominently in all these compounds.
These drugs are used to cause "chemical lobotomy". By blocking communication channels with the higher levels of the human brain, they effectively convert the victim into a lower form of animal. Lower animals do not have the frontal lobes possessed by humans. That is what makes humans special. Disabling the frontal lobes effectively transforms a natural human being into, basically, a docile and obedient house pet which can be trained like a dog.
Incidentally, Fluorine also figures prominently in Sarin nerve gas.
For a more in depth study search YouTube for the free documentary Flouridegate — An American Tragedy by David Kennedy.
They All Drink From the Same Trough
If you casually look out upon the institutions of the world, it may appear to you that they are independent, discrete entities. However, they are not. They are all components of a collective which has successfully hidden its existence and true nature from the general population for generations.
Let's begin with the media in the US. Although it may appear to you that there are thousands of independent sources reporting "news", 90% of all media is controlled by six corporations. They are General Electric, News-Corp, Disney, Viacom, Time-Warner and CBS.
In the US, people believe they are protected from tyranny by the concept of "separation of powers" — that the executive, legislative and judicial branches of government are staffed by independent thinkers who "check and balance" each other. This is also a deception.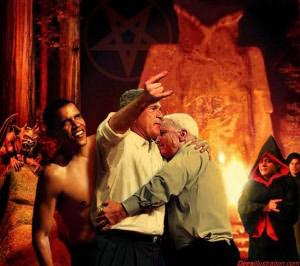 Once a year, at the end of July, there is a secret gathering on private property in the redwood forest of California called the Bohemian Grove. Although this annual meeting has been going on for over one hundred years, it is only during the last several years that outsiders have begun to learn of its existence. The only reason they have is because of the internet and independent journalism. Leaders from the mainstream media are all members of this secret club and so never even report its existence.
Who else goes to this annual secret "party"? Well, for want of a better name, we will call them the "Trusted Satanists". They are the leaders of all the major corporations, banks and representatives from all the major branches of the US government as well as foreign governments.
Although these men outwardly support the concept of capitalism for the masses, this elite group, among themselves, are perhaps best described as "rich socialists". Only men are allowed. For recreation, a stable of prostitutes — both male and female — are kept nearby off-site. The male prostitutes could theoretically enter the Grove.
The "party" begins with a Satanic ritual called "Cremation of Care" (i.e., "we don't care") which features the burning of a coffin at the base of a huge statue of an owl. Walter Cronkite reportedly was the official announcer at the grove until his death.
A secretly filmed video of this event is available on YouTube. It is supposed to be a "simulated" child sacrifice. However, since the CIA, FBI and NSA attend the ritual, who is going to complain on the chance it is a real sacrifice of a human child? After all, they are all trusted Satanists.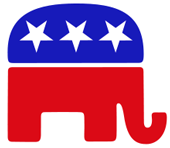 Most attendees from the United States are members of the Republican party. This is completely predictable in view of the fact that the US Republican party flaunts its affiliation with the "dark side" by prominently using the inverted star symbol on its official logo.
During the two week period, corporate leaders, the "independent" government regulators who supposedly keep corporations honest, the leaders from the executive, legislative and judicial branches of US government who are supposed to be "checking and balancing" each other, as well as the media moguls who we "trust" to report the truth, are all running around naked in the woods — pissing on the trees, playing with each other, and the male prostitutes as well as the off-site female prostitutes, and "having discussions".
Well, what are they "having discussions" about? They are discussing what they plan to do with "their world". The Manhattan Project to develop the first atomic bomb was reportedly planned at one of these discussions years ago. What about you? What about your future? What about any expectation of happiness you may have? Well, you see, you "don't need to know". Remember, "If you are not one of us, you are nothing".
Blueprints For the New World
Overview
If this link [7] is still active, it would be in your interest to read through it. This document is a transcript of a speech given by one of the insiders in the year 1969. He boldly states,"Everything is in place and no one can stop us now".
The article details how people ("people" means the slave class who are "nothing"; recall: "If you are not one of us, you are nothing") will just have to get used to changes such needing permission to have children, accepting mandated euthanasia as the law and total surveillance. Essentially all goals are now achieved, although some still remain guarded secrets.
The 1960′s was the period when physical death was eliminated. Of course, this "privilege" is only available to the select Satanic oligarchs. Effective cures for all diseases were also developed. The speaker [7] states that the cures are on file in the Rockefeller Institute. Of course, most are classified and only available to the chosen elite.
Infrastructure
The PBS documentary, Top Secret America [8], presents a good overview of the secret world of the elite. You may think no one is paying attention to the infrastructure in America because streets are in disrepair and bridges are falling down. However, you would be wrong. A tremendous amount of money is being spent on infrastructure in America — for the chosen elite. You will never see it and you will have no need for the decaying bridges and streets because you won't be around to use them. You, as well as 90+ percent of the current population, will be killed in the "Great Culling".
The new infrastructure is quite elaborate as the documentary explains. It consists of thousands of buildings which have a few stories visible above ground but which then extend for 90+ stories underground. All amenities are available within these secret structures which are basically self-sufficient.
It is important for the buildings to reach deep underground so that the lower levels can connect to the secret underground transport network. This network is global and provides safe high speed transport for the elite. Whenever the network crosses a tectonic plate, massive amounts of silicone are used to allow the transport tunnel to flex as needed. The network has access points in all countries. However, these points remain secret in countries which have yet to be subdued and co-opted into the new world order.
NWO Enabling Documents
The treaty known as the Trans-Pacific Partnership appears to be the formal enabling document for the new world. The actual document is secret and only high level corporate executives and politicians are allowed to see it.
Even after the treaty goes into force, its contents will remain secret. Because, in the United States, treaties must be openly debated in congress, the treaty is being called an "agreement" to circumvent the law and keep its contents secret. However, some details have become known.
Although the planet is officially divided into "sovereign" countries, it is overlaid with a network of transnational corporations. This network basically forms a parallel government which encircles the globe. The Trans-Pacific Partnership is designed to cause any country which signs on to surrender its national sovereignty to a secret committee composed of corporate executives. This committee can then alter the constitution and laws of any country which has accepted the treaty as suits their whim. There will be no appeal against this.
Under the treaty, there will be only one purpose to human life. That purpose will be to maximize the profits of the cabal of transnational corporations which will now be essentially a single global corporation in absolute control of the world. This effectively institutionalizes the new world order.
What does this mean for you? Well, to begin with, there can be no retirement. Paying for retirement would negatively impact corporate profits. So, if you can't work, you will be killed. Taking care of sick people would also drain corporate profits. It would be more profitable just to kill the sick and replace them with young, healthy slaves. Disabilities — forget it — disabled kids will never make it out of the womb alive.
Reeducation
To come into compliance with the philosophy of the new world, people will need to be reeducated. Military instruction documents [6] are already teaching that the Founding Fathers of the United States were extremists and anyone who thinks like them would not be suited for today's military.
Well, what did these radical extremists think?
"We hold these truths to be self-evident, that all men are created equal, that they are endowed by their Creator with certain unalienable Rights, that among these are Life, Liberty and the pursuit of Happiness."
Obviously, these principles are not compatible with the new world. The idea of a "Creator" conflicts with the official doctrine of Evolution. We can't have that. People must accept that they and the universe they live in is simply an "accident".
People are already realizing that Liberty and Happiness are gone. They know now that they live under constant surveillance and their lives get worse year after year. How about the right to Life? Can't have that. People need to be reeducated to believe that it is their "duty to die" when they are no longer useful to the state (which is now the global corporation).
Of course, the global elite will live physically forever but ordinary people will not know this.
If a world where people are conditioned to want to die and do not want kids but just sleep around for fun sounds vaguely familiar to you, you might recall that this is the future society described in Huxley's classic novel, Brave New World.
Population Modification
Please refer to [9] as a reference source. Today's "great thinkers" seem to be coming into agreement that most people are unnecessary and need to be exterminated for the convenience of the elite. Bill Gates, who has now been accepted into the super exclusive Bilderberg group, has reportedly taken the task of exterminating the third world population by giving them "free" vaccinations which will render them sterile.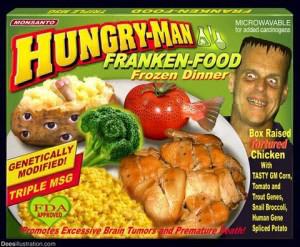 Lots of groups are working on secret sterilization methods. European tests of Monsanto's GM soybeans on hamsters showed the animals became sterile by the third generation [12]. A new gene known as Epicyte [9] is planned to be added to GM corn which will cause immediate sterilization.
Additionally, people are being "eased into" accepting the concept of "after birth abortion". Intellectuals are trying to get people to accept the argument that living human children under three or perhaps even five years old are really "not people but advanced feotuses". Since abortion is already legal, a simple change in the definition of "feotus" would allow young kids to be killed at will for any reason.
Another "new thought" gradually being programmed into the young is the pleasure of the "childless lifestyle". This propaganda seeks to convince people that having kids is too much trouble and they will be happier if they just get sterilized and then run around having lots of sex purely for fun.
These "evolutionary" population control techniques are already in effect. However, the elite likely are not willing to wait several generations to get rid of those they do not need. This brings us to the more direct method commonly called "The Great Culling" which will allow the elite to kill off most of the world's population quickly.
The most likely method will be the release of new designer viruses for which no one will have any natural immunity. Of course, the elite will all get the classified antidote. Preparations for the disposal of the bodies is already complete and stockpiles of plastic coffins — each designed to hold three bodies and manufactured under government contract by Halliburton — have been photographed and documented. Everything is now in place awaiting the "go" command.
Designer Children
Some types of designer children have already been approved for "production". Britain has approved three parent babies [10] and China has proposed a process to artificially fertilize most of a woman's eggs and then examine them to determine which is likely to produce a child with the highest IQ. This will be the only selected egg because Chinese women are only allowed to have one child and must then be sterilized.
In the new world where the only purpose of people will be to do slave labor to serve the elite corporate masters, the concept of allowing the existence of children conceived naturally clearly cannot be allowed. There would be an unexceptable chance for some kind of error that could result, for example, in the creation of a being capable of independent thought who might challenge the establishment.
A man's true worth is measured by the amount of other people's happiness that he can possess and destroy
This is a quote from the docudrama The American Ruling Class [5]. It is worthy of discussion because it is so prophetic.
The Satanic oligarchs who run this world basically exist and thrive on the misery of others. It is not enough just to use and abuse you — they want to consume your Soul. Your misery and suffering is, essentially, their "food". It is the source of their energy.
Ordinary innocent Souls are sustained by the life energy which flows from the Creator. However, since the oligarchs hate God, this energy flow is not available to them. So, they essentially survive by consuming the life energy of the innocent Souls they have captured and enslaved.
Ordinary people do not naturally choose to spend their lives in a state of constant war. They have to be somehow coerced into this behavior. Otherwise, they would likely seek a quiet, peaceful life. The atrocities the US and other warmonger nations force their citizens to commit are so contrary to basic human nature that the US loses more soldiers to suicide than it does to the enemy. The once innocent soldiers find that they simply cannot continue to live with what they have become and the memories of the horrors they have caused to others. The Satanic rulers who create wars, of course, have no problem with this.
Promotions within the inner circles of power are based upon how much evil one has done. The more harm you cause to others the greater your respect. You may have noticed that the stock market, which is a measure of the success of the elite, shows gains during periods when the average person is suffering and losses during periods when, somehow, life for the ordinary person seems to improve. The stock market set a new all time high, for example, during the Vietnam War when innocent young kids were being drafted and slaughtered in Vietnam while peaceful protesters at Penn State were executed by government forces for daring to dissent.
Why You Should Care
On the low Astral planes you will find people — Souls — who are totally lost and confused and seem to move in slow motion. They do not realize they have died. These "people" are not there because they tore up the Bible or burned the Koran or some other offensive act. They are there simply because it is the best they can do. They are using all of the Spiritual energy they have just to maintain this miserable existence. Whatever activities they engaged in while alive had no Spiritual merit and had no effect on developing or increasing their Spiritual energy level. Since the opportunity to do this ended when they died, they will remain strung out in this condition until they reincarnate again at which point they will have another chance to choose activities which enhance Spiritual energies.
You should care because the things you do and the things you fail to do during your brief life here will affect your existence for millions of years in the future.
The other dimensions operate under exact scientific rules just like this dimension. However, the rules are not the same. Because alternate sources of information are available today — mainly because of the internet — it is in your interest to at least investigate the available literature on Spirituality, energy raising techniques and various first-hand reports from people who have successfully visited the neighboring dimensions.
Source:  Walter C. Vetsch   |   3108.info  |  War Is Crime
First and foremost we should be governed by common sense. ~ Vladimir Putin (Time Magazine, 2007)
President Vladimir Putin is audaciously attempting to remove the brush covering from atop the common sense rabbit hole, which is not only a truly rare and subversive act in the eyes of the Con, but a potentially great gift to humanity – if only humanity had the sensitivity to appreciate it.
Nonetheless, this will no doubt prove to be a thrilling ride for those willing to take up the challenge. Russians are fortunate to have such a sane leader, and the West would be wise to follow his lead, but what exactly does Mr. Putin mean by Common Sense?
Here's a quick peek at a couple of dictionary definitions:
1)     Sound judgment not based on specialized knowledge; native good judgment.
2)     The basic ability to perceive, understand, and judge things.
The ability to soundly judge is important to understanding what common sense is all about, as is the fact that judgment is not an isolated act made according to individuated, specialized knowledge, but of something that is of a more general nature that is shared, common or native to the species as a whole.
To better understand how common sense operates as a cognitive process, Aristotle provides a clear and useful description:
The reason for having several senses is in fact that it increases the chances that we can distinguish and recognize things correctly.] Each sense is used to identify distinctions, such as sight identifying the difference between black and white, but, says Aristotle, all animals with perception must have "some one thing" which can distinguish black from sweet.] 

see section on "Aristotelian Common Sense" http://en.wikipedia.org/wiki/Common_sense
This shared or common sense, as opposed to a two-step Stimulus-Response model, appears to operate, according to Aristotle's description, as a three-step process:
A) Perception
B) Understanding (through comparative analysis)
C) Judgment
Why is something as fundamental and basic to humanity's existence operating according to a three-step rather than two-step process?
If you look around the world today, everything is presented in opposing, pairs: A-B. Not A-B-C.
As such, critical A-B-C thinking, aka Common Sense is fundamental to the evolution of awareness, consciousness, cooperation and love which seems to occur with great frequency in nature, but not nearly as much in most human societies.
The Con understands this reality quite well, and they exploit it to their benefit. The Con does everything it can to lock humanity into a system characterized by dualism, stimulus-response programming, isolation, separation, competition, narcissism and egotism.
According to Aristotle's logic, while each individual is inseparable from the whole, without common sense,i.e. a shared vision of the whole, perception of reality is too narrow, distorted and false.
Aristotle also said:
Common sense is where comparison happens, and this must occur by comparing impressions or symbols or markers of what the specialist senses have perceived. This is therefore also where consciousness originates, "for it makes us aware of having sensations at all"

see section on "Aristotelian Common Sense" http://en.wikipedia.org/wiki/Common_sense
Aristotle emphasizes the act of comparison as critical to Understanding (Step B) the three-step A-B-C Common Sense-making process.
After perceiving an object, the perceiver compares and contrasts that object in relation to similar objects found within the perceiver's experience. Finally, based on that understanding, the perceiver, in a creative act of synthesis, finds the true center or third way derived from the act of comparison and projects that decision out into the world.
In 2006, after carefully analyzing and deconstructing Vladimir Putin's year 2000 Millennium Manifesto, author Gavin Slade from the Central European University in Budapest, an affiliate of The School of Russian and Asian Studies (SRAS), affirms the Russian leader's propensity for utilizing in the political arena the type of Hegelian common sense widely discussed in this article:
In the 1990s Russia's political discourse was framed in terms of good and evil. There was little compromise or synthesis.

The rejection of revolution and change shows that Putin is effectively trying to establish a discourse focused on unity and stability knowing that the binary oppositions of politics during the Yeltsin era had created a situation where the state was unable "to muster a critical mass of leaders who articulate[d] one or another political discourse that resonate[d] in political society.
Rare among today's world leaders, Vladimir Putin appears to well understand the evolutionary necessity of this third way approach to governance based on common sense-derived synthesis, and leverages that knowledge to promote unity, social cohesion and commonality of purpose on a national and international scale.
Aristotle even goes as far as to say that common sense is where consciousness originates. So if a society is lacking in common sense, and there's little to no conscience, morality, empathy, consciousness, creativity, taste, discernment or love, how does one propose to govern such a population? This no doubt created a quandary for the rulers of large populations in the past, and clearly still presents governance challenges today.
The system's time-honored, traditional answer to the problem of populations lacking in common sense was to oppress them into submission, with increased submission leading to an ever more constrictive cycle of dominance, oppression and abuse. It's not outrageous to consider both parties to be at fault for this social dynamic that still exists and thrives today.
The cognitive process of common sense is part of humanity's spiritual endowment and is similar to the Greek idea of knowledge or nous, which is the divine spark or knowledge within that is shared or common to all.
While nous may be common to all, it seems at present to be buried deep within the human psyche, and as such, unfortunately, is largely inactive.
Humanity's drive to separate, exceptionalize and specialize (such groveling at the feet of society's beloved specialists), is but a tiny sliver of the whole spoon-fed matrix. These absurd, self-destructive values are automatically downloaded at face value and parroted aloud as that which everybody knows.
These automatic, pre-programmed responses demonstrate the process of individual and social decay which epitomizes dualistic A-B programming, and as such represents an evolutionary dead-end. And yet despite its flaws, this system, while abhorrent to many not only does have value in populations largely lacking in common sense, but also provides stark contrast to utopian social visions, as well as important motivation for those who wish to overcome its glaring inadequacies.
So cheer up, the news is not entirely bleak. To find oneself, one must first lose oneself, and so humanity has intentionally (if not consciously), led itself astray. The capacity for auto-correction is built into the natural system of the Earth and undoubtedly woven into the very fabric of cosmic existence itself. And yet in order to auto-correct, one must first dare to walk down dark paths leading to destinations unknown.
Compliance with Globalist diktat is ensured by the Con's ability to provide endless streams of mindless distractions and short-term pleasures quick as you can afford them. And if you can't afford them but still crave them, you get a gold star for being a motivated world citizen.
But try inducing people to step off that wheel, swallow the red pill and slide down the rabbit hole. Just see how that works out.
Of course this makes no sense. Why choose isolated, short-term pleasures over long-term ones? Freedom is sold cheap in exchange for a handful of trinkets and beads. But as the late great George Carlin once said: "nobody seems to notice; nobody seems to care."
The average person, lacking common sense, is unable to step outside his bubble and recognize the divinely entangled oneness of reality.
How many times do you have to read in the alternative media about the daunting lack of empathy on the part of the Globalist controllers, and this is true, but how about the lack of empathy among the masses? Without common sense, there is no empathy, and the masses are sorely lacking in common sense.
The inability to put themselves in the shoes of others keeps the un-awoken strapped to the bed of their own egotistical, narcissism. Good luck getting through to them. They are simply incapable of being awakened in anything less than a repeatedly rough manner.
Russian history is chock-full of examples of these rough awakenings, and it therefore should not be so surprising that today's Russian population is relatively more awake than those still snoozing in the pampered, declining West.
Perhaps this is why those cast in the role of Controllers – along with their robotic minions – are as nasty and brutish as they are, since it falls on them to rouse Joe Sixpack in the only way he seems to understand: by shoving his face deep down into the toilet bowl of an unexamined life. Spend enough time down there, and you may finally see that all your dreams of wealth, success and material gain have just been so much meaningless crap.
And so the seemingly endless stream of futile chatter in the alternative media referring to the slumbering masses and how if they just had the right information is, sorry to say, nothing but pure fantasy, wishful thinking and projection on the part of the awakened, common sense minority.
The Great Awakening that many feel today, and it is palpable, is not widespread; it's actually emanating from a very small, scattered fraction of the global population. It's just that this small but slowly growing group of A-B-C common sense types, specialists in their own right, have a tendency, despite their incessant utilization of the common sense process, largely due to a lifetime of incessant "all men are created equal" propaganda, to erroneously project their common sense values on to the masses, and as a result are time and time again disappointed when their best intentions to rouse the herd are not taken seriously. Boo-hoo.
If the world was in fact brimming over with common sense, which currently it is not, reality would appear quite different than it does. No, the prison planet has been specially designed to serve the masochistic masses precisely what they need in order to evolve. It wouldn't actually be so bad if it weren't so damn destructive. If anything, it's not dull.
As it is presented today, the Con's "reality" is designed to stroke the mass ego consciousness with just enough happy endings to keep the machine humming and its occasionally unruly parts alternately motivated, sedated and restrained. This seems to be an unfortunate yet necessary design for an emotionally immature, Id-raging majority.
On the other hand, within an awakened community, no matter how small, which is not characterized by delusion but common sense, the rules of the game could not be more different. Within such a community, you can always choose another path and consciously create what you want. Life there is no longer an either/or A-B equation. You can finally transcend childish dualism as you take a quantum leap into the common sense adult world of contemplation, awareness, empathy, consciousness, comparative analysis, and synthesis. In this vitally thrilling world, A + B = C.
The goal of discourse is to create the transcendental, a higher centre of meaning outside the plurality of visions and interpretations, 'to arrest the flow of differences, to construct a centre. 'Thus, 'at the base of Putin's policies and what we shall describe as his "third way" lies the idea of a grand transcendence of so many of the conflicts that had both shaped and torn Russia in the modern era.' -http://www.sras.org/deconstructing_the_millennium_manifesto
Mr. Putin has tirelessly and with increasing success preached his neo-Gnostic common sense gospel to a Russian population that has in the not-so-distant past become familiar on an unprecedented scale with such intense suffering and pain that an increasingly large portion of them now appear eager to listen to and act upon Putin's challenge to reclaim their common heritage as intelligent, discerning and consciously evolving individuals in a country of rich heritage and national achievement. This development on a national scale is uncommon.
The economic prosperity that Putin's leadership has helped generate, impressive as it is, pales in comparison to the raising of individual consciousness en masse in Russia, which is what can happen to a nation when real common sense is applied to governance. That requires rare leadership qualities on a level that few in other countries have experienced in a long while.
What many in the West often fail to comprehend (because they lack empathy) is that when you're the leader of a 9 time zone wide, 17 million square kilometer (6.6 million sq mi) Eurasian land mass comprised of a wide range of European, Caucasian, Asian and Indigenous cultures, in order to successfully lead and inspire such a diverse group, you must possess a Yin Yang-balanced, personal and diplomatic Swiss Army-like skill-set.
This mixing of Western and Russian ideas is only a part of a blend of inter-discursive features adopted by Putin. It is in his co-optation of different discourses and ideas that Putin attempts to suture rifts in identity and win the war of position within discourse. It is, as some have said, a 'third way.'
As an individual, Vladimir Putin displays many attributes of the modern Renaissance Man. He's a vigorous yet contemplative gentleman of refinement and culture with an admiration for various art forms and a genuine appreciation for the diverse beauty and splendor of nature.
Although Mr. Putin enjoys hunting and fishing, it's not part of some macho power trip to defeat and kill defenseless animals, but rather as a way for him to feel vitally connected to the natural world that we share with each other and are invited to explore if only we dare.
Here's a striking passage from a May, 2011 Outdoor Life Magazine interview where Mr. Putin candidly describes his experience obtaining a whale biopsy:
OL: In August 2010, you helped scientists obtain skin samples from a whale off Russia's Pacific Coast by darting one with a crossbow. I imagine that has to be one of the more incredible of your wildlife encounters.

VP: That was indeed an unforgettable experience, and I remember very well how impressed I was.

First, all that surrounded me—the low sky, the stormy sea and, of course, the whales—was magnificent. Besides, these elegant giants showed us a real performance, leaping out of the water in front of our boat.

Second, I was really thrilled. I do not want to offend your feelings as a hunter, but, by its intensity, its dynamics, that was a real hunt. But without killing the animal. And this was a special pleasure. This is not a melodramatic statement. That's the way it really was.

We left not just to see the whales, but to take a biopsy—in other words, to dart one of the animals with a crossbow arrow, which can rip off a small part of whale skin necessary to make a special analysis. It was not that easy; three times I failed, and only the fourth attempt was successful. Of course, I could justify myself that the boat was tossing badly and that it was the first time for me to handle a crossbow, but the main reason I see was my anxiety, because participation in the scientific experiment is a very important undertaking.

OL: After you successfully darted a whale, a reporter asked you if it was dangerous. You replied that, "Living, in general, is dangerous." Do you have any comment on that?

VP: I think what I meant by that is obvious. Despite all the achievements of civilization, the human being is still one of the most vulnerable creatures on earth. None of us is protected from crimes, epidemic outbreaks, natural and technogenic disasters. What I am saying is not a fatalistic view of the world, it is a realistic one.

http://www.outdoorlife.com/articles/hunting/2011/05/one-one-vladimir-putin?page=0%2C4
Mr. Putin, with obvious empathy for the whale and a humble appreciation for the magnitude of the moment, describes in a nutshell the fragility of the human experience within a natural world that is both nurturing and fraught with risk. Unlike his ego-driven political counterparts who can never admit to any weakness, it's a feather in his cap that he does not appear to be afraid to convey his fear and anxiety at being in the middle of what most would agree was an unsafe situation.
Mr. Putin seems to be implying that you might as well take risks because risk is inherent to life. To therefore feel some degree of anxiety when taking bold steps is natural, and nothing to be afraid of. Taking those bold steps is part of a personal and national awakening process.
Having repeatedly put his personal safety in jeopardy for the sake of the greater good, as demonstrated by his biopsy of whales, soaring with endangered cranes and tranquilizing tigers…
Cranes
http://www.youtube.com/watch?v=kq1DEu5-aWo
Whale
http://www.youtube.com/watch?v=U9nt_IB-vTE
Tiger
http://www.youtube.com/watch?v=Hkt5G0uHO0g
…it should come as no surprise when Mr. Putin applies a calculated risk approach to diplomacy, as demonstrated by his swift response to an extraordinary early August 2013 meeting with the head of Saudi intelligence, Prince Bandar, an event first reported in the UK Telegraph and widely acknowledged in the Russian press as well as a number of other sources.
http://www.telegraph.co.uk/finance/newsbysector/energy/oilandgas/10266957/Saudis-offer-Russia-secret-oil-deal-if-it-drops-Syria.html
http://www.kavkazcenter.com/eng/content/2013/06/25/17953.shtml
http://www.thedailysheeple.com/escalation-vladimir-putin-reportedly-threatens-saudi-arabia-with-massive-counter-strike_082013
http://www.eutimes.net/2013/08/putin-orders-massive-strike-against-saudi-arabia-if-west-attacks-syria/
This colorful September 30th, 2013 recapitulation of that same fateful meeting comes courtesy of an approving Pravda opinion column, "Come the Day, Come The Hour":
Essentially, Bandar Bush went to Putin – purportedly with the full backing of the US, and offered to cut a secret deal to carve up the oil profits if Russia would back off on Syria and allow a regime change. Putin quietly and politely offered a nyet. He was not for sale and neither were his principles. Bandar went on to then threaten Russia by turning loose Chechen terrorists to cause havoc in the Winter Sochi Olympics. Saying that all terrorists groups are under their control and that they can turn them on or off as they like. Well, it appears that at this stage, the negotiations moved from being polite – Putin warned Bandar that if Syria is attacked, Russia would bomb Saudi Arabia. At last, someone with balls. This threat was communicated to senior members of the Armed Forces with instructions to prepare to strike Saudi Arabia. Obviously, this was leaked.

http://english.pravda.ru/opinion/columnists/17-09-2013/125685-president_putin-0/
The now famous and universally acclaimed accord on chemical weapons aside, wouldn't it be more than likely that President Putin's declaration of intent to bomb Saudi Arabia if Syria was attacked is the real, under-reported reason why a near-certain U.S. strike on Syria was called off? Just a theory…
President Putin, a man of principle and a strong advocate of International Law, rejected out of hand Bandar's pathetic bribe, since unlike many other politicians, he has principles, and can't just be bought off.
Nonetheless, upon digesting Prince Bandar's incredible admission of he and his country's direct support for state-sponsored terrorism, despite his usual placid demeanor, President Putin's jaw must have dropped when he received a not-so-thinly veiled threat of Olympic terrorist attack if cooperation on the Syria question was not forthcoming. President Putin rightly determined that this was not only a direct threat to Russia, but to the entire civilized world, and so he did what he had to do: stand up to the bully.
Only a leader so level-headed and eminently comfortable in his own skin could stare the impudent Saudi down and call his bluff in terms that were crystal clear and absolutely appropriate to the threat. Exercising his capacity for A-B-C common sense, Mr. Putin perceived, understood and decided what to do without hesitation.
When threatened with force, sometimes the only way to get the other party to take you seriously is to threaten them right back. That took guts and is deserving of recognition.
World War III was averted (for now), and Putin's stock has deservedly risen to such a high level around the world that he was in serious contention for the Nobel Prize. The fact that he didn't win is probably better PR than if he had won, since Obama won it for bailing out the bankers. Putin is probably ok then with an honorable mention.
When an individual like Vladimir Putin, who both at home and abroad is recognized as having an authentic character, repeatedly demonstrates sane, balanced actions, as he declares the rule of law and common sense governance as the goals of the nation and backs it up with corresponding actions, he naturally enjoys widespread support and trust.
Sadly, these common sense leadership qualities, which should be essential prerequisites for every political leader, are sorely lacking in the West, where there seems to be a permanent disconnect between common sense and politics.
Often unfairly lampooned in the press for his bare-chested macho man image, Mr. Putin also appears to genuinely be in touch with his feminine side.
As a Judo master, Putin is adept at using his opponents' momentum against them, which can only be done by respecting the power of each "adversary," as well as being sensitive to the flow of energy emanating from that person. A perfect example of a real world application of that principle is how President Putin "flipped" and redirected the Saudi Prince's malevolent, threatening, violent energy right back at the Prince and synthesized the product of that energy for the purpose of creating peace.
Check out Putin's judo moves here:
http://www.youtube.com/watch?v=dYtDQ_t-_HQ
Sometimes Presidents really do need to act like car salesmen, but the car that Putin is selling is built to last and runs efficiently on common sense, common law (i.e. as long as you're not hurting anyone, you're acting within the law), and community. And that's a vehicle more and more Russian citizens are being convinced by Putin to buy, since he drives one himself.
Putin's manifesto is rich in inter-discursivity, appropriating elements from competing ideologies and rejecting binary oppositions in order to win the war of position within the discursive field thus creating 'an all-national spiritual reference point that will help to consolidate society, thereby strengthening the state. This reference point, a new Russian idea, helps construct an image of the state as a nation of people represented by a spokesperson, the president.
Those of the awakened minority who are frustrated and at odds with Globalist domination strategies should find solace in the fact that the dream of a New World Order, of which much of the world is presently dreaming into reality, must according to its unnatural and unsustainable underlying principles, much like its Soviet system predecessor, inevitably collapse under the weight of its excessive absurdity.
And if you're one of the small but proud members of the common sense minority community, if you haven't already done so, please do yourselves a big favor and cease all efforts aimed at trying to wake up humanity, because it can't be done. Instead, continue waking yourselves up.
Humanity can only wake itself up one individual at a time. The newly awakened, in their own time, will make connections with others without your incessant nudges. So try to let go. You'll feel better if you do.
In stark contrast to the West's current political downward slope, it's fascinating to observe the progress of Vladimir Putin in his quest to help instill and nurture a return of common sense to the realm of politics. It makes one hopeful that new leadership possessing similar strength of character will follow President Putin's lead.
Unlike Mr. Putin, we can't all play the part of hero in this movie, although there's no character too minor and no act too small.
Continue speaking your truth, get along with others, and have a good time. The rest will take care of itself.
That's just plain old common sense.
And to close the show, Ladies and Gentlemen and Children of all ages, live from the internet, the one, the only…:
http://www.youtube.com/watch?v=Na-31bdtjhI
Source: Waking Times
In 1899 the great libertarian scholar William Graham Scholar of Yale University delivered a speech in which he warned that the Spanish-American War was a crossing-the-Rubicon event in the nation's history that had finally transformed the nation from a constitutional republic to an empire. Empire was what the Pilgrims escaped from, and the American Revolution was fought against, for in an empire the average citizen is viewed by his rulers as nothing more than a tax slave and cannon fodder. Americans would soon become, he warned, exactly what their country was founded to oppose.
The speech was entitled "The Conquest of the United States by Spain" to denote the fact that the Spanish-American war, an imperialistic war of conquest, was no different from the types of aggressive wars that the old empires of Europe had been waging for centuries. Having devoted his adult life to scholarly pursuits in the field of political economy (among others), William Graham Sumner was prescient in his predictions about what America would become once it embarked on the road to empire. Among his observations were the following:
The Spanish-American War, like future American wars of imperialism, was "justified" by a string of "sensational assertions" that are easily proven to be untrue. Spain never threatened any American "interests," and would have been the last to have an incentive to sabotage the Battleship Maine, the calamity that stoked war fever and got the masses ("Boobus Americanus" in H.L. Mencken's words) behind the short "war." Scholars like Sumner may have easily seen through the government's lies, but not the rationally-ignorant masses.
"Where is the statesmanship" in lying and manipulating the public into an aggressive war, Sumner asked rhetorically. This of course had become the new definition of "statesmanship" ever since Lincoln manipulated the Northern-state-public into acquiescing in his waging of total war on their fellow American citizens in the Southern states so that the "duties and imposts" could be collected there, as he promised in his first inaugural address. To this day, Republican Party propaganda mills like the Claremont Institute and Hillsdale College pretend to offer courses of study in "statesmanship" of the sort that was mocked and ridiculed by Sumner.
If "self-government" for people of the Spanish empire was the ostensible purpose of the war, why was the American public not involved in any way in instigating the war?, asked Sumner. There was not even an opinion poll taken, he pointed out. This point echoes the words of Randolph Bourne in his famous essay, "War is the Health of the State," in which he pointed out that the public never has anything to do with the preparations for war. It is always a dozen or so connivers and schemers in the executive branch of government, hidden even from elected members of congresses and parliaments, who plot and plan forwars.
Was the war merely a public school civics class writ large? Sumner also mocked the idea promoted by the war party that Americans are merely interested in teaching Filipinos about democracy and self-government, and then we will leave. Sumner did not believe that "we" would ever leave the Philippines. We are still there today.
The struggle for world domination (imperialism) is destructive of democracy. Although American military interventionism was being sold to Boobus Americanus as a means of spreading democracy, Sumner pointed out that such tactics had led Spain into monarchy and bankruptcy, but such facts were simply ignored by the American war party.
Why do Americans believe they have a "civilizing mission," Sumner asked. The answer to this rhetorical question lies in the deification of Abe Lincoln by the Republican Party, which in effect was the entire federal government, in the previous thirty-five years. Lincoln's deification led to the deification of the presidency in general, and to the federal government as well. As Robert Penn Warren wrote in his outstanding book, The Legacy of the Civil War, the Republican Party in the post-war years claimed to possess a "treasury of virtue" that supposedly justified anything and everything the government did anywhere on earth by virtue of the fact that it was the American government that was doing it. This is what "justified" American entry into World War I, for instance, wrote Robert Penn Warren. It was given the obnoxious name "American exceptionalism." Sumner noted the absurdity of employing Lincoln's "all men are created equal" rhetoric from the Gettysburg Address to argue that it is somehow "liberating" for people of other countries to be governed by us.
William Graham Sumner warned that "a matter of mind" that views other peoples as "less human" than you would lead to "cruelty and tyranny" by the American government, as was the case with all other governments in history that ruled over empires. This of course was always the way of empires. Southerners were demonized to "justify" the mass murder of tens of thousands of civilian women, children, and old men, and the bombing and burning of entire cities like Atlanta and Richmond during the "Civil War." The Plains Indians were dehumanized as "savages" while the brave men of the U.S. Army murdered tens of thousands of Indian women and children from 1865 to 1890. Now it was the Filipinos' turn. At least 200,000 Filipinos were eventually murdered by the U.S. government for resisting becoming a part of the American empire. According to historian Joseph Stromberg, only about 15,000 of them were actual combatants.
"We must devise a government" for other peoples is another piece of war propaganda that Sumner found to be intolerably arrogant and hypocritical. This argument has been used over and over again by generations of American warmongering and imperialistic politicians. A recent example would be Obama's September 25, 2012 speech before the United Nations in which he praised the dead CIA operative Chris Stevens, who was killed in the attack on the American "embassy" in Benghazi, Libya, after being sent there as Obama's "representative." He was sent there, said Obama, to "craft a vision for a future" for Libya and Libyans.
The next time you witness a large American flag covering the entire football field before an NFL game; or the flyover of fighter jets before a sporting event; or people wearing American flag shirts and pants while watching the "President's Cup" golf tournament (which this year featured a naked female streaker carrying a large American flag); or listen to drunks at a bar cheering and shouting "USA! USA!" while watching American bombs dropped on someone in a foreign country on the bar's boob tube; or attend a church service decorated with flags and listen to a sermon that thanks "our heroes" for murdering people in foreign countries, think of this comment by William Graham Sumner: "The thirst for glory is an epidemic which robs people of their judgment, seduces their vanity, cheats them of their interests, and corrupts their consciences."
The "essence of militarism," Sumner observed, is to despise constitutions, to sneer at parliaments, and to look with contempt at civilians. All the neocon talking heads, from Limbaugh to Hannity and Levin and others, adopted the slogan, "9/11 changed everything" every time someone like Judge Andrew Napolitano would argue that the government was acting in contempt of the Constitution with its warrantless wiretaps, internet and cellphone spying, the PATRIOT Act, etc. All American presidents have simply ignored Congress, for the most part, in instigating wars; and of course all politicians at all times (with one or two exceptions) look with absolute contempt at the average citizen.
Sumner wrote of how the war party of his day was making the "the times have changed" argument for war. This was reminiscent of Lincoln's similar argument that "we must think anew and act anew," by which he also meant "to hell with the Constitution."
Militarism destroys capitalist prosperity, Sumner also warned. He observed that all during the late nineteenth century most Europeans were busy working, investing, starting businesses, and improving their standards of living peacefully under a growing capitalist system with little attention being paid to militarism. Such behavior is absolute poison to the state, however, which considers it to be a mortal enemy. So when European war parties began to militarize, Sumner wrote of how government military spending was crowding out private sector growth so much that European capitalism was being "arrested, diverted, and crippled." This is always the effect of the growth of militarism in particular and of government in general, and in Sumner's time America was about to embark on the very same economically-destructive path as the Europeans had so foolishly done.
How will we know when we have become like the Old European empires?, Sumner asked. His answer was that America would become awash in "war, debt, taxation, diplomacy, a grand-government system, pomp, glory, a big army and navy, lavish expenditures, and political jobbery – in a word, imperialism." This has been a textbook definition of American society for quite a long time now, and becoming more and more so by the day.
"The great foe of democracy is plutocracy," Sumner declared, and militarism always fuels plutocracy. It does so trough "jobbery" (i.e., crony capitalism), diverting the public's attention from their real economic problems, large government expenditures that benefit a few well-connected defense contracting corporations, and large government expenditures and debt that make the strong stronger and the weak weaker." This of course is a precise definition of how the American warfare/welfare state, funded by the Fed, has so greatly enriched the "one percenters" at the expense of almost everyone else, as documented in great detail by David Stockman in his book, The Great Deformation: The Corruption of Capitalism in America, and by Hunter Lewis's Crony Capitalism in America. This is also a major theme of my books, The Real Lincoln; Lincoln Unmasked; Hamilton's Curse; and How Capitalism Saved America.
In light of all this, it is understandable why an acquaintance of mine who is a Yale graduate recently remarked that of all the paintings and photographs of famous Yale professors and alumni that adorn the Yale libraries and other buildings on campus, the image of William Graham Sumner cannot be found.
Thomas J. DiLorenzo is professor of economics at Loyola College in Maryland and the author of The Real Lincoln, Lincoln Unmasked, How Capitalism Saved America,Hamilton's Curse: How Jefferson's Archenemy Betrayed the American Revolution – And What It Means for America Today. His latest book is Organized Crime: The Unvarnished Truth About Government.
Source: Thomas DiLorenzo  |  LewRockwell.com
The inability of the media and politicians to focus on the real issues never ceases to amaze.
The real crisis is not the "debt ceiling crisis." The government shutdown is merely a result of the Republicans using the debt limit ceiling to attempt to block the implementation of Obamacare. If the shutdown persists and becomes a problem, Obama has enough power under the various "war on terror" rulings to declare a national emergency and raise the debt ceiling by executive order. An executive branch that has the power to inter citizens indefinitely and to murder them without due process of law, can certainly set aside a ceiling on debt that jeopardizes the government.
The real crisis is that jobs offshoring by US corporations has permanently lowered US tax revenues by shifting what would have been consumer income, US GDP, and tax base to China, India, and other countries where wages and the cost of living are relatively low. On the spending side, twelve years of wars have inflated annual expenditures. The consequence is a wide deficit gap between revenues and expenditures.
Under the present circumstances, the deficit is too large to be closed. The Federal Reserve covers the deficit by printing $1,000 billion annually with which to purchase Treasury debt and mortgage-backed financial instruments. The use of the printing press on such a large scale undermines the US dollar's role as reserve currency, the basis for US power. Raising the debt limit simply allows the real crisis to continue. More money will be printed with which to purchase more new debt issues needed to close the gap between revenues and expenditures.
The supply of dollars or dollar denominated assets in foreign hands is vast. (The Social Security system's large surplus accumulated over a quarter century was borrowed by the Treasury and spent. In its place are non-marketable Treasury IOUs. Consequently, Social Security is one of the largest creditors to the US government.)
If foreigners lose confidence in the dollar, the drop in the dollar's exchange value would mean high inflation and the Federal Reserve's loss of control over interest rates. It is possible that a drop in the dollar's exchange value could initiate hyperinflation in the US.
The real crisis is the absence of intelligence among economists and policymakers who told us for 20 years not to worry about the offshoring of US jobs, because we were going to have a "New Economy" with better jobs.
As I report each month, not a single one of these "New Economy" jobs has appeared in the payroll jobs statistics or in the Labor Department's projections of future jobs. Economists and policymakers simply gave away a good chunk of the US economy in order to enhance corporate profits. One result has been to create in the US the worst distribution of income of all developed countries and of many undeveloped ones.
In the scheme of things, the enhanced profits are a short-run thing, because by halting the growth in consumer income, jobs offshoring has destroyed the US consumer market. As I noted in a recent column, on September 19 the New York Times reported what I have reported for years: that US median family income has not increased for a quarter of a century. The lack of consumer income growth is why 5 years of massive monetary and fiscal stimulus have not brought economic recovery.
The real crisis cannot be addressed unless the jobs are brought back home and the wars are stopped. As powerful organized interests oppose any such measures, Congress will pass a new debt ceiling and the real crisis will continue.
Do you hear any mention of the real crisis in the media? Today I was on an international TV program for 25 minutes with the chief financial editor of one of England's major newspapers. Little doubt but that he was a good-hearted and intelligent fellow, but he had no capability of thinking outside the box. He was unable to comprehend my explanations, and resorted to regurgitations of the media's ignorance or subservience to Washington's propaganda.
Among his regurgitations was the "solution" of cutting Social Security. The chief financial editor of a major UK newspaper did not know that for the past quarter of a century Social Security revenues exceeded Social Security payments, and that the Treasury spent the surplus to fund the annual operating expenses of the government, issuing non-marketable IOUs to the Social Security Trust Funds.
The chief financial editor also did not comprehend that cutting Social Security payments also cuts consumer spending or aggregate demand, and sends the economy down further, thus magnifying the deficit/debt problem.
Because of the serious decline in the US economy caused by jobs offshoring and financial deregulation, Social Security no longer adds to its surplus. Social Security payments need the supplement to the annual payroll revenues of repayments by the Treasury of the borrowed funds.
The only reasons that Social Security is in trouble is that jobs offshoring and wars have constrained the US Treasury's ability to make good on its debts except by having the Federal Reserve print money. Every job that is sent abroad does not contribute payroll taxes to Social Security and Medicare.
Insouciant American economists say that manufacturing is an outmoded source of employment, but Chinese manufacturing employment is almost equal to the total US labor force in all occupations, including waitresses and bartenders and hospital orderlies. China's economy is growing at a rate of 7.5% in real terms, while Western economies cannot move forward and some are regressing.
In order to appease Wall Street, the most corrupt institution in human history, and to prevent Wall Street-financed takeovers of their corporations, executives destroyed the American consumer market by offshoring American incomes in order to enhance profits by substituting cheap foreign labor for US labor.
In my opinion, the US economy is not salvageable in its present form. The economy is running out of water resources. The supply that remains is being decimated by fracking. The soil is depleted by glysophate, a requirement of GMO agriculture. The external costs of production are rising (the costs that the corporations impose on the environment and third parties) and possibly exceed the value of the increase in corporate output. Economists are incapable of independent thought, and elected representatives are dependent on the private interests that finance their campaigns.
It is difficult to imagine a more discouraging situation.
At this time, collapse seems the most likely forecast.
Perhaps out of the ruins, a new, intelligent beginning might occur.
If there are any leaders.
Paul Craig Roberts was Assistant Secretary of the Treasury for Economic Policy and associate editor of the Wall Street Journal. He was columnist for Business Week, Scripps Howard News Service, and Creators Syndicate. He has had many university appointments. His internet columns have attracted a worldwide following. His latest book, The Failure of Laissez Faire Capitalism and Economic Dissolution of the West is now available.
Source: Paul Craig Roberts
Millions around the world today are hoping the US federal government shuts down at midnight on Monday. Many have thoughts of wars and occupations ending in their regions… but, sadly, this is not part of the "services" that will be cut during a shutdown.
In fact, not only will the Department of Offense continue on as usual but so will all the tyrannical agencies such as the DEA, IRS, ATF, CIA and countless other alphabet soup agencies of oppression.
What will "shut down"? According to CNN these are the Top 10 Ways A Government Shutdown Would Affect Your Daily Life:
1. I'm Proud To Be An American. According to CNN, "the biggest hit would be to the collective psyche. America is the largest economy in the world and a beacon for how democracy ought to work". It is sad if even one person in the US has their "psyche" hurt because of this! It is sad how many people in the US now consider their country/region and the government that rules it as being one in the same. Not to mention that the US was never designed to be a democracy… it was set-up as a Republic and all the founding fathers spoke very warily against any sort of democracy. Democracy, fundamentally, is mob rule and anti-freedom. It is the tyranny of the majority against the minority.
2. Anything Dirty or Dingy or Dusty. It is unbelievable that this #2 reason from CNN warns people of how dramatically their lives will be affected if the federal government shuts down (and this after #1 was that it might hurt their "psyche"). It goes on to say that the only region in the entire country where trash pickup may stop in the event of a shutdown is in Washington, District of Criminals. Hardly a national disaster! And, not to mention, that if that really were the case, free market private enterprise would spring up, like in Detroit, and people would actually have good options for waste disposal rather than a communist style, centrally planned garbage pickup.
3. Money. According to CNN, if you need a loan from the government, you won't be able to get it in event of a shut down. Good! If you are such a credit risk that no one in private enterprise will lend you money then, definitely, the government shouldn't lend you the money they stole from the innocent victims in their tax farm! They also mention that Socialist InSecurity (SS) cheques may stop coming. This is often one of the first things the government tries to scare people with, as Barack Obama did in 2011, during the last event of this type. Why? Because old people vote in much greater numbers than younger people and scaring them with threats of withheld money works. What should really scare them is that both the US government and its SS Ponzi scheme is bankrupt.
4. Ammunition. According to CNN, "A shutdown would affect the Bureau of Alcohol, Tobacco, Firearms and Explosives. Translation: That gun permit you wanted processed wouldn't happen anytime soon". The ATF shutting down would be a wonderful thing. So sad in the "land of the free" that one of the biggest threats to a government shutdown is that you may not get permission from the government to have a gun!
5. Drugs. According to CNN, "The Republicans want to defund Obamacare in exchange for funding the government. But the health care act at the center of this storm would continue its implementation process during a shutdown. That's because its funds aren't dependent on the congressional budget process". CNN is really reaching to find 10 ways this shut down will affect people when they explicitly state that #5 won't affect drugs or Obamacare!
6. The Mail. CNN is really running out of ideas now that they have to bring up the post office, that bankrupt, antiquated, 1800s style of delivering information that the internet, FedEx and UPS rendered it obsolete decades ago. Oh, but here CNN again let's us know that even that embarrassing anachronism won't actually shut down! "You know that whole 'Neither snow, nor rain, nor heat, nor gloom of night' thing? Apparently, the U.S. Postal Service works through shutdowns as well."
7. The Roads! Muh Roads! For the third time in a row CNN says this will be unaffected (what was the point of this list again?). They pitch this one as, "If you drive a car, I'll tax the street" as though to lead you into thinking the roads will close without the federal government, but then they don't mention roads again. Here's what they had to say on it, "You may be thinking, 'No functioning government, no need to pay taxes.' Think again. The Man would continue to collect taxes. U.S. bonds would still be issued. And other essential banking functions would go on". So, here is another one that won't affect you, unfortunately. You still have to pay extortion to the federal government, even if they are "shut down".
8. The Military. CNN says, "The good news (for you) is that the men and women in uniform would continue to keep you safe. "… okay, that's four in a row that won't affect people on a list of 10 ways the shut down will affect you! Instead it is the usual propaganda trying to make people feel like the US military "protects" Americans.
9. Celebrate! Seriously, this is #9 on the list. Here's what they said, "Don't come to work if you're a federal employee. You're on furlough. (Offer not valid for workers in 'critical services,' such as air traffic controllers, hazardous waste handlers and food inspectors.) Do take some time to celebrate. In previous shutdowns, everyone who stayed home was paid retroactively after peace returned to Washington". So, the shutdown is a good thing because millions of federal government employees get a free vacation that will be paid by Americans who will be paying for them to do nothing.
10. National Parks. According to CNN, "Need to get away? Well, you can't. At least not to national parks. Or to national zoos. Or to national museums. They'd all be closed. That's 368 National Park Service sites closed, millions of visitors turned away. Were you thinking more along the lines of a trip to France? If you don't already have a passport, you might have to bid that adieu — you might not get your blue book in time. The last time the government threw a hissy fit, 200,000 applications for passports went unprocessed. Tourism and airline revenues reeled". So, some parks may be shuttered and your permission to travel may be withheld.
That's it? That's the best that CNN can come up with on how a potential government shutdown will affect people? Your psyche may get hurt (if you had a delusional belief in the US government being the same as yourself); there may not be garbage collection in Washington, Den of Criminals; you won't be able to get a federal loan and you may not get permission from the government to have a gun or travel.
And this is what has the mainstream media talking about non-stop?
Of course, if the Federal Reserve did not print the money (QE2Infinity) to keep the US government going with over a $1 trillion deficit per year, 90% plus of what the government does would come to an immediate halt. Then there would be countless very serious things that would "affect your life". Anyone depending on food stamps (which is now over 50 million people), anyone depending on SS to survive would definitely be affected as there'd be no money to pay them. And, not to mention, every bank in the US would be insolvent and all depositor's money would be lost as the FDIC is also bankrupt.
But, we aren't betting on that ever happening. This is democracy, after all. And that means keeping the debts and new money flowing until the economic system collapses as the printing of money causes the eventual demise of the dollar and The End Of The Monetary System As We Know It (TEOTMSAWKI).
This system is now down to two options: massive debt default or massive inflation and neither is particularly good for anyone living in the US. Every major government or empire in history when faced with those two options chose to continue printing money until the currency collapsed.
In either case, what is happening today is nothing compared to what is going to happen. Use this time to prepare and get your assets, and if you can, even your own ass outside of what will be ground zero for this economic collapse, the US.
We talk about all the ways to do that at the TDV newsletter including things like putting your IRA into a self-directed IRA and getting the assets internationalized (into precious metals offshore – like we talk about in Getting Your Gold Out Of Dodge – and foreign real estate like Galt's Gulch in Chile), getting offshore bank accounts and set-up with an offshore corporation for your business endeavors (TDV Offshore), getting a foreign residency or passport (TDV Passports) and, if you have assets over $1 million, using TDV Wealth Management to get the assets safely outside of the blast radius.
What is going on in Washington, DC, today could mean postponing a trip to Yellowstone national park or having delayed garbage pickup in DC itself. What is coming in the next few months and years has the potential to destroy all your assets and leave you devoid of any way of earning income as the economy is totally destroyed by a currency collapse.
The best case scenario for the populace of the US in the long run is for a complete shutdown of the US federal government… But, that collapse is going to be messy and a lot of people are going to get hurt in the short term during that collapse.
Anarcho-Capitalist. Libertarian. Freedom fighter against mankind's two biggest enemies, the State and the Central Banks. Jeff Berwick is the founder of The Dollar Vigilante, CEO of TDV Media & Services and host of the popular video podcast, Anarchast. Jeff is a prominent speaker at many of the world's freedom, investment and gold conferences as well as regularly in the media including CNBC, CNN and Fox Business.
Source: Jeff Berwick  |  The Dollar Vigilante
The goon thug psychopaths no longer only brutalize minorities–it is open season on all of us –the latest victim is a petite young white mother of two small children.
The worse threat every American faces comes from his/her own government.
At the federal level the threat is a seventh war (Syria) in 12 years, leading on to the eighth and ninth (Iran and Lebanon) and then on to nuclear war with Russia and China.
The criminal psychopaths in Washington have squandered trillions of dollars on their wars, killing and dispossessing millions of Muslims while millions of American citizens have been dispossessed of their homes and careers. Now the entire social safety net is on the chopping bloc so that Washington can finance more wars.
At the state and local level every American faces brutal, armed psychopaths known as the police. The "law and order" conservatives and the "compassionate" liberals stand silent while police psychopaths brutalize children and grandmothers, murder double amputees in wheel chairs, break into the wrong homes, murder the family dogs, and terrify the occupants, pointing their automatic assault weapons in the faces of small children.
The American police perform no positive function. They pose a much larger threat to citizens than do the criminals who operate without a police badge. Americans would be safer if the police forces were abolished.
The police have been militarized and largely federalized by the Pentagon and the gestapo Homeland Security. The role of the federal government in equipping state and local police with military weapons, including tanks, and training in their use has essentially removed the police from state and local control. No matter how brutal any police officer, it is rare that any suffer more than a few months suspension, usually with full pay, while a report is concocted that clears them of any wrong doing.
In America today, police murder with impunity. All the psychopaths have to say is, "I thought his wallet was a gun," or "we had to taser the unconscious guy we found lying on the ground, because he wouldn't obey our commands to get up."
There are innumerable cases of 240 pound cop psychopaths beating a 115 pound woman black and blue. Or handcuffing and carting off to jail 6 and 7 year old boys for having a dispute on the school playground.
Many Americans take solace in their erroneous belief that this only happens to minorities who they believe deserve it, but psychopaths use their unaccountable power against everyone. The American police are a brutal criminal gang free of civilian control.
Unaccountable power, which the police have, always attracts psychopaths. You are lucky if you only get bullies, but mainly police forces attract people who enjoy hurting people and tyrannizing them. To inflict harm on the public is why psychopaths join police forces.
Calling the police is a risky thing to do. Often it is the person who calls for help or some innocent person who ends up brutalized or murdered by the police. For example, on September 15 CNN reported a case of a young man who wrecked his car and went to a nearby house for help. The woman, made paranoid by the "war on crime," imagined that she was in danger and called police. When the police arrived, the young man ran up to them, and the police shot him dead.http://www.cnn.com/2013/09/15/justice/north-carolina-police-shooting/
People who say the solution is better police training are unaware of how the police are trained. Police are trained to perceive the public as the enemy and to use maximum force. I have watched local police forces train. Two or three dozen officers will simultaneously empty their high-capacity magazines at the same target, a minimum of 300 bullets fired at one target. The purpose is to completely destroy whatever is on the receiving end of police fire.
US prosecutors seem to be the equal to police in terms of the psychopaths in their ranks. The United States, "the light unto the world," not only has the highest percentage of its population in prison of every other country in the world, but also has the largest absolute number of people in prison. The US prison population is much larger in absolute numbers that the prison populations of China and India, countries with four times the US population.
Just try to find a prosecutor who gives a hoot about the innocence or guilt of the accused who is in his clutches. All the prosecutor cares about is his conviction rate. The higher his conviction rate, the greater his success even if every person convicted is innocent. The higher his conviction rate, the more likely he can run for public office.
Many prosecutors, such as Rudy Giuliani, target well known people so that they can gain name recognition via the names of their victims.
The American justice (sic) system serves the political ambitions of prosecutors and the murderous lusts of police psychopaths. It serves the profit motives of the privatized prisons who need high occupancy rates for their balance sheets.
But you can bet your life that the American justice (sic) system does not serve justice.
While writing this article, I googled "police brutality," and google delivered 4,100,000 results. If a person googles "police brutality videos," he will discover that there are more videos than could be watched in a lifetime. And these are only those acts of police brutality that are witnessed and caught on camera.
It would take thousands of pages just to compile the information available.
The facts seem to support the case that police in the US commit more crimes and acts of violence against the public than do the criminals who do not wear badges. According to the FBI crime Statistics http://www.fbi.gov/about-us/cjis/ucr/crime-in-the-u.s/2010/crime-in-the-u.s.-2010/summaryin 2010 there were 1,246,248 violent crimes committed by people without police badges. Keep in mind that the definition of violent crime can be an expansive definition. For example, simply to push someone is considered assault. If two people come to blows in an argument, both have committed assault. However, even with this expansive definition of violent crimes, police assaults are both more numerous and more dangerous, as it is usually a half dozen overweight goon thugs beating and tasering one person.
Reports of police brutality are commonplace, but hardly anything is ever done about them. For example, on September 10, AlterNet reported that Houston, Texas, police routinely beat and murder local citizens. http://www.alternet.org/investigations/cops-are-beating-unarmed-suspect-nearly-every-day-houston?akid=10911.81835.yRJa7d&rd=1&src=newsletter894783&t=9&paging=off
The threat posed to the public by police psychopaths is growing rapidly. Last July 19 the Wall Street Journal reported: "Driven by martial rhetoric and the availability of military-style equipment–from bayonets and M-16 rifles to armored personnel carriers–American police forces have often adopted a mind-set previously reserved for the battlefield. The war on drugs and, more recently, post-9/11 antiterrorism efforts have created a new figure on the US scene: the warrior cop–armed to the teeth, ready to deal harshly with targeted wrongdoers, and a growing threat to familiar American liberties."
The Wall Street Journal, being an establishment newspaper, has to put it as nicely as possible. The bald fact is that today's cop in body armor with assault weapons, grenades, and tanks is not there to make arrests of suspected criminals. He is there in anticipation of protests to beat down the public for exercising constitutional rights.
To suppress public protests is also the purpose of the Department of Homeland Security Police, a federal para-military police force that is a new development for the United States. No one in their right mind could possibly think that the vast militarized police have been created because of "the terrorist threat." Terrorists are so rare that the FBI has to round up demented people and talk them into a plot so that the "terrorist threat" can be kept alive in the public's mind.
The American public is too brainwashed to be able to defend itself. Consider the factthat cops seldom face any consequence when they murder citizens. We never hear cops called "citizen killer." But if a citizen kills some overbearing cop bully, the media go ballistic: "Cop killer, cop killer." The screaming doesn't stop until the cop killer is executed.
As long as a brainwashed public continues to accept that cop lives are more precious than their own, citizens will continue to be brutalized and murdered by police psychopaths.
I can remember when the police were different. If there was a fight, the police broke it up. If it was a case of people coming to blows over a dispute, charges were not filed. If it was a clear case of assault, unless it was brutal or done with use of a weapon, the police usually left it up to the victim to file charges.
When I lived in England, the police walked their beats armed only with their billysticks.
When and why did it all go wrong? Among the collection of probable causes are the growth or urban populations, the onslaught of heavy immigration on formerly stable and predictable neighborhoods, the war on drugs, and management consultants called in to improve efficiency who focused police on quantitative results, such as the number of arrests, and away from such traditional goals as keeping the peace and investigating reported crimes.
Each step of the way accountability was removed in order to more easily apprehend criminals and drug dealers. The "war on terror" was another step, resulting in the militarization of the police.
The replacement of jury trials with plea bargains meant that police investigations ceased to be tested in court or even to support the plea, usually a fictitious crime reached by negotiation in order to obtain a guilty plea. Police learned that all prosecutors needed was a charge and that little depended on police investigations. Police work became sloppy. It was easier simply to pick up a suspect who had a record of having committed a similar crime.
As justice receded as the goal, the quality of people drawn into police work changed. Idealistic people found that their motivations were not compatible with the process, while bullies and psychopaths were attracted by largely unaccountable power.
Much of the blame can be attributed to "law and order" conservatives. Years ago when New York liberals began to observe the growing high-handed behavior of police, they called for civilian police review boards. Conservatives, such as National Review's William F. Buckley, went berserk, claiming that any oversight over the police would hamstring the police and cause crime to explode.
The conservatives could see no threat in the police, only in an effort to hold police accountable. As far as I can tell, this is still the mindset.
What we observed in the police response to the Boston Marathon bombing suggests that the situation is irretrievable. One of the country's largest cities and its suburbs–100 square miles–was tightly locked down with no one permitted to leave their homes, while 10,000 heavily armed police, essentially combat soldiers armed with tanks, forced their way into people's homes, ordering them out at gunpoint. The excuse given for this unprecedented gestapo police action was a search for one wounded 19-year old kid.
That such a completely unnecessary and unconstitutional event could occur in Boston without the responsible officials being removed from office indicates that "the land of the free" no longer exists. The American population of the past, suspicious of government and jealous of its liberty, has been replaced by a brainwashed and fearful people, who are increasingly referred to as "the sheeple."
Paul Craig Roberts was Assistant Secretary of the Treasury for Economic Policy and associate editor of the Wall Street Journal. He was columnist for Business Week, Scripps Howard News Service, and Creators Syndicate. He has had many university appointments. His internet columns have attracted a worldwide following. His latest book, The Failure of Laissez Faire Capitalism and Economic Dissolution of the West is now available. http://www.paulcraigroberts.org/
Source: Paul Craig Roberts
"A really efficient totalitarian state would be one in which the all-powerful executive of political bosses and their army of managers control a population of slaves who do not have to be coerced, because they love their servitude. To make them love it is the task assigned, in present-day totalitarian states, to ministries of propaganda, newspaper editors and schoolteachers . . . . The greatest triumphs of propaganda have been accomplished, not by doing something, but by refraining from doing. Great is truth, but still greater, from a practical point of view, is silence about truth." ~ Aldous Huxley
Hello, welcome, come on in. Please find a seat. I'm excited to be here with you today; we will take a look at how public opinion is so easily molded by promoters of the state. Many of us use the word "propaganda" a lot and it's helpful to understand some basics about what propaganda is and how it is used. Messages released through traditional media organs can now be more effectively challenged directly by interested persons from outside the media priesthood, thanks to the Internet. Until we do this more effectively there will continue to be a trend of hyperactivity towards the police state at home and abroad and the serial-warring will continue. So, here we are; let's get to it.
The word "propaganda" is often used when trying to explain how the state has been able to maintain such a powerful stranglehold over the collective imagination. Propaganda walks the fine line between what is known and what is purposely hidden while appealing to base emotions of fear and loyalty. Americans have been conditioned to react to this word by associating it with words like Nazi, Fascist, Communist and Terrorist. Basically, propaganda is what Bad Guys do, not Good Guys. Why would Good Guys do anything but tell the truth, the whole truth and nothing but the truth?
You see, Good Guys don't control the media and good old capitalist media hacks are just giving the people what they want. Right? So, when you say "propaganda," many people will immediately think that there is no way "our professional journalists" and "our politicians" could possibly do anything so awful to the good people of the United States of America as to inseminate the seed of propaganda into the Red, White and Blue body politic. No sir-ree, only conspiracy theorists believe stuff like that. Only Bad Guys do that and "we," by definition, are the Good Guys. Now back to reality.
The traditional media machine is sold as being a necessary social institution, completely outside of the state (except for licenses – but don't mind them), that wields a mighty pen with righteous indignation at political scandals and as giving The People a "voice." The Third Rail of politics is used to "keep them honest" or "keep their feet to the fire," for noble purposes, of course, like, say Social Security, Health Care, the Drug War or bombing foreigners. Because these trained and certified journalists had to work their way up the corporate ladder, honing their integrity, sense of honesty and desire to speak truth to power! But, gasp, people today look to the Internet and read ideas written by people who didn't study in the media education mills or learn to kiss the right spots on the behinds of the right people! The self-serving glorification of mainstream media persons can only be surpassed by politicians themselves. The good news is that liberty has a golden opportunity today because this monopoly on the communication of ideas to the masses controlled by the melded interests of the state and big corporations has been disrupted by new technology.
The manipulation of messages to promote favorable outcomes for a messenger when interpreted by those receiving the message is as old as the first handshake. But how that message is delivered has changed profoundly a few notable times, including the most recent iteration over the past 150 or so years. The written word, developed thousands of years ago, changed communication with the masses from a very personal event with lots of shouting to a non-personal event that put the focus of thought onto the words themselves. It changed everything in society, some good and some not so good. The elite always have used their influence to promote conditions that ensure and/or expand their positions and advantages, often at the expense of the common man. This is not new; however, it has become more complex over the ages.
When the printing press came along in the Middle Ages, it allowed for many copies of written ideas to be distributed simultaneously; this changed how society organized again. The world gets smaller with each advance in communication technology. The most recent step with computers is a continuation of the electronic communications revolution started in the mid to late-1800s. The inventions of telegraph, telephone, radio and television communications made distances literally disappear for people spreading ideas far and wide. The computer has combined all of these technologies into one platform. Now there is a race between liberty and the state seeking to squelch the freedom of ideas in society with laws, regulations, licenses and official messages crowding out the truth.
The term propaganda has its roots in the writings of the Medieval Catholic Church priests wishing to propagate their faith to wider audiences using the new technology: the printing press. Machiavelli wrote a popular book for monarchists that incorporated some age-old theocratic tactics and strategies for modern (at the time) use. Hitler is often given credit for the modern resurgence of propaganda with his use of rituals, including nighttime rallies, fire, symbolism, loudspeakers, mass printing of pamphlets, film distribution, and radio transmissions as well as his autobiographical best-selling book Mein Kampf. But it is Edward Bernays, the nephew of Sigmund Freud and the man known as the "father of public relations" in the United States that deserves the real credit for modern propaganda. I don't have the time today to go into a detailed history, so please do a search for Edward Bernays for a little interesting homework on the man who inspired the use of modern propaganda.
I want to spend the rest of our limited time looking at a recent article in the mainstream media as a case study in how crude propaganda is passed off of as serious journalism. It goes on everyday in every country, hidden in plain sight. Lies implying the "why" mixed-in with the hard, cold facts of who, what, where and when told by messengers posturing as journalists simply reporting impartial facts to We the People; their agendas hidden behind the façade of good intentions and given legitimacy by official blessings. These statist scribes are the perpetrators of never-ending war as they advertise a continuum of ridiculous propaganda phrases like "Making the World Safe for Democracy," "World's Policeman" and "War on Terror."
First and foremost, propaganda must maintain the veil of legitimacy by speaking with authority. Power (of Authority) is to be reckoned with is the theme of all primary communications. Further, the faithful must always kneel to the powerful or society will fall apart is the subtext to all statist propaganda. Authority must be seen as the savior of society, so the people will ignore the universal faults of the state's all too human agents. A good example of this in the run-up to the "strike" on Syria using "precision bombing" is the recent piece by Chuck Todd, NBC News Chief White House Correspondent called "The White House Walk-and-Talk That Changed Obama's Mind on Syria." I didn't choose this example because it is exceptional, quite the contrary, it is all too typical and you have probably read countless versions of the same message in all of the mainstream media organs.
First, a picture is inserted showing the powerful, wise leaders in deep thought as they weigh the fate of the world on the scales of justice. This helps to establish the authority of the words that follow. Then it's simply the Hegelian Dialectic writ large. Party A's political agenda (thesis) is reported and discussed along with the opposing political agenda of Party B (anti-thesis). Then what results is not the clear triumph of either argument, it is the advancement to a "superior" argument C (synthesis). Position C was the elite objective all along and now the process starts over again. This is how each step on the path to perpetual war is so seamless no matter who occupies the chairs at the table of authority. Both sides are allowed occasional meaningless victories to shore up their base and stay in the game, but true victory is ever elusive and defeat always on the horizon. This is the futile system of organizing society we have inherited and glorify; a system based on lies and obfuscation to ensure elite control of the debate. We can do better.
Here is the link to the whole article published on August 31, 2013 at NBCNews.com.
Here is the picture of the official deciders provided by official photographers and released by official spokespersons with caption, by-line and intro:
White House
President Barack Obama meets with his national security advisers in the White House Situation Room on Saturday to discuss strategy in Syria. Chief of Staff Denis McDonough is fourth from right.
By Chuck Todd, NBC News Chief White House Correspondent
A stroll around the White House grounds with his top adviser on Friday evening changed President Barack Obama's mind about getting Congress to sign off on a military strike in Syria, senior White House officials told NBC News.
Obama had been leaning toward attacking Syria without a congressional vote for the past week, the officials said. Obama was convinced he had the evidence to back up a strike and as a result dispatched Secretary of State John Kerry to make a passionate case for U.S. action. But only hours after Kerry called Syrian President Bashar al-Assad "a thug and a murderer" and accused his regime of using chemical weapons to kill 1,429 people, Obama changed his mind as he walked across the South Lawn with Chief of Staff Denis McDonough, the officials said.
NBC's Chuck Todd says up front these powerful wise men met to "discuss strategy in Syria," but it is really to discuss strategy for how to get away with bombing Syria. The strategy of bombing Syria is de facto assumed from the start: the leader of the little state on the other side of the world is "a thug and a murderer," so therefore, the leader of the big state must bomb the people of the little state until they overthrow their leader. Isn't that the definition of terrorism? State murder is referred to as a strategy, while independent murder is terrorism.
Todd then describes the political process for seeking congressional authorization for a strike on Syria, and says that the president's decision to wait on Congress is a departure from 30 years of strengthening executive branch power. Thus, Our Fearless Leader is not afraid to go his own way to do the right thing and is a Man of the People.
Obama's National Security Council had believed since last weekend that requiring a vote was not even on the table and that "consultation" in the form of congressional briefings and behind-the-scenes conversation was all that would be needed before a strike. One senior official noted that no key leaders in Congress had specifically requested a vote on military intervention.
Officials said that after the president met with national security advisers on Aug. 24, they determined the evidence showed Syria's Assad regime had used chemical weapons in an attack earlier this month. At that time, the president indicated he was leaning toward a strike.
Note the use of institutional words describing mere mortal men to give these deciders the anointing of authority to "strike" at the enemy. These experts "determined the evidence" does indeed support their agenda, as if it could have been any other way. Our Fearless Leader was only "leaning toward a strike."
But a growing number of Congressional members were beginning to question the administration's strategy by the end of the week. And an NBC News poll released Friday morning showed that nearly 80 percent of Americans agreed that the president should seek approval in advance of taking military action.
Ah, so the legitimacy of initiating violence and raining bombs upon foreign peoples who are not a threat to this politician's constituency is undermined by his constituency opposing his attack. Our Allies seem to be having the same problem; this is nasty business in a purported democracy, but just a speed bump for the propagandist to navigate. Note that the article doesn't say that Congress questioned the President's strategy of bombing Syria, just his strategy of how to accomplish this already determined goal by selling that agenda.
While Obama's advisers argued Friday night in private that the humiliating defeat for Cameron starkly illustrated the risks of asking for congressional input, the president responded that the vote in Parliament demonstrated exactly why he should seek a vote on this side of the Atlantic, senior officials told NBC News.
And, the president insisted, seeking legislative backing was the approach most consistent with his philosophy. While debate within the administration continued into late Friday, by Saturday morning the senior advisers acquiesced.
President Obama says the nation should and will take action against the Syrian government, but not without congressional approval.
So President Obama has already made up his mind to bomb Syria, but he wants Congress to publicly back his decision so that when the action goes bad, he can spread the blame around. Congress, on the other hand, wants Obama to order the missile attack on Syria, but is afraid of the voters and doesn't want to go on record endorsing it. It's all "legal," you know, for the emperor to bomb whoever he wants whenever he wants, but it would just be more "consistent with his philosophy" if he had some public support. This entire session was over the timing of the attack with the major concern being getting re-elected, not doing the right thing.
The president also noted, "while I believe I have the authority to carry out this military action without specific congressional authorization, I know that the country will be stronger if we take this course, and our actions will be even more effective."
White House aides said they are fairly confident that Congress will grant them the authority to launch a strike, although they maintain that Obama would be acting within his constitutional authority even if Congress rejects the authorization and Obama orders military intervention.
There's an upside to that cooling-off period too, aides said. The delay gives Obama time to make his case to Congress and to keep pushing for international support.
This is the purpose of the article: to "make the case" for a strike. Notice again how the article is careful not to frame the decision as being one between attacking and not attacking Syria, but of how to sell a decision that has already been made. The only question is timing. The rest of the article is pure hypocrisy and emotional appeals seeking to give the impression that killing Syrians is the moral thing to do. Pure theater of the absurd promulgated by a willing hack posing as a "journalist."
Now, is there some apparatchik sitting in a US Ministry of Propaganda giving orders to NBC newsmen or any other mainstream media hacks about what to write and publish? No, there doesn't have to be, which is worse, because dribble like the above article is seen as "independent" and "just reporting the news." And it is well written for accomplishing its purpose. However, does it even hint that there is a case for non-intervention? No. Does it ever mention that the "rebels" being supported by Obama and his minions are "thugs and murderers"? No. Does it say that evidence has been provided indicating that the surrogate terrorists seeking to overthrow the Syrian leader have used chemical weapons, originally started the conflict and are mostly from other Arab countries allied with the US? Of course not, because that does not promote the official agenda.
The fact that this attack has not yet occurred is testament to the power of the Internet and how it affects public opinion. Even just ten years ago, the emperor could send out some trumped up evidence (e.g. yellow cake purchases) against the hated dictator-of-the-month who stopped being useful to their CIA handlers and these lap dog journalists would fight over who could exaggerate the official propaganda the most. Today it is common knowledge that the US government and its surrogates have been backing "thugs and murderers" in Syria and that they have not been successful. Since these agents of death and mayhem are failing at their assignment to overthrow the Syrian dictator, the US government felt compelled to escalate the killing by becoming directly involved.
Ten years ago, the missiles would already be raining down on the water, sewer and electric plants of Syria in "precision strikes," causing even greater human misery. You see, these brilliant strategic thinkers believe that the way to "save" people from their dictators is to destroy their society and its infrastructure, thus starving the people that aren't directly killed by missiles and bombs. This then necessitates an occupation with "boots-on-the-ground" (that will be denied will ever happen right up to the time they "must" be sent in) to help them partially rebuild what was destroyed, also to be paid for by US taxpayers. And, of course, this requires giant embassies and military bases to be built by government contractors around the country. How long this game plan can be delayed is hard to foresee, but I doubt that it can be avoided for long, given the sociopathic powers that be. Still, this delay reveals that the elite recognize their grip on popular opinion is waning.
In the interests of full disclosure, it should be noted here that President Obama really didn't make this decision himself, as it was made years ago by his superiors in the so-called military-industrial-complex. Obama is just the current Puppet-in-Chief trying to sell more wars to the American public. Just listen to this short excerpt from an interview of General Clark. Here is the main point:
GEN. WESLEY CLARK: …I knew why, because I had been through the Pentagon right after 9/11. About ten days after 9/11, I went through the Pentagon and I saw Secretary Rumsfeld and Deputy Secretary Wolfowitz. I went downstairs just to say hello to some of the people on the Joint Staff who used to work for me, and one of the generals called me in. He said, "Sir, you've got to come in and talk to me a second." I said, "Well, you're too busy." He said, "No, no." He says, "We've made the decision we're going to war with Iraq." This was on or about the 20th of September. I said, "We're going to war with Iraq? Why?" He said, "I don't know." He said, "I guess they don't know what else to do." So I said, "Well, did they find some information connecting Saddam to al-Qaeda?" He said, "No, no." He says, "There's nothing new that way. They just made the decision to go to war with Iraq." He said, "I guess it's like we don't know what to do about terrorists, but we've got a good military and we can take down governments." And he said, "I guess if the only tool you have is a hammer, every problem has to look like a nail."
So I came back to see him a few weeks later, and by that time we were bombing in Afghanistan. I said, "Are we still going to war with Iraq?" And he said, "Oh, it's worse than that." He reached over on his desk. He picked up a piece of paper. And he said, "I just got this down from upstairs" — meaning the Secretary of Defense's office — "today." And he said, "This is a memo that describes how we're going to take out seven countries in five years, starting with Iraq, and then Syria, Lebanon, Libya, Somalia, Sudan and, finishing off, Iran." I said, "Is it classified?" He said, "Yes, sir." I said, "Well, don't show it to me." And I saw him a year or so ago, and I said, "You remember that?" He said, "Sir, I didn't show you that memo! I didn't show it to you!"
Well, there you go. That's all we have time for today and I'm afraid I've already gone long. I hope that when you read and listen to "the news" or "official statements" that you remember to use your propaganda filter and take it with a grain of salt. Challenge official lies whenever and however you can. And when these shameless liars start waving the flag to inspire you to give up more treasure and blood for big corporations and their political machines, don't fall for it. Remember, real Good Guys don't need propaganda if they are doing the right thing. So stand up to the powerful media mavens and be heard because your voice is just as legitimate as any journalist's. Speaking truth to power is essential if we are to break the cycle of endless war. Thank you for coming.
Source: Mark Davis | Strike the Root
Will 1000 American 'human shields' stop another criminal war?
Damascus – A sort of roller coaster atmosphere pervades Damascus these days with "good" and "bad" news rising and falling, often by the quarter hour. Much of the population is monitoring closely the news and quickly expressing their interpretations of the latest media reports and rumors as well as predicting the fairly precise timing of the now assumed American attack on their country.
In the very popular, and normally crowded Abaa Coffee House on the edge of the old city in what is called the Sarugha section, students and others enjoy the fine cool mist, as Damascenes have done for years, that is sprayed from ceiling pipes to provide welcome relief from the 37 degree Celsius (98 degrees F) outside temperatures. Many are clued to their laptops and/or in animated conversation analyzing the likely extent and timing of the soon believed to be arriving American missiles.
This observer often meets interlocutors in the Abaa because it's very pleasant, large with dozens of tables, cheap and two blocks from my hotel.  I have noticed that common greetings are changing from "kif hallack"  " (how are you?)  and "Arak lahekan" (see you later)  to "Get  home safely" and "Good luck with the checkpoints."
But there is also a distinct growing esprit de corps and a broad coming together of much of the population here as the countdown to the American attack on Syria begins.  An evident rallying around the Assad regime, which one presumes is the opposite of what the White House was hoping would result from its threats.
A good friend from the Syrian Arab Red Crescent Society (SARCS) an humanitarian organization doing amazing rescue, and medical services for Syrians and Palestinians during this expanding crisis, described one way that her friends are preparing for the American attack.  "We gathered our important documents, birth, marriage certificate and passport and made photo copies.  Then we leave them with friends in "safe" areas or even bury them somewhere. No one knows how bad the Americans will bomb us. At work we have been told during our final practice drill last Saturday that the next siren will be the 'real thing' and we will do as we have planned for." She added, "Many of my friends and family are leaving but it's not easy and is very expensive now to go to Lebanon and they don't want us– and my family has decided to stay in our home no matter what happens in the coming days."
One common topic being discussed is the reluctance of the American public to attack Syria and how Obama can ignore it.  "What kind of Democracy do you have that your President can ignore the will of the American public?"  this observer is frequently asked.  One soldier who is stationed with his unit just outside my hotel seemed to speak from his heart: "You Americans claim you are trying to help the Syrian people.  Every child knows, both here and in your country I think, that the coming attack will make things much worse for the Syrian people and many others. The American people are good and we hope they can control their government, but we are preparing for the worst and there will be consequences you will come to regret as with Afghanistan, Iraq and Libya."
The government here is assuring the public that Syria is ready for the American attack and that public services will continue.  TV channels show around the clock images of heroic Syrian army exploits with marital and patriotic music. Youngsters, students and workers are gathering at presumed targets offering themselves as Human Shields in solidarity with their countrymen while challenging President Obama to bomb their beloved Syria.
Interestingly, an International Human Shield movement is coalescing according to informed sources here and abroad. One initiative is to bring 1000 Americans and thousands of others, to Syria within the next ten days to guard likely bomb sites reminding one of the International Solidarity Movement international volunteer's efforts in Occupied Palestine in order to try to protect homes of Palestinians from Government bulldozing.
Some redacted specifics have been disclosed to this observer from an international organizing committee working around the clock on this Human Shield initiative.
Some descriptive excerpts:
"International Human Shields are planning on coming to Syria in solidarity with the Syrian people and in an effort to send a global message and hopefully deter an American attack next week."
"Timing – While moves can be made fast and with all other key elements in place, time is not in our favor.  Ten mores days for preparation would be ideal. The HS initiative assumes that it must be done in such a way that very little time lapse from the official announcement of the action to the actual arrival of the Human Shields on the ground in Syria."
" Impact – In order to achieve a significant impact having at least 1000  Americans and several thousand international Human Shields deployed in Syria is the objective. With ideally at least one representative from every UN Member State, as evidence of the true 'international community' opposing the American attack.
The US activist-based steering committee is quickly bringing together professionals in IT, marketing, logistical planning and implementation, spokesperson(s), public relations, accounting, documentarians, and experienced project managers. Ferries from European ports are to be arranged to carry significant numbers of Human Shields from Major European cities. Ideally, several jumbo jets will be chartered to carry human shields from some of the world's major cities and use of land convoys are under consideration.
An excerpt:  "HS/Government Relations – The first objective of the enemies of Syria will be to portray Human Shields as nothing more than pawns of President Bashar al-Assad. This was precisely what the mainstream media did in 2003, presenting Human Shields as pawns of Saddam.  In order for the Human Shields to have power they must be seen as independent supporters of the people of Syria who represent the will of the vast majority of people around the world who oppose the pending US-led western attack. The HS should however work with prominent leaders in the civilian sector of Syrian society and great effort should be made to produce daily news stories of the Human Shields and Syrian people working together to protect Syria from the ongoing foreign instigated aggression. There are once again many details here and these would need to be discussed and agreed if any action will be able to reach its full potential."
"Strategy – The sites that Human Shields deploy to must be very well publicized and these sites must be identified as protected sites under the Fourth Geneva Convention. The White House is saying that they are not going to attack infrastructure (as they did with Iraq in 2003), but they must attack the infrastructure as the goal is to drive Syria into the stone age and make it so weak that Israel will through its agents eventually take Syria over. They know that the Syrian people and military cannot be defeated without massive attacks on the infrastructure.
So it is absolutely vital that all power plants, water treatment facilities, bomb shelters (if they exist), civilian communications sites, food storage sites and other such sites that are critical to the civilian population are the primary if not sole focus of sites for the HS to deploy. They cannot deploy to military sites, although I personally feel this is morally defensible, it will neutralize the power of the HS in the public relations realm and intelligent public relations is absolutely critical.
A comprehensive list of protected sites is to be produced immediately and these sites will need to be verified by the most independent sources we can manage to obtain. UN representatives or former representatives would be great, human rights attorneys, legal experts and others of this type are very useful.
There will be room to deploy to sites not specifically listed in the Fourth Geneva Convention, such as with ethnic and religious minority communities who are deathly afraid of the foreign invaders/terrorist. Special emphasis should be placed on Christian populations as the western audience sadly has more sympathy for Christians than Muslims. "
"Our goal is to personalize the people of Syria and show their suffering through the eyes of the HS with effective daily reports to be uploaded on the Internet and reported by legitimate news agencies such as Press TV, RT and Telesur. A massive effort must be made to educate the public about the reasons for the Fourth Geneva Convention (FGC) and the imperial powers undeniable record of knowingly destroying the lives of 'protected persons' as defined in the FGC. There must be high quality, well-spoken Arabic/English speaking spokespersons.
We should be ready to provide evidence of any attack on such sites the moment it happens and have legal briefs prepared to immediately charge the aggressors with war crimes. This is why it is critical that the HS are almost exclusively at sites that are protected by the FGC."
The Action Plan concludes: "We cannot necessarily stop them from doing what they intend to do, but we can make their aggression harm them far more than Syria and its people in the end. Herein lays the power, using the enemies momentum against him in the most powerful way possible.
Time will tell which Americans will arrive first in Syria, the military or the American public.  Many Syrian are today praying it will be the latter and have pledged to join them to defeat the coming aggression.