The power of moral sanction is something Wall Street takes very seriously. So seriously, in fact, that over the last two decades, hostile takeovers of authentic civil society organizations, known for exercising moral sanction (i.e., Sierra Club and Pacifica Radio Network), have evolved into full-fledged displacement by corporate false fronts (i.e., Avaaz and 350).
While the membership-based Sierra Club and Pacifica Radio Network fought back and reclaimed their boards of directors, false fronts and compromised NGOs (i.e. Amnesty International USA) have become what is known as imperial civil society. Used to justify privatization, austerity, and military aggression by NATO and the US, they reflect a perversion of moral sanction.
As Maximilian Forte writes in Civil Society, NGOs, and Saving the Needy, the main purpose of the burgeoning civil society fad – that comprises the international bureaucracy of neoliberalism – is to legitimate anti-democratic politics. In order to take over basic functions and powers of the state, this bureaucracy – engaged in development, governance and aid – justifies itself by creating a "need," thereby cornering the market on "humanity."
With corporate and government funding, often laundered through banks and foundations, international NGOs inspire pathos by constantly producing images of despair — thus allowing them to dominate discourse from an emotional vantage point. As a market-oriented institutional apparatus, this vast bureaucracy works hand in hand with military and finance authorities, thus functioning as Trojan horses on a par with transnational organized crime.
As a fifth column of fascism, imperial civil society – funded by such entities as Rockefeller Brothers Fund, Ford Foundation, and Soros Open Society Institute – operates worldwide (in tandem with official false fronts like USAID, National Endowment for Democracy, and US Institute for Peace) to subvert sovereignty and derail democracy in favor of US hegemony.
Overthrowing and destabilizing governments, using NGOs like Avaaz as provocateurs, puts authentic non-profits and journalists at risk. Indeed, the imperial network of financiers like Soros makes NGO entrepreneurs in the pro-war champagne circuit accomplices in crimes against humanity. As frontline opportunists in the psywar waged against public consciousness, these false fronts legitimate "humanitarian warfare" and "free-market environmentalism," employed against indigenous peoples and independent states.
With help from Ford, Rockefeller, Gates and Soros, imperial civil society is admittedly a formidable foe, but not an invulnerable one. Built on a foundation of fraud, the power of moral sanction they have hijacked can effectively be turned against them. While false fronts are able to dominate social media, they do not own our minds; they are merely social engineers operating under false pretenses that we can reject at will.
Jay Taber is an associate scholar of the Center for World Indigenous Studies, a contributing editor of Fourth World Journal, and a featured columnist at IC Magazine.
Source: PressTV
Appearing in part 1 is the phrase "low-information voter" (LIV) which is oft used by a popular radio talk show host.  The host suggests that those who make up this population set are individuals who vote for a candidate or important issue having little or in most cases zero knowledge about either.  LIVs are highly opinionated even when they have no idea what they're talking about.
Also included in part 1 was the following quote from D. Edmund Wright.  I appreciate the way he expands on the LIV concept:
But forget low-information voters for just a minute; the malignancy that is really destroying this country is low-information people with high-profile power and/or influence.  You know, people who would lobby for, comment on, advocate for, or vote on laws like ObamaCare without any understanding of its real-world impact.  Such felonies are then carried out by low-information bureaucratic microbes with the power to destroy lives and businesses with impunity, and a political and talking-head class with the access and sway to codify these common malfeasances. Destruction of private property and liberty – and these two concepts are not divisible – takes place in government cubicles every minute of every day across the country.  And why not?  (Source – emphasis in original)
His thoughts fit nicely with what I've come to believe about many leaders in the evangelical community.  Specifically, a large number of them are uninformed people with high-profile power and/or influence.  The LIVs Wright's pointing a finger at are liberals.  Likewise many of the evangelicals that came to mind for me are liberals but because liberal has a negative connotation they prefer "progressive Christian" or "social justice Christian." Take your pick.  But whichever one you go with has its roots in communism.
So to Christianize the LIV phrase I simply changed "voter" to "evangelical," thus it became "low-information evangelical" (LIE).   I defined the LIE in this way:
Reminiscent of the LIV, the high-profile LIE does not understand the impact that his unorthodox view has on the visible church.  When it comes to the Bible, the LIE has opinions on a variety of challenging topics.  Even when his opinion is decidedly unbiblical, he presents it as the gospel truth.  The LIE's arguments are often based, not on what God's Word clearly teaches but instead on esoteric experiences he's had or what he's picked up from LIE celebrities.  
More on esoteric experiences in a moment.
There's also a group of evangelicals that fall into the category of undistinguished LIE (ordinary folk).  The term I bestowed on them is u-LIE.  This group is also uninformed on many things (both Christian and otherwise).  They are often biblically illiterate.  In part 1 I made this observation:
Sadly, some undistinguished low information evangelicals (u-LIEs) assume that popular pastors, teachers and best-selling authors would never steer them wrong.  But nothing could be further from the truth!
Last but not least, I coined the phrase LIE-celebs.  These individuals are prominent Christian leaders who are uninformed people with high-profile power and/or influence.  Many of them are false teachers who do not speak for God.
LIE-celebs And Their Vain Hopes
God tells us how we are to handle false teachers:
Thus says the LORD of hosts: "Do not listen to the words of the prophets who prophesy to you, filling you with vain hopes. They speak visions of their own minds, not from the mouth of the LORD." (Jeremiah 23:16).
We are to pay these folks no mind.
One example of a LIE-celeb is popular women's Bible teacher Beth Moore.  In part 1 I reported on Moore's claim that she receives personal direct revelation from Almighty God.  In other words, God tells her things.  According to her, He calls her "baby" and "honey."  I'll have more to share on this modern day prophetess in a moment.
LIE-celeb Joyce Meyer also claims that she receives extra biblical revelation or "revelation knowledge" from the Almighty.  Both Moore and Meyer's respective claims clearlydeny the sufficiency of Scripture.   Equally troubling is that Joyce holds to heretical Word of Faith (WoF) theology.  So naturally her students are swallowing the poisonous prosperity health and wealth gospel that does not save anyone.  Following is an erroneous assertion made by her:
The Bible can't even find any way to explain this. Not really.  That is why you have got to get it by revelation. There are no words to explain what I am telling you. I have got to just trust God that he is putting it into your spirit like he put it into mine. (Source)
Why do I say this is erroneous?  Because it's not taught in the Bible.  She made it up.  How do I know this?  I searched the scriptures.  (Acts 17:10-15)   Nowhere does Scripture teach that God's people are given special "revelation knowledge."
"The fact that contemporary evangelicals seek 'fresh' revelations from God," says Larry DeBruyn, "indicates that they no longer consider Holy Scripture to be sufficient and authoritative in matters of faith (2 Timothy 3:16). This seeking is Gnostic and mystic.  Harvie Conn …a former missionary in Korea, noted that the 'central feature of mystical religion is its 'belief in special revelation outside the Bible.' Yet if the Bible is no longer considered sufficient, the coming of "new revelations" raises the following conundrum. I repeat it.
"If added revelations repeat what's in the Bible, they are unnecessary. If new revelations contradict the Word of God, they are heresy. And if they supplement God's Word, then the new revelations imply Scripture's insufficiency, and about this Proverbs warns: 'Add thou not unto his [God's] words, lest he [God] reprove thee, and thou be found a liar' (Proverbs 30:6, KJV)." (Source – emphasis added.)
Gnosticism is esoteric mysticism – a desire to "know the unknowable."  One of the obstacles the early church faced was Gnosticism.  The Gnostics believed that the masses are not in possession of spiritual knowledge, and only the truly "enlightened" can experience God.  The Apostles condemned Gnosticism as a heresy.
But Gnosticism is not the issue; the issue at hand is this: how can one know for certain if Meyer's so-called revelation came from God?  "Is she on par with the apostles who received revelation knowledge from God himself?" asks apologist Matt Slick.  He continues:
Or how about the Old Testament prophets?  Does she, like them, also receive revelation knowledge from God?  If so, how would we know if it were true or not? The answer is simple:  we test what she says against Scripture, and it is obvious that she is getting a lot of things from somewhere else that contradict the word of God. (Source)
More On Moore
In part I brought the reader up to speed on Beth Moore's slide into mysticism and also gave a heads up on her unbiblical teaching and had planned to leave it at that.  But then the news came that she made an appearance on Joyce Meyer's TV show.  This is the sort of news Beth fans should be made aware of, so I decided to include a bit about it here.  Just before her appearance Beth tweeted:
I have the great privilege of sitting down w/@ Joyce Meyer in her studio today to talk about unity. Pray for Jesus to be so present & pleased.
The unity Meyer and Moore espouse is man centered, not Christ centered.
Scoffers And Bullies And Meanies, Oh My!
So – Beth Moore sitting down for a chat with a WoF heretic is a problem in and of itself.  But the reason she gave for appearing on the show was to talk about unity.  The obvious question is why would a "solid Bible teacher," as she is called, choose to unite with a woman who preaches a false gospel?   Although their tête-à-tête is troubling it's not the only concern people have with her.  As I pointed out in part 1, she's been under fire for, among other things, engaging in Christian mysticism, likewise for her acceptance of "charismania" which is odd for someone who's an SBC Lifeway Bible teacher.  Another problem arose when she appeared on Life Today with "Protholic" and big time promoter of ecumenism James Robison and proceeded to advise the audience to tune out the "scoffers":
We're going to have people that are honestly going to want to debate and argue with us about awakening and downpours … But there will be scoffers and they will be the far bigger threat, the one within our own brothers and sisters, our own family of God — far, far more demoralizing. And yes, it will come from bullies, and yes, it will come from the mean-spirited. (Source)
Beth's attempt to shut people up who question her teaching should be concerning to Christian women who read her books and participate in Bible studies she has written.
Be Watchful! 
For those of you who are Joyce Meyer fans, it's imperative that you wake up to the fact that some of this woman's teaching is outright heresy.  Anyone who continues learning from her is choosing to remain under the teaching of what Jesus referred to in Mat. 7:15 as a ravenous wolf.  Listen to John's warning:
Everyone who goes on ahead and does not abide in the teaching of Christ, does not have God. Whoever abides in the teaching has both the Father and the Son. If anyone comes to you and does not bring this teaching, do not receive him into your house or give him any greeting, for whoever greets him takes part in his wicked works. (2 John 9-11)
Sadly, a growing number of LIE-celebs, likewise u-LIEs, are taking part in the wicked works John spoke of.
We are living in perilous times, brethren.  It's now common place for professing Christians to dabble in mysticism.  The result?  Many believers boast of having subjective magical mystical experiences such as visions; dreams; impressions; hearing inner voices; experiencing private illumination; and angel visitations.  Warning! Christians who engage in esoteric mysticism deny sola Scriptura – the sufficiency of Scripture.
God's people must come to grips with the fact that historic orthodox Christianity holds to the belief that everything we need to know about our Triune God is contained within the pages of the Bible.  (Psalm 119:105)
Stranded In Spiritual Infancy
Following is an observation by apologist and author Bill Muehlenberg from a post entitled Kindergarten Christianity:
We have millions of believers who may have been saved decades ago, but are still acting like spiritual infants. They have not grown much, they have not progressed much in their walk with Christ, and their spiritual condition is rather anaemic [sic] and shallow.
They have not become genuine disciples in other words, and they are still stranded in a spiritual infancy. They can't even handle the deep truths of God as revealed in Scripture. Indeed, many of them hardly even read their Bibles, barely pray, or engage in in-depth fellowship.
No wonder they are still floundering around as babies. They have not moved beyond the nursery. They are all stuck in day care. They are permanent residents of Christian kindergarten. Sadly this is so very widespread today in our churches.
This brings me back to the low information evangelical.  As Muehlenberg pointed out, many Christians prefer milk to solid food.  (1 Cor 3:1-3)  Consequently they're biblically illiterate…which is the reason for the colossal lack of discernment among Christians.  So it should come as no surprise that the worst sort of unbiblical teaching has reared its ugly head in the visible church, thanks largely to diaper-wearing milk-fed u-LIEs who rarely, if ever, go to the Bible to scrutinize someone's teaching.  (1 John 4:1)  These same u-LIEs are the ones who put on a pedestal/promote/pay tribute to and finance the lavish lifestyles of LIE-celebs, some of whom are prosperity preaching/health and wealth televangelists. What will it take to get professing Christians to understand that they're propping up heretics?
Before I close I must also mention that the liberal media seems to think that all Protestants are evangelicals – and that includes WoF heretics such as Joyce Meyer, Joel Osteen,T.D. Jakes and Oprah's pal New Age/New Thought/Emergent guru Rob Bell.  Nowadays evangelical is such a broad term that it has lost its meaning.  Even Red-letter ChristiansTony Campolo and Jim Wallis, who have abandoned the biblical gospel for the "social gospel," call themselves evangelicals.
Campolo, Wallis, Osteen, Bell, et al can say they are monarchs and wear a crown if they so desire.  But as I've said many times, a mouse in the cookie jar is not a cookie.
Resources:
Beth Moore: God's Vision for the Church Includes the Roman Catholic Church "Denomination"—Apprising Ministries
Beth Moore recommends 'Jesus Calling' book—Apprising Ministries
Contemplative Prayer–On Solid Rock Resources
Cults and Heretical Teaching—On Solid Rock Resources
Emergent/Emerging Church—On Solid Rock Resources
New Age/New Thought Spirituality—On Solid Rock Resources
Occult—On Solid Rock Resources
Word of Faith/Televangelists—On Solid Rock Resources
Will God Allow It?
"Instead of a new order they institute disorder, and their controls lead to uncontrollable results.  In the spheres of economics, politics, and education, we see the plans and works of humanistic statists rapidly spinning out of control.  The dream of humanistic reason becomes a nightmare."  Rushdoony Systematic Theology Pg. 656
Wars are always conducted in a sea of chaos.  Even the most well planned offensives seem to veer off into unforeseen directions and quickly get out of control.  It appears that the contemporary new world order has hit a snag.  Obama has ordered air strikes in Iraq. In Afghanistan an American General has been killed.  The New York Times reports that "scores of these so-called insider attacks have plagued the American military in recent years". In Iraq ISIL (Islamic State of Iraq and the Levant) has found a popular niche and is expanding control over large parts of Iraq and Syria.   Iran remains independent and presents a dilemma for the United States battle for elite hegemony.
The U. S. wants to replace their original Iraqi stooge with another stooge and the original stooge is balking.  Iraqi Prime Minister Nouri al-Maliki has deployed troops to defend his regime against a U. S. effort to oust him.  Read here.
It appears that the fangs of United States imperialism have been cracked if not broken and the wheels of the juggernaut have been slowed.
The object behind all this murder and mayhem is to set up a puppet government in these Arab lands that can be controlled by the new world order forces that are behind U. S. imperialism.  These governments have been set up in both Iraq and Afghanistan but they have never been stable.
With the usual obsequious self-righteousness Defense Secretary Chuck Hagel says "It is up to the people of Afghanistan to make these decisions, their military, their new leadership that will be coming in as a result of their new government."  He admits that "there is no guarantee" that Afghanistan's puppet regime might collapse like floundering Iraq. The people of Iraq and Afghanistan must know that when the only candidates are stooges in what is called a "Democratic Election", they are being subjected to fraud.
Money is the rail that supports the train of the new world order.  Western societies are money oriented and ambitious humanists are vulnerable to offers of wealth and power.  Societies that values religion more than money present a more difficult problem.  They cling to their religious beliefs and seek to organize themselves around them.  Afghans discern the duplicity and chaos that accompanies efforts to destroy their religion and bring them under the tyrannical tent of Western power.  Read here.
Meanwhile in Iraq Floyd Brown of "Wall Street Daily" reports that title ISIS (Independent State of Iraq and Syria)  has been changed to Islamic State and that under Sharia law Sunni Caliph Ibrahim will become head of both state and religion.  This powerful organization has shaken the control of U. S. ally Shia Prime Minister Nouri al-Maliki and made it impossible to continue the sham of democracy that U. S. forces had fought so hard to implement.
Problems in the U. S. military are beginning to grow as officers who fought in Iraq are disillusion with the chaos that has resulted from their efforts to bring order. It becomes difficult to maintain a proper esprit de corps when hard won victories turn into depressing defeats.
It appears that the American war party made a poor decision when they set about creating controlled democracies in nations with intractable internal conflicts.  Any semblance of freedom seems to erupt into murder and mayhem.
To make matters worse knowledgeable insider David Stockman is predicting the total collapse of what he calls the "American Imperium".  He cites the impossible task of reversing massive military spending and believes American superpower status is in jeopardy. Listen here.
Most Americans now know that our nation is slated for disaster:  Flying on a recent trip I was informed by my fellow travelers that they were stocking foods and had purchased weapons for their homes.  A college professor, a Registered Nurse, and a New England office worker the wife a policeman all related their serious concern for the future of the homeland.
We are a nation being controlled by a mentally unbalanced cabal.  The promotion of Feminism Homosexuality and Lesbianism has seriously eroded the family which is the key unit of government in the Creation.
The attempt to promote women into male equality is similar to trying to transform a cat into a dog.  It provides an accurate definition of cognitive dissonance; they are weaker physically, their bodies are constructed differently, they are softer, more helpful, and have an ability to do several things at once.  Men are physically stronger and aggressively sexually attracted to women.  Women are designed to be helpmates to men who are vested with the duty of protecting them; first fathers then husbands.  When physically inferior women are put together with predatory males they will be assaulted and laws will not prevent it.
Homosexuals and Lesbians pervert the sex act and promote their lifestyles in rebellion against the normal procedures of marriage and procreation.  Sexual practices are often formed by the primary sexual experience; homosexuality usually becomes imbedded early in a person's life.  Some may be born with these tendencies but more are acquired.  Questioning the sexuality of young and adolescent children can cause serious problems as they fight to grow into adulthood.
Recently on Public Radio an interviewer asked a guest if he believed Creationism should be taught in schools; his answer was "no" because Creationism is not based on scientific evidence.  How any realistic human could miss the diversity and complexity of the creation and spend worthless time trying to deny it was created is beyond rationality.  Living things do evolve but they do not evolve into more complex organisms.  That billions of years would defy what is plainly evident is a wanton distortion of reality.  Matter deteriorates over time it does not evolve into more complex living organisms.  If you doubt, read here.
R. J. Rushdoony contends that the quest for freedom by humanists always ends in slavery.  The weaker masses become the slaves of the powerful elite – history is replete with proof.  We were created to be governed by God and to obey His Law.  Maximum autonomy results from living under God's Commandments.
We are created in the image of God to be His regents in His creation.  Attempts to replace His dominion result in a flight from reality that spawns first anarchy and chaos and then grinding humanistic tyranny.  "Because all reality, including man himself, is God-created and made according to God's will and eternal purpose, man cannot have a right relationship to himself, to other men, and to the world around him except through God and His word."  Rushdoony, "Systematic Theology", Pg.642
This is where we are in the United States of America, everything is breading down:  We are hopelessly in debt, our courts no longer produce justice, civil order is tenuous, we have lost our moral standards, families are in disarray and are failing to produce enough children to maintain the race, our government is hoarding weapons while they seek to disarm citizens, our soldiers are losing the fight for world empire, and our churches are weak and full of serious theological error.
Now, let me shock you, gentle reader.  From this chaos God will build His Kingdom!  When the world is thoroughly tired of living in murder, mayhem, and captivity, God may change enough hearts to return the world to His justice and His peace.
The statistics are just beginning to be analyzed—by UN agencies and a myriad of NGO's whose mandates include salvaging young lives from the nearly incalculable ravages of the five-week (and counting) Zionist aggression upon Gaza. It is of course the third aggression in six years against the 1.8 million Palestinians, sardine-canned into what is increasingly referred to as history's largest open air prison, but the outcome this time is looking particularly cruel and grim.
As the Netanyahu regime announced (on 8/10/14) that its attacks on Gaza would continue, increasing numbers of obscene calls—for Israel to "finish the job" and "go all the way" etc.—are floating in the Zionist state's malodorous public echo-chamber, emanating from such figures as the Knesset's deputy speaker, who advocates driving Palestinians into the Sinai desert and resettling Gaza with Jews.
In Khuza'a "the Israeli military had trapped at least 32 people in a home and then prevented the Red Cross from evacuating them before shelling the area," reported Lebanese-American journalist Roqayah Chamseddine. Hoping for safe haven, the people in the house sought refuge in the basement of a neighbor's home, where they found additional families already inside.
"By that point we were 120 people, 10 men and the rest women and children," Kamel al-Najjar recalled for Human Rights Watch.
After dawn and without warning (no polite leaflets or knocks on the roof apparently), Israel struck the house, killing three people and wounding 15 others.
The toll of the war on Gaza's children has been "catastrophic," according to UN agencies. At least 450 have been killed, and those not having their physical bodies buried have found their innocence entombed. It is another casualty in the war—a war against all things daring to live and resist in Gaza. According to Chamseddine:
"Israel has forced the children of Gaza to lay flowers atop headstones, and watch helplessly as coffins that are filled with not only their most beloved family members, teachers, neighbors, and friends but also their most treasured memories, lullabies, lessons learned and those that will never come, descend into the belly of the earth. Their lips will memorize and form prayers for the dead and the stars that defied the siege that flickered freely high above them will be snatched from their skies."
Increasingly it is being heard from Gazans that "Israel has stolen everything beautiful in our lives," and Israel's barbarity confirms this sentiment.
Middle East analysts point out that it is difficult to recall a time in modern history when there has been so much sustained slaughter of this region's civilian population, with more than two-thirds of the victims being women and children. For the past year, UN agencies and other humanitarian organizations have lamented a simple reality—that there is not a sufficient level of international aid to save lives and treat those in need of emergency and longer term medical care.
But now something is changing.
The horrors we have just witnessed, especially with respect to traumas inflicted on children, is producing, as should be the case, a major and rapidly growing international focus on salvaging young lives. Descriptions and evaluations of the consequences of Gaza wars are being published and urgently discussed. Some analysts and government officials, including Pentagon planners, are calling for a 'Medical Marshall Plan,' to save Gaza's children. One proposed first step is the dispatching of a humanitarian support group of hospital ships that would sail to Gaza without further delay.
What can and must be done, by the United States and other countries with the naval and medical capacity to do so, is to organize a Hospital Ship flotilla to break the siege of Gaza, to anchor offshore, and to begin caring for the medical needs of all, with a special focus on children and their psychological well-being. Call it a Mercy Mission. Initially it could include the following countries—all well known for their hospital ships with up-and-running medical staffs: the USA, UK, France, China, Russia, Spain, Argentina, and Australia. Within this group of nations are ships with hundreds of patient beds and fully stocked pharmacies. Moreover, it is a group not likely to be interfered with by those who have imposed the inhumane blockade of Gaza (and of course it even includes some of their collaborators in the region), but perhaps most importantly, every country on the list possesses one or more hospital ships that are fully staffed and available to act.
France is reportedly ready to join such an effort and is also working on a related crisis—in Iraq, where it plans delivery of first aid equipment "in the coming hours," according to the office of Francois Hollande. The French president has "reaffirmed the will of France to stand by the side of civilian victims of continued attacks" in Iraq, and his spokesmen said that "France will do the same thing for Gaza."
"The European Union is called upon to also take necessary measures with great urgency to respond to immediate humanitarian needs," the spokesman added.
Hundreds of EU citizens, with their specialized skills in fields of pediatric medicine and child psychology, are reportedly ready to help the children of Gaza. Two fully stocked and staffed American medical ships, the USNS Mercy and the USNS Comfort, could contribute greatly to the effort. Each ship's hospital is a full floating medical treatment facility, containing 12 fully equipped operating rooms, a 1,000-bed patient capacity, digital radiological services, medical laboratory, pharmacy, optometry lab, and intensive care ward; each also has a dental clinic with full services, CT scanner, and two oxygen-producing plants.
Helicopter landing decks are available as well, for patient transports, and the ships also have side ports that could take on patients from Gaza fishing boats and other crafts at sea. In addition to these two mammoth-sized medical vessels, dozens of other US Navy ships also have hospitals on board. For example, in one year, the medical department of the USS George Washington handled over 15,000 out-patient visits, drew almost 27,000 lab samples, filled almost 10,000 prescriptions, took about 2,300 x-rays, and performed 65 surgical operations—and nearly 100 other US ships are capable of doing the same.
Just one example with respect to capacity is illustrative. In April of this year, the USNS Comfort—a converted 70,000-ton tanker—sailed from Norfolk, Virginia carrying 900 doctors, nurses, and engineers, including staff from the U.S. military, civilian agencies, non-government charities, and even foreign navies. The ship is designed to be deployed quickly for four month intensive full service medical assistance; yet similar capacities obtain in certain other US ships and in foreign navies as well. All of these resources must be put to immediate use to save Gaza's children.
Looking at the longer term, the Pentagon should seriously consider ordering a sufficient number of catamaran transports and shallow-draft littoral ships to fill out the flotilla, vessels capable of delivering aid by sea via the relatively shallow Gaza coastline. The success of breaking the siege of Gaza will likely give impetus to a UN Security Council decision to construct a seaport for Gaza, perhaps with a shipping channel to Cyprus.
Similarly, the UK hospital ship, RFA Argus, designated as a 'Primary Casualty Receiving Ship,' is moored in Falmouth, England, and is also uniquely designed for this type of humanitarian crisis; and it, too, is reportedly ready to sail once given the green light by Downing Street.
Five Hospital ships are urgently needed along Gaza's shoreline at the following locations: opposite Jabaliya and North Gaza, Gaza City, Deir al-Balah, Khan Younis, and Rafah.
Although attacking a hospital ship is clearly a war crime, the Israeli pattern of targeting medical facilities in Gaza is well known, and threats from the settler movement and the right wing Likud Party to "sink any ship that enters Gaza waters if judged to be aiding the terrorists" must be taken seriously. Yet one imagines the occupation regime would have to think carefully about sinking another US Navy vessel as it did in 1967 with the repeated bombing of the USS Liberty.
Instead of recycling raw combat power, the White House can best meet the demands of a war-weary American public through an emphasis on missions such as those the USNS Mercy and USNS Comfort are designed for. Poll after US public opinion poll reveal that Americans believe their humanitarian values are best reflected when our navy is tailored for delivering humanitarian aid to places like Gaza, and not by delivering munitions to occupying colonial regimes.
We are told throughout the New Testament to judge, to test, to discern, to assess, to rebuke, to hold one another to account, to make moral distinctions, and to pronounce judgment when and where it is due. ~ Bill Muehlenberg
The phrase low-information voter (LIV) was made popular in the mid-1990s.  Although the LIV is uninformed on the issues, he casts his vote.  The LIV is often highly opinionated even when he has no idea what he's talking about.  A popular conservative talk show host has labeled a segment of those who vote for liberals LIVs.
D. Edmund Wright expresses his disdain for the LIV in a rather harsh way:
But forget low-information voters for just a minute; the malignancy that is really destroying this country is low-information people with high-profile power and/or influence.  You know, people who would lobby for, comment on, advocate for, or vote on laws like ObamaCare without any understanding of its real-world impact.  Such felonies are then carried out by low-information bureaucratic microbes with the power to destroy lives and businesses with impunity, and a political and talking-head class with the access and sway to codify these common malfeasances. Destruction of private property and liberty – and these two concepts are not divisible – takes place in government cubicles every minute of every day across the country.  And why not?  (Source – emphasis in original)
While reading Wright's rant against the organized left (and rightly so) it occurred to me that evangelicalism is dealing with the same sort of crisis – low-information people with high-profile power and/or influence.  So for the purpose of this piece I'll refer to them as low-information evangelicals (LIE).
Reminiscent of the LIV, the high-profile LIE does not understand the impact that his unorthodox view has on the visible church.  When it comes to the Bible, the LIE has opinions on a variety of challenging topics.  Even when his opinion is decidedly unbiblical, he presents it as the gospel truth.  The LIE's arguments are often based, not on what God's Word clearly teaches but instead on esoteric experiences he's had or what he's picked up from LIE celebrities.  As a side note, whenever I write a column for the express purpose of exposing a LIE-celeb's unbiblical teaching and even though I included an abundance of evidence to support the biblical view, the LIE rarely uses logical argumentation to contest the facts and win me over to their way of thinking.   Instead he resorts to personal attacks.  For example I'm often scolded for being unloving…ungracious…mean spirited…hateful…homophobic…judgmental…and far worse.
Facts are stubborn things.  And the fact of the matter is that it's biblical to report on a high-profile Christian leader whose teaching is unbiblical.  Much of the problem lies in the fact that oodles of LIE-celebs are unapologetically liberal in their worldview and their teaching reflects that.  (For the record, "progressive Christian" is an oxymoron.)
Several influential Bible teachers started out as good Bible expositors but got off track when they became enamored with Eastern mysticism.  Today the beliefs some Christians hold contain a good deal of New Age/New Thought ideas borrowed from Eastern mysticism.  Bible teacher, conference speaker and founder of Living Word Ministries Beth Moore is one of those teachers.
Over the years Moore has gained substantial popularity with women, so much so that her resources line the shelves of churches and Christian book sellers everywhere.  Because she's affiliated with the SBC her overt acceptance of "charismania" surprised a lot of people.  For instance, at one of her conferences she shared a vision she supposedly received of "the church as Jesus sees it."  Listen to this bombshell:
You know what He [God] told me not too long ago? I told you when I first began this whole concept, He first started teaching it to me about five years ago, and He said these words to me: "Baby, you have not even begun to believe Me. You haven't even begun!"
You know what He said just a few days ago? "Honey, I just want you to know we're just beginning." Oh, glory! That meant I had begun. Hallelujah!
But He was telling me, "When this ends, we ain't done with this. Honey, this is what we do for the rest of your life." And He says those words to me over and over again: "Believe Me. Believe Me. And I hope it's starting to ring in your ears, over and over again, Believe Me." (Source)
Does that not make your hair stand on end?   "He said these words to me…" is the same as saying "Thus saith the Lord!"   Any discerning Christian will no doubt find Moore's alleged chats with God troubling.
Contrary to what Beth Moore believes, when the Lord allegedly speaks to her it couldn't be His voice she's hearing.  How do I know that?  Because the way in which she claims the Almighty communicates with her is unbiblical.  How does God speak to us today?  We are told in Hebrews that He speaks to us by His Son through His Spirit in His Word.
In 1 Thes 5:21 Paul commands us to "test everything; hold fast what is good."  With this in mind, I challenge Beth's fans to test her teaching by the Word of God.  Those who are open to the truth will discover that this Bible teacher is feeding her followers rotten fruit!
Erin Benziger has been warning of Beth Moore's shift into mysticism for quite some time.  Erin points out that:
Beth Moore has demonstrated time and again that she cannot properly handle the biblical text. And yet, she is a mentor and teacher to many women who look to her leadership and knowledge as a foundation for their own spiritual walk.
In recent months, Moore participated as a speaker at the Unwrap the Bible conference, which was held at Joel Osteen's Lakewood Church. The event was hosted byWomen of Faith ministries, and also featured such dangerous teachers as Priscilla Shirer, Christine Caine, Lisa Harper, Sheila Walsh and of course, Victoria Osteen. Nearly 11,000 women were in attendance at this event. 11,000. That is a tremendous number of women who were exposed to deceptive and erroneous Bible teaching. These are women in your Bible study and in your church. These are women who will now take the principles they learned and will begin to influence other women and girls within their church. This ought to be of no small concern to those who love and revere the Word of God. (Source)
Before I move on, I should mention that I don't enjoy tearing down the powerful magnetic personalities professing Christians revere.   My purpose for taking aim at Beth Moore is to get undistinguished LIEs (ordinary folk) up to speed on her unbiblical teaching.  Sadly, some undistinguished low information evangelicals (u-LIEs) assume that popular pastors, teachers and best-selling authors would never steer them wrong.  But nothing could be further from the truth!
The Undistinguished LIE
The u-LIE learns Scripture in a variety of ways:  (1) Best-selling "Christian" books; (2) Blog posts; (3) Religious TV programs; (4) "Christian" radio/podcasts; (5) Trendy market-driven/seeker sensitive churches; (6) Family and friends (some of whom are nominal Christians at best and Bible illiterates at worst.)
Now, don't get me wrong.  I'm not saying that the u-LIE who utilizes the above resources won't learn anything worthwhile. He will!  In fact it's a good idea to gain knowledge from mainstream Bible scholars/theologians/apologists/bloggers and ministers of the gospel; likewise from TV, radio/podcasts of solid Bible expositors.  But we must see to it that those from whom we learn, including LIE-celebs, continually guard against error.  As I said above, when someone's theology lands outside of the pale of orthodoxy it's appropriate to challenge what's being taught and to (gasp!) "name names."  How else will we know who to be wary of?
Christians must never lose sight of the fact that false teachers are deceptive and evil.  And by the way, anyone who's exposed as a wolf or wolverine must swallow their pride and repent of their sin against God.  The objective is restoration.
What has resulted from all the abysmal teaching in the Church?  U-LIEs have accepted liberal/progressive theology.  Likewise, they're up to their eyeballs in aberrant/heretical movements such as liberal/progressive/social justice; emergent/emerging; word-faith/health & wealth/name-it-claim-it; New Apostolic Reformation/Dominionism/Latter Rain. Moreover they've become easy prey for the Kingdom of the Cults.  How does one avoid becoming ensnared by the wiles of the devil?  By becoming a Berean!  (Acts 17:10-15)
Christian Mysticism
Thanks largely to Christian mystics such as recently deceased ordained Baptist Minister Dallas Willard and Quaker Richard Foster, many u-LIEs have been introduced to spiritual formation.  Sounds biblical, but I assure you it's not.  In a nut shell, spiritual formation,
encourage[s] believers to incorporate a wide variety of extrabiblical spiritual practices, such as contemplative prayer, silence, meditation, creative expression, and yoga.  In fact, some of the most popular methods of spiritual formation have been lifted from Catholicism, new age mysticism, or other religions and rebranded with biblical-sounding terminology. (Source)
Ken Silva cautions that involving oneself in mysticism can lead to a "denial of the Reformation and the acceptance of apostate Roman Catholicism as a viable form of Christianity."
Both Willard and Foster, as well as Rick Warren, John Ortberg, Ruth Haley Barton and Tony Campolo have encouraged believers to read the writings of Roman Catholic Trappist Monks such as Thomas Merton, Basil Pennington, William Menninger and Thomas Keating to name a few.  From individuals like these, Eastern pagan practices have been introduced into mainline Protestant churches, likewise independent, nondenominational, charismatic and Pentecostal churches.
Because of books penned by Catholic monks, an increasing number of u-LIEs embrace the idea that God speaks to His people in much the same way that He spoke to the patriarchs and apostles.  And this is the primary reason Christians boast that they hear directly from God.
LIE-celebs and u-Lies who are exposed to mysticism will say things such as: "I had a word from the Lord" or "God said (this or that)…"  Or "God told me to do (this or that)…" And "I have received revelation knowledge."  Anyone who makes these claims is saying that God speaks directly to them!  The danger in thinking this way is that when God doesn't "speak" to a professed Christian, she worries that He's silent because she doesn't have enough faith, or she has a "hidden sin" in her life because if she didn't, God would speak to her; or perhaps the Lord's silent because He's angry over an act of disobedience…and the list goes on.
The Silence Is Not Golden
The aforementioned monks, or Desert Fathers, allege that by engaging in a prayer method called The Silence they've been able to achieve a profound experience with God.  "We enter the silence to consciously experience our oneness within the one Mind, God."  The idea of experiencing oneness within the mind of God comes, not from the Bible, but from Eastern mysticism.  It makes no sense for God's people to borrow from a corrupt religious system that God despises.  Listen to Isaiah 2:6:
For you [God] have rejected your people, the house of Jacob, because they are full of things from the east and of fortune-tellers like the Philistines, and they strike hands with foreigners.
The Desert Fathers have so little discernment that they not only participate in recycled paganism, they encourage others to go that route!  Willard and Foster and other LIE-celebs know full well that they're "striking hands with foreigners" and they do it anyway!
Being that the Lord condemns paganism, His people are to have nothing to do with it.  No dabbling!  Steer clear of anything to do with mantra meditation.  Methods such ascontemplative prayer…centering prayer…breath prayer…are forbidden!   Even though this will ruffle some feathers, my advice is to steer clear of "Christian" yoga.  "Take no part in the unfruitful works of darkness, but instead expose them." (Eph 5:11)
Part 2, coming up!
Recommended:
Entering "The Silence" (Posting this with a warning)
The following is a concise presentation of the contemplative practice known as "Entering the Silence" taught by the Unity School of Christianity [a cult] founded byCharles and Myrtle Fillmore
Contend for the faith that was once for all delivered to the saints—By Mike Ratliff
Research links:
Contemplative Prayer–On Solid Rock Resources
Cults and Heretical Teaching—On Solid Rock Resources
Occult—On Solid Rock Resources
Research Confirms What I Have Been Saying For Years…
George Barna is the foremost researcher of modern Christianity in the country. He recently spoke about a two-year research project studying why modern-day pastors and churches are so silent regarding political issues. The result of his research only confirms what I have been trying to tell people for years. But there was one thing his research uncovered that did somewhat surprise me. OneNewsNow.com covered the story:
"On Thursday, George Barna–research expert and founder of The Barna Group–shared with American Family Radio's 'Today's Issues' about new information he's compiling at American Culture and Faith Institute over the last two years, gauging where theologically conservative pastors are at politically.
"'What we're finding is that when we ask them about all the key issues of the day, [90 percent of them are] telling us, Yes, the Bible speaks to every one of these issues. Then we ask them: Well, are you teaching your people what the Bible says about those issues?–and the numbers drop…to less than 10 percent of pastors who say they will speak to it.'
"When researchers ask those pastors what else they are willing to do to get their people active in the political process, Barna said 'it's almost nothing.'
"'So the thing that struck me has been that when we talk about the separation of church and state, it's that churches have separated themselves from the activities of the state–and that's to the detriment of the state and its people,' stated the researcher."
That 90% of America's pastors are not addressing any of the salient issues affecting Christian people's political or societal lives should surprise no one–especially the readers of this column. It has been decades since even a sizeable minority of pastors have bothered to educate and inform their congregations as to the Biblical principles relating to America's political, cultural, and societal lives. But the part of the research that did somewhat surprise me was this statement by Barna: "What we're finding is that when we ask them about all the key issues of the day, [90 percent of them are] telling us, Yes, the Bible speaks to every one of these issues. Then we ask them: Well, are you teaching your people what the Bible says about those issues?–and the numbers drop…to less than 10 percent of pastors who say they will speak to it."
Did you get that? Ninety-percent of America's pastors say they KNOW that the Bible speaks to all of these issues, but they are deliberately determined to NOT teach these Biblical principles. That is an amazing admission!
It would have been one thing if the pastors had said that these political issues were not relevant to scripture, and, therefore, they didn't feel called to address them. But the pastors are admitting that, yes, they KNOW that the scriptures DO relate to our current political issues, but they are deliberately choosing to NOT teach those scriptural principles. Holy heads-in-the-sand, Batman!
I confess: this statistic caught me off-guard. So, we can forever dismiss ignorance as justification for pastors remaining silent.
Now, all of the church members out there who have been forgiving of their ministers for not speaking out on the issues by saying things like, "He really doesn't understand what's going on," need to reevaluate their leniency–if they are intellectually honest, that is–and if they truly care about the future of their country.
Church member, admit it: that pastor of yours who refuses to speak out on the issues KNOWS the Bible speaks to these issues, and he is DELIBERATELY refusing to teach those Biblical principles to you and your family.
So, we are not dealing with IGNORANT pastors; we are dealing with DELIBERATELY DISOBEDIENT pastors. They are PURPOSELY CHOOSING to remain silent. Will that make any difference to the Christians in the pews who say they want their pastor to take a stand but are willing to overlook his "ignorance?" Probably not. But, at least, we now know what the real issue is, don't we?
The report goes on: "Why the disconnect? According to Barna, the answer is simple. He suggests asking pastors how someone would know if their church is 'successful'–which he did."
"'There are five factors that the vast majority of pastors turn to [when asked that question],' he explained. 'Attendance, giving, number of programs, number of staff, and square footage.'"
There you have it: pastors are more concerned about being "successful" than they are being truthful. They believe if they tell their congregations the truth, their churches will not be "successful." And it is so refreshing to see Barna directly ask pastors what "success" means to them. So, now we know (as if we didn't know before; but, at least now there is definitive research to back it up). The vast majority of pastors believe church success lies in:
*Attendance
*Giving (money)
*Number of programs
*Number of staff
*Square footage (of facilities)
Shazam! Where did pastors come up with this definition of "success?" You know where: from men such as Joel Osteen, Rick Warren, Bill Hybels, et al.
The megachurch phenomenon of the last several decades transformed how pastors think and behave. Pastors read the "successful church" books and publications; they attend the "successful church" conferences; they watch the "successful church" videos, etc. They, then, try to mimic the tactics and strategies they have been taught. And if there is one constant theme promulgated by the likes of Osteen, Warren, and Hybels, it is pastors must avoid controversy like the plague. Again, one must realize that the goal is NOT being faithful to Biblical principles; the goal is building a "successful" church as noted above.
It is time for Christians to acknowledge that these ministers are not pastors; they are CEOs. They are not Bible teachers; they are performers. They are not shepherds; they are hirelings. It is also time for Christians to be honest with themselves: do they want a pastor who desires to be faithful to the scriptures, or do they want a pastor who is simply trying to be "successful?" BE HONEST WITH YOURSELF, CHRISTIAN FRIEND.
Barna's research blows the "ignorance" excuse out of the water. Again, it is not ignorance; it is deliberate disobedience.
Barna goes on to say, "Now all of those things [the five points of success listed above] are good measures, except for one tiny fact: Jesus didn't die for any of them." Wow! You nailed it, George!
See the report here:
Barna: Many Pastors Wary Of Raising 'Controversy'
Where do you find anything in the New Testament that measures a pastor's success by the number of people attending his church? Or by how large his offerings are? Or by how many programs his church has? Or by how many staff members he has? Or by how large his facilities are? In fact, the early New Testament church didn't even own property or buildings.
When the Apostle Paul listed his ministerial pedigree, here is what it looked like (II Cor. 11):
*Stripes above measure
*In prisons frequently
*In deaths often
*Beaten with rods
*Stoned
*Perils
*Weariness
*Painfulness
*Hunger and thirst
*Cold and nakedness
I don't see attendance, offerings, programs, staff, or square footage in that list at all, do you?
When Paul wrote his own epitaph, it read, "I have fought a good fight, I have finished my course, I have kept the faith." (II Timothy 4:7). He didn't say, "I had a large congregation, we had big offerings, we had a lot of programs, I had a large staff, and we had large facilities."
In the world of Osteen, Warren, and Hybels (and 90% of America's pastors), the Apostle Paul's ministry must have been a dismal failure. And how many church pulpit committees would even consider the pastoral résumé such as the Apostle Paul wrote above?
Please understand this: America's malaise is directly due to the deliberate disobedience of America's pastors–and the willingness of the Christians in the pews to tolerate the disobedience of their pastor. Nothing more! Nothing less!
Oh, and get this: according to the survey conducted by Barna, guess what the number one reason is why pastors choose to be "successful" and not "controversial?" You guessed it: fear of the IRS 501c3 tax-exempt status. Who would have thought it? (Yes, that question is deliberately facetious.)
The release of this research by George Barna could not have come at a more opportune time. I announced just last week that we have officially launched the Liberty Church Project, whereby we will be helping people around the country to establish non-501c3 churches. I invite folks (pastors or laymen) who are serious about starting new non-501c3 churches–or helping to resurrect patriot pulpits within existing churches–to fill out our online application. We already have several groups that we intend to help and are looking for others. If you are someone who is serious about such an endeavor, and seeks our assistance, please fill out the online application here:
And, in case you missed it, here is my column announcing the launch of the Liberty Church Project:
I want to commend George Barna for his research. I suspect that the vast majority of pastors and churches will ignore it, but, at least now we know the painful truth of the matter: by in large, pastors are deliberately choosing to not teach Biblical truth to their congregations for the selfish goal of being "successful." But as we come to grips with this reality, we must also acknowledge that pastors are simply (and shamelessly) putting their fingers to the wind and finding that the people in the pews are more interested in their churches being "successful" than faithful to the teaching of Holy Scripture. As Barna noted, it is the churches, themselves, that have chosen to separate from the political affairs of their country.
In the end, it always comes down to We the People, doesn't it? If you want a church where the pastor is willing to teach the Biblical principles that relate to our everyday lives–including our political lives–you might have to vote with your feet and go find one. That is, if that kind of thing is truly important to you.
The erotic reliefs of Hindu temples with their gravity-defying and anatomy-challenging positions have found a new modern competitor in the Ukrainian crisis. Each party wants to get the Jews on their side, while claiming that the other side is anti-Jewish and a Jewish puppet at once. This impossible, Kama-Sutraesque position is the result of extremely confusing alliances: the Kiev regime lists devout Jews and fiery antisemites among its mainstays. The leading figures of the regime (including the president-elect) are of Jewish origin; strongman and chief financier Mr. Igor (Benya) Kolomoysky is a prominent Jewish public figure, the builder of many synagogues and a supporter of Israel. The most derring-do and pro-active force of the regime, the ultra-nationalists of the Svoboda party and the Right Sector, admire Hitler and his Ukrainian Quisling, Stepan Bandera, "liberators of Ukraine from the Judeo-Muscovite yoke". Jews are ambivalent, and the sides are ambivalent about them, and a most entertaining intrigue has been hatched.
The Russians tried to pull Israel and American Jews to their side, with little success. President Putin condemned the antisemitism of the Svoboda party; he mentioned the desecration of the Odessa Jewish cemetery in his important talk. The Russians re-vitalised the World War Two narrative, fully identifying the Kiev regime with the Bandera gangs and the Nazi enemy. Still, this rhetoric is not taken seriously by Jews who refuse to feel threatened by cuddly Kolomoysky. "These Nazis are not against Jews, they are against Russians, so it is not a Jewish problem", they say.
The Kiev regime mirrored the Russian attitude, if not Russia's tactics. Being rather short of facts to brandish, they faked a leaflet from Donetsk rebels to local Jews calling upon them to register and pay a special poll tax "for the Jews support the Kiev regime". This rude and improbable hoax was immediately and convincingly disproved, but not before it was used by, no less, Barak Obama and John Kerry. The American Jewish newspaper of record, The Forward, obfuscated the issue by saying that Russians and Ukrainians are antisemites by birth and their denials are to be taken with a grain of salt. This mud-slinging was effective – the hoax has made the front pages, while its debunking was published on the back pages.
The Russians had the facts on their side, and the West knew that: the US refused entry to Oleg Tyagnibok and other Svoboda leaders (now members of Kiev government) because of their antisemitism as recently as in 2013. But Russian appeals to Jewish and American sensitivities failed to make an impact. They know when to feign indignation and when to hush. Pro-Hitler commemorations are frequent in Estonia, Latvia, Croatia, and cause no lifting of a censorious brow, for these countries are solidly anti-Russian. In March of this year, the Obama administration's special envoy on anti-Semitism, Ira Forman, flatly denied everything and said to the Forward that Putin's assertions of Svoboda's antisemitism "were not credible". The US wants to decide who is an antisemite and who is not; like Hermann Goering wanted to decide who is a Jew and who is not in the Luftwaffe. In the Ukrainian crisis, the Jews remain divided, and follow their countries' preferences.
Israel is neutral
Recently Prime Minister Netanyahu called President Putin. Putin is always available for and always courteous to Netanyahu, as opposed to President Obama, who shows signs of irritation. (Admittedly Obama has to listen to Netanyahu much more often and for hours.) Netanyahu apologised that he wouldn't be able to come to St Petersburg for Israeli Culture Week; instead, old reliable Shimon Peres, Israel's President, will make the trip. He apologised for leaking the news of this visit cancellation to the media, as well.
This is quite typical for the Israeli PM: at first, he asks for an invitation, Russia extends it, then he cancels his visit and leaks it to the press, thus earning brownie points with the Americans. He did it at the Sochi Olympic games, and now again, in St Petersburg. This is his way of expressing Israeli neutrality.
Israel is explicitly neutral in the Ukrainian crisis. Israelis walked out and did not vote on the UN GA Crimea resolution at all, annoying its American sponsors. The Israelis had a flimsy excuse: their Foreign Office was on strike. The Americans weren't satisfied with this explanation. Strike or not, vote you must!
We learned from our Israeli colleagues the details of the Putin-Netanyahu phone conversation, which elaborated the reasons for Israeli neutrality. Israel is worried that as an asymmetric response to the US sanctions, Russia would deliver its potent air defence systems to Iran and Syria. Iran and Russia had signed a weapons supply contract a few years ago, Iran duly paid; then the shipment was suspended. Iran went to court demanding a massive compensation for the breach of contract. Likewise, the Syrians were supposed to get the S-300 surface-to-air missile system, able to protect its skies from Israeli raids. The deliveries commenced; PM Netanyahu beseeched Putin to put it on hold. Initially Putin objected, stressing the defensive nature of the system. Netanyahu told the Russian president that the S-300 would allow the Syrians to cover the whole North of Israel, at least all the way to Haifa, rendering important airfields unusable and endangering civil aviation as well. Putin agreed to stop the deliveries.
Vladimir Putin is friendly to Israel. He promised he would not allow the destruction of Israel; he promised to save its population if the situation should become truly dangerous. During the recent visit of PM Netanyahu to Moscow, Putin was not carried away by Netanyahu and Liberman's hints of possible Israeli re-alliance with Moscow instead of Washington. He told the Israelis that their ties with the US are too strong for such a re-alliance being conceivable. Putin said that Russia is satisfied with the present level of friendship and does not demand that Tel Aviv weaken its ties with Washington. Putin visited Israel a few times, he received the Israeli PM in Kremlin. The Israeli ambassador Mme Golender sees Putin more often than do her American or French counterparts.
This friendly attitude has a down-to-earth reason: Putin is not fluent in English or French, while Mme Ambassador speaks Russian to him, eliminating the bothersome need of an interpreter. A deeper reason is Putin's background: a scion of liberal elites, brought up in St Petersburg, schooled by ultra-liberal Mayor Sobchack, anointed by Boris Yeltsin, Putin is naturally friendly to Jews and to Israel. This friendly attitude annoyed some Russian ultra-patriots, who excitedly circulated his photo taken in the obligatory kippahnear the Wailing Wall. They also counted and recounted the names of Jewish oligarchs in Moscow.
True, some of them – Berezovsky, Gusinsky, Hodorkovsky – had to flee their Russian homeland, but the Russian president is surely not the Jewish-tycoons-Nemesis and the-new-Hitler he is sometimes made out to be. Abramovich and Friedman, to name just two, retain his trust and access. Putin does not mind any oligarch (Jewish or Gentile) – as long as he stays out of politics.
Putin is also friendly with Jewish intellectuals and gentlemen-of-the-media, even if they are outright hostile to him. Masha Gessen, Jewish Lesbian Putin-hater and magazine editor; Alexey Venediktov, Jewish chief editor of Echo Moskvy, a popular liberal medium that attacks Putin every day; many others enjoy access to Putin, – while no Russian nationalist including Dr Alexander Dugin can boast of having met with the president privately.
Putin's affability does not turn him into a bountiful source for every Jewish initiative. He stopped S-300 deliveries to Iran, but rejected all Israeli overtures asking him to ditch Iran, or Syria, or Hamas. In the course of their last phone conversation, Netanyahu claimed the Israelis discovered proofs of Iranian nukes. Putin politely expressed his doubts and re-addressed him to IAEA. He agreed to receive the Israeli "experts" with their proofs in Moscow, but nothing came of it. Russia's support for Palestine is unwavering, – there is a Palestinian embassy in Moscow, too.
Putin supported building of a spacious Jewish museum in Moscow and personally contributed to its budget – but Russian street advertising proclaims the Resurrection of Christ, Eastertide, and His Nativity at Christmas. No "season's greetings", but open affirmation of Christianity. Russia is not like the US or EU, where external signs of Christian faith are forbidden, Easter and Christmas can't be mentioned and whatever Jews request must be done immediately. Western Jews are annoyed (so their organisations claim) by public displays of Christian faith, but Russian Jews do not mind; moreover, they intermarry, convert and enter the Church in previously unheard of numbers. They are not strongly pro-Israeli, those that were already left for Israel.
So the Jews of Russia are not an influential factor to the Russian President. Putin will do what is right according to the Christian faith, and what is good for Russia, as he understands it — and he can't be convinced to give up really important points. Other considerations – such as friendship with Israel – would normally take a much lower place in his priorities. However, in the midst of the Ukrainian crisis, as the Russians are worried by sanctions and by threats of isolation, they try to pull Jews to their side. This makes them increasingly susceptible to Israeli manipulation, whether state-authorised or a private venture.
Last week, Israeli military historian Martin van Creveld visited Moscow. In 2003, he famously threatened Europe with nuclear destruction (the "Samson Option"), saying "Israel has the capability to take the world down with us, and that will happen before Israel goes under". Now he has explained to Russians Israel's new policy: While the US enters the period of its decline, Israel must diversify and hedge its bets by drawing close to Moscow, Beijing and Delhi, he wrote in Izvestia daily. Perhaps, but without going too far. A flirt – yes, switching sides – not yet.
Israel prefers to stick to its neutrality. This is easy, as the Israeli populace (excepting its Russians) is not interested in Russian/Ukrainian affairs, does not know the difference between Russia and the Ukraine and is rather unfriendly to Russians/Ukrainians. This goes for both the Left and Right; the Israeli Left is even more pro-American than the Israeli Right. As for Russian Israelis, they are equally divided between supporters of Russia and supporters of Kiev regime. While observing niceties towards Russia, Israel does not intend to side with Moscow. The Jewish oligarchs of Ukraine – Kolomoysky, Pinchuk, Rabinovich – are integrated within the Kiev regime, and they support Israeli right-wing on a large scale. Israeli businessmen are invested in the Ukraine, and the oligarchs are invested in Israel. Kolomoysky controls YuzhMash, the famed missile construction complex in Dnepropetrovsk, and holds the secrets of the Satan ballistic missile, the most powerful Russian strategic weapon. He allegedly intends to share these secrets with the Israelis. If Israel were to side with Moscow regarding Ukraine, the breach with Washington would be unavoidable, and Israel does not intend to provoke it.
Some marginal Israeli right-wingers support Russia; they claim that they represent Israeli public opinion and government. They try to collect on their promises before they deliver. However, this is not an ordinary scam: they are trying to turn Russia into a supporter of right-wing Zionism.
Consider Russian-Israeli far right activist Avigdor Eskin. He impossibly claims that the Israeli government has already decided to jump from the US train to join the Russian one, that Israeli commandos are on their way to fight for the Russians in Donetsk, that Israeli authorities intend to strip Mr Kolomoysky of his Israeli citizenship. Naturally, all that is a load of bunkum, but Russians swallow it hook, line and sinker.
Avigdor Eskin is a colourful personality: a convert to Jewish faith (his mother is not Jewish), an observant Jew, an ex-Kahanist who was arrested in Israel for an alleged attempt to desecrate Al Aqsa mosque and a Muslim cemetery, and who served two or three years in Israeli jail; he styles himself a "Rabbi" and wears a full beard. After serving his time in jail, he moved to Russia and built a network of Israel supporters among the Russian far right. His message is "Israel is a true friend of Russia, while Muslims are Russia's enemies". He also adds that Israeli settlers are anti-American and pro-Russian. (If you believe that, the tooth fairy is the next step.)
Recently he claimed that the Aliya Battalion of "experienced Israeli commandos and sharpshooters" came to warring Donbass to fight on the Russian side against the Kiev regime troops. The Aliya Battalion is a battalion in the sense Salvation Army is an army. This is an Israeli NGO, established by Russian Israelis of far-right Zionist persuasion and of some Russian military background. It is not a part of Israeli Army. For a short while, the NGO provided guards for Jewish settlements in Gaza and the West Bank, but the settlements stopped using them as they were extremely unreliable. They boasted of murdering Palestinian civilians, of torturing and killing children, but this was just a sick sadist and racist fantasy, people say. Afterwards, the Battalion leaders turned its name into a profitable scam, roaming American Jewish communities and collecting donations for their supposedly secret activities. As this scam was exposed by Israeli TV (RTVI network; it is available on the YouTube), they had disappeared from the public eye. Now Avigdor Eskin resurrected the old scam, and made a lot of headlines in the Russian media.
Eskin found a soulmate in prominent Russian media man Vladimir Solovyev. The Solovyev is of partly Jewish origin, lived abroad, then returned to Russia; he runs an important political show Sunday Eveningon Russian TV. The Saker (a well-known blogger) described him as follows: "This show is hosted by a famous personality, Vladimir Solovyev, who is a very interesting guy. Solovyev is a Jew, and he is not shy about reminding his audience about it, who was even elected as a member of the Russian Jewish Congress. He is also a Russian patriot, and he is an outspoken supporter of Putin and his policies. His position on the Ukraine is simple: he as a Jew and as a Russian has zero tolerance for Ukrainian nationalism, neo-Nazism or Banderism. He is a determined and total enemy of the new Kiev regime."
It is possible Solovyev is going through some personal identity crisis: from celebrating his Russian roots, he moved to proclaiming his Jewish origin. Alternatively, it is possible (and more likely) that the Russian decision-makers want to pull Jews on their side, and Solovyev is acting with US Jews in mind. Stalin did it, so Putin could repeat the trick. In 1942, as Nazi onslaught threatened Russia, Stalin had sent some Russian Jews to the US, to speak Yiddish to Jewish communities and lobby for the USSR. The American Jewish community surely carries some clout… Now Solovyev and others are trying to influence Jews abroad; or at least to show to their superiors they are trying.
The price Eskin extracts for his fantasy stories is high. In Solovyev's prime time programme, he called for the destruction of al Aqsa mosque and for the building of the Jewish temple on its place. He called Palestinians "the people of Antichrist". Even in Israel such statements can't be voiced on public TV. In confused Moscow, Eskin was feted and given a place in another important political programme, that of Arcady Mamontov. Who is conning whom: is Eskin conning his Russian hosts, or are his media hosts using him to con their superiors, or are their superiors trying to con the Russian people? Or is Israel hedging its bets? Who knows?
Ukrainian Jews beg to differ
Jews came to the Ukraine a thousand years ago, perhaps from Khazaria. This is not a homogeneous community; rather, they represent several communities. A lot of them emigrated to Israel; even more moved to Russia. They speak Russian and usually do not speak Ukrainian, though they picked up the vernacular over last twenty years. Normally, they wouldn't care about Ukraine's independence, as Jews  traditionally side with the strong, be it Poles under Polish rule, with Russians under Moscow rule, or with Germans under Vienna or Berlin. Now many of them have decided to side with the US or EU. One of the reasons why so many people of Jewish origin do well is that the ruling ethnic groups trust the Jews and rely upon their loyalty to the powerful and lack of compassion for their Gentile neighbours.
Another reason is the vague definitions. For last three or four generations, Jews have intermarried freely; children of these mixed marriages are often considered 'Jews'. These are the 'Jews' to the present regime; often they have only one Jewish grandparent.
Ukraine, following its independence in 1991, moved into the Western sphere of influence, but Eastern Ukraine (Novorossia) retained its Russian character and links. Jews did well in both parts. Mr Kolomoysky is a prominent member of the Jewish community, and a mainstay of the Kiev regime.  He is a ruthless businessman, famous for his raiding of others'properties and for his Mafia connections. Rumours connect him with many killings of business adversaries.
On the other side, in Kharkov, the Mayor and the district Governor (nicknamed Dopah and Gepah) are Jewish, and they can be considered pro-Russian. It was thought that Kharkov would become the centre of rising Novorossia; president Yanukovich fled to Kharkov hoping to find allies and supporters. But Dopa and Gepa disabused him, so he continued his flight all the way to the Russian city of Rostov. Their decision to remain loyal to Kiev did not work well for them: one was shot, and the second one has been imprisoned and his attempt to run for president thwarted.
Kharkov is also home to Mr. Hodos, a wealthy and prominent Jew who fought most valiantly against Habad, the Jewish spiritual movement of which Mr Kolomoysky is a prominent member. The Jews of Novorossia apparently support the general pro-Russian trend, though there are exceptions. Practically all Ukrainian Jews have relatives in Russia, and had Russian education.
Israel has a strong network of agents in the Ukraine. They snatched a Palestinian engineer and flew him to an Israeli dungeon, and that could not be done without support of Ukrainian security services. However, the stories of Israeli soldiers fighting in Ukraine are somewhat exaggerated: these are individuals of dual citizenship who act at their own will, not a state representatives.
US Jews are divided
US Jews are divided on the Ukraine, as they were divided on Palestine. Friends of Palestine, people with a strong anti-imperialist record and sound knowledge of East European history – Noam Chomsky and Stephen F. Cohen — recognised and renounced the US attempt to sustain their hegemony by keeping brazen Russia down. A subset of people, Gilad Atzmon aptly called AZZ (anti-zionist zionists), Trots and other faux-Leftist shills for NATO like Louis Proyect – called for American intervention and brayed for Russian blood.
The notorious Israel Lobby is strictly anti-Russian. The State Dept. official Victoria ("Fuck EU") Nuland personally directed the Kiev coup; she handpicked the government and the president of the new American colony on the Dnieper River. Her husband, Robert Kagan, is a founder of FPI, the successor of infamous PNAC, the extremist Zionist think tank which promoted wars in Iraq, Afghanistan and pushed for a war with Iran. Now they attack Russia, but they do not forget about their support for Israel.
Consider a young American gender activist and journalist, James Kirchick. He entered the Neocon network by shilling for the Lobby. He pink-washed Israel ("Israel as the best friend of gays on earth, while the Palestinians are homophobes who deserve to be bombed"). After doing the Israeli stint, he moved on to fighting Russia. He worked for the CIA-owned and US Congress-funded Radio Free Europe; stage-managed the sensational Liz Wahl's on-air resignation from the RT and protested alleged mistreatment of gays in Russia. His dirty tricks were revealed by Max Blumenthal, a Jewish American journalist, a known anti-Zionist (working together with a Palestinian Rania Khalek).
While Israel is neutral re Ukraine, Israeli friends in EU and US are hostile to Russia and supportive of American hegemony, while friends of Palestine stand for Russia's challenge to the Empire. The French Zionist media philosopher Bernard Henri Levy is an example of the former, while Michel Chossudovsky of Global Research is a representative of the latter. Leading critical ("anti-Zionist") websites Counterpunch, Antiwar, Global Research sympathise with Russia, while pro-Israeli sites are hostile to Russia.
Zionists are nasty and vicious enemies, but they make even worse friends. Edward N. Luttwak is friendly to Russia; he called upon the US to make up with Russia. Strategic union of Russia and America is necessary, he says. Who cares about Ukraine? And here is his pitch line: Russia should fight China for the US benefit. Another Zionist friend, Tony Blair, also calls for peace with Russia – so Russia can fight the Muslim world for Israel. Quite similar to Eskin who offers his pathetic support to Russia in order to neutralise her positive influence and defence of Palestine.
The bottom line: Israel remains neutral for its own reasons. While Jews as individuals differ on Ukraine, there is a correlation with their stand on Palestine and on Syria. Enemies of Putin in Russia, Ukraine, Europe and US do support Israel and are hostile to Palestine, to Syria of Bashar, to Venezuela of Chavez. And the most dangerous lot are those who support Israel and Russia, as they are surely plotting some mischief.
The experience of humanity is driven and defined by our own consciousness, which is a product of our sophisticated brain functions. We are consciousness in every way shape and form. Control of this miracle of consciousness is sought by a few individuals who are actually suffering from a mental (disconnect) disorder. What psychiatrists sometimes refer to as the psychopathic mind. Unfortunately, one of the characteristics of being a psychopath is that the individual exhibiting the psychopathic behavior has little to no insight into their own actions. In this example, we can say that the "consciousness" is missing from the equation.
This insight to one's own behavior is also a reference for distinguishing who might be considered "normal" and who might be considered schizophrenic "impaired" or "abnormal" This might lend perspective as to why groups of people (as opposed to individuals), such as governments and corporations, are capable of acting and speaking as a group in ways that are destructive to consciousness and mental and spiritual expansionof our species. Ironically, when an individual acts the same way, he may be considered impaired; but groups, however, will get a pass thus allowing (immune) group entities to implement such damage on the species.
One could measure this phenomenon scientifically by documenting physiological body changes that occur when humans are exposed to images or ideas that reflect "non-consciousness" related items (images of war, government oppression) versus measurable body changes seen when exposed to consciousness related items (love, compassion, human rights issues, etc). Basic vital signs such as heart rate, respiratory rate and blood pressure, also brain wave spikes readings, magnetic or tomography images are all factors and signs that might be measured to compare the human physiological responses to the concepts of non-consciousness-related reality versus consciousness and higher purpose.
Government would have us think that it is protecting humanity from itself. This non-conscious force we call government gets its life-force from an artificial set of rules called the legal system which non-conscious government would have you think is the script that your reality is not only based on but controlled entirely by. This is like someone walking into a room and notifying everyone in the room that their consciousness and state of awareness of existence doesn't exist any more. What? You can take someone's money and belongings, and even forcefully do harm to them and imprison them, but how can you steal someone's consciousness? Government's answer to this? By eliminating it or ignoring its existence.
This is one of the prime realities about the concept of government and any group efforts that robs the individual human being of his/her natural state of conscious equilibrium. This is a crime like any other crime, being committed on that individual human being. This can only be appreciated from the standpoint of third party looking down on the species as a whole. When you consider it in this context it is then easy to appreciate this reality. It then becomes easy to see how non-conscious government concepts act as a cancer to the species.
With humanity now swimming in knowledge about itself thanks to technology and the Internet – knowledge which can no longer be ignored – we are only now beginning to see the early results of what happens when truth, awareness and consciousness is triggered by a massive pulse of lies which jolts the consciousness of the species.
Edward Bernays (Propaganda) Effect Now Backfiring?
With the current global awakening now accelerating at speeds that must not be pleasing to the globalist gangsters, it is reasonable to reflect back on the concept of propaganda, groupthink and group manipulation for the purposes of a certain agenda. I would like to suggest that it is possible that the global awakening we are seeing may partially and indirectly have been contributed to by Edward Bernays himself. After all, it was Bernays who admitted openly how these mass mind control techniques were A: Real; B: They worked; C: They worked on the masses because they worked on the individual in a perceived group setting. Bernays showed us that humans responded to clever timing, images and messages that appealed to our subconscious urges, imagination and thoughts. Can it be that we are seeing the culmination of many of these factors backfiring against the original CIA/U.S./NWO plans?
They hoped to continue to fool everyone with their propaganda. They planned and executed false flag operations and reinforced them with their planned propaganda, precisely timed talking points, images and sensationalism. But did they ever consider that the propaganda effect would actually wear out after so many decades of continued obvious lies and hypocrisy? Perhaps they did, and perhaps that is why there is so much talk about depopulation as seen in their own Georgia Guidestones. Perhaps the talk by Zbigniew Brzezinski about how much "easier" it is to kill a million people than control them is an admission that they know humanity will factually wake up as a whole and thus a last resort for the psychopath globalists before they must face their doom.
I believe this is all the end result of hundreds of years of propaganda now fully exposed due to the information age. One thing I'll say about Bernays is that he never hid what he was doing. He told you straight forward what he was doing, even writing several books about it.
The global political events we are seeing exposed in real-time are a first of its kind. Because of all the released information and knowledge, and because of the Internet, we can track globalist mafia crimes in real-time in a rather exciting way which has led to the alternative or "New Media." What started off as a truth movement with many little cousin movements all around the world has morphed into one big freedom and consciousness movement. Thankfully, many of the lines that separated us have blurred as humans recognize that they need to come together more than anything else.
Humanity is responding to this non-consciousness force we call government, by coming together and slowly ignoring our political, religious and philosophical differences and instead focusing on the common enemy which is now emerging as the forces that represent non-consciousness that we call governmental control systems. This is at the root of all of our struggles. We hear TV pundits tell us that humans must be controlled by a federal and global unchallenged government. Many of the script-reading advocates for the big government top-down control system just happen to have significant voices in the mainstream media.
No one at mainstream media dare stands for freedom and individual sovereignty. Anyone who does ends up getting fired or being asked to quit. Hollywood TV shows as well as the educational system are all supporting the paradigm of big government. Obama's primary message to Americans seems to be about not listening to those (lunatics? radicals?) that stand for individual freedoms. Obama may actually be the only U.S. president warning America not of tyranny and the need to stand for the Constitution and Bill of Rights, but instead he's warning his sheep to beware of those warning of tyranny. One of the things the globalists have accomplished is they've made it easy to identify those who are with us and those who are not.
Given the current global awakening in light of all the information and spiraling propaganda mentioned above, we can now simplify the battlefield in such a way that it is easy to identify the enemies of freedom. We can now ask anyone the simple question: Power to the state or power to the people, which one do you choose? Will you side with those that demand freedom and sovereignty from government or will you side with those that feel the people are the property and responsibility of big government, and those who rebel are terrorists? The state or the individual? Choose one and take sides now.
We know where NBC stands, and CNN and all the left-wing Obama supporters. Despite their attempts to sound pro-America, we know where Fox News and the Republicans stand also. When measured with this simple question of State versus Individual it is easy to see that both Democrats and Republicans are exactly the same. They are both controlled by criminal elements in the .1 percent class who want their one world government. It is then easy to see how the human element of humanity that is living and breathing, is now fully awakening to this non-consciousness element we've been calling government.
Now we can observe how humanity will deal with this force that has cycled its way into an over-sized oppressive control mechanism. Humanity is now realizing that freedom is more a realization than anything else. Yes, realizing something is an expression of consciousness and learning or integration of knowledge and the awareness of this newly acquired knowledge.
With humanity now realizing that government is a useless obstacle in the way of human thriving and freedom, I expect we will witness phenomenal things in the coming months and years. I see humanity now actually slowly but surely pulling together in an all-out effort to save itself from government.
I never thought of this concept myself until recently and I don't see any other way to articulate it. This is where we are. We are now seeing the expression of this reality in many freedom lovers world wide. This was essentially the very same spirit behind the founding of America. This was the spirit behind the Constitution and Bill of Rights and the primary meme of those initial years when America was founded. It doesn't mean that the founding fathers were saints or any of that, it means that the spirit of freedom that drove them to do what they did is back, in fact this modern-day rekindling of freedom is and will be much more intense than what the founding fathers imagined. Humanity is now realizing it didn't finish the job. There is already a track record for getting this freedom thing done, and this track record is serving as a precious guideline for those of us who are new at this.
Let freedom ring, and I look forward to witnessing the end result of this focused effort now closing in on government. No, no one was injured in the writing of this article. Not a shot fired. Consciousness knows no violence, and the desire to thrive and be free is a realization. This battle is strictly mental warfare (as Bernays would have told you) and the transition from rooting for big government to control the people, to empathizing with your own species and connecting with other humans in a conscious way to exercise and celebrate your individual freedom from government is seamless.
Awakening from the matrix cannot be measured with blood, bullets, drones or violence. It (the individual's awakening) can only be delayed with fear – external, engineered, artificial, government-crafted fear. This awakening is being triggered by the realization that the fear of tyranny is much greater than any artificial fears the government can come up with.
The human awakening has thus triggered a long-awaited re-prioritizing of fear within the species, which is rendering the globalists primary weapon of mass deception obsolete. To think, we need only overcome their engineered fears to render the concept of over-controlling big government obsolete. Once we reach this point (and we are very close) we can then focus more on officially implementing all the solutions to the new world order at a mass scale. Till then, mass knowledge of solutions are now spreading globally as part of the awakening despite the fact that many of the solutions are still being contained by government using fear and intimidation.
The day is soon coming when these barriers of fear will dwindle as more and more people resort to being the change they want to see in the world. It's already happening and it's a wonderful thing to see.
Bernie Suarez is an activist, critical thinker, radio host, musician, M.D, Veteran, lover of freedom and the Constitution, and creator of the Truth and Art TV project. He also has a background in psychology and highly recommends that everyone watch a documentary titled The Century of the Self. Bernie has concluded that the way to defeat the New World Order is to truly be the change that you want to see. Manifesting the solution and putting truth into action is the very thing that will defeat the globalists.
Source: Bernie Suarez  |  Waking Times
"The Doctrine and Covenants leaves no doubt about the Mormon teaching of exclusivity when it says the LDS Church is, 'the only true and living church upon the face of the whole earth, with which I, the Lord, am well pleased….'"
Glenn Beck recently threw a hissy fit on his daily radio program over "religious people [who] claim to be followers of Christ" getting upset that he was the featured convocation speaker at Liberty University (LU).  Beck accused those who were concerned over a cultist preaching a sermon of "absolutely smearing" LU.
Let's cut to the chase.  Glenn Beck is a Mormon in good standing.  Mormonism is a theological cult.  Thus Beck's not an authentic Christian — period.  That some Christians have the temerity to object to a cultist giving a sermon at a Christian university offended Mr. Beck, thus his rant.
In an earlier column I wrote Questioning with boldness: Which is it Glenn, are you a Mormon or a Christian? I provided an in depth examination of the Church of Jesus Christ of Latter-day Saints.  So I'm not going to spend a lot of time re-examine it here.  However, to help you get a handle on what Mormons believe, the following is a snippet of Mormon Christianity from my column.  As you will see, what they believe isn't even close to biblical Christianity:
LDS Christianity outright denies the Trinity which is an essential of biblical Christianity.  So LDS Christianity and orthodox Christianity do not believe in the same God.  Mormon Christianity teaches that there are many gods who are overseers of other planets.  The god of planet Earth, the one they call Elohim, was just a man with a body of flesh and bones who progressed to godhood and was rewarded with his own planet.  [Founder]Joseph Smith taught, "God himself was once as we are now, and is an exalted man, and sits enthroned in yonder heavens. That is the great secret… [Y]ou have got to learn how to be Gods yourselves, and to be kings and priests to God, the same as all Gods have done before you…"
Brigham Young believed in a plurality of gods: "How many Gods there are, I do not know. But there never was a time when there were not Gods…" (Journal of Discourses 7:333).
Mormons believe that after death they will become gods and will be rewarded with their own planet.  Thereafter they will spend eternity with their many wives (polygamy) producing offspring to populate their planet.  Traditional Christianity says that God is not a man. (Numbers 23:19) Mormon Christianity teaches that man first existed as spirits in heaven.  Biblical Christianity says that the physical body comes before the spiritual. (1 Cor 15:46) 
And LDS Christianity teaches this humdinger: Jesus and Lucifer are spirit children of God, which makes them spirit brothers. 
Bible believing Christians will understand that historic orthodox Christianity does not hold to any of what Joseph Smith conjured up.  There is no way that Glenn Beck is unaware of Smith's beliefs and background.  Later in my column I brought to light that,
…it was Joseph Smith and subsequent Mormon hierarchy that attacked Christianity.  The truth is Joseph Smith's religion, which he made up out of whole cloth, is an abomination to God! 
It seems weird to me that Glenn Beck spends oodles of time gathering dirt on leftist radicals and that he digs deep to get the skinny on President Obama but has neglected to do some deep digging on …  Joseph Smith.  His church's so-called prophet was a charlatan, a polygamist, an adulterer, and he was up to his eyeballs in the occult as was his father.  There's plenty of evidence on the web for inquiring minds that want to know the truth about Mormonism's founder.  (Source)
For reasons known only to him, Glenn Beck holds the LDS Church in high regard.  Consequently, he's deluded.  Why do I say that?  To put it bluntly, Mormonism is a satanic cult.  (Those who wish to research the LDS are invited to visit my website.)  LU knows this full well, yet Beck was invited to speak to its students.  As I mentioned above, Beck preached a sermon saturated with Mormon theology.  Moreover, he shared a valuable artifact — Joseph Smith's pocket watch.
Liberty University Enlightens Us
Following is LU's explanation, in part, for their decision:
We have explained over the decades repeatedly that convocation is an opportunity for students to hear from people of all faiths and from all walks of life.  Liberty has also made it clear repeatedly that it does not endorse any statements made by any convocation speaker.
So far so good.
By contrast, our faculty are all required to profess Liberty's statement of faith and to affirm our doctrinal statement.  Our students are all required to take many credit hours of theology and Bible courses, regardless of their major.  Our students have no question about what Liberty's doctrinal statement is.  It is posted publicly for all to see. Our doctrinal statement is our public statement on Mormonism.  It is the same statement that Liberty was founded upon and it will never change.
College is about learning.  How can you defend what you believe if you don't understand what others believe? 
Good point.
I believe our students are stronger in their faith because of our convocation speaker series and the wide diversity of views that they have been privileged to hear in person over the last few decades.
By the way, many conservative evangelical leaders who are closer to Beck than me have told me that they believe Beck has had a born again experience recently.
Hold it right there!  The "Glenn Beck is saved" rumor has been circulating for several years thanks largely to Wall Builders Founder David Barton, "American evangelicals' favorite historian."  If it's true, then why is Beck keeping the good news from his friends and fans?  Moreover, if he truly is regenerate then why hasn't he cut all ties to the LDS Church and joined a church where the true gospel of Christ is preached?
LU's explanation continues:
I do not know his heart but our audience knows that he was speaking only for himself and expressing his personal opinions and beliefs, not those of Liberty University or even of Mormonism generally. As Jerry Falwell, Sr., our founder, often used to say about speakers at Liberty who had different views than him, Liberty students are smart enough to eat the fish and spit out the bones! I believe that's as true today as it was in his day.
Are we to assume every student is mature in their faith and has spiritual discernment?  Are we to assume that every student who attends a Christian university has been born again and thus saved? Did it not occur to Jerry Falwell, Jr. that some of the students who ate the fish Glenn Beck dished up could have choked on the bones?!
Now, don't get me wrong. Liberty University has the right to invite whoever they wish to speak to its students.  But lately they seem to have an affinity for Mormons, as Glenn Beck has spoken at the university twice.  In 2010 he delivered the commencement address and received an honorary doctorate degree.  Likewise, Mormon Mitt Romney gave the commencement speech in 2012.
A Martyr?
Is it true that Joseph Smith died a martyr, as Glenn Beck declared to LU's students?  Not so fast, Glenn!  The factual account of what led to Smith's death reveal that he and his brother Hyrum were charged with treason and conspiracy by Illinois authorities whereby they were arrested and imprisoned in a minimum security cell in the Carthage city jail. According to The Martyrdom of Joseph Smith by Eric Johnson:
He and his brother Hyrum Smith were murdered on June 27, 1844, by an armed mob, an event that has prompted Mormons to classify them as martyrs. It has caused others, however, to raise the question whether someone who dies in a gun battle fighting against his enemies can be considered to be a martyr. A close examination of the term reveals that one must meet specific requirements to be considered a martyr, which involve, for example, the reasons why one is put to death and the way one faces such a death. An investigation of the reasons why Smith was murdered and the actions he took to avoid this fate inevitably makes it difficult to maintain that Smith was "like a lamb led to the slaughter." (Source)
Johnson offers several reasons why he believes it is not accurate to classify Smith a martyr which you'll find in his essay under the heading: THE FALLACY OF DEEMING SMITH A MARTYR.
Glenn's Rant
To spare you from having to read Beck's ridiculous rant, I'll post a few quotes from a piece by Erica Ritz:
This is why your churches are dwindling. … You think you're standing for something, when indeed, you're standing for hate and bigotry. I think Jesus was hanging out with prostitutes and sinners, wasn't he? You won't even listen to a man who says … 'I challenge you to know your faith, not my faith, your faith so well that you're willing to die for it. Stand with one another.' That frightens you so much? If it does, you might want to consider that you're on the wrong side.
Let's see.  "Prophet" Joseph Smith said that "Christianity had become apostate, and all of their creeds were corrupt, and all of their followers were deceived." Therefore, it fell to Smith not to "reform" the Christian church, but to "restore" it."
And anyone who rejects Mormon heresy is "standing for hate and bigotry."
More…
I look at every single lover of light and truth as my ally, my friend, my brother. … I look at everyone who is my enemy as my brother. I don't care what you say; I don't care what you think your belief is; I don't care what your lifestyle is — you're not going to change me. And I invite you to join me, join others of multiple faiths — never asking anyone to change their faith — asking you to strengthen your faith, whatever it is. (Source)
Beck is oblivious to the fact that his truth is NOT biblical Truth.  On the contrary, what he's "preaching" to anyone who's willing to listen, and to a captive audience at LU by the way, is ecumenism.  This New Age Mormon who professes Christ vociferously urges his followers to join together with other religious faiths and sing We Are the World.  If Michael Jackson were alive today, he'd be proud of Glenn.
Partnerships
Glenn claims he's read the Bible several times.  Perhaps he has.  However, he must have skipped over Paul's teaching in 2 Cor. 6:14-16:
Do not be unequally yoked with unbelievers. For what partnership has righteousness with lawlessness? Or what fellowship has light with darkness? What accord has Christ with Belial?  Or what portion does a believer share with an unbeliever?  What agreement has the temple of God with idols?  For we are the temple of the living God.
Unbelievers are in darkness.  For this reason believers are not to unite with them in any sort of spiritual enterprise.  And those who are in darkness, the unsaved, are not our brothers and sisters.  Thus, we are commanded to share the gospel of Christ with them.  (1 Cor. 15:1-11)
One last quote from Glenn Beck's hero, Joseph Smith where we learn a bit more of his bizarre and unbiblical understanding of God, which, by his own admission is the view of God Glenn holds as he is, after all, a professing Mormon:
I say, if you were to see him [God] to-day, you would see him like a man in form–like yourselves, in all the person, image, and very form as a man . . . it is necessary that we should understand the character and being of God, and how he came to be so; for I am going to tell you how God came to be God. We have imagined and supposed that God was God from all eternity,  I will refute that idea, and will take away and do away the veil, so that you may see . . . and that he was once a man like us; yea, that God himself the Father of us all, dwelt on an earth the same as Jesus Christ himself did.  (Source)
Now a bit of wise counsel from Erin Benziger in What If 'My God' Is Bigger than 'Your God'? :
It is sinful pride that leads men into idolatry as they create imaginary gods that suit their own personal needs. It is the same sinful pride that prevents men from bowing low before the True God. It is this pride that refuses to acknowledge one's own inability to offer anything truly "good" and refuses to acknowledge his own sinfulness. Yet it is God Who can, by wonderful, amazing grace, break a man of this pride and bring him to his knees in humility. It is God Who can bring the most stubborn, prideful man to a place of repentance and faith in the Savior, Jesus Christ. May we pray this day and every day that God would use us to proclaim the truth of His Gospel to such men, and may we pray that His Spirit would stir and work within those men to bring them to repentant, saving faith and knowledge of His Son. (Source)
Recommended:
Church of Jesus Christ of Latter-day Saints/Mormonism—On Solid Resources
New Age Movement—On Solid Rock Resources
Glenn Beck's "pure personal truth," Part 1, Part 2—Marsha West
"Aliens visiting Earth would report back to their superiors: 'It's quite amazing, those people worship images. They know it and they pretend not to know it.'" — Hypnotherapist Jack True.
This is a backgrounder for my mega-collection, Exit From The Matrix, which contains many exercises designed to liberate an individual from the standardized perception of reality—and usher in his own creative reality.
Mass mind control focuses on two elements: image and feeling.
By linking the two primary elements, it is possible to short-circuit thought and "cut to the chase," when it comes to enlisting the allegiance of huge populations.
Two seemingly unrelated events spurred my interest in mass mind control.
On the evening of April 12, 1945, I listened to a radio report on the death of Franklin D Roosevelt. I was seven years old.
I became upset. I didn't know why. I was angry at my own reaction.
Forty years later, I pulled into a gas station near my apartment in West Los Angeles. I got out of my car and took the cap off my gas tank. I looked to my right and saw Tony Curtis sitting in his car. I was shocked.
A few days later, I began making notes under the heading of "image-emotion cues." At the time, I was working as a reporter, writing articles for LA Weekly. I knew next to nothing about mind control, MKULTRA, Soviet psychiatric gulags, Chinese re-education programs, or US psychological warfare operations.
But because I had been painting for 25 years, I knew something about the power of images.
I remembered my first exhibition of paintings in LA, at my friend Hadidjah Lamas' house. We had hung my work in her large living room and dining room. Hadidjah had enlisted the services of a friend who had videotaped me painting in my studio, and at the exhibition she set up a television set out on her patio and continuously played the videocassette.
People came through her front door, almost automatically walked through the house to the patio, as if guided by an unseen hand, and watched the video; then they came back inside and looked at the paintings.
They would stop at a painting and say: "That picture was in the video!" It excited them.
My first note on "image-emotion cues" was, "Investing an image with importance. Projecting emotion into an image."
Projecting emotion into a newspaper image of the president, FDR. Projecting emotion into the screen image of Tony Curtis. Projecting emotion into a video of a painter working in his studio.
When people encounter an image, when they invest it with importance, they project feeling into the image—and this all happens in a private sphere, a private space.
If this didn't happen, there would be no way to control populations through images. It wouldn't work. It all starts with a person setting up his own personal feedback loop that travels from him to an image and back again.
Coming out of World War 2, US psychological warfare operatives knew they could turn their skills to political purposes. They had just succeeded in making Americans believe that all Japanese and German people were horribly evil. They had been able to manipulate imagery successfully in that area. Why couldn't they shape America's view of a whole planet that lay beyond personal experience?
They could and they did. But the power to do that emanated from the fact that every person invests images with feeling. That's where it really starts.
I had seen the 1957 film, Sweet Smell of Success, a number of times. I admired it. Burt Lancaster and Tony Curtis gave tremendous performances. When, decades later, I saw Curtis sitting in his car at that gas station, I was "working from" the emotion I had invested in his onscreen image. It produced a sense of shock and paralysis for a few seconds.
Other people might have rushed up to Curtis and asked for his autograph. With me, it was shock, cognitive dissonance. Ditto for the death of FDR. I was working off newspaper pictures I'd seen of him, and the feeling I'd invested in those presidential images. Other people, when FDR died, went out into the street and hugged their neighbors and wept openly. For me, it was upset and shock and anger.
There's nothing intrinsically wrong with investing emotion in images. It can be exhilarating. It can be uplifting. As a painter, I know this in spades. Putting emotion into images can, in fact, vault you into a different perception of reality.
But on the downside, it can also take you into lockstep with what media/propaganda operatives want you to experience, second-hand.
We focus to such a degree on how we are being manipulated that we don't stop to consider how we are participating in the operation. And our own role is clear and stark: we invest images with feeling.
So how does one individual's projection of feeling into an image become a uniform projection of the same feeling into one image, by millions of people? How does what one person invests privately become mass mind control?
Through external instruction or cues. And also, by engendering the idea that there is only a limited palette of emotions to work with in the first place.
Why do millions of people fall into line?
Because they don't realize they started the whole ball rolling themselves. All they know is: images are connected to feelings.
If they knew they were the real power in the whole operation, if they knew they were investing feelings into images all day long, if they could actually slow down enough to see how they do this….then they would be far less prone to taking instruction about what feelings they "ought to" invest in second-hand images.
Hypnotherapist Jack True unceremoniously put it to me this way: "If a dog could analyze how he got from eating meat to drooling at the sound of a bell that came at feeding time, he could stop drooling."
(If Chris Matthews could analyze how his own voluntary investment of feeling in the image of Barack Obama sends a tingle up his leg, he could stop tingling.)
We see images of people rioting all over the Middle East. We see burning flags and crowds outside embassies. We're supposed to invest our own anger and resentment into those images. Unless we're suddenly told those rioters are actually "the good rebels," in which case we're supposed to invest our joy in the images.
We see a picture of miles of flat farmland and (GMO) corn waving in the breeze. We're supposed to invest that image with feelings of happiness and pride.
Nowhere are we told we can back up a step and realize that we are the ones who begin the whole process, by projecting feelings into images. Any images.
When I was 19, I was sent to a trained expert in New York to take a Rorschach (ink-blot) Test. I was displaying signs of what would now be called Oppositional Defiance Disorder.
The expert said he wanted me to tell him everything I saw in each ink-blot. I took him at his word.
An hour later, I was still working on the first blot. I was describing everything from bats and owls and chickens to space ships and buckets of hidden treasure in caves.
Well, I was cheating a little. I wasn't really describing what I saw. I was imagining. I was taking off from what was on the page and improvising. This was outside the bounds of the Test.
The expert was seething. He was sweating, because he had many other blots to show me, and it was late in the afternoon, and he was looking at spending the entire evening with me. Finally, he held up his hand and put an end to the Test.
I wasn't playing his game. Among other sins, I wasn't investing a limited palette of feelings in the images. Therefore, my choices of "what to see" in the blots expanded greatly.
When I go to a museum, I like to watch people stand in front of abstract paintings. Many of them are stumped. They're trying to figure out what feelings they "are supposed to" project into the painting. They're looking for "instruction," and there isn't any. They're asking for mind control, and they're not getting it.
Fanaticism of any kind begins with individuals projecting feelings into images. This is harnessed by leaders, who then choose the images and direct which feelings are permitted. The tempting prospect for the follower is: participation in a drama that goes beyond what he would ordinarily experience in life. This is bolstered by the idea that what he is doing is moral.
In an election season, people on the left are urged to project messianic feelings into images of X. People on the right are cued to invest feelings of pride, hope, and "tradition" into images of Y. The real candidates aren't actually experienced.
Since Vietnam, shooting wars have been more difficult to sustain among soldiers. "In the old days," feelings of hatred could be projected into images of enemies that included civilians, so overtly killing everybody on foreign soil was easier to accept. Now, soldiers are taught "enemy combatant" and "civilian" are two different images that require the injection of two different feelings.
Here at home, police and military are taught, more and more, to invest feelings of suspicion into images of American civilians. This is an acceleration of mass mind control for law enforcement.
The astonishing number of civilians who participate in government and corporate surveillance of the public, through technological means, learn to invest "dead empty feelings" into images of citizens, as if these targets are nothing more than ciphers, units.
Bizarre instances of police detaining and questioning parents who allow their children to play unsupervised reveal another accelerating trend. These confrontations start with neighbors snitching on the parents. The neighbors have learned to invest feelings of panic, suspicion, and anger in images of "free children."
In all these cases, there is no real experience. It's all second-hand. It's all feeling-projected-into-image.
In the medical arena, countless advertisements and news stories are geared to convince people to invest feelings of trust in images of doctors. The suggestion, "Ask your doctor if X is right for you," is framed as the solution to a little problem. The problem is set this way: Drug X is wonderful; drug X has serious adverse effects; what to do? Solution: ask your doctor; trust him; he knows.
As the class of victims in society has grown by leaps and bounds, including any group that can organize and promote itself as needing help or justice—going miles beyond the people who really do need assistance—citizens have been trained to invest feelings of sympathy and concern for all images of victims everywhere, real or imagined. This, too, is mass mind control.
Pick an image; invest feelings in it. Facts don't matter. Evidence doesn't matter.
You've heard people say, So-and-so (a celebrity) has become a caricature of himself. Well, that's what it means. The celebrity has projected massive feelings of approval into a concocted, cartoonish image of himself.
As a society, we can go on this way until we become a horrific cartoon of a cartoon (well, we're already there), or we can step back and discover how we invest emotion into images, and then use that process to pour feelings into visions of our own choosing and invent better futures.
Since the dawn of time, leaders have portrayed themselves as gods. They've assembled teams to promote that image, so their followers could project powerful emotion into the image and thereby cement the leaders' control and power.
The game isn't new. Understanding the roots of it within each individual could, however, break the trance of mass mind control.
During the first West Nile fake outbreak of 1999, I spoke with a student who had just dropped out of medical school. He told me he'd been looking at electron-microscope photos of the West Nile Virus, and he suddenly realized he was "supposed to" invest feelings of "great concern" in those images.
Somehow, he broke free from the image-feeling link. He was rather stunned at the experience. His entire conditioning as a medical student evaporated.
Parents all over the world are having the same experience vis-a-vis vaccines. They realize they're supposed to invest fear in images of germs and disease, and they're also supposed to invest feelings of hope and confidence in images of needles and vaccines. They see the game. They're supposed to remain victims of mass mind control.
But they've awakened.
We've all been taught that what we feel is always and everywhere out of our control. These feelings are simply part of us, and we have to act on them. The alternative would be to sit on them and repress them and turn into androids, robots.
This is simply not true. There are an infinite number of feelings, and as strange as it may sound, we can literally invent them.
This, it is said, is inhuman. It's a bad idea. It's wrong. It would lead us to "deserting the human community."
Nonsense. That's part of the propaganda of mind control. If the controllers can convince us that we're working from a limited map of emotions and we have to stay within that territory, they can manipulate that limited set of feelings and trap us.
The power of art is that it shows us there are so many more emotions than we had previously imagined. We can be much freer than we supposed.
The synthetic world of mind control and the handful of feelings that are linked to images is what keeps us in thrall.
The world—the world of what we can be—is so much wider and more thrilling and revealing.
The author of three explosive collections, THE MATRIX REVEALED, EXIT FROM THE MATRIX, and POWER OUTSIDE THE MATRIX, Jon Rappoport was a candidate for a US Congressional seat in the 29th District of California. He maintains a consulting practice for private clients, the purpose of which is the expansion of personal creative power. Nominated for a Pulitzer Prize, he has worked as an investigative reporter for 30 years, writing articles on politics, medicine, and health for CBS Healthwatch, LA Weekly, Spin Magazine, Stern, and other newspapers and magazines in the US and Europe. Jon has delivered lectures and seminars on global politics, health, logic, and creative power to audiences around the world. You can sign up for his free emails atwww.nomorefakenews.com
Source: Jon Rappoport  |  No More Fake News
It is easy to stand up and cheer for your favorite government activity. It is quite another to acknowledge what it means in the real world.
I almost never try to speak for other people. However, I think it is fairly safe to say that the average military recruit firmly believes that he joins the military so that you and I can live and breathe in freedom. To be sure, he had other reasons for joining, but I think the defense of liberty is a fairly common characteristic.
That is certainly what I thought when I was in Navy boot camp in Orlando, Florida, in 1983. After all, this is what I had been told all my life: sailors, soldiers, airmen and marines defend freedom.
But is this actually what they do?
Consider the following:
This Marine lost both legs in an IED blast in Iraq. He claims he was forced by TSA to remove both prosthetic legs before he could board an airplane in Phoenix.
This Vietnam veteran in Spicewood, Texas, had flashbacks to his combat experience during a marijuana raid at a friend's house. What police claimed was marijuana turned out to be ragweed.
Jared Goering, who served 19 years in the Army, including tours in Iraq and Afghanistan, was kicked off the boardwalk in Wildwood, N.J. for walking with his service dog, Gator.
Emily Yates, who served two tours with the Army in Iraq, was violently arrested by park police in Philadelphia for asking why she couldn't play her banjo under some shade trees.
Dimitrios Karras is a Marine Corps veteran of Iraq and Afghanistan. Read about the ATF raid on his business in National City, California.
Martin Goldberg of Brooklyn is a World War II veteran whose apartment was subject to a drug raid. Later, the cops realized they had raided the wrong apartment. His 83-year-old wife was hospitalized with an irregular heartbeat as a result of the raid.

In 1997, four sailors from the USS Saipan (LHA-2) were falsely accused of the rape and murder of a Norfolk, Virginia, woman. One spent eight-and-one-half years in prison while the other three were sentenced to life in prison. These three were pardoned in 2009. Even though the actual killer is serving a life sentence, four innocent men are still required to register as sex offenders and are still fighting to clear their names.
Charles Loeks was 18 and fresh out of Marine boot camp. On a trip home to Covina, California, he was hanging out with a few friends when he was arrested for resisting arrest and nothing else. He spent 21 days in Los Angeles County jail, even though he had harmed no one.
Carlos Jaramillo is a former Marine combat instructor who lives in Onslow County, North Carolina. Watch what happened when he recorded a sheriff's deputy who arrested him for no apparent reason.
Noel Polanco was an unarmed 22-year-old National Guardsman who was shot and killed by New York City police at a traffic stop near LaGuardia Airport.
John Laigaie, a retired Army master sergeant, was threatened at gunpoint by police while legally carrying a gun in a park in Bellingham, Washington.
Homer Wright is an 80-year-old Army veteran who was charged with felony gun use after he shot a burglar who entered his home in Englewood, Illinois.

Mark Schmidter, a Vietnam veteran who lives in Orlando, is currently serving 145 days in a cage for passing out jurors' rights information on the steps of a local courthouse.
Justin Ross of Ankeny, Iowa, was recently discharged from the Army. Police used a battering ram to enter his home executing a warrant for some items purchased with stolen credit cards. They did not find any of these items.
Saadiq Long is an Air Force veteran who was placed on a TSA no-fly list. He had to battle for months to be removed from this list just so he could fly home from Qatar to visit his ailing mother.
Chuck Benton of Long Grove, Iowa, served 22 years in the Army. He was arrested and charged simply for living in the same house with his son who was growing medical marijuana.
Cody Donovan is a former Marine MP who lives in New Milford, N.J. He was charged with unlawful possession of a weapon after carrying a loaded gun into the Garden State Plaza mall when he attempted to help police apprehend the shooter.

In 1932, 17,000 veterans marched on Washington to demand payment of bonuses they had been promised as a result of their service in World War I. Two were shot and killed by police. 55 were arrested and 135 were injured when the United States Army became an instrument of domestic law enforcement. Two of the chief enforcers were named MacArthur and Patton. Yes, those two.
Mark England, an Army combat medic who saw action in Iraq and Kosovo was beaten and tasered by police at McCarran Airport in Las Vegas.
Air Force Staff Sergeant Matt Pinkerton of Glen Burnie, Maryland, faces second degree murder charges after fatally shooting a home intruder in September.
Leo Hendrick, an army veteran who lives in Northwood, Iowa, faces up to 30 days in jail and a $600 fine for raising chickens in his yard.
Yes, the cops had a search warrant. However that in no way excuses their vandalizing the home of Army veteran Dan Neary of Lakewood, Washington.
These World War II veterans were threatened with arrest for visiting a closed war memorial in Washington, D.C. during the October "shutdown."

These Vietnam veterans actually were arrested for visiting a New York City war memorial after curfew.
Denis Reynoso was a disabled veteran who saw action with the Marines in Iraq. He was shot dead by police in his Lynn, Massachusetts, apartment.
Nick Morgan, an Iraq veteran, was pulled out of a crowd by police in Hempstead, New York, and trampled by their horses.
Gary Shepherd of Broadhead, Kentucky was a Vietnam veteran. He used medical cannabis to relieve the pain in his left arm, which was crippled during the war. Shepherd was shot dead by a SWAT team, after they had threatened to cut down his cannabis plants.
Valente and Manuel Valenzuela of San Antonio produced sufficient documentation to enlist, respectively, in the Army and Marine Corps. Both fought in Vietnam, where Valente won a Bronze Star. Now they are facing deportation to Mexico because of erroneous entries on their birth certificates.
Jerome Murdough, a homeless Marine Corps veteran, died in a jail cell on New York's Rikers Island after being arrested for trespassing. A heating malfunction caused the temperature in the cell to soar to 100 degrees.
Kenneth Chamberlain was a retired Marine and Vietnam veteran living in White Plains, New York. Early one morning he set off his medical alert device. The first responders in this case were not medics, but rather police, who proceeded to kill Mr. Chamberlain.

This group of combat veterans in Colorado organized to help legalize marijuana during the 2012 elections. They claim – and I believe them – that marijuana helps mitigate PTSD. If you support any punishment whatsoever for a combat veteran who heals himself with a plant that grows wild in some form within a few miles of you, I don't care what you tell me. YOU DON'T BELIEVE IN FREEDOM!
Stanley Gibson, a 43-year-old Gulf War veteran was shot dead over a total non-crime by Las Vegas police in December, 2011.
Army Specialist Michael Sharkey returned home from deployment in Afghanistan to find his home in New Port Richey, Florida, unlawfully occupied by two squatters. The local sheriff says that Sharkey has no grounds upon which to evict them.
These veterans say they are being required to prove they are worthy of gun rights. Our rights are gifts from God that are inherent in our very humanity. We never have to prove to anybody that we have them.
Dwight Edwards, a disabled Marine veteran of Afghanistan, says that cops in Queens brutally beat him for no reason.
Army Staff Sgt. C.J. Grisham, who won the Bronze Star with Valor, was forcibly disarmed for no good reason by a policeman while on a hike with his son not far from Fort Hood, Texas.

Brandon Raub, a Marine who was decorated for bravery in Iraq and Afghanistan, was forced to spend a week in a Virginia mental hospital over some "anti-government" Facebook posts. (His interviewer here, John Whitehead, is a constitutional attorney, Vietnam infantry veteran and superlative anti-police state blogger.)
Operation Vigilant Eagle is a project of the Department of Homeland Security that has led to numerous Iraq and Afghanistan veterans "finding themselves under surveillance, threatened with incarceration or involuntary commitment, or arrested, all for daring to voice their concerns about the alarming state of our union and the erosion of our freedoms." Indeed, merely being a "returning veteran" can have you designated as a potential terrorist.

We will never know the whole truth about Navy veteran and former Los Angeles cop Christopher Dorner, who was the subject of a police manhunt and media witch hunt in 2013. He never got the chance to tell his story in court.
Hector Barrios came to America in 1961. He was drafted and served as an infantry soldier in Vietnam. In 1996, he was busted for possessing marijuana, which he used to treat his PTSD. As a result, he was deported to his native Mexico where he died.
Matthew Corrigan of Washington, D.C. was a first sergeant in the Army Reserve and a veteran of Iraq. His home was destroyed in a SWAT rampage because it was reported to the police that Corrigan had a gun.
Jamie Dean was an Army veteran of Afghanistan was diagnosed with PTSD. Upset about his impending deployment to Iraq, Dean had an intense emotional outburst at his Maryland home in December 2006. Even though he neither harmed nor threatened anyone, he was shot and killed by a local SWAT team.


Bennie Coleman, 76, is a retired Marine who lost his Washington, D.C., home because of a $134 tax lien that District authorities had sold to an investor.
Jeremy Usher is a former Navy hospital corpsman who lives in Greeley, Colorado. He faces jail time for using medical marijuana to treat his PTSD.
Brittany Ball, a 23-year-old soldier at Fort Jackson, S.C., was manhandled by a cop at a local bar, even though she had done nothing wrong.
Air Force Airman First Class Michael Davidson was shot in the stomach by police in Opelika, Alabama, at the scene of a traffic accident.
Benjamin Wassell sustained traumatic brain injuries while with the Marines in Iraq. The Buffalo-area resident was the first person charged with illegal gun sales under New York's new SAFE Act.

Erik Scott graduated from West Point in 1994 and served as a tank platoon leader. In 2010, he was gunned down and killed by police as he peacefully walked out of a Las Vegas Costco.
Scott Olsen saw action with the Marines in Iraq. Later, he would join the Occupy Oakland movement. In October, 2011, suffered a fractured skull after being hit in the head with a projectile fired by police.
Derek Hale served honorably with the Marines in Iraq. Although, he had committed no crime, he died after being tasered three times and then shot three times by police in Wilmington, Delaware.
Roderick King, an Iraq war veteran, was arrested in Philadelphia after he and his friends had criticized a cop's driving.
Howard Dean Bailey, a Navy veteran, was deported to his native Jamaica when immigration authorities discovered he had taken a plea bargain in a marijuana case in Norfolk, Virginia.

To be sure, the recently deceased folk singer Pete Seeger could not have been more of a leftist. However, he did serve three years in the Army after being drafted during World War II. He was sentenced to one year in jail after refusing to reveal his political connections to the House Un-American Activities Committee in 1956. He appealed this sentence, citing the First Amendment, and ultimately spent only four hours behind bars.
Larry Kirschenman of Nogales, Arizona, served 22 years in the Army and was decorated for bravery in Vietnam. Learn how he was brutalized by Border Patrol agents when asking why he was subjected to a warrantless search.
We will never know for sure what happened in Army veteran Matthew Stewart's Ogden, Utah, apartment one night in January 2012, as he will never have his day in court. He was in prison awaiting trial on charges of shooting and killing one of the police officers who raided his apartment searching for marijuana. Stewart, whose guilt was never proven, committed suicide in his cell.
Sergio Arreola is a cop in Los Angeles who served with the Marines in Iraq. He was beaten by the police in suburban Pomona for no good reason whatsoever.
This former Army paratrooper is appealing to the New York state legislature to legalize medical marijuana. He has severe multiple sclerosis and is "forced to break the law to have some semblance of a bearable existence."


On May 5, 2011, a Tucson SWAT team approached the home of Jose Guerena, who had served two tours with the Marines in Iraq. Guerena grabbed his AR-15 as is his right, but did not fire. The SWAT team let loose with 71 rounds, 60 of which perforated Guerena's body.
Marty Maiden lived a few blocks from Guerena in Tucson. and saw action with the Army in Afghanistan. He posted a suicidal note on Facebook which prompted a call to the police, who shot him dead.
Steve Lefemine is a West Point graduate who was arrested for protesting against abortion in a "no-demonstration zone" outside the Republican National Convention in New York in 2004. The 2nd Circuit U.S. Circuit Court justified the arrest based on a "compelling state interest in security".

Eileen Erickson's husband Sid served in Vietnam and died of Agent Orange exposure. Erickson is now in the crosshairs of authorities in Venice, California, who want to tear down the tree house Sid built before he died.
Listen to this disabled Navy veteran plead with then-Senate candidate Kelly Ayotte (R-NH) about the benefits of medical marijuana. Listen to the totalitarian response.
John Wrana, a 95-year-old Army Air Corps veteran of World War II, was tasered and then shot to death by police in Forest Park, Illinois. His "crime"? Refusing medical attention.
John Colaprete saw action in Vietnam as a Marine Corps officer. In 1994, his Virginia Beach home and restaurants were the object of paramilitary-style raids by the IRS. The raid was prompted by a false accusation by a former employee. While you need to watch this documentary in its entirety some time, for now just pick it up for a few minutes starting at the 55:40 mark.

Boxing legend Joe Louis was also tyrannized by the IRS. The Brown Bomber enlisted in the Army in 1942 saying "Let us at them Japs." Louis never saw combat, as he was assigned to the Special Services Division. While still a civilian, Louis fought some charity bouts and donated the proceeds to the Navy Relief Society. The IRS, however, viewed these proceeds as taxable income. IRS problems would plague him all his life. Please watch this video starting at the 53:17 mark.
Adam Arroyo is a Hispanic veteran of the Iraq war who lives in Buffalo. Police shot and killed his dog while executing a drug warrant for a black man.
Henry Taylor was a retired Air Force veteran in Louisville, Tennessee, who was shot dead by a local sheriff's deputy while investigating a burglary at a rental property he owned.
This is a fascinating article: When Johnny Comes Marching Home … He Goes to Jail. It is absolutely tragic how we chew up and spit out so many of those we send to "fight for our freedom."

Radio talk host Adam Kokesh won the Navy Commendation Medal as a Marine in Iraq. In recent years, he has been arrested several times for various non-violent protests. His most recent arrest happened after he loaded a shotgun in public in Washington, D.C. on July 4, 2013. On July 10, police violently raided his home and arrested him. He was incarcerated for four months without bond, bail or trial. He is currently on probation for two years. You may not like Kokesh's demeanor or approve of all of his antics, but he has been very courageous when so many of his critics can't be bothered to put down the remote.

James Moore, my brothah from anothah mothah, walked away from a very lucrative engineering position in San Jose to re-enlist in the Army following 9/11. He sustained significant physical injuries as well as PTSD while serving in the Special Forces in Afghanistan. On the afternoon of March 25, 2008, Moore, who had done absolutely nothing wrong, was beaten to the point of flat lining by Denver police.
One of the coolest people I have never met is Antonio Buehler. Buehler graduated from West Point in 1999, earned his Ranger tab, and saw action in Kosovo and Iraq. (He also sports a Stanford MBA.) Early in the morning on January 1, 2012, Buehler was arrested for taking a few pictures of Austin police manhandling a young woman outside a 7-11. Buehler has been arrested four times since. He heads the Peaceful Streets Project, whose members work to expose abuse, brutality and overreach both in Austin and across the nation.

There are no doubt numerous other injustices against veterans that I do not know about. Enough to fill a book. None of these things would have happened if America were a free society. As Kokesh puts it, "The greatest enemies to the Constitution are not to be found in the sands of some far off land but rather right here at home."
I cannot speak to the specific political beliefs of most of the veterans I have mentioned here. Some may be pacifists, while others may make John McCain look like a hippie in Haight-Ashbury. No matter what their individual views may be, the freedom they risked their lives for was flagrantly violated on the streets of the land they fought to protect.
Society endlessly applauds sailors, soldiers, airmen and Marines for "fighting for our freedom". It is in no way disrespectful to say that this is not what they do. No foreign government or terrorist group poses any threat to our liberty. America accounts for about half of the world's military spending. We have 300 ships in our Navy, plus thousands of planes, tanks and nuclear warheads as well as 300 million firearms in private hands. Nobody is going to invade us.
In a constitutional country, which America ceased to be 100 years ago, the job of the military – a vital and most noble one – is to defend the borders, shores and airspace. It cannot protect you from being tyrannized domestically. Indeed, throughout history, armies have been instruments of domestic tyranny. Our Constitution forbids a standing army for just this reason.
Nazi Germany and Soviet Russia had enormous military establishments. How did things work out in these countries?
I am a Christian who believes liberty is a gift from God – Leviticus 25:10; II Corinthians 3:17; Galatians 5:1. To quote Jefferson, liberty is preserved not by military might, but by "eternal vigilance" against one's own government at all levels. It is the grossest form of disrespect to send young men around the world to "fight for freedom" while relinquishing that freedom on the home front.
For several years, America has had the world's highest incarceration rate. Since 2001, Americans have gladly accepted previously unthinkable intrusions on their freedom in the name of "safety" and "security". These include, but are not limited to: warrantless searches and spying, the suspension of habeas corpus, sexual assault as a condition of travel, rampant police brutality, indefinite detention without any semblance of due process, severe restrictions on peaceful protest, massive ammunition purchases by DHS and surveillance drones in our skies watching our every move. Can predator drones be far behind?
And in every election 98 percent of voters put their stamp of approval on perpetuating this monstrosity.
On April 20, 2013, Boston and several surrounding towns got a serious taste of martial law. How many military veterans were on the receiving end of this? Is this what they signed up to fight for?
Stop thinking in clichés. Have a good hard look at everything your media and government tell you. This includes media outlets and parts of the government that you like. Study. Read. Ask questions. And learn that the defense of liberty is not the duty of the military. Rather, it is your duty and mine.
~~~~~~~~~~~~~~~~~~~~~~~~~~~~~~~~~~~~~~~~~~~~~~~~~~~~~~~~~~~~~
In 2008, Houston police pulled over CIA agent Roland Carnaby on what appeared to be a routine traffic stop. A few seconds later, Carnaby was dead.
It is illegal to detain a CIA agent under any circumstances. They may carry any weapon, anywhere, anytime, and request assistance from any law enforcement official with more than certainty.
Why then would this incident be part of a highly classified Russian intelligence report? Could it, perhaps, be that Carnaby, answering directly to former President and CIA Director, George H.W. Bush, was murdered to silence his participation in the theft and sale of American nuclear warheads?
Carnaby was holding a trove of documents outlining the theft and transfer of hundreds of nuclear warheads from the Pantex Plant near Amarillo, Texas. Weapons sent there for disassembly were transshipped to Israel and, from there, refurbished, their cores remachined and then sold around the world or stored in Israeli embassies and consulates around the world.
The Russian report outlines a very different view of the past 30 years, a "view" that "fits like a glove."
DIMONA OUT OF ACTION
The report not only confirms Israel's nuclear weapon inventory but outlines the program of subterfuge and piracy required to keep Israel as a nuclear power after their facility at Dimona suffered a critical "event" in 1988.
"Dimona is a standard 75-megawatt thermal open top reactor as used in France for their plutonium weapons production program, their version of Stanford (Editor's note: Probably "Hanford").

Due to overuse as a fast breeder reactor by the Israelis, Dimona suffered a "steam explosion" IE a flash over indecent due to neutron criticality back in the late 1980's under Bush 1. This shut down its operation for many years until repairs could be made.

It know only operates at very low power levels due to neutron absorption damage to the containment vessel. Now mainly use for isotope production. This forced the Israelis to turn to stolen nuclear stockpiles from the US for the continuation of their nuclear program."
The highly classified Russian report, released, experts believe, to demonstrate American hypocrisy over recent events in the Ukraine, is a litany of horror stories. If this is a "first shot over the bow" by Russian intelligence, American officials can only dread what may be to come.
BACKGROUND

48 hours ago, the retired chief of Russia's counter-intelligence effort for the Middle East released a highly classified report designed to embarrass the United States and demonstrate their servitude to Israel and complicity in broad acts of nuclear proliferation.
The report, loaded with "shock value" intelligence and backed by reams of supporting documents including classified nuclear weapons plans demonstrated that Russia has been able to maintain a high level of penetration of not just American nuclear weapons labs but security agencies as well.
ROUND ONE, 9/11
The report, carefully structured for maximum shock value, begins with 9/11, the watershed event of our era:
"The type of nuclear devices used on 911 were a modified version of the W-54 nuclear artillery shells that were covertly provided to the Israelis between 1988 and 1998 from US surplus stockpiles illegally exported during the Bush/Clinton era.
Chemical analysis done by DOE Sandi was able to identify the chemical/radiation footprint or fingerprint of the warheads based on samples taken after 911 of the fallout at ground zero."
According to the report, 911 was an Israeli operation facilitated by blackmail of Bush 41 and 43, threatening them with "outing" for their personal financial involvement in the sale of 350 primarily w54 nuclear artillery rounds, sold through Israel but distributed to a number of nations.
The Russian report further outlines that NATO partners, particularly Britain and France, were involved every step of the way. 911 was cover for stolen gold, stock fraud and the looting of the American economy. The "wars for profit" were the Bush boys cashing in on their own.
THE "HOW" OF 911
A number of theories have been introduced to explain the mysterious effects seen at ground zero on 9/11. In an article on the Press TV website, evidence of a widespread cover-up of an epidemic of radiation exposure-related cancers tied to 9/11, was presented.
Not only has Russia confirmed the Press TV findings, they present evidence of nuclear weapons use, evidence from a suppressed report based on findings by the Department of Energy's Sandia Laboratories.
"Only a 2 kiloton device was needed to drop the buildings. A 2 kiloton device will produce a fireball of apx 150 to 200 feet in diameter at over 4000 degrees Centigrade. Just large enough to melt the I beams of the central core of the building and drop them in place. The light flash would last less than 1 second and primarily be in the UV light range. Overpressure would only be at 60PSI max and directed upwards with the blast.
Fallout would be minimal and located to within ground zero range only. Radiation would drop to acceptable levels within 72 hrs. after the blast. Most fall out was trapped in the cement dust thus causing all of the recent cancer deaths that we are now seeing in NYC amongst first responders."
The report continues with details that close the door on speculation about 9/11, putting an end to conspiracy theories and, in particular, the wildest one of all, the pseudo-science fairy tale broadly rejected by the 9/11 Commission but allowed to stand as America descended into an Islamophobic frenzy.
"Fallout would be minimal and located to within ground zero range only. Radiation would drop to acceptable levels within 72 hrs. after the blast. Most fall out was trapped in the cement dust thus causing all of the recent cancer deaths that we are now seeing in NYC amongst first responders.

Melted steel and iron oxide or "nano thermite" is a byproduct of the very high gamma ray / Neutron flux induced into the central steel core. The radiation dissolves the steel into iron oxide consuming the carbon and silicone in the steel."
This explains the missing steel columns and the very important clue of the "vaporized" 20 ton antenna tower atop the south tower. The upward blast of radiation literally vaporized it. Video evidence proves this to be true.
The total (redacted) data file from DOE Sandia on the 911 event is well over 72 MB. "P.S. Snowden didn't have a Q clearance so he missed this one."
The scope of the Bush/Cheney/Israeli nuclear proliferation operation, according to the report, is well beyond anything imagined. Here, Russia places the blame, naming not only Vice President Dick Cheney and former White House Chief of Staff Ram Emanuel but Tom Countryman, tasked, according to Russian sources, with actually managing the program that spread nuclear weapons to Brazil, North and South Korea, Saudi Arabia and a number of other nations.
"Illegal distribution of US nuclear material to foreign allies was not limited to Israel. Virtually all NATO allies were in on this scam too. Dick Cheney was the bad guy on this one. Bush2/Cheney traded nuclear pits to foreign country as IOU's in order to get what they wanted. Tom Countryman a well-known Israeli operative is curiously now in charge of N.N.P. at the State Department under Obama. He was put there by Ram Emanuel."
REACTIVATING "DEAD NUKES"
Only nuclear weapons that had deteriorated but could be recommissioned were of use to Israel. The Russian report outlines the basis for selecting the W-54 warhead and exacting details on how weapons were created out of America's "nuclear scrap heap."
"A total of over 350 pits were transferred to the Israelis over a 10 to 20 year period of time. The W-54 type of pit design were the most desirable due to the 2 point implosion pit design. This is the easiest to re manufacture and modify as compared to other circular pit designs.
The pill shaped design of the W-54 type weapon contains over 1.5 times more plutonium than a standard pit. This would allow enough Plutonium to be recovered that was still of weapons grade use even after 32 plus years of age. Americium build up in the pit over time eventually makes the Pit unusable as a weapon so they have a limited shelf life based on how fast or slow the Plutonium was produce in the reactor at Stanford.
Usually it was about 150 days max. Irradiation time in the reactor during production determines the shelf life of the pit as weapons grade material. All of the micro nukes used by the Israelis are re-manufactured W-54 type series devices."
CONCLUSION
According to the Russian report, Israel used remanufactured W-54 warheads, reconfigured as micro-nukes, for terror bombings in Bali, London and to destroy the Fukashima nuclear reaction site in Japan.
With weapons around the world, stored in embassies and consulates, and their powerful friends in the American "right," Israel has managed to maintain nuclear superpower status without a real production facility, using only pirates and traitors, something America, according to our Russian sources, seems to have no shortage of.
Gordon Duff is a Marine Vietnam veteran, a combat infantryman, and Senior Editor at Veterans Today. His career has included extensive experience in international banking along with such diverse areas as consulting on counter insurgency, defense technologies or acting as diplomatic representative for UN humanitarian and economic development efforts. Gordon Duff has traveled to over 80 nations. His articles are published around the world and translated into a number of languages. He is regularly on TV and radio, a popular and sometimes controversial guest. 
Source: Veterans Today | Press TV
Origin of the Master Model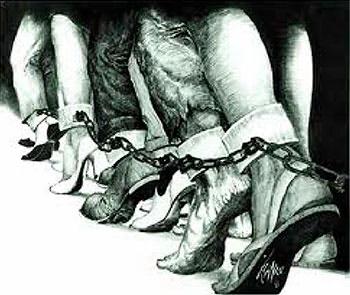 The master plan for world domination we see playing out today was first proposed to the US at the end of World War I. However, there were no takers. People were too war weary. However, when the plan was again proposed at the end of World War II, it was accepted. Consequently, World War II quietly transitioned into the secret "war" to set up what has become known as the "new world order" — an absolute dictatorship over the entire planet.
The United States set up the School of the Americas to train future dictators and terrorists who would be sent out into the world to destroy sovereign nations and place them under US domination by installing puppet governments obedient to the United States. Many conquests were made quietly using clever economic tricks [2]. However, leaders who refused to submit quietly would see their entire country reduced to rubble and the land rendered unlivable by uranium dust scattered by US bombs. The message was clear: Submit to the United States or face total destruction.
A social model based upon the assumption that cleverness and power automatically convey the right to take anything desired from those who are less adept and unable to resist is not a sustainable model for harmonious social interactions. However, this is the chosen model. The mantra for this model, "A man's true worth is measured by the amount of other peoples' happiness that he can possess and destroy" [1], is essentially a call for a class war between the greedy elite and the innocent masses of the world who simply desire a peaceful existence.
Acquisitions
The United States looks at the rest of the world as a "resource". If a country has something — oil, gold, minerals, etc. — that the US covets, it believes it has the right to take those things by whatever means necessary. In many cases the coveted resource is human slave labor. Let's look at some representative examples:
With the cooperation of the dictator, United Fruit Company (US) owned almost half of the country and used the locals as slaves to harvest its Chiquita brand bananas. However, during the period from 1945-1954 new leaders made changes. They helped the poor and set up social security and health care. Then they took land away from United Fruit and gave it to the local people. United fruit complained to the CIA that its business interests were being interfered with by the "communist" government. Any government which shows kindness to the poor and weak is called communist by the US. The US attacked Guatemala — killed the elected leaders and many thousands of citizens — and established a puppet dictatorship which would obey the will of United Fruit. The people were returned to a state of slavery. The CIA trained death squads to make sure the people were crushed into submission.
Strip Mining in Africa [4]
In Africa, the International Monetary Fund — a puppet of the US — destroys a country with strip mining. The original country was self sustaining. People were able to grow lots of food and hunt animals. However, once the land was ruined by US corporations, it was unusable to plant crops and the native animals died. The people had to buy food from other countries with money loaned to them by the IMF which they could never hope to repay. Therefore, a once free and self supporting people were made debt slaves of the IMF. Once all the natural resources have been stolen, the corporations will simply pack up and leave the indigenous people to starve and die.
Countries Used as Trash Dumps [5]
Used computers and associated items are dumped in poor countries where starving barefoot children sift through the mess of hazardous waste and broken obsolete glass computer monitors hoping to find something they can sell to get enough money to stay alive another day. Property stickers show the waste is mainly from the US government and various US state governments.
Corruption of Trusted Sources
Reporters and News Organizations
The masses are conditioned to believe news they receive from establishment sources. In the earlier times, this assumption was often correct. It was considered so important by the founding fathers that freedom of the press was enshrined in the US constitution. However, times have changed.
Walter Cronkite was known as the "trusted voice". No one knew he was also the official announcer at the secret Bohemian Grove meetings. The leaders of the world's news organizations also attend this event. That is why, even though the meetings began over one hundred years ago, until recently no one knew this group even existed. President George W. Bush may have set a new record for bribing journalists to allow their trusted name to be used as the author of material actually written by government propaganda experts. Apparently, everyone has a price and the government, of course, has no problem when it comes to money.
When Ronald Reagan reportedly ordered the death of investigative reporter Jessica Savitch [6], the message to independent journalists was clear: Go against the official party line an you're done!
Today, dedicated journalists face mysterious deaths and strange single car accidents but a few survive long enough to give us a glimpse of truths we would otherwise never know. They are true heroes.
Churches
Churches are everywhere. Unfortunately, legitimate Spiritual teachers are not. People look at churches either as harmless or with some sort of conditioned hypnotic respect. Churches send out "missionaries". However, the "mission" of these missionaries may not be so clear. If you wanted to infiltrate a foreign country, these people would be an ideal asset.
Churches are not Spiritual centers. At best, all they want is your money. At worst, they are Satanic and you are in severe Spiritual danger if you come under their influence and control.
The Catholic Church has been a trusted asset of the US intelligence community for quite some time. Significant information obtained by priests during confessions is routinely passed on to the government.
This agreement predates the internet by many years. Because the church has branches in almost every country, it has great potential for covert activities. For example, if you need to get an operative who is in danger out of a country, they can go to a Catholic church for "confession". Once the door is closed, they can exit through a secret passage, be disguised in robes and spirited safely out of the country. Church secrecy is at least on a par with US secrecy. Also, the Catholic church and the US shadow government share the same Satanic value system and engage in child rape and ritual killings.
Doctors and the Medical Industry
Medicine in the United States is an industry. It is no longer a profession. Its corporate model puts profit above all else. If some patients accidentally benefit they are the lucky ones.
The medical community has a rigid hierarchical structure and effective mechanisms for enforcing secrecy. Essentially, its model closely resembles the military chain of command structure. This makes it a perfect partner for the government in the area of secret human experiments.
For example, when the government was doing radiation experiments on humans, a doctor or someone dressed as a doctor would just walk up to unsuspecting patients and inject them with radioactive material. They were then secretly followed for years to see what would happen. Eventually, some of those who survived were told the truth. Most people used in the MK Ultra and subsequent secret projects were never notified.
Hospitals are set up to protect themselves. Staff may appear to be dedicated, smiling people who truly care about you. However, they are basically prostitutes who are being nice because you are worth money to them. When they make mistakes they have a "loss prevention" department staffed by clever lawyers who are trained to protect the financial interests of the hospital by denying everything and fabricating believable coverups. They are trained to do whatever is necessary. The staff will all agree to support whatever lies are needed. They know their job and their financial future depends upon maintaining strict secrecy.
The only people who receive legitimate medical care are the select elite cleared to accesstop secret medicine. These people always get excellent care because the doctors work for the shadow government and mistakes on their part are simply not tolerated.
Infiltrations
Countries which have the resources to sustain an intelligence community generally try to get operatives (spies) into other countries so they can directly observe activities. When real people gather intelligence, this is called human intelligence or HUMINT. The US, of course, does this too. However, you may not be aware of the extent to which the US also infiltrates itself. The central government really does not trust anyone.
Essentially all local police departments, state offices and state governors have a covert federal agent working close by pretending to be just another employee. Also, every US neighborhood has an informer who reports to the federal government. Large corporations, which tend to behave like "mini governments", need to be infiltrated and kept under observation. Colleges and universities are also monitored.
Here is how this spy network operates: The NSA likes to recruit young kids right out of college. When they are hired and sworn to secrecy they still do not know what their assignment will be. They must agree to do this assignment without first being told what it is.
Some agents, like John Perkins [2], are assigned to work in other countries. However, others are assigned to work inside the US. Their assignment could be to go to some state and apply to join the local police department. They would pretend to be just a regular person looking for a job. They would take the necessary training and spend their life as a local policeman so they could directly observe other local police from the inside and report to the NSA. Since they are actually an employee of the NSA, presumably they get to keep both salaries and, eventually, both retirements. All significant local police forces in the US are infiltrated this way.
Additionally, some agents will be assigned to get a job on the state governor's staff as well as in major local state agencies. A CIA or NSA agent is always on the staff at major colleges and universities. The same goes for major corporations.
Senior level agents are allowed to have special TV receivers in their homes linked to the secret government TV network. This way everyone stays on the same page. The channels on this network actually broadcast the truth. TV channels available to ordinary people contain only government approved propaganda mixed with "bread and circuses" presentations to make sure the sheeple stay asleep and content.
Fronts
The US government is involved in illegal activities internationally and domestically. If it performed these activities overtly in the name of the United States, there would be serious consequences under both international and local laws. To avoid this situation, the US government operates thousands of "front organizations" which appear to be private but are actually shadow operatives of the US.
For example, John Perkins [2] explained that he was recruited, hired and trained by the NSA. He was an NSA agent. However, for his cover as an economic hit man, he "officially" worked for a "private" company called Charles T. Main. This company was a government front to shield the US because the activities the NSA trained Perkins to do were illegal.
This is standard operating procedure for the US as well as other countries and many corporations. It shields them from legal recourse by providing deniability for the crimes they actually direct and commit.
Generally, when the US wants to influence other sovereign countries, it creates harmless looking NGO's which appear to be independent but are actually fronts for covert activities.
Domestically, colleges and universities — especially those with associated medical schools and hospitals — are great places to conceal a variety of covert projects such as the MK Ultra series of human experiments which, reportedly, continue today using new cover names. The US also likes to create non-profit corporations which exist only to provide classified services to the United States. A good example would be the Institutes for Defense Analysis (IDA). The US, reportedly, is its only client.
Programming
Mass media "programming" is actually programming you. It has developed into a subtle form of mind control. Before radio and television, special interests recognized that motion pictures could be used to alter public opinion in their favor. Perhaps, for example, you wanted to attack labor unions. When radio and later television came along providing access to national and international audiences, the temptation to exploit these technologies became irresistible. Originally, the US government recognized this and set up fairness rules to prevent monopolies from taking over the broadcast media and blocking opposing viewpoints. All this ended, unfortunately, when Ronald Regan canceled all the fairness regulations. Today, a handful of powerful corporations own and control essentially all content delivered by radio and television.
Television is the main vehicle for mass indoctrination. It is said that people watching TV actually fall into a light hypnotic trance. The "entertainment" you see on TV does not "just happen to be there". It is very carefully planned and timed to attract and influence targeted audiences. It is said that if some event were to somehow shut down all television broadcasts the government would experience a severe crisis because it would lose control over the minds of the masses.
TV creates sort of a "hive mind" among the masses and keeps everyone coordinated and tuned into the official party line. Without this, people would have no choice but to start thinking for themselves and forming independent opinions. Clearly, this would be a disaster.
The radio broadcast of "War of the Worlds" and the later movie "The Day the Earth Stood Still" are said to be CIA psychological experiments to judge how the general public would react to some type of ET contact.
Today, broadcasting is not just a one way event. Because people react to events and use social media to express these reactions, the effect of specific propaganda can be analyzed in real time. Since the government now intercepts all electronic communications, it is able to see general opinions and then tweak algorithms to maximize the desired effect of propaganda. This ability makes TV a two-way communications system although most people, of course, do not realize this and have no concept of the level of sophistication these technologies have reached.
Information Theory
Information Theory is the name of a relatively new branch of science which became popular in the 1960′s. It covers a broad range of technologies. Basically, it is the science of the flow of information and how that flow can be selectively controlled so that information flows only in desired pathways. As you may have already guessed, governments love this sort of stuff.
ECM
ECM stands for Electronic Counter Measures. In general, these are techniques to disable other electronic devices. Basically, it is electronic warfare. When the secret service is active in an area, for example, they will selectively jam all radio frequencies except for the specific frequencies they are using so that no one else can communicate.
World leaders, who are generally terrified of "threats" materializing from practically anywhere, like to travel with ECM generators running just in case "someone" from "somewhere" was trying to target them for "some reason". Basically, they are paranoid whack jobs.
People familiar with aviation tell the story of how Tony Blair, while traveling to or near a commercial airport, reportedly caused a commercial jet to crash because all the ECM garbage he was transmitting jammed the plane's navigation system. Of course, the British government would never admit this.
Secure Communication With Submarines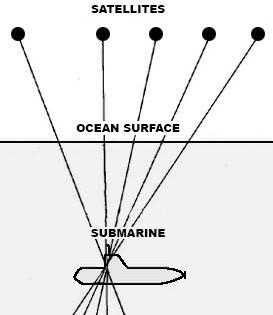 Since submarines were invented, communicating with them has been a problem because conventional radio waves will not travel underwater. Therefore, early submarines had to get close enough to the surface to put up some kind of antenna in the air to send or receive radio messages. Obviously, this could pose a problem if you did not wish to be discovered and located. After all, the motivation to create submarines in the first place was the feeling that they would be able to move about the planet secretly. However, newer technologies now make this impossible.
To solve the problem of reliable secure communication without the need to surface, scientists learned that sea water was essentially transparent to a special type of Argon laser. To set up the current communications network, it was decided to use several satellites with each satellite sending only part of an encrypted communication signal. The complete signal could only be received at a specific point underwater where all the laser beams intersected. Intercepting only one or two beams would prove useless. This communications system is considered to be impossible to intercept.
Quantum Entanglement
Returning to the submarine issue for a moment, before modern communications were perfected, there was a search for some reliable method to send a signal to a submerged submarine that could not be detected. This was considered necessary in a war situation to secretly transmit an attack command. What they originally did was to locate a couple of people who could communicate telepathically. One would be at the command base and the other on the submarine. Doing a bit more research, it was determined that this type of communication is instantaneous and somehow operated outside of time. Radio waves travel at the speed of light.
Quantum entanglement is a process which uses technology to send and receive signals outside of space-time. Now, why would you possibly want to do this? Well, if you had a base or a colony on a planet in some other solar system light years away, you would not want to wait years for messages to be received. Following this thread — and adding some basic common sense — why would you want to dedicate resources to search for habitable planets in distant solar systems when you had already "proven" it would be impossible to ever get there? Could it just be that someone is not coming clean with whole story?
The Separation Barrier
This is a model of the separation barrier which insulates the ruling class from the slave class. It is essentially "intellectual apartheid". The question is, why is it there. It takes considerable effort, money and manpower to maintain this artificial barrier. What is the reasoning behind not having a level playing field for everyone? Why does this idea absolutely terrify the elite? What are they afraid of?
The Pirate Story
This is a summary of a story told years ago on a radio broadcast most likely by Paul Harvey:
Ordinary people were afraid. The Earth was flat so they dare not venture far from home. Periodically, a pirate ship would come. They did not know how it got there or from where it came. It brought treasures they had never seen. The Chief Pirate would encourage the young men to study and specialize in specific skills. He wanted them to become educated but only in one narrow area. The Chief Pirate knew the world was not flat and how to navigate to other lands. However, this knowledge was never discussed. This "top secret" knowledge or the "big picture of the known world" would only be given to the Chief Pirate's son who would inherit his title and someday become the Chief Pirate.
This story is about the origin of the concept we call compartmentalization — the process of controlling the slave masses by only allowing them to know specific bits of the truth while the leaders are allowed to know total truth.
ELITE RULING CLASS
SECURITY CLEARANCES
SECRET POLICE
ASSASSINS
SURVEILLANCE — SIGINT HUMINT COMINT
SPY SATELLITES
SPY DRONES
SMART ELECTRIC METERS
INTERNET SURVEILLANCE
NEIGHBORHOOD SPIES
PLENTIFUL STREET DRUGS
PSYCHIATRIC FORCED DRUGGING
GENETICALLY MODIFIED FOOD
FLUORIDATED WATER
COORDINATED TELEVISION PROPAGANDA
DEGRADED PUBLIC EDUCATION
LOCAL MILITARIZED POLICE
---
SLAVE CLASS
Leaders can only maintain their status if there are slaves. Otherwise, everyone would be equal and operate on a level playing field. This means "leaders" would have to pull their own weight like everyone else. Clearly, this would be intolerable. Leaders love beautiful and exotic things but don't want to do the work needed to create these things. They probably could not even plant a garden much less build the various "ivory towers" where they like to live surrounded by servants. If left on their own they would very likely starve. This is why it is so important to create and maintain the complex separation barrier.
Why don't people who live above the separation barrier ever "come down" and talk to the people below the barrier? Well, other than the obvious fact that they would likely be killed or jailed for espionage or treason, there is another, simpler, reason.
Would you like to spend your days sitting in an open field with kindergarten kids looking for four leaf clovers? Probably not. You have progressed beyond that. The slaves below the separation barrier cannot even imagine the world of those who live above the barrier. In fact, the elite do not even consider the slaves human. They call them "disposable biological units". The United Nations prefers the slang term "the herd". Slaves can be easily bred in quantities needed and programmed to do desired tasks. Then, they can be easily disposed of when no longer useful. That's how they look at you. So, why would they want to make friends with you?
The Mars Example
There is an interesting event playing out today that you may have noticed. This concerns the recruitment and selection of people to be sent to Mars. There are simulation projects where volunteers are locked away to imitate the long voyage to Mars. They are being told that this is a one way trip and they can never hope to return to Earth.
What you are witnessing is the selection process for the "seed people" who will be used to breed the future slave class on Mars. In a situation similar to the period when most believed the Earth was flat and you would fall off if you tried to go to sea, these people are convinced that the only way to get to mars is to ride a rocket on a perilous journey taking years. Because they truly believe this, when they get to Mars, they will teach this crap to their kids along with other misconceptions like it is impossible to go faster than the speed of light and other associated obsolete scientific principles. They will have no
desire to ever return to Earth or go anywhere else because they truly believe it is not possible. They will be contented slaves.
Of course the truth is that there are already secret colonies on Mars. It is not that hard to get there using antigravity and other secret propulsion methods and it is quite likely possible to simply walk through some kind of wormhole device and come out on Mars.
However, the slaves will never know this. Just as it is done on Earth, there will be an artificial separation barrier. The insiders will know the truth and will be physically hidden from the slaves. There will be secret police and other methods — the same as are used on Earth — to make sure no slave ever escapes from the "information prison". Business as usual will continue.
Reinforcement of Ignorance
Governments and their oligarchs love to keep their subjects in a cloud of ignorance. Back in the days when people believed the Earth was flat, the inner circle ruling class knew it was round. Maintaining the deception was convenient because it kept the slaves from developing any desire to travel far from home.
Nothing has changed all that much today. Consider, for example, all the fuss over the missing MH370 plane. You are being played for a sucker. It is impossible for that plane to have "disappeared".
The US DoD spy satellite system reportedly consists of ten constellations of satellites. Each constellation has over seven thousand satellites. They see and record everything that happens on this planet. The floor of the oceans can be seen just as clearly as the land areas. The resolution of the system is better than one square millimeter. Also, everything is recorded so you can go back in time and play past images.

This is a picture of a common electric lamp. Take this lamp and throw it in the ocean — any ocean anywhere on this planet. The spy satellite system will locate it, give you the coordinates and give you a photo at least as good as the one above. That is the capability of the system. So, clearly, it is impossible not to know the location of something as large as a Boeing 777 plane. All the TV publicity is a choreographed play. You are being scammed and you need to wake up and realize this fact.
Murders and Assassinations
To ensure a strong empire, dissent must be crushed. The United States trains assassins and carries out both domestic and foreign murders and assassinations on a regular basis. You may be familiar with the classic movie scenes where a black limousine with tinted windows drives by a target with thugs shooting machine guns. Although this would accomplish the task, it is a bit too obvious in a country that advertises itself to be a free, civilized democracy. Someone might catch on and begin to doubt the party line. Consequently, these things must be done quietly.
Inside the US, murders are reportedly carried out by a group known as "FBI Division Five". Other agencies likely have the responsibility for foreign assassinations. However, the basic techniques used would be similar.
Typically, an agent would wake up every day and connect to the top secret internet to see who he was assigned to kill that day. There would be several options. If it was important to eliminate the target immediately, a fast acting chemical agent would be selected which, for example, would cause the target to die within a few hours of a "natural" heart attack.
However, if time was not critical and the government just wanted the target out of the way, you might want to select one of the cancer causing agents such as those likely used to eliminate Hugo Chavez and Senator Ted Kennedy.
There is also a third possibility. This involves character assassination instead of actual murder. Consider, for example, a person who has gained a lot of public recognition talking about, say, free energy. If you simply kill the person, there could be blowback and talk that he was silenced by the government. In such cases, it is easier to use a chemical agent designed not to kill but, rather, to cause states of mental confusion resulting in obviously strange behavior. This would be coordinated with the government controlled mainstream press to make sure everyone became convinced the person was a nut and would therefore ignore anything said without regard to the truth or validity of the message.
Once the appropriate chemical has been selected, you need to load it into the secret delivery system and locate your target. To find your target you will connect to the top secret internet and pinpoint the location of the target through their cell phone. You can also activate all the cameras and microphones in electronic gadgets connected to the internet associated with the target in case you wish to look around the target's home and hear in real time what is taking place.
Of course, this will not help you locate the target when it is time to actually do the hit. So, you need to get the top secret profile data which will show any predictable habits of the target. Everyone is constantly tracked through their cell phones and profiles are logged and stored. In this case, the profile shows that the target has a favorite restaurant and goes there for lunch every day around 11:30. Now, you know exactly what to do. You go to the restaurant, hang out until you see your target, and get in line behind the target. Now, all you need to do is slightly bump into the target to deliver the chemical. Generally, the targets never even notice.
This mission is now complete. If it is early enough, you can check back in to the top secret system to see who you are supposed to kill next. Just another day. Just a routine job.
Money
Money is an imaginary force. It is used to motivate and control slaves. Real forces effect all life forms. However, only people respond to money. The only reason they do is because they have been artificially programmed to do so.
Money can be created in unlimited quantities by those adept in the use of this force. The physical world is finite, however the world of imagination is not. There is no limit to the quantity of money that can be imagined into existence. Money can also be imagined out of existence.
Let's assume that one day the entire financial system simply disappeared. If you lived in a rural area and had a nice veggie garden, some friendly chickens, collection facilities for rain water and a few photocells for electricity, you would not notice this. The veggies would continue to grow. Rain would periodically fall. The chickens would lay eggs as usual. The sun would continue to shine. However, if you lived in a city environment, you would be devastated.
Before money, people lived in small hunter-gatherer groups. The concept of ownership did not exist. People worked and survived as a group. Men and women were equal. Everyone contributed to the community. Resources were shared equally. The concept of "mine" and "yours" did not exist. Women generally became pregnant only once about every three years although there was no birth control. Later, when the concept of money entered the consciousness, women were seen as having less value because men were paid for work but women were not paid to raise and care for kids. Society has changed, however, the downgraded status of women has not.
Money systems have always been manipulated by clever people. When gold was used as money, people learned they could dilute pure gold with silver or maybe even lead to come up with something that looked like pure gold and had the correct weight but was a fraud. A king suspected he was being scammed but had no way to prove it. He called on the great minds of the time for help. This led to what is known as the Archimedes' principle which is better known today as "specific gravity". This principle made it possible to compare a sample known to be pure gold to a questionable sample and prove the unknown sample was not pure gold. Likely, some clever crook lost his head once this test became known.
There is a general belief that gold is the ultimate reference for all money. However, secrets concerning the exact quantity of gold make this a perilous assumption. Reportedly, the United States stole a tremendous quantity of physical gold from Japan towards the end of World War II. This gold exists off the books. To make matters worse, Japan was not all that concerned. Japan had been using gold bars as ballast on its ships because they were compact and heavy. They thought nothing of throwing the bars overboard as necessary. Japan used platinum as a money reference and the US never got that. This should make one rethink all the hype about the value of gold. It may be a lot more plentiful than we have been led to believe. Also, the secret off the books stashes of gold would allow its relative value to be manipulated at will just like other commodity markets.
The Financial Axis of Evil [3]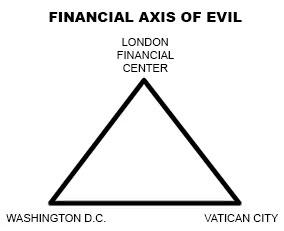 This is the model of the financial axis of evil which rules this planet. It consists of three main branches as shown above. Collectively, they are known as "The Empire of the City". Briefly, here is how this system operates:
The London financial district is in London, Washington D.C. is in the United States and the Vatican is in Italy. However, these three places are not part of the countries where they exist. They are independent "city states" and have their own laws and constitution. They are, effectively, "mini countries" inside of other countries and fly their own flags. The city state of London is a private corporation and pays no taxes to actual London or to Britain. The city state of London is the master power center and is controlled by the Rothschild family which considers itself to be the legal owner of this planet. The Vatican is the largest private land owner in the world and the first true multinational corporation with installations (churches) and secret agents (The Knights of Malta) everywhere. They control through the power of fear of the unknown and practice black magic. Washington D.C. relies upon brute military force. All three closely cooperate combining their specialties of financial trickery, witchcraft and military might. Of course, all three worship Satan as their Master.
Slavery
Slavery is alive and well throughout the world. The US constitution prohibits slavery, however, most americans live in slave-like conditions.
It is said that it will take the average college student until age fifty to pay back their student loan.
The constitutional amendment prohibiting slavery addressed the concept of physically owning another person. However, it did not address the issue of holding another person in bondage as a debt slave. It also did not consider the concept of private for profit prisons who force inmates to work as slaves. These systems exist today and are perfectly legal.
Actually, a recent report from prestigious Princeton University has reclassified the US government as an oligarchy — a country run by and for the rich elite. Former US President Carter has stated that the United States "no longer has a functioning democracy". So much for the Founding Father's dream. Speaking of dreams, check out the free you tube video titled "The American Dream".
Other forms of slavery are illegal but still flourish. Sex slaves are always in demand. Traffickers are sometimes caught but you need to realize that your leaders use sex slaves and also routinely abuse young girls and boys. Sometimes they are also killed during occult rituals. No one ever talks about this and these people are never punished. This has been the normal way of life for Satan worshipers for many years and nothing has changed or is likely to ever change in the future. Stanley Kubrick's last movie, Eyes Wide Shut, covers this subject. Some believe this intense dramatization of how the elite really live may have cost him his life.
People still have some rights left in the United States but other countries are a different story. Qatar is doing construction for the World Cup. The event is not scheduled until the year 2022, however they have already killed 1200 slaves [7] by working them to death. People are lured from poor countries with the promise of jobs and money. When they arrive, their passports are confiscated and they are forced to work until they literally drop dead. If the World Cup is actually held in Qatar in 2022, there will be glamorous TV coverage and no one will remember or care about all the dead slaves. The show must go on.
Qatar, incidentally, sponsors Al Jazeera TV network.
Adaptation Techniques
The status quo of today will never change because the people who created it will never die. Because of top secret medicine, when men like Henry Kissinger, who heads the Bilderberg Group's steering committee, get too feeble to function, they will simply go to one of the secret locations and use the temporal reversal device to regress back to about twenty years old. Their memories will be unaffected. Then they will get new identities and continue on. This process can be repeated indefinitely.
Because you can never change the status quo, your best hope for a lifetime of reasonable quality is to find clever ways to live in this world with as much independence as possible.
One method of adaptation is autonomous and semi-autonomous communities. If the community is registered as a religious institution it is automatically shielded from most government interference by the US constitution. It pays no taxes and can pretty much write its own rules by simply calling whatever it wants to do "religious doctrine". Many small semi-autonomous groups exist where people who share a common set of values find ways to quietly live out their lives pretty much on their own terms. The government does not seem interested in bothering these smaller groups as long as they live peacefully and are not doing anything that the government perceives to be a threat.
The Amish people are a good example of an autonomous group. You would probably not want to live as they do, however, before you completely dismiss them, you may want to look at some definite advantages in their chosen lifestyle.
Remember, these are the people who reject technology. They just might have made the correct choice. Technology, at first, seemed like a good idea. However, now that people are addicted to technology they are also enslaved by technology. Everything they do is monitored and recorded by the government. Privacy no longer exists. It did not have to be this way.
Technology, in itself, is not evil. However, it can be quite evil if you live under a government run by sociopathic control freaks which, unfortunately, you do. In the Amish world, electronic surveillance does not exist because electronic devices do not exist. The constant propaganda from TV has no effect on people who do not have TV. A horse does not report its position to a GPS satellite and is not controlled by a computer.
Also, the people are generally healthy and do not suffer from many diseases common to the mainstream population. They are not being poisoned by fluorinated water or additives found in processed food because they don't use these things. Also, they get lots of physical exercise.
Without totally withdrawing from the world, there are some positive steps you can take. By now you know never to drink fluorinated water or use any personal product containing fluoride such as many brands of toothpaste. To minimize harmful food additives, look for Kosher food which is marked with either the encircled "K" or "U" (Ultra Kosher). These foods have less or no harmful additives. The Jewish community is very protective of its people and the Mossad is widely considered to be the best intelligence service in the world. Therefore, they would have the inside scoop on everything including food and do not want to see their people harmed.
Whatever you decide to do, you definitely do not want to be part of so called mainstream society. These people are doomed. They are sheep (sheeple) slowly walking to the slaughter house. Don't go there!
---
references and credits
[1] DVD "The American Ruling Class". ASIN: B001HM2CE2.
[2] John Perkins. Book: Confessions of an Econemic Hit Man; DVD (free on you tube): "Apology of an Economic Hit Man"; RT interviews.
[3] See the free you tube videos titled "The Red Shield".
[4] DVD: "The Wages of Debt", RT Intl. Also available for purchase.
[5] DVD "Terra Blight", RT Intl. Also available for purchase.
[6] Interview with John Judge of Veterans Against Military Psychiatry.
[7] Also search using the phrase "qatar slaves world cup".
© 2014 W C Vetsch. All rights reserved.
Source: Walter C. Vetsch  |  3108.info | War Is Crime
The phrase "conspiracy theorist" is a derogatory smear phrase thrown at someone in an attempt to paint them as a lunatic. It's a tactic frequently used by modern-day thought police in a desperate attempt to demand "Don't go there!"
But let's step back for a rational moment and ask the commonsense question: Are there really NO conspiracies in our world?
The Attorney General of South Carolina would surely disagree with such a blanket statement. After all, he sued five pharmaceutical companies for conducting a price-fixing conspiracy to defraud the state of Medicaid money.
Similarly, in 2008, a federal judge ruled that three pharmaceutical companies artificially marked up their prices in order to defraud Medicare.
In fact, dozens of U.S. states have filed suit against pharmaceutical companies for actions that are conspiracies: conspiracy to engage in price fixing, conspiracy to bribe doctors, conspiracy to defraud the state and so on.
The massive drug company GlaxoSmithKline, even more, plead guilty to a massive criminal fraud case involving a global conspiracy to bribe doctors into prescribing more GSK drugs.
And this is just the tip of the iceberg. A deeper look into the criminality of just the drug industry alone reveals a widespread pattern of conspiratorial behavior to defraud the public and commit felony crimes in the name of "medicine."
What is a conspiracy, exactly?
As any state or federal prosecutor will gladly tell you, a "conspiracy" is simply when two or more people plot to commit an act of deceit (or a crime).
Thus, when three hoodlums plan to rob the local Quickie Mart, they are engaged in a "conspiracy" and will likely be charged with a "conspiracy to commit armed robbery" in addition to the different crime of "armed robbery." The fact that they planned it with several friends makes it a "conspiracy" worthy of additional felony charges, you see. When these charges are brought up in court, the judge doesn't look at the prosecutor and say, "You are a conspiracy theorist!" That would be absurd.
The idea, then, that there is no such thing as a conspiracy is flatly ludicrous. And people who condemn others as being "conspiracy theorists" only make themselves look mentally impaired.
To live in our modern world which is full of collusion and conspiracy — and yet somehow DENY the existence of any conspiracies at all — is an admission of a damaged brain. Of course there are conspiracies, and when people analyze those conspiracies, they are "theorizing" about what happened. This is, in fact, precisely the job that police detectives and FBI agents carry out almost daily.
Most police detectives are, in reality, "conspiracy investigators" and analysts.
There are endless examples of real conspiracies
Auto manufacturers routinely conspire to cover up mechanical defects that put customer lives at risk. Even National Public Radio lays out the full timeline of the General Motors conspiracy to hide the problem with its faulty ignition switches.
Last year, food corporations conspired with the Grocery Manufacturers of America (the GMA) tocommit money laundering crimes in Washington state in order to funnel money into a campaign to defeat GMO labeling there.
The FDA conspired with a drug manufacturer to keep a deadly diabetes drug called Rezulin on the market in the USA even after safety regulators pulled the product in Europe.
Similarly, the corrupt, criminal-minded operators of mainstream science journals conspired in a particularly evil way to railroad Dr. Andrew Wakefield with provably false accusations about the nature of his research into the side effects of vaccines. The GMO Seralini study has been similarly railroaded by a genuine conspiracy of evil, corrupt science journal editors who routinely conspire to suppress all the science they don't want to be seen by the public. Fortunately, 150 other scientists have come to support Seralini with a global condemnation of the obviously contrived scientific censorship.
We live in a world of such deception and collusion that, frankly stated, it's hard to find a large institution (such as medicine, agriculture or the war industry) which isn't involved in some sort of conspiracy at some level.
What is a "conspiracy theorist?
The pejorative "conspiracy theorist" is meant to demean and ridicule skeptics of official stories.
Most so-called "conspiracy theorists" are really skeptics, by definition. They're skeptical of what the government tells them. They're skeptical of the claim that drug companies are really only interested in helping humankind and have no desire to make money. They're skeptical that food corporations are telling them the truth about what's in their food. And they're also skeptical of anything coming out of Washington D.C., regardless of which party happens to be in power at the time.
People who are not skeptics of "official stories" tend to be dull-minded. To believe everything these institutions tell you is a sign of mental retardation. To ask questions, on the other hand, is a sign of higher intelligence and wisdom.
Skeptics of official stories, it turns out, also have the support of history on their side. How many times has it later been revealed that the American people were lied to by the very institutions we were supposed to trust?
For example, it is an historical fact that 98 million Americans were injected with hidden cancer viruses which were later found in polio vaccines strongly recommended by the CDC. In an effort to cover that up and rewrite history, the CDC later scrubbed all accounts of that history from its website, pretending it never happened.
That's more than a cover-up; it's an Orwellian-style conspiracy to selectively rewrite history and deny Americans any memory of a monumental, deadly error made by the CDC in collusion with the vaccine industry.
According to two former Merck virologists, that company conspired to fake the results of its vaccine tests by spiking test samples with animal antibodies, thereby falsely distorting the results to make the vaccine appear effective. The two virologists filed a False Claims Act with the federal government detailing the conspiracy, saying:
Merck also added animal antibodies to blood samples to achieve more favorable test results, though it knew that the human immune system would never produce such antibodies, and that the antibodies created a laboratory testing scenario that "did not in any way correspond to, correlate with, or represent real life … virus neutralization in vaccinated people…"
Conspiracies of money and big banks
Every month, the Federal Reserve conspires to steal a portion of your wealth through "quantitative easing" — an irresponsible money creation scheme that devalues all the currency already in circulation (i.e. the money in your bank account).
The money the Fed creates is, not surprisingly, handed over to the big Wall Street banks — the same banks that received a jaw-dropping $29 trillion in "bailout money" since the near-collapse of U.S. banking in late 2008.
Why did this bailout money go to the banks instead of the American people? Because powerful people sat in dark rooms and colluded to send the money to the most influential banks. A conspiracy, in other words, by definition.
Had that same amount of money been equally distributed across the U.S. population, the Fed would have distributed nearly $100,000 to each and every citizen in America; man, woman and child. But instead of enriching the population, the banking bailout burdened the population with the debt now owed to the Fed by future taxpayers.
Every $1 trillion created by the Fed, after all, is $1 trillion "loaned" to the U.S. Treasury which must somehow be repaid. In truth, the minute you start to investigate how money is created, why the Federal Reserve is a private banking cartel and why the big banks get all the bailout money, you run head-first into genuine conspiracies almost from the outset. When you look up the word "conspiracy" in a dictionary, it should probably say, "See Banking and Finance."
Our world is full of conspiracies because it's full of people who deceive
The reason conspiracies are real is because humanity is a race capable of extreme deception. As long as there are people whose actions are based in greed, jealousy and a desire to dominate others, there will be real conspiracies plotted and operating across every sector of society.
The correct term for "conspiracy theorist" should really be "conspiracy analyst." Most of the people who are skeptical of official stories are, in fact, analyzing conspiracies in an attempt to understand what really happened and what took place behind closed doors.
A highly-recommended book the delves into this matter in more detail is the five-star-rated masterpiece Official Stories: Counter-Arguments for a Culture in Need by Liam Scheff.
This book will open the minds of those who still have the cognitive capability remaining to grasp it. (Sadly, the injection of mercury into babies in the form of vaccines has damaged so many brains across America that many people are now cognitively incapable of rational thought.)
And remember: the next time someone flings the phrase "conspiracy theorist" in your direction, simply know that they are effectively wearing a DUNCE hat on their heads by admitting they have failed to acknowledge that true conspiracies are rather commonplace.
That's not merely a theory, either: it's a statement of fact.
Source: Mike Adams |Natural News
"The grimmest dictatorship is the dictatorship of the prevailing orthodoxy" – George Galloway
In a relativism culture of social permissiveness, the non-judgmental attitude, held out as the suitable standard for conduct, has become the politically correct behavior. One might think that anything goes under this mindset. However, the exact opposite practice and enforcement, under the most rigid conditions, is championed as necessary for enlighten and tolerant liberalists. The proliferation of demands that hate speech is the new capital crime, actually is counter iterative in building a civil society. This orthodoxy of the fanatical, proudly presents this illuminated and required deportment, as obligatory for all citizens.
So what exactly is hate for the neo-Jacobins? Obviously, whatever the "Society of the Friends of the LIVING Constitution" deems it to be, because under the color of law, the self-proclaimed pure of heart, are justified to off the heads of anyone who dares speak out in inappropriate terms. Remember "thinking progress" for the greater good, must be imposed on anyone who dare defies the wisdom of the gatekeepers for the collective.
Racism has to go, unless practiced by Negros against whites, or is the mere mention of such a term a slight to African-Americans? Once upon a time cries of anti-Semitism would be heard if Donald Sterling was made a pariah after the NAACP did an about face after awarding him for promoting civil rights. Not in today's world, such a distasteful zealot no longer has the protection of his tribe from the scrutiny of the thought police. The almost total condemnation of his recently private remarks has the entire sports world clambering for his forced sale of the LA Clippers.
Such broad-minded fans in a league that made homies multimillionaires and took them out of the hood, must not be dis. No wonder the attraction of not just the NBA, but sports in general, have serious minded buffs of the Wide World of Sports looking for, "The Thrill of Victory…" in other arenas. Why not demonstrate that sporting enthusiasm and jock celebrity worship, by starting a grassroots campaign to install America's favorite redneck, Phil Robertson and his Duck Dynasty clan, as the new ownership of the team.Surely, good standing Democrats should have no problem supporting a bunch of good old boys from the South. Frances Rice writes in the National Black Republicans Association site that, KKK Terrorist Arm of the Democratic Party. "This ugly fact about the Democrat Party is detailed in the book, A Short History of Reconstruction, (Harper & Row Publishers, Inc., 1990) by Dr. Eric Foner, the renowned liberal historian who is the DeWitt Clinton Professor of History at Columbia University. Dr. Foner in his book explores the history of the origins of Ku Klux Klan and provides a chilling account of the atrocities committed by Democrats against Republicans, black and white."
Carole Emberton, an associate professor of history at the University at Buffalo adds:
"The party lines of the 1860s/1870s are not the party lines of today. Although the names stayed the same, the platforms of the two parties reversed each other in the mid-20th century, due in large part to white 'Dixiecrats' flight out of the Democratic Party and into the Republican Party after the passage of the Civil Rights Act of 1964. By then, the Democratic Party had become the party of 'reform,' supporting a variety of 'liberal' causes, including civil rights, women's rights, etc. whereas this had been the banner of the Republican Party in the nineteenth century."

Fast forward to today's conductor Eric Holder, of selective bigoted racism, when describing "his people", who "seem to get a pass on hate crime charges when they select whites for their blood sport", one needs to question who the real haters are. David Risselada provides a valid assessment in the essay, Hate Crimes Legislation . . . Racial Identity Politics and the Institutional Racism of the Left.
"The institutional racism that is built in our society is the responsibility of the left. Throughout history it has been the democrats who have supported segregation and slavery while continuously voting against civil rights legislation. Today, they attempt to hide their history through racial identity politics, and the creation of a system where inequality is the new equality. By creating laws based on racial preferences, the left is telling minorities that they believe they are not as capable as white men and therefore need their programs in order to stand a chance in the racist United States of America. This does little but reinforce hatred while attempting to justify black on white violence."
Once upon a time and in a place long ago, the Democratic Party defended the rights of the individual to associate with individuals of their choosing and speak their minds openly and without concern of censor. Since the conversion to ecumenical orthodoxy, the authoritarians that gave you the New Deal and the Great Society have a long record of creating their own hatred of Free Speech. The example of the New York Times vicious attack on Cliven Bundy illustrates another trumped-up incident ripe to exploit.The New American, author William F. Jasper makes the point:
"Much of what Mr. Bundy is saying closely parallels what even many black leaders, authors and intellectuals — such as Prof. Walter Williams, Rev. C.L. Bryant, Rev. Jesse Lee Peterson, Bill Cosby, Alveda King, Star Parker, and Alan Keyes — have been saying. But Cliven Bundy's "sin" is that he is an elderly white man who is unschooled in traversing the minefield of political correctness — and he was careless in failing to make important distinctions and clarifications. He "sinned" by being born when he was born, and failing to keep up with the constantly changing terminology for ethnic designations. He still uses the terms "Negro," "colored people," and "Mexican," instead of "black/ African American" or "Hispanic/Latino" — but then, race activists still argue amongst themselves concerning the "proper" ethnic label to apply to their lineage and group identity."
When Senator Ed Markey, D-Mass., introduces legislation called the "Hate Crime Reporting Act of 2014," it is another partisan concerted attempt to silence voices and views entirely protected under the First Amendment, by monitoring radio, television and Internet speech. Can one say arbitrary and capricious, or will Big Brother now prey on any convenient and moving target to label anyone as a hate monger, that does not conform to the "PC" orthodoxy?
The excellent video from Ben Swann identifies in New "Hate Crime" Bill Will Attempt To Control Speech On Internet, Radio and TV, that the real objective is to censor the internet.
Well, this development should concern any student of inquiry, but the real world often fosters political threats that seem to be so implausible, if they were not true. The case of the arrest of Paul Weston should alarm everyone. In the Michael Coren interview or Mr. Weston, the vanguard of British lunacy once again blazes new trails in the annals of hate speech. If quoting Winston Churchill is now a crime, what does that make Winnie?The British Bulldog is his own words:
"How dreadful are the curses which Mohammedanism lays on its votaries! Besides the fanatical frenzy, which is as dangerous in a man as hydrophobia in a dog, there is this fearful fatalistic apathy. The effects are apparent in many countries. Improvident habits, slovenly systems of agriculture, sluggish methods of commerce, and insecurity of property exist wherever the followers of the Prophet rule or live. A degraded sensualism deprives this life of its grace and refinement; the next of its dignity and sanctity. The fact that in Mohammedan law every woman must belong to some man as his absolute property — either as a child, a wife, or a concubine — must delay the final extinction of slavery until the faith of Islam has ceased to be a great power among men. Thousands become the brave and loyal soldiers of the faith: all know how to die but the influence of the religion paralyses the social development of those who follow it. No stronger retrograde force exists in the world. Far from being moribund, Mohammedanism is a militant and proselytizing faith. It has already spread throughout Central Africa, raising fearless warriors at every step; and were it not that Christianity is sheltered in the strong arms of science, the science against which it had vainly struggled, the civilisation of modern Europe might fall, as fell the civilisation of ancient Rome."
Move over denial ridden Americans; the English have a talent in leading the civilized world in false guilt. For the rest of humankind, they are perceptive enough to admit that the normal human condition acknowledges Discrimination as a Virtue.
"Discrimination has been characterized as racism. Quite to the contrary, discrimination is an ally in the struggle to end bigotry and injustice. When Liberty is suppressed in a quest for equality; hatred and revulsion breeds, for different groups, cultures and ideologies. All attempts to force equal treatment are futile, even when severe penalties are imposed."
Condemning a person, solely by his beliefs, bias and predisposition – that fanatical frenzy will surely bring about the fall of our cherished tradition of Free Speech. For those who fear Sharia Law, you had better be more concerned about the progressive despots, who are the model for imposed intolerance through a government, which hates everyone that refuses their Groupthink.
So, what do we have here? In Libya, in Syria, and elsewhere the United States has been on the same side as the al-Qaeda types. But not in Ukraine. That's the good news. The bad news is that in Ukraine the United States is on the same side as the neo-Nazi types, who – taking time off from parading around with their swastika-like symbols and calling for the death of Jews, Russians and Communists – on May 2 burned down a trade-union building in Odessa, killing scores of people and sending hundreds to hospital; many of the victims were beaten or shot when they tried to flee the flames and smoke; ambulances were blocked from reaching the wounded. Try and find an American mainstream media entity that has made a serious attempt to capture the horror.
And how did this latest example of American foreign-policy exceptionalism come to be? One starting point that can be considered is what former Secretary of Defense and CIA Director Robert Gates says in his recently published memoir: "When the Soviet Union was collapsing in late 1991, [Defense Secretary Dick Cheney] wanted to see the dismemberment not only of the Soviet Union and the Russian empire but of Russia itself, so it could never again be a threat to the rest of the world." That can serve as an early marker for the new cold war while the corpse of the old one was still warm. Soon thereafter, NATO began to surround Russia with military bases, missile sites, and NATO members, while yearning for perhaps the most important part needed to complete the circle – Ukraine.
In February of this year, US State Department officials, undiplomatically, joined anti-government protesters in the capital city of Kiev, handing out encouragement and food, from which emanated the infamous leaked audio tape between the US ambassador to Ukraine, Geoffrey Pyatt, and the State Department's Victoria Nuland, former US ambassador to NATO and former State Department spokesperson for Hillary Clinton. Their conversation dealt with who should be running the new Ukraine government after the government of Viktor Yanukovich was overthrown; their most favored for this position being one Arseniy Yatsenuk.
My dear, and recently departed, Washington friend, John Judge, liked to say that if you want to call him a "conspiracy theorist" you have to call others "coincidence theorists". Thus it was by the most remarkable of coincidences that Arseniy Yatsenuk did indeed become the new prime minister. He could very soon be found in private meetings and public press conferences with the president of the United States and the Secretary-General of NATO, as well as meeting with the soon-to-be new owners of Ukraine, the World Bank and the International Monetary Fund, preparing to impose their standard financial shock therapy. The current protestors in Ukraine don't need PHDs in economics to know what this portends. They know about the impoverishment of Greece, Spain, et al. They also despise the new regime for its overthrow of their democratically-elected government, whatever its shortcomings. But the American media obscures these motivations by almost always referring to them simply as "pro-Russian".
An exception, albeit rather unemphasized, was the April 17 Washington Post which reported from Donetsk that many of the eastern Ukrainians whom the author interviewed said the unrest in their region was driven by fear of "economic hardship" and the IMF austerity plan that will make their lives even harder: "At a most dangerous and delicate time, just as it battles Moscow for hearts and minds across the east, the pro-Western government is set to initiate a shock therapy of economic measures to meet the demands of an emergency bailout from the International Monetary Fund."
Arseniy Yatsenuk, it should be noted, has something called the Arseniy Yatsenuk Foundation. If you go to the foundation's website you will see the logos of the foundation's "partners".  Among these partners we find NATO, the National Endowment for Democracy, the US State Department, Chatham House (Royal Institute of International Affairs in the UK), the German Marshall Fund (a think tank founded by the German government in honor of the US Marshall Plan), as well as a couple of international banks. Is any comment needed?
Getting away with supporting al-Qaeda and Nazi types may be giving US officials the idea that they can say or do anything they want in their foreign policy. In a May 2 press conference, President Obama, referring to Ukraine and the NATO Treaty, said: "We're united in our unwavering Article 5 commitment to the security of our NATO allies". (Article 5 states: "The Parties agree that an armed attack against one or more of them … shall be considered an attack against them all.") Did the president forget that Ukraine is not (yet) a member of NATO? And in the same press conference, the president referred to the "duly elected government in Kyiv (Kiev)", when in fact it had come to power via a coup and then proceeded to establish a new regime in which the vice-premier, minister of defense, minister of agriculture, and minister of environment, all belonged to far-right neo-Nazi parties.
The pure awfulness of the Ukrainian right-wingers can scarcely be exaggerated. In early March, the leader of Pravy Sektor (Right Sector) called upon his comrades, the infamous Chechnyan terrorists, to carry out further terrorist actions in Russia.
There may be one important difference between the old Cold War and the new one. The American people, as well as the world, can not be as easily brainwashed as they were during the earlier period.
Over the course of a decade, in doing the research for my first books and articles on US foreign policy, one of the oddities to me of the Cold War was how often the Soviet Union seemed to know what the United States was really up to, even if the American people didn't. Every once in a while in the 1950s to 70s a careful reader would notice a two- or three-inch story in the New York Times on the bottom of some distant inside page, reporting that Pravda or Izvestia had claimed that a recent coup or political assassination in Africa or Asia or Latin America had been the work of the CIA; theTimes might add that a US State Department official had labeled the story as "absurd". And that was that; no further details were provided; and none were needed, for how many American readers gave it a second thought? It was just more commie propaganda. Who did they think they were fooling? This ignorance/complicity on the part of the mainstream media allowed the United States to get away with all manner of international crimes and mischief.
It was only in the 1980s when I began to do the serious research that resulted in my first book, which later became Killing Hope, that I was able to fill in the details and realize that the United States had indeed masterminded that particular coup or assassination, and many other coups and assassinations, not to mention countless bombings, chemical and biological warfare, perversion of elections, drug dealings, kidnapings, and much more that had not appeared in the American mainstream media or schoolbooks. (And a significant portion of which was apparently unknown to the Soviets as well.)
But there have been countless revelations about US crimes in the past two decades. Many Americans and much of the rest of the planet have become educated. They're much more skeptical of American proclamations and the fawning media.
President Obama recently declared: "The strong condemnation that it's received from around the world indicates the degree to which Russia is on the wrong side of history on this."  Marvelous … coming from the man who partners with jihadists and Nazis and has waged war against seven nations. In the past half century is there any country whose foreign policy has received more bitter condemnation than the United States? If the United States is not on the wrong side of history, it may be only in the history books published by the United States.
Barack Obama, like virtually all Americans, likely believes that the Soviet Union, with perhaps the sole exception of the Second World War, was consistently on the wrong side of history in its foreign policy as well as at home. Yet, in a survey conducted by an independent Russian polling center this past January, and reported in the Washington Post in April, 86 percent of respondents older than 55 expressed regret for the Soviet Union's collapse; 37 percent of those aged 25 to 39 did so. (Similar poll results have been reported regularly since the demise of the Soviet Union. This is fromUSA Today in 1999: "When the Berlin Wall crumbled, East Germans imagined a life of freedom where consumer goods were abundant and hardships would fade. Ten years later, a remarkable 51% say they were happier with communism.")
Or as the new Russian proverb put it: "Everything the Communists said about Communism was a lie, but everything they said about capitalism turned out to be the truth."
A week before the above Post report in April the newspaper printed an article about happiness around the world, which contains the following charming lines: "Worldwide polls show that life seems better to older people – except in Russia." … "Essentially, life under President Vladimir Putin is one continuous downward spiral into despair." … "What's going on in Russia is deep unhappiness." … "In Russia, the only thing to look forward to is death's sweet embrace."
No, I don't think it was meant to be any kind of satire. It appears to be a scientific study, complete with graphs, but it reads like something straight out of the 1950s.
The views Americans hold of themselves and other societies are not necessarily more distorted than the views found amongst people elsewhere in the world, but the Americans' distortion can lead to much more harm. Most Americans and members of Congress have convinced themselves that the US/NATO encirclement of Russia is benign – we are, after all, the Good Guys – and they don't understand why Russia can't see this.
The first Cold War, from Washington's point of view, was often designated as one of "containment", referring to the US policy of preventing the spread of communism around the world, trying to blockthe very idea of communism or socialism. There's still some leftover from that – see Venezuela and Cuba, for example – but the new Cold War can be seen more in terms of a military strategy. Washington thinks in terms of who could pose a barrier to the ever-expanding empire adding to its bases and other military necessities.
Whatever the rationale, it's imperative that the United States suppress any lingering desire to bring Ukraine (and Georgia) into the NATO alliance. Nothing is more likely to bring large numbers of Russian boots onto the Ukrainian ground than the idea that Washington wants to have NATO troops right on the Russian border and in spitting distance of the country's historic Black Sea naval base in Crimea.
The myth of Soviet expansionism
One still comes across references in the mainstream media to Russian "expansionism" and "the Soviet empire", in addition to that old favorite "the evil empire". These terms stem largely from erstwhile Soviet control of Eastern European states. But was the creation of these satellites following World War II an act of imperialism or expansionism? Or did the decisive impetus lie elsewhere?
Within the space of less than 25 years, Western powers had invaded Russia three times – the two world wars and the "Intervention" of 1918-20 – inflicting some 40 million casualties in the two wars alone. To carry out these invasions, the West had used Eastern Europe as a highway. Should it be any cause for wonder that after World War II the Soviets wanted to close this highway down? In almost any other context, Americans would have no problem in seeing this as an act of self defense. But in the context of the Cold War such thinking could not find a home in mainstream discourse.
The Baltic states of the Soviet Union – Estonia, Latvia, and Lithuania – were not part of the highway and were frequently in the news because of their demands for more autonomy from Moscow, a story "natural" for the American media. These articles invariably reminded the reader that the "once independent" Baltic states were invaded in 1939 by the Soviet Union, incorporated as republics of the USSR, and had been "occupied" ever since. Another case of brutal Russian imperialism. Period. History etched in stone.
The three countries, it happens, were part of the Russian empire from 1721 up to the Russian Revolution of 1917, in the midst of World War I. When the war ended in November 1918, and the Germans had been defeated, the victorious Allied nations (US, Great Britain, France, et al.) permitted/encouraged the German forces to remain in the Baltics for a full year to crush the spread of Bolshevism there; this, with ample military assistance from the Allied nations. In each of the three republics, the Germans installed collaborators in power who declared their independence from the new Bolshevik state which, by this time, was so devastated by the World War, the revolution, and the civil war prolonged by the Allies' intervention, that it had no choice but to accept the fait accompli. The rest of the fledgling Soviet Union had to be saved.
To at least win some propaganda points from this unfortunate state of affairs, the Soviets announced that they were relinquishing the Baltic republics "voluntarily" in line with their principles of anti-imperialism and self-determination. But is should not be surprising that the Soviets continued to regard the Baltics as a rightful part of their nation or that they waited until they were powerful enough to reclaim the territory.
Then we had Afghanistan. Surely this was an imperialist grab. But the Soviet Union had lived next door to Afghanistan for more than 60 years without gobbling it up. And when the Russians invaded in 1979, the key motivation was the United States involvement in a movement, largely Islamic, to topple the Afghan government, which was friendly to Moscow. The Soviets could not have been expected to tolerate a pro-US, anti-communist government on its border any more than the United States could have been expected to tolerate a pro-Soviet, communist government in Mexico.
Moreover, if the rebel movement took power it likely would have set up a fundamentalist Islamic government, which would have been in a position to proselytize the numerous Muslims in the Soviet border republics.
Notes
See RT.com (formerly Russia Today) for many stories, images and videos
Robert Gates, Duty (2014), p.97
If this site has gone missing again, a saved version can be found here.
Voice of Russia radio station, Moscow, April 18, 2014; also see Answer Coalition, "Who's who in Ukraine's new [semi-fascist] government", March 11, 2014
RT.com, news report March 5, 2014
CBS News, March 3, 2014
Washington Post, April 11, 2014
USA Today (Virginia), Oct. 11, 1999, page 1
Washington Post print edition, April 2, 2014; online here