Would you be surprised to hear that the human race is slowly becoming dumber, and dumber?
Despite our advancements over the last tens or even hundreds of years, some 'experts' believe that humans are losing cognitive capabilities and becoming more emotionally unstable. One Stanford University researcher and geneticist, Dr. Gerald Crabtree, believes that our intellectual decline as a race has much to do with adverse genetic mutations. But human intelligence is suffering for other reasons as well.
According to Crabtree, our cognitive and emotional capabilities are fueled and determined by the combined effort of thousands of genes. If a mutation occurred in any of of these genes, which is quite likely, then intelligence or emotional stability can be negatively impacted.
"I would wager that if an average citizen from Athens of 1000 BC were to appear suddenly among us, he or she would be among the brightest and most intellectually alive of our colleagues and companions, with a good memory, a broad range of ideas, and a clear-sighted view of important issues. Furthermore, I would guess that he or she would be among the most emotionally stable of our friends and colleagues," the geneticist began his article in the scientific journal Trends in Genetics.
Further, the geneticist explains that people with specific adverse genetic mutations are more likely than ever to survive and live amongst the 'strong.' Darwin's theory of 'survival of the fittest' is less applicable in today's society, therefore those with better genes will not necessarily dominate in society as they would have in the past.
While this hypothesis does have some merit: are genes really the primary reason for the overall cognitive decline of the human race? If humans really are lacking in intelligence more than before, it's important to recognize other possible causes. Let's take a look at how our food system plays a role in all of this.
It's sad, but true; our food system today is contributing to lower human intelligenceacross the board.
Pesticides are Diminishing Human Intelligence
One study published in the Proceedings of the National Academy of Sciences found that pesticides, which are rampant among the food supply, are creating lasting changes in overall brain structure — changes that have been linked to lower intelligence levels and decreased cognitive function. Specifically, the researchers found that a pesticide known as chlorpyrifos (CPF) has been linked to "significant abnormalities". Further, the negative impact was found to occur even at low levels of exposure.
Lead researcher Virginia Rauh, a professor at the Mailman School of Public Health, summarized the findings:
"Toxic exposure during this critical period can have far-reaching effects on brain development and behavioral functioning."
Processed Foods, High Fructose Corn Syrup Making People 'Stupid'
Following 14,000 children, British researchers uncovered the connection between processed foods and reduced IQ. After recording the children's' diets and analyzing questionnaires submitting by the parents, the researchers found that if children were consuming a processed diet at age 3, IQ decline could begin over the next five years. The study found that by age 8, the children had suffered the IQ decline. On the contrary, children who ate a nutrient-rich diet including fruit and vegetables were found to increase their IQ over the 3 year period. The foods considered nutrient-rich by the researchers were most likely conventional fruits and vegetables.
Interestingly, one particular ingredient ubiquitous in processed foods and sugary beverages across the globe -high fructose corn syrup – has been tied to reduced IQ. The UCLA researchers coming to these findings found that HFCS may be damaging the brain functions of consumers worldwide, sabotaging learning and memory. In fact, the official release goes as far to say that high-fructose corn syrup can make you 'stupid'.
Gene mutations may have something to do with the ongoing decline in human intelligence, but let's stop to think for a moment what we're doing to ourselves to make this decline even more prominent.
Source: Underground Health
Chemicals within cannabis have powerful antioxidant properties, and scientists believe this can protect the brain from damage. Too much alcohol can lead to permanent brain damage, among other things. A recent study from the University of Kentucky and the University of Maryland concluded that a chemical in marijuana called cannabidiol (CBD) could be used to prevent alcohol-induced brain damage. The study was published in September of 2013 in the journal Pharmacology Biochemistry and Behavior. (1)
The study outlines how excessive alcohol consumption results in neuro-degeneration as well as behavioral and cognitive impairments that are hypothesized to contribute to the chronic and relapsing nature of alcoholism. As a result they aimed to study the transdermal delivery of cannabidiol (CBD) for the treatment of alcohol-induced neuro-degeneration. At the conclusion of the study, results demonstrated the feasibility of using CBD transdermal delivery systems for the treatment of alcohol-induced neurodegeneration.(1)
Just like THC, CBD is another chemical found in marijuana, the difference is that it doesn't get you 'high.' Both chemicals are strong antioxidants.
These results justify further preclinical development of transdermal CBD for the treatment of alcohol-induced neurodegeneration. It has been suggested that the neuroprotective effects of CBD observed during binge alcohol induced neurodegeneration are due to its high antioxidant capacity. (1)
The authors note that CBD acts as a stronger antioxidant than many well-known antioxidants. This new study was done on rat models, using both a skin patch and regular needle injection. Both methods produced similar magnitudes of neuroprotection, approximately 50 percent. Further studies need to be done here before human trials can begin. It's surprising that human trials have yet to begin, it seems they should have began ages ago. Year after year we have credible published studies showing the clear link between cannabis and a healthy body environment.
The potential health benefits of cannabis are overwhelming, and potentially very threatening to the pharmaceutical industry. It is a shame that despite all of the evidence supporting the medicinal properties of this plant, it still has a negative connotation within the mainstream. Nobody can deny it's medicinal benefits, and given the tremendous amount of information and research to support it, it seems pretty clear that this plant is a natural miracle.
Things seem to be changing, however. Last week, a European based pharmaceutical company called GW pharmaceuticals announced that they are set to commence its first ever phase of clinical trials for the treatment of brain cancer. You can read more about that here.  A couple of months ago, I wrote an article presenting 20 medical studies that prove cannabis can cure cancer; I've presented them in this article (see below). If we want to stay on the topic of brain damage, dozens of studies have shown the potential benefits of cannabis on damaged brain tissue. A study published in the Journal of Clinical Investigation revealed that cannabinoids promote embryonic and adult hippocampus neurogenesis. (2) The list goes on and on, and it seems to be never-ending, especially when it comes to cannabis and the brain. If you  would like to know more there is plenty of  information that's readily available.
Contrary to popular belief, smoking the Cannabis is not the most effective way in treating disease within the body as therapeutic levels cannot be reached through smoking. Creating oil from the plant or eating the plant is the best way to go about getting the necessary ingredients which are the Cannabinoids. Also, when Cannabis is heated and burnt it changes the chemical structure and acidity of the THC. This changes its ability to be therapeutic and anytime you burn something and inhale it, you create oxidation within the body which aids in free-radical production.
Humanity does not need to wait for a pharmaceutical company, or the medical industry to 'OK' its use for medicinal purposes. We constantly look towards these corporations for methods, approval and availability. This is something we can take into our own hands, the information is out there and if it's something you feel can be of benefit you are free to try it.  For medicinal use, it should be non-GMO, grown without pesticides and completely natural. In the hands of a pharmaceutical company, or future pill form, it might be hard to trust.
Below are links to more studies with regards to cancer and cannabis. (20 out of many more)
Brain Cancer
1.  A study published in the British Journal of Cancer, conducted by the Department of Biochemistry and Molecular Biology at Complutense University in Madrid, this study determined that Tetrahydrocannabinol (THC) and other cannabinoids inhibit tumour growth. They were responsible for the first clinical study aimed at assessing cannabinoid antitumoral action. Cannabinoid delivery was safe and was achieved with zero psychoactive effects. THC was found to decrease tumour cells in two out of the nine patients.
2. A study published in The Journal of Neuroscience examined the biochemical events in both acute neuronal damage and in slowly progressive, neurodegenerative diseases. They conducted a magnetic resonance imaging study that looked at THC (the main active compound in marijuana) and found that it reduced neuronal injury in rats. The results of this study provide evidence that the cannabinoid system can serve to protect the brain against neurodegeneration.
3. A study published in The Journal of Pharmacology And Experimental Therapeutics already acknowledged the fact that cannabinoids have been shown to possess antitumor properties. This study examined the effect of cannabidiol (CBD, non psychoactive cannabinoid compound) on human glioma cell lines. The addition of cannabidiol led to a dramatic drop in the viability of glioma cells. Glioma is the word used to describe brain tumour.  The study concluded that cannabidiol was able to produce a significant antitumor activity.
4. A study published in the journal Molecular Cancer Therapeutics outlines how brain tumours are highly resistant to current anticancer treatments, which makes it crucial to find new therapeutic strategies aimed at improving the poor prognosis of patients suffering from this disease. This study also demonstrated the reversal of tumour activity in Glioblastoma multiforme.
Breast Cancer
5. A study published in the US National Library of Medicine, conducted by the California Pacific Medical Centre determined that cannabidiol (CBD) inhibits human breast cancer cell proliferation and invasion. They also demonstrated that CBD significantly reduces tumour mass.
6. A study published in The Journal of Pharmacology and Experimental Therapeutics determined that THC as well as cannabidiol dramatically reduced breast cancer cell growth. They confirmed the potency and effectiveness of these compounds.
7. A study published in the Journal Molecular Cancer showed that THC reduced tumour growth and tumour numbers. They determined that cannabinoids inhibit cancer cell proliferation, induce cancer cell apoptosis and impair tumour angiogenesis (all good things). This study provides strong evidence for the use of cannabinoid based therapies for the management of breast cancer.
8. A study published in the Proceedings of the National Academy of Sciences of the United States of America (PNAS) determined that cannabinoids inhibit human breast cancer cell proliferation.
Lung Cancer

9. A study published in the journal Oncogene, by Harvard Medical Schools Experimental Medicine Department determined that THC inhibits epithelial growth factor induced lung cancer cell migration and more. They go on to state that THC should be explored as novel therapeutic molecules in controlling the growth and metastasis of certain lung cancers.
10. A study published by the US National Library of Medicine by the Institute of Toxicology and Pharmacology, from the Department of General Surgery in Germany determined that cannabinoids inhibit cancer cell invasion. Effects were confirmed in primary tumour cells from a lung cancer patient.  Overall, data indicated that cannabinoids decrease cancer cell invasiveness.
11. A study published by the US National Library of Medicine, conducted by Harvard Medical School investigated the role of cannabinoid receptors in lung cancer cells. They determined its effectiveness and suggested that it should be used for treatment against lung cancer cells.
Prostate Cancer
12. A study published in the US National Library of Medicine illustrates a decrease in prostatic cancer cells by acting through cannabinoid receptors.
13. A study published in the US National Library of Medicine outlined multiple studies proving the effectiveness of cannabis on prostate cancer.
14. Another study published by the US National Library of Medicine determined that clinical testing of CBD against prostate carcinoma is a must. That cannabinoid receptor activation induces prostate carcinoma cell apoptosis. They determined that cannabidiol significantly inhibited cell viability. 

Blood Cancer
15. A study published in the journal Molecular Pharmacology recently showed that cannabinoids induce growth inhibition and apoptosis in matle cell lymphoma. The study was supported by grants from the Swedish Cancer Society, The Swedish Research Council and the Cancer Society in Stockholm.
16. A study published in the International Journal of Cancer also determined and illustrated that cannabinoids exert antiproliferative and proapoptotic effects in various types of cancer and in mantle cell lymphoma.
17. A study published in the US National Library of Medicine conducted by the Department of Pharmacology and Toxicology by Virginia Commonwealth University determined that cannabinoids induce apoptosis in leukemia cells.
Oral Cancer
18. A study published by the US National Library of Medicine results show cannabinoids are potent inhibitors of cellular respiration and are toxic to highly malignant oral Tumours.
Liver Cancer
19. A study published by the US National Library of Medicine determined that that THC reduces the viability of human HCC cell lines (Human hepatocellular liver carcinoma cell line) and reduced the growth.
Pancreatic Cancer
20. A study published in The American Journal of Cancer determined that cannabinoid receptors are expressed in human pancreatic tumor cell lines and tumour biopsies at much higher levels than in normal pancreatic tissue. Results showed that cannabinoid administration induced apoptosis. They also reduced the growth of tumour cells, and inhibited the spreading of pancreatic tumour cells.
Notes:
(1) http://www.sciencedirect.com/science/article/pii/S0091305713002104
(2) http://www.jci.org/articles/view/25509
http://www.truthonpot.com/2013/09/12/marijuana-may-reduce-brain-damage-caused-by-alcohol-study/
Source: Collective Evolution
As the Department of Homeland Security (DHS) doles out billions of dollars to convince local police departments to surrender control to the federal agency, a recent report indicates that intelligence gathered at precincts-cum-surveillance-centers will be shared among all levels of law enforcement.
An article published by Fierce Homeland Security on November 4 reports:
The phenomenon of fusion centers sharing intelligence and skills with each other — not just with the federal government — is a new and underappreciated aspect of the centers, panelists at a Homeland Security Policy Institute event said.
Fusion centers mainly apply national intelligence to local contexts and gather information locally that they can share with federal agencies. But in recent years, a great deal of "horizontal sharing" has occurred, where fusion centers work closely with each other, said Ross Ashley, the executive director of National Fusion Center Association.
"We'll find an expert in Washington state on international human trafficking over international ferry systems. Well, I don't need that expert everywhere. What I need is the ability to reach out to that expert if I'm in West Virginia," he said at the event, held Oct. 23 in Washington, D.C.
That meeting, entitled "State and Local Fusion Centers: Key Challenges for the Next Decade," featured three panelists: John Cohen, principal deputy under secretary for intelligence and analysis, U.S. Department of Homeland Security; Thomas Kirk, director, West Virginia Intelligence Fusion Center; and Ross Ashley, executive director, National Fusion Center Association. The keynote address was delivered by Representative Michael McCaul (R-Texas), Chairman of the House Committee on Homeland Security.
In July, McCaul co-authored with Representative Peter King (R-N.Y.) a report on the progress of the establishment of the nationwide spread of the fusion centers. The press release announcing the report reveals the pair's support for a program that dismantles federalism and accelerates the militarization of local police and the consolidation of control of those departments to the federal government. The McCaul-King report states:
Fusion centers serve as hubs of strategic analysis and information sharing where Federal, State, and local agencies are all represented in one location. State and local crime data is coordinated, gathered and reviewed to determine if there is any potential connection to terrorist activity. In addition, Federal terrorism-related information is shared with State and local law enforcement.
Seems the congressmen should be reminded of the fact that there is not a single syllable of the Constitution authorizing any such federal participation in law enforcement. If the power isn't granted to the federal government in the Constitution, then authority over that area remains with the states and the people as described in the Tenth Amendment.
Remarkably, McCaul and King lament the fact that the chain of fusion centers isn't growing quickly enough and the DHS isn't getting adequate access to all that information. The report adds:
The Committee's review concludes that the Network is not functioning as cohesively as it should be and fusion centers are facing numerous challenges that prevent the Network from realizing its full potential to help secure the homeland.
Of course, there couldn't be a piece of federal police and surveillance program propaganda without reminding citizens that all this deprivation of their rights is for their safety. As if to say, if the federal government doesn't take control of your local police department and keep all citizens under surveillance, the terrorists will strike again.
The representatives' zeal for constructing local outposts of the central surveillance headquarters is not surprising. Self-serving bureaucrats inside the U.S. government are tirelessly trying to obliterate local police forces answerable to local citizens and promote the consolidation movement as a step toward federalization of law enforcement. These proponents of regional and national police forces desire nothing less than the eradication of all local police departments and sheriffs' offices, the surrender of state and municipal sovereignty, and the conversion of police into federal security agents sworn not to protect and to serve their neighbors, but to protect the prerogatives of politicians.
Take for example the information contained in a White Paper presented in 2012 to the House Permanent Select Committee on Intelligence. In that report, the DHS is encouraged to embark on an "evolving mission" away from its ostensible purpose of fighting terrorism, toward becoming the administrator of an enormous domestic intelligence agency resulting from an integration of the country's local and state law-enforcement agencies.
This report was written by the Aspen Institute Homeland Security Group, co-chaired by former DHS chief Michael Chertoff. The blueprint promoted in the White Paper pushes Congress toward green-lighting the growth of DHS and the dissolution of local police and sheriffs.
The organization described in the paper, entitled "Homeland Security and Intelligence: Next Steps in Evolving the Mission," is reminiscent of more draconian governments. For example, one section of the report calls for a transition in the mission of DHS away from protecting the country from the "terrorism" of foreign militants and toward "more specific homeward focused areas." Additional sections of the report lay out the plans for building a DHS/police hybrid agency that can monitor Americans in any town and prevent threats from fellow citizens.
In order to achieve their ultimate aim, the globalists demand that DHS or some other federal agency take control of the personnel decisions currently made by local police chiefs and county sheriffs. "As the threat grows more localized," the report claims, "the federal government's need to train, and even staff, local agencies, such as major city police departments, will grow." Put another way: The federal government will run your local police department and sheriff's office.
The establishment of fusion centers is a key component of this plan. The following information is taken from a fact sheet on fusion centers posted on the DHS website:
A fusion center is a collaborative effort of two or more agencies that provide resources, expertise and information to the center with the goal of maximizing their ability to detect, prevent, investigate, and respond to criminal and terrorist activity.
A description of the functioning of these incubators for the forthcoming federal police force is also provided on the DHS site:
State and major urban area fusion centers (fusion centers) serve as primary focal points within the state and local environment for the receipt, analysis, gathering, and sharing of threat-related information among federal, state, local, tribal, and territorial (SLTT) partners…. Fusion centers conduct analysis and facilitate information sharing, assisting law enforcement and homeland security partners in preventing, protecting against, and responding to crime and terrorism.
The literature promoting the acceptance of fusion centers lists several ways the new federal agency will impose its will on the formerly autonomous and accountable police chief or county sheriff.
Last year, The New American described the likely procedure:
First, the feds will decide where and when to deploy local police department personnel. The chief, if he still exists, will be no more than a functionary required to make sure that the orders of the federal government are carried out. More likely than not, these new missions, in addition to preventing crime in the city or county, will engage in the collection of information about and apprehension of those local citizens identified by a committee in Washington as posing a threat to national security. Consider the revelation in 2009 that Homeland Security's Office of Intelligence and Analysis released a document entitled "Rightwing Extremism: Current Economic and Political Climate Fueling Resurgence in Radicalism and Recruitment," which listed war veterans, anti-abortion activists, small-government advocates, and those concerned about immigration as terrorist risks.
Second, DHS (or whichever one of the federal agencies eventually takes over law-enforcement duties) will train new recruits. Policies, procedures, and purposes will not reflect traditional (and constitutional) goals of law enforcement, but will be tailored to training officers to perform those duties associated with the new, national emphasis of the force, with a slant toward federalism.
Finally, funds for this conversion from local police department to outpost of the federal law-enforcement agency will be provided by the bureaucrats on Capitol Hill. This carrot will be tied to the stick of federal control.
The speed and success of the Department of Homeland Security's plan to string together a powerful net of surveillance-focused fusion centers in all the country's police departments is evident in the following statement at the Homeland Security Policy Institute's meeting made by Thomas Kirk, director of the West Virginia Intelligence Fusion Center:
"In all law enforcement, I've never seen anything like that," he said. "Most of the time when I call another fusion center director, they know my voice."
Joe A. Wolverton, II, J.D. is a correspondent for The New American and travels frequently nationwide speaking on topics of nullification, the NDAA, and the surveillance state.  He is the host of The New American Review radio show that is simulcast on YouTube every Monday. Follow him on Twitter @TNAJoeWolverton and he can be reached at jwolverton@thenewamerican.com
Source: Joe Wolverton, II, J.D. | The New American
When Edward Snowden met with Guardian reporter Glenn Greenwald to turn over documents revealing the extent of the NSA spying program, he did more than provide an education to the entire world concerning the reach of the American Empire. He also very likely protected himself from far flung and highly illegal machinations to silence him. Safely ensconced in Russia, Snowden is now reportedly working for a Russian website. His revelations continue to impact the public persona of the US, worldwide.
Other whistleblowers and journalists have not been so fortunate.
Enter Jeffrey Silverman…
Silverman, who was born in Washington DC and served in the US Army prior to receiving an MS in Agricultural Development/International Development, had been living in the Republic of Georgia since 1991. He has done in-depth investigative reporting on chemical and biological weapons, the alleged murder of the former Georgian Prime Minister Zurab Zhvania and on black torture sites in the former Soviet Union.
Silverman, who also writes under the name Joni Simonishvili, had been working on articles concerning covert US support for the Chechen rebels when he made a trip back to the US in 2004 to visit family. To his amazement, he was charged with failure to pay child support in Kentucky. Silverman states that he had been paying support for years without a court order. After a Kentucky judge ordered his passport seized and turned over to authorities due to the alleged non-payment of support, a Virginia judge subsequently reversed the order and gave Silverman back his travel documents.
Silverman had flown back to Georgia and was on a working trip to Azerbaijan to submit an article in Baku when he was picked up on orders of the US Embassy, beaten badly and his passport again seized. The US Embassy then issued a document to Silverman stating that he is an alien. He was offered a trip back to the US under alien status but instead of accepting a tainted offer, Silverman jumped the border from Azerbaijan into Georgia.
There are strict laws governing the revocation of an individual's citizenship. A US native born citizen cannot have his citizenship revoked unless he commits an expatriating act, such as serving in an army at war against the US. No such terms, however, apply to Jeffrey Silverman.
The FBI subsequently paid a visit to Silverman's son's mother, Donna Evans. She wrote:
I had two FBI agents visit me at my job in Kentucky. One was Detective Greg Wolf and the other was Mr. Steve Auvenshine. They came to my work site and told me they were investigating you but wouldn't tell me why. They asked numerous questions about you and what you did for a living. "They showed me a picture of you and asked if it was you. They asked me questions about how we met, where you have lived, where you were born, who your parents were and what did they do for a living, whether they were still alive or not, what countries you had visited, what languages you spoke, how long you had visited each country, what religion you practiced and if you had ever been in the military. I asked them why they were asking so many questions about you but they would not say. I think they already knew all the answers to all the questions they asked me; I think they just wanted to see if I would verify what they knew. They also wanted me to send all the e-mails that you had sent me to them. Bourbon County [the local authority] said that they were already sending all the e-mails they receive from you to the US State Department.
The State Department declined to comment on Silverman's citizenship, as did DHS and the DOJ.
Following the beating in 2004, Silverman was again detained in 2005. According to Silverman, "The police kidnapped me off the street in the middle of the day and took me to the Georgian Office of Counterintelligence and beat me….Embassy staff were waiting in the other room and when done, they came and asked if I needed any help in returning to the US. It so happens that the agent involved, Bryan Paarmann, is the same agent involved in the alleged murder cover up of the Georgian PM, Zurab Zhvania.
Someone else who was impacted by the mounting concerns about the nature of Jeffrey Silverman's journalism was Silverman's friend, Vahktang Maisaia, who served as counselor at the Georgian mission in NATO in 2004-2008. Maisaia writes of events that took place in May of 2009:
I was tortured and subjected to mock execution at the building two days later. I was accused in having relations initially with NATO special services, Slovak Republic military intelligence service and later on they extended the link with "Russian Federation Intelligence Service" (I quoted word-by-word the name of the Russian service – why because the service with such name does not exist at all even in accordance to the Russian Federation laws). It is long too history how well my case has been rigged but regarding Jeffrey I had to confess that in one of the night illegal interrogation session usually started at 6.00 PM till 6.00 AM by the Counter-Intelligence Department two teams almost every days since May 8th till June 23 of 2009 at Gldany prison #8), Otar Ordzhonikidze and his staff-member Data Datashvili and Valerian Zumbadze personally interested in Jeffrey Silverman's personality and background, they tortured me in order to gain his contact points and whereabouts at that time in order to seize him in abduction manner, like "death squadron" way and execute him in somewhere unknown place because of his foreign citizenship and his popularity abroad (how they claim to me).
Another assault on Jeffrey Silverman in 2011 made the evening news in Tbilisi. Silverman has plates in his head from one of his beatings.
Jeffrey Silverman is now essentially a stateless person. Silverman states he has sought assistance from Reporters without Borders as well as the Committee to Protect Journalists. CPJ did not respond to inquiries from this reporter as to that organization's refusal to address Silverman's plight. It is known in journalistic circles that the agencies pledged to protect press rights generally turn a blind eye to assaults on US journalists doing adversarial reporting.
Silverman is currently the Georgia Bureau Chief for Veterans Today and teaches in Tbilisi.
The only part of the government that really listens to what you have to say…
The New York Times (November 2) ran a long article based on NSA documents released by Edward Snowden. One of the lines that most caught my attention concerned "Sigint" – Signals intelligence, the term used for electronic intercepts. The document stated:
"Sigint professionals must hold the moral high ground, even as terrorists or dictators seek to exploit our freedoms. Some of our adversaries will say or do anything to advance their cause; we will not."
What, I wondered, might that mean? What would the National Security Agency – on moral principle – refuse to say or do?
I have on occasion asked people who reject or rationalize any and all criticism of US foreign policy: "What would the United States have to do in its foreign policy to lose your support? What, for you, would be too much?" I've yet to get a suitable answer to that question. I suspect it's because the person is afraid that whatever they say I'll point out that the United States has already done it.
The United Nations vote on the Cuba embargo – 22 years in a row
For years American political leaders and media were fond of labeling Cuba an "international pariah". We haven't heard that for a very long time. Perhaps one reason is the annual vote in the United Nations General Assembly on the resolution which reads: "Necessity of ending the economic, commercial and financial embargo imposed by the United States of America against Cuba". This is how the vote has gone (not including abstentions):
| | | |
| --- | --- | --- |
| Year | Votes (Yes-No) | No Votes |
| 1992 | 59-2 | US, Israel |
| 1993 | 88-4 | US, Israel, Albania, Paraguay |
| 1994 | 101-2 | US, Israel |
| 1995 | 117-3 | US, Israel, Uzbekistan |
| 1996 | 138-3 | US, Israel, Uzbekistan |
| 1997 | 143-3 | US, Israel, Uzbekistan |
| 1998 | 157-2 | US, Israel |
| 1999 | 155-2 | US, Israel |
| 2000 | 167-3 | US, Israel, Marshall Islands |
| 2001 | 167-3 | US, Israel, Marshall Islands |
| 2002 | 173-3 | US, Israel, Marshall Islands |
| 2003 | 179-3 | US, Israel, Marshall Islands |
| 2004 | 179-4 | US, Israel, Marshall Islands, Palau |
| 2005 | 182-4 | US, Israel, Marshall Islands, Palau |
| 2006 | 183-4 | US, Israel, Marshall Islands, Palau |
| 2007 | 184-4 | US, Israel, Marshall Islands, Palau |
| 2008 | 185-3 | US, Israel, Palau |
| 2009 | 187-3 | US, Israel, Palau |
| 2010 | 187-2 | US, Israel |
| 2011 | 186-2 | US, Israel |
| 2012 | 188-3 | US, Israel, Palau |
| 2013 | 188-2 | US, Israel |
Each fall the UN vote is a welcome reminder that the world has not completely lost its senses and that the American empire does not completely control the opinion of other governments.
Speaking before the General Assembly, October 29, Cuban Foreign Minister Bruno Rodriguez declared: "The economic damages accumulated after half a century as a result of the implementation of the blockade amount to $1.126 trillion." He added that the blockade "has been further tightened under President Obama's administration", some 30 US and foreign entities being hit with $2.446 billion in fines due to their interaction with Cuba.
However, the American envoy, Ronald Godard, in an appeal to other countries to oppose the resolution, said:
"The international community … cannot in good conscience ignore the ease and frequency with which the Cuban regime silences critics, disrupts peaceful assembly, impedes independent journalism and, despite positive reforms, continues to prevent some Cubans from leaving or returning to the island. The Cuban government continues its tactics of politically motivated detentions, harassment and police violence against Cuban citizens."1
So there you have it. That is why Cuba must be punished. One can only guess what Mr. Godard would respond if told that more than 7,000 people were arrested in the United States during the Occupy Movement's first 8 months of protest 2 ; that their encampments were violently smashed up; that many of them were physically abused by the police.
Does Mr. Godard ever read a newspaper or the Internet, or watch television? Hardly a day passes in America without a police officer shooting to death an unarmed person?
As to "independent journalism" – what would happen if Cuba announced that from now on anyone in the country could own any kind of media? How long would it be before CIA money – secret and unlimited CIA money financing all kinds of fronts in Cuba – would own or control most of the media worth owning or controlling?
The real reason for Washington's eternal hostility toward Cuba? The fear of a good example of an alternative to the capitalist model; a fear that has been validated repeatedly over the years as Third World countries have expressed their adulation of Cuba.
How the embargo began: On April 6, 1960, Lester D. Mallory, US Deputy Assistant Secretary of State for Inter-American Affairs, wrote in an internal memorandum: "The majority of Cubans support Castro … The only foreseeable means of alienating internal support is through disenchantment and disaffection based on economic dissatisfaction and hardship. … every possible means should be undertaken promptly to weaken the economic life of Cuba." Mallory proposed "a line of action which … makes the greatest inroads in denying money and supplies to Cuba, to decrease monetary and real wages, to bring about hunger, desperation and overthrow of government." 3 Later that year, the Eisenhower administration instituted the suffocating embargo against its everlasting enemy.
The Cold War Revisited
I've written the Introduction to a new book recently published in Russia that is sort of an updating of my book Killing Hope. 4 Here is a short excerpt:
The Cold War had not been a struggle between the United States and the Soviet Union. It had been a struggle between the United States and the Third World, which, in the decade following the dissolution of the Soviet Union, continued in Haiti, Somalia, Iraq, Yugoslavia and elsewhere.

The Cold War had not been a worldwide crusade by America to halt Soviet expansion, real or imaginary. It had been a worldwide crusade by America to block political and social changes in the Third World, changes opposed by the American power elite.

The Cold War had not been a glorious and noble movement of freedom and democracy against Communist totalitarianism. It had typically been a movement by the United States in support of dictatorships, authoritarian regimes and corrupt oligarchies which were willing to follow Washington's party line on the Left, US corporations, Israel, oil, military bases, et al. and who protected American political and economic interests in their countries in exchange for the American military and CIA keeping them in power against the wishes of their own people.

In other words, whatever the diplomats at the time thought they were doing, the Cold War revisionists have been vindicated. American policy had been about imperialism and military expansion.
Apropos the countless other myths we were all taught about the Soviet Union is this letter I recently received from one of my readers, a Russian woman, age 49, who moved to the United States eight years ago and now lives in Northern Virginia:
I can't imagine why anybody is surprised to hear when I say I miss life in the Soviet Union: what is bad about free healthcare and education, guaranteed employment, guaranteed free housing? No rent or mortgage of any kind, only utilities, but they were subsidized too, so it was really pennies. Now, to be honest, there was a waiting list to get those apartments, so some people got them quicker, some people had to wait for years, it all depended on where you worked. And there were no homeless people, and crime was way lower. As a first grader I was taking the public transportation to go to school, which was about 1 hour away by bus (it was a big city, about the size of Washington DC, we lived on the outskirts, and my school was downtown), and it was fine, all other kids were doing it. Can you even imagine this being done now? I am not saying everything was perfect, but overall, it is a more stable and socially just system, fair to everybody, nobody was left behind. This is what I miss: peace and stability, and not being afraid of the future.

Problem is, nobody believes it, they will say that I am a brainwashed "tovarish" [comrade]. I've tried to argue with Americans about this before, but just gave up now. They just refuse to believe anything that contradicts what CNN has been telling them for all their lives. One lady once told me: "You just don't know what was going on there, because you did not have freedom of speech, but we, Americans, knew everything, because we could read about all of this in our media." I told her "I was right there! I did not need to read about this in the media, I lived that life!", but she still was unconvinced! You will not believe what she said: "Yes, maybe, but we have more stuff!". Seriously, having 50 kinds of cereal available in the store, and walmarts full of plastic junk is more valuable to Americans than a stable and secure life, and social justice for everybody?

Of course there are people who lived in the Soviet Union who disagree with me, and I talked to them too, but I find their reasons just as silly. I heard one Russian lady whose argument was that Stalin killed "30, no 40 million people". First of all it's not true (I don't in any way defend Stalin, but I do think that lying and exaggerating about him is as wrong)*, and second of all what does this have to do with the 70s, when I was a kid? By then life was completely different. I heard other arguments, like food shortages (again, not true, it's not like there was no food at all, there were shortages of this or that specific product, like you wouldn't find mayo or bologna in the store some days, but everything else was there!). So, you would come back next day, or in 2-3 days, and you would find them there. Really, this is such a big deal? Or you would have to stay in line to buy some other product, (ravioli for example). But how badly do you want that ravioli really that day, can't you have anything else instead? Just buy something else, like potatoes, where there was no line.

Was this annoying, yes, and at the time I was annoyed too, but only now I realized that I would much prefer this nuisance to my present life now, when I am constantly under stress for the fear that I can possibly lose my job (as my husband already did), and as a result, lose everything else – my house? You couldn't possibly lose your house in Soviet Union, it was yours for life, mortgage free. Only now, living here in the US, I realized that all those soviet nuisances combined were not as important as the benefits we had – housing, education, healthcare, employment, safe streets, all sort of free after school activities (music, sports, arts, anything you want) for kids, so parents never had to worry about what we do all day till they come home in the evening.
* We've all heard the figures many times … 10 million … 20 million … 40 million … 60 million … died under Stalin. But what does the number mean, whichever number you choose? Of course many people died under Stalin, many people died under Roosevelt, and many people are still dying under Bush. Dying appears to be a natural phenomenon in every country. The question is how did those people die under Stalin? Did they die from the famines that plagued the USSR in the 1920s and 30s? Did the Bolsheviks deliberately create those famines? How? Why? More people certainly died in India in the 20th century from famines than in the Soviet Union, but no one accuses India of the mass murder of its own citizens. Did the millions die from disease in an age before antibiotics? In prison? From what causes? People die in prison in the United States on a regular basis. Were millions actually murdered in cold blood? If so, how? How many were criminals executed for non-political crimes? The logistics of murdering tens of millions of people is daunting. 5
Let's not repeat the Barack fuckup with Hillary
Not that it really matters who the Democrats nominate for the presidency in 2016. Whoever that politically regressive and morally bankrupt party chooses will be at best an uninspired and uninspiring centrist; in European terms a center-rightist; who believes that the American Empire – despite the admittedly occasional excessive behavior – is mankind's last great hope. The only reason I bother to comment on this question so far in advance of the election is that the forces behind Clinton have clearly already begun their campaign and I'd like to use the opportunity to try to educate the many progressives who fell in love with Obama and may be poised now to embrace Clinton. Here's what I wrote in July 2007 during the very early days of the 2008 campaign:
Who do you think said this on June 20? a) Rudy Giuliani; b) Hillary Clinton; c) George Bush; d) Mitt Romney; or e) Barack Obama?
"The American military has done its job. Look what they accomplished. They got rid of Saddam Hussein. They gave the Iraqis a chance for free and fair elections. They gave the Iraqi government the chance to begin to demonstrate that it understood its responsibilities to make the hard political decisions necessary to give the people of Iraq a better future. So the American military has succeeded. It is the Iraqi government which has failed to make the tough decisions which are important for their own people." 6
Right, it was the woman who wants to be president because … because she wants to be president … because she thinks it would be nice to be president … no other reason, no burning cause, no heartfelt desire for basic change in American society or to make a better world … she just thinks it would be nice, even great, to be president. And keep the American Empire in business, its routine generating of horror and misery being no problem; she wouldn't want to be known as the president that hastened the decline of the empire.
And she spoke the above words at the "Take Back America" conference; she was speaking to liberals, committed liberal Democrats and others further left. She didn't have to cater to them with any flag-waving pro-war rhetoric; they wanted to hear anti-war rhetoric (and she of course gave them a bit of that as well out of the other side of her mouth), so we can assume that this is how she really feels, if indeed the woman feels anything. The audience, it should be noted, booed her, for the second year in a row.
Think of why you are opposed to the war. Is it not largely because of all the unspeakable suffering brought down upon the heads and souls of the poor people of Iraq by the American military? Hillary Clinton couldn't care less about that, literally. She thinks the American military has "succeeded". Has she ever unequivocally labeled the war "illegal" or "immoral"? I used to think that Tony Blair was a member of the right wing or conservative wing of the British Labour Party. I finally realized one day that that was an incorrect description of his ideology. Blair is a conservative, a bloody Tory. How he wound up in the Labour Party is a matter I haven't studied. Hillary Clinton, however, I've long known is a conservative; going back to at least the 1980s, while the wife of the Arkansas governor, she strongly supported the death-squad torturers known as the Contras, who were the empire's proxy army in Nicaragua. 7
Now we hear from America's venerable conservative magazine, William Buckley's National Review, an editorial by Bruce Bartlett, policy adviser to President Ronald Reagan; treasury official under President George H.W. Bush; a fellow at two of the leading conservative think-tanks, the Heritage Foundation and the Cato Institute – You get the picture? Bartlett tells his readers that it's almost certain that the Democrats will win the White House in 2008. So what to do? Support the most conservative Democrat. He writes: "To right-wingers willing to look beneath what probably sounds to them like the same identical views of the Democratic candidates, it is pretty clear that Hillary Clinton is the most conservative." 8
We also hear from America's premier magazine for the corporate wealthy, Fortune, whose recent cover features a picture of Clinton and the headline: "Business Loves Hillary". 9
Back to 2013: In October, the office of billionaire George Soros, who has long worked with US foreign policy to destabilize governments not in love with the empire, announced that "George Soros is delighted to join more than one million Americans in supporting Ready for Hillary." 10
There's much more evidence of Hillary Clinton's conservative leanings, but if you need more, you're probably still in love with Obama, who in a new book is quoted telling his aides during a comment on drone strikes that he's "really good at killing people". 11 Can we look forward to Hillary winning the much-discredited Nobel Peace Prize?
I'm sorry if I take away all your fun.
Notes
Democracy Now!, "U.N. General Assembly Votes Overwhelmingly Against U.S. Embargo of Cuba", October 30, 2013 ↩
Huffingfton Post, May 3, 2012 ↩
Department of State, Foreign Relations of the United States, 1958-1960, Volume VI, Cuba (1991), p.885 ↩
Copies can be purchased by emailing kuchkovopole@mail.ru ↩
From William Blum, Freeing the World to Death: Essays on the American Empire (2005), p.194 ↩
Speaking at the "Take Back America" conference, organized by the Campaign for America's Future, June 20, 2007, Washington, DC; this excerpt can be heard on Democracy Now!'s website ↩
Roger Morris, former member of the National Security Council, Partners in Power (1996), p.415 ↩
National Review Online, May 1, 2007 ↩
Fortune magazine, July 9, 2007 ↩
Washington Post, October 25, 2013 ↩
Washington Post, November 1, 2013, review of "Double Down: Game Change 2012" ↩
No doubt you have heard about the War on Drugs, the War on Terror and the War on Happiness. However, you may not be familiar with the War on God, possibly because it would be an unpopular war to discuss publicly. By the "War on God" (definition) we mean the collection of strategies, methods and techniques which have the combined effect of preventing or seriously hampering the efforts of individuals to seek or achieve legitimate Spiritual enlightenment and the Soul's eventual return to God.
The War on God is an ancient war. While the United States and other countries play an active role in this war today, they definitely did not initiate the war. If you want to use the Christian bible as a reference, you could argue that the War on God began shortly after man was created and rejected God in favor of Satan. Clearly, in some form, the War on God has existed throughout human history.
Today, the United States has effectively broken off diplomatic relations with God. The oligarchs who run the country never physically die and so their souls stay on Earth. Apparently, the United States actually believes that its technology, occult knowledge and black magic skills place it in a position which is superior to God.
We know from whistleblowers like David Morehouse that the United States sponsors and trains a cult of psychics to carry out psychic espionage (remote viewing) and also assassinations using psychic black magic techniques. According to clips of his various interviews on YouTube, it was the training in psychic assassinations which caused Morehouse to become disillusioned, quit the secret program and blow the whistle on the operation. Other countries may well operate similar programs but the details will remain unknown until someone defects and exposes them.
The leaders of the United States have always worshiped Satan. The United States was founded by a cult of Satanists known as the Masons and remains under control of that cult today. By rebranding their cult as a nation state, the cult created the appearance of legitimacy. Cult secrets simply transitioned to state secrets. Cult threats to kill anyone telling their secrets transitioned to the crimes of treason and espionage.
Nothing really changed except for the rebranding from a cult to a government. Today, essentially all members of the CIA, NSA and NASA are Masons. All US presidents have been Masons with the two exceptions of Abraham Lincoln and John Kennedy who were both assassinated.
The term "national security" refers to the security of the cult and not to the security of the general population. The Masonic motto is "If you are not one of us, you are nothing". The cult exists only to enrich itself.
The Masons study and practice the occult. Serious study begins after they take a formal oath of allegiance to Satan at the 30th degree initiation. Basic occult knowledge is neutral and everyone who advances Spiritually learns it. However, Masons seek this knowledge to gain power and control over others as opposed to knowledge for personal advancement. This choice, commonly called the Left Hand Path, places them in opposition to the will of God.
If the Satanists simply wanted to sell their Souls to Satan and mind their own business, one could argue that they had that right because they had free choice. However, the situation is not that simple. The Satanic oligarchs did freely choose to worship Satan. However, they also desire a comfortable life. They don't want to do any "grunt" work. Therefore, they have enslaved the remainder of humanity and are holding their Souls prisoner on this planet to service their needs. Therefore, if you, as an innocent Soul, ever plan to escape from this place and return to God, it is in your interest to investigate and gain an understanding of this war so that you will have an opportunity to Spiritually evolve. Otherwise, your Soul will remain a prisoner here — lifetime after lifetime — serving the Satanic overlords essentially forever.
Earth Based Religions
The phrase Earth Based Religions (definition) refers to religious schools which seek and use knowledge, including occult knowledge, to enhance their experiences during their human lifetimes as opposed to using the same knowledge to foster Spiritual development with the ultimate goal of achieving a stable non-physical Spiritual existence.
Although Pagan religions are usually grouped into this category, a more careful examination would reveal that essentially all mainstream religions are Earth based religions. Mainstream religions make constant references to God and Heaven but never explain exactly what they are talking about. Their books concentrate on historical narratives concerning how people in the past lived and coped with the basic problems of human physical existence. They never give details of any level of Spiritual existence or even any specific hints about what life beyond death will be.
Let's try an example. Suppose you have never seen a motor vehicle. You have heard vague stories that they exist, but that is all. Then, suddenly, you find yourself behind the wheel of a car on a high speed road like the US interstate system or the A roads in Britain. What would you guess would be your chance of survival? Try less than zero.
Now suppose you physically die. Suddenly, you find yourself in your Astral body. However, no one ever told you that you have an Astral body. It does not operate under the same rules as a physical body does. It is a very pliant and nimble body. It can travel in time to the past or future, access any plane and subplane in the Astral universe and research the absolute accurate and incorruptible records system known as the Akashic Records to name just a few. But, as in the previous example, you never learned how to "drive" it.
You would have done fine on the highway if you had gradually learned to drive a motor vehicle. You would do fine after death if you had some experience and training with your Astral body. However, no one ever taught you. What practical use is any religion that constantly rants about Heaven but offers no practical advice about your life after this life?
This information may have been a guarded secret in the past, but those days are gone. You can research this information to your heart's content on the internet, locate legitimate Spiritual groups and learn from those who can leave their physical body and explore the non-physical dimensions. But, don't expect any help from a mainstream church.
You might do well to recall the famous quote attributed to Jesus, "The truth will set you free". Mainstream churches are large, rich institutions. They did not get that way by "setting people free". They got that way by terrifying their followers with ridiculous horror stories of what will happen to them if they do not obey their crazy doctrines, stay with them and give them all their money.
Gnostic and other "non-traditional" religions may be Spiritual based as opposed to Earth based. Jesus always reminded everyone that he represented a kingdom "not of this world". If we had accurate records of his true lectures we would no doubt find practical instructions and information about this "other world". We don't have this information because any practical Spiritual teachings he might have given were censored out to create the simplified — but Spiritually sterile — mainstream religions we have today. They are simple to comprehend and follow but will not lead you anywhere except another physical lifetime somewhere on Earth.
Life Before Technology
Before technology life was simple. Although existence was hard, the opportunity for Spiritual experiences was greater than today. Consider, for example, all the empty time you would have as, say, a sheep herder. Nothing to do except make sure the sheep kept moving. In this situation, there was ample opportunity for the mind to wander and perhaps contemplate and glimpse other realities.
Also, and perhaps most important, no electric grid existed on the planet. Electric fields appear as solid "matter" in the Astral dimension and so can affect Astral experiences — generally in a negative way. Artificially created electromagnetic waves which blanket the planet today also have subtle and generally negative effects on living creatures.
Pagan groups generally conduct occult rituals outdoors and away from high population areas. When buildings are used, it is desirable that they be made only of wood and assembled without any metal (nails) and, of course, have no electrical wires.
Both good and evil existed before technology as they always have. It was possible to use psychological propaganda to influence and control susceptible masses of people. However, the positive and negative forces were more in balance. It was not possible for a single group to successfully dominate the planet.
Drugs existed in the form of various plants. Adepts learned how to use them to help or harm others. People with developed psychic abilities existed as they always have and white and black occult schools existed. Legitimate Spiritual masters existed.
Some techniques that thrived have essentially become extinct because the population of the planet has devolved. It is next to impossible to successfully teach Tantra (sex yoga), because today's generation is incapable of the required level of self control. Classic Tibetan yoga techniques are still taught in isolated areas, but the masters — for good reason — will no longer consider trusting outsiders.
Information Control Techniques
Information control is essential for protecting the integrity of a compartment. People are held as slaves by constructing an information box which holds the slaves in an information prison. As long as the "walls" of the compartment remain impenetrable, the compartment — or belief system — will be stable and no slave will escape.
Considerable energy is required to achieve this. Those assigned to protect the walls obviously know that the compartment is an intellectual illusion. Therefore, they must be sworn to secrecy and intimidated in such a way that they will not compromise the integrity of the compartment. It only takes one "leak" to initiate a chain of events which could collapse the compartment and so allow the slaves to escape.
Consider, for example, the Snowden leaks. One person sharing knowledge has totally destroyed the illusion of privacy that most people had accepted as fact. It will not be possible to reconstruct this illusion. The compartment has collapsed.
Similar principles apply in the Spiritual spectrum. Because of the characteristics of the human bodies in use on this planet, most people do not retain any conscious memory of events before they were born. This is not universally true. Life forms on many other planets retain the memories of previous existences. Because humans generally do not have this recall, they are easily enslaved and can be conditioned to believe most anything.
To maintain a state of Spiritual ignorance it is important to institute methods which will prevent people from realizing that they are actually Souls experiencing a constructed illusion. People somehow reaching this state, sometimes referred to as "self realization", will no longer respond to establishment propaganda and are generally considered a threat to the current social order.
The easiest and most direct method to achieve a stable slave population is simply not to talk about anything even vaguely esoteric. For example, how often have you heard the words astral, chakra or aura mentioned on a mainstream TV channel?
Most people will then likely "remain asleep" throughout their entire lifetime and will be no problem. Unfortunately, people have a natural desire — even though it may be an unconscious desire — to Spiritually evolve. It is, after all, the true purpose of human existence.
When someone tries to break away from the contrived illusions more direct methods are needed to return the slave to a state of ignorance. Today, various methods which cause brain damage — generally performed by psychiatrists — are used to negate any success in Spiritual evolution and return the slave to a state of vacant contentment.
Diversions and Techniques Promoting Inaction
The simplest and most effective diversionary technique is to promote scientific atheismand darwinian evolutionary philosophy as established fact. If you can get someone to buy into this philosophy, their fate is sealed. Even if they experience some contact with another dimension, such as an out-of-body experience, they will follow their programming, dismiss the experience as a delusion and refuse to investigate further. When they die, they will be totally lost and confused, flounder around on some lower Astral plane and eventually reincarnate just as Spiritually ignorant as before.
A side effect of accepting scientific atheism, which totally cripples Spiritual progress, is the acceptance of suicide as a way out of life's problems. Suicide becomes a learned reaction. Consequently, when the Soul is sent back into another physical lifetime, it is likely to commit suicide again when faced with some unpleasant event. It never learns, and this cycle can repeat essentially indefinitely. Dealing with this is one of the most difficult problems faced by the administrators who work on the Astral planes.
For those who want more than scientific atheism, there is mainstream garden variety religion. Mainstream Christianity has developed a clever stonewalling technique that has worked to promote inaction for thousands of years. This technique is centered upon the argument that no one can make any progress until Jesus returns to show the way. In the meantime, people should just do nothing and wait. The effect of this is essentially the same as scientific atheism. No Spiritual progress is made.
Schemes designed to waste time are common. One really off the wall example is the decision in Syria to prohibit vacuum cleaners and standard flat brooms in homes. "Witch type" brooms consisting of a circular straw bundle are allowed. Surely there must be a good reason to keep these terrorist weapons out of the reach of the typical Syrian housewife. The official reason is to make basic housework as difficult and time consuming as possible so as to prevent the woman from having any free idle time which, if allowed, could lead to the emergence of "immoral thoughts". Perfectly logical!
In the western world, complex bureaucracies seem to be deliberately designed to make the path to whatever you want as difficult as possible. Here the apparent motive is to prevent the acquisition of enough free time for any independent thought process. There are just not enough hours in a day to allow for any quiet contemplation of anything.
"Blank time" is always reported as a factor in the development of Spiritual figures. Time alone in the wilderness, time spent meditating alone in some isolated cave or at least periods of dedicated quiet time somewhere figure prominently in historical accounts of these people.
You may know or have heard of kids who spend all their waking hours playing interactive role model video games with other kids on the internet. They eat meals by the computer and never leave except to briefly sleep before returning to the all important game. Their entire life is spent in an imaginary reality. You may want to consider that your "real" life may not be all that different. You play a role. Your attributes are fixed by what society expects based upon that role. You can't change, because others would notice. Your concept of the world beyond your little world is determined by what you see on TV. Daily, you receive your "fix" of carefully choreographed "programming" which appears unusually coherent because, as you may not know or fully comprehend, everything on TV is controlled by a few corporations and all of them are loyal to the official government party line. If you somehow had the opportunity to break from this structured "game" you play from day to day — say, the opportunity to visit other countries and see other cultures — you would likely realize that your existence has not been that much different from the kid addicted to a computer game. You would find that the actual "real" world had very little relationship to the world you had been conditioned to believe existed.
Chemical Control Techniques
"With the use of chemical brain-control agents it may be possible to control the individual and the masses and to do this unobtrusively and without the active cooperation of the victims — not a question for the future — it is here".
This is a quote from the book by Edgar Cayce titled Edgar Cayce on Atlantis. There are references to Dr. Robert Galbraith Heath, and this book bears a copyright date of 1968. The book cites an interview that Heath gave to a newspaper called The Virginia Lighthouse and cites the above statement made by him on November 20, 1966. Heath founded the Department of Psychiatry and Neurology at Tulane University, New Orleans, in 1949 and remained its Chairman until 1980.
During this period, Tulane University actively participated in the CIA mind control project known as MK Ultra [1]. Also, during this period, Tulane became an active member of the secret Institute for Defense Analyses, or IDA, a corporation whose only client is the US government. Heath reportedly performed many experiments there involving electrical stimulation of the brain via surgically implanted electrodes. This work was reportedly partially financed by the CIA and the US military. Heath is now "officially" [11] deceased.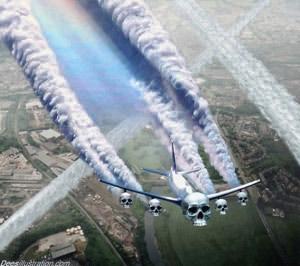 You have been drugged since you were conceived — before you were even born. Your mother was drugged. Soon after birth, you were injected with mercury containing vaccines. And the systematic process of poisoning you never stopped.
By some estimates at least eighty percent of the food in the average supermarket is poison either because it is genetically modified or laced with pesticides and other additives. Even the air is poison now because of geoengineering chemicals sprayed into the upper atmosphere.
It should be noted that things are different in the separate but parallel world of the elite. The Max Keiser show [12] discussed the secret gardens in Japan. These gardens are surrounded by high walls and guarded by the military. They produce the food for the ruling elite. Every plant in the garden has its own health certificate certifying that is pure, healthy and not genetically modified. Obviously, every developed country must have a similar secret supply chain of legitimate food for its ruling class. Certainly the elite know better than anyone that the food supply for the ordinary people is poison. They're not fools. They wouldn't touch the stuff.
Vaccines used for the elite are prepared without the mercury and other toxic additives found in vaccines given to the ordinary people.
Various agents — mainly from plants — have always existed which could be used by those aware of them to harm others or control people by altering their state of consciousness. However, only recently has it become practical to wreck the health of essentially everyone on the planet at the same time. Genetic modification of plants and other life forms used for food has made this possible. Now, quietly, people throughout the world can be sterilized, crippled with serious health problems or even killed by altering the genetic makeup of the food supply. Ordinary people remain generally ignorant of the fact that this awesome power exists and is presently being used against them.
Mind control has become a science. You can't major in it in college because this science is essentially entirely secret. The United States and other countries have spent the equivalent of billions of US dollars investigating and perfecting mind control.
Many secret research projects using unsuspecting or perhaps kidnapped people — some of whom were killed — have been conducted in the past and continue today. We only know about a very few of these projects such as MK Ultra, MK Naomi and Project Other. Even in these projects, specific details are sketchy. From these experiments, practical techniques for creating manchurian candidates and implanting created false personalities and identities have been developed and are in common use today within the secret communities.
Everyone has likely been the victim of some degree of mind control to some extent. Chemical weapons designed to mentally cripple people and render them drooling idiots are freely sold as prescription drugs in drugstores and are available to doctors to use as they please.
The lives of many kids are destroyed by these "drugs" because they have no ability to resist and their parents are ignorant and believe doctors can "do no harm". Actually, today's doctors are agents of the state. Many have top secret clearances and embrace classic Nazi philosophies such as eugenics. Their function is to watch you and make sure you "die appropriately" so as not to burden society. Anything they learn about you and anything you tell them is freely available to anyone in the intelligence community who is curious about you.
Only members of the super elite who are entitled to access top secret medicine will receive legitimate supportive medical care. Ordinary people will be deliberately allowed to die even though doctors with top secret clearances know of effective treatments which would cure them but which are classified and reserved for the chosen elite.
There is no such thing as an incurable disease any more. All the cures have been discovered. If you die, it is because you are not considered important enough to live and not because the cure does not exist.
Common sense should suggest to you that the lives of the elite have statistically different characteristics. For example, members of congress do not live sheltered lives. They work in close quarters and travel extensively both locally and internationally. They are always hanging out with prostitutes as well as playing with the young congressional pages.
Washington D.C. is reported to have more brothels than fast food joints. Strangely, however, these people do not get sick. Have you ever heard that congress had to shut down because everyone was coming down with some infection. It happens in other close populations, so what would make them exempt?
Understanding Astral Damage
Living things have an Astral component. For example, when you cut a leaf and then see the complete leaf on a Kirlian photo you are viewing the Astral component which was unaffected by cutting the physical component because it does not exist in the physical dimension.
Over one hundred years ago, practical techniques for viewing the human Aura were developed by Walter J. Kilner [4]. The original technique used dicyanin dye and a later technique used special glasses. You can't find either one today. In his research, Kilner was able to demonstrate that defects in the human Aura appeared before some corresponding disease manifested in the physical body.
Therefore, he was able to detect and prevent an adverse physical condition before it ever physically materialized. So, you ask, why don't we have this marvelous medical technique available today? Well, we do. It is in use in top secret medicine. However, only the approved elite now have access to it. The information has been removed from public knowledge and classified.
In conventional allopathic medicine, which is based upon scientific atheism and sold to the general public, there is officially no such thing as an Astral body. Conventional medicine denies the existence of anything beyond the physical dimension. Since the Astral body officially does not exist, it is not recognized as a crime to deliberately harm it.
Damage to the Astral body can be compared to damage to the physical body. If you punch holes in the physical body by cutting it, shooting bullets at it or whatever, blood runs out and germs get in. If you cause enough damage, the body dies. Astral bodies do not die, but can suffer critical energy losses. Similar to physical bodies, punching holes in the Astral body allows essential energy to escape and harmful energies to enter.
There are many events which can harm your Astral body. It is in your interest to understand these events because your Astral body will be your primary body when your physical body dies. If it has been damaged, you will be at a severe disadvantage. The chosen elite have perfect Auras because they can use the Aura balancing machines available to them at any top secret medicine provider. However, you cannot.
Also, the ruling elite seem to take some delight in causing harm to the "ordinary" people. Consequently, many drugs, food additives, GMO foods and industrial chemicals found in the environment cause Astral damage. Chemicals recognized as poisons and banned in other countries can be freely added to foods given to ordinary people in the US.
Obviously, there must exist a secret supply chain of safe food and water which is available to the chosen since they know of the contamination and certainly would not want to harm themselves or their friends.
There are ways to closely duplicate the secret techniques available only to the elite. If you can see auras or can find a reputable psychic who can, you can approximate the techniques developed by Kilner and available to everyone over a hundred years ago. Although the secret aura balancing machines are more accurate, a competent psychic healer can do the same thing. Actually, since psychics have always existed, similar techniques have been available throughout the ages to those who were aware.
Fluoride
The concept of adding fluoride to drinking water for the purpose of mind control is said to have originated in the 1930′s as a result of collaboration between German and Russian scientists [2]. Sodium fluoride was originally used and was found to cause a "mild lobotomy" in people who consumed small quantities. The effects were considered to be non reversible after one year of continuous use of the tainted water. Hitler added sodium fluoride to the water in his concentration camps to make the prisoners docile and cooperative as they waited for death.
Sodium fluoride (NaF) is used today in personal products like toothpaste. To poison the water supply of an entire country with sodium fluoride would be expensive. However, it just so happens that there is a waste product created during the manufacture of phosphate fertilizers, Fluorosilicic acid (H2SiF6), which is classified as hazardous waste and would be expensive to dispose of under EPA guidelines.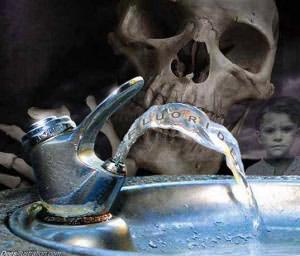 There is lots of this stuff available. This is the poison added to the public water supply in the US and some other countries. It is actually economical for industry because they don't have to pay for hazardous waste disposal. They just pump it into the public water supply.
In the human body, fluoride has an affinity for the pineal gland in the brain. The pineal gland is associated with the "third eye". Everyone has this third eye, but few are aware of it or know how to activate and use it.
Although the pineal gland is part of the physical body, the associated third eye is part of the Astral body and so is invisible in the physical dimension. The third eye allows you to see and communicate with the non-physical dimensions while fully awake and functioning in the physical dimension. So, you could see and carry on a conversation with someone in the physical dimension while invisibly also viewing and communicating with some entity on another plane of existence.
The standard Christian bible refers to the third eye with the phrase, "If thy eye be single thy whole body will be filled with light". However, only students of mysticism would recognize the true meaning of this quote.
Obviously, having this ability would be a threat to the security of any totalitarian society. Poisoning with fluoride destroys this ability and so solves that problem. Literature is available if you wish more detailed information. Simply search using the phrase "fluoride third eye".
On the chance that fluoride in the water is not sufficient to destroy any psychic abilities you may have, there are more aggressive ways to get fluoride into your brain. Here are some structural models of popular psychiatric drugs:
Notice that the element Fluorine (symbolized by its standard chemical symbol "F") figures prominently in all these compounds.
These drugs are used to cause "chemical lobotomy". By blocking communication channels with the higher levels of the human brain, they effectively convert the victim into a lower form of animal. Lower animals do not have the frontal lobes possessed by humans. That is what makes humans special. Disabling the frontal lobes effectively transforms a natural human being into, basically, a docile and obedient house pet which can be trained like a dog.
Incidentally, Fluorine also figures prominently in Sarin nerve gas.
For a more in depth study search YouTube for the free documentary Flouridegate — An American Tragedy by David Kennedy.
They All Drink From the Same Trough
If you casually look out upon the institutions of the world, it may appear to you that they are independent, discrete entities. However, they are not. They are all components of a collective which has successfully hidden its existence and true nature from the general population for generations.
Let's begin with the media in the US. Although it may appear to you that there are thousands of independent sources reporting "news", 90% of all media is controlled by six corporations. They are General Electric, News-Corp, Disney, Viacom, Time-Warner and CBS.
In the US, people believe they are protected from tyranny by the concept of "separation of powers" — that the executive, legislative and judicial branches of government are staffed by independent thinkers who "check and balance" each other. This is also a deception.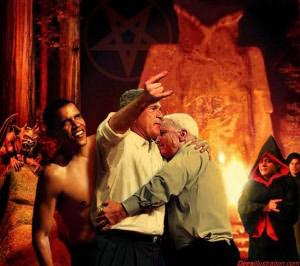 Once a year, at the end of July, there is a secret gathering on private property in the redwood forest of California called the Bohemian Grove. Although this annual meeting has been going on for over one hundred years, it is only during the last several years that outsiders have begun to learn of its existence. The only reason they have is because of the internet and independent journalism. Leaders from the mainstream media are all members of this secret club and so never even report its existence.
Who else goes to this annual secret "party"? Well, for want of a better name, we will call them the "Trusted Satanists". They are the leaders of all the major corporations, banks and representatives from all the major branches of the US government as well as foreign governments.
Although these men outwardly support the concept of capitalism for the masses, this elite group, among themselves, are perhaps best described as "rich socialists". Only men are allowed. For recreation, a stable of prostitutes — both male and female — are kept nearby off-site. The male prostitutes could theoretically enter the Grove.
The "party" begins with a Satanic ritual called "Cremation of Care" (i.e., "we don't care") which features the burning of a coffin at the base of a huge statue of an owl. Walter Cronkite reportedly was the official announcer at the grove until his death.
A secretly filmed video of this event is available on YouTube. It is supposed to be a "simulated" child sacrifice. However, since the CIA, FBI and NSA attend the ritual, who is going to complain on the chance it is a real sacrifice of a human child? After all, they are all trusted Satanists.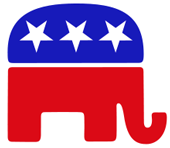 Most attendees from the United States are members of the Republican party. This is completely predictable in view of the fact that the US Republican party flaunts its affiliation with the "dark side" by prominently using the inverted star symbol on its official logo.
During the two week period, corporate leaders, the "independent" government regulators who supposedly keep corporations honest, the leaders from the executive, legislative and judicial branches of US government who are supposed to be "checking and balancing" each other, as well as the media moguls who we "trust" to report the truth, are all running around naked in the woods — pissing on the trees, playing with each other, and the male prostitutes as well as the off-site female prostitutes, and "having discussions".
Well, what are they "having discussions" about? They are discussing what they plan to do with "their world". The Manhattan Project to develop the first atomic bomb was reportedly planned at one of these discussions years ago. What about you? What about your future? What about any expectation of happiness you may have? Well, you see, you "don't need to know". Remember, "If you are not one of us, you are nothing".
Blueprints For the New World
Overview
If this link [7] is still active, it would be in your interest to read through it. This document is a transcript of a speech given by one of the insiders in the year 1969. He boldly states,"Everything is in place and no one can stop us now".
The article details how people ("people" means the slave class who are "nothing"; recall: "If you are not one of us, you are nothing") will just have to get used to changes such needing permission to have children, accepting mandated euthanasia as the law and total surveillance. Essentially all goals are now achieved, although some still remain guarded secrets.
The 1960′s was the period when physical death was eliminated. Of course, this "privilege" is only available to the select Satanic oligarchs. Effective cures for all diseases were also developed. The speaker [7] states that the cures are on file in the Rockefeller Institute. Of course, most are classified and only available to the chosen elite.
Infrastructure
The PBS documentary, Top Secret America [8], presents a good overview of the secret world of the elite. You may think no one is paying attention to the infrastructure in America because streets are in disrepair and bridges are falling down. However, you would be wrong. A tremendous amount of money is being spent on infrastructure in America — for the chosen elite. You will never see it and you will have no need for the decaying bridges and streets because you won't be around to use them. You, as well as 90+ percent of the current population, will be killed in the "Great Culling".
The new infrastructure is quite elaborate as the documentary explains. It consists of thousands of buildings which have a few stories visible above ground but which then extend for 90+ stories underground. All amenities are available within these secret structures which are basically self-sufficient.
It is important for the buildings to reach deep underground so that the lower levels can connect to the secret underground transport network. This network is global and provides safe high speed transport for the elite. Whenever the network crosses a tectonic plate, massive amounts of silicone are used to allow the transport tunnel to flex as needed. The network has access points in all countries. However, these points remain secret in countries which have yet to be subdued and co-opted into the new world order.
NWO Enabling Documents
The treaty known as the Trans-Pacific Partnership appears to be the formal enabling document for the new world. The actual document is secret and only high level corporate executives and politicians are allowed to see it.
Even after the treaty goes into force, its contents will remain secret. Because, in the United States, treaties must be openly debated in congress, the treaty is being called an "agreement" to circumvent the law and keep its contents secret. However, some details have become known.
Although the planet is officially divided into "sovereign" countries, it is overlaid with a network of transnational corporations. This network basically forms a parallel government which encircles the globe. The Trans-Pacific Partnership is designed to cause any country which signs on to surrender its national sovereignty to a secret committee composed of corporate executives. This committee can then alter the constitution and laws of any country which has accepted the treaty as suits their whim. There will be no appeal against this.
Under the treaty, there will be only one purpose to human life. That purpose will be to maximize the profits of the cabal of transnational corporations which will now be essentially a single global corporation in absolute control of the world. This effectively institutionalizes the new world order.
What does this mean for you? Well, to begin with, there can be no retirement. Paying for retirement would negatively impact corporate profits. So, if you can't work, you will be killed. Taking care of sick people would also drain corporate profits. It would be more profitable just to kill the sick and replace them with young, healthy slaves. Disabilities — forget it — disabled kids will never make it out of the womb alive.
Reeducation
To come into compliance with the philosophy of the new world, people will need to be reeducated. Military instruction documents [6] are already teaching that the Founding Fathers of the United States were extremists and anyone who thinks like them would not be suited for today's military.
Well, what did these radical extremists think?
"We hold these truths to be self-evident, that all men are created equal, that they are endowed by their Creator with certain unalienable Rights, that among these are Life, Liberty and the pursuit of Happiness."
Obviously, these principles are not compatible with the new world. The idea of a "Creator" conflicts with the official doctrine of Evolution. We can't have that. People must accept that they and the universe they live in is simply an "accident".
People are already realizing that Liberty and Happiness are gone. They know now that they live under constant surveillance and their lives get worse year after year. How about the right to Life? Can't have that. People need to be reeducated to believe that it is their "duty to die" when they are no longer useful to the state (which is now the global corporation).
Of course, the global elite will live physically forever but ordinary people will not know this.
If a world where people are conditioned to want to die and do not want kids but just sleep around for fun sounds vaguely familiar to you, you might recall that this is the future society described in Huxley's classic novel, Brave New World.
Population Modification
Please refer to [9] as a reference source. Today's "great thinkers" seem to be coming into agreement that most people are unnecessary and need to be exterminated for the convenience of the elite. Bill Gates, who has now been accepted into the super exclusive Bilderberg group, has reportedly taken the task of exterminating the third world population by giving them "free" vaccinations which will render them sterile.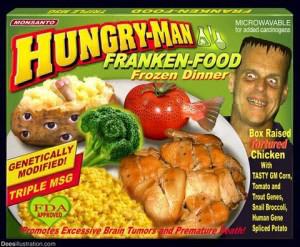 Lots of groups are working on secret sterilization methods. European tests of Monsanto's GM soybeans on hamsters showed the animals became sterile by the third generation [12]. A new gene known as Epicyte [9] is planned to be added to GM corn which will cause immediate sterilization.
Additionally, people are being "eased into" accepting the concept of "after birth abortion". Intellectuals are trying to get people to accept the argument that living human children under three or perhaps even five years old are really "not people but advanced feotuses". Since abortion is already legal, a simple change in the definition of "feotus" would allow young kids to be killed at will for any reason.
Another "new thought" gradually being programmed into the young is the pleasure of the "childless lifestyle". This propaganda seeks to convince people that having kids is too much trouble and they will be happier if they just get sterilized and then run around having lots of sex purely for fun.
These "evolutionary" population control techniques are already in effect. However, the elite likely are not willing to wait several generations to get rid of those they do not need. This brings us to the more direct method commonly called "The Great Culling" which will allow the elite to kill off most of the world's population quickly.
The most likely method will be the release of new designer viruses for which no one will have any natural immunity. Of course, the elite will all get the classified antidote. Preparations for the disposal of the bodies is already complete and stockpiles of plastic coffins — each designed to hold three bodies and manufactured under government contract by Halliburton — have been photographed and documented. Everything is now in place awaiting the "go" command.
Designer Children
Some types of designer children have already been approved for "production". Britain has approved three parent babies [10] and China has proposed a process to artificially fertilize most of a woman's eggs and then examine them to determine which is likely to produce a child with the highest IQ. This will be the only selected egg because Chinese women are only allowed to have one child and must then be sterilized.
In the new world where the only purpose of people will be to do slave labor to serve the elite corporate masters, the concept of allowing the existence of children conceived naturally clearly cannot be allowed. There would be an unexceptable chance for some kind of error that could result, for example, in the creation of a being capable of independent thought who might challenge the establishment.
A man's true worth is measured by the amount of other people's happiness that he can possess and destroy
This is a quote from the docudrama The American Ruling Class [5]. It is worthy of discussion because it is so prophetic.
The Satanic oligarchs who run this world basically exist and thrive on the misery of others. It is not enough just to use and abuse you — they want to consume your Soul. Your misery and suffering is, essentially, their "food". It is the source of their energy.
Ordinary innocent Souls are sustained by the life energy which flows from the Creator. However, since the oligarchs hate God, this energy flow is not available to them. So, they essentially survive by consuming the life energy of the innocent Souls they have captured and enslaved.
Ordinary people do not naturally choose to spend their lives in a state of constant war. They have to be somehow coerced into this behavior. Otherwise, they would likely seek a quiet, peaceful life. The atrocities the US and other warmonger nations force their citizens to commit are so contrary to basic human nature that the US loses more soldiers to suicide than it does to the enemy. The once innocent soldiers find that they simply cannot continue to live with what they have become and the memories of the horrors they have caused to others. The Satanic rulers who create wars, of course, have no problem with this.
Promotions within the inner circles of power are based upon how much evil one has done. The more harm you cause to others the greater your respect. You may have noticed that the stock market, which is a measure of the success of the elite, shows gains during periods when the average person is suffering and losses during periods when, somehow, life for the ordinary person seems to improve. The stock market set a new all time high, for example, during the Vietnam War when innocent young kids were being drafted and slaughtered in Vietnam while peaceful protesters at Penn State were executed by government forces for daring to dissent.
Why You Should Care
On the low Astral planes you will find people — Souls — who are totally lost and confused and seem to move in slow motion. They do not realize they have died. These "people" are not there because they tore up the Bible or burned the Koran or some other offensive act. They are there simply because it is the best they can do. They are using all of the Spiritual energy they have just to maintain this miserable existence. Whatever activities they engaged in while alive had no Spiritual merit and had no effect on developing or increasing their Spiritual energy level. Since the opportunity to do this ended when they died, they will remain strung out in this condition until they reincarnate again at which point they will have another chance to choose activities which enhance Spiritual energies.
You should care because the things you do and the things you fail to do during your brief life here will affect your existence for millions of years in the future.
The other dimensions operate under exact scientific rules just like this dimension. However, the rules are not the same. Because alternate sources of information are available today — mainly because of the internet — it is in your interest to at least investigate the available literature on Spirituality, energy raising techniques and various first-hand reports from people who have successfully visited the neighboring dimensions.
Source:  Walter C. Vetsch   |   3108.info  |  War Is Crime
Pat Buchanan recently wrote an intriguing column titled, "Is Red State America Seceding?" His column clearly reveals that an independence/secession movement is spreading globally. Pat rightly observes that in just the last few years some 25 nations have broken free of mother countries and formed their own independent states. And, no, most of these separations did NOT require violent revolution. In addition, talk of secession is currently going on in at least six other regions of the world. And, as Buchanan correctly observes, the spirit of secession is very much alive and well in the United States.
Buchanan writes, "The five counties of western Maryland–Garrett, Allegany, Washington, Frederick and Carroll, which have more in common with West Virginia and wish to be rid of Baltimore and free of Annapolis, are talking secession."
But people in Maryland are not the only ones talking secession. Buchanan continues to write, "Ten northern counties of Colorado are this November holding non-binding referenda to prepare a future secession from Denver and the creation of America's 51st state."
Furthermore, people in northern California are also talking secession. Again, to quote Pat Buchanan: "In California, which many have long believed should be split in two, the northern counties of Modoc and Siskiyou on the Oregon border are talking secession–and then union in a new state called Jefferson."
Buchanan goes on to say, "Folks on the Upper Peninsula of Michigan, bordered by Wisconsin and the Great Lakes, which is connected to lower Michigan by a bridge, have long dreamed of a separate state called Superior. The UP has little in common with Lansing and nothing with Detroit.
"While the folks in western Maryland, northern Colorado, northern California and on the Upper Peninsula might be described as red state secessionists, in Vermont the secessionists seem of the populist left. The Montpelier Manifesto of the Second Vermont Republic concludes:
"'Citizens, lend your names to this manifesto and join in the honorable task of rejecting the immoral, corrupt, decaying, dying, failing American Empire and seeking its rapid and peaceful dissolution before it takes us all down with it.'"
Pat concludes his column saying, "This sort of intemperate language may be found in Thomas Jefferson's indictment of George III. If America does not get its fiscal house in order, and another Great Recession hits or our elites dragoon us into another imperial war, we will likely hear more of such talk."
See Pat Buchanan's column here:
Is Red State America Seceding?
Buchanan's analysis is right on the money. The spirit of independence is far from dead in the United States. In fact, the spirit of independence (otherwise known as the Spirit of '76) has already begun driving people to separate from states and cities in which they have lived for most or all of their lives. The biggest recipient of these many thousands of freedom-minded people seems to be the Rocky Mountain States of America's Northwest.
Faithful readers of this column know that my entire family, including five heads of households and some 18 family members, relocated to the Flathead Valley of Montana after having lived a lifetime–or the better part of a lifetime–in the southeastern United States. And during the last three years, I have witnessed scores of families also relocate to northwestern Montana from all over the country.
But it's not just Chuck Baldwin's move or the people from around the country who have decided to join us here in the Flathead Valley: thousands of people are relocating to what is now commonly referred to as "The American Redoubt." This area includes Montana, Idaho, Wyoming, eastern Washington State, and eastern Oregon.
By the way, to read a compilation of articles as to why my family and I chose the Flathead Valley of Montana to which to relocate, peruse the material here:
Just recently, Pat Robertson's Christian Broadcasting Network (CBN) did a television report on the growing numbers of people who are relocating to The American Redoubt. See the report here:
Redoubt: Northwest a Haven For Dismayed Americans
The mood all over America is one of intense uncertainty and uneasiness. More and more Americans are waking up to the reality that Washington, D.C., is hopelessly broken (financially and morally), and it's only a matter of time before something catastrophic happens. They see the way America's major cities are becoming more and more tyrannical and crime-infested.
In the major cities, public schools more and more resemble prisons; police departments more and more resemble the German Gestapo; local governments more and more try to make criminals out of honest gun owners and more and more attack the Christian values that were once revered in this country. Add any major disaster (natural or man-made) to these growing concerns and the prospect for a normal life in the big cities is practically zero. People are yearning to be more self-reliant, more independent, more secure, and, yes, more free. In fact, for a host of people today, the longing for liberty trumps the desire for wealth and pleasure. What used to attract people to big cities now repulses them. And they are more than willing to downscale their incomes and living standards in order to live simpler and breath freer.
In reality, secession is not a future event; it has already started. People all over America are separating from their homes and families, from their jobs and livelihoods, from their cities and states, and from their very way of life in order to find even a semblance of what America used to look like. This trend will not diminish anytime soon. In fact, I am convinced it has not yet begun to peak.
So, don't despair my friends. The Spirit of '76 is alive and well–and not just in America but in many regions around the world also. The smell of independence is in the air. It smells so sweet. Take a big whiff. Then prayerfully decide to what and to where that wind is leading you.
Pat Buchanan's analysis of the modern independence movement just might be more of a prophecy than anything else.
I cannot help but think of the speech John Adams gave to the Continental Congress as it contemplated the Declaration of Independence. When one thinks of fiery speeches for independence, one normally thinks of Patrick Henry, Sam Adams, or James Otis. But John Adams' speech to the Continental Congress ranks up there with the greatest of them. So, for all of my freedom-loving brothers and sisters in America and around the world who are already, in their own way, engaged in the independence movement, I conclude this column with the concluding words from that immortal speech:
"Sir, I know the uncertainty of human affairs, but I see, I see clearly, through this day's business. You and I, indeed, may rue it. We may not live to the time when this Declaration shall be made good. We may die; die, colonists; die, slaves; die, it may be, ignominiously and on the scaffold. Be it so; be it so! If it be the pleasure of heaven that my country shall require the poor offering of my life, the victim shall be ready at the appointed hour of sacrifice, come when that hour may. But, while I do live, let me have a country, or at least, the hope of a country, and that a free country.
"But whatever may be our fate, be assured, be assured that this Declaration will stand. It may cost treasure, and it may cost blood, but it will stand, and it will richly compensate for both. Through the thick gloom of the present, I see the brightness of the future, as the sun in heaven. We shall make this a glorious, an immortal day. When we are in our graves, our children will honor it. They will celebrate it with thanksgiving, with festivity, with bonfires and illuminations. On its annual return, they will shed tears, copious, gushing tears, not of subjection and slavery, not of agony and distress, but of exultation, of gratitude and of joy.
"Sir, before God, I believe the hour is come. My judgment approves this measure, and my whole heart is in it. All that I have, and all that I am, and all that I hope, in this life, I am now ready here to stake upon it. And I leave off as I began, that, live or die, survive or perish, I am for the Declaration. It is my living sentiment, and by the blessing of God it shall be my dying sentiment, Independence now, and INDEPENDENCE FOREVER!"
Amen and Amen!
These Dates Forever Changed America For The Worse…
Well, Obamacare is now in effect. The decision by Congress to pass Obamacare into law back in 2010 ranks among the most draconian, most egregious, most horrific actions ever taken by the central government in Washington, D.C. This bill rocks the principles of liberty and constitutional government to the core. It changes fundamental foundations; it repudiates historic values. The same flag may fly on our flagpoles, the same monuments may grace our landscape, and the same National Anthem may be sung during our public ceremonies, but it is not the same America. For all intents and purposes, our nation now more resembles the socialist countries of the old communist East Bloc than it does the constitutional republic of the old land of the free.
I was honored to have been invited to be the keynote speaker at the annual meeting of the Association of American Physicians and Surgeons recently in Denver. It was a very large gathering of physicians from all over the country. And I can tell you that the doctors I spoke with are all very, very concerned about the future of healthcare in the United States. Take a peek at the condition of healthcare in socialist countries throughout the world or take a peek at the condition of healthcare in our VA clinics and hospitals, and you will get a little feel for what healthcare is going to quickly look like in America.
On March 21, 2010, Congress passed, and on March 23, 2010, President Barack Obama signed the dreaded national health care bill into law, and as such, these dates join a list of dates that have contributed to the destruction of a free America. Of course, there are several such dates, but, in my opinion, the following are the most draconian.
April 9, 1865
This is the date when General Robert E. Lee surrendered the Army of Northern Virginia to U.S. Grant at Appomattox Court House, Virginia. Regardless of where one comes down on the subject of the War Between the States, one fact is undeniable: Abraham Lincoln seriously dismantled the Jeffersonian model of federalism in America. Ever since, virtually every battle that free men have fought for the principles of limited government, State sovereignty, personal liberty, etc., has stemmed directly from Lincoln's usurpation of power, which resulted in the subjugation and forced union of what used to be "Free and Independent States" (the Declaration of Independence). In fact, the philosophical battles being waged today regarding the current health care debacle (and every other encroachment upon liberty and State autonomy by the central government) have their roots in Lincoln's autocracy.
July 9, 1868
This is the date when the 14th Amendment was ratified. This amendment codified into law what Lincoln had forced at bayonet point. Until then, people were only deemed citizens of their respective states. The Constitution nowhere referred to people as "US citizens." It only recognized "the Citizens of each State." Notice also that citizenship was only recognized among the "several States," not among people living in non-State territories. Until the 14th Amendment, people were "Citizens of each State." (Article. IV. Section. 2. Paragraph. 1.) The 14th Amendment created a whole new class of persons: "citizens of the United States." This false notion of "one nation" overturned the Jeffersonian principle that our nation was a confederated republic, a voluntary union of states.
February 3, 1913
This is the date when the 16th Amendment was ratified, and the direct income tax and IRS were instituted. This was a flagrant repudiation of freedom principles. What began as a temporary measure to support the War of Northern Aggression became a permanent income revenue stream for an unconstitutional–and ever-growing–central government.
April 8, 1913
This is the date when the 17th Amendment was ratified. This amendment overturned the power of the State legislatures to elect their own senators and replaced it with a direct, popular vote. This was another serious blow against State sovereignty. The framers of the Constitution desired that the influence and power in Washington, D.C., be kept as close to the people and states as possible. For example, the number of representatives in the House of Representatives was to be decided by a limited number of voters. In the original Constitution, the ratio of "people of the several States" deciding their House member could not exceed "one for every thirty thousand." (Article. I. Section. 2. Paragraph. 3.) And when it came to the US Senate, the framers also recognized the authority of each State legislature to select its own senators, thereby keeping power and influence from aggregating in Washington, D.C. The 17th Amendment seriously damaged the influence and power of the states by forcing them to elect their US senators by popular vote. The bigger the State, the less influence the State legislature has in determining its US senator. Senators who answered to State legislators, each answering to a limited number of voters, were much more accountable to the "citizens of the several States" than those who were elected by a large number (many times numbering into the millions) of people. For all intents and purposes (at least in the larger states), US Senators are more like "mini-Presidents" than representatives of sovereign states.
December 23, 1913
This is the date when the Federal Reserve Act was passed. This Act placed oversight of America's financial matters into the hands of a cabal of private international bankers, who have completely destroyed the constitutional principles of sound money and (for the most part) free enterprise. No longer would the marketplace (private consumption, thrift, growth, etc.) be the determinant of the US economy (which is what freedom is all about), but now a private, unaccountable international banking cartel would have total power and authority to micromanage (for their own private, parochial purposes) America's financial sector. Virtually every recession, depression, and downturn (including the one we are now experiencing) has been the direct result of the Fed's manipulation of the market. 1913 was not a good year for the United States.
June 26, 1945
This is the date when the United Nations Charter was signed and America joined the push for global government. Ever since, US forces have spilled untold amounts of blood and sacrificed thousands of lives promoting the UN's agenda. Since the end of World War II, in virtually every war in which US military forces have been engaged, it has been at the behest of the UN. And it is also no accident that America has not fought a constitutionally declared war since we entered the UN–and neither have we won one.
Furthermore, it is America's involvement in the United Nations that has spearheaded this devilish push for a New World Order that George H. W. Bush, Henry Kissinger, Tony Blair, Walter Cronkite, et al., have talked so much about. The United Nations is an evil institution that has completely co-opted our US State Department and much of our Defense Department. It is an anti-American institution that works aggressively and constantly against the interests and principles of the United States. But it is an institution that is ensconced in the American political infrastructure. Like a cancer, the UN eats away at our liberties and values, and both major political parties in Washington, D.C., are culpable in allowing it to exert so much influence over our country.
June 25, 1962, and June 17, 1963
These are the dates when the US Supreme Court removed prayer ('62) and Bible reading ('63) from public schools. At this point, these two Supreme Court decisions were the most serious affront to the First Amendment in US history. Think of it: from before a union of states was established in 1787, children had been free to pray and read the Scriptures in school. We're talking about a period of more than 300 years! Of course, the various State legislatures–and myriad city and county governmental meetings–still open their sessions in prayer, as do the US House and Senate, and even the US Supreme Court. But this same liberty is denied the children of America. There is no question that America has not recovered from these two horrific Supreme Court decisions. In effect, the federal government has expelled God not only from our public schools, but also from our public life. And America has not been the same since.
October 22, 1968
This is the date when President Lyndon Baines Johnson signed the Gun Control Act of 1968. Before this Act, the 2ndAmendment was alive and well in the United States. The Gun Control Act of 1968 turned a right into a privilege and forever forced the American people to bow at the altar of government when seeking to arm themselves. Interestingly enough, this Gun Control Act mirrored Nazi Germany's Gun Control Act of 1938. In fact, the Gun Control Act of 1968 is almost a verbatim copy of Hitler's Gun Control Act of 1938.
Our Founding Fathers could never have imagined that the American people would ever allow their right to keep and bear arms be infringed. In fact, it was the attempted confiscation of the firearms stored at Concord, Massachusetts, that triggered the War of Independence in 1775. That the people of Massachusetts would be denied their right to keep and bear arms, as they are today, could not have been foreseen–and would never have been tolerated–by America's founders.
The hundreds and hundreds of draconian gun control laws that have been inflicted upon the American people have all come about as a result of the Gun Control Act of 1968.
January 22, 1973
This is the date when the US Supreme Court issued the Roe v. Wade and Doe v. Bolton decisions, which, in effect, legalized abortion-on-demand. These two decisions expunged the Jeffersonian principle that all men are endowed by their Creator with the unalienable right to life (Declaration). Since then, more than 50 million unborn babies have been legally murdered in their mothers' wombs. Abortion is, without a doubt, America's national holocaust. It has opened the door to a host of Big Government programs and policies that have resulted in the wanton destruction of human life both in the United States and overseas. It has created an entire industry whose express purpose for existing is the destruction of human life. It has desensitized the conscience and soul of America. Furthermore, it has forced men of decency and good will to finance–with their tax dollars–the unconscionable act of killing unborn children.
And once again, another Jeffersonian principle was eviscerated. He said, "To compel a man to furnish contributions of money for the propagation of ideas which he disbelieves and abhors is sinful and tyrannical." The Roe and Doe decisions violate this principle in the most egregious manner possible.
October 26, 2001
This is the date when President George W. Bush signed the USA Patriot Act, and the federal government's war against individual liberty began in earnest. Most of the unconstitutional eavesdropping, snooping, wiretapping, phone call intercepting, email reading, prying, financial records tracking, travel watching, ad infinitum, ad nauseam, by federal police agencies began with the implementation of the Patriot Act. The Department of Homeland Security and the "war on terrorism," which have resulted in the deaths of tens of thousands of innocent people worldwide, and the usurpation of federal power at home, have all come about as an outgrowth of the Patriot Act. The Patriot Act has forever shifted the focus of American law and jurisprudence against constitutional government and individual liberty, toward a police-state mentality.
October 17, 2006, and October 9, 2009
These are the dates when President G.W. Bush signed and President Barack Obama re-signed the Military Commissions Act. This Act is the outgrowth of the Patriot Act and has, in effect, terminated the fundamental protections of individual liberty, which are found in the US Constitution and Bill of Rights. For all intents and purposes, the Patriot Act and Military Commissions Act (along with the NDAA) eviscerated the 4th and 5th Amendments, and do serious injury to several others. The Military Commissions Act also expunges the constitutional right of Habeas Corpus.
March 21 and 23, 2010
These are the dates when Congress passed and President Obama signed into law the "Patient Protection and Affordable Care Act," the so-called "health care reform" bill that we spoke about at the beginning of this column. While Social Security and various Welfare programs have toyed with socialism in the United States, this bill is the largest and most expansive endorsement of socialism in American history. This bill socializes some 18% of the US economy by socializing the health care industry in America. The fallout and ramifications of this bill are going to be horrific.
When future historians review the demise of our once-great republic, they will observe that the above dates were the dates that destroyed America. The American people have been far too tolerant for far too long.
You know, in spite of the visit from The Bone Lady when I was just three years old, and all the grim foreshadowing that she downloaded to me via direct intuition, I always held out hope that humanity could or would somehow turn things around on this planet, and snatch victory from the jaws of defeat.
As long as there is breath there is always hope, that was my thinking for a long time, but I am no longer so sanguine.
As one of my friends recently remarked to me, there is, indeed, real evil abroad in this world. I don't know how else to explain the wickedness of what is happening at Fukushima, in Japan, where the situation with the exploded and/or melted down nuclear reactors just goes from frightfully dire to unimaginably worse.
I frequently check the developments there at www.enenews.com and the latest news is very disturbing. I said from the outset, in the spring of 2011, that Tokyo would be evacuated. I still believe that to be inevitable. It is possible that much of Japan will be evacuated to elsewhere. The apocalyptic dimensions of the crisis are being covered up by TEPCO, the Japanese government, General Electric, and the USSA government. The reality is that there was at least one, and maybe more, really dirty nuclear blasts there in March of 2011, that wrecked the reactors and created a radioactive hell that no one knows how to remedy or bring under control. At the least we are probably looking at the failure and collapse of Japanese society with likely evacuation of tens of millions of people or more, and the fairly rapid death of vast portions of the Pacific Ocean, as deadly radioactive waste water continues to flow into the sea by the hundreds of tons, every day.
And when the cooling pool at reactor four collapses, the many tons of highly radioactive, spent, fuel rods that it contains will overheat and burn and or catastrophically fission, i.e., cause a runaway, nuclear reaction, or, in lay man's terms, there will be another atomic explosion, along with a mushroom cloud, and tons of highly poisonous nuclear isotopes will be spread aloft into the atmosphere and/or will drain or be blown into the sea, to poison the Pacific Ocean even further.
This is worse than bad news. This is planetary chaos news. This is civilization ending news. This is species extinction level news, as in extinction of the human species on this planet. If you do not think so, all I can say is: wait. It won't be long. Probably not ten years, not five, maybe even by Christmas this year, and you will begin to see what i mean, if you haven't already.
And even if the cooling pool at reactor four doesn't fail or collapse of its own accord in the near future, though that is very highly probable, TEPCO's plan to manually remove the many tons of bent, mangled, fused, welded together, very highly radioactive fuel rods that remain in the pool, beginning in November of this year, is so fraught with peril that it is likely to spectacularly fail, with unimaginably negative consequences. Any slight mistake, miscue or dropped fuel rod could result in a fission criticality, a runaway nuclear chain reaction, to wit, an atomic explosion that will shower the northern hemisphere and the Pacific Basin with a fatal radioactive sleet that will persist for hundreds of thousands of years.
As I said, the situation is somewhere far south of dire, with a headlong, hellward trajectory.
The Nuclear Chain Reaction
Because what is inevitable, the longer the situation at Fukushima festers, is that the whole site will have to be abandoned. Due to the high radiation levels, no one will be able to work there without dying. So the workers will pull back, and the cooling pools and storage pools that contain thousands of tons of extremely radioactive, spent fuel rods will fail or collapse and there will be more explosions and radioactive fires. As the radioactively contaminated NO GO ZONE expands, as the population flees, the day will come when nuclear reactors at other, nearby power generating plants will also fail, melt down and/or explode, because the nuclear engineers and maintenance workers no longer come to work and operate them — BECAUSE THEY ARE DEAD.
And then there will be three or four more, and the radioactive No Go Zone will expand, widen, grow. And other nuclear power plants will then fail, melt down and/or explode, because their operators are also DEAD, and so do not come to work, do not maintain them.
There are over 50 nuclear power reactors in Japan, and they all have their spent fuel rod cooling pools. It doesn't matter if the reactors themselves are shut down, because there are thousands and thousands of tons of highly radioactive, spent, nuclear fuel rods stored in the cooling pools all over Japan. So, given time, the crisis will continue to fester and worsen, and then it will begin to cascade, like a row of toppling dominoes, only it will be a series of failing nuclear power reactors, one after the other, heralding the end of the nuclear age, and quite possible the end of humanity.
It's just that serious.
All of that will send a killing wave of radioactivity across the Pacific to North America. So what happens when the population on the west coast of the USSA flees in panic from the approaching killer wave of radioactivity? Well, there will be no one left to operate the nuclear power reactors in California, for example. or at Palo Verde, the massive nuclear power plant just to the west of Phoenix. So when those nuclear reactors and their spent fuel cooling pools fail, melt down, and/or blow up, the civilization-ending, planet-killing, Fukushima Syndrome will come home to America with a wicked vengeance.
All courtesy of General Electric. General Electric designed five out of the six reactors at Fukushima and built three of them, so what we see here is genocidal, planet-killing failure of American (alleged) "high technology" on a spectacular scale.
General Electric — busy exterminating a planet near you of its resident, biological life forms.
At the end of the day, all the differential calculus, the nuclear physics, the nuclear chemistry, the nuclear engineering, the corporate profits, the Madison Avenue advertising slogans, the multinational wheeling and dealing, all has conspired to assassinate the planet on which we, and they, all live. Make no mistake, the planet is now dying. The global poisoning process is so very far advanced that it probably cannot be stopped. Certainly, there is not now any serious, international effort to do so, not anything remotely commensurate with the level of danger that we are facing.
No doubt we are dealing with profound iniquity, a betrayal so complete of all that is human that no words exist to describe its foul dimension. The ones who have done this thing walk among us, though for how long? – understanding that they, too, will certainly drop dead along with countless millions of others, as a direct result of their abjectly arrogant ignorance.
Arrogant Ignorance
All of their super-computers, the advanced mathematics, their (so-called) "hi-tech" industrial base, all of their billions of dollars of (so-called) "high finance" — and they kill the planet? And themselves and their posterity in the process? That's the best they can do? They get a PhD in nuclear chemistry and use their (so-called) "knowledge" and (so-called) technical "expertise" to kill the planet? The planet that they also live on?
Geniuses. All of them.
Central Banking Middle East Madness
Then there is the very real prospect of a shooting, nuclear war, beginning in the Middle East. The USSA has a powerful fleet in the region. So do the Russians, as a counterpoint. Sadly for all humanity, the Washington, DC — City of London — Lower Manhattan — Tel Aviv — NATO cabal seems hell bent on war, and so we are on the slippery slope to war. Unfortunately, this psychopathic cabal is very heavily nuclear armed.
I saw all of this coming from waaaaaaay back, from way back in my infancy, since the age of three years, when The Bone Lady visited me and clued me in to realities that I still don't want to think about, given their ghastly, hideous savagery. But I'll tell you what, it's enough to give a man insomnia, it's enough to drive him out onto the nuclear missile silos, again and again, in a personal effort to inject a note of sanity and warning into a positively insane political and military climate, in an attempt to wake up anyone who may be susceptible to awakening.
ANYONE.
My latest sally was 15 April 2010 in North Dakota, USA. I went over the security fence onto the H-8 Minuteman III nuclear missile silo in the Minot Air Force Base nuclear missile field, near Parshall, North Dakota, at the intersection of 33rd Street and 76th Avenue. I conducted a nonviolent, peace demonstration on the silo and was arrested by the USSA military and imprisoned for 100 days, almost all of the time served in the Heart of America Correctional and Treatment Center in Rugby, North Dakota.
My Minot Manifesto explains my motivations, reasons and spiritual and political philosophy. It is one of the most important documents I have written in my entire life.
A Serious Message From The Heart of America was my personal statement that I mailed to the news media from jail in Rugby, North Dakota, on 14 July 2010, prior to being criminally tried and convicted in USSA federal court in Minot, North Dakota.
I explain the symbolism in my dress and accoutrements in the photo below, in the text of my lengthy Minot Manifesto. It's thirteen pages, but worth the time and effort to read. It is a major life statement on my part, that reflects literal decades of deep thought, a very large quantum of concentrated life energy and hours, weeks, months and years of preparation, a statement that distills an important fraction of my life essence into human language. I invite you to partake of my gift by taking the time to read and reflect on what I have written, and then to take meaningful, principled, creative, nonviolent action yourself.
I don't quite know what more to say, what more to do. In fact, were I to do more than I already have, and I have been out on the nuclear missile silos three times (and been jailed for my trouble all three times, in Arkansas, Missouri and North Dakota), I would run the very real risk of infringing on your right and your very real, personal RESPONSIBILITY to also courageously act. So what are you waiting for? Why are you here on this planet, at this time, reading this blog post, and articles like it?
Because make no mistake about it, the time to act, if you are going to act, is here. The time has arrived. The planet is on the brink. We face the very real prospect of a shooting nuclear war. Additionally, the Fukushima crisis, and the threat from nuclear power plants in general, ALL OF THEM, could not be more serious.
In recent days, I find myself musing about the closing scene from "Dr. Stramgelove," with the haunting song by Vera Lynn, "We'll Meet Again, Don't Know Where, Don't Know When," that was such a huge hit in World War II, for obvious reasons.
And it fills me with such melancholy and sorrow. Because if it starts, this ugly thing called nuclear war, and we are headed that way, can all unravel very rapidly. The machines will take over, and automated, pre-programmed orders of battle will be carried out, without human control, as machines battle machines with nuclear fire. Waves of missiles will come in, again and again, to batter the underground bases. I have read the declassified documents. Warhead after warhead will come in at 10 minute intervals. You cannot imagine the depths of the hell that is already programmed and waiting to be unleashed.
Back in the 1960s, the USSA military was counting on 140 million casualties in the mainland USSA alone. I know this because I have read the documents. I have done the research. The USSA population is much larger now, and much more urban, so the casualty rate would be even higher. Maybe 200 million? 250 million casualties in the USSA alone?
Do you think you will just watch that on CNN?
Refuge in the Southern Hemisphere
If you have read my previous writings you will know that I have said that IF humanity has a future, it is likely to be in the southern hemisphere, if only because the lion's share of the nuclear weapons and nuclear power reactors are in the northern hemisphere. As the nuclear power plants fail, melt down, and/or explode most of them will be in the northern hemisphere. This is not an intellectual exercise — already we have had catastrophic failure of nuclear power plants at Chernobyl, Ukraine and Fukushima, Japan. They are just the first. There will be more.
Likewise, any shooting nuclear war is logically likely to be concentrated in the northern hemisphere, since all of the known, nuclear armed, military powers are in the northern hemisphere
But even then, there are enormous problems in the southern hemisphere. The vegetation in the Amazon region of South America produces something like 20 to 30% of the oxygen in the Earth's atmosphere. As the Amazon dies, and it is being destroyed right now, so too, is the Earth's breathable oxygen supply being destroyed. I don't know about you, but I breathe oxygen all day and all night, every day and every night of my life.
So even if we resolve the nuclear issue, and there is ZERO progress on that front right now, only to lose the Amazon, we all will still die, because none of us can survive with 20 to 30% less oxygen. Just cannot.
Right now, we, humanity, every last one of us, are in a life and death struggle for the life of our species, and the life of our planet.
If we win, we live. If we lose, we die. ALL OF US.
End of the story. End of our species' genetic line. For ever and ever.
Done. Finished.
So maybe moving to Bolivia or Uruguay or Namibia or Madagascar or New Zealand will buy you a little time, a year or ten. However, if we fail to rein in and ABOLISH nuclear reactors and nuclear weapons, if we fail to reforest the Earth and cleanse it of radioactive contamination, then we are through. It's the end for us.
This is our group decision. Right now we are on a self-destructive path to global extinction.
So Here Is My View
If you will act decisively, now is the time. Pick your issue and your spot and act creatively, courageously and nonviolently.
It's your world and your life. Act like they both count for something.
And here's the other thing. If you cannot, or will not act, then how about supporting those of us who have acted, and who continue to act?
In my case, I have paid a very heavy price, in earnings forever foregone, by putting my life on the line, repeatedly, for you, whom I do not even know. But because you are my human kin, I went out on the missile silos, again and again, and I went to jail. I lost more than a year and a half of productive labor. I lost, as well, the opportunity to have a whole wide range of well paying jobs, due to my arrest and prison record, even though I have multiple advanced university degrees, up to the doctorate level.
Subsequent to my arrival in South America, I immersed myself in Amazonian shamanic culture, the better to understand the Amazonian region, the jungle itself, and the shamanic human ecology of the region that interfaces with the hyper-conscious plants in the jungle, only to be very gravely assaulted by one of the said Amazonian shamans and hospitalized for more than four months with massive trauma to both my body and emotions. I am now pursing a criminal case against the shaman and that also costs heavily, several thousands of dollars in attorneys' fees, at the very time when so much of my time and energy is taken up with therapy and the sheer physical effort of getting around with impaired mobility. Nine months after the assault I still have physical nerve trauma in my lower extremities, a good deal of numbness and what is called drop foot. I walk with crutches. My electro-therapy also costs. At the moment I cannot go to electro-therapy, although I badly need it, because I only have $35 to my name.
I have run completely through my meager life savings and there is no more.
Additionally, I have this week begun the formal petition process to the government of Ecuador to request political asylum. My years-long record of anti-nuclear activism and repeated jailing by the USSA government is one factor in my decision, coupled with other factors such as recent revelations of universal NSA surveillance and espionage, the secret arrest and indefinite military detention provisions of the NDAA of 2012 and 2013, the recently revealed, previously secret 2011 FBI documents that blatantly discuss plans to murder Occupy Movement activists by sniper fire, including in San Antonio, Texas, where I lived and worked as a window washer from 2000 to 2009, and all of this in the context of an all encompassing pattern of unbridled lawlessness and pervasive lying with regard to EVERYTHING by the American government. All of this and more, has brought home to me the seriousness of this moment that we are living now.
I have the obligation to safeguard my own liberty and safety. It is clear to me that politically I am freer and safer in Ecuador than in the USSA. The American government has taken a hard, dictatorial turn towards neo-fascism. That is the plain truth. The harsh, repressive treatment of Edward Snowden and Chelsea (formerly Bradley) Manning makes that clear enough. We are in altogether different territory now. And so I have petitioned for political refuge in Ecuador.
This also entails paying an attorney, to assist me in my interactions with the administrative, legal and political system in Ecuador. It is my life on the line and I am proceeding very carefully, every step of the way.
But it is also your life on the line, in that my anti-nuclear activism, my immersion in the Amazonian culture, and my pursuit of political refuge in Ecuador all have profound implications far beyond just me. What happens to me also has broad implications for you. The consequences of nuclear war are too horrific to contemplate, and if it is to be avoided, it is because of actions such as mine. Similarly, we simply cannot afford to lose the Amazon, and yet we are losing it right now. If we are to save it, a big part of that will be due to the personal efforts of those who come to the region and get personally involved in the nitty-gritty, even life-threatening struggle for the soul of the Amazon, because more than anything, we are involved in a pitched battle for the very spirit and soul of the Amazon and of the rest of this planet.
Similarly, if I, with my history of activism, book writing, researching, blogging, public speaking, interviews, and repeated nonviolent civil disobedience and consequent jail record, cannot obtain political refuge abroad, then what hope do you have? You're boxed in, that's what. You're in a cage with no exit.
And so, if you cannot or have not done the things that I and others like myself have done and are doing, then can you please, will you at least please support us?
I desperately need your support now. My legal fees run to thousands of dollars, and my therapy is ongoing. I appreciate and really need your generosity. Please communicate with me at: dr.samizdat1618@gmail.com or via Skype at richard.sauder333 as to how to donate.
Come Ye That Love The Lord
I am a native Virginian, and have lived, worked, traveled, studied and gone to jail all over the American South, from the Virginias and Maryland, all the way across to South Texas, and numerous points in between. A very large block of my life has been spent down South. Although I am not now a church attending man, I have in the past been in all kinds of Christian churches, both Black and White, in big cities and small country towns.
Some of the most memorable sermons I have ever heard have been by Black pastors in rural areas of the deep South. One of the things I like about the traditional Black style of hymn singing down South is the way that the head deacon or pastor will frequently line out a hymn, especially the first line or two of a verse, and then the other deacons or members of the choir will join in, accompanied by riffs on the organ, if there is an organist, and there are some really gifted organists playing in southern Black churches.
I well remember a sermon that I once chanced to hear, decades ago, by a Black lay preacher, one sultry, Sunday night, in a tiny little town way down South, about as far south as you can go, and still be in the South and not somewhere else. The ceiling fans lazily stirred the muggy summer air, as the moths flitted vainly around the naked incandescent light bulbs hanging from the ceiling overhead. The windows were flung wide open and the pale light from the sanctuary washed feebly out through the rusted screens and flooded onto the close cropped lawn that surrounded the church. It was one of the most extraordinary public speaking performances I ever witnessed. The preacher used as his text Ezekiel 37, the theme being dry bones and systematically connecting them one to the other, the purpose being to reassemble and restore "them dry bones" to life. As he spoke, I saw that he fell into a trance, that he entered another state of consciousness, that he was self-hypnotized and that the sermon itself had a sort of existence independent of him, that the message took on a life of its own and was using his mind, his mouth, his body, to project itself into the ears, hearts and minds of the sparse assemblage present that evening. As he finished, he collapsed exhausted backwards into his armchair and lined out the first words of the hymn that he wanted the choir to sing. I don't anymore remember exactly what song he called for, but it could well have been this: Come Ye That Love The Lord
If there is to truly be a new world order, as distinct from the obscene power that currently holds sway on this planet today, then we will need to see a completely new order of human being on this world, a species of human being motivated by love for the Creator and by devotion to inward and outward service to the sacred life impulse. We don't see that now, and the human species may go extinct on this planet for its want.
I do believe in God and have been profoundly privileged to see some of His servants face to face. I find their company congenial.
Come, ye that love the Lord,
And let your joys be known;
Join in a song with sweet accord,
And thus surround the throne.

Let those refuse to sing
That never knew our God,
But children of the heavenly King
May speak their joys abroad.

The God of heaven is ours,
Our Father and our love ;
His care shall guard life's fleeting hours,
Then waft our souls above.

There shall we see his face,
And never, never sin;
There, from the rivers of his grace,
Drink endless pleasures in.

Yes, and before we rise
To that immortal state.
The thoughts of such amazing bliss
Should constant joys create.

Children of grace have found
Glory begun below:
Celestial fruits on earthly ground,
From faith and hope may grow.

The hill of Sion yields
A thousand sacred sweets,
Before we reach the heavenly fields,
Or walk the golden streets.

Then let our songs abound,
And ev'ry tear be dry;
We're trav'lling through Immanuel's ground,
To fairer worlds on high.

(John Wesley, ca. 1703- 1791)
Source: Richard Sauder  |  Event Horizon Chronicle
Cannabis has been making a lot of noise lately. Multiple states across the United States and countries around the world have successfully legalized medical Marijuana, and the Uruguay parliament recently voted to create the world's first legal marijuana market. This is good news as the health benefits of Cannabis are vast, with multiple medical and scientific studies that confirm them.
On the other hand, arguments against the use of marijuana are usually published in Psychiatric journals, which show no scientific evidence that Cannabis is harmful to human health. All psychological evaluations from the intake of cannabis are largely based on assumptions, suggestions and observations (1).
When we look at the actual science behind Cannabis, the health benefits can be overwhelming. So what does one who opposes the use of cannabis base their belief on? Nothing, not scientific evidence anyways. The negative astigmatism attached to marijuana is due to its supposed psychotropic effects; yet again, there is no scientific evidence to show that marijuana has any psychotropic effects. Nonetheless, cannabis has recently been the focus of medical research and considered as a potential therapeutic treatment and cure for cancer.
Cannabis is a great example of how the human mind is programmed and conditioned to believe something. Growing up, we are told drugs are bad, which is very true; however, not all substances that have been labelled as "drugs" by the government are harmful. Multiple substances are labelled as a "drug" in order to protect corporate interests. One example is the automobile and energy industry, a car made from hemp is stronger than steel, and can be fueled from hemp alone. Henry Ford demonstrated this many years ago. Hemp actually has over 50,000 uses!
Let's take a look at the science behind Cannabis and Cancer. Although Cannabis has been proven to be effective for a large range of ailments, this article will focus mainly on its effectiveness in the treatment of cancer. Cannabinoids may very well be one of the best disease and cancer fighting treatments out there. Cannabinoids refer to any of a group of related compounds that include cannabinol and the active constituents of cannabis. They activate cannabinoid receptors in the body. The body itself produces compounds called endocannabinoids and they play a role in many processes within the body that help to create a healthy environment.
Cannabinoids also play a role in immune system generation and re-generation. The body regenerates best when it's saturated with Phyto-Cannabinoids. Cannabinoids can also be found in Cannabis. It is important to note that the cannabinoids are plentiful in both hemp and cannabis. One of the main differentiations between hemp and cannabis is simply that hemp only contains 0.3% THC while cannabis is 0.4% THC or higher. (Technically they are both strains of Cannabis Sativa.)
Cannabinoids have been proven to reduce cancer cells as they have a great impact on the rebuilding of the immune system. While not every strain of cannabis has the same effect, more and more patients are seeing success in cancer reduction in a short period of time by using cannabis.
While taking a look at these studies, keep in mind that cannabis can be much more effective for medicinal purposes when we eat itrather than smoking it. Below are 20 medical studies that prove cannabis can be an effective treatment and possible cure for cancer. Please keep in mind that this is a very short list of studies that support the use of medicinal marijuana. Please feel free to further your research, hopefully this is a good starting point.
Brain Cancer1. A study published in the British Journal of Cancer, conducted by the Department of Biochemistry and Molecular Biology at Complutense University in Madrid, this study determined that Tetrahydrocannabinol (THC) and other cannabinoids inhibit tumour growth. They were responsible for the first clinical study aimed at assessing cannabinoid antitumoral action. Cannabinoid delivery was safe and was achieved with zero psychoactive effects. THC was found to decrease tumor cells in two out of the nine patients.
2. A study published in The Journal of Neuroscience examined the biochemical events in both acute neuronal damage and in slowly progressive, neurodegenerative diseases. They conducted a magnetic resonance imaging study that looked at THC (the main active compound in marijuana) and found that it reduced neuronal injury in rats. The results of this study provide evidence that the cannabinoid system can serve to protect the brain against neurodegeneration.
3. A study published in The Journal of Pharmacology And Experimental Therapeutics already acknowledged the fact that cannabinoids have been shown to possess antitumor properties. This study examined the effect of cannabidiol (CBD, non psychoactive cannabinoid compound) on human glioma cell lines. The addition of cannabidiol led to a dramatic drop in the viability of glioma cells. Glioma is the word used to describe brain tumor. The study concluded that cannabidiol was able to produce a significant antitumor activity.
4. A study published in the journal Molecular Cancer Therapeutics outlines how brain tumors are highly resistant to current anticancer treatments, which makes it crucial to find new therapeutic strategies aimed at improving the poor prognosis of patients suffering from this disease. This study also demonstrated the reversal of tumor activity in Glioblastoma multiforme.
Breast Cancer5. A study published in the US National Library of Medicine, conducted by the California Pacific Medical Centre determined that cannabidiol (CBD) inhibits human breast cancer cell proliferation and invasion. They also demonstrated that CBD significantly reduces tumor mass.
6. A study published in The Journal of Pharmacology and Experimental Therapeuticsdetermined that THC as well as cannabidiol dramatically reduced breast cancer cell growth. They confirmed the potency and effectiveness of these compounds.
7. A study published in the journal Molecular Cancer showed that THC reduced tumor growth and tumor numbers. They determined that cannabinoids inhibit cancer cell proliferation, induce cancer cell apoptosis and impair tumor angiogenesis (all good things). This study provides strong evidence for the use of cannabinoid based therapies for the management of breast cancer.
8. A study published in the Proceedings of the National Academy of Sciences of the United States of America (PNAS) determined that cannabinoids inhibit human breast cancer cell proliferation.
Lung Cancer9. A study published in the journal Oncogene, by Harvard Medical Schools Experimental Medicine Department determined that THC inhibits epithelial growth factor induced lung cancer cell migration and more. They go on to state that THC should be explored as novel therapeutic molecules in controlling the growth and metastasis of certain lung cancers.
10. A study published by the US National Library of Medicine by the Institute of Toxicology and Pharmacology, from the Department of General Surgery in Germany determined that cannabinoids inhibit cancer cell invasion. Effects were confirmed in primary tumor cells from a lung cancer patient. Overall, data indicated that cannabinoids decrease cancer cell invasiveness.
11. A study published by the US National Library of Medicine, conducted by Harvard Medical School investigated the role of cannabinoid receptors in lung cancer cells. They determined its effectiveness and suggested that it should be used for treatment against lung cancer cells.
Prostate Cancer12. A study published in the US National Library of Medicine illustrates a decrease in prostatic cancer cells by acting through cannabinoid receptors.
13. A study published in the US National Library of Medicine outlined multiple studies proving the effectiveness of cannabis on prostate cancer.
14. Another study published by the US National Library of Medicine determined that clinical testing of CBD against prostate carcinoma is a must. That cannabinoid receptor activation induces prostate carcinoma cell apoptosis. They determined that cannabidiol significantly inhibited cell viability.
Blood Cancer
15. A study published in the journal Molecular Pharmacology recently showed that cannabinoids induce growth inhibition and apoptosis in mantle cell lymphoma. The study was supported by grants from the Swedish Cancer Society, The Swedish Research Council and the Cancer Society in Stockholm.
16. A study published in the International Journal of Cancer also determined and illustrated that cannabinoids exert antiproliferative and proapoptotic effects in various types of cancer and in mantle cell lymphoma.
17. A study published in the US National Library of Medicine conducted by the Department of Pharmacology and Toxicology by Virginia Commonwealth University determined that cannabinoids induce apoptosis in leukemia cells.
Oral Cancer18. A study published by the US National Library of Medicine results show cannabinoids are potent inhibitors of cellular respiration and are toxic to highly malignant oral tumors.
Liver Cancer19. A study published by the US National Library of Medicine determined that that THC reduces the viability of human HCC cell lines (Human hepatocellular liver carcinoma cell line) and reduced the growth.
Pancreatic Cancer20. A study published in The American Journal of Cancer determined that cannabinoid receptors are expressed in human pancreatic tumor cell lines and tumor biopsies at much higher levels than in normal pancreatic tissue. Results showed that cannabinoid administration induced apoptosis. They also reduced the growth of tumor cells, and inhibited the spreading of pancreatic tumor cells.
Sources:
All sources highlighted throughout article. Click on the highlighted parts of the article to view them.
1)http://bjp.rcpsych.org/content/178/2/116.full
Arjun Walia writes for collective-evolution.com where this article first appeared.
I recently read a column by Dr. Paul Craig Roberts that was so good I wish I had written it. First, a little bit about Roberts. This is from his official web site: "Dr. Roberts has held academic appointments at Virginia Tech, Tulane University, University of New Mexico, Stanford University where he was Senior Research Fellow in the Hoover Institution, George Mason University where he had a joint appointment as professor of economics and professor of business administration, and Georgetown University where he held the William E. Simon Chair in Political Economy in the Center for Strategic and International Studies."
His bio continues: "Dr. Roberts was associate editor and columnist for The Wall Street Journal and columnist for Business Week and the Scripps Howard News Service. He was a nationally syndicated columnist for Creators Syndicate in Los Angeles. In 1992 he received the Warren Brookes Award for Excellence in Journalism. In 1993 the Forbes Media Guide ranked him as one of the top seven journalists in the United States."
And one more paragraph about Paul Craig Roberts: "President Reagan appointed Dr. Roberts Assistant Secretary of the Treasury for Economic Policy and he was confirmed in office by the U.S. Senate. From 1975 to 1978, Dr. Roberts served on the congressional staff where he drafted the Kemp-Roth bill and played a leading role in developing bipartisan support for a supply-side economic policy. After leaving the Treasury, he served as a consultant to the U.S. Department of Defense and the U.S. Department of Commerce."
See Paul's web site at:
I realize that anyone who dares to contradict accepted politically correct dogma is demonized as being "radical," "extremist," or racist," and some people have tried to characterize Dr. Roberts in that vein. But it should be obvious to any honest and objective person that Paul Craig Roberts has one of the most distinguished resumes of anyone in America today.
Paul recently wrote a column entitled, "Humanity Is Drowning In Washington's Criminality." I realize it is difficult for most Americans to conceive the idea that their federal government could actually be criminal, but the case Roberts makes in his column cannot be tossed aside as the ranting of some right-wing nut (as if there are no left-wing nuts).
Roberts writes, "Americans will soon be locked into an unaccountable police state unless US Representatives and Senators find the courage to ask questions and to sanction the executive branch officials who break the law, violate the Constitution, withhold information from Congress, and give false information about their crimes against law, the Constitution, the American people and those in Afghanistan, Pakistan, Yemen, Iraq, Libya, Syria, Somalia, Guantanamo, and elsewhere. Congress needs to use the impeachment power that the Constitution provides and cease being subservient to the lawless executive branch. The US faces no threat that justifies the lawlessness and abuse of police powers that characterize the executive branch in the 21st century.
"Impeachment is the most important power of Congress. Impeachment is what protects the citizens, the Constitution, and the other branches of government from abuse by the executive branch. If the power to remove abusive executive branch officials is not used, the power ceases to exist. An unused power is like a dead letter law. Its authority disappears. By acquiescing to executive branch lawlessness, Congress has allowed the executive branch to place itself above law and to escape accountability for its violations of law and the Constitution.
"National Intelligence Director James R. Clapper blatantly lied to Congress and remains in office. Keith B. Alexander, Director of the National Security Agency, has also misled Congress, and he remains in office. Attorney General Holder avoids telling Congress the truth on just about every subject, and he also remains in office. The same can be said for President Obama, one of the great deceivers of our time, who is so adverse to truth that truth seldom finds its way out of his mouth.
"If an American citizen lies to a federal investigator, even if not under oath, the citizen can be arrested, prosecuted, and sent to prison. Yet, these same federal personnel can lie to Congress and to citizens with impunity. Whatever the American political system is, it has nothing whatsoever to do with accountable government. In Amerika [Roberts' spelling] no one is accountable but citizens, who are accountable not only to law but also to unaccountable charges for which no evidence is required."
Roberts is one hundred percent right. While everyone seems to be caught up in debating all kinds of remedies to Washington's ills, hardly anyone seems to notice that the power to put a stop to all of this unconstitutional (not to mention criminal) conduct on behalf of the executive branch of the federal government rests squarely in the laps of the 535 men and women who comprise the US House of Representatives and US Senate. Granted, impeachment has been seldom used by the legislative branches in Washington, but what was that again about desperate times calling for desperate measures? Besides, impeachment is not a desperate measure; it is a constitutionally-required measure. When the executive branch of the federal government is run amuck in foul play, it is the duty of Congress to protect both the American citizenry and the US Constitution.
Roberts rightly asks, "The question demanding to be asked is: What is the purpose of the domestic surveillance of all Americans? This is surveillance out of all proportion to the alleged terrorist threat. The US Constitution is being ignored and domestic law violated. Why? Does the US government have an undeclared agenda for which the 'terrorist threat' is a cover?
"What is this agenda? Whose agenda is more important than the US Constitution and the accountability of government to law? No citizen is secure unless government is accountable to the Constitution and to law. It is an absurd idea that any American is more threatened by terrorism than by unaccountable government that can execute them, torture them, and throw them in prison for life without due process or any accountability whatsoever. Under Bush/Obama, the US has returned to the unaccountable power of caesars, czars, and autocrats."
Roberts is exactly right. The modern-day burgeoning police state, under the rubric of "national security," is the biggest threat to our liberties since the British marched on Lexington and Concord in 1775. And, unfortunately, when it comes to the destruction of civil liberties, Republicans are as culpable as Democrats.
Roberts writes, "American conservatives regard civil liberties as mere excuses for liberal judges to coddle criminals and terrorists. Never expect a conservative Republican, or more than two or three of them, to defend your civil liberty. Republicans simply do not believe in civil liberty. Democrats cannot conceive that Obama–the first black president in office, a member of an oppressed minority–would not defend civil liberty. This combination of disinterest and denial is why the US has become a police state.
"Civil liberty has few friends in government, the political parties, law schools, bar associations, or the federal judiciary. Consequently, no citizen is secure. Recently, a housewife researched online for pressure cookers looking for the best deal. Her husband was searching for a backpack. The result was that a fully armed SWAT team appeared at the door demanding to search the premises and to have questions answered."
When it comes to creating the modern-day police state, the left-right paradigm that most people are consumed with means absolutely nothing. NOTHING! As Roberts notes, for the most part, both Democrats and Republicans, liberals and conservatives, Christians and heathens seem to see nothing wrong with the dismantlement of the Bill of Rights if the stated reason is to keep us "secure."
Beyond that, so many Americans seem to have the attitude, "I don't care if the government is spying on me; I haven't done anything wrong." To this, Roberts writes, "I am always amazed when someone says: 'I haven't done anything wrong. I have nothing to fear.' If you have nothing to fear from the government, why did the Founding Fathers put the protections in the Constitution that Bush and Obama have stripped out? Unlike the Founding Fathers who designed our government to protect the citizens, the American sheeple [Roberts' word] trust the government to their own demise."
And exactly who are the real terrorists, anyway? Roberts answers:
"Terrorism seldom comes from outside. The source almost always is the government in power. The Czarist secret police set off bombs in order to blame and arrest labor agitators. The Nazis burned down the Reichstag in order to decimate the communists and assume unaccountable power in the name of 'public safety.' An alleged terrorist threat is a way of using fear to block popular objection to the exercise of arbitrary government power.
"In order to be 'safe from terrorists,' the US population, with few objections, has accepted the demise of their civil liberties, such as habeas corpus, which reaches back centuries to Magna Carta as a constraint on government power. How, then, are they safe from their government? Americans today are in the same position as the English prior to the Great Charter of 1215. Americans are no longer protected by law and the Constitution from government tyranny.
"The reason the Founding Fathers wrote the Constitution was to make citizens safe from their government. If citizens allow the government to take away the Constitution, they might be safe from foreign terrorists, but they are no longer safe from their government.
"Who do you think has more power over you, foreign terrorists or 'your' government?"
Roberts continues:
"The constitutional principle of freedom of speech is being redefined as treason, as aiding an undefined enemy, and as seeking to overthrow the government by casting aspersions on its motives and revealing its secret misdeeds. The power-mad inhabitants of Washington have brought the US so close to Gestapo Germany and Stalinist Russia that it is no longer funny. Indeed, it is sometimes difficult to see the difference.
"The neoconservatives have declared that Americans are the 'exceptional' and 'indispensable people.' Yet, the civil liberties of Americans have declined the more 'exceptional' and 'indispensable' that Americans become. We are now so exceptional and indispensable that we no longer have any rights.
"And neither does the rest of the world. Neoconservatism has created a new dangerous American nationalism. Neoconservatives have given Washington a monopoly on right and endowed its military aggressions with a morality that supersedes the Geneva Conventions and human rights. Washington, justified by its 'exceptionalism,' has the right to attack populations in countries with which Washington is not at war, such as Pakistan and Yemen. Washington is using the cover of its 'exceptionalism' to murder people in many countries."
Roberts also rightly observes, "Washington is always morally right, whatever it does, and those who report its crimes are traitors who, stripped of their coddling by civil liberties, are locked away and abused until they confess to their crimes against the state. Anyone who tells the truth, such as Bradley Manning, Julian Assange, and Edward Snowden, are branded enemies of the state and are ruthlessly persecuted."
See Paul Craig Roberts' column at:
Humanity Is Drowning In Washington's Criminality
Sadly, everything Dr. Roberts stated above is absolutely true.
Many previous administrations most certainly pushed the envelope of federal usurpation of power from time to time, but the administrations of G.W. Bush and Barack Obama have (and are) literally taken America to the very precipice of a police state. With the advent of the Patriot Act, the Department of Homeland Security, the Military Commissions Act, the NDAA, USNORTHCOM, etc., all of the laws and military apparatus which would be necessary to enact a police state within the continental United States are in place.
Plus, grassroots Americans throughout the country are abuzz with both rumors and truthful eyewitness testimony to the strange movement of military supplies and personnel and the construction of large, unmarked and undeclared facilities. All over America, large containment-looking facilities are being built. Most of these structures are large, fenced (with the fences designed to keep people IN not OUT), in rural areas, near train tracks, and are completely unmarked and inaccessible.
Granted, for every substantiated fact there seems to be a dozen meritless rumors out there. I will absolutely give you that. But, there are simply too many reports by extremely credible eyewitnesses (including military and police personnel) to simply ignore as mere conspiracy theories. Concerned federal agents (yes, MANY federal agents love freedom and the Constitution just as much as we do) continue to leak information regarding unusual training, equipment purchases, procedural instructions, etc., to their fellow citizens.
Could some of this strange and unconfirmed information be government propaganda and disinformation designed to embarrass and marginalize patriot-minded citizens? Absolutely. But the old adage is still true, "Where there is smoke, there is fire." And right now, this is a HUGE amount of smoke.
Paul Craig Roberts has spent a lifetime in the upper echelons of economics, journalism, and politics. His assertion that Washington, D.C., is awash in "criminality" cannot be taken lightly.
Brothers are supposed to be allies; they are supposed to be friends. This is true for spiritual brothers as well as physical brothers. Unfortunately, it doesn't always work out that way. Sometimes, brothers become enemies.
Think about it: in our War for Independence, brother fought against brother. How many Christians sided with the British Crown and raised voice and bayonet against their brothers in Christ who stood for American liberty and independence? More than we can possibly count. How many Christians were among the British troops that participated in the Boston Massacre? How many Christians were among the British troops that participated in the raid on Lexington and Concord? How many Christians were among the British troops that participated in the assault against the colonists (many of whom were Christians) on Bunker Hill?
The same thing happened in the War for Southern Independence. How many Christian men in the North took up arms against their spiritual brethren in the South for basically the same reason that Christian Tories took up arms against colonial patriots years before: to forbid them from declaring independence. Too many to count. How many Christians were among the troops that invaded Virginia and assaulted the citizens of that State (a sizeable percentage of whom were believers) in the First Battle of Manassas? Again, too many to count.
As an aside, I find it more than interesting that great spiritual revivals broke out among the Confederate Army throughout the War for Southern Independence in much the same way that they had erupted among the Colonial Army during our Revolutionary War. One could make the argument (and I do) that it is the thirst and fight for liberty and independence that almost always coincides with great spiritual awakenings. Therefore, I am absolutely convinced that there will be no more spiritual awakenings in this country without a subsequent thirst and fight for liberty and independence, because "where the Spirit of the Lord is, there is liberty." (II Cor. 3:17) Turn that verse around and it says, "Where liberty is, there is the Spirit of the Lord." The antithesis of the verse would read, "Where there is no liberty, there is no Spirit of the Lord."
Think about what happened in Germany during the rise of the Third Reich. The vast majority of Christian pastors and churchmen turned against their freedom-loving brethren in the Confessing Church and helped Hitler's henchmen and stormtroopers to persecute, imprison, and even murder fellow followers of Christ. The historical record indicates that 95% of the pastors and churches of Germany supported Hitler and openly opposed Christian freedomists such as Martin Niemoller and Dietrich Bonhoeffer. Niemoller and hundreds of others wound up fleeing Germany, while Bonhoeffer and hundreds of others were executed by the Reich.
How is it that so many professing Christians can be so blind to the divine principles of liberty? How is it that they can be so quick to turn against their brethren who choose to stand and fight for those divine principles of liberty? I believe the answer is because, 1) they are truly ignorant of the divine principles of liberty, and/or, 2) they are statists at heart.
1) They are ignorant of the divine principles of liberty
Without courageous preachers and teachers expounding, explaining, exegeting, extrapolating, and elucidating the Biblical Natural Law principles of liberty, Christians (as with anyone else) become quickly dulled and unschooled in liberty principles. The great examples of Abram, Gideon, Samson, David, Daniel, the three Hebrew children, John the Baptist, Simon Peter, etc., are spiritualized away without the principles behind those acts of faith and resistance being the least bit taught, and without any practical application to the modern day. This kind of preaching leaves men totally ignorant and unprepared to understand and deal with modern acts of tyranny when they occur. And this is exactly what is happening in the pulpits and churches of modern America. But it gets even worse than that.
Not only are Christian ministers deliberately not teaching the divine principles of liberty, they are aggressively misinforming their congregations with erroneous teachings of Scripture relative to freedom principles. And nowhere is this more evident than in the way the vast majority of ministers are teaching Romans 13. This brings me to the second point.
2) They are statists at heart
Let's face it: the fallacious "obey-the-government-no-matter-what" interpretation of Romans 13 is one of the biggest allies any would-be tyrant has. This was perhaps Adolf Hitler's favorite passage of Scripture. He instructed his propaganda ministry to prepare sermons and Bible lessons for Germany's churches emphasizing this misinterpretation of Romans 13. Accordingly, the vast majority of Germany's Christians compliantly submitted to Hitler's authority, specifically because they had been taught in church that Romans 13 instructed them to do so. They literally believed that by obeying Hitler, they were obeying God. They truly believed that Hitler (the state) stood in the place of God per Romans 13. All over America today, pastors and churches share this identical belief.
Readers should know that I recently co-authored a book (with my son) to show the true teaching of Romans 13–and all Scripture–regarding submission to government. It is called, "Romans 13: The True Meaning of Submission." For more information, or to order, go here:
Romans 13: The True Meaning of  Submission
In reality, the vast majority of America's pastors, TV preachers, radio preachers, ministers, evangelists, etc., are promoting the Hitlerian philosophy that the state stands in the place of God and must be obeyed without question or hesitation. They believe that anyone (Christian or otherwise) who dares to resist the state is doing a disservice to God and should be punished. And with the clever enticement of the 501c3 non-profit corporation status that most churches submit to today, they have become, either wittingly or unwittingly, the sheepish slaves of the state.
Look at how many Christians believe that whistleblower Eric Snowden is a traitor and enemy of America. Instead of realizing that what our own federal government is doing by creating this Orwellian surveillance society is blatantly and overtly unconstitutional, illegal, and immoral–and that every church in America should be sounding the clarion call repudiating this unlawful activity–instead, America's churches are blaring the call of compliance and non-resistance to unlawful government, even to the point of calling for the death of the man who simply tried to warn the American citizenry to the evil machinations of their own federal government. I am convinced that many of these Christian statists would applaud the imprisonment and execution of the likes of the great Christian theologian and freedomist Dietrich Bonhoeffer all over again.
Ladies and gentlemen, the chasm between freedomists and statists is widening. It is pitting brother against brother; husband against wife; father against son; mother against daughter; friend against friend; and Christian against Christian. In much the same way that the great struggles for liberty have divided brethren in the past, so, too, it is happening today. And the chasm is only going to widen further in the months and years to come.
And mark this down: as the chasm widens, there will be no room for neutrality. Everyone, and I mean everyone, will have to pick a side. We either believe and understand the divine principles of liberty and are ready and willing to fight and defend those principles, or we support the tyrant's position that the state stands in the place of God and must be obeyed at all costs.
This is why it is so important for Christians to leave these churches that promote the damnable doctrine of unlimited submission to the state; and I mean right now. Pastors who continue to preach this fallacious doctrine of unlimited submission to the state are facilitating the destruction of liberty in America. They are helping to put shackles around the necks of our children and grandchildren.
I realize that there are many sincere Christians out there who believe that all their pastor and church must do is preach the Gospel, win souls, etc., and America will be healed. They are sincerely mistaken.
Over the last 60 years in America, we have seen an explosion of Christian witness–an explosion unparalleled in church history. There are over 300,000 churches in this country. For the most part, Baptists faithfully preach Baptist doctrine; Methodists faithfully preach Methodist doctrine; Lutherans faithfully preach Lutheran doctrine; Presbyterians faithfully preach Presbyterian doctrine, etc. Yes, I realize there are schisms and disagreements internally among Christian denominations. And, yes, I realize that some Christians reading this will retort that if everybody else's church was as "true" as is their church, America's problems would be solved. Again, they are wrong.
Over these past 60 years, we have seen more Gospel preaching, more Gospel literature, more Christian colleges, universities and seminaries, more Christian TV and radio ministries, more youth retreats, couples retreats, marriage retreats, Sunday Schools, missions organizations, evangelism programs, ad infinitum, than at any time in church history. And, while many of these institutions and organizations will differ on the nuances of secondary doctrine, for the most part, they have shown fidelity to the Great Commission. With all of this Christian witness, one would think that we would be in the Millennium by now (and, yes, I realize that some Christians think we are). So, why is America teetering on the brink of despotism?
During this same period of time, America has plummeted morally, socially, culturally, politically, and, yes, spiritually. Why? The "salt" has lost its savour and is being cast out, and trodden under foot of men. (Matt. 5:13) Christian pastors and churches are no longer fighting against the decay and decomposition of our country–including against that political and spiritual bacteria that are eating away at the fundamental principles of liberty upon which America was built. As a result, our nation's freedoms are being systematically and rapidly expunged.
For all intents and purposes, freedom and liberty are entering a modern-day Dark Ages. And just as in the ancient days of Middle Eastern and European persecutions and inquisitions, those Christians who stand for liberty today are being ostracized, marginalized, and demonized–by their own brethren. More and more, the same man who is my brother is also my enemy.
One of the most troubling aspects of the "education reforms" currently being advanced by the Obama administration and its allies is the unprecedented monitoring and tracking of students — invasions of privacy so pervasive George Orwell might blush. Everything from biometric data to information on children's beliefs and families is already being vacuumed up. Opponents of the "reform" agenda have highlighted the cradle-to-grave accumulation of private and intimate data as among the most compelling reasons to kill the whole process.
Aside from data produced by the looming Common Core-aligned national testing regime, most of the data-mining schemes are not technically direct components of the plot to nationalize education standards. However, the vast collection of personal information and the accompanying data-mining are intricately linked to the federally backed standards in multiple ways, not to mention myriad other federal schemes. Despite protestations to the contrary, the new standards and the data collection go together hand in hand.
Efforts to portray the data gathering via Common Core-aligned testing as a "state-led" plot notwithstanding, the Obama administration is reportedly considering raising phone taxes by executive decree to help subsidize the necessary technology. Why federal tax increases would be needed to pay for education and data-mining schemes that the federal government is supposedly not involved in has not been explained by officials, but experts and analysts say the reason is obvious.
Implementing Intrusions
Already, there are numerous systems being used and deployed across America aimed at compiling unprecedented amounts of data on students. Some are run by private organizations with government assistance; others are operated by authorities directly. All of them are extremely controversial, however, with parents and privacy advocates outraged.
Among the data schemes that have received a great deal of attention in recent months is "inBloom." As with the new national education standards called Common Core, it is also funded by Bill Gates and the Carnegie Corporation. With at least nine states participating in the $100 million program already, the non-profit entity, which shares data with whomever authorities choose, is quickly gobbling up vast quantities of information.
Respected experts such as attorney Michael Farris, president of ParentalRights.org, pointed out that the United Nations Convention on the Rights of the Child committee has repeatedly pressured governments to create similar national databases on children, albeit using different pretexts. Even liberals have expressed opposition. "Turning massive amounts of personal data about public school students to a private corporation without any public input is profoundly disturbing and irresponsible," said New York Civil Liberties Union Executive Director Donna Lieberman, slamming authorities for failing to disclose the scheme or offer parents an opt-out.
In conjunction with inBloom, other systems are being funded and largely directed by the federal government itself. Using the same unconstitutional process as the one used to foist Common Core on state governments — a combination of federal bribes, waivers, and more — the Obama administration all but forced cash-strapped states to start monitoring and tracking student information, or to expand their existing systems.
Previous administrations and U.S. lawmakers also contributed to the problem, with the foundations having been laid dec­ades ago. Before Obama, the Bush-era No Child Left Behind Act, for instance, among myriad other demands, called on states seeking federal funds to create "unique statewide identifiers" for each student. Under Obama, the process has accelerated at an unprecedented rate.
The stimulus-funded "Race to the Top," a so-called school improvement scheme demanded by Obama, only distributed taxpayer funds to states that agreed to build and expand data systems, with the secretary of education specifically requesting interoperable databases to facilitate the collection and transfer of data. Massive bribes to states from the $50 billion "State Fiscal Stabilization Fund" conditioned on acceptance of Common Core and expanded data tracking, also part of the "stimulus" package, were critical in advancing the plot as well.
Boasting about the "stimulus"-funded coercion of state governments on data regimes during a speech to UNESCO, the deeply controversial UN "education" agency, Education Secretary Arne Duncan lauded the program.
"More robust data systems and a new generation of assessments can assist teachers and principals to improve their practices and tailor their instruction in ways that were largely unthinkable in the past," Duncan continued. "We have advanced data systems that we are constantly improving." Duncan wants other governments and the UN to follow the Obama administration's lead on data gathering, he explained.
The administration helped pay for expanding "state" systems with an eye toward integrating them. Some $315 million in federal grants, for example, were used to bribe state governments and help them comply. However, the specific grant scheme, known as the Statewide Longitudinal Data Systems (SLDS) program, actually began handing out taxpayer money in 2005.
As of 2009, the latest year for which figures are available on the Department of Education's website, 41 states and Washington, D.C. had been awarded federal SLDS grants to expand their data systems on students. Experts say all 50 states now maintain or are capable of maintaining huge databases on the vast majority of American kids.
According to the Department of Education, the goal of the SLDS grants is to have states "expand their data systems to track students' achievement from preschool through college." The Education Department's National Center for Education Statistics offers slightly more detail about the SLDS scheme online: "Through grants and a growing range of services and resources, the program has helped propel the successful design, development, implementation, and expansion of K12 and P-20W (early learning through the workforce) longitudinal data systems," it explains. "These systems are intended to enhance the ability of States to efficiently and accurately manage, analyze, and use education data, including individual student records."
Cradle to Career Data Collection
Of course, all of the data collected must be shared with the U.S. Department of Education and other entities within and outside the federal government. Acting unilaterally, U.S. Education Secretary Arne Duncan even purported to overrule federal privacy laws by promulgating new "regulations" gutting the Family Educational Rights and Privacy Act (FERPA). Some lawmakers expressed outrage, but the process continues.
"As part of what you described as a 'cradle to career agenda,' the Department of Education is aggressively moving to expand data systems that collect information on our nation's students," wrote Rep. John Kline (R-Minn.), now chairman of the House Education and Workforce Committee, in an early 2010 letter to Duncan. "The Department's effort to shepherd states toward the creation of ade facto national student database raises serious legal and prudential questions."
As Kline points out in the letter, there is good reason to believe that the administration is again flouting federal law. "Congress has never authorized the Department of Education to facilitate the creation of a national student database," he explained. "To the contrary, Congress explicitly prohibited the 'development of a nationwide database of personally identifiable information' … and barred the 'development, implementation, or maintenance of a Federal database." Despite no mention of the Constitution, multiple federal statutes are cited in the correspondence.
Apparently, the administration does not take kindly to having its alleged violations of the law exposed. While it couldn't fire Rep. Kline, the Education Department did reportedly dismiss its top privacy official, then-Family Policy Compliance Office chief Paul Gammill. According to a 2010 report in Inside Higher Ed, Gammill was fired after he "argued in internal meetings and documents that the department's approach to prodding states to expand their longitudinal student data systems violated the Family Educational Rights and Privacy Act." The Education Department refused to comment on the case, though it openly admits that one of the long-term goals of the SLDS program is to "make education data transparent through Federal and public reporting."
According to the Department of Education, grants awarded to states under the program are aimed at supporting the creation and implementation of systems "that have the capacity to link individual student data across time and across databases" and "promote the linking of data collected or held by various institutions, agencies, and States." Among the data to be included are the yearly test records of individual students mandated under the 1965 Elementary and Secondary Education Act. "States are encouraged to include additional information in their longitudinal data systems," the department continued.
In another Education Department document offering "guidance" on the SLDS schemes, further insight is offered into what sort of information authorities are seeking and collecting. Among the "Personally Identifiable Information" outlined in the report: name, parents' names, address, Social Security number, date of birth, place of birth, mother's maiden name, and more.
Other private and protected data that might be collected, the document suggests, include the "political affiliations or beliefs of the student or parent; mental and psychological problems of the student or the student's family, sex behavior or attitudes; illegal, anti-social, self-incriminating, and demeaning behavior; critical appraisals of other individuals with whom respondents have close family relationships; legally recognized privileged or analogous relationships, such as those of lawyers, physicians, and ministers; religious practices, affiliations, or beliefs of the student or the student's parent; or income." While the collection of such data in surveys and questionnaires funded by federal tax dollars requires parental consent under federal law, state-level collection does not. Plus, experts say there are numerous other potential loopholes as well.
So Much for Student Privacy
Much of the information vacuumed up at all levels of government already makes its way into a national Department of Education scheme known as "EDFacts." The department describes it online: "EDFacts is a U.S. Department of Education (ED) initiative to collect, analyze, report on and promote the use of high-quality, kindergarten through grade 12 (K-12) performance data…. EDFacts centralizes data provided by state education agencies, local education agencies and schools." Under EDFacts, state education agencies submit some 180 data groups. The federal National Center for Education Statistics, meanwhile, describes over 400 data points to be collected.
The U.S. Department of Labor, separately, admits that it is working to "integrate workforce data and create linkages to education data." According to the department's "Workforce Data Quality Initiative," the SLDS will "enable workforce data to be matched with education data to ultimately create longitudinal data systems with individual-level information beginning with pre-kindergarten through post-secondary schooling all the way through entry and sustained participation in the workforce and employment services system." When combined with information from the IRS, ObamaCare, the NSA, and countless other federal data-collection schemes, the picture that emerges has critics very nervous.
As technology advances, the federal government's Orwellian data gathering will — without action to stop it — almost certainly expand beyond most people's wildest nightmares. In fact, it already has. Consider, for example, a February 2013 report by the Department of Education dubbed Promoting Grit, Tenacity, and Perseverance: Critical Factors for Success in the 21st Century. Included in the 100-page report is information about technology already being used in an Education Department-funded tutoring program.
"Researchers are exploring how to gather complex affective data and generate meaningful and usable information to feed back to learners, teachers, researchers, and the technology itself," the report explains. "Connections to neuroscience are also beginning to emerge." (Emphasis added.) The technological tools already being used by federally funded education schemes to probe students' minds and "measure" the children include, as described in the report, "four parallel streams of affective sensors."
Among the devices in use today through a federally funded tutoring scheme is a "facial expression camera" used to "detect emotion" and "capture facial expressions." According to the report, the camera is linked to software that "extracts geometric properties on faces." There is also a "posture analysis seat" and a "pressure mouse." Finally, the report describes a "wireless skin conductance sensor" strapped to students' wrists. The sensors collect "physiological response data from a biofeedback apparatus that measures blood volume, pulse, and galvanic skin response to examine student frustration." Again, these systems are already being used in government-funded programs, and with technology racing ahead, developments are expected to become increasingly troubling.
Another Education Department report, entitled Enhancing, Teaching and Learning Through Educational Data Mining and Learning Analytics, acknowledges similarly alarming schemes. "A student learning database (or other big data repository) stores time-stamped student input and behaviors captured as students work within the system," it notes. "A predictive model combines demographic data (from an external student information system) and learning/behavior data from the student learning database to track a student's progress and make predictions about his or her future behaviors or performance." (Emphasis added.)
All across the country today, Big Brother-like technological developments in biometrics are also making schools increasingly Orwellian. Earlier this year in Polk County, Florida, for example, students' irises were scanned without parental consent. "It simply takes a picture of the iris, which is unique to every individual," wrote the school board's "senior director of support services" in a letter to parents. "With this program, we will be able to identify when and where a student gets on the bus, when they arrive at their school location, when and what bus the student boards and disembarks in the afternoon. This is an effort to further enhance the safety of our students. The EyeSwipe-Nano is an ideal replacement for the card based system since your child will not have to be responsible for carrying an identification card."
In San Antonio, Texas, meanwhile, a female student made national news — and exposed what was going on — when she got in a legal battle with school officials over her refusal to wear a mandatory radio-frequency identification (RFID) device. The same devices are already being implanted under people's skin in America and abroad — albeit voluntarily. Also in the biometric field, since at least 2007, children in states like Pennsylvania, West Virginia, and New Jersey have been fingerprinted at school under the guise of "school lunch" programs and other pretexts.
Despite fierce opposition, the trend toward using biometric data to identify and track students while collecting unimaginable amounts of information is accelerating. The federal government is helping lead the way toward abolishing any vestiges of privacy, and aside from NSA spying on virtually everyone, students appear to be among the primary targets. Without major resistance, experts predict that someday — perhaps even in the very near future — biometric identification will become ubiquitous. Combined with all of the other data being collected, the federal government may finally achieve what was sought by tyrants throughout history: detailed 24/7 information on everything, about everyone.
Source: Alex Newman | The New American
Jim Keith (1949-1999)  |  Excerpt from the book Mass Control: Engineering Human Consciousness (Chapter 29). Kempton: Adventures Unlimited Press, 1999.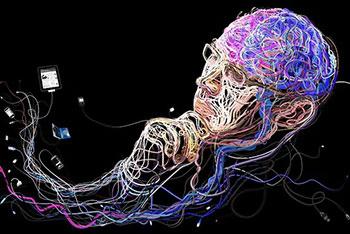 In the 1930s, British intelligence agent and one-world theoretician H.G. Wells proposed a mind control plan that is apparently coming to fruition now, at the turn of the 21st century, with the creation of the Internet. At a November, 1936 speech before the Royal Institute of International Affairs, Wells laid out his idea for what he called a "World Encyclopaedia." Wells said:
"I want to suggest that something, a new social organization, a new institution—which for a time I shall call World Encyclopaedia… This World Encyclopaedia would be the mental background of every intelligent man in the world… Such an Encyclopaedia would play the role of an undogmatic Bible to world culture. It would do just what our scattered and disoriented intellectual organizations of today fall short of doing. It would hold the world together mentally… It would compel men to come to terms with one another… It is a super university. I am thinking of a World Brain; no less… Ultimately, if our dream is realized, it must exert a very great influence upon everyone who controls administrations, makes wars, directs mass behavior, feeds, moves, starves and kills populations… You see how such an Encyclopaedia organization could spread like a nervous network, a system of mental control about the globe, knitting all the intellectual workers of the world through a common interest and cooperating unity and a growing sense of their own dignity, informing without pressure or propaganda, directing without tyranny."
Wells was a little more candid in a private memo written in the same month:
"The Universities and the associated intellectual organizations throughout the world should function as a police of the mind." [1]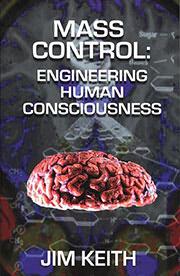 Policing of the mind is precisely the danger of the Internet. Although at first blush the possibility of a communications medium that is egalitarian in its ability to accommodate both individuals and media monoliths is exciting, the apparent freedom of the Internet may be transitory…and illusory.
One problem is that along with ability to disseminate information widely and almost instantaneously, due to its technical flexibility the Internet also has the potential for assimilating—for literally devouring—all of the major information sources on the planet. With high-tech linkages and interfaces it is quite probable that worldwide television, radio, computer, and print media will all be sucked into the maw of what is currently called the Internet. All of these information and communication sources are gradually being linked together into a single computerized network, providing an opportunity for unheralded control of what will be broadcast, what will be said, and ultimately what will be thought.
The Internet provides the ability for almost instantaneous monitoring of the content of communications. It is possible that the 'wide open information frontier' of the Internet, as it currently exists, is going to be a temporary thing, and that a program of increased monitoring and regulation—as well as a more aggressive use of mind control, such as foreseen by Dr. Persinger—will emerge.
When NBC and Microsoft launched their joint venture MSNBC, in an attempt to link television and the Internet, newscaster and CFR member Tom Brokaw said,
"We can't let that generation and a whole segment of the population just slide away out to the Internet and retrieve what information it wants without being in on it." [2]
In China, they have also not held their tongues about what they see as the necessity of Internet control. Xia Hong, an advocate of government monitoring of the Net has said,
"The Internet has been an important technical innovator, but we need to add another element, and that is control. The new generation of information superhighway needs a traffic control center. It needs highway patrols: users will require driver's licenses. These are the basic requirement for any controlled environment." [3]
Is the idea that the Internet can be used for increasing surveillance on the public just paranoia on my part? Then we should examine who currently controls the medium: American intelligence agencies. At this time the major nexus of control of the Internet resides in the monopoly of "domain registration," the keys to the broad Internet landscape. These domain names are registered as Internet Protocol numbers, and until recently were deeded by Network Solutions, Inc., a subsidiary of the government funded National Science Foundation. While Network Solutions registered the I.P. numbers, it was done as a free public service. This is no longer taking place.
Now the long arm of American intelligence agencies has hijacked the free flow of information—registration of domain names now starts at fifty dollars per year—since the purchase of Network Solutions by another company, Scientific Applications International Corp. (SAIC), a group previously mentioned circumstantially in this book in connection with the Heaven's Gate mass suicide—or murder.
SAIC is an arm of the military industrial establishment, with twenty thousand employees and over 90% of its $1.9 billion in 1994 revenues obtained from government contracts. On the twenty-three person board of directors of SAIC are Admiral Bobby Inman, former deputy director of the CIA and head of the National Security Agency; President Nixon's former defense secretary Melvin Laird; General Max Thurman, who commanded the invasion of Panama. Other board members of SAIC have included former CIA director Robert Gates; Secretary of Defense William Perry; and CIA director John Deutch.
Among the projects that Scientific Applications International Corp. has been engaged in recently have been the creation and implementation of technology for the Army Global Command and Control System—the renovation of the Pentagon's computer and communication systems—and the upgrading of national, state, and local law enforcement databases. In other words, SAIC is involved in the upgrading and integration of the computerized infrastructure of the Establishment.
And now SAIC stands at the gate of the Internet.
According to researcher Jesse Hersh:
"The military-industrial complex was the name used to refer to the ruling power elite during the 1950s and 1960s. However, with the wide penetration of television during the '60s, and the further proliferation of electronic media throughout the 1970s and '80s, the complex has dissolved into the inner workings of almost all aspects of our society. The war economy has successfully been transformed into the information economy. Military technology, and military communications systems now control and operate almost all of our political-economic and social relations. This amalgamation of media, and conglomeration of power, is currently being presented to the 'consumer' as the Information Superhighway or 'Internet'." [4]
If it seems unlikely that Big Brother would concern himself with the communications of ordinary citizens on the Internet, then it should be realized that government is already engaged in monitoring civilian and business communications on an awesome scale. Around the world, electronic messages are intercepted by a collaboration amongst several spy agencies headed by the American NSA, termed ECHELON. Based upon a document known as the UKUSA Agreement, signed in 1948 by the U.S., Great Britain, Australia, Canada, and New Zealand, ECHELON is a system composed of receiving stations in Yakima, Washington; Sugar Grove, West Virginia; Norwenstow in Cornwall, England; Waihopai, New Zealand; and Geraldton, Australia.
The receiving stations of ECHELON sift through the output of the world's electronic media. ECHELON primarily targets non-military domestic and business communications, including email, telephone, fax, and telex networks. This interception is primarily done through monitoring the communications of international phone company telecommunications satellites, civilian communications satellites, and communications as they are sent from undersea cables to microwave transmitters.
ECHELON uses computers that incorporate symbol and voice recognition systems to sift through millions of messages every minute, and to identify keywords and phrases, including business names, e-mail addresses, phone and fax numbers that are of interest to its participating member intelligence groups in the U.S., Britain, Canada, and New Zealand. After these phrases are located and the communications they are embodied in are culled, they are sent to analysts in whatever country requested the intercepts. According to one analyst, Amnesty International and Greenpeace have been among ECHELON's targets.
"Let me put it this way," a former NSA officer said. "Consider that anyone can type a keyword into a Net search engine and get back tens of thousands of hits in a few seconds. Assume that people working on the outer edges have capabilities far in excess of what you do." [5]
The gradual assimilation and control of all communications—and ultimately all transactions entirely, including those of perception and thought—is a long term strategy of the controllers that has in recent years been facilitated through the creation of the interdisciplinary science of cybernetics. Now, with cybernetics, mass control is here, eating up our freedom on a day-to-day basis like a fast-acting viral organism.
The term cybernetics was invented by Norbert Wiener, a professor of mathematics at MIT who was involved with what was termed Operations Research as well as System Dynamics for the U.S. during World War II.
Cybernetics is primarily the science of information theory, and it is currently being applied to the world as a whole. Cybernetics theory was first envisioned as a way of precisely managing wars, but with experience it was seen that the disciplines and projections that were vital in the conduct of war were essentially the same as those utilized by government during peacetime. The cybernetic approach evolved such cross-disciplinary groups as the RAND Corporation, Mitre, and Ramo-Wooldridge (which became TRW), brainstorming the cybernetic approach to controlling society and nature itself. The cybernetics idea also provided the genus for the National Security Agency, which is at this time the largest intelligence agency on the planet. Such is the importance of information, according to the controllers.
According to cybernetic innovator Jay W. Forrester,
"The professional field known as system dynamics [or cybernetics] has been developing for the last 35 years and now has a world-wide and growing membership. System dynamics combines the theory, methods, and philosophy needed to analyze the behavior of systems in not only management, but also in environmental change, politics, economic behavior, medicine, engineering, and other fields. System dynamics provides a common foundation that can be applied where we want to understand and influence how things change through time."
One experiment in cybernetics was conducted in 1971 after the Marxist-leaning Dr. Salvador Allende was elected president of Chile. As Castro had done earlier, Allende set about nationalizing the industry, banks, and major companies of Chile. But Allende was no agrarian primatif, and therein lay his danger to the Establishment world. He called in the British cyberneticist Stafford Beers to provide the means for micro-managing the country, which is rich in natural resources, but which has always been drained by the major industrial powers with little of its gelt left over for the country itself.
Beer gathered together a highly qualified group of cybernetics-savvy scientists and launched what he called Project Cybersyn, the objective of which was, according to Beers,
"To install a preliminary system of information and regulation for the industrial economy that will demonstrate the main features of cybernetic management and begin to help in the task of actual decision-making by March 1, 1972… It was a massive application of cybernetic feedback to help each industry and each factory keep track of itself through a central location. All communications flowed through the central location."
Project Cybersyn utilized three primary components:
Cybernet, which was something of a precursor to today's Internet, a means by which businessmen and government could communicate and consult with anyone else in the web.
Cyberstride, the programs necessary for monitoring individual companies as well as the economy as a whole, as well as providing alerts when specific areas needed enhancement or were in trouble.
Chaco, a computerized model of the Chilean economy that provided effective simulations of potential scenarios.
The purpose of Cybersyn was to monitor, to dissect, and to predict the Chilean economy; to debug it in order to create a functioning machine, in much the same manner that is being done in many countries throughout the world today.
The problem is that Cybersyn may have worked too well and so posed a threat to the capitalist world. As the demonstration project that Allende and Beers foresaw, it might have provided a tremendous public relations coup for the Communist world. Henry Kissigner, it is said, was the one who intervened to put an end to the grand experiment. Salvador Allende was assassinated by Chileans who are reported to have been in the pay of the CIA, and Cybersyn went by the wayside.
The CIA seems to have known precisely what it was doing, since there are indications that the Agency at about the same time was focused on cybernetic concerns of its own. According to Anna Keeler in my Secret and Suppressed anthology,
"Richard Helms wrote of such a system in the mid-1960s while he was CIA Plans Director. He spoke of 'Sophisticated approaches to the coding of information for transmittal to population targets' in the 'battle for the minds of men' and of 'an approach integrating biological, social and physical-mathematical research in an attempt to control human behavior.' He found particularly notable 'use of modern information theory, automata theory, and feedback concepts…for a technology controlling behavior…using information inputs as causative agents…"
Elsewhere Helms wrote,
"Cybernetics can be used in molding of a child's character, the inculcation of knowledge and techniques, the amassing of experience, the establishment of social behavior patterns…all functions which can be summarized as control of the growth processes of the individual."
Cybernetics and the Internet—otherwise, the one world brain envisioned by H.G. Wells—allows for a regulated, interventionist world, one so fine-tuned that much of the machinations that take place behind the scenes are not observed by the man in the street. Among the control strategies that can be and are employed by the elitists in a cybernetic world are the control of food, the control of the monetary supply, the control of energy, and the control of public opinion. The Clinton administration's close attention to the media and opinion polls, and manipulation of same, are in essence a primitive cybernetic approach that has allowed for the institution in the U.S. of a "soft" cybernetic fascism where violent internal intervention is rarely needed, and then seemingly only for public relations purposes.
The techno-fascists are approaching closure, and may have already achieved it. Not only do governments and intelligence agencies currently have the ability to monitor computer and other media messages, as well as the emotional responses of the electorate via polling and other techniques, they have the ability and the will to use media to brainwash us, to change our opinions when they believe it is warranted, and to sell us on every step on the road to complete utilization. As satirized in works like Report From Iron Mountain andSilent Weapons for Quiet Wars, the cybernetics approach to world management can yield the ultimate in control. Extrapolating from the accelerating advances of the last century, it is obvious that unless lovers of freedom act, and act fast, within the next twenty years the ruling elite will have effectively realized total control over the minds and bodies of mankind.[6]
---
Notes:
[1] Wells, H.G. Cited in White, Carol. The New Dark Ages Conspiracy. New York: The New Benjamin Franklin House, 1980.
[2] Brokaw, Tom, cited in Pouzzner, Daniel. "The Architecture of Modern Political Power," http://www.mega.nu/ampp/
[3] "The Great Firewall of China" by Geramie R. Barme and Sang Ye, Wired Magazine.
[4] Hersh, Jesse, "The Internet Complex," Prevailing Winds, number 4; King, Bradley J., "Doubleplusungood! The Specter of Telescreening," [formerly] at www.parascope.com.
[5] Hagar, Nicky, "Exposing the Global Surveillance System," Covert Action Quarterlyonline, http://www.projectcensored.org/4-exposing-the-global-surveillance-system/; "Spies Like Us," Connected, 16 December, 1997, at www.telegraph.co.uk; Vest, Jason, "Listening In," Village Voice, August 12-18, 1998.
[6] Helms, Richard, cited in Bowart, Walter. Operation Mind Control. New York: Dell Books, 1978; Friedman, George and Meridith. The Future of War — Power, Technology, and American World Dominance. 1996; Beer, Stafford. Brain of the Firm, 1986; Wiener, Norbert. The Human Use of Human Beings — Cybernetics and Society. 1954; "Silent Weapons for Quiet Wars," Secret and Suppressed, ed. Jim Keith, Feral House, 1993.
Source: War Is Crime
When Barack Obama uttered those fateful words: "If you've got a business — you didn't build that. Somebody else made that happen", the entire mindset of the collectivist culture crystallized. Business for the crony capitalist is an exclusive privilege of the select, while the inborn right of the entrepreneurial individual is a conditional quest, contingent upon the body politic. A society based upon a tribute obligation to obtain a state license for conducting natural business transactions, is inherently wrong.
A retort to the notion that it takes a village to sell a product or better yet, expend your labor and skills to make a living is best summed up in the immortal words of the sergeant sage for the ages. From Kelly's Heroes - Oddball spoke, "Why don't you say something righteous or hopeful for a change?"Waiting for the welfare establishment or the chamber of corporatist commerce to foster optimistic transformation is like waiting for the truth out of Press Secretary Jay Carney. Remember how that ban of go-getting WWII GI's got the gold? They improvised with a positive attitude.
So what can a person do to become independent? Weird businesses often start around creative ideas.
Well, Wasp Buzz offers some examples. "Have you ever had a business idea creep into your head, but later discarded the idea as bizarre? Well, that idea may not be as crazy as you think. The Buzz Magazine has scoured the web to bring you some of the most outrageous-but-successful business ventures."
Paint by Numbers
Did you know there are over 500 million parking spaces across the United States? Luckily, We Do Lines makes finding one much easier. The Connecticut-based company specializes in the painting of parking lot spaces. After having difficulty finding a painter for their own business lot, three forward-thinking entrepreneurs created the painting service and haven't looked back. With franchises in several states, this is a company that has seen its fair share of success.
Walking Billboard
Everyday we wear shirts with companies' logos etched across our chests. But what if those shirts were seen in a viral video on YouTube? That is the idea of one entrepreneur in Jacksonville, FL. Jason Sadler started WearYourShirt in 2009 and is paid to wear a company's T-shirt for a day, make a YouTube video about the company and generate viral buzz around the business. In case you're interested in increasing your company's exposure, you'll have to wait – this entrepreneur's services are sporting a waiting list.
Another site 10 Crazy Business Ideas That Have Really Worked ends with this illustration.
Designer Diaper Bags
And the last one here on our list is an example of 'necessity is the mother of all inventions'. Christie Rein, a 34 year old mother of three kids always had trouble carrying the diapers when she had to go out with her children. She couldn't find a proper bag to carry the diapers and thus with her husband's help she designed a diaper bag. Today, their company produces a wide range of designer diaper bags which are also sold online. In its first year of operation, Diapies & Wipies earned more than $1.8 million.
A most inventive solution is discussed on 6 Weird But Successful Small Business Ideas.
The Pet Loo
If you've ever had a pet while living in an apartment, then you know how painful it can be to take them out for potty when it's 10 degrees with a fierce wind. Or maybe you work long hours and always have to rush home to let them out. Or maybe you're a senior citizen and it's hard to make multiple trips in and out of your home.

Well, all these reasons are why The Pet Loo was invented. The Pet Loo is a square of fake grass, which sits atop a simple waste containment system that you put inside your home or apartment. It's just like a mini-backyard where your dog can relieve himself. Although The Pet Loo is based in Australia, similar businesses have sprung up here in the States. Good idea? No doubt.
Maybe the most usable product for the needs of the international jet set is covered inWeird Companies That Work.
DNA Products, LLC
While disposable travel underwear may seem funny or even odd in America, Danita Harris did her homework and discovered that European and Asian markets have been using this product for more than 20 years. Not to be confused with "edible underwear," the men's and ladies disposable travel underwear that Harris hawks through her firm, DNA Products, is available in three, five or seven-piece lightweight packages. They are intended to be worn once and discarded, so they're easy to transport, and they eliminate the need to haul dirty underwear in your luggage. Harris decided to target leisure and business travelers in the U.S., ages 25 to 55, "based on the product's proven appeal to women travelers overseas."
The first business succeeded because other companies did not fulfill a traditional service need. Most pragmatic ventures are based upon hard work, dependable performance and reasonable fair pricing.
The second example uses the imaginative power of technology and resourceful advertising.
The other three involve the ultimate endless supply of mammal output. While consumer tastes change and parking spaces may someday become obsolete in the Amazon just in time economy, the need for service businesses will always exist. The method of promoting a product, service or cause will evolve with the techniques and style used in the mass media over time. However, the hard-core excretion business will always dominate the stalls of the globalist economy.
Where is the righteous in the 40 Percent Of U.S. Workers Make Less Than What A Full-Time Minimum Wage Worker Made In 1968. Author Michael Snyder at The Economic Collapse effectively documents the plight of the American economy. Hopeful change has to start in the initiative thinking and dedicated persistency of every person to create an independent method of economic sufficiency. Get started, the golden rainbow can be yours.
Democracy is rule by "everybody." Rule by the mob.
But these are fictions. There is no such thing as rule by everybody or by "the voice of every citizen."
Politicians and their cronies, of course, know this. So one of their jobs is to present illusions of "togetherness." These illusions are crafted. They are long-term covert ops.
PR people and propagandists and educators and media pundits are deployed for the purpose of painting pictures of "free democracy," whatever that means. (Note: it doesn't refer to the Bill of Rights, because that was part of designing a constitutional Republic.)
In a democracy, organizations of citizens are put together. These groups then reach out to government with their agendas. Each group becomes a faux individual seeking…what? Key symbols and phrases are deployed to answer that question—and one of the most potent is JUSTICE.
Groups are going to government to find justice.
This action becomes part of the mythology of what democracy is.
Hundreds, thousands of groups in the democracy seek justice, which simply means: favorable treatment. I'm talking about every kind of favor, from government-funded gender-changing surgery all the way to massive corporate tax breaks…and everything in between.
If you add up all the long-term effects and outcomes of this seeking, you discover that much of what the groups win for themselves doesn't last. It deteriorates over time. Planned obsolescence is built into the system.
The quality of individual, free, independent, responsible, ethical life, for example, certainly doesn't improve. Instead, we get politically correct life, in which people are expected to talk and act in ways that reflect "care, concern, mutual admiration, acceptance, passivity."
This charade is promoted as progress. It's really a program. It's a script. It's a stage play. It's called democracy.
It supports small, medium, large, and jumbo crimes. Paid for by taxes.
What's actually happening in democracy is consolidation of power at the top. The top includes both corporations and governments. But what's out front is share and care. That's the flag rippling with all its stars to obscure the true operation.
If a constitutional republic, with severely limited government, can exist at all, it requires eyeballs looking at each other close up. It requires small populations, educated and dynamically charged with living ideals, not dead ones.
The covert op called democracy, on the other hand, requires groups seeking so-called justice to be pitted against each other to fight over a limited pie.
Here is a cameo. In the early 1980s, I interviewed a dean of students at UCLA about the mood and attitude on campus, in the wake of the Vietnam war.
He told me that, during the late 60s and early 70s, students were united in their protests against the war, but once the forced military draft was called off, the students broke up into groups seeking justice (money) from the University.
The competition among groups, he said, was quite nasty and vicious. It involved character attacks, wild accusations, and threats.
This might seem like a vindication of the unity that had prevailed during Vietnam, but it doesn't take a genius to see that the military industrial complex made out quite well during that war; and various wars and police actions since Vietnam—Iraq and Afghanistan the most extensive—have continued to line the pockets of military-industrial mongers.
Here is the elite psyop formula:
endlessly promote democracy;
create and empower groups that will seek justice from government;
grant some groups favors, reject others;
set these groups against each other;
in the ensuing conflict, pretend to appeal for unity;
grab more and more power at the top.
By osmosis, the individual learns what works in a democracy. He must have a cause, and that cause must reflect an unjust and disadvantaged status. He needs to seek redress and help from government. He needs to chisel and cheat and game the system.
He also needs to vote. He needs to vote for the side most likely to give him favors and breaks and loopholes and $$.
Many individuals will conclude that, in this hustle, the superior choice is to work for the government. A few years ago, I compiled a very rough tally of numbers of Americans who work for some form of the State. The total was 1 out of every 9 people.
In a small nation, that might be shocking. In a large country like America, it's disastrous.
During a recent radio interview out of Norway, I was told that nearly 50% of Norwegians work for the government. We're not there yet, but we're moving in that direction.
The concept of democracy, once you peel back the layers on the covert op, is a scam. But the even greater problem comes when overwhelmingly numbers of people organize their own minds to match that scam.
They assemble and coordinate their own mental processes for the job of living and winning inside a massive crime-bubble.
Obama, like every president, operates as a PR front man for the op called democracy. The difference is, he's made the PR into a religion. He's taken it to a new level.
It may seem strange, but a person living out of an Obama-welfare cell phone, and a Wall Street investment banker dealing from an office high in Manhattan, are both working from the same basic mental playbook.
Their situations are vastly different, but they're making moves inside the crime-bubble.
And if, by some miracle, they could sit down and talk long enough and honestly enough, they would see, emerging out of the fog, familiar game plans.
Yes, Virginia, there is true injustice in this country. It comes from the power grab at the top, and it leaks down to every person. But you won't find that injustice revealed in the ubiquitous PR-op. There you'll only find lies and groups toiling to push the rock to the top of the hill, while fighting a war of attrition against each other.
There you'll only find the great hustle, the con, short and long, and layers of operators telling us "we're all in this together" to remedy wrongs.
One of the keys to breaking out of mass mind control is being able to see and make the distinction between the real thing and a fake copy.
To survive and meet scheduled payoffs and bribes and deliver calculated favors and demean the independent individual, a democracy must fly the highest flags of ideals. The songs must be sung by pros. Every drop of sympathy must be wrung out of that rag-flag. Every soap opera story must be elevated to tragic heights.
And every mind must confuse this with the real thing.
Which takes us to education of the young, and the preparatory mind-control programs for living as an adult in a democracy.
I won't bother to run down the various teaching tools for this job. I'll simply remind you of how willing and open the young mind is.
When I was 12 or 13, my parents took (dragged) me to a lecture. The speaker was Minnesota Senator Hubert Humphrey. I dreaded the all-too-predictable pain I was in for. I would rather have been eating a casserole of spinach, broccoli, liver, and cockroaches.
On this night, in a jammed hall with a few hundred people, I listened to the Senator for two hours. He spoke about progress and humanity and hope and share and care.
I was riveted. Nailed to my chair. In a contest, that version of Humphrey would put Obama away cold and turn him upside down.
I saw visions of a new world. I saw humanity rise as one and conquer all obstacles. I saw liberalism and all it stood for as a god on Earth.
Those were the days when the Humph was at the absolute top of his game. He was on fire. He ascended one mountain range after another. He stood on a troubled sea and opened up the sky.
It took me a decade to realize I'd been conned by a master.
The op works. It taps into oceanic impulses in every mind and diverts them along channels that turn poetry into fake religion. It freezes poetry and sculpts it into idols and symbols of a labyrinth that eventually dumps you out into an alley at midnight with empty pockets.
You're chewing on a dream of stale bread and figuring out how to get home.
People say that in a modern society, poetry no longer has meaning or force. This is one of the titanic jokes of the age. Poetry always strikes the deepest chords. It always parts the sea of the mind.
The only issue is, to what ends is it put? Does it rest there on the page and on the tongue and ear with its own fierce beauty, to be absorbed and re-imagined by the reader and the listener? Or is it run along channels where wardens of the State patrol, catching souls in their nets?
This is an MKULTRA rarely spoken of. It has stood the test of time.
It feeds on rubes and yokels and sleepwalkers and the desperate, from freezing caves in prehistoric Asia, down to the deserts of ancient Egypt, over to dank cathedral vaults of Europe, across to the streamlined consumer paradise of America.
It winds up as: Democracy. Progress. Enlightenment. Equality. Sharing.
Neon signs in the bought and paid for sky.
The great civil rights movement of the 1950s and 60s, the marches, the rallies, the protests, the suffering, the pain, the violence, the legislation—all based on a simple premise: equal protection and opportunity under the law.
Groups sought redress and justice from the government.
The movement celebrated victories. And then it was taken and twisted down other train tracks and turned into a slow-motion crash the likes of which we're seeing splattered across television screens and the pages of newspapers around the world today.
How did that happen? How did the civil rights movement come to Trayvon Martin-George Zimmerman?
Through careful planning. Through manipulation of people and ideas, to transform honor into great misery.
The Statist machine gives, and the machine takes away. True justice is never its goal.
It preys on the worst human instincts and praises them as legitimate. It sets the agenda for democracy and gives the mob the drug of hope based on, yes, poetics.
Understanding the frequencies along which that hope is broadcast to the populace, and how the populace sponges up those transmissions, is a step out of the maze.
When you hear the particular strains of music that convey widely held sentiments, and you know the music is made for tin ears, because your ears aren't tin, you're regaining a species of true hope most people can't understand.
You get a piece of the immortal joke that has traveled through eons and dipped into countless places, ever since the universe was dreamed up as a holographic blueprint on somebody's notepad.
---
The author of two explosive collections, THE MATRIX REVEALED and EXIT FROM THE MATRIX, Jon Rappoport was a candidate for a US Congressional seat in the 29th District of California. Nominated for a Pulitzer Prize, he has worked as an investigative reporter for 30 years, writing articles on politics, medicine, and health for CBS Healthwatch, LA Weekly, Spin Magazine, Stern, and other newspapers and magazines in the US and Europe. Jon has delivered lectures and seminars on global politics, health, logic, and creative power to audiences around the world. You can sign up for his free emails at www.nomorefakenews.com
Source: Jon Rappoport  |  No More Fake News