President Barack Obama's Middle Eastern tour, scheduled for the end of March, has triggered a wave of intense speculation about its objectives in recent days. It centers on reports from Israeli sources that Obama will tell Prime Minister Benjamin Netanyahu that a "window of opportunity" for a military strike on Iran will open in June.
The President will allegedly bring the message that Israel should "sit tight" and let the U.S. take the stage—even if that means remaining on the sidelines during an American military operation. It seems improbable, however, that an American president needs to make a 12,000-mile round-trip to provide such reassurance to a difficult partner whom he dislikes, and whose sentiments are fully reciprocated. Last year Obama had no qualms about turning down Netanyahu's request for a meeting following the latter's public criticism of the Administration for its reluctance to act against Iran. It is also unlikely that Obama would let Netanyahu know of his strategy so far in advance, even if the 'window of opportunity' claim was true.
As for the perennial issue of the Arab-Israeli conflict, it is an even bet that Mr. Obama will not be able to kick-start the stalled 'peace process.' At most, notes The Economist, Israel may accept a partial freeze on settlement construction in exchange for a Palestinian pledge not to take Israel's settlement activity to the International Criminal Court (ICC) in The Hague. Both sides are primarily interested in making the opponent take the blame for the continuing deadlock. Amos Yadlin—former military intelligence chief who now heads the Institute for National Security Studies in Jerusalem—aptly summarized the Israeli position when he said, "We have to submit a proposal to the Palestinians, a decent proposal, a fair proposal. If the Palestinians will accept it, it's a win of peace. If they refuse—as we think they will—then at least we win the blame game and we can continue to shape our borders by ourselves without the need to wait for the Palestinians to agree."
It is obvious that the new Israeli government does not envisage a two-state solution as the foundation of a "decent and fair" proposal. Netanyahu's plans for settlement construction in annexed east Jerusalem would effectively cut the West Bank in two and force a fait accompli on the status of the Holy City that no Palestinian leader would ever accept. Further settlement construction is "the biggest single threat to the two-state solution," and Netanyahu knows it. His move reflects his strategic vision: a lasting peace with the Arabs is not obtainable; the conflict is structurally irresoluble; and Israel's security therefore demands open-ended maintenance of military superiority and physical control over as much territory as possible. Meaningless concessions may be made for PR purposes—a few Palestinian prisoners can be released here, further expansion of a few settlements may be suspended there—but Israel needs to manage the conflict by maintain the status quo for many years to come.
An important element of this strategy is the assumption that the United States will continue to support it politically, militarily, and financially. Quite apart from various moral and legal issues involved, the U.S. Government appears increasingly reluctant to condone Netanyahu's vision—which is just as well, primarily because doing so would not be in the American interest, but also because the strategy of permanent conflict management is not in the interest of Israel's long-term survival. Israel may seem strong and secure at the moment, but its position vis-à-vis its hostile Arab neighbors is steadily deteriorating.
The wave of political changes in the Arab world over the past two years has changed the security architecture of the Middle East to Israel's detriment. One of its consequences is that in relation to Israel the new leaders are more representative of the wishes of their people. In Egypt, the Muslim Brotherhood's manipulation of the political process has enabled it to concentrate all power in its hands. President Mohamed Morsi's skill and cunning ensured the Brotherhood's victory at the forthcoming sham parliamentary election. For the time being, Morsi is paying lip service to the maintenance of the peace treaty with Israel. He knows that this is the precondition for continuing American aid to his country's depleted coffers, but his long-term intentions are better reflected in his speech made nearly three years ago, in which he urged Egyptians to "nurse our children and our grandchildren on hatred" for Jews. In a television interview months later, he blasted "these bloodsuckers who attack the Palestinians, these warmongers, the descendants of apes and pigs." Denying Israel's right to exist is a key pillar of the Brotherhood's ideology and its activists murdered President Anwar al-Sadat in 1981 for signing that same peace treaty two years earlier. Nothing has changed in its position. Israel's southwestern frontier is no longer secure; and if Bashar al-Assad falls in Syria, the same will apply to the northeastern frontier in the Golan.
With the Muslim Brotherhood's takeover of the geographic, demographic and cultural center of the Arab world well-nigh irreversible, the entire Middle East is in turmoil. Libya is a failed state in which rival tribal militias and terrorist groups run the show outside central Tripoli and use its territory to launch attacks in Algeria. In Syria, the rebel movement is dominated by the Islamic People's Brigade, the Islamic Dawn Movement, the Battalions of Islam, and many similar groups which share an ideology that includes a relentless hatred of Israel. If victorious, these seasoned foreign and home-grown jihadists will cause Israel to nostalgically remember three decades of peace in the Golan Heights under Bashar al-Assad and his father before him.
If the momentum of the past two years provides pointers for the future, by the end of this decade the Greater Middle East will be more firmly Islamic than at any time since the heyday of the Ottoman Empire under Suleyman, and thus more implacably anti-Israeli than ever. Turkish Prime Minister Recep Tayyip Erdogan heralded the shift four years ago, and Turkey has rapidly morphed from Israel's key strategic partner in the region into a hostile Islamic power. To take but one example, speaking the the United Nations on February 27 Turkish Foreign Minister Ahmet Davutoglu called on the international community to "put an end to the Palestinians' suffering in the occupied territories" and urged the world "to put pressure on Israel to respect human dignity."
Closer to Israel's borders, it is only a matter of time before Morsi's protégé, Hamas, prevails over the more moderate Fatah in the Palestinian power struggle. The precarious stability of Jordan—which has long acted as if it had not merely a nonbelligerency agreement, but a fully-fledged peace treaty with Israel —will be tested by sectarian tensions between East Bank Jordanians and Jordanians of Palestinian origin. King Abdullah's reluctant reforms may create a revolution of rising expectations, and lead to yet another regime change detrimental to Israel's interests. There will be no "peace process," of course. With the storm clouds gathering around them, many Israelis will have reason to regret the support that Netanyahu's friends in Washington had given to the Arab Islamic Winter.
Diplomatically, Israel is more isolated than ever since 1967. The settlement enterprise is not only a security liability, rather than an asset, but also a diplomatic millstone which materially contributed to the overwhelming UN vote in favor of Palestinian de facto statehood last fall. Since then, settlement policies have elicited a chorus of condemnation, including a call for sanctions against Israel by the European union. The unelected elite running the EU is inherently hostile to a state based on the principle of blood and religion, but its antagonism to Israel is further exacerbated by rising influence of the Muslim diaspora in several key EU countries, notably France, Germany and Britain. More significantly still, Chuck Hagel's swift confirmation has exposed the growing weakness of pro-Israeli lobbying groups in Washington. Two years ago, former Mossad chief Meir Dagan warned the Knesset's Foreign Affairs and Defense Committee that "Israel is gradually turning from an asset to the United States to a burden." Following the botched anti-Hagel campaign, increasing numbers of Washingtonian insiders are prone to agree with his assessment.
Demographic trends are another alarming aspect of Israel's long-term geopolitical position, which has always been shaped by the implacable determinants of land and population. The Palestinians are adamantly insistent on the "right of return" of the descendants of some 700,000 refugees of 1948, and estimates indicate that there are more than four million of them in the PA and elsewhere in the Arab world. Over 90% of them reject the possibility of monetary compensation in lieu of that right. This is anathema to Israelis, as it would signal the end of the Jewish state, and the elusive two-state solution seems to offer the only viable defense from the demographic bomb. Between the Jordan River and the Mediterranean Sea, the Jews are already in a minority. Since birth rates in the West Bank and Gaza remain much higher than in Israel, the Arab population of the Palestinian Authority will exceed the number of Israeli Jews by 2040. On current form, Arabs will account for a quarter of Israel's population by that time, up from just over a fifth today.
Jewish immigration does not make much difference to the trend. It has oscillated between 15 and 20,000 over the past decade, the massive influx from the former USSR having dried up. It is noteworthy that considerably higher numbers of Jews are leaving—many of them highly skilled professionals. In 2011, the government estimated the number of Israeli citizens living abroad at between 800,000 and one million, representing up to 13% of the population.Consistent with the latter figure is the estimated one million Israelis in the Diaspora reported at the first global conference of Israelis living abroad, held in January 2011. According to the Foundation for the Middle East Peace, about 45 percent of the adult Israeli expatriates have completed at least a university degree, in contrast to 22 percent of the Israeli population. The Israeli emigrants are generally younger than the immigrants to Israel. Significantly, up to 60 percent of Israelis had approached or were intending to approach a foreign embassy to ask for citizenship and a passport. Analysts warn that it will be a challenge for Jewish Israelis to maintain their current dominant majority of approximately 75 percent, primarily due to higher fertility among non-Jewish Israelis — nearly one child per woman greater — the depletion of the large pool of likely potential Jewish immigrants, and large-scale Jewish Israeli emigration: "Consequently, demographic projections expect the Jewish proportion of the country—which peaked at 89 percent in 1957—to continue declining over the coming decades, approaching a figure closer to two-thirds of the population by mid-century." As a commentator noted in the London Independent noted two years ago ("Will Israel Still Exist in 2048?"), with the early pioneering spirit fading, and even the Holocaust—dare one hazard—less of a unifying force, Israel is not the same country it was 60, 30, even 10 years ago:
And demography means that it will continue to change, with the Arab, Orthodox Jewish and second-generation Russian populations increasing much faster than other groups. The Israel of the next 30 years is likely to be more divided, less productive, more inward-looking and more hawkish than it is today—but without the financial means and unquestioning sense of duty that inspired young people to defend their homeland by force of arms.
The Palestinians believe that time is on their side. The young—one-half of the population—are angry, disillusioned and more radical than their parents. As Professor Menachem Klein of Bar Ilan University wrote last November, they see the ailing Palestinian Authority pegged down at bare subsistence levels, without state authority or geographical contiguity, an undeveloped economy totally dependent on Israel and foreign donors, and a Palestinian elite accorded VIP status in reward for its collaboration in maintaining the status quo:
Today there is no longer a sole Palestinian representative—Hamas is in the game too. Moreover, the talks singularly failed to produce a permanent settlement or end the occupation. On the contrary, the reality on the ground has changed for the worse, to the extent that among the New Palestinians belief in the in the two-state solution is rapidly dwindling. The young generation sees Abbas and his people at a loose end, with no practical program or longer term vision… The young people also hear him talking about non-violent resistance to the occupation, while doing virtually nothing to promote it. But the New Palestinians are already on a different wavelength.
These "New Palestinians," increasingly drawn to Hamas in preference to the corrupt old Fatah elite, will present a greater threat to Israel's future than their stone-throwing predecessors. They will never accept Israel's West Bank barrier as a permanent fact of life. They will also be even more inclined than their elders to view the conflict in ontological terms—as a struggle not only for Palestinian rights and viable statehood, but also for the divinely ordained claims of the Ummah against the usurping unbelievers. It is only a matter of time before the "New Palestinians" start perceiving Israel's rejection of the two-state model and the expansion of settlements as a welcome lapse of judgment, a single-state trap from which the Jewish state will find it hard to extricate itself. They hope that the expansion of the fortress state will eventually morph into one-state solution by other means.
They are no longer deterred or intimidated by Israel's military superiority. The IDF performed poorly in southern Lebanon in 2006, showing itself poorly prepared for the "fourth generation warfare" against an elusive non-state opponent like Hezbollah. According to a Brookings Institution 2011 report, "The IDF's poor performance on multiple levels—leadership, coordination, logistics, and fighting capabilities—undermined Israel's much-prized deterrent factor, and led to the perception of defeat." The same problem occurred in Gaza in late 2008, where Hamas could be beaten but not defeated, and with the Gaza flotilla raid in 2009, the political costs of which far exceeded the utility of keeping the city under tight naval blockade. The fact that Israel possesses nuclear weapons changes but little in the equation. Of eight other countries possessing the bomb, not one has ever been able to change the status quo in its favor by threatening to use it, let alone by using it. Worryingly for Israel, South Africa had developed its own nuclear arsenal in the 1980s—it has been dismantled since—but this did not enhance its government's ability to resist the winds of change in the early 1990's.
Netanyahu's vision of a Greater Israel and his open-ended strategy of military containment do not take into account the shifting environment and changes within Israel, which make his approach unsustainable in the long term. From its inception Israel has faced numerous threats, but its ability to cope with them in the past does not mean that it will be able to do so indefinitely. The issue is not whether Israel should survive, but whether it has the wherewithal to survive on the basis of the flawed grand strategy to which its ruling political elite subscribes.
Damascus – Iran is expected to meet with other world powers in Astana, Kazakhstan to discuss its nuclear program. Discussions that the occupiers of Palestine fervently hope will not be successful. It is toward this end that their key demand this week to the US Congress, the White House and the European Union is "to cast responsibility on the Iranians by blaming them for the talks' failure in the clearest terms possible."
According to the Al-Monitor of 3/19/13, Israel also demands that the countries meeting in Kazakhstan "make it perfectly clear that slogans such as 'negotiations can't go on forever' are their marching orders to the White House, and they want the Kazakhstan attendees to act "so severely that the Iranians realize that they face a greater threat than just Israeli military action."  "The message must be that this time the entire west, behind Israel's leadership, is contemplating the launch of a massive military action."   Unsaid is that "the entire West" is expected to confront Iran militarily while Tel Aviv's forces will mop up Hezbollah, Hamas, Islamic Jihad and Syria if necessary.
Pending the above arrangements, Israel this week is further demanding that the Obama White House issue another Executive Order dramatically ratcheting up the US-led Sanctions against Iran and Syria while it prepares for a hoped for " game changing international economic blockade, including no-fly zones enforced by NATO.
To achieve yet another lawyer of severe sanctions, and at the behest of AIPAC, a "legislative planning" meeting was called by Congressman Eliot Engel, who represents New Yorks 17th District (the Bronx) and who is the Ranking Member of the House Foreign Affairs Committee, and Rep. Ros-Lehtinen (Florida's 27th District), Chair of the House Subcommittee on the Middle East and North Africa. The session was held in a posh Georgetown restaurant and participant's included representatives from AIPAC, Israel, and Saudi Arabia, Bahrain plus half a dozen Congressional staffers.
Congressman Engel has co-sponsored virtually every anti-Arab, anti-Islam, anti-Palestinian, anti-Iran, and anti-Syrian Congressional broadside since he entered Congress a quarter-century ago. His campaign literature last fall stated: "I am a strong supporter of sanctions against those who repeatedly reject calls to behave as responsible nations. (Israel excepted-ed).  I have authored or helped author numerous bills which have been signed into law to impose sanctions against rogue states including Iran and Syria." Ros-Lehtinen and Engel led all members with AIPAC donations on the House side in last fall's Congressional elections. They are ranked number one and two respectively as still serving career recipients of Israel-AIPAC's "indirect" campaign donations.
Some Congressional operatives accuse Rep. Ros-Lehtinen of being a bit lazy and neglecting the bread and butter needs of her Florida constituents. But others argue that it depends on which constituents one has in mind. Her election mailings and her Congressional website claim that the Congresswoman  "led all Congressional efforts tirelessly to generate votes to block what she views as anti-Israel resolutions offered at the former UN Commission on Human Rights."
A big fan of US-led sanctions against Iran and Syria, Rep. Ros-Lehtinen introduced the Iran Freedom Support Act on January 6, 2005, which increased sanctions and expanded punitive measures against the Iranian people until the Iranian regime has dismantled its nuclear plants. Rep. Ros-Lehtinen also introduced H.R. 957, the Iran Sanctions Amendments Act, which she claims "will close loopholes in current law by holding export credit agencies, insurers, and other financial institutions accountable for their facilitation of investments in Iran and sanction them as well."  In addition, H.R. 957 seeks to impose liability on parent companies for violations of sanctions by their foreign entities.  She also co-sponsored H.R 1357 which requires "U.S. government pension funds to divest from companies that do any business with any country that does business with Iran."  Her campaign literature states that, "She was proud to be the leading Republican sponsor of H.R. 1400, the Iran Counter-Proliferation Act. This bill applies and enhances a wide range of additional sanctions."
In addition, last year Illeana introduced H.R. 394, which enlarges US Federal Court Jurisdiction regarding claims by American citizens their claims in U.S. courts. Unclear is whether she realizes that one consequence of her initiative would be to open even wider US courtroom doors to Iranian-Americans and Syria-Americans who today are being targeted and damaged by the lady's ravenous insatiable craving for civilian targeting economic sanctions.
But Ileana and Elliot appear to be fretting.
So is Israel.
The reasons are several and they include the fact that the US-led sanctions have failed to date to achieve the accomplishments they were designed to produce. These being to cripple the Iranian economy, provoke a popular protest among the Iranian people over inflation and scarcity of food and medicines,  weaken Iran as much as possible before adopting military measures against it, and, most essentially, achieving regime change to turn the clock back to those comfortable days of our submissive, compliant Shah.
Zionist prospects for Syria aren't any better at the moment.  Tel Aviv's to intimidate the White House into invading Syria have not worked. Plan A has failed miserably according to the Israeli embassy people attending the Engel-Ros Litinen's informal conflab.  Neither did the "how about we just arm the opposition" plan that originated last year with David H. Petraeus and was supported by Hillary Clinton while being pushed by AIPAC. The goal was to create allies in Syria that the US and Israel could control if Mr. Assad was removed from power. Moreover, the White House believes that there are no good options for Obama. It has vetoed 4 recent Israeli proposals including arming the rebels and is said to believe that Syria is already dangerously awash with "unreliable arms."
The recent shriveling of Israeli prospects for a dramatic Pentagon intervention  in Syria reflect White House war weariness.  And also Israel's predilection to bomb targets itself in Syria, as it did recently to assassinate a senior Iranian officer in the Quds force of the Revolutionary Guards, Gen. Hassan Shateri. Contrary to the false story that Israel attacked a missiles convoy, some unassembled equipment was damaged but that was not the primary target according to Fred Hof, a former U.S. State Department official. Gen. Shateri was.
Making matters worse for Tel Aviv, the Israeli military is reportedly becoming skittish due to its deteriorating political and military status in the region and its troops have recently completed subterranean warfare drills to prepare them for a potential clash with Hezbollah in southern Lebanon, the Jerusalem Post reported on 2/20/13. "Today during training, we simulated a northern terrain, that included what we might encounter," Israeli Lt. Sagiv Shoker, commander of a military Reconnaissance Unit of the Engineering Corps, based at the Elikim base in northern Israel near the border with Lebanon explained. Shoker added that his units spent a week focused on how to approach Hezbollah's alleged underground bunkers and tunnels  in South Lebanon and the Bekaa Valley quietly and quickly.  Israeli forces commander Gantz has been complaining recently to the Israeli cabinet that Hezbollah Special Forces are gaining much valuable experience in Syria fighting highly skilled and motivated al Nusra jihadists and his troops may not be prepared to face them on the battlefield if a conflict erupts. It has been known since 2006 that Israeli soldiers "are having motivation deficits" as Gantz and others have complained.
Ordinary citizens in Iran and Syria with whom this observer met recently, including some with whom he has shared lengthy conversations while posing many questions, cannot ignore the burden of the US-led sanctions in various aspects of their lives.  Nor can the Iranian or Syrian governments or their economic institutions. At the beginning of the summer of 2010, and even more so since the summer of 2012, the US-led civilian targeting sanctions imposed were significantly tightened by the Obama administration and its allies. The administration realized that the sanctions imposed on Iran until then were ineffective and understood that Iran's steady progress toward nuclear power capability would quickly leave the US with no alternative than the acceptance of a nuclear Iran. But the administration, according to former State Department official Hof, believed that unless it took more drastic measures against Iran, Israel would launch a military strike against Iran which would likely destroy Zionist Israel- a prospect not every US official and Congressional staffer privately laments. Congressional sources report that the White House now feels that Iran has achieved deterrence and that Israel would be dangerously foolhardy to attack the country.
While Israel advocates an economic blockade of Iran and Syria, under binding rules of international and US law, economic blockades are acts of war. They are variously defined as surrounding a nation with hostile forces, economic besieging, preventing the passage in or out of a country of civilian supplies or aid. It is an act of naval warfare to block access to a country's coastline and deny entry to all vessels and aircraft, absent a formal declaration of war and approval of the UN Security Council.
All treaties to which America is a signatory, including the UN Charter, are binding US law. Chapter VII authorizes only the Security Council to "determine the existence of any threat to the peace, or act of aggression (and, if necessary, take military or other actions to) restore international peace and stability." It permits a nation to use force (including a blockades) only under two conditions: when authorized by the Security Council or under Article 51 allowing the "right of individual or collective self-defense if an armed attack occurs against a Member….until the Security Council has taken measures to maintain international peace and security."
As International law Professor Francis Boyle reminds us, Customary International Law recognizes economic blockades as an act of war because of the implied use of force even against third party nations in enforcing the blockade. Writes Boyle, "Blockades as acts of war have been recognized as such in the Declaration of Paris of 1856 and the Declaration of London of 1909 that delineate the international rules of warfare." America approved these Declarations, thereby are became binding US law as well "as part of general international law and customary international law."  US presidents Dwight Eisenhower and Jack Kennedy, called economic blockades acts of war.
So has the US Supreme Court.
In Bas v. Tingy (1800), the US Supreme Court addressed the constitutionality of fighting an "undeclared war" (read extreme economic sanctions). It ruled the seizure of a French vessel (is) an act of hostility or reprisal. The Court cited Talbot v. Seaman (1801) in ruling that "specific legislative authority was required in the seizure. In Little v. Barreme (1804), the Court held that "even an order from the President could not justify or excuse an act that violated the laws and customs of warfare. Chief Justice John Marshall wrote that a captain of a United States warship could be held personally liable in trespass for wrongfully seizing a neutral Danish ship, even though" presidential authority ordered it.
"The Prize Cases" (1863) is perhaps the most definitive US Supreme Court ruling on economic blockades requiring congressional authorization. The case involved President Lincoln's ordering "a blockade of coastal states that had joined the Confederacy at the outset of the Civil War. The Court….explicitly (ruled) that an economic blockade is an act of war and is legal only if properly authorized under the Constitution."
Iran and Syria pose no threat to the US or any peaceful law abiding nation. Imposing a blockade against either violates the UN Charter and settled international humanitarian laws as well as US law. It would constitute an illegal act of aggression that under the Nuremberg Charter is the designated a "supreme international crime" above all others. It would render the Obama administration and every government of other participating nations criminally liable.
Contrary to what the occupiers of Palestine may fantasize, if the White House wants an economic blockade of Iran or Syria it must declare war, letting the American people be heard on the subject and convince the UN Security Council to pass a UNSCR under Chapter 7.
The White House cannot legally, morally or consistently with claimed American humanitarian values continue to target civilian populations with economic sanctions on the cheap.
The vocal smear coming out of the orchestrated Zionist media and corridors of orthodox foreign policy on Chuck Hagel, leaves bare the myth that the Israel-First proponents have the best interests of our country at heart. Obscene attacks on the former Senator provide refreshing validation that the establishment is nervous, because the sacred canons of their imperial strategy might be questioned. Such panicky concern gives sustenance to the cause for a rational and self-interest national defense policy. The hideous Neoconservatives maintain their diabolical alliance with the Neoliberal internationalists that work for a global dominance, which serves the interests of the financial elites, while sacrificing the blood and future of another generation of American youth.
Chuck Hagel, delivered these words at the 50th Anniversary of the Vietnam War Commemoration.

"Assuring that these returning veterans are productively integrated back into society with the appreciation and recognition befitting a great nation. As we have painfully learned from the tragic misadventure of Vietnam, society must always separate the war from the warrior. We do not celebrate the Vietnam War. We commemorate and historically recognize it. As I said at the Vietnam Veterans Memorial ground breaking on a cold windy March day in 1982, "there is no glory in war, only suffering." Life is always more about the people then the event. Events are stages upon which individuals change the world. And today we celebrate those individuals who changed our country for the better… our Vietnam veterans and their families."
The entire NeoCon agenda denigrates the agonies of naive jingoists who want to serve their country, but are duped into becoming trained assassins. Their expendability is inevitable under the command of chicken hawks and dual loyalists. The bipartisan nature of globalist foreign policy prescribes that the armed forces are directed to implement targeted violence that only benefits the powers behind the systematic destruction of the country.
Chuck Hagel: "I'm a United States Senator, not an Israeli Senator", states the obvious. Yet, such honesty has no tolerance for the NeoCon purist. Fifth columnists create the "political correct" culture that purges any loyal dissenters. Even a lefty collectivist like Robert Reich has the insight to point out why Senator Hagel is a potential threat in the article, The Neocons vs. Chuck Hagel.
"Yes, it was dumb for Hagel to use the term "Jewish lobby" instead of "Israel lobby," but that alone shouldn't disqualify him. Everyone in official Washington knows how much power is wielded in that city by the Sheldon Adelsons of American politics who think Israel can do no wrong."
Up until now, the outcry against the Hagel nomination ignores his viewpoints on the Iraq War and the disaster of the Viet Nam misadventure. In A Conversation with Senator Chuck Hagel on The Middle East and U.S. Foreign Policy, the forbidden is spoken. Challenging the warmongering of the "War Party" in Congress is taboo, as the NeoCons are all too eager to point out.
"The Iraq war should not be debated in the United States on a partisan political platform. This debases our country, trivializes the seriousness of war and cheapens the service and sacrifices of our men and women in uniform. War is not a Republican or Democrat issue. The casualties of war are from both parties. The Bush Administration must understand that each American has a right to question our policies in Iraq and should not be demonized for disagreeing with them. Suggesting that to challenge or criticize policy is undermining and hurting our troops is not democracy nor what this country has stood for, for over 200 years. The Democrats have an obligation to challenge in a serious and responsible manner, offering solutions and alternatives to the Administration's policies.

Vietnam was a national tragedy partly because Members of Congress failed their country, remained silent and lacked the courage to challenge the Administrations in power until it was too late. Some of us who went through that nightmare have an obligation to the 58,000 Americans who died in Vietnam to not let that happen again. To question your government is not unpatriotic—to not question your government is unpatriotic. America owes its men and women in uniform a policy worthy of their sacrifices."
An effort to dispute the expected media attacks countered in a list published by the Washington Times, Chuck Hagel's Record: Myths and Facts, offers another point of view.
Myth #1: Senator Hagel is not supportive of Israel
Myth #2: Senator Hagel is soft on Iran
Myth #3: Senator Hagel has been soft on Hezbollah and Hamas
Myth #4: Senator Hagel would weaken our nuclear deterrent
Myth #5: Senator Hagel would gut the defense budget
Myth #6: Senator Hagel lacks management experience
While some of the arguments in this list have a tone of an apologetic advocacy for a besieged friend, the basic impression is that he is competent and qualified to be Secretary of Defense.
Where is the balance? Regretfully, the RINO elements in the Republican Party are nowhere to be found in the defense of one of their own. Once again, the accuracy of analysis comes from the Progressive Left, Democracy Now. Regretfully, their scrutiny falls far short on their social agenda, but hits the mark on Hagel's Middle East positions. Watch the video, Chuck Hagel Faces Tough Confirmation from Senate Hawks for Rejecting Party Line on Israel and Iran.
Skepticism about Hagel from the political elites is understandable, but objectivity on his record deserves a review of his own statements. Steve Clemons provides some historical clips of speeches by and interviews with Chuck Hagel from the C-Span video library files, on 100 Minutes on Chuck Hagel.
Again, the left leaning Huffington Post seems to be willing to state what Republicans seek to forget, in the article Neocon nightmare: The truth behind the attacks on Chuck Hagel.
"Of course, the reason the opposition to Hagel is so desperate and so focused on side-issues or made-up charges is because they don't want a debate that would shine a spotlight on their spectacular and disastrous failure in Iraq. "This is the neocons' worst nightmare," says Richard Armitage, who was deputy secretary of state under Colin Powell, "because you've got a combat soldier, successful businessman and senator who actually thinks there may be other ways to resolve some questions other than force."
The direction of American Foreign Policy needs a comprehensive reset away from the policeman of the world. Woefully, the internationalists and their global agenda demands drone bombardment redundancy. The entire world is in the crosshairs of smart weapons. Boots on the ground are now called Special Forces because of their force multiplier capacity.
Having a DOD secretary that does not place the trigger button on automatic is problematic for the bellicose enthusiasts that view the U.S. Empire as a necessary enforcement of New World Order power.
Finally, the anti-war publication Alert.net provides a succinct summary in How the Chuck Hagel Brawl Exposes Neocons and Reveals the Limits of American Power.
"After the Obama administration floated the trial balloon of a Hagel nomination several weeks ago, various neoconservative publications and pundits have waged unremitting attacks on the pick. The campaign began when The Weekly Standard quoted an anonymous Senate aide calling Hagel anti-Semitic, and gained steam when the Wall Street Journal's Brett Stephens echoed similar, albeit more diplomatic, sentiments. Bill Kristol's side-PAC (he is the editor of the Standard), the Emergency Committee for Israel, bought ad time in the greater DC television market criticizing Hagel's opposition to unilateral sanctions imposed on Iran. The Washington Post editorial board insinuated he was far too dovish for the post, citing his voting record on Iran sanctions and statements about Pentagon bloat.

These criticisms were soon buttressed by several seemingly progressive critiques of the former Senator in a not-so-odd alliance between liberals and neoconservatives against the pick (more on that below). The nomination seemed all but torpedoed until several former friends and staffers of Hagel's fired reciprocal volleys in support, while the Obama administration observed from the sidelines, until today. Hagel's allies outside the press read like a who's-who of establishmentarians, from Bush Sr. National Security Advisor Brent Scowcroft to former Reagan Secretary of Defense (and Carlyle Group chairman) Frank Carlucci."
The NeoCons personal attack on Chuck Hagel is necessary because they have lost the high moral ground because of their bloodthirsty policies. The Israeli-First elements and sympathizers are a prime reason why the American government is hated as a global purveyor of war crimes. The real terror that threatens our nation comes not from foreign military aggression, but from homespun despotism. NeoCon psychopaths will settle for nothing less than a suicidal destruction of our society and the Republic. Changing the foreign policy is a prerequisite for a confirmed Hagel to be an effective Secretary of Defense.
My friend RJ at http://www.topplebush.com/ just sent me a very interesting riddle:  "Why are right-wingers always talking about cutting down on government spending and'red tape' yet never ever try to cut down on military spending?  Aren't the armed forces part of the government too?"  Ya got me stumped there.
Here's another riddle I can't seem to solve:  How come us salt-of-the-earth American types who protest against all the banksters' outrageous crimes get thrown in jail, while the criminals themselves are given "get out of jail free" cards like it was Christmas?  Except, of course, for Martha Stewart.
More riddles:  "Why is it okay for Al Qaeda to be the good guys in Syria and Libya — but are the bad guys in Lower Manhattan?"  I'm all confused.
Why is it okay to tax middle-income Americans for an arm and a leg but not okay to tax rich people?  "I wonder."  https://www.youtube.com/watch?v=fMHdq4jm0oQ
How come everybody bitches and moans about the obesity epidemic and the cancer epidemic and the heart attack epidemic and the autism epidemic and the bi-polar epidemic but still live on junk food, never exercise and watch too much TV?  And still have enough balls left to complain about single-payer healthcare?  Can someone please explain this? http://www.indiegogo.com/SuperFatSeries
How come American taxpayers get to pay for the costs of demolishing Christian and Muslim homes in East Jerusalem yet can't get any tax relief when our own homes are being demolished in Detroit and Cincinnati?
How come statistics (and election results and Fox News) show that Americans are definitely being dumbed down these days, but no one wants to spend any money on improving American kindergartens — let alone on upgrading our colleges.  What ever happened to Sputnik?
Why do people fear climate change so much but still happily drive their gas-hogs around like there's no tomorrow?
How come I can't resist playing free-cell solitaire by the hour when I should be out doing the laundry and saving the world?
How can anybody in their right mind vote for any candidate that spends millions of dollars on getting elected?  You would think that if a politician had that kind of money he (or she) might want to just retire to the Bahamas.  Or give it to us.
"Why does America need to own approximately 800 military bases throughout the 'Free World'?"  Hell, if the freaking world is all that free, surely it doesn't need all those American soldiers to keep it in line?  And why does all this so-called freedom always end up costing us taxpayers trillions of dollars as well?
And how come most of "our" jobs are now located in places like China, Haiti and Burma?  Isn't that a really long commute?
And please explain the riddle of how all the top American industrial jobs here at home are now mostly being performed by prison labor?  While the 1% sucks down Oxycontin and Prozac legally and the rest of us all get busted for using medical marijuana — just to make sure they have a large enough prison labor supply in jails?
And why are American labor unions that help the working class being given such a bum rap, but when Wall Street and War Street form unions that destroy the fabric of America's economy, it's called "Capitalism" and "Showing Initiative" – not welfare for the rich?
And why are the RepubliDems always saying that the fiscal cliff is a bad thing?  If it is spozed to be such a terrible disaster, then why in the freak did they create it in the first place?
And why does 2013 still feel so much like 2012?
The United Nations General Assembly vote of 11/29/12, which some in Lebanon's 12 Palestinian refugee camps are calling a "birth certificate for our country" is the latest of more than 400 UN resolutions on the Question of Palestine and a rare major victory for Palestinians after 65 years of resisting occupation.
The UN action, which was backed by an overwhelm majority of UN members with a lopsided vote of 138 to 9, may well force the Zionist regime to seriously consider a just peaceful resolution of the conflict.
With due respect to the nearly 50 percent of the UN members who voted against the historic Palestine Resolution on 11/29/12 at the General Assembly, which is to say the Marshall Islands, Micronesia, Nauru ( the world's smallest republic covering just 8.1 square miles with a population of 9, 378)), and Palau, with its approximately 20,000 inhabitants, all former U.S. Trust Territories  and currently "freely associated states" of the United States, with U.S. zip/postal and telephone codes much more closely resembling American states (51st, 52nd, 53rd and 54th) than  sovereign countries,  the World spoke clearly in favor of  Palestinian self-determination.  Indeed, the only reason these dissenting four "countries" are UN Members at all is due to cold war era efforts of Washington to stack the General Assembly in its favor by running up the numbers of its safe votes.
Over the past fortnight, as the US and Israel piled layers of threats onto their mantra of derision regarding yesterday's historic UN vote on Palestine,  both countries  desperately tried to dissuade the Palestinians from scrapping their application for non-member observer state membership status with the United Nations.
Way too much did Israeli officials and their US lobby protest, thus drawing more international attention and curiosity as they kept dissing the "purely symbolic empty gesture and meaningless act."
Naftali Bennett, leader of the extremist right-wing national religious Zionist party in Israel, Habayit Hayehudi ("The Jewish Home") warned the day before the vote that "the PA bid for non-member status at the UN has very real implications on Israel, and that we must take harsh measures in response. I don't accept the claim that this is a symbolic move," Bennet told Israel Radio. "This is not symbolic at all. This has very practical implications. "He added: "We must tell the Arabs, if you pursue a unilateral strategy at the UN, We will pursue a unilateral strategy in annexing settlements in the West Bank."
There is some important symbolism in the UN admitting Palestine as a non-member observer on the 65th anniversary of  the November 29, 1947,  adoption by the UN General Assembly of the resolution on the partition of Palestine (resolution 181 (II)). On December 2, 1977, it was recorded that the assembly called for the annual observance of November 29 as the International Day of Solidarity with the Palestinian People (A/RES/32/40 B).
Last minute appeals by Secretary of State Hilary Clinton plus a late night pre-vote visit by US Deputy Secretary of State William Burns and Middle East envoy David Hale to the hotel room of  the Palestinian Authority hold-over President Mahmoud Abbas failed to convince him to withdraw the resolution and to include the demanded eviscerating codicils.
Secretary of State Clinton could not have been more mistaken as she insisted at her news conference on 11/28/12 that "the only path towards a Palestinian state was through direct negotiations. As I have said many times the only path to a two-state solution that fulfills the aspirations of the Palestinian people is through Jerusalem and Ramallah, not New York." Few in the state department, according to congressional staff members who liaise with Clinton's staff, believe that direct negotiations would ever lead to Israel voluntarily rejecting its current apartheid system or that the interminable "peace process" has ever been taken seriously by the Zionist regime and in fact constitute  a hoax.  In contradistinction, the growing reality in the Middle East and all five continents is the belief that only Resistance, with its scores of forms, will liberate Palestine from Zionist occupation.
Low balling the UN vote…
Following the 138 to 9 vote, Israeli Prime Minister Benjamin Netanyahu, intimated, as did the usual Amen chorus of anti-Arab & anti-Islam zealots, from the US Israeli lobby, including the likes of ADL's Abe Foxman, that" just as predicted, anti-Semitism was lurking behind the lopsided vote" and that it all amounted, in the words of Netanyahu spokesman Mark Regev, "to nothing but cheap political theater that should not come as a surprise to anyone."
The American-Israel Public Affairs Committee (AIPAC), as it does on any issue involving Palestine and Israel issued Talking Points for members of Congress and other Zionist organizations to be used when communicating with constituents and giving media interviews. AIPAC keeps close track of how many interviews each member gives and how closely they tow the Zionist line so as to help determine how much cash the particular member will receive for re-election as well as other perks.
For this crucial UN vote, the US Zionist lobby used U.S. Senators Ben Cardin (D-MD) and Susan Collins (R-ME) drafted a letter from these AIPAC stalwarts to Palestinian Authority President Mahmoud Abbas opposing any unilateral attempts by the Palestinian Government to pursue non-member state status at the United Nations General Assembly.
In their letter, the Senators asserted that "Palestinian statehood can only be realized as a result of a broader peace agreement negotiated with the Israelis, not through unilateral measures at the United Nations. Should you decide, however, to bypass direct negotiations and unilaterally seek upgraded status at the UN, we want to again remind you of the potential for significant consequences. As S. Res. 185 notes, any such efforts may cause consequences in regards to U.S. policy and foreign aid."
AIPAC instructed Congress to make the following points which was included in an "urgent advisory" to every member and many staffers.
1. This UN action won't lead to peace.
Peace will only occur through direct talks. By refusing to meet with Israeli Prime Minister Benjamin Netanyahu and seeking recognition of a state at the United Nations, Palestinian Authority President Mahmoud Abbas is damaging U.S. peace efforts. (nothing in this point is accurate)
2. Recognizing a Palestinian state gives legitimacy to Hamas.
The Iranian-backed terrorist group has fired thousands of rockets at Israeli civilians and is sworn to the destruction of the Jewish state. By granting recognition of a state, the international community will reward Hamas for its terrorist actions, rather than condemn them
3. The United States has rejected the Palestinian approach.
President Obama has said that "no vote at the United Nations will ever create an independent Palestinian state" and called the Palestinian efforts at the U.N. a "mistake."
Other talking points AIPAC told Congress to use include:  while Israel Takes Steps for Peace, Palestinians run to UN , Israel Wants Talks; Palestinians Still Refuse, Palestinians Glorify  Terrorists by praising the Hamas victory.
What the Zionist leaders of Israel, as they franticly try to intimidate the region by stockpiling American weapons, while grabbing more Palestinian land, fear is that the 11/19/12 UN resolution may be a game changer.
In this they are correct.
The UN action allows the Palestinians to participate in General Assembly debates and de facto grants recognition of Palestinian statehood on the pre-1967 ceasefire lines while re-enforcing the wide international consensus that the pre-1967 lines should form the basis of a permanent peace settlement.
It also opens up the 17 Specialized Agencies of the UN including the Food and Agriculture Organization (FAO),  International Civil Aviation Organization (ICAO),  International Fund for Agricultural Development (IFAD),  International Labor Organization (ILO),  International Maritime Organization (IMO), International Monetary Fund (IMF), International Telecommunication Union (ITU), United Nations Industrial Development Organization (UNIDO), Universal Postal Union (UPU), the World Bank Group, World Health Organization, World Trade Organization (WTO), International Bank for Reconstruction and Development (IBRD)  as well as related and comparable organizations.
As noted this week by Al-Haq, the Palestinian human rights organization " Under such a strengthened position within the international legal system, the State of Palestine will be allowed to formally accede to international human rights instruments and other technical United Nations bodies, thus improving protection of Palestinian rights at the domestic and international level".
It is also to be expected that Palestinian citizens under brutal Zionist occupation will demand to use their new status to join the International Criminal Court and might press for investigations of Zionist international crimes, crimes against humanity, attempted genocide, and a host of other practices in the occupied territories.  Investigating such international crimes and bringing punishment to those convicted is why the ICC was established.
Professor Francis Boyle reminds us that Palestine can also now sue Israel at the International Court of Justice and end the illegal siege of Gaza, and join the Law of the Sea Convention and secure its fair share of the gas fields lying off the Gaza coast with enormous economic benefits.  Palestine can also now join the International Civil Aviation Organization and gain sovereignty over its own airspace; join the International Telecommunications Union and gain sovereign legal control over its own airwaves, phone lines and band-widths.
These are just some of the many reason the Obama administration, slavishly joined the Zionist leadership of occupied Palestine to defeat the UN application.
The actions of the Obama Administration and its vehement opposition to the UN vote continues to diminish the relevance of  the US in the Middle East as it slides further down the wrong side of history with its client state in tow.  Attempting to justify its shameful opposition to the Palestinian diplomatic undertaking in the UN, the Obama administration could only offer a weak brief from the State Department legal department accusing the PLO of acting unilaterally, in breach of signed agreements are simply parroting AIPAC talking points noted above.
Deepening Palestine's international legal personality within the United Nations system is a legitimate presence on the world stage from which to assert rights guaranteed by fundamental principles of International Law. With more access to the United Nations system, Palestinians have gained a major political and legal framework from which to work and to encourage the international community to comply with its obligation to end Israeli crimes against them and bring Israel's serious breaches of international law to an end.
Shatila refugee camp…
The current festive celebrations in Lebanon's 12 Palestinian refugee camps reflect the intense euphoria being witnessed throughout Gaza and occupied Palestine, Arab and Muslim countries, as well as relief among people of goodwill globally.
This observer's special friend from Shatila camp, Zeinab, (she refers to herself as 'Miss International' given all the Americans and foreigners we bring to meet her and her wonderful family) called last night and giggled, "This is wonderful!  You must come! I and some of my friends were wearing black scarves in honor of Ashoura on our way to protest against the Israeli aggression in Gaza. Within half an hour after gathering at the Youth Center athletic field we heard the news of the ceasefire.  Soon we were dancing and singing and celebrating.'!"
At about the same time, thirty miles south of Beirut in Ein el Helwe Refugee camp, Lebanon's largest and most densely populated with nearly 90,000 people squeezed into less than two square kilometers, more sardine-canned than even Gaza city, the  General Union of Palestinian Women (GUPW) also organized a celebration of Gaza's victory.
Established nearly half a century ago in 1965 at the time of the founding of the Palestine Liberation Organization, GUPW has consistently achieved much for Palestinian families regardless of location or fate. Like Zeinab's manifestation, the GUPW's demonstration against the Zionist aggression against Gaza became a  joyful rally to celebrate Gaza's victory, and soon refugees inside and on the outskirts of the camp were dancing and singing and raising Palestinian flags.
As Lebanese journalist Mohammad Zaatari has pointed out, the women's rally was originally scheduled to deplore the aggression against Gaza, however after a cease-fire between Israel and Hamas was reached the occasion turned into a celebration with refugees hoisting banners and flags from various PLO and resistant groups while calling for the solidarity and unity of Palestinian factions to confront the Zionist occupation of their country, Palestine.  "Every grain of sand!" one university student shouted, "We must liberate all of Palestine and recover every grain of sand!  Jews are most welcomed to stay if they want to live in peace as equals under the law, but forget about colonization, democracy for Jews only and apartheid. They must disappear for sure!"
"We have won in Gaza and this is only the beginning," beamed Amina Jibril, Director of the Palestinian Women Union in Lebanon. "We haven't just won through rockets. The kids and women and civilians who were killed in the clashes were resisting every day because their mere presence in Gaza is an act of resistance itself."
But when the cheering stops and the placards are discarded, the many joyful demonstrations throughout Lebanon subside; most of the participants will trundle back to their bleak abject existence in Lebanon's camps worse off in many respects than Gazans.
It is true that in Lebanon, Sunnis, Shiites, Christians, and Druze regularly condemn Israel and consistently support the "liberation" of Palestine and breaking the siege of Gaza. But few there are who have historically supported expanding the rights or improving the dire living conditions of  the more than quarter million refugees within Lebanese borders. As one Palestinian wryly noted, the Lebanese "favor the liberation of Palestine and Gaza, but they oppose even the most basic civil rights for Palestinians in Lebanon."
Without any help from the Lebanese government or the United Nations Refugee Agency (UNHCR), Palestinian refugees in Lebanon have no choice but to depend on the U.N. Relief and Works Agency for Palestine Refugees in the Near East (UNRWA) as their sole source of support and protection. Unfortunately, UNRWA has not proved up to the task due to the United States and Israel politicizing and interfering with international donor contributions.
Most Palestinians in Lebanon who are cheering Gaza's victory well into the night won't have to be concerned about being late for work the next day because Lebanese law forbids Palestinians from working in dozens of jobs and professions.  Today, according to UNRWA's own statistics, only about 53,000 of the approximately 130,000-strong Palestinian labor force are employed at all. Most who are have "illegal" low paying work are often  ruthlessly exploited by employers who know their workers cannot complain to authorities or collect any work benefits. This is because in 1964, the Lebanese Ministry of Labor instituted a policy under Ministerial Decree No. 17561 whereby professions in Lebanon could be limited to Lebanese citizens. The regulations prohibited Palestinians from working in some seventy job categories.
In the camps of south Lebanon, Ein el Helwe, Mieh-Meih, al Buss and Rasheideyeh, and up north in the still unrestored Nahr al Bared camp, approximately 85 percent of all refugees live in "abject poverty."  Among the states in which UNRWA operates, Lebanon has by far the highest number of "special-hardship cases," i.e., the poorest of the poor, some 30-35 percent of Palestinian refugees.
Nor will most the temporary celebrants of the Hamas victory in Gaza have classes to attend when the celebrations finish. As of 2008, the pass rate of Palestinian students in UNRWA classes was less than 50 percent—10 percent less than their Lebanese counterparts in state schools. This education deficit alone limits the opportunities of Palestinians in Lebanon. UNRWA does operate seventy-four primary schools– of which approximately 25 percent try to educate with larger classes, shorter hours and in double shifts—and in the process, provides employment to 2,785 residents and as of 2006, was the largest employer of legal, skilled Palestinian labor in Lebanon.
According to the recently published 2012 Human Rights Watch report on the conditions of Palestinian refugees in Lebanon:  "They continue to live in appalling social and economic conditions. 2011 saw no improvement in their access to the labor market, despite a labor law amendment in 2010 that was supposed to ease such access. The main reason was the government's failure to implement the amendment. Lebanese laws and decrees still bar Palestinians from working in at least 25 professions requiring syndicate membership, including law, medicine, and engineering. Palestinian refugees are still subject to a discriminatory law introduced in 2001 preventing them from owning property."
All activists and others around the world celebrating the victory in Gaza must encourage Lebanon thru its local embassy's and consults, their own governments, Iran and the Hezbollah led Resistance in Lebanon, as well as Hamas, the Muslim Brotherhood and Egypt to immediately use their power and prestige, enhanced by this month's victory in Gaza to urge Parliament to repeal the racist 2001 law that forbids only Palestinians from owning a home in Lebanon. They need to leverage the victory in Gaza to benefit Palestinians in Lebanon and assure that Parliament immediately grants Palestinians in Lebanon the same civil right to work as every other foreigner in Lebanon enjoys as does every refugee in every country in the world including Gaza.  It can quickly be achieved by progressive forces that currently control Parliament using their political power to achieve these long overdue humanitarian requisites.
Indeed, if these forces will generate the political will, no more than 90 minutes of Lebanon's Parliamentary time will be required to truly make the victory in Gaza historic while at the same time lifting the shame off Lebanon for its massive violations of international and Lebanese laws by granting Palestinian refugees the most elementary civil right to work and to own a home.
If achieved, history will forever record that it was the 2012 victory in Gaza that substantially liberated their fellow refugees in Lebanon by granting these elementary rights.
Most peoples that resist the power politics of Zionism condemn aggressive actions of the outlaw Israeli state regularly. Yet most of the western democracies that are under the control of Talmud media and Khazar finance continue to defend the apartheid policies that are designed to purge any prospect of Palestinian, right to return, to the land of their forced removal. No matter what your politics are regarding the Middle East, the indisputable fact exists that the Greater Israel design for expanded territory is a core impediment of this interminable conflict.
From the beginning, Zionists advocated a "Jewish State" not just in Palestine, but also in Jordan, southern Lebanon, and the Golan Heights as well. In 1918 Ben-Gurion described the future "Jewish state's" frontiers in details as follows:
"to the north, the Litani river [in southern Lebanon], to the northeast, the Wadi 'Owja, twenty miles south of Damascus; the southern border will be mobile and pushed into Sinai at least up to Wadi al-'Arish; and to the east, the Syrian Desert, including the furthest edge of Transjordan" (Expulsion Of The Palestinians, p. 87) Click here to view the "Greater Israel" map that was submitted by the Zionists to the peace conference after WWI.
The self-justification by Zionists for enhancing strategic security enlargement of territory never deals with the central issues. The entire concept of a homogeneous "Jewish State" under a secular Zionist regime, mocks the notion of religious faithfulness to the teaching in the Torah. The meaning of a "Greater Israel" has little to do with devotion of Jehovah.
In order to comprehend this distinction read the essay Zionism, Racism and anti-Semitism.
"Zionism is a political movement. To equate motives of politics with a religious belief is specious. Judaism is NOT equivalent to Zionism. The distinction is imperative if a correct understanding of relationships and actions, in the Middle East, are to be appreciated. A Zionist often professes their acceptance of the tenants of the Jewish faith, but a 'true believer' in the supremacy and survivability of a political state, can and frequently are non-believers to Judaism and the Torah. This is crucial, because it is not a condition of political allegiance to share faith in Yahweh."
Review the deplorable history of Israeli territorial designs. The Maps Tell The Story account that displays the chart of expansionist settlements.
"Starting with the United Nations Partition Plan, 1947, the original borders for the state of Israel are quite limited. This index illustrates the significant border changes after the 1949 War of Independence, after the six day war of 1967, than after the 1982 return of Sinai and the invasion of Lebanon, and finally after Palestinian autonomy and Lebanon withdrawal in 2000.

But the most notable map is the one that identifies the Israeli settlements on the West Bank. A careful analysis of the locations and the areas that are an effective no man's land, demonstrates the consequences of the expanded settlements. It is hard to believe that Israel will ever agree to remove their own population from these areas."
Most discussions about Israel originate under the premise that the government in Tel Aviv has an immutable right to defend itself. Thus far, the plight of the displaced Palestinians is almost exclusively relegated to condemnation for inflicting savage terrorism. At the same time the enormous military technological offensive strike capabilities of the Israeli Defend Force undertakes carnage with a disproportionate vengeance that unmasks the true vicious hatred of non-Zionists. Conferring moral authority for IDF airstrikes equates to the same erroneous rationale and hypocrisy that NeoCon proponents shower over the U.S. bombing of al-Qaeda enclaves.
The tentative cease-fire in the latest rupture of mutual hostilities just plays into the hands of the incremental Zionist expansionists. The overriding concern in Israel is not that their Iron Dome missile system can destroy incoming Hamas Fajr-5 projectiles. Their goal is to seek cover for their intended preemptive strike on Iranian nuclear facilities.
RT quotes from the account; Iran confirms military aid to Hamas, sending long-range missile technology.
"Iranian lawmaker Ali Larijani said on Wednesday his country was "proud" to defend the people of Palestine and Hamas according to remarks published on the Islamic Republic's parliamentary website.

Larijani stressed the assistance had been both "financial and military." On Tuesday, Larijani lauded the Palestinian missile capability, saying it had given them a "strategic [source] of power."
Now the world press will decry Iran for their acknowledged support of Hamas. However, the Washington Post article back in 2006, Hamas Sweeps Palestinian Elections, Complicating Peace Efforts in Mideast, grudgingly reports:
"The radical Islamic movement Hamas won a large majority in the new Palestinian parliament, according to official election results announced Thursday, trouncing the governing Fatah party in a contest that could dramatically reshape the Palestinians' relations with Israel and the rest of the world.

In Wednesday's voting, Hamas claimed 76 of the 132 parliamentary seats, giving the party at war with Israel the right to form the next cabinet under the Palestinian Authority's president, Mahmoud Abbas, the leader of Fatah."
When did you last read that the radical IDF using American aircraft and smart bombs struck a sovereign country's industrial facilities and slaughtered civilians as collateral damage? Full Spectrum Dominance, in the pursuit of eliminating any resistance to the New World Order is justified in the Zionist press. Simply put, the NWO is composed of many rabid Zionists that give a new meaning to the term extremist. However, in the bigger scheme of things it is No Surprise – Terrorism Is Winning.
"The reason that Terrorism is seen as the ultimate foe of governments is the nature of the warfare. Let no one mistake the stakes. Those who are willing to die to deliver chaos and turmoil are dangerous. But, more than that, they are unstoppable. Such an assessment may be unpopular but consider the facts. Regimes and prosperous societies have much to lose. Alienated and hostile adversaries that place little value on life, are no match for standing armed forces. By denying the temperament of the attacker and responding with overwhelming force, the inevitable futility of the end result; is guaranteed. Even tactics of aggressive proactive search and destroy strategy, fails to address or eradicate the underlying conflict. The battle may be won short term, but the war just continues."
In spite of using the term terrorism, the reaction to systemic aggression often takes a violent response. This is the ultimate break with faith, principles and teachings of all the three eminent monotheistic religions. Warfare over territory is as old as history. Destabilizing Egypt, Libya and now Syria is part of a larger master tactic to isolate Iran as the only remaining obstacle to the greater State of Israel.
U.S. forces under the discredited pretext of weapons of mass destruction falsehoods dismantled Iraq. Co-opting Gaza so that Iran can be leveled from the air means that the jointly developed Israeli/American Iron Dome batteries can be deployed for incoming Iranian missiles after a sneak attack strike.
The article Hamas, Israel and the United States sums up the dangers of American involvement into a blood feud. Dominance of the region and impoverishment of the oil poor inhabitants drive the displacement of Palestinians into ghettos of expedient smart weapon annihilation.
"A regional dispute over land that was stolen with the blessing of Western Democracies is and always has been the nucleus of the eventual holocaust. What Americans are so unwilling to accept is that our own country has no duty or moral imperative to arbitrate between eternal enemies. It is a local conflict that can only destroy our own land by intervening. Making matters much worse are foreign policies that the United States acts as a neutral broker for peace."
Just who is the rogue state in the Middle East? Israel is no ally. The political reality of domestic politics is hard pressed to poke the Jewish lobby in the eye. Nonetheless, attacking Iran in a joint operation with the IDF is pure madness. The old axis of evil rhetoric has deplorable consequences, when applied with JDAM-equipped bombs guided by a global positioning satellite system.
Hamas does not have clean hands, but when will the American public come to grips with the real reasons for the destruction of our own nation? The Western Democracies capitulated to the Zionists in the theft of Palestinian land. Khazar imposters are not Semite descendants of Abraham. Their own ruling class dupes sincere tribal Jews. Zionism puts them at risk. The "Greater Israel" expansionism is an impediment to any negotiated peace with justice.How much more blood needs to be shed to admit the obvious? Christian-Zionists bear a heavy responsibility in fostering the Likudnik mindset. Without a moral treatment of all peoples, not all the military weapons on the planet will ever impose peace. The Arab dynasties hardly champion the Palestinian cause. When desperation becomes genetically acceptable, the entire world loses its humanity. In order to eradicate unremitting bombing, the globe needs to face up to real rogue terrorism.
In the past week, the people of Gaza have been subject to some serious Israeli attacks. Some Hamas leaders and militants have been murdered and many more Palestinians -  innocent civilians, babies, kids women and elders – have lost their live. Yet, Gaza is celebrating with the Hamas leadership never more popular.
So here is an interesting anecdote that deserves our attention. During the recent clashes Gazan militants launched more than 1500 rockets at Israel. These rockets caused rather limited damage with more than six Israeli fatalities. Militarily at least, this is far from a great achievement. And yet the Gazans are celebrating. Would Israelis be happy to learn that 1500 of their rockets had had such limited effect? Would any western army accept such a result at such a cost? The answer is a categorical NO. But the Palestinians are ecstatic, why, because they know they have won the battle and are now set to win the war. They won the battle, not because they killed six Israelis – actually they would have won it without hitting one single Israeli. They won it because they managed to deliver a message to Israel, world Jewry and the whole world.
For many years I have argued that the Palestinian war of the rockets should be seen as sending a message: Israelis! You are on stolen land! You took our houses, villages, cities, fields and orchards. You pushed us into the desert. You surrounded us with barbed wire. You starve us and you kill us simply to suit your political ambitions. So this rocket is a message to you all. Think about us and then look at yourself in the mirror. Enough is enough!'
For more than six decades the Israelis have dismissed this message. They surrounded themselves with ghetto walls and have sealed their skies with an Iron Dome. However, with Tel Aviv now under attack, Israel and Israelis have been confronted with their original sin.
In the last two days, the entire Israeli media has admitted the colossal defeat of the so-called Operation Pillar of Cloud. Just yesterday, the Israeli right wing Ynet wrote  "Hamas stood up and won almost all fronts…. Hamas has managed to turn focus on Gaza, it made it into the centre of the political discussion." It seems that the most hawkish Israel government ever, has failed to beat either Hamas or the Palestinian spirit. The Palestinians are stronger than ever while the Jewish State has been exposed as an impotent manic-depressive collective driven by a neurotic and impotent leadership.
If Zionism was ever there to counter Jewish diaspora ghetto paralysis, just to ensure that 'never again' Jews would be 'led like lamb to the slaughter', Netanyahu, Barak and Liebermann have proved in the past week that paralysis is inherent to Jewish political culture. Like all bullies, they are obsessed with power, but when they meet defiance, their vile paradigm instantly collapses.
Speech can provides us with an insight into what we most lack. Speech can reveal that which we prefer to keep hidden. But speech is also often rather misleading,  there to shape our lies into a truthful narrative. But it is these 'true lies' that provide an access to the fearful-self. It is these 'true lies' that reveal the unconscious. So, when, for instance Jewish 'anti' Zionists preach to us about Jewish 'humanism and universalism' they are obviously lying yet are they not also expressing a yearning for such an ethos to really exist in their own culture? Similarly, when Israel refers to itself as 'The only democracy in the Middle East' it this not  because Israel would really love to be such a true democracy? In other words, often, when we speak we demonstrate what we most lack i.e. that which we miss and desire, yet we cannot admit this to ourselves. When Netanyahu decided to designate his latest massacre as a Pillar of Cloud, he actually tried to disguise from himself and his people the fact that in reality, he is actually an impotent, and the cloud is actually one big duvet of lies, there only to conceal his  shame.
Israel and the Israelis love to talk about their 'power of deterrence' -  Israeli actions, there to deter Palestinians and Arabs from even contemplating the possibility of challenging the Jewish state.  In fact, the entire Israeli foreign and military policy can be realised with reference to that power. Israel likes to see itself at the core of its neighbours' anxiety. This explains the Israeli fascination with the accumulation of nuclear bombs and other WMDs. It explains the policy towards Iran and it also explains its brutal attitude towards the Palestinians.
Israelis are obsessed with 'deterrence' only because, deep down, they are aware of their own vulnerability. Israelis are fanatical about 'deterrence' because they know that when push comes to shove, they themselves are actually powerless. They are now exposed for what they are: a fragmented society dominated by egotistic hedonism. Israelis know that their underbelly is very soft indeed.
Israeli collective melancholia must be realised in the light of their inevitable encounter with their true nature. As Ynet admits, they have been defeated in almost every possible respect. As a society, they have been caught naked and their imaginary collective bond has proved to be a farce. In spite of Israel's mighty, sophisticated army the Hamas leadership, together with the people of Gaza, remained defiant. In spite of relentless air raids, and till the very last moment, Hamas kept firing their rockets reminding Israelis what life in Gaza is really like. When it seemed that the IAF had done its worst (but achieved so little), the Israeli government called on its 75.000 reservists, hoping against hope that such a move would bully Hamas into surrender. Again they were wrong. Ismail Haniah made things very clear when he invited the Israeli reservists to try their luck and enter the strip. Israel was caught with its trousers down – and believe me, the vision of their collective genitalia was not a pretty sight!
'Unconscious is the discourse of the other' says Lacan. The fear of impotence is not the fear that you may not be up to much in bed, it is actually the unconscious nightmare that everyone around you is saying behind your back that you're not up to much in bed. Israelis not just now admitting their impotence to themselves, they are also aware of now being seen as a bunch of arrogant, cowardly and helpless barbarians.
By the time it became clear that the Pillar wasn't even semi-erect and the Cloud couldn't cover even that embarrassing truth, Netanyahu, Barak and Liebermann as well as the whole of Israeli society realised that nothing was left of Israel's power of deterrence – for the Palestinians have lost their fear.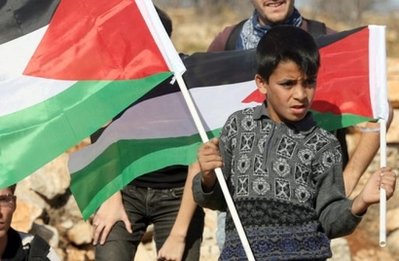 Benjamin Netanyahu, is made of different material than Barak.  Unlike Bark, who is obsessed with the banal implementation of military power, Netanyahu is concerned with  the power of deterrence and he is also intelligent enough to realise that the consequences of a ground invasion of the Gaza Strip may mean the total eradication of such a power. A large scale deployment of infantry is a complicated thing. It would lead to violent clashing with hostile civilians in a heavily populated urban territory, endless cases of inevitable war crimes and crimes against humanity, international condemnation, unavoidable conflict with Israeli allies and so on.  Also, such an escalation will prove, once again how resilient the Palestinian society is, as opposed to the vulnerable Israeli people.  Let me tell you, this is not what Netanyahu had in mind two weeks ago when he decided to slaughter just a few Palestinians in order to win the next Israeli election.
Netanyahu prefers to kill Palestinians from afar, to missile them from Israeli Navy battle ships, drones and F16s. Israel had initially a limited operative plan ahead of Operation Pillar of Cloud.  But, it didn't take more than a few hours for Israeli generals to realise that they were ambushed by the Hamas. Like Lebanon 2006, Israel was far from being ready for this conflict. It failed to realised that the Hamas has been preparing itself for this battle. Earlier on today, I saw on BBC News, a  Palestinian flag waving on top of a wreckage of house in Gaza that was flattened by Israel during the night. The message was clear: Hamas is ready to make Gaza into Stalingrad.  The Israeli generals realise it, some of them are clever enough to grasp the fate of their soldiers if they decide to move in. They are not prepared to be Netanyahu's '6thArmy'
The Hamas  clearly won this round of violence, it has managed to push Israel to the corner. The Israelis are now expecting Netanyahu and Barak to dissolve the 'immanent' ballistic threat. Yet, the IDF doesn't have a magical military solution except offering full land invasion.
But can the Jewish State redeem itself, can Israel actually win this hopeless situation? Of course it can. All it would take from Israelis is to learn to love their neighbours, to accept the Palestinian cause, to grasp that the rockets are actually a love letter to stolen land, cities, villages, fields and orchards. But can the Jewish State look in the mirror and grasp it all?  Can the Jewish State understand its original sin, it own reality as a plundering oppressive entity?  
Yes, of course it can, only if it stops being a Jewish State.
Canada is more colony than sovereign state. Canadians perhaps wonder when it'll grow up, act like an adult, and regain its rightful independence.
"We pledge allegiance to the republic for which America stands and not to its empire for which it is now suffering." 1
Louis XVI needed a revolution, Napoleon needed two historic military defeats, the Spanish Empire in the New World needed multiple revolutions, the Russian Czar needed a communist revolution, the Austro-Hungarian and Ottoman Empires needed World War I, the Third Reich needed World War II, the Land of the Rising Sun needed two atomic bombs, the Portuguese Empire in Africa needed a military coup at home. What will the American Empire need?
Perhaps losing the long-held admiration and support of one group of people after another, one country after another, as the empire's wars, bombings, occupations, torture, and lies eat away at the facade of a beloved and legendary "America"; an empire unlike any other in history, that has intervened seriously and grievously, in war and in peace, in most countries on the planet, as it preached to the world that the American Way of Life was a shining example for all humanity and that America above all was needed to lead the world.
The Wikileaks documents and videos have provided one humiliation after another … lies exposed, political manipulations revealed, gross hypocrisies, murders in cold blood, … followed by the torture of Bradley Manning and the persecution of Julian Assange. Washington calls the revelations "threats to national security", but the world can well see it's simply plain old embarrassment. Manning's defense attorneys have asked the military court on several occasions to specify the exact harm done to national security. The court has never given an answer. If hell hath no fury like a woman scorned, consider an empire embarrassed.
And we now have the international soap opera, L'Affaire Assange, starring Sweden, the United Kingdom, the United States, Ecuador, and Julian Assange. The United States' neo-colonies of Sweden (an active warring member of NATO in all but name) and the United Kingdom (with its "special relationship" to the United States) know what is expected of them to earn a pat on the head from their Washington uncle. We can infer that Sweden has no legitimate reason to demand the extradition of Julian Assange from London from the fact that it has repeatedly refused offers to question Assange in the UK and repeatedly refused to explain why it has refused to do so.
The Brits, under "immense pressure from the Obama administration", as reported to former British ambassador Craig Murray by the UK Foreign Office,2 threatened, in a letter to the Ecuadoran government, to raid the Ecuadoran embassy in London to snatch Assange — "[You] should be aware that there is a legal basis in the United Kingdom, the Diplomatic and Consular Premises Act of 1987, which would allow us to take action to arrest Mr. Assange in the existing facilities of the embassy". Over the August 18 weekend the London police actually made their way into the building's internal fire escape, coming within a few feet of Assange's room, as he could hear. The law cited by the Brits is, of course, their own law, one not necessarily with any international standing.
The UK has now formally withdrawn its threat against the embassy, probably the result of much international indignation toward Her Majesty's Government. The worldwide asylum system would fall apart if the nation granting the asylum were punished for it. In this violent world of terrorists, imperialists, and other dreadfuls it's comforting to know that an old fashioned value like political asylum can still be honored.
A look back at some US and UK behavior in regard to embassies and political asylum is both interesting and revealing:
In 1954, when the United States overthrew the democratically-elected social democrat Jacobo Arbenz in Guatemala and replaced him with a military government headed by Col. Carlos Castillo Armas, many Guatemalans took refuge in foreign embassies. US Secretary of State John Foster Dulles insisted that the new Guatemalan government raid those embassies and arrest those individuals, whom he referred to as "communists". But Castillo Armas refused to accede to Dulles' wishes on this issue. Stephen Schlesinger and Stephen Kinzer, in their comprehensive history of the coup,3 state:
"In the end, Castillo Armas disregarded Dulles' suggestions. He himself was a product of the widespread belief in Latin America that embassy asylum and safe-conduct passes were a fair resolution to political conflicts. Virtually every politically active Guatemalan, including Castillo Armas, had sought political asylum in an embassy at one time or another and had obtained safe conduct from the government. Dulles' suggestion for a 'modification' of the asylum doctrine was not even popular within the American Embassy."
It should be noted that one of those who sought asylum in the Argentine Embassy in Guatemala was a 25-year-old Argentine doctor named Ernesto "Che" Guevara.
Baltasar Garzon, the Spanish judge who is one of Assange's lawyers, came to international attention in 1998 when he indicted former Chilean dictator Augusto Pinochet while he was in England. But the British declined to send Pinochet to Spain to face the indictment, in effect giving him political asylum, and allowed this proverbial mass murderer and torturer to walk free and eventually return to Chile. Julian Assange, not charged or found guilty of anything, is a de facto prisoner of the UK; while the New York Times and the BBC and the numerous other media giants, who did just what Assange did by publishing Wikileaks articles and broadcasting Wikileaks videos, walk free.
This past April, Chinese dissident Chen Guangcheng escaped house arrest in China and took refuge at the American Embassy in Beijing, sparking diplomatic tension between the two countries. But the "authoritarian" Chinese government did not threaten to enter the American Embassy to arrest Chen and soon allowed him to accept an American offer of safe passage to US soil. How will Julian Assange ever obtain safe passage to Ecuador?
In August 1989, while the Cold War still prevailed many East Germans crossed into fellow-Soviet-bloc state Czechoslovakia and were granted political asylum in the West German embassy. How would the United States — which has not said a word against the British threat to invade the Ecuadoran embassy — have reacted if the East Germans or the Czechs had raided the West German embassy or blocked the East Germans from leaving it? As matters turned out, West Germany took the refugee-seekers to West Germany by train without being impeded by the Soviet bloc. A few months later, the weaker "Evil Empire" collapsed, leaving the entire playing field, known as the world, to the stronger "Evil Empire", which has been on belligerence autopilot ever since.
In 1986, after the French government refused the use of its air space to US warplanes headed for a bombing raid on Libya, the planes were forced to take another, longer route. When they reached Libya they bombed so close to the French embassy that the building was damaged and all communication links were disabled.4
In 1999, NATO (aka the USA), purposely (sic) bombed the Chinese embassy in Belgrade, Yugoslavia.5
After Assange took refuge in the Ecuadoran embassy and was granted asylum by the South American country, the US State Department declared: "The United States is not a party to the 1954 OAS [Organization of American States] Convention on Diplomatic Asylum and does not recognize the concept of diplomatic asylum as a matter of international law."6
Ecuador called for a meeting at the OAS of the foreign ministers of member countries to discuss the whole situation. The United States opposed the request. For Washington the issue was simple: The UK obeys international law and extradites Assange to Sweden. (And then, chuckle-chuckle, Sweden sends the bastard to us.) End of discussion. Washington did not want the issue blown up and prolonged any further. But of the 26 nations voting at the OAS only three voted against the meeting: The US, Canada, and Trinidad & Tobago; perhaps another example of what was mentioned above about a dying empire losing the long-held admiration and support of one country after another.
The price Ecuador may pay for its courage … Washington Post editorial, June 20, 2012:
"There is one potential check on [Ecuadoran president Rafael] Correa's ambitions. The U.S. 'empire' he professes to despise happens to grant Ecuador (which uses the dollar as its currency) special trade preferences that allow it to export many goods duty-free. A full third of Ecuadoran foreign sales ($10 billion in 2011) go to the United States, supporting some 400,000 jobs in a country of 14 million people. Those preferences come up for renewal by Congress early next year. If Mr. Correa seeks to appoint himself America's chief Latin American enemy and Julian Assange's protector between now and then, it's not hard to imagine the outcome."
On several occasions President Obama, when pressed to investigate Bush and Cheney for war crimes, has declared: "I prefer to look forward rather than backwards". Picture a defendant before a judge asking to be found innocent on such grounds. It simply makes laws, law enforcement, crime, justice, and facts irrelevant. Picture Julian Assange before a military court in Virginia using this argument. Picture the reaction to this by Barack Obama, who has become the leading persecutor of whistleblowers in American history.
Since L'Affaire Assange captured world headlines the United States, as well as the United Kingdom, have on several occasions made statements about the deep-seated international obligation of nations to honor extradition requests from other nations. The United States, however, has a history of ignoring such requests, whether made formally or informally, for persons living in the US who are ideological allies. Here's a partial sample from recent years:
Former Venezuelan president Carlos Andres Perez, whom the Venezuelan government demanded be turned over to stand trial for his role in suppressing riots in 1989. He died in 2010 in Miami. (Associated Press, December 27, 2010)
Former Bolivian President Gonzalo Sanchez de Lozada fled to the United States in 2003 to avoid a trial for the death of about 60 people in La Paz during a military crackdown on demonstrators. In 2008, Bolivia formally served the US government with a request to extradite him back to Bolivia, which was not acceded to. (Associated Press, February 13, 2006; also see his Wikipedia entry)
In 2010, a US federal judge denied Argentina's extradition request for former military officer Roberto Bravo, who was facing 16 murder charges stemming from a 1972 massacre of leftist guerrillas in his homeland. (Associated Press, November 2, 2010)
Luis Posada, a Cuban-born citizen of Venezuela, masterminded the bombing of a Cuban airline in 1976, killing 73 civilians. Inasmuch as part of the plotting took place in Venezuela, that government formally asked the United States for his extradition in 2005. But instead of extraditing him, the United States prosecuted him for minor immigration infractions that came to naught. Posada continues to live as a free man in the United States.
In 2007 German prosecutors issued arrest warrants for 13 suspected CIA operatives who had abducted German citizen Khaled el-Masri in 2003 and flown him to Afghanistan for interrogation (read torture). The CIA then realized they had kidnapped the wrong man and dumped el-Masri on the side of an Albanian road. Subsequently, the German Justice Minster announced that she would no longer request extradition, citing US refusal to arrest or hand over the agents. (The Guardian (London), January 7, 2011)
In November 2009 an Italian judge convicted a CIA Station Chief and 22 other Americans, all but one being CIA operatives, for kidnapping a Muslim cleric, Abu Omar, from the streets of Milan in 2003 and flying him to Egypt for the usual interrogation. All those convicted had left Italy by the time of the judge's ruling and were thus tried in absentia. In Italy they are considered fugitives. Although there were verdicts, arrest warrants and extradition requests in the case, the Italian government refused to formally forward the requests to their close allies, the Americans; which, in any event, would of course have been futile. (Der Spiegel [Germany] online, December 17, 2010, based on a Wikileaks US cable)
The hidden, obvious, peculiar, fatal, omnipresent bias of American mainstream media concerning US foreign policy
There are more than 1,400 daily newspapers in the United States. Can you name a single paper, or a single TV network, that was unequivocally opposed to the American wars carried out against Libya, Iraq, Afghanistan, Yugoslavia, Panama, Grenada, and Vietnam? Or even opposed to any two of these wars? How about one? (I've been asking this question for years and so far I've gotten only one answer — Someone told me that the Seattle Post-Intelligencer had unequivocally opposed the invasion of Iraq. Can anyone verify that or name another case?)
In 1968, six years into the Vietnam war, the Boston Globe surveyed the editorial positions of 39 leading US papers concerning the war and found that "none advocated a pull-out".7
Now, can you name an American daily newspaper or TV network that more or less gives any support to any US government ODE (Officially Designated Enemy)? Like Hugo Chávez of Venezuela, Fidel or Raul Castro of Cuba, Bashar al-Assad of Syria, Mahmoud Ahmadinejad of Iran, Rafael Correa of Ecuador (even before the current Assange matter), or Evo Morales of Bolivia? I mean that presents the ODE's point of view in a reasonably fair manner most of the time? Or any ODE of the recent past like Slobodan Milosevic of Serbia, Moammar Gaddafi of Libya, Robert Mugabe of Zimbabwe, or Jean-Bertrand Aristide of Haiti?
Who in the mainstream media supports Hamas of Gaza? Or Hezbollah of Lebanon?
Who in the mainstream media is outspokenly critical of Israel's domestic or foreign policies? And keeps his/her job?
Who in the mainstream media treats Julian Assange or Bradley Manning as the heros they are?
And this same mainstream media tell us that Cuba, Venezuela, Ecuador, et al. do not have a real opposition media.
The ideology of the American mainstream media is the belief that they don't have any ideology; they are instead what they call "objective".
It's been said that the political spectrum concerning US foreign policy in the America mainstream media "runs the gamut from A to B."
Long before the Soviet Union broke up, a group of Russian writers touring the United States were astonished to find, after reading the newspapers and watching television, that almost all the opinions on all the vital issues were the same. "In our country," said one of them, "to get that result we have a dictatorship. We imprison people. We tear out their fingernails. Here you have none of that. How do you do it? What's the secret?"8
On October 8, 2001, the second day of the US bombing of Afghanistan, the transmitters for the Taliban government's Radio Shari were bombed and shortly after this the US bombed some 20 regional radio sites. US Defense Secretary Donald Rumsfeld defended the targeting of these facilities, saying: "Naturally, they cannot be considered to be free media outlets. They are mouthpieces of the Taliban and those harboring terrorists."9
Notes
Sam Smith, editor of the Progressive Review ↩
Craig Murray, "America's Vassal Acts Decisively and Illegally: Former UK Ambassador", Information Clearing House, August 16, 2012 ↩
Bitter Fruit: The Untold Story of the American Coup in Guatemala (1982), pp.222-3 ↩
Associated Press, "France Confirms It Denied U.S. Jets Air Space, Says Embassy Damaged",
April 15, 1986 ↩
William Blum, Rogue State: A Guide to the World's Only Superpower, pp.308-9 ↩
Josh Rogin, "State Department: The U.S. does not recognize the concept of 'diplomatic asylum'", Foreign Policy, August 17, 2012 ↩
Boston Globe, February 18, 1968, p.2-A ↩
John Pilger, New Statesman (London), February 19, 2001 ↩
Index on Censorship (London), October 18, 2001 ↩
Patriotism means to stand up for one's homeland.
It does not mean to stand up for any political party, politician or any other another state.
The Zionist Organization of America (ZOA) has called upon the Democratic National Committee to rescind its invitation to former President Jimmy Carter to address the upcoming 2012 Democratic National Convention in Charlotte, North Carolina.
Among Carter's 'crimes' are his 2007 book, "Peace Not Apartheid" which the ZOA claims is filled with "falsehoods about Israel, not least the vicious insinuation in its title that Israel resembles the evils of the apartheid regime in South Africa and that Jews living in Judea and Samaria, is the 'primary' obstacle to peace."
According to a UN report, Haaretz columnist Danny Rubinstein admitted that "Israel today was an apartheid State with four different Palestinian groups: those in Gaza, East Jerusalem, the West Bank and Israeli Palestinians, each of which had a different status…even if the wall followed strictly the line of the pre-1967 border, it would still not be justified. The two peoples needed cooperation rather than walls because they must be neighbors." [1]
The ZOA is also up in arms over Carter daring to mention that Israel has destroyed over 40,000 Palestinian homes, which have rendered hundreds of thousand Palestinians homeless and that Gaza is an open-air prison.
The ZOA ignores the Jewish Justice Richard Goldstone's 575-page report of September 29, 2009, which accused both Israel and Hamas of war crimes perpetuated during the 22 days of assault on Gaza when the Israeli military launched Operation Cast Lead; a full-scale attack on Gaza that killed 13 Israelis and 1,400 Palestinians.
Over 5,000 Palestinians were injured, 400,000 were left without running water, 4,000 homes were destroyed, rendering tens of thousands who are still homeless because of Israel's targeted attacks upon them, their schools, hospitals, streets, water wells, sewage system, farms, police stations and UN buildings.
US-supplied weapons enabled the 22 days of Israel's attack on the people of Gaza and we the people of the US who pay taxes provide over $3 billion annually to Israel although Israel has consistently misused U.S. weapons in violation of America's Arms Export Control and Foreign Assistance Acts.
During the 22 days of Israeli assault on Gaza, "Washington provided F-16 fighter planes, Apache helicopters, tactical missiles, and a wide array of munitions, including white phosphorus and DIME. The weapons required for the Israeli assault was decided upon in June 2008, and the transfer of 1,000 bunker-buster GPS-guided Small Diameter Guided Bomb Units 39 (GBU-39) were approved by Congress in September. The GBU 39 bombs were delivered to Israel in November (prior to any claims of Hamas cease fire violation!) for use in the initial air raids on Gaza. [2]
During Operation Cast Lead, the UN Security Council, Amnesty International, International Red Cross, and global voices of protest rose up and demanded a ceasefire, but both houses of Congress overwhelmingly endorsed resolutions to support a continuation of Israel's so called "self defense."
In a 71-page report released March 25, 2009, by Human Rights Watch, Israel's repeated firing of US-made white phosphorus shells over densely populated areas of Gaza was indiscriminate and is evidence of war crimes.
"Rain of Fire: Israel's Unlawful Use of White Phosphorus in Gaza," provides eye witness accounts of the devastating effects that white phosphorus munitions had on civilians and civilian property in Gaza.
"Human Rights Watch researchers found spent shells, canister liners, and dozens of burnt felt wedges containing white phosphorus on city streets, apartment roofs, residential courtyards, and at a United Nations school in Gaza immediately after hostilities ended in January.
"Militaries officially use white phosphorus to obscure their operations on the ground by creating thick smoke. It has also been used as an incendiary weapon, though such use constitutes a war crime.
"In Gaza, the Israeli military didn't just use white phosphorus in open areas as a screen for its troops," said Fred Abrahams, senior emergencies researcher at Human Rights Watch and co-author of the report. "It fired white phosphorus repeatedly over densely populated areas, even when its troops weren't in the area and safer smoke shells were available. As a result, civilians needlessly suffered and died." [Ibid]
Last year, I attended AIPAC's D.C. Conference and heard President Obama speak about the dangers of the spread of nuclear weapons but not a word about Israel's still un-inspected WMD facility-which everyone in the world, except most Americans learned about 26 years ago, when Mordechai Vanunu's photos and testimony made front page news in London's The Sunday Times.
Obama also mentioned his visit to the Jewish Wailing Wall and how he thought about the generations who have wanted a homeland; but not a word was uttered about the generations of indigenous Palestinians who are still denied their inalienable right to return home or about the 21st century Wailing Wall: The Apartheid Wall:
Obama told of his visit to Sderot and the struggles of those residents, but he neglected to travel five minutes away into the open air prison of Gaza where 1.5 million human beings-800,000 are under the age of 16-struggle every moment of the day just to survive under a brutal siege aided and abetted by USA policy!
In 2009, I spent an evening in Sderot and learned that most everyone there would be just as happy to migrate to Las Vegas than live in Israel: Read more…


Israel's existence is a fact of life, but what can never be accepted by people of conscience is Israel's 'right' to steal land and resources of the indigenous people of Palestine and we the people of this homeland's tax dollars that aid, abet and sustain an illegal, immoral and brutal military occupation.
All through that AIPAC conference I heard the incessant drumbeat of Israel's rights, about the "special relationship" "shared values" "common Interests" the "Jewish State" and claims that Israel is a democracy, but Israel is not-and never has been a Democracy!
In the May 28, 1993 edition of Yedioth Ahronoth, Ariel Sharon explained:
"The terms 'democracy' or 'democratic' are totally absent from the Declaration of Independence. This is not an accident. The intention of Zionism was not to bring democracy, needless to say. It was solely motivated by the creation in Eretz-Isrel of a Jewish state belonging to all the Jewish people and to the Jewish people alone. This is why any Jew of the Diaspora has the right to immigrate to Israel and to become a citizen of Israel."
Jeff Halper, American Israeli, co-founder and coordinator of Israeli Committee Against House Demolitions and Professor of Anthropology explained that, "An ethnocracy is the opposite of a democracy, although it might incorporate some elements of democracy such as universal citizenship and elections. It arises when one particular group-the Jews in Israel, the Russians in Russia, the Protestants in pre-1972 Northern Ireland, the whites in apartheid South Africa, the Shi'ite Muslims in Iran, the Malay in Malaysia and, if they had their way, the white Christian fundamentalists in the US-seize control of the government and armed forces in order to enforce a regime of exclusive privilege over other groups in what is in fact a multi-ethnic or multi-religious society. Ethnocracy, or ethno-nationalism, privileges ethnos over demos, whereby one's ethnic affiliation, be it defined by race, descent, religion, language or national origin, takes precedence over citizenship in determining to whom a county actually 'belongs.'"[3]
In his Farewell Address, President George Washington warned US:
"Observe good faith and justice towards all nations; cultivate peace and harmony with all…and passionate attachments for others, should be excluded; and that, in place of them, just and amicable feelings towards all should be cultivated. The nation which indulges towards another a habitual hatred or a habitual fondness is in some degree a slave…a passionate attachment of one nation for another produces a variety of evils."
Obama admitted that true friends speak open and honestly and that "the current situation does not allow procrastination. The world is moving too fast [and] the Talmud teaches as long as one has life do not abandon faith. We will never abandon universal human rights."
It was President Harry Truman who crossed out the word "Jewish state" on the draft of the Establishment of Israel that was cabled him and substituted "State of Israel" which he affirmed was contingent upon Israel upholding the UN Universal Declaration of Human Rights. Read more…
As a Member State of the UN Universal Declaration of Human Rights, America is obligated to hold ALL other Member States to it!
As an American patriot who went online in 2005 after my first of 7 trips to Israel and Occupied Palestine, all I have been saying is that when Israel honors its founding promises and America upholds its obligation as a Member State of the UN Universal Declaration of Human Rights, then YES WE CAN begin this world again by BUILDING IT according to the principals outlined and agreed to in the UN Universal Declaration of Human Rights:
1. http://www.ynetnews.com/articles/0,7340,L-3444320,00.html
2. http://www.projectcensored.org/top-stories/articles/9-us-arms-used-for-war-crimes-in-gaza/
3. Jeff Halper, An Israeli in Palestine: Resisting Dispossession, Redeeming Israel, Page 74
The NeoCons are delighted with their new imperialist firebrand, Mitt Romney. Just look to all the familiar faces and names that surround the presumptive GOP nominee for dictator in chief. It is impossible to support the Republican Party when their foreign policy is made in Tel Aviv and Jerusalem. If you belief this assessment is too harsh, explain away the recent pilgrimage to the Wailing Wall. The Moderate Voice makes a striking point on Romney's recent visit to Israel, which is difficult to refute.
"Diplomatic distance in public between our nations emboldens Israel's adversaries." But what Romney DIDN'T SAY was almost as striking — if not more so. Not once did he utter the phrase "peace process" nor the words "Palestine" or "Palestinian," and that also means he never talked about or made the case for a two-state solution. Was the speech for anyone other than base Republicans? This trip to Israel felt like a primary trip, not one aimed at the general election."
Old friends often make strange bedfellows. Back at the predecessor to Bain Capital, Bain Consulting Group, Romney and Netanyahu developed a close relationship. Well at least that is the popular perception. Sometimes the diatribes from the progressive left, like the Daily Kos, leaks out a viewpoint that only a committed Zionist appreciates. Could there be a sensitivity difference with the NeoCons?
"Romney to the New York Times:

ROMNEY: "We [Mitt & Netanyahu] can almost speak in shorthand. We share common experiences and have a perspective and underpinning which is similar."

In December GOP Debate regarding how America should handle Iran:

ROMNEY: "I'd get on the phone to my friend Bibi Netanyahu and say, 'Would it help if I said this? What would you like me to do?'"

Sounds like Romney would put Bibi First and America Second and that is very disturbing to me.

In April 2012, Romney said:

ROMNEY: "Israel's current prime minister is not just a friend, he's an old friend"

Romney has touted his 'friendship' with Netanyahu as being "nurtured through meals in Boston, New York and Jerusalem."
Look, it's no surprise that Romney is a pathological liar and is lying about his "friendship" with Bibi to garner the Jewish vote — duh — But I would urge all my Jewish friends to remember that no one, of any religion or non-religion, can believe a thing that comes out of Romney's mouth because he lies like a smelly old, nasty rug."
Getting past the slurs, the nature of the Romney – Netanyahu comradeship dominates the discussion. Is there a meeting of the minds or only a relationship of interests?
Another voice, Crooks and Liars, chimes in quoting Bibi, adds more skepticism:
"I remember him for sure, but I don't think we had any particular connections," he tells me. "I knew him and he knew me, I suppose."
Wow . . . what an endorsement of familiarity! Sure looks like both men have something to hide. It is difficult to believe in the accuracy of Netanyahu, as the stench of his own deep-rooted rug is undeniable.
The Sinai Peninsula may be in the process of joining the Arab and Islamic Resistance as this great awakening spreads inexorably across the region toppling Western imposed security states and replacing them with governments of greater popular legitimacy.  This despite the fact last many view last week's events at the border with occupied Palestine as simply terrorism.  Egypt and other countries in the region are contributing to righting the historic wrong done to the Palestinian people as millions around the World are employing an increasing variety of resistance strategies in solidarity with this regions central cause of liberating Palestine from the crumbling but ultra-violent Zionist colonial project.
Historically, the 23,000 sq. mile triangular Sinai Peninsula has been an area of Resistance against a series of occupiers and despots since it was joined to Egypt during in Mamluk Sultanate (1260-1517) when the Ottoman sultan, Selim the Grim, won the Battles of Marj Dabiq and al-Raydaniyya, and added Egypt to the Ottoman Empire.
Following the establishment of the Muhammad Ali Dynasty's rule over the rest of Egypt in 1805, the Ottoman Porte, faced with increasing resistance from Sinai, transferred administration of the restive Peninsula to the Egyptian government, by this time under the control of the colonial power, the United Kingdom. The British occupied Egypt since 1882 and imposed the border in an almost straight line from Rafah on the Mediterranean to Taba on the Gulf of Aqaba which has remained the eastern border of Egypt. At the beginning of the 1948 Arab-Israeli War, Egyptian forces invaded Palestine from Sinai to support the Palestinian Resistance in their struggle against the imposed State of Israel.
Last week's   Sinai operation by "terrorists in Bedouin clothing" against the occupiers of Palestine resulted in the deaths of 16 Egyptian guards protecting the Israeli border as well as several of the Fedayeen, signals again that the  lawless Sinai Peninsula may be returning to its historic role in confronting colonialism on Egypt's border.  The Egyptian people, if not yet fully their leaders are returning to their historic struggle to liberate Palestine and while terrorist acts occur, the historic trend appears clear.
The regime of former Egyptian President Hosni Mubarak would purposefully undermine relationship between the Egyptian and Palestinian people. However, over the past 18 months, much of the Sinai has become more Resistance oriented, as police stations in the Sinai were dismantled, the gas line with Israel repeated severed, and Bedouin tribes and others began to stockpile weapons arriving from Libya and from Israel's black market and elsewhere.  The area is becoming a major Resistance base with fighters vowing to repel any attempt by the US and Israel to retain control.
No proof positive has been proffered to support a number of claims being made regarding those responsible for the Sinai attacks and other recent attacks against  Israeli installations that number more than 30 just since last year's Tahrir revolution. It may indeed be a pure act of terrorism and Zionist orchestrated 'black flag' operation.  The investigation is evolving.
A spokesman for the Hamas government has claimed that the Sinai attack was an Israeli "attempt to tamper with Egyptian security and drive a wedge between the Egyptians and the residents of the Gaza Strip." Tarek Zumar, a spokesman for the group, claimed that Israel was behind all recent terror attacks against the Egyptians "because it wants to make changes along its border with Egypt." The day after the attack, and relying on its own intelligent sources, Hamas announced that:  "This crime can be attributed to the Mossad, which has been seeking to abort the revolution since its inception and the proof of this is that it gave instructions to its Zionist citizens in Sinai to depart immediately a few days ago."
An American critic of Israel's influence over the U.S. Congress, who is an Assistant Staff Director on a Congressional Committee, emailed that "We are looking into what Israeli leaders knew about the Sinai attack and when they knew it, but nodefinite responsibility for this operation has been established."
The Muslim Brotherhood has also blamed Mossad for the claimed terrorst attack.
One of the reasons the Egyptian public is increasingly calling for abolishing or at least re- negotiating the "Treaty of Shame" as the Camp David agreement is commonly known, is that Egyptian security forces in Sinai are not enough to protect the borders.   Under Camp David's "Peace Agreement" it is Israel, and not the Egyptian government who determines how many Egyptians security personnel can stand guard at Egypt's border.
On 8/4/12, Egypt's new pro-Palestinian President, Mohammad Morsi, responded to the attack by sacking the pro-Israeli intelligence chief Murad Muwafi, as well as the governor of Northern Sinai  Abdel Wahab Mabrouk. The same day Mursi  ordered his defense minister to relieve the head of the country's military police, as his spokesman said  to "turn a page" in the Palestinian struggle and also as a confidence  building move in the face of a predicted  Zionist campaign to blame the Muslim Brotherhood for the attack. There has been a relentless campaign by Zionist leaders since Mubaraks ouster, to weaken the Egyptian public's determination to isolate Israel and cancel their governments relations with the occupiers of Palestine.
Supporters of Morsi's rival in the presidential election, Ahmed Shafik, a former air force commander, have called for Egyptians to rise up against the Brotherhood and President Morsi as a result of the Sinai operation. Such attacks underscore the divide between new pro-Palestinian government and the military, which continues to hold enormous political power and has limited the president's authority.
This most recent operation comes only a week after Palestinian Prime Minister Ismail Haniya made a rare visit to Egypt to meet with Egyptian President Mohammad Morsi to discuss easing travel restrictions on Gaza imposed by Israel's siege, restrictions respected by Mubarak for years. That meeting, coupled with Morsi meeting both Hamas chief Khaled Meshaal and Palestinian President Abbas last month, resulted in the opening the Rafah border for 12 hrs a day and increasing the daily limit on passengers from Gaza to 1,500. By opening the border Morsi was following through on a campaign promise he made during the run up to Egypt's hotly contested election. With the advent of the Arab Spring a number of Egyptian pro Resistance organizations demanded the complete opening of the Rafah crossing to all traffic, including commercial. During his campaign Morsi stated that "the time has come to open the Rafah crossing to traffic 24 hours a day and all year round."
Unfortunately, following the most recent operation the Rafah crossing has been indefinitely closed  just like  it was under the deposed Egyptian president which will cause great hardship to Gazans and  amounts to nothing less than Israeli style "collective punishment" as claimed by Musa Abu Marzouk, a senior Hamas official.
As one Gazan young woman, Rana Baker, a member of the Gaza-based BDS organizing committee recently observed, "It is worth recalling here the official Egyptian stance on the murder of two Egyptian security guards in an Israeli raid along the Israeli-Egyptian border last year. Not one Egyptian helicopter took off in search of the assailants and not one bullet was aimed at "suspects" from the Israeli side. Not only did the SCAF bury the incident as if it had never happened, but it went as far as to quell Egyptian protestors at the Israeli embassy in Cairo almost a year ago today. Days later the SCAF erected a high wall around the embassy to "protect" it against "extremists."
The Gaza Strip has now been closed off, as it was during the time of deposed Egyptian president Hosni Mubarak. The siege is now expected to intensify following the indefinite closure of the Rafah and Karm Abu-Salem border crossings. The siege is now expected to intensify following the indefinite closure of the Rafah and Karm Abu-Salem border crossings.
Robert Satloff , Executive Director of the Washington Institute for Near East Policy (WINEP), founded by AIPAC,  presented the Zionist lobby's reaction to the Sinai operations and the expanding geography of Resistance. He offered the following suggestions presented on their website and in Lobby publications:
"The US must undertake firm communication to Egypt's Morsi that if he wants international support to bolster his flagging economy, he cannot pander to the worst instincts of Egyptian public opinion. Indeed, any serious effort to prevent terrorist infiltration in Sinai requires coordination with Israel, and this will not proceed in an environment of public vilification."
"Second, U.S. policymakers should reaffirm to the Egyptian military that Washington views securing Sinai as an essential aspect of Egyptian-Israeli peace, and that continued provision of substantial military aid, which has exceeded 35 billion over the past three decades, is absolutely contingent on the investment of adequate personnel and resources to do the security job. Failure to direct the right people and resources to the peninsula will trigger an overall reassessment of the U.S. military assistance package, with an eye to updating this 1980s-era relationship for the current environment."
Satloft's views are reflective of the vast disconnect between reality and expectations of Zionist officials and their shills over  what the past 18 months has birthed in the Middle East with respect to resistance to the continuing colonization and ethnic cleansing of Palestine.
Despite what may well be determined to be a purely terrorist operation last week, there is a perceptible trend showing that the Sinai Peninsula is returning to the era and culture of resistance.  the liberation of Palestine draws every nearer and more certain, perhaps sooner than later.
Almost a year has passed since we last took note of Turkey's increasing clout in three key areas of neo-Ottoman expansion: the Balkans, the Arab world, and the predominantly Muslim regions of the former Soviet Union. Each has played a significant part in reshaping the geopolitics of the Greater Middle East over the past decade. This complex project, which remains under-reported in the Western media and denied or ignored by policy-makers in Washington, is going well for Prime Minister Rejep Tayyip Erdoğan and his AKP (Justice and Development Party).
On the external front, Ankara's decision to support the uprising against Bashar al-Assad's regime in Syria has changed the equation in the region. Until last spring, Erdoğan's team was advising Bashar to follow the path of political and economic reform in order to avoid descent into violent anarchy. Within months, however, Turkey has become a key player in Washington's regime-change strategy by not only providing operational bases and supply channels to the rebels, but by simultaneously confronting Iran over Syria. The war of words between them is escalating. Earlier this week, Iranian Chief of Staff General Hassan Firousabadi accused Turkey of assisting the "war-waging goals of America. The AKP government has reinforced Turkey's old position as a key U.S. regional partner. It is skillfully pursuing its distinct regional objectives, which in the long run are bound to collide with those of the U.S., while appearing to act at the behest of Washington and revamping its Cold War role as a reliable NATO-"Western" outpost in the region.
This newly gained credit has enabled Erdoğan to make a series of problematic moves with impunity, the most notable being Turkey's growing support for Hamas in the Palestinian Authority and its treatment of Iraq as a state with de facto limited sovereignty. In a highly publicized symbolic gesture, on July 24 Erdoğan met Hamas leader Khaled Mashaal at his official residence to break the daily fast during the holy Muslim month of Ramadan. Ties between Turkey and Hamas, which rules the Gaza Strip, have blossomed since Turkey's alliance with Israel collapsed following a raid by Israeli troops on a Turkish aid ship bound for Gaza in 2010. At the same time, Ankara's links with the more moderate Fatah movement, which rules the West Bank, are at a standstill; Turkey wants Hamas to prevail in the Palestinian power struggle.
In northern Iraq, Turkey has developed close relations with the Kurdish leadership in Kirkuk. It has made significant investments in the autonomous Iraqi Kurdish region as a means of exerting political influence and thus preempting demands for full independence, which could have serious implications for the Kurdish minority in eastern Turkey. In an audacious display of assertiveness, Turkish Foreign Minister Ahmet Davutoglu visited the Kurdish-ruled northern Iraq earlier this month without notifying the government in Baghdad, let alone seeking its approval. Turning the putative Kurdish statelet in Iraq into its client is a major coup for the government in Ankara. The partnership is based on the common interest of denying the Marxist PKK guerrillas a foothold on either side of the border. In a joint statement, Turkey and Iraqi Kurdistan warned the PKK that they would act jointly to counter any attempt to exploit the power vacuum in Syria. Another far-reaching albeit unstated common goal is to provide Iraq's Kurds with a potential northwestern route for their oil and gas exports, which Al Maliki's central government would not be able to control. The net effect is likely to be further weakening of an already unstable Iraq in the aftermath of U.S. withdrawal; yet Washington appears unperturbed by Turkey's gambit. It is apparently unaware of the fact that, in Ankara's worldview, "nothing can stand in the way of its dream of becoming the ultimate energy bridge between East and West."
The Obama Administration has been equally indifferent to Prime Minister Erdoğan's trouble-making in the Balkans. Most recently, his provocative statement last month that Bosnia and Herzegovina is in the "care" of his country has caused no reaction in Washington. "Bosnia and Herzegovina is entrusted to us," stated Erdoğan during a meeting of Justice and Development Party (AK Party) provincial heads held in Ankara on July 11,recalling the alleged statement of the late Bosnian Muslim leader, Alija Izetbegović, whom Erdoğan visited on his deathbed in Sarajevo. "He whispered in my ear these phrases: 'Bosnia is entrusted to you [Turkey]. These places are what remain of the Ottoman Empire'," said Erdoğan. He went on to describe Izetbegović as "a legendary hero and captain," and to declare that Turkey would "put this trust in God with high precision."
The notion of Bosnia and Herzegovina being given as a 'trust' to Turkey in the name of its Ottoman legacy reflects an earlier statement by the outgoing leader of the Islamic community in Bosnia, Efendi Mustafa Cerić, who told Erdoğan that "Turkey is our Mother. That's how it was always, and it will remain like that." Erdoğan's latest outburst was immediately welcomed by the leader of the biggest Muslim party in Bosnia and Herzegovina, Sulejman Tihić.
The notion that Bosnia has been bequeathed by its fundamentalist Muslim leader to the Turkish state is unsurprisingly anathema to the non-Muslim majority of Bosnia's citizens. "Bosnia and Herzegovina is not a land to be inherited," said Igor Radojičić, the Bosnian Serb Parliament speaker. Bosnian Croat leader Dragan Čović expressed puzzlement that Izetbegović could imagine Bosnia was his to give away as a trust. Analysts outside Bosnia also expressed outrage. Serbian historian Čedomir Antić, called the statement "an unprecedented provocation" that should be "officially renounced by Bosnia, Croatia and Serbia". Professor Darko Tanasković, Serbia's former ambassador to Turkey, was not surprised, however. The statement represents a political reality, he said, that Turkey sees the Balkans as a priority in its ambitious foreign policy.
Three months earlier the leader of the Islamic Community in Montenegro (Islamska zajednica Crne Gore, IZCG),Reis Rifat Fejzić, signed an agreement with the authorities in Podgorica on the status of the Muslim minority there. The Agreement stipulates that any disputes within the Islamic Community will be referred for arbitration to the Directorate of Religious Affairs of the Turkish Republic (Diyanet İşleri Başkanlığı). This is a remarkable development: the Republic of Montegnegro—a sovereign, non-Muslim Balkan state—has formally granted decision-making powers in matters affecting some of its citizens to an institution of another sovereign and nominally still secular state. Imam Fejzić's explanation added an interesting twist to the story. Some disputes among Roman Catholics are referred to the Vatican, he said, so it is normal for Muslim disputes to be referred to Ankara. In other words, the Turkish state is to assume the role of an Islamic Vatican for the Muslim millets of the former Ottoman Empire. The Montenegrin precedent is the model Ankara will seek to apply elsewhere. Turkish politicians have already taken an active role in mediating between the rival factions of the Muslim religious and political establishment in Serbia's Sanjak region.
The U.S. is sympathetic to Turkey's Balkan ambitions not only because they seem to fit in with a Western strategy of long standing, but also because Turkey is seen as a counterweight to Iran's influence in the region. As John Schindler, the author of the seminal book Unholy Terror pointed out recently, the close relationship between leading circles in Sarajevo and Tehran harks back to before the Bosnian war. During the war the Clinton Administration aided and abetted Iranian deliveries of arms to the Bosnian Muslim side, and the SDA has always had a soft spot for Tehran. Now, however, with a potential war with Iran looming, Schindler says,the U.S. and its European allies, who have done so much to help the Bosnian Muslims for a generation, have had enough. As reported by the Sarajevo daily Dnevni avaz, last week Patrick Moon and Nigel Casey, the American and British ambassadors to BiH, jointly read the riot act to Sadik Ahmetović, the country's powerful security minister, telling him that the SDA and Sarajevo must sever their secret ties—espionage, political, financial—with Tehran:
Sarajevo officially has been given a warning to reset its course in a European and Western direction as war with Iran looms. Hard decisions will have to be made by the SDA. They have been repeatedly deferred for nearly two decades but can be avoided no longer. If the Bosnian Muslims opt to stick with Iran as tensions rise, the ramifications for them and all Europe may be dire indeed.
Bosnia's Muslims, ever mindful of the need for foreign support in their disputes with the country's Serbs and Croats, will likely opt for even closer links with Ankara to compensate for an eventual weakening of the Iranian connection —and they will do so with Washington's approval. Yet again Turkey will strengthen its position in the Balkans while relying on the Western powers to do its field work.
At home, the parallel process of re-Islamization of the Turkish state and society is well-nigh-irreversible. The Army has been decisively neutralized as a political factor. Last February, Erdogan declared that it is not the goal of the AKP government to raise atheist generations, and he certainly has been true to his word. Earlier this month, Turkey's Board of Higher Education appointed Islamic scholar Suleyman Necati Akcesme as its secretary-general. His duties will include appointing professors and rectors, as well as overseeing universities. Akcesme will occupy a position of direct influence over Turkey's higher education —unimaginable for an imam in the old Kemalist setup. The influence of the shadowy Gülen Movement, a fundamentalist sect calling for a New Islamic Age based on the "Turkish-Islamic Synthesis," is becoming all-pervasive, with rich businessmen and senior civil servants donating an average of 10 percent of their income to the cemaat. According to the August 8 issue of Der Spiegel,
Gülen's influence in Turkey was enhanced when … the AKP won the Turkish parliamentary election in 2002. Observers believe that the two camps entered into a strategic partnership at first, with Gülen providing the AKP with votes while Erdogan protected the cemaat. According to information obtained by US diplomats, almost a fifth of the AKP's members of parliament were members of the Gülen movement in 2004, including the justice and culture ministers. Many civil servants act at the behest of the "Gülen brothers," says a former senior member… In 2006, former police chief Adil Serdar Sacan estimated that the Fethullahcis held more than 80 percent of senior positions in the Turkish police force . . .
Sharia-inspired legislation is affecting the society at large. Turkey's recent laws and taxes on alcohol sales are more rigorous than those in Egypt or Tunisia before last year's revolutions. Employers are now authorized to fire any employer who comes to work having had a drink, as opposed to being drunk. Having a single glass of raki, wine or beer with lunch—perfectly common in the business community until a few months ago—may now abruptly end a career. More troublingly, Turkey now leads the world in "honor killings" of girls, with a murder rate five times that of Pakistan. As Turkish affairs expert Barry Rubin has noted, many Turks are astounded by Obama's policy of favoring the current regime in Ankara: "the regime has thrown hundreds of people in prison without trial or evidence… and it is turning Turkey into a repressive police state," yet the Department of State and the White House remain indifferent. Turkey's secularists feel abandoned and betrayed.
Turkey's shift from Kemalism via post-Kemalism to anti-Kemalism is a process of historic significance for the Greater Middle East. In 2005 senior State Department official Daniel Fried declared, absurdly, that Erdoğan's AKP was simply the Islamic equivalent of a West European Christian Democratic party and that Turkey remains a staunch ally of the United States. The diagnosis was evidently mistaken seven years ago. Today it amounts to an unforgivable act of willful self-deception.
In the meantime Secretary of State Hillary Clinton prepares for discussions in Istanbul on August 11 that will focus on forming a "common operational picture" with the Turks "to guide a democratic transition in post-Assad Syria."
Israel's refusal to stop building illegal settlements in occupied West Bank and Jerusalem is a poignant reminder the Palestinians could share a fate similar to the indigenous American Indian people of the 1800's.
According to the author, James W. Loewen, the U.S government's model of wiping out nearly 54 million [1] indigenous people, with the remaining numbers relocated to desolate reservations, inspired Adolf Hitler to do the same against the Jews.
"Hitler admired the American concentration camps set up for Indians in the West and often lauded them to his inner circle for the effectiveness of American aptitude for promoting starvation and unequal combat, which inspired him for his own extermination of Jews and Gypsies.[2] [Romani people]," Loewen wrote.
Noam Chomsky, the political author and professor of linguistics at Massachusetts Institute of Technology, (MIT), believes today's role reversal of the Palestinians becoming the indigenous American Indian people is merited, but up to a point.
"It's bad enough, but not that bad. The leading figures of the US conquests were quite explicit about taking over everything, and 'exterminating'-their word-anyone who stood in the way. What we'd call 'genocide' if anyone else were to try it," Chomsky said.
By mid-2011, 131 illegal settlements were in the region, housing 498,000 Israeli Jews, of which the majority of settlements are on privately owned Palestinian land, not part of Israel.[3]
Israel occupies 77.5% of expropriated land, it terms, "State land". This demographic change took more than 50 years of planning by the World Zionist organisation, a Jewish nationalist movement, exploiting Judaism, to advance colonisation in Palestine for a Jewish nation.
Integral to Israel's land drive is an 8 metre concrete wall enclosure that surrounds illegal settlements. The idea was suggested in 1923, by the Polish Zionist, Vladimir Jabotinsky, founder of the Jewish terrorist group, Irgun, in the Jewish Herald, stating: "This colonization can develop only under the protection of a force independent of the local population – an iron wall which the native population cannot break through."[4]
Israel's colonisation depends on exploiting natural resources. The Jordan Valley and the Dead Sea area have 37 illegal settlements of 9,500 settlers and up to 56,000 Palestinians, yet Israel pumps most of the water to its settlements, forcing the Arabs to ration water supplies. When supplies end, families risk contamination from polluted streams or make up the 67% forced to buy water in tanks from the Mekorot Company, which is expensive. [5]
To Palestinian farmer's, water shortages limit the variety of crops grown, affecting an already crumbling economy, which Israel controls, to almost $1.83bn in lost annual revenue, [6] with complete losses in the West Bank and Gaza totalling around £4.4bn. [7]
Nazism rise to power in Germany was an important juncture for Zionism. Although, the persecution of Jews didn't interest the Zionists, Hitler's demise in 1945 provided the opportunity to take advantage of Jewish suffering, by sabotaging efforts to relocate Jews to other parts of Europe, instead increased Jewish migration into Palestine.
By 1946 the Jewish population rose to 602,586,[8] which was nearly four times the 1931 British Mandate population figure of 174,610, with 65% (approximately 1,339,763) being Arab as opposed to 759,717 (73.5%) in 1931.[9]
"There are multiple motives behind the settlement enterprise, such as cheap housing, but nationalist and religious ideologies (e.g. the belief the West Bank, or 'Judea and Samaria,' is part of the biblical 'Eretz Israel' play a very significant role," said Human Rights Watch spokesman, Bill Van Esveld.
The Judaic significance refers to, 'chosen people' and 'promised land', prominent among settler motives, and forms the basis of Israeli claims over Palestinian land. Most Rabbis peddle Zionist interpretation in the Jewish Holy book, the Tanakh, focusing on (Genesis 15:18) that, 'God promised Abraham's descendants the land between the River of Egypt and the Forat (Euphrates)', and in (Exodus 23:31), where 'the border was set from the Red Sea to the sea of the Philistines; the inhabitants of the land would be delivered into your hand; and the people shall be driven out'.
According to traditional Jewish scholars it is not for the Jewish people to fulfil this promise but a pact between God and the prophet Elijah, yet to be delivered. Once delivered, it would signal the later arrival of the Messiah, who would redeem the Jews and all of mankind. Until then, God commands the Jews to remain in exile until it is time to be redeemed.[10] The term, 'exile', refers to Jews being loyal subjects to their nation of residence, and not establishing rule over the native population, including the land of Palestine. [11]
To gain unconditional public support, exploiting Judaism wasn't enough. Zionism needed land. In 1901, a proposal was accepted by Zvi Hermann Schapira, a rabbi and professor of mathematics, to establish an institute, the Jewish National Fund (JNF), to aggressively purchase land for Jewish settlement,[12] and form a 'Jewish territory' in the process.
By the 1930's the JNF using its leading influence, persuaded other land agencies to adopt its practices of retaining the legal title of the land, with leases granted to Jewish settlers.[13]
The first Zionist land purchase was in the Jezreel Valley, bought from the Sursuk family in 1925. The Judaic importance and its nearly 100,000 acres, of which at least 93,000 acres were fertile and arable, made it one of the most fertile lands in Palestine. The Sursuk family bought the land from the Turkish government for 18,000 Palestinian pounds (roughly $50,000). The Zionist movement offered Sursuk an obscene amount of 726,000 Palestinian pounds (approximately $2 million), which was accepted by the Sursuk family. [14] This kind of exploitive dealings was common practice.
Most land purchases were followed by Arab expulsion. A secret memorandum in 1930, written by Dr. A. Rupin, the Jewish Agency agriculture and settlement expert, to his Agency, confirms expulsion is built into Zionism, when he said, "Since there are hardly any more arable unsettled lands in Palestine, we are bound in each case of purchase of land and its settlement to remove the peasants who cultivated the land thus far, both owners of the land and tenants."
It is believed 1270 Palestinian Arab families were removed from 13 villages. To avoid a public scandal, each family was compensated 24 Palestinian pounds (just above $50), seen as an exception to the rule, as normally Arab families received nothing, for example the land purchase of Hefer Valley, saw about 2000 Arab peasants dispossessed. [15]
The Israeli historian, Ilan Pappe, dismisses the argument of the Palestinians leaving on their own accord. In his research paper, later included in his book, 'The ethnic cleansing of Palestine', he reveals the official version of the 1948 Arab expulsion.
"On 10 March 1948, a group of 11 veteran Zionist leaders and Jewish officers put the finishing touches to a large scale military operation for the ethnic cleansing of Palestine.[16] Military orders that evening, were despatched to units, preparing Palestinian expulsion from vast areas of the country. The detailed methods included: large-scale intimidation; laying siege to and bombarding villages and population centers; setting fires to homes, properties, and goods; expelling residents; demolishing homes; and finally planting mines in the rubble to prevent the expelled Arabs from returning. Each unit was issued its own list of villages and neighbourhoods to target in keeping with the master plan, Code-named Plan D (Dalet in Hebrew)".[17]
Taking six months to complete its mission, more than half of Palestine's population, over 750,000 people, had been uprooted, 531 villages destroyed, and 11 urban neighbourhoods had been emptied of their inhabitants.[18]
The squeezing of Arab lands, especially during 1948-1959, further expanded Israeli territory. Some of the villages included, the village of Umm Al-Fahm, with a population of 7000 and a land of 140,000 dunam*, by 1959 its population increased to 11,000 but the land was reduced to an astonishing 1500 dunam. The village of Tayyiba inhabited 3,500 people, with 45,000 dunam of land, by 1959 the population climbed to 7,000 but were left with only 13,000 dunam of land. The village of Tira with a population of 3100 people, owned 28,000 dunam, by 1959 the population rose to 5100 but only occupied 7,500 dunam of land. [19]
Deception was also used to expel Arab villagers, as witnessed in the Arab-Christian village of Ikrit in December 1948. The villagers were instructed by the Israeli army to leave their village temporarily, for two weeks, alleging land mines where found in the area and needed to be cleared for their safety. The residents moved to the nearby village of Rama, which became the Rama Refugee Camp, until it was safe to return.
Two weeks has now become 64 years. Instead of being resigned to their fate, in 1952 the villagers filed a lawsuit action, as they were instructed to leave for a limited time, so their property couldn't be considered 'absentee property'. The judges deceived the plaintiffs ruling in favour of the plaintiffs' right of return to their land, but on condition of attaining a permit issued by the military governor. In reality, the Governor would never issue a permit. [20] The case still goes on. The court's decision underlines how complicit the legal system is with Zionism's policies.
Resistance also came from individuals, such as the Syrian, Shaykh Muhammad Izz ad-Din al-Qassam. He was an Imam of a local mosque in Haifa and an educator by night, teaching literacy to labourers. It was his student's experiences, largely ex-farmers, recalling how they had to leave their lands by the JNF, which had a profound impact on Al-Qassam, who decided armed Jihad, (resistance) was necessary to end Arab dispossession, and in 1930, he formed a small militant group.
By 1935, the group raided Jewish settlements and sabotaged British rail lines, but Al-Qassam wanted a national revolution and wrote to the Arab leadership in Jerusalem, to support an armed struggle, but was rejected, as the leadership felt Arab rights could still be achieved through negotiations.
When news reached the British of al-Qassam's vision, military units were deployed around a cave near Ya'bad in Jenin, where he was hiding, with twelve of his followers. Soon afterwards, the British soldiers pounded the area with heavy artillery. Al-Qassam, rather than surrender, took a last stand and was killed.
Al-Qassam's efforts were not in vain, who instantly became a symbol of resistance, epitomising the Palestinian land struggle. His martyrdom triggered the great Arab Revolt (1936-1939). His legacy lives on with the military wing of Hamas named after him, Ezzedeen al-Din Al-Qassam Brigades.
By the time Britain's rule expired on 14 May 1948, the newly Zionist-aligned U.S government emerged as the leading global political power, and using its influence, forced the voting U.N nations to accept the two-state resolution, which the Palestinians rejected, giving 56% of the land to the Jews and 42% to the Arabs, the remaining land went to Christian and other small minority groups.[21]
The pressure for U.N Nations to vote was acknowledged by James Forrestal, the U.S Minister of Defense at the time, in his memoirs, stating, "The methods used to pressure and to constrain the other nations within the U.N. were close to scandalous." [22]
Since then, political elites have conspired to view the Palestinians as the 'unseen' people, which is emphasised with the 'peace' broker, the U.S government, forging strong economic and political ties with Israel, while ensuring there are no Palestinian agreements in dismantling illegal settlements and reclaiming civil rights equal to the Israeli citizens.
Palestine's full admission to UNESCO (the United Nations Educational, Scientific and Cultural Organisation), in October 2011 is a historic small step for the Palestinians to address its rights with some authority, and with at least 112 countries endorsing Palestinian statehood, the pressure to be given full U.N membership, is growing and cannot be ignored for much longer.
Notes
*One dunam is approximately 1,000 square metres
1 Denevan, William. "The Native Population of the Americas in 1492". 2nd edition Publication. 1992.
2 Loewen, James W., "Lies My Teacher Told Me: Everything Your American History Textbook Got Wrong". Touchstone, Simon & Schuster. 1995.
3 Peace Now Settlement Watch Team, Report-"Construction of Settlements upon Private Land-Official Data", March 2007.
4 Jabotinsky, Vladimir. The Jewish Herald (South Africa). "The Iron Wall (We and the Arabs)". November 26, 1937.
5 Ma'an Development Center, Parallel Realities: Israeli Settlements and Palestinian Communities in the Jordan Valley, 2012.
6 7 The economic cost of the Israeli occupation for the occupied Palestinian territory, A bulletin published by the Palestinian Ministry of National Economy in cooperation with the Applied Research Institute-Jerusalem (ARIJ), September 2011.
8 Palestine 1946: District and District Centers during the Mandate period. Source: Palestine Remembered
9 Census of Palestine 1931, Volume I. British Mandate of Palestine.
10 Leizer Fishberg, Jews Against Zionism group.
11 Rabbi Cohen, Ahron. "Declaration on 'the Palestine issue' by Neturei Karta of the UK". 25 June, 2003. (Accessed 26 June 2012).
12 The composition of the group that met is the product of a mosaic reconstruction of several documents, as demonstrated in my book, The Ethnic Cleansing of Palestine (Oxford: Oneworld Publications, 2006). The document summarizing the meeting is found in the Israel Defense Force Archives [IDFA], GHQ/Operations branch, 10 March 1948, File no. 922/75/595, and in the Haganah Archives [HA], File no. 73/94. The description of the meeting is repeated by Israel Galili in the Mapai center meeting, 4 April 1948, found in the HA, File no. 80/50/18. Chapter 4 of my book also documents the messages that went out on 10 March as well as the eleven meetings prior to finalizing of the plan, of which full minutes were recorded only for the January meeting.
13 Lehn and Davis 1988: 24, 86-7.
14, 19 Fouzi el-Asmar, "Zionist land-aggression in Israel/Palestine", 4th Edition. English translation by Uri Davis, 4th Edition.
15 Arakhim, (Hebrew Newspaper), "The Arab Population in Israel", No. 3, 1971, p.10
16 The historian Meir Pail claims, in From Haganah to the IDF [in Hebrew] (Tel Aviv: Zemora Bitan Modan, n.d.), p.307, the orders were sent a week later. For the dispatch of the orders, see also Gershon Rivlin and Elhanan Oren, The War of Independence: Ben-Gurion's Diary, vol. 1 (Tel Aviv: Ministry of Defense, 1982), p.147. The orders dispatched to the Haganah brigades to move to State D—Mazav Dalet—and from the brigades to the battalions can be found in HA, File no.73/94, 16 April 1948.
17 On Plan Dalet, which was approved in its broad lines several weeks before that meeting, see Uri Ben-Eliezer, The Emergence of Israeli Militarism, 1936–1956 (Tel Aviv: Dvir, 1995), p. 253: "Plan Dalet aimed at cleansing of villages, expulsion of Arabs from mixed towns."
18 Ilan Pappe, white paper, p.7, "The 1948 Ethnic Cleansing of Palestine".
20 Yediot Aharonot, Hebrew newspaper. 30 June 1972.
21 Pappe, 2006, p. 35 Pappe speech given by the Pakistani representative to the U.N Sir Zafrullah Kahn on 28 November 1947
22 "Forrestal's Memoirs", p.363, N.Y., The Viking Press. 1951.